With so many ideal babymoon destinations, it can be hard to choose just one. This guide will help you plan your babymoon from start to finish, including where to go, things to do, our top recommendations, and helpful tips to make your babymoon special.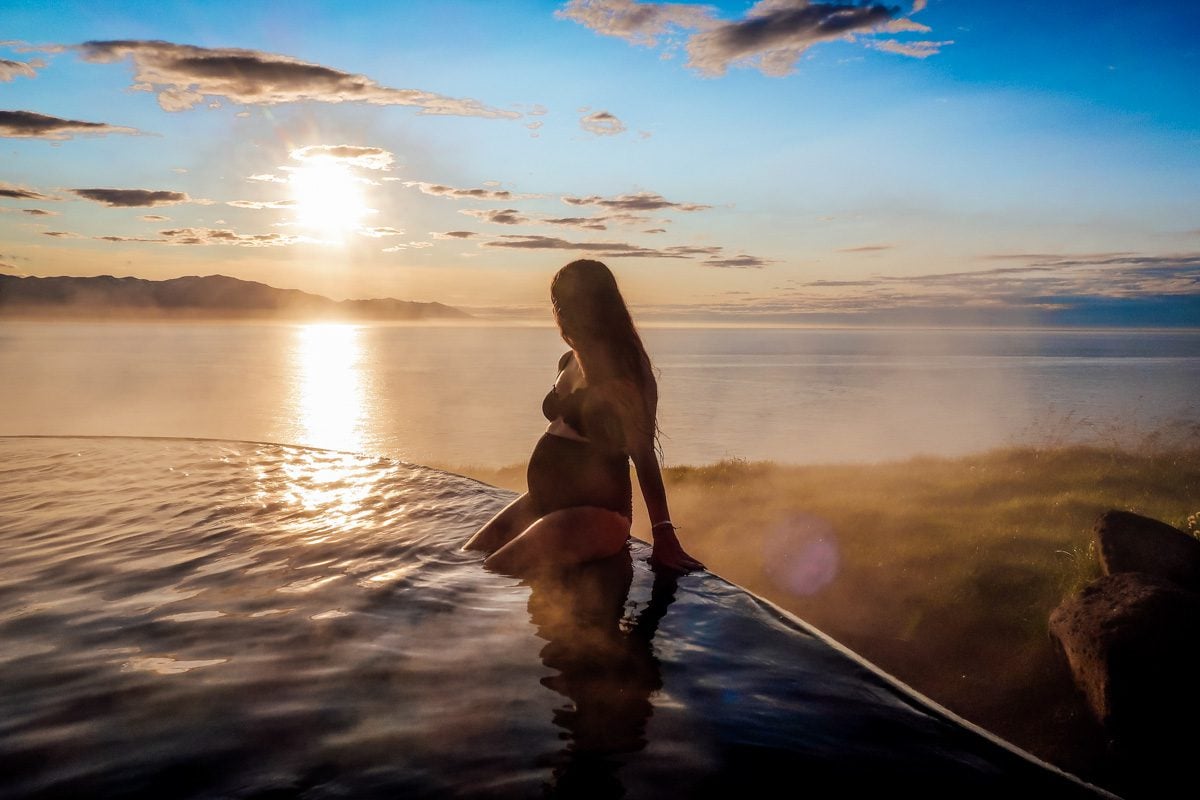 If you've got a bun in the oven and are trying to plan the perfect babymoon, then you've come to the right place!
Whether you're looking for the ultimate relaxing getaway before baby's arrival or you want to squeeze in one big adventure with your hunny before ya pop, we've got you covered with some incredible babymoon destination ideas.
Why listen to us about planning a babymoon?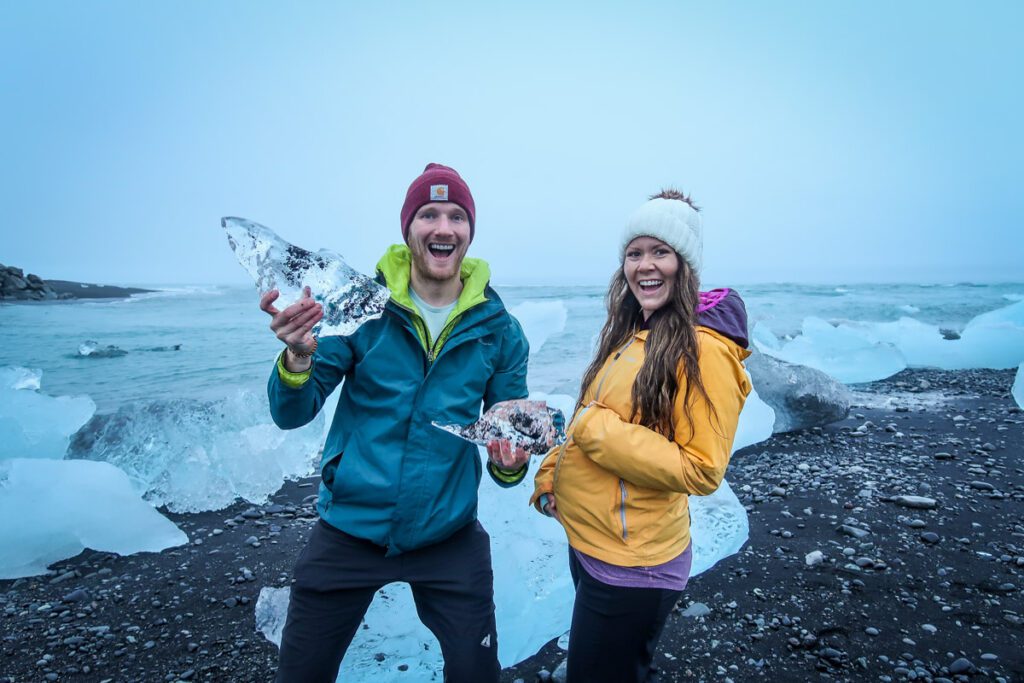 Well, when I was pregnant with our daughter, Juniper, we kind of accidentally took 5 babymoons.
That's right, we had a handful of trips already planned (because traveling is our job!), so we went on them anyway. Plus, we planned one major trip that was our "real" babymoon.
Iceland: this was our "big" babymoon
Yucatan Peninsula, Mexico
Oregon Coast Road Trip
Olympic National Park
Mount Rainier National Park
Babymoon Planning Guide
What is a babymoon?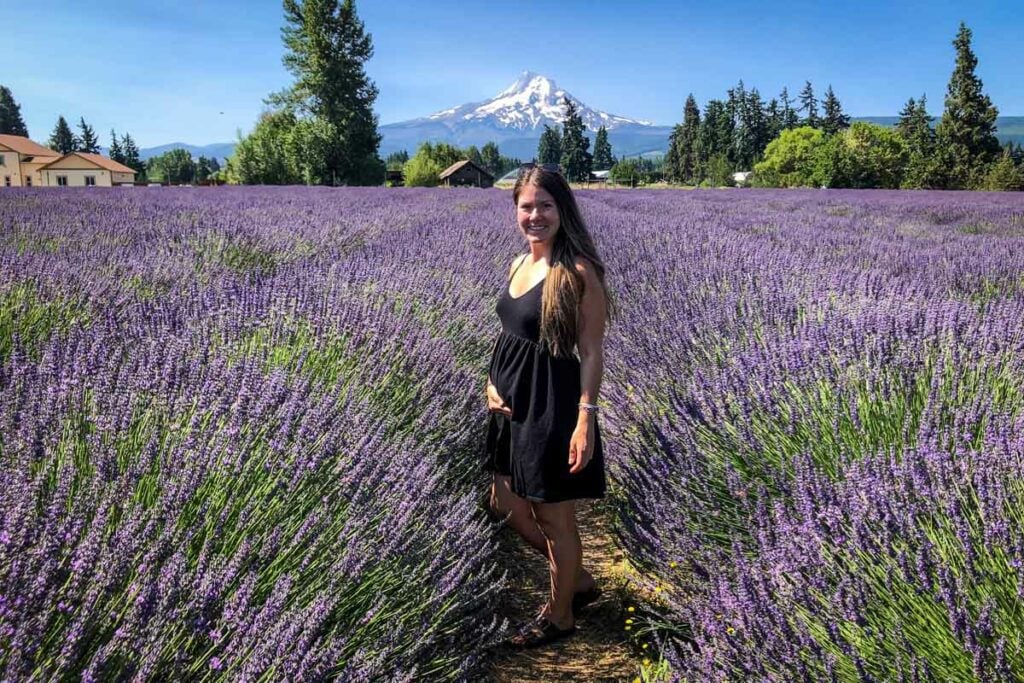 A babymoon is a trip you take before your baby is born.
You can look at it as the last trip you take before you add another member to your family.
Note that I did not say it's your last trip ever. In fact, we travel a TON with our daughter and have all sorts of tips and advice for you about traveling with a baby when you get to that stage!
This is just the beginning of a beautiful new chapter of travel.
Your babymoon is the perfect time to celebrate and soak in these fleeting moments before your little one enters the world!
What is the best time to take a babymoon?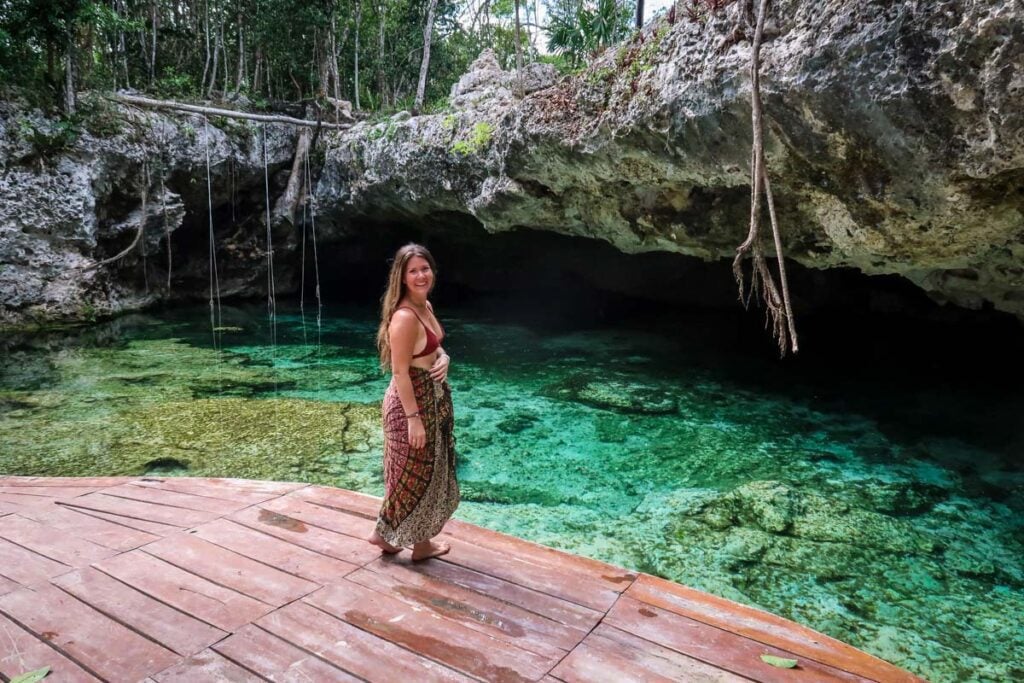 In our opinion, mid 2nd trimester – early 3rd trimester is the best time to take a babymoon.
Most women feel their best during their second trimester. There aren't as many of the annoying first trimester symptoms (aka morning sickness!), and you won't be as uncomfortable as later in your third trimester.
Plus, you will likely have a baby bump at this time, which is kind of fun for showing off in a photoshoot!
Important Advice: We'd recommend booking your trip with cancelation insurance or specifically choosing flights and accommodation with generous cancelation policies in place. If you have any complications leading up to your trip, it will be much easier to adjust or cancel if you've planned with this in mind.
Can I fly while pregnant?
In general, it is recommended that you don't fly past 36 weeks (in fact, some airlines won't allow you to).
But up until then, it should be fine to fly as long as you have it okayed by your doctor.
Psst! Don't you dare get on a plane without doing this first.
Planning your perfect babymoon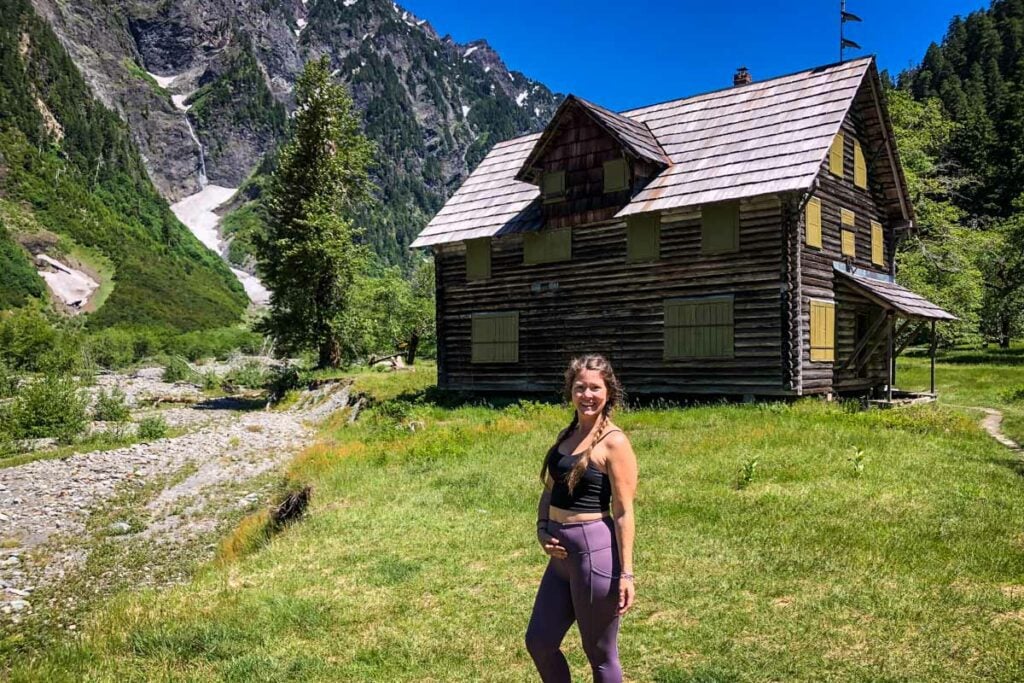 What you choose to do on your babymoon or where you choose to go will vary drastically depending on your travel style, your budget, and your priorities.
Before you dive into the destinations and fall in love with one, we'd strongly encourage you to talk to your partner and discuss your (honest!) answers to these questions.
Where will you go?
Some couples prefer to stay closer to home for their babymoon.
Others want to go as far-flung as possible.
What will you do?
Some parents-to-be crave one last big adventure before their family grows.
Others want pure and utter relaxation.
How much do you want to spend?
Some couples have a big ol' budget to work with, and no destination is off the table.
Other parents-to-be are on a tight budget (having a baby isn't cheap, after all!).
Best Babymoon Destinations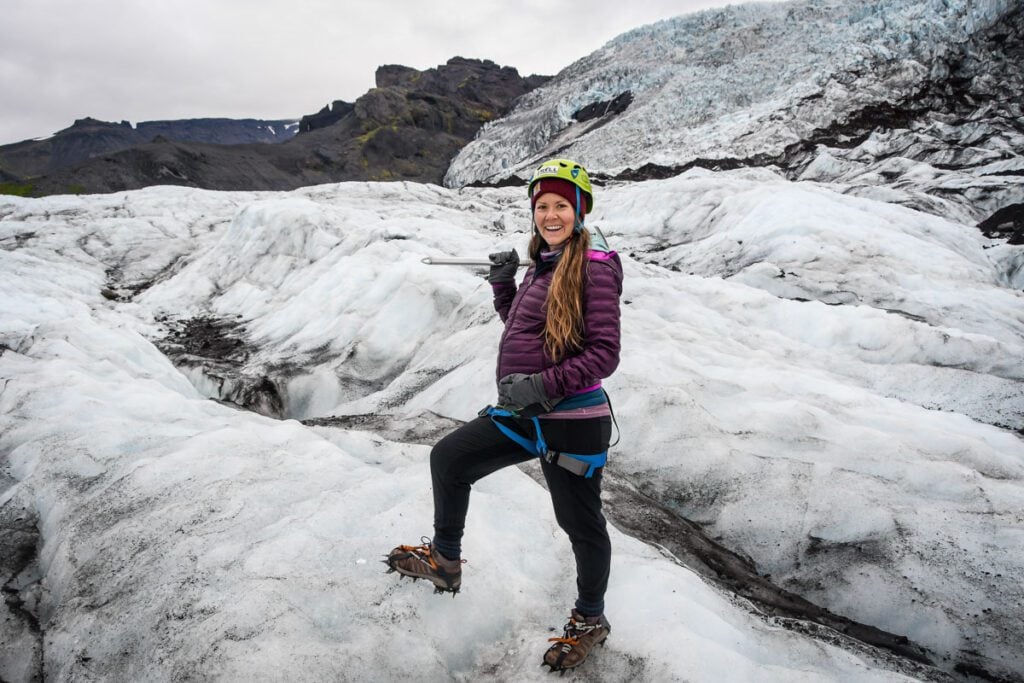 Want a luxuriously relaxing vacation?
Itching for a big adventure before welcoming your little one into the world?
Want a mixture of the two?
No matter the type of trip you're seeking, you'll find it on this list. Simply click the place and jump down to our tips on that specific destination.
Or, if you'd rather skip the reading and just get our top recommendations, jump down here!
Psst! Don't forget to check out our tips for choosing your babymoon destination to help you narrow down your options.
International Babymoon Destinations
USA Babymoon Destinations
---
1. Iceland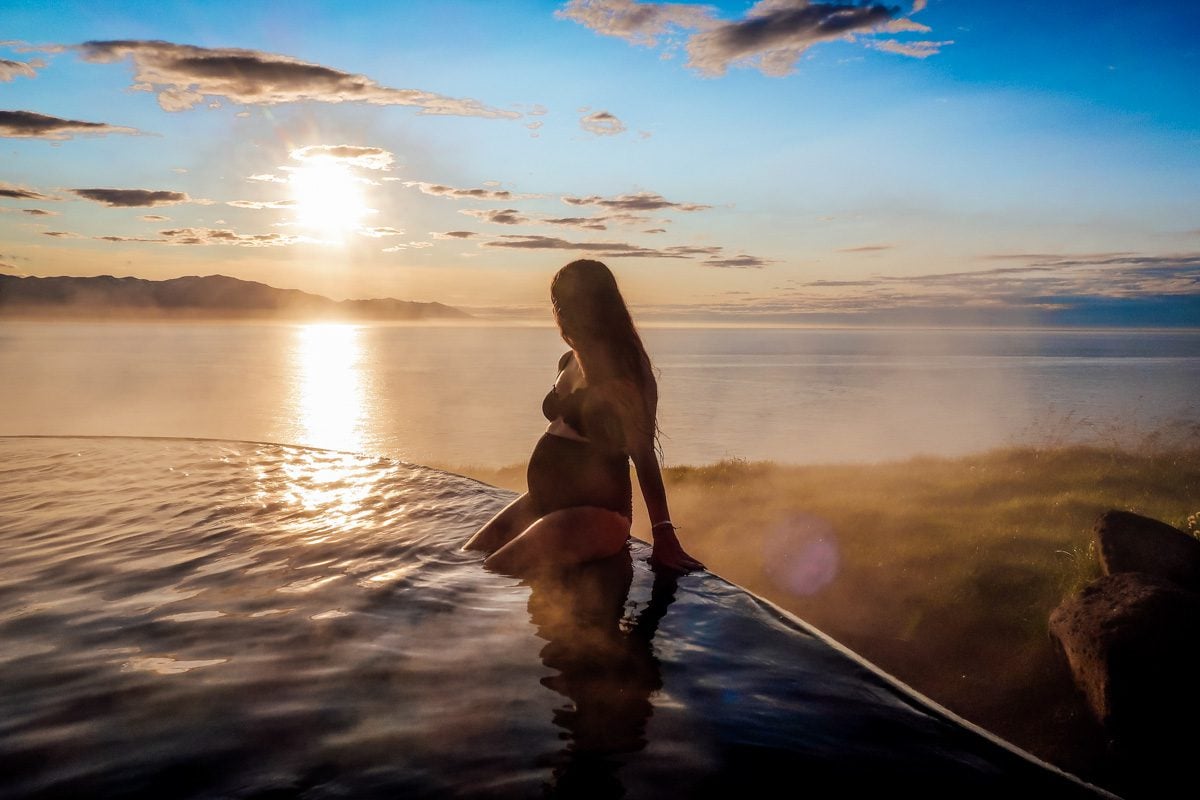 Why Iceland makes a good babymoon:
Once in a lifetime experiences
Good blend of adventure & relaxation
Unique & romantic Airbnbs
Iceland is where we personally took our babymoon, and we had the most incredible time!
We were craving a grand adventure before we welcomed our little one into the world, and my oh my, did Iceland deliver!
We rented a campervan (which might not be for every pregnant woman out there!), and drove the entire Ring Road.
I was between 2nd and 3rd trimester when we traveled, and I still had lots of energy (thank goodness!), so we did lots of hiking. And we also did quite a bit of relaxing and indulging in good food.
Things to do in Iceland on your babymoon: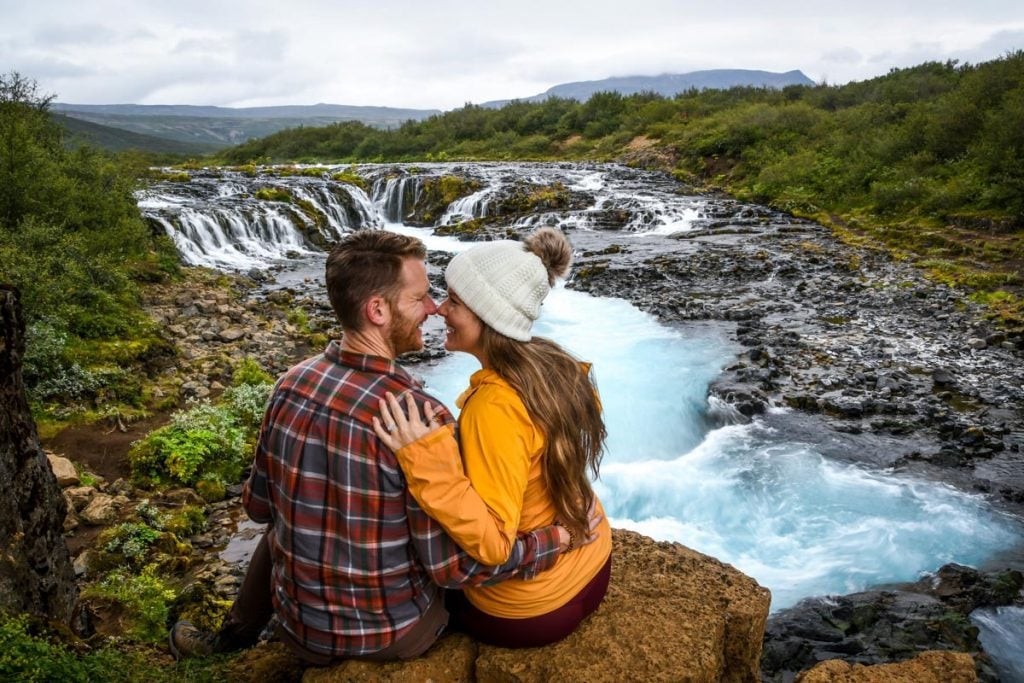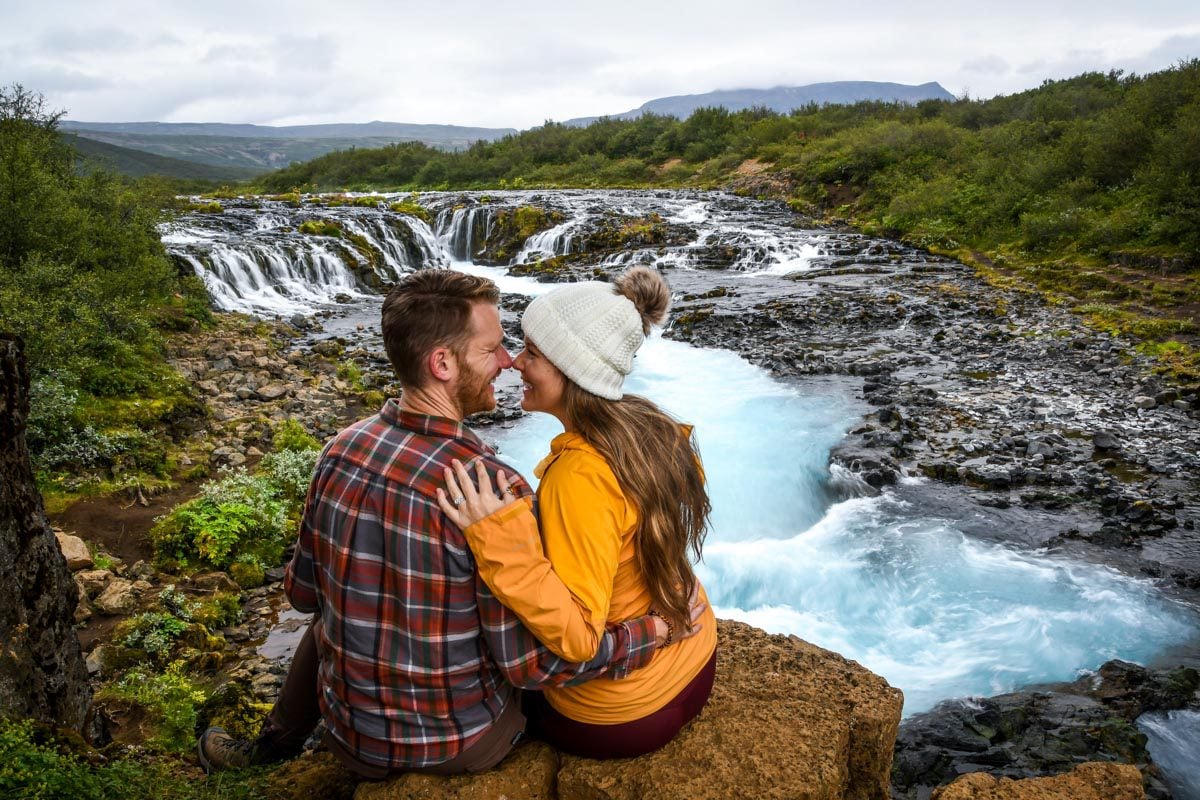 *Important Note: Do your own research on this topic, but my OB said I could soak safely in water up to 100ºF (37/38ºC). I have a friend who lives in Iceland and she said it is common for women to soak in thermal springs while pregnant, as many have cooler sections where the water does not reach 100ºF.
Plan your Iceland babymoon:
2. Yucatan Peninsula, Mexico
Why Mexico makes a good babymoon:
Very affordable
Culture, history, food, relaxation, beaches, adventure – this part of Mexico truly has it all!
Great weather for most of the year
Cheap flights to Cancun
With excellent beaches, laidback villages and thousands of freshwater cenotes (or springs!), the Yucatan Peninsula makes an excellent babymoon destination.
You'll find a great balance between having plenty of things to do as well as opportunities to relax and slow down.
Add in excellent food, cheap massages, affordable places to stay, great weather year round, and oh baby, I think we've got a winner!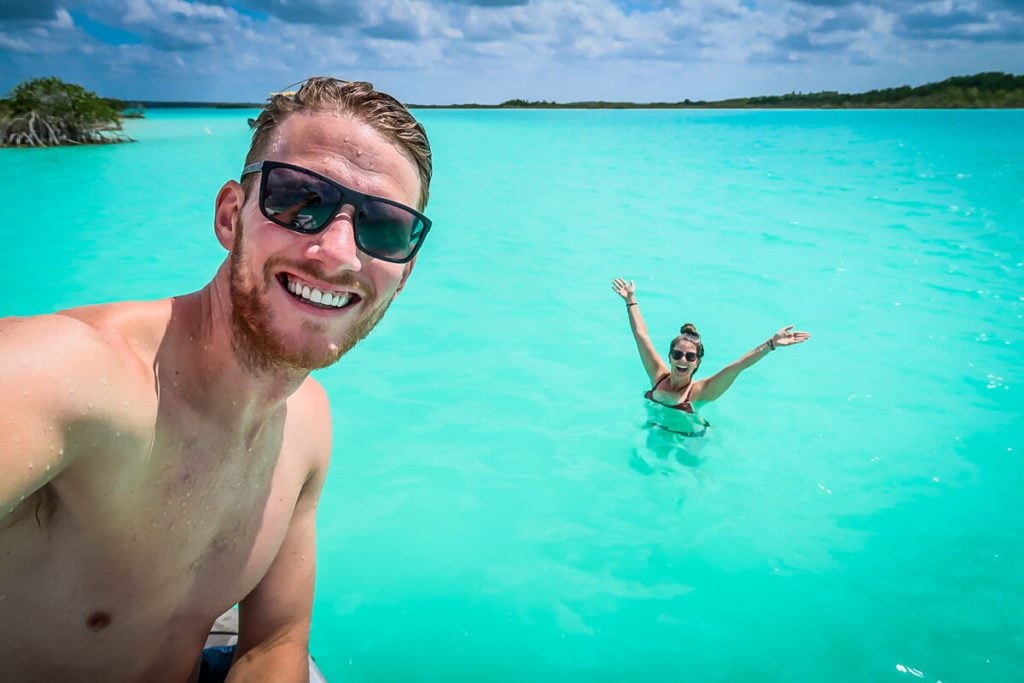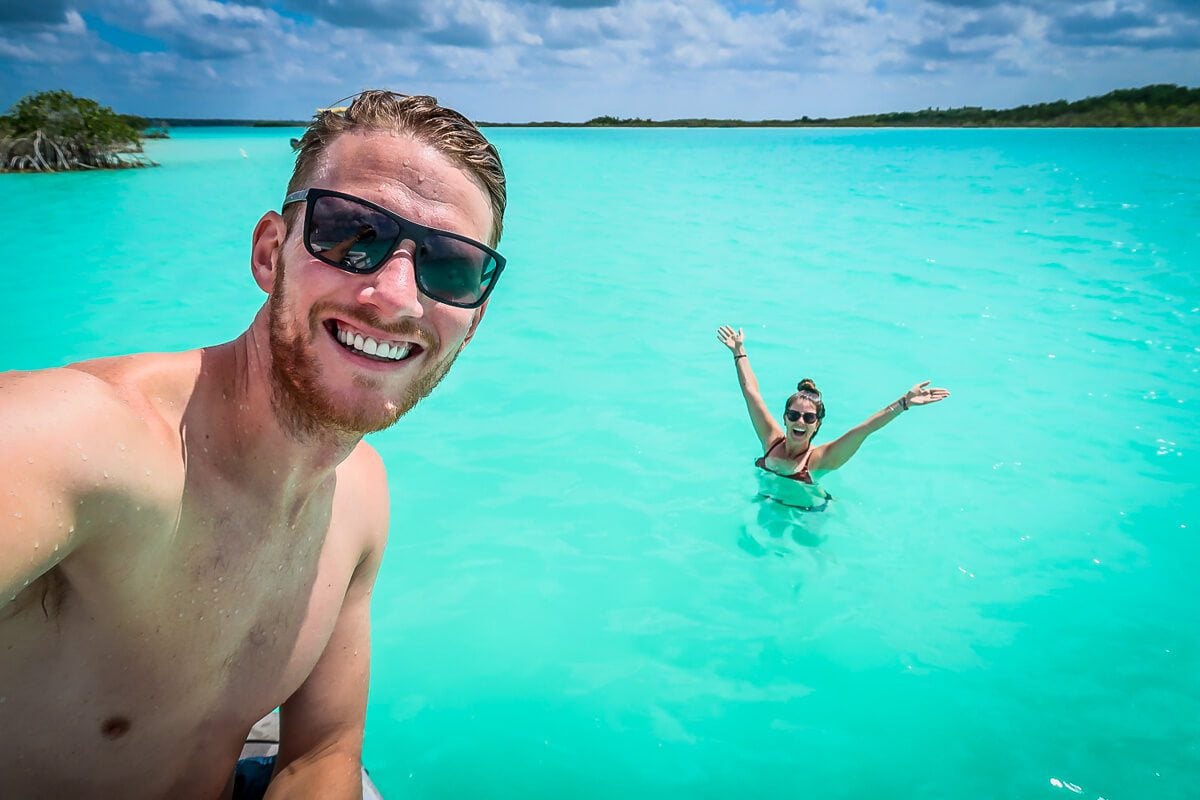 Personal Experience:
We spent about 2 months in the Yucatan Peninsula while I was pregnant. It wasn't a planned babymoon per se (we found out we were expecting while in Mexico!), but we traveled all around the region with my teeny-but-growing bump.
First off, I would highly recommend not planning your babymoon during your first trimester. I can speak from experience and tell you that morning (slash all day) sickness is no joke when you're road tripping. I didn't even want tacos for a bit there. Like, who the heck doesn't want tacos when in Mexico?!
Add fatigue to the matter, and oof. Yeah, first tri was not a great time for travel, in my personal experience.
That said, I still had an amazing time in the Yucatan and truly think it's a top pick for a babymoon (if you go a bit later in your pregnancy).
One of my favorite things to do while pregnant in the Yucatan was cool off in as many cenotes as humanly possible! Fresh fruit and juices were also such a treat!
Things to do in Yucatan Peninsula on your babymoon: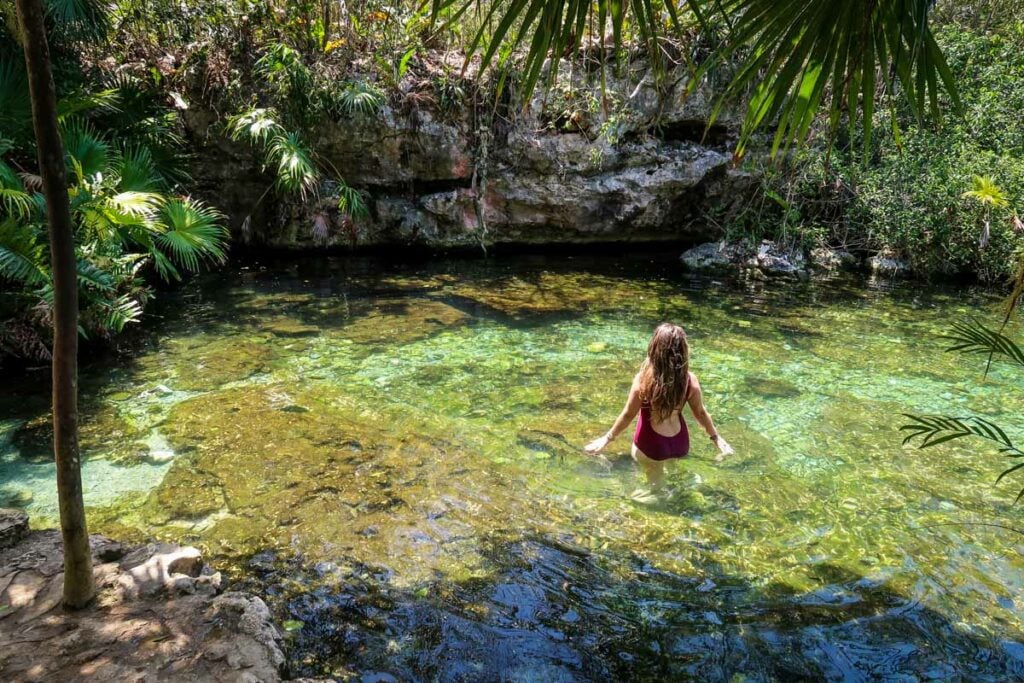 Plan your Mexico babymoon:
3. Bali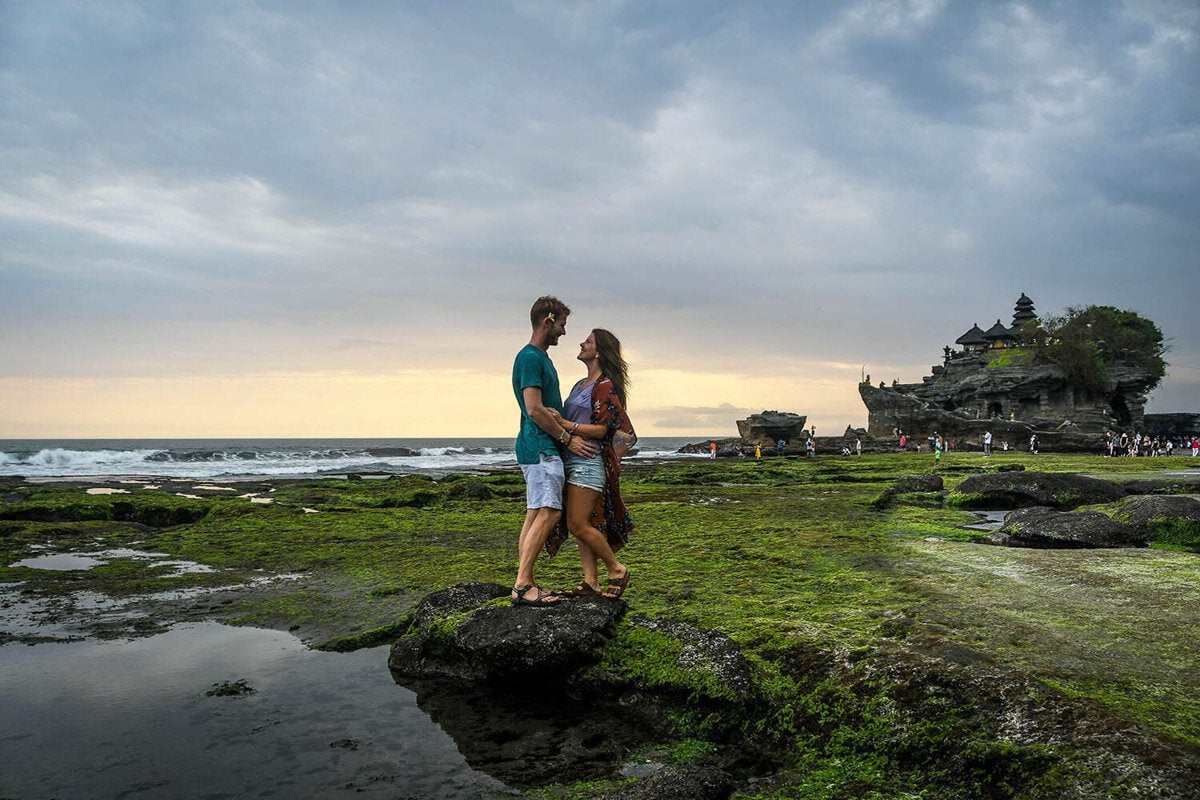 Why Bali makes a good babymoon:
Friendly, welcoming locals
Delicious & healthy cuisine
Wellness culture & (very affordable!) spas
Beautiful, romantic Airbnbs
Bali is a tropical paradise that seamlessly blends both natural beauty and vibrant culture for a babymoon destination as romantic as it gets.
With lush rice terraces, pristine beaches, and enchanting temples, Bali offers a serene and peaceful escape for a pregnant couple seeking relaxation and tranquility.
The gentle pace of life and wellness culture make it the perfect place to slow down and focus on each other before welcoming a new member into your family.
Things to do in Bali on your babymoon: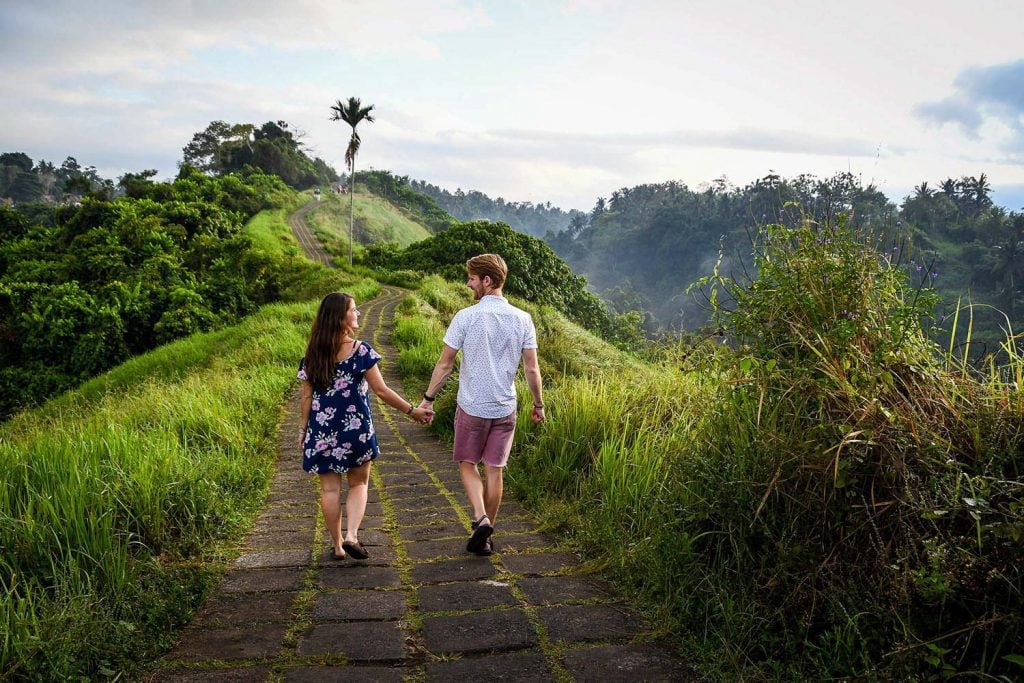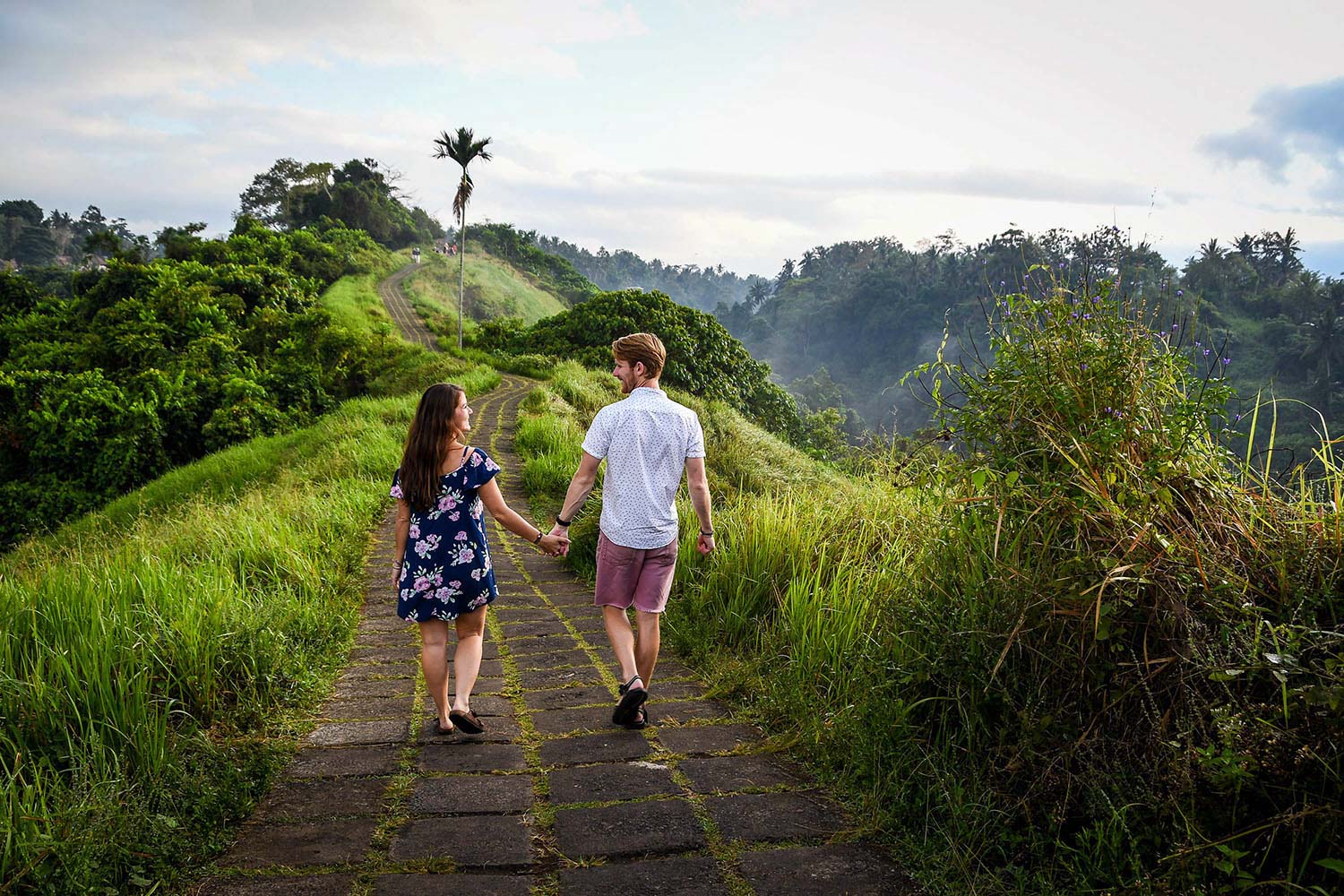 Unwind in the picturesque town of Amed
Relax on the idyllic beaches of Nusa Dua or Seminyak
Feel rejuvenated with a traditional Balinese massage or spa treatment
See the Kecak dance at Uluwatu Temple
Walk Campuhan Ridge in Ubud
Take part in a ritual purification at Pura Tirta Empul
Plan your Bali babymoon:
4. Scotland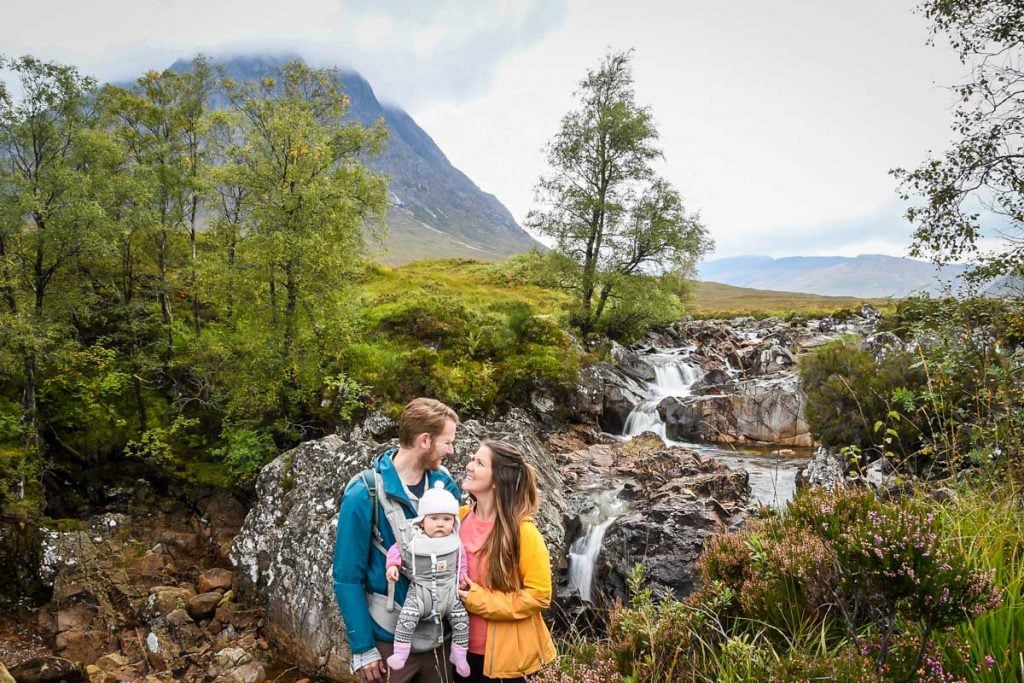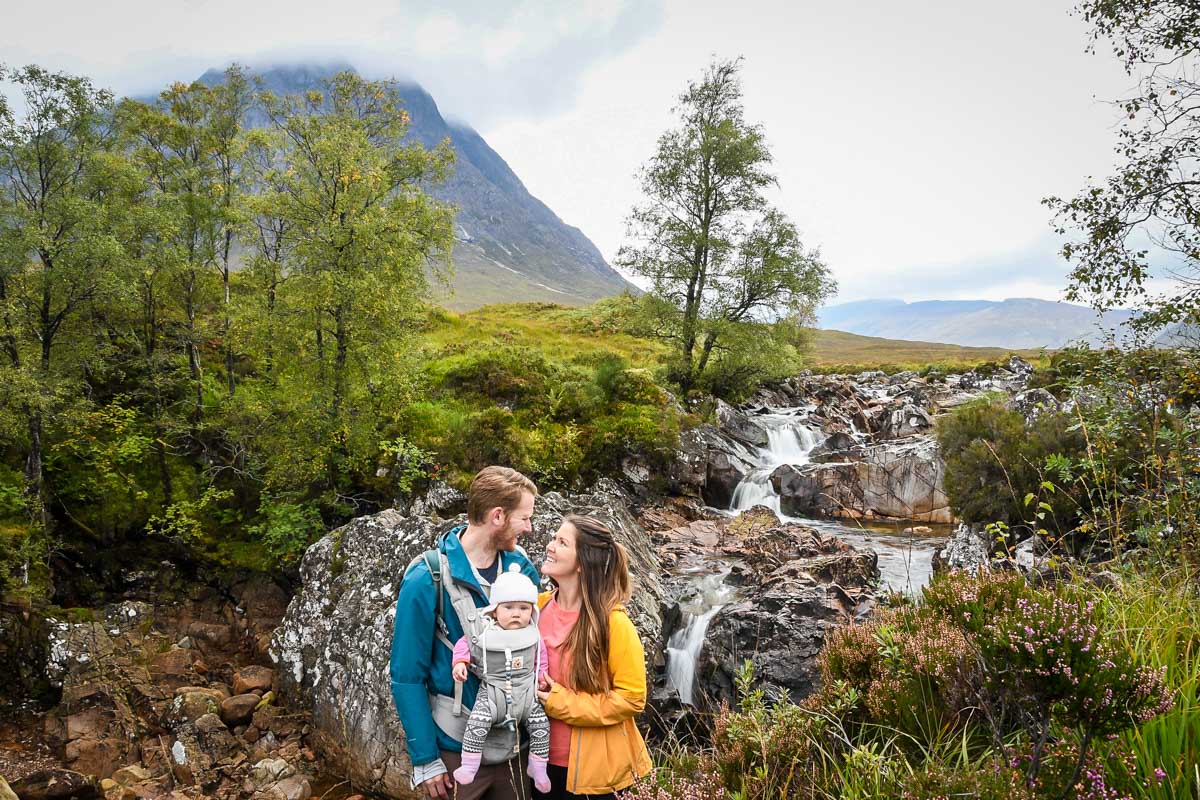 Why Scotland makes a good babymoon:
Breathtaking natural scenery
Fairytale castles and picturesque cities
Cozy Airbnbs
We've been to Scotland a couple times, and we're kind of obsessed.
Rolling green hills, rugged coastlines, and mirror-like lochs dotted with the cutest villages and sweet highland cows… like I said, obsessed.
We brought our (then 9-month-old) daughter on our most recent trip (in a campervan!) and it was so special. We think a trip to Scotland would be a beautiful way to make memories together before your little one arrives.
As a bonus, most places in Scotland are really close together, meaning you can see a lot of the country in one visit without spending too much time in the car (sore hips, anyone?).
Things to do in Scotland on your babymoon: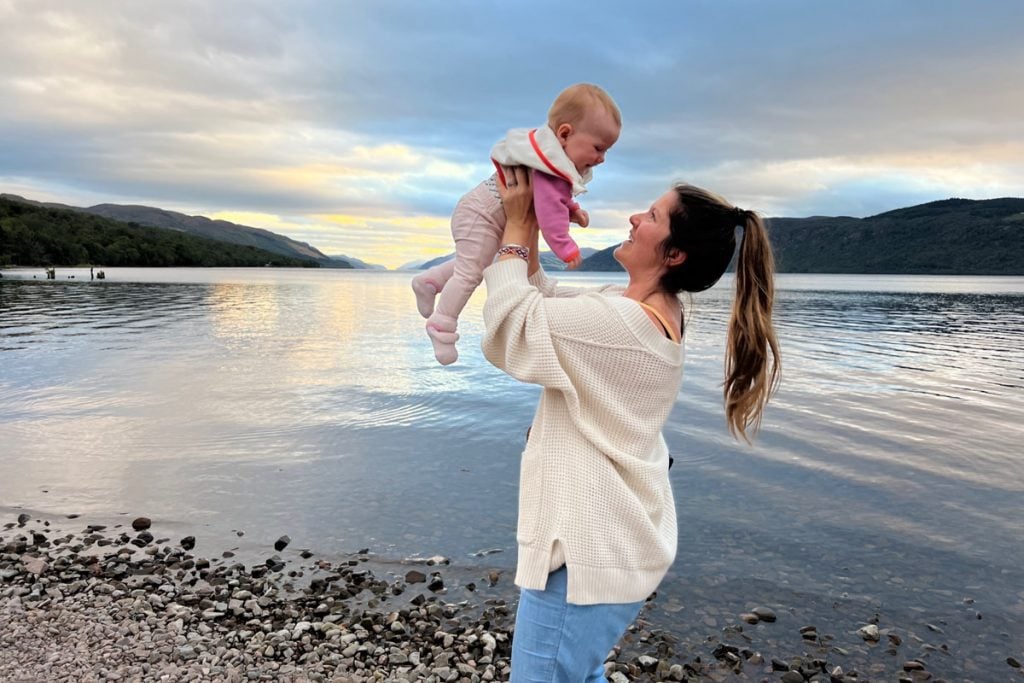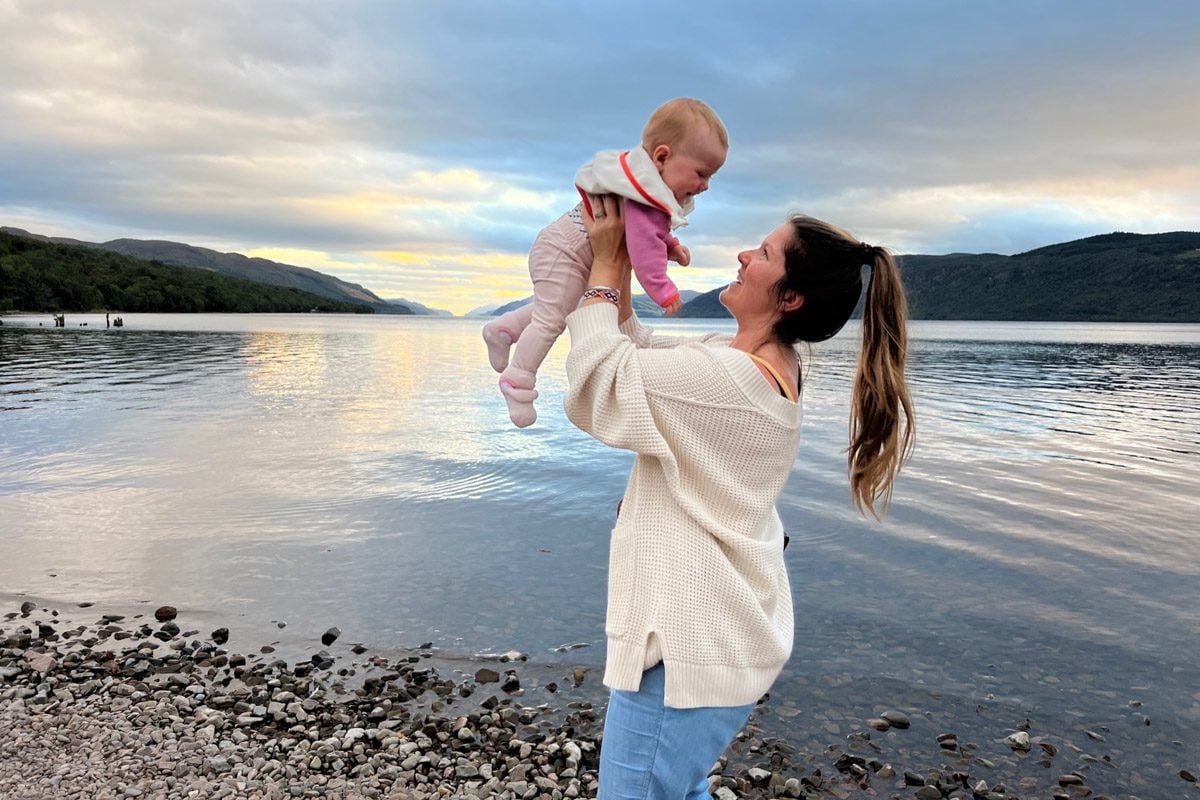 Plan your Scotland babymoon:
5. Costa Rica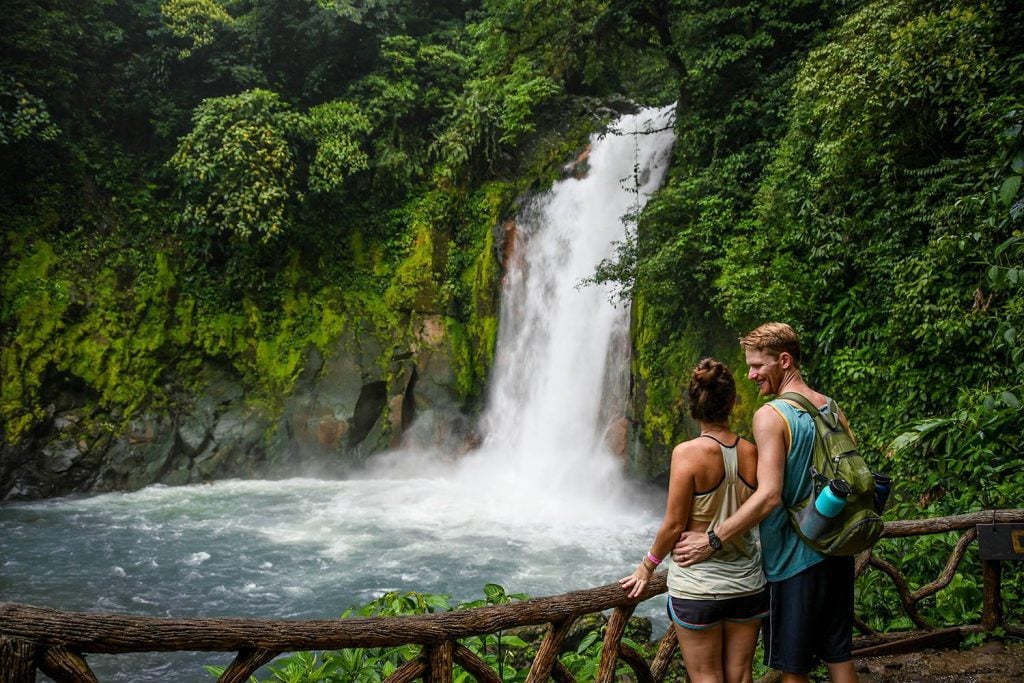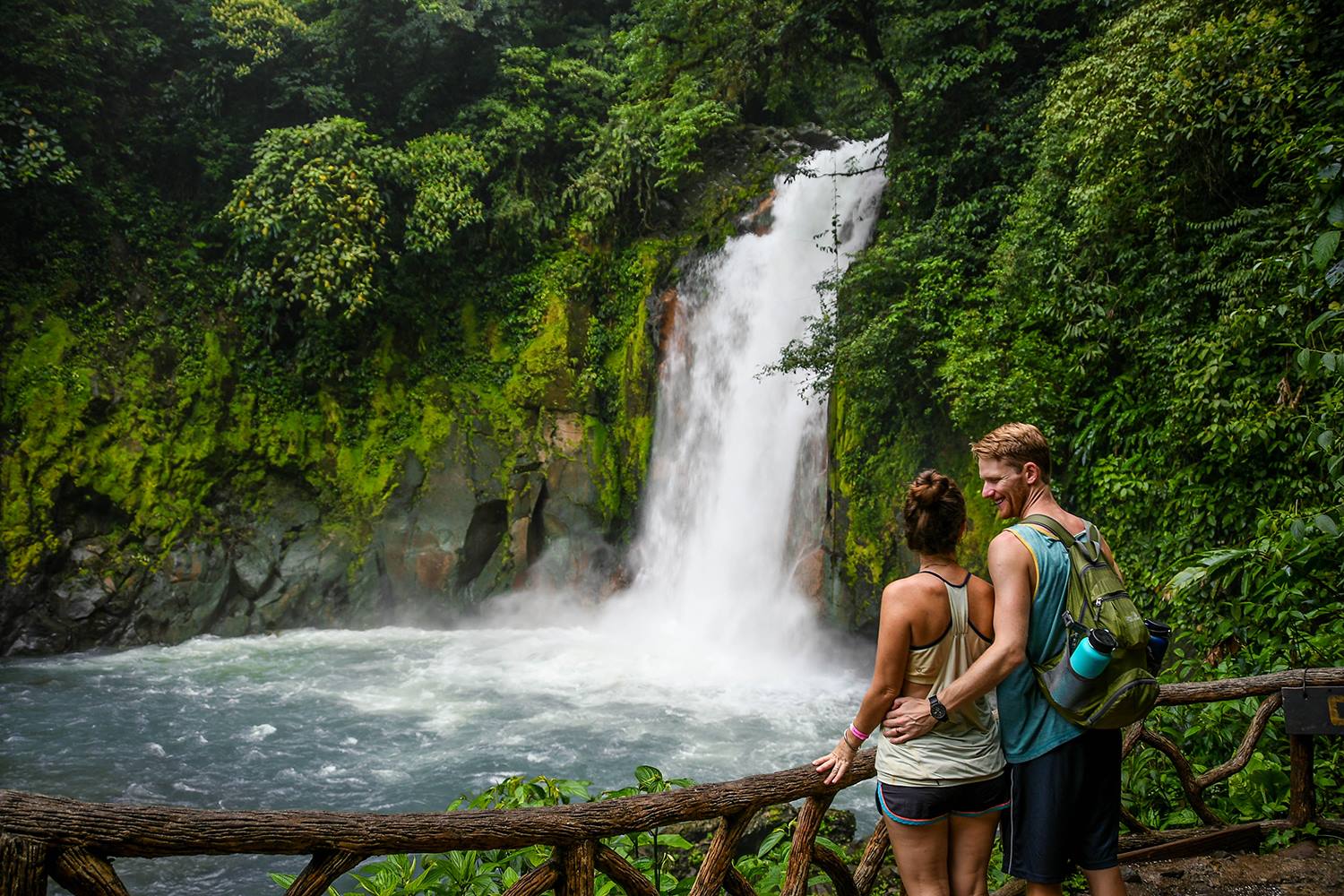 Why Costa Rica makes a good babymoon:
Tropical destination close to the USA
Balance of relaxation & adventure
Comfortable temperatures
Ecotourism & sustainable accommodations
We've been fortunate enough to spend a significant amount of time in this stunning paradise and can say without a doubt that Costa Rica is an ideal babymoon destination.
With postcard-perfect beaches, lush rainforests, abundant wildlife, and dreamy waterfalls, natural splendor is everywhere you look.
There are plenty of ways to relax and unwind, and lots of opportunities to get a li'l adventure in, too.
Something to think about: In addition to beautiful beaches and jungles, Costa Rica is known for outdoor adventure activities like zip lining, canyoning, and white water rafting. If these activities are on your dream Costa Rica itinerary, you may want to save this trip for another time.
Things to do in Costa Rica on your babymoon: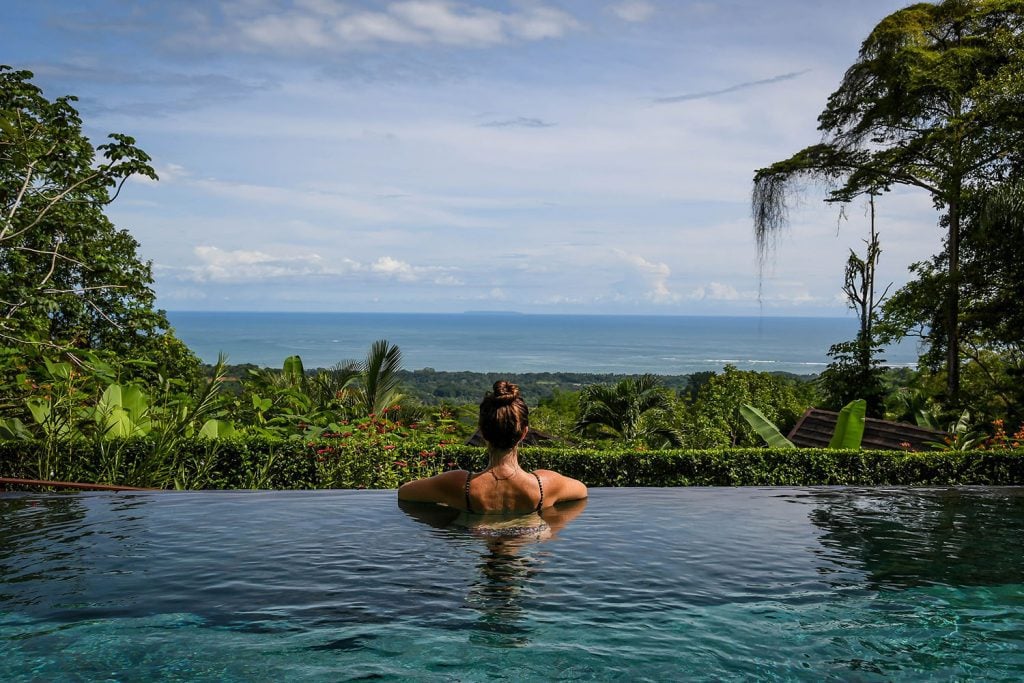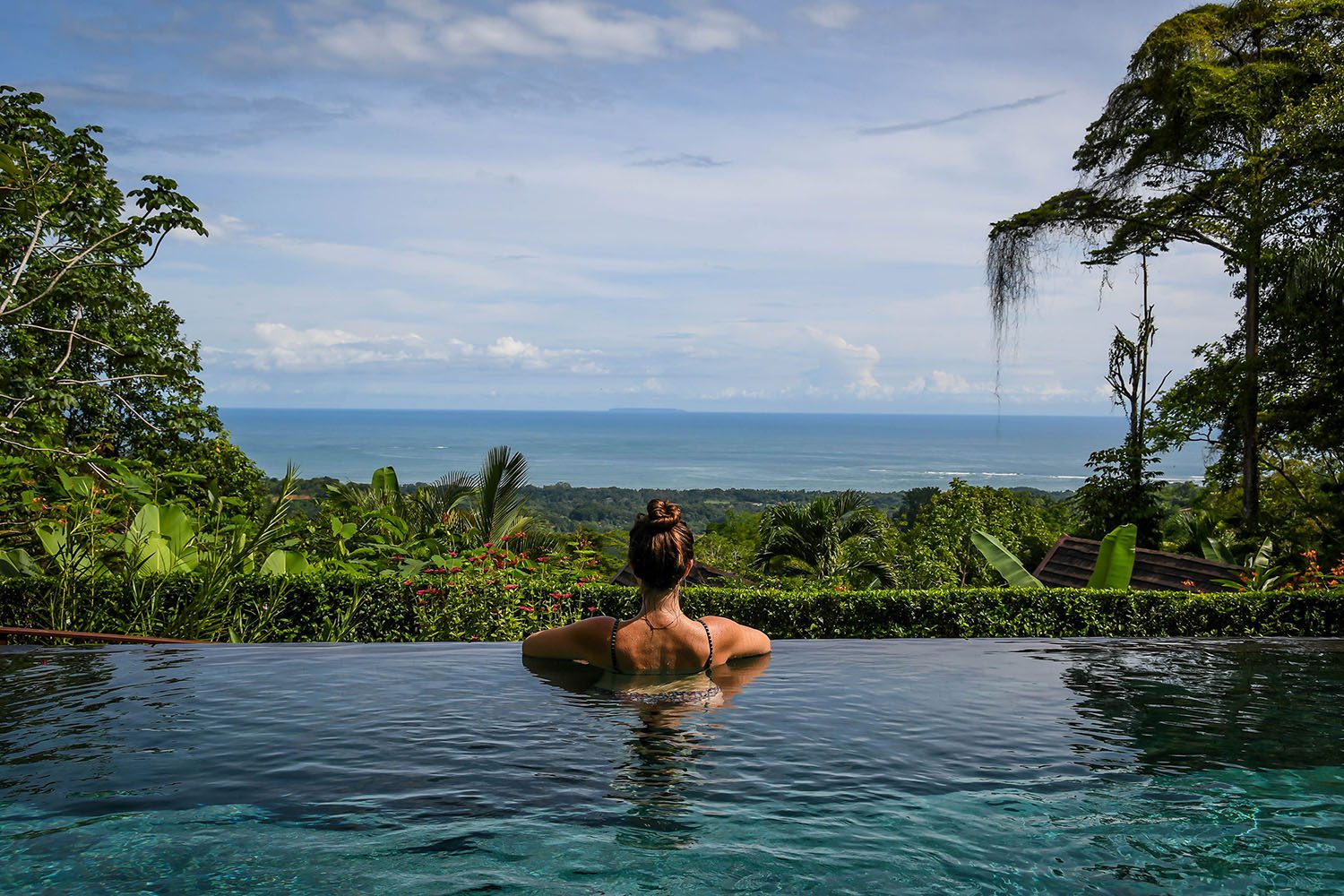 Enjoy a bougie stay at a luxurious jungle villa
Visit rescued sloths, monkeys, reptiles, and other animals at the Jaguar Rescue Center
Soak in hot springs with a view of Arenal Volcano
Plan your Costa Rica babymoon:
6. Thailand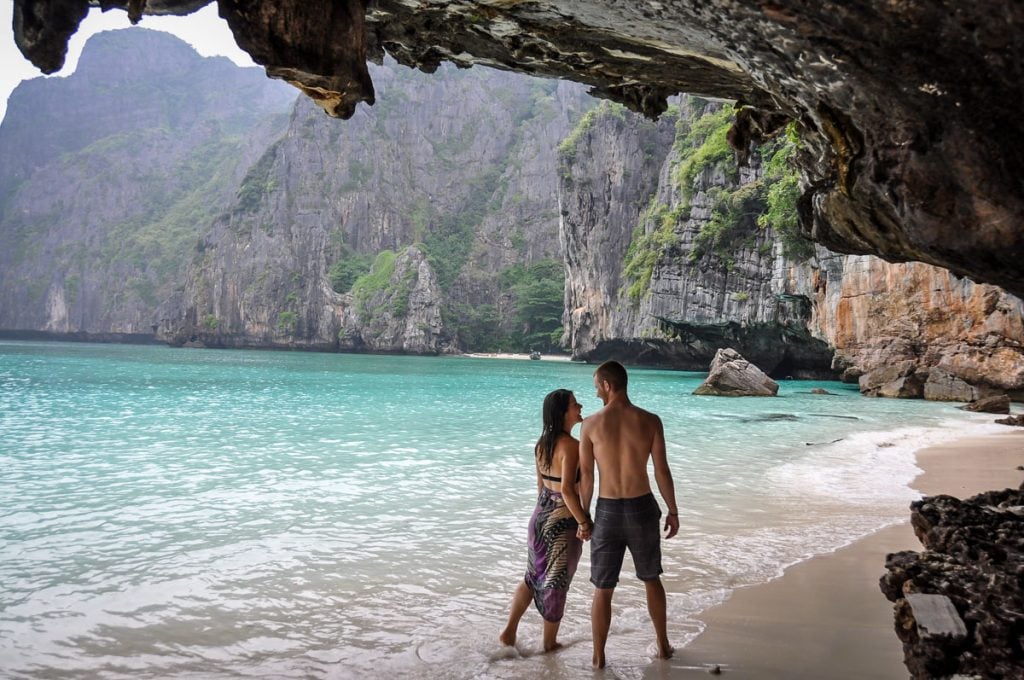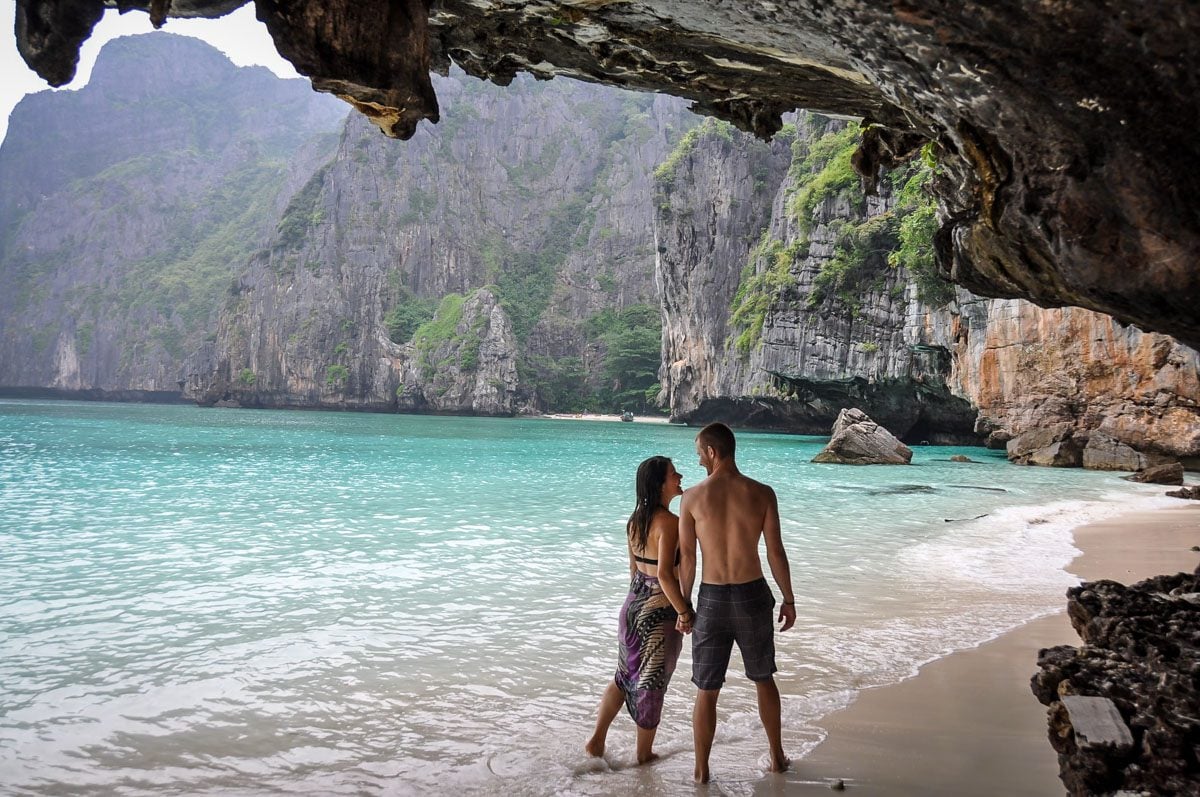 Why Thailand makes a good babymoon:
Experience a totally different culture
Affordable luxury accommodations
Cheap, healthy & delicious food
Thailand is affectionately known as "the land of smiles" – what could be better for a babymoon?!
Over the years, we've traveled to Thailand time and time again. We've spent several months traveling around this country and even lived in the lovely city of Chiang Mai for 6 months while working as digital nomads. If you're up for a longer flight, this could be the perfect babymoon destination for you!
Thailand attracts all kinds of travelers, from budget backpackers to bougie resort types. But it's totally possible to avoid the crowds and find your own little slice of paradise.
With its warm climate, world-class beaches, welcoming locals, as well as a myriad of wellness retreats and spa resorts, Thailand offers the perfect recipe for a vacation filled with relaxation, culture, and a side of adventure.
Things to do in Thailand on your babymoon: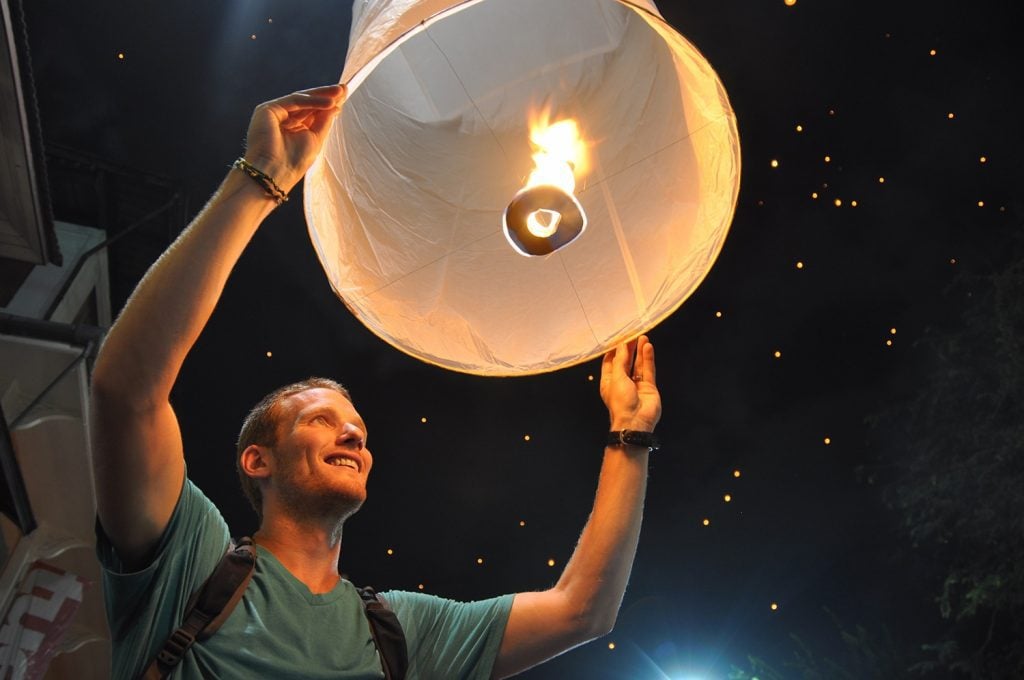 Plan your Thailand babymoon:
7. European Christmas Markets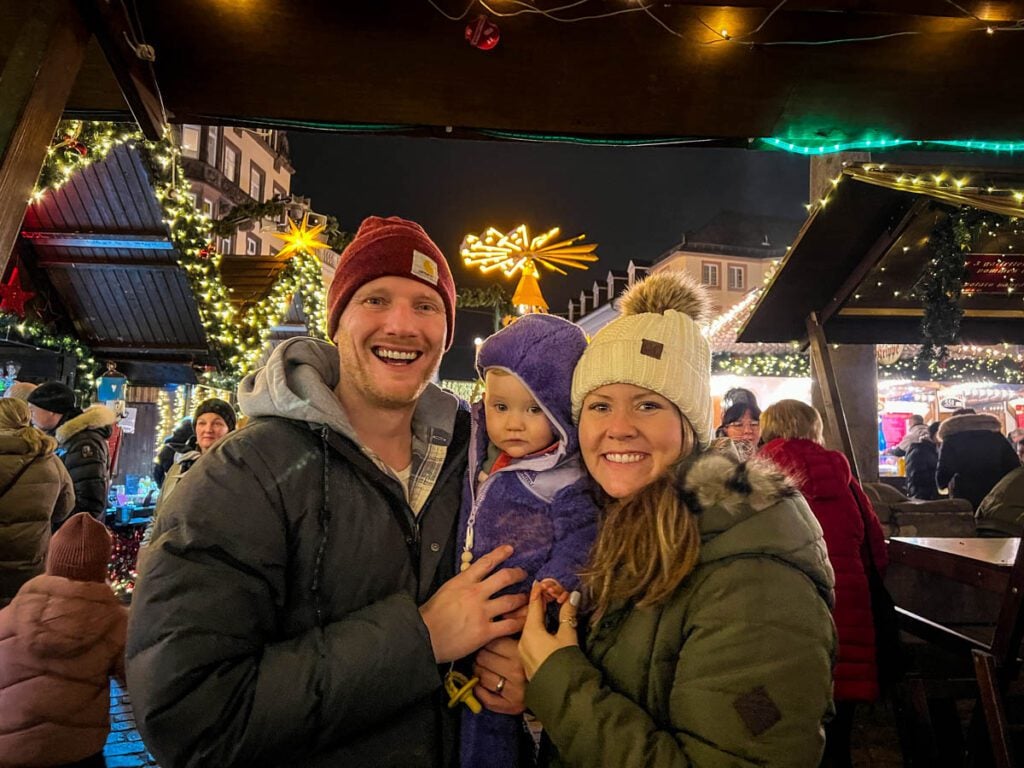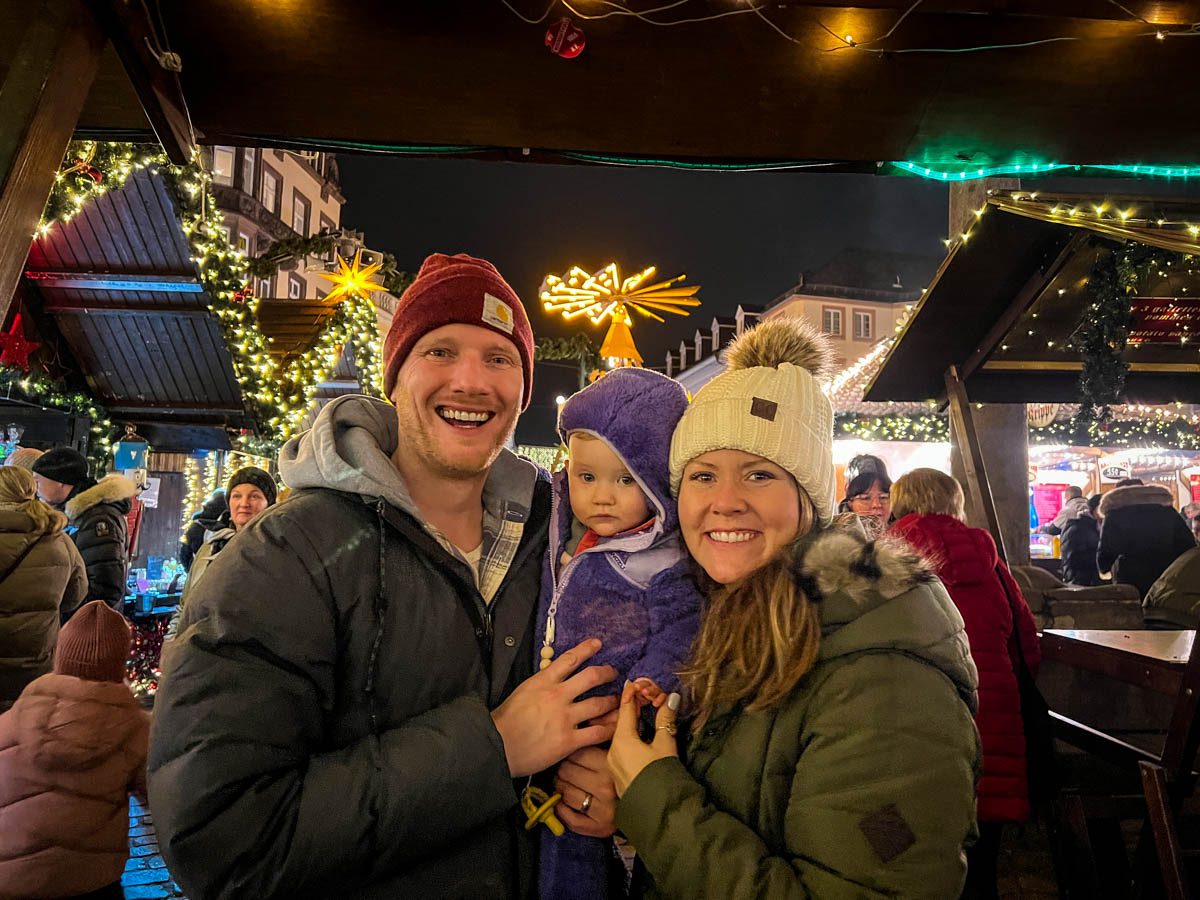 Why Christmas Markets in Europe make a good babymoon:
Magical atmosphere
Bucket list trip
Explore several places on one trip
Amazing food and shopping
Romantic European cities strung with twinkly lights, the smell of roasted chestnuts, and an overall feeling of Christmas cheer – what's not to love?!
We did a European Christmas Market Trip when our daughter turned one year old, and it was pure magic. I think it would be equally as wonderful as a babymoon if your dates align.
Something to think about: Christmas Market season typically runs for about one month (from late November through late December), so you'll need to make sure this timing would work out with your pregnancy.
Things to do at Christmas markets on your babymoon:
Buy your little one a Christmas ornament or wooden toys from a market vendor
Drink a hot mug of kinderpunsch, a non-alcoholic punch that you can find at most markets
Try all the amazing comfort foods that you see being sold throughout the markets – each region has their own delicious specialty!
8. Italy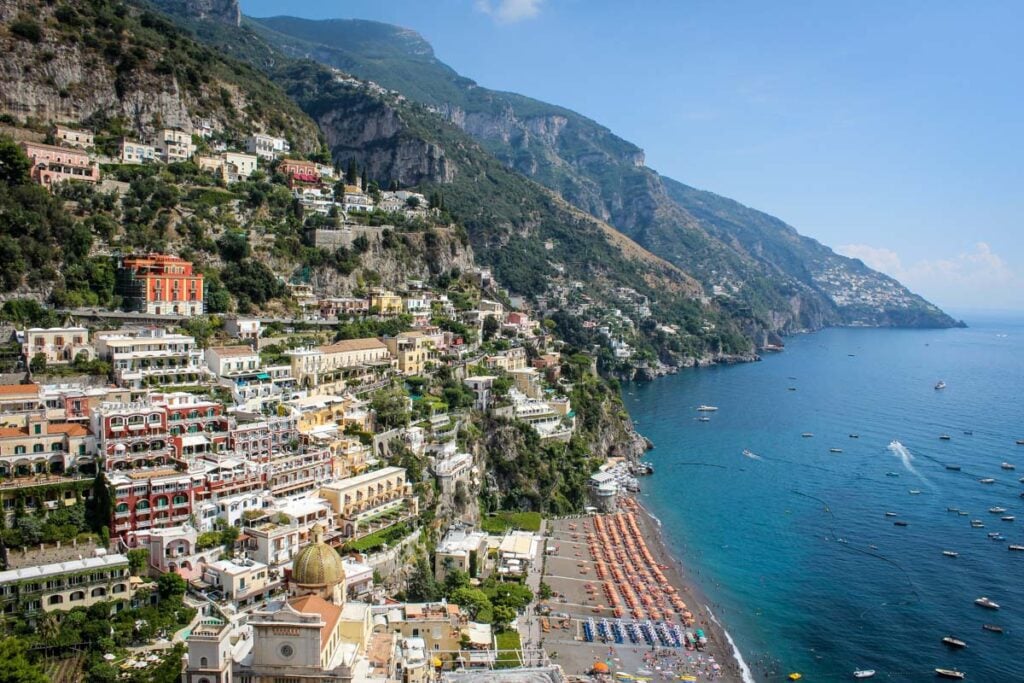 Why Italy makes a good babymoon:
Diverse destinations and experiences
World-renowned cuisine
Must-see art & historic sites
Sparkling turquoise seas, majestic ancient ruins, romantic hole-in-the-wall restaurants – that's amore.
An Italian vacay is on many people's bucket lists, and a babymoon is as good an excuse as any to make it happen!
A foodie's haven, Italy is the perfect destination to satisfy all your pregnancy cravings: pasta, gelato, pizza, cheese – we won't even judge if you mix them together (not gonna lie though, the Italians might).
From gondola rides in Venice to exploring the art-filled cities of Florence and Rome, Italy offers a plethora of options to entertain you and your partner before your little one arrives.
Things to do in Italy on your babymoon: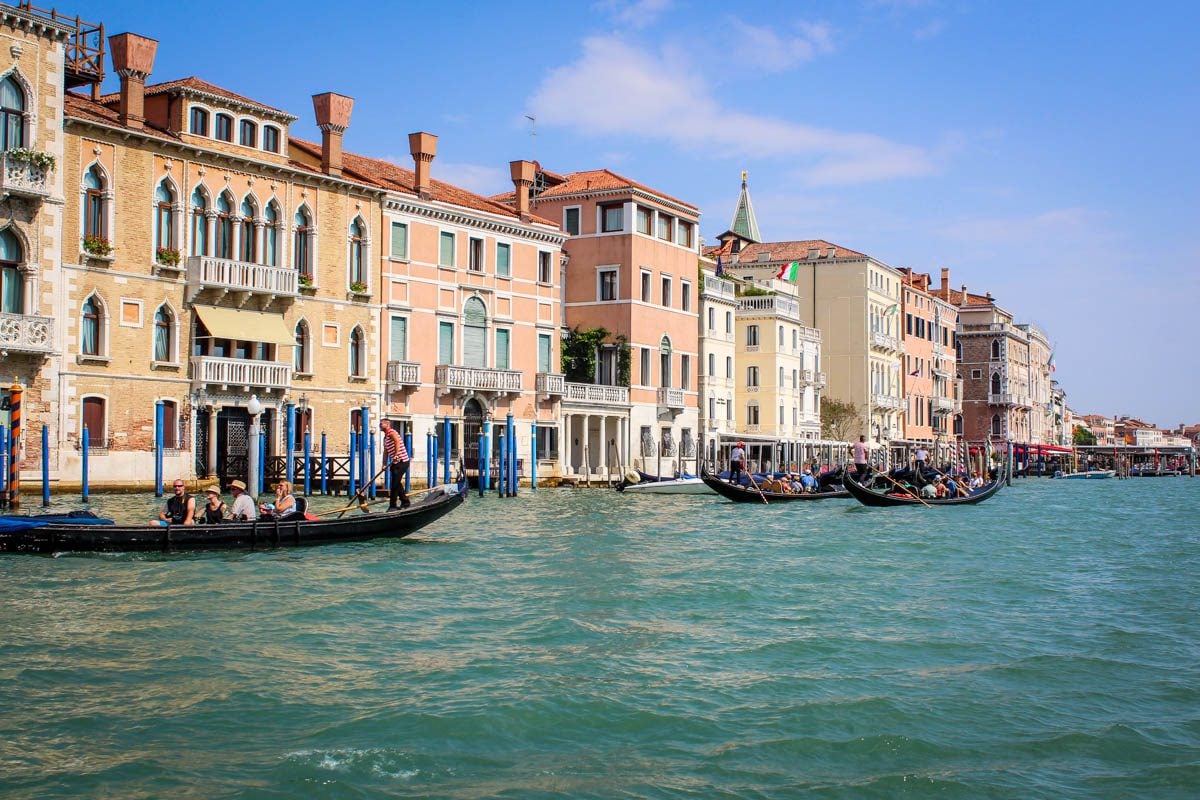 Take a romantic gondola ride in Venice
Connect with ancient history in Rome
Soak up arts and culture in Florence
Relax on the turquoise beaches of the Amalfi Coast
9. Japan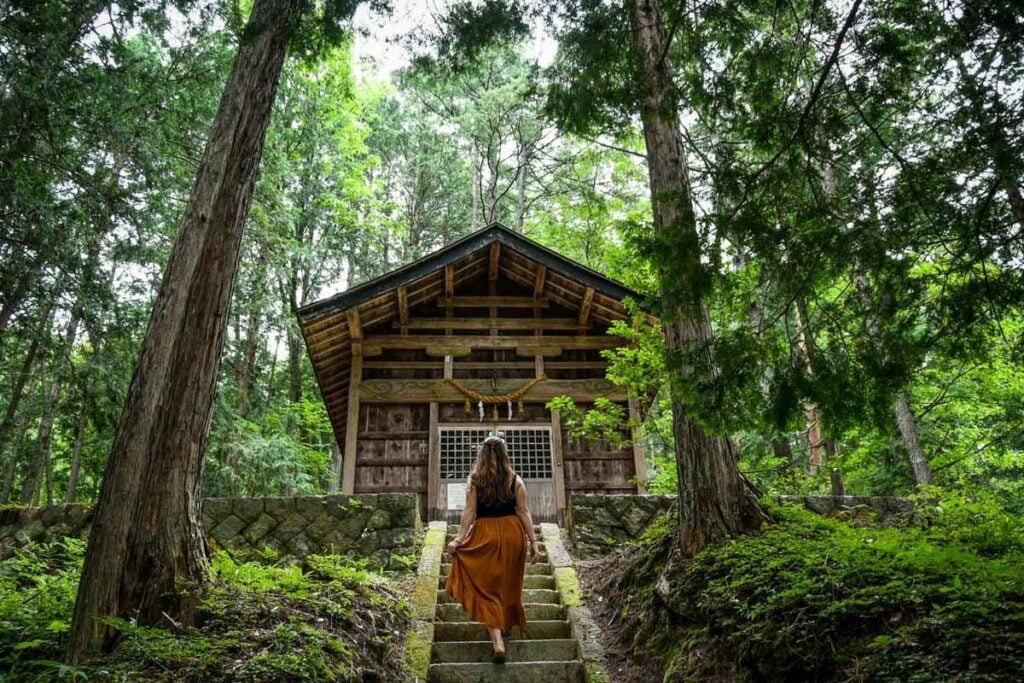 Why Japan makes a good babymoon:
Bucket list trip
Unique experiences you won't find anywhere else
Efficient & comfortable transportation
Japan is a vibrant tapestry of ancient traditions juxtaposed with futuristic innovations that are truly mind-boggling.
It's also a pretty pricey destination (though we do have a list of money-saving tips to help you out!). That said, it might be a good trip to knock out before you have another mouth to feed.
Not to mention Japan's kawaii culture – a.k.a. culture of all things cute – will surely get you hyped up for baby's arrival. Maybe you'll even pick up an adorable souvenir for your little one!
With so many things to see and do in this fascinating country, you can really make your own adventure: stroll through peaceful gardens, sip tea, and soak in soothing hot springs, or immerse yourself in the neon energy of bustling city streets and dancing robots. The choice is yours!
Good to know: Unfortunately, it is recommended that pregnant women avoid sushi. If you're not a huge fan of the stuff in the first place, this might not be a big deal to you. But if you, like me, are sushi obsessed, avoiding it while in Japan could be a deal breaker. I just don't think I'd have the willpower to say no!
Things to do in Japan on your babymoon: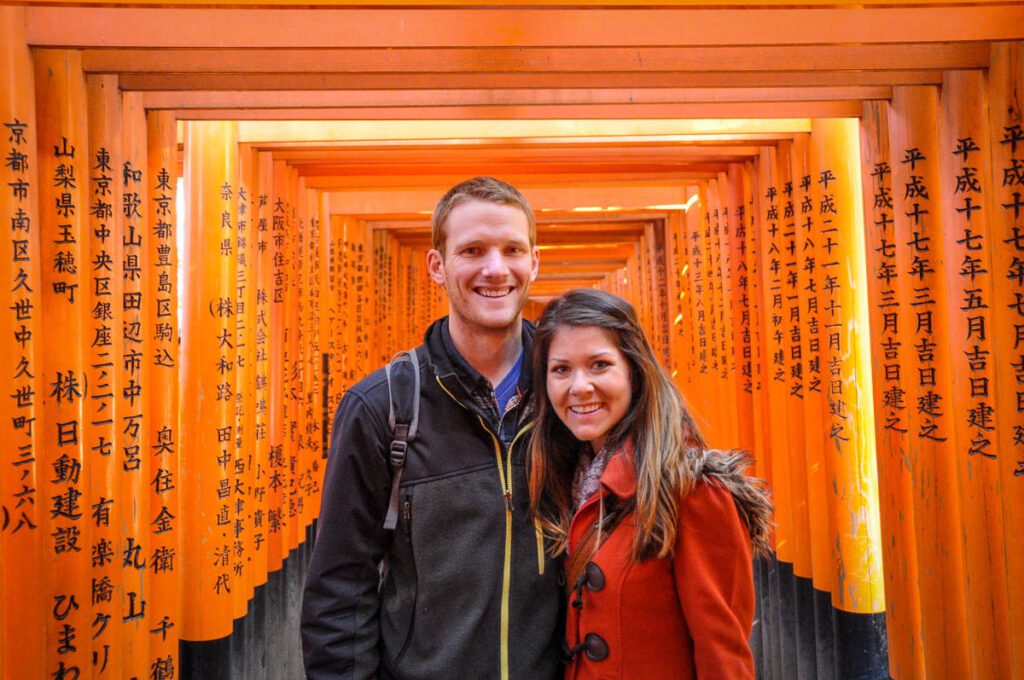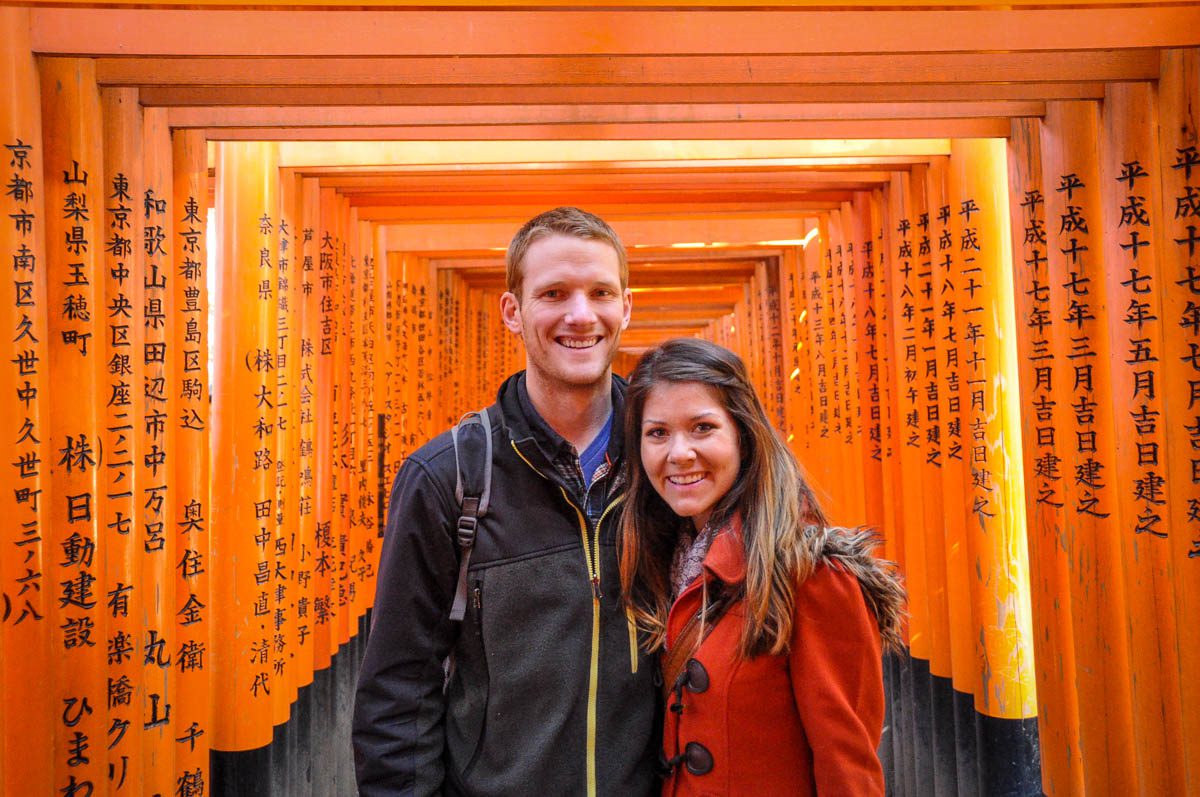 Relax in an onsen (traditional Japanese hot spring)
Take part in a traditional tea ceremony in Osaka
Wander the historic streets of Kyoto
Choose a themed cafe or restaurant in Tokyo for a unique experience
Plan your Japan babymoon:
10. Turkey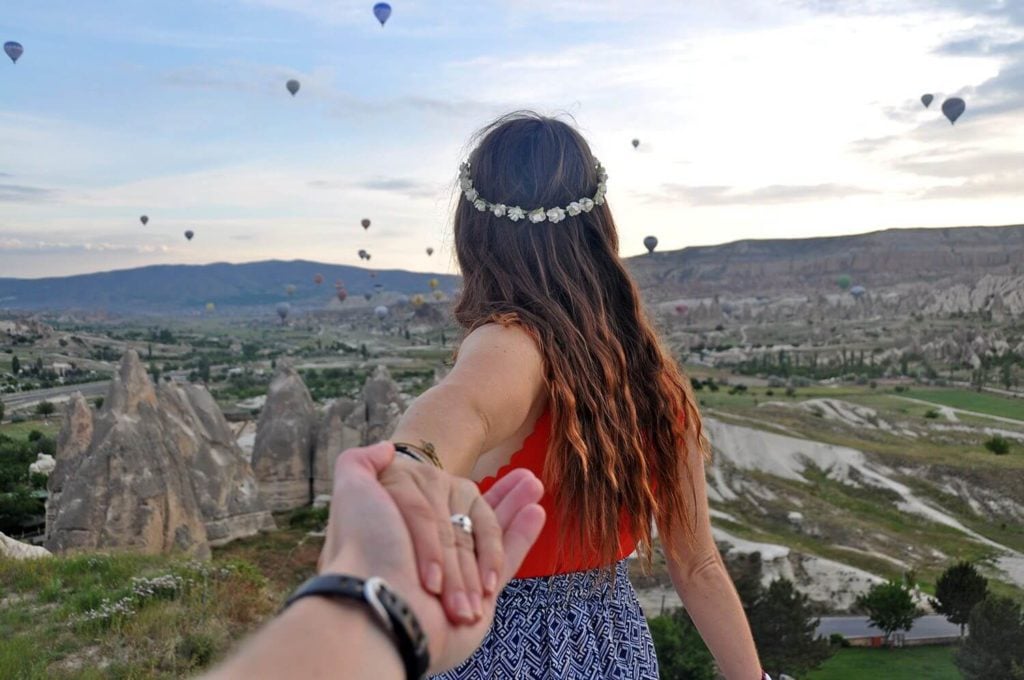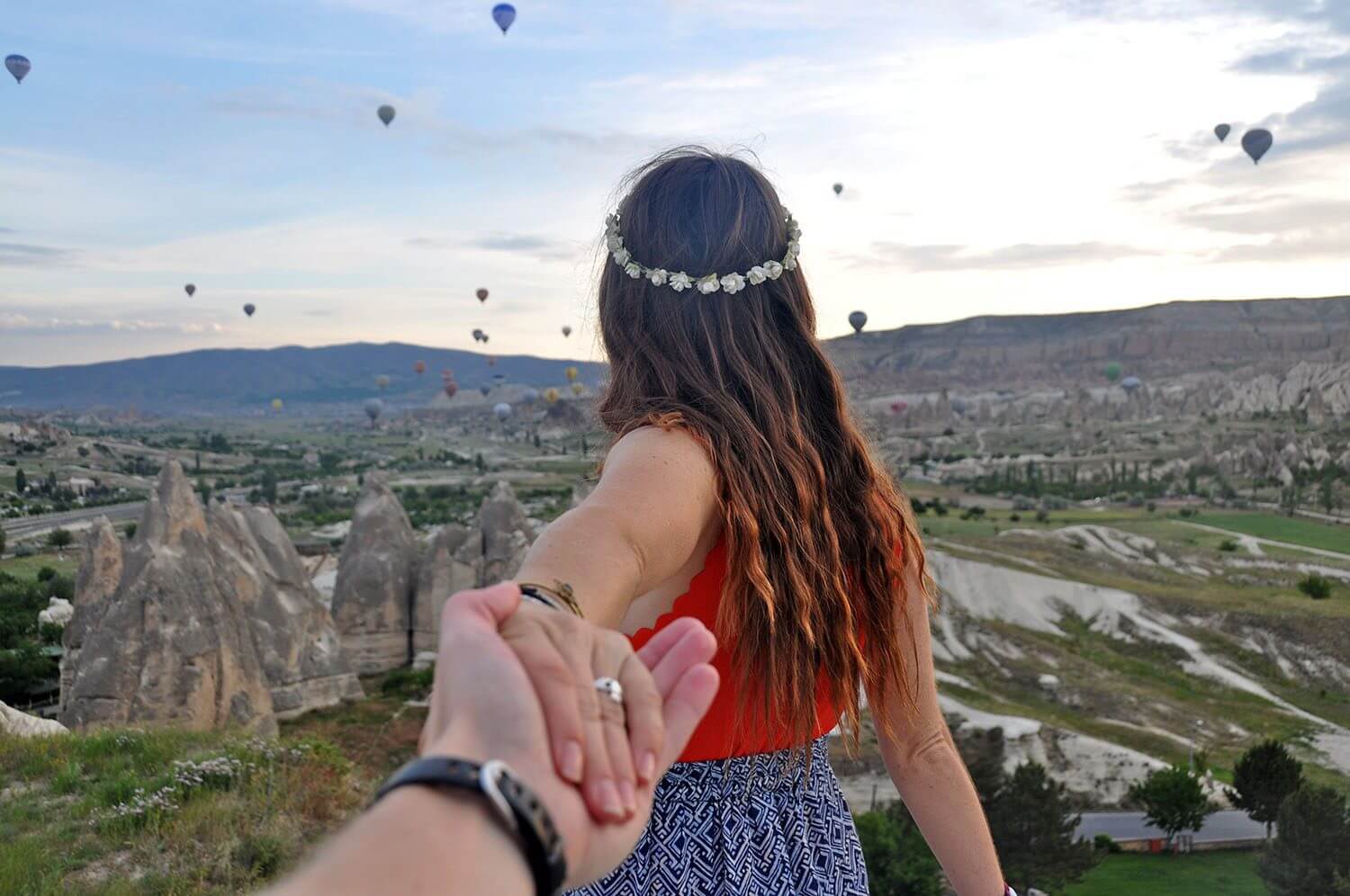 Why Turkey makes a good babymoon:
Rich history & culture
Ah-mazing food
Huge variety of sights & experiences
With gorgeous beaches and vast deserts, rich culture and ancient history, delicious food and friendly locals, Turkey might just check all your boxes for the perfect babymoon.
If this country isn't on your radar, just take a look at these wanderlust-inducing photos and we think you'll change your mind. How cute would your baby bump look against a backdrop of colorful hot air balloons?! It's what maternity photo dreams are made of.
Bonus: many of the best places to visit in Turkey are within a few hours' drive of one another, so you can see a lot in a short time (though we're betting you'll want to stay longer).
Things to do in Turkey on your babymoon: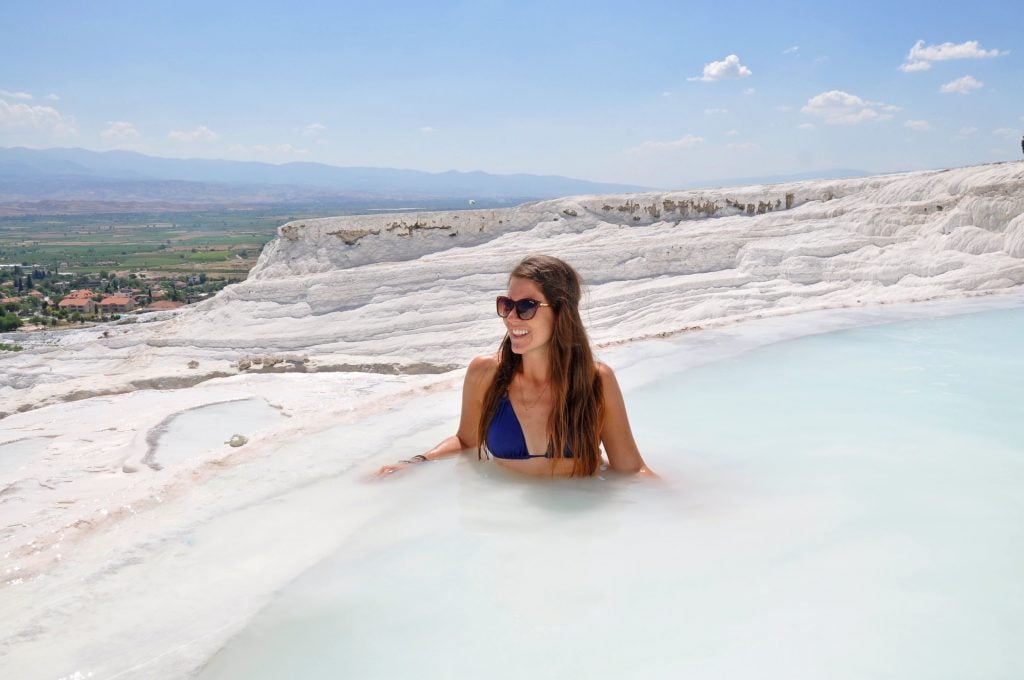 See the Blue Mosque and Hagia Sophia in Istanbul
Shop at the Grand Bazaar
Soak in the ethereal Pamukkale thermal baths
Stay in a unique cave hotel in Cappadocia
Take a cooking class
Holiday like a local in the resort town of Çeşme
Explore the ancient ruins of Ephesus
Plan your Turkey babymoon:
11. Cape Town, South Africa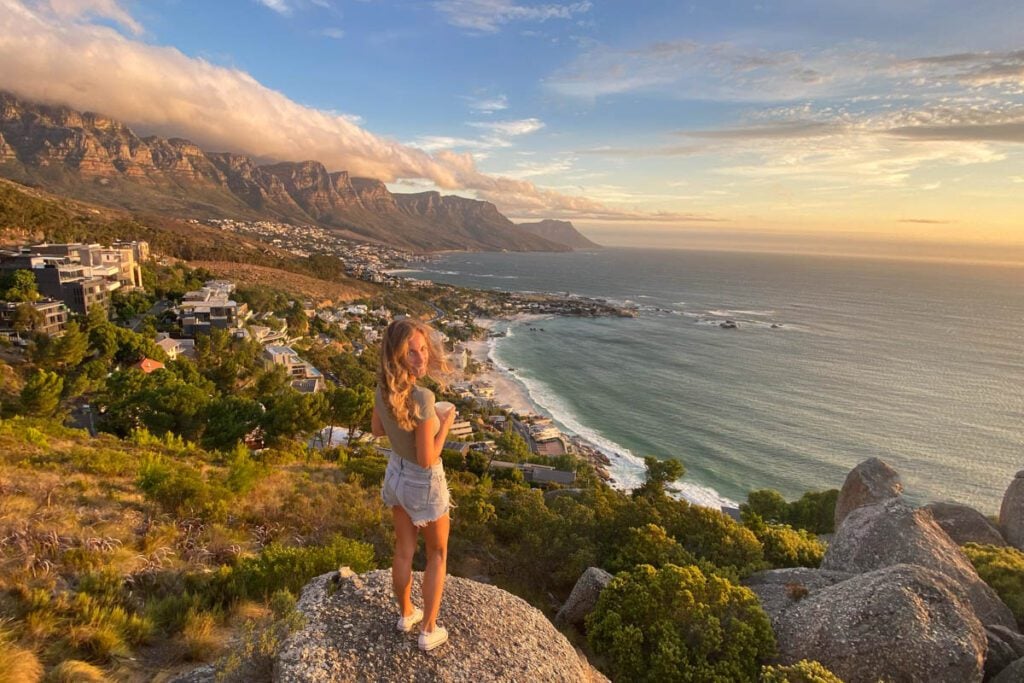 Why Cape Town makes a good babymoon:
Bucket list trip
Stunning natural beauty
Beautiful Airbnbs with breathtaking views
With dramatic coastal and mountain scenery and a captivating blend of cultures, this South African paradise is unlike any other city in the world.
Access to mountains with panoramic views, rugged shorelines, pristine beaches, and some of the best game reserves on the continent make Cape Town the perfect base camp for adventurous couples.
Meanwhile, a unique fusion of cultures and cuisines makes Cape Town an exciting destination for foodies and expecting parents seeking cultural experiences.
Things to do in Cape Town on your babymoon: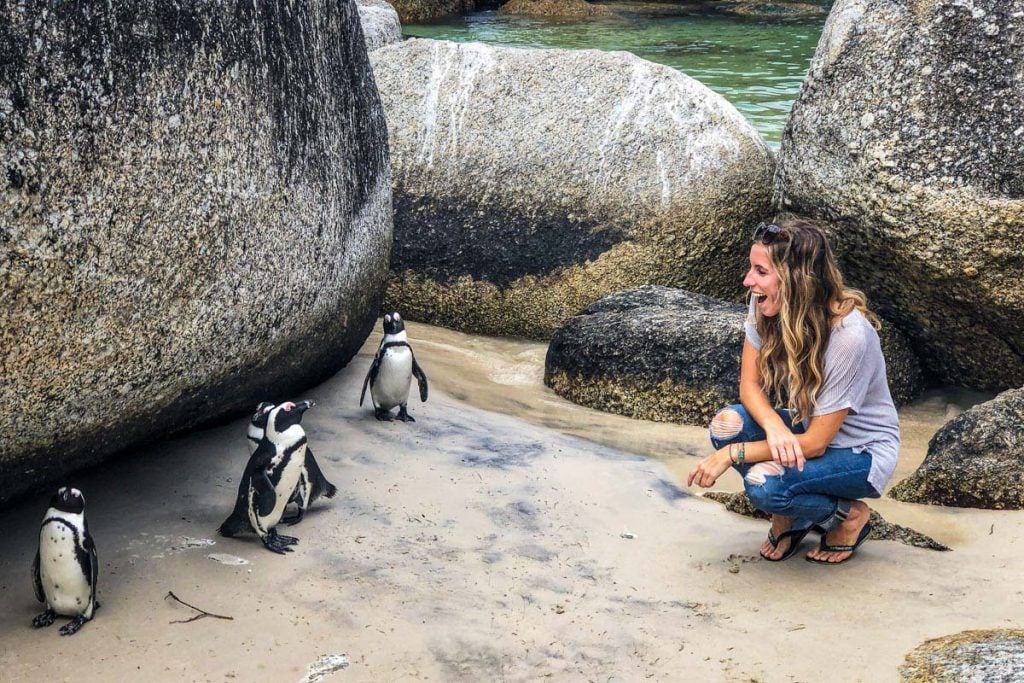 Take the cable car to the top of Table Mountain
Meet adorable penguins at Boulders Beach
Explore the brightly-colored Bo-Kaap neighborhood
Go for a scenic drive on the South African Garden Route
Go on safari with a day trip to a game reserve
Plan your Cape Town babymoon:
12. New Zealand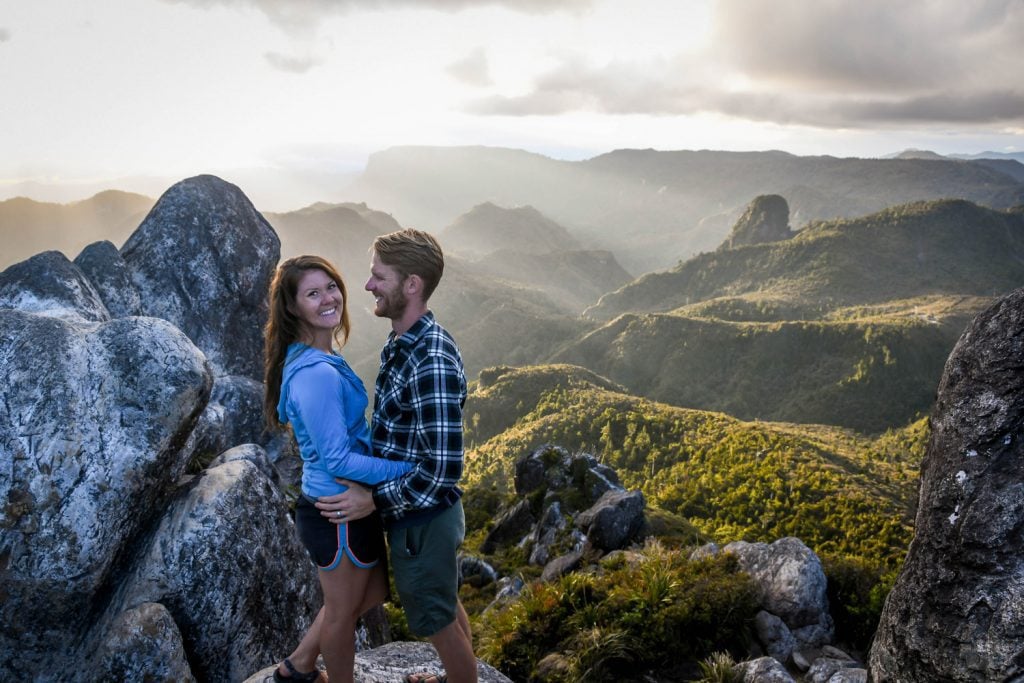 Why New Zealand makes a good babymoon:
Bucket list trip
Adventurous destination
Once-in-a-lifetime experiences
New Zealand is one of our favorite countries to visit. This country is packed with adventures and guaranteed to be one of the most memorable vacations of your life.
It has everything: picturesque fjords, snow-capped mountains, temperate rainforests, palm-lined white sand beaches, thermal hot springs, exciting cities, incredible food – whew! I'm out of breath.
If you're looking for a big blowout adventure before welcoming your babe, this is the place for you!
Plus, visiting New Zealand can make for some long travel days that might be uncomfortable once you have a little one in your lap (though we have lots of helpful tips for flying with a baby!), so this could be a good option before baby arrives.
Something to think about: New Zealand is known as "the adventure capital of the world" for having an abundance of adrenaline-pumping activities (it is the birthplace of bungee jumping, after all). If you're seeking thrills in New Zealand, you may want to save this trip for another time.
Things to do in New Zealand on your babymoon: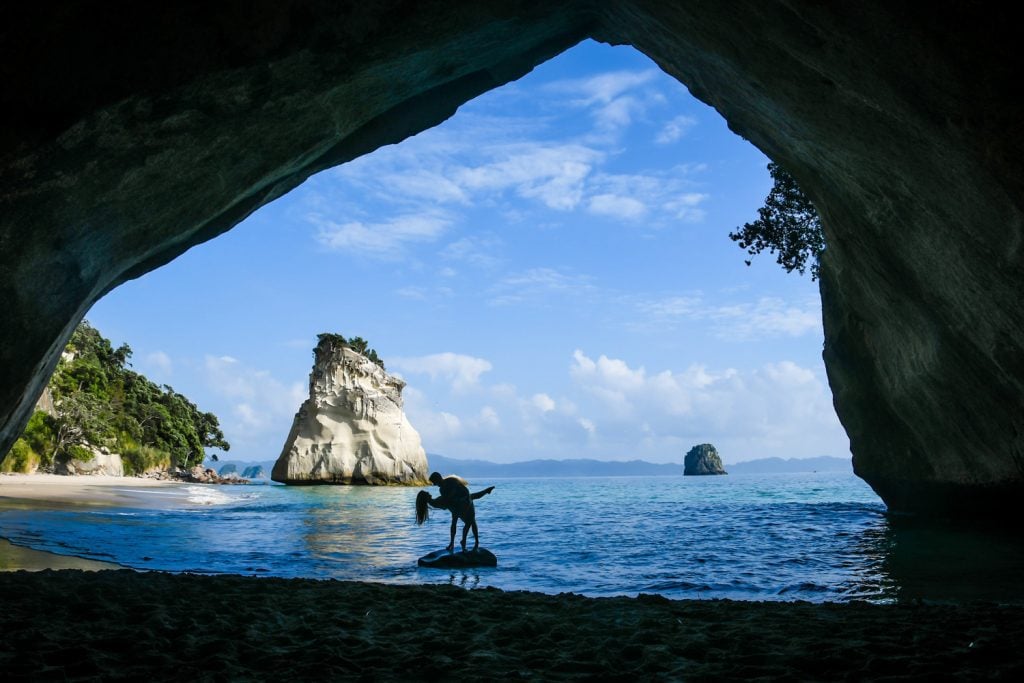 Take a hike!
Explore Milford Sound
Learn about Māori culture
Catch a magical sunrise at Cathedral Cove on the North Island
Stargaze at a Dark Sky Reserve on the South Island
Visit a glow worm cave
Tour the famous Hobbiton movie set
Plan your New Zealand babymoon:
13. Ireland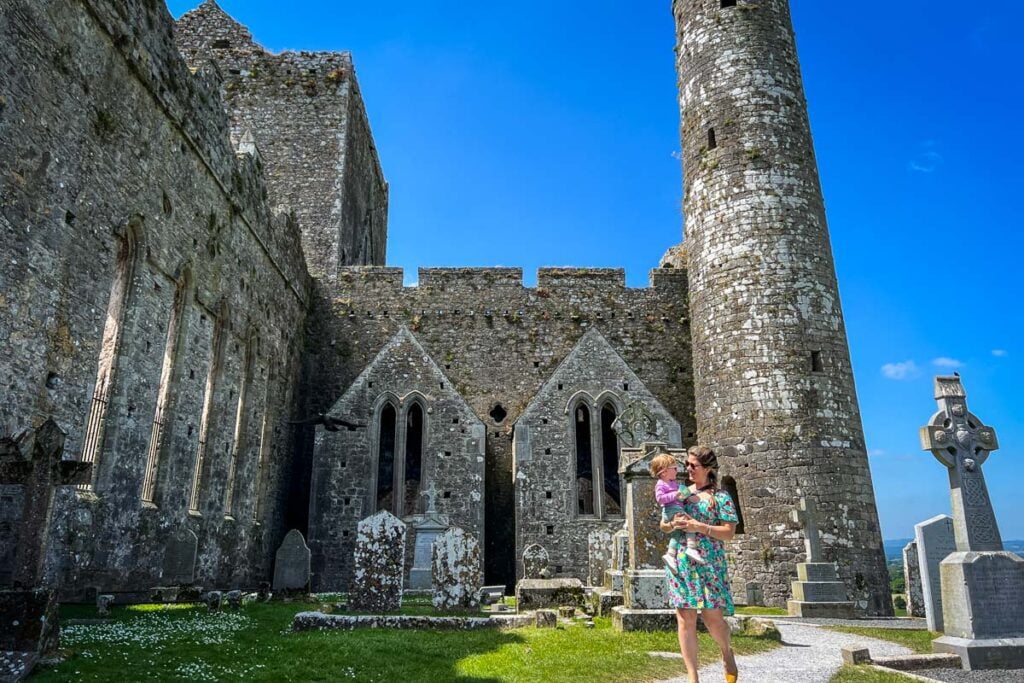 Why Ireland makes a good babymoon:
Picturesque landscapes
Cute, colorful towns
Cozy Airbnbs
Ireland is filled with charming villages nestled amidst rolling green hills and quaint fishing towns dotting rugged coastlines.
We took a dream road trip around Ireland in the spring of 2023 with our then-17-month-old daughter and it easily stole our hearts.
From lively city streets to breathtaking sea cliffs, storybook castles to serene national parks, there are plenty of opportunities for a memorable babymoon in Ireland.
Things to do in Ireland on your babymoon: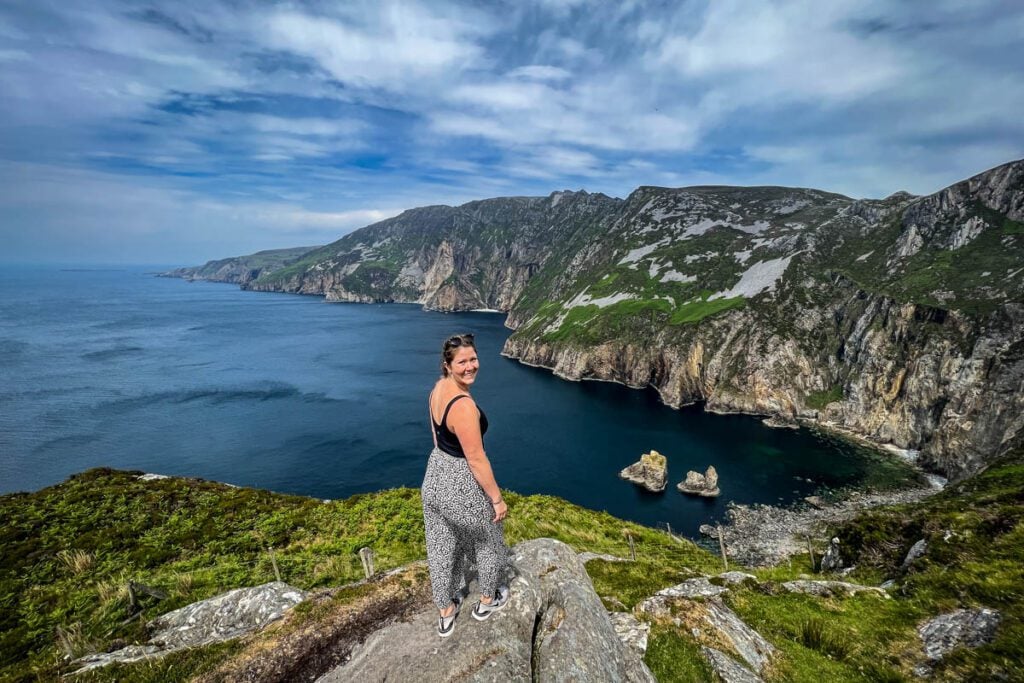 Get your toes tapping at a traditional Irish music session
Marvel at off-the-beaten-path sea cliffs
Embark on a road trip around the famous Ring of Kerry
Immerse yourself in Gaelic culture on the Aran Islands
Ride a pony & trap through the Gap of Dunloe
Plan your Ireland babymoon:
14. Leavenworth, WA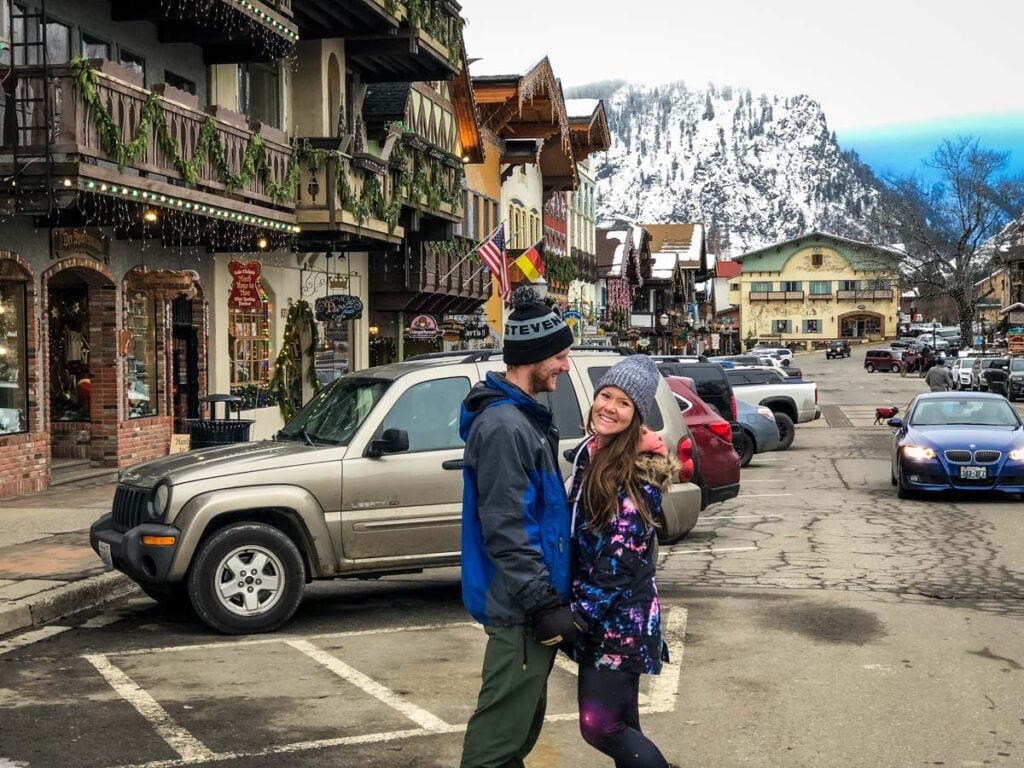 Why Leavenworth makes a good babymoon:
Year-round destination
Magical atmosphere
Hearty German comfort food
We lived in Leavenworth for 8 months and seriously fell in love with this mountain town. We try to go back at least once a year, so we've been more times than we can count!
While snow sports and the famed Christmas lighting ceremonies draw visitors in the winter, Leavenworth also offers bucket list hikes and water activities in the warmer months.
No matter what season you take your babymoon, you'll find plenty of things to do in Leavenworth to make your trip memorable.
Things to do in Leavenworth on your babymoon: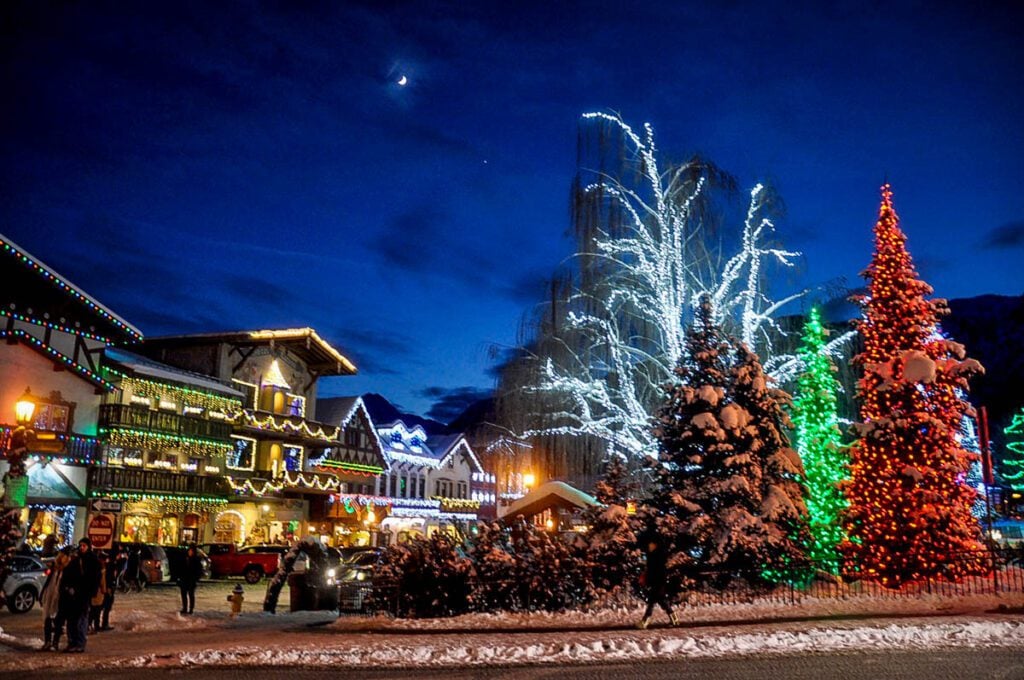 Have a relaxing soak at Scenic Hot Springs
Wander the festive Village of Lights (winter)
Float on the Wenatchee River (summer)
Walk, snowshoe, or cross-country ski around Blackbird Island
Recommended Stay: Posthotel
If you're okay with a splurge, the Posthotel is super romantic and a perfect place to relax, enjoy their luxurious riverside soaking pool and pamper yourself with spa treatments. (It's an adults only hotel, so you won't be able to stay here once babe arrives!)
Plan your Leavenworth babymoon:
15. Oregon Coast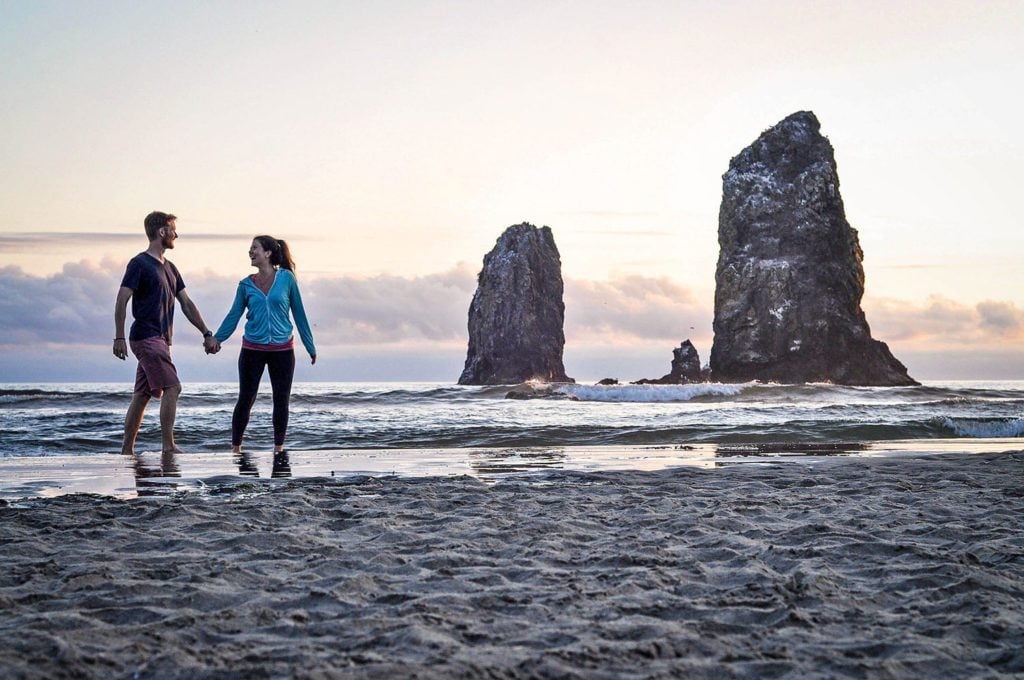 Why the Oregon Coast makes a good babymoon:
Cute coastal towns
Breathtaking scenery
Good for a full-on vacation or a weekend getaway
Oregon boasts 363 miles of coastline dotted with quaint fishing towns, driftwood-strewn beaches, jaw-dropping viewpoints, and picturesque picnic spots.
Whether you want to hit a bunch of sights on the ultimate Oregon Coast road trip or choose one of the cute coastal towns to spend the weekend, this region is a romantic and versatile choice for your babymoon.
Things to do in Oregon Coast on your babymoon: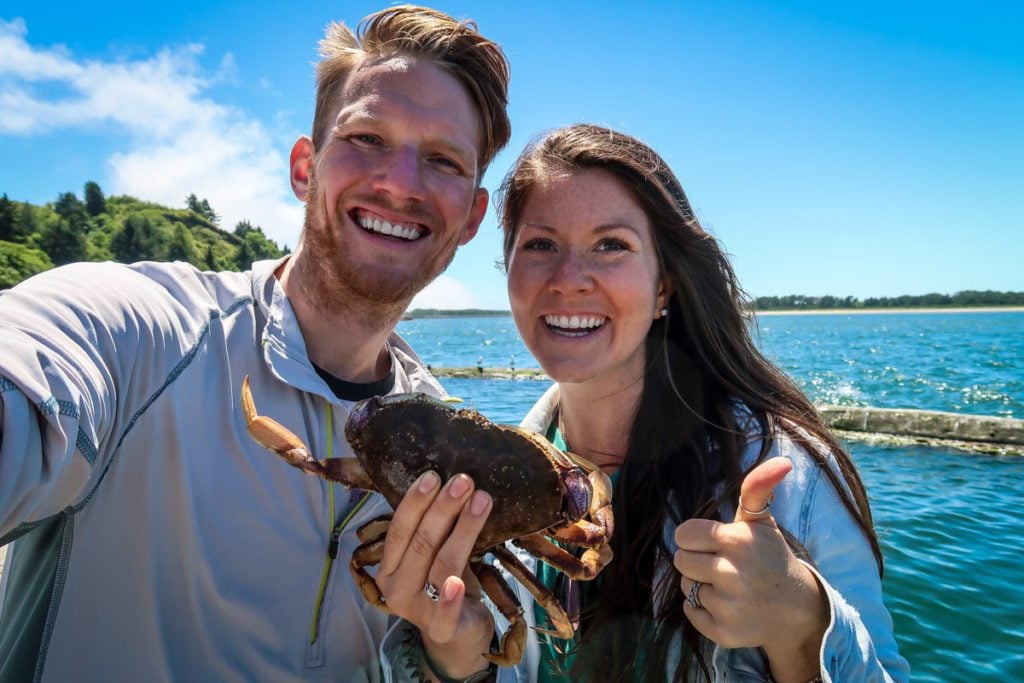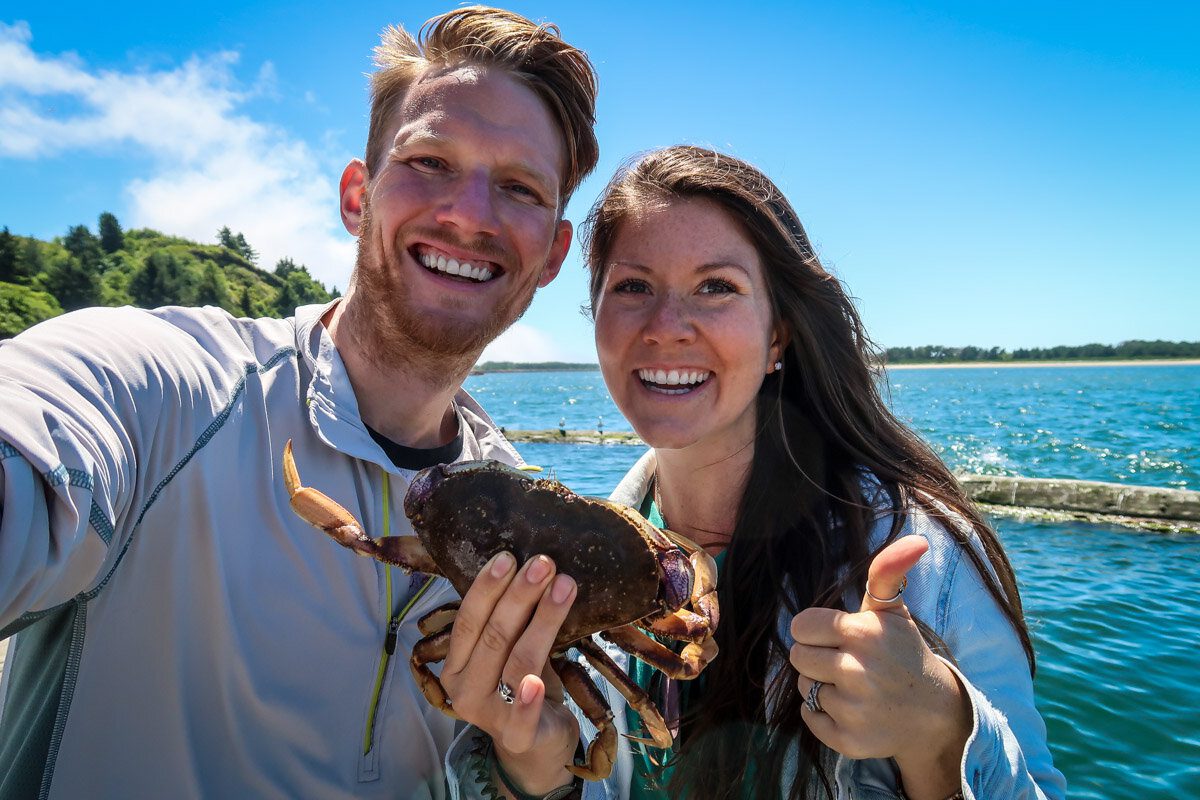 Cozy up with a sunset bonfire on Cannon Beach
Go whale watching in Depoe Bay
Try your hand at crabbing at Kelly's Brighton Marina
Hike to the iconic Cathedral Tree in Astoria
Visit the sleepy, underrated town of Yachats
Plan your Oregon Coast babymoon:
16. Hawaii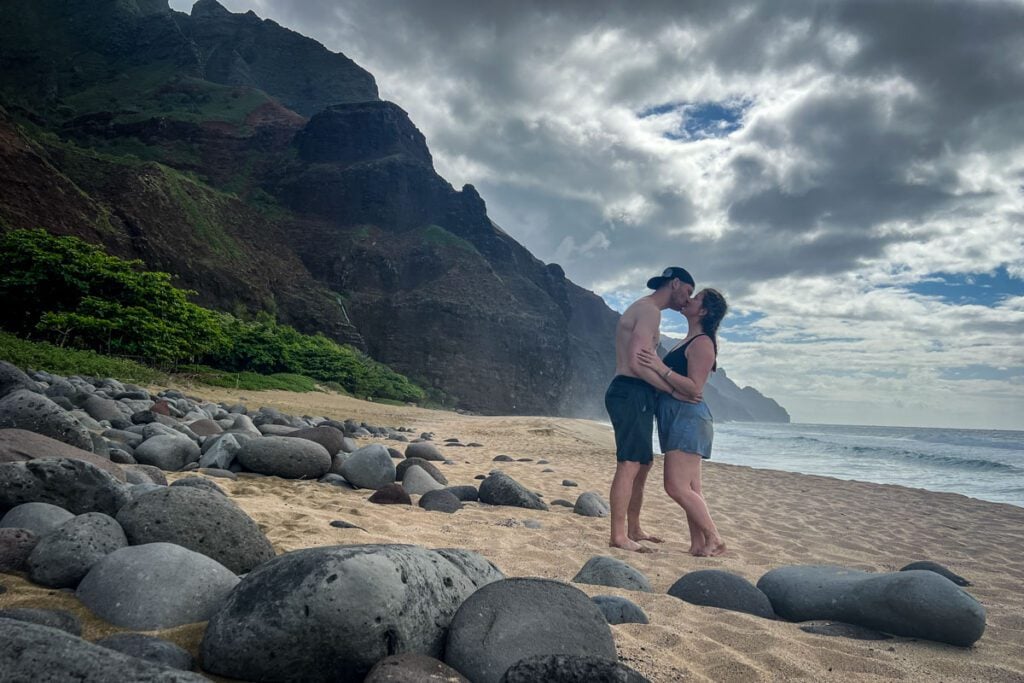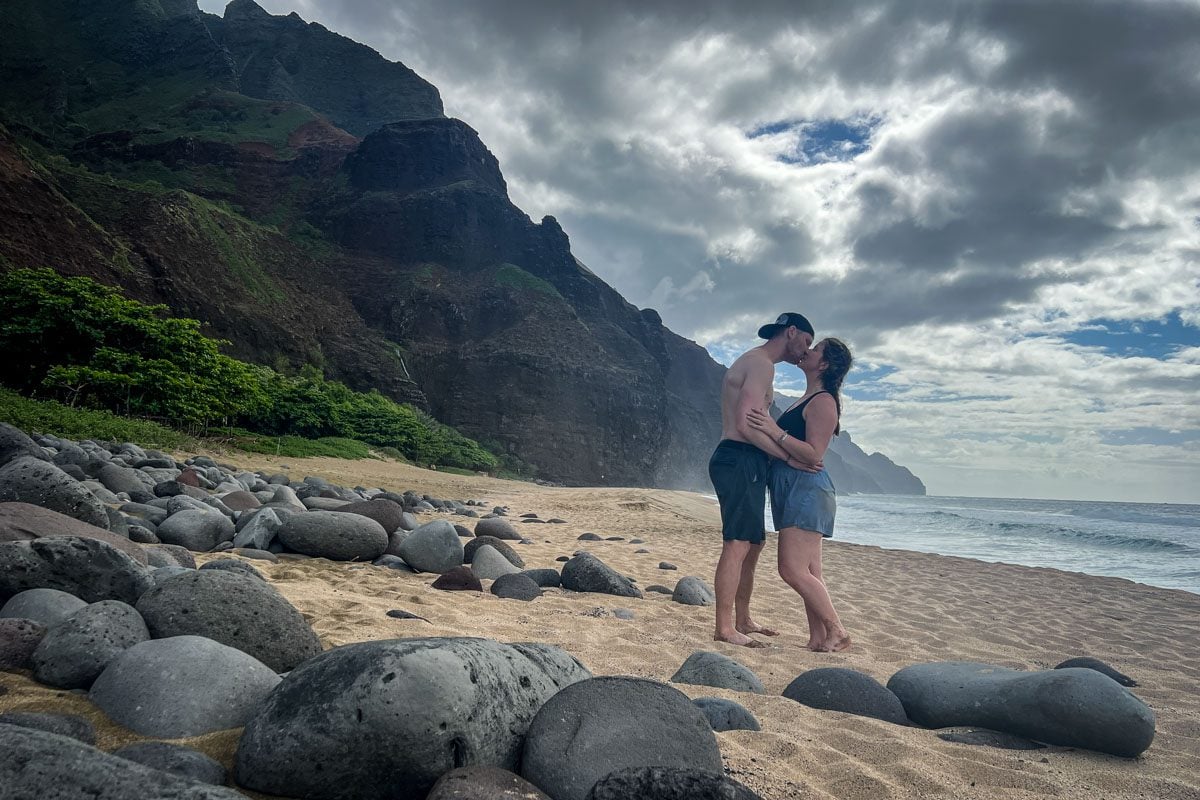 Why Hawaii makes a good babymoon:
Dream vacation
Super romantic
Wellness culture & relaxation
Hawaii is arguably the best beach vacation destination that doesn't require a passport for US citizens, which makes it an ideal babymoon for couples looking to spend their time lounging on the sand.
But with so many things to do in Hawaii besides perfecting the art of being a beach bum, it's also a perfect destination for parents-to-be seeking culture, adventure, and amazing culinary experiences.
Things to do in Hawaii on your babymoon: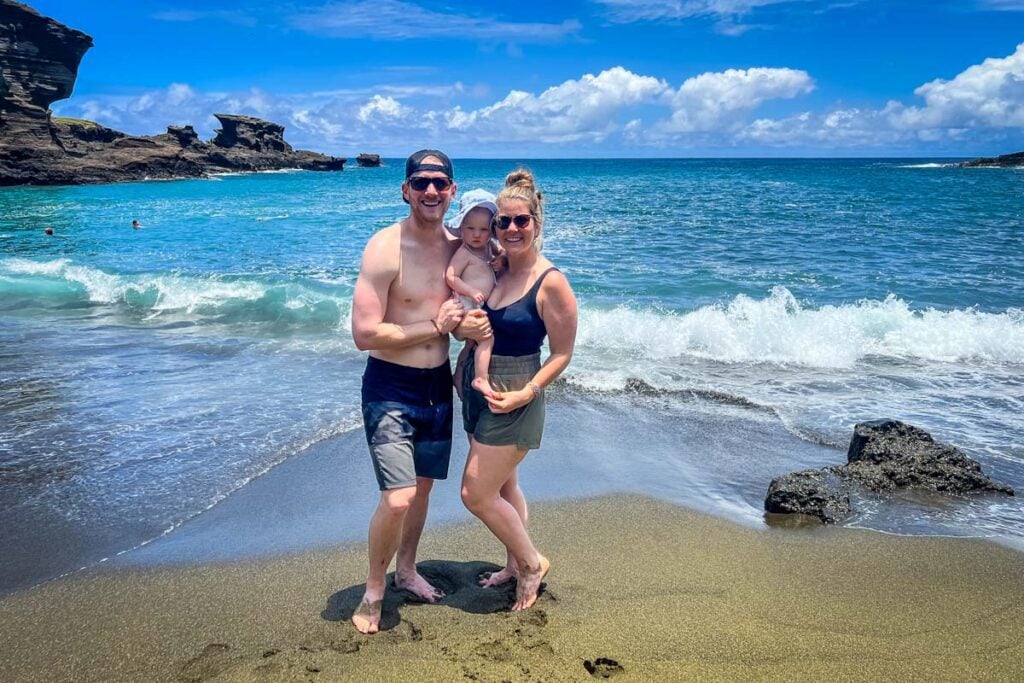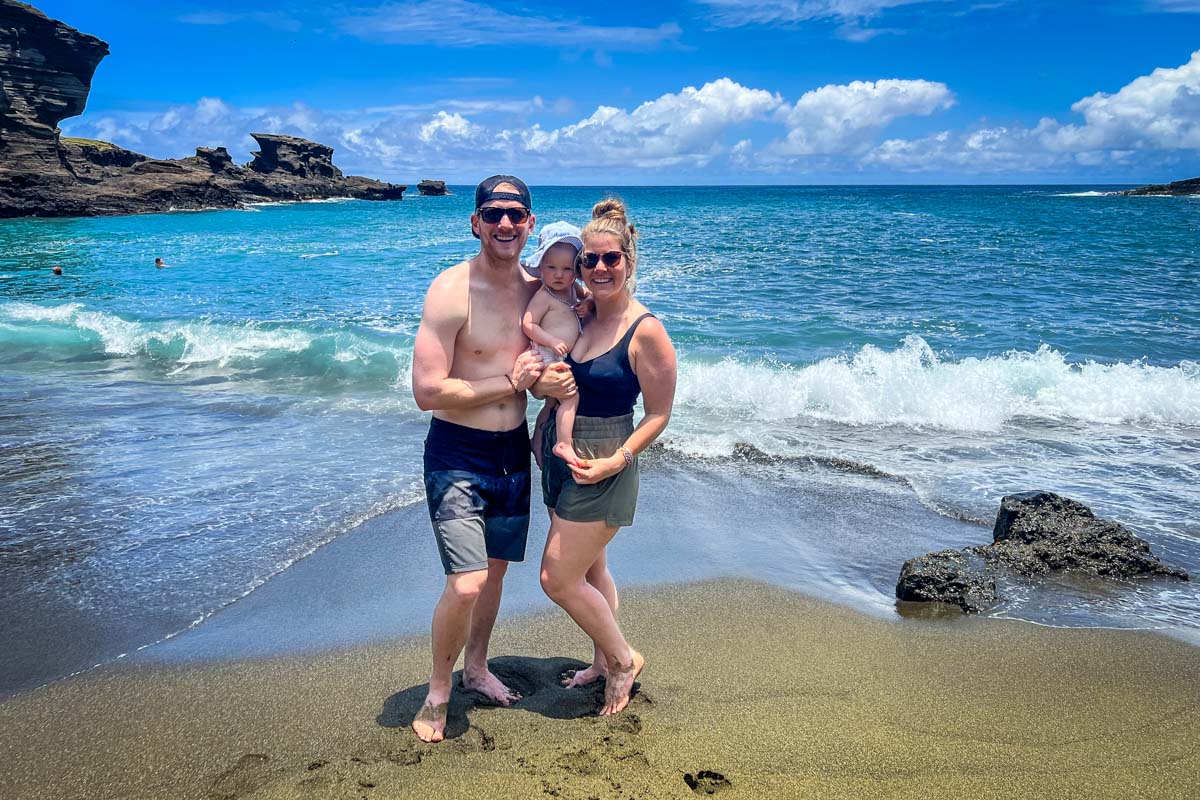 Plan your Hawaii babymoon:
17. Colorado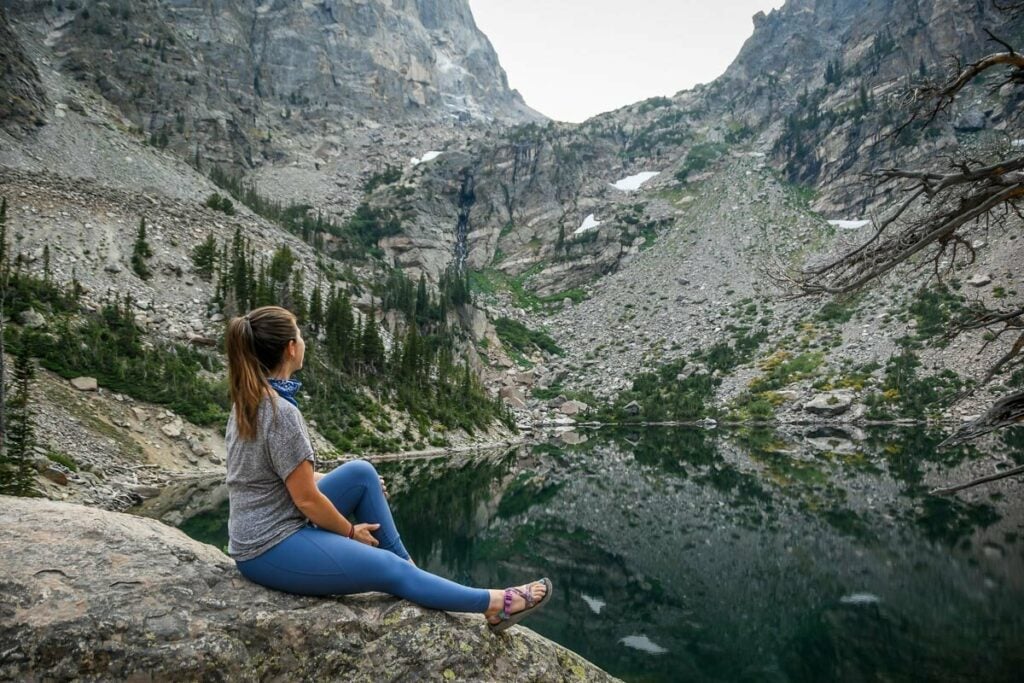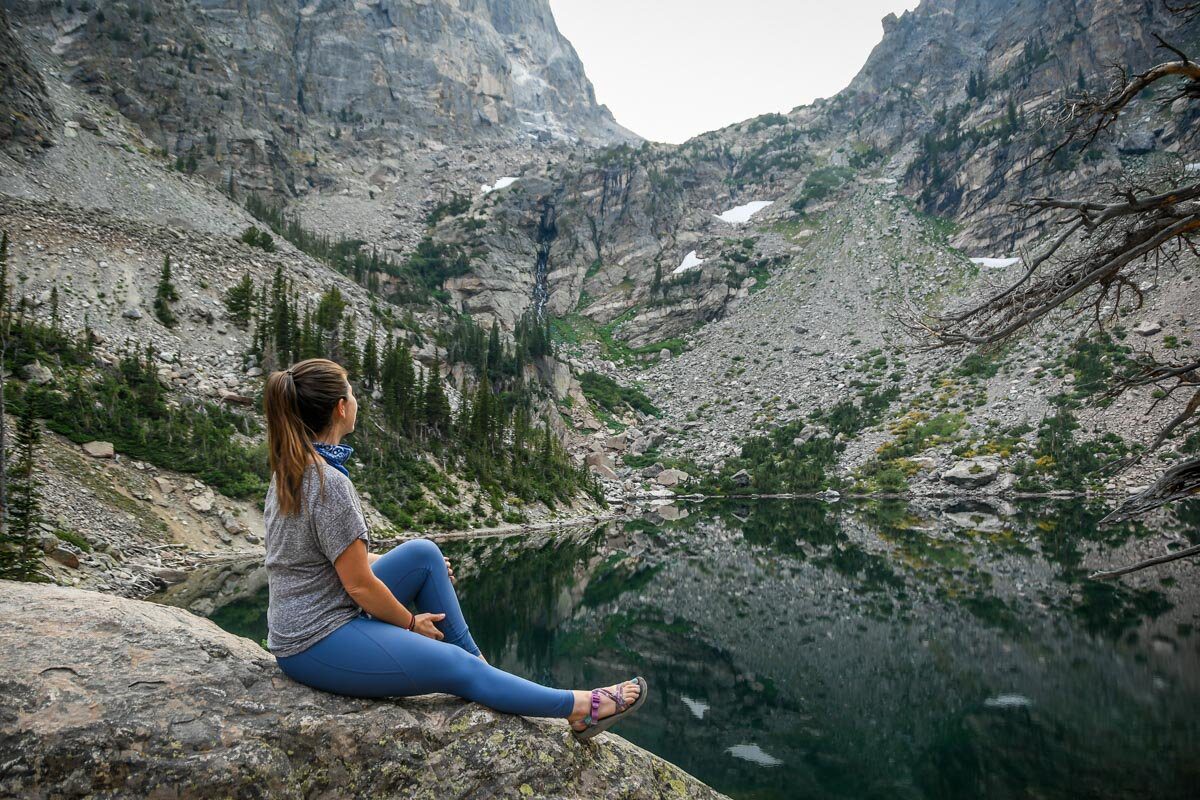 Why Colorado makes a good babymoon:
Year-round destination
Good mix of city & nature
Cozy mountain vibes
With 4 national parks, incredible hiking opportunities, exciting metropolitan cities, and charming little mountain towns, Colorado is packed with both outdoor and urban adventures.
This could be the perfect babymoon destination for couples seeking a vacation with a combination of nature and creature comforts.
So snuggle up with a hot cocoa in a rustic cabin amidst snow-capped peaks, or order room service from a bubble bath at a luxurious hotel in Denver. Either way, you'll be dreaming of your Colorado babymoon for years to come!
Things to do in Colorado on your babymoon: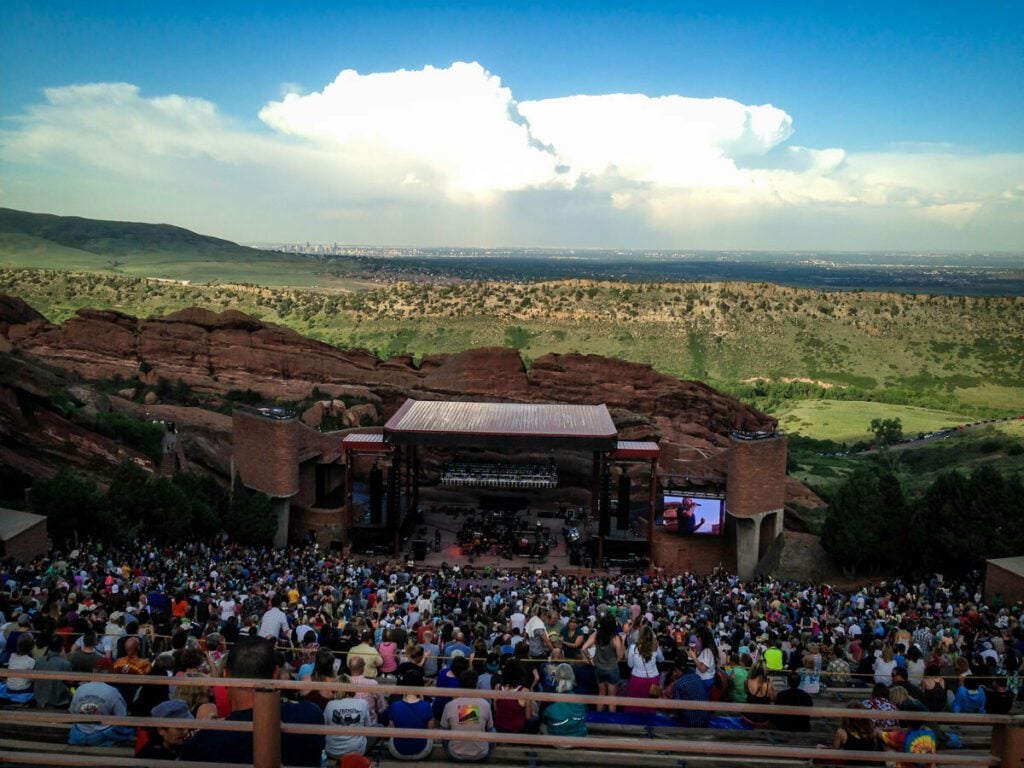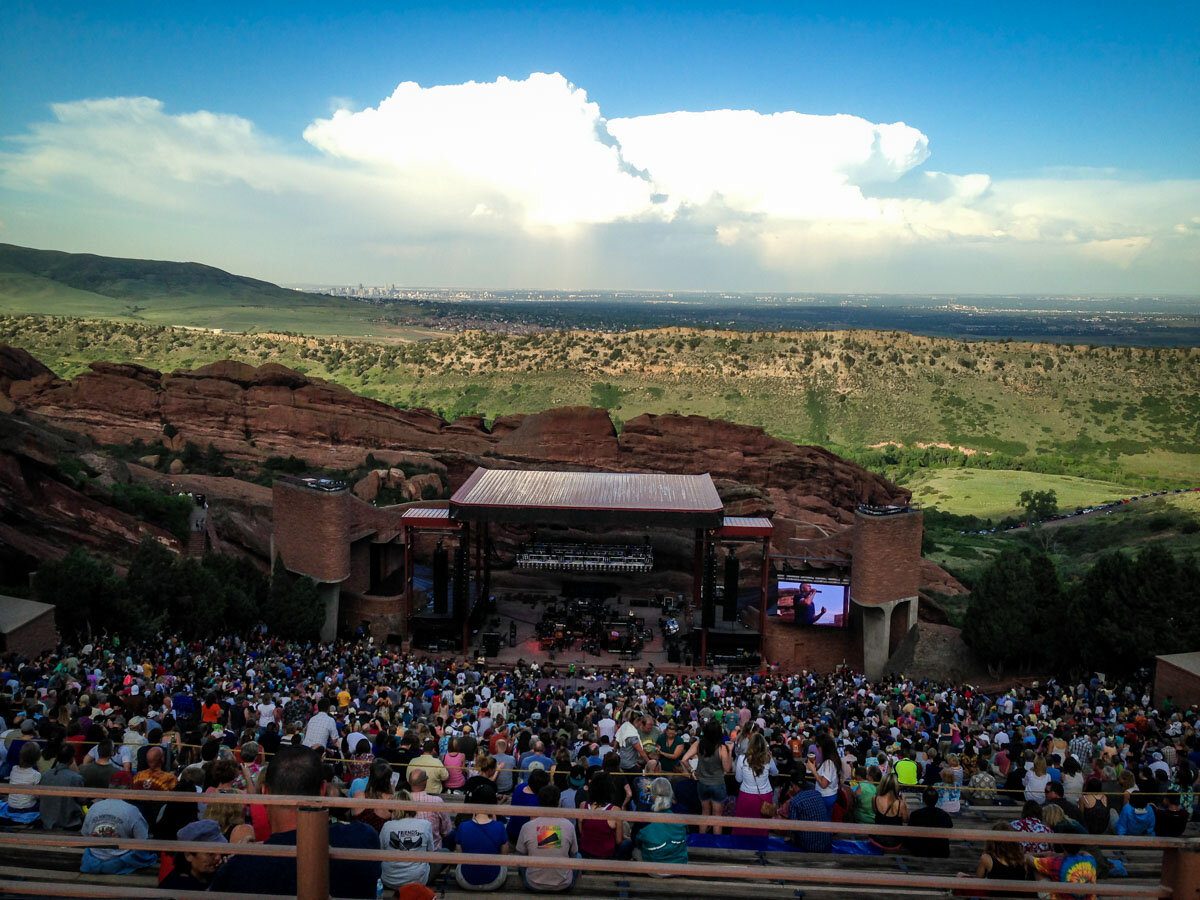 Explore Rocky Mountain National Park
Catch a live show at Red Rocks Amphitheater
Drive the Mount Evans Scenic Byway
Ride the free gondola over Telluride Village
Soak in endless hot springs
Plan your Colorado babymoon:
18. NYC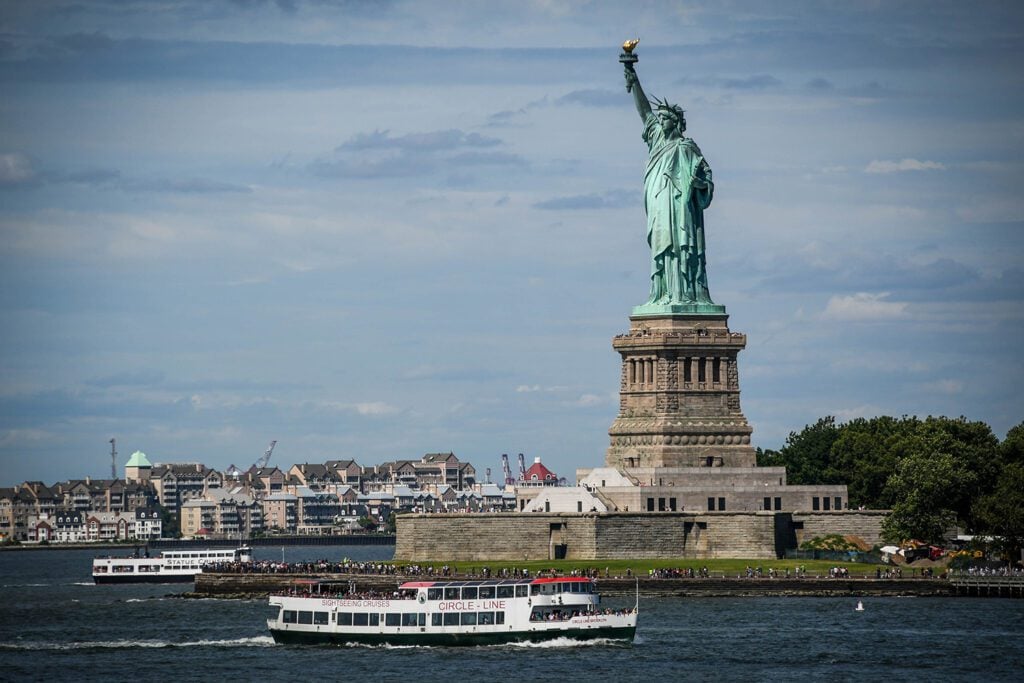 Why NYC makes a good babymoon:
Considered by many to be a must-visit
Endless attractions & entertainment
Easy public transportation
Dining options for both splurges and tight budgets
Craving a bustling city for a go-go vacation before diving into parenthood? It's hard to top the energy and excitement of New York City.
There are endless things to do in NYC. You could literally spend a lifetime here and do something different each day.
A lot of the can't-miss attractions, like world-class museums and award-winning shows, might not be as easy when you have a little one in tow, so be sure to add them to your babymoon itinerary.
Things to do in NYC on your babymoon: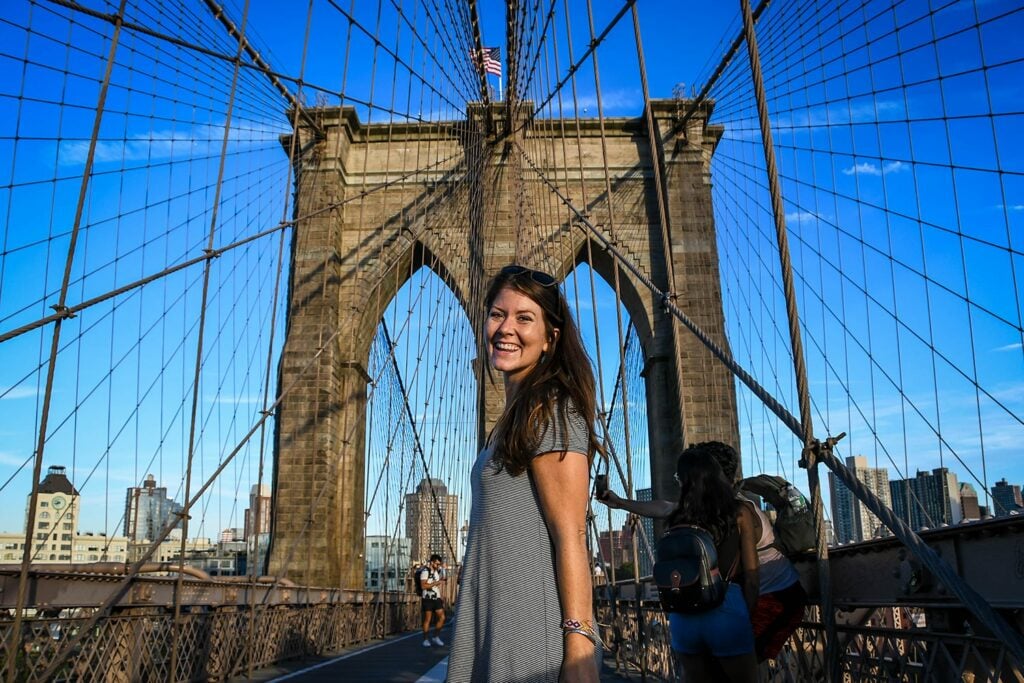 Ride the Staten Island ferry for a view of the Statue of Liberty
Catch a Broadway show
Visit some of the world's most famous museums
Enjoy a picnic in Central Park
Cross the Brooklyn Bridge on foot
Plan your NYC babymoon:
19. New England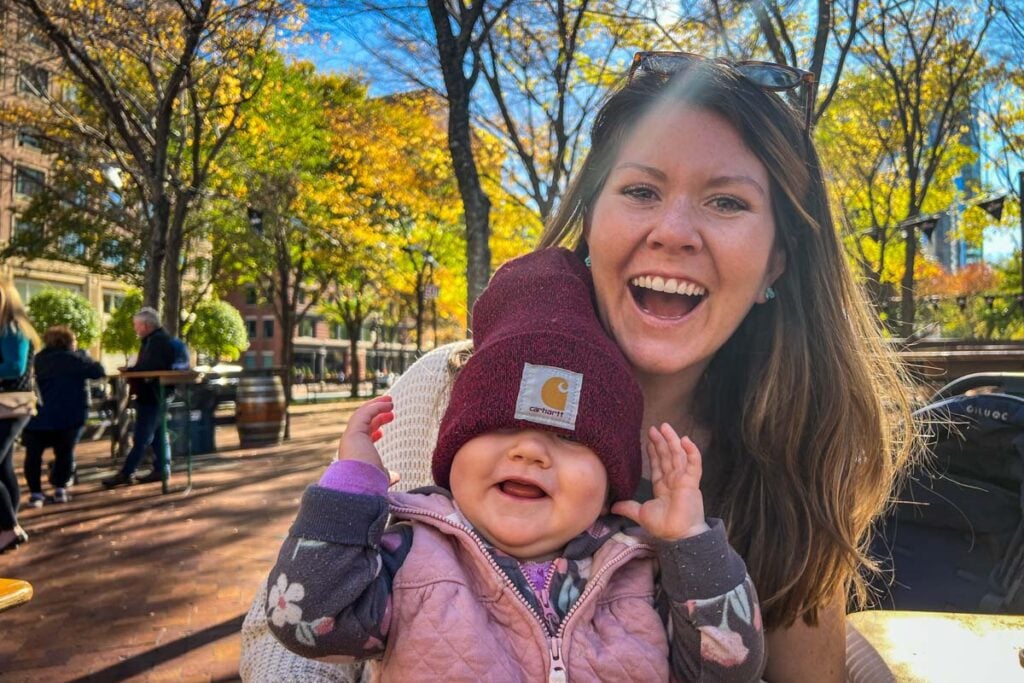 Why New England makes a good babymoon:
Storybook bed & breakfasts
Sprawling, idyllic countryside
Quaint towns
Our campervan trip through New England in the fall of 2022 was one of the best USA road trips we've taken. Juniper was 10 months old at the time, but we think it would be just as magical as a babymoon!
Though fall foliage was the main draw for us, New England has so much to offer year-round, from scenic beauty and national parks to some of the country's oldest buildings and most historic neighborhoods.
You don't have to drive too far from any major city to get into the beautiful countryside, which makes this a great destination if you want both (or if you and your partner are yin and yang!).
From covered bridges to ivy-covered buildings, forested mountains to sleepy coastal towns, New England oozes romance and charm.
Things to do in New England on your babymoon: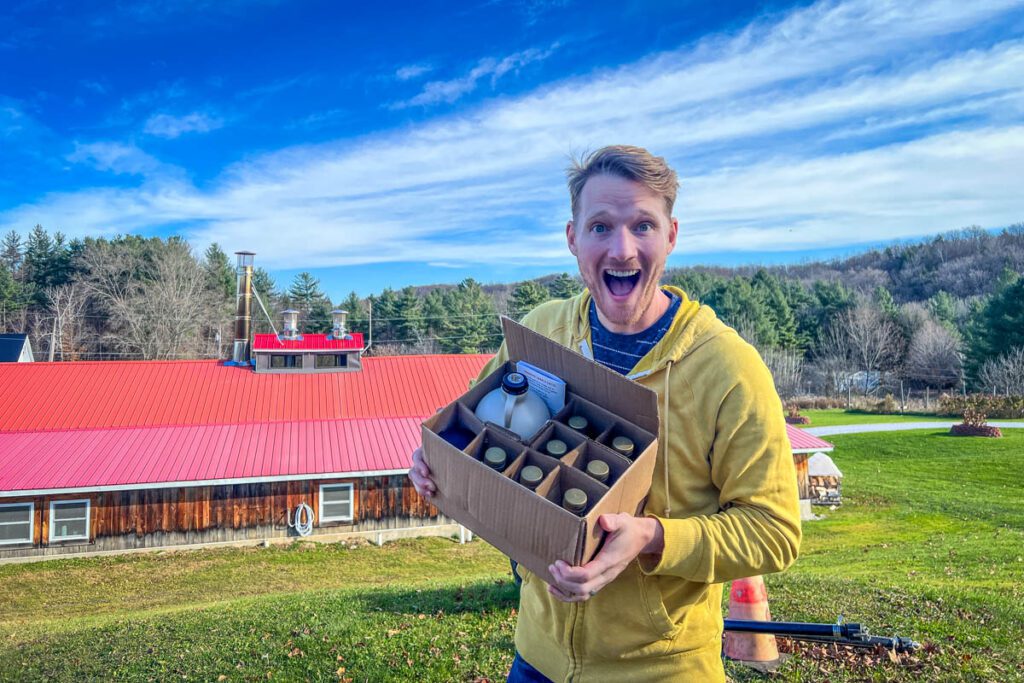 Explore historic city of Boston, MA
Feast on Maine lobster
Stop by the kitschy-witchy attractions in Salem, MA
Stock up on maple syrup in Vermont
Hit the beach in Cape Cod
Hike a section of the Appalachian Trail
20. Bend, Oregon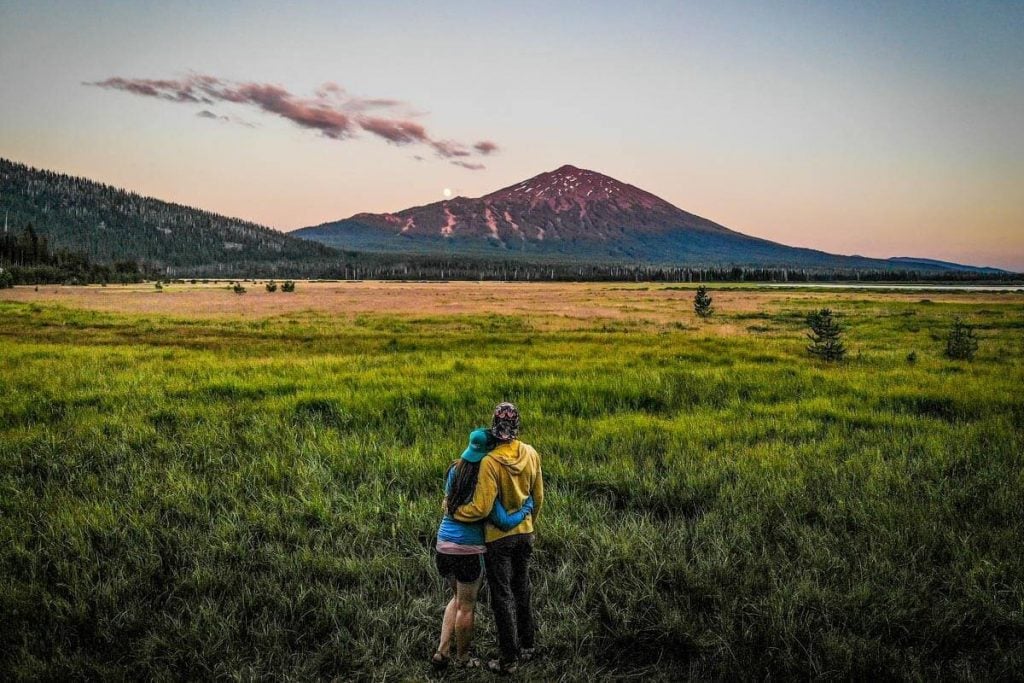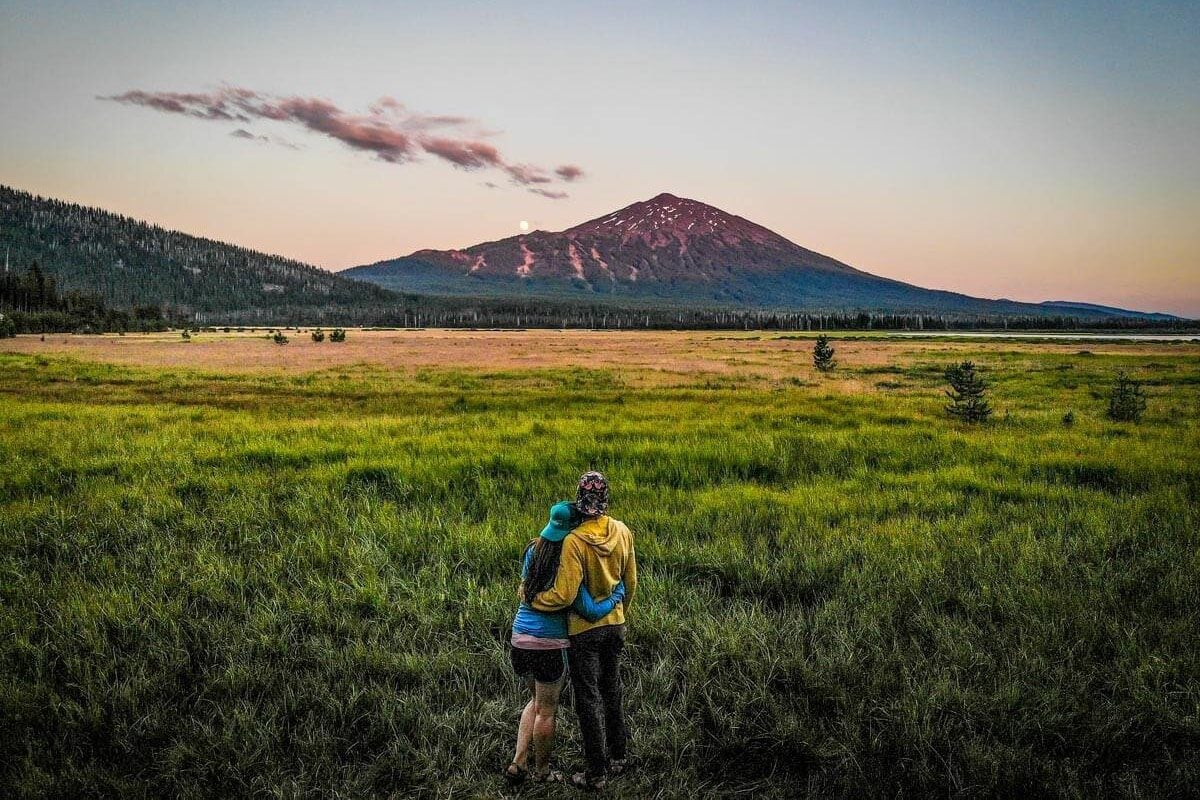 Why Bend, Oregon makes a good babymoon:
Moderate climate
Laid-back vibes
Outdoor activities for all seasons
Okay, I know what you're going to say. And yes, the fact that we live here might make me just a teensy bit biased. But it also means you should trust me when I say that Bend is an ideal destination for outdoorsy couples seeking a laid-back babymoon.
Bend is surrounded by snow-capped mountains, thick forests, rushing rivers, and alpine lakes, as well as desert-scapes dotted with sagebrush, juniper trees, volcanic rock fields, and caves. The things to do in Bend are as varied as the landscapes that surround the town.
Things to do in Bend on your babymoon: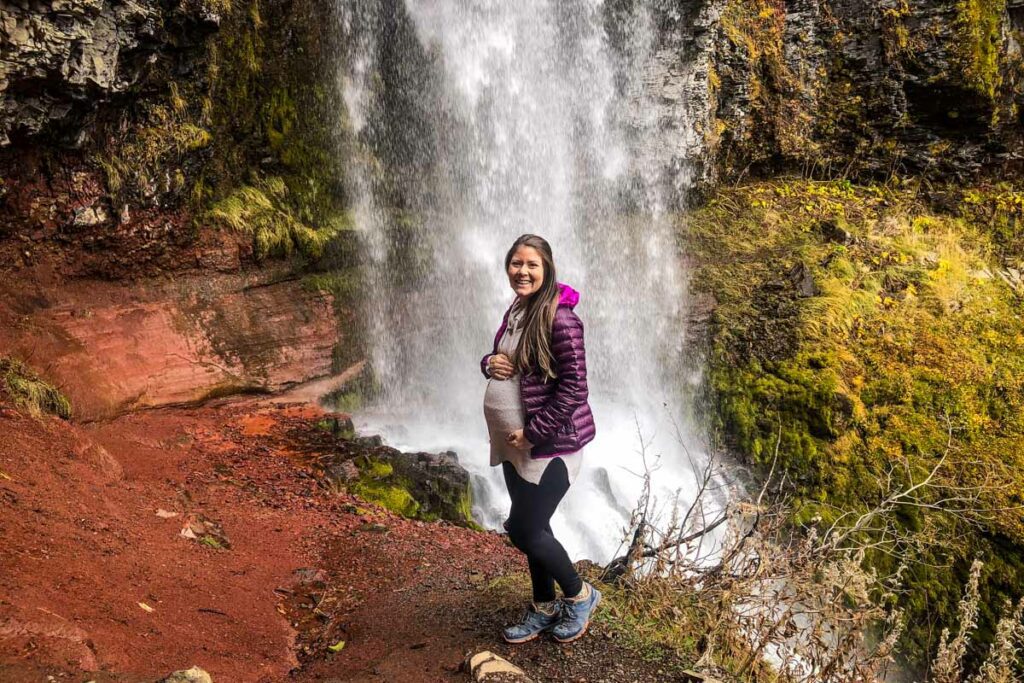 Plan your Bend, OR babymoon:
21. Miami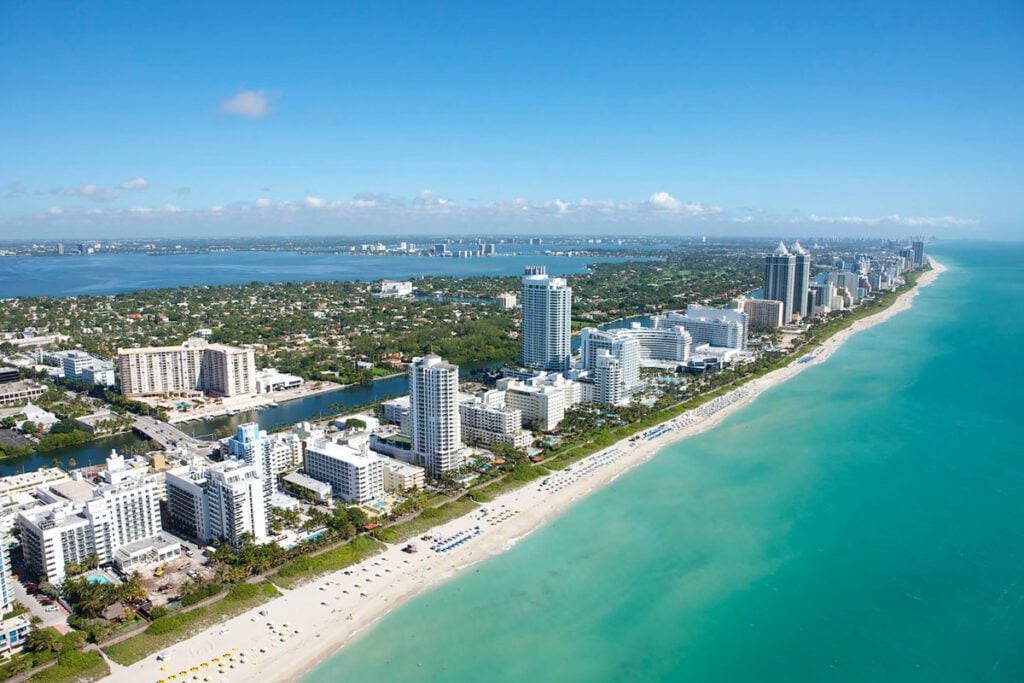 Why Miami makes a good babymoon:
Relaxing on the beach
Great dining options
Nice weather almost all year round
News flash: Miami is not just a city for 20-somethings on a spring break bender – it's also a fantastic place to have your babymoon.
This vibrant city has all the ingredients for a memorable getaway before your little bundle of joy arrives. With sunny beaches, eclectic neighborhoods, and a lively atmosphere, you can spend your time relaxing or exploring. Or both!
Things to do in Miami on your babymoon: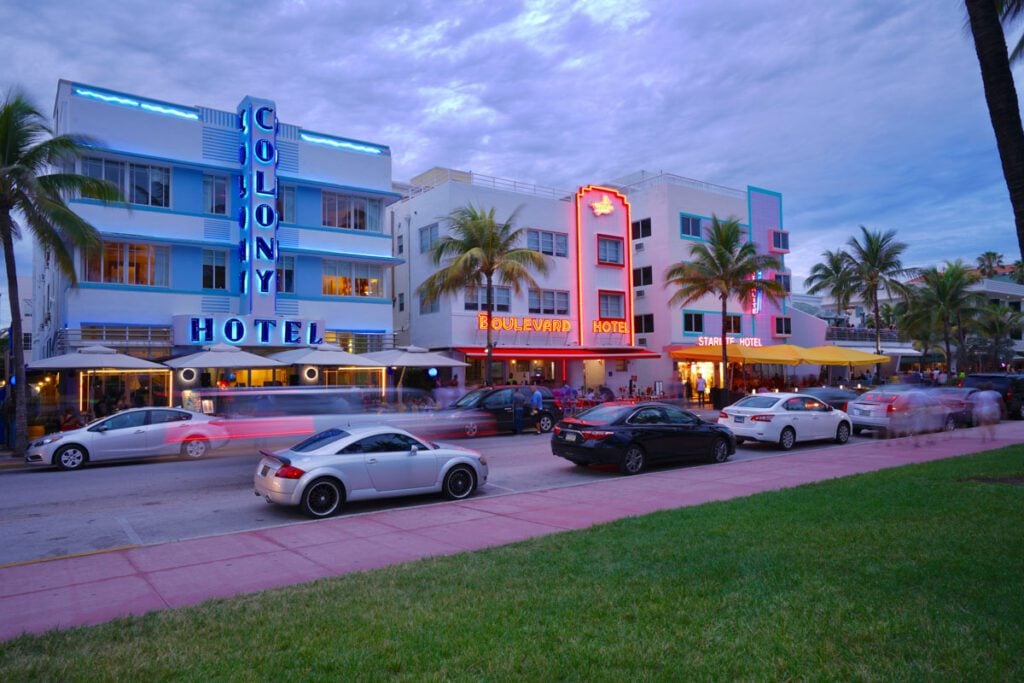 Immerse yourself in Cuban culture in Little Havana
Sip mocktails at a trendy rooftop bar
Admire the colorful art deco architecture of South Beach
Take a day trip to Everglades National Park
USA National Parks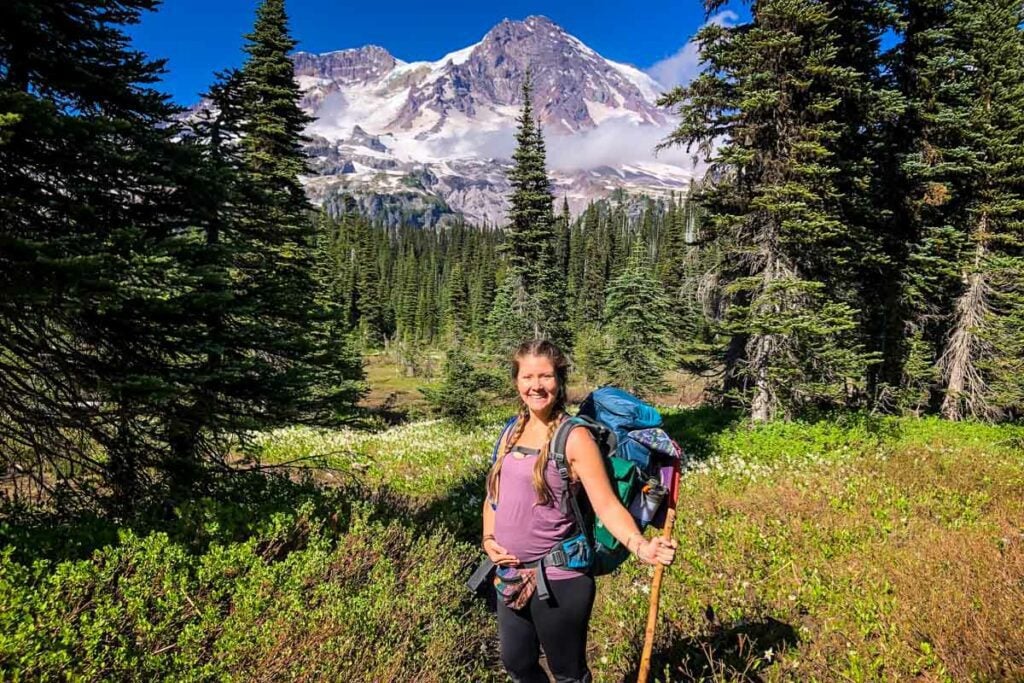 Why a USA National Park makes a good babymoon:
Less travel time and distance
Relaxing nature escape
Affordable
For outdoorsy couples, the best babymoon destination may be right in your own backyard at a USA National Park.
With 62 national parks (and counting!) in the country, choosing just one may seem like an impossible task. But don't worry – we've narrowed it down to the ones we think would work best for a babymoon.
Related: Our guide to the USA National Park annual pass can help you decide if it would be worthwhile for you to get the pass. Or, if you already know you want it, simply click here.
22. Olympic National Park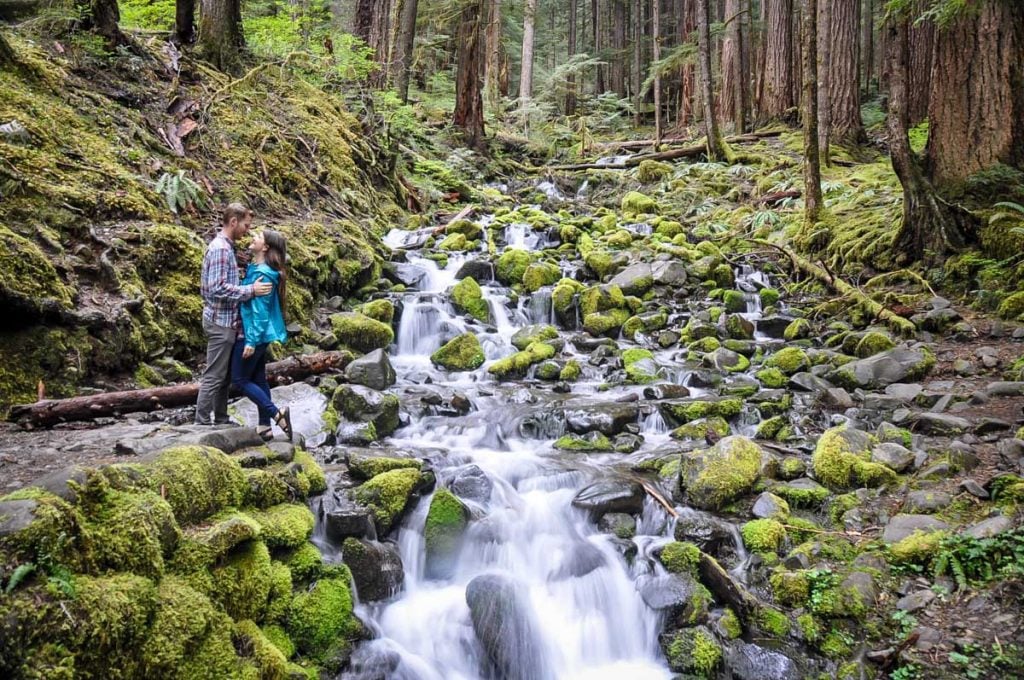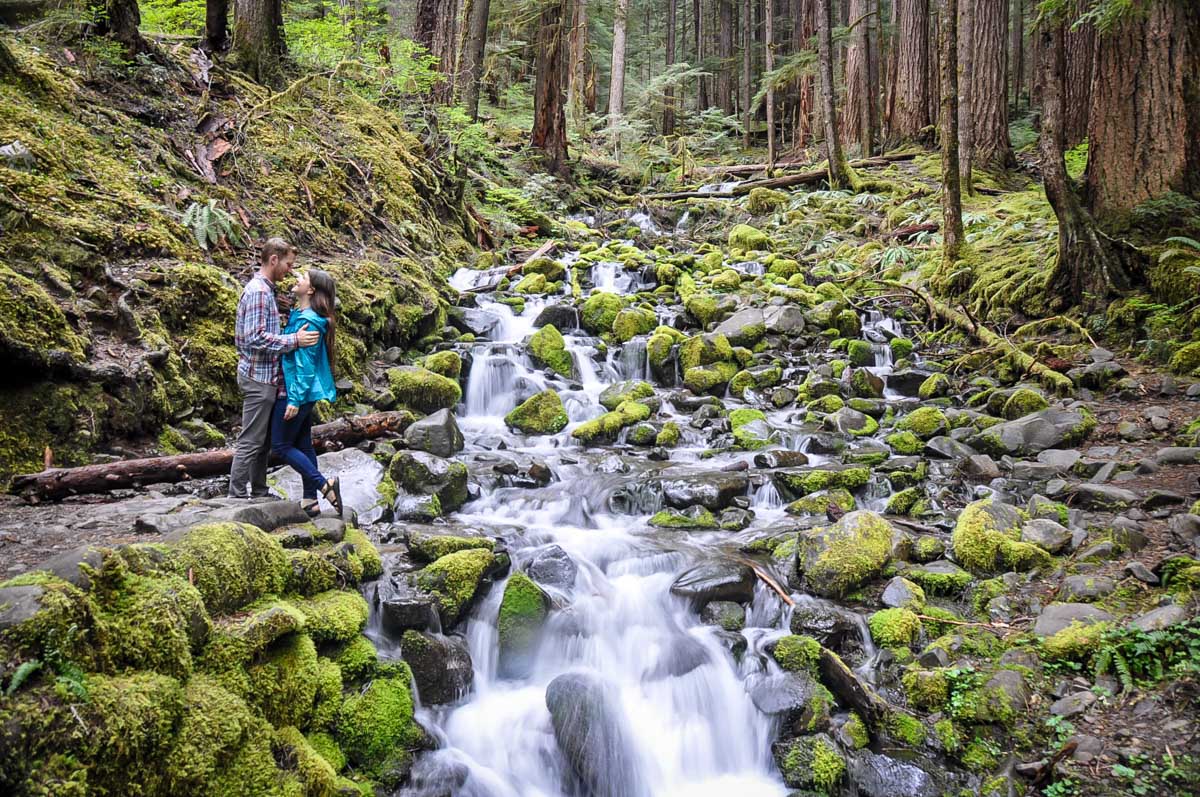 With rainforest, waterfalls, beaches, and mountains, Olympic National Park is ideal for a long weekend babymoon. Bonus: you can also easily combine it with a trip to Seattle.
Stop and smell the lavender fields in Sequim, picnic under dramatic mountain landscapes at Hurricane Ridge, and wander hand-in-hand through the Hoh Rainforest.
For the more adventurous, trek to Shi Shi Beach for a romantic sunset.
Plan your Olympic Peninsula babymoon:
23. Glacier National Park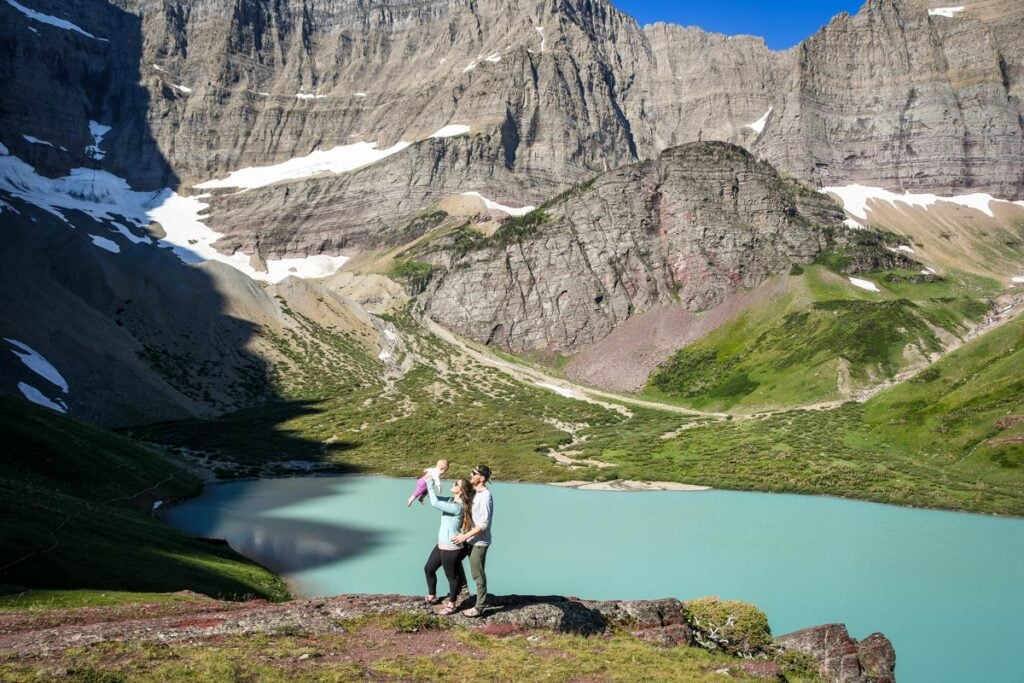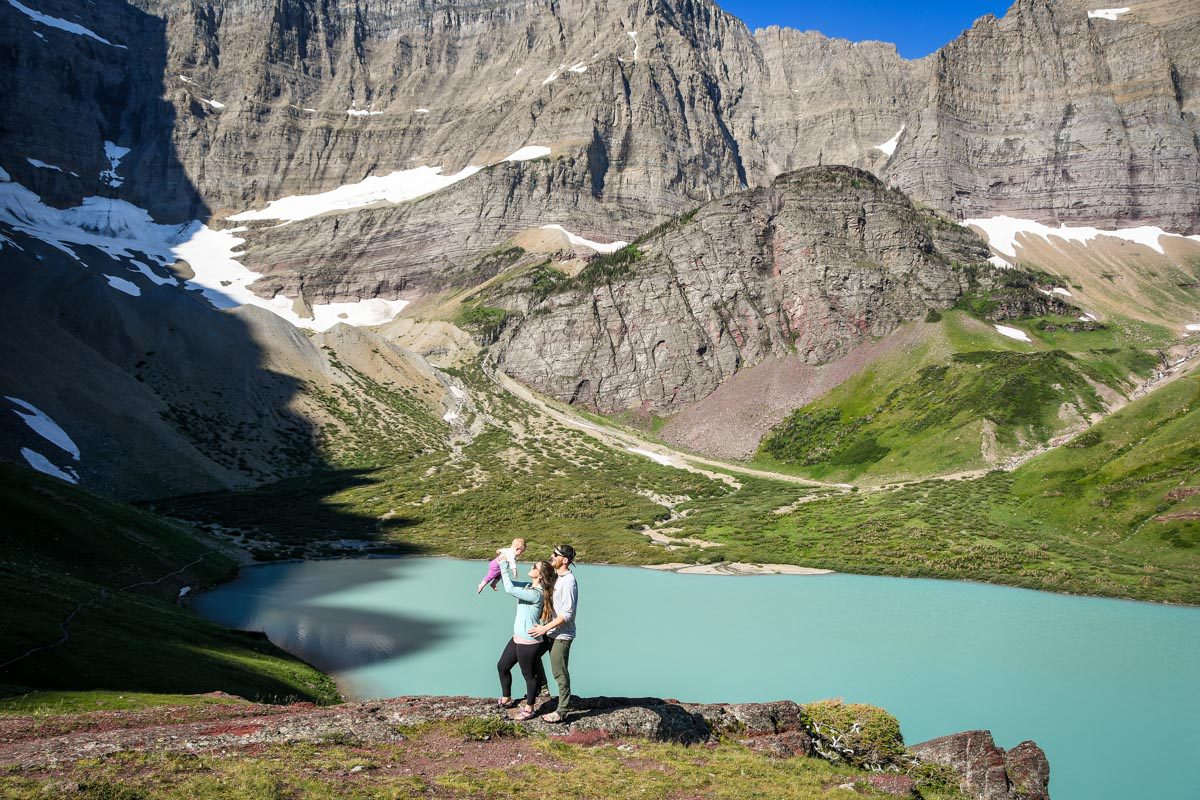 Rugged, remote, and wild, Glacier National Park offers a huge range of outdoor adventures, such as hiking, backpacking, fishing, boating, biking, and more.
Drive the famed Going-to-the-Sun Road, explore the best hiking trails in Many Glacier, and catch a memorable sunrise at Two Medicine Lake.
Plan your Glacier babymoon:
24. Grand Tetons National Park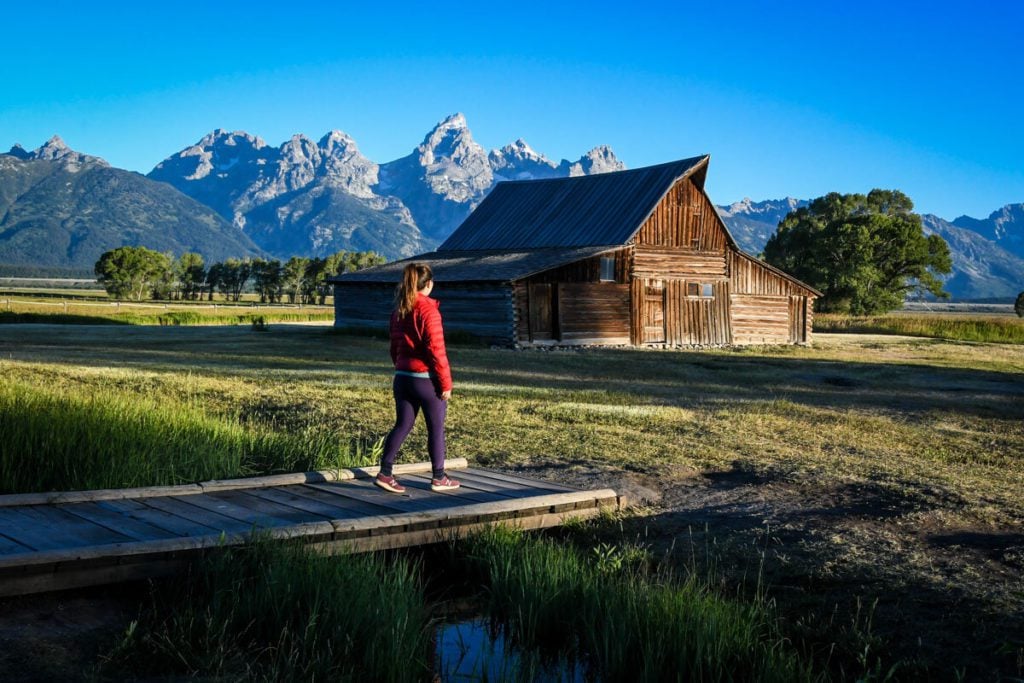 I visited Grand Teton as a child and remember thinking it was the prettiest place I had ever seen. When I returned with Ben in the summer of 2020, I was not disappointed!
With wildflower-filled alpine meadows, abundant wildlife, and plenty of hiking trails ranging from easy to challenging, Grand Teton is a dreamy destination for nature-lovers.
Add to that fine dining in Jackson Hole and cozy cabins to stay in nearby, and you've got yourself the perfect babymoon!
Plan your Grand Tetons babymoon:
25. Rainier National Park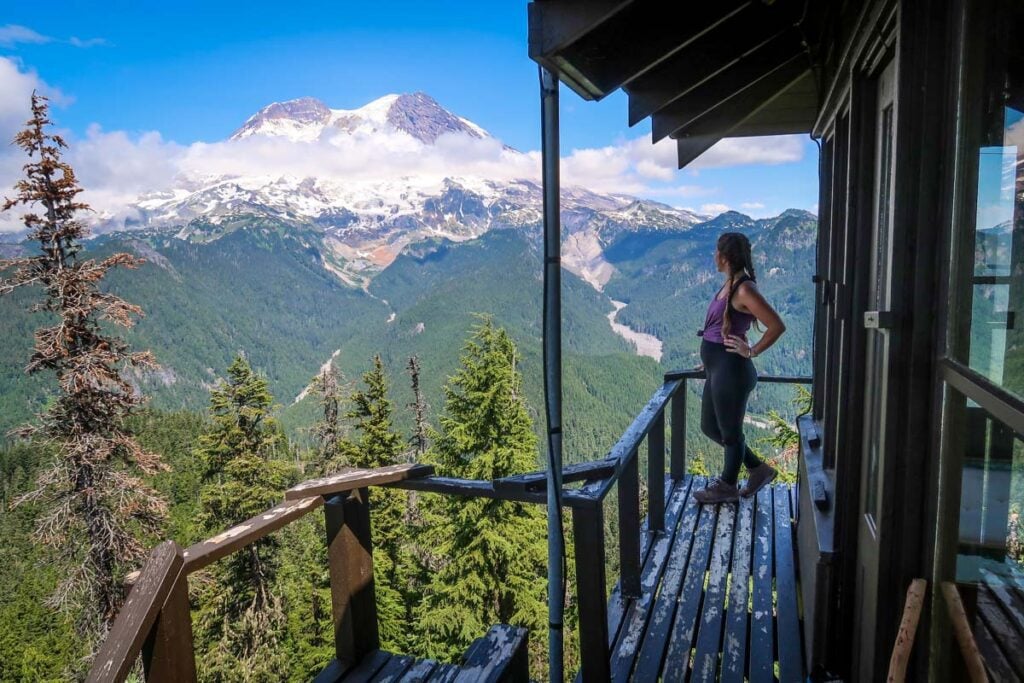 We took a little trip to Rainier while I was pregnant and it was amazing! There are lots of shorter hikes, and since I was still feeling great (yay, second trimester!), we even did a multi-day section of the famous Wonderland Trail.
Insider Tip: This is a great trip to pair with a visit to Seattle so you get to explore both city and nature in one unforgettable vacation!
26. Acadia National Park
With a variety of short hikes as well as more challenging ones, Acadia has lots to see and do. You can also stick to the larger viewpoints so you don't have to venture too far from your car if you're not feeling up to it.
Be sure to eat lots of good seafood and see some live music in nearby Bar Harbor. There are plenty of cute B&Bs along the coast to base yourself from.
Insider Tip: We loved brunch at the seasonally-open Cafe This Way.
27. Utah National Parks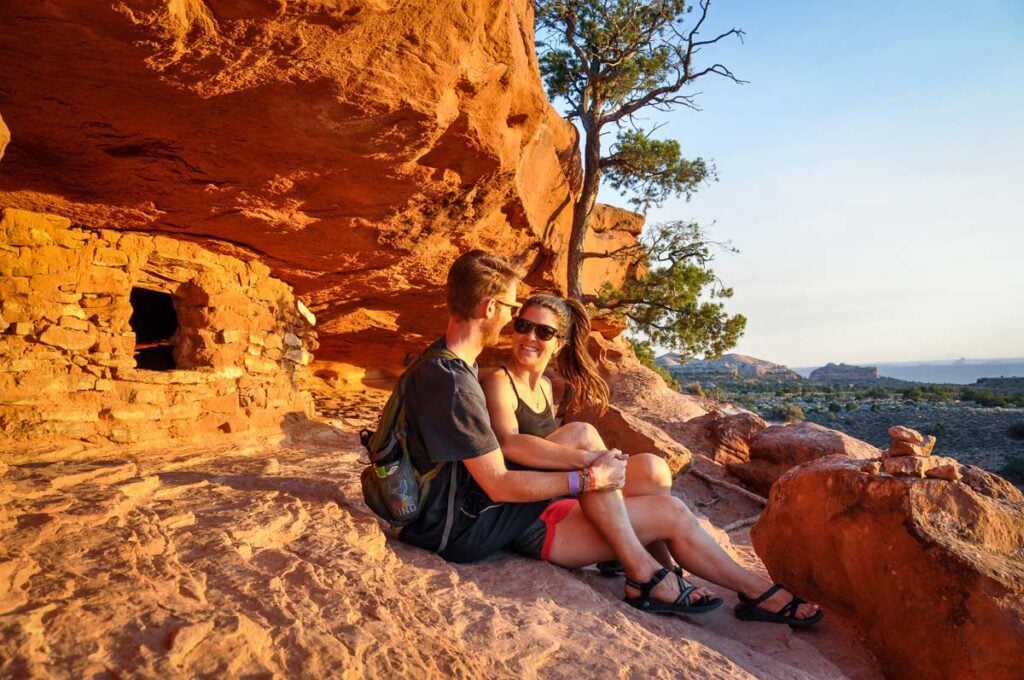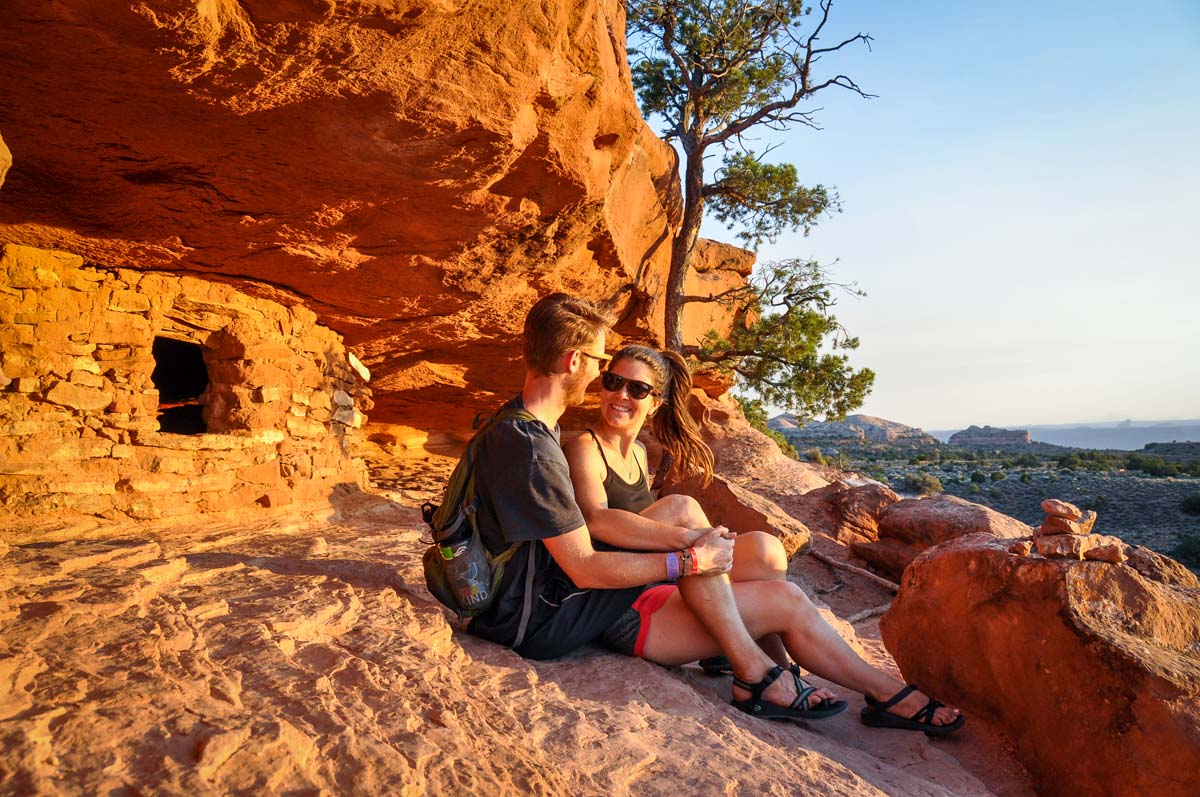 Choose one of Utah's "Mighty 5" (all very different!) National Parks, or combine them all into a memorable road trip.
From the red rock landscapes of Canyonlands to the iconic formations of Arches, the ultra-popular Zion to lesser-visited Capitol Reef and the hoodoos of Bryce Canyon, Utah's National Parks provide endless opportunities for exploration and postcard-worthy bump photos.
Plan your Utah babymoon:
28. Take a Staycation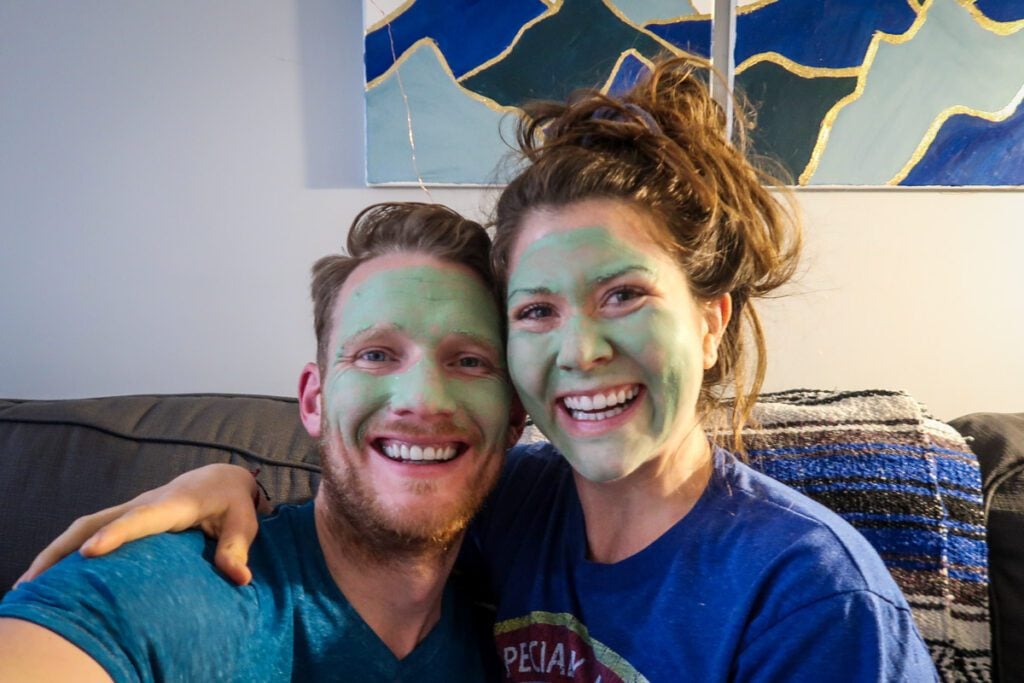 If budget or timing just isn't going to allow you to take a trip, don't sweat it.
Maybe you want to save up vacation days and money to take a trip when your little one is here. It's the perfect way to enjoy maternity leave, after all!
Babymoons are a total luxury and weren't even a thing until recently. If older generations would have told their friends and family they were taking a babymoon they would have been laughed at!
And you truly can have an incredible babymoon right at home.
Here are some ideas to make your Staycation Babymoon unforgettable:
Rent a unique local Airbnb or a trendy hotel (not necessary, but it could make it feel like more of a getaway!)
Block out the entire weekend – you plan one date day and your partner plans the other.
Have breakfast in bed.
Turn off your phones and just be with your partner.
Play board games.
Make something together – paint, take a pottery class, make a DIY mobile.
Take a walk and reflect on this new chapter you're about to embark on.
Make reservations at a restaurant you've always wanted to try.
Get all the ingredients to make your favorite meal or a recipe you've been thinking about.
Make fun mocktails.
Make a fun and experiential dinner, like fondue or spring rolls.
Schedule a prenatal massage with a local masseuse.
Get a pedicure or a facial. Just pamper yourself!
Write letters to each other (read more about this in the "things to do" section)
Take a luxurious bath with all the fixings – bath bomb, music, candles, the works!
Tips for choosing your babymoon destination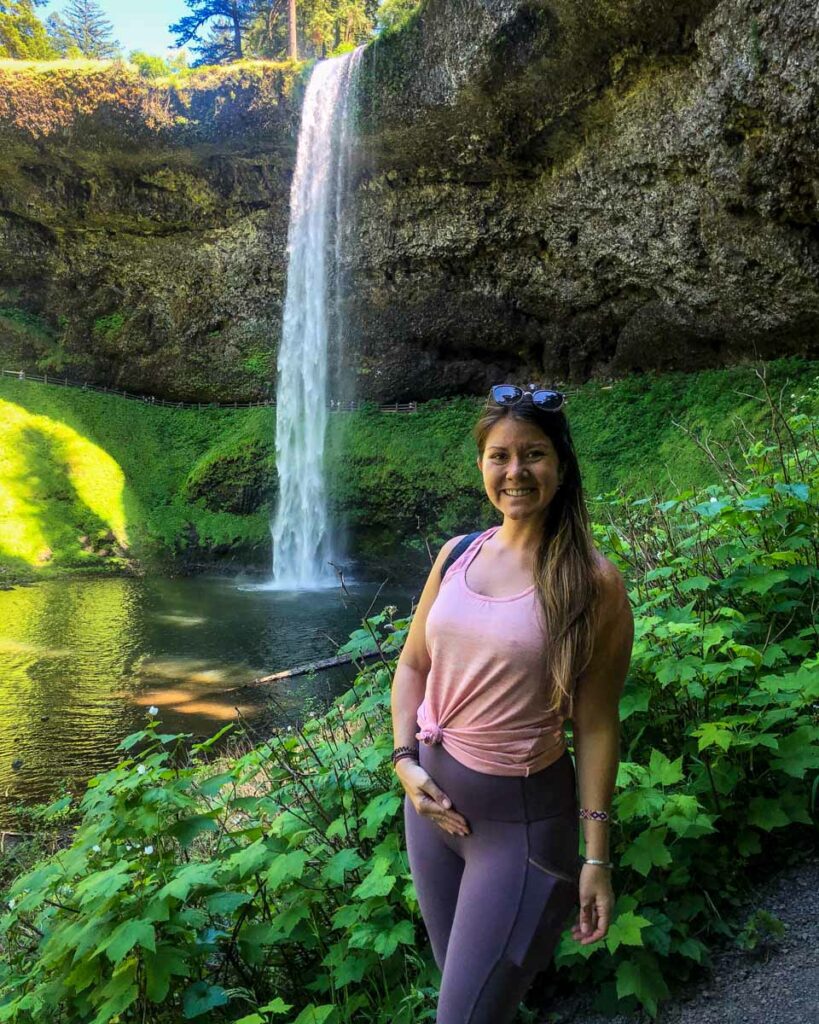 If you are still trying to narrow down where you'll take your babymoon, ask yourself these questions…
What time of year will you be traveling?
You should be able to narrow down your travel dates by planning your trip around your mid-2nd trimester through early 3rd trimester.
Now that you have the time of year in mind, this can help you determine where you'll travel. For example, if this timeframe falls in the wintertime, consider destinations for which this is the best time of year to travel.
You don't want to show up and realize that it's rainy season in your dream beach destination, after all.
What are you craving?
There is no wrong type of babymoon. Don't try to plan a trip because you think that's what you should do.
Adventure, pampering, both? Somewhere new, somewhere you love? The choice is completely up to you.
Low Zika risk
This is a big one… Before solidifying your destination, be sure you're up to date on any risk factors of that place, including current Zika outbreaks.
According to the CDC, pregnant people should not travel to any country that is currently experiencing a Zika outbreak (as represented by red on this current Zika map).
At the time of writing this article, there are no countries that are in the red zone. But it is up to you to do your due diligence, research current conditions and speak with your OB about your travel plans.
Bucket list experiences don't exclude pregnant people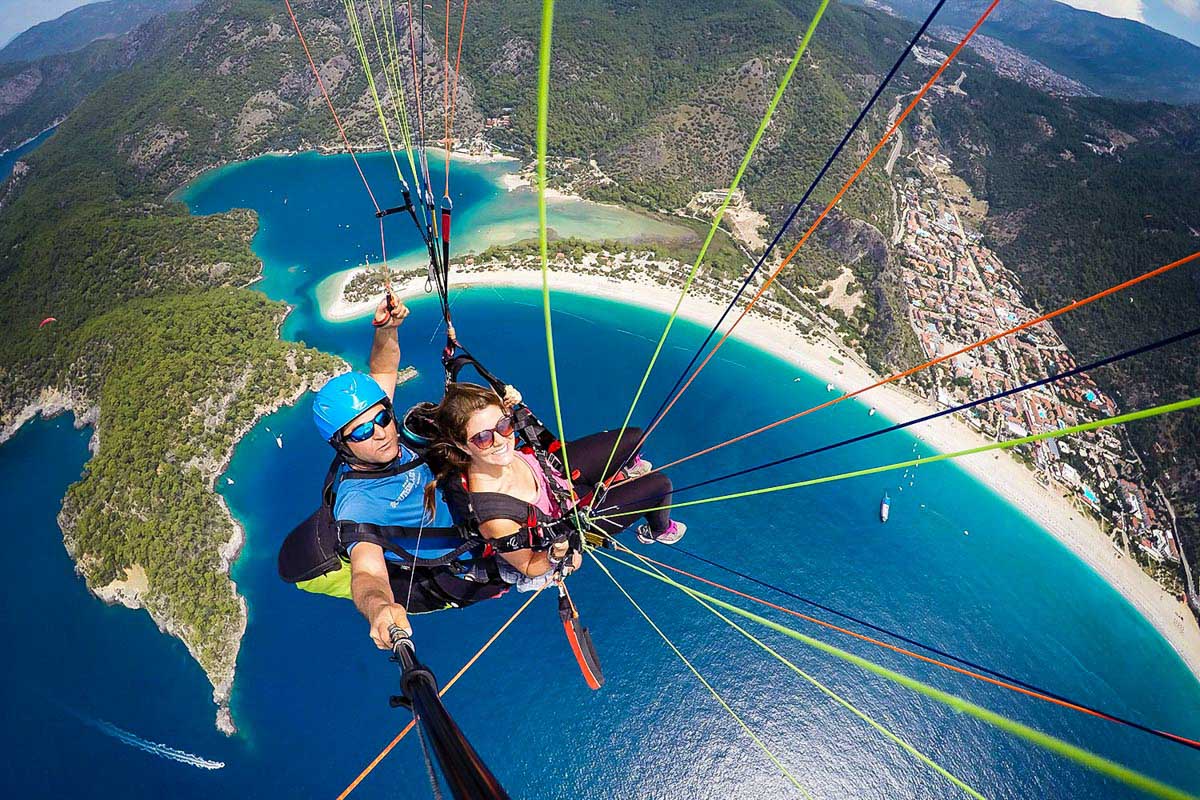 Think long and hard about the top activities in each destination you're considering. Look into whether or not pregnant people can partake, and think about whether or not that is a dealbreaker for you.
For example, let's say you are considering Turkey as a babymoon destination. You've dreamt of taking a hot air balloon ride in Cappadocia (well worth it, by the way!), but learn that you cannot fly if you are pregnant.
Or perhaps you're considering a babymoon to the Yucatan Peninsula, but you know you would be heartbroken if you can't go scuba diving in Cozumel (a big no-no for pregnant women).
Is this a deal breaker to you? Would you rather take this trip in the future when you can participate in this bucket list experience? Or maybe it doesn't matter all that much to you.
On our babymoon in Iceland, I was not able to snorkel in the Silfra Fissure (a long-time bucket list item of mine). But in the end, I decided there were still so many other things to see and do in Iceland that it didn't squash our plans.
Places where alcohol isn't integral to the experience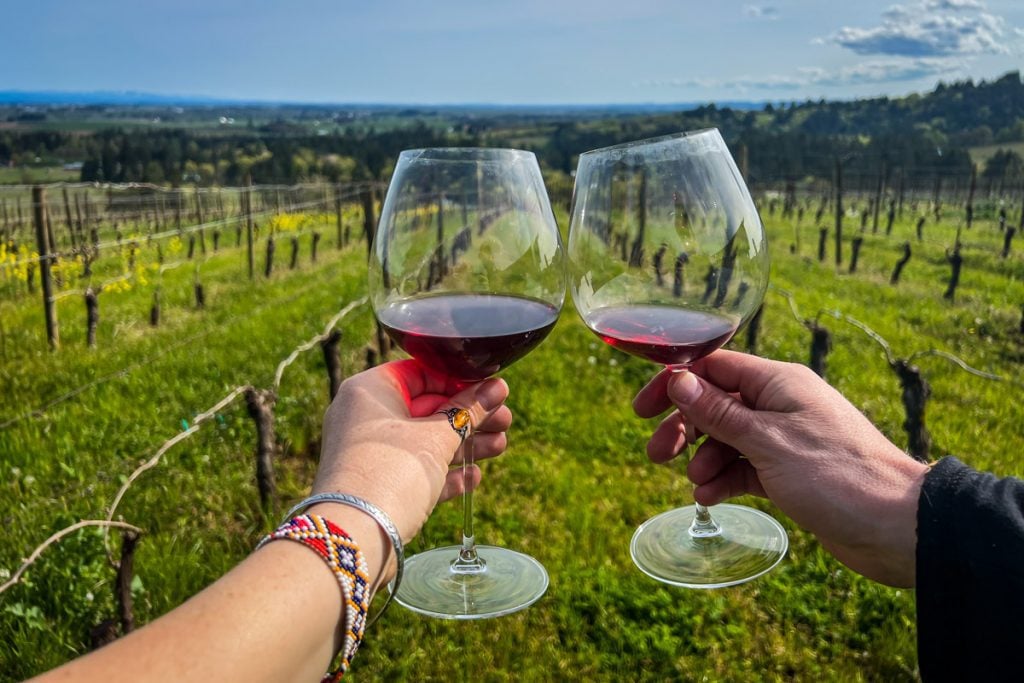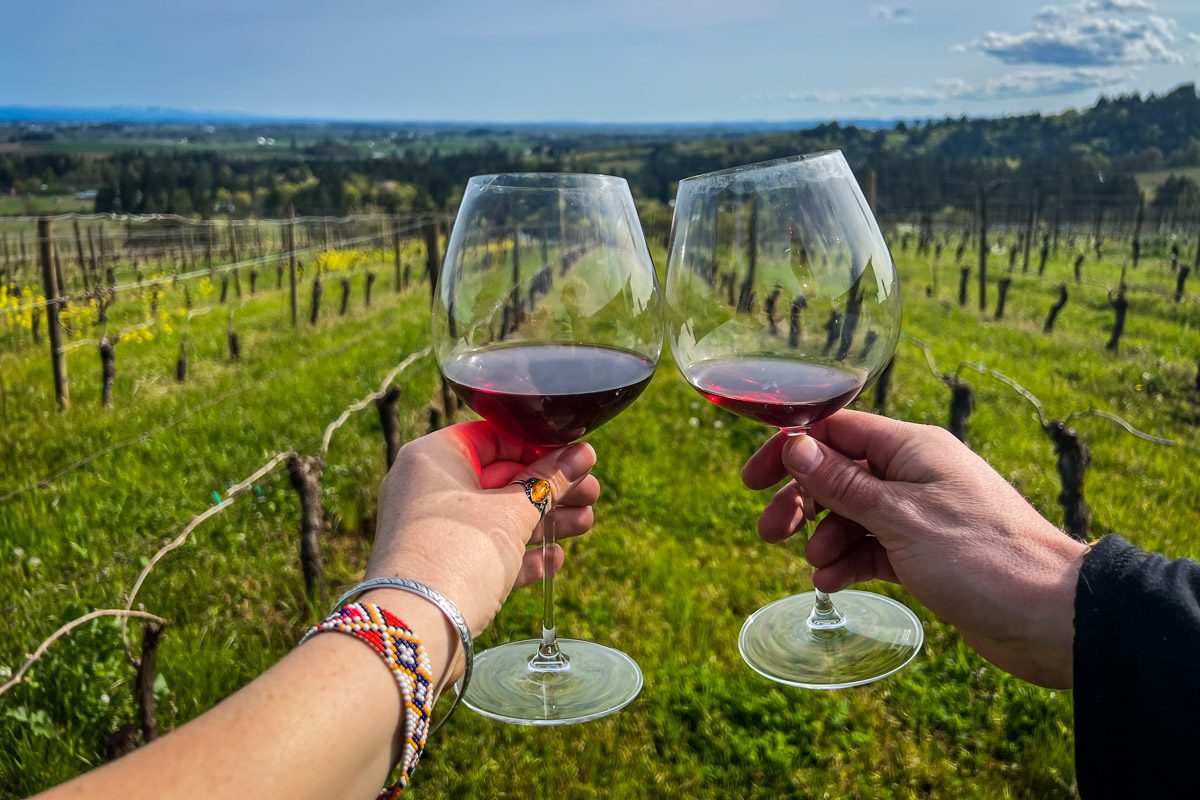 This might not have any effect on you, but you may want to steer clear of places that are specifically known for wine or booze.
This could look different for everyone, but for instance, I personally didn't want to go to Italy or France for our babymoon as I really want to be able to experience the wine in these places. Having to completely avoid wineries in a region so well-known for it would frustrate me.
Think about all the logistics involved
This is the not-so-fun, but super important part.
Consider all the logistics:
Your budget
The time frame you'll be able to travel
Any other children you have to find childcare for
Taking vacation time from work
Other commitments
Now think about these in relation to your top destinations: Do these destinations make sense? Can you see a clear winner once you consider all the nitty gritty details?
How far do you feel comfortable going?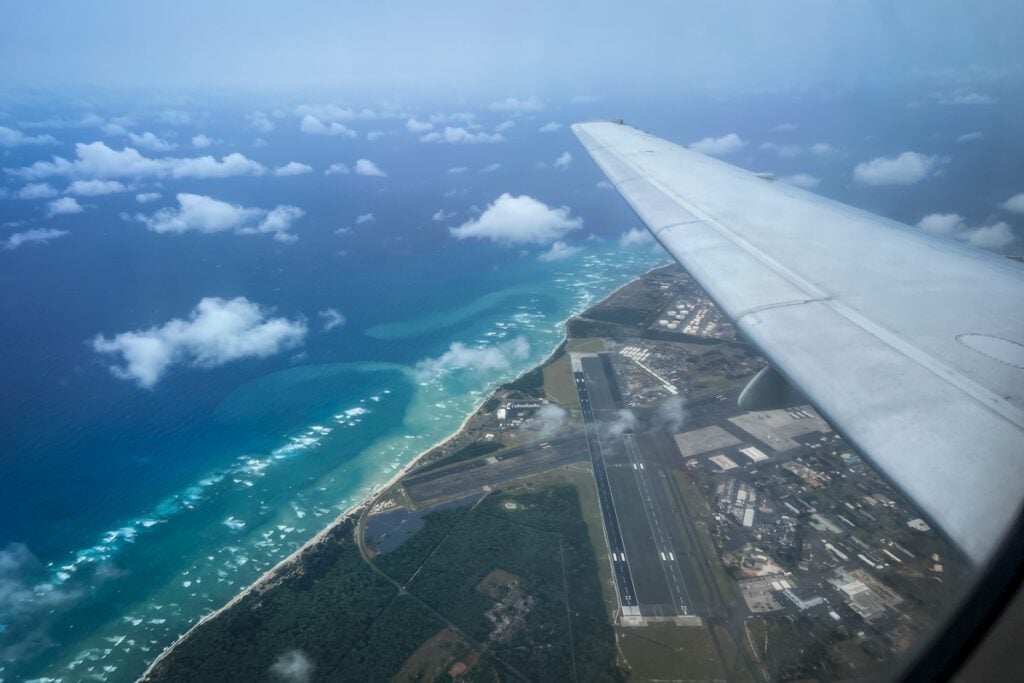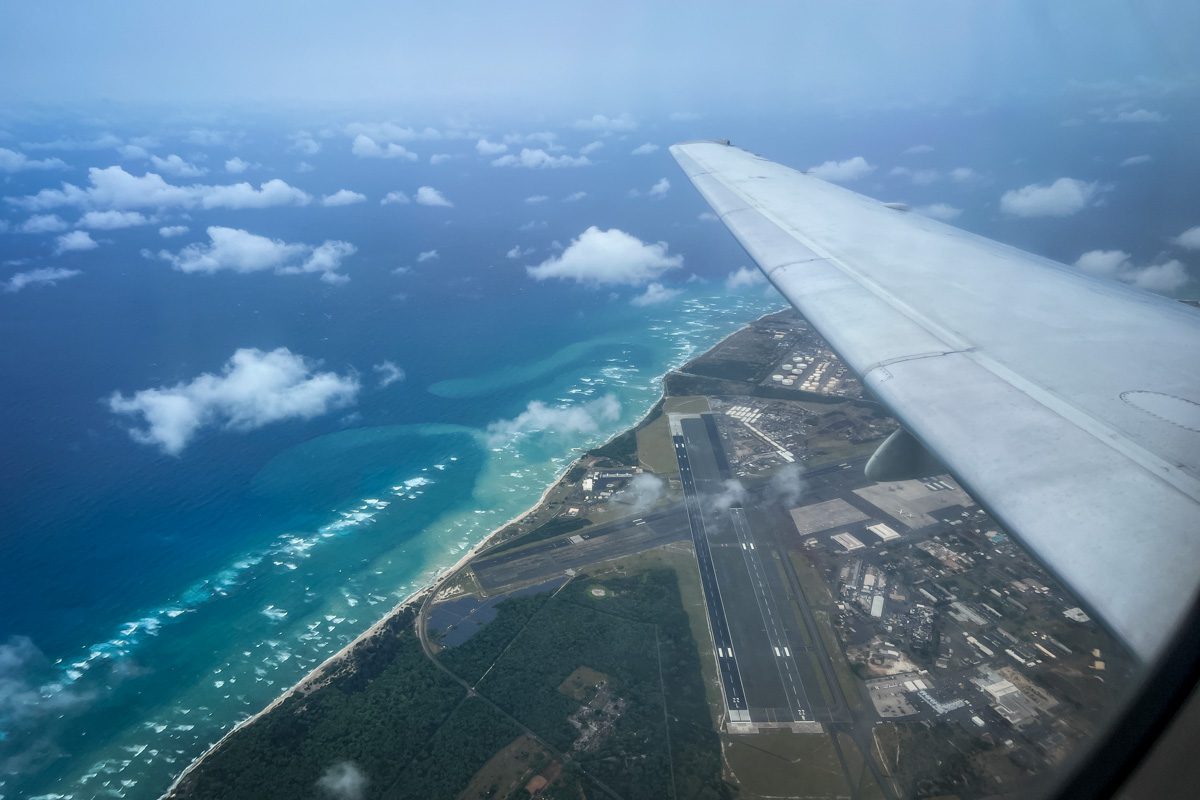 Think about the travel involved with getting to the destination. Perhaps flying halfway around the world doesn't sound so appealing at 6-months pregnant.
Everyone is different. Personally, I didn't mind the flight to Iceland during my second trimester, and I think I would have felt okay going even further.
That said, a squished bladder and swollen ankles on a 12-hour flight to Thailand can be a hard sell to a lot of people.
Remember: It doesn't have to be a huge trip!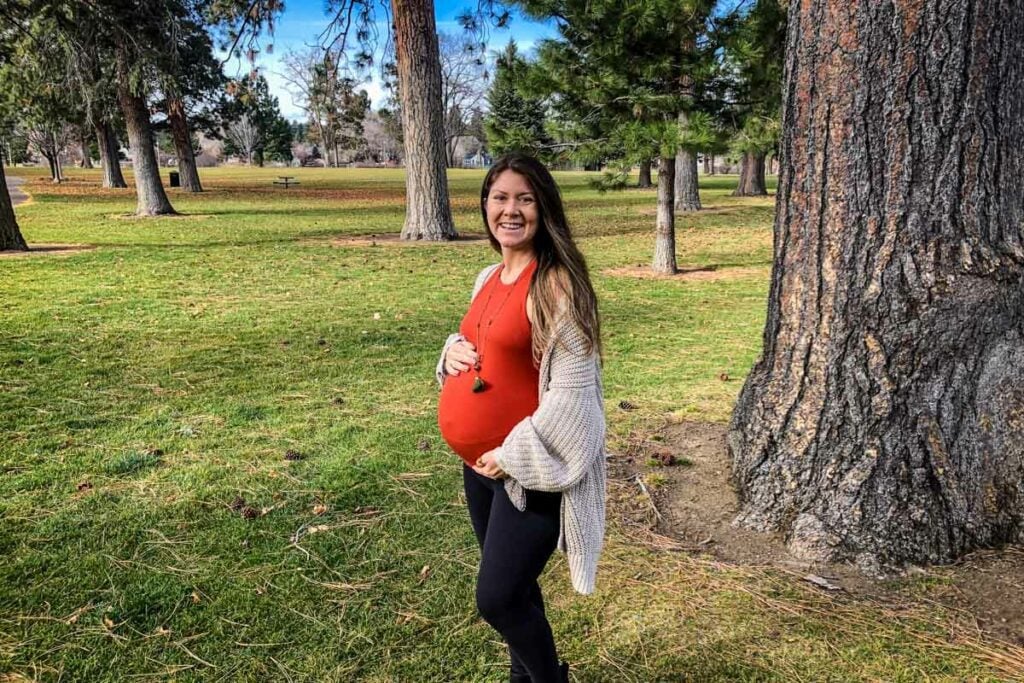 There's nothing that says you have to take a giant, bucket list trip. Heck, it might be way less stressful to plan a weekend getaway closer to home.
It will still be incredibly special and a perfect way to connect with your partner before you welcome a baby.
If you live in the USA, there are plenty of places that would be a perfect short babymoon. Here are some ideas:
NYC
Colorado (you could stick just to Denver)
Leavenworth, WA
Miami
A place you won't want to travel WITH baby
I'm not saying to choose a place you'll never want to go again, but it might be worth thinking about what type of travel you plan to do once your little one arrives and choose something different.
Perhaps you'll want to choose a totally different type of trip. Stay at an adults only hotel, go to a city known for fancy restaurants, go to shows or performances you won't be able to see with a little one in tow.
If you plan to take a family beach vacay during your little one's first year, choose a babymoon in Europe or NYC.
Talk to your doctor and put nerves at ease
Is there anything about your babymoon that is making you anxious? Talk to your doctor about it.
They should have the answers you're looking for and should be able to put your mind at ease, or help you to come up with a different plan.
For example, before our babymoon to Iceland, I asked my OB if it was okay to soak in hot springs because I was reading varying information online. She told me it was fine to soak in water up to 100ºF, and that really made me feel better, especially since most of the springs had cooler sections.
Things to do on your babymoon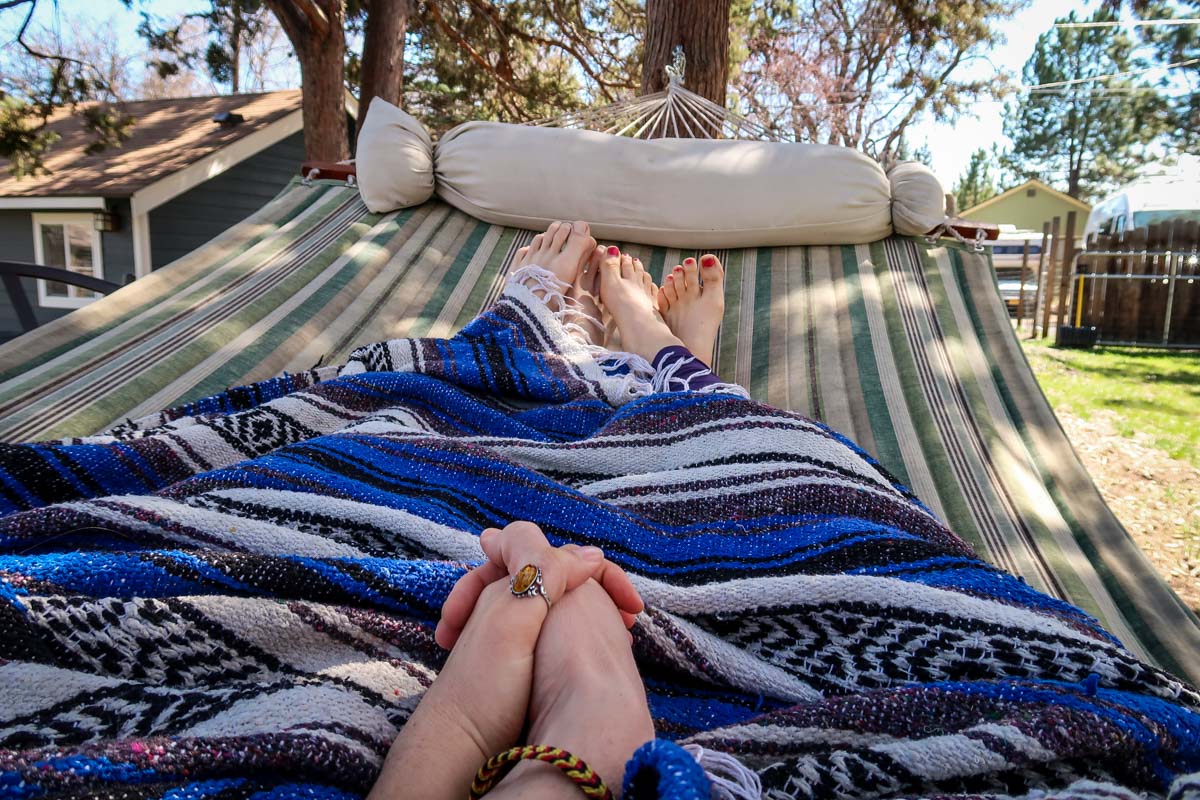 So now you have a destination chosen, but what should you actually do on your babymoon?
Well, that's totally up to you! The biggest suggestion I have is using this time to connect with your partner in whatever way feels best to you. Remember to talk about this before your trip.
Here are a handful of ideas to start your brainstorming process:
Photoshoot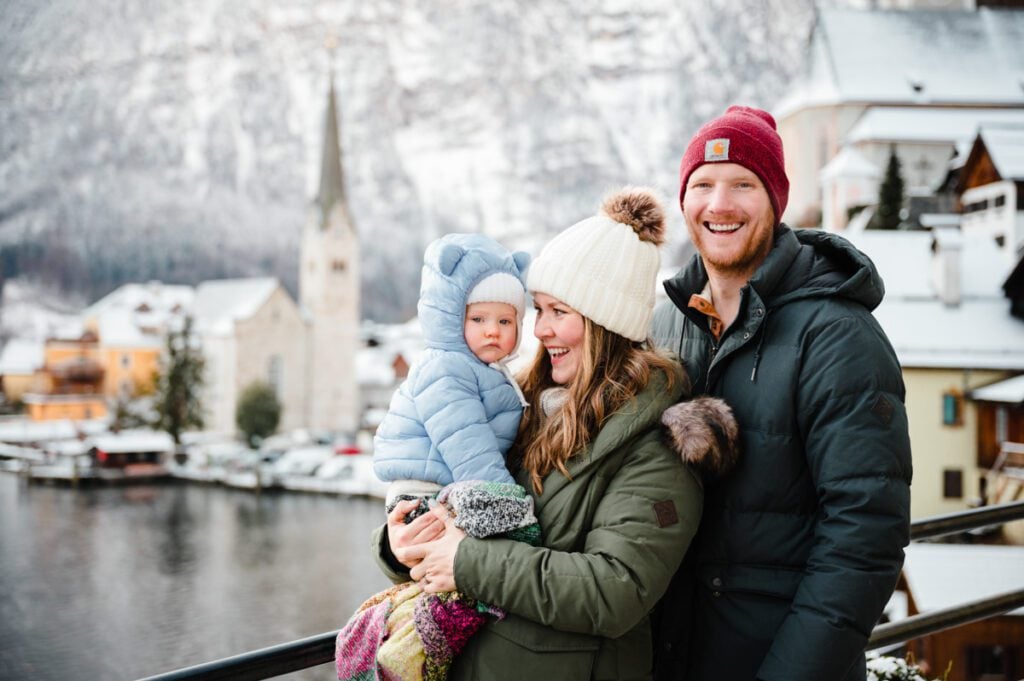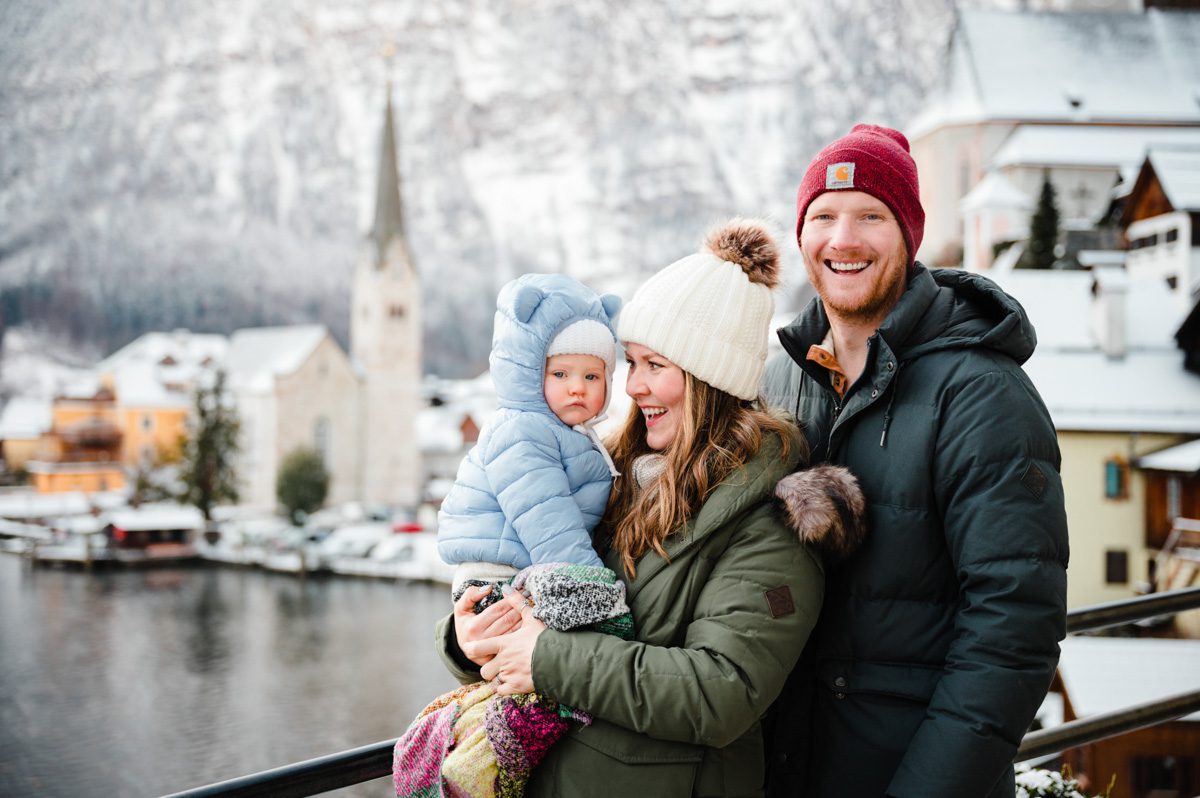 We spontaneously booked a photoshoot with a local photographer on one of our recent trips, and it was the coolest experience. Not only did we get to wander around a picturesque area with a local, but we were left with the best souvenir ever. (This is the tour we booked and LOVED!)
We got maternity photos taken at home in Bend, Oregon (and I love them!), but I wish we would have hired a photographer in Iceland to capture my bump on our babymoon. It would have been so special.
Trust me, you will never regret having photos of this time to look back on.
How do you book a photo tour? We've had great luck using Airbnb Experiences. You can filter to show only the "Art and Culture" experiences, where the photoshoot tours will show up.
Food tour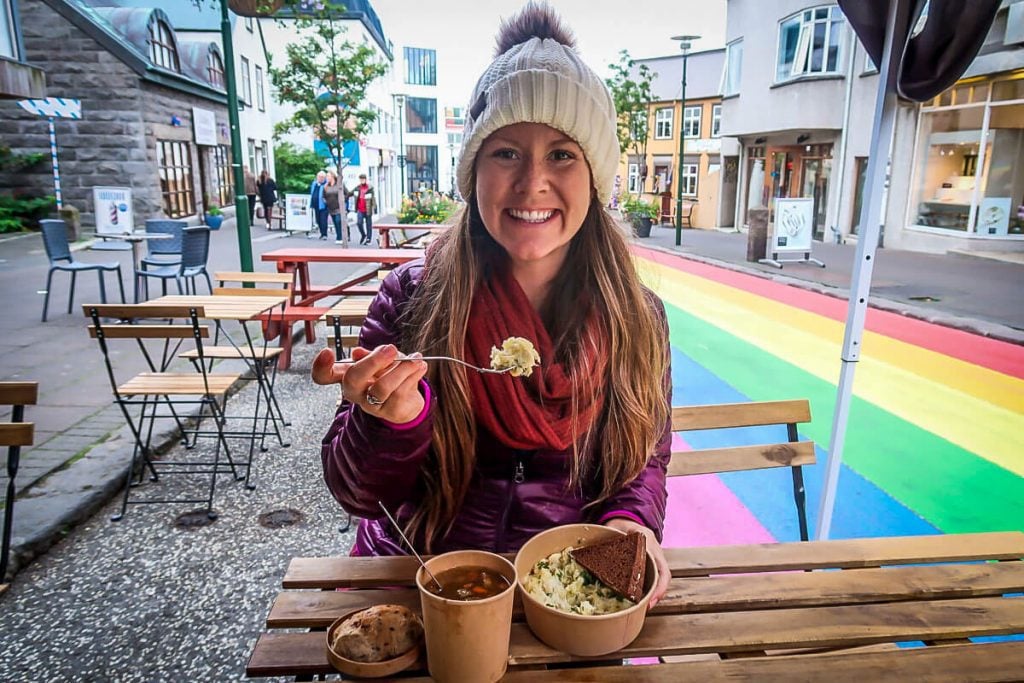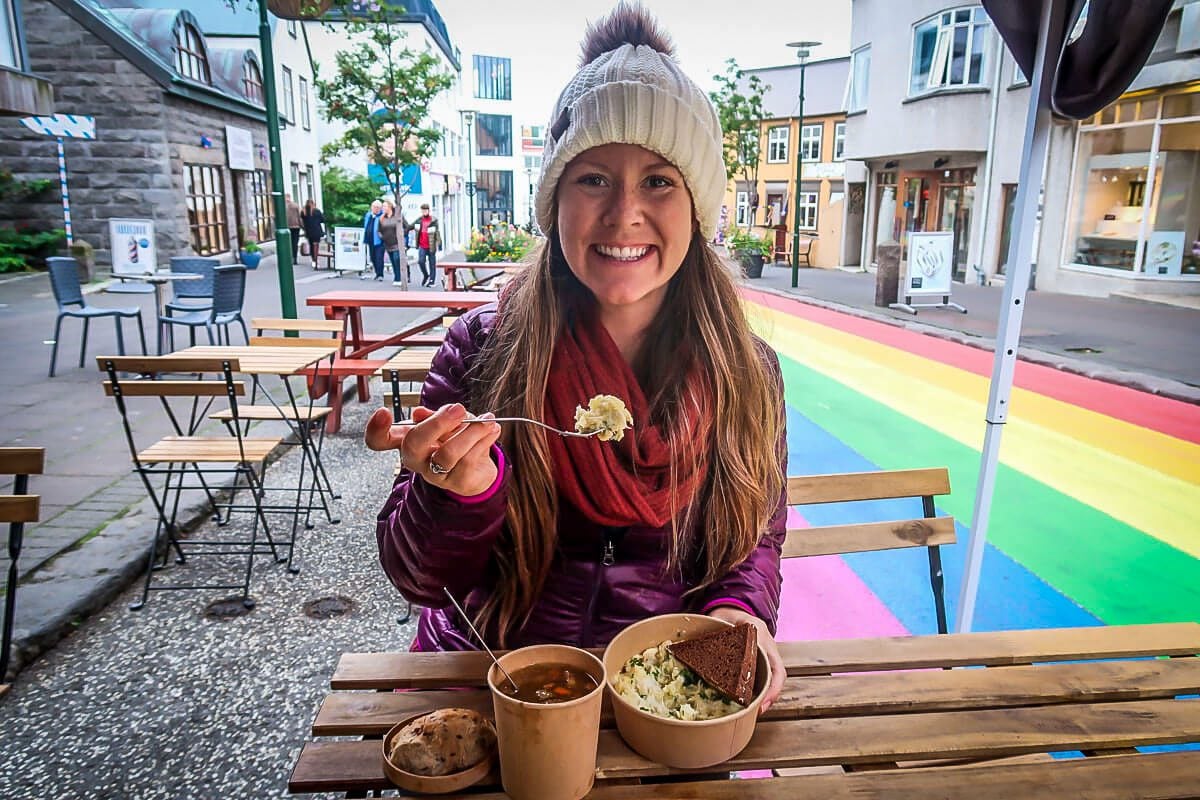 We're straight up obsessed with food tours and have taken dozens of them all around the world.
While this is a staple of just about any Katie and Ben trip, we think it's an extra fun way to get out and explore during a babymoon.
Alternatively, you could take a cooking class and come home with a new dish to recreate!
Insider Tip: Just be sure you know if there are any foods you'll need to avoid on the tour. For instance, we did a food tour on our babymoon in Iceland and I couldn't have the raw fish or fermented shark (a traditional Icelandic food). I let the tour guide know in advance and they were able to arrange some alternatives for me.
Prenatal massage
Pamper yourself with a prenatal massage, a pedicure, a facial, or any other type of spa treatment that's calling your name.
This is the perfect time to splurge and treat yourself to these luxuries that you probably don't often indulge in.
I got a prenatal massage in Mexico and my only regret is that I didn't get more! I will be honest and say that regular massages (where you can lie on your stomach) are better IMO. But when you've got a bun in the oven, this is your best bet for utter relaxation.
Mocktails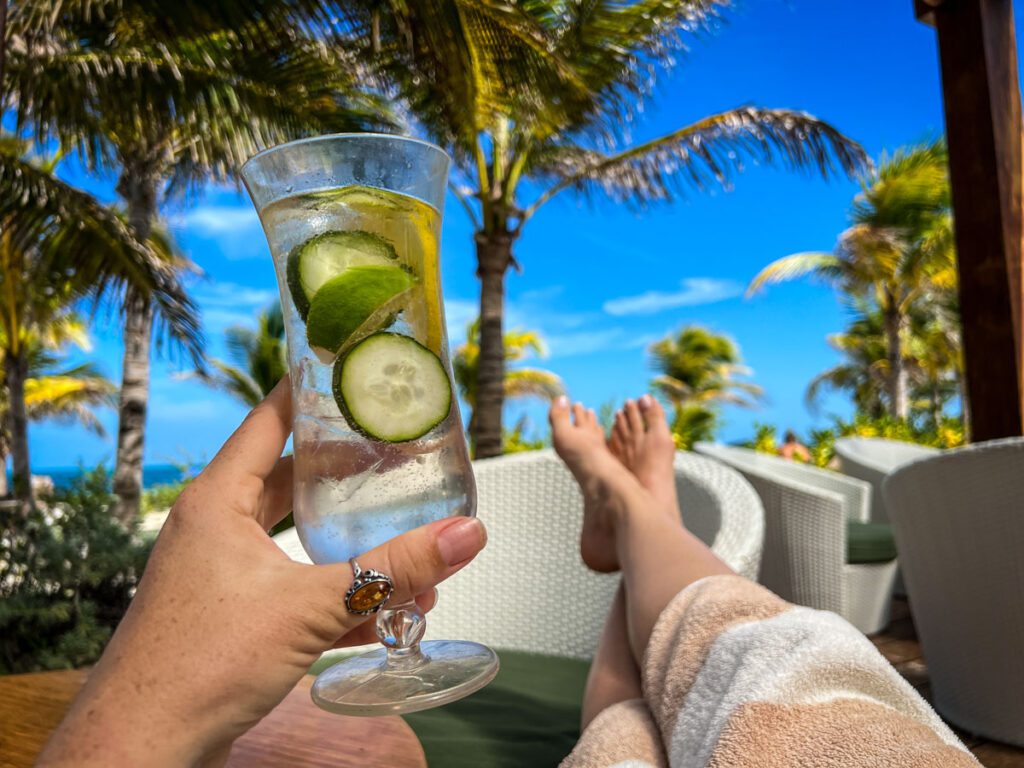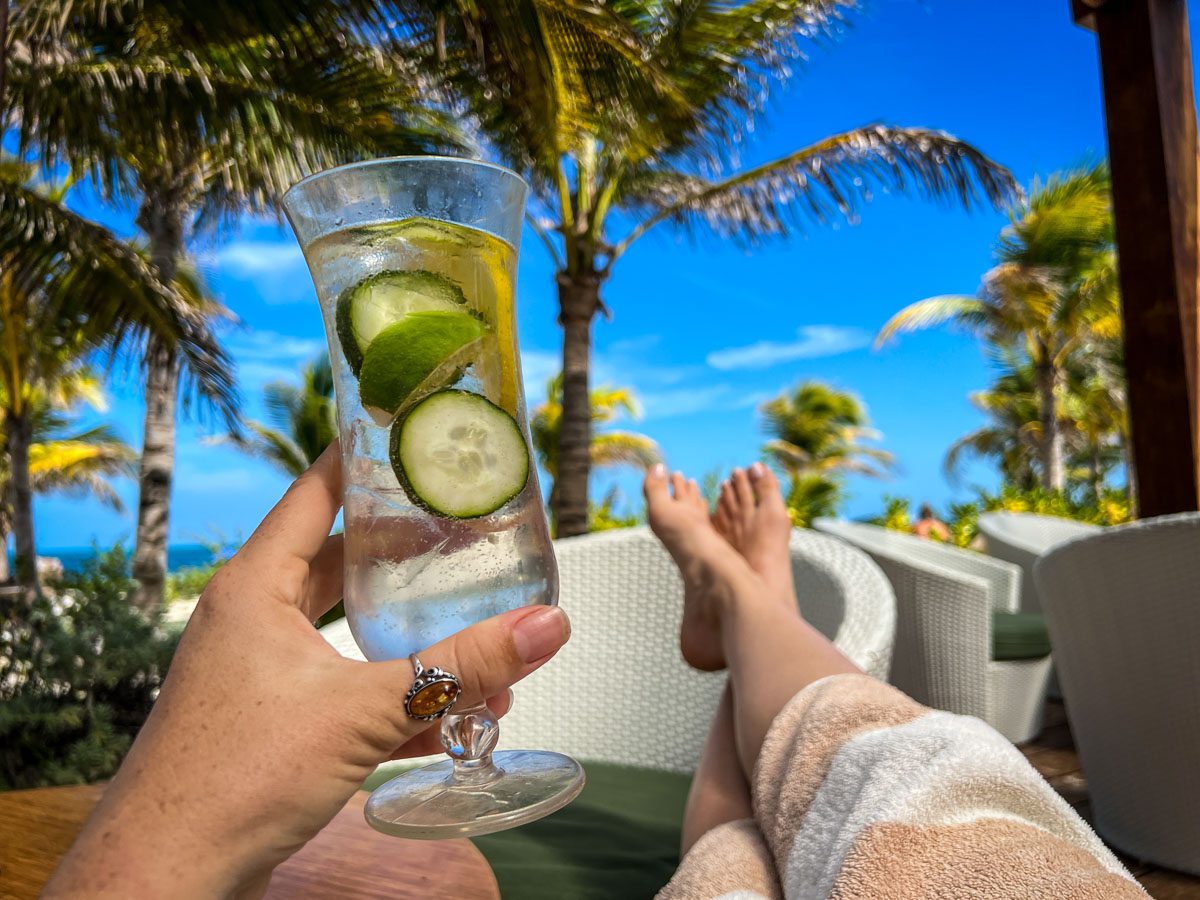 I honestly didn't think much about mocktails until I was pregnant, and I realized just how underrated they are.
Some restaurants do a pretty poor job here – aka their idea of a mocktail is lemonade. Yawn.
Do a little searching on Google Maps (just type "mocktail" in the search bar), and you'll find other reviews that mention mocktails. It's a great way to find places that do them well.
Instead of plain ol' lemonade, treat yourself to a lemongrass ginger fizz or a spicy NA margarita!
Write your baby or partner a letter (or both!)
Ben and I have a tradition of writing a letter to each other each year on our anniversary. We write about memories we made that year and our dreams for the following year. It is always so fun to read these to each other and reflect.
I love the idea of doing something similar on your babymoon before you and your partner embark on a brand new chapter together.
Write about your hopes and dreams for this new season, or whatever it is you feel you want to put on paper. Then, plan a time when you'll read them to each other. Maybe it will be right away on your babymoon. Or perhaps the day your baby is born. Or maybe on your little one's first birthday.
Alternatively, you could write a letter to your baby before they even enter this world. What are your hopes and dreams for them? What kind of relationship do you want to cultivate? Is there anything you want them to know about you at this age?
However you decide to do it, this will be a super special takeaway from your babymoon!
Tip: Be sure to pack nice paper, pens and envelopes!
Plan a date night
Assign a night to both you and your partner where you alone are in charge of planning a romantic date night.
Make it a surprise!
Stay in a unique accommodation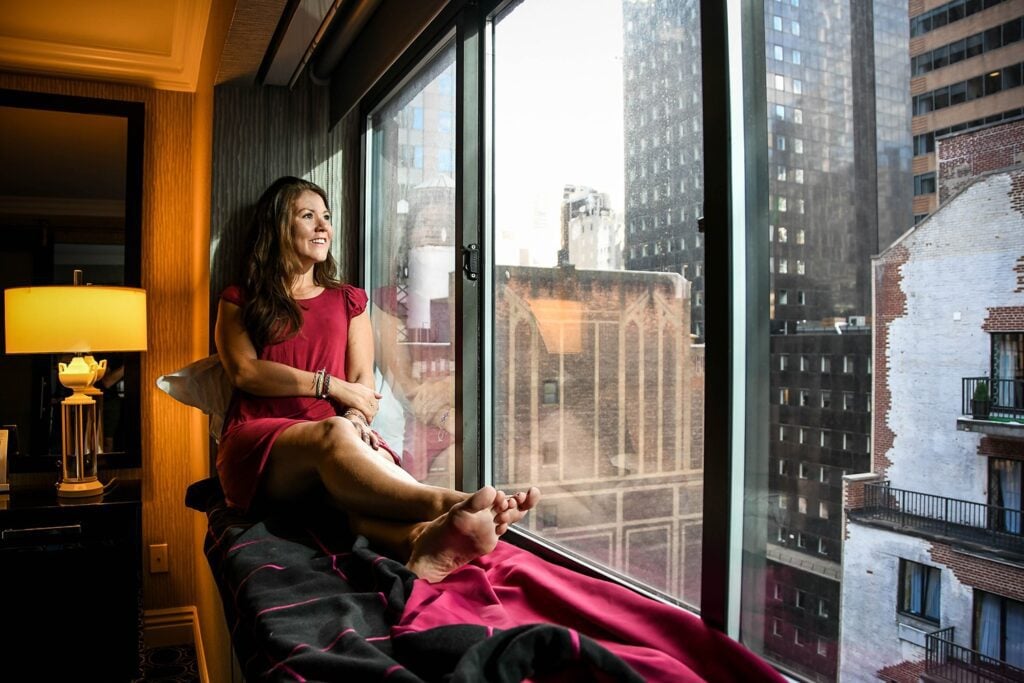 Whether it's a cozy Airbnb with a hot tub (just be sure to turn down the temp to XXX to be pregnancy safe!) or a romantic adults-only hotel, put some thought into the places you'll be staying.
This is the perfect time to spoil yourself.
Or be like us and book a campervan in Iceland because you are a teeny bit crazy and craving a wild adventure before babe arrives! (You can always tack on a luxurious hotel before and after the campervan rental, after all!)
Our top babymoon picks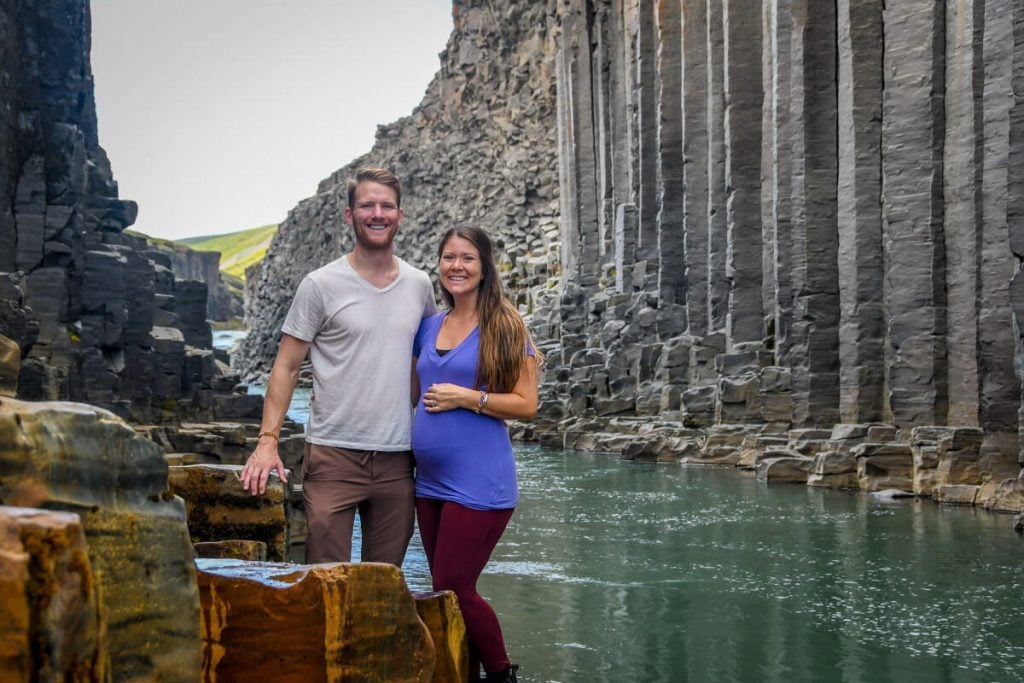 Need more help narrowing down your list? Here are some of our top choices.
Adventurous babymoon destinations
Unique babymoon destinations
Relaxing babymoon destinations
Most affordable babymoon destinations
Any USA National Park
Yucatan Peninsula, Mexico
Thailand (minus airfare)
Costa Rica
Staycation
Best winter babymoon destinations
Best USA babymoon destinations
Oregon Coast
Hawaii
Colorado
Bend, Oregon
Any USA National Park
Leavenworth, WA
Miami
---
You might also like…
Save this article on Pinterest for later!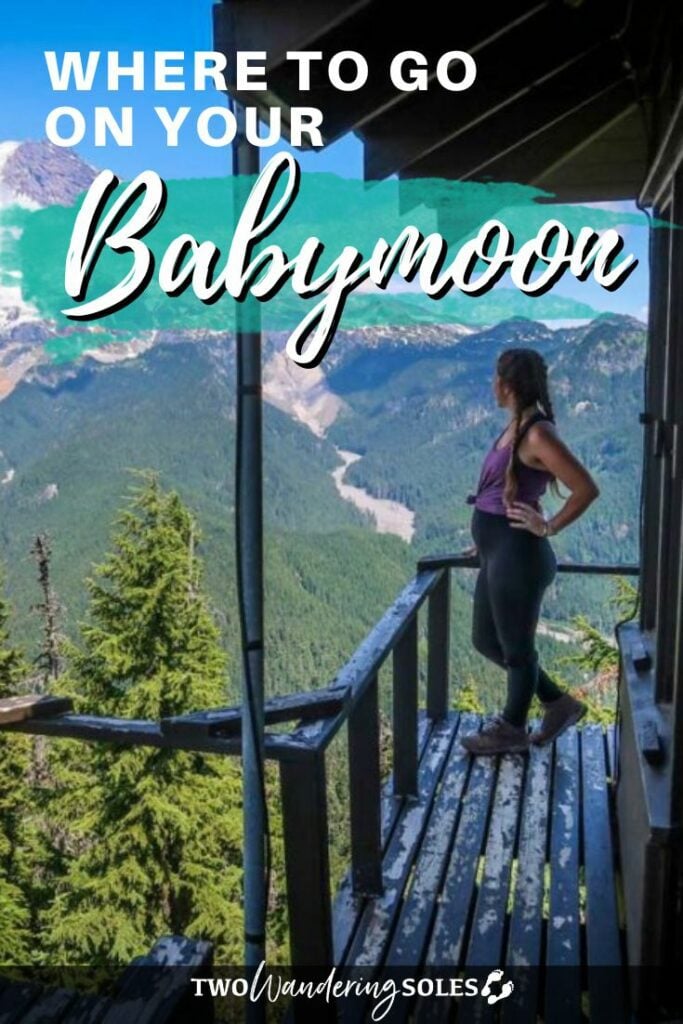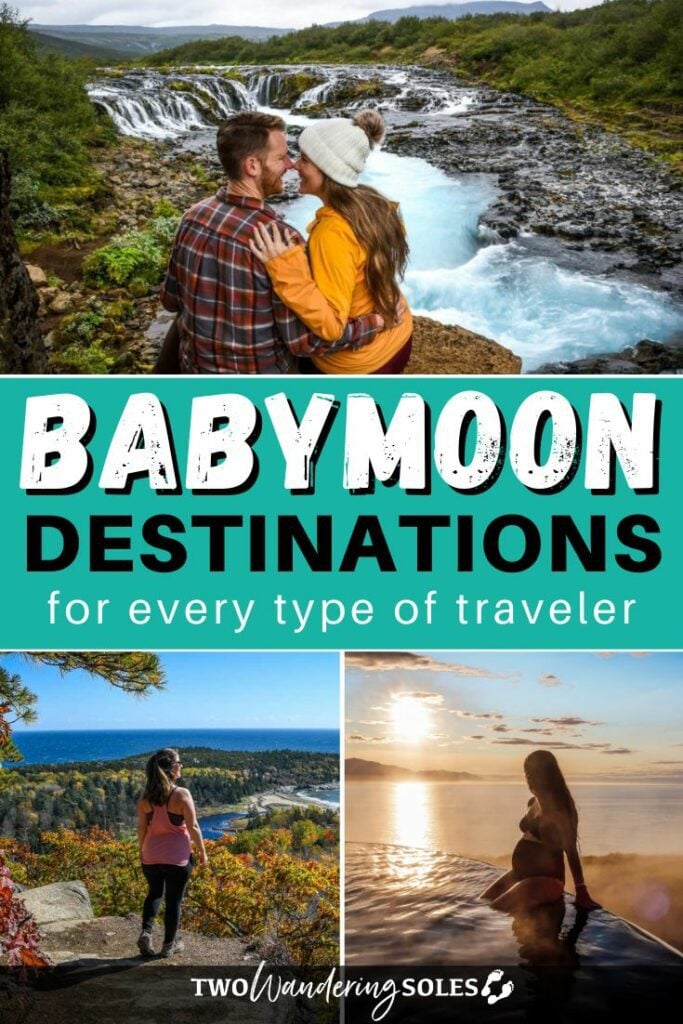 We want to hear from you!
Are you planning a babymoon? Do you have questions about babymoon destinations or traveling with a baby? We want to hear it all in the comments below. We try our best to respond to everyone, so comment away!