Experience Scotland's capital city like a local with a stay at an Airbnb in Edinburgh. We've rounded up a few of our favorites, highlighting remarkable properties ranging from a luxurious art-laden studio to a hidden stone cottage.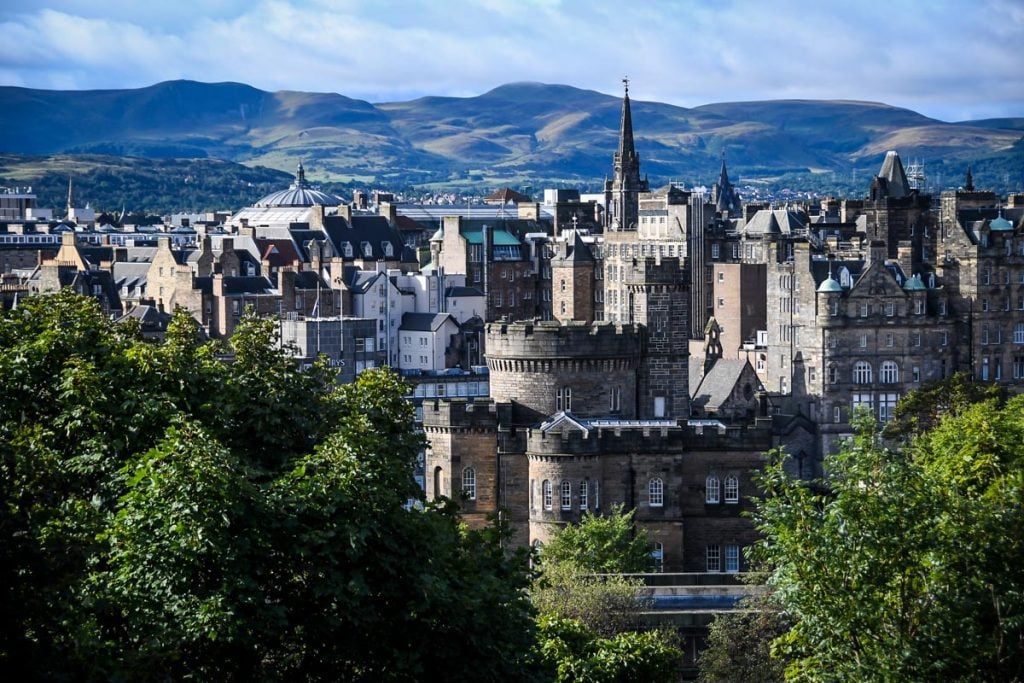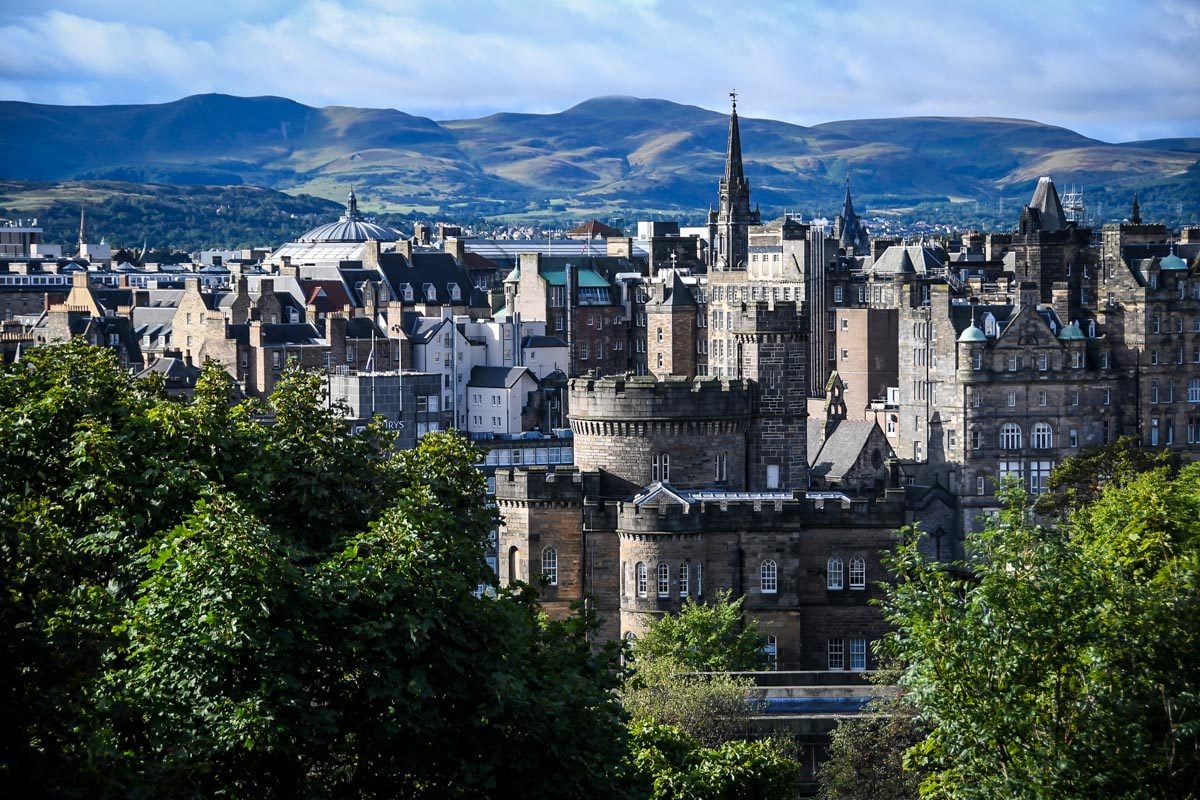 Charming, historic Edinburgh is filled with photogenic alleyways, cobblestone streets, lively pubs, and the impressive Edinburgh Castle. It's no wonder this atmosphere inspired J.K. Rowling to produce the magical world of Harry Potter!
Seemingly every building in the city is historic, and there are loads of museums, restaurants, and cafes (and did we mention pubs?!) to enjoy during your stay. It's easy to see why Edinburgh is widely considered one of the best places to visit in Scotland.
Whether you're visiting this fascinating city for a jam-packed weekend of sightseeing or you're exploring at a relaxing pace for a few weeks, you'll want the perfect crashpad to call your temporary home.
From no-frills budget finds to over-the-top, themed whimsical properties and everything in between, check out our list of the best Airbnbs in Edinburgh.
Psst! While you're at it, you'll want to check out these insanely fun things to do in Edinburgh!
---
Other resources for planning your perfect Scotland trip
Be sure to download our complete packing list for Scotland! It's packed with good suggestions and insider tips to help plan your Scotland trip. And it's completely FREE, so why not!?
---
Why stay at an Edinburgh Airbnb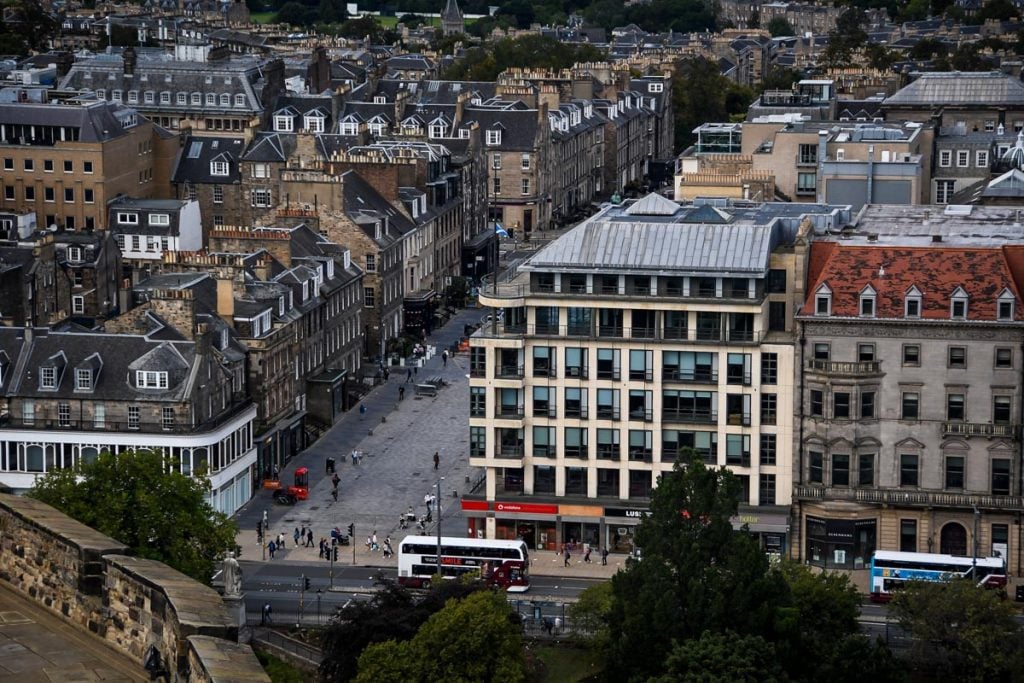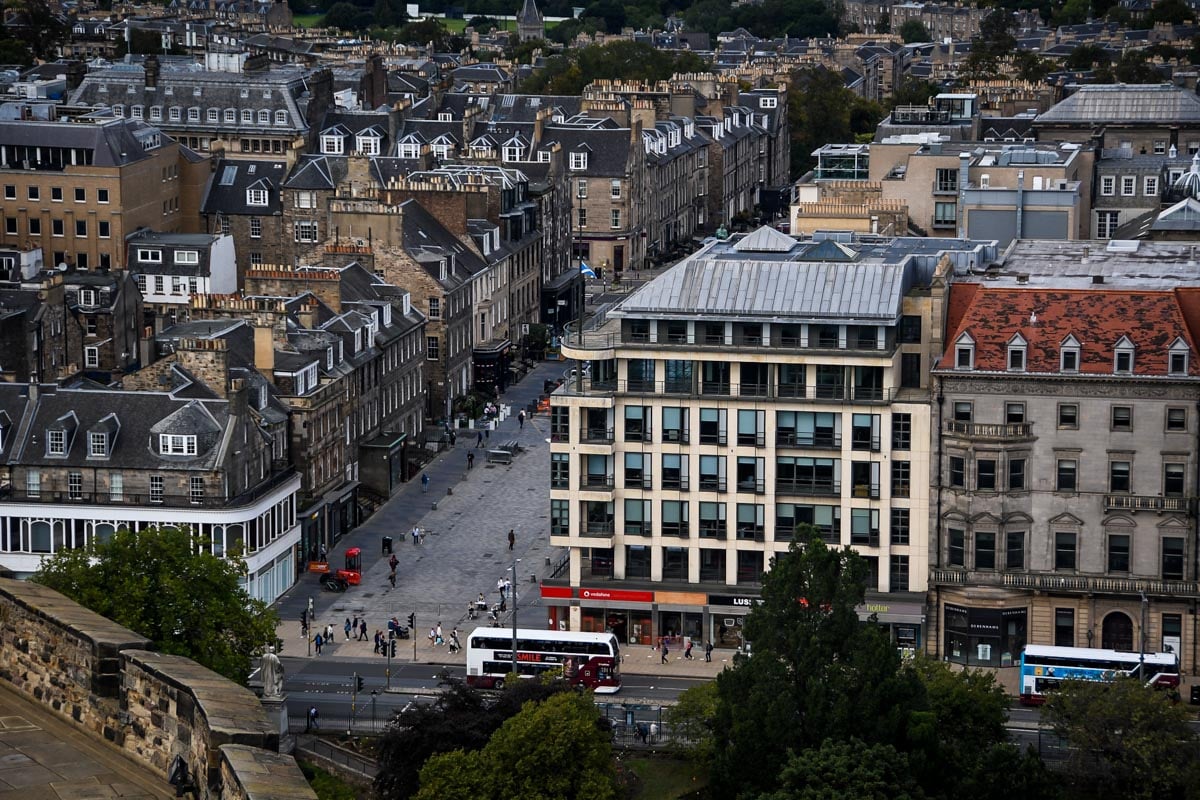 Renting an Airbnb is one of our favorite ways to dive into a new city. Edinburgh has many stunning properties, complete with authentic Scottish (i.e.; Medieval) decor, unique architecture, and thoughtful touches. Plus, they offer some distinct advantages not typically found in hotels.
Experience the city from a local's perspective
Explore neighborhoods away from hotels, which tend to be clustered in tourist hot spots and buttoned-up business districts
Access to a kitchen, laundry facilities, remote work setup, and other home-like amenities
More space for friends or family to stay together in one place
Save money on longer stays
Unique accommodations like designer modern lofts, castles, and Harry Potter-themed rentals
Psst! Is this your first time considering staying in an Airbnb? We put together an entire article on how to book an Airbnb, from setting up your profile to exactly which filters we use when we book.
Where to stay in Edinburgh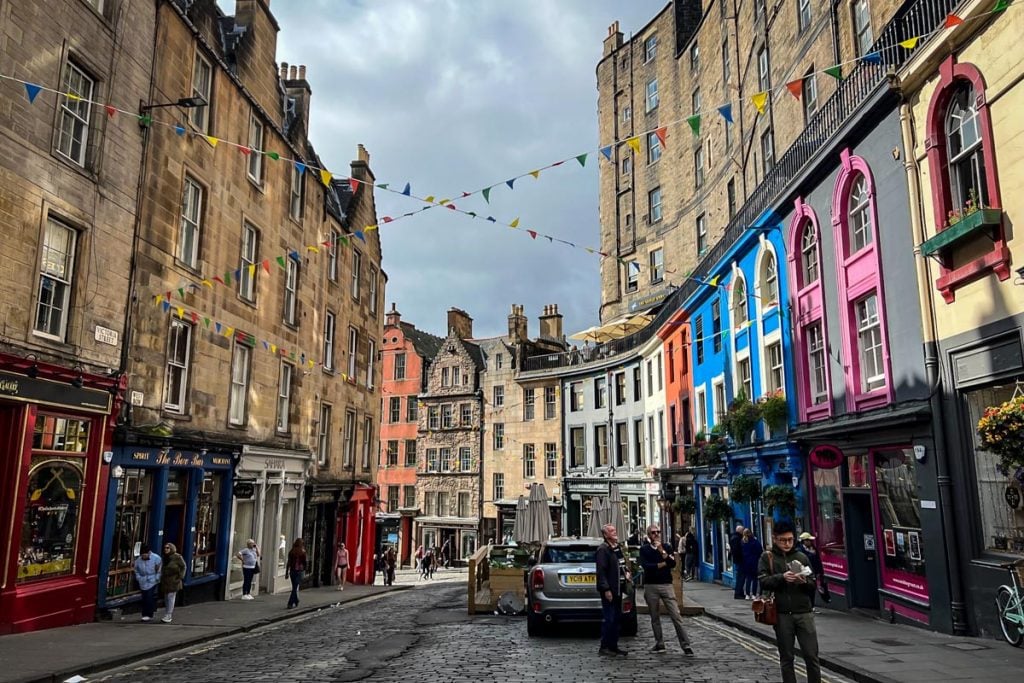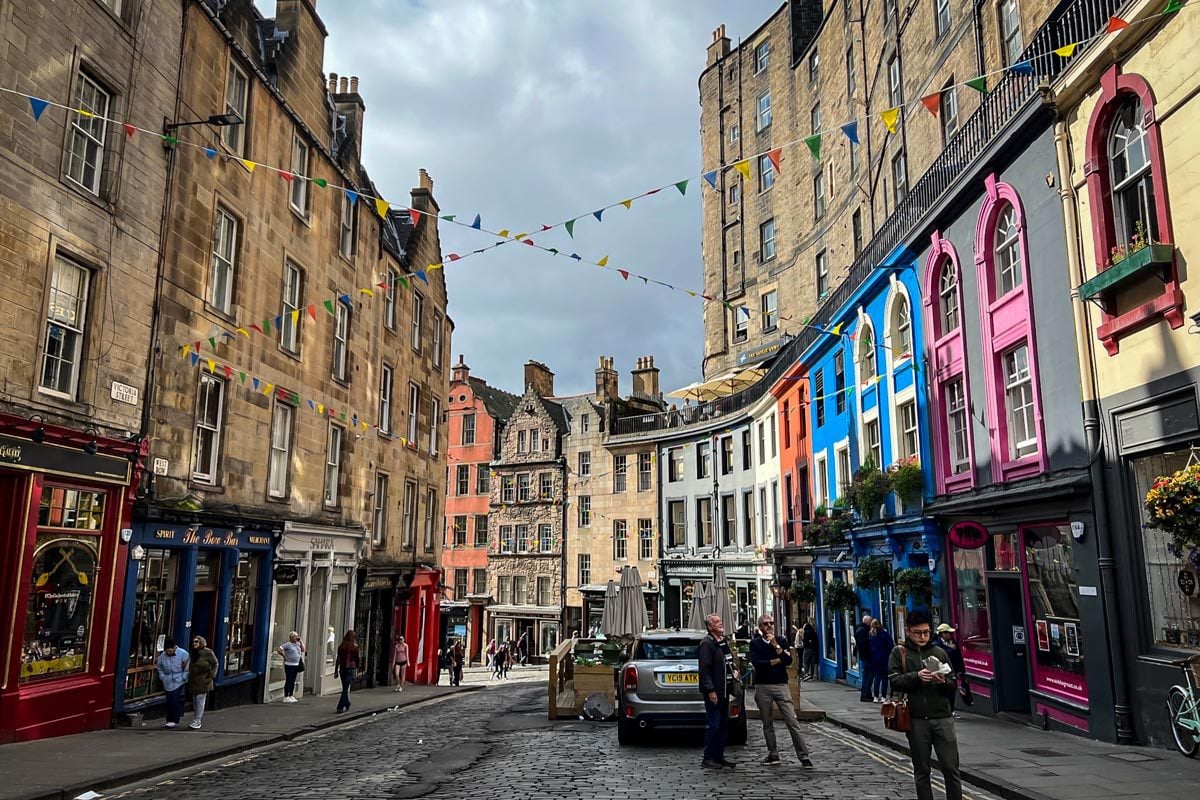 A medium-sized city, Edinburgh is a breeze to get around, and few attractions are ever more than 15 minutes away. Most visitors spend their time around New Town and Old Town, but there are several pleasant neighborhoods outside the city center, too! Deciding on the perfect home base in Edinburgh largely depends on the duration of your stay and the atmosphere you're looking for.
Old Town: Filled with Edinburgh's oldest buildings, the castle, and the bustling, iconic Royal Mile, Old Town deservedly gets most of the attention. Base your stay here if you don't have much time and you want to be in the middle of all the action.
New Town: Around 250 years old, this elegant neighborhood is hardly "new" anymore. Home to plenty of upscale restaurants, luxury shops, and cafes, New Town is more business-oriented than Old Town, but still located in the bustling center. Stay here for fancier and designer properties only a short walk from the city's major attractions.
Stockbridge: Within walking distance of Edinburgh's center, Stockbridge is a hip, vibrant neighborhood with excellent dining options and cafes. It's a great choice especially for a longer visit, since you'll explore the city center anyway — but here, you can start and end the days in a relaxed, slightly more charming part of town!
Dalry: For an even more authentic local experience, consider booking an Edinburgh Airbnb in Dalry. There's an abundance of excellent casual eateries, cafes, and pubs, at noticeably lower prices than the center of town.
Our top 5 recommendations:
20 Best Airbnbs in Edinburgh
From luxurious romantic getaways to large group flats to accommodations with castle views and everything in between, these are the best Airbnbs in Edinburgh for a memorable stay!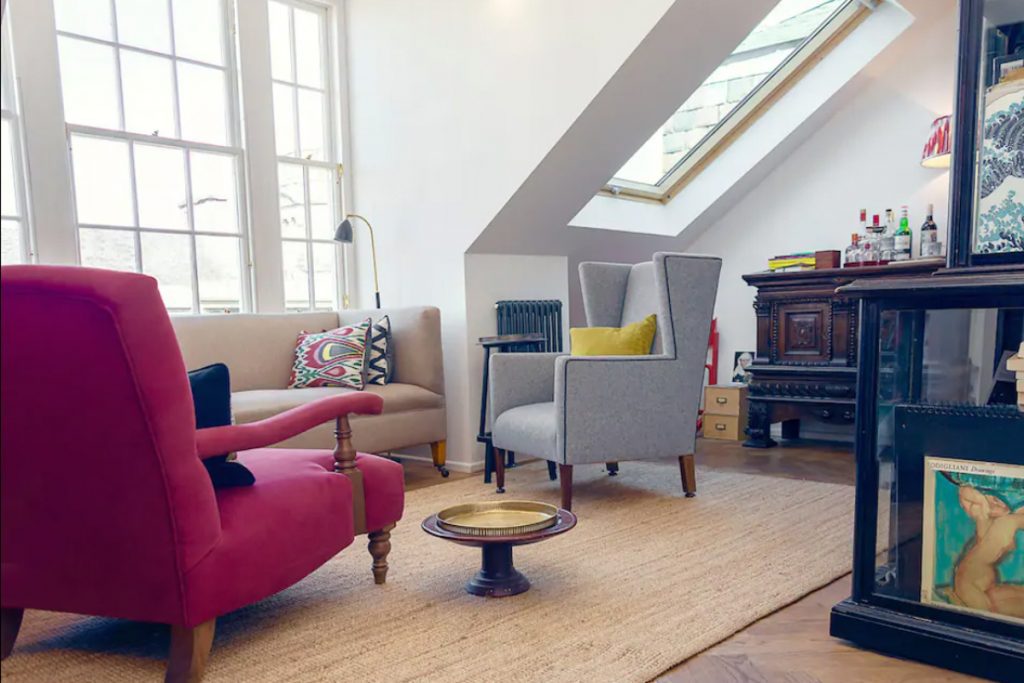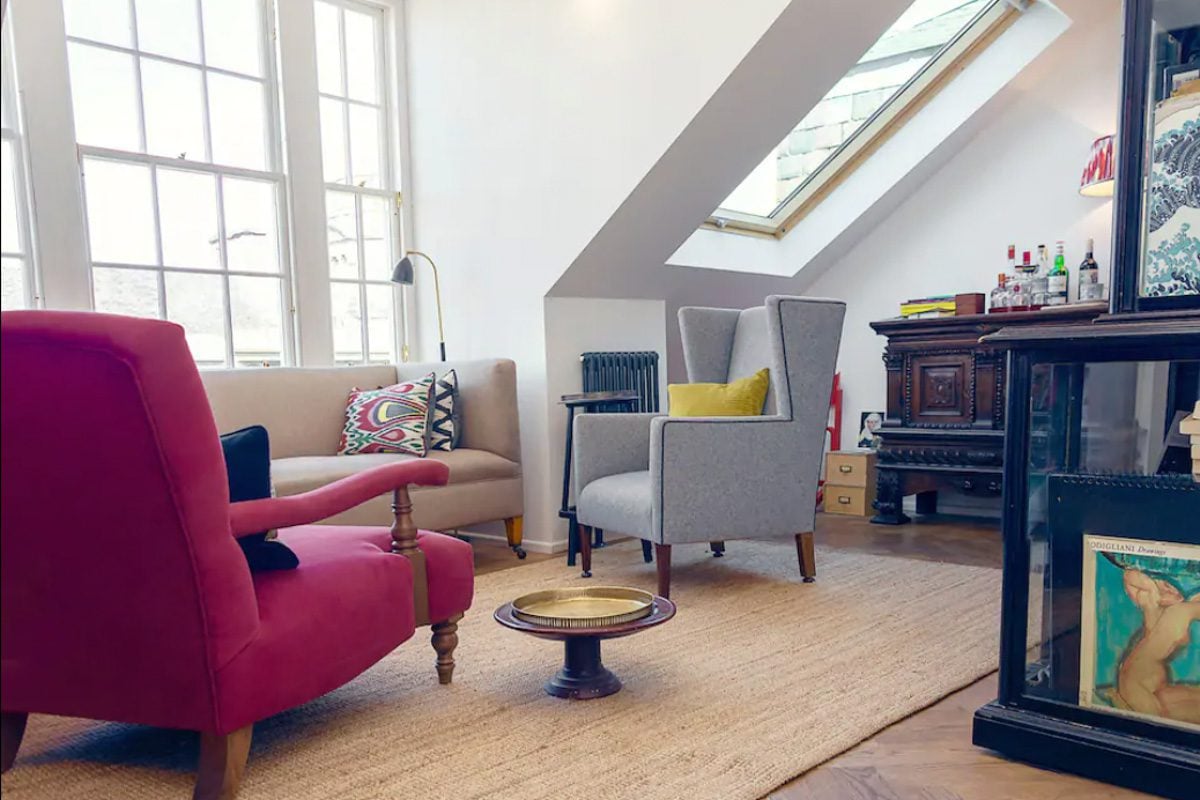 Stylish, modern apartment on the fifth floor with thoughtful touches and a fantastic location
Budget: $$
Number of Guests: 2
Minimum Stay: 4 nights
Superhost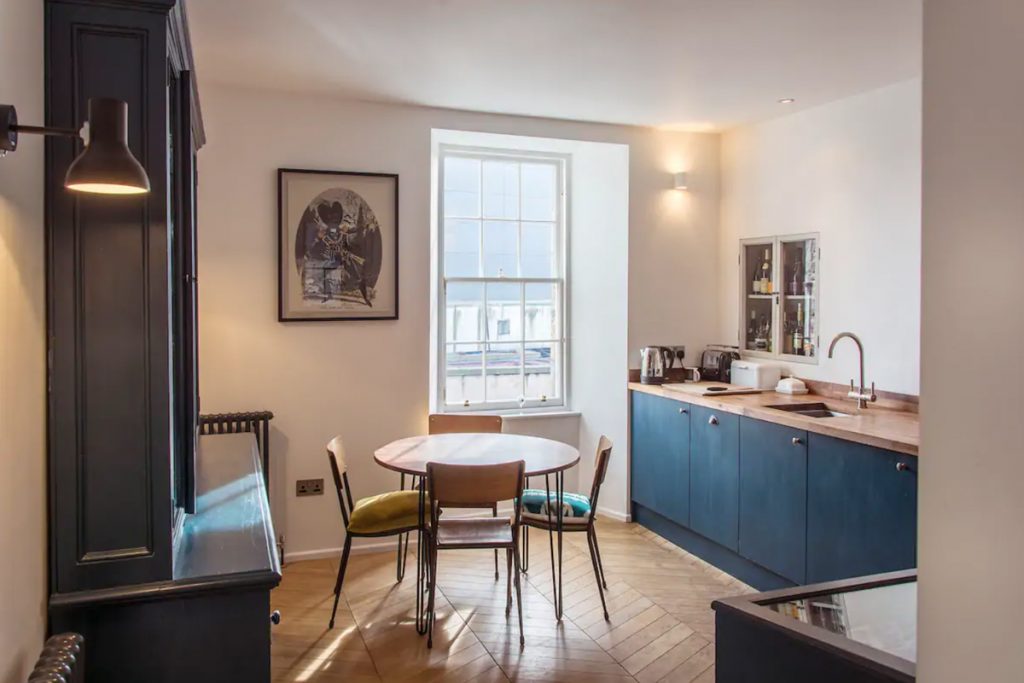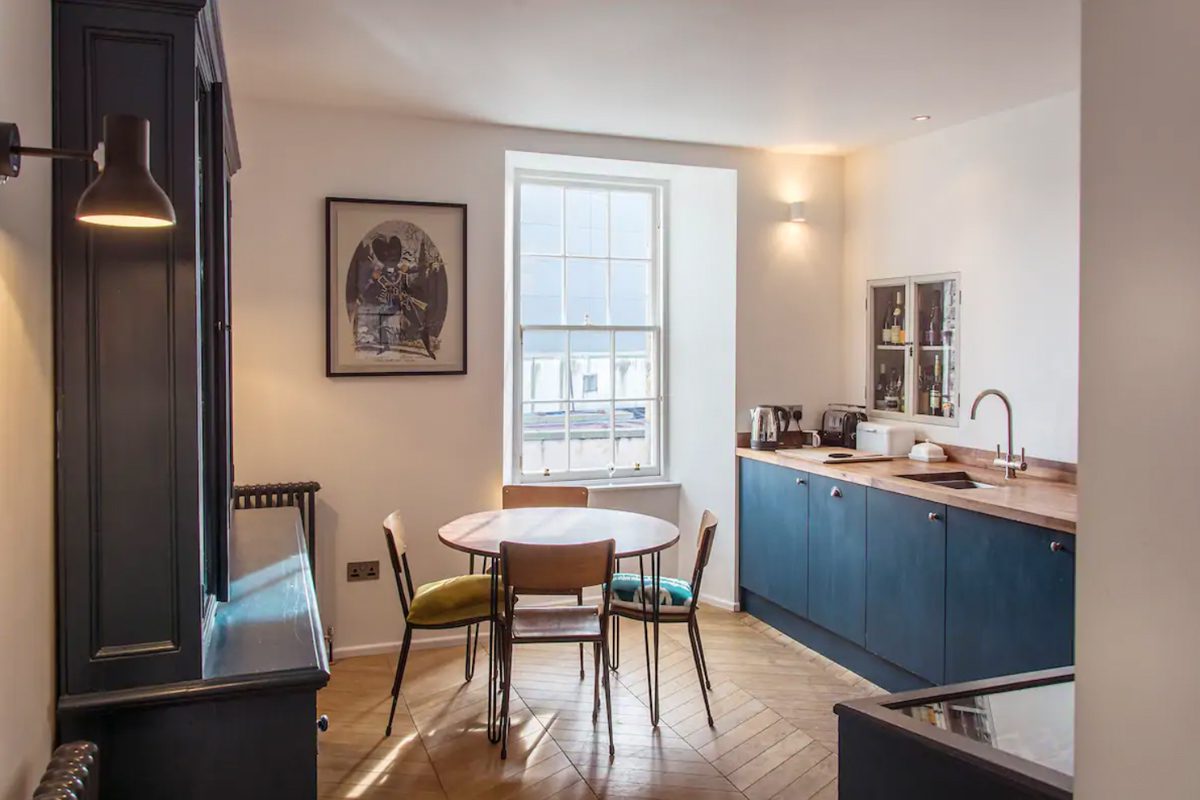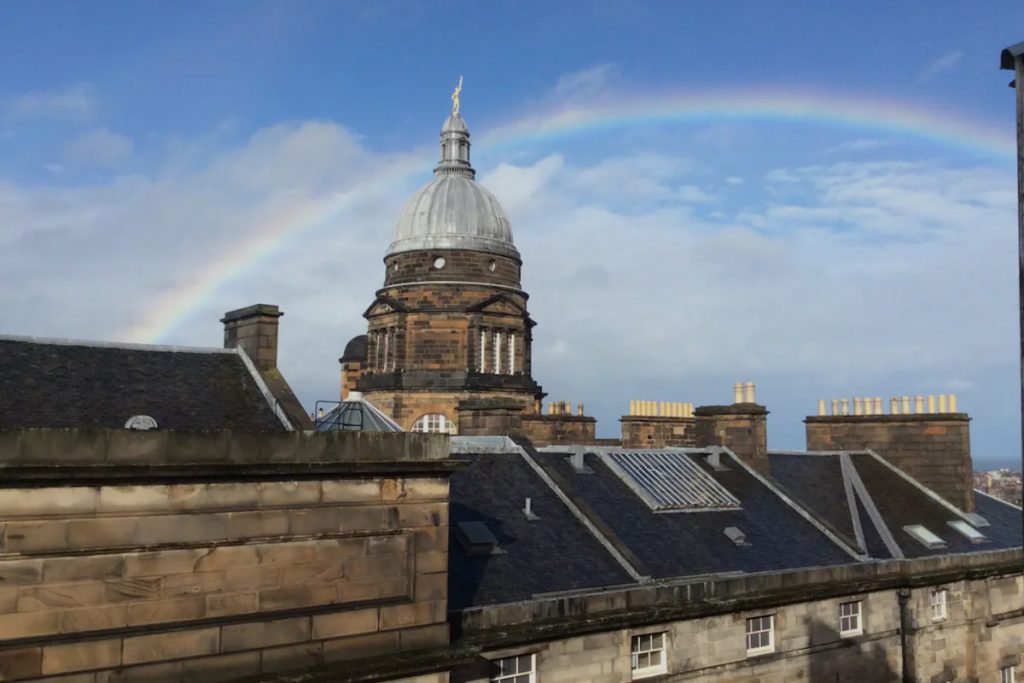 This Edinburgh Airbnb combines comfy amenities with memorable details just a block from the city's historic center. There's a well-stocked, donation-based honor bar (how cool is that?!), a view of the Old College dome, a curated library of art books, and a wonderfully eclectic mix of antique furniture sprinkled in with sleek modern pieces.
In addition to the detailed decor, guests appreciate the host's excellent communication and recommendations.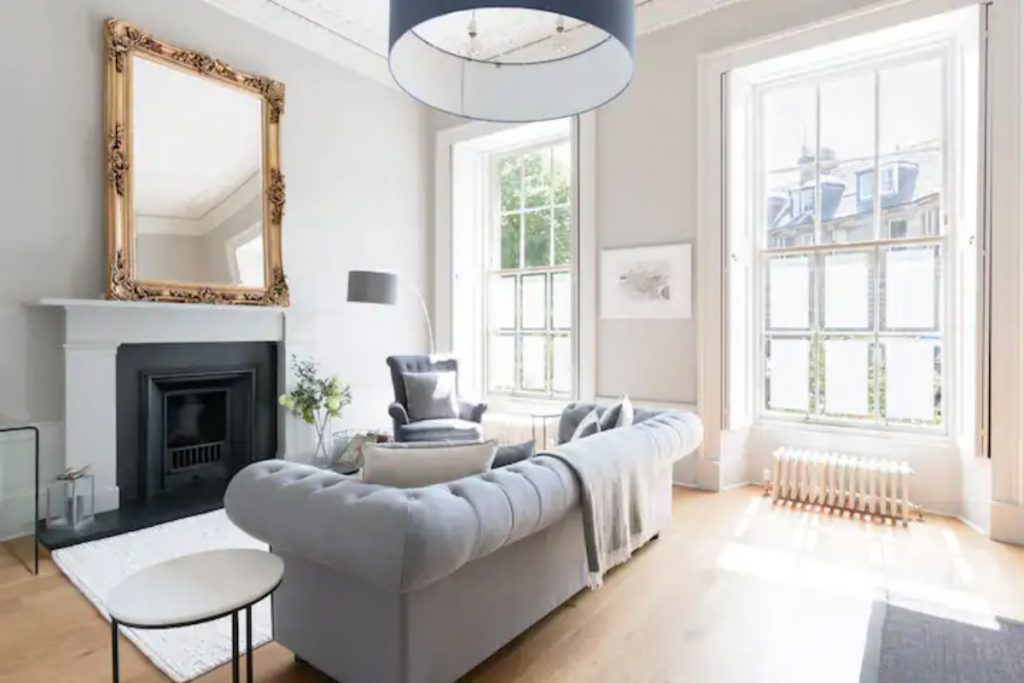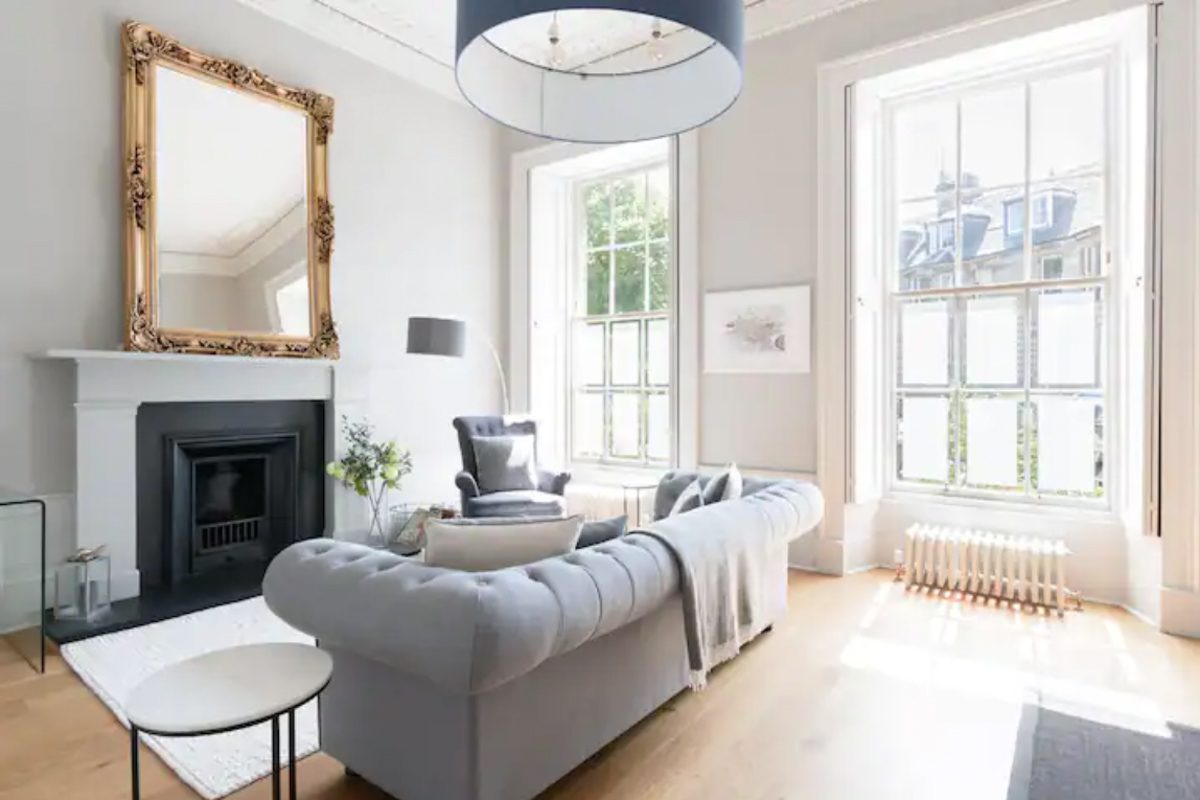 Stately Georgian home in a well-established residential neighborhood
Budget: $$$
Number of Guests: 2
Minimum Stay: 3 nights
Superhost and Airbnb Plus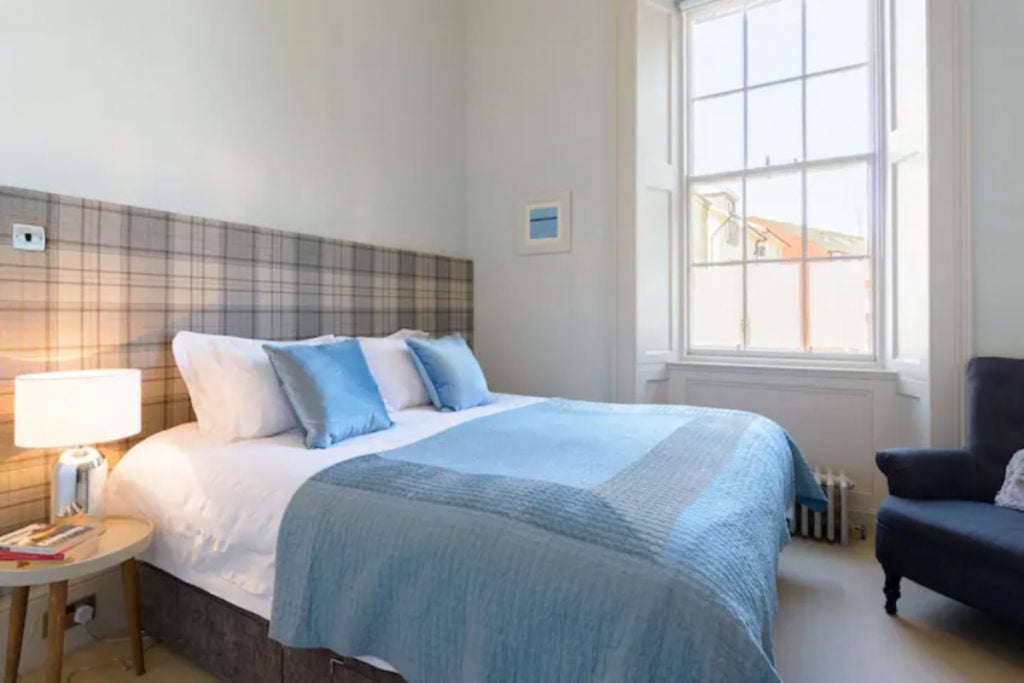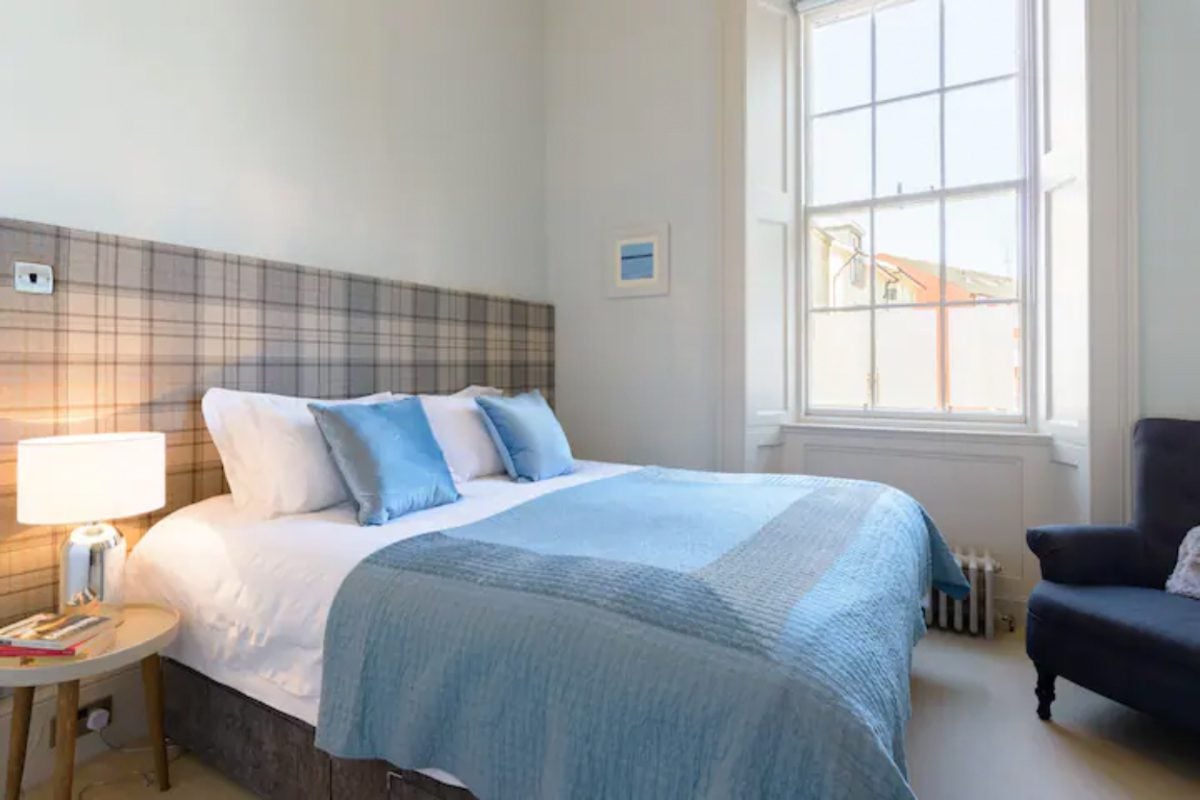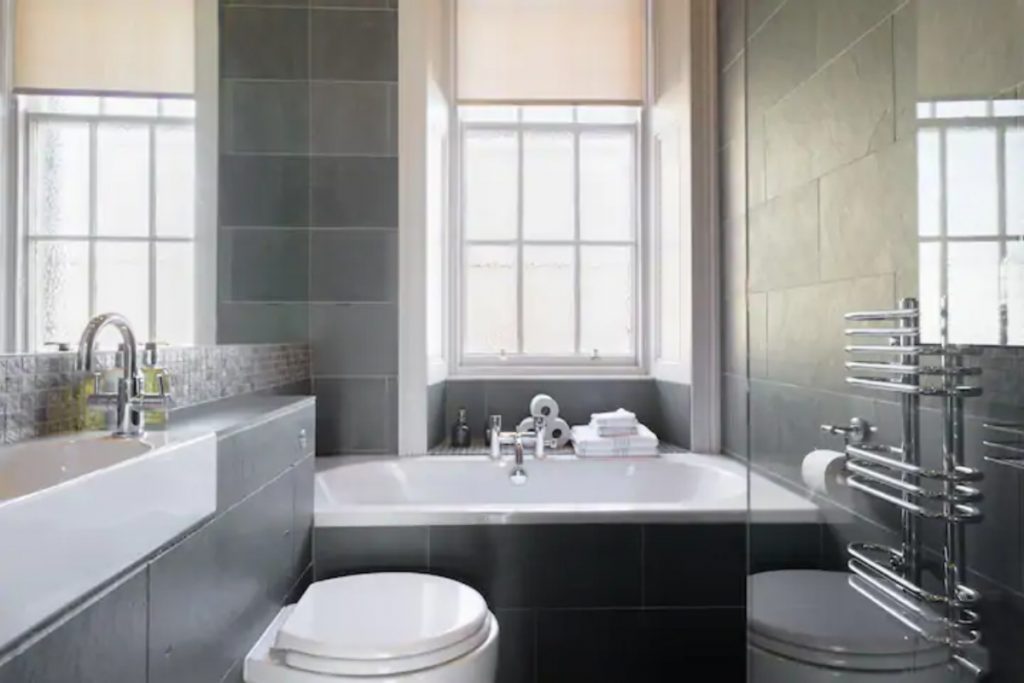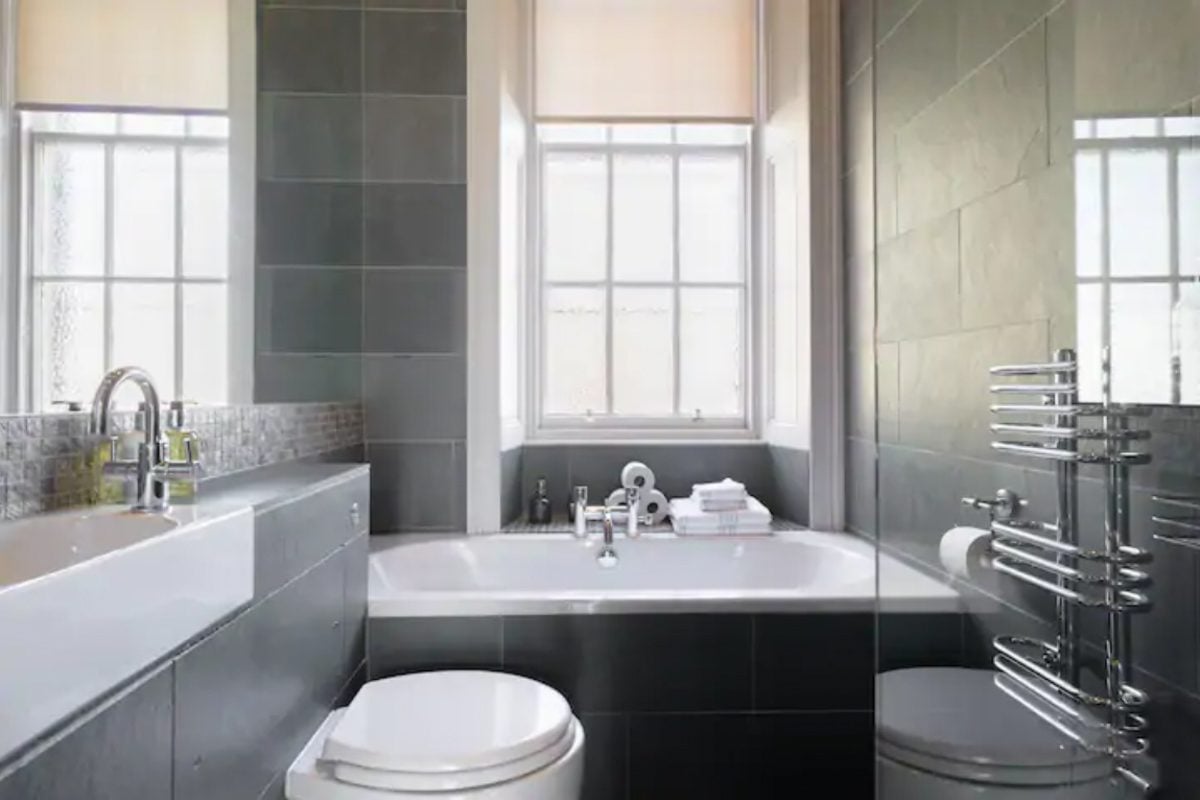 An impressive Georgian-style home, this Edinburgh Airbnb combines luxurious touches of previous centuries with modern-day comfort and design.
Set in residential Stockbridge, there are plenty of cafes and restaurants nearby, while main attractions are a short tram ride away. The airy living room, with tall windows and a fireplace, is the perfect backdrop for a reading session with tea, and the bed is beyond comfy, too.
The home's near-perfect 4.99 rating is well-deserved, with guests raving about the thoughtful included extras (ponchos and umbrellas for the frequent rain!) and home's inviting vibe.
"Nothing beats sitting in the early morning sunshine on the front step or in our private garden, enjoying a fresh local coffee and a pastry whilst watching the city start to come to life all around you." – Lorne, your host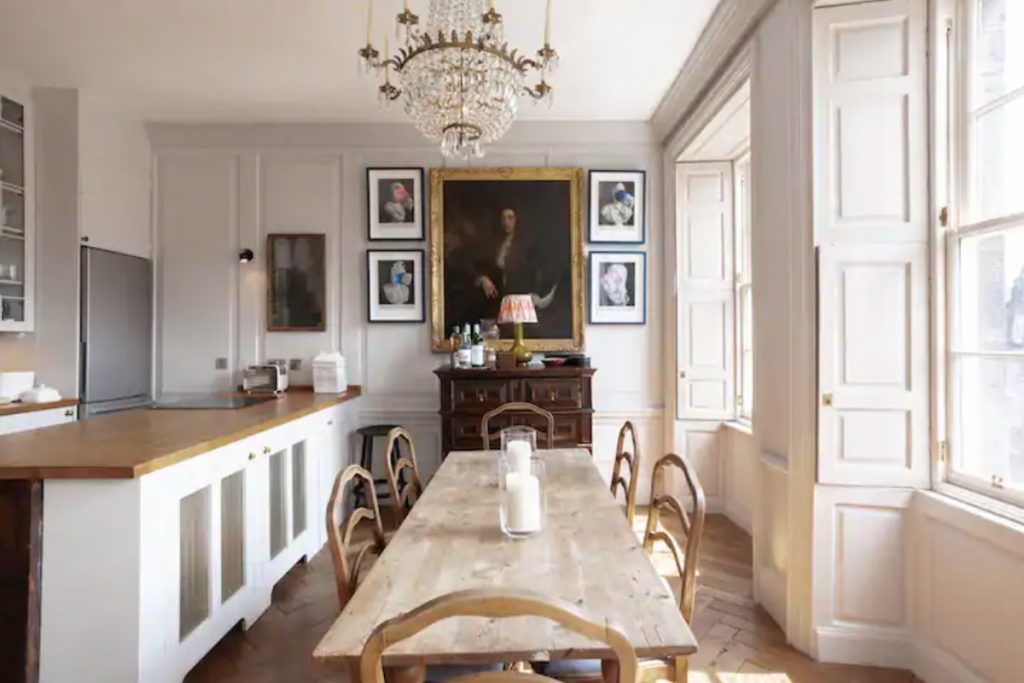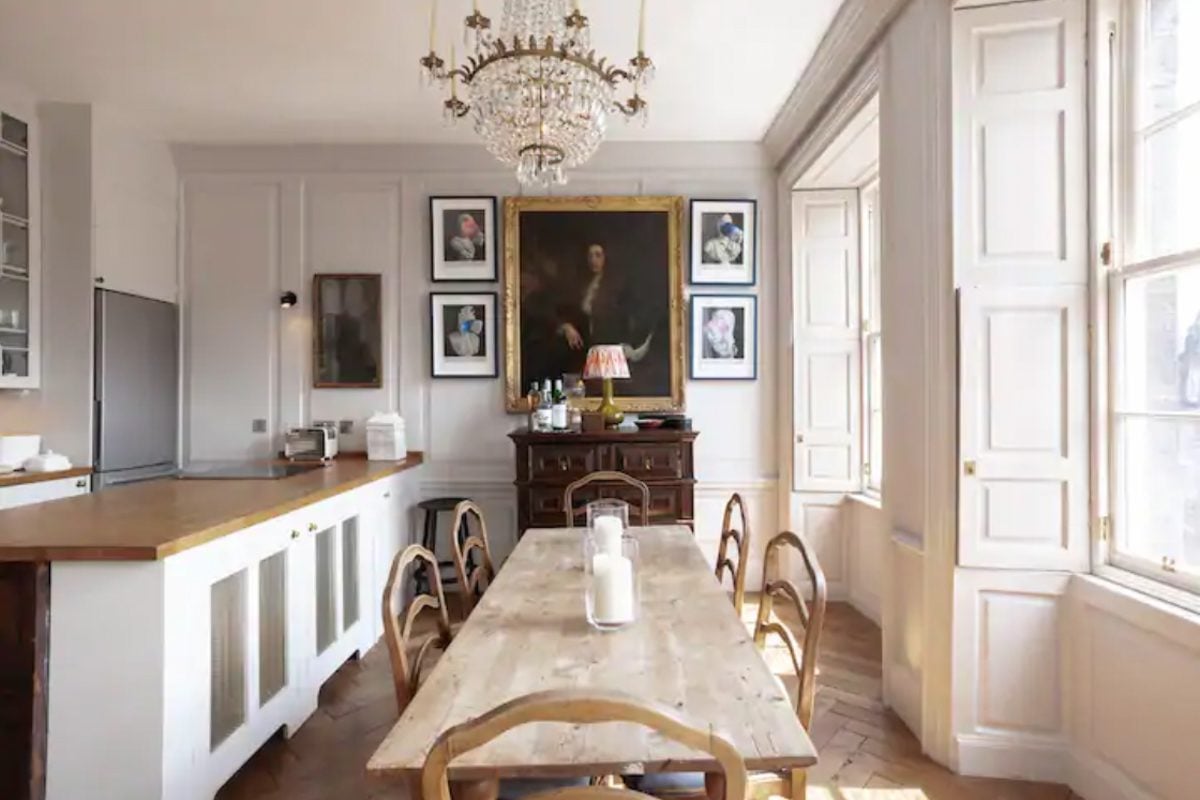 Extraordinarily memorable historic studio in a central location
Budget: $$$
Number of Guests: 2
Minimum Stay: 4 nights
Superhost and Airbnb Plus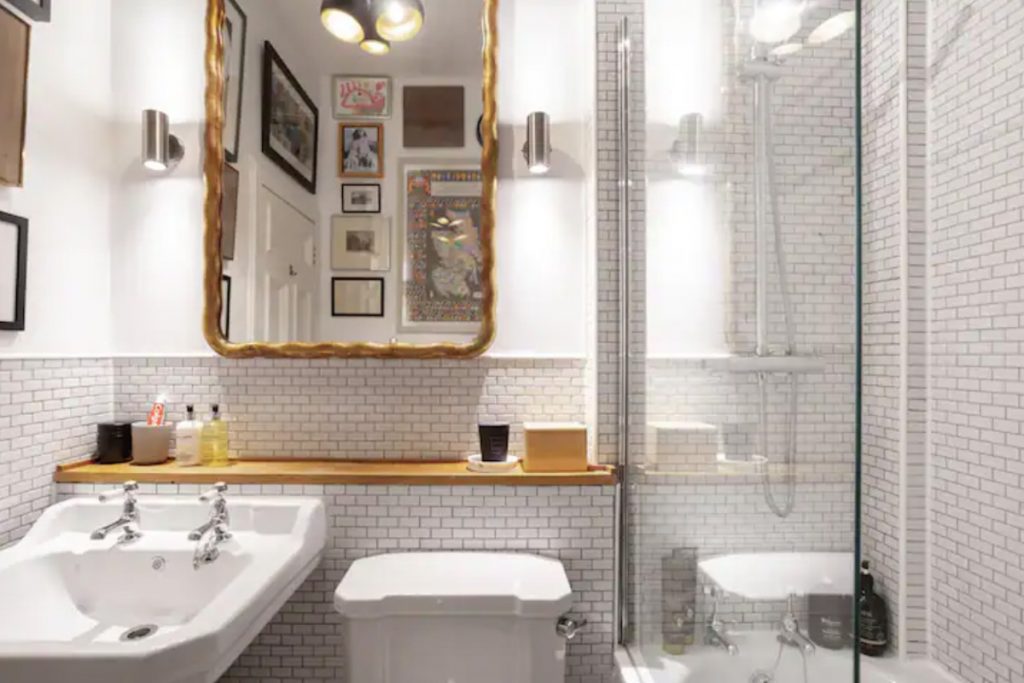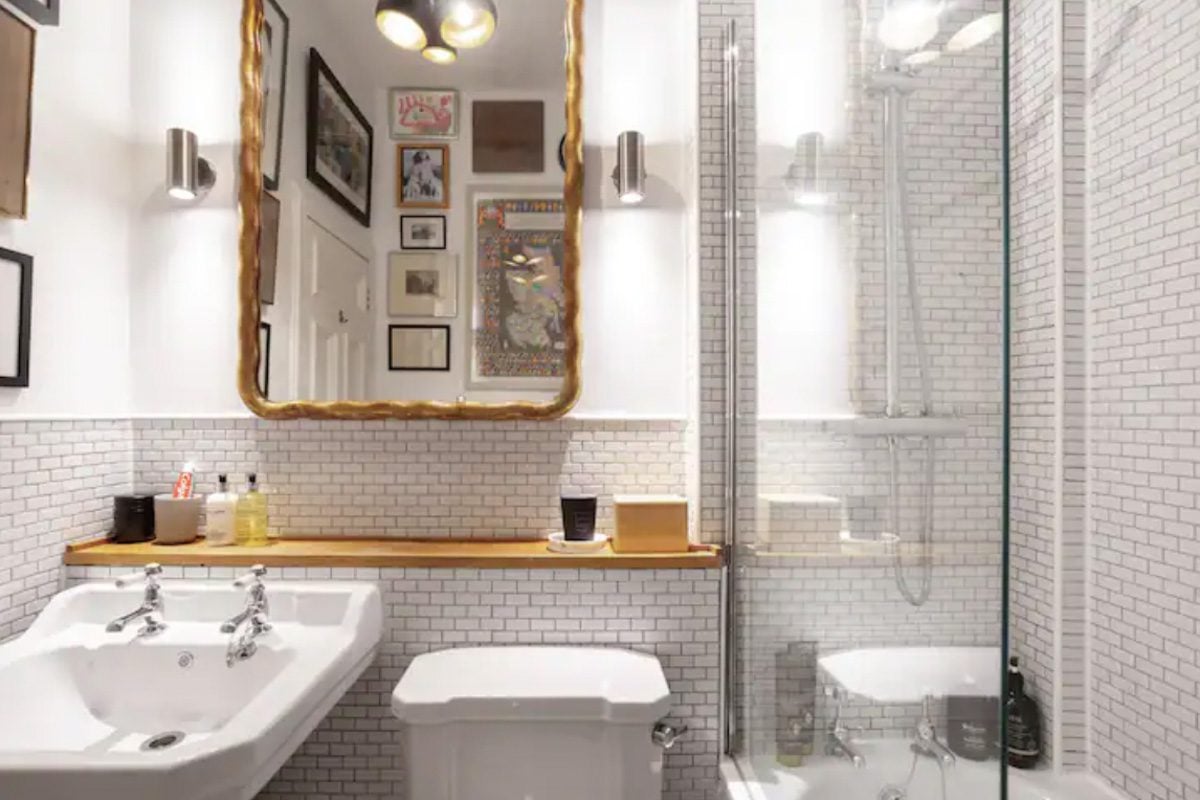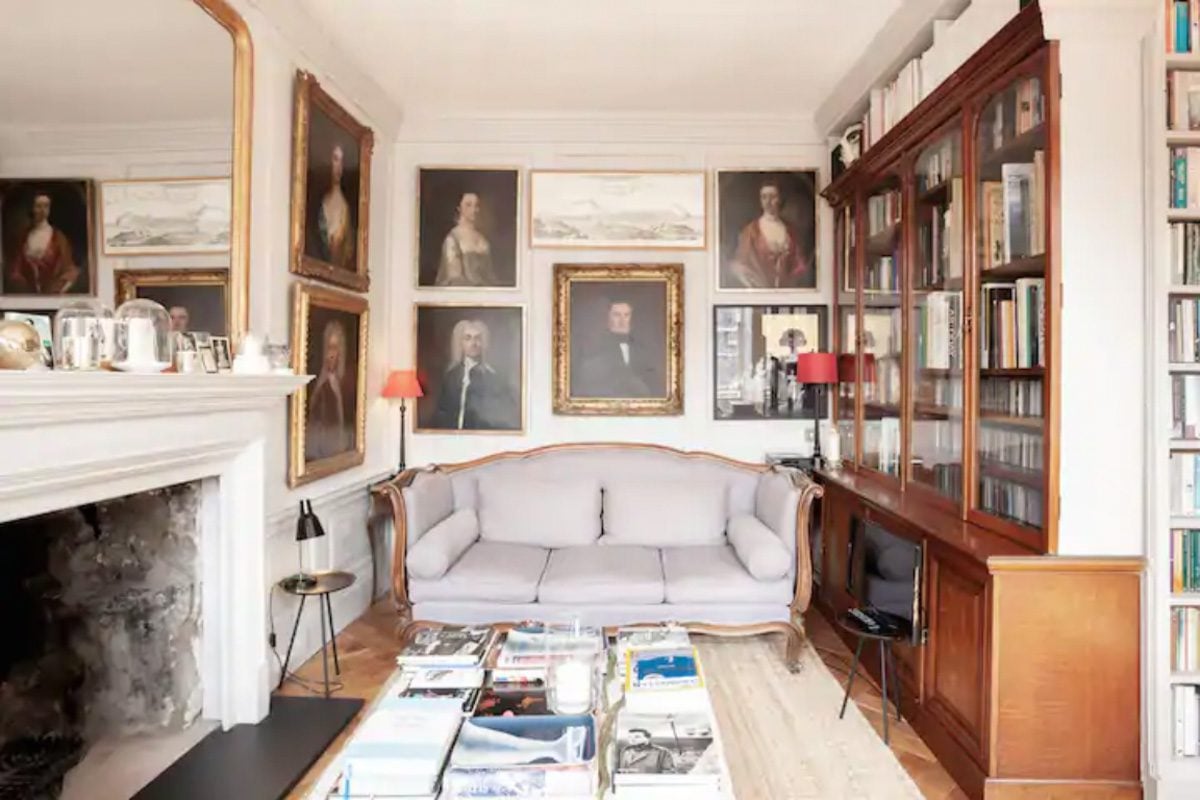 Centuries-old portraits hanging alongside modern art. Classical music playing on vinyl as you enjoy chilled prosecco. Rain on the large windows, and a selection of hundreds of books.
Sound like a dream? This Airbnb in Edinburgh goes above and beyond accommodation; it's truly an experience.
Located in the heart of historic Edinburgh, major landmarks are close by, but this studio may just be the star attraction of your stay. The bed is cleverly tucked away in a cozy den, opening up significant space most studios lack.
Like Calim's rooftop apartment (listed in #1!), there's a pay-for-what-you-drink bar, and he delivers fresh-baked bread and biscuits.
Here's what one guest had to say about it:
"Staying at Calim's flat was a great experience. He has thought of every detail to make you feel at home. We really appreciated the breakfast items and honor bar. Everything was incredibly clean. The whole flat was curated so that you couldn't look in any direction without finding something of interest. The location could not be more perfect. I would highly recommend Calim's place. He took great care to make our stay perfect. We would stay here again in a heartbeat." – Elizabeth, June 2019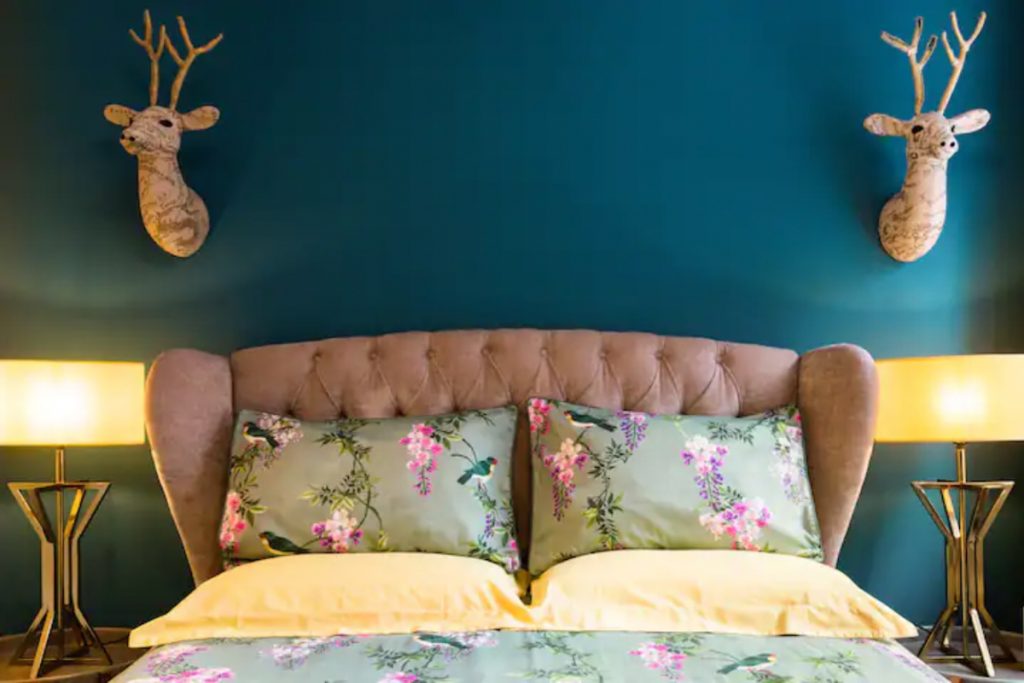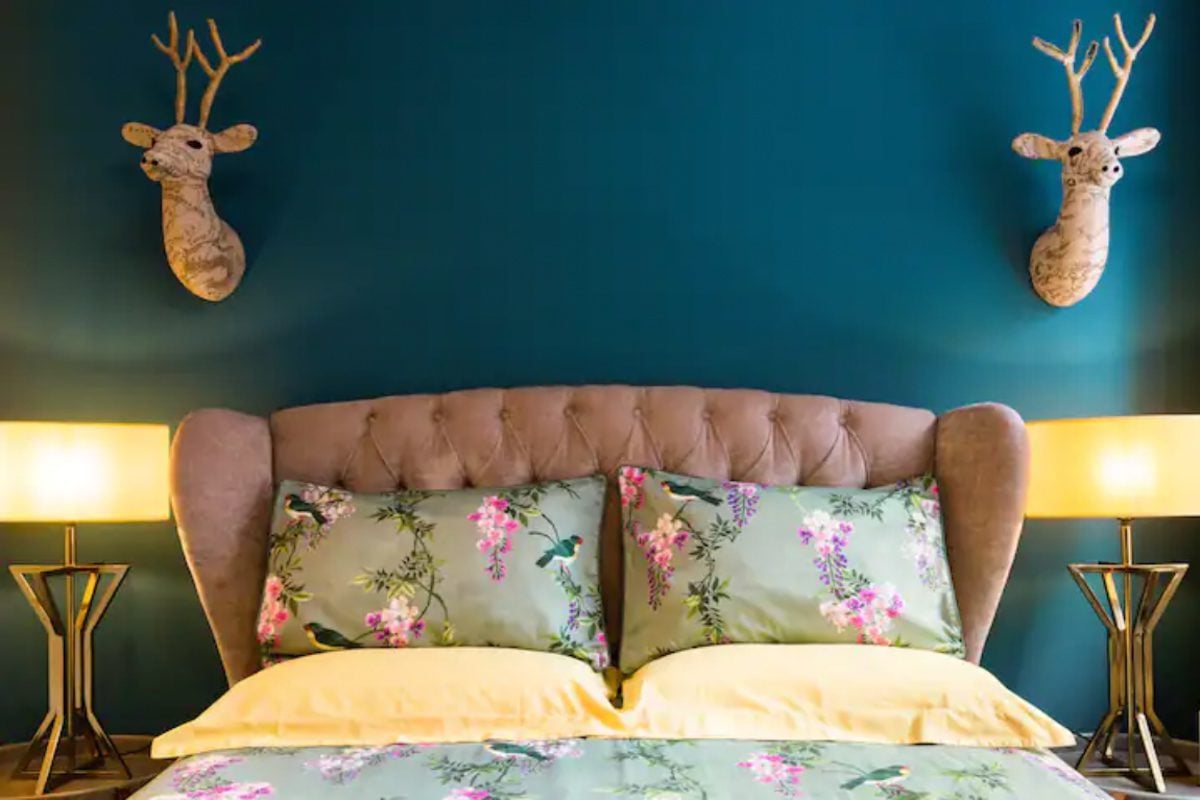 Eclectic home with thoughtful extras in a fantastic central location
Budget: $$
Number of Guests: 2
Minimum Stay: 2 nights
Airbnb Plus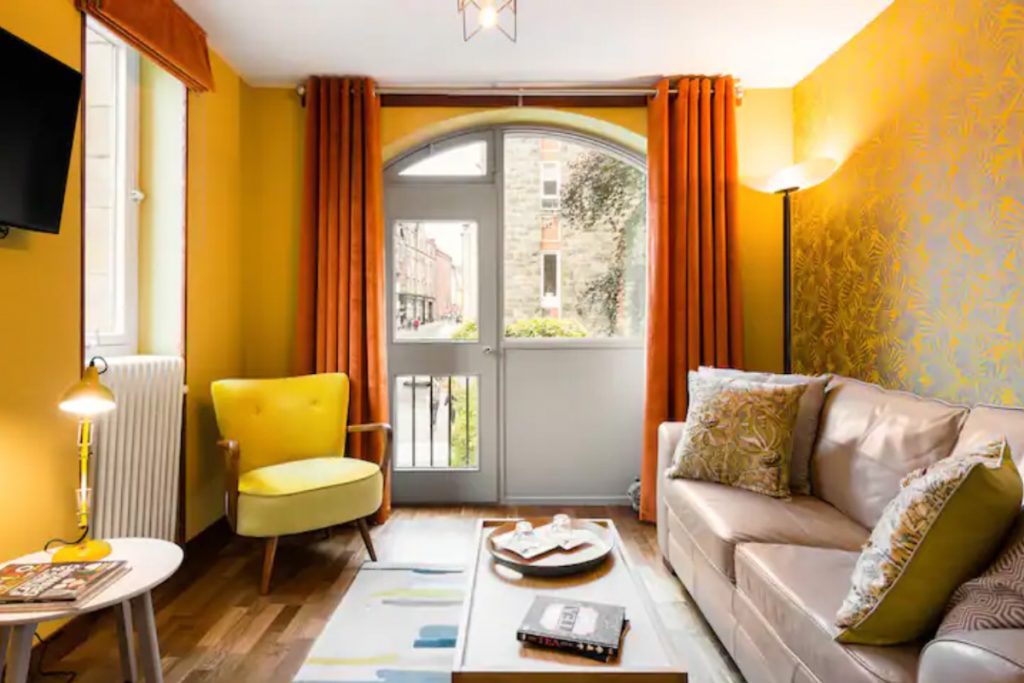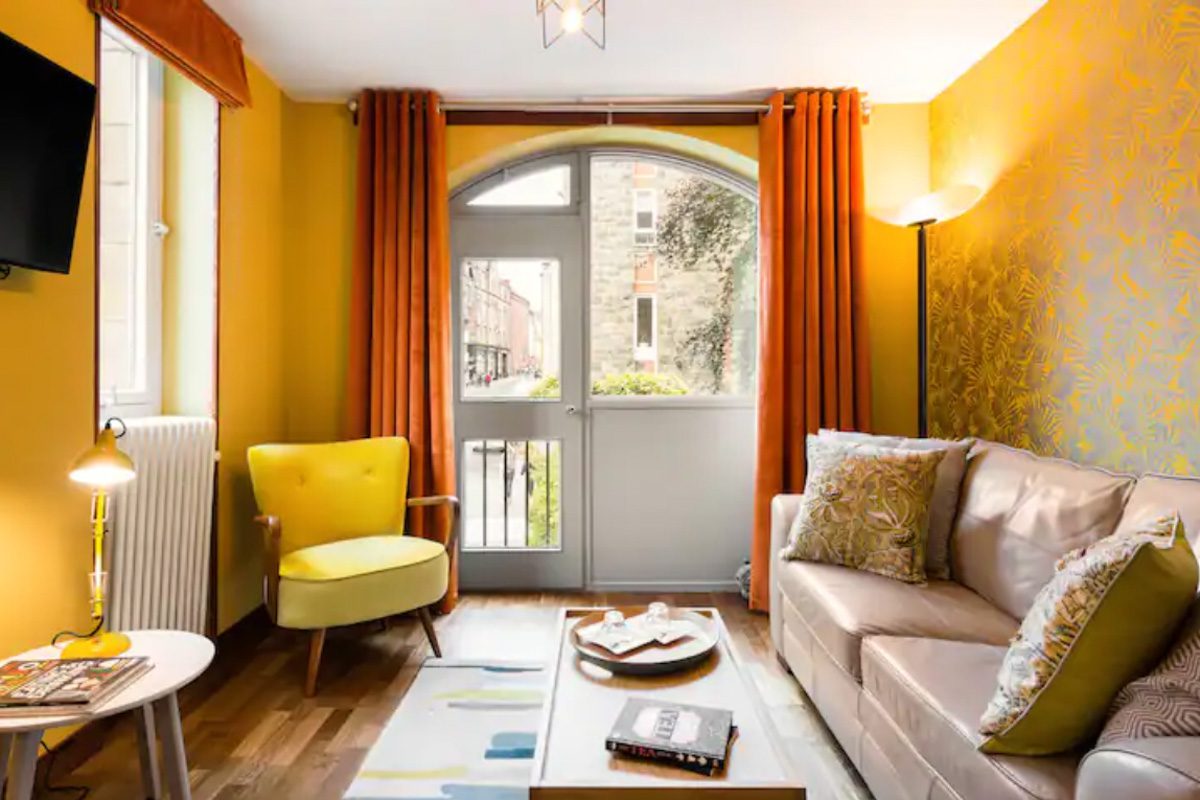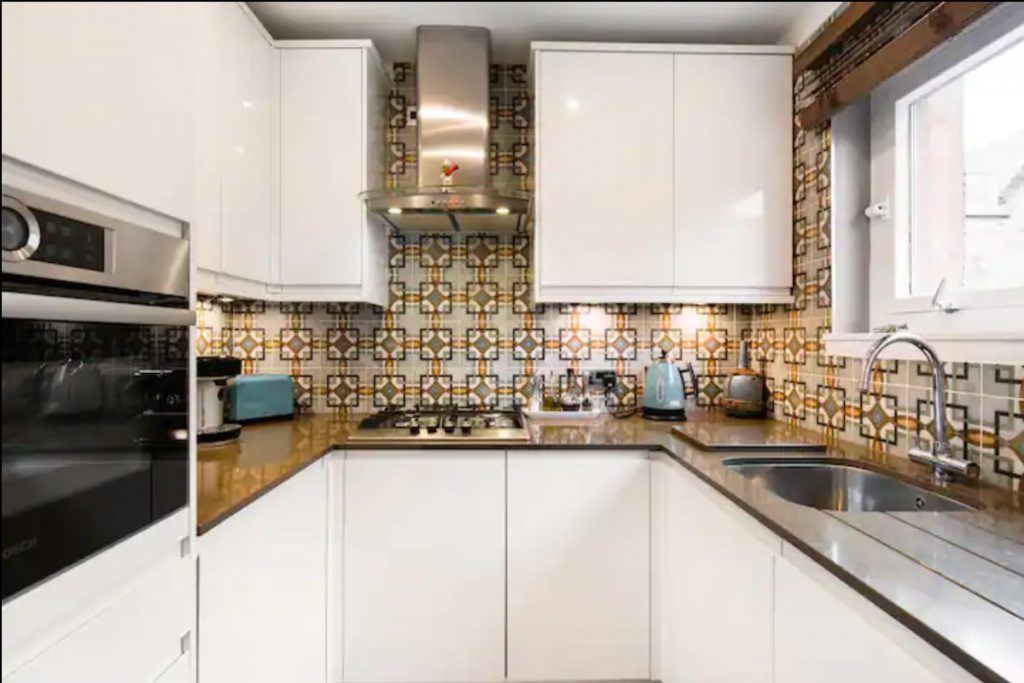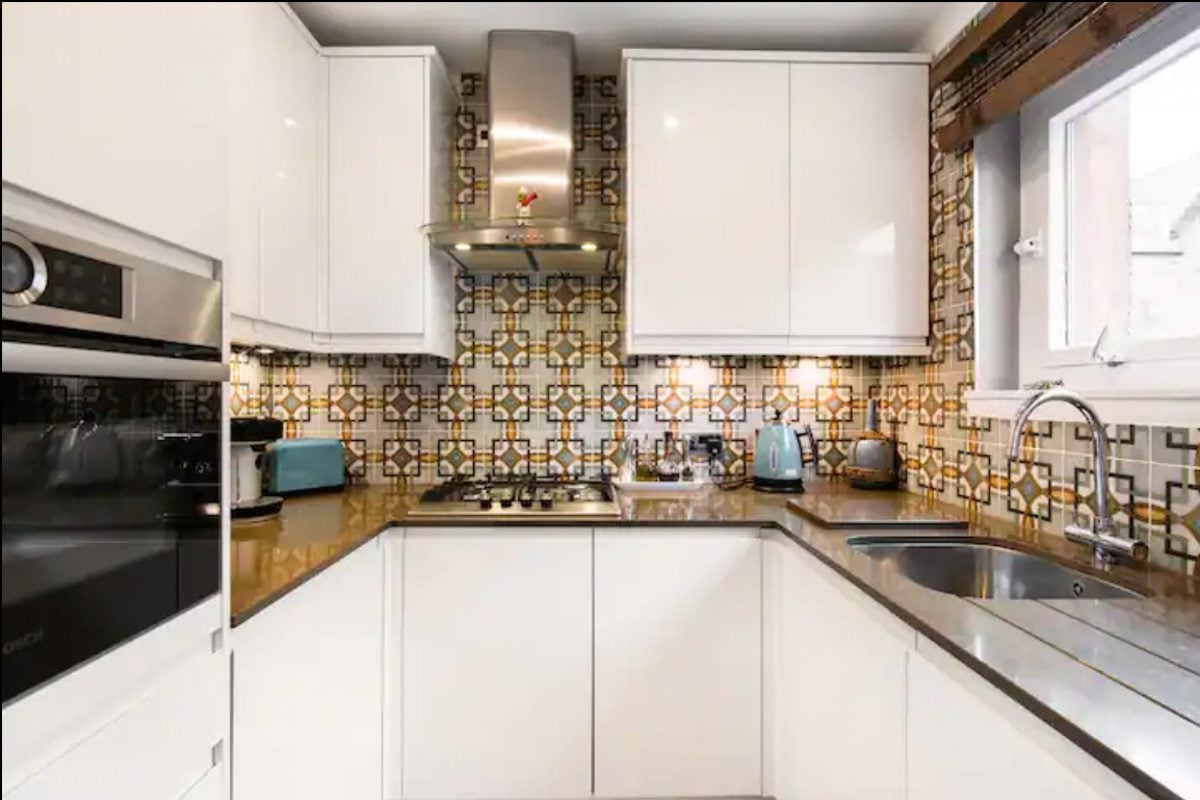 Filled with bright colors and unexpectedly fun, quirky touches, this relaxed yet elegant home checks every box. Its location is perfect — right in the center of Old Town next to castles, pubs, and restaurants, but sheltered from the hustle and bustle of major streets. The living room has a nice street view, the small kitchen is impressively functional.
Guests love that the host provides a card that accesses a gym, swimming pool, and spa to help travelers maintain their fitness routines.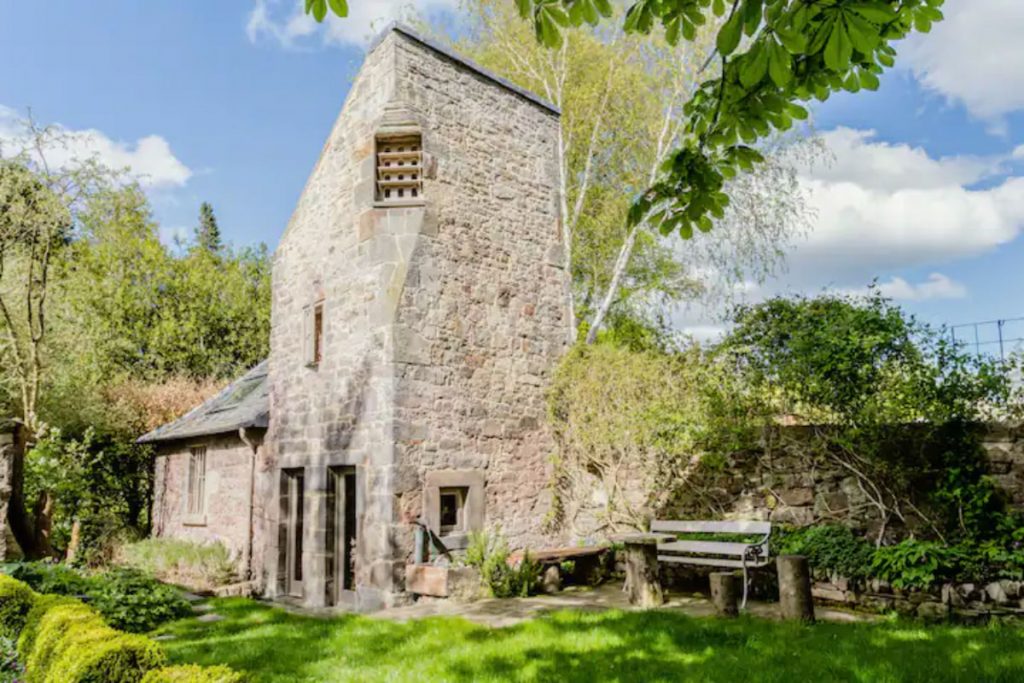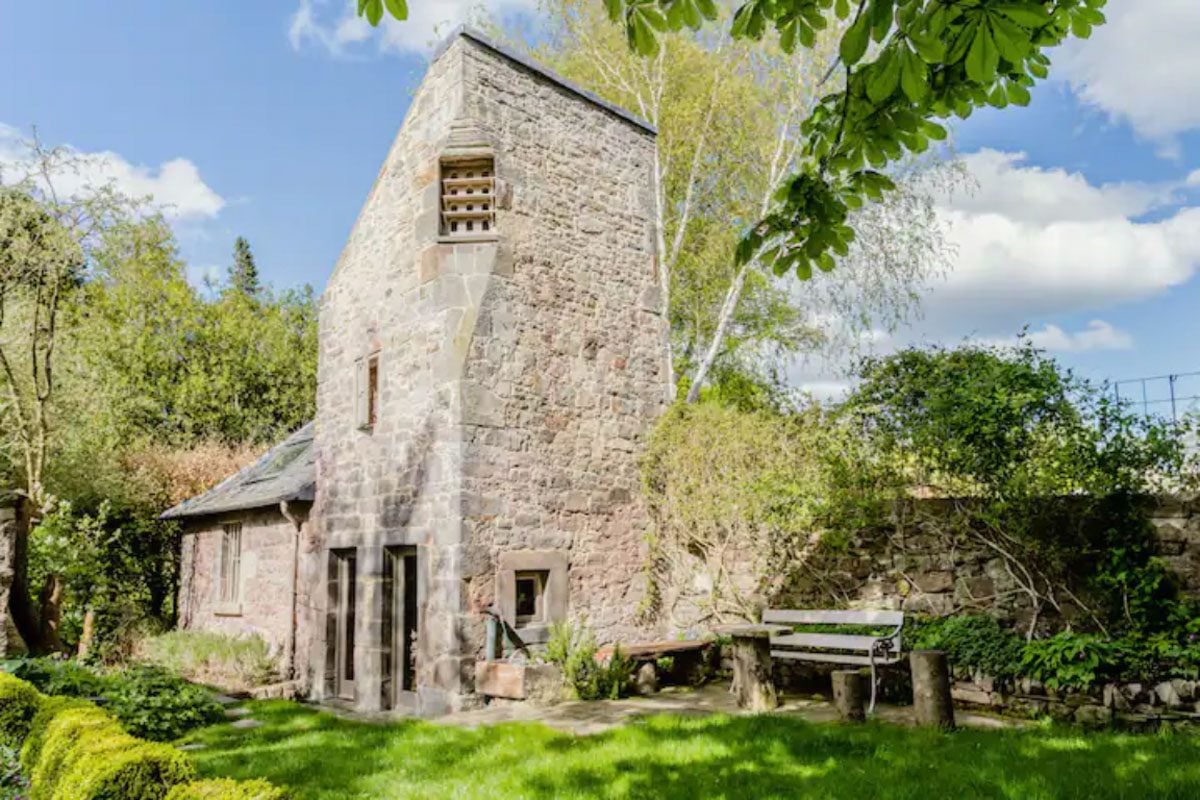 Truly unique historic stone and wood cottage with delightful gardens right in town
Budget: $$
Number of Guests: 3
Minimum Stay: 2 nights
Airbnb Plus and Superhost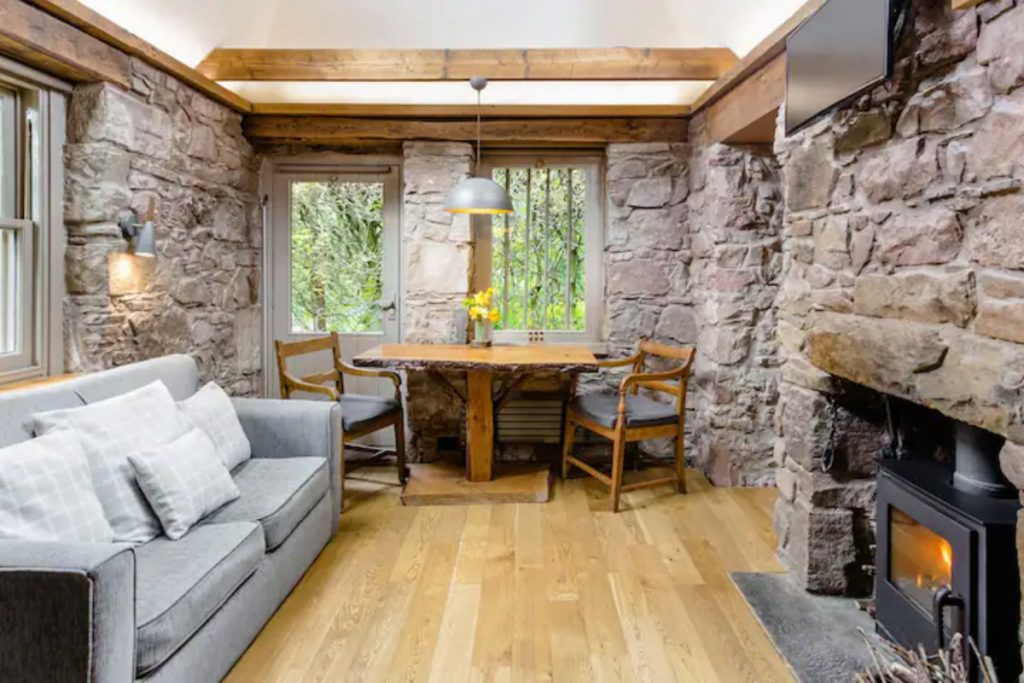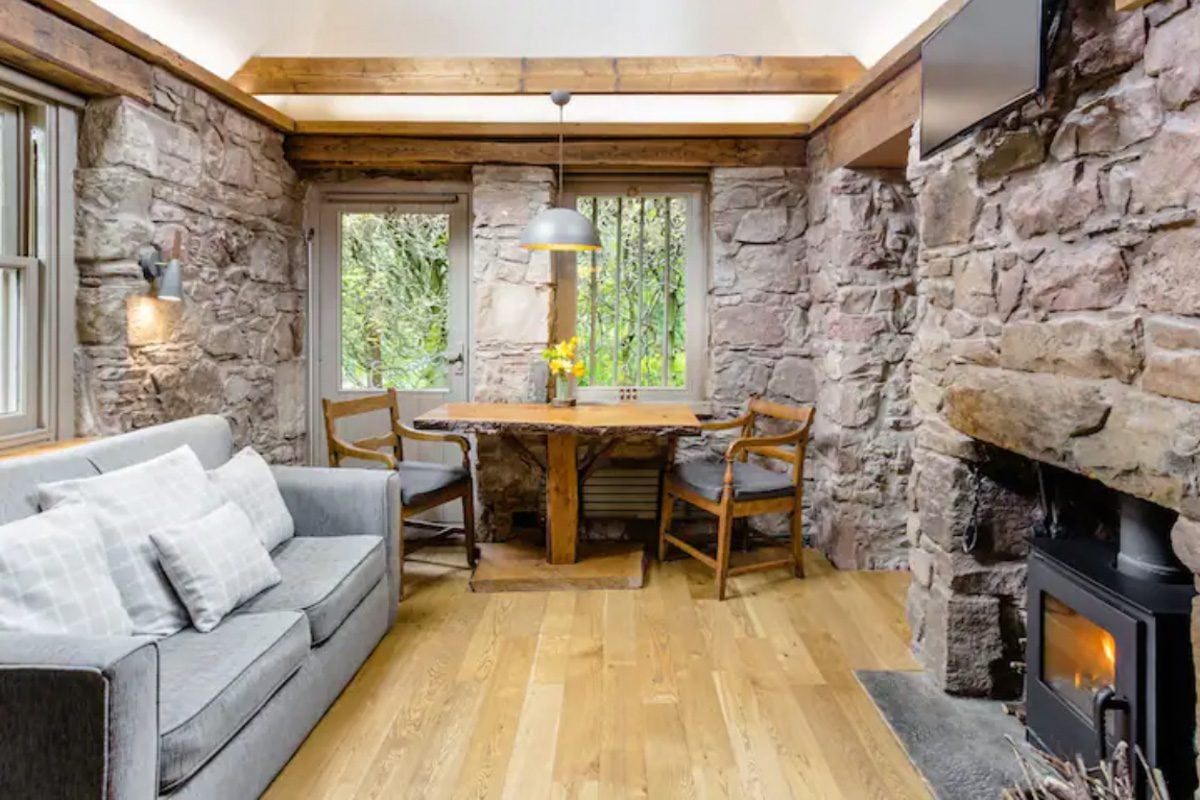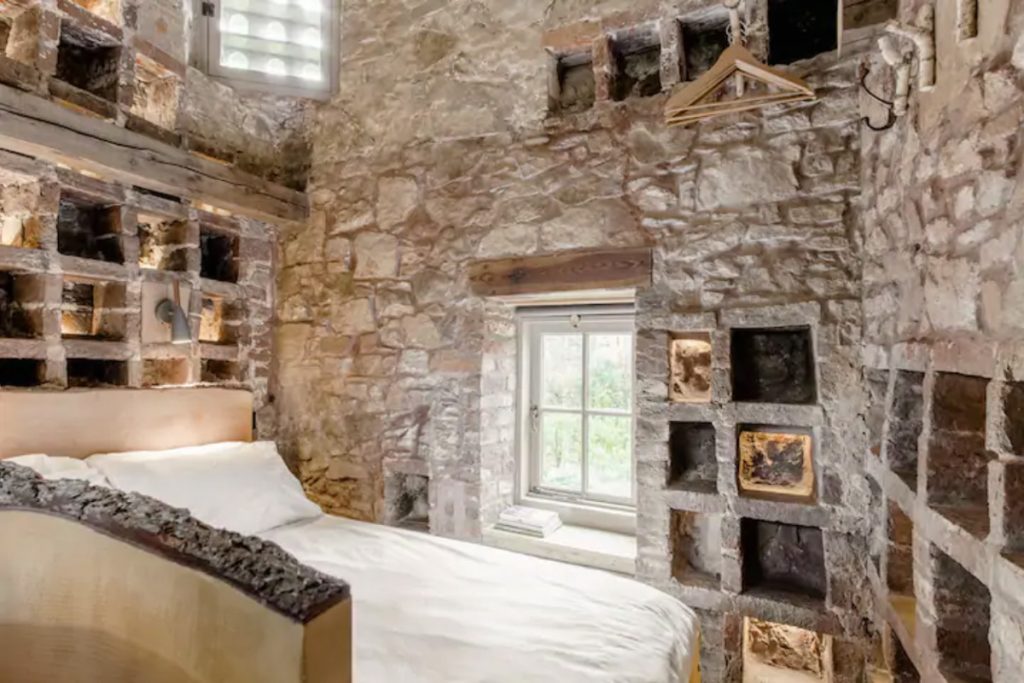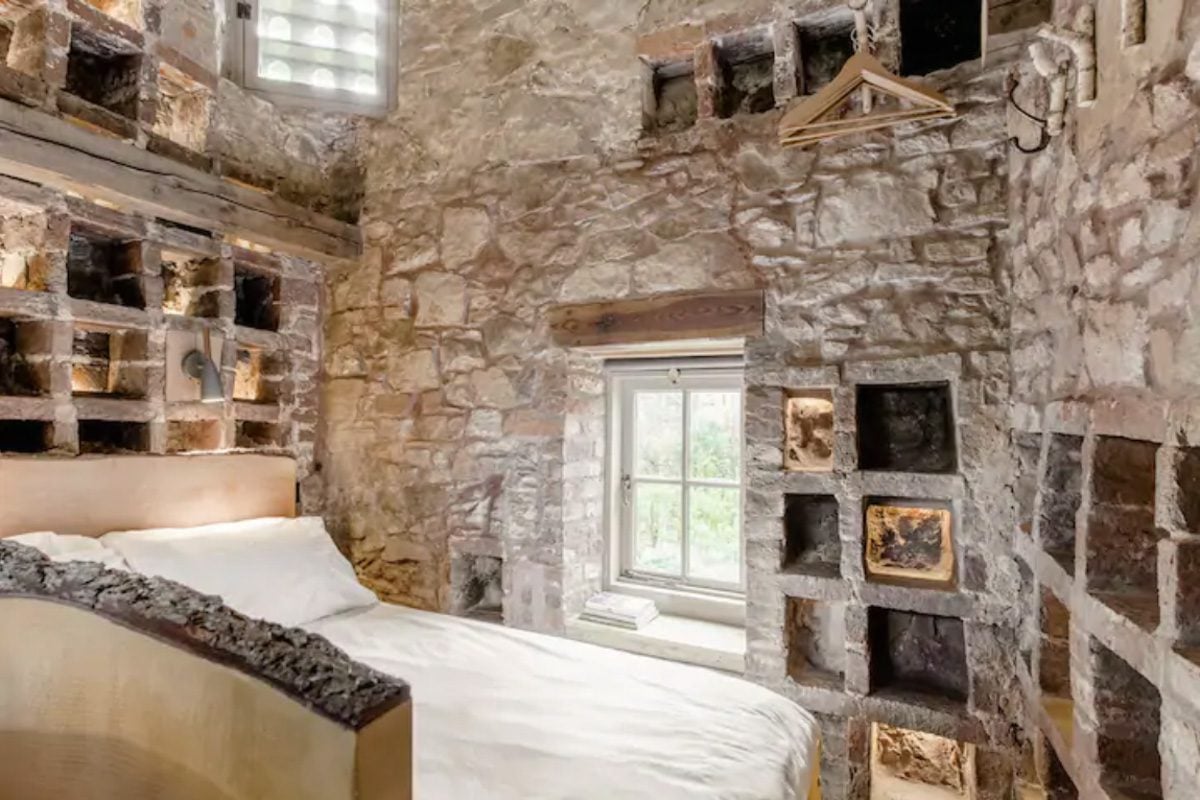 A 16th century cottage nestled in a secluded garden with a wood-burning fireplace, a bedroom tucked away in a tower, and even a secret cave…it sounds more like the ingredients of a fairy tale than an Airbnb in Edinburgh.
Believe it or not, this dreamy property is located right in the city!
The cottage's decor and facilities are updated to modern standards, with amenities like heated floors and a washing machine. Most of all, guests adore the stunning outdoor space and immaculate gardens. And while not in central Edinburgh, Bruntsfield is a delightful historic neighborhood just a 20-minute walk from the Royal Mile.
"Like a fairytale! Nestled in a beautiful garden- we felt like we had a lot of privacy but Sarah was close by If needed! Sarah provided wonderful info about the space and the city. Incredible bathroom and shower. Loved the loft for reading. Great space!!!" – Lauren February 2020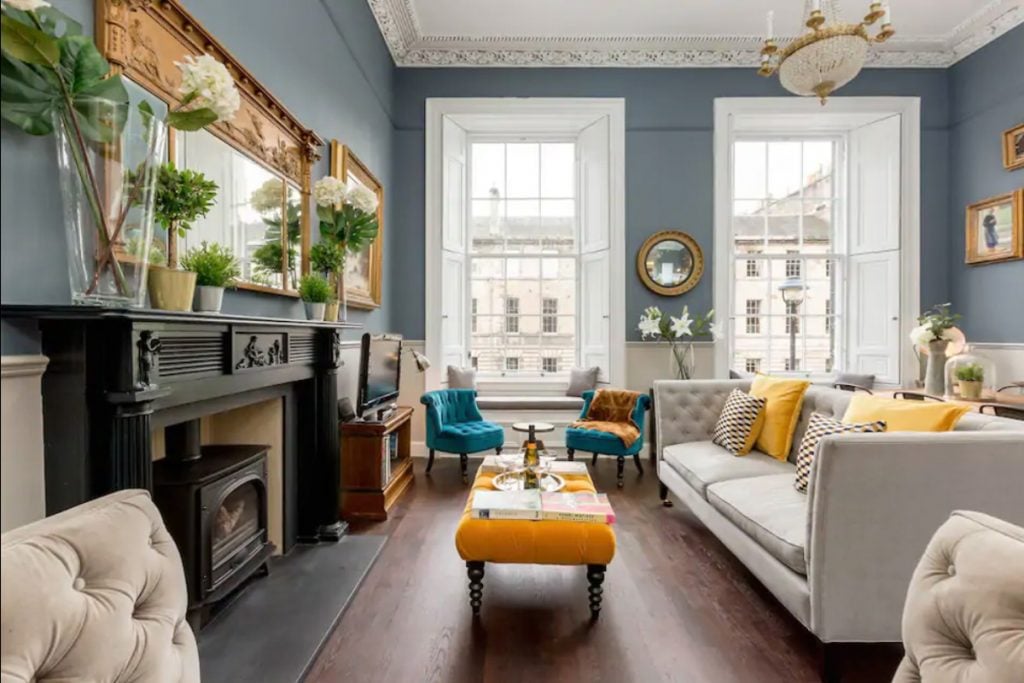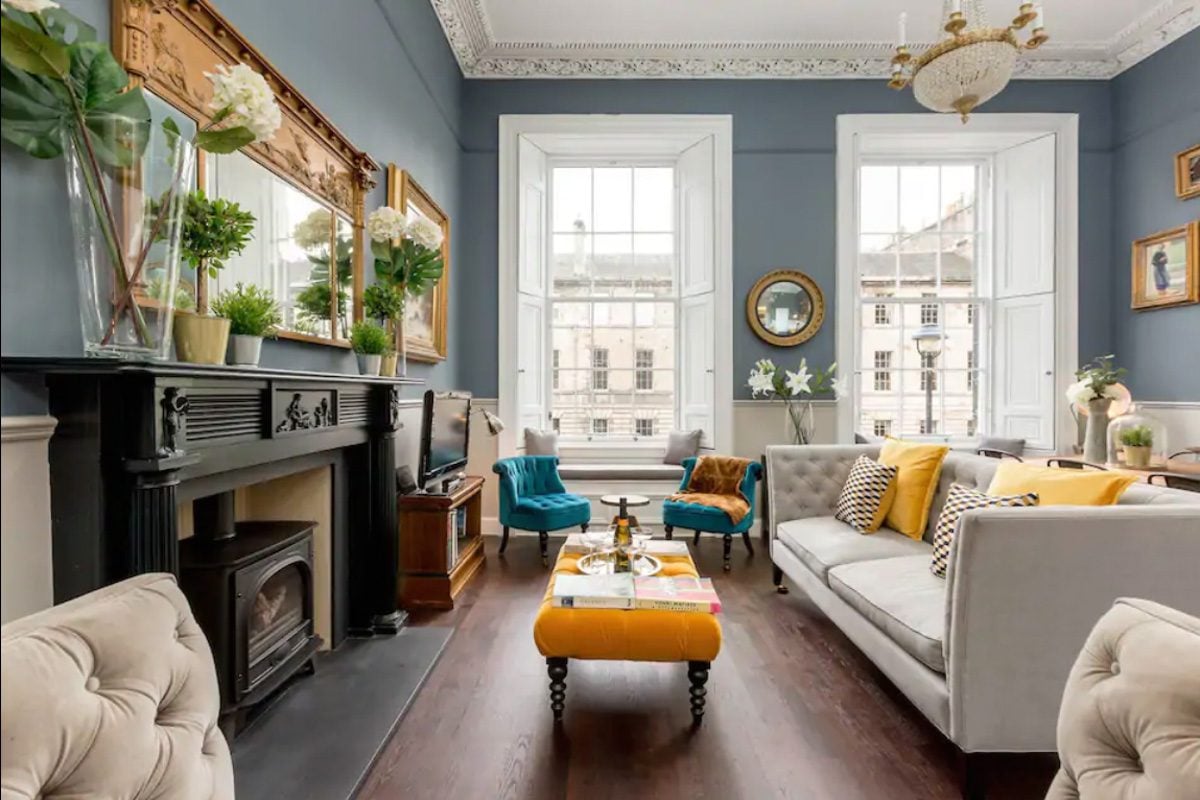 Luxurious 3-bedroom apartment with secured gated parking (an extreme rarity in Edinburgh!)
Budget: $$$
Number of Guests: 5
Minimum Stay: 3 Nights
Superhost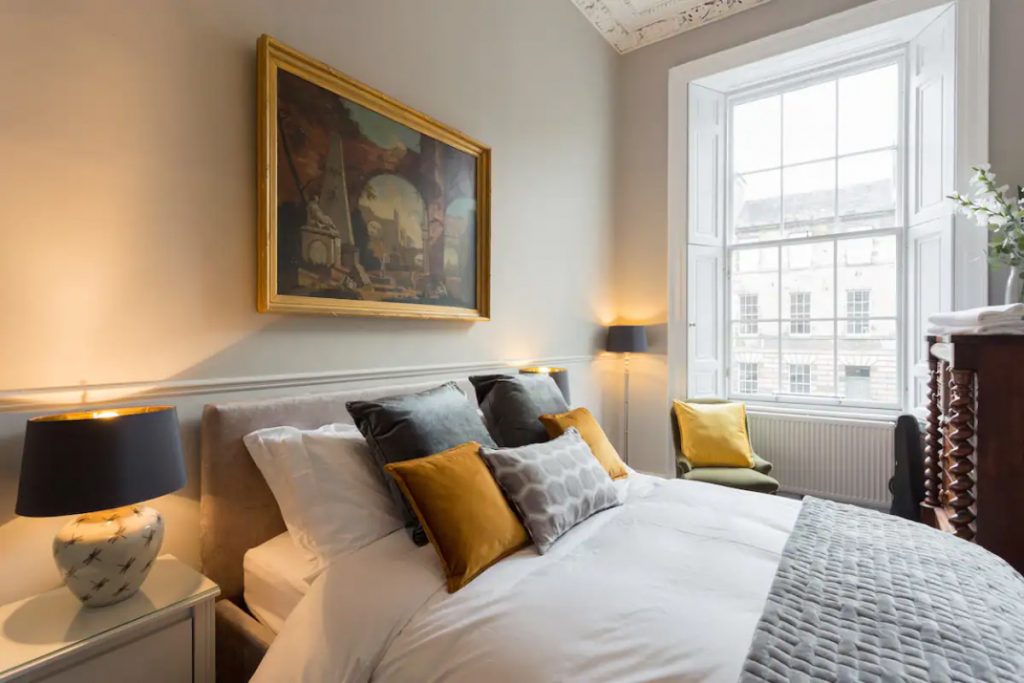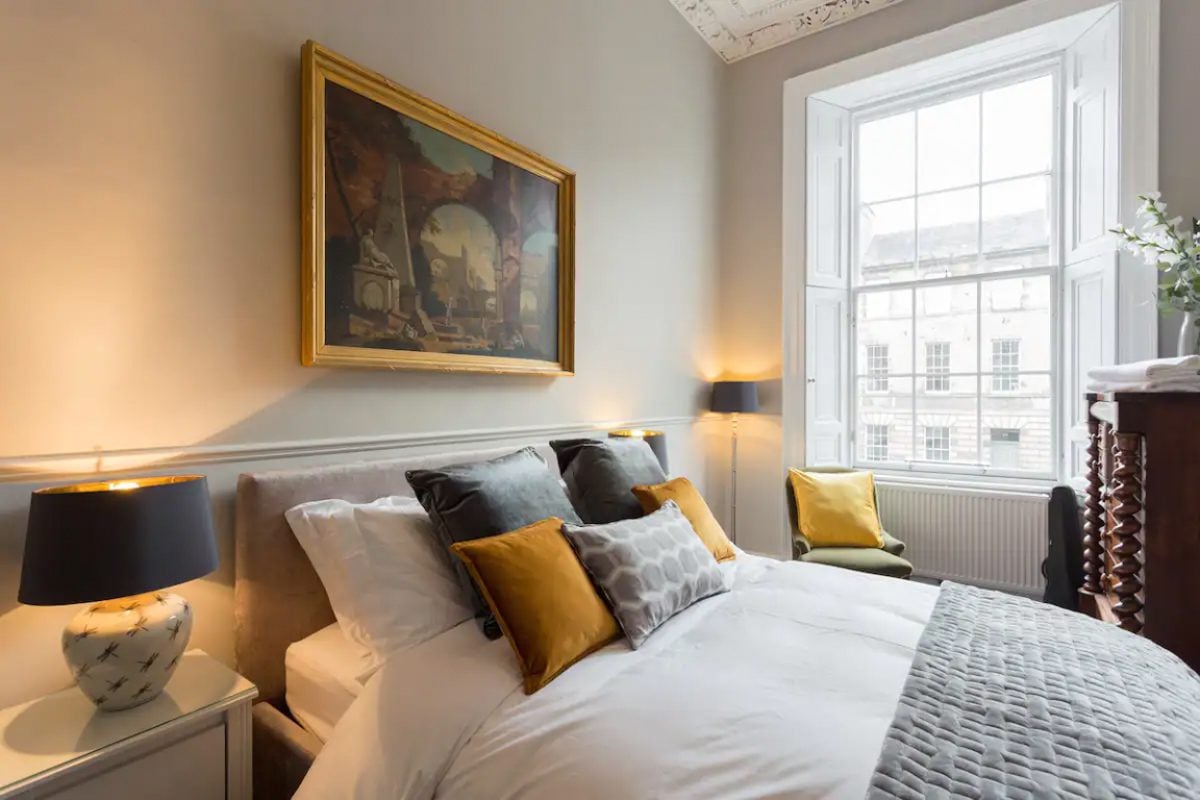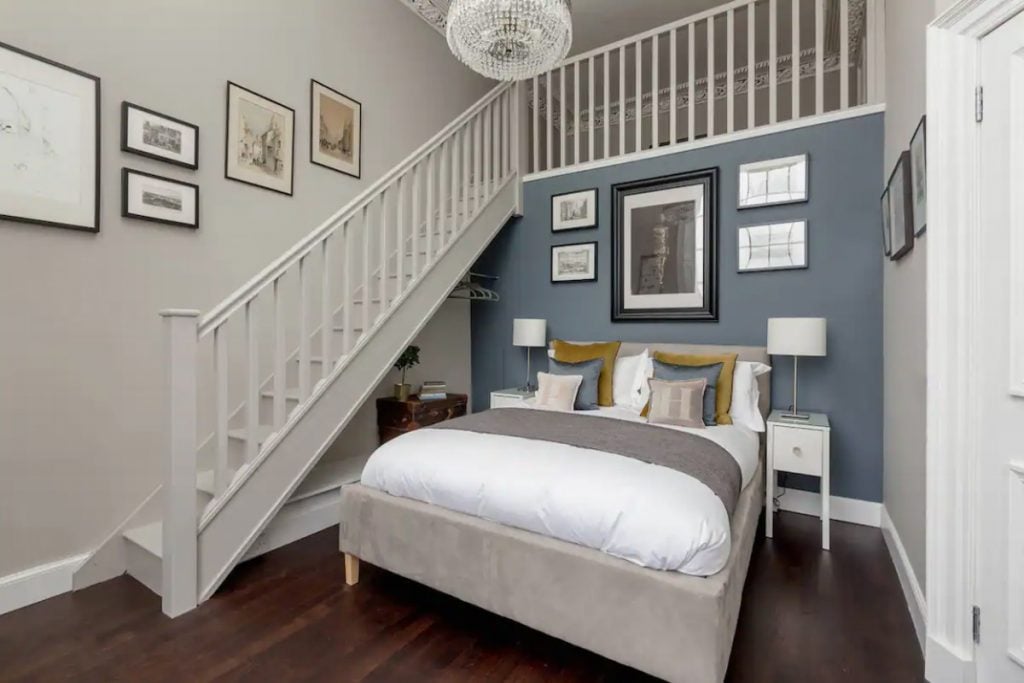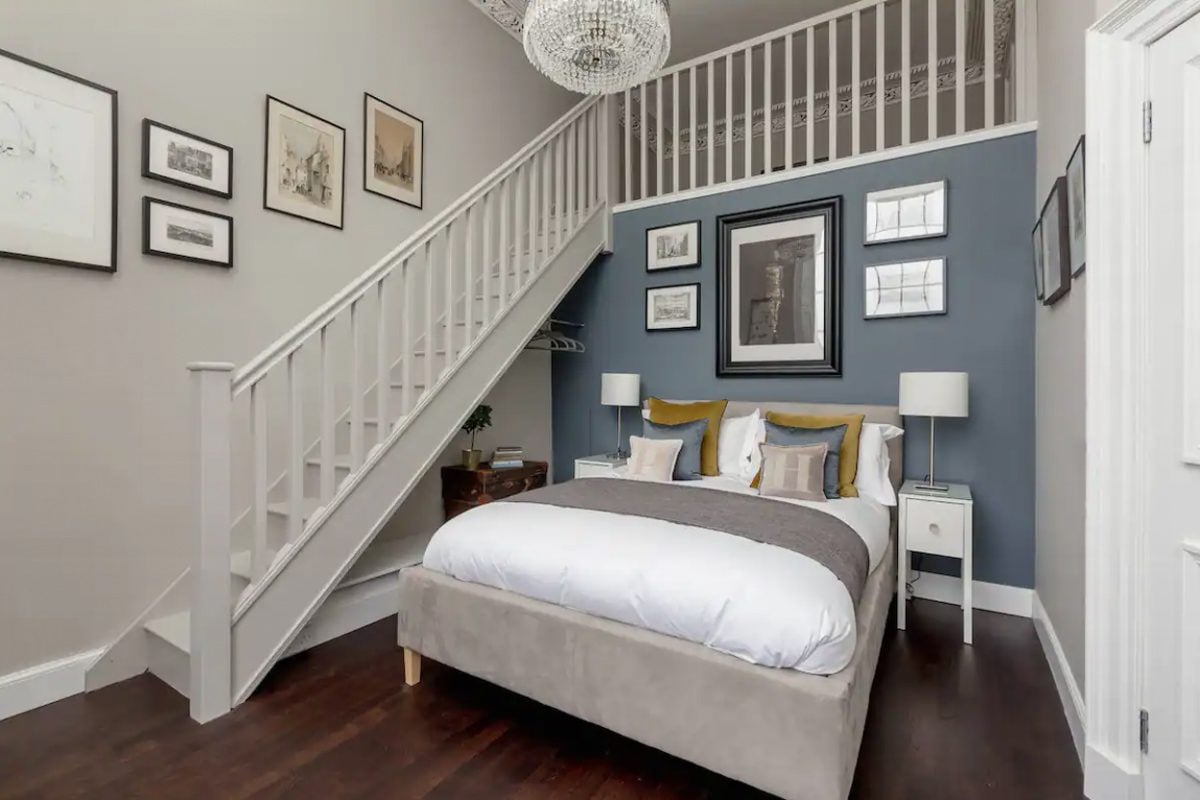 Right in the heart of chic New Town, this spacious, airy apartment combines turn-of-the-century style with modern luxury. Perfect for friends and families traveling together, the apartment centers around a relaxing living room with a large table and fireplace. High ceilings and near floor-to-ceiling windows let in ample light and showcase fabulous views of Edinburgh.
Guests rave that the owner nails every detail — comfy beds, fluffy towels, and thoughtful decor.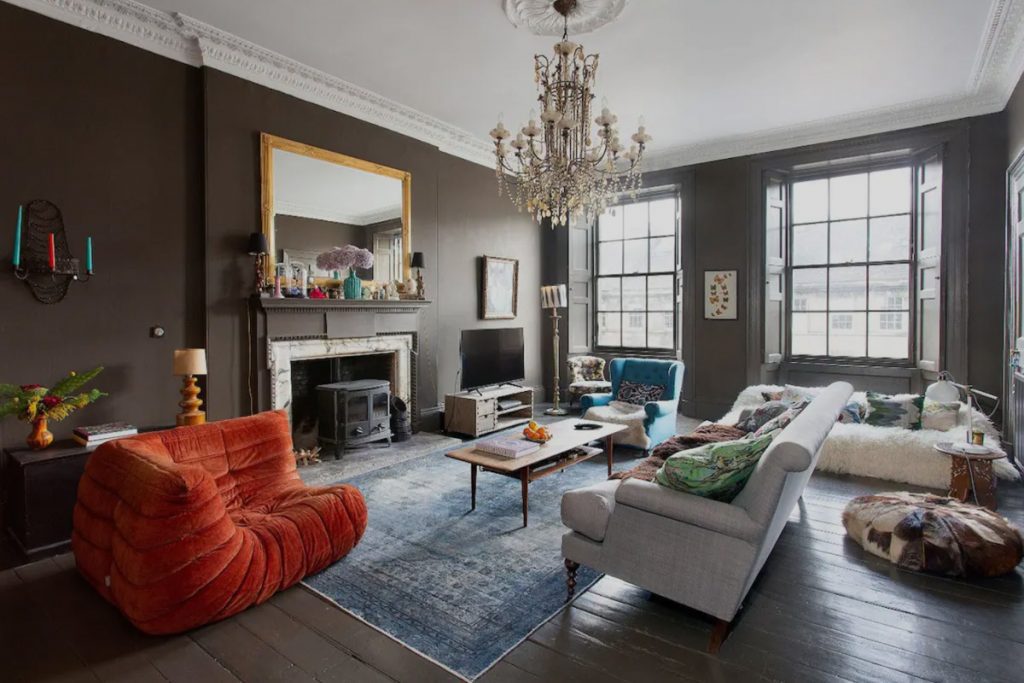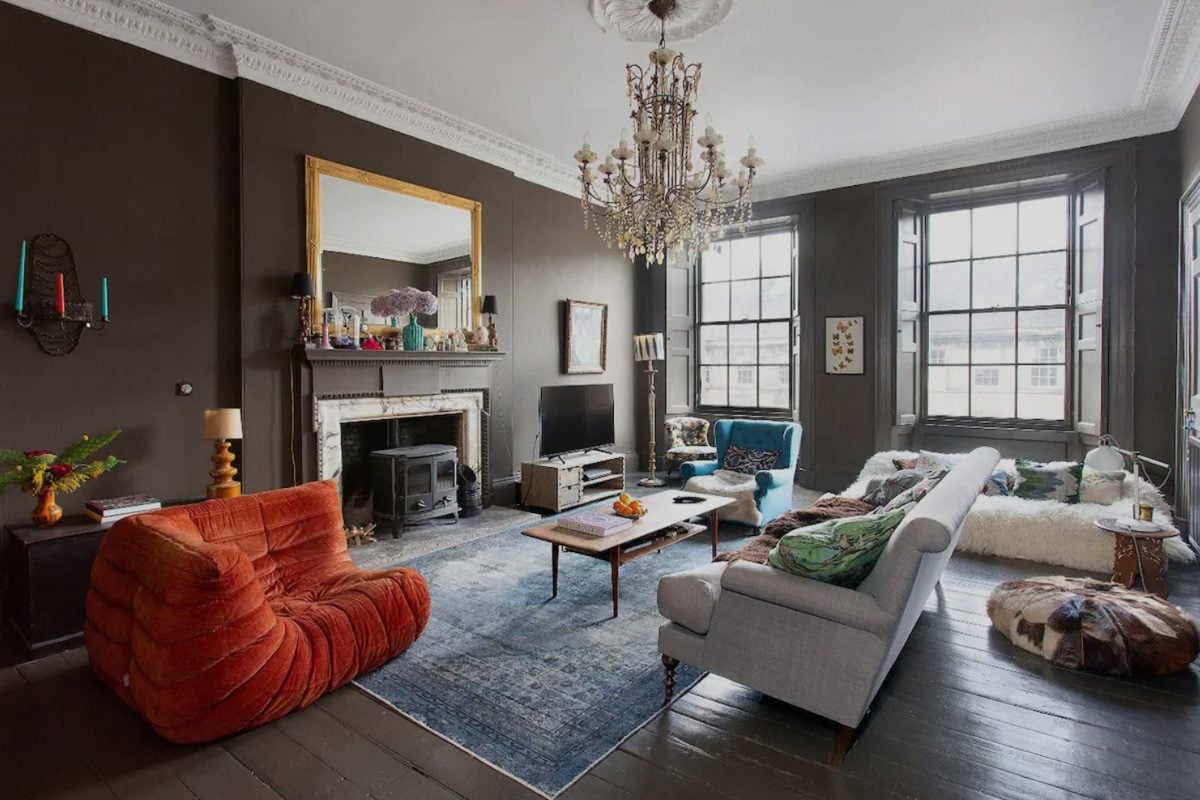 Bright and eclectic oversized flat in an ideal central location
Budget: $$$
Number of Guests: 4
Minimum Stay: 2 nights
Superhost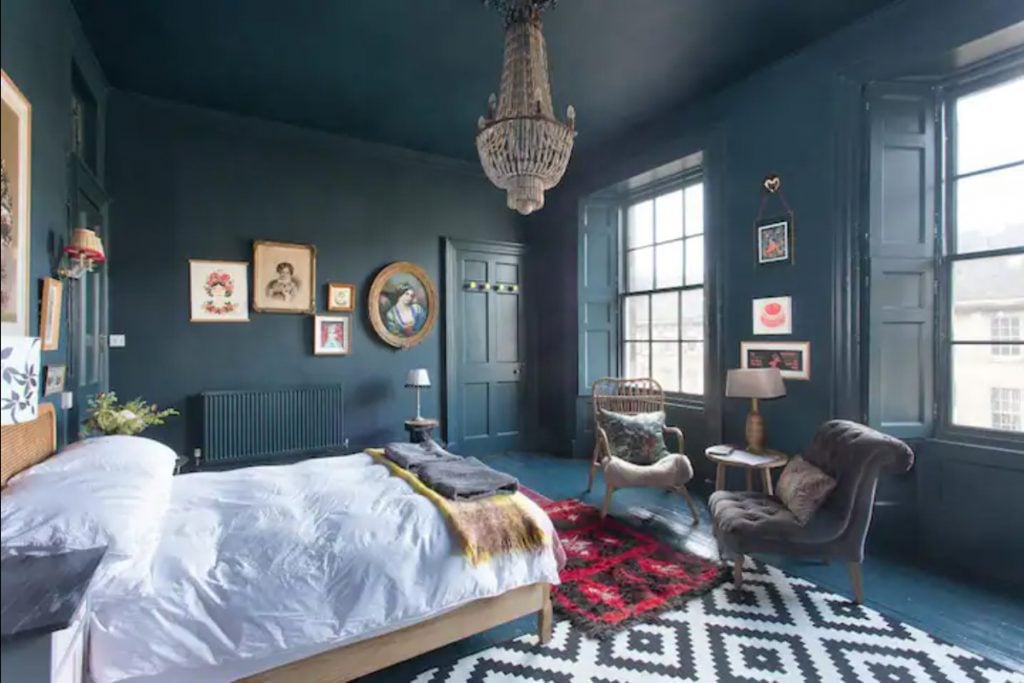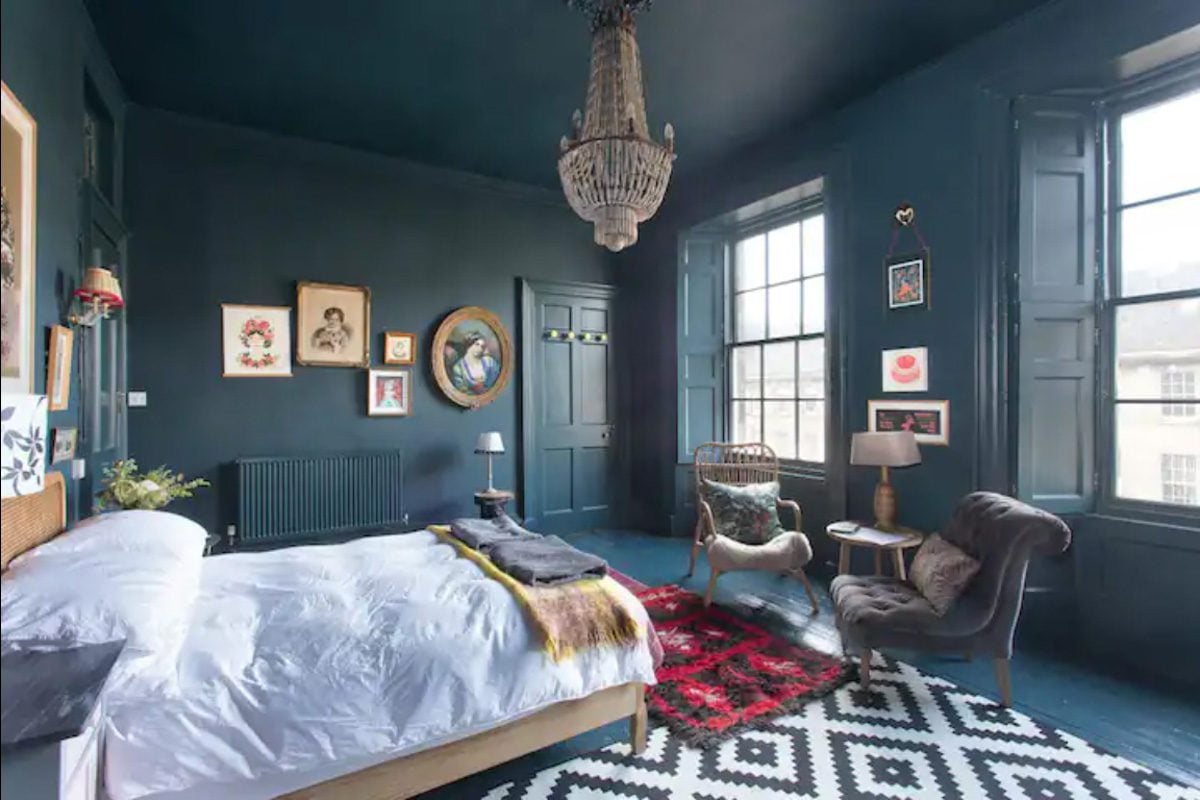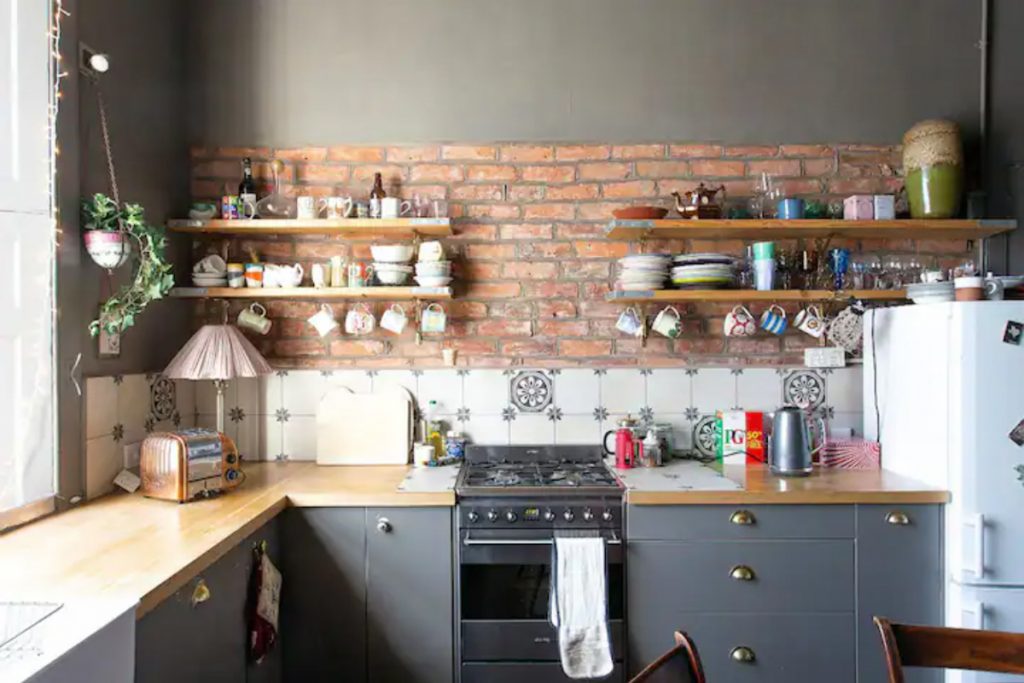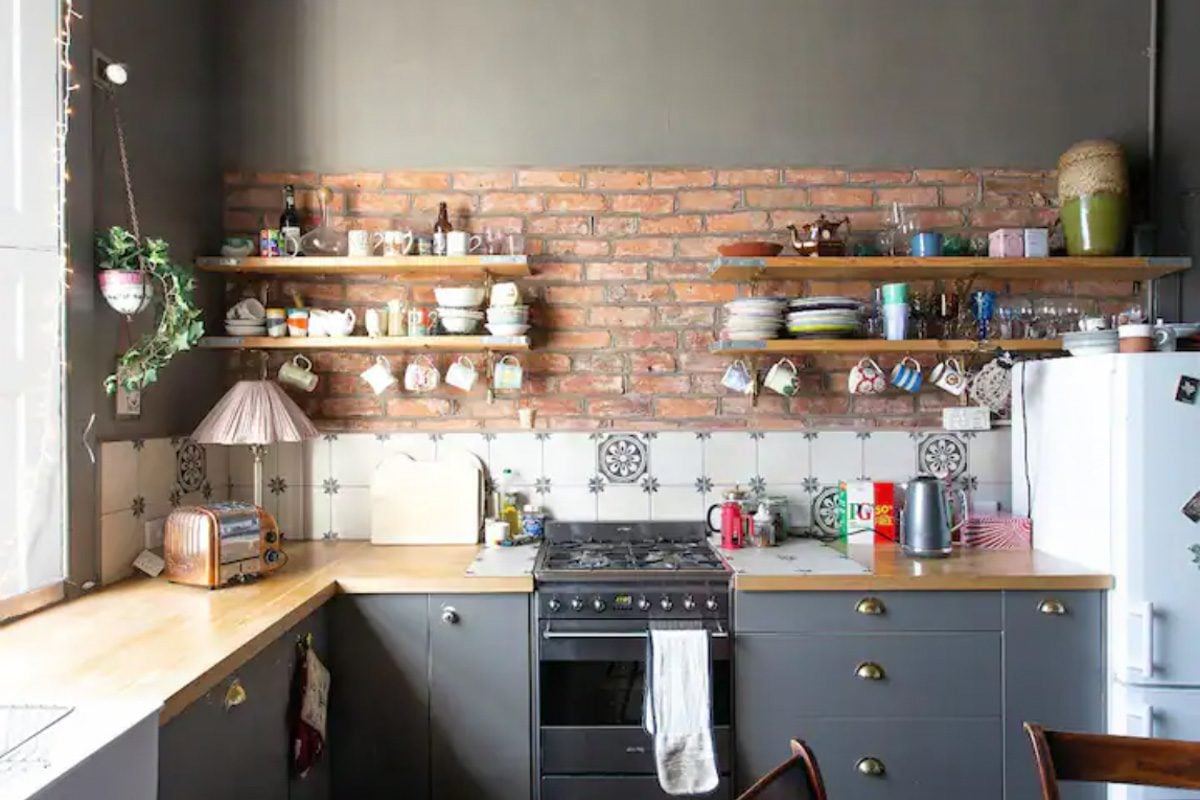 Located on a quiet side street in happening New Town, this whimsical Edinburgh Airbnb has two bedrooms, two bathrooms, and loads of quirky decor.
The living room's ultra-comfy couches and dining room table are perfect for families or a group, and the flat's style is incredible. It's tastefully covered in paintings, antiques, and perfectly mismatched furniture, and the space seems much larger thanks to large windows and high ceilings.
Guests gush over the host's above-and-beyond hospitality, as well as the flat's oversized bedrooms and its perfect location close to several local-favorite cafes and pubs.
"A superb spacious flat in the lovely New Town with a brilliant range of art work, touches and facilities to make you feel at home. The personal introduction from Susan was great. Thanks so much Tessa and Susan, we'd love to come back." – David, January 2022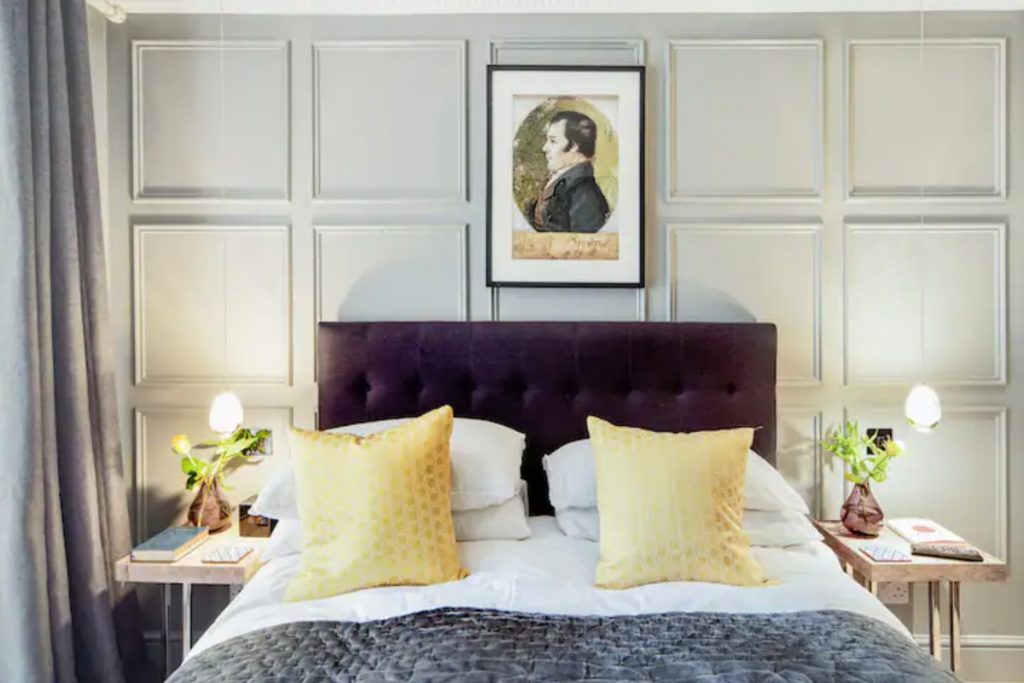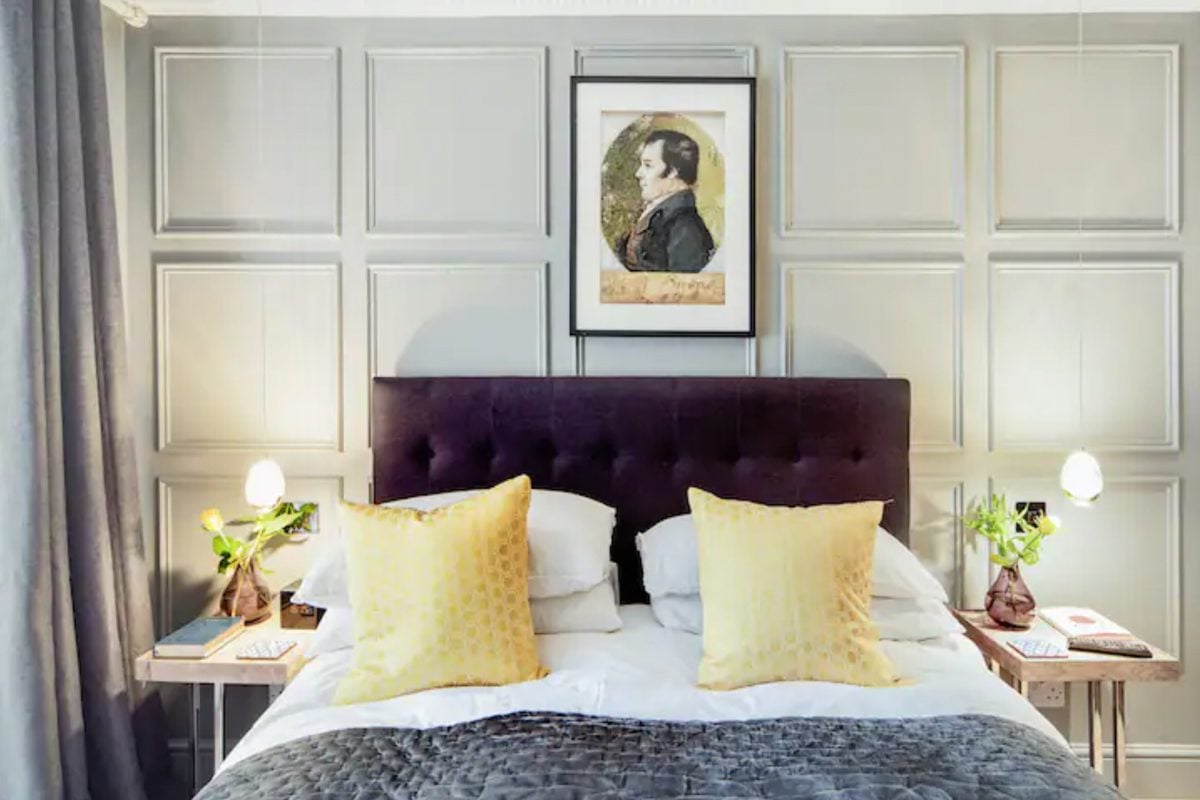 Comfy, cozy stay in a flat the famed right below Edinburgh Castle
Budget: $$$
Number of Guests: 2
Minimum Stay: 2 Nights
Airbnb Plus and Superhost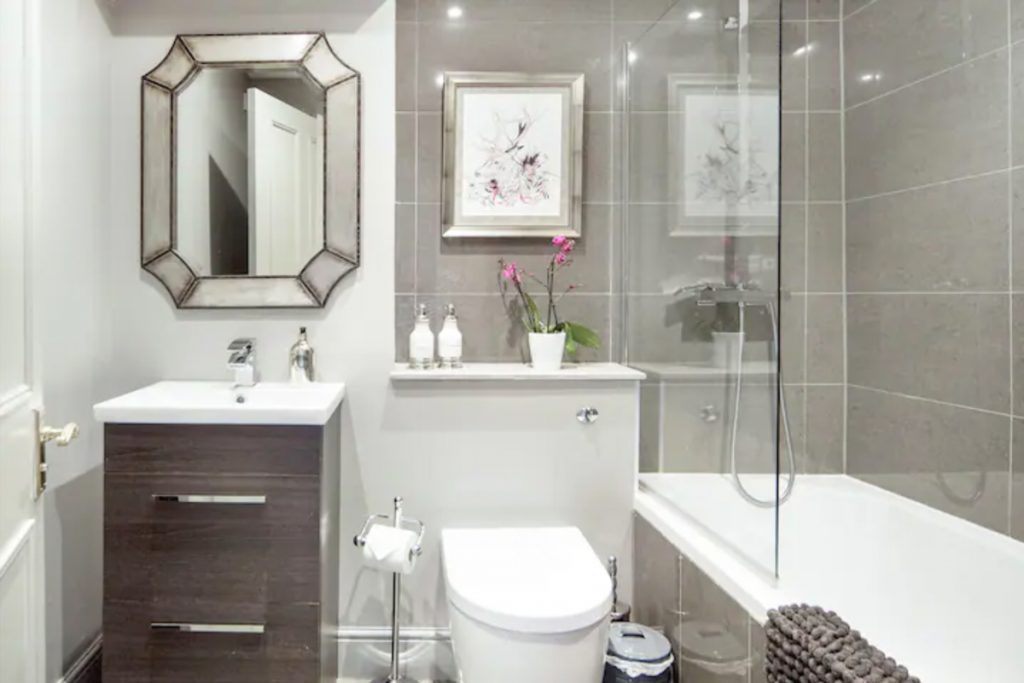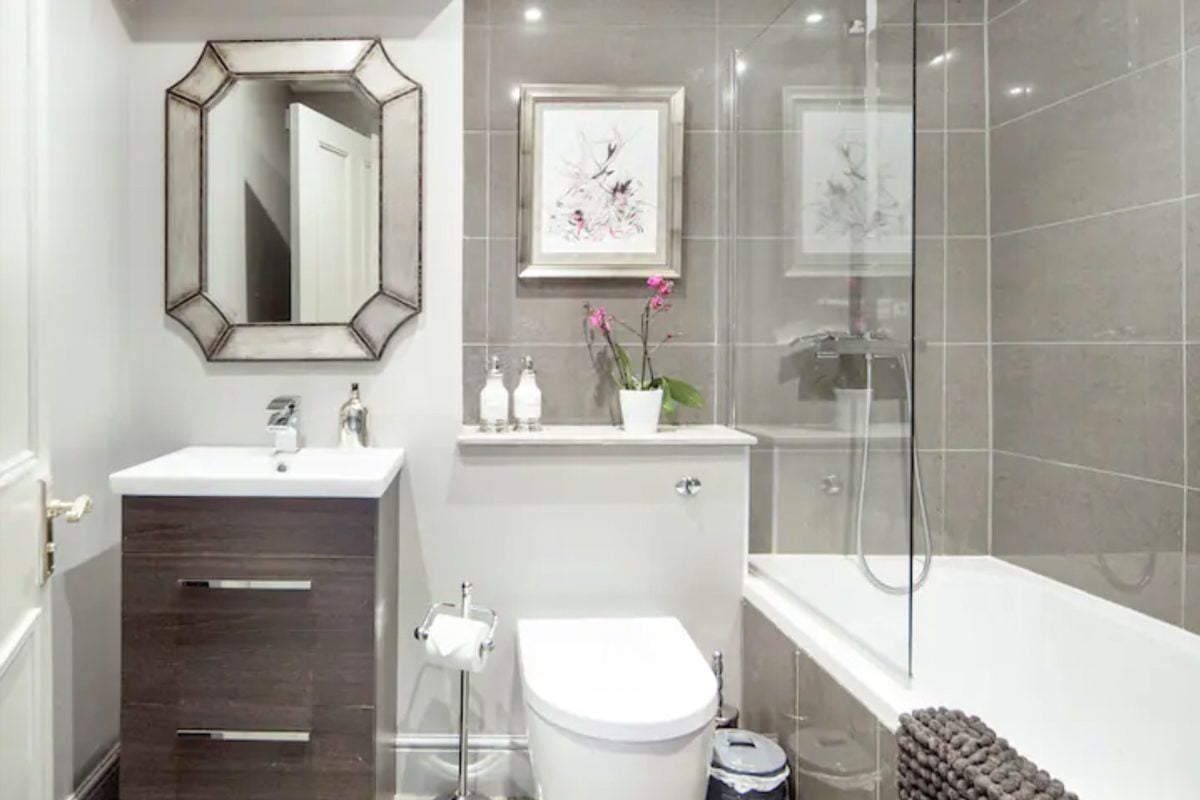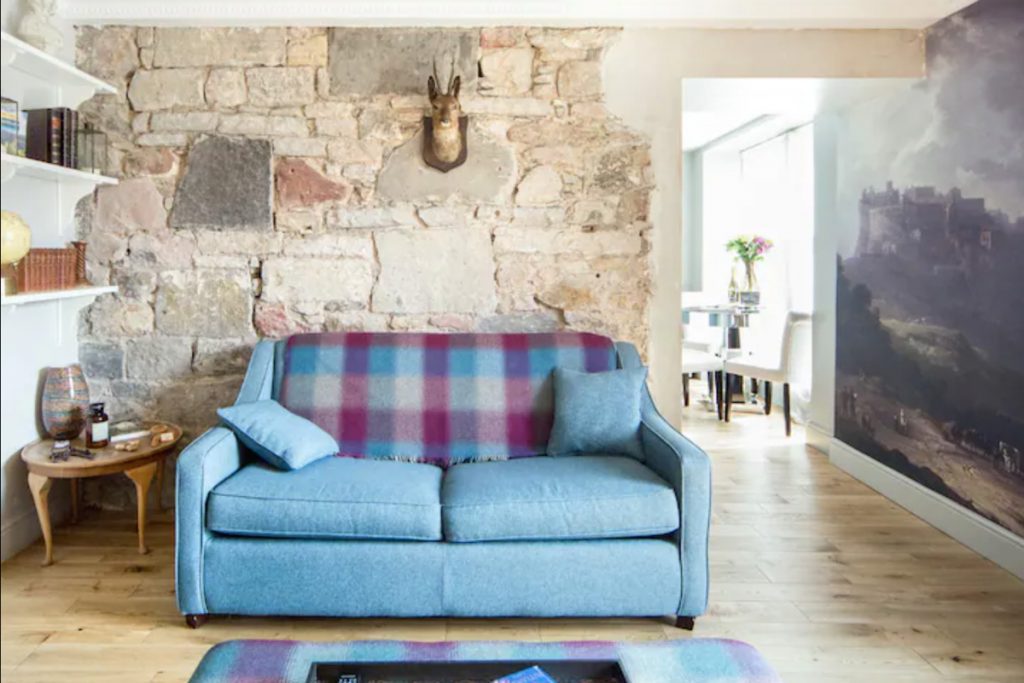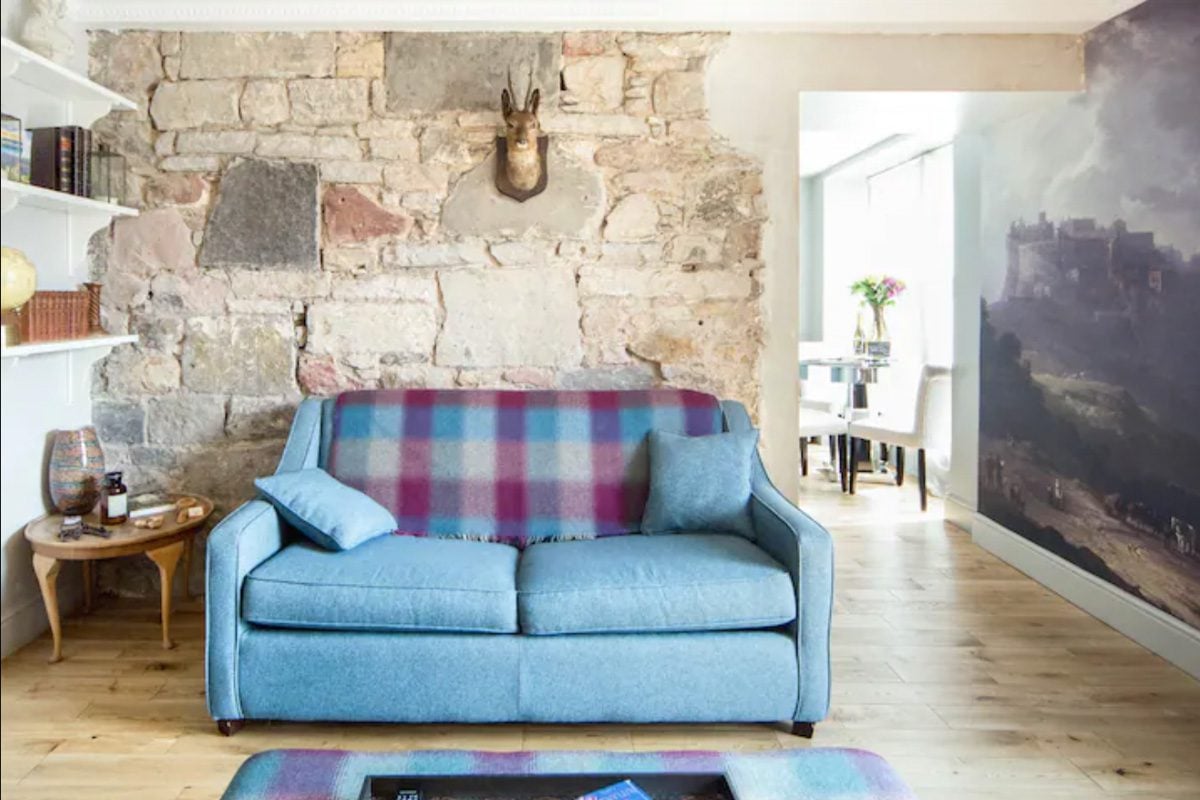 Literally footsteps from Edinburgh Castle, every detail of this Airbnb is perfect for a romantic stay. From the outrageously cozy bed to the well-equipped bathroom, the furnishings resemble a boutique hotel much more so than a rental flat.
The decor has a historic Scottish twist while remaining rooted in modernity (think stone walls and antique framed portraits alongside floor-to-ceiling windows and an all-glass shower).
The host's guidebook is fantastic — guests note there's a binder packed with local information like attractions, restaurants, and more.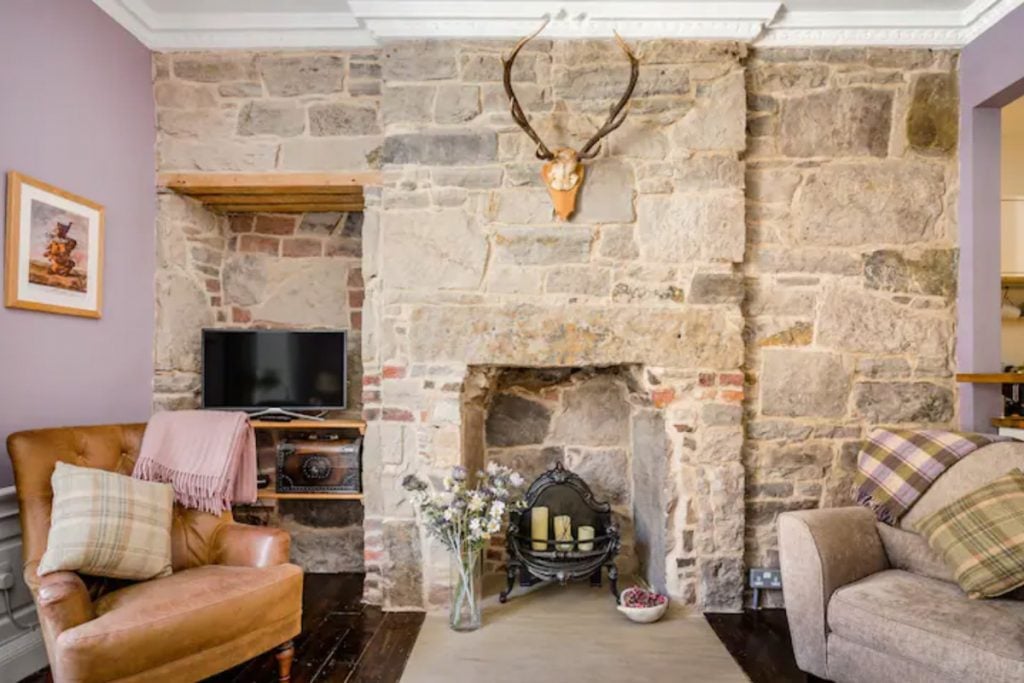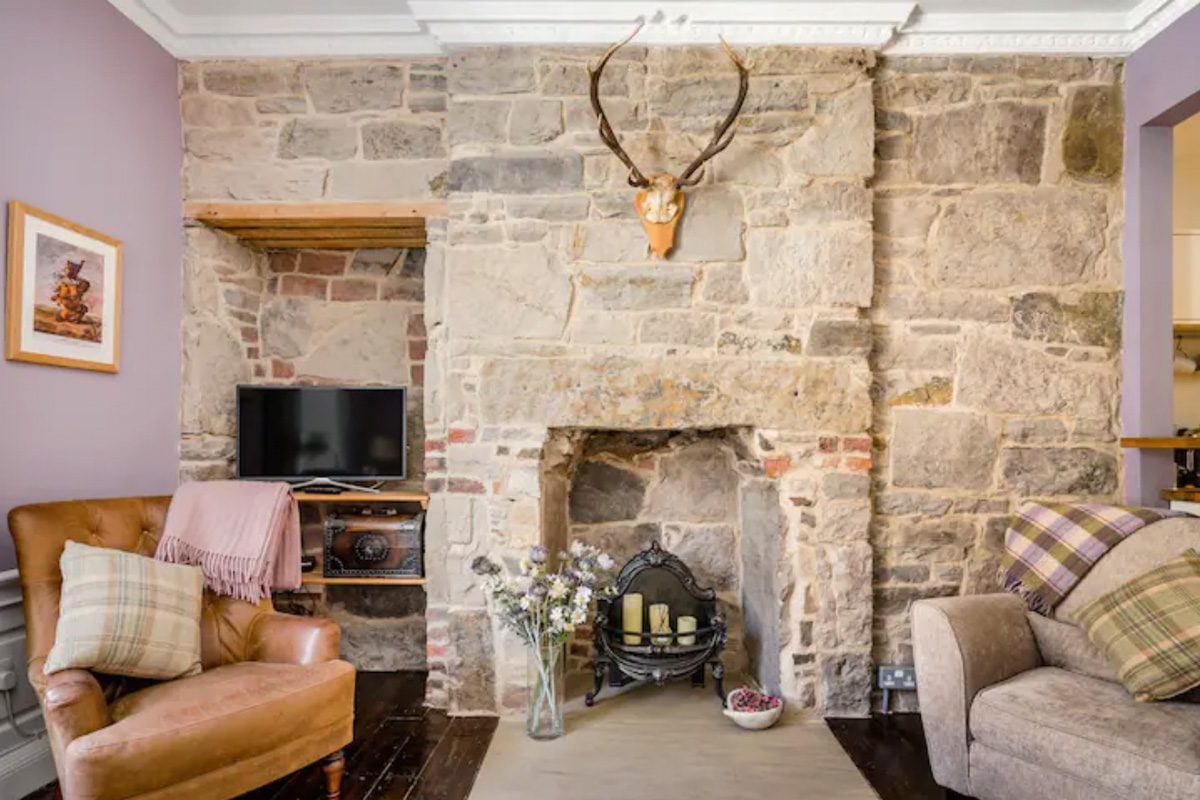 A bright, eclectic Mid-century-meets-cozy apartment in a prime location on a cobbled street
Budget: $$
Number of Guests: 4
Minimum Stay: 2 nights
Airbnb Plus and Superhost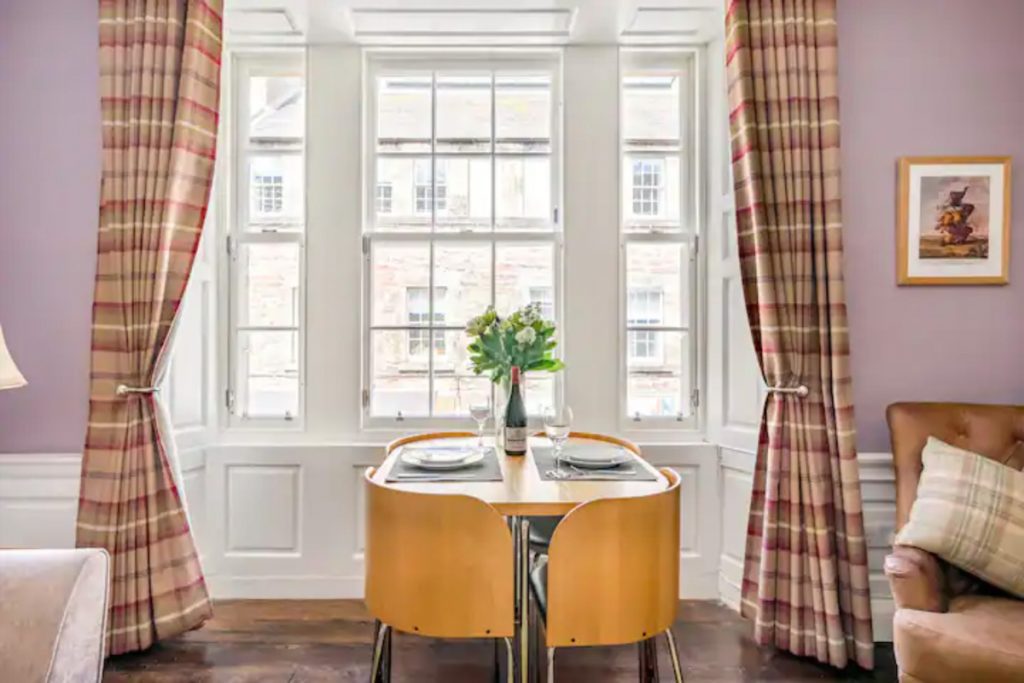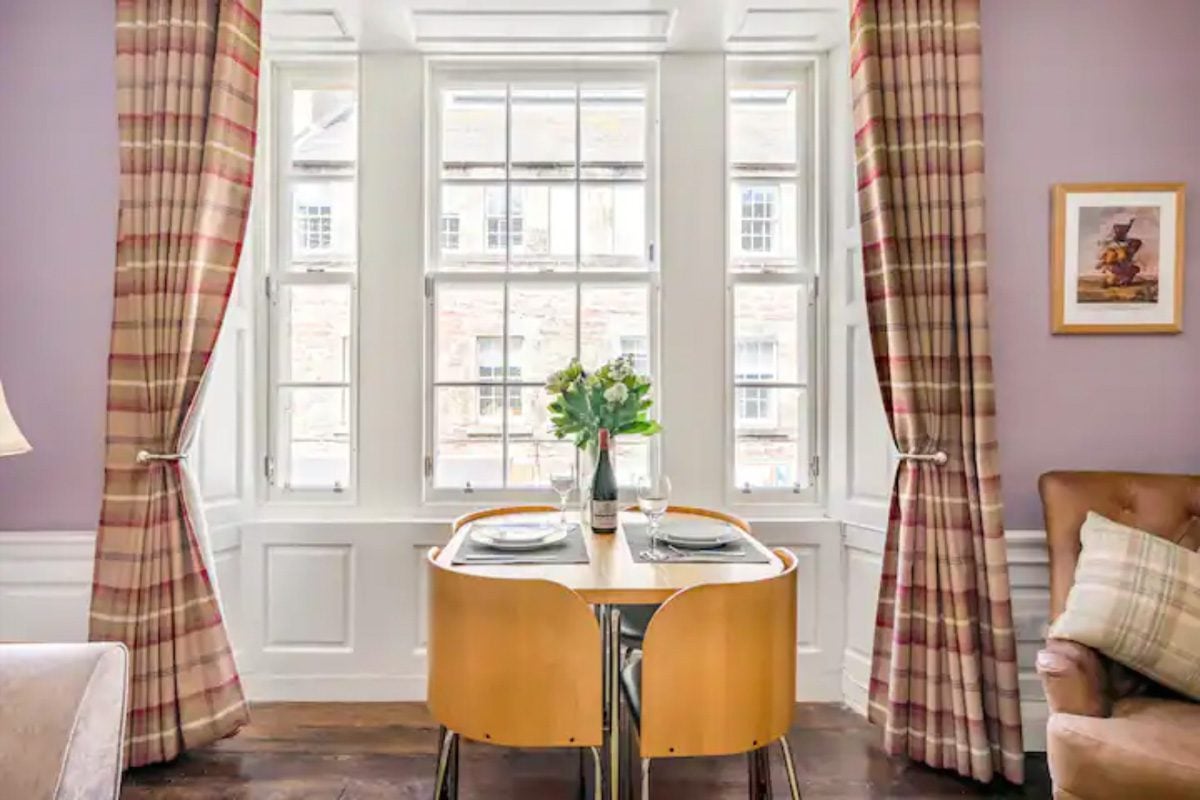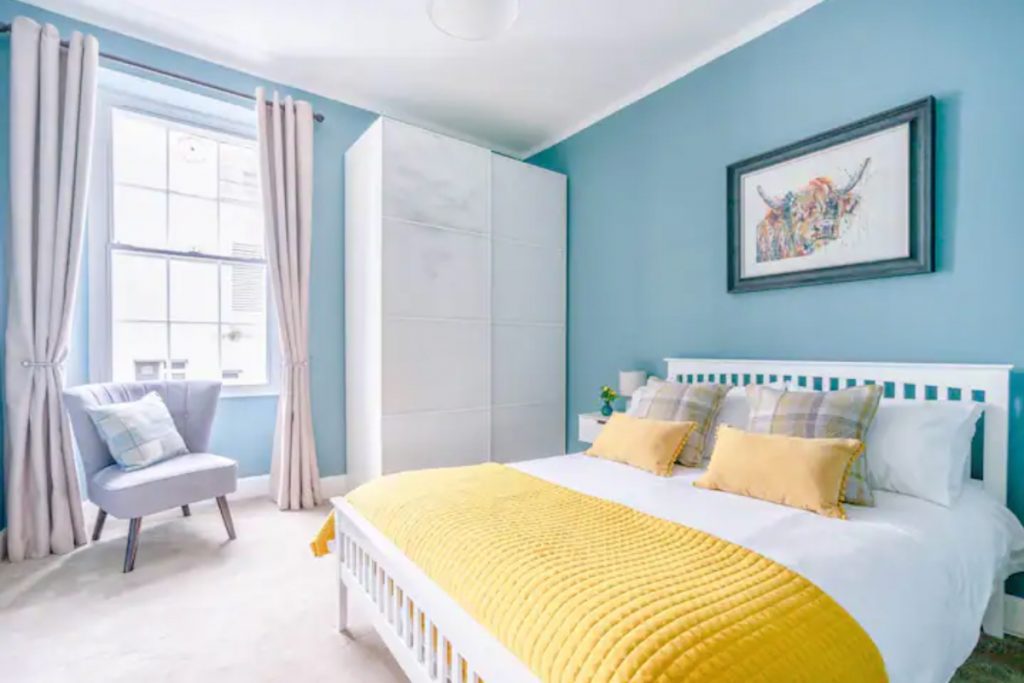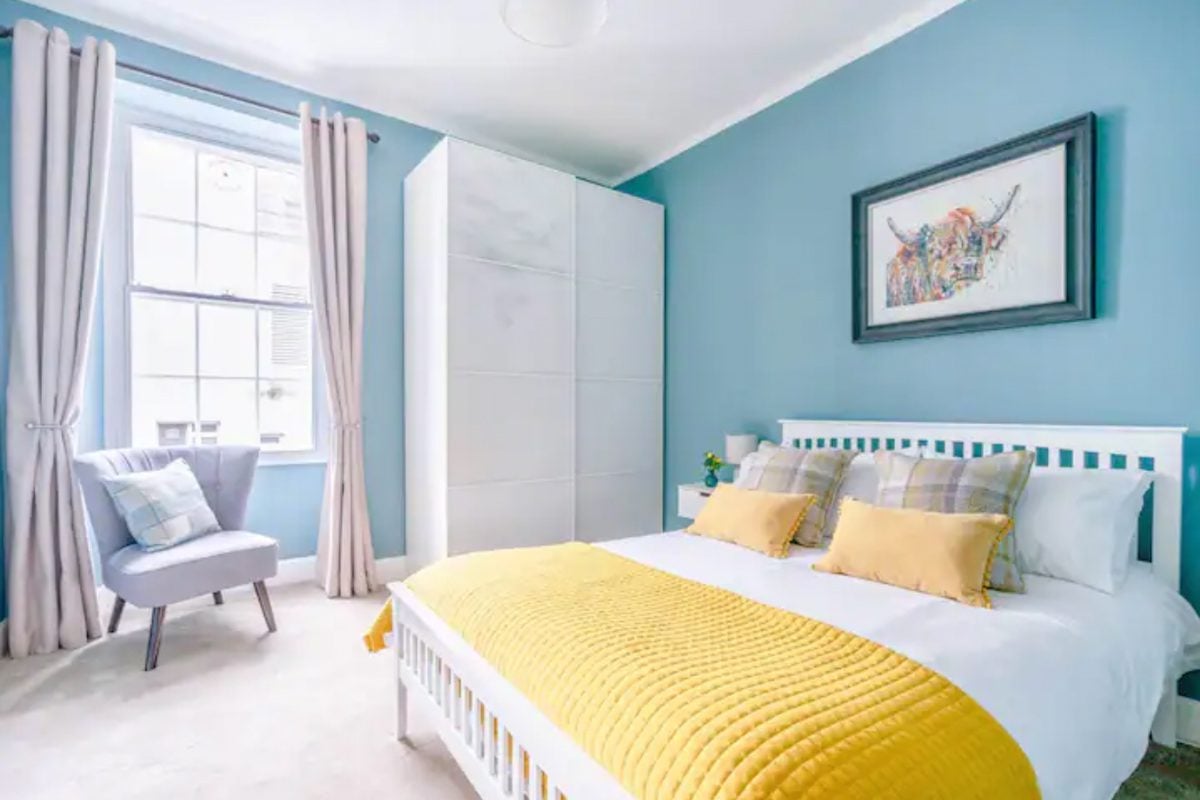 Neat with just the right amounts of both historic and chic, this is the perfect Airbnb in Edinburgh to retreat to after a jam-packed day of sightseeing.
Located in an adorable Georgian-era building in New Town, the impeccably-preserved front door and floorboards from 1792 are picturesque sights in their own rights. However, the cozy and homey yet spacious environment is ideal for winding down.
Guests applaud the super easy check-in and checkout process, as well as the host's warm hospitality and excellent communication.
"Enjoyed staying here. Location is incredibly convenient and Gareth was very responsive. The apartment. was clean and comfortable. Definitely would come back." – Martin, September 2020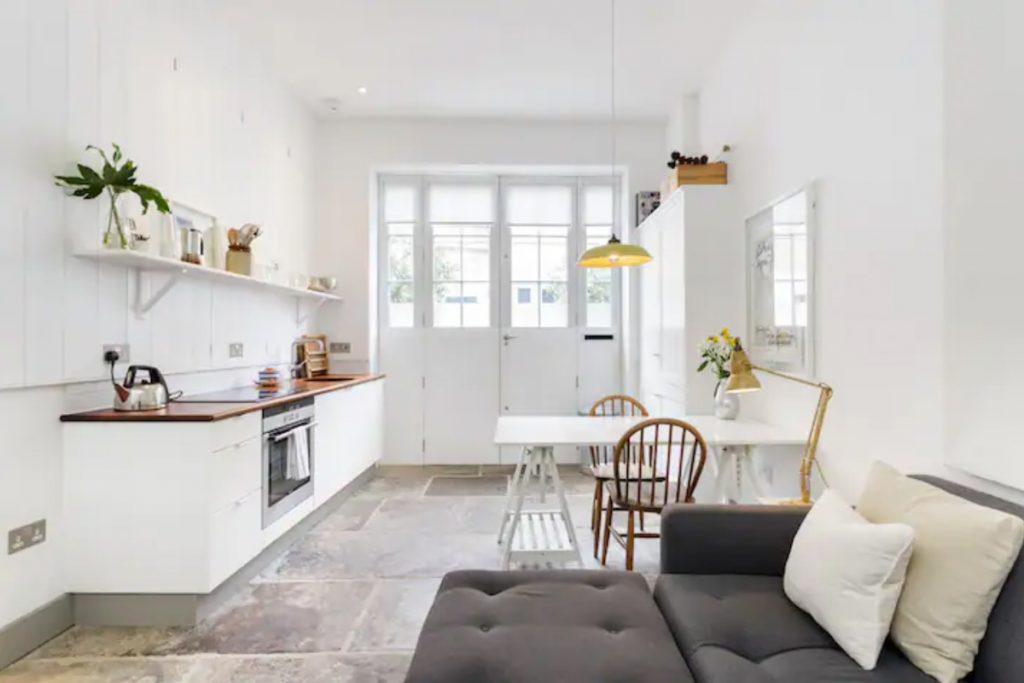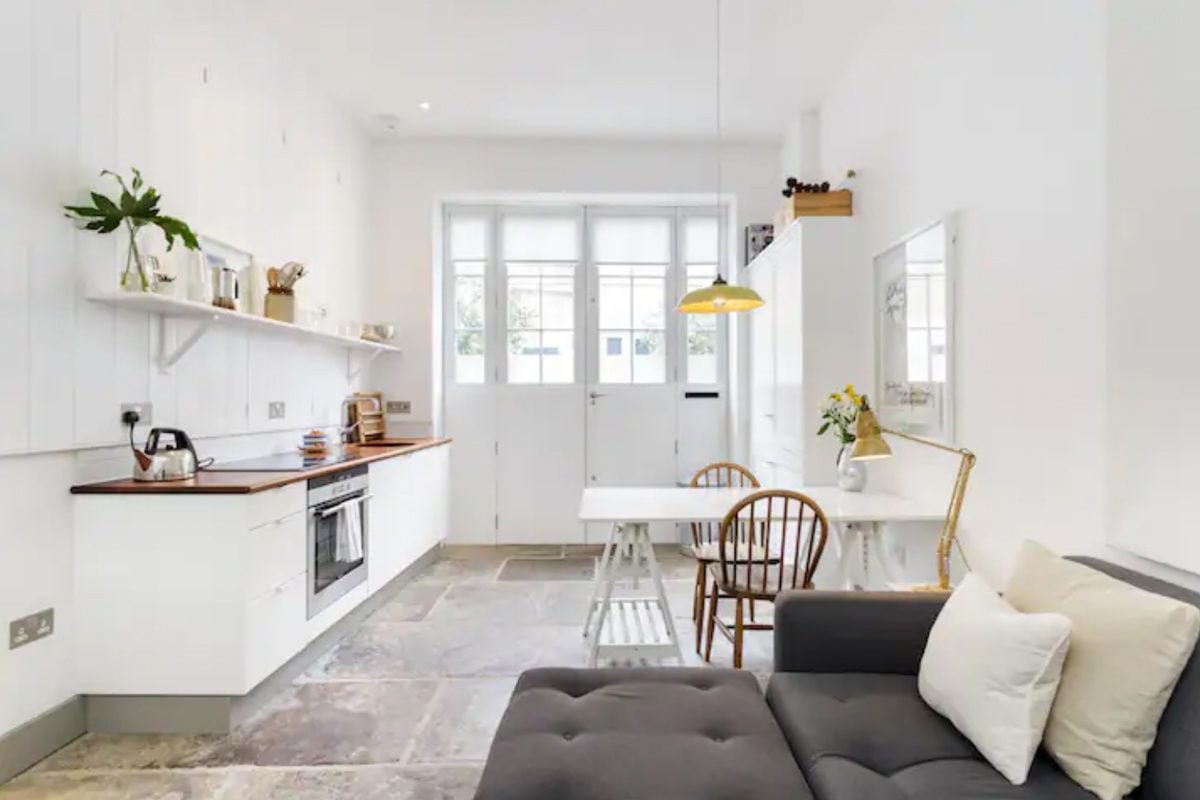 Minimalistic carriage house on a cobblestone street with stone floors and a private garden
Budget: $$
Number of Guests: 2
Minimum Stay: 4 nights
Airbnb Plus and Superhost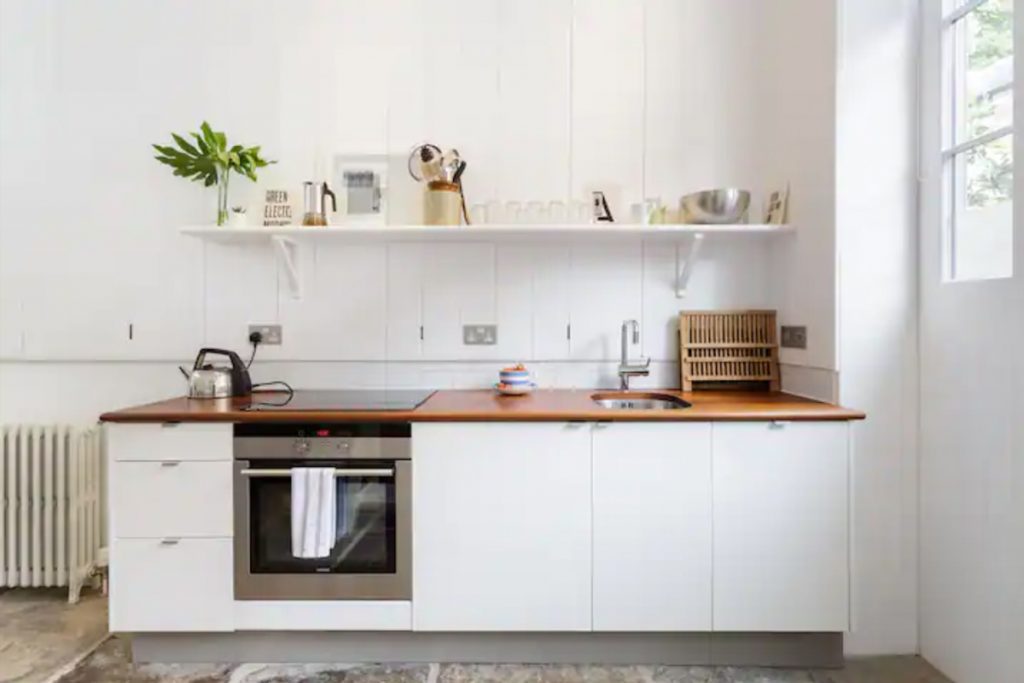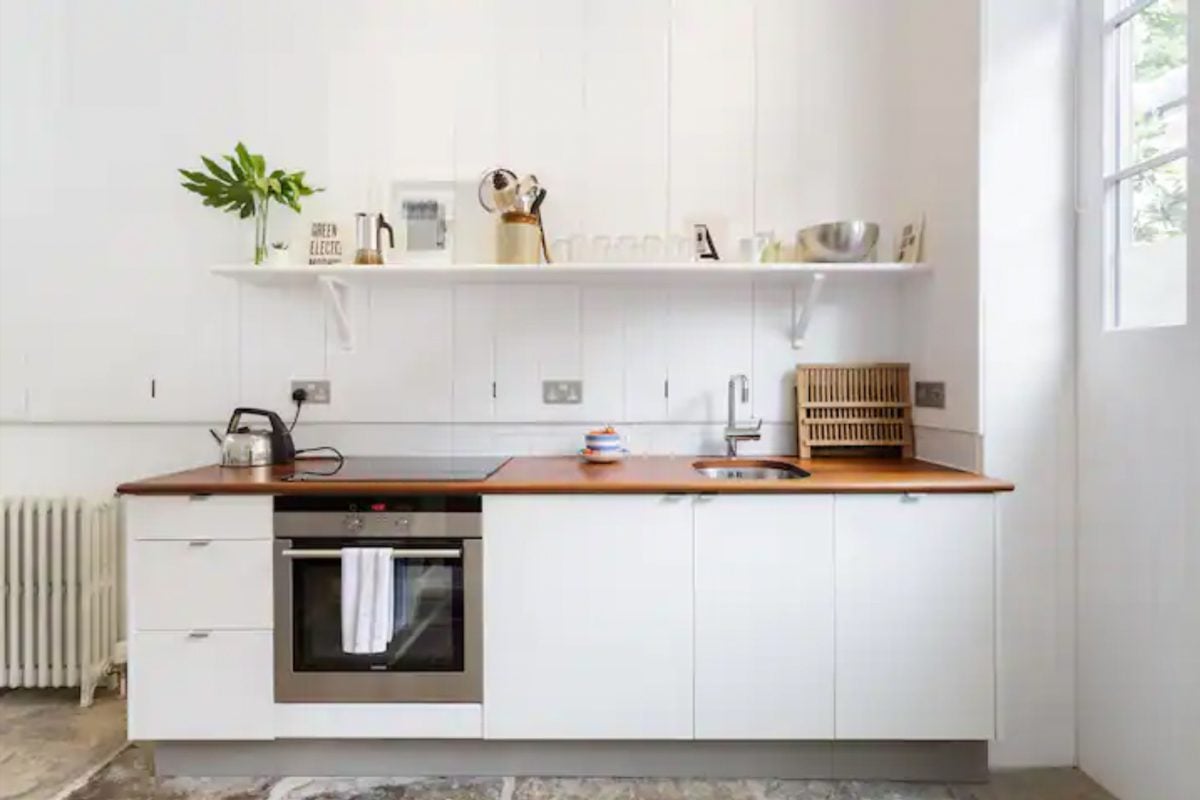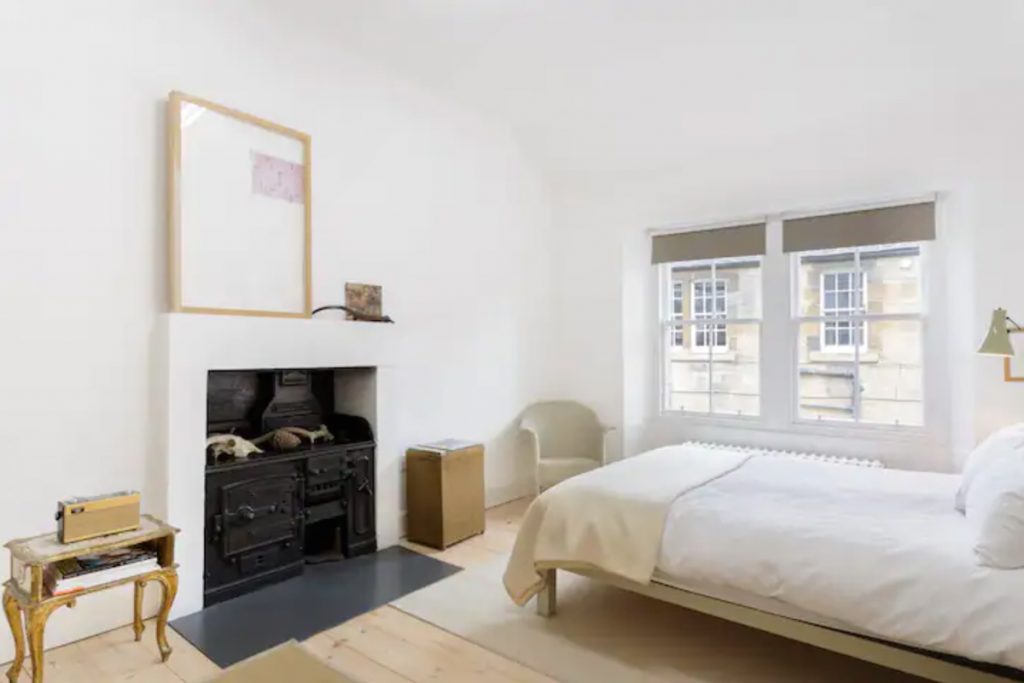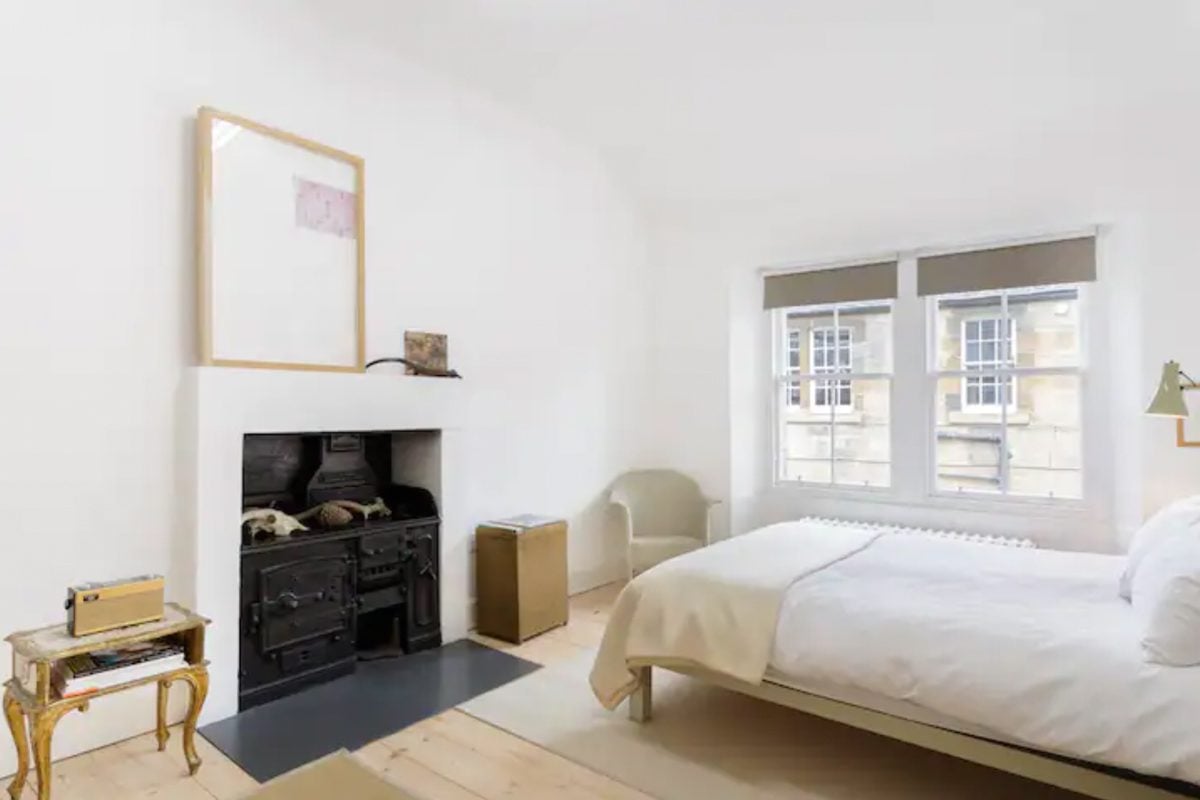 At this recently refurbished Airbnb in Edinburgh, every detail is perfect. With a bright, airy, and minimalist feel, the quaint interior is maximized with thoughtful design. There's cleverly hidden storage (the washing machine is tucked away under the stairs!) and a sleek open kitchen.
Adding to the "hidden secret" vibe, the apartment sits on a cobblestone street and even has access to a private riverside garden!
Guests love having direct access to Dean Street Garden and compliment the host's local recommendations.
"The house was lovely – fresh flowers in the kitchen, fresh ripe strawberries in the refrigerator and homemade granola for weary travelers to snack on at midnight. The location is so much more than excellent. The private Dean Gardens that Fiona gives access to is charming and magical. We recommend the clotted cream and strawberry jam on sultana scones at Ryan's. Thank you Fiona!" – Nico, June 2019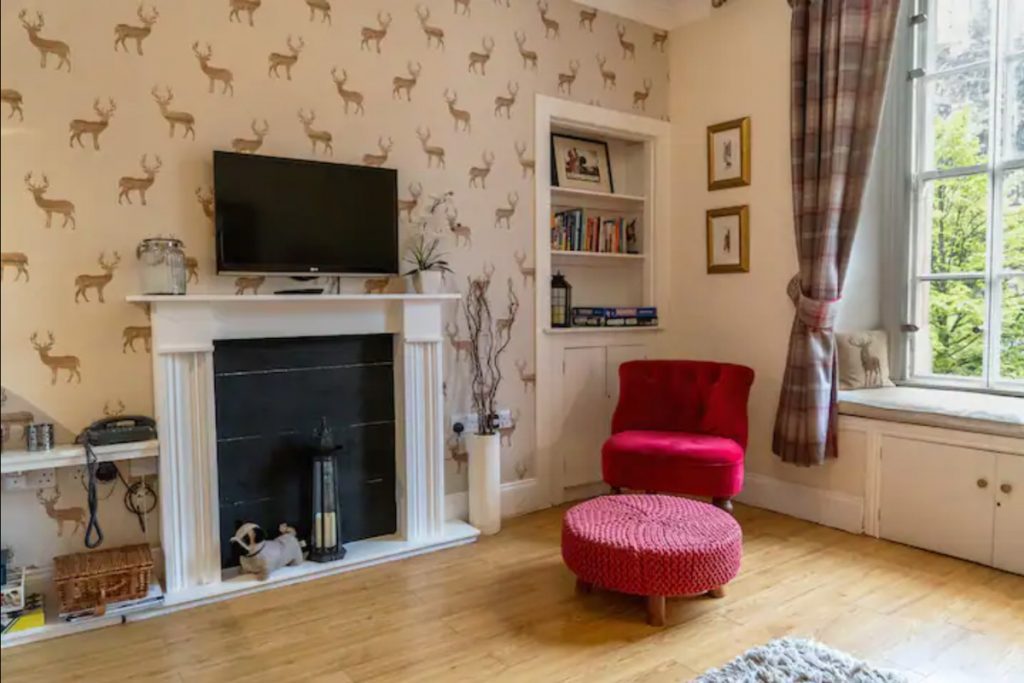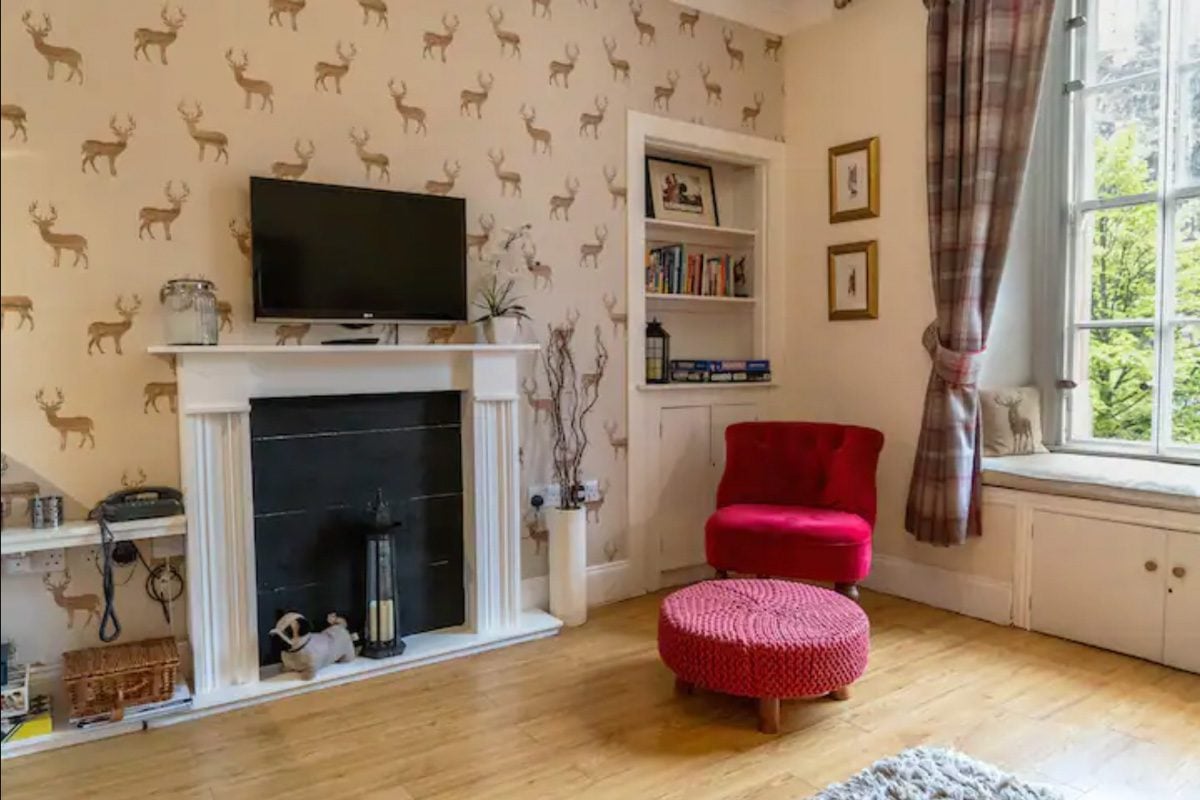 Welcoming, comfortable apartment with unbeatable views of the Edinburgh Castle
Budget: $$
Number of Guests: 3
Minimum Stay: 2 Nights
Airbnb Plus and Superhost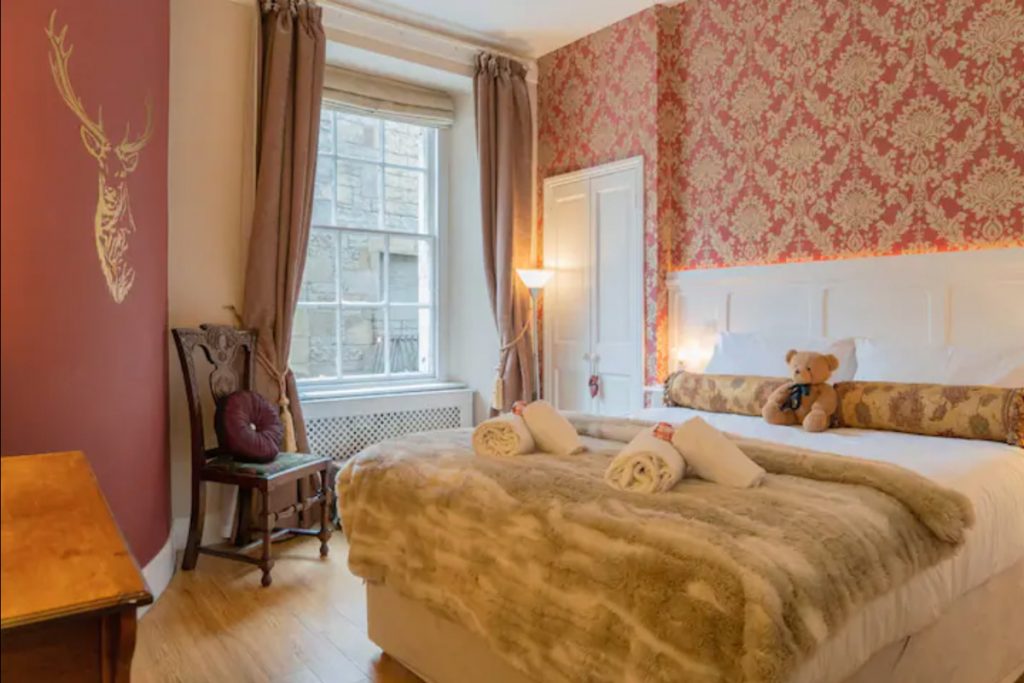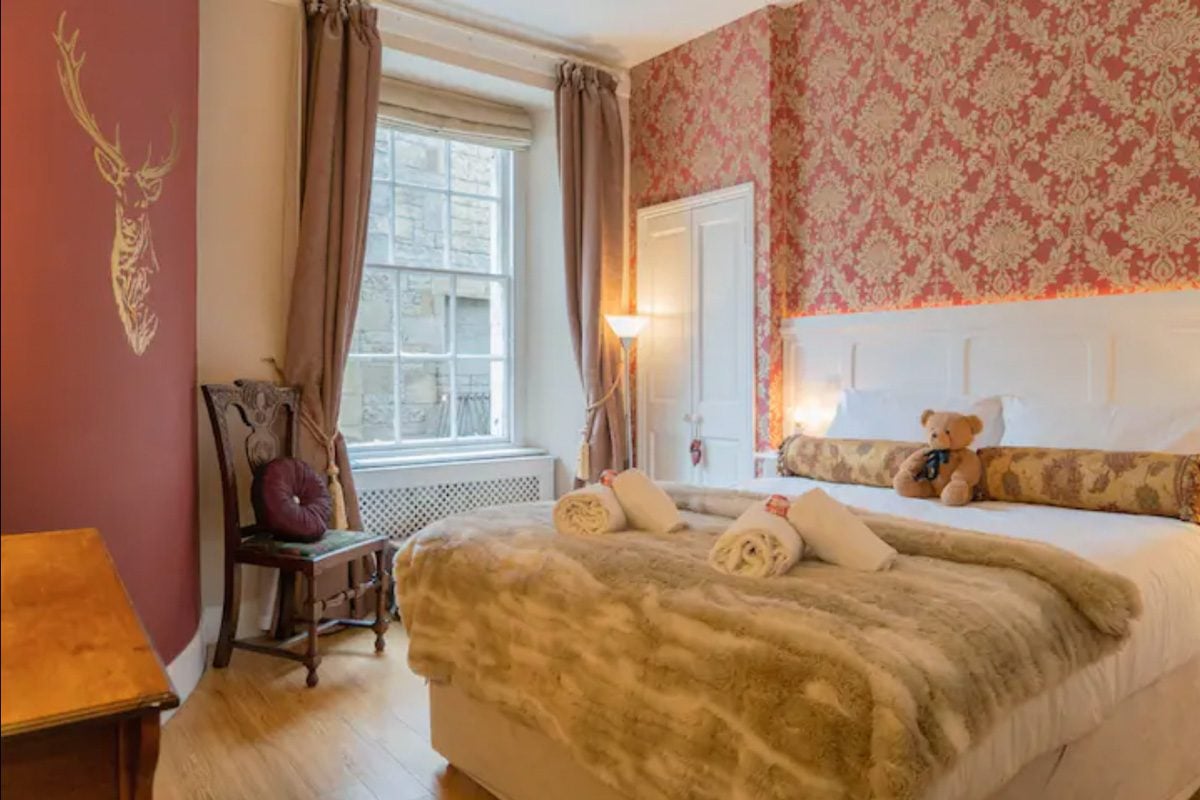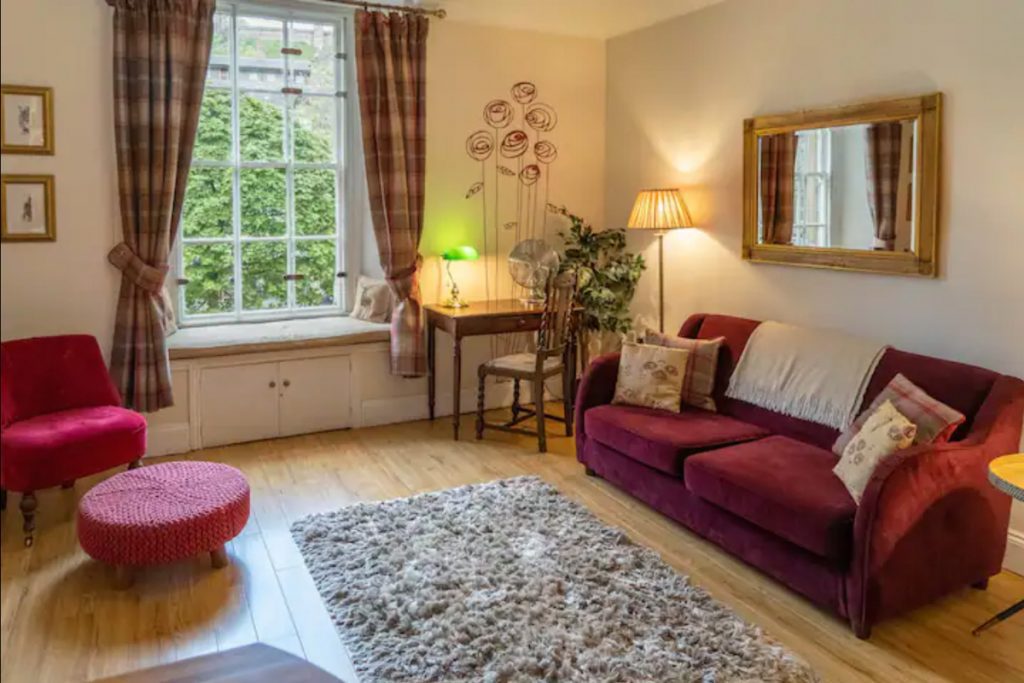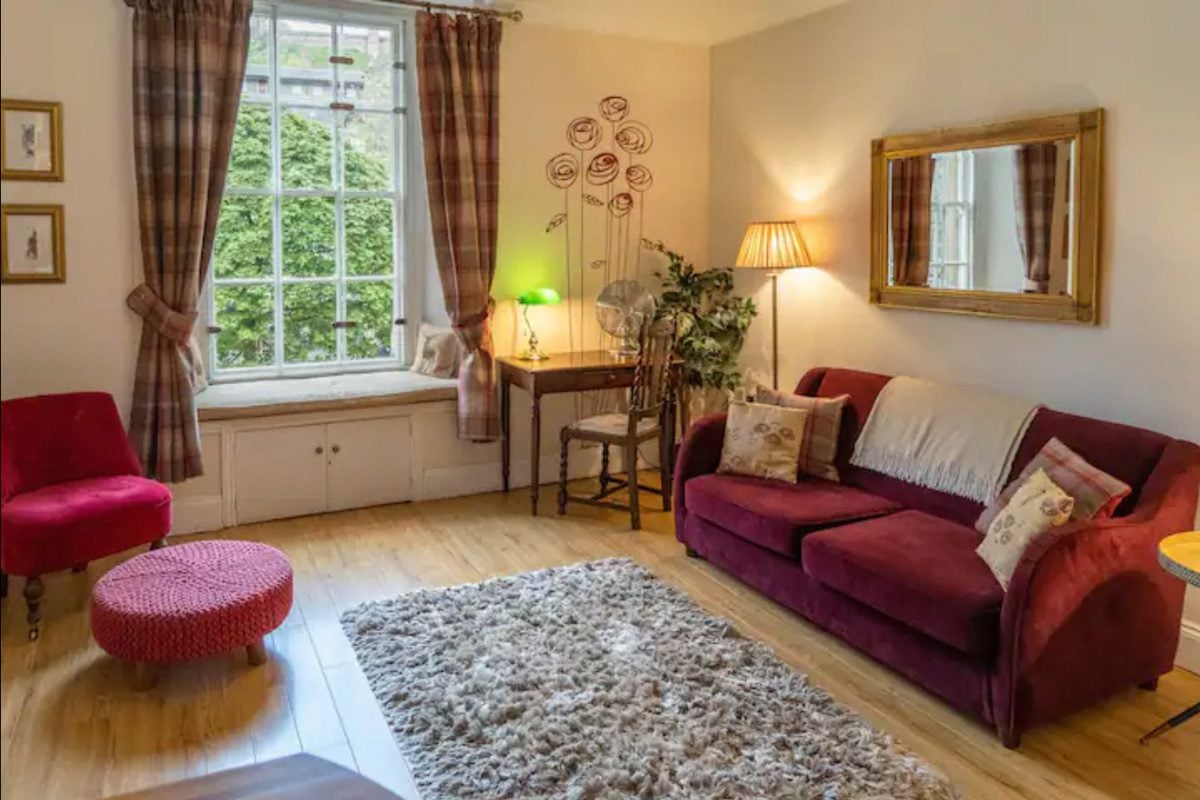 At this Airbnb in Edinburgh, it's all about home-away-from-home comfort. The Scottish-decorated king bed is inviting, there's a heated towel rack, and the couch unfolds for extra guests. Best of all, its location is in the epicenter of the city's main attractions, including the Edinburgh Castle (just glance out the window!) and Royal Mile.
Guests rave about the apartment's location — close enough to walk to major tourist attractions, but removed just enough to enjoy some peace and quiet — and of course, the view of the castle!
"I'm not sure if there are better views of the castle than this apartment. Just amazing. And about as central a location as you could get. The place felt so homely and welcoming. Easy check in – check out. And Aileen was great at communicating throughout. Definitely our only choice if/when we return to Edinburgh." – Gary, December 2021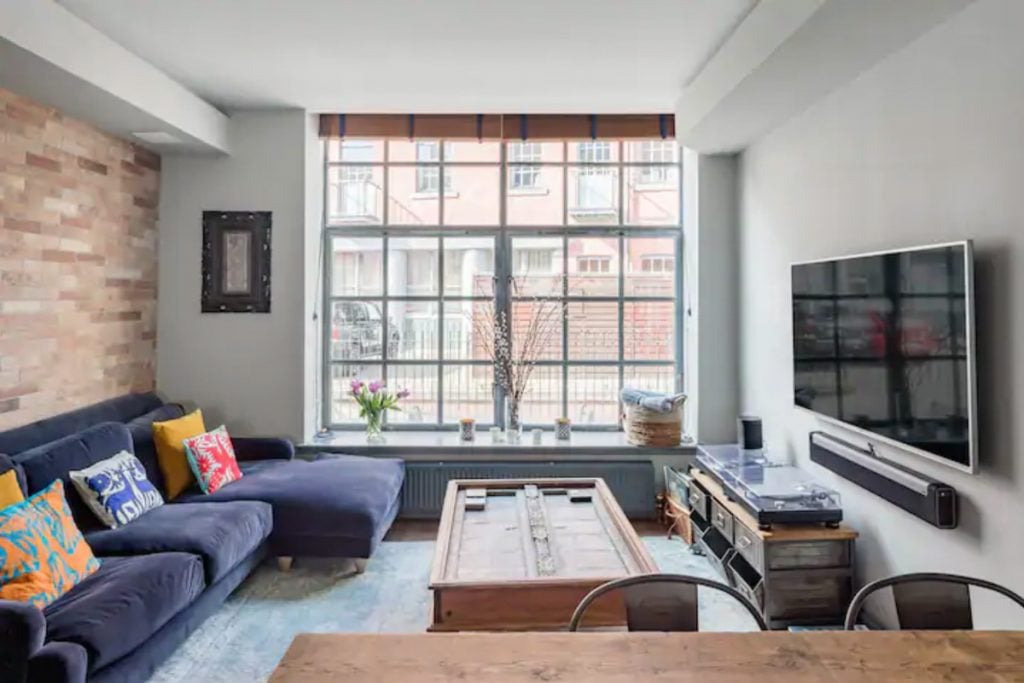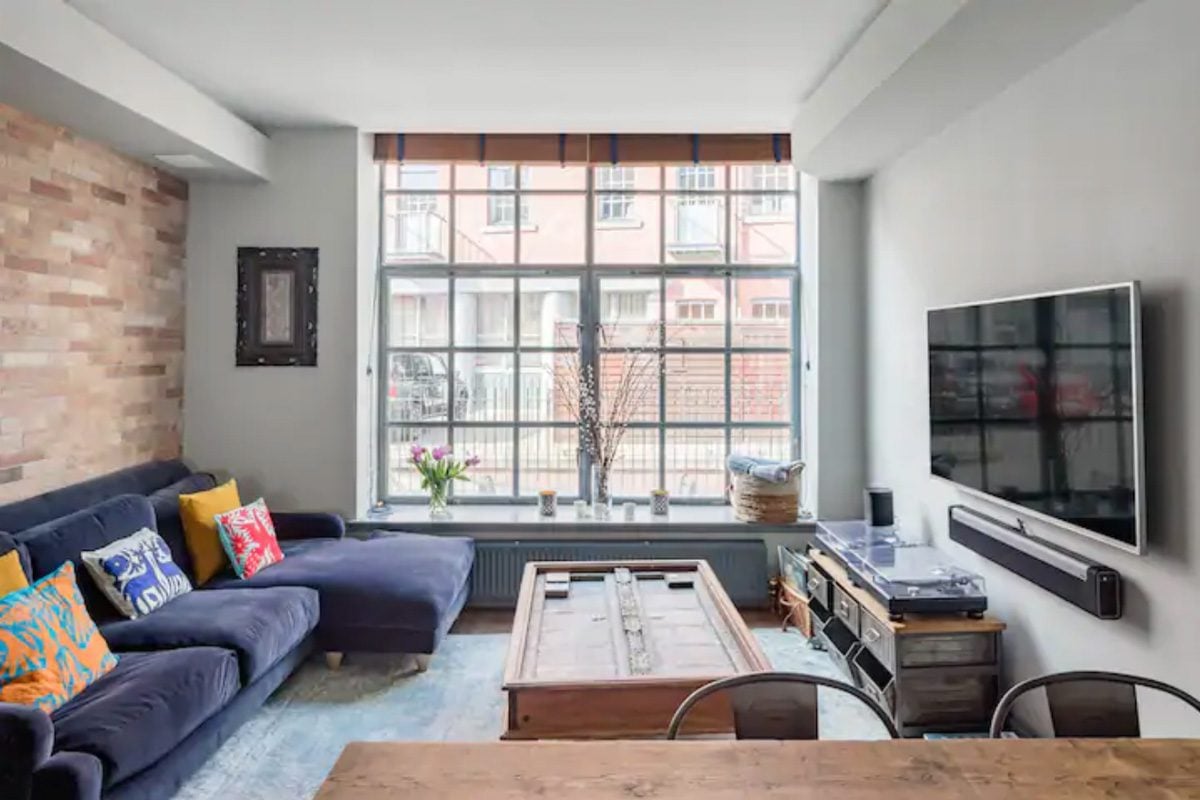 Functional family-friendly condo with a dreamy chef's kitchen and secure underground parking
Budget: $$$$
Number of Guests: 4
Minimum Stay: 2 nights
Superhost and Airbnb Plus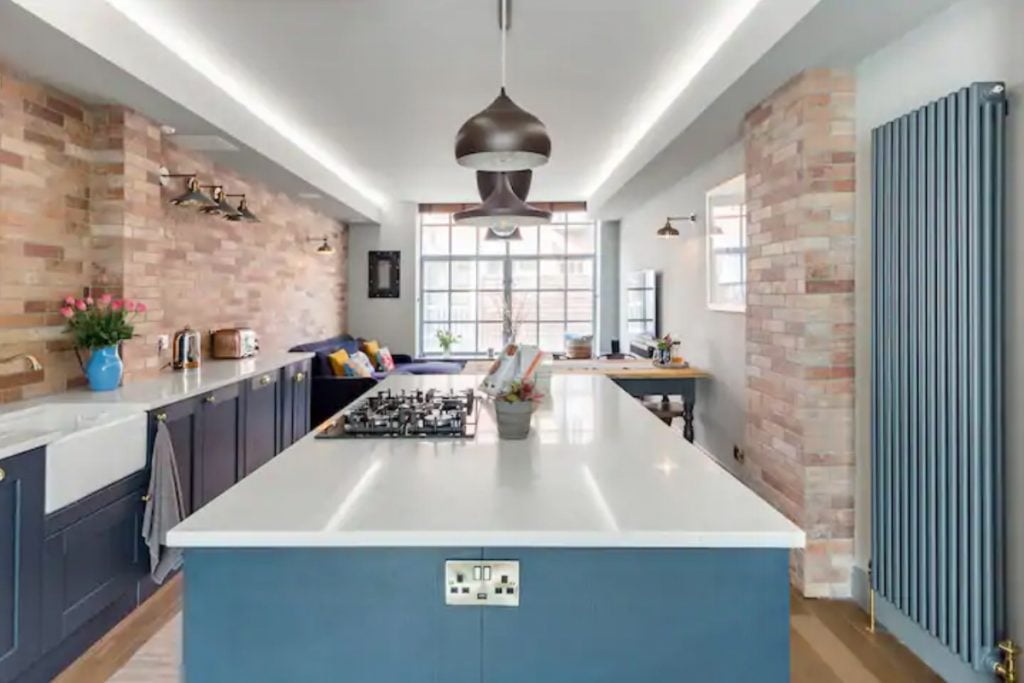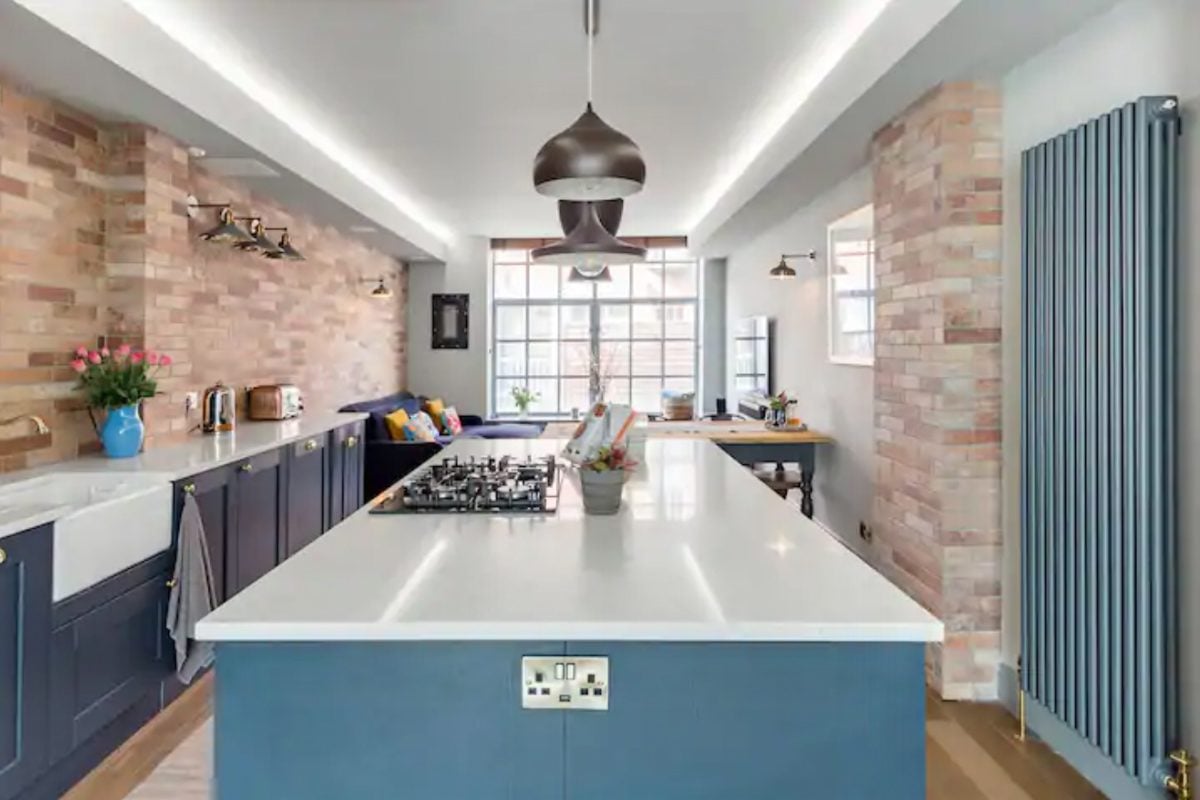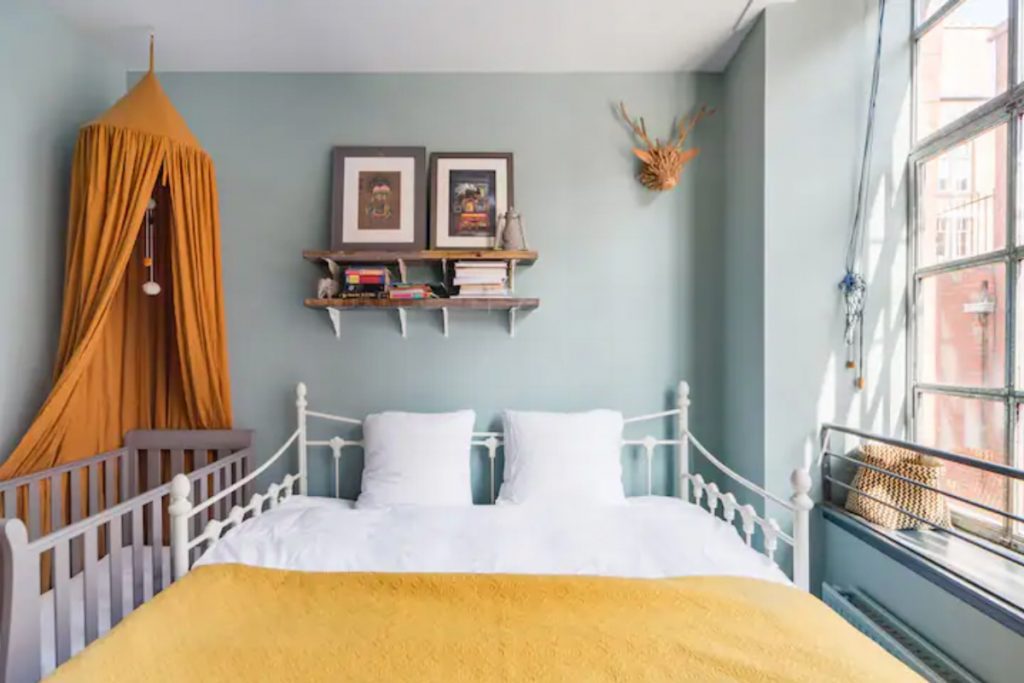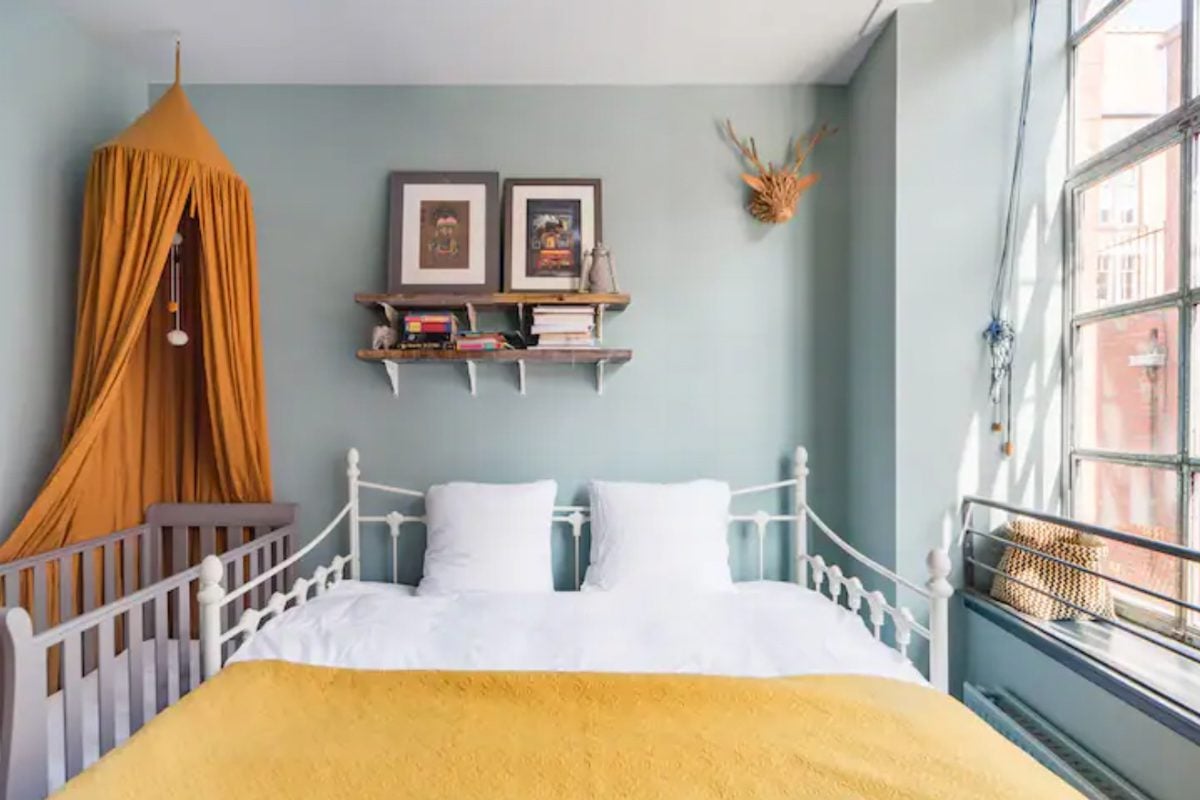 With colorful modern touches and an airy feel, this luxurious condo is perfect for groups (especially families!). There's a crib for those traveling with littles and the spacious living room features a huge chaise sofa for socializing.
The chef's kitchen is an absolute dream for foodies, not to mention a rarity in Europe. Perhaps best of all, this Edinburgh Airbnb even includes underground secured parking!
Guests note that the hosts' detailed guidebook (complete with family-friendly recommendations!) and location lend a more local experience.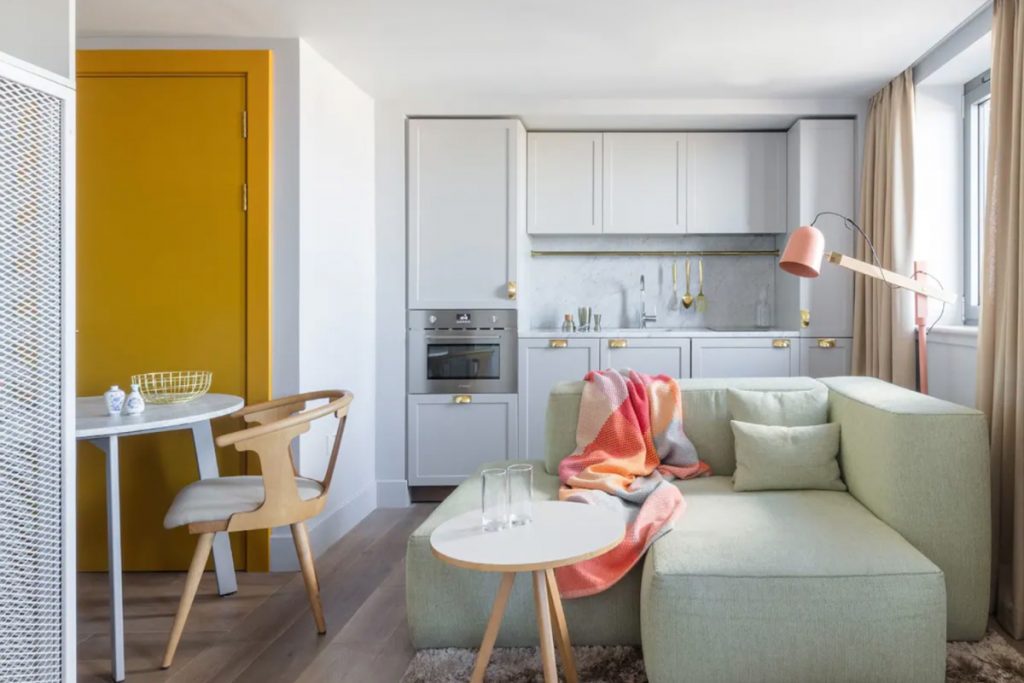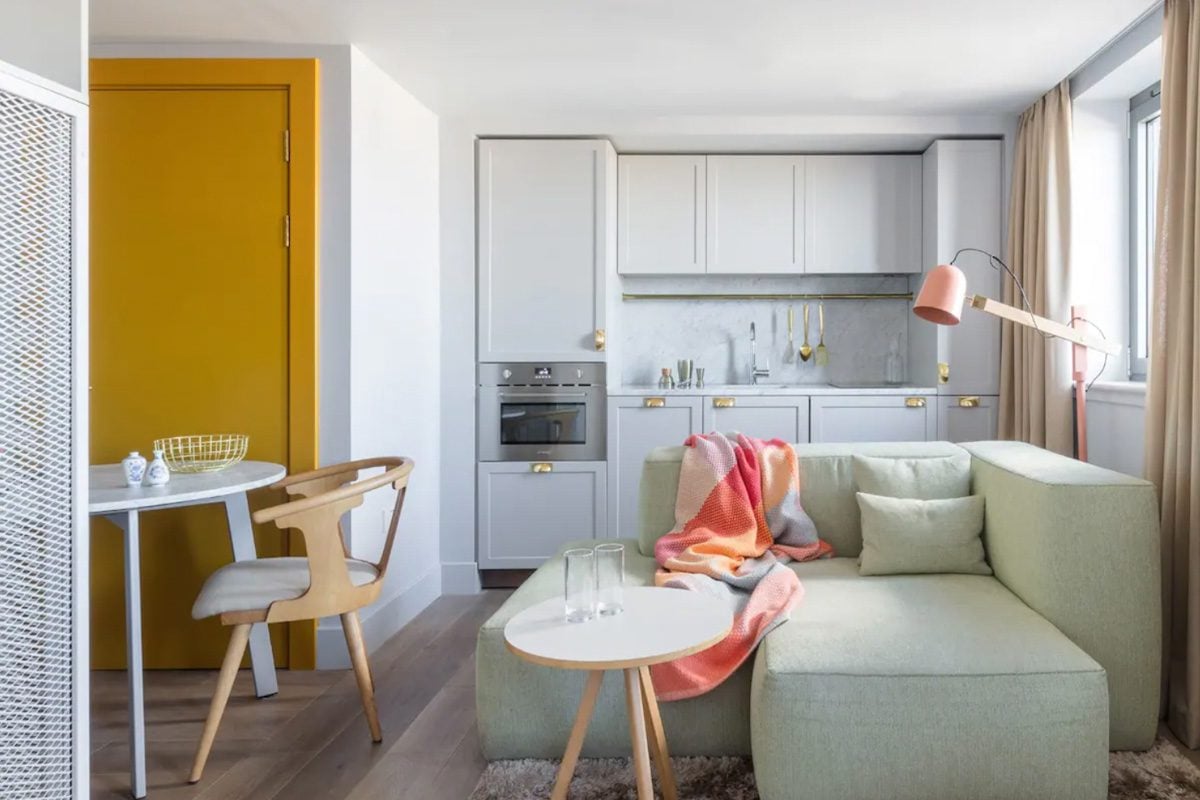 Stylish efficiency apartment in a hotel-like setup with a spacious cafe and walkable location
Budget: $$$
Number of Guests: 2
Minimum Stay: 1 night
Superhost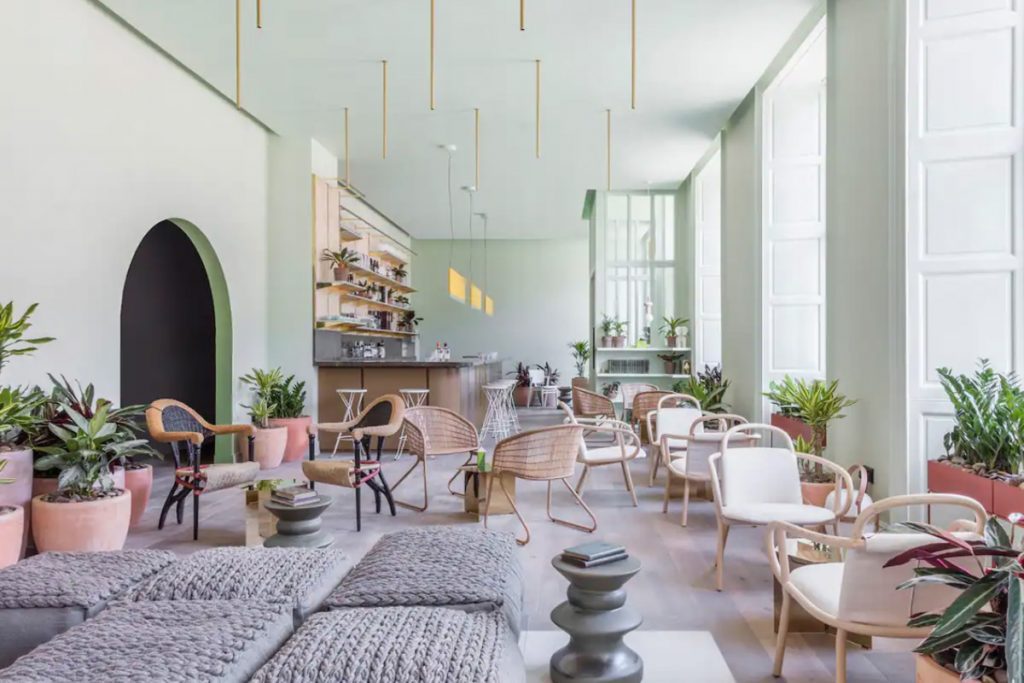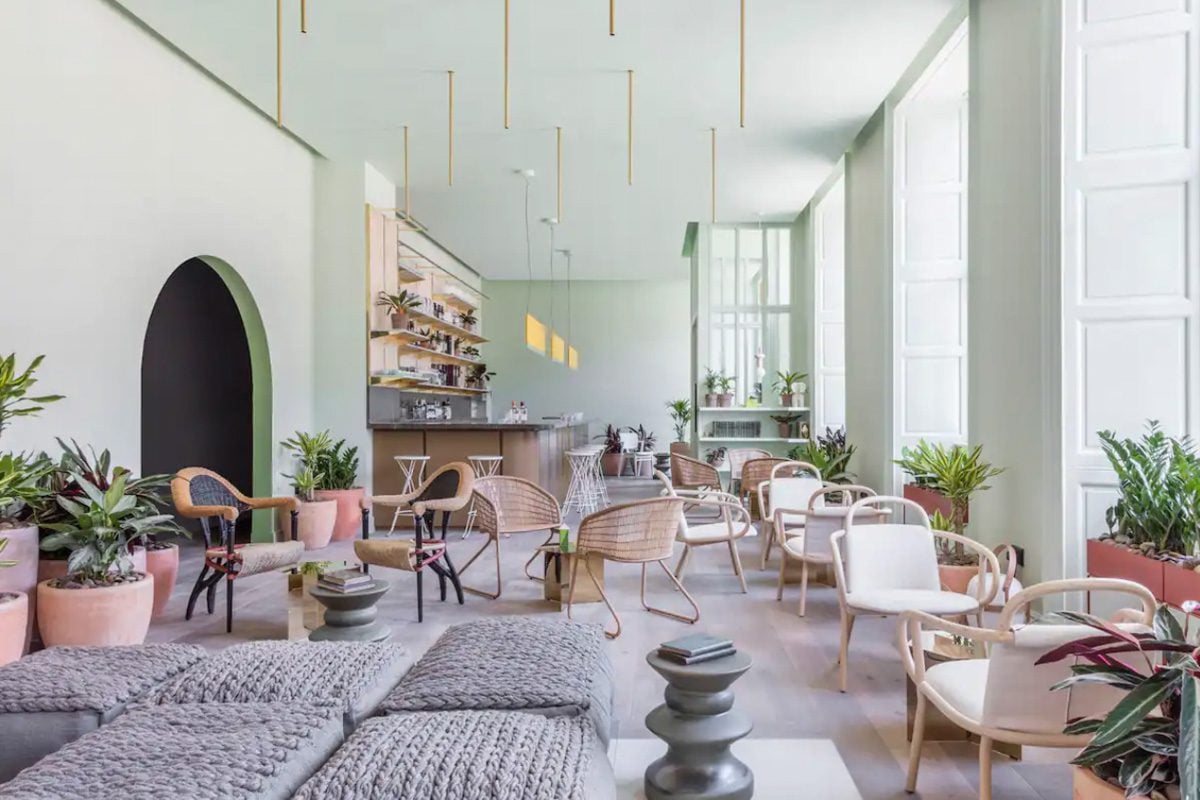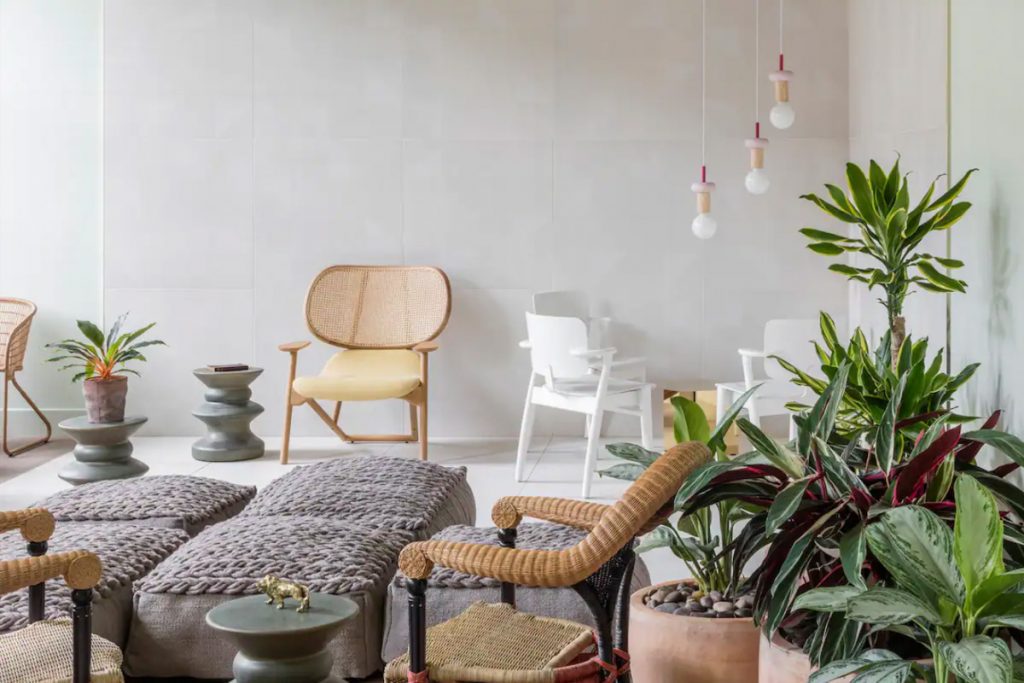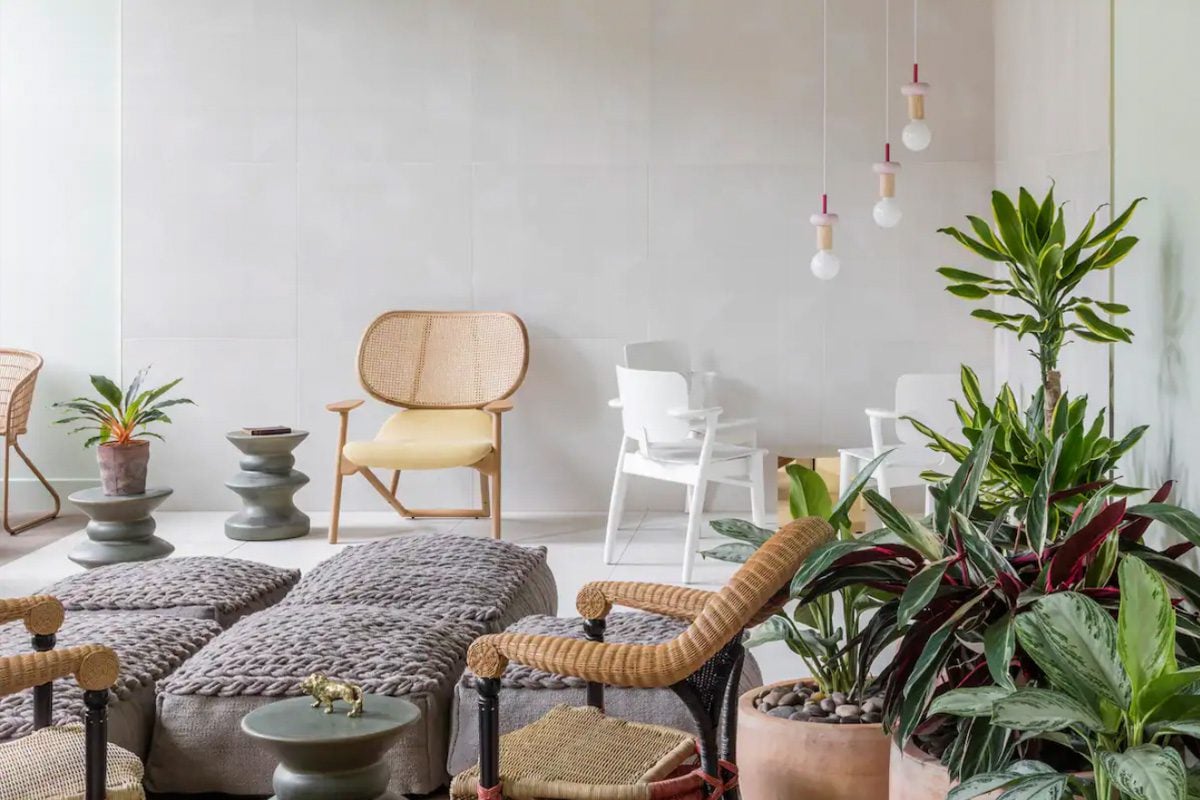 In this innovative boutique hotel-apartment hybrid, all the amenities of a typical Airbnb are present, but there's also a gorgeous lobby-like social space and a reception desk with helpful staff. The apartment itself is modern, comfortable, and colorful, with features like heated flooring, blackout shades, and a fun bright yellow bathroom door. Plus, the location right next to New Town means everything is a short walk away.
Guest's comment that the wi-fi and downstairs cafe make this a perfect hub for remote workers.
"Not your typical Airbnb, more of a hotel vibe with staff below you to help. Such a cute and stylish space, super modern and trendy. The shower was amazing and the bed was super comfortable. The staff was nice and let us check in before the designated check in time.
Would definitely stay again, super quiet and cozy" – Jaime, July 2020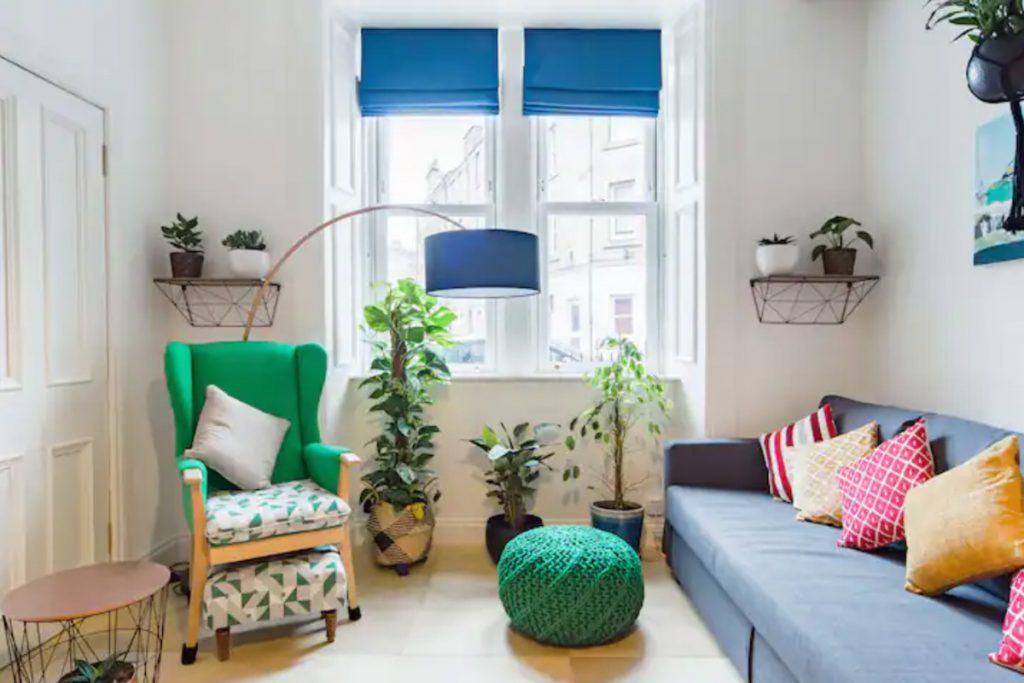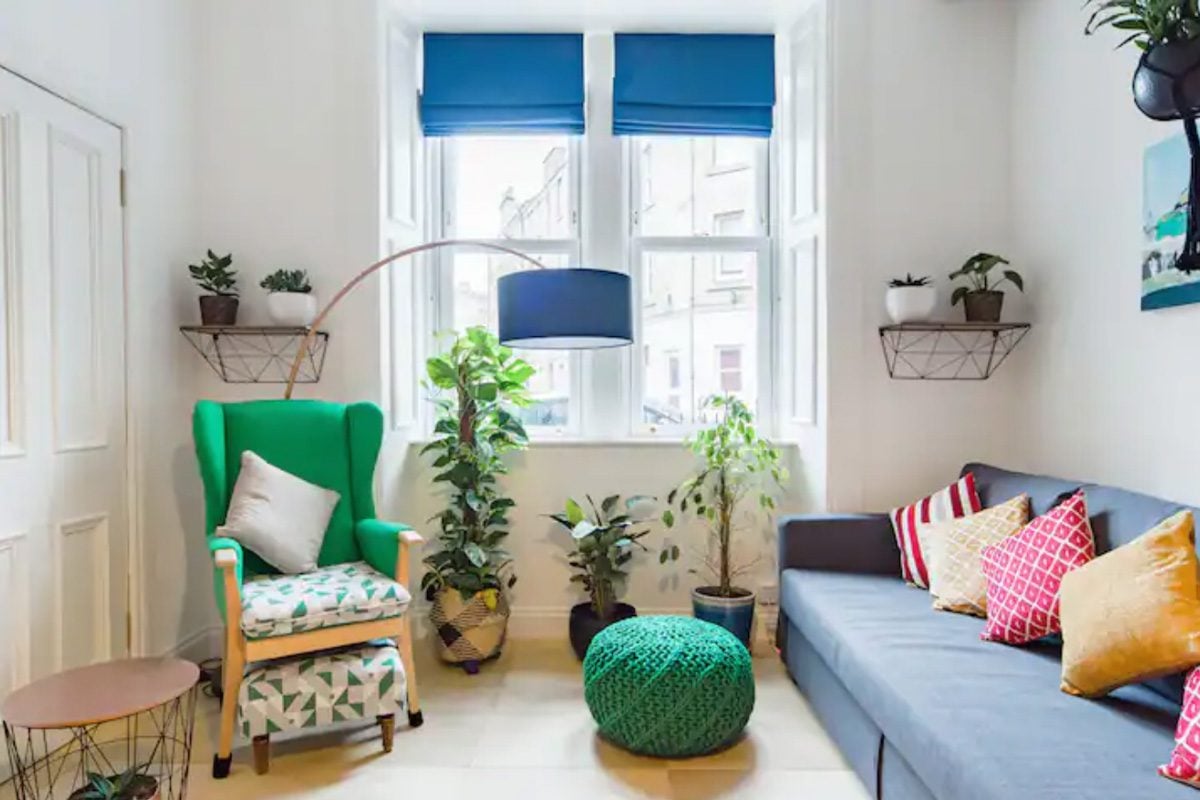 Funky flat in a quiet residential neighborhood with easy access to the entire city
Budget: $$$
Number of Guests: 4
Minimum Stay: 1
Airbnb Plus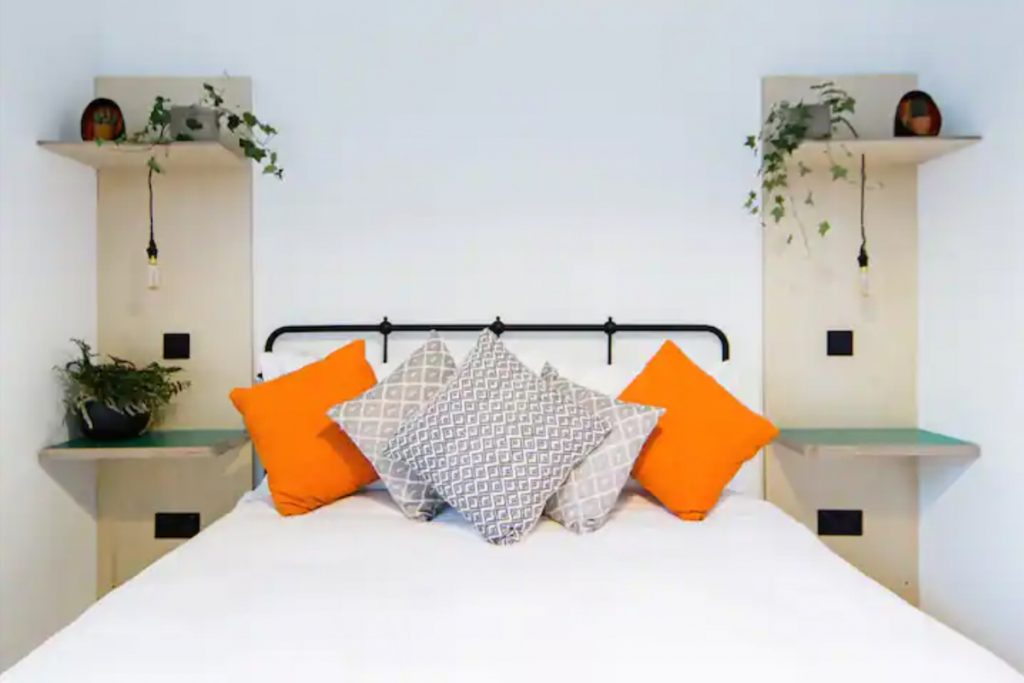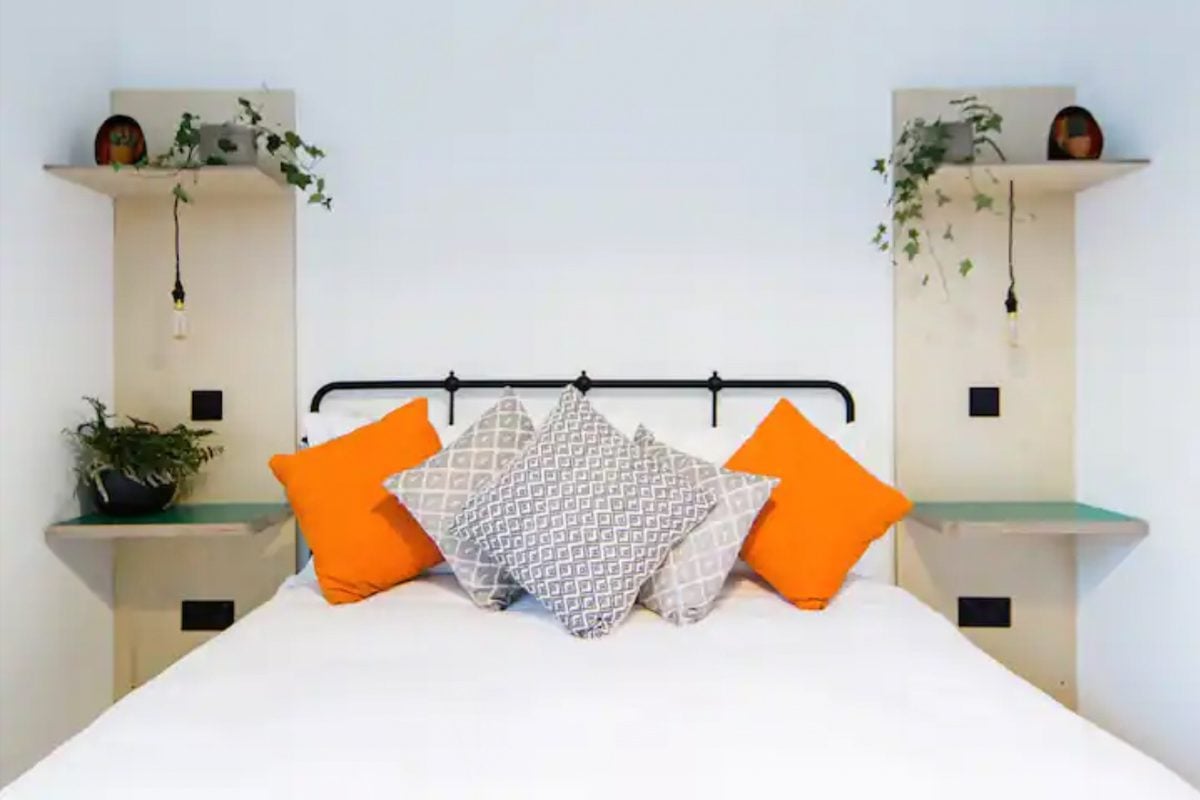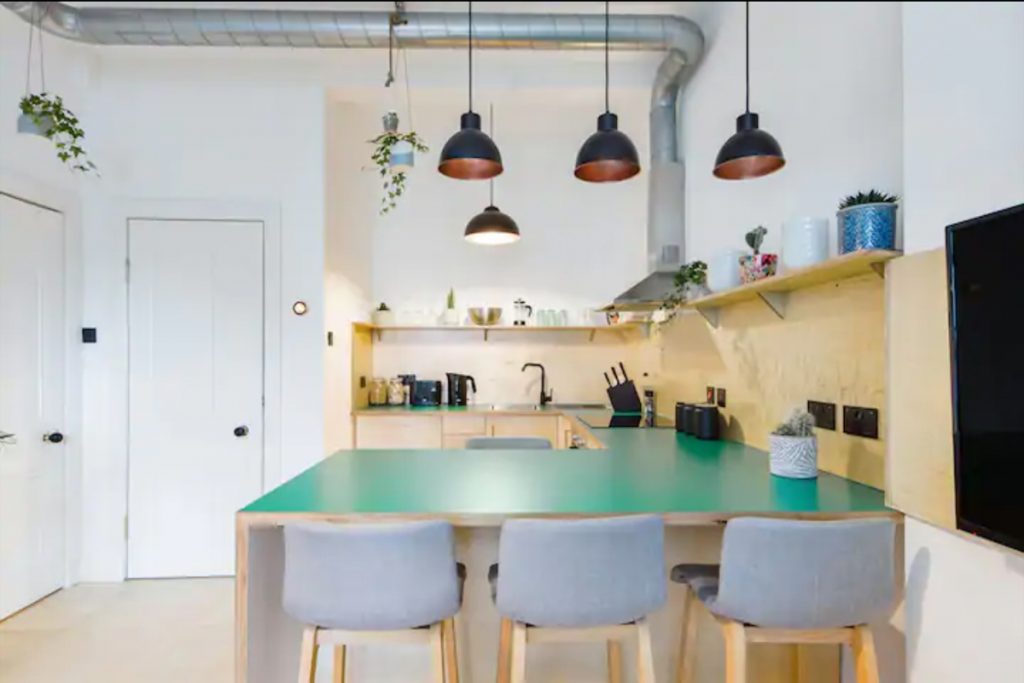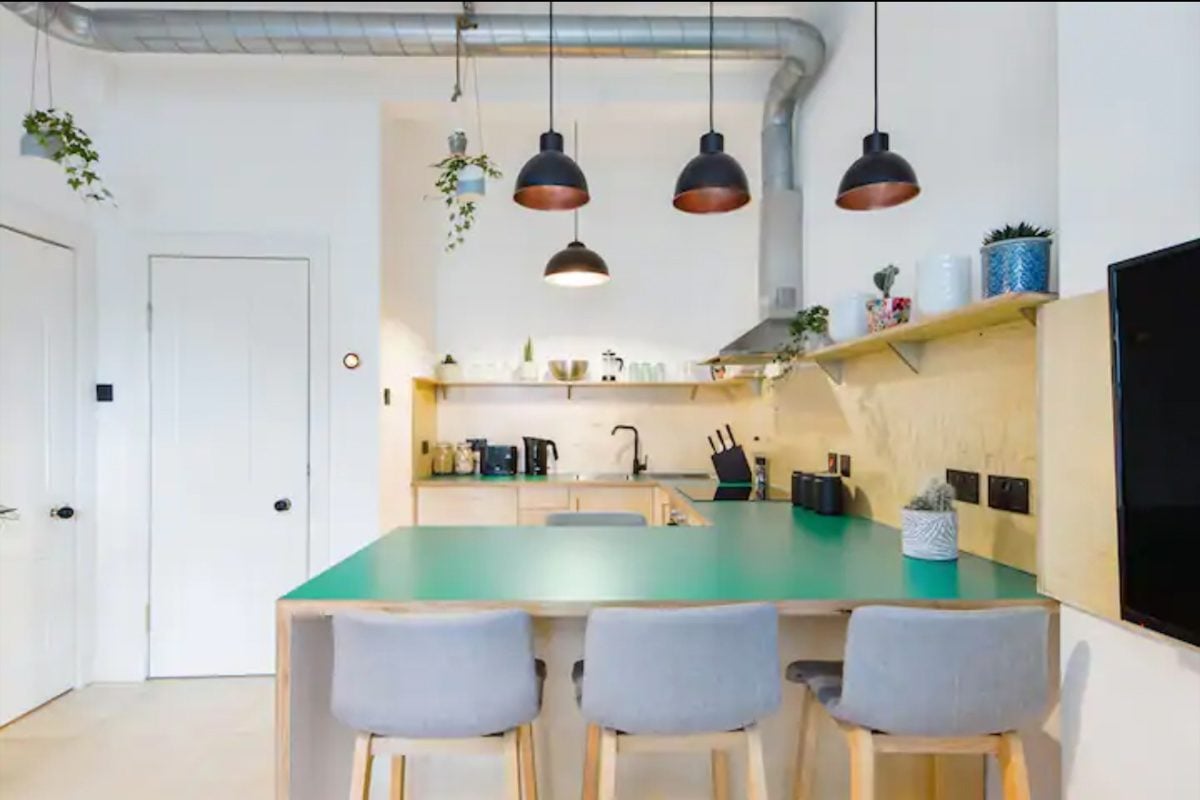 Filled with quirky touches and numerous plants, this colorful flat will brighten your Edinburgh stay. The open living room-kitchen area is an especially quirky backdrop for relaxation, with bright green countertops and a matching yarn-knit ottoman.
Located in residential Dalry, major sights are a quick 15-minute tram ride away, but there are also several great restaurants and cafes nearby.
Guests recommend this Edinburgh Airbnb for a long stay, thanks to the functional design and practical amenities including a washer.
"Amazing place, lived here for a month for work reasons and found it very comforting to return to this place after a long day! Amazing location with access to the train station, airport and the city centre as well as direct bus rides to the Pentlands for avid hikers. Great constellation of restaurants by the doorstep + convenient shops for those looking for a longer stay. Very proud to have called this place home for the month" – Shuler, January 2022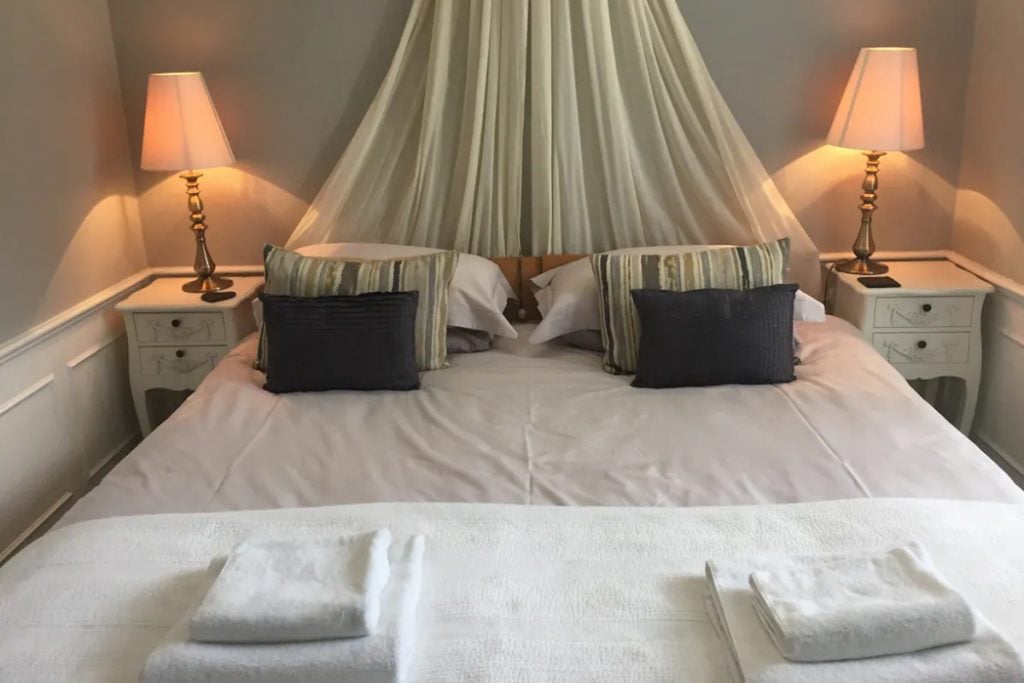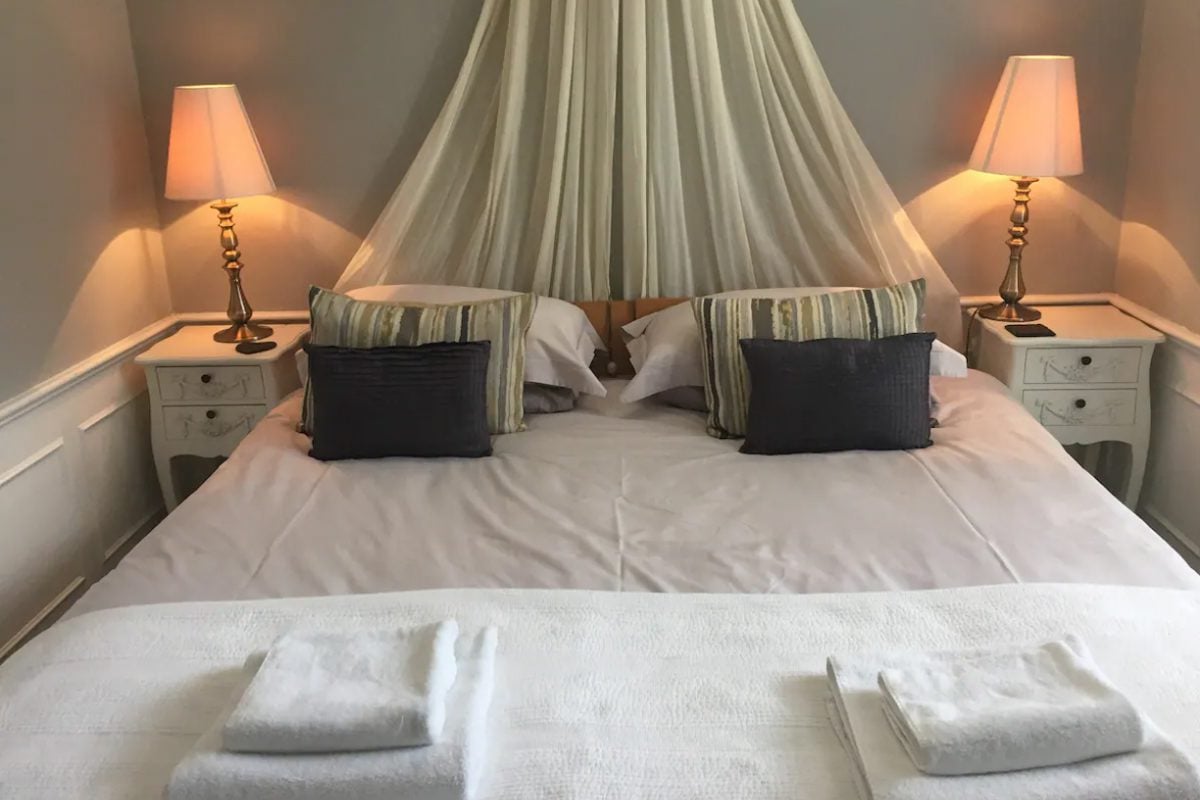 Apartment with fabulous Edinburgh Castle views and comfortable, practical amenities
Budget: $$
Number of Guests: 4
Minimum Stay: 1 night
Superhost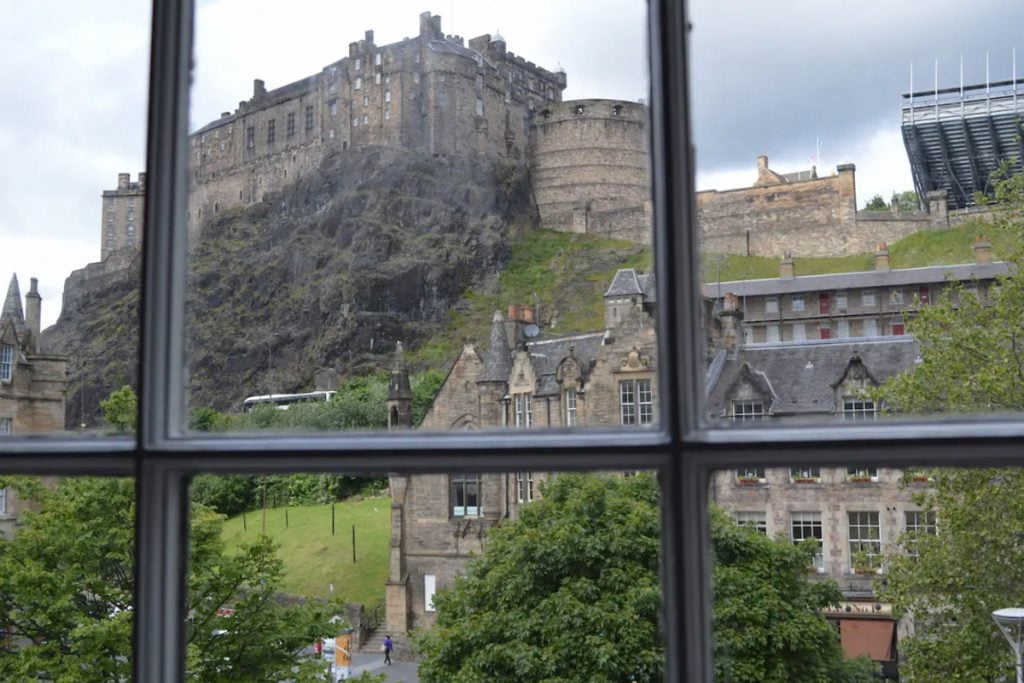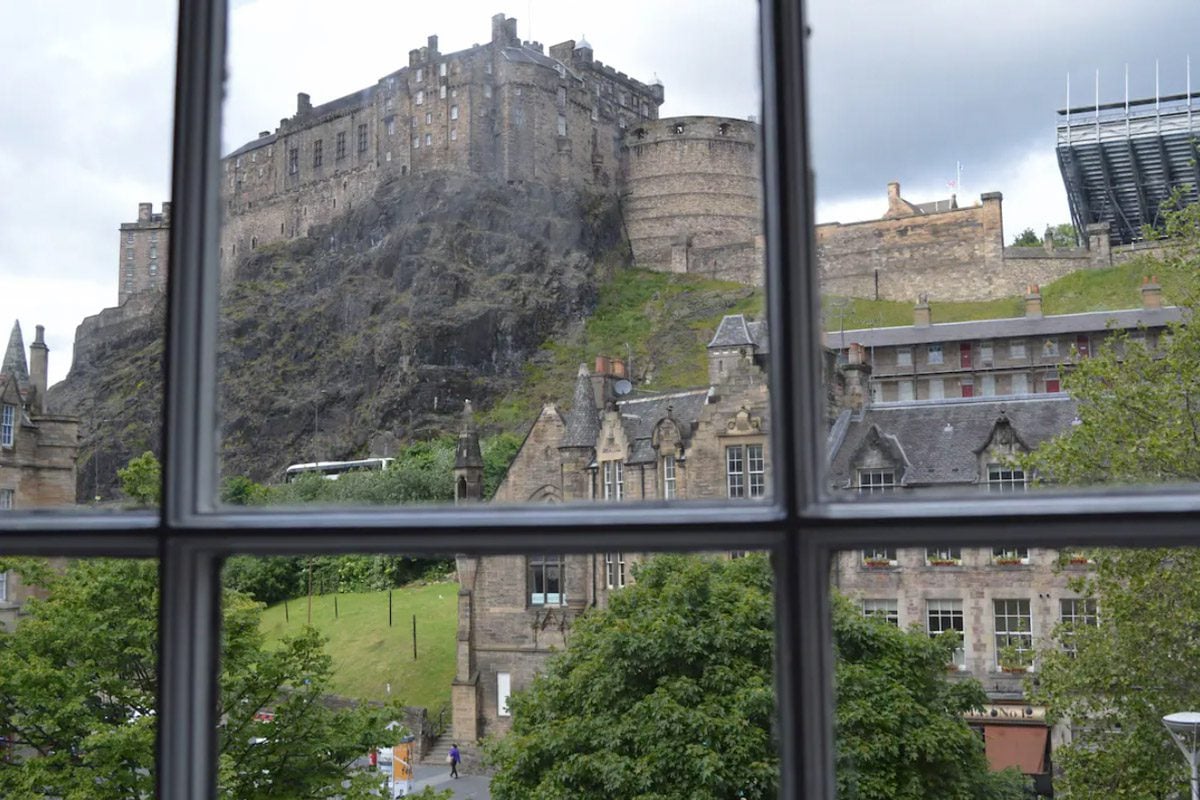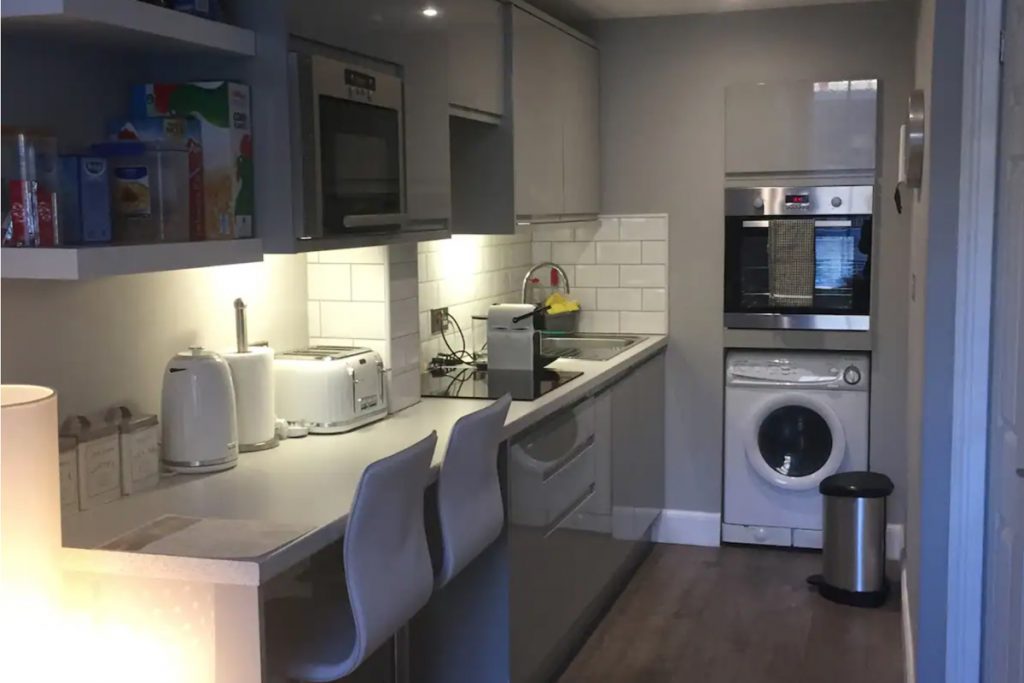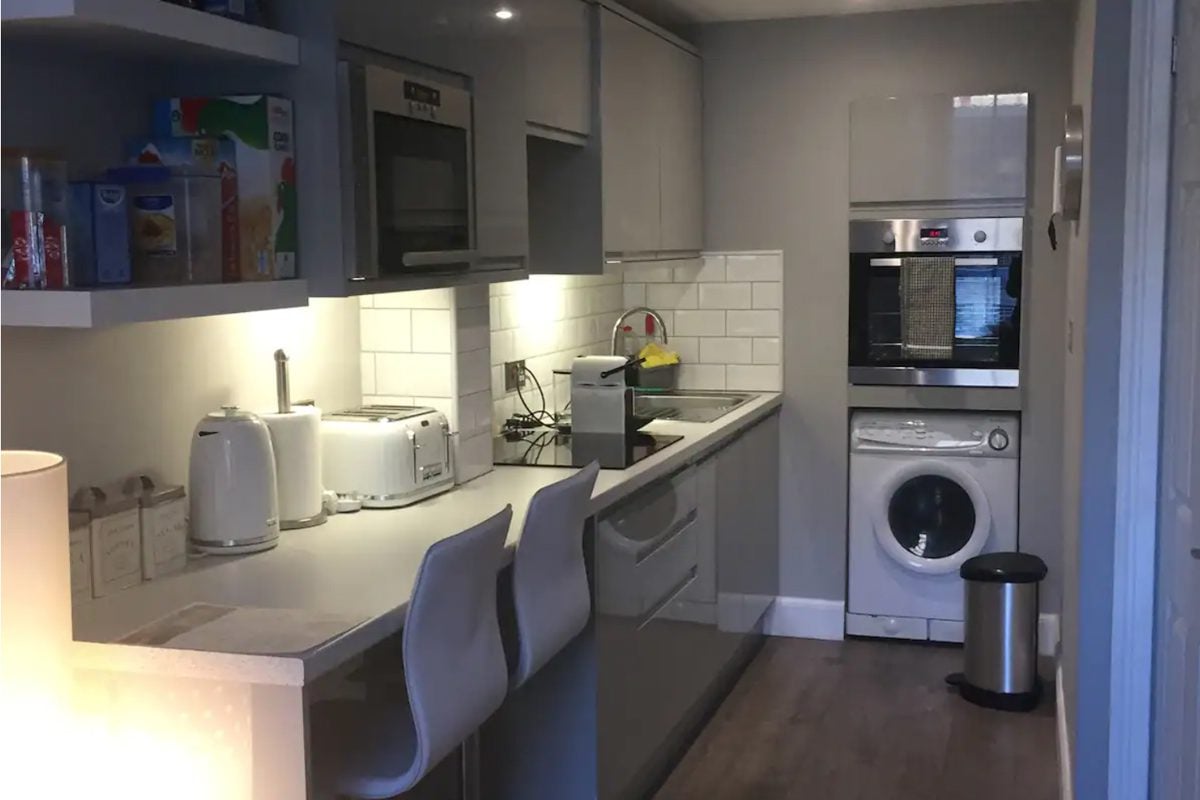 With fabulous, unobstructed views of the castle, this Edinburgh Airbnb is quite literally fit for royalty — or savoring a taste of it, anyway. The sleek, minimalist apartment manages to simultaneously be regal and welcoming, with details such as a plush lounge chair alongside an espresso machine and washer.
Guests mostly praise the central location, with tourist attractions just a stone's throw away and jaw-dropping castle views.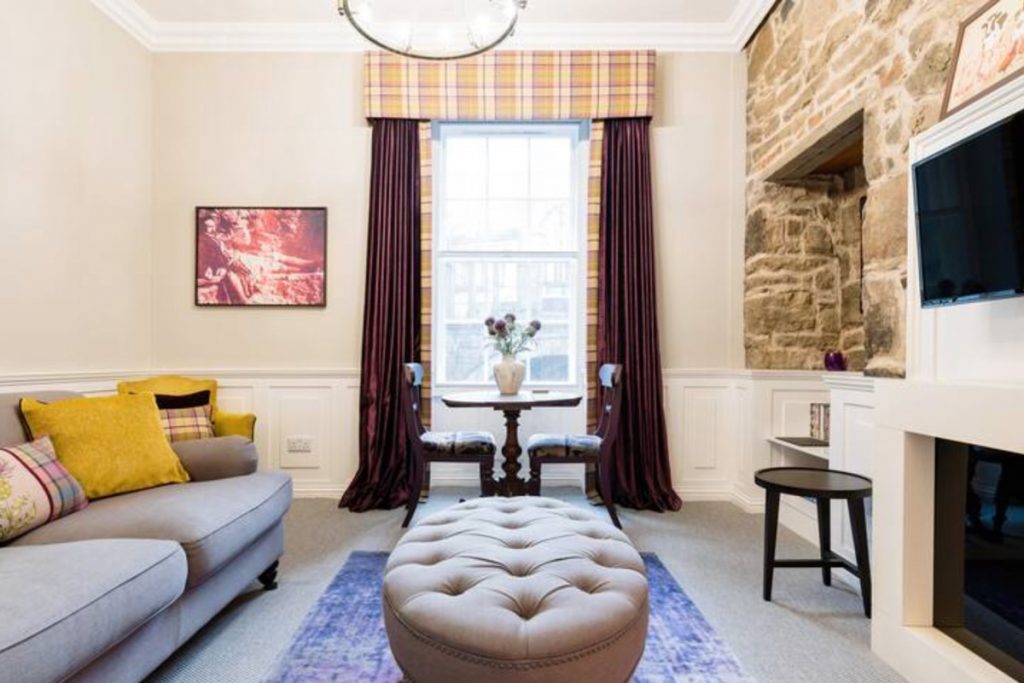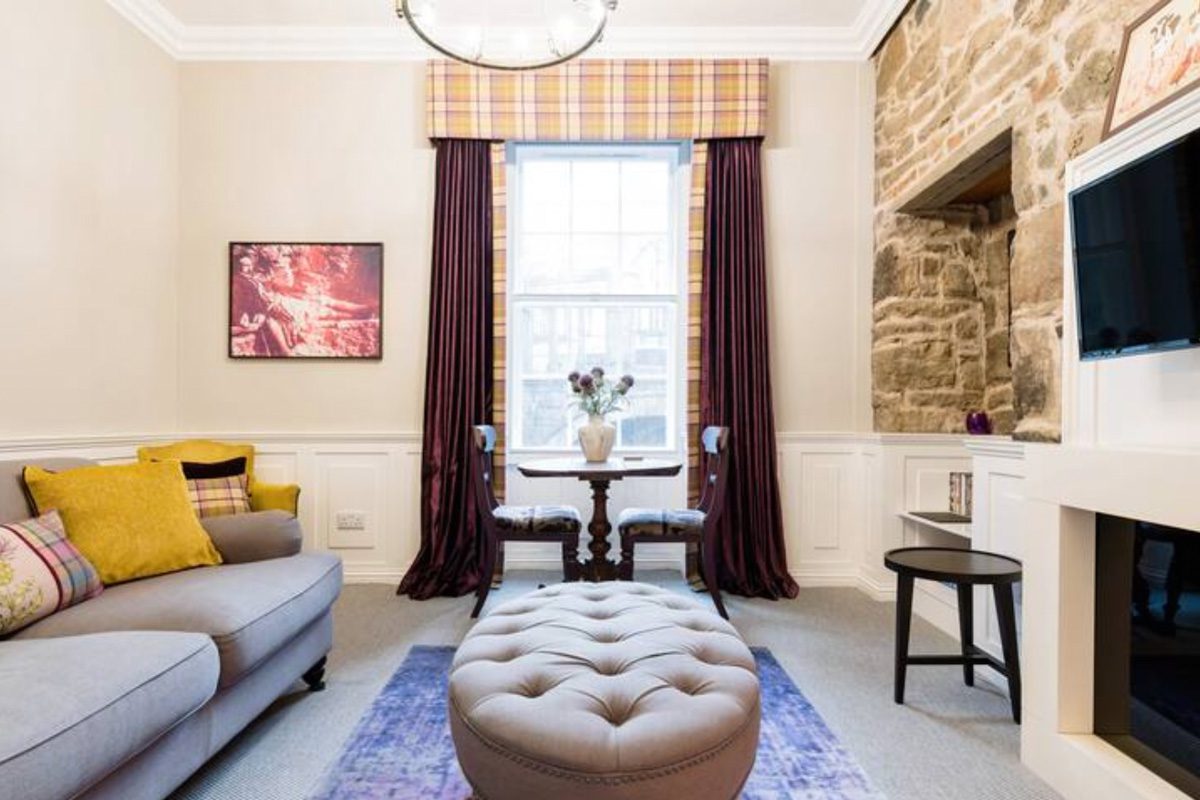 Updated, open floor plan boutique hotel-style flat just 500 yards from popular Princes Street
Budget: $$
Number of Guests: 2
Minimum Stay: 3 nights
Airbnb Plus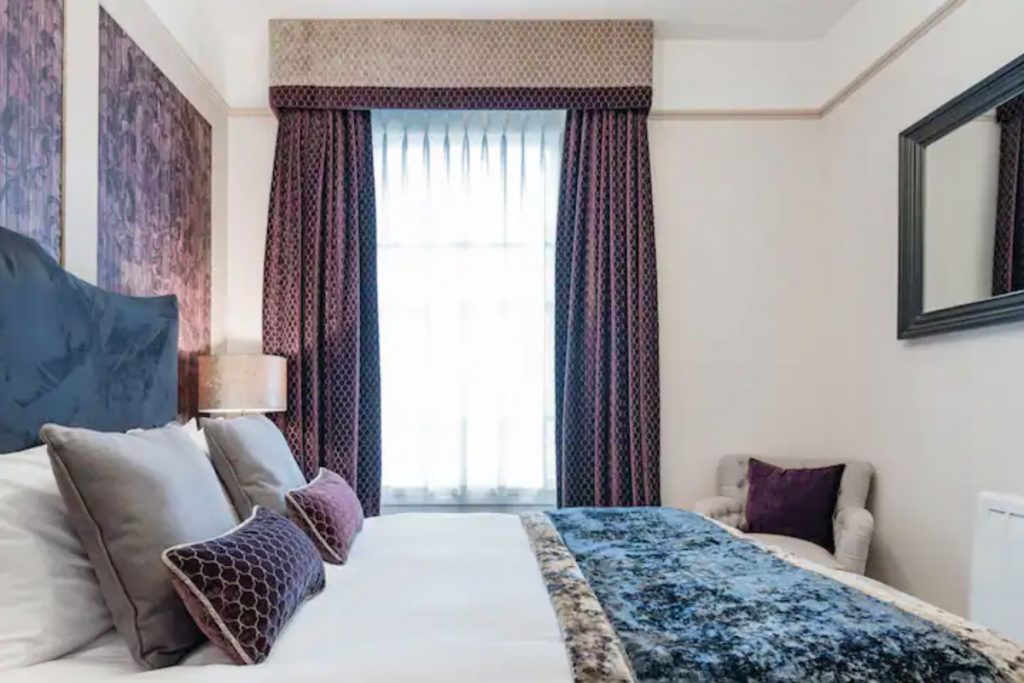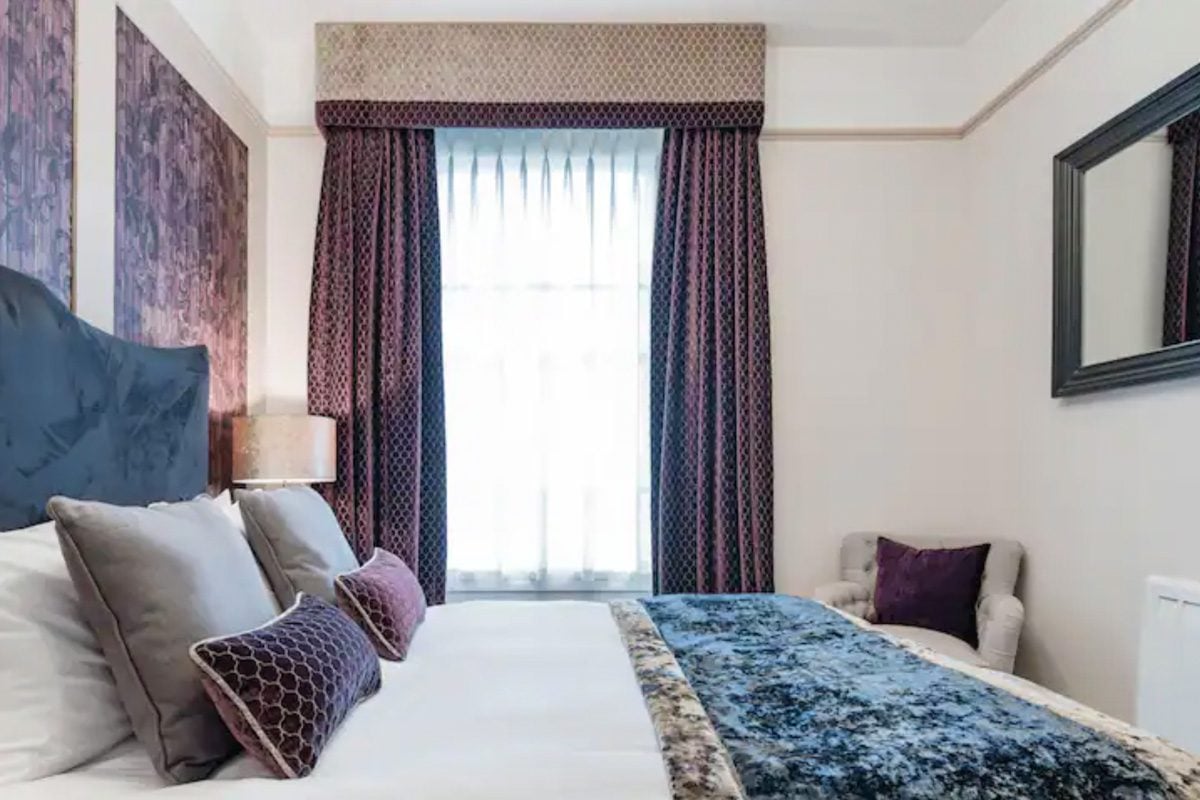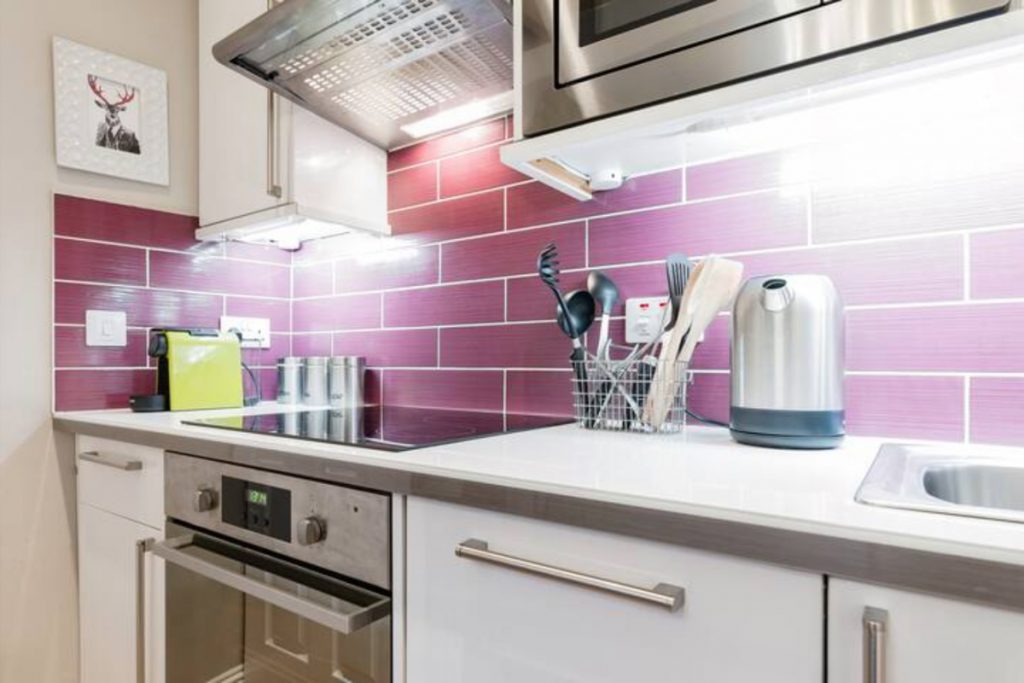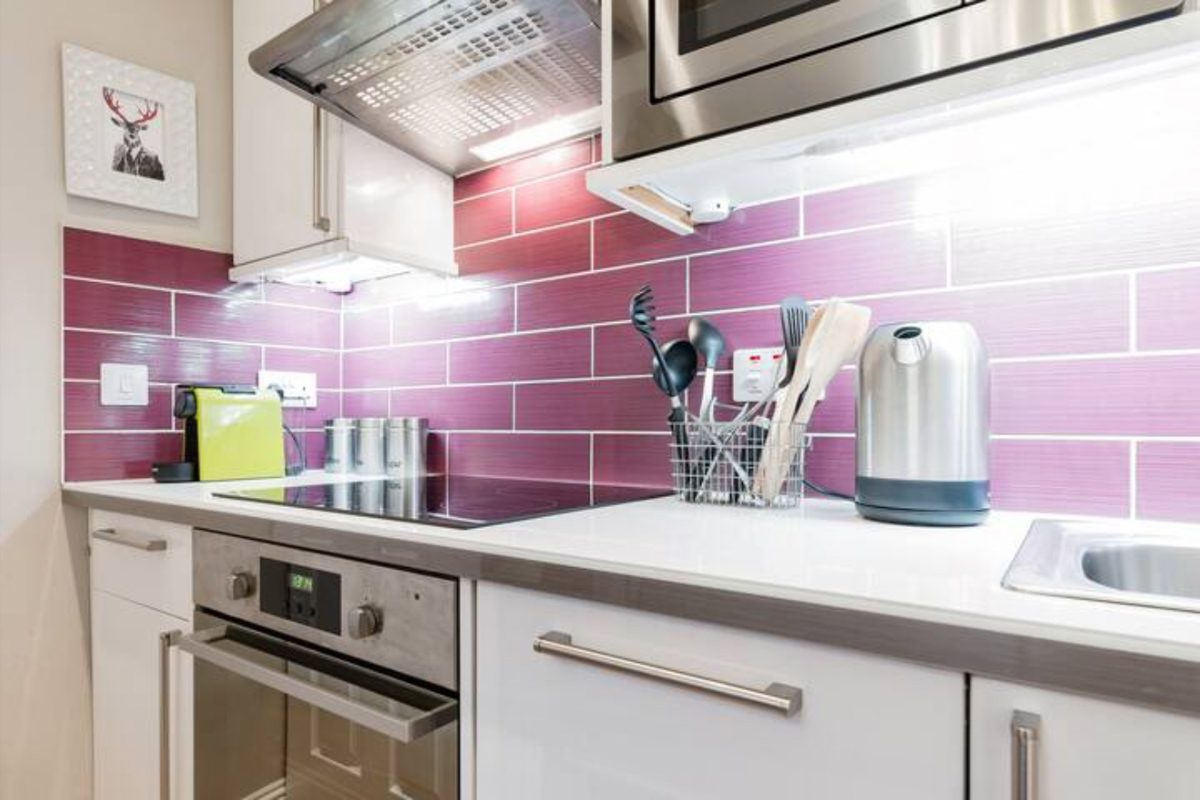 This interior decorator-designed Airbnb in Edinburgh blends the perfect amount of coziness and glitz into an ultra-clean flat with an ideal central location. The exposed stone walls and fireplace add rustic vibes, which are a gorgeous contrast to the glam purple accents.
Located steps away from Princes Street, there's a ton of shopping, live music, and galleries to check out minutes from the property.
Guests frequently compliment the excellent location that's highly walkable to everything.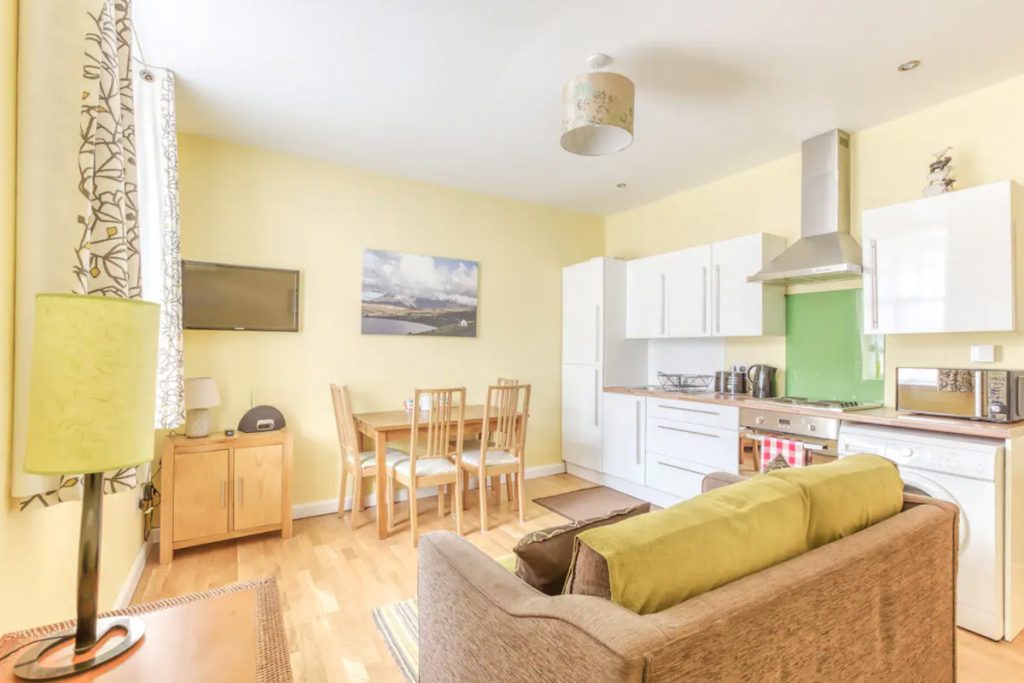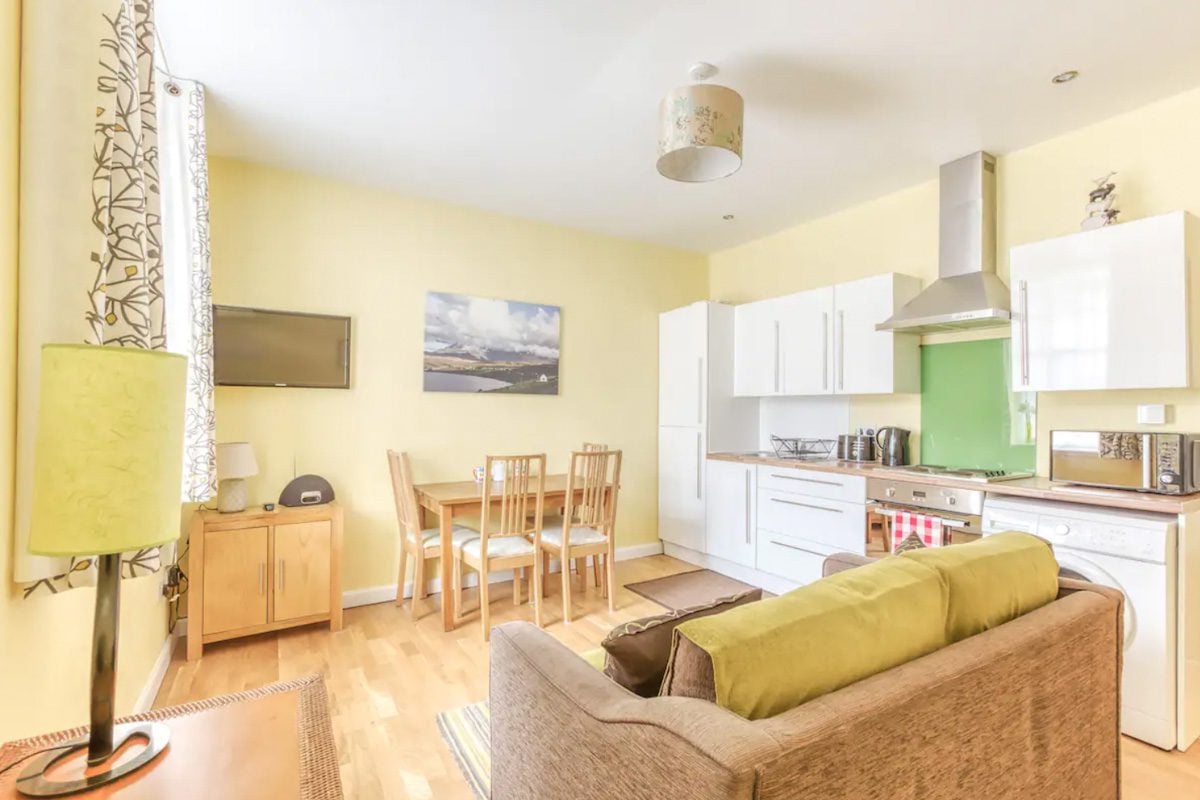 Spacious, standalone Old Town flat in an ideal location and at a great price
Budget: $$
Number of Guests: 4 guests
Minimum Stay: 3 nights
Superhost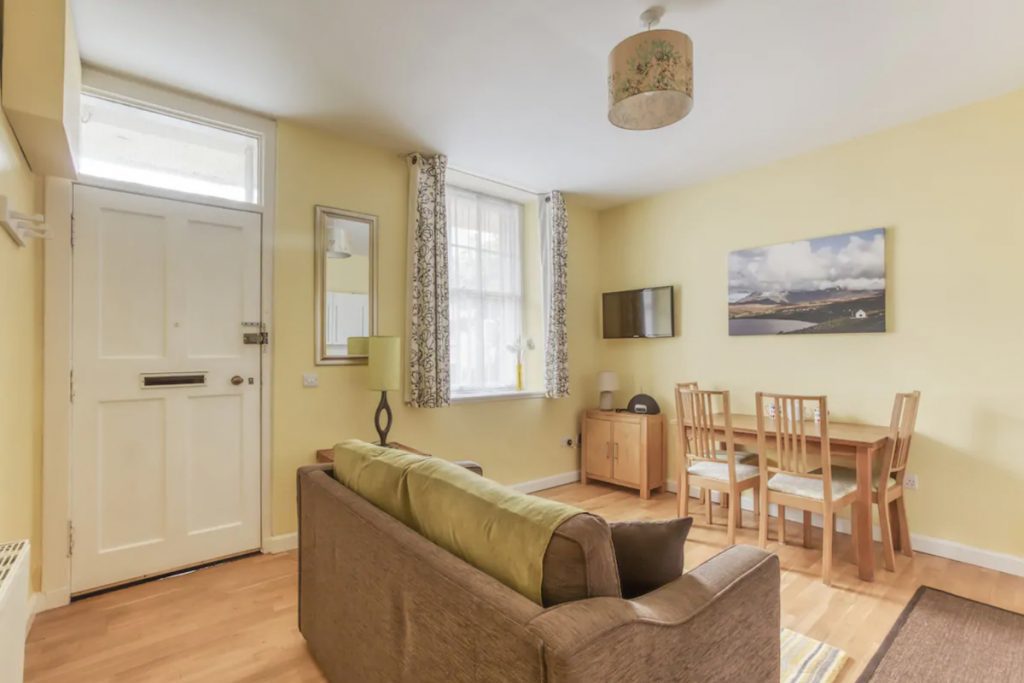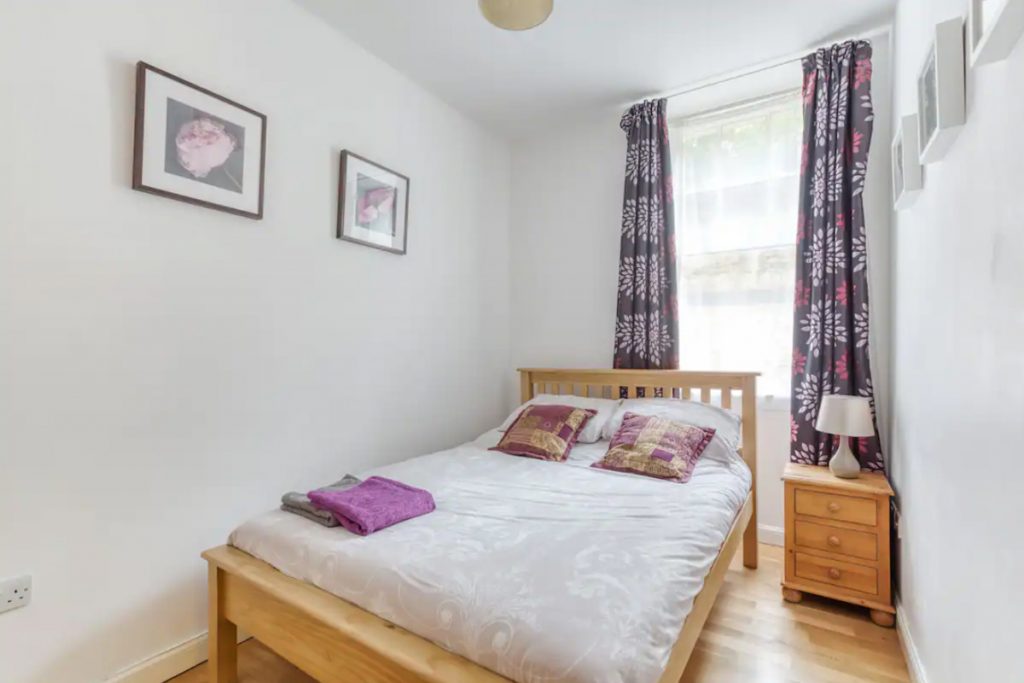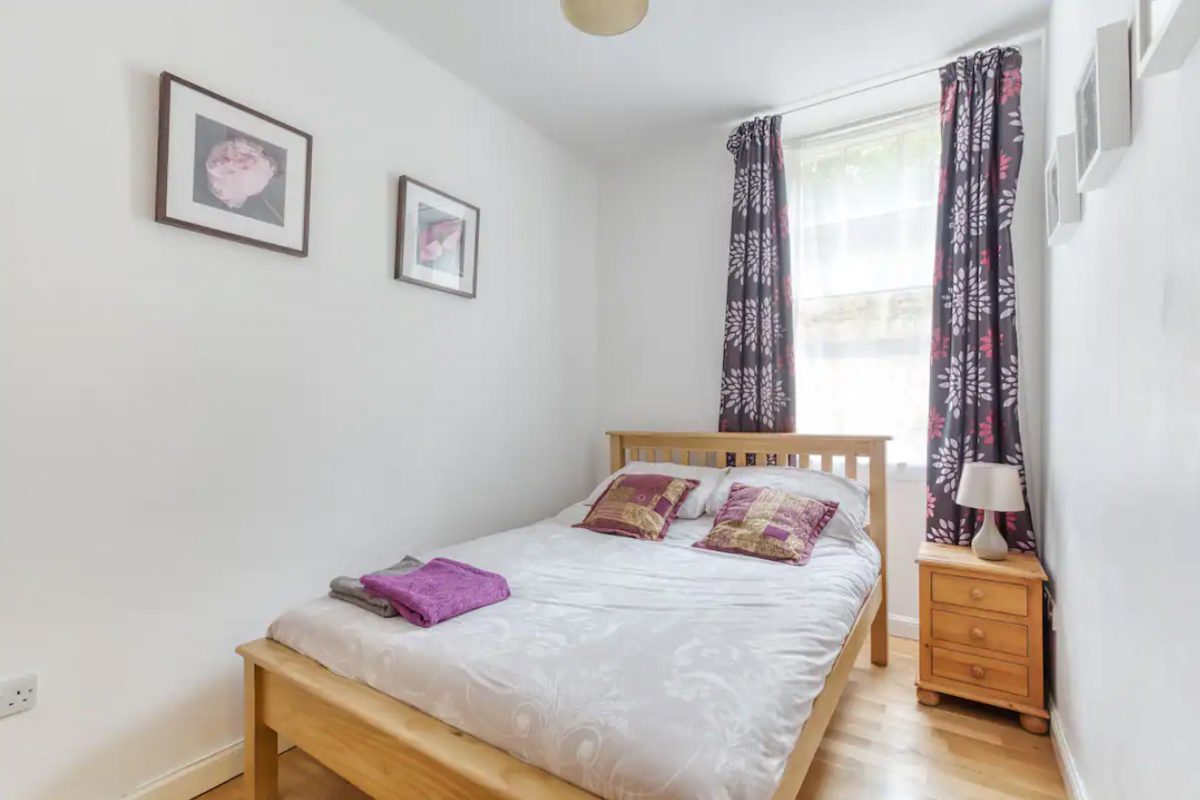 Location, location, location is the big draw at this Edinburgh Airbnb. It's just steps away from the main attractions of Old Town and the windows face a quaint courtyard, which looks especially photogenic in the frequent Edinburgh rain.
The flat has one bedroom and a comfy pull-out sofa to easily sleep up to 4 people, and there's a washer, fast internet, and desk to accommodate both remote workers and long-term stays.
Guests applaud the flat's cleanliness and proximity to popular attractions.
"The flat was just as advertised! Perfect location, close to all the tourist sites, yet peaceful and communication with host was excellent, I would definitely recommend!" – Donna, July 2022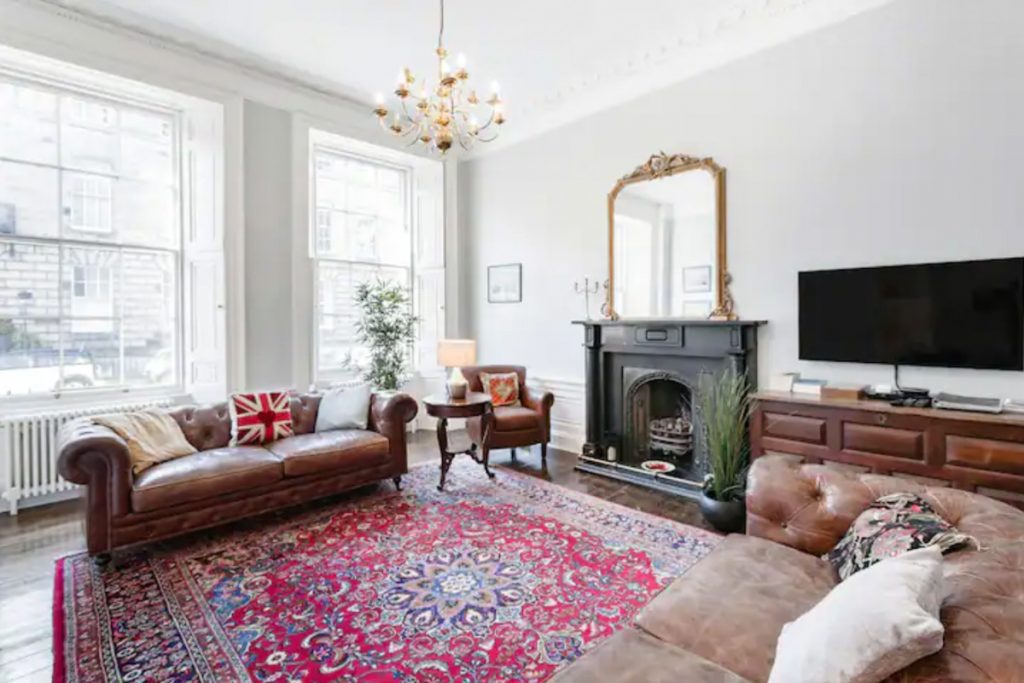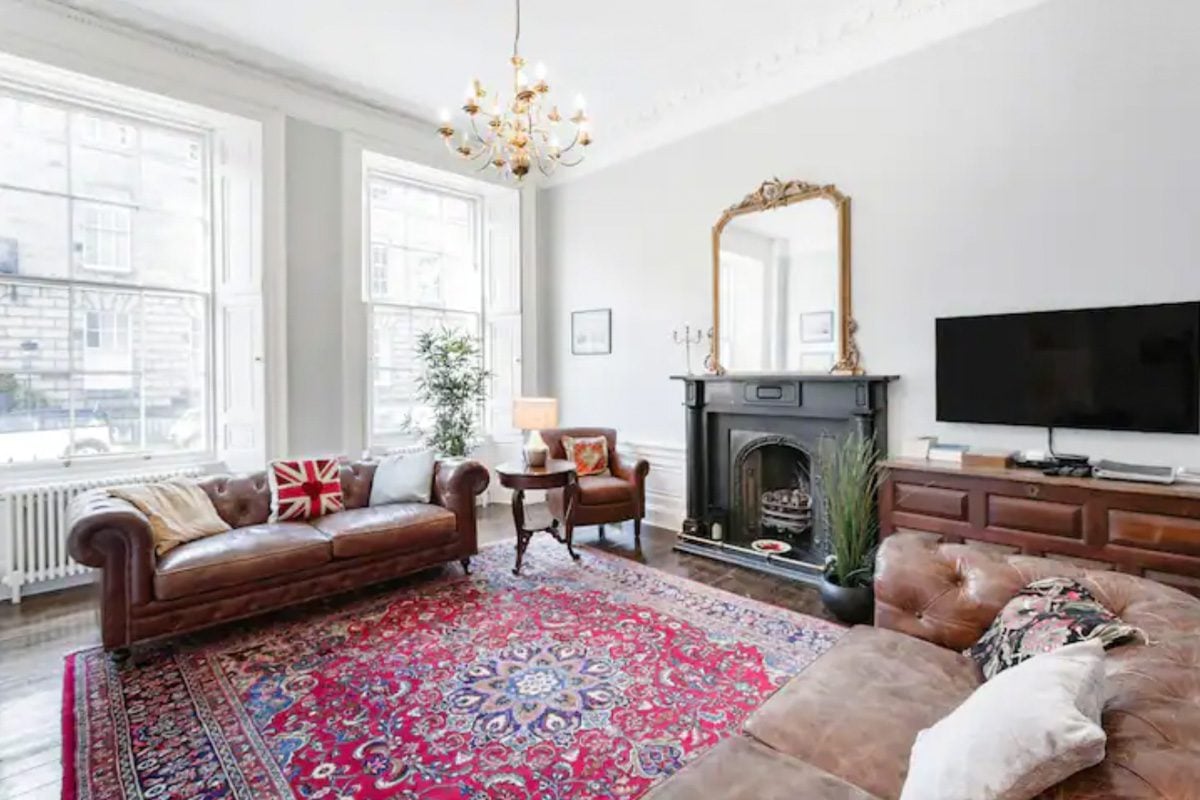 Stately New Town home in a refurbished late 1700s building with a chic British vibe
Budget: $$$
Number of Guests: 4
Minimum Stay: 3 nights
Airbnb Plus and Superhost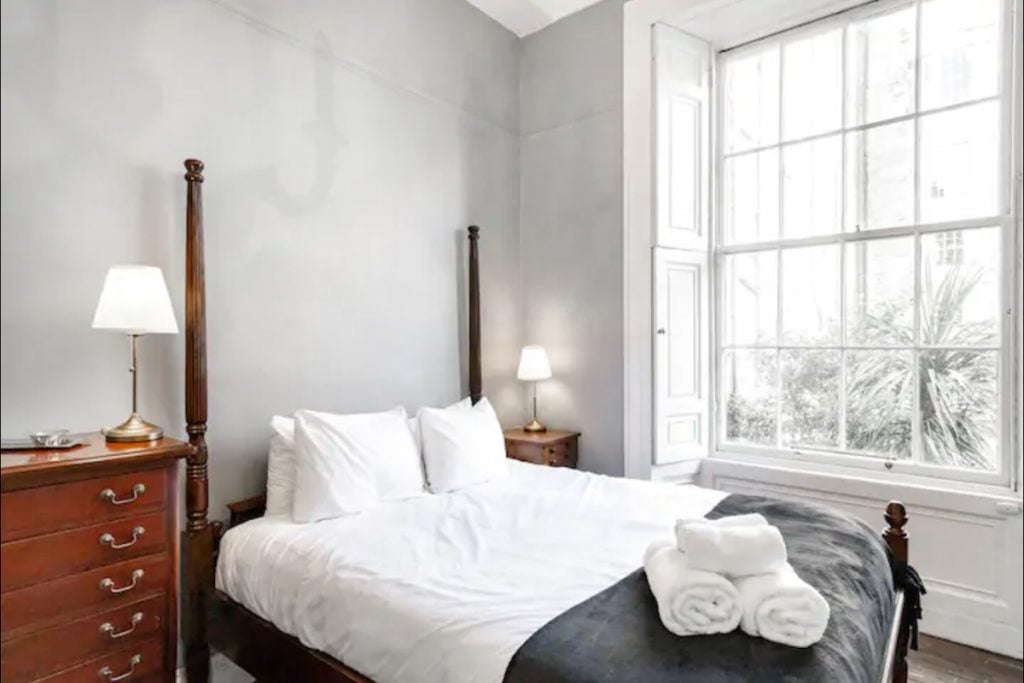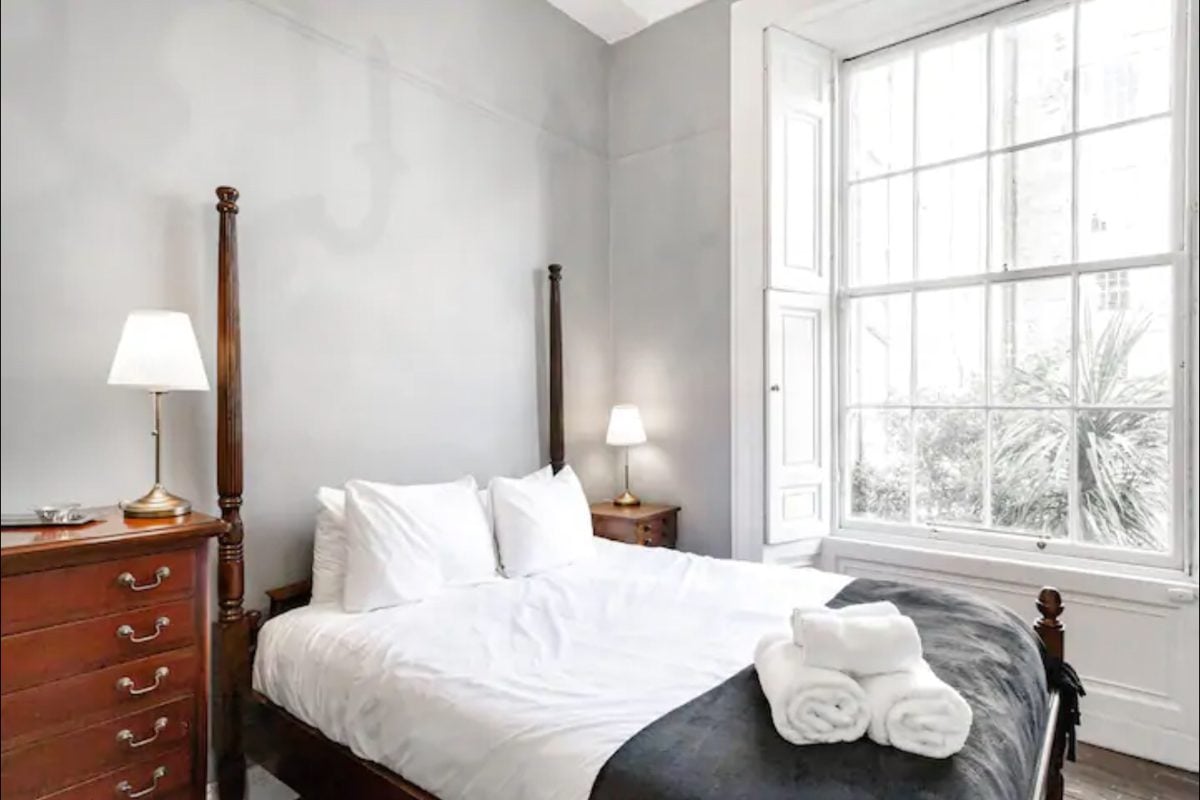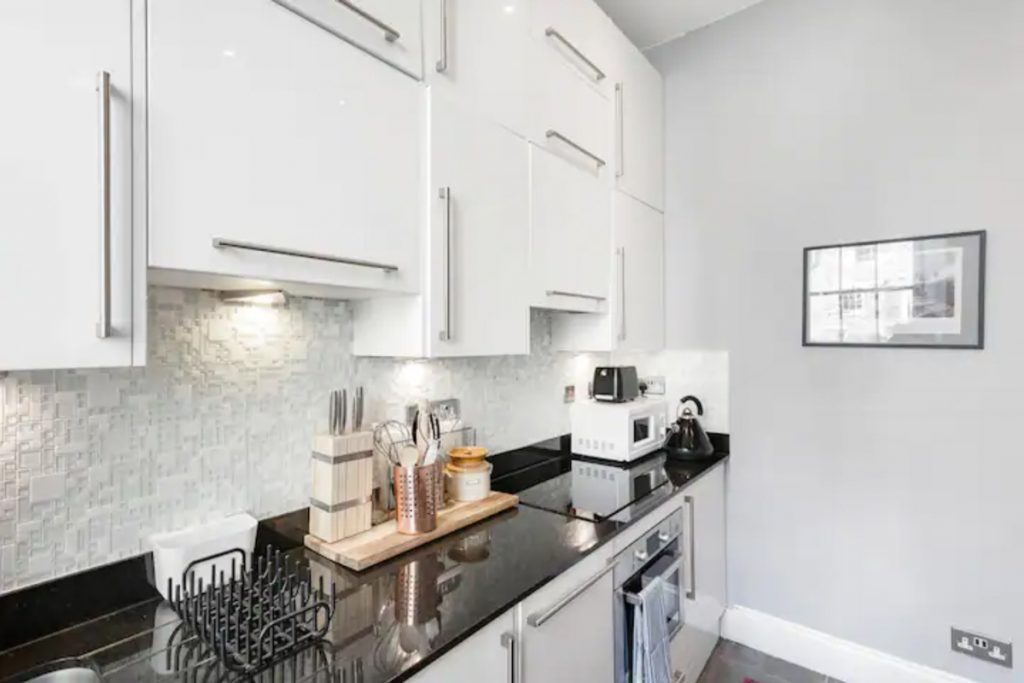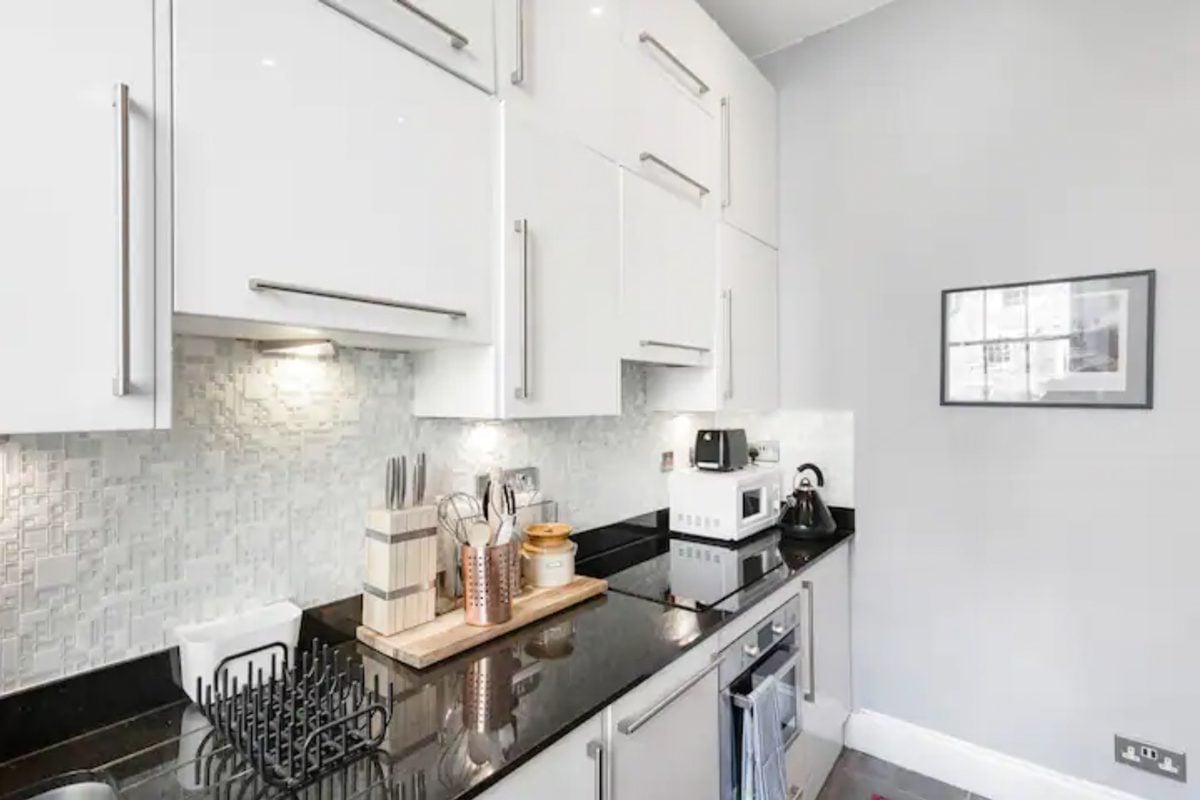 This refurbished 1780s-era property will make you feel like a British aristocrat (and who doesn't want to play royalty for a few days?!).
From the vintage leather sofas to the marble fireplace, the unique curved-wall living room is designed for relaxing and savoring. With great architecture, thoughtful design, high-quality linens, and an uber-comfy bed, this Airbnb beats luxurious hotels in the city.
Guests rave about the interior and perfect New Town location, tucked away on a quiet side street away from the city's hustle and bustle.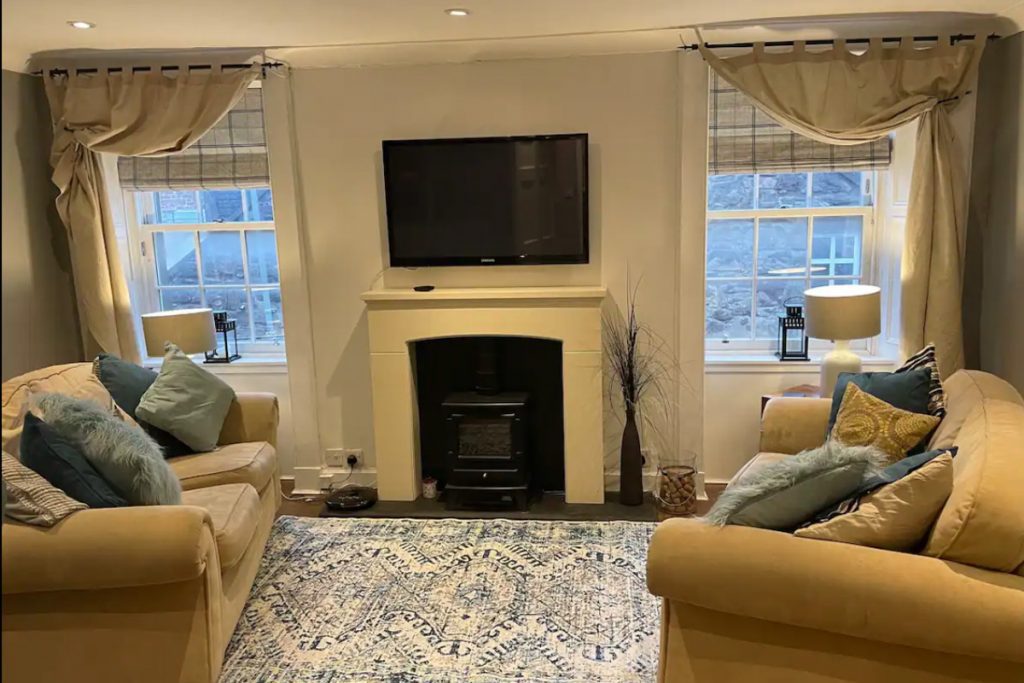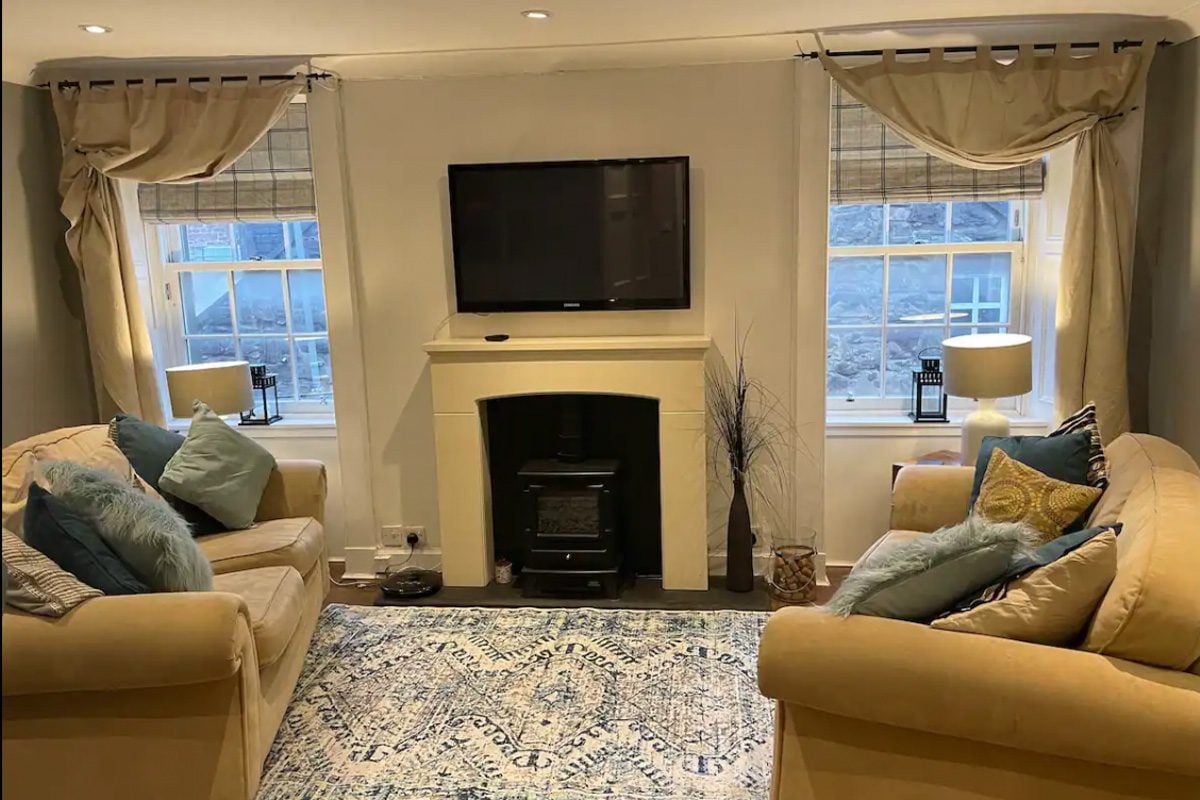 Spacious two-bedroom apartment overlooking cobblestone Rose Street with castle views
Budget: $$
Number of Guests: 4
Minimum Stay: 1 Night
Superhost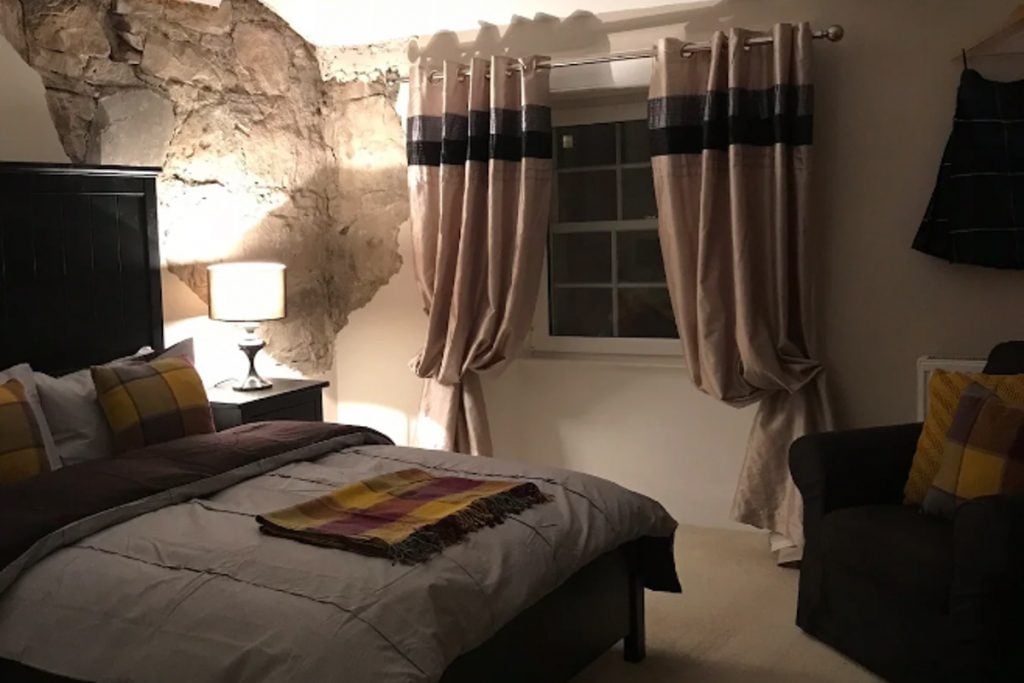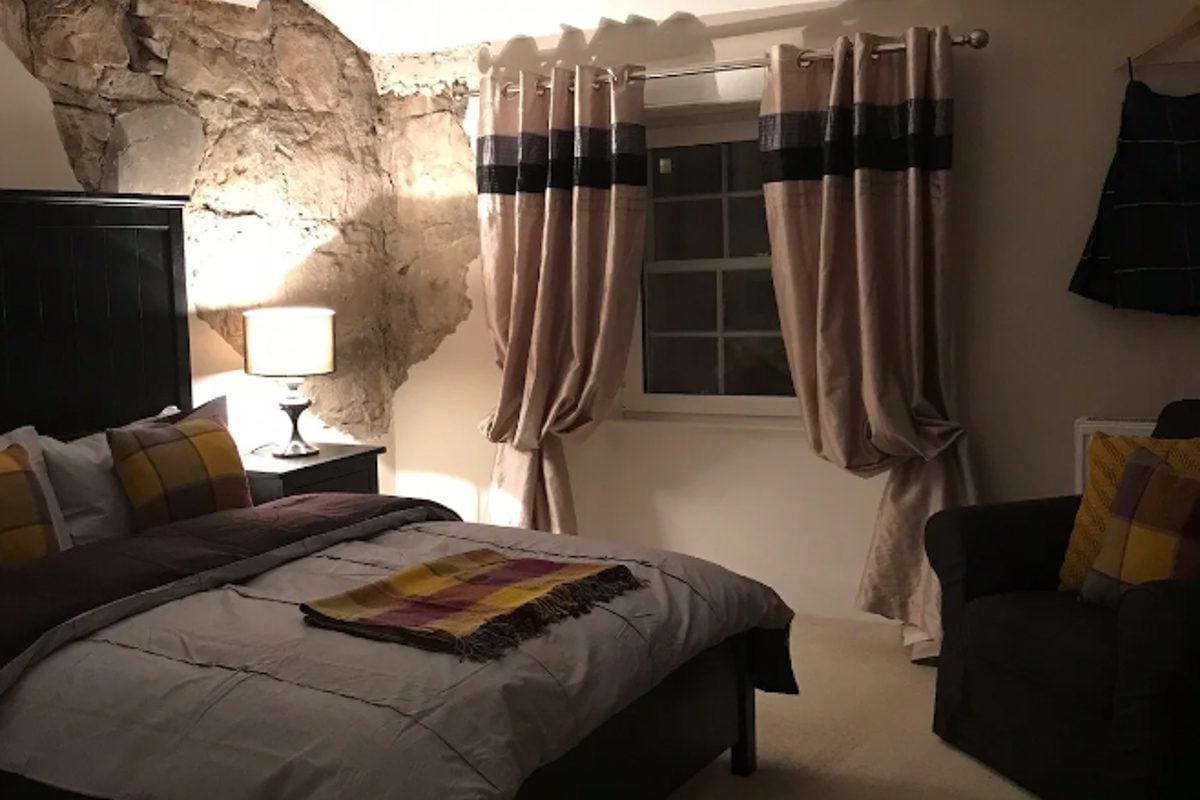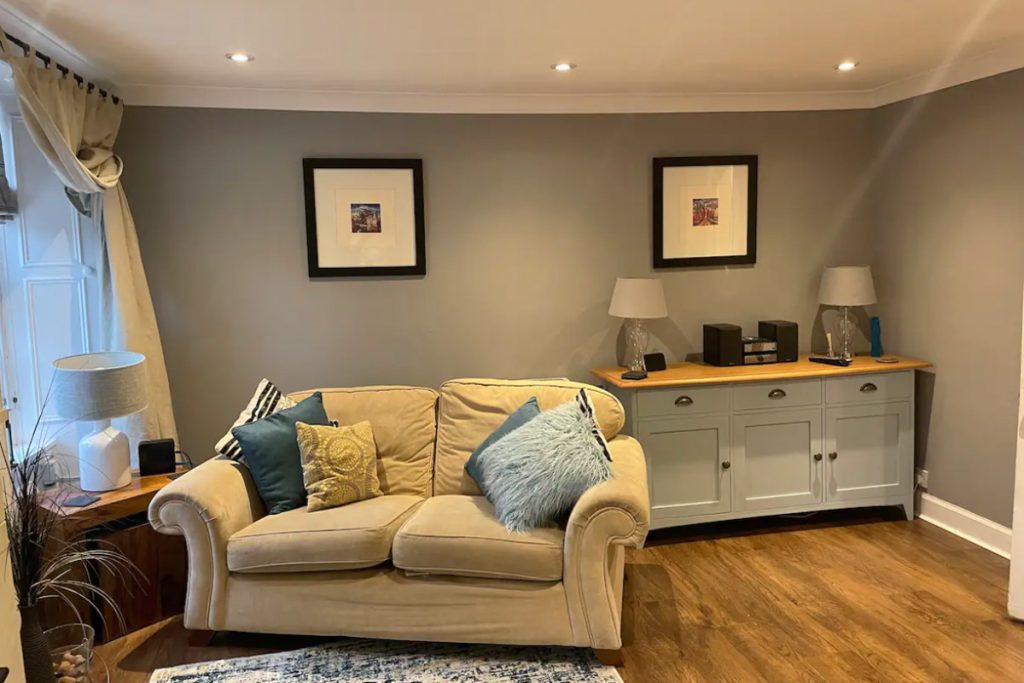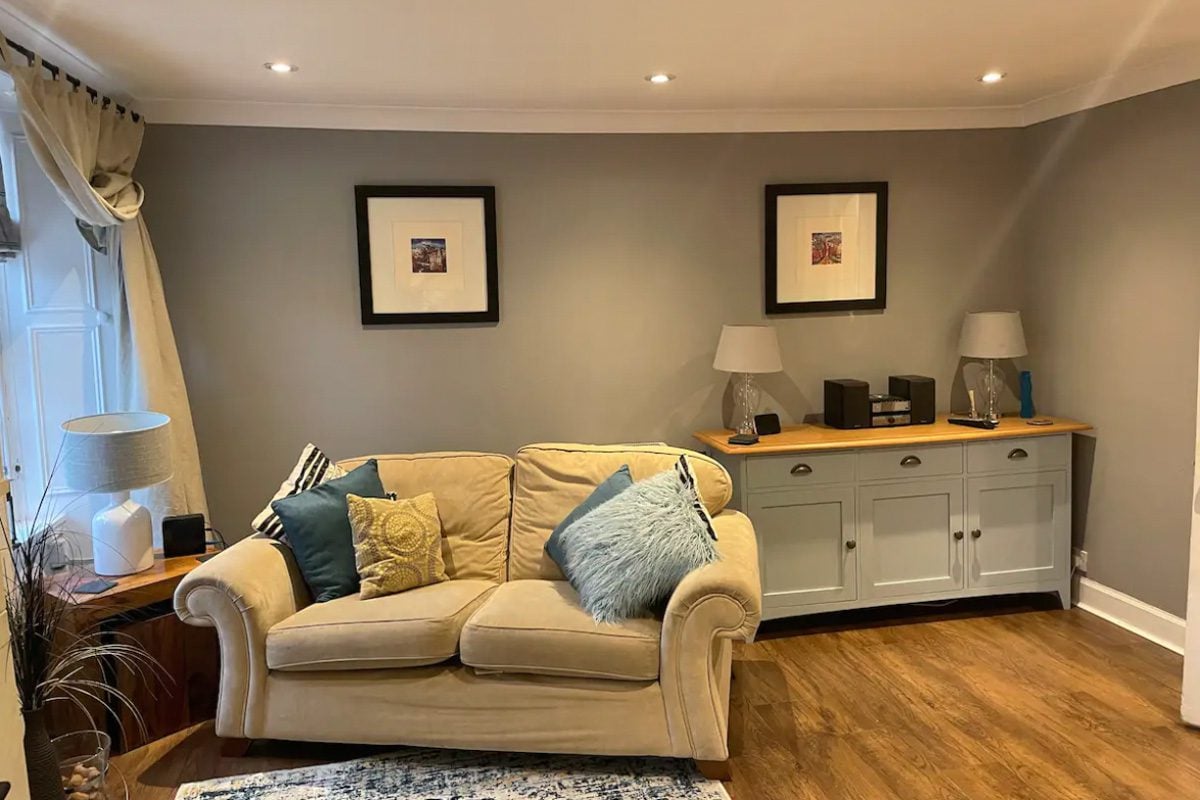 Complete with a great kitchen, two comfy en suite bedrooms, and a roomy lounge, this apartment is perfectly set up for two couples or a group of friends. Its main selling point is the location right above iconic Rose Street, home of Edinburgh's most fun pubs. There are also exposed stone walls, an electric fireplace, TV, and music system for relaxing nights in.
Guests can't praise the apartment's location highly enough, and specifically call out the added perk of having two bathrooms (not common many places in Europe!).
"Great Airbnb in the heart of the city! Easy to find and an easy walk to a pub when arriving. Beautiful Airbnb with allot of space!" – Julia, March 2022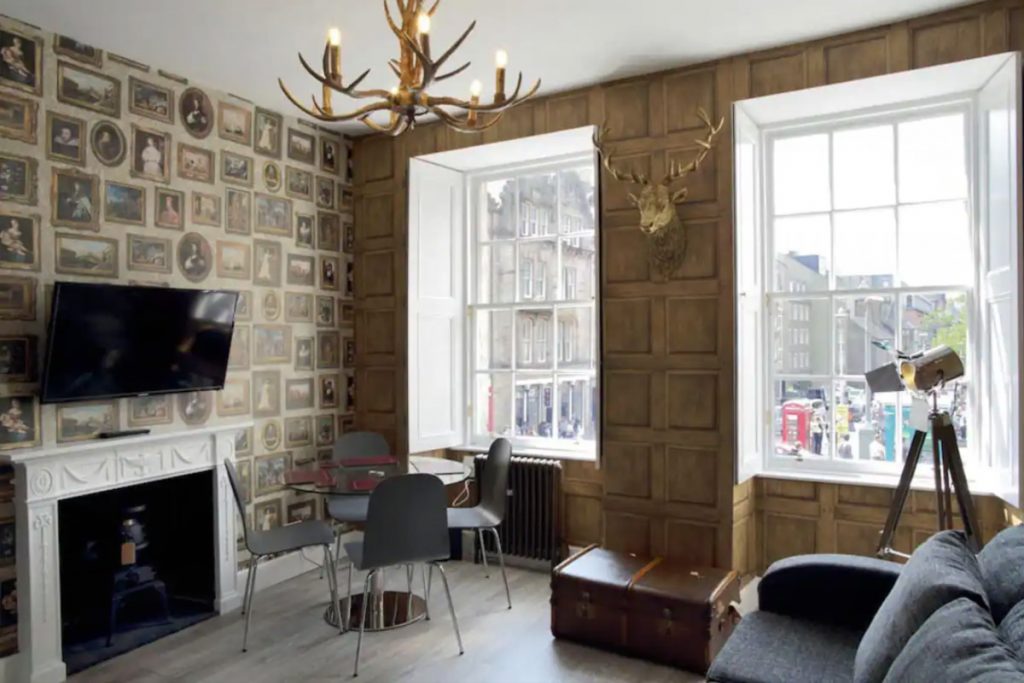 Whimsical property full of surprises and in a highly walkable location
Budget: $$$
Number of Guests: 4
Minimum Stay: 3 nights
Superhost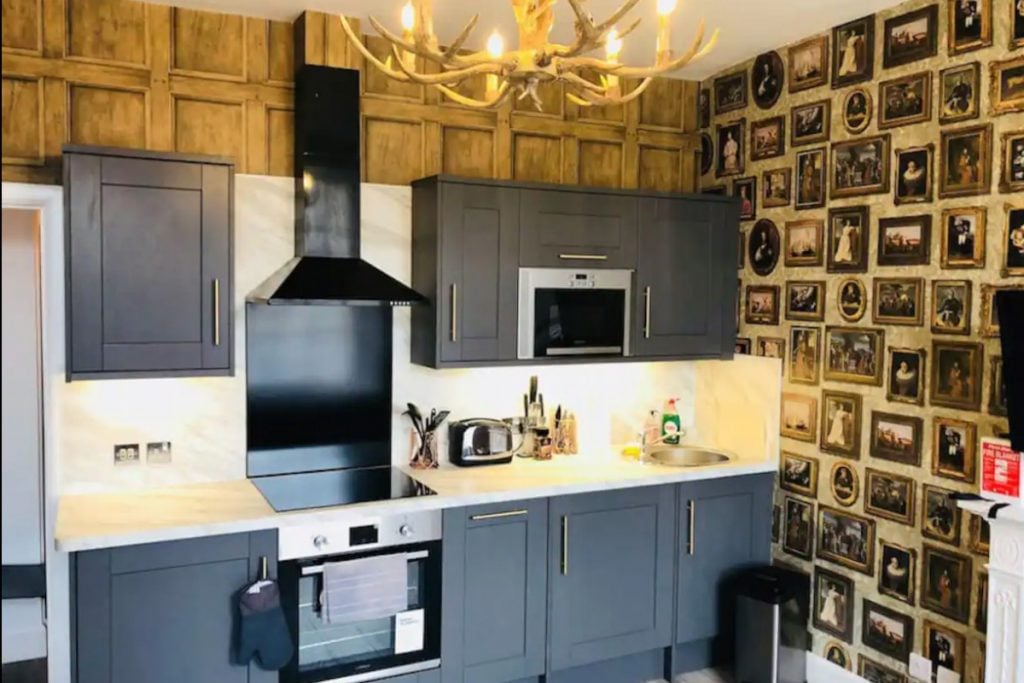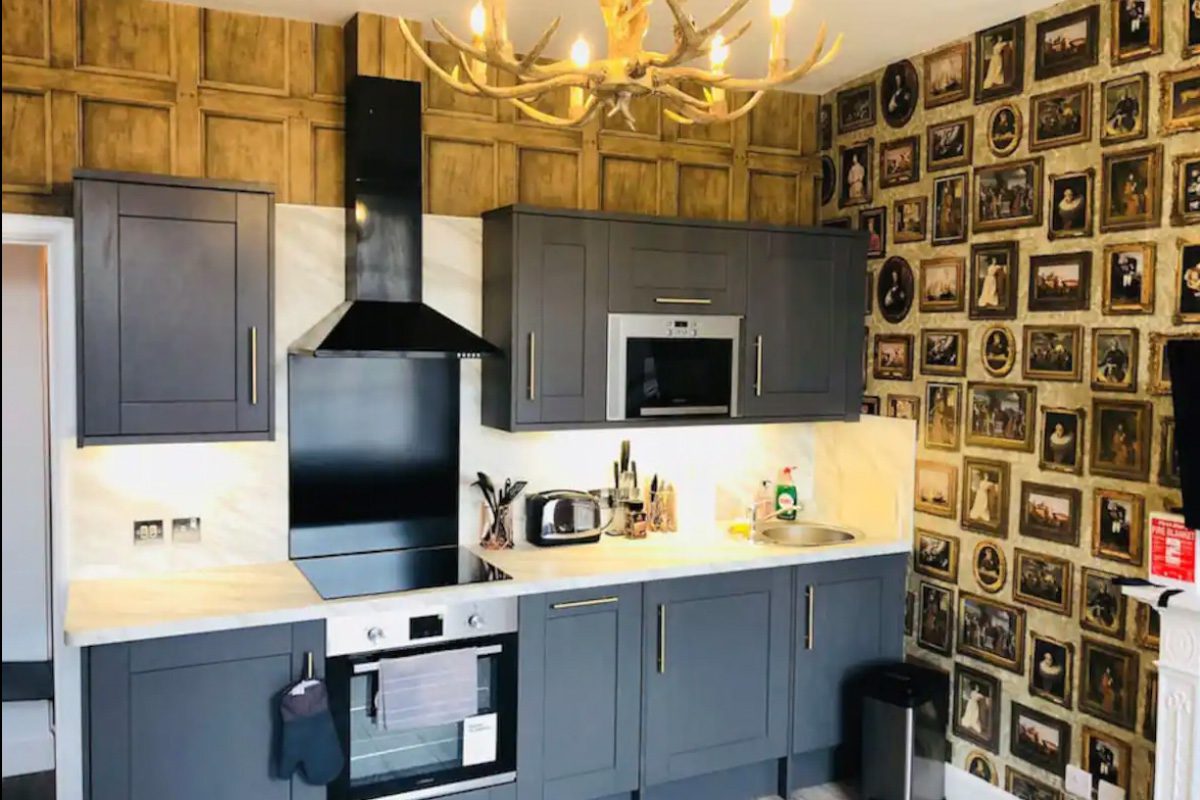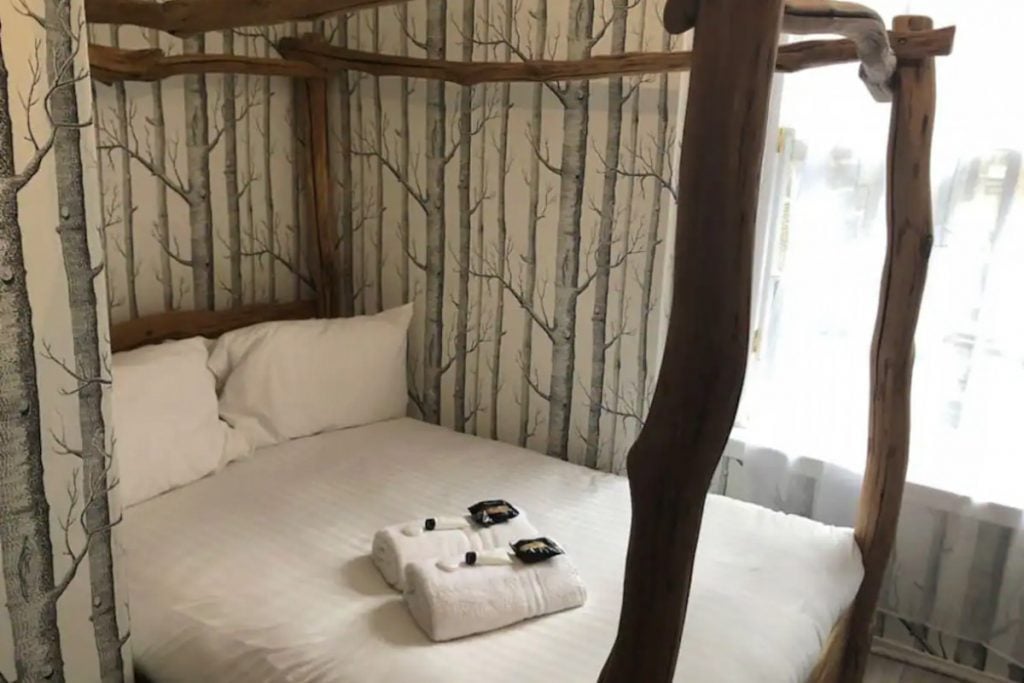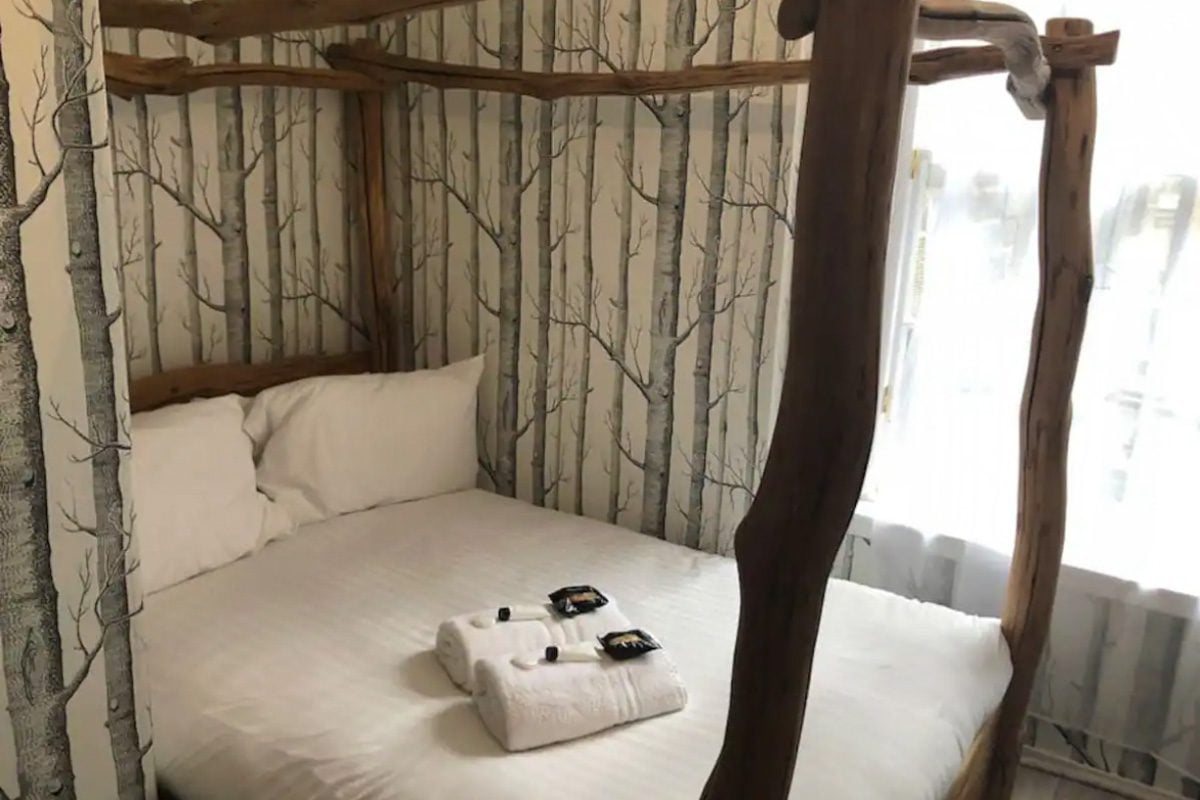 We love dedication to a theme, and this Edinburgh Airbnb absolutely nails it! Located next to Victoria Street, J.K. Rowling's inspiration for Diagon Alley, wizard influences are evident throughout this property.
Each room alludes to different settings, the commitment impressive — like the penny-covered bathroom made to look like Gringotts Wizarding Bank. Beyond the quirkiness, the flat is actually set up very comfortably, with a washer, dryer, well-equipped kitchen, and dedicated workspace.
In addition to the on-point Harry Potter decor, guests rave about the apartment's perfect walkable location.
Can't find an Airbnb?
Here are some of our top hotel and rental property recommendations in town.
---
Are you planning a trip to Scotland?
We have lots of resources on travel in Scotland and destinations throughout the country. Check out our Scotland Travel Homepage for everything you need to know, or read some of our favorite articles below.
Save this article on Pinterest for later!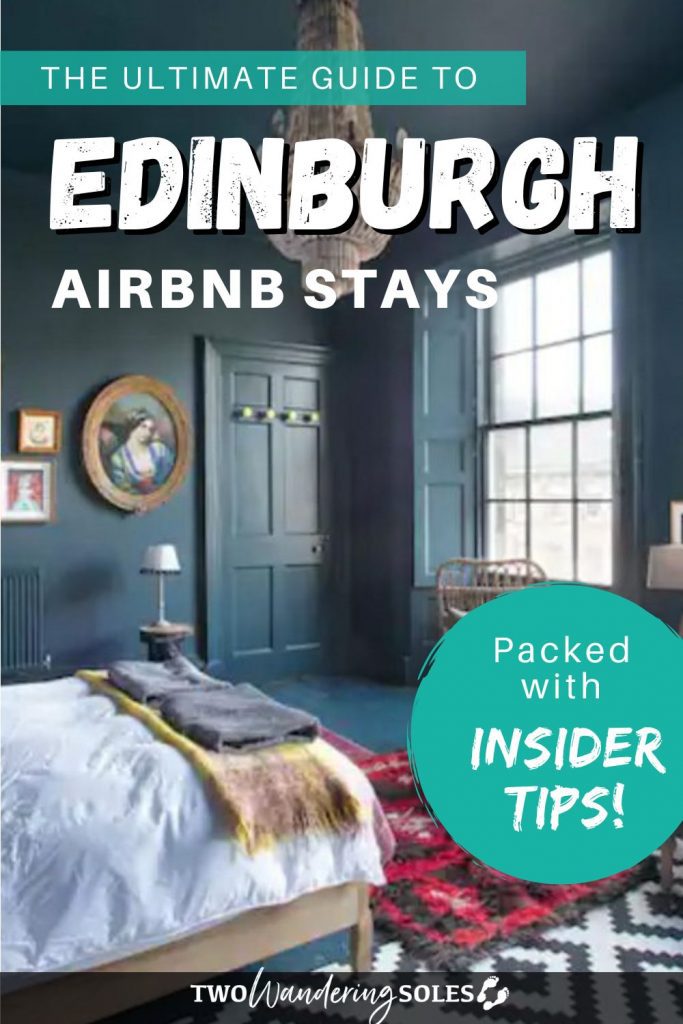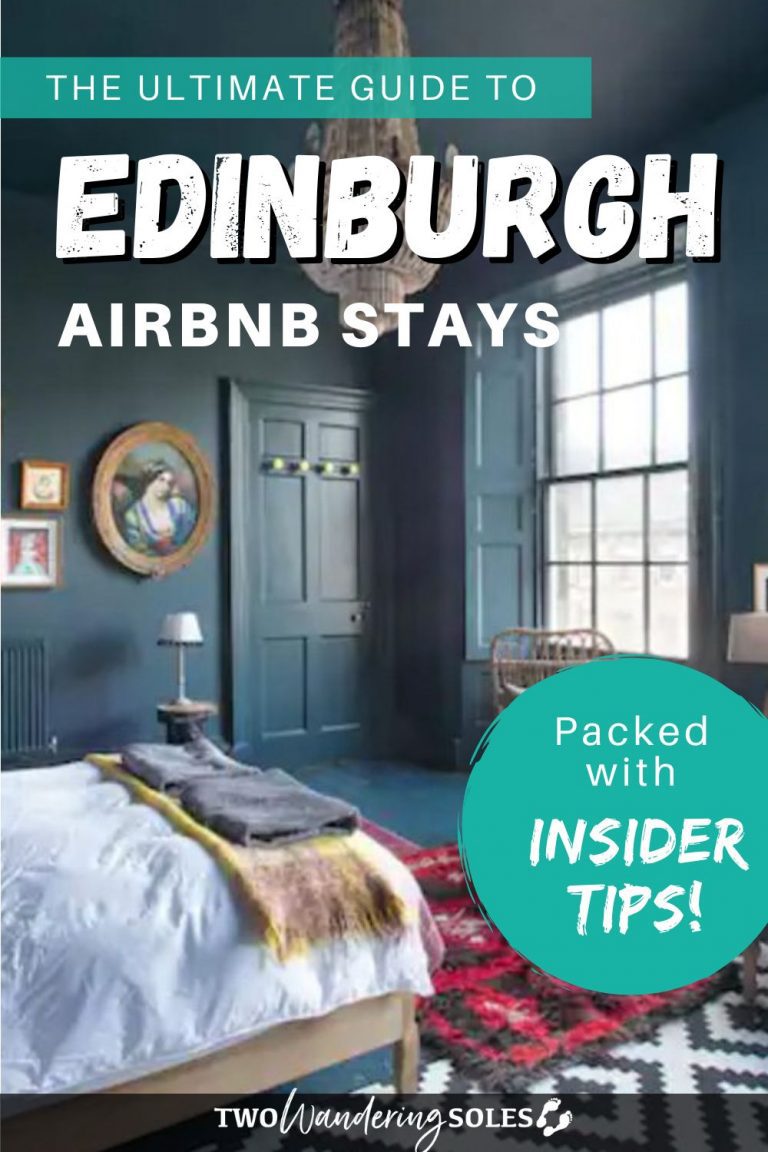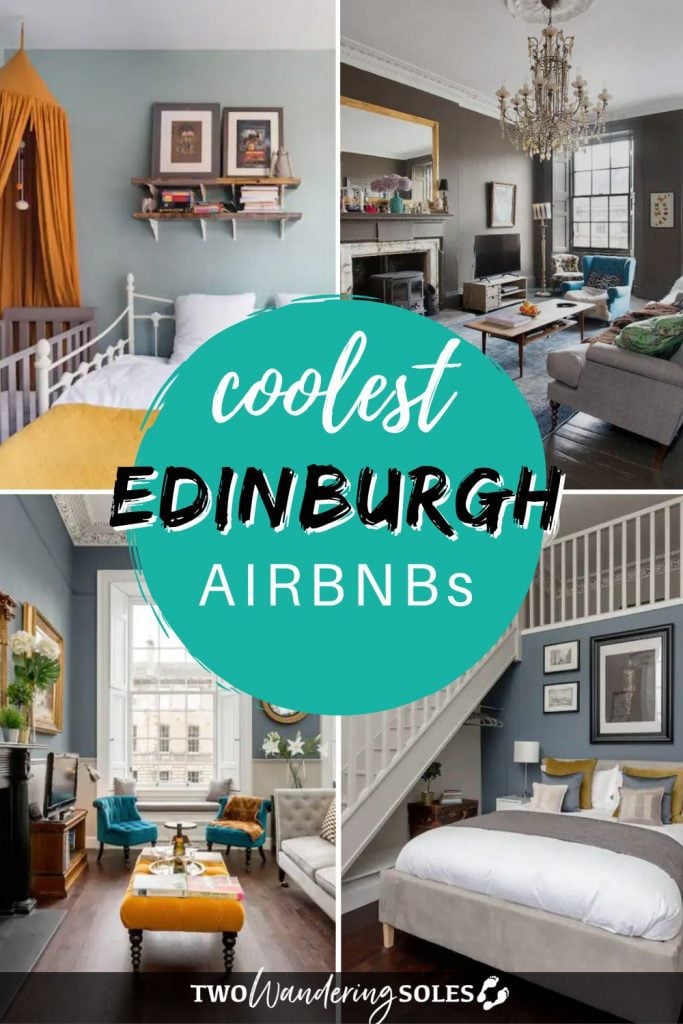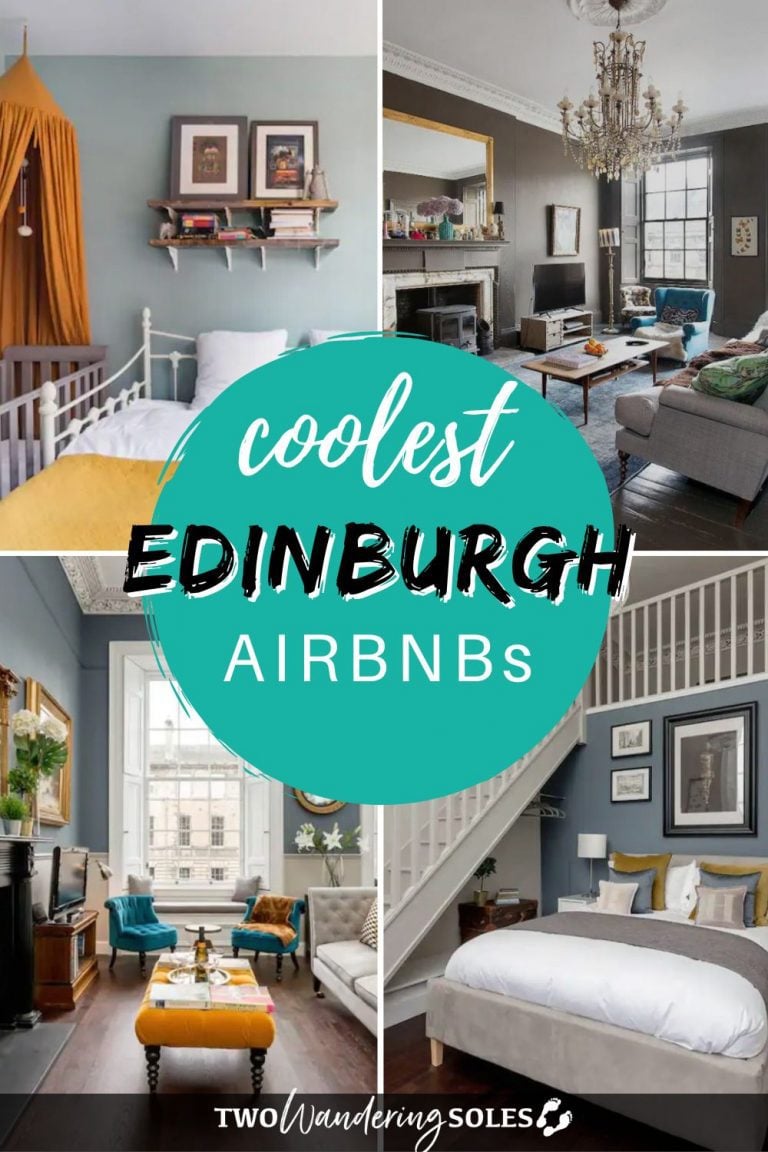 We want to hear from you!
Which of the Edinburgh Airbnbs on this list would you most like to stay in? Are you planning a trip to Edinburgh soon and still have questions? Comment below and we'll do our best to get back to you with the answers you need!