Most people will agree that the best part about European Christmas markets is the food! We've rounded up the best Christmas market foods and drinks to try so you don't miss anything. We've also included insider tips for ordering, our (honest) personal opinions on the most popular foods, and some regional specialties you shouldn't miss.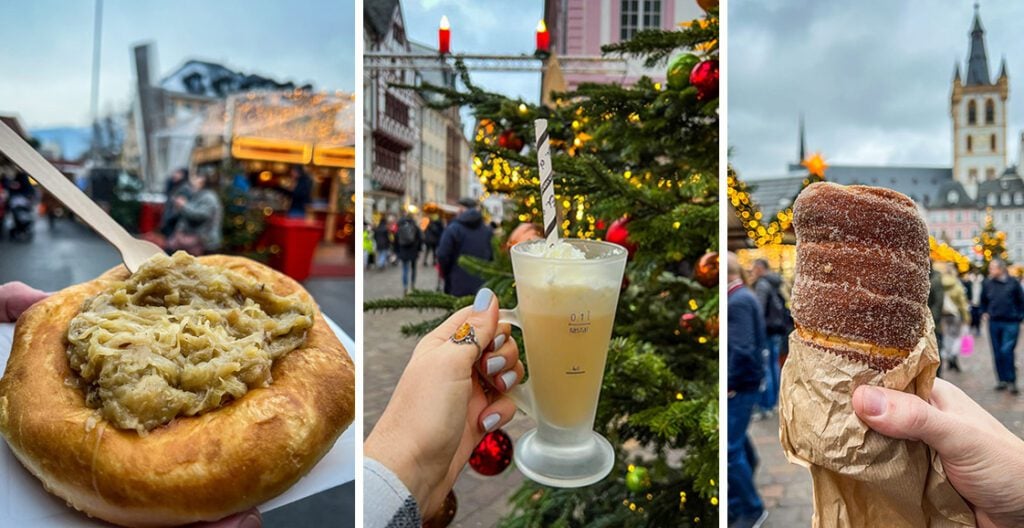 I don't know about you, but eating regional specialties is one of my very favorite things about traveling. And Christmas markets just happen to be a smorgasbord of delicious and hearty foods to try.
If you're planning to visit European Christmas markets, this list of the most popular Christmas market foods will be a super handy resource for you.
It will be especially helpful in deciphering menus so you actually know what you're ordering. Anyone else have trouble with German words? Just me?
In addition to describing the most common Christmas market foods and which countries and regions to try them in, we're also sharing our (very!) honest opinion about each as well as tips for ordering.
We've got a good variety of both sweet and savory foods, so there's a little something for everyone.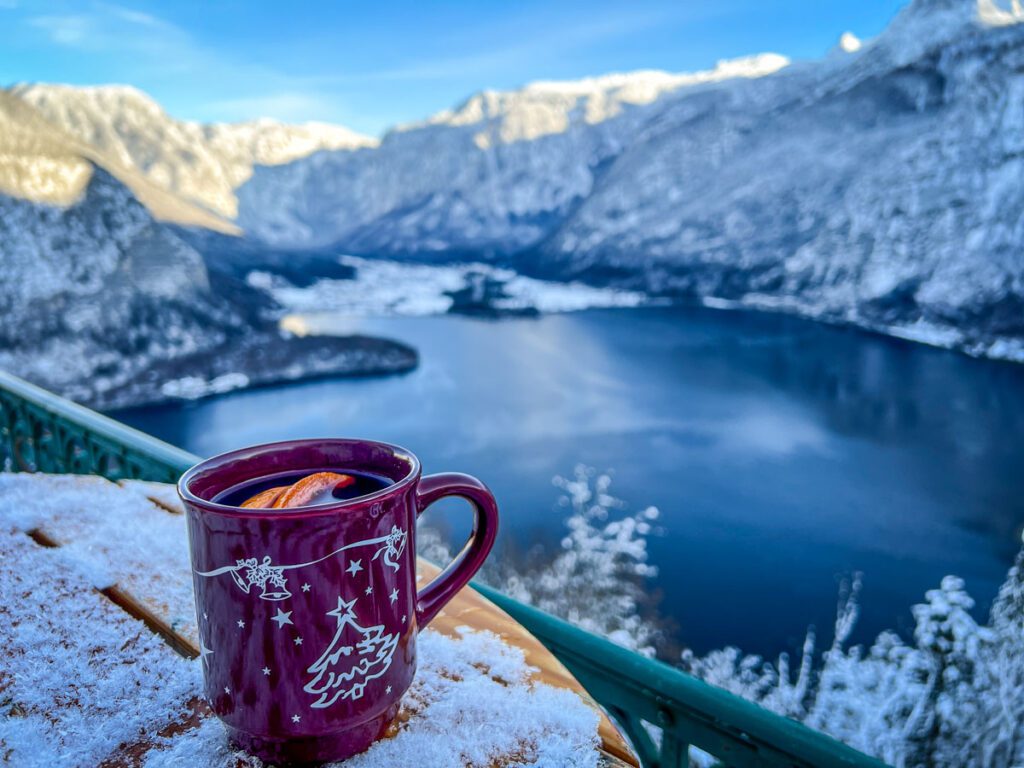 And we didn't forget about drinks!
We've rounded up the best Christmas market drinks to sip on – yes, there are many more options other than gluhwein.
Before we jump in, I will warn you that you may not want to read this article on an empty stomach…
---
Our personal favorite Christmas market foods
These are my personal favorites (in no particular order!). Click on them to jump to that section and see what it is!
Or simply keep scrolling to see all the foods!
Christmas market planning guide
If you are planning a Christmas market trip, we've got 2 more resources that you won't want to miss:
---
Savory Christmas market foods to try
One theme you'll notice amongst these foods is there's a lot of bread, meat, and cheese.
Comfort food at its best.
We've gathered the most common foods you'll find at European Christmas markets so you know what to look for!
1. Flammkuchen (tarte flambee)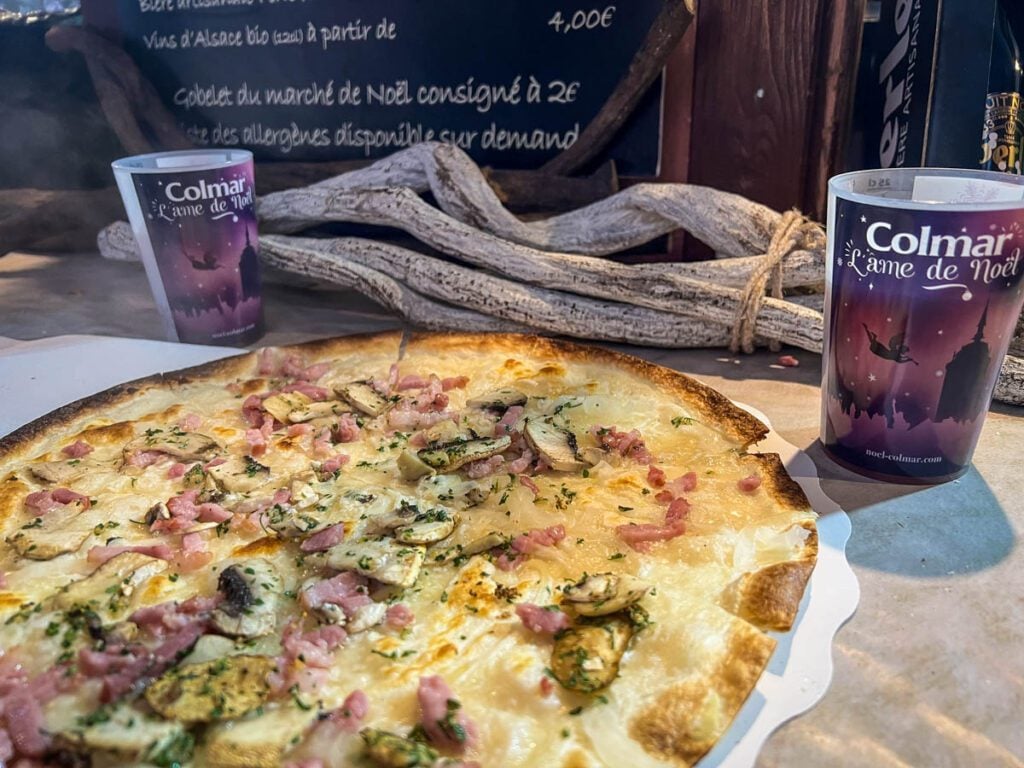 What is it? Thin flatbread
This thin flatbread is traditionally topped with crème fraîche, onions, and bacon, then baked until crispy. The result is a yummy combination of creamy and savory flavors and a chewy yet slightly crunchy texture.
Insider Tip: The traditional toppings are a winner (and probably the best!), but there are other options too. I like mushrooms on flammkuchen when I want to switch it up, and that is a good choice if you don't eat meat.
This delightful take on a pizza hails from the Alsace region, which lies on the border of France and Germany. In France, it is called tarte flambee while Germans call it flammkucken.
Whatever you call it, it is straight up deliciousness, I tell you!
Where to find it: This dish is from the Alsace region (where you will find it everywhee!). But we also saw this at a few markets across Austria and Bavaria.
Craving this at home? If you're from the US and find yourself craving flammkuchen, head to the freezer aisle of Trader Joe's where you'll find Tarte D'Alsace! They have three flavors: ham and caramelized onion, French cheeses and mushroom, and brie and tomato. Supposedly, this is actually made in Strasbourg, France, so it's pretty legit! We've been eating this for years – well before we knew it was called tarte flambee or flammkuchen!
2. Käsespätzle
What is it? Cheesy egg noodles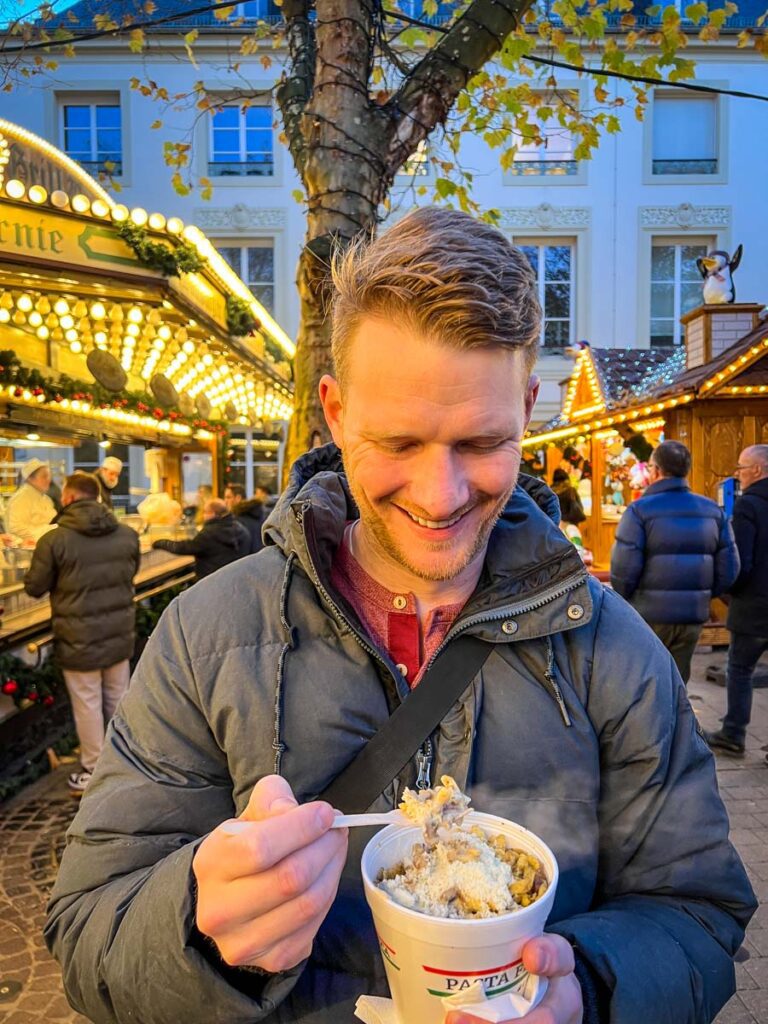 In German, käse translates to cheese and spätzle are soft egg noodles that are a German specialty.
Mix the two together and what do you get?
Rich, cheesy noodles that are the epitome of comfort food. When you're chilly and hungry at a Christmas market, this dish will do double duty!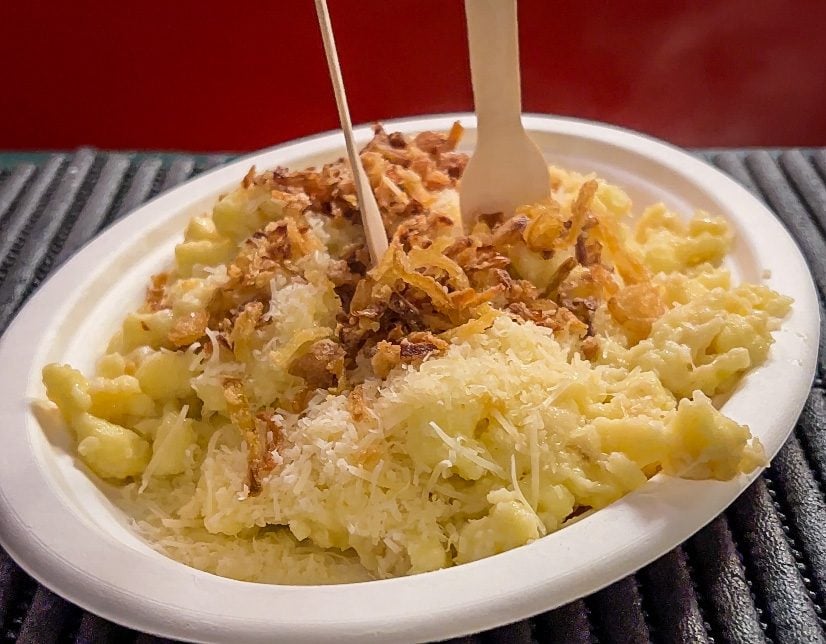 I like to think of it as a German version of mac 'n cheese, but better (in my opinion).
Not only do you get cheese and noodles, but it is typically topped with crispy fried onions and parmesan cheese for the ultimate texture and flavor punch. Yummmm!
Where to find it: This is a German classic and you can find it at many Christmas markets (even if you're not in Germany). You can also find it on the menu of many German restaurants.
3. Bratwurst
What is it? German sausage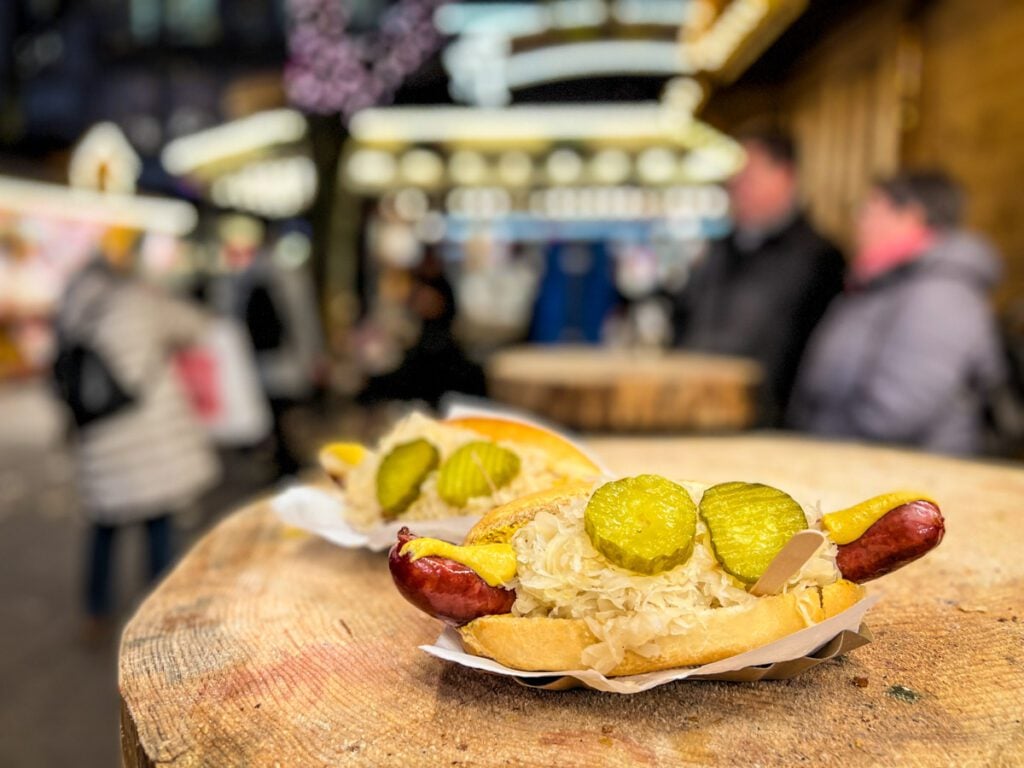 This one is pretty standard – most people are familiar with a classic brat.
I'd say this is one of the most popular Christmas market foods, and sometimes there's nothing quite as satisfying.
At Christmas markets, they're typically grilled over open flame then served in a white, crusty bun with mustard. You can add toppings like sauerkraut and sometimes caramelized onions.
Where to find it: This dish has German roots but you can find brats at just about every Christmas market, in and out of Germany.
4. Regional sausages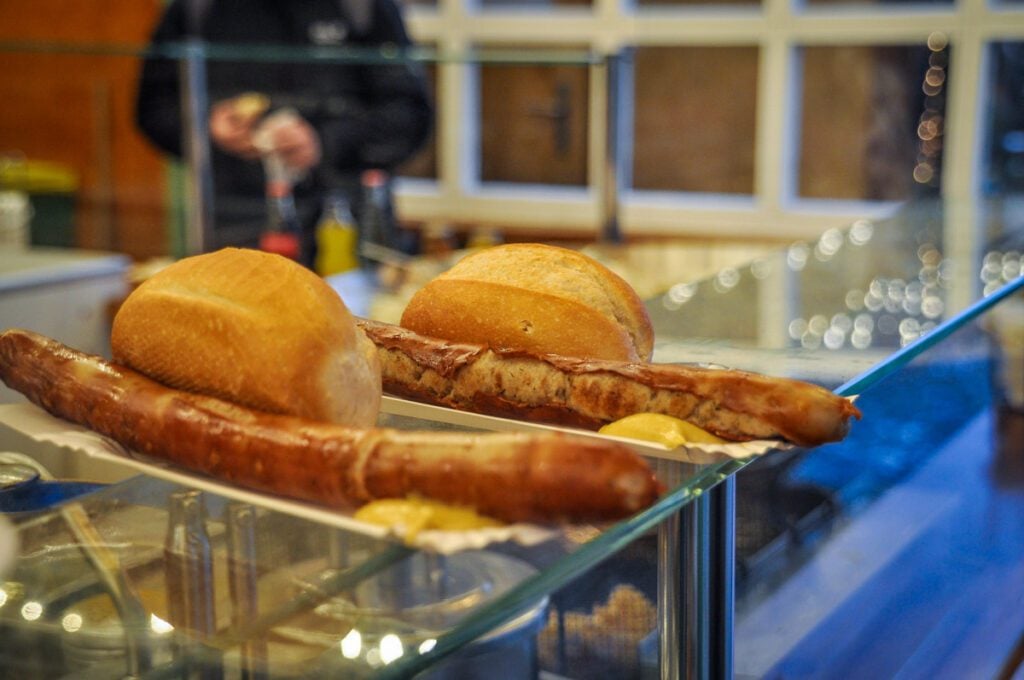 Bratwurst is the most common and well-known type of sausage, but it is far from the only one to try.
Germans are quite obsessive when it comes to sausages and by some accounts there are more than 1,000 varieties. While you won't find all thousand sausages at the Christmas markets (can you imagine?!), you'll definitely see more than just brats on the menu.
From popular staples to regional specialties that are only available in the town from which they're made, I'd encourage you to branch out a bit and try something new!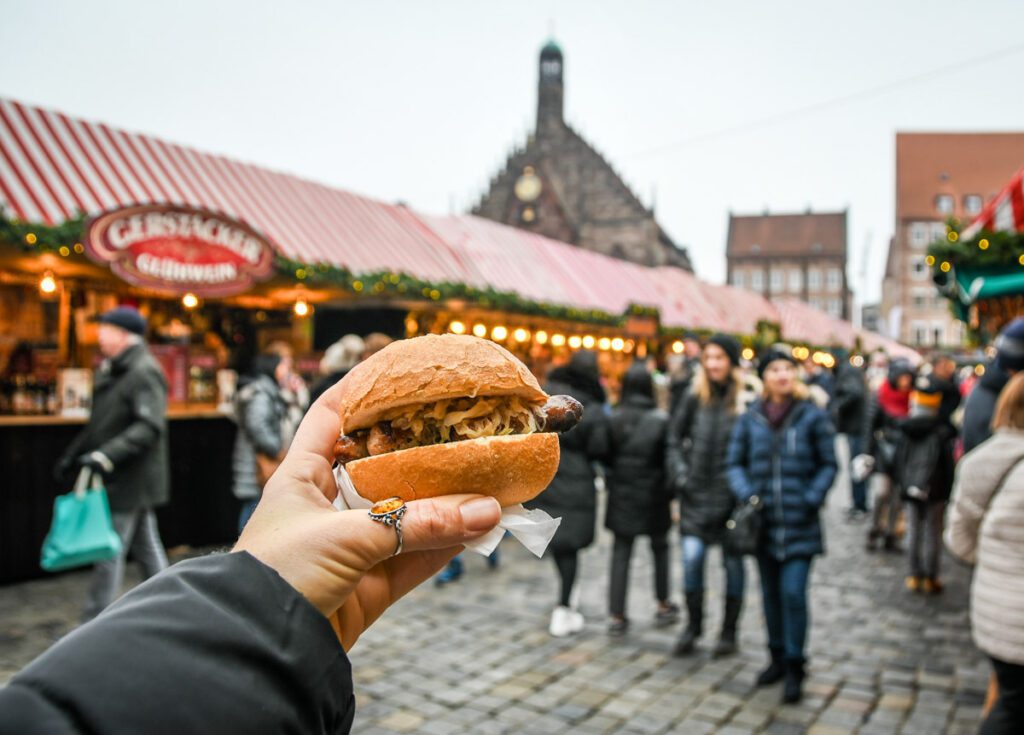 3 sausages to try:
Nürnbergers: These short and skinny sausages look like Jimmy Dean breakfast links! (If you know, you know!) They are famously from Nuremberg, and if you find yourself at this iconic Christmas market, order Drei im Weggla, which is 3 of these sausages, grilled and served in a round crusty bun. (pictured above)
Feuer Wursts: Translating to "fire wursts", these sausages are known to have a little kick. Though, if you're a fan of spicy food, you probably won't find it very hot.
Currywurst: Sausage cut into bite-sized chunks and served with curry ketchup. I despise ketchup with a passion (weird, I know), so these aren't my jam, but it is one of the more popular varieties and you can find it at many markets.
Where to find it: Go to the bratwurst stand at just about any Christmas market and see what else is on the menu. Usually there are at least a couple of other options, or adjacent stands selling a different type of sausage.
5. Frikadelle
What is it? Small hamburger made from pork
German cuisine is more known for sausages than hamburgers, but after tasting frikadelle you might wonder why these aren't more talked about.
The patties are on the small side – like a cross between a meatball and a burger – and made from a mix of ground pork and beef that's perfectly seasoned. But the best part is that it is served in a roll with a pile of caramelized onions and a dollop of mustard.
Where to find it: You can find this dish in some of the larger Christmas markets in Germany.
6. Semmelknödel or Speckknödel
What is it? Semmelknödel = bread dumplings; Speckknödel = bread dumplings with bacon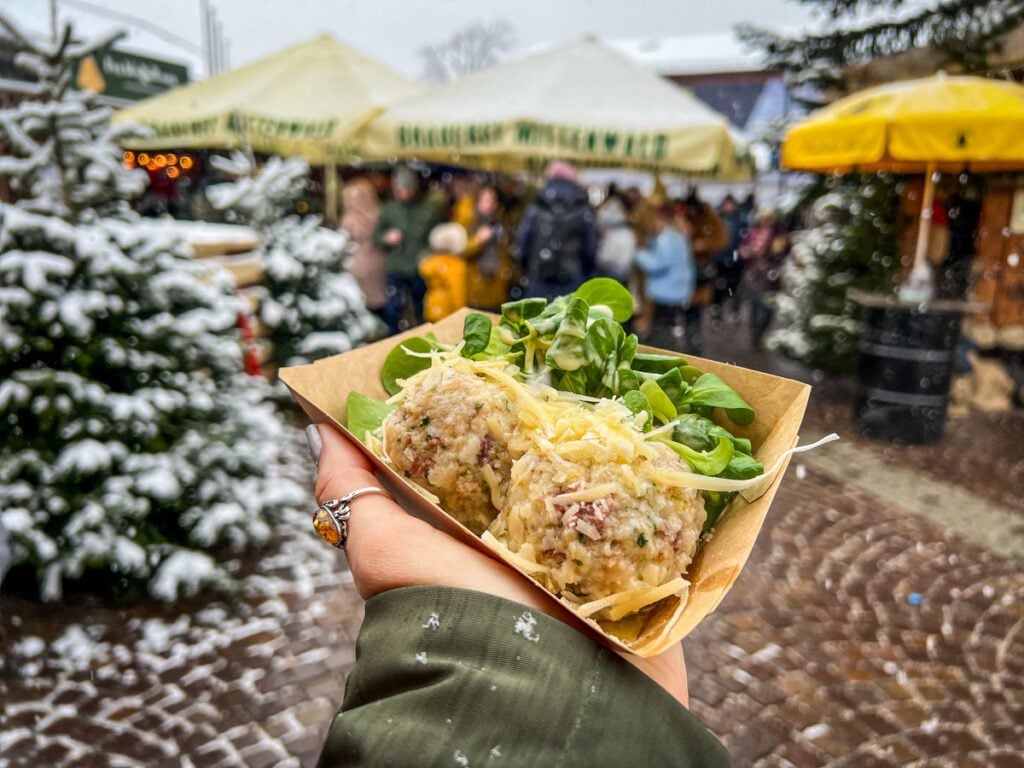 Semmelknödel are bread dumplings made from stale bread cubes mixed with ingredients like milk, eggs, and herbs. These dumplings are boiled until they're soft and fluffy, making them a popular side dish or Christmas market food.
Speckknödel are similar, but include speck – a cured, smoked ham, which is similar to bacon.
Where to find it: You can find this in Bavarian Christmas markets as well as on the menu in many restaurants throughout the Tyrol and Bavarian regions.
7. Laugenbrezeln (pretzel)
What is it? Pretzel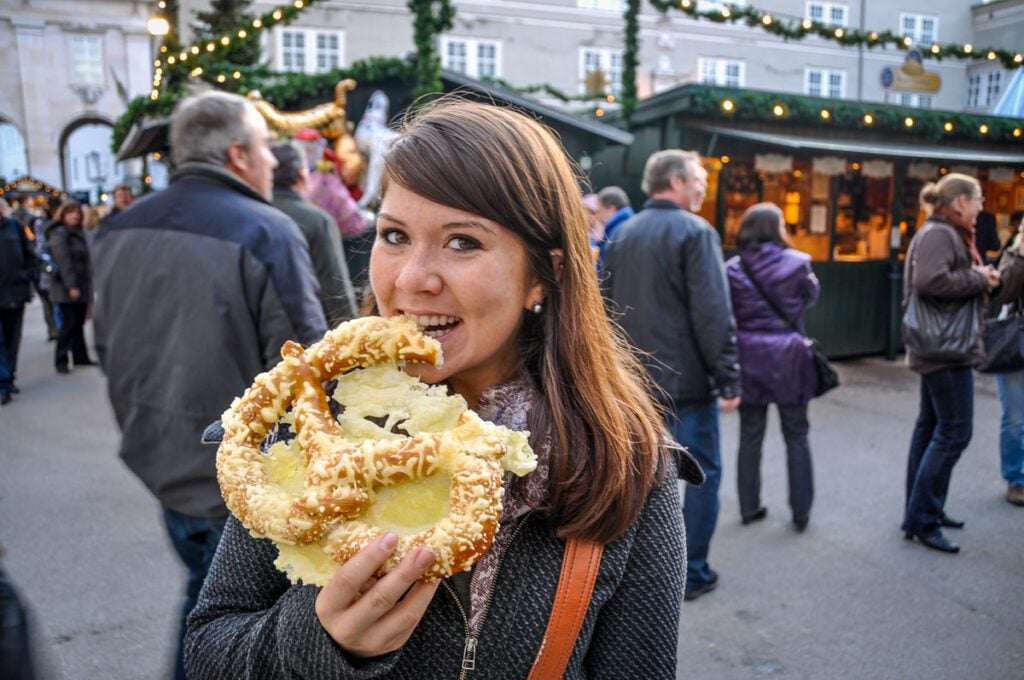 Laugenbrezeln is the German word for pretzel.
You know, the soft, chewy kind sprinkled with coarse salt?
These are a German fair food classic, and in addition to the traditional ones with just salt, you can usually find a variety of flavors and toppings. I'm partial to anything with cheese, so the giant cheesy pretzels are my favorite!
If you're craving something sweet, you can sometimes find dessert pretzels, with poppyseeds and icing or dipped in chocolate. And if you're looking for something a bit more hearty and filling, we've found some damn good pretzel sandwiches!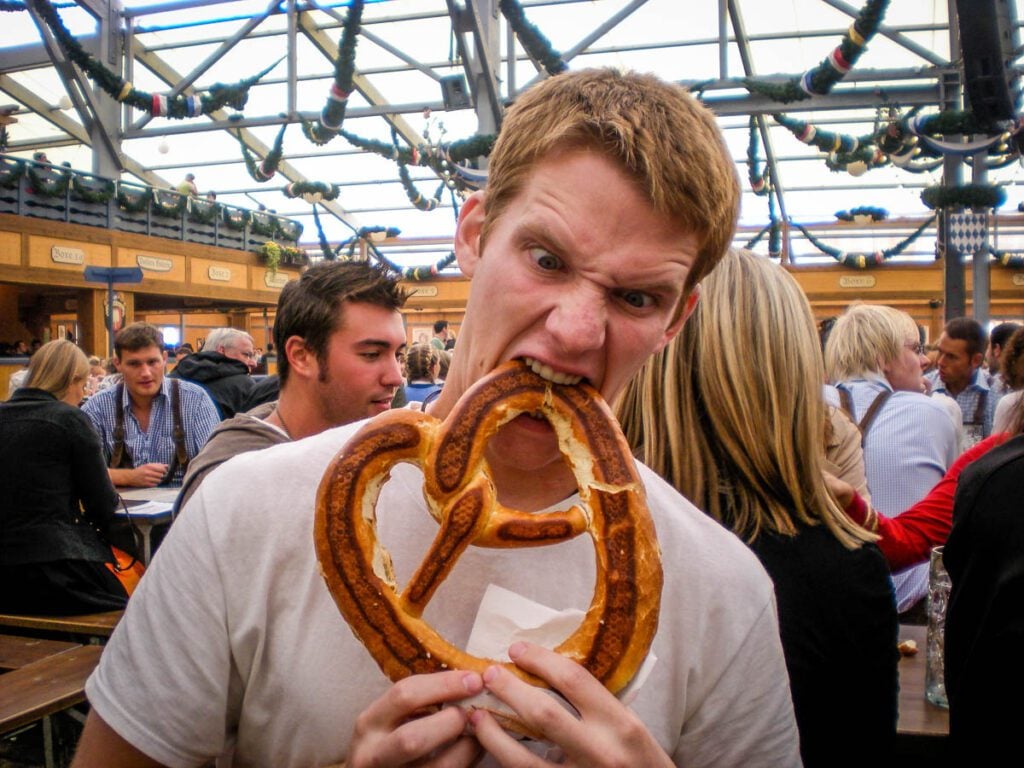 Other spellings: Brezel
Where to find it: You can find pretzels at most German Christmas markets, and in other countries as well.
8. Langos
What is it: Deep fried dough topped with garlic, sour cream, and cheese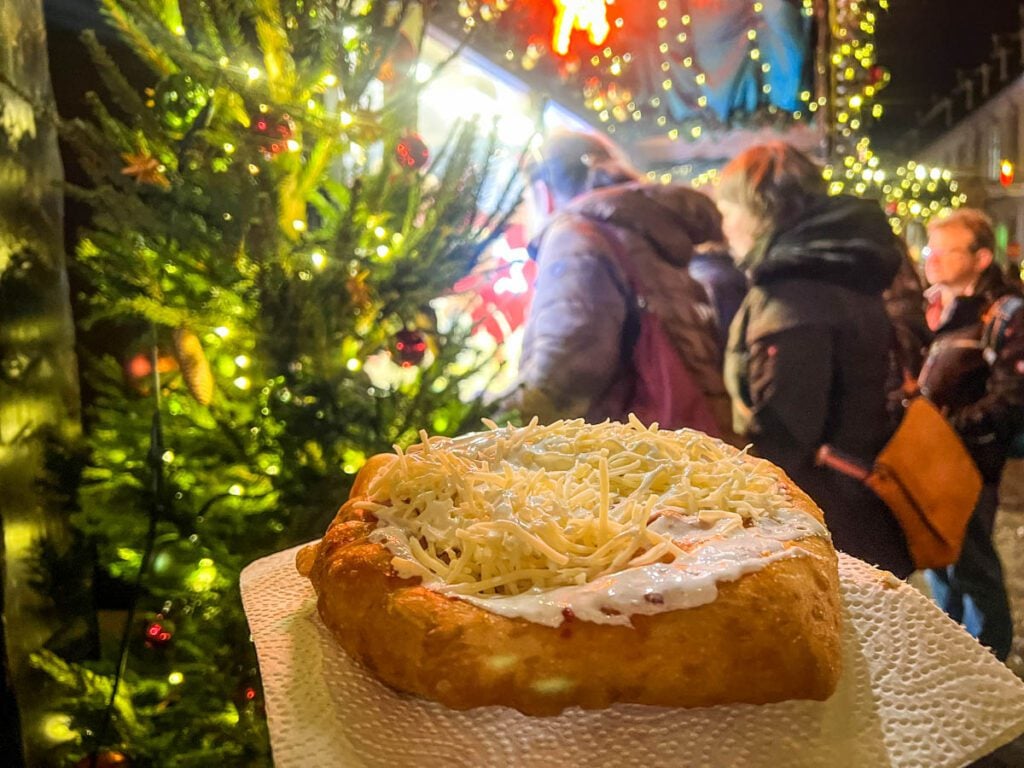 This Hungarian specialty is stop-in-your-tracks good. Sure, it might clog your arteries a bit, but it's worth it!
The first time we had langos was in Budapest (one of our favorite European cities, for the record!), and we were instantly hooked.
Bready, creamy, garlicy, cheesy… need we say more?!
The base is reminiscent of Native American flatbread, and is topped with garlic, a generous amount of sour cream, and shredded cheese. You can also add other toppings, like ham, chili oil, and green onions.
It might look similar to a pizza, but it's worth noting that while the fried dough is usually served warm, the sour cream and shredded cheese are cold, making it distinctively different than a typical pizza.
Insider Tip: Personally, I'd recommend splitting this one, as it's pretty filling and rich, and I assume you want to try a few more foods as well!
Where to find it: We were surprised to see this Hungarian dish at several Christmas markets in Germany, Switzerland, and Austria!
9. Raclette
What is it? Melted cheese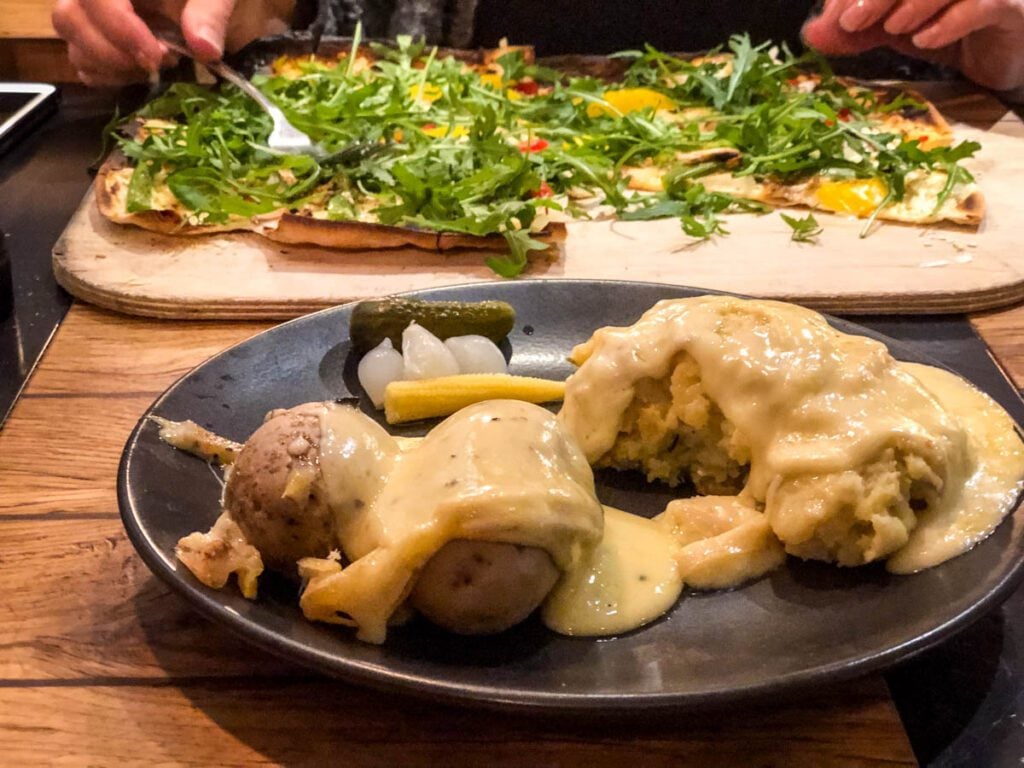 Raclette refers both to a type of cheese and a type of dish where said melted cheese is scraped onto different things… potatoes, pickles, charcuterie, you name it!
The word raclette itself comes from the French word, racler, meaning "to scrape".
You can find raclette plates at some markets (especially in Switzerland), but an easier version of this dish to eat while at the market (aka where you don't need a fork an knife!) is a raclette sandwich.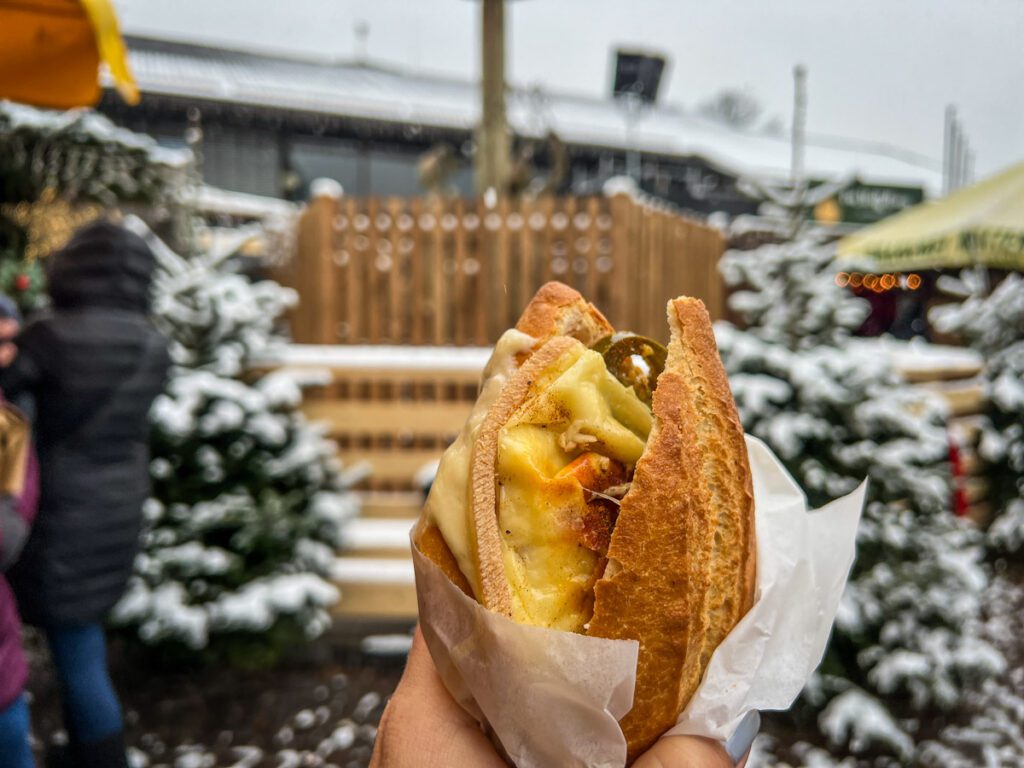 The raclette cheese is heated in a special mould, then scraped onto a baguette and accompanied by whatever toppings you'd like. We enjoy speck (cured and smoked ham) and cornichons (small pickles).
Where to find it: This is a Swiss dish and easy to find at markets anywhere in Switzerland. Raclette-style sandwiches are pretty popular outside of Switzerland, too.
10. Kartoffelpuffer
What is it? Potato pancakes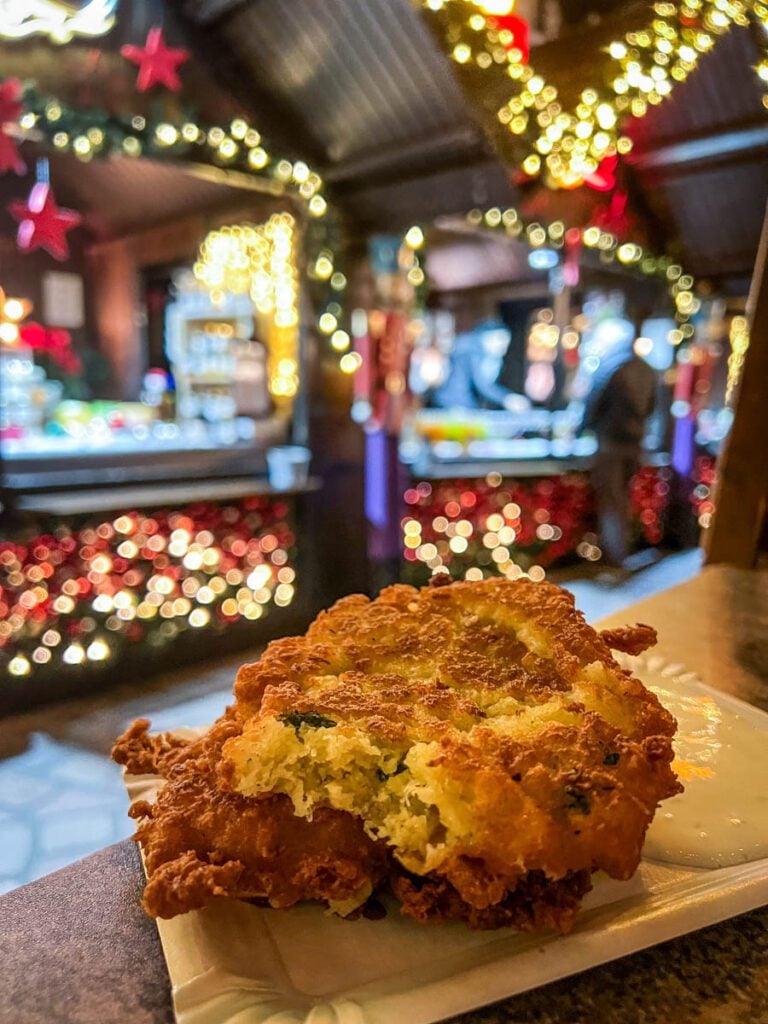 Kartoffelpuffer (also called reibekuchen) is kind of like a cross between a hashbrown and a potato pancake.
They are fried until golden and crispy on the outside, but soft on the inside.
Kartoffelpuffer are traditionally served with applesauce or sour cream, creating a delicious contrast of flavors and textures.
Personally, I prefer the sour cream, but give both toppings a try and see which you like best!
Other name: Reibekuchen
Where to find it: Kartoffelpuffer are a popular Christmas market food throughout Germany. And in Switzerland, you'll find rösti just as often, which is a similar dish. More on that below…
11. Rösti
What is it? Crispy potato hashbrown
Rösti is a very similar to a kartoffelpuffer, but this dish is from Switzerland and there are some notable differences.
Kartoffelpuffer (German) are crispy on the outside but soft on the inside and the potatoes are grated more finely, whereas rösti (Swiss) are more crunchy overall. Rösti also usually includes onions, and in my opinion is more like a hashbrown than a pancake.
The biggest difference (in my opinion) is that kartoffelpuffer are served with sour cream or applesauce, whereas rösti are served in a variety of ways – at the markets, we saw them served with meat, fried eggs, and raclette.
Where to find it: You'll mostly find rösti in Switzerland. If you're in Germany, you'll typically find kartoffelpuffer instead.
12. Pommes Frites
What is it? French fries
If you see pommes frites on the menu, it just means French fries.
If you're from the US, the style of fry is similar to what we might call a steak fry – thicker cut and served with mayonnaise instead of ketchup. As I've already stated, I despise ketchup, so I can get on board with this condiment switch up.
Fun fact: Pommes = apples in French, and frites = fried. There's not a consensus about why the word "apple" is used in the name of something that is very much made out of potatoes. Another debate is whether they're actually from Belgium or France!
Where to get them: Many markets, no matter the country, serve pommes frites.
13. Champignons
What is it? Sautéed mushrooms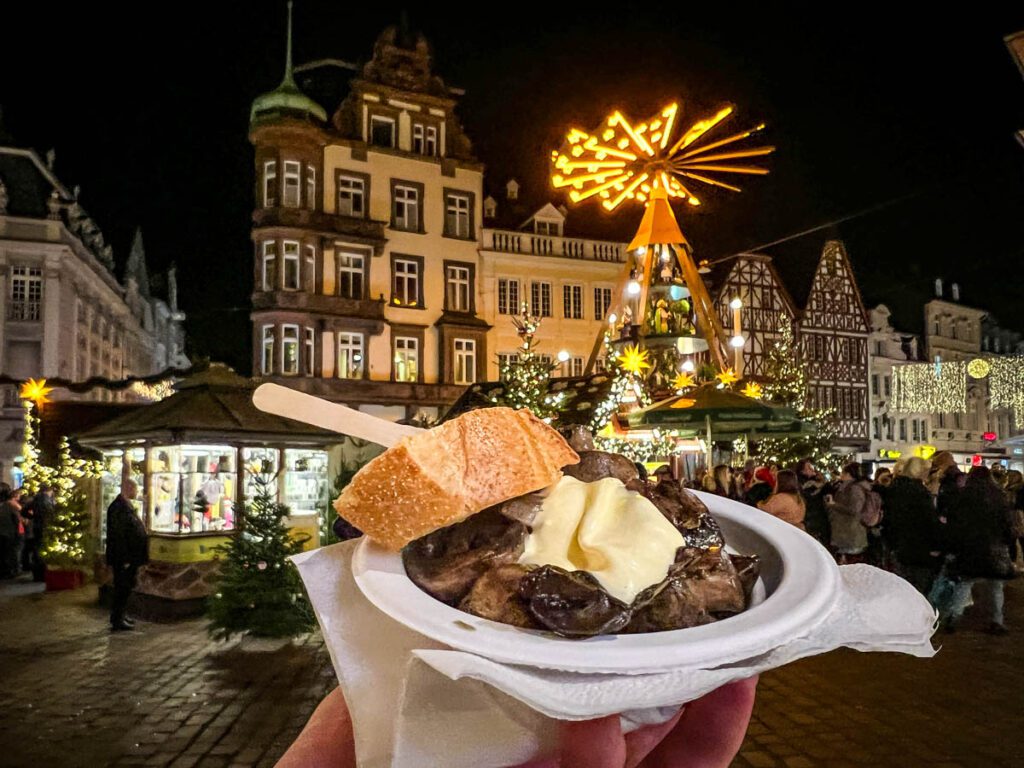 Champignons is the French word for mushrooms, but let me tell you, these aren't just any old mushroom…
Sautéed with garlic and herbs, then served with garlic cream sauce and a hearty slice of bread makes this dish heavenly.
If you're a fan of mushrooms (like me!), don't sleep on these. This is one of my favorite Christmas market foods and is good way to mix up all the bread and meat!
Where to find them: While I didn't see these at all Chistmas markets, they are pretty common.
14. Kartoffeltornado
What is it? Potato spiral on a stick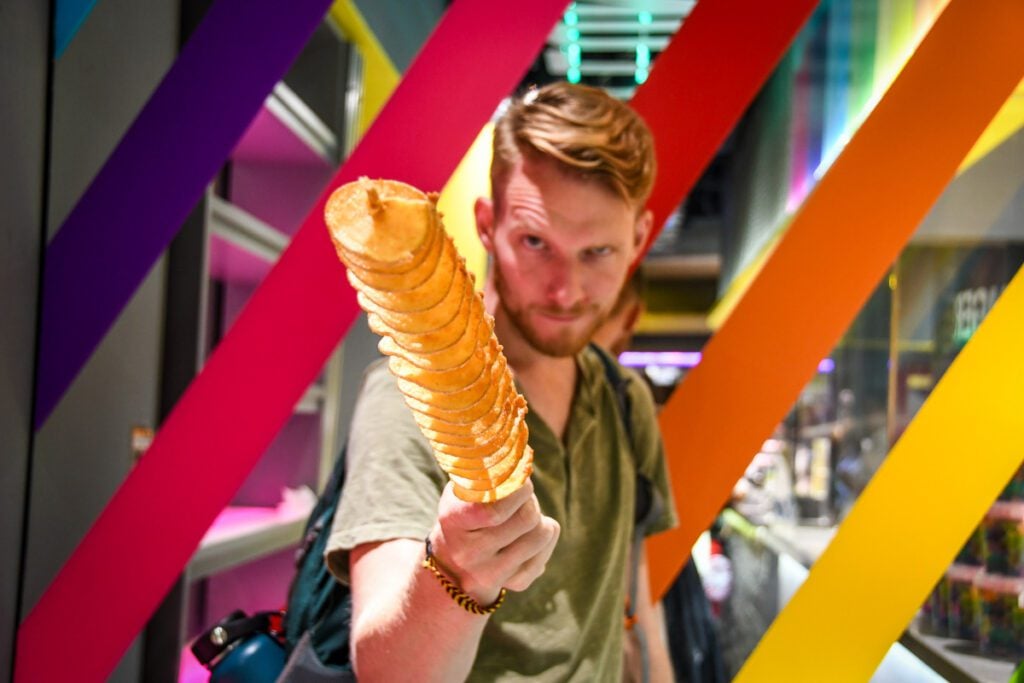 Also called "tornado potato" or "potato swirl", this street food actually originated in South Korea.
When we were living in Korea (and teaching English!), these were a big hit at just about every street market.
I was surprised to see them at many European Christmas markets, but hey, they're pretty tasty and easy to eat while browsing for gifts.
Where to find them: They are gaining popularity at many Christmas markets around Europe.
15. Kiachl
What is it? Fried dough with sweet or savory toppings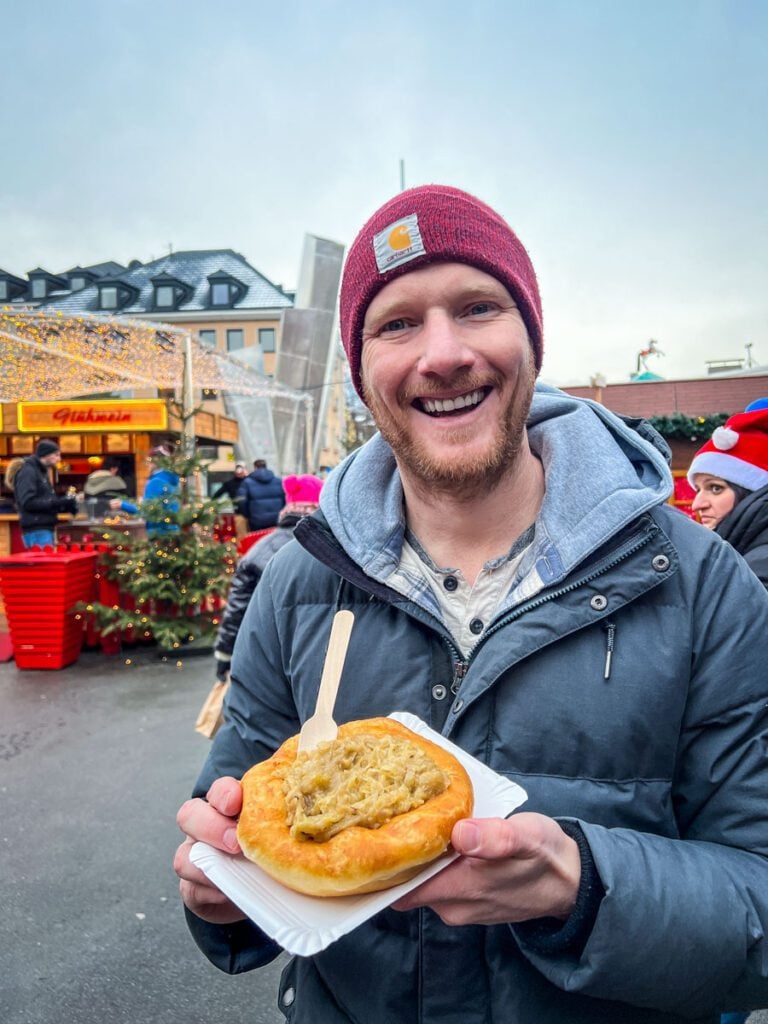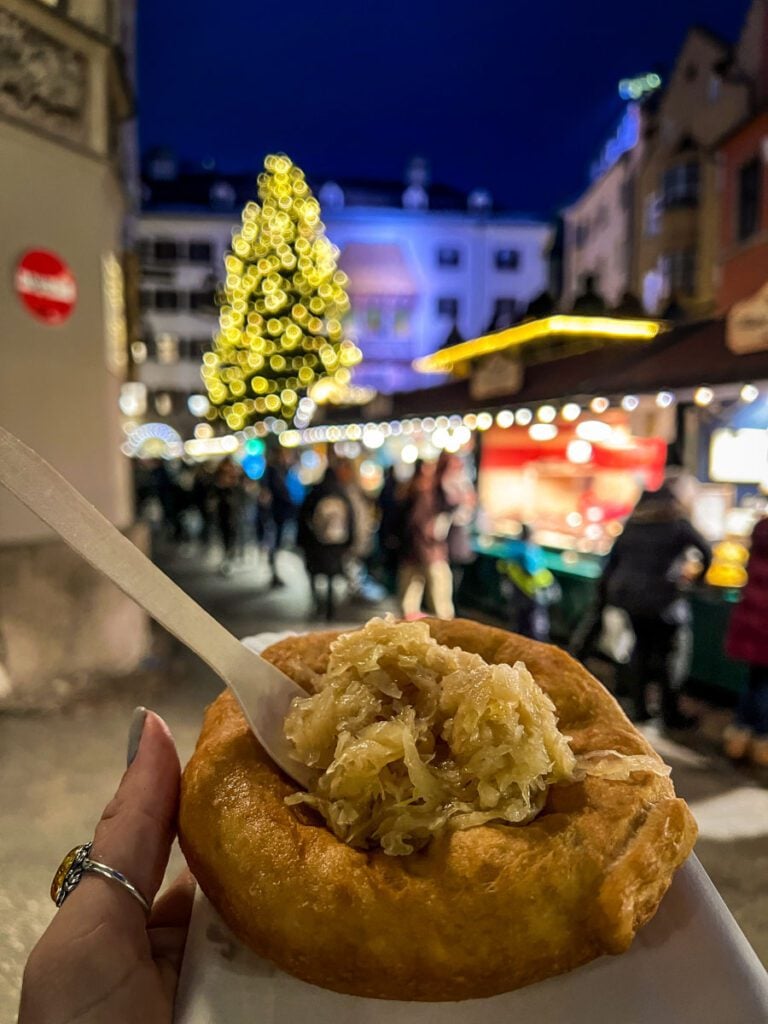 These Austrian fried pastries have a deep hole in the center, forming a "bowl" of sorts, which holds your choice of topping.
The two most popular fillings (the only ones we saw) are sauerkraut or cranberry sauce.
Both our Innsbruck food tour guide and a friend of mine who spent years living in Innsbruck recommended the kiachl with sauerkraut. I'll admit, without their recommendation, I probably would have opted for the cranberry, but after trying it, I can wholeheartedly tell you:
Get the sauerkraut!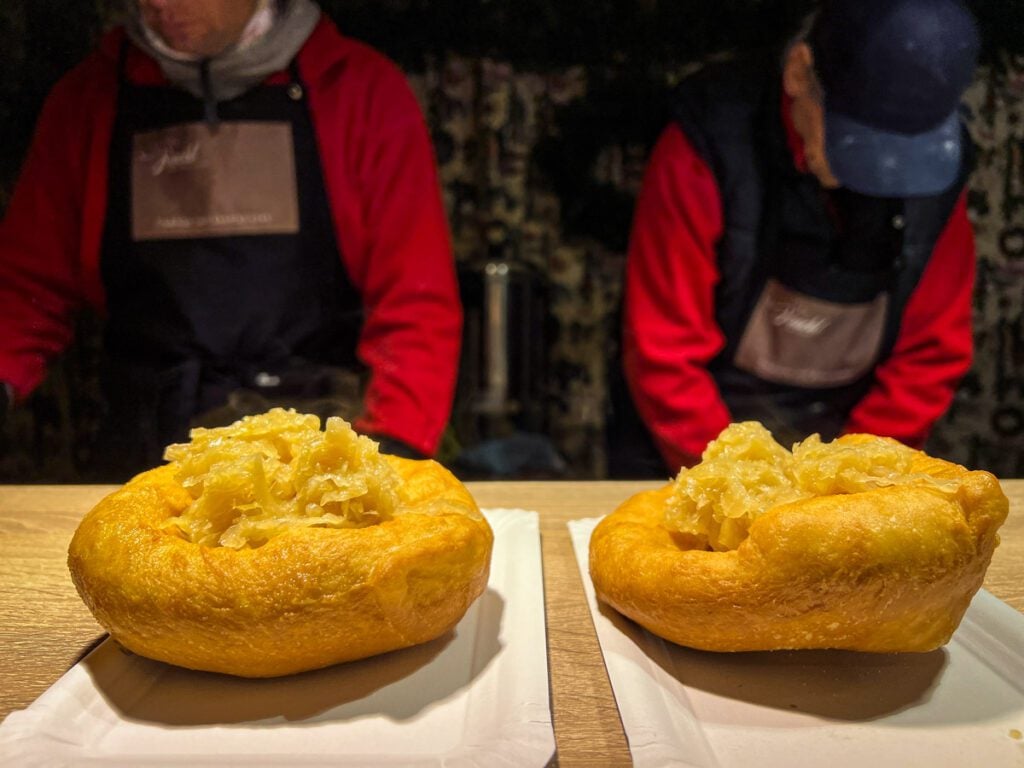 Now, hear me out… I know it sounds weird, but it is seriously good and I've never tried anything quite like it. I went back the next day for round two. And round 3 the following day.
In fact, just writing about it is giving me a craving for kiachl that I know I'm not going to be able to fill until I go back to Austria. (I don't need much more convincing than that to start dreaming of a return trip!)
Where to find them: Innsbruck is the only place we've found them, but you can find them elsewhere in the Tyrol region
16. Chäsbängel
What is it? Hollowed out baguette filled with fondue cheese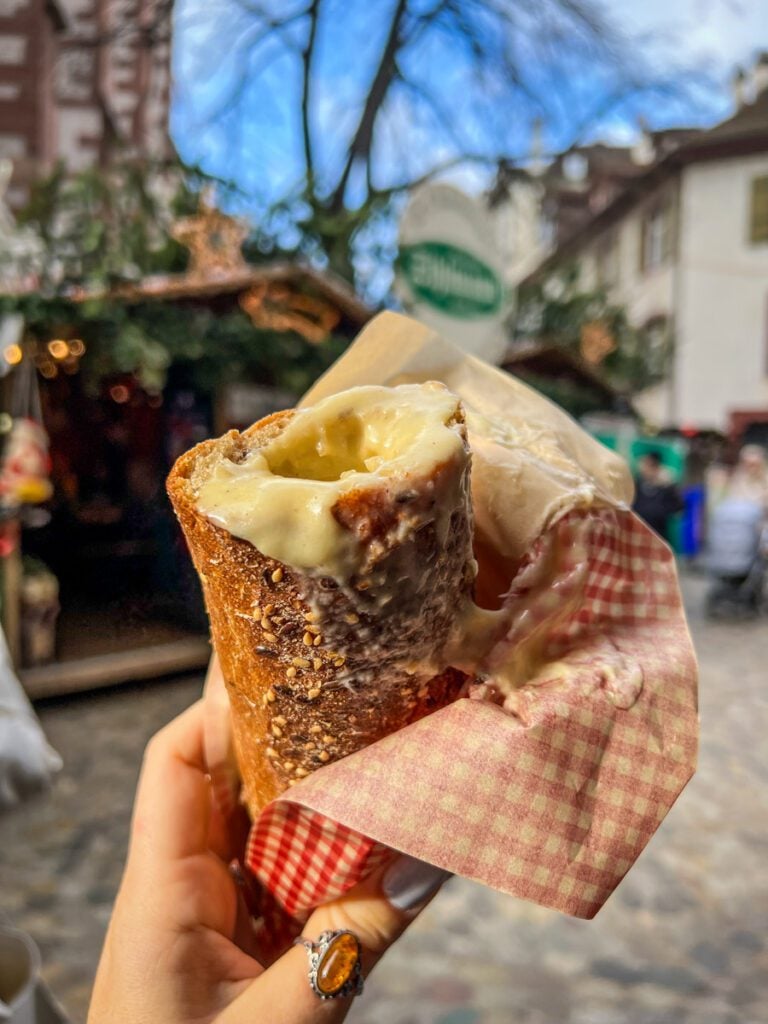 Bread. Cheese. Need I say more?
This is the most portable version of fondue you'll ever find, making it a great Christmas market food to try!
When you order a chäsbängel, the vendor will take a hollowed out baguette and fill it with several scoops of fondue cheese. It's pretty fun to watch (and even more fun to eat!).
Where to find it: Basel, Switzerland is known for this dish and if you're at that market, it shouldn't be missed!
---
Sweets to try at Christmas markets
If you've got a big sweet tooth (or just need something sweet after all that savory goodness!), keep reading because Christmas markets do sweets WELL.
17. Schneeballen (Snowballs)
What is it: German pastry ball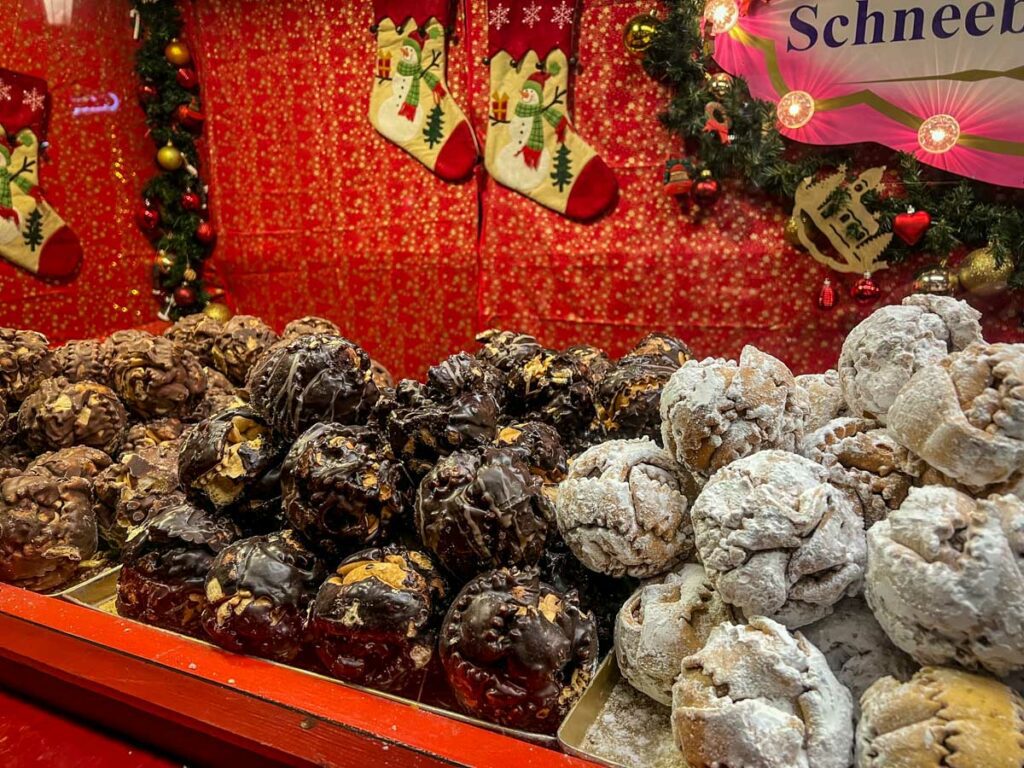 Schneeballen is a German pastry that is made by gathering strips of shortcrust dough into a ball then deep frying it.
The classic schneeballen is dusted with powdered sugar as a final step, but these days you'll find dozens of flavors to choose from, like hazelnut, marzipan, cinnamon sugar, and dark chocolate dipped (to name just a few!).
Even though they are a dessert, they're not as sweet as they might look. I actually love this about them, but some people claim they're not sweet enough!
I was told that these were invented by a pastry chef who had leftover strips of dough from other items, and they came up with a creative use for the scraps instead of throwing them away. Whether or not this is true, I'm not sure, but it does sound plausible.
Originating in Rothenburg ob der Tauber, it's a must-try treat if you're in the area! (I've had them in Rothenburg as well as outside the region, and the best by far is from Rothenburg ob der Tauber.)
Fun Fact: Schneeballen is the German word for snowball, and these treats get their name because, well, they're round, about the same size as a snowball, and the original one is dusted in powdered sugar.
Where to find them: Rothenburg ob der Tauber is the best place to try these. I have found them at a few markets outside this region, but they're definitely not as common as some of the other sweet treats on this list.
18. Baumstriezel ("chimney cake")
What is it: Spiral cinnamon sugar pastry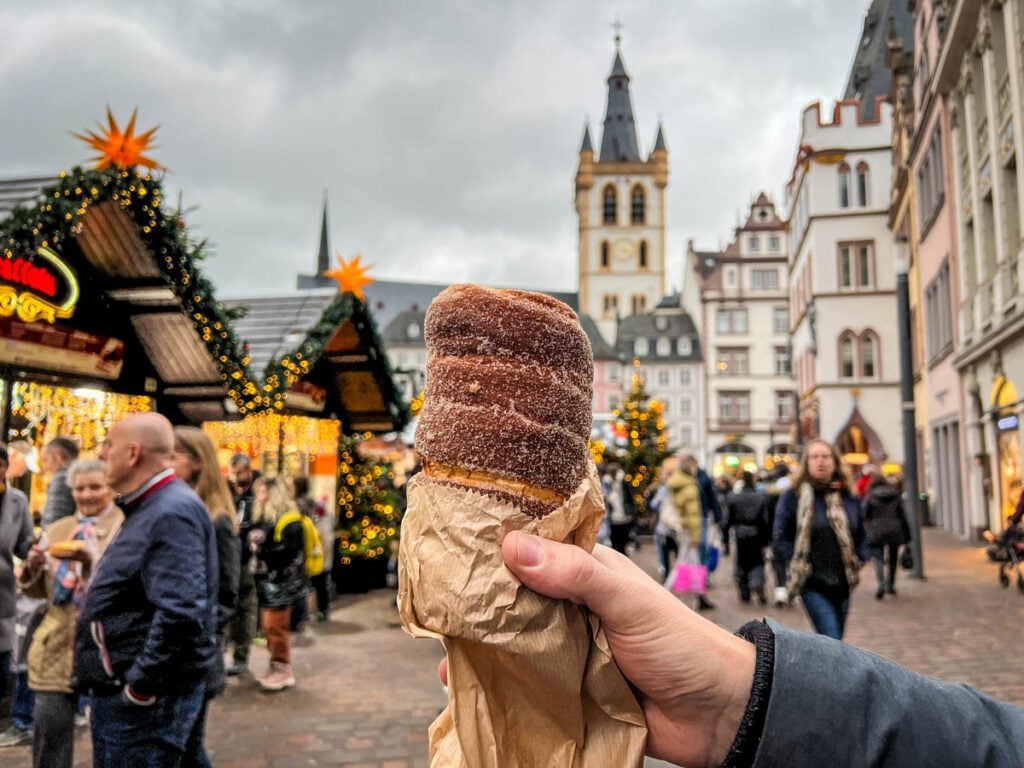 Baumstriezel, also known as chimney cakes and kürtőskalács, are spiral-shaped pastries originating from Hungary. The dough is wrapped around a spit, and sprinkled with cinnamon and sugar before being baked over open fire.
Once it is done baking, it's removed from the spit, creating a hollowed out pastry that you can eat by pulling at the spiralized dough.
Not only is it fun to eat, but holy yum, is it good!
In our guide to Budapest, I described chimney cakes like this (and I still think it's the best description I can do!):
You know Panera's Cinnamon Crunch bagels – soft and crunchy all at the same time? Well imagine one of those bagels got together with a churro, had a little too much wine and had a delicious baby… That baby would be the chimney cake!
Other names: Kürtőskalács
Where to find it: This Hungarian treat is very popular all over Europe and you can find them at many markets!
19. Gebrannte Mandeln
What is it? Candied almonds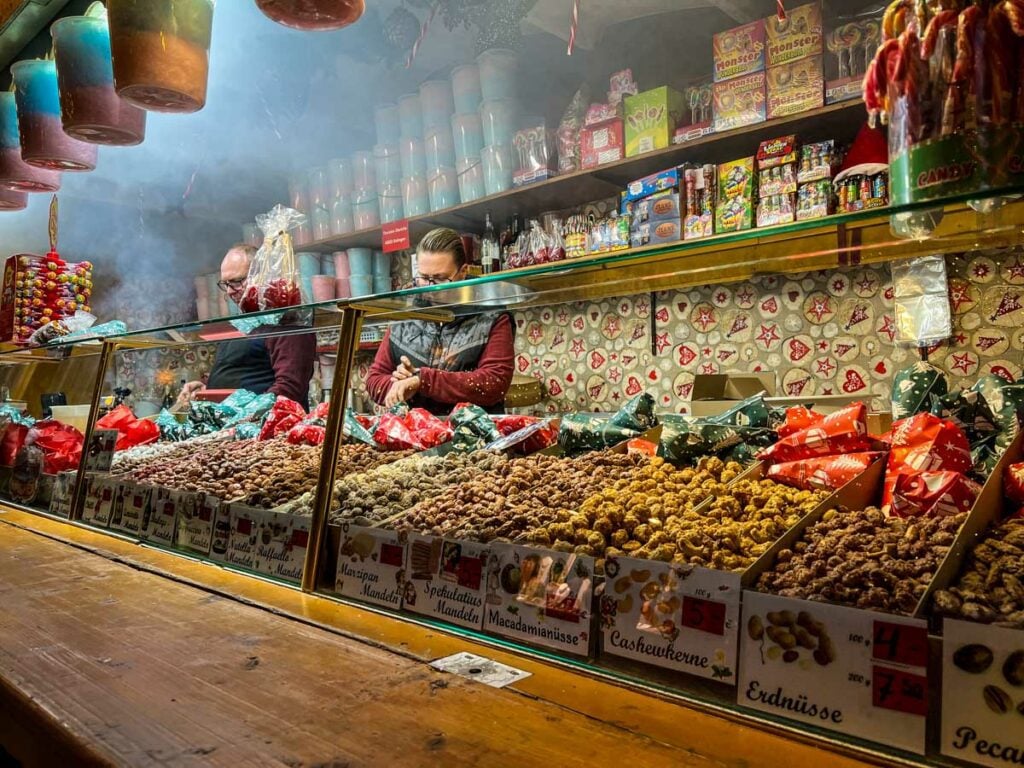 They are sweet, crunchy, and coated with caramelized sugar, making them a popular festive snack.
This is typically the first thing I smell at Christmas markets. That cinnamon sugar goodness just makes its way to my nostrils to tempt me!
Most stands selling these sweet and crunchy delights have other varieties too – pecans, cashews, peanuts, you name it!
Don't get me wrong – candied almonds are great. However, I personally feel like I can get them anywhere in the world (not just at Christmas markets). So after getting an obligatory cone of them (because the smell is too good to say no to!), I usually try to sample the other sweets on display that I can't find so easily elsewhere.
Where to find it: Just about any Christmas market!
20. Chestnuts
What is it? Round and semi-soft nuts that are served roasted in their shell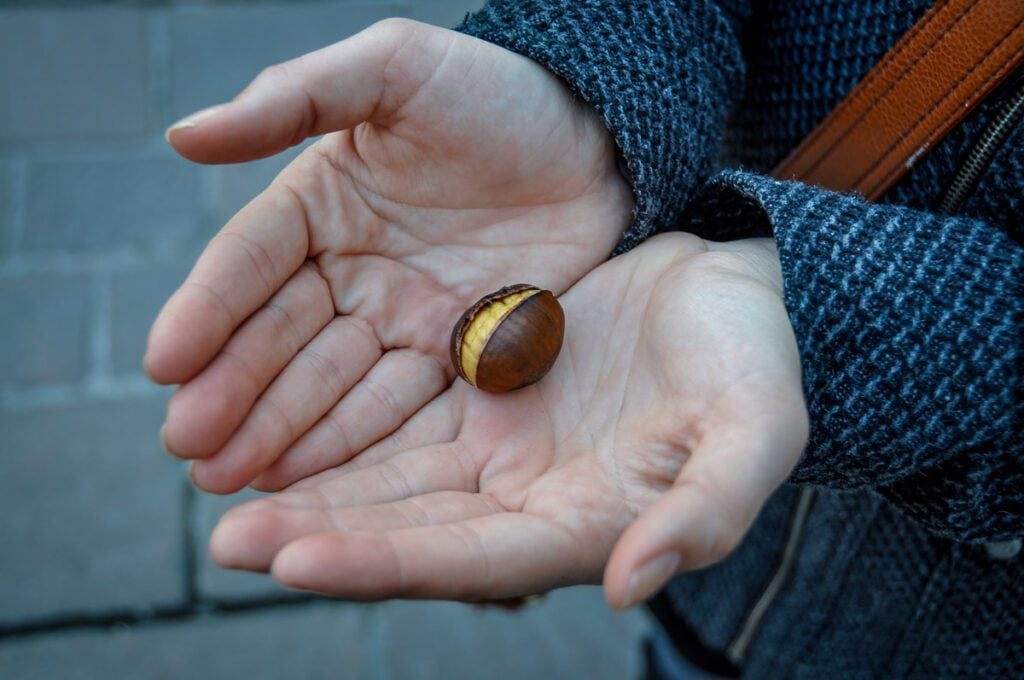 Roasted chestnuts are synonymous with Christmas, and this classic holiday treat can be found at most Christmas markets around Europe.
The smell of chestnuts roasting on an open fire (is the song in your head yet?!) immediately transforms any street into a cozy, wintery atmosphere.
Warm, smoky, nutty, and slightly sweet, chestnuts are semi-soft when roasted and taste somewhat similar to a baked sweet potato.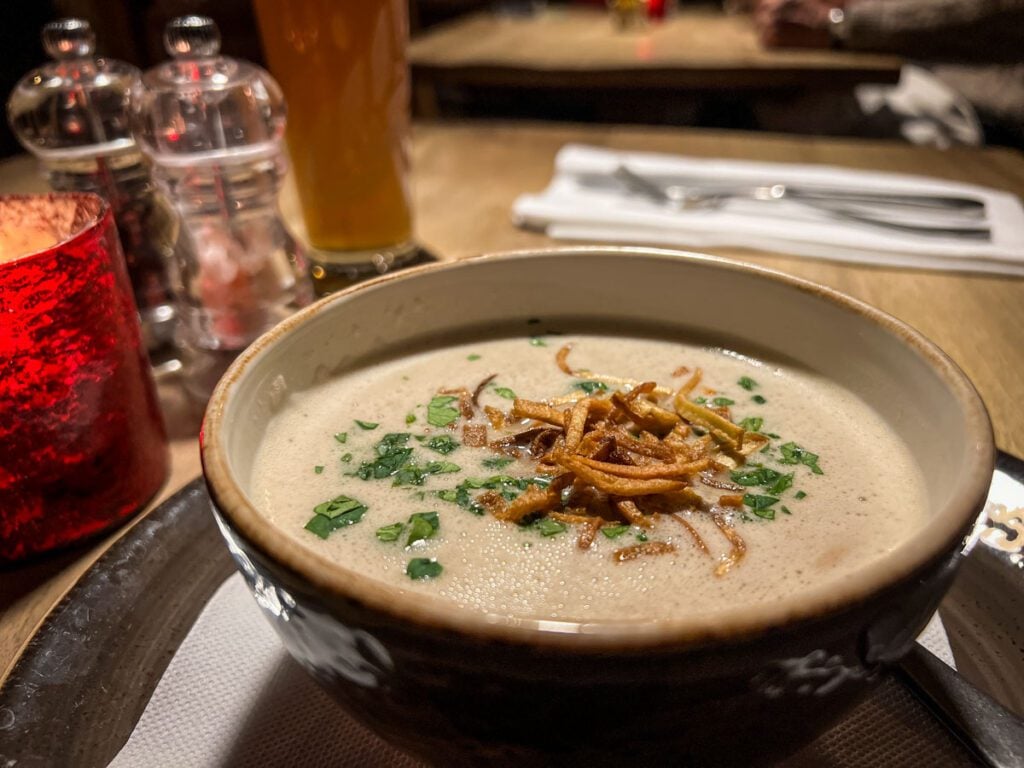 Insider Tip: If you're a fan of chestnuts, look for chestnut soup on the menu at restaurants around Germany and Austria. It is truly fantastic! I actually tried to replicate it when I got home and it was super tasty.
Other names: Maroni
Where to find it: Just about any Christmas market, big or small!
21. Dampfnudeln
What is it? Yeast dumpling topped with vanilla sauce
To me, dampfnudeln sounds like "damp noodles," which makes me giggle.
These soft, steamed German yeast dumplings are served doused with a sauce. Supposedly, they can be eaten as a savory side dish, but at the Christmas markets we only saw them served sweet.
Maybe this isn't a good comparison, but the dumplings kind of reminded me of fluffy bao bun (with no filling). There are different topping options, but the most traditional is a vanilla sauce and a side of berry compote, and the fluffy texture is meant to absorb said sauce.
Personal opinion: In my (honest) opinion, aren't my favorite. The vanilla sauce tasted kind of like a watery vanilla pudding, and it felt like I was just eating a lot of bread. Maybe it wasn't the best dampfnudeln out there, but it didn't have a ton of flavor and after a couple of bites, I didn't really want more.
Where to find them: This is a German dish, so we mostly found these in German markets as well as a few outside Germany.
22. Fruchtspieße (fruit skewers)
What is it: Skewers of fruit, usually covered in chocolate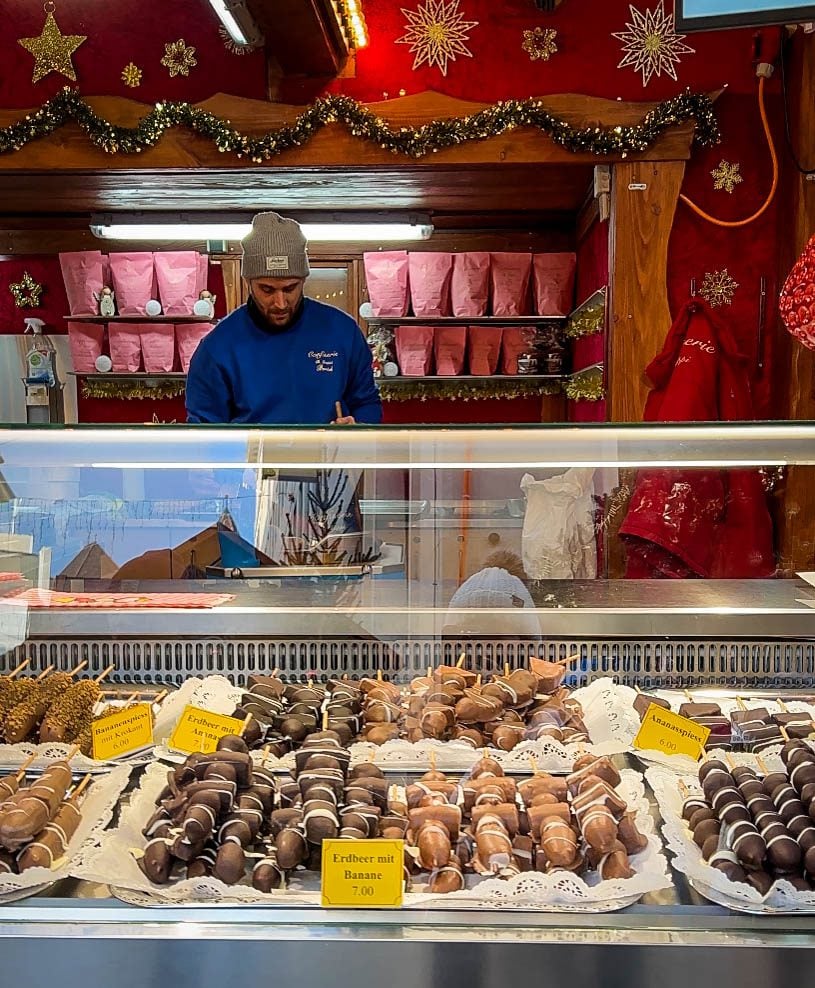 If you're looking for something sweet that isn't bready, search for fruit skewers, as they are a German market favorite.
Wooden skewers of strawberries, pineapple, and other fruits are dipped in a generous coating of chocolate rendering them not exactly healthy, but perhaps a bit better than all the other fried dough treats.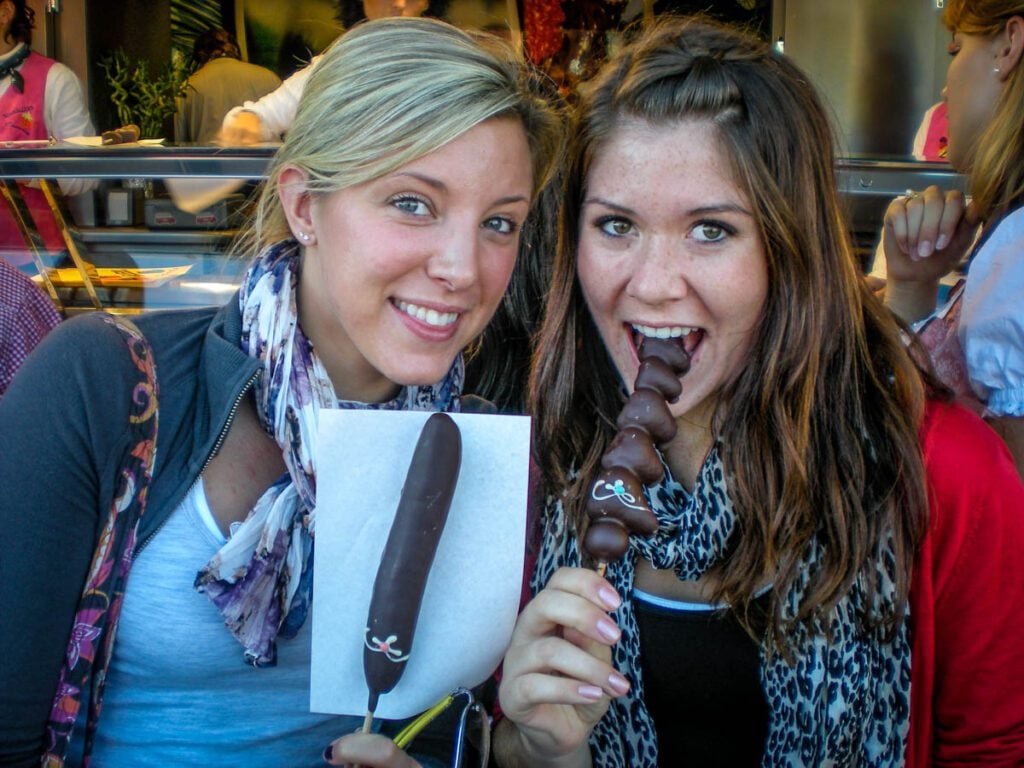 You can typically choose from white, milk, and dark chocolate-dipped fruchtspieße, and they are often sold at a stand that also has candied apples and schaumkuss (chocolate-covered marshmallows).
Where to find them: Most larger German Christmas markets have at least one stand selling fruchtspieße.
23. Lebkuchen
What is it: Gingerbread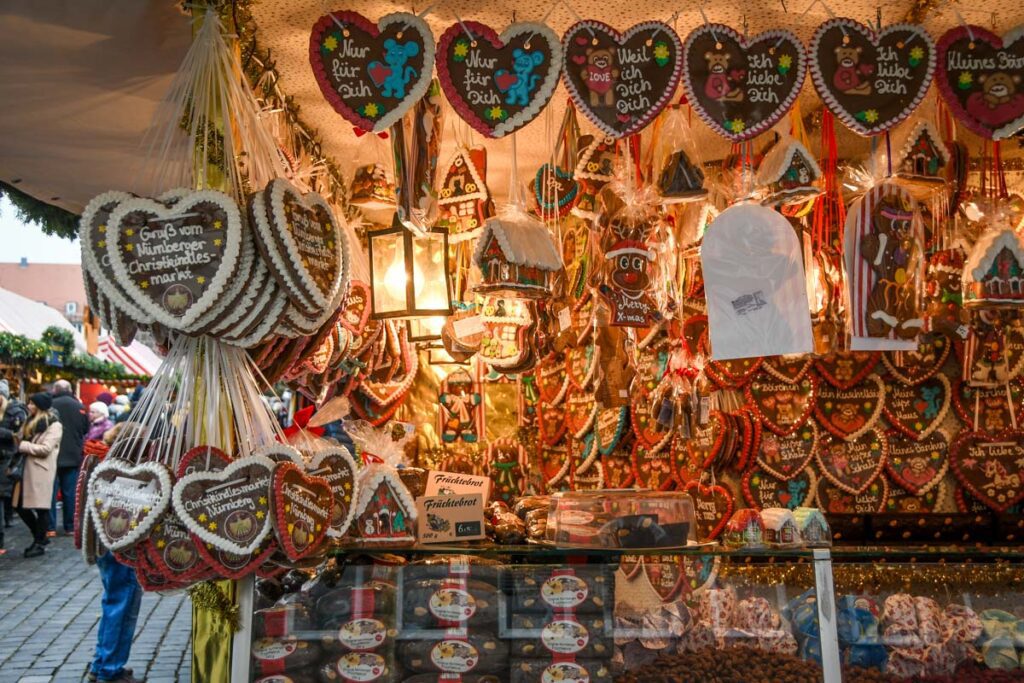 Traditional German gingerbread cookies, known for their spicy and aromatic flavors, these are a staple at just about every Christmas market.
The most iconic version of lebkuchen is the large heart shapes that are decorated with German phrases written in colorful icing. Popular sayings are, "I like you" and "Happy Holidays".
These make fun photo ops, but as an admitted cookie-snob, I prefer thick, moist, chewy cookies over ones that are hard and dry, which I find these often are. (Like I said, I'm a cookie snob!)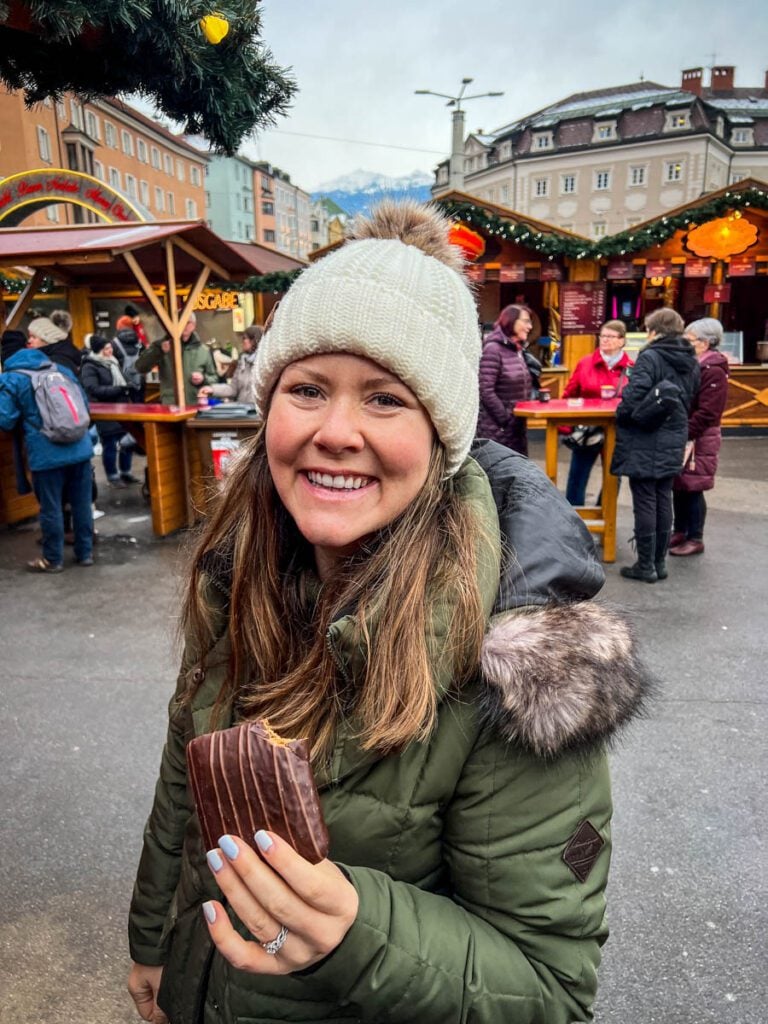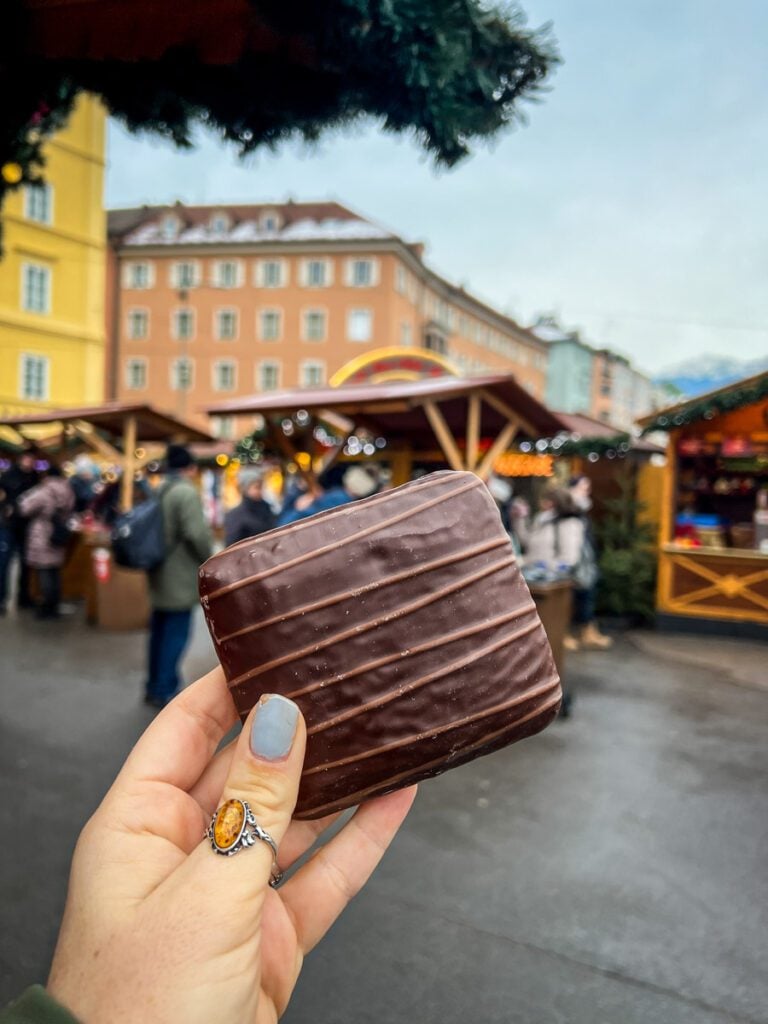 The heart shaped cookies hanging from booths aren't the only type of lebkuchen you'll find. I really enjoyed the chocolate-covered version, which I felt was more fresh than the plastic wrapped ones sitting out for who-knows-how-long.
Where to find it: Almost every Christmas market should have these
24. Schmalzgebäck
What is it? Bite-sized doughnut-like pastries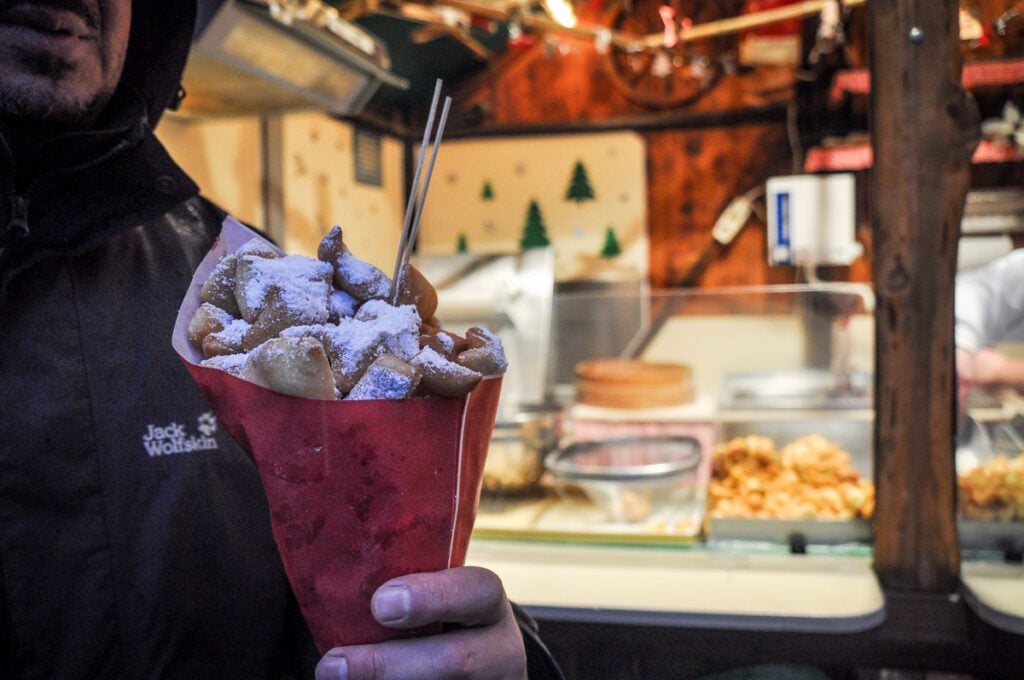 These sweet bite-sized pastries are kind of like if doughnut holes and funnel cakes had a (very tasty!) baby.
Light and airy and shaped like little pillows, they are fried until golden brown and dusted with powdered sugar and usually served in a paper cone.
These are similar to mutzenmandeln, which is a popular market treat at Carnival.
Where to find it: These are a German market treat, and your best bet is at the larger markets.
25. Marzipan
What is it? Sweet made from ground almonds and sugar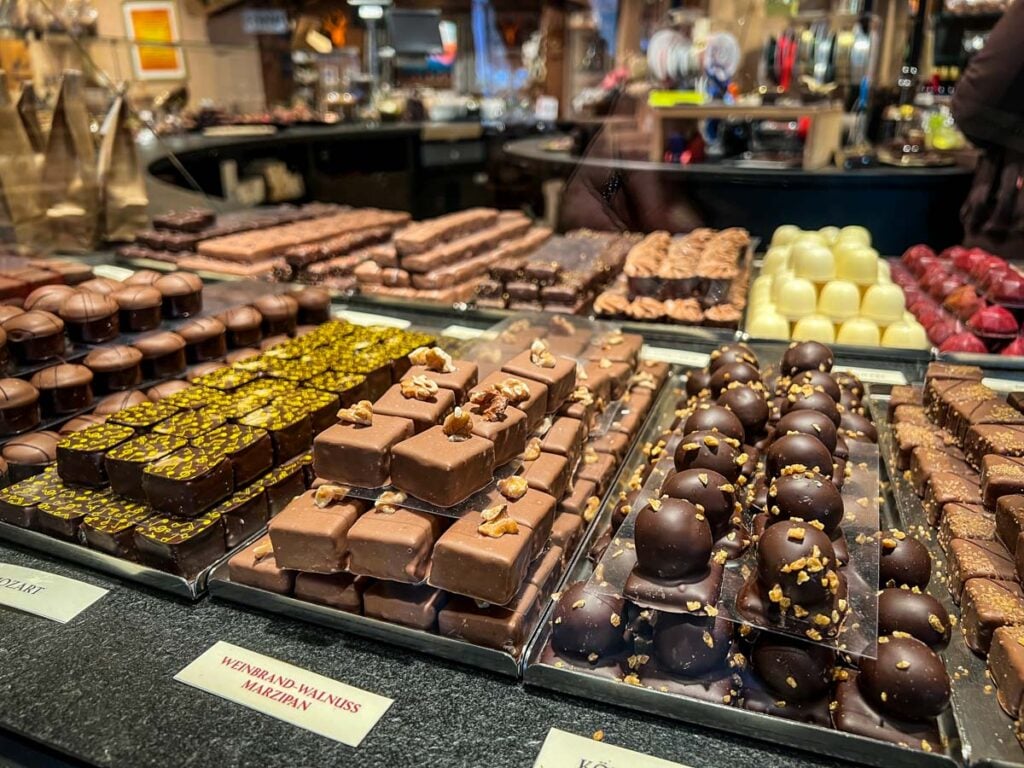 Marzipan is a classic Christmas treat known for its rich, nutty flavor.
This popular confection is made from ground almonds and sugar. You can find it in the markets molded into various shapes (look for "marzipan potatoes" which look shockingly like actual mini potatoes!).
It is also often dipped in chocolate. You can also find truffles and schneeballen with marzipan in the middle.
Personally, I can only do marzipan in very small amounts, as I find it very sweet and rich.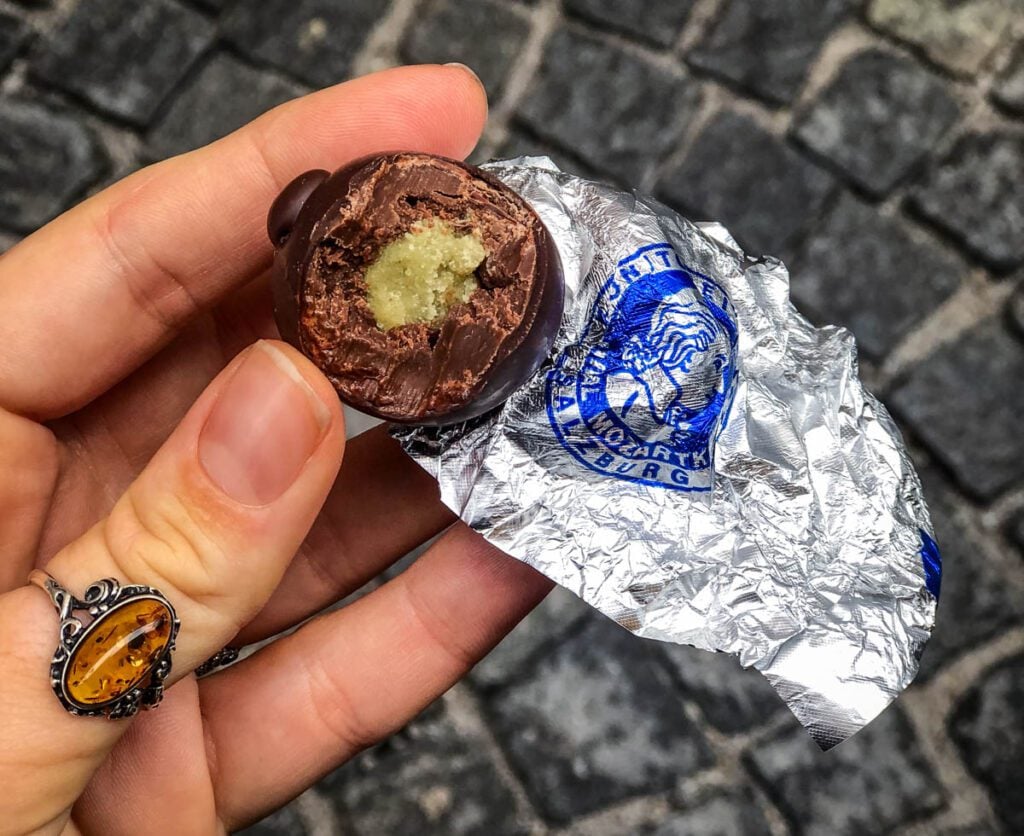 My personal favorite way to enjoy marzipan is Mozart Balls. This is an iconic sweet from Salzburg, Austria, which is a layered ball of pistachio, marzipan, and nougat, dipped in dark chocolate. If you're in Salzburg, be sure to give it a try!
Insider Tip: The red wrapped Mozart Balls are the most common, but the best (and the original) are wrapped in a blue and silver foil.
Where to get it: You can find marzipan at most Christmas markets around Europe. Mozart Balls can be found in Salzburg, Austria.
26. Kaiserschmarrn
What is it? Bite sized pieces of pancake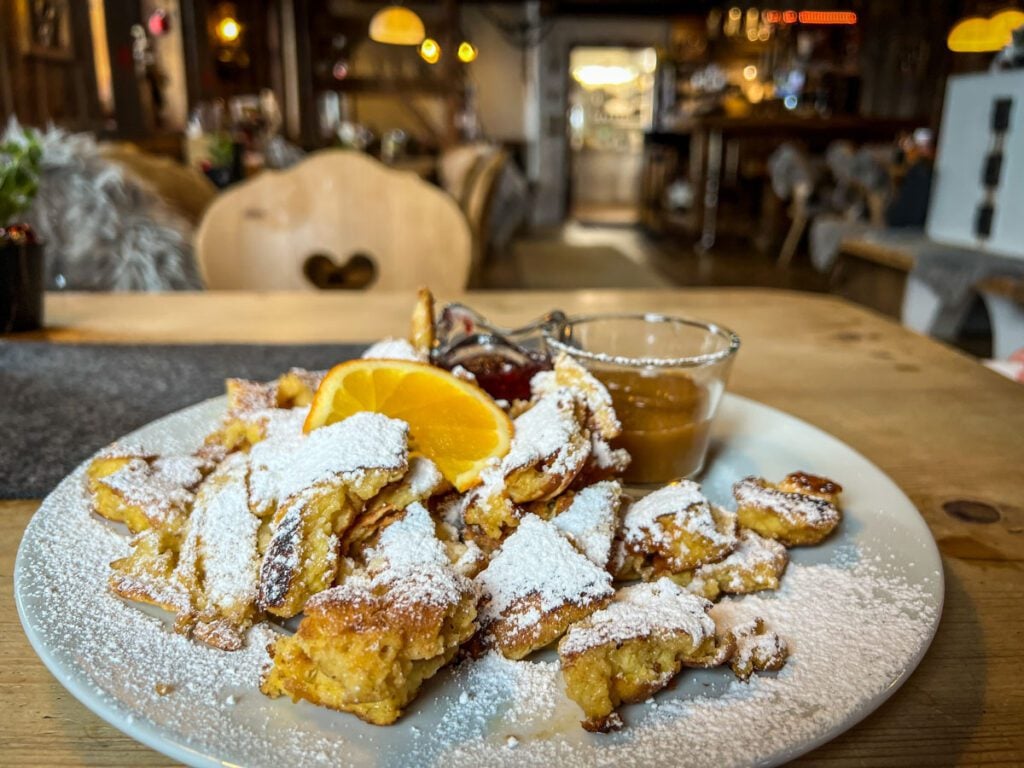 Kaiserschmarrn is an Austrian pancake that is torn into bite-sized pieces while it is cooking. It is caramelized in the bottom of a pan, giving these otherwise fluffy bites a tiny bit of crispiness at the edges.
Traditionally served dusted with powdered sugar and a side of fruit compote, kaiserschmarrn is one of my favorite Christmas market desserts.
Where to find it: We found it at a few markets in Austria, but it is also a staple on restaurant menus featuring Tyrolean cuisine. You can order it as brunch or dessert.
27. Schokokuss
What is it? Chocolate-covered marshmallow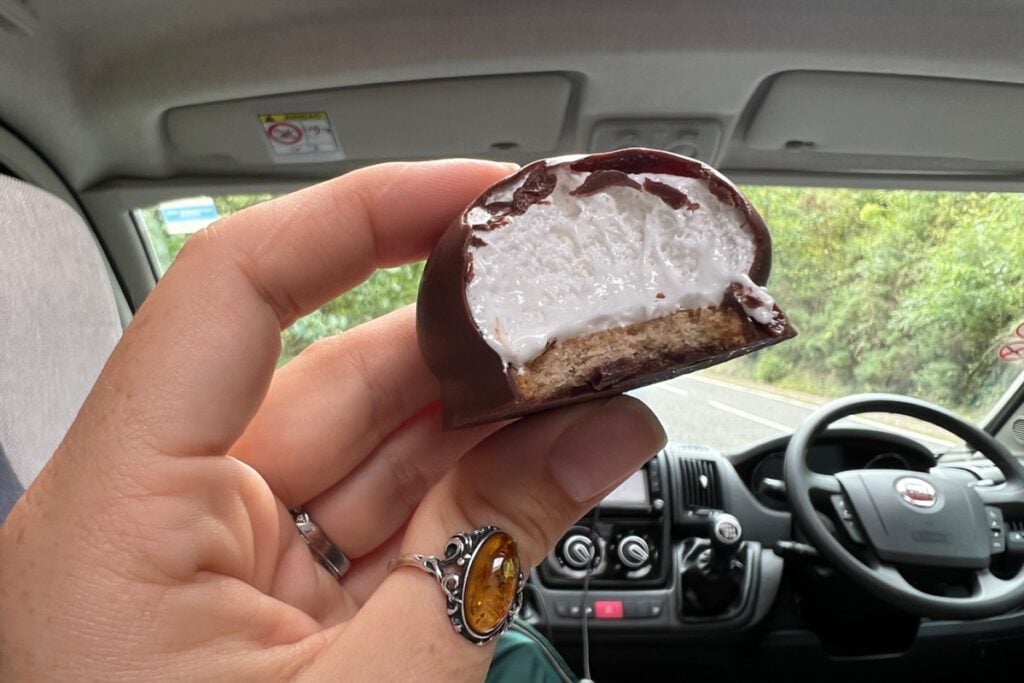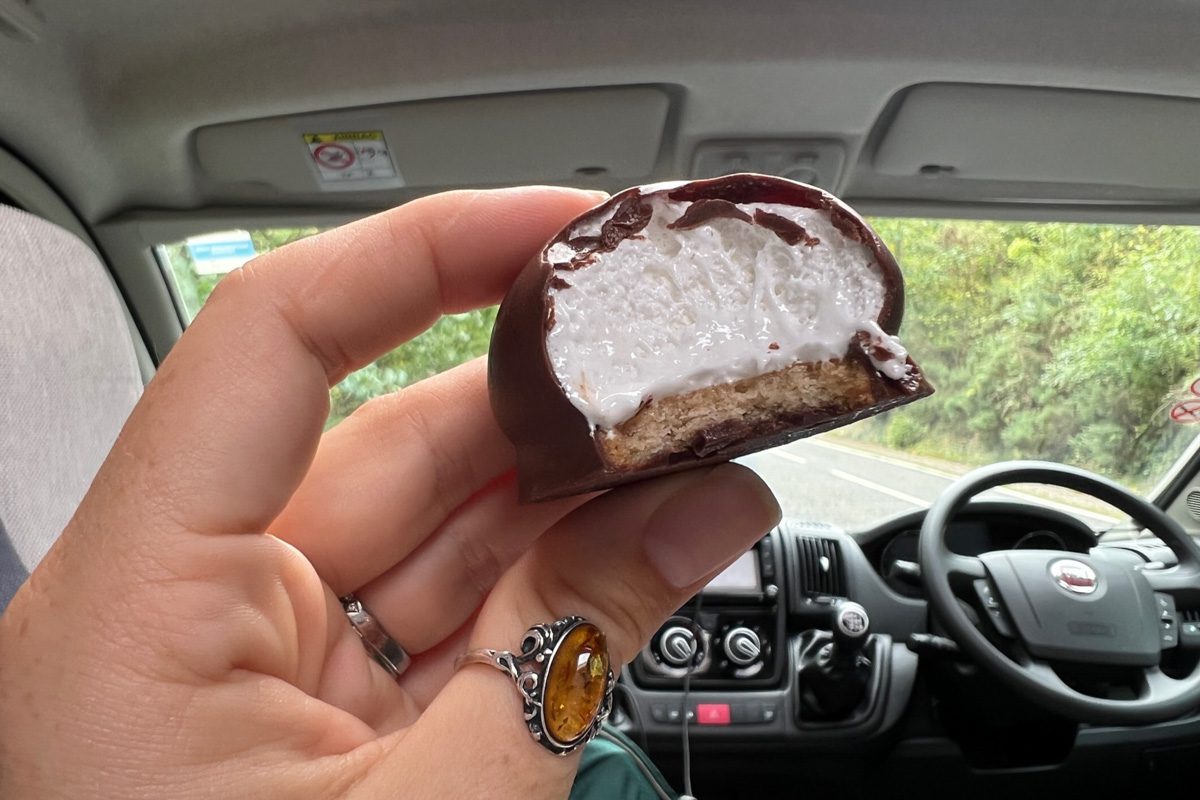 Schokokuss translates to "chocolate kiss", this marshmallow enrobed in chocolate makes an indulgently sweet treat.
Now, this isn't your typical store-bought mallow. These are much lighter and less chewy. It's almost reminiscent of a less-sweet "marshmallow fluff" (if you've ever had it), dipped in chocolate.
I found these very similar to Tunnock's tea cakes, a Scottish food you should definitely try whilst in Scotland.
Other name: Schaumkuss ("foam kiss")
Where to find it: You can find these in most German Christmas markets. Look for the booths selling candy and chocolate-covered fruit.
28. Crêpes
What is it? Thin pancakes with sweet or savory fillings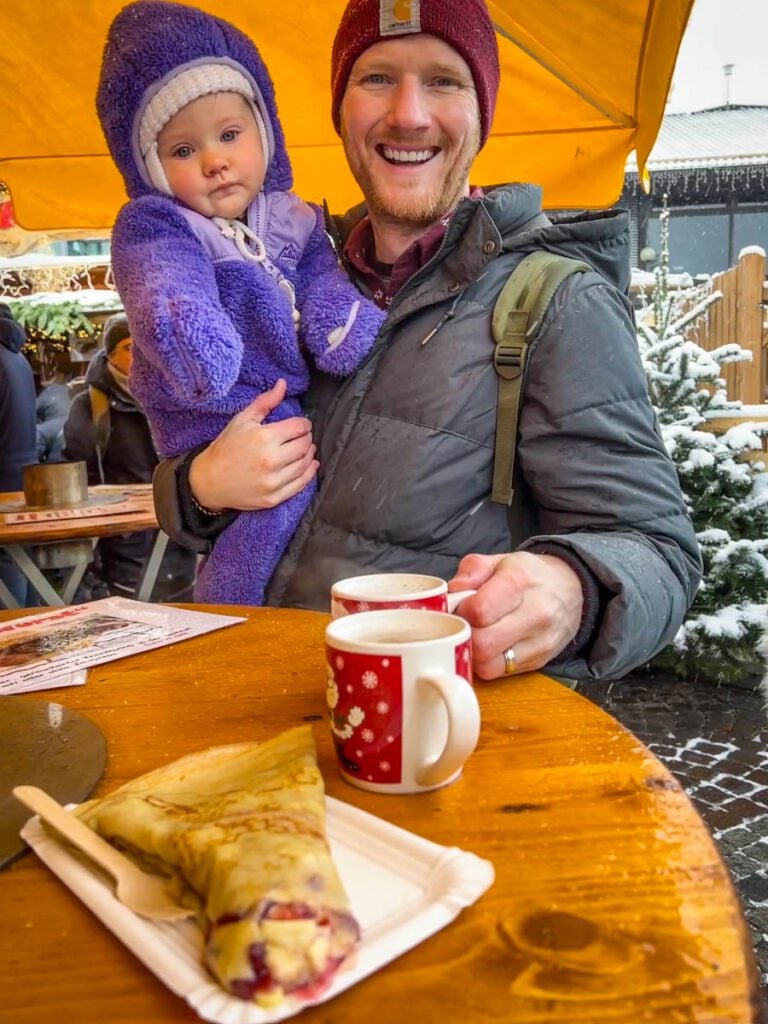 Sweet or savory, crepes are always a good choice at any type of market.
I'm a sucker for savory crepes myself, but sweet is probably the most popular option.
Choose from topping combinations like Gruyère and ham, brie and cranberries (pictured), and Nutella and strawberries.
Where to find it: Crepes are French and very popular at the markets in France, but also elsewhere throughout Europe. We got some fantastic crepes at markets in Germany!
---
Drinks to try at Christmas markets
One of the best parts of Christmas markets – in my humble opinion – is warming up your hands (and soul!) with a hot mug of glühwein.
While every market will have gluhwein, there's many more drinks to sip on. If it's your first trip to European Christmas markets, the drink menu can look overwhelming at first glance.
So let's go over all the options so you can order with confidence (and know what it is you're getting!).
29. Glühwein
What is it? Hot mulled wine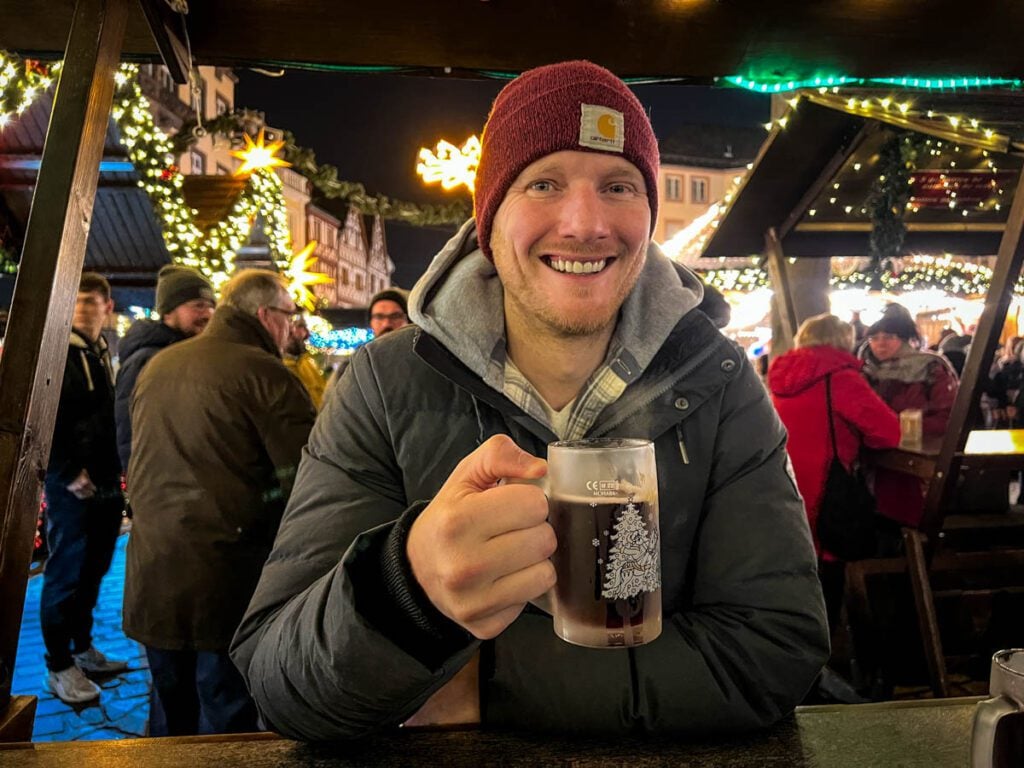 Glühwein is a warm, spiced wine (aka "mulled wine"), and it is one of the most popular things you'll find at Christmas markets.
Before we go any further, let's just make sure we're pronouncing this correctly. In German, the "w" has a "v" sound, so it sounds like this:
gloo-vine
Fun fact: I read that glühwein roughly translates to "glow wine" because it makes you feel lit up from within, and I just love that description because it is so true!
Glühwein recipes vary quite a bit, but it is red wine that is heated with warming spices (like cloves, cinnamon, and star anise). Sometimes oranges are added, as well as vanilla and sugar.
The combination tastes like Christmas in a glass! I love this drink so much that we often make it at home around the holidays. It is so easy!
Insider Tip: If you want to kick it up a notch, many gluhwein vendors offer the option to add a shot of rum or brandy.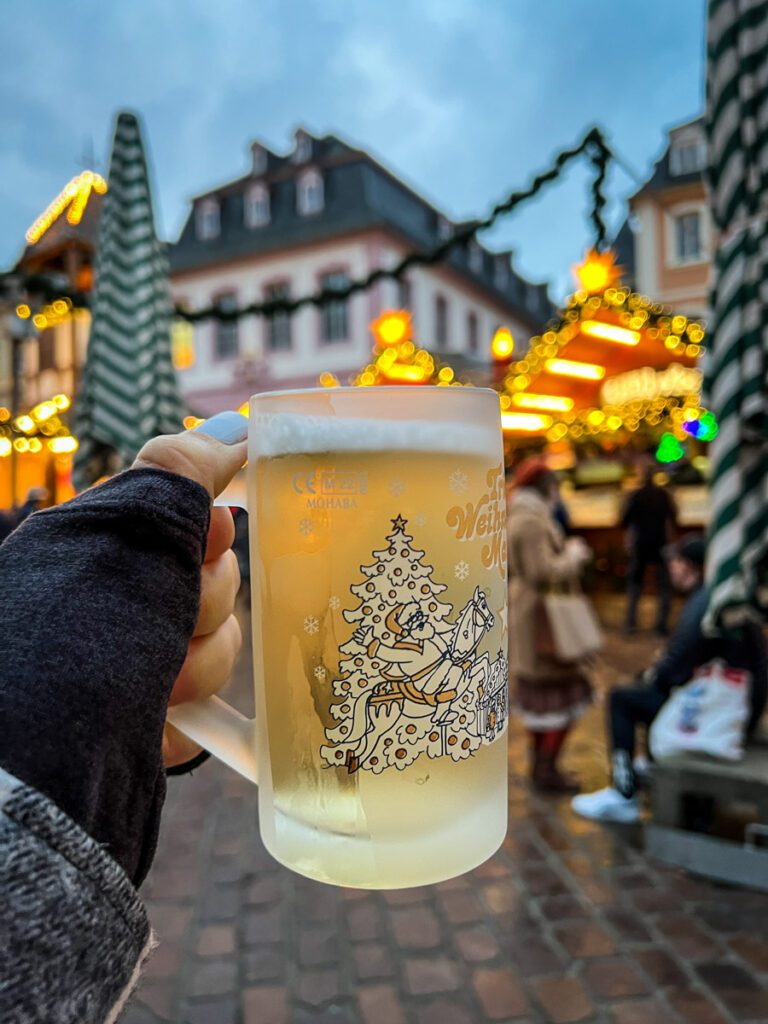 Glühwein is traditionally made with red wine, and this is the most common type you'll see at Christmas markets. However, we found several stands offering the white version as well, which was a nice way to switch it up. In fact, at one market, they had a white gluhwein with ginger and lemon, which was fantastic!
Good to know: If you're at the Christmas markets in France, gluhwein will be called vin chaud .
Psst! There's a whole slew of things you should know about the gluhwein mugs. Jump right to that section to read all about it!
30. Eierpunsch
What is it? Alcoholic egg punch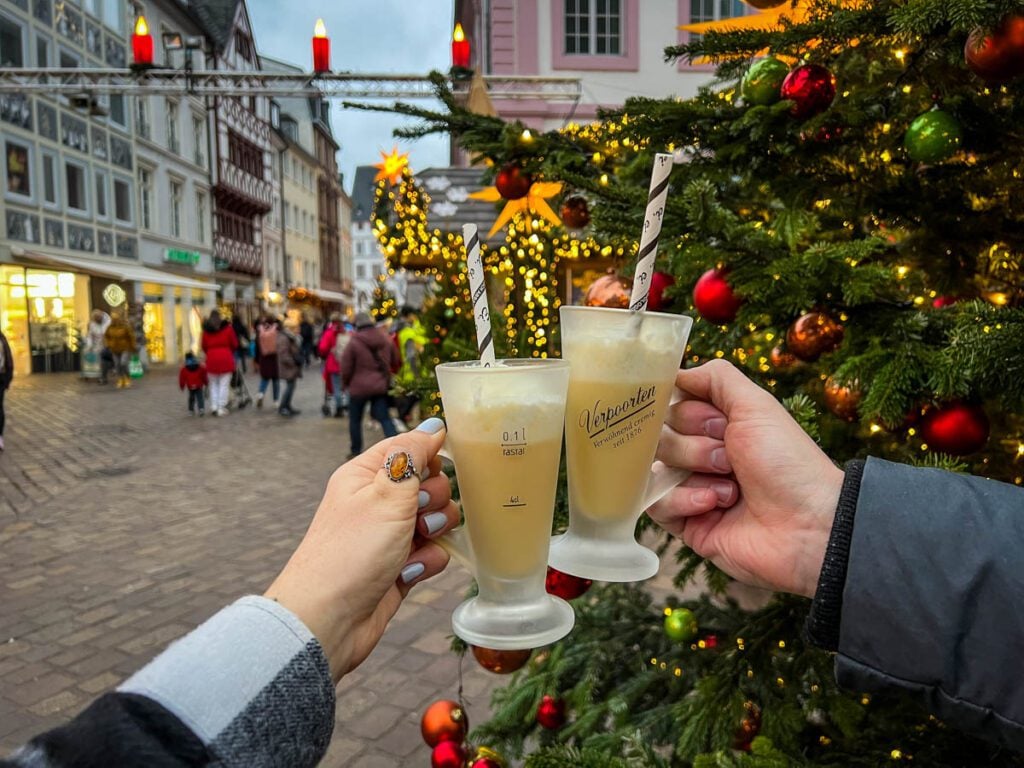 Eierpunsch is a warm and creamy winter drink that is often compared to eggnog.
Made with egg liqueur (eierlikör: egg yolks, powdered sugar, vanilla, whipping cream, and rum) as well as white wine, this drink is served in a mug and topped with whipped cream. Sometimes cinnamon or orange are added as well.
It's a cozy and indulgent winter drink, and a good alternative if you're wanting something other than mulled wine.
I'd encourage you to give this a try because it is definitely a unique drink and some people love it.
I personally think it's alright, but it's pretty rich after one mug, so I typically stick to gluhwein.
Where to find it: You can find this drink at most larger German Christmas markets. Outside of Germany, it can be harder to find.
31. Feuerzangenbowle
What is it? Alcoholic punch, which is lit on fire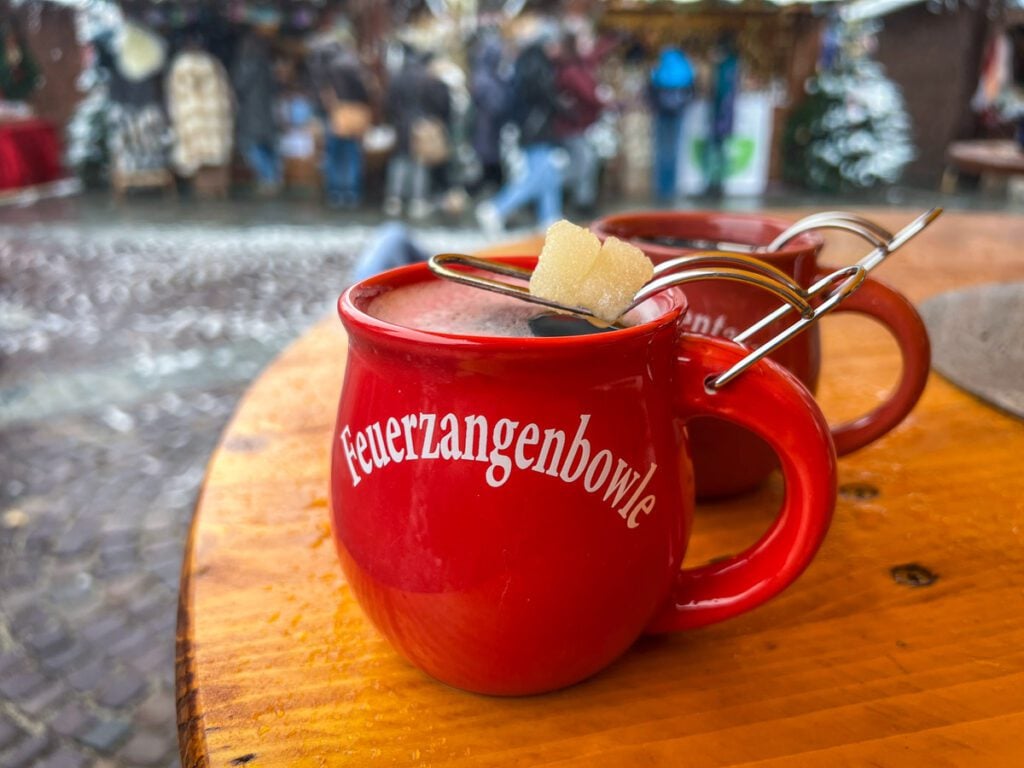 This German punch is perhaps my favorite Christmas market drink!
This drink starts with mulled wine which is served in a special mug (different from the gluwhein mugs). It is usually more round and has a tong of some sort that lays over the rim. A rum-soaked sugar cube is placed on top of this and lit on fire so the sugar caramelizes and drips into the gluhwein.
It's not only fun to watch, but it's really tasty. Just be careful when you take a sip, because the rim of your mug can get very hot!
Fun Fact: Feuerzangenbowle translates to fire-tongs punch. The Germans are very literal!
Where to find it: German Christmas markets
32. Heiße Schokolade
What is it? Hot chocolate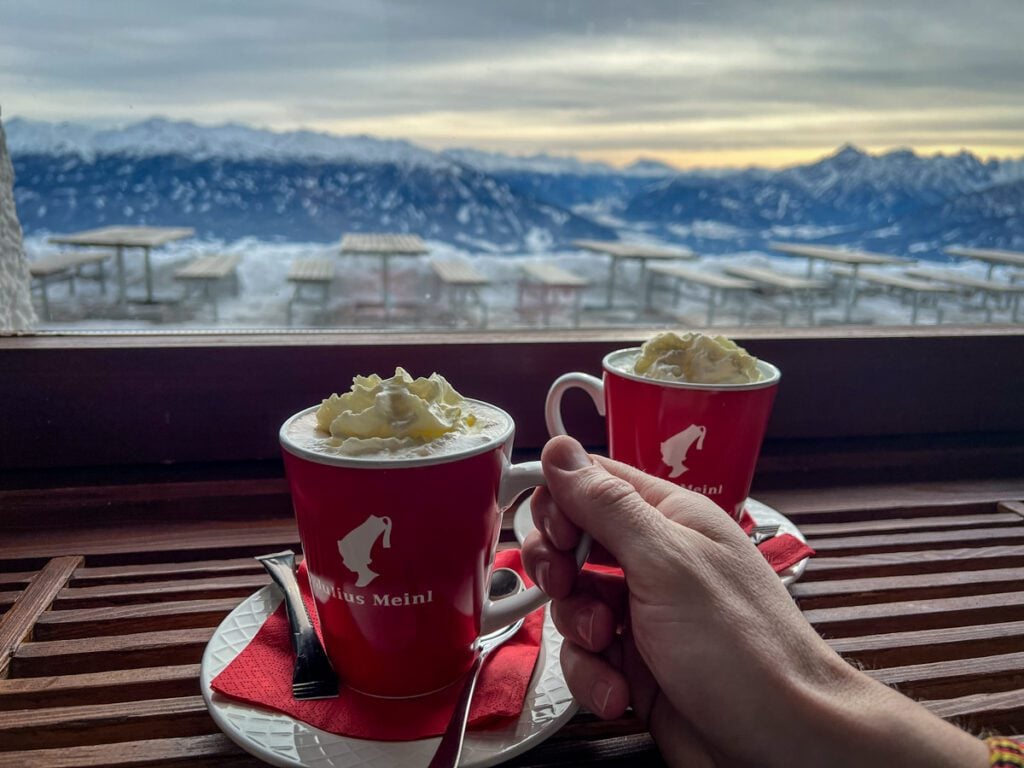 Heiße Schokolade is a good option for those wanting a warm and indulgent drink without alcohol. It's also a popular pick for kids!
All that said, if you would like to spike your drink, there's no judgement at Christmas markets! There's typically an assortment of liqueurs and spirits to choose from.
Insider Tip: I'd recommend Frangelico (hazelnut liqueur). Bailey's and amaretto are also popular choices!
Where to find it: Just about any Christmas market in the world
33. Jägertee
What is it? Warm alcoholic tea
This is a warm alcoholic tea, popular in Austria and other alpine regions.
Made with rum, black tea, fruit juice, and spices, this is a nice alternative to gluhwein.
Where to find it: Austria; we found it around the Innsbruck area
34. Grog
What is it? Alcoholic drink with lemon and hot water
Grog is a warm alcoholic beverage made with rum or another spirit, hot water, lemon juice, and sugar or honey.
This is similar to a hot toddy, and I really like this option when I can find it because it tends to be less sweet than some of the other drink options.
Where to find it: Not all markets have this on the menu, but head to the gluhwein stand to see if this is an option
35. Kinderpunsch
What is it? Warm, non-alcoholic punch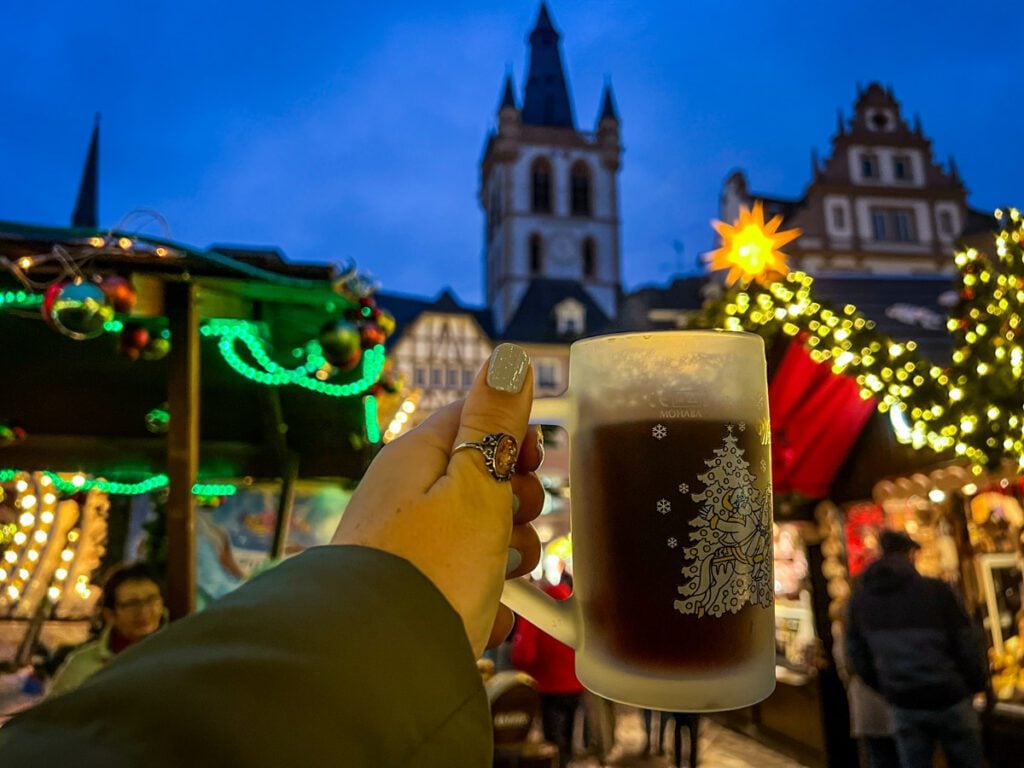 This is essentially the virgin version of gluhwein, making it a festive drink option for children or adults who don't want to drink alcohol at Christmas markets.
It's made with fruit juices (often apple cider, cherry, and orange juices), spices, and fruit tea (like hibiscus).
Our opinion: We think European Christmas markets would make an incredible babymoon trip, so this would be the perfect festive drink for any expecting mamas!
Where to find it: Any Christmas market serving gluwhein should also offer kinderpunsch
---
Things to know about Christmas market foods
Now you have a long list of Christmas market foods to try, but before you hit the markets, there are a few things that you should know:
1. You'll find more than just what's on this list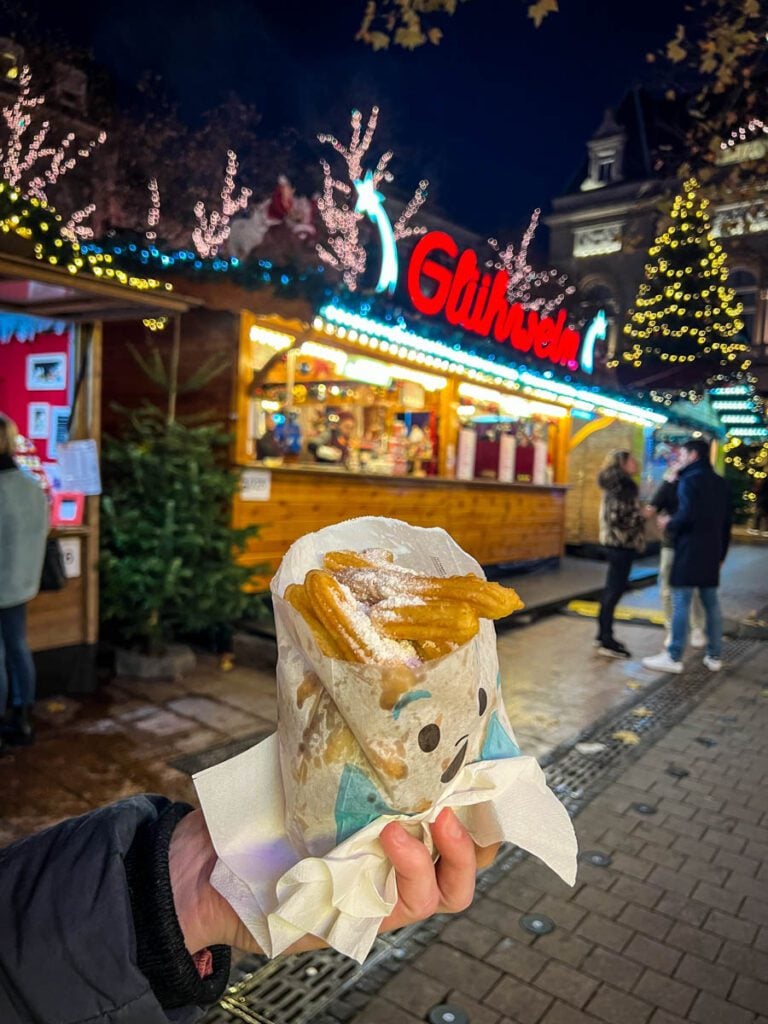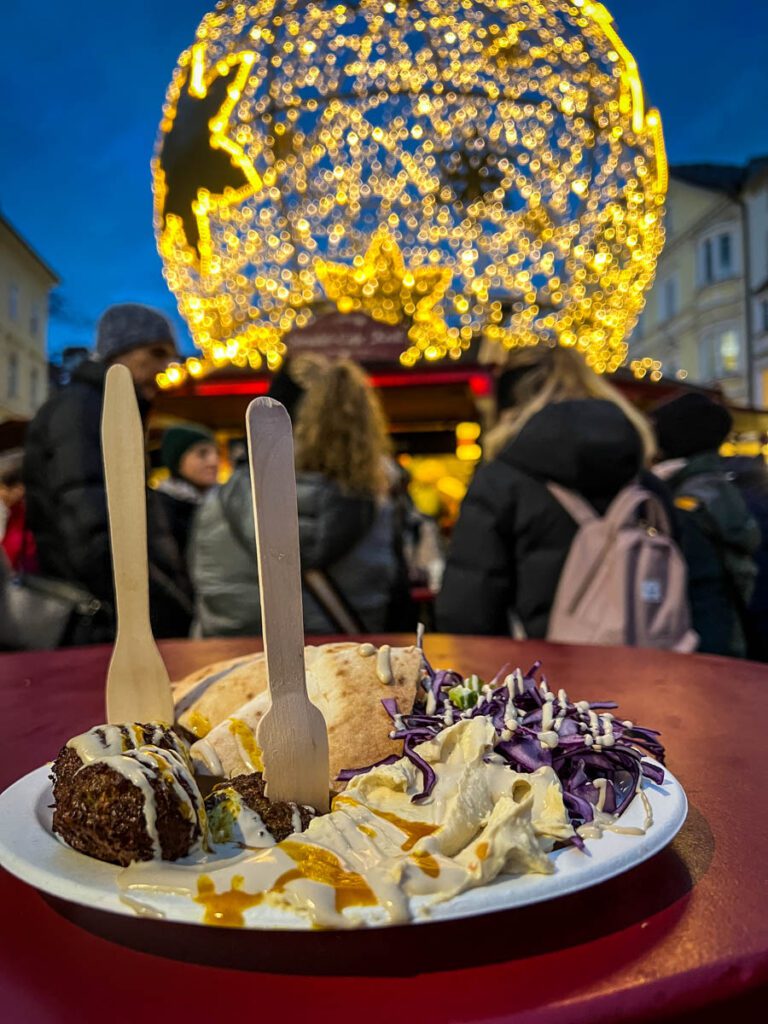 While this list focuses on the more traditional foods you'll find at Christmas markets, it isn't exhaustive.
At larger Christmas markets, you'll likely be able to find a wide variety of foods from around the world – falafel, churros, banh mi – you name it!
2. Sweet lovers will be in heaven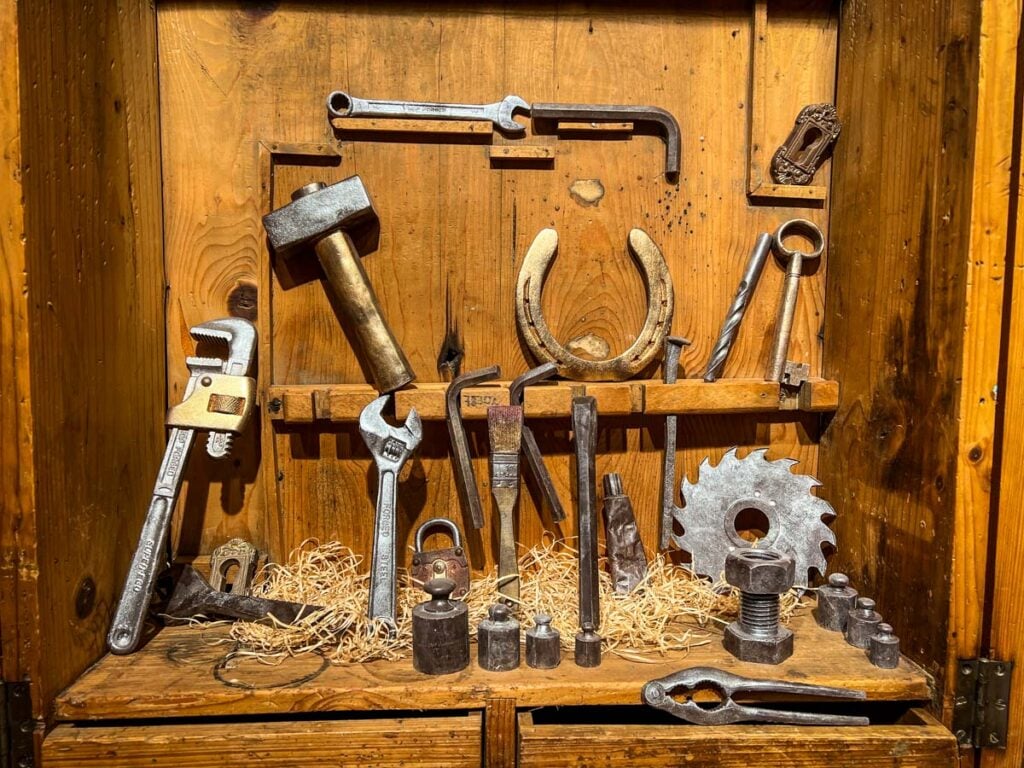 3. Look for long lines
This is often a good indicator if there is any must-try item at that particular market.
Christmas markets are not only popular with international tourists, but locals as well, who know exactly which stands have the best food.
Insider Tip: Ask your hotel reception (or Airbnb host) if there are any must-try foods. They'll know the best stands too!
4. Never skip the regional specialty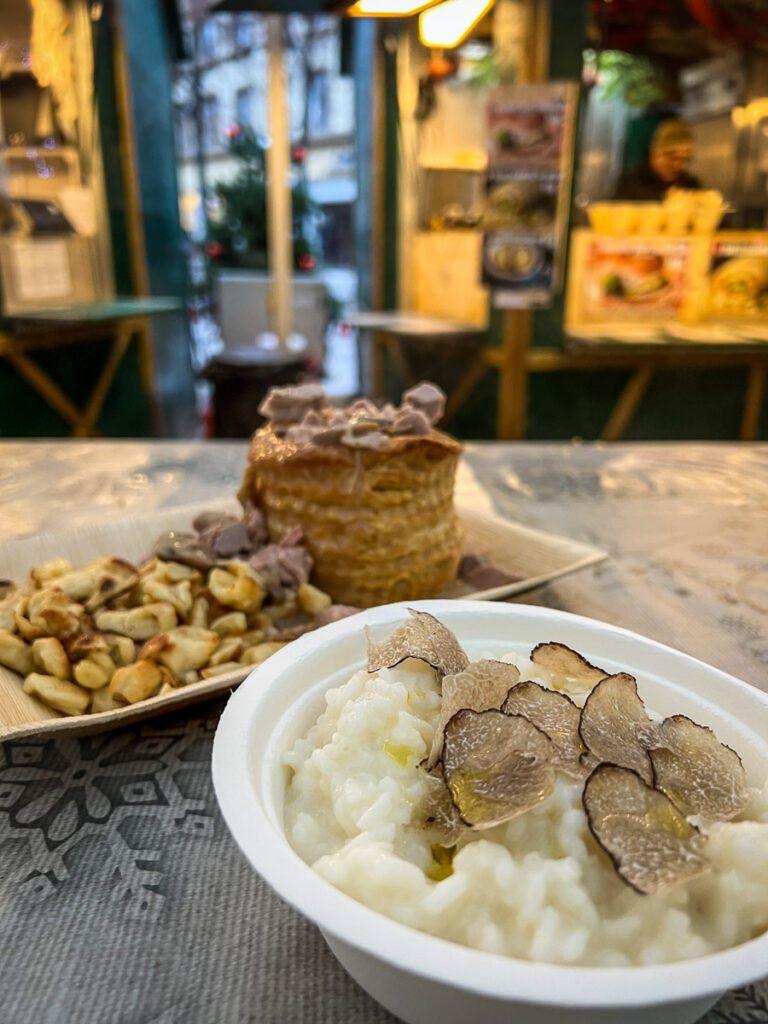 Many regions have their own specialties, so keep your eyes peeled for foods that are unique to the city you're visiting.
Sometimes you won't find these specialties outside of that particular city, so don't sleep on them because it may be your only chance.
5. You might have trouble with dietary restrictions
I will say that while there are a lot of vegetarian options at Christmas markets, unfortunately it is a little harder for travelers who are vegan or gluten free.
If you are celiac, you'll want to do some research and be extra vigilant because even the foods that are free of gluten may have cross contamination due to how the food is handled in a market environment.
6. Carry cash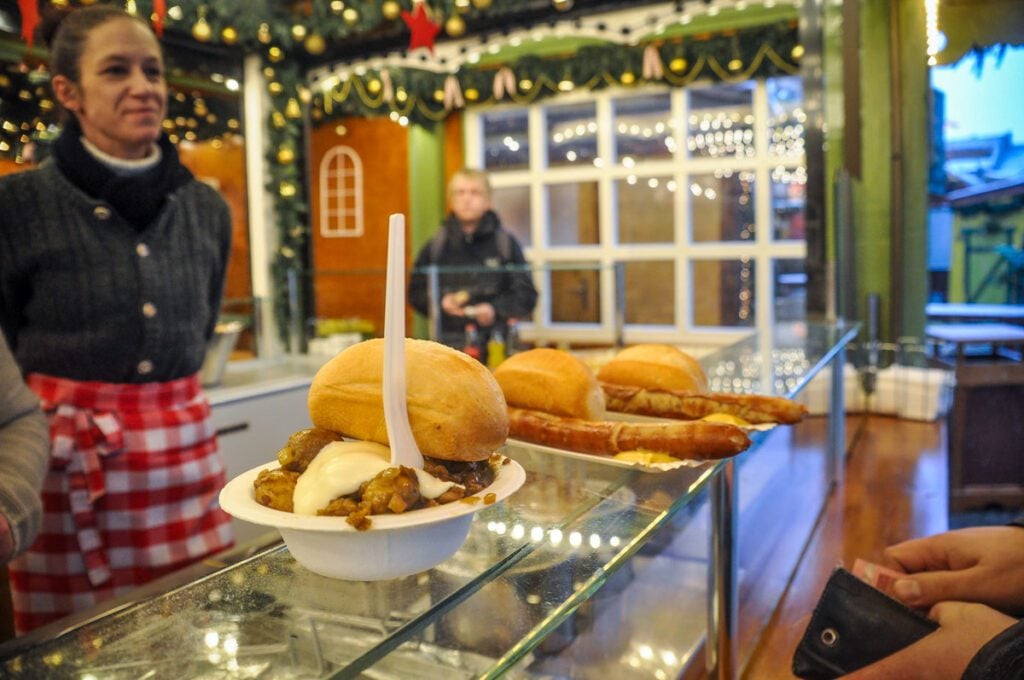 It's a good idea to carry cash with you at Christmas markets. These days, many vendors also take card, but there are still some that only take cash.
It's also easier to pay your mug deposit with coins.
7. Split when possible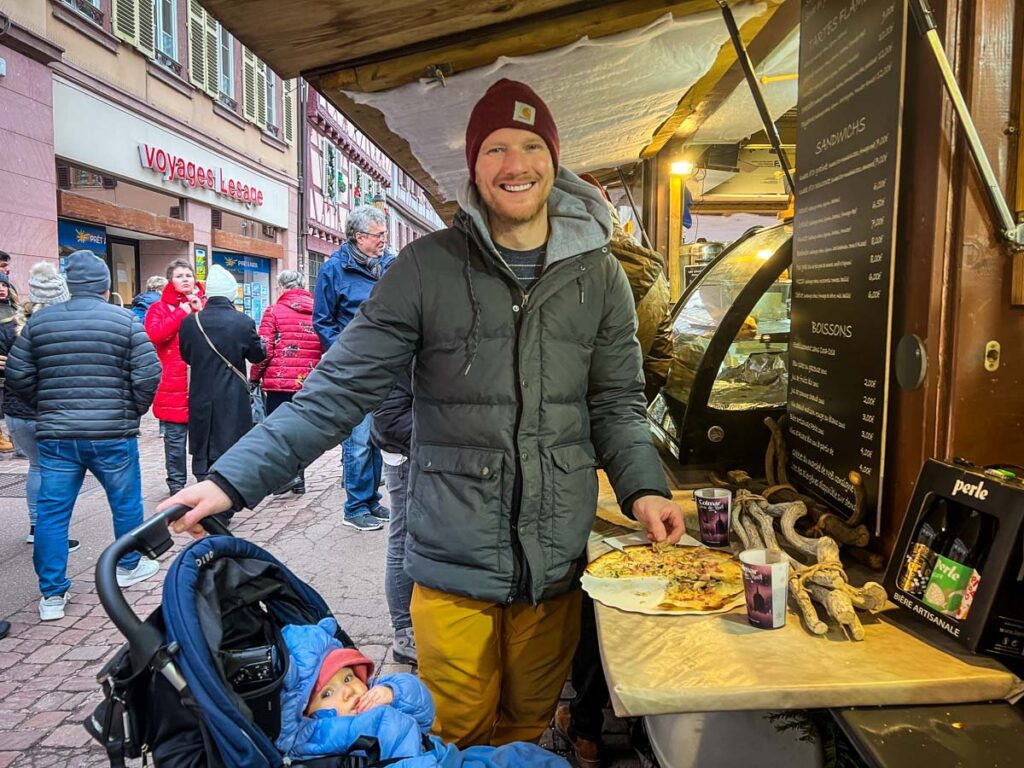 One piece of advice I'd give you is to split (as long as you have a travel partner who's down!).
There are certainly some foods that are less conducive to this than others (ermmm, bratwurst!). But when possible, splitting will allow you to try more dishes without getting stuffed!
8. Try local cuisine at restaurants too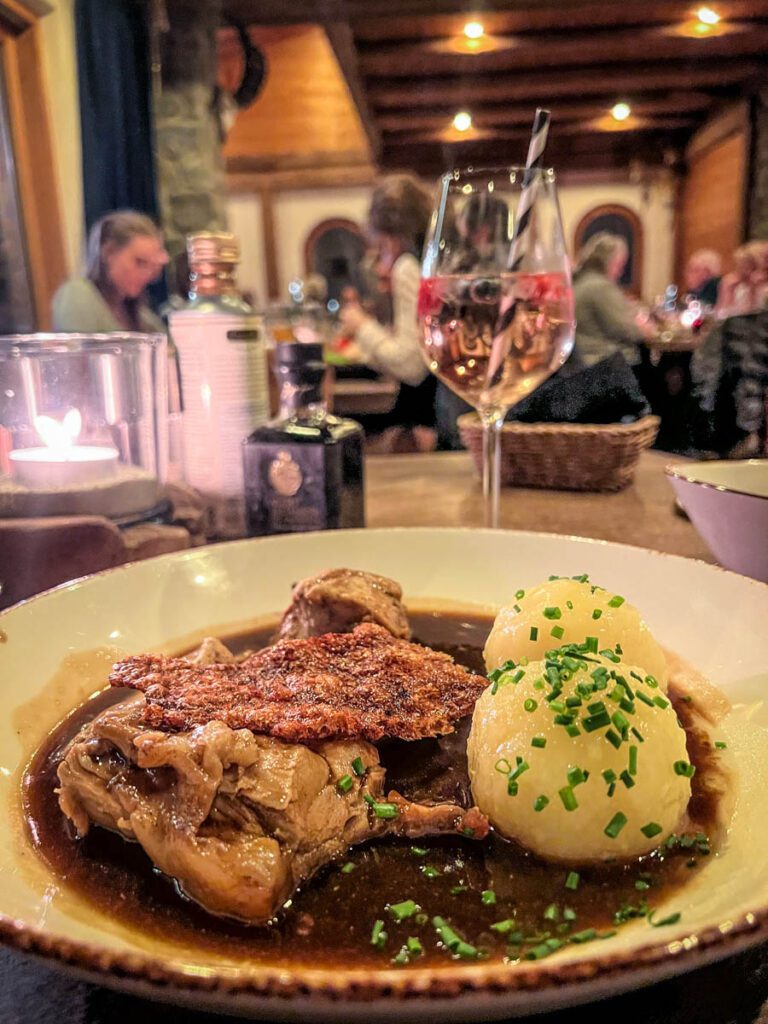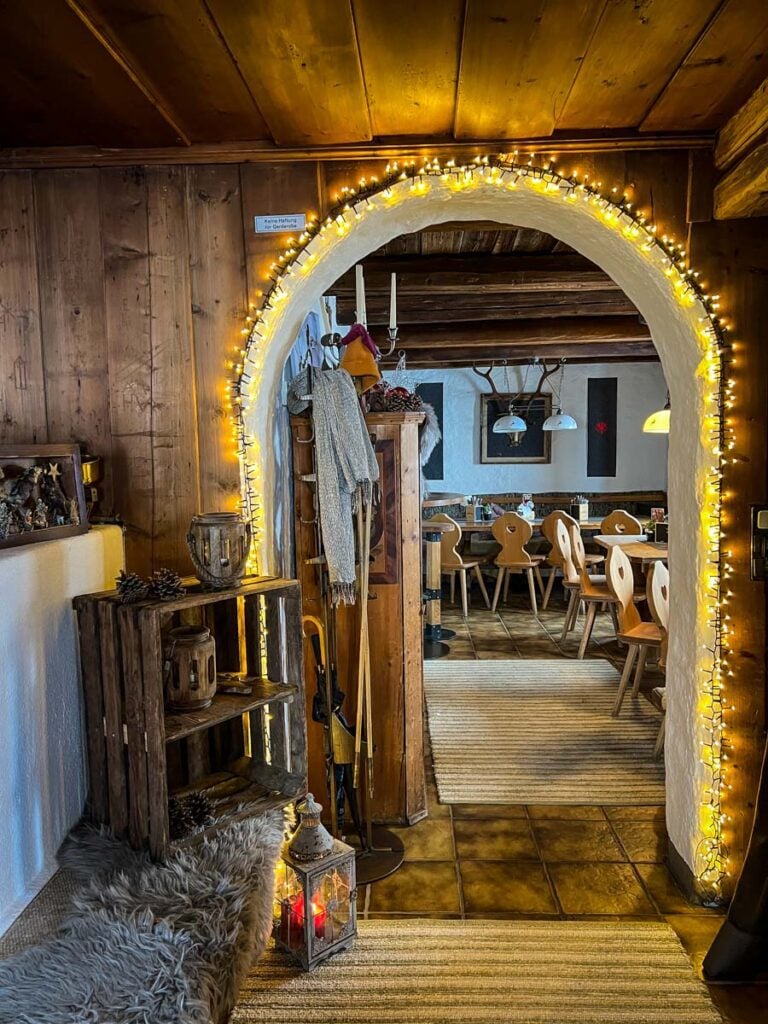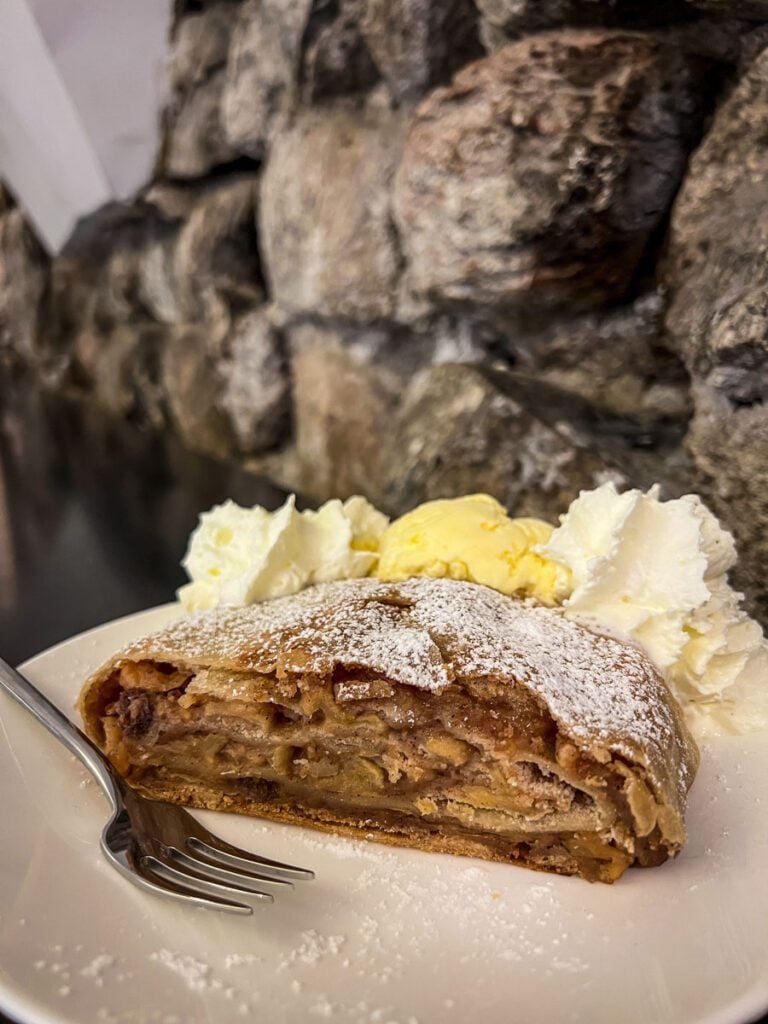 Plan to eat lots of your meals at the markets as it's a good way to sample a variety of foods. Plus, it's usually cheaper than eating at a restaurant.
However, include a few restaurants on your itinerary too because there are some great ones and there are many regional specialties that are not available at the Christmas markets.
Plus, it's a good way to switch up what you're eating and get some more veggies in your system. More on that below…
9. Christmas market foods tend to be heavy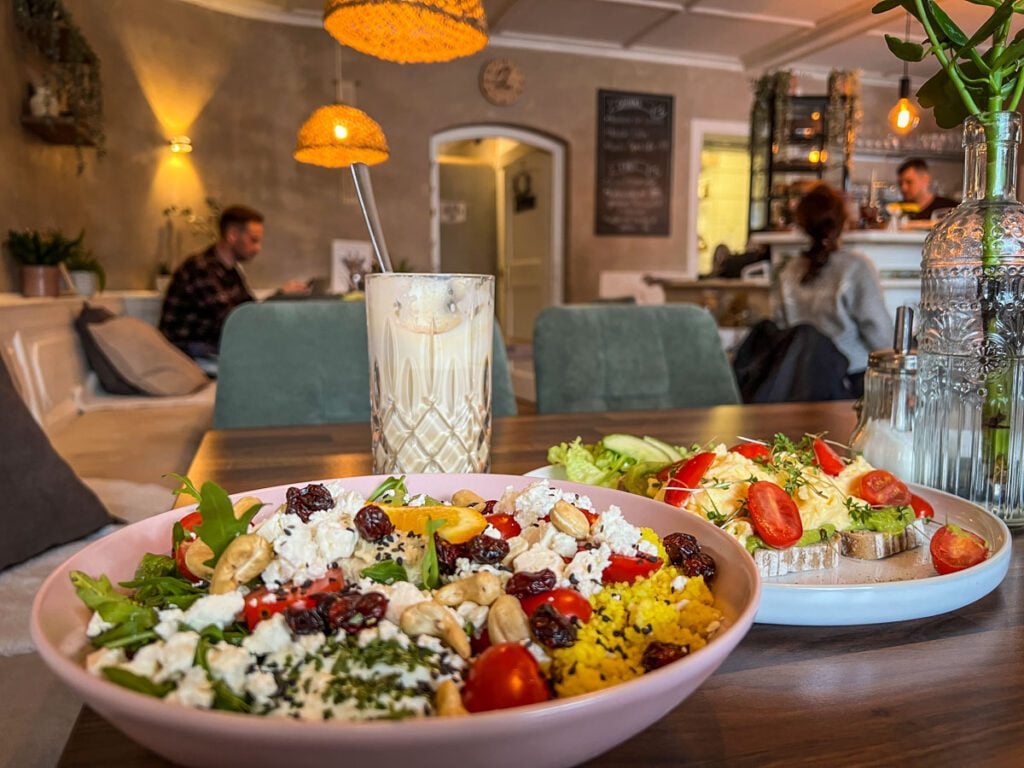 If you're anything like me, you'll be craving veggies after a few days of eating market foods. Eating out at restaurants that serve the regional cuisine can be very heavy too.
I'd recommend planning to seek out some plant-based restaurants and cafes to help balance out your eating.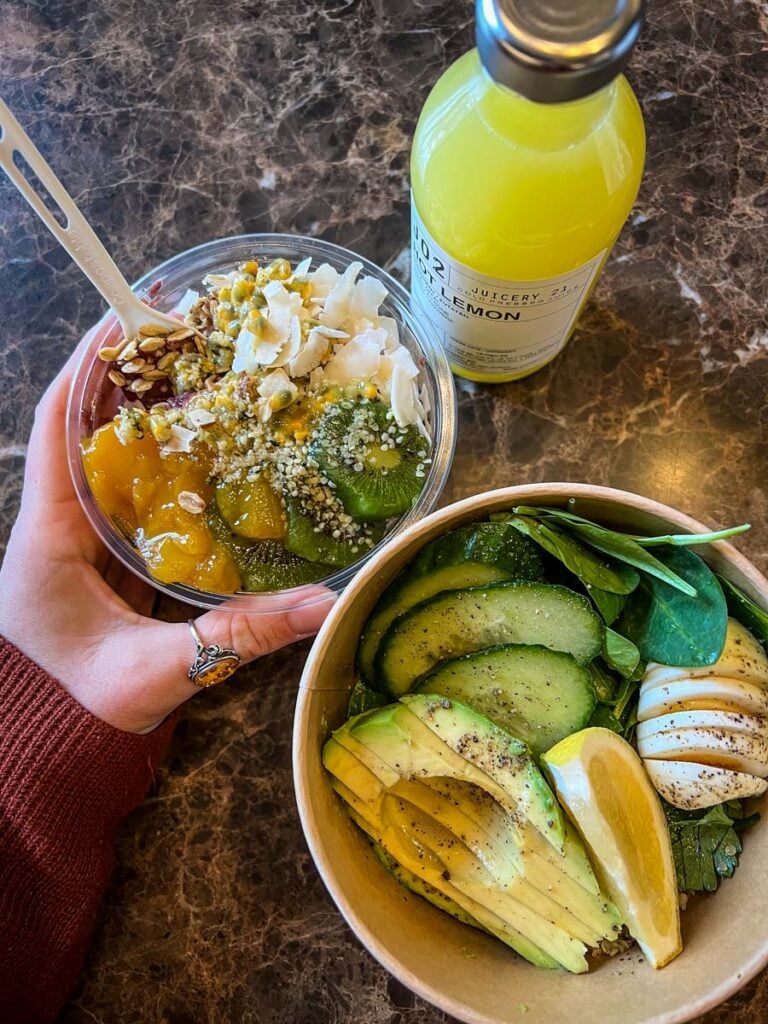 Insider Tip: If the restaurant you're dining at doesn't have many veg-heavy items on the menu (common with German, Austrian, and Swiss cuisines), order a side of vegetables. It may not be on the menu, but every time we asked, they were able to make us some.
Round up of best Christmas market foods to try
If you want all our food recommendations in one place (kind of like a checklist!), here ya go!
Savory Christmas market foods
Flamkucken
Käsespätzle
Bratwurst
Regional sausages
Frikadelle
Semmelknödel or Speckknödel
Laugenbrezeln (pretzel)
Langos
Raclette
Kartoffelpuffer
Rösti
Pommes frites
Champignons
Kartoffeltornado
Kiachl
Chäsbängel
Sweet Christmas market foods
Baumstriezel (chimney cakes)
Gebrannte Mandeln (sugared nuts)
Chestnuts
Dampfnudeln
Fruchtspieße (fruit skewers)
Lebkuchen
Schmalzgebäck
Marzipan
Kaiserschmarnn
Schokokuss
Crepes
Christmas market drinks
Gluhwein
Eierpunsch
Feuerzangenbowle
Heiße Schokolade (hot chocolate)
Jagertee
Grog
Kinderpunsch
---
More resources for planning the perfect Christmas market trip
Save this article on Pinterest for later!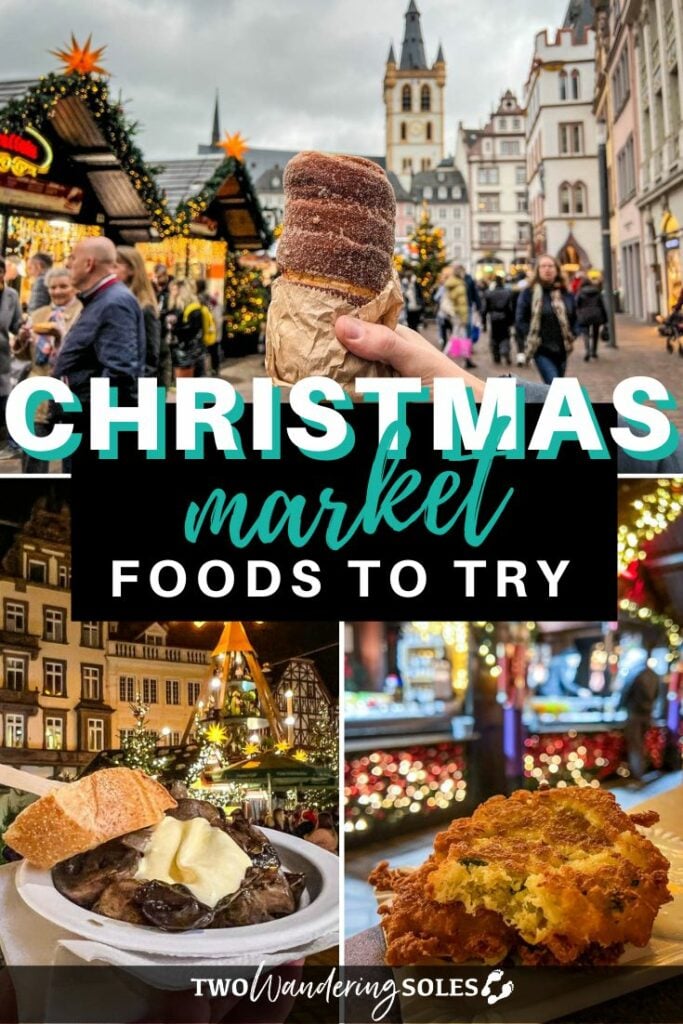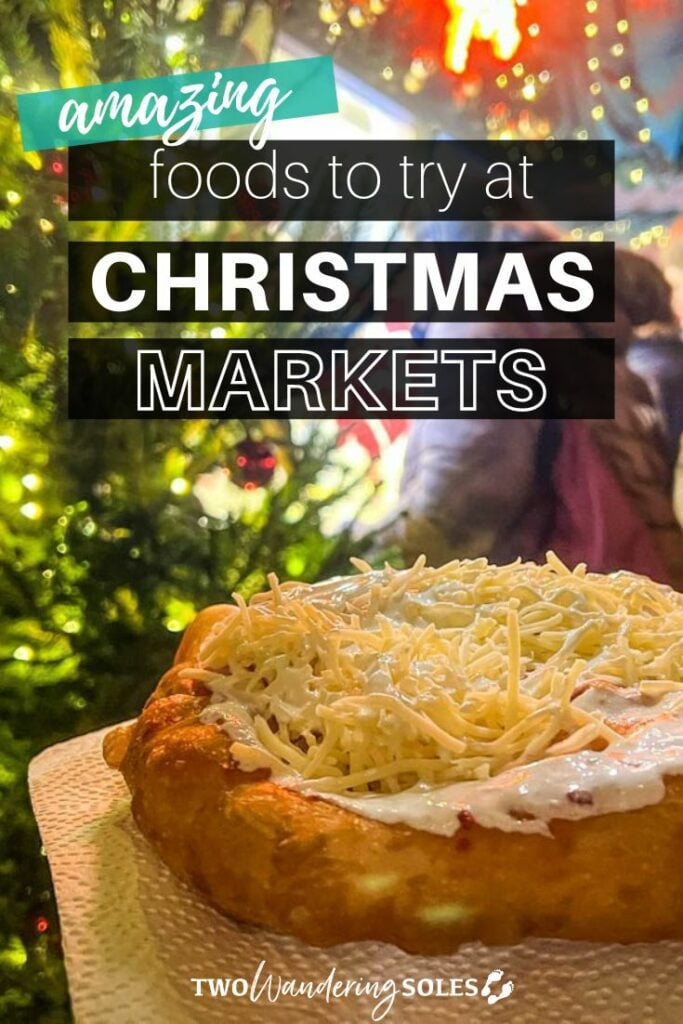 What is your favorite Christmas market food?
What items on this list look best to you? Did we leave out your favorite? Comment below and we'll do our best to get back to you!