We've visited this charming Oregon Coast town on multiple occasions and keep finding ourselves coming back. In this article we're going over all the top things to do in Astoria, Oregon, plus our favorite restaurants and adventures just outside the city.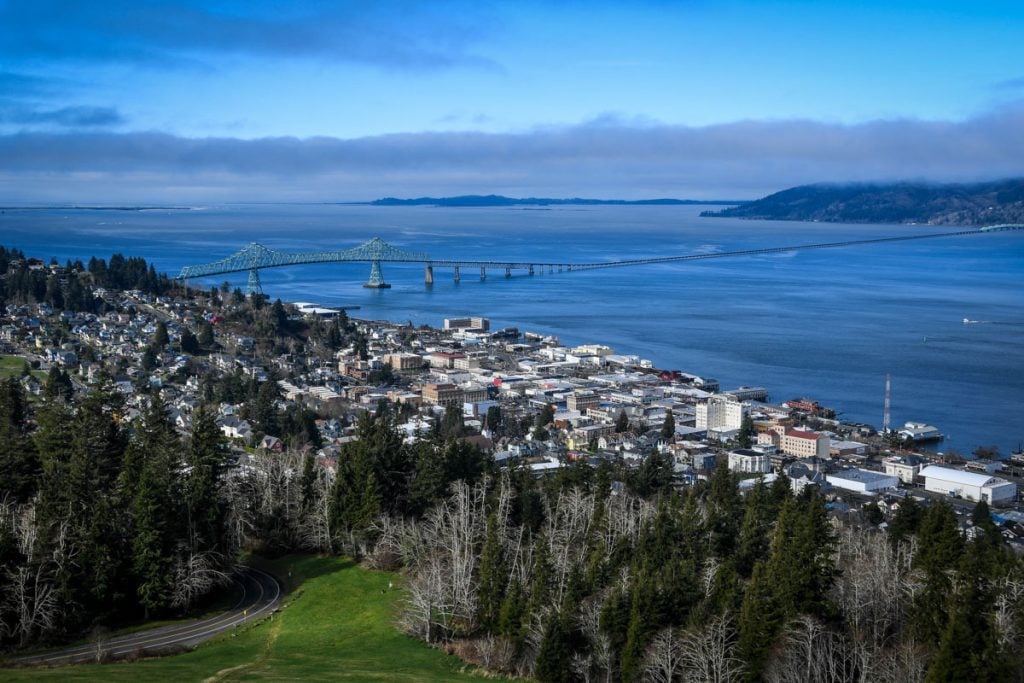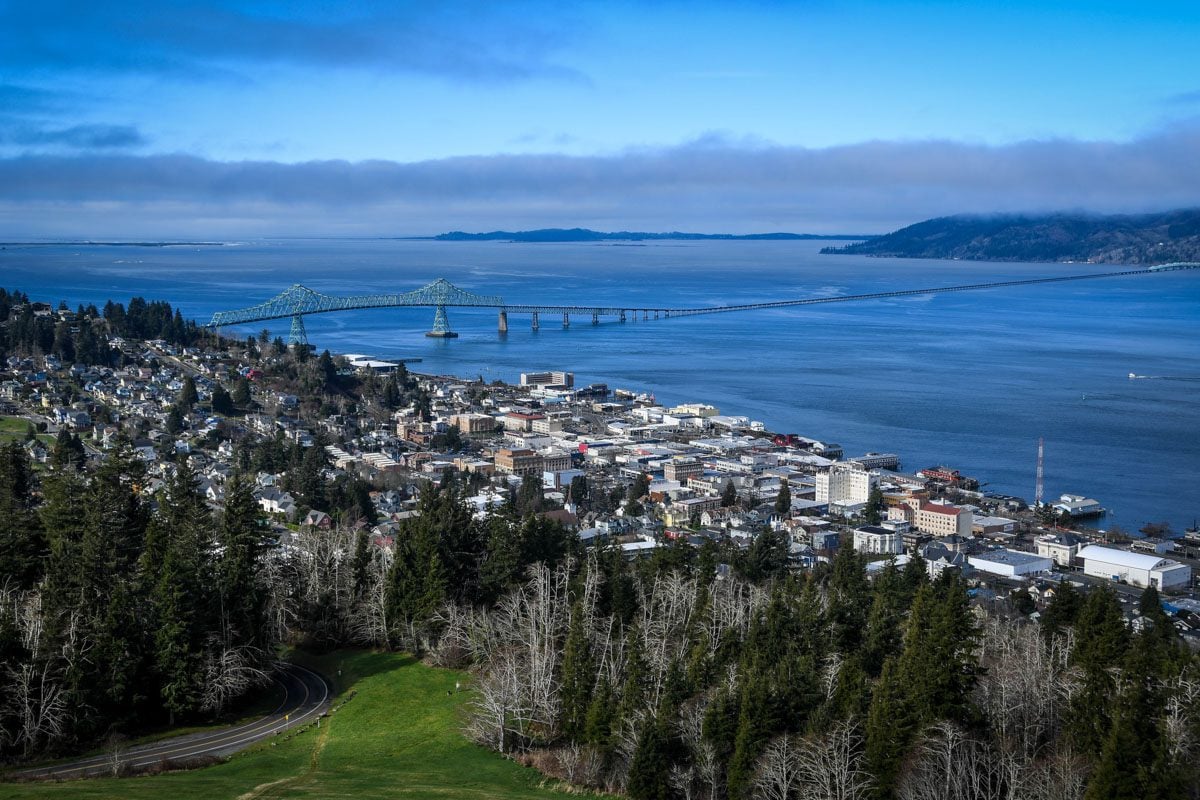 Situated at the mouth of the Columbia River, Astoria is a harbor town that has a rich history and a great food and beer scene.
At just under 2 hours from the city, this charming riverfront town makes for a romantic weekend getaway or a fun day trip from Portland. Alternatively, it makes a perfect starting (or ending point) for your Oregon Coast road trip.
With tons of fun things to do in Astoria, plus all sorts of amazing restaurants, we find ourselves coming back to this Oregon Coast town time and time again. In fact, we've been to Astoria five times in the last couple of years (true story!), and each time we visit, we find even more to love.
In this article, we're going to share the best things to do in Astoria, Oregon – from the obvious attractions to the hidden gems most visitors miss. We've got a good mix of adventures in nature as well as experiences you can have in town. We're also divulging the best places to eat and what to order.
We've basically got the perfect trip to Astoria, Oreogn all ready for you. All you need to do is get yourself there!
Astoria's Interesting History
While you might know Astoria as the filming location of eighties classic The Goonies, the town has a history that spans far before the 1980's and carries more weight than the Truffle Shuffle…
Did you know that John Jacob Astor (the first multi-millionaire in the United States) had big plans for developing the land at the mouth of the Columbia River? His vision was to create a city on the same scale as NYC, using the river for trading.
Astor funded one team of explorers to travel overland and one team to travel by sea, with the intention of beginning a settlement. Problems arose and, in short, the city of Astor's imagination was never built. (Can you imagine if it had been?!)
While present day Astoria is a far cry from what Astor had envisioned centuries ago, it was the first settlement on the West Coast. And it still retains part of his name, paying homage to his dream for the region.
Psst! If you're a history buff, we'd highly recommend reading Peter Stark's "Astoria". The true adventure tale is compiled from journals of some of the first explorers moving overland with the goal of settling what is now modern-day Astoria.

The book can be a bit dry at times, but it gives you a deep dive into what went into exploring the West Coast. Ben learned a ton from this book and is constantly pointing out landmarks that he learned about in the book.
---
---
1. Climb to the top of the Astoria Column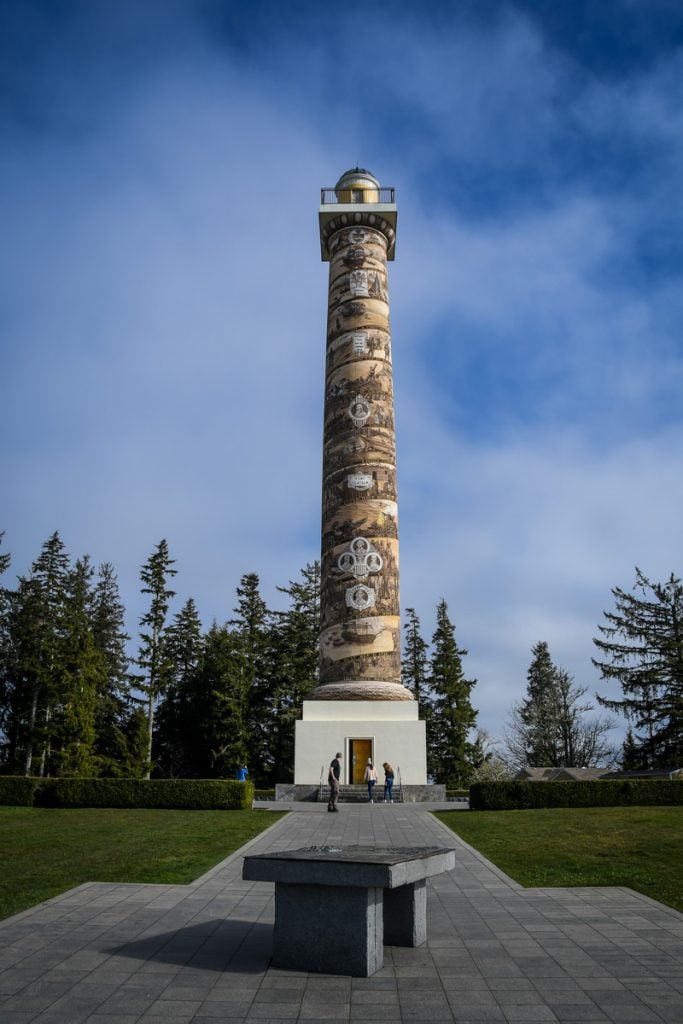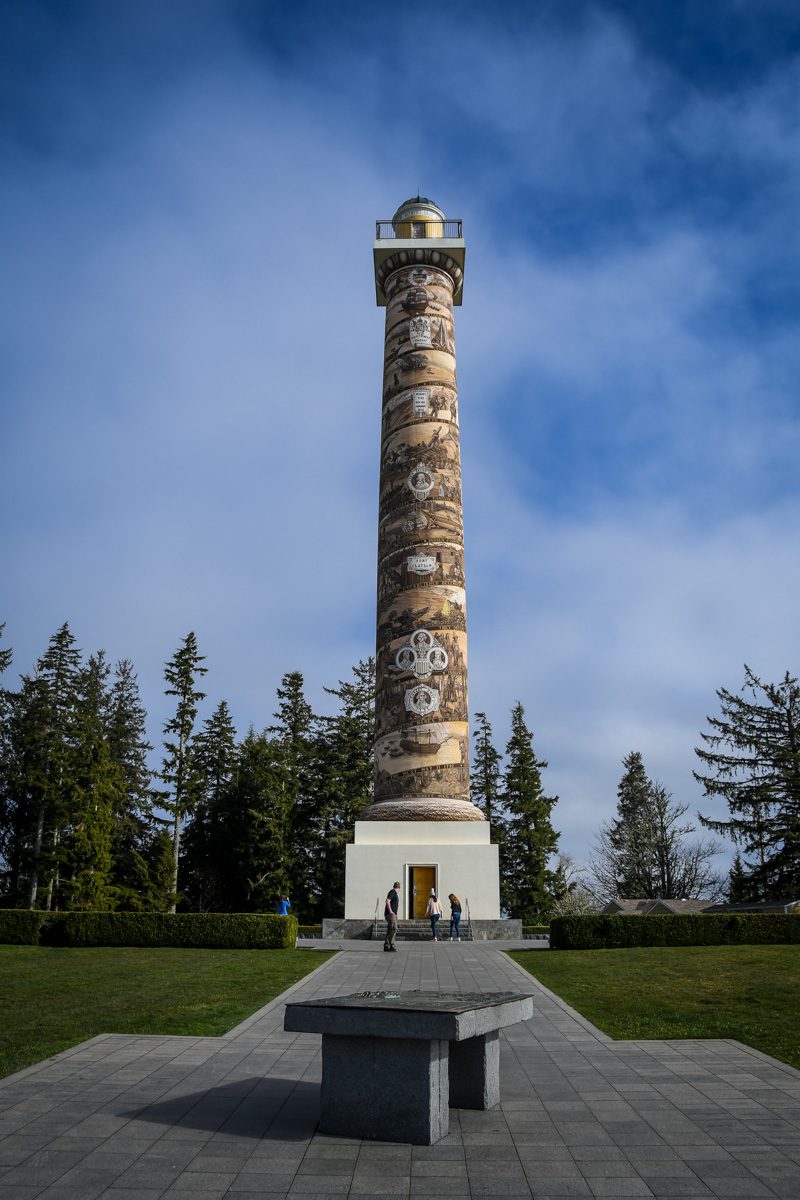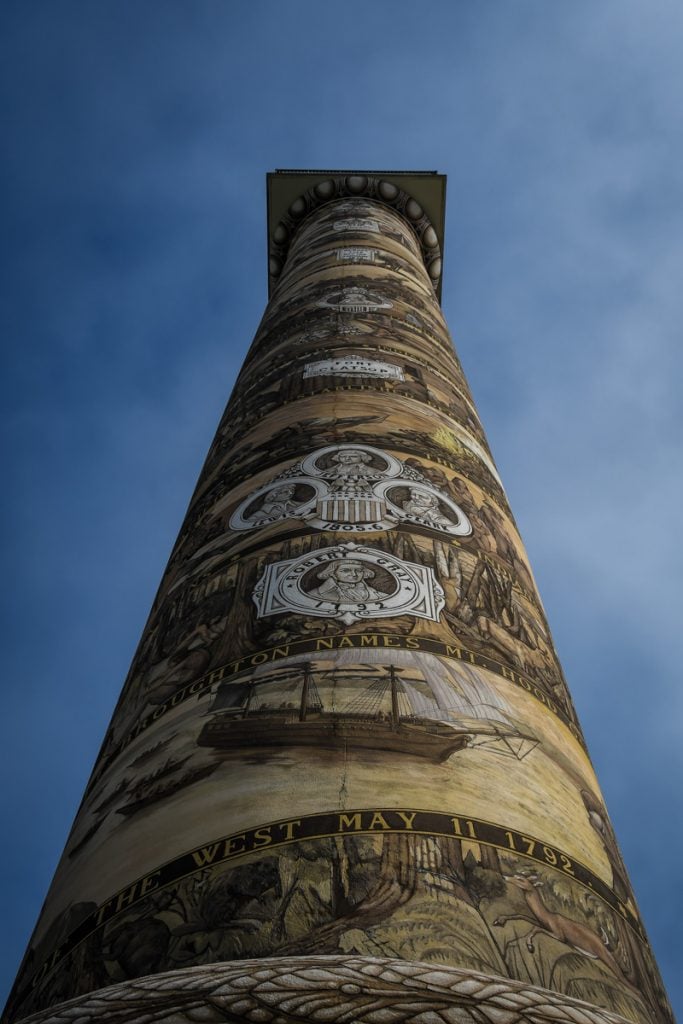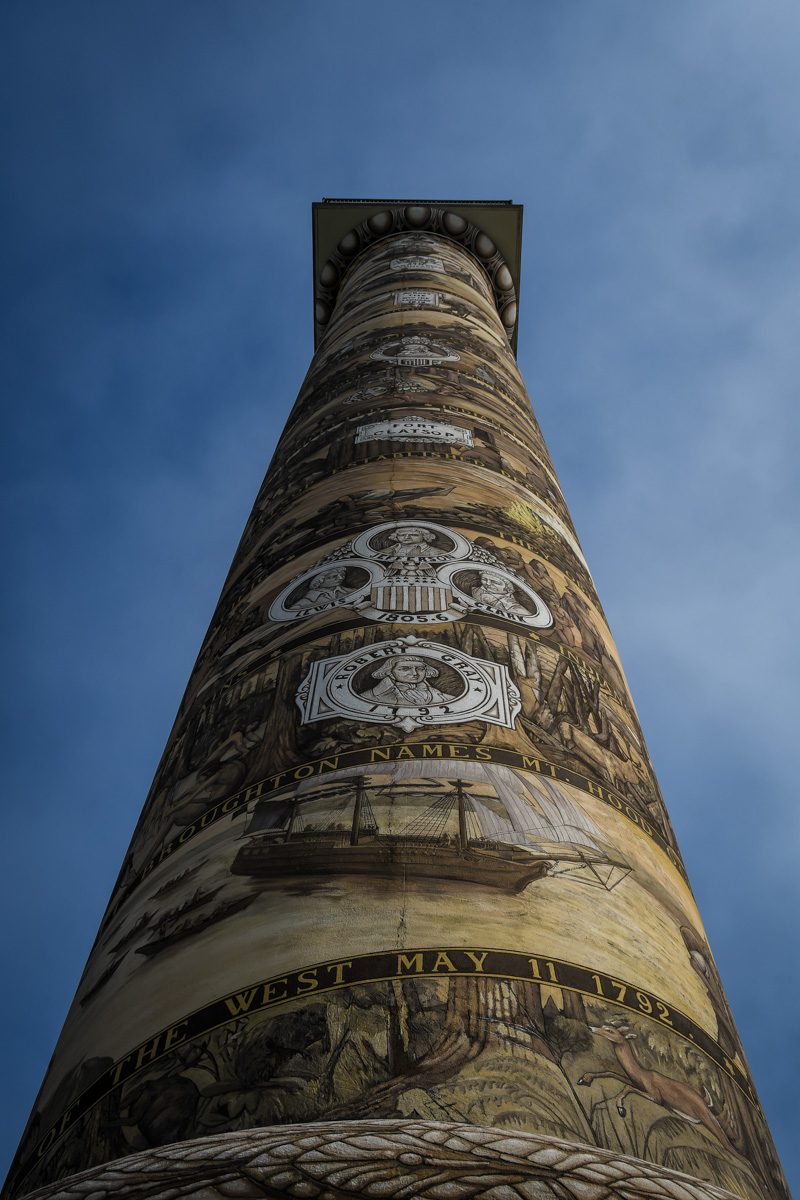 Perhaps the most iconic "thing to do" in Astoria, I remember climbing this tower when I was just a kid. I vividly remember my brother having a mini tantrum on the seemingly endless spiral staircase and then being impressed by the vast view from the top of the tower.
In the years since, we've made this climb just about every time we've visited as it is nice to see in different seasons and at different times of the day.
Insider Tip: If you're looking for the best lighting, late afternoon is nice.
Towering at 125 feet tall, this column is a town icon. You can climb the narrow (and slightly claustrophobic!) spiral staircase — all 164 steps! — to the top where you'll be treated to panoramic views of the Columbia River and the town. The exterior of the column is a work of art in itself, with murals depicting early exploration of the region.
The gift shop sells biodegradable balsa wood glider planes for $1 each, which you can release at the top of the tower and watch as they swoop through the air.
Tip: If you launch a plane, watch where it lands and if possible, try to pick it up when you get back down so you can dispose of it. While the planes are biodegradable, it's nice to pick them up if you're able.
Good to know: Cost to enter is free, but it is $5 to park a vehicle (the pass is valid all year).
2. Hike to the Cathedral Tree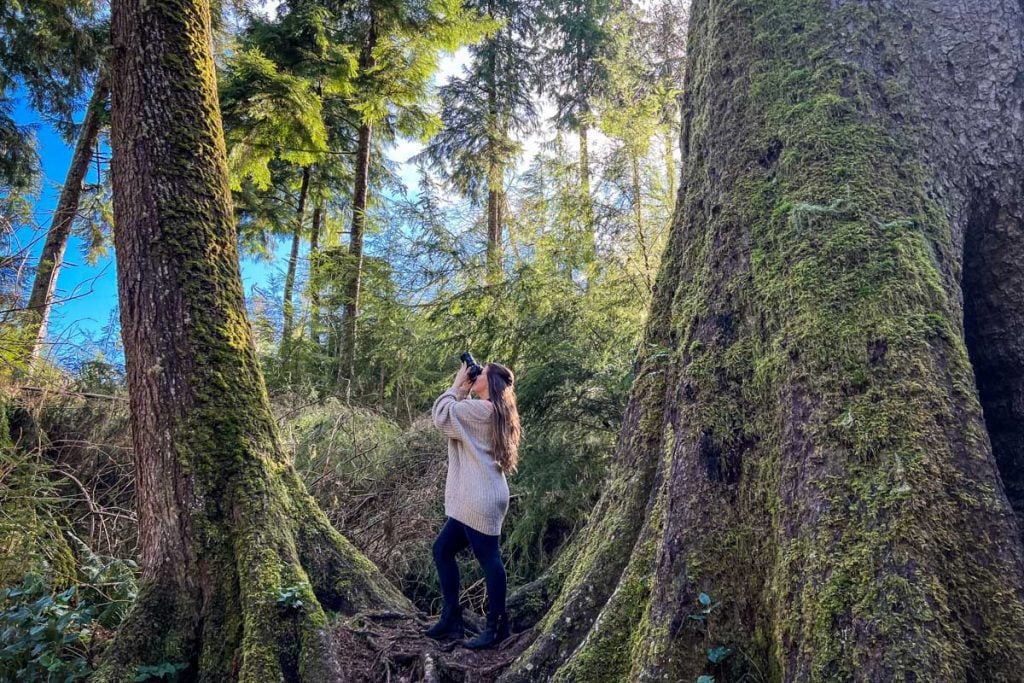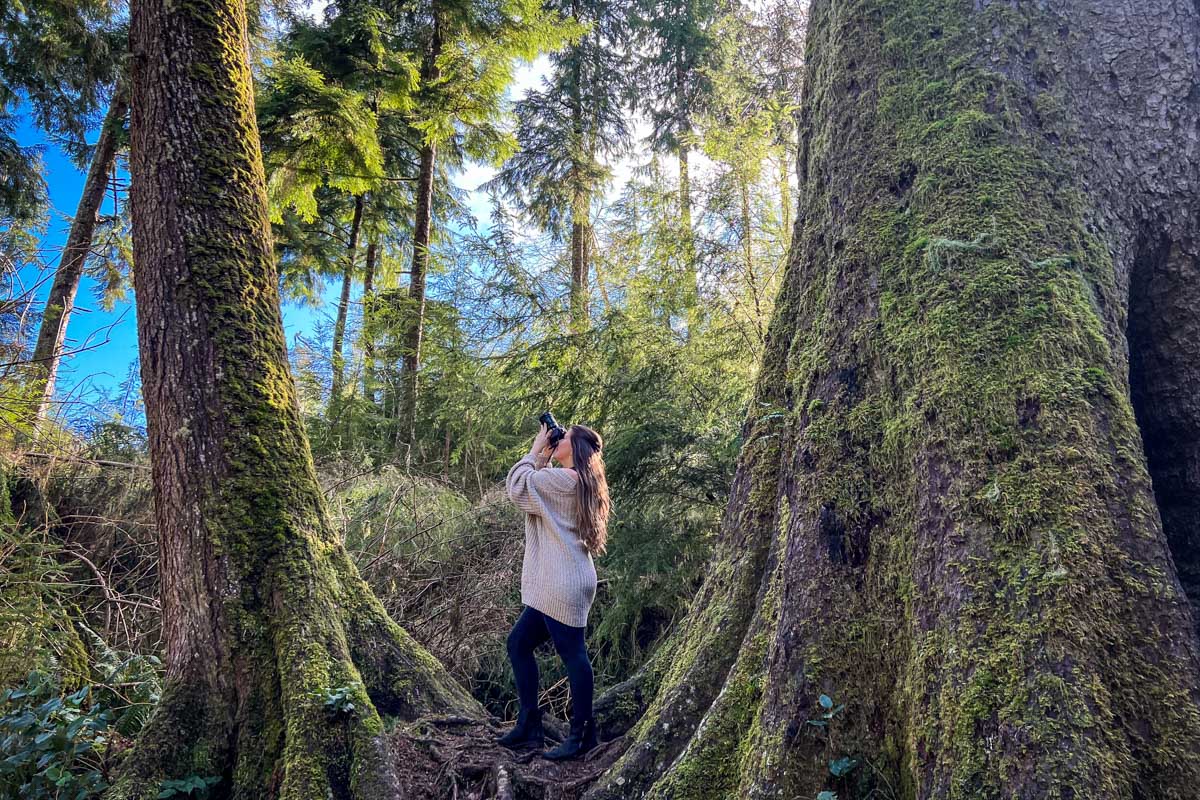 One of our very favorite things to do in Astoria is the hike to this giant tree that's nestled in an old growth forest.
With minimal elevation gain, this trail makes a nice morning walk. You'll eventually see some wooden stairs and a short boardwalk that lead to the Cathedral Tree, a Sitka spruce that is said to be more than 300 years old. Towering at more than 200 feet tall and with a circumference of 27.5 feet, it sure is a beast!
When we were there, we were the only people on the trail, making it a very peaceful experience overall. There's something special about being near a tree so old and massive!
While you can stop at the tree and turn around (that's what we did), you can also continue on to reach the Astoria Column which makes the hike 1.6 miles in total.
Location: Here is the trailhead
Good to know: This trail can be very muddy at times, so wear shoes that will work in the mud.
3. Sip coffee in a historic setting with a river view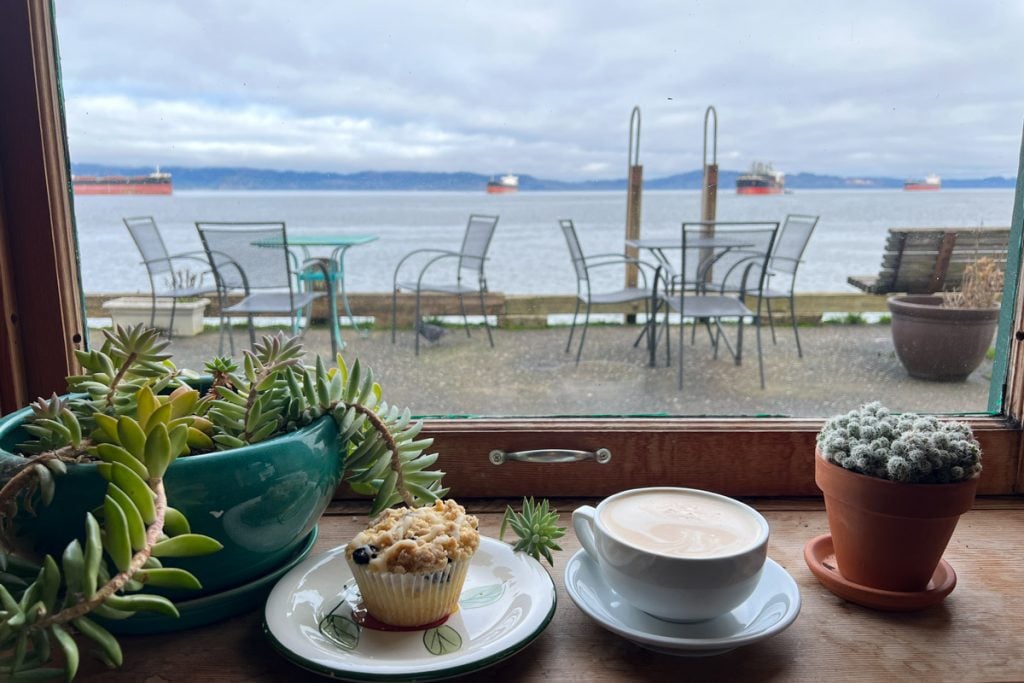 Astoria has a handful of great coffee shops, which is not surprising as the PNW is a Mecca for coffee-lovers. But none can compete with Coffee Girl when it comes to the location.
Situated at the end of Pier 39, Coffee Girl has sweeping views of the Columbia River. With ample indoor and outdoor seating, sip on your cup o' Joe as you watch massive cargo ships in the not-so-far distance.
Located in what was once the Hanthorn Cannery, you can enjoy a latte with a slice of history on the side. The counter where you order has a sign that says, "This is the original counter from which the coffee girl served coffee to the cannery workers on their breaks."
Bonus: After enjoying your coffee, pop into the free Cannery Museum, which is just beside the coffee shop. Here, you can see what the cannery used to look like and read a bit about its important role in the history of Astoria.
4. Step back in time at the Flavel House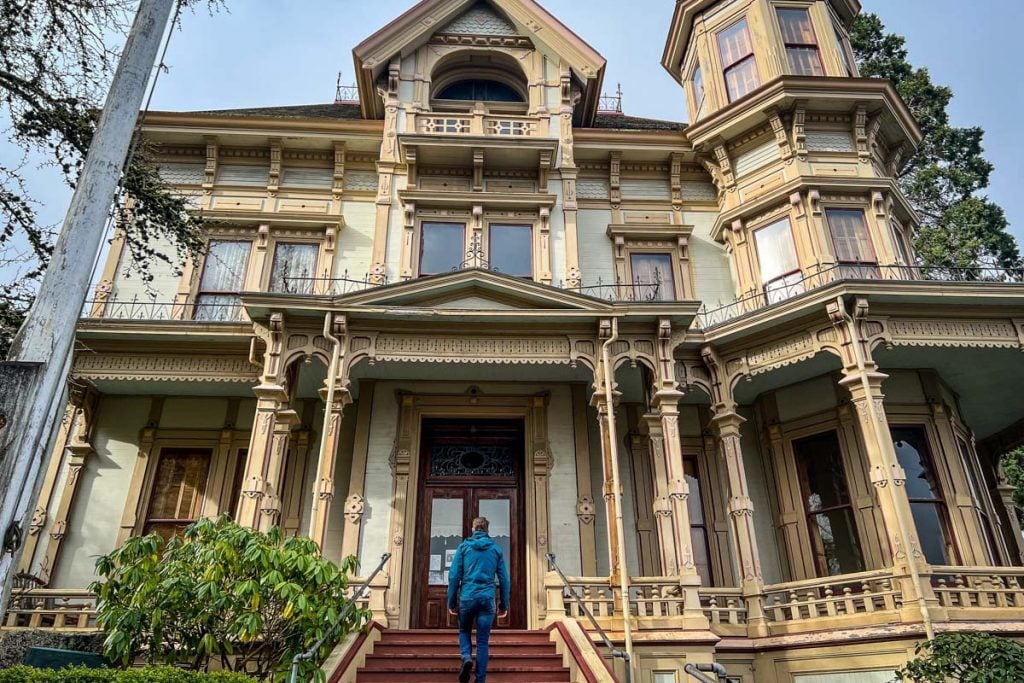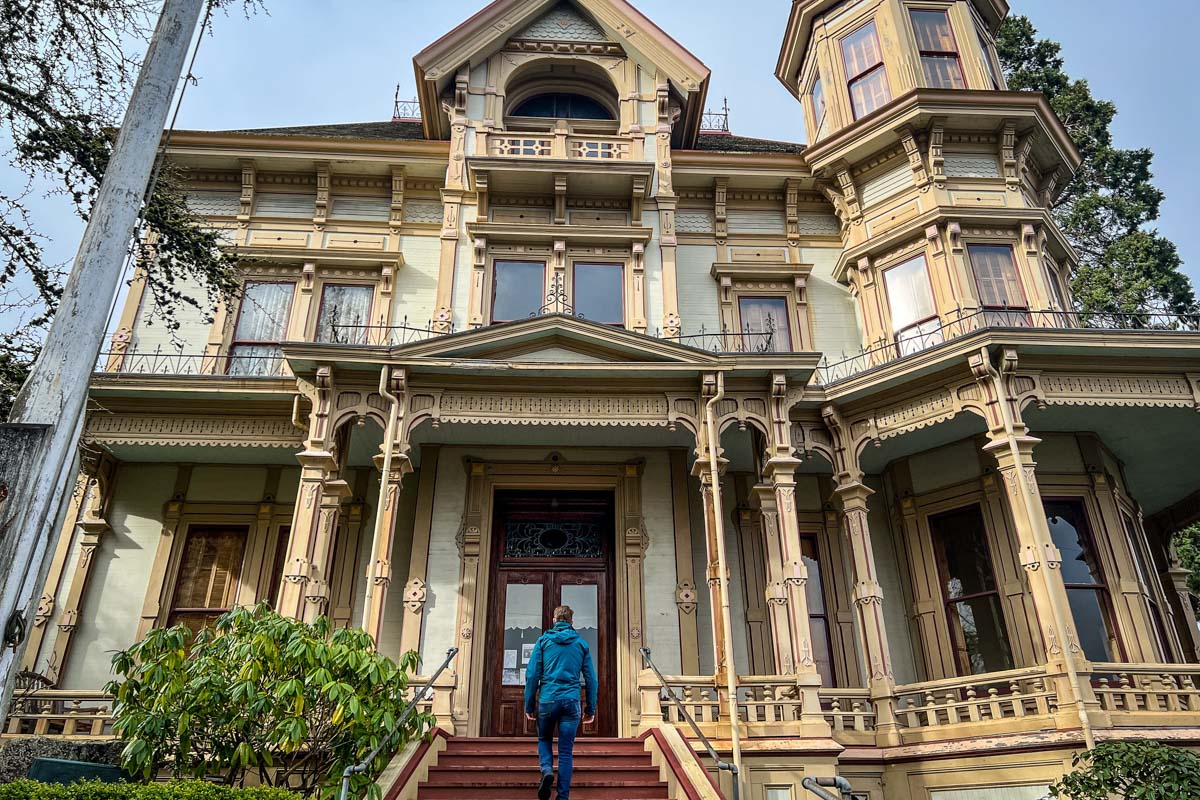 If you're interested in history and architecture, this will be your jam.
The Flavel House was once owned by renowned boat captain, George Flavel, who in his time, was one of the richest men in Astoria. He was known as the area's best "bar pilot", a job where he navigated large ships around the ever-shifting and very deadly sandbars at the mouth of the Columbia River.
Insider Tip: If you want to sound like a local, be sure to pronounce the name correctly: "flah-vel"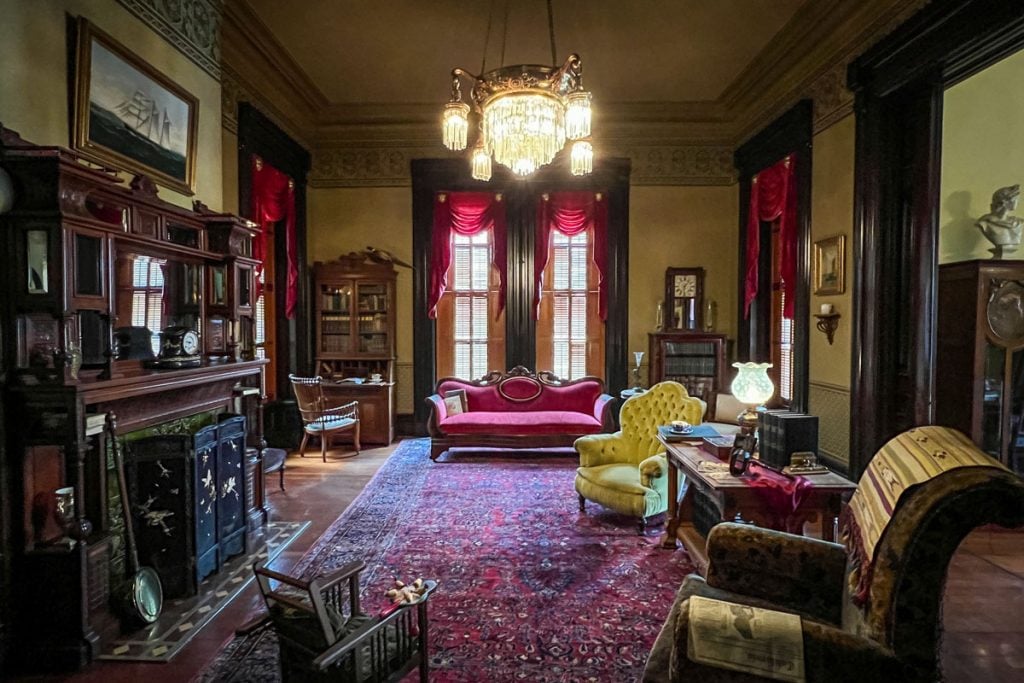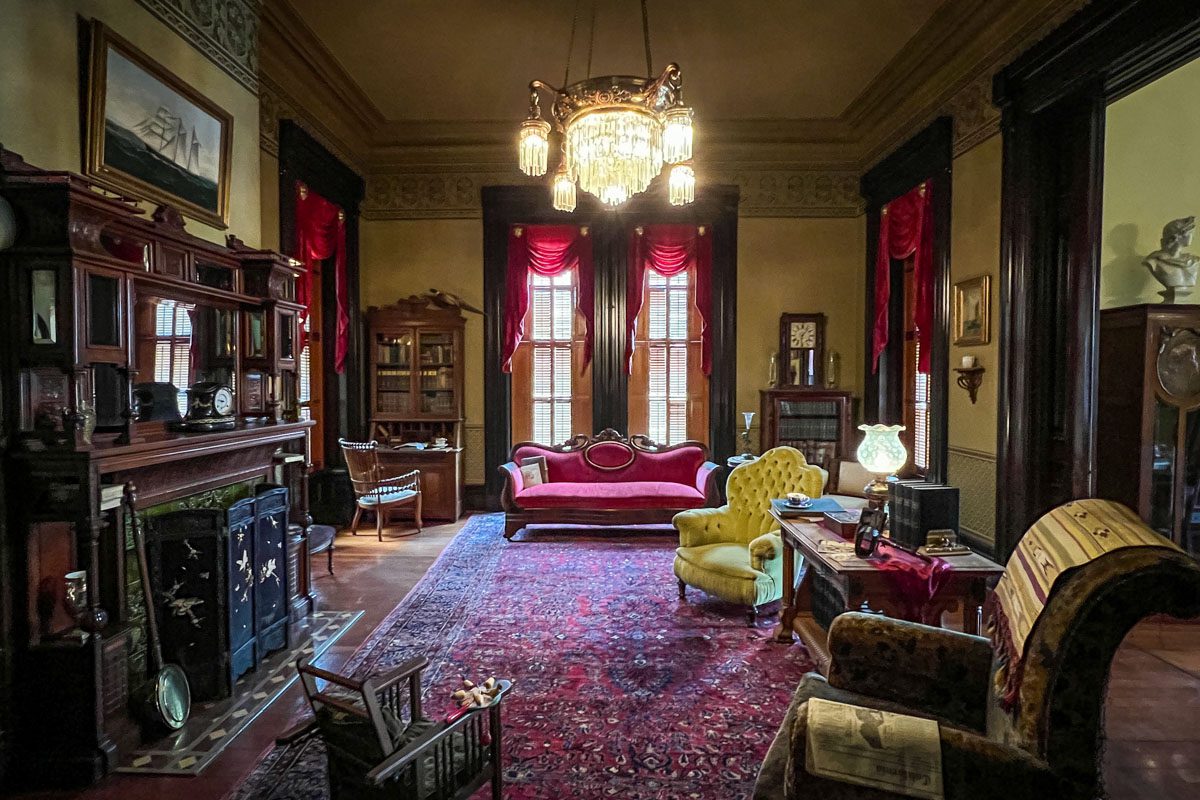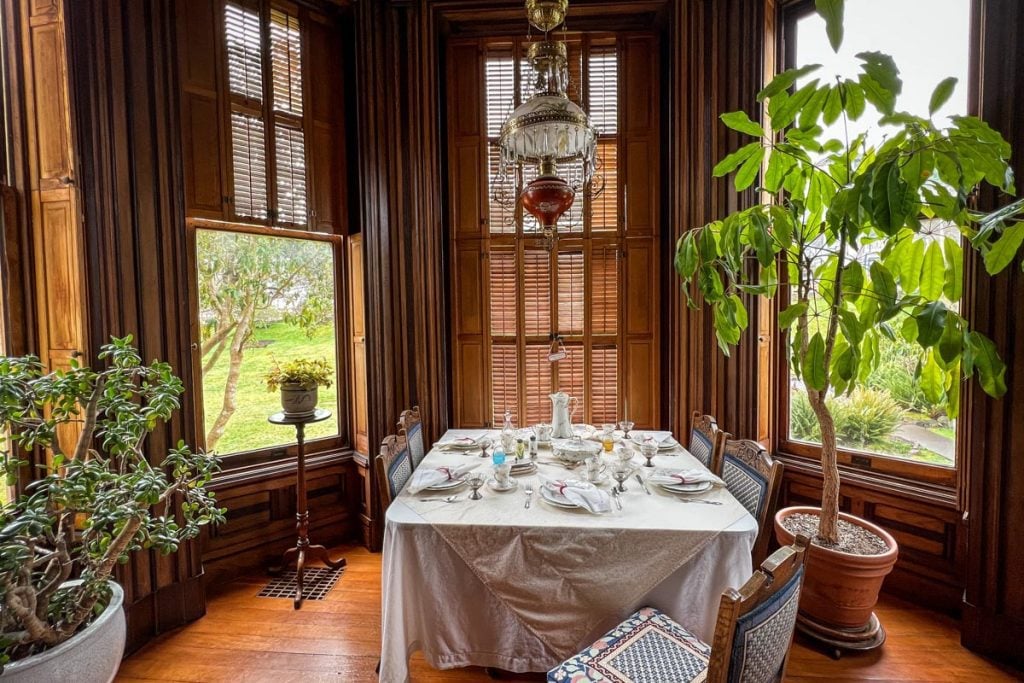 Spanning an entire city block, the house was constructed in 1885 in the Queen Anne architectural style and features an octagonal tower, wrap-around porch, ornamentation, indoor plumbing (a luxury at the time!) and intricate woodwork.
The restored Victorian mansion has been well-preserved and wandering through is like being transported back in time. We weren't expecting much, but learned a lot and had fun imagining what life would have been like in the late 1800's.
Cost: $7 adult, $2 child (6-17), $6 senior (65+)
5. Go museum hopping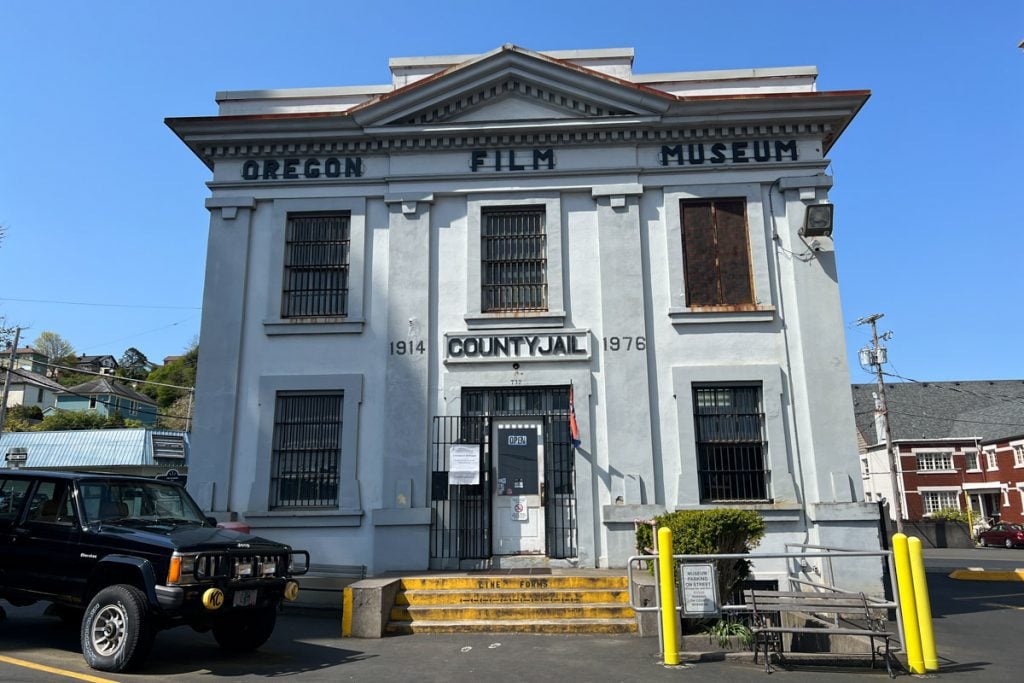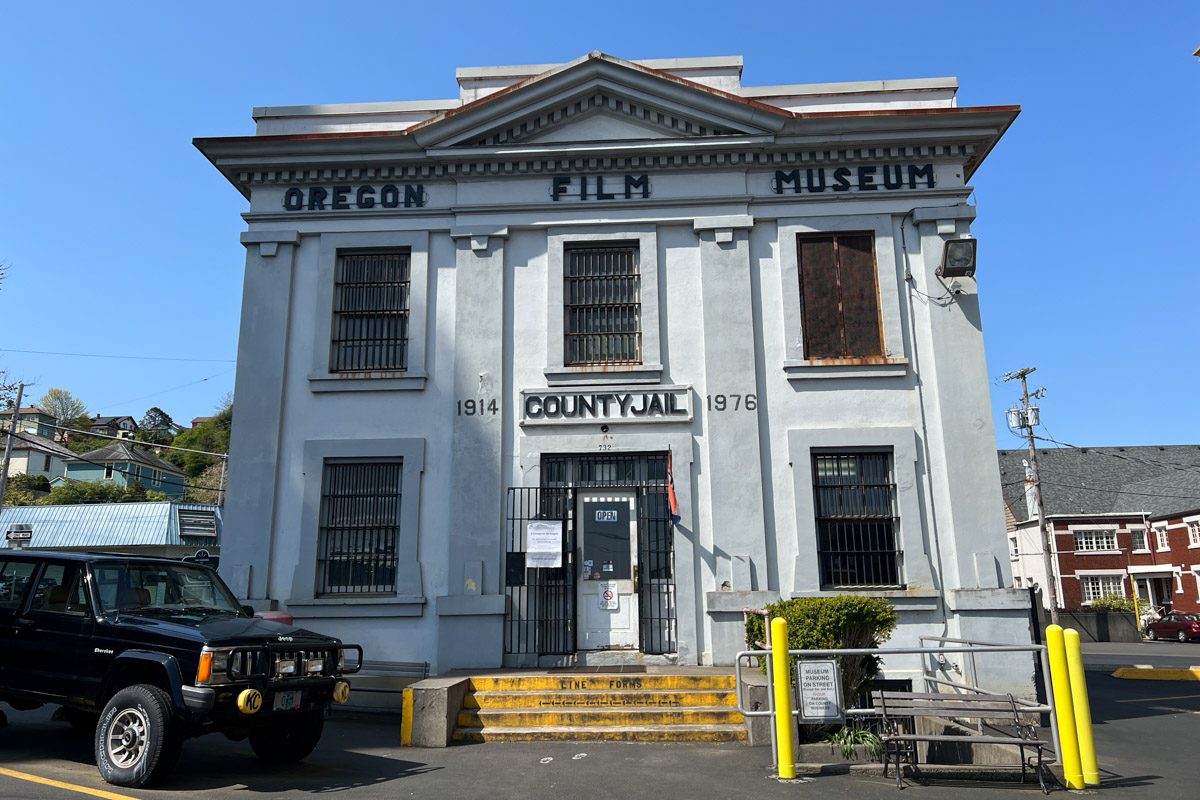 If you're into museums (or are just looking for a way to spend a rainy day), there are several in town to choose from.
Flavel House
As described above, this Victorian mansion has been restored and preserved to mimic what life would have been like back in the late 19th century.
Columbia River Maritime Museum
Informative and interactive exhibits all centered around the river and the people who work on the water day in and day out.
Oregon Film Museum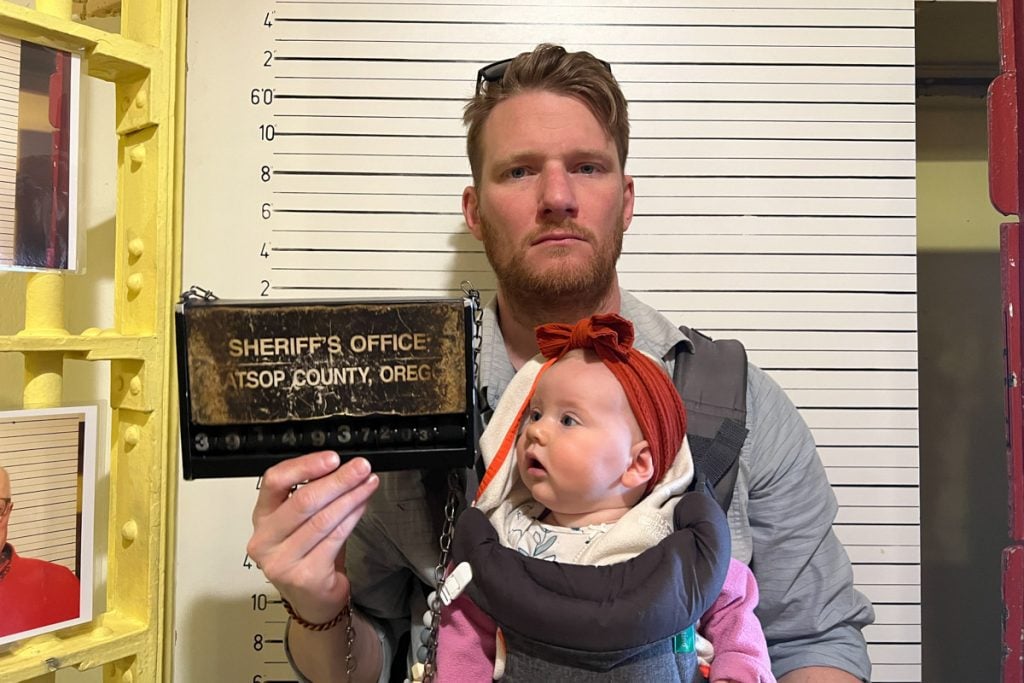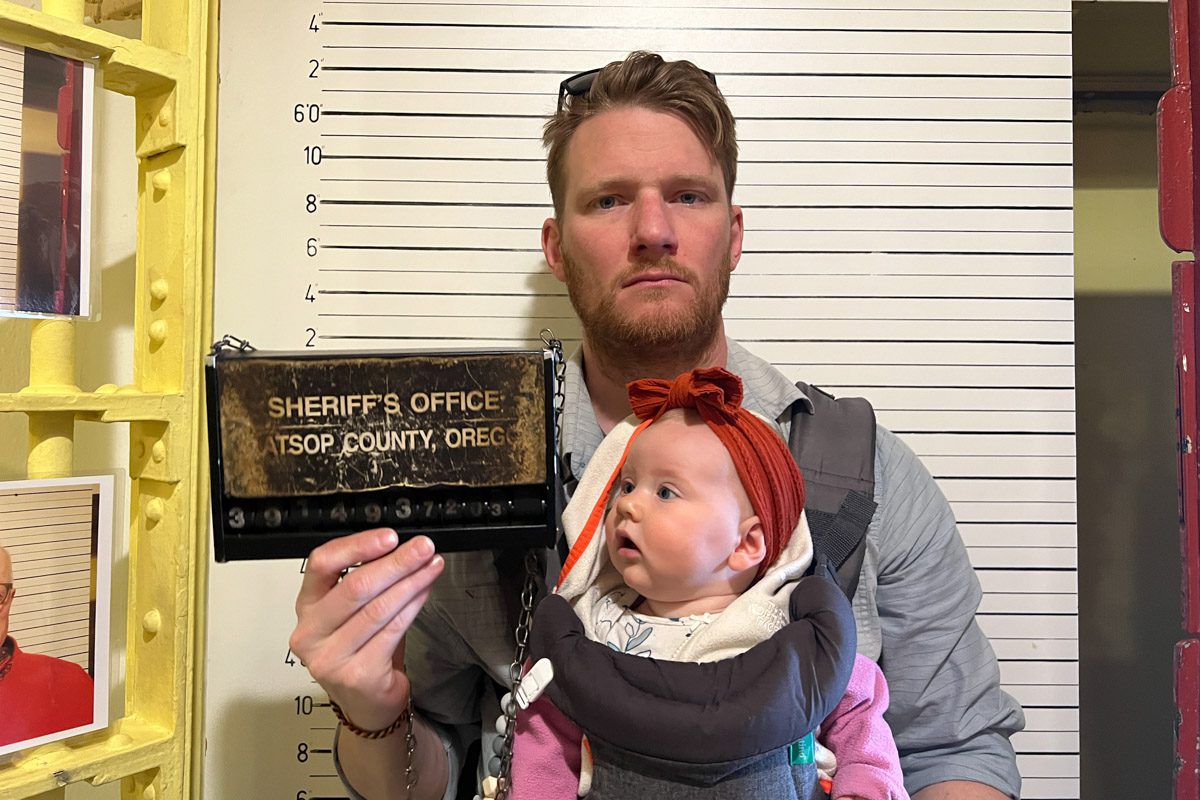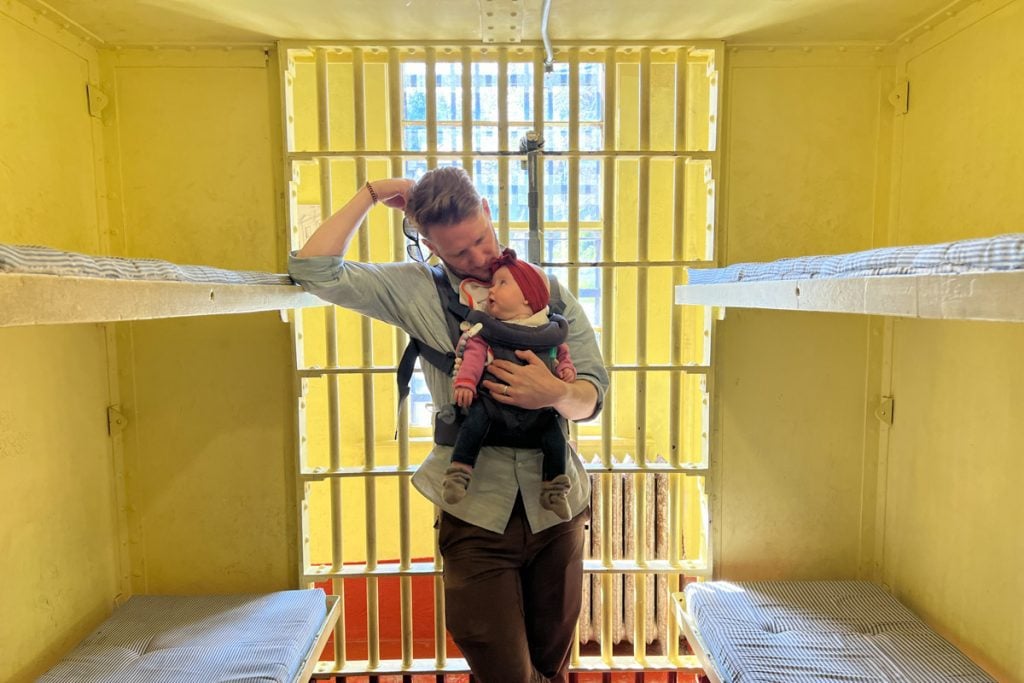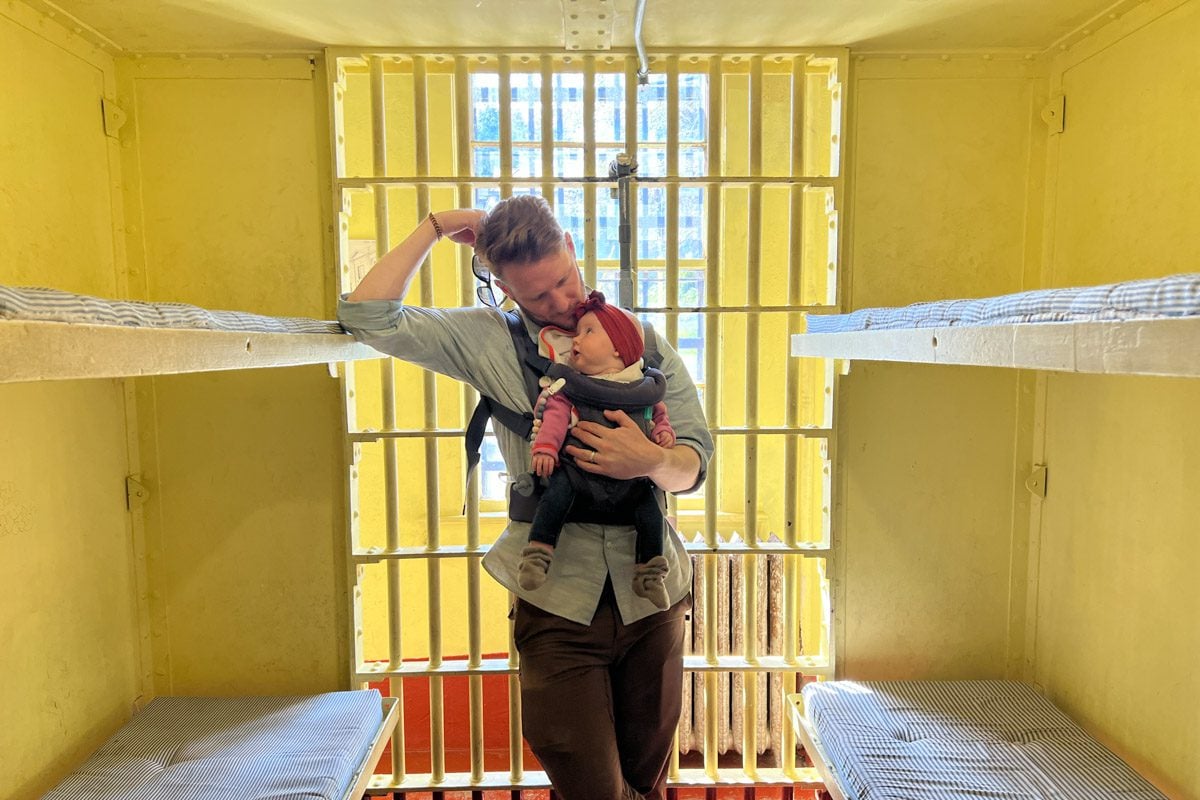 The iconic County Jail from the opening scene of The Goonies is now a film museum dedicated to movies that have been filmed around the state of Oregon. You can pose in the jail cell that appeared in The Goonies and see memorabilia from that film and others. There is also a room where you can reenact scenes and film them yourself.
Our personal opinion is that unless you are a big movie buff, this would be one to skip as it's pretty small and there isn't much to see.
Heritage Museum
This museum has exhibits dedicated to the local Native American tribes as well as the founding of Astoria.
Budget Tip: If you plan to visit the Flavel House, the Heritage Museum and the Film Museum, you will save money by getting the $14 "Adventure in History Pass", which grants you entry to all three museums.
6. Take a selfie with the Astoria Bridge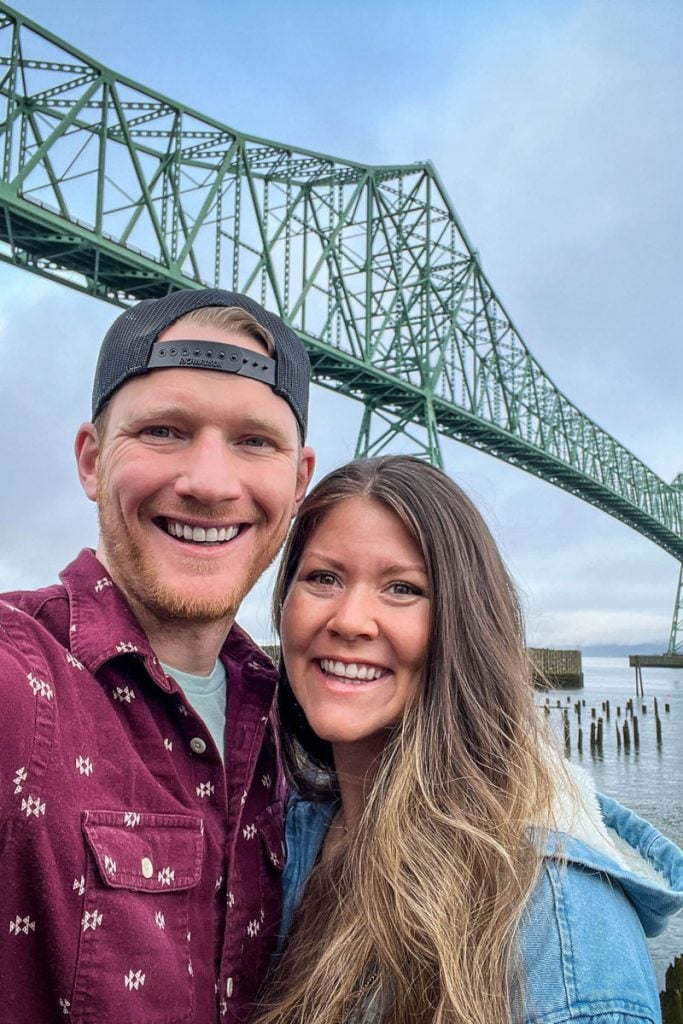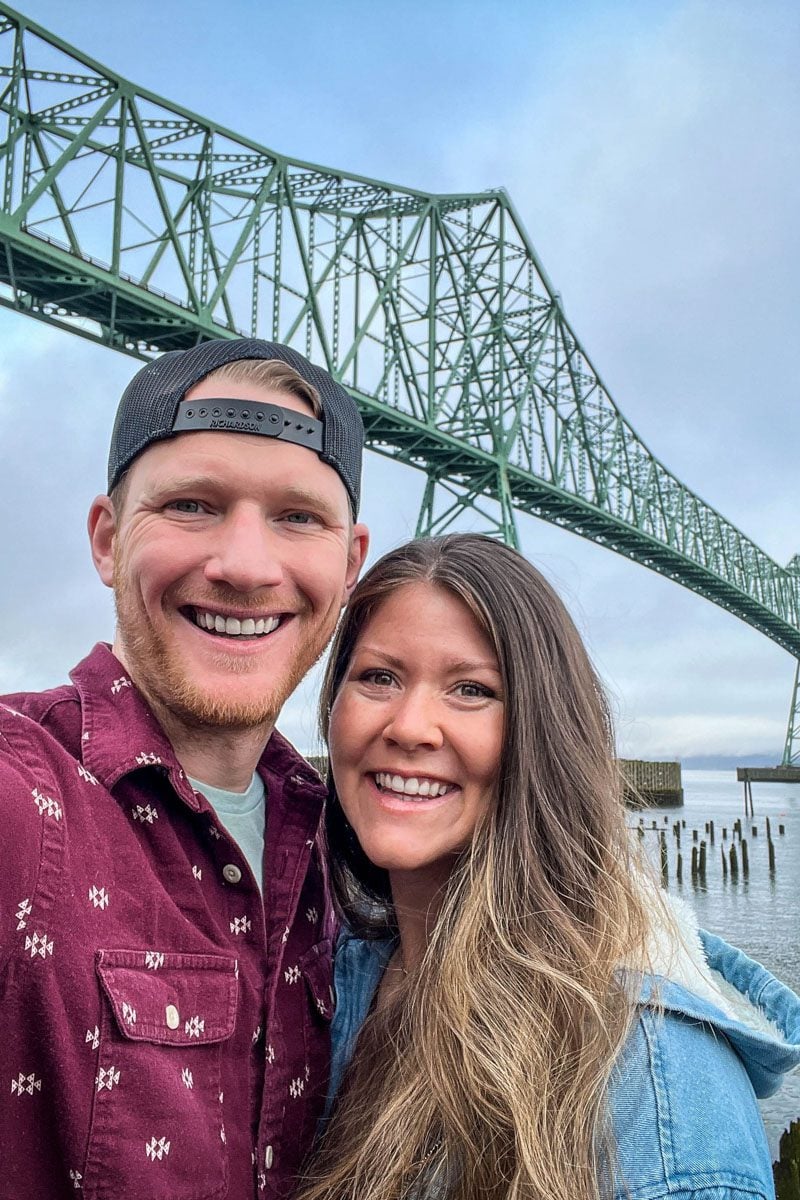 The Astoria-Megler Bridge spans the Columbia River between the towns of Astoria, Oregon and Megler, Washington.
Fun Fact: Not only is it a beauty, but it is the longest continuous truss bridge in North America.
The best place to view the bridge up close is at this tiny beach, just behind the Holiday Inn Express. And if you end up spending the night in this hotel, you'll have the option to book a room with bridge views.
7. Photograph a shipwreck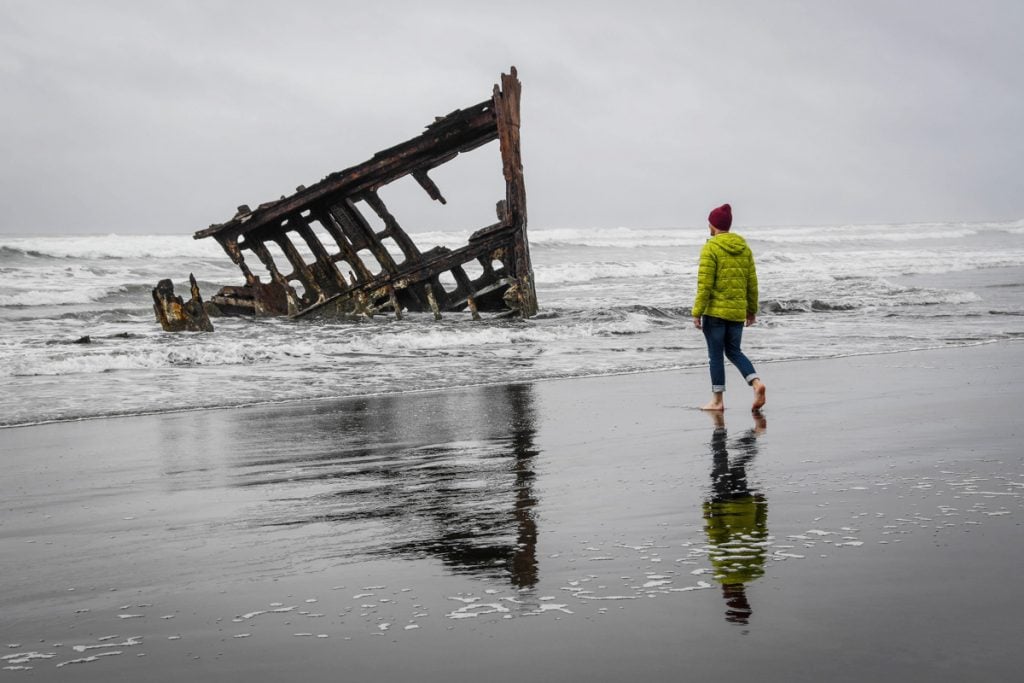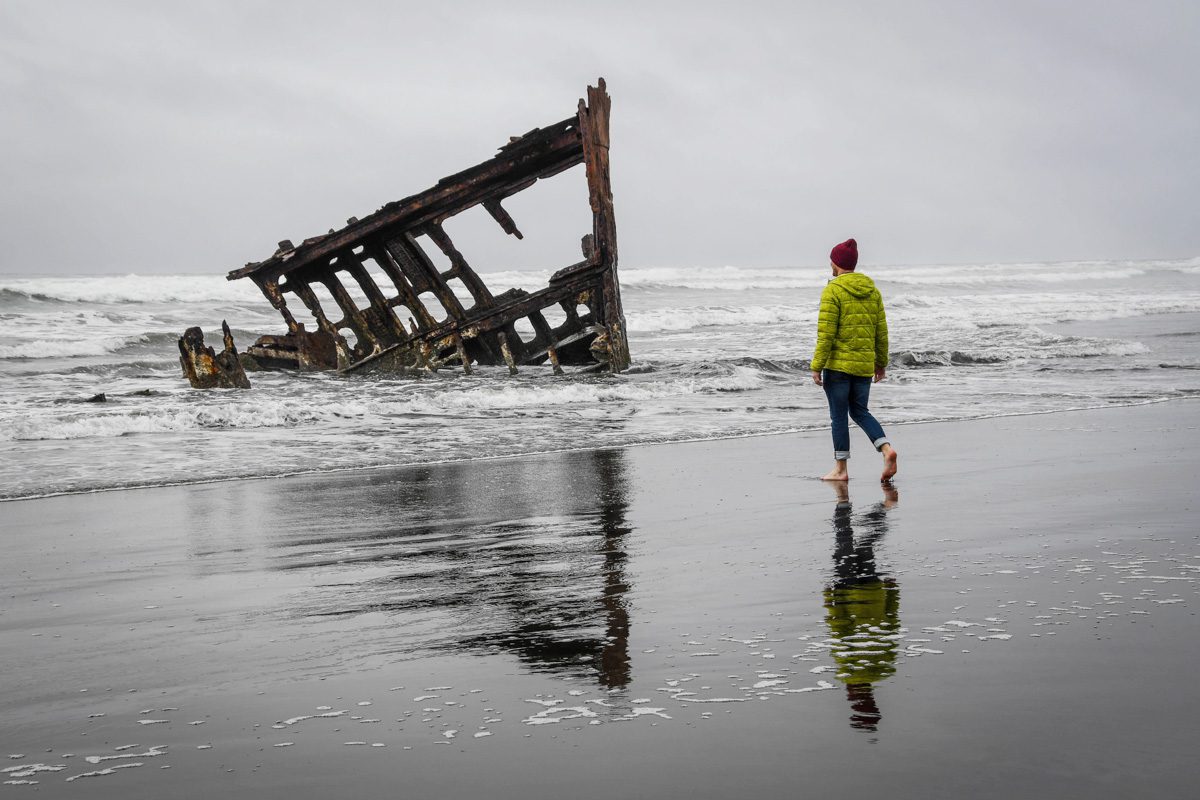 Just about 20 minutes from town, Fort Stevens State Park is known for its wide sandy beaches and a shipwreck that lies on shore, the Peter Iredale.
The history: In 1906, this ship was sailing from Mexico to Portland, but just before getting to its final destination it was driven to shore by high winds. Thankfully, there were no casualties in this wreck, and all 27 crew members survived. Now, it's a popular photography spot!
Insider Tip: It's most picturesque at high tide when the water creeps up to the shipwreck, casting a glassy reflection in the sand. However, at low tide, you can explore it more closely. Look at the tide tables here so you can plan your visit.
8. Fill up on Fish 'n Chips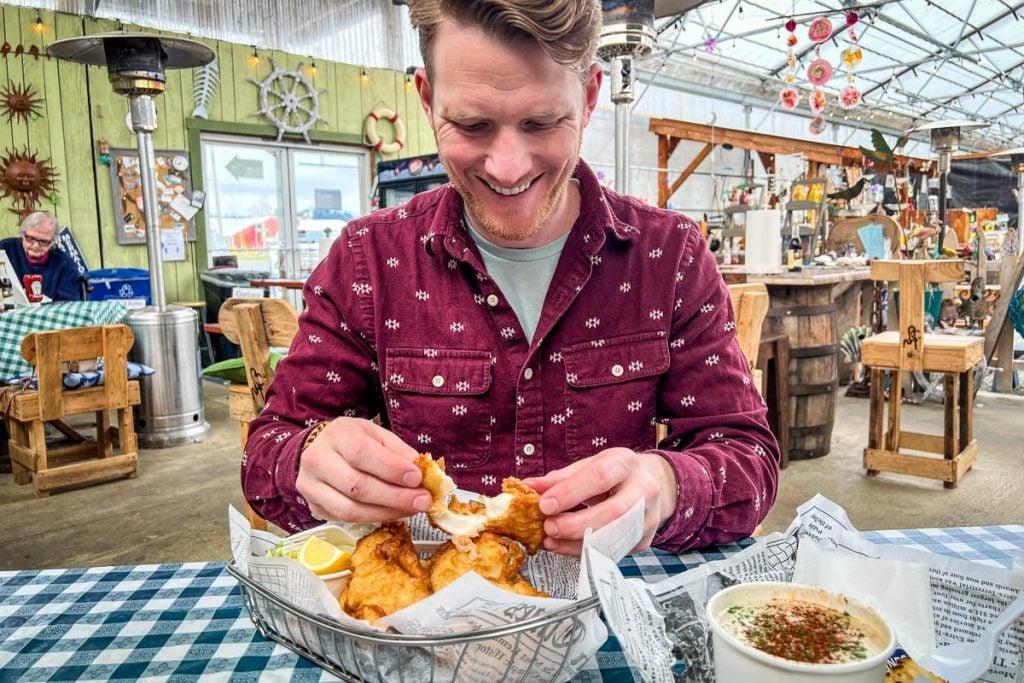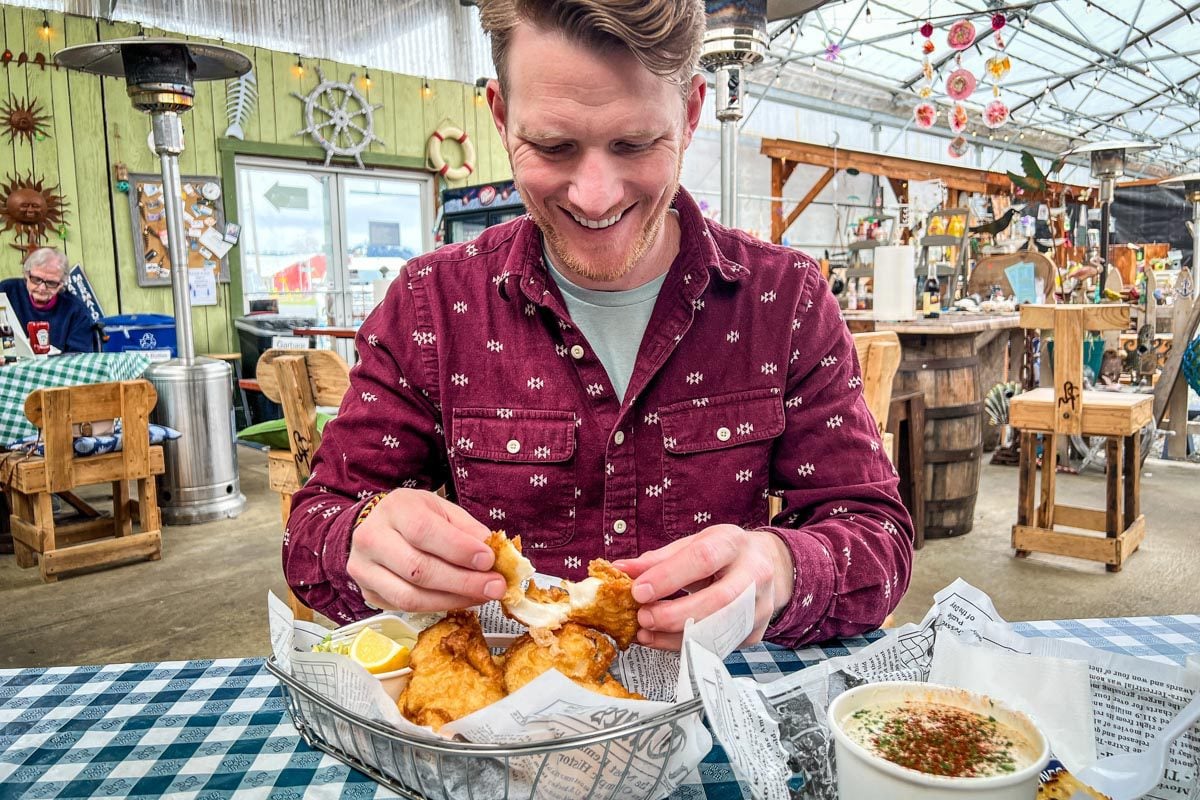 When on the coast, eat as much seafood as possible. That's our rule, anyway!
The Oregon Coast is known for some killer fish and chips shops, and Astoria has its fair share of great options.
Bowpicker Fish & Chips
This fish & chips shop is the real deal! Order from the walk-up window of an old converted boat for some of the best fish & chips in town.
Location: Bowpicker
Ship Out Fish & Chips
This spot is a hidden gem and serves excellent fish & chips in what seems to be a mini flea market of sorts. This makes an excellent lunch stop between Astoria and Warrenton, so if you are headed to Fort Stevens, Youngs River Falls, or Fort Clatsop, take note.
Location: Ship Out
9. Youngs Creek Falls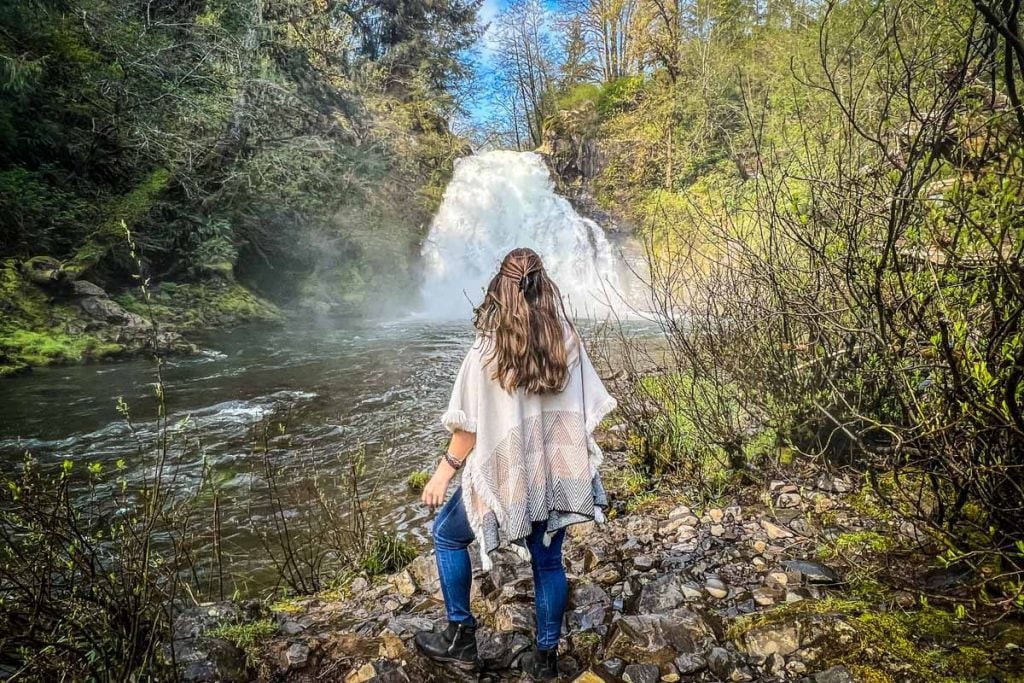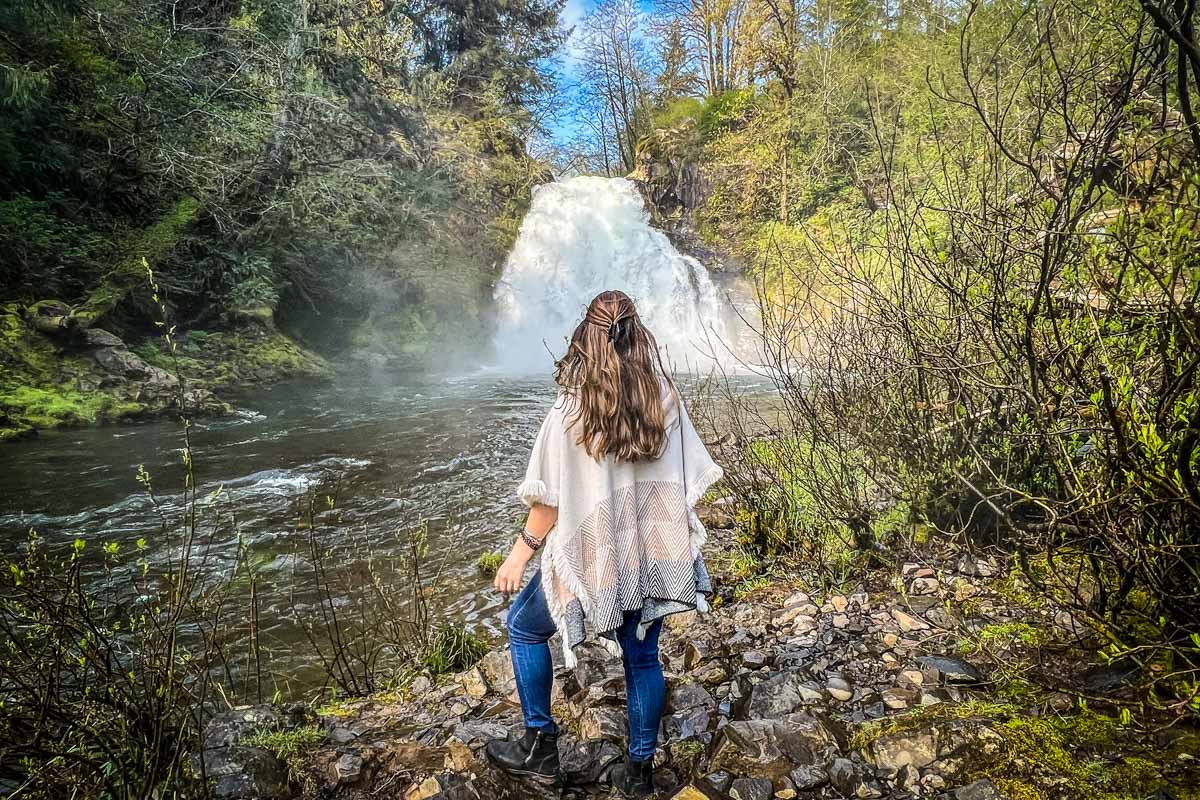 If you're a waterfall fanatic, try to make it to Youngs Creek Falls which is a 20-minute drive from town to replenish your nature-loving heart.
A short hike down will lead you to a serene setting – ferns, moss-covered trees, a rocky beach, and a small but mighty falls.
I imagine it may get busy during hot summer days, but while we were there we only saw one other couple walking their dog, so it was a very peaceful escape from town.
10. Do a DIY Movie Tour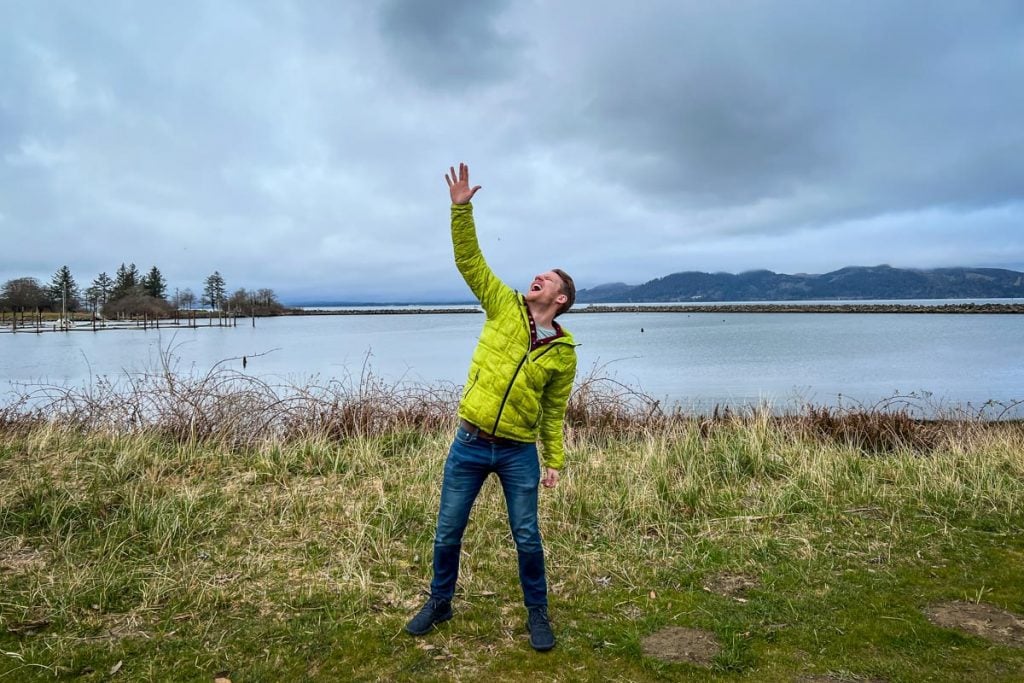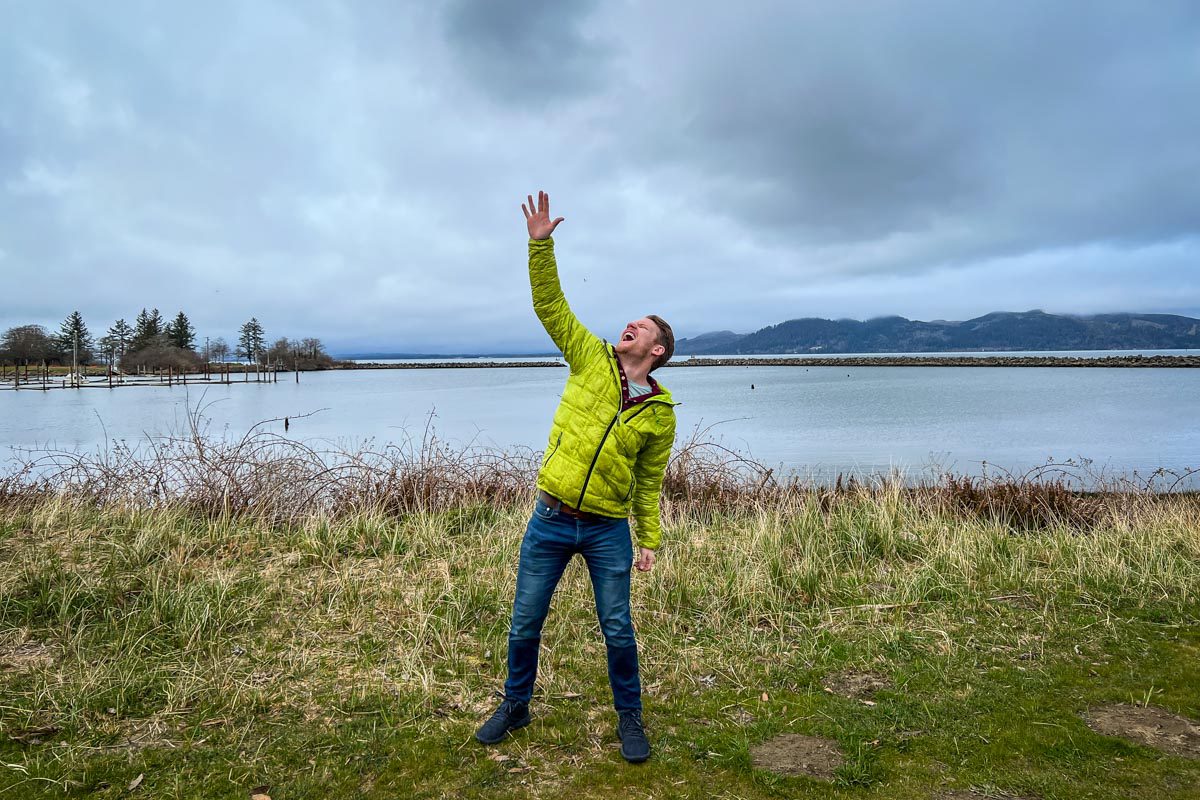 Surprisingly (at least to us!), Astoria has served as a backdrop for many 'a popular film! The most iconic film shot here is the 1985 classic "The Goonies". But did you know that "Free Willy" and "Kindergarten Cop" also had several scenes shot in Astoria? Yeah, we didn't know that until we visited.
If you're into movies and want to see some famous filming locations around Astoria, we'd recommend downloading the SetJetters app (it's free!). It shows locations where movies have been shot all around the world. And Astoria has quite a few pins!
Most of the iconic locations in town have a plaque that explains its significance and role in the film, so be sure to check those out when you see them.
One of our favorite movie spots is the Hammond Marina, which was the setting of the final scene in "Free Willy" when everyone's favorite orca jumped over the rock barrier as Jesse stood beneath with his arm extended in exuberance. Talk about a classic scene to recreate!
Another iconic filming spot is the county jail from the beginning scene of "The Goonies". You can simply view it from outside, or you can take a short self-guided tour, as it is now the Oregon Film Museum. While very tiny, movie buffs will get a behind-the-scenes peek into where some scenes from the film were shot.
Good to know: The locations of the houses in "The Goonies" and "Free Willy" are pretty easy to find online. If you want to steal a glimpse, please be respectful. People live in both of these houses, and have asked visitors to keep their distance.
11. Walk (or drive) the Historic loop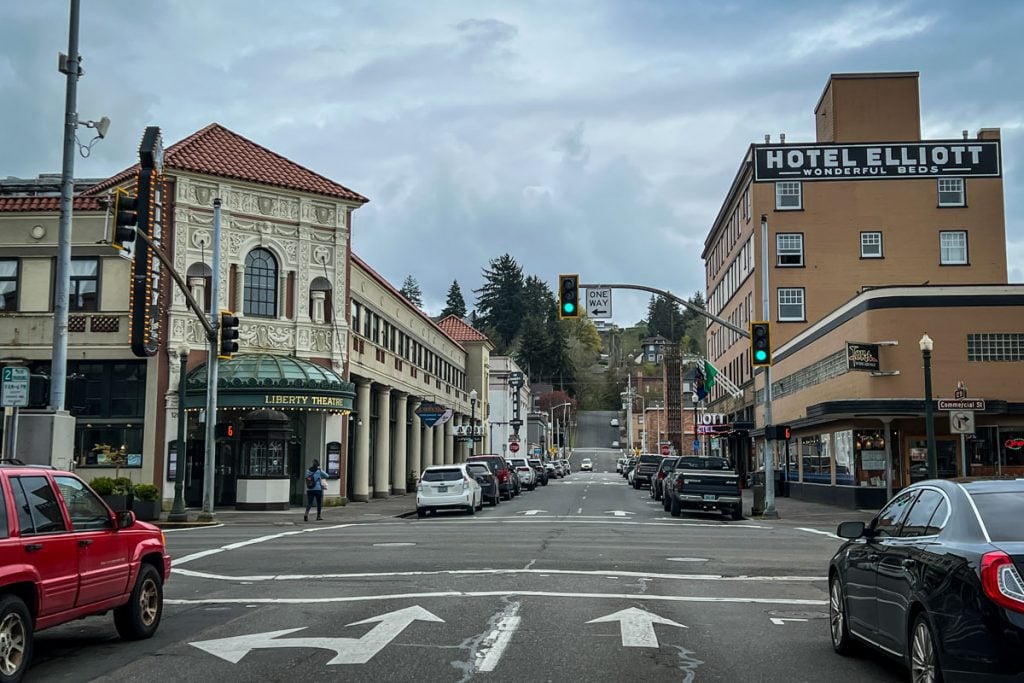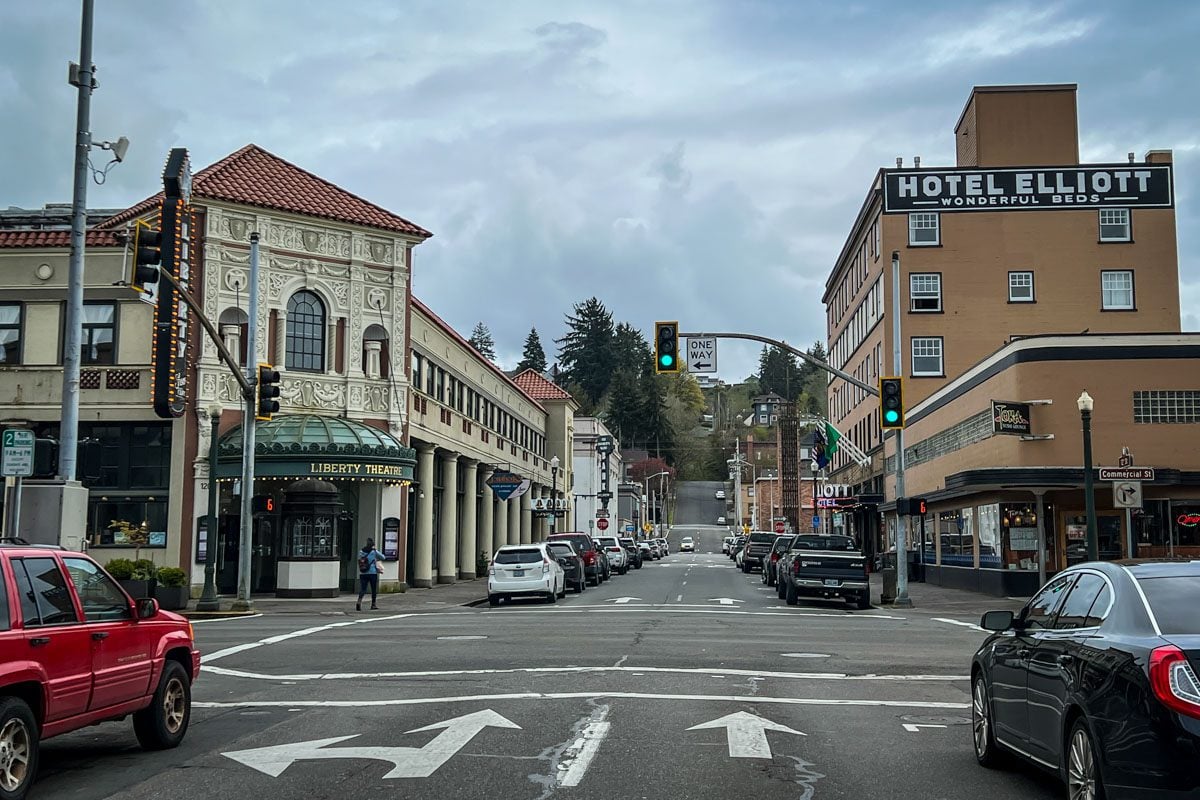 Astoria has a high concentration of historic 19th and 20th century houses, many of which are clustered along a few city streets.
Walk or drive this loop to see some beautiful architecture. Look for circle "historic landmark" signs, which denote some of the more notable houses and buildings along the way.
You can start at the Flavel House and just wander a few blocks, taking in the architecture along the way. Or, you can follow this loop, which was designed to bring you past the best historic landmarks in the city.
12. See where Lewis & Clark spent a winter at Fort Clatsop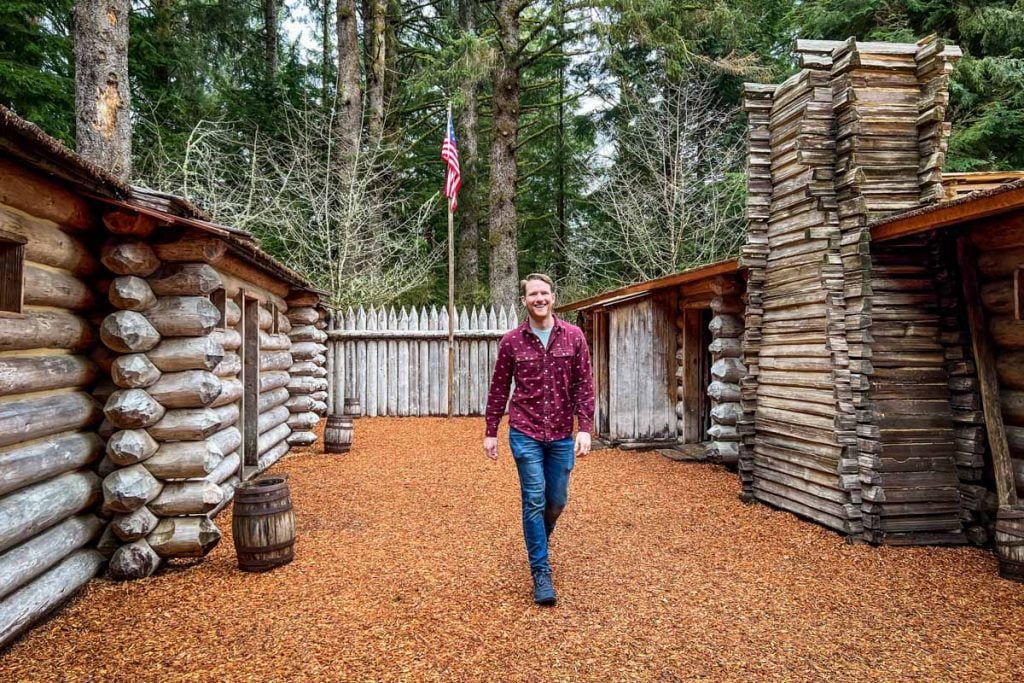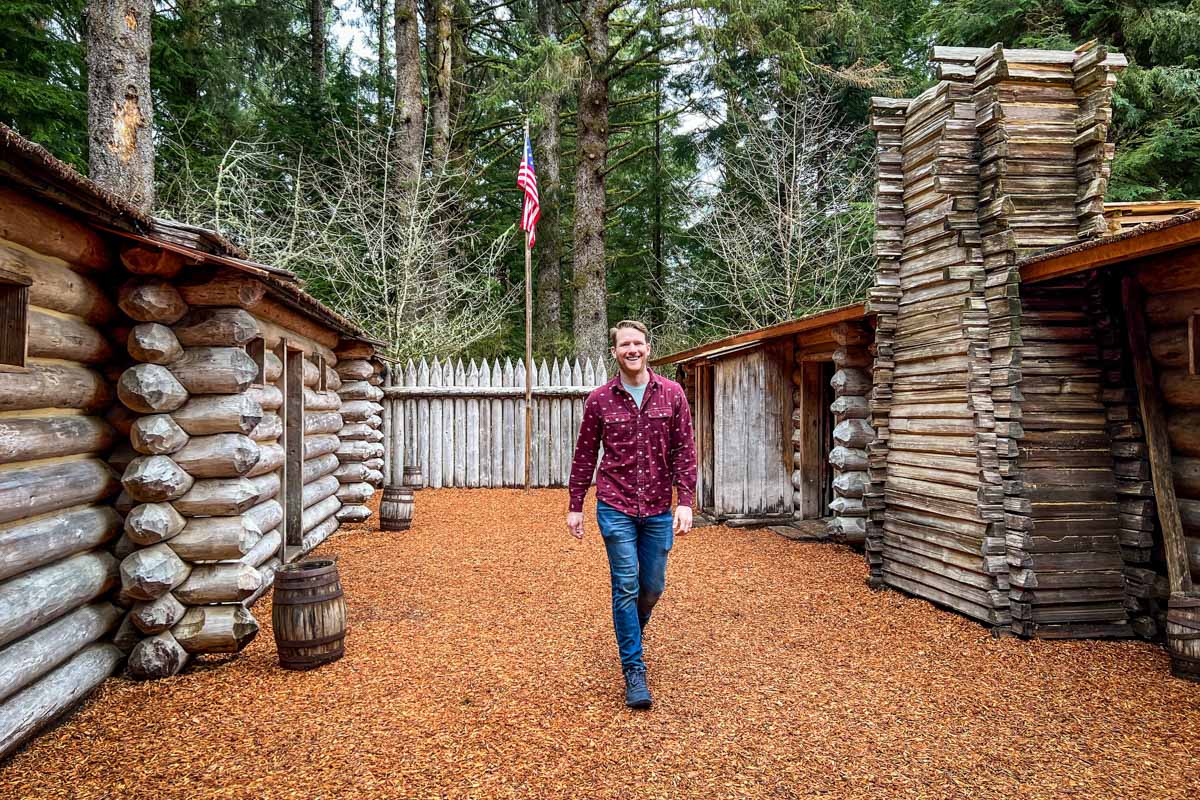 Buckle up for a quick history lesson…
When Lewis and Clark completed their expedition out west, they needed a place to spend the cold winter months before heading back east.
Lewis, Clark and their party built an encampment which served as the shelter and home for 32 men, one woman and one baby for 3 months, from December 1805 to March 1806.
Known as Fort Clatsop, this site was chosen due to its proximity to the ocean and the fact that there was plenty of game nearby. Journal entries suggest that they experienced a very rainy winter, most of which they spent making salt and leather, and preparing for the long journey home.
Today, you can visit a replica of Fort Clatsop in Lewis and Clark National Historical Park. You can explore this log structure and imagine what it might have been like to winter in this rustic fort.
In addition to the fort replica, the historical park has a museum, walking trails, and even reenactments during peak season.
Cost: You must pay a $5 day use fee or display your Oregon State Park pass.
13. Take a hike at Cape Disappointment State Park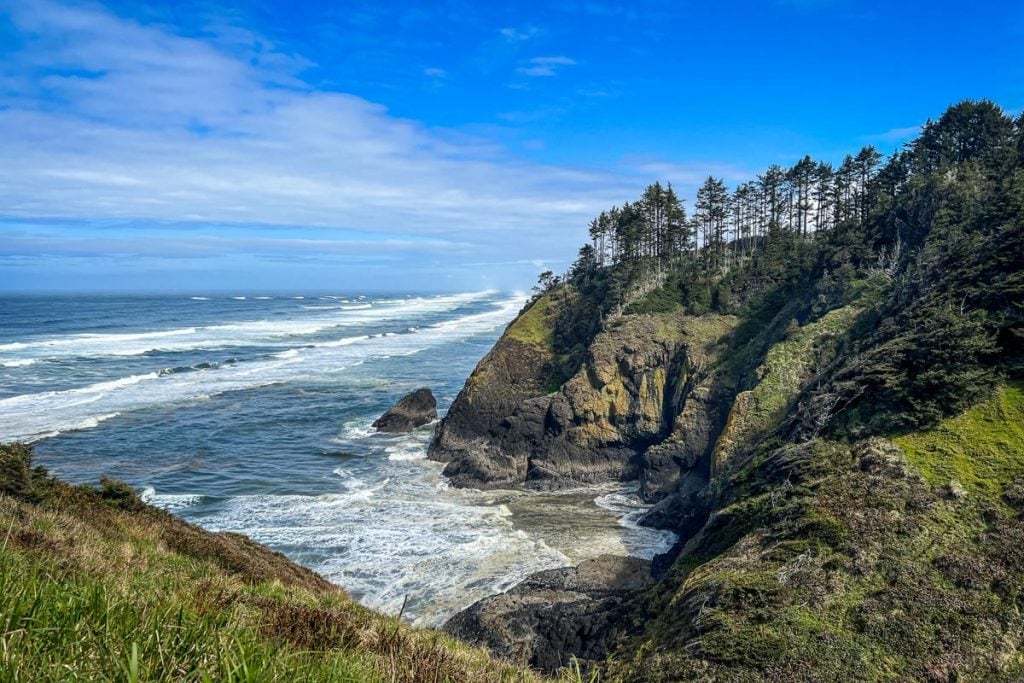 Just across the Washington border, this state park is situated at the mouth of the Columbia River and features two picturesque lighthouses and wild beaches, and unlike its name, is not a disappointment!
Just a 30-minute drive from Astoria, this park is well worth a stop on your itinerary if you have the time. There are walking trails, beaches, picnic tables, epic viewpoints and an interpretive center.
Our recommendations at Cape Disappointment:
Walk the easy path to North Head Lighthouse
Picnic on Waikiki Beach
Check out the interpretive center
Walk through the woods to Deadman's Cove, and continue on to Cape Disappointment Lighthouse
Cost: You must pay a $10 day use fee to visit the state park, or display a Washington Discover Pass.
14. Explore the shops downtown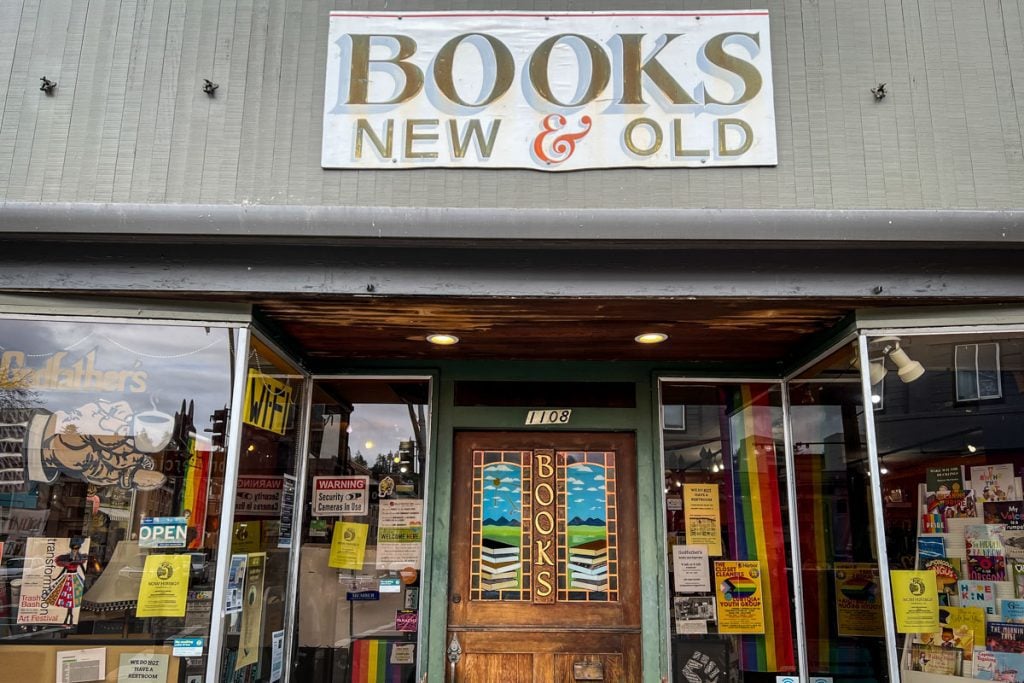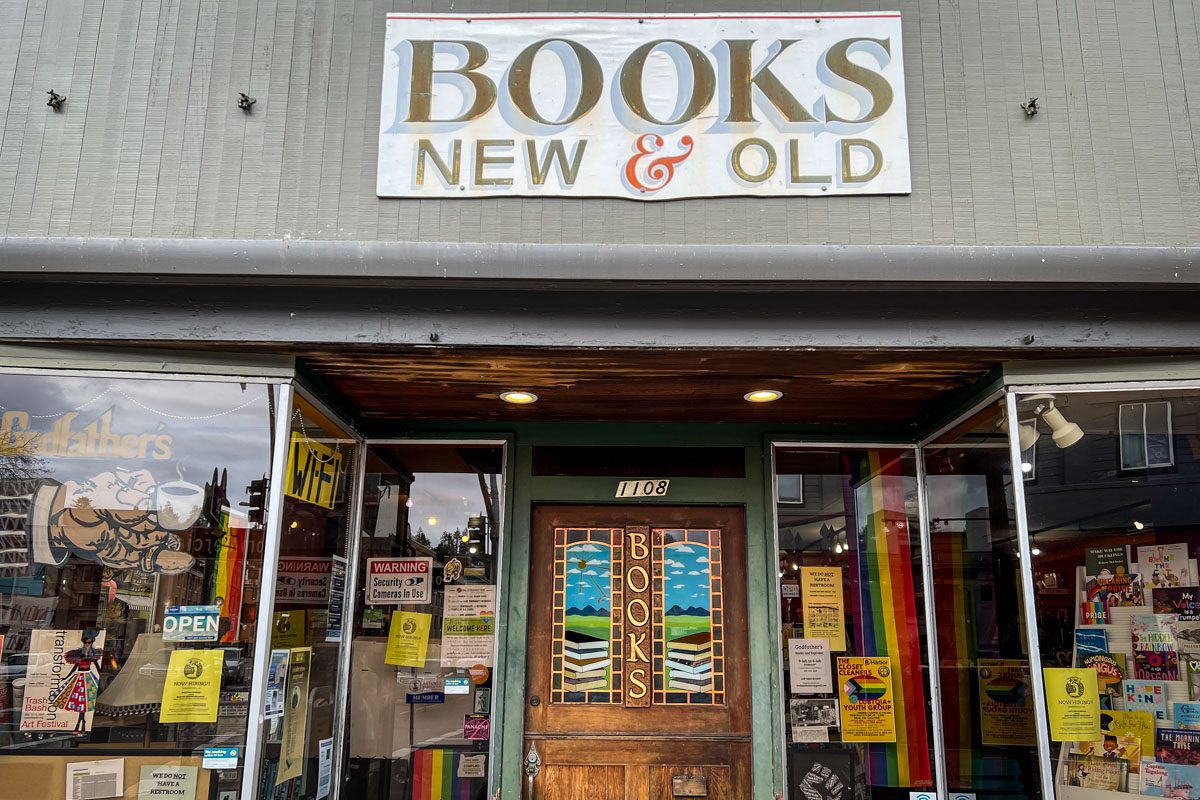 Commercial Street is kind of the main drag in town. Walk along and pop into any stores that strike your fancy. We also really dig the vibes on Duane Street, which is one street up and runs parallel.
Take in the architecture of the iconic Liberty Theater and Hotel Elliot. Grab a coffee at Blue Scorcher and window shop, or actually hunt for some souvenirs.
Here are a few of our favorites:
Cargo: Colorful boutique with jewelry, home decor and trinkets, many of which are made around the world.
Luminary Arts: Featuring local artists, this shop has an eclectic assortment of stationary, jewelry and unique gifts.

Psst! After browsing this shop, head into the alleyway beside the shop to see the Gathering Song Mural.

Godfather's Books: Everything a small, independent bookstore should be. Oh, and they have coffee!
15. Go Brewery hopping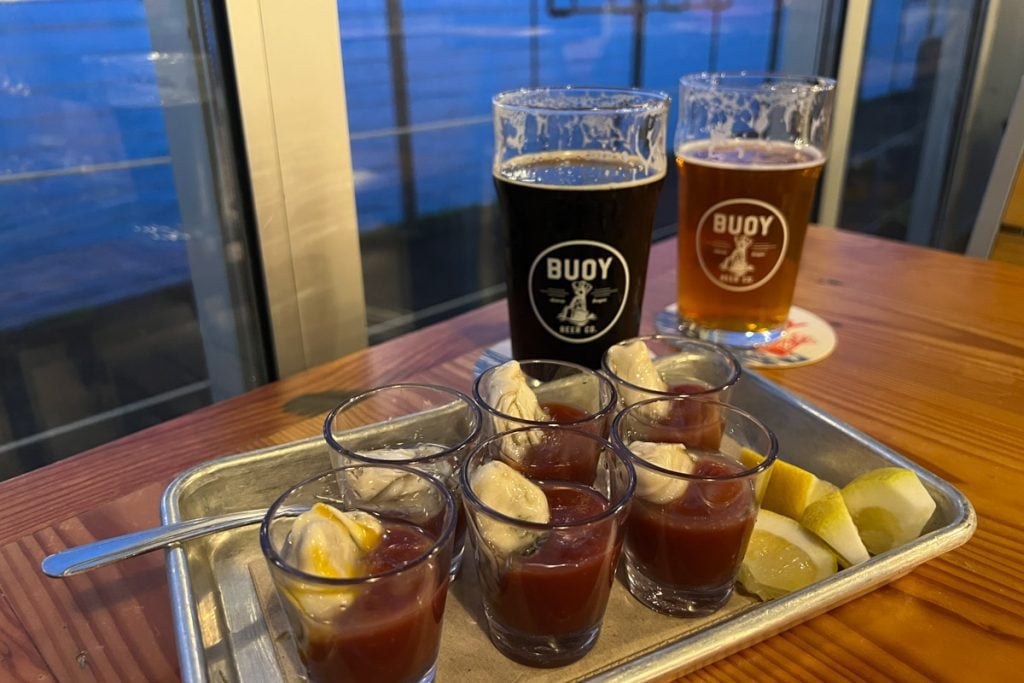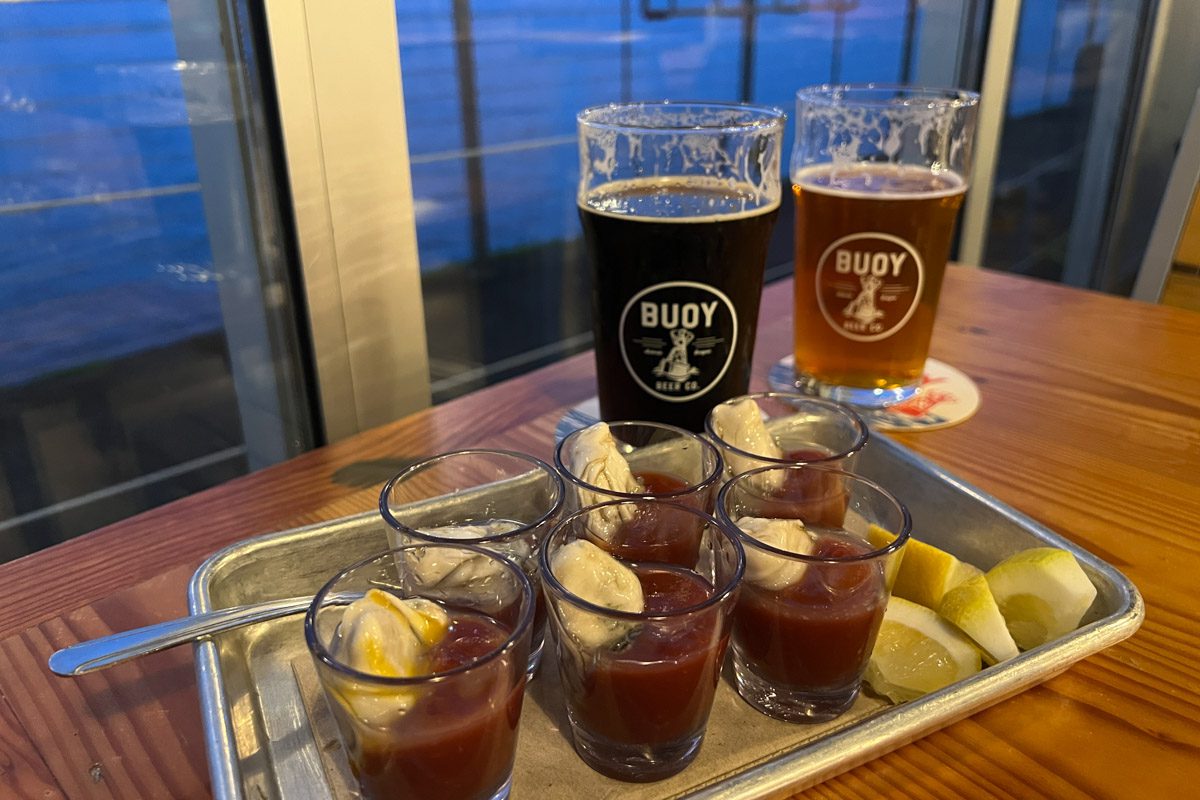 If you're a beer-lover, you'll have no shortage of options in Astoria. There are tons to choose from!
Buoy Beer
Buoy Beer sits right on the water and is our personal favorite. They have excellent beer and a surprisingly good clam chowder (one of the best we had on the coast). If you're a seafood lover, order a round of oyster shooters to enjoy with your beer.
Insider Tip: There is a portion of the floor that is glass where you can look down and usually see sea lions hanging out below!
Fort George Brewery
Fort George Brewery is one of the most well-known breweries in town and nestled in the city's historic district. Known for great beer and a tantalizing selection of wood fired pizzas, this large brewery is well worth a stop.
Astoria Brewing Company
Astoria Brewing Company was the first microbrewery in town, and it has great beers and a pretty extensive food menu with daily specials.
Insider Tip: Try the marionberry cobbler. Trust us!
Reach Break Brewing
While lesser-known by visitors than the three breweries above on this list, Reach Break Brewing has some very good beers. We liked their IPA and a seasonal imperial coconut stout. They have a nice outdoor patio, punctuated with a handful of food trucks. We tried the fish taco truck, and it was very good!
16. Cocktails & atmosphere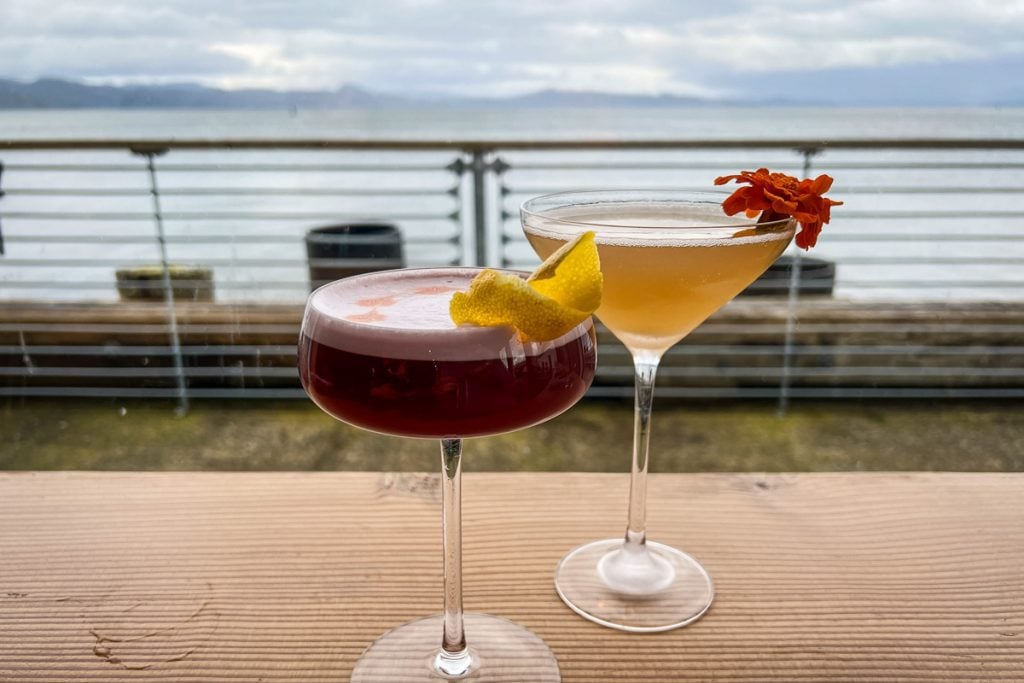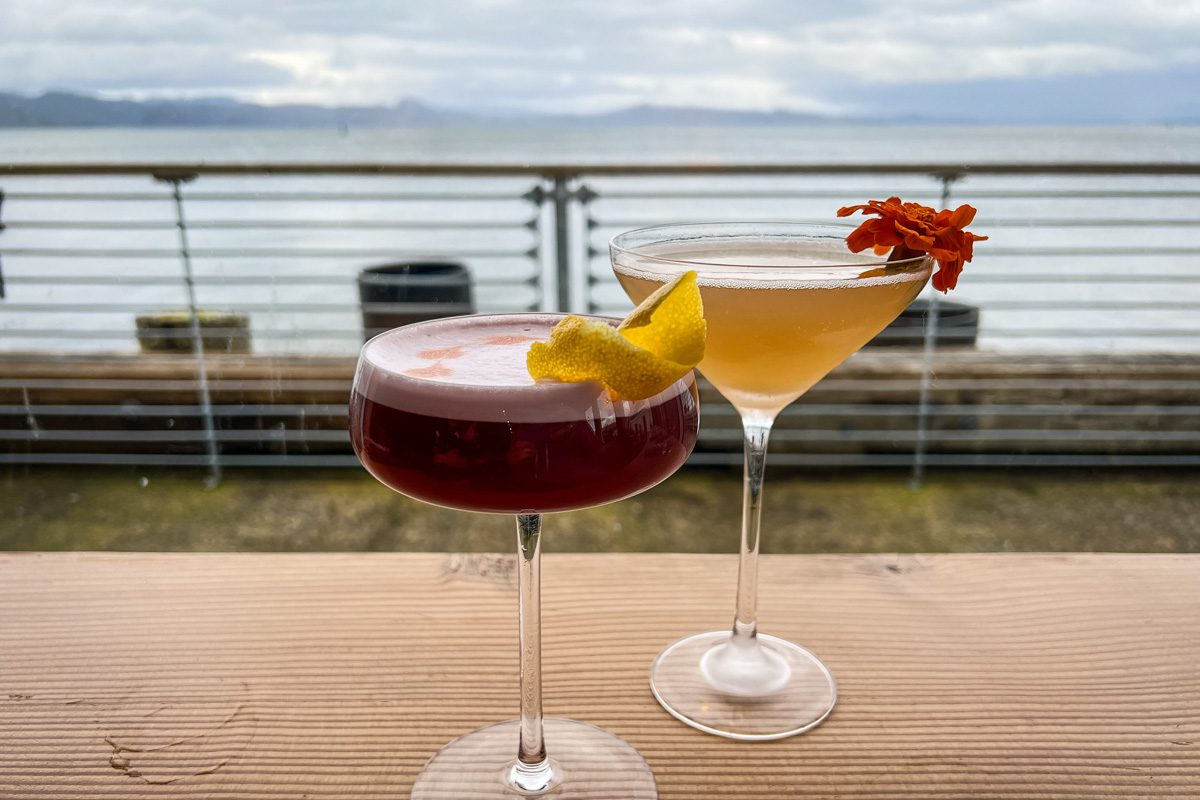 Prefer a French 75 over an IPA? Or maybe you love both beer and cocktails? (Us too!) Listen up, because you've got options…
The Knot Bar
This intimate riverfront bar is nestled in the entrance of a boutique hotel (The Bowline, which we highly recommend if you're looking for a place to stay!), and has an eclectic selection of handcrafted cocktails that celebrate local distilleries. If you're hungry, order a few Scandinavian-inspired small plates (we loved the beef tartare!) to enjoy with your drinks and an unrivaled view of the river.
Blaylock's Whiskey Bar
This dimly-lit whiskey bar serves spectacular cocktails and oozes cozy speakeasy vibes that'll make you feel like you've discovered a secret.
17. Catch a classic film at the Columbian Theater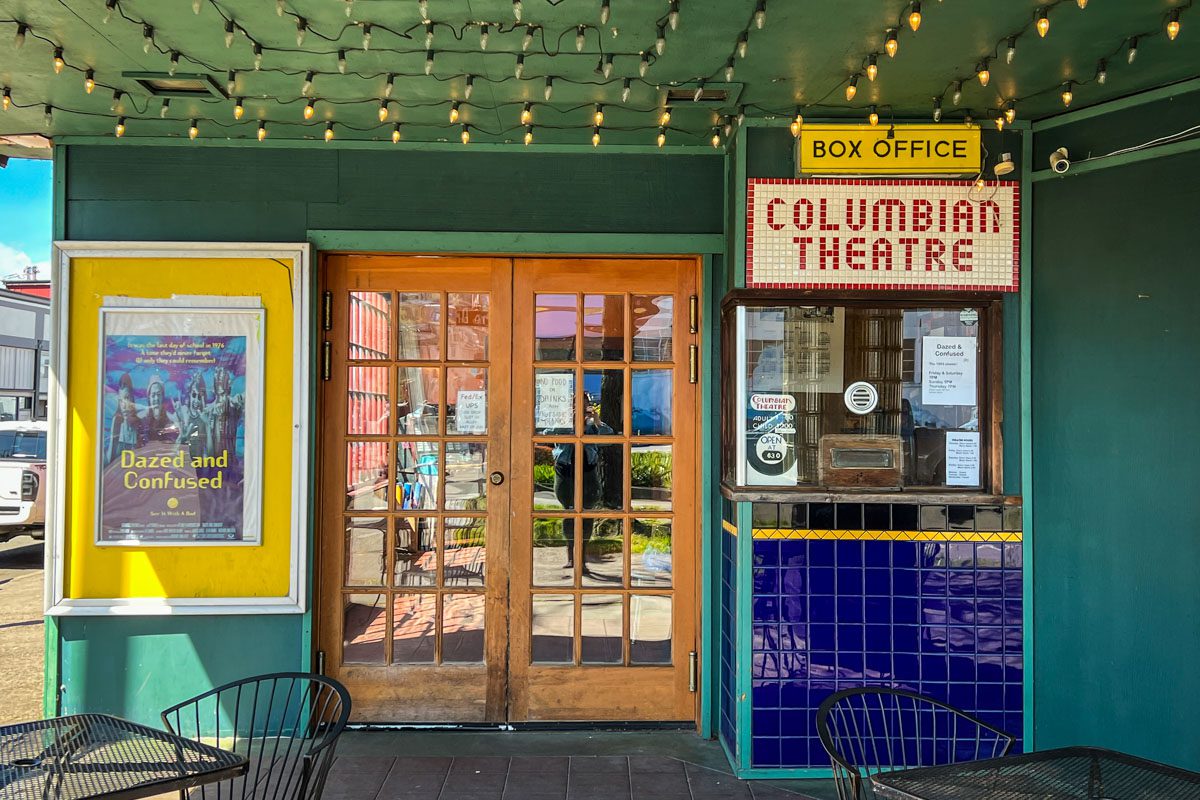 We're suckers for quirky movie theaters, and this is one that fits the bill! The Columbian Theater shows classic movies, serves up pizza that earns rave reviews, and has a selection of beer, wine and cocktails. What more could you ask for?
Cheap tickets, you say? You betcha! At just $5 for an adult ticket and $2 for kids 12 and under, this is a cheap date night or rainy day activity in Astoria. They are only open part of the week and have one showtime per day, so check the information below before you go.
Price:
$5 general admission
$2 children 12 and under
Hours:
7 p.m. Thursday – Saturday (doors open at 6:30 p.m.)
5 p.m. Sunday (doors open at 4:30 p.m.)
Check their Facebook page to see what movie is playing during your visit.
18. Painted Lady Lavender Farm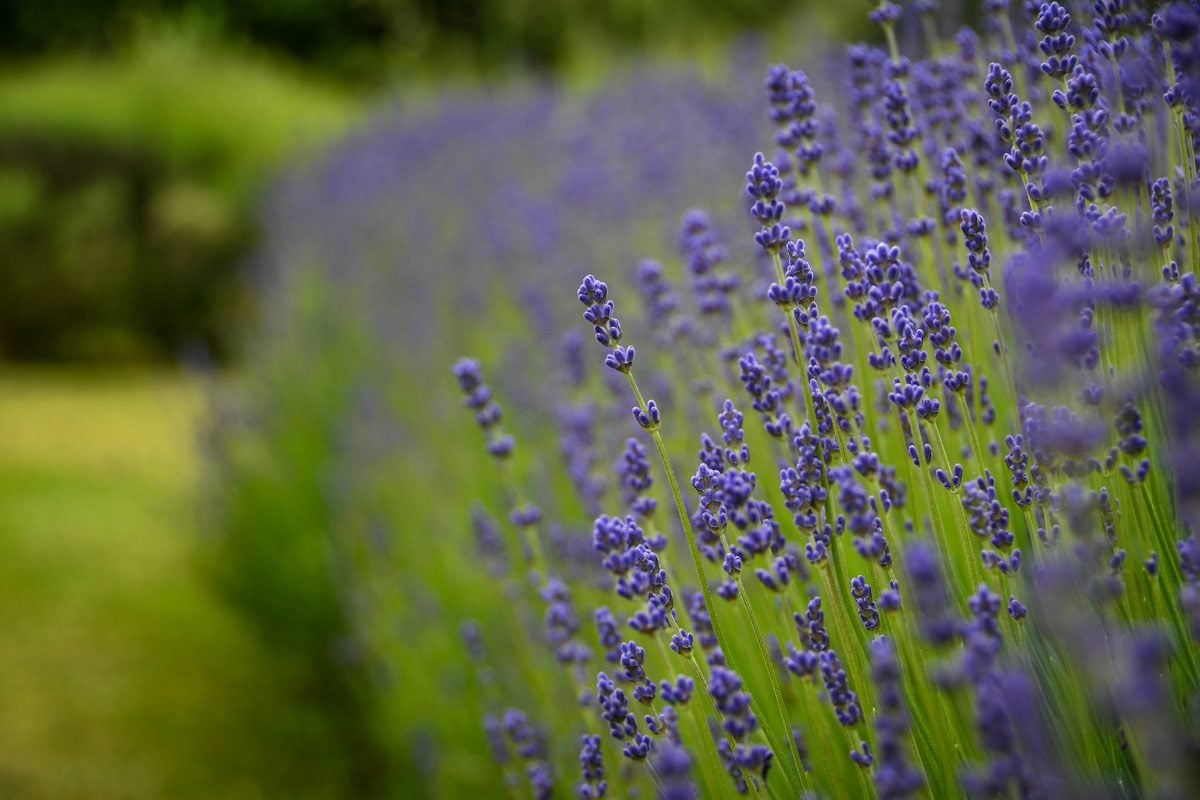 If you're visiting Astoria in the summertime, a visit to the Painted Lady Lavender Farm will be open and the lavender in full bloom.
There are tours of the fields and U-pick lavender during their peak season. You can also pack a blanket and picnic lunch to enjoy in the midst of the blooms. Can you say bliss?!
This makes a great stop on the way to or from Cape Disappointment State Park (#13 on this list).
Good to know: Lavender blooms from mid-June through August, with July being the peak season. Outside these months, you likely won't be able to enjoy these beautiful flowers.
19. Indulge in these desserts…
Got a sweet tooth? You and I both, honey.
If you need a little something sweet after dinner or breakfast (we're not here to judge!), we've got some drool-worthy recommendations that are, in fact, worth the indulgence.
Marionberry Cobbler at Astoria Brewing Company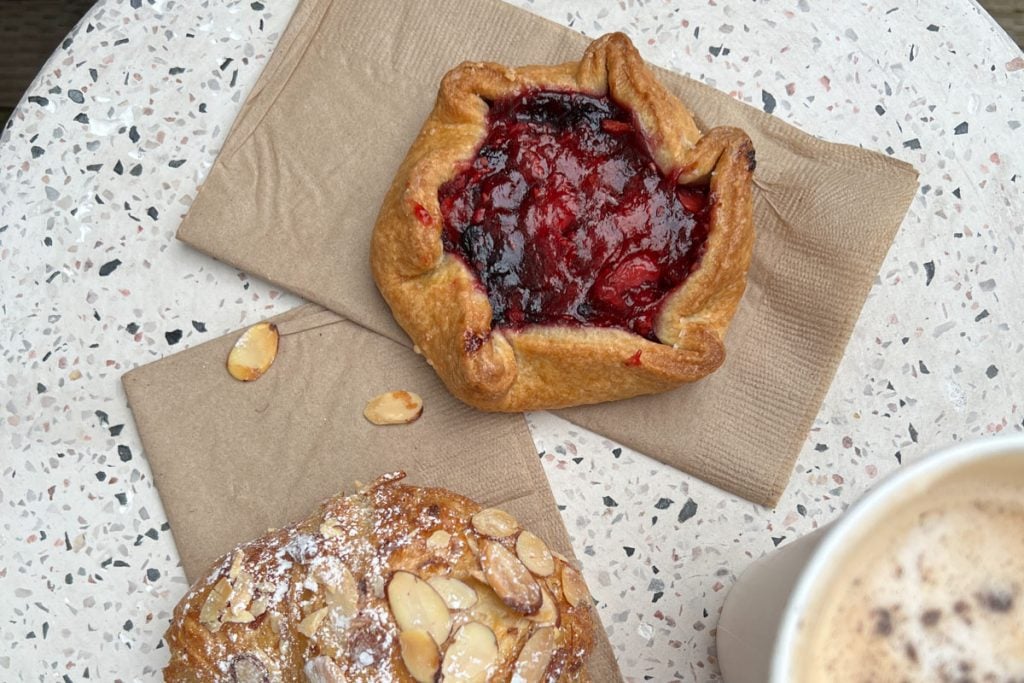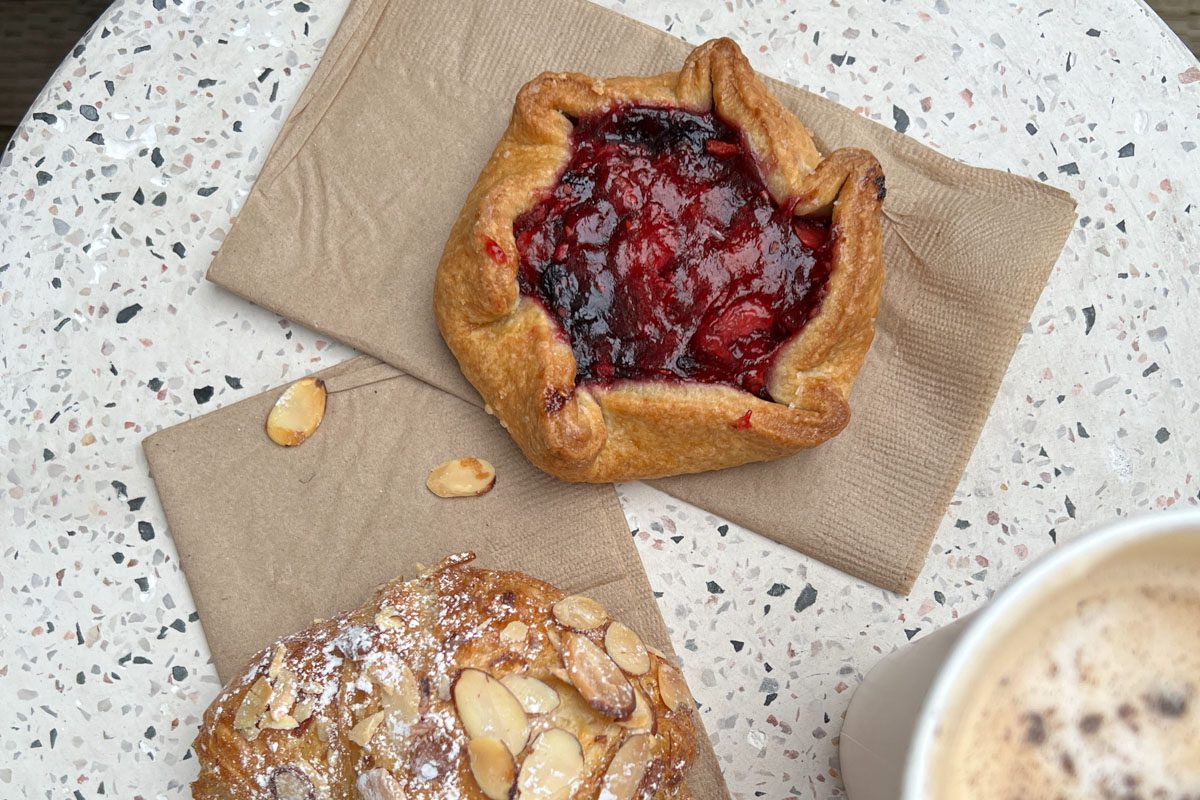 If you only get one dessert in Astoria, let it be this. While it might feel a little strange ordering dessert at a brewery, the bartender told us the cobbler was his favorite thing on the entire menu. After getting his stamp of approval, we decided to give it a go and oh-em-gee, is it good.
Warm and gooey cobbler paired with fresh Oregon marionberries and served a la mode, this housemade specialty is perfection.
Carrot Cake at Peter Pan Market
If you're a carrot cake fan, you'll swoon over the version served up at this local market. Topped with a generous layer of cream cheese frosting (the best part of the cake, if you ask me), my only complaint is that it seemed a little small for the price. But definitely still delish.
Ice Cream at Frite & Scoop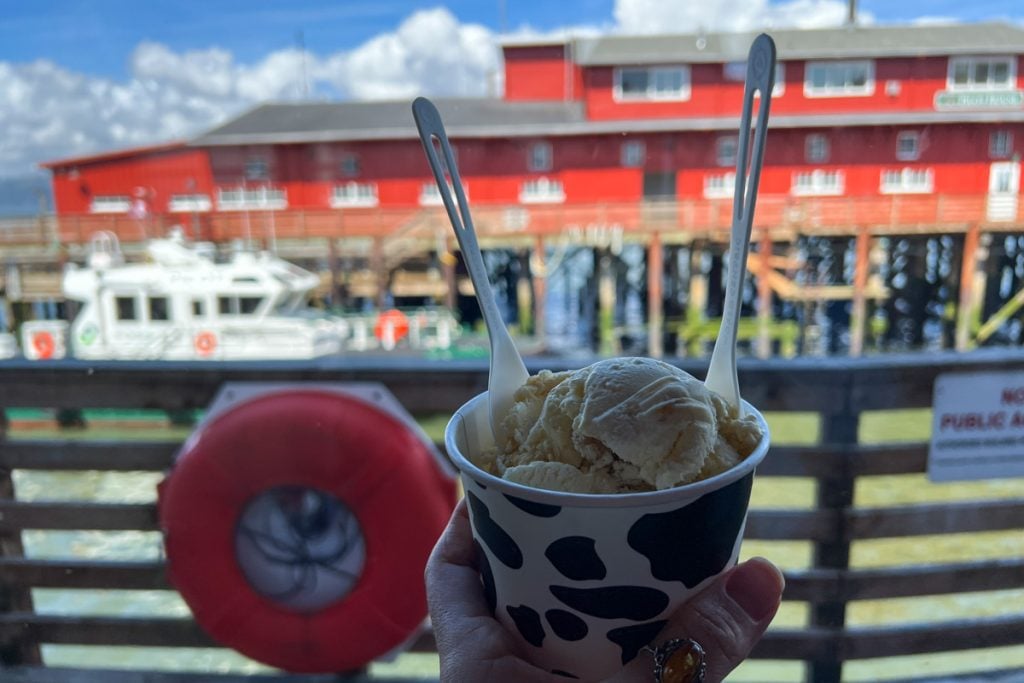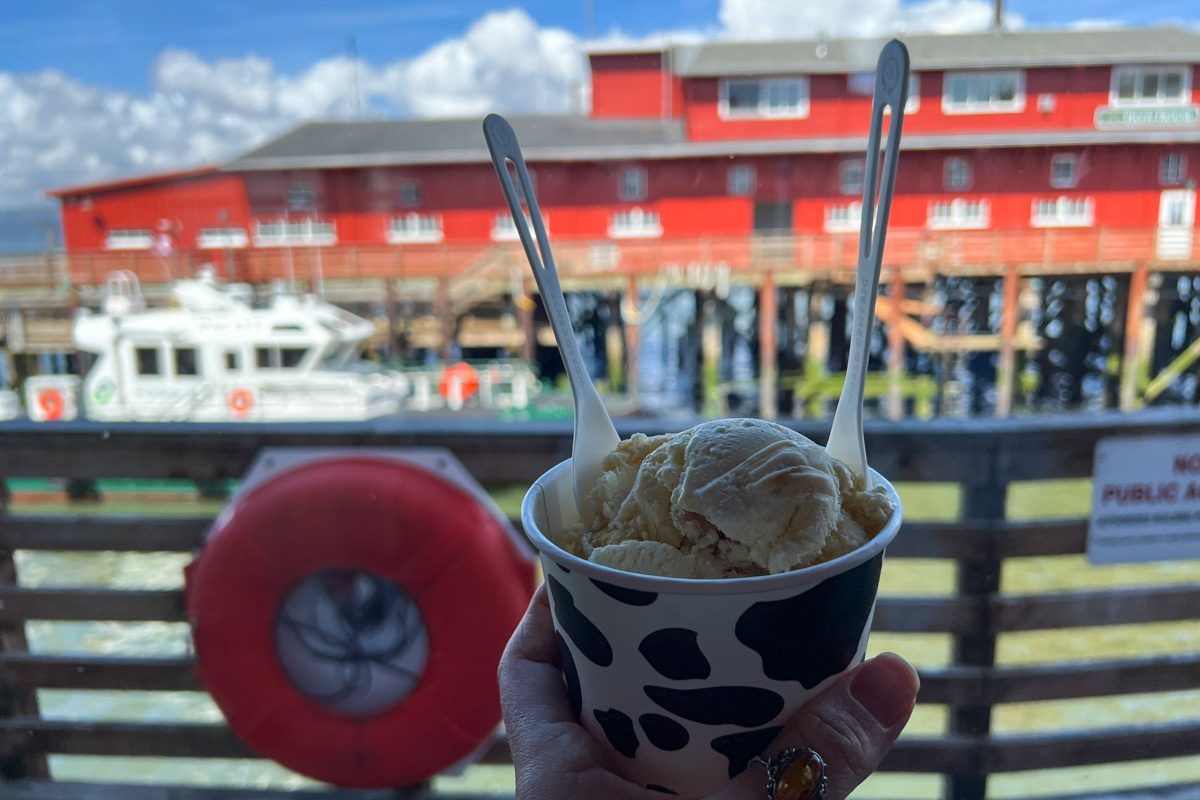 This sweet little ice cream shop serves up both fries and ice cream… Can you think of a better afternoon snack?! Order your fries tossed in garlic or rosemary salt, or drizzled with hot honey, and choose from, like, 20 dipping sauces. Not joking.
And when it comes to ice cream flavors, they've got a variety of unique ones to try. If you're indecisive like me, you'll be happy to know they allow you to split the scoops into two flavors. Can I get a hell yeah!?
20. Walk or bike the Riverwalk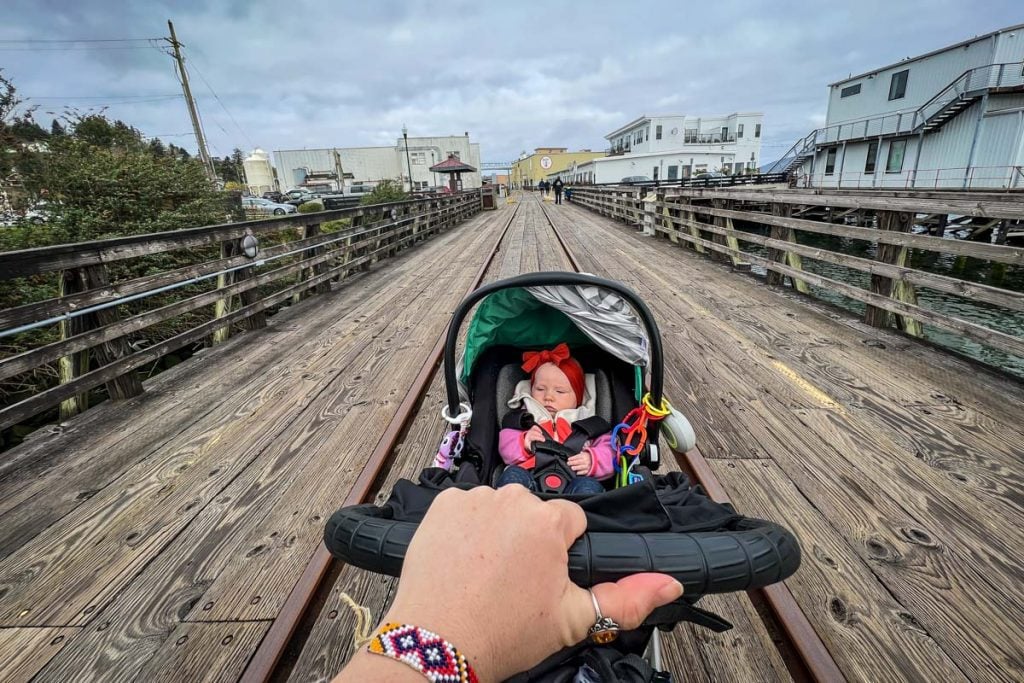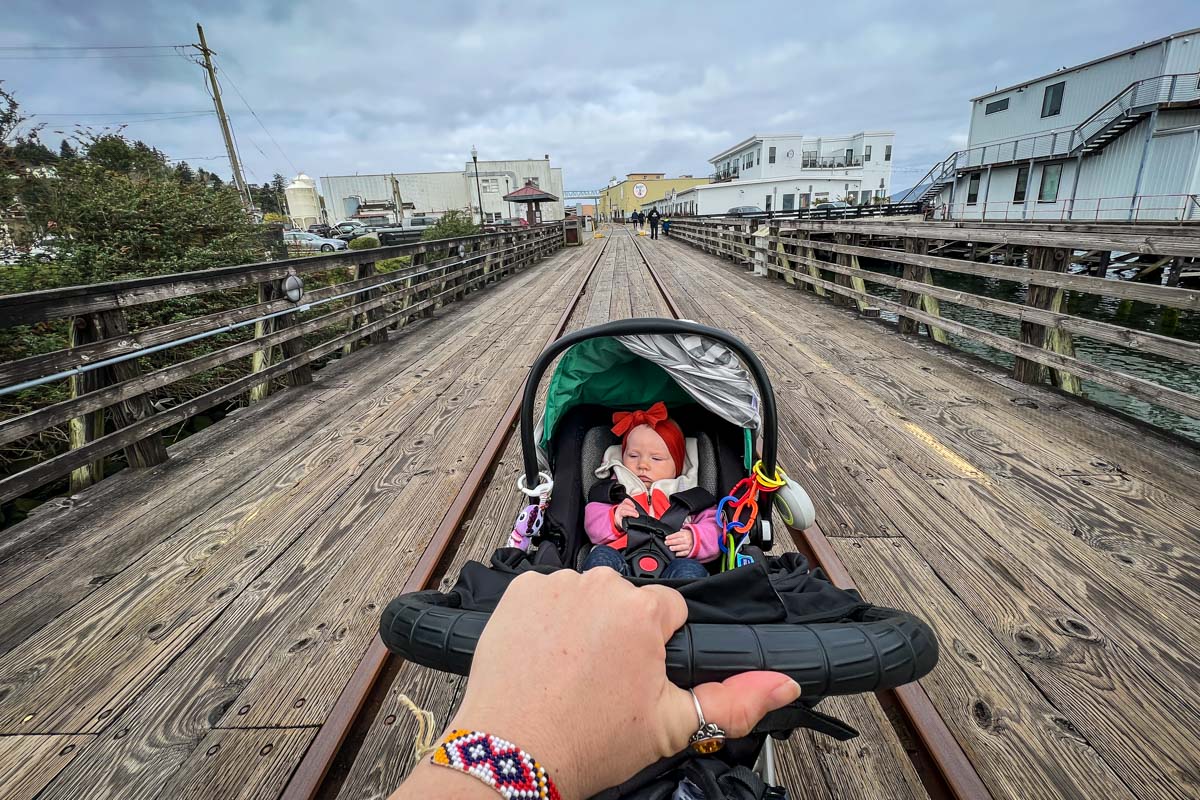 The riverwalk stretches 6.5 miles through downtown and beyond, and hugs the banks of the Columbia River.
Wander a portion of this riverside path on foot or rent a bicycle to see the entire length. Some hotels, like The Bowline, offer guests complimentary bike rentals during their stay, or you can rent one from Bikes & Beyond.
Along the Riverwalk, you'll see some interpretive signs that tell you about the history and environment of this region.
21. Take a quick trip down to Cannon Beach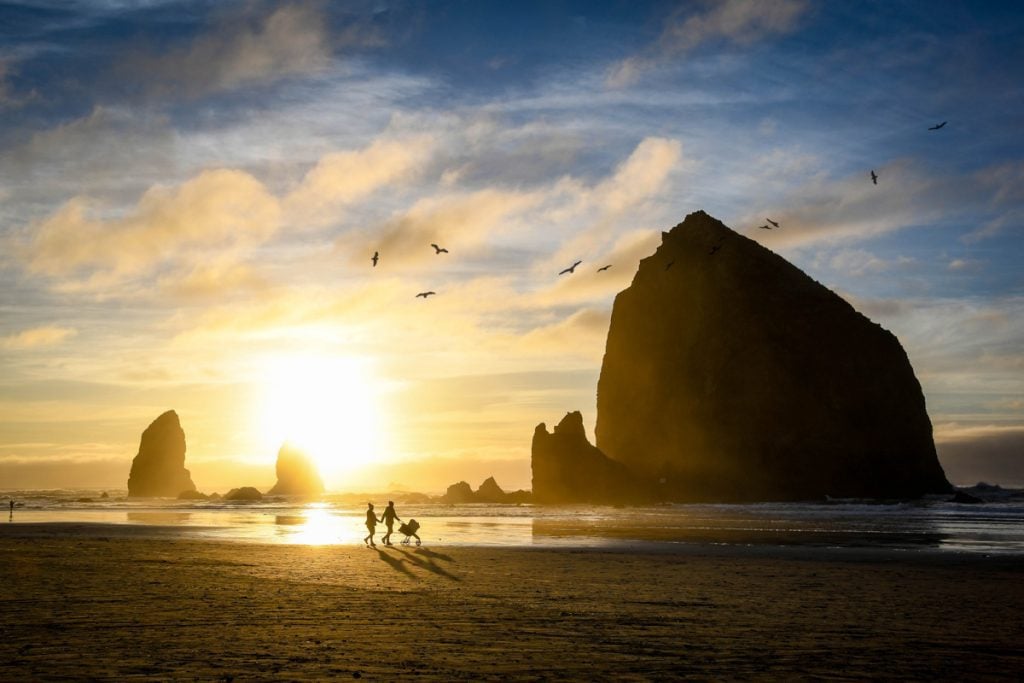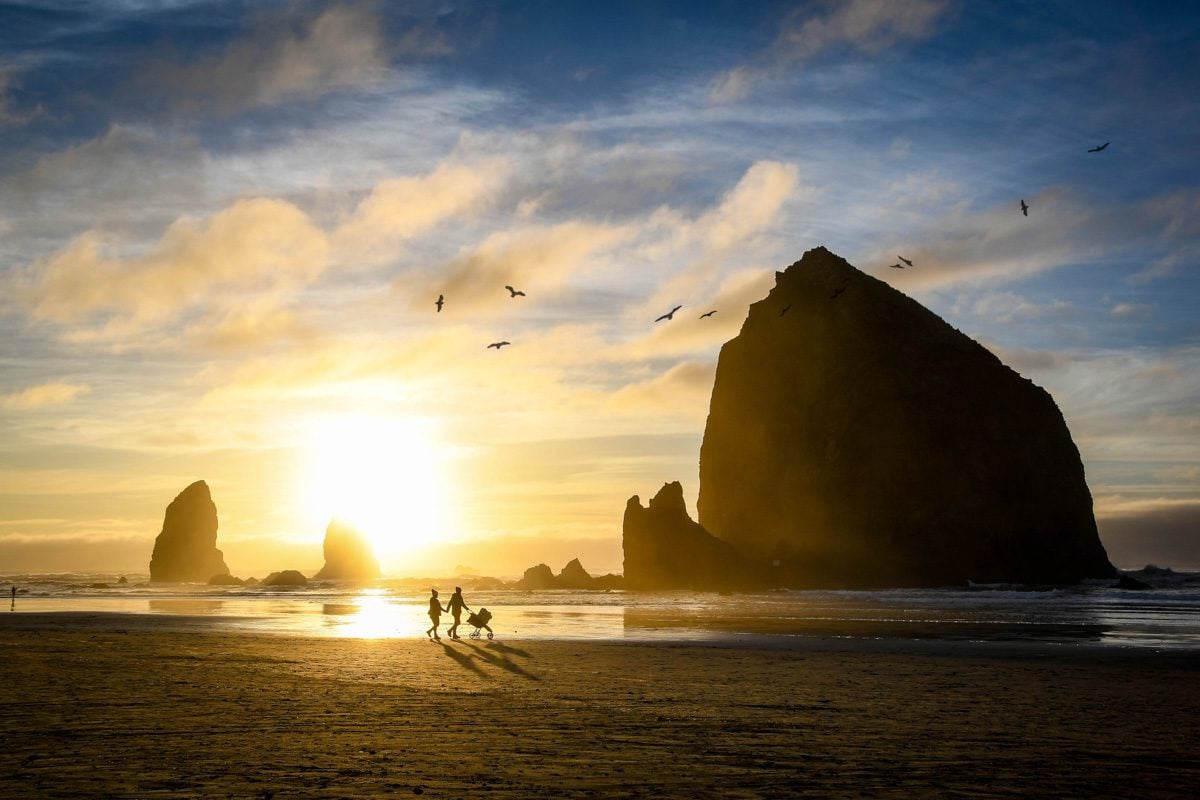 If you want to see more of the Oregon Coast, make a point to drive down to Cannon Beach, stopping along the way wherever you get the urge.
Just a 40-minute-drive from Astoria, this scenic drive will give you a taste of an Oregon Coast road trip, even if you don't have much time.
If you are on a roll with visiting movie locations, you'll definitely want to stroll the town's beach and see Haystack Rock up close, as well as the stunningly beautiful Ecola State Park, both of which appeared in The Goonies and other films.
There are plenty more things to do in Cannon Beach, and if you have the time, we'd recommend spending a night (or two!) here, as it is one of our favorite Oregon Coast towns.
22. Head to the arcade for some gaming
If you're feeling a jolt of nostalgia and want to ride that wave through the night, head to Gizmo's Arcade. Here, you can play games from your childhood while enjoying the privilege of being an adult with a glass of beer or wine – talk about the best of both worlds!
If those games make you work up an appetite, Gizmo's supposedly has some pretty great gourmet hot dogs. With unique combinations like the PB&J (Thai peanut butter sauce, bacon, and local Marionberry pepper jelly) and some more classic options like a chili dog, you certainly won't go hungry.
23. Stay in a yurt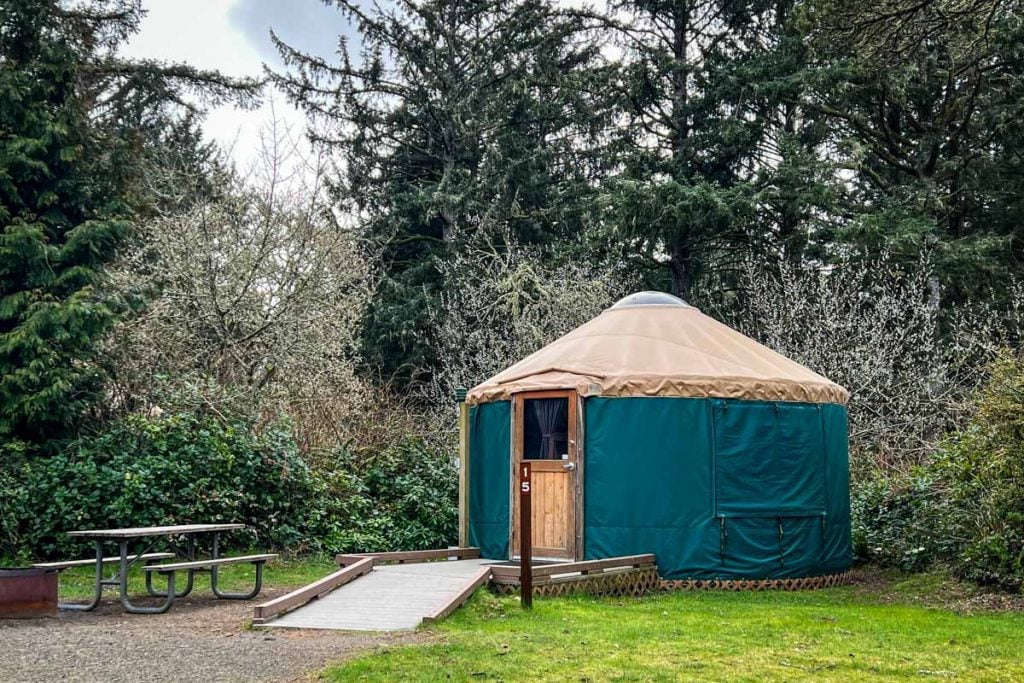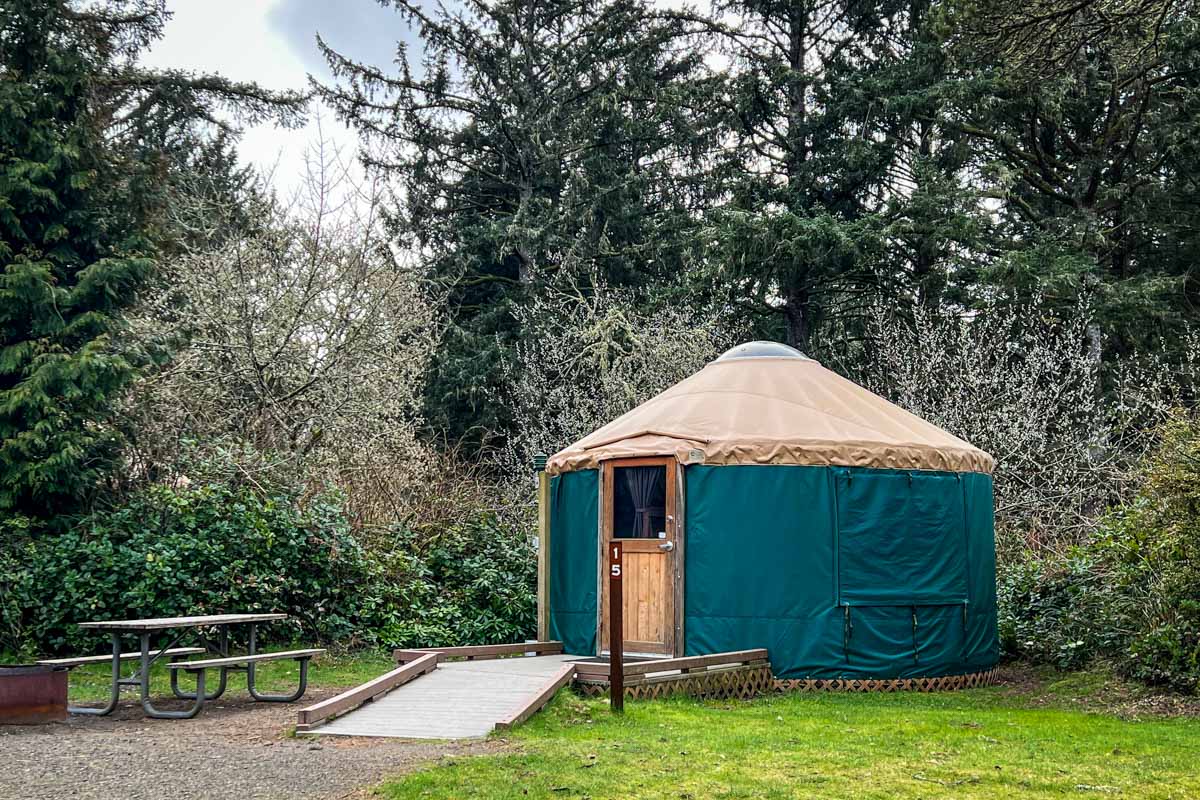 If you want a truly unique experience and would prefer staying in nature over the city, we've got a memorable suggestion for you…
Imagine waking up in a yurt nestled in the forest and just a short walk to the beach. This little daydream can easily be reality, and will certainly be one of the more unique places you've ever stayed.
Fort Stevens State Park has yurts that you can rent out for the night at a reasonable rate. Prices fluctuate throughout the year and depending on which specific yurt you choose (there are "rustic" and "deluxe" options), but they start at just $42, which is an absolute steal!
Good to know: If you're looking for a slightly larger accommodation, they also have cabins for rent.
Be sure to read up on the specifics about the yurts here to see if it would be suitable for your trip, as some have bunks and require guests to bring their own bedding.
24. Astoria Sunday Market
This seasonal farmers market is well worth checking out if you're in town on a summer weekend.
With a variety of artisans and food vendors, this is a lively place for both locals and visitors to spend a Sunday morning strolling about.
25. Ride the Riverfront Trolley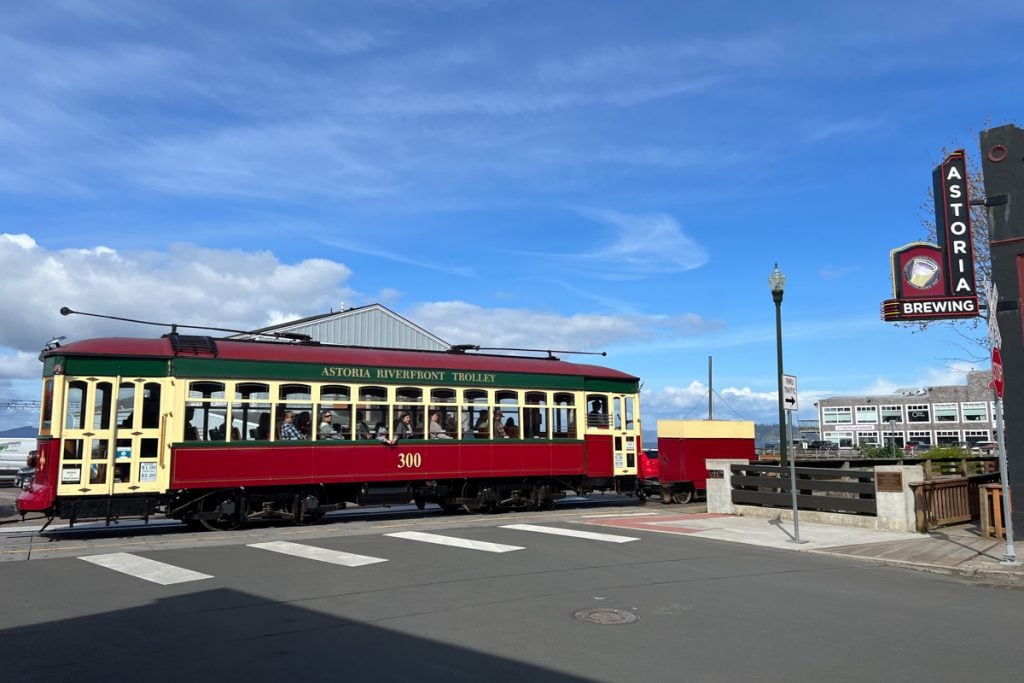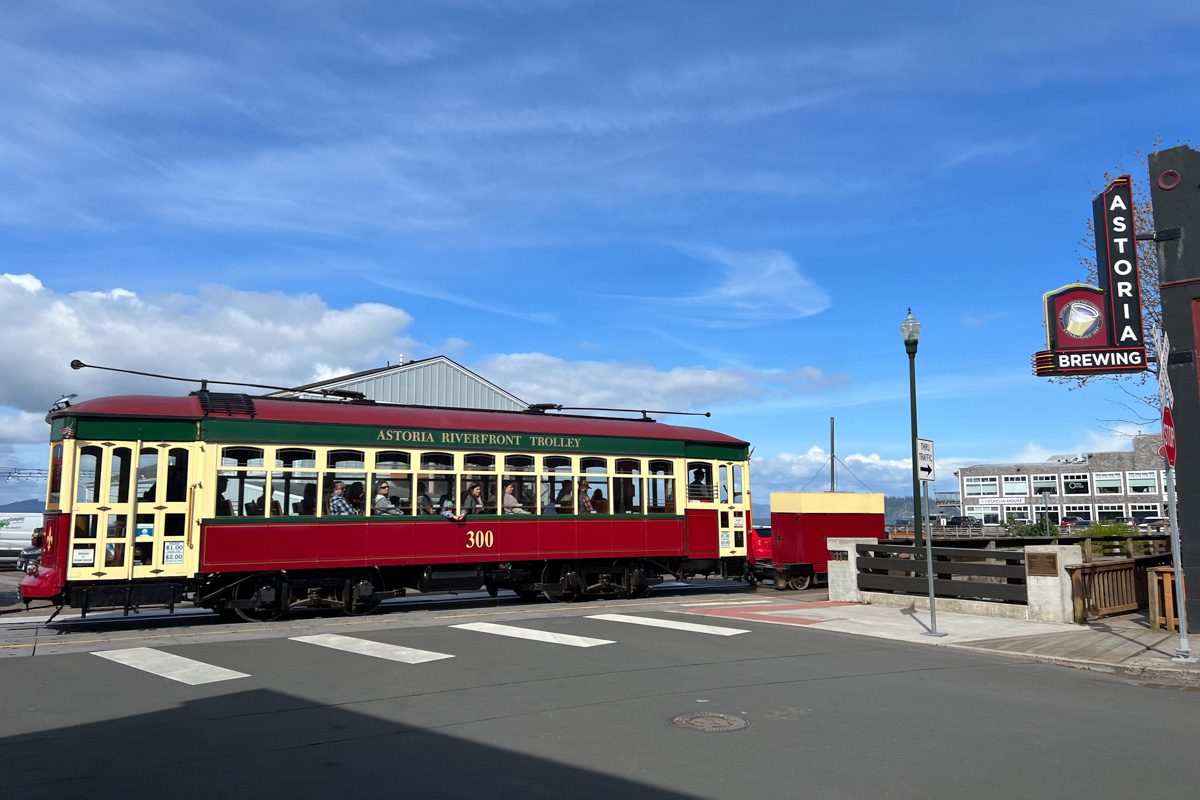 This restored century-old trolley runs along the riverfront and gives visitors a leisurely ride along the riverfront. For just $1 per person, hop on, take in the views and learn a bit of history from the conductor.
While the schedule isn't super regular, the ride takes about 45 minutes one way. You could probably walk the distance a bit faster, but one rides a trolley for the experience, not the speed!
Astoria's riverfront trolley runs Fridays-Sundays from noon to 6 p.m. and operates from late March through October.
26. Spot Sea Lions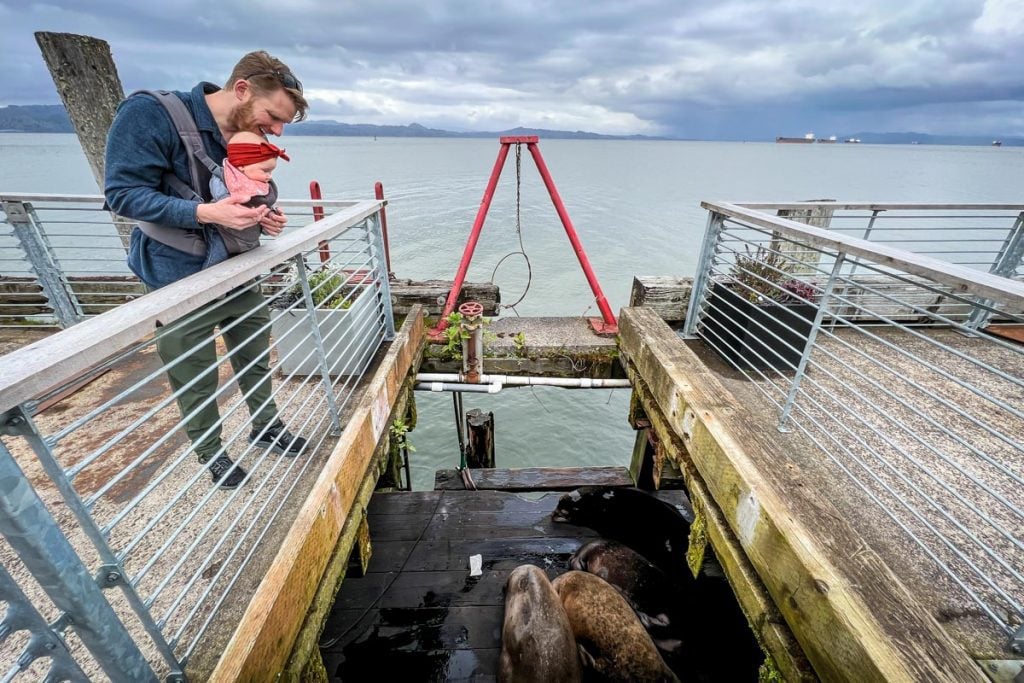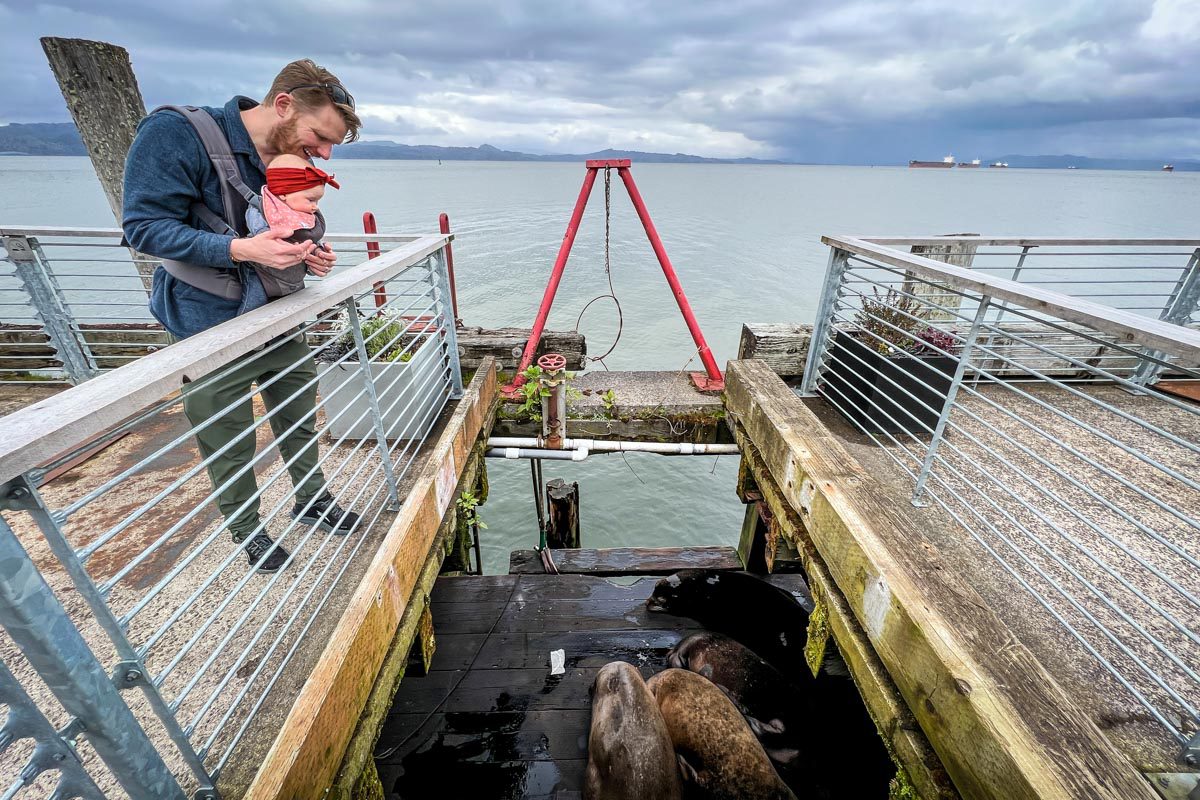 If you walk along the riverfront, it won't be long before you hear these amusing creatures barking (quite loudly!). Peek over the railing of the boardwalk and you'll likely be able to spot a sea lion, or a few!
Insider Tip: One of the best places to spot them is off of the Riverwalk on 9th Street (near The Bowline Hotel). Another fun place to see them is inside Buoy Brewing where there is a small section of the floor that is glass. You'll also have a good chance of seeing these friendly fellas on the dock near the Cannery Pier Hotel.
Remember these are wild animals, so just watch them from a distance. Never feed them or try to approach them.
---
Where to eat in Astoria, Oregon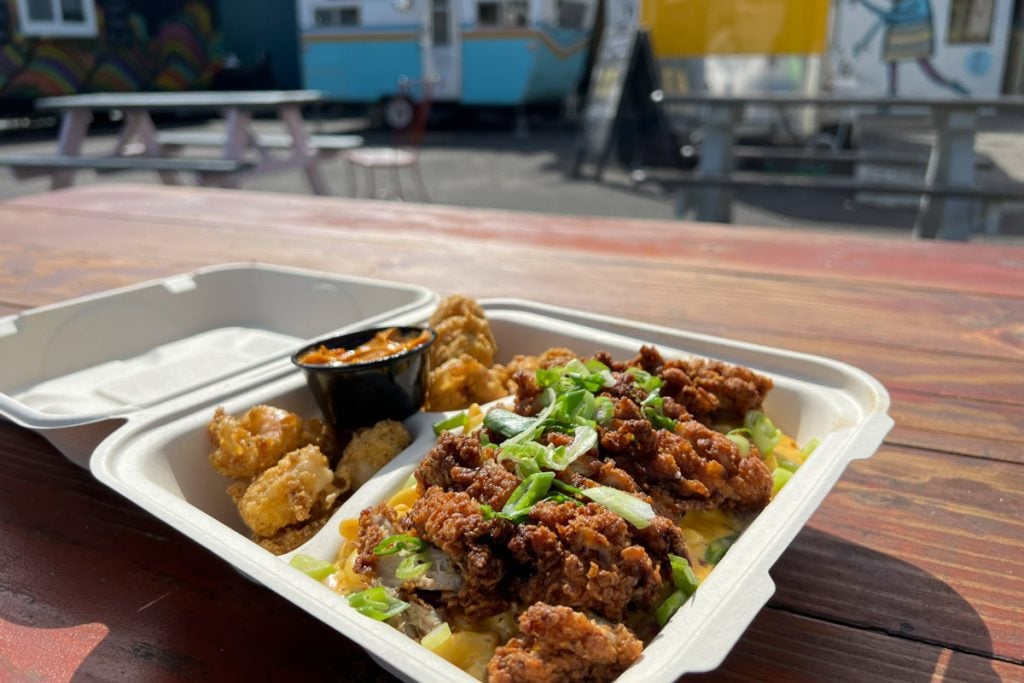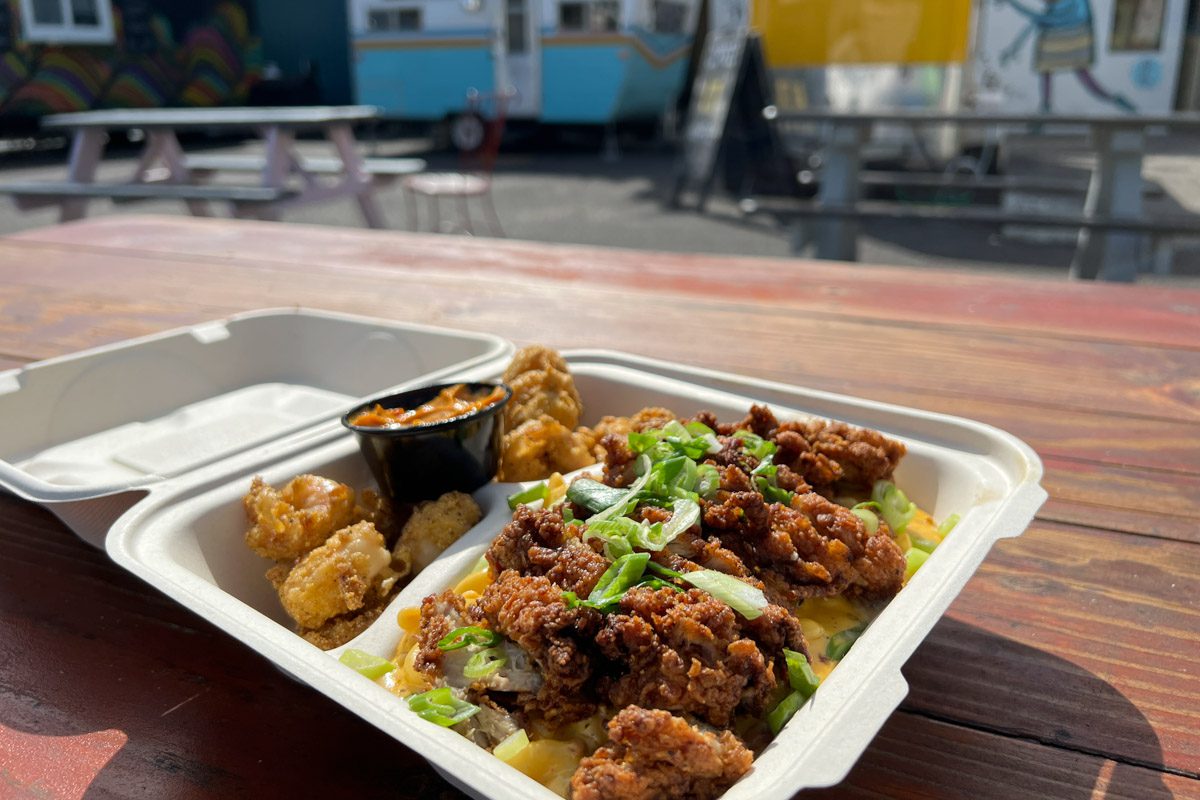 For a pretty small town, Astoria has an excellent restaurant scene. You'll find a variety of casual and fancy joints, and restaurants that spotlights local seafood as well as a diverse assortment of global cuisines.
Tip: Be sure to look at the restaurant's house before heading there, as many are only open a few days a week.
Breakfast & Coffee
Lunch
Dinner
Where to stay in Astoria, Oregon
For a relatively small town, there are plenty of hotel options to choose from.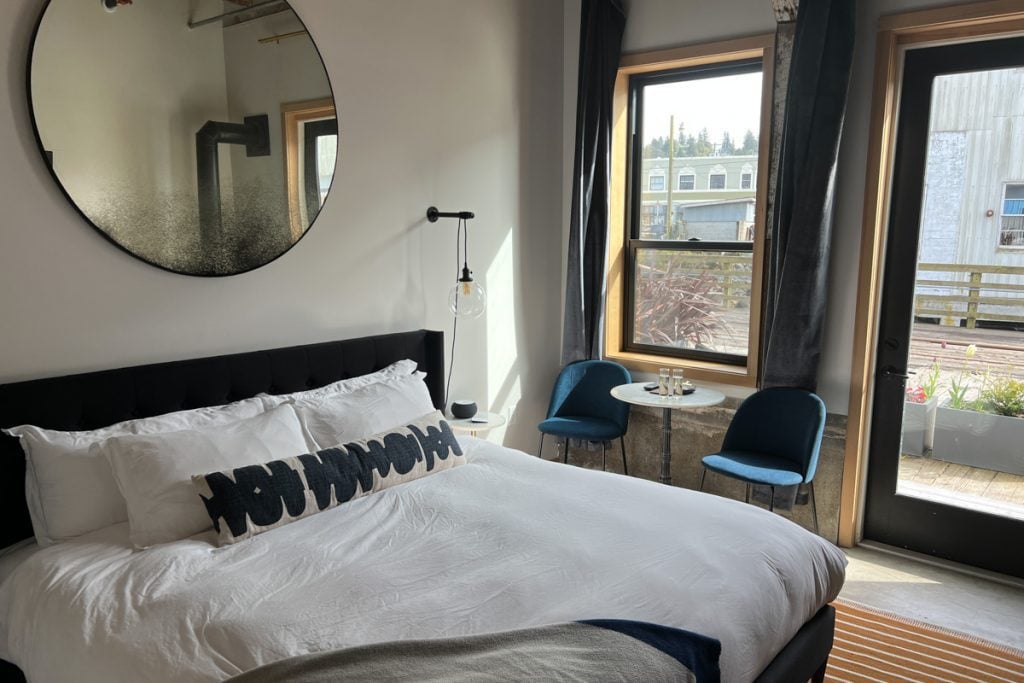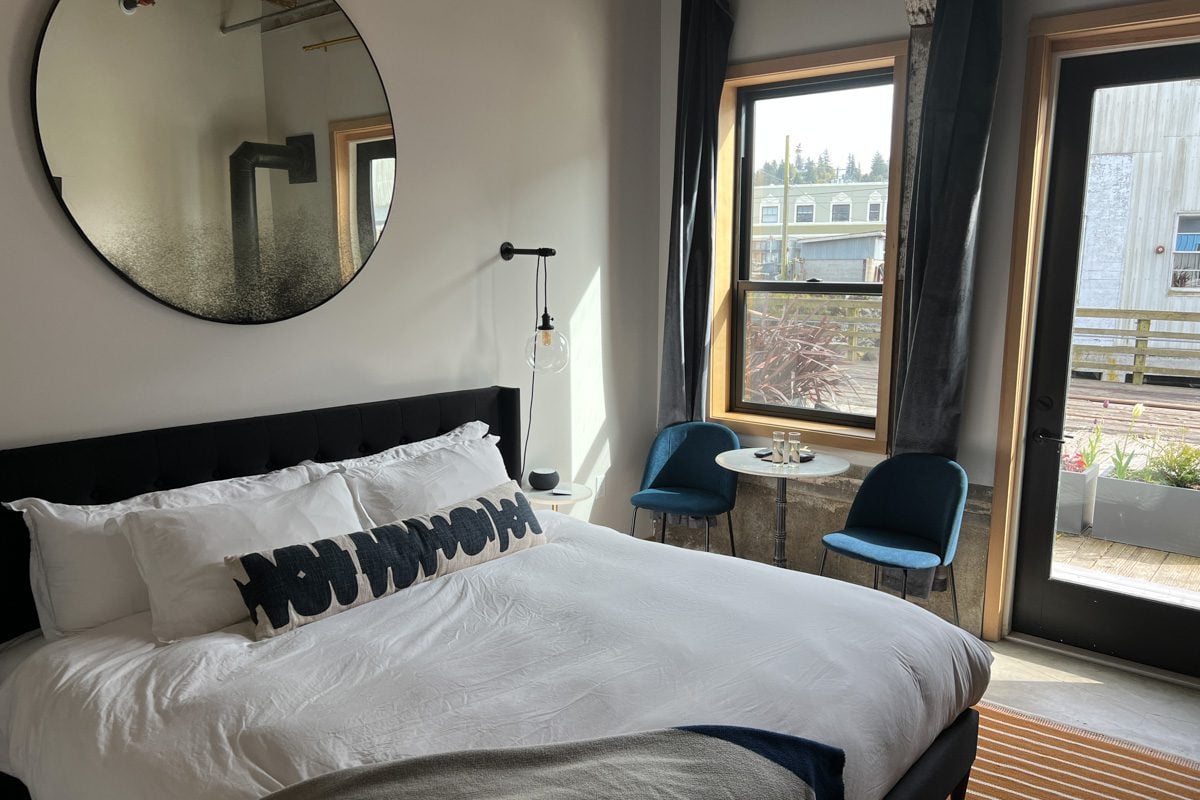 This boutique hotel is our top pick in Astoria! With complimentary bubbly upon arrival, beautifully appointed rooms, a lovely onsite bar and restaurant, sustainable practices, complimentary bike rental, and individual saunas, this place is a dream.
Plus, it's located on the riverfront, within walking distance to many downtown attractions. It makes a perfect stay!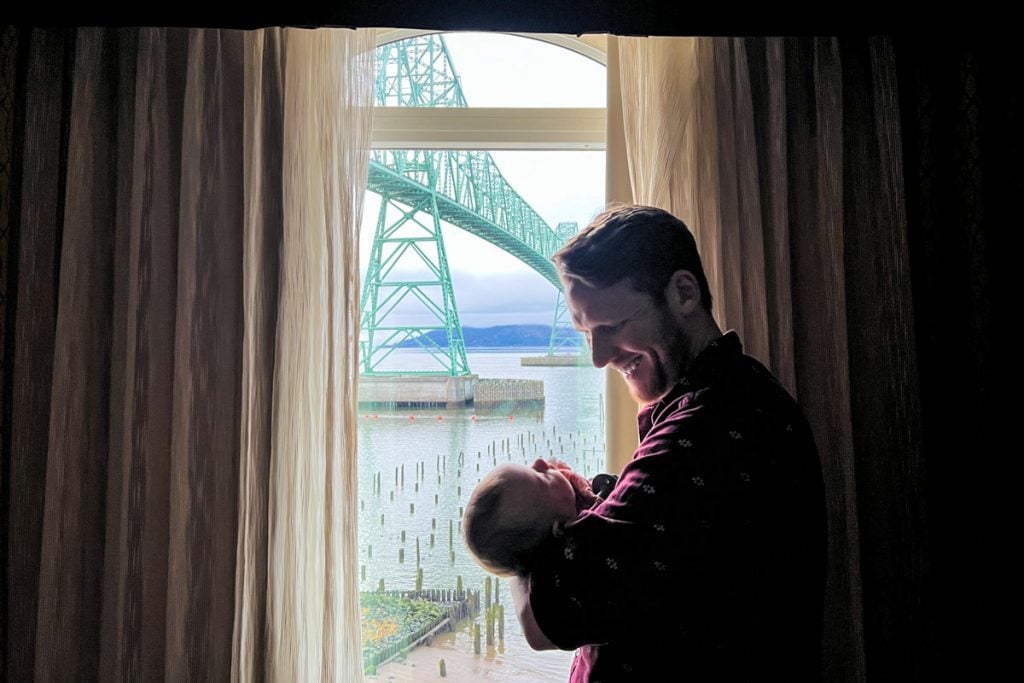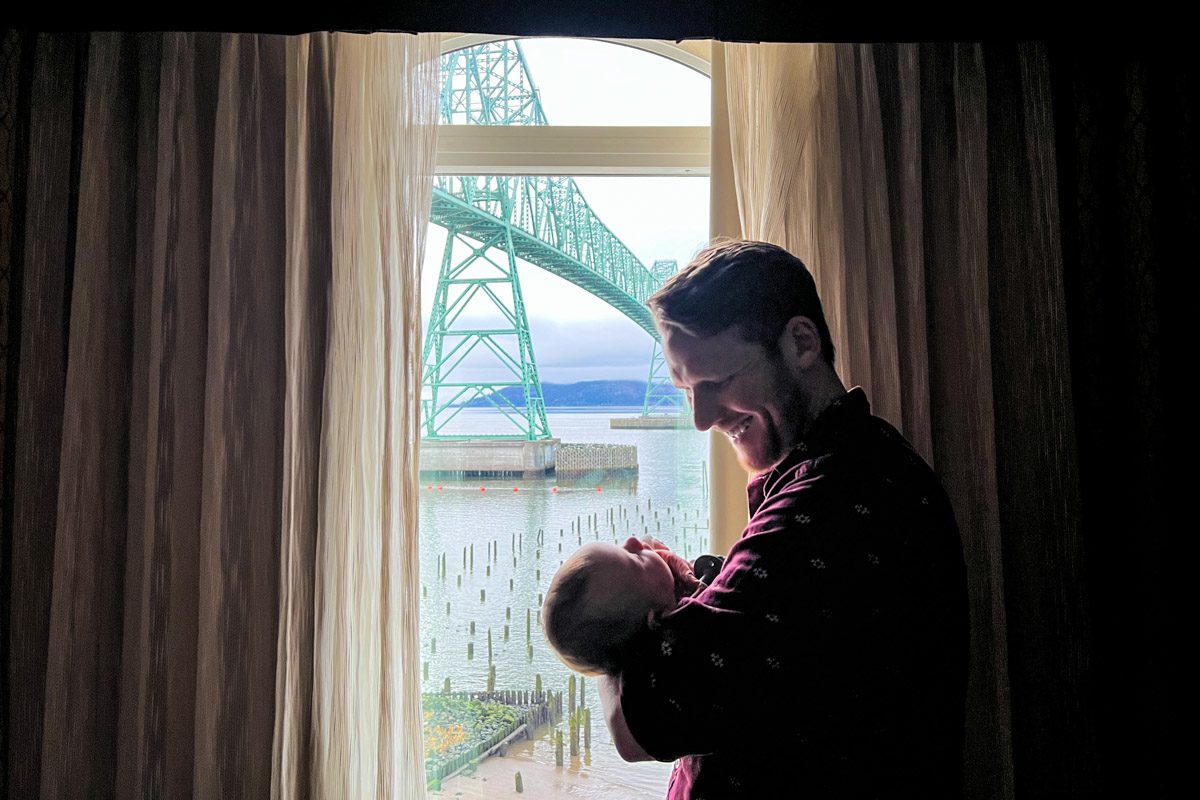 While the rooms are what you'd expect of a Holiday Inn (comfortable but nothing too unique or fancy), this chain is a good choice for your stay in Astoria. With a nice continental breakfast and jaw-dropping views of the bridge, it is situated just a bit off of the main drag, meaning you'll probably want to drive into town and park before walking around.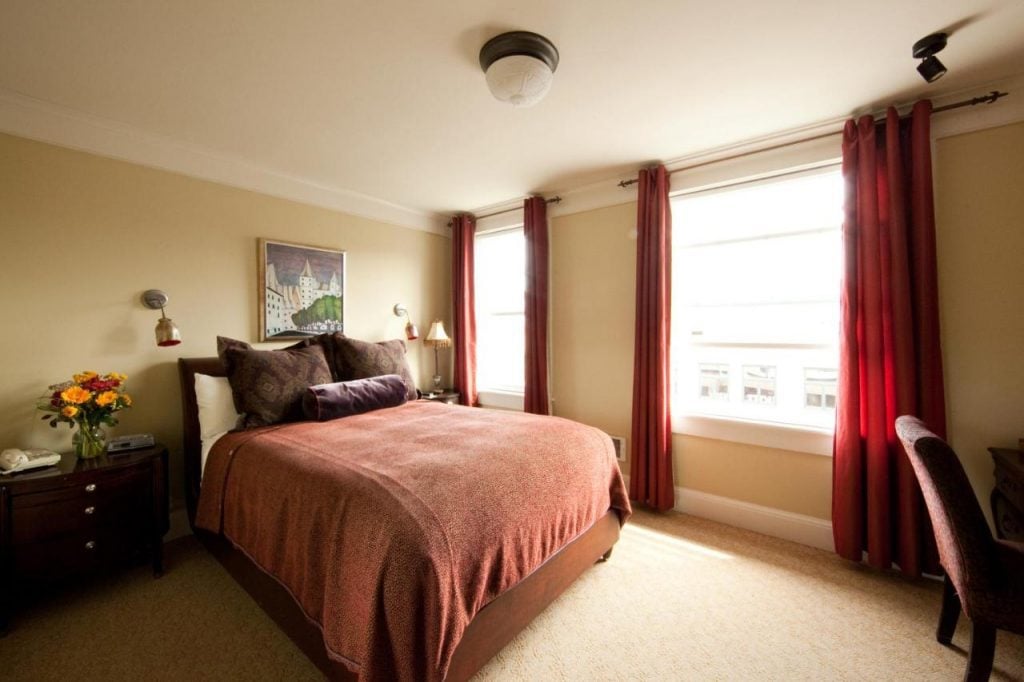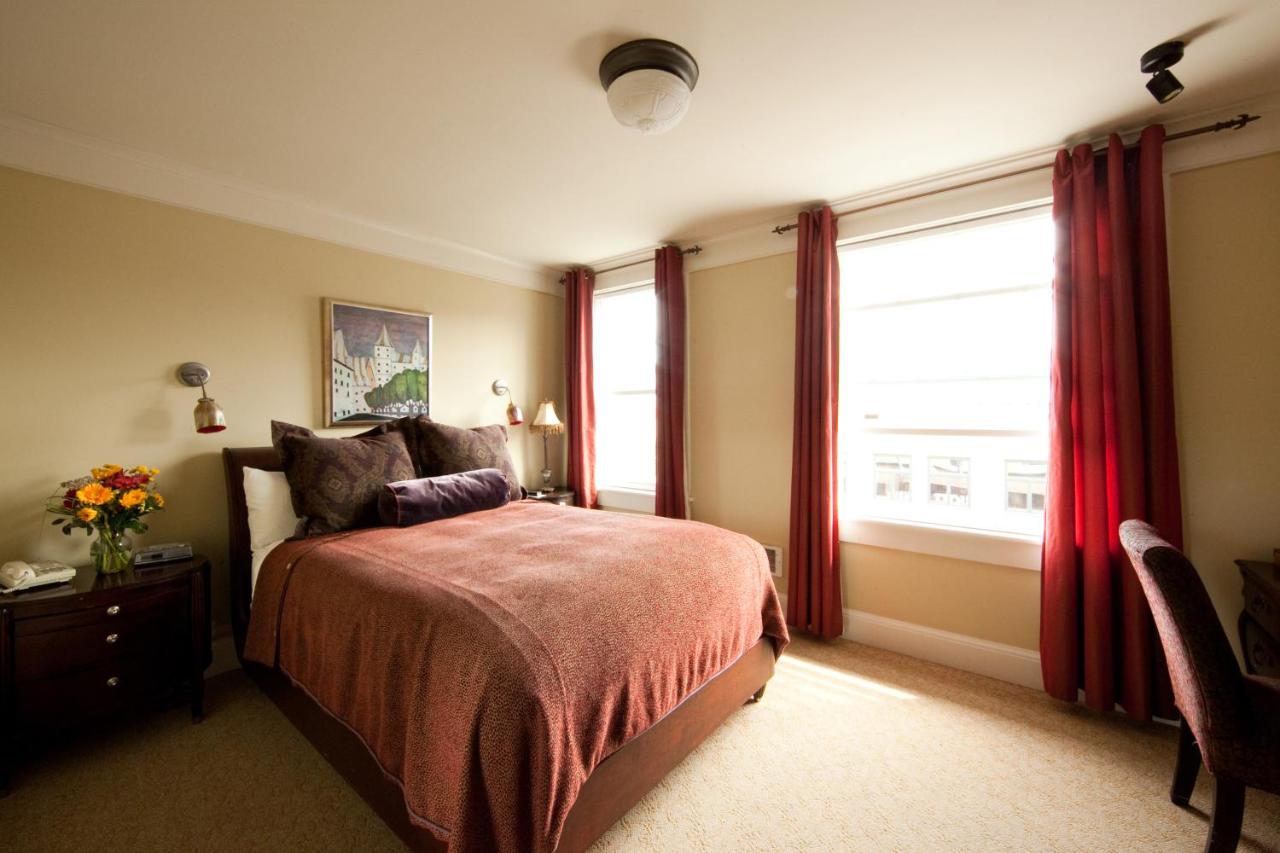 This historic hotel is located smack dab in the middle of downtown. With a rooftop terrace, lovely views and a nice breakfast, this is one of the most popular hotels in town.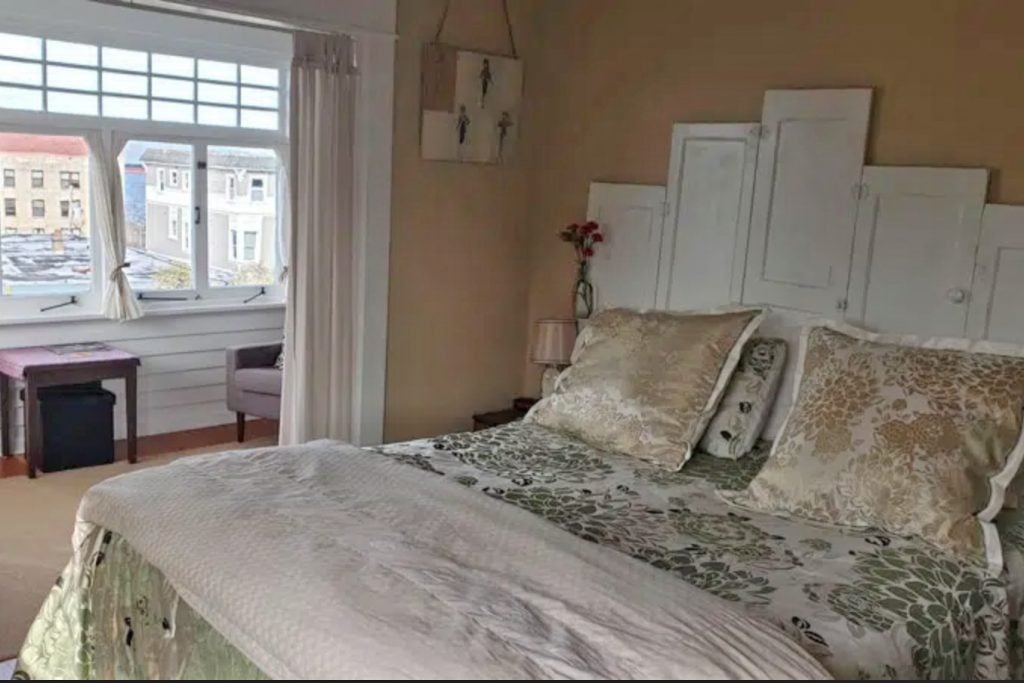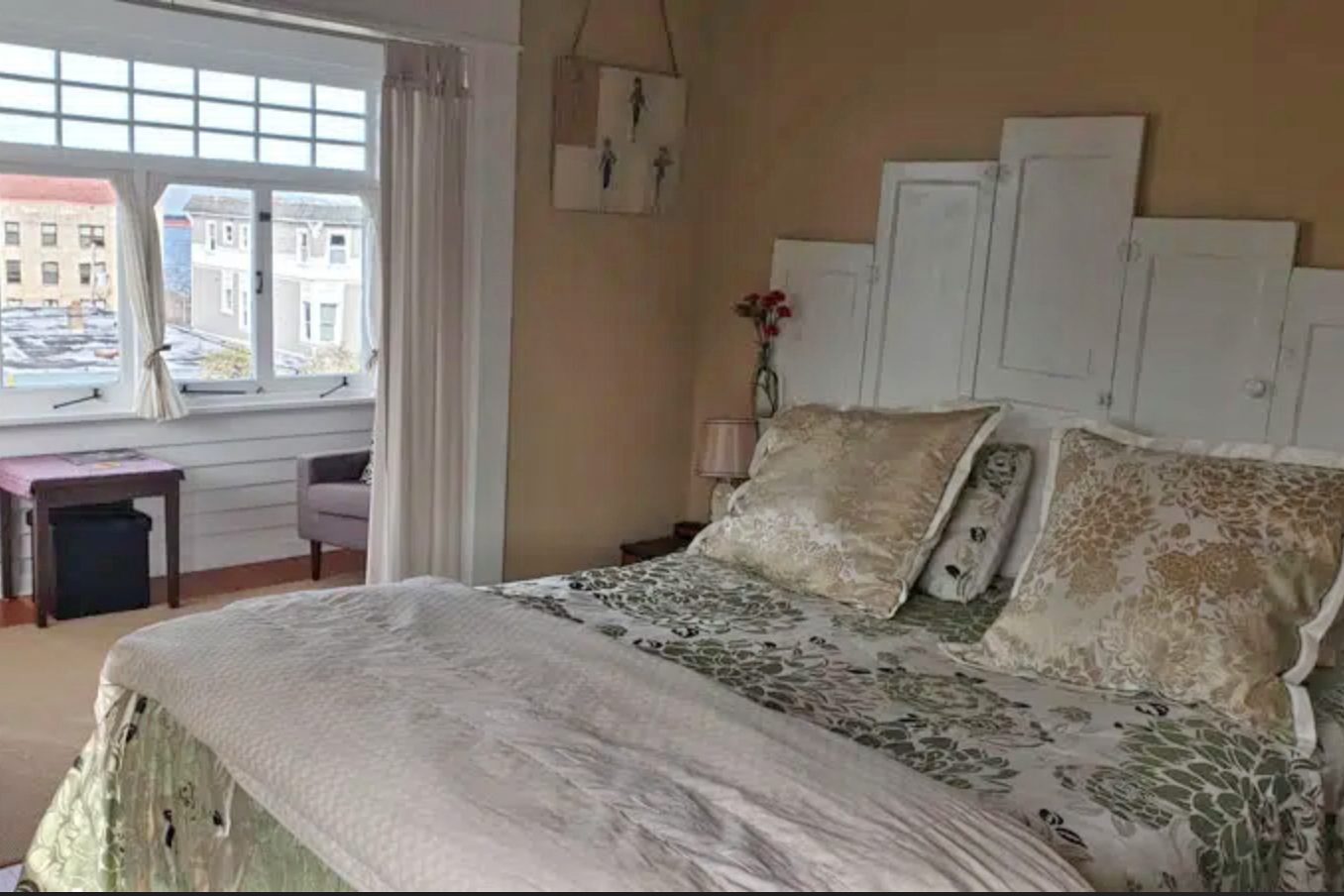 Rose River Inn Bed & Breakfast
If you're looking for a romantic B&B in Astoria, you can't beat Rose River Inn. With an excellent location and delicious breakfasts, this beautifully renovated 1912 craftsman home makes a fabulous base for exploring Astoria.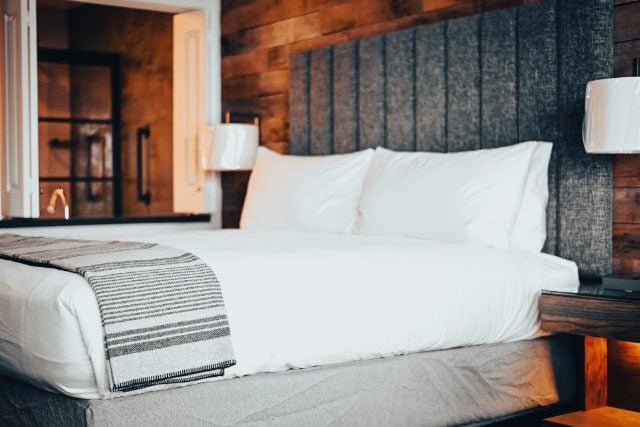 With a nightly wine and cheese happy hour and a lovely breakfast, this upscale hotel is a worthy splurge.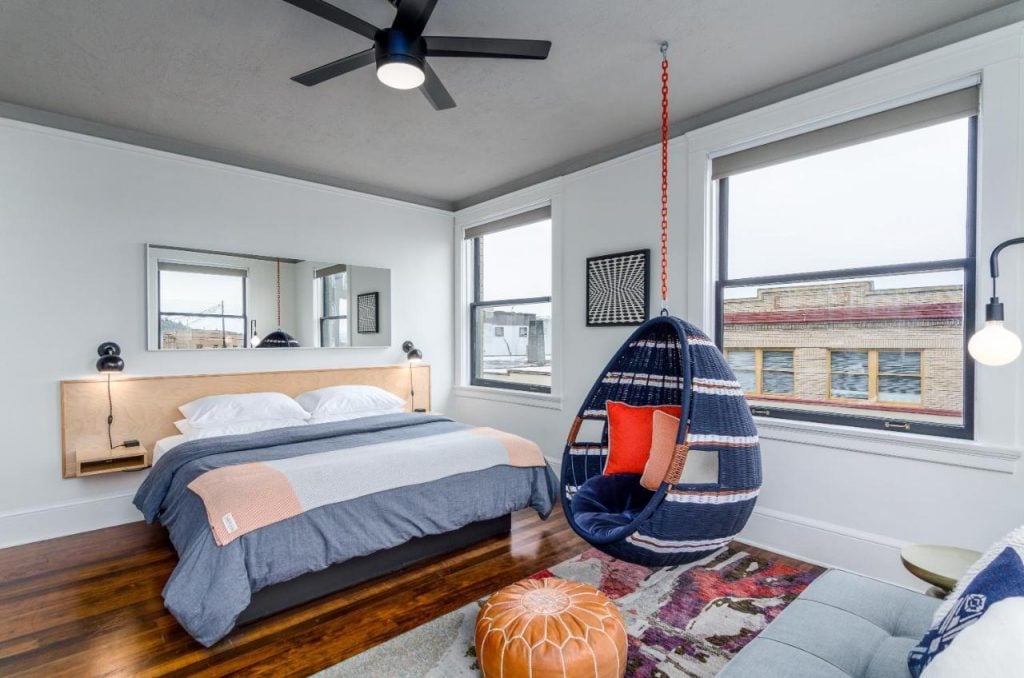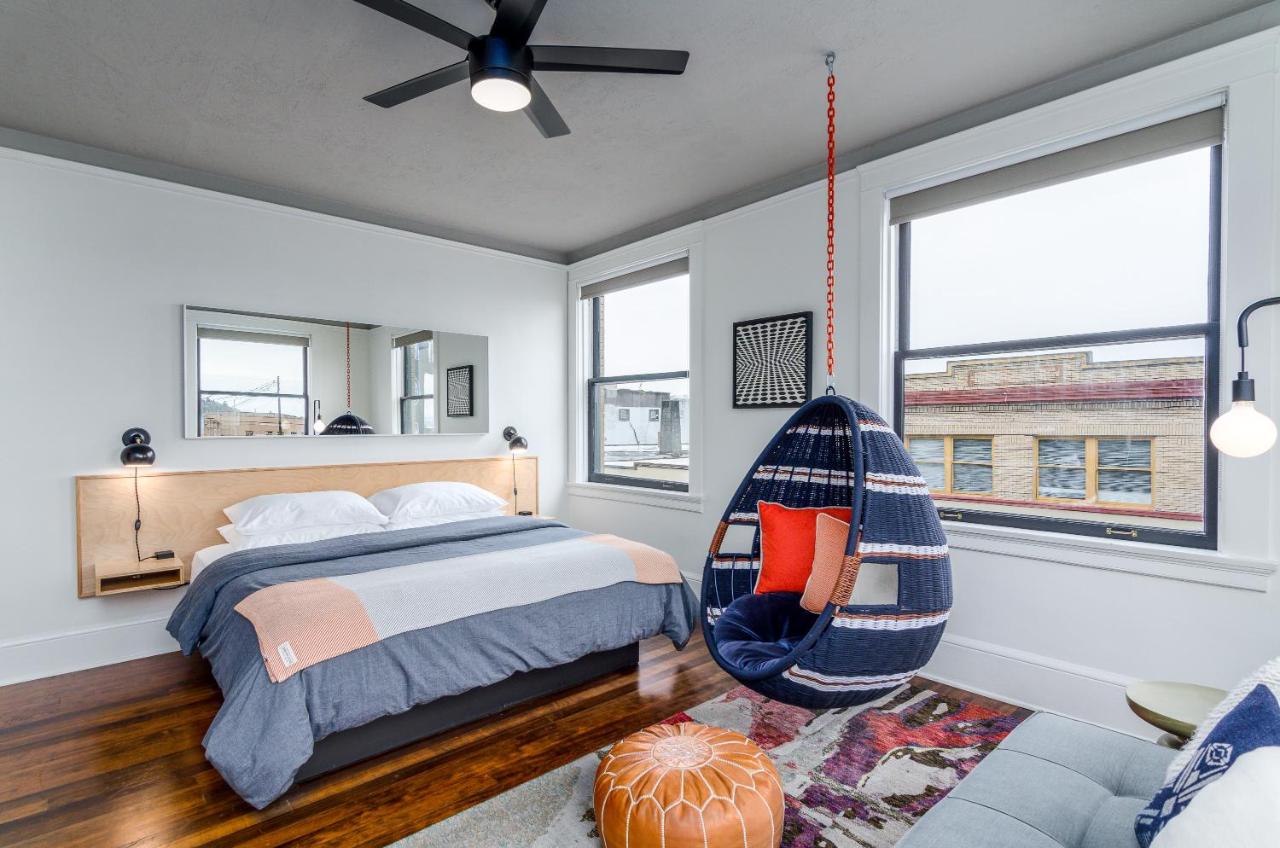 This budget-friendly boutique hotel is in a 90-year-old historic building in downtown Astoria. With beautifully decorated rooms and a quick walk to all the restaurants and shops in town, we think it's a great budget option.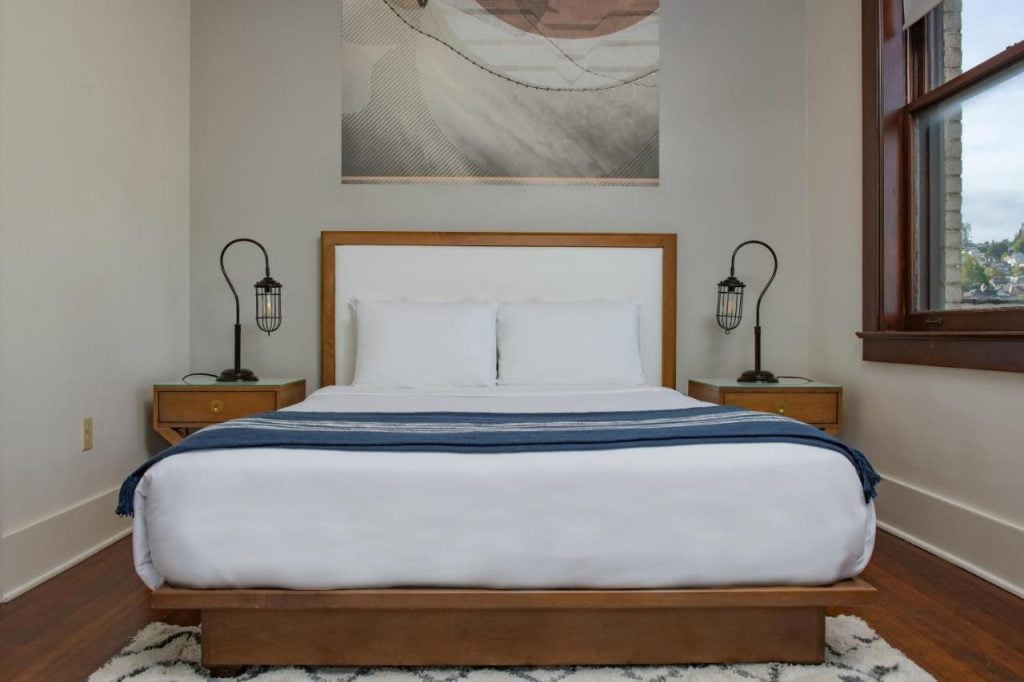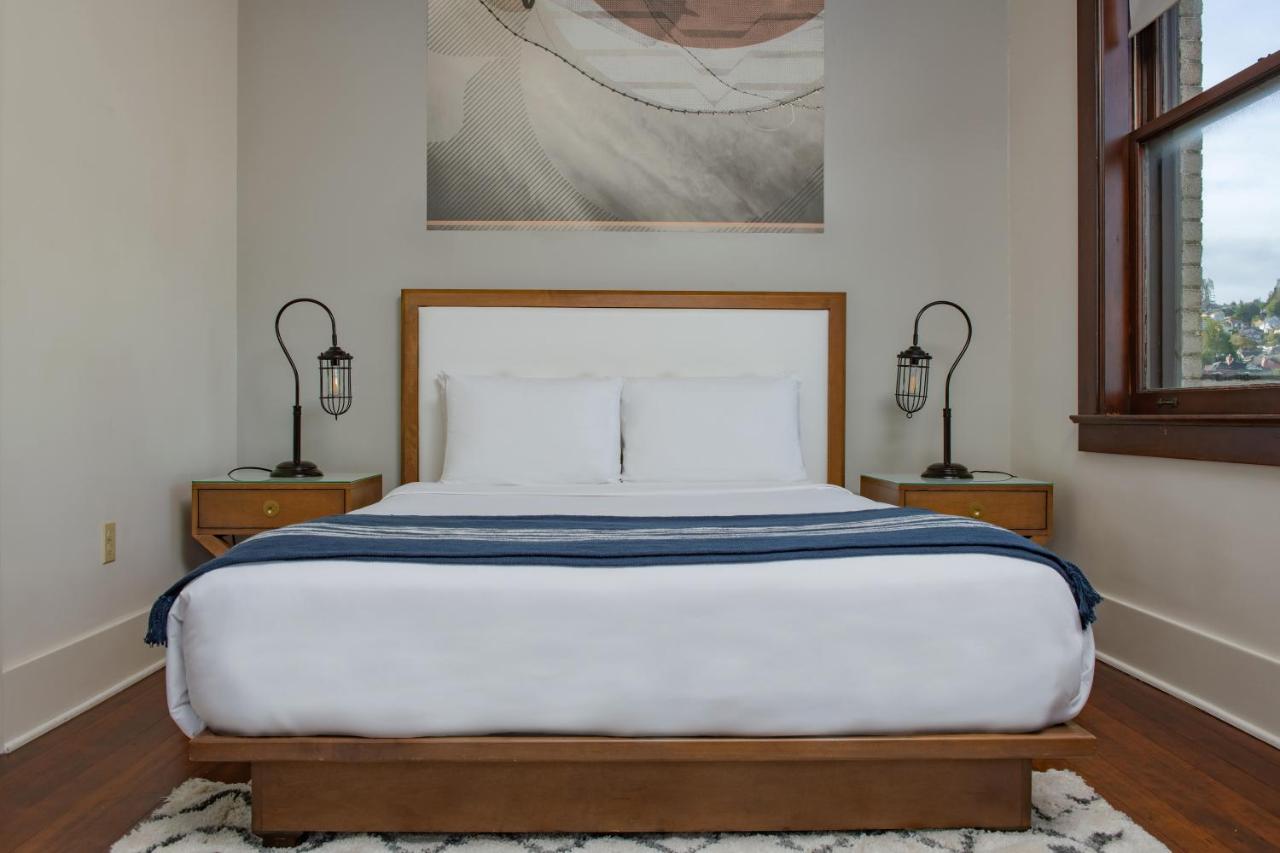 The popular South American hostel chain has expanded its portfolio into hotels and the Commodore Astoria is one of the first in the U.S. Situated in the historic Lewis Building in the city center, this hotel offers multiple private room options at different budget-friendly price points.
With their signature strong wifi guarantee, this is a great place to stay for Digital Nomads passing through Astoria.


Are you planning a trip to Oregon?
Being that Oregon is our home state, we have TONS of content to help you plan your trip. Start with our Oregon Homepage and be sure to check out the articles below. Leave us a comment if you have any more questions!
Save this article for later on Pinterest!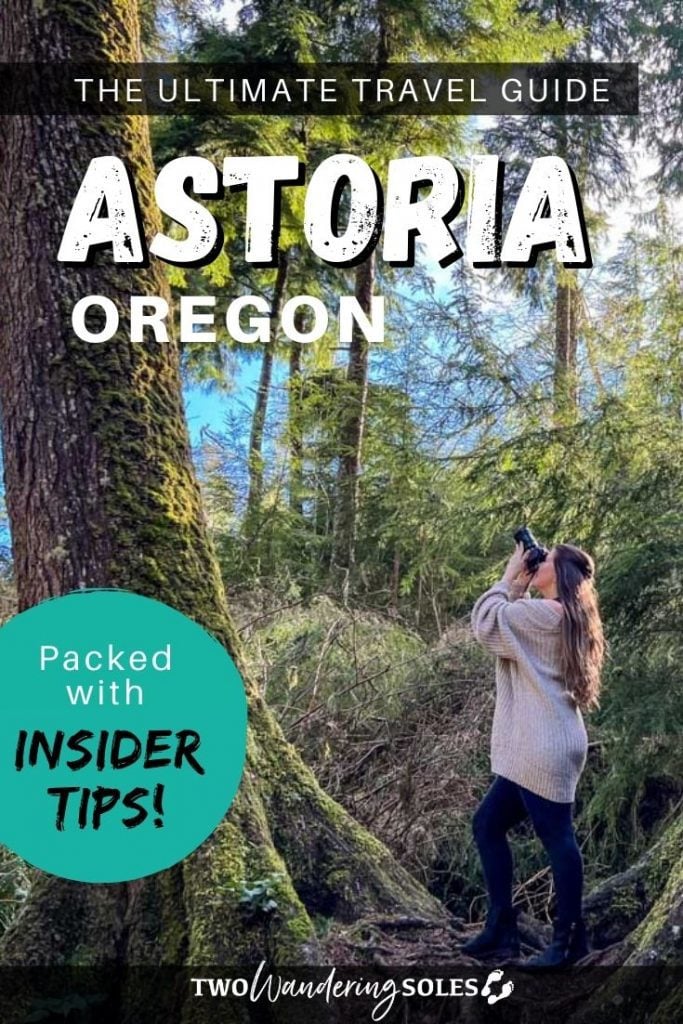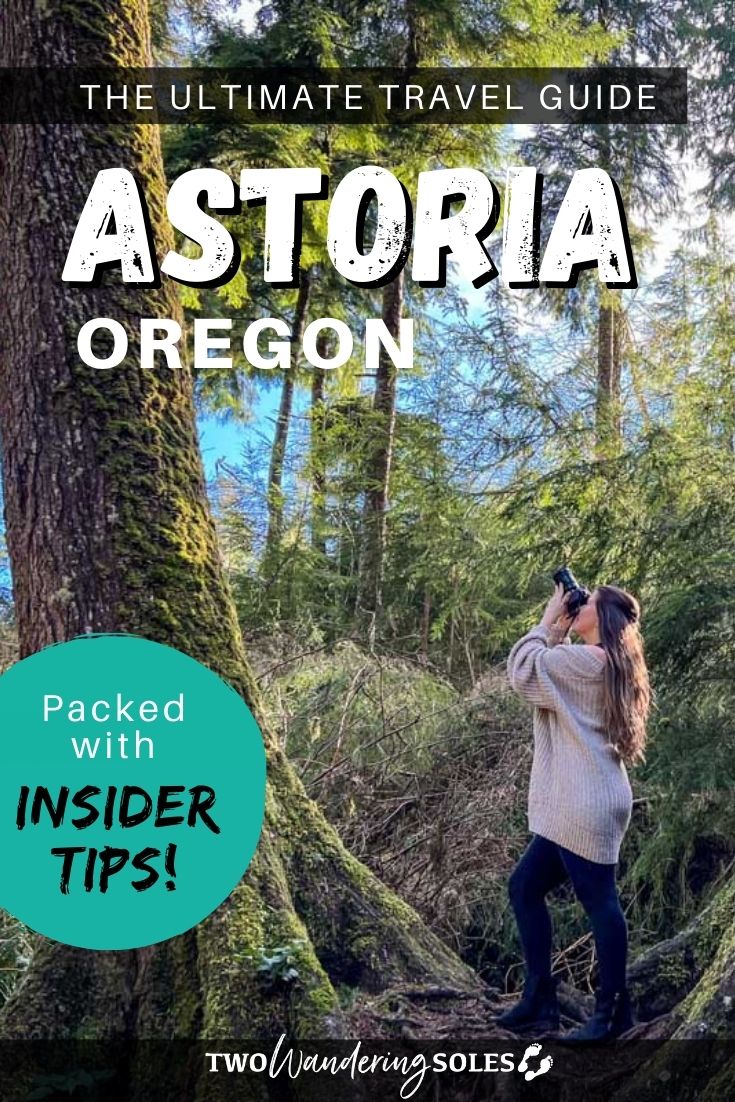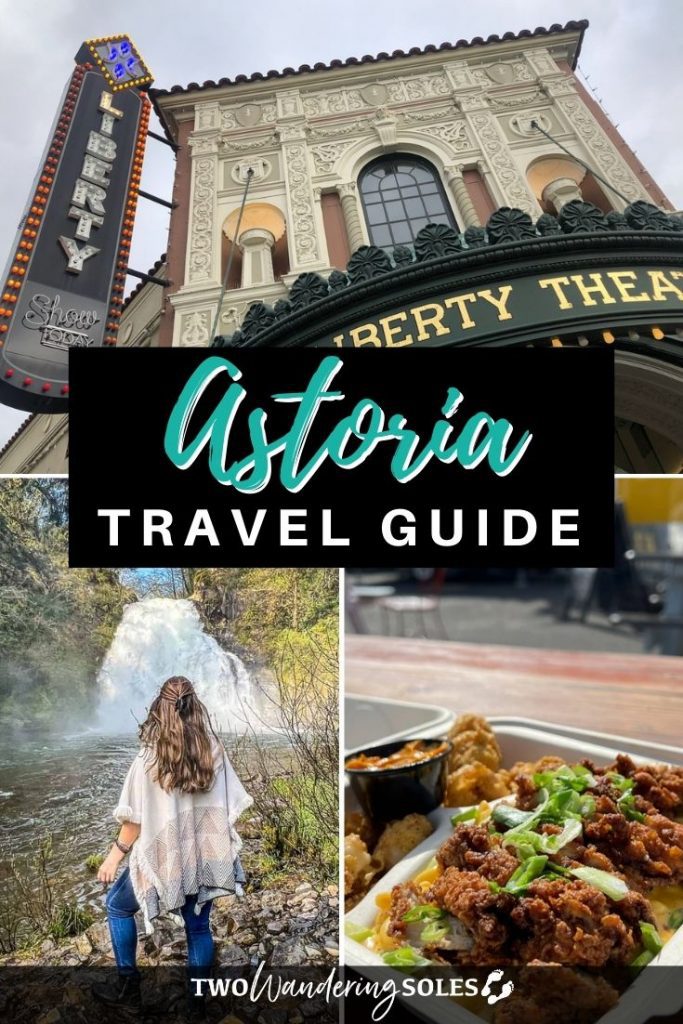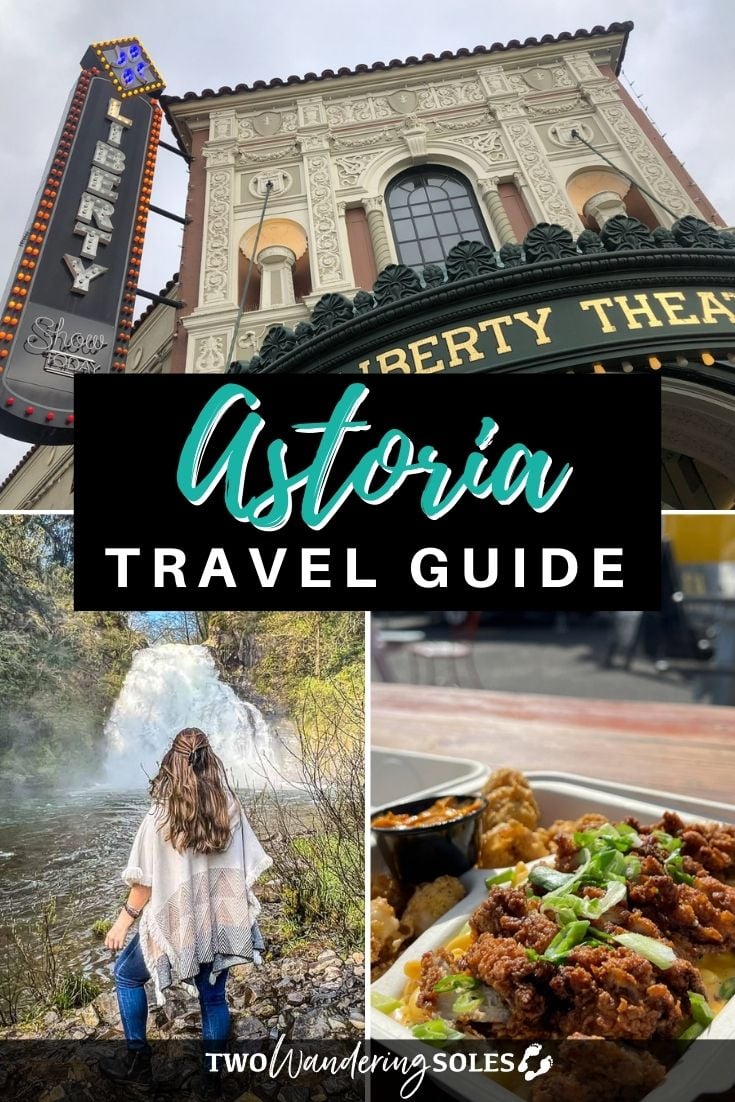 We want to hear from you!
Have you been to Astoria, Oregon? What was your experience like? Are you planning a trip and still have questions? Let us know in the comments below!