With so much to see and do in this country, it can be tricky trying to pick the best time to visit Turkey. We put together this guide to help you sort out when to visit and plan your trip to this unique and unforgettable country.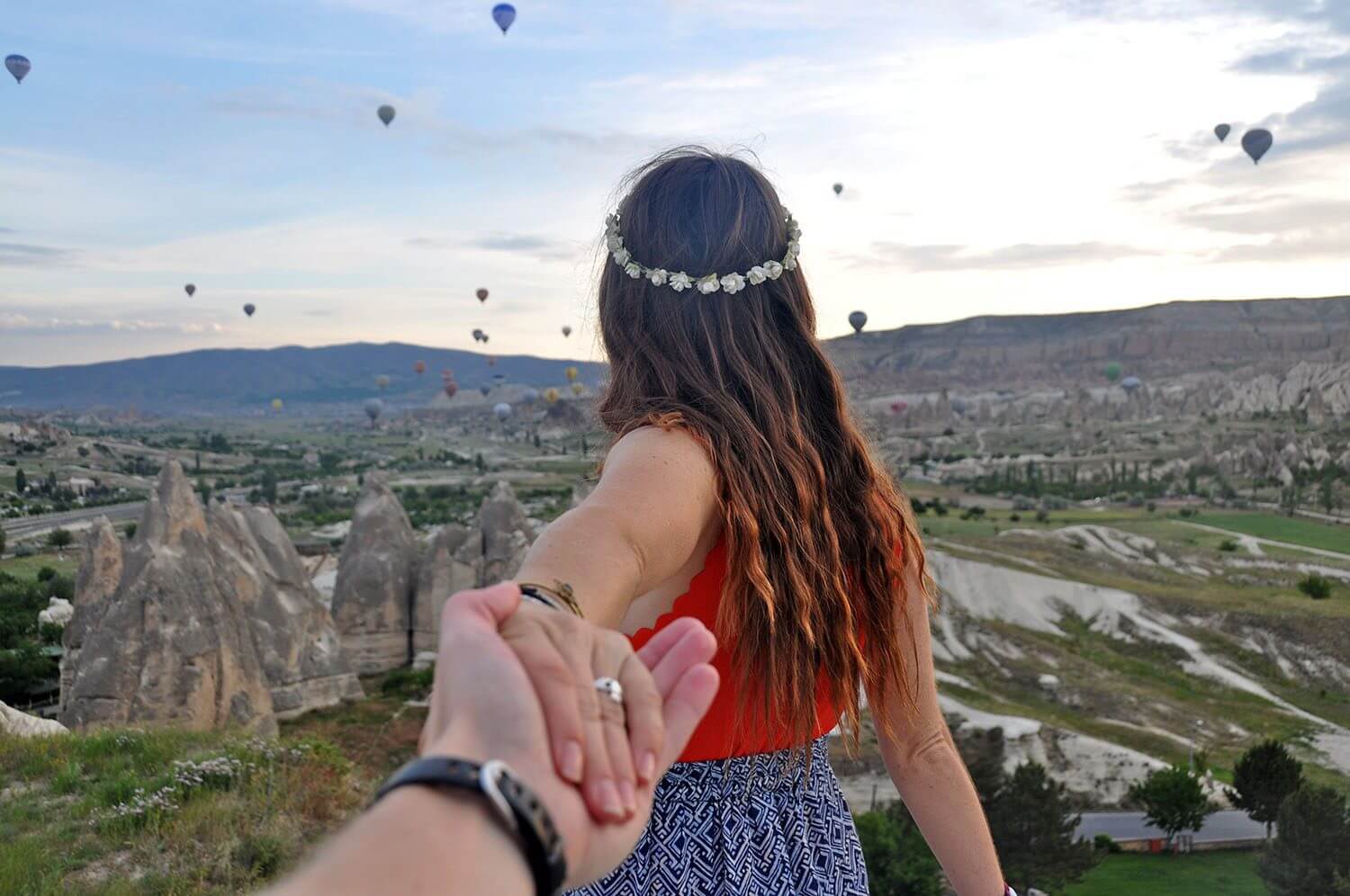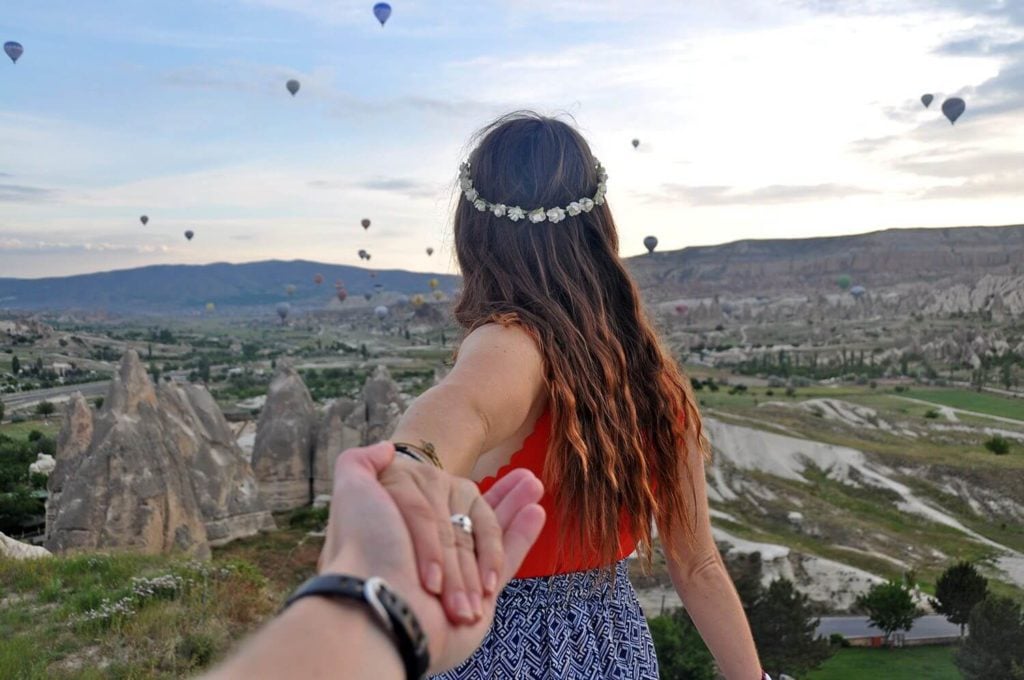 It sounds almost cliche, but Turkey truly has something for everyone. From its world-famous beaches and iconic hot air balloons to a fantastic food scene and rich history, everyone will find at least a couple of reasons to fall in love with Turkey.
This large, wildly popular country has coastline and mountains, desert and lush valleys, and shares its borders with a whopping eight other countries.
The attractions, cultural influences, and weather unsurprisingly vary in each of these regions, which makes Turkey a great travel destination year round. However, choosing the best time to visit Turkey isn't necessarily a simple, quick decision.
While Turkey's beaches and coastal communities have a typical Mediterranean climate, the country also has vast deserts and mountains soaring to nearly 17,000 feet. As you can imagine, the weather in these regions can be (and often is) vastly different.
Many of the best places to visit in Turkey are within a few hours' drive of one another. So it's likely that in one trip you'll experience diversity in topography and weather.
Whatever it is that draws you to this unique, gorgeous country, this guide will help you decide on the best time to visit Turkey for your specific travel needs.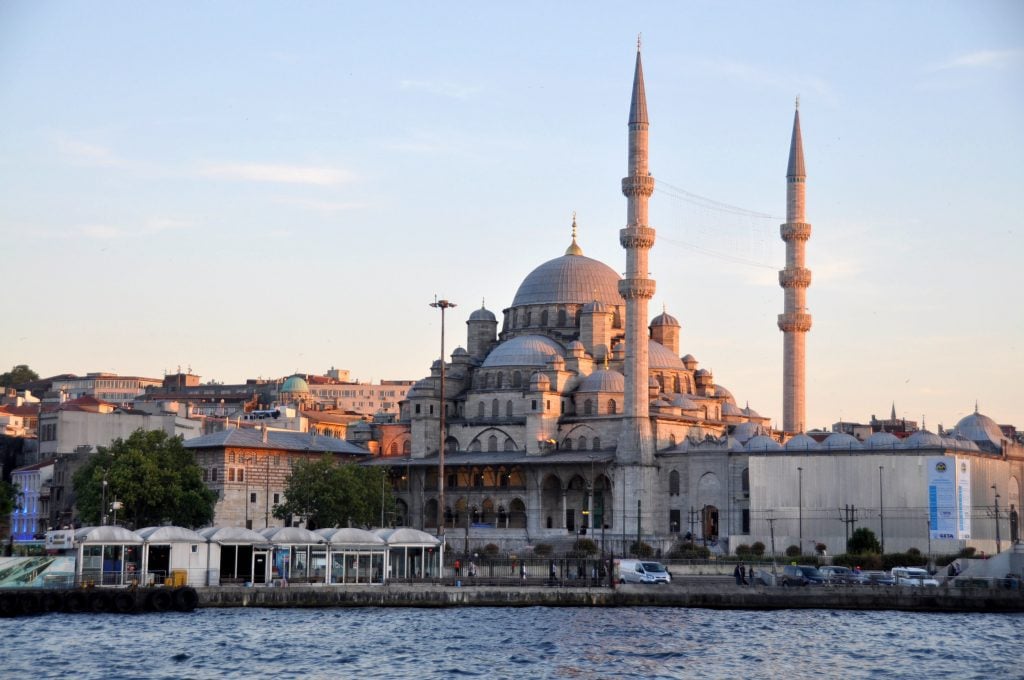 When is the best time to visit Turkey?
While the best time to visit Turkey depends largely on the activities you have planned, visiting during the shoulder seasons of fall and spring are typically the best all-around options, when weather is pleasant and large crowds are mostly gone.
Spring and Fall are Turkey's "shoulder seasons," sandwiched between peak summer tourism months and the winter, when weather is dreary and some attractions aren't open. Traveling during these times allows you to take advantage of mild weather, easy accessibility to just about everywhere in the country, and less crowds.
You'll find that cities host lots of festivals and cultural events during Fall and Spring, and these seasons are also by far the best for hiking and enjoying Turkey's spectacular nature overall. It's also still warm enough to swim at Mediterranean beaches in the fall, so you can enjoy them without Summer's stifling heat and throngs of people doing the same.
Winter is the least crowded and least expensive time to visit Turkey, but also the coldest and rainiest part of the year. It will be too cold to fully enjoy beaches, but the cities will still have plenty to do and see. Plus prices on accommodation and tourist activities usually drop significantly for the "off season." This may be a good option for anyone concerned about visiting Turkey on a budget.
This guide takes a deep dive into all four seasons, to help you figure out which is the best time to visit Turkey for you, taking into account your specific travel needs.
Answer these questions to get started:
Are you planning to visit locations all over Turkey or stay in one destination?
Are you easily bothered by crowds?
Are you negatively affected by high heat and humidity?
Do you mind chilly temperatures?
Do you prefer to spend your time at the beach or exploring a new city?
Are you on a tight budget?
Thinking about your answers to these questions is going to help you start to determine when to visit Turkey.
Article contents
Overall BEST time to visit Turkey
Want a quick recommendation? Jump down to see our personal advice for the best time to visit Turkey. Plus, we'll share what times of year we'd avoid visiting!
---
Turkey geography overview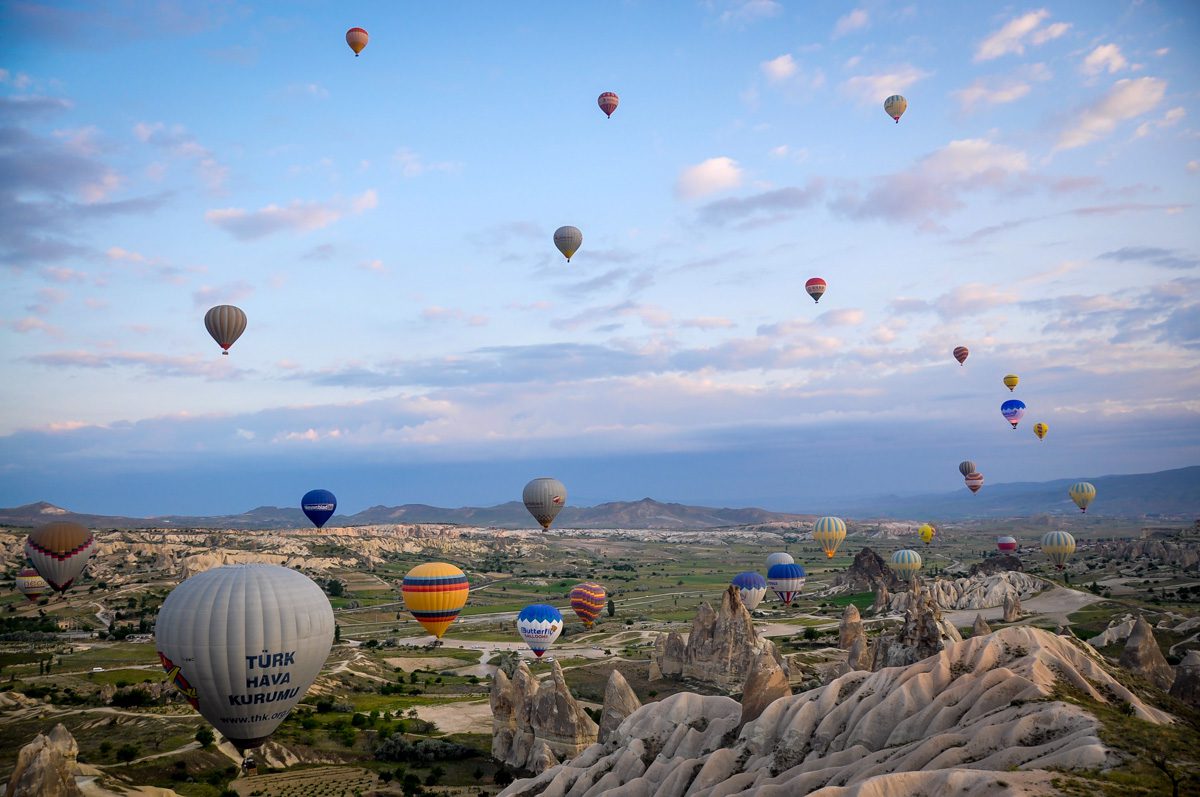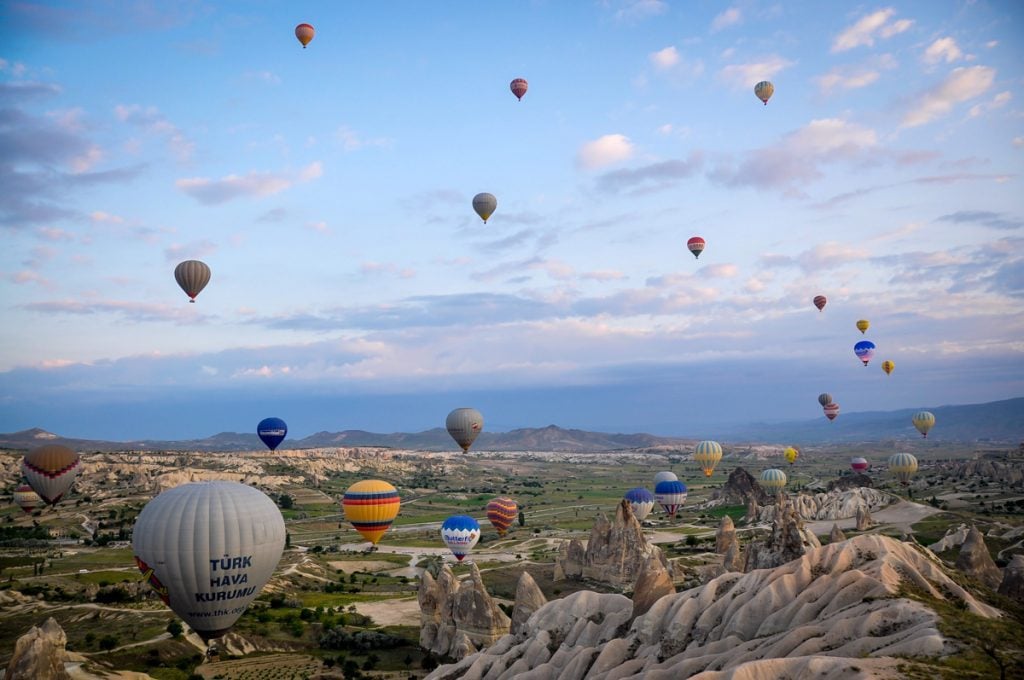 Turkey is a fairly large country—a bit bigger than the U.S. state of Texas—that sits atop two continents. Some people refer to this as "Eurasia," but officially, Turkey is a transcontinental country with parts in both Asia and Europe.
The country is situated almost entirely in western Asia's Anatolian Peninsula, also known as Asia Minor. However, a small portion of Istanbul, Turkey's largest city by far, is on the European continent. The Bosphorus Strait is the waterway that divides the city, and the continents, giving Istanbul its nickname, "the gateway between the East and West."
The country's unique geography doesn't end there. It has three distinct coastlines, the Black Sea to the north, the Mediterranean Sea to the south, and the Aegean Sea to the west. Turkey also shares official international borders with eight countries: Greece, Bulgaria, Armenia, Iran, Azerbaijan, Iraq, Georgia, and Syria.
It should come as no surprise that Turkey is rather diverse topographically. Of course, it's very well-known for the beautiful Mediterranean beaches that form the country's southern and western coasts. The northern coast is also home to the entire southern shore of the Black Sea.
You'll also find other-wordly landscapes in the deserts, stunning mountain ranges, modern citiescapes, and everything in between. The highest mountain in Turkey, Mount Ararat, towers 16,854 feet above sea level.
Another very interesting thing about Turkey is that its unique positioning also makes it one of the most earthquake-prone regions on the planet. In the past century, the country has sustained more than a dozen major quakes.
Weather in Turkey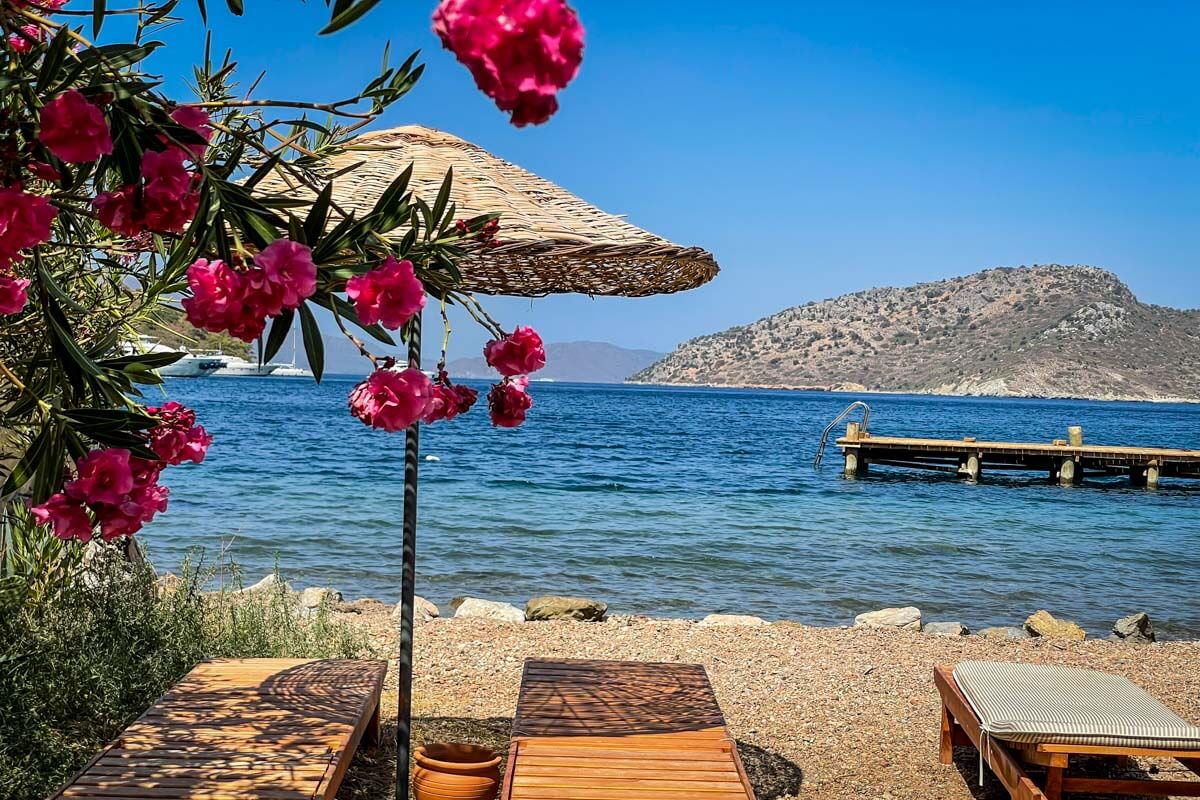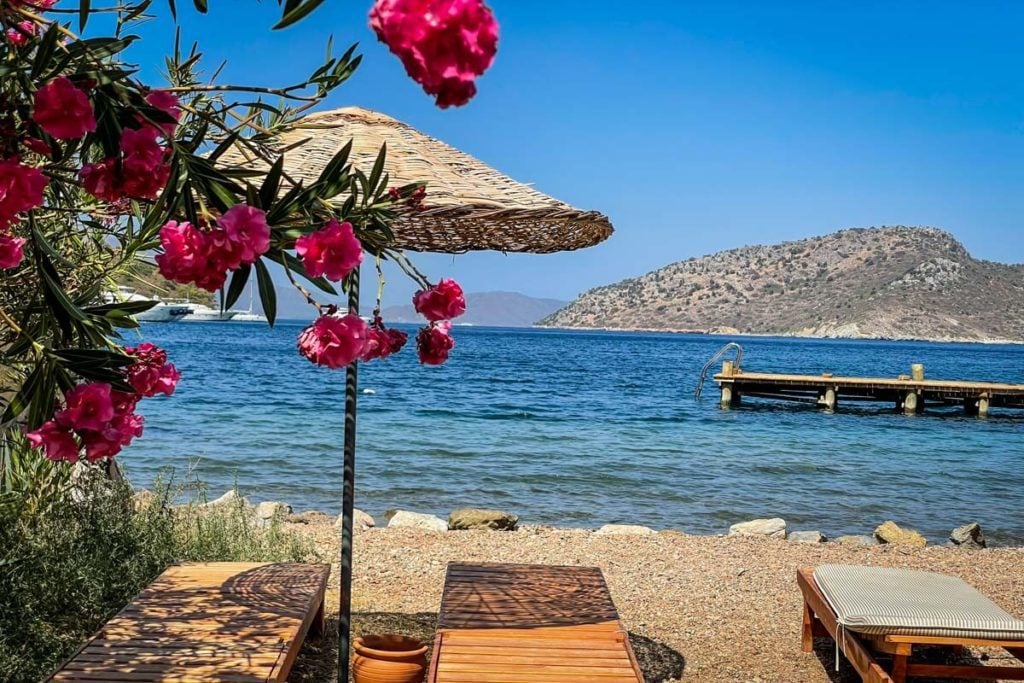 Turkey experiences four distinct seasons, in line with the Northern Hemisphere. Summers can be scorchingly hot, with oppressive humidity on the coast and extreme dryness inland, while winters are typically cold, rainy, and bring snow.
Spring and fall usually bring much better weather across the country, with mild temperatures and little precipitation. The Turkish coasts, in particular, have divine weather during these times of year. You'll find beaches deserted in the winter and packed in the summer, despite the almost unbearable heat. It's amazing what a quick dip in the water can do!
A notable exception, like most high-altitude areas, is Turkey's mountains and highland regions. Here, summer is actually one of the best times to explore, when temperatures are cooler. By contrast, higher elevations get much more snow in the winter. Ski season here lasts 4-6 months at high elevations and offers a great way to experience the country during less-pleasant months.
Stats on Turkey Weather & Seasons:
Warmest month(s) in Turkey: June – September
Coldest month(s) in Turkey: December – March
Rainiest month(s) in Turkey: December – February
Driest month(s) in Turkey: June – August
Most crowded month in Turkey: July – August
Least crowded month in Turkey: November – February
---
Spring in Turkey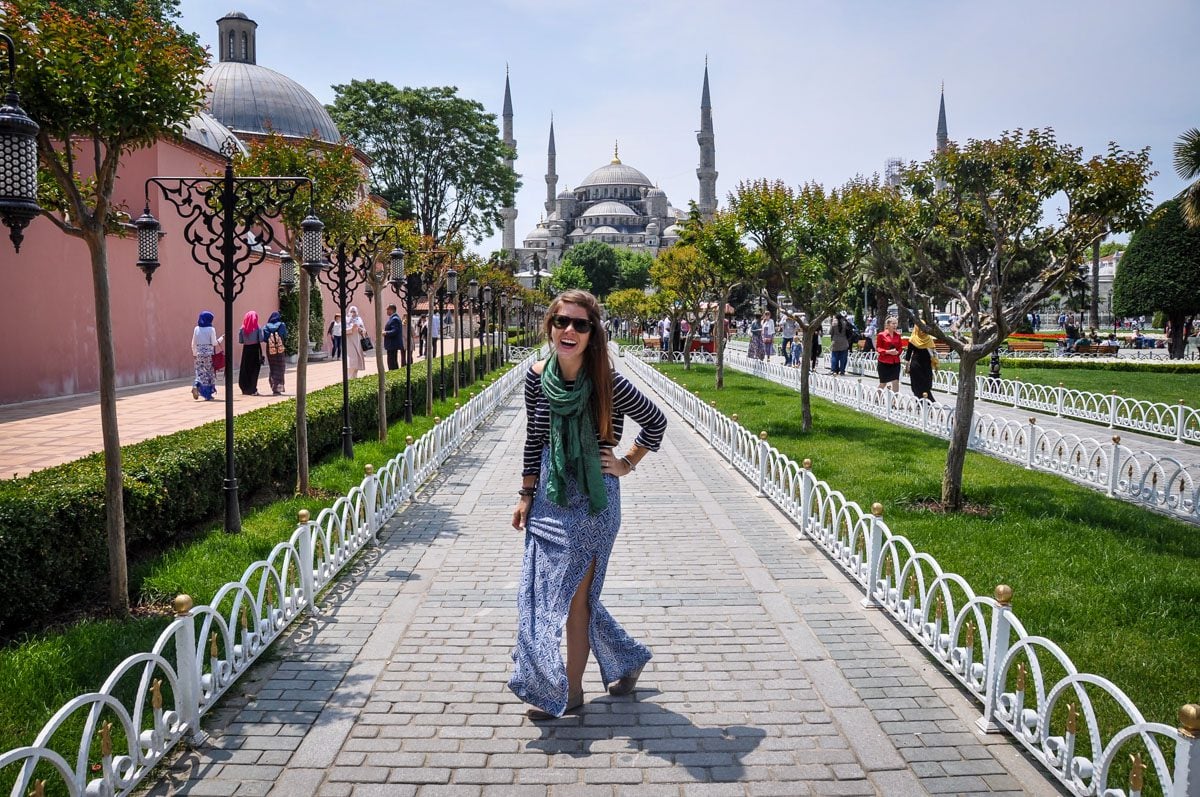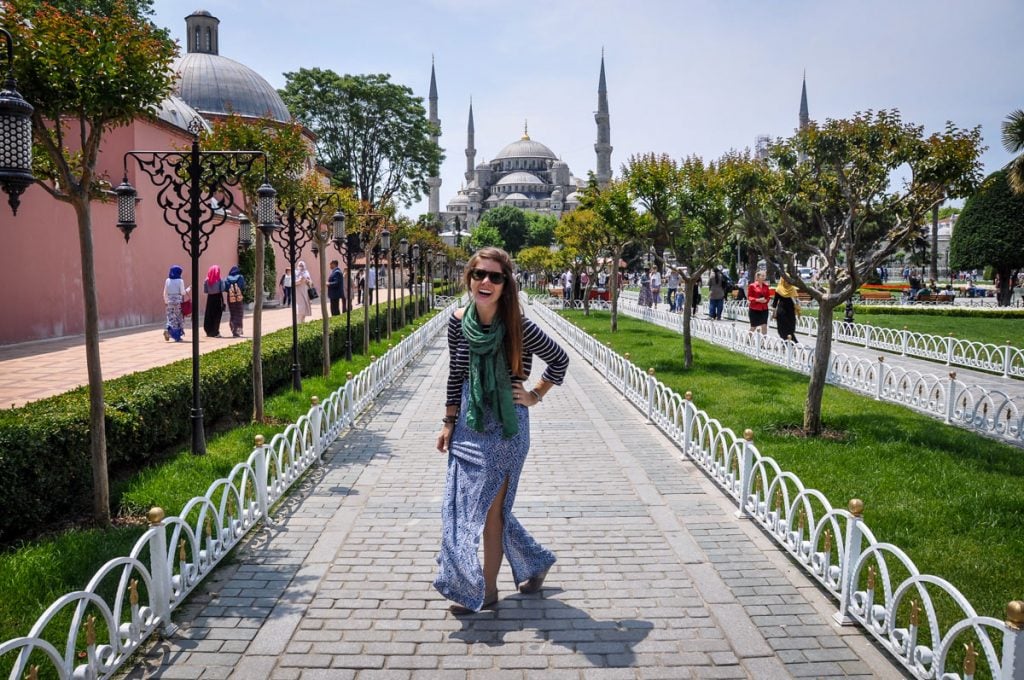 Spring offers an excellent opportunity to enjoy great weather before summer crowds begin descending on Turkey's beaches and other popular destinations. March and the first part of April remain fairly quiet, but late April and May mark the official start of the tourist season country-wide (and especially in Cappadocia!).
You'll find some crowds later in the season, especially during spring break and Europe's spring holidays, but crowds are much more manageable than during the summer and the weather is generally fantastic this time of year. Note that while ambient temperatures on the beaches may be warm, the water will likely be very cold until early summer!
In Istanbul, which experiences fairly harsh winters, spring temperatures hang out between 55-72ºF (13-22°C) and most of the winter rain subsides. One notable exception is April, which is one of the rainiest months across the entire country. The coasts see daily temperatures that are consistently a bit warmer than in the cities, and you'll enjoy even more sunshine and less rain.
March marks the official start of spring and in Kurdish communities across Turkey, you'll find festive Newroz (New Year) celebrations. The Istanbul Film Festival is also in April, followed by the Istanbul Music & Jazz Festival.
Best things to do during spring in Turkey
Head to the coast to enjoy the beaches with few crowds and pleasant weather
Wander around Istanbul and experience the city-wide annual tulip festival in April
Experience Ramadan traditions across the country in late March into April
Check a major item off your bucket list with a hot air balloon ride in Cappadocia
Take a hike at Mount Nemrut and enjoy a perfect melding of nature and ancient history
Hike at least part of Lycian Way, a 300-mile stretch of the Aegean Coast with jaw-dropping mountain views bordering the sea
Summer in Turkey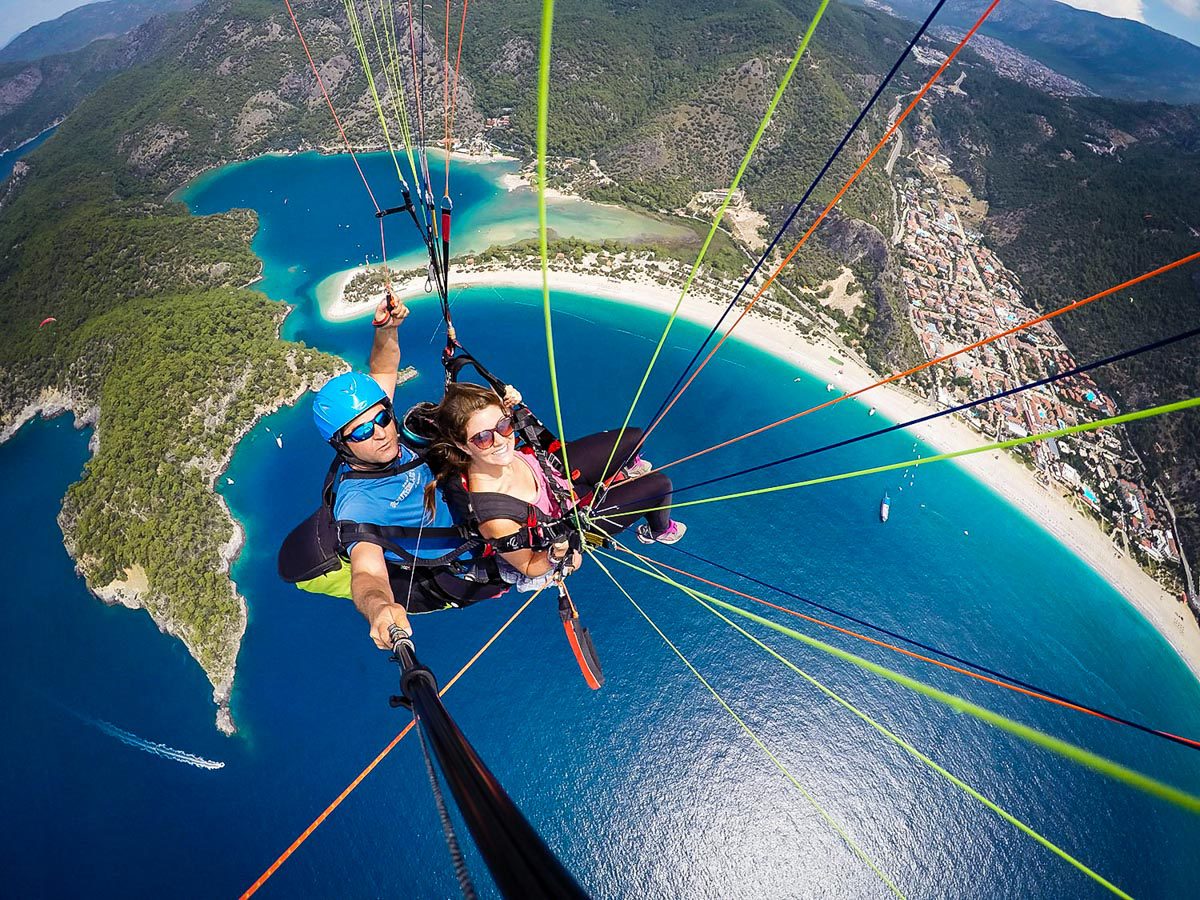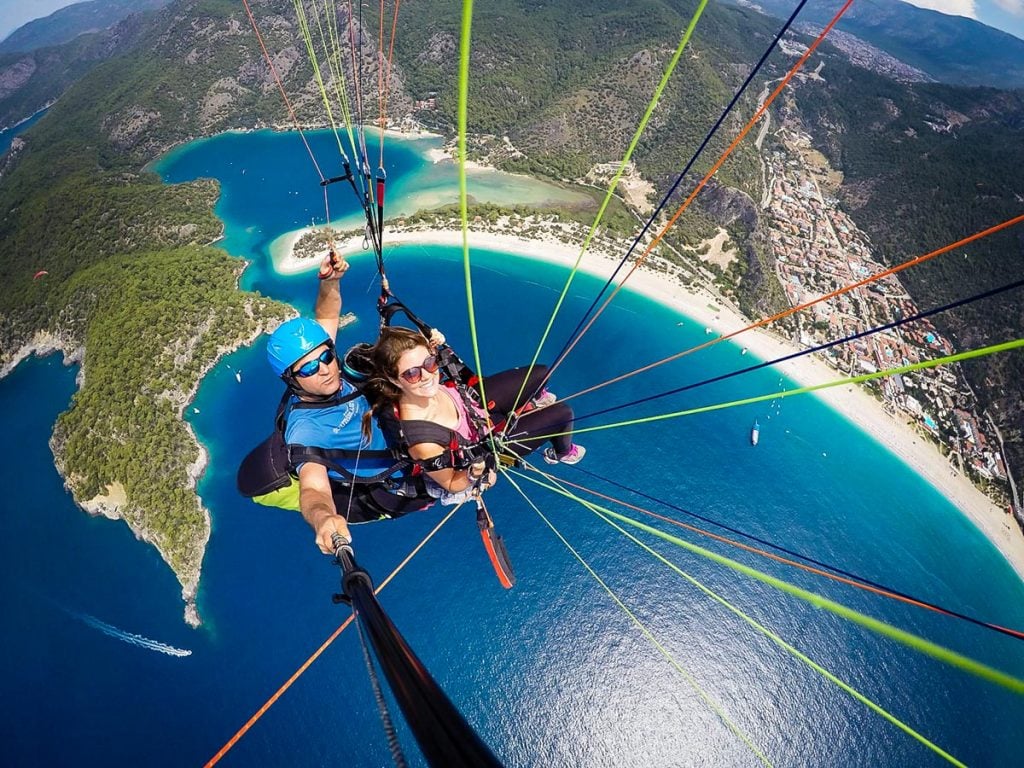 Like many places in the Northern Hemisphere, summer in Turkey is peak tourism season and will be busy pretty much anywhere you go.
With the exception of Istanbul and the desert regions, which get unbearably hot, you'll find good weather and plenty of people enjoying it. Temperatures (and crowds) really start to rise in mid- to late June when local schools let out for summer break, so if possible, we recommend timing your summer visit for early June.
July and August are definitely peak months for tourism in Turkey, and while much of the country is extremely hot, the beaches offer a welcome relief. They'll also, unsurprisingly, be packed, with accommodations increasing in price and decreasing in availability.
Conversely, Turkey's mountainous regions in the north and east offer relief from the heat during the summer months. If you're a hiker, this is hands-down the best time to visit Turkey! Some of the highest, most rugged mountain ranges are actually covered with snow until late July or even early August!
Across the country, summertime also brings many festivals and other celebratory events. Istanbul begins hosting a series of outdoor concerts in June, and cruise season on all Turkey's coasts really gets into full swing in June as well.
Best things to do during summer in Turkey
Try paragliding over Ölüdeniz, one of the best areas in the entire world to do so
Explore the Ruins of Ephesus
Kayak over the sunken city of Kekova
Explore the unique and fun things to do in Cappadocia

Enjoy a boat ride to experience the spot where the Black Sea meets the Mediterranean Sea

Go diving in Side to the super unique Underwater Museum, where hundreds of sculptures sit on the seafloor
Fall in Turkey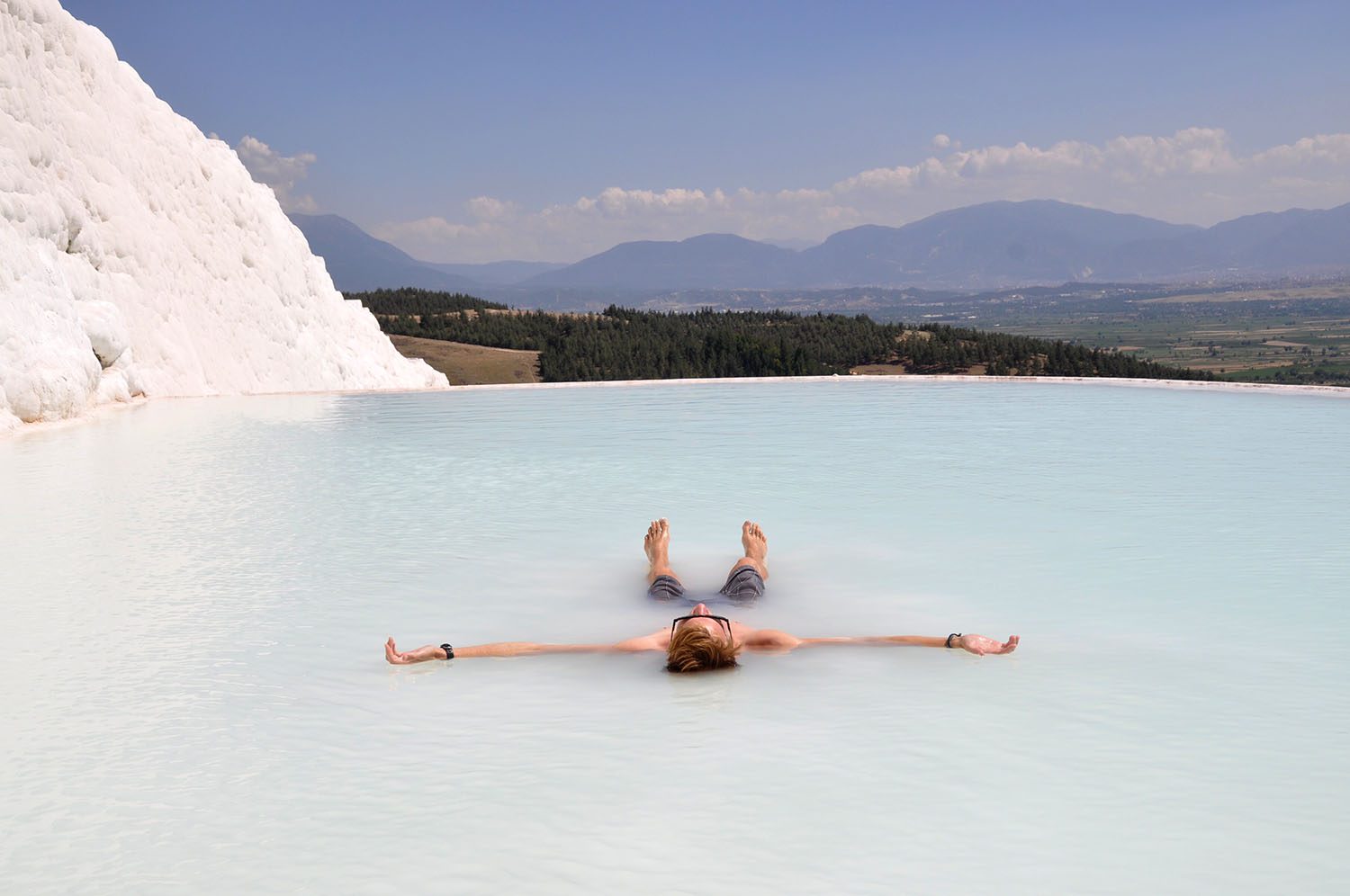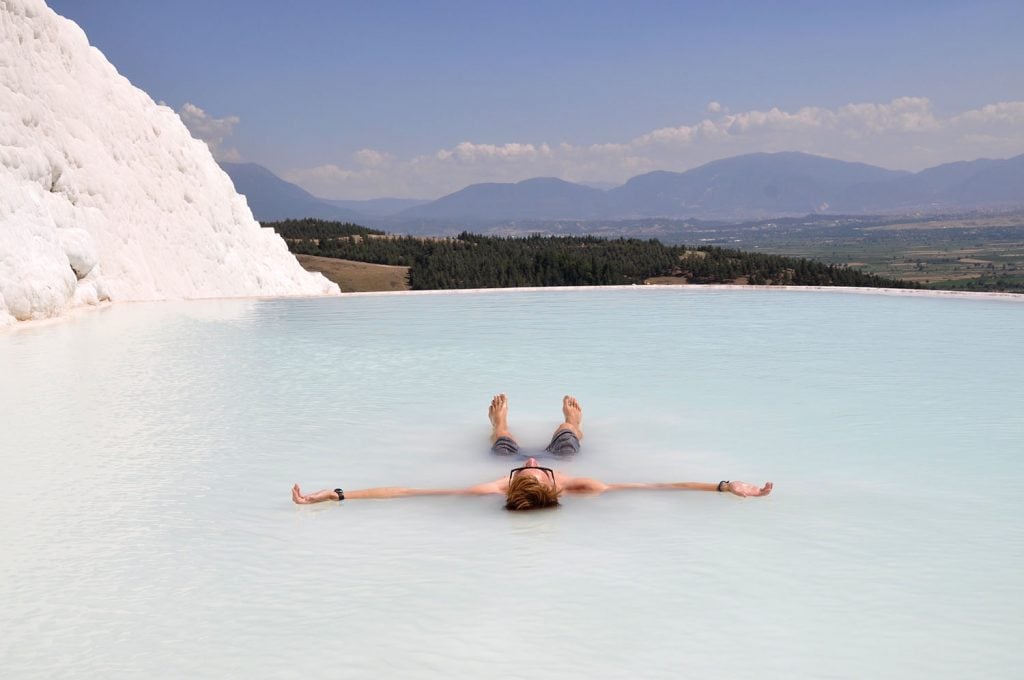 Much like the spring months, fall is a great time in Turkey to enjoy fantastic weather without the massive crowds that flood the country during the summer. As you may expect, early fall typically has better, more predictable weather than late fall.
The cooler late-Fall weather draws fewer crowds, however, and with the start of October, prices for accommodation and activities see a significant drop. Fall foliage is also spectacular across the country during this time, so there are certainly reasons October and November could be considered the best time to visit Turkey.
Average temperatures hover around 70ºF (21°C) in Istanbul and 76ºF (24°C) on the coasts during the early fall. As winter gets closer, you'll see those numbers drop to around 53º and 58º, respectively (12 and 15°C).
November marks the noticeable start of the low season for travel, as well as the first hint of the rainy season country-wide, but you may still catch some nice weather.
Early fall is also an excellent time to visit Turkey's highest-elevation mountains, when weather is still pleasant and extreme weather hasn't set in. Remember, some places in the east and north are only reliably accessible in August and September!
Istanbul holds many events throughout September into October and notably, November is the beginning of pomegranate season. You'll see fresh pomegranate everything during this time of year.
Best things to do during fall in Turkey
Go for a dip at the magical Pamukkale Thermal Pools
Visit Yedigöller National Park, arguably one of the most beautiful places in the entire country in the fall
Book yourself into a cozy cave hotel in Cappadocia

Check out the more than 4,000 shops at the Grand Bazaar (bring cash and some solid haggling skills!)

Enjoy mostly-deserted but still warm beaches, especially on the Mediterranean Coast!
Winter in Turkey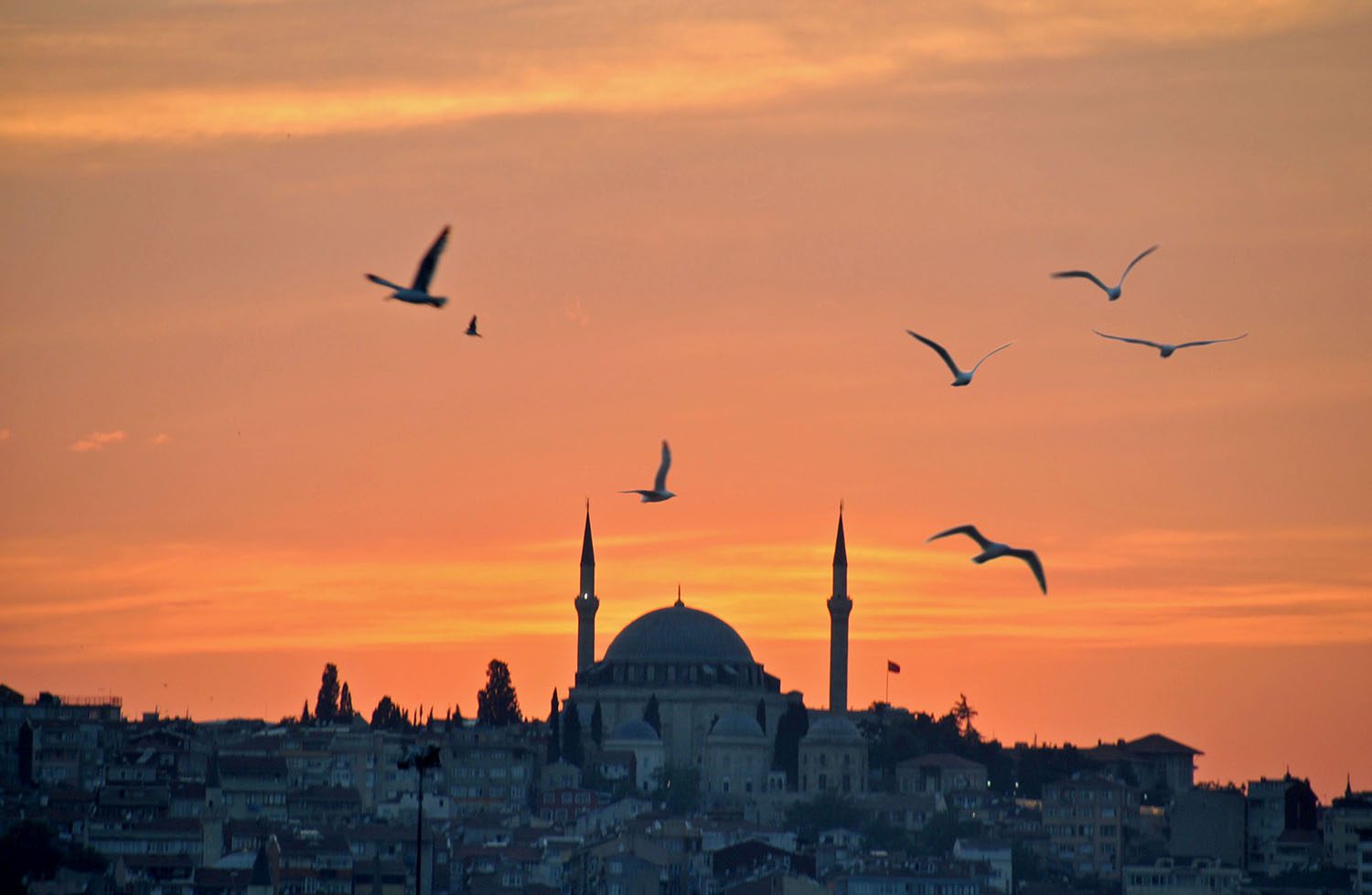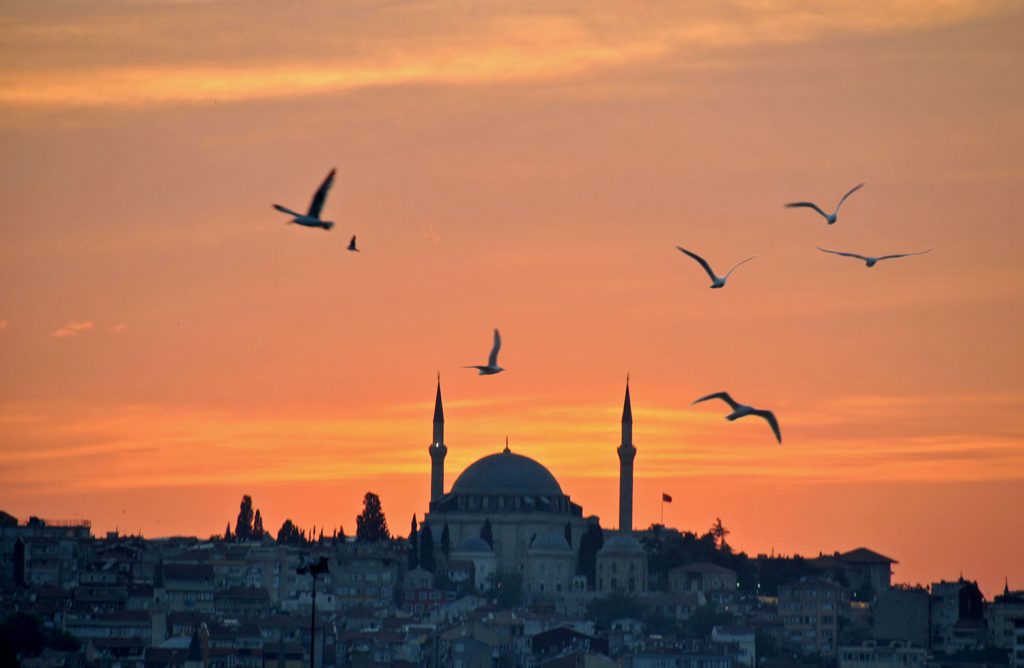 Winter in Turkey is without a doubt the slowest season for tourism, being that the country is well-known for its sparkling beaches. The exception is the mountains, particularly in the northeast, when winter is the high season for skiing and other winter sports enthusiasts.
We know, Turkey isn't what typically pops into your mind when you think of winter sports destinations, but there are actually some impressive skiing and snowboarding!
The winter months bring rain, cold, and even snow to some parts of the country, but Turkey's beaches, particularly on the southern coast, can still experience mild weather. For example, Istanbul's average winter highs are in the low to mid-40s (about 5-7°C), but on the coast, it's around 50°F (10°C).
Winter weather on the coasts is hit or miss, so if you're visiting in the winter, we'd recommend not planning your whole trip around the beach. Leave some free time open or have a Plan B and if you end up getting great weather on the coast, bonus!
Overall, if you can brave the cold and rain, winter can be a great time to visit Turkey — especially its cities. Prices for accommodation are often significantly less expensive in the winter.
Fewer crowds also mean that things like museums and the renowned Turkish bathhouses are easier to enjoy. These are great options when it's cold and wet out!
You're likely to find some lively New Year's Eve parties, but most of Turkey doesn't celebrate Christmas, so December tourism is lower than in many other destinations.
Best things to do during winter in Turkey
Explore Istanbul's museums at a leisurely pace without the crowds
Experience the tradition of a luxurious hamam, a Turkish bathhouse
Peer into the underwater world at the Aqua Vega Aquarium
Hit the slopes for some skiing or snowboarding at Cappadocia's Mt. Erciyes or Kartepe, within easy driving distance from Isyanbul
Enjoy the frosted, magical landscapes of Cappadocia. The city's "fairy chimneys" are even more whimsical under a bit of snow (don't count on heading out in a hot-air balloon in the winter, however!)
---
Best time to visit Turkey in our opinion…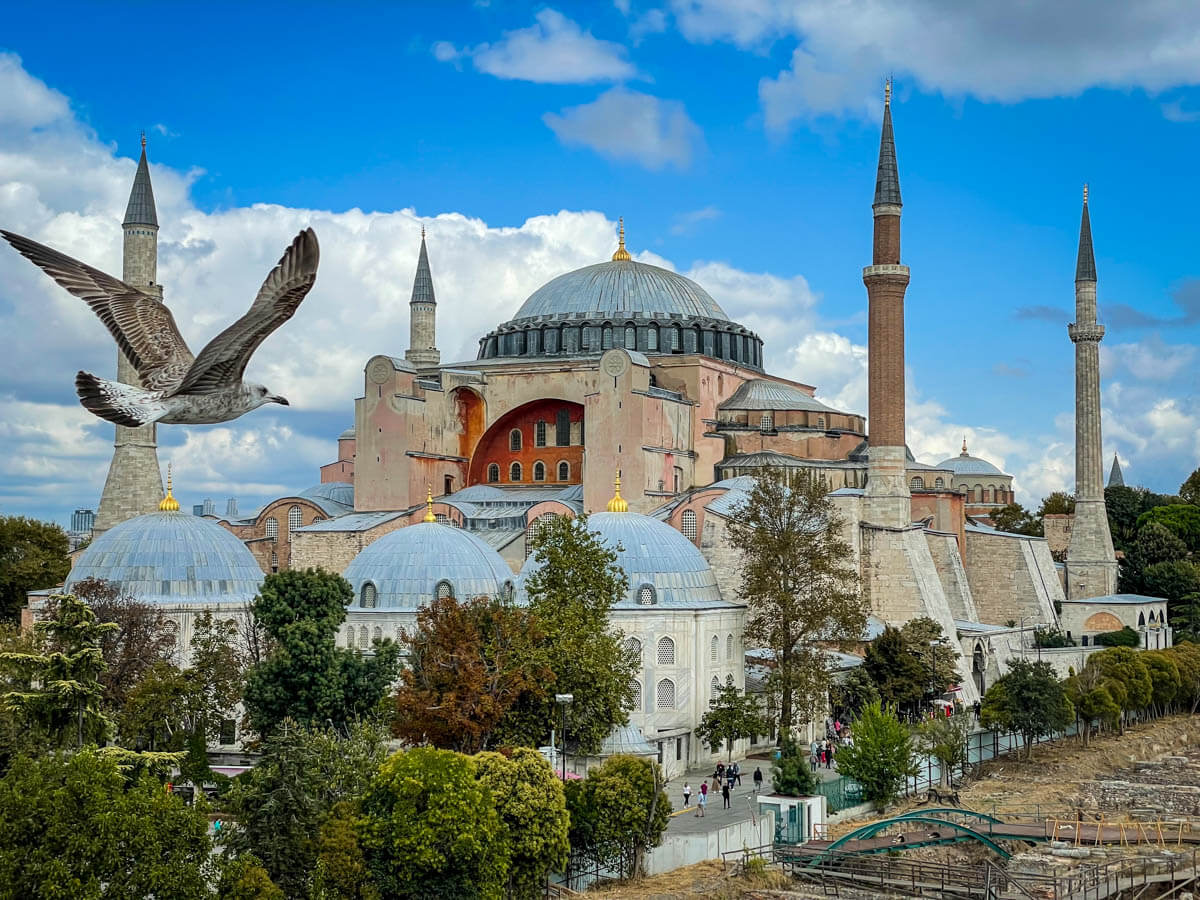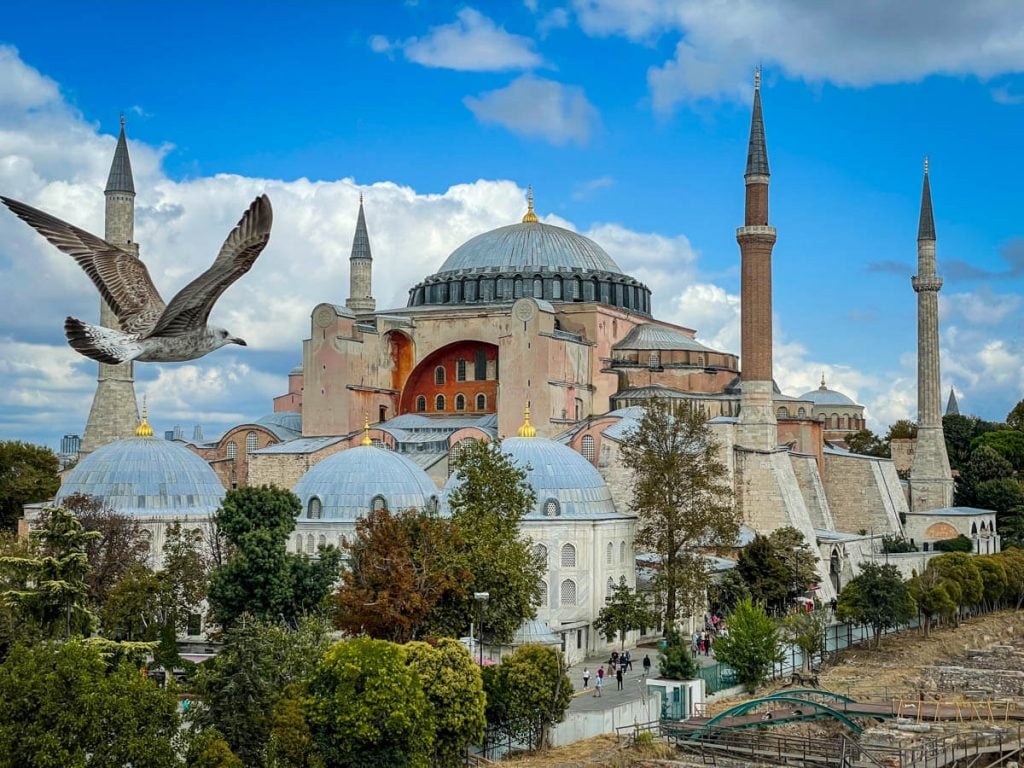 There truly is no wrong time to visit Turkey, but the best time depends very much on what you want to see and do.
In our opinion, September would be the best time to visit Turkey. The weather is usually mild; cooling down from the summer heat, but not too cold to still enjoy the beaches. It'll still feel like summer on the Mediterranean, just with fewer crowds and a reprieve from the heat.
And by contrast, winter in Turkey provides beautiful snowy landscapes, winter sports, and budget accommodations.
If you're traveling to Turkey on a budget but aren't as excited about the snow, the absolute best time to visit Turkey is during the month of October. Officially the start of low season, you'll see prices drop significantly on things like accommodation and popular tours.
---
If you're headed to Turkey, we've got some things you should see!
We have lots of resources on travel in Turkey and destinations throughout the country. Check out our Ultimate Turkey Travel Guide for all the answers to your travel questions, or read some of our favorite articles below.
Save this article on Pinterest for later!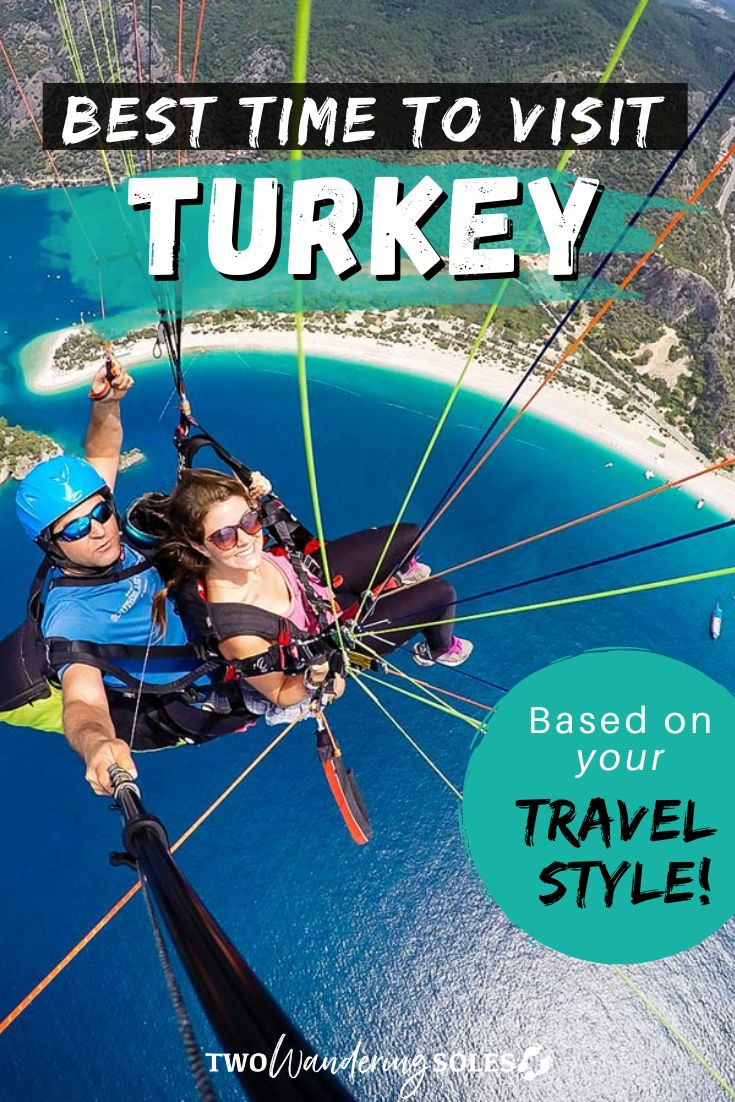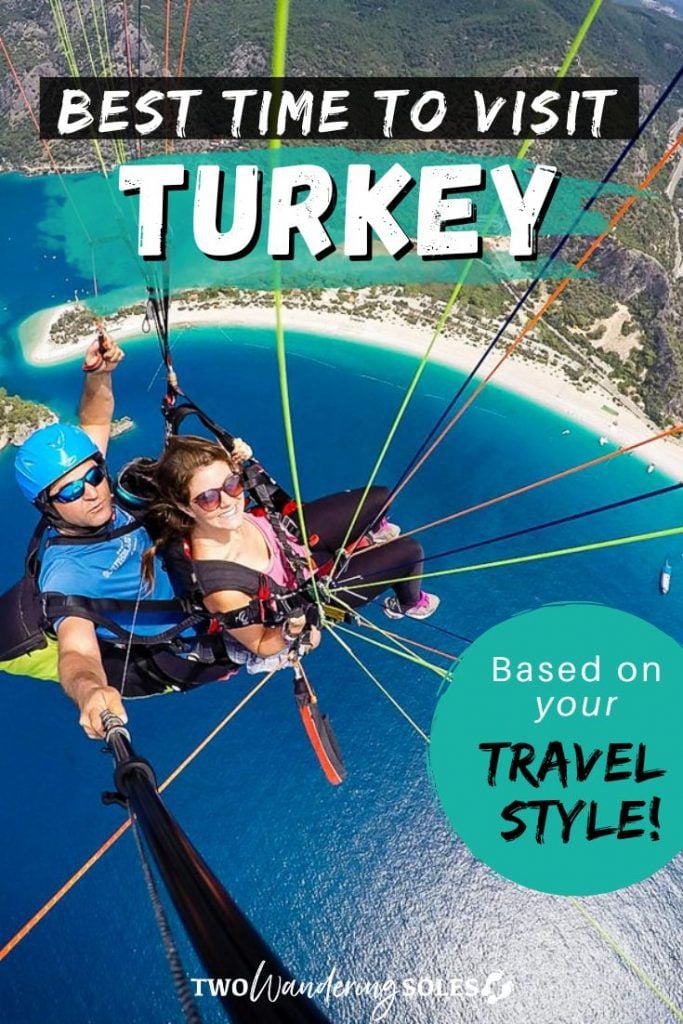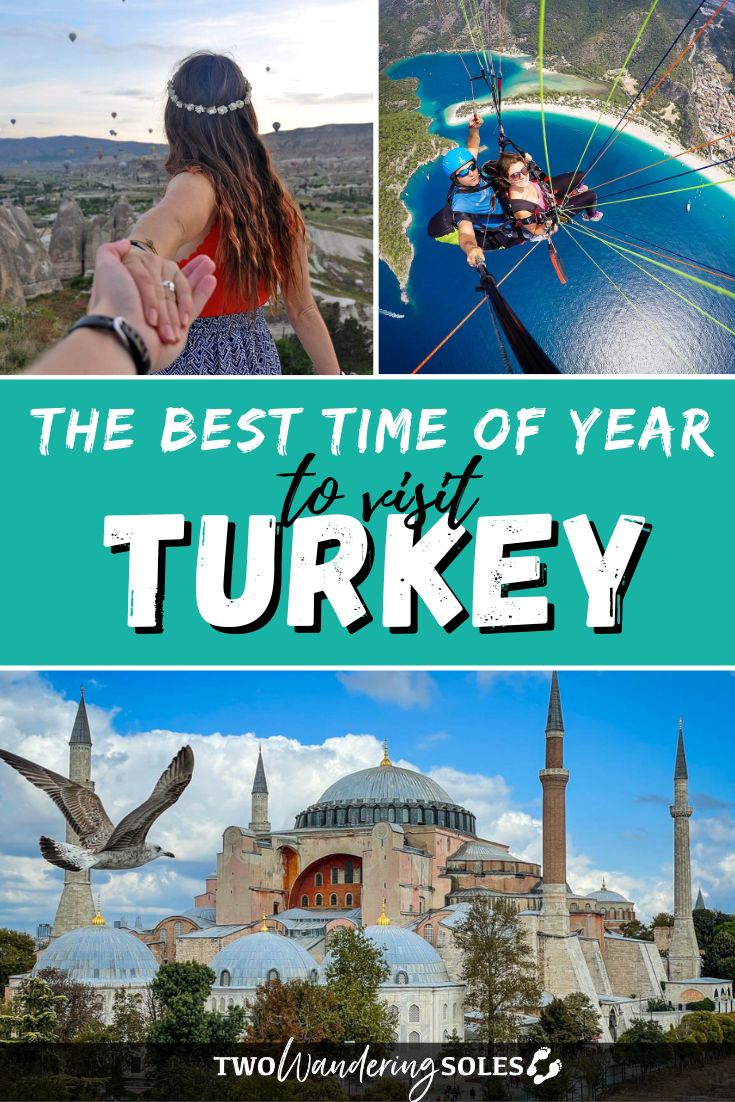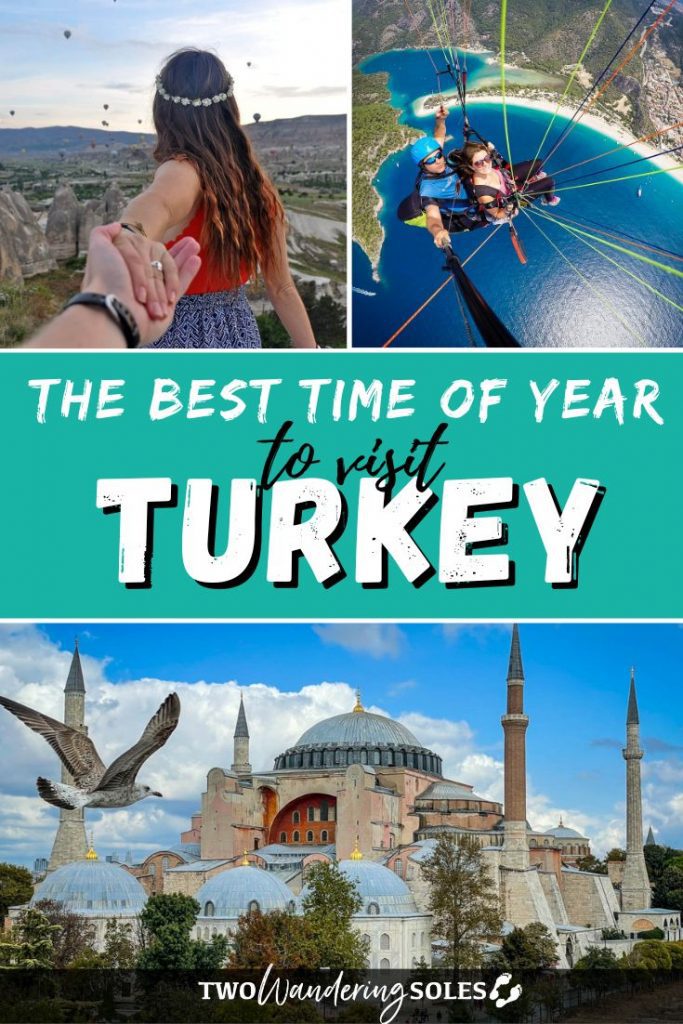 We want to hear from you!
Have you ever been to Turkey before? When did you go and what was your experience like? Leave your comments in the section below and we'll do our best to respond to any questions!