Whether you're looking for the perfect stay on your honeymoon, or a special experience during your trip to Costa Rica, Oxygen Jungle Villas is the perfect combination of romance, luxury and comfort all in a beautiful natural setting.
Picture yourself at an infinity pool that overlooks the Pacific Ocean. You have a handcrafted drink by your side, and a soothing soundtrack setting the mood.
Are you ready to pack your bags? Because as I type this I think I might just start planning a return trip to Oxygen Jungle Villas!
Named time and time again as a top honeymoon destination, this hotel oozes romance and truly deserves these accolades. Even if you're not planning a special getaway, a stay at Oxygen Jungle Villas will surely be a memorable part of your trip to Costa Rica. In fact, both Conde Nast and Travel + Leisure have named it among the top resorts in the country!
We've stayed at a lot of hotels. Like, a LOT. And Oxygen Jungle Villas stands out from the rest in so many ways.
Impeccable service, stunning private villas surrounded by lush jungle, delicious food and an Instagram-worthy pool are just some of the reasons we loved our stay at Oxygen Jungle Villas.
Video of Oxygen Jungle Villas
Watch the short video we made while we were staying at Oxygen. 
Planning a Trip to Costa Rica? Find out the best time to visit Costa Rica based on regional weather patterns and your personal travel style.
---
The Villas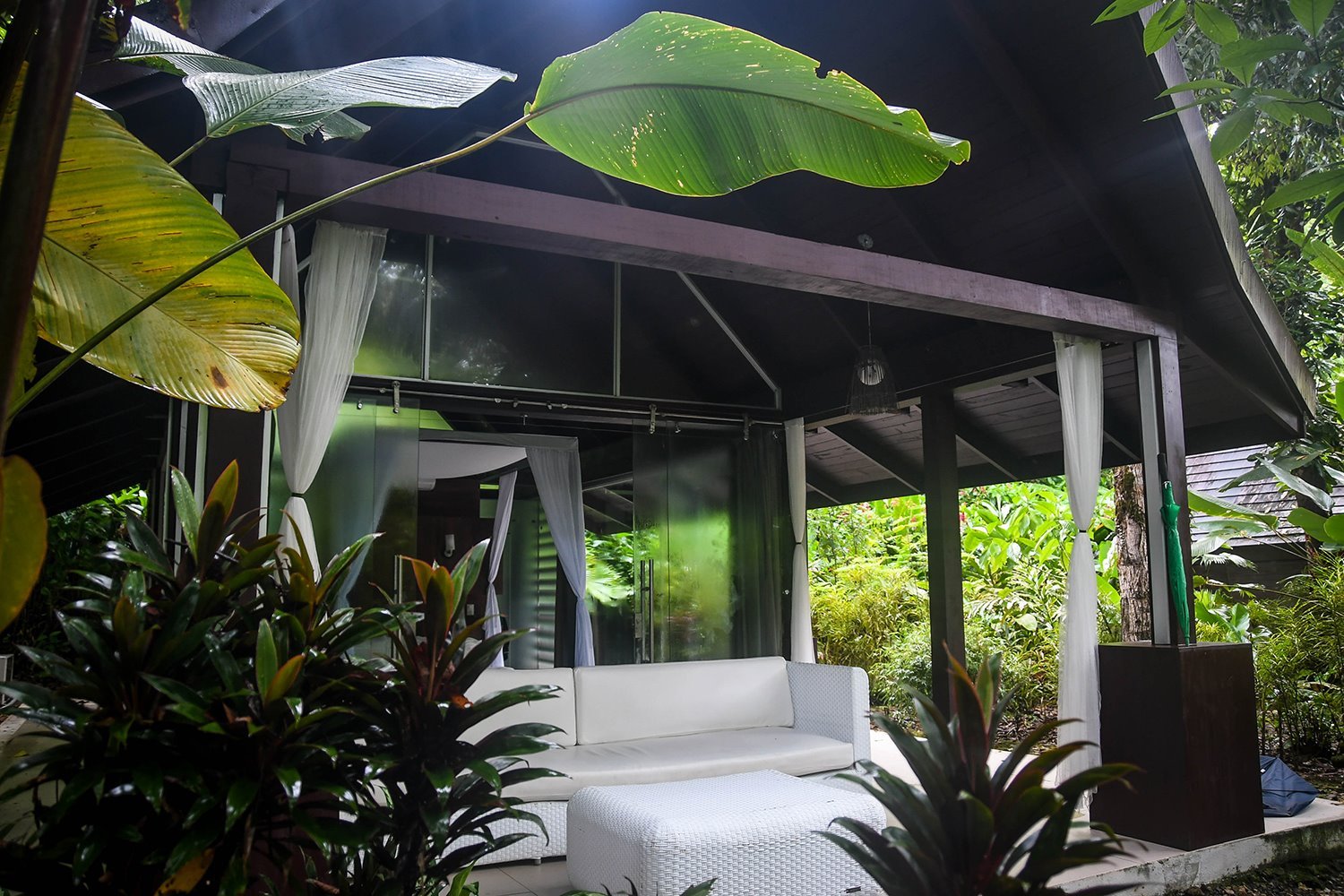 Each of the property's 12 beautifully constructed glass villas are tucked away amongst the trees and tropical bushes, giving guests a private retreat.
You might wonder how villas with all glass walls could be private, but trust me when I say you'll have all the privacy you will need. This is a honeymoon hotspot after all!
Each villa is secluded in its own private garden and floor to ceiling curtains can block out the morning sun so you can sleep in.
Even though you are in the middle of the jungle, you'll find every comfort and convenience you could expect of a hotel. The strong air-conditioning, coffee maker, robes, rain shower, minibar and delightfully plush king bed all made it difficult for us to leave the comforts of our little "home".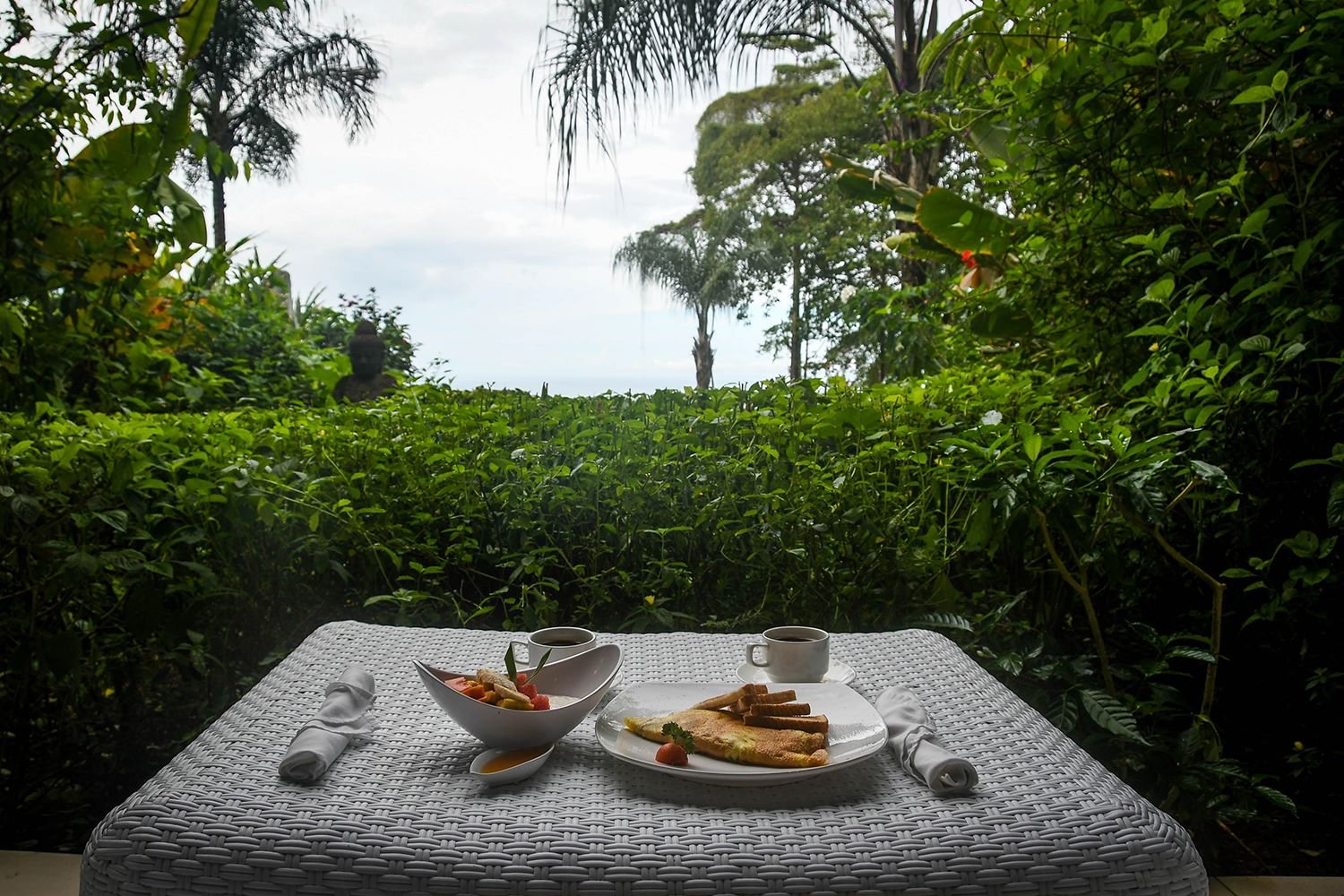 During our 3-night stay at Oxygen Jungle Villas, we stayed in both a Jungle View and an Ocean View Villa. While the rooms were identical, the jungle room was surrounded by lush forest while the ocean view had a stunning panoramic lookout over Marino Ballena National Park.
Each villa has its own private terrace which is perfect for enjoying sunsets or breakfast in your own peaceful oasis.
The Property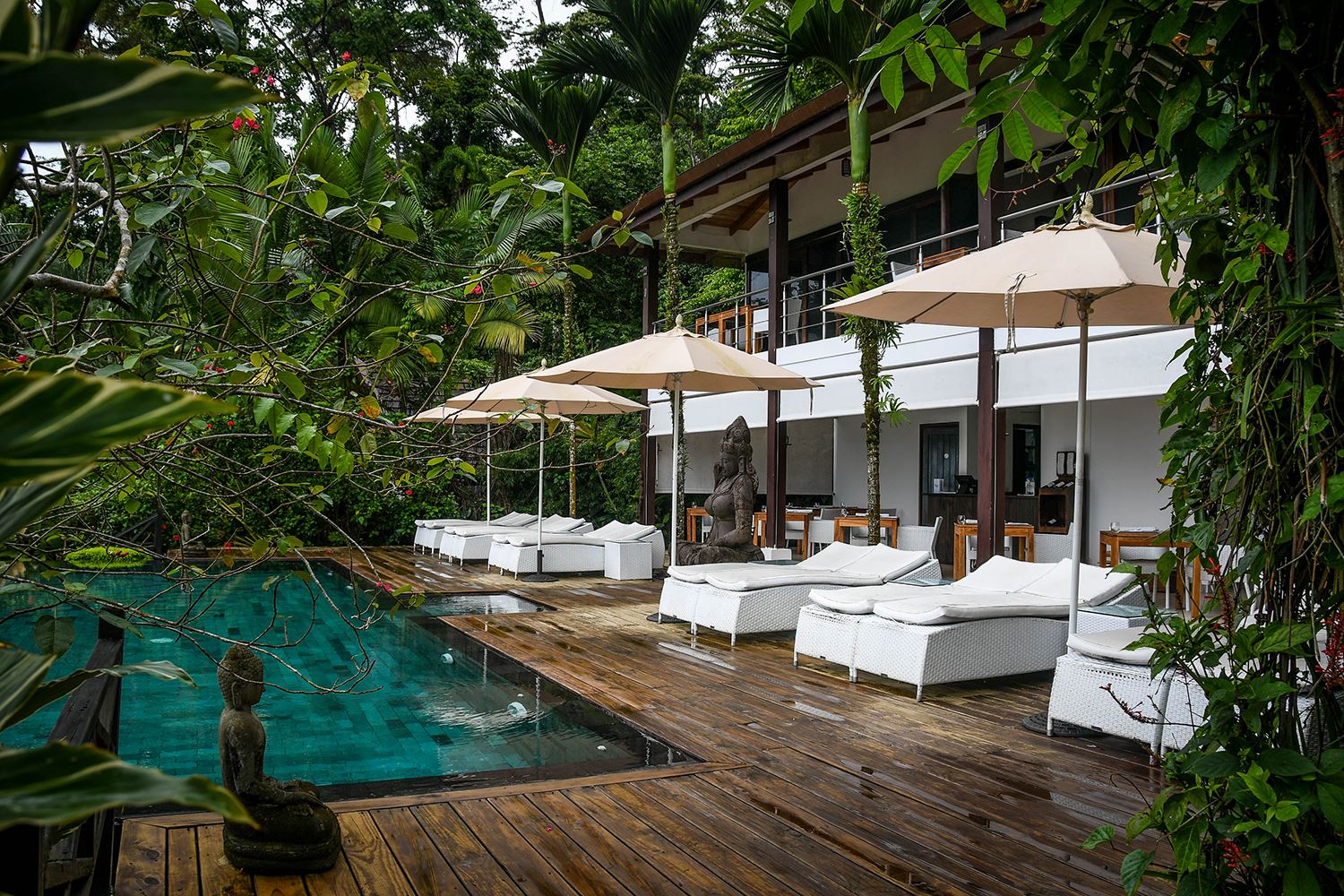 Just as the name implies, this resort is set on a hilltop in the jungle and overlooks Marino Ballena National Park. The resort's west-facing ocean view makes for incredible sunsets.
Surrounding the villas are all sorts of tropical plants and trees. You'll walk on a path lined with cacao trees and exotic flowers. Relax on your terrace and you'll likely see butterflies and hummingbirds fluttering about, and you might hear monkeys up in the trees above you.
Related Article: 10 Amazing Things to Do in Arenal, Costa Rica
When the receptionist brought us to our villa, she told us the tree above our room was known to have a sloth that liked to hang out there and eat leaves. We never did see him, but it was a pretty wonderful experience having every comfort imaginable while surrounded by nature.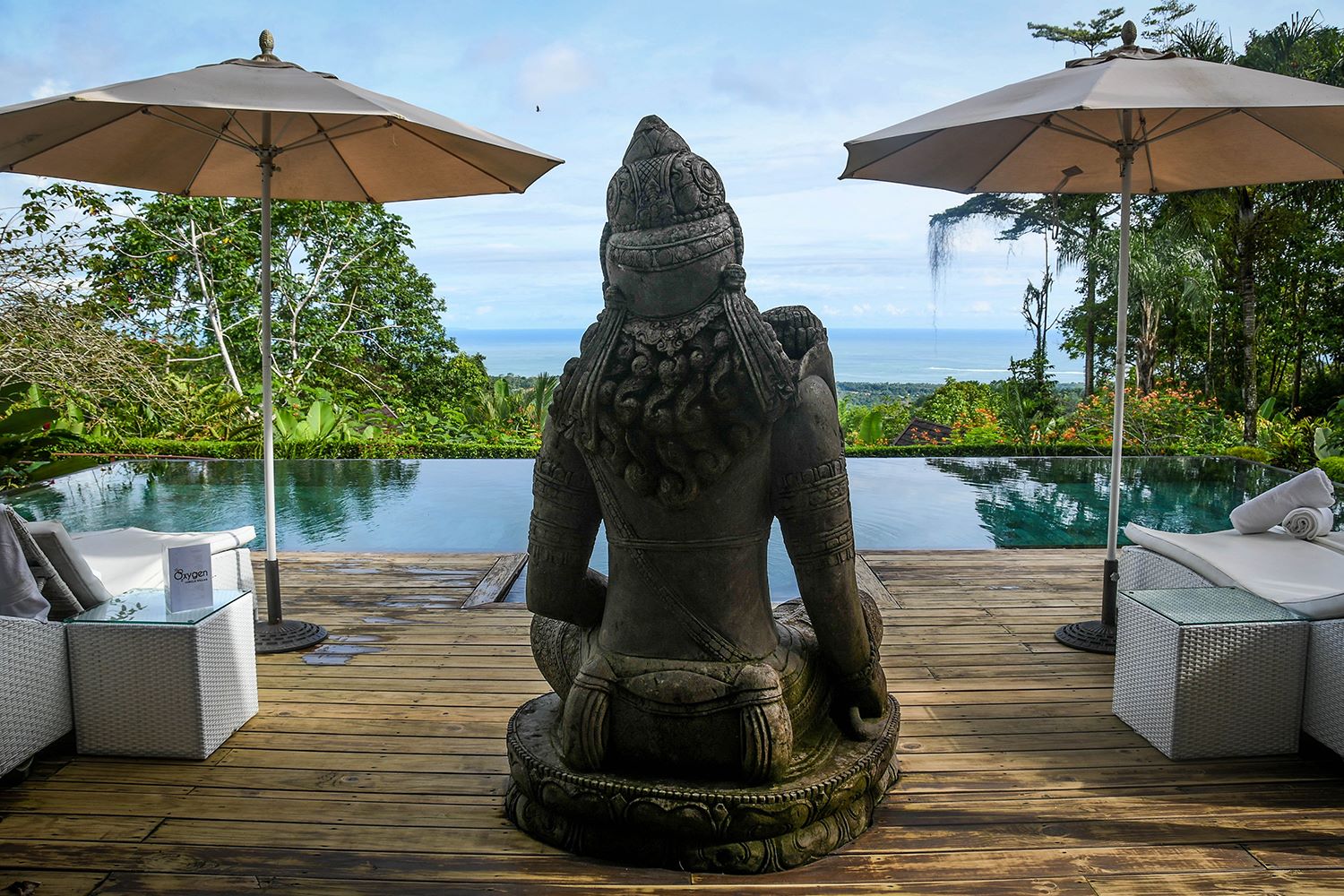 And set in the center of the resort is a picture perfect infinity pool that is flanked by a large statue of Buddha and overlooks the ocean. Can it get more perfect than this? I think not.
Private Waterfall
One perk of being a guest at Oxygen Jungle Villas is that you have access to the private waterfall on their property.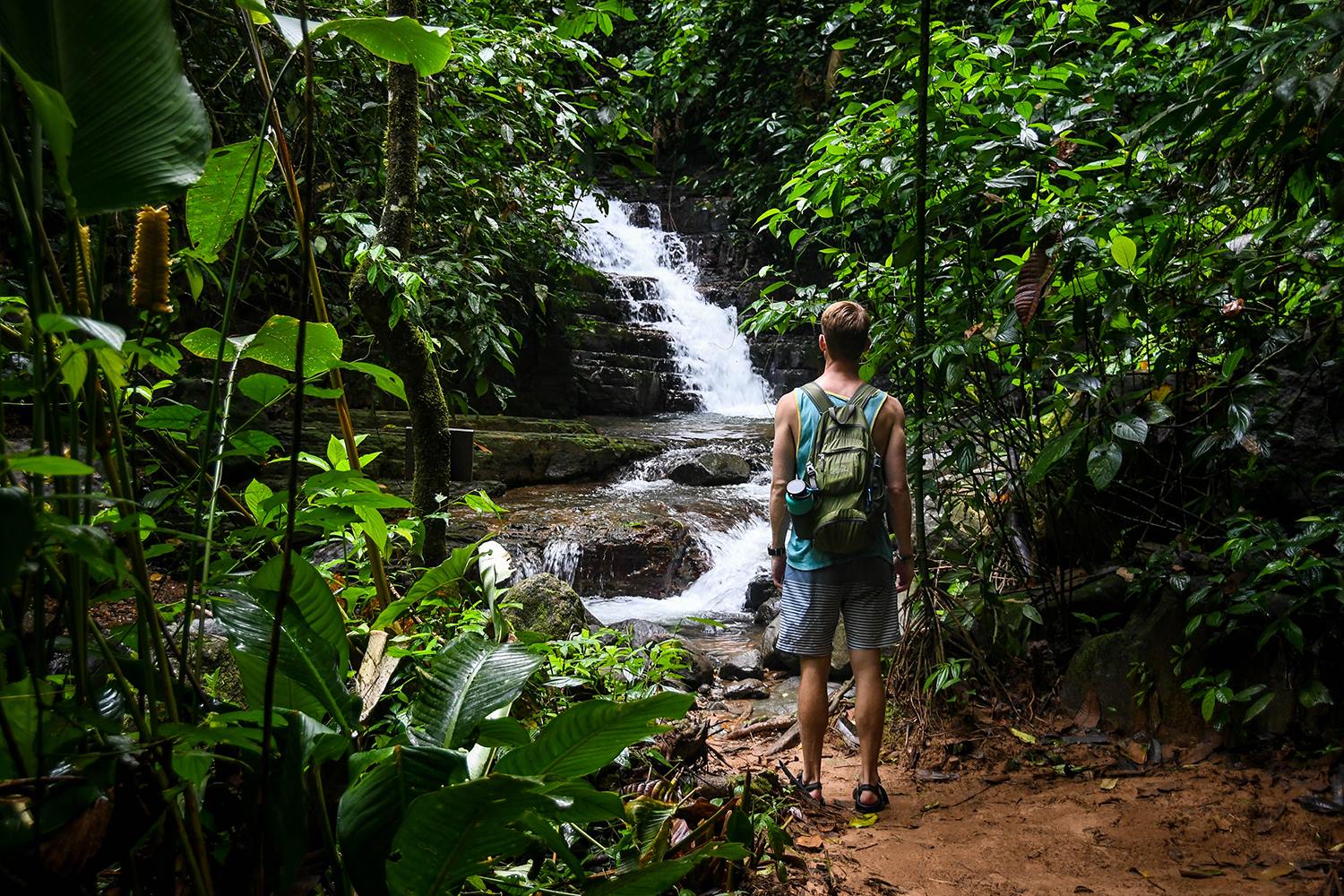 Jorge, the manager told us that he was walking in the woods one day and stumbled upon the waterfall. His wife and him would often hike there and eventually discovered a second set of falls.
They decided it was such a special place they wanted to share it with their guests, so they created paths that are well maintained and are a nice 15-minute hike from the villas.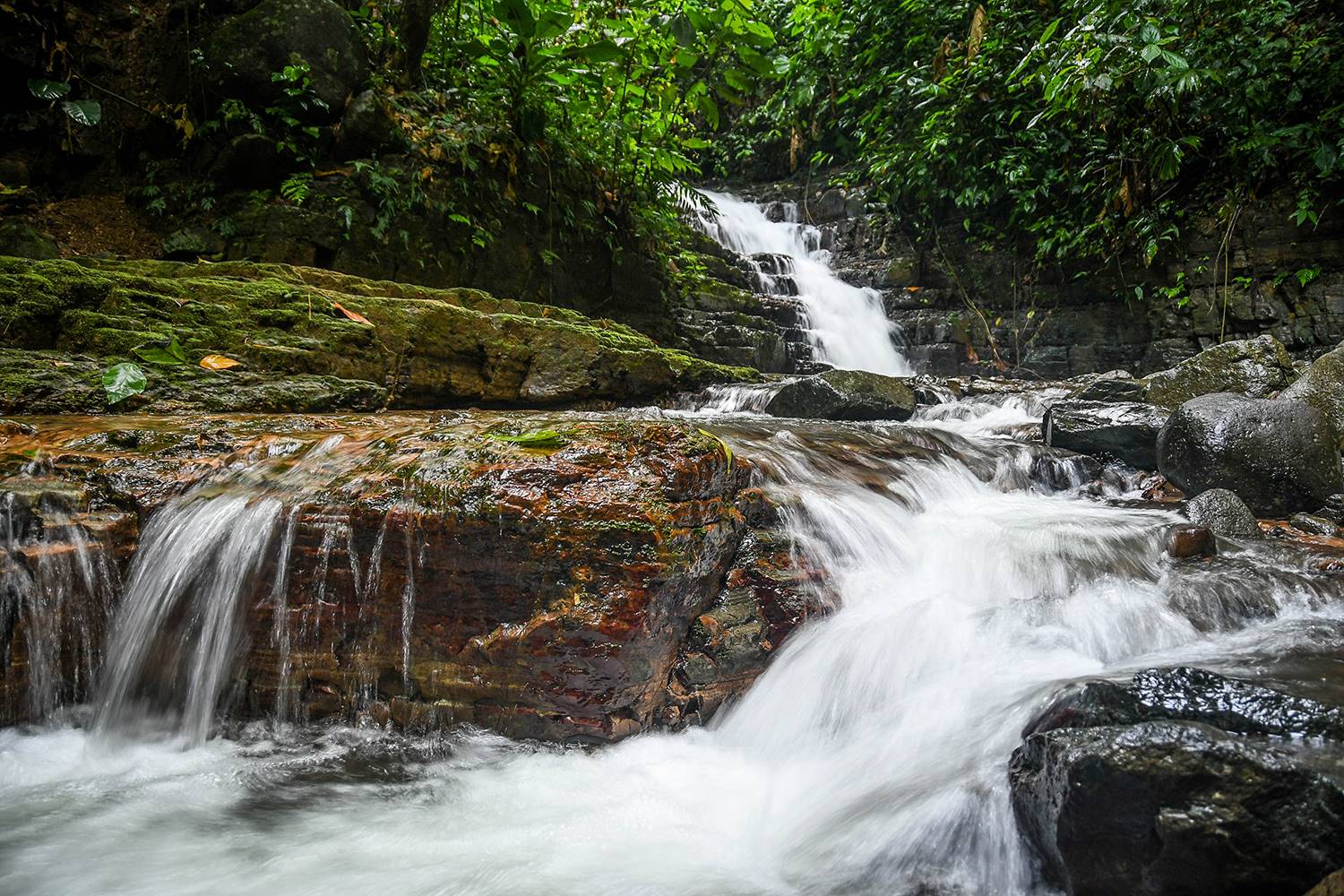 Unlike most waterfalls in Costa Rica, you'll encounter no crowds or selfie sticks. You'll likely have the waterfall all to yourself, as hotel guests are the only ones who can access this private waterfall.
The Food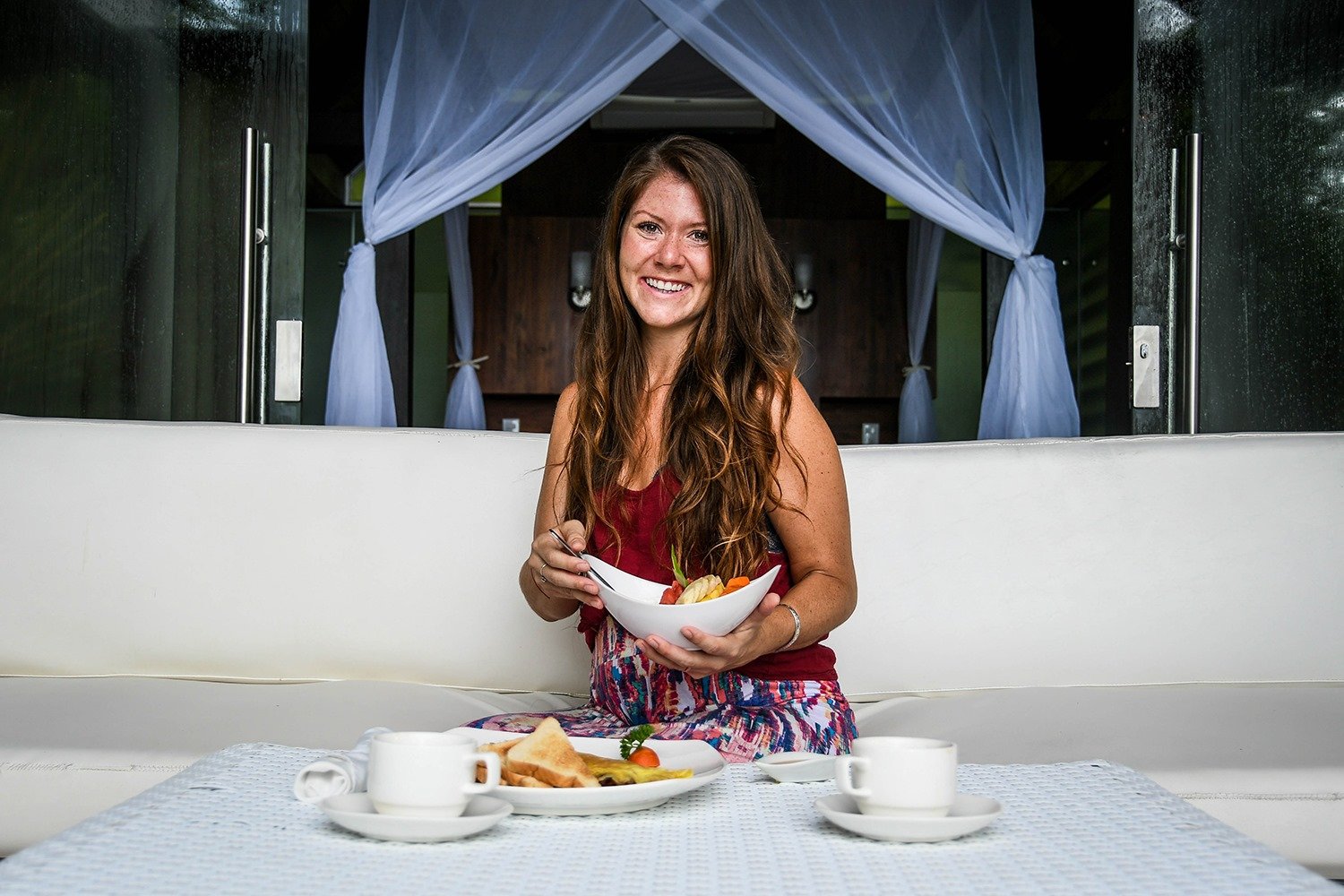 Being that this secluded resort is tucked up in the hills, a trip down to town will take about 15 very bumpy minutes. So let's just say that we didn't feel the urge to drive down to town when we were hungry. Thankfully, the onsite restaurant has a nice selection of simple yet elegant meals.
Whether you're looking for a light lunch or an artfully prepared dinner, you'll find something to satisfy your cravings at any time of day. With items like passionfruit chicken and fresh Mahi Mahi ceviche, the menu is full of tempting items to choose from.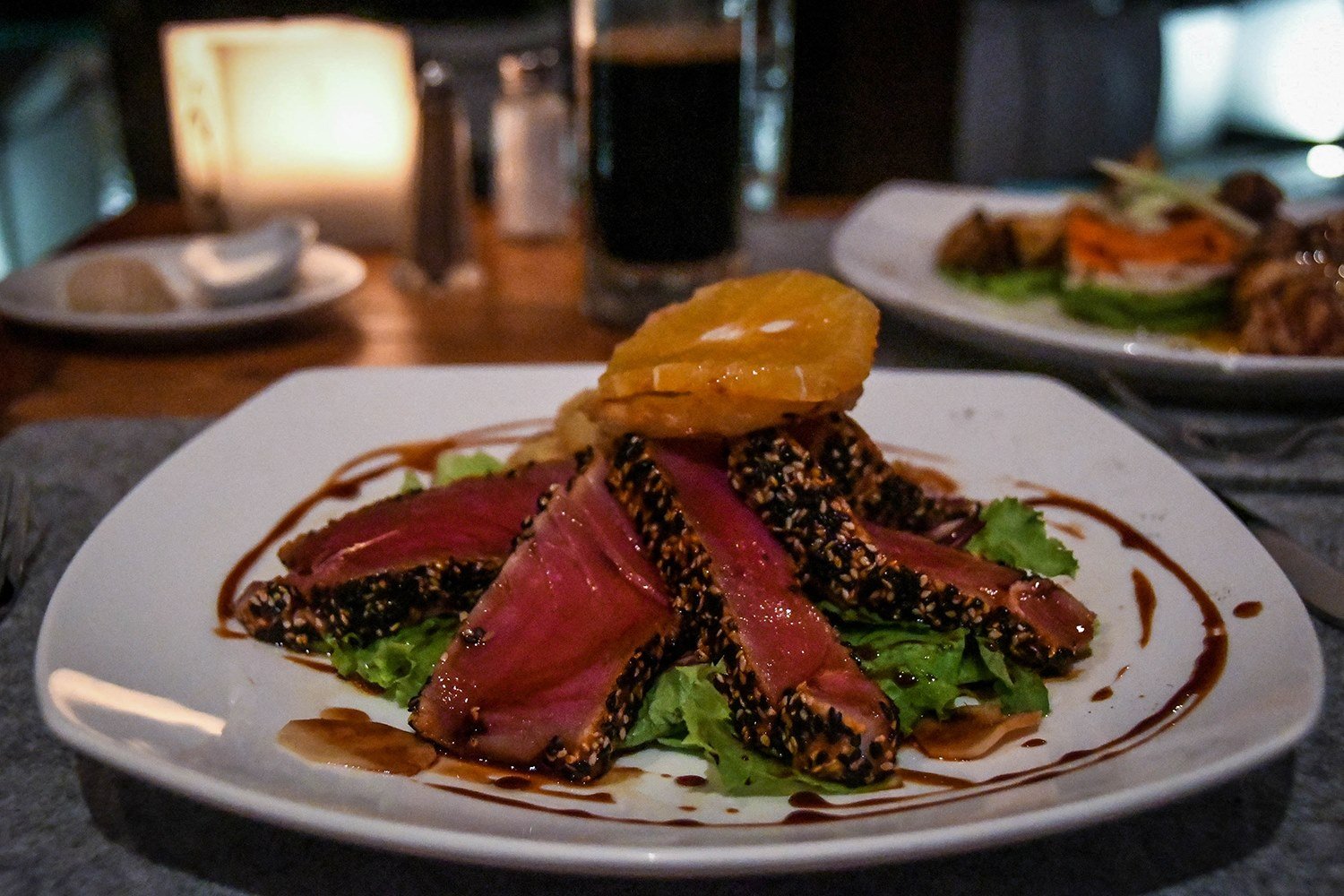 We tried many things, but we had a clear favorite. We just couldn't get over how good their ahi tuna was. A seriously large portion of perfectly seared, sesame-crusted fish was served atop a salad with a sauce that made us tempted to lick our plate. We ordered this 2 times, and wish we had gotten it a third. It was so good, and I will likely have dreams about it for months.
Oh, and their coconut cheesecake was one of the best desserts I've had in a long time. If you like coconut and cheesecake (two of my favorite things!), you need to try it. Thank me later!
The O2 Bar has a great selection of wine and local craft beer to pair with your meal. And their signature hand-crafted cocktails are a welcomed refreshment when you're relaxing poolside.
Sustainability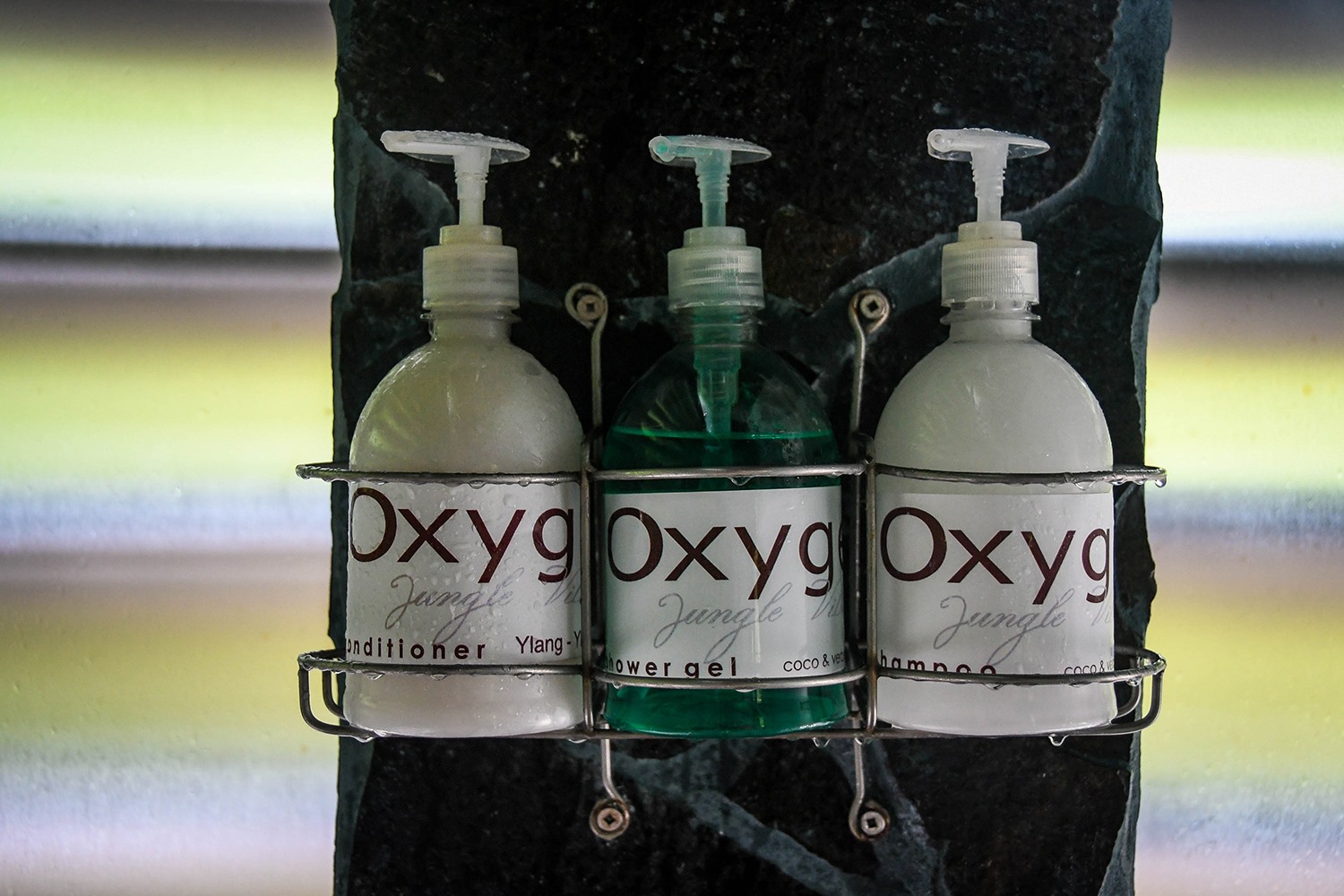 While Oxygen Jungle Villas doesn't call themselves a sustainable hotel, there are some aspects that we think deserve congratulations.
Unlike many upscale hotels that have mini toiletries, we appreciated the fact that Oxygen Jungle Villas had large refillable containers for their shampoo, conditioner and body wash. Also, their toiletries are made form all natural ingredients, which is a huge plus!
The onsite restaurant tries to use organic produce when possible and they avoid using chemicals in laundry and cleaning.
What we loved most
From the infinity pool to our stunning room to the fantastic service we received, it's hard to determine our favorite aspect about our stay. But here are some of the things that made our time there extra special.
Infinity Pool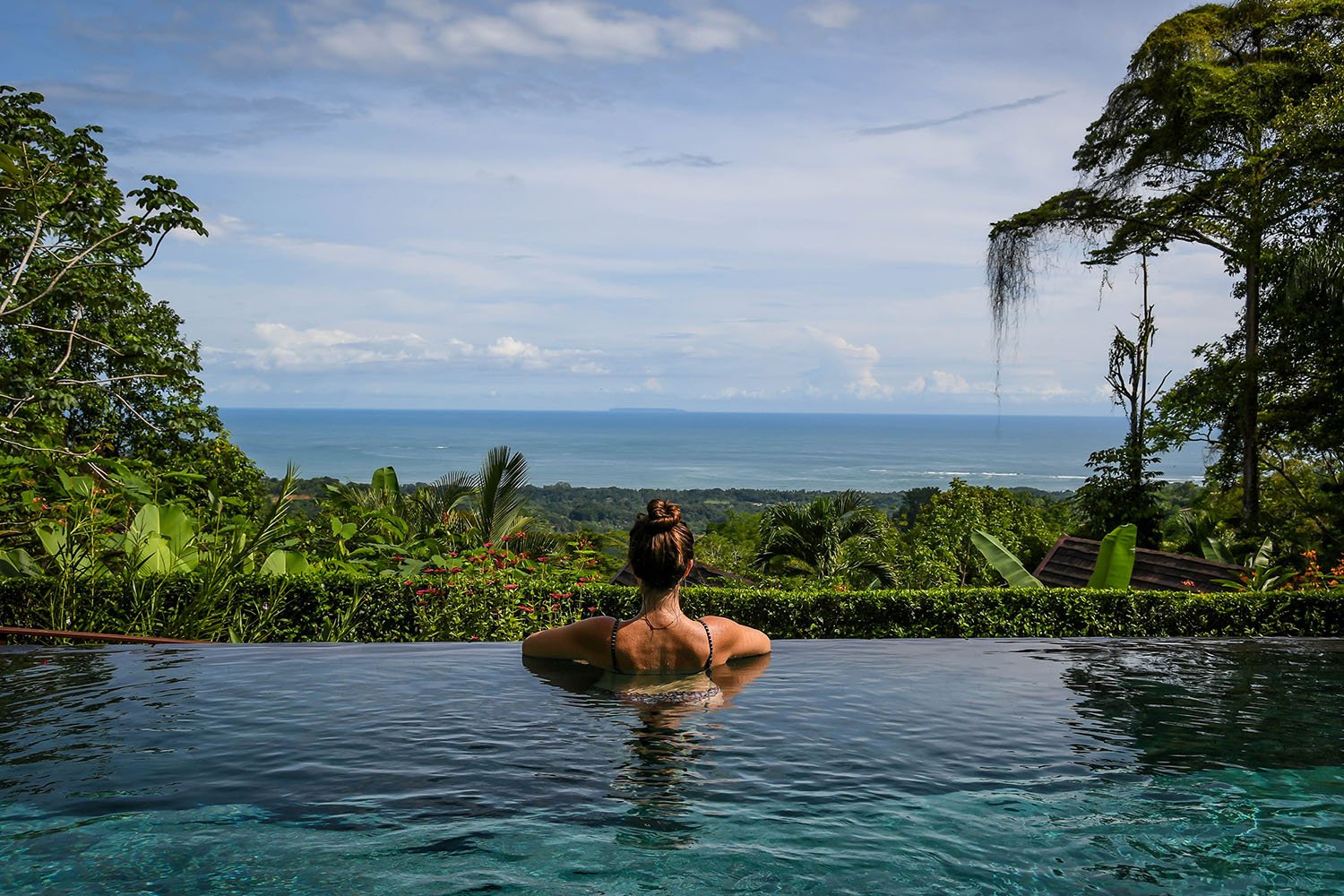 Perfect for relaxing with a book and taking a refreshing dip. Also pretty great for Instagram pictures. Just sayin'!
Comfortable Room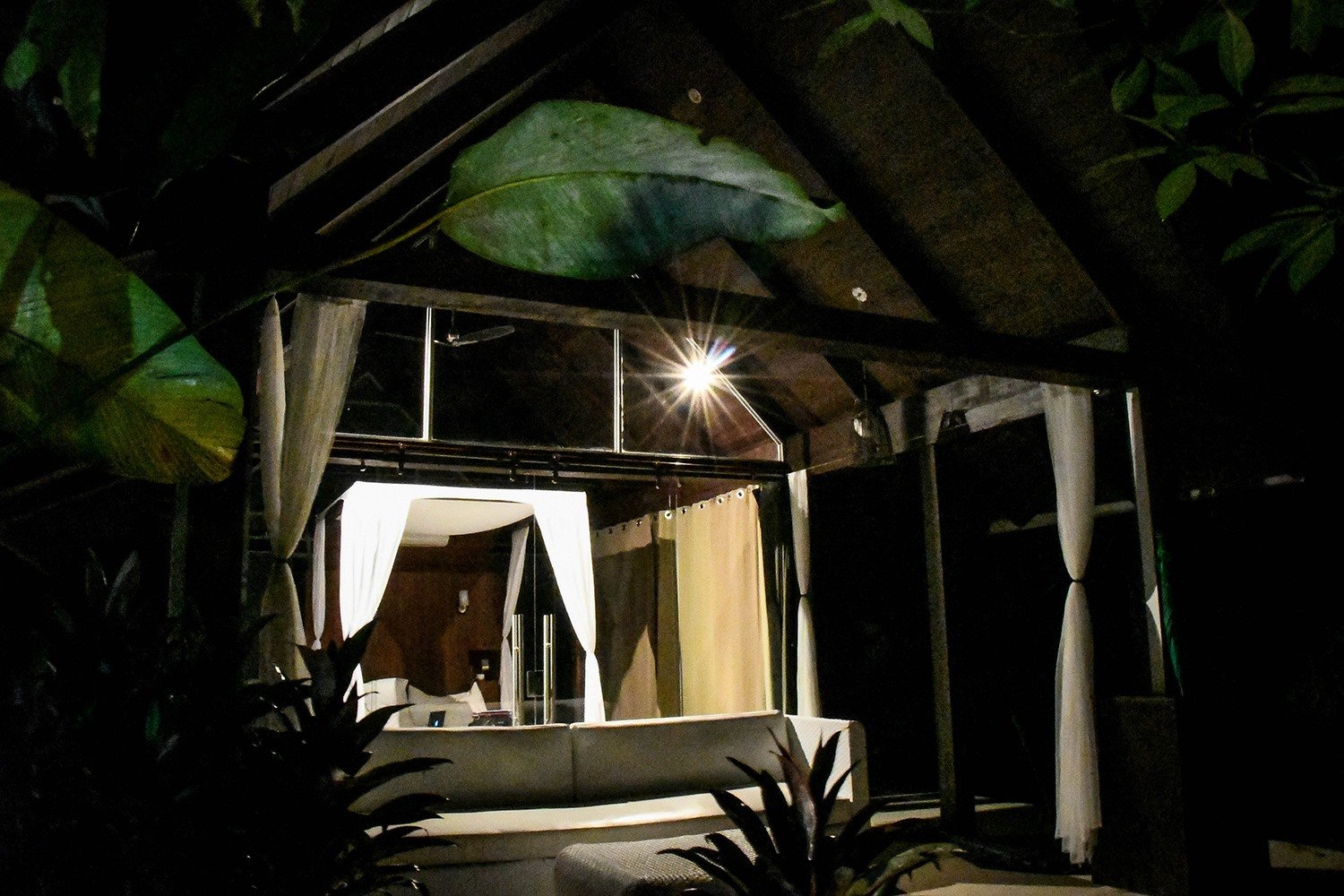 With a heavenly mattress, air conditioning and a rain shower, our room at Oxygen Jungle Villas had every little comfort we could think of. We also liked the fact that we could order breakfast to be delivered to our private terrace and we enjoyed our omelet and fruit bowl in our robes.
Onsite Waterfall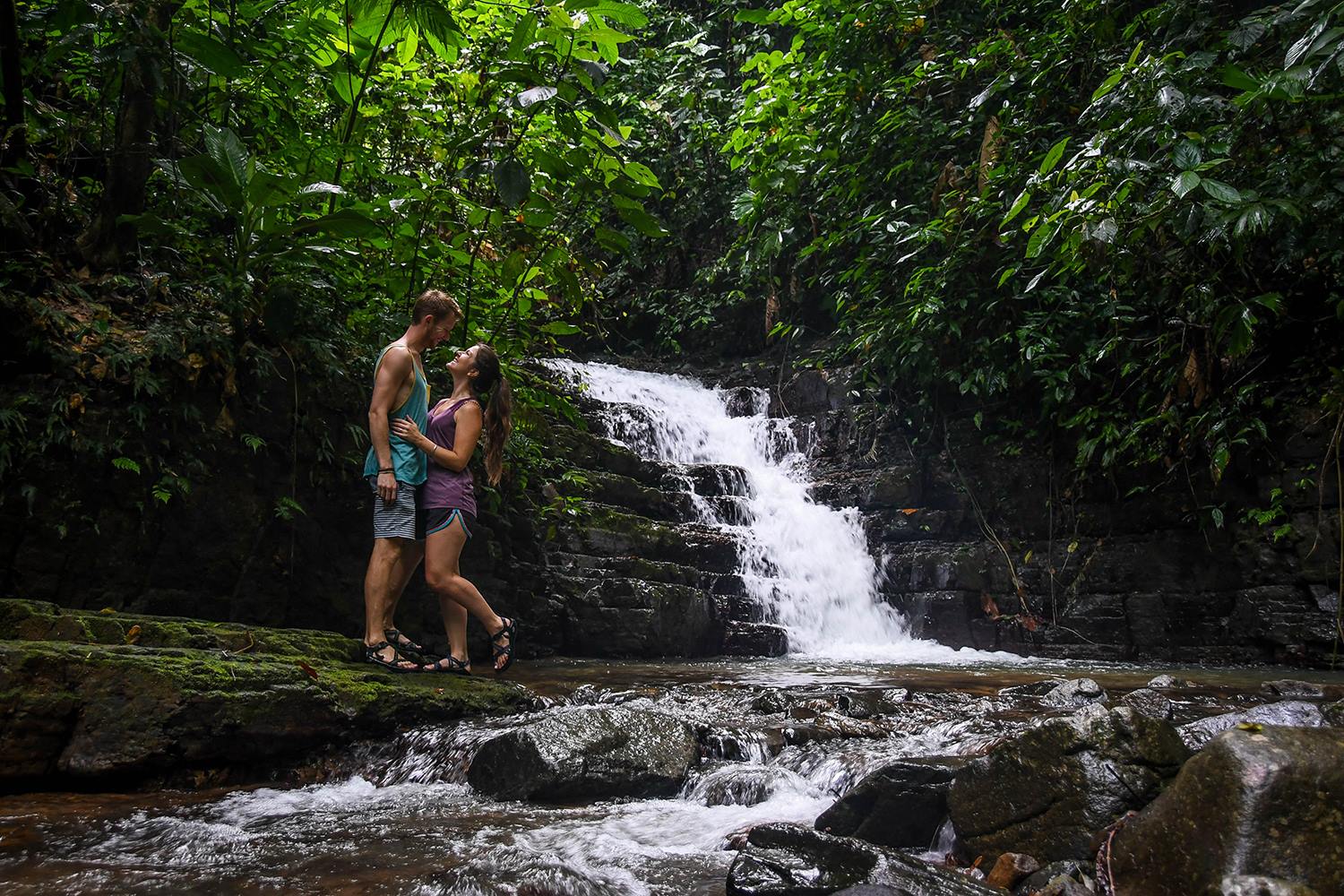 We didn't know about the onsite waterfall until we arrived, and we're so glad we took the time one morning to check it out. Just an easy 15-minute hike from our villa, we had the whole waterfall to ourselves – a rarity in Costa Rica! While the falls aren't huge, they are stunning and surrounded by lush jungle. And with nobody there, it was a peaceful place to hang out for a bit.
Room for improvement
Our stay was at Oxygen Jungle Villas wonderful, and it's difficult to think of many things we'd change. But we believe there's always room growth.
More Vegetarian Options
We would have liked to see a few more vegetarian options on the restaurant's menu. There were a few, but if a guest is staying several days it would be nice to have more to choose from.
WiFi
While on vacation, it's nice to take a break from the Internet, especially when you're at a place as beautiful and romantic as Oxygen Jungle Villas. That said, if you're like us and need to connect for work, it can be frustrating when the Internet is slow. Most of the time, our WiFi connection was fine, but there were times when it ran pretty slowly too. 
What's next for Oxygen Jungle Villas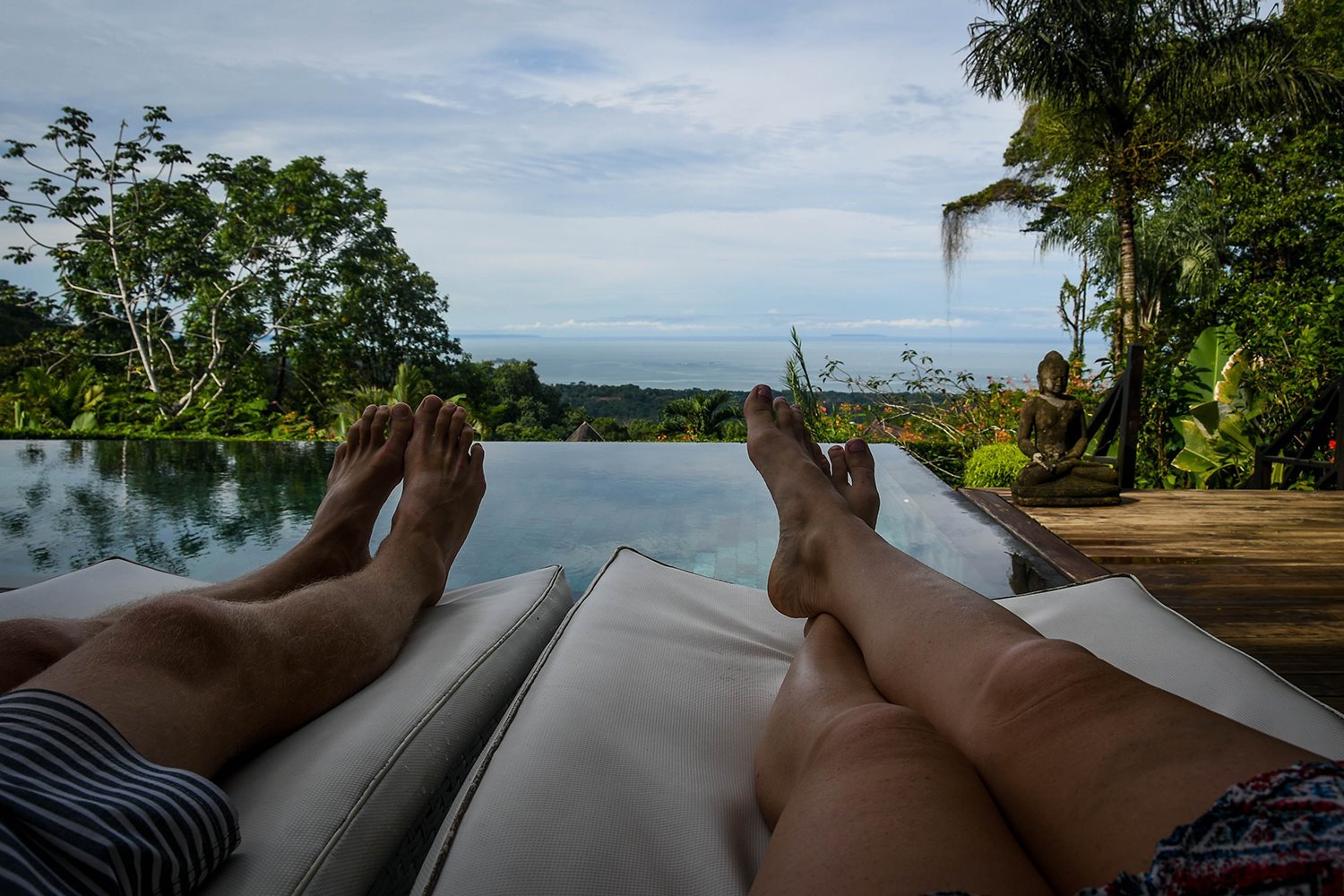 We spoke with Jorge, the general manager of Oxygen Jungle Villas, and he told us of some exciting new additions the property will be implementing in coming years.
With an added focus on wellness, future guests will be able to enjoy yoga classes and soak in a hot tub that will be built overlooking the ocean. They are also expanding by adding more villas, some with their own private hot tub (yes, please!), and will be adding to their spa services.
We can't wait to return in a few years and see the new additions.
How to book a private villa
We like to use Booking.com when we were traveling in Coast Rica. We found them to be the best rate out of all the hotel sites and they have a great cancelation policy (but let's be honest, your not going to want to cancel this villa!)
How to get there
Oxygen Jungle Villas is located in the hills, about a 15-minute drive from the town of Uvita, and the best way to get there is take a rental car.
The road getting up to the resort is a bit, how shall we say this… rough. It certainly wasn't the worst road we encountered in the country, but it might have been a little tough with a car that had low clearance or wasn't 4-wheel drive. And we thought the rough road actually gave it a more remote and secluded feel, so we didn't mind it. But it's something to keep in mind as you're making your way to the hotel.
You can either rent your car in San Jose or in the town of Uvita, and the hotel recommends a 4×4 for making this drive. (We would agree with them!)
We've put together a guide with everything you need to know about renting a car in Costa Rica that should be helpful to you!
Disclaimer: We were guests of Oxygen Jungle Villas, and would like to thank them for their hospitality. And as always, all opinions are our own. 


Planning a trip to Costa Rica?
We have lots more resources on travel in Costa Rica and destinations throughout the country. Check out our Ultimate Costa Rica Travel Guide for all the answers you're looking for, or read some of our favorite articles below.
Save this article to Pinterest for later!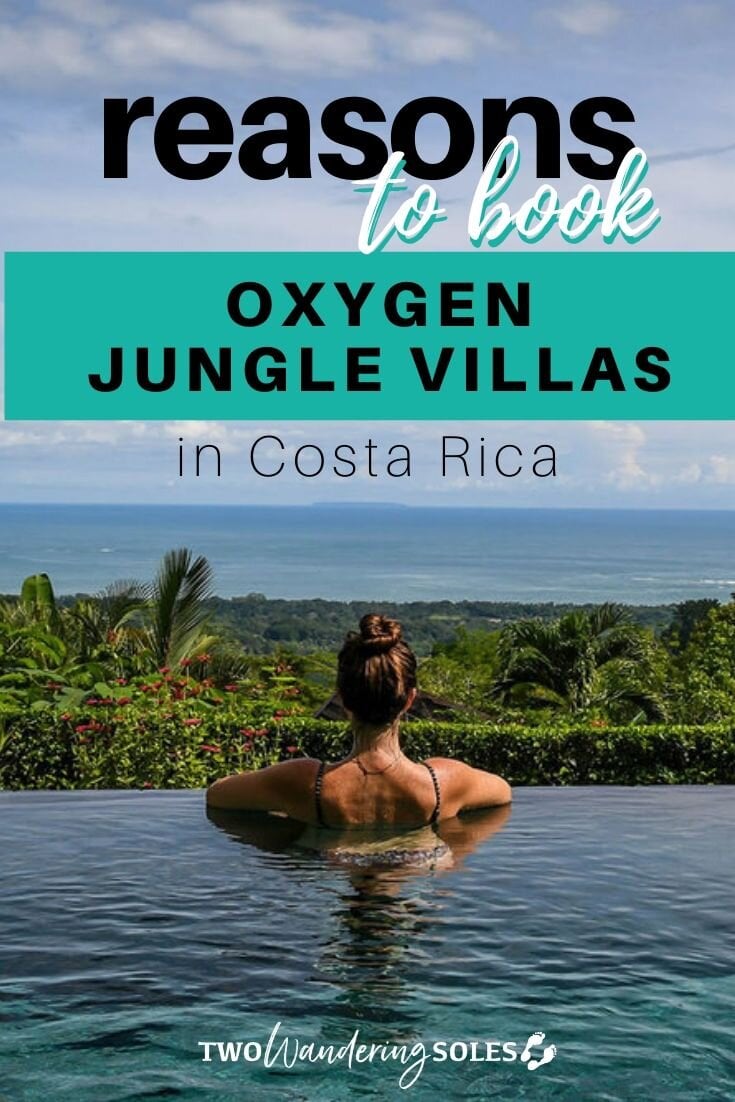 We want to hear from you!
Does Oxygen Jungle Villas look like a place you might want to stay? Have any questions about our experience? Comment below and we'll do our best to answer them!