With shockingly blue waters and lots of fun things to do, Bacalar Lagoon is well worth a spot on your Yucatan itinerary. In this guide to Bacalar, Mexico, we're sharing all sorts of tips, where to eat, what tours to take & what you should absolutely NOT do.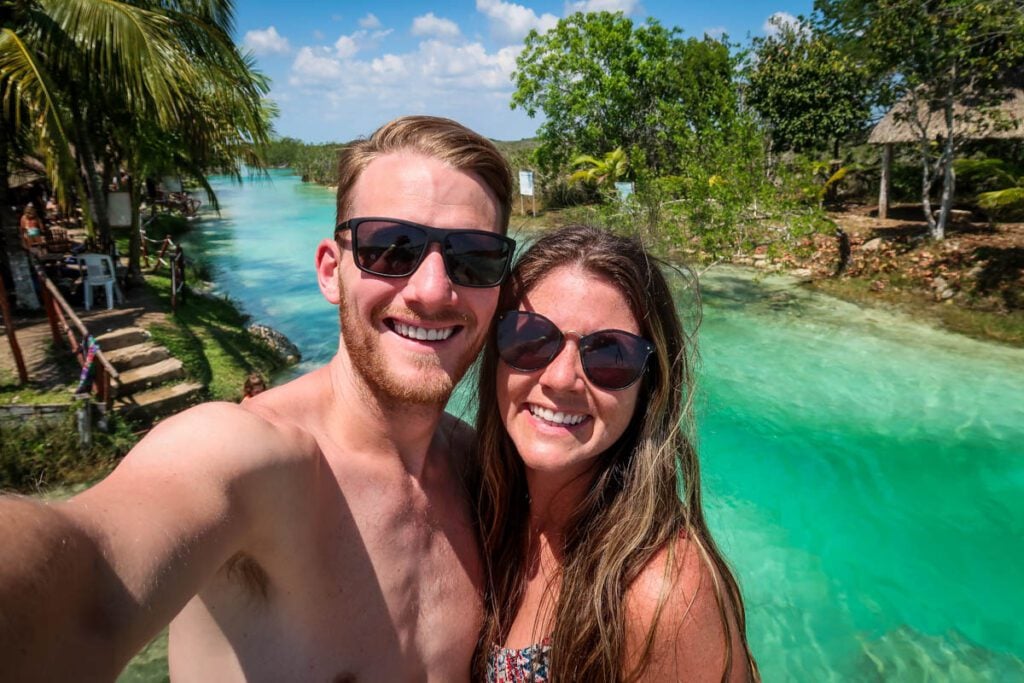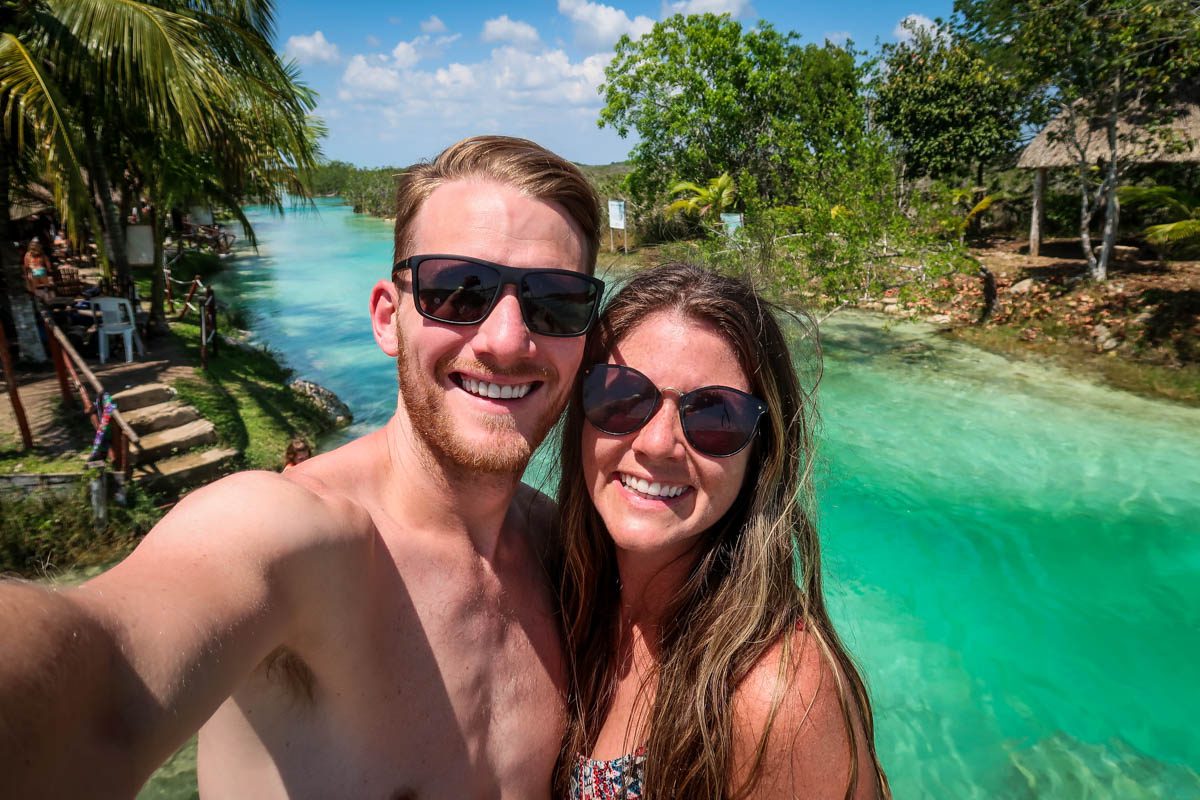 Nicknamed the "Maldives of Mexico", Bacalar Lagoon is famed for its piercingly blue waters.
Nestled on the shore of the lagoon is the small, yet growing town of Bacalar, which has a blend of cute cafes, boutique hotels and local shops.
While this used to be something of a hidden gem, Bacalar is gaining attention from both backpackers and luxury travelers alike. And for good reason. With clear, warm waters, affordable boutique hotels, a surprisingly good food scene, and a fun, yet laid back vibe, Bacalar is hard not to love.
Kick back in a hammock with a margarita (at the coolest lakeside bar!) or get out and explore the many fun things to do in Bacalar. Whatever your travel style, this town will surely be one of your favorite places in the Yucatan Peninsula (it makes our list!).
In this Bacalar travel guide, we're sharing the top things to do, where to get the best food and drinks, the cutest hotels to spend the night at, and some essential eco-friendly tips (specific to Bacalar) that you won't want to miss.
Our top things to do in Bacalar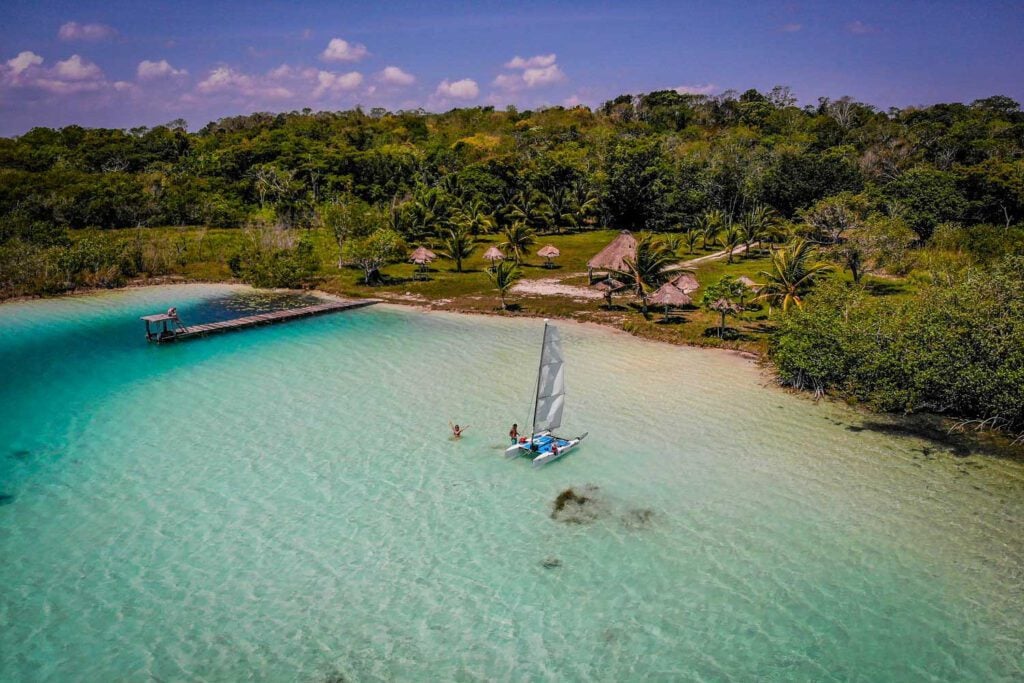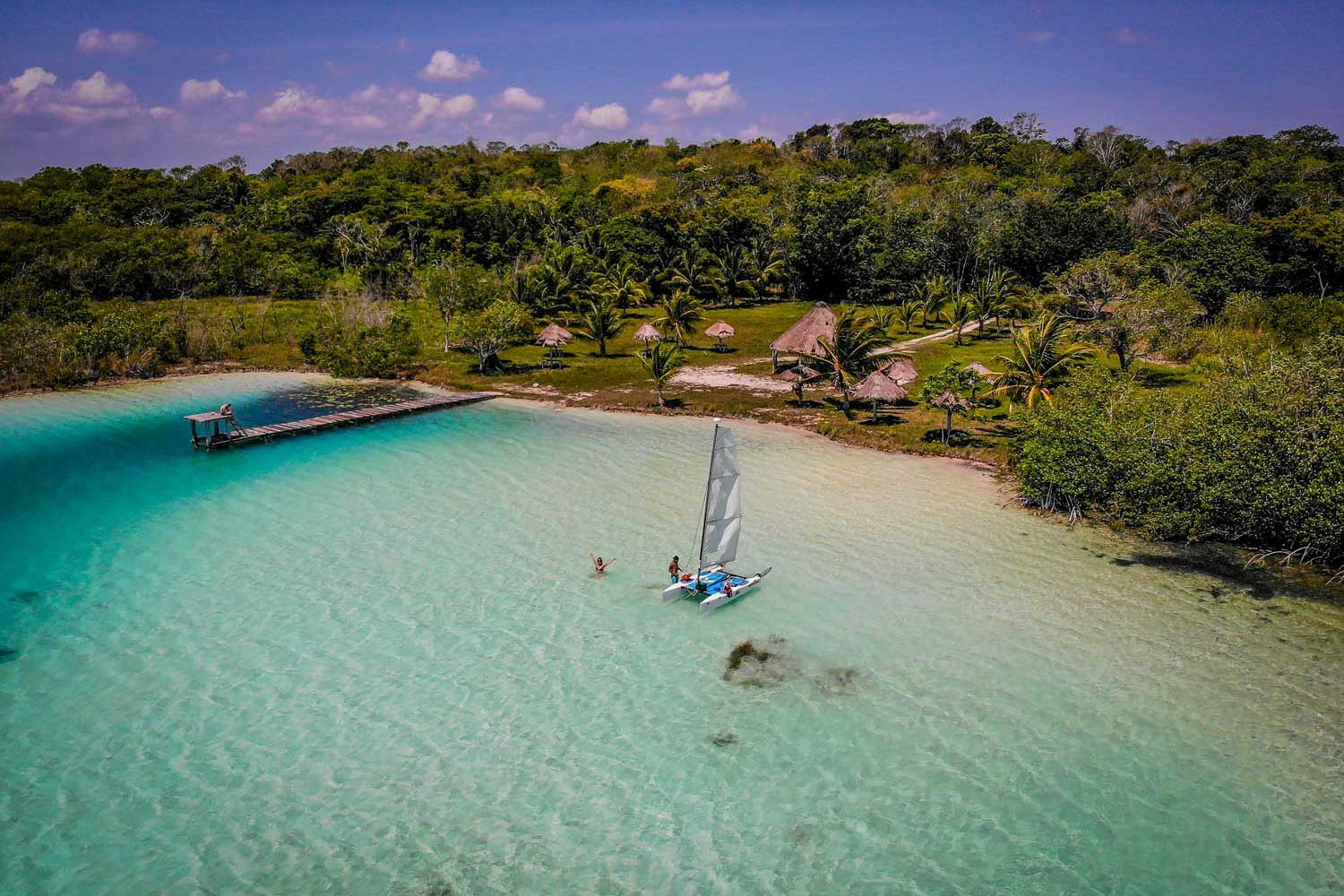 If you're looking for a quick list of our favorite activities in Bacalar, here ya go!
Catamaran Trip around Bacalar Lagoon
Vegan burgers at Mango y Chile
Lagoon Boat ride or Sailing trip
Sunrise SUP
Relax in a hammock with cocktails at La Playita (dockside restaurant)
Boom, your trip to Bacalar is almost planned!
This article is packed with lots more fun things to do in Bacalar (including insider tips and information about how to do each of these things yourself!). For all the details, keep reading…
Bacalar Travel Guide
Psst! If you have time to discover more of the country, don't miss our favorite epic places to visit in Mexico.
---
Where is Bacalar?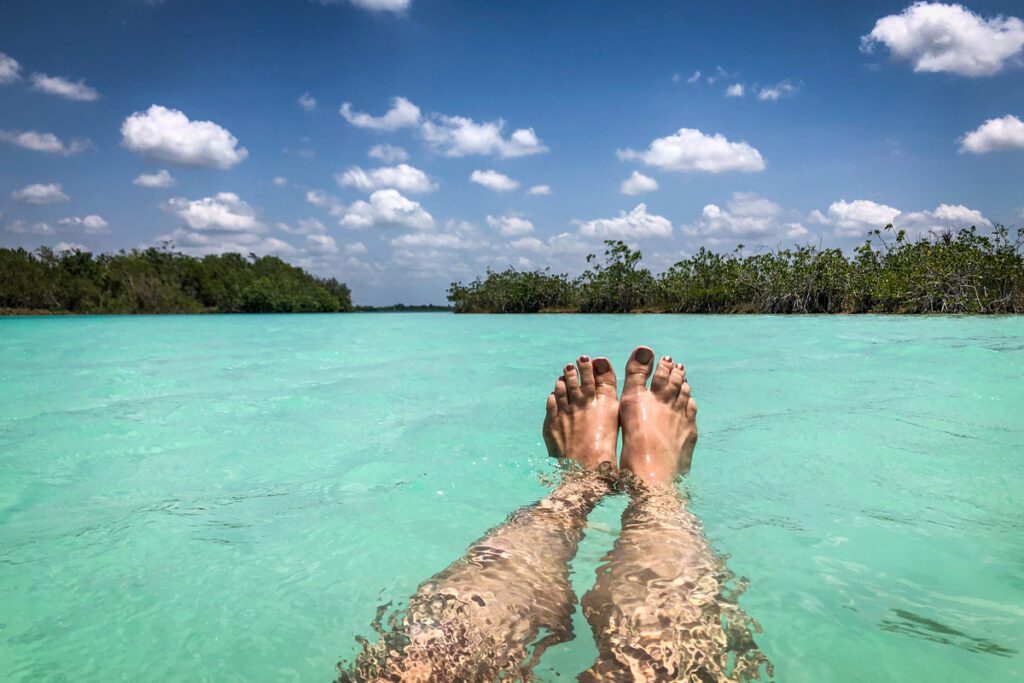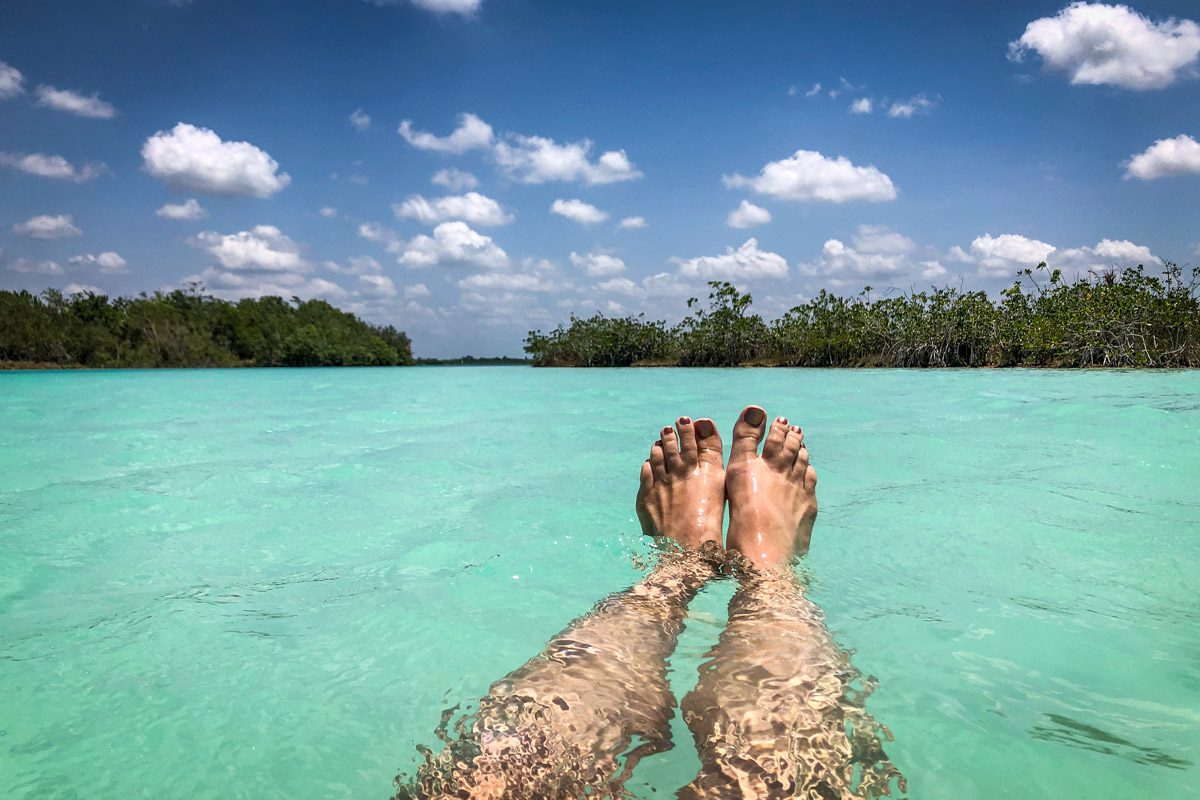 Bacalar is located at the southernmost part of the Yucatan Peninsula.
Situated roughly 3.5 hours south of Playa del Carmen, and 4.5 hours from Cancun, Bacalar often gets skipped because it is a bit of a distance.
However, those who do make the drive will be rewarded with a stunning lagoon and a charming town without the crowds of the more popular Yucatan destinations.
While it does require some time to get to Bacalar, the roads are a straight shot, making this a very easy route to self-drive.
Jump down to see exactly how to get to Bacalar.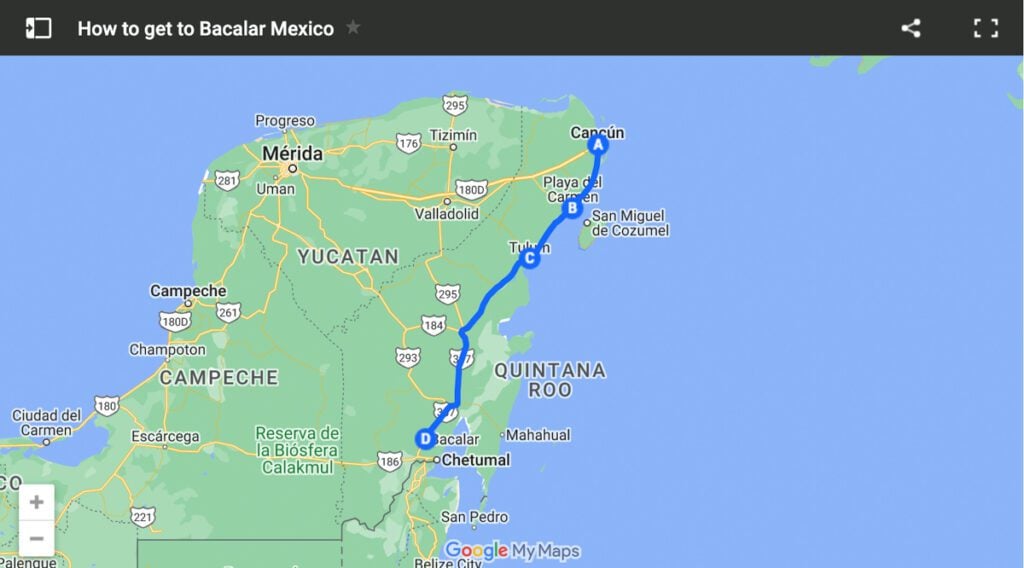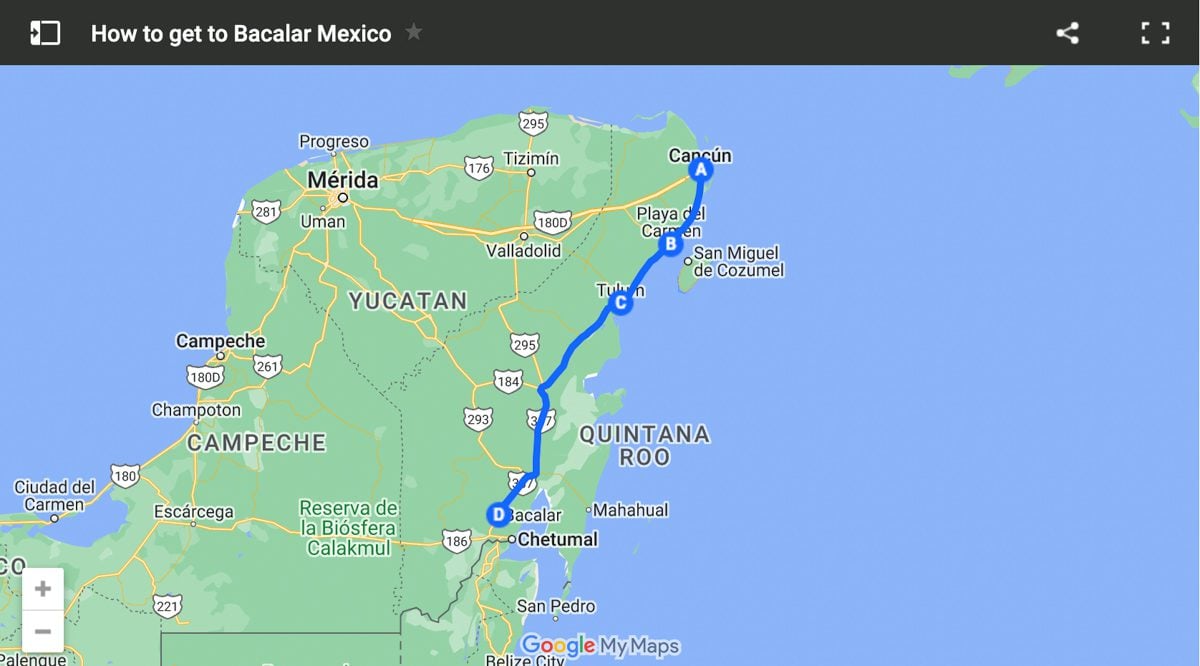 A. Cancun to Bacalar
Distance from Cancun to Bacalar: 218 miles (350 km)
Driving time: 4 hours 30 minutes
B. Playa del Carmen to Bacalar
Distance from Playa del Carmen to Bacalar: 170 miles (275 km)
Driving time: 3 hours 25 minutes
C. Tulum to Bacalar
Distance from Tulum to Bacalar: 130 miles (210 km)
Driving time: 2 hours 30 minutes
Traveling around Central America? Since Bacalar is just across the border of Belize, this makes a great last stop in Mexico before continuing on to explore more of Central America.
5 Reasons to visit Bacalar
Still debating whether or not to add Bacalar to your Yucatan itinerary? We're definitely fans, but don't just take our word…
Here are a handful of reasons why you should visit Bacalar on your next trip to Mexico.
1. Bacalar has the bluest water you will ever see!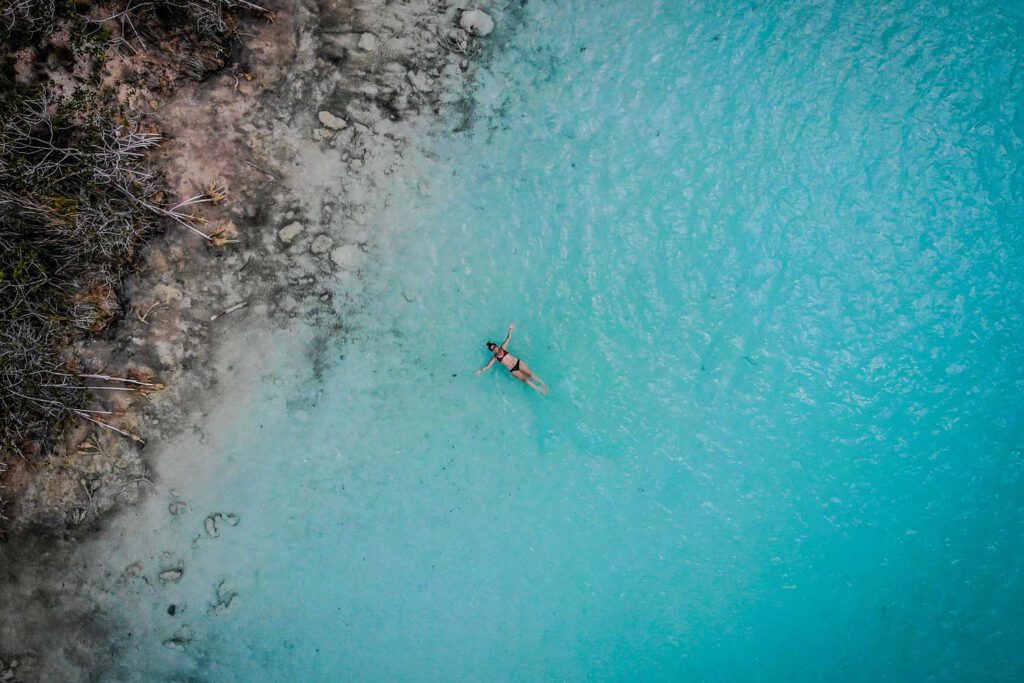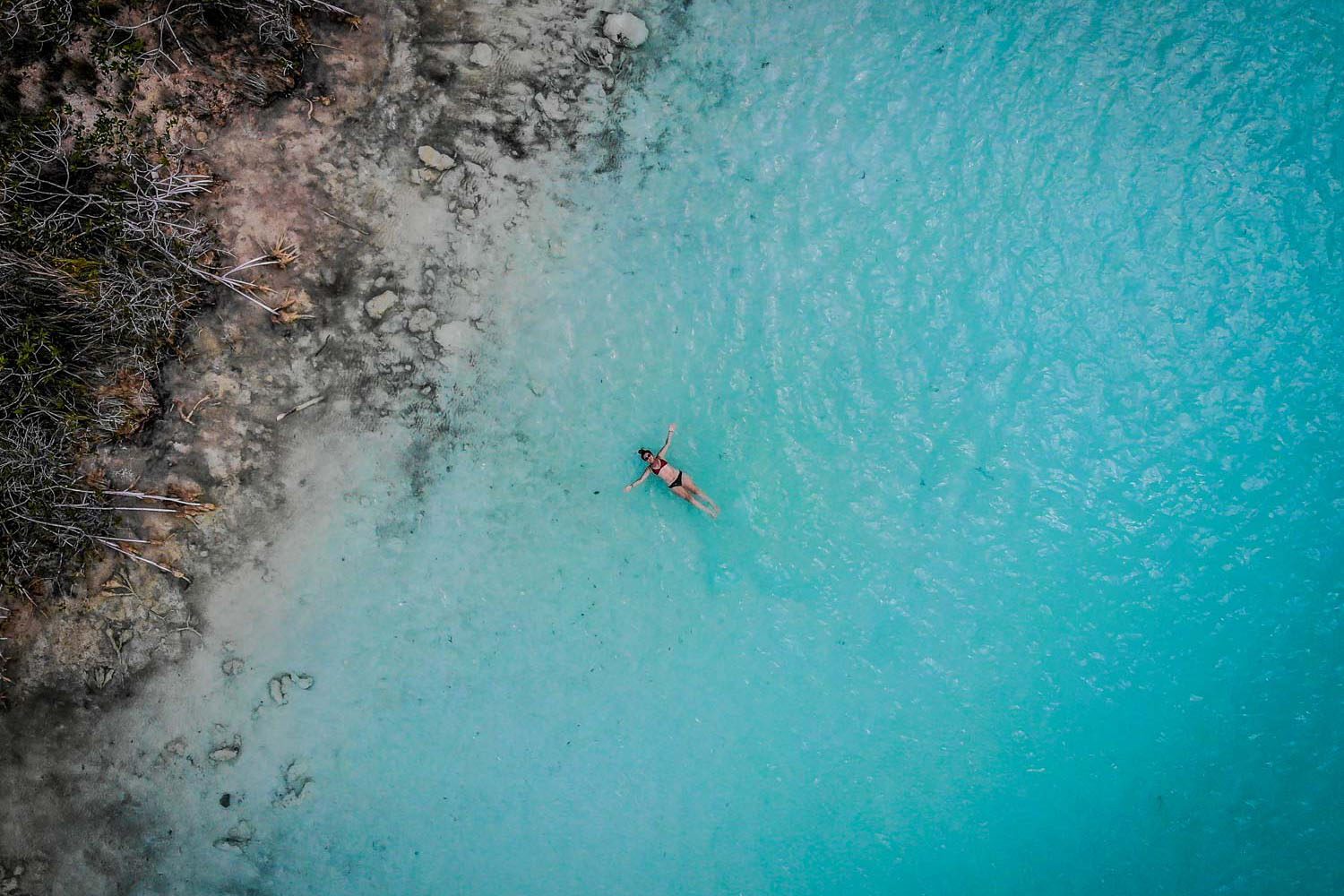 I would wager that Bacalar Lagoon has some of the bluest water you have ever seen in your life, if not the bluest. (And remember, this is a lagoon, not the sea, which is even more impressive!)
When I say blue, I mean aqua, ceylon, sapphire, and deep teal all at once. In fact, there are so many shades of blue that another nickname Bacalar boasts is the "Lake of Seven Colors".
It is truly spectacular, and photos – while beautiful – don't even do it justice.
2. You can see the oldest living organisms on the planet!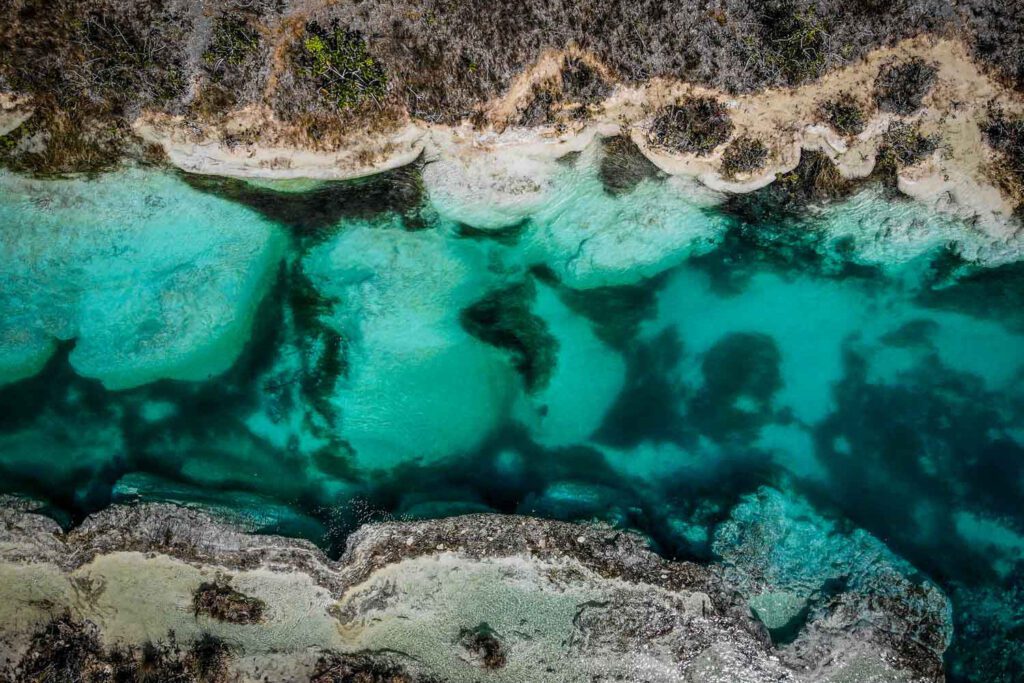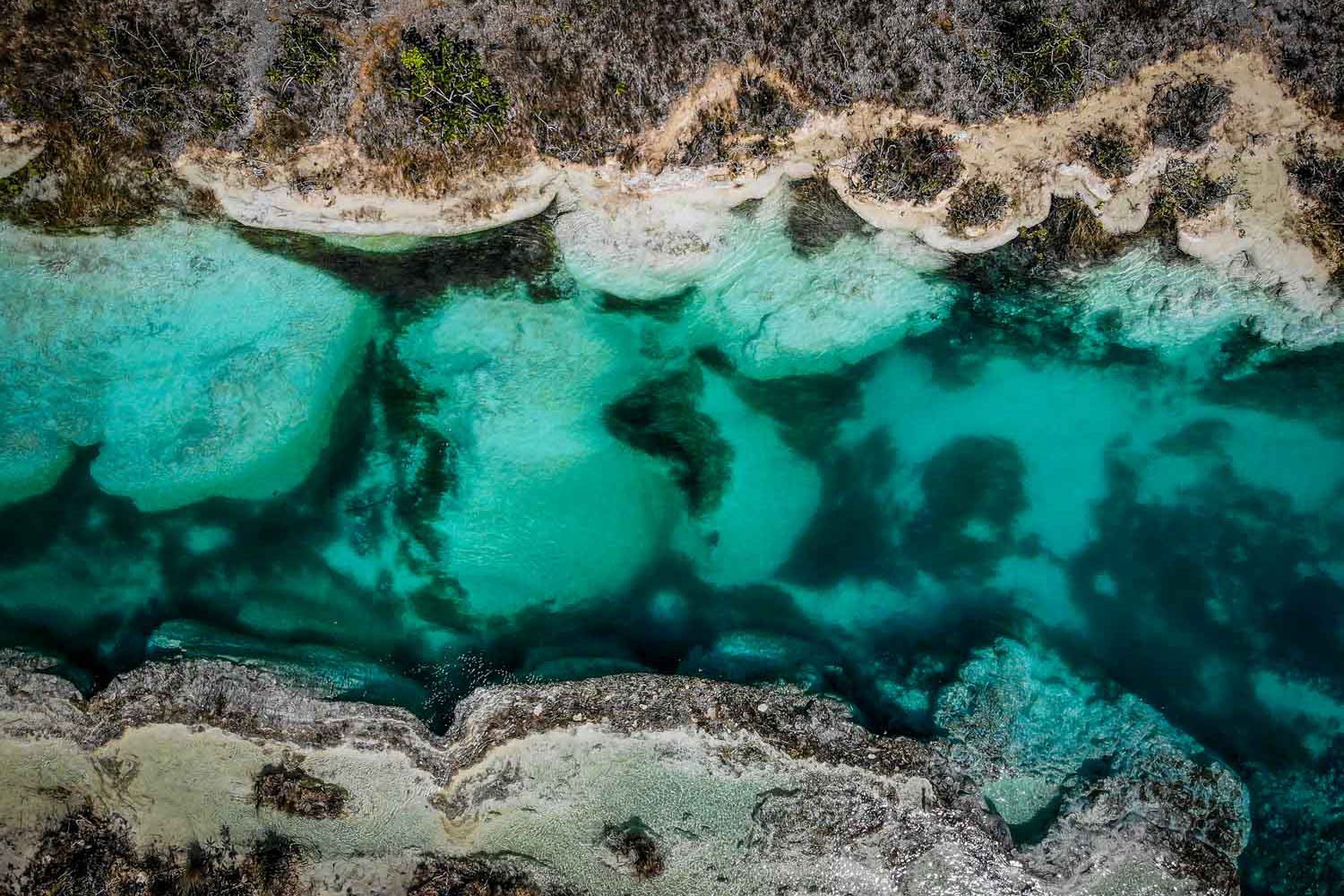 Stromatolites are the oldest fossils on earth, dating back more than 3 billion years.
And here's the even crazier thing – they are living! That's right, these rock deposits are created by algae, and they are ever-so-slowly growing.
Stromatolites are found in just a handful of salty lagoons on earth, making seeing these wonders extremely rare and special.
Bacalar has a high concentration of these living fossils, making it one of the best places on earth to see stromatolites.
VERY IMPORTANT: Since Stromatolites are living organisms, it is very important that you do NOT touch or step on them. For this reason, wearing sunscreen in Bacalar Lagoon is prohibited, as it can harm the rare stromatolites.
3. It's an affordable destination
Bacalar is a great budget destination.
In Bacalar, you can stay in a cute boutique hotel for $60-80 per night. And there are plenty of budget options that are even cheaper.
For the most part, food and drinks are reasonably priced as are bucket list worthy tours.
4. Fewer crowds than most places in the Yucatan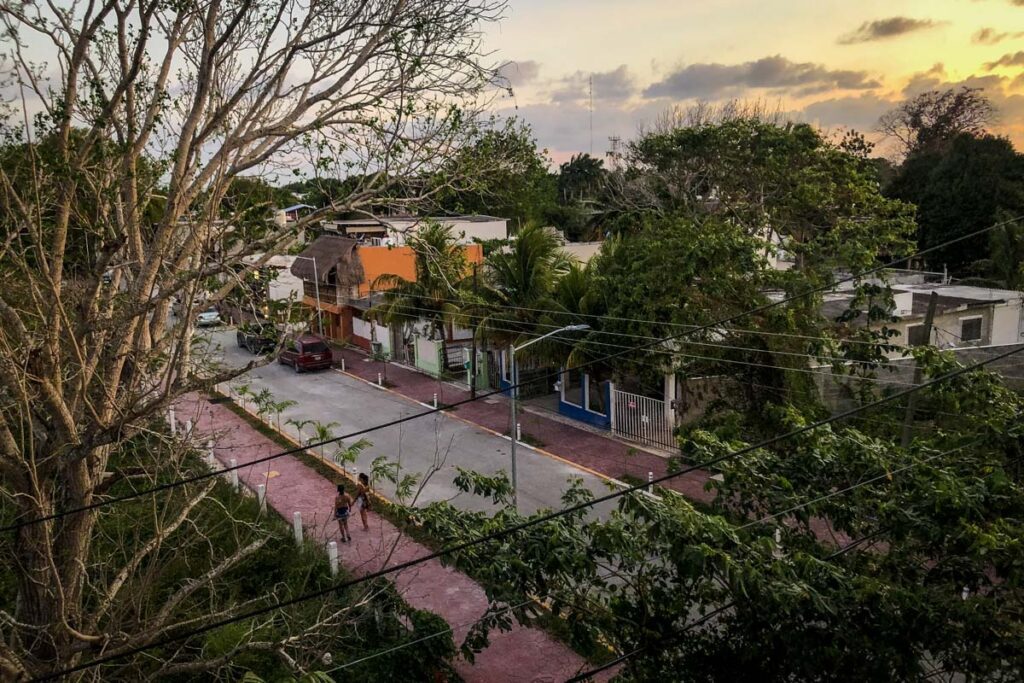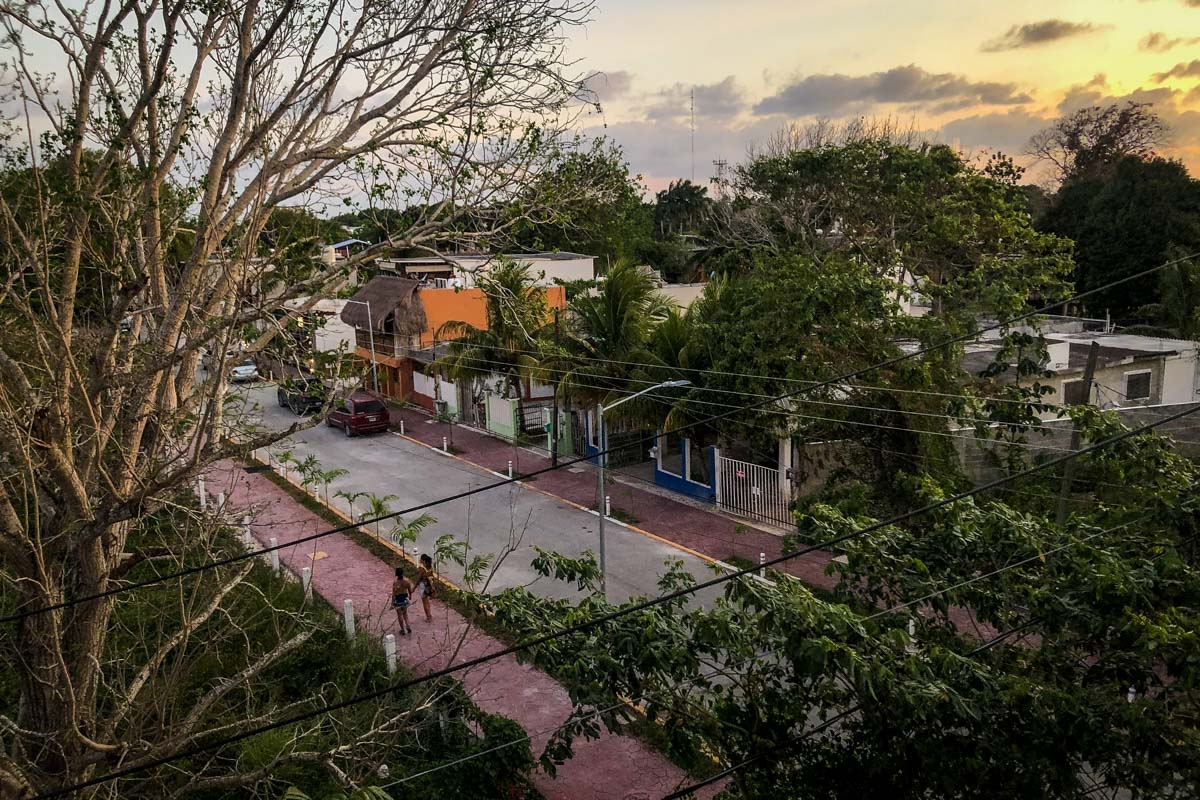 If you want to escape the tourist crowds of Cancun and Tulum, Bacalar will feel more like your style. It's still not crazy busy or overrun (but that might start to change). Bacalar still feels like a gem, free of the chain shops and sloppy partiers.
5. There is a lot to do in Bacalar!
Whether you're looking to relax near the water, experience local culture or have a bit of an adventure, you will find it here.
Keep reading for a list of activities in Bacalar to help you plan the perfect trip…
---
20 Fun things to do in Bacalar, Mexico
From foodie hotspots to cultural experiences to adventurous activities, let's dive into the very best things to do in Bacalar!
1. Take a boat trip on Bacalar Lagoon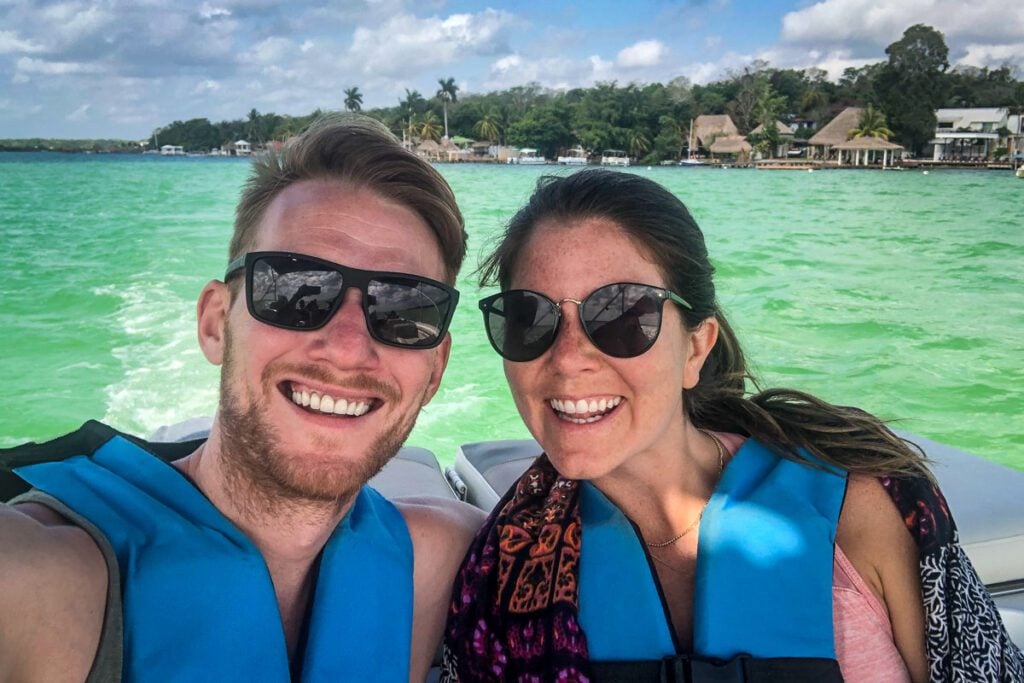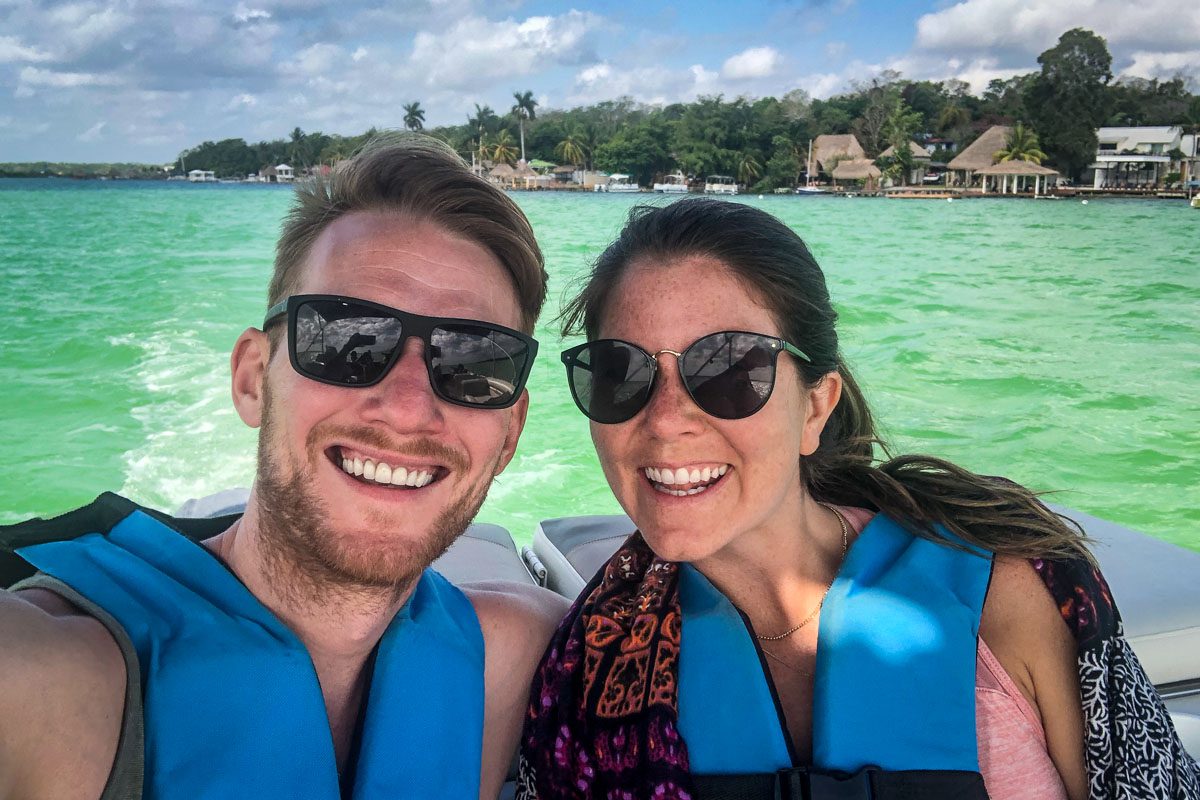 One of the must-do things in Bacalar is to get on the water. I mean, that's why you come here in the first place, right?!
There are two main ways to explore Bacalar Lagoon:
We're starting with the boat tour as it is the more popular and more affordable option.
There are plenty of tour operators out there, and your hotel can make arrangements for you (it's not necessary to book in advance).
However, if you just want everything sorted ahead of time, this tour has rave reviews. Or this one is a bit more expensive, but it includes drinks.
Bacalar Lagoon Boat Tours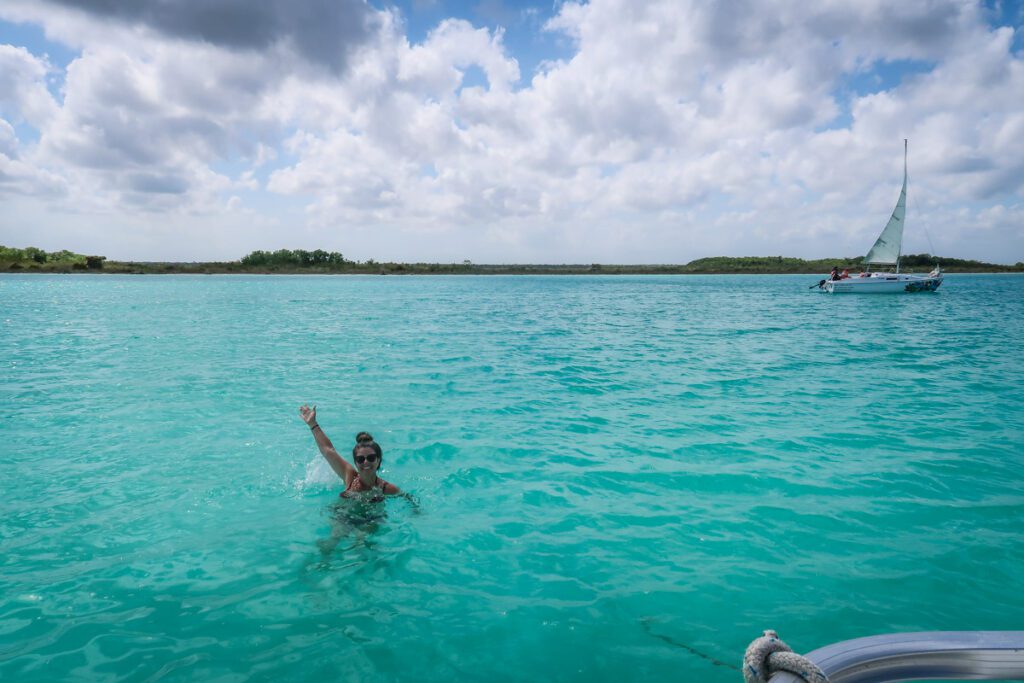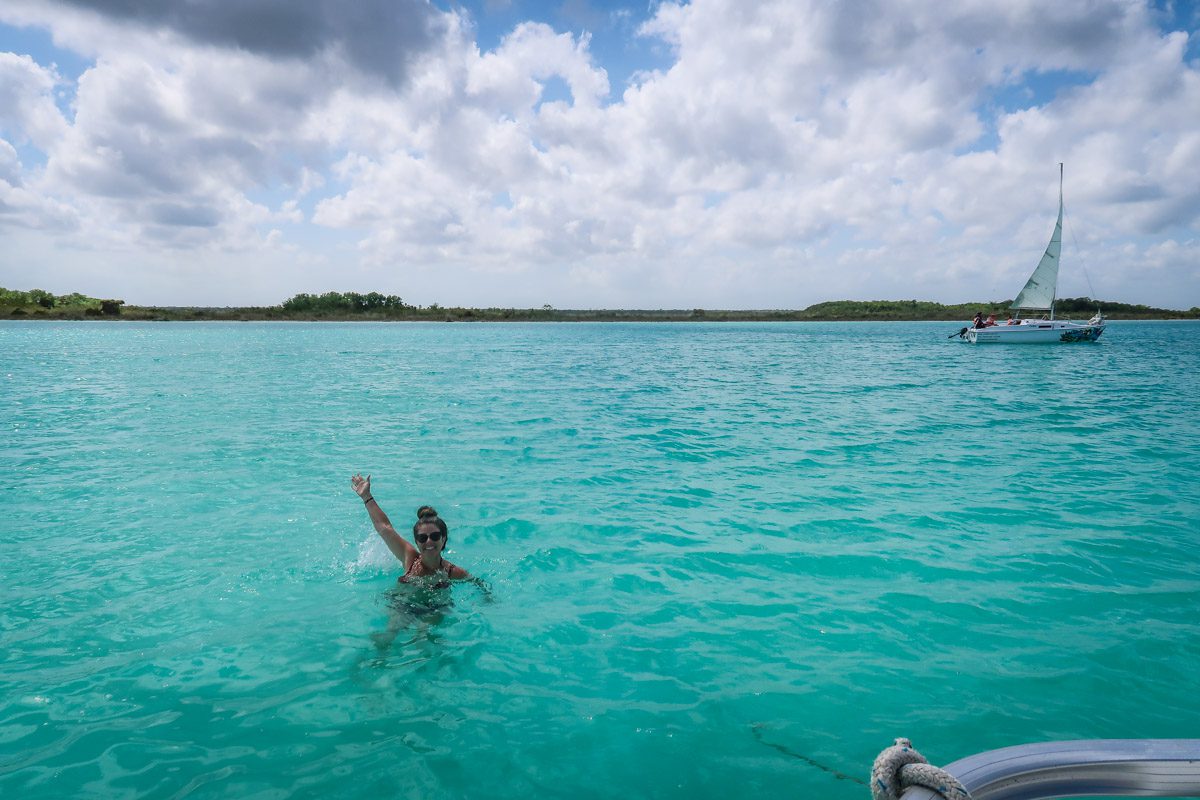 Duration: around 3 hours
Includes: snacks (fruit) and sometimes drinks, guide, water, life jacket
Cost: Average prices range between 300 pesos ($16) – 450 pesos ($25) per person

Type of boat makes a difference in price (regular boat is cheaper than a pontoon)
English vs. Spanish guide will also impact the price
If the tour includes drinks, it will be more expensive
The classic Bacalar Boat Trip will bring you to the lagoon's most important landmarks, and also includes time for swimming in the water and enjoying fresh fruit and drinks (if your tour includes this).
All Bacalar Lagoon boat tours stop at the following landmarks:
Cenote Negro
This is the most unique cenote in the area as it has a sheer drop from 2 meters (6 feet) to 90 meters (295 feet). Its name alludes to the deep blue water contrasting the rest of the vibrant lagoon.
It's also known as Cenote de la Bruja (the Witches Cenote) based on ancient legends of a Mayan witch that resided here.
Bird Island (Isla de los Pájaros)
The Island of the Birds serves as a migration sanctuary for many different species of exotic birds. You'll be able to see parrots, hawks, larks, and owls among many other types in this protected area.
Cenote Esmeralda
The navy blue waters of this cenote reach depths of 70 meters (230 feet). Don't miss the iconic narrow gap where the cenote meets the laguna.
Pirate's Canal
No trip across the Bacalar Lagoon is complete without sailing to where the adventurous and chaotic history of this canal begins. Swim and relax in the blue and green hues of this shallow sandbar.
Psst! Be sure to check out our bucket list of incredible things to do in Mexico (that aren't beaches) before you leave!
2. Take a sailing trip on a catamaran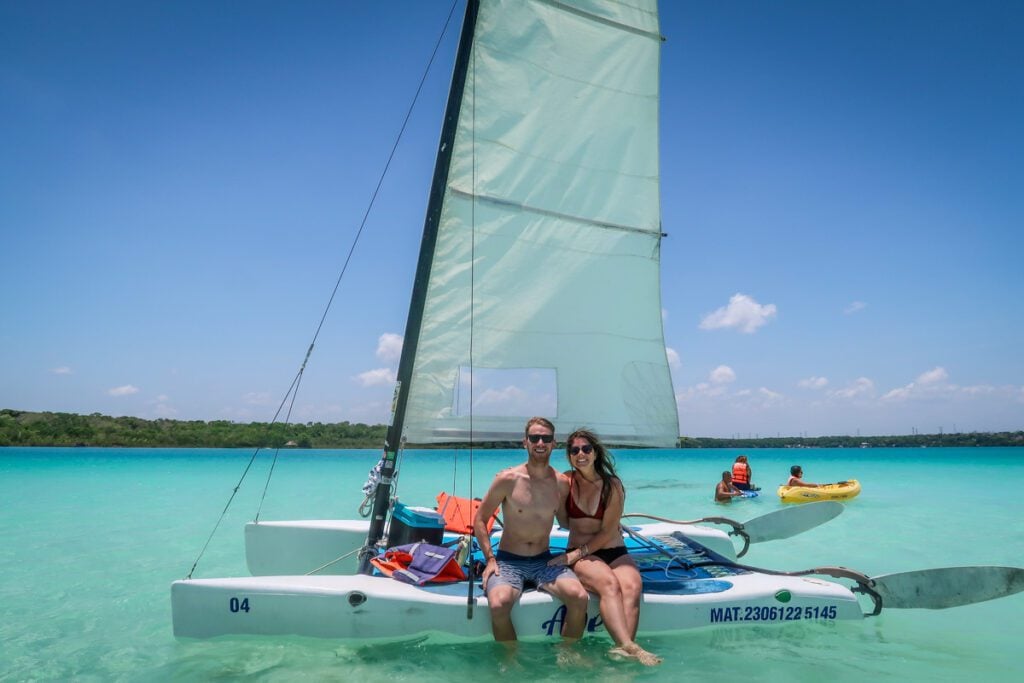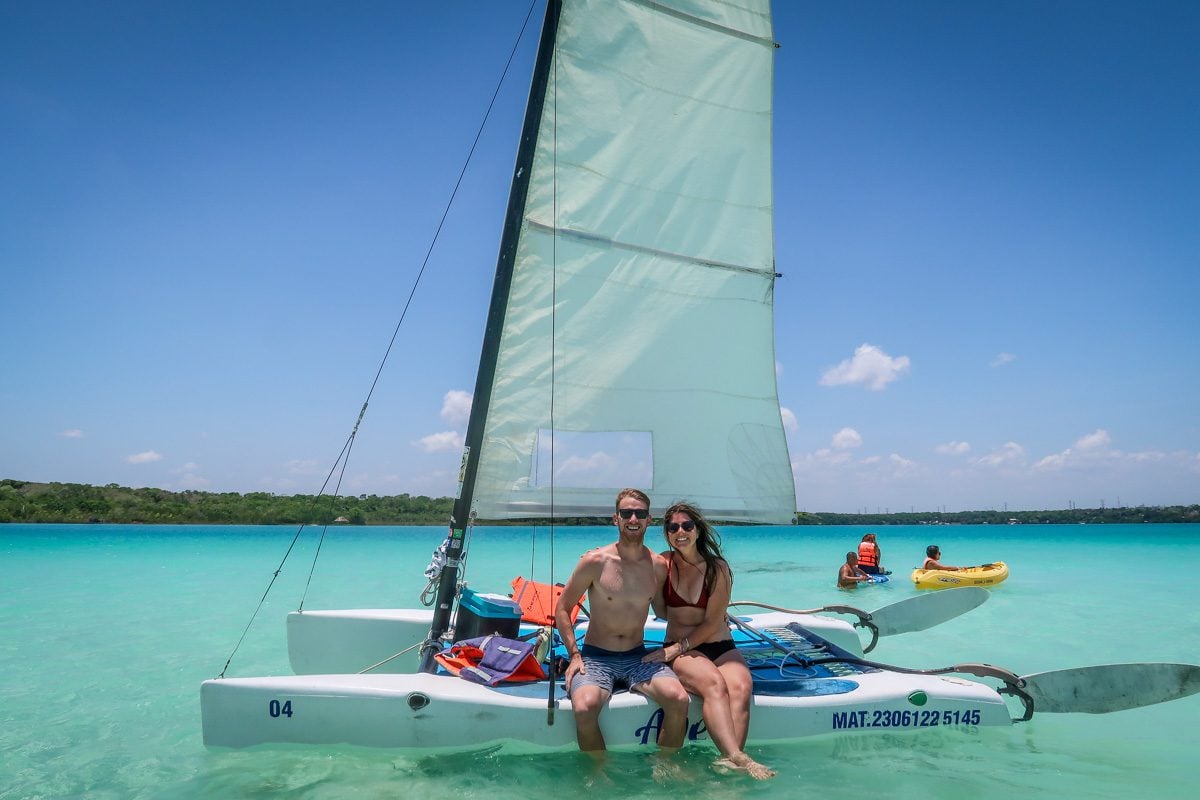 An alternative to the classic Bacalar Boat Trip is to go on a catamaran or sailboat.
One of the staff members at our hotel strongly recommended this over the boat tour. But we have FOMO, so we decided to do both!
The catamaran trip is a much more intimate experience – we were the only two people on our tour, but there are small group options too.
We also got to go in a completely different area of the lagoon than all of the boat tours (as sections of the lagoon are off limits to motorized boats).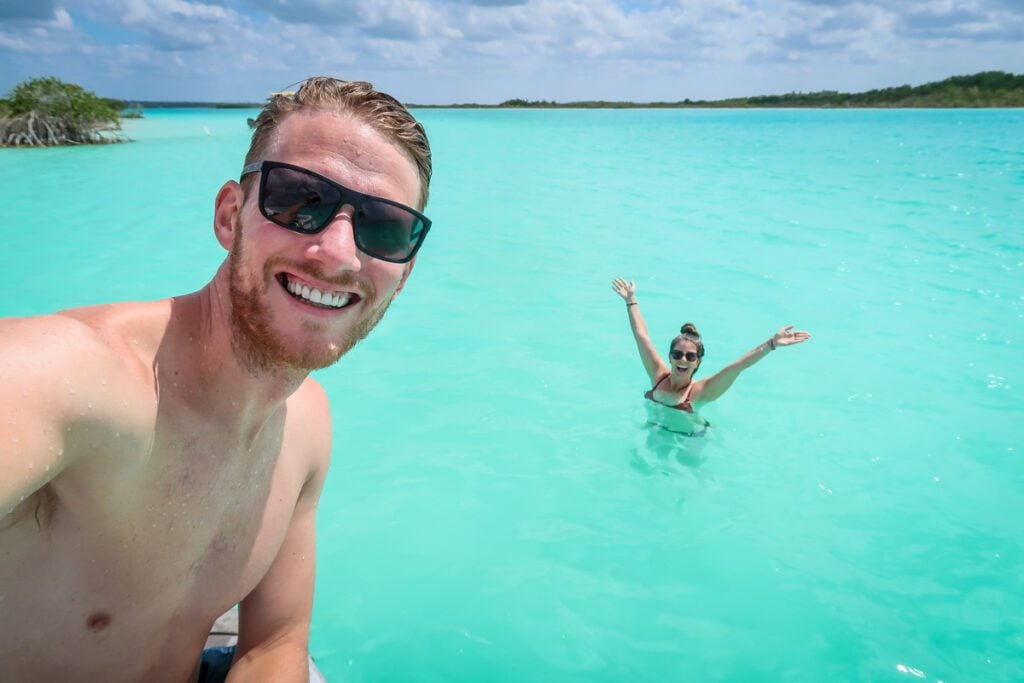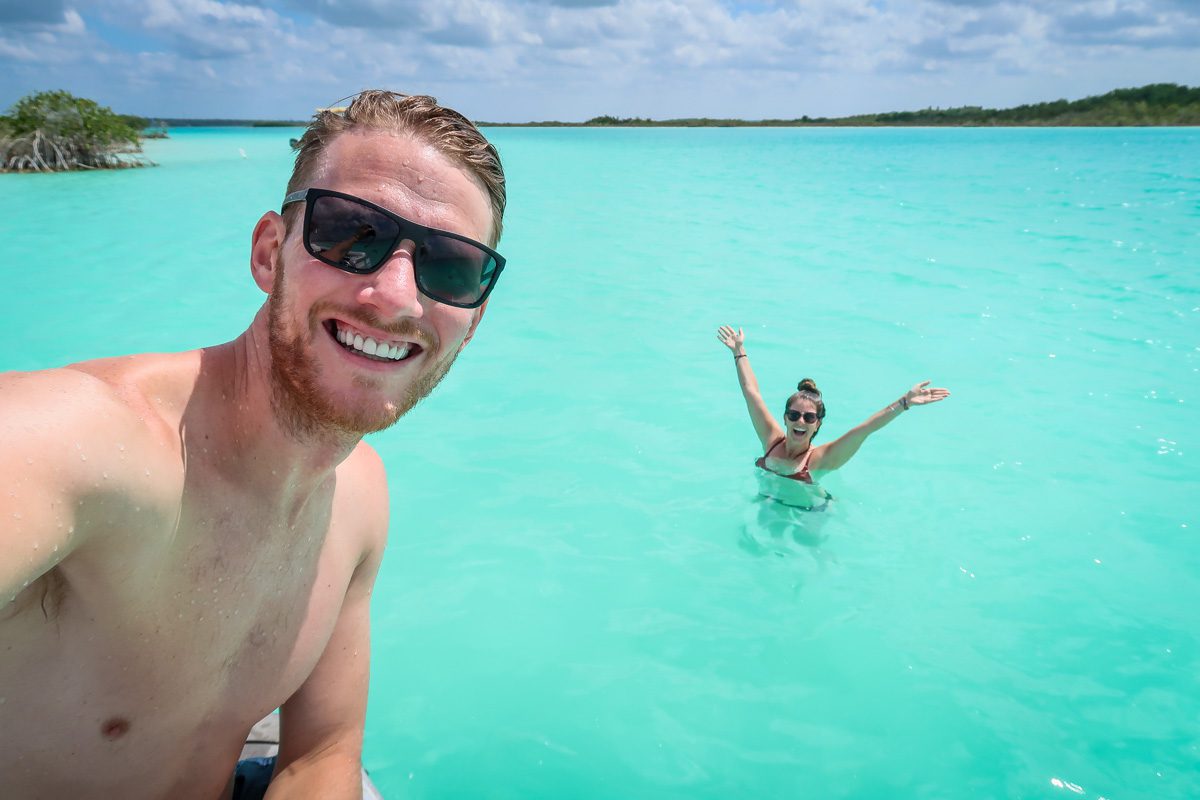 We anchored in a stunning area where there was only one other boat around. (And on board that other boat was a photographer for NatGeo, so you know it was a cool spot!)
The catamaran trip was more expensive than the regular boat, but overall, we preferred it.
We booked the sailing trip through our hotel in person (Hotel Aires), but you can also book a similar trip in advance. This sailing tour has the option to book a private tour or save money and join other travelers.
Which is better: Boat or Sailing?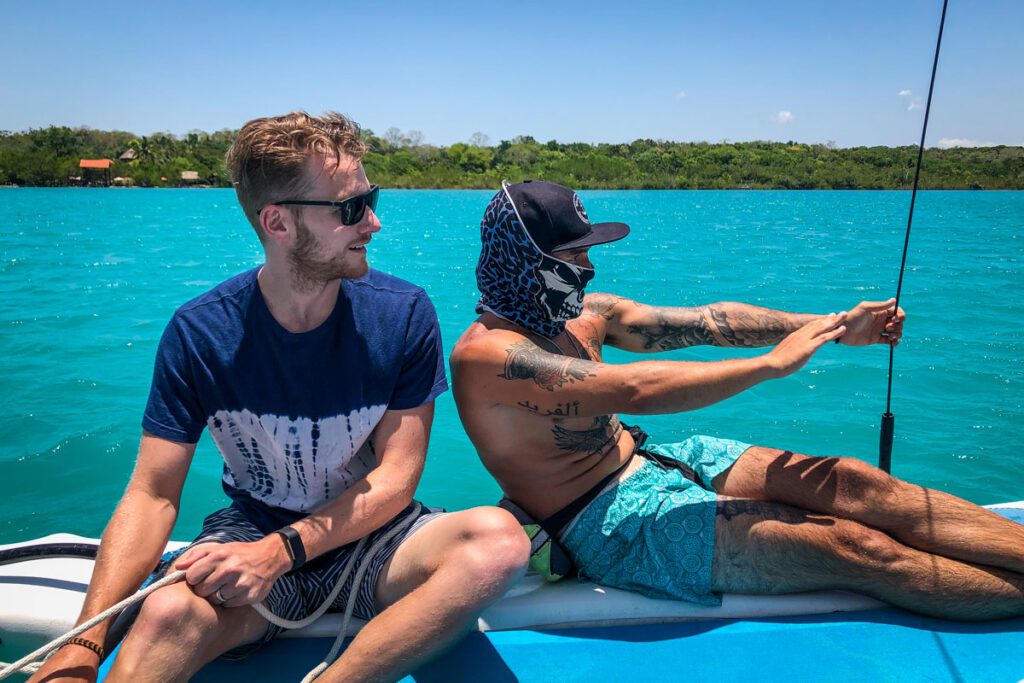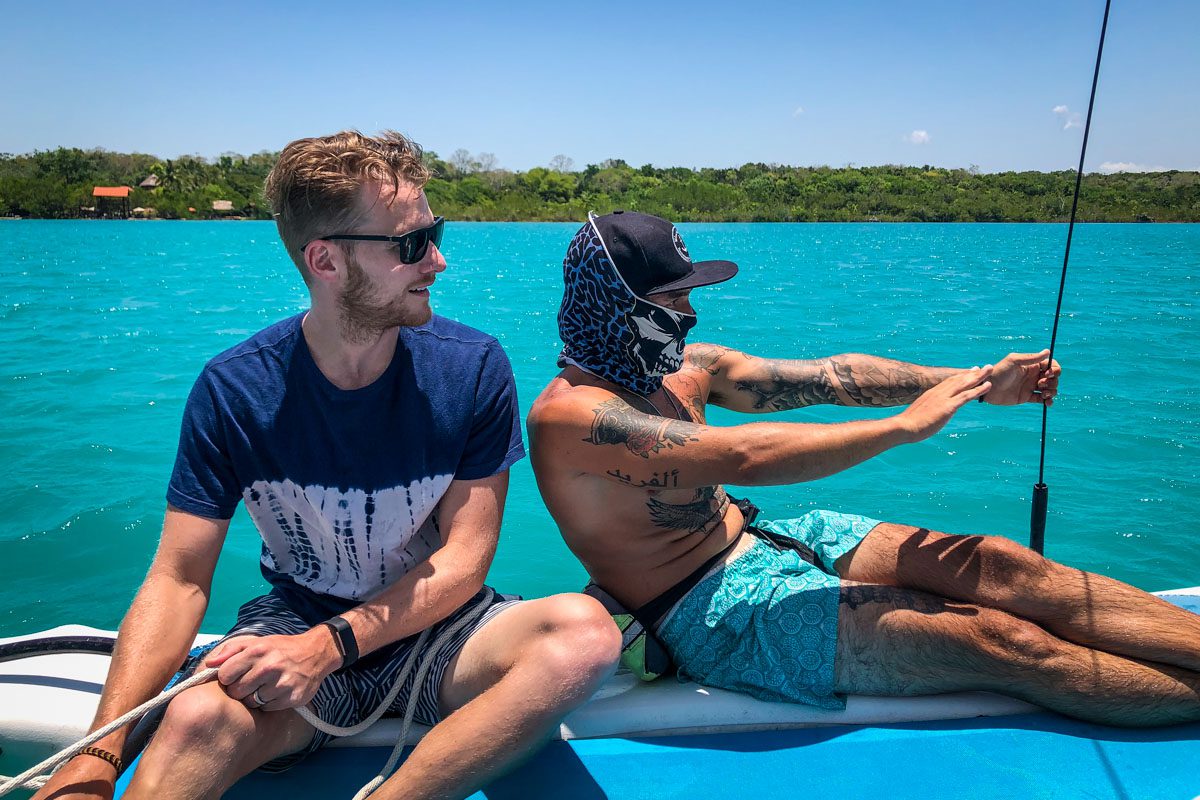 We did both the boat tour and a private catamaran trip, and both experiences were quite different.
The boat trip brought us to all of the "must-see" spots on the lagoon (Cenote Negro, Isla de los Pajaros, and Pirate's Canal), and it was a chance to mingle with other travelers.
The sailing trip on the other hand, was arguably more epic, bringing us to hidden spots and giving us the opportunity to try sailing ourselves.
(Some of the sailing trips go to the "main spots" too, but we were able to skip them because we had already seen them. Since we did a private tour, we were able to have it more personalized.)
If you just have time for one, we'd personally choose the sailing trip. But whichever you choose, just be sure to book a tour so you can see those fifty shades of blue for yourself!
3. Experience sunrise on a SUP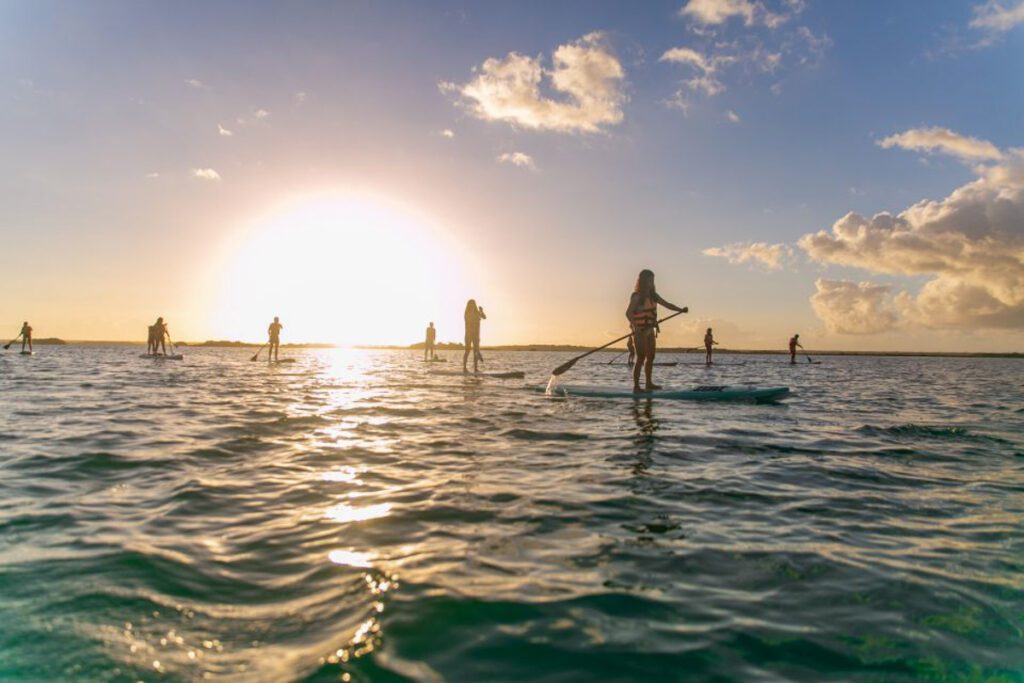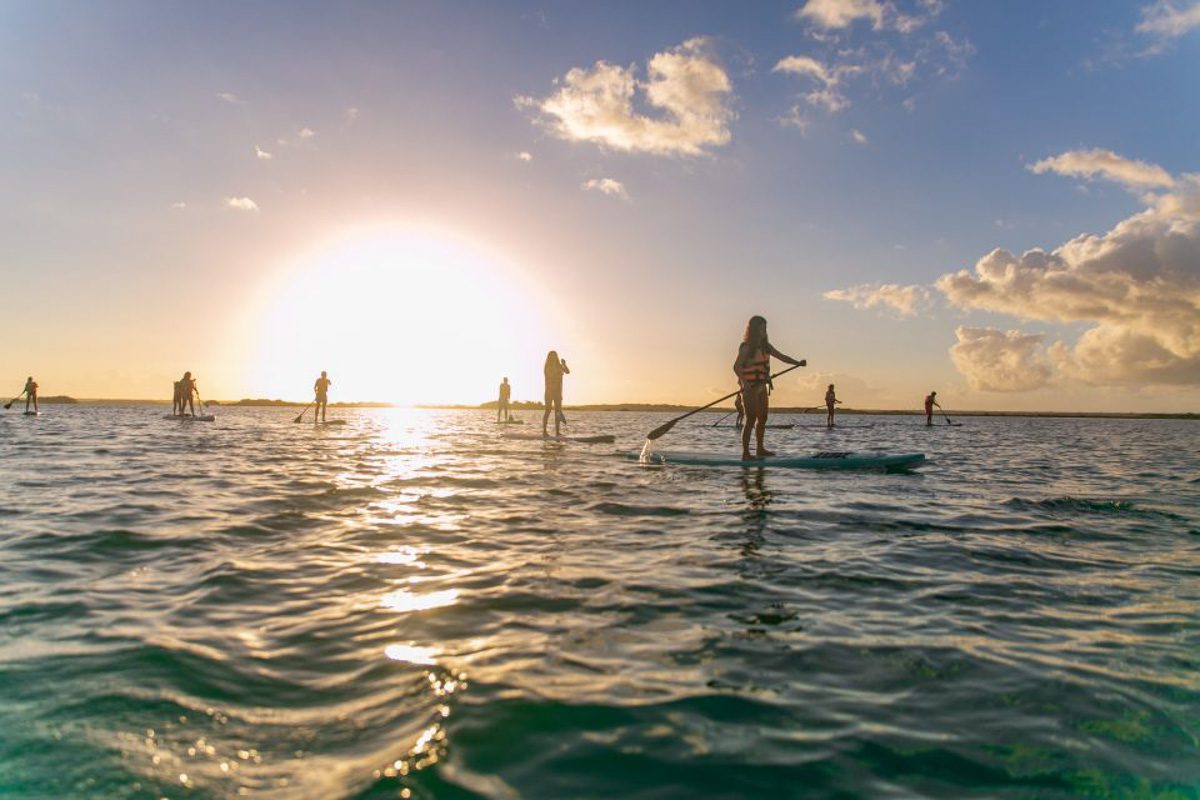 Watching the first morning rays illuminate Bacalar's islands, cenotes, and canals is one of the top experiences to have when you arrive.
This sunrise paddleboarding tour hits many of the best sites within Bacalar Lagoon: Lagoon of Seven Colors, Cenote Esmerelda, Cenote Cocalitos, Island of the Birds, and even places that cannot be reached by boat.
Within these hot spots, your paddle will glide through still water mirroring the sky, you'll enjoy a floating breakfast as the sun rises, and relax in the crystalline waters of the Mexican Carribean.
"Unreal experience and prime service! Everything was well organized from start to finish. The equipment is 'out of the box' custom paddles that glide beautifully thru the water. Adrian is a paddle wizard, he taught us some tricks to fully enjoy the experience. We enjoyed a very well presented picnic in front of an island with delicious fruit and cold drinks. Would recommend 10/10!!!" -September, 2022
4. Eat the best vegan burgers of your life at Mango y Chile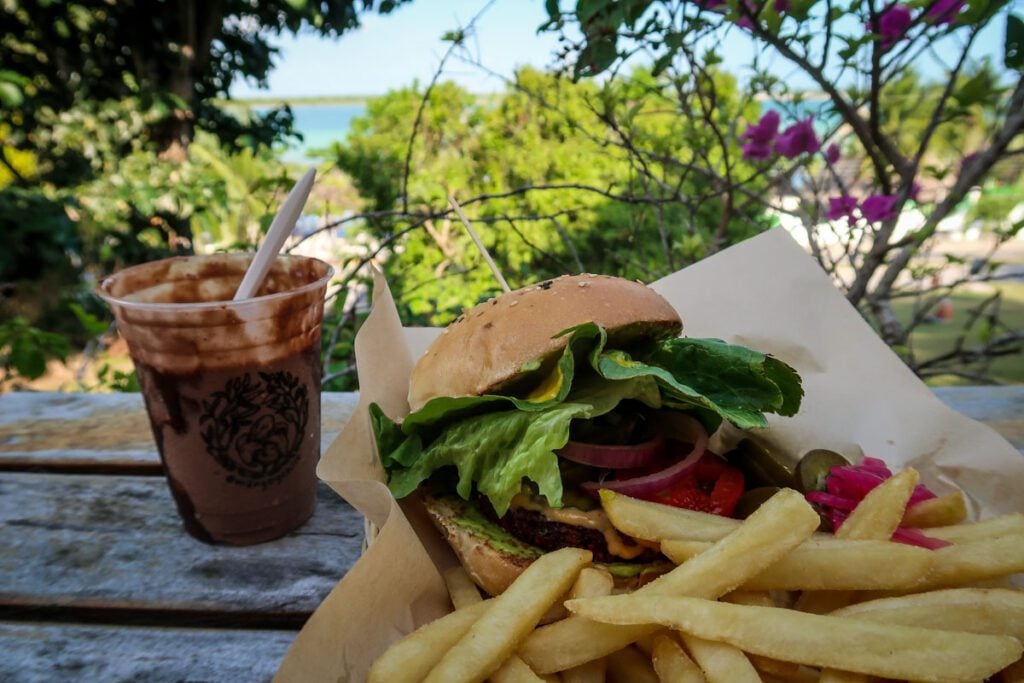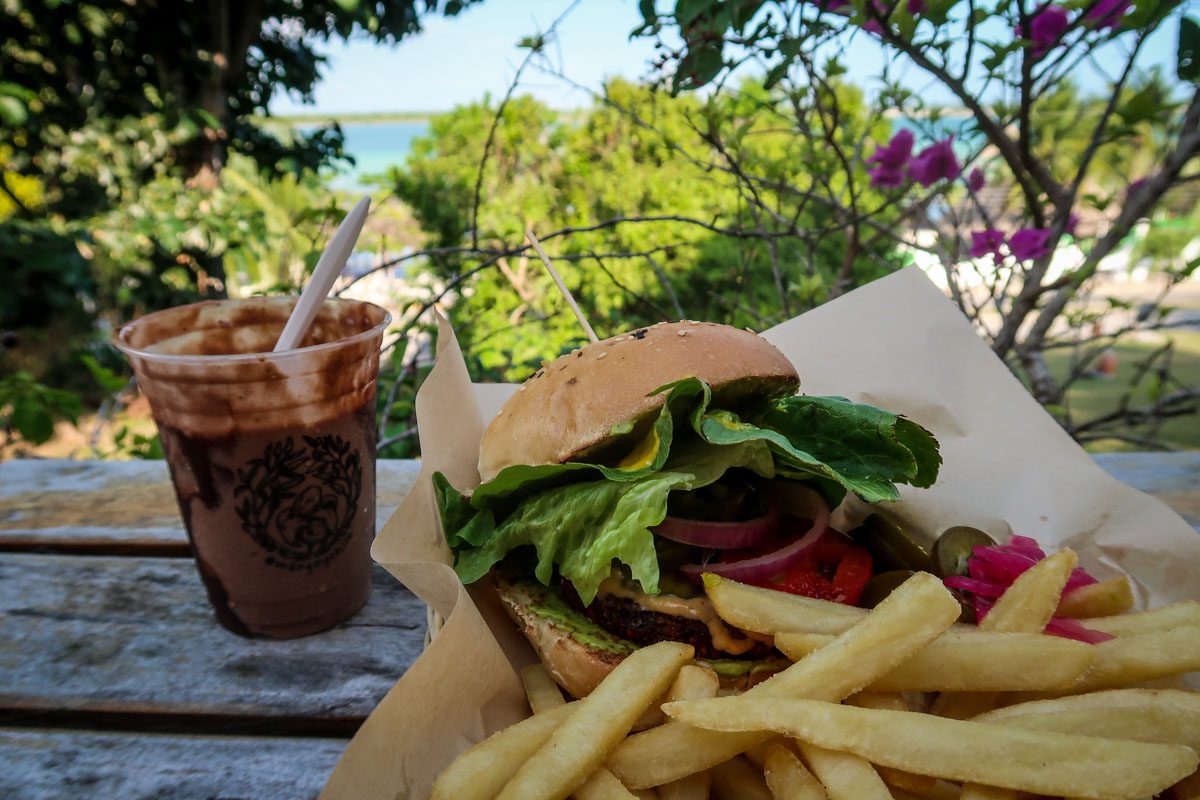 We aren't vegetarian but we do love a good veggie burger. So when we heard rave reviews about Mango y Chile, we knew we needed to make a stop here during our time in Bacalar.
Even though our expectations were high, we were not disappointed.
We ordered two different veggie burgers (which were probably the best we've ever had!) as well as fries and a (giant!) chocolate milkshake. All of which we enjoyed on their patio that overlooks the lagoon.
Oh em gee.
I still think about this place a lot. It was that good. Go ahead and put it on your Bacalar itinerary. You'll thank me later!
5. Jump into Cenote Azul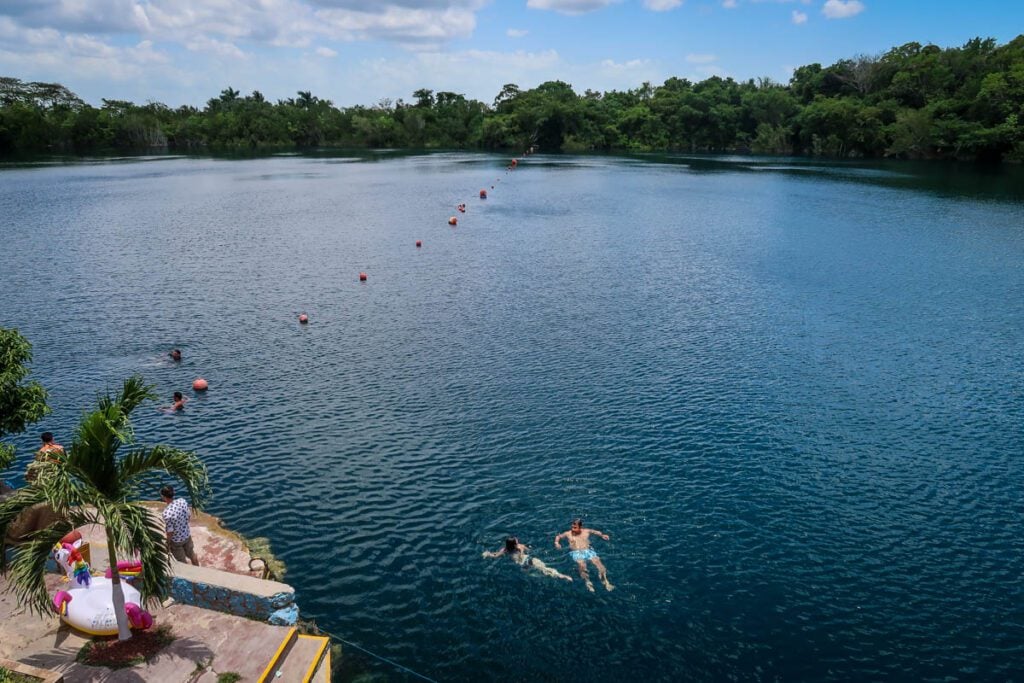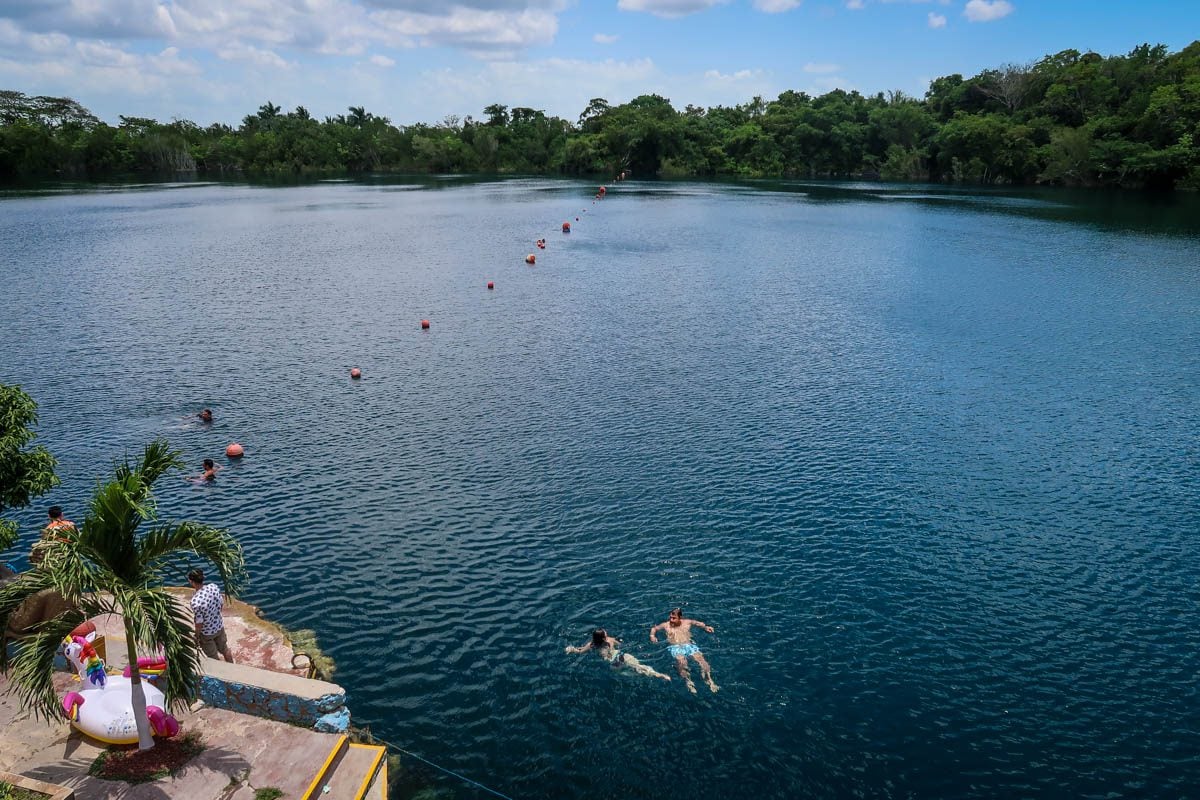 This cenote is nowhere near one of the most impressive cenotes in Mexico, but it makes for a refreshing (and uncrowded!) place to cool off in the water.
Unlike the cool cave cenotes, Cenote Azul is open air, meaning it looks almost like a regular lake. Unlike a lake, though, the waters in cenotes are incredibly clear.
So jump in and find out how deep you can see! (If you have a snorkel of your own, it's a good opportunity to use it.) You'll likely be able to see some small fish.
Cenote Azul Information
Entrance fee: 25 pesos per person; life jackets are available to rent for an additional fee
There is an onsite restaurant, but the food looked mediocre. Instead, we got locally-made paletas from their freezer by the entrance and wow, were they good! If you see those, definitely grab one.
There are restrooms where you can change into your swimsuit.
Good to know: There is another place called Cenote Azul that is not far from Playa del Carmen, which is a nice cenote to check out if you're in the area.
6. Go floating at Los Rapidos (with a word of warning)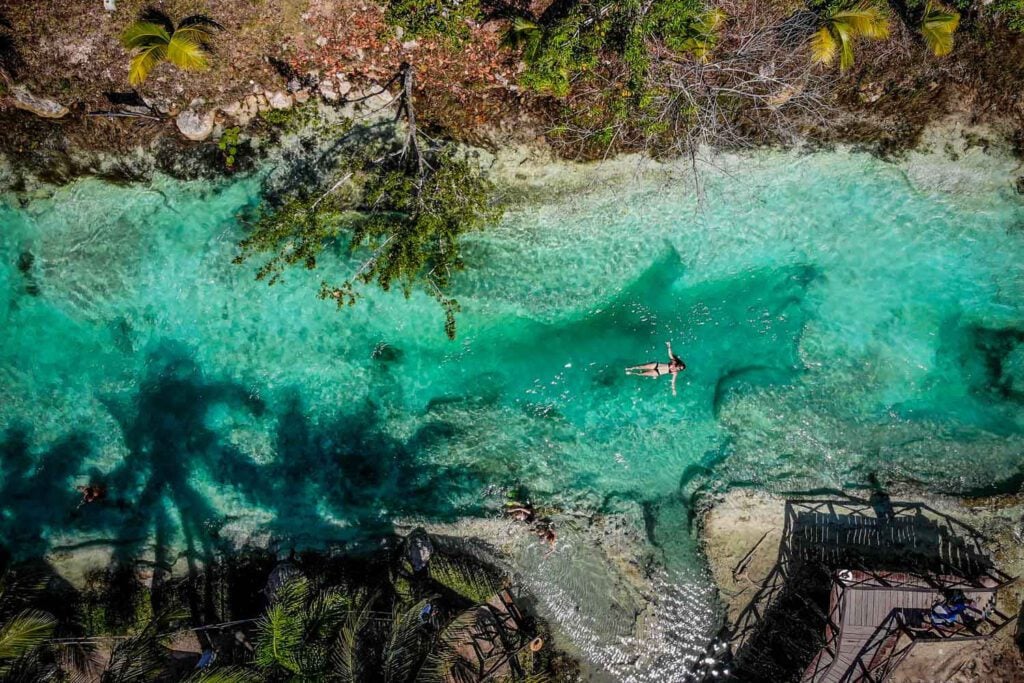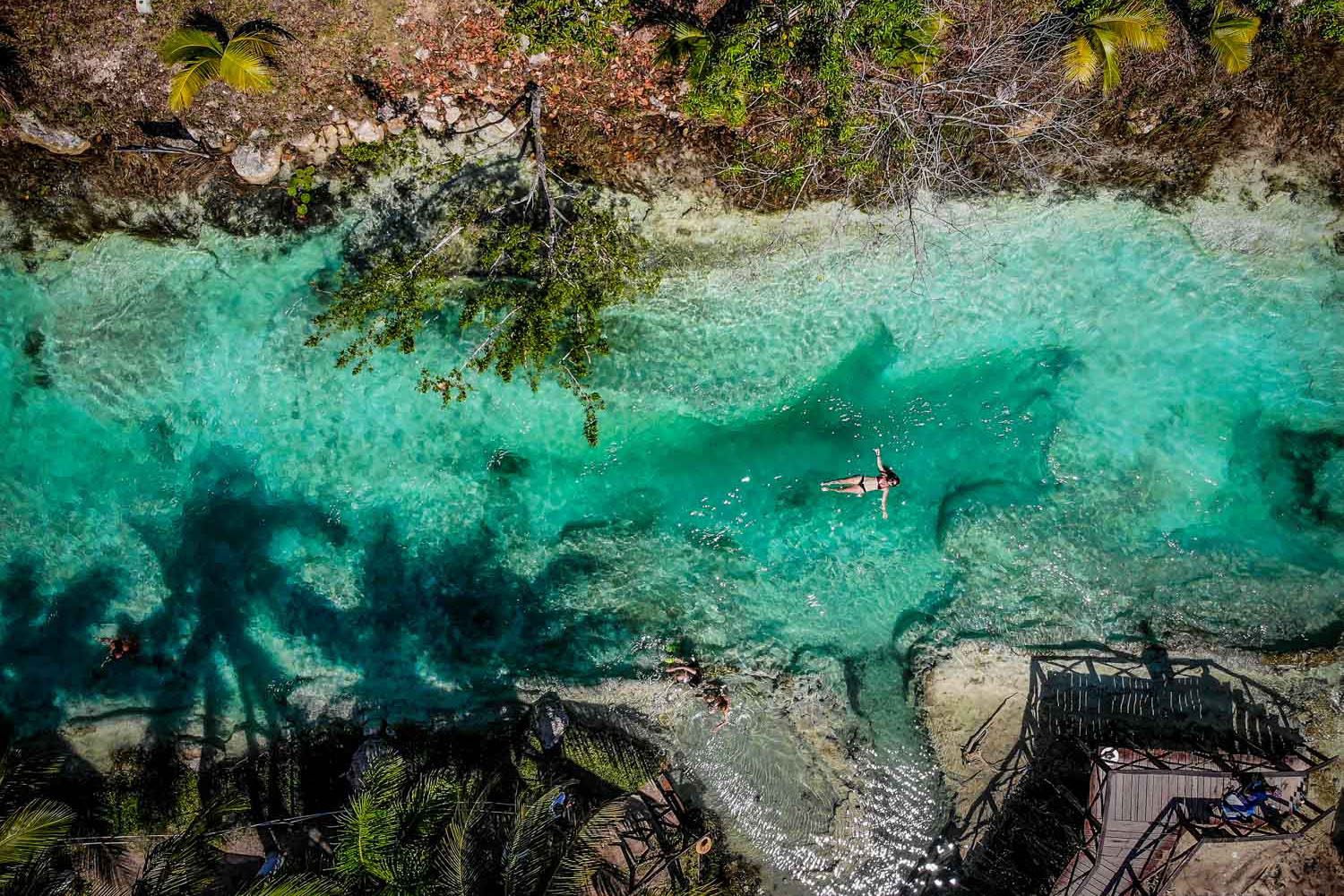 I hesitate a bit to put Los Rapidos on the list, which I'll explain in a moment.
But it is without a doubt one of the most popular places in Bacalar, and you'll definitely hear about it as you're researching what to do in Bacalar.
So instead of leaving it off the list altogether, I'll go over why you might want to be cautious about adding Los Rapidos to your Bacalar itinerary…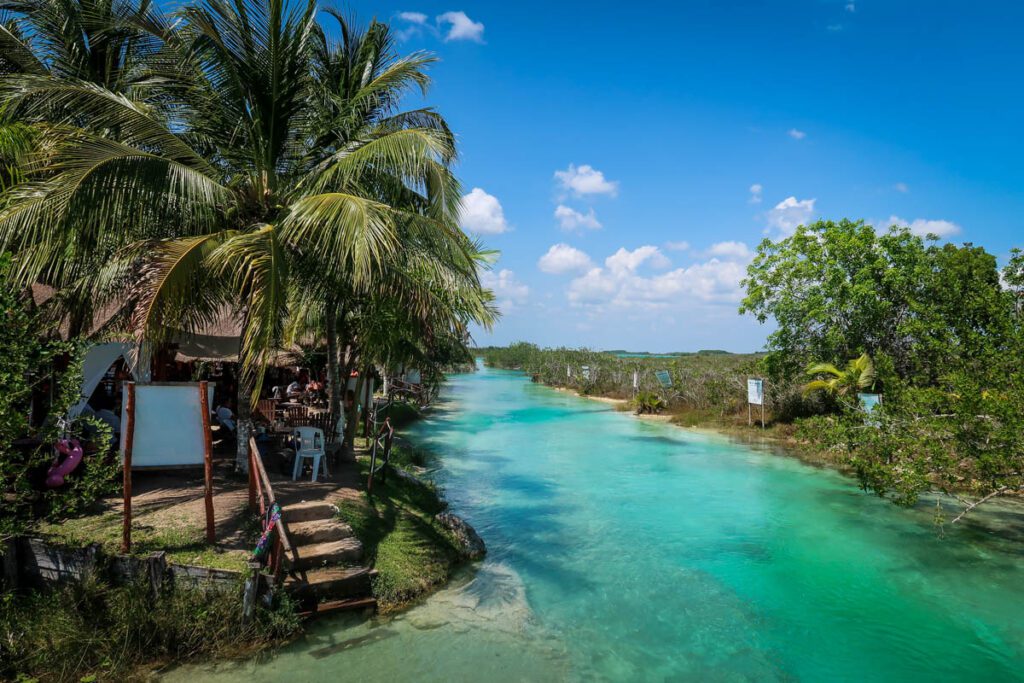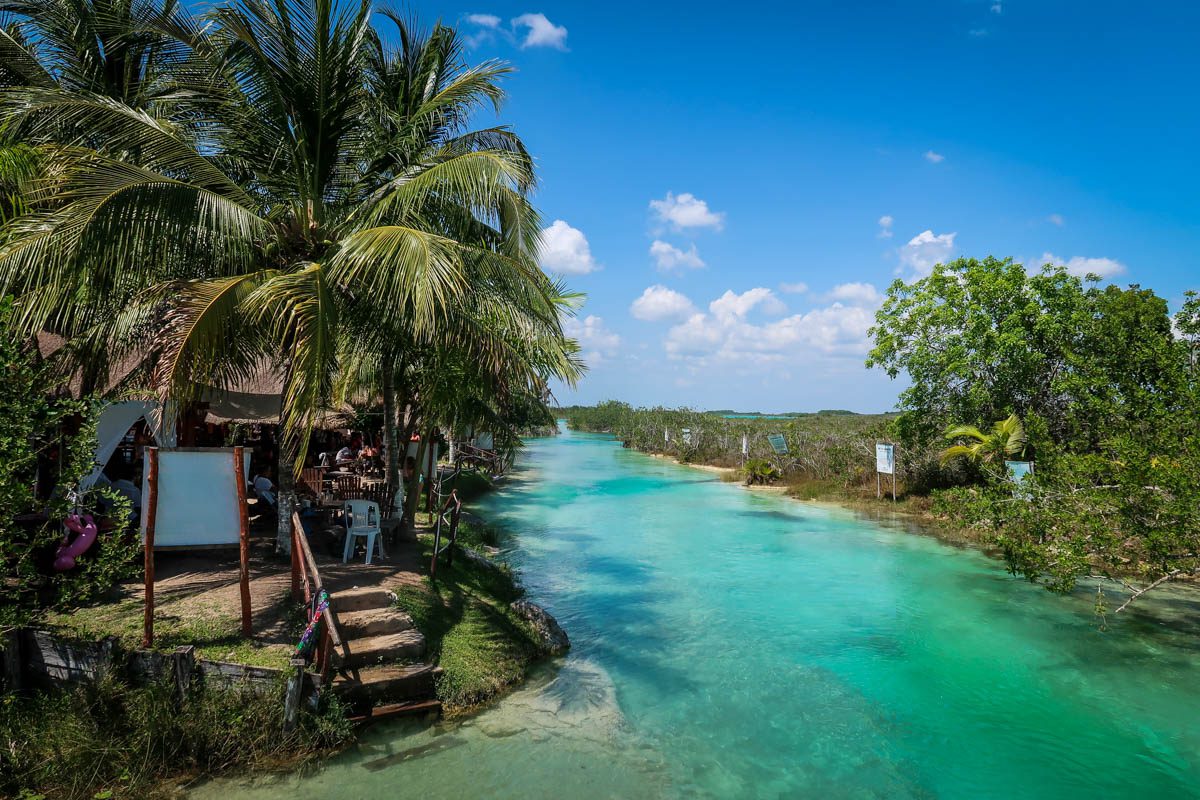 First of all, this restaurant/bar/entertainment area has an incredible location. It is situated in a narrow canal at the southern end of Bacalar Lagoon where the waters run different shades of blue and there are — you guessed it — rapids!
While very tame by rapids standards, this is about the only place in the Bacalar Lagoon where you'll find a current.
Located a 15-minute-drive south of town, you can easily get here by self-driving or by taking a taxi. Entry to Los Rapids is 300 pesos ($16) per person, and includes a life jacket rental.
You can spend the day eating (mediocre) food and drinking (decent) margaritas in the shaded, jungly waterside venue. But the real draw is getting in the water and floating down the rapids.
They have kayaks for rent, but you can also just get in the water, lie on your back and float down the narrow passageway. It's pretty dang fun, if I do say so myself!
Los Rapids Controversy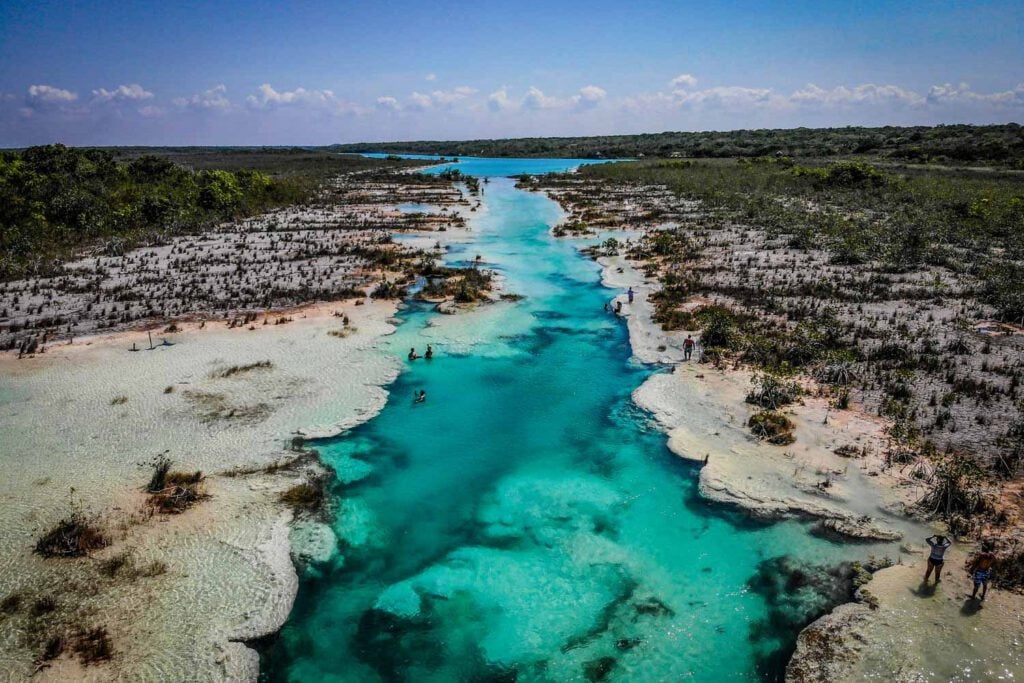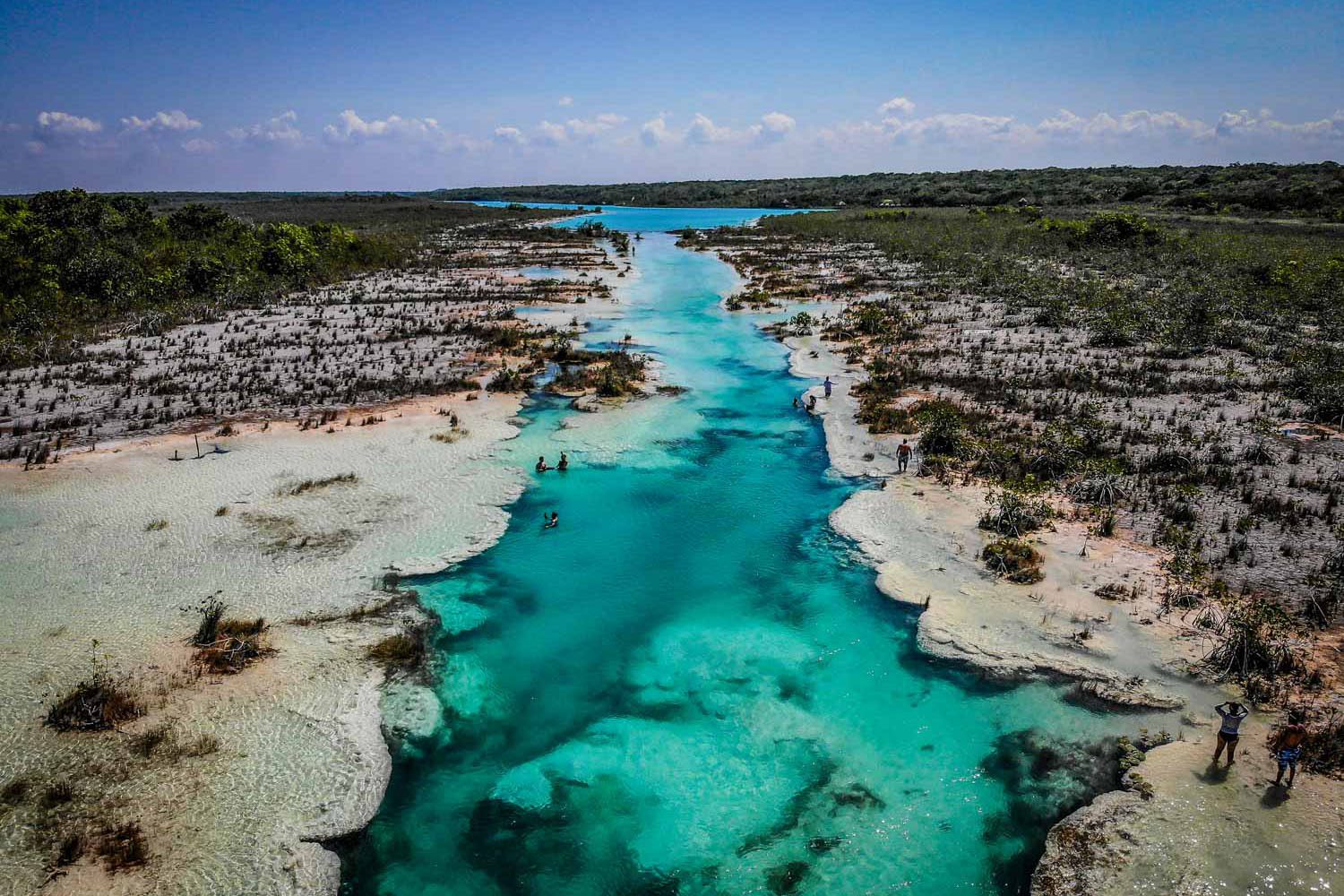 Now here's where I hesitate… The section of water that Los Rapids is located on is lined by stromatolites (aka living fossils that are billions of years old).
Touching or stepping on these ancient fossils causes irreparable damage. There are signs that clearly say "do not touch the stromatolites" in English and Spanish, along with pictures.
But people deliberately ignore these signs, and we didn't see the staff doing anything about it.
There is a lot of room for improvement at Los Rapids: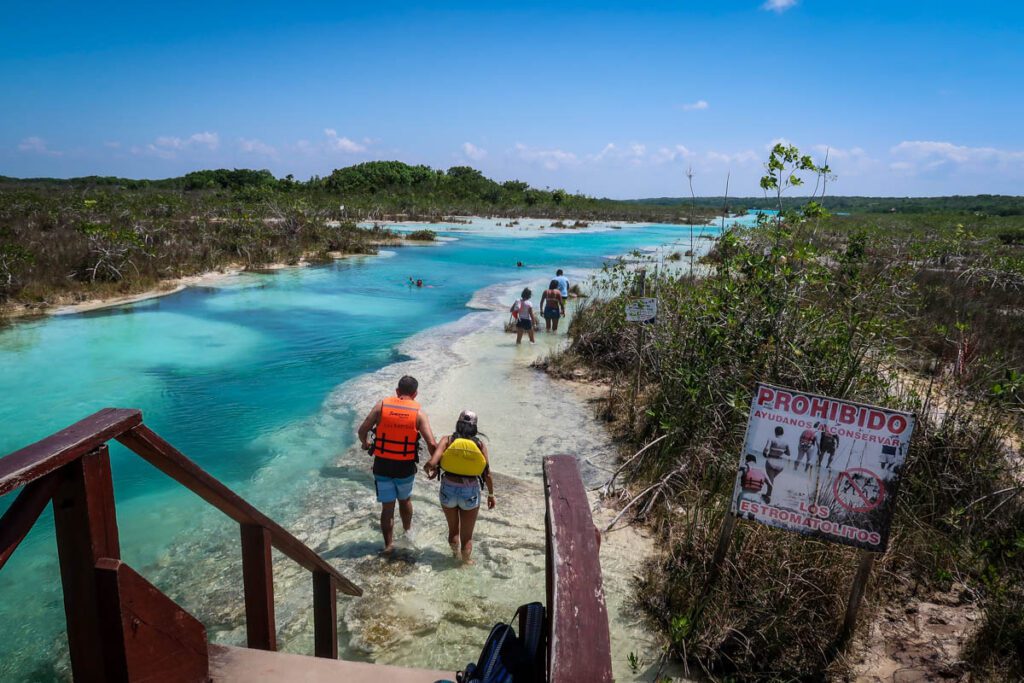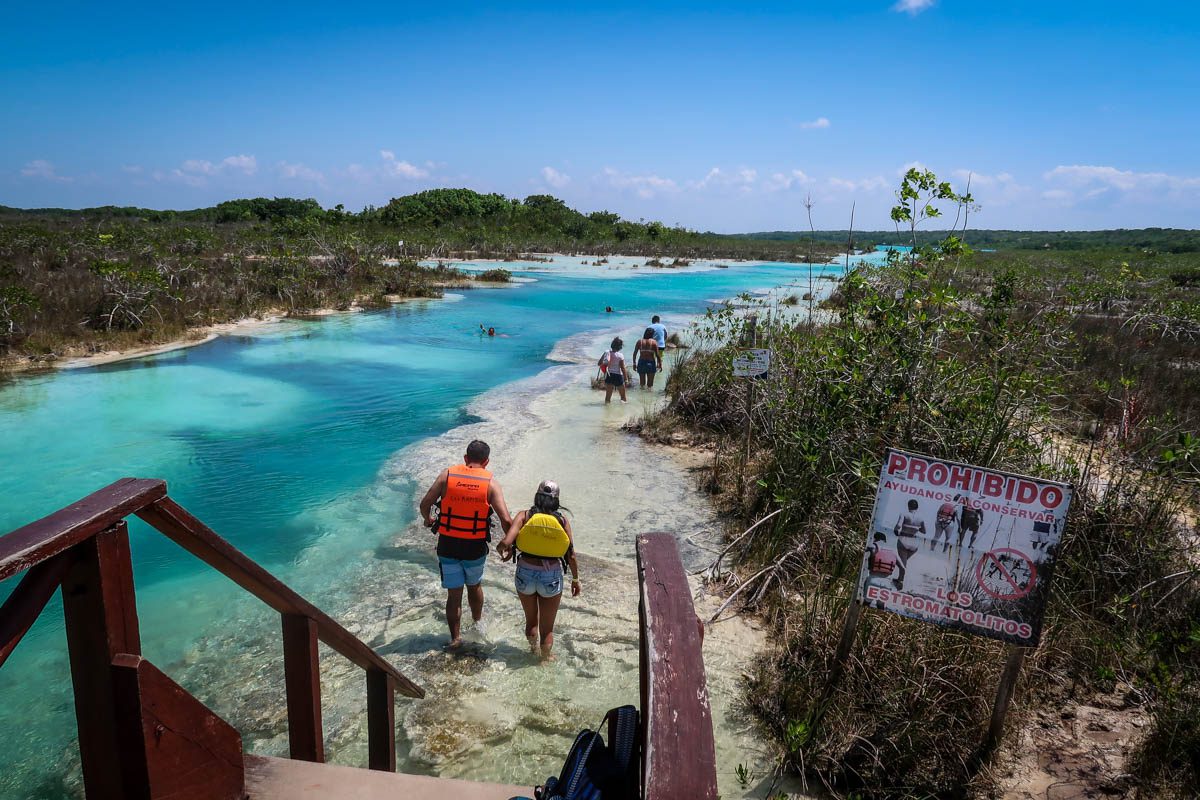 Restricting access to certain areas. There are some areas that should (in my opinion) definitely be roped off because there is just no way to access the water without stepping on the stromatolites.
More signs and educational material about why this lagoon is special and how to protect stromatolites.
Staff that enforce the rules. If they can enforce rules about drinking they can enforce rules about protecting billion-year-old fossils.
So this is my struggle — floating at Los Rapidos was definitely a highlight of Bacalar for me, but it's hard to promote a business that could be doing a lot more to protect this very special piece of land.
Alternative to Los Rapidos:
If you'd prefer not to support them with your money, here are two alternatives to Los Rapidos:
Sac-Ha: This restaurant is situated on the water's edge just north of where the rapids are. Here, you can rent kayaks and get out on the water. Plus, the entry fee is cheaper (40 pesos, or 100 pesos for a covered table), and it's much less touristy than its neighbor.
La Playita: This lagoon-side restaurant has better food and drinks, and is also located on the water (right in town, I might add!). While there are no nearby rapids, it's still a fun place to hang out on the water during the day!
7. Shop for artisan handicrafts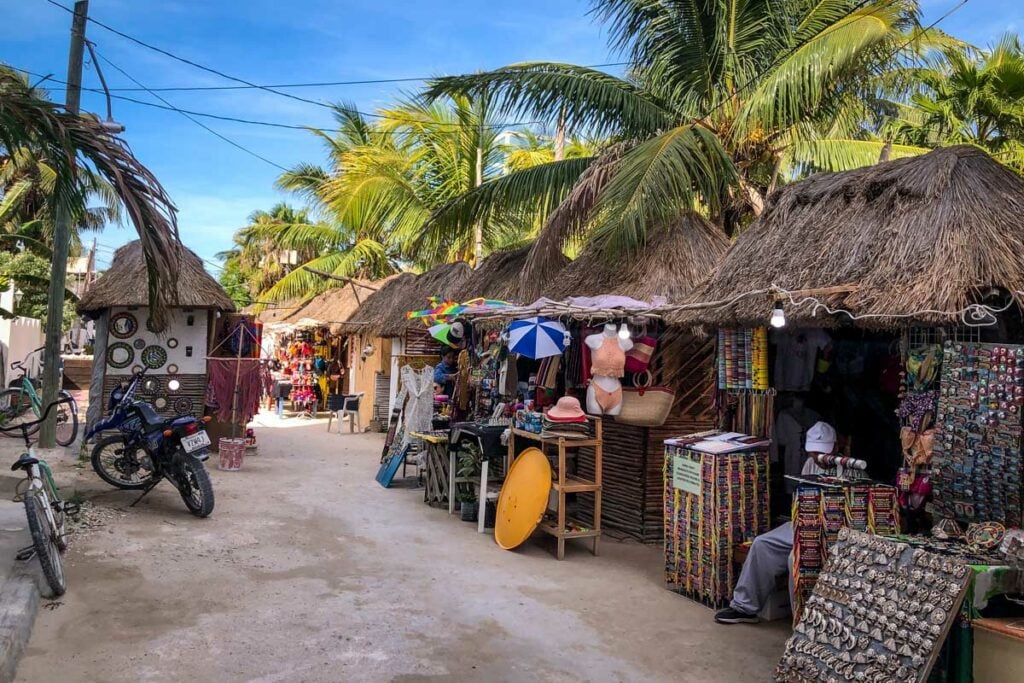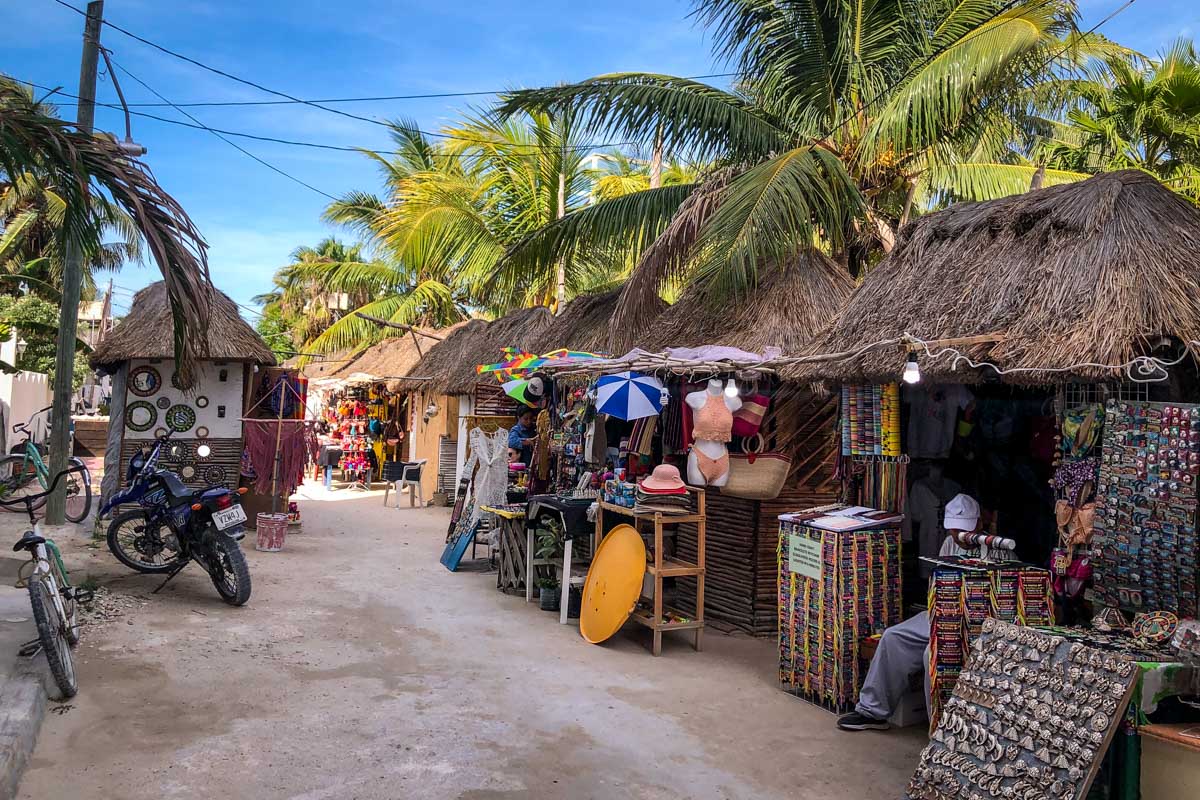 If you're looking for souvenirs to bring home, pop into any of the little shops lining the zocalo (town square).
You'll find all sorts of different handicrafts, made by local artisans. I bought a pair of hand-painted earrings made from coconut shells. There were also dreamcatchers, paintings, wood carvings and lots more.
Pop in any shop you see, but here are a few ideas:
8. Get a glimpse of history at Fuerte de San Felipe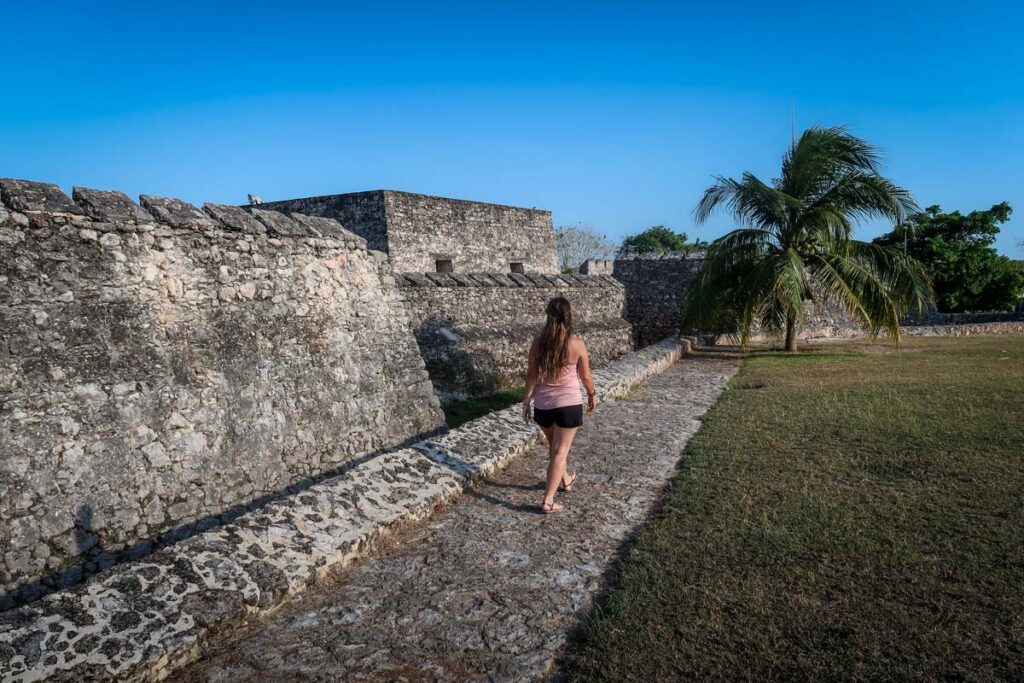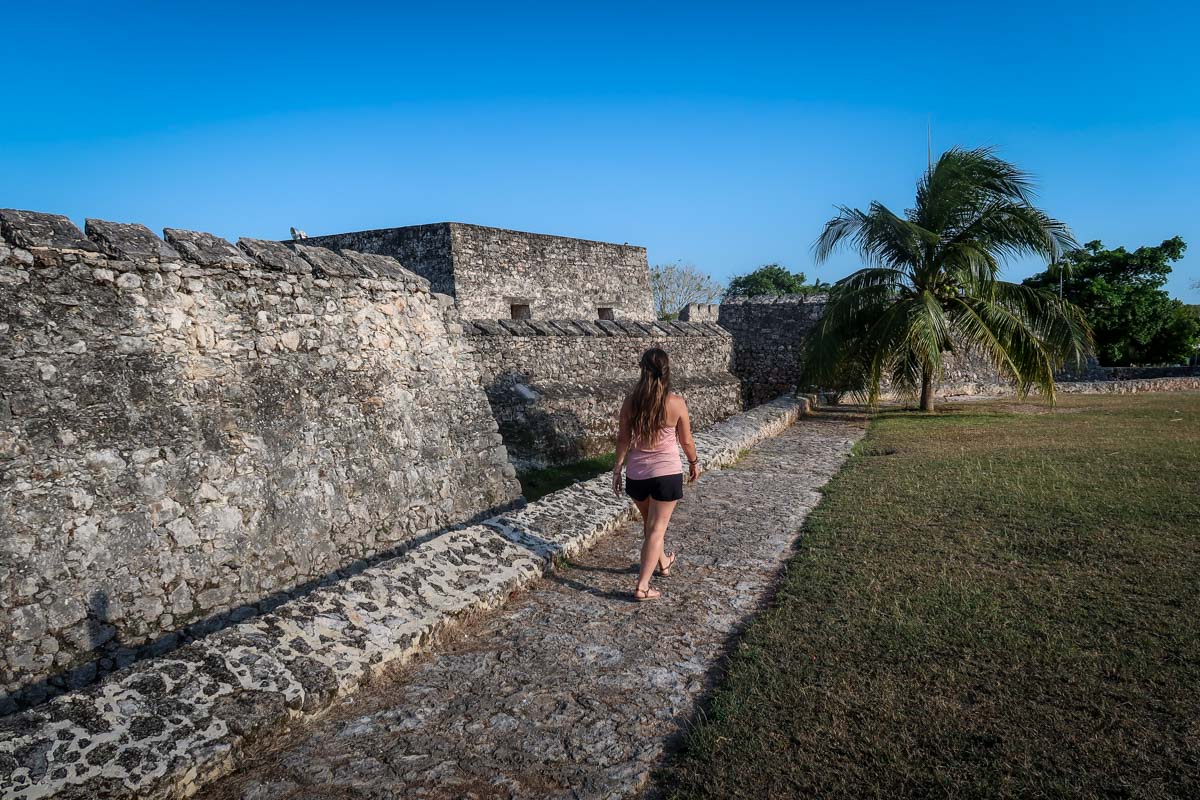 Built to protect the town from Pirates on the Caribbean (sounds like a movie, doesn't it!?), the Fort of San Felipe is perched at the edge of town and overlooks the lagoon.
It is the most iconic and historic structure in town.
There is a small museum inside and you can visit or you can simply admire it from the outside.
Fuerte de San Felipe Important Info:
Closed Mondays
Cost: 110 pesos for foreigners ($6)
9. Spend the day at the coolest dockside restaurant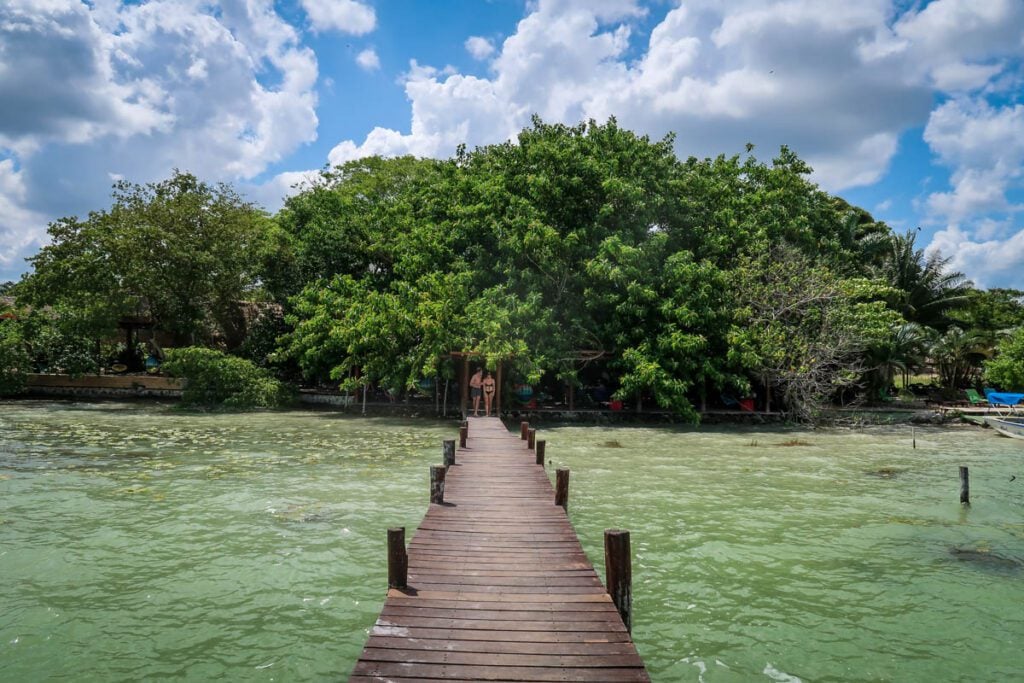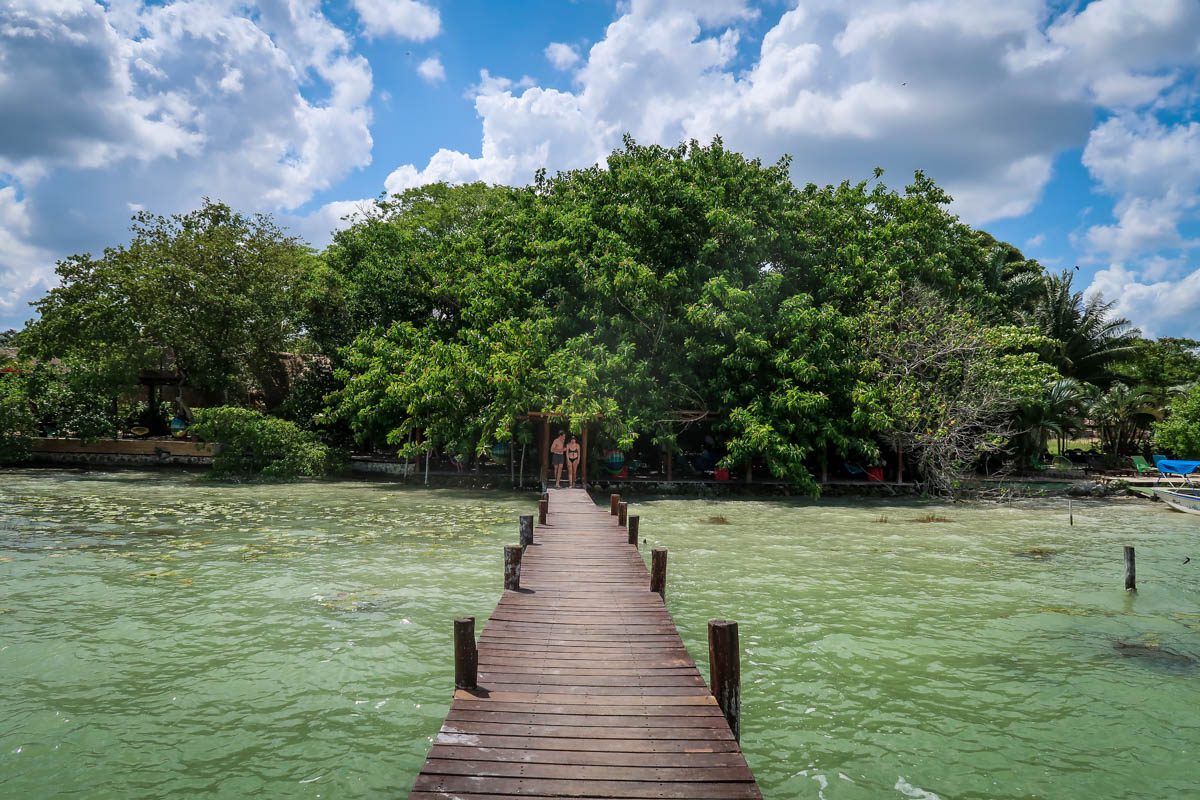 La Playita is situated at the edge of the lagoon, and it's so much more than just a restaurant.
Sure, you can order cocktails, ceviche and fish tacos (all of which are great, by the way!), but you can also jump off the dock and go swimming, or rent a SUP or kayak.
You can also kick back in a hammock surrounded by jungle trees with a book and a spicy margarita.
This is a place you'll want to stay a while and watch the world go by.
10. Get pampered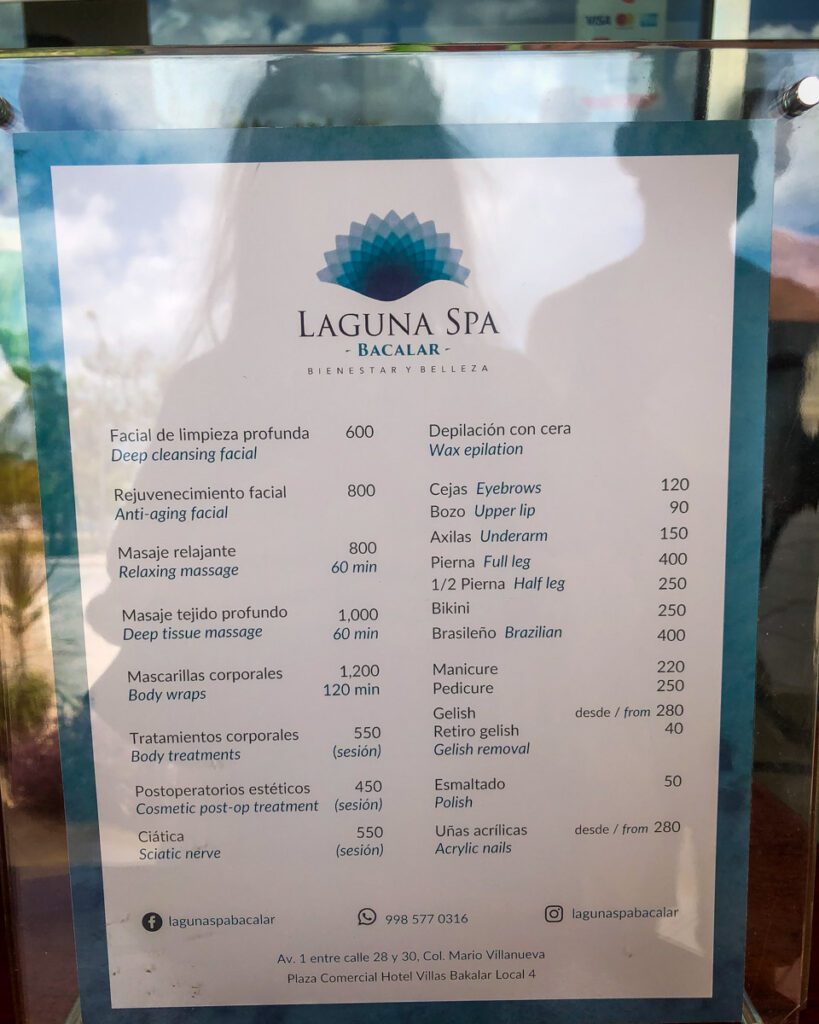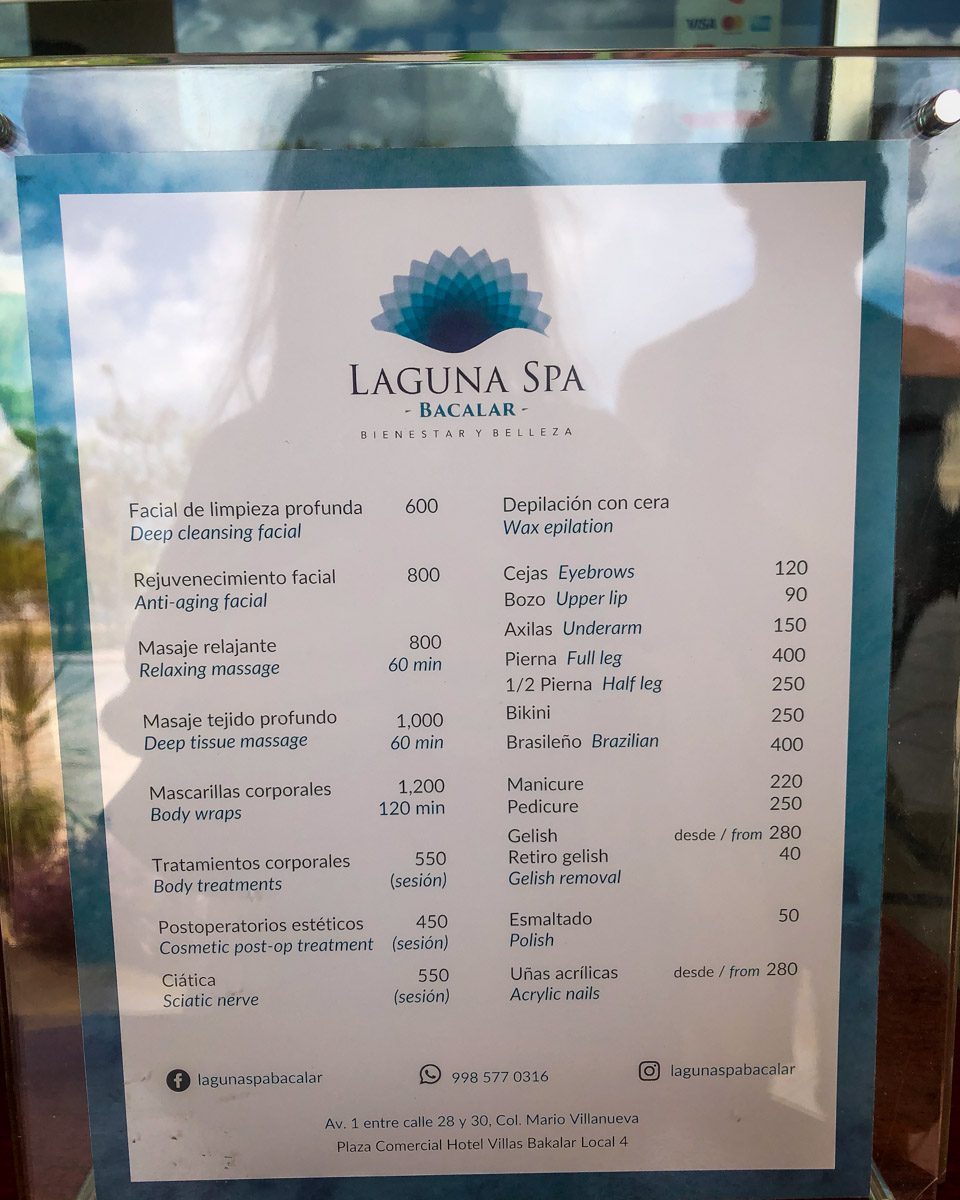 Bacalar is a nice place to slow down and pamper yourself a bit.
Some hotels in Bacalar offer in-room massages, but if yours doesn't, we can personally recommend Laguna SPA. We got massages and I got a pedicure there, all of which was fantastic.
Insider Tip: If you're hungry afterwards, stop by neighboring Madre Masa for pastries or (amazing!) sandwiches, or Bote de Leche for more of a sit-down meal.
11. Cenote Cocalitos
The captivating waters of this cenote are one of the main draws when visiting Bacalar, and one of the main inspirations for the town's infamous nickname, the 'Maldives of Mexico'.
More famously, Cenote Cocalitos is one of few places in the world where you can see stromatolites, stone-like formations created by bacteria.
These phenomena are some of the oldest living things in the world and can only be viewed in a handful of locations around the world.
Cenote Cocalitos Information
Entrance fee: 50 pesos ($2.50)
Small boat tours are available for 1500-2500 pesos for 2 hours.
Available rentals: plastic chairs, kayaks, and snorkel gear.
Important: Do NOT touch the stromatolites, as this can damage these billion-year-old fossils.
12. Have a nice dinner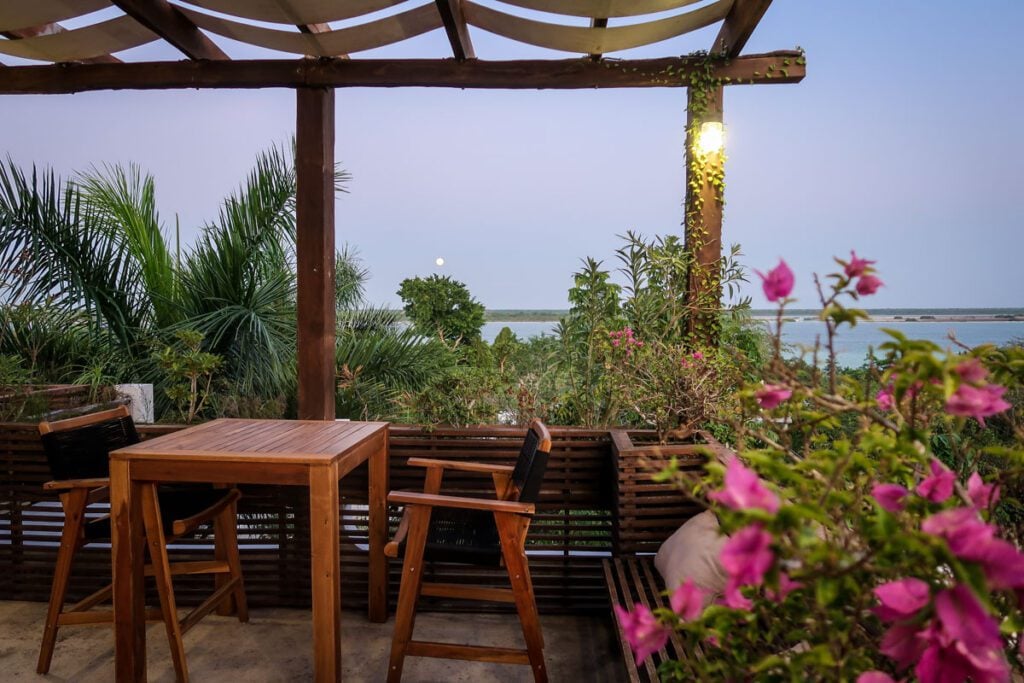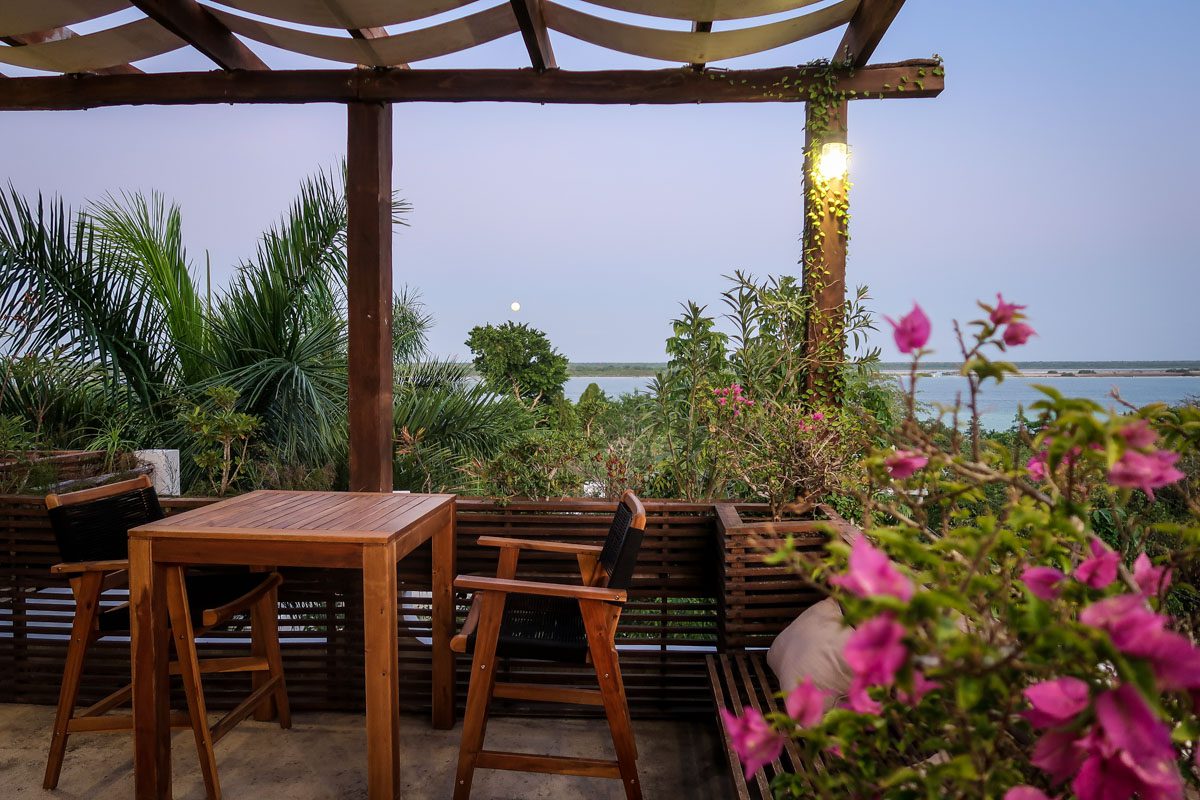 For a small, sleepy-ish town, Bacalar has a surprisingly good restaurant scene.
You'll find the ubiquitous taco stands and local eateries, but on the main drag, there's also an ever-growing number of trendy restaurants catered toward travelers.
You'll find everything from inventive twists on street tacos to sushi to gourmet burgers. Let's just say that whatever you're craving, you'll be able to find it in Bacalar.
Here are some of our top recommendations for a nicer dinner in Bacalar:
13. Sample artisanal mezcals & learn how they're made
Experience the essence of Mexico with five different mezcal tastings crafted by local women from Oaxaca, Durango, and Puebla.
Enjoy anything from the a la carte Japanese-Mexican fusion menu as you listen to detailed stories, facts about the region of each tasting, as well as the agave and cooking processes.
This Women Produced Artisanal Mezcal Tasting is hosted by Oscar, an expert 'Mezcalier'
(mezcal expert) with over seven years worth of journeys and passion with this spirit.
"I loved this experience with Oscar. Even though I've done a handful of mezcal tastings and know quite a bit about its magic, Oscar still taught me new things and I loved that he focuses on women-owned mezcal, offering a rich cultural background to each sip we took. If you're considering doing this experience, I highly recommend it! My boyfriend and I had a blast and it felt like we were enjoying a night out with friends." – Ana Paula, September 2022
14. Walk around the Zocalo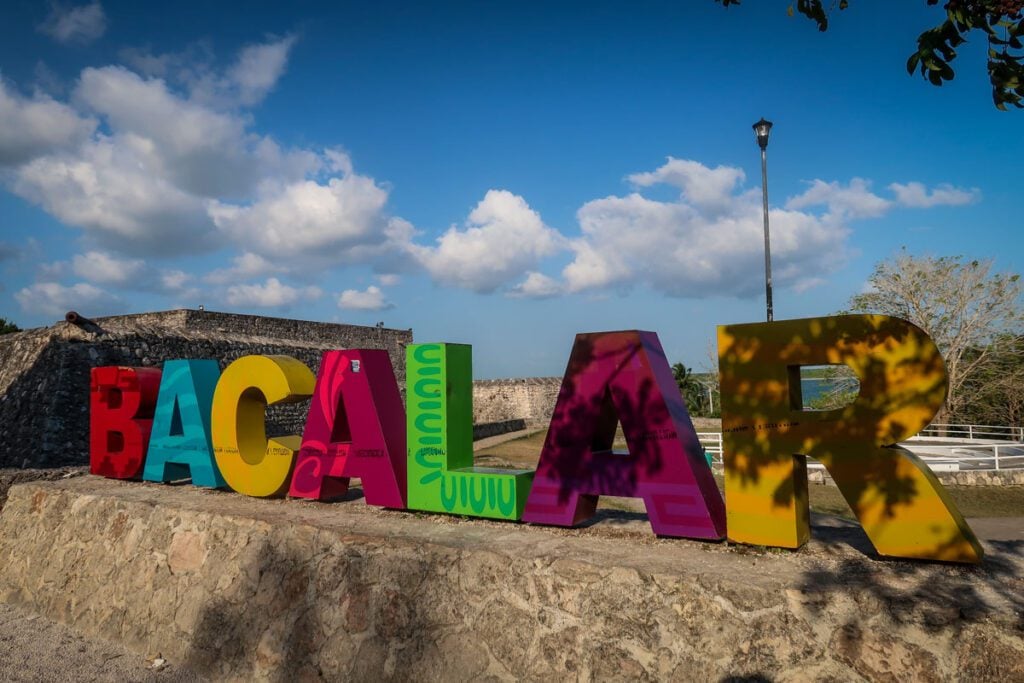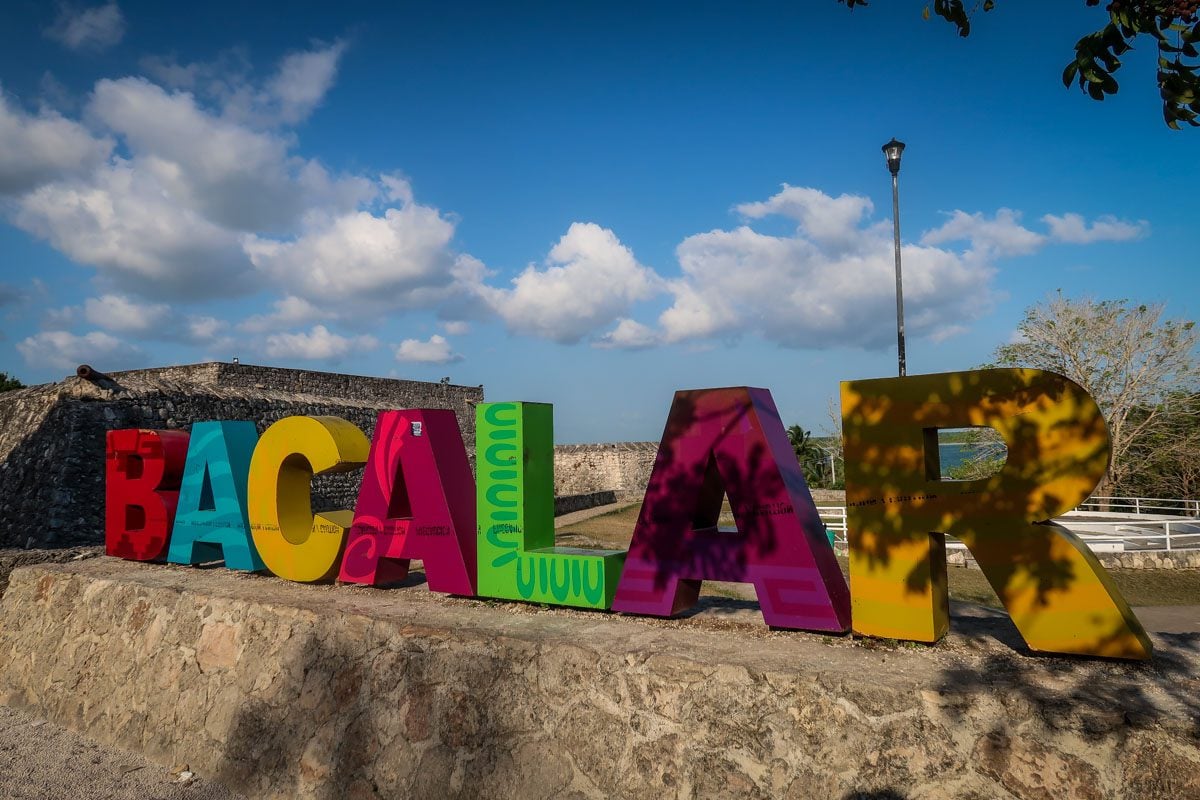 The zocalo, or center square, is a good place to wander in any Mexican town.
This is where locals gather and vendors sell cheap street food, like chili-dusted mangos, marquesitas and elote.
15. Get away from it all in Buenavista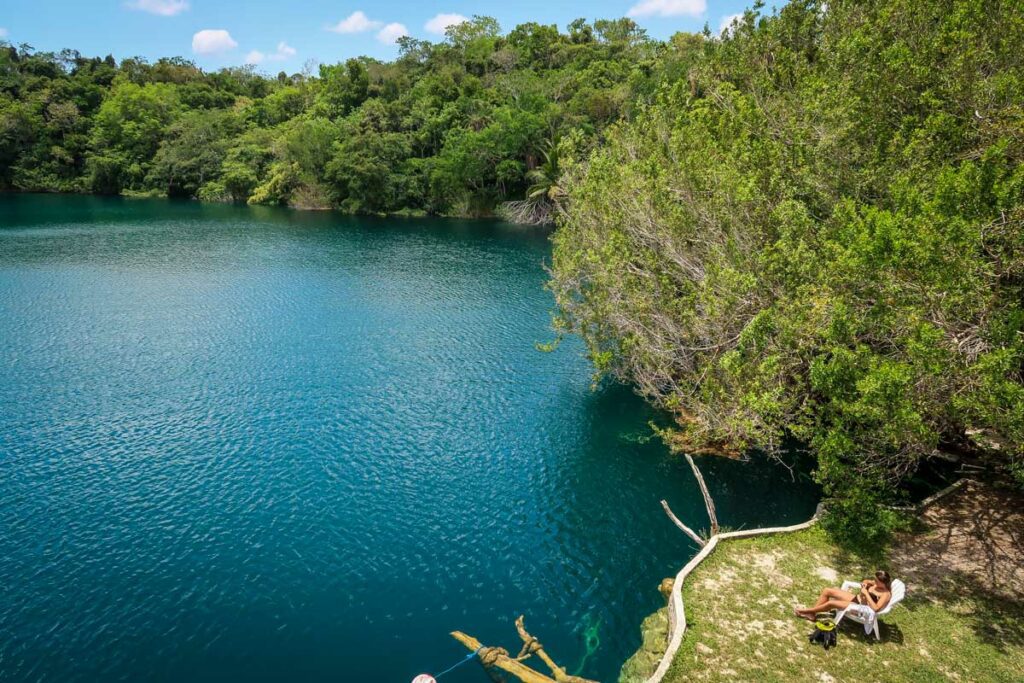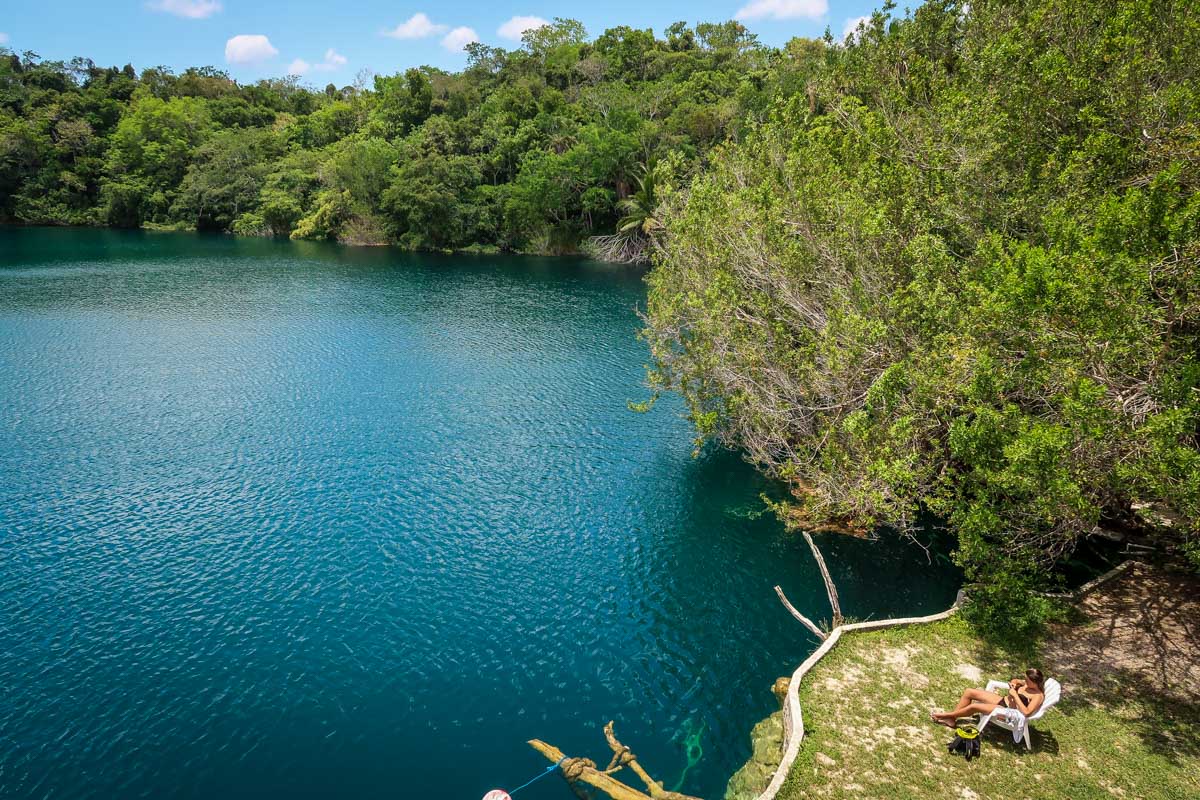 The town of Bacalar is not big, but if you're looking for something even smaller and more off the typical tourist path, we've got a suggestion…
Just a 20-minute drive will bring you to the tiny village of Buenavista, which sits on the north end of the lagoon.
There are a handful of hotels and restaurants, but it is on a much smaller scale than Bacalar, and has even sleepier vibes which might be just what you're looking for.
Psst! If you're looking for a dreamy place to stay, the Bohemian cabin vibes of Kapok Hotel makes us want to book a return trip asap!
16. Shop where the locals do at the Bacalar mercado
Local life in town wakes up as the small stalls in Bacalar Mercado begin selling goods for the day.
This tiny market sells fresh produce and local cuisine in a warm atmosphere.
17. Meet Mayan Honey Bees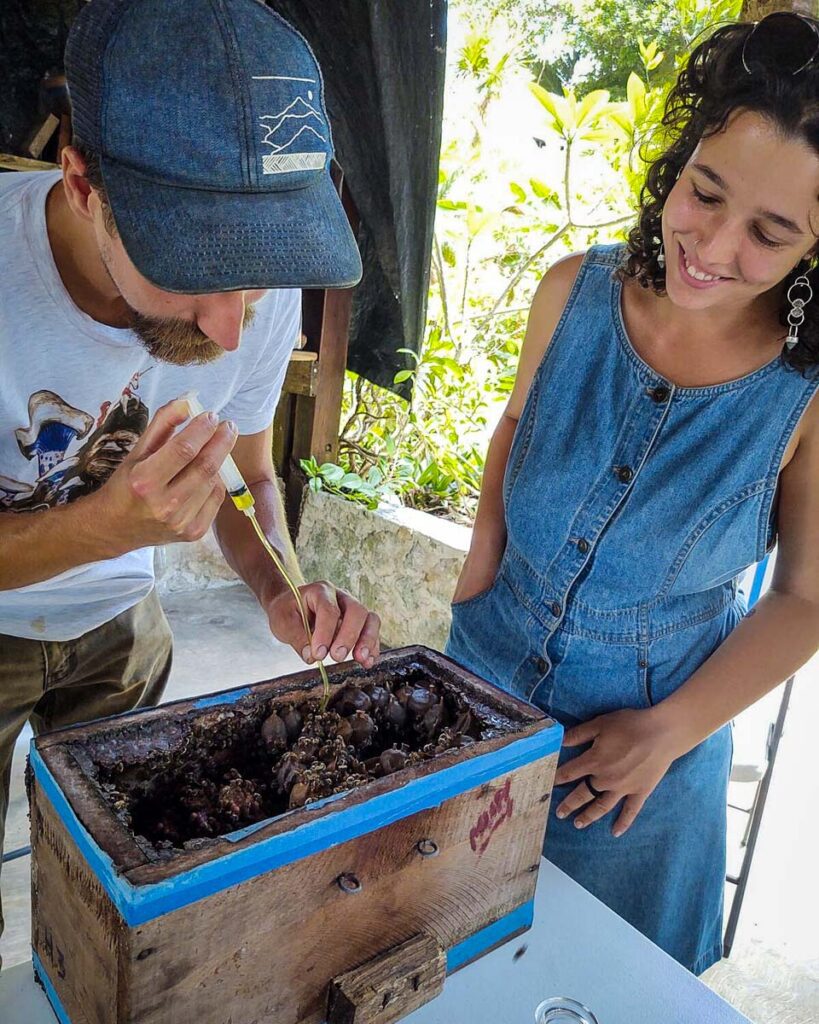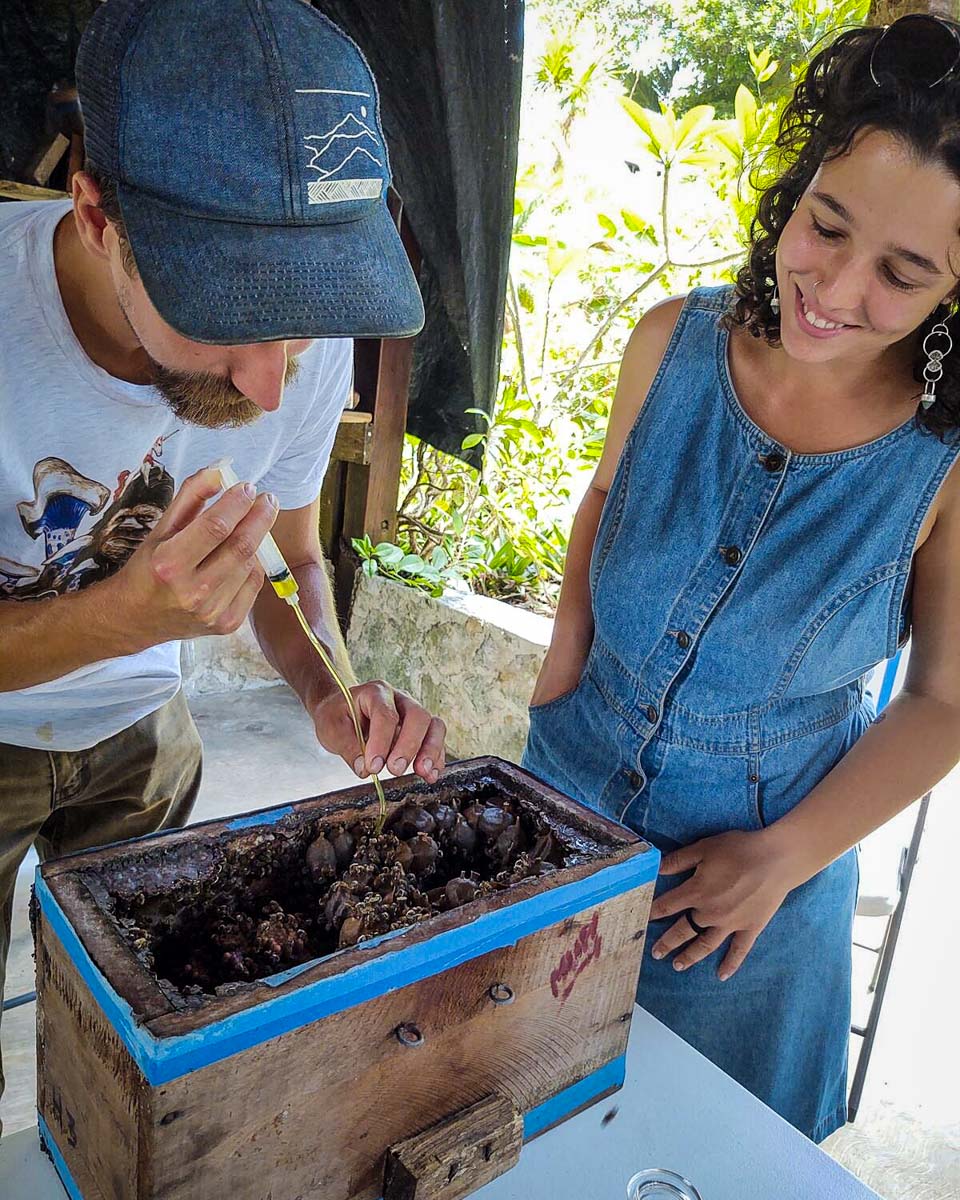 Believe it or not, bees have a long history within Mayan communities as they've been a source of medicinal properties for centuries.
Join this tour on the edge of Xul-Ha lagoon, where you'll learn about the origin of beekeeping in Mayan culture, interact with the bee hives, and have the opportunity to taste the sacred drink of the Mayas, Honey Hydromel Mead.
Good to know: The Meliponini Bees (Stingless Bees) do not have stingers and are very social, so you can enjoy the full experience without the worry of a poke.
"This experience is so much more than just bees. This was absolutely a highlight of our trip. Tony and his mother are so friendly and their home is MAGNIFICENT. They really went above and beyond with their efforts to make us feel welcome and invited to be curious.

They are a wealth of experience and knowledge of the Mayan honey bees – their biology, their ecology, their history, their importance in the Mayan cosmology, so much! At the end of the experience, we even got to take a dip into the incredible blue waters. I cannot praise it enough – definitely go." – Alexandra, March 2022
18. Explore the Mayan ruins of Kohunlich
Just an hour away from Bacalar, you can explore majestic temples and structures built by Mayan civilizations.
This archaeological site used to be an elaborately planned city with raised platforms, citadels, courtyards, and plazas all brilliantly laid out in order to collect rainwater in a nearby reservoir.
Many of the structures were built from 200 A.D. to 600 A.D., and today only 10% is excavated, while the rest is covered in lush subtropical rainforest.
As you wander the Temple of the Masks and 27 steps, you'll be able to hear the infamous residential howler monkeys that can be heard, but not seen.
19. Take a cooking class in a local's home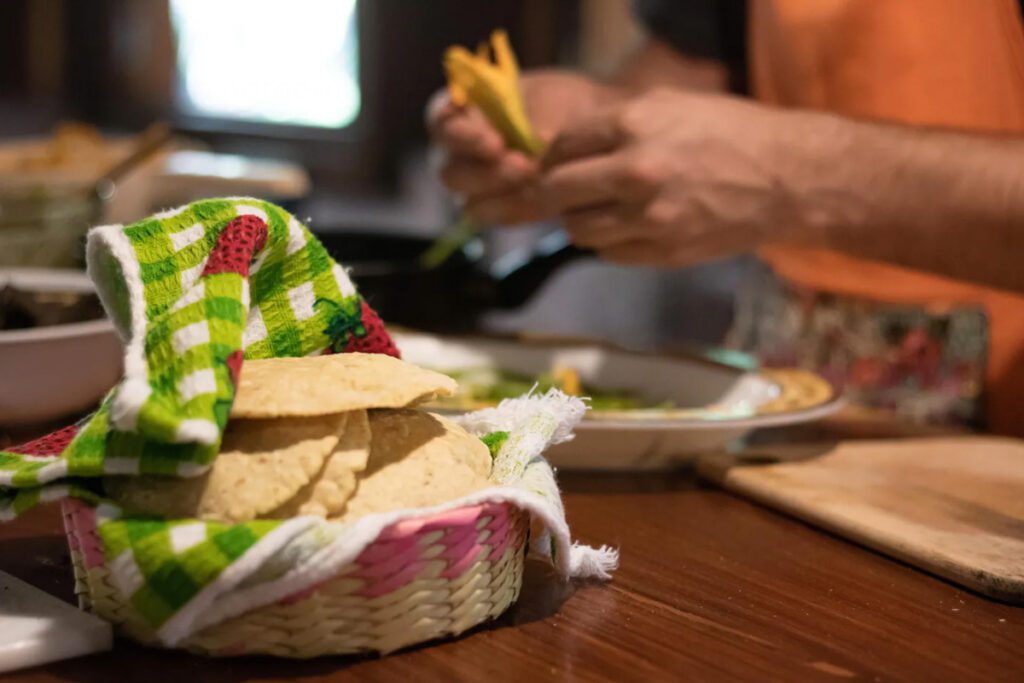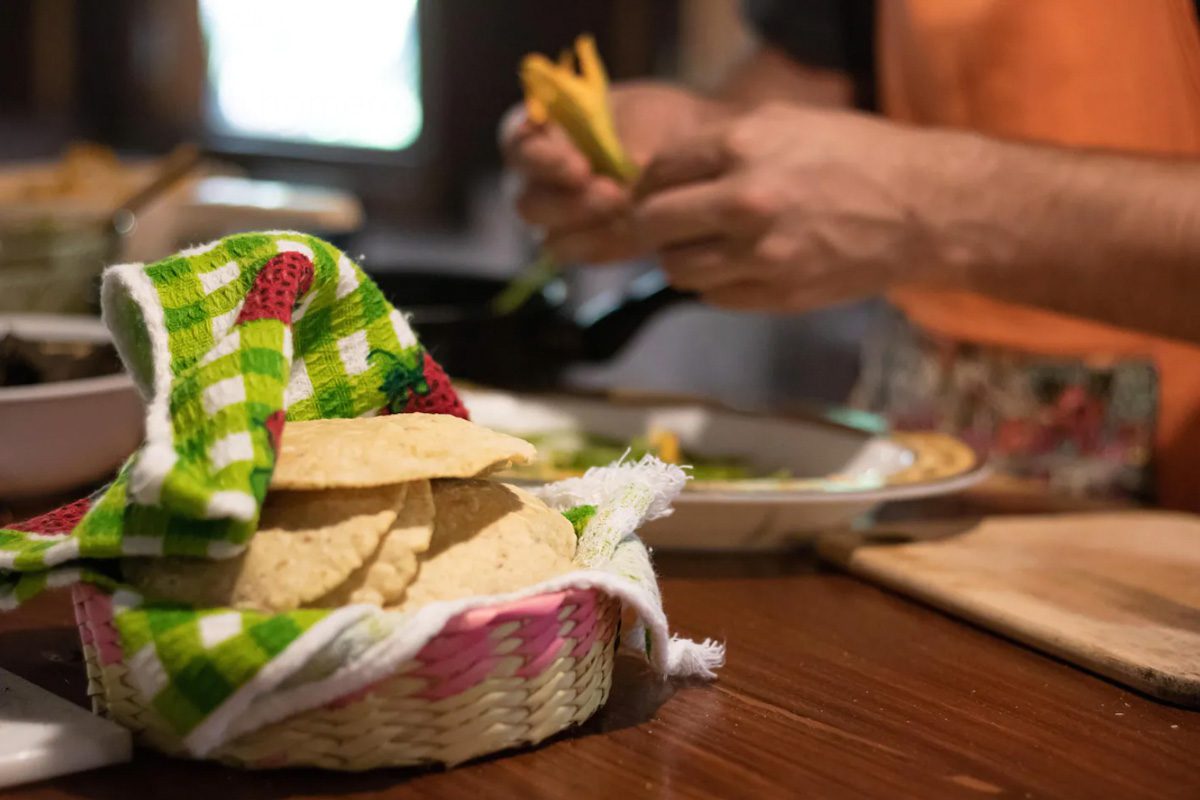 There's no better way to experience the authentic flavors, colors, and smells of Mexican cuisine than by whipping it up alongside a local.
During this Mexican cooking class, you'll hand pick fresh ingredients from the local market, craft tortillas by hand, and enjoy your homemade, 3-course meal in a kitchen surrounded by lush jungle.
"Thank you to Mariana and her mother for personalizing the many courses and sharing the magical recipes of traditional pre-hispanic cooking. I love the personal touch and starting the cooking process from scratch. I enjoyed it through and through and recommend the experience. Go for it!" – Jane, January 2023
Psst! Mexico is a top foodie destination! Make sure you check out our full list of Mexican foods you must try while you're here.
20. Sip on cocktails & groove to live music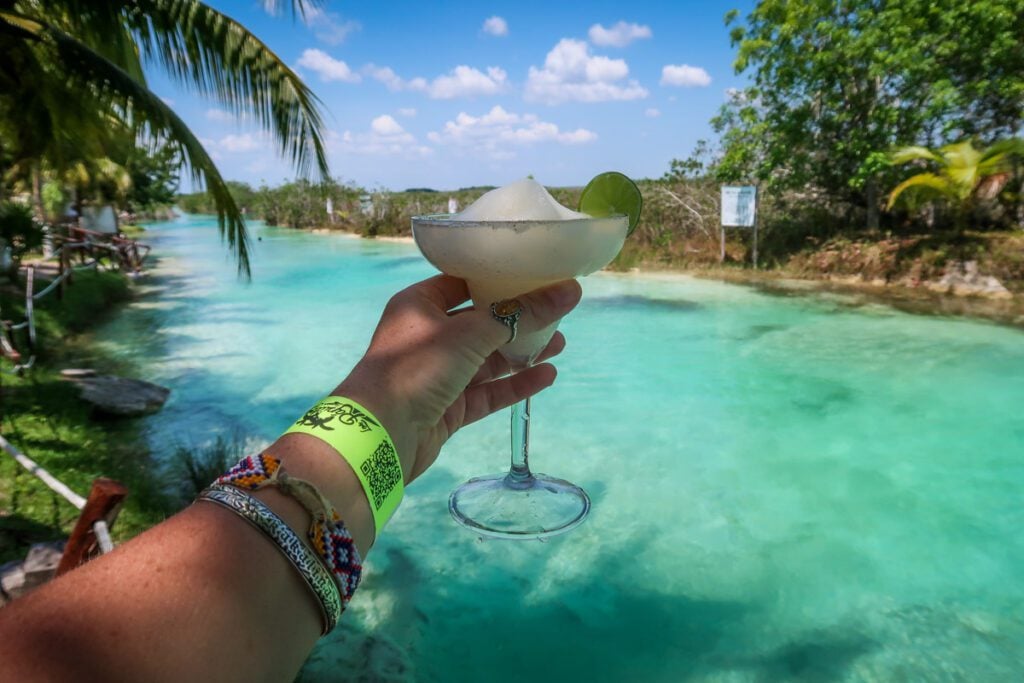 Bacalar does not have the party vibes of Cancun or Playa del Carmen, and that's part of its charm. You're not going to find clubs where the dancing doesn't stop until the wee hours of the morning here.
But if you're looking for cocktails, live music, and a social atmosphere, there are a couple of places in Bacalar to check out come sundown.
Galeón Pirata: This pirate-themed bar hosts regular live music and events. Plus, they have a decent cocktail menu and a friendly atmosphere.
La Catrina Bacalar: Wood-fired pizzas, live music and dancing.
---
Things to know about Bacalar
Before packing your bags, there are a few important things you should know about Bacalar…
There aren't any proper beaches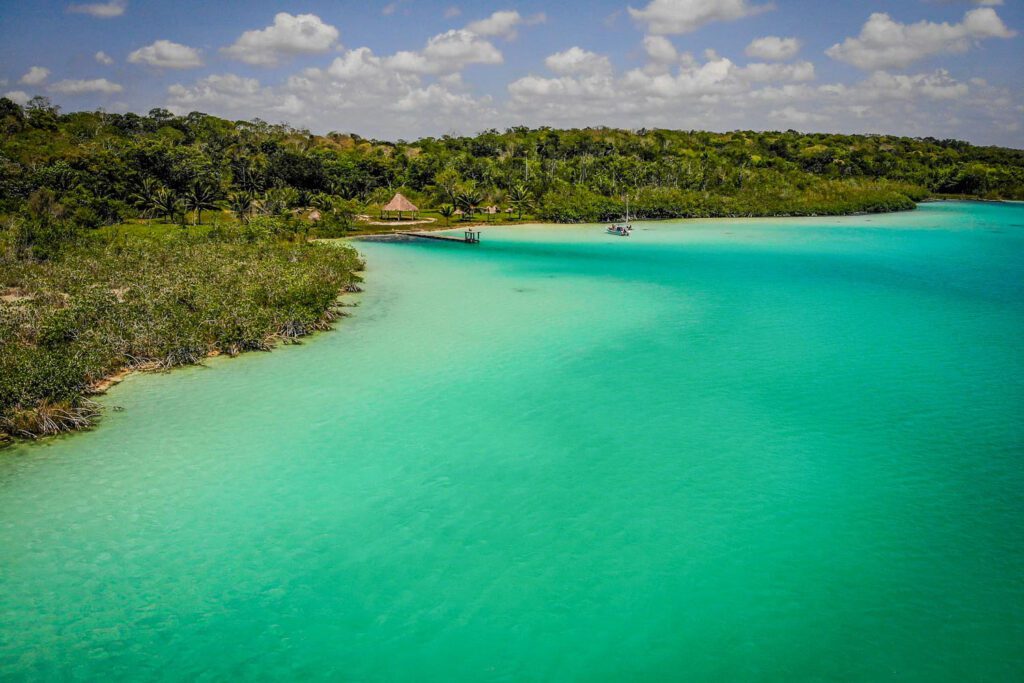 While one of the area's nicknames is "The Maldives of Mexico", I will warn you that you won't find beaches like in the Maldives.
So get the image of relaxing on a lounge chair surrounded by white sand out of your head. Bacalar is stunning in its own way, and as long as you know what to expect, we don't think you'll be disappointed.
Being that it's a lagoon – not the ocean – the shoreline tends to be less sand and more vegetation and in many areas there are docks from which you can access the water.
And of course, the boat and sailing tours will bring you to areas where you can get in and enjoy the shallow waters. So you don't really need white sandy beaches, after all!
Bacalar Lagoon is home to the oldest living organism in the world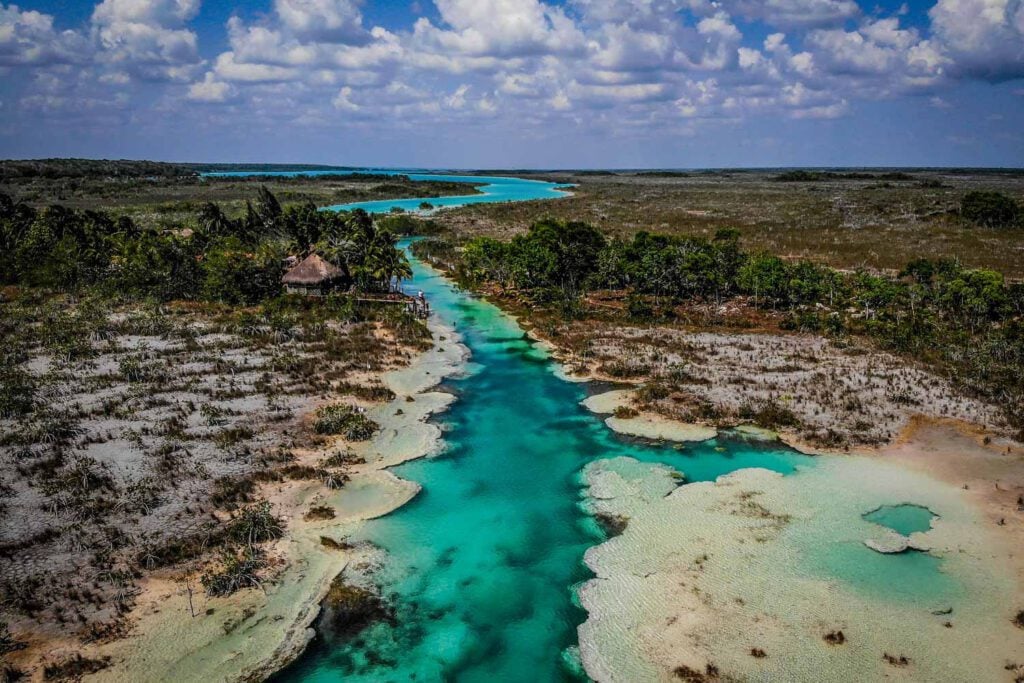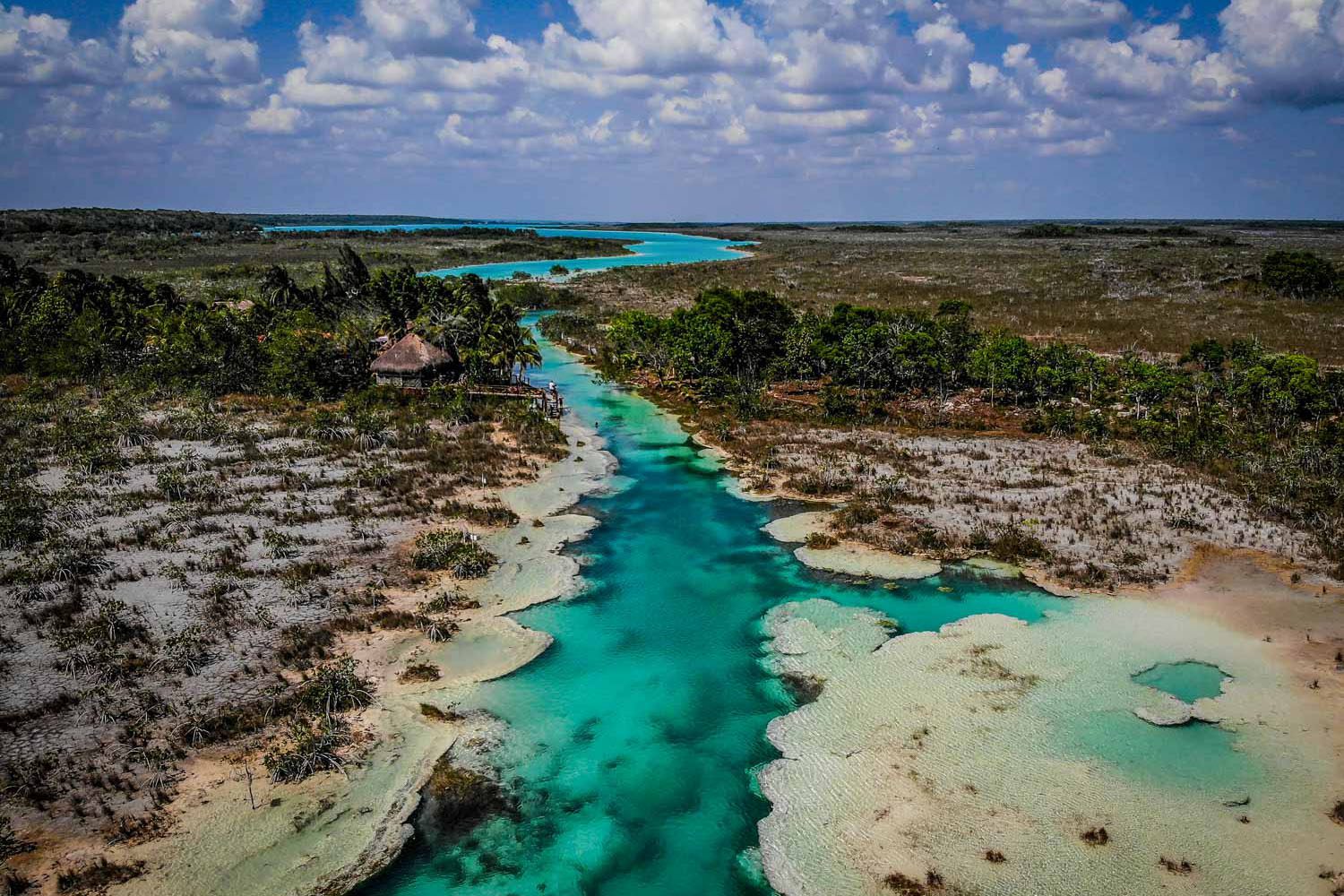 Yes, you read that right. Bacalar is one of just a few lagoons on earth where you can see stromatolites.
What are stromatolites, you ask?
These are the oldest fossils on earth — estimated to be more than 3 billion years old — and they are ever-so-slowly growing. Yep, they are living, folks!
For this reason, it is extremely important that you do not touch them or stand on them.
This is also one of the reasons that visitors are not supposed to wear sunscreen (even reef safe sunscreen!) in the lagoon. The ingredients harm these pieces of history.
While in Bacalar, please do your part to protect the stromatolites.
After storms, the water may not be as blue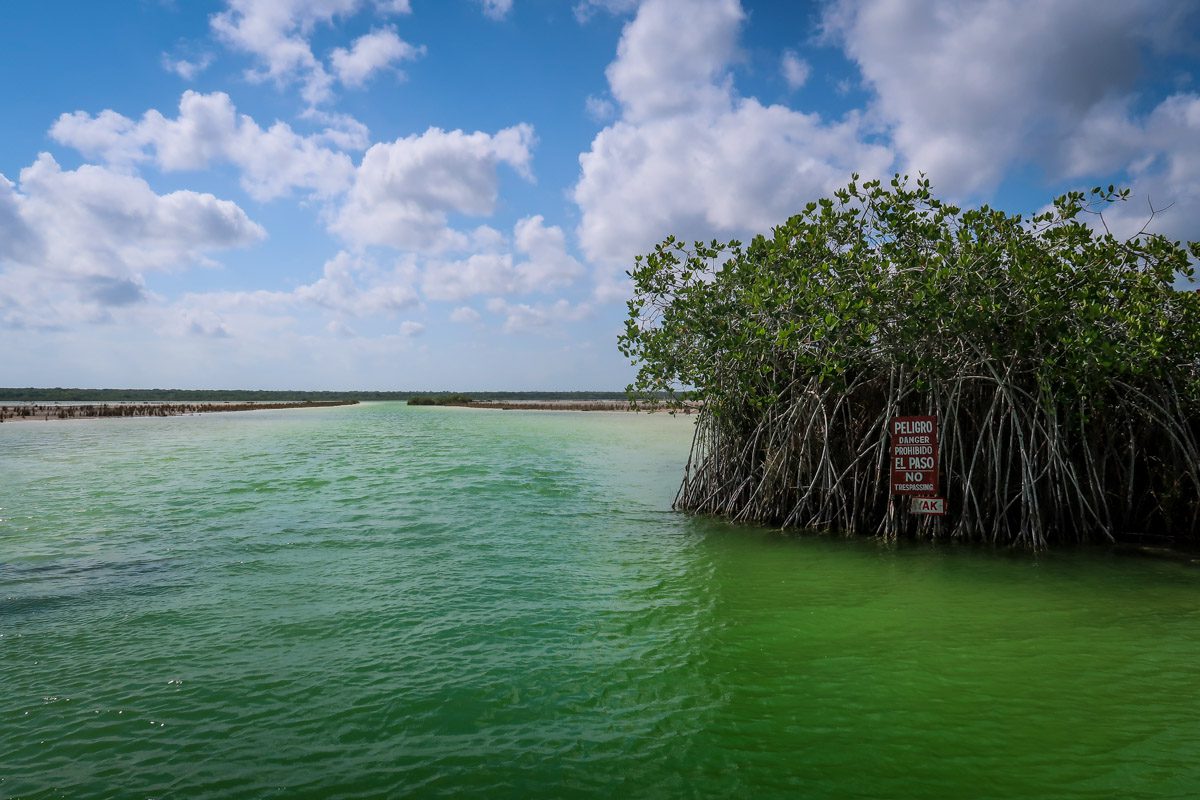 In the past, hurricanes and tropical storms have stirred up the waters in this lagoon, making its waters less vibrant. It takes a while after a storm for the sediment to settle and return to its normally stunning shade of aqua.
If you are planning to visit Bacalar after a storm, check with local sources to see the condition of the water.
Is Bacalar worth visiting?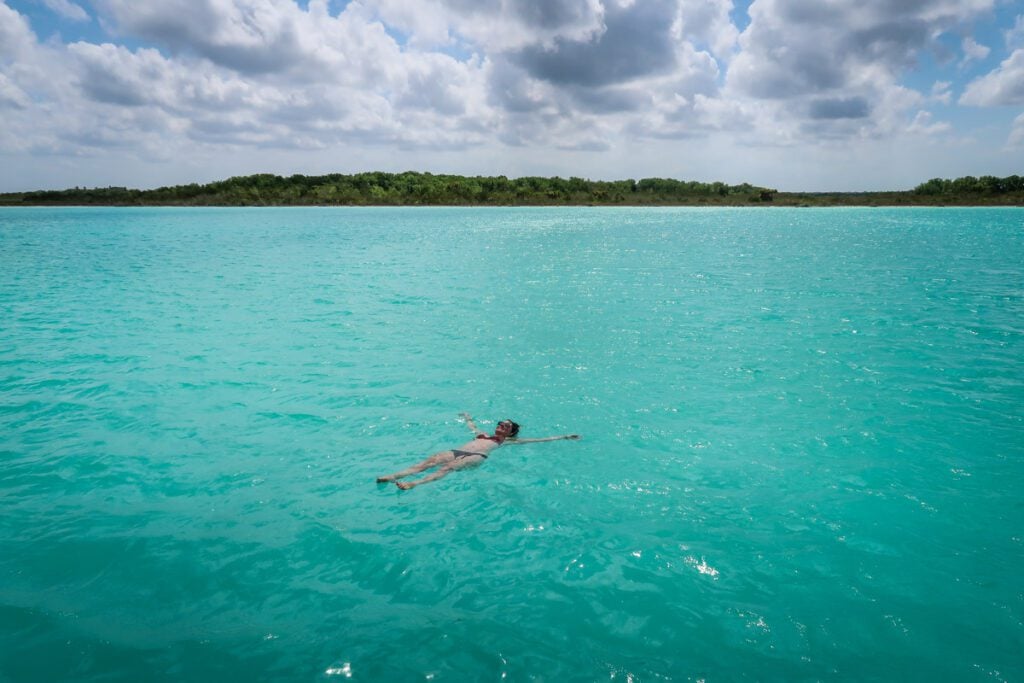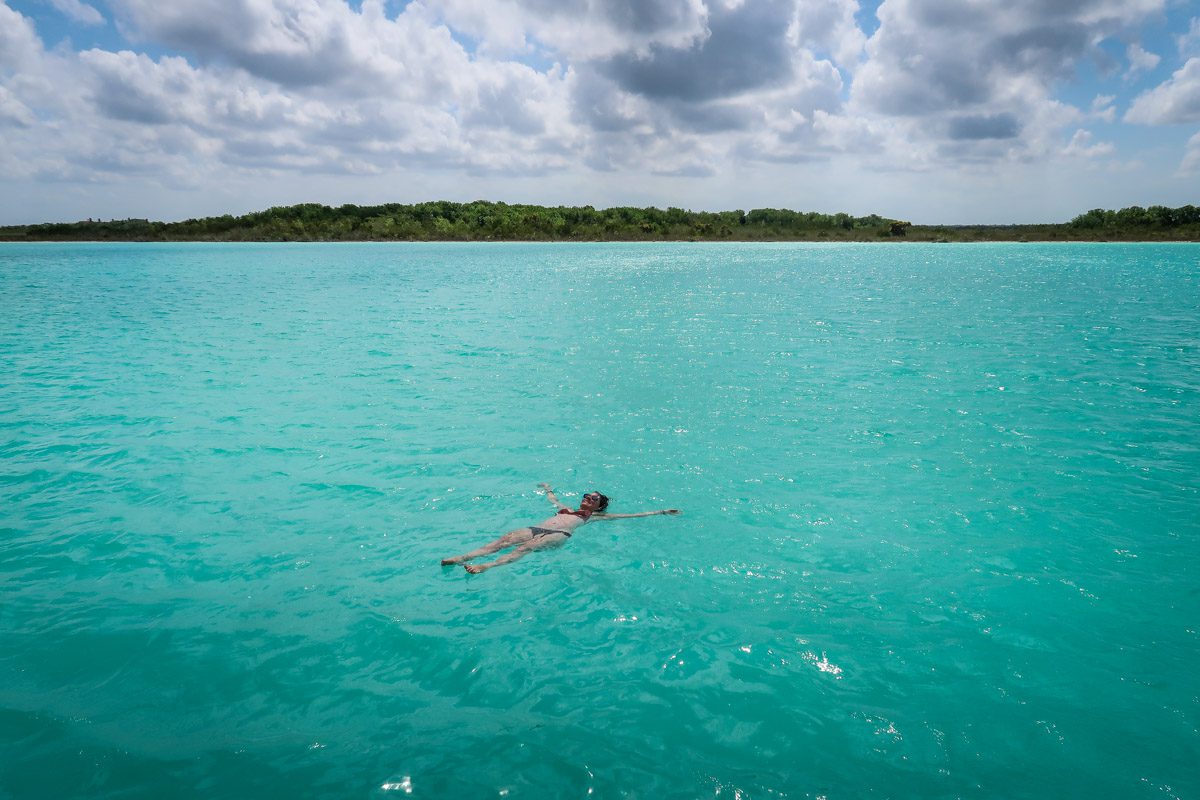 If you're wondering whether Bacalar is still a hidden gem or is an overrun tourist hotspot, I'd answer confidently: Neither.
I remember first hearing about Bacalar back in 2018. We were having drinks with other travelers at a hostel in my favorite town in Mexico when one of our new travel friends opened up the photos on her phone and proceeded to tell us about what she said was "the most magical lake in Mexico".
I don't think I had ever seen water quite so blue. And from that moment, I knew I had to visit.
I've had Bacalar in the back of my mind for years (along with a million other places I want to visit!), and we finally made it here.
While it's no longer what we'd call a secret, Bacalar is still relatively quiet.
It is nowhere near as popular with tourists as places like Tulum and Playa del Carmen, but it might not always be this way…
We've seen Bacalar appear on social media more and more over the couple of years, and well, you're here reading this article, aren't you?
So I do think now is a good time to visit Bacalar because I don't think it has hit its tourism peak yet.
Our personal experience in Bacalar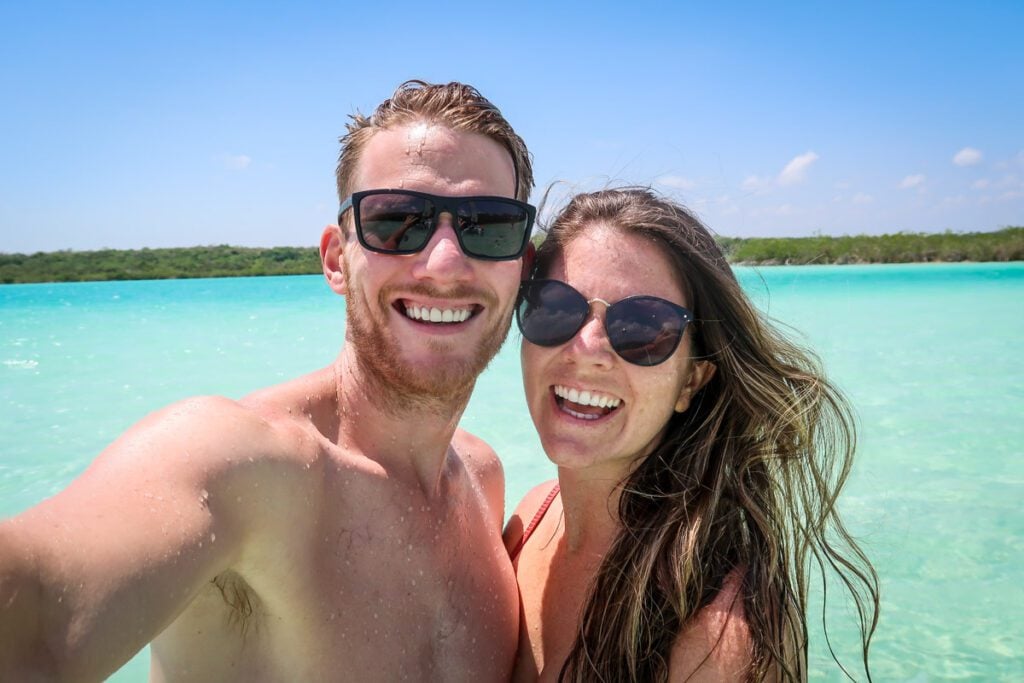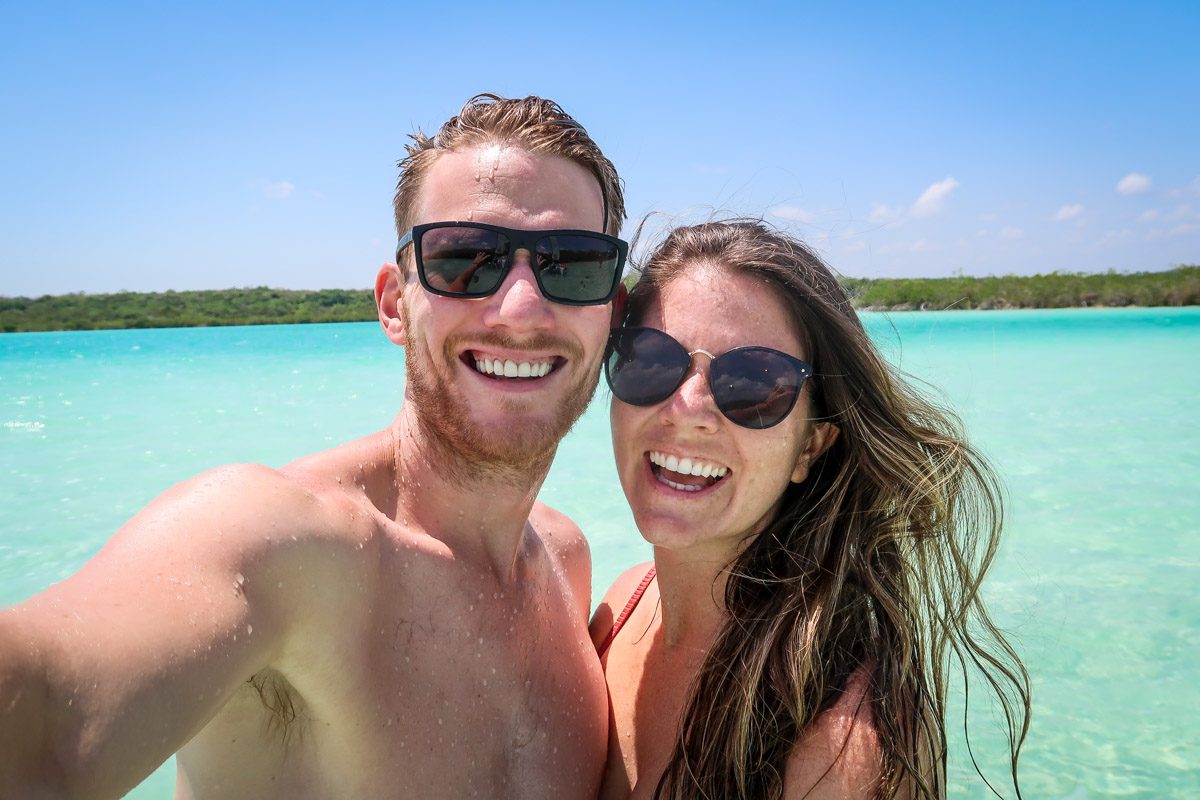 While we were living in Playa del Carmen, we decided to rent a car (which is our favorite mode of transportation in Mexico), and take a long weekend road trip to Bacalar.
We spent 2 nights just outside Tulum in this amazing geodome Airbnb (highly recommend!), and then we continued south where we spent 2 more nights in Bacalar.
I had just found out I was pregnant a couple weeks before (eeek!), so I was battling nausea and sipping only virgin drinks the entire time.
But it was still so much fun. And despite not feeling my best, I loved Bacalar and highly recommend including it in your Yucatan itinerary.
Psst! Check out these other impressive and highly recommended Airbnbs in Mexico.
Best time to go to Bacalar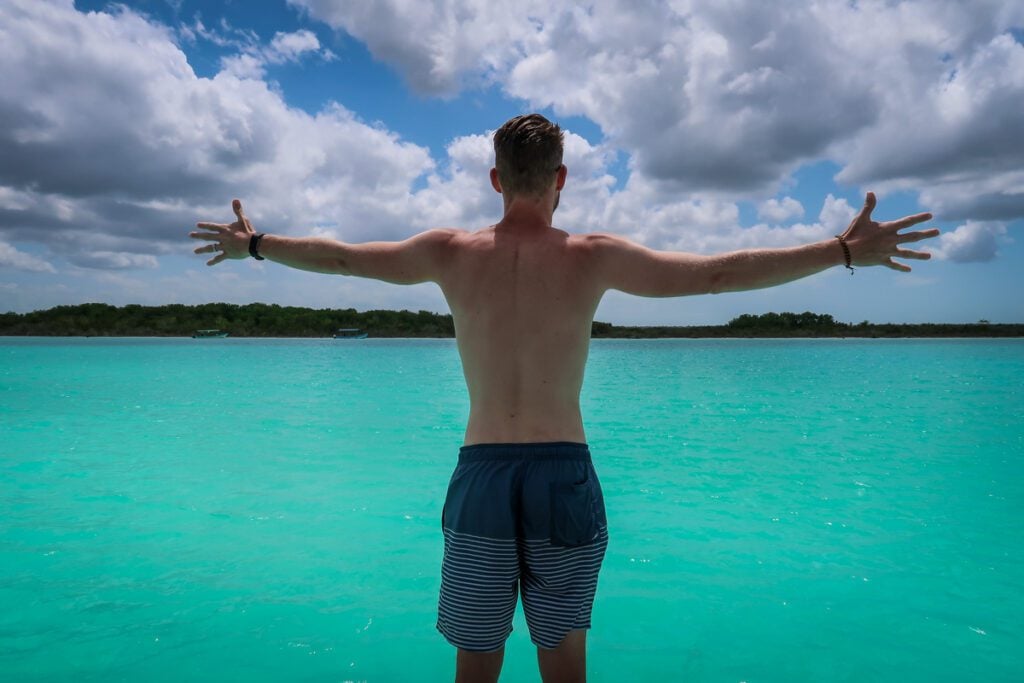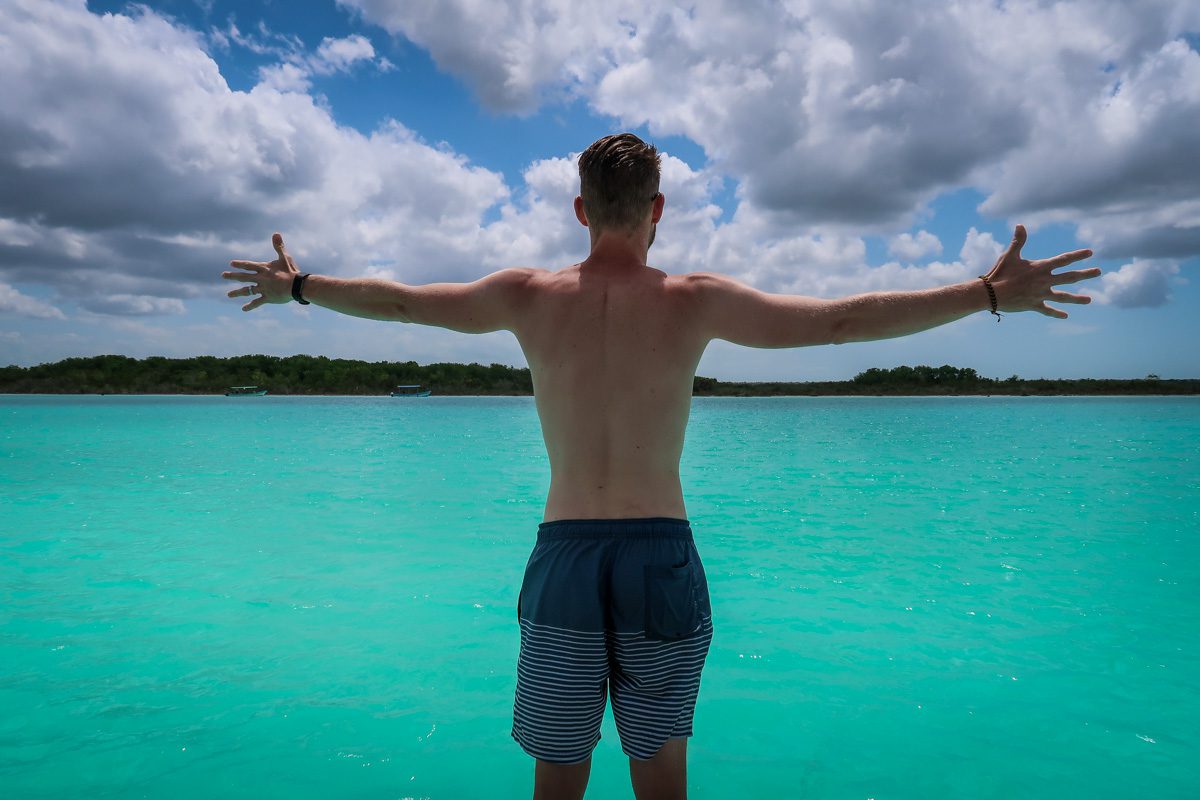 The best time to visit Bacalar is from December to March, when the weather is favorable and dry. Although most of the crowds will be in the rest of the Yucatan during this time, expect crowds.
A spout of bad weather in Bacalar can, literally, put a damper on your itinerary as most of the sought-after locations are best experienced with sunny skies.
Avoid rainy season runs from June through November, especially if you're planning on sailing or snorkeling. Keep in mind this is also hurricane season for this region, with August to October being the wettest.
Psst! For an in-depth guide on the seasonal weather patterns and other factors, check out our complete guide on the best time to visit Mexico.
How to get to Bacalar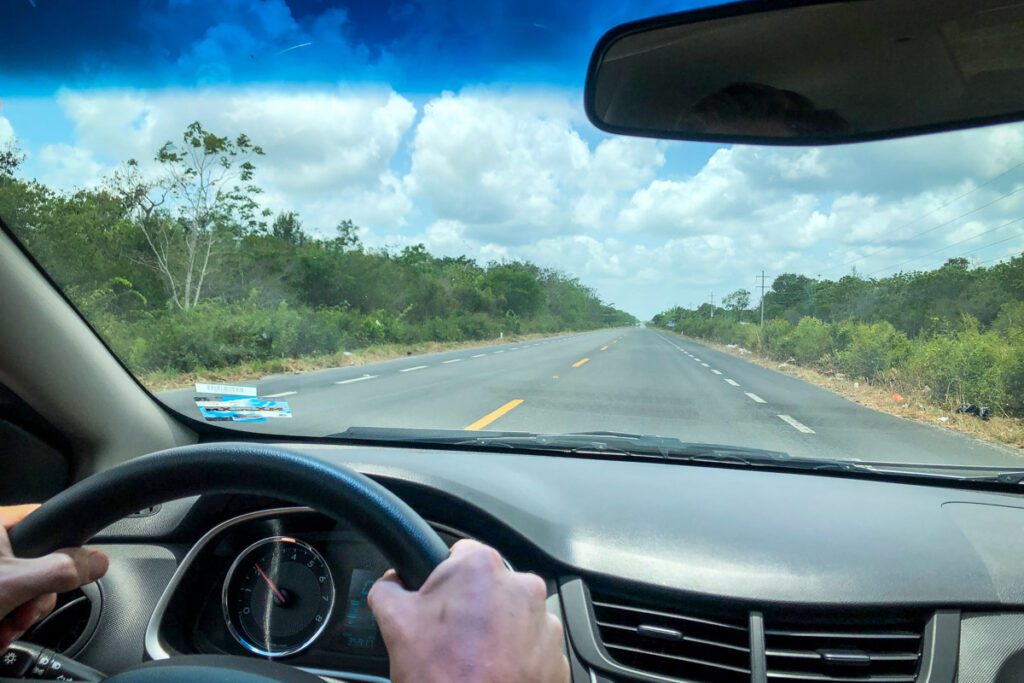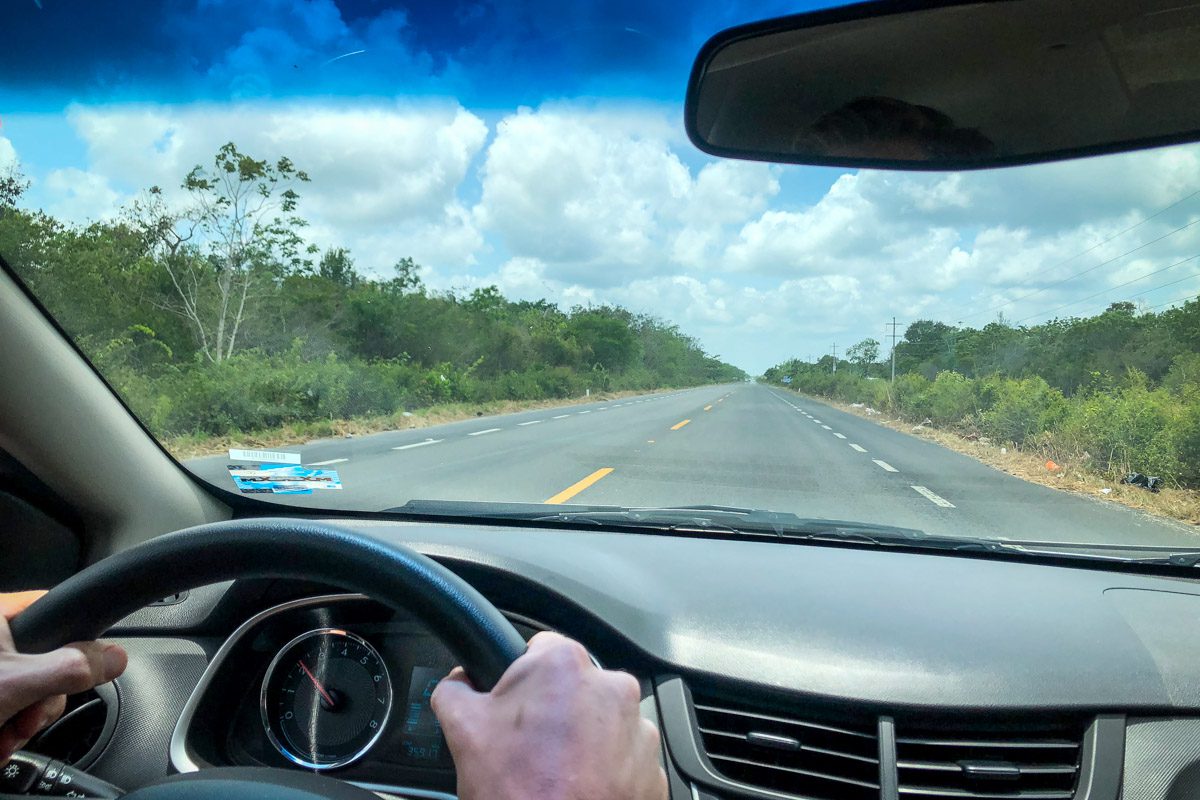 We personally rented a car and drove from Playa del Carmen to Bacalar, and this would be our recommended mode of transportation.
However, if you're not comfortable driving in Mexico, there are other options. You can take a bus; or if you have a bigger budget, you can hire a private driver.
Rent a car
Bacalar is near the very southern tip of the Yucatan, and while buses are reliable and cheap, they're honestly best used for shorter routes from town to town.
Having your own rental car will save you a ton of time and grant you a lot of freedom while exploring around. We found that driving in Mexico was surprisingly easy and laid back.
Most major hubs in the Yucatan Peninsula are a few hours drive minimum to Bacalar:
We use Discover Cars to search and compare prices from all the rental car options in the area, and have found it generally saves us money in the long run.
While searching for your rental, note that the prices will seem much cheaper than the actual price you will pay. The prices listed often don't include the cost of insurance or additional fees, so it's important to read the fine print while browsing.
Take a bus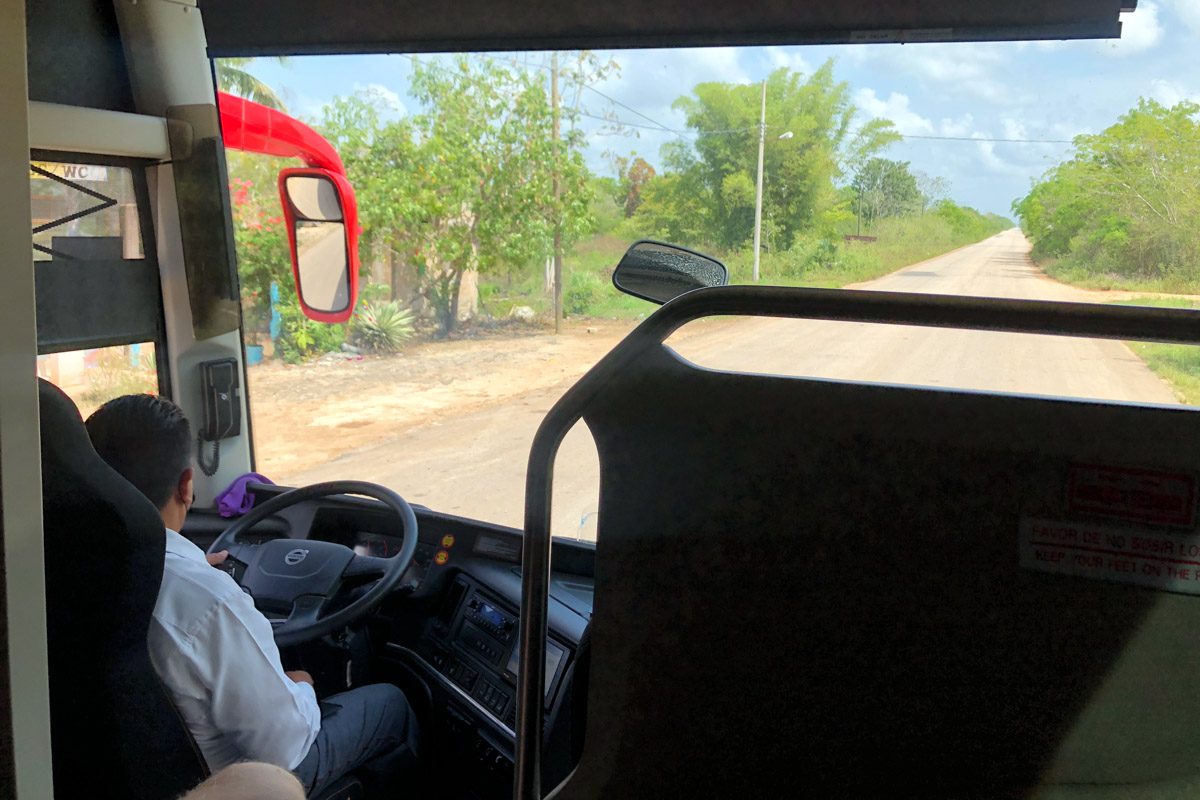 The buses in Mexico are a comfy and cheap option for getting from hotspots in the Yucatan Peninsula to Bacalar.
ADO Bus: You can catch a bus from Playa del Carmen, Tulum, Merida, and Cancun to Bacalar at a variety of price points.
We recommend getting your bus ticket online in advance since this route still has limited services. We also have a complete guide to riding the ADO bus around Mexico that'll walk you through the best way to buy tickets and what to expect onboard.
Colectivo: This is the cheapest option getting from Playa del Carmen to Bacalar. You'll need to transfer buses in Tulum for the second leg of the drive.
Note: If you're traveling to Bacalar from anywhere other than Tulum, you'll need to take more than one bus for this budget route.
Planning a Yucatan Road Trip?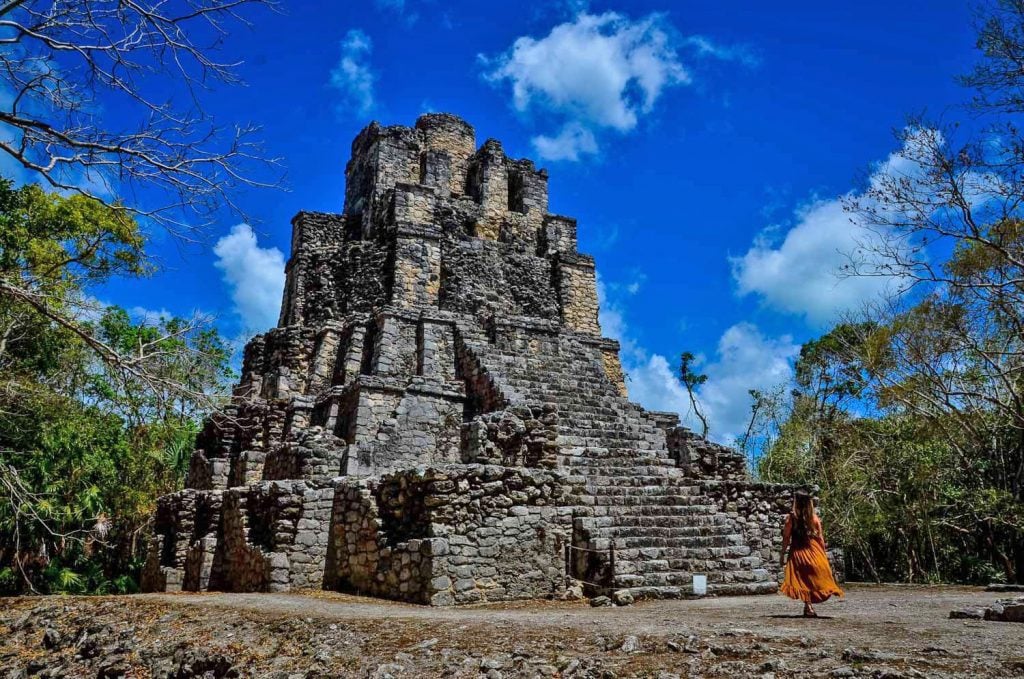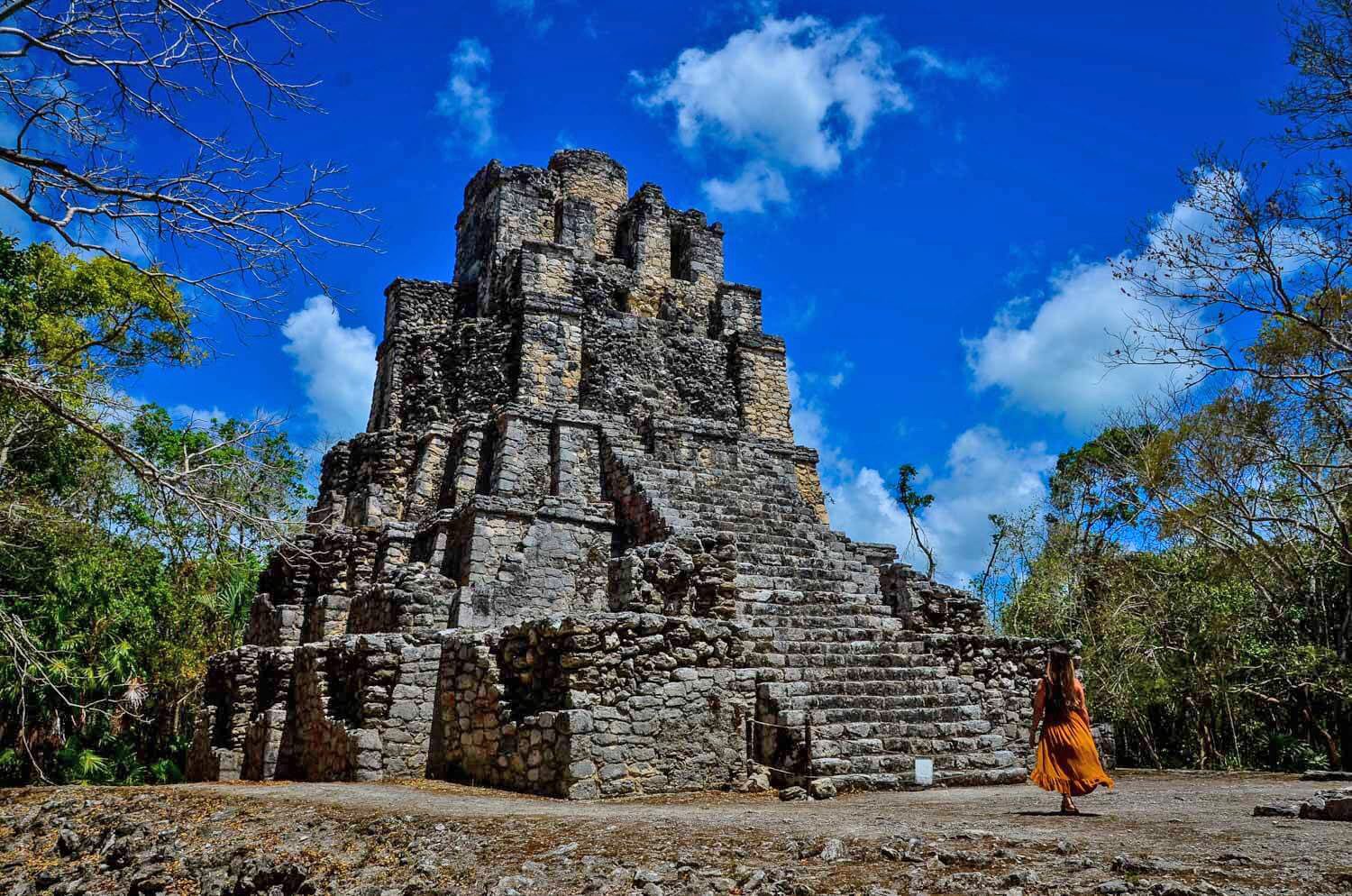 If you have a rental car and are driving between Cancun/Playa del Carmen and Bacalar, the Mayan ruins of Muyil make a great midway stopping point.
It is also near the Sian Ka'an Biosphere, which is really fun to visit! We have a complete guide to visiting Sian Ka'an without a tour to help you plan your visit.
Eco friendly tips for traveling in Bacalar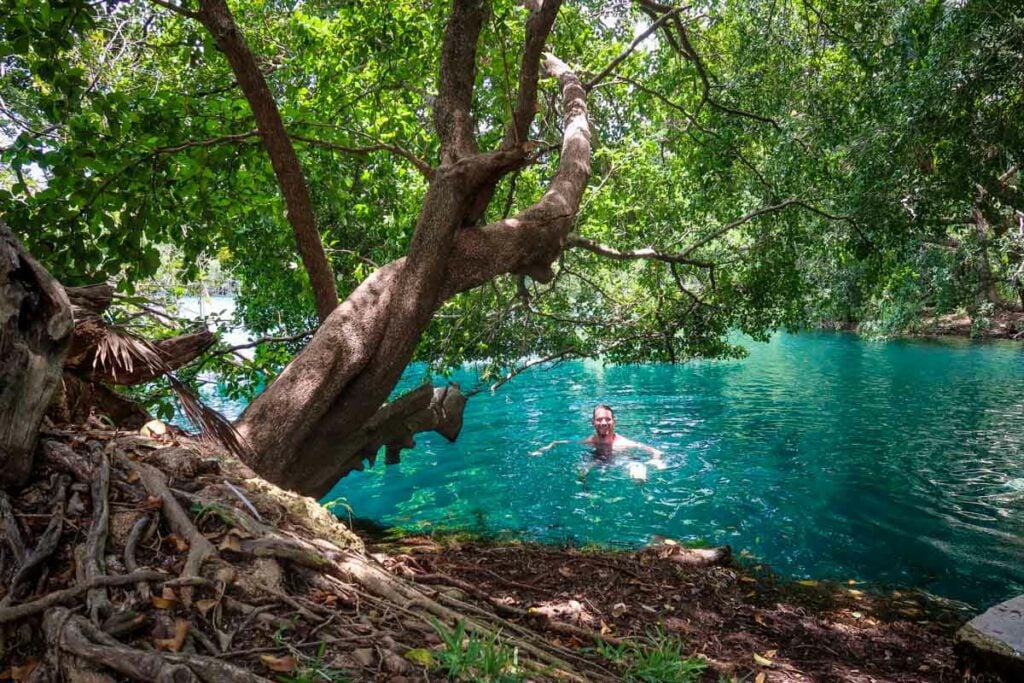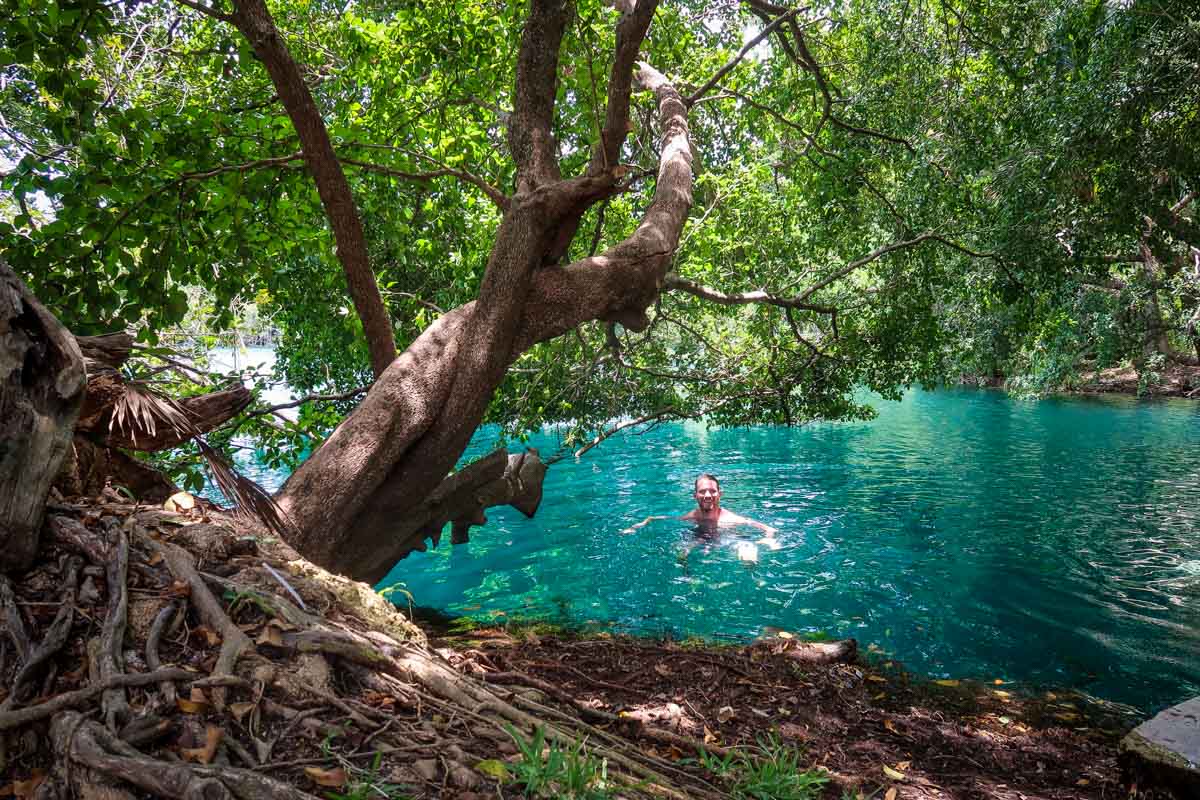 With "sustainable hotels" and environmentally-friendly tour operators, Bacalar is positioning itself as an eco-friendly destination. As it grows, we hope these practices will continue and won't just be a marketing scheme.
When visiting Bacalar, it's important to keep in mind that the ecosystem in the area is very fragile. Here are a few easy ways you, as a traveler, can reduce your impact.
1. Don't touch or step on the stromatolites
Remember, stromatolites are living fossils that are literally billions of years old (yes, BILLIONS). Touching or stepping on them can truly kill them.
Don't be the person who contributes to killing an ancient life form. Please stay off of them!
2. Don't wear sunscreen
That's right – in Bacalar it is recommended that you refrain from wearing sunscreen completely.
This is because the lagoon is a very fragile ecosystem and even reef safe sunscreens can be damaging.
For this reason, we recommend you pack a hat and layers to protect your skin from the sun.
3. Pack a water bottle to cut down on plastic
Many hotels will have jugs of water where you can fill up your bottle in order to eliminate the need to buy single-use plastic bottles. Psst! We have more tips on reducing your plastic waste here!
Where to stay in Bacalar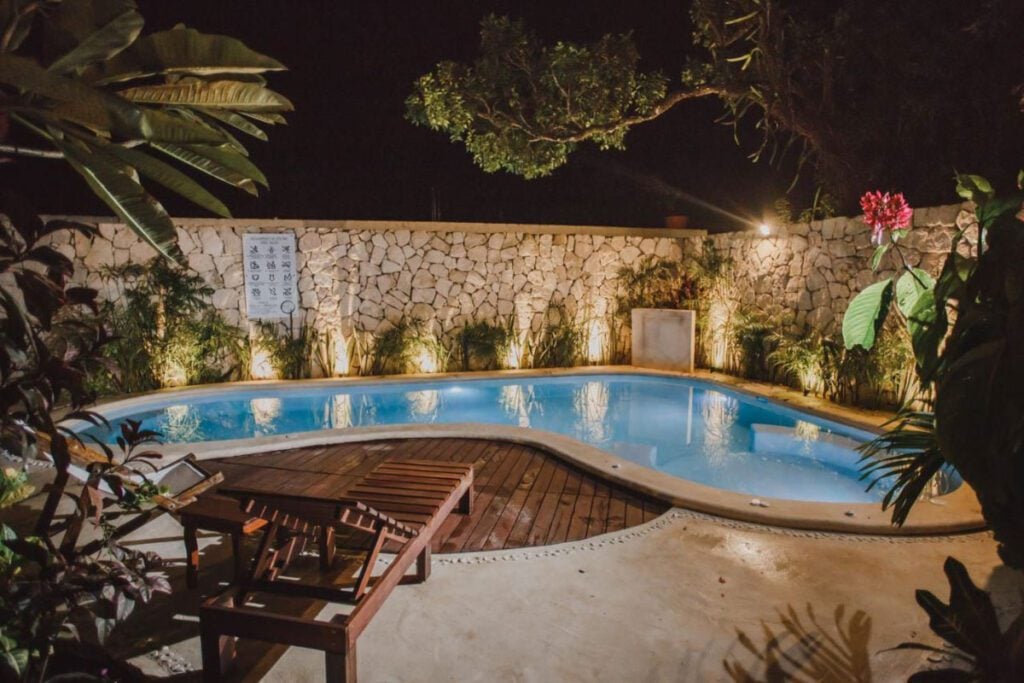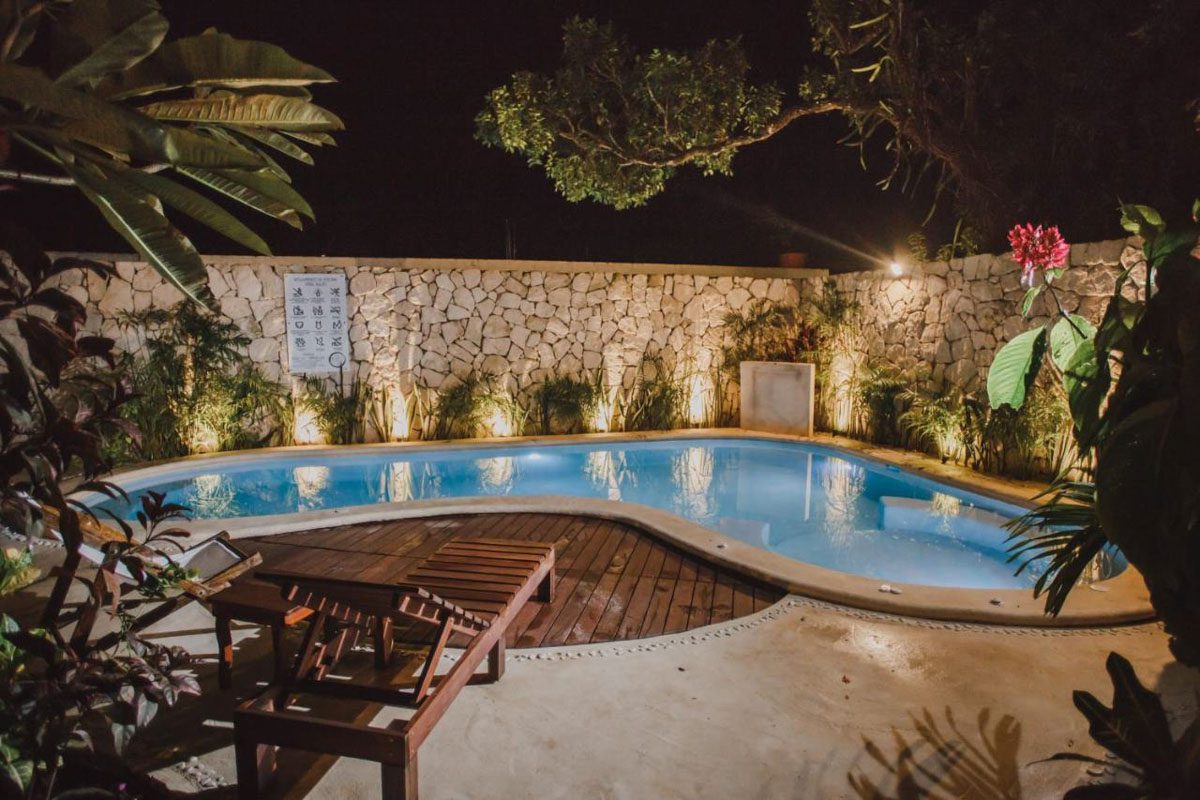 Hotel Aires Bacalar: This boutique hotel is beautifully designed, includes a very nice breakfast, and is super affordable. We personally stayed here during our time in Bacalar and loved it. The only thing that we'd say is the pool is on the small side. We didn't spend much time during the days at the hotel itself, so this didn't bother us.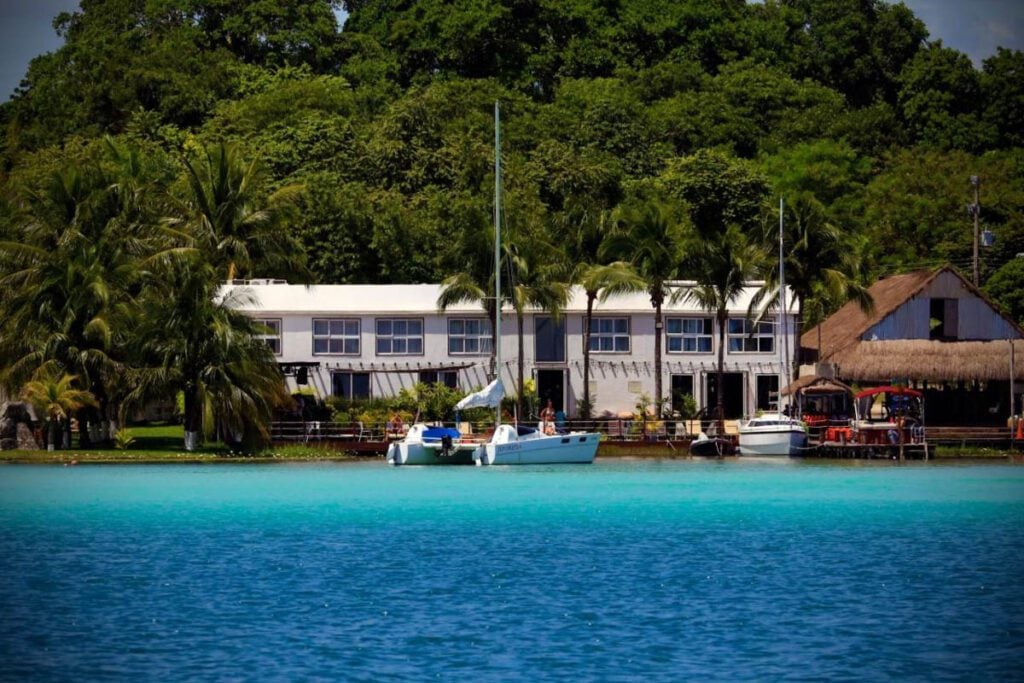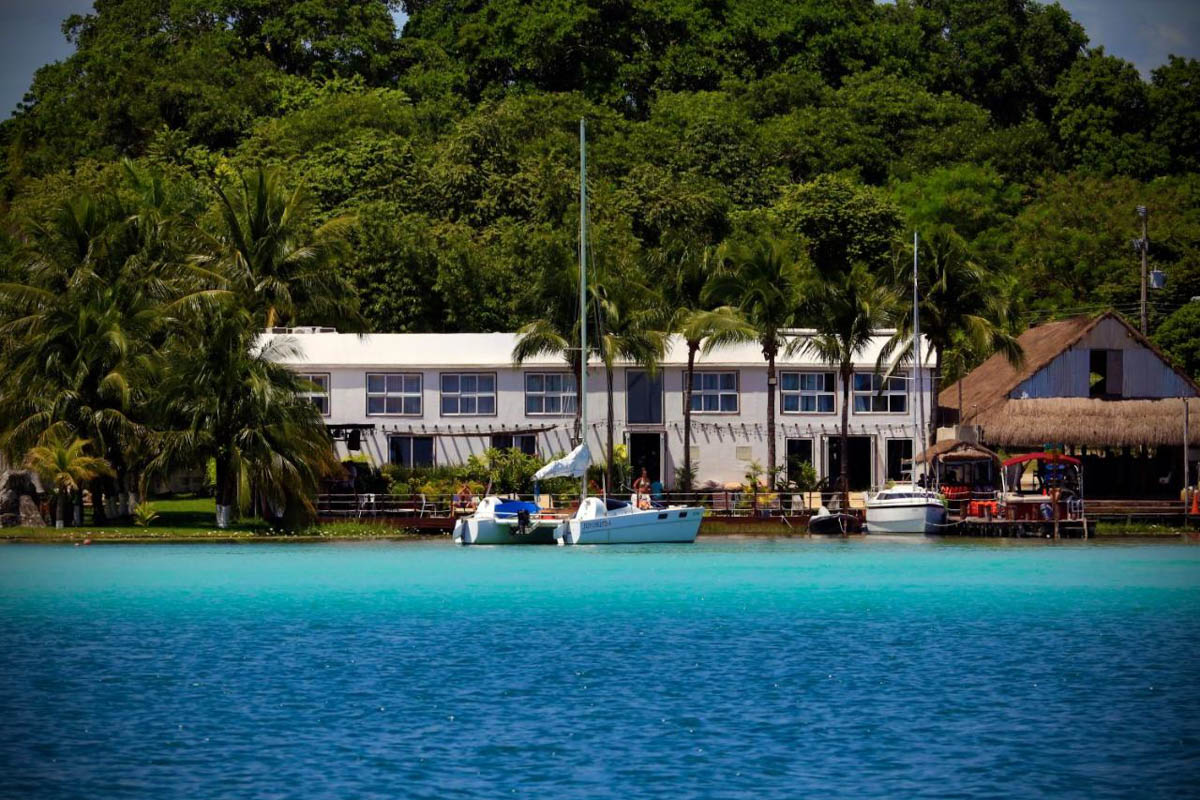 Yak on the Lake: This social hostel is located right on the shores of the lagoon and has dorm and private room options, making it a good budget-friendly choice.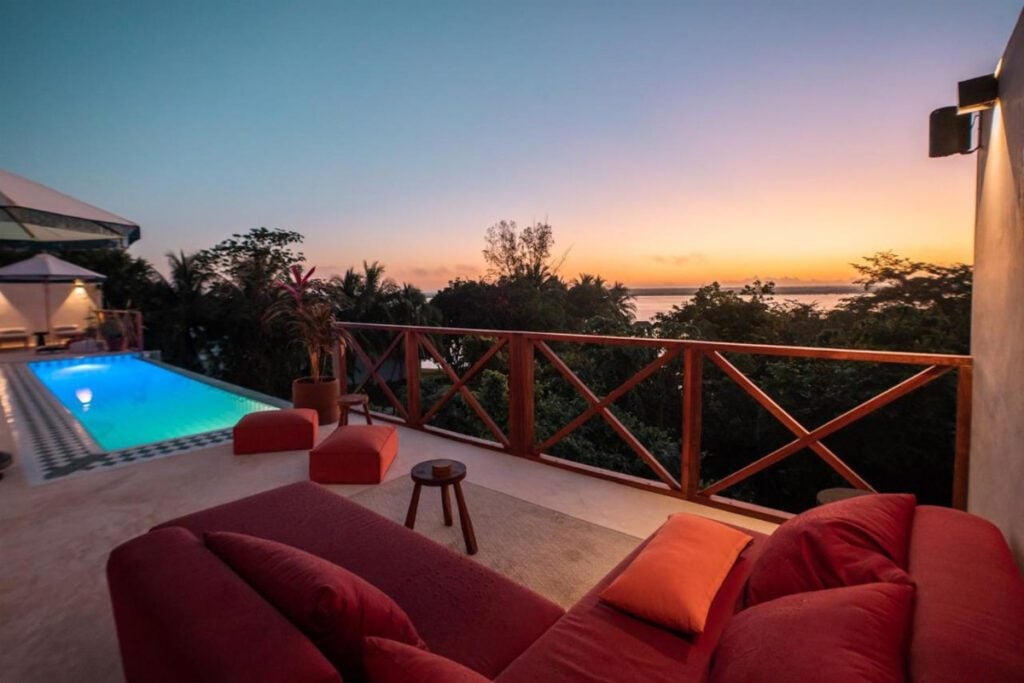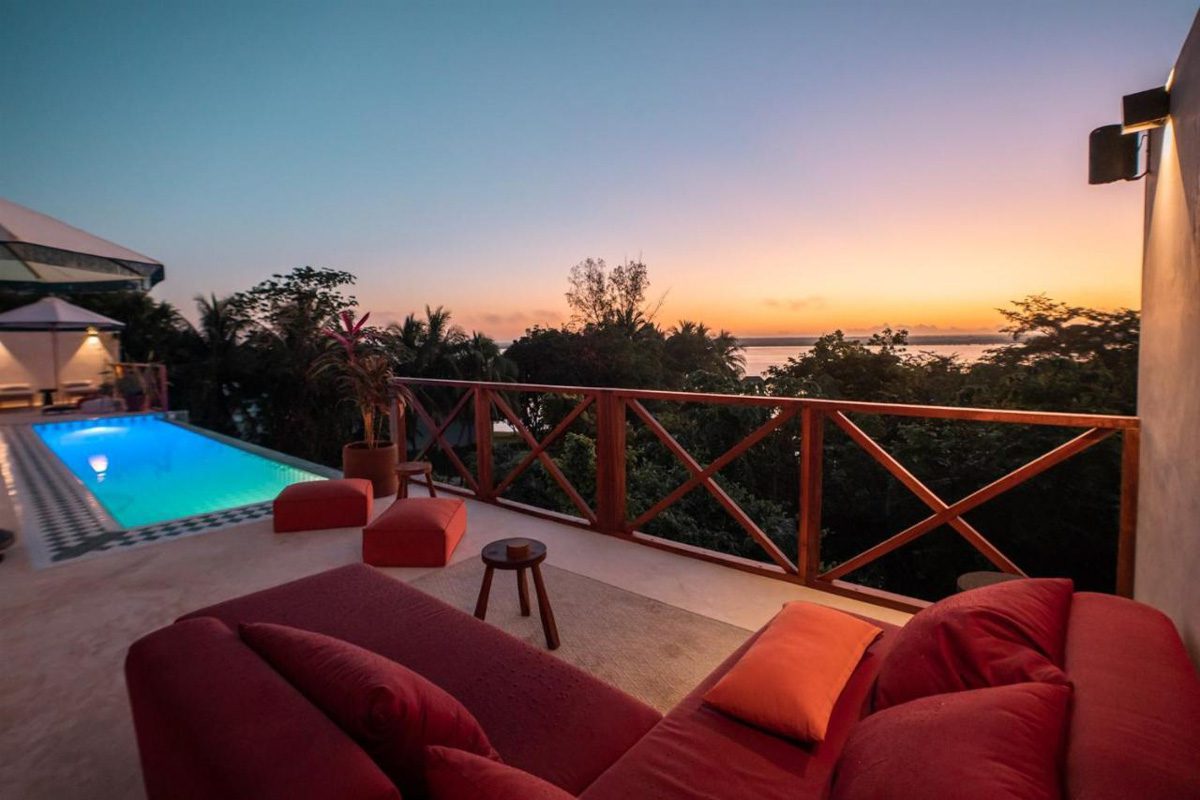 Hotel Bacalari: Just one block away from the Bacalar Lagoon and pier, this stunning hotel welcomes you with craft cocktails, an onsite restaurant, AC, free wifi, and picturesque balconies. Rent bicycles, inquire about tours, or book a massage directly from the front desk.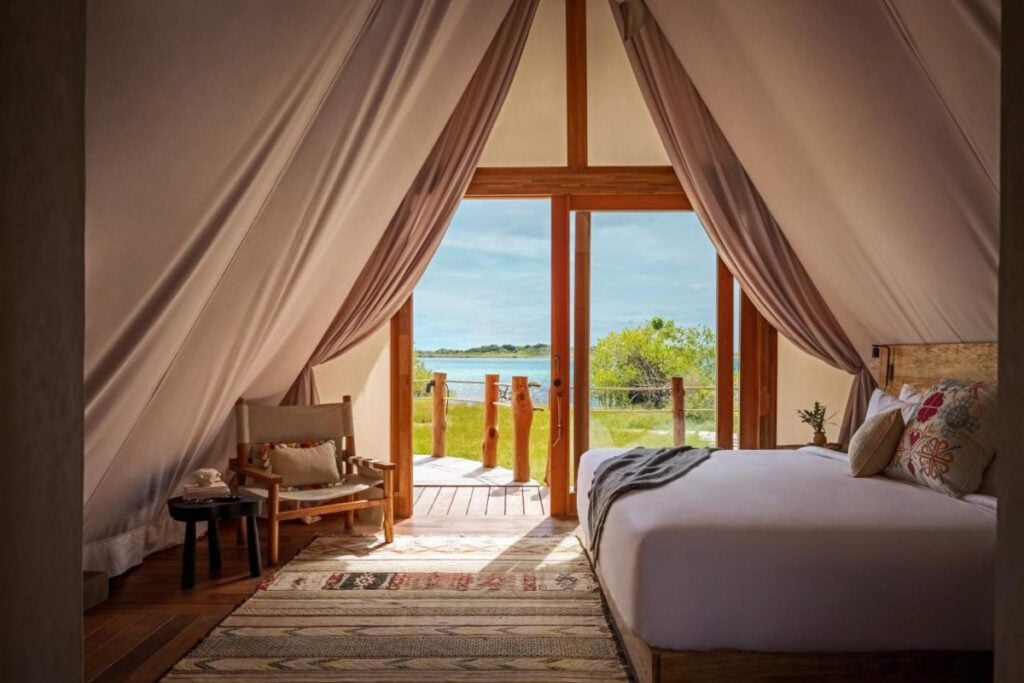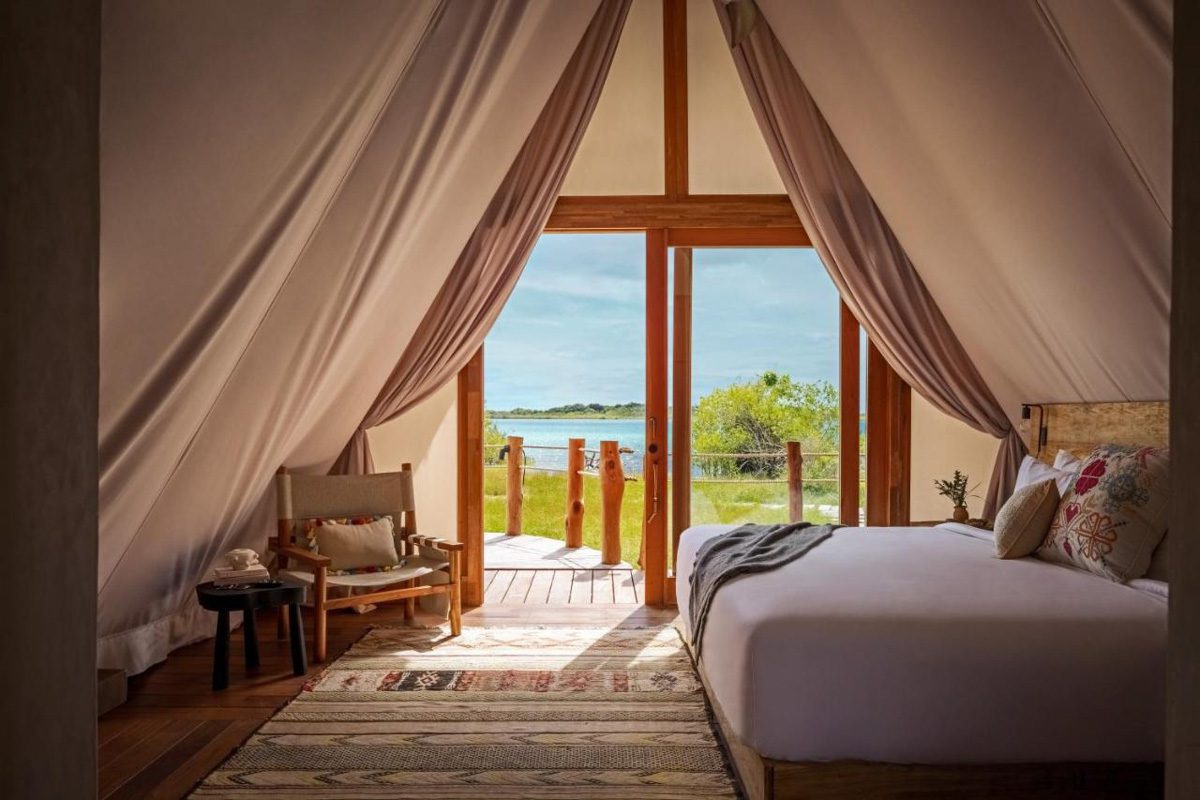 Splurge hotel: Habitas Bacalar
Feel like you've hit celebrity status at this world-class, 5-star hotel. With private beach access, picturesque views right over the laguna, and peaceful atmosphere, you'll never want to leave this paradise.
Where to eat in Bacalar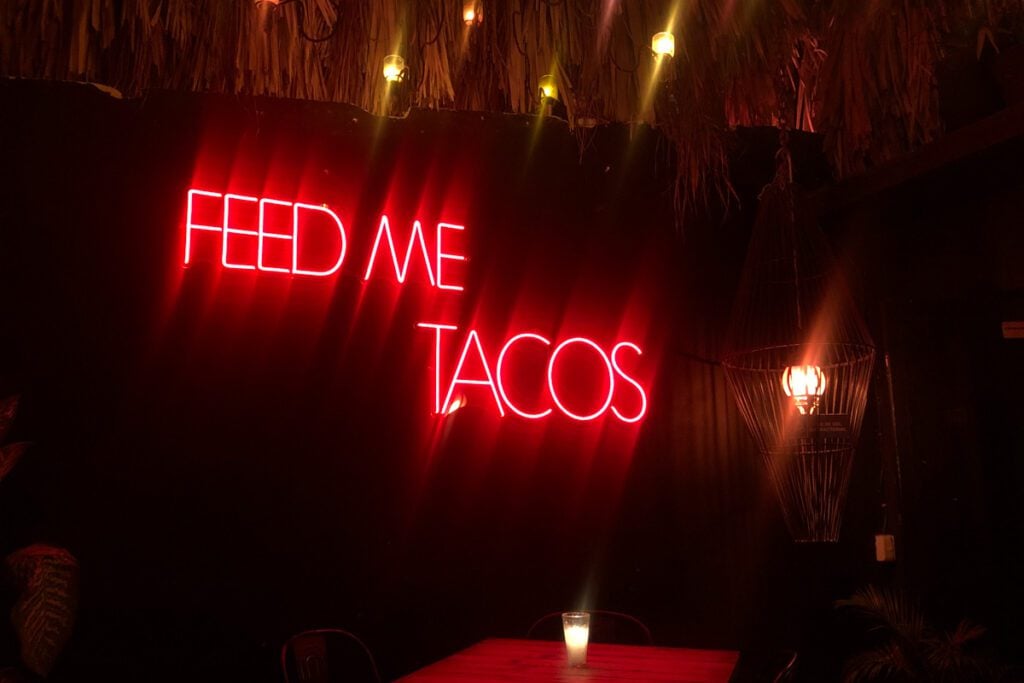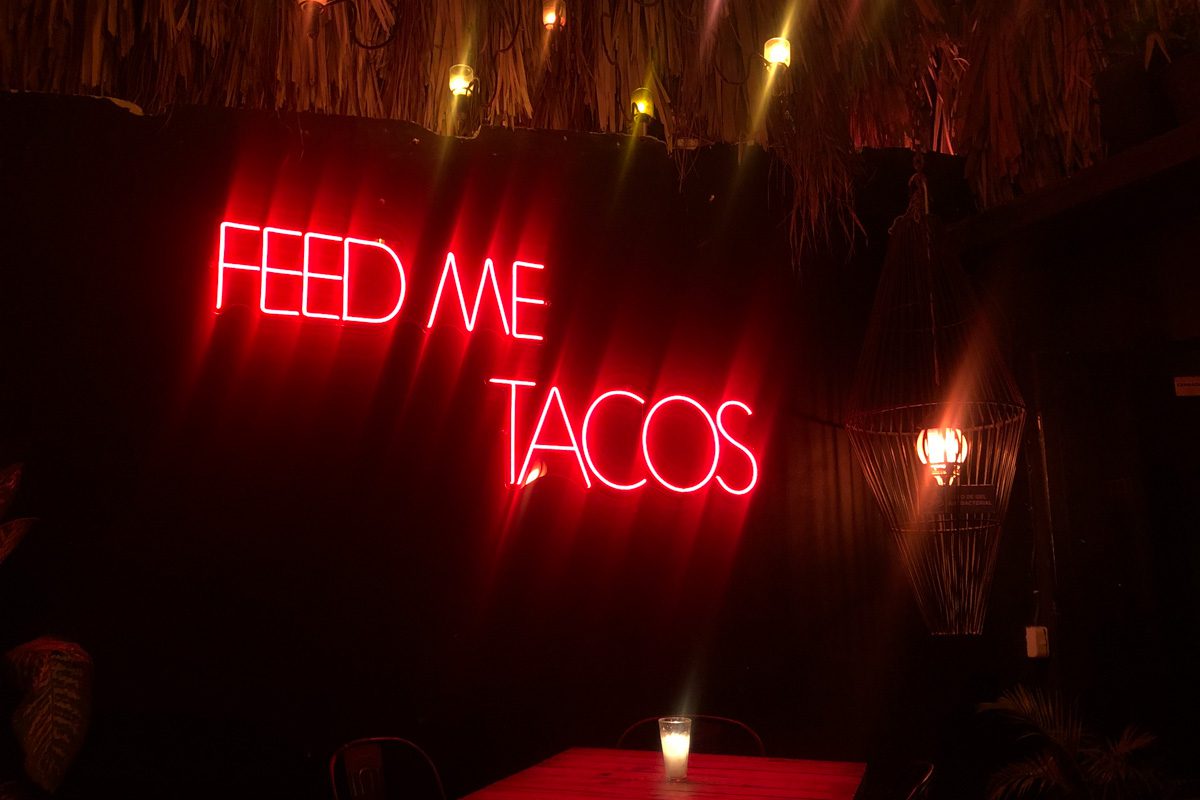 Even though Bacalar is a relatively small town, there is no shortage of incredible places to eat. From upscale Mexican eateries to world cuisine to vegan cafes, Bacalar has an impressive foodie scene.
Here are some of our top Bacalar restaurant recommendations:
*our personal favorites
What to pack for Bacalar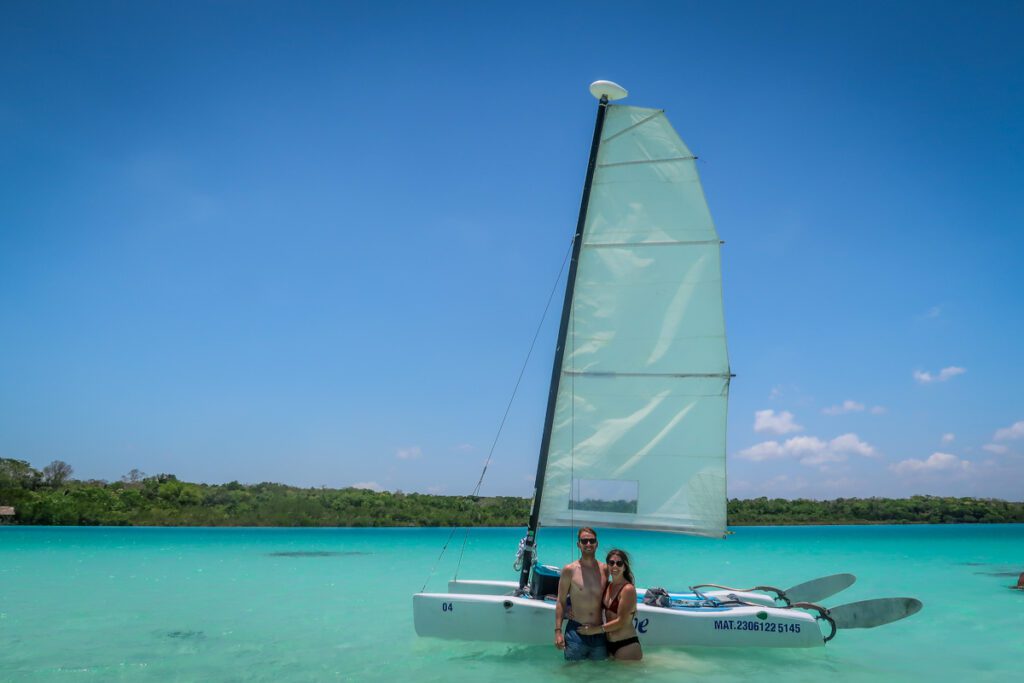 Sarong
Wide brimmed hat
Swim suit
Long sleeve rashguard or swim shirt (protect yourself from the elements while respecting the NO SUNSCREEN rule in the lagoon)
Comfortable sandals for walking
Casual wear for walking around town and restaurants
Be sure to download our complete packing list for Mexico! It's packed with good suggestions and insider tips to help plan your Mexico vacation. And it's completely FREE, so why not!?
Looking for more unique places to visit in the Yucatan Peninsula?
We have a feeling you'll love these places too:
Puerto Morelos
Muyil Ruins
Or simply check out our complete round up of all our favorite places in the Yucatan!
---
More resources for planning your Mexico trip
If you're planning a trip to Mexico, we've got loads of helpful resources for you! Start with our Mexico Travel Homepage, where you'll find general info, and be sure to check out the articles below. Leave us a comment if you have any questions!
Save this article on Pinterest for later!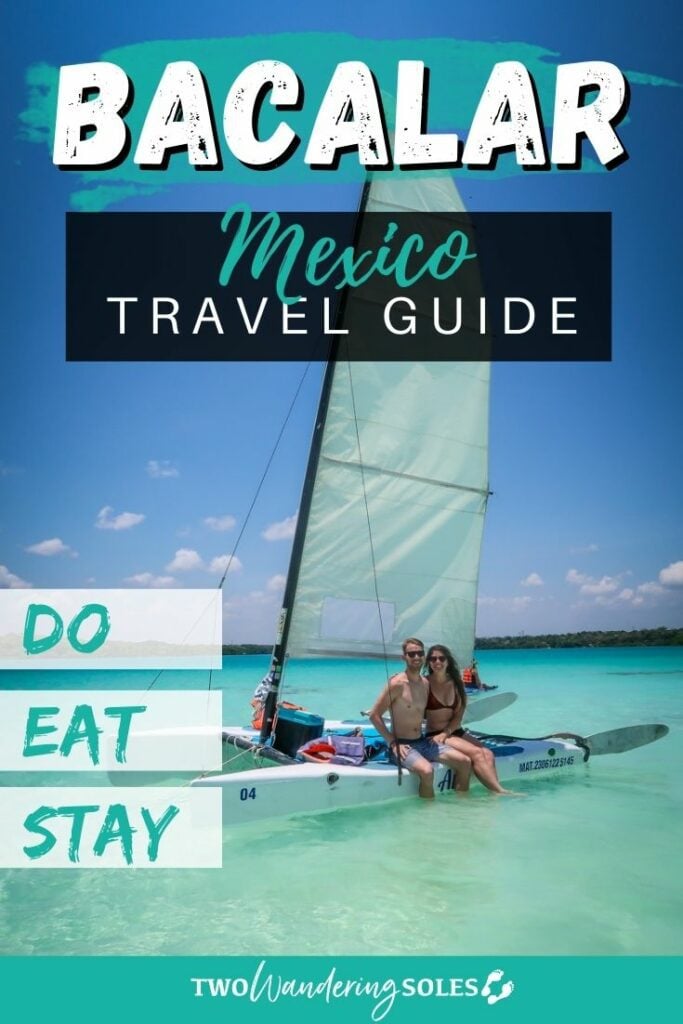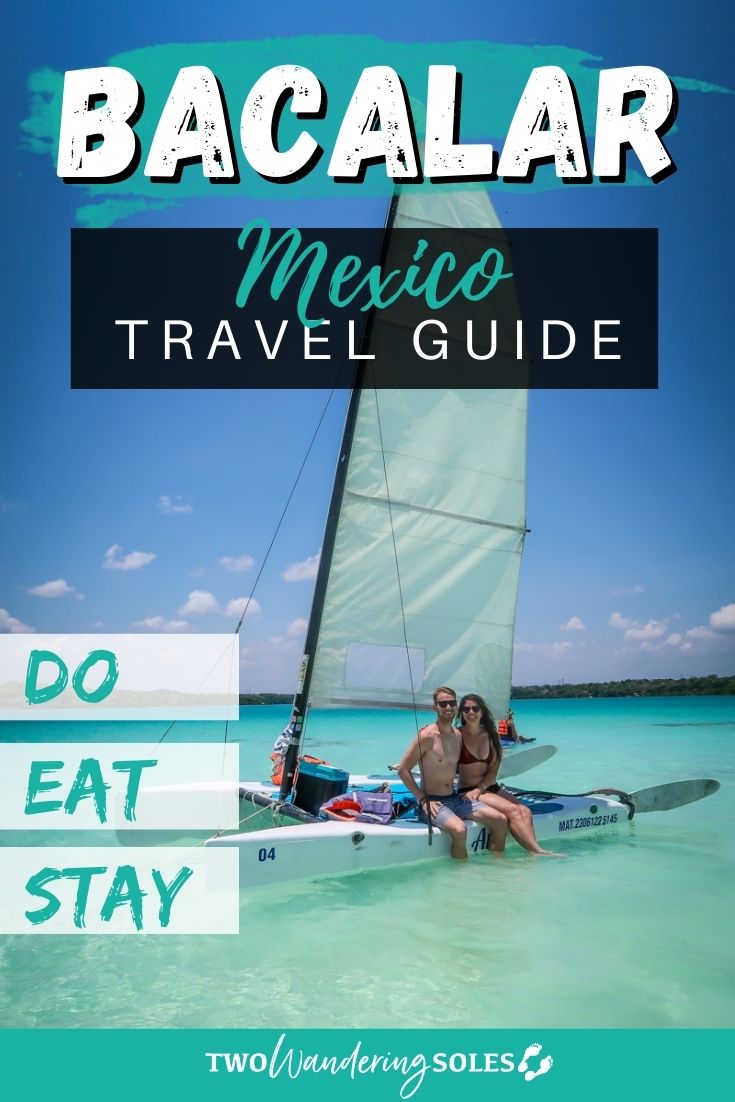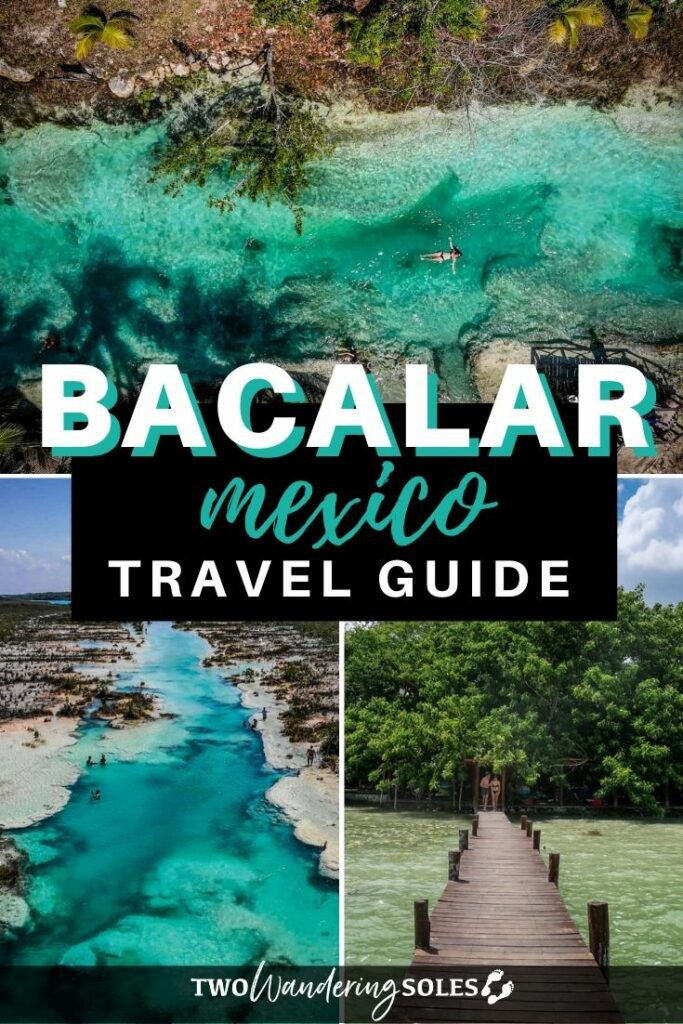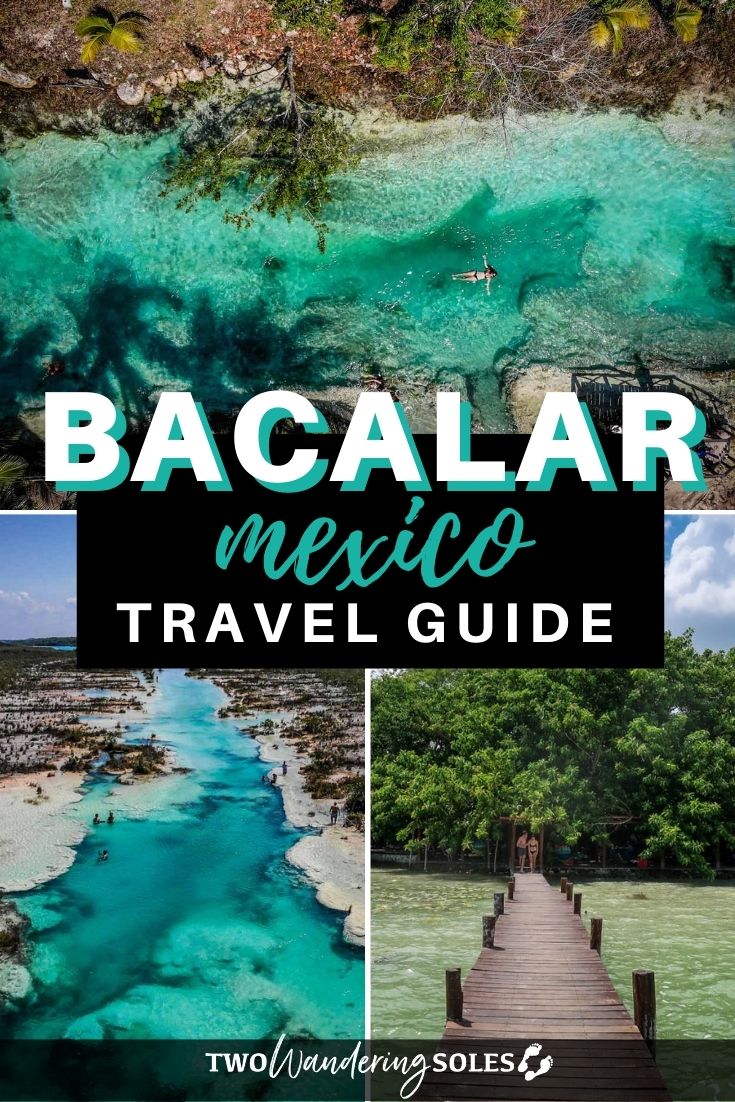 We want to hear from you!
Are you planning a visit to Bacalar Mexico and still have questions? Leave your comment below and we'll do our best to find you the answers you're looking for!