Known for sweeping canyon views of a dramatic red rock landscape, Canyonlands National Park is sure to make your jaw drop. Located just outside of Moab, this park is easily accessible for people of all ages and abilities. In this ultimate guide you'll find everything you need to know to plan your trip to Canyonlands National Park.
For dramatic sunset views at the edge of a seemingly neverending canyon, head 30 miles northwest of Moab and you'll find your bliss. Canyonlands National Park has views that'll make your heart skip a beat.
Before you go, be sure to pick up the America the Beautiful National Park Pass if you are heading to 3 or more US National Parks in the same year.
What is Canyonlands National Park known for?
Canyonlands is known for sweeping views of – you guessed it – CANYONS!
The Good
Canyonlands National Park is easily accessible and many viewpoints can be seen from right beside the road or on a short paved-path hike. This allows people of all ages and abilities to take in the dramatic canyon views.
The Bad
The first view point you'll come across will be jaw-dropping, the second is impressive, the third is okay, and by the fourth you'll be thinking, "Meh, seen it already." As astounding as Canyonlands can be, the viewpoints do tend to blur together by the end of your time in the park.

How long should I spend in Canyonlands National Park?
A couple hours to 2 days.
We spent just a couple hours in total in Canyonlands and were pleased with our experience. We stayed in our car most of the time and only hopped out for sites and short hikes, which makes it a great national park to visit with kids. If you are visiting Arches and Canyonlands, you could even do both in the same (albeit rushed) day.
But if you want to really get into the landscape, rent a 4-by-4 and explore the canyon up close and personal on an overnight trip. You'll have the park to yourself to explore and you will see places few others have seen.
If you plan on doing this type of trip though, the best time of year to go is either in the spring or fall when the temps are a bit more mild.
What time of year is best to visit Canyonlands?
Canyonlands can be experienced any time of year. In the summer months, be prepared for hot temperatures. Exploring the park at sunset will afford beautiful views at the most comfortable time of day. Winter can get quite cold (highs around 30-50°F and lows 0-20°F), but the famous "glow" at Mesa Arch can been seen at sunrise during this season.
Hikes & Sights in Canyonlands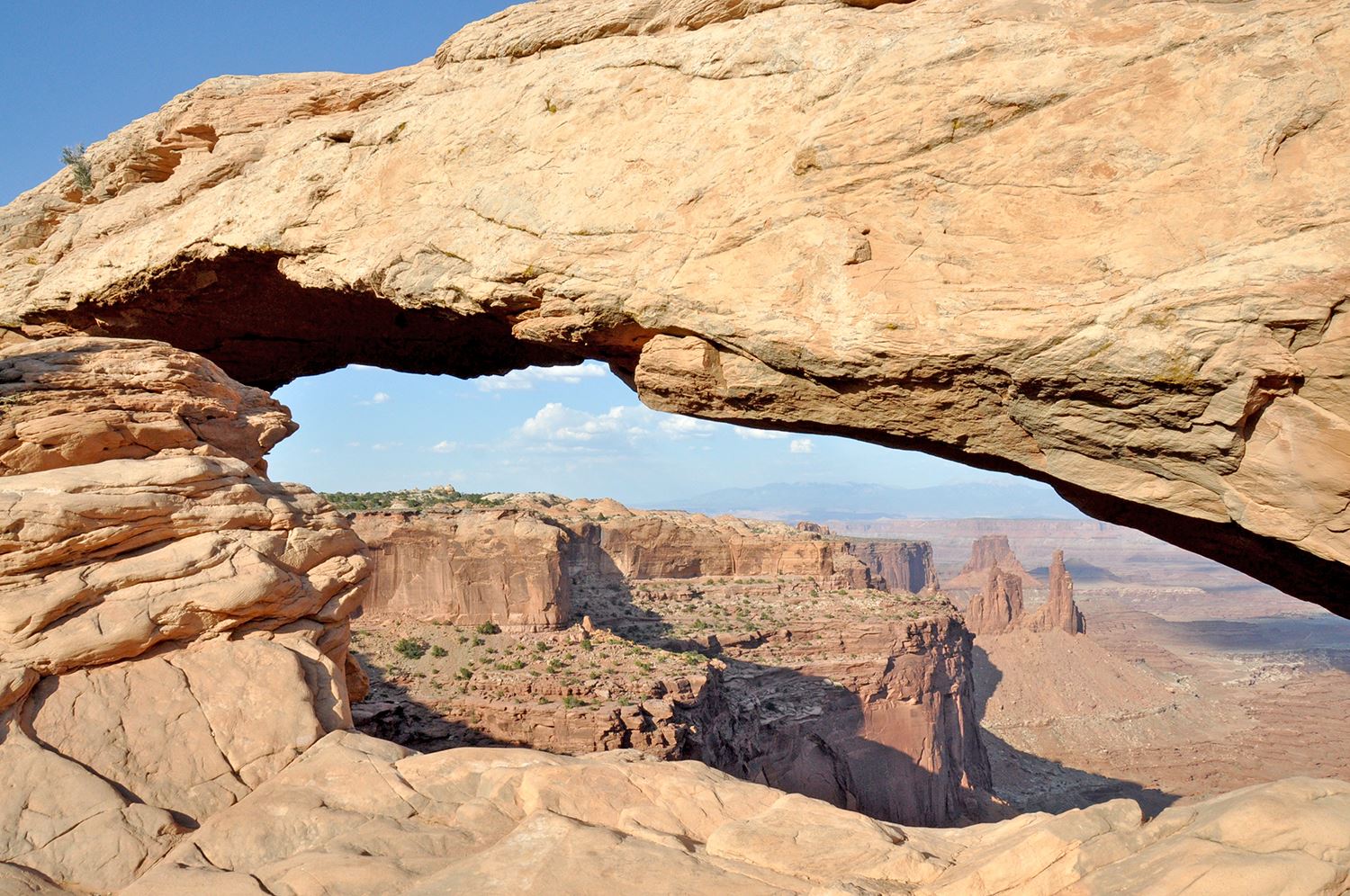 Mesa Arch – Hike: 0.5 miles roundtrip. Time: 30 min.

One of the best places to catch sunrise because it's only a short hike of the main road.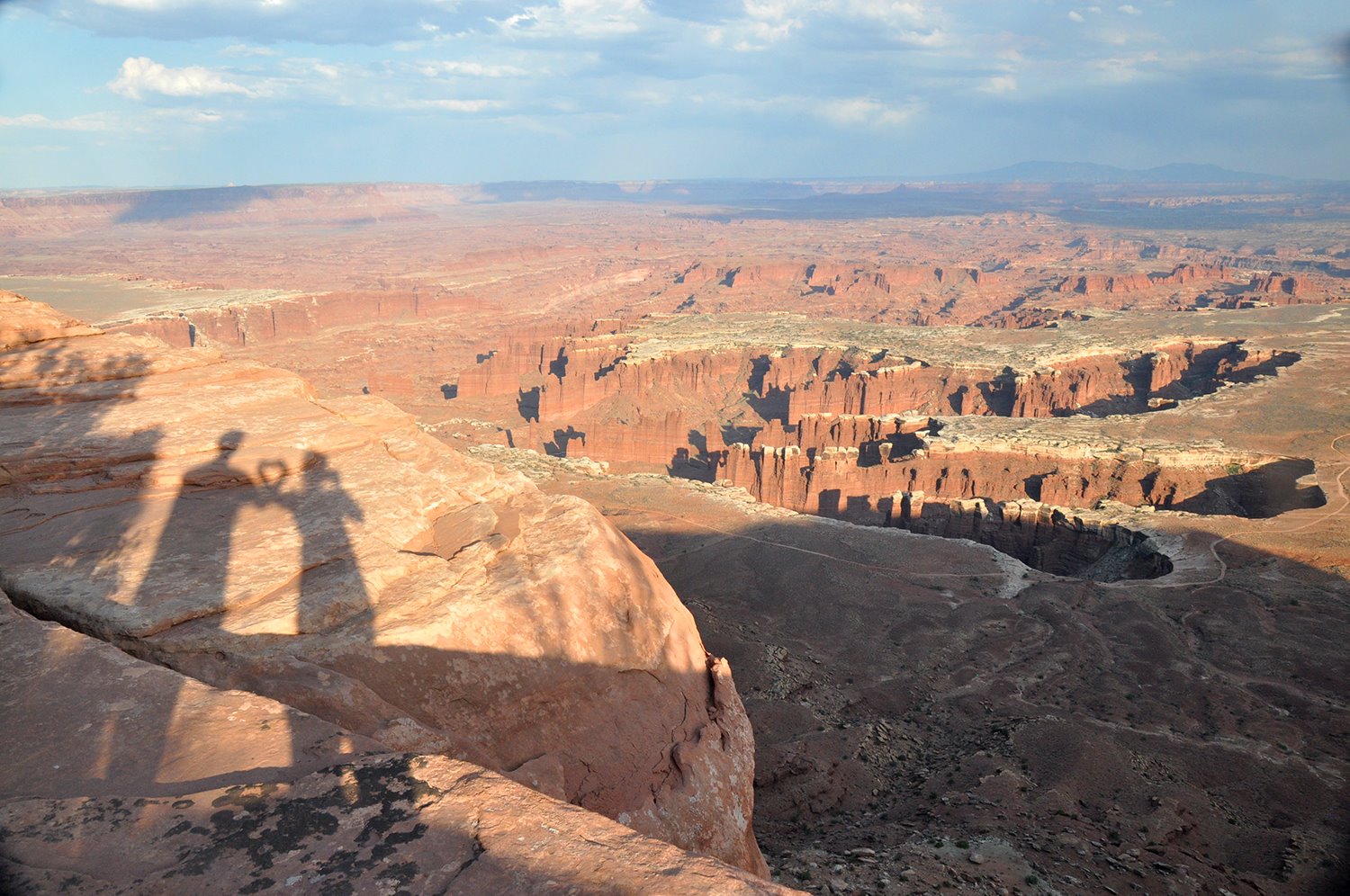 Grand View Point Overlook – Hike: 2 miles roundtrip (or as far as you want) Time: 90 min.

Great view of the Needles and Maze sections.

Green River Overlook – Hike: 0 miles (next to the parking lot)

Beautiful canyon view of the Green River that twists through the park.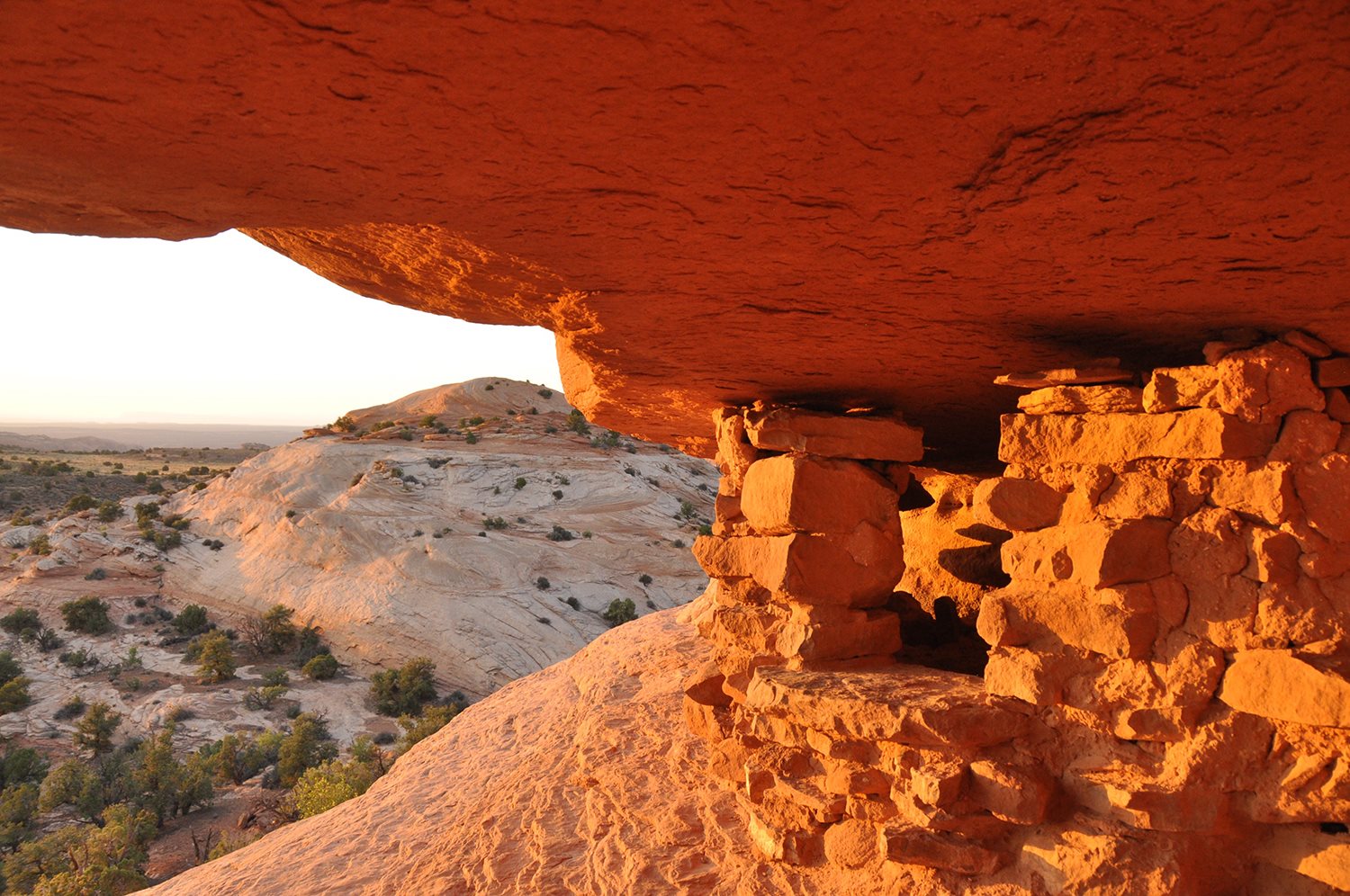 Aztec Butte – Hike: 2 miles roundtrip. Time: 1.5 hours

Easy to moderate short hike a small butte in which you drop below a short rim to get up close to two ancestral Puebloan granaries. We went here at sunset and we had it all to ourselves. Highly recommend this hike.
I have a family with small children. What can I do in Canyonlands?
Canyonlands National Park is incredibly accessible, making it a great place for families. The park roads seem to be newly paved and the viewpoints are just a short walk from the parking lots, and even small children should have no problem.
How to avoid crowds in Canyonlands
Canyonlands is the least visited National Park in Utah, but at sunset during busy times of the year, it can feel crowded at the major viewpoints. To get away from the crowds at sunset, hike to the Aztec Butte and enjoy the view of the setting sun beside ancient ruins of Puebloan granaries.
Famous photographs from Canyonlands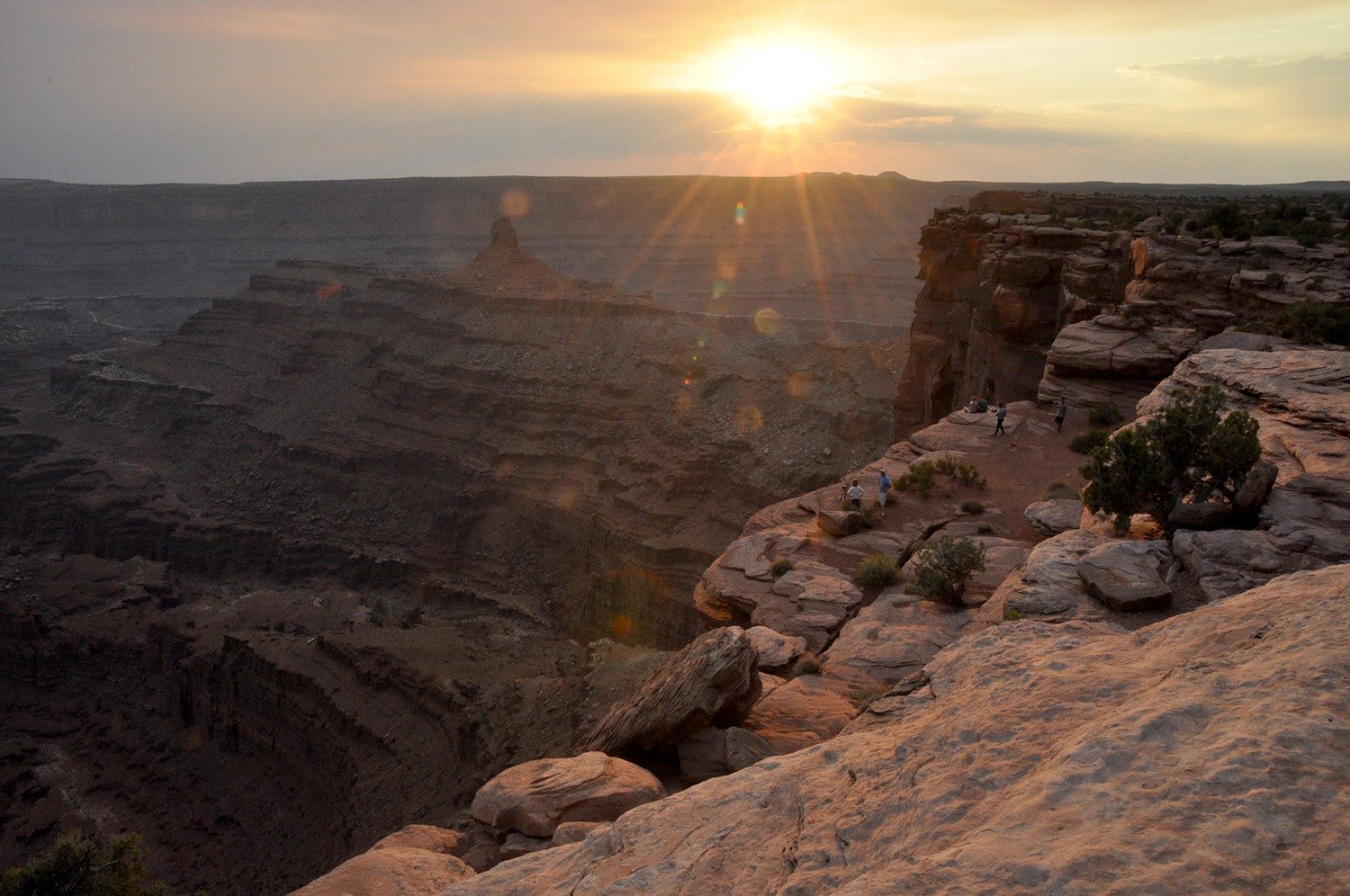 Perhaps the most famous photograph of Canyonlands is the iconic Mesa Arch shot at sunrise. Be aware that the famed glow is best captured during the wintertime.
The woman working at the visitor's center told us it is nearly impossible to get the famous warm glow in summer. Other noteworthy shots are overlooking the canyon at sunset from Grand View Point Overlook and Green River Overlook. Depending on the time of year, it can be quite hazy.
What to pack for Canyonlands
Water (at least 2 quarts per person. Only water in the park is available at the Visitor Center)

Full tank of gas (Canyonlands is huge!)

Camera

Tripod

Sunscreen

Layers

Picnic
Our favorite part about Canyonlands
Experiencing sunset at Aztec Butte was magical. We were the only ones there and were able to take in a sunset similar to what the Puebloan people would have experienced thousands of years ago.
Tips for Canyonlands National Park
Pack a picnic dinner and find a spot from which to enjoy the sunset views. It'll be a meal you won't soon forget!

If you're camping around Moab and are in need of a shower, there are tons of places you can rinse that desert sand off at (for a small fee). We chose to go to the Moab public pool where we spent the hottest hours of the day avoiding the heat, then showered off afterward for a total cost of $7 per person. Not a bad way to spend the afternoon in the desert!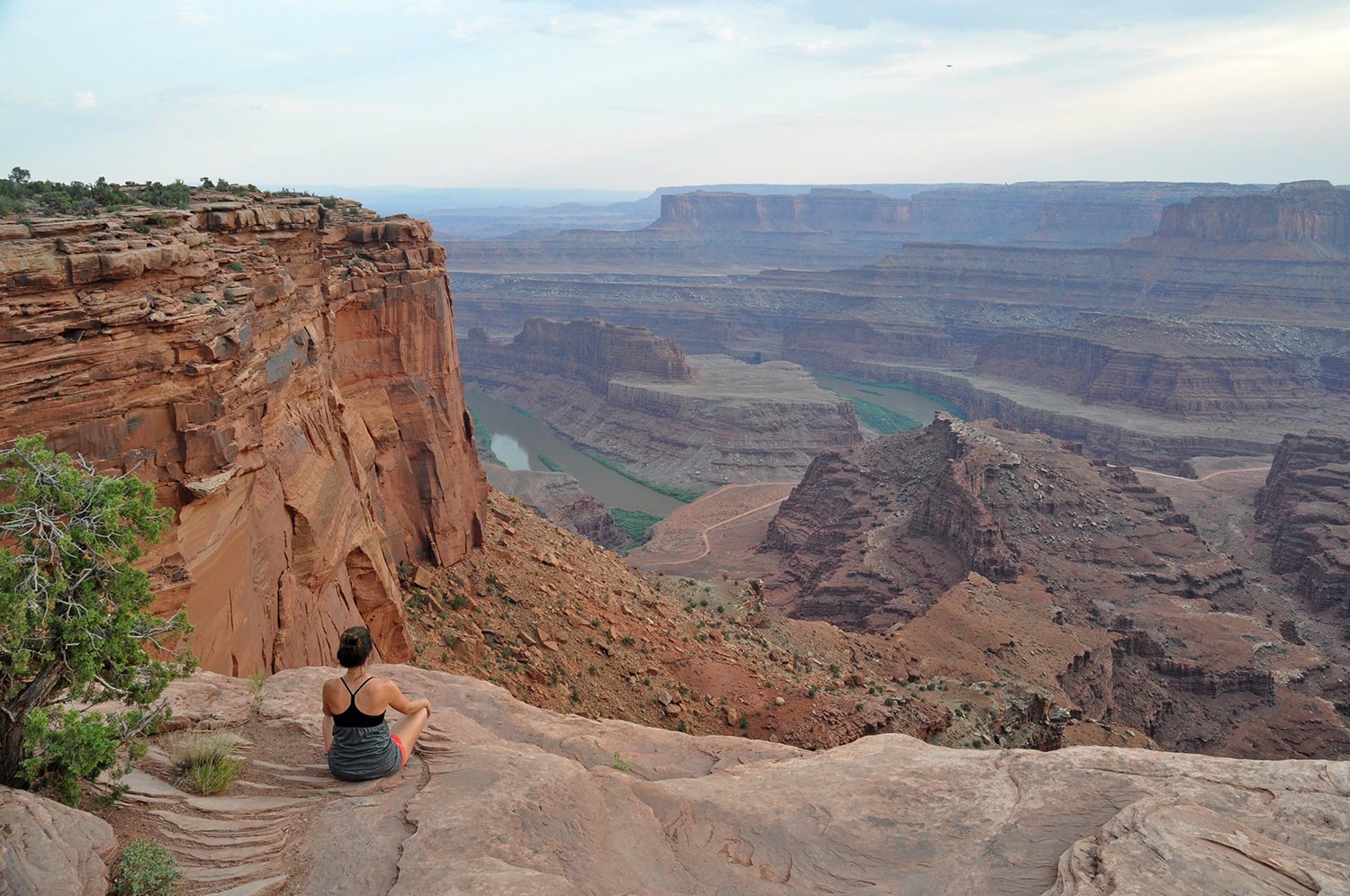 Thoughts on Dead Horse Point Overlook: We went to Dead Horse Point State Park because it was recommended by the lady at the Visitor Center in Moab. It was our first stop before Canyonlands and to be honest, we wouldn't do it again. It's an incredible view, but for the $15 per vehicle to enter the park, it's simply not worth it.
You can get very similar, if not more impressive views within Canyonlands at Shafer Trail Overlook and even at Buck Canyon Overlook. Our advice: Go see Canyonlands first, and if you're not tired of canyon views, go for Dead Horse. Otherwise, skip it, we wished we did.
Where to stay in Moab
Camping – Use a campsite app like The Dyrt to help you find camping in the area. There are some pretty sweet BLM camping spots along the Colorado River off of Hwy 128 for $15 per night. In the park there is camping at Willow Flats (near Green River Overlook, $15 per night) 
Hotel – When in the states, we use Booking.com to find the best deals on hotels. Search in Moab for the best prices.
Food/Coffee in Moab
Peace Tree Café: Big portions and healthy options. Food was good and it's a nice place to escape the heat. Go early because it gets busy during dinnertime.
Moab Coffee Roasters: The only coffee shop in town we were able to find with free Wi-Fi and outlets (though we didn't look too hard). Great iced Americanos (with ice cubes made of coffee!)
Gear Heads: This is an outdoor lover's dream! They have just about every piece of outdoor gear you could ever want, but the reason we've mentioned it is that they have a filtered water station that is free of charge so you can fill up your water jugs
There are plenty of things to do in Moab, so be sure to plan a few days here.
---
Are you headed to any other parks in Utah? Check out our articles on how to plan your visit:
---
We want to hear from you!
Have you been to Canyonlands National Park? What was your favorite part? Are you planning a road trip to Utah? We'd love to hear from you in the comments below!