Known for sweeping canyon views of a dramatic red rock landscape, Canyonlands National Park is sure to make your jaw drop. In this ultimate guide, you'll find everything you need to know to plan your trip to Canyonlands.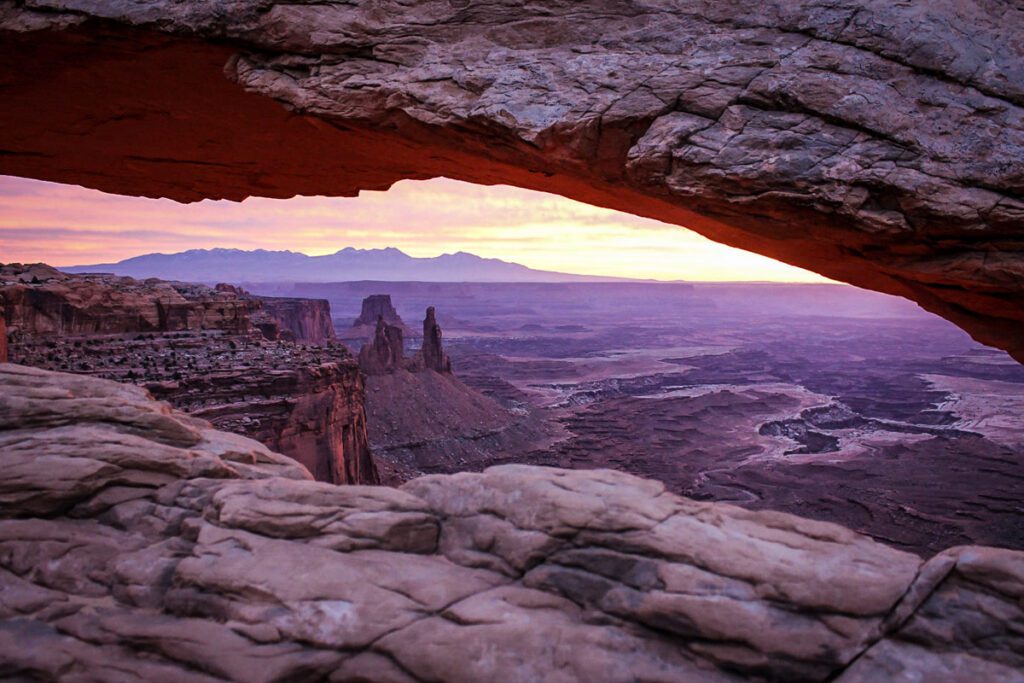 Divided into five distinct districts, Canyonlands National Park is home to many distinct geological phenomena and is famous for sweeping views of – you guessed it – CANYONS!
What makes this park so unique is that there is truly something for everyone. From those that enjoy short hikes and viewpoints to off-grid, self-sufficient adventurers, there is a place in Canyonlands for people of all ages and abilities.
In this guide, we're covering all the most exciting things to do in Canyonlands National Park, including views that will make your heart skip a beat and the most exhilarating hikes and rugged adventures.
Article contents
---
Canyonlands National Park at a glance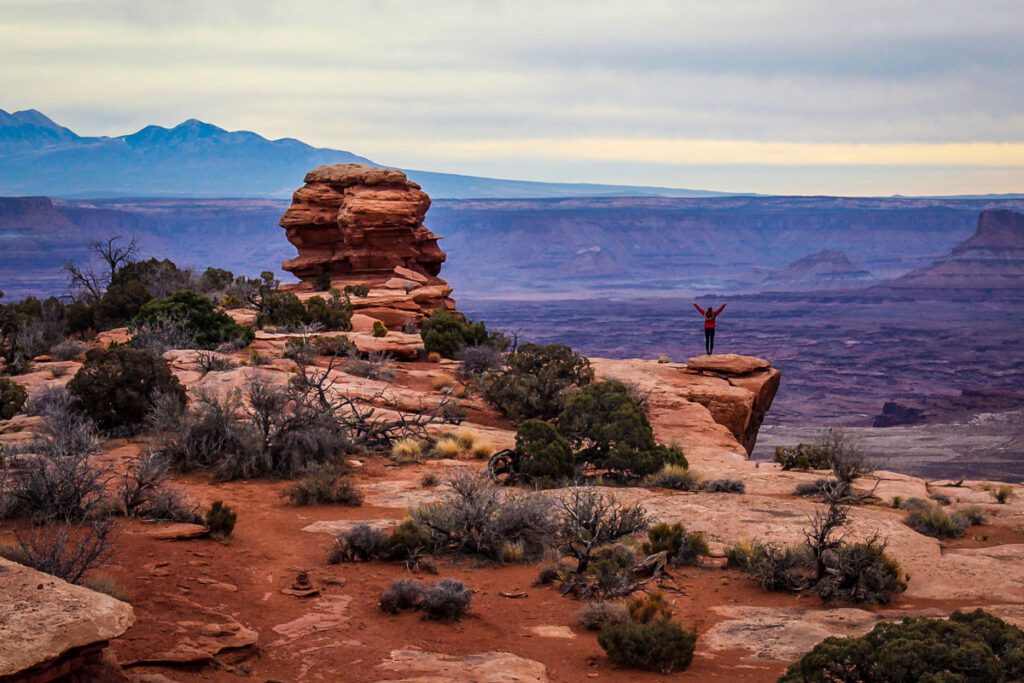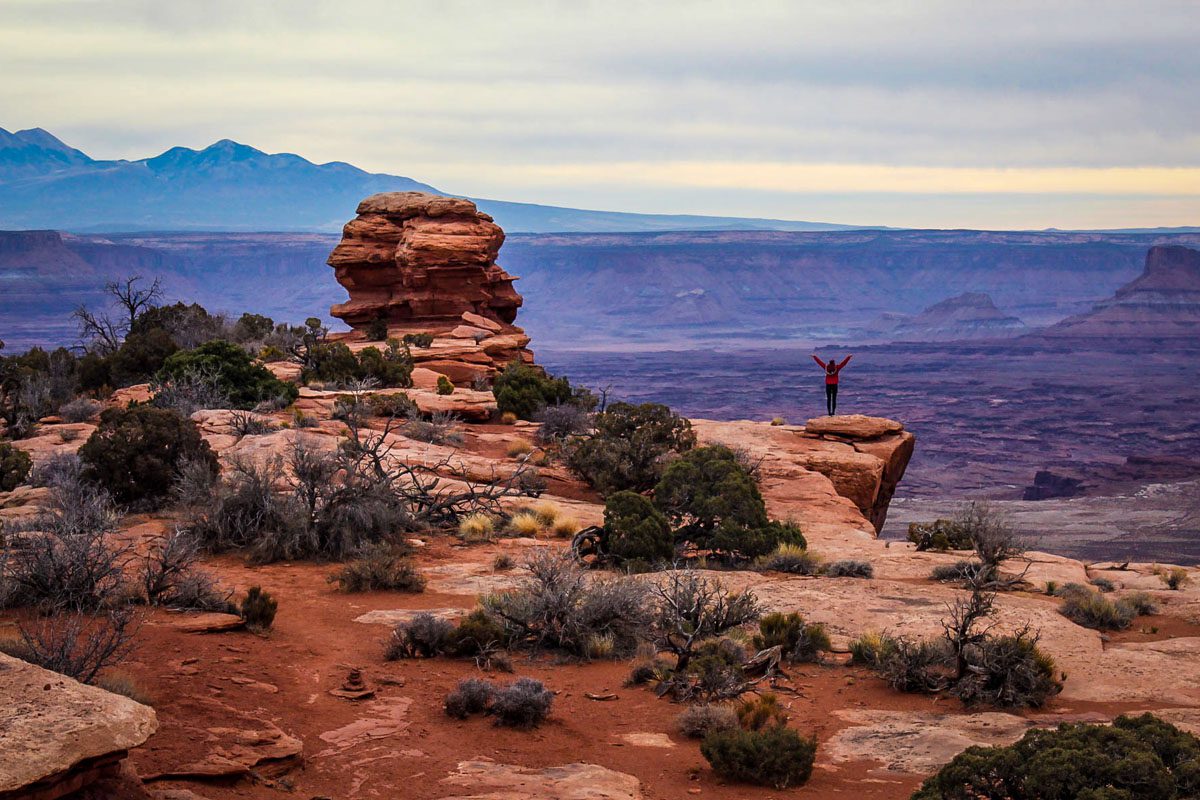 Open: Year round
Entrance Fee: $30/vehicle, $25/motorcycle, $15/hiking & biking, or free with your America the Beautiful Pass
Wildlife: Rats, lizards, snakes, foxes, mule deer, coyotes, bats, and owls.
Established: September 12th, 1964
Ancestral Lands: Canyonlands is home to over 10,000 years of indigenous history. Ancestral Puebloans, Navajo, Ute, and Puebloans all called this area home.
Area: 337,598 acres
How to get to Canyonlands National Park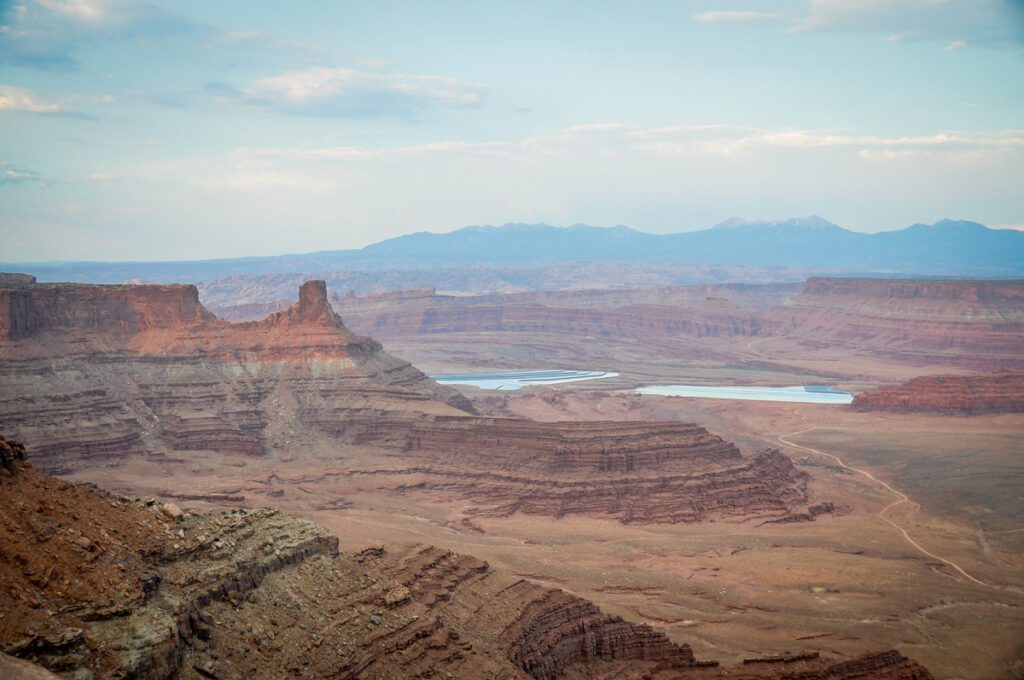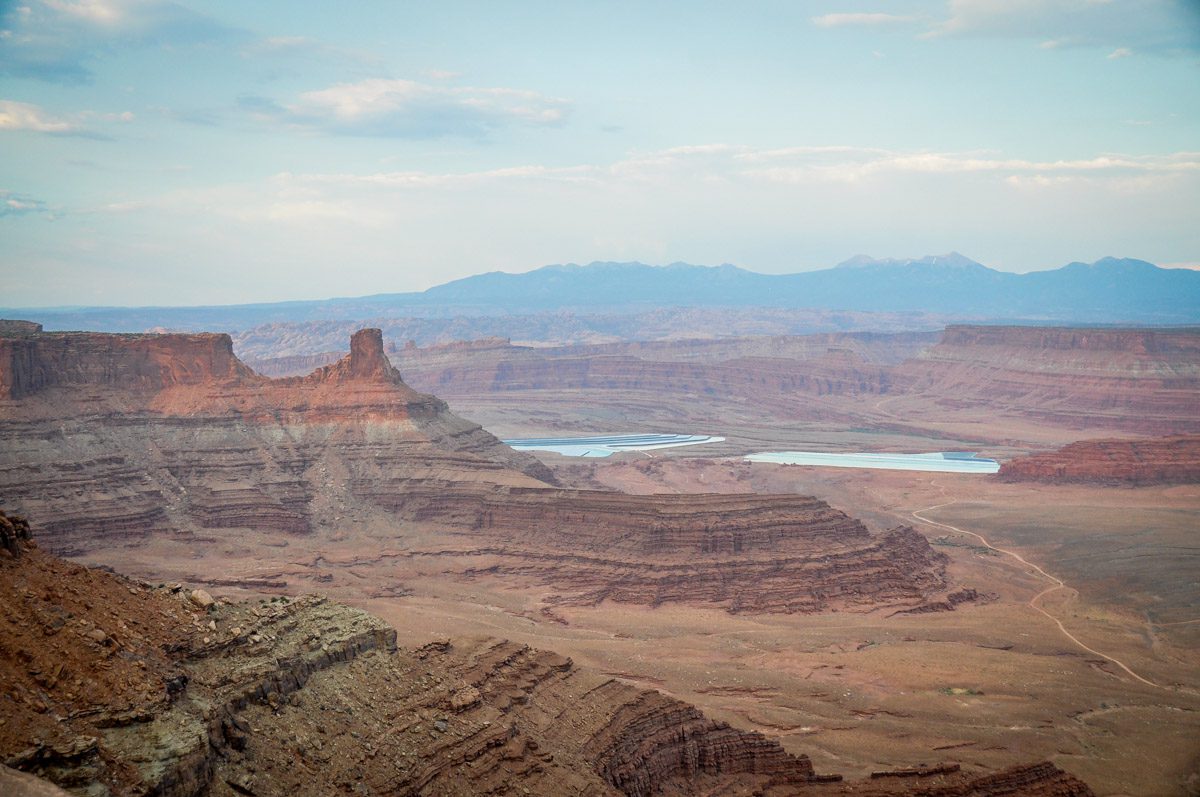 Canyonlands is the next door neighbor of Moab and Arches National Park, but the park itself is very remote and best accessed with your own rental car.
What many people do is fly into either of the closest airports in Salt Lake City or Denver and then drive the rest of the way to the park.
Self drive
From Salt Lake City (4 hours, 6 minutes): Follow US-6 E south and take I-70 and US-191 to get to Canyonlands National Park.
From Denver (5 hours, 45 minutes): Take I-70 W and take US-191 in Thompson Springs to Canyonlands.
It seems counterintuitive to explore Utah by leaving from Colorado, but Canyonlands is a popular road trip destination from Denver since it's the next closest major city to the park. Start your trip off right exploring all the exciting things to do in Denver.
Getting around in Canyonlands National Park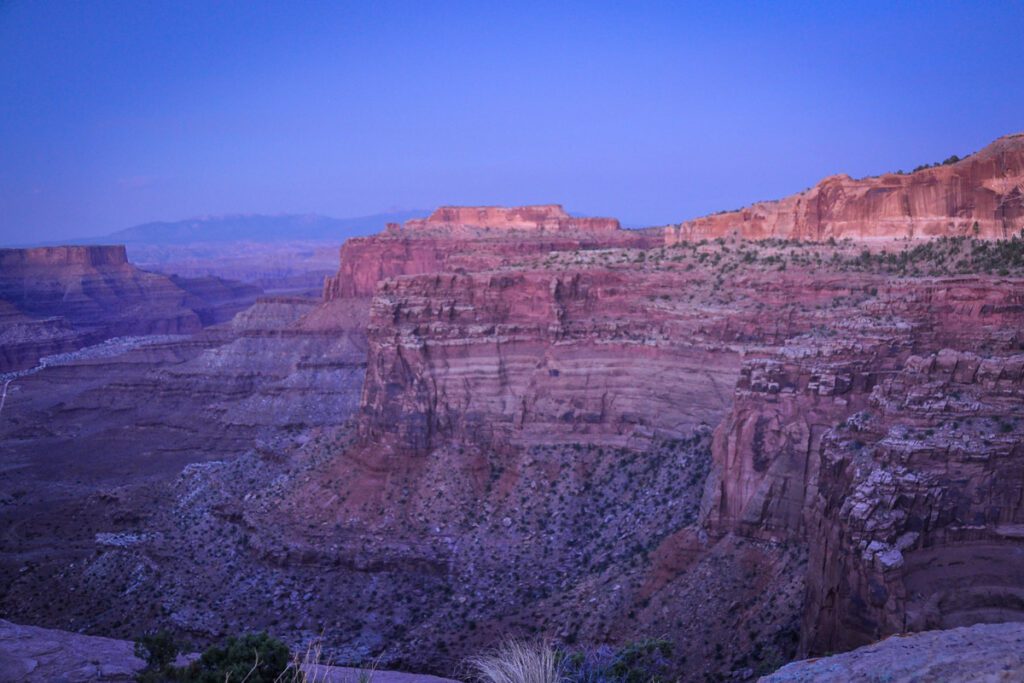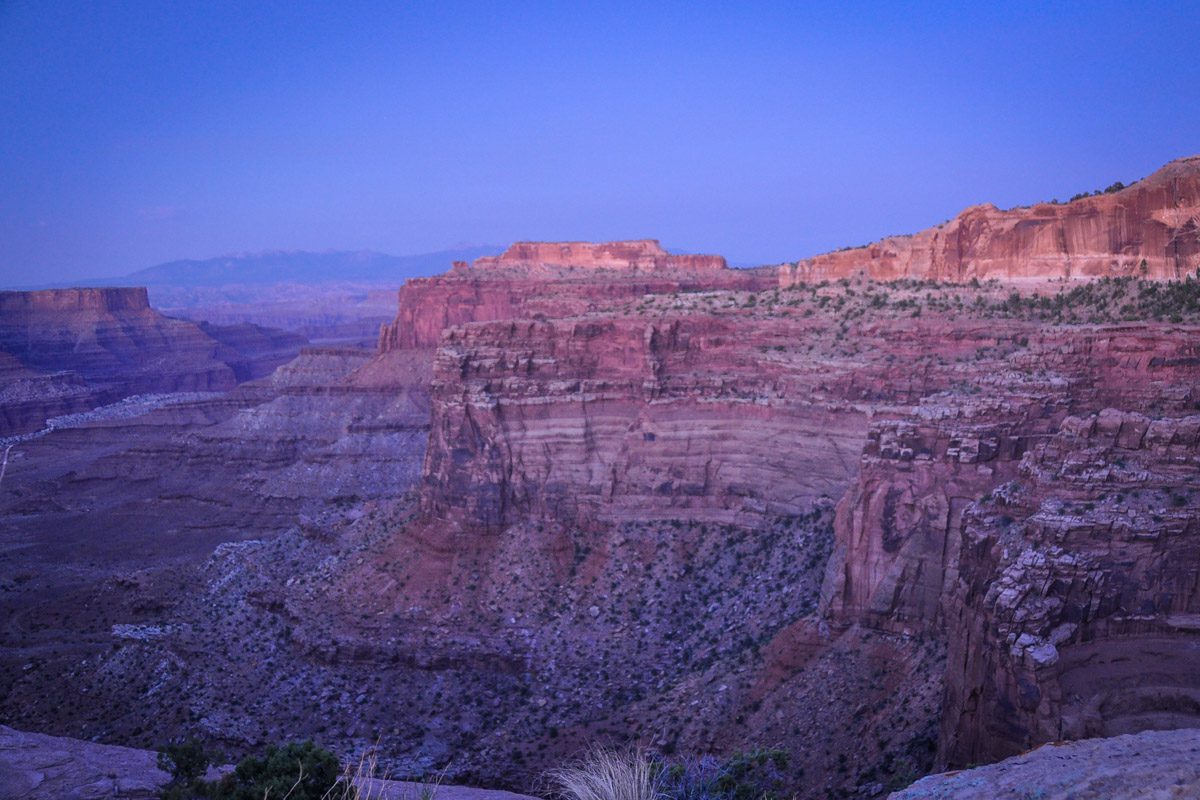 Unlike other Utah National Parks, Canyonlands is remote and without a lot of facilities. The park is divided into 5 districts (see more in the map section below). It's large, very spread out, and there are no shuttles.
The only way to get around is with your own vehicle. If you'll be flying in from out of town, you can pick up a rental car wherever you're starting your road trip.
Tip for getting a rental car
We personally like using Discover Cars when we rent vehicles around the world, as they gather options from all sorts of rental companies in one place. It makes it really easy to compare prices and vehicles so you can determine which is the best option for you.
Search & Compare Rental Car Prices
Discover Cars: We personally use this aggregate site to compare rental car prices from all the big name companies and get the best price possible.
RentalCars.com: We've had good experiences finding rental cars with this site in the past.
Wanna try out van life while visiting Canyonlands National Park?
It's no secret we're obsessed with #vanlife. If you don't have the time (or interest!) in building your own conversion but you still want to give van life a test drive, we've got some ideas for you…
Check out our list of top companies for USA Campervan Rentals, from budget to bougie, we've even included some exclusive discounts for our readers!
One company we'd recommend looking into is Escape Campervans. They have 12 different locations across North America (including Denver and Salt Lake City) and come fully loaded with all the gear you need for an epic road trip. Plus, their rates are fair and affordable.
BONUS: We've partnered with them to give you a 10% off discount when you use our link!
We have plenty of recommendations for campervan-friendly campsites in the where to stay section below.
Entrance fees and tickets
Private vehicle: $30, valid for 7 days
Motorcycle: $25, valid for 7 days
Per person: $20, valid for 7 days

If you're planning to visit more than one of Utah's "Mighty 5" National Parks, we'd highly encourage you to look into getting an annual park pass. At $30 per vehicle, entering Canyonlands, along with most other national parks in the U.S., can get expensive.
For just $80 per year, you can purchase the America the Beautiful park pass. This pass grants you free access to all of the national parks. Plus it also covers your entrance to over 2,000 natural, historical, and recreational sites across the United States.
If you still need convincing, check out our article: America the Beautiful Annual Park Pass: Is it Worthwhile?
Psst! Check out some of our other favorite national parks on the west coast & Western U.S. that make great adventure and hiking destinations.
How many days do you need in Canyonlands?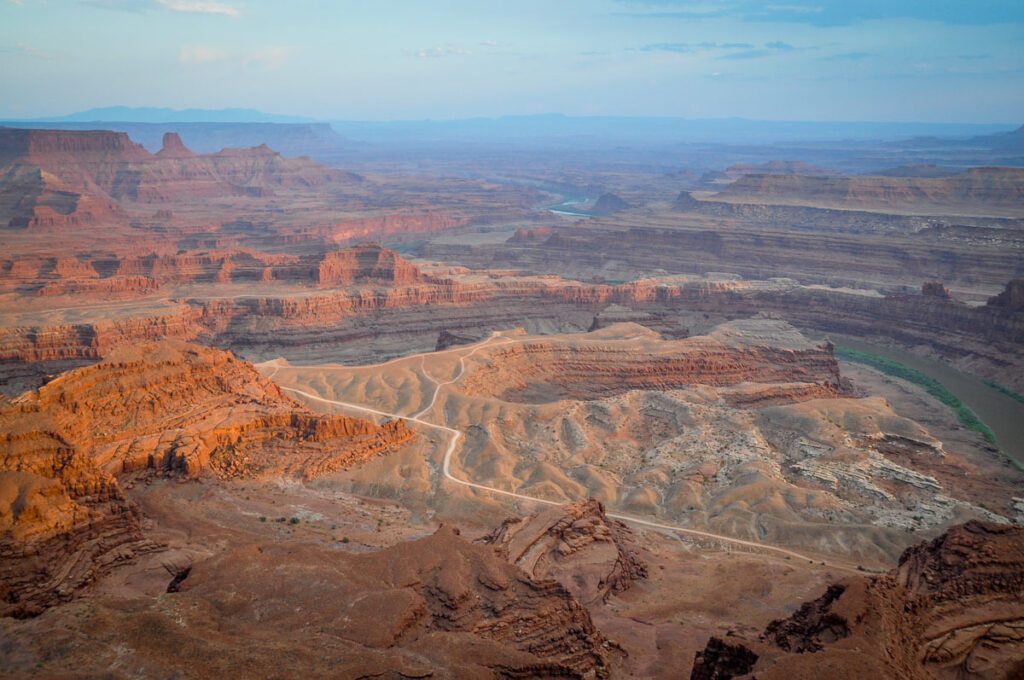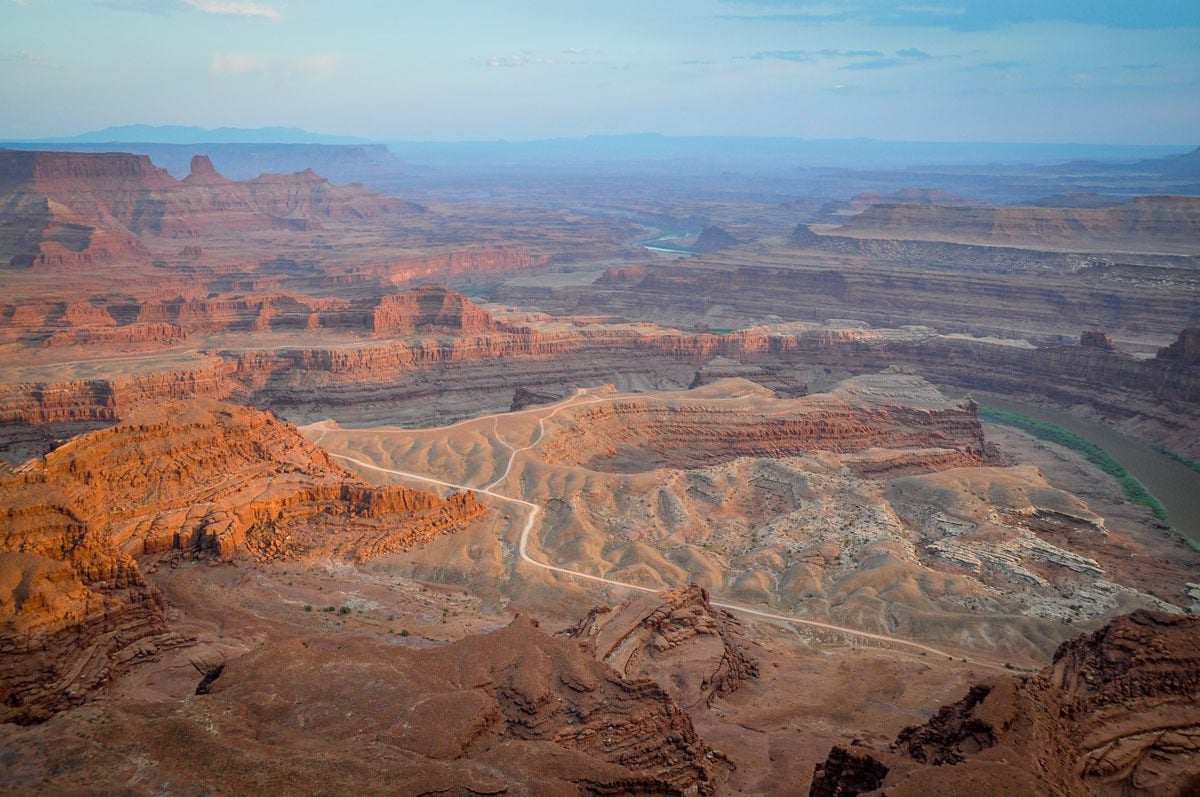 One or two days.
We spent just a couple hours in total in Canyonlands and were pleased with our experience. We stayed in our car most of the time and only hopped out for sites and short hikes, which makes it a great national park to visit with kids.
If you are visiting Arches and Canyonlands, you could even do both in the same (albeit rushed) day. But if you want to really get into the landscape, rent a 4×4 vehicle and explore the canyon up close and personal on an overnight or multi-day trip.
When is the best time to visit Canyonlands National Park?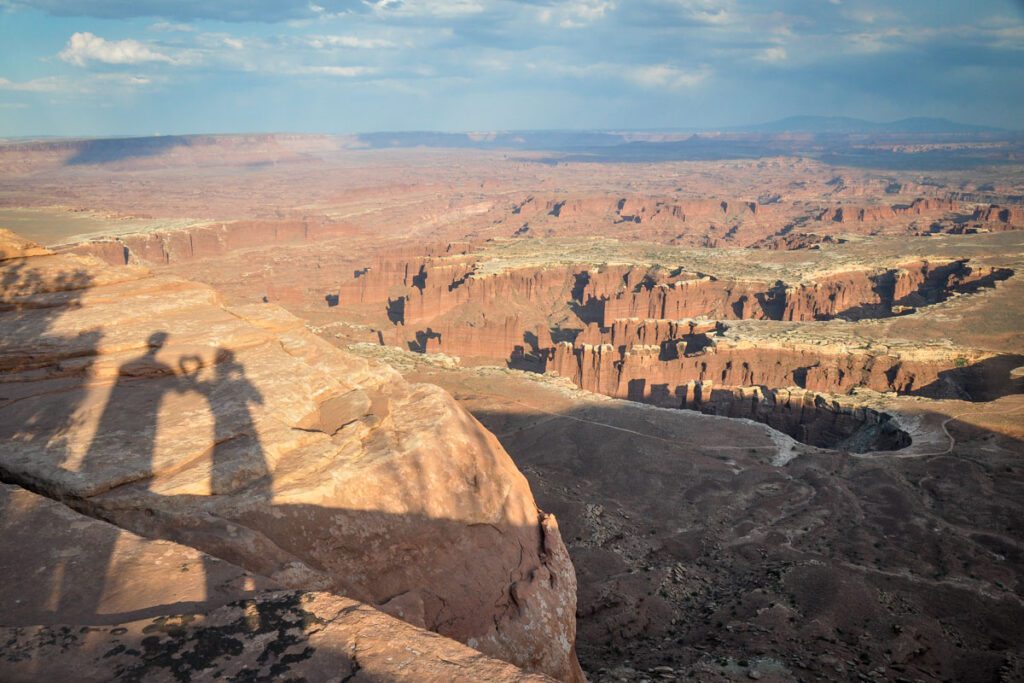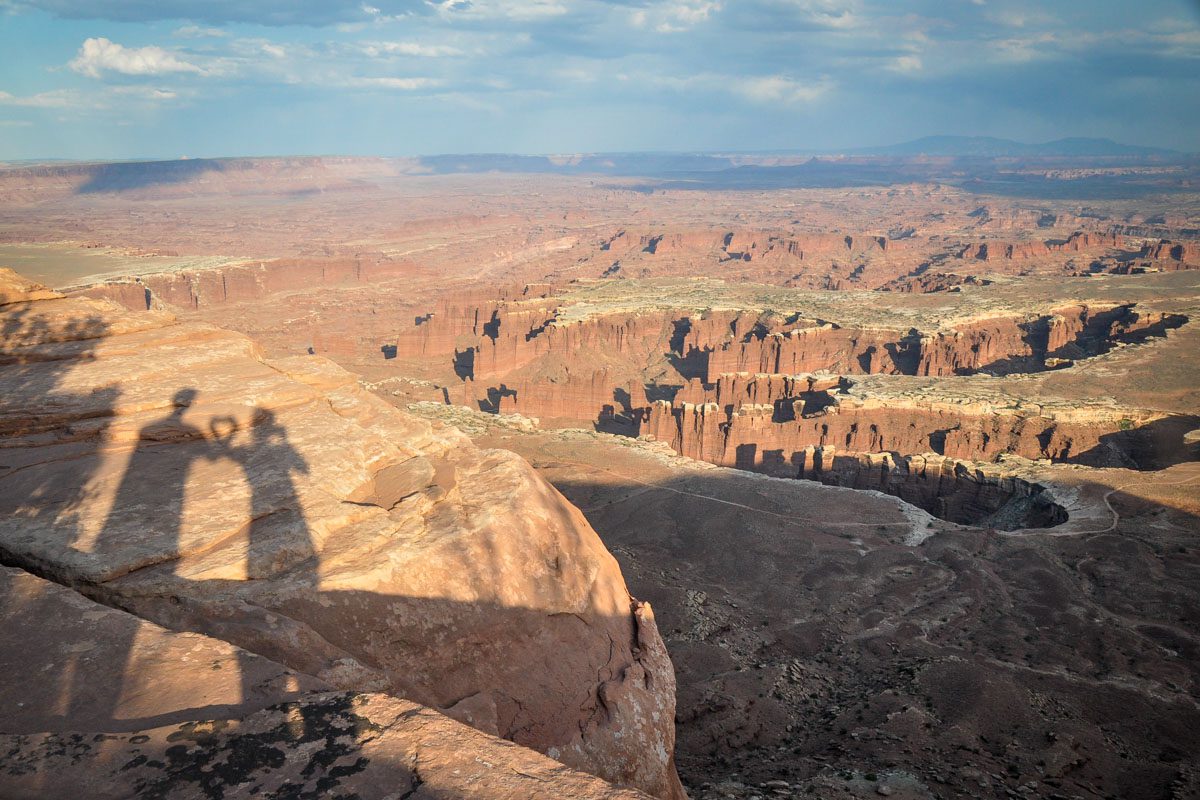 The most comfortable time to visit Canyonlands is in the fall and late spring when crowds and temperatures are mild.
During the summer, crowds and heat are at an all time high, reducing your exploring opportunities to early morning and late afternoon.
Winter is a unique time to visit since the park stays cold, but doesn't get a ton of snowfall. The orange-hued canyon blanketed in snow is beautiful. Plus, this is the ideal window for seeing the infamous "glow" at Mesa Arch.
Canyonlands National Park map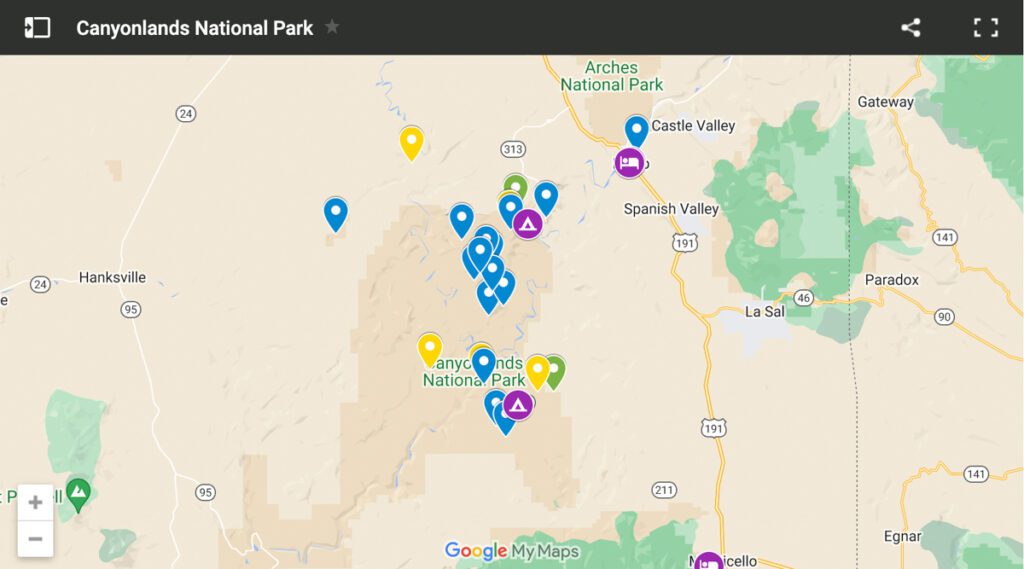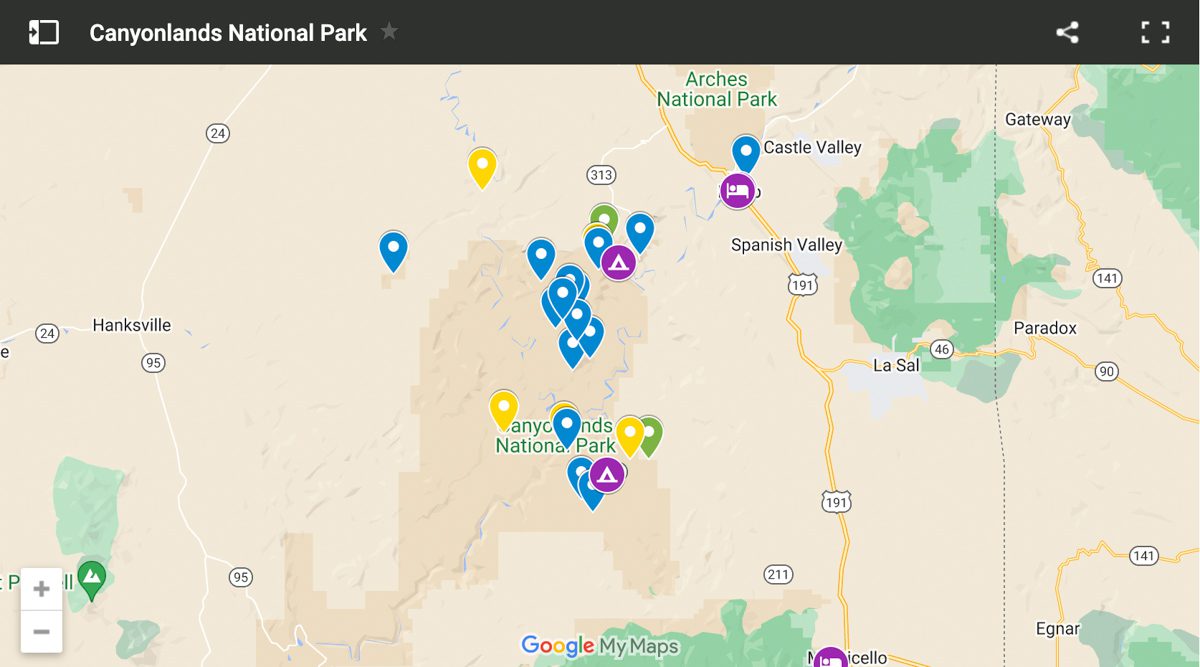 Unique to this national park, Canyonlands is split into five districts:
Island in the Sky: This is the most popular and accessible section of the park. Here is where you can take the scenic drive, visit iconic viewpoints and tackle many of the best Canyonlands hikes.
The Needles: A rugged otherworldly landscape with striking sandstone formations.
The Maze: Further off the grid and even more rugged than the Needles section, you'll need a 4-wheel-drive vehicle and some serious backcountry skills to explore here.
Colorado & Green Rivers: In the heart of Canyonlands these two major waterways converge, providing epic views and river rafting opportunities.
Horseshoe Canyon: An isolated section, strictly for day-use, and known for ancient Puebloan rock art.
The map above displays the different regions, main entrances, campgrounds, lodging options, and locations for the best things to do in Canyonlands National Park.
---
Things to do in Canyonlands National Park
With five different and impressive districts, exploring all of Canyonlands could take lifetimes. No matter if it's your first or fifth time visiting Canyonlands, you'll find something new to see in this list of things to do inside the park.
1. Watch the sunrise at Mesa Arch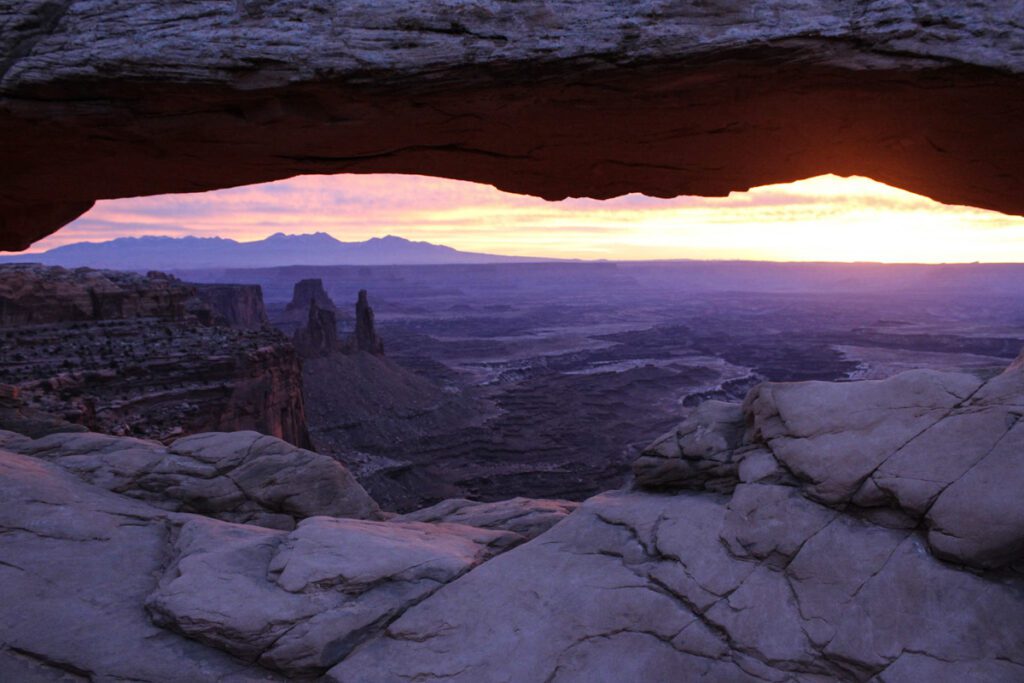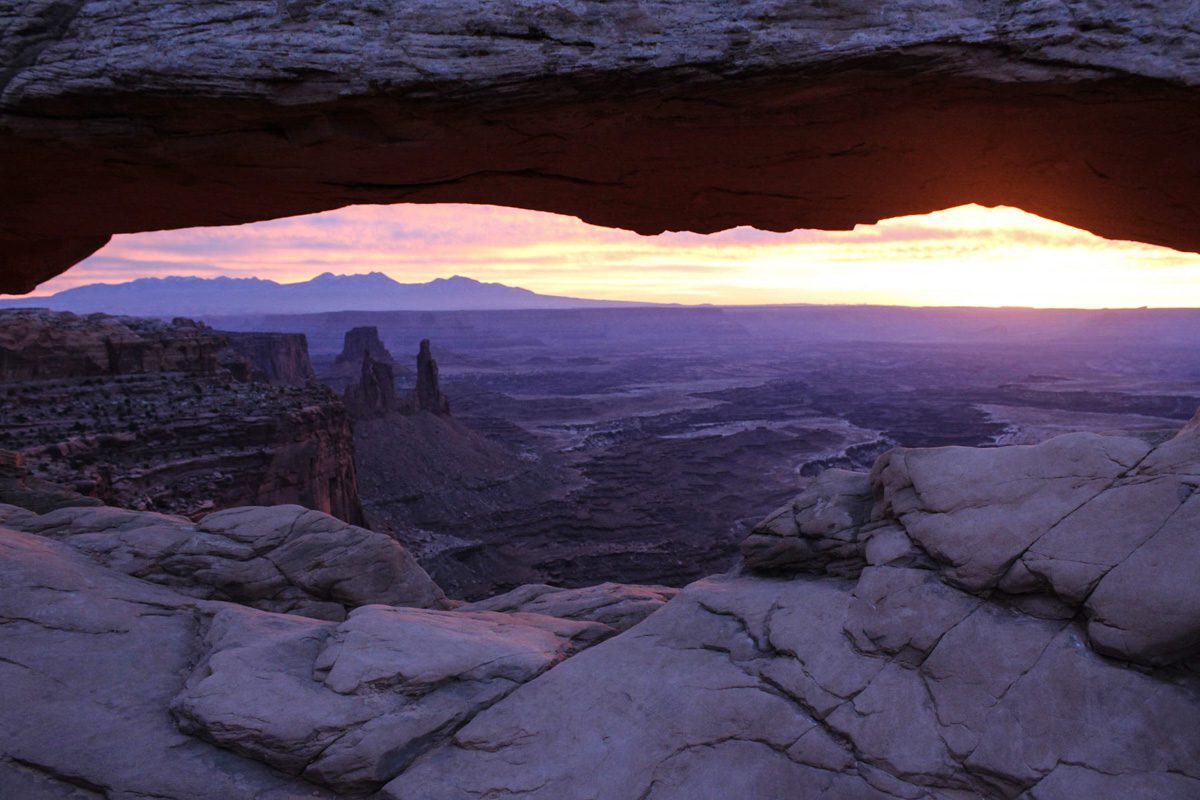 You'd think all the best arches in Utah would be exclusive to only the aptly named Arches National Park, however a quick search of Canyonlands will prove just the opposite.
Millions of photographers and visitors flock to this magnificent archway to photograph the first morning rays illuminating the canyon in a mysterious glow.
You'd be shocked at how easy it is to get to such a spectacular place. The trail is less than a mile long and almost flat the entire way, making this very accessible to anyone visiting Canyonlands.
Just be sure to arrive early because parking fills up fast!
Good to know: the infamous "glow" only happens during the winter months but the sunrise is still spectacular in the other seasons.
2. Hit the scenic viewpoints in Island in the Sky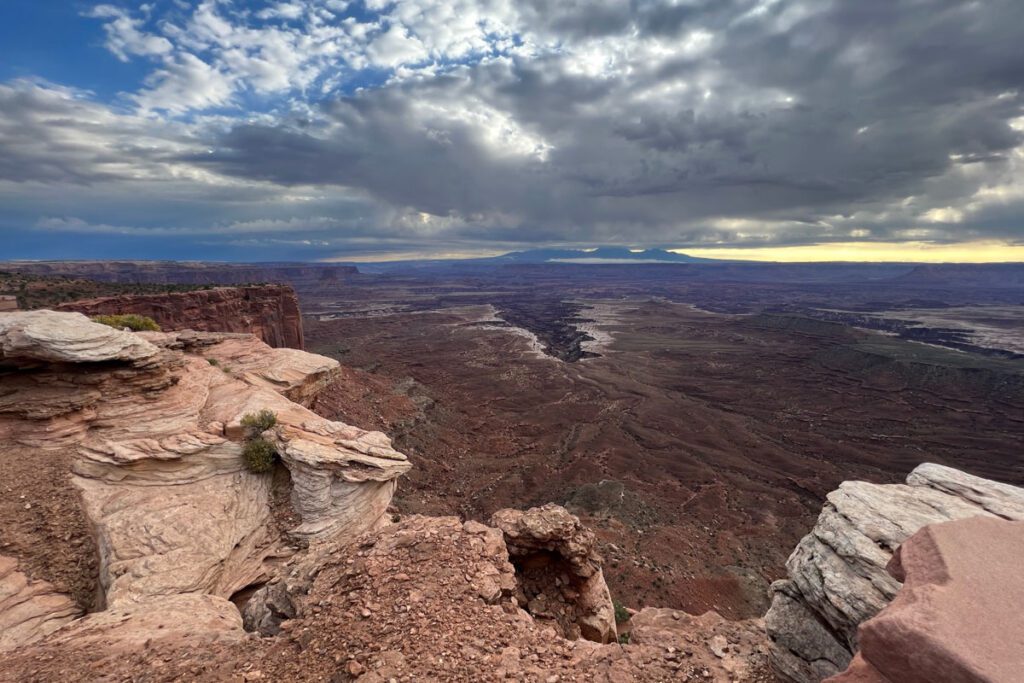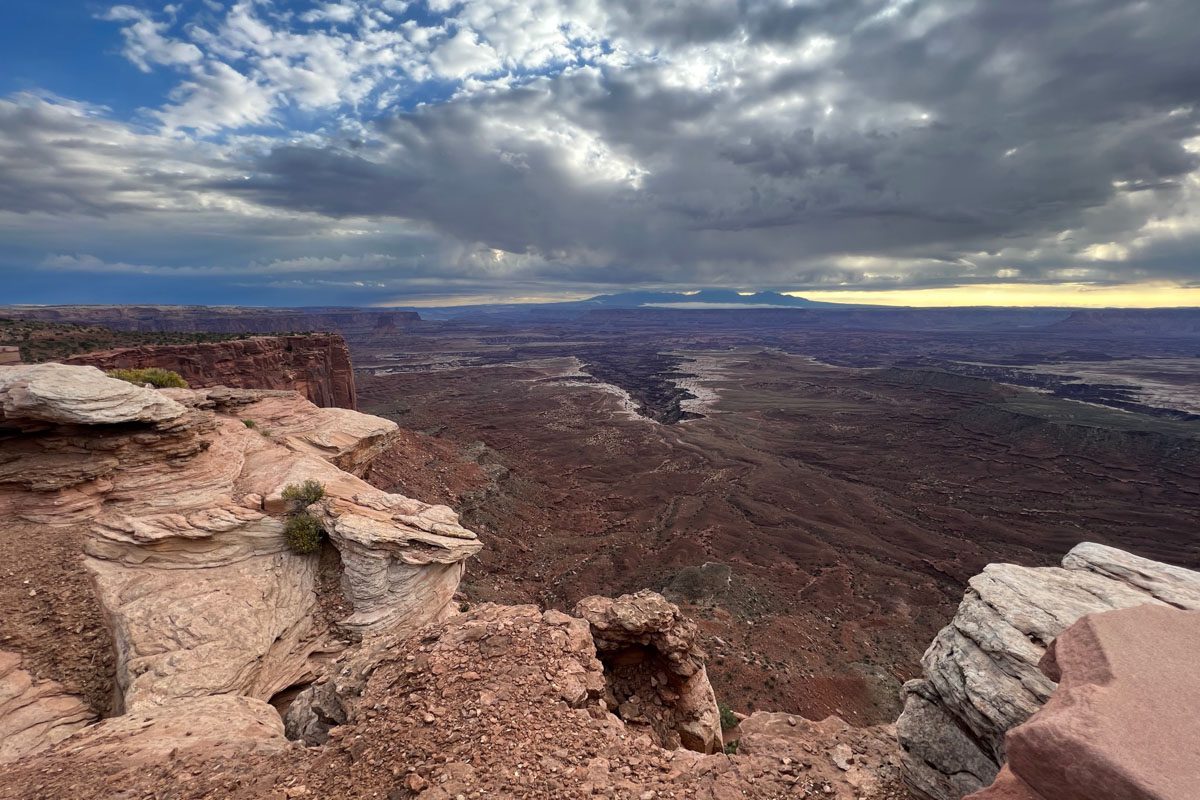 Viewpoints within National Parks do an incredible job of showcases expansive vistas to truly take in the entirety of a place.
A handful of the overlooks in Canyonlands have trails leaving the viewing area. If you have time, we definitely recommend them!
3. Go on a river rafting tour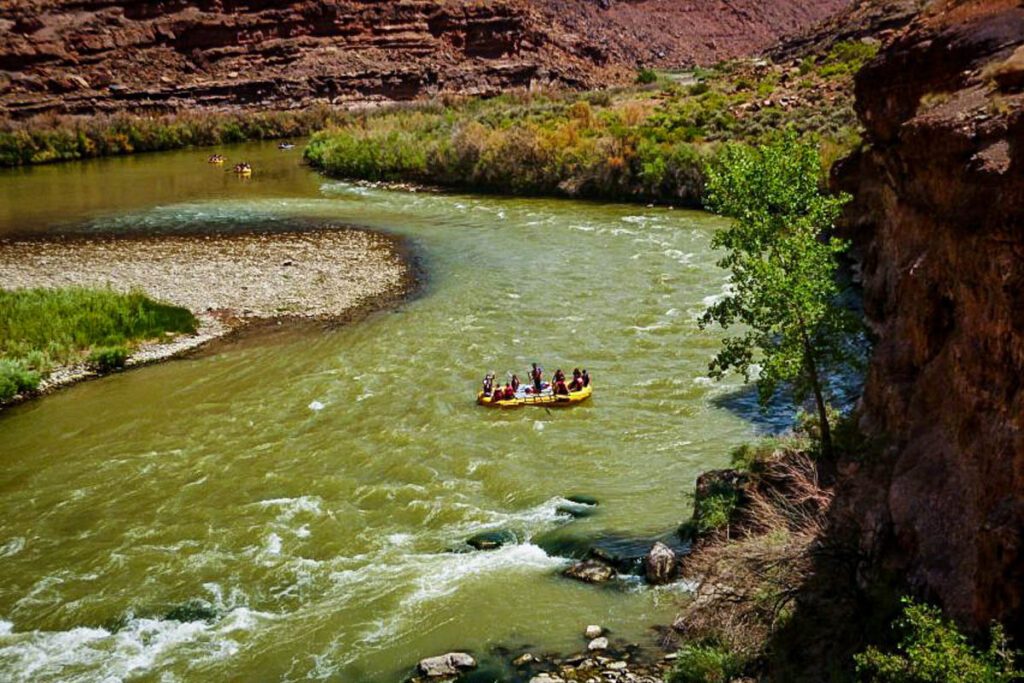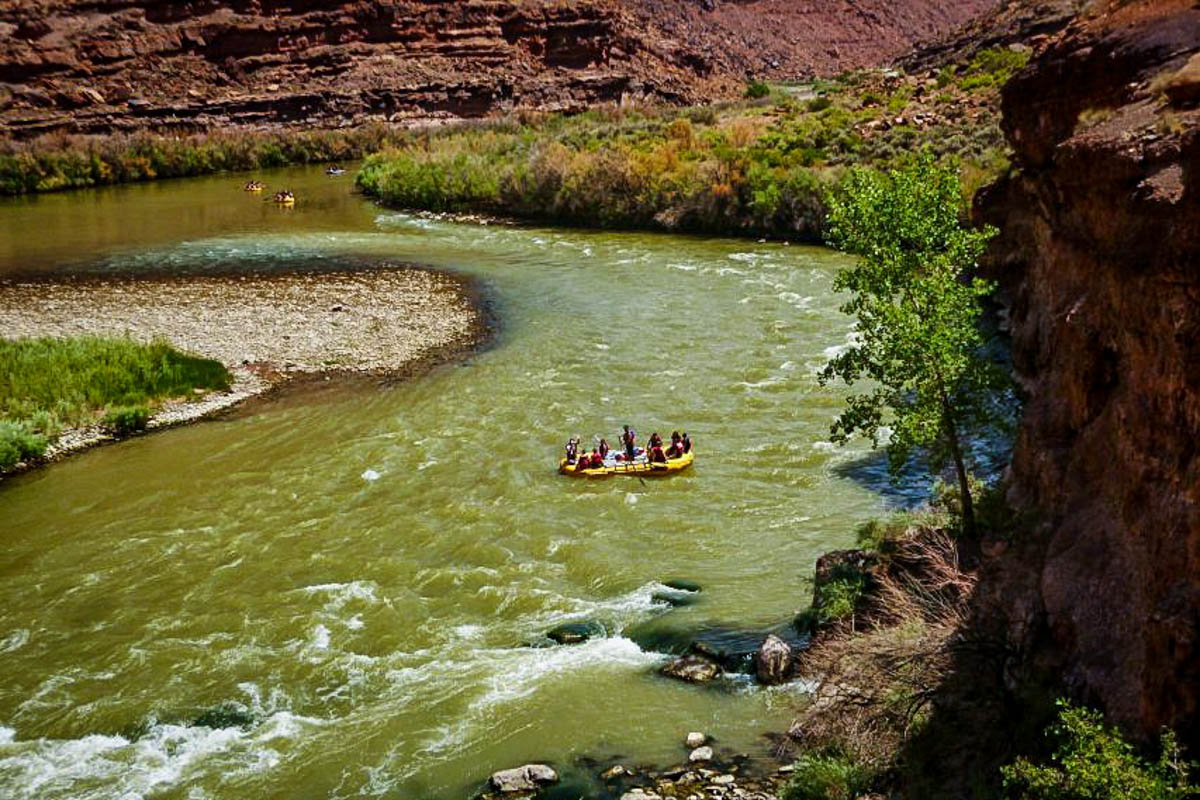 Floating down the very river(s) that carved Canyonlands will give you a better perspective and appreciation for the unique geology of the park.
Depending on what part of the rivers you paddle, you'll get an entirely different experience. You can experience a more peaceful float above where the Green and Colorado confluence, but once you get past it, the two rivers come together to create Class III and V whitewater rafting.
There are a variety of different tours in different parts of the river so you can choose one that suits your comfort levels. View a list of local rafting tour companies here.
Canyonlands 4×4 Drive & Colorado River Rafting: This tour is perfect if you're looking for a gentle introduction into whitewater rafting. The full-day experience comes with fun guides and a buffet-style lunch on the banks of the river.
4. Take a scenic drive down the White Rim Road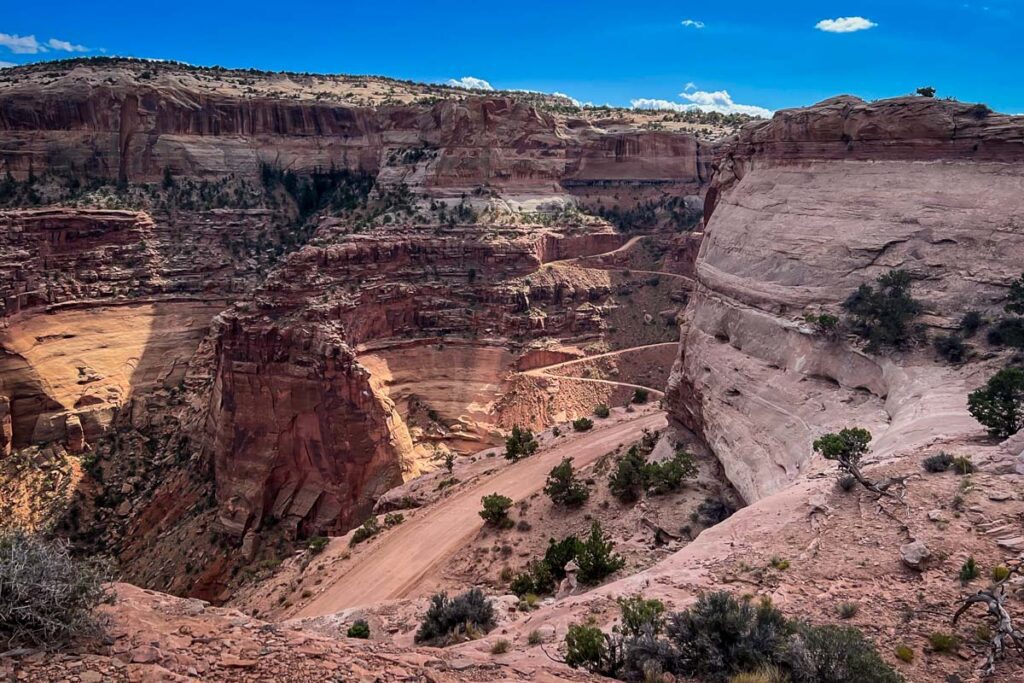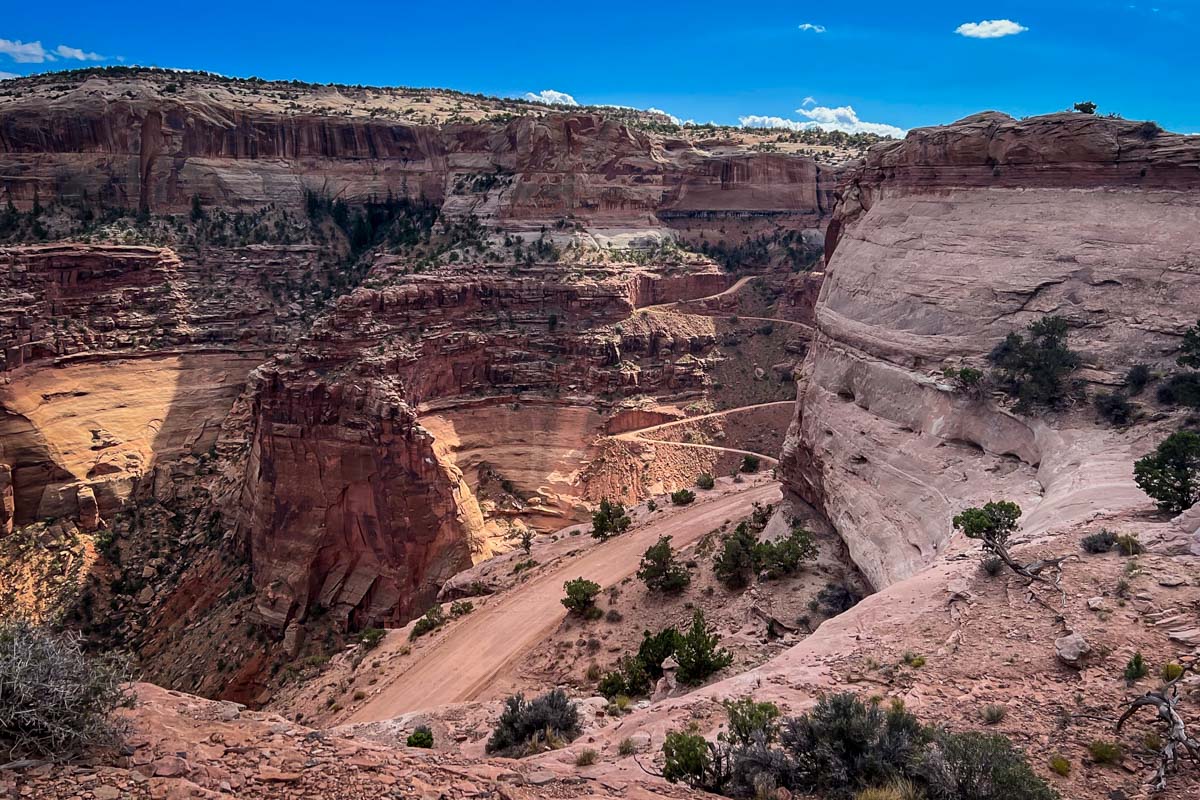 When gazing out from the top of Canyonlands, you can't help but notice a lower canyon shelf with a stark white rim. If you're lucky, right along this rim, you can spot cars driving along the most adventurous feat in Canyonlands.
The 100-mile White Rim road is the experience of a lifetime. With the proper high-clearance, 4×4 vehicle, ability to self-rescue, and self-sufficiency, the journey around the canyon rim is a special one.
A typical journey around the rim takes 2-3 days to be thorough, but some people opt to compact the adventure into one. It's also a popular route for bikepacking.
If you want to experience more than just the upper rim and trails of the Island in the Sky, this road is adventurous, remote, and unique.
5. Ponder theories at Upheaval Dome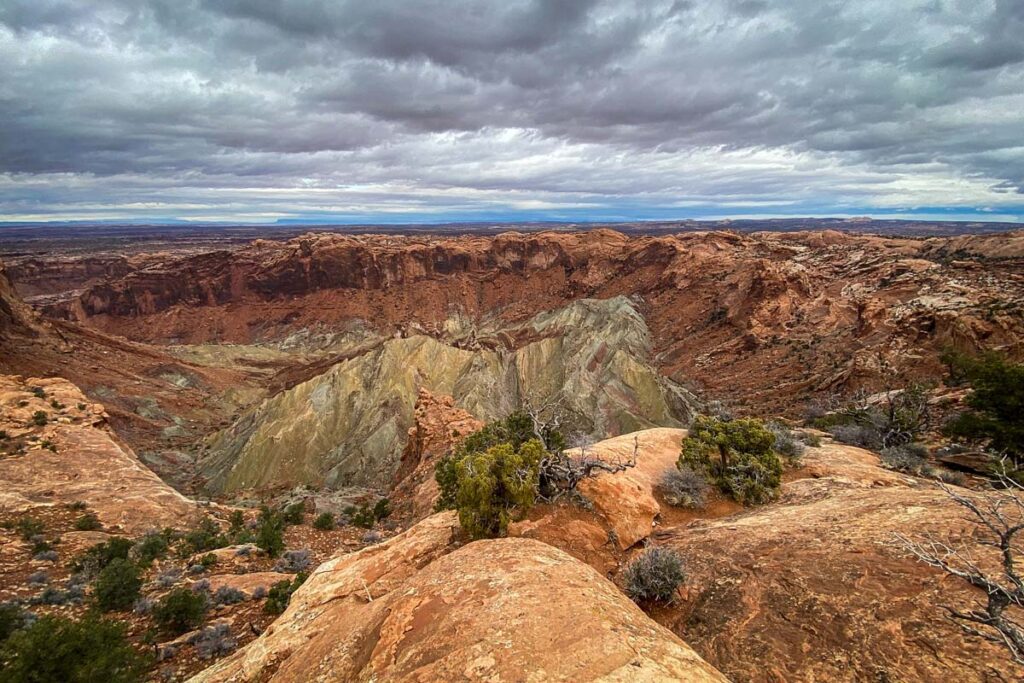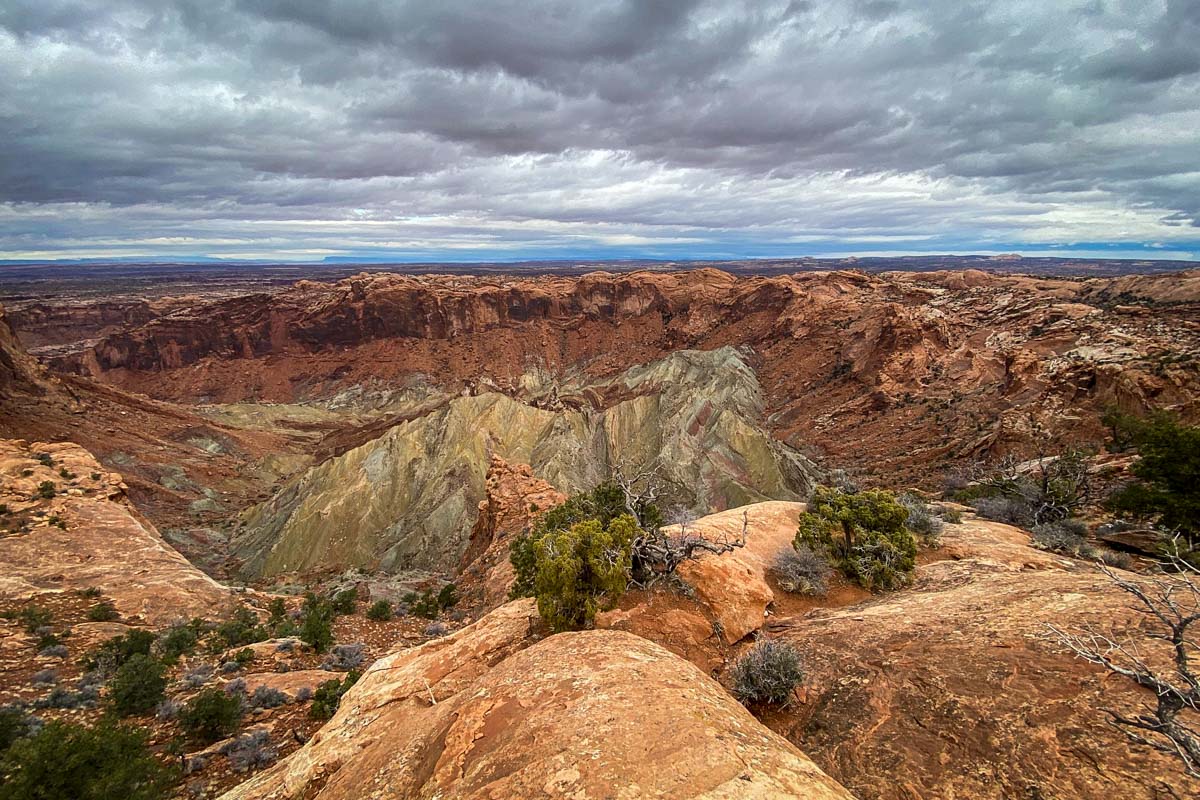 Quite possibly the most interesting site in Canyonlands is this enormous and unusual crater filled with salt deposits. While most of the landscapes in canyonlands have been shaped and untouched for millions of years, Upheaval Dome is a different story.
It's debated among geologists how exactly this came to be formed, and even though no conclusions have been made, you can't help but wonder yourself while looking at it.
Was it the result of a meteorite colliding with the Earth over 60-million years ago?
Or was it the evaporation of ancient landlocked seas that underlay much of Southern Utah?
To get the best view of the dome, we recommend hiking out to the second overlook. The first one is incredible on its own, but the second viewpoint takes to a higher clifface and has a much better view of the whole area. It's about 1.3-miles if you hike to both views.
6. See the granaries at Aztec Butte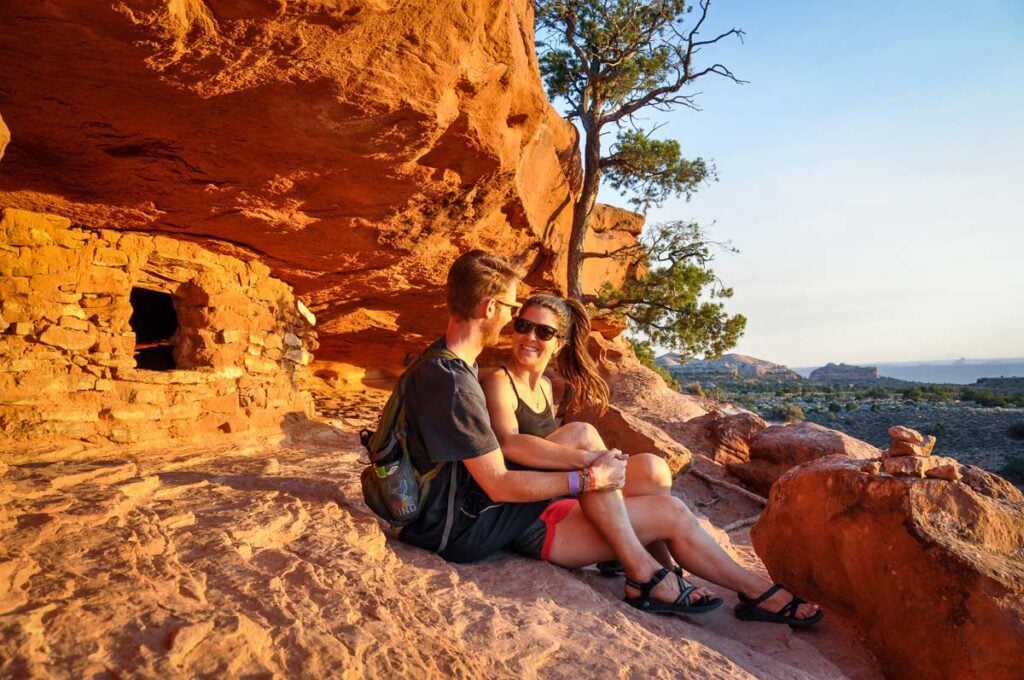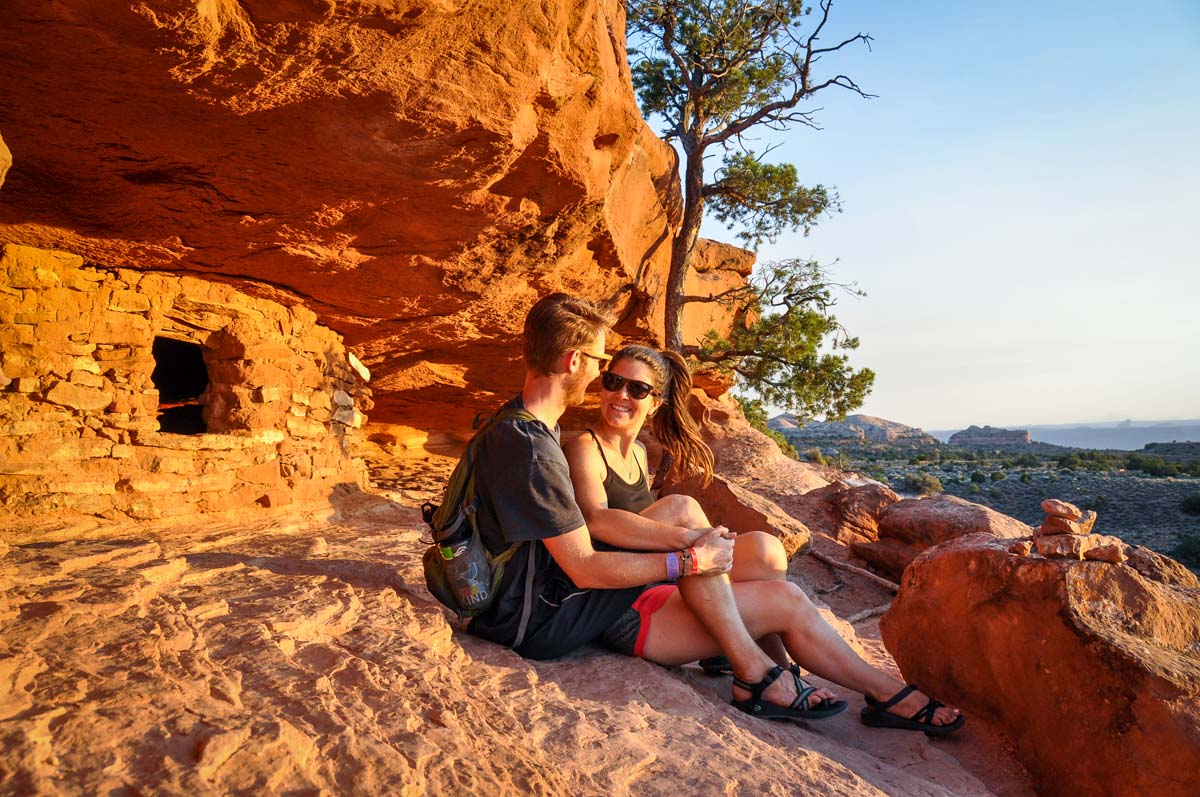 Take a moderate, 1.6-mile trail to two ancient Puebloan granaries and a scenic butte with expansive vistas. This hike is one of the more unique things to do in Canyonlands National Park.
You'll follow the sandy trail for a little over 0.25-miles before there will be a spur trail on your left that takes you to the granaries. Once you hike out, you'll follow the rest of the trail, circumnavigating the butte.
Parts of the trail require some light (but fun) scrambling, so be sure to wear shoes with a bit of grip!
7. Visit the Green River Overlook at sunset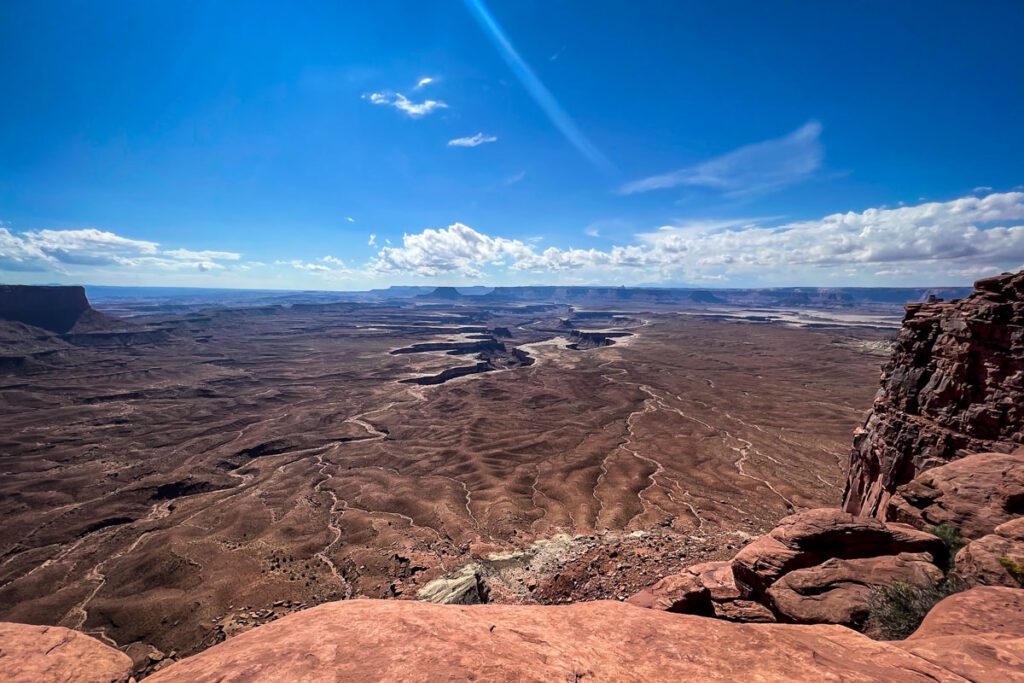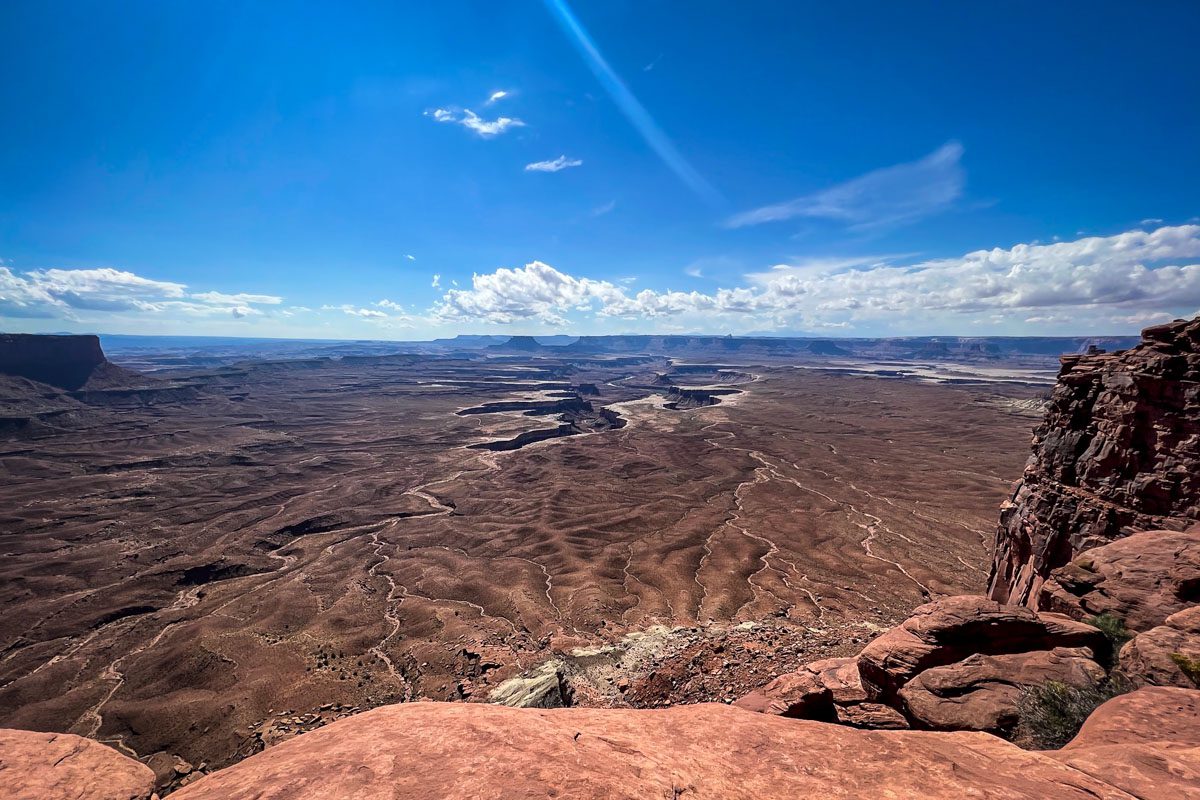 Canyonlands is filled with incredible sunset locations. You could drive to any of the viewpoints and be blown away with the orange hues illuminating the canyon.
However, the Green River Overlook takes the crown for being one of the best views in the park, but especially for sunset. The Green River twisting through the canyon is a favorite among photographers.
The viewpoint itself is a very small area, so you may want to arrive a little earlier so you can get a good spot.
If you want a crowd-free sunset, we loved our experience at Aztec Butte. Experiencing sunset here was magical. We were the only ones there and were able to take in a sunset similar to what the Puebloan people would have experienced thousands of years ago.
8. See the Great Gallery at Horseshoe Canyon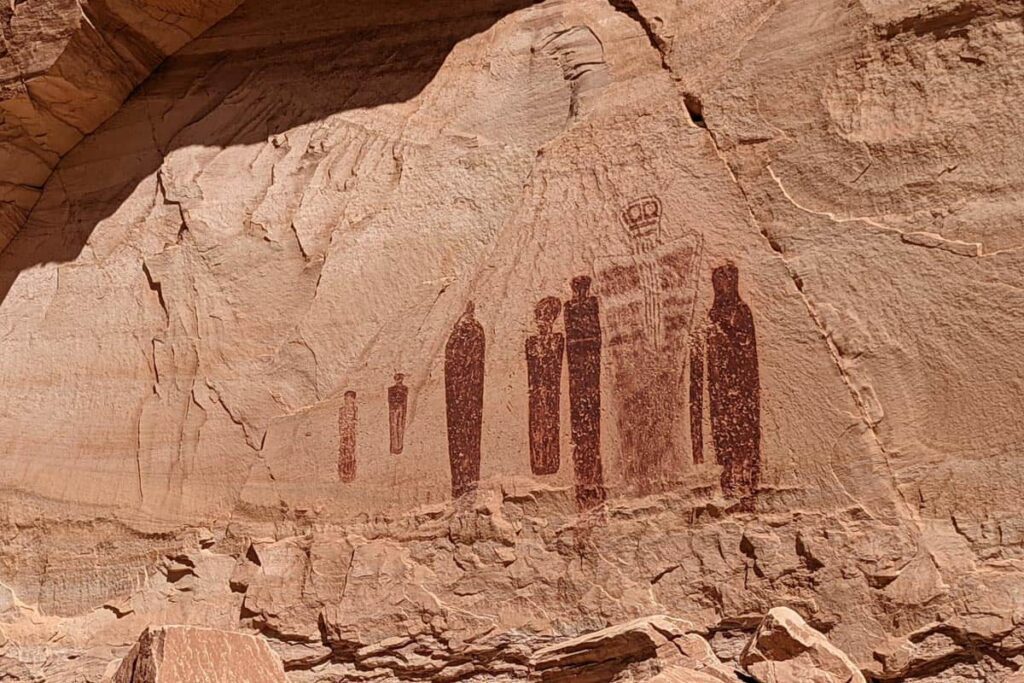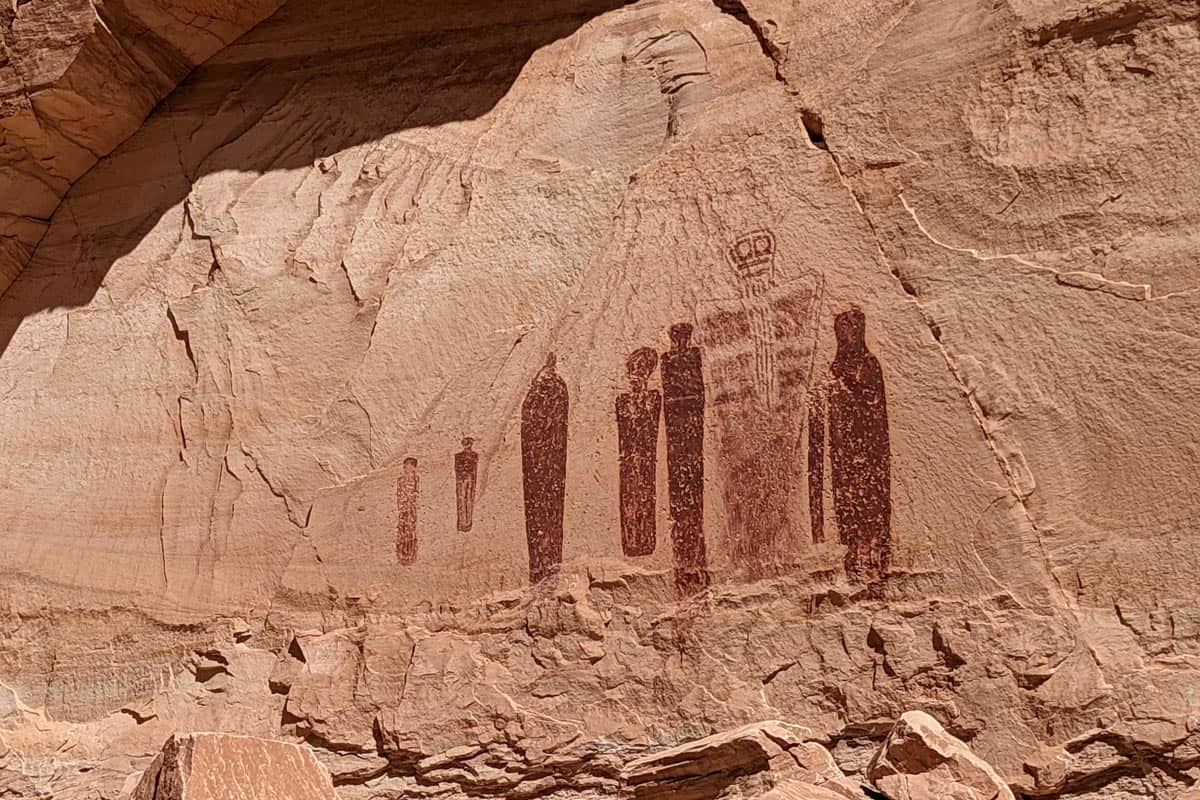 Distance: 7.2 miles, out-and-back
Elevation gain: 660 feet
Difficulty rating: Challenging
Some of the most significant and well-preserved rock art in North America is a bucket list for so many people. Although the journey to get to the artwork is about a days long, you won't regret seeing rock art estimated to be 2,000-8,000-years old.
There are many spots to see rock art in Horseshoe Canyon, but the most spectacular is known as the Great Gallery. It spans 200-feet across and 15-feet high, featuring the art of Desert Archaic cultures that predate Fremont and Ancestral Puebloans.
From Moab, the drive is about 2.5 hours, with most of it being gravel. From there, you'll need to hike 7-miles into the canyon. The hike is strenuous and there is no water along the way. A gallon of water per person is recommended.
View more information about the Horseshoe Canyon District here.
9. Get off the beaten path in the Needles District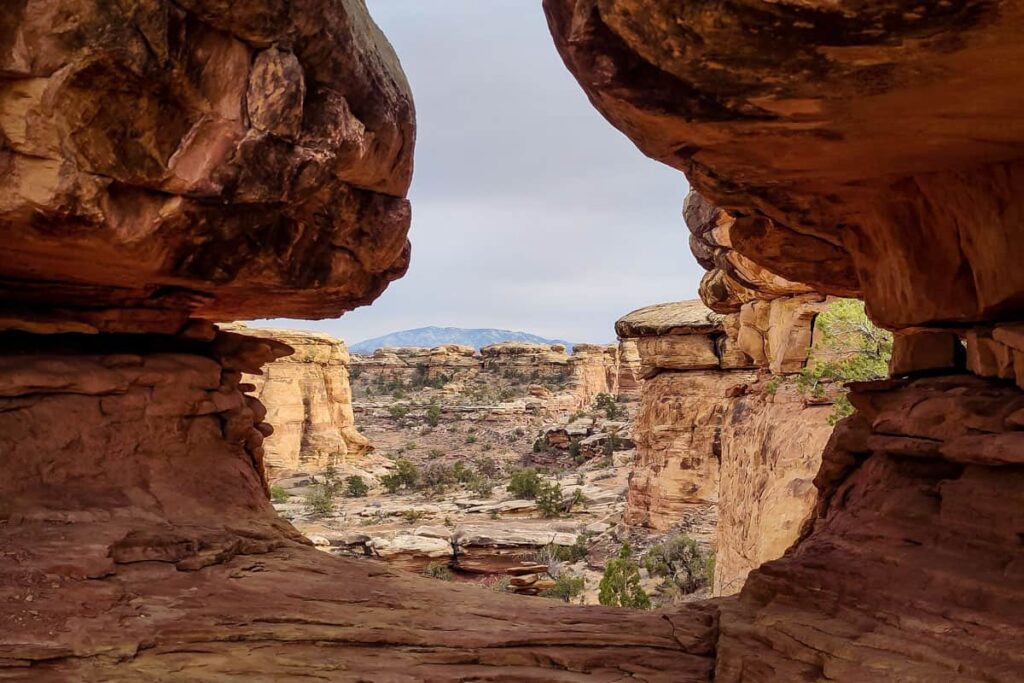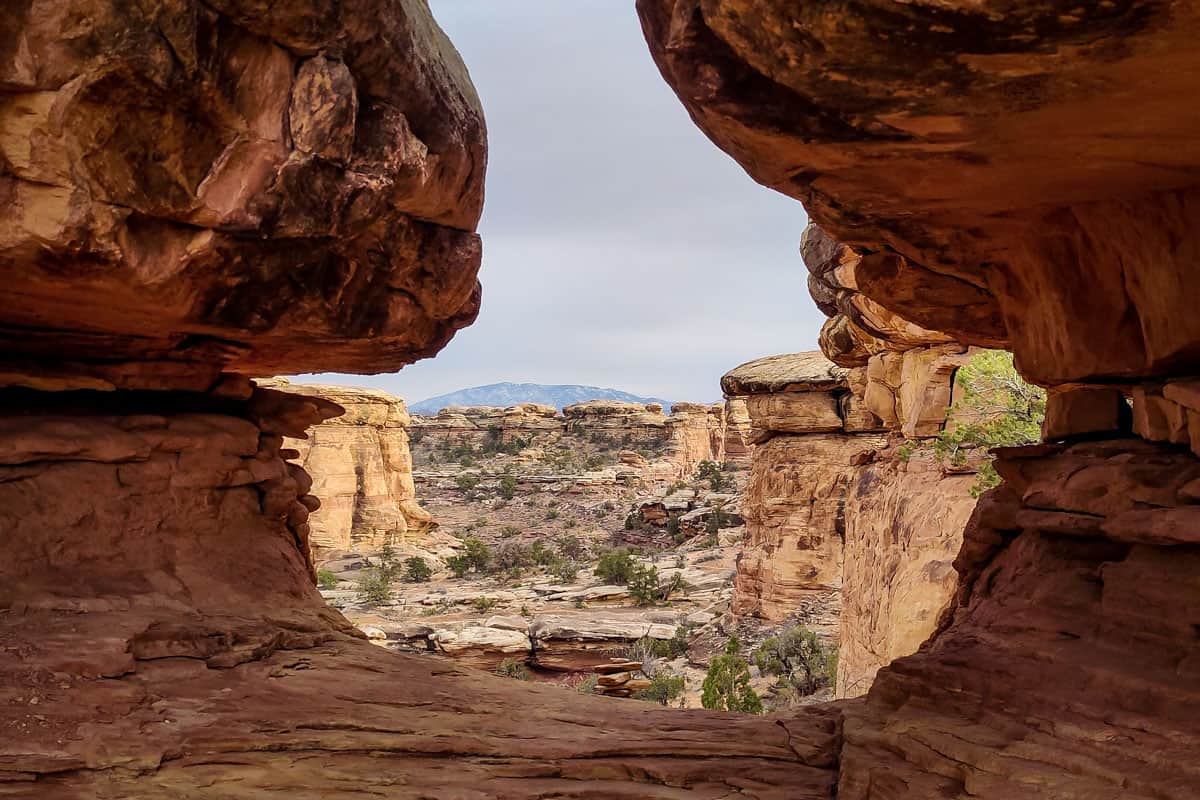 If you're looking for longer, more rewarding trails to explore in Canyonlands, the Needles district is a hikers paradise and avoids a lot of the crowds in Island in the Sky.
This district is most popular for backpacking, but they have over 60-miles of trails to explore at a variety of lengths and difficulties. Note that the trails in this district tend to be more primitive and remote, so a bit of experience is recommended before you go.
10. Take a memorable backpacking trip
As much as we love visiting classic viewpoints and the most popular hikes in National Parks, snagging backcountry permits and hiking the trails less traveled have become an entirely new and fulfilling experience for us when we plan our visits to the parks.
If you have the interest and the know how, backpacking in Canyonlands will make you feel like you have all of Utah to yourself.
Note that permits are competitive during peak seasons, spring and fall, so plan your adventure in advance to get a campsite.
Psst! If you are a newbie to backpacking and not sure where to start. We have a guide to backpacking for beginners that has everything you need to know to feel comfortable hitting the trails!
11. Go off grid inside the Maze District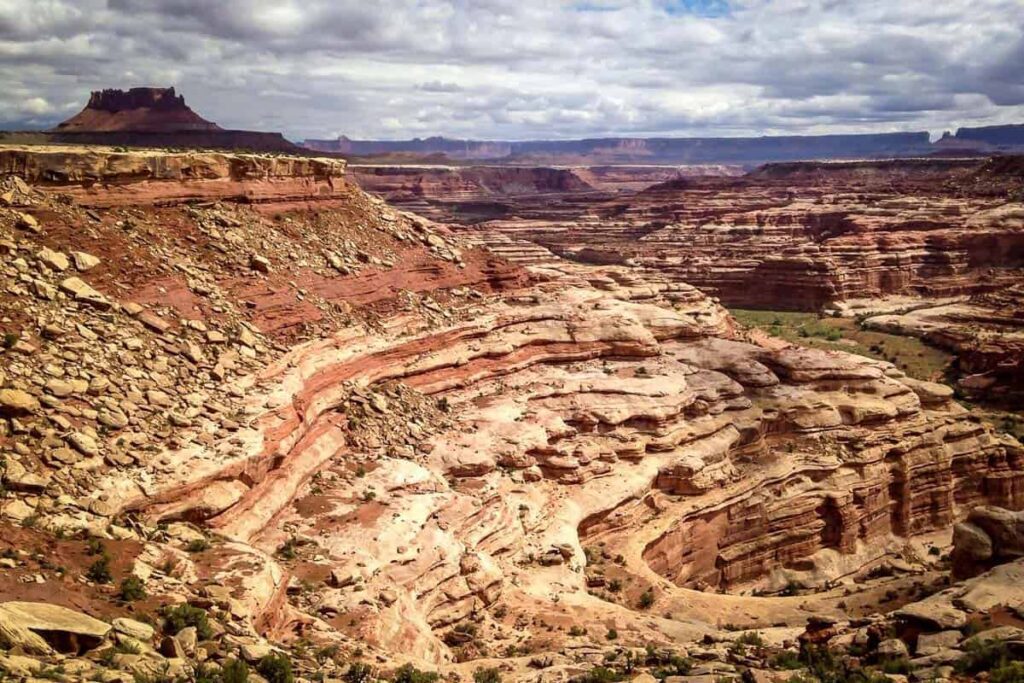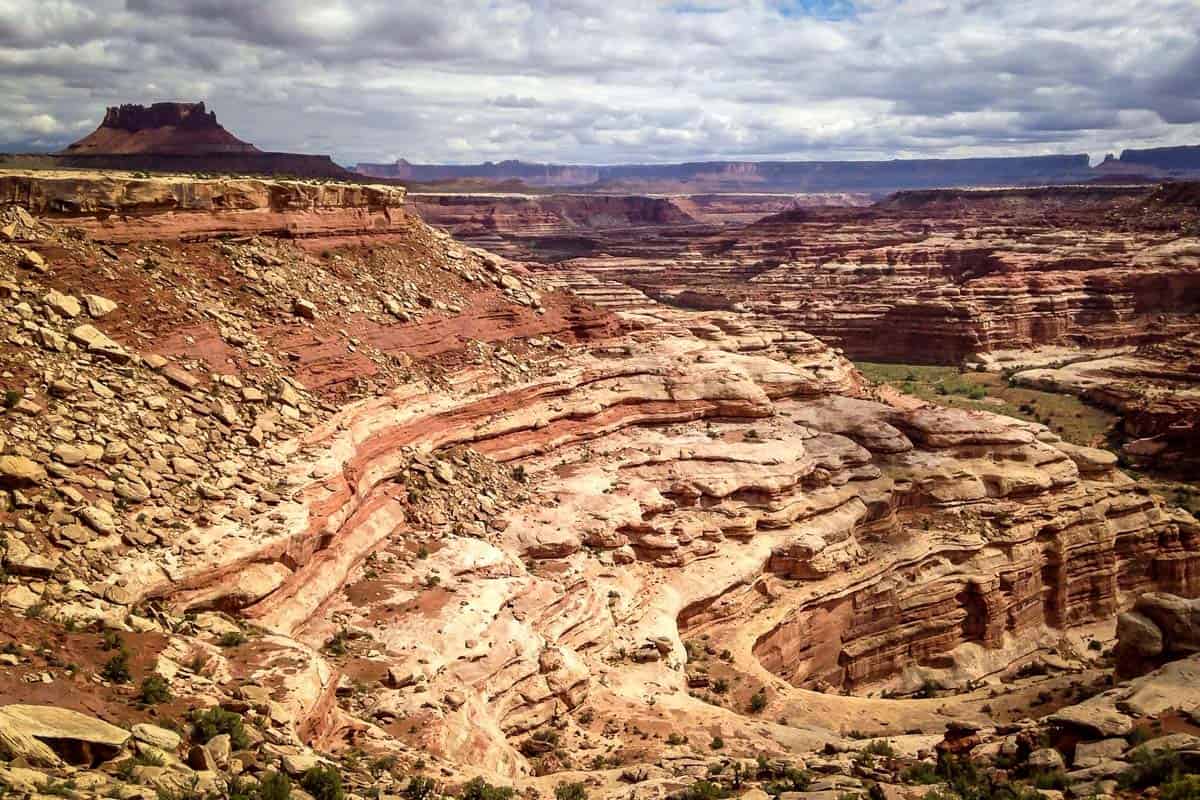 If you're well-versed in the world of self-sufficiency and almost complete isolation, the Maze is the perfect outdoor playground.
As one of the most isolated districts within the park, a trip here requires permits, in-depth planning, ability to self-rescue, and a high-clearance 4×4 vehicle. This adventure is no joke.
The best way to experience the Maze is by taking a slower, longer trip to embrace the solitude and grandeur. Many people don't spend less than three days exploring the area since getting around takes a bit of time.
With the proper tools and experience, you'll be rewarded with views that less than 2,000 people see every year.
12. Go stargazing
There is little infrastructure in and around Canyonlands, which means light pollution is minimal and the stars put on a show once the sun sets. Trust us, it's worth staying up for!
Because the stars are so spectacular here, Canyonlands has been rated a Gold-Tier International Dark Sky Park, a recognition that is reserved for the darkest of skies.
The best part is that the skies are almost entirely unobstructed, so you don't have to venture very far to see billions of stars. On clear nights, you can see the milky way dance across the sky.
If you want to learn more about the sky and look through telescopes, rangers host night sky programs in both Island in the Sky and the Needles that are worth looking into.
13. Dead Horse Point State Park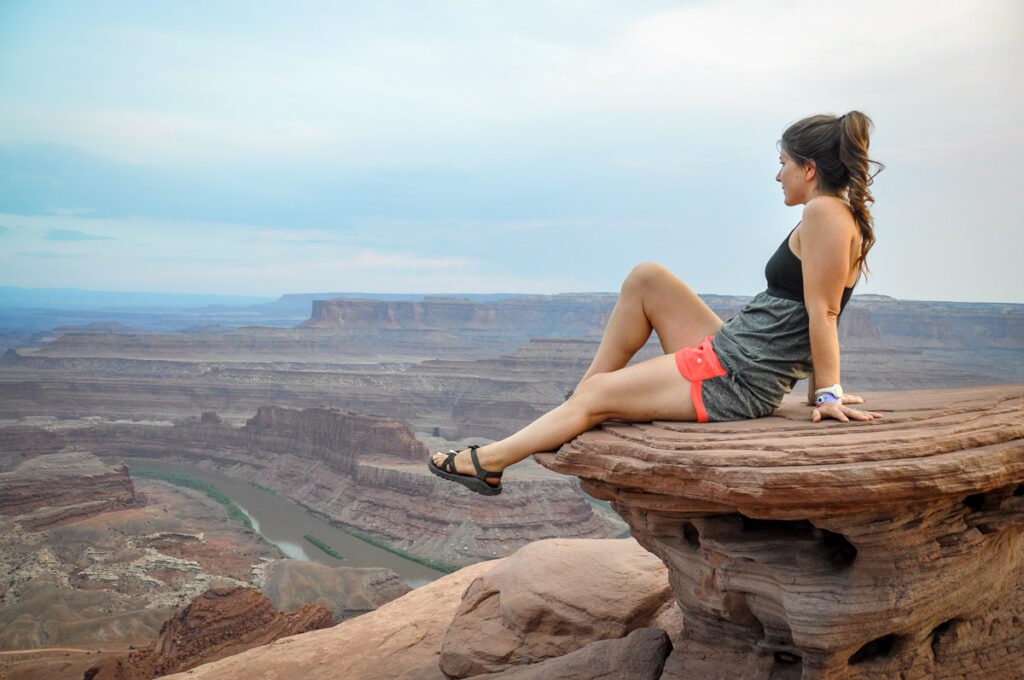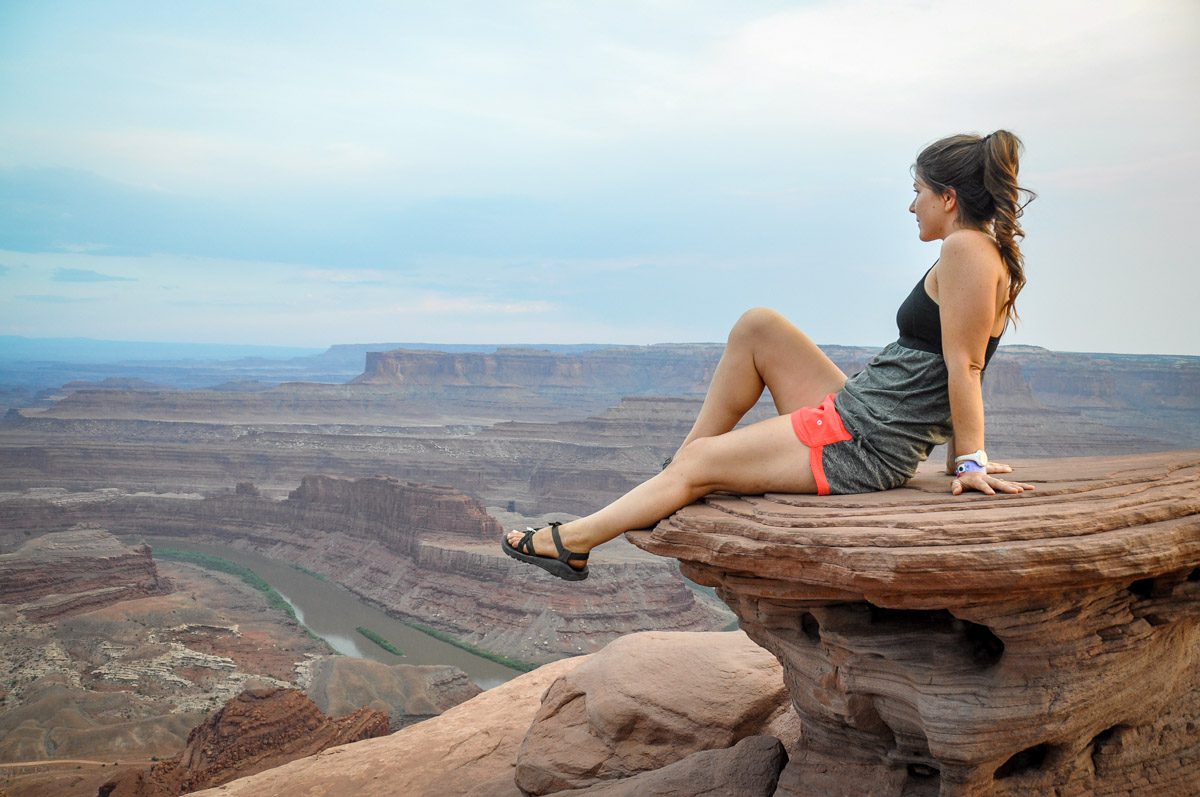 This neighbor to Canyonlands National Park is often missed by unassuming visitors. If you plan to spend a bit of time inside the park, it's a great road trip stop, but if you're only going for the Dead Horse Point Overlook, we wouldn't recommend it.
We went to Dead Horse Point State Park because it was recommended by the lady at the Visitor Center in Moab.
It was our first stop before Canyonlands and to be honest, we wouldn't do it again. The viewpoint is an incredible overlook, but for the $15 per vehicle to enter the park, it's simply not worth it.
You can get very similar, if not more impressive views within Canyonlands at Shafer Trail Overlook and even at Buck Canyon Overlook. Our advice: Go see Canyonlands first, and if you're not tired of canyon views, go for Dead Horse. Otherwise, skip it, we wished we did.
---
Where to stay in Canyonlands National Park
Canyonlands is a very remote Utah National Park, so the only lodging inside the park are campsites. Many people opt to find camping and accommodations outside the park or in Moab, the closest town.
Psst! There are lots of things to do in Moab, so be sure to plan a few days here.
Lodging near the park
Aside from camping, there is no lodging available inside Canyonlands National Park. The closest place to stay nearby is in Moab. Luckily, it's filled with amazing stays for your trip.
Canyon Rim Domes: If you plan on exploring the Needles, this is an ideal basecamp. Get all the comforts of a queen-sized bed, bathroom, shower, wifi, and kitchenette in these futuristic domes.
Expedition Lodge: Stay in the heart of Moab, just minutes away from Arches National Park. This lodge caters to a wide variety of travel styles with its diverse and lively atmosphere.
Hoodoo Moab: This splurge-worthy, modern stay near the heart of downtown Moab is filled with top-notch facilities and amenities.
Campgrounds in Canyonlands National Park
Shafer Campground: This first-come first-served campground is located in the Island in the Sky district. Spots fill up fast, so if you're going to need a spot, you'll need to arrive early to scout. Note this campsite doesn't have potable water.
The Needles District Campground: Reserve your stay during the spring and fall at this exciting campsite in the Needles district. There are toilets and potable water at the sites year round. Summer stays are first-come first-served.
Campgrounds outside the park
Camping inside Canyonlands National Park is more convenient but, if you aren't able to get a spot in the park, there are many campgrounds located around the park as well.
If you're traveling in a campervan or simply hoping to save money on your visit to Canyonlands National Park by camping along the way, we have a deal for you!
The Dyrt is our favorite campsite locating app with the largest database of campgrounds (44,000+ campsites and counting!) and over 1 million user-submitted reviews. Plus, it's super user-friendly, and has some pretty cool features, like outdoor gear contests and forums to connect and seek advice from fellow campers, that you won't find on any other camping app.
Try their Pro Membership for FREE for 30 days and gain access to the offline version of the app, utilize their trip planning feature AND get exclusive discounts on campsites and gear!
What to pack for visiting Canyonlands National Park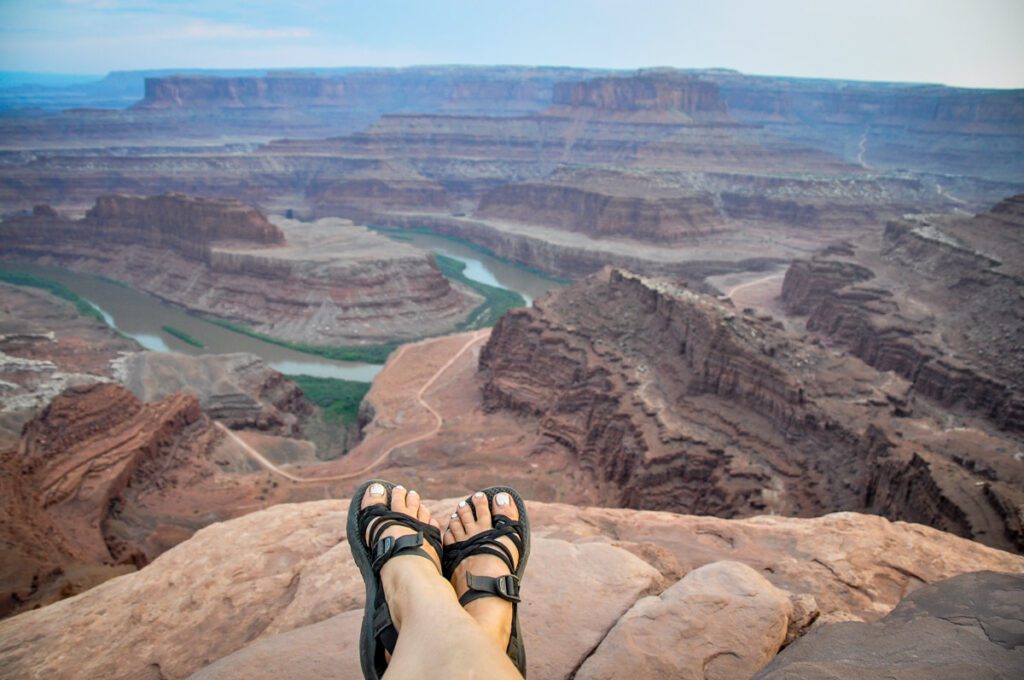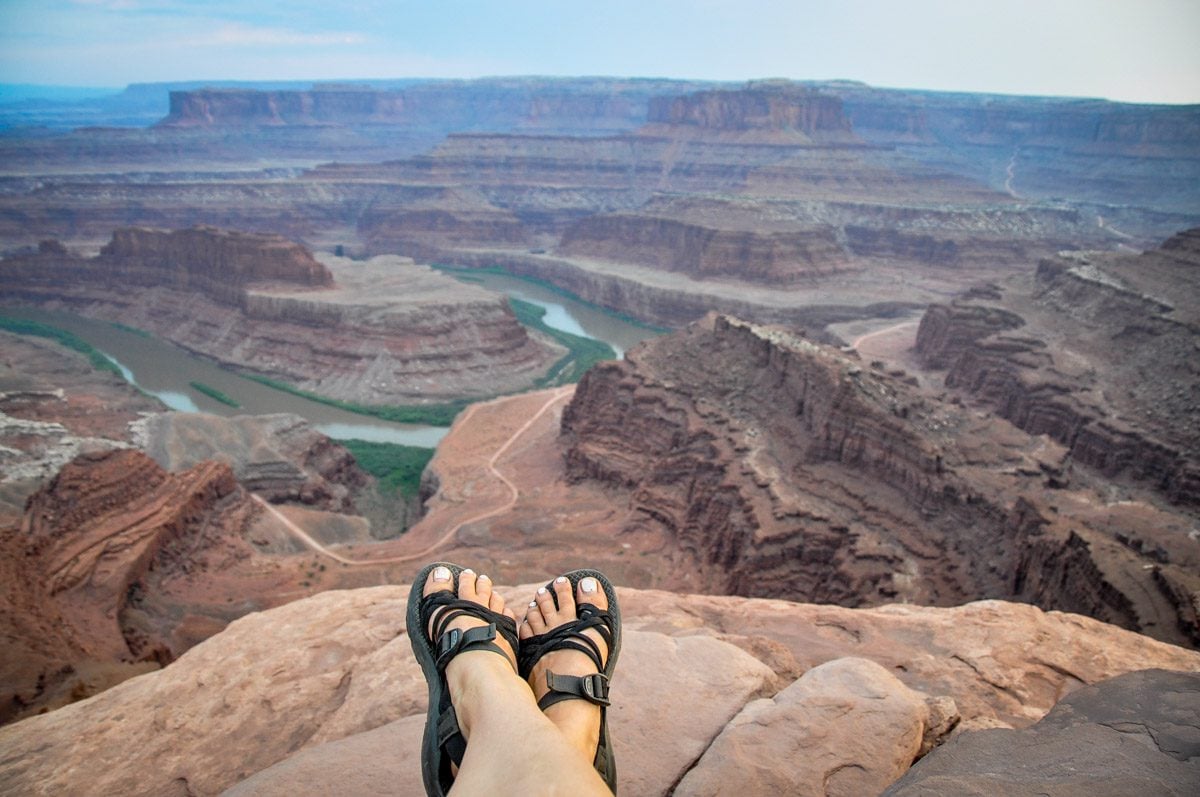 Hydration pack and/or water bottles
Sun protection: sunscreen, sunglasses, hat
Bug spray (we prefer the natural stuff)
Camera (be sure you have a bag so you can put away your camera for the Angel's landing hike!)
Hiking shoes or Chacos if you prefer
Comfortable hiking clothes (always dress in layers!)
Snacks
AllTrails Pro (or download Google Maps offline for the area in case you lose service)
Tips for visiting Canyonlands National Park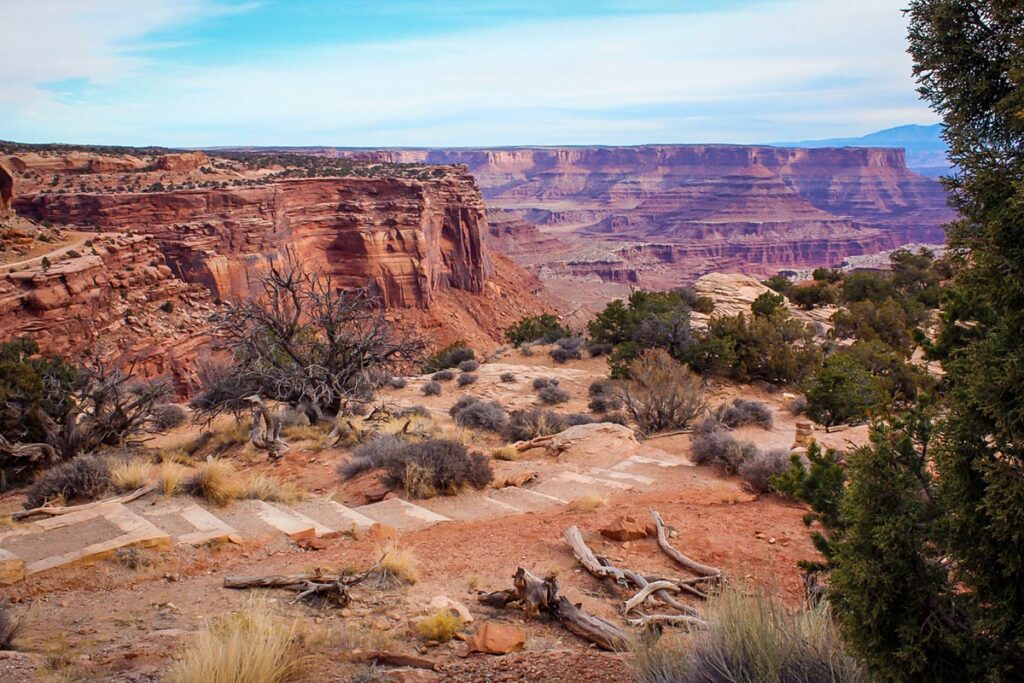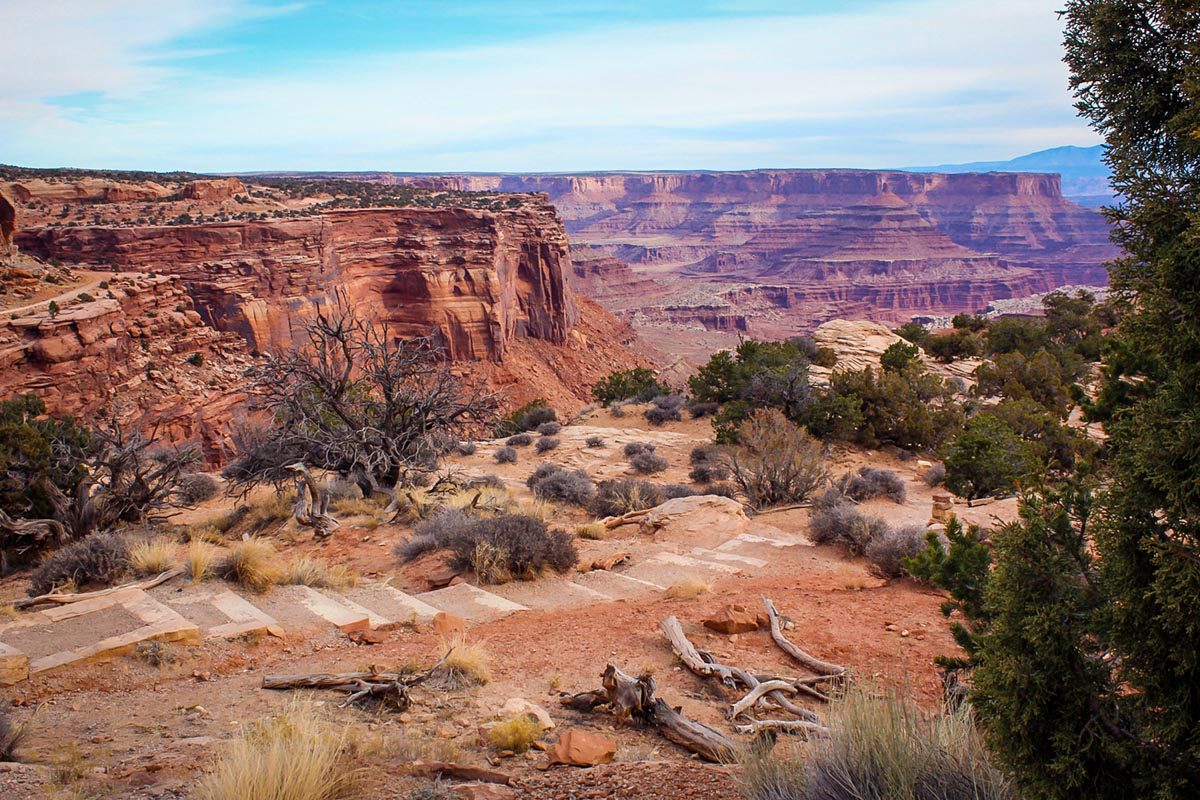 Wear light colors. Darker-toned clothing will make daytime temperatures feel much hotter. Wear light clothing to help reflect the heat off of you.
Start your day early. The fewest crowds and best weather is before and during sunrise. Take advantage of these few hours to see popular sights and get a break from the heat.
Know which Canyonlands district is right for you. Canyonlands is very remote and coming prepared is crucial. Island is the Sky is perfect for first-timers, whereas more rugged adventurers will love the Needles and the Maze.
Pack a picnic dinner and find the perfect sunset spot. Green River Overlook is notoriously beautiful for sunset in Canyonlands. If you don't mind a short walk, Murphy Point and Aztec Butte are uncrowded and peaceful.
Showers are available in Moab. There are tons of places you can rinse that desert sand off at (for a small fee). We chose to go to the Moab public pool where we spent the hottest hours of the day avoiding the heat, then showered off afterward for a total cost of $7 per person.
---
Check out our other Utah National Park guides
Save this article on Pinterest for later!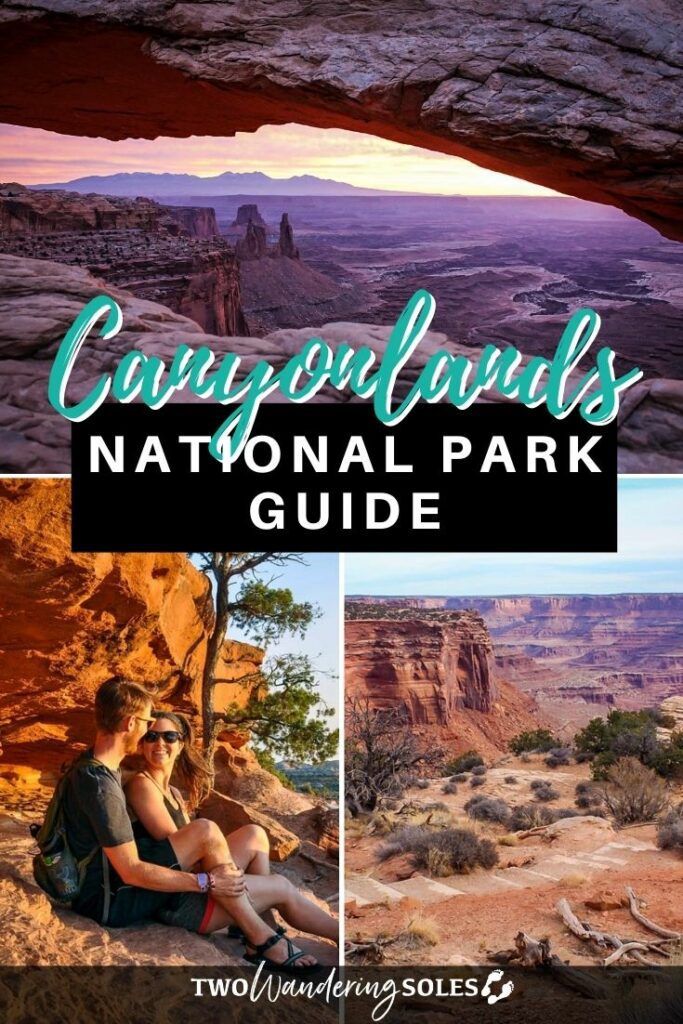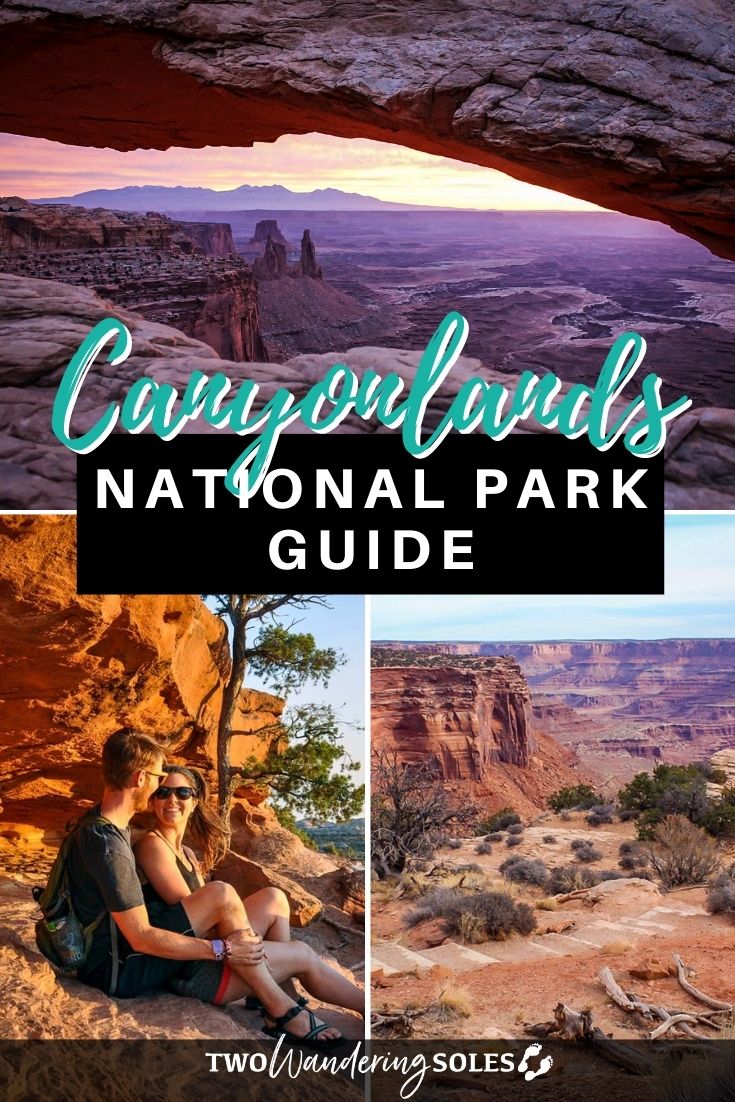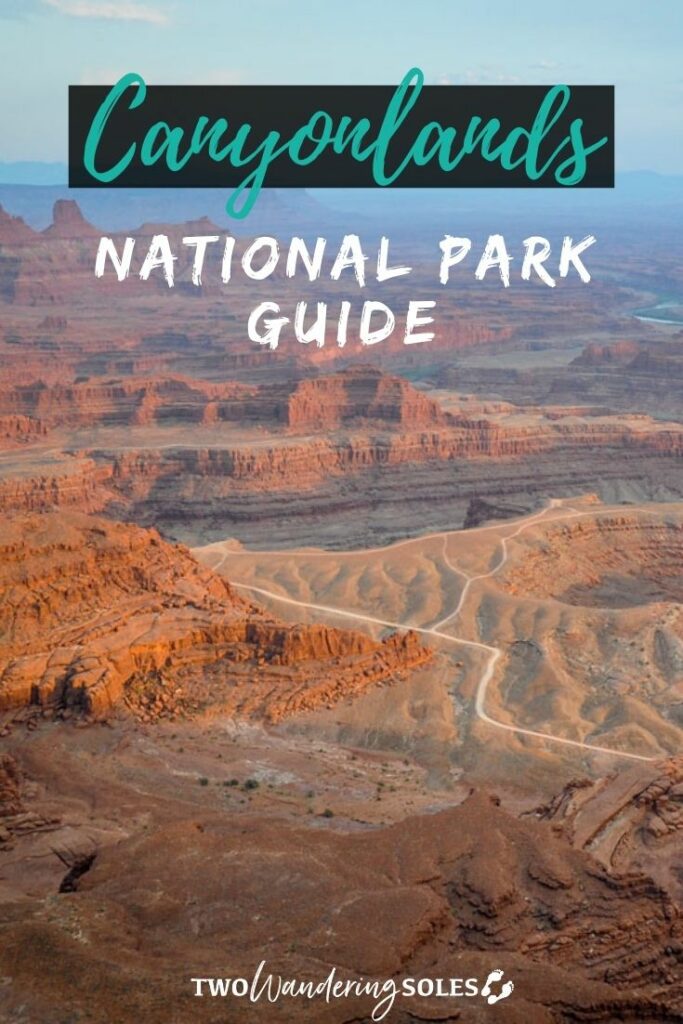 We want to hear from you!
Have you been to Canyonlands National Park? What was your favorite part? Are you planning a road trip to Utah? We'd love to hear from you in the comments below!