This gem of a town in southern Iceland makes a perfect stop on your itinerary. There is so much more to Vik, Iceland than the famous beach. We've rounded up all the best things to do in Vik, including some hidden gems and off-the-beaten-path treasures.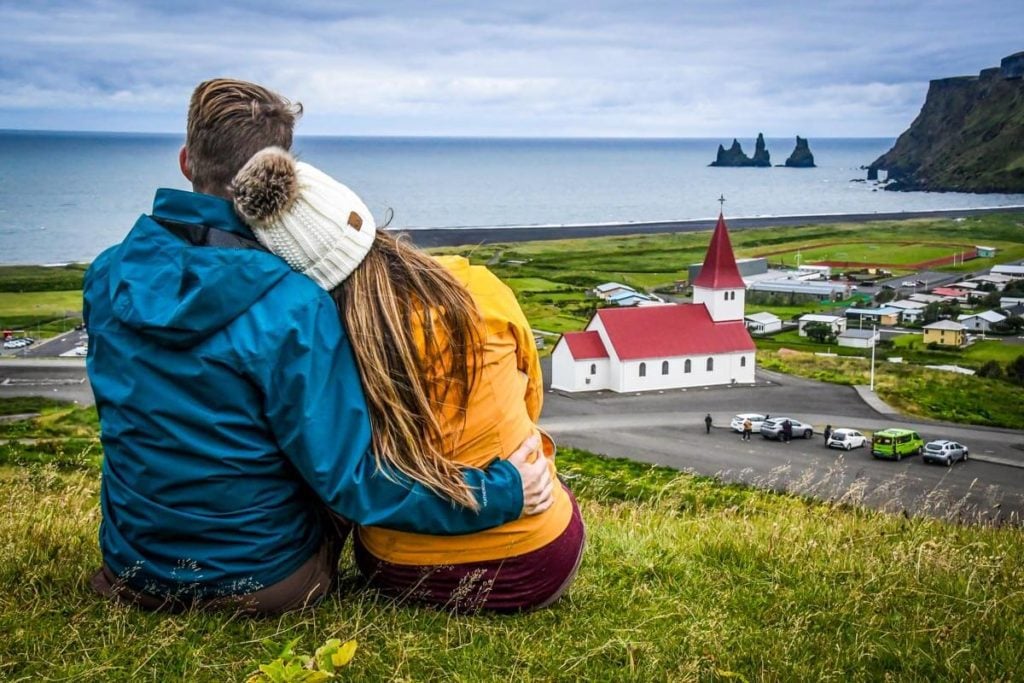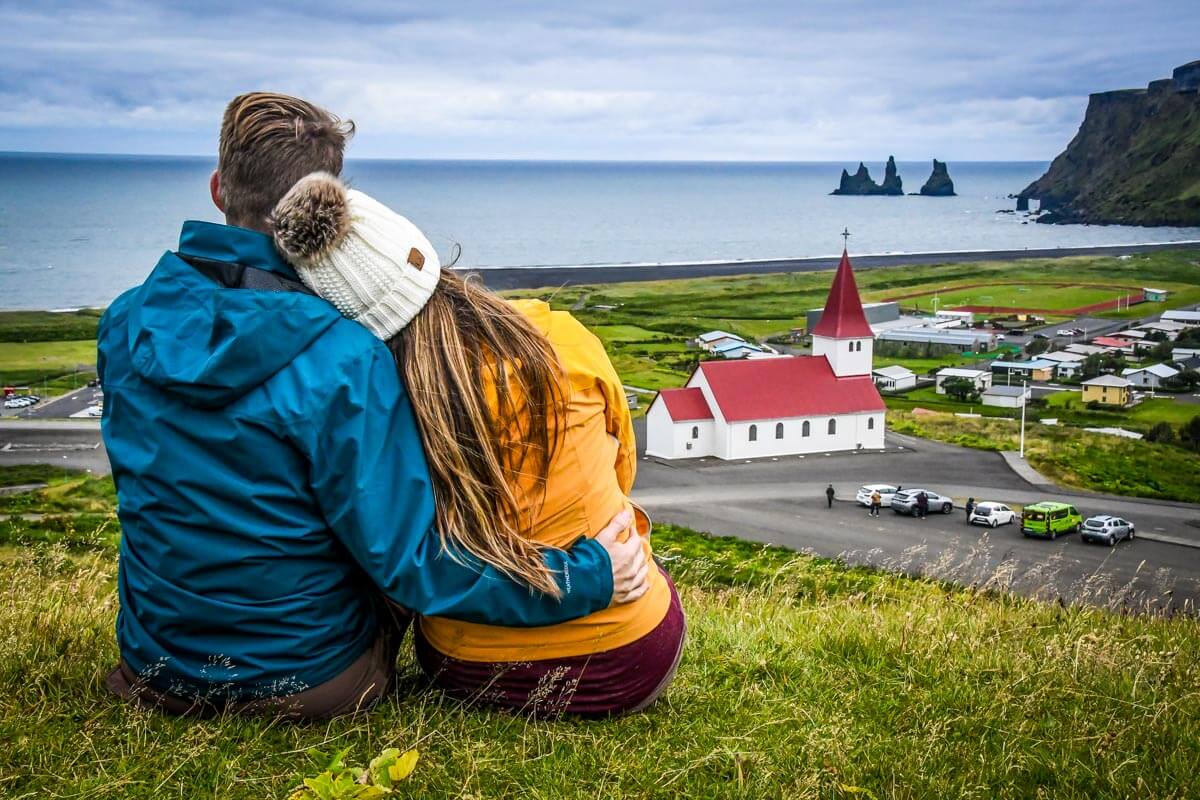 Nestled along the ocean of Iceland's Southern Coast on the Ring Road, the charming seaside village of Vik is well worth a spot on your Iceland itinerary.
Known for the world-famous Reynisfjara Black Sand Beach and the iconic Vik i Myrdal Church that's perched above the town, Vik is one of our favorite places in Iceland, and we think you'll agree!
With just 750 permanent residents, Vik is by all definitions a tiny town. But what it lacks in size, it makes up for in jaw-dropping beauty and epic adventure.
From quirky restaurants, hidden hikes most tourists miss, and some of the most beautiful waterfalls in the country, we're sharing all the very best things to do in Vik that you definitely won't want to miss!
Vik Iceland travel guide
For more tips and advice for planning your trip to Vik, jump to the following sections (or just keep scrolling to see it all!).
---
Want to save time and energy on planning?
We've traveled to Iceland 3 times now and spent weeks living in a campervan, traveling around the country. We've been able to explore a lot of what Iceland has to offer!
We've compiled our experience to create the perfect Iceland itinerary. Our itinerary is for 7-9 days and meant to be explored while traveling in a campervan. It includes the highlights of the southern coast of Iceland. 
We'll send you our complete 7-9 day customizable itinerary, filled with tips and advice. Just click below to get your perfect Iceland itinerary today!


---
Best things to do in and around Vik
If you're looking for the very best things to do in Vik, here are our top 5 recommendations:
Walk along Reynisfjara Black Sand Beach
See puffins at Dyrhólaey
Get a view overlooking town
Grab a coffee from Skool Beans
See the Vik Lava Show
Keep reading for more detailed information on each of these things and more ideas of fun things to do in Vik.
1. Grab coffee from a converted school bus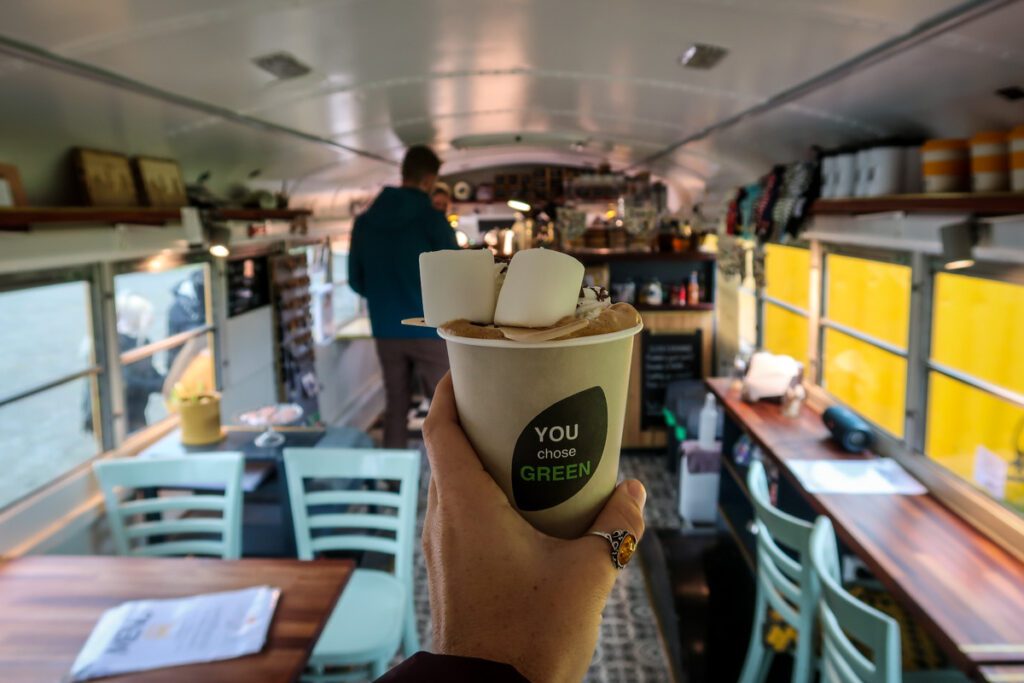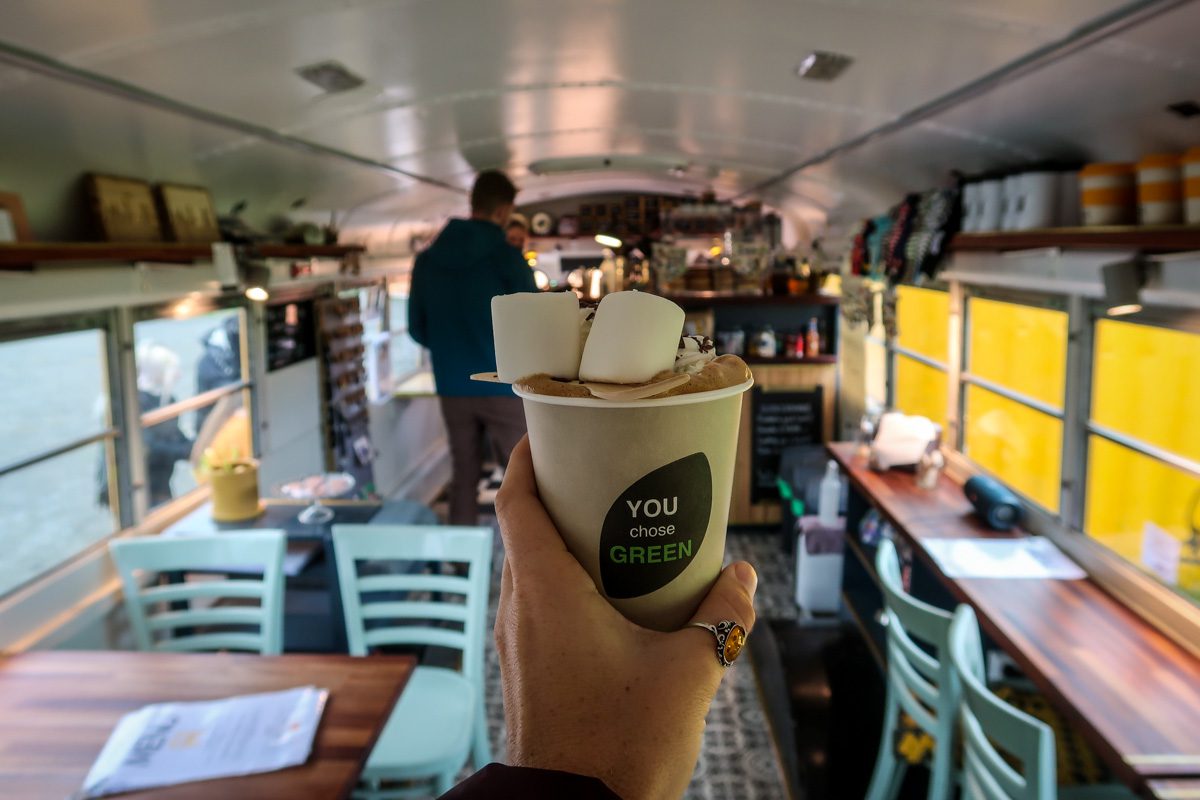 Start your day with a stop at the most unique coffee shop in Iceland.
Skool Beans is a school bus-turned-coffee shop, and not only is it a unique (and photo-worthy) stop, but they have friendly service and some excellent specialty coffee drinks (or hot cocoa if you don't want caffeine).
Hours: This seasonal coffee shop is open from 9 a.m. to 5 p.m. in the summer months.
Stay and enjoy your drink, or take it to go as you explore the rest of town!
2. Walk along Reynisfjara Black Sand Beach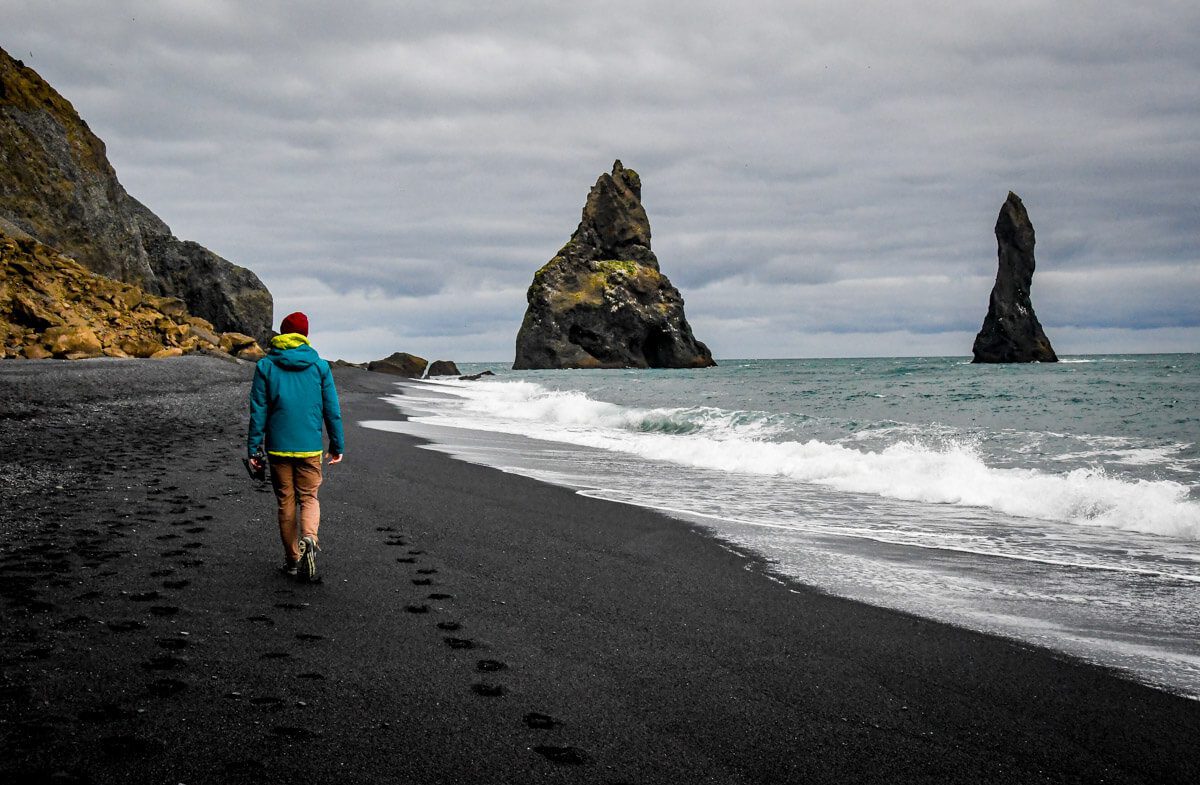 Reynisfjara is not only the most famous black sand beach in Iceland, but perhaps one of the most well-known black sand beaches in the world.
And for good reason… It's absolutely breathtaking and unlike anything you've ever seen. Just a 15-minute drive from town, Reynisfjara is a must-visit while you're in Vik.
Reynisfjara Black Sand Beach Info
Cost: Free
Facilities: There is restaurant and a public toilet in the parking lot here (the toilet costs money to use)
Time: 45 minutes
For more information, check out our guide to Reynisfjara Black Sand Beach.
Bonus: There is also a small black sand beach right in the town of Vik that has far fewer people.
3. See unique rock formations and the Dyrhólaey Lighthouse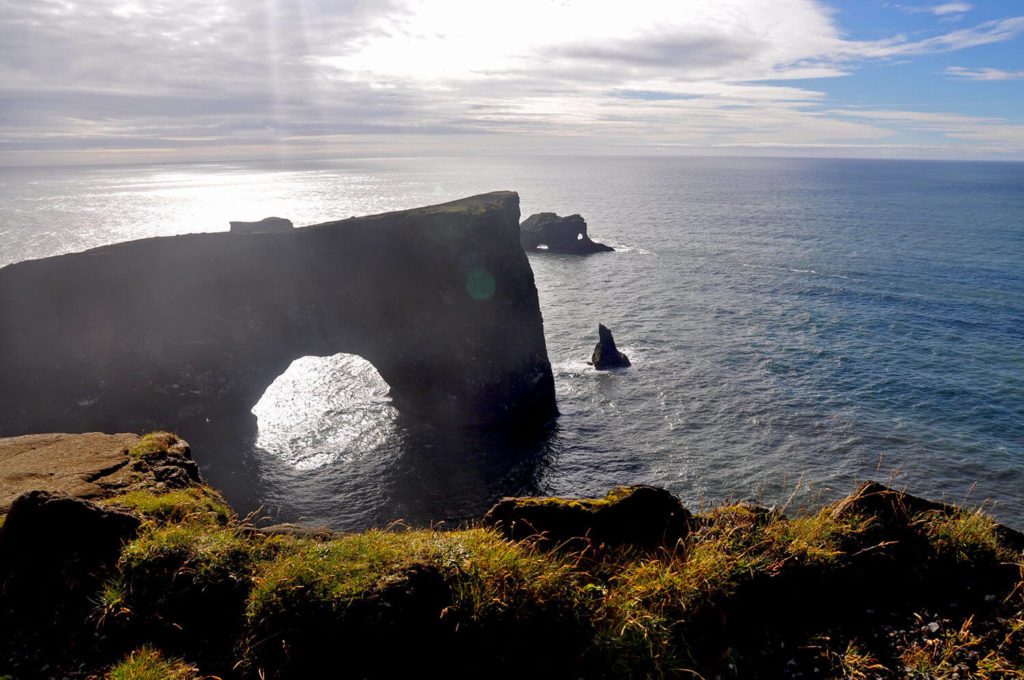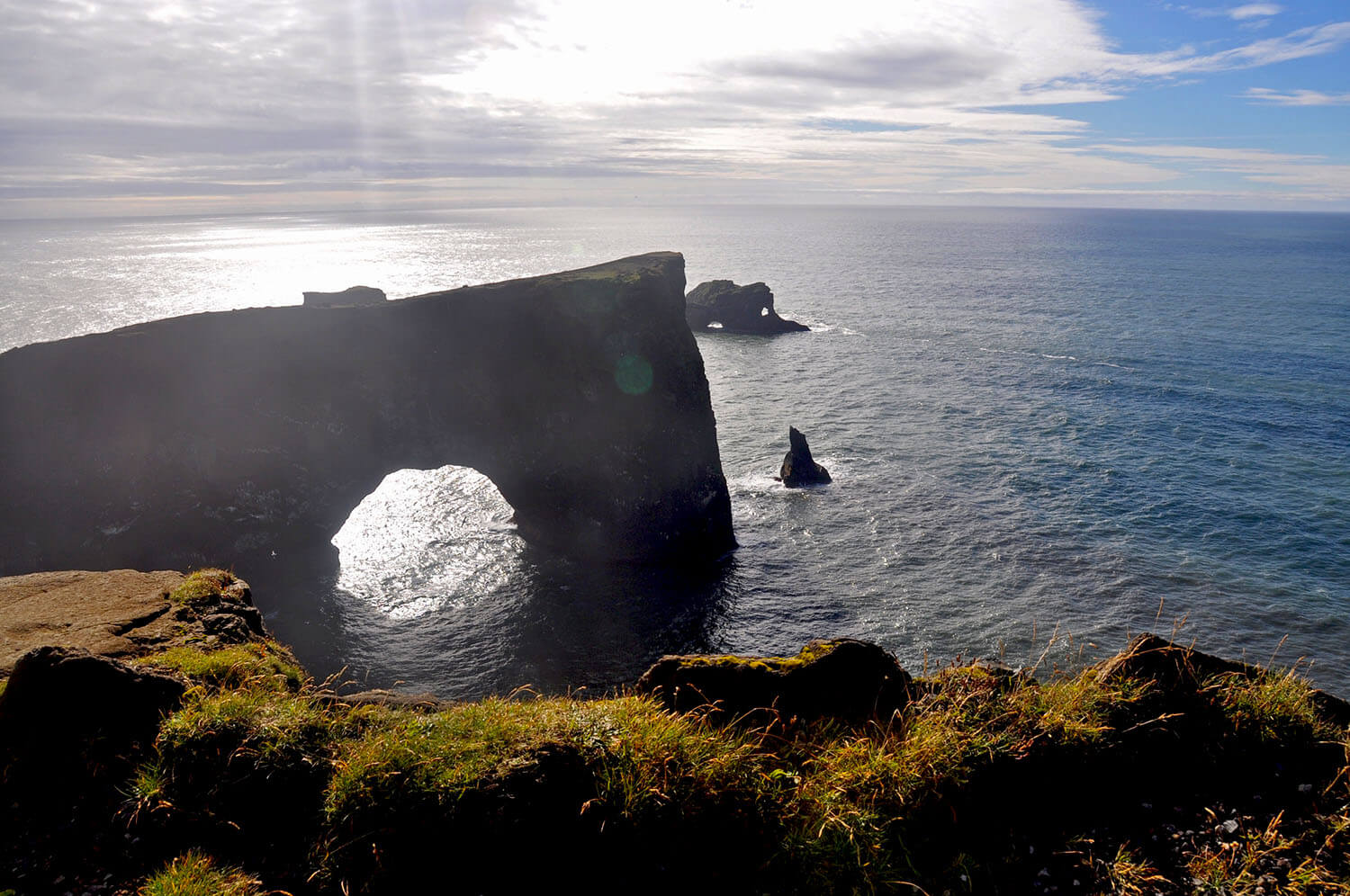 Dyrhólaey translates to "door hill island", which is a nod to the arched hole rock formation that juts out to sea. At this spot, there is also a beautiful lighthouse.
Be warned that this area can get very windy!
4. Spot puffins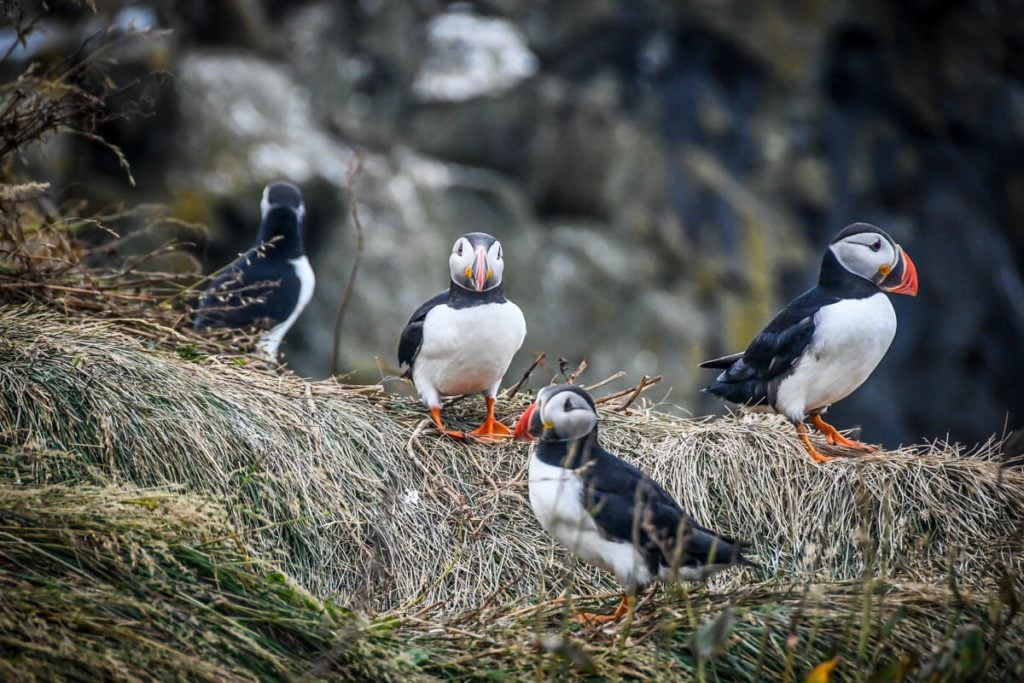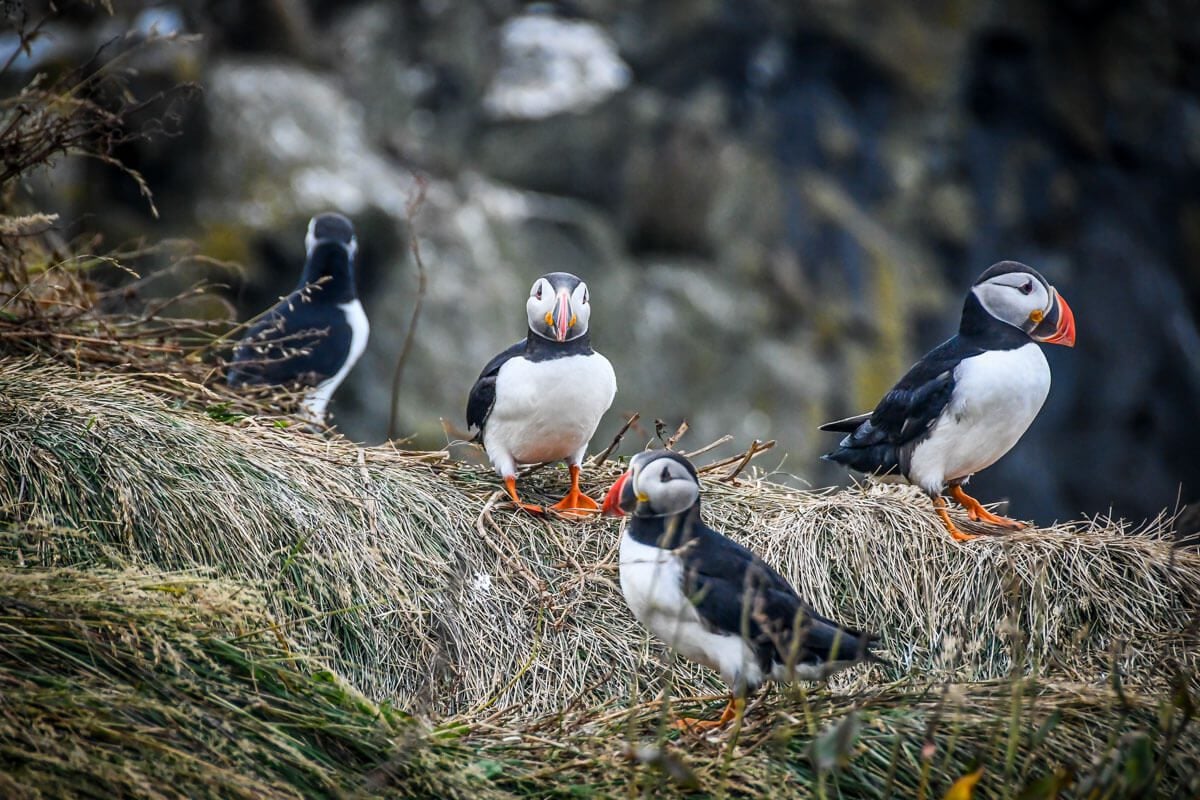 If you're visiting Iceland during the summer months, you'll likely be able to see puffins nesting in the cliffs near Dyrhólaey. It's a pretty magical sight!
They are said to leave the island in mid-August, but both times we've been here have been later than August 15th, and we've still seen many puffins.
5. See the iconic Vik i Myrdal Church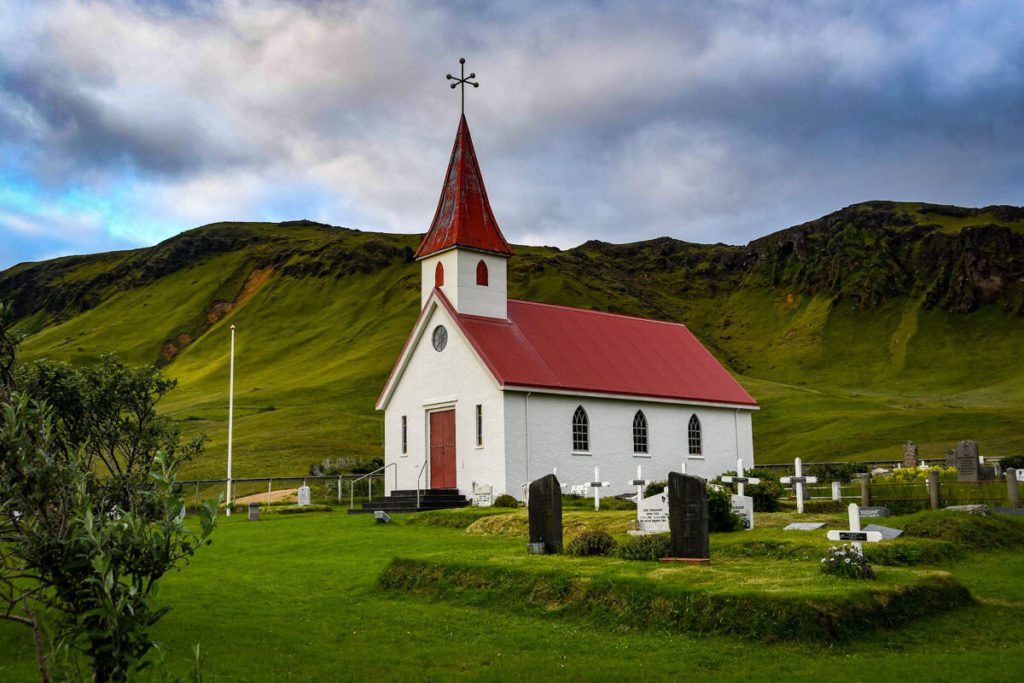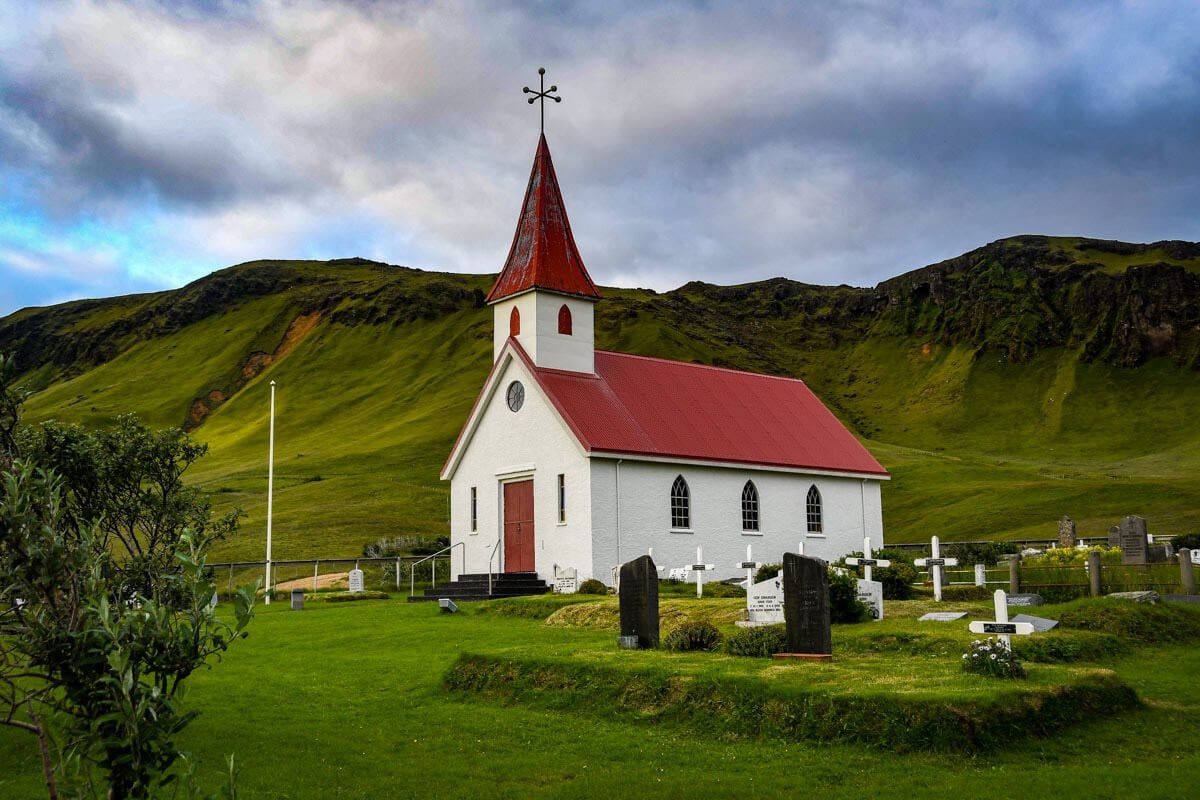 The Vik i Myrdal Church is perched atop a hill that overlooks town. This church is an Iceland icon, and is definitely worth a glimpse up close.
Fun Fact: Vik i Myrdal Church is the meeting point for locals in case of a nearby volcanic eruption.
6. Get the best view overlooking Vik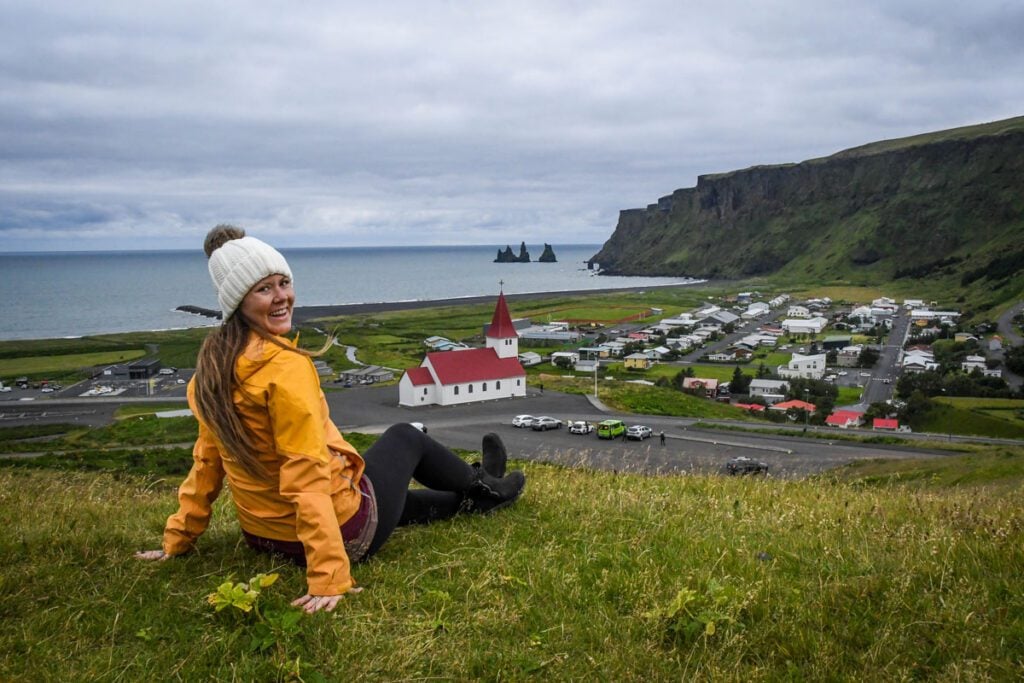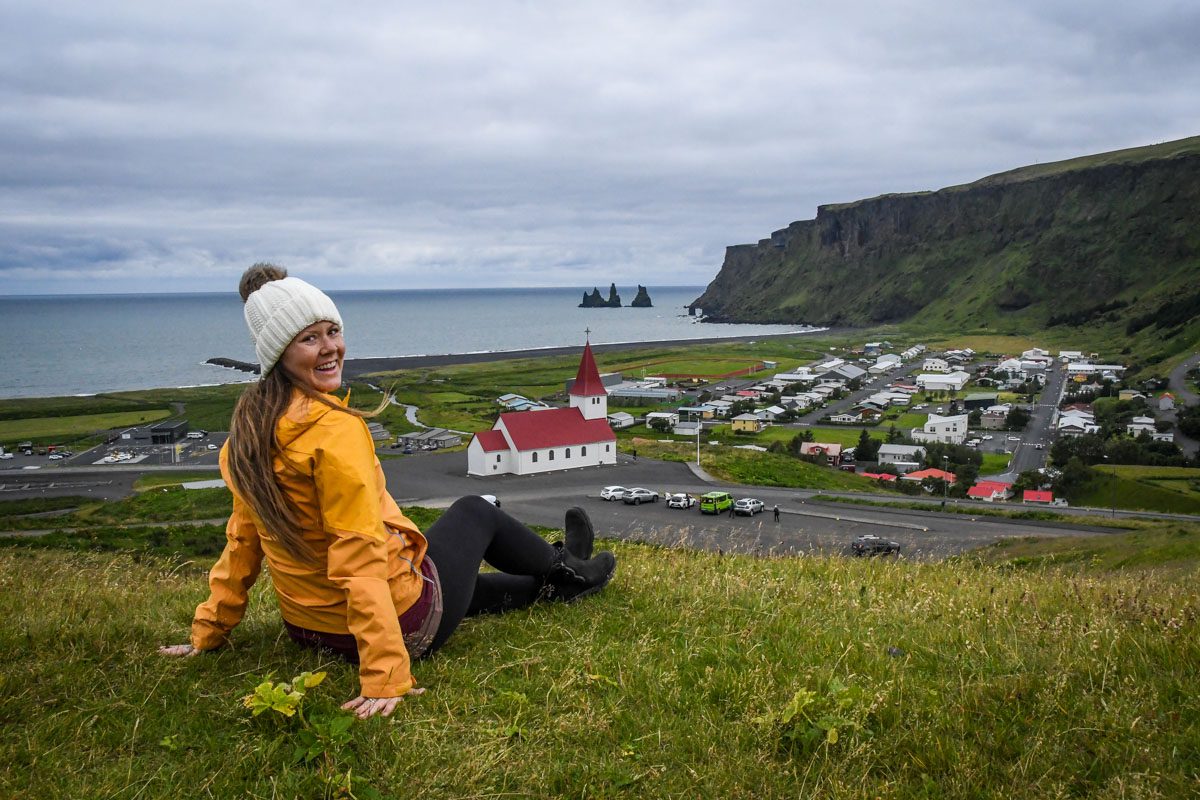 For a view that overlooks the village of Vik, the town's iconic church, and volcanic rock formations in the distance, keep reading because we're sharing directions to the best photo spot in town!
Vik viewpoint directions
Park in the church parking lot, get out of your car and face away from the ocean.
You'll see a small hill behind the parking lot.
On the left side of the hill is a small path to the top.
Follow this path and you will get a fabulous view of the church, the town and the black sand beach.
There is also a small cemetery at the top of the hill, which is interesting to see.
Good to know: If you're visiting Iceland in the early summer months, you may get lucky enough to see some purple lupines here!
7. Eat pizza with black crust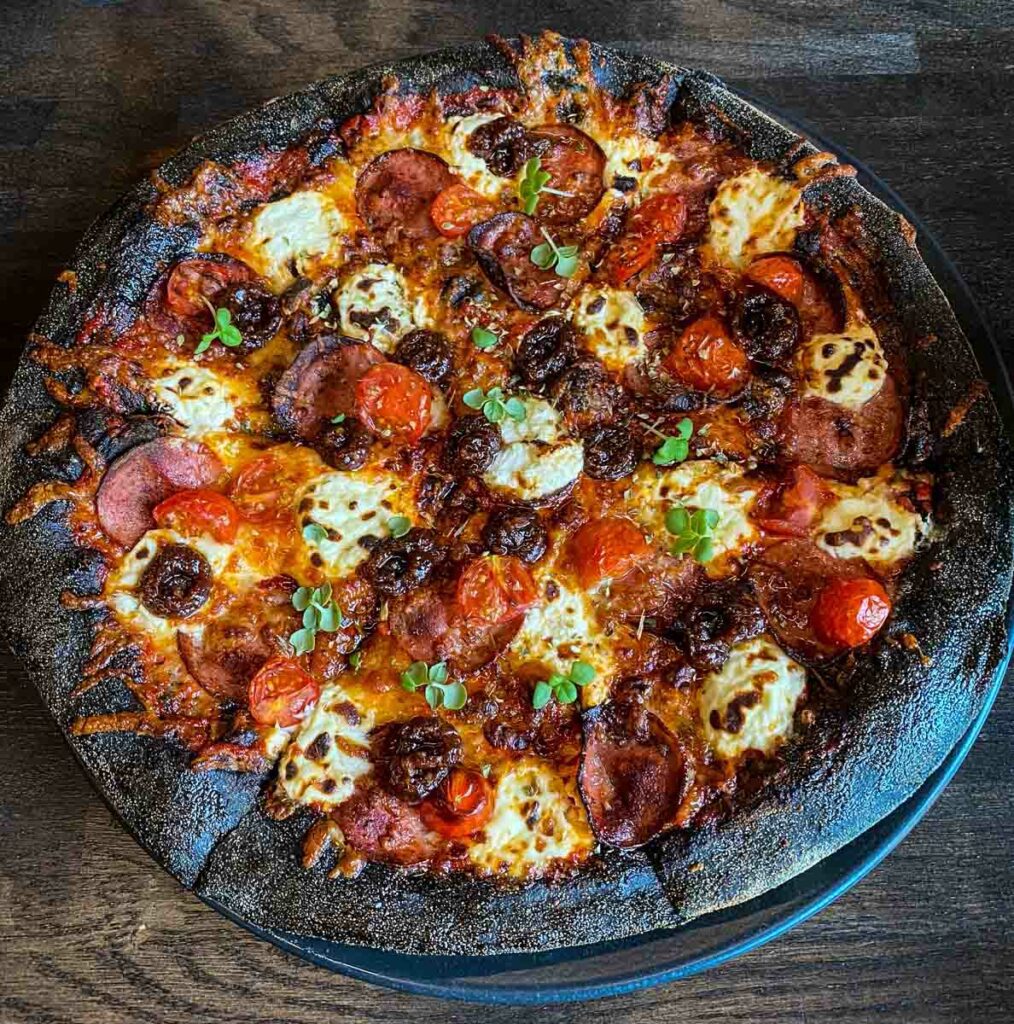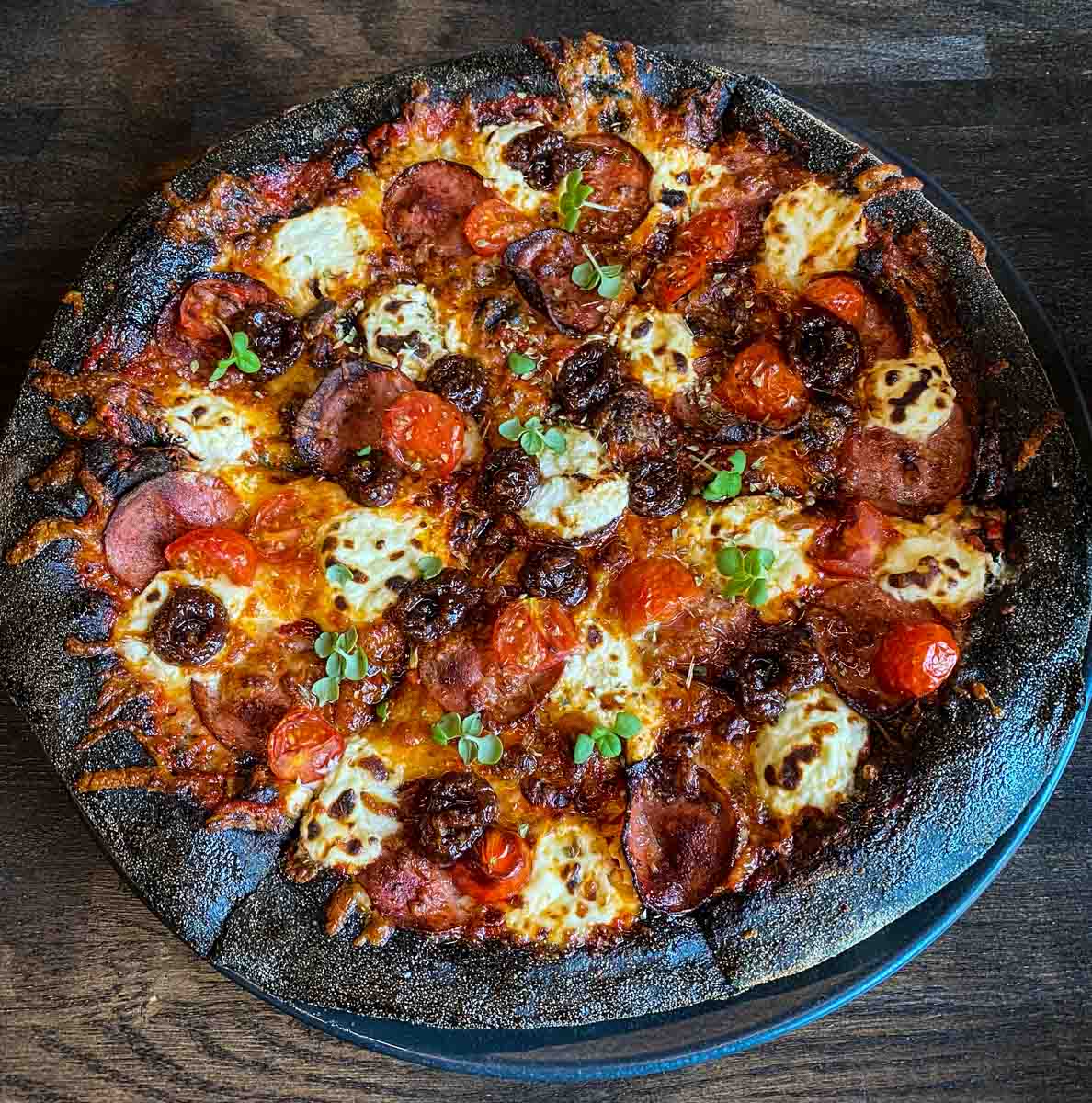 Mimicking the famed black sand beach that's just blocks away from this restaurant, the crust at the aptly-named Black Crust Pizza is, well, black, just as the name suggests! There is the option to get sourdough crust if you'd like to compare the two.
With creative topping combinations, like duck, cream cheese, cashew, orange and chili or Icelandic langoustines, truffle-infused cream, rucola and rosemary, this is perhaps the best pizza in all of Iceland, and will be a memorable pie!
Insider Tip: If you're a fan of seafood, we'd recommend the langoustine pizza!
8. Learn about volcanoes at the Vik Lava Show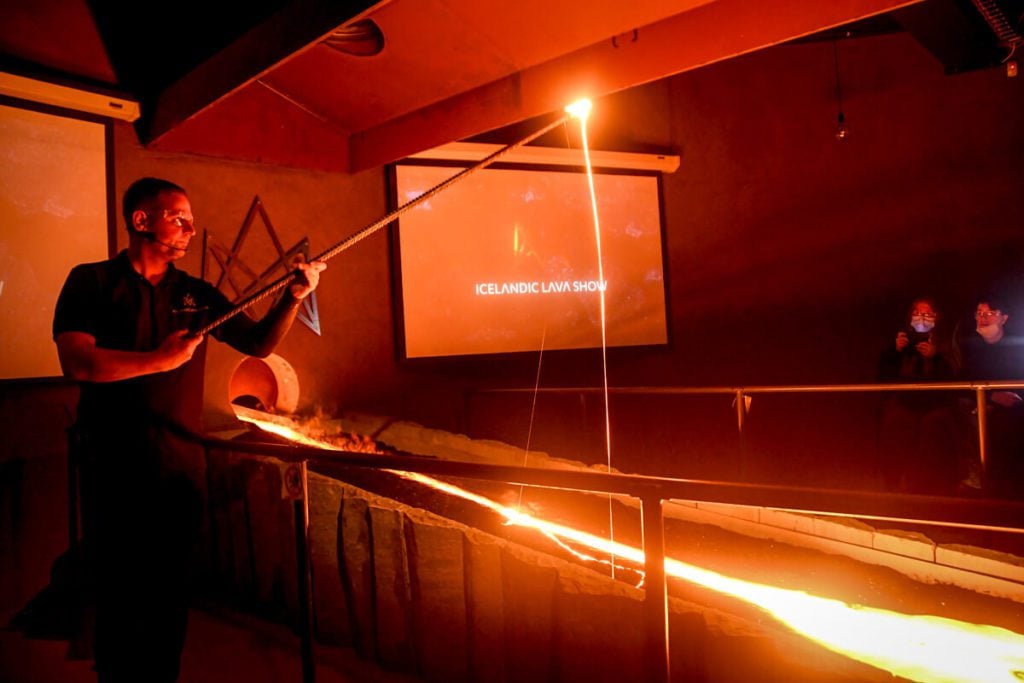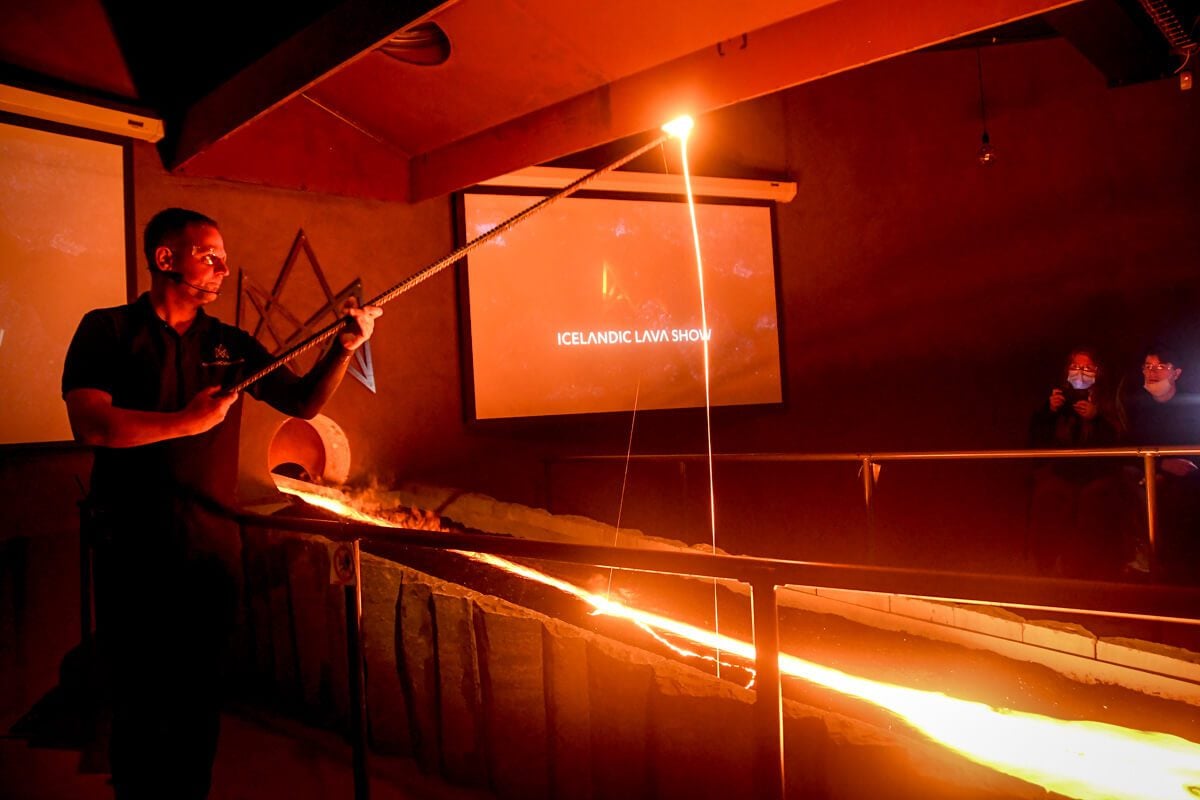 The Icelandic Lava Show is touted as the only place in the world where you can experience lava safely close up.
If you're interested in learning more about volcanoes, this is a really unique and interesting activity in Vik.
The owner is very passionate about volcanoes and lava, and packs this 50-minute tour full of information and demonstrations.
We learned a ton about volcanoes and lava, which we never would have known had we not done this experience.
Still deciding? This experience earns rave reviews, which you can read through here.
Cost: 5,900 ISK per adult ($46 USD)
Time: This tour runs twice daily: 1:30 p.m. and 5 p.m., and it lasts for about 50 minutes
Reservation necessary
9. Walk to the Sólheimasandur Plane Wreck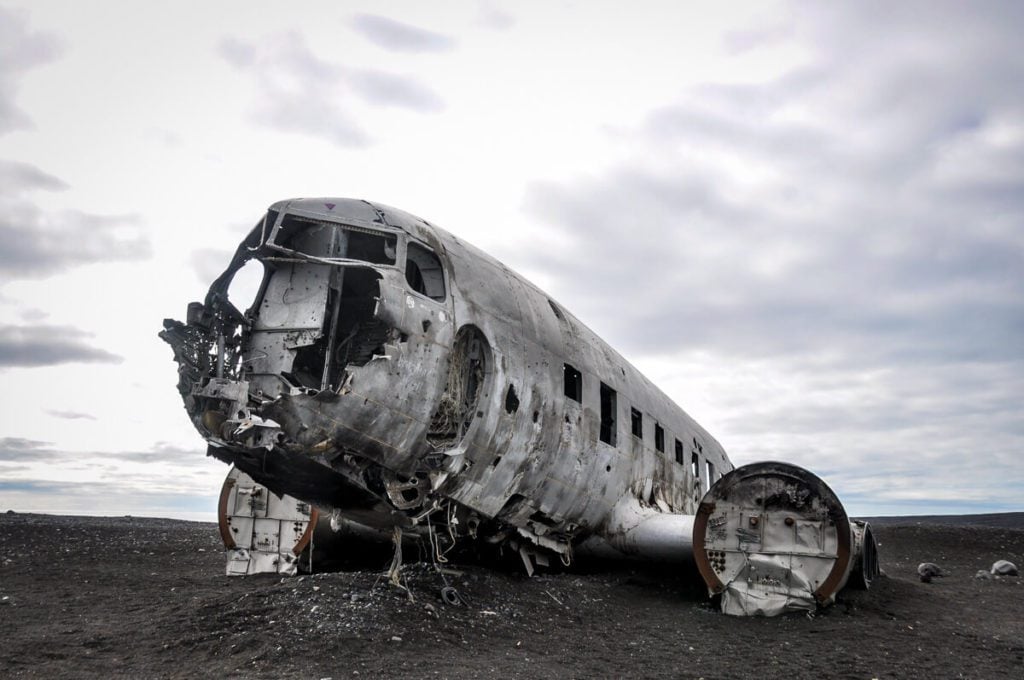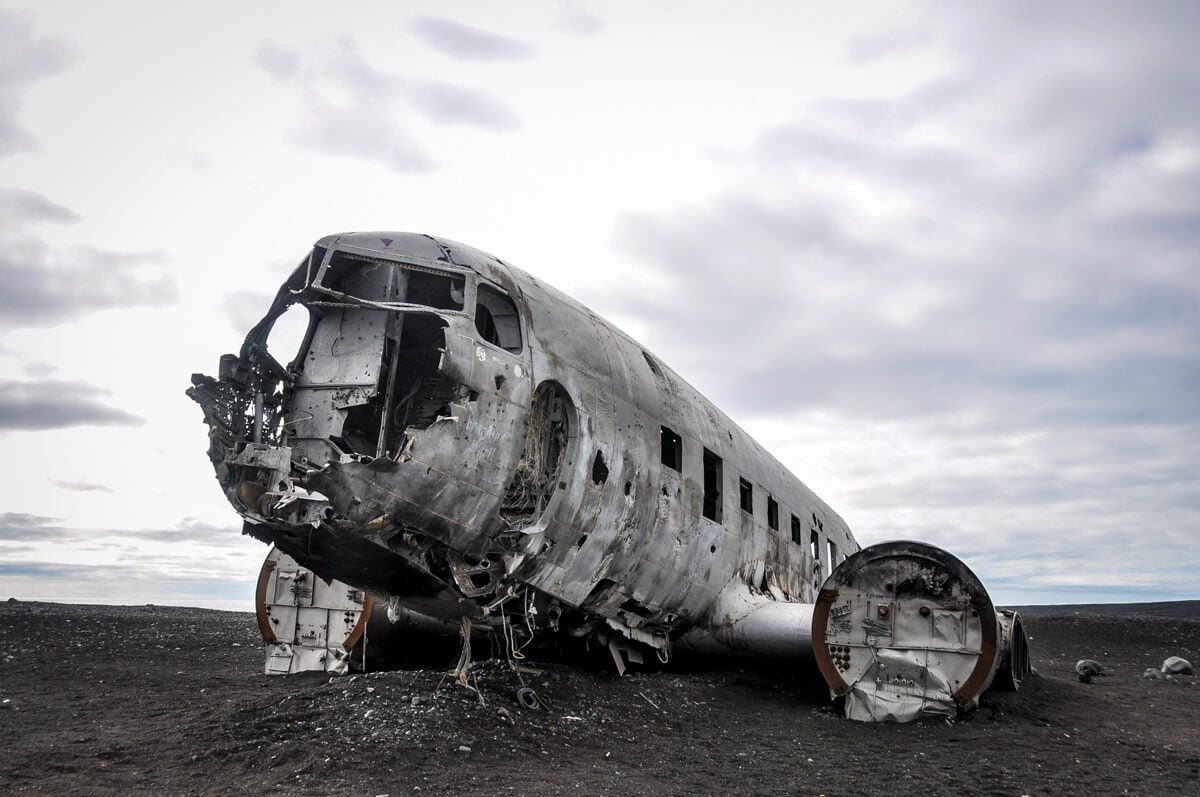 The Sólheimasandur plane wreck is on Iceland's south coast, and is popular with photographers and travelers seeking a unique sight.
Near the ocean's edge, you'll find the remains of a 1973 U.S. Navy plane that crashed at this spot after running out of fuel. Thankfully, everyone on board survived.
Visiting this popular spot is easy. You simply park in this lot, and follow the marked path for a little more than 2 miles (3.5 km) until you reach the wreckage. In total, this is a 4.5-mile (7.25 km) walk.
Cost: Free (unless you take the shuttle – see below)
Time: about 3 hours total if you walk
Good to know: The walk to the plane is long and very boring. It's flat, so you won't have to worry about elevation gain, but it's important to pack plenty of layers and rain gear, as weather can be unpredictable and it can get very windy here.
Still trying to decide? While this is a cool sight to see, it is really just a photo op. If you're into photography or unique sights, you'll probably enjoy this. But if you aren't fond of the idea of a long and boring walk just for a photo, you may want to skip this one.
Shuttle to Sólheimasandur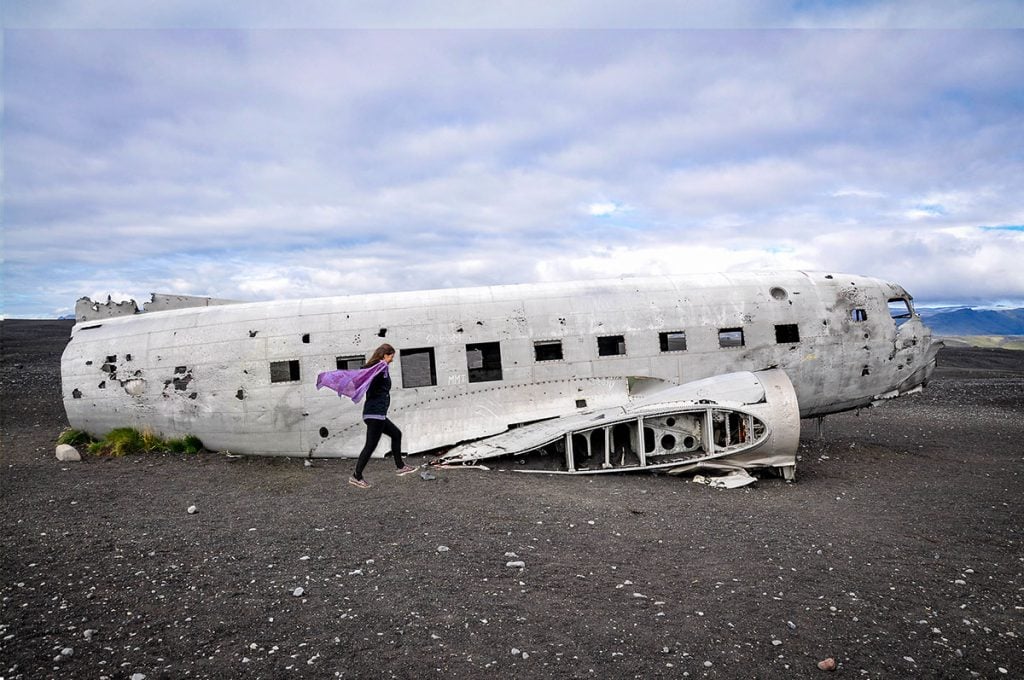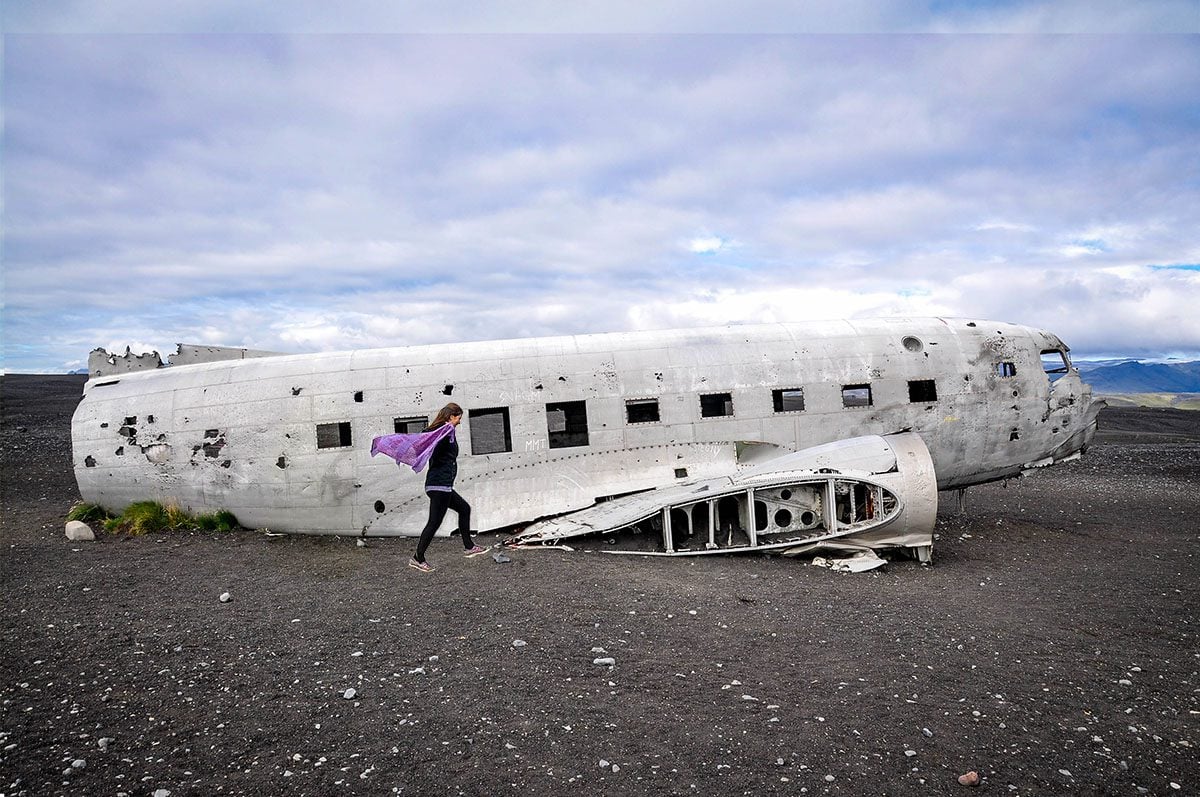 If you are planning on doing lots of other activities on the same day you visit this site, we'd recommend you take a shuttle to the plane wreck. This will save you some time (and a boring walk).
The shuttle brings you to the wreck in less than 15 minutes, and you'll have about 20 minutes at the plane before the return trip.
Cost: 2,500 ISK per person ($20 USD)
Time: 50 minutes total if you take the shuttle
10. Stay in a cozy cabin in Vik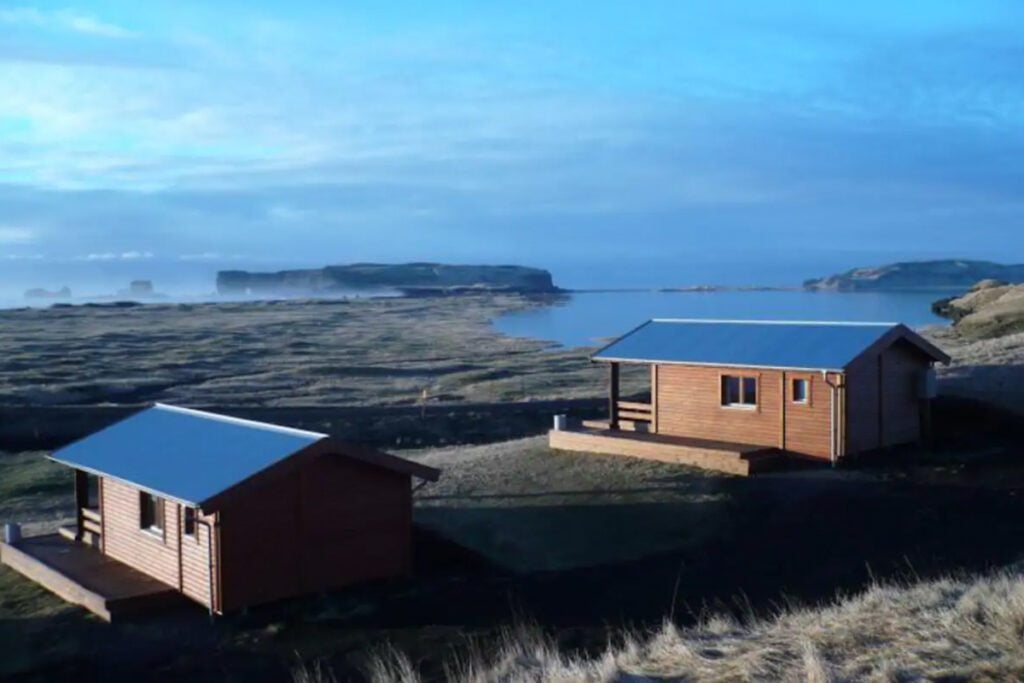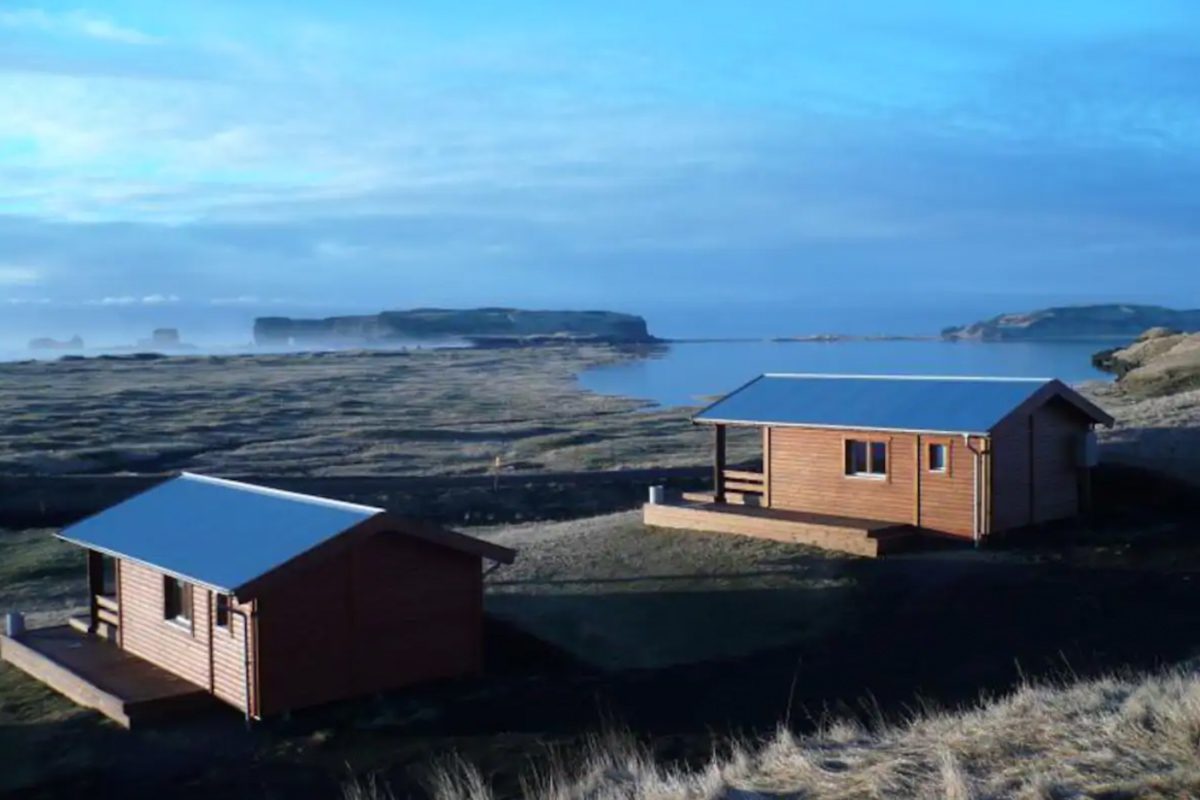 Vik is the perfect place to book a cozy cabin to soak in the hygge vibes and relax a bit.
Here are our top picks:
Located in the town of Vík, this tiny cabin features a small kitchenette and living space and offers free wifi.
This beautifully designed tiny cabin on Reynisfjara Beach comes at a reasonable price, but is quite popular and books up fast so be sure to reserve far in advance.
Tip: If that one is booked, try this one or this one. (They are on the same property with the same host.)
11. Feel the power of Skógafoss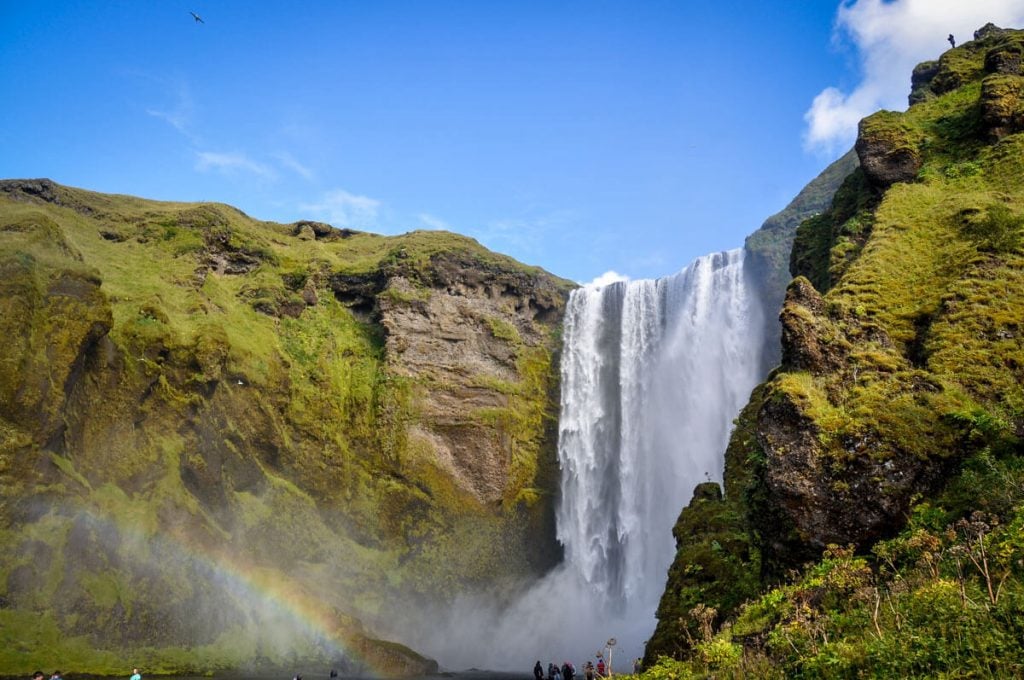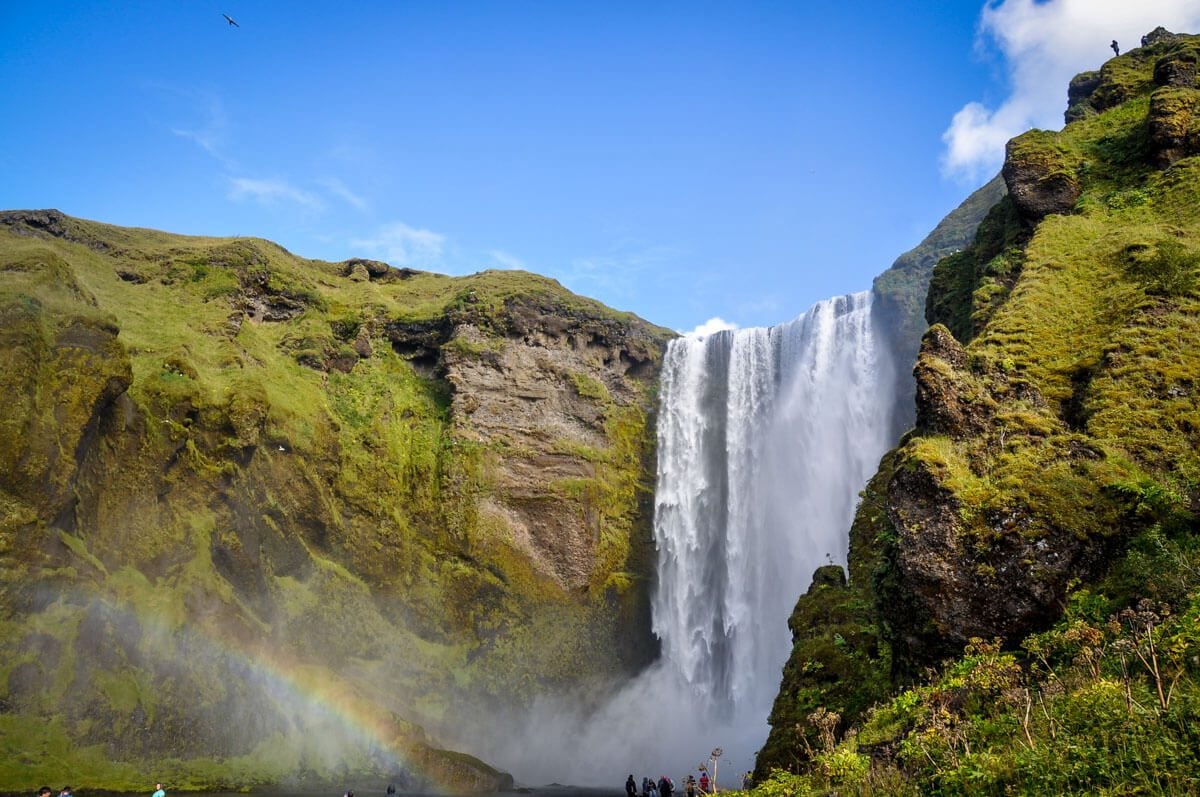 Skógafoss is an astounding 200-foot beauty that is one of the most impressive waterfalls in Iceland.
Skógafoss Info
Exact location: Skógafoss
Facilities on site: restrooms at the nearby campsite
Cost: free to enter and 700 ISK (~5.50 USD) for parking
The nickname "rainbow falls" comes from the natural rainbows caused by the mist of the powerful falls.
Skógafoss is unique because you can walk right up to it. The closer you get to the base, the more likely you are to see the rainbow.
For a different perspective, you can walk up a metal staircase for a view above the waterfall.
At this point, you've reached the start of one of our favorite hikes in Iceland. Keep reading for details…
12. Hike the "Waterfall Way"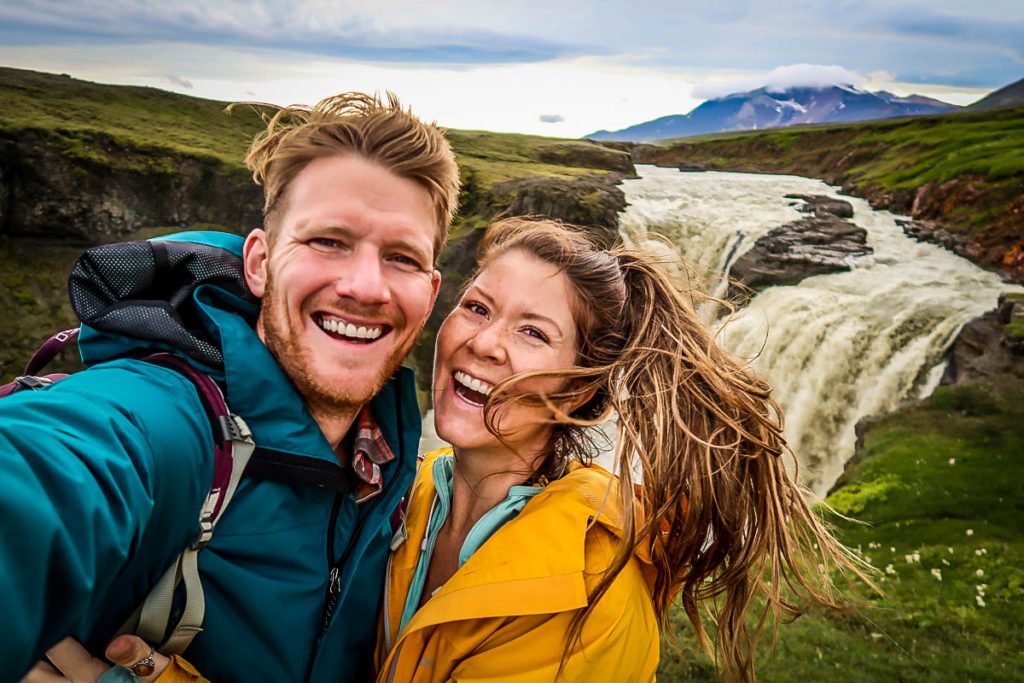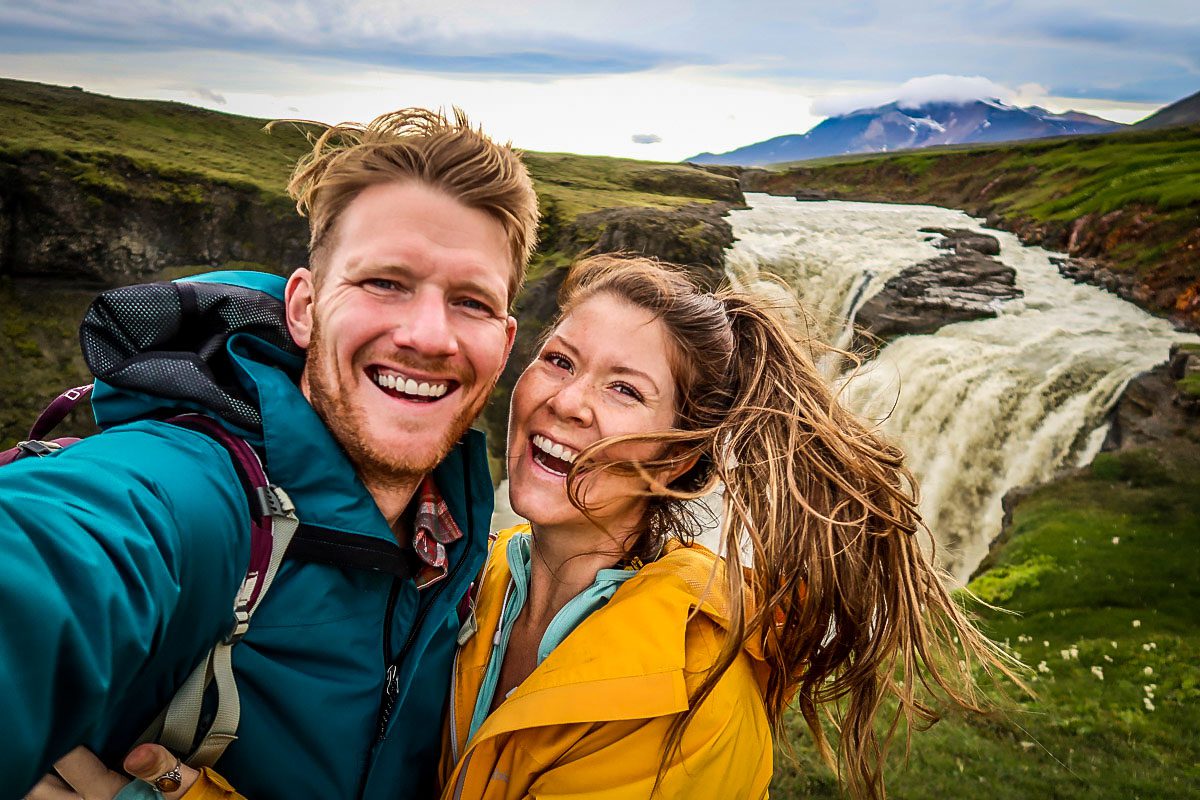 After climbing the stairs to view Skogafoss from above, check in with yourself and see if you'd be up for a little hike.
If you have time and energy, we'd highly recommend continuing on the path at the top of the staircase known as "Waterfall Way" (this is also the start of the famous Fimmvörðuháls Trail).
You will see some of the most beautiful waterfalls along this path, and there will be far fewer crowds than down below. There are 26 waterfalls along the first 4 miles of this trail!
Walk as far as you'd like, then turn around. We'd recommend going at least 1 mile, as the trail is pretty flat, and the views continue to get better.
13. Go hiking in Þakgil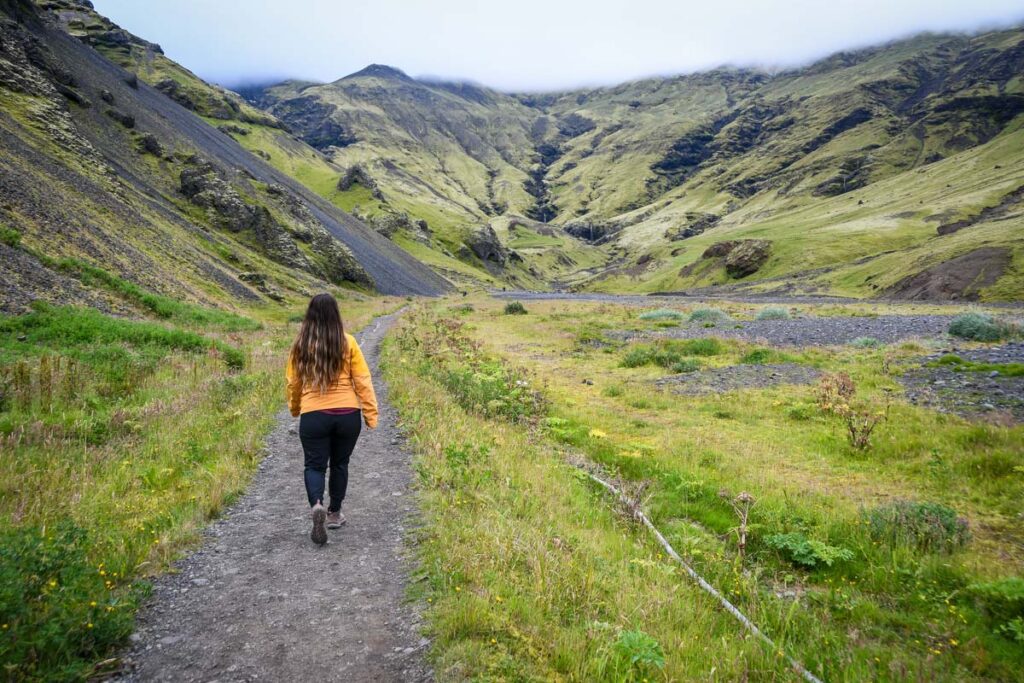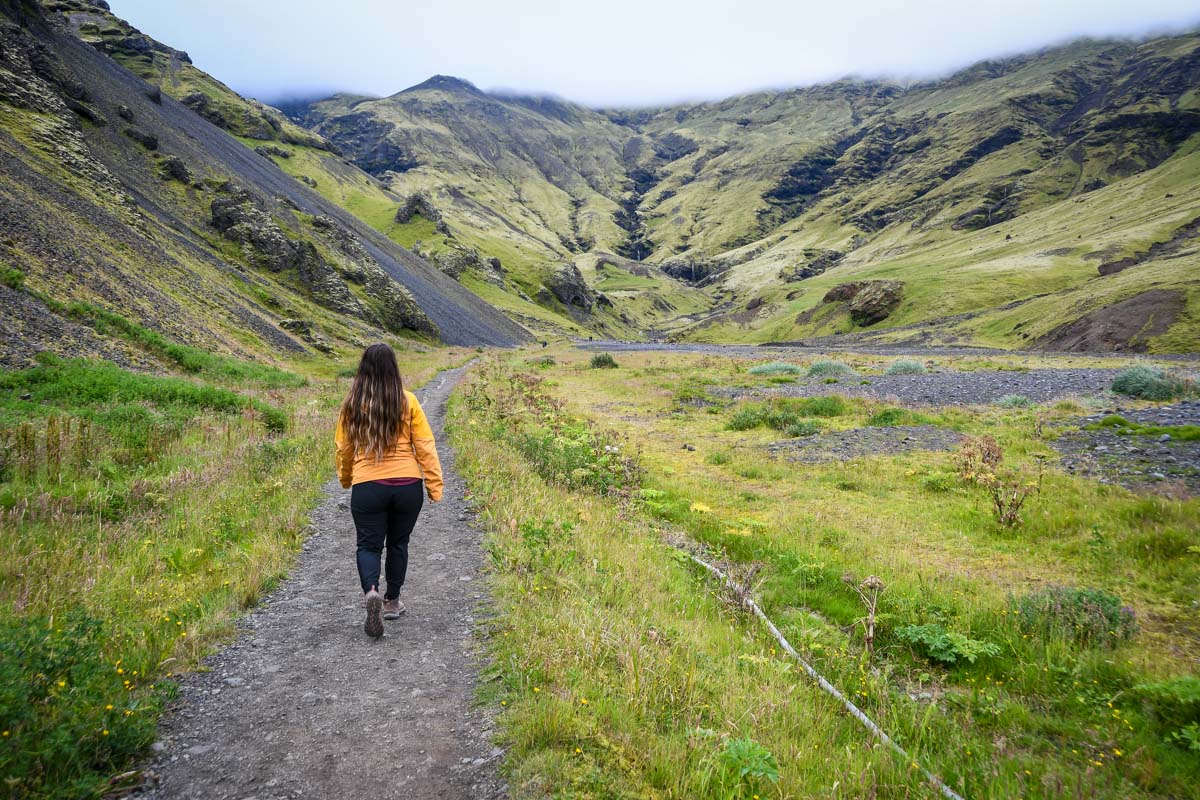 Are you an avid hiker?
Love getting off the beaten path?
Do you have a little extra wiggle room in your Iceland itinerary?
If you answered "yes" to any of these questions, we have a suggestion that we think you're going to love…
If you head 5 kilometers east from Vik on Highway 1, you'll come to a seldom-trafficked road that goes inland. The road is rough, but it is not required that you have a 4×4 (though it would help!).
Continue on this road for about 40 minutes, and you will reach Þakgil Campground, which is the jumping off point for some really amazing hikes that are very much under the radar.
Getting here and exploring the area will take the better part of a day. If you are camping in Iceland, we'd highly recommend spending at least one night here so you don't have to rush.
Plus, it was our favorite campground in all of Iceland and even has a cave with picnic tables and candles inside where you can eat!
14. Walk into a small canyon to see Kvernufoss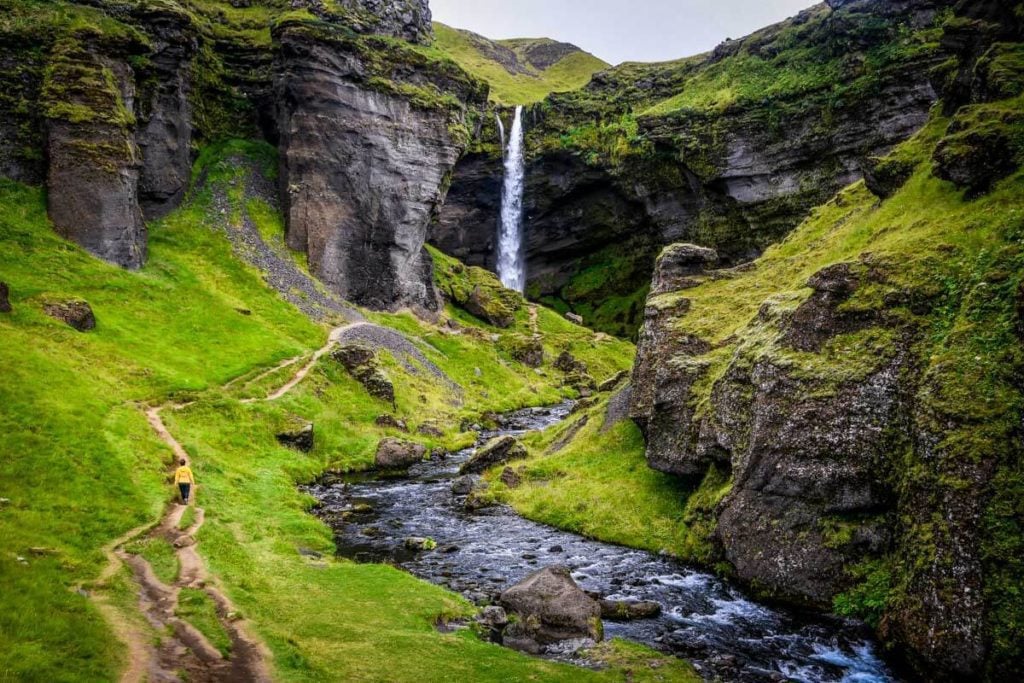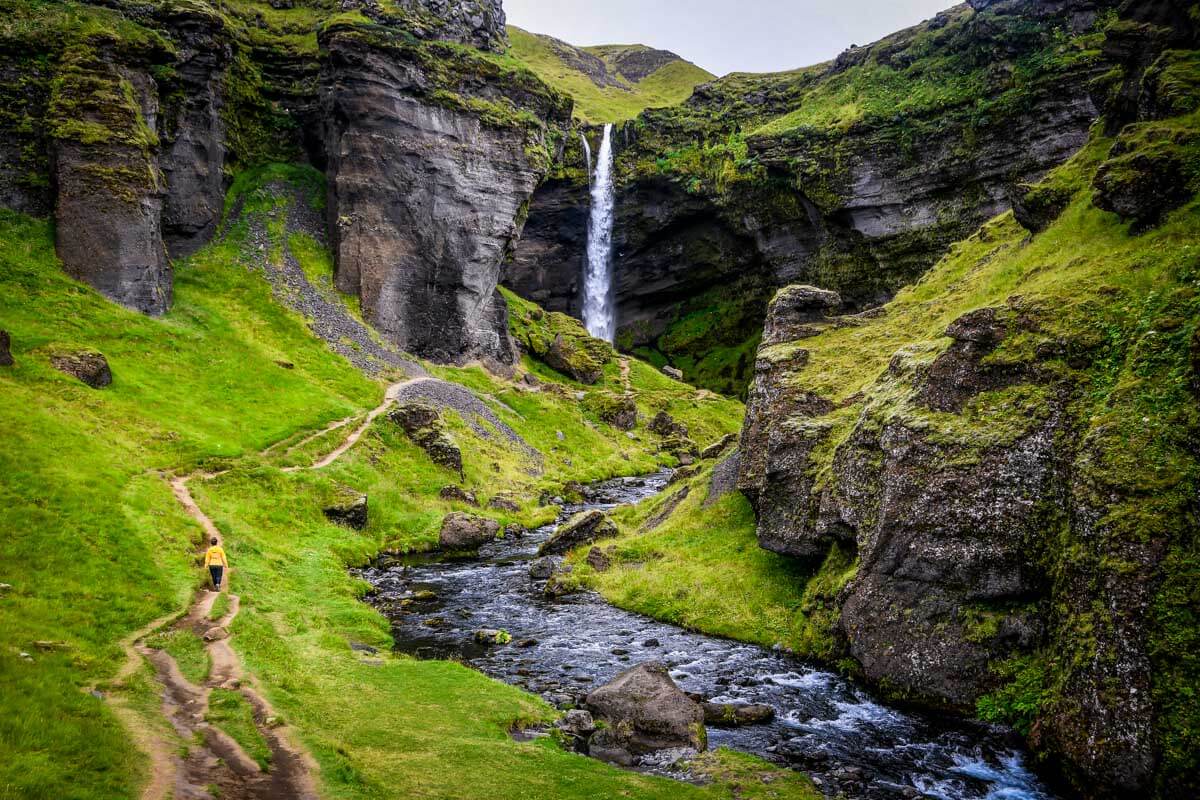 A quick and easy 15-minute walk brings you to a lush green canyon with this stunning waterfall.
Not far from Skógafoss, many visitors miss this hidden waterfall because they simply don't know of its existence.
"This was one of the hidden gems we drove right past on our first trip to Iceland because we didn't know it existed. It's a beautiful spot, so be sure to check it out!" -Katie and Ben
While nearby Skógafoss draws tour buses and huge crowds (for good reason), this waterfall is still somewhat under the radar, and is jaw-droppingly beautiful.
We arrived when there were no other people at the falls, but as we started to head back there were quite a few people (still not the same amount of crowds as at more popular waterfalls).
15. Jump in the water at the Vik Public Swimming Pool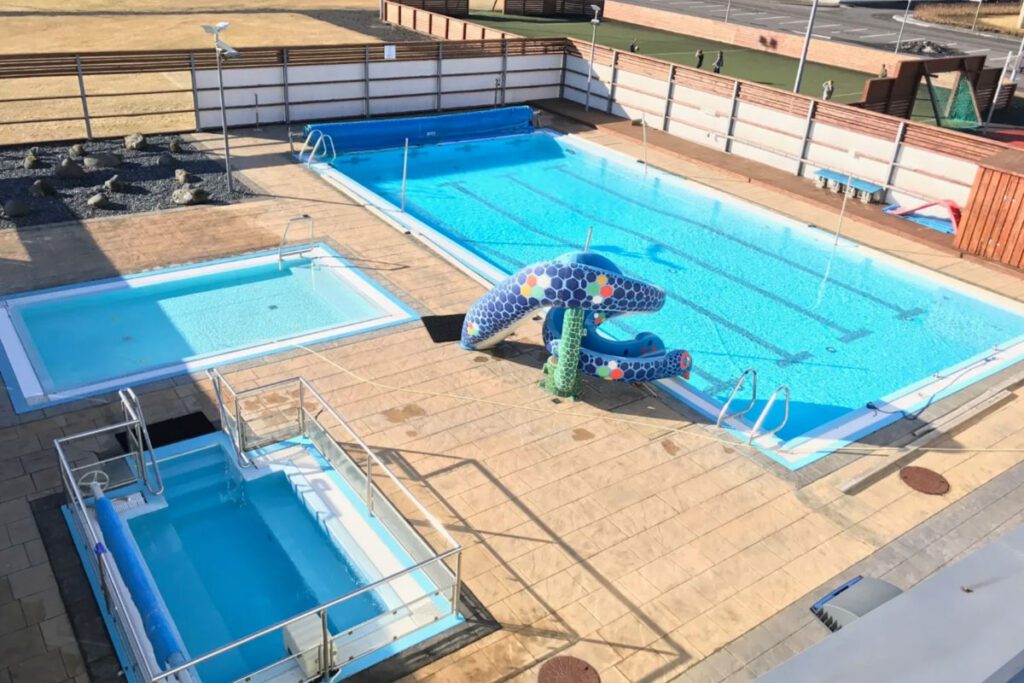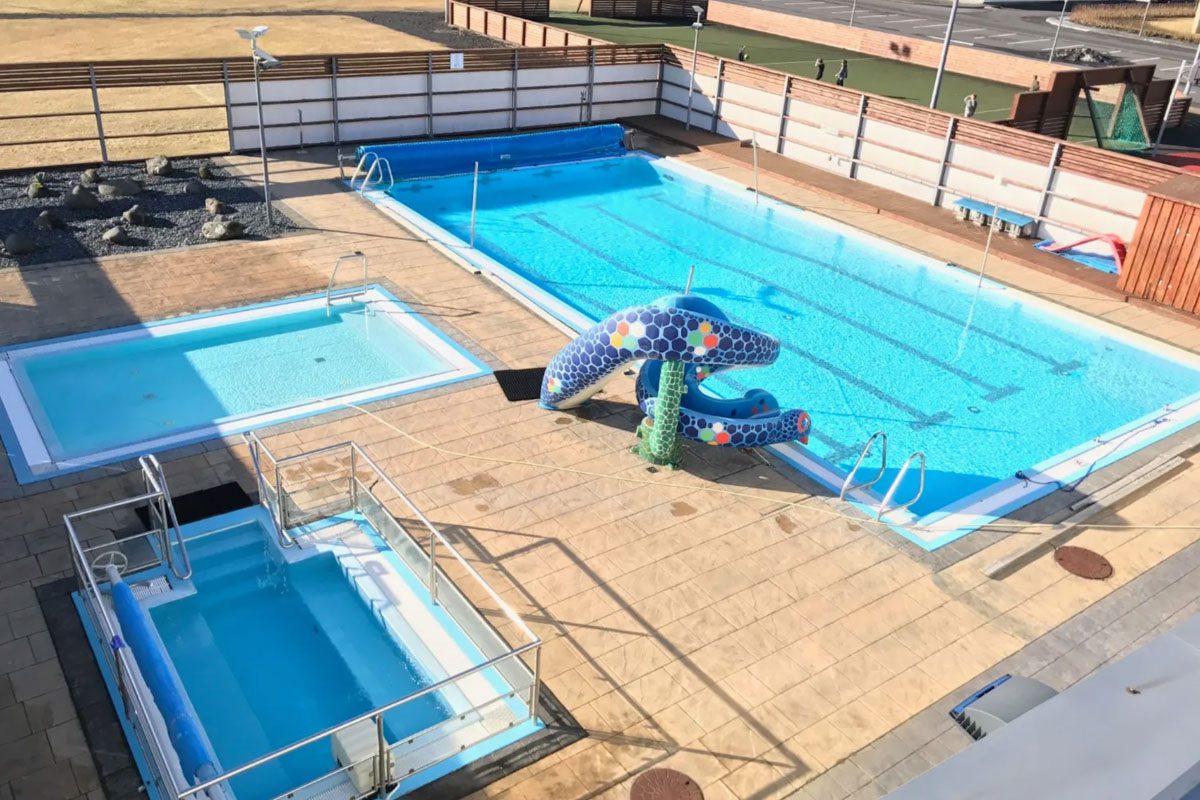 If you ever want to hang with the locals in Iceland, all you need to do is find the nearest swimming pool.
Trust us, we were skeptical too, how swimming pools are so popular in a country with such dramatic, notoriously cold weather…
You'll be relieved to know that the swimming pools in Iceland are heated, so they can be enjoyed year round, and they usually come with incredible views!
The swimming pool in Vik overlooks the iconic black sand beach and cliffs of Dyrhólaey, making it the perfect spot to relax after a long day of sightseeing.
16. Seljavallalaug Swimming Pool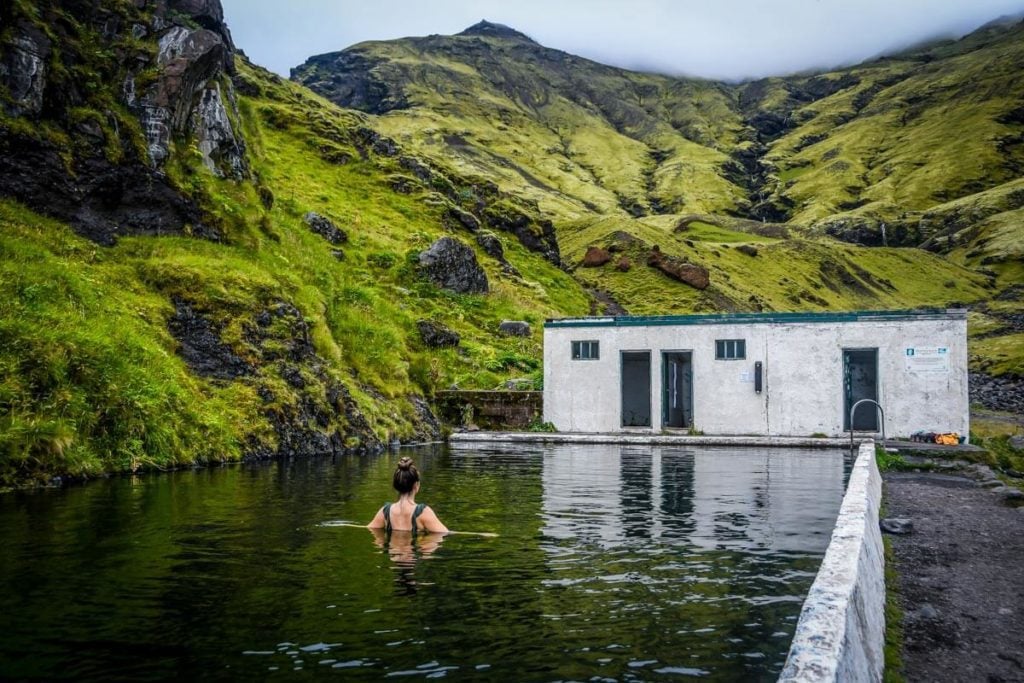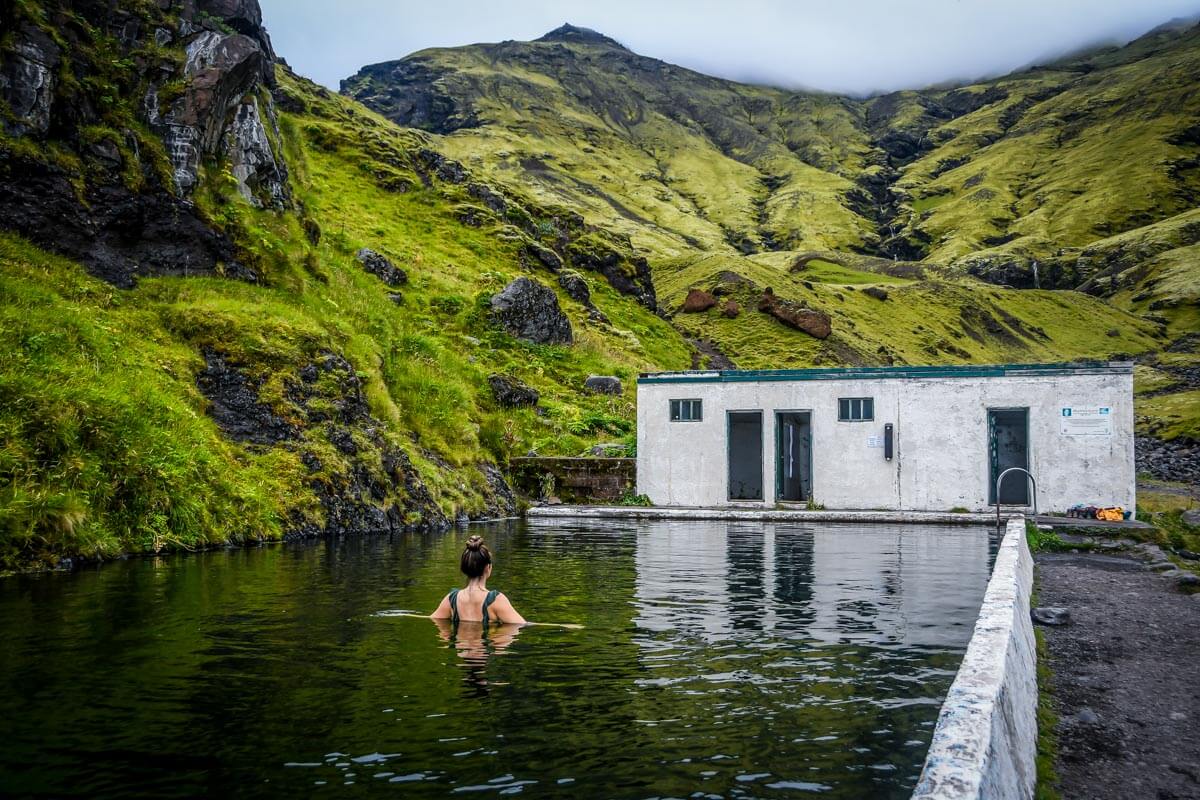 Seljavallalaug is a 25-meter outdoor public pool fed by a natural hot spring in a lush valley.
Built in 1923, this is said to be one of the oldest (if not the oldest) public pools in all of Iceland.
Getting there requires an easy 20-minute walk along the riverbed to reach this pool, and it's completely free to visit.
We've visited this hot pool twice – once in 2016 and again in 2021 – and we enjoyed our visit both times. That said, there are a few things you should know…
Things to know about Seljavallalaug Swimming Pool
The water in the pool is lukewarm (not hot).
The bottom of the pool has algae so it's a little slippery in places. It didn't bother us, but don't expect clean, pristine water here.
There was also some trash around left from other visitors and graffiti in the changing rooms when we visited.
The facilities are minimal, changing rooms are separated by gender, but there are no doors, just stalls, so it's not that private. There are no toilets here either.
We have a complete guide to visiting Seljavallalaug Swimming Pool with everything else you'll need to know to plan your visit.
Psst! If you love soaking as much as we do, you'll want to check out our guide to the best Icelandic hot springs!
17. Step inside "Yoda Cave" (Gígjagjá)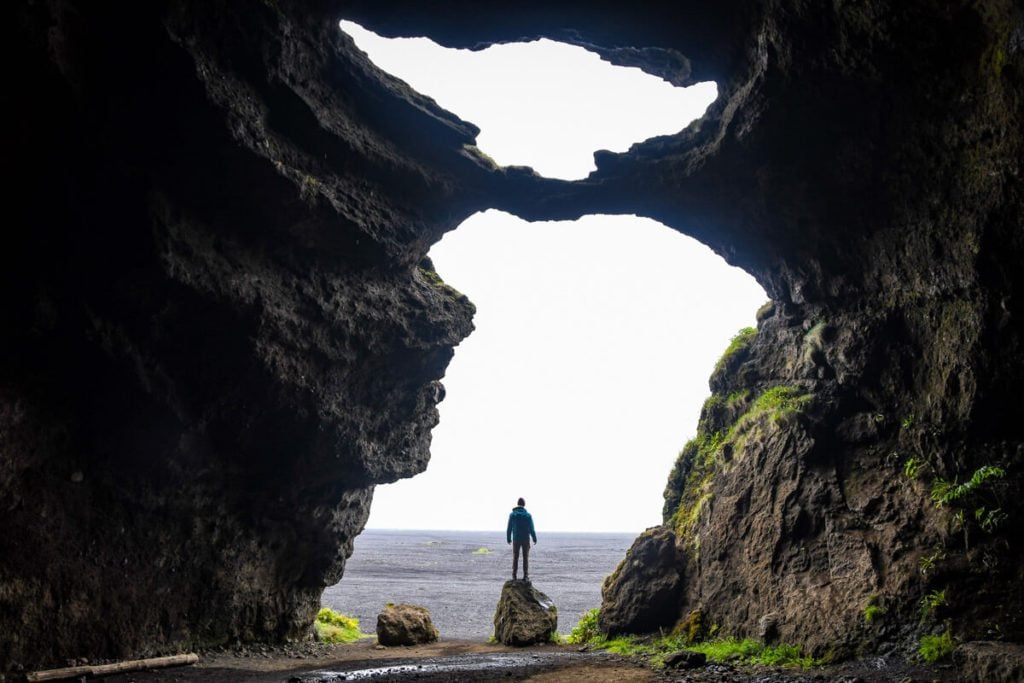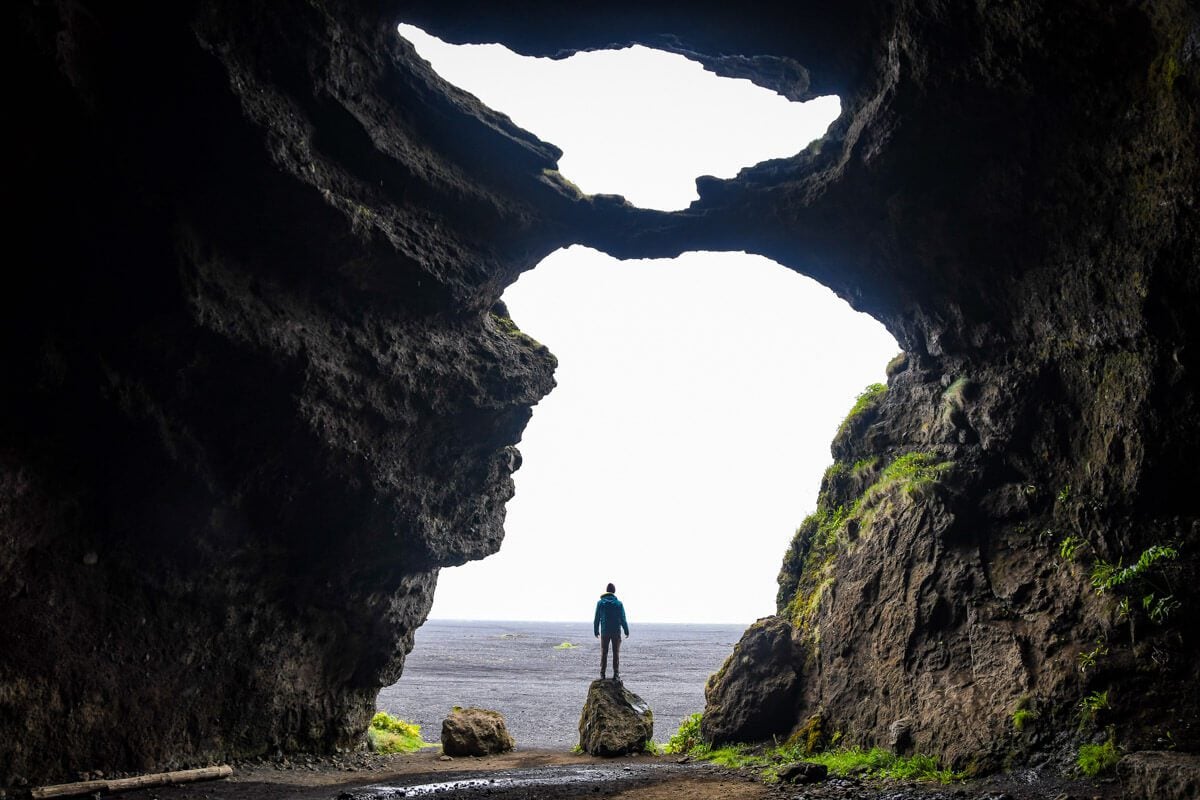 If you like getting off the beaten path, be sure to stop at the "Yoda Cave" (aka Gígjagjá), as it is one of the most unique things to do near Vik.
A 7-minute drive off of Ring Road will lead you to a cave on the coast. Park when the road ends and it's a short walk to the cave. Here is the exact location.
From the outside it doesn't look like much, but if you step inside and look out, you'll see the outline of Yoda with the ocean in the distance, which makes for a fun photo op!
18. Cheers with an Icelandic craft beer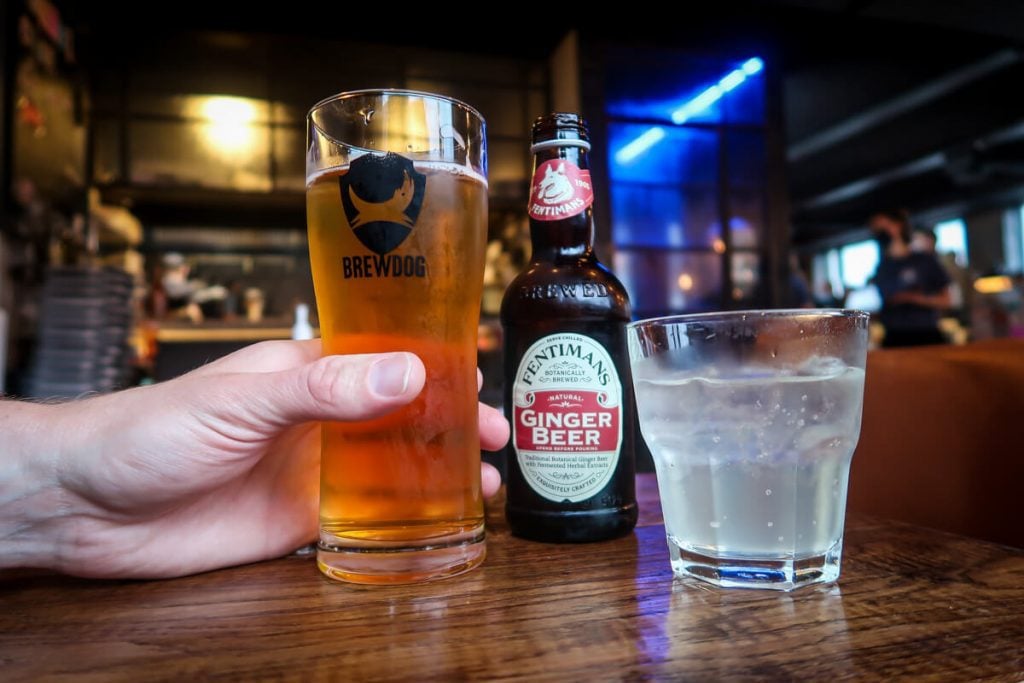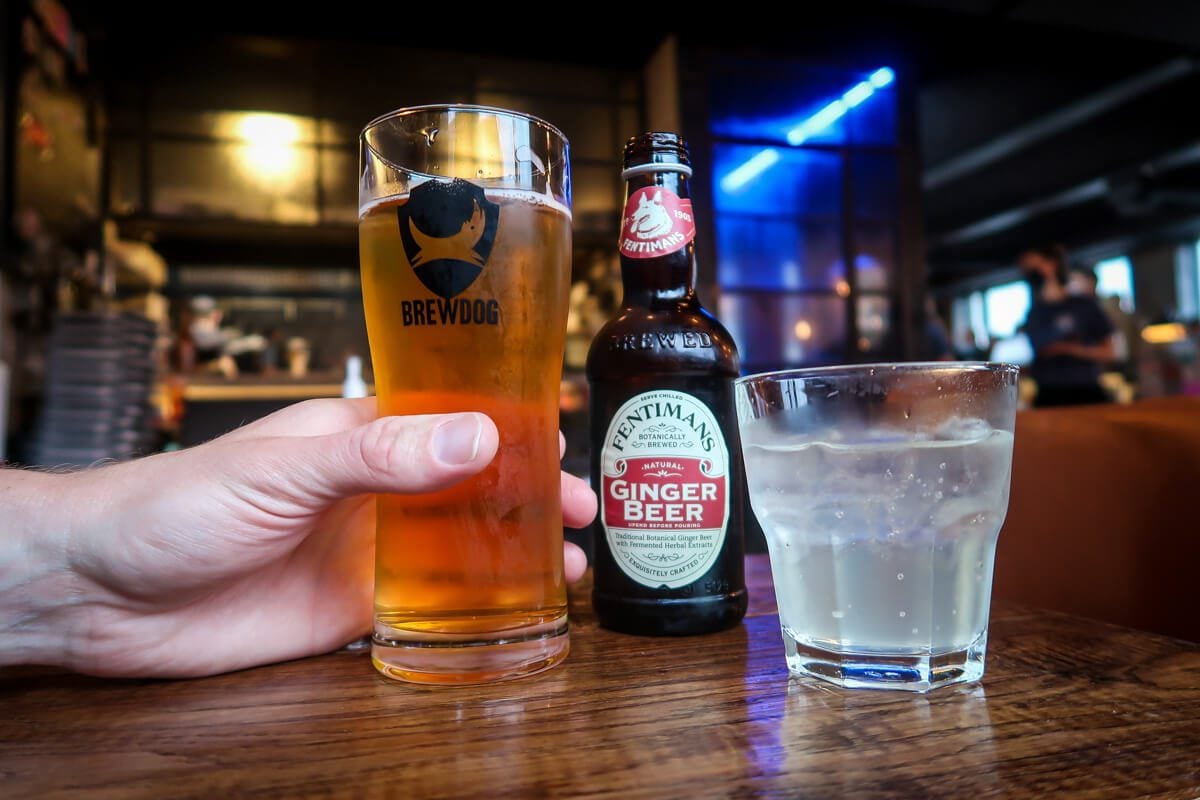 Excitement for microbreweries and new craft labels are so widespread throughout Iceland, you'll be surprised to know that beer has only been legal in Iceland for around three decades.
After nearly a century of prohibition in 1989, the government finally legalized beer and the craft beer scene has flourished across the country ever since.
That's worth a cheers if you ask us!
Smiðjan Brugghús in the center of town has a rotating menu with 10 different brews worth tasting, plus a variety of drool-worthy pub food.
19. Tour an Ice Cave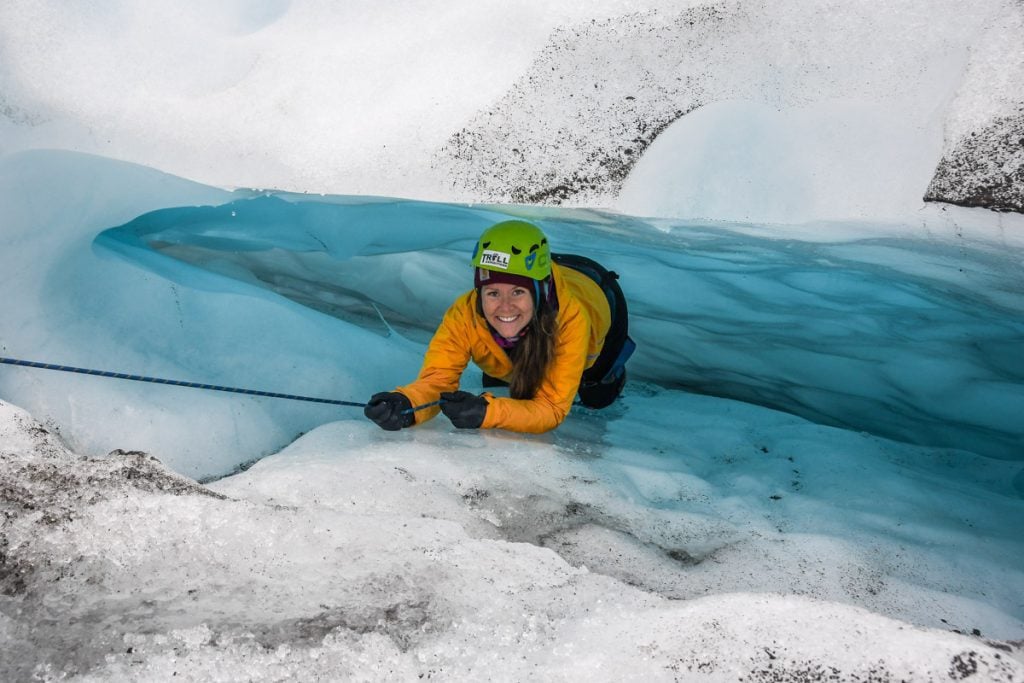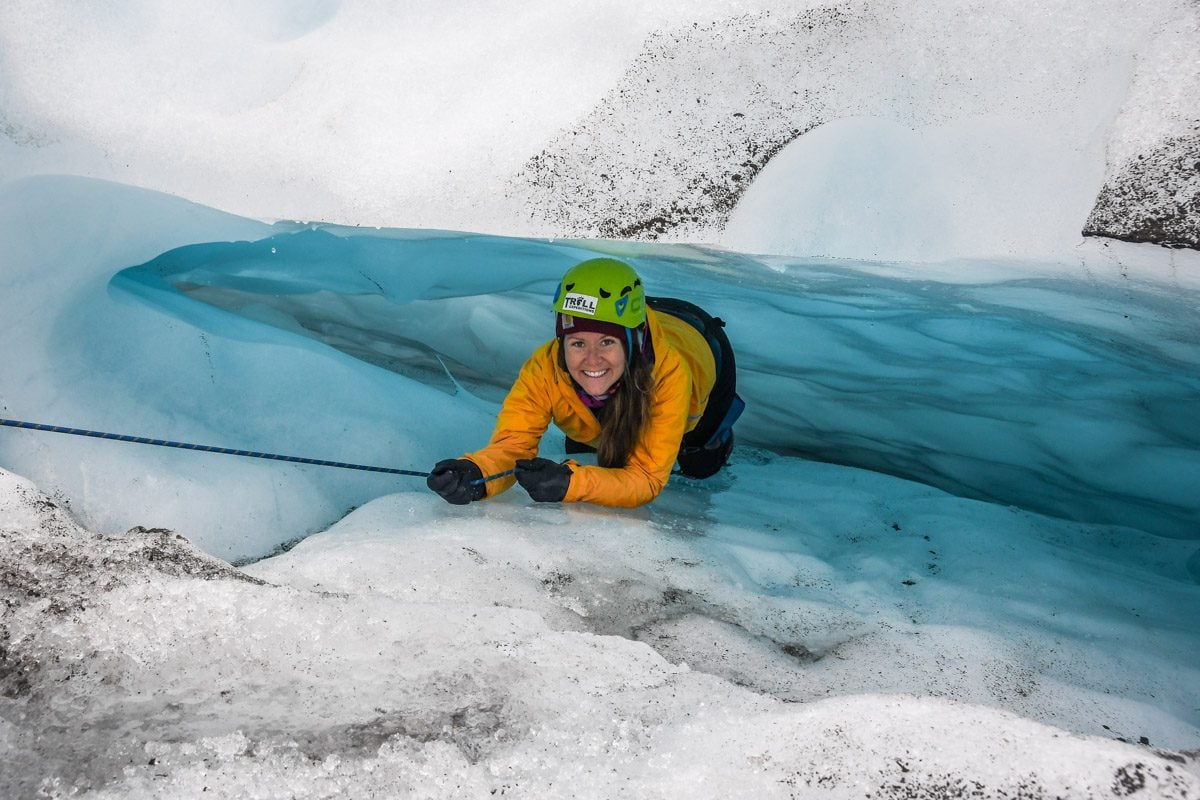 The frozen chambers of the Katla Ice Cave have been nestled within the Mýrdalsjökull Glacier for nearly 800 years.
The best way to explore it is with experienced guides on an epic ice cave tour.
You'll meet with your guides and take a rugged Jeep ride through rural Iceland, complete with plenty of eye-candy to enjoy before hiking across a glacier to reach the cave.
Ice caves are constantly shifting with the conditions, so while no two visits will look the same, you'll still be able to admire this caves unique and colorful interior.
Its remarkable stratified tunnels of black, blue, and white, resembling 'dragon glass', were formed by ash from the volcanic eruptions blending with glacial ice.
Good to know: Many ice caves are only accessible during the winter months, but the Katla Ice Cave can be explored year round.
What guests are saying:
"Amazing tour, Everything was fantastic. It's a tour that everyone needs to do , the guide was good and funny. The ice caves [were] absolutely amazing; you can't miss that . We had fun with the monster tracks. They give you a lot of free time to explore up the hill [and] after you go down sliding. You have a lot of time for plenty of photos, no pressure at all from the [guides] and they explain everything. Very friendly guys! Don't miss out." – Guest, January 2023
20. See sunset at Seljalandsfoss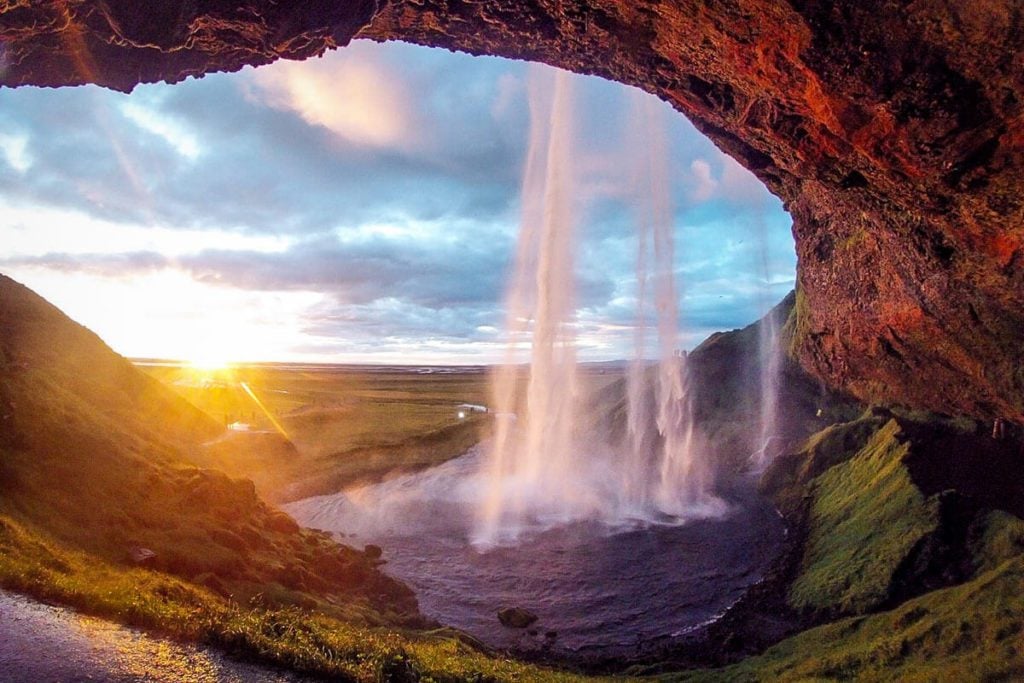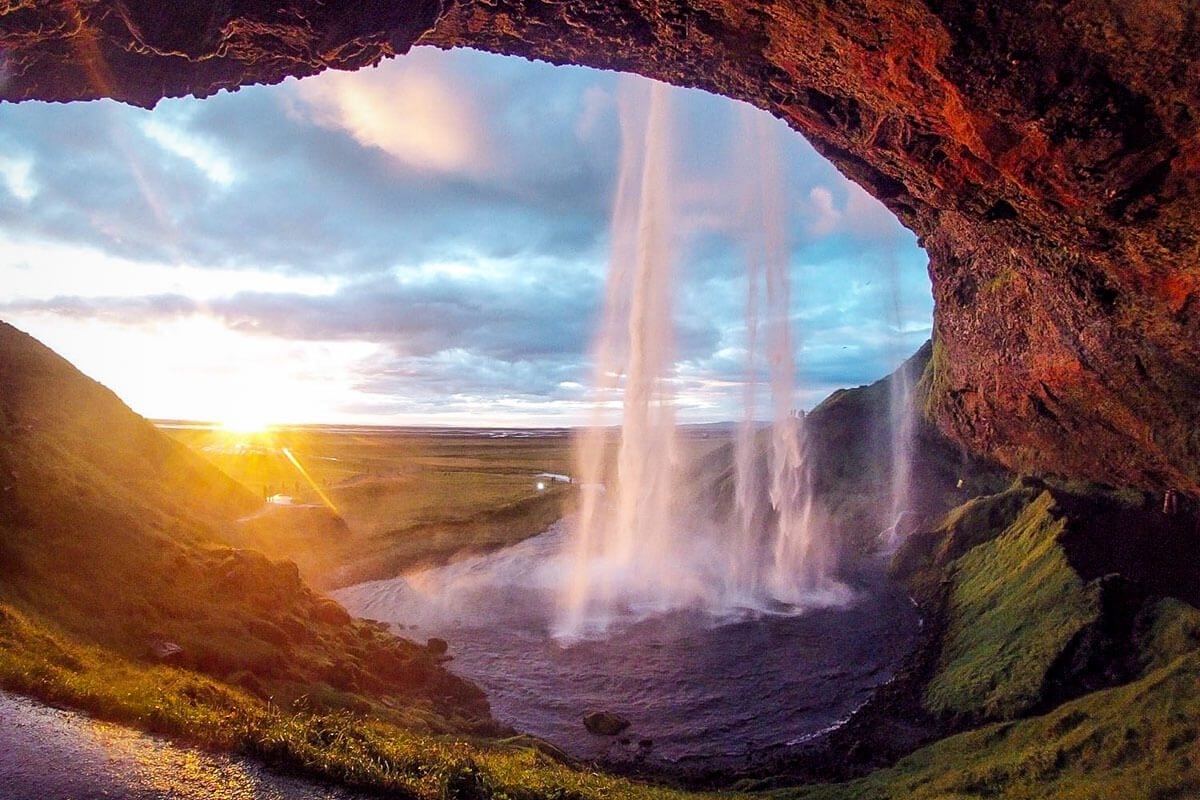 Seljalandsfoss is a stunning waterfall located about an hour west of Vik.
This waterfall is especially beautiful at sunset when the water reflects the sun and shines like liquid gold.
In fact, we visited this waterfall on multiple occasions at different times of day and can say without a doubt that sunset was the best time to visit for photographs.
Even if you're not a photographer, it is still a lovely time to view this waterfall (particularly if you have a clear day).
Sunset at Seljalandsfoss is no secret, so it will get crowded. Arrive early and follow the path all the way behind the falls, right up against the green moss and the tan rock face for some incredible pictures.
Be sure to wear sturdy shoes as the path can get slippery from the mist.
Insider Tip: Use this website to find the time of sunset on the day that you'll be here.
21. Hike on Europe's largest Glacier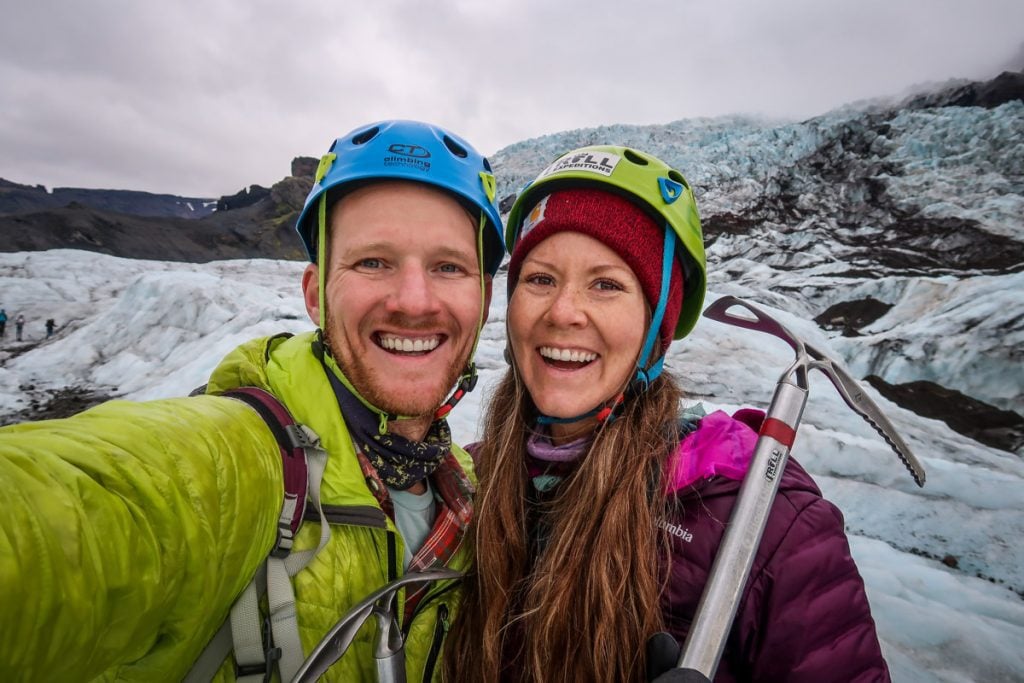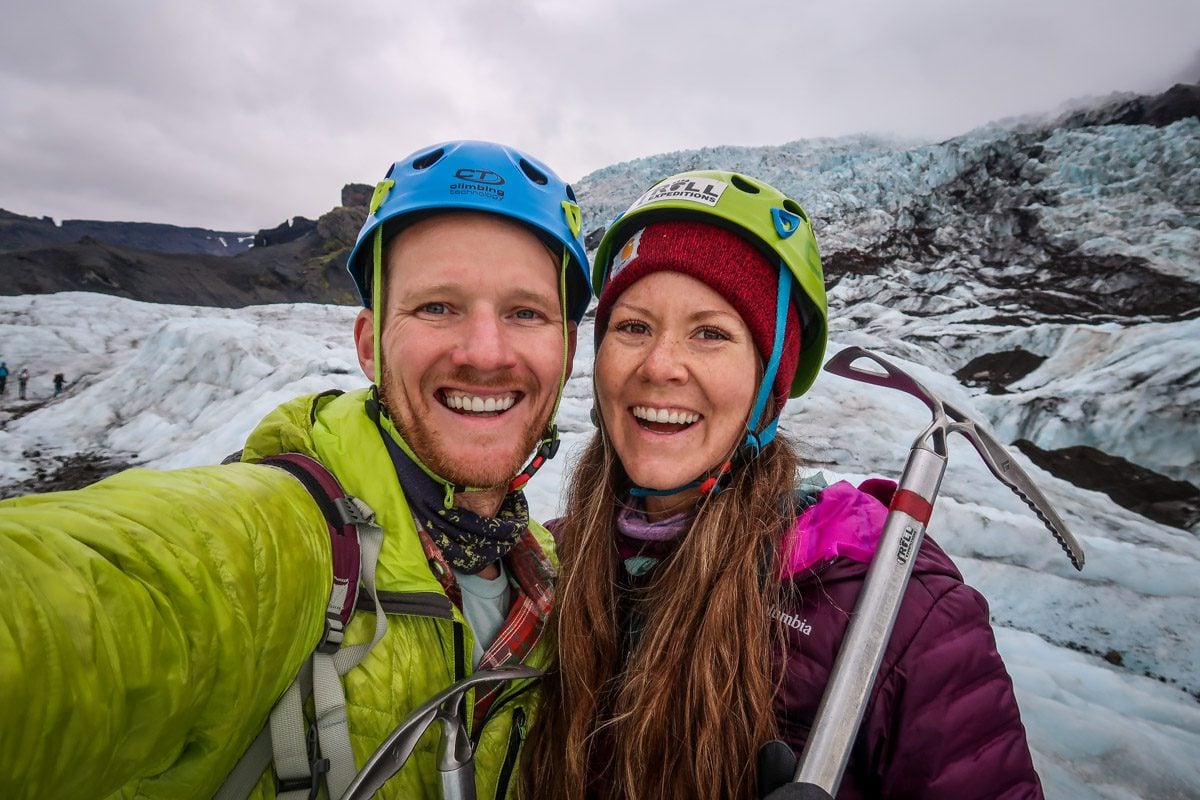 If you're up for a once-in-a-lifetime adventure, a hike on Europe's largest glacier will fit the bill.
Join a tour group (the only way to do this glacier hike), and strap on a pair of crampons, a harness and a helmet for an experience you won't soon forget.
"Being able to hike on Europe's largest glacier and learn about the geology of this area is something we will remember forever. Sadly, this type of experience may not be possible in the future, as it is shrinking." – Katie and Ben
Who can do a Glacier Hiking tour?
It's not a very difficult or technical activity, so as long as you are comfortable with moderate hiking, you should be fine. There were people of all ages and fitness levels on our tour. I was 6.5 months pregnant when we did our glacier hike, and I felt great (though all pregnancies are different).
Things to know about the Glacier Hike
Pack snacks! We had a short break on the tour during which we could eat. But since it falls over lunchtime, you'll want to be prepared with some food.
There are no toilets on the tour. Be sure to go before the tour begins. At the starting point, there are paid bathrooms.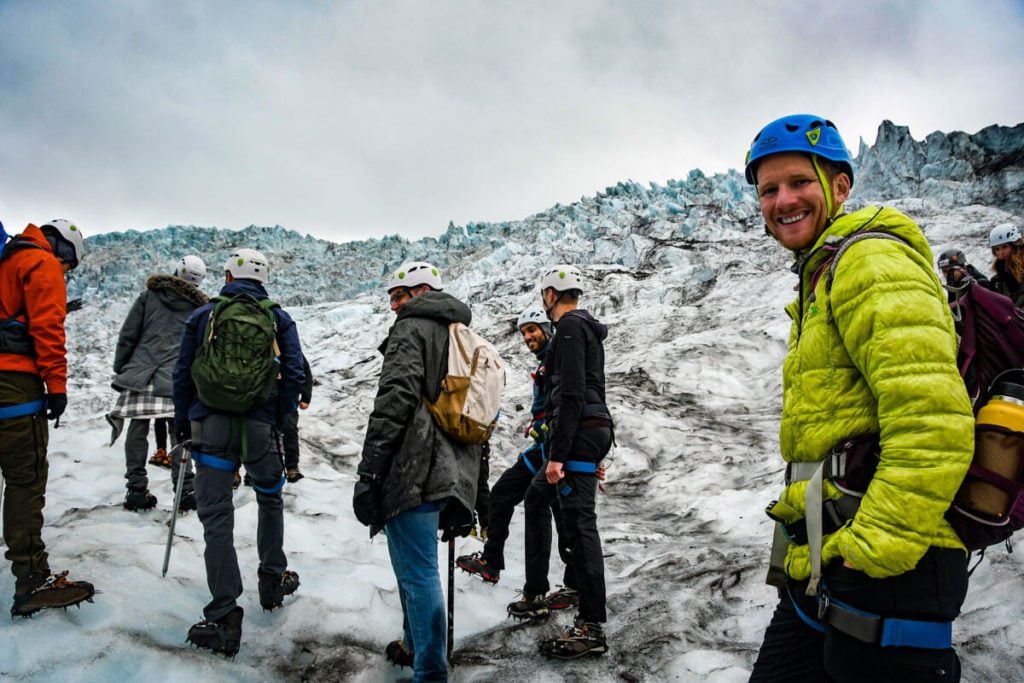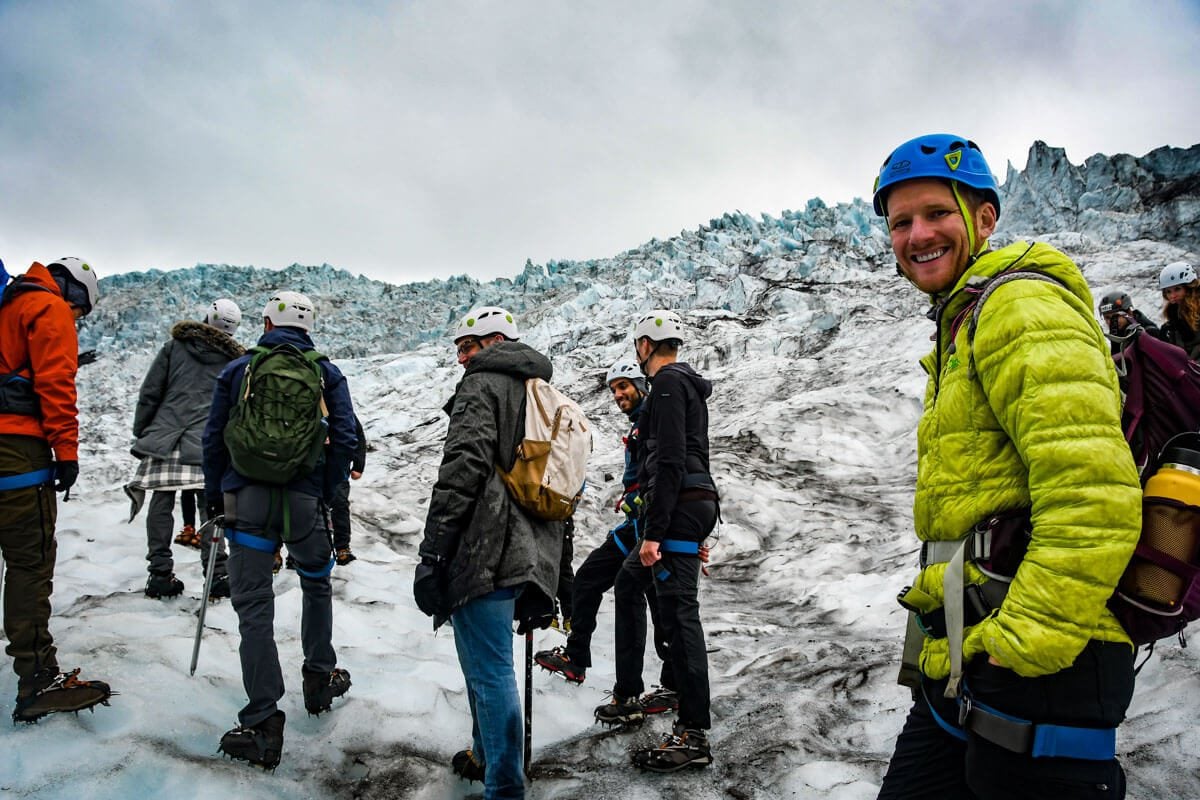 There are many tour companies to choose from and most common tours are 3-hours and 5-hours.
5-hour Glacier Hiking tour
We personally did the 5-hour glacier hike and loved it. We were told by a guide that the longer tours are able to see so much more of the glacier.
Good to know: In truth, the actual time on the glacier is much shorter, as the 5 hours includes equipment selection, transport to the glacier, walking to the glacier, gearing up, etc. This means that the 3-hour tours aren't able to spend very much time on the glacier itself.
Tour: Skaftafell 5-Hour Hike
Cost: 15,500 ISK ($120 USD), $102 with our discount
Time: 10:00 a.m. to 3:00 p.m. (5 hours)

If you plan to do the 5-hour Glacier Hike we recommend, your tour will begin at 10 a.m., which means you should leave Vík no later than 8 a.m.
3-hour Glacier Hiking tour
While you won't see as much of the glacier as the longer tour, you will have the chance to have this experience as well as getting on the water in the glacial lagoon.
Cost: 10,500 ISK ($82 USD), $70 with our discount
Time: 9:30 a.m. to 12:30 p.m. (3 hours)

If you plan to do the 3-hour Glacier Hike we recommend, your tour will begin at 9:30 a.m., which means you should leave Vík no later than 7:30 a.m.
22. Go horseback riding on a black sand beach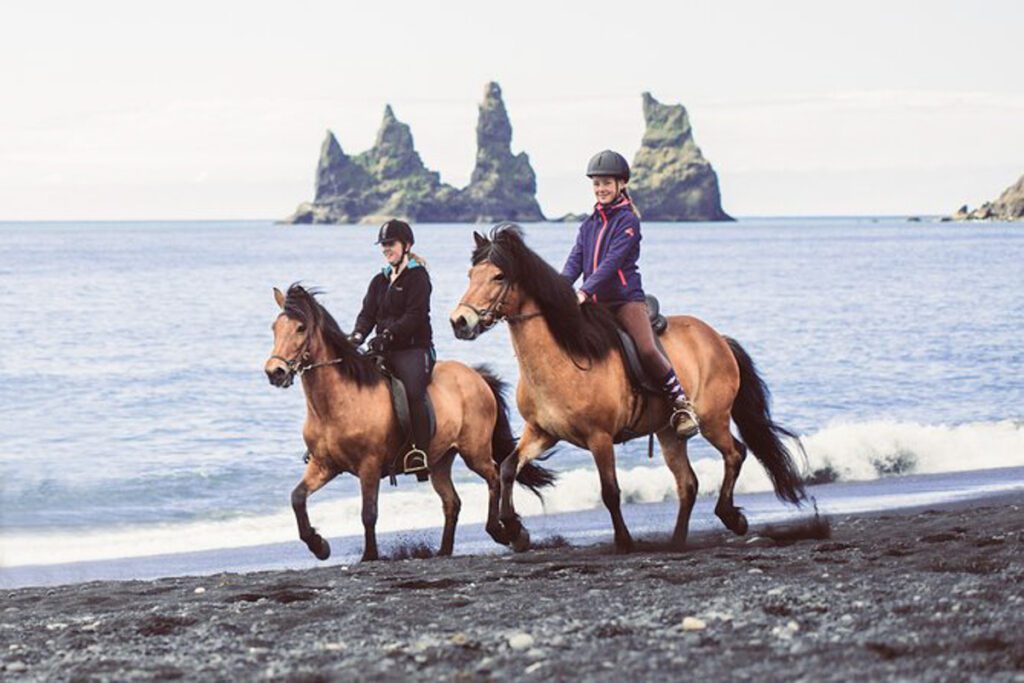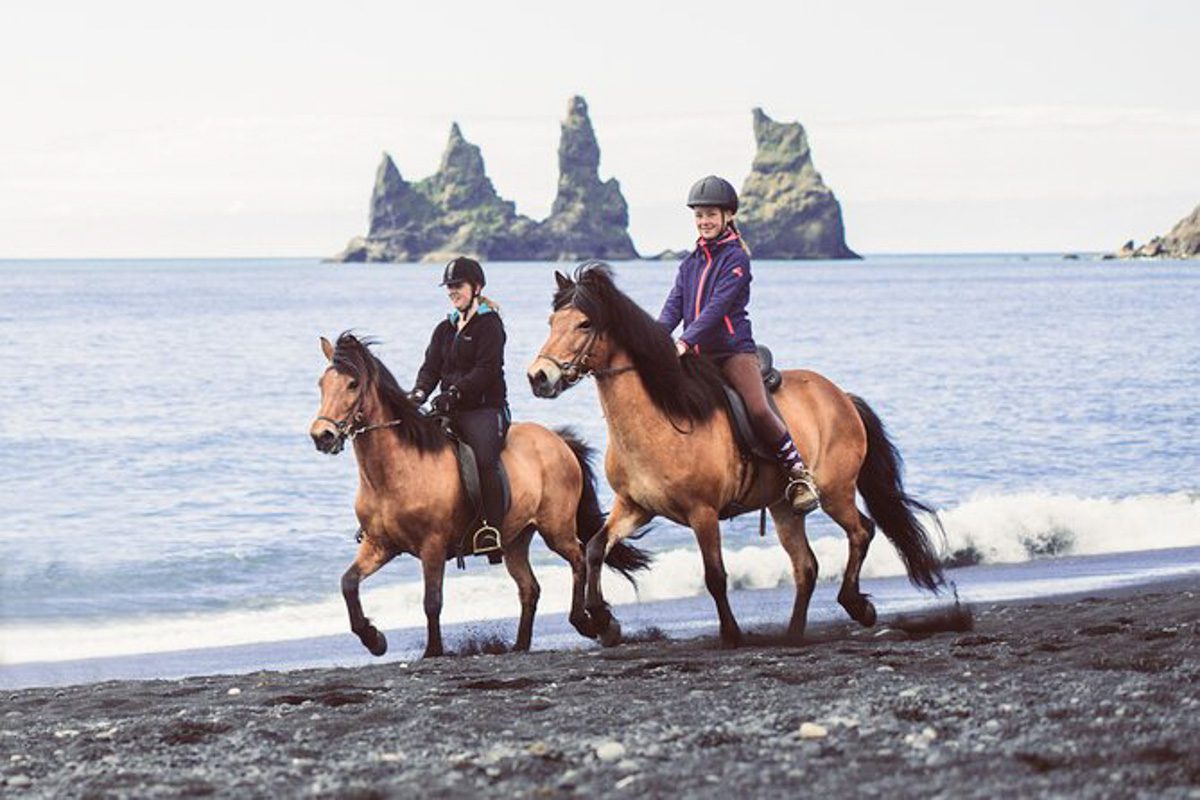 Hands down, the best way to experience Iceland's legendary black sand beaches is on an atmospheric horseback riding tour.
You'll get to immerse yourself in one of Iceland's iconic natural attractions without all the crowds.
As the waves from the Atlantic Ocean crash onto shore among a peaceful setting, you'll feel as though you've stepped back in time, witnessing the beaches just as the early vikings and explorers did.
Even if you have never ridden a horse before, the knowledgeable guides, trained horses, and calm pace will keep you at ease for the entire ride so you can soak up the views.
23. Shop for a Lopapeysa at Icewear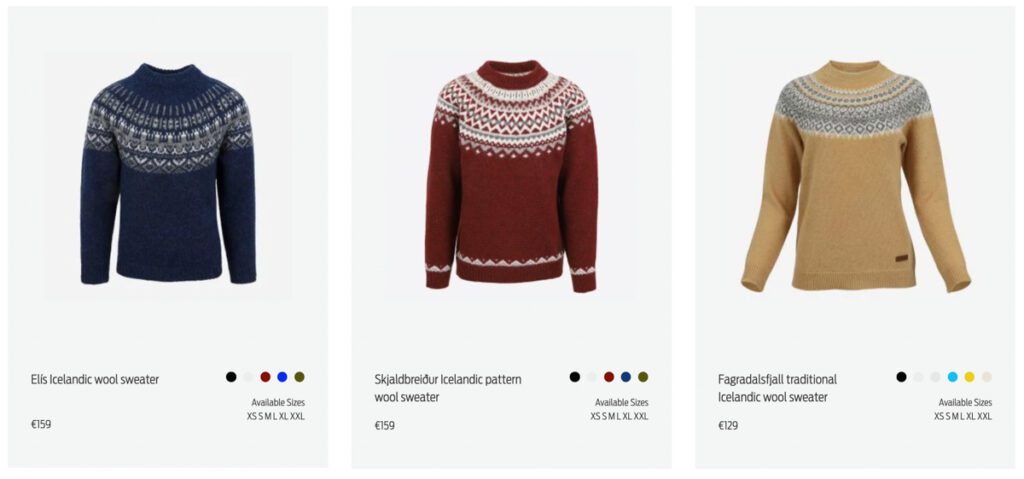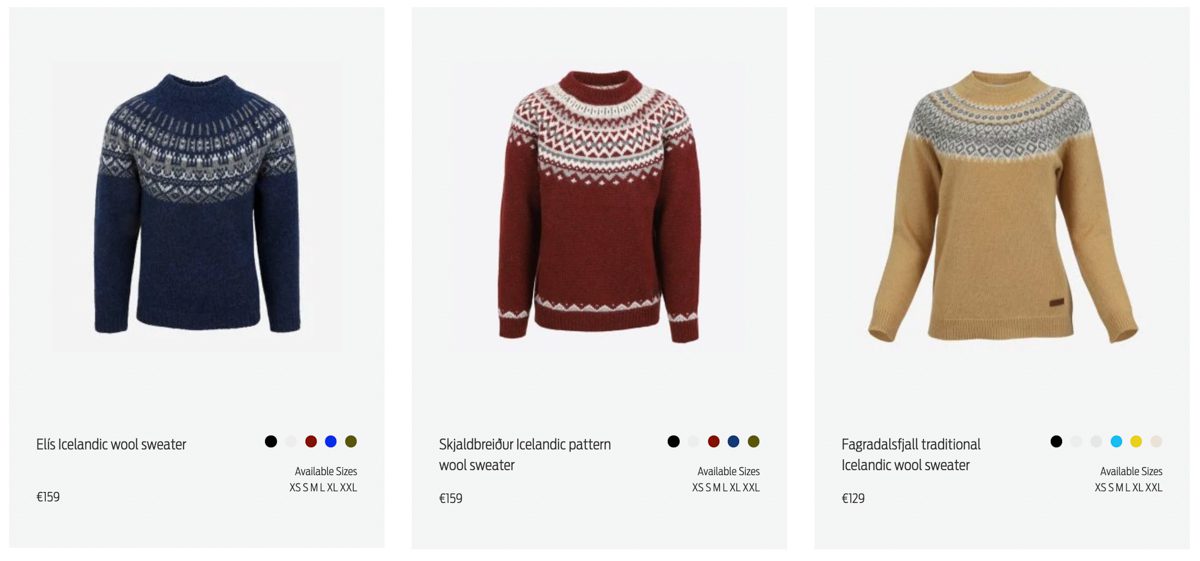 What is a lopapeysa?
Pronounced "lo-pa-PEY-sa", these iconic sweaters are made from native Icelandic sheep wool and are one of the main global symbols of the country.
But they're not just regular ol' sweaters…
These are made from a special type of lopi, or unspun yarn, that gives greater insulation against the seasons, even when it's wet!
They're a closet staple among locals and a beloved souvenir to take back home with you.
Good to know: If you're shopping around for a lopapeysa, don't buy it from just anywhere. You want to ensure the sweater is original and made in Iceland! Some stores have been rumored to sell inauthentic ones from China, which is why we recommend getting yours at Icewear.
24. See the Northern Lights in Vik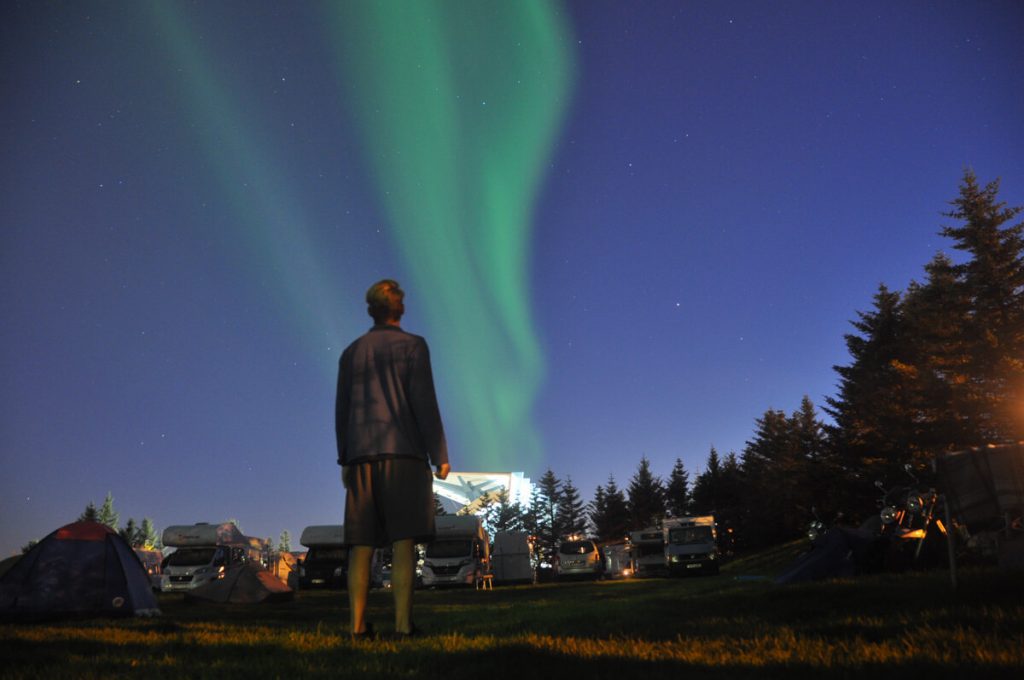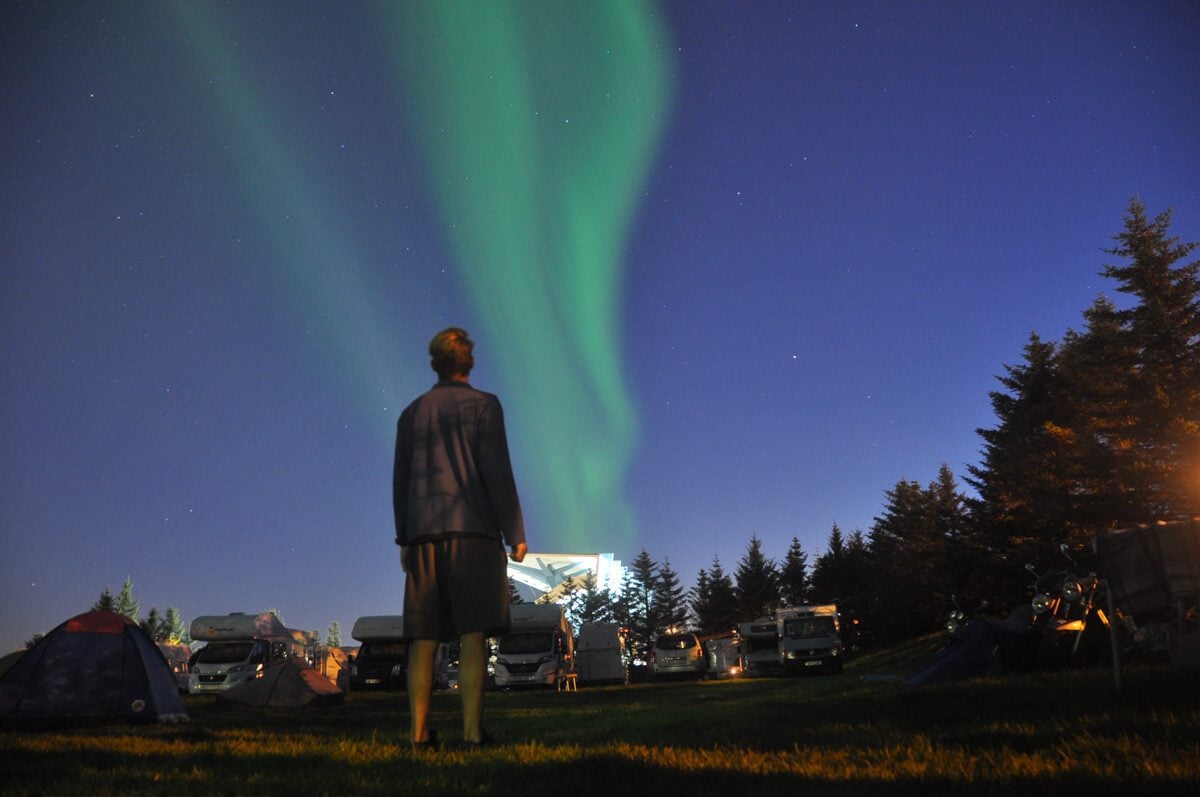 One of the best things to do in Vik during the winter is to watch a swirl of green and blue hues dance over the Atlantic coastline.
Planning to see this bucket list phenomenon takes a dash of planning and a stroke of luck to be at the right place at the right time.
Tips for seeing the Northern Lights
Check for the right conditions. Dark, cloudless nights with high solar activity are the main indicators for the lights to appear. Iceland has a useful aurora forecast that rates your odds from 0 to 9.
Stay up. Your highest chances of spotting is from 10 pm to 12 am.
Be patient. The aurora can appear at any given moment, so even if you don't see anything right away, stick around!
Dress warm. Layers of warm clothes and a hot drink will help you stay cozy as you wait.
Good to know: The colorful auroras are only visible from September to April. For the best chances, we recommend shooting for November to January when the nights are the darkest and the longest.
25. Go paragliding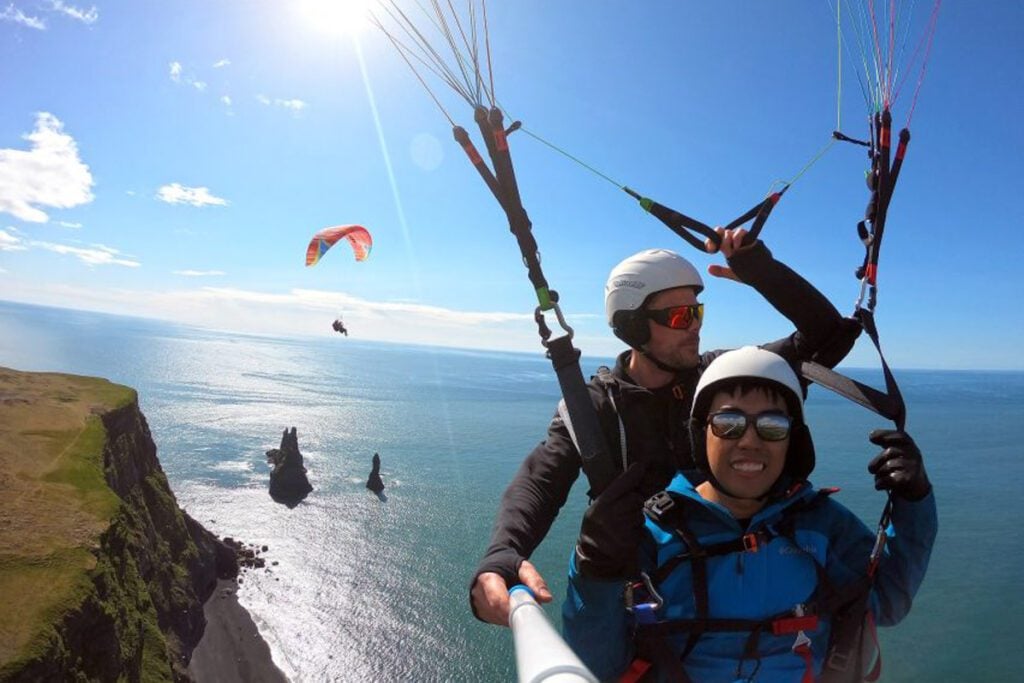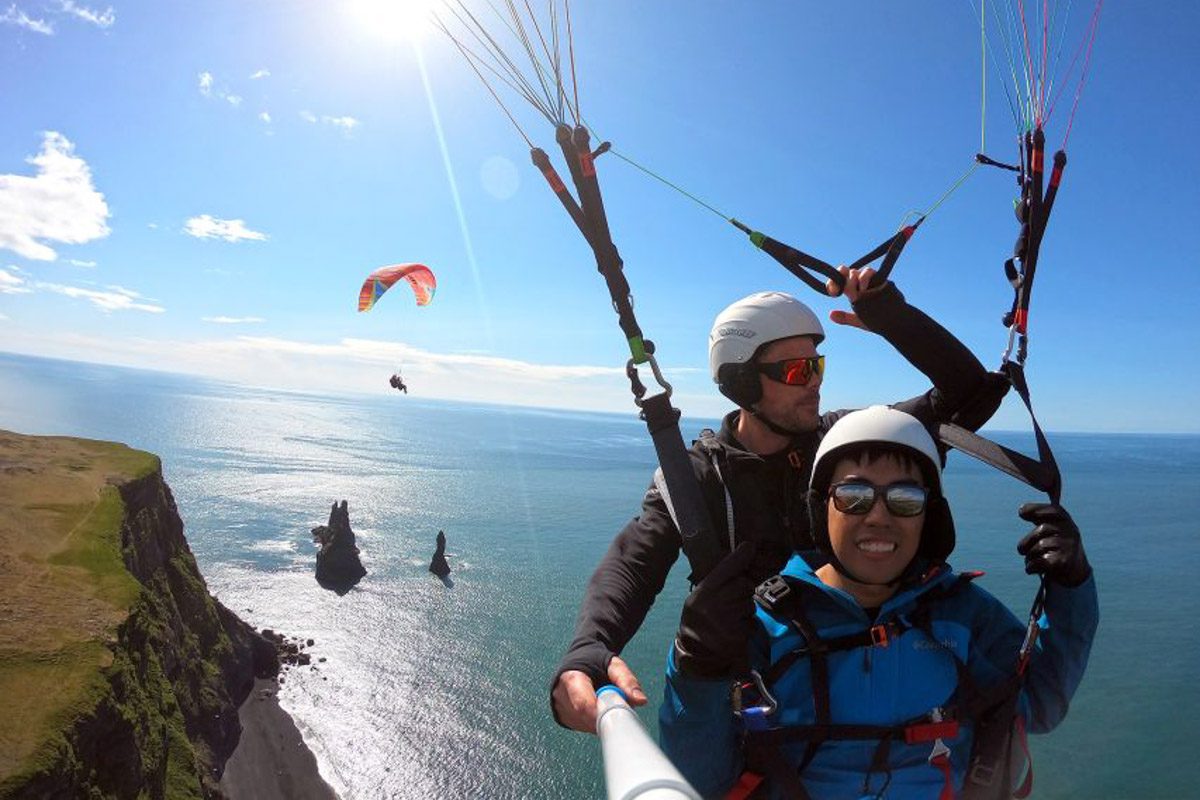 If you're looking for an adrenaline-pumping adventure, one of the coolest things to do in Vik is going paragliding. There truly is nothing like seeing the incredible panorama of Iceland's unique coast line from the air. Beginners need not worry, you can book a tandem flight and relax knowing you're taking a flight with an experienced pilot and the safest equipment.
What you need to know:
Duration: 15 minute flight weather permitting
Price: $337.96 per person
Meeting Point: Víkurbraut 5 Vík í Mýrdal South Iceland
What guests are saying:
"The activity is fantastic! Moreover, the location is also wonderful for paragliding. We had never done that before, and the team also managed the activity excellently, also providing interesting explanations about Vik and Iceland, as you soar like a bird in the air. Top team!" – Patricia, Belgium, 2021
---
Vik Travel Guide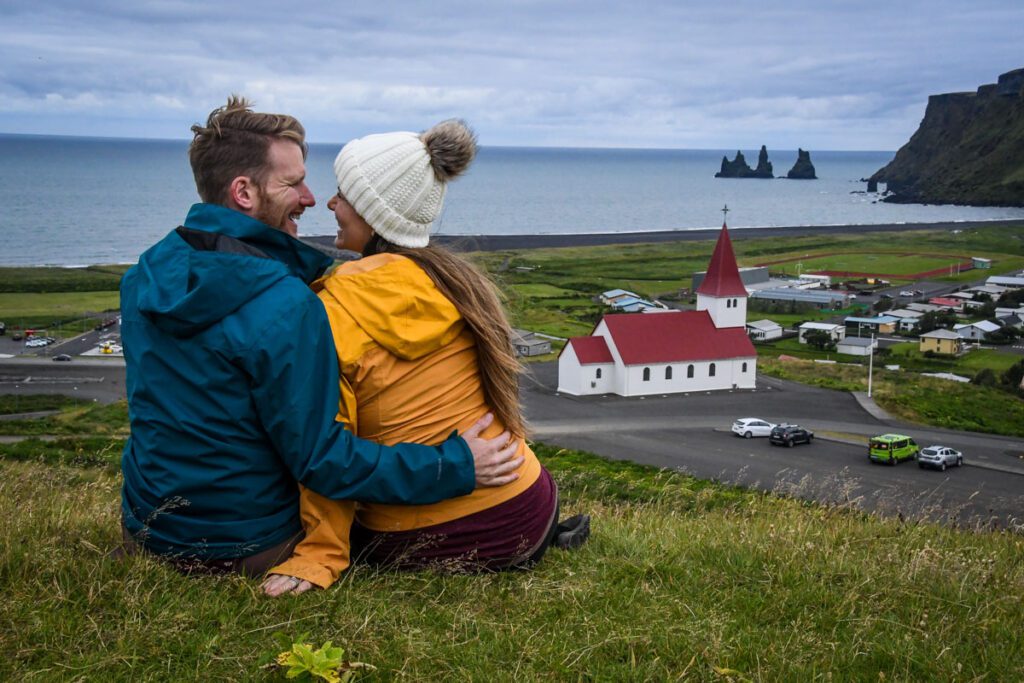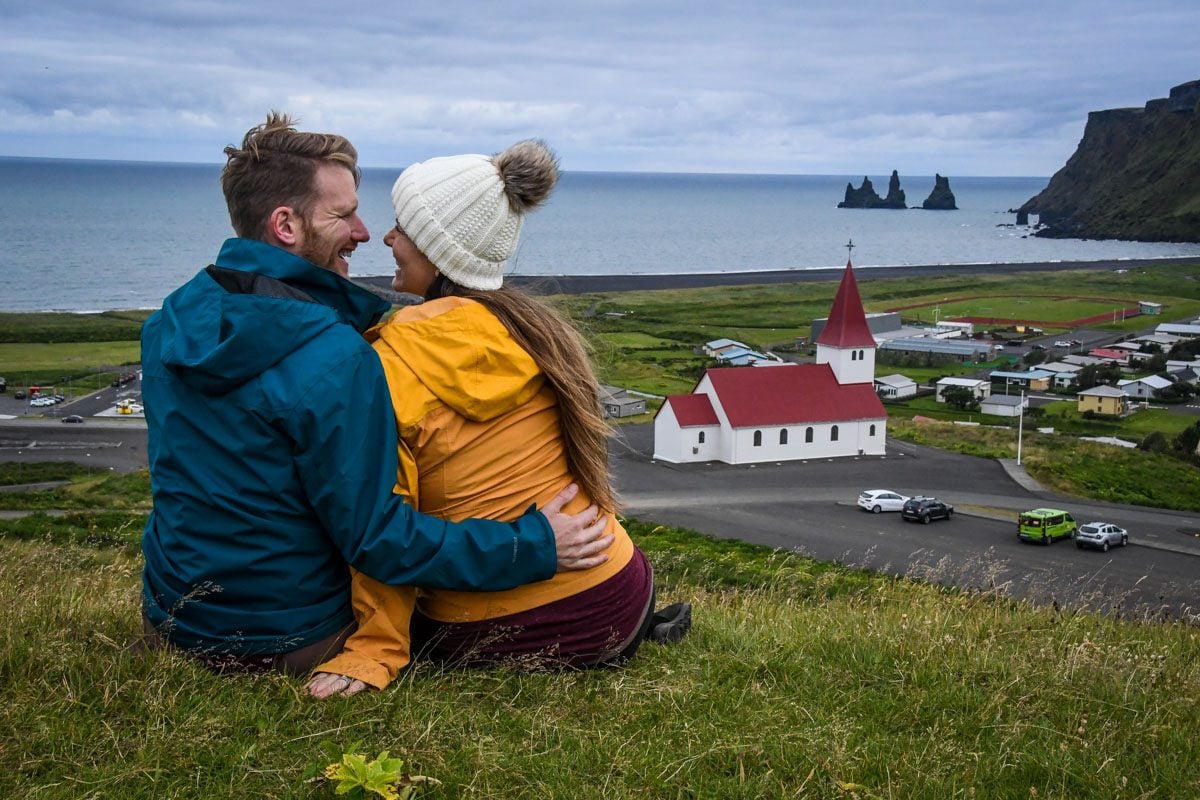 Now that you know how many incredible things there are to do in Vik, let's go over all the logistics so planning your trip is a breeze.
We're going over how to get to Vik, the best places to stay (on all budgets), and where to eat!
Where is Vik?
Vik is situated along Iceland's south coast. (Here is the exact location.)
Since it's only a 2.5 hour drive from Reykjavik, the town is both a popular day trip and road trip destination.
How to get to Vik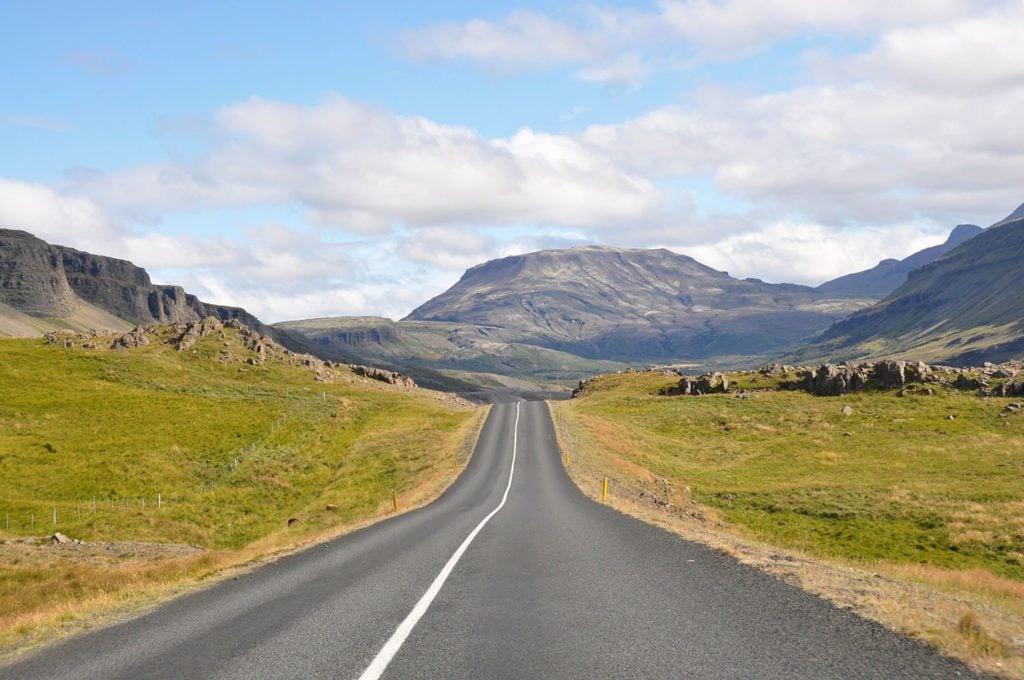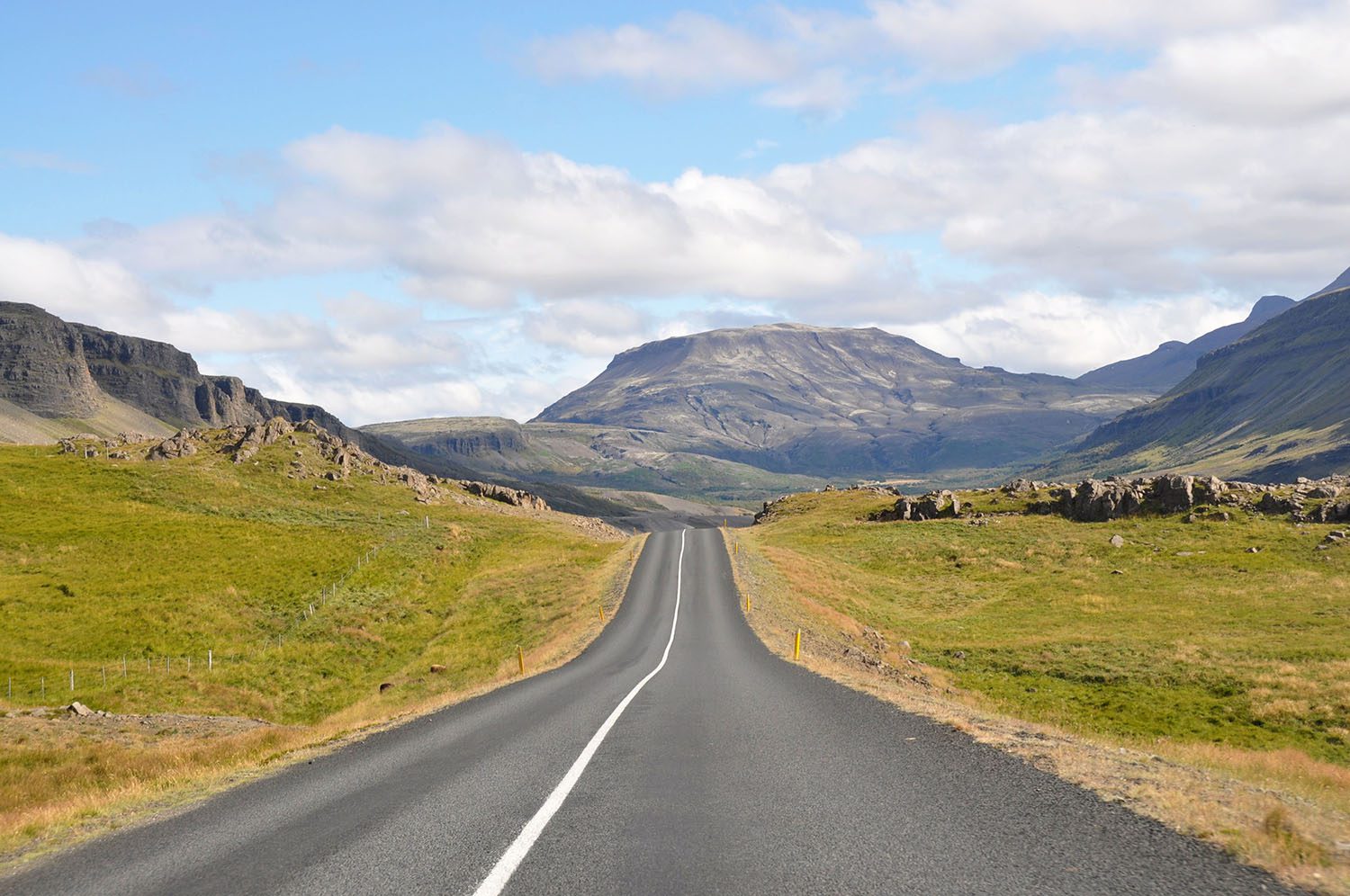 The main way get to Vik is by flying into Reykjavik, renting a car, and then driving from there.
This little town is one of the many staple road trip stops around the infamous Ring Road, which begins in Reykjavik. That said, there are plenty of incredible stops between the capital and Vik that are worth adding to your itinerary if you have your own car.
If you don't have your own set of wheels, there are a handful of others ways to get to Vik:
Self-drive: From Reykjavik, expect it to take around 2.5 hours to get to Vik.
Bus: The cheapest way to get from Reykjavik to Vik is by bus. Buses leave from the Harpa Concert Hall or Reykjavik Campsite and take about 5 hours to get to Vik. You'll need to hop off in Skogar and board a connecting bus to the final stop.
Guided tours: There are endless guided tours that offer day trips to Vik and the surrounding areas, which is We recommend this tour for first-timers.
If you're self-driving, campervanning in Iceland is a once-in-a-lifetime adventure that was a dream trip of ours for years. If you're considering it, let us convince you in our guide to renting a campervan in Iceland!
Best time to visit Vik
Whether the summer lupines are in full bloom or a fresh blanket of snow coats the town, Vik is worth a visit year round as each season showcases a different angle of its charm.
To experience the legendary midnight sun in Iceland and have access to southern Iceland's best outdoor adventures, a spring or summer visit is ideal.
If you want to avoid crowds, save money, and even try to catch a glimpse of the northern lights, many people prefer a visit in fall or winter.
Psst! You'll find our guide to the best time to visit Iceland helpful to get the full breakdown on what makes each season distinct and unique to help cater to your trip.
Tips for visiting Vik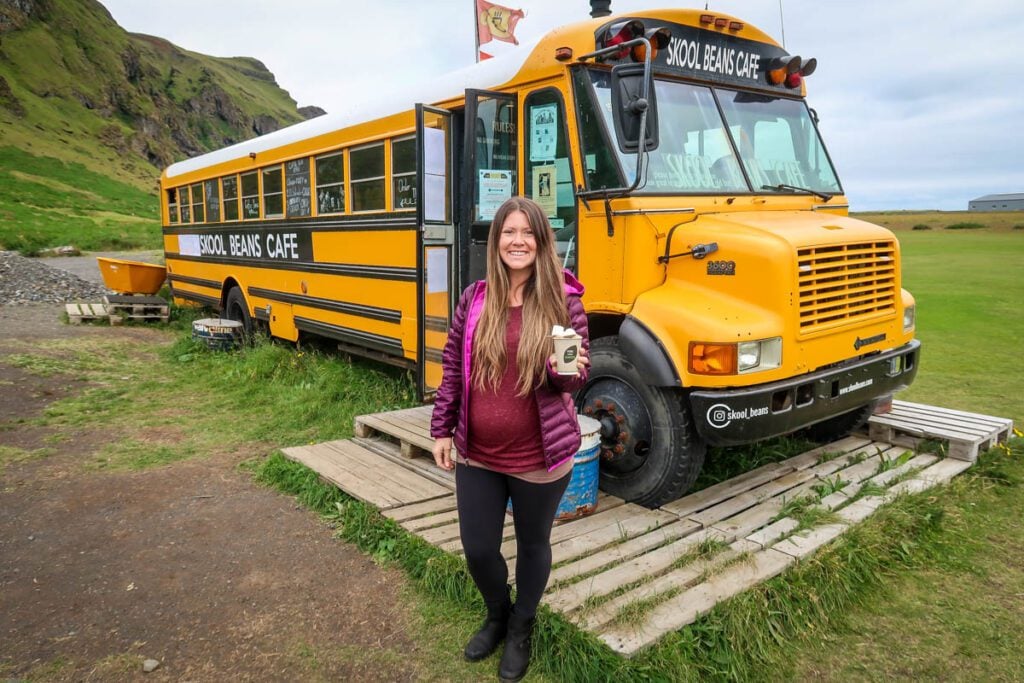 Here are a few things to keep in mind during your visit to Vik…
Stock up on groceries
The Kronan grocery store in Vík is one of the nicest in the country, making it a good place to restock on snacks for your Iceland road trip. There are lots of clean (& free) public restrooms here too, so it makes a good pit stop.
Good to know: They close at 8pm every day, so be sure to stop by before then if you need to get anything.
Psst! We have a guide to shopping in Icelandic supermarkets packed with money-saving tips and specific items to look for!
Fill up on gas
If you are continuing along the Ring Road after stopping in Vik, it's a good idea to fill up your tank at the gas station here. They are few and far between from here on out.
Spend at least one (if not 2!) nights here
This region has so much to do and see, and the town of Vik is charming and full of great restaurants and things to see.
Just be sure to book your accommodation as early as possible, as there are limited places to stay and they do book up fast.
Where to stay in Vik
We'd definitely recommend spending a night or two (or even more, if you have the time!). Here are our top picks for accommodation in Vik.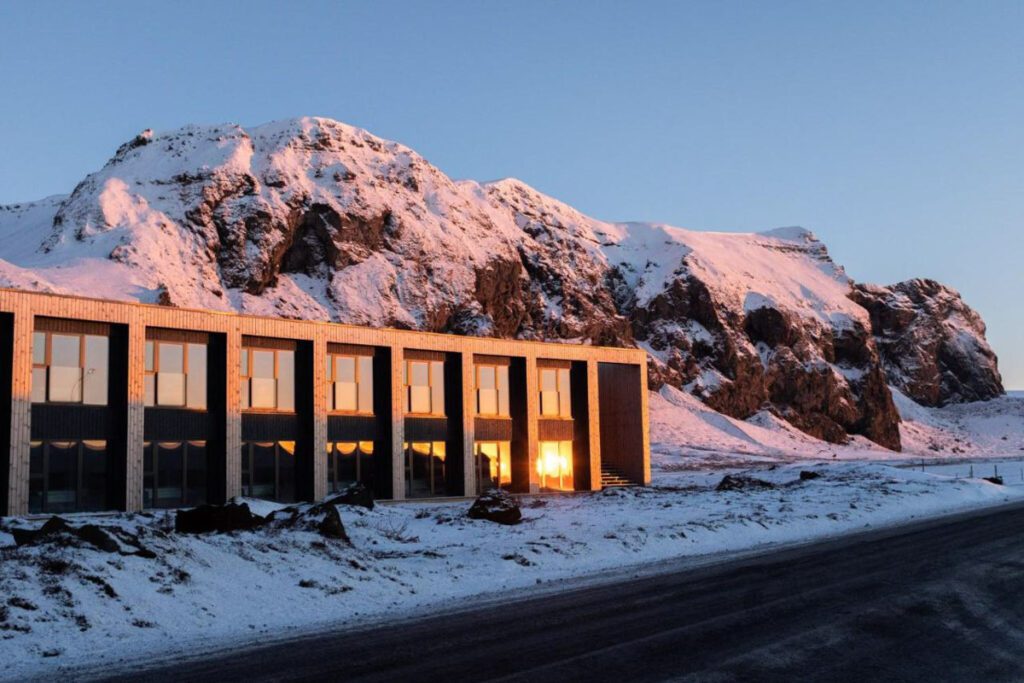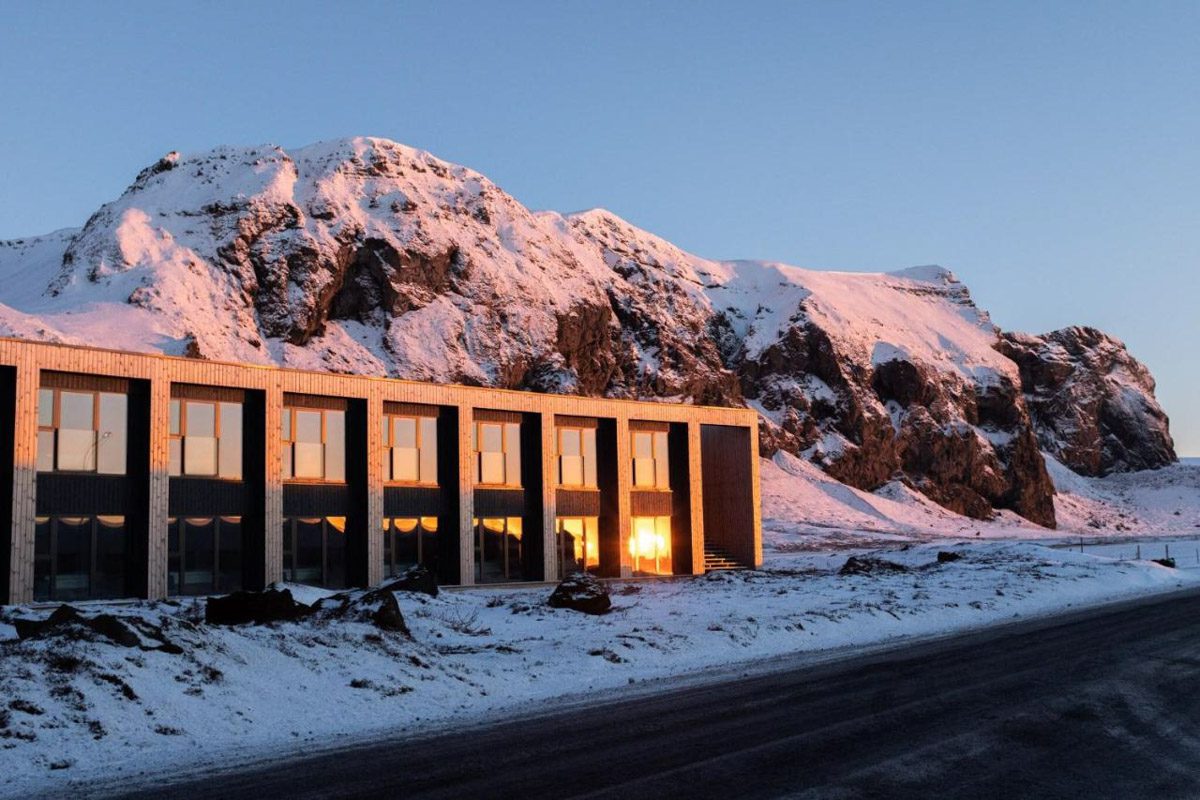 Our Splurge Pick: Hótel Kría $$$$
Located in the town of Vík, this luxury hotel stay is our pick if you're looking to splurge. Breakfast is included here so you can worry about one less meal.
Our Budget Pick: Tiny Cabin: $$
Each of these tiny cabins located in Vík features a small kitchenette and living space and offer free wifi.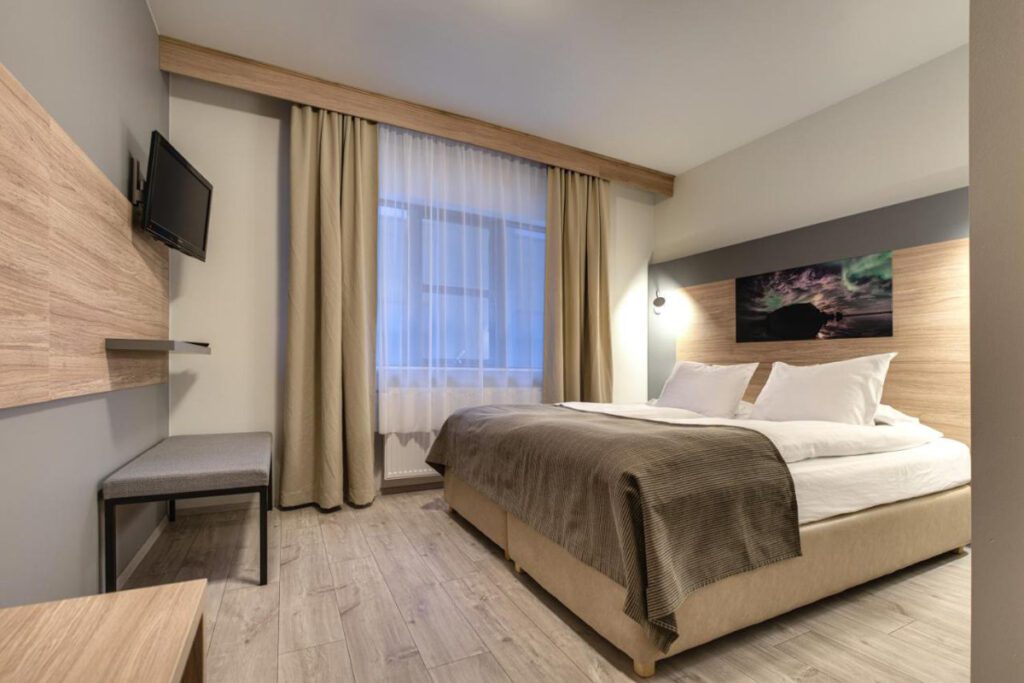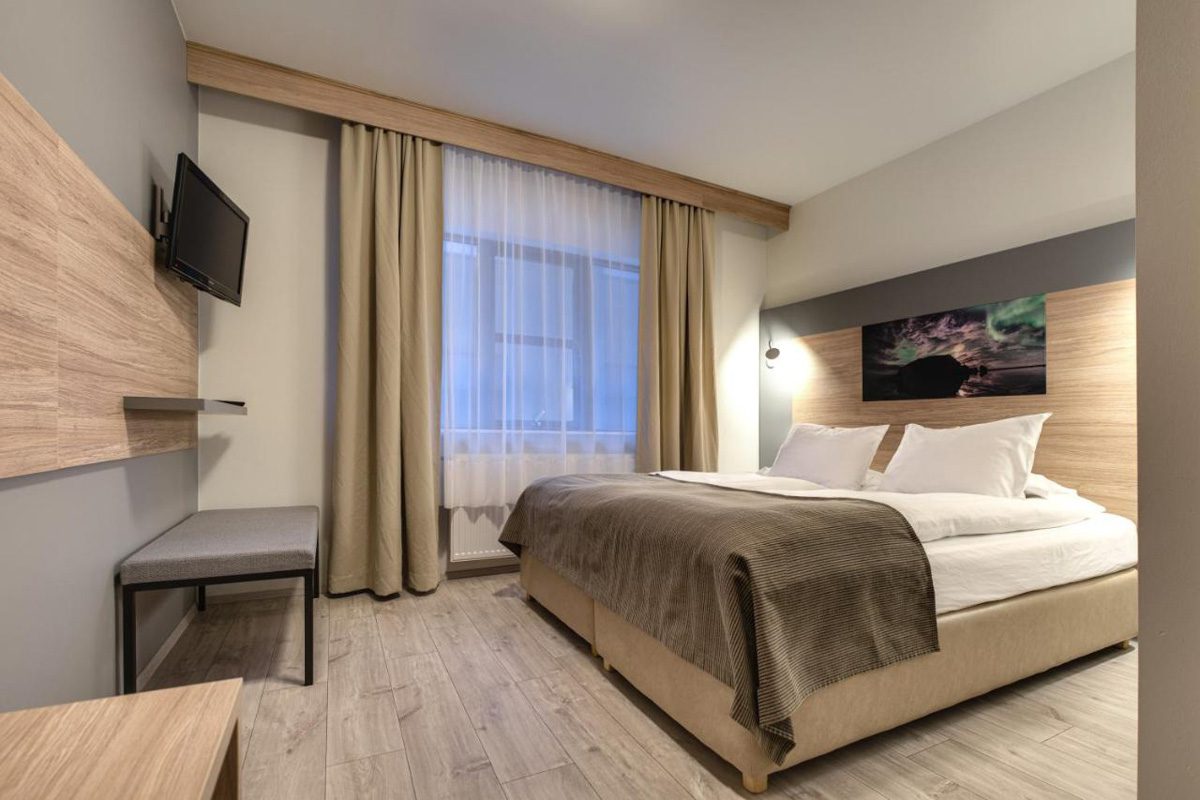 Hotel Vík í Mýrdal: $$ – $$$
Located in Vík, this hotel offers guests a beautiful setting with breakfast included.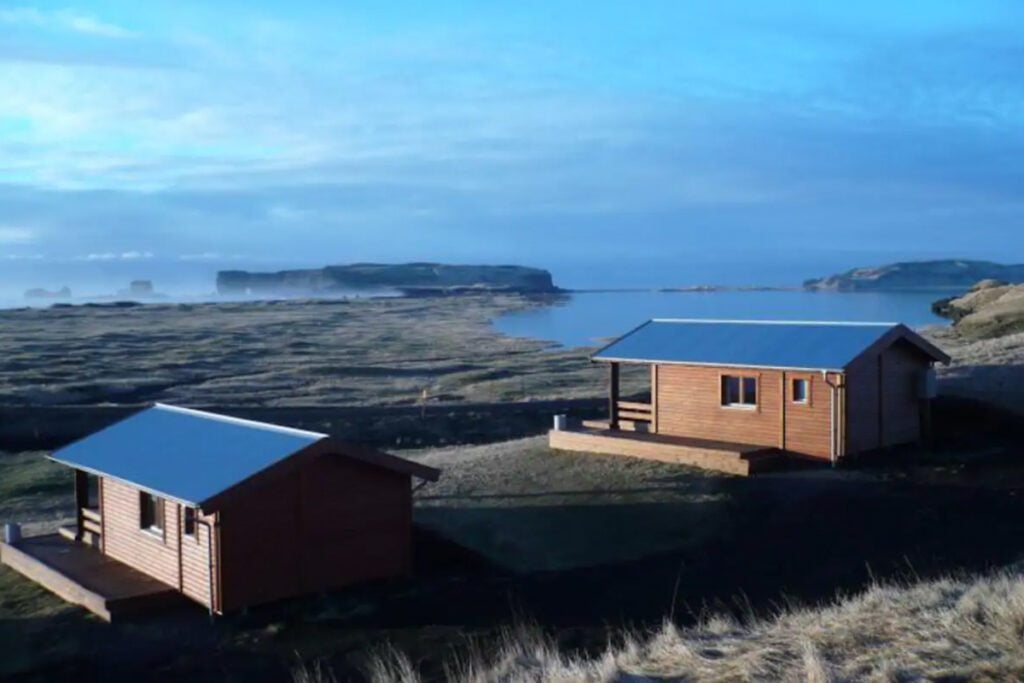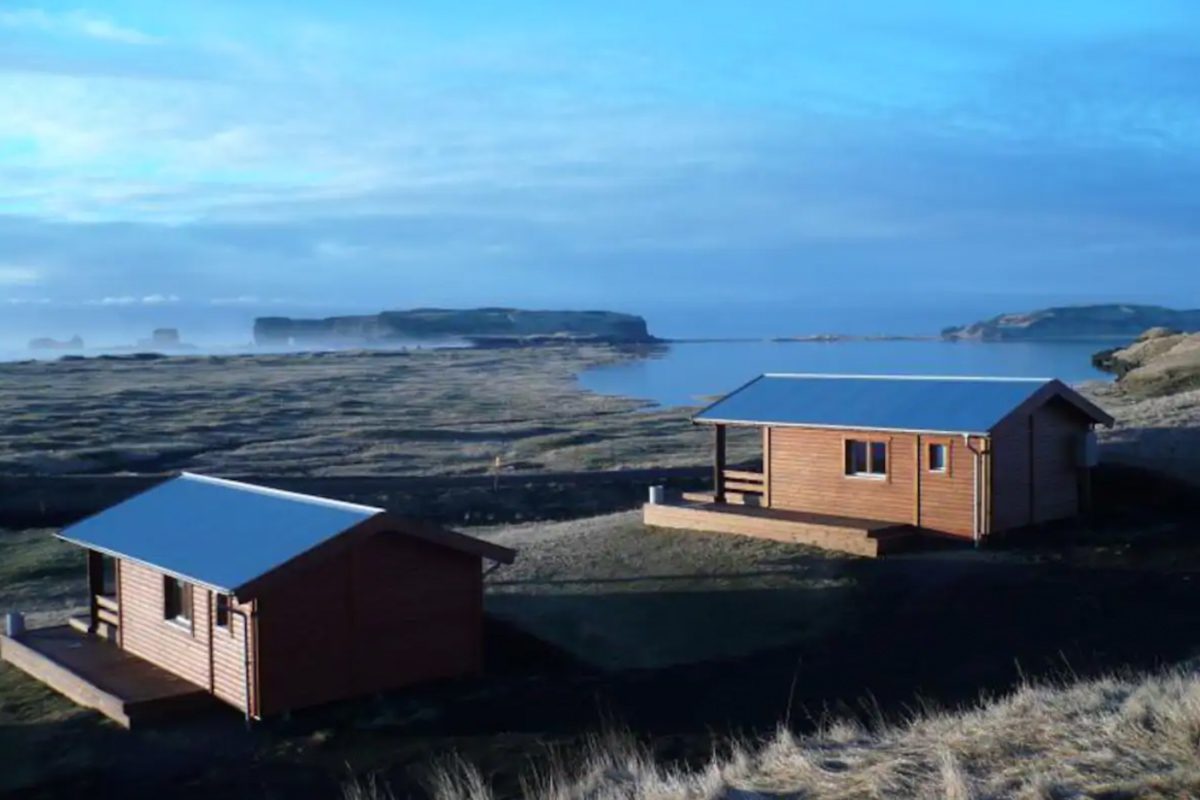 This tiny cabin on Reynisfjara Beach comes at a reasonable price, but is quite popular and books up fast so be sure to reserve far in advance.
If that one is booked, try this one. (It's another cabin on the same property.)
Camping near Vik
If you are exploring Iceland in a campervan, there's only one campground in Vik and it's just okay. That said, you can't beat the location and its proximity to town and all the nearby attractions.
Related Reading: Check out our Iceland Camping Guide for all the best campsites about Iceland, plus what to expect at an Iceland campsite and everything else you should know.
Where to eat in Vik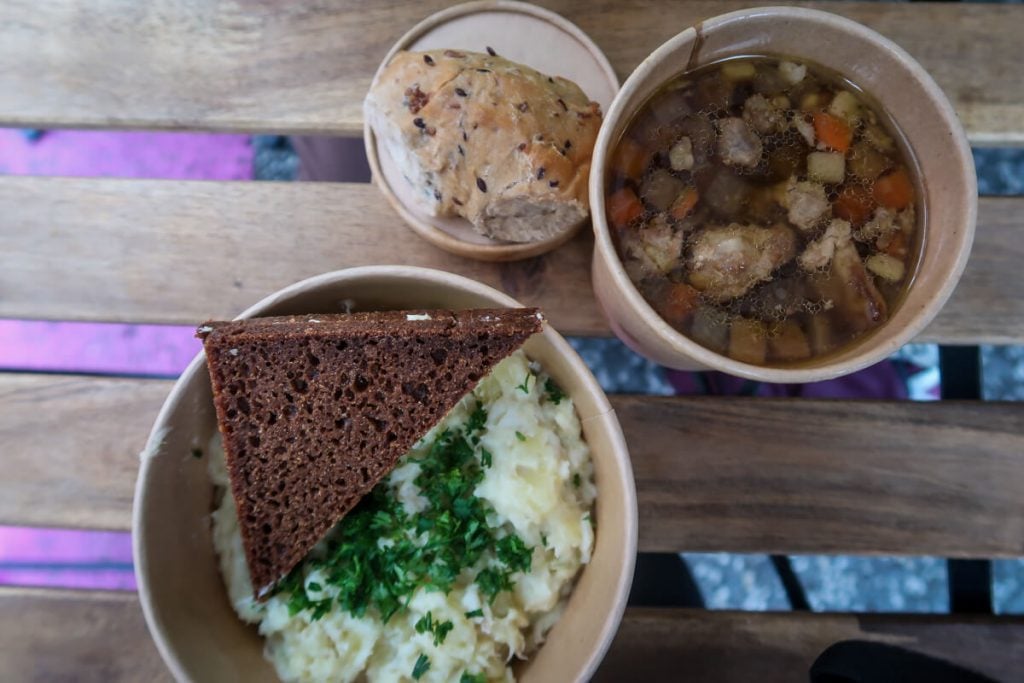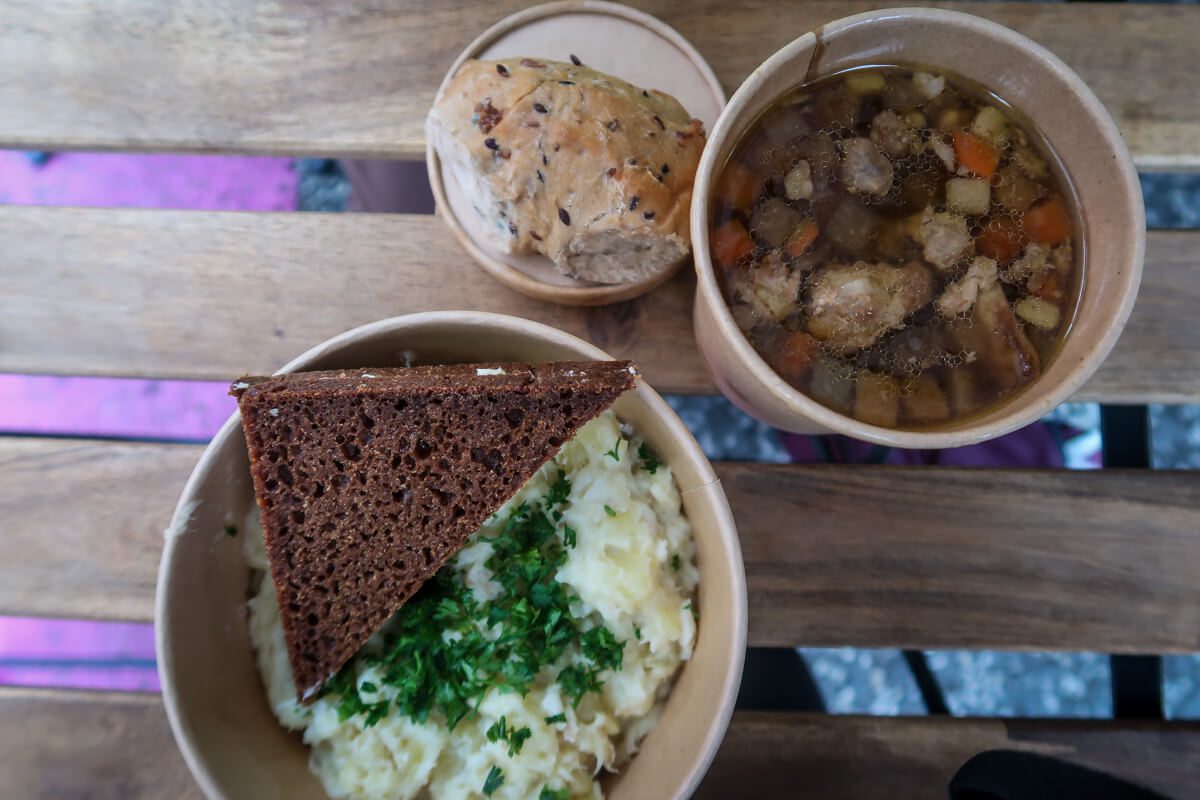 For a tiny town, Vik actually has a lot of great dining options. Here are our top recommendations.
What to pack for traveling to Vik
Packing for a trip to Iceland is tough (the weather changes all the time!). But don't worry, we've got you covered with a super detailed packing list so you know exactly what to bring.
In this free Iceland packing list PDF download, we've provided packing checklists for everything from clothing and toiletries (for both women and men!) to what shoes to pack and extra medicines you may want to have on-hand just in case.
Plus, we're sharing tons of packing hacks and tips for traveling in Iceland that you won't find anywhere else!


Round up of things to do in Vik
Here's a round-up of all the very best things to do in Vik in one place.
Skool Beans Coffee
Reynisfjara Black Sand Beach
Dyrhólaey Lighthouse
Spot Puffins
Vik i Myrdal Church
Vik Viewpoint
Black Crust Pizza
Vik Lava Show
Sólheimasandur Plane Wreck
Stay in a cozy cabin
Skógafoss
Hike the "Waterfall Way"
Hiking in Þakgil
Kvernufoss
Vik Public Swimming Pool
Seljavallalaug Swimming Pool
"Yoda Cave" (Gígjagjá)
Icelandic craft beer
Ice Cave
Seljalandsfoss
Glacier Hike
Horseback Riding
Shop for a Lopapeysa
See the Northern Lights
Paragliding
Remember, at the top of this article we have detailed information about each of these things to do in Vik so you can plan the perfect trip!
---
Are you planning a trip to Iceland?
We have TONS of resources on travel in Iceland and how to make the most out of your trip. Check out our Ultimate Iceland Travel Guide for all the answers to your most burning questions, or read some of our favorite articles below.
Save this article on Pinterest for later!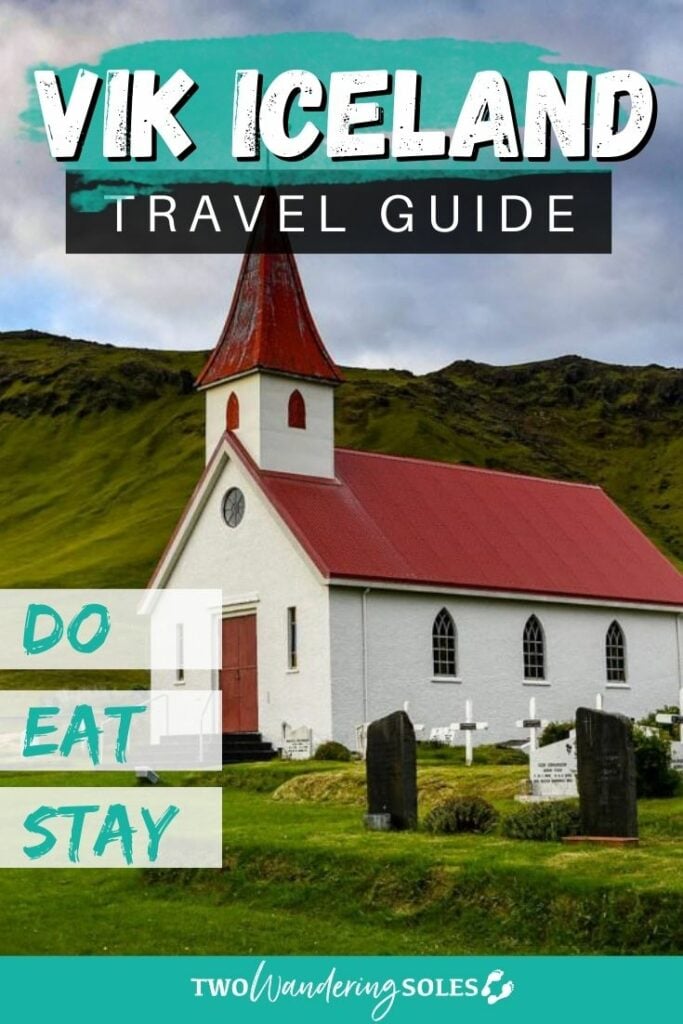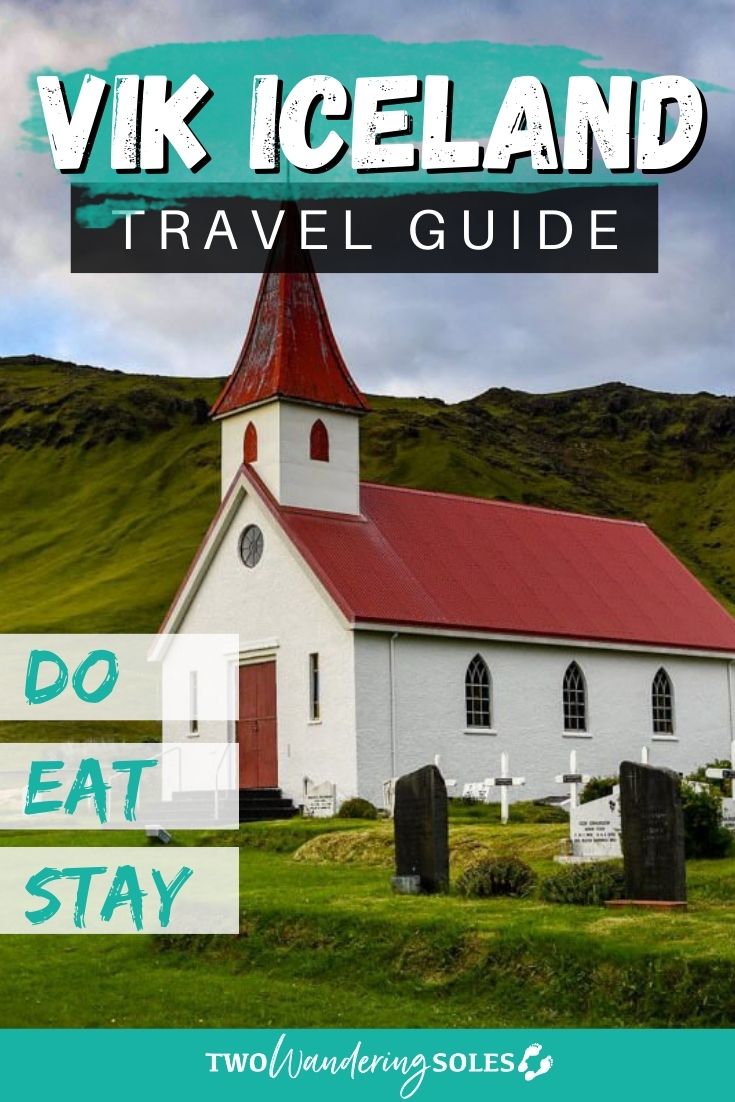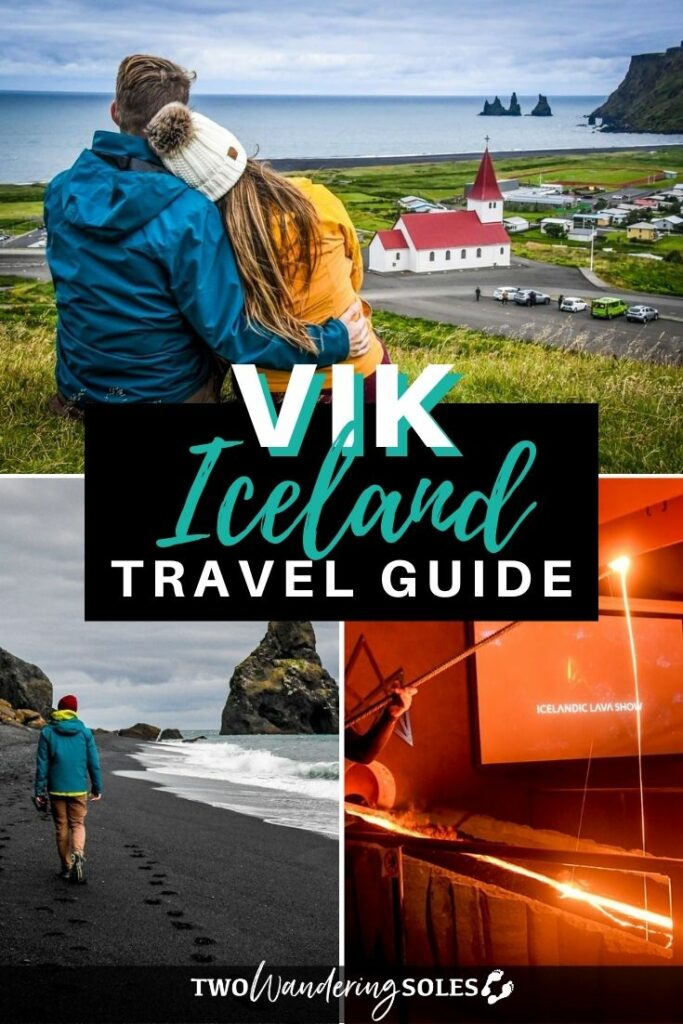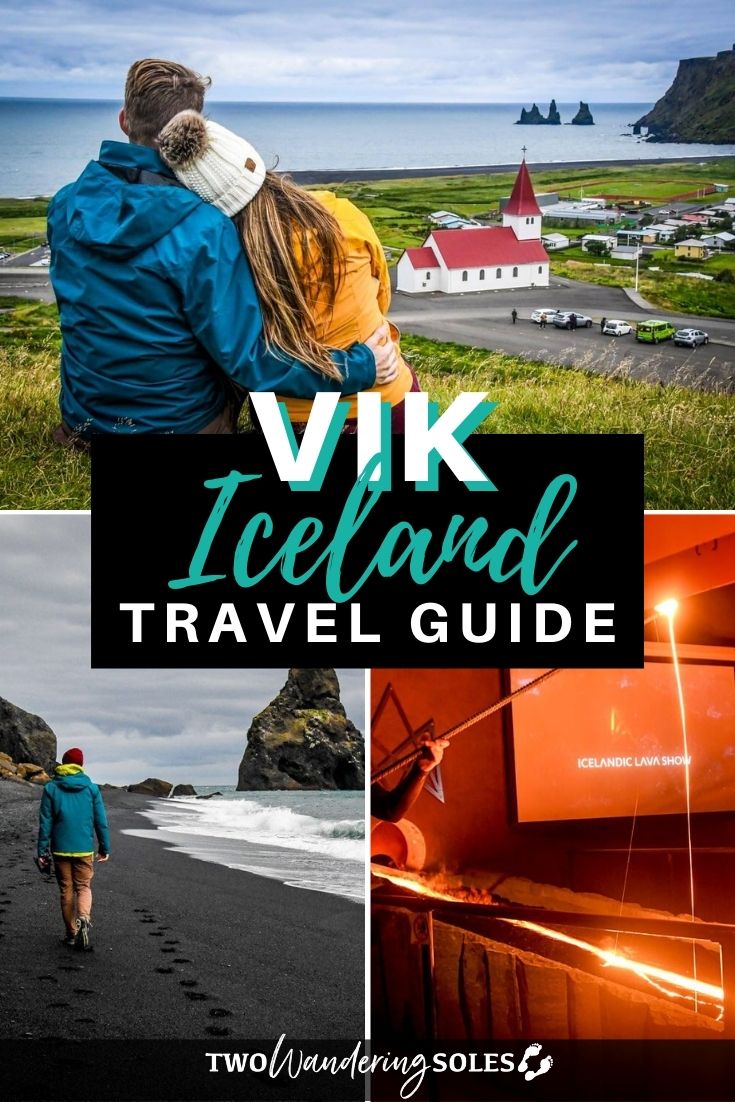 We want to hear from you!
Which of these things to do in Vik are going to the top of your bucket list? Are you planning to visit Vik, Iceland and still have questions? Leave your comment below and we'll do our best to get back to you!