Central Oregon's Smith Rock State Park is world renowned as a top-notch rock climbing mecca, but it's also a premier hiking destination. In this guide to Oregon's most famous state park, we'll tell you everything you need to know to plan your visit.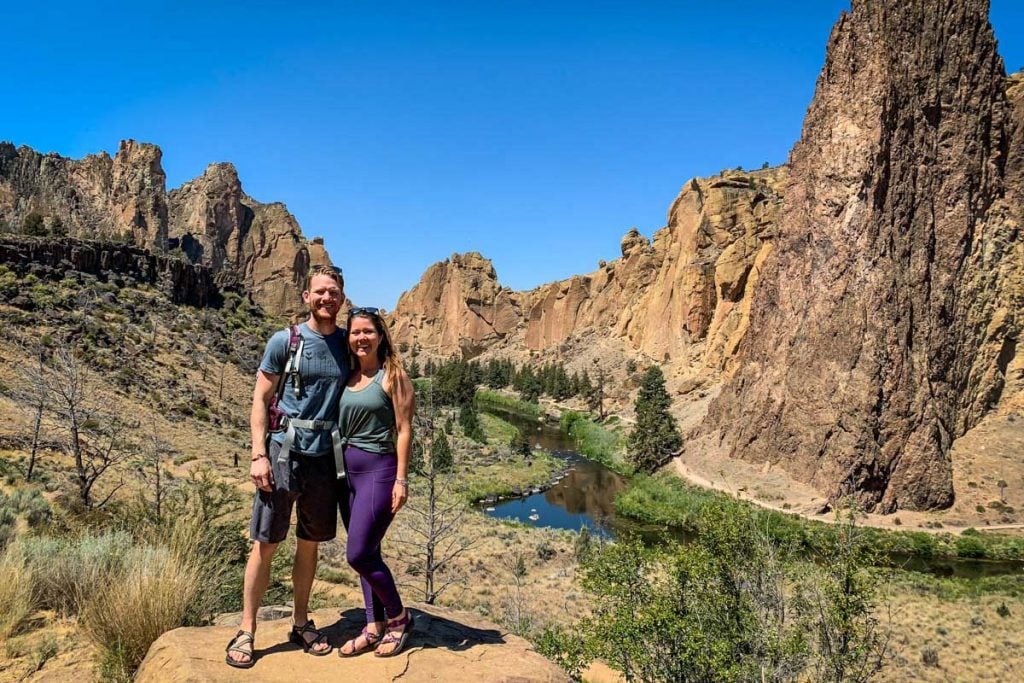 We've been to Smith Rock State Park more times than we can count, but it's one of those places that we never seem to get sick of.
Rust-colored rocks jut up against a clear blue sky with snow capped peaks in the distance. The the aptly-named Crooked River carves its way through the landscape, creating a deep canyon that is a sight to behold.
Juniper trees and desert sage line the path that hugs the river and birds of prey swoop overhead. If you look closely at the rocks, you'll see white chalk marks creating a constellation of sorts, marking the popular climbing routes.
And we can't forget to mention Monkey Face, the iconic rock spire that towers 350 feet over the park and is often a symbol of the park. It looks like, well, a monkey's face, with pitted holes for eyes and a gaping mouth. If you look closely you can sometimes even see rock climbers hanging out in the monkey's "mouth"!
Once you see it in person, you won't be surprised to learn Smith Rock State Park has been named one of the 7 Wonders of Oregon.
Ever since moving to Bend, Oregon, we've hosted lots of family and friends, and one of the things we've done with every single visitor is take them to Smith Rock. I love watching their faces as we step out of the car and they get the first glimpse of this Central Oregon gem.
Their reaction is always the same: utter bewilderment.
Because this place is freaking beautiful. Personally, I think it looks like a mini Zion National Park with its rugged rock formations and drought-hardy foliage.
Article Contents
---
---
What is Smith Rock State Park known for?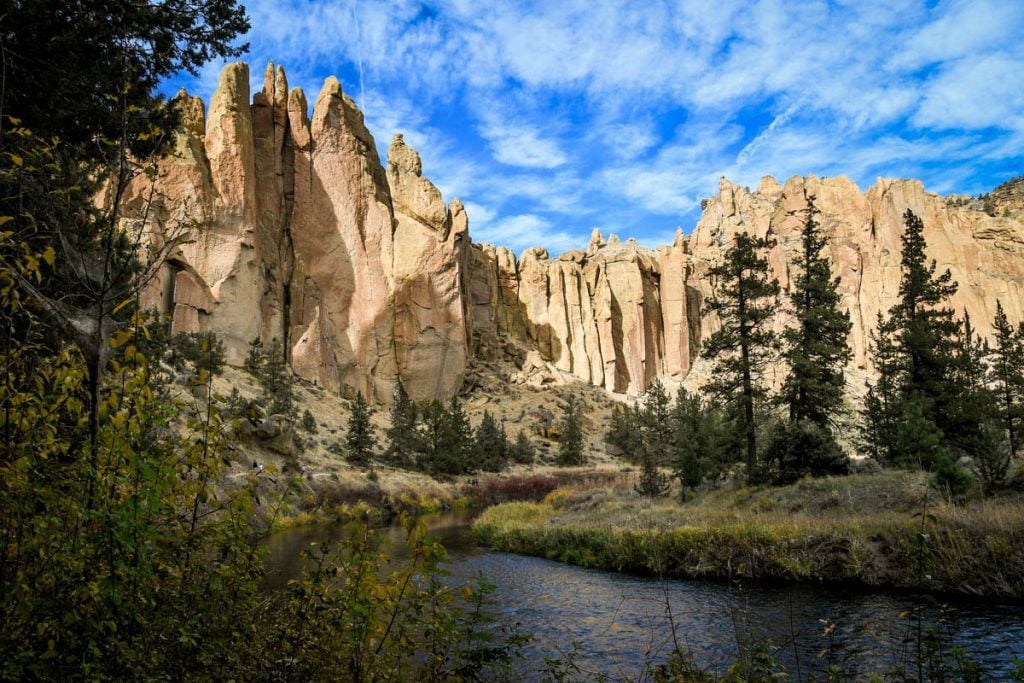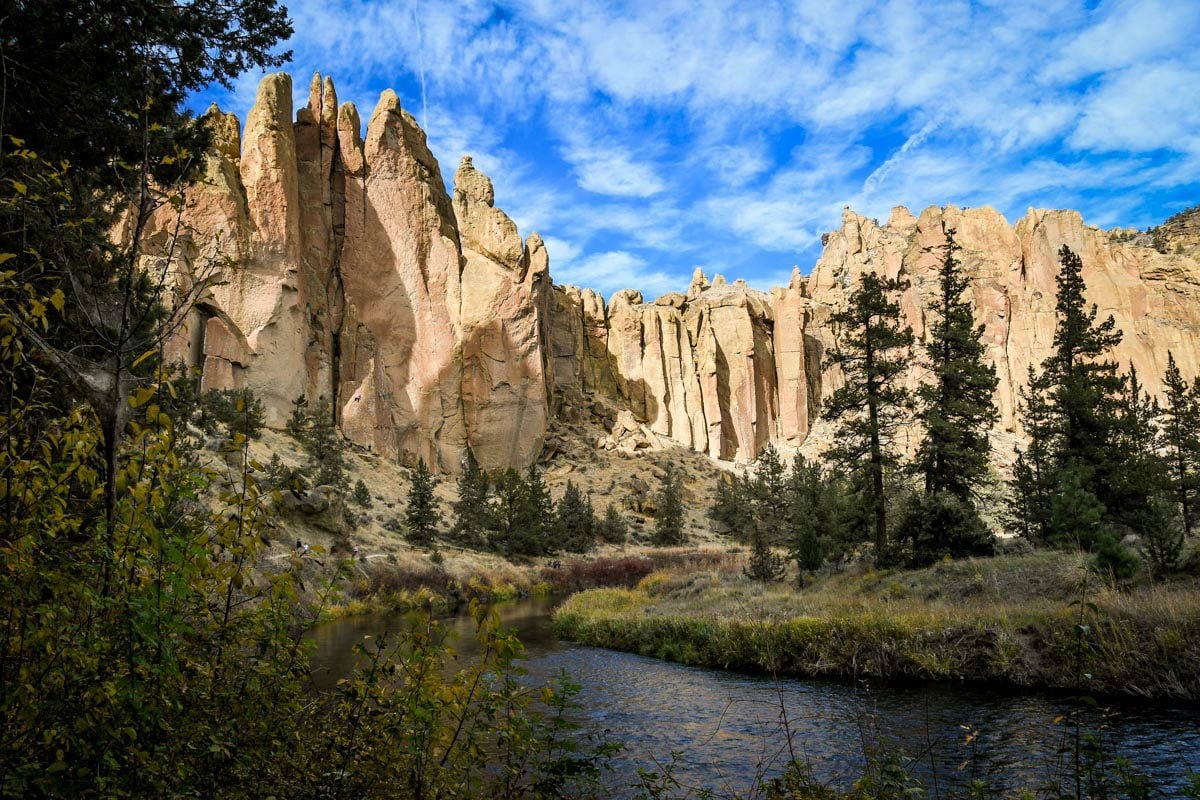 Just 35 minutes north of Bend, this state park is full of surprises.
To begin with, the dramatic rock formations, high desert terrain, and dry, warm climate are nothing like what most people expect when they think of Oregon. This state park is worlds different than the lush, mossy forests for which the PNW is known.
If you're up for any type of outdoor adventure, Smith Rock State Park has plenty of it.
You can explore a variety of interesting hikes and walks, ride scenic and challenging mountain biking trails, and even sleep beneath the stars at the Bivy Campground.
But if Smith Rock is famous for one thing it is undoubtedly rock climbing.
In fact, the park is the birthplace of sport climbing in the U.S. in 1986! Because of its storied history and nearly 2,000 climbing routes of all difficulty levels to tackle, Smith Rock is a bucket list destination for climbers from all over the world.
Fun Fact: Did you know the Clif Bar logo is based off of a climb at Smith Rock?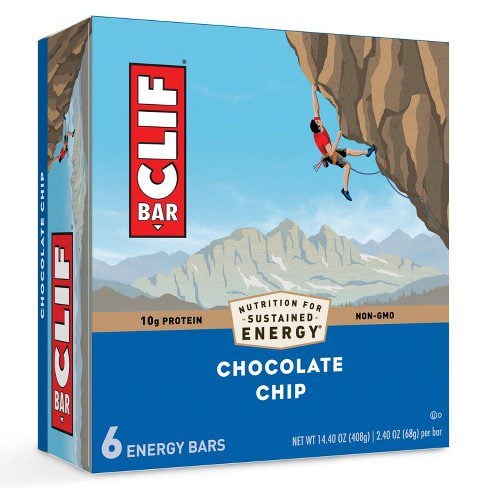 Things to know before you go
Parking: There's ample parking available near the park entrance and a large, paved overfill parking lot.
Parking fee: It costs $5 for a day-use parking pass at Smith Rock State Park. If you plan on going to a lot of parks, it might also be worth it to get yourself the $30, 12-month parking pass for all Oregon State Parks.
Crowds: Smith Rock State Park is one of the country's most popular destinations for climbers, and it gets extremely busy during the peak summer months and on weekends with good weather. If you're hoping to visit with the fewest crowds, try to arrive early, go on weekdays, and avoid the days right around major holidays.
Family-friendly: Smith Rock State Park is truly for everyone. There are plenty of things that attract the most hardcore outdoor enthusiasts, but there are also easier trails (like the Crooked River Trail) that are perfect for families.

Our experience: We've brought our daughter to Smith Rock several times – the earliest when she was just a few weeks old. For hiking, we'd recommend doing the Crooked River Trail and just walking as far as you'd like before turning around and retracing your steps.
We love our Osprey Poco Plus child carrier for hiking!

Dogs: Leashed dogs are welcome just about anywhere in the park. However, you obviously can't climb with your pup, so in the specific case of climbing, the park asks that you bring along a dog-sitter so Fido doesn't have to sit unattended.
Cell signal: Service is pretty decent at the entrance to Smith Rock, but can be very spotty on the trails. Make sure to download Google Maps, AllTrails info, and any other resources you may need before you head out.
Facilities at Smith Rock State Park
There is a small restroom near the parking lot. There are also a handful of picnic tables and a small playground for kids.
At the playground there's a small climbing wall that is a replica of the park's famous Monkey Face rock formation.
Restrooms: Restrooms are located near the park welcome center and in the walk-in Bivouac camping area. There are also composting toilets on the Crooked River Trail.
Camping: First-come, first-served camping at Smith Rock State Park is walk-in and tent-only in the Bivy, available from mid-May to mid-November. There is a 20-foot vehicle limit in the parking lot and showers are available on the premises. RV camping and sleeping in vehicles is strictly prohibited.

Good to know: The Bivy restrooms also have hot showers.
Best time to visit Smith Rock State Park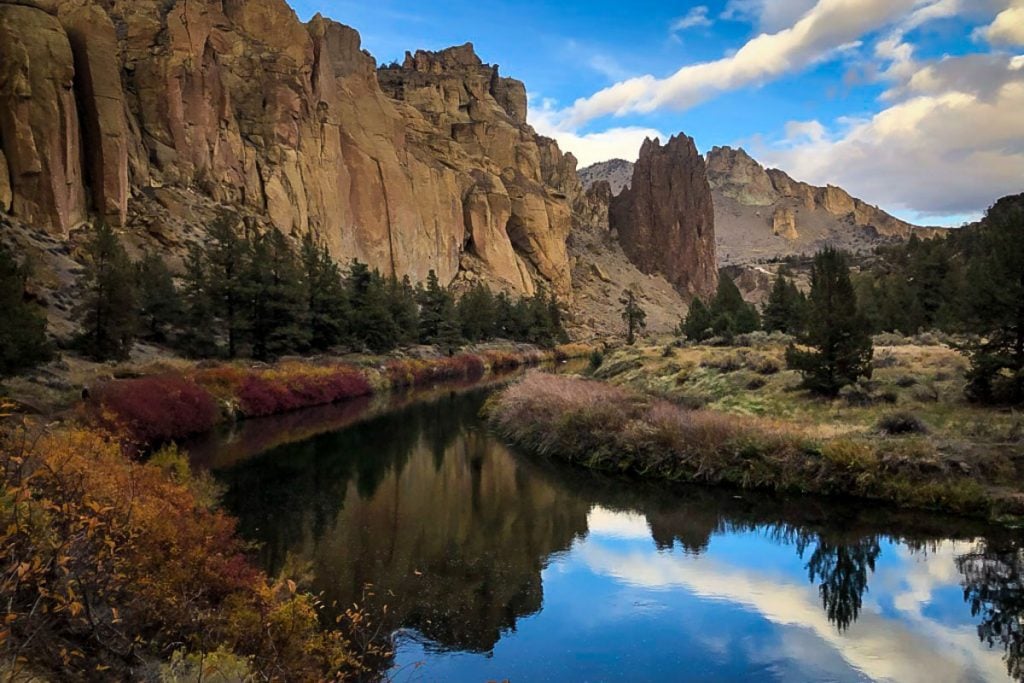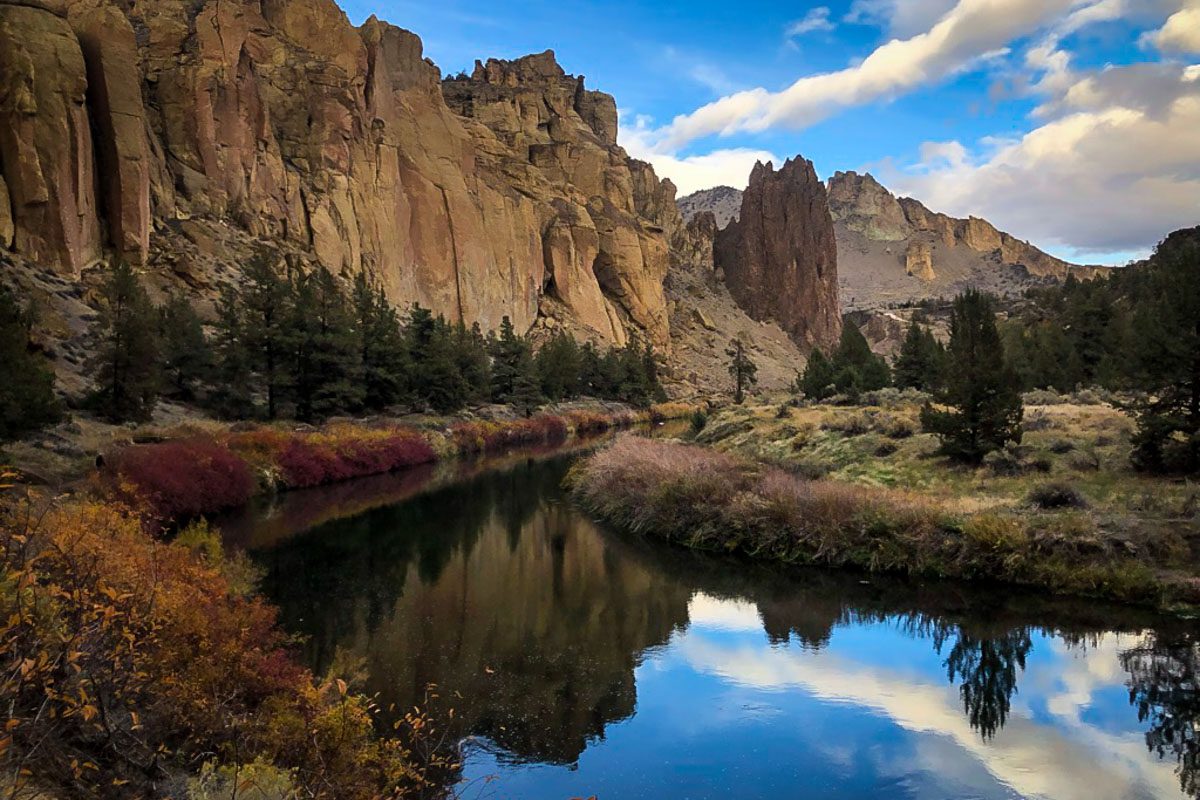 Smith Rock State Park is lovely almost all year in terms of weather, but we recommend visiting in either the spring or fall for the best experience.
Smith Rock State Park in the Spring
In the spring, you have the opportunity to escape both the heat and the crowds.
The weather is usually very pleasant, particularly from March through May, and since it's just before the busy summer season starts, the park generally isn't very busy (with the exception of spring break!).
However, you should be prepared for the occasional spring rain or snow shower. In all of our visits, we've been caught here in the rain just once, but we were glad we were prepared!
Smith Rock State Park in the Summer
If you're planning to visit during the peak summer months of June through August, bring plenty of water and sun protection, and prepare to be surrounded by scores of people.
Temperatures in Smith Rock State Park can easily (and often do!) reach 100 degrees in the summer, and some of the narrower trails like Misery Ridge get extremely crowded and tough to navigate on busy days.
These things admittedly make enjoying the park a bit trickier, but certainly not impossible – just plan ahead and bring a positive attitude!
Smith Rock State Park in the Fall
Fall sees a drop in temperature and visitors, making it a great time to visit. Between mid-September and mid-November, you can typically expect less crowded hiking trails and near-perfect weather.
Insider Tip: If you're visiting Smith Rock in the fall, be sure to stop at the the nearby DD Ranch for their annual pumpkin patch!
Smith Rock State Park in the Winter
We actually love visiting Smith in the winter, as it is typically warmer than in Bend and the surrounding areas. Winter is also the least crowded season, and when we have visited during this time we've had the trails mostly to ourselves.
And on the rare occasion that snow sticks to the ground, it is a lovely sight to see!
Visiting Central Oregon in the winter? We have a guide to the best things to do in Bend in the winter! Spoiler Alert: visiting Smith Rock is one of them!
How to get to Smith Rock State Park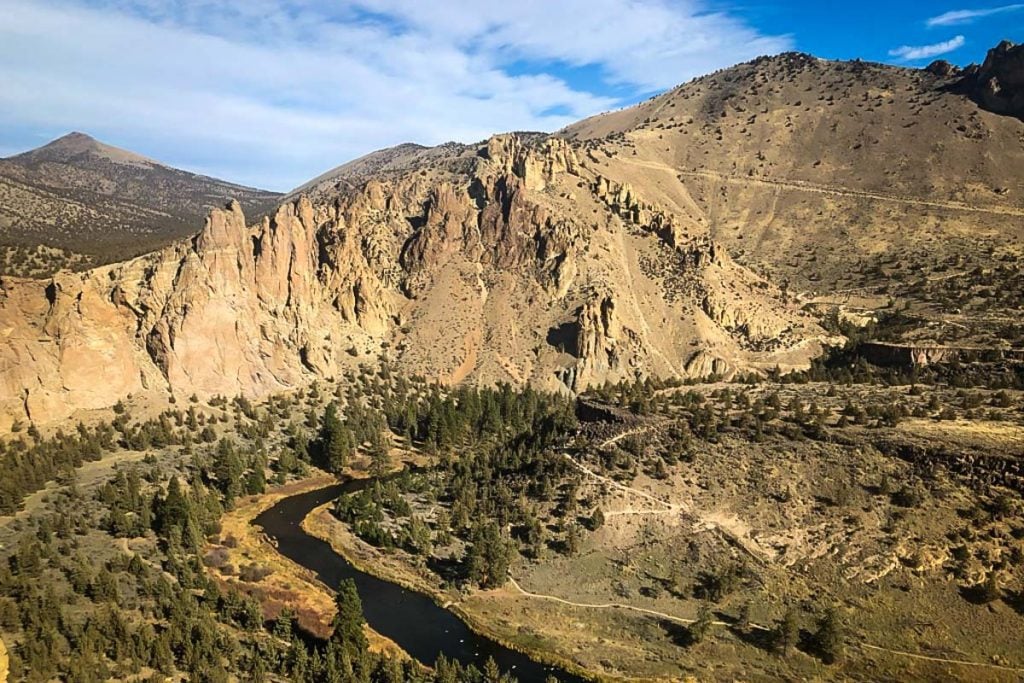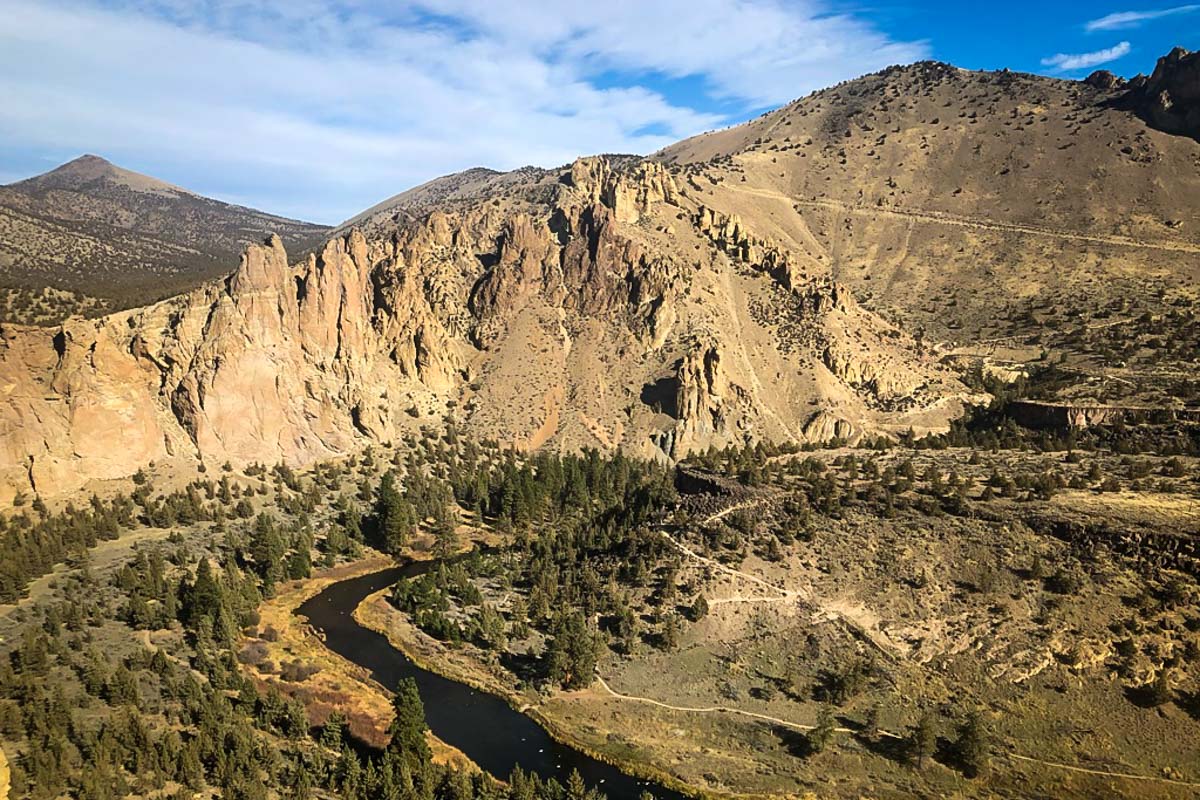 Smith Rock State Park is located 35 minutes north of Bend, just outside of Redmond, Oregon in the small, rural town of Terrebonne.
As you drive north of Bend toward Redmond, the landscape seems mostly flat. But as you turn east off of the highway, you'll see some rock formations begin to emerge in the distance.
How to get to Smith Rock from Bend
From Bend, simply take Highway 97 north past Redmond. Make a right onto Smith Rock Way.
Follow the signs and you will eventually hit a dead end which will lead you to the Smith Rock State Park parking lot.
How to get to Smith Rock from Portland
It's a 3-hour drive from Portland to Smith Rock State Park.
From the city, you'll head southeast, going through Mt. Hood National Forest. Once you reach Warm Springs Reservation, it's only 1 hour until you arrive at the park.
Need a pick-me-up on your way to Smith Rock? Java Rock in Terrebonne has coffee, pastries and breakfast sandwiches and is just a few minutes away from the park.
Best hikes at Smith Rock State Park
It probably won't surprise you, but our personal favorite activity at Smith Rock State Park is hiking—and now that we live in Bend, we do a lot of it!
With trails catering to every experience level, and passing by a variety of iconic rock formations and other landmarks, it's easy to find the perfect hike in Smith Rock.
We put together this guide to the best hikes and other outdoor activities in Smith Rock State Park so you can plan your visit and know exactly what to expect.
Be a responsible hiker: The high desert environment is fragile, so be sure to stick only to the marked trails.
1. Misery Ridge Trail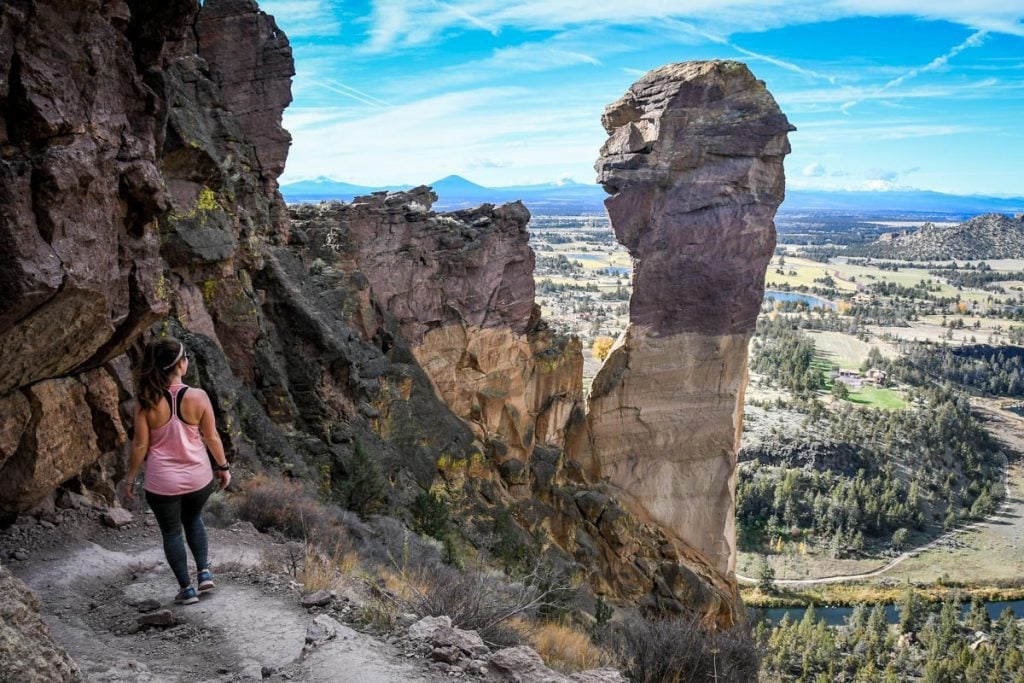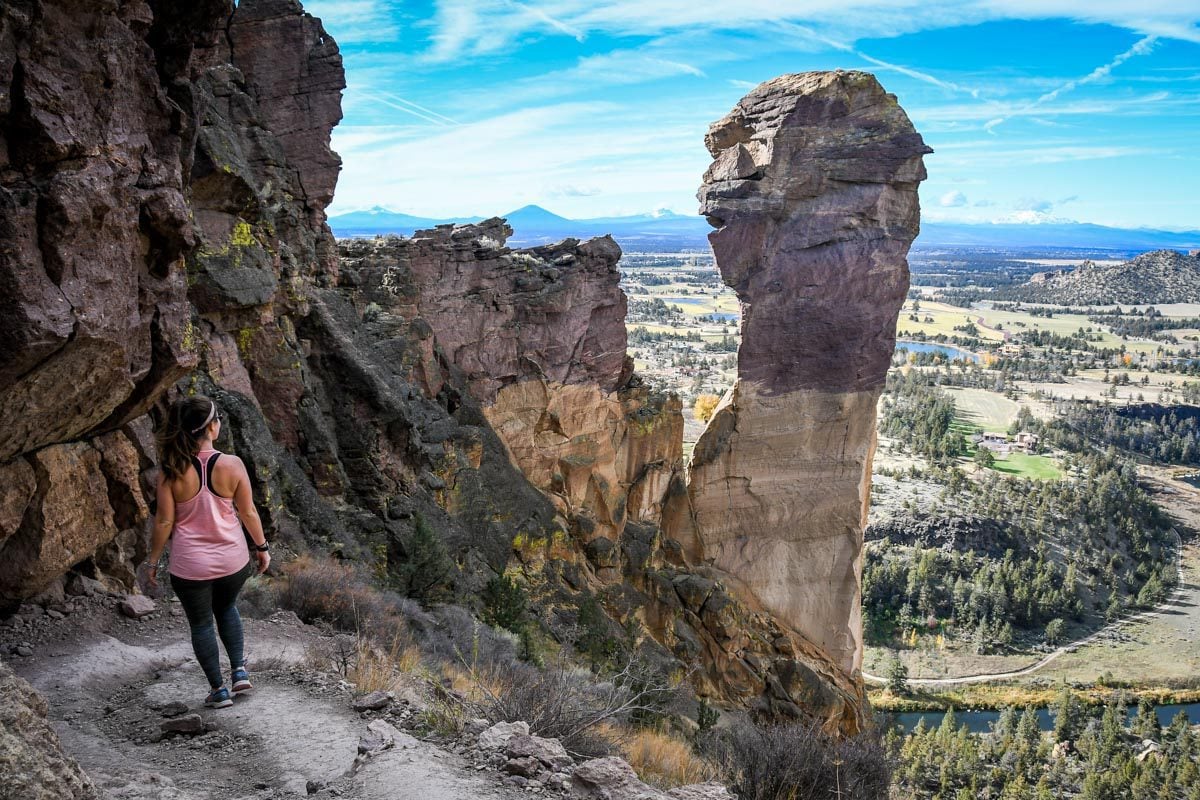 Distance: 2.2 miles, out and back
Elevation: 1,115 feet
Difficulty Rating: Hard
Don't let the intimidating trail name deter you; this is one of the most popular trails in the park!
In just 2.2 miles on the Misery Ridge Trail, you can have one of the best hiking experiences in Smith Rock State Park — but you'll have to work for it.
It starts off fairly easy with a downhill stretch and crossing a footbridge over the river, but quickly turns into a challenging ascent. The trek up to the main summit, heading up the backside of Misery Ridge, is marked by several steep drop-offs and ledges.
The terrain on Misery Ridge is quite rocky at times and the trail gains elevation at a fast clip. There are also some wooden steps, which can be either a blessing or a curse, depending on how you look at it! Take your time and rest whenever you need, pausing to watch the climbers on nearby rock faces.
Once you're at the summit, look for the Monument Area just off to the side, an expanse of spires that offers majestic views and a respite from the crowds. The views of the Crooked River down below are also incredible from here.
2. Crooked River Trail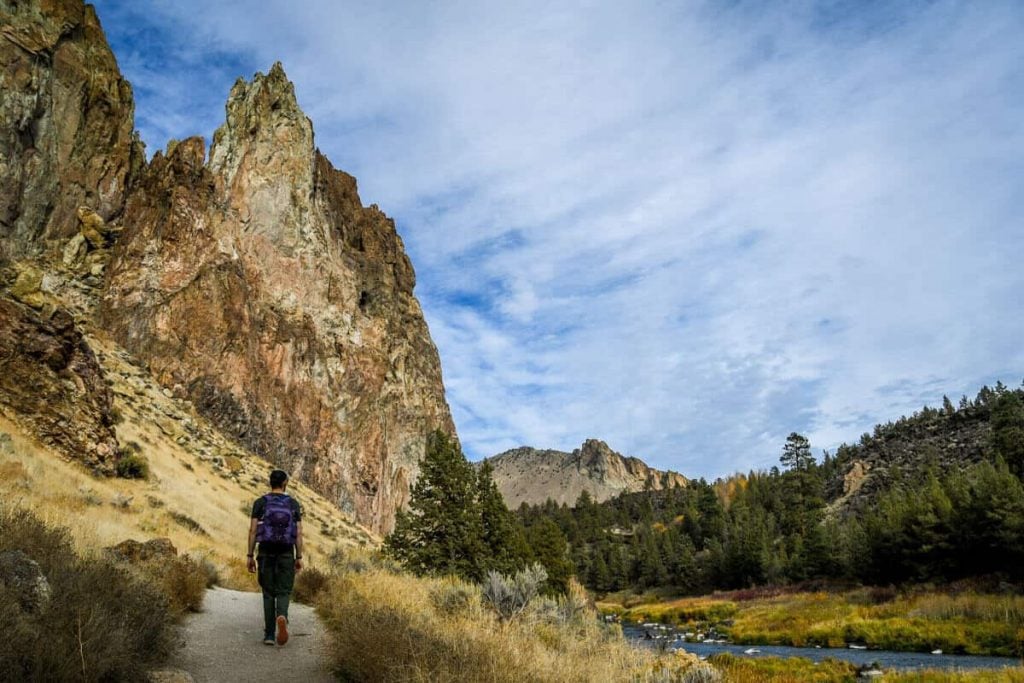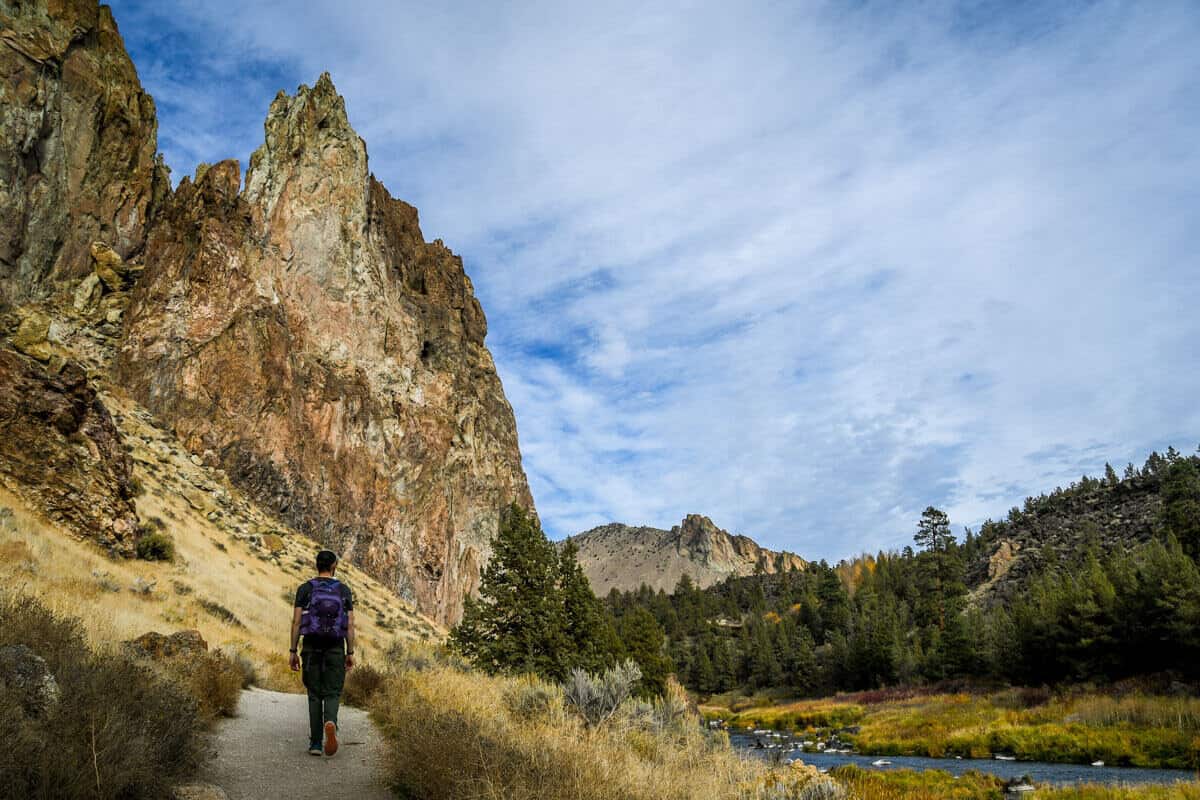 Distance: 4.5 miles, out and back
Elevation: 321 feet
Difficulty Rating: Easy
Looking for an easy hike in Smith Rock State Park with great views? Head straight to Crooked River Trail – a short, out-and-back trek that takes you on a scenic tour of the park's river canyon.
This is the trail we always take when we have people visiting. It's relaxed and can be enjoyed by all ages, but it still provides epic views of the park.
Good to know: Most of this trail is very flat. However, it is a pretty steep descent to get from the parking lot down to the river. The path splits in two, and you can continue straight on a more gradual but longer path, or take the shorter, steeper trail down to the right as you face the river.
Unlike Misery Ridge, this trail keeps you down on the ground with the rock formations towering up above. Your close proximity to the water also practically guarantees that you'll get to see some of the wildlife species that live in the park, so keep your eyes open for mule deer, beavers, and a wide variety of interesting birds.
In addition to the native animals, rock spires, towering trees, and open vistas, hikers on Crooked River Trail are treated to another frequent sight: rock climbers. They're fascinating to watch, and perhaps even more so from down below! If you have any interest in joining them on the rock faces, we've got more info for you further down in this guide!
Since Crooked River Trail isn't as difficult as others in the park, fair warning that it often gets pretty crowded, especially on weekends. We recommend starting very early or rather late to avoid the bulk of the crowds.
Insider Tip: If you're short on time, you can turn around at any point throughout this hike. Go as far as you'd like and then turn around. If you're feeling up for it, by all means do the whole thing (and glimpse the iconic Monkey Face rock formation near the end!).
3.Misery Ridge & River Trail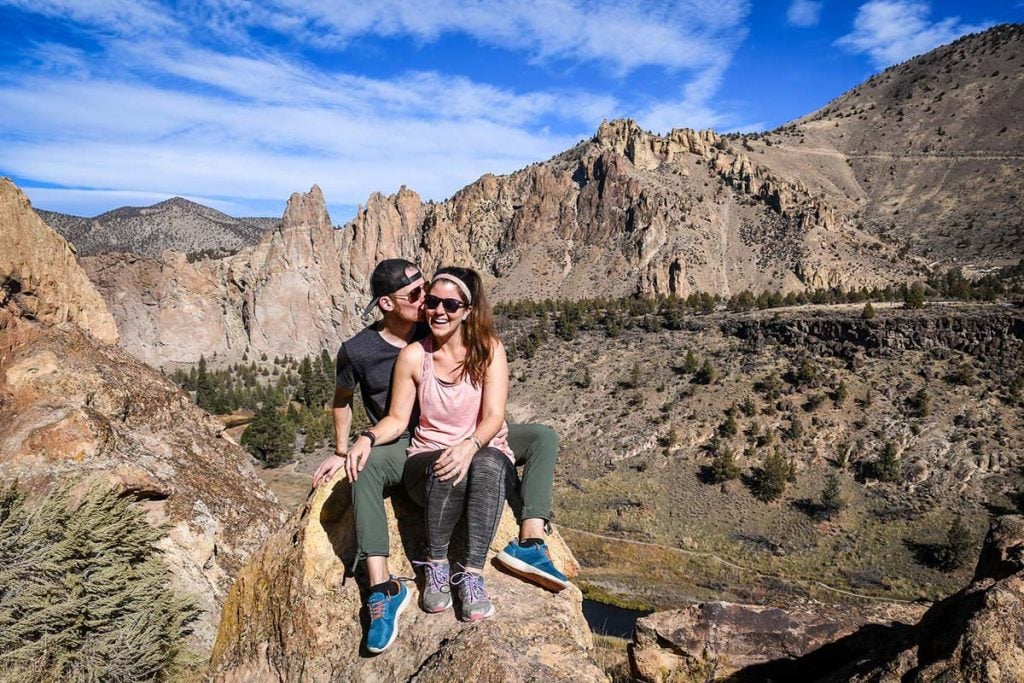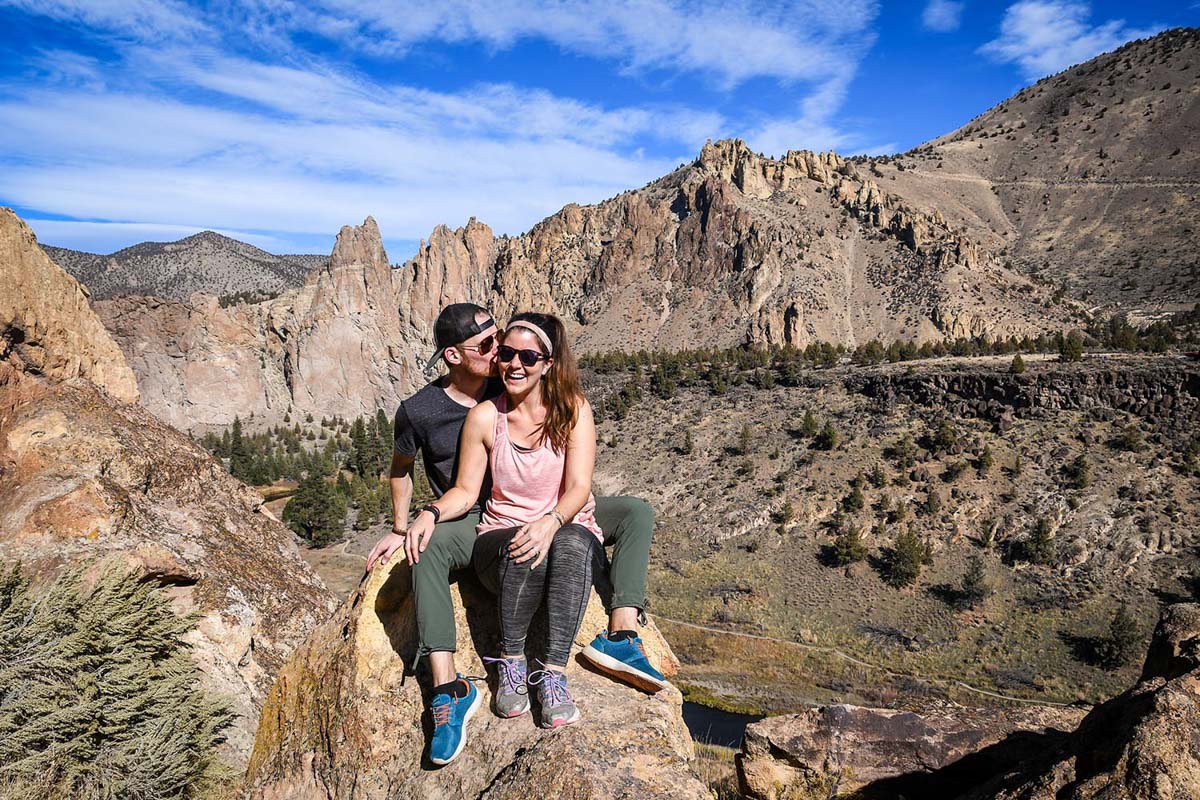 If you couldn't decide between hike #1 and hike #2, you're in luck because this is a combination of both!
The trail leads up the infamous Misery Ridge, offering epic views, then descends and wraps around the Crooked River, leading you past some of the most iconic rock formations in Smith Rock State Park.
If you're up for a bit of a challenge and have the time (roughly 2 hours), we'd highly recommend this route, as it allows you to explore the best of the park. 
4. Rim Rock Trail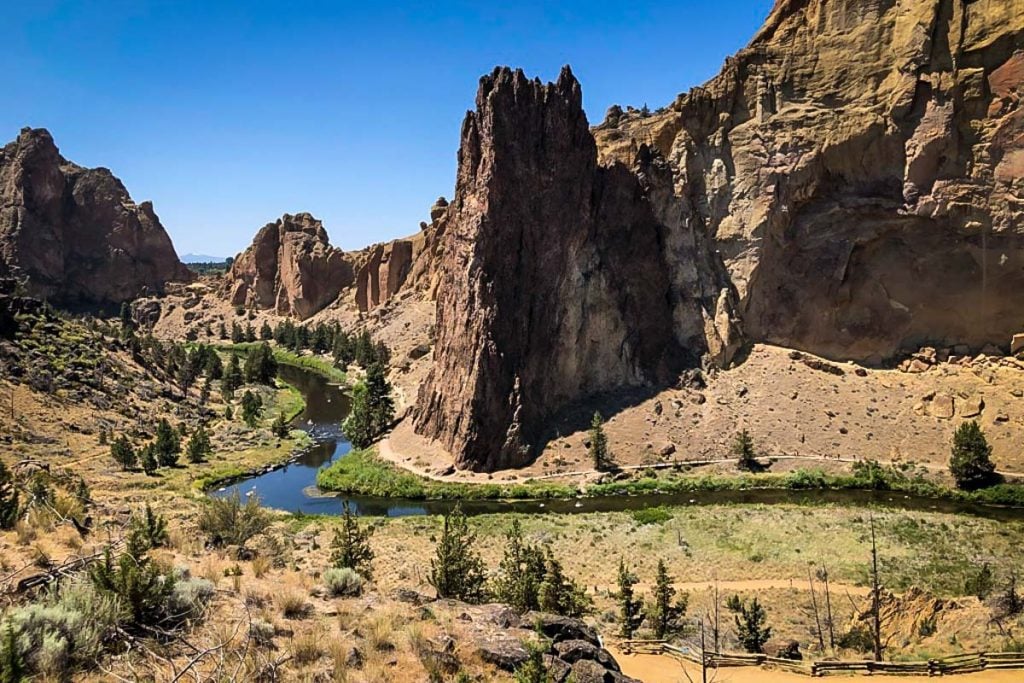 Distance: 1 mile out and back
Elevation: 22 feet
Difficulty Rating: Hard
Rim Rock Trail is short and sweet, granting nice views of Smith Rock State Park as you walk toward the camping area.
It's an easy route with a big payoff, offering excellent views of some of the park's best formations as well as the river. It's a great option for when you're short on time, have little ones in tow, or want to do something else in the park besides hike.
For a complete list, check out our guide to the best hikes in Smith Rock State Park on our sister site.
Rock Climbing at Smith Rock State Park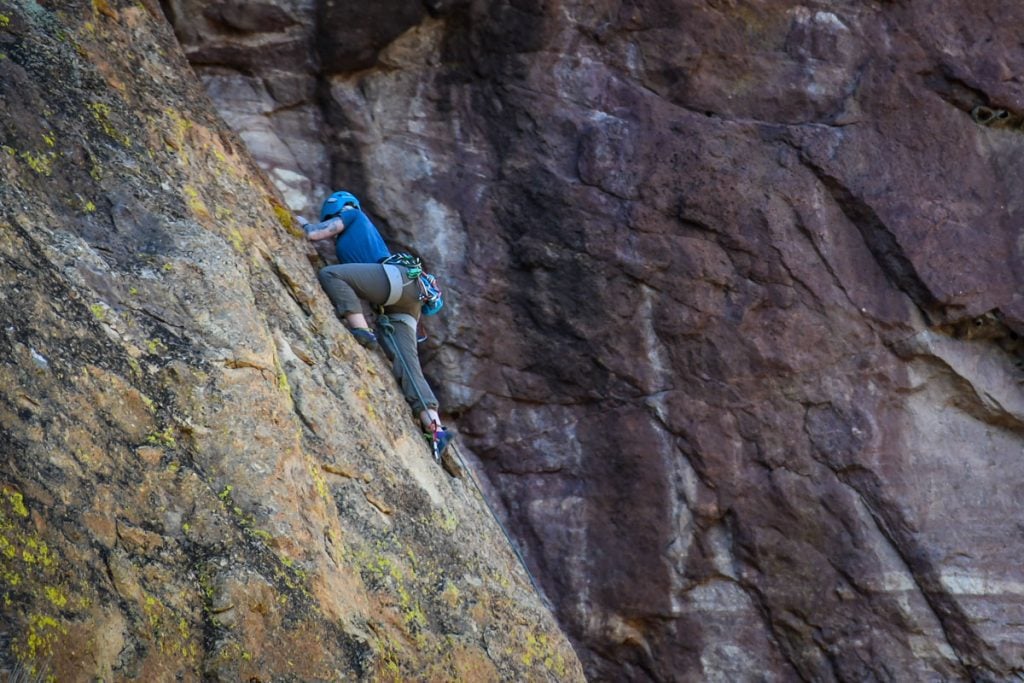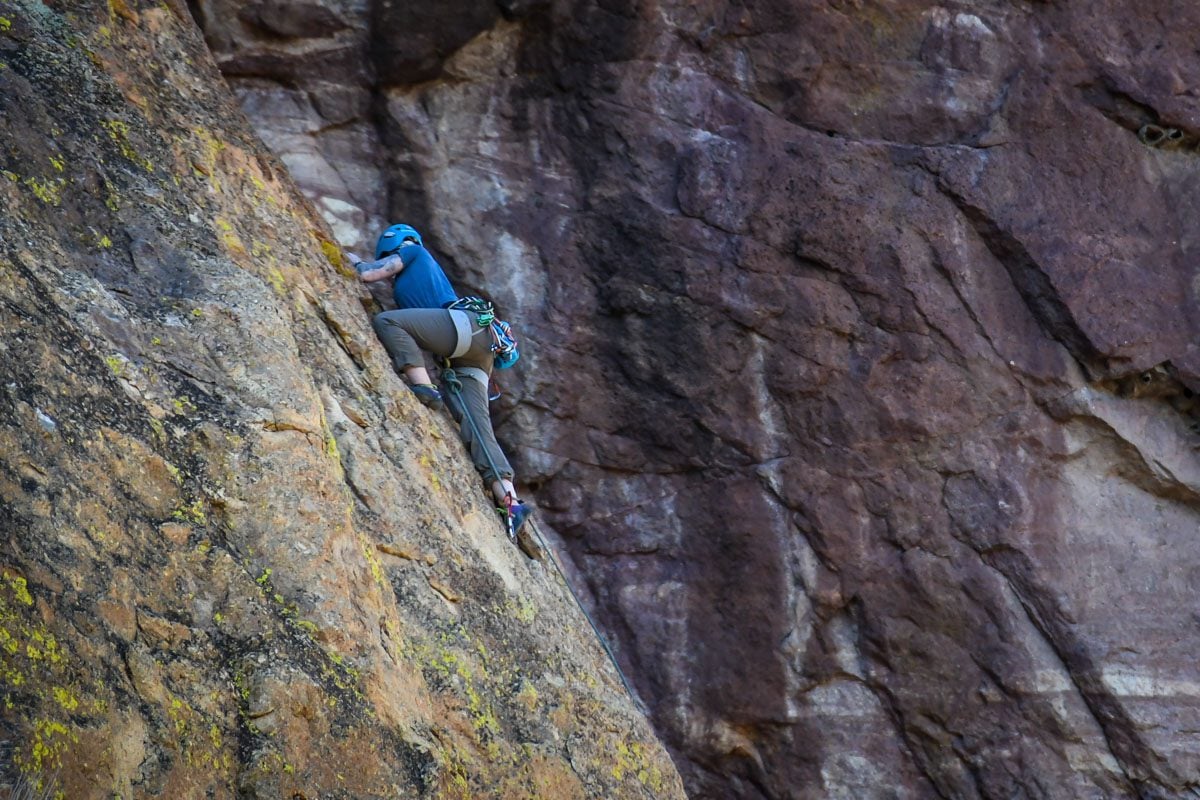 We couldn't mention Smith Rock without mentioning rock climbing…
Smith Rock State Park is the proud birthplace of sport climbing (very literally, the sport of rock climbing) in North America.
After a bunch of ambitious climbers started carving out routes here back in the 1980a, Smith Rock became the go-to destination for rock climbers all over the world. There are over 2,000 (yes, THOUSAND!) climbing routes here with varying degrees of difficulty.
Most popular climbing routes at Smith Rock State Park
If you're an avid climber, we don't need to tell you what a Mecca Smith Rock is for the climbing community.
You likely already have routes planned out. Rock on! (Sorry, couldn't help ourselves!) But in case you're looking for ideas, below we've listed some of the more popular routes in the park.
Koala Rock offers beginners a classic, easy-to-moderate rock climbing experience, while the gigantic Christian Brothers rock formation is best reserved for veteran climbers with lots of experience under their belts.
Most routes in Smith Rock are very well-maintained and there are also plenty of opportunities to get away from the crowds and climb in a more solitary section of the park, such as the Upper and Lower Gorge areas.
Here's a list of climbing areas so you can find a route that's suitable for your skill level:
Christian Brothers
The Dihedrals
Gorge Area
The Marsupials
Monkey Face Area
Monument Area
Morning Glory Wall Area
Northern Point
Picnic Lunch Wall Area
Red Wall Area
Rope-de-Dope
Ships and Gullies
Smith Rock Group
West Side Crags
Want more info? Read up on Smith's climbing routes here.
Learn how to rock climb with a guide
If you're a newbie (like us!), it's worth mentioning that you can go with a climbing guide or take a course to help improve your skills.
Chockstone Guides is one of the most established guide services in the area, as they have been in business since 1999. They offer a variety of options — from private guides to ongoing courses that will help cultivate confidence so you can one day go climbing on your own.
Smith Rock is also a popular place for bouldering, so if that's your jam, be sure to pack your crash pad and get ready to solve some problems! (How's our rock climbing lingo?)
Best time to go rock climbing at Smith Rock State Park
Because climbing means you'll be exposed to the elements, summer can get incredibly hot at Smith Rock.
If you are climbing during the summer, go early or late in the day to avoid the sweltering midday heat. Alternatively, plan your trip for the spring or fall instead for more comfortable temps.
Other things to do at Smith Rock State Park
If you're searching for more things to do beyond hiking and climbing at Smith Rock State Park, we've got a few more ideas to keep you busy in the park or in the nearby area…
Mountain Biking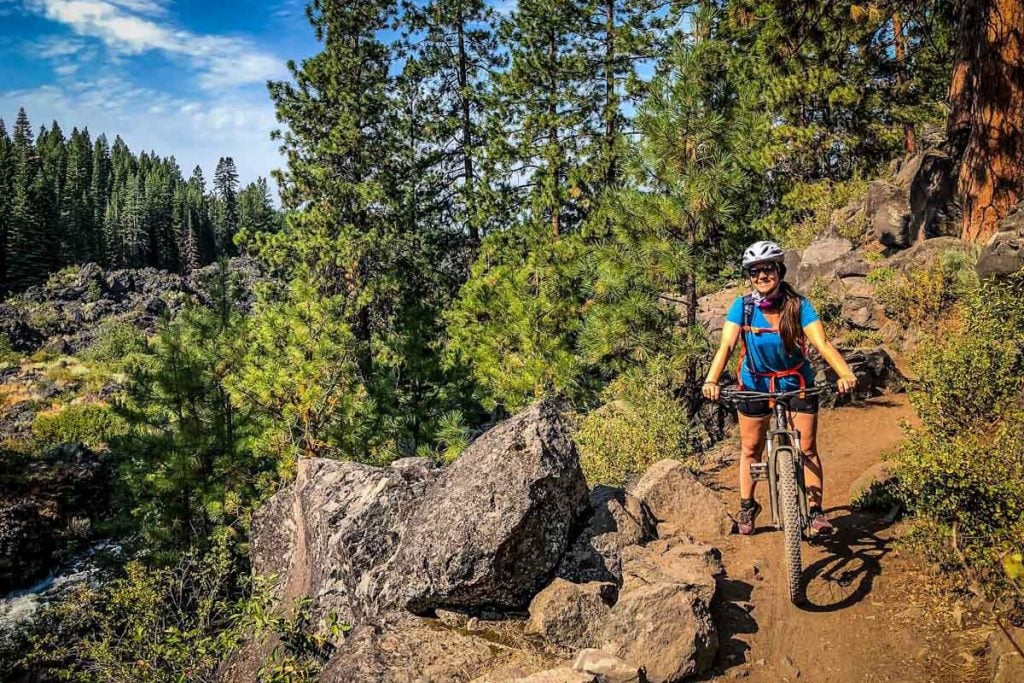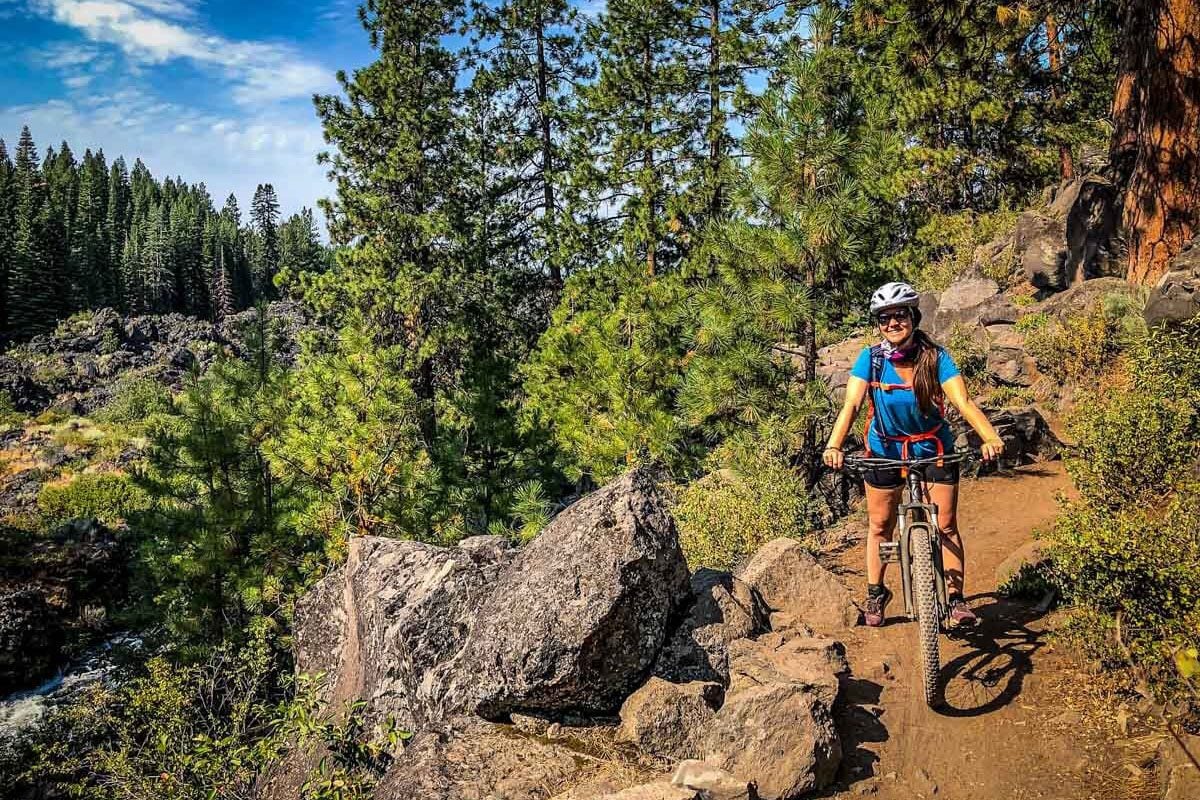 Whether you're an uphill battler who loves a tough, thigh-burning trek or a downhill daredevil who enjoys the rush of the descent, mountain bikers can find a little of everything at Smith Rock.
Cyclists should expect a challenge, thanks to the loose rocks and scree that cover most of the park's trails. Even with the increased difficulty, Smith Rock is still ideal for beginners – provided they mind the unique terrain and steep drop-offs.
You can take your bike on the following trails (many trails in Smith Rock are designated specifically for hiking or climbing):
Canyon Trail
Homestead Trail
Summit Trail
River Trail
Wolf Tree Trail
There's also tons of BLM land connecting to the park if you want to extend your ride.
Enjoy a picnic with a view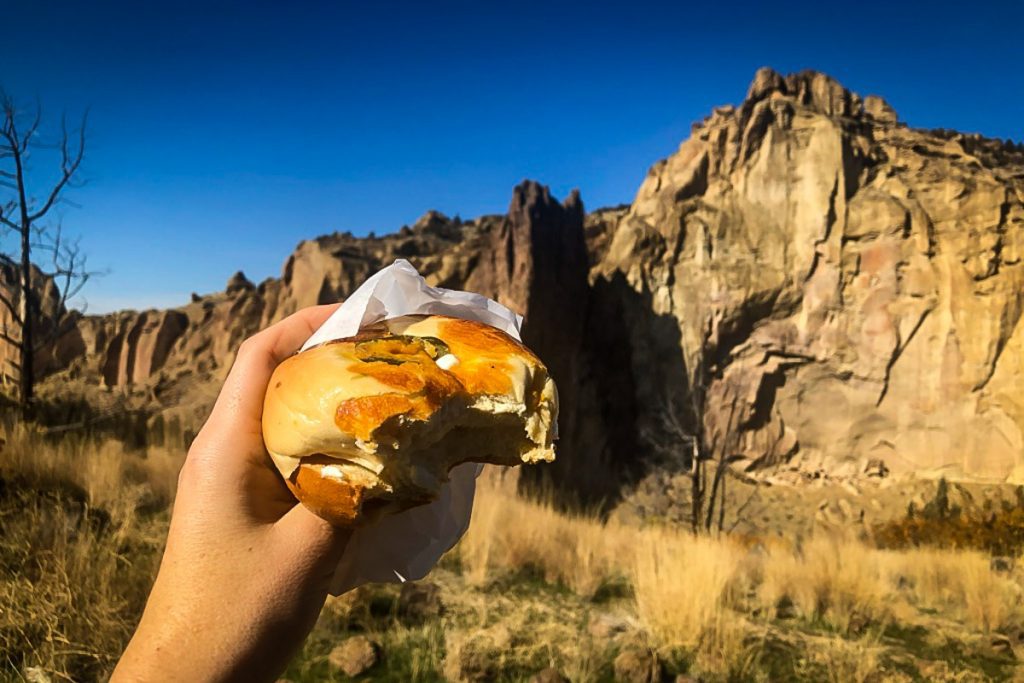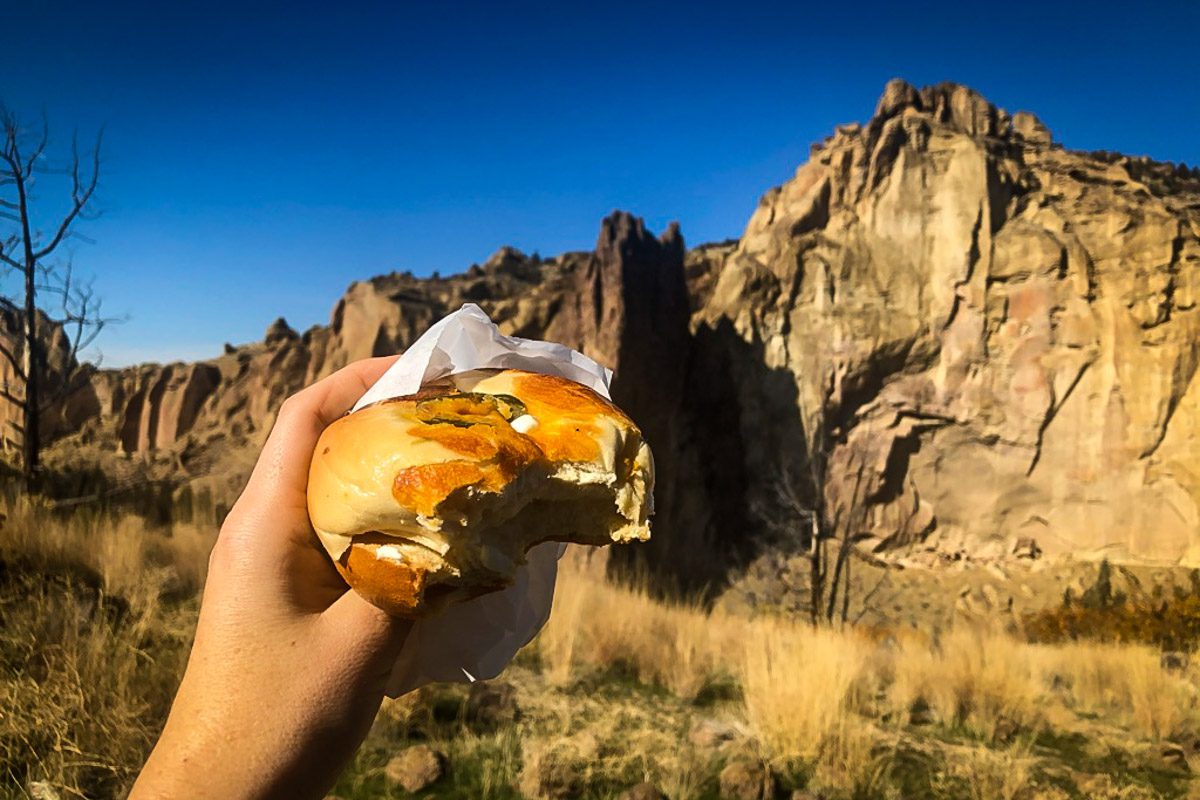 As soon as you park, you'll see a path that makes its way to the edge of the canyon, offering sweeping vistas. Here, there are a handful of picnic tables, all of which have spectacular views.
We love packing a bunch of snacks — veggies, fruit, cheese and crackers — or grabbing sandwiches in Bend before heading north to Smith Rock.
Local Tip: Two of our favorite places to get sandwiches for adventures on the go are:
Plankers Sandwiches: We love the Pulled Pork sandwich!
Nancy P's Bakery & Cafe: The turkey pesto sandwich is great. If you want a sweet treat, we recommend the key lime bar and the brownie puddle.
Big 'O Bagels: If you're getting an early start on the day, pick up some Eye Openers (aka breakfast sandwiches) from this local favorite. They're tasty and cheap!
Feeling hungry? We've got a huge roundup of our favorite restaurants in Bend (we put this list together after more than 2 years of living in town, so you know it's filled with local tips!)
Grab a post-hike brew
After a hot and sweaty hike, not much will feel more satisfying than making a toast with a cold one!
There are plenty of breweries in Bend – like an overwhelming amount! But Redmond is closer to Smith Rock (just a 15-minute drive away!).
Local Tip: We love Wild Ride Brewing (if you like dark beers, try their Peanut Butter Porter – omg!).
Go to the neighboring Pumpkin Patch in the fall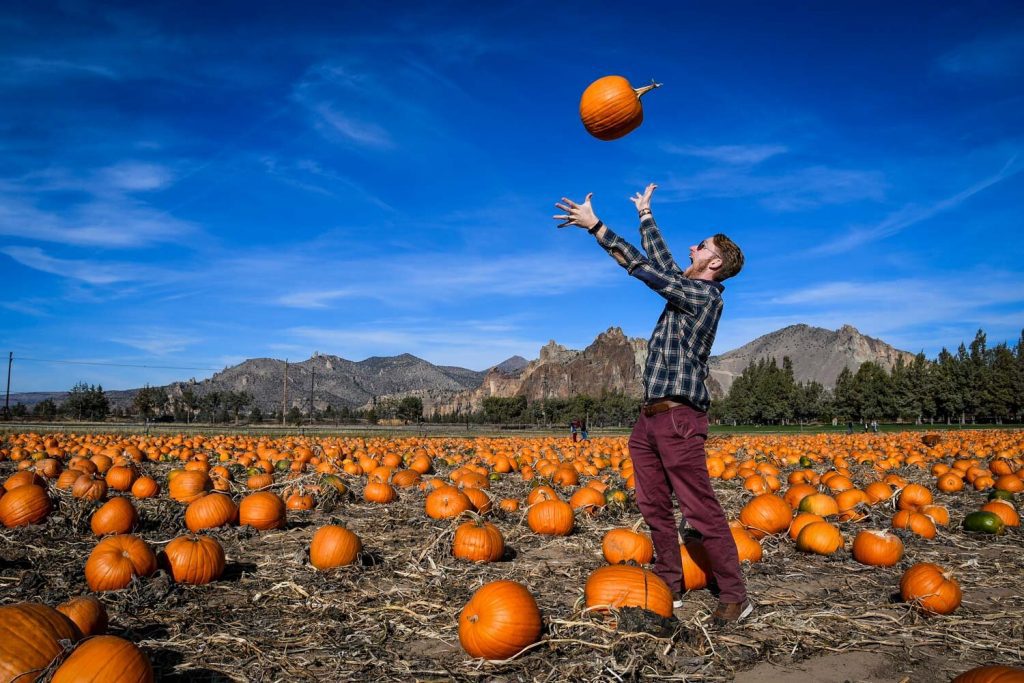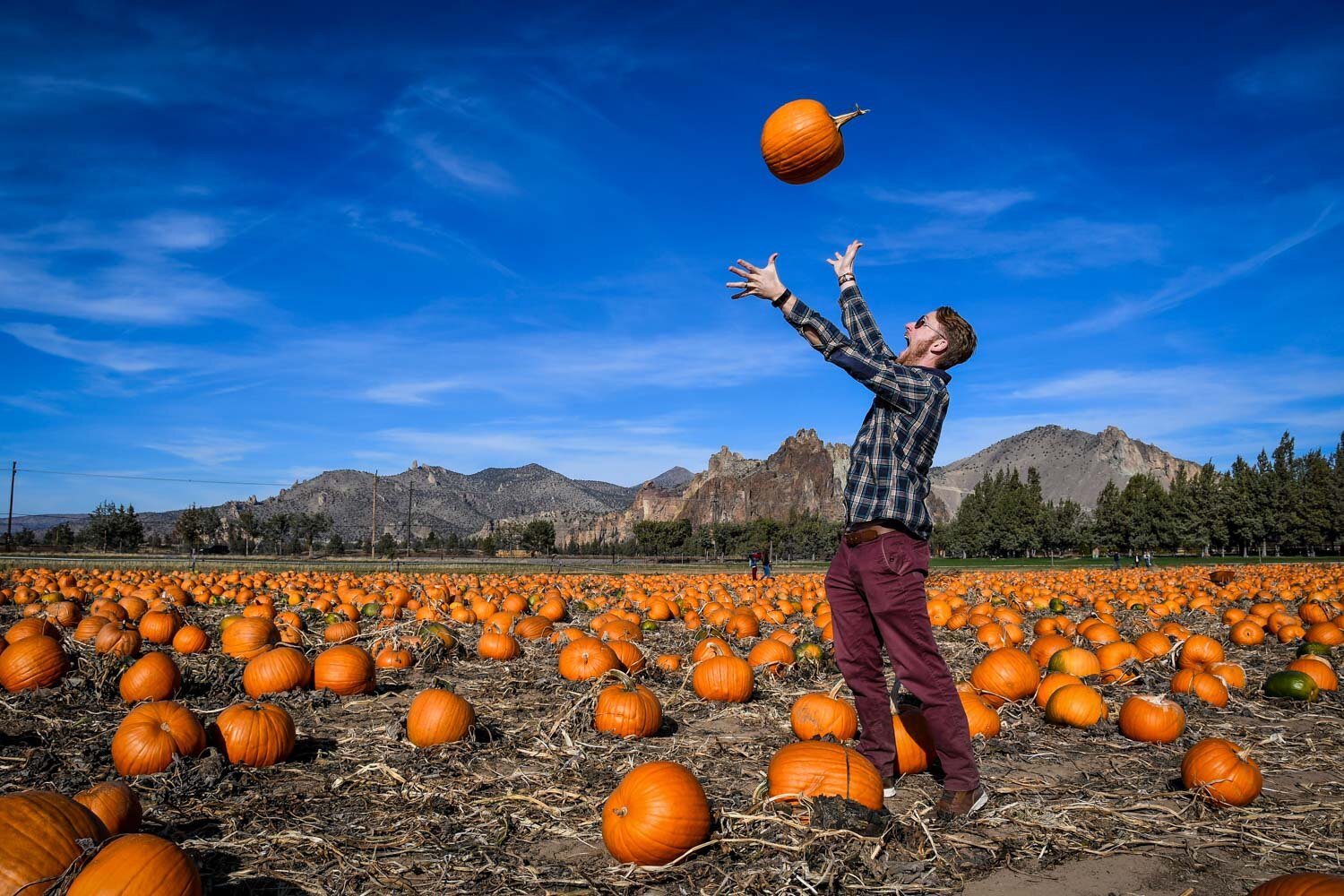 If you're in the area during autumn, stop at the neighboring DD Ranch.
They have U-pick pumpkins, fair-style food like kettle corn and mini doughnuts, a petting zoo and lots of activities for little ones.
DD Ranch typically opens their pumpkin patch near the end of September.
Get friendly with alpacas
Located nearby in Terrebonne, Crescent Moon Ranch, has 18 acres of land for their friendly alpacas to enjoy.
Visiting the alpacas is free, but you can also buy some food to feed them in order to greet them up close. The ranch is open 10 a.m. to 4 p.m. daily
Explore Bend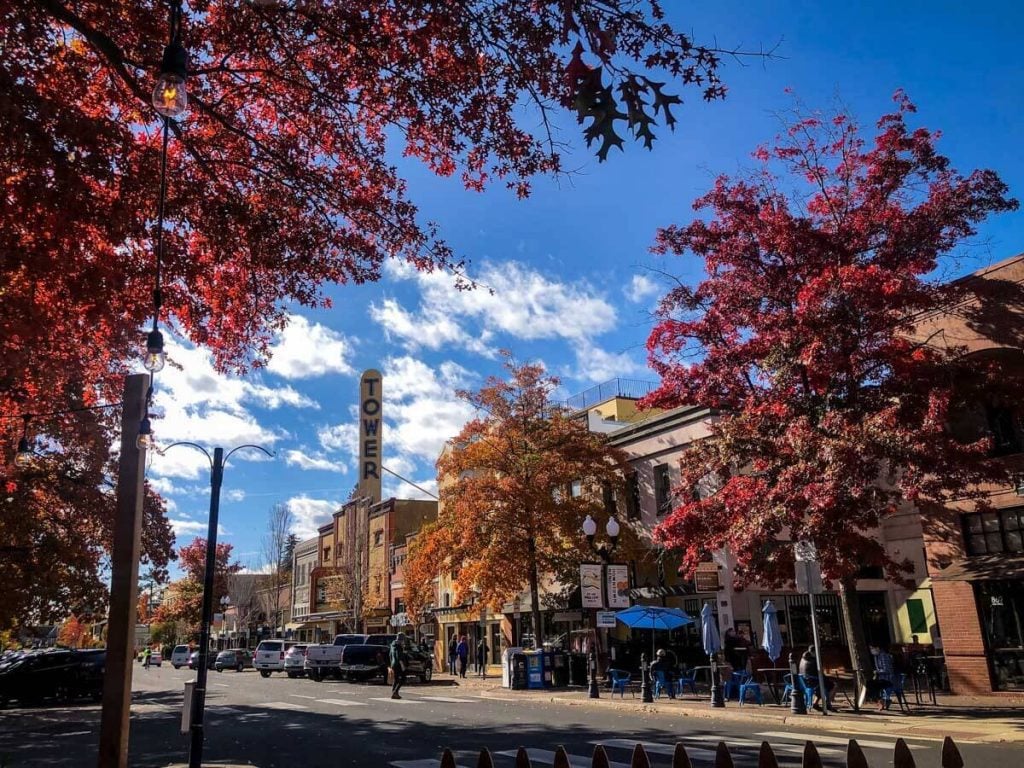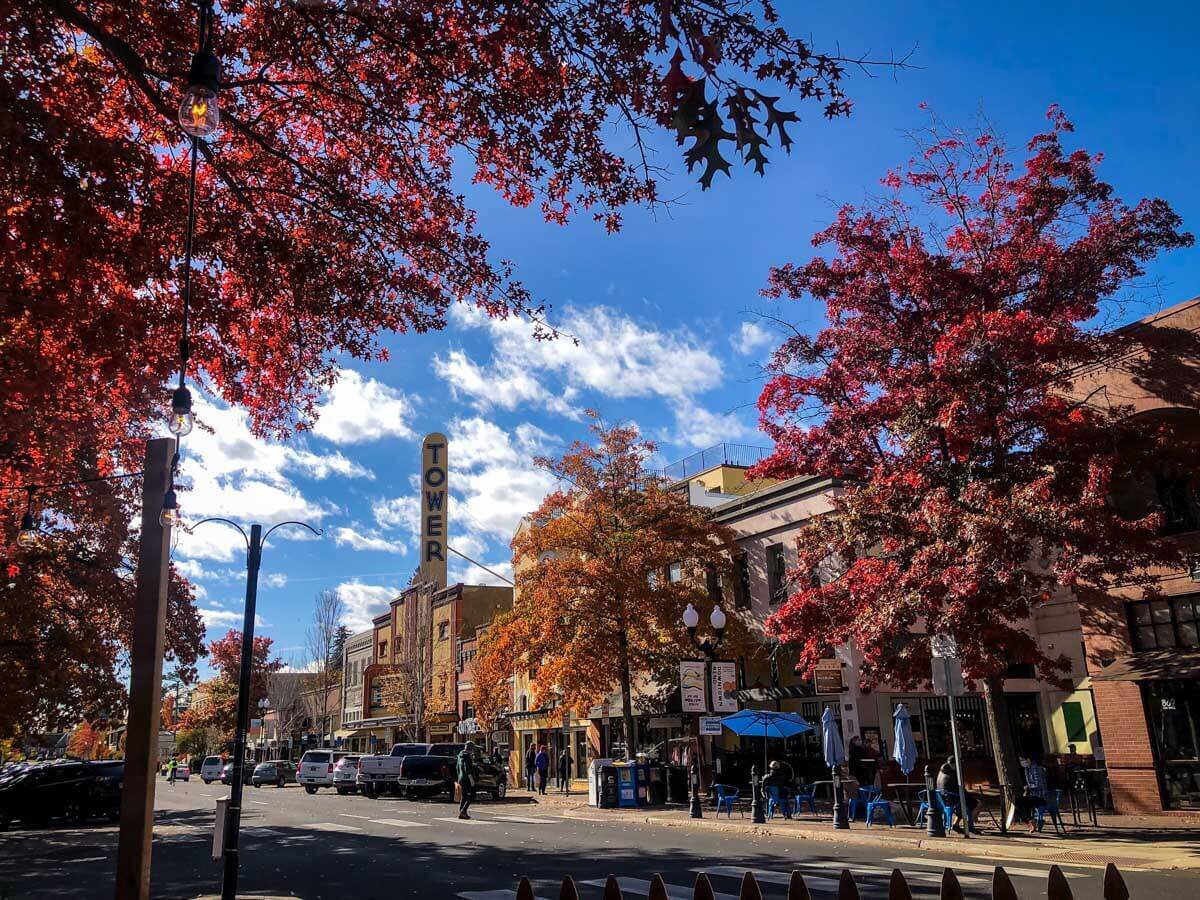 If you're visiting from out of town, you'll want to devote at least a couple of days to exploring Bend and the nearby area.
While there are plenty of things to do in town, here are some of our favorite outdoor adventures in the area:
Hike Broken Top, one of our all-time favorite hikes in Oregon
For a challenging but bucket list worthy hike, summit South Sister
Get adventurous and explore Skylight Cave near Sisters
Floating on the Deschutes River is perhaps the best way to spend a hot, sunny day in Bend
Explore Tumalo Falls, which is a short drive from Bend and makes a great way to spend part of the day
Camp near Smith Rock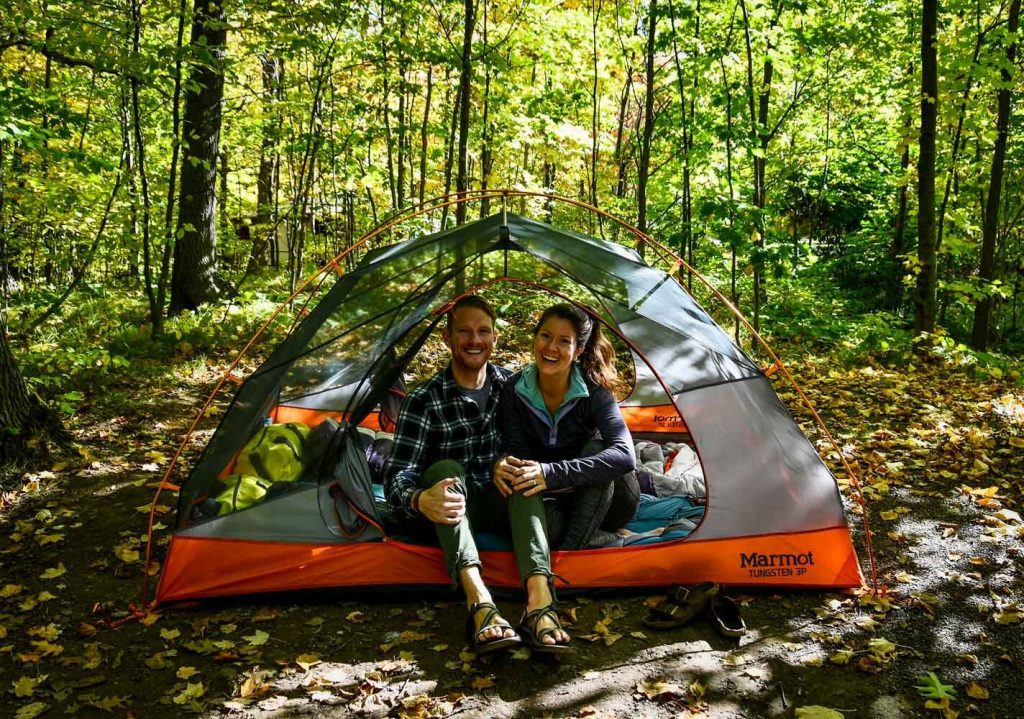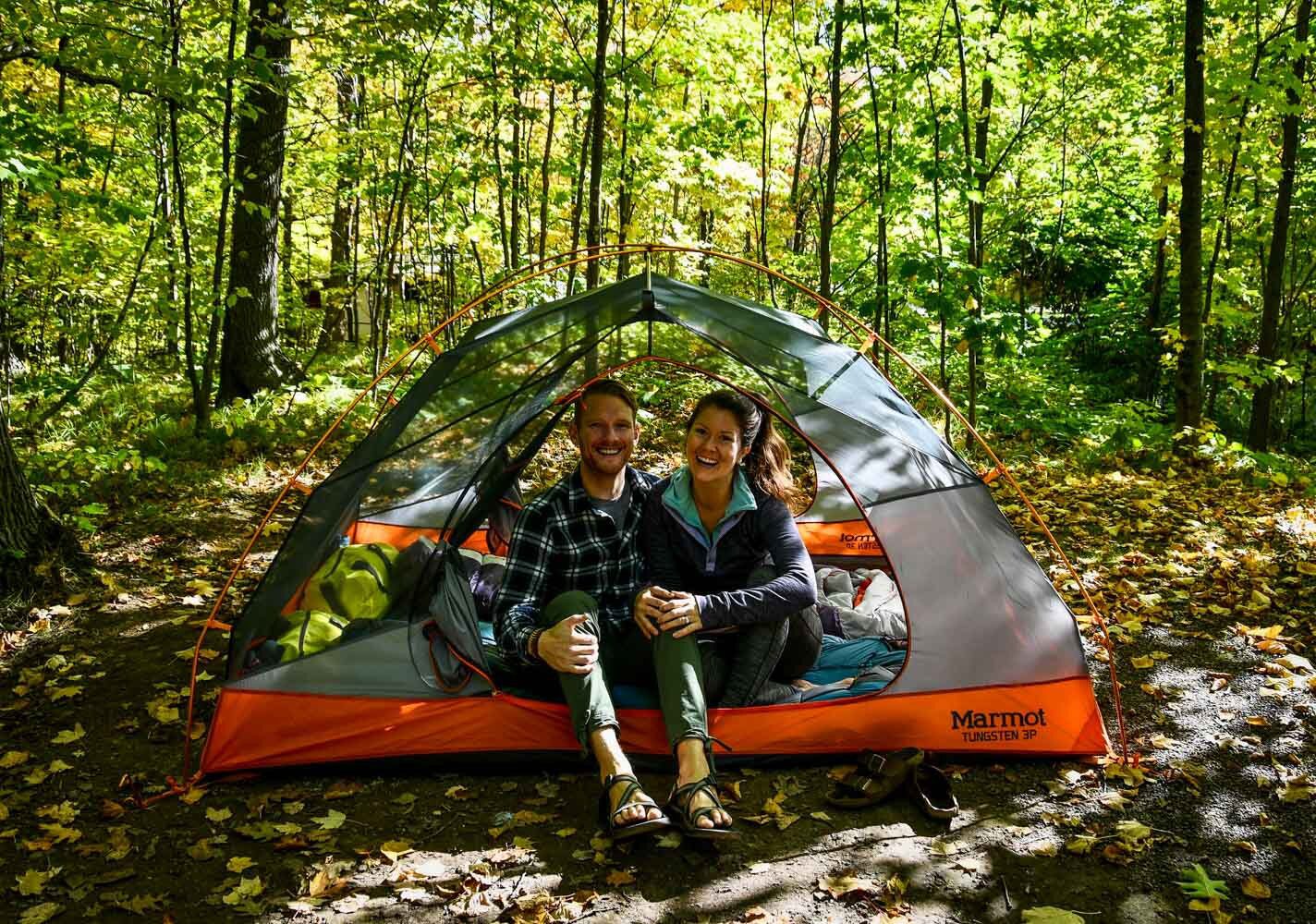 Those who want to spend the night will be pleased to know there's a small and affordable campground at Smith Rock State Park. It makes a great place to camp near Bend!
Make sure to come prepared with a tent and $8 to enter the Bivouac camping area from March 15 to November 15.
The "Bivy" campground at Smith Rock State Park is not glamping; it's for the camping purists. There are no RVs or campervans allowed here; it's just you, your tent, and the dirt. There are no reservations at this campground, and it typically fills up quickly and early on weekends during the peak seasons.
If you're looking for a campground you can roll up to in your motorhome, check out nearby Skull Hollow Campground or Crooked River Ranch RV Park.
What to pack for Smith Rock State Park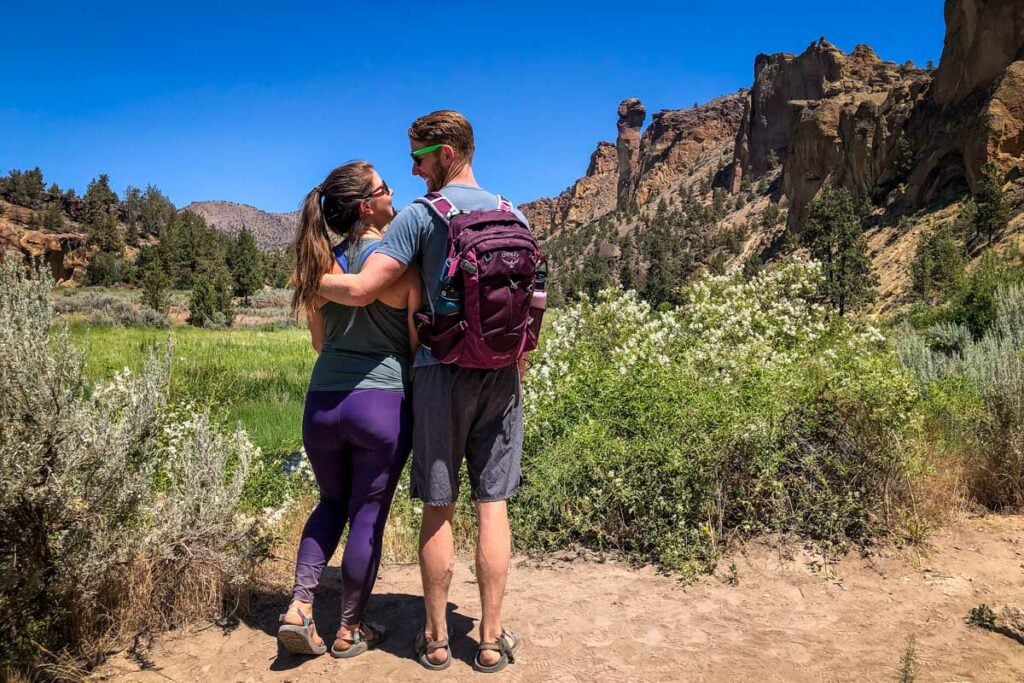 No matter what your purpose for visiting Smith Rock State Park, there are a few things you'll want to have in your pack if you spend the day there.
Hydration pack and/or water bottles
Bug spray (we prefer the natural stuff)
Sun protection: sunscreen, sunglasses, hat (there's very little shade at Smith Rock so you'll want to be prepared!)
Decent walking or hiking shoes; or Chacos if you prefer
Comfortable hiking clothes (dress in layers!)
AllTrails Pro (or download Google Maps offline for the area in case you lose service)
Camping gear: if you plan to camp overnight


Are you planning a trip to Oregon?
Being that Oregon is our home state, we have TONS of content to help you plan your trip. Start with our Oregon Homepage and be sure to check out the articles below. Leave us a comment if you have any more questions!
Save this article on Pinterest for later!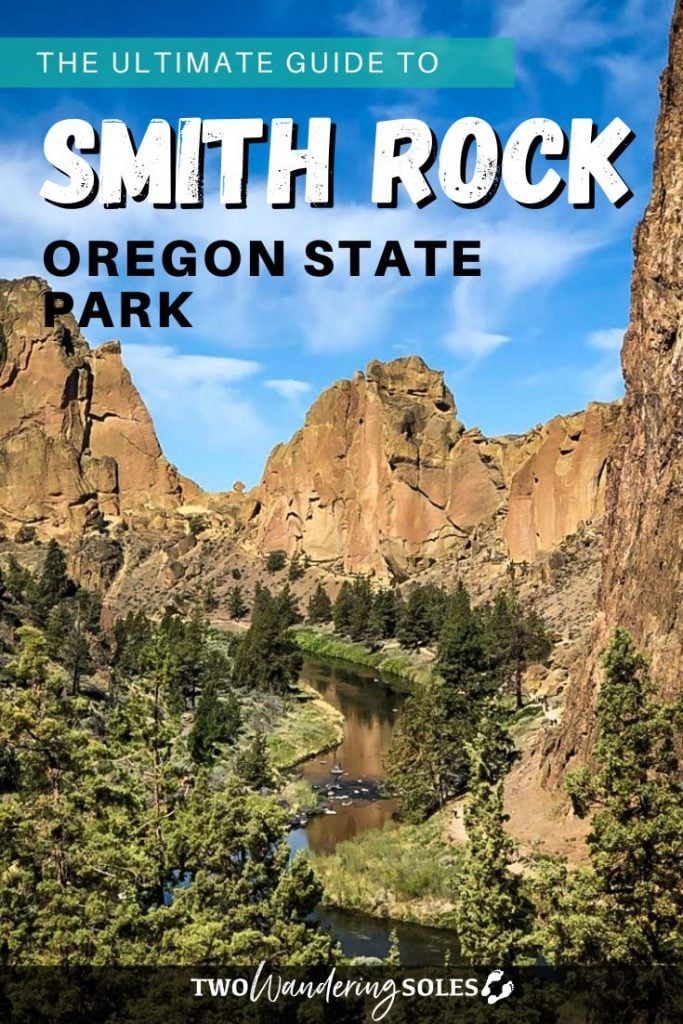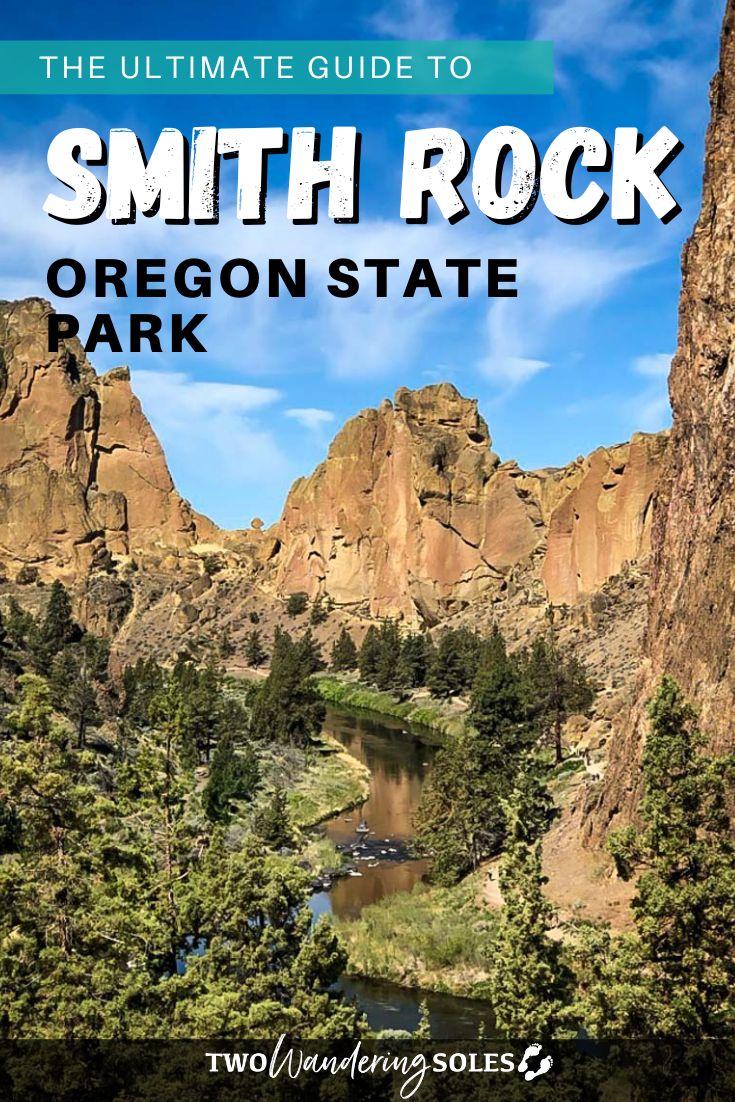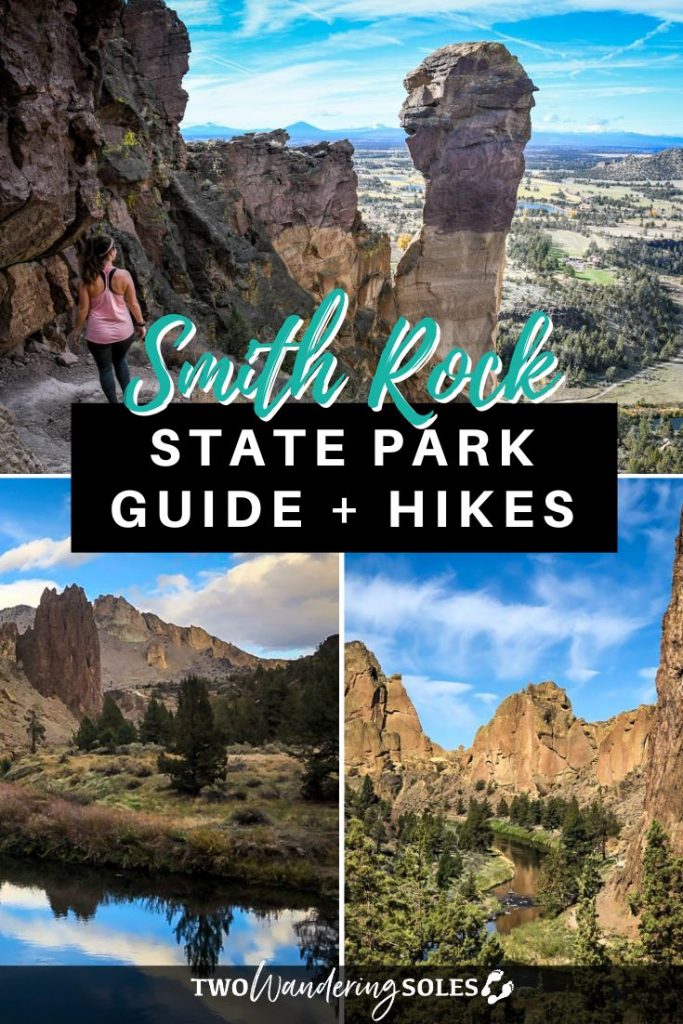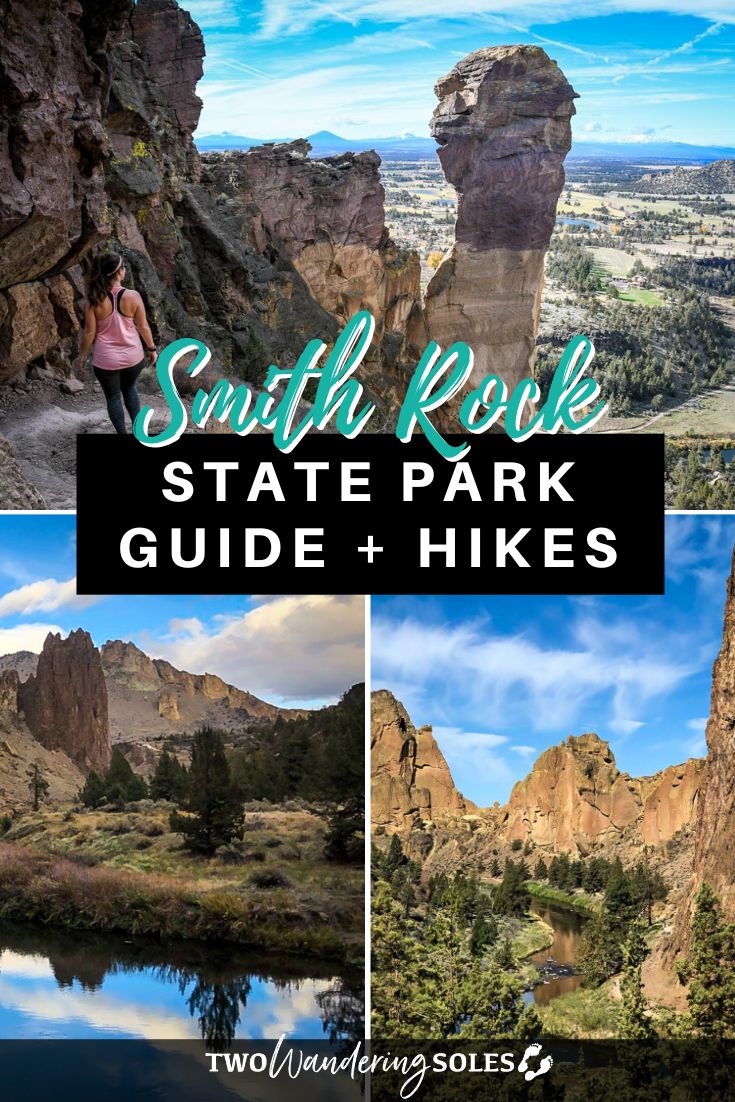 We want to hear from you!
Have you been to Smith Rock State Park before? What was your experience like? Do you have any more questions about planning your visit? Leave your comment below and we'll do our best to get back to you!