European Christmas markets are nothing short of magical. These essential Christmas market tips will help you avoid common mistakes and have a perfect trip!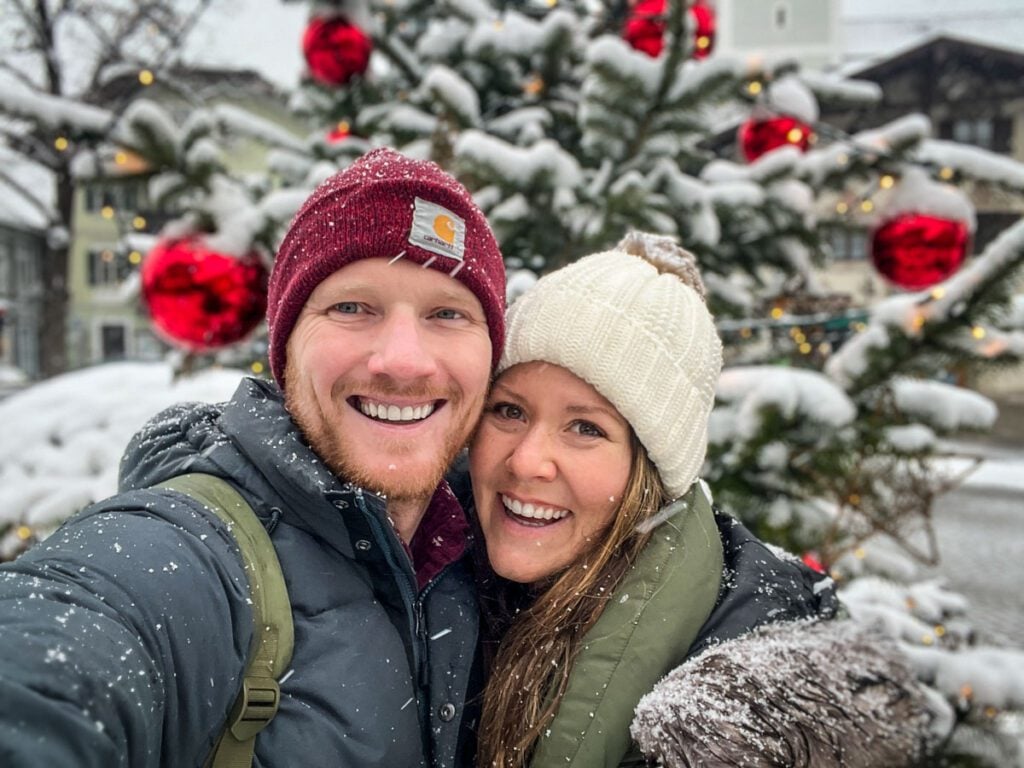 If you're planning to travel to Europe for Christmas markets, the first thing I want to say is:
YAY! I am so happy for you!
*cue me jumping up and down to celebrate the dream trip you are about to embark on*
I have taken 4 European Christmas market trips and I am absolutely obsessed. It's pure magic, and there's really no other trip like it.
I've created a list of Christmas market tips that'll help ensure you have the best trip. This list covers some easy-to-make mistakes, tips for saving money, packing ideas, and more!
Christmas market trip resources
---
What can you expect at Christmas markets in Europe?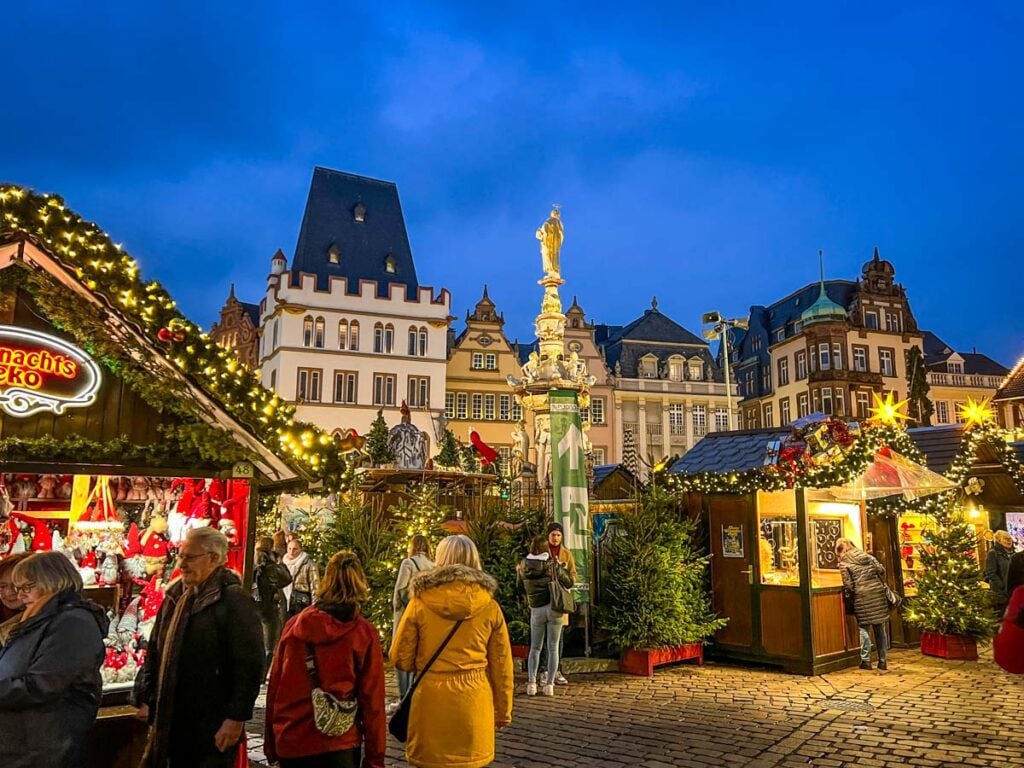 First things first… What are the Christmas markets in Europe like?
Well, there's no one size fits all answer because each market is different and has its own unique personality.
There are large markets and tiny markets.
Traditional markets and modern, quirky markets.
Markets in the city. Markets in the countryside.
The good news is there is a Christmas market for everybody!
Psst! We do have a whole collection of Instagram stories so you get get an on-the-ground feel for what Christmas markets in Europe are really like! There are 4 parts to the Christmas markets highlight, so be sure to watch them all.
Which Christmas markets are best?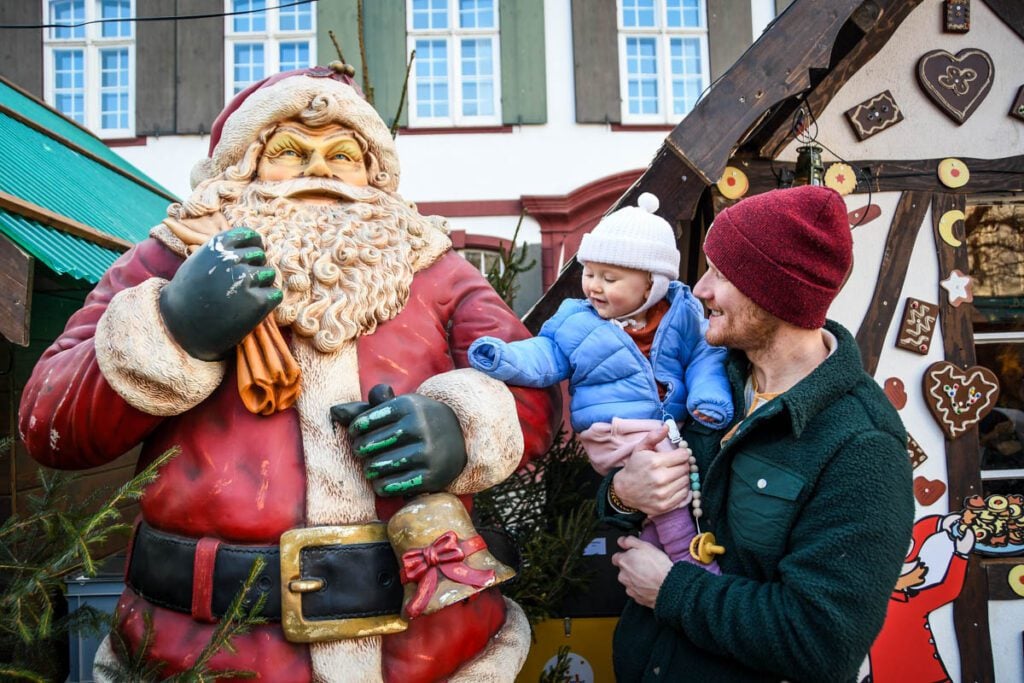 If you're still debating which Christmas markets to visit, I've got some (strong!) opinions.
I created a roundup of my favorite Christmas markets in Europe, which is filled with tons of my own personal experience and advice (and my suggested itinerary)! If you're still in the brainstorming phases, you'll want to start there.
If you've already got your route down, you're in the right spot because I'm about to dive into some top tips for visiting Christmas markets in Europe. I'm also sharing some mistakes so you can avoid them.
Now let's dive right in to our top tips to ensure you have the trip of your dreams!
1. Carry cash AND cards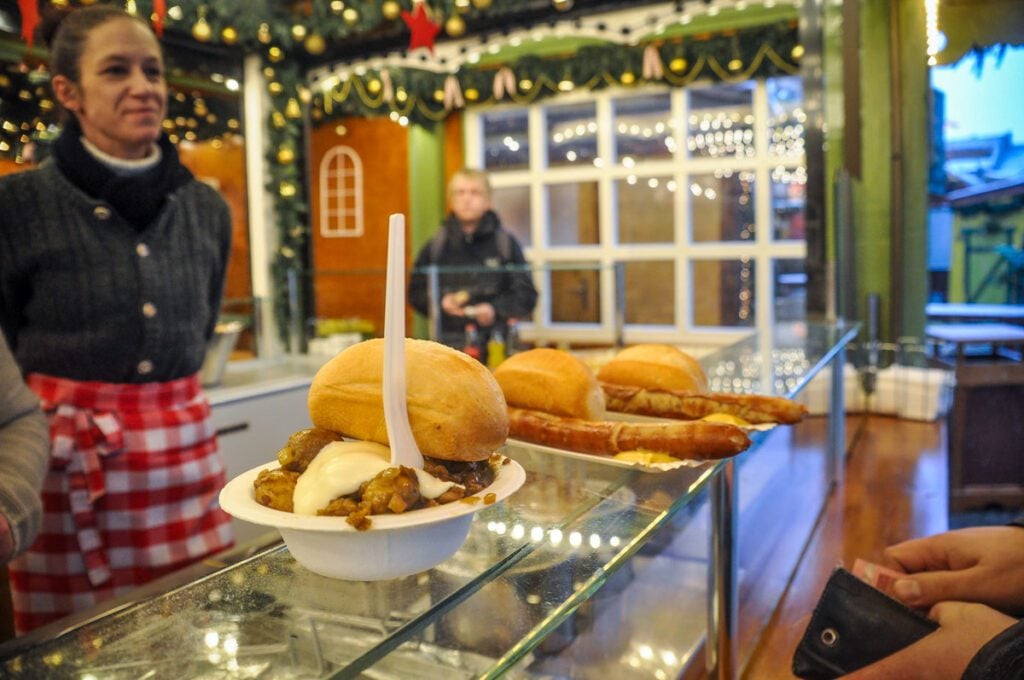 Some (but not many) Christmas Markets are completely cashless – we found this in some of the larger cities, like Zurich. (It was kind of annoying actually because Zurich was our last stop and we were trying to get rid of coins. But I digress.)
However, for the most part, you will want to have Euros (or the local currency if you're traveling somewhere that doesn't use Euros). Coins are extra helpful at the markets!
When buying gluhwein, for instance, you will typically pay an extra 3 euros or so "deposit", which will be given back to you when you return your mug. Some markets only allow you to pay for this in cash.
If you're planning to purchase souvenirs at one of the many stands, many vendors will also accept credit cards, so don't feel like you have to carry massive amounts of cash.
Here's what we personally do:
First thing when we arrive in a new country, we withdraw money from an ATM. ATMs have a better rate than currency exchange booths or getting cash from your home bank, by the way, so this is always how we get cash around the world.
We have a Charles Schwab debit card that reimburses all ATM fees. This means we don't have to feel like we need to withdraw large amounts of money to make the fee "worth it". We only take out what we need for the next few days so we're not carrying large sums of cash.
We also carry at least 2 credit cards that have zero foreign transaction fees. This is what we use for most purchases at restaurants, shops, and hotels. Read more about our favorite credit cards here.
Apple Pay is becoming increasingly popular throughout Europe, so this is a good thing to have set up before your travels as well.
2. Don't skip smaller markets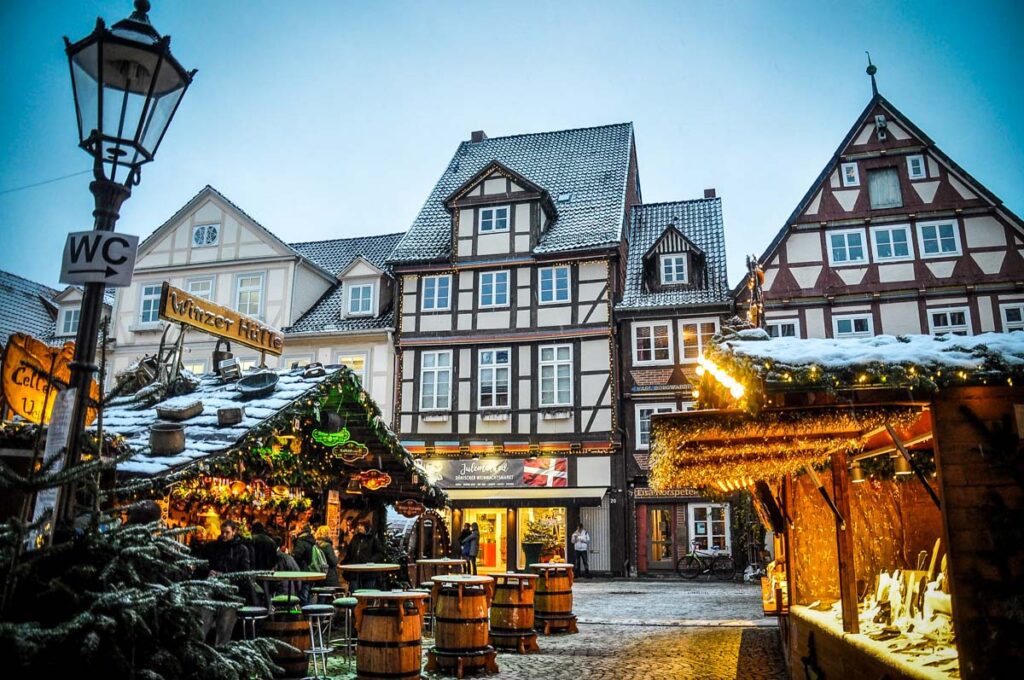 A lot of the big Christmas market round-up posts out there focus only on the big ones – Vienna, Nuremberg, Munich, London, you get the picture.
I'm not saying those aren't worth adding to your list, because they are. There's something about the energy of the big markets that is pretty special.
However, please don't only put big markets on your itinerary.
If you're anything like me, big cities are good for a bit, but it's the smaller towns that steal my heart and are often the highlight of any trip.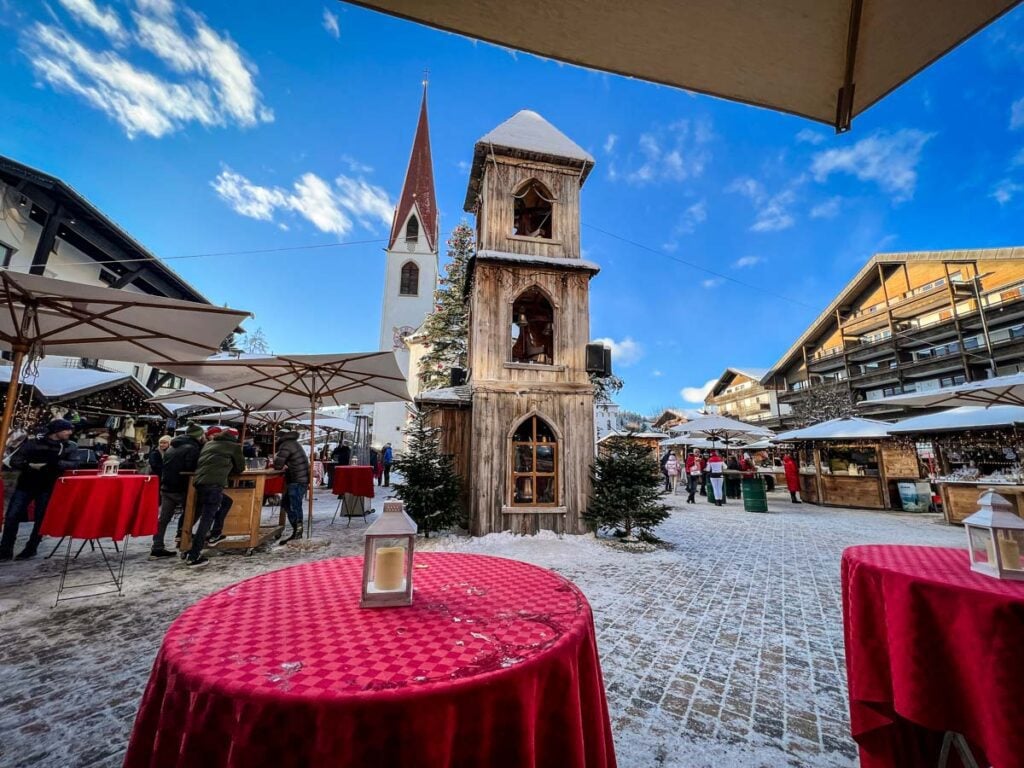 In the same way, the smaller Christmas markets are – in my personal opinion – even better than the most famous ones. Often, they have more charming vendor booths (made of wood as opposed to tents) and actual artisan goods instead of ornaments made in China.
Just be sure you look up the opening dates of the smaller markets, as some are not open daily.
Since I kept seeing the "big guys" recommended over and over again all over the Internet, I decided to create my own "Best European Christmas Market" list, featuring markets in a variety of sizes (including some gems you likely won't find in any other list!.
3. Include other activities on your Christmas market trip besides Christmas markets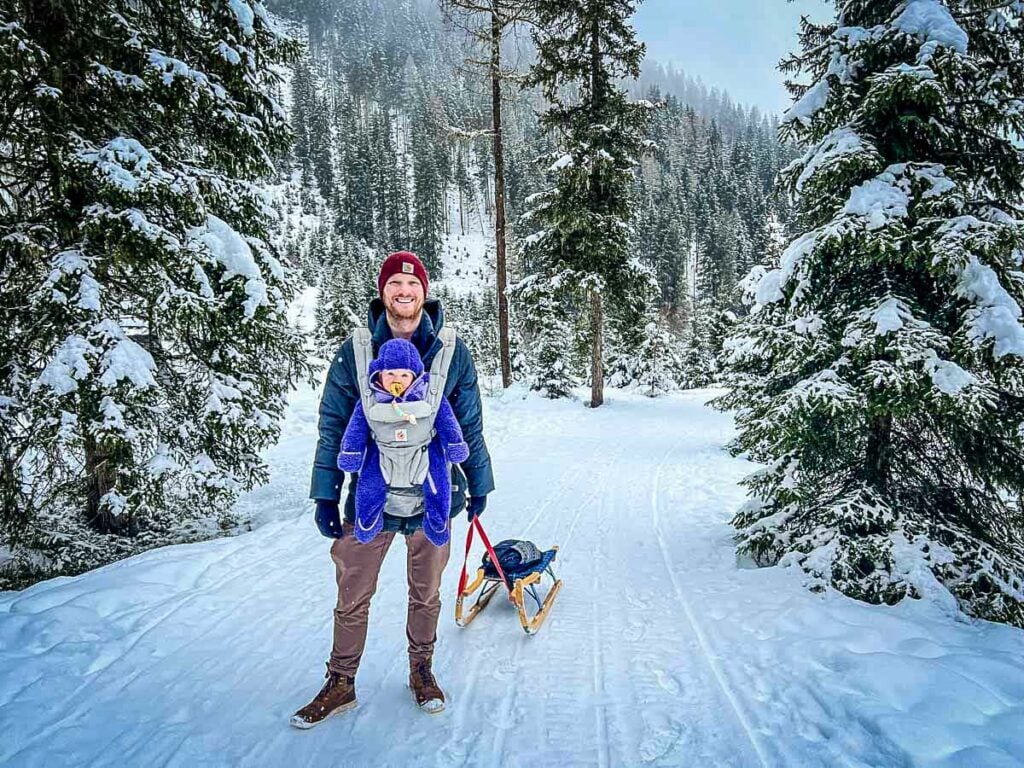 This might sound counterintuitive, but hear me out…
It can be tempting to create an itinerary consisting only of towns that are known for their Christmas markets and devoting all your days to, well, wandering the booths.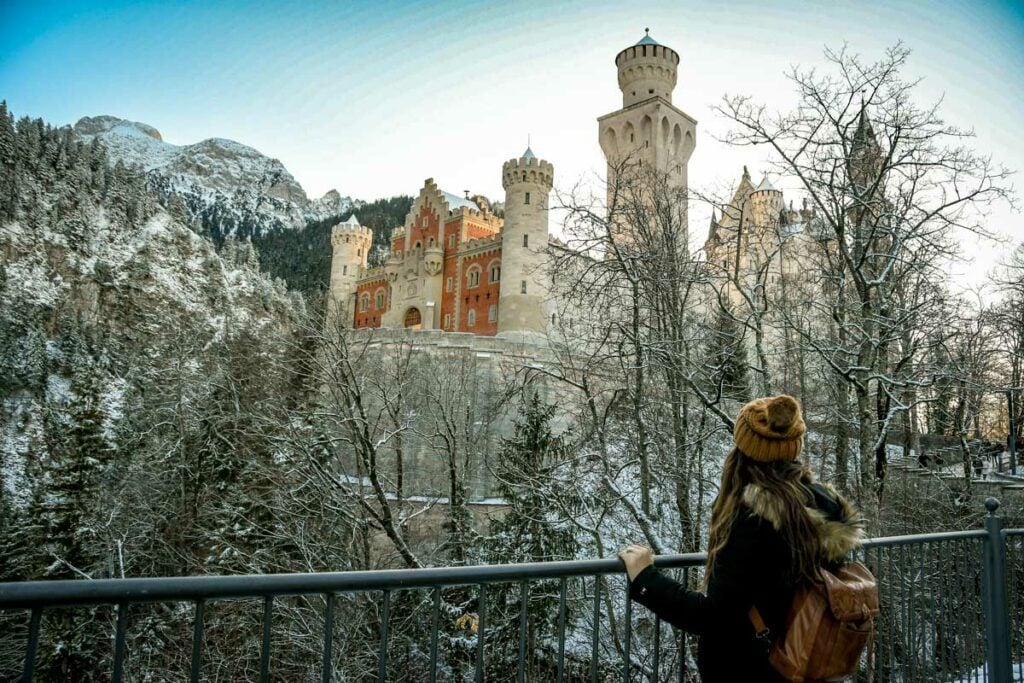 It might sound like a good plan, but trust me, the markets will seem a bit repetitive if that's all you're doing day in and day out. And while I love Christmas market foods, it can also get repetitive (and heavy).
Some of the places I've visited during my Christmas market trips are places not really even known for their markets, like Hallstatt and Garmisch.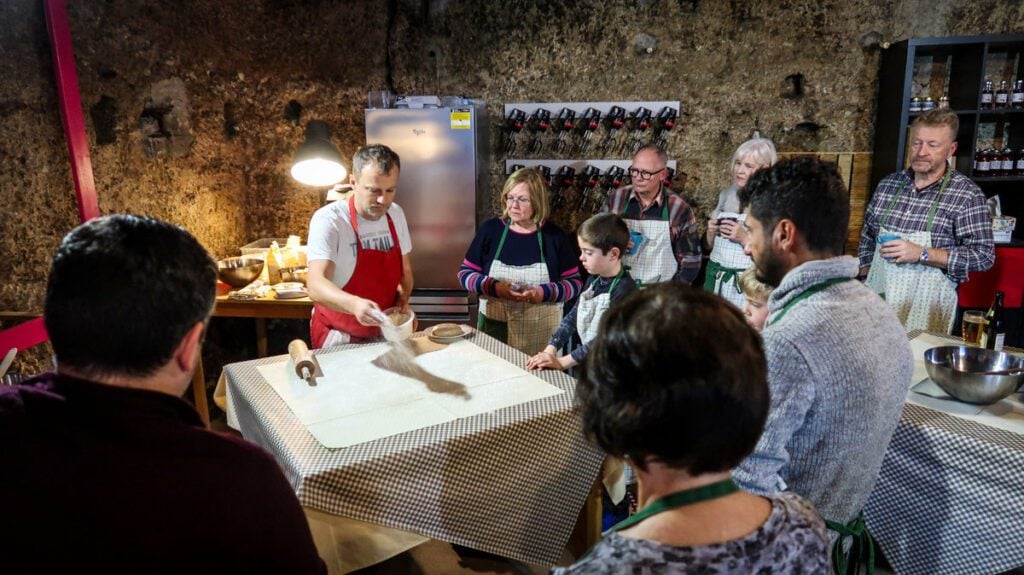 And some of my favorite experiences weren't at all related to the markets:
Walking through the Partnachklamm Gorge in Garmisch and making it to the restaurant hut for a hearty meal
Riding the gondola to the top of Zugspitze
Having a glass of mulled wine at the top of Nordkette in Innsbruck
Hiking to a mountain hut outside of Innsbruck where we ate lunch, then rode toboggans down the hill
Visiting Neuschwanstein Castle
Doing a farmstay Airbnb in the countryside of France outside Colmar
Taking the Night Watchman's tour in Rothenburg
Tyrolean food tour in Innsbruck
I could go on and on and on…
But hopefully this inspires you to add activities and towns that aren't necessarily only Christmas market related.
4. Know the market dates & hours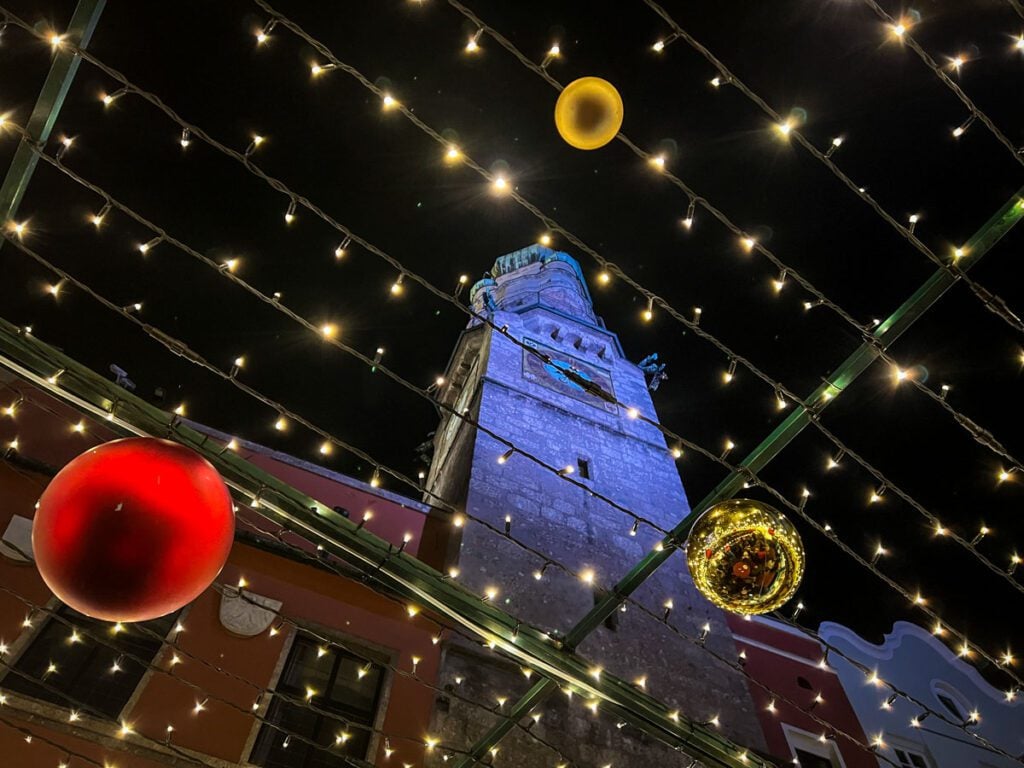 For the most part, larger markets run daily from the end of November until just before Christmas. Some run until early January.
And some of the very small markets only run on weekends or on specific dates. So be sure to do your research.
Each market varies slightly, so be sure you look up the dates of each specific market you plan to visit on your trip to avoid disappointment.
While you're doing the research, be sure to look up hours too because many don't open until the afternoon. 11 a.m. is the earliest you should expect Christmas markets to open.
For the most part, they close somewhat early as well. 7 – 8 p.m. is a pretty common closing time, with some larger markets staying open until 9 p.m. The latest we've seen a Christmas market open is the Tollwood Winter Festival in Munich, which stays open until 10:30 p.m. or 11:30 p.m. depending on the day of the week.
5. Pack layers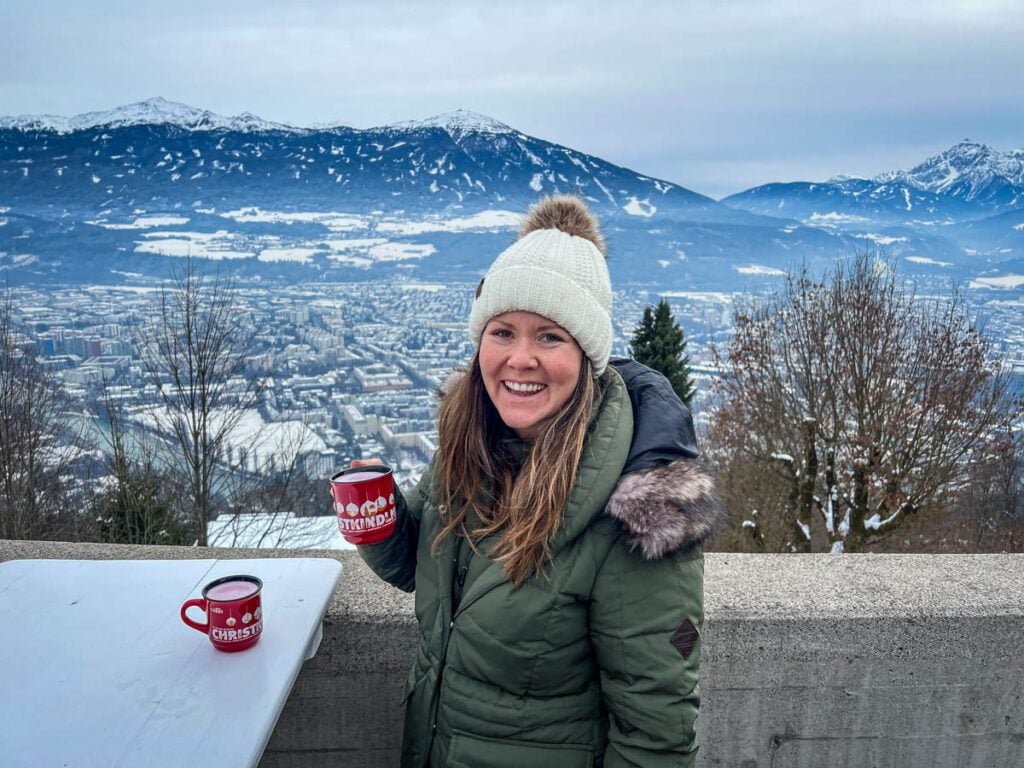 Choose clothes that layer well, are comfortable for long days of walking, and will keep you warm.
Plus, if you want to do some excursions outside the city (do it!!!), you'll want to be prepared to encounter snow.
Insider Tip: Merino wool socks and base layers are great, and they can be worn multiple times without getting smelly (like cotton).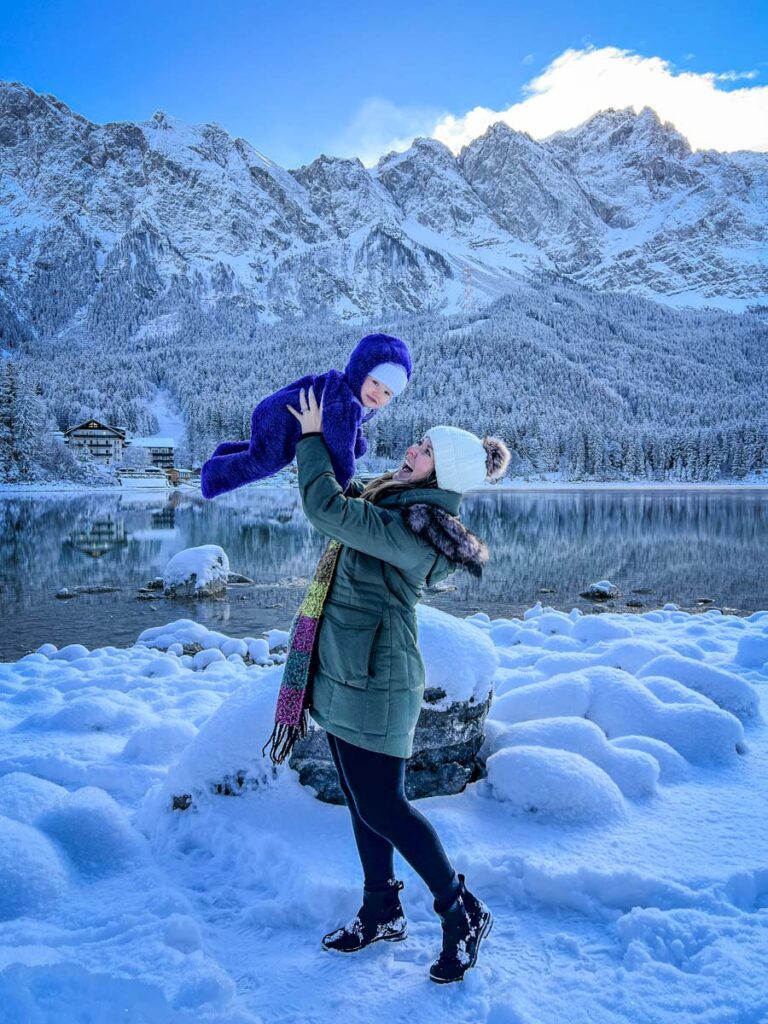 What to wear to Christmas Markets
This is what my Christmas market packing list looked like:
Winter hat
Scarf
Gloves
Lightweight coat
Warm jacket
Winter leggings (lined with fleece)
Jeans
Sweaters
Long sleeves
T-shirts
Wool socks
Comfortable boots
Comfy walking shoes
Travel slippers
Warm clothes for hanging out at our hotels/Airbnbs
6. Get local cell service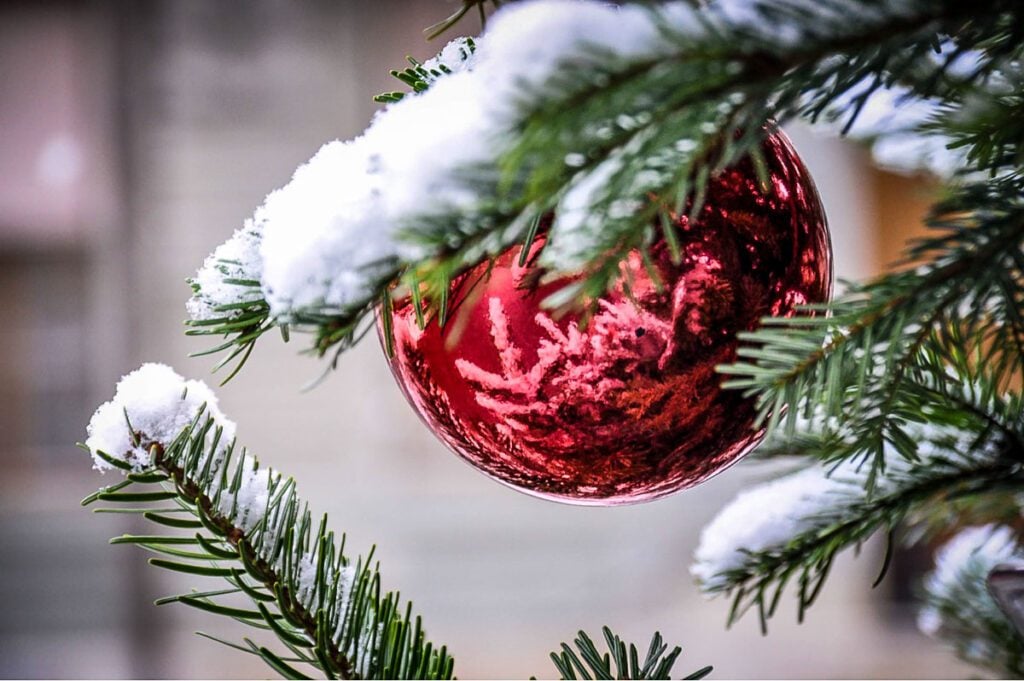 If you are traveling internationally on your Christmas market trip, you'll definitely want to figure out a plan for cell service.
This will be helpful when you're trying to get directions to each market or you want to Google what that unfamiliar word is on the menu…
We used to get physical SIM cards in each country we traveled to because this is the best and cheapest way to get data.
But now that e-SIMs are a thing, our travels are forever changed!
We have a whole guide to getting an e-SIM, but in short, getting an e-SIM is similar to downloading an app on your phone. No need to go into a convenience store and physically insert a SIM card. With a couple of clicks, you can get cell signal in each country you visit as soon as you land at the airport.
Personally, we use Airalo and on our most recent European Christmas market trip, we got their "Europe Regional SIM", which is valid through much of Europe. We traveled to 5 countries and had cell coverage in each without having to do anything when we crossed borders.
Plus, it is really affordable! One week starts at just $5. The package we chose was 1 month of coverage through 39 countries in Europe. We got 10GB of data (because we're constantly uploading things for Instagram and our blog), and it was $37, which I found very reasonable.
7. Know the regional specialties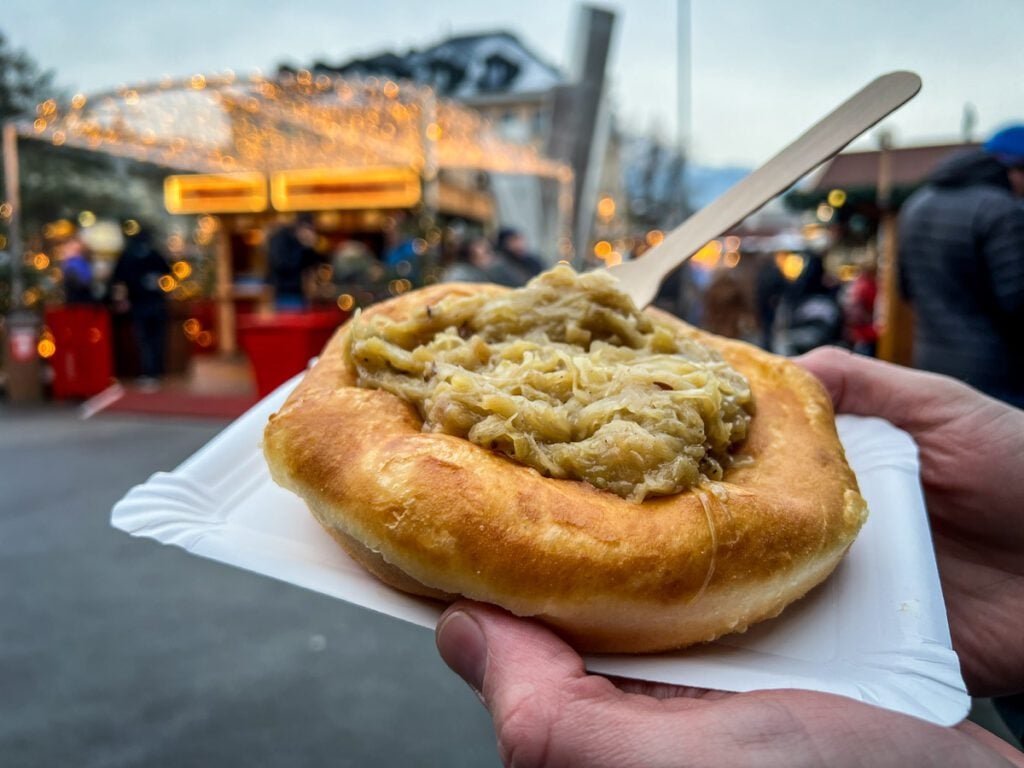 While there are some foods you'll find at just about any market – like brats, gluhwein, and gingerbread – many regions have foods specialties that are showcased at their Christmas market, and they should not be missed!
Consider yourself a foodie? I created a round-up of my favorite Christmas market foods and drinks so you're prepared and know what to try. (Plus, the drink menu can be confusing if you don't know what they are, so I gotchu!)
8. Do a lap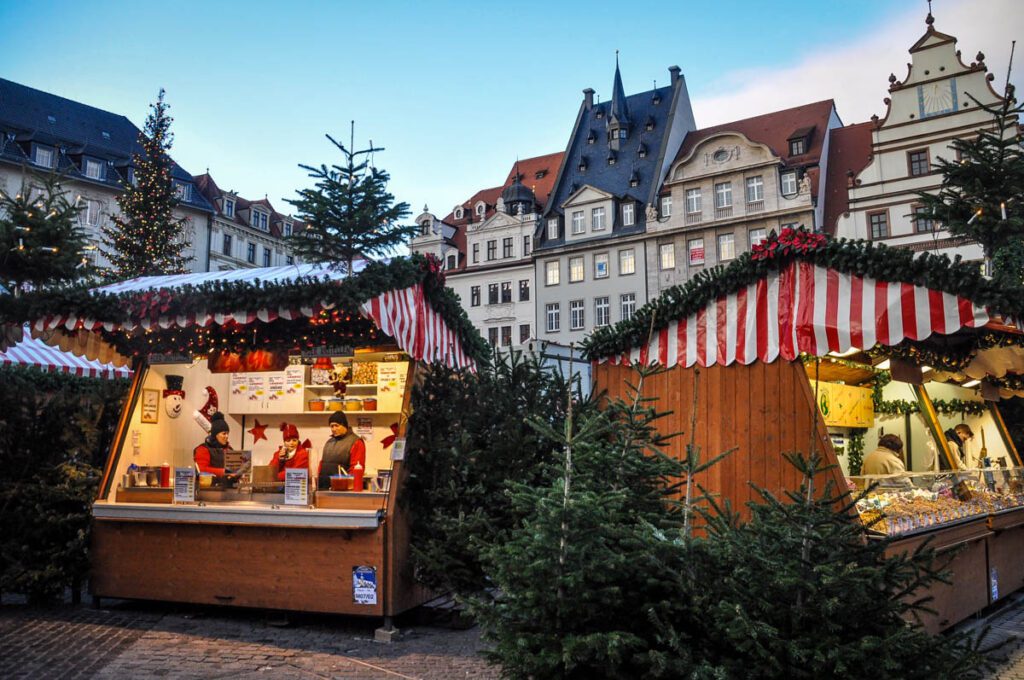 My strategy when arriving at a Christmas market is to do a lap and scout out the foods I want to try and the souvenirs I might want to buy.
I've learned the hard way that when I go to the first stall I see (because hanger is coming on), I almost always regret it after I see, like, 10 other foods I would have rather eaten.
In short, patience will pay off at Christmas markets!
9. Split your food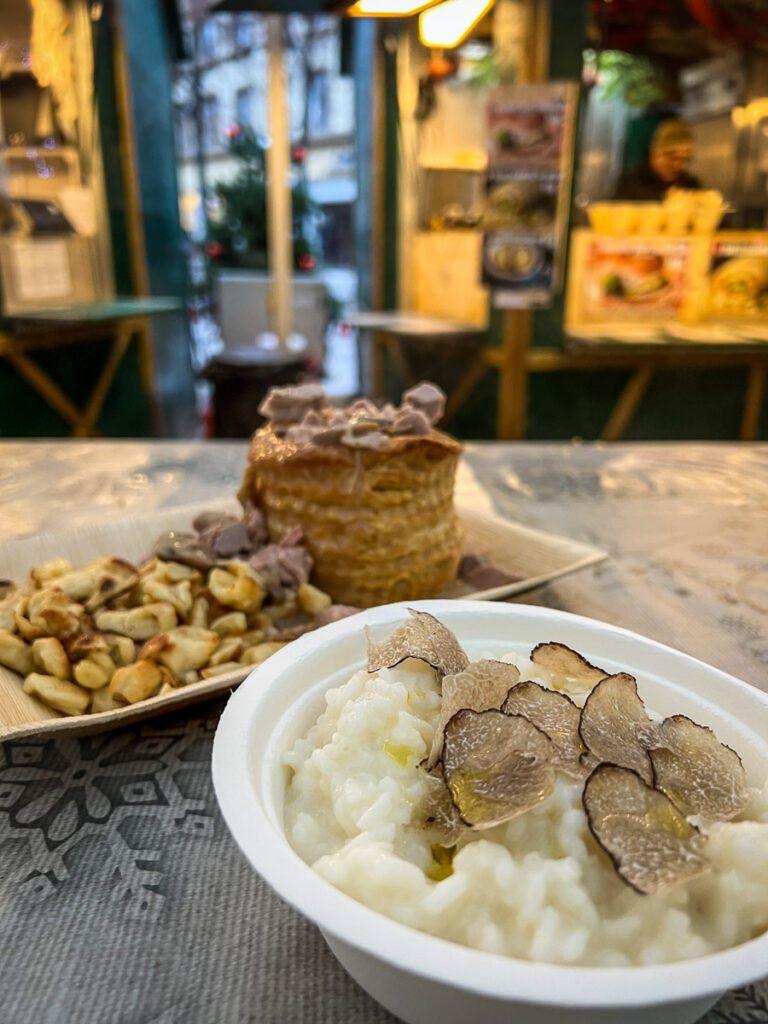 Not everyone has a travel partner that likes sharing, and sometimes there are items that are just difficult to split. I'm talking about you, bratwurst!
But if and when it works, I'd recommend sharing food if you're traveling with a companion. The bigger markets will have so many dishes to try, and splitting allows you to maximize how many you're able to try (without making yourself sick!).
Think of it as a drawn out progressive dinner and switch off picking out a dish to split until you're full.
10. It makes a great trip with kids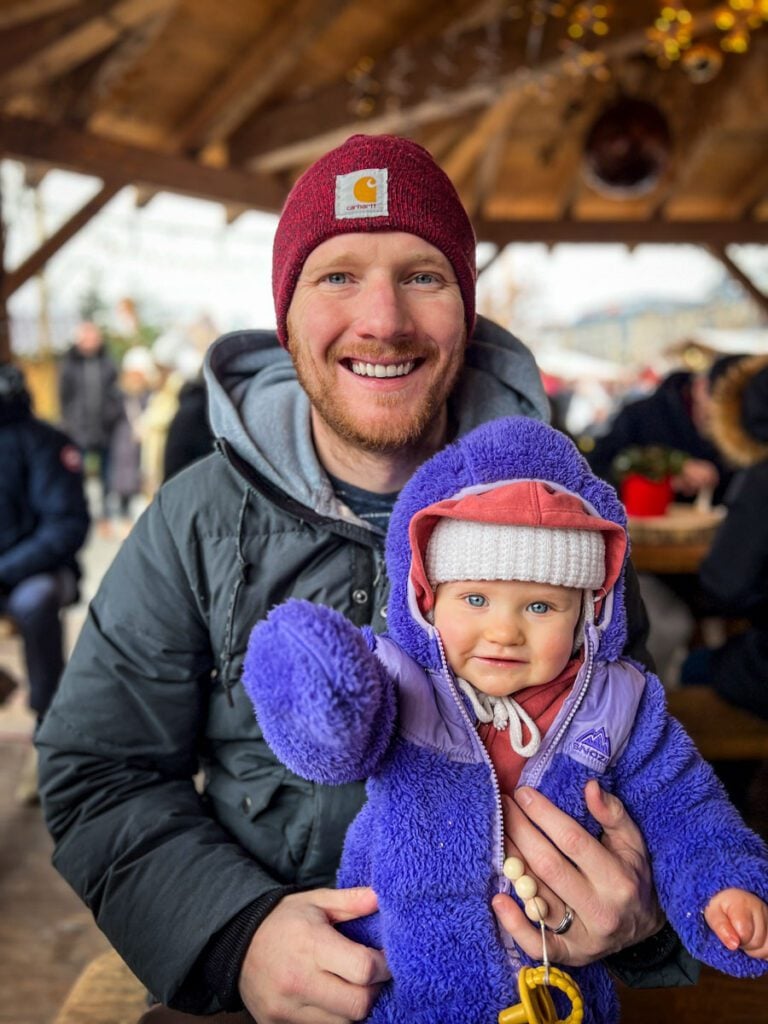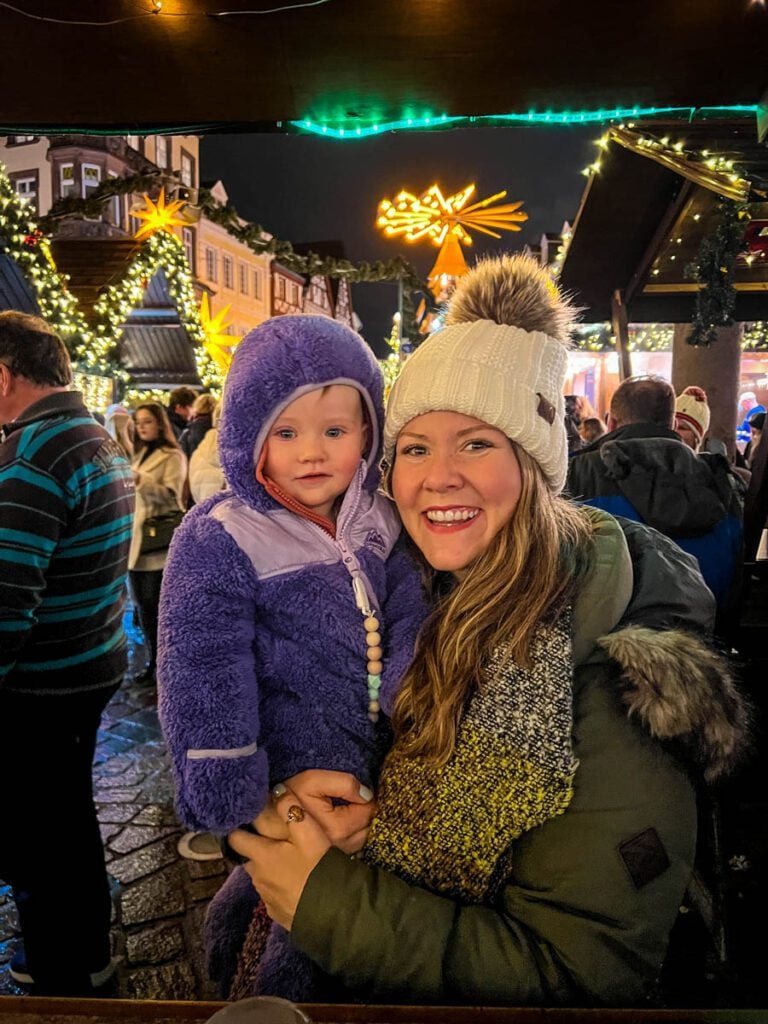 A European Christmas market trip is one of the most family-friendly vacations I can think of.
We took a 3-week Christmas market trip through Luxembourg, Germany, Switzerland, and Austria when our daughter was one, and it was one of my favorite trips to date.
We actually celebrated her first birthday at a farmstay in the French countryside, which was magical, by the way!
I truly cannot recommend a Christmas market trip with a little one more highly.
Want more advice? I created a guide packed with tips for traveling with a baby!
11. Book accommodation early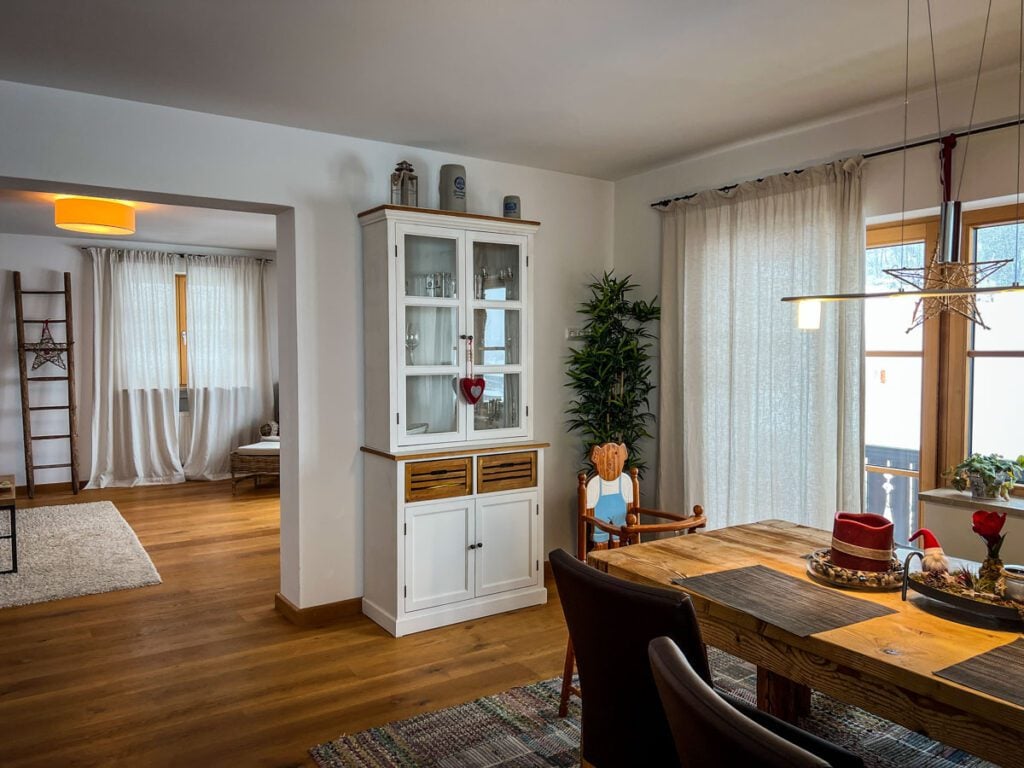 My recommendation would be to book as early as you can for the best selection of hotels. That said, if you're like me and you're late to the party, there is still hope.
Learn from our mistake: We found some amazing places to stay on our Christmas market trip and we only booked about one month in advance. I wouldn't recommend doing this, as there were certain towns that were just about completely booked up and we had to alter our route slightly. And there were a few hotels I really wanted to stay at that just did not have availability for a late-booker like me.
Learn from my mistake and start booking your accommodation toward the end of summer (or even earlier if you're a planner!).
I'd recommend booking smaller towns first (like Rothenburg and Hallstatt), as they will have fewer accommodations and still a high demand in December.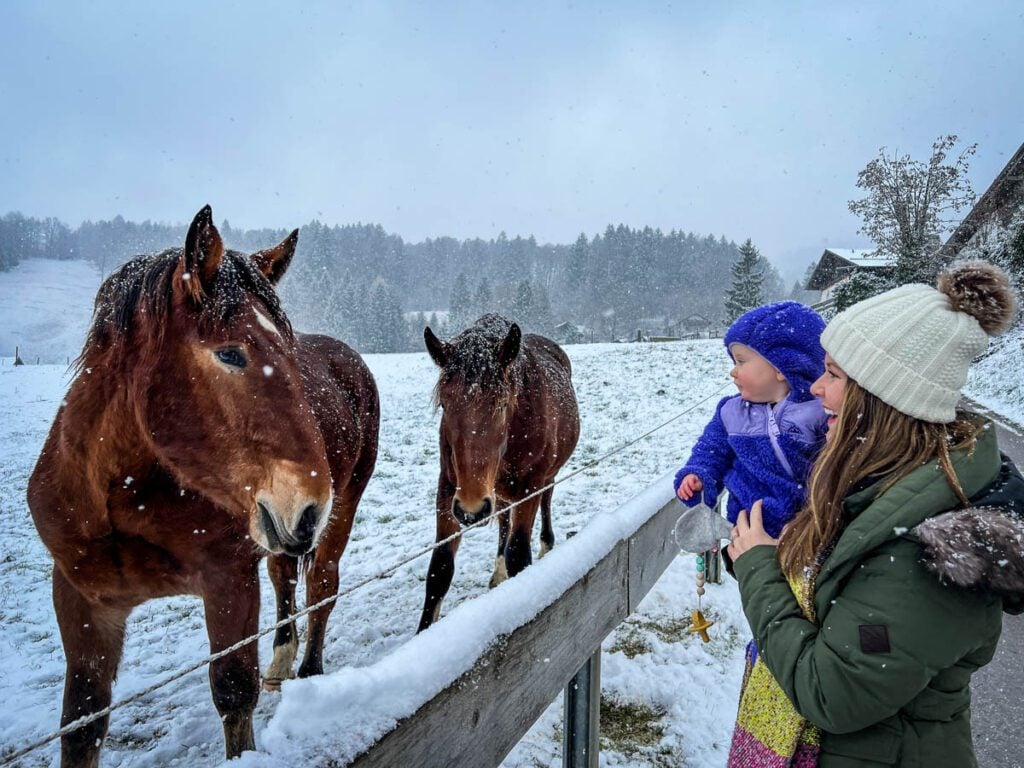 Good to know: In our list of our favorite Christmas markets in Europe, we have suggested accommodation in each city (including many we've personally stayed at and loved!).
Insider tip: Compare Airbnbs and hotels in each location you plan to stay. We found some areas had terrible hotel options but wonderful Airbnbs, and vice versa. Also, read my top tips for booking Airbnbs (I swear I've had very few poor experiences with Airbnbs and I attribute that to these tips!).
12. Really think about your hotel location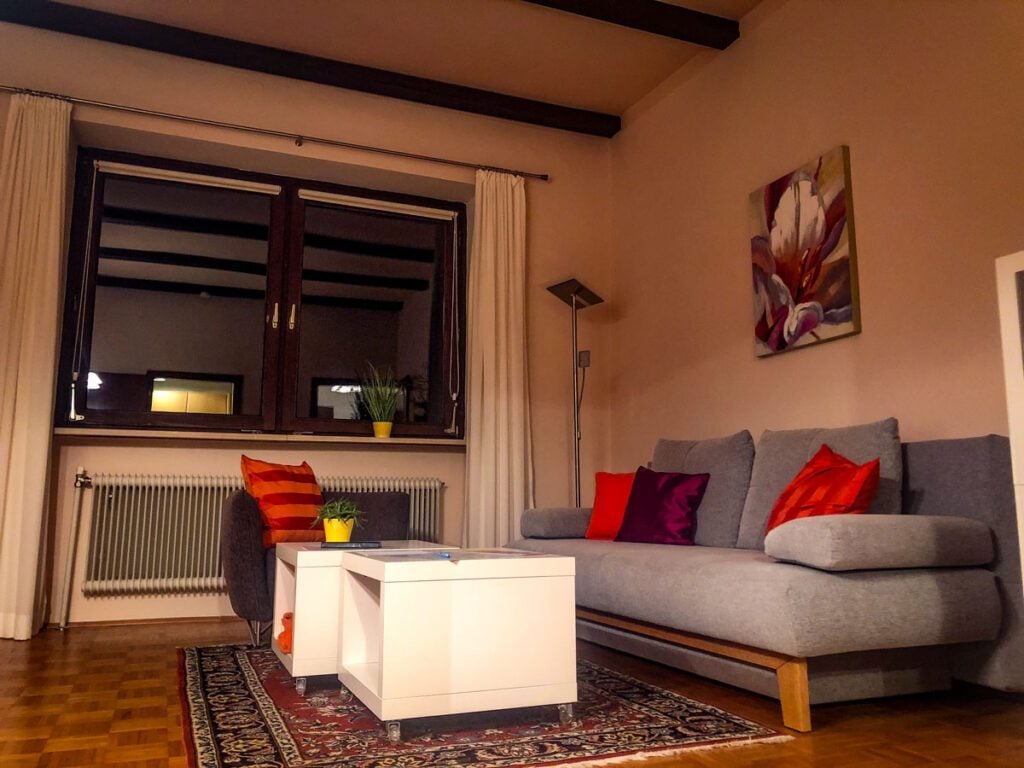 When it comes to booking accommodation in the major cities, pay extra close attention to the location in relation to the attractions in town, including the Christmas markets.
Choose mindfully.
It's easy to be persuaded into booking a less expensive room just outside the center, but think about what that'll actually be like…
How will you be getting around?
Rental car? Walking? Taking Ubers/taxis? Public transport?
How will you get there from the train station?
Rule of thumb: Personally, I try to choose places that are within a 15-minute walk from the train station and the main market square. This isn't always possible, but it's a good parameter to try to aim for.
All the back and forth transportation between accommodation and the center – parking fees, Ubers/taxis, metros – can add up quickly in terms of money and time if you're not able to walk. Sometimes the hotel that's centrally located is not only more convenient but not that much more money in the long run.
Also ask yourself: Will you want to come back to your accommodation to rest between daily explorations and dinner/evenings at the Christmas market?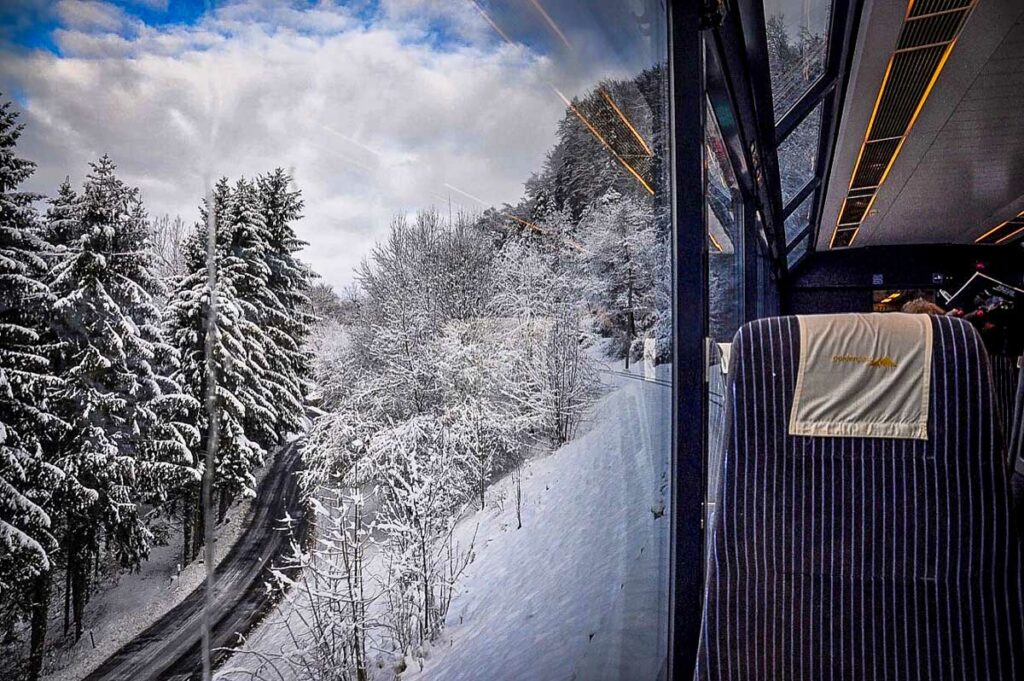 How much walking does that equate to?
There's no getting around it – you will be walking a lot on your European Christmas market trip. Yes, even if you're staying smack dab in the middle of the city. So avoid choosing places that are really far out of the way if you can.*
*This applies to accommodation in the larger cities, not small towns or the countryside.
My advice: Personally, we wanted a mix of convenient city stays and peaceful countryside escapes. This helped balance out our budget because the countryside stays were much less expensive. It also gave us the best of both worlds – convenience in the cities with a healthy dose of relaxation.
13. Be safe with your money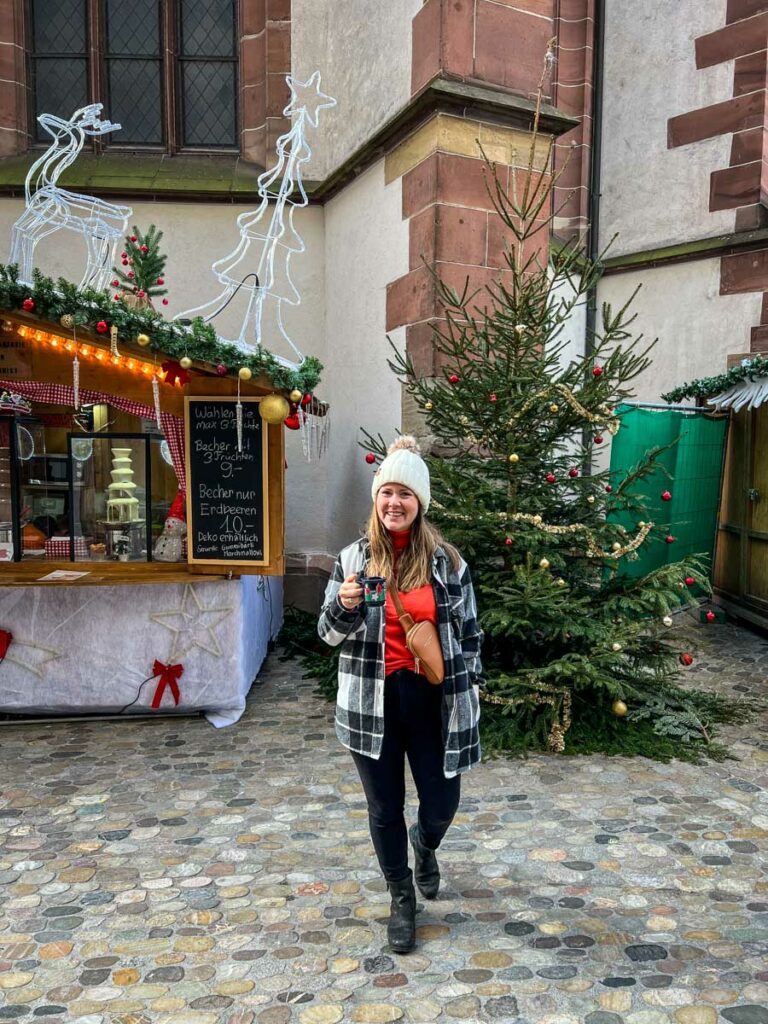 In all my European Christmas market trips, I've personally felt very safe and have never had any issues with theft or pickpocketing.
That said, it happens – especially in the larger cities with more crowded markets.
I always like to have my cash and cards close to my body, so I don't wear traditional purses on most trips. Instead, I wear a crossbody bag (like this one or this one).
I also have this scarf with a hidden pocket, which can be a good way to stay warm and keep your valuables safe at Christmas markets.
Insider Tip: Since I don't carry a large purse, I pack a small, collapsible shopping bag (like this one) so I have somewhere to put whatever I buy at the Christmas markets.
14. Many towns have several markets (visit the small ones too!)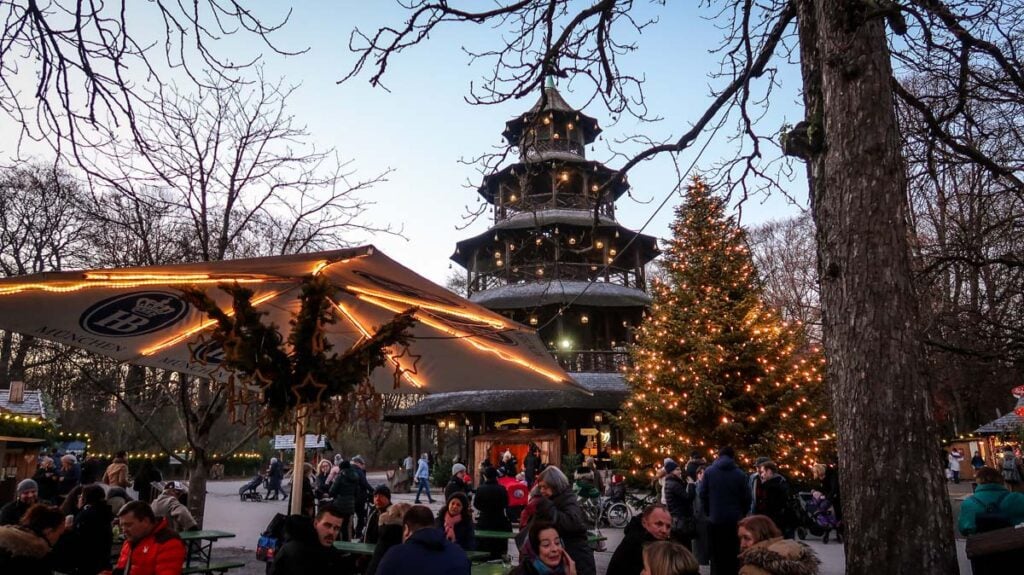 Many larger cities have several markets, so take some time to read their descriptions and explore the ones that appeal to you most.
Typically, there is a more "traditional" market that gets lots of the hype (and visitors!), but the smaller, markets can be really fun too. So don't overlook them!
For example, in Munich, the iconic Christkindlmarkt is well worth a visit, but my favorites are the unique Medieval Christmas Market and the quaint market at the Chinese Tower.
15. Know about the Gluhwein mugs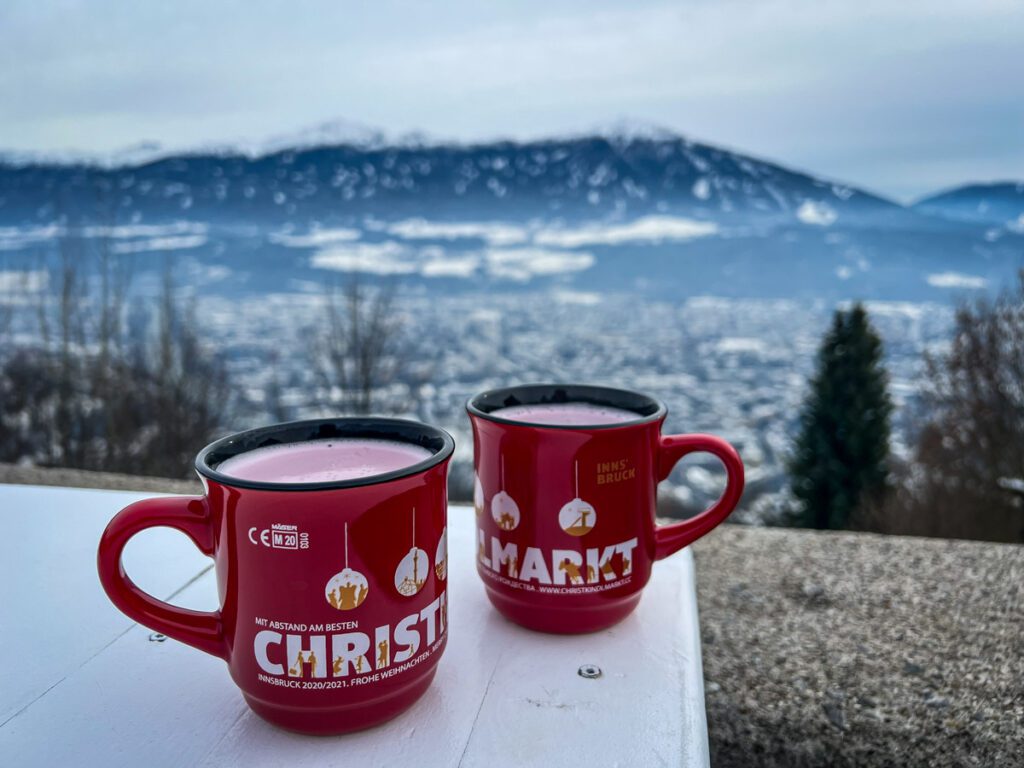 At most Christmas markets, there are collectible mugs that you will get each time you order a drink, like gluhwein.
There are a handful of things you should know about these mugs:
When you purchase a drink, you will automatically be charged a "deposit" fee. Usually it's about 3 euros.
When you return your mug, you will get your coins back. If you do not return the mug, you won't get your deposit money back, but it is yours to keep.
Each town's mug design is different, and some have several designs. Typically the design changes each year. Sometimes you can choose your design, but often you will just be handed a mug.
Most markets will have mugs (especially in Germany and Austria), but not all. In Colmar, France, for instance, they served vin chaud (French name for gluhwein) in reusable plastic cups. Womp womp. And in Zurich, they served drinks in paper coffee cups.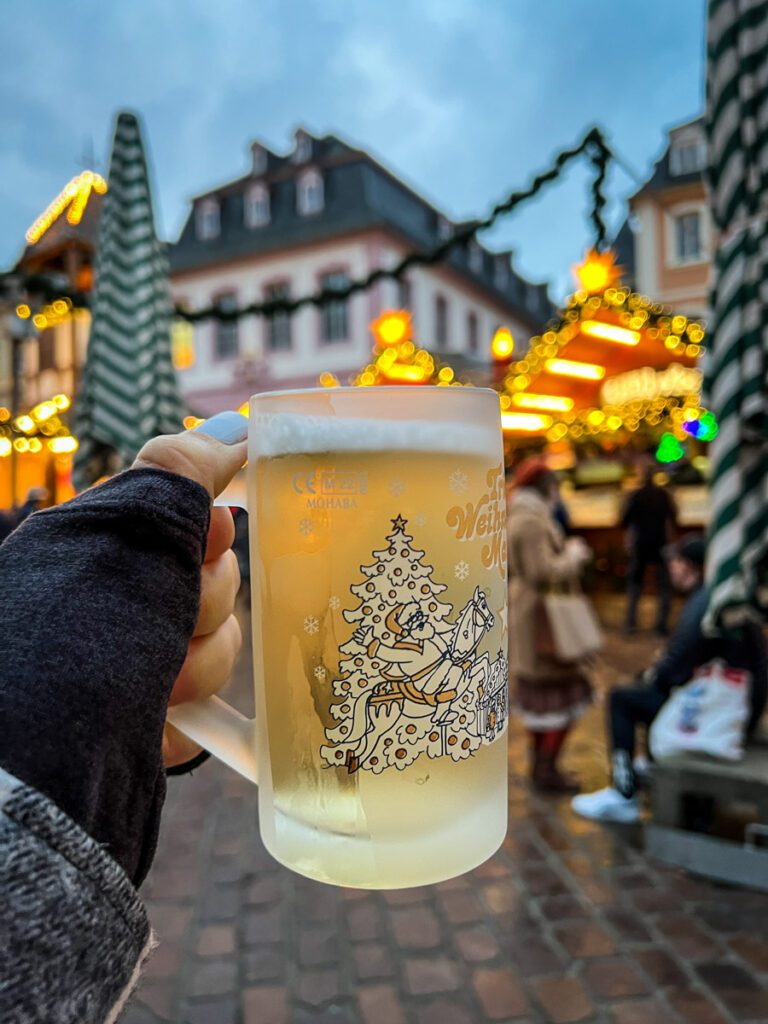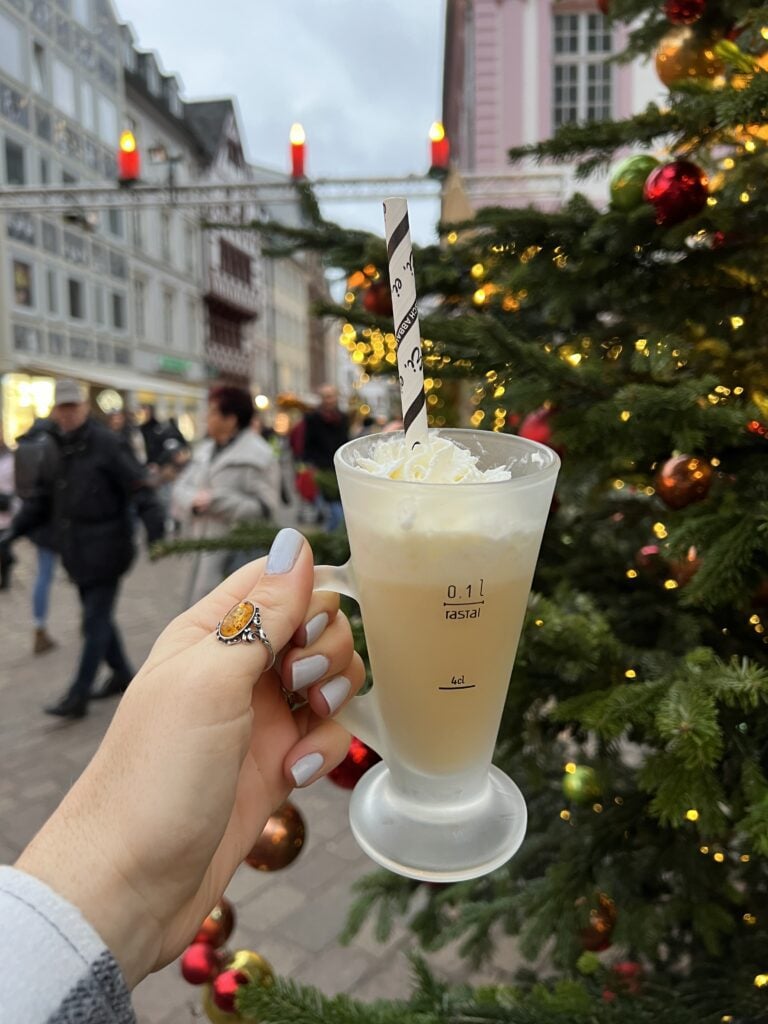 There are certain drinks that get a different type of mug. For instance, I found that Eierpunsch (egg punch) was typically served in clear glass mugs, and Feuerzangenbowle was served in mugs with a unique shape that accommodated for the sugar to be lit aflame.
Decide if you'll get mugs in each market, or if you'll choose a favorite or two. Keep this in mind during your trip so you don't end up with way more mugs than you want.
If you plan to bring home several mugs, you'll want to make sure you have space in your luggage.
Most of the mugs are pretty sturdy, but you may want to bring some bubble wrap or plan to wrap them in a shirt, sweater or even thick wool socks. This is especially important if you plan to check your bag.
16. Plan ahead for packing souvenirs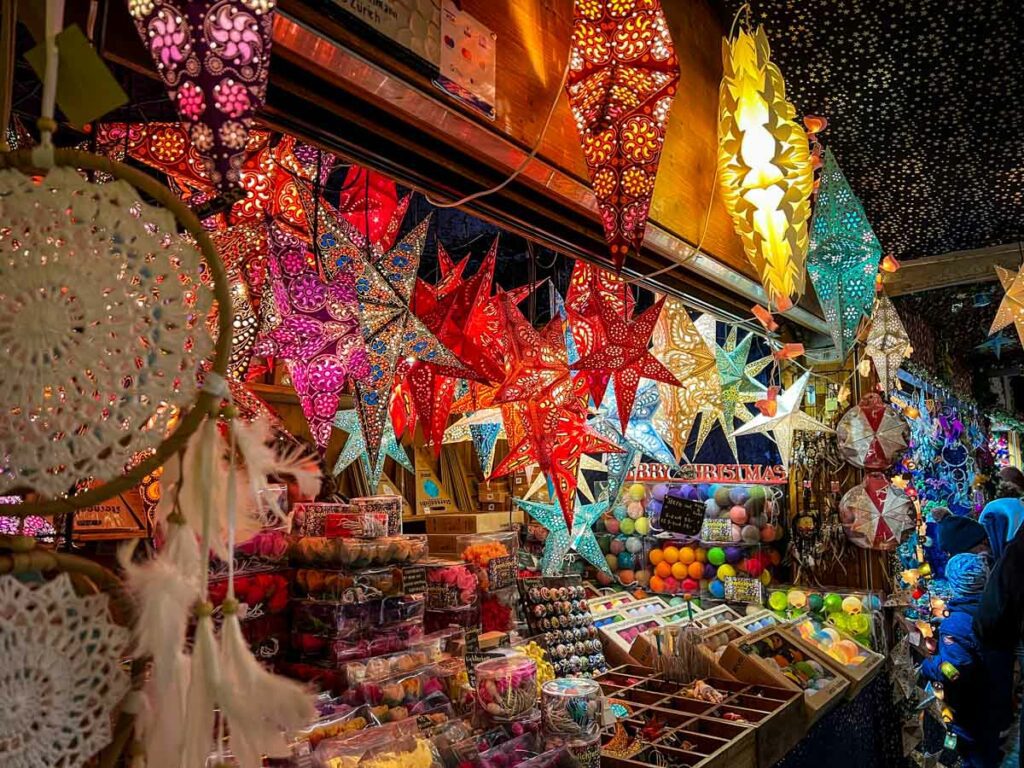 I touched on this a bit in the previous tip when I mentioned you may need some extra space if you plan to bring home gluhwein mugs.
But mugs aren't the only souvenir you'll want to consider.
At every Christmas market you visit, you'll see all sorts of beautiful things calling your name – from scarves to lanterns to ornaments to local liqueurs to homemade jams.
My advice is to determine a budget and a general idea of how many things you'd like to bring home.
Ask yourself the following:
Is there anything specific you will be searching for?
Is there an item that the area you're traveling to is known for? (For example, I knew I wanted a moravian star lantern from Germany!)
Are you shopping for Christmas gifts for friends and family? If so, how many people?
Are you on a tight budget?
If you plan to bring a lot back home, I'd recommend getting a collapsible bag that you can pack. That way, you'll have plenty of space to take home souvenirs and gifts, but you won't have to roll around an extra suitcase when you don't need it.
17. Know that some of the goods are made in China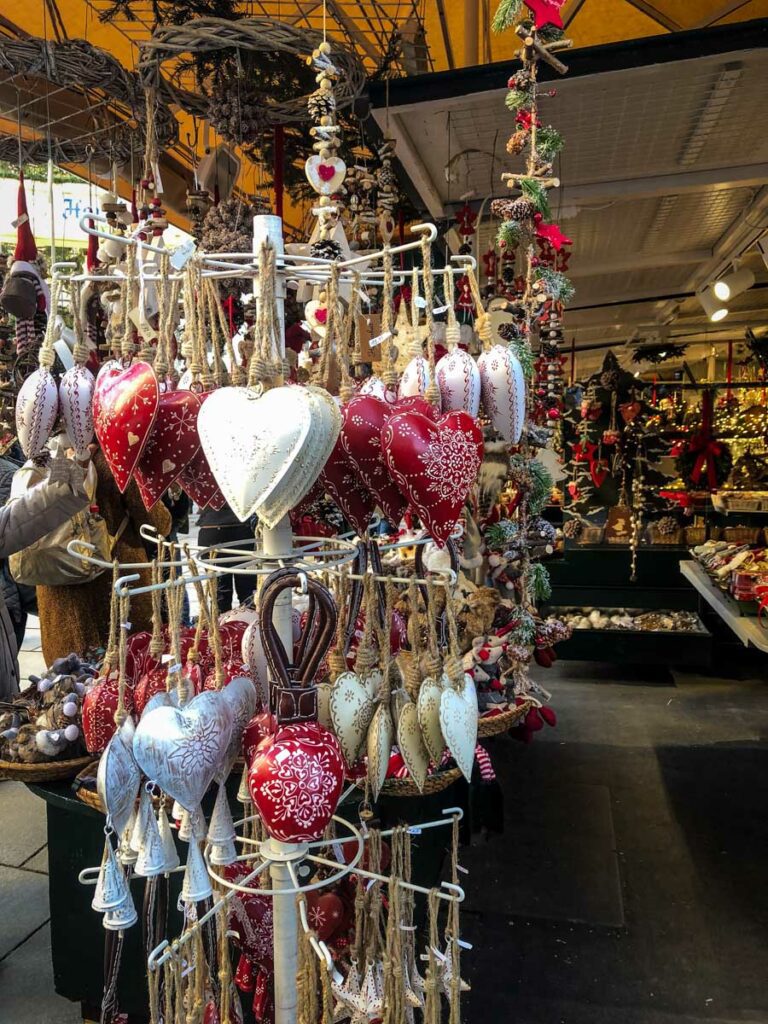 After my first Christmas market trip I was a little disappointed to find some of the exact same gifts I'd purchased (and carried all the way home with me!) at stores in my hometown.
I don't know if I was expecting all the ornaments and items for sale to be locally-made by artisans, but the truth is many of them aren't.
That doesn't mean you won't find hand-crafted items, because you certainly will, but you will need to search specifically for them.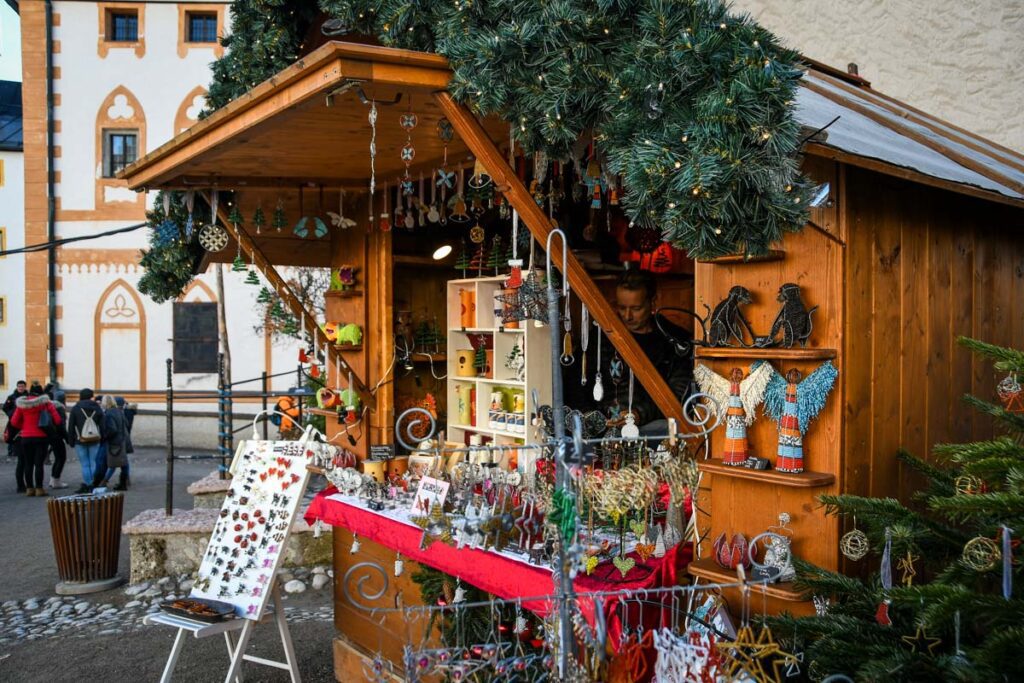 Ask vendors where their goods are made. Sometimes you'll be talking to the artisan themself, which can be a really fun conversation.
In my experience, booths with a smaller variety of items are your best bet for finding authentic artisan items. The booths with 50 different kinds of ornaments and lots of decor items are often the ones that can be found anywhere in the world.
18. Wear comfortable shoes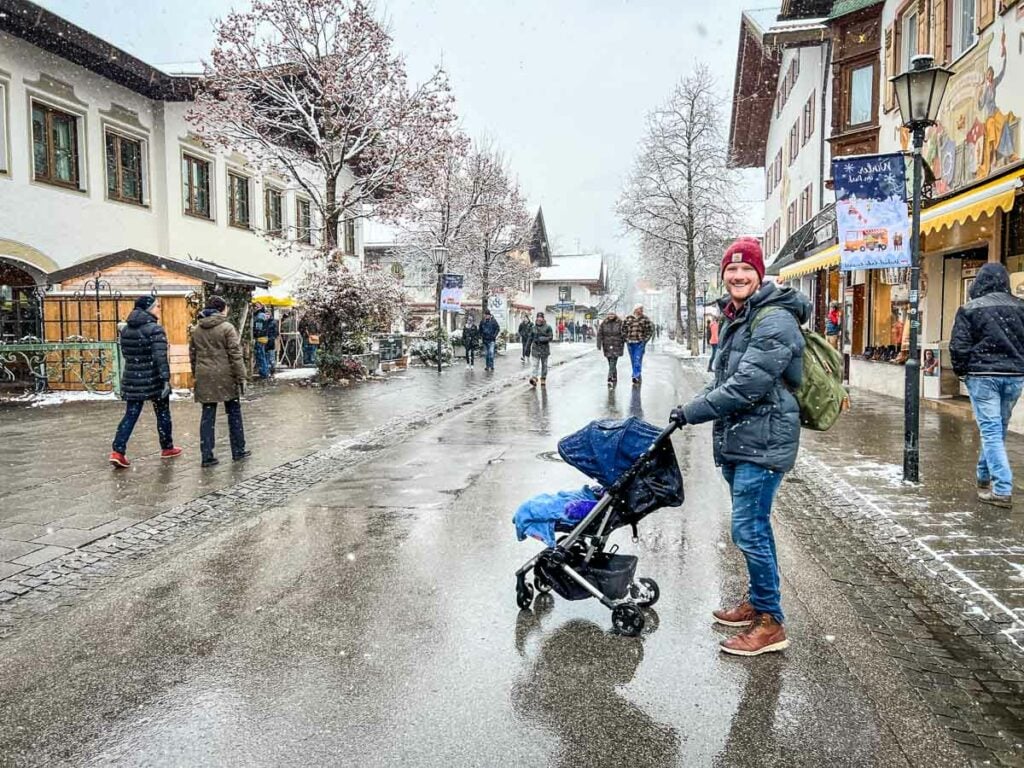 You will be walking and standing a lot on your Christmas Market trip. Trust me!
In many cities and towns throughout Europe, the town square in which the markets are held is in a historic district and the streets are almost always cobblestone, and often a bit uneven.
This is not the occasion to wear your cute boots with a heel.
Instead, opt for shoes or boots with good arch support and decent grip.
You will also want to choose shoes that have some level of water resistance. If it snows (*fingers crossed that it does because it is magical!*), you will be walking around in a slushy situation and will want to have at least some protection from water seeping in.
Personal favorite: I love my Sorel Chelsea boots.
19. Most markets are free, but not all
Some of the smaller markets, particularly those inside palaces or castles have an entry fee.
If this is the case, it's usually not much.
Sometimes it even includes a mug of gluhwein!
20. Pack light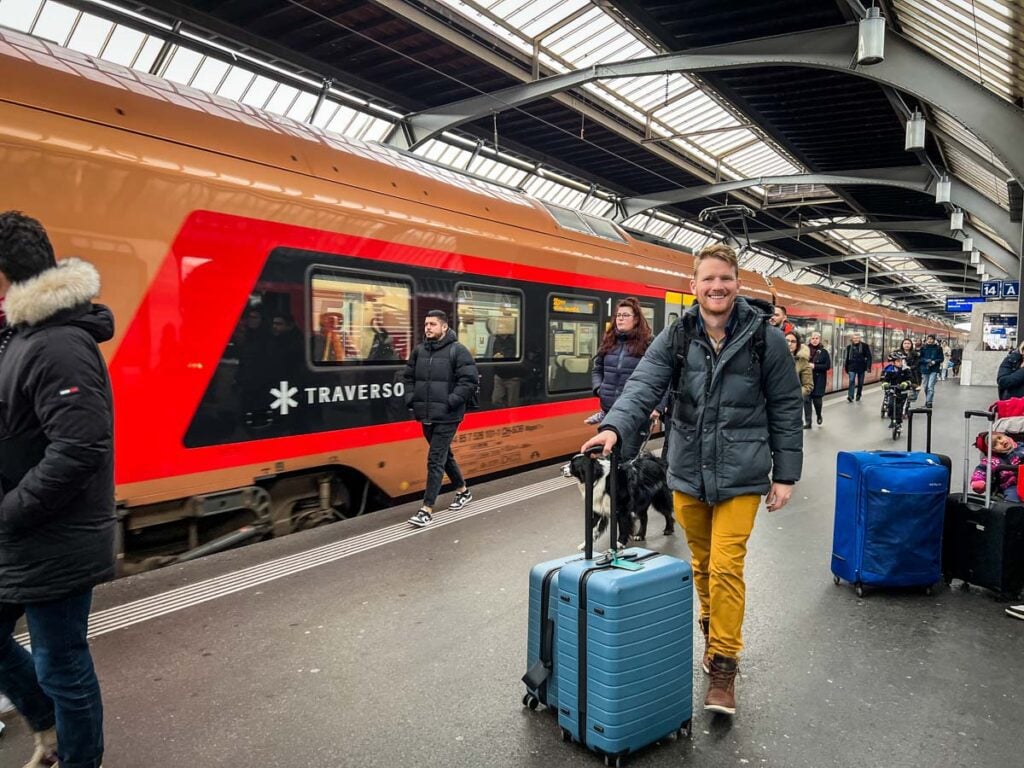 Packing light for a winter trip is hard. I get it.
But rolling a gigantic suitcase over cobblestones and carrying it up and down stairs at train stations is miserable.
You will not regret packing light.
But winter travel means bulkier clothes, so how am I supposed to travel light?
Good question…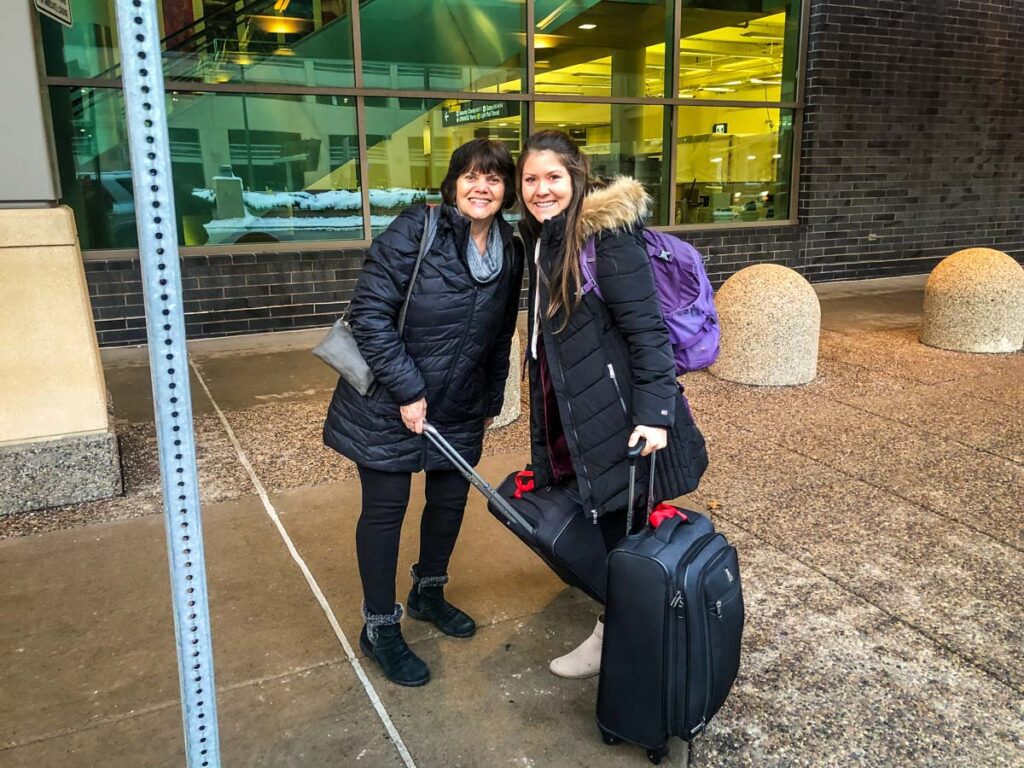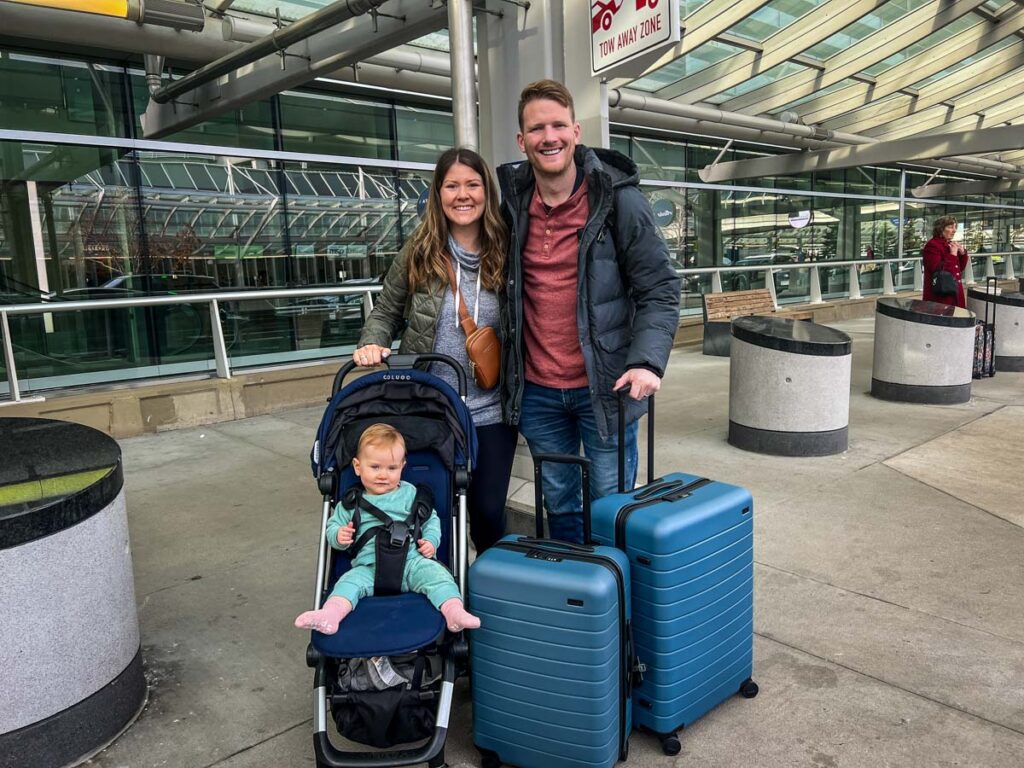 This is a judgment-free zone so I'm going to tell you something and you're not going to cringe, okay?
On each Christmas market trip I've taken, I rewear the same sweaters multiple times.
It will be pretty cold and it's not like you'll be getting sweaty or dirty, really. If you're like me, you'll find yourself wearing the comfiest, coziest sweater again and again. And the thing is, nobody will really know because you'll likely have a jacket over top anyway.
All of this is to say you probably need less than you think.
21. Take advantage of luggage lockers
If you happen to be going from one town to another and want to stop at a Christmas market somewhere in between (great idea!), here's a little tip that you'll definitely want to read…
Many (but not all!) train stations have luggage storage of some kind. Sometimes they are lockers that take coin or card. Other times it is a luggage storage facility where you will hand your bags to a person who will take payment.
This can be a super convenient way to see more markets without having to lug your bags around.
If a train station does not have luggage storage, you can type "luggage storage" into Google Maps and see what pops up. For example, the train station in Colmar, France doesn't have storage, but when we searched Google Maps a couple hotels that offer this service popped up.
Additionally, Luggage Hero is a platform displays vetted luggage storage facilities all around the world in one easy-to-nagivate place.
22. Consider making it a road trip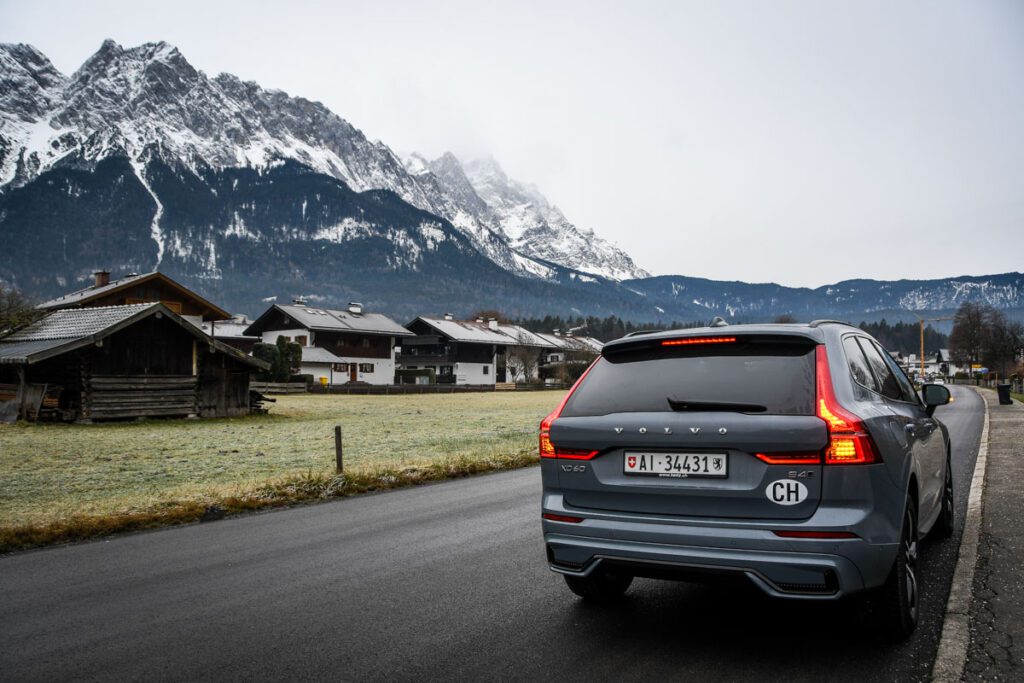 Train travel in Europe is wonderful. It's convenient, easy, and you don't have to worry about driving.
I took trains exclusively for my first 3 Christmas market trips and it is a fantastic way to get around, so don't feel badly if this is the method of transportation you prefer. You will have a fabulous time.
However, if driving in another country isn't too far out of your comfort zone, I would highly recommend considering renting a car for at least part of your trip.
We rented a car for roughly half of our most recent Christmas market trip, and I think I will forevermore be renting a car for at least part of my trips in Europe!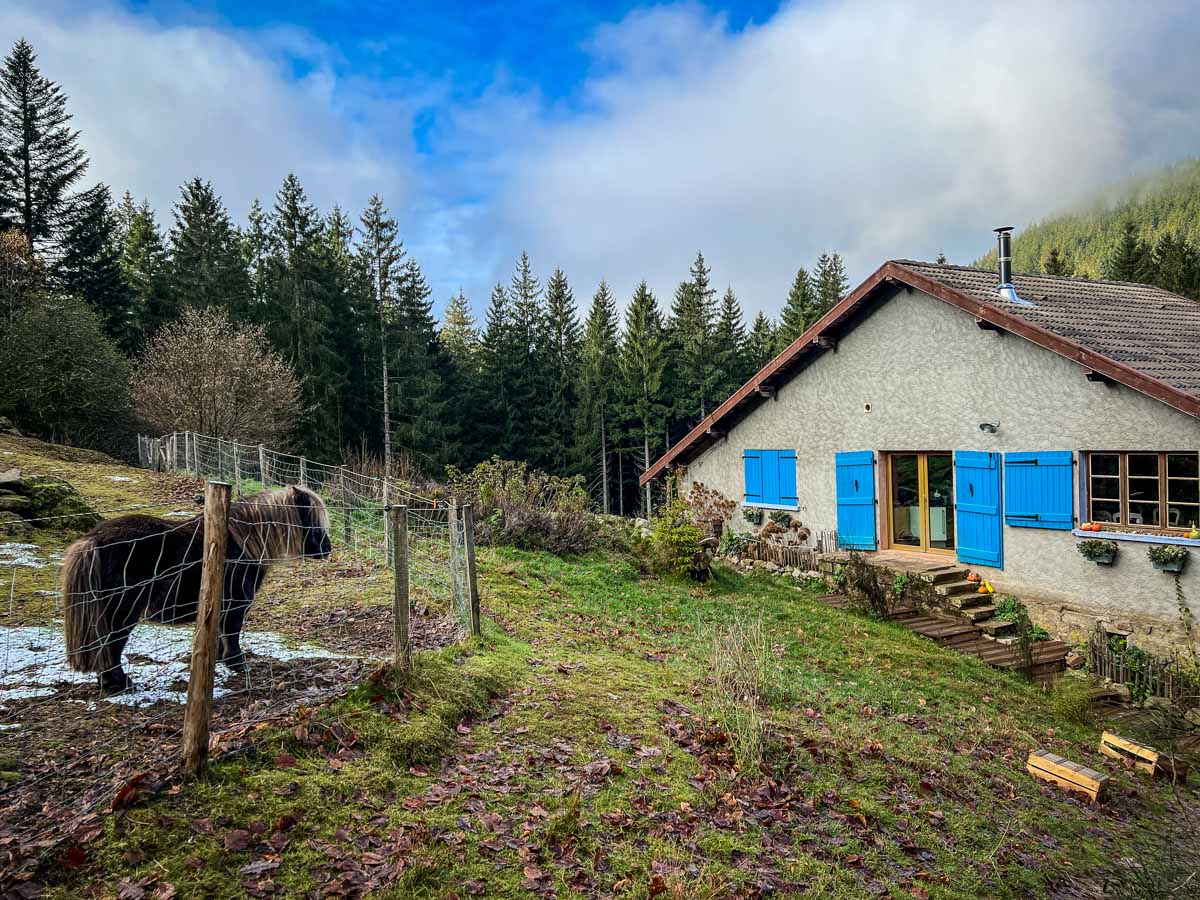 Pros to renting a car
You can get off the beaten path! I think this is the biggest pro to renting a car. My favorite places hands-down on our recent trip where smaller towns in the countryside that would have been very difficult (if not impossible) to reach via train.
Take day trips! Even if you're in a city with decent public transport, it can be nice to explore off the beaten path in a car of your own. Going sledding in the mountains just outside Innsbruck was my favorite thing we did there and was only possible with a car.
If you're traveling with a child, it can be really nice to go at your own pace and stop when needed.
It can be so nice to have a trunk to store all the things so you don't have to lug them up and down the stairs at train terminals.
You won't have to deal with train strikes, which are particularly common in certain countries (like France!). We actually had a huge issue with a train strike in France during our trip!
My advice: If you plan to visit some larger cities, I'd wait to get your rental car after your time there. Finding parking in the bigger cities can be tough (and pricey!), so keep that in mind.
Insider tip: We find that Discover Cars typically has the best prices for rental cars in Europe.
---
More resources for planning the perfect Christmas market trip
Save this article on Pinterest for later!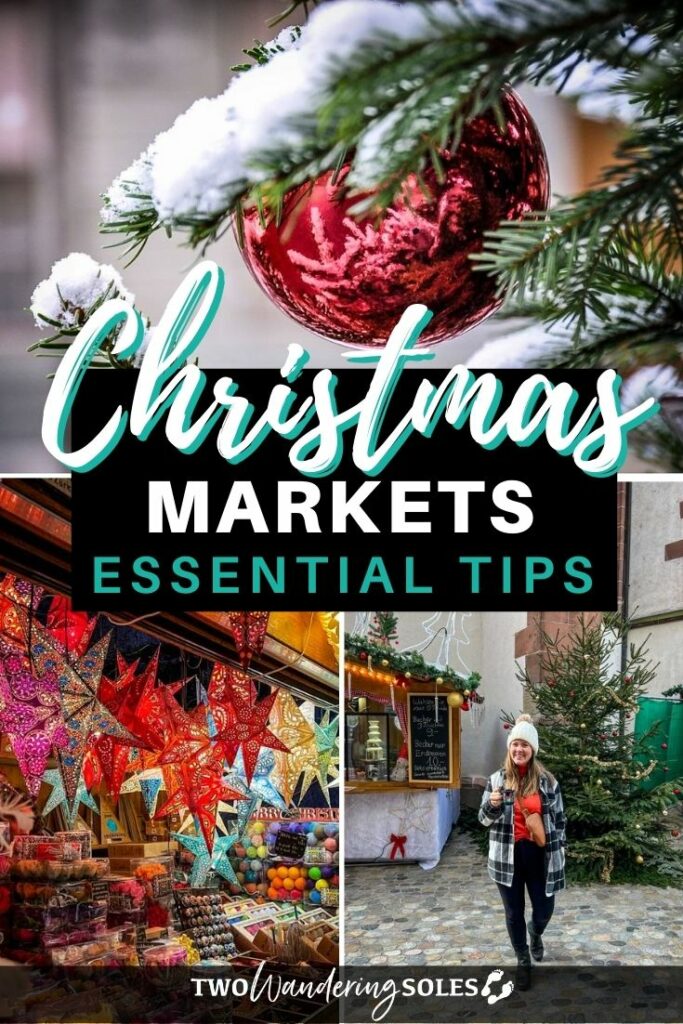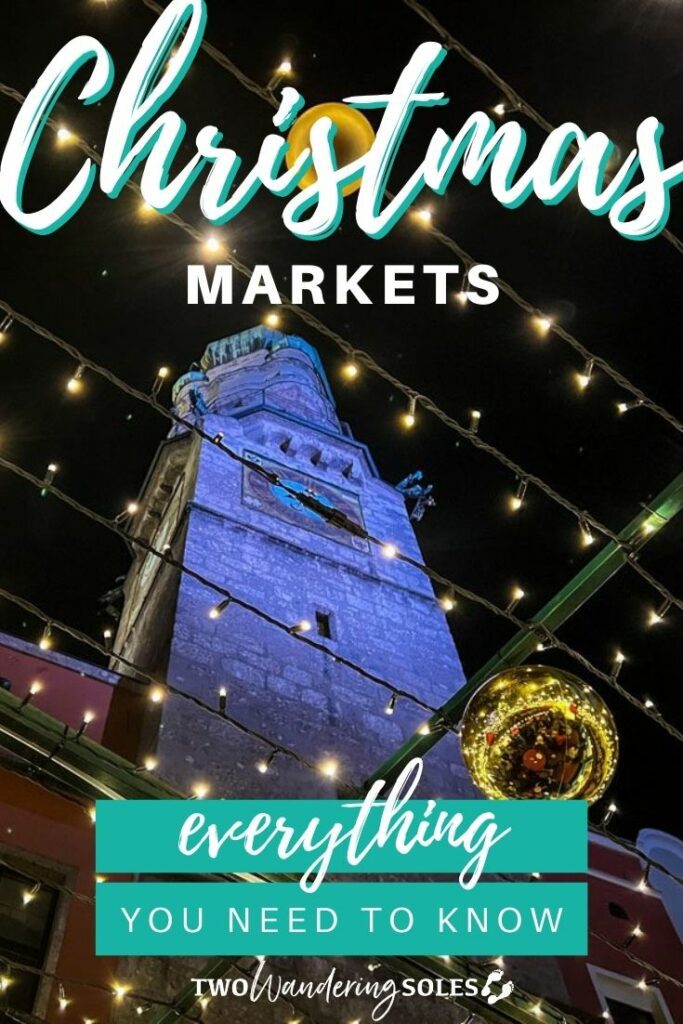 What tips stood out to you? Do you have any Christmas market tips you'd like to share?
Comment below and we'll do our best to get back to you!