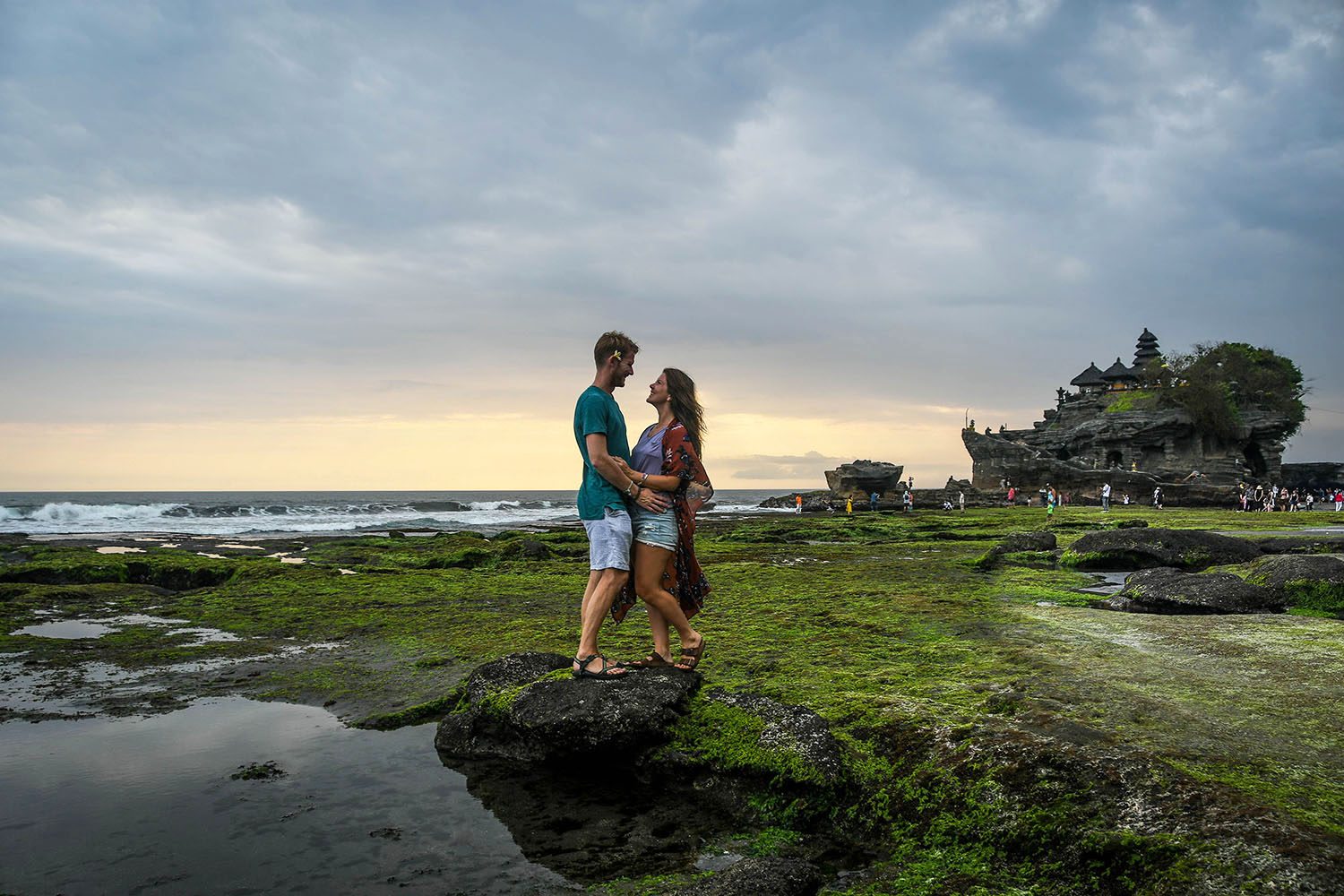 Known for rice terraces and beaches, waterfalls and cute cafes, there's no debating that Bali makes a perfect place for a vacation.
Whether your goal is to detox and deepen your yoga practice, relax on the beach with a Bintang (Indonesian beer!), or to experience a rich culture different from your own, you will find your bliss in Bali.
We're going to share the top things to do in Bali, whether you're on a short holiday or staying for a while. Keep reading for a list of the top foods, best ways to experience the culture and off the beaten path adventures.
Why Bali makes a Great Vacation Spot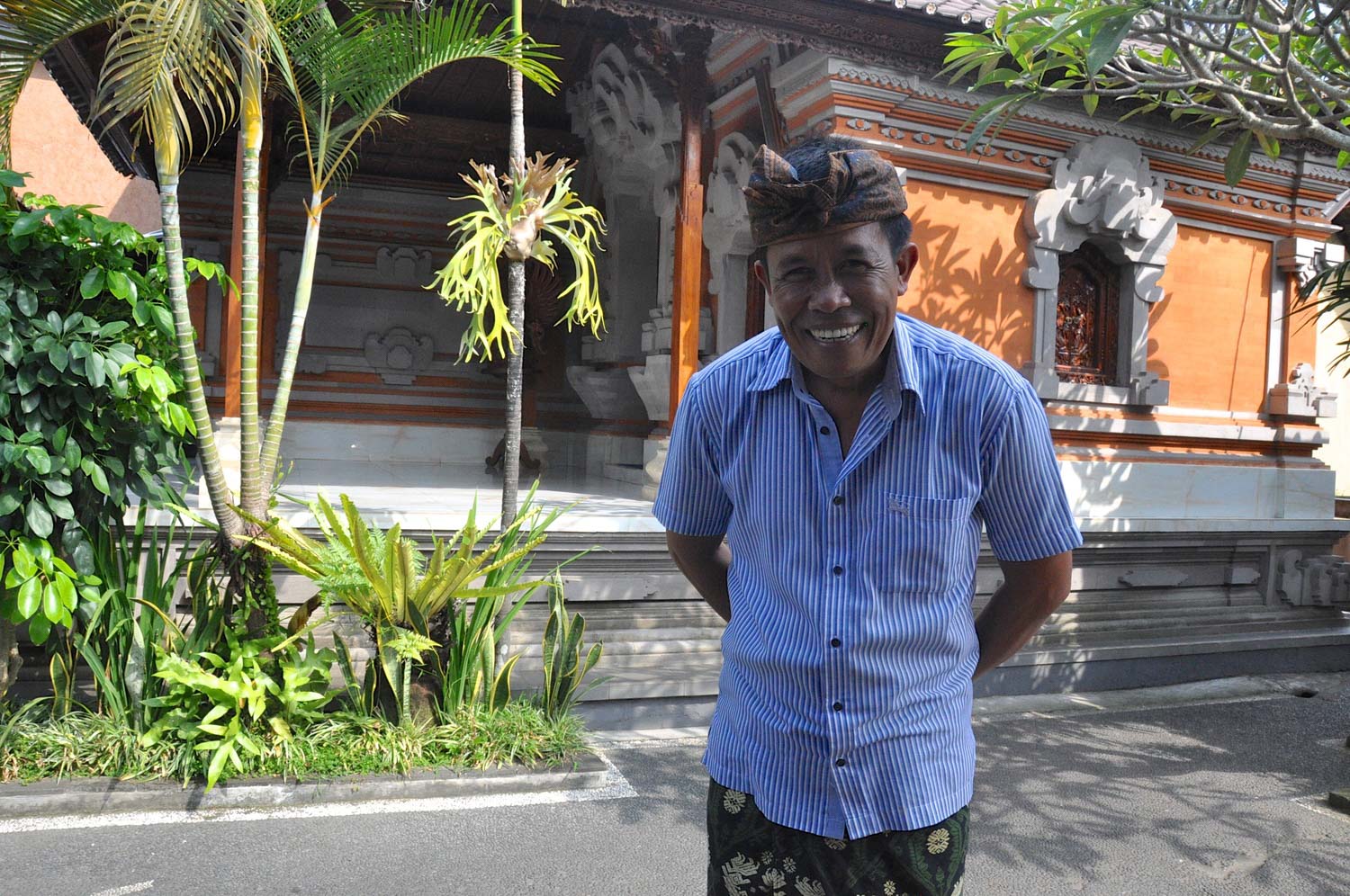 We've been to Bali several times over the year and can say that it is a top-notch vacation destination.
We first came to Bali back in 2015 during our summer vacation while we were teaching English in South Korea. We were with a group of friends and had 10 days to pack in all sorts of experiences and adventure. We knew right then that we'd be coming back.
And we did! In the fall of 2018, we spent 3 months living in Canggu and working online, then returned for another 3-month digital nomad stint in 2019.
We've made some really good Balinese friends (one we hope to introduce you to if you ever make it to Bali!), and can't wait to return.
It's safe to say we have fallen hard for Bali.
We love the people, with their wide smiles and accommodating spirit.

We love how hints of a rich culture can be found everywhere. Temples occupy nearly every block, and you can't walk far without almost stepping on offerings of incense and flowers laid on the ground for the spirits.

We love how the landscape shifts flawlessly from tropical beach to lush jungle.

We love the food – with super healthy organic/vegan/gluten-free options to traditional Balinese fare. It is as diverse as our cravings!
And we think you will fall in love too. There are so many things to do in Bali — a little something for every type of traveler, whether you are visiting Bali on a budget, or have money to splurge!
Are you hooked? Check out the best time to visit Bali so you know when you should plan a trip and when to avoid!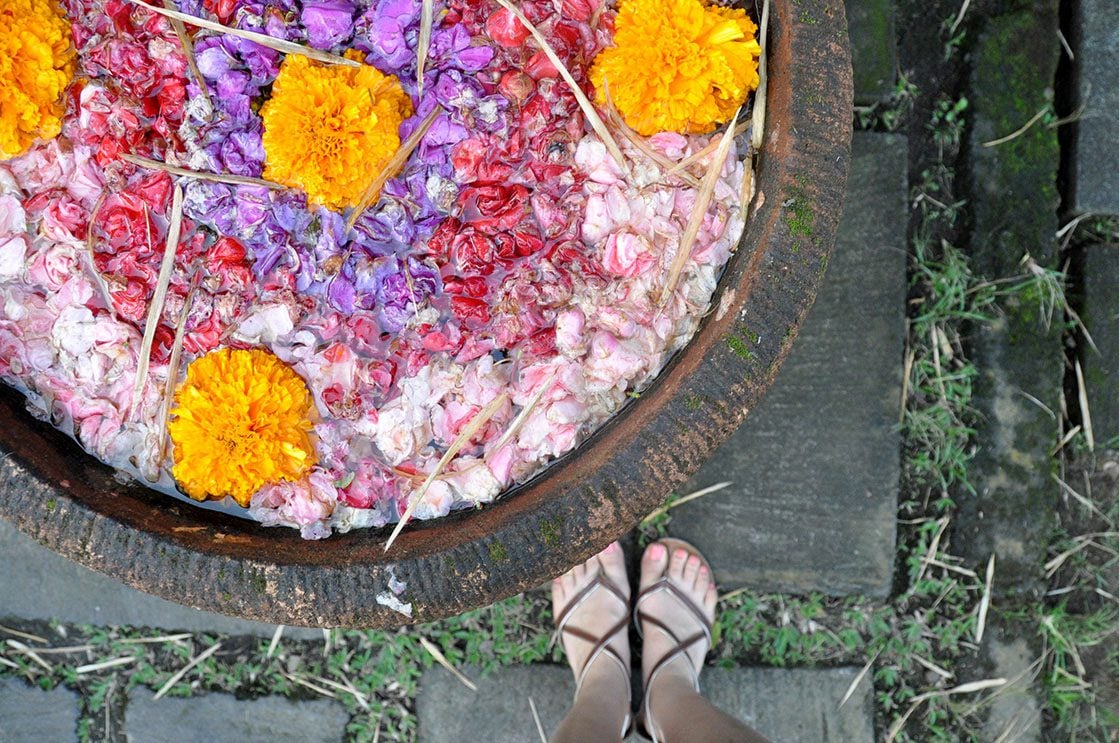 While we love Bali, we're not going to pretend that it is without its faults.
There are the unavoidable lines at many viewpoints with people all wanting to replicate the "iconic" shots that clutter your Instagram feed. A rise in tourism has brought a Westernized feel to many towns around the island and you don't have to look hard to find travelers being downright disrespectful and obnoxious.
However, if you know where to look, you can escape the crowds, immerse yourself in the rich culture and have an adventure of a lifetime!
This is a huge article, so be sure to save it on Pinterest for later: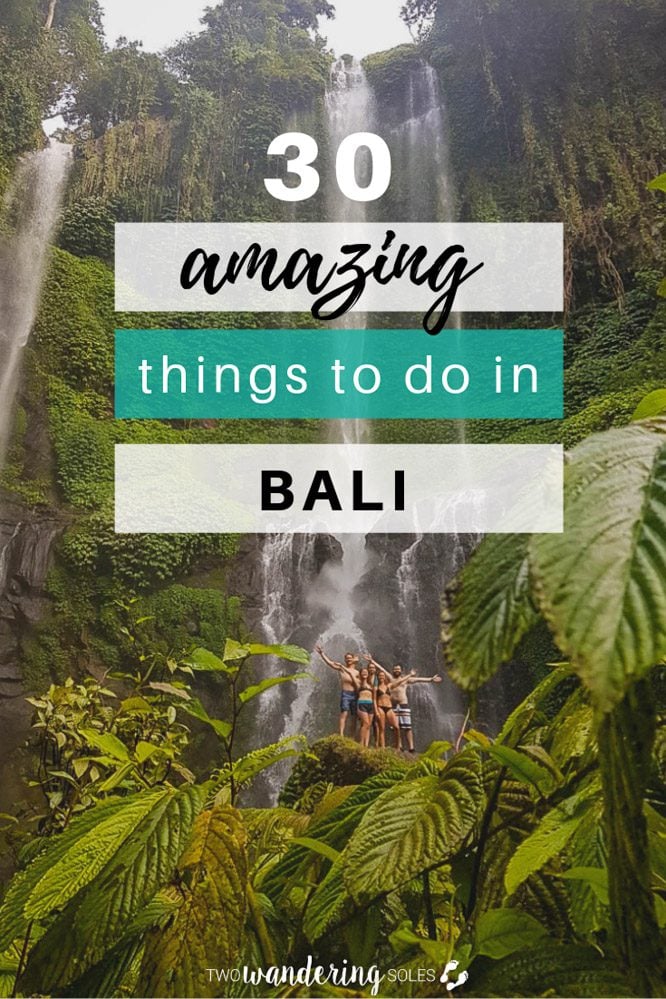 1. Join a Balinese countryside bike tour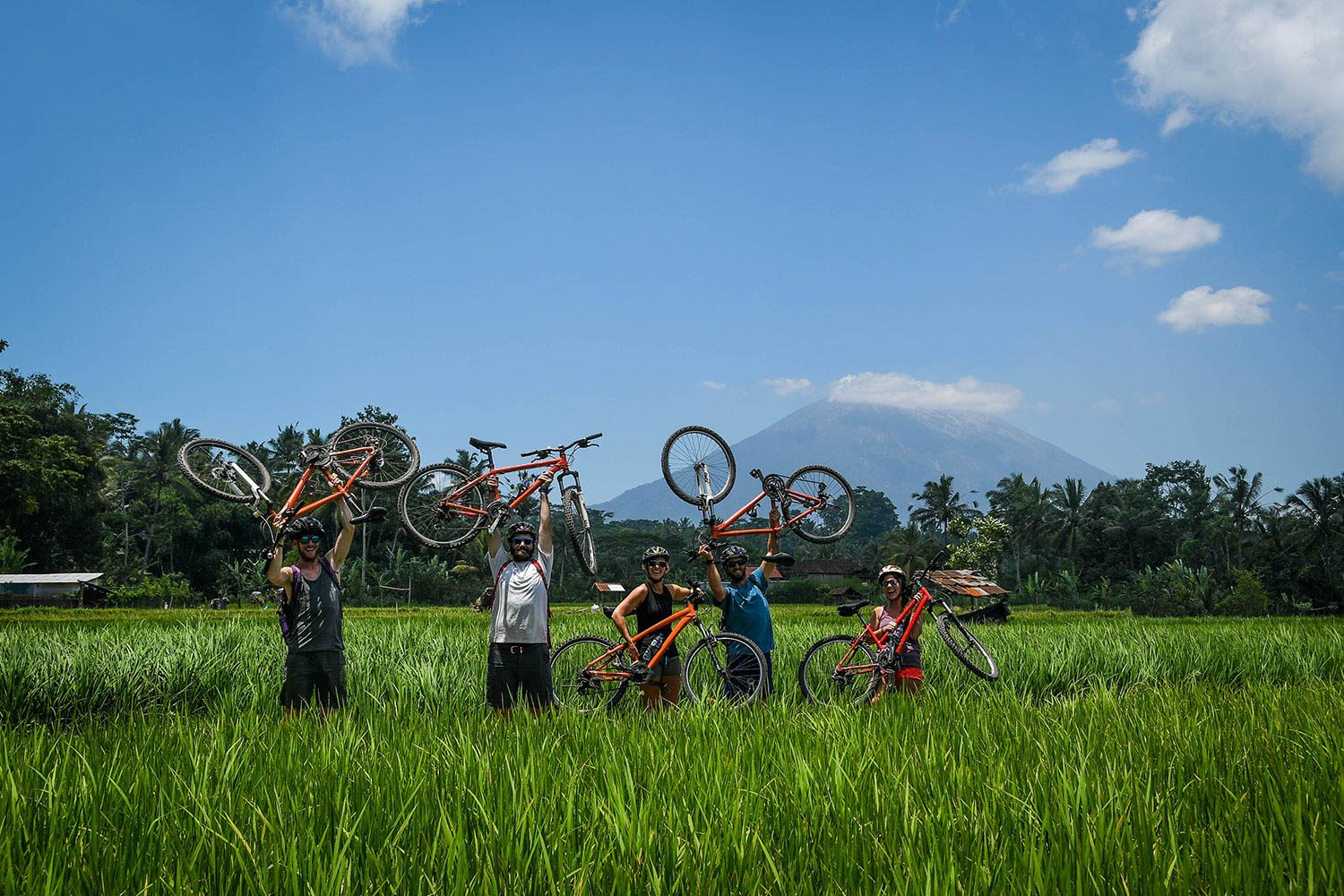 If you would like to learn about local life and get to see the "real Bali", this countryside biking tour will honestly be the highlight of your trip – it was for us.
This tour is so packed full of incredible experiences, that it is number 1 on this list for a reason.
Personal Note: We went on this tour on our fist trip to Bali back in 2015, and we became good friends with our guide, Jering (aka "Ring"). We've kept in touch all these years, and Ring has since started his own (very successful!) tour company. When we moved to Bali for a few months in 2018, we went on a handful of tours with Ring, each just as impressive as our very first.
I'm not exaggerating when I say this tour will teach you more about Balinese culture than you could learn by reading an entire textbook!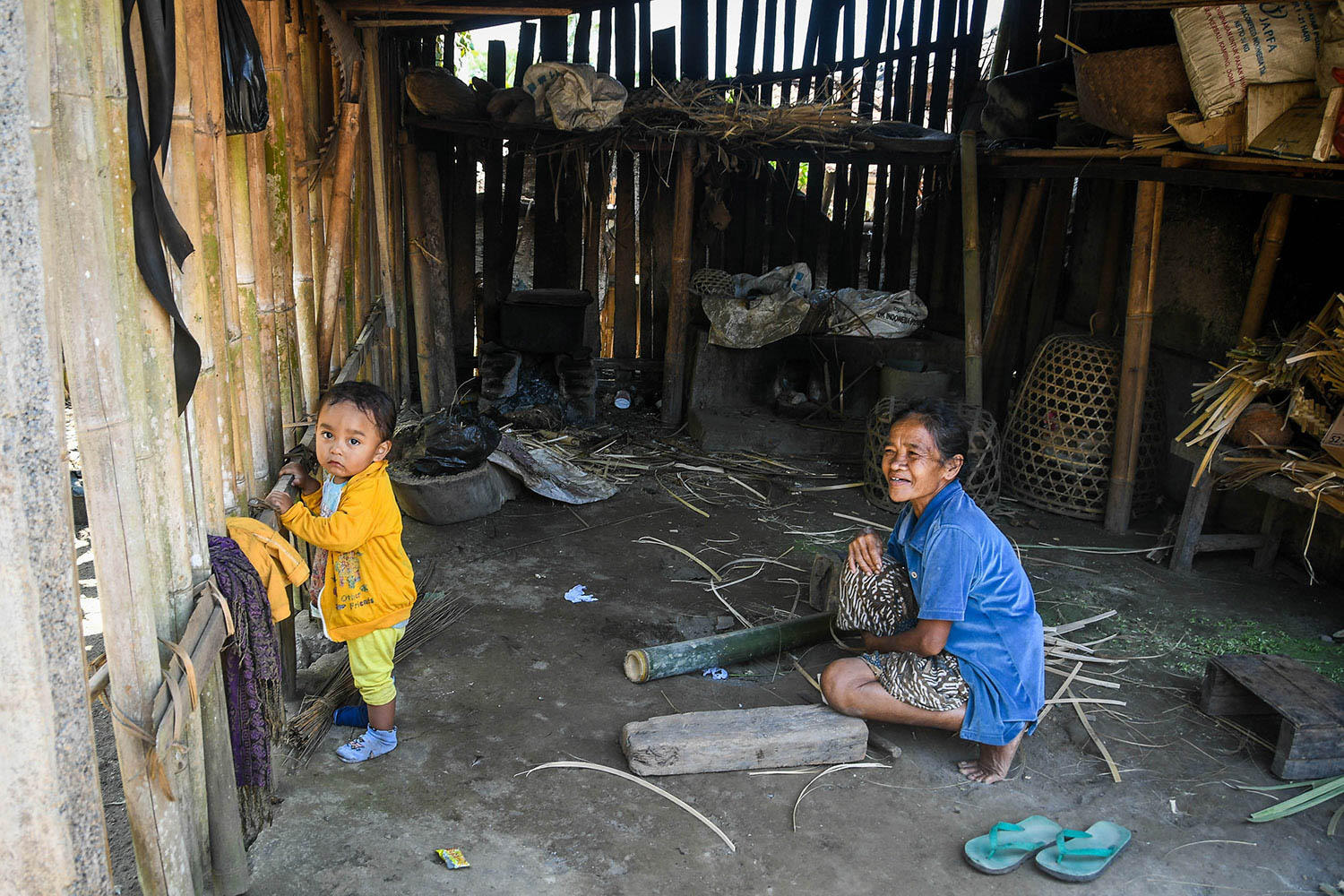 If you still need convincing, here is a rough itinerary of the Balinese Countryside Biking Tour:
Stop at the famous Tegalalang Rice Terraces in the morning, before the crowds arrive.

Breakfast buffet (Western & Balinese options) with a stunning view of Mount Batur.

Optional stop at a coffee and tea plantation where you can learn about local fruits and plants and have lots of free samples! (Responsible Travel Tip: Read about Luwak coffee at the bottom of this article.)

Biking through rice fields, dirt paths, small villages and quiet roads. (Most of the biking is downhill, so it is not difficult. )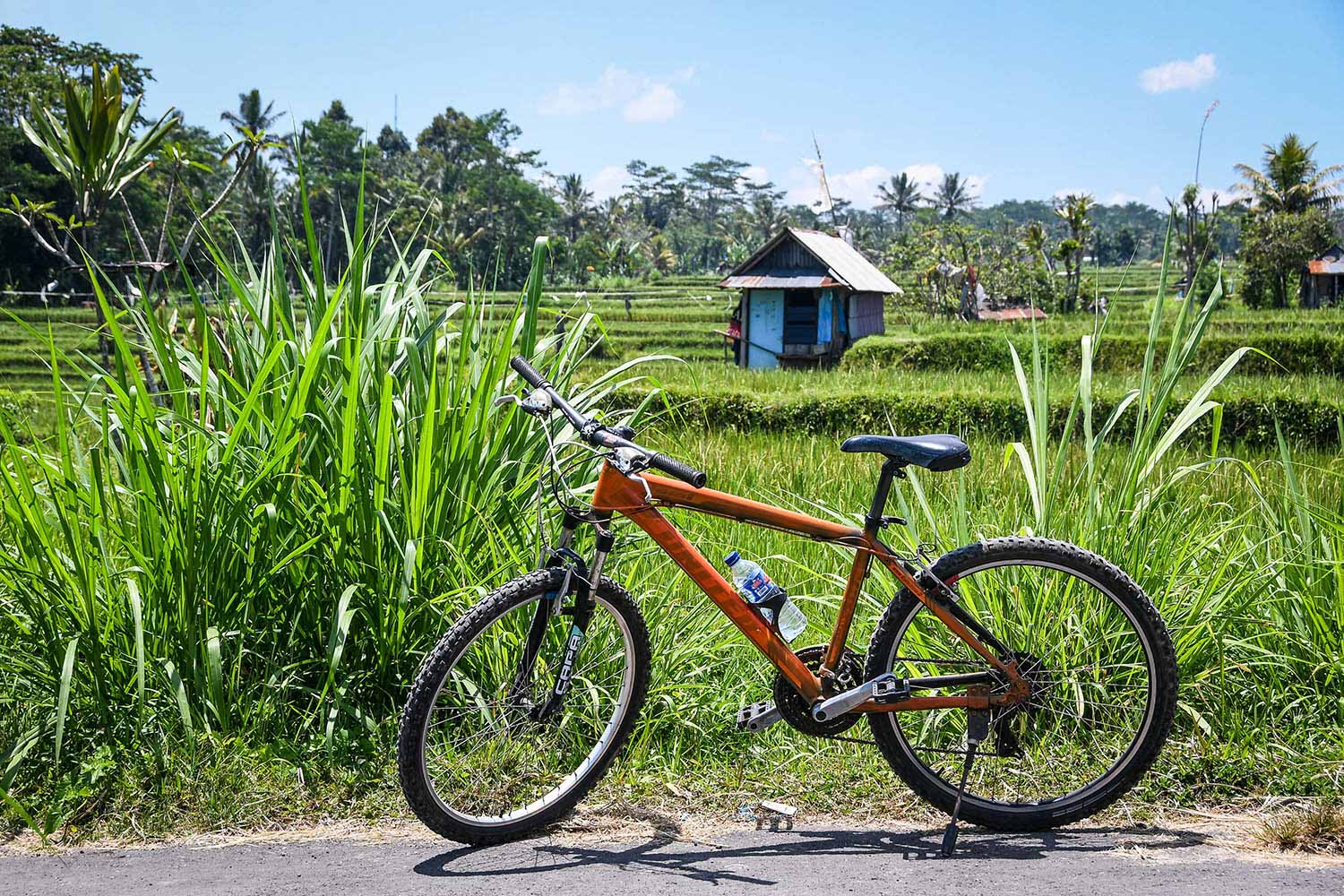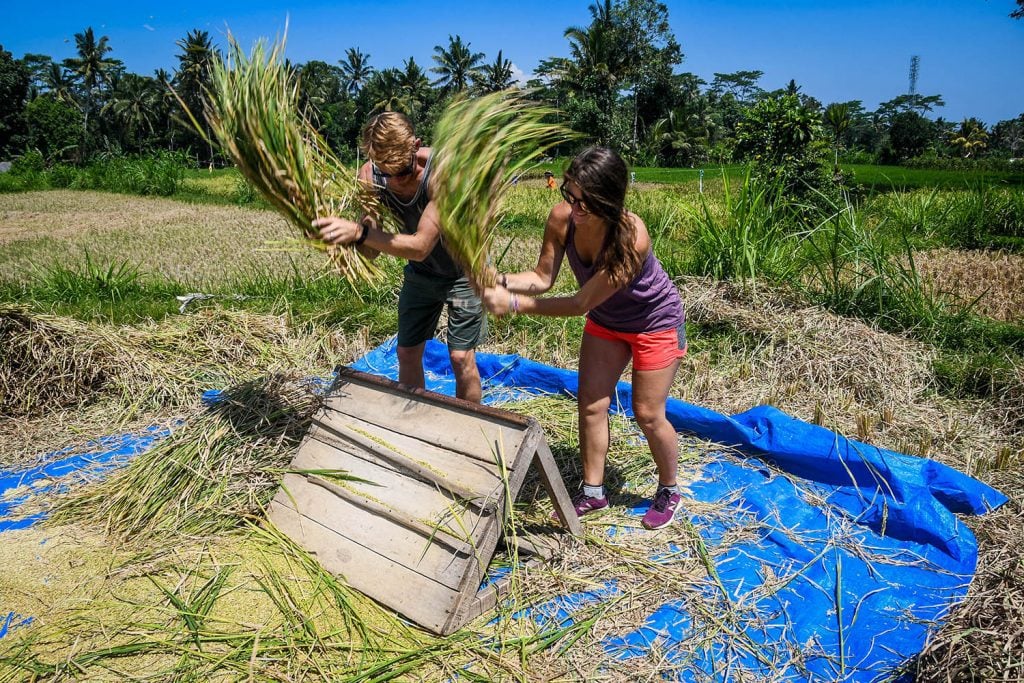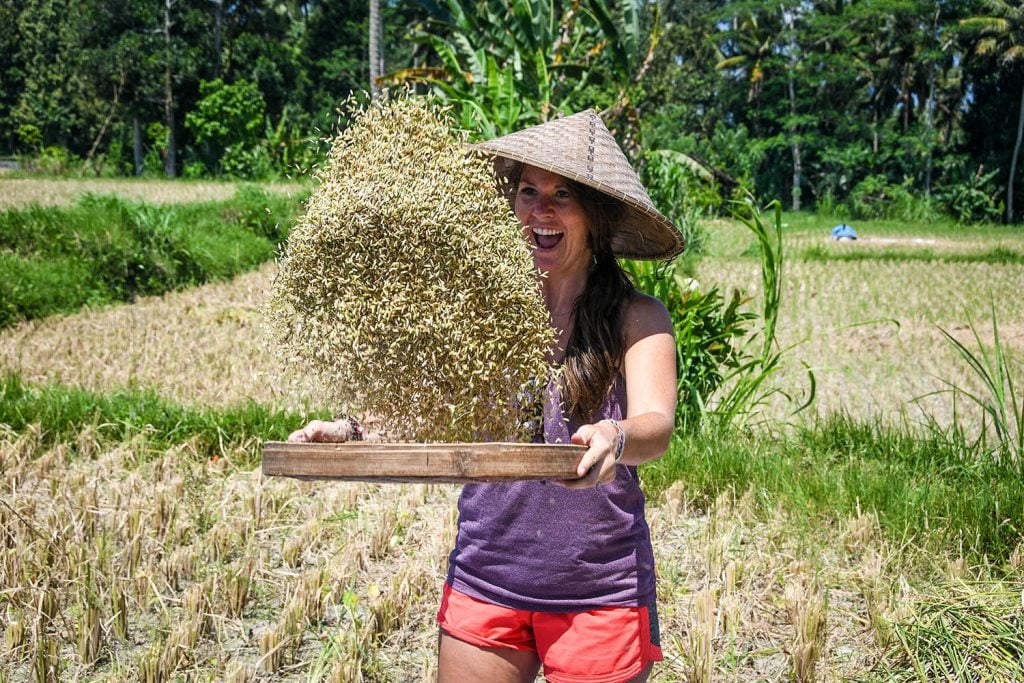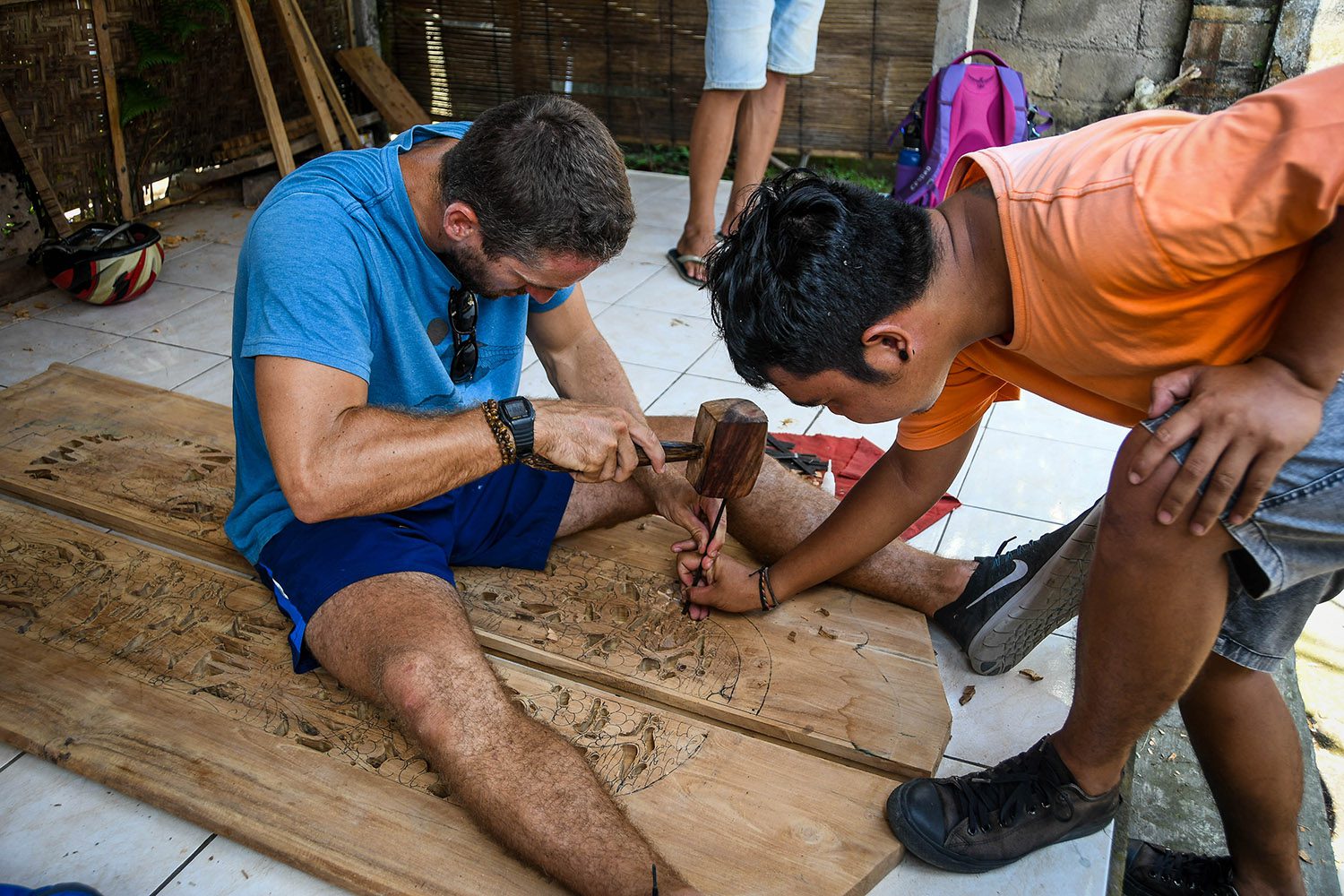 Visit a Balinese home and learn about family life (super interesting!).

Stop in a rice field and help the locals harvest.

Visit Ring's family's house and learn their art of woodcarving. You can even try it out yourself!

Balinese lunch overlooking a rice terrace.
Experience it yourself: We would highly, highly recommend booking this tour through Ring a Bike Tour. (We don't get any commission saying this; we just honestly loved the experience!) They also offer different types of tours all around Bali.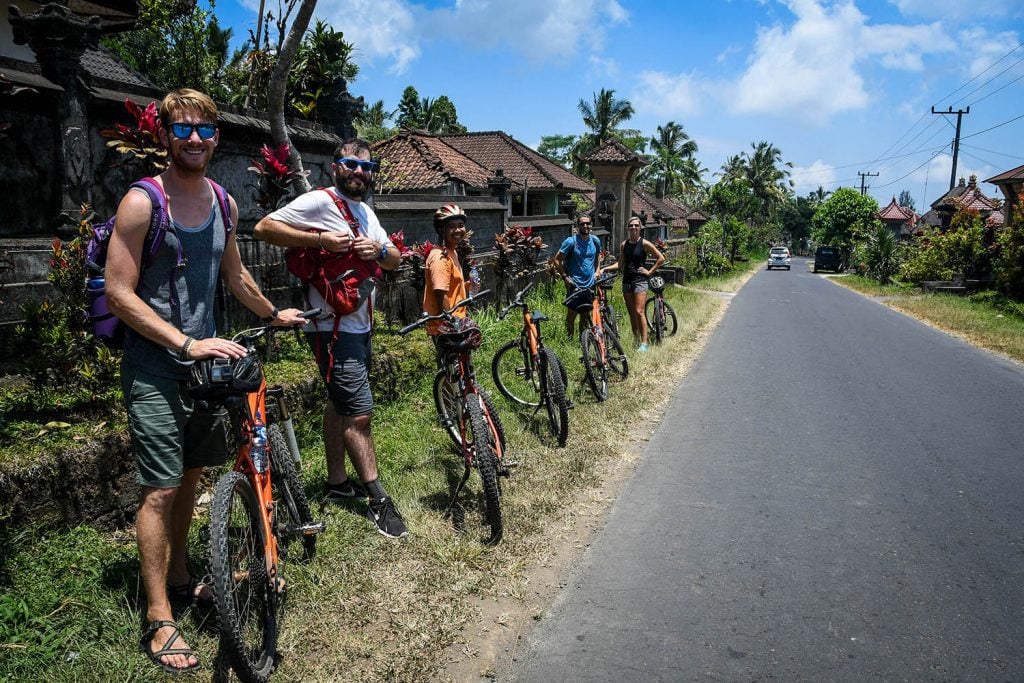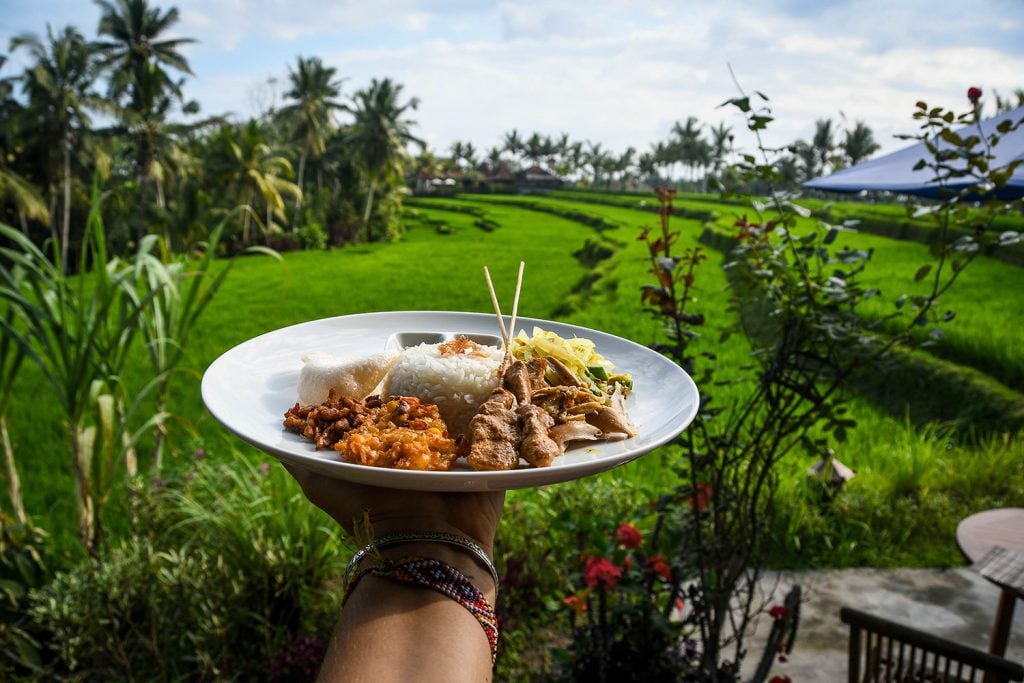 Costs: The tour costs 450,000 IDR (which is just under $30 USD) per person – an incredible deal that includes all a delicious all-you-can-eat breakfast and lunch, bike rentals, hotel pick-up and drop off, and an awesome English-speaking guide.
Note: If you book with Ring, be sure to tell him Katie and Ben from Two Wandering Soles sent you!
2. Take a Balinese cooking class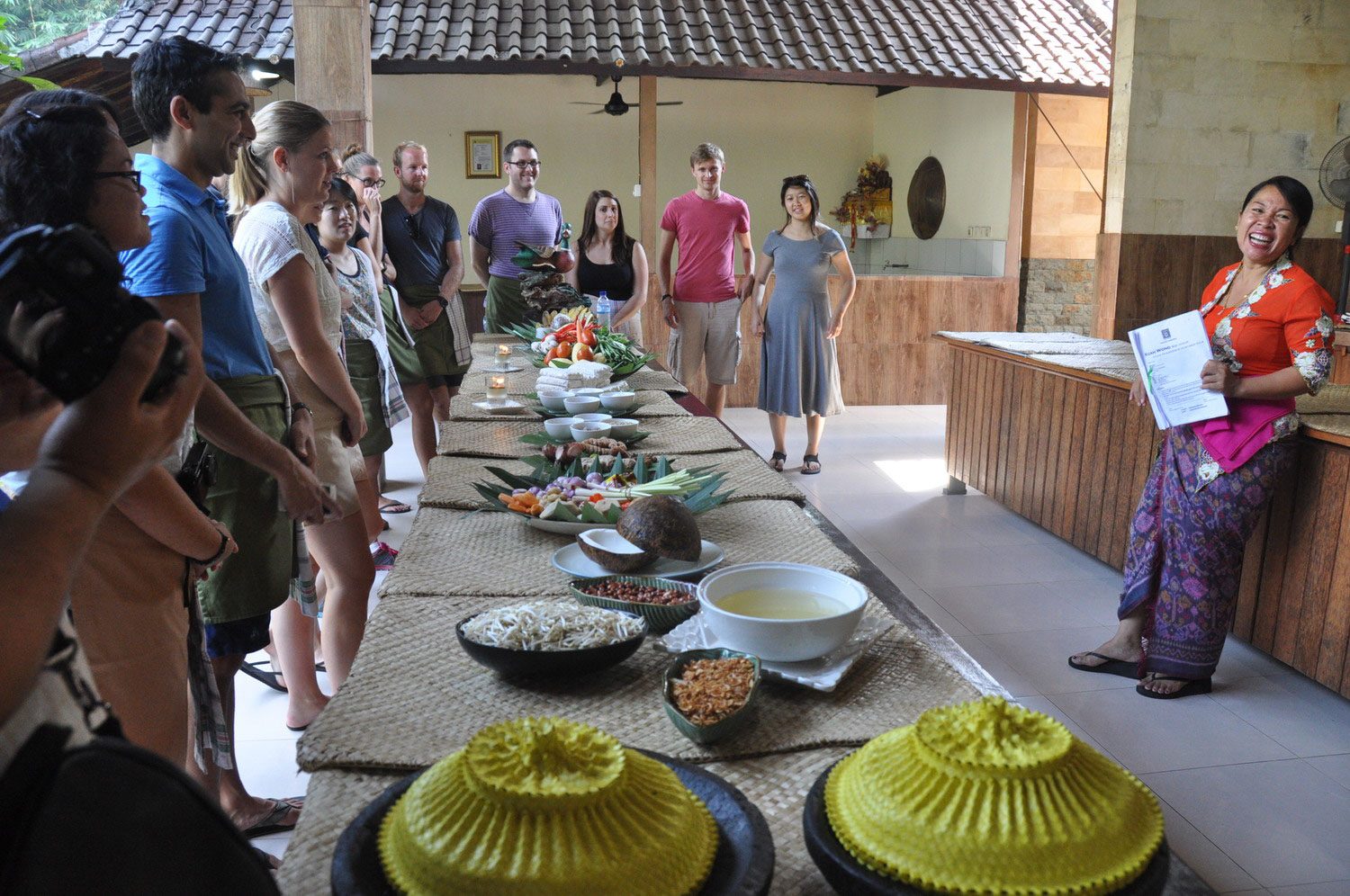 Ben and I like food. A lot. We like to cook it, smell it, take pictures of it. Oh, and eat it, too. So it comes as no surprise that taking cooking classes is one of our favorite things to do while traveling.
Prior to our trip, none of us had much experience with Indonesian cuisine apart from the occasional chicken satay or noodle dish. But man oh man, did we learn!
We began the morning with a tour of the traditional market and were able to sample the local fruits – some of which none of us had heard of. Umm, snakeskin fruit? It's much more delicious than the name implies, by the way!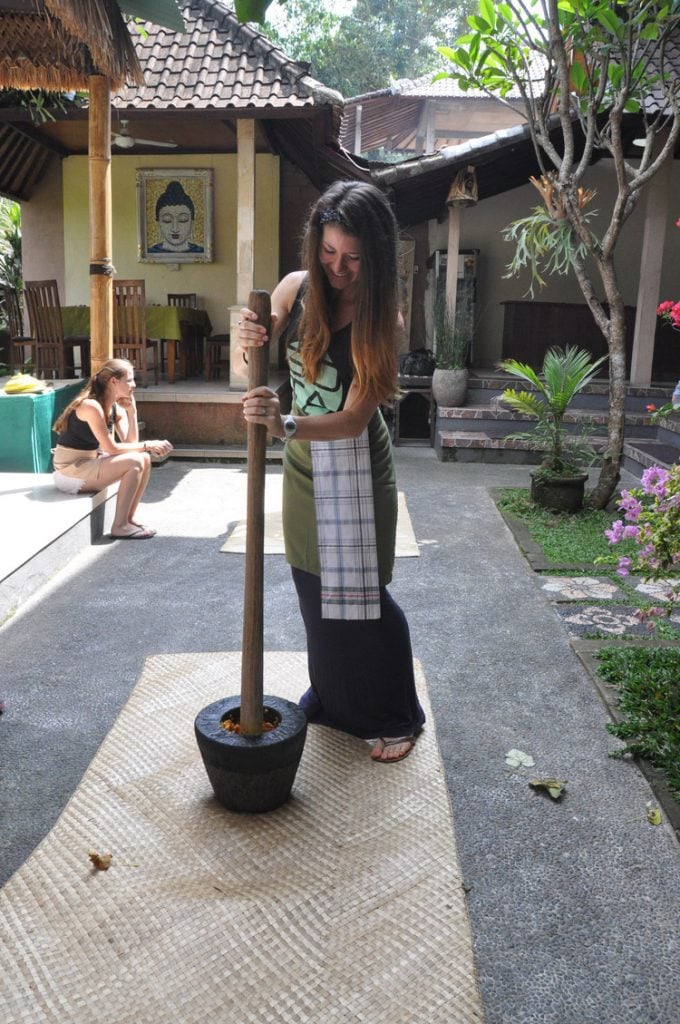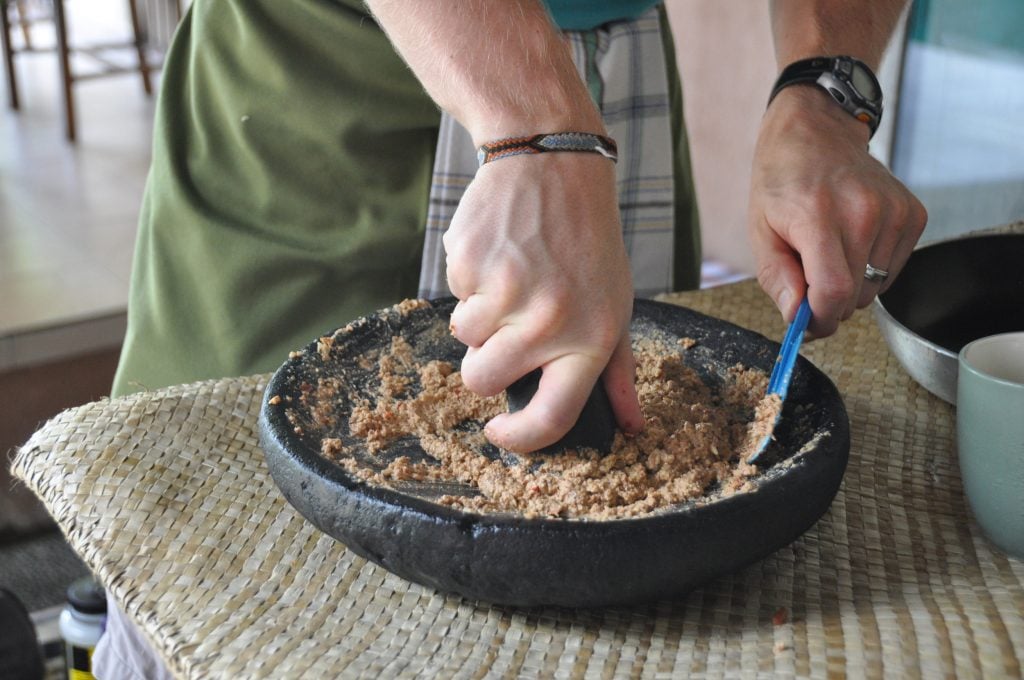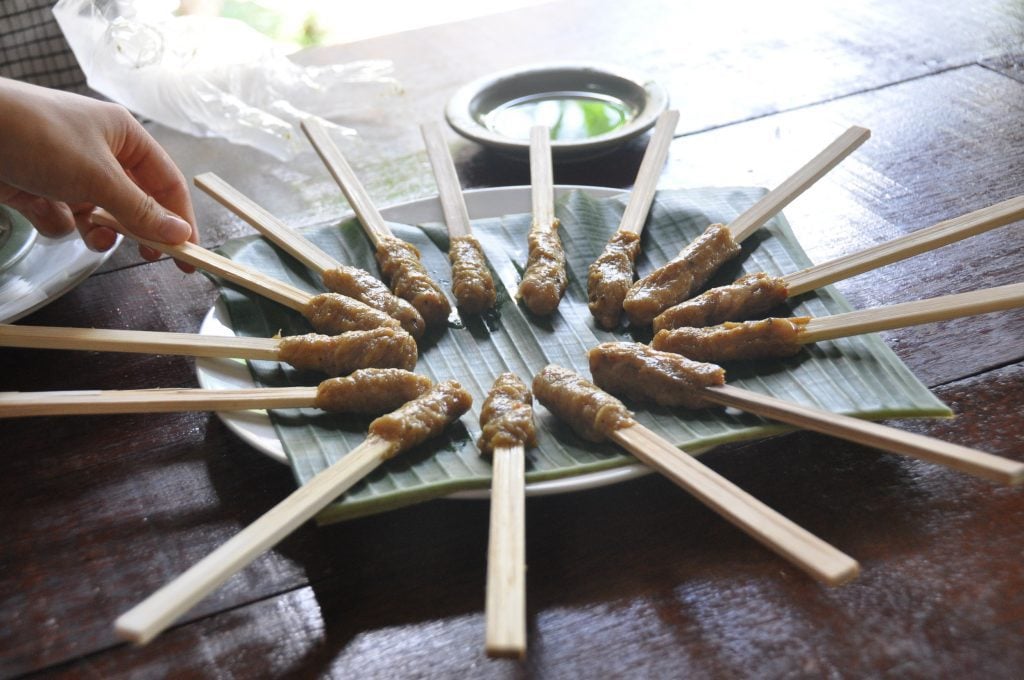 4. Walk the Campuhan Ridge walk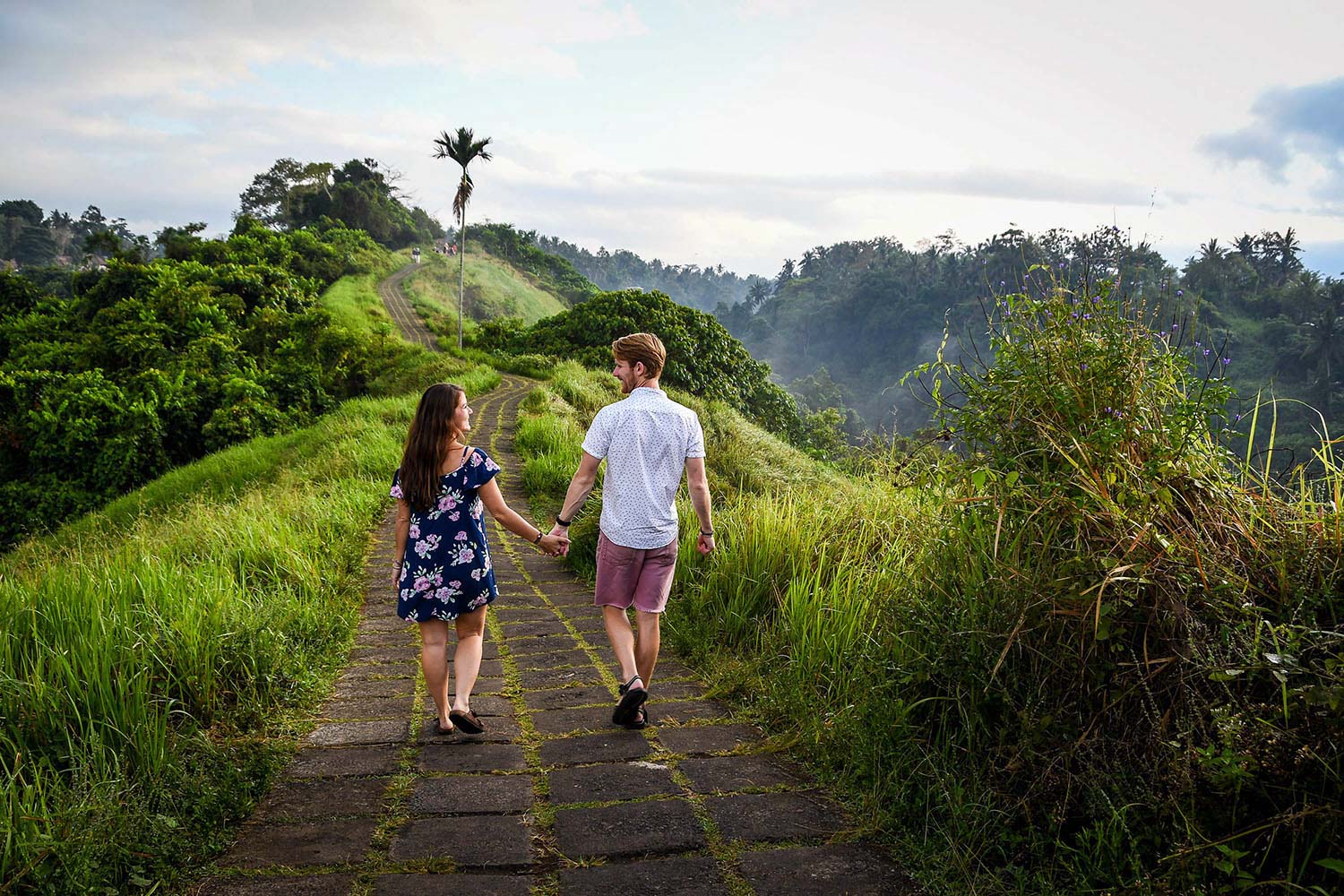 This walking track in Ubud sits on the hilltops and offers fantastic views of the surrounding jungle. It is magical to come here early in the morning as the mist is still hanging low in the trees and locals are going for their daily jog. And most magical of all, this is a totally free activity!
For the best photos and overall experience, we'd recommend going as close to sunrise as possible. We arrived at 7 a.m., and wish we had gotten there earlier. When we were leaving at 9 a.m., it was already hot (there's no shade!) and getting quite crowded. Late afternoon is also said to be nice, though we imagine it would be more crowded than in the morning.
Do it yourself: Head toward Warwick IBAH Villas and Spa where you'll see a sign that says "to the hill". There is a small parking lot and a pathway that goes past a temple, then gradually up to the ridge. We'd allow around 2 hours to get there and walk all the way to the end and back (4 kilometers there and back), with time for taking photos.
The walk itself is paved and easy with gradual inclines. If you continue past the stunning viewpoints, you'll find Karsa Café at the end of the walk. You can cool down here and let those sweat stains dry (it happens to the best of us!) as you enjoy lovely views and an iced coffee or smoothie.
Related Reading: Experience more of Indonesia with these unique things to do in Flores.
5. Escape to the Nusa Islands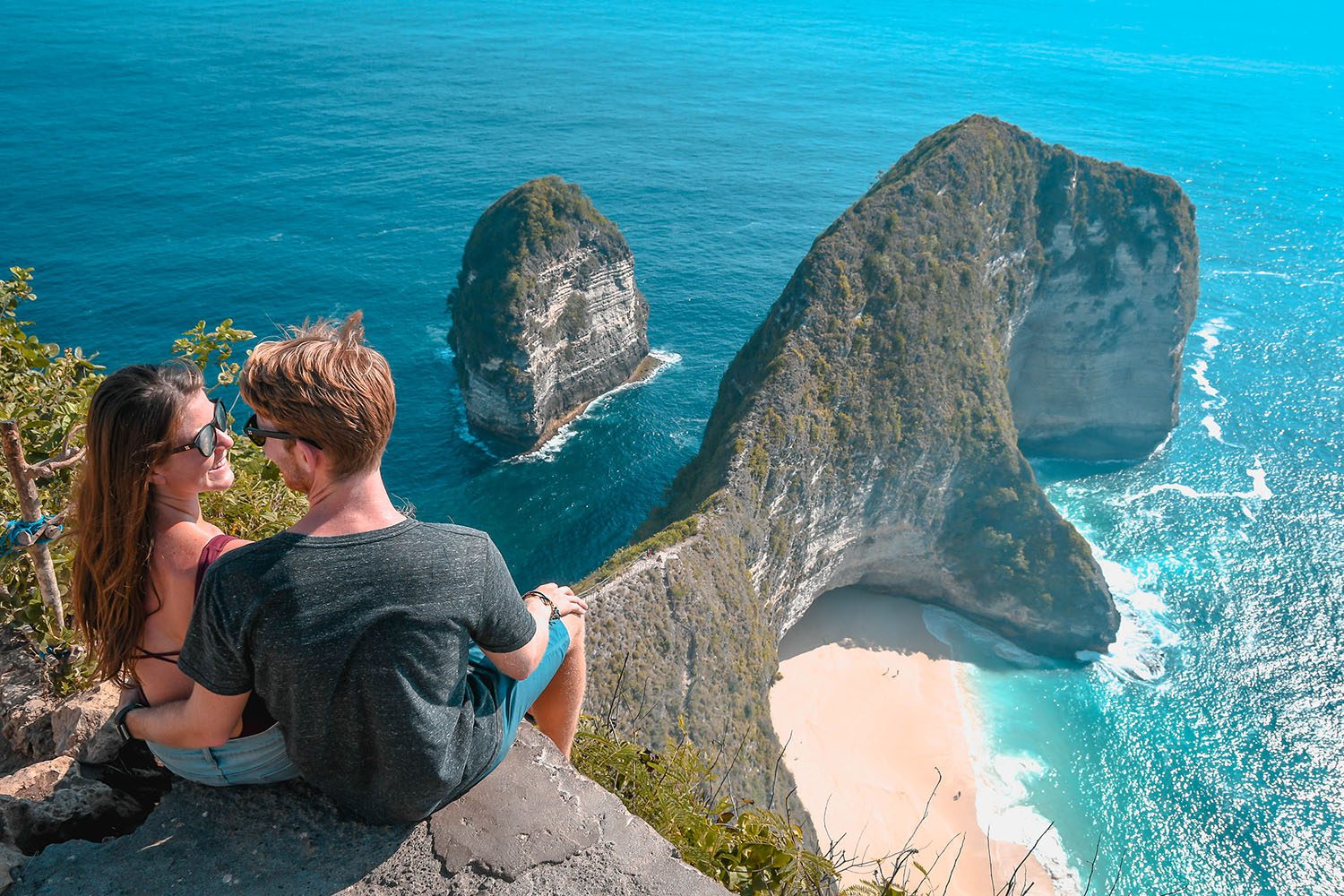 Just south of Bali sit 3 islands that are well worth a visit if you have time in your itinerary. Getting to these islands takes just 35 minutes on a ferry, but you will feel as if you have been transported far away from the traffic and hipster cafes of Bali.
With white sand beaches out of a dream, water as teal as the Two Wandering Soles logo (like that reference?!), and lush, seaside cliffs that are almost too beautiful to be real, we would highly recommend setting aside a few days to devote to these 3 islands.
Nusa Lembogan: Most developed for tourists of the 3 islands, nice beaches & viewpoints.

Nusa Ceningan: Smallest of the 3; easy to visit if you are staying on Lembogan as there is a bridge that connects the islands.

Nusa Penida: Largest and least developed, epic hikes, beaches, natural springs and viewpoints. Roads are terrible in some places and should only be navigated by experienced motorbike drivers.
More information on the Nusa Islands coming soon!
If you find yourself on the western part of the island, why not take a ferry to nearby Java to check out Banyuwangi and do the famous Kawah Ijen Crater hike at sunrise.
6. Visit Ubud Monkey Forest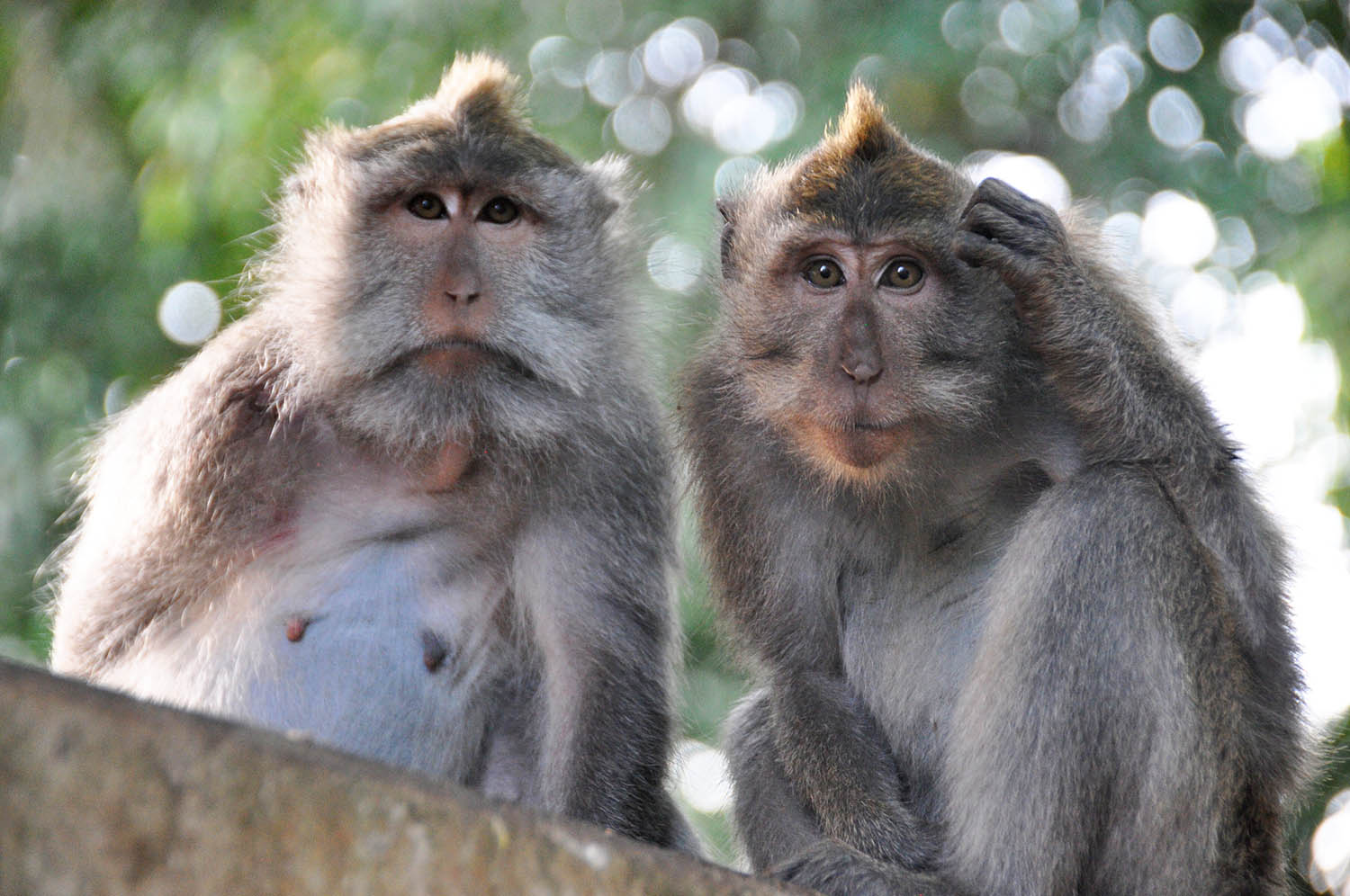 When in Ubud, the Monkey Forest is on everyone's list of things to do, and for good reasons. The forest itself is beautiful, with dense, tropical trees shading visitors from the sun, and a river carving its way through the jungle.
But it's not the trees people come to see, or even the temple inside. It's of course the monkeys that draw the crowds. And they are everywhere!
Depending on the season, you might even be able to see mama monkeys with their young clinging to their bellies. Look closely, because they are easy to miss.
Insider Tip: Keep a close eye on your belongings, because the monkeys are not afraid to steal sunglasses, water bottles, or just about anything that interests them.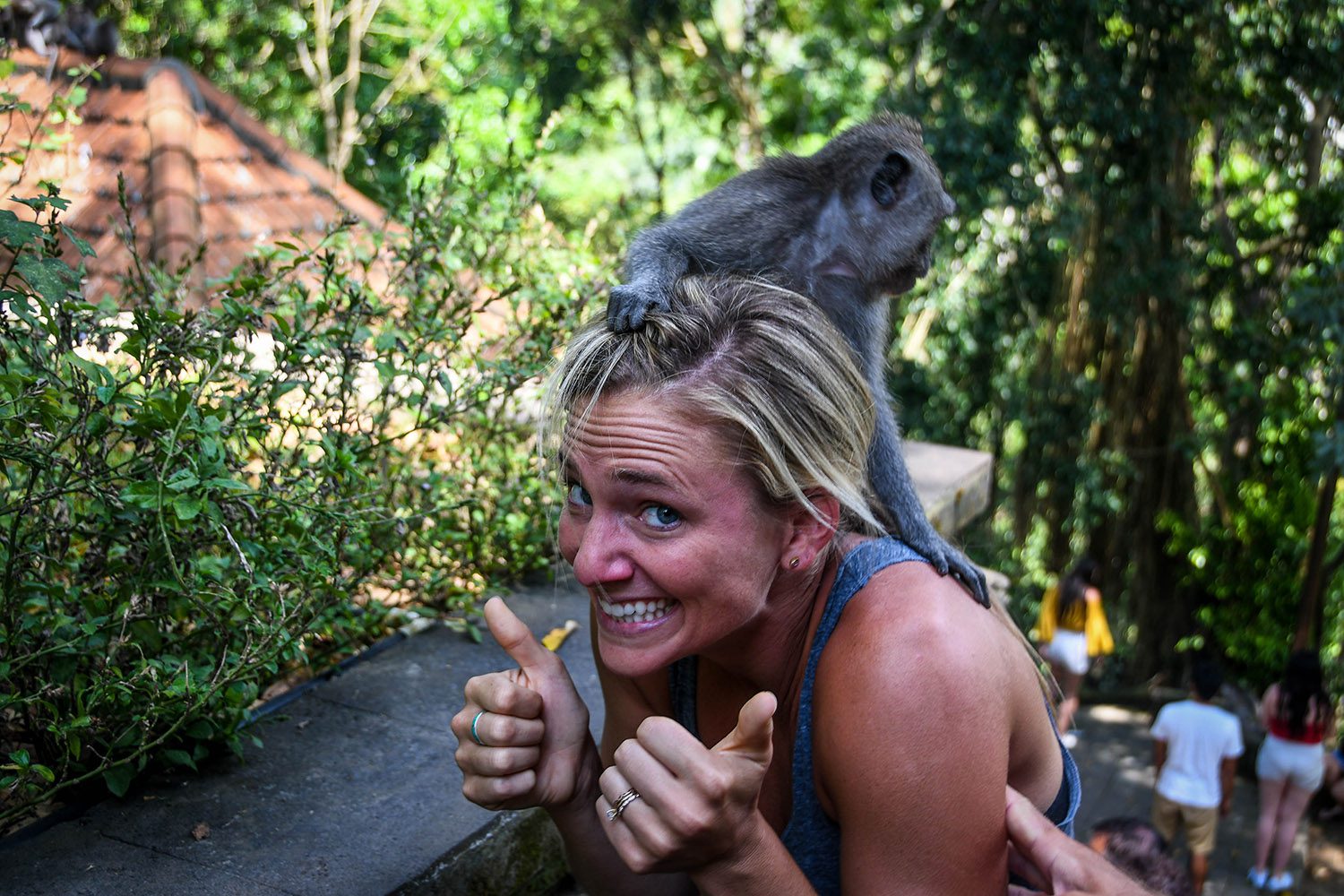 They might even decide they want to jump on your shoulders, just because!
Experience it yourself: Just show up here and be ready for a good time. The Monkey Forest is open daily from 8:30 a.m. until 6 p.m. (ticket sales end at 5:30 p.m.).
Entrance fee: 50,000 IDR (just over $3 USD) per person.
7. Go scuba diving (or snorkeling!)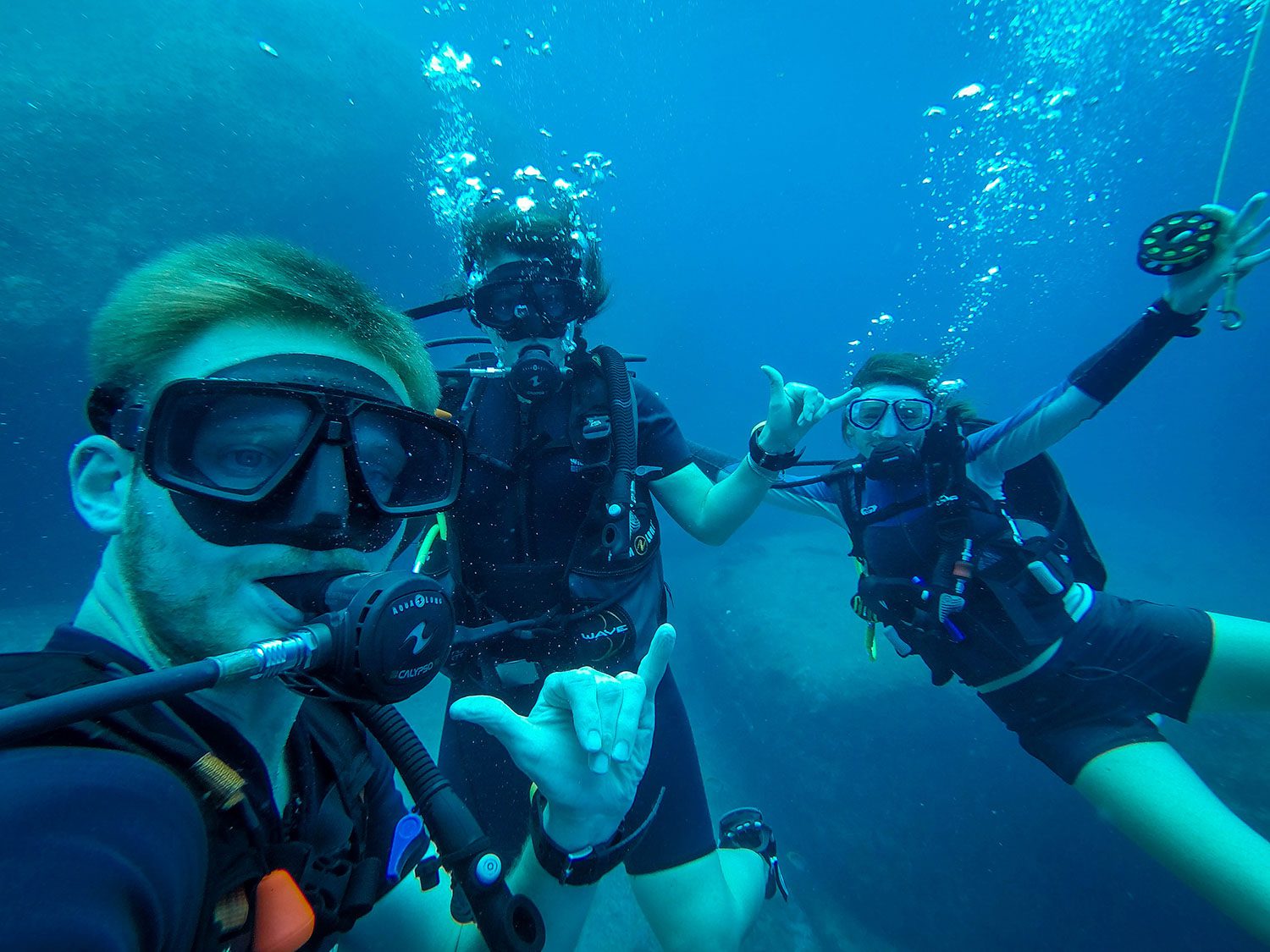 Being that it is surrounded by ocean, one would think Bali would be the perfect place to go snorkeling or scuba diving.
And while there are definitely opportunities for both water activities, the waters are more interesting elsewhere in Indonesia.
Best Scuba Diving in Indonesia: If you are exploring more of the country, consider doing a liveaboard in Komodo for an experience of a lifetime. Or take a short flight to Raja Ampat for some of the best diving in the world.
But if you will only be in Bali and want to get your inner mermaid out, head to Amed for the best scuba diving on the island.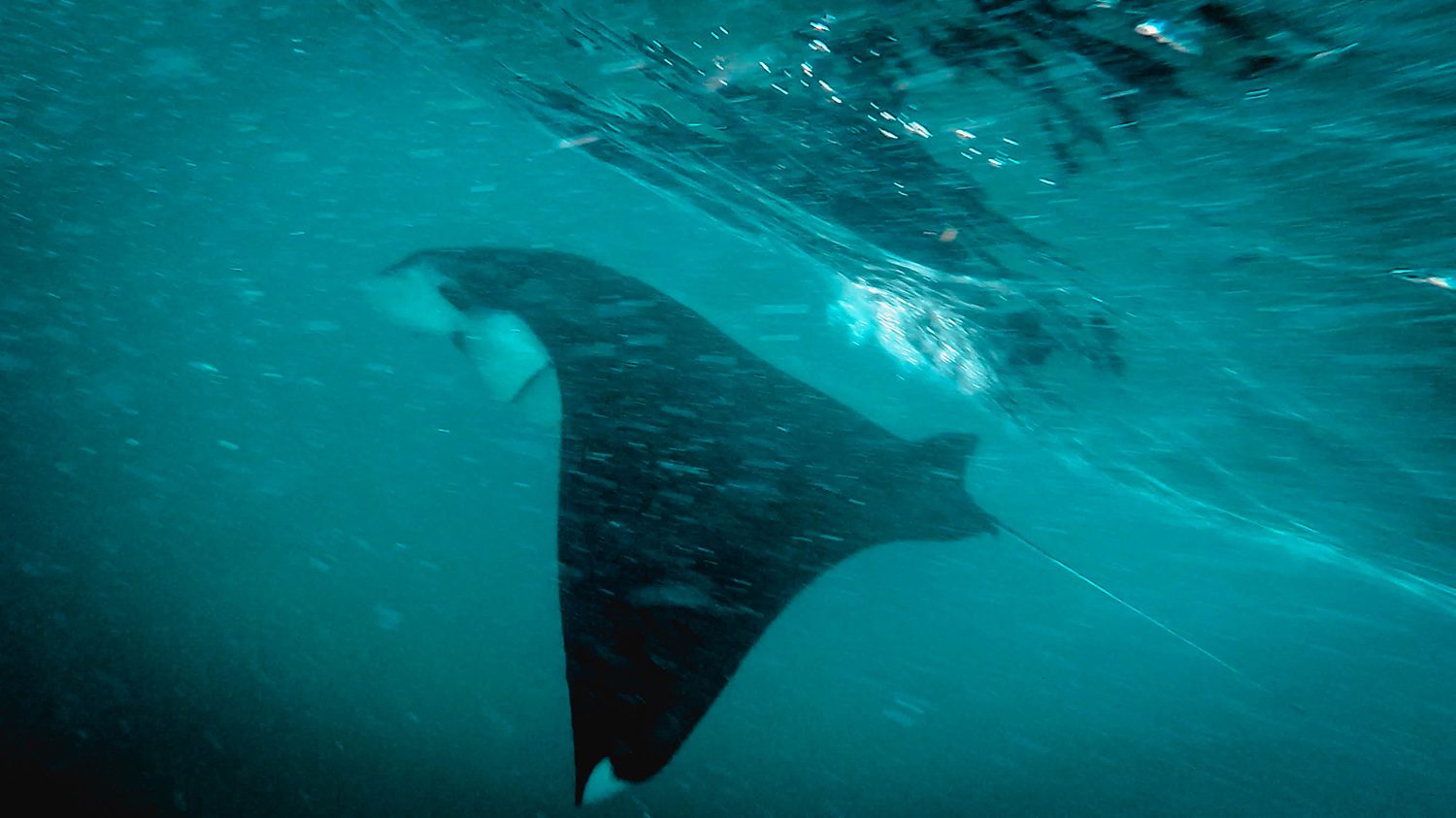 Or spend a few days on Nusa Penida (see #5) where you can snorkel with giant manta rays as well as some stunning coral formations.
8. Go chasing waterfalls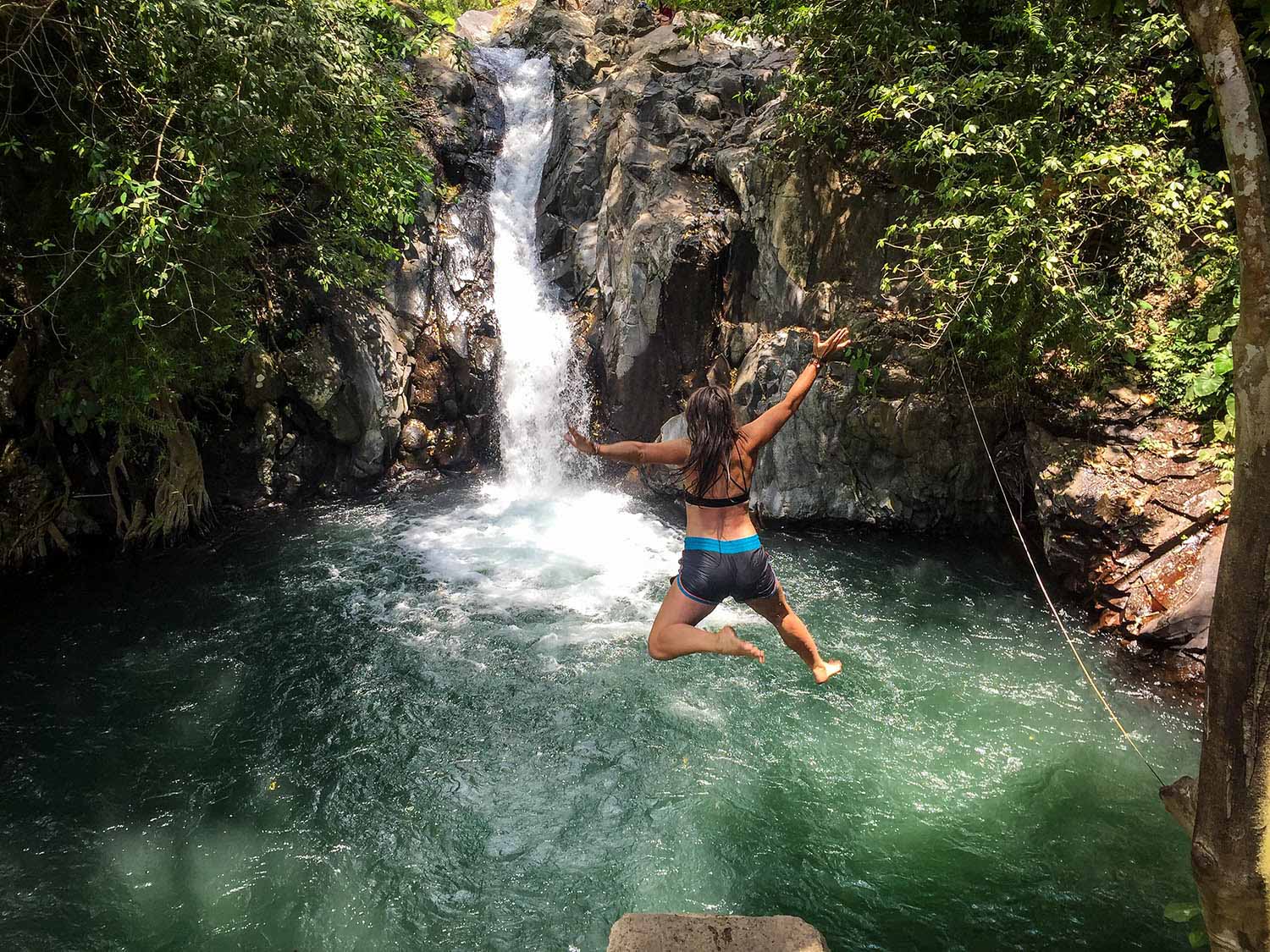 Bali is home to tons of waterfalls, and you should definitely try to see at least one while traveling throughout this island. The most easily accessible waterfall is Tegenungan Waterfall, and is not far from Ubud. It's a good choice if you are tight on time, however, being that it's quite easy to get to, it is always crowded.
If you want a more off-the-beaten-path experience, head instead to the northwest region of Bali where you'll find waterfalls still unspoiled by crowds.
Sekumpul is with a doubt amazing, but it is still not the most jaw-dropping waterwall we've ever seen. That title belongs to Tumpak Sewu Waterfall in East Java, which we have a full article on for you to wanderlust over!
Aling Aling Waterfall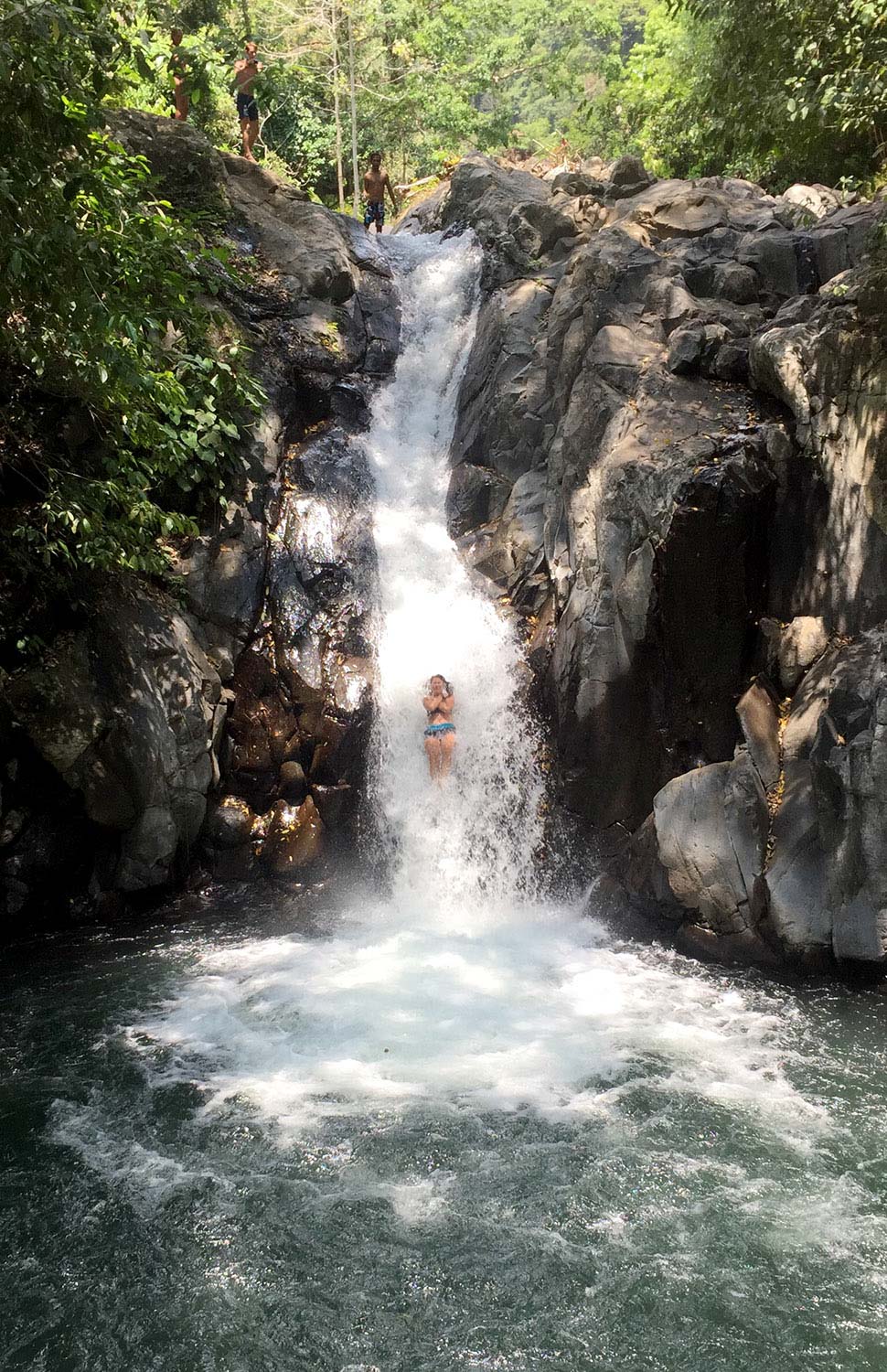 This waterfall is for adrenaline junkies only! This set of 4 waterfalls is beautiful; but the best part is walking between them and jumping and sliding (yes, sliding!) down them. If you plan to jump, you will need to hire a local guide at the entrance.
Cost: Our group of 5 paid 125,000 IDR each for entrance and 2 local guides who also took some great photos for us on our phones.
Important to know: At first we were confused why we were paying for local guides when we already had a guide for the day. But this is a way for the people living nearby the falls to earn a living. Once we thought about it that way, we felt good supporting the local economy. And it's not very much for a couple hours worth of their time!
Sekumpul Waterfall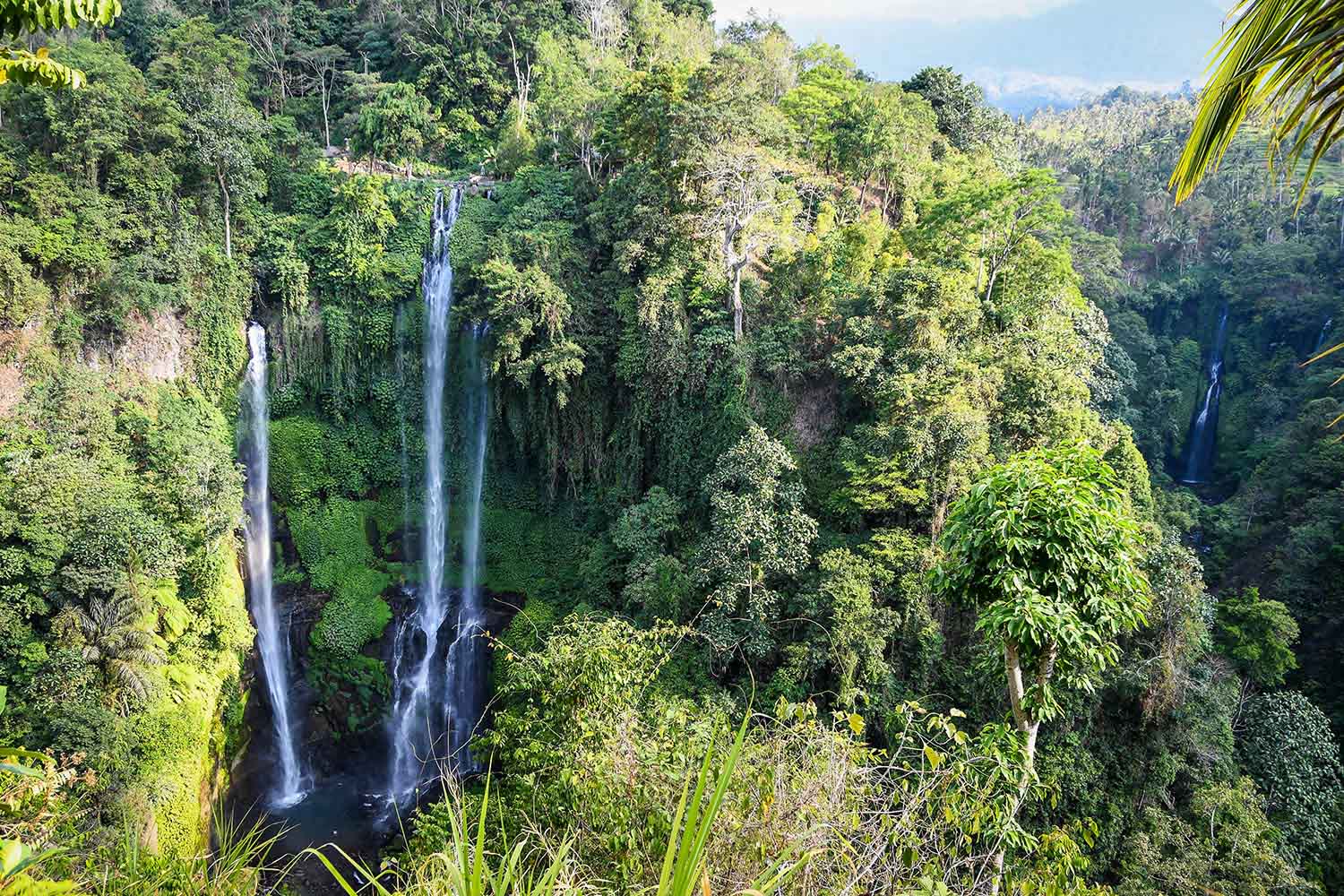 Often referred to as the most beautiful waterfall in Bali, we can't help but agree with this accolade. It is mind-blowingly (is that a word?!) beautiful. It is quite a steep walk down, but it is well worth the effort.
Don't miss the smaller, semi-hidden falls to the left of the main one. We had it all to ourselves and were able to swim beneath it. We felt like we were in "Fern Gully" (anyone remember that movie?!).
Banyumala Twin Falls
This waterfall looks stunning (at the right time of the year!). Make sure you ask your guide if the water is flowing here, as we've been told it depends on the season. When it is just a trickle it's not as impressive.
We didn't have time to make it to this waterfall (getting to the 2 above took most of a day!), but it looks beautiful and could be an alternative stop to Aling Aling if you don't want to cliff jump.
Do it yourself: To be honest, getting to this region takes a good chunk of time. The best way to see the waterfalls in this region is to hire a driver or book a tour.
Insider Tip: Our friend Jering runs tours to the northwest region of Bali, and we would highly recommend booking with him. Tell him Katie and Ben from Two Wandering Soles sent you!
9. Get purified at Pura Tirta Empul
View this post on Instagram
This famed temple is a holy site for Balinese people, but foreigners are also welcome. The spring water is said to have cleansing properties, and locals come here for ritual purification.
Fun Fact: The name Pura Tirta Empul translates to "Holy Water Temple". Fun Fact #2: the Obamas came here during a visit to Bali!
If you wish to visit this sacred site, you must wear a sarong, which can be rented at the entrance for a small donation.
10. Release a baby sea turtle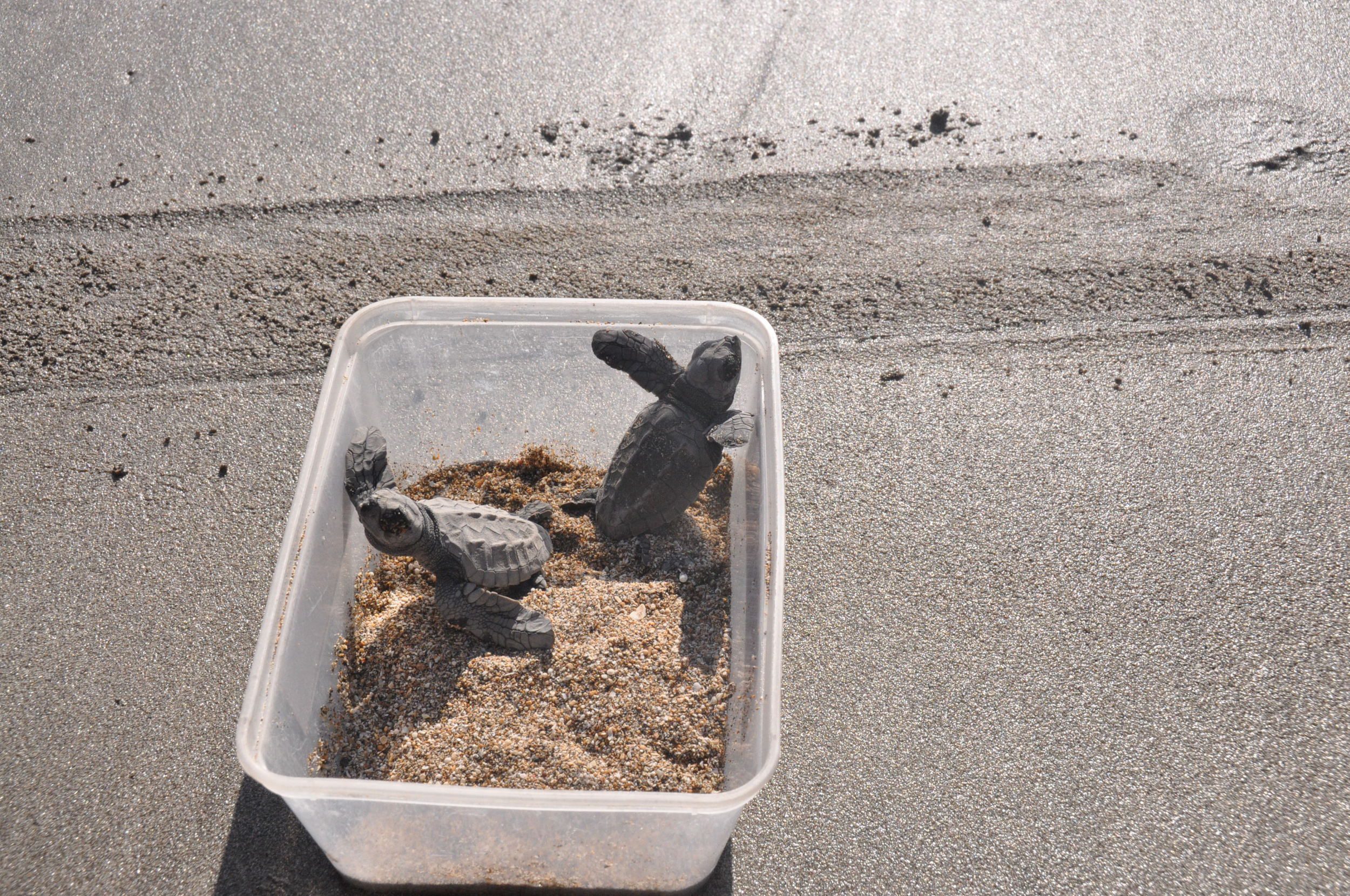 During many months of the year, adult sea turtles make the pilgrimage back to the beach at which they were born to lay their own eggs. This can be quite problematic at popular tourist destinations for obvious reasons. The beach in Kuta sprawls on for 5 kilometers and is crawling with people at all times.
Lucky for the turtles, a conservation program was established in 2001 to protect the babies from high tide and careless feet. The Kuta Beach Sea Turtle Conservation Centre relocates the eggs so they are hatched in a safe place before being released into the sea.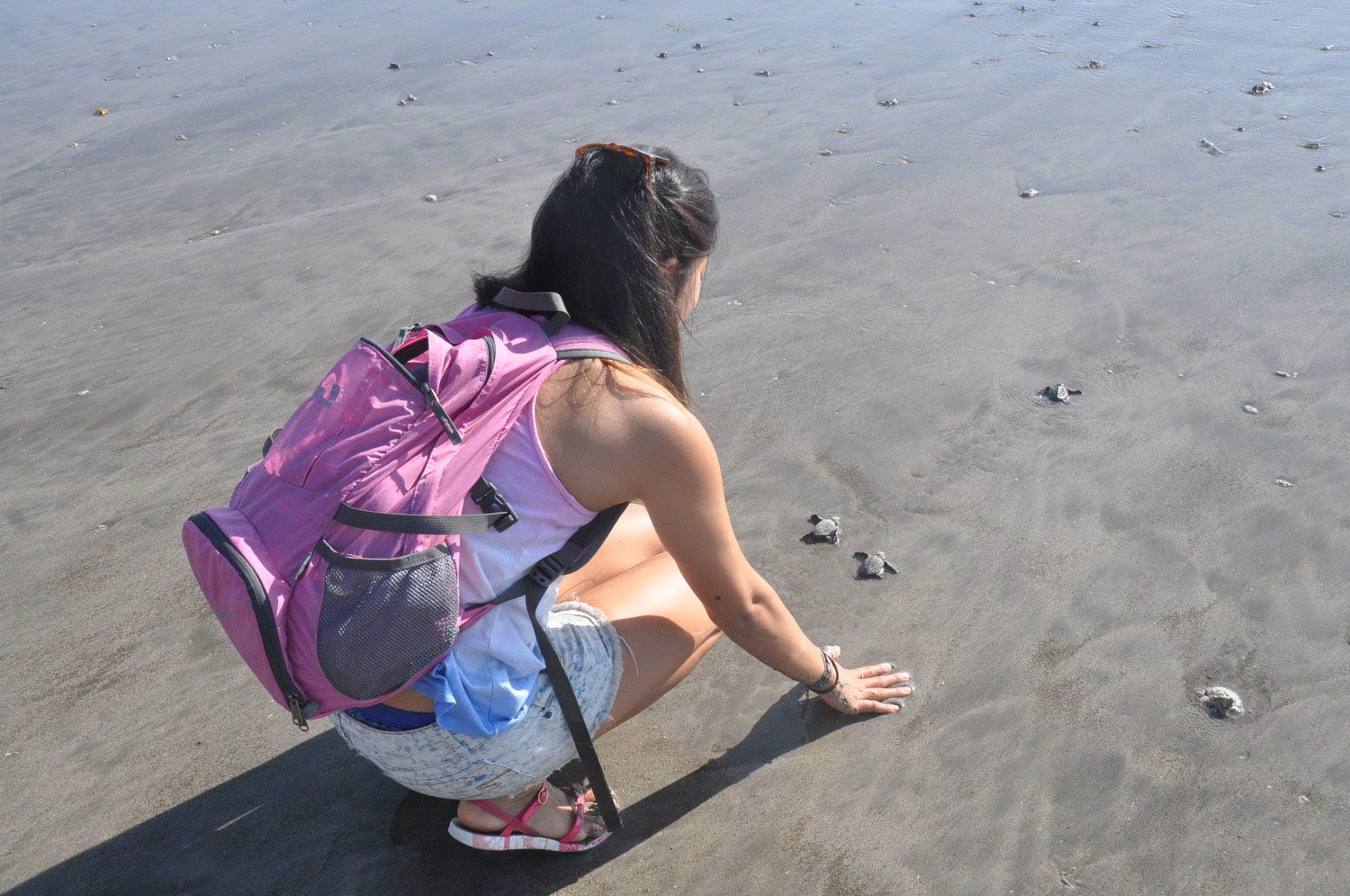 Important Note: We honestly wouldn't recommend staying in Kuta. There's not much to do, and it's very busy. But if you do find yourself in this area and are interested in turtle conservation, keep reading…
The man running the center is extremely passionate about his job, and proudly announced that he is the sea turtles "mother", taking care that they make it safely into the ocean. He said that roughly 1 in 1,000 babies survive, making it all that more impressive that he continues this work when the reward is so low.
We each got to release two baby turtles and watch them waddle through the damp sand, leaving adorable footprints… err, flipper prints?… behind. We had to warn a few people absent-mindedly walking by so they didn't step on them, illustrating the importance of the conservation center.
Experience it yourself: You can stop by the conservation center at any time during the day. The thing is they only release turtles when they have hatched. It isn't easy to predict, and the center is not very good about updating their Facebook page.
We were there a bit before 4:30 p.m. and we got lucky because there was a release about to happen. We have heard recently that they take bookings, so consider messaging them.
If you can, plan to bring a little extra cash to donate to the cause. After seeing the work they're doing, you'll want to support in any way you can – big or small.
11. Drive a motorbike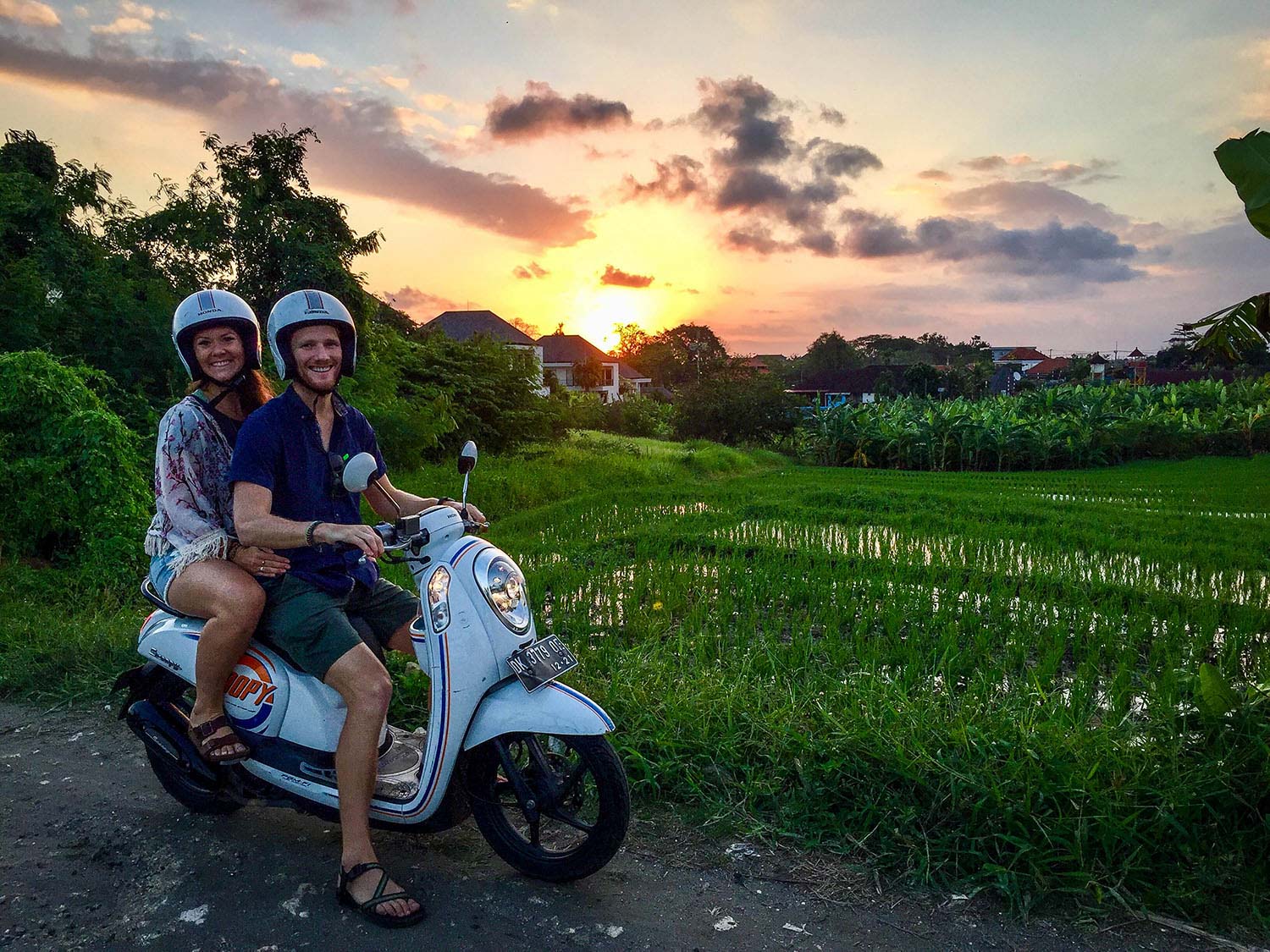 There's nothing quite like feeling the wind through your hair as you drive through quiet streets on a motorbike. Renting a motorbike for a day is cheap in Bali – around 70,000 for a single day rental.
Important to know: If it is your very first time driving a motorbike, we would recommend being very careful choosing where you will start.
For example, Nusa Lembogan is a great place for first timers, as there is not much traffic and the streets are mostly well-paved. Nusa Penida, on the other hand has notoriously bad roads, and is not suitable for beginners. And on Bali, the main streets in Seminyak, Canggu and Ubud often have pretty bad traffic.
Before renting a motorbike:
Take a picture of any dents or scratches, so they can't be blamed on you.

Take a picture of the license plate (in case you forget after parking it!).

Wear a helmet! Even if you are the BEST driver in the world, not everyone else on the road is. Accidents happen often. Protect your head. (We will mention that helmets are not widely available on some of the islands, like Nusa Penida and Nusa Lembogan.)

Be sure you have good travel insurance. Accidents are not uncommon.

Carry your international drivers license with you if you're driving through non-touristy areas. We've been pulled over outside the main cities and have had to pay a fine because we forgot to have it on us.
Related: How to Avoid the Crowd in Bali and Uncover Hidden Gems
12. Find bliss in an infinity pool in the jungle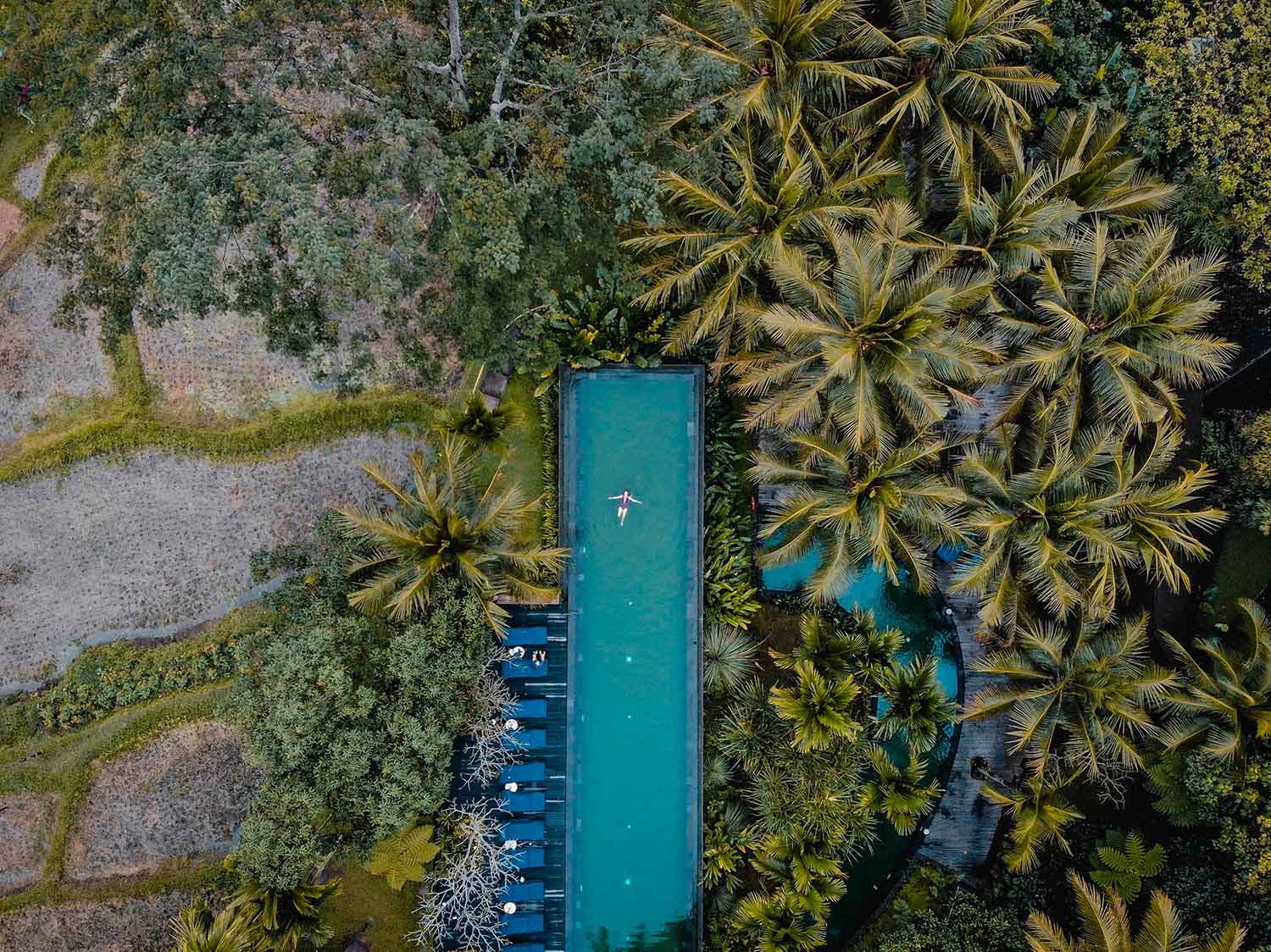 You're going to have no problem finding an infinity pool (or 2!) during your time in Bali. Pools are standard at many hotels, but let's just say that they vary quite a bit in quality.
Even if you don't have the budget to stay at a 5-star hotel, you can still spend the day at some of the nicest pools on the island.
A drink in hand and a good book at your side equal the best day ever!
Our Recommendations:
Jungle Fish in Ubud has an amazing pool and is open to the public. A day pass to this pool is 150,000 IDR per person.

Loop Pool & Bar in Canggu is lesser known than many other pools, but it's amazing! If you want to swim and eat, you can purchase the "pool package" for 150,000 IDR which can be used for food and drink credit.
13. See a Kecak Dance
Watching a performance of this traditional Balinese "fire & trance dance" is yet another way to get a glimpse of local culture.
This traditional dance is set to music, but not the kind you'd expect. At the beginning of the performance, a group of men parade into the auditorium making rhythms and melodies with their voices. And they don't stop for the entire show. Their tantric chanting is perhaps the most impressive part of the show.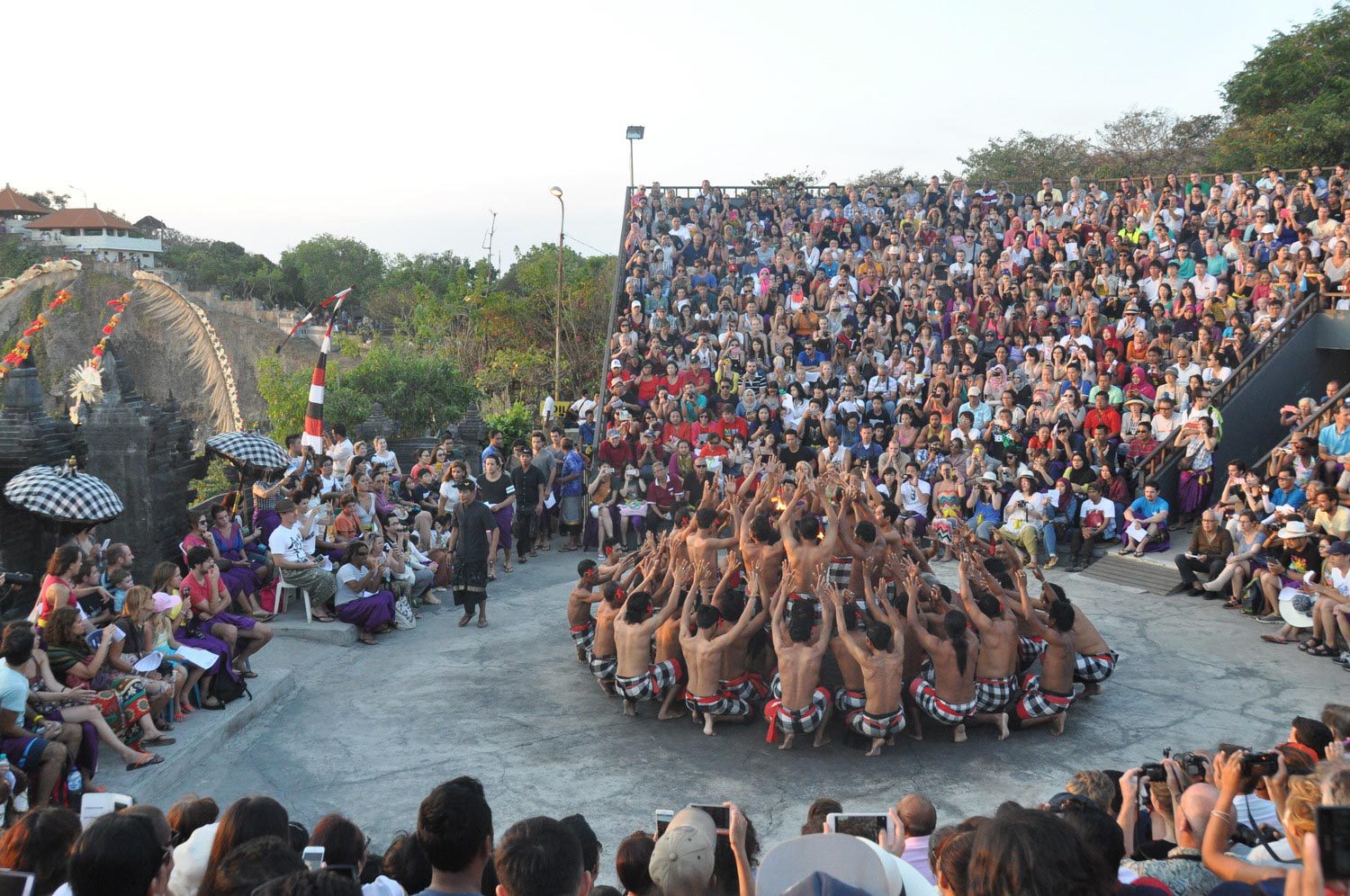 The dance itself has a handful of characters, and follows the story of an epic poem about Rama. The plot includes kidnapping, a monkey king and a creepy demon (just like any good tale!).
It can be a bit slow at times and the dialog is in Balinese, so we would suggest reading up on the story to better understand what is going on.
Also, unlike the name implies, fire doesn't play a huge role this performance. For some reason, I expected it to be a fire dance of sorts — with performers twirling flaming sticks — which is definitely not the case!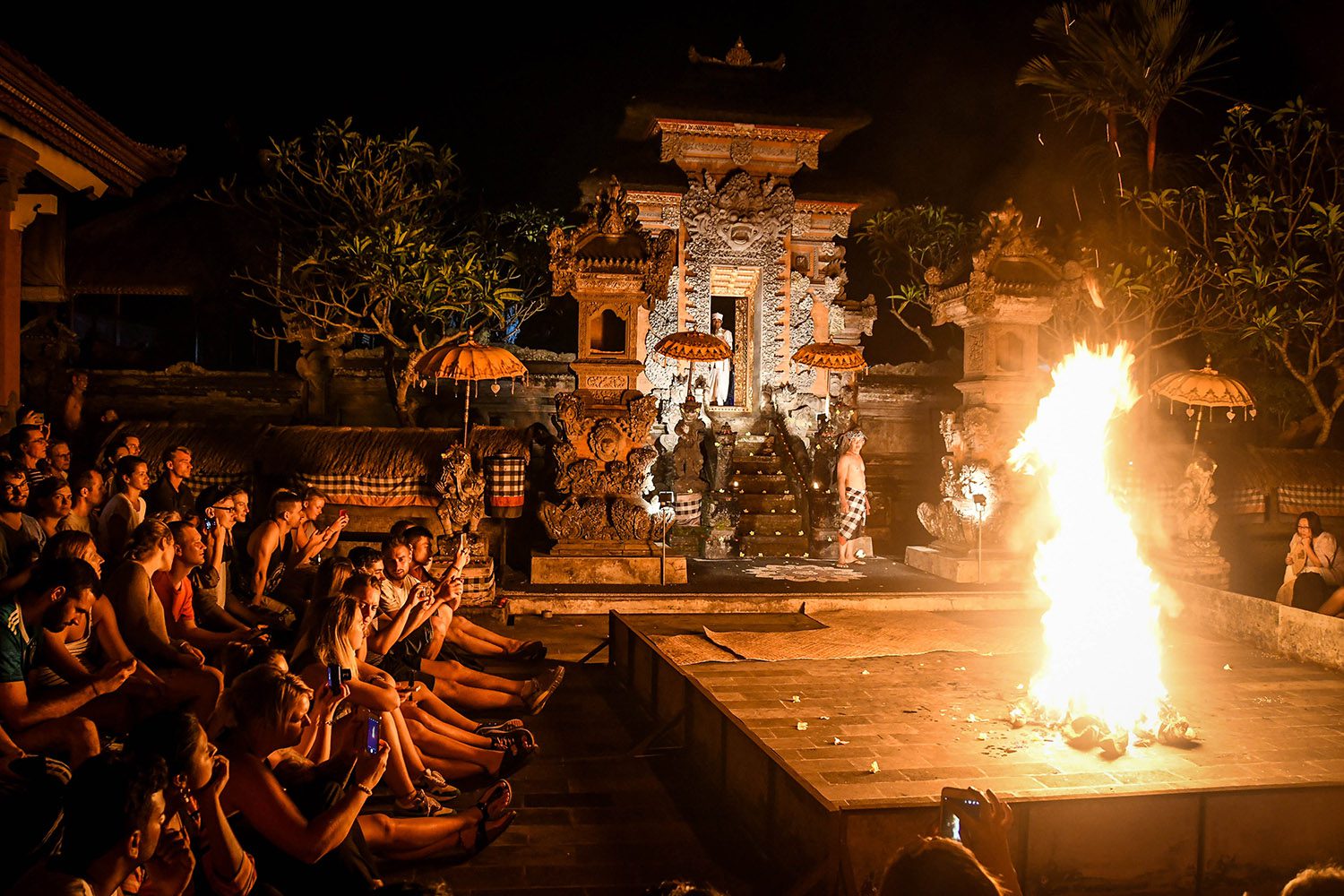 Experience it yourself: The most popular places to see it performed are in open air theaters in Ubud and at the Uluwatu temple. We have seen it performed at both, and in our experience, the show in Uluwatu was better. However, if it is more convenient for you to go to the Ubud performance, it's not a bad idea.
Entrance fee: Uluwatu is 100,000 rupiah per person; Ubud is 75,000 rupiah per person
14. Try a fruit you've never heard of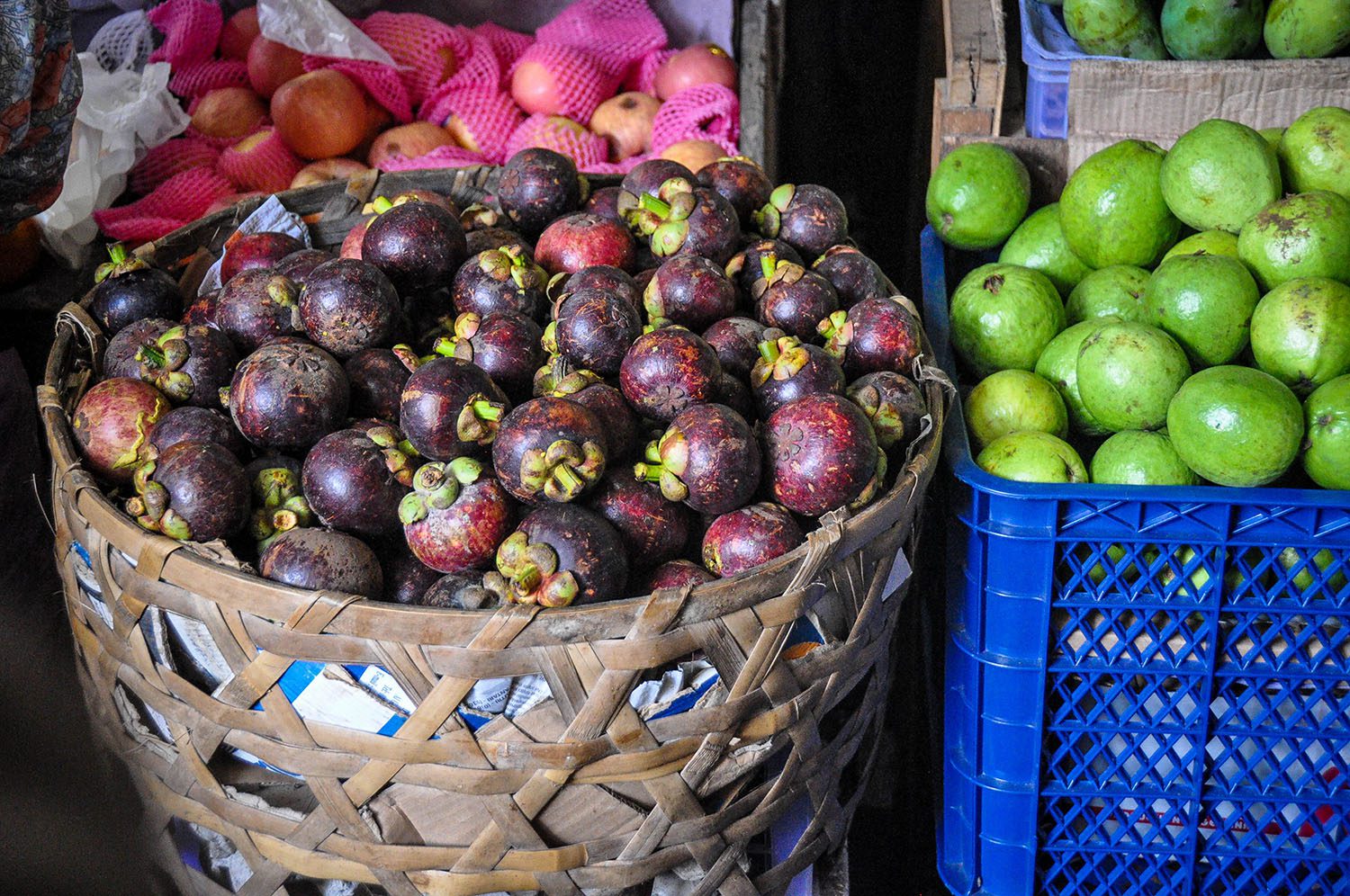 Snakefruit, Mangosteen, Dragonfruit, Rambutan, Jackfruit, Soursop, Tamarillo, Durian… Try 'em all! (Well, except maybe durian!)
Bali is home to all sorts of fruits we had never heard of before coming to this part of the world. and it is a wonderful place to try anything that strikes your fancy.
Insider Tip: Our very favorite is mangosteen (that purple fruit in the picture above!). It's literally the best thing you'll ever eat. Go get one and tell me you don't absolutely LOVE it.
15. Find paradise on the Gili Islands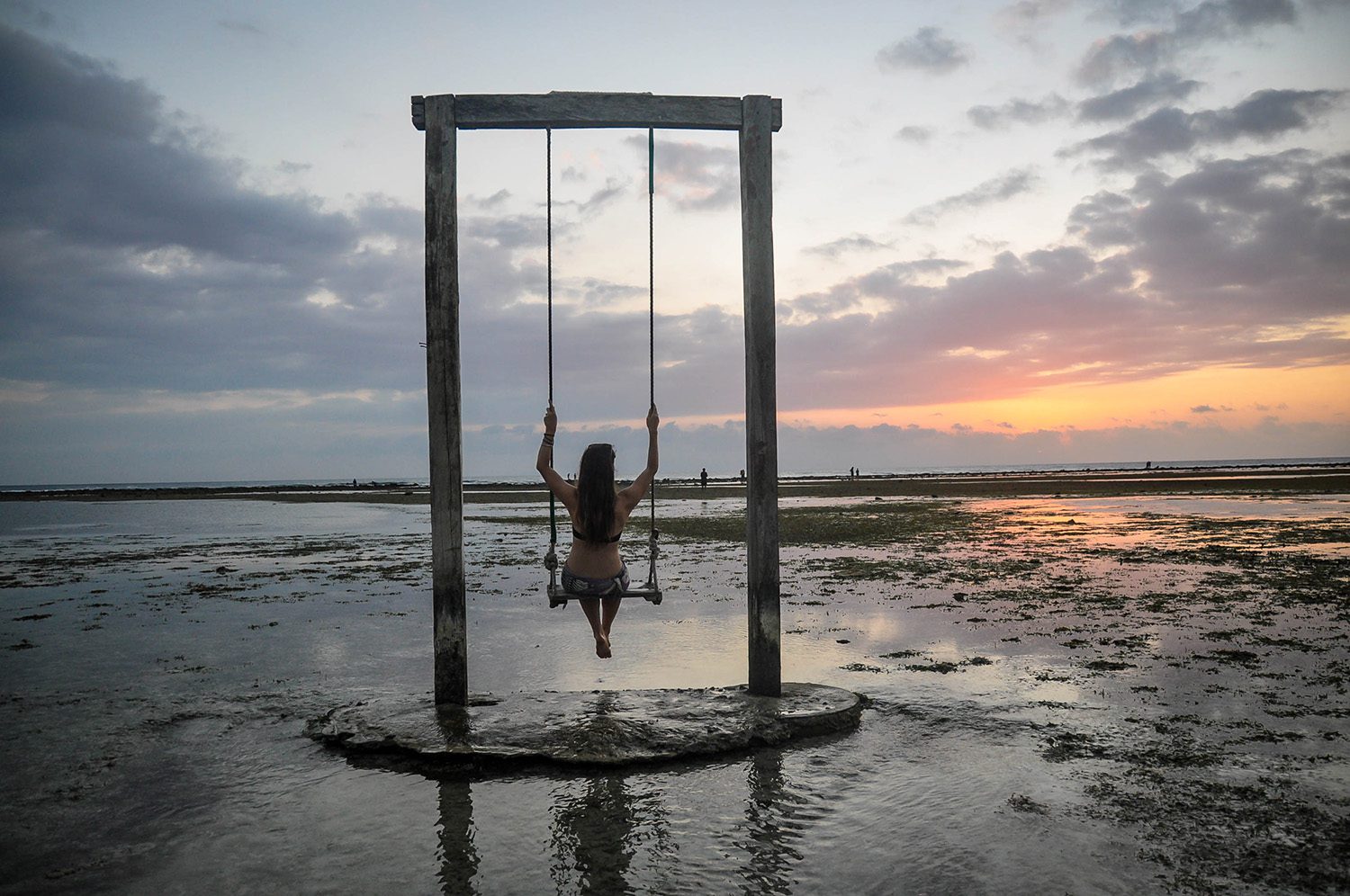 These three small islands are just a few hours from Bali by ferry and make a nice side trip for a couple days. Each island has its own vibe, so there is a Gili for every type of traveler.
Quick breakdown of the Gili Islands:
Gili Meno is known for being the least developed and a good place to have some quality R&R away from crowds. Be warned that there isn't much to do on the island, but if that's what you're looking for, it might just be paradise.

Gili Air has beautiful beaches and a little more going on than the former. People often say it is a nice mix of Meno and Trawangan.

Gili Trawangan (aka "Gili T") is the most developed of the three, and is famous for its wild parties. We stayed here with friends and had a great time biking around the island, watching sunset and relaxing with cocktails in hand.

Just beware that the beaches are full of coral, which makes it difficult to walk out very far without wearing shoes.
There are no motorized vehicles on the islands, so everyone walks, rides bikes, or hires horse carriages to get from place to place.
Experience it yourself: Book your transportation ahead of time because there are only a few ferries a day and they can sell out, especially in high season. Shop around a bit to find the best deal, and be sure it includes a shuttle and ferry there and back. We paid 600,000 IDR per person (roughly $41 USD) for a round trip ticket.
What to spend more time in Indonesia's island paradise? Check out our list of things to do in Lombok, Indonesia as a responsible traveler.
16. Visit Balinese temples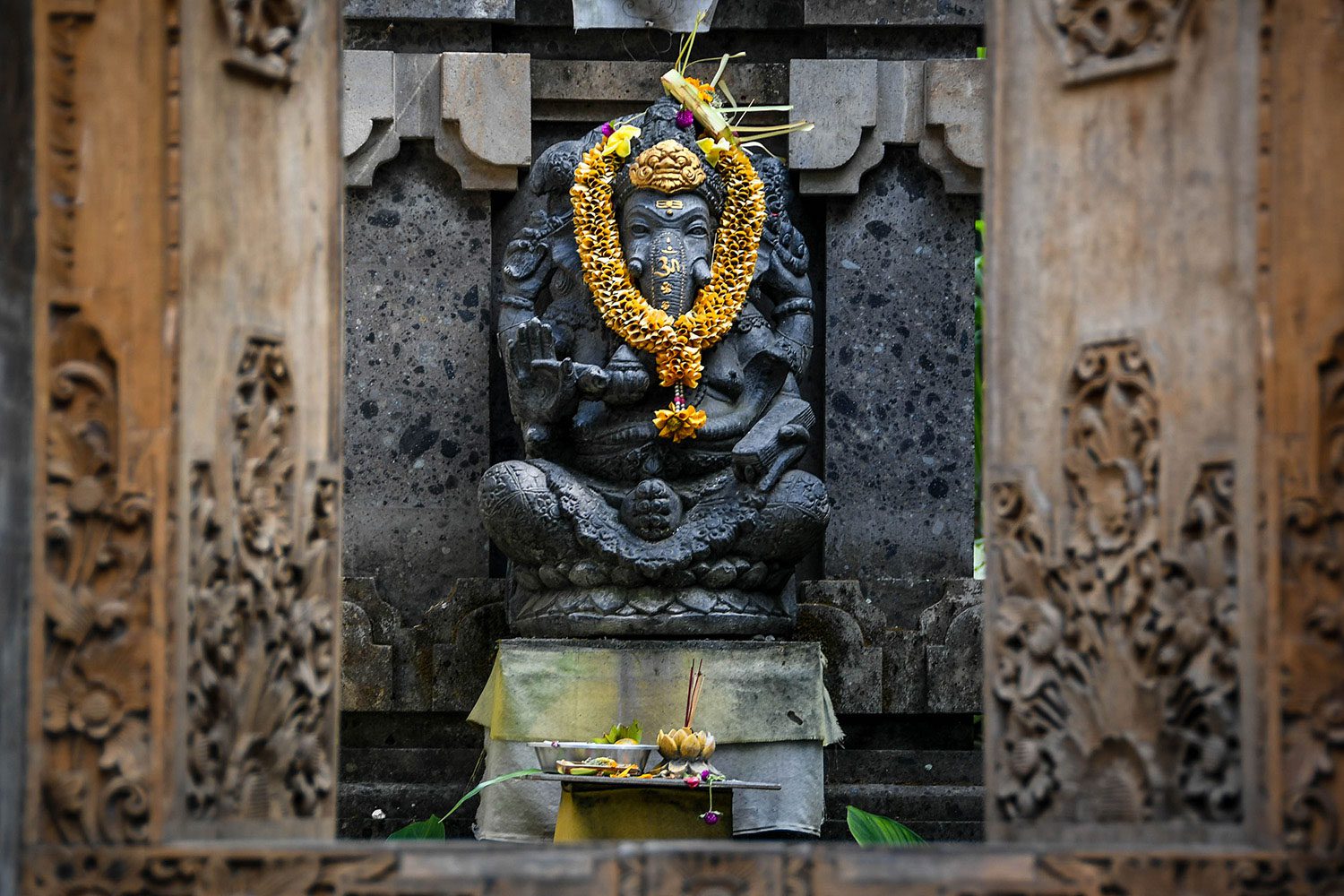 Bali is full of temples, both big and small, famous and little-known. Wander past them, stop inside and learn about the Hindu culture. Be sure to put a few on your itinerary, as they each have their own vibe and thing that makes them unique.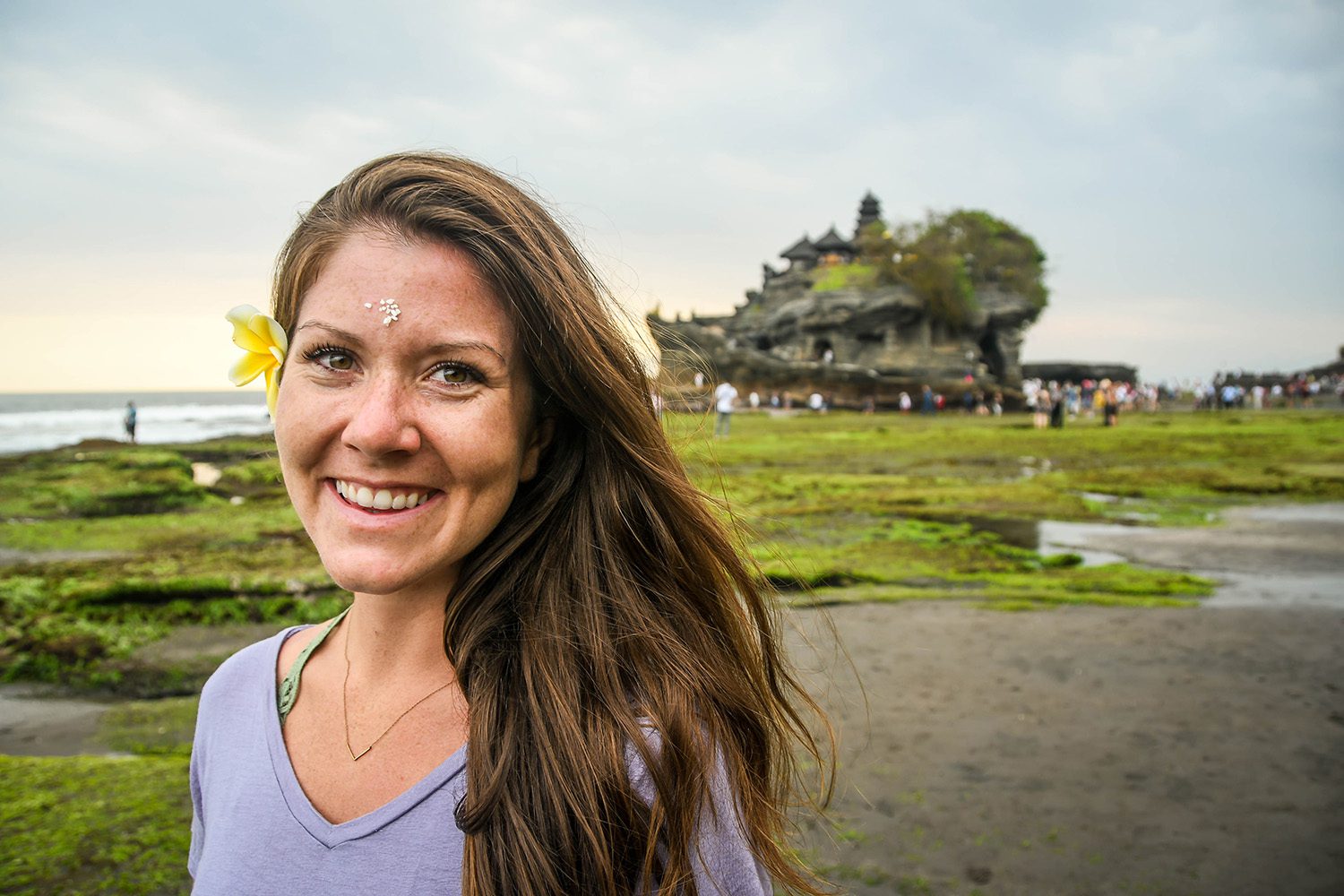 Tannah Lot
Not far from Canggu, Tannah Lot is built into a rock formation that juts out into the sea. Visit during low tide so you can walk out to the entrance of the temple and be blessed with the holy fresh spring water that flows out from inside the rock (give a small donation for this blessing). Sunset is especially beautiful here.
Ulun Danu Beratan
Nestled right beside a lake, Ulun Danu Beratan is one of the most picturesque temples in Bali. Getting there requires some time, so plan on booking a driver to bring you.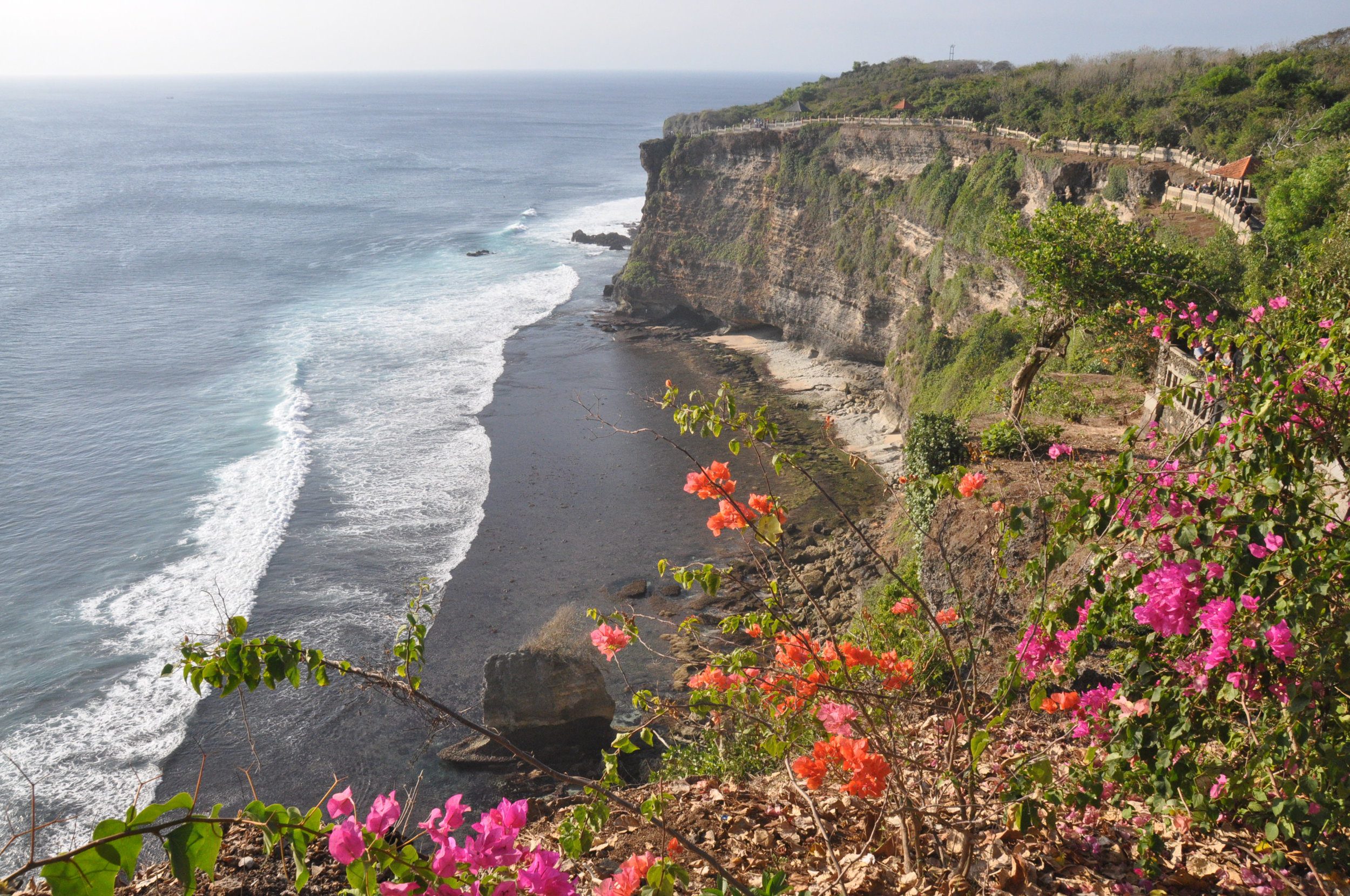 Uluwatu
Perched high on a cliff overlooking the Indian Ocean, the temple of Uluwatu offers stunning views.
Upon entering the grounds, each visitor is required to wear a long purple sarong around their waist. Another great sunset spot!
Pura Tirta Empul
Known as "holy water temple" this is a place where locals and foreigners alike can get a blessing. See tip #9 for more details.
Related: Indonesia is full of exquisite temples. We found some of the best temples in Yogyakarta on the neighboring island of Java.
17. Get a Balinese massage
When an hour-long massage costs less than $10 USD, you'd be crazy not to get one (or 5!) while in Bali.
You can find spas or massage parlors on just about every block, and the prices typically range from 80,000 – 200,000 IDR for a 1-hour Balinese massage.
Good to know: Like anything, you get what you pay for, so the cheapest massage probably won't be as good as one of the slightly more expensive ones.
What to expect: Balinese massages focus on the whole body and use an oil-based lotion. This type of massage is more gentle than a Thai massage, and focuses less on stretching/cracking. Remove your clothing (except for underwear) before the massage, and prepare to relax! And don't be shy to tell them to add more (or less) pressure.
Tip: Check out their Google reviews to see what other guests have said about their experience.
And why stop at just a massage?! In Bali, you can find other spa treatments – like facials, pedicures, waxing, eyelash extensions, basically anything you want – for super cheap. Plan a whole day of pampering!
18. Try surfing in Canggu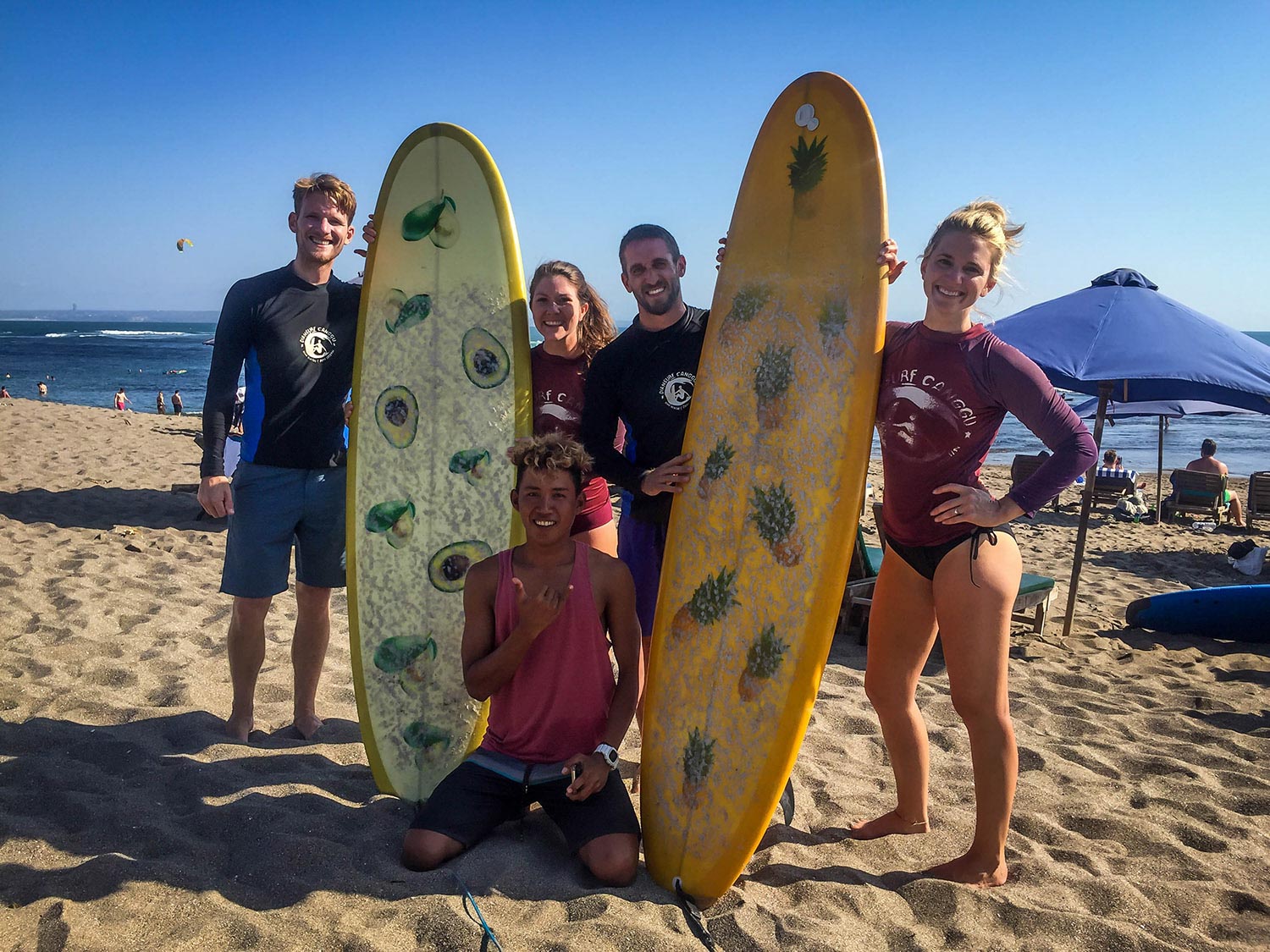 Bali is the perfect place for novice and expert surfers alike to catch a wave.
While you'll find good surf in many places around the island, one of the best places to test out your surfing skills is on Batu Balong Beach in Canggu.
Simply walk up to one of the many shacks on the beach with surfboards. You can rent a board for 50,000 IDR for 2 hours (about $3.60 USD). They typically also throw in a rash guard (shirt), let you store your belongings and give you a water at the end (we try to turn this down to reduce our plastic waste).
Our Advice: We'd recommend going with an instructor if it's your very first time. We have taken a few lessons before and know how important it is to have a good teacher. You can hire a local instructor for 350,000 IDR (about $25 USD) for a 2-hour lesson (including the board).
Serious about surfing? Check out this guide for literally everything you need to know about surfing in Bali.
19. Order Nasi Campur at a local Warung
While we can go on and on (and on!) about all the cute, delicious, healthy restaurants around Bali (see #25 if that's what you're after), let's take a moment and focus on "eating local".
Warung means "small, family-owned restaurant", and often times (but not always), they serve Balinese or Indonesian food. One of the best ways to sample the local cuisine (other than taking a cooking course – see #2!) is to order Nasi Campur. "Nasi" meaning rice, and "campur" meaning mix, this dish is pretty much just what it sounds like: rice and a mix of other sides.
You will see a glass window with all sorts of side dishes, like stir fried vegetables, pumpkin curry, sweet and spicy tempeh and skewers of chicken satay.
You will point to as many dishes as you'd like and they'll scoop a portion of each on a plate with rice in the middle. They might ask if you want spicy sauce, or sambal, on the side. If you like spice, definitely give it a try!
Vegetarian Tip: While you can choose dishes without meat at any warung, there are actually a handful of restaurants that do specifically vegetarian or vegan nasi campur. In Canggu, try Give Café (pictured above) or Vinny's Warung for good vegan nasi campur! Also, search on Happy Cow for vegetarian restaurants and narrow it down by those that serve Indonesian food.
20. Explore rice terraces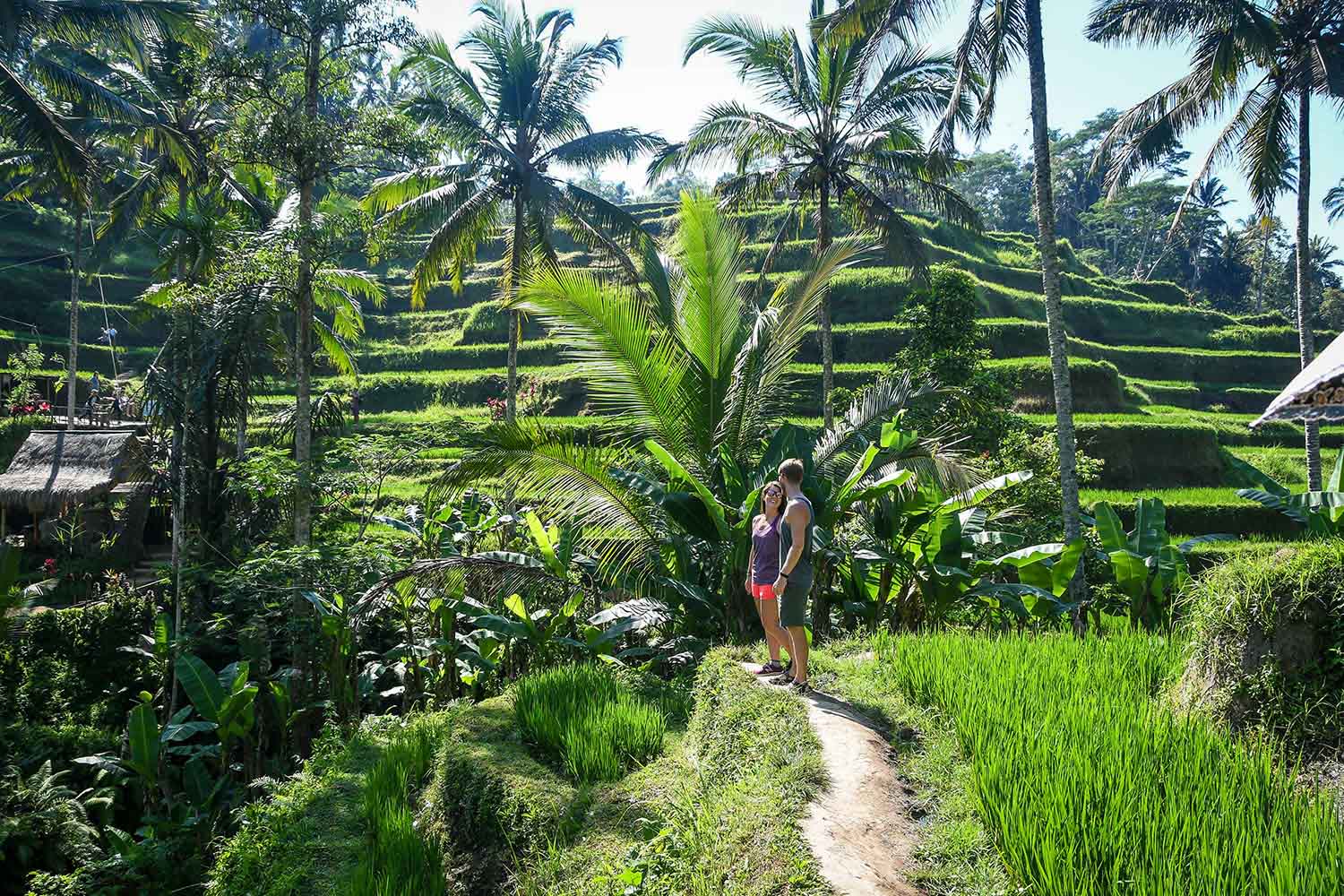 We've all seen the iconic rice terrace shots on Instagram, and this is likely one of the first images that comes to mind when you think of Bali.
Grab your flowy dress and wide brim hat (or your athletic clothes, like us!) and pretend you are an Instagram model. Throw your head back and laugh. Snap. Run your hand through your hair. Snap, snap! See, you've got it down!
The most famous (and quite easily accessible) of the rice terraces is Tegalalang. Located not far from Ubud, this is a popular place to visit for anyone staying in this town.
Our advice: Book your Balinese Countryside Tour with our friend Ring (see tip #1) and this is your very first stop of the day. You'll get there before the heat and the crowds!
If you're going on your own or with a driver: Be sure to visit early, and aim to arrive at 8 a.m. if possible. We cannot stress this enough. The morning lighting is most beautiful, and it gets hot and crowded after 10 a.m. And don't stop where all the crowds are, keep following the path up and over to the right side where less people go. This was (in our opinion) the most beautiful section of the rice terraced.
And if you want to see the largest (and supposedly most picturesque!) terraces in Bali, head to west Bali where you'll find Jatiluwih terraces, which were once nominated for UNESCO World Heritage status.
21. Go beach hopping in Uluwatu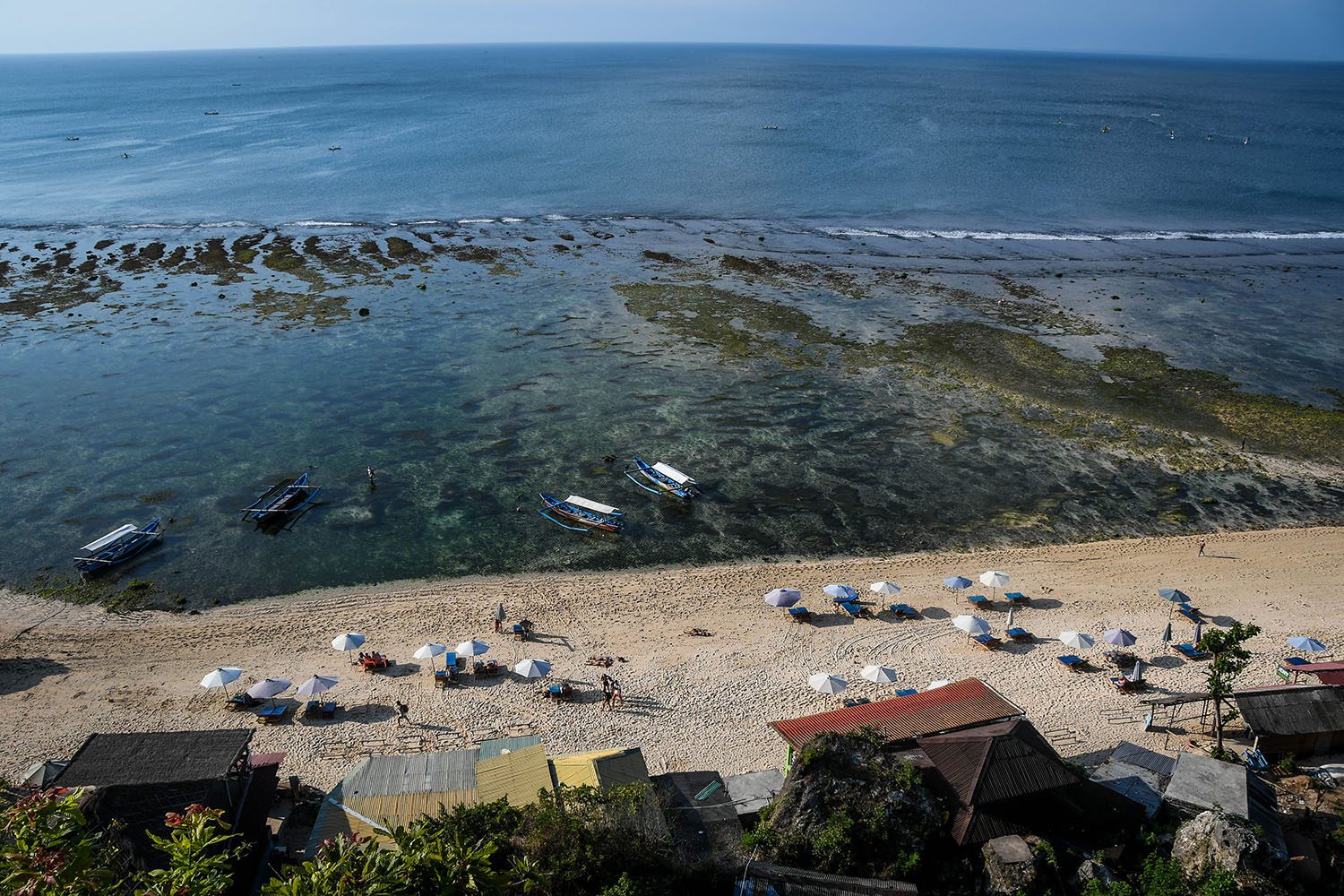 The island of Bali has no shortage of beaches. But some of the best are located on Nusa Dua, the little "teardrop" on the south of the island.
These beaches boast white sand, and rock formations stand proudly out of the water as waves crash against them. These are the beaches you imagine when you think of Bali.
Thomas Beach
This is the least visited of the three, and was our favorite. There are just a few restaurants on the beach, and while we were there, we saw more local fishermen than foreigners. (pictured above)
Cost: Free to park and enter
Bingin Beach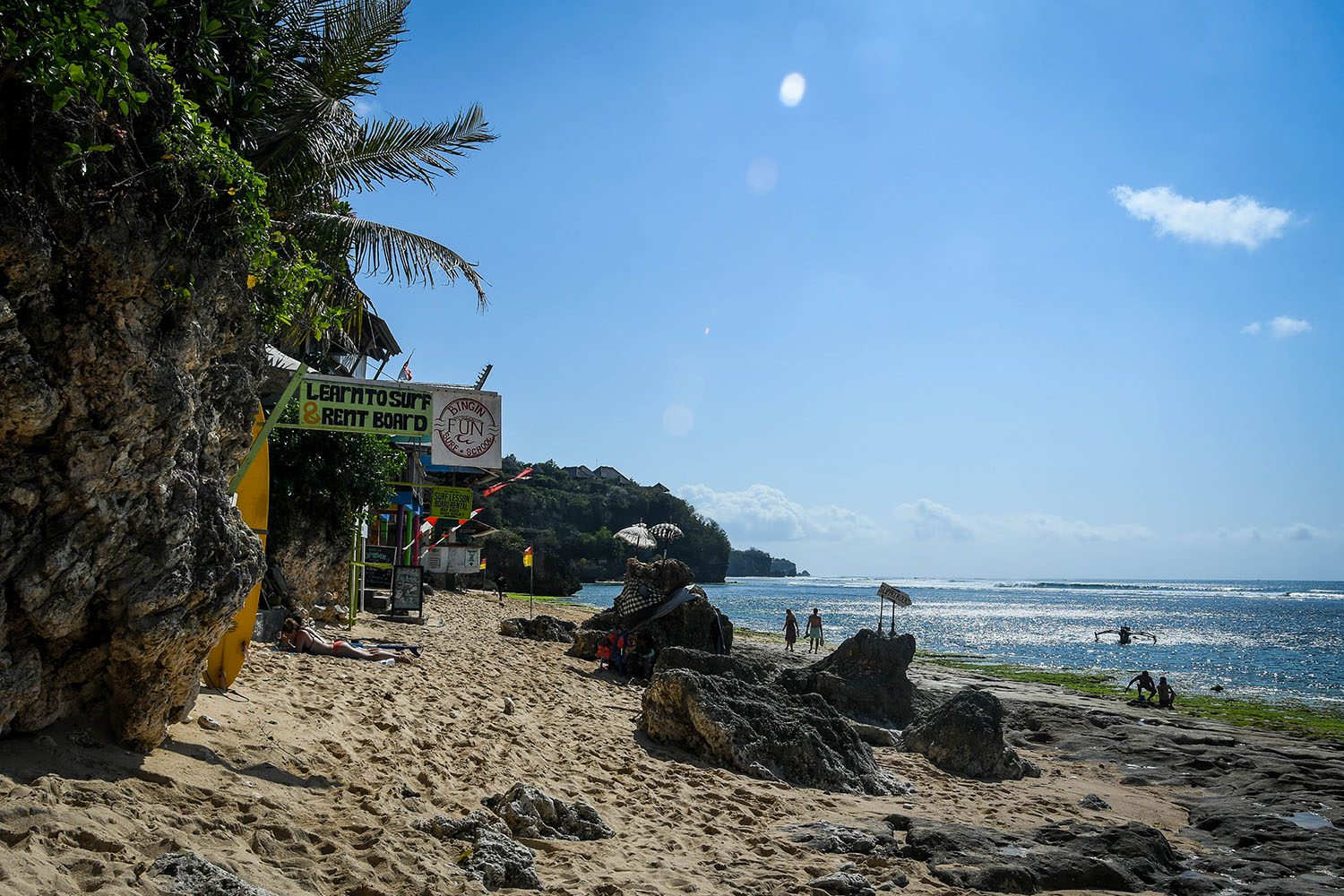 To get to this beach, you must park in the designated lot (pay the 5,000 fee), and walk down a steep set of stairs. Once you descend the cliffside, you'll find a beach backed by rocky cliffs and lined with a few cute shops and cafes.
You can relax on the sand with a book, take a surf lesson or explore the coral pools at low tide. And if you need a bite to eat or a shady escape, Kelly's Warung is a breezy place to hang out for a bit.
Cost: 5,000 parking fee
Padang Padang Beach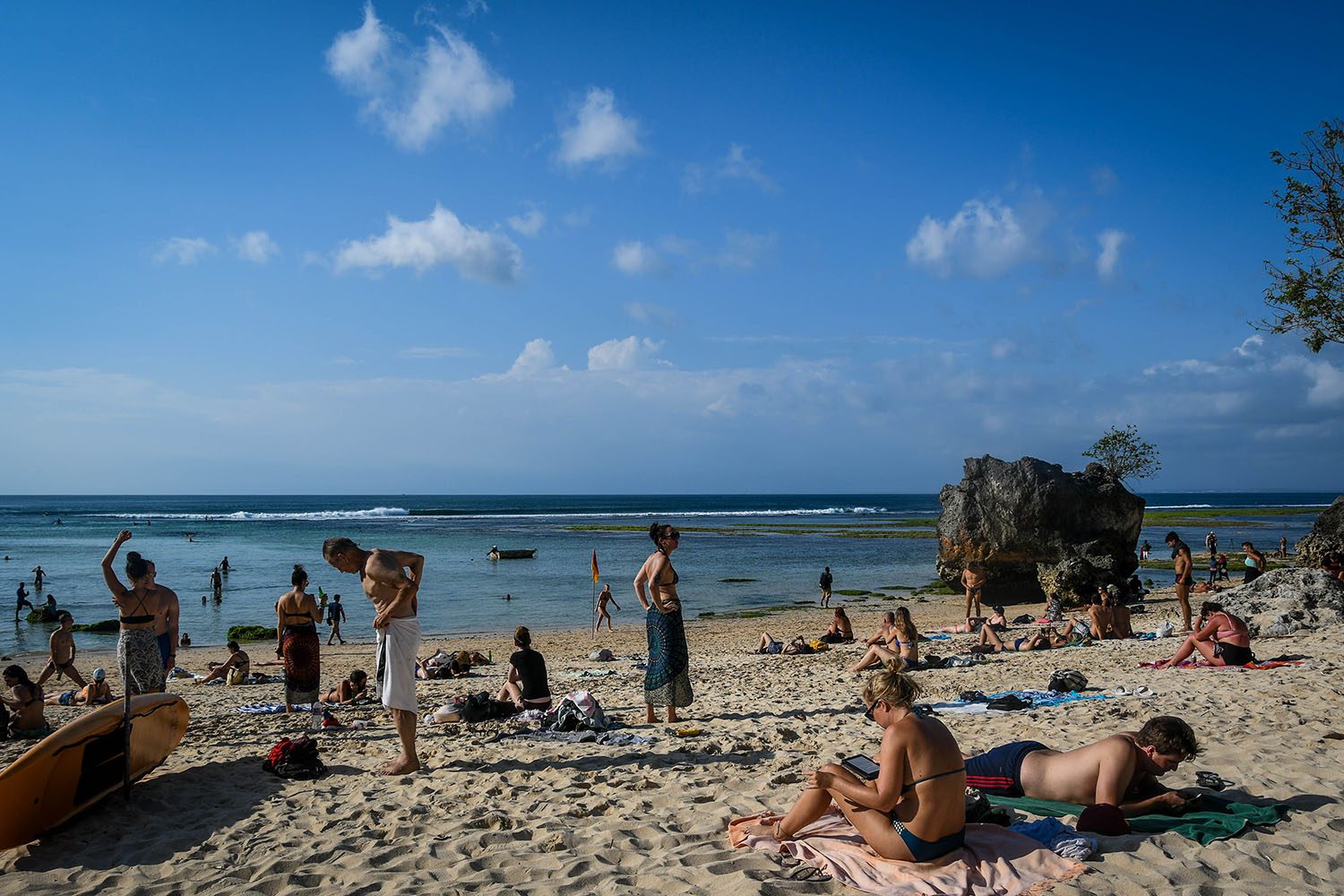 The most famous of the beaches in Nusa Dua, this cove is good for swimming. There's a cool rock formation with a tree growing up from it right beside the sand.
However, since this is the most famous beach in the area it is also the most crowded, and you'll also find lots of vendors.
Cost: There is a fee to enter the beach (10,000 per person, plus 2,000 for parking).
Insider tip: While you can come to this area as a day trip from Seminyak or Canggu, we'd recommend staying in Nusa Dua for at least one night so you can enjoy the vibes and the stunning sunset this area is known for.
22. Splurge on an out of this world hotel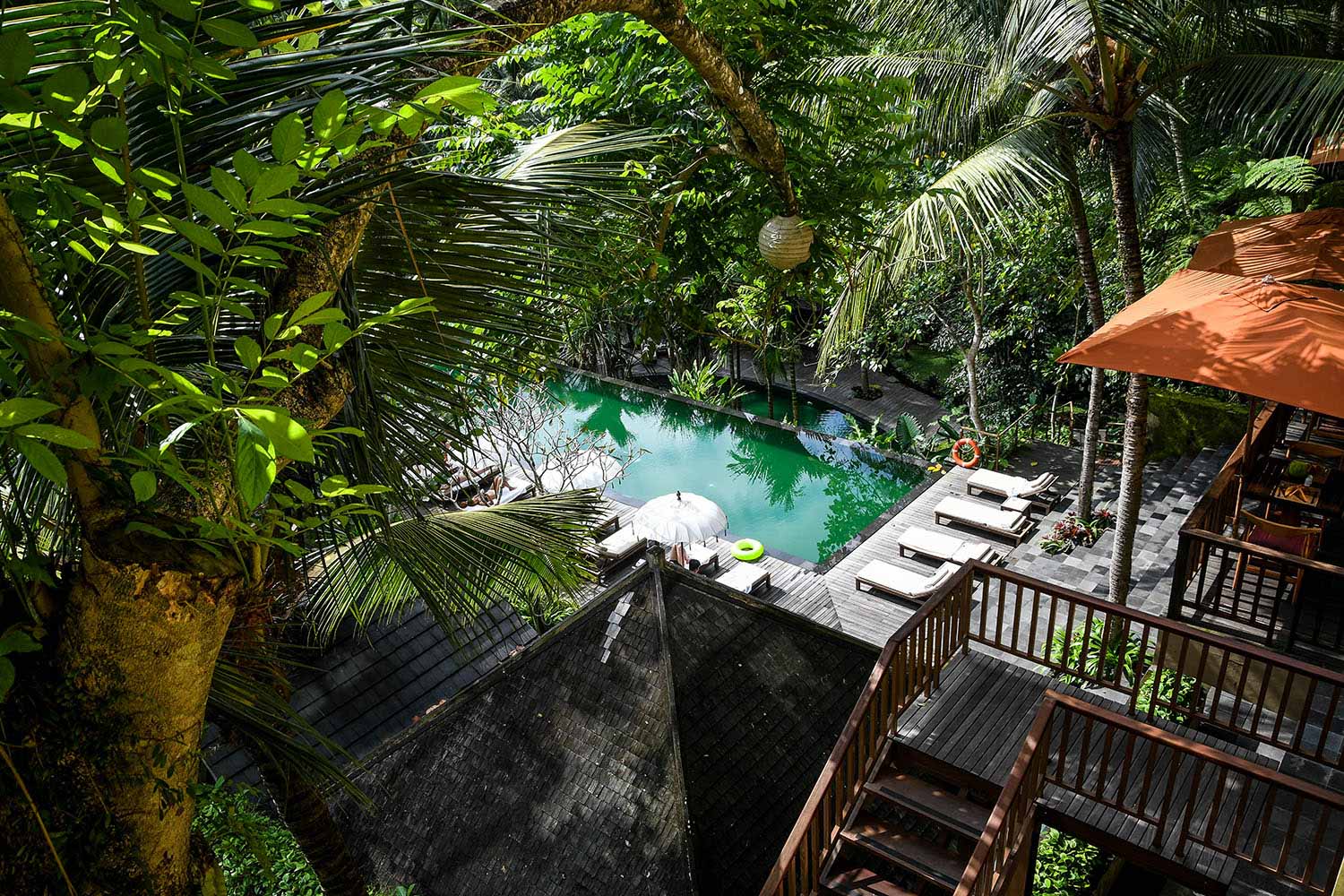 Bali is home to some pretty incredible hotels (like, jaw-dropping-and-dripping-with-drool incredible).
And the best part is though they offer world-class service, stunning designs, and infinity pools that make you want to cry, the price is far less than you'd pay in North America, Europe or Australia for the same standard. When in Asia, we always book on Agoda.com, because they have the best deals and lots of reviews.
Here are some hotels that make us drool:
23. Eat ALL the smoothie bowls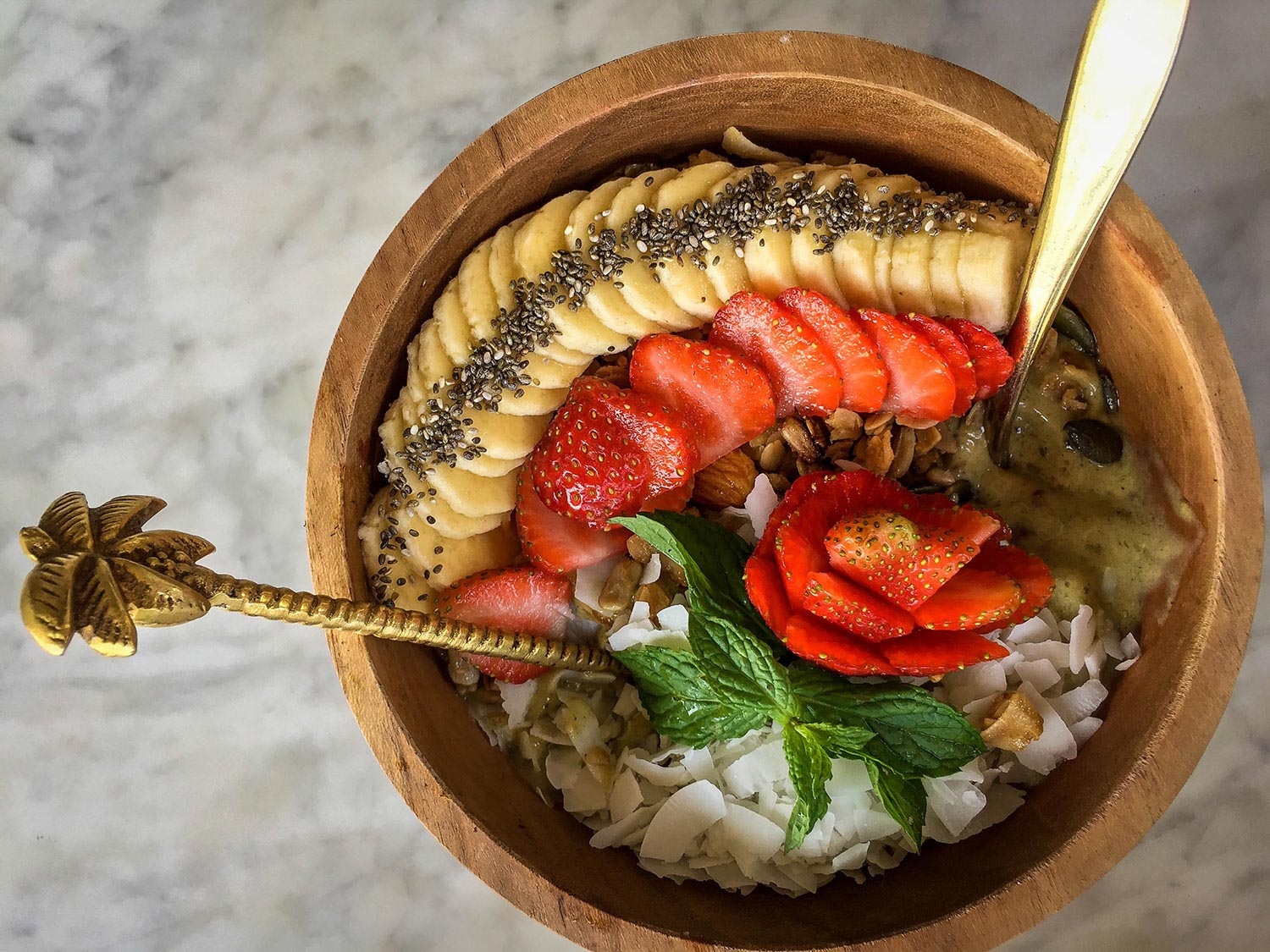 I can't even begin to count up all the smoothie bowls we have consumed while in Bali. All I know is the number is embarrassingly high. You will find them on just about every menu – even in some of the local warungs! – and the quality varies, but it is worth trying 1 (or 17!) of them.
It is a breakfast that you can feel good about eating.
24. Practice yoga
Bali is the ultimate place to take a yoga class. Whether you're new to yoga and just want to try it out, or you would like to deepen your practice, you will find what you're looking for in Bali.
There are many yoga studios all around the island, but here are two of the most famous studios in Bali:
Yoga Barn in Ubud
This expansive and stunning complex deserves a visit even if you aren't interested in taking a class. With different studios all around the property, a health-conscious café, a juice bar and open seating, you could easily spend an afternoon relaxing in this tranquil escape from the hectic roads of Ubud. Classes are frequent and directed at all different levels.
The Practice
With an almost "cult following", this Canggu staple has a beautiful facility and passionate instructors. The 90-minute classes are heavily focused on breath work and mindfulness. Also, they offer free events, like films and speakers, most Tuesday nights that are open to the public.
The good news: You don't need to pack a yoga mat with you on your travels because all the studios you'll find around Bali have them for you to borrow free of charge (with the cost of your class). However, if you like the idea of having your own, we love our YOGO mat because it's super lightweight, made of eco-friendly materials and comes with a built-in carrying strap. Here's a list of more travel yoga mats to compare.
25. Indulge your inner-hipster in Canggu's cute cafe scene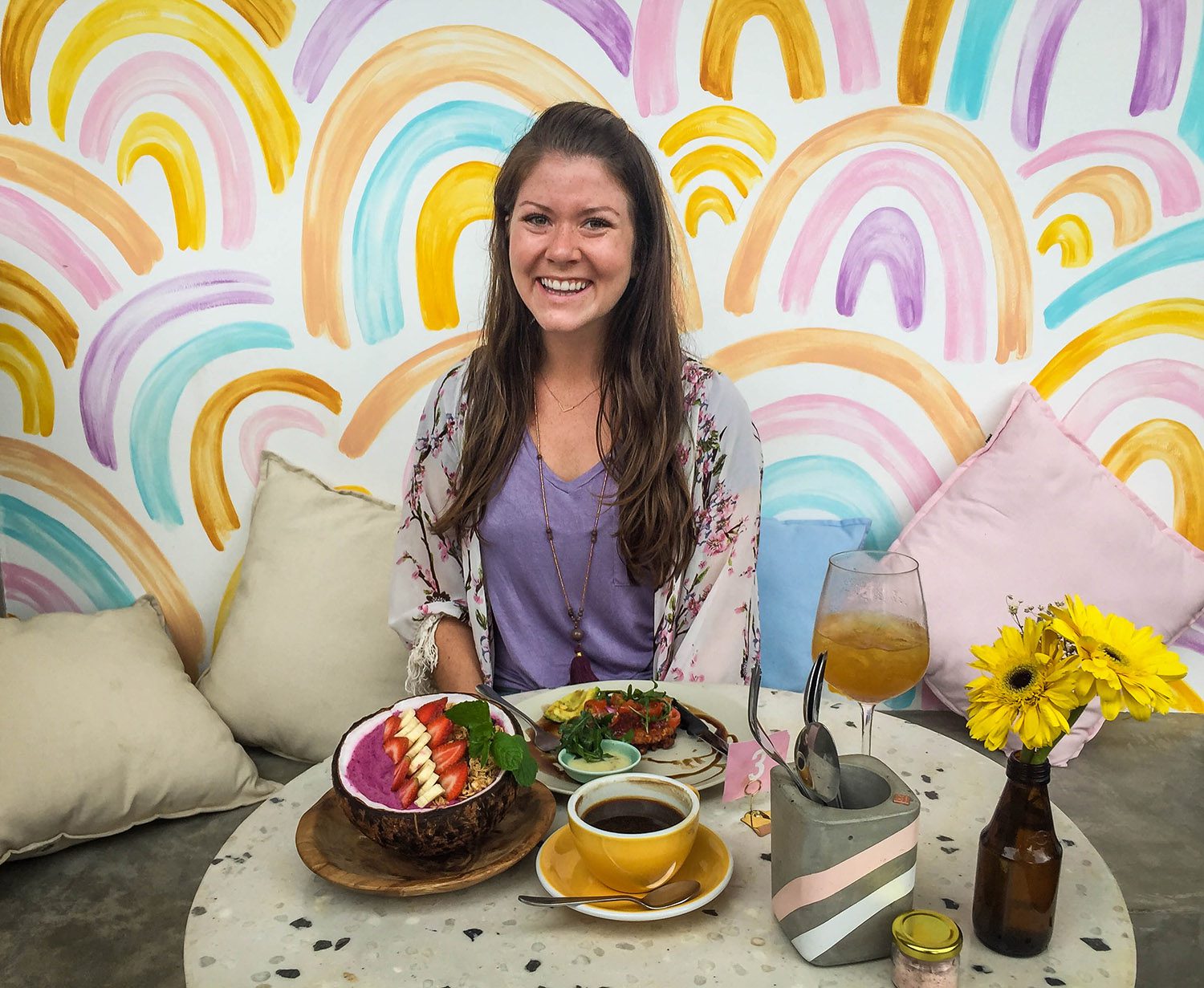 Let your inner hipster out if its cage, and head to as many cute cafes as you can. Order fish tacos or a vegan tempeh burger, and don't forget to snap a picture before you dig in!
Oh, and take a picture of the walls. All the cool kids are doing it, and all the cool cafes are painting them with pretty designs.
Here are just a few of our favorite Instagram-worthy restaurants in Canggu:
Batu Balong
Give Café: This is a nonprofit café, so 100% of the proceeds go to the charity of your choice (you get a wooden token to choose animals, people or environment). Try their vegan nasi campur at lunchtime!

Loft Café: Yummy breakfast!

Shady Shack: Tons of vegan options in a boho, jungly atmosphere.

Crate Café: Big portions and really affordable prices compared to other restaurants. It is always packed, but somehow they get food out relatively quickly. Come for breakfast and try a chia cup!
Berawa
Koloni: one of our favorite smoothie bowls (Mango Tango!) in Canggu.

Nude: Delicious salad bowls

Spice Road Café: Perhaps the most beautiful restaurant… ever!

Milk & Madu: whether you come for their excellent coffee, perfect breakfast creations, or their pizza and live music, this place always seems to be busy!

Milu by Nook: enjoy your morning smoothie bowl as you look out into the rice field that the restaurant is built on.

Lupé: We're usually not fans of buffets, but Lupé is one of our exceptions. Holy crap, this place is GOOD. Each day of the week is a different theme — vegetarian, seafood, Mexican, etc. — and the food is healthy and homemade. Come hungry!

Warung Goûthé: This quaint French restaurant feels like a secret, and we just love it. Their breakfasts are perfection and in the evening they do grilled meats.
26. Catch a sunset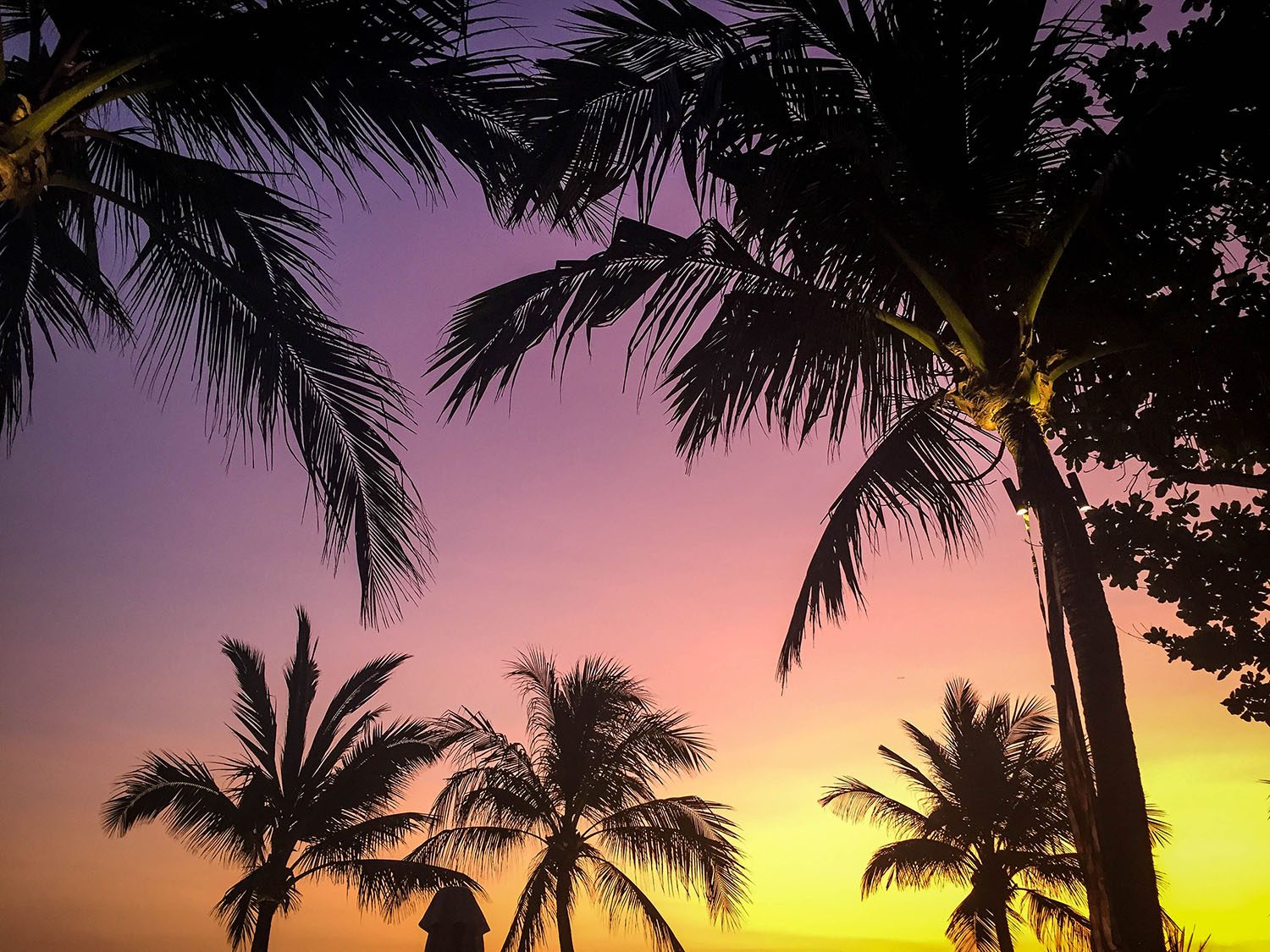 Sunsets in Bali are not your ordinary pink-to-orange affair… they are spectacular! Try to make an effort to catch the colorful sky as many evenings as you can, because you won't be disappointed.
While you can enjoy sunset from just about anywhere, here are some of our favorite places:
Any Beach: Head to any of the beaches on Bali's west-facing coast, and sit on your sarong with a Bintang as the sky turns orange and pink!

The Lawn in Canggu: This beach club is known for great sunset views. If you don't have a daybed reservation, head to the rooftop where you'll have even better views, music and good vibes. Be sure to arrive a bit earlier if you want a seat with a view, otherwise plan on standing and mingling, as it does get quite crowded. Plan to come for happy hour during which select drinks are on special and they come around with free slices of pizza (they're small, but it's still free pizza!).

La Laguna: Wide open beach and a restaurant if you get hungry.

Uluwatu: On the tip of Nusa Dua (that teardrop at the southern point of Bali), the area around Uluwatu is a popular place to watch sunset. Simply sit on one of the many beaches, head to Single Fin beach club or go to the Uluwatu Temple to watch the Kecak dance as the sky turns a multitude of colors.

Tannah Lot: This seaside temple is especially stunning when the sun starts to set. However beautiful, this place does get quite crowded as the sun goes down.
27. Shop for handicrafts
I'm going to be honest and let you know that if you like shopping, you are going to want to buy EVERYTHING in Bali. Neither of us are huge shoppers (we don't have a home to store our belongings in, after all!), but even we (well, mostly Katie!) have a hard time in Bali.
The traditional handicrafts are stunning, we have bought our fair share of souvenirs that we'll have to sweet talk my parents into storing for a while! From those trendy circle purses, to Bintag tank tops to hand-woven textiles, you'll find it all in Bali.
Our advice is to shop around to get an idea of the prices and scope out the quality, which can vary quite a bit. The Ubud Art Market is a good place to see all sorts of vendors and crafts in one place.
Souvenir ideas in Bali:
batik sarong

hand-woven textiles

reed-woven basket or backpack (traditional craft from an indigenous group in Borneo)

circle purse

teak wood anything

jewelry
28. Get a taste of "Digital Nomad" life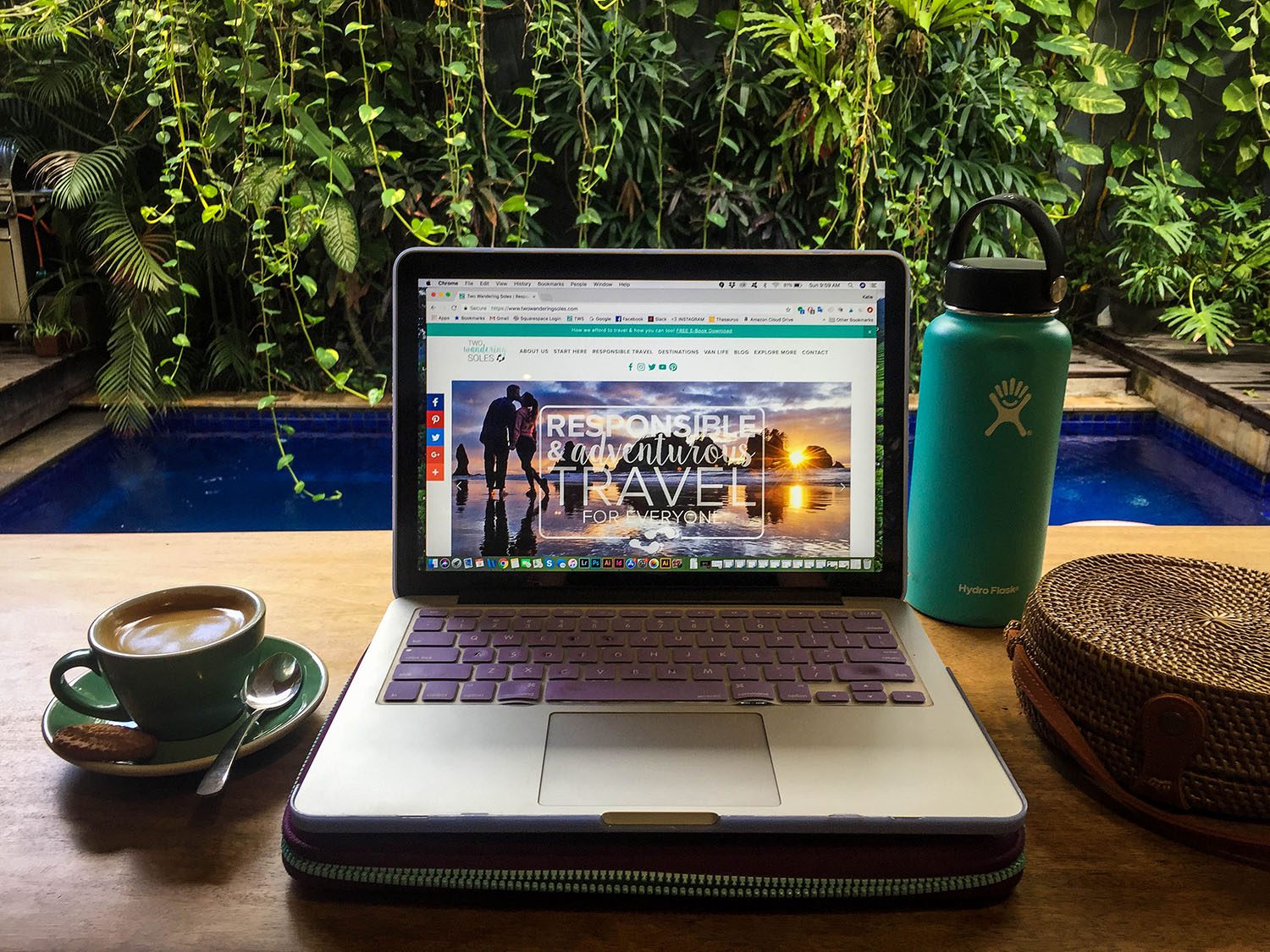 Have you ever thought of packing your bags and bringing your work with you wherever your heart desires? You're not alone. The whole "digital nomad" scene has exploded in recent years, and the freedom that working online can offer means people really can set up their office anywhere there is a stable Internet connection.
If you're interested in seeing what this lifestyle is all about, Bali is actually a great place to do a "test run". Canggu is arguably the most popular base for digital nomads in Bali, but Ubud and Seminyak have a fair amount of a community as well.
Spend a day "working" (no one's gonna care if you're just browsing Facebook or plotting future travels!) from a café or tour a co-working space like Dojo just to get a taste.
Insider Tip: Dojo hosts a variety of events every day, and some are open to the public. Stop by to see if any are interesting to you!
29. Take a Batik class
Feelin' artsy? Batik is a traditional craft of the Balinese people in which they dye a cloth using wax to create shapes. And you can learn how to do it yourself!
Book a batik class where you'll learn the techniques and come away with a beautiful piece that was handcrafted by you. Can't find a much better souvenir than that!
Related: For an interesting cultural experience, consider planning your trip over Nyepi, Bali's day of silence.
30. Get drinks at a beach club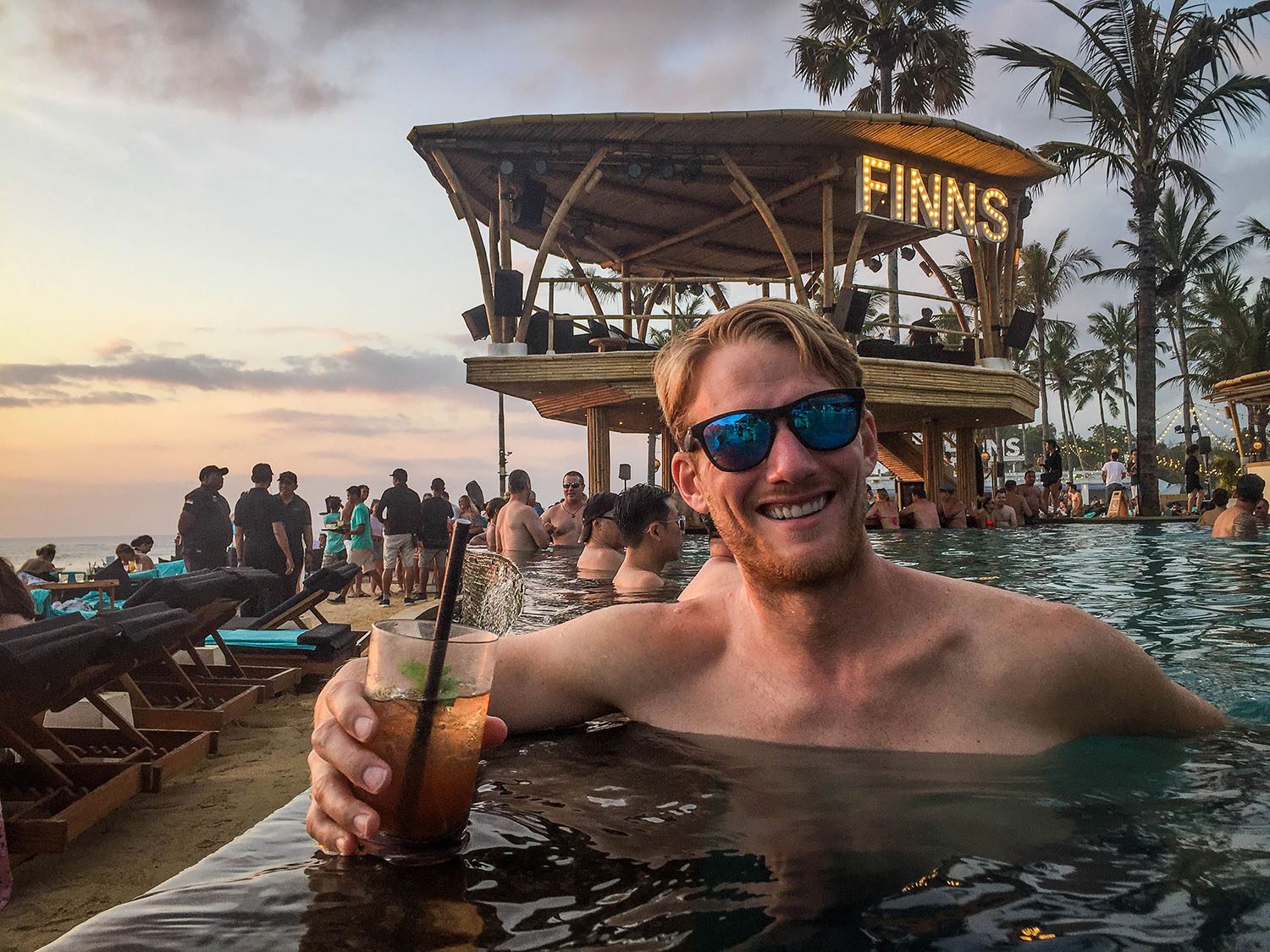 Beach Clubs are a big thing in Bali. It seems like this is a must-do on most people's itinerary, and we can understand why.
With stunning pools, ocean views, inventive cocktails, live DJs and a good lookin' crowd, it can be a fun way to celebrate being in Bali.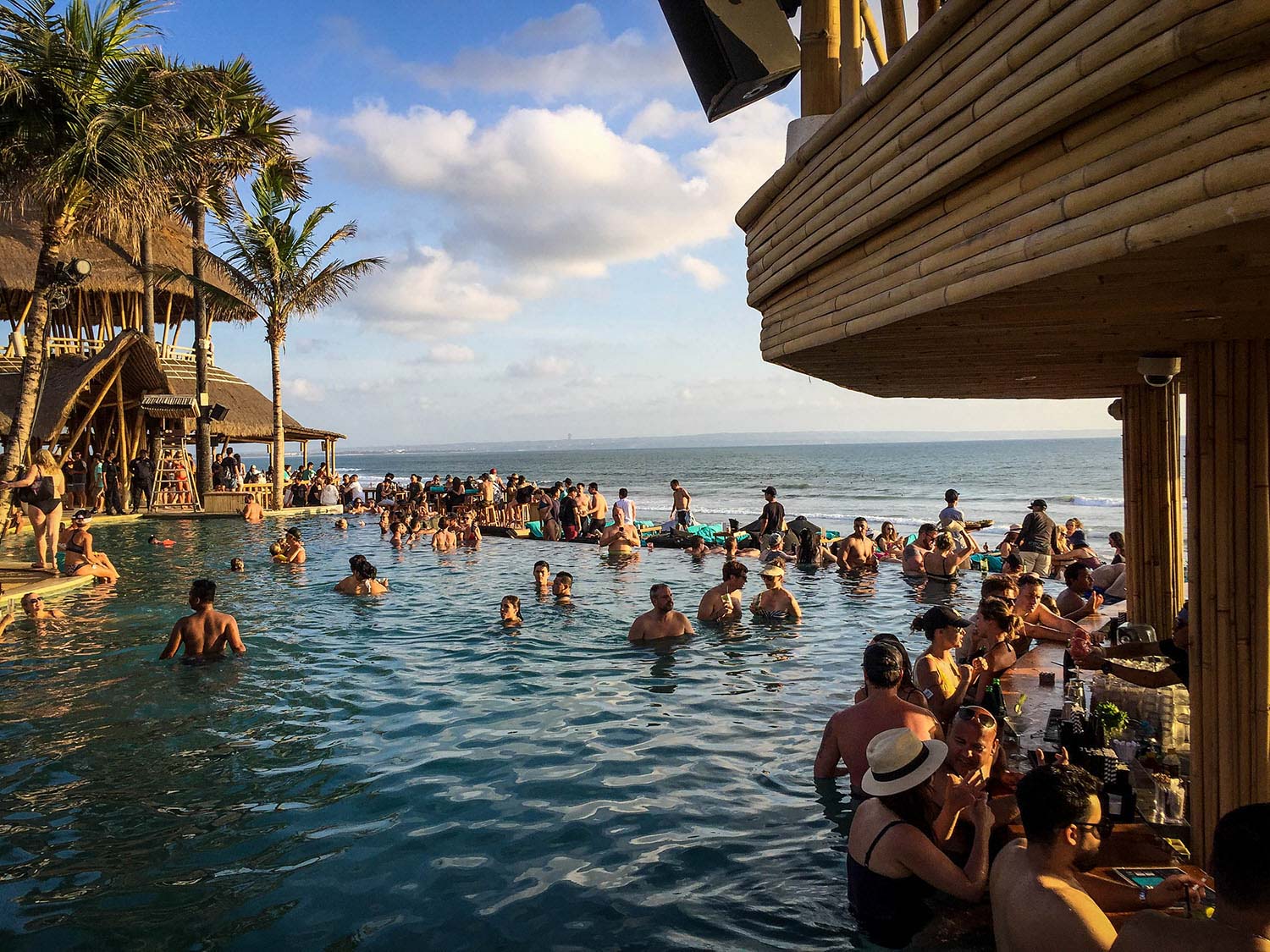 Popular Beach Clubs in Bali:
Potato Head in Seminyak

Finn's in Canggu

Single Fin in Uluwatu
Things to note: Beach Clubs often require advance reservations for daybeds and have a minimum order amount. They also tend to have strict rules – we got reprimanded for setting our swimsuit cover-ups on the ground, and were told that we had to pay for a locker instead. Also, beach clubs are almost exclusively foreigners.
---
Things to Avoid in Bali
Drinking the (in)famous Luwak coffee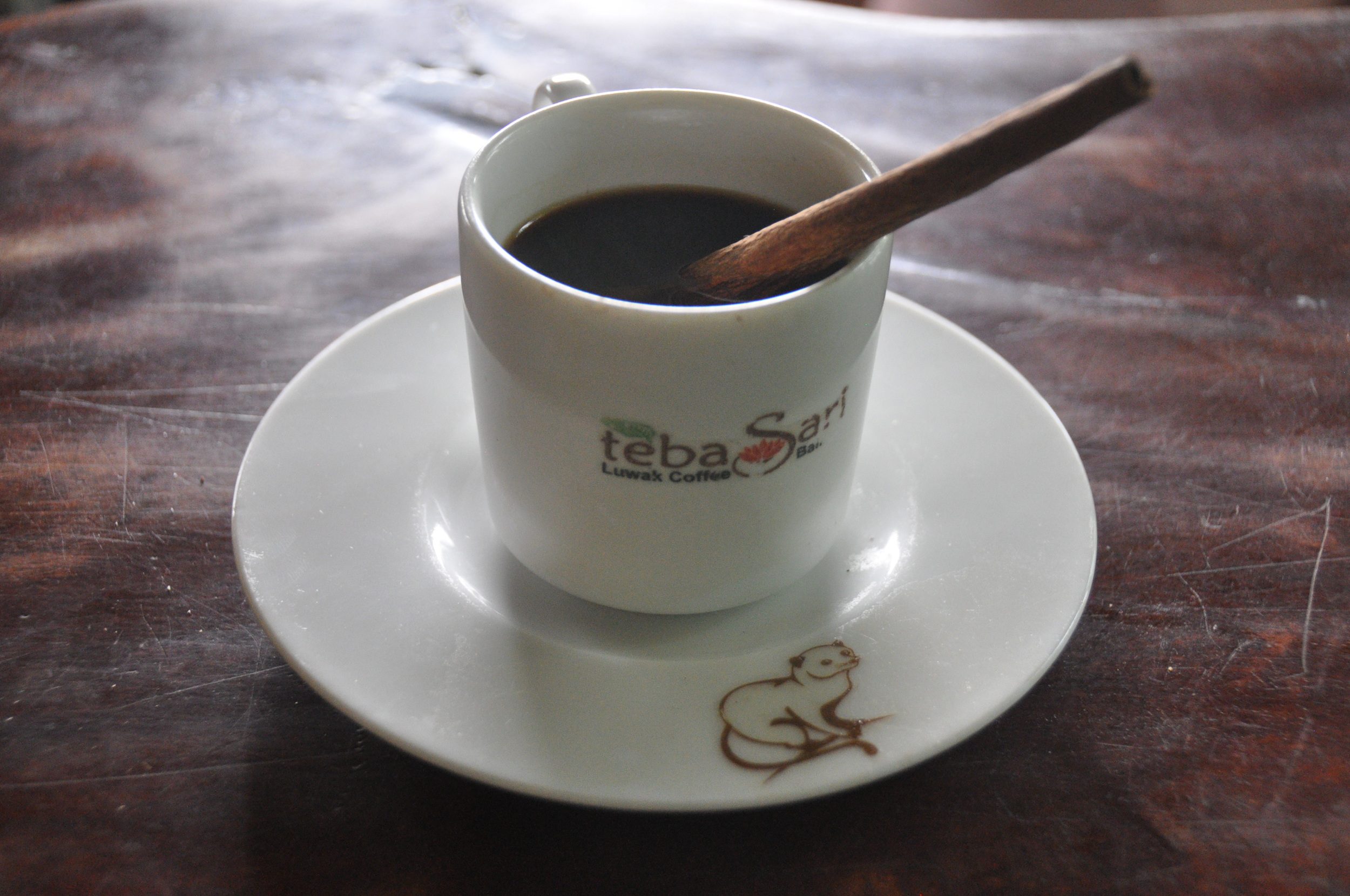 Also known as "cat poop coffee", this beverage is said to be the most expensive coffee in the world. We visited two different coffee and tea plantations (as part of other tours), and learned about the process that earns this coffee its name.
These pricey coffee beans have been digested by a luwak (a type of weasel). Yeah, that's right. The animal has eaten the beans, digested them, and, err… defecated. And then these "processed" beans are collected to be cleaned and roasted for a not so ordinary cup 'o joe.
At both plantations, we saw the luwak in small cages with sad, sleepy eyes.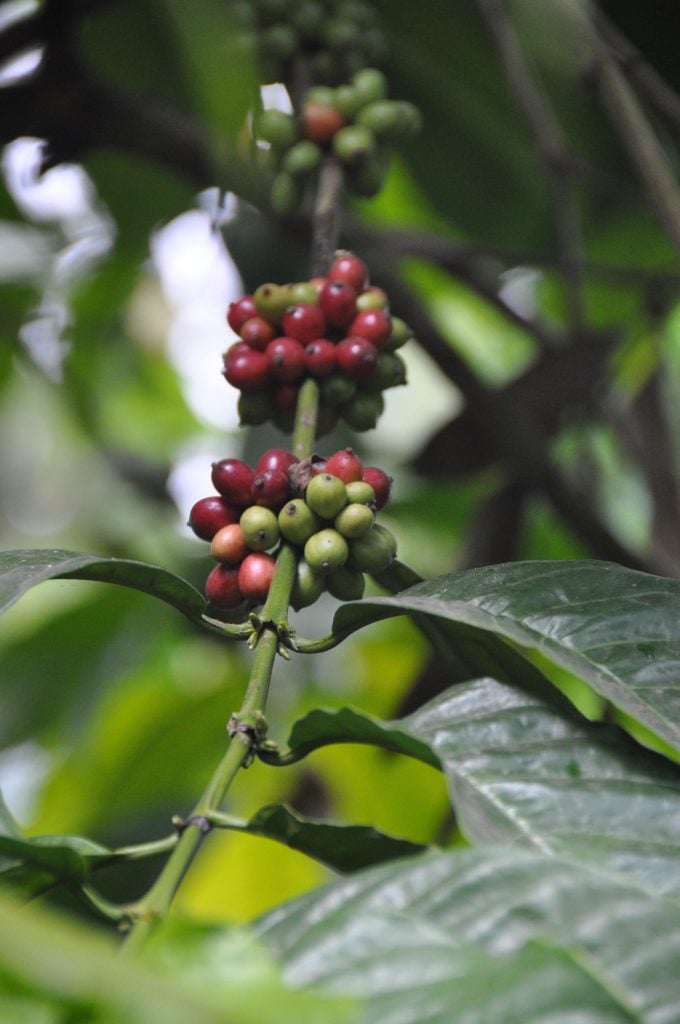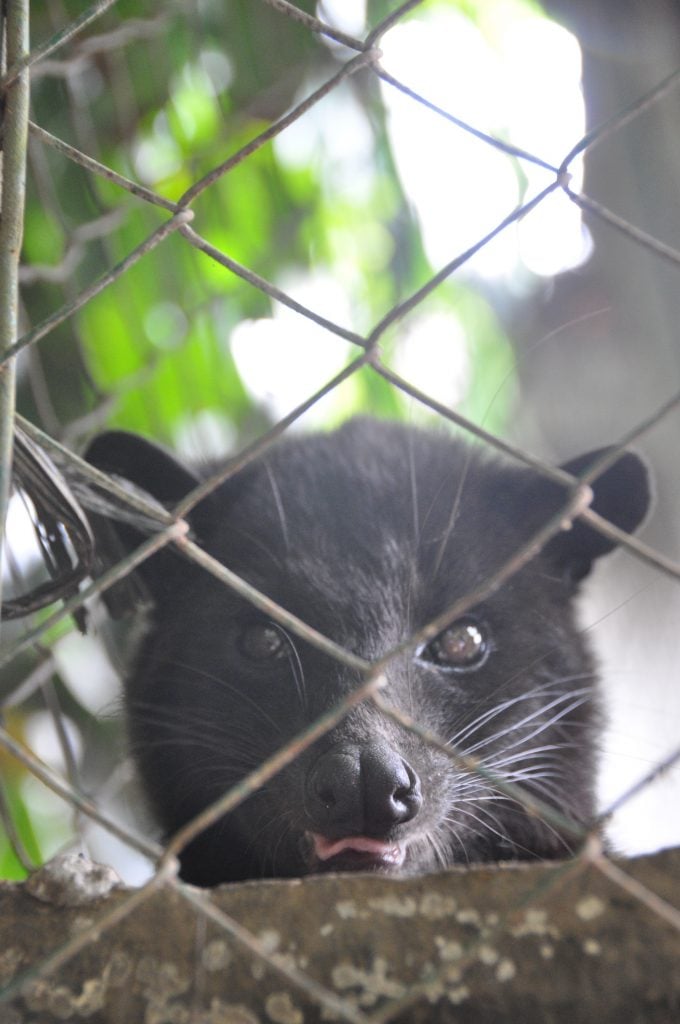 We were brought huge samplings of different teas and coffees for free – coconut, ginger, lemongrass, ginseng, saffron – so many I can't even remember them all.
Being that it's the most expensive coffee in the world, the luwak variety was an additional 50,000 rupiah (about $5 USD). We all shared one glass, passing it around so everyone could get a few sips. It was no doubt good coffee (strong and robust, which is exactly how I like it) but to me, it didn't taste much different than a regular arabica bean.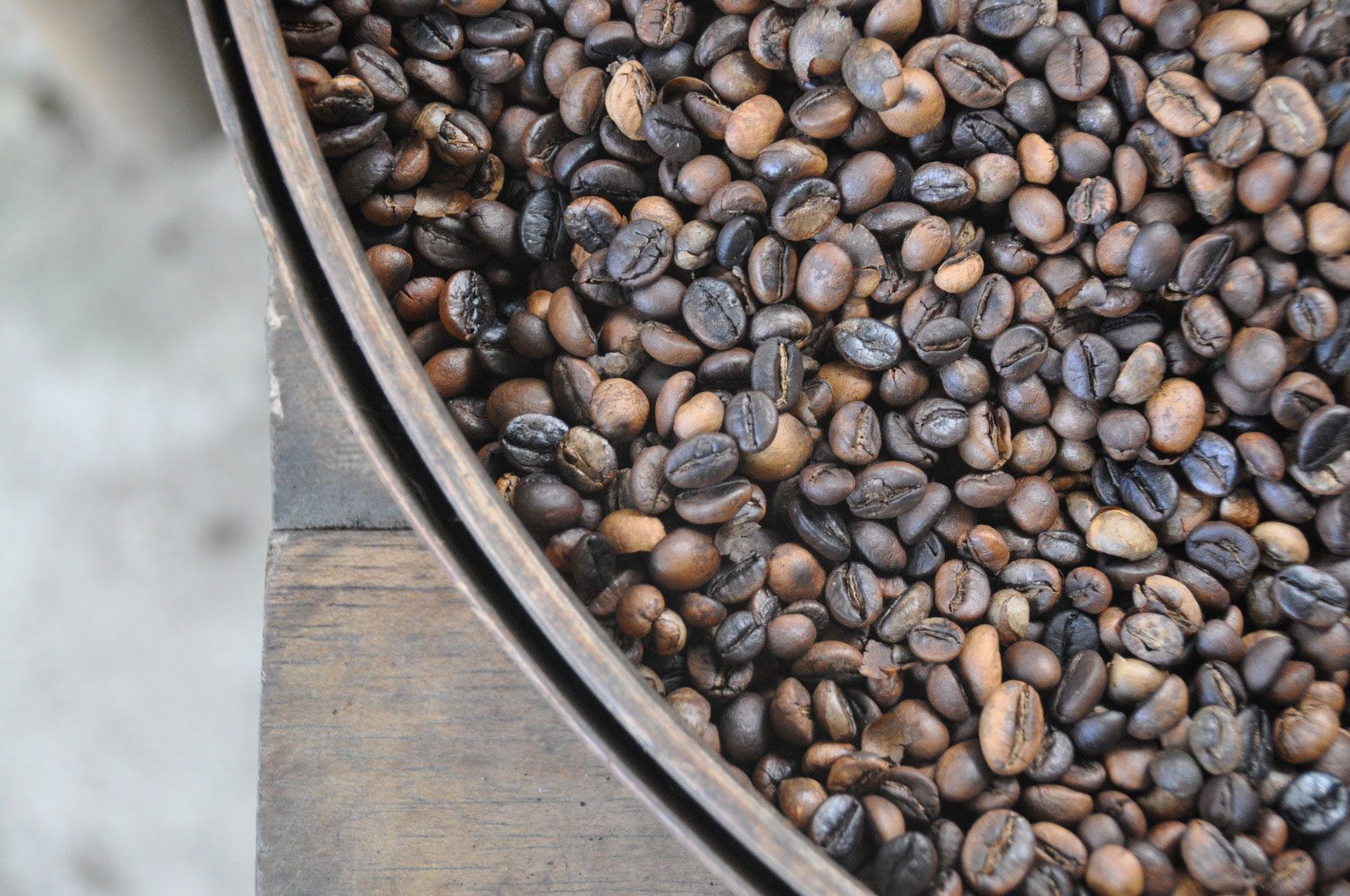 Small bags of the stuff were on sale in the gift shop for $15 USD and up. Apparently, in Western countries it goes for much more. We left both plantations surprised that we got to sample all the delicious teas and coffees and learn about the local plants for free.
But I had this nagging feeling that the luwaks are most likely mistreated in order to get the beans for this rare coffee.
After returning from our trip, I did a bit of research and found that my feelings were right. In many of these plantations, the small animals are kept in the small cages we saw day and night and are fed a diet consisting almost exclusively of coffee beans – not healthy for a human or an animal.
Though the coffee plantation was an interesting experience, it saddened me to learn that visiting essentially supports the mistreatment of these animals. I would recommend looking into the issue a bit more and forming your own opinion before visiting a plantation or drinking the luwak coffee.
---
Where to Stay in Bali
Hotels in Bali range from budget-friendly hostels to lavish 5-star resorts. You can really find anything here. Here is one example of a guest house we stayed while visiting Ubud.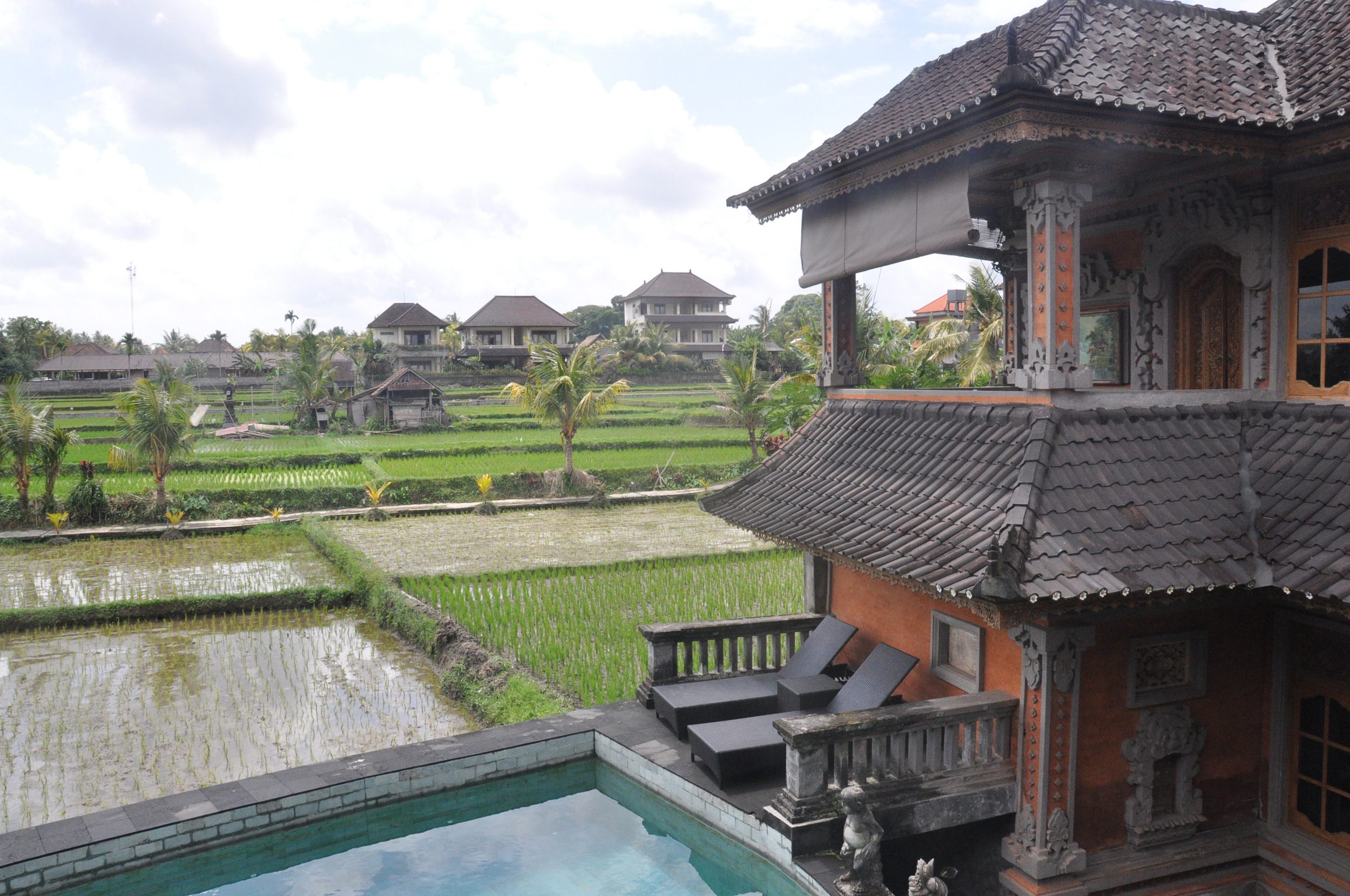 Ala's Green Lagoon is surrounded by rice fields, and although you'd swear you're off the beaten path, it's just a short walk to the main street with more restaurants and shops than you can count. The rooms are spacious and have beautiful Balinese touches.
We could choose from a selection of breakfast options, which was served with coffee on a balcony overlooking the pool and fields beyond. The staff was friendly and accommodated our large group of 7 people incredibly well. And at a reasonable $23 per night (for 2 people), what more could we ask for?
Find more hotels in Bali on Agoda.com. We always use Agoda when we travel in Asia because they have honest reviews and great deals.
Are you planning a trip to Indonesia?
We have TONS of resources on travel in Indonesia and destinations throughout the country. Check out our Ultimate Indonesia Travel Guide for all the answers to your most burning questions, or read some of our favorite articles below.
We want to hear from you!
Have we convinced you to start packing your bags? What looks like the most fun to you? We'd love to hear from you in the comments below!
Are you heading to Bali soon? Save this article on Pinterest to help plan your trip!