Find out what to expect and exactly how to get to some of the best waterfalls in Iceland. This article breaks down all the details so you can easily visit them on your own trip. Plus we're sharing a map with exact GPS locations and insider tips to help you plan your visit.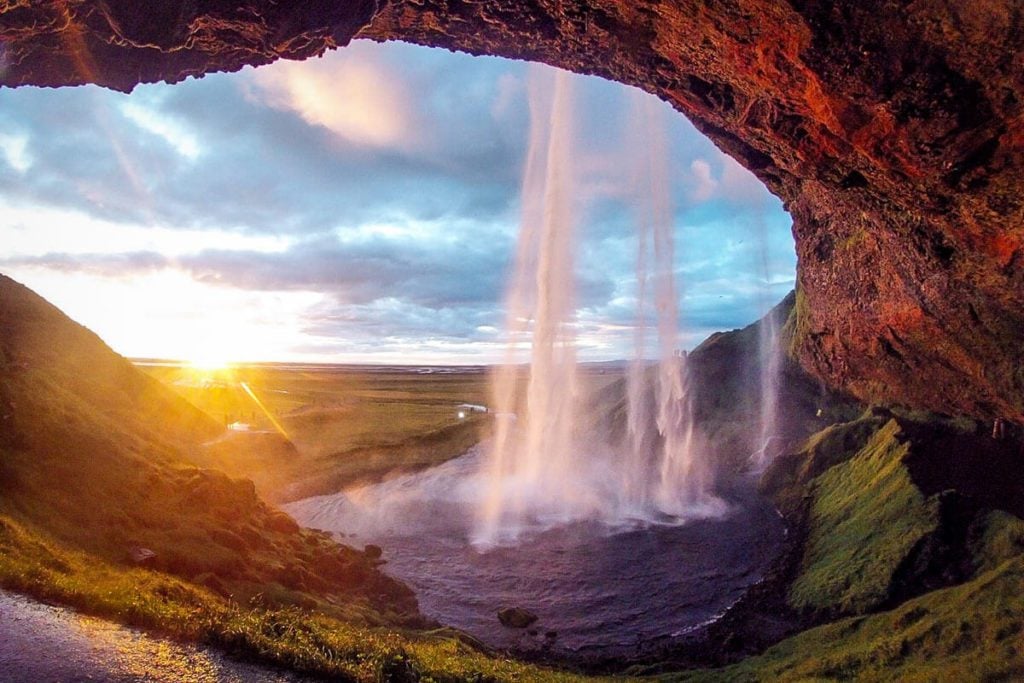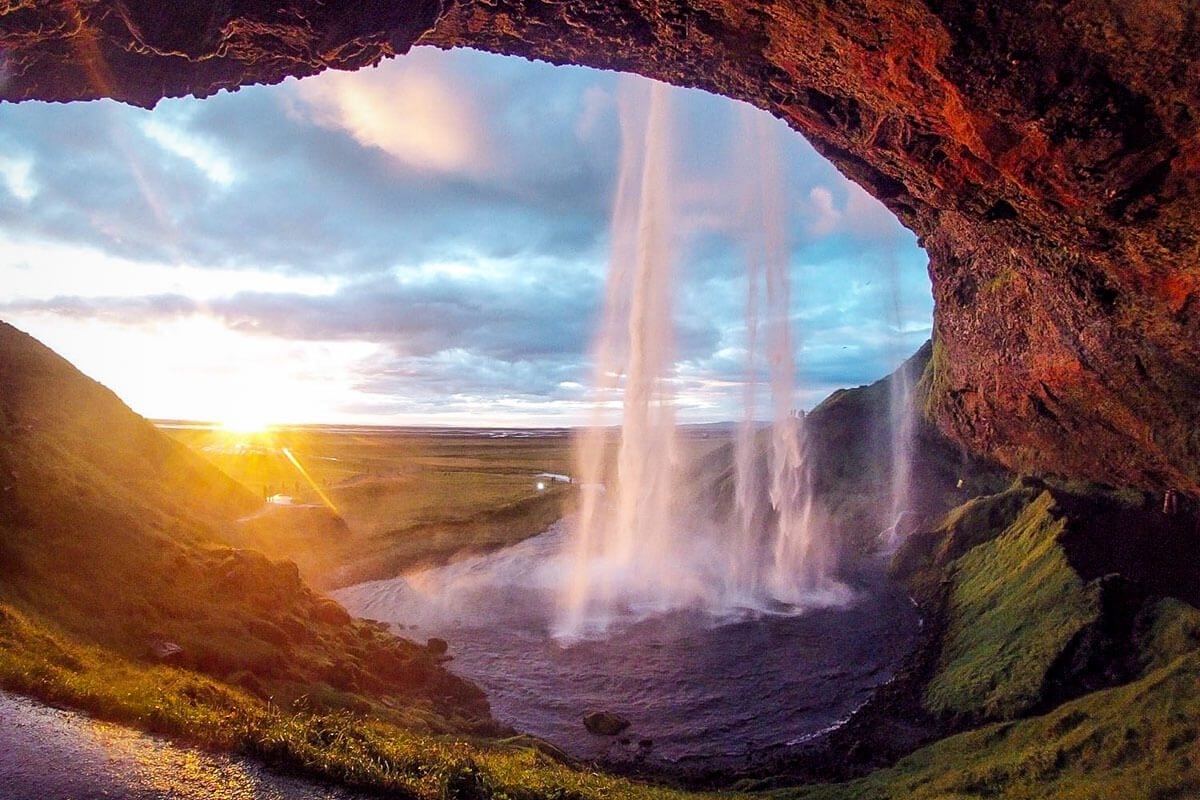 Waterfalls are to Iceland what chocolate chips are to a cookie. They are around every corner (err… in every bite) and they're one of the highlights of exploring this country. Just like a chocolate chip cookie wouldn't be the same without, well, chocolate chips, Iceland wouldn't have quite the same allure without all its magnificent waterfalls.
This analogy has kind of gotten away from me, but the point is this: Iceland has a ton of waterfalls. In fact, as you're driving around Iceland, you'll start to feel like they're around just about every corner.
Despite its small size, Iceland has one of the highest concentrations of waterfalls of any country in the world. Yes, seriously! Iceland is home to Europe's most powerful waterfall as well as roadside falls that hardly get a second glance because they are so common around the country.
So how do you determine which waterfalls are worth squeezing into your Iceland itinerary? That's where we come in… We've got a superhero cape and a list of the very best waterfalls in Iceland!
In this article, we're not only sharing this list, but also a map with their exact GPS location so you can easily see Iceland's best waterfalls on your trip. We've included plenty of insider tips and interesting facts so you know exactly what to expect.
We're sharing the most famous falls (they are popular for a reason) as well as some that are off the beaten path and require a bit of effort to reach. No matter your travel style, this article will introduce you to many Iceland waterfalls to add to your bucket list!
So let's get ready to crank TLC's "Don't Go Chasing Waterfalls" at full volume in your rental car, and utterly disobey the lyrics!
Fun Fact: Many of these waterfall names end with –foss, which translates to "waterfall" in English. Many times, it is combined with a descriptive word. For example Gullfoss translates to "gold" (gull) "waterfall" (foss).
Article Contents
---
Want to save time and energy on planning?
We've traveled to Iceland 3 times now and spent weeks living in a campervan, traveling around the country. We've been able to explore a lot of what Iceland has to offer!
We've compiled our experience to create the perfect Iceland itinerary. Our itinerary is for 7-9 days and meant to be explored while traveling in a campervan. It includes the highlights of the southern coast of Iceland. 
We'll send you our complete 7-9 day customizable itinerary, filled with tips and advice. Just click below to get your perfect Iceland itinerary today!


---
FAQs about Iceland waterfalls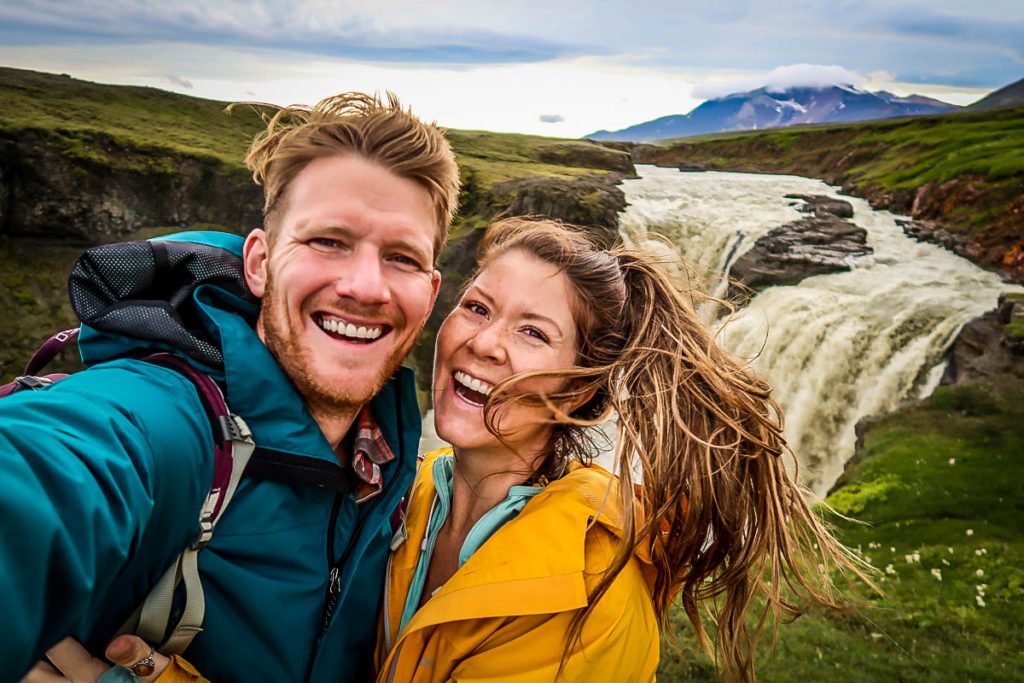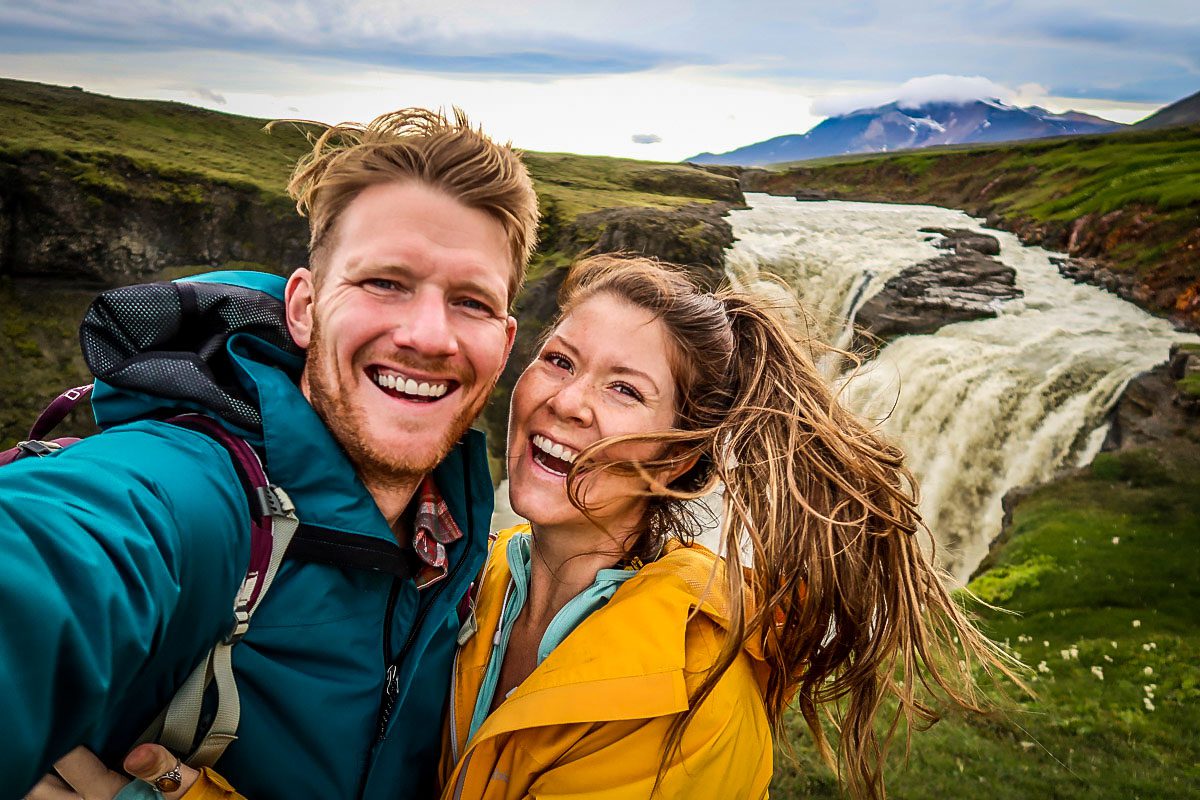 Got questions about waterfalls in Iceland? We've got answers for you…
How many waterfalls does Iceland have?
After quite a bit of digging, we couldn't find an exact number. However, there are estimates that there are more than 10,000 waterfalls in Iceland. Not all of them are named or even accessible.
So I guess the best answer to this question is: Iceland has a lot of waterfalls. Like, a LOT a lot.
Why are there so many waterfalls in Iceland?
With several glaciers and lots of volcanic landscape, many of Iceland's waterfalls come from ice melt that feeds into rivers, thus creating waterfalls.
The combination of volcanic rock formations and pure glacial water creates some very unique waterfalls, like those that are flanked by hexagonal basalt columns and those with extremely clear or blue water.
What's the tallest waterfall in Iceland?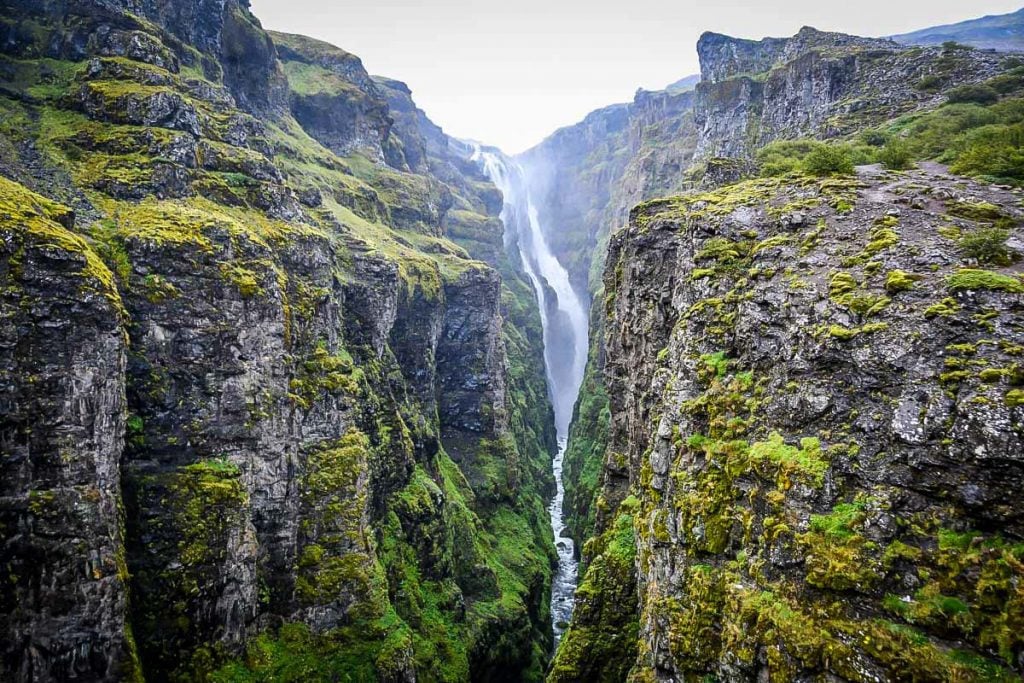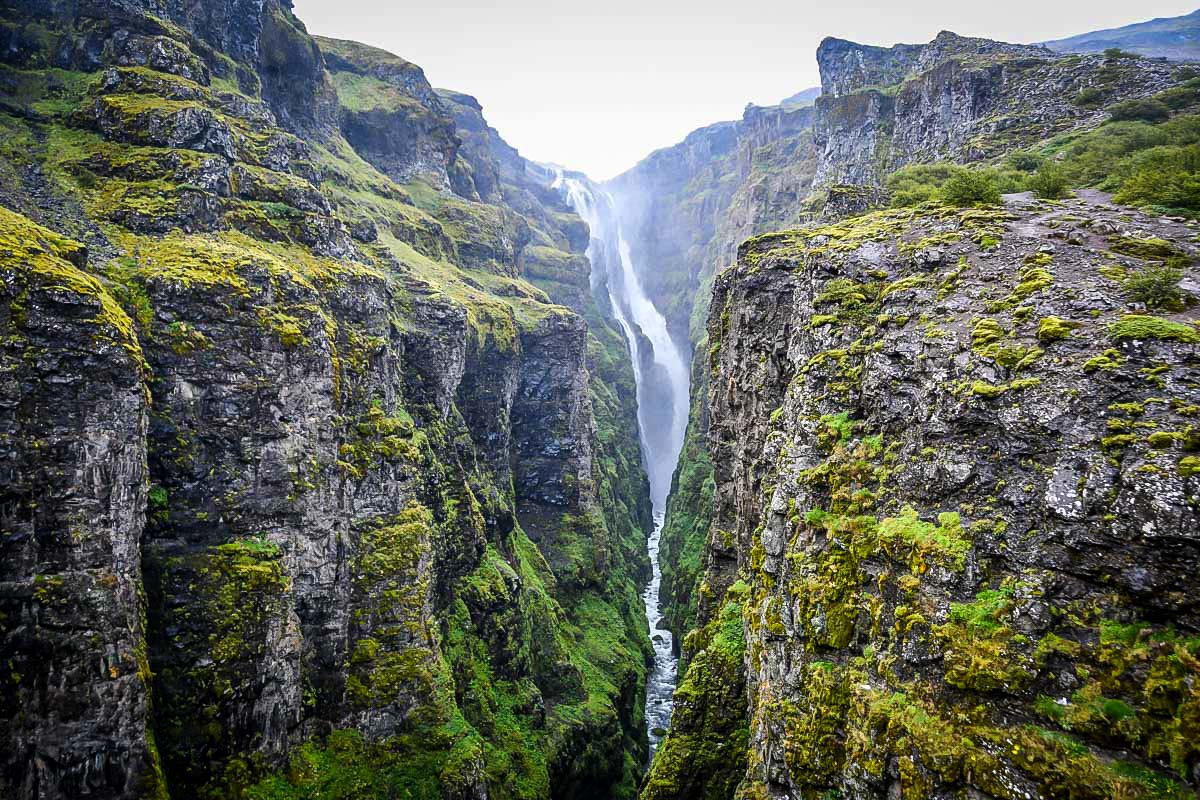 Iceland's tallest waterfall, Morsárfoss, was only discovered in 2007 when an outlet of Vatnajökull Glacier started melting and revealed this massive falls. It wasn't until 2011 that researchers were able to measure the falls and confirm that at 227 meters (745 feet), it is in fact the tallest waterfall in Iceland.
Unfortunately, Morsárfoss is actually very difficult to get to and unless you have mountaineering experience, proper equipment, and a local guide, the closest you can get is a viewpoint that's 6km (3.75 miles) away. Since it is so difficult to get to, we did not include it on this list of Iceland waterfalls to visit.
But don't worry, you can visit Iceland's second tallest waterfall pretty easily (as long as you're up for a heart-pumping hike!). Until the discovery of Morsárfoss, it was widely believed that Glymur was the tallest waterfall in Iceland. Towering at 196 meters (643 feet), it is still pretty darn tall and can be reached as a challenging (but super worthwhile) day hike.
Psst! Jump down to read about Glymur waterfall and how to get there.
Tips for photographing Waterfalls in Iceland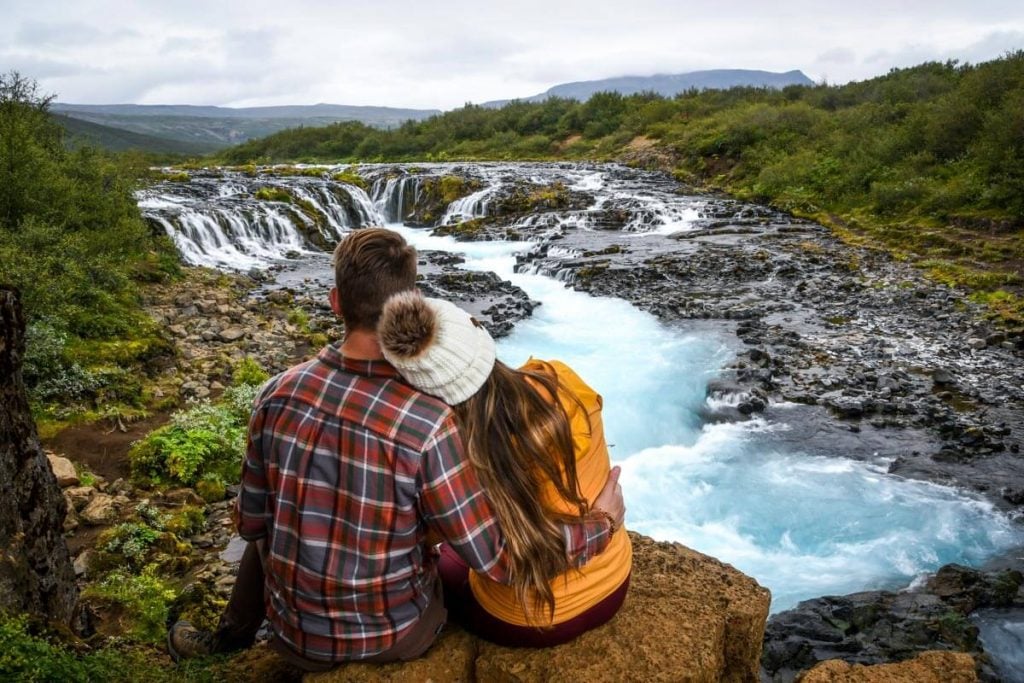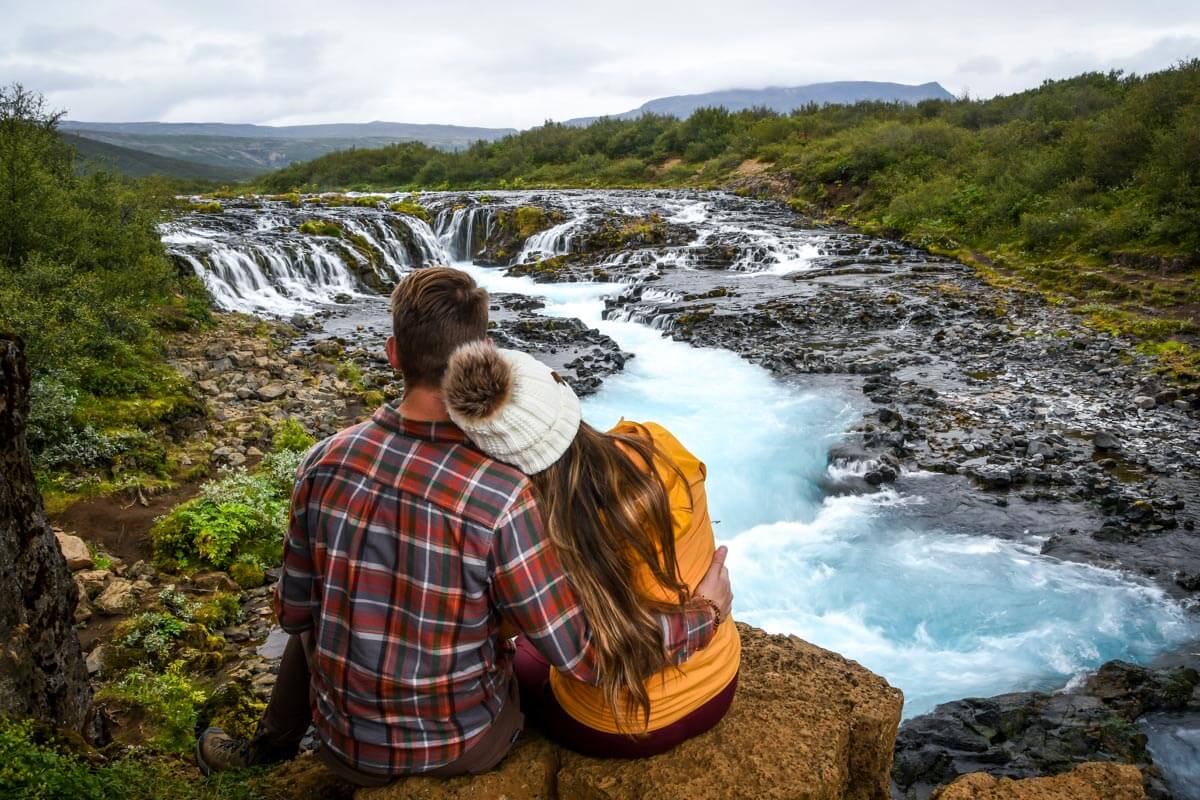 If you're into photography and are planning to bring a DSLR with you to Iceland, brush up on these tips for shooting waterfalls so you can get some epic photographs!
Don't have a professional camera? No worries, the first tip is for you!
1. Know how to shoot on a phone
Not bringing a DSLR with you to Iceland? No worries. Smartphones today have some really spectacular cameras, and some even have settings that make waterfalls look downright magical. In fact, the newer phone cameras can mimic the settings of a DSLR pretty well.
Do a quick Google search for "how to photograph a waterfall with + [your phone make & model]" and you should find personalized directions.
Good to know: With most iPhones, you can adjust "live photos" to have a long exposure mode. Be sure that you have your settings on "live" before shooting, because you can't do it after the fact.
2. Open that shutter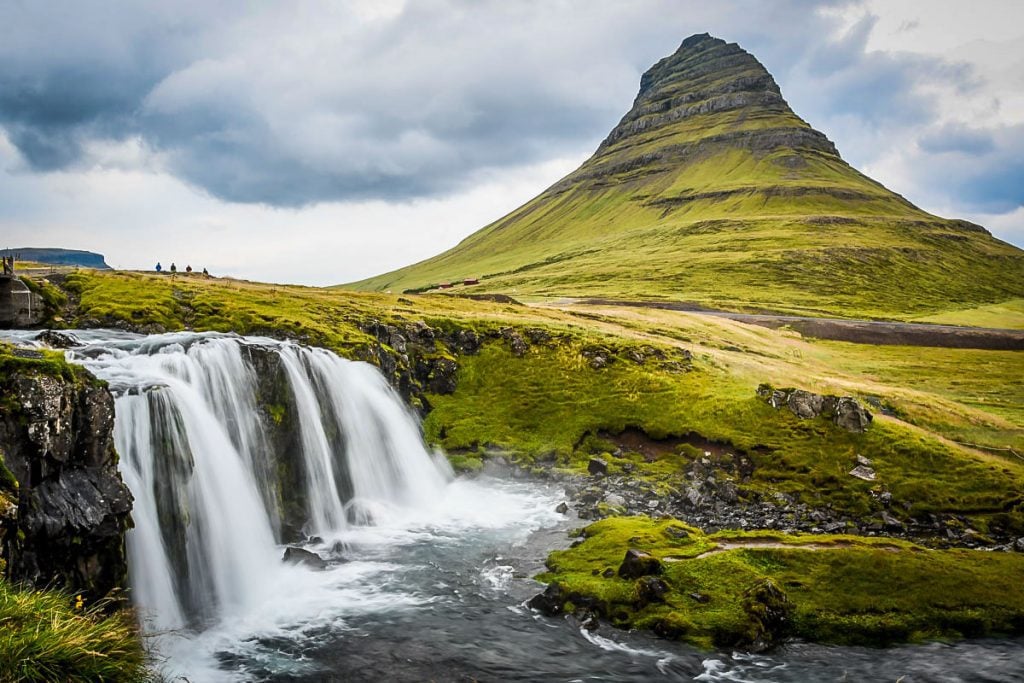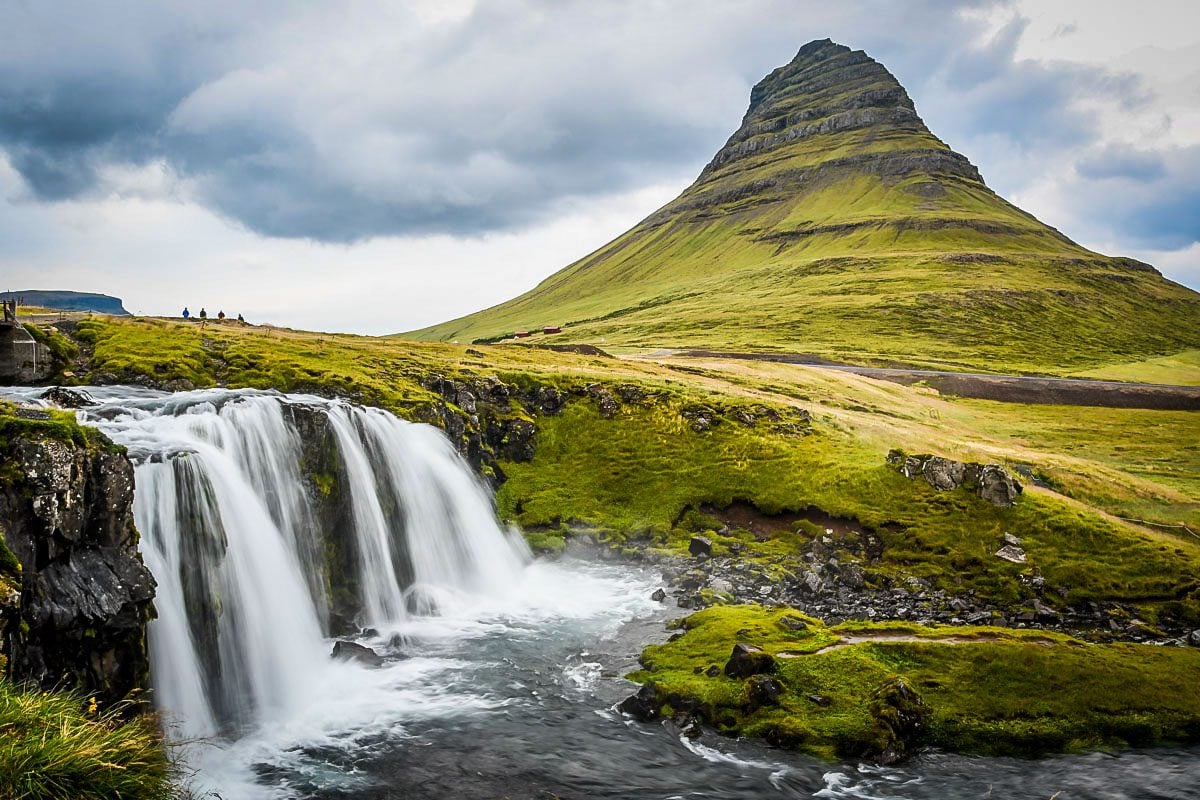 Want to know the secret to a great waterfall shot?
A slow shutter speed!
This will make the water look a bit blurry, and will bring movement to your composition.
Important: With a slow shutter speed, it's important that you have a tripod and adjust some of your other settings so that they work together (see tip #5 for more info!).
3. Pack a tripod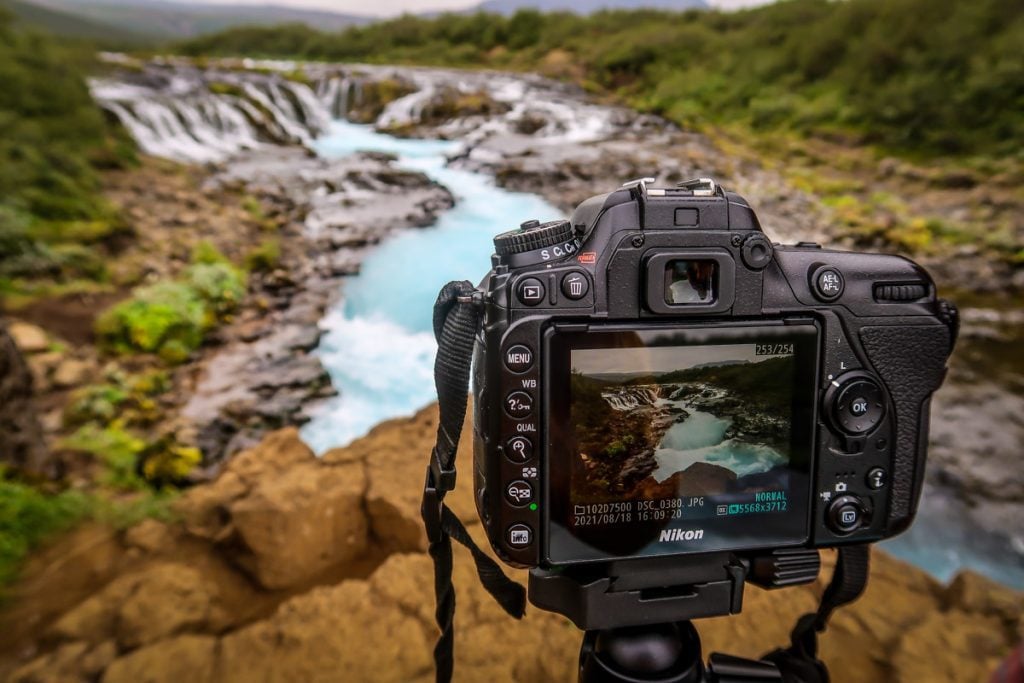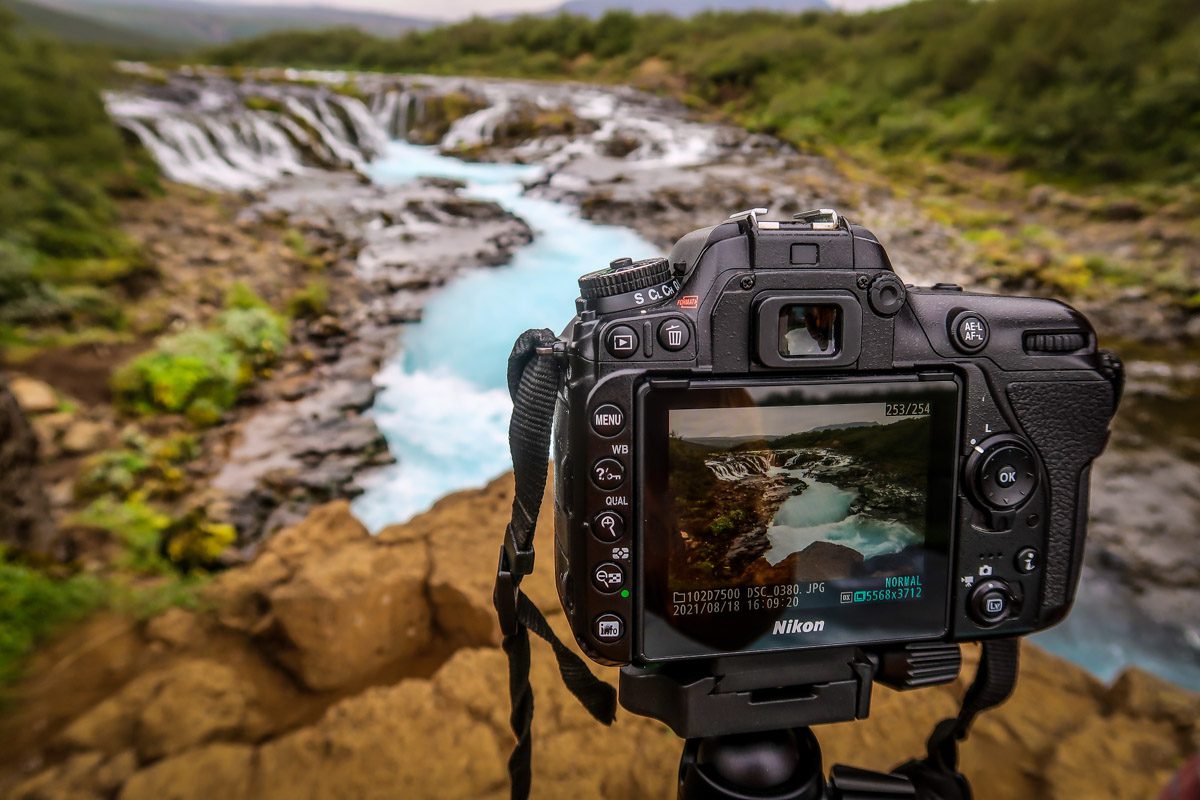 If you plan to take lots of photos around Iceland, one thing we would definitely recommend is investing in a tripod. In order to lengthen your shutter speed (thus getting a blurred, dreamy effect with waterfall shots), you'll need to keep your camera stable. Aka, you need a tripod.
Our recommendation: We have two tripods for slightly different purposes.
We have a larger tripod that gets pretty tall and is great for almost all compositions. That said, it is a bit bulky. This is the tripod we have and we really like it. It's pretty lightweight and high quality. We ordered a different one first that was a bit cheaper and lighter weight, but it was really poor quality. We're much happier with this one.
We also have a compact Joby Gorilla Pod that works great for taking on longer hikes and for times when we don't want to carry our larger tripod. That said, we either have to attach it to something, like a tree branch or a fence, in order to get the camera into position, or we will set it on the ground for a low-angle composition.
Don't have a tripod? No worries. Rest your phone or camera on something solid, like a rock, your car, or a fence post to get some stability. We've taken many shots this way over the years and while not perfect, this trick does quite a good job.
4. Use a remote
If you're using a slow shutter speed to get that blurred water effect, you may want to consider also using a remote. This will eliminate any shaking caused by you actually touching the camera's buttons.
Bonus: Remotes are cheap, easy to travel with, and are great for taking photos with yourself in the composition. Search remotes here but be sure to find one that is compatible with your specific camera.
5. Start with these settings…
Putting your camera in manual mode is the first step. Once you're there, start with these settings and experiment and adjust as needed.
Low ISO
Small aperture
Slow shutter speed

Remember, with a slow shutter speed, you will need a tripod.
6. Focus on something other than the water
When you have a long shutter speed, it's important to focus on something other than the rushing water. To ensure that your photo is crisp, set the focal point on the rocks or foliage around the falls, so that those are clear even when the water is blurred.
7. Play around with the composition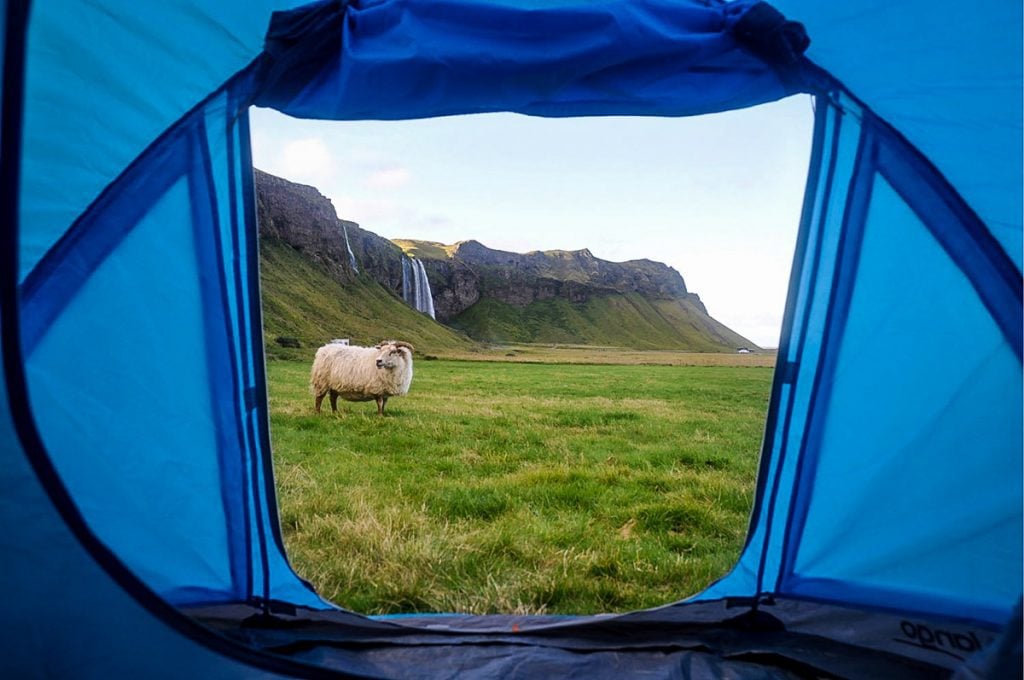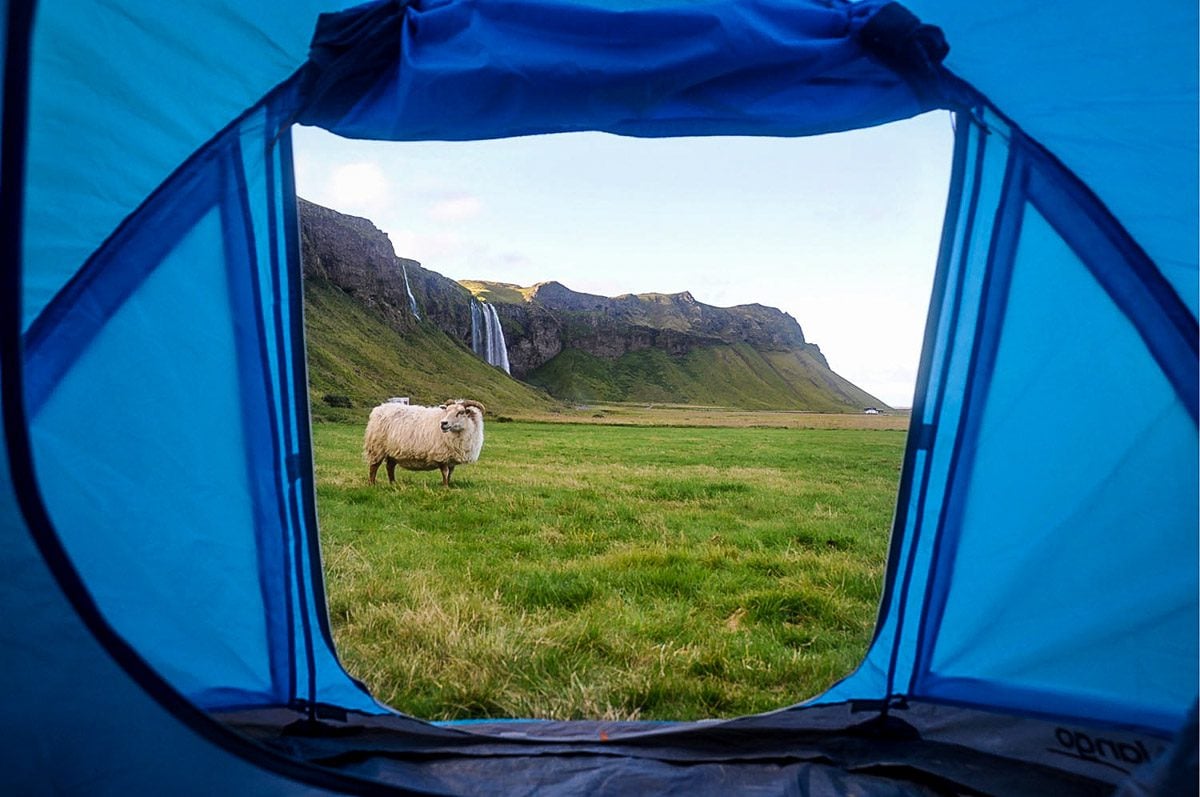 When shooting waterfalls, play around with vertical and horizontal shots – for some falls, the vertical will showcase its towering height, while other times, a landscape view will show its scale in relation to everything around it.
Get as many angles as possible: Crouch low and shoot upwards. Or hike to the top and shoot down the falls. Showcase the river that the falls creates, or crop into the cloud of mist to illustrate its power.
Also, if possible, get a person in the shot (using a tripod makes it so you can be in the photo). Having a person in the frame can show its magnitude in a really beautiful way.
Bonus: Playing around with all sorts of shots and compositions will keep your (many!) Iceland waterfall photos interesting. You'll surely come away from this trip with a ton of waterfall shots, so having unique compositions will keep them from all looking the same.
8. Have a lens cleaning kit ready
Spray near the waterfalls means your lens will be getting wet. A lens cleaning kit will help with this, plus it is also super handy to have in Iceland's notoriously rainy climate.
9. Time your visit right (when possible)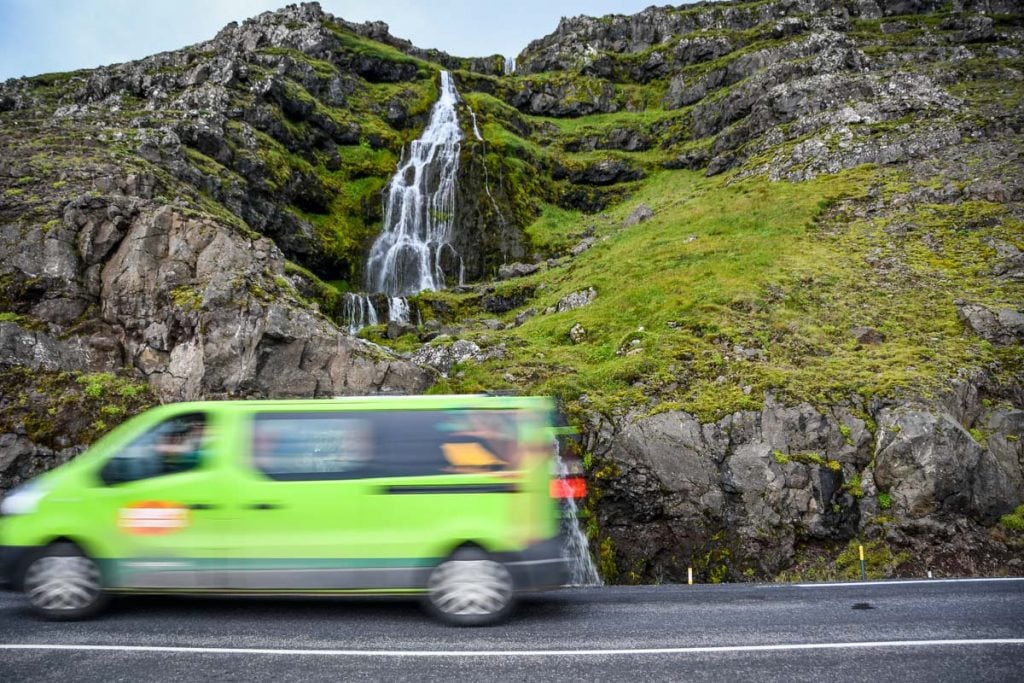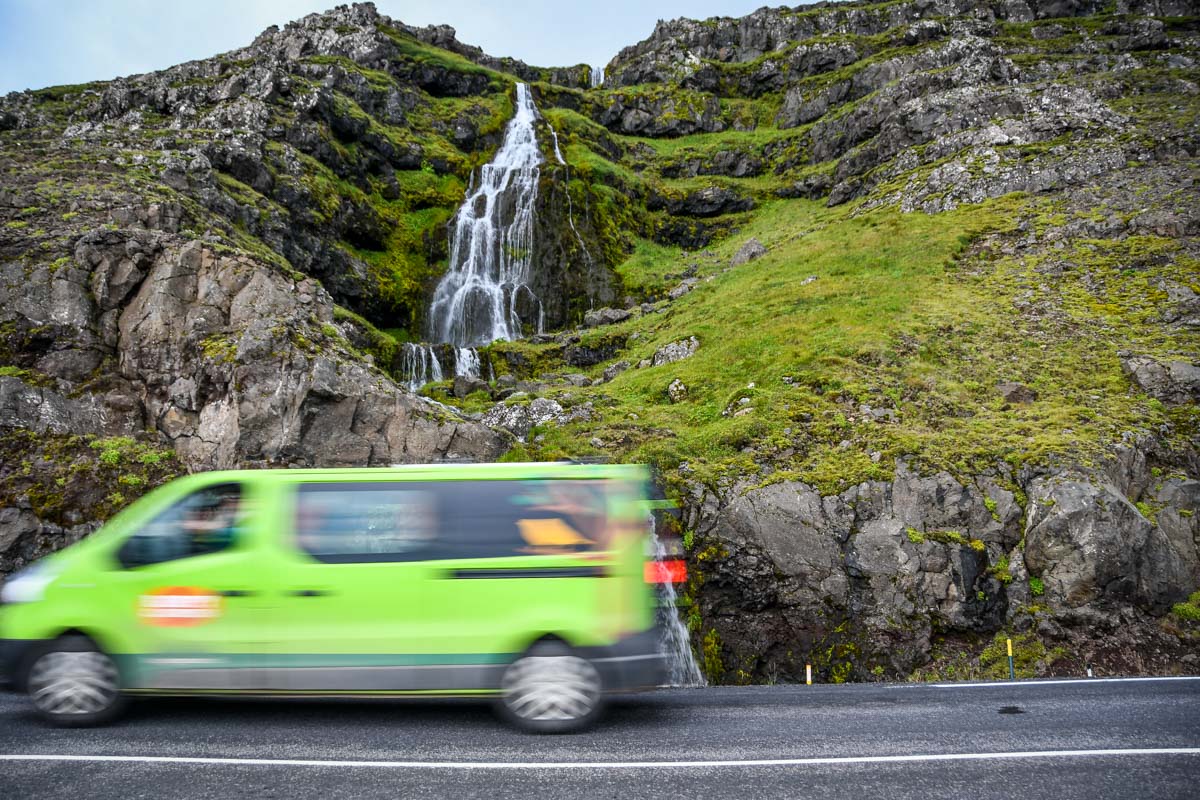 Harsh midday sun isn't the best look for waterfalls. Sometimes you just can't help it (trust me, a lot of our Iceland waterfall photos were taken during the middle of the day and they're just not the best.
Most of the great waterfall photos are taken early in the morning or at sunset during "golden hour". Keep this in mind as you plan your route and consider which waterfalls are top priority for you to shoot at an optimal time.
10. Clouds are your friends
Overcast days can sometimes be a bummer when you're traveling, but we actually love cloudy days for taking photos. The clouds tend to make the light softer and less harsh than you'll get with direct sunshine.
On cloudy days, you can get some really beautiful waterfall shots (even in the middle of the day when it's otherwise too harsh of sunlight to get a great photo).
Insider Tip: If you're shooting on a partly cloudy day, watch the clouds in the sky. As they approach the sun, get your camera ready. When the sun is blocked, shoot away, as this will be your best lighting.
Iceland Waterfalls Map + Exact Locations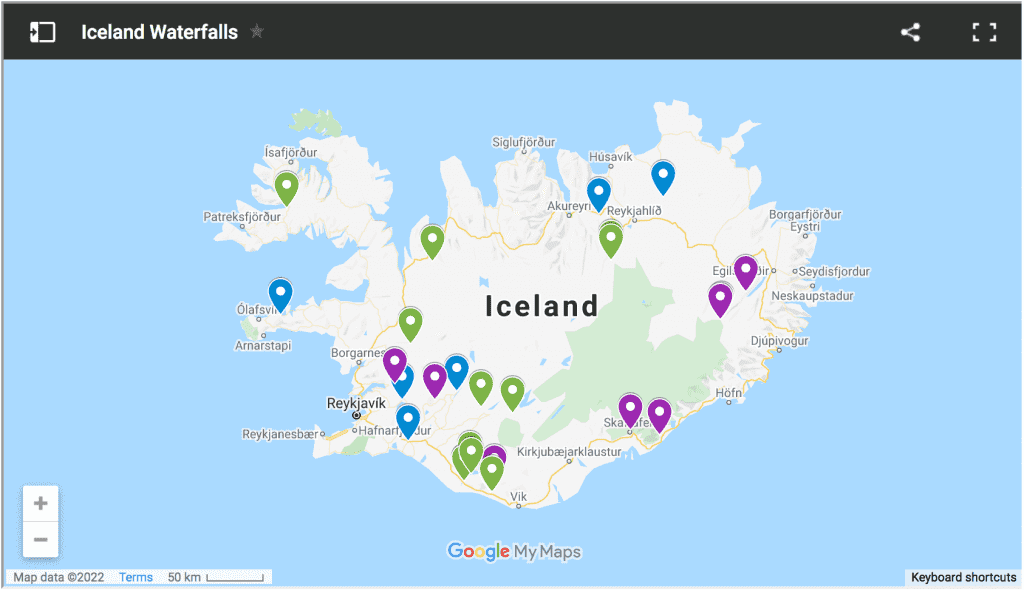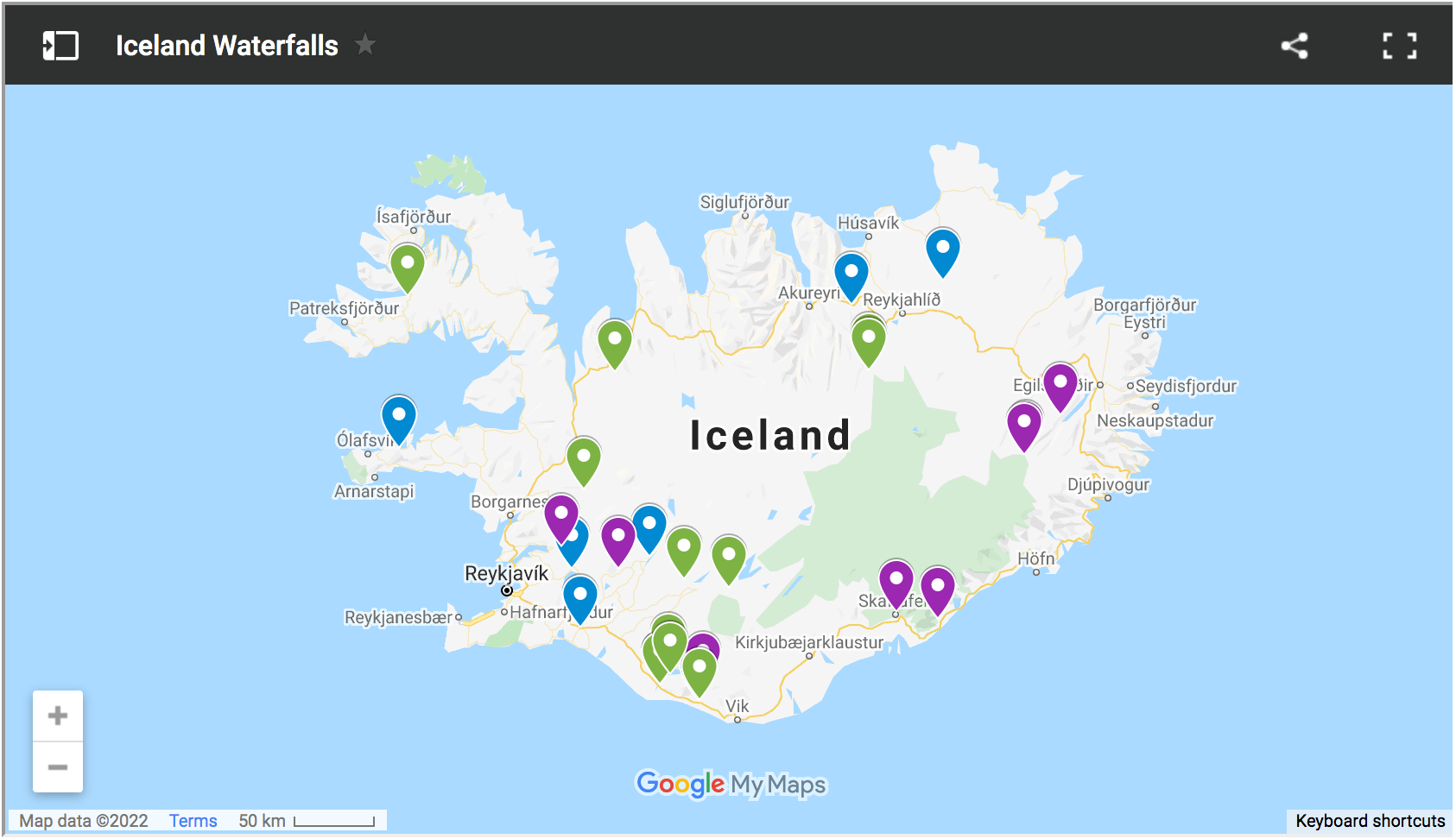 Click on the map to see the exact GPS locations of each of the Iceland waterfalls on this list. We recommend downloading Google Maps offline and saving the coordinates so you can navigate to where you need to go!
---
Most famous waterfalls in Iceland
These waterfalls will likely have crowds, but don't let that deter you. They are famous for a reason!
1. Gullfoss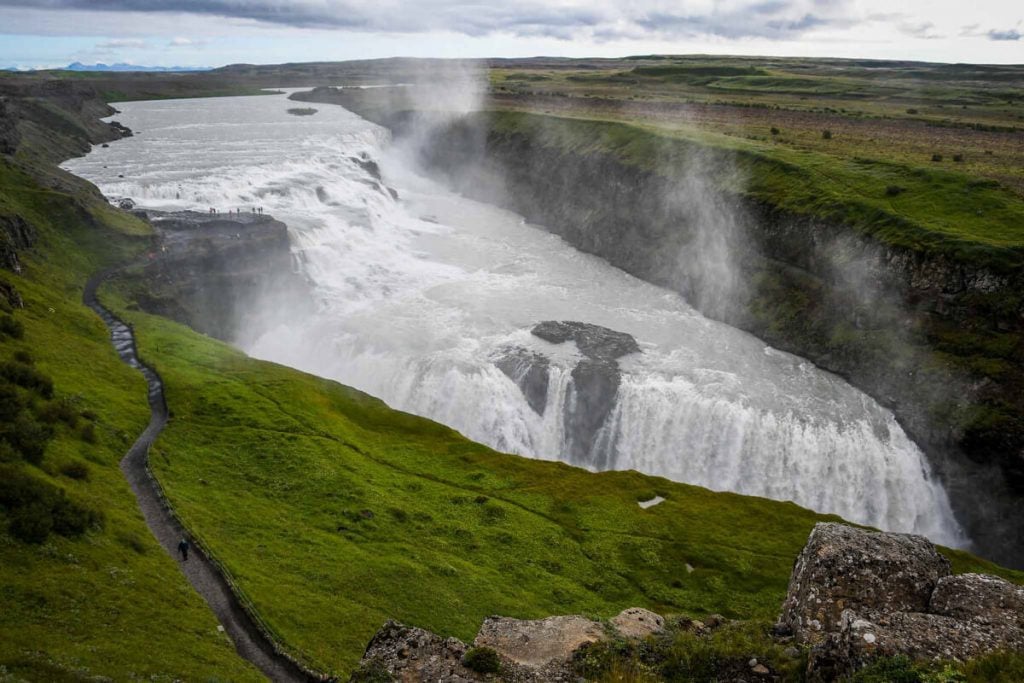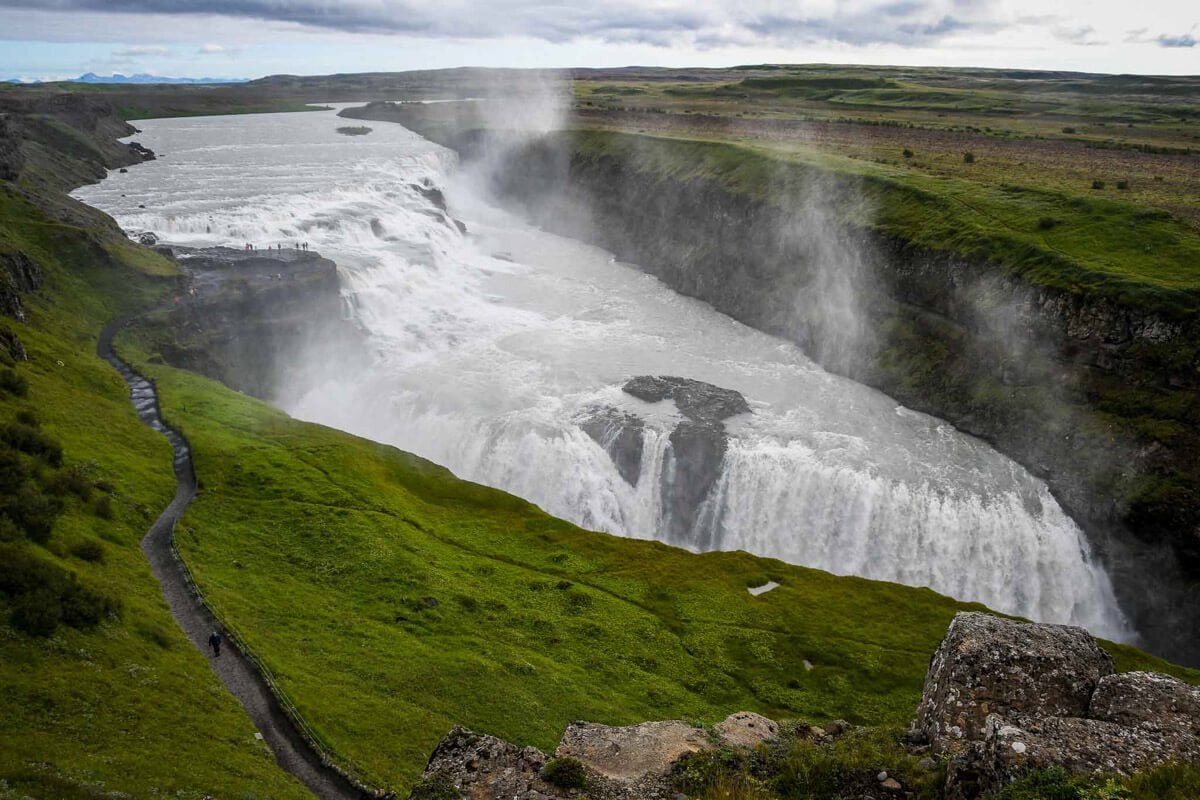 Nickname: "Golden Falls"
What makes this waterfall unique: Often hailed as the most famous waterfall in Iceland
Located on the Golden Circle, Gullfoss is just a little more than a 1.5-hour drive from Reykjavík, which means it's a popular stop on many travelers' Iceland itineraries. In addition to being easy to get to, the path is flat and easy and this waterfall is accessible all year long (even during the wintertime), making Gullfoss one of the most popular tourist attractions in Iceland.
This two-tiered waterfall stands 32 meters (105 feet) tall and envelops visitors in mist, creating rainbows on sunny days. It can be observed from an upper and a lower viewpoint, which grant different perspectives.
Interesting history: Visitors today owe a debt of gratitude to a young woman who saved this waterfall from being destroyed. In the early 20th century, foreign investors wanted to harness the power of Gullfoss by building a hydroelectric plant. The daughter of the farmer who owned the land where Gullfoss sits made it her life's work to protect it from development, and eventually through her efforts, this waterfall became protected. You can see the memorial of Sigridur Tomasdottir when you visit Gullfoss today.
Exact Location | Gullfoss
How to get there: From the parking lot, follow the paved path for about 5-10 minutes to the different viewpoints. There is a lower viewpoint as well as an upper platform.
2. Seljalandsfoss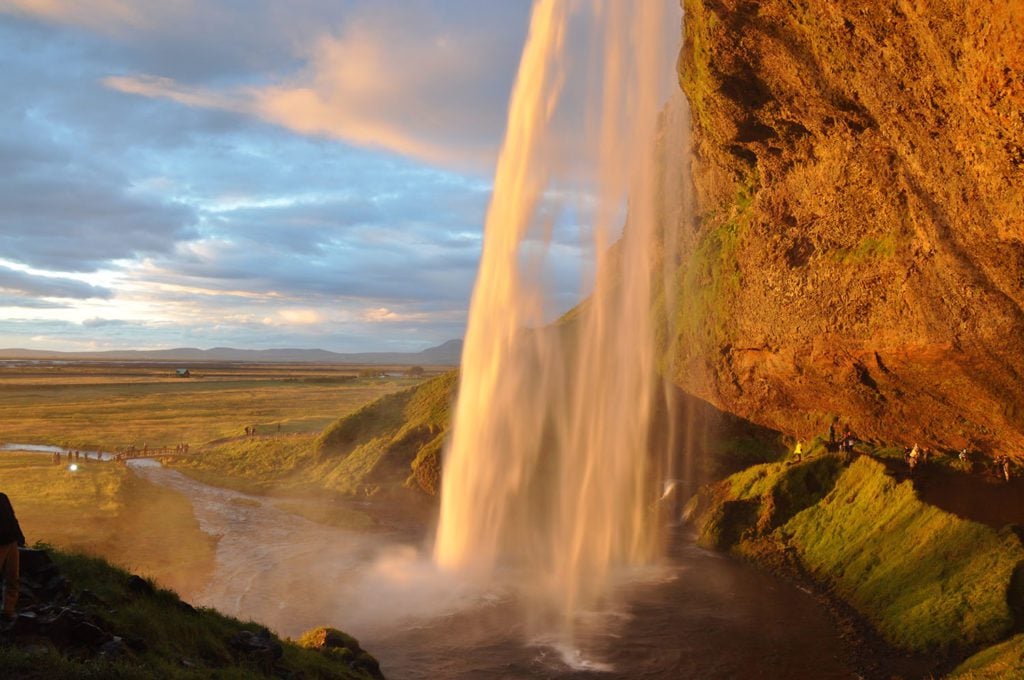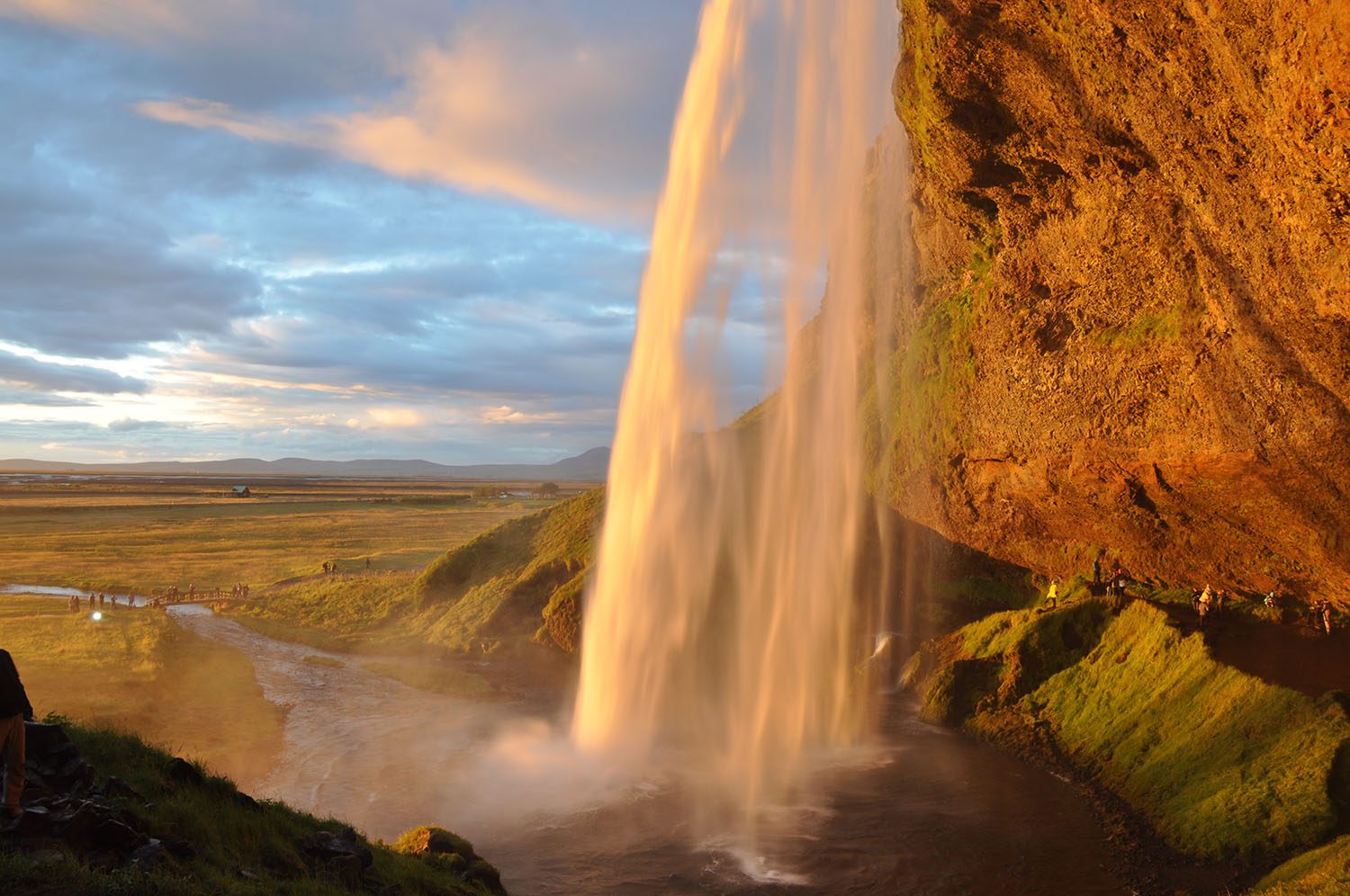 Nickname: Sunset Waterfall
What makes this waterfall unique: You can walk behind the falls at this site, providing a different perspective for stunning photos
This stunning waterfall is especially beautiful at sunset when the water reflects the sun and shines like liquid gold.
In fact, we visited this waterfall on multiple occasions at different times of day and can say without a doubt that sunset was the best time to visit for photographs.
Sunset at Seljalandsfoss is no secret, so it will get crowded. Arrive early and follow the path all the way behind the falls, right up against the green moss and the tan rock face for some incredible pictures. Be sure to wear sturdy shoes as the path can get slippery from the mist.
Tip: If you're shooting photos here, be sure to bring a tripod to get the best shots. A lens kit for cleaning and potentially a dry bag to store your camera in until you're ready to use it will also come in handy. You will get misted as you walk behind the waterfall.
Stay until the sun has fully disappeared behind the horizon and then the gold turns sadly back into clear water.
Exact Location | Seljalandsfoss
How to get there: You can see Seljalandsfoss waterfall from Ring Road, so you can't miss it! Coming from either direction on Highway 1, take Highway 249 North for about 850 meters and you'll see a turn off for the parking lot on your right. You'll have to pay for parking here, 800 ISK (~$6 USD) covers a full day parking pass, and the waterfall is just beyond.
3. Skógafoss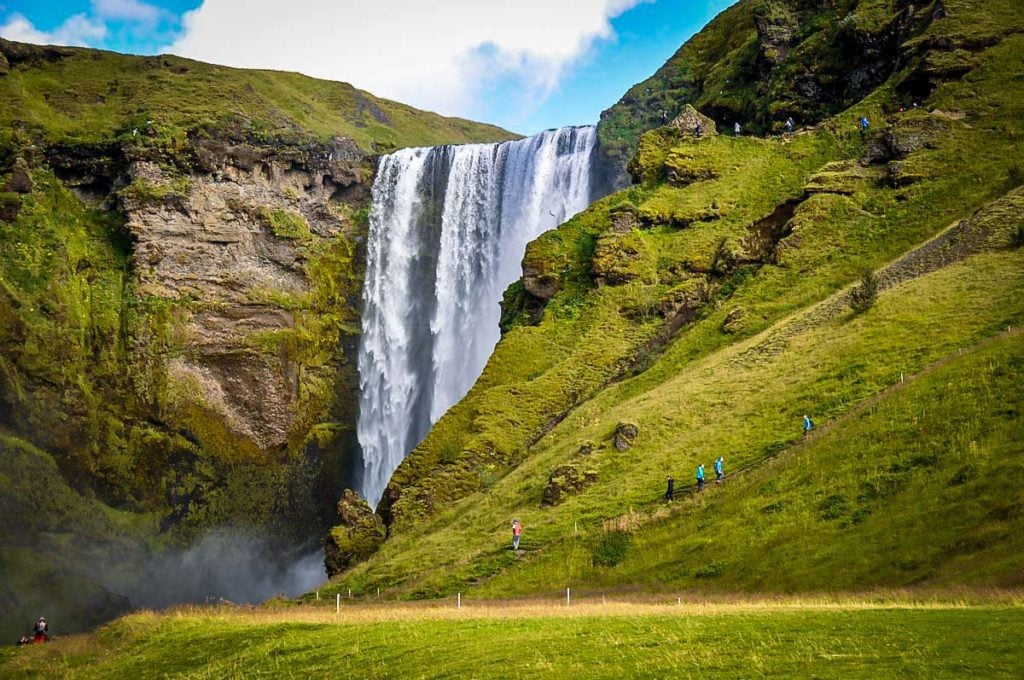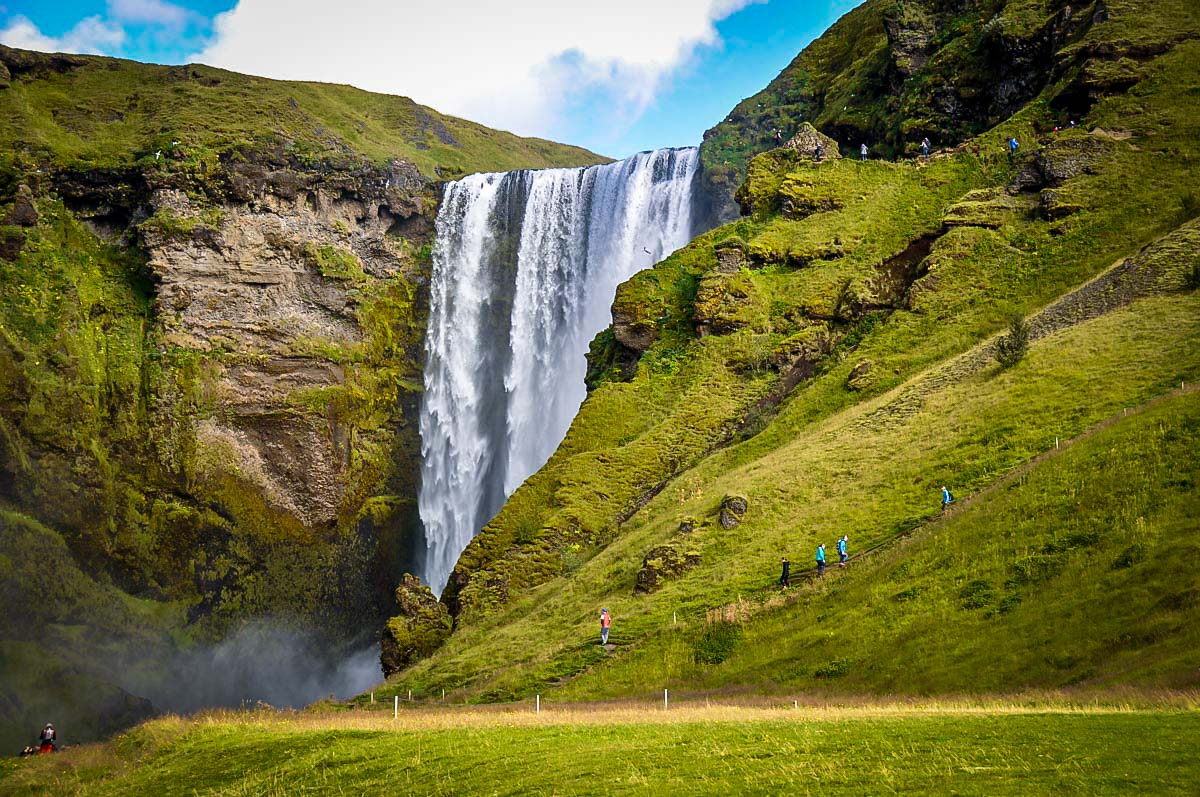 Nickname: The Rainbow Waterfall
What makes this waterfall unique: You can walk right up close to this waterfall and you're likely to see rainbows in the mist
This astounding 200-foot waterfall is unique because you can walk right up to it. The nickname "rainbow falls" comes from the natural rainbows caused by the mist of the powerful falls. The closer you get to the base, the more likely you are to see the rainbow. If you prefer, you can walk up a metal staircase for a view above the waterfall.
The popular waterfall can get super crowded during the day, but it's still a really cool sight to see. If you have time, we'd highly recommend continuing on the path at the top of the staircase known as "Waterfall Way" (this is also the start of the famous Fimmvörðuháls Trail). You will see some of the most beautiful waterfalls with far fewer crowds.
Read more about the waterfalls along Waterfall Way by skipping down to that section, here.
Exact Location | Skógafoss
How to get there: Skógafoss is about a 2 hour drive from Reykjavík. You'll be able to see the falls from the Ring Road. Take the turn off on Skógar Drive heading north, and an immediate left on Skógafoss Drive to get to the parking lot. From there you can walk a short distance to the falls. You'll have to pay 700 ISK (~5.50 USD) for parking here.
4. Dettifoss & Selfoss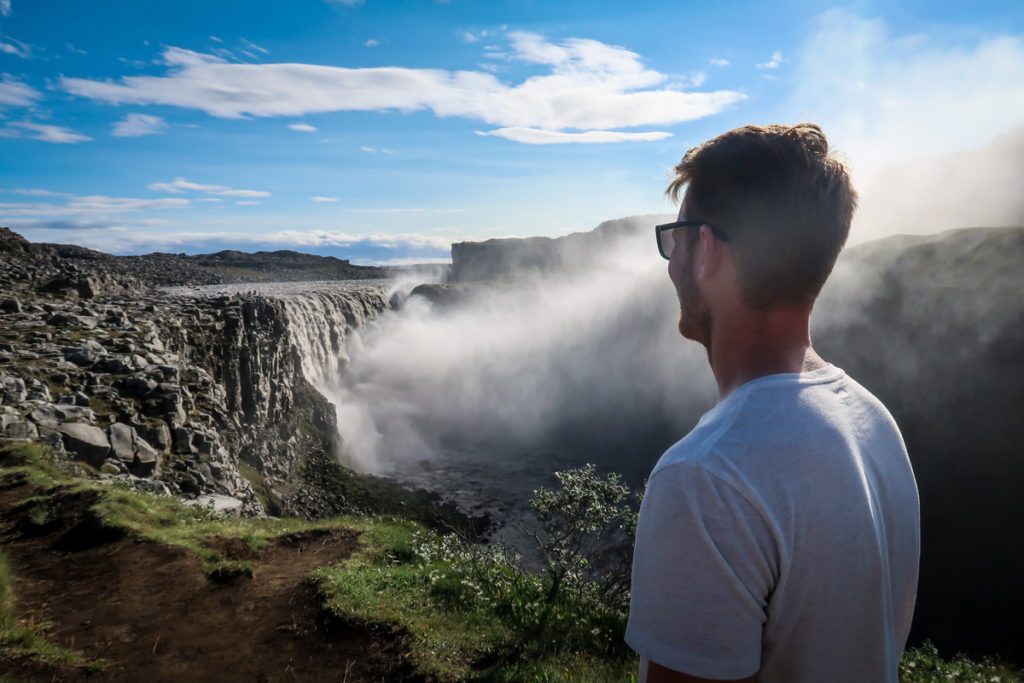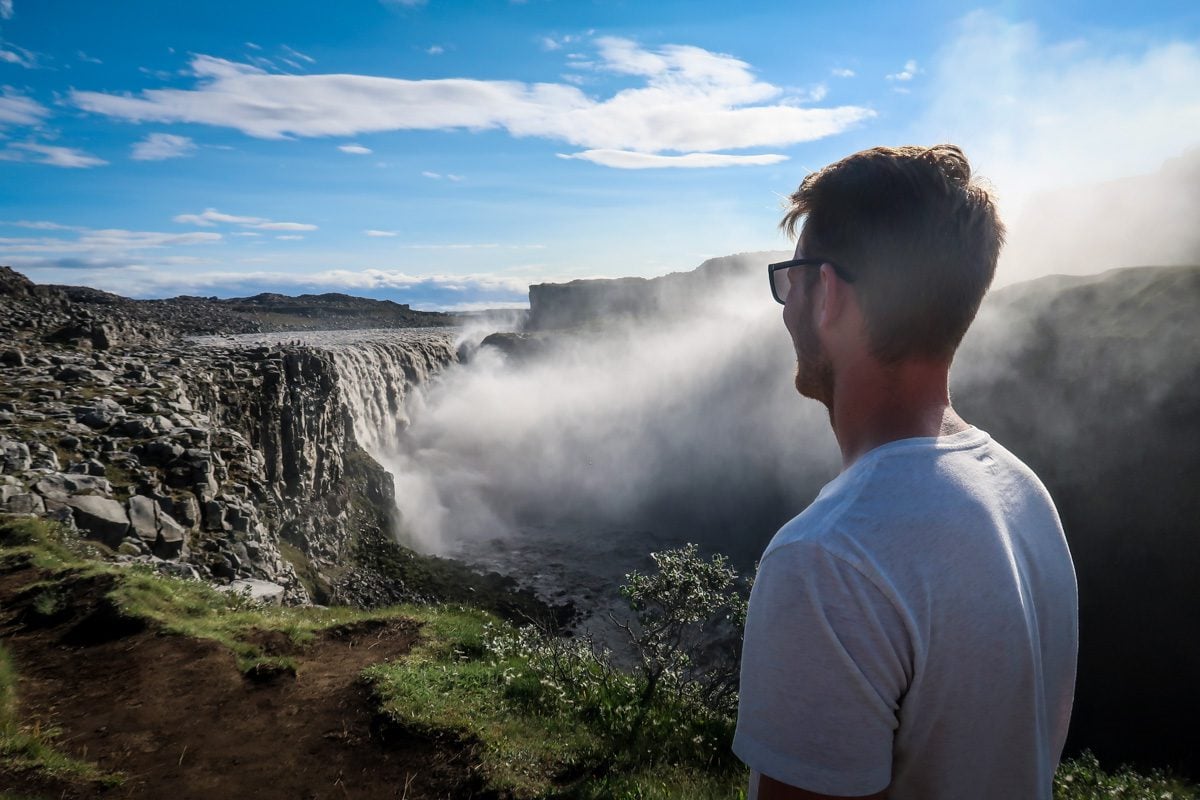 Nickname: The Beast or Tumbling Falls
What makes this waterfall unique: Dettifoss is the largest waterfall in Iceland
Certainly the largest waterfall in Iceland, Dettifoss is also said to be the most powerful waterfall in all of Europe by some accounts. Measuring up at 100 meters (330 ft) wide with a 44 meter (144 ft) drop, this impressive waterfall is often paired with its neighbor, Selfoss, which is just a short walk down the same river.
Though not as large or tall as Dettifoss, Selfoss still comes in with an 11 meter (36 ft) drop and is equally as beautiful. It's a 20-30-minute walk (1.4 km) from Dettifoss to Selfoss and the trail isn't super well marked. You'll have to climb over some large boulders, so be sure you're wearing decent footwear!
You can visit these waterfalls from the eastern side of the river or the western side. Each has its pros and cons, but you can't cross the river, so you'll have to choose one or the other (or spend an hour driving between the two points).
Personally, we visited the eastern side (kind of by accident), which requires a drive on a long gravel road. The western side is supposedly paved, but the views are quite different. Read up on the differences so you can choose which side you want to visit.
Important: Stay behind the barriers that are set in place. We saw many people hopping over them for photos, but it is dangerous and not advised.
Selfoss location | Dettifoss location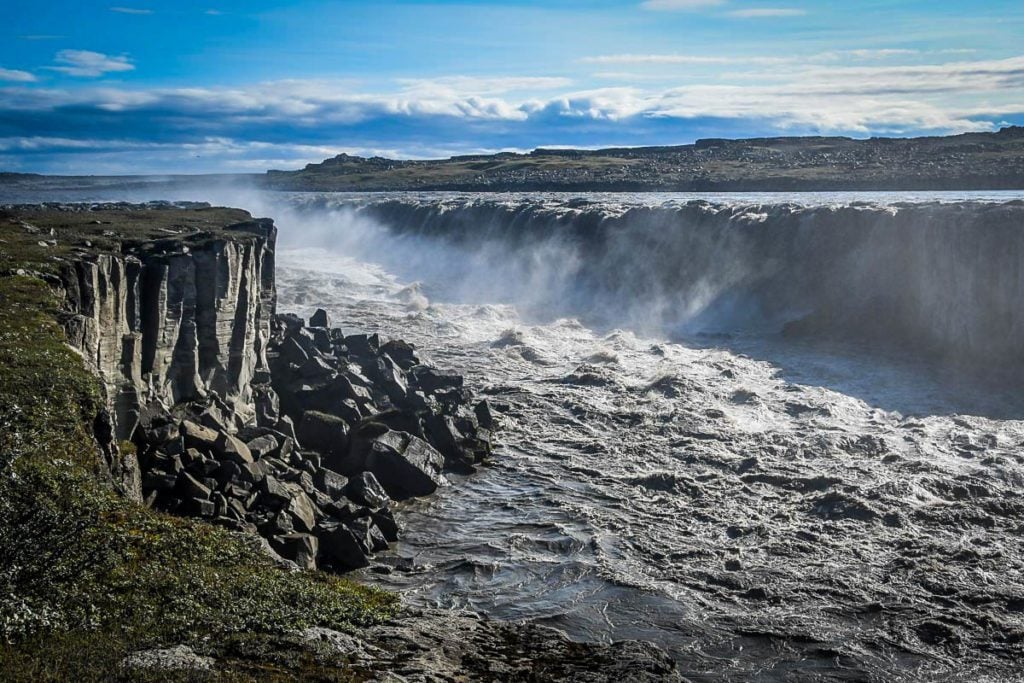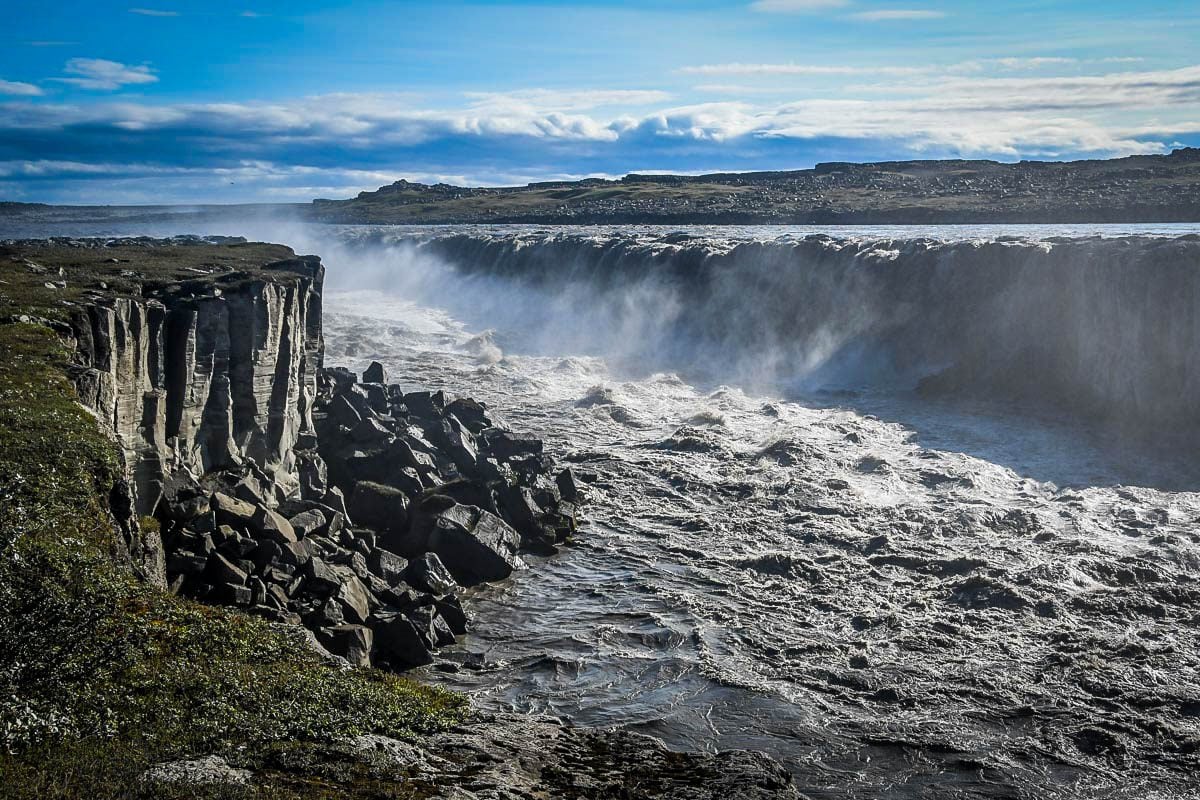 How to get there:
Directions to the East side: From Hwy 1, take Hwy 864 North for about 31 km. Take a left on Dettifoss Road and you'll find the parking lot. This free lot is just north of Dettifoss, so you'll be walking south towards the falls.
Directions to the West side: From Hwy 1, take Hwy 862 North for about 21 km. Turn right onto Dettifoss Road for another 2.5 km and you'll find the parking lot. This free lot is just south of Dettifoss and north of Selfoss, so you're in a good position to make a loop back to your vehicle.
Driving between: The quickest way to drive between the two sides is driving north on either highway and then taking Hwy 85 to cross over. The drive is about 63 km and will take you about an hour from parking lot to parking lot.
5. Kirkjufellsfoss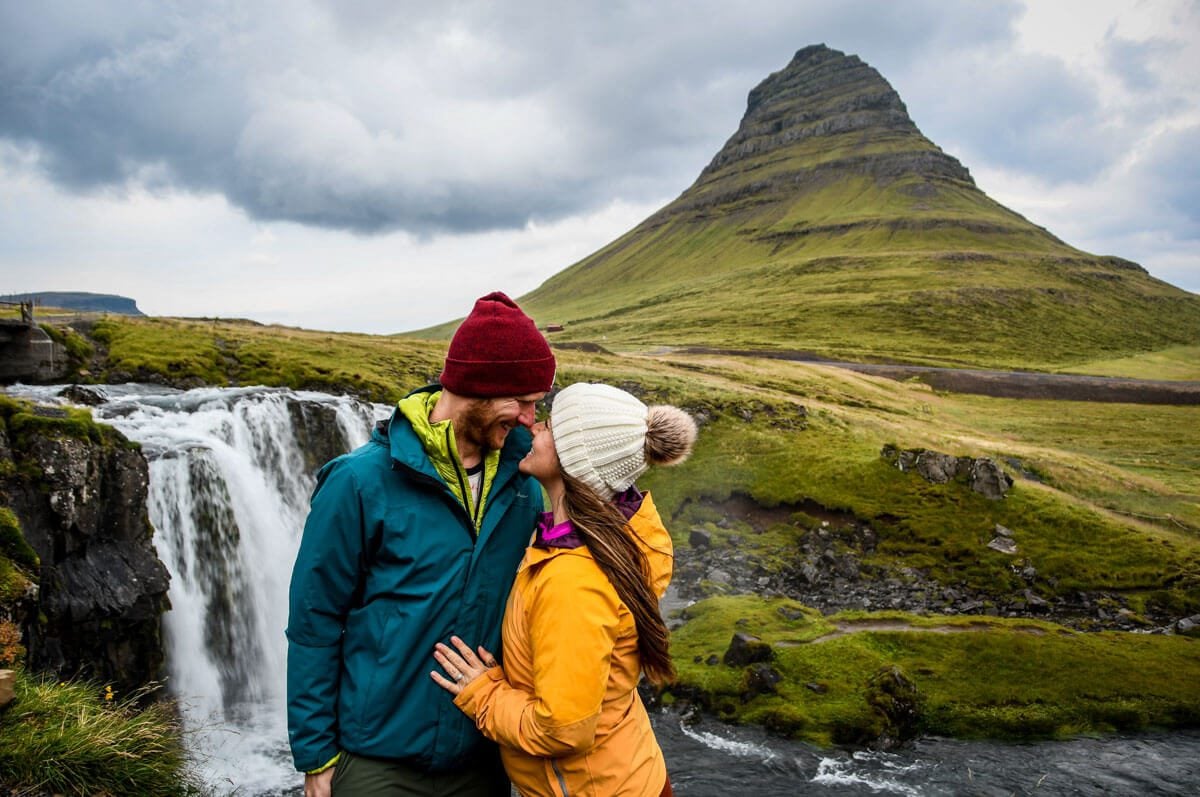 Nickname: none
What makes this waterfall unique: A uniquely shaped cylindrical mountain looming in the backdrop
Located on the Snaefellsnes Peninsula, Kirkjufellsfoss gets its name, which means "church falls", from the cone-shaped mountain in the background which resembles a church's steeple.
This waterfall is a popular spot for photography enthusiasts, especially during the sunset. You're likely to see photographers setting up their tripods aiming to get that panoramic shot with the falls and Kirkjufell mountain in the near distance.
Insider Tip: To get a different angle, you can pull off the road into this small dirt parking lot on the north side of the road. Walk down to the water, and on a calm day, you'll have an epic reflection shot of the mountain (not the waterfall). On windy days (like we had), this shot isn't nearly as spectacular.
Exact Location | Kirkjufellsfoss
How to get there: If you're coming from Reykjavík, take Ring Road North to Hwy 54 (which will be heading northwest towards the Snaefellsnes Peninsula. You can continue on Hwy 54 all the way around the perimeter of the peninsula or you can cut over to the north side on Hwy 56 and then take a left on Hwy 54. You'll pass through the town of Grundarfjörður and the parking lot is just 3 km west from there.
6. Öxarárfoss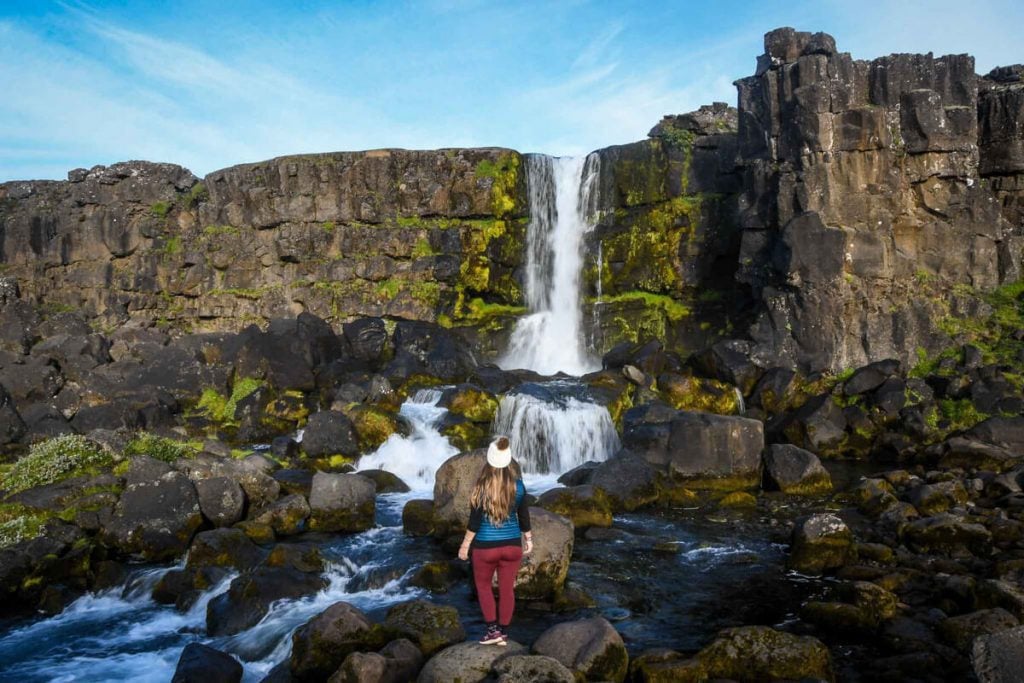 Nickname: none
What makes this waterfall unique: An easily accessed falls framed by basalt columns
Located in Thingvellir National Park, this waterfall requires just a short walk, making it easy to fit in during your tour of the Golden Circle. Just north of the Silfra Fissure, a short walk from the parking lot will lead you to this waterfall which has some interesting basalt column features.
This small (by Iceland's standards) waterfall stands at just 20 meters high. It's cool to see, but certainly not the most impressive of waterfalls on this list. Some people think the waterfall was artificially created several centuries ago due to a water diversion to provide better access to clean drinking water.
Tip: The best light for photography will be in the morning here.
Exact Location | Öxarárfoss
How to get there: The parking lot for Oxararfoss is a free lot located in Thingvellir National Park, just east of the fault line. Follow a short boardwalk to access the falls.
7. Goðafoss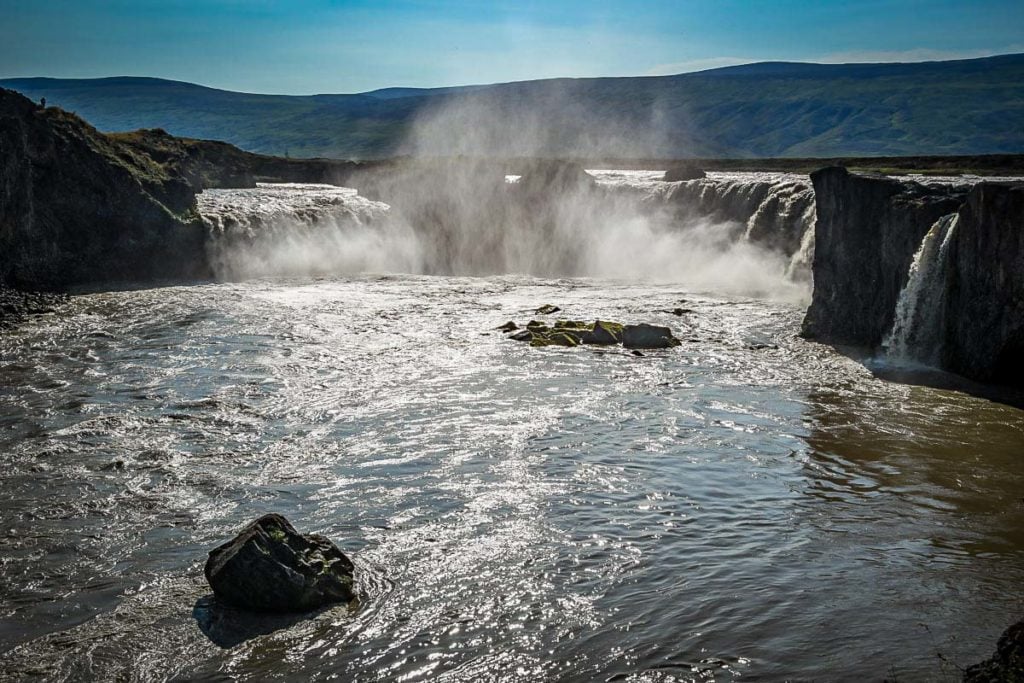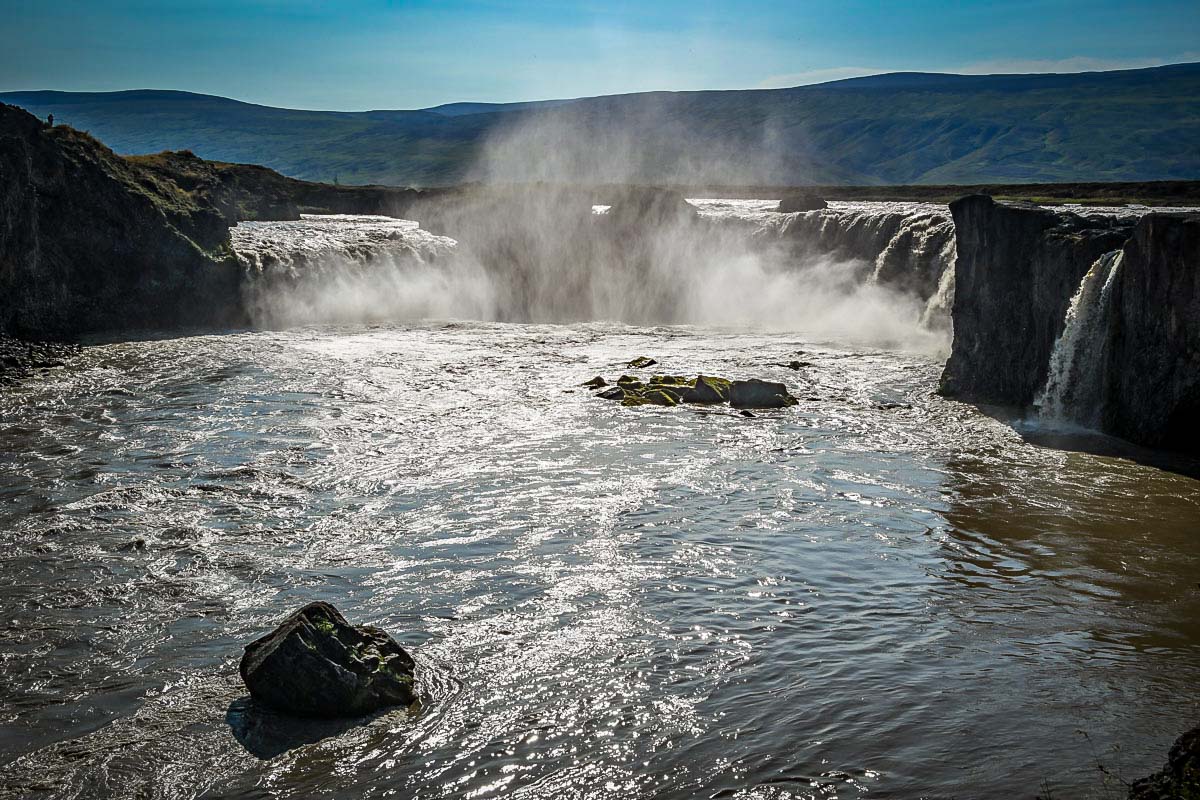 Nickname: Waterfall of the Gods
What makes this waterfall unique: Easily accessible waterfall on Ring Road
Located in North Iceland, Goðafoss is a horseshoe shaped waterfall dropping 12 meters (39 ft) and stretching over 30 meters (98 ft) wide. This easily accessible falls is a popular stop along Ring Road.
Honestly, this is a waterfall that didn't wow us as much as we thought it would. Perhaps it's because we arrived in the early afternoon on a bright, sunny day, so it was hard to photograph, or perhaps it is just that compared to a lot of the more remote falls on this list, this one just didn't do it for me the same way the waterfalls in lush green canyons really knocked my hiking boots off!
That said, it is powerful and undeniably a good stop if you're on this stretch of the Ring Road.
Exact Location | Goðafoss
How to get there: From Ring Road, head south on Goðafoss Sightseeing Road for about 350 meters until you reach the parking lot on the west side of the river. If you want to check out the east side of the river, you'll take Bárðardalsvegur Eystri south from Ring Road toward Fosshóll and park here. Both lots are just a few minutes drive from one another so you can easily visit both sides in a short amount of time.
---
Iceland Waterfalls with a hike
There are lots of epic hikes around Iceland, and many of them bring you past a waterfall or two. These waterfalls should be on your list if you're willing to put in a bit of effort to reach them. Sometimes the journey makes the destination even more worthwhile!
8. Stuðlafoss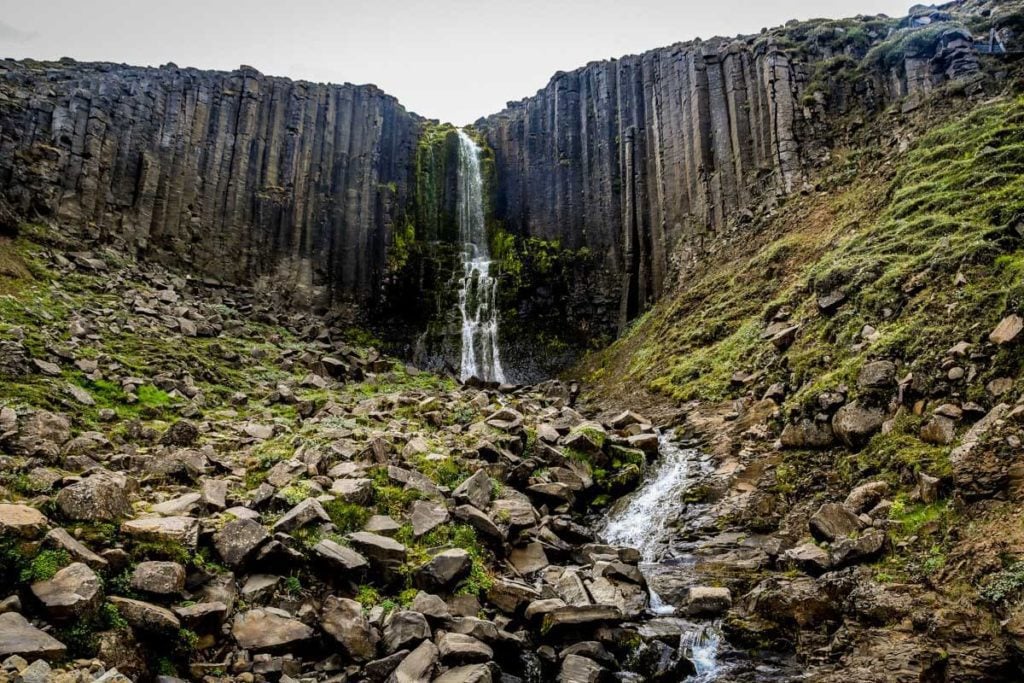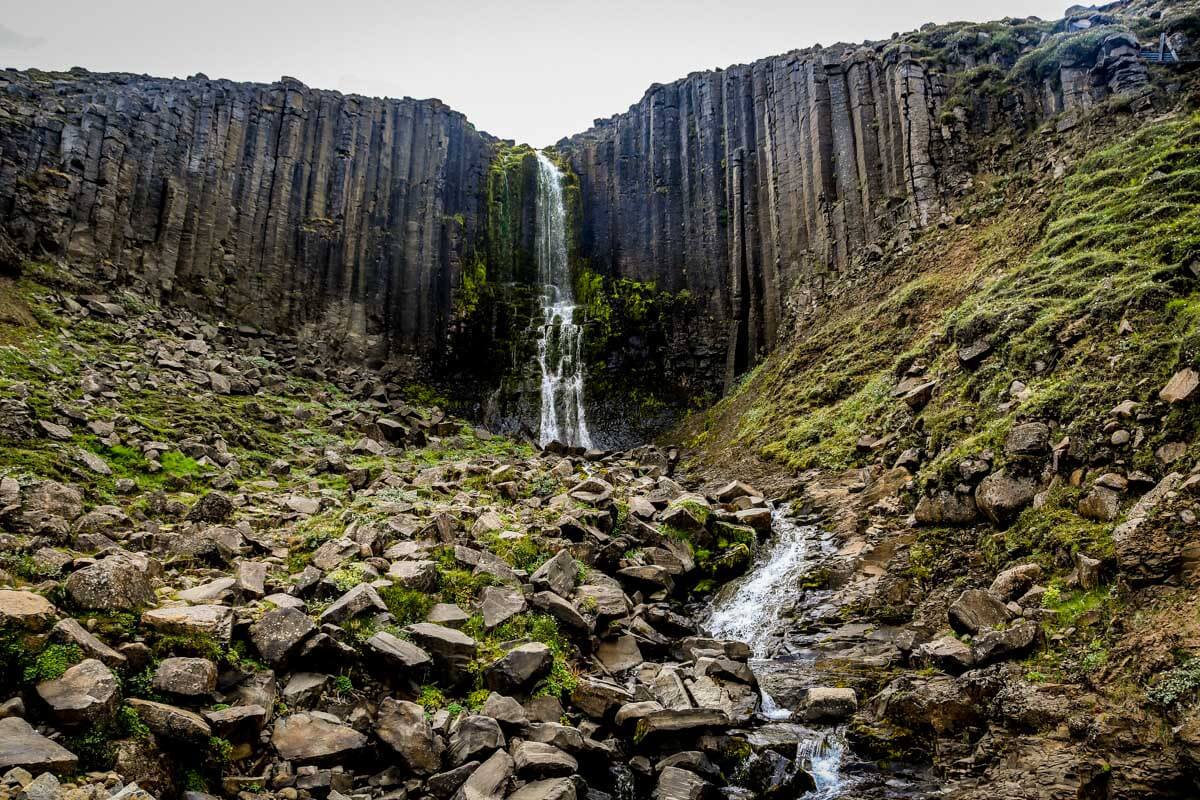 Nickname: none
What makes this waterfall unique: A basalt column waterfall in the famous Stuðlagil Canyon
To be honest, this waterfall isn't going to wow you like some of the other ones on this list. Other than being surrounded by hexagonal basalt columns, it's not the largest or most impressive waterfall in Iceland, but the canyon in which it is located is absolutely epic.
Luckily, we have a detailed guide to Stuðlagil Canyon so you can plan your visit with all sorts of insider tips under your belt.
Exact Location | Stuðlafoss
How to get there: The walk to get here is a little more than 1 mile (about 2 km) from the main parking lot, or just a couple of minutes from the smaller lot we'd recommend parking in. Check out our Stuðlagil guide for more detailed directions.
9. Waterfall Circle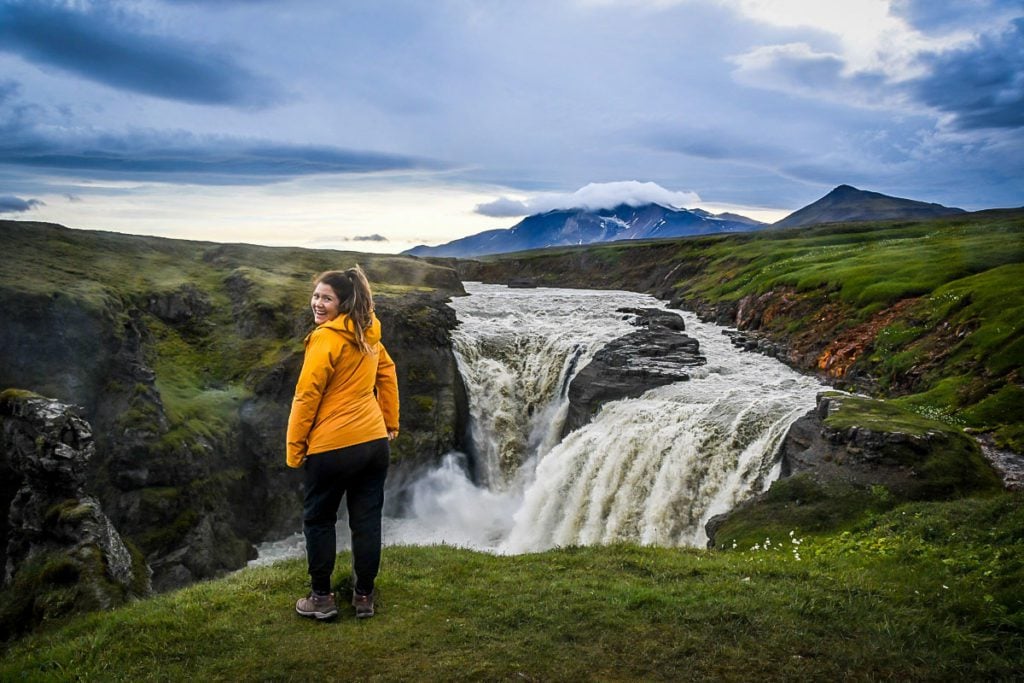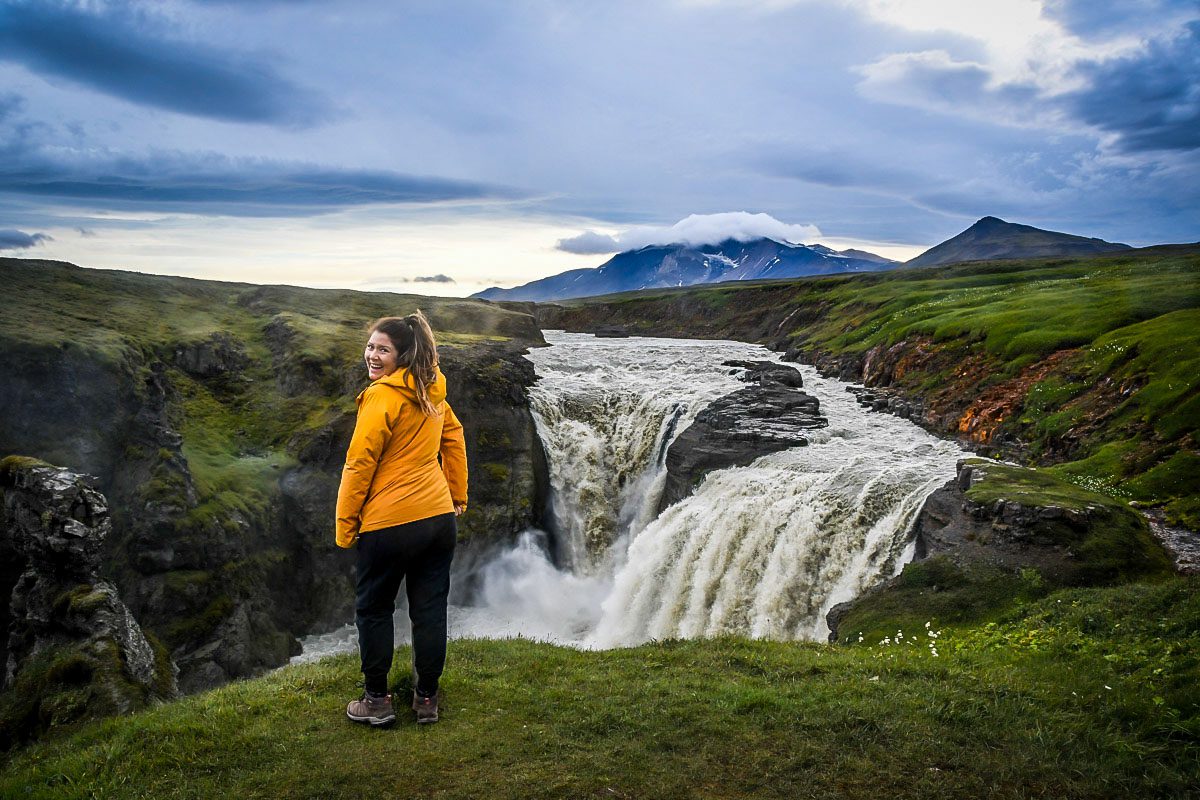 Nickname: also known as the 'Laugarfell Loop'
What makes this waterfall unique: An 8 km long hiking loop that starts and ends in Laugarfell
If you're driving the Ring Road and want to get off the beaten path in East Iceland, hiking the Waterfall Circle makes an adventurous detour. As the name implies, it is a loop trail covering 8 km (5 miles).
The beautiful trail takes hikers along the banks of Jökulsá River past 5 waterfalls and through a stunning canyon. The most famous of the waterfalls is Kirkjufoss.
The hike will take about 6 hours and ends at the Laugarfell Highland Hostel, one of our favorite Iceland Airbnbs, which is a great place to soak in their natural hot spring pools afterwards.
Exact Location | Waterfall Circle
How to get there: The town of Egilsstaðir on Ring Road in East Iceland is the nearest town to the Waterfall Circle trailhead. From there, it's about an hour drive. Follow directions southwest to the Laugafell Hostel. The trailhead is just beyond the hostel and both starts and ends there.
10. Glymur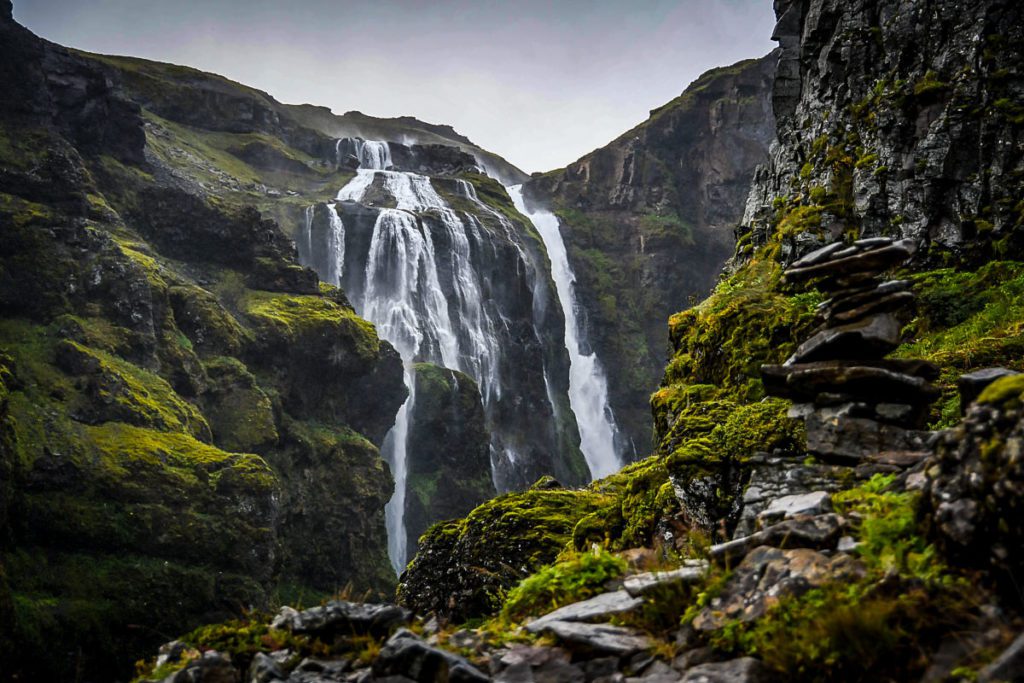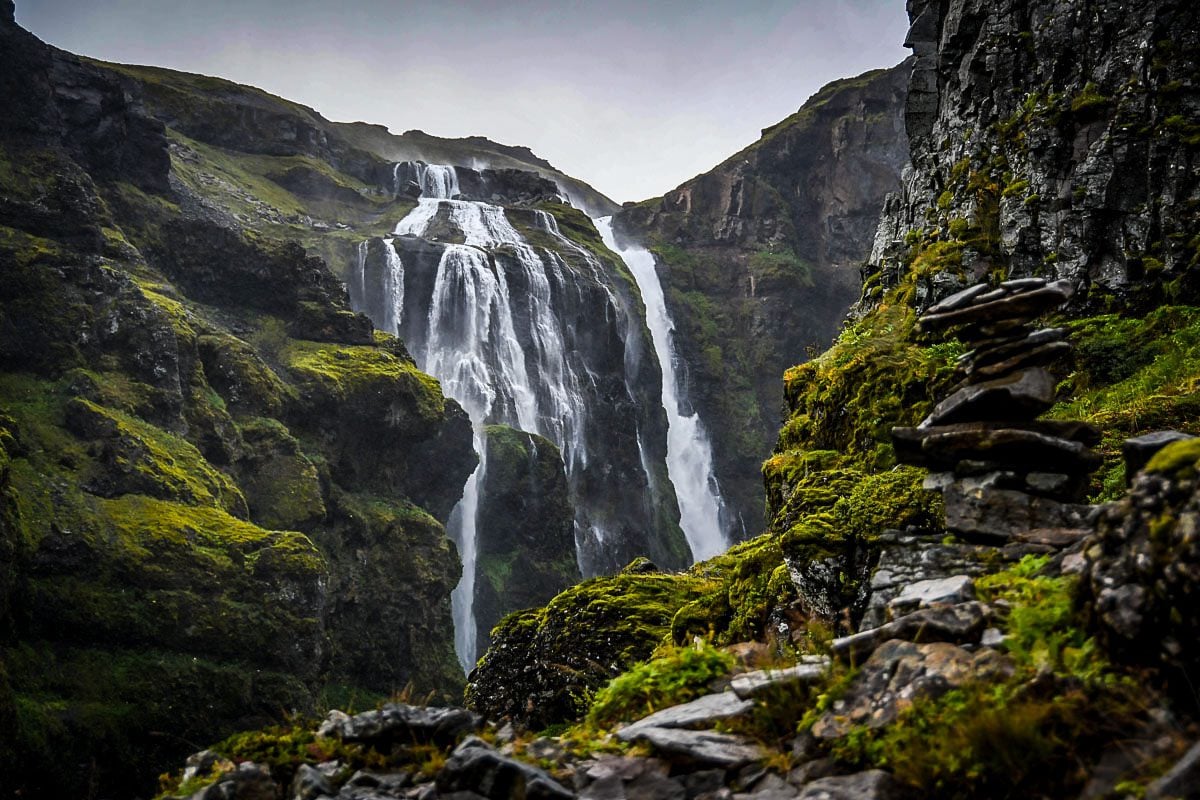 Nickname: Formerly Iceland's tallest waterfall
What makes this waterfall unique: Iceland's second tallest waterfall
For a long time Glymur was considered to be the tallest waterfall in Iceland, dropping from a height of 198 metres (650 feet). Until recently when scientists discovered Morsárfoss, an even taller waterfall in Vatnajökull glacier with a drop of 228 meters (748 ft). Since the new discovery isn't accessible to the public, Glymur is still considered to be the tallest waterfall you can visit in Iceland.
The 6.9 km (4.28 mile) loop trail is a challenging hike, but worthwhile if you're up for an adventure (aka crossing a river) and some elevation gain. The hike takes you through a mossy green canyon so majestic, it's worth the 3-3.5 hour challenge.
Be careful toward the end of the trail, as the path can be slippery and dangerous, especially when it's raining.
Our experience: We had to turn around just shy of the main viewpoint because it was so rainy and windy that the trail was getting pretty sketchy. Luckily, there are viewpoints on the way, so we still were able to see the magnificent Glymur.
Exact Location | Glymur
How to get there: Find out exactly how to get there and everything else you need to know in our Glymur Waterfall hiking guide.
11. Svartifoss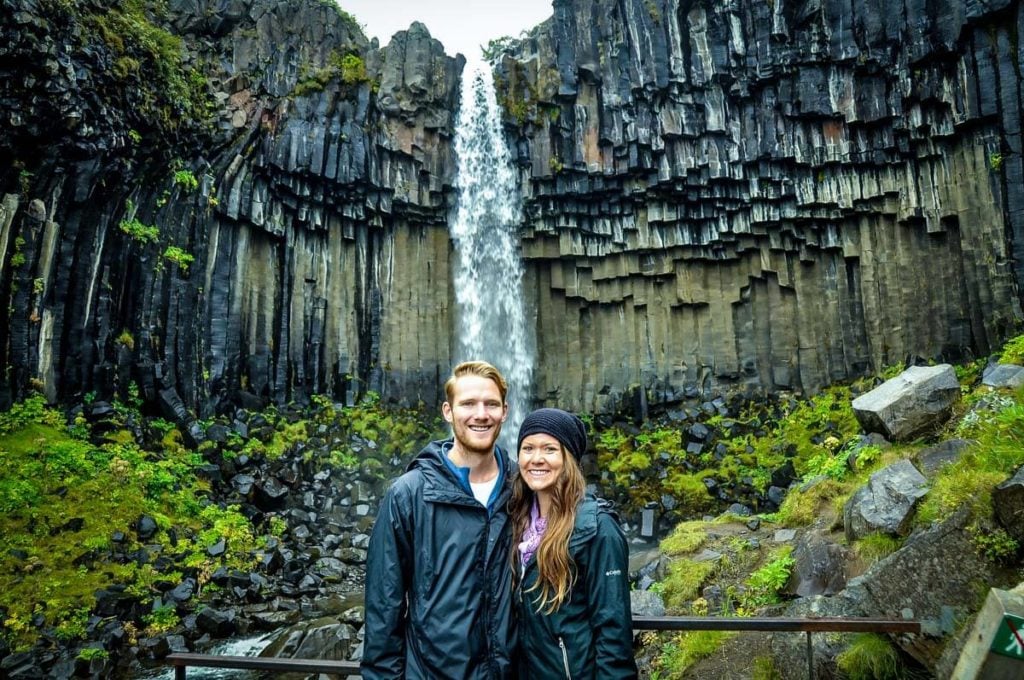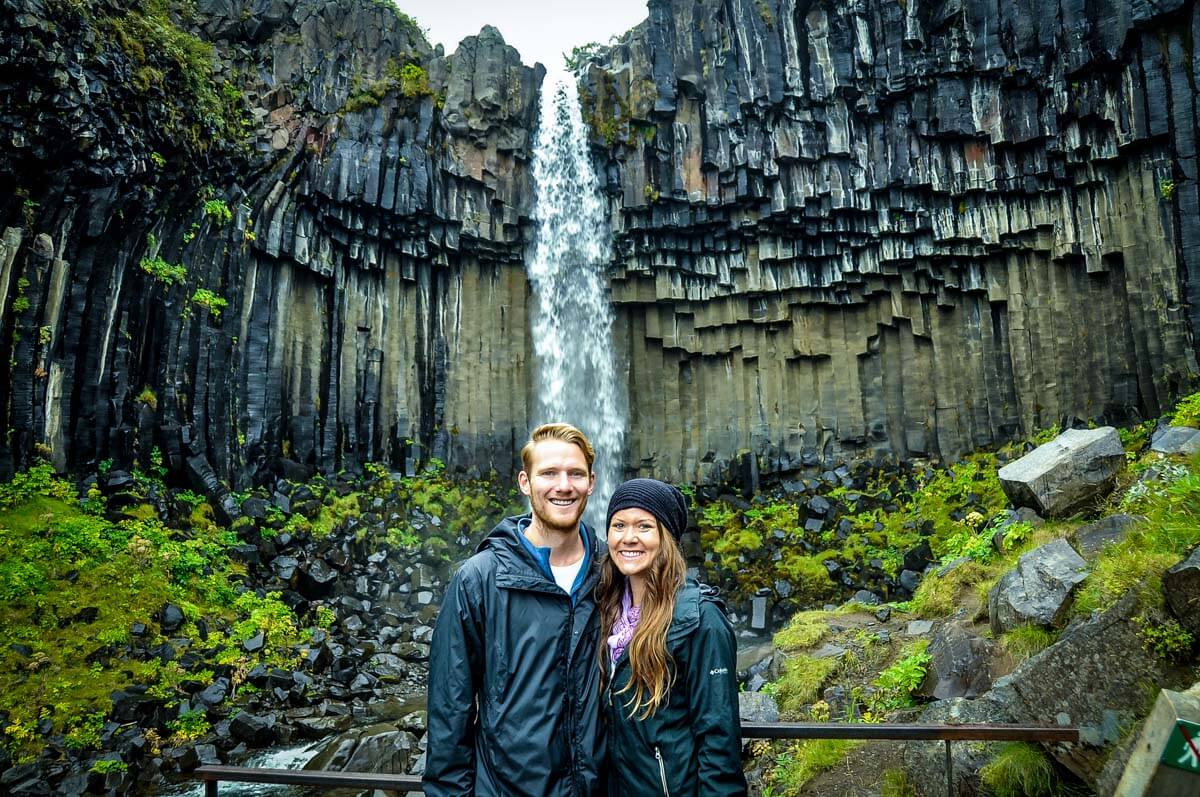 Nickname: Black waterfall
What makes this waterfall unique: It's surrounded by black basalt columns
Located in Vatnajökull National Park, Svartifoss is known as the "black waterfall" due to the black basalt columns surrounding the plunging falls. At 20 meters (65 ft) tall, the basalt columns beautifully frame the waterfall making this one of the more unique falls on this list.
To get to the falls itself, you will need to hike a relatively easy 4 km (2.5 mile) loop trail which passes by this unique waterfall. Plan at least 45 minutes to reach the falls and over 1.5 hours in total to allow for some time for photos.
Exact Location | Svartifoss
How to get there: Just off Ring Road in the Vatnajökull National Park, take Hwy 998 north to reach the Skaftafell & Svartifoss parking lot. This is where you'll find the trailhead.
12. Brúarfoss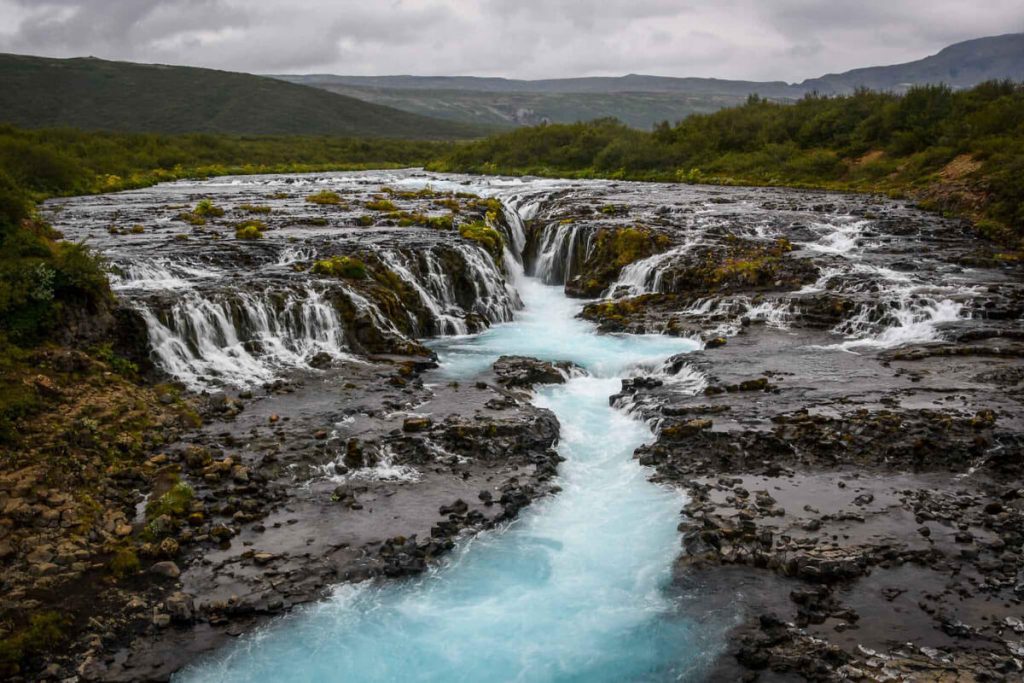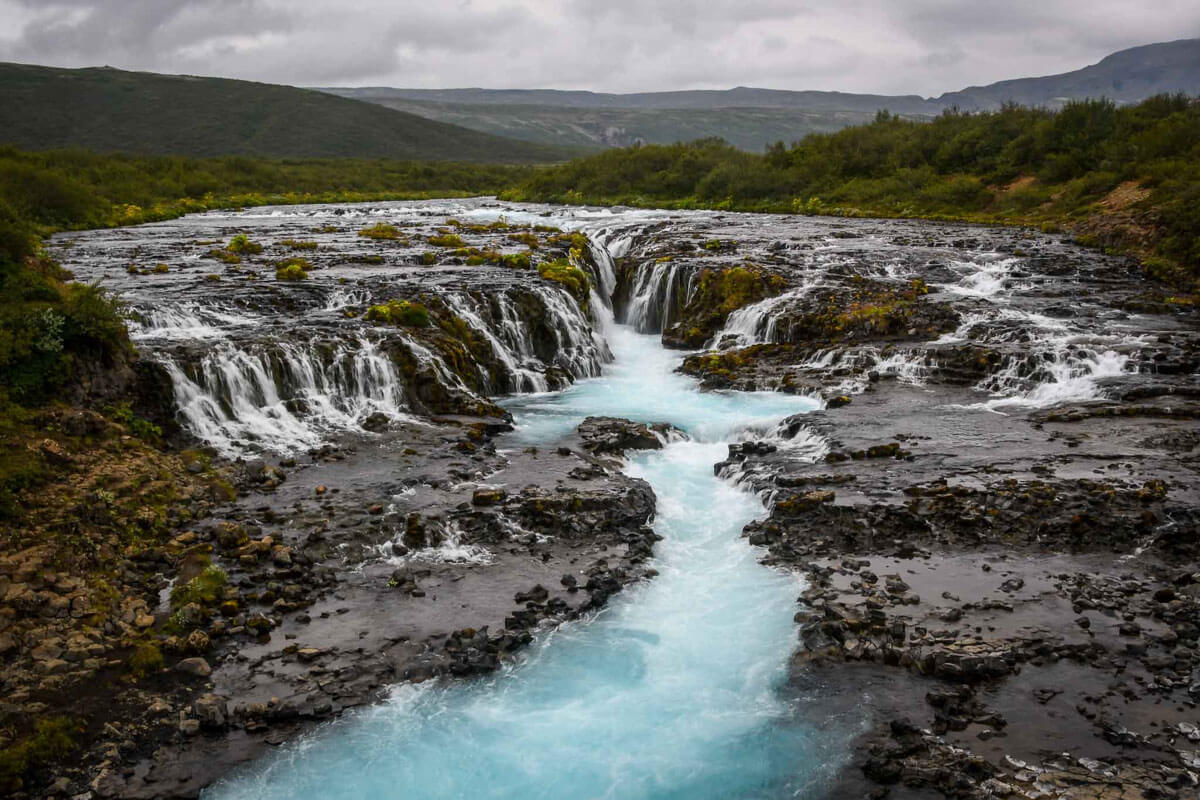 Nickname: Iceland's bluest waterfall
What makes this waterfall unique: It's bright icy blue hue
Known as the "bluest" waterfall in all of Iceland, this was one of our favorite off the beaten path attractions along the Golden Circle. The unique cascading falls and icy blue hue of the water makes it especially fun to photograph.
That said, the 2-hour+ hike isn't for everybody. The roughly 7 km (4.4-mile) round trip trek is relatively flat as it follows the banks of the Brúará River. The striking milky sky blue color comes from the source of this river, which is the Langjökull Glacier.
Important note: There used to be a much shorter path to Brúarfoss, but it was on private property and has been closed due to tourists being disrespectful. Be sure to park in the proper lot and follow the path so you don't trespass. And for the love of all things, PLEASE clean up after yourself and do not leave trash behind. On a related note, there are no restroom facilities here, so if you think you'll need to relieve yourself along the way, follow Leave No Trace guidelines and pack everything out with you.
Midway through the hike, you'll come across two smaller falls known as Hlauptungufoss and Midfoss. Continue on and you'll eventually reach the star of the show: Brúarfoss! While not as tall or mighty as many other waterfalls in Iceland, its unique cerulean hue is pretty magical. Plus, you'll likely be one of only a handful of people here, which is quite rare for a stop along the Golden Circle.
Photo tip: If you have a tripod, bring it on this hike! Likewise, this would be a sweet spot for a drone shot (we realized we left ours in the campervan about halfway through the hike).
Exact Location | Brúarfoss
How to get there: Follow directions to the official parking lot from the Golden Circle, aka Highway 37, aka Laugarvatnsvegur. From there you'll find the trailhead and begin your out and back hike.
13. Waterfalls on the Fimmvörðuháls Hike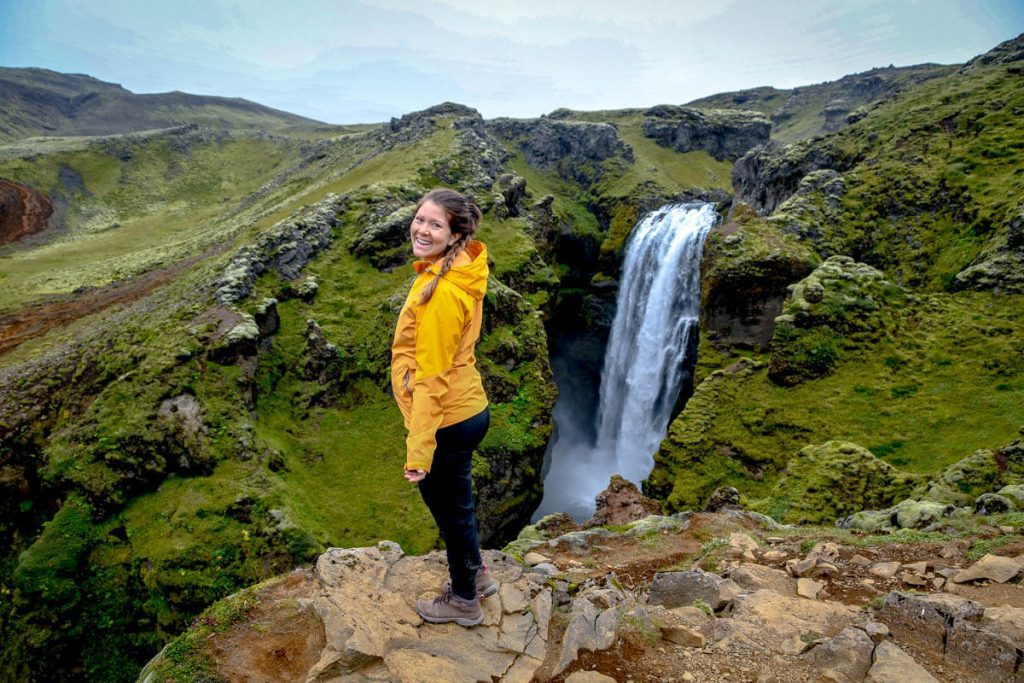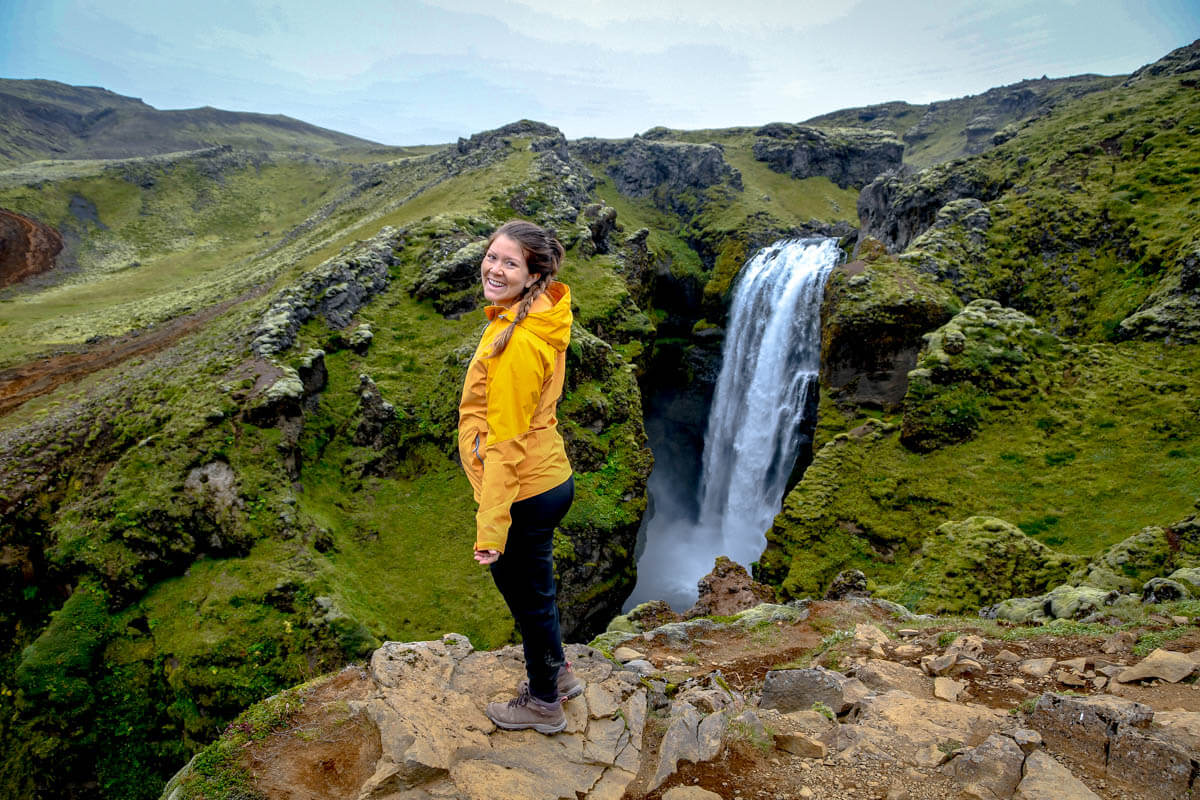 Nickname: Waterfall Way
What makes this waterfall unique: Around 26 waterfalls can be found on this stretch of trail
If you are a waterfall fiend and you enjoy hiking, be sure to put the Fimmvörðuháls hike on your Iceland bucket list. Even if you don't want to complete the full 25 km (15.5 mile) hike, or just don't have time, you can still see plenty of waterfalls from the start of the trail.
The trailhead starts behind one of Iceland's most famous waterfalls: Skógafoss. The first 4.5 miles of this hike are known as "Waterfall Way" because there's such a high concentration of them.
By most accounts there are 26 waterfalls in total along the mostly flat trail (though we lost count when we visited). Continue for as long as you'd like and then turn around and make your way back to the parking lot at Skógafoss.
Here you will find far fewer crowds than at Skógafoss (we noticed the crowds started to thin after about 1 mile of walking, so keep this in mind) and these were some of our very favorite waterfalls in Iceland.
Exact Location | Fimmvörðuháls trailhead
How to get there: This area is about a 2 hour drive from Reykjavík. You'll be able to see Skógafoss from the Ring Road. Take the turn off on Skógar Drive heading north, and an immediate left on Skógafoss Drive to get to the parking lot. From there you can walk a short distance to the falls, climb the stairs to the top and that is where you'll find the start of the trail. You'll have to pay 700 ISK (~5.50 USD) for parking here.
14. Hangandifoss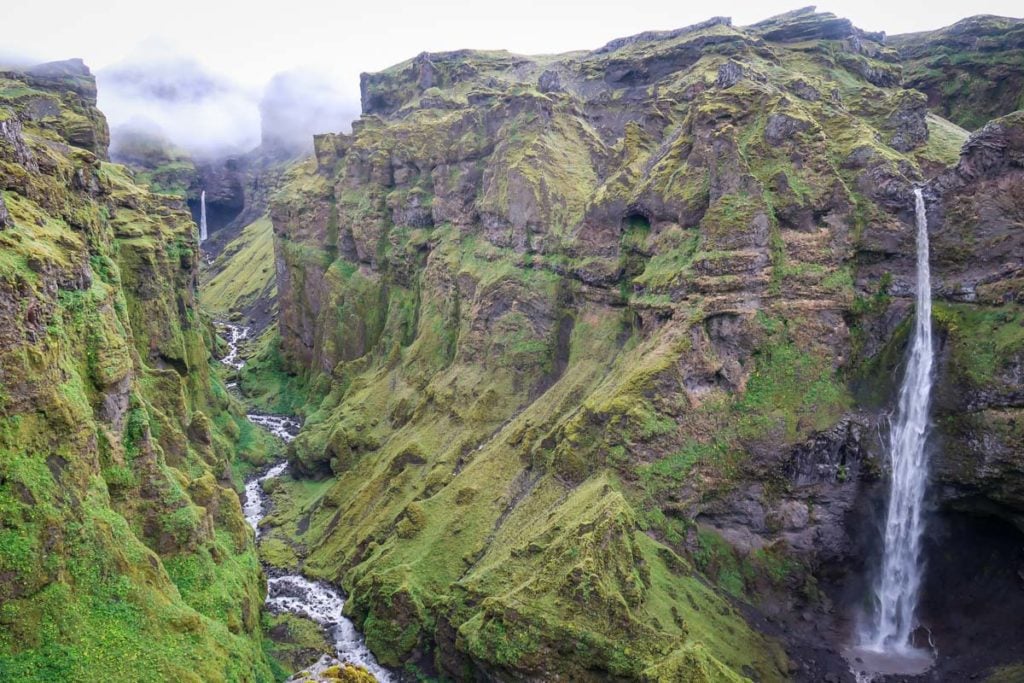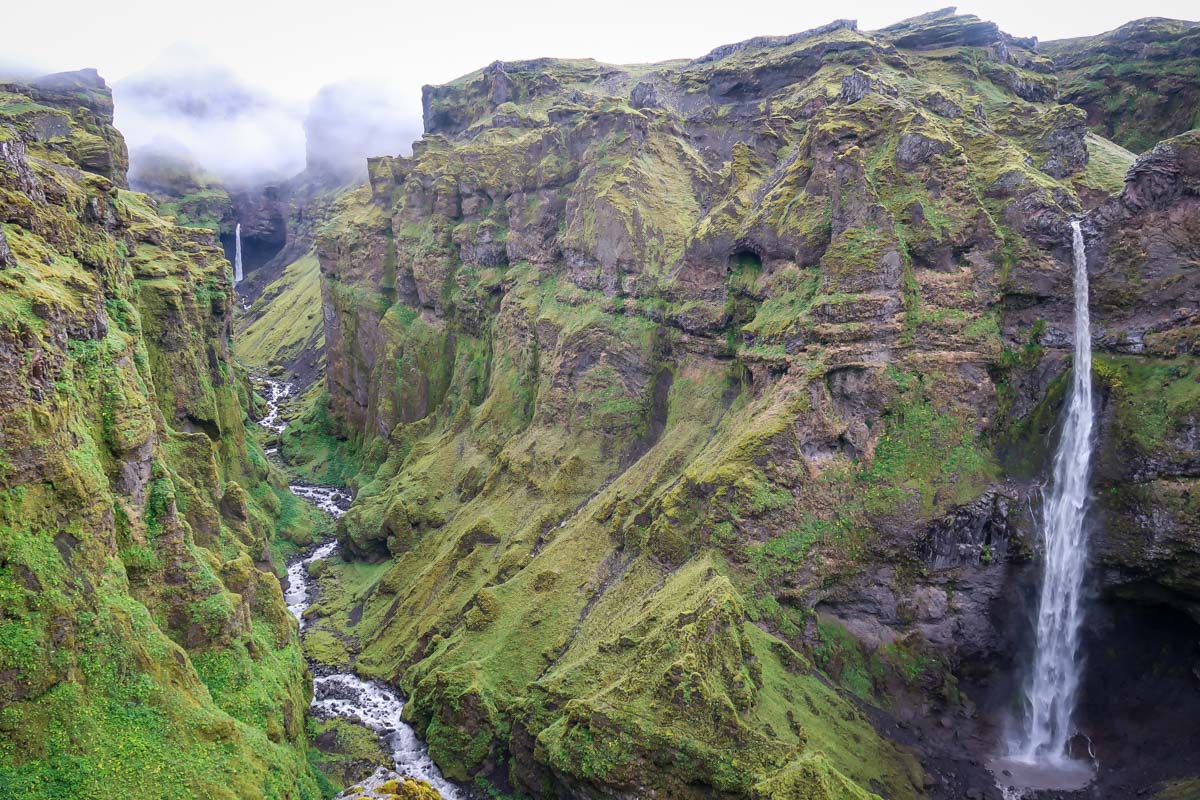 Nickname: none
What makes this waterfall unique: A stunning waterfall in a lush mossy green canyon
Located in the lush Múlagljúfur canyon in the south, Hangandifoss seems to be one of the few Iceland waterfalls that's remained mostly under the radar from tourism. That said, I don't think it'll remain secret for long, so we highly, highly recommend making time for this stop.
The 5.8 km (3.6 mile) hike into the canyon brings you to an epic viewpoint of two waterfalls (one right in front of you and one further down the canyon). With birds flying through the lush green canyon, it made us feel like we had been transported to Jurassic Park. It was one of our very favorite views in all of Iceland.
Sometimes compared to the more famous and built-up Fjaðrárgljúfur canyon, Múlagljúfur is still far less crowded. When we started the hike, we were the only people in the parking lot, and on our walk back we crossed paths with two other couples.
Exact Location | Hangandifoss
How to get there: Unlike most other popular hikes to waterfalls in Iceland, you won't find any signs leading you to the start of the Múlagljúfur canyon trail. There is an unmarked gravel road turnoff from Highway 1 that leads you to a small parking area. The turn off is just 5 minutes before you reach Fjallsarlon Glacier Lagoon, so keep that in mind as a benchmark.
15. Hengifoss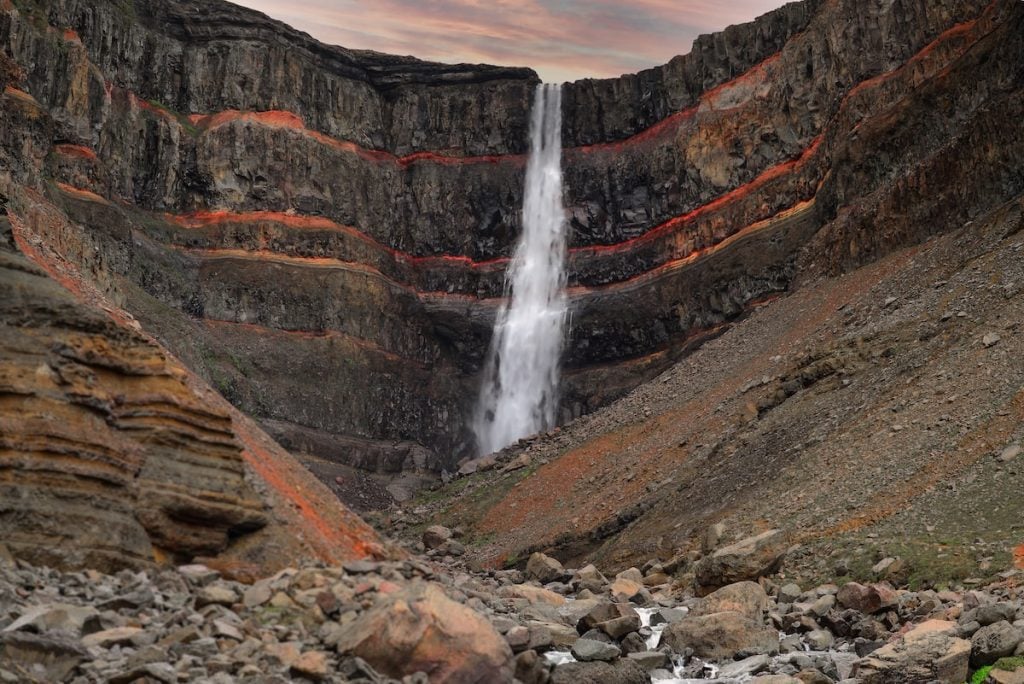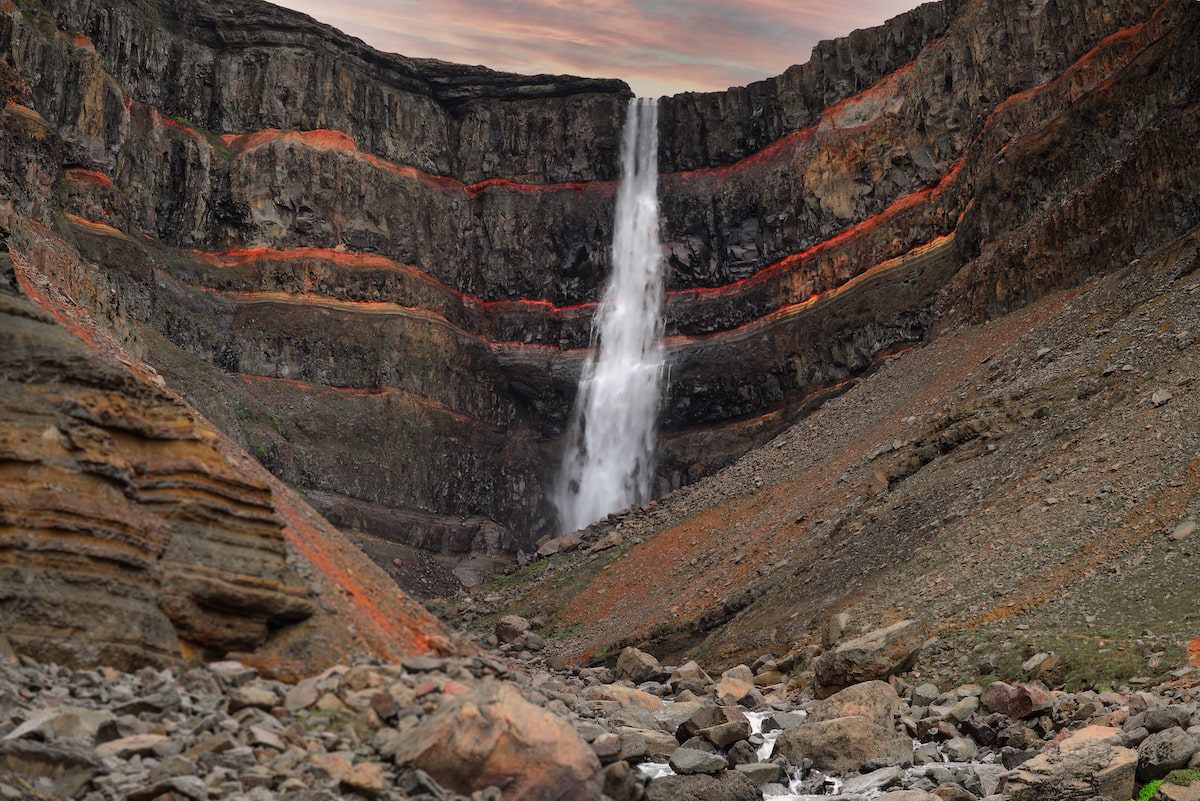 Nickname: The Hanging Falls
What makes this waterfall unique: Hengifoss is the third tallest waterfall in Iceland, and is often characterized by its unique backdrop of red clay layered between volcanic rock.
Located in Iceland's Eastern Region is the dramatic Hengifoss, otherwise known as the third tallest waterfall in the country, measuring in at 128 meters (420 ft). While its height certainly is reason enough to draw crowds, it's often Hengifoss' distinct multicolored surroundings that locals and travelers alike are there to witness. Basalt rock with infusions of red clay provide a stark contrast to the blue waters of the gorge in which Hengifoss is found, making for a stunning climax to an otherwise moderate hike.
To reach Hengifoss, one must first trek along the steep cliffside of a scenic gorge. Ensure you know how to pack for a day hike of this intermediate caliber, as the dirt path en route is well-maintained but increases in elevation gain virtually the whole way; with the most steep section located right at the trailhead.
There are benches sprinkled throughout the trek for those who need a moment to catch their breath or who want to take in the stunning vistas of the surrounding forest. Upon reaching Hengifoss, follow the path directly up to the falls where a small cave permits you to walk right behind it (though this trail may be closed depending on the season, as the mist of the waterfall can prompt the area to get quite slippery in cooler temps).
It's recommended to visit Hengifoss first thing in the morning, when the trail is at its most secluded and the sunlight hits the water head on. Arriving early will not only ensure you a parking spot at the trailhead, but it will mean ample photos without any other hikers making an appearance. Take the route to this beautiful waterfall slow and steady, and enjoy every moment!
Exact Location | Hengifoss
How to get there: Following the Ring Road south from the Eastern Capital of Egilsstaðir, continue straight onto Route 931 when Hwy 1 curves left. You'll take Route 931 for approximately 23km until reaching a T-intersection, where you'll turn left. Up ahead and near the bridge is where you'll find the parking lot, which is equipped with bathrooms.
Recommended by: Natasha from Planes, Trains and Karcz
---
Lesser known Waterfalls in Iceland
If you like getting off the beaten path, these waterfalls are hidden gems you can add to your itinerary.
16. Gluggafoss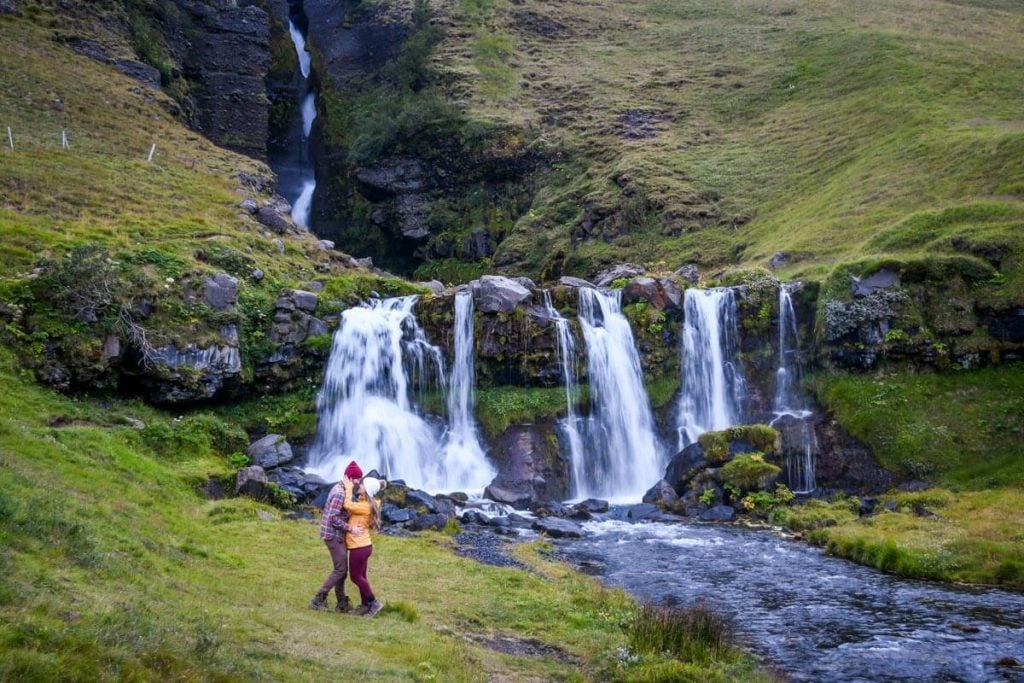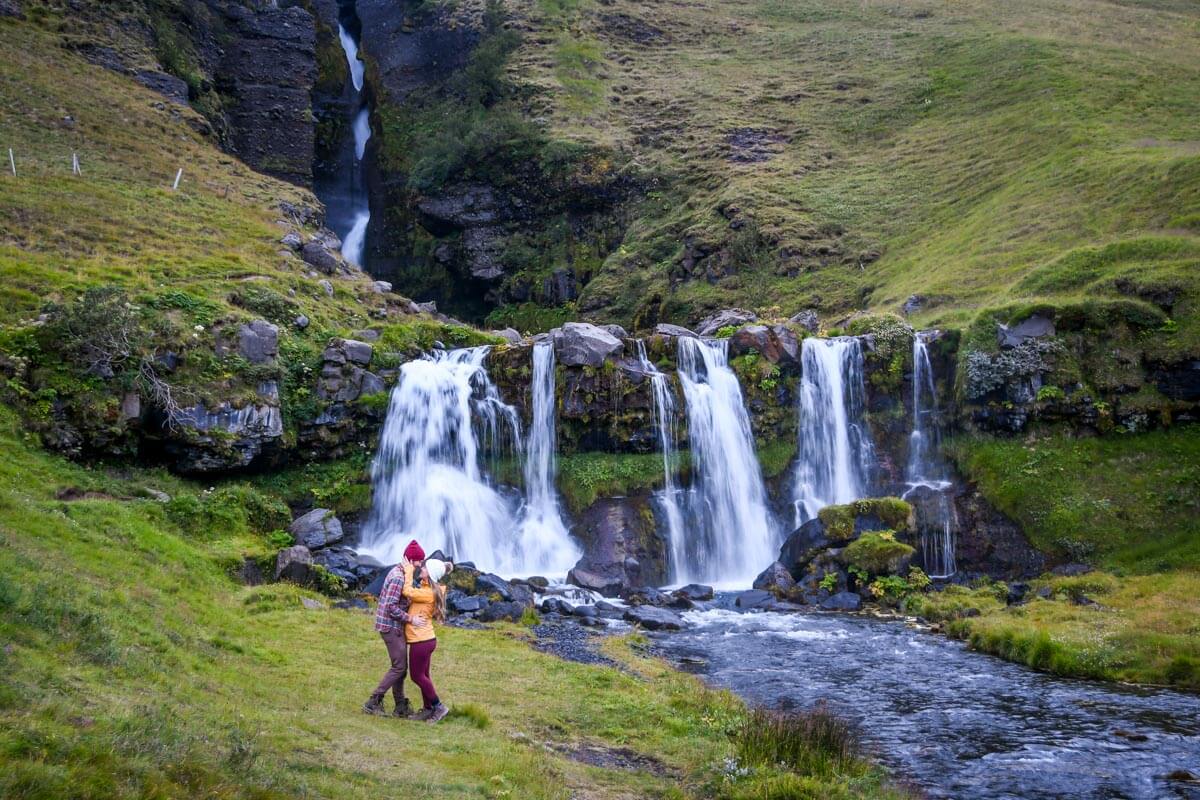 Nickname: Window Falls
What makes this waterfall unique: The unique geology behind its nickname
Known as the "Window Falls" for the unique holes in the bedrock that create gluggar or "windows" through which the water finds its way. Gluggafoss is part of a series of waterfalls running through the Merkjá River, known collectively as Merkjárfoss.
There are two tiers to the falls. The upper tier plunges around 44 meters (145 ft) and then widens into the lower falls, which is a short 8.5 meter (28 foot) plunge further. You can hike up to the top of the lower tier to get a very cool view of the upper tier.
A stop here is a quick detour from Ring Road. We stopped here after a busy day on the Golden Circle. When we arrived around dusk, we were the only ones in the parking lot and had the waterfall all to ourselves.
Exact Location | Gluggafoss
How to get there: From the town of Hvolsvöllur, which Ring Road passes right through, take Hwy 261 East and follow directions on Google Maps to find the turn off nearest the falls.
17. Kvernufoss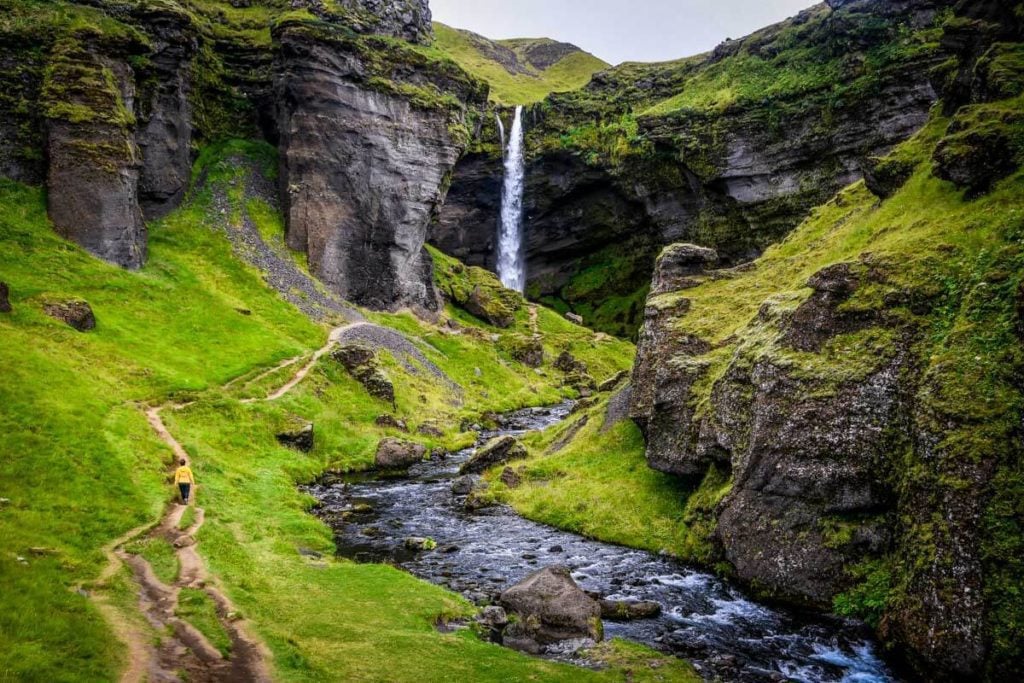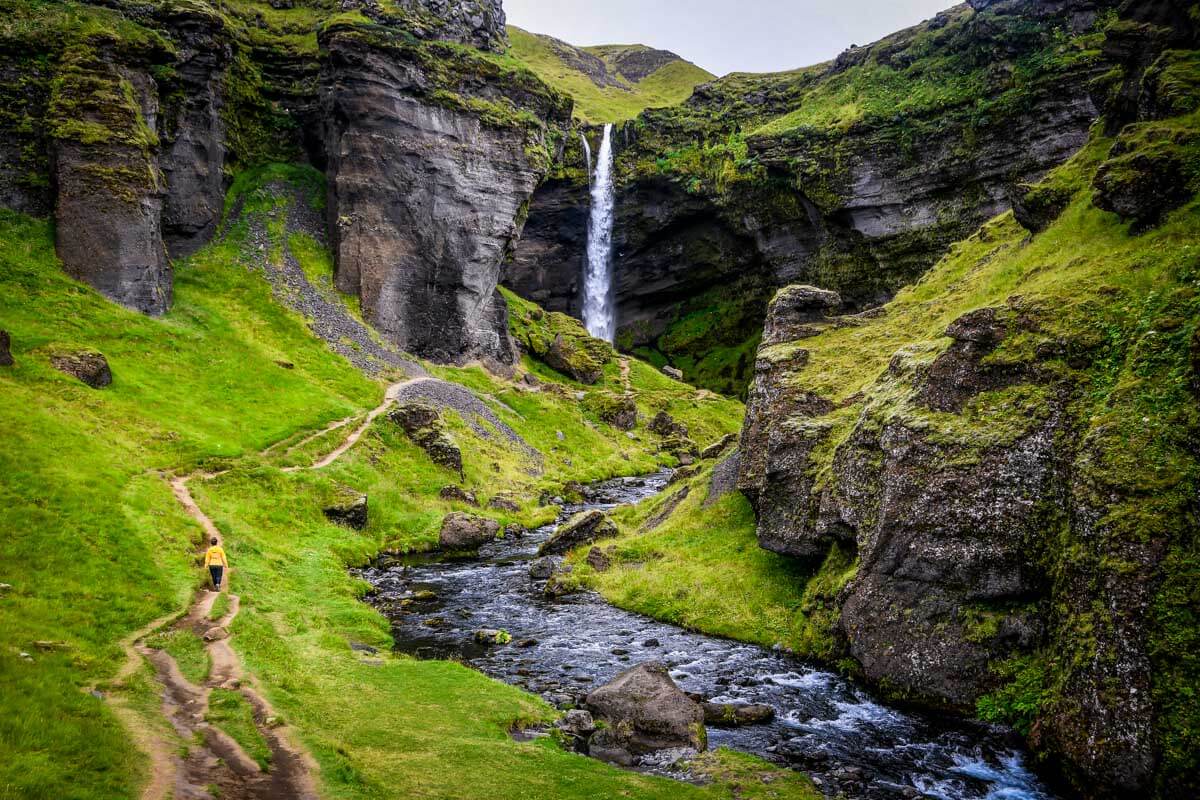 Nickname: none
What makes this waterfall unique: A mostly hidden gem in a lush green canyon
A quick and easy 15-minute walk brings you to a small canyon with this stunning waterfall.
Not far from Skógafoss, many visitors miss this hidden waterfall because they simply don't know of its existence. This was us on our first trip to Iceland! While nearby Skógafoss draws tour buses and huge crowds (for good reason), this waterfall is still somewhat a secret, and is jaw-droppingly beautiful.
We arrived when there were no other people at the falls, but as we started to head back there were quite a few people (still not the same amount of crowds as at more popular waterfalls).
Exact Location | Kvernufoss
How to get there: Just behind the Skógar Museum, you'll find a dirt path with a small sign indicating it's the trail to Kvernufoss. Be sure to pay for parking before you set off on a short walk.
18. Gljúfrabúi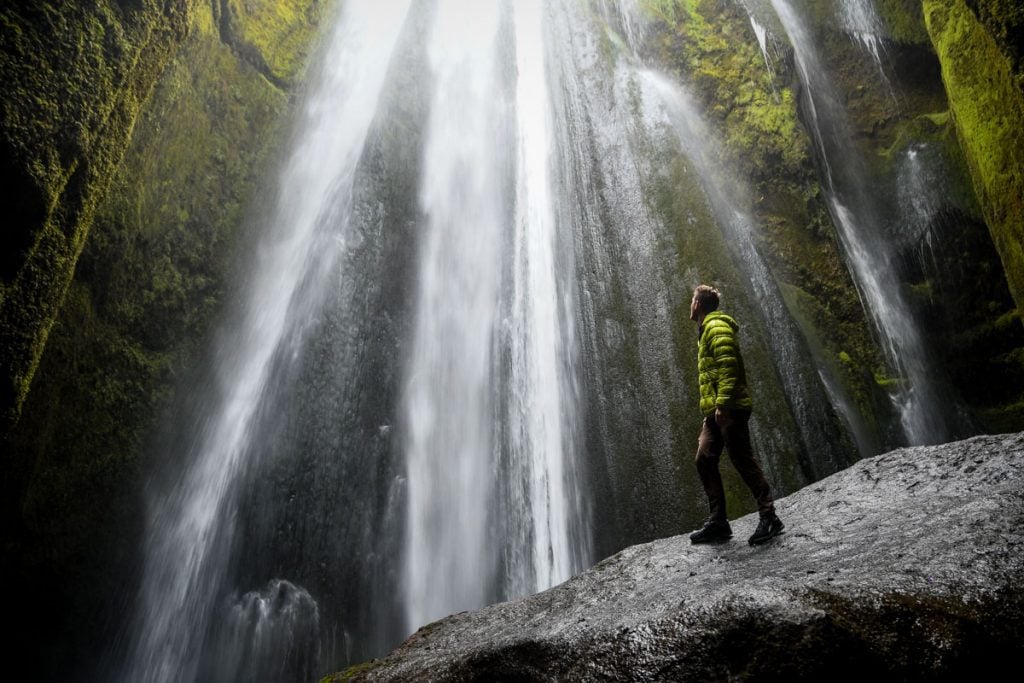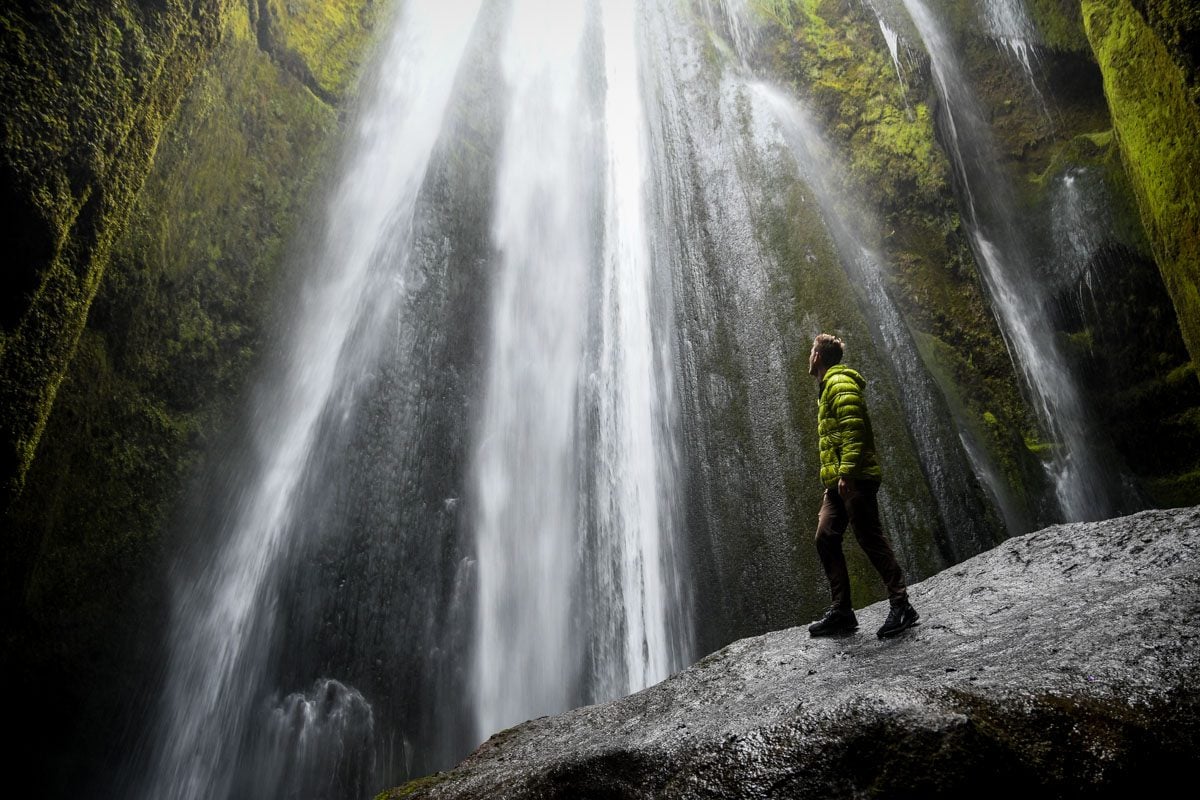 Nickname: none
What makes this waterfall unique: A water curtain draped inside a narrow slot canyon
Nestled inside a hidden slot canyon not far from the famed Seljalandsfoss, this is another waterfall many visitors miss even though they're nearly there.
Know that this little canyon can get quite crowded as it's not very big. There is a rock you can climb on top of to get some cool shots of you in it (if you have a travel partner to snap a photo), but be respectful of others and take these photos quickly as everyone wants to get the same shot. When we were there, some people were taking long photo shoots which was kind of rude to everyone else who had to wait.
Exact Location | Gljúfrabúi
How to get there: To reach Gljúfrabúi, follow the directions to Seljalandsfoss and take the walking path. After crossing the bridge beneath Seljalandsfoss, follow the dirt path along the cliff. To get here, you'll have to walk over some boulders and potentially through a bit of water, so wear sturdy hiking boots. The walk is very short, and you'll soon be rewarded with this stunning waterfall appearing out of nowhere from behind the cliff.
19. Kolufossar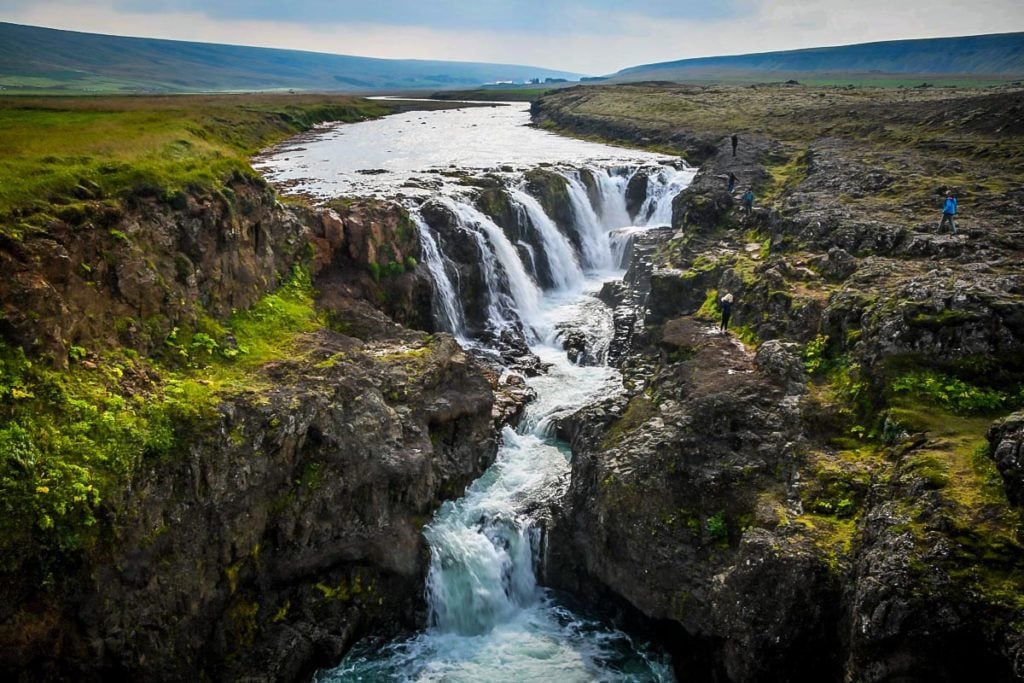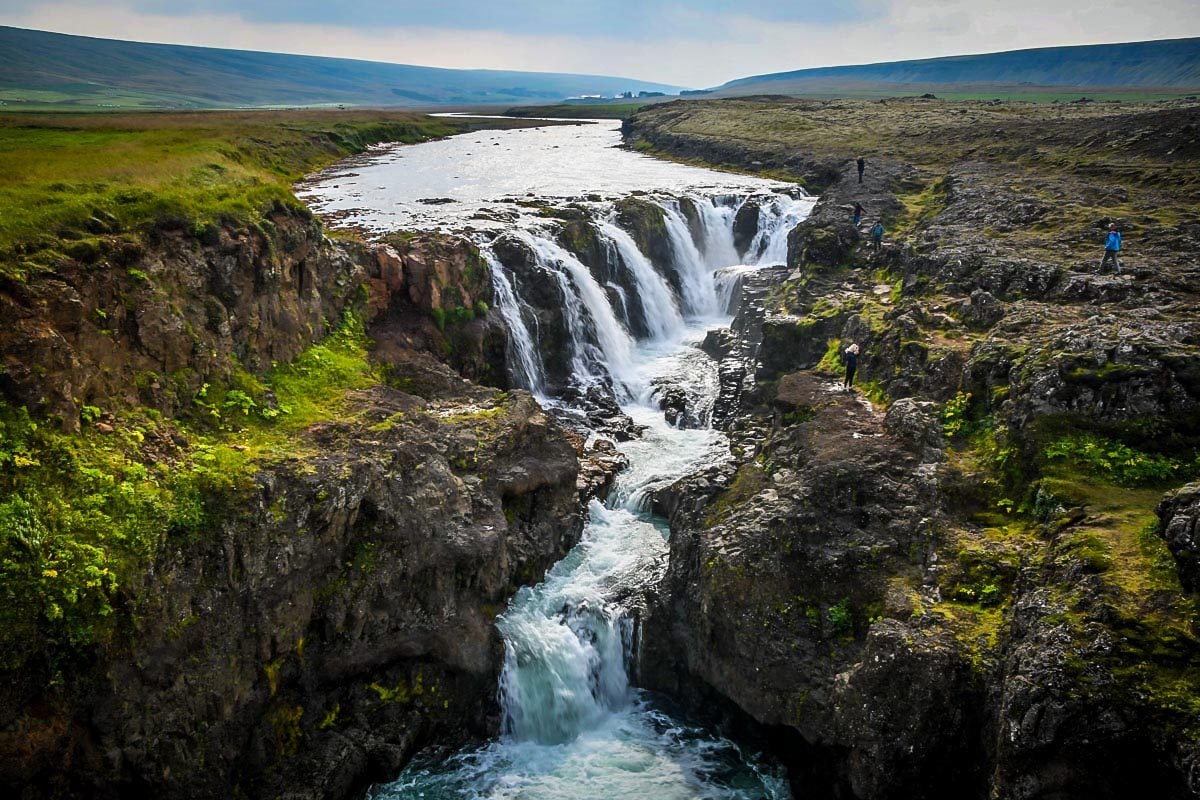 Nickname: named after Kolu the troll
What makes this waterfall unique:
Located in the Kolugljúfur canyon, the Víðidalsá river plunges into a deep canyon creating the Kolufossar waterfall. Legend has it that this was once the home of Kola the troll and the falls were therefore named after her.
If you're driving the entire Ring Road, this waterfall is a good one to have on your list because it's just a short detour from Highway 1; plus, it's one of the better stops in an otherwise somewhat boring stretch of road.
Though we are including this in our lesser known Iceland waterfalls list, it is rapidly increasing in popularity and tourist traffic.
Exact Location | Kolufossar
How to get there: From Route 1, take Route 715 and turn off at Hrappsstaðavegur. A short drive will bring you to the Kolugljufur Car Park. From there it is just a short walk to the falls.
20. Dynjandi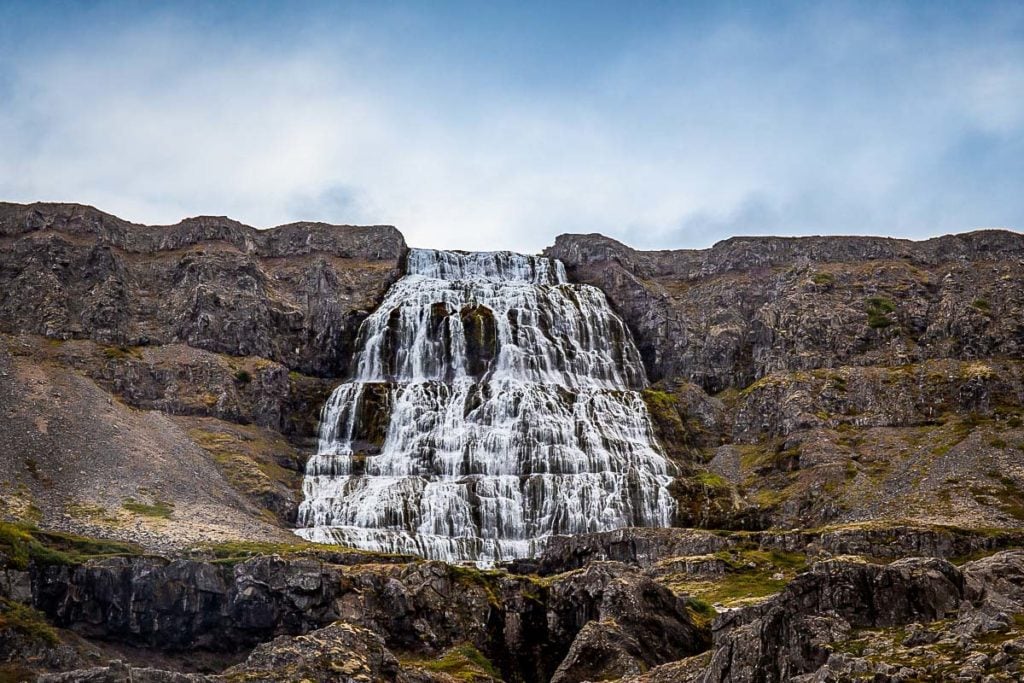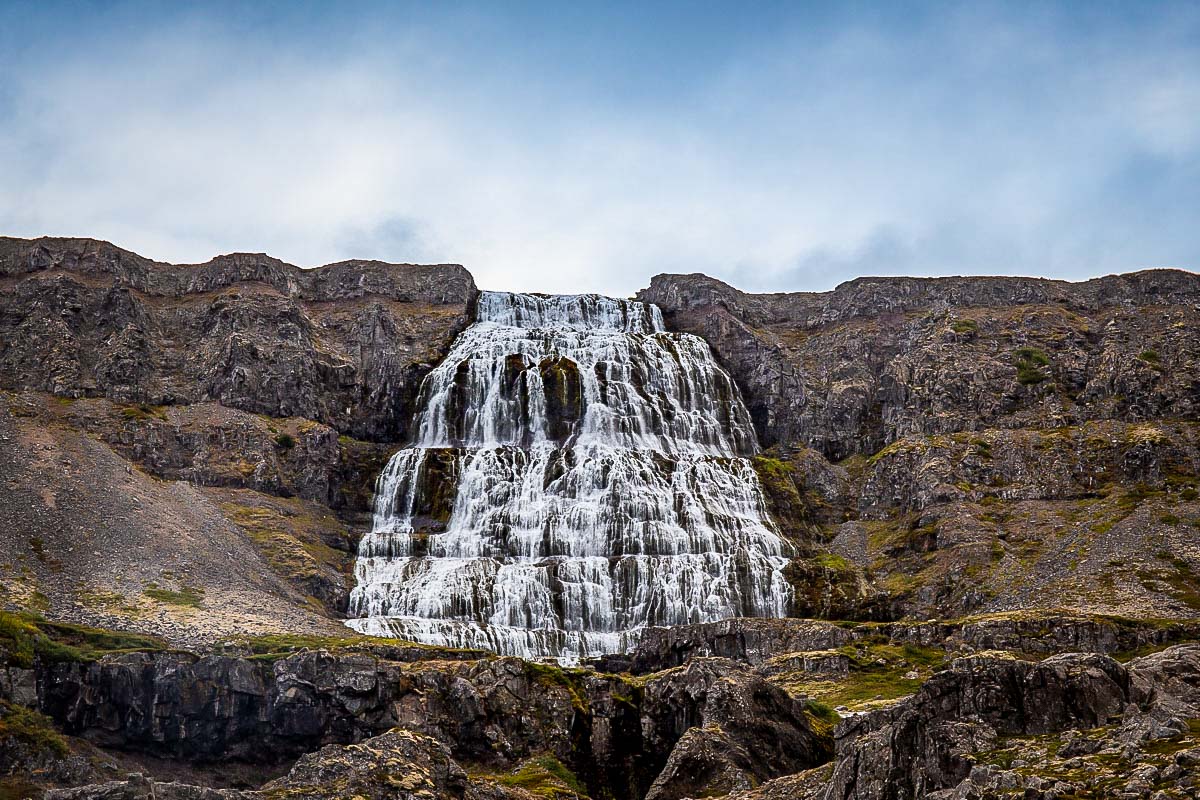 Nickname: Thunderous Falls
What makes this waterfall unique: It is a unique bridal veil waterfall in Iceland
The Dynjandi waterfall is a tiered fan waterfall which drops over 100 meters (330 ft). It's unique bridal veil shape means that at the top of the cliff the falls are 30 meters wide but by the bottom they have spread out to cover over 60 meters (196 ft).
After the initial large waterfall there are five waterfalls further down before the river flows into the nearby Arnarfjörður fjord. Some of the best views and photography spots for these falls are from about halfway up.
The waterfalls and the surrounding area have been a protected monument since 1981. Nearby a small farmstead stands in ruins and a hot spring called Volgra which is also a protected monument can be found.
The parking area at the foot of the falls is large with a toilet block. The path to the falls leads directly from the parking lot and is rough and uneven.
Exact Location | Dynjandi
How to get there: From the south take Route 60 from Flókalundur across Dynjandisheiði Heath. After the heathland the road will come down towards the fjord through a series of hairpin bends. As the road reaches the fjord a small road to the left will follow the fjord to the waterfall.
Recommended by: Suzanne from Meandering Wild
21. Sigöldugljúfur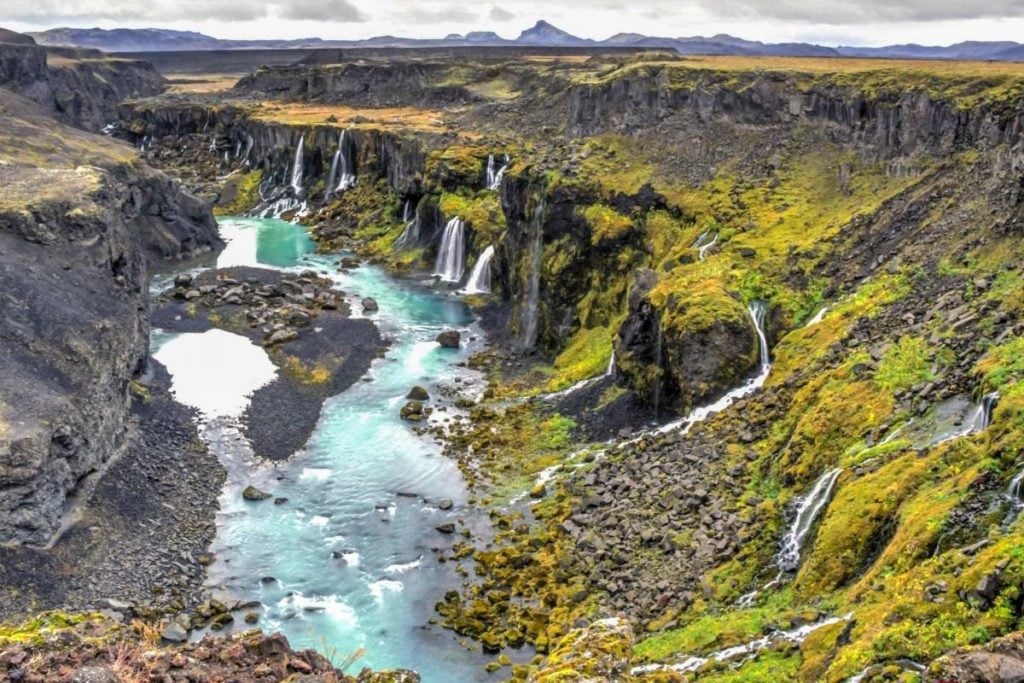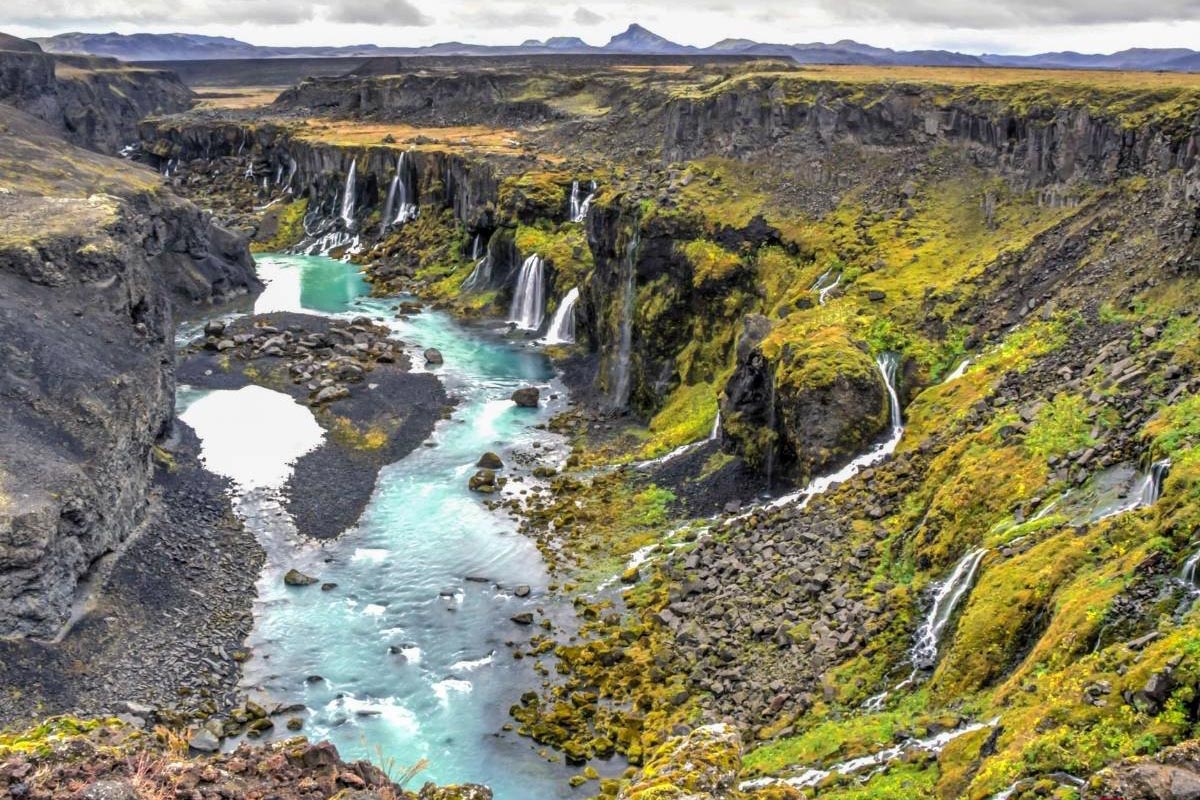 Nickname: Valley of Tears
What makes this waterfall unique: Known for its high number of waterfalls.
Sigöldugljúfur does not present as your typical Icelandic waterfall. It is foremost a canyon, which has been empty since the water from the river Tungnaá has been forced into conducts.
However, tens of small waterfalls are now decorating the walls of the canyon, looking like tears, hence the nickname. Some are plunge waterfalls, others segmented, and others cascades. Together they create one of the most mesmerizing landscapes in Iceland. You can spend hours sitting and looking at all the details in the flows.
There is no large volume or high power waterfall here, but also hardly any visitors since it is located in the Central Highlands, away from the main roads. Plus, you won't find any facilities here.
The best view is at the bend, where you can see the highest number of "tears". This view is facing East, so pictures can be nice as the sun rises, but the light on the falls will be better in the afternoon. However, anywhere you look from the edge of the canyon offers beautiful scenery!
Exact Location | Sigöldugljúfur
How to get there: Access requires a 4×4 vehicle. You must park along F-208 road and walk along a service track for around 15 minutes to reach the edge of the canyon. Then you can walk along the canyon to reveal more and more waterfalls.
Recommended by: Claire from ZigZag On Earth
22. Aldeyjarfoss + Hrafnabjargafoss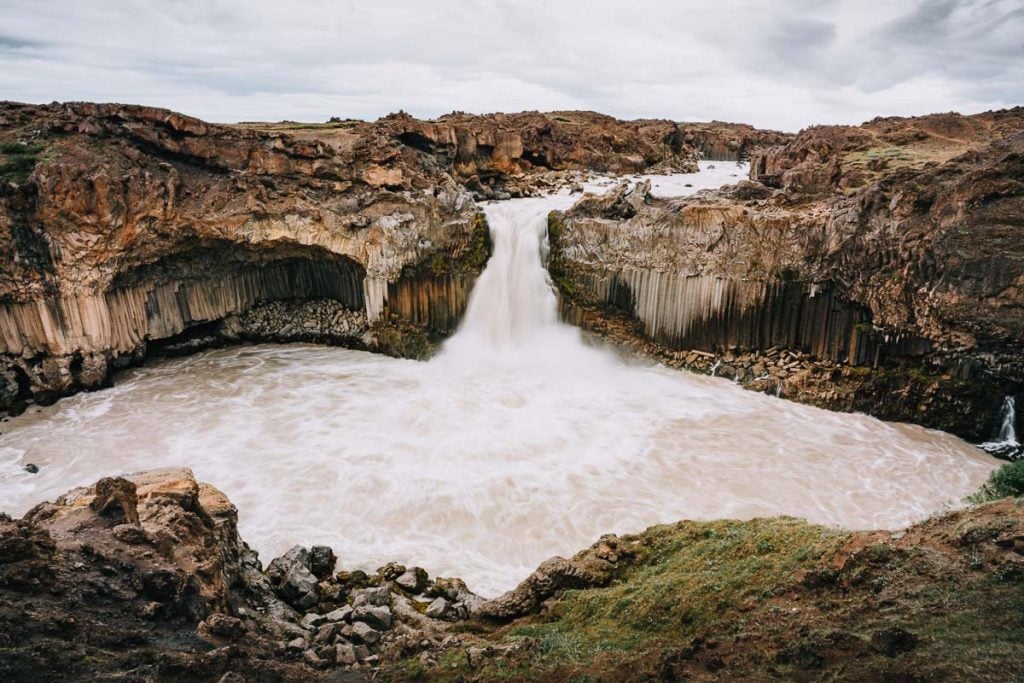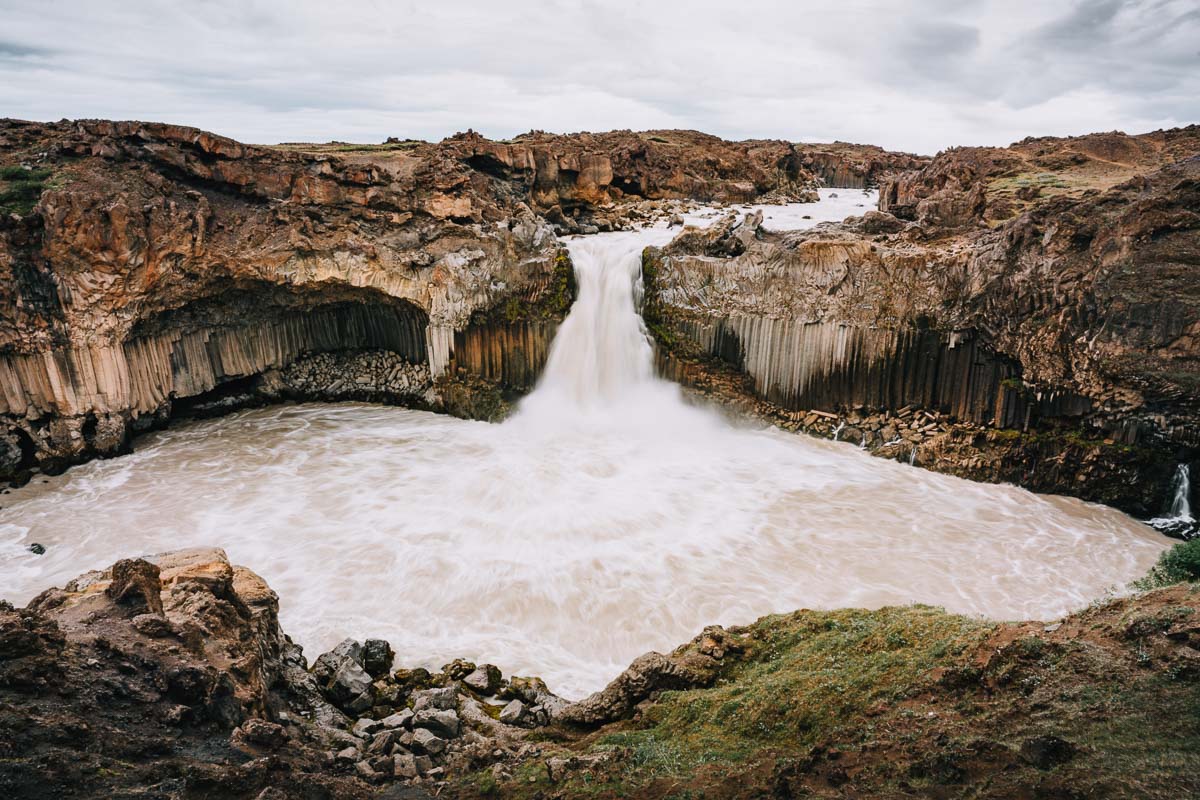 Nickname: none
What makes this waterfall unique: Beautiful coloured hexagonal basalt columns surround Aldeyjarfoss and Hrafnabjragafoss has both a horseshoe and horsetail section
Aldeyjarfoss is a stunning plunging waterfall that drops 20m (66 ft) through a narrow gap in the ancient Baðardalshraun lava field. Unlike Svartifoss, with its black columns, Aldeyjarfoss also has red and orange highlights in the surrounding rock. At certain times of year, the water crashing down the falls is icy blue, making this one of the best waterfalls to photograph in all of Iceland.
The Skjálfandafljót river originates at Vatnajökull, the largest glacier in Europe, so the water level and colour varies depending on how much meltwater is coming from the glacier. The bluest water appears during the winter or springtime. Later in the season, the water level is much higher, but the minerals dissolved in the water make it appear quite brown.
Aldeyjarfoss Location | Hrafnabjargafoss Location
How to get there:
To get here, turn off the Ring Road near Goðafoss, heading towards the Highlands on the 842. After about 40km (50 mins) on this gravel road, you'll reach farms and a gate. This is the start of the F-26 Highland road, and you'll need a 4×4 to drive the 4km from here to Aldeyjarfoss. If you've rented a 2WD then you can simply park it near the farm and reach the falls in about 40 mins by foot.
There's a parking lot at Aldeyjarfoss, complete with toilets, and you'll see the path leading to the falls off to the left. An easy combination of steps and gravel path takes you to the falls in 10-15 minutes. Be careful on the slope since it can be really slippery after it rains. Since it's about an hour from the Ring Road, you might actually be lucky enough to get Aldeyjarfoss to yourself!
Once you've finished here, you can drive another 3.5km to Hrafnabjargafoss. This beautiful double horseshoe waterfall is hardly ever visited due to its out-of-the-way location. It's tricky to photograph, since the gorge is quite narrow – you'll definitely want a wide angle lens for this one.
Recommended by: Cat from Cat's Nine Lives
23. Haifoss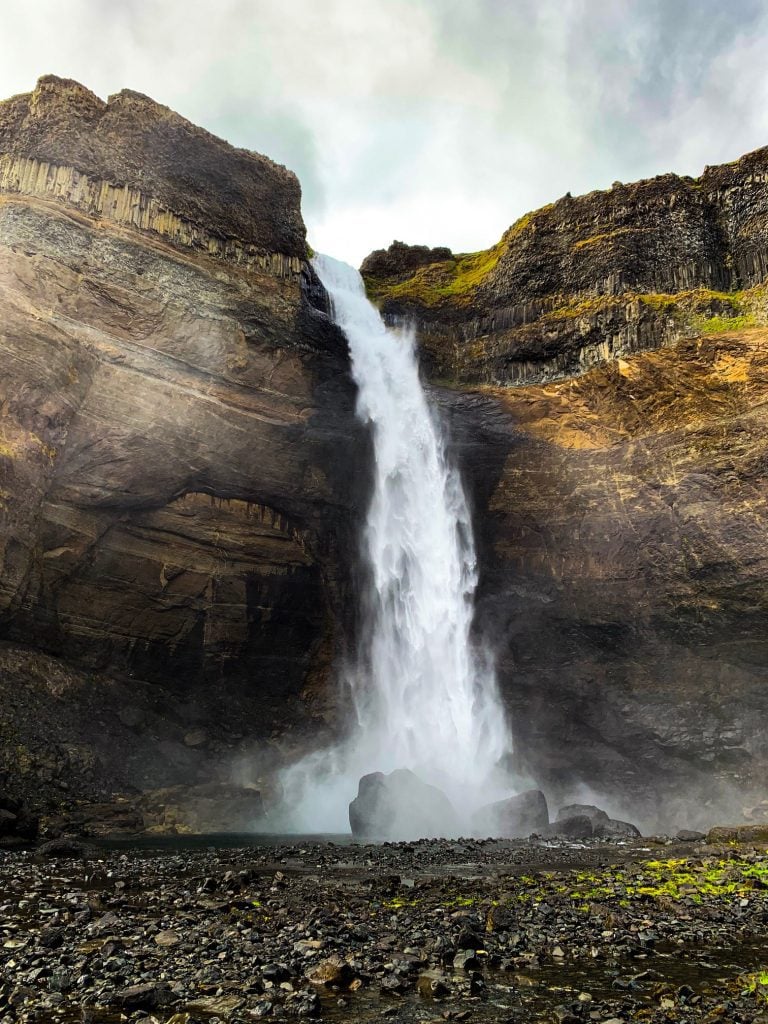 Nickname: none
What makes this waterfall unique: the 4th tallest waterfall in Iceland
Haifoss Waterfall is one of the tallest waterfalls in Iceland. It is located just off the Golden Circle, but many people skip it as it's not very well-known (a big mistake if you ask me!). It falls from a height of 122 meters (400 ft) and is actually the 4th tallest waterfall in Iceland. Haifoss means "high waterfall" in Icelandic, so this makes total sense!
This isn't on the typical Golden Circle tour route for many people, but is one of the best day trips fromReykjavík if you have a car. As a result, it isn't as crowded as other waterfalls in the area and you really get a great experience! When visiting Haifoss, you can view the waterfall from above which is a short walk from the parking lot, or you can hike down to the bottom. The hike to the bottom takes about 30 minutes and is fairly steep, so wear good hiking shoes.
Once you are at the bottom, you can practically walk right up to the base of Haifoss waterfall and get soaked by the mist, should you desire. If you want to go close, you should wear waterproof clothing, but otherwise, you should be okay!
Haifoss is one of the best places to visit in Iceland if you are looking to get away from the crazy crowds and still see one of the coolest waterfalls in Iceland. Bonus: the waterfall Granni is right next to it so you get two for the price of one!
Exact Location | Haifoss
How to get there: Just a two hour drive from Reykjavík, you'll take the Ring Road east and pass through the town of Selfoss. Take Hwy 30 north to Hwy 32 northeast, until you connect with 332. Just a short drive and you'll reach the Haifoss Car Park. The falls are just beyond the parking lot.
Recommended by: Victoria from Iceland Trippers
24. Barnafoss &Hraunfossar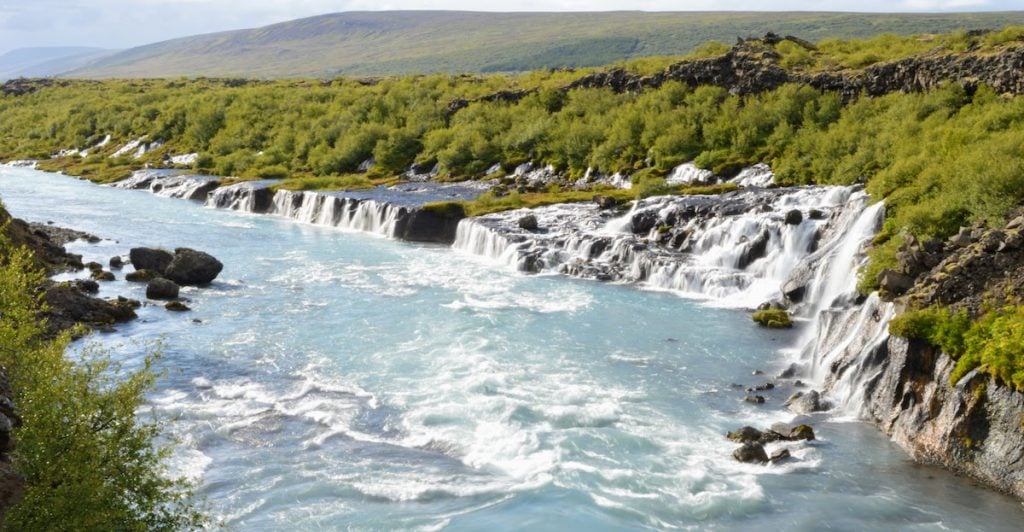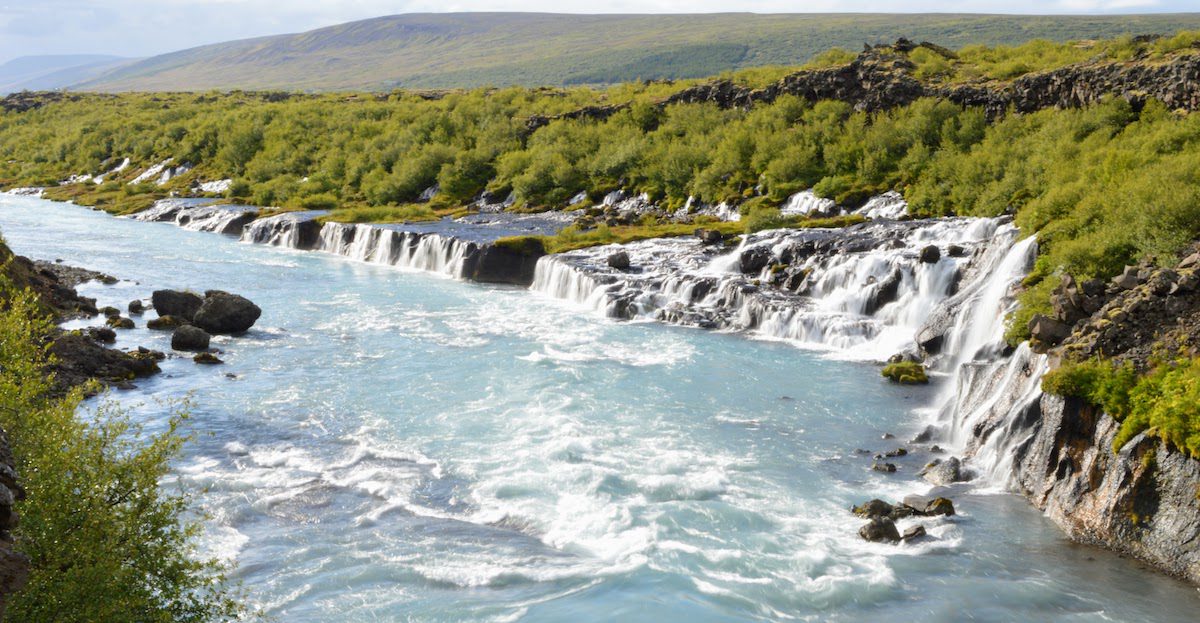 Nickname: The Children's Falls
What makes this waterfall unique: Best known for the folk law that depicts a dark history surrounding the falls
Standing at a height of 9 meters (30ft) tall and 11 meters (36ft) wide, Barnafoss is located very close to the Hraunfossar falls. While at first it may not look as impressive as its sibling, legend has it that two young boys were so mesmerized by its raw power that they fell to their death while attempting to cross by bridge.
Their distraught mother is said to have then cursed the bridge to kill any who attempted to cross. It is widely debated whether the story is true or simply a tale told to instill respect of mother nature in Icelandic children, but either way, the bridge no longer exists and it's a good idea to admire the falls from a safe distance.
One of the best things about these falls is that they are extremely accessible for all ages, all year round. In just a 30 min round trip from the carpark you can visit both Barnafoss and neighboring Hraunfossar on foot by following the marked paths to the different viewing platforms. When you return, a restaurant and toilets are waiting for you at the parking place.
Being so close to bothReykjavík and the Ring Road, Barnafoss and Hraunfossar are quite popular and can get crowded during the middle of the day. Stay nearby and time your visit for morning or late afternoon to avoid the crowds!
Barnafoss location | Hraunfossar Location
How to get there: Barnafoss shares a parking lot with its neighbor Hraunfossar approx 30-40 mins drive off the Ring Road, 136 km north east of Reykjavík. Turn off at Borgarfjarðarbraut (Route 50) and continue onto Hálsasveitarvegur and you will find the car park on your left. Park your car and follow the marked path to the dedicated viewing platforms for both waterfalls (30 min easy round trip on foot).
Recommended by: Yulia from Miss Tourist
25. Nauthúsagil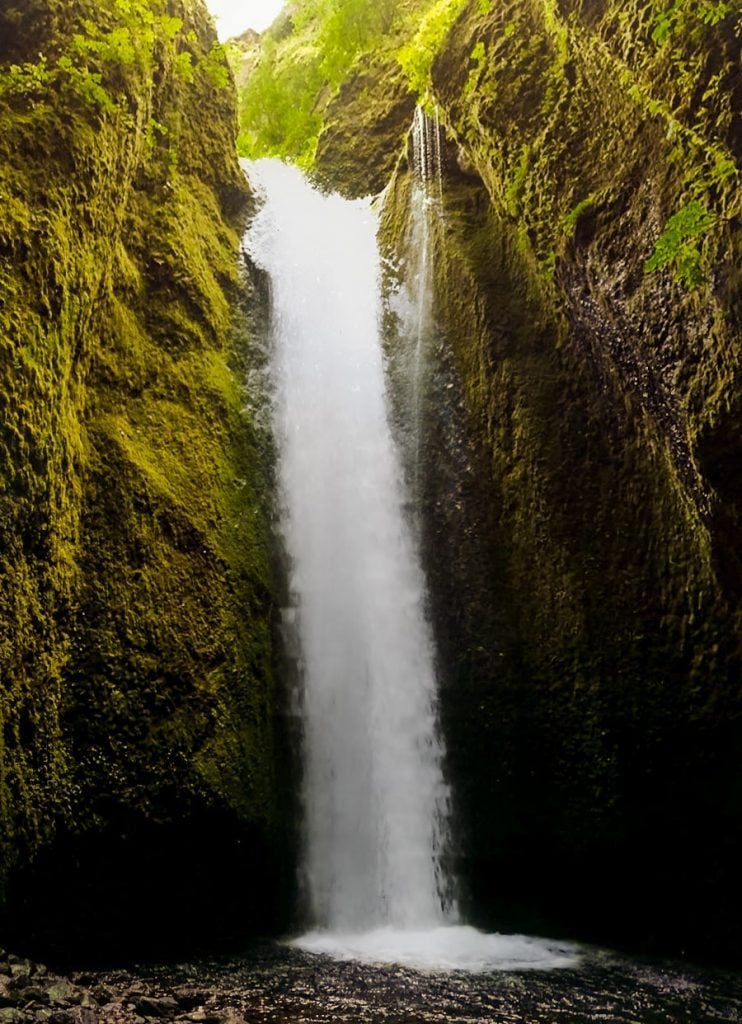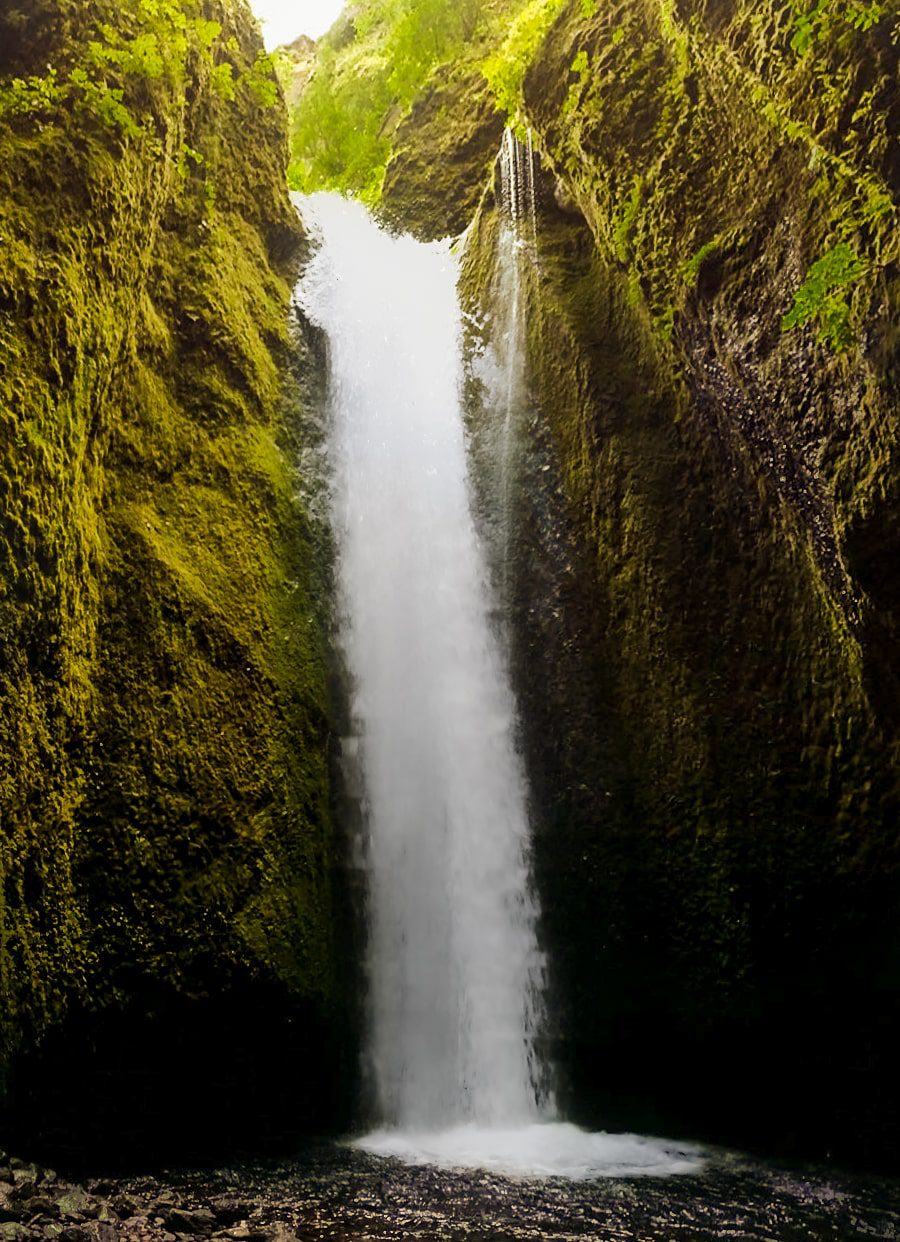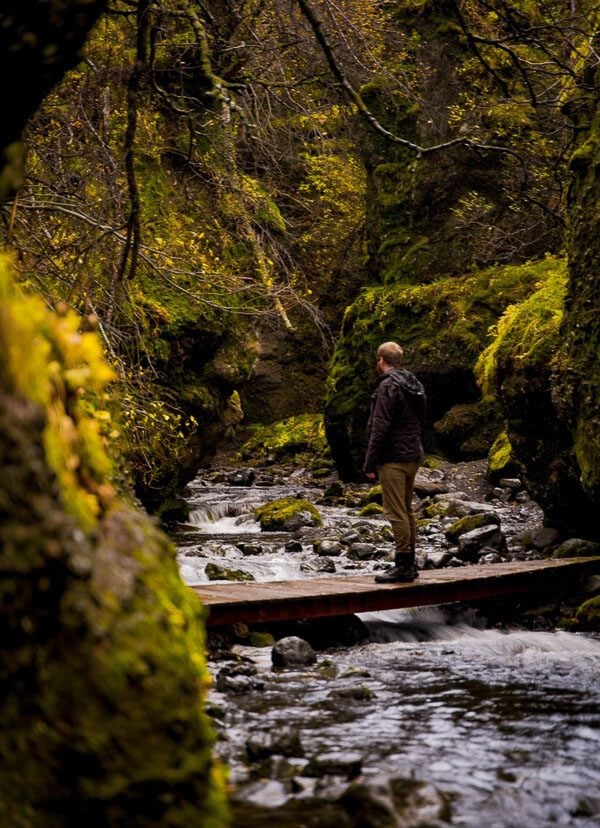 Nickname: none
What makes this waterfall unique: Nauthúsafoss – considered one of Iceland's hidden gems – is unique in that one must first traverse through a moss-covered ravine to reach it (using stepping stones to avoid falling in, and chains hammered into the canyon wall to aid in scrambling over various rock faces!)
Located at the base of a glacial volcano and in the depths of a shallow ravine known as Nauthúsagil is where you'll find the stunning, horsetail-type waterfall of Nauthúsafoss. Only a quick 15 minute drive from popular Seljalandsfoss, the Nauthúsagil Waterfall is minimally trafficked in comparison and is best visited during early morning if you wish for a more secluded experience.
However, a visit during midday when the sun is overhead is necessary if you're hoping to capture Nauthúsagil's infamous sunbeams. Casting golden hues throughout the canyon, these sunbeams are filtered through the leaves of the rowan trees and moss that grow overhead, creating a roof-like barrier over the majority of the gorge (perfect for a photo-op!).
To reach the Nauthúsagil Waterfall, first expect to make an approximate 20 minute hike through the ravine. The hike itself is relatively accessible, as a rubberized terrain path connects the trailhead at the parking lot to the threshold of the canyon. From there, things get ever so slightly trickier as you must use the rocks that jut out above the water as footholds in order to cross the flowing creek.While it's relatively simple to cross, it's recommended that your footwear be suitable for getting wet in the event that you do misstep or slip into the creek.
Follow the natural flow of the ravine until you reach the first smaller waterfall where you will find chains bolted into the canyon wall that can be used to pull yourself up and over it. From here, you'll broach an opening where Nauthúsafoss – standing tall at 20 meters (65 ft) – comes into view.
Ensure to shield your electronics and camera gear as the waterfall itself is in an enclosed space, and you're likely to get wet due to its powerful mist. Enjoy feeling its immensity; there's nothing quite like it!
Exact Location |Nauthúsagil
How to get there: Nauthúsagil is only accessible with the use of a 4×4 vehicle or one that's graded for Iceland's notorious F-roads (roads that consist primarily of rough terrain), as a river-crossing is en-route to the ravine. From the Ring Road, turn left onto Route 249 and continue past Seljalandsfoss and Gljúfrabúi waterfalls. Approximately 15 minutes down the road, there will be a small roadside turnout on the right hand side where you can park your car. The trailhead is well-signed and sits on the far side of this lot, opposite the road.
Recommended by: Natasha from Planes, Trains and Karcz
What to pack for visiting Iceland waterfalls
Packing for a trip to Iceland is tough (the weather changes all the time!). But don't worry, we've got you covered with a super detailed packing list so you know exactly what to bring.
In this free Iceland packing list PDF download, we've provided packing checklists for everything from clothing and toiletries (for both women and men!) to what shoes to pack and extra medicines you may want to have on-hand just in case.
Plus, we're sharing tons of packing hacks and tips for traveling in Iceland that you won't find anywhere else!


---
Are you planning a trip to Iceland?
We have TONS of resources on travel in Iceland and how to make the most out of your trip. Check out our Ultimate Iceland Travel Guide for all the answers to your most burning questions, or read some of our favorite articles below.
Save this article on Pinterest for later!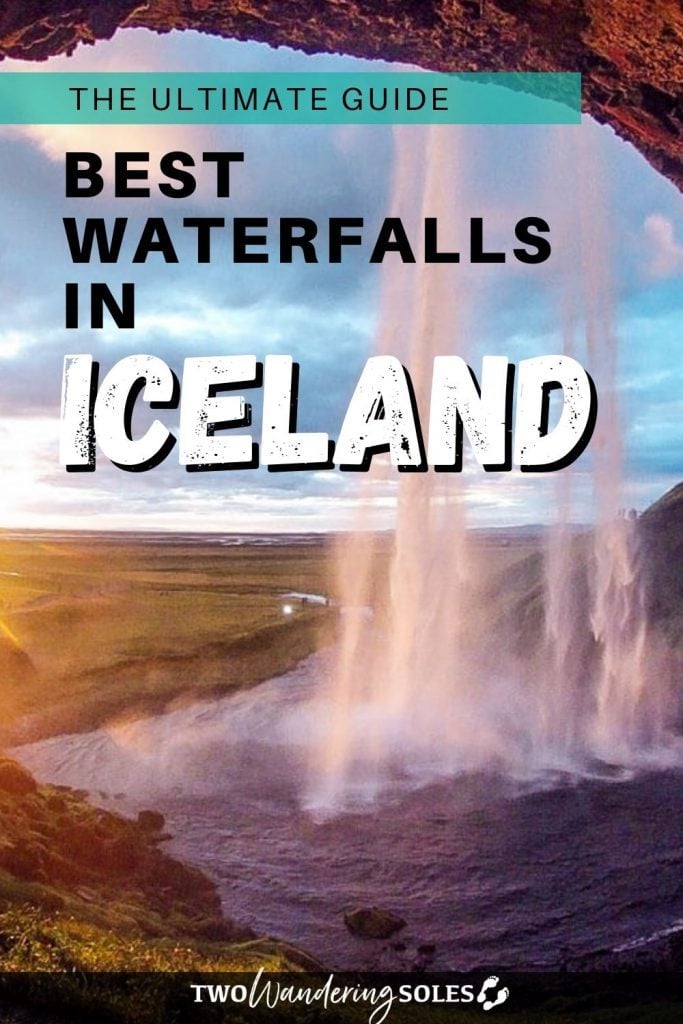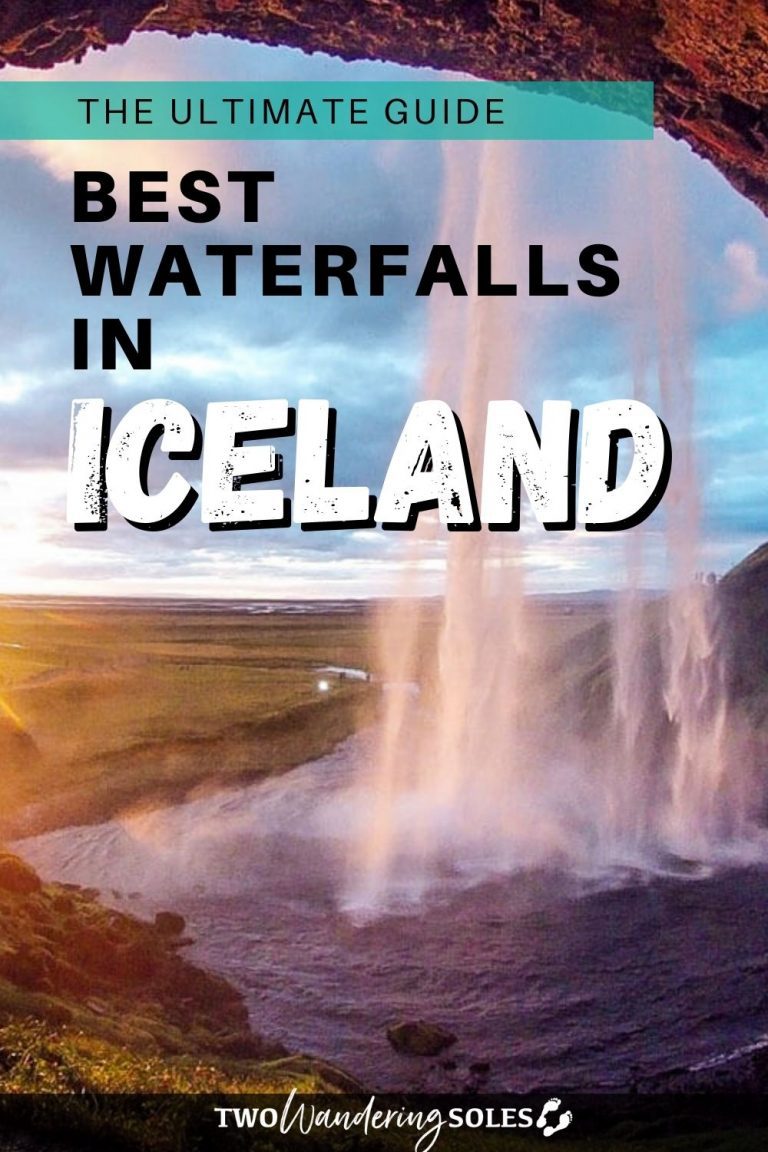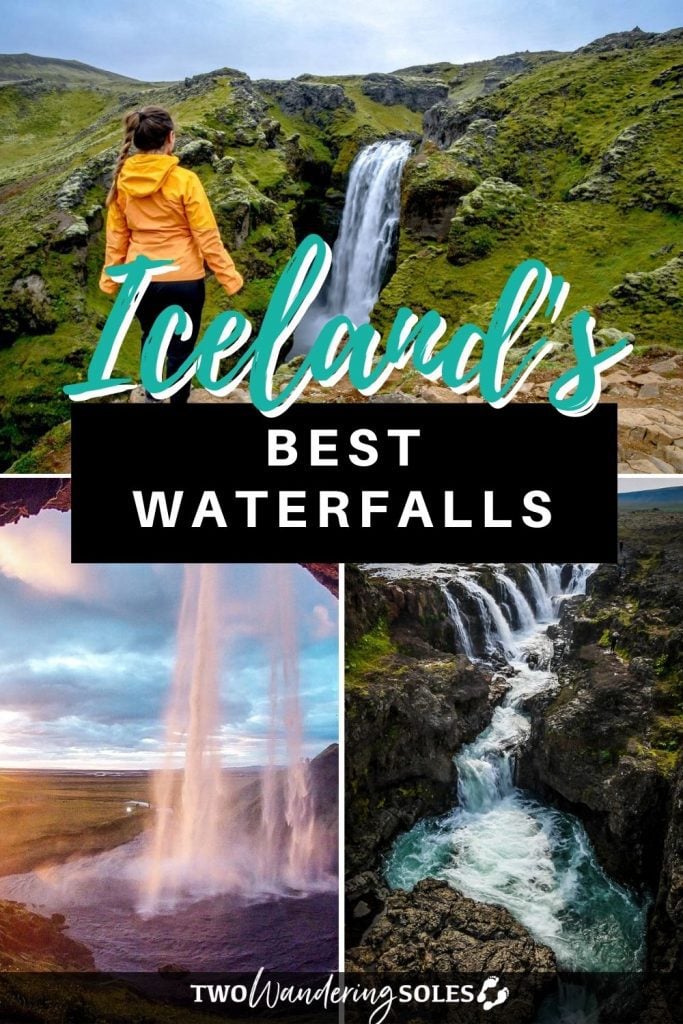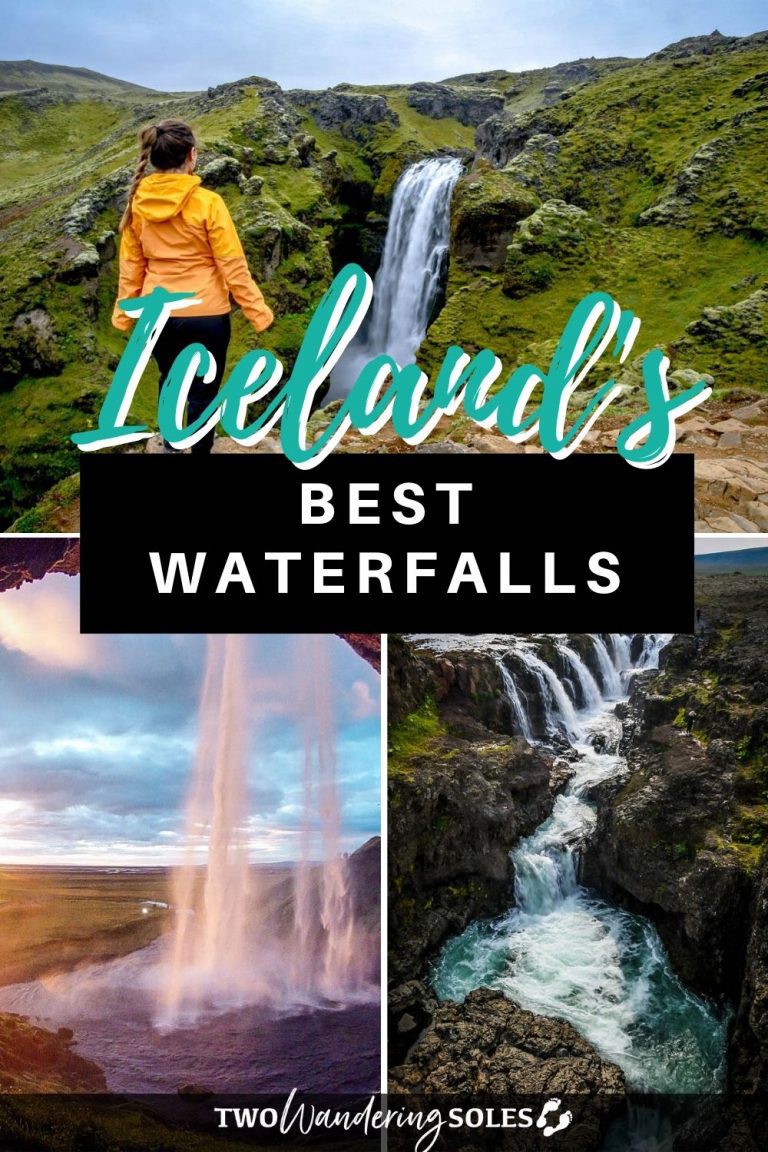 We want to hear from you!
Which Iceland waterfalls are you most excited to visit? Do you have a favorite waterfall in Iceland you think we should add to this list?
Comment below and we'll do our best to get back to you!