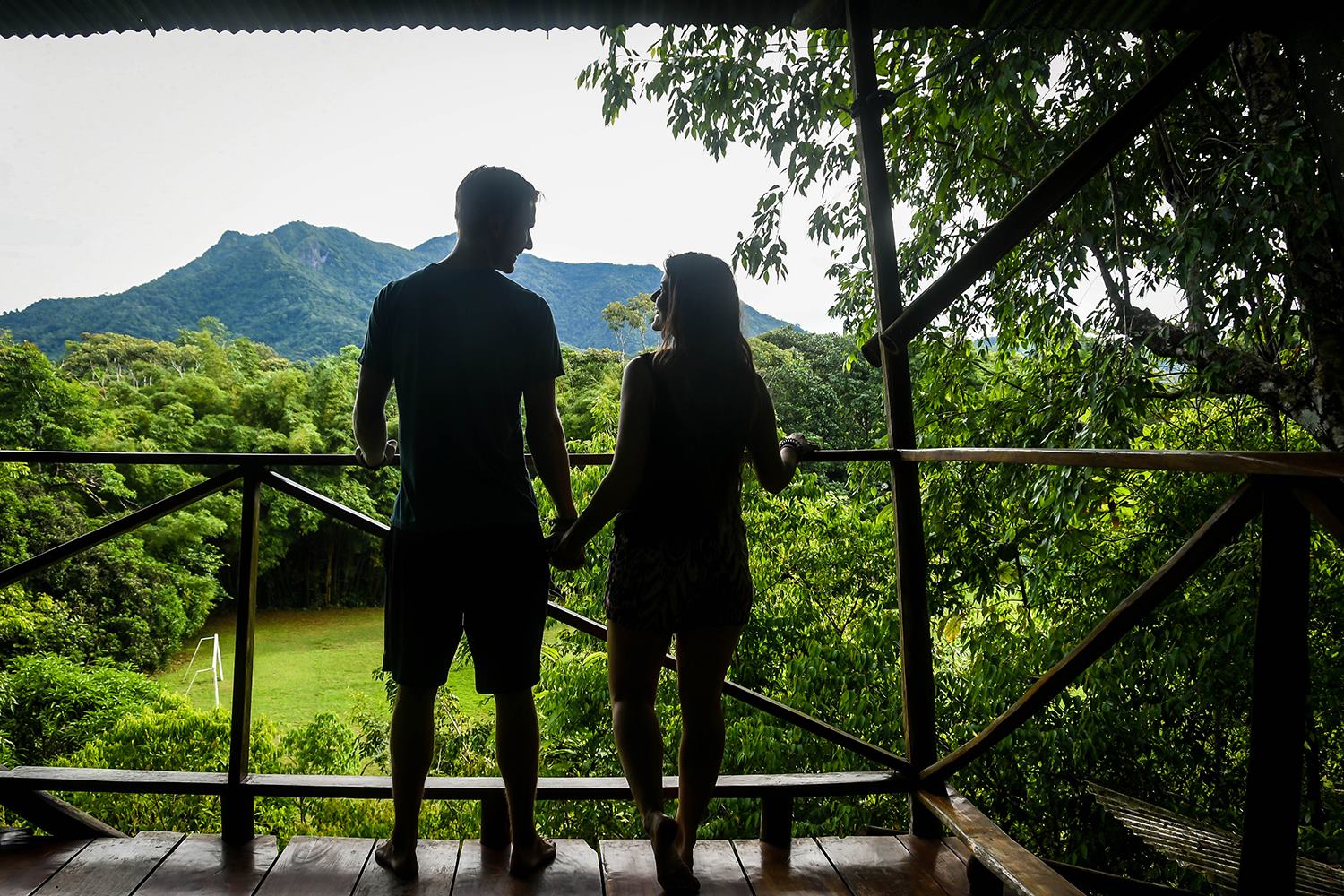 If you think Costa Rica is touristy, you're RIGHT. There are far more "gringos" here than in any other country we've visited in Central America.
But if you think there are no places left untouched by tourism, you are wrong.
What if we told you there is a community tucked away in the mountains that few visitors ever see? What if I told you that you could stay in earthen lodges in the jungle, learn about sustainability and play in a hidden waterfall with no crowds or selfie sticks?
Would you start packing your bags like we did?
We're going to share a very special place with you. A place where you can disconnect from the so-called real world and get back in touch with the world for real.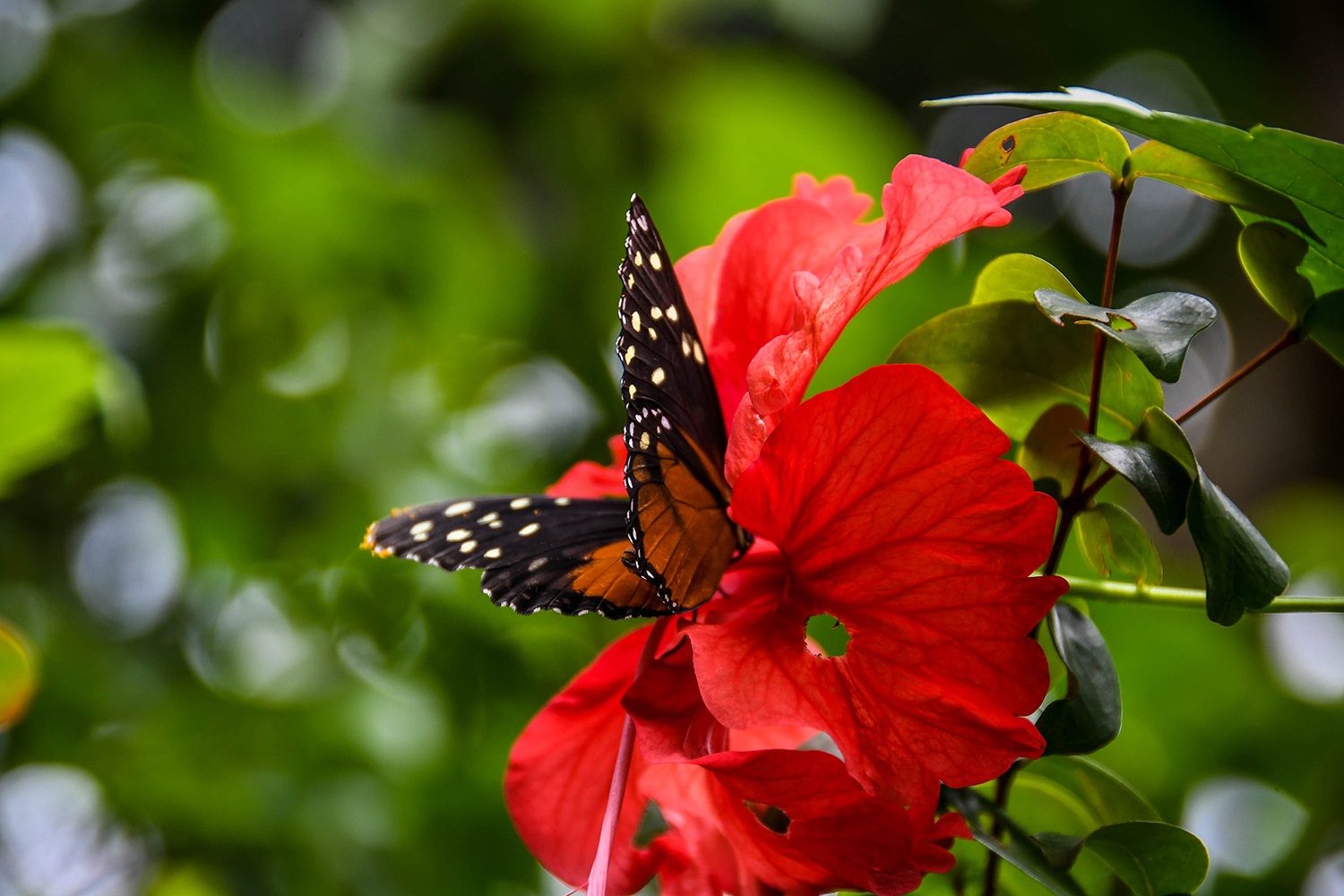 Rancho Mastatal is just over 23 miles from the Pacific coast, but a ride through bumpy gravel roads, past ranches and mountain farms will make you feel like you're a world away from the iconic beaches for which Costa Rica is so well known.
If you're looking for a unique, off-the-beaten-path place to visit in Costa Rica and you have an interest in sustainable living, Rancho Mastatal will be right up your alley.
Planning a Trip to Costa Rica? Find out the best time to visit Costa Rica based on regional weather patterns and your personal travel style.
About Rancho Mastatal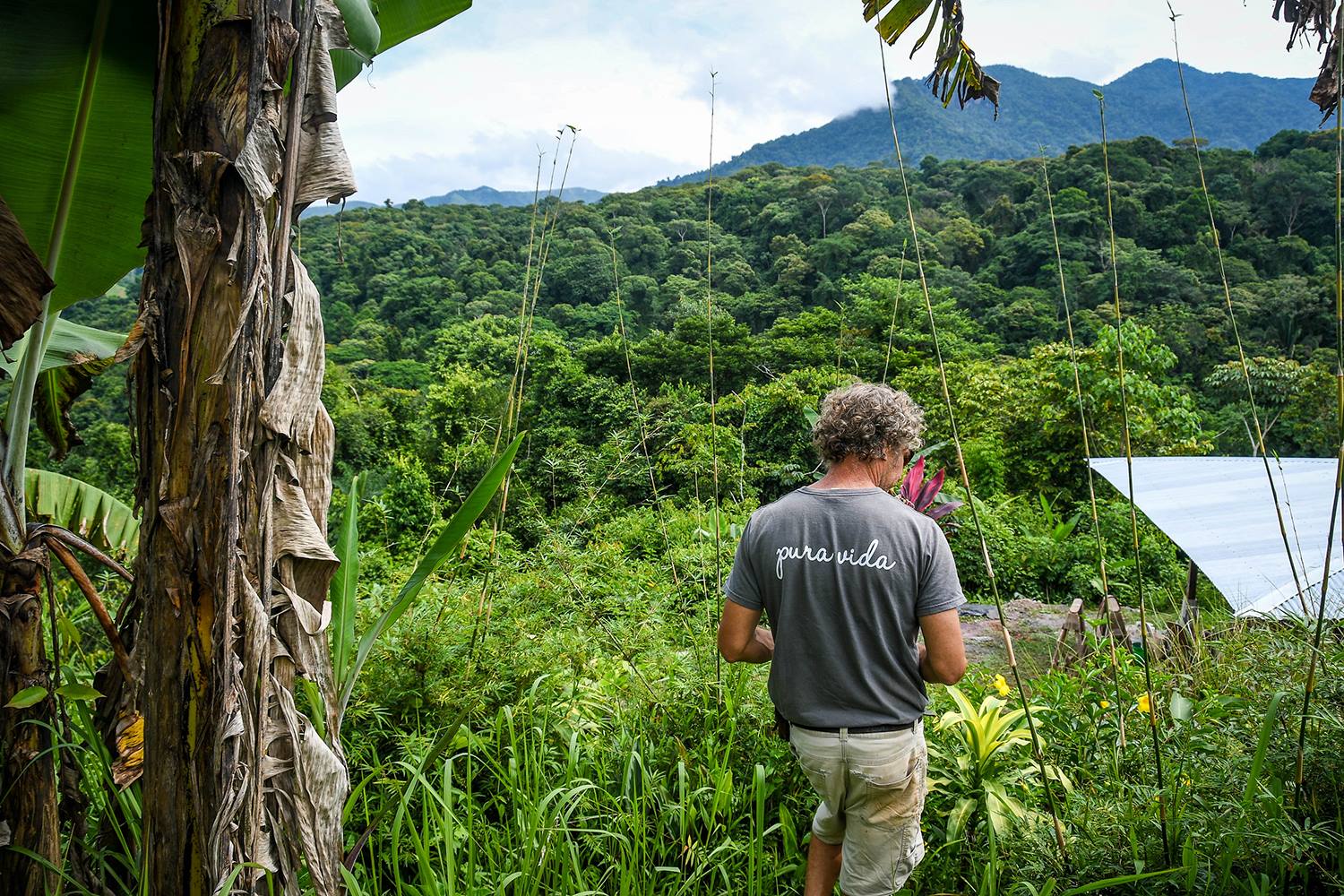 Back in 2001, Tim and Robin bought a plot of land in the tiny village of Mastatal. They had a dream of creating a space where living sustainably wasn't just about surviving, but was a place they could thrive and grow, and eventually teach others to do the same.
We heard about Rancho Mastatal from a reader who reached out to us on Instagram. She told she visited back in 2007 and had such an incredible time that this place still holds a special place in her heart a decade later. She thought it sounded like something we'd be interested in, and we were sold. (Honestly, it doesn't take much to sell us on a place this awesome!)
Today, Rancho Mastatal is a place where you can come to learn, to disconnect, to relax and to get off the typical tourist path.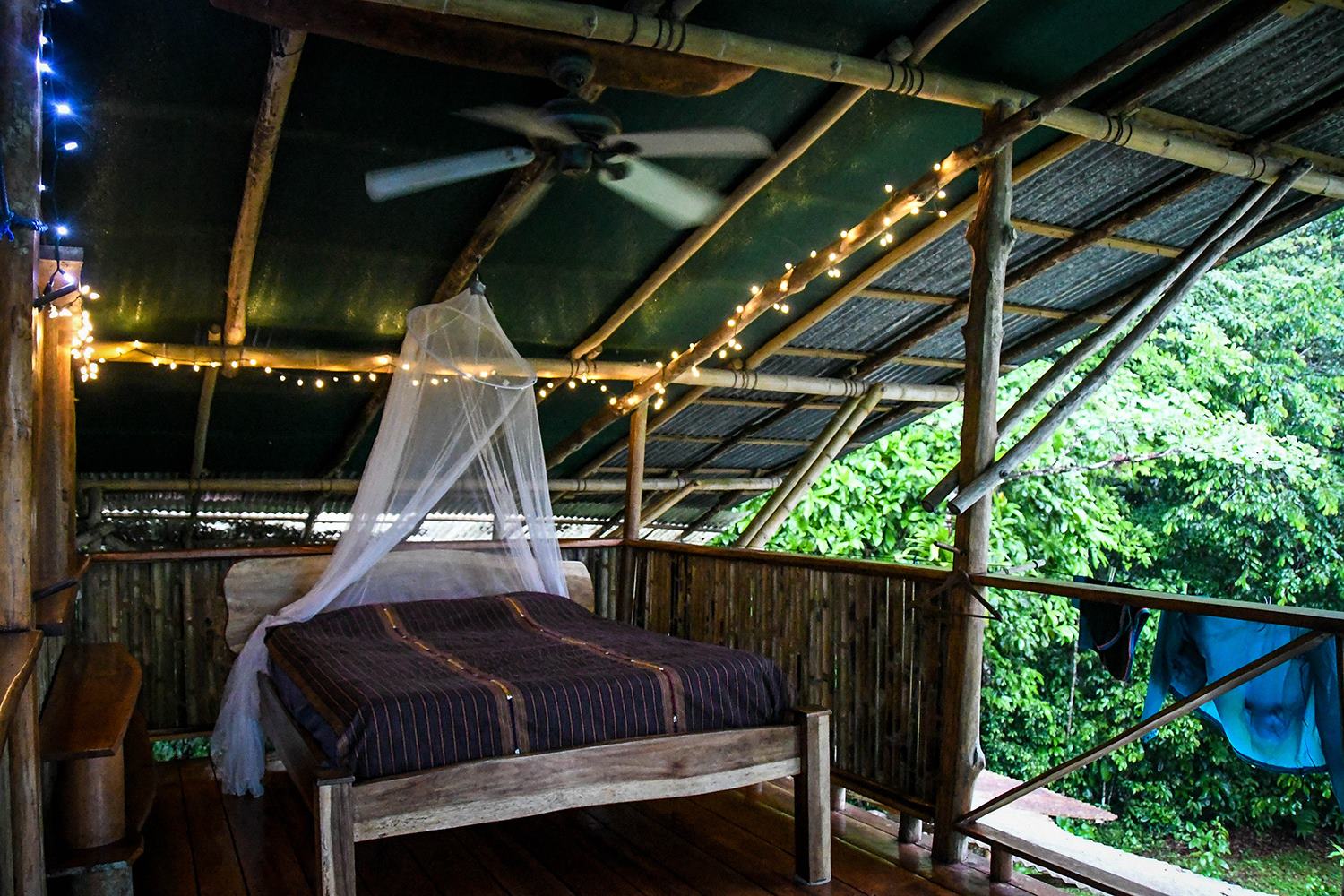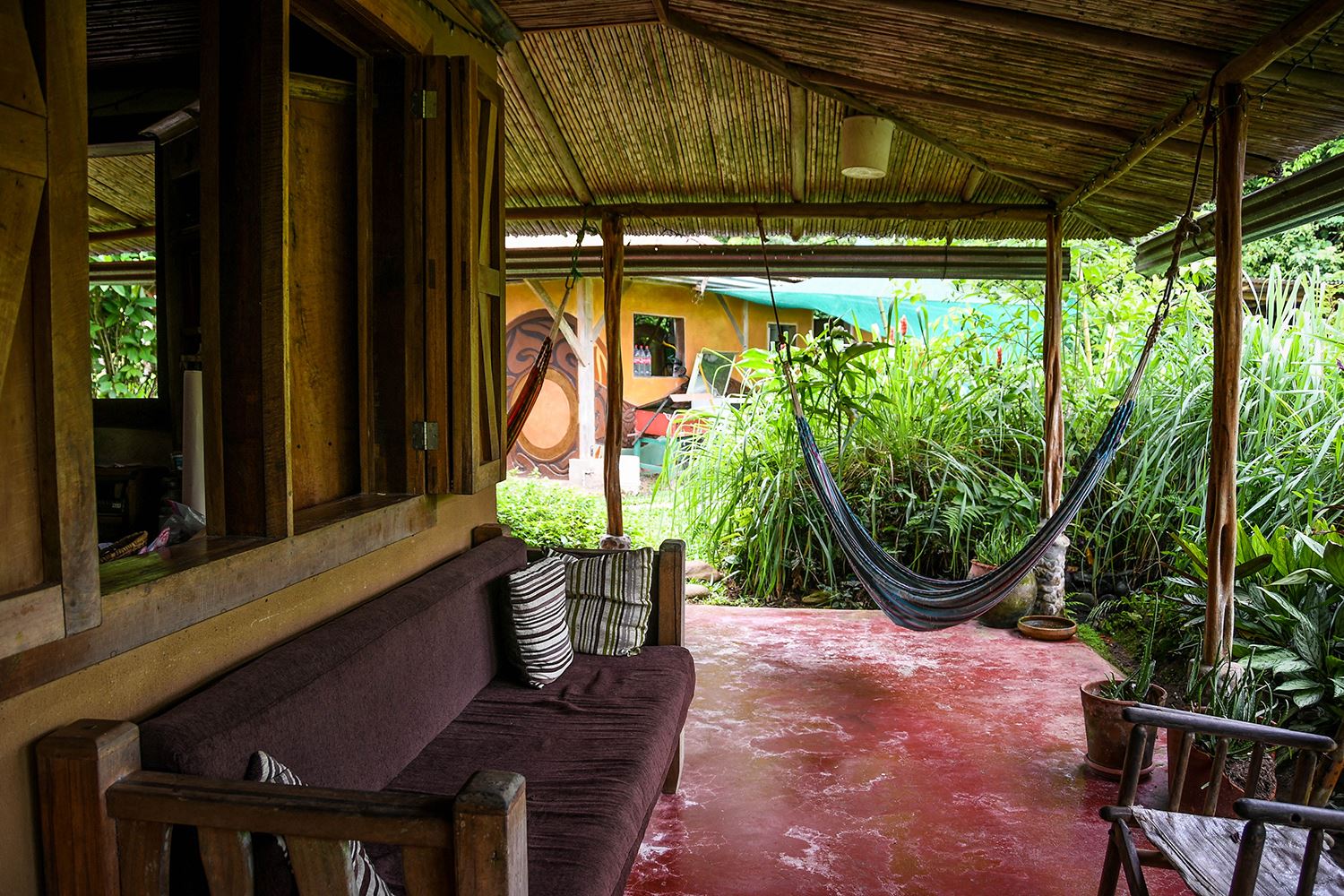 You can relax in a hammock with a good book or you can delve in and learn about sustainability from the apprentices working on the Ranch… or you can do a little of both, like we did! Whatever the purpose of your visit, we are sure it will be one of your most memorable experiences in Costa Rica.
Sustainability at Rancho Mastatal
There are so many incredible things going on at Rancho Mastatal that we can't possibly list them all. But some of the most impressive projects we saw:
1. Sustainability Workshops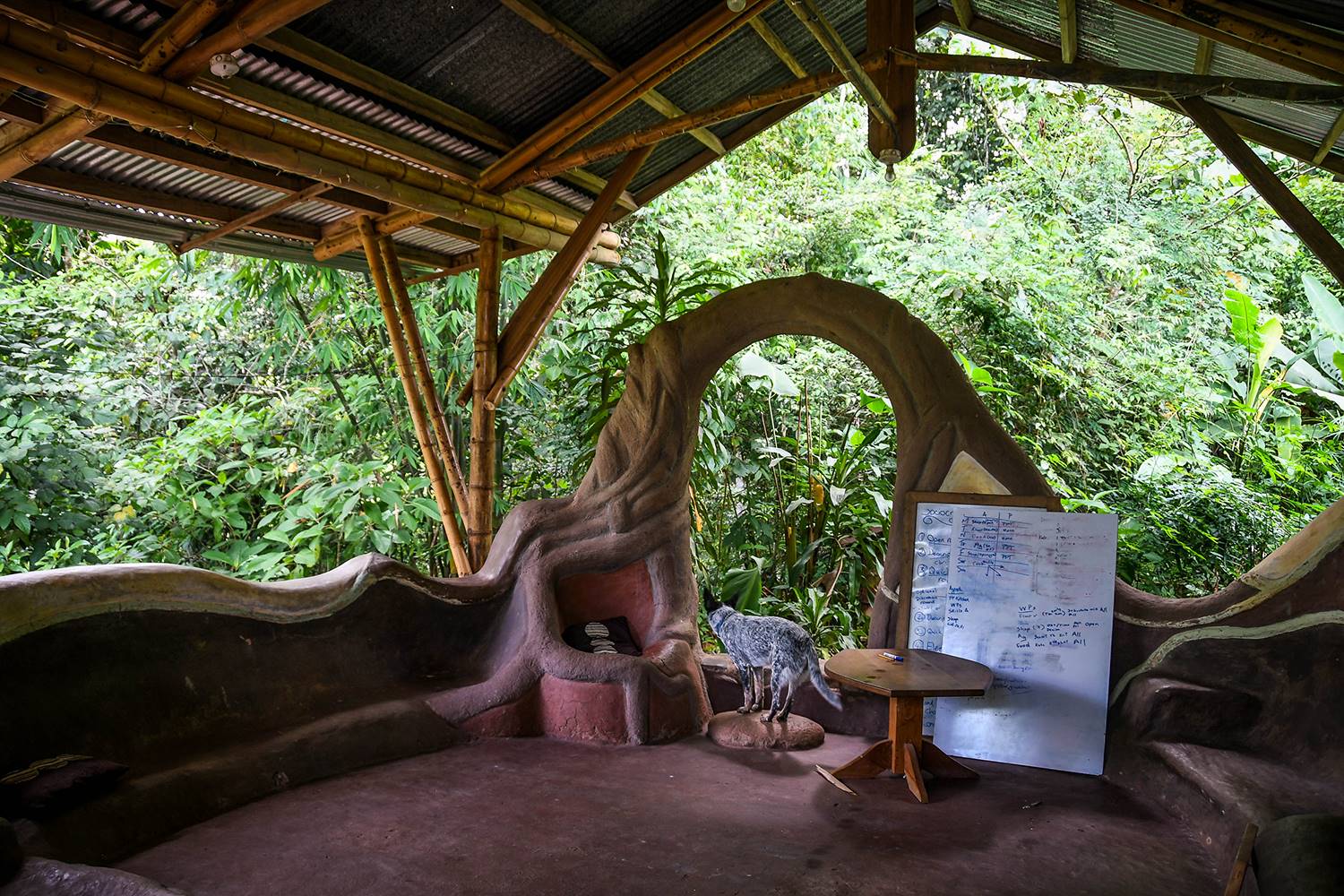 One of the major purposes of this place is to teach others how they can live a life that is better for our Earth. Rancho Mastatal welcomes hundreds of people each year – from high school and university groups as well as individuals who would like to learn about sustainable living. They host workshops on topics like natural building, renewable energy, wilderness medicine, permaculture and more.
2. Permaculture Farming
One of the major focuses on the ranch is food production. It is done mindfully, with a focus on designing systems that work harmoniously with the land they have and caring for the Earth.
3. Local meals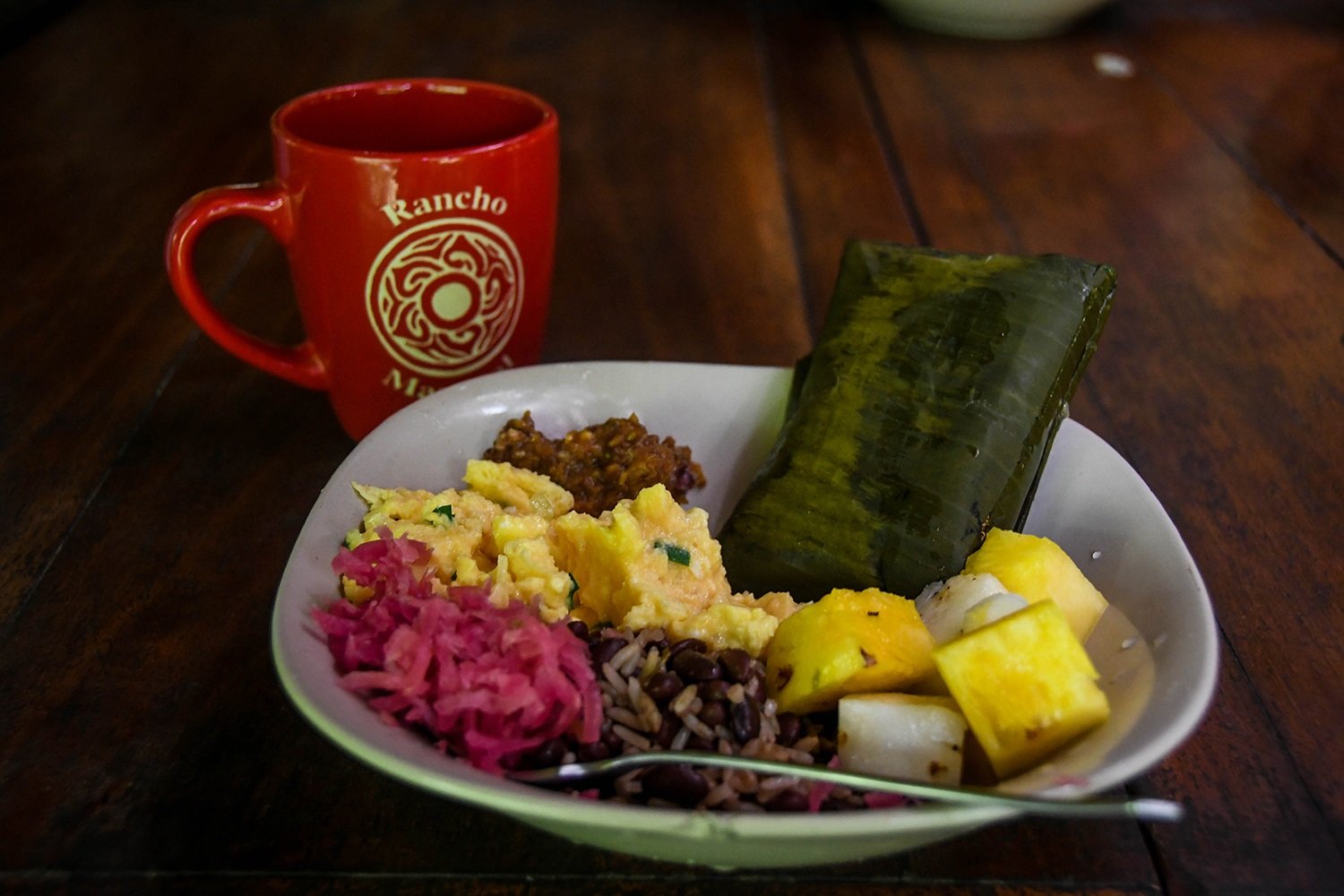 At Rancho Mastatal, they say their kitchen is the heart of their property, and if you visit you'll understand why. All meals are prepared with ingredients grown on the farm or locally.
They even make their own sauces, vinegars and herbal sodas. And all the products that are not grown onsite (like coffee, eggs, chicken, etc.) are purchased from local farmers.
4. Natural Building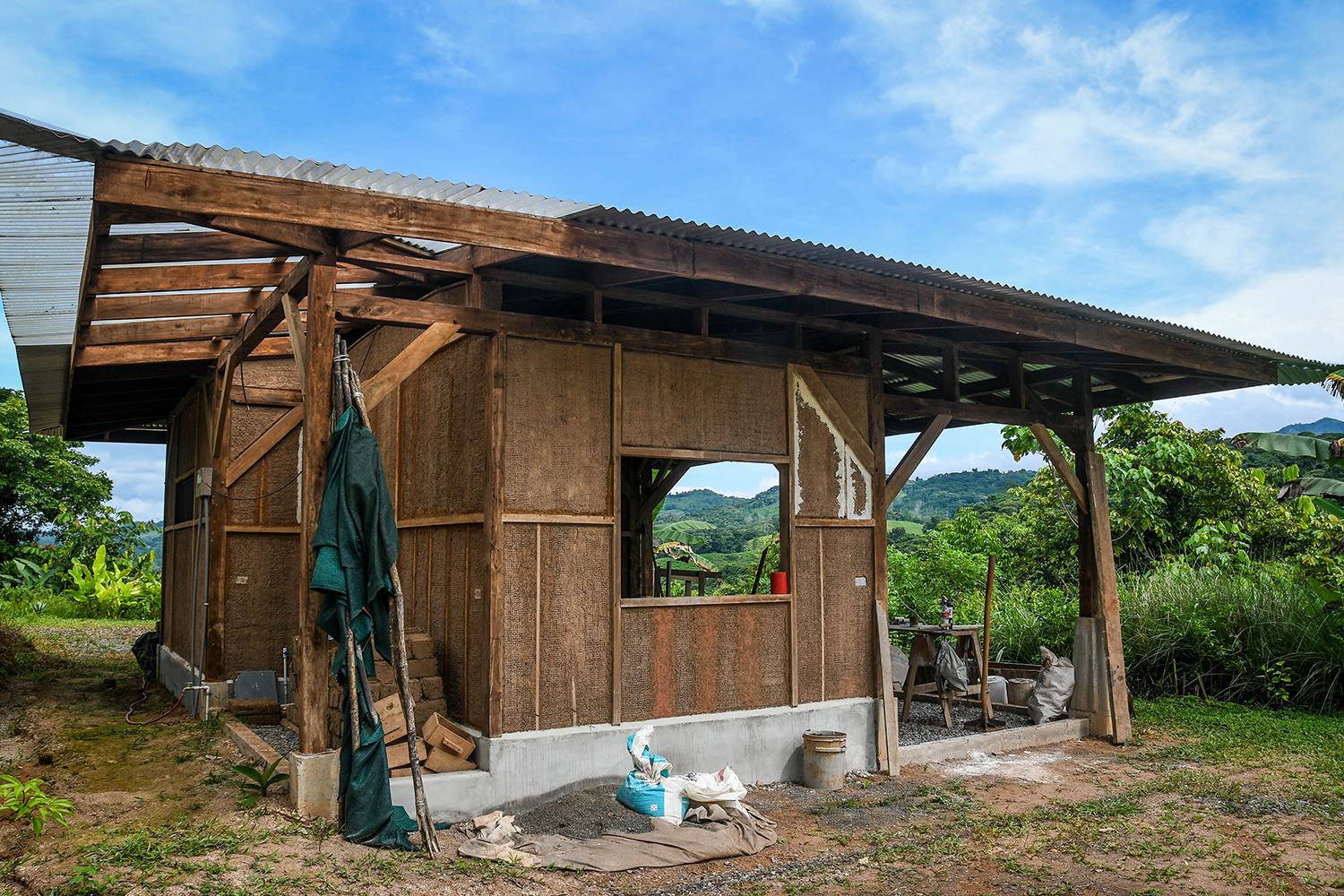 Rancho Mastatal is an excellent example of different types of natural building. They use local materials and labor and have been able to showcase many different styles of building on the numerous structures throughout their property.
It's a great example of using natural resources and thinking about a design that makes sense for your climate and environment. If you're interested, you can read more about their natural earth building.
5. Renewable energy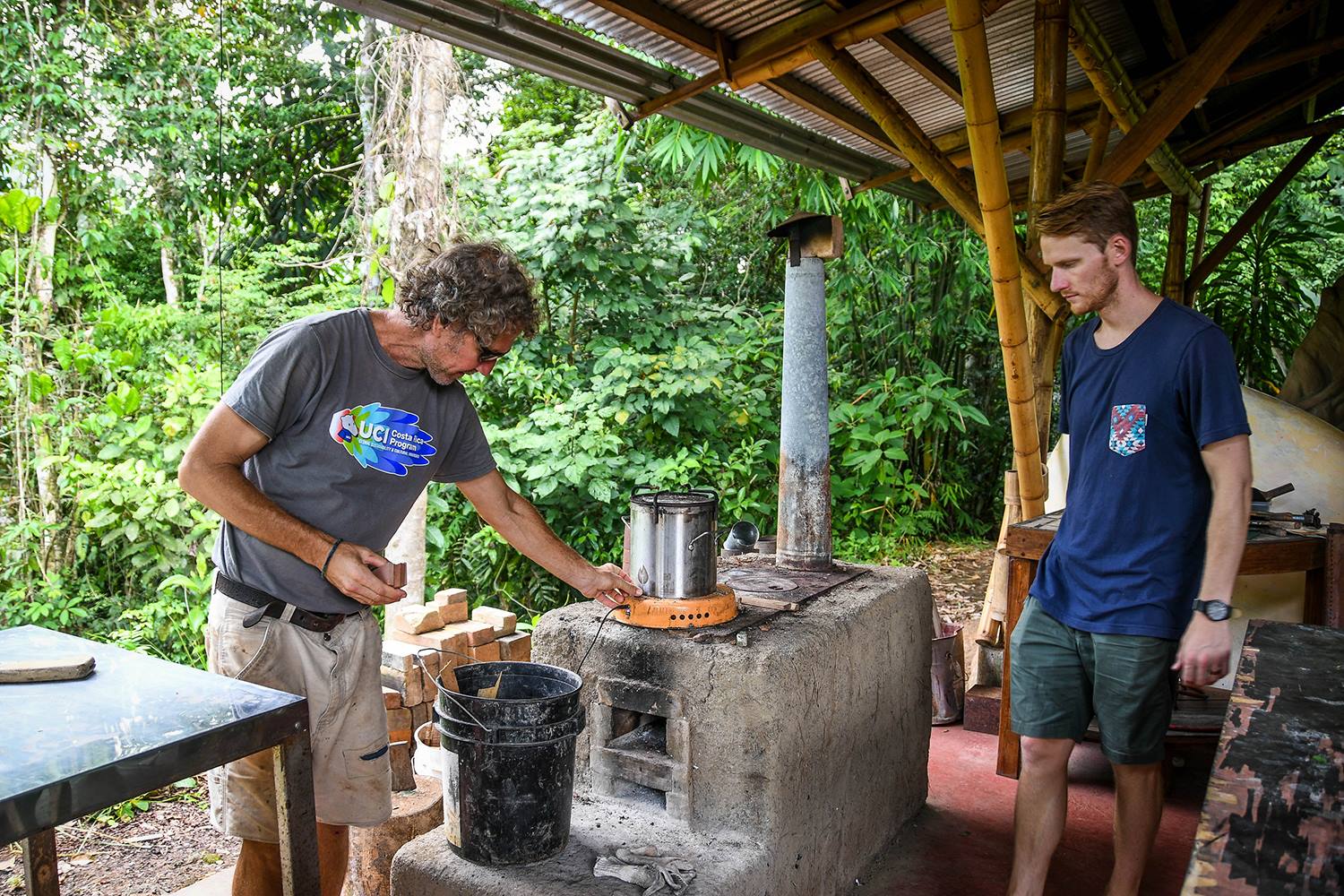 There are many different examples on the Ranch of different types of renewable energy that allow them to minimize their impact while still providing creature comforts.
One the ranch, you'll see:
Solar power

Bio gas

Rocket stoves

Composting toilets
6. Creating jobs for locals
One of the aspects that we were most impressed with is that Tim and Robin have worked really hard to consider their impact on the local community. They have been sure to include them in their projects and have created well-paying jobs and educational opportunities for locals. The rural community of Mastatal is actually thriving, which isn't all that common for rural villages today.
Meals at Rancho Mastatal
Meals are included in your stay at Rancho Mastatal, and it will surely be one of the highlights of your experience.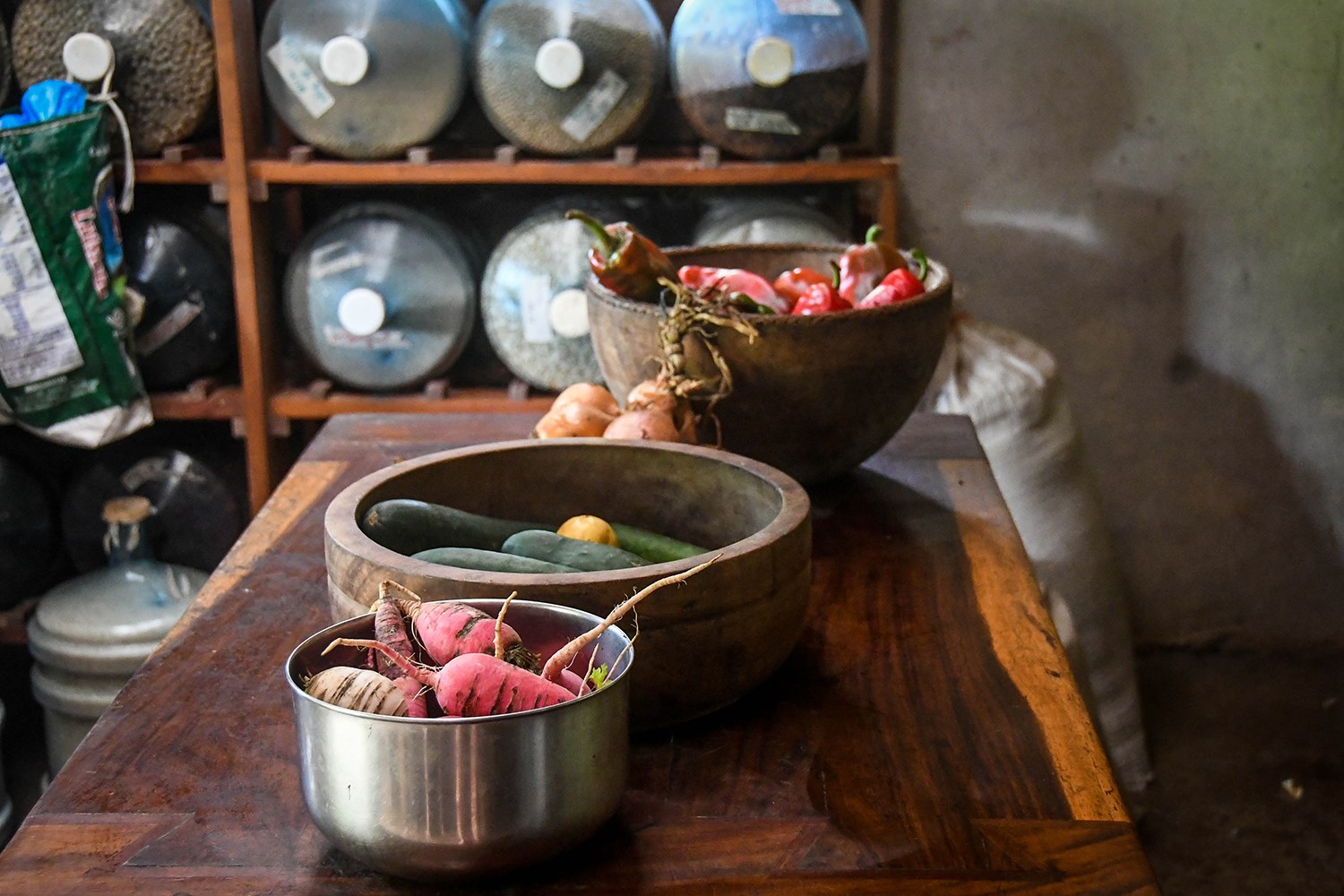 Meals are lovingly made by locals on staff during the week. On weekends, the apprentices take turns cooking, and on some Sunday nights the kitchen is closed and guests are encouraged to eat at the local soda (restaurant) to support the community.
Each meal on the ranch is lovingly made with ingredients grown on the farm or purchased from local farmers.
Tim told us that they buy 500 eggs each week from a local woman, who has used this income to support her family and send her children to school.
Each meal we had during our stay was seriously delicious and there was more than enough to go around. They make their own dressings, hot sauces, pickled vegetables and fermented kimchi. They even make their own fermented sodas (super healthy and delicious!) and hooch (or alcoholic beverage).
And while the food is incredible, one of the biggest highlights of meals is that it's a time where everyone comes together for conversation and to be nourished as a community.
Can they accommodate vegetarians or other dietary restrictions?
Though we many of the dishes during our stay did not have meat, the kitchen is not vegetarian, as they use pig fat for cooking.
When making your booking, let them know any dietary restrictions you have, and they can try to do their best to accommodate you.
Things to do around Rancho Mastatal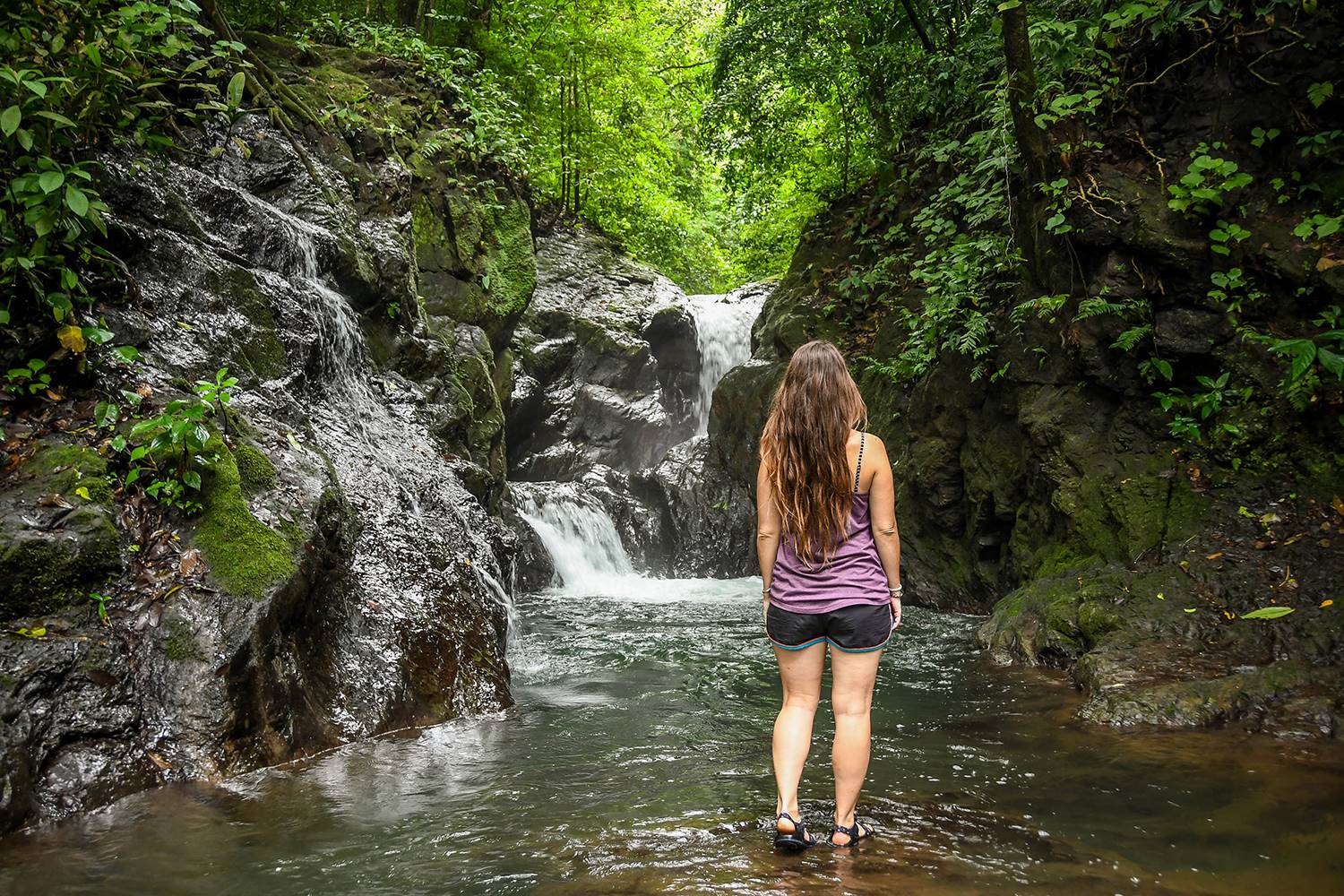 Waterfall: Visiting the nearby waterfall is the perfect way to spend an afternoon at Rancho Mastatal. Just a 15-minute hike from the common area, you'll find this secluded little falls with a pool that's perfect for swimming and jumping. You definitely won't find the crowds of the other waterfalls in Costa Rica!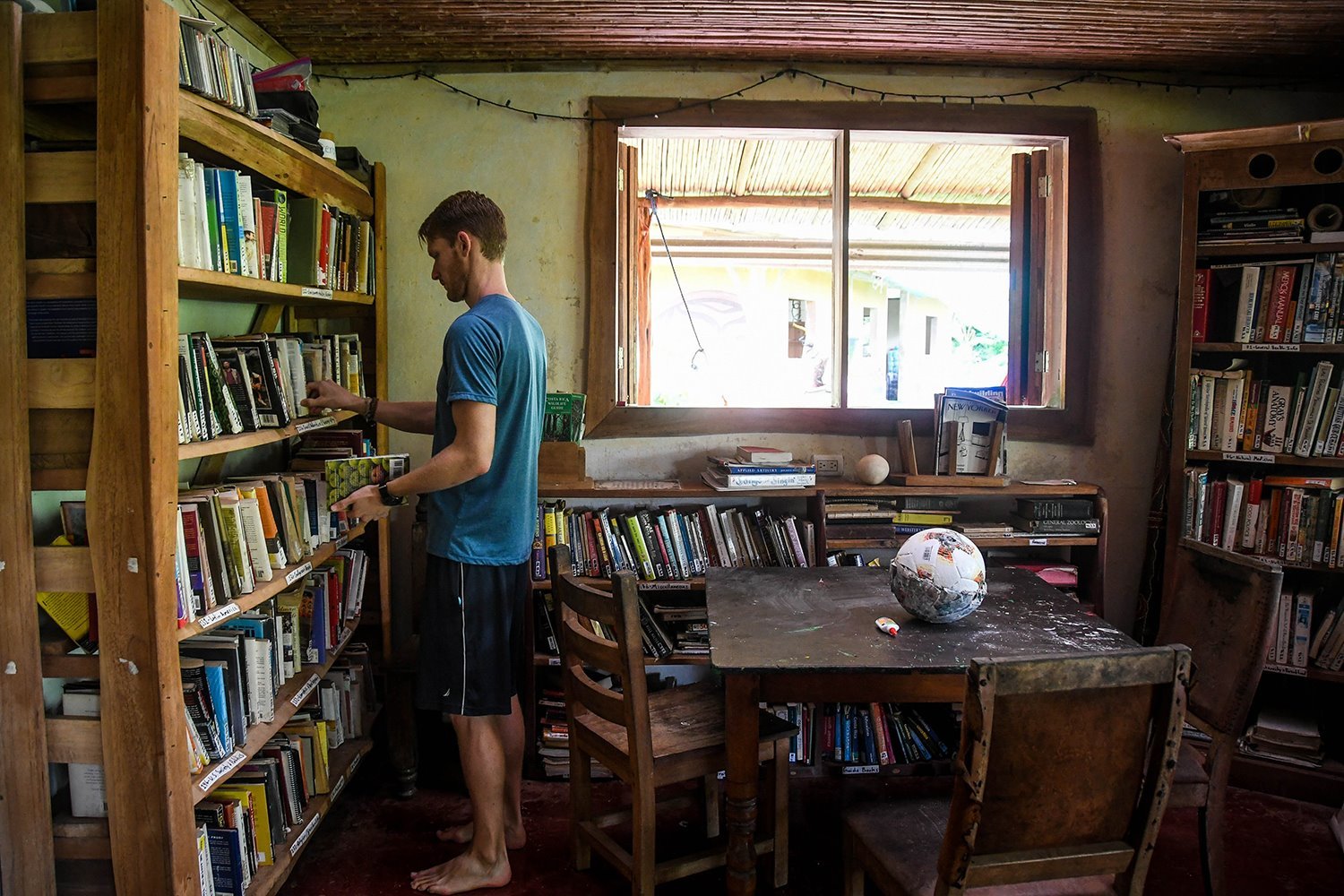 Read: Being disconnected from the Internet gives you the perfect opportunity to catch up on some of the books you've been wanting to read! And if you didn't bring your own book, don't worry. There's an extensive library at Rancho Mastatal full of books on all sorts of topics – from permaculture to travel memoirs. I laid back in a hammock and devoured "Miracle in the Andes" in one day!
Relax in Hammocks: Lay back in a hammock and relax with a cup of local, organic coffee.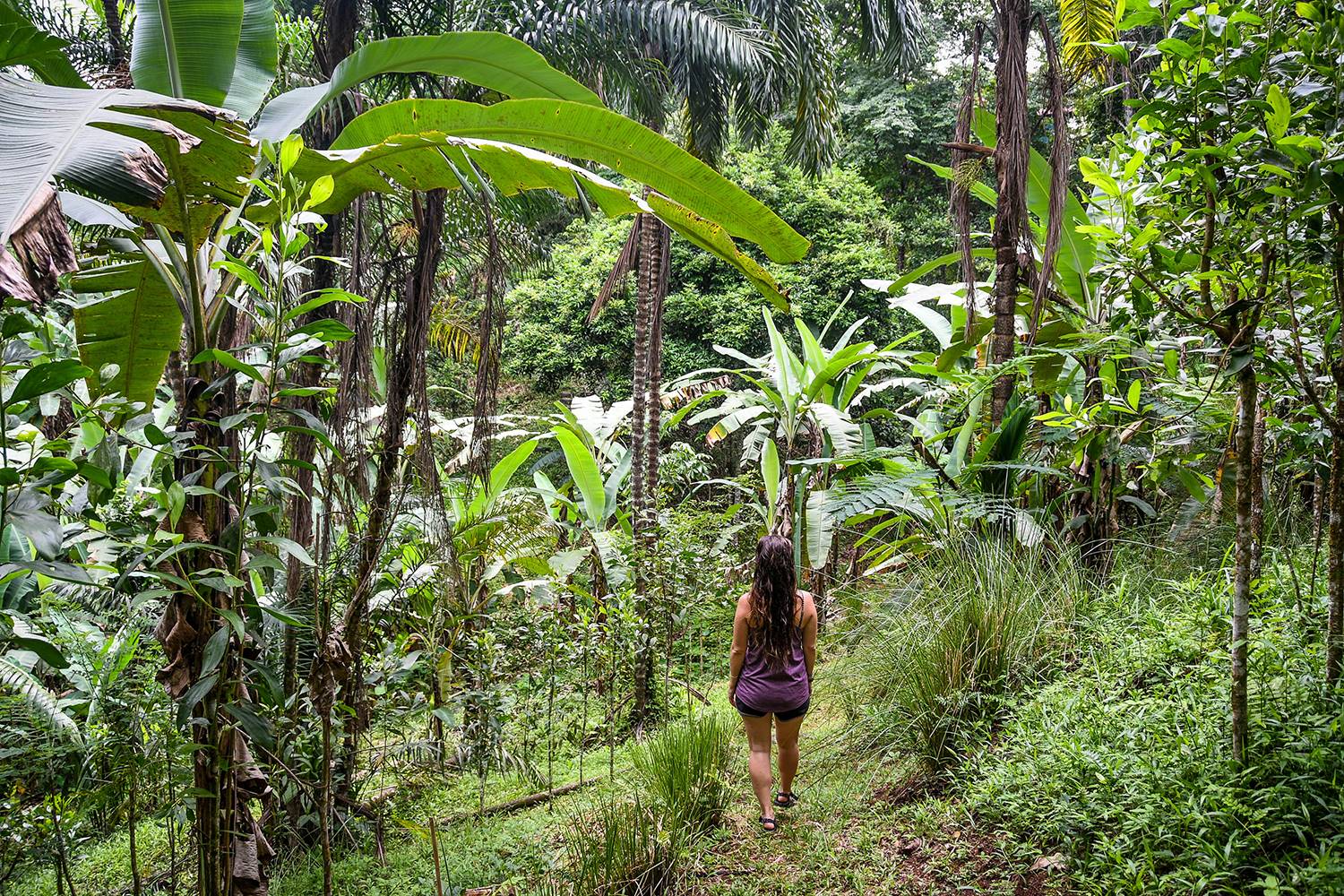 Tour the property: We took a tour of the property with Tim and learned so much about the projects that we never would have learned walking around on our own. Also, we didn't realize just how huge the property is!
Learn about fermentation: At each meal you'll find homemade "kimchi" (which is actually closer to sauerkraut), pickles and fermented herbal sodas. Sometimes they offer fermentation classes so you can learn about the process and how you can replicate it at home.
Make your own beer: One of the highlights of our stay was learning how to brew our own herbal beer. Okay, calling it "beer" might be a bit misleading because it didn't contain any of the ingredients you find in typical brews. But it was really interesting to learn how you can make your own alcoholic fizzy drink using ingredients like fruit and herbs. And the final result was delicious!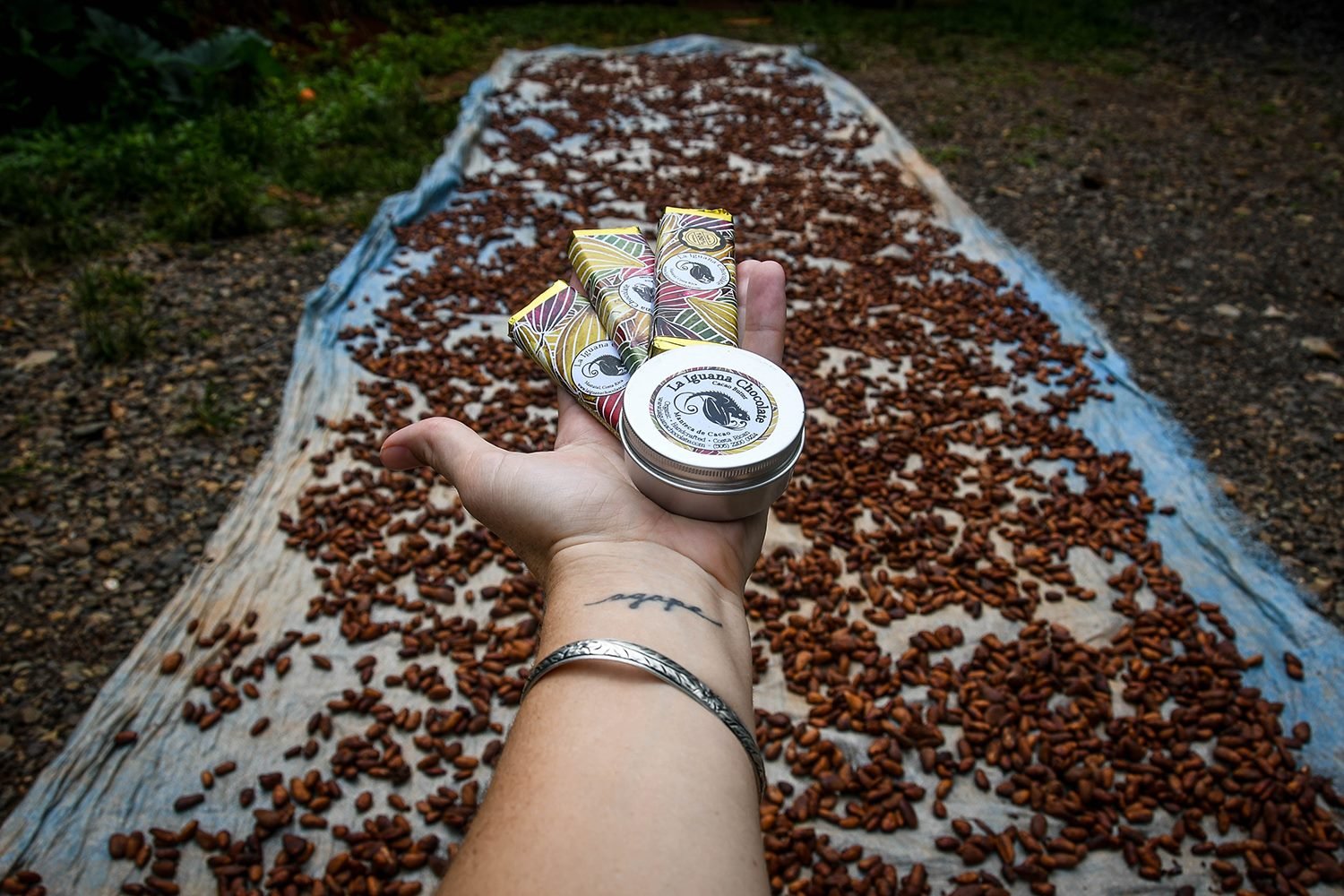 Chocolate Farm: Just down the road is La Iguana Chocolate Farm, which you can visit to buy some handmade chocolates or to get a tour of how they go from bean to bar. (The sea salt dark chocolate is amazing!) They also sell organic, handmade cocoa butter, which is a practical souvenir that you can use as a solid lotion (one of the many solids we carry when we travel to reduce liquids and plastic).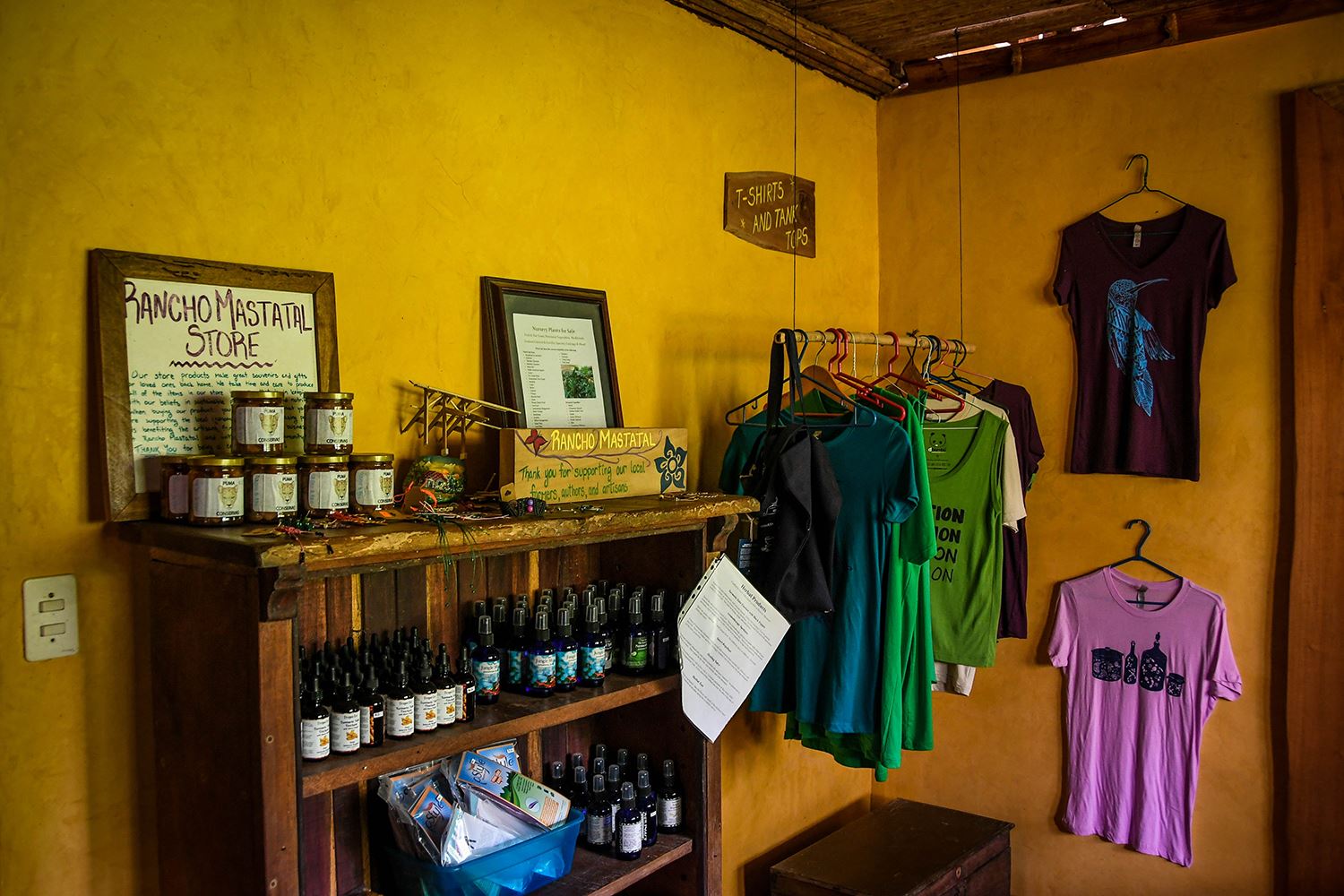 Buy souvenirs: There's a small area of things for sale at Rancho Mastatal. From t-shirts to jewelry made by local artisans to organic tinctures, your purchases help support their community and projects.
Is Rancho Mastatal for me?
If you have a sense of adventure and are seeking a truly unique experience, we think you'll be seriously impressed by Rancho Mastatal. It doesn't matter if you're traveling with kids, solo or as a couple; everybody is welcome at the Ranch.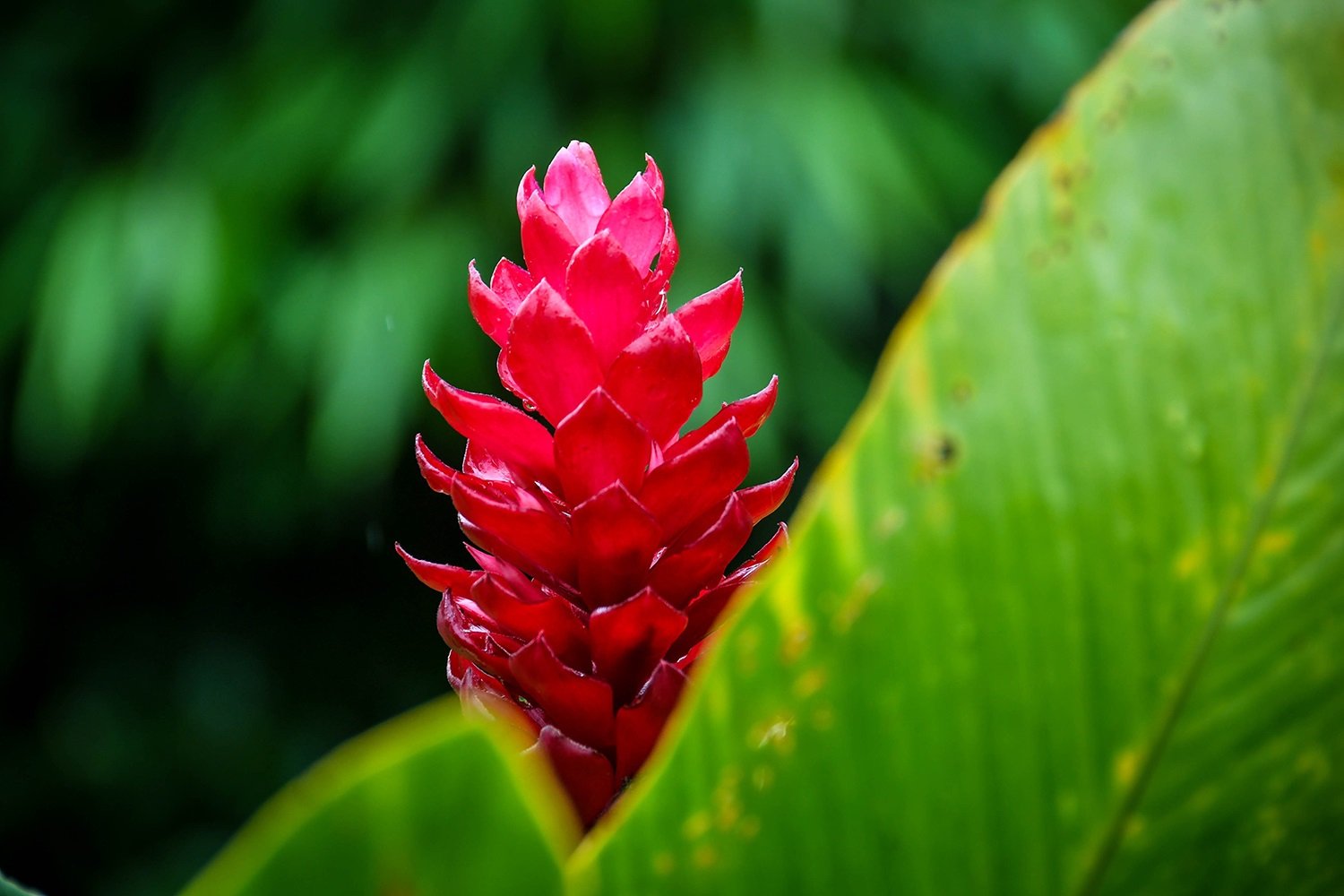 That said, a visit to Rancho Mastatal isn't for everybody.
For one, you'll be staying in earthen structures, and there's a chance you might see some bugs in your room. This is common all around Central America, even in high end accommodation.
Also, you won't have the luxury of hot showers; though in Costa Rica's humid heat, the cool water might actually be the luxury. And you won't be able to surf the web because, well, there's no WiFi connection or cell signal (unless you go to the library in town).
But all of these things are precisely why we loved Rancho Mastatal. We were one with nature, spending our nights listening to the jungle sounds. And we had the (rare!) chance to disconnect from the outside world.
And while it's far from a luxury resort, the thoughtfully crafted structures and artistic touches truly feel like a treat when you're surrounded by nature. If you come with the right mindset and expectations, you will have an unforgettable stay.
Community at Rancho Mastatal
Staying at Rancho Mastatal is a bit different than booking a room at a typical hotel. For one, meals are eaten together as a community. You'll sit at a big table with the owners, Tim and Robin, the apprentices who work on the farm, and any other guests that are staying there. This is a perfect time to get to know those sitting around you and share stories.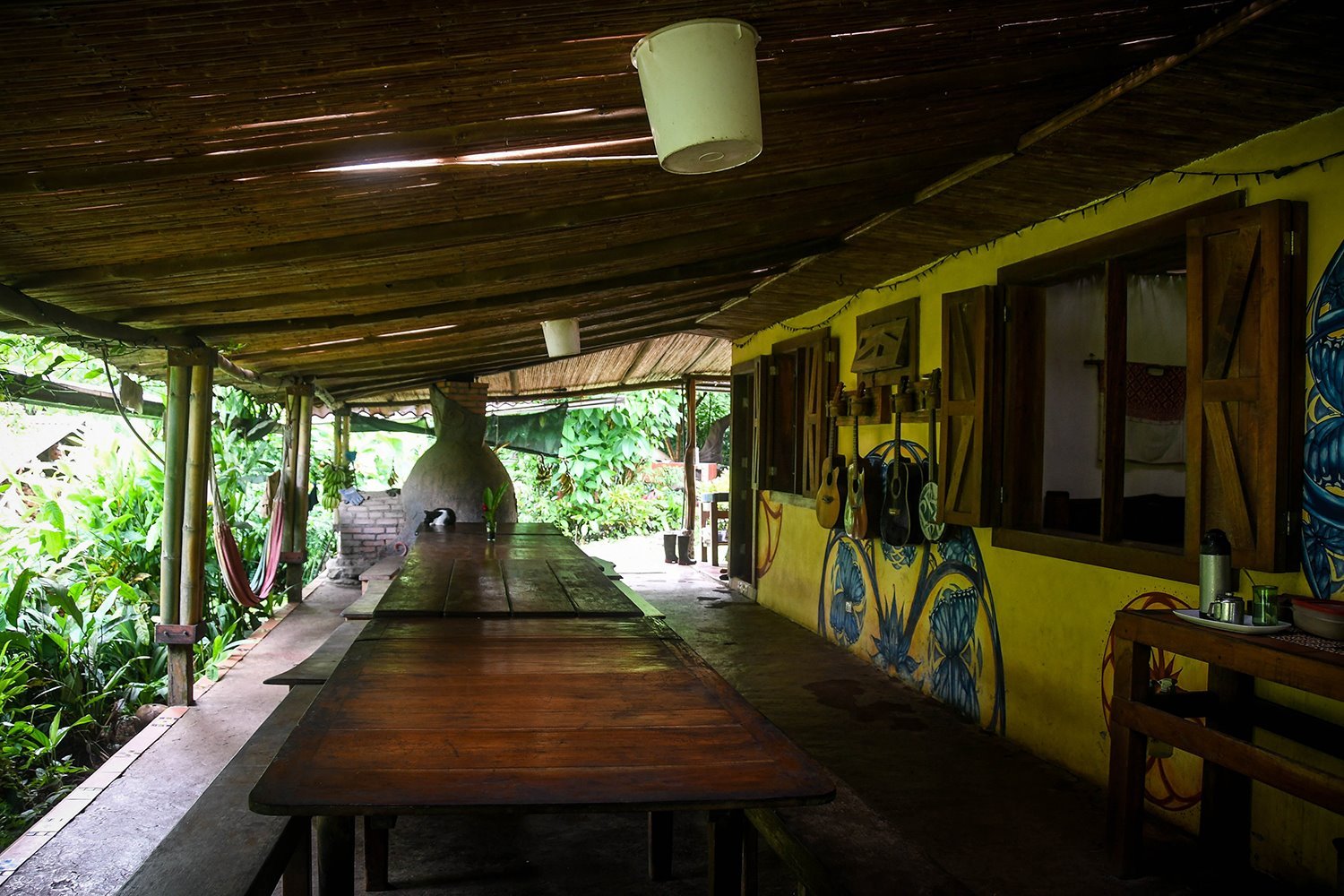 Just before dinnertime, the lights are turned off and everybody holds hands. People go around and say things they are thankful for. The apprentices might thank each other for help during the day, and you can certainly join in if you'd like. This ends with one of the apprentices thanking Tierre Madre (Mother Earth) for the food, then everyone can get in line to get dinner!
We thought this was such a cool way to give thanks before a meal, but perhaps not everyone would feel super comfortable in this situation.
Our thoughts
Rancho Mastatal is so much more than a typical hotel stay. You get to be part of a community, see inspiring permaculture products in person, and get to see a part of Costa Rica few visitors ever step foot in. It is such a special and memorable experience, but it's important that you go in with the right mindset.
You'll get so much more out of your visit if you are excited and willing to get to know the others around you. It might take a little effort at first to "break in", but it will be so worth it. And if you're like us you'll have a hard time leaving.
Apprentice Program
The Sustainable Living Apprentice Program is a core part of how the ranch operates. Each year, Rancho Mastatal selects 7 apprentices from a highly-competitive pool of applicants. Successful candidates are able to spend a year on the ranch learning about permaculture, natural building and homesteading skills.
This in depth, hands-on experience is an incredible way for anyone interested in sustainable living to really delve into the subject. The apprentices we met could not speak more highly of the program.
If one year is too long of a commitment for you, you can consider applying for their short-term (3 months) volunteer position known as the Sustainability Primer Program.
Planning your visit to Rancho Mastatal
How to book your stay at Rancho Mastatal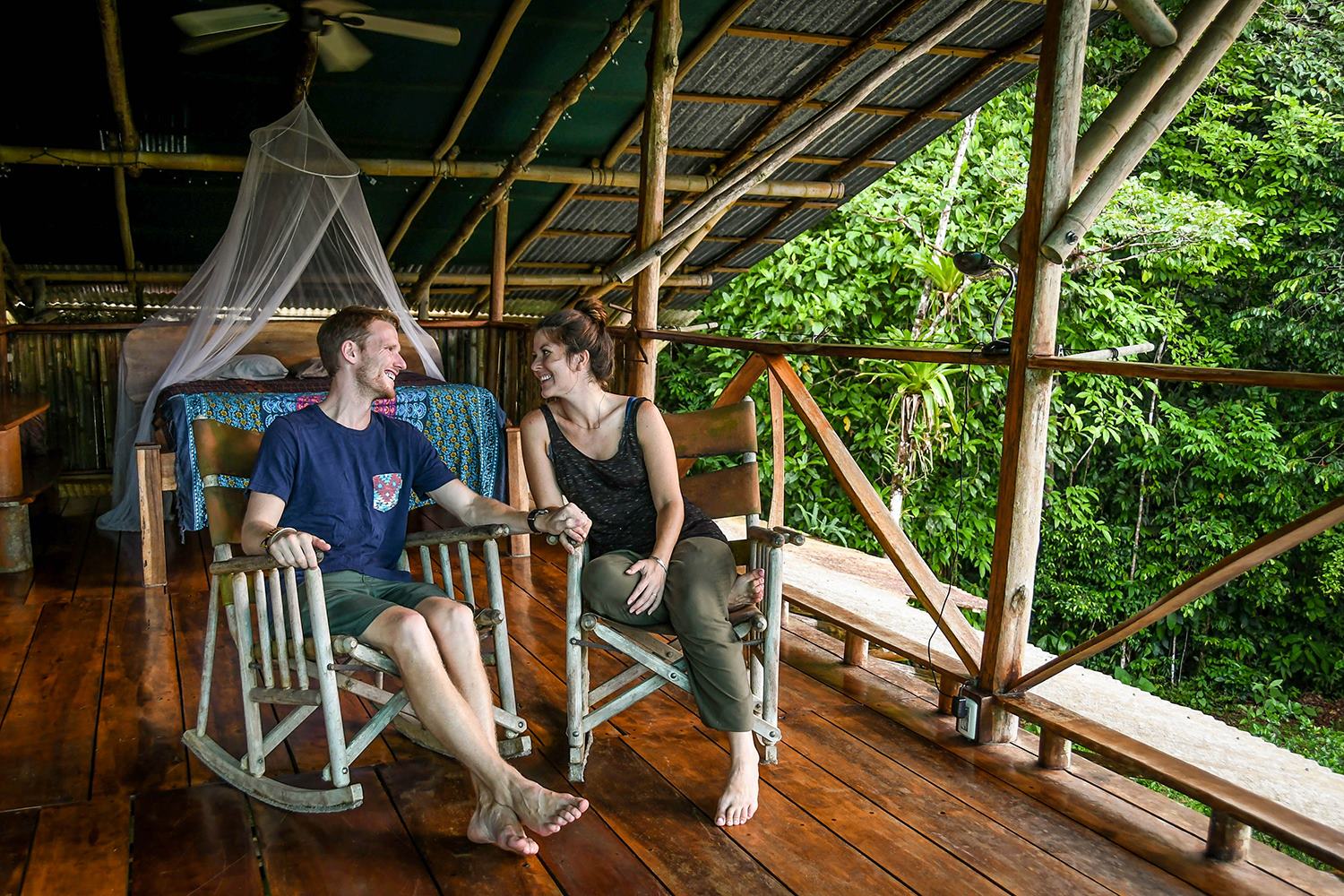 Head to the Rancho Mastatal website and check out their Guest Information and Accommodation pages. Follow the directions on the page and fill out the appropriate form. They are quite responsive for being in the middle of the mountains, and you should hear back from the Ranch quickly.
When you do visit, be sure to check out their Wish List before hand so maybe you can grab a few things that the community and the Ranch need.
How to get to Rancho Mastatal
Getting to Rancho Mastatal is pretty simple if you have a rental car during your trip to Costa Rica. They do a good job describing exactly how to get to the Ranch on the Directions page of their website. Be sure to confirm your arrival before you decide to make the trek up to the farm and plan on arriving before dark. Here is their location on Google Maps:
How long to stay at Rancho Mastatal
We stayed at Rancho Mastatal for 3 nights, and while it was a nice amount of time to relax and get a feel for the place, we would have loved to stay longer and take part in some of the courses they offer. When we go back (get that?! we didn't say "if"!), we will stay at least one week and delve in a bit more.
Staying for less than 3 nights is possible, but wouldn't allow you to be able to fully grasp what is going on in this community.
Want more? If Rancho Mastatal sounds like a place you'd like to stay for more than just a few days, check out their calendar for courses and workshops they'll be leading. For example, you can learn about Natural Medicine or Natural Building Techniques.


Planning a trip to Costa Rica?
We have lots more resources on travel in Costa Rica and destinations throughout the country. Check out our Ultimate Costa Rica Travel Guide for all the answers you're looking for, or read some of our favorite articles below.
Save this article on Pinterest for later!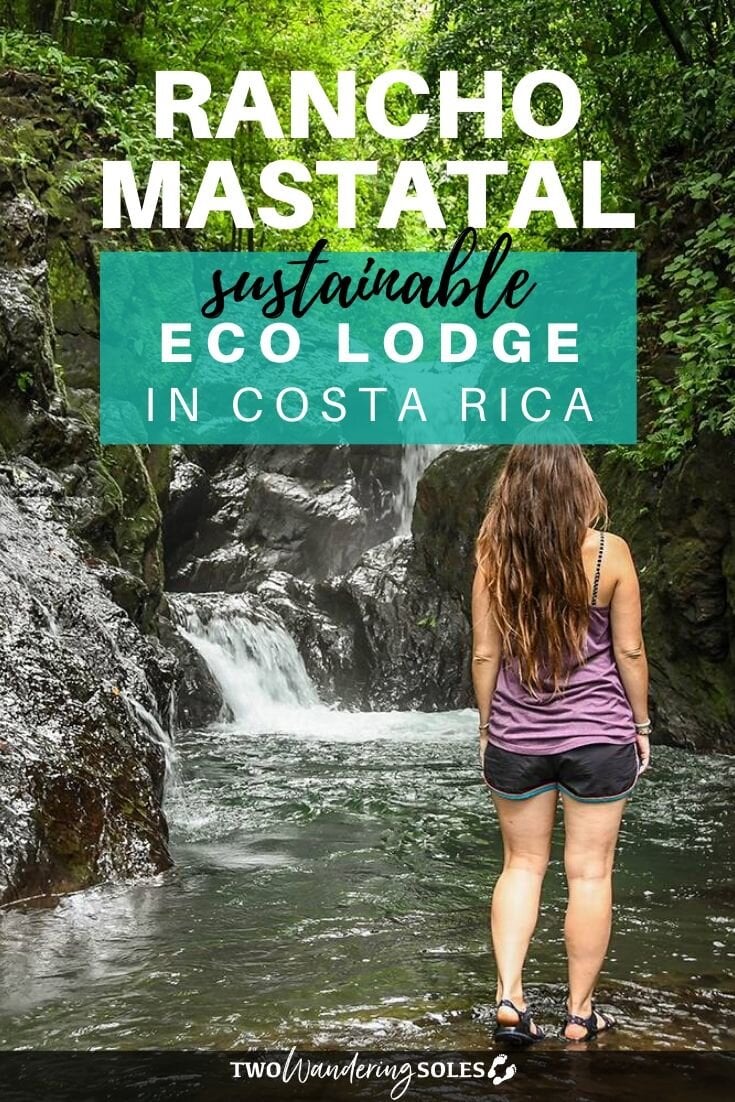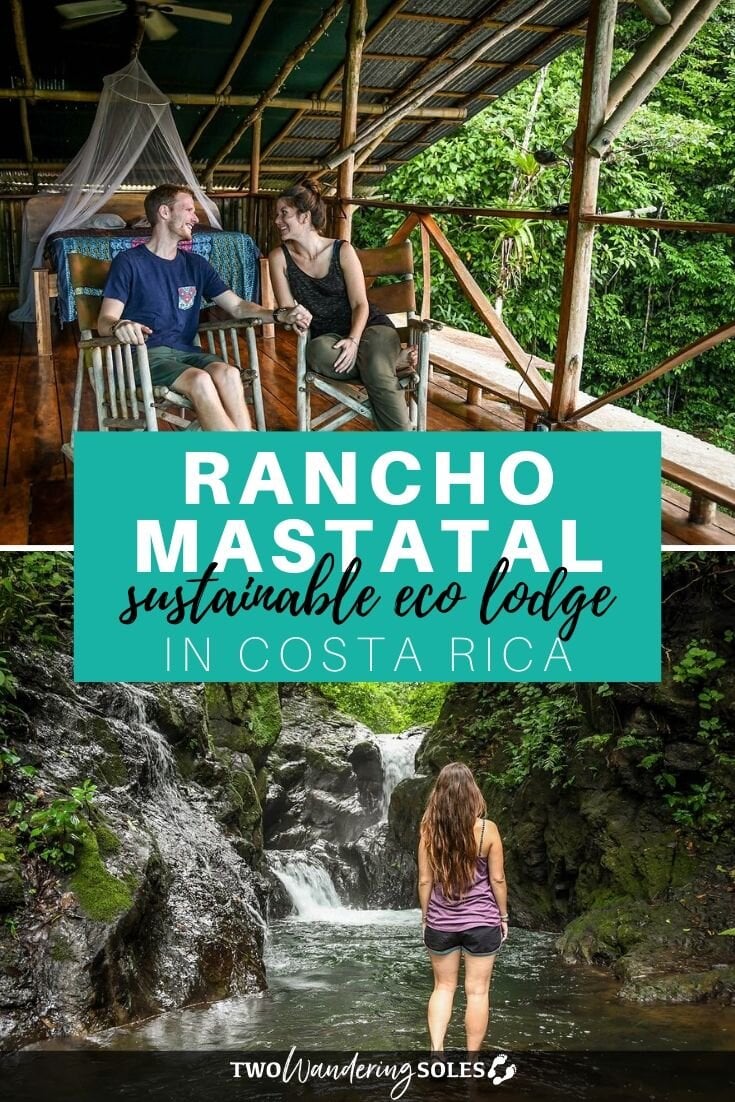 We want to hear from you!
Does Rancho Mastatal sound like a place you'd like to visit? Comment below if you'd like to learn more about Rancho Mastatal or other sustainable communities around the world!