Perhaps the most iconic of Utah's National Parks, Arches is known for the unique arch formations in the desert sandstone. Just outside of Moab, this National Park is popular for good reason. In this ultimate guide you'll find everything you need to know to plan your trip to Arches National Park.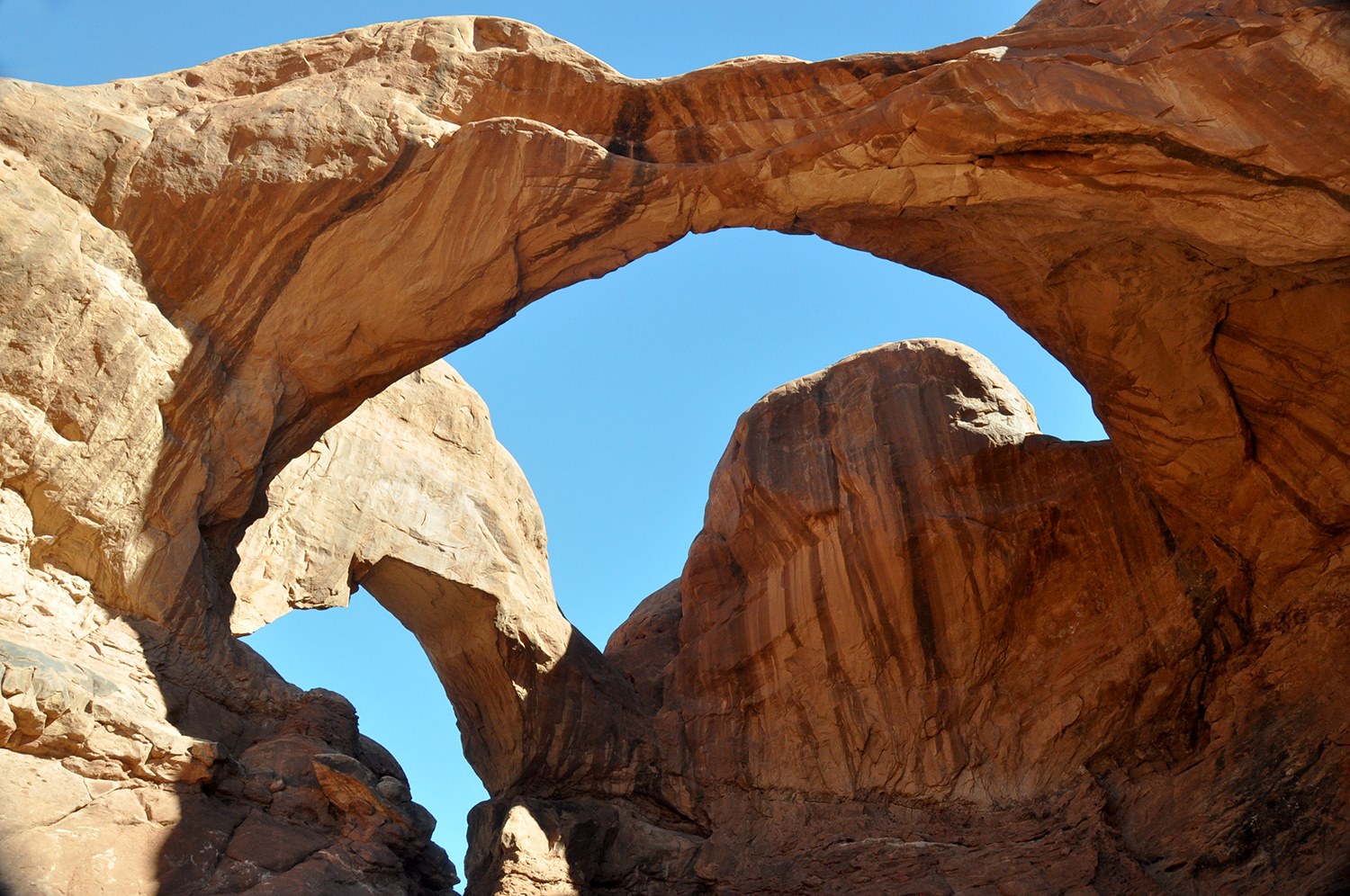 After millions of years of erosion, the sandstone in eastern Utah has been transformed into something utterly magical. Arches National Park is chock full of natural bridge formations – big and small, famous and lesser known. A visit to this famous National Park will be one that you won't soon forget.
Before you go, be sure to pick up the America the Beautiful National Park Pass if you are heading to 3 or more US National Parks in the same year.
What is Arches National Park known for?
The namesake arches, duh! Delicate Arch is arguably the most iconic, as it graces the Utah license plate with its beauty. Oh, and Double Arch was famously featured in the opening scene of Indiana Jones: The Last Crusade. With all that fame, you certainly won't be the only one seeking out the celebrated rock formations in Arches. But the views are stunning enough to make up for it. 
The Good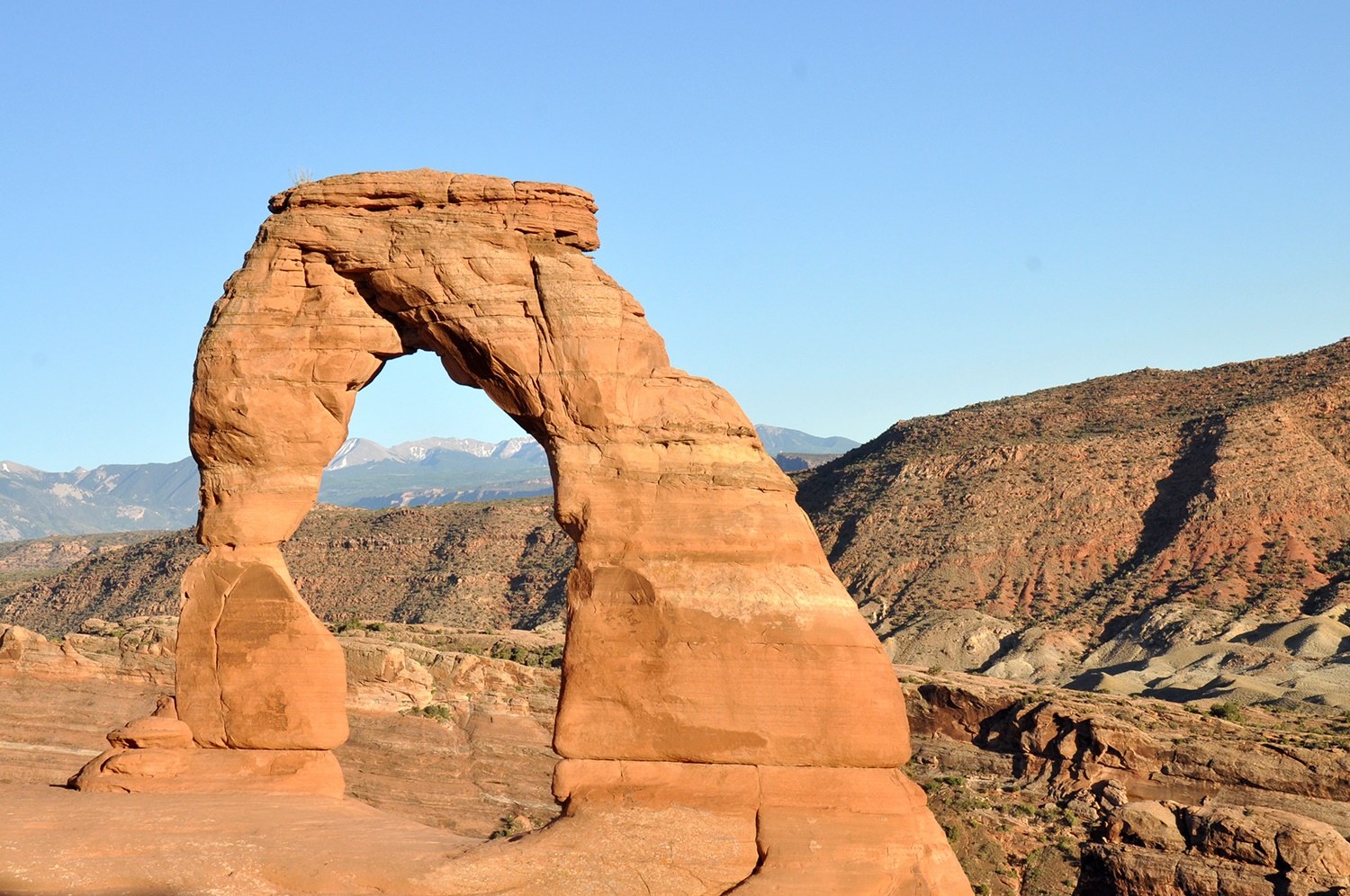 The arches themselves are seriously mindboggling and will leave their mark on you. If you have the time and the weather is cooperating, plan to go stargazing beneath Delicate Arch. It will surely be the highlight of your time in the park, and quite possibly one of your favorite experienes on your entire Utah road trip.
The Bad
The crowds in Arches National Park are thick. Expect selfie sticks and lines to take iconic photos. There's really no escaping other tourists, unless you follow our advice above and stay well past sunset when most of the people have gone. Also, the heat in the Moab area can get brutally hot during the summer. Plan to do your hiking and sightseeing in the early morning hours (before 10 a.m.) or in the evening to avoid the midday heat.
How long should I spend in Arches?
At least 2 hours and up to a whole day
Note: The park is typically open 24/7, but is currently only open 7 a.m. to 7 p.m. Sunday to Thursday due to road construction until November 2017. It is open 24/7 from Friday at 7 a.m. until Sunday at 7 p.m.

What time of year is best to visit Arches?
Arches can be experienced any time of year. In the summer months, be prepared for hot temperatures. Exploring the park at sunset will afford beautiful views at the most comfortable time of day. Winter can get quite cold (highs around 30-50°F and lows 0-20°F).
The ideal months for visiting this iconic national park would be the shoulder season months of October – November and March – April when the temperatures are more mild and crowds are much thinner.
Noteworthy Hikes & Sights in Arches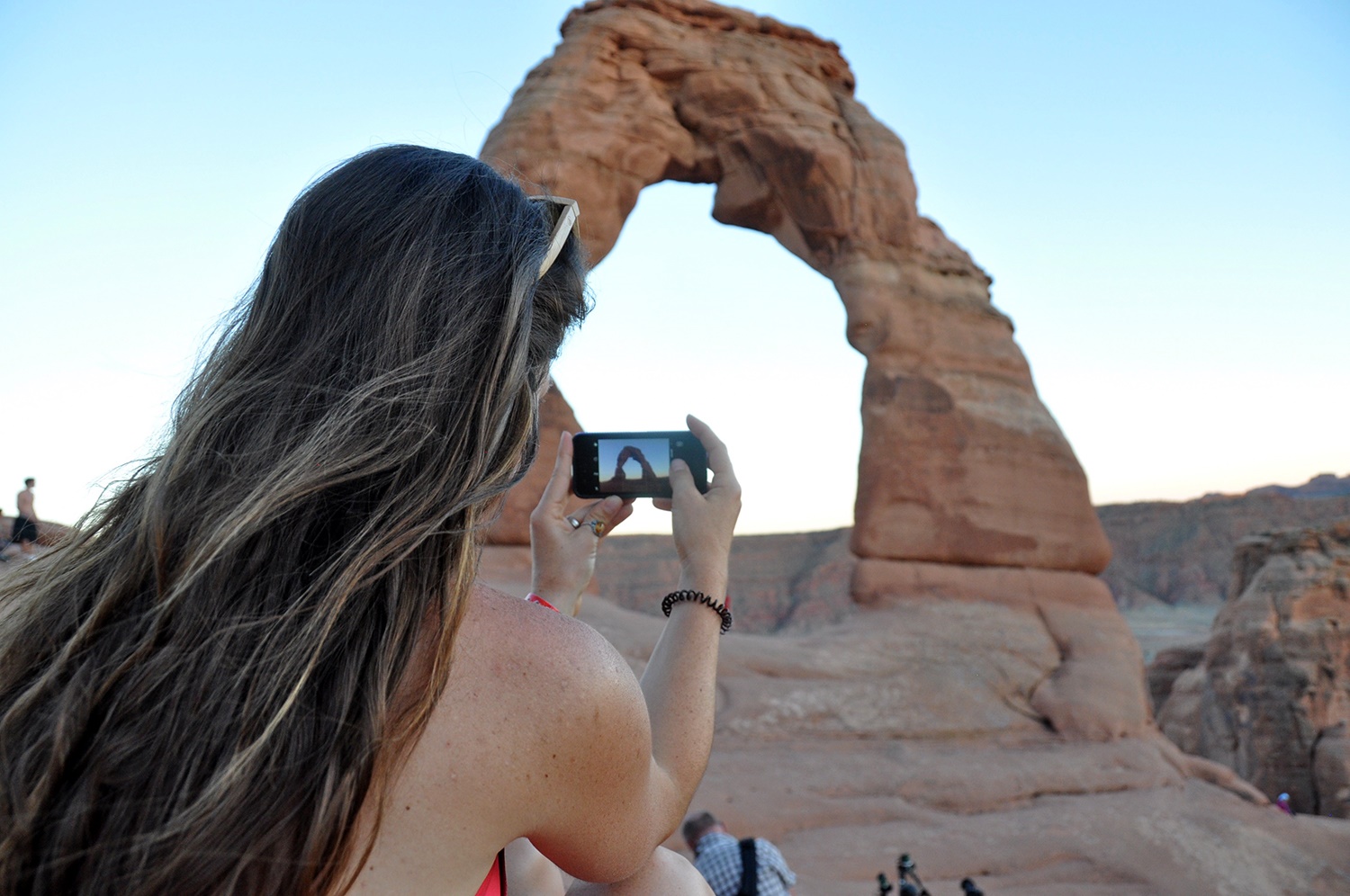 Delicate Arch
There are three ways to see Delicate Arch which make is possible for any age or ability to view it. Lower Viewpoint is only 100 yards from the parking lot, but Upper View Point is about 0.5 mile (roundtrip) steady climb. However, neither of these does the symbol of Utah justice.
That why we recommend the Delicate Arch hike starting at Wolfe Ranch. It's a tough 3-mile roundtrip, but the view is well worth it. It takes about 45 minutes to get to the arch if you're walking at a steady pace. It's a great spot for sunset or for stargazing, so factor in time to relax, too.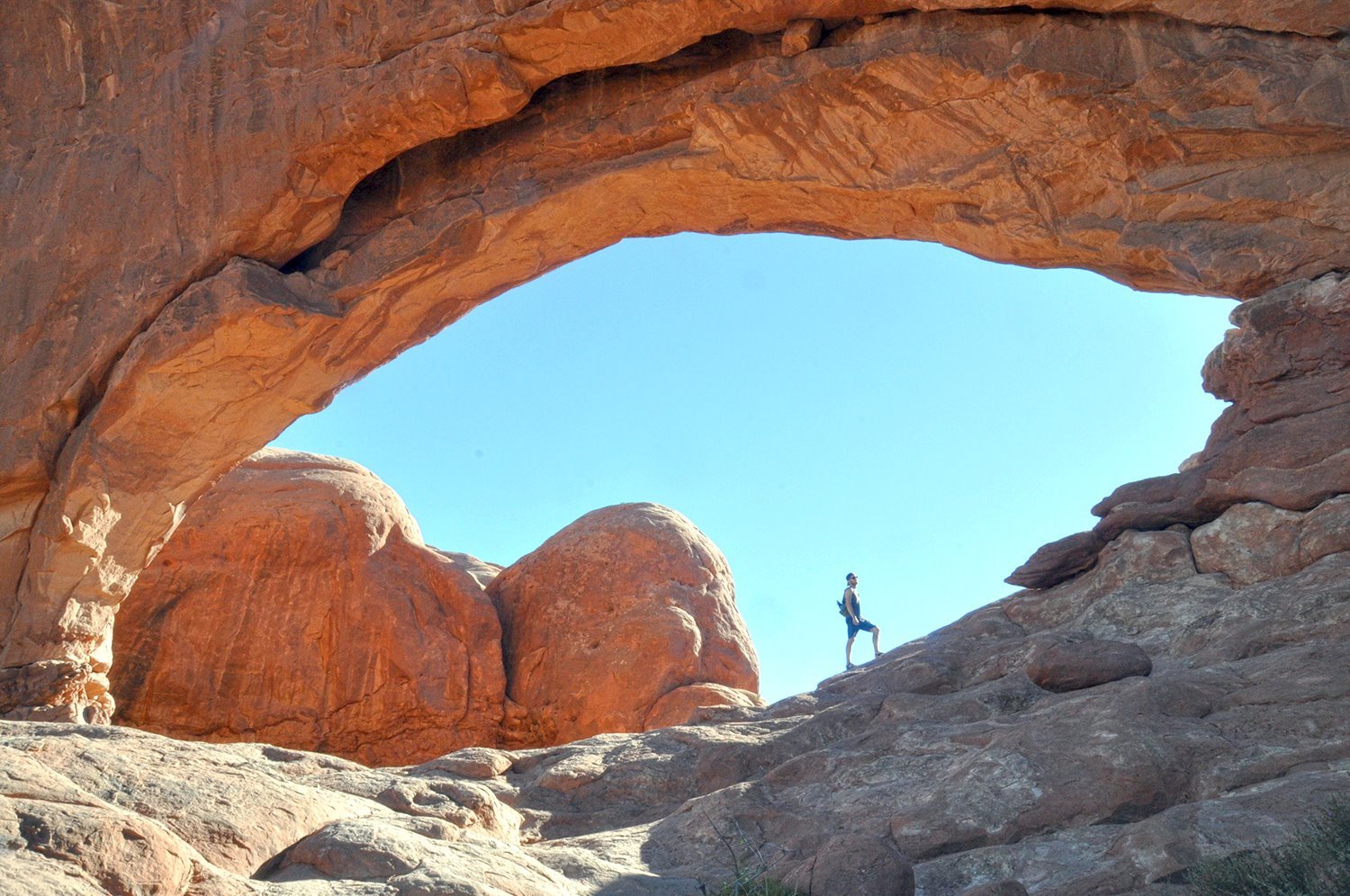 Window Section
Hike: 1 mile roundtrip. Time: 30-60 minutes.
Most of the picturesque views that give this park its name are located in this area. Through to the Turret Arch and get a great picture of North Window arch through Turret Arch. Explore around the North and South Windows for a bit, but save some time for Double Arch. Get underneath both arches and get a shot looking up to the sky. Best when the sky is clear.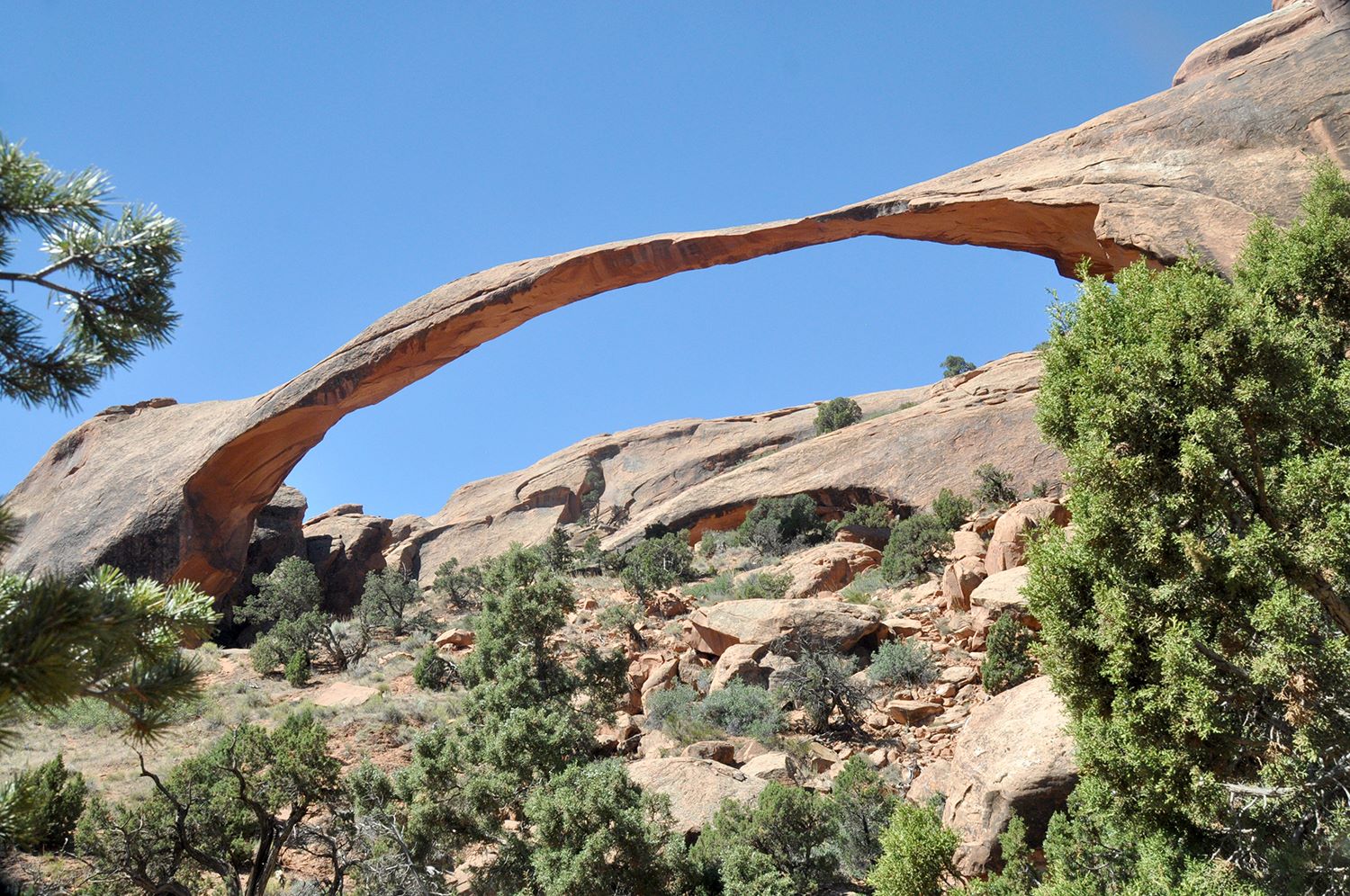 Landscape Arch
Hike: 1.6 miles roundtrip. Time: 30-60 minutes.
A relatively flat trail leads up to Landscape Arch, that actually cracked in 1992 and a significant section fell off, nearly toppling the entire arch.
Park Avenue Viewpoint
No need to hike the trail here, as the best view is from the paved viewpoint. This viewpoint is fairly close to the entrance so it can be busy in the morning. Save it for the afternoon when the crowds are fewer.
Balanced Rock
Hike: 0.3 mile roundtrip. Time: 15-30 min.
Massive rock that appears to be teetering on a pillar. Close to the road and easily accessible.
Check out this guide for all the best hikes in Arches National Park. 
I have a family with small children. What can I do in Arches?
Most of the viewpoints are very short and easy hikes, making them suitable for children. The hike to Delicate Arch is challenging, but we saw plenty of kids who made it. Take it slow and avoid the midday heat.
How to avoid crowds at Arches National Park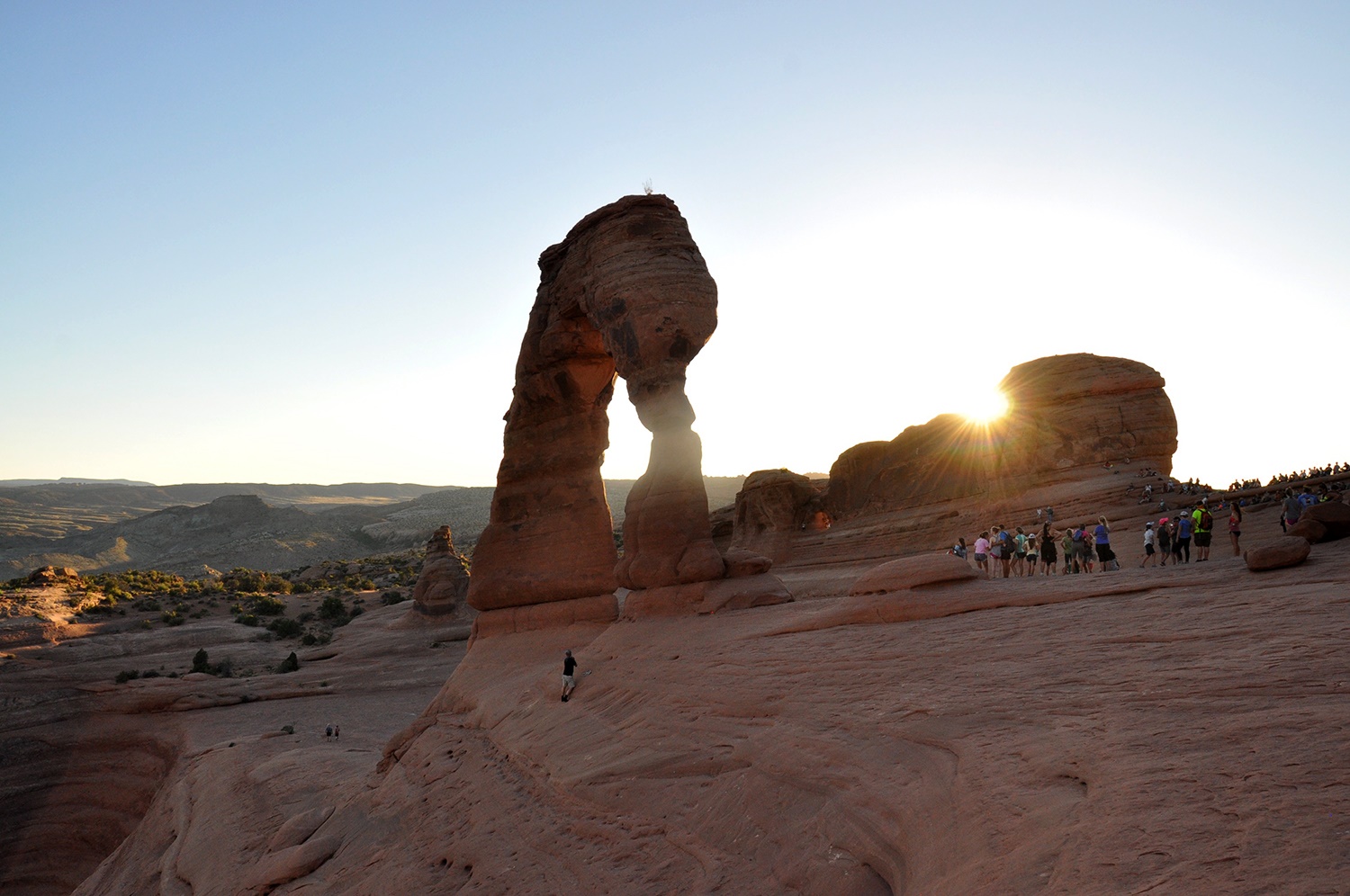 Everyone knows how special Delicate Arch is, so inevitably it's always busy. Plan on going to the Windows Section first thing in the morning when it's cooler and less crowded. If you're able, return to the park at night and hike to Delicate Arch at sunset.
There will be a lot of people, but the color of the setting sun on the arch is stunning. If time and weather allows, stay well past sunset for a stargazing experience that'll absolutely blow you away. You certainly won't be the only one, but after about 11 p.m., only serious photographers remain.
Famous photographs from Arches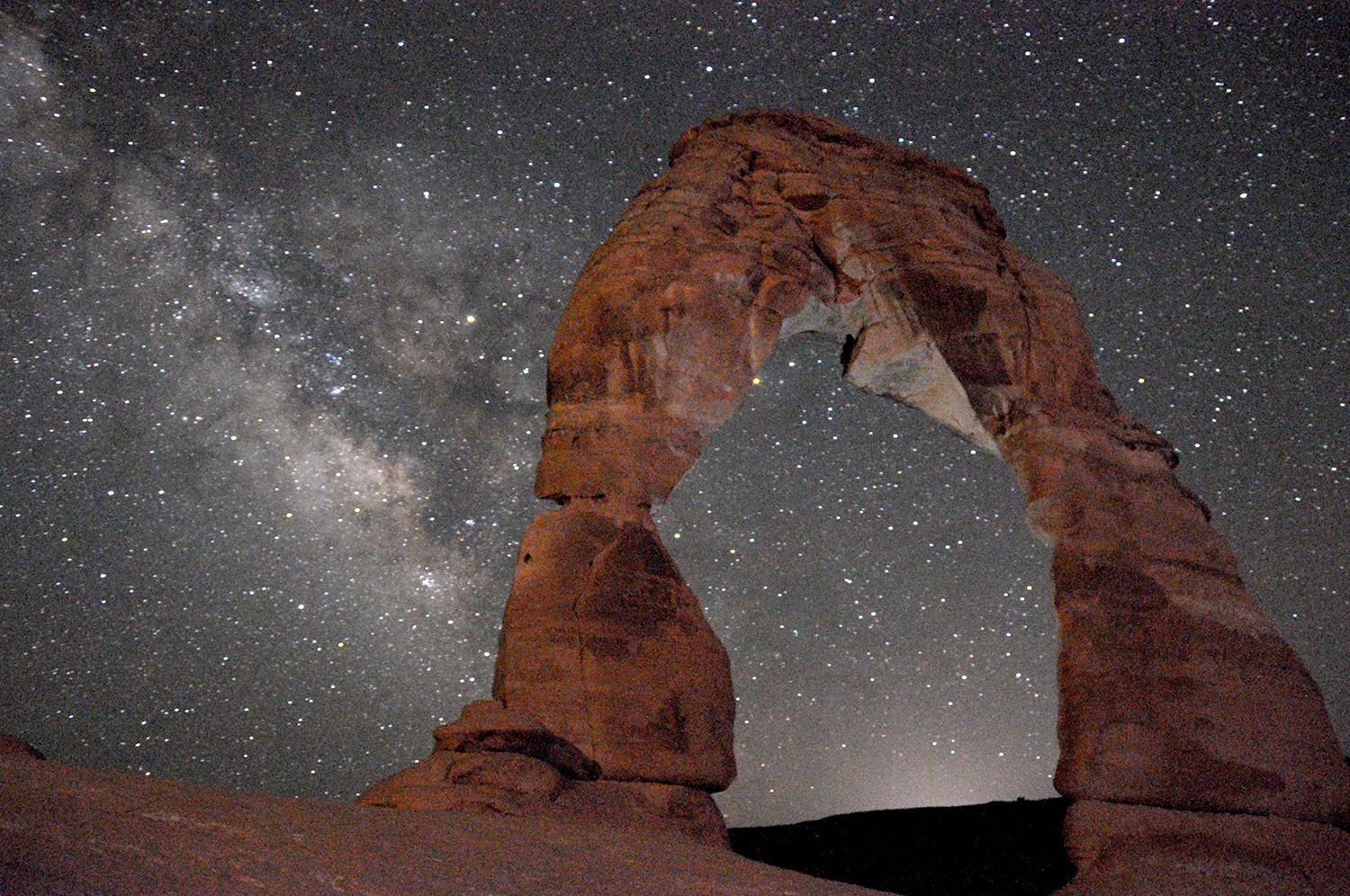 Delicate Arch: Something you should know about this shot is that it is always crowded. We arrived around sunset time to find a line of people waiting to get their picture beneath the famous arch.
This makes it difficult to get the arch without a stranger standing beneath it. (You can time it out to snap the picture when said person is walking away and just gets out of your frame.) Also, note that about 40 minutes before sunset, a shadow is cast on the arch, making it a bit tricky to photograph.
If you want to get the arch beneath the stars, there are a few things you should know: Getting clear skies can sometimes be tricky. The best time to shoot this photo is during a new moon (when the moon is not glowing and the sky is the darkest), and when there is no cloud cover. You can track the Milky Way using SkyView app, if you want that in the shot, too.
As you can see, all these factors can make getting a night shot of the Delicate Arch quite complicated. We totally lucked out entirely by accident. If you're lucky enough to be there during a prime shooting time, be sure to bring the correct photography equipment, and be prepared with stuff to spend much of the night by the arch (tarp/blanket to sit on, snacks, lots of water, layers (it can get cold at night), a kindle, plenty of backup batteries, tripod, etc.).
There will likely be many other photographers there, so arrive early if you want a prime spot. We were lucky that another photographer brought flood lights for a really nice "light painting" effect, but if you're serious you might want to bring your own so you don't have to rely on anyone else. Just be considerate of all the other photographers and ask before setting them up.
What to pack for Arches
Water (at least 2 quarts per person. Only water in the park is available at the Visitor Center and Devils Garden Trailhead)

Camera

Tripod

Hat for shade

Sunscreen

Layers

Picnic

Flood Lights (only for night photography)
Our favorite part about Arches
Stargazing beneath Delicate Arch is something we will remember forever. Even if you're not a photographer, this is an experience you'll never forget.

Double Arch is also really cool. (Fun Fact: it is in the opening scene of Indiana Jones and the Last Crusade! We kept humming the theme song to ourselves while we were there!)
Where to stay nearby
Camping – Use a campsite app like The Dyrt to help you find camping in the area. There are some pretty sweet BLM camping spots along the Colorado River off of Hwy 128 for $15 per night.

Hotel – When we're in the states, we like to use Booking.com to get the best deals. Search in Moab to get the best prices.
Food/Coffee in Moab
Peace Tree Café: Big portions and healthy options. Food was good and it's a nice place to escape the heat. Go early because it gets busy during dinnertime.

Moab Coffee Roasters: The only coffee shop in town we were able to find with free Wi-Fi and outlets (though we didn't look too hard). Great iced Americanos (with ice cubes made of coffee!)

Gear Heads: This is an outdoor lover's dream! They have just about every piece of outdoor gear you could ever want, but the reason we've mentioned it is that they have a filtered water station that is free of charge, so you can fill up your water jugs and stay hydrated!
Tips for Arches
Look at the weather and if possible, stargaze beneath Delicate Arch. It is seriously unforgettable.

If you are looking for a way to cool off during the day, spend a few hours at the Moab public pool. It was seriously a life-saver for us, as we were in Moab during a heat wave. We were surrounded by small children, but hey, we stayed cool, so we were alright with that! There are pools indoors and outdoors and it costs $7 per person to enter. We also used this as a way to shower! Note: If you only want to shower (and not use the pool), it is just $5.

If you are camping while visiting, check out this complete list of public showers in Moab!
---
Are you headed to any other parks in Utah? Check out our articles on how to plan your visit:
---
We want to hear from you!
Have you been to Arches National Park? What was your favorite part? Are you planning a road trip to Utah? We'd love to hear from you in the comments below!