Perhaps the most iconic of Utah's National Parks, Arches National Park is known for the unique arch formations in expansive stretches of desert sandstone. In this ultimate guide you'll find everything you need to know to plan your trip to Arches.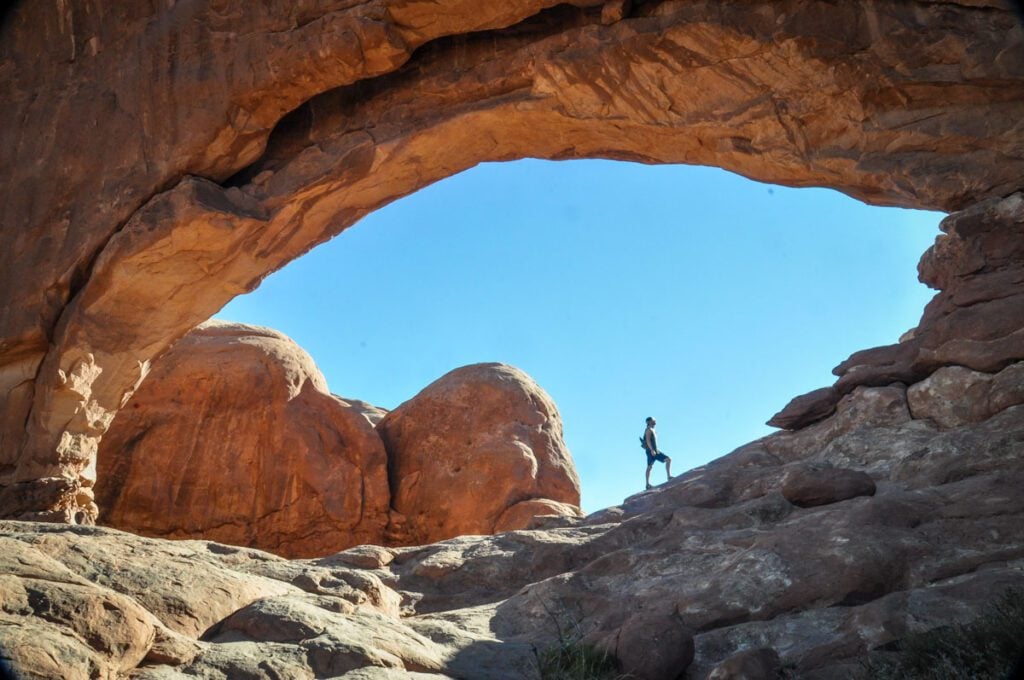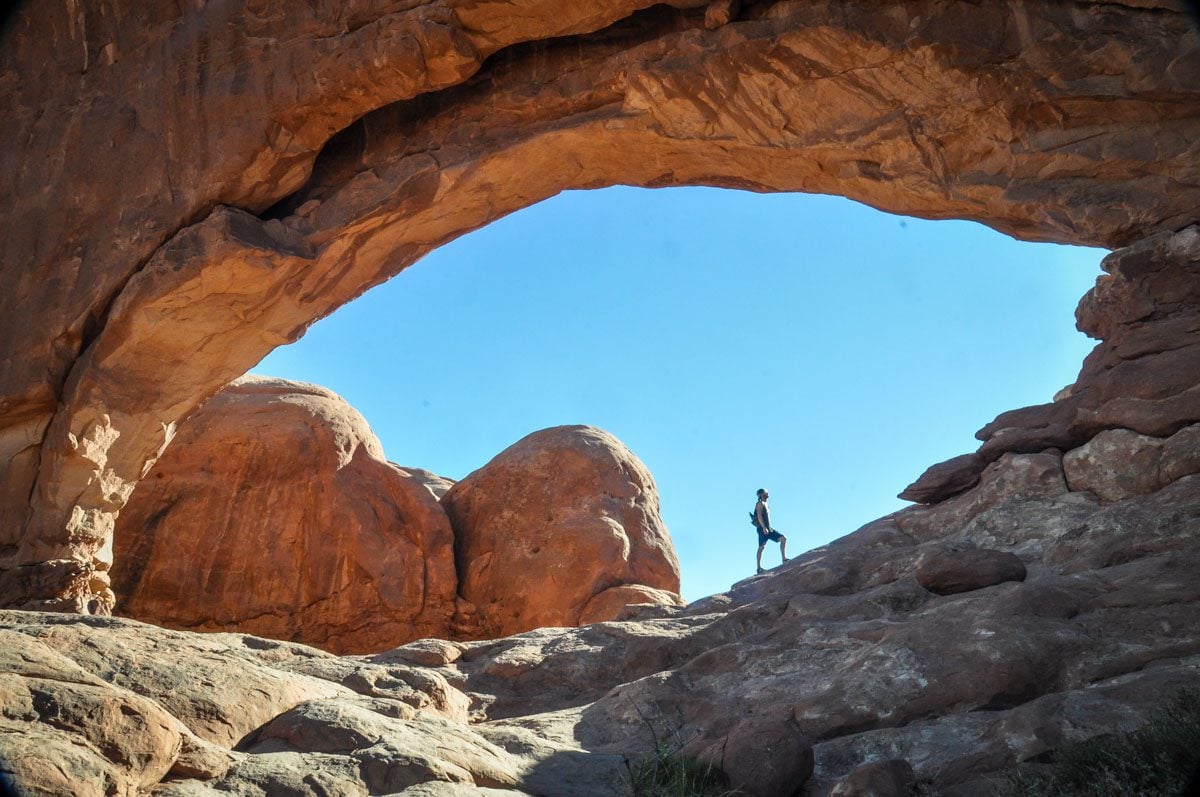 As the dense green pine trees of the Rockies morph into vast desert landscapes, Arches National Park serves as a gateway to the jewels of Utah.
There are sights to see in every corner of Utah, but the main gems are highlighted in its five National Parks. What separates Arches from the rest of Utah's "Mighty 5" is that it holds the highest density of rock arches in the world.
As you navigate through the park, you'll experience arches of all different sizes, shapes, colors, and lengths. You'll be amazed at how millions of years of erosion and weathering sculpted each of these impressive rock formations.
In this article, we're dishing out all of the top things to do in Arches National Park to hit the most iconic spots and get a little bit off the beaten path to avoid the crowds.
Article contents
---
Arches National Park at a glance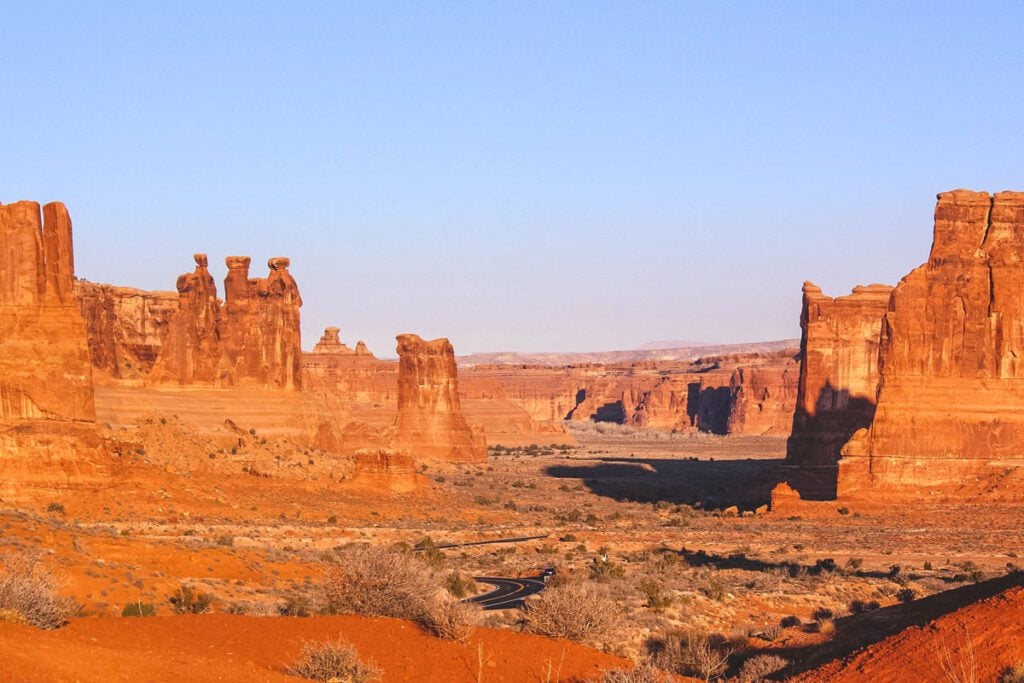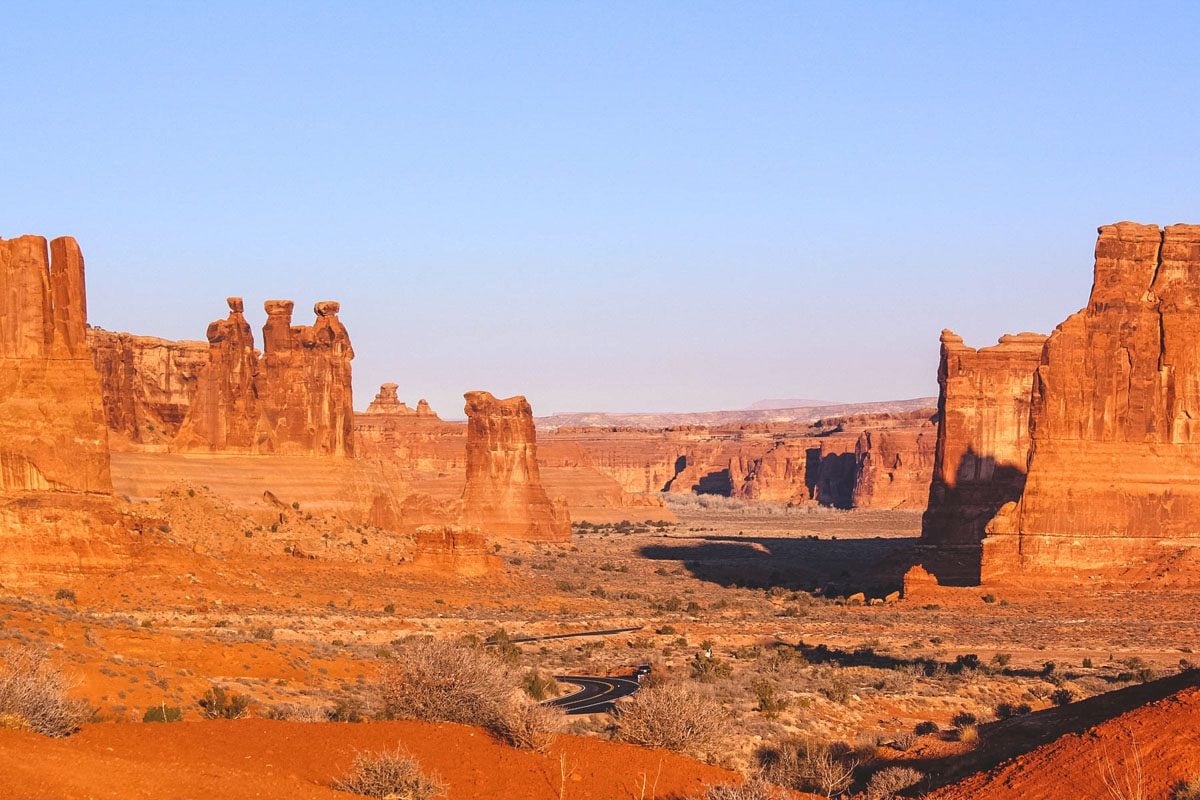 Open: Year round
Entrance Fee: $30/vehicle, $25/motorcycle, $15/hiking & biking, or free with your America the Beautiful Pass
Wildlife: Rats, lizards, snakes, foxes, mule deer, coyotes, bats, and owls.
Established: April 12th, 1929
Ancestral Lands: Arches was once home to over a dozen tribes. Tribes like the Paiute, Utes, Navajo Nation, and the Hopi traveled here for weapon materials and hunting.
Area: 76,519 acres
How to get to Arches National Park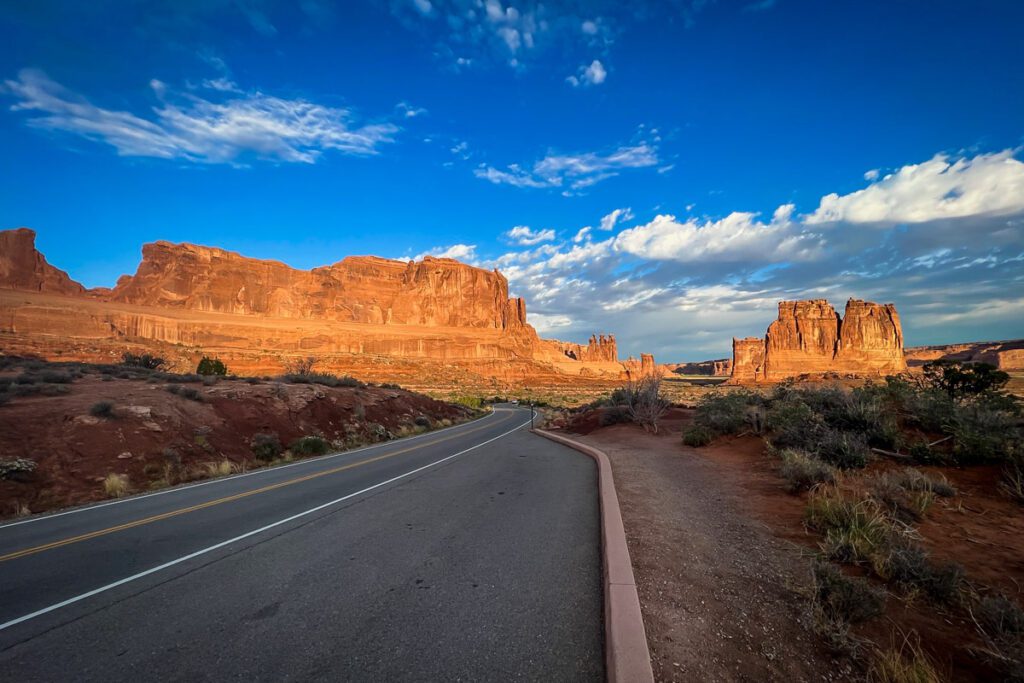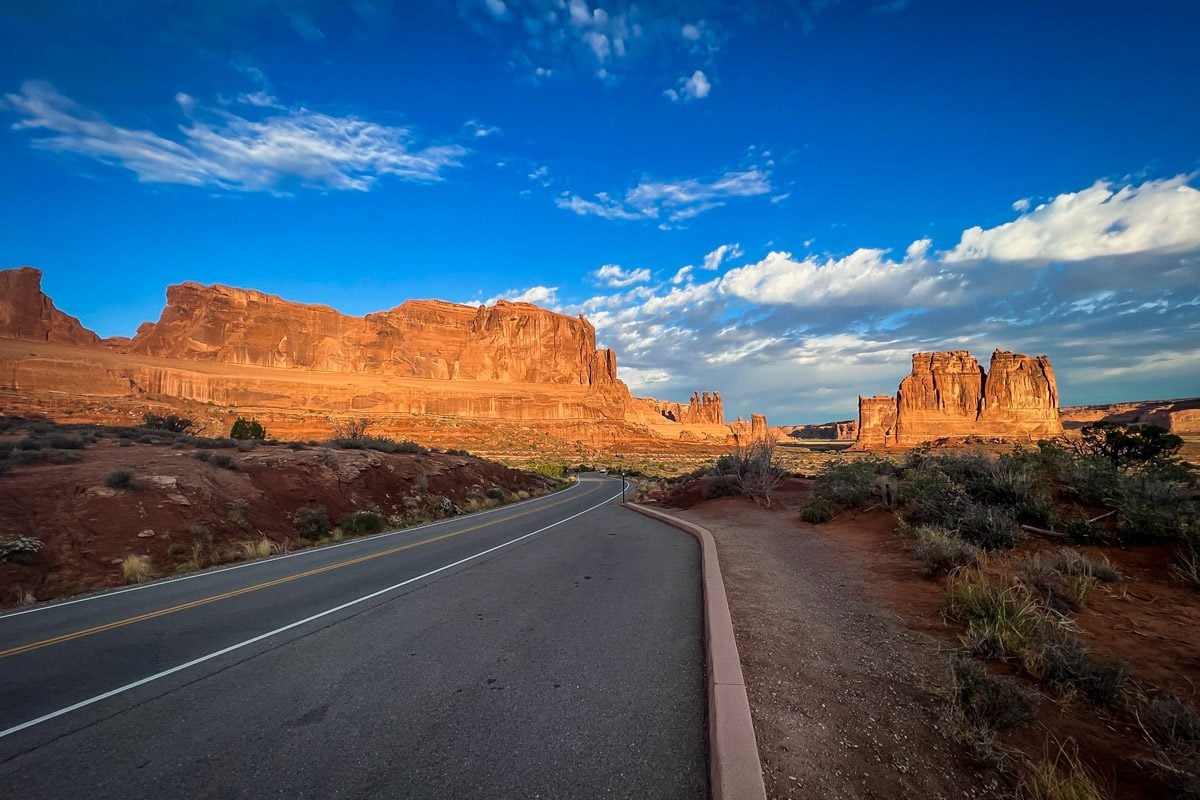 Arches could be considered the gateway to all the playgrounds of the American Southwest. With all of Utah's Mighty 5 just a short drive away and the Grand Canyon just south, there are many different ways to access the park.
The most popular way to get to Arches is from the closest major city/airport, Salt Lake City.
Arches is also a popular road trip destination from Denver since it's the next closest city/airport. Start your trip off right exploring all the exciting things to do in Denver.
Self-drive
From Salt Lake City (3 hours, 40 minutes): Head on I-15 S through Provo, then take US-6 E and US-191 to Arches National Park. About 3 hours and
From Denver (5 hours, 20 minutes): Follow I-70 W directly to Arches.
Getting around in Arches National Park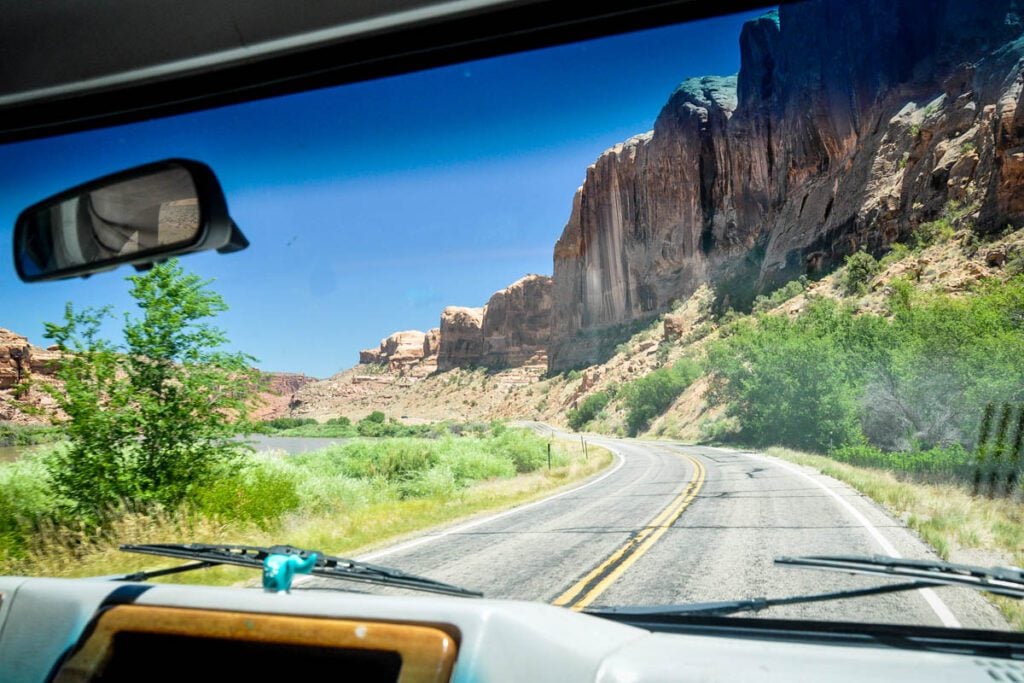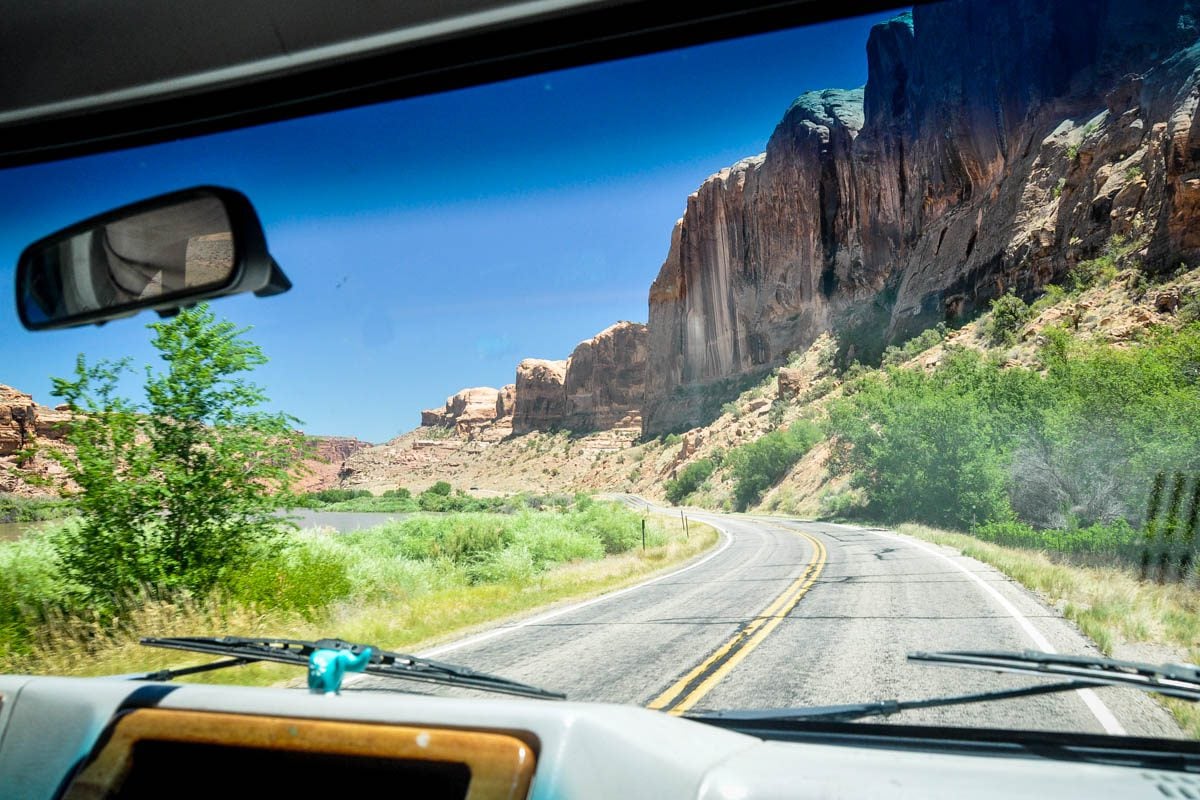 The best, and only way you can get around Arches National Park is with your own vehicle since there aren't any shuttles that run inside the park.
An alternative would be with a bike rental, which you can pick up in Moab. Since parking is so limited inside the park this may be a viable option. However, the main park road is not entirely flat, so you'll definitely need to work to get those roadside views.
Tip for getting a rental car
We personally like using Discover Cars when we rent vehicles around the world, as they gather options from all sorts of rental companies in one place. It makes it really easy to compare prices and vehicles so you can determine which is the best option for you.
Search & Compare Rental Car Prices
Discover Cars: We personally use this aggregate site to compare rental car prices from all the big name companies and get the best price possible.
RentalCars.com: We've had good experiences finding rental cars with this site in the past.
Wanna try out van life while visiting Arches National Park?
It's no secret we're obsessed with #vanlife. If you don't have the time (or interest!) in building your own conversion but you still want to give van life a test drive, we've got some ideas for you…
Check out our list of top companies for USA Campervan Rentals, from budget to bougie, we've even included some exclusive discounts for our readers!
One company we'd recommend looking into is Escape Campervans. They have 12 different locations across North America (including Denver and Salt Lake City) and come fully loaded with all the gear you need for an epic road trip. Plus, their rates are fair and affordable.
BONUS: We've partnered with them to give you a 10% off discount when you use our link!
We have plenty of recommendations for campervan-friendly campsites in the where to stay section below.
Entrance tickets and fees
Private vehicle: $30, valid for 7 days
Motorcycle: $30, valid for 7 days
Per person: $20, valid for 7 days

If you're planning to visit more than one of Utah's "Mighty 5" National Parks, we'd highly encourage you to look into getting an annual park pass. At $30 per vehicle, entering Arches, along with most other national parks in the U.S., can be expensive.
For just $80 per year, you can purchase the America the Beautiful park pass. This pass grants you free access to all of the national parks. Plus it also covers your entrance to over 2,000 natural, historical, and recreational sites across the United States.
If you still need convincing, check out our article: America the Beautiful Annual Park Pass: Is it Worthwhile?
Psst! Check out some of our other favorite national parks on the west coast & Western U.S. that make great adventure and hiking destinations.
Timed-entry permits for Arches National Park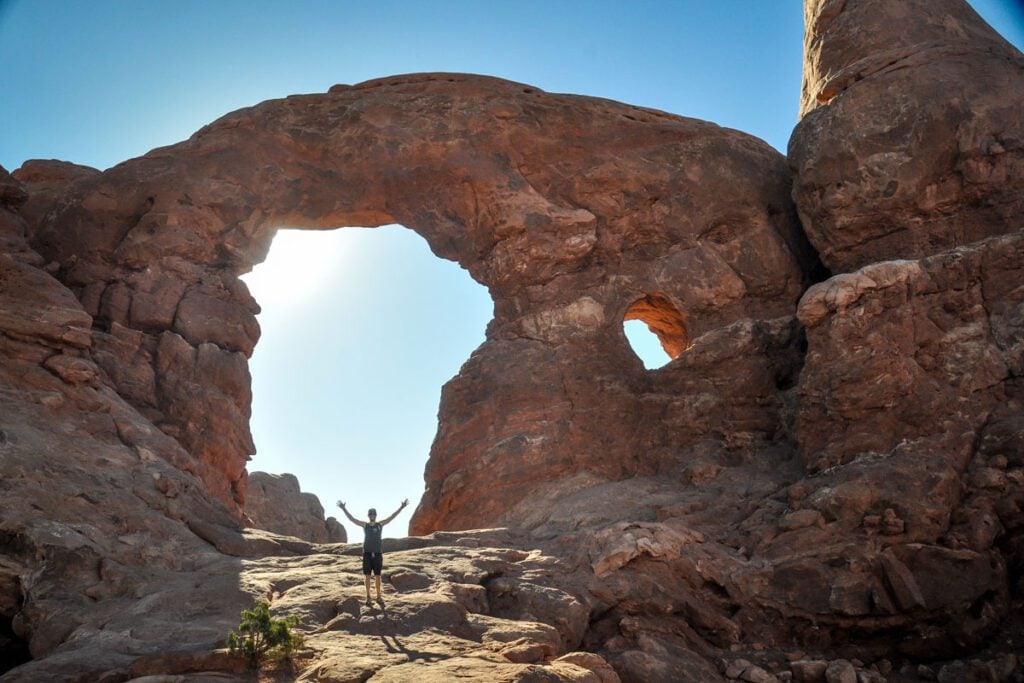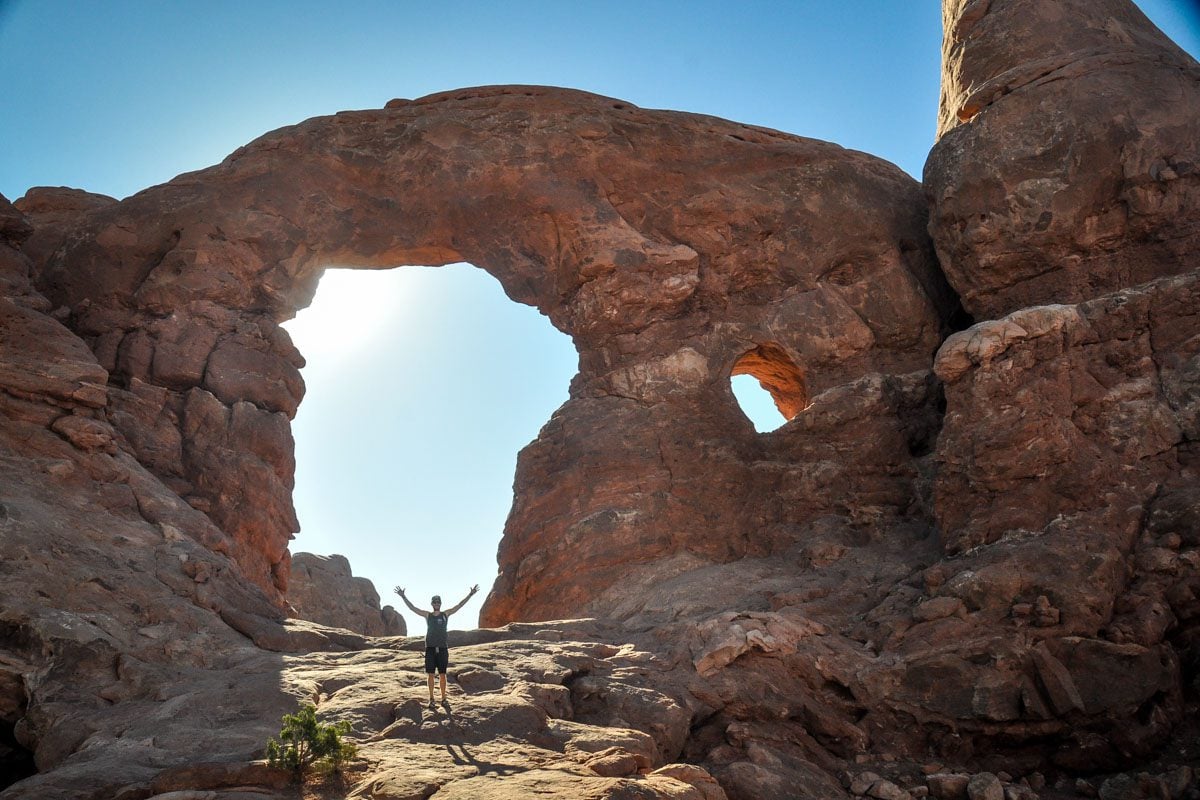 From April 3rd to October 3rd, anyone entering Arches will need a $2 timed entry ticket in addition to a photo ID and park entrance fee (or park pass). Do not wait to buy these because entry tickets are competitive!
You can get the timed entry tickets online at recreation.gov. They open tickets in monthly blocks, three months in advance. With your ticket, you'll be granted entrance to the park from 6 am to 5 pm, with a one hour grace period.
Good to know: Due to record visitors, Arches has closed the entrance to the park by late afternoon some days, even if you have a timed entry ticket. Aim to get into the park early so you aren't denied entry and you won't have to wait in line to get in.
If you planned your trip last minute, a handful of next-day entry tickets drop online on recreation.gov at 6 pm for entry the following day.
How many days do you need in Arches?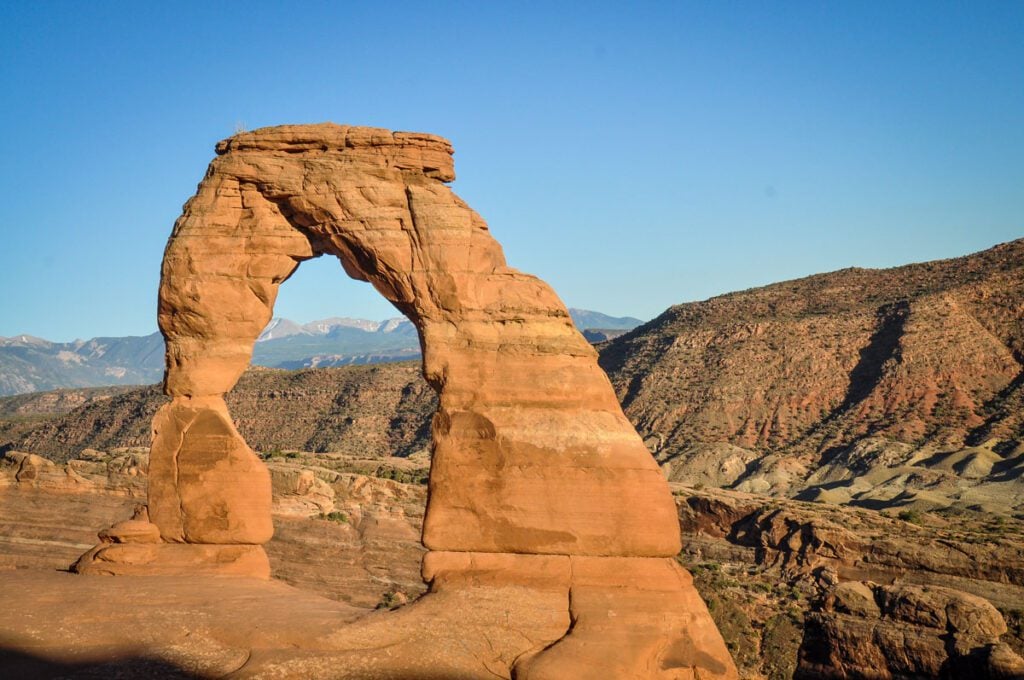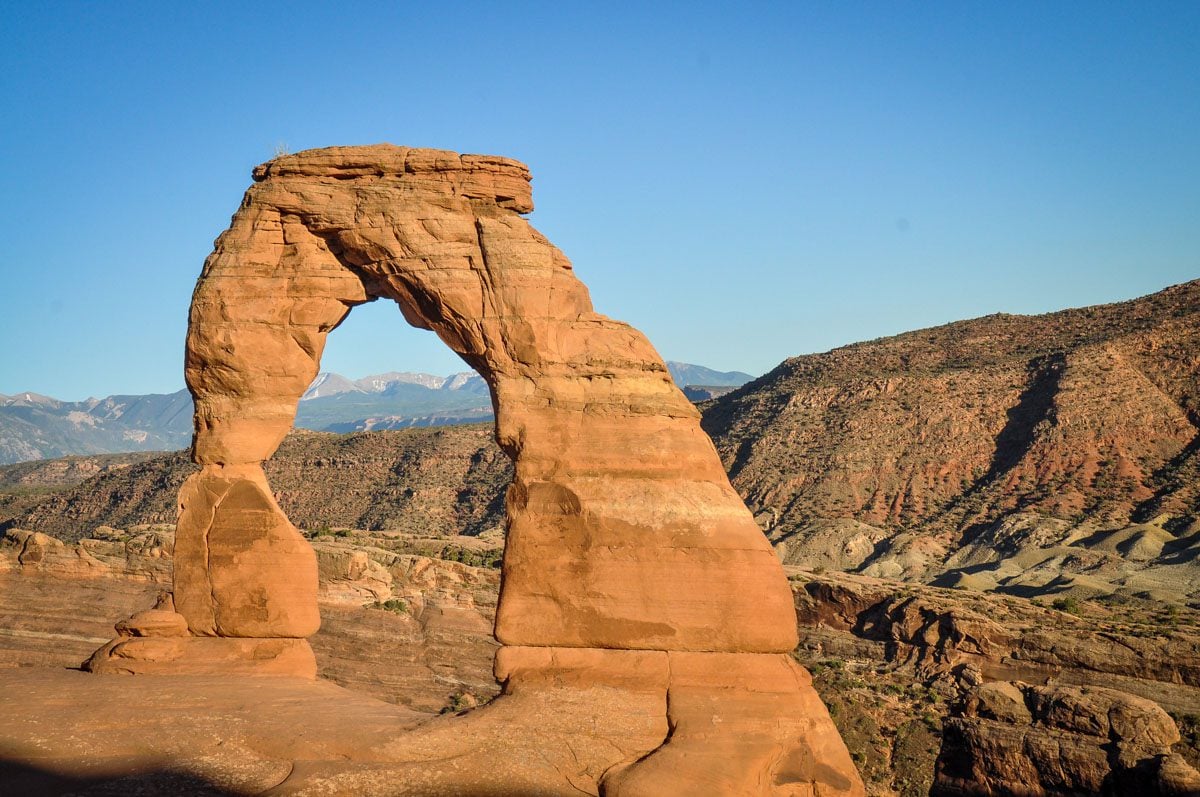 At least one full day.
One of the best parts about Arches is that you can see all of the main highlights of the park in only a day and still feel satisfied with your trip.
For a more thorough visit, consider adding one or two additional days and you'll be able to see everything inside, including some more of the best hikes in Arches National Park.
When is the best time to visit Arches?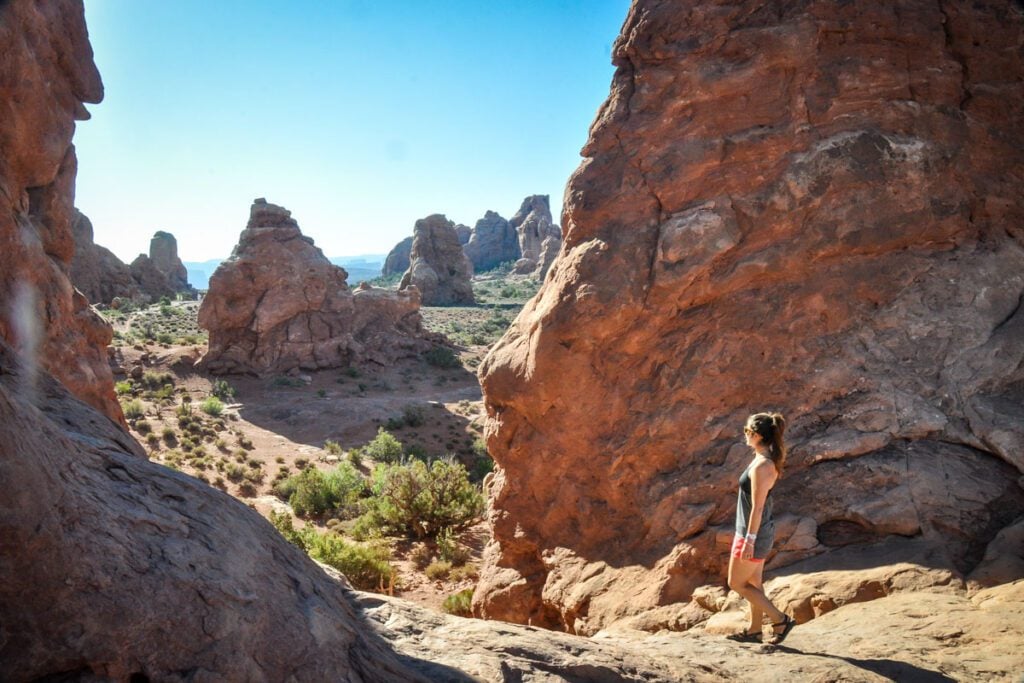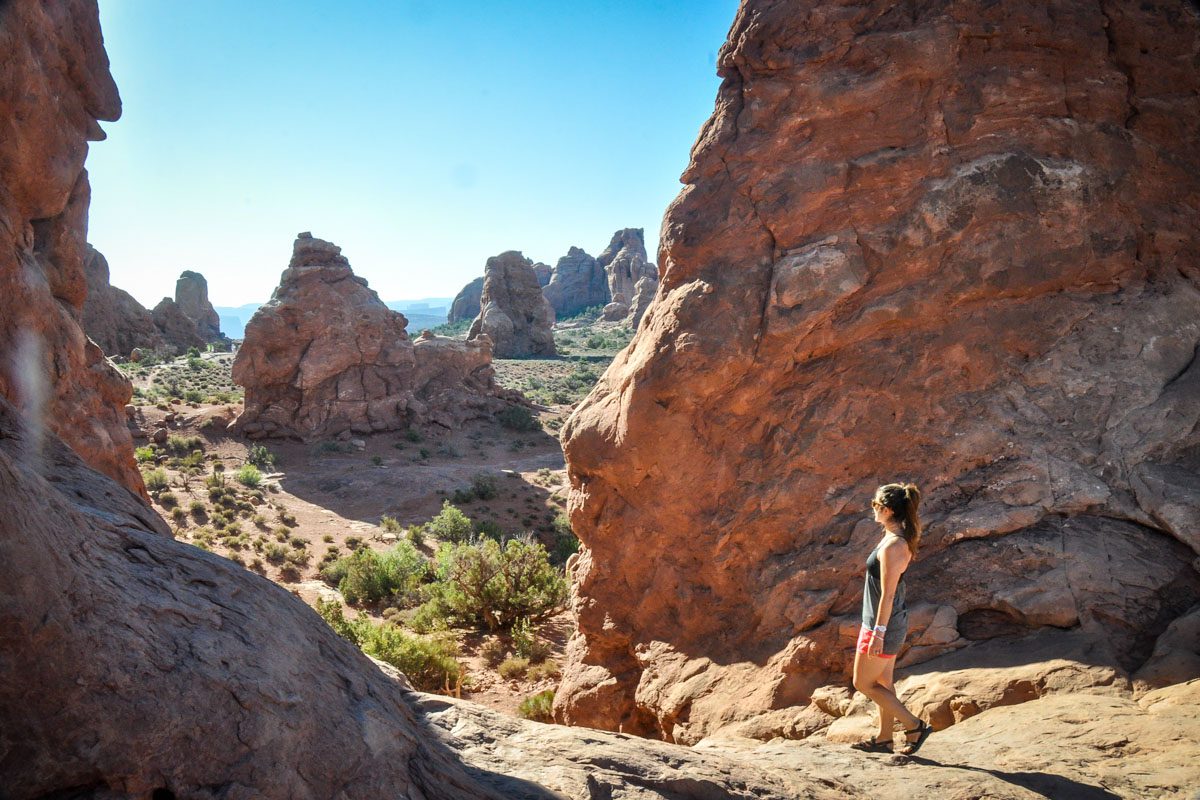 Arches National Park can be experienced any time of year. In the summer months, be prepared for scorching hot temperatures. Exploring the park at sunrise and sunset will afford beautiful views at the most comfortable time of day.
Winter can get quite cold (highs around 30-50°F and lows 0-20°F).
The ideal months for visiting this iconic national park would be the shoulder season months of October – November and March – April when the temperatures are more mild and crowds are much thinner.
Psst! Did you know Arches is one of the best national parks to visit in winter?
Arches National Park map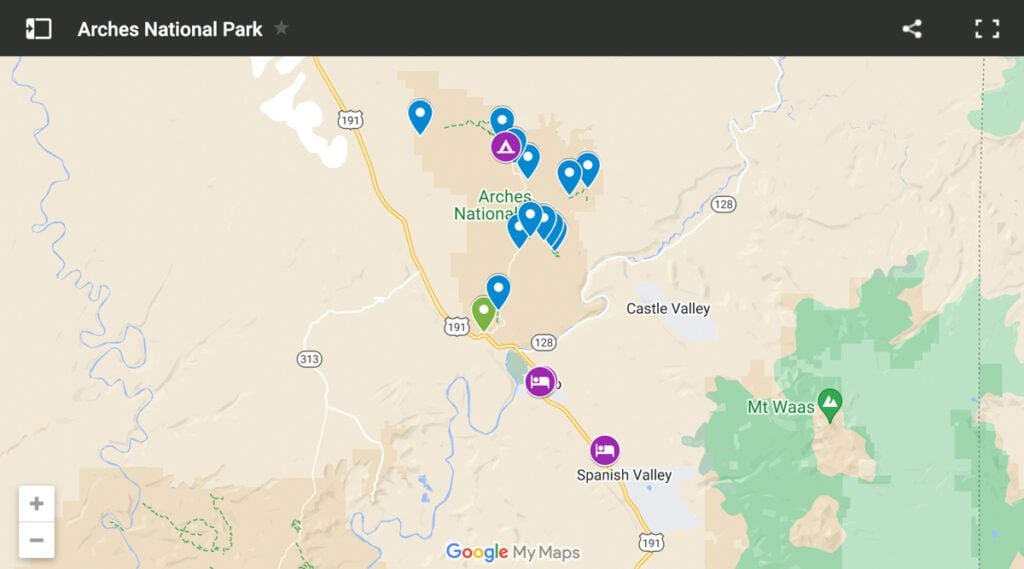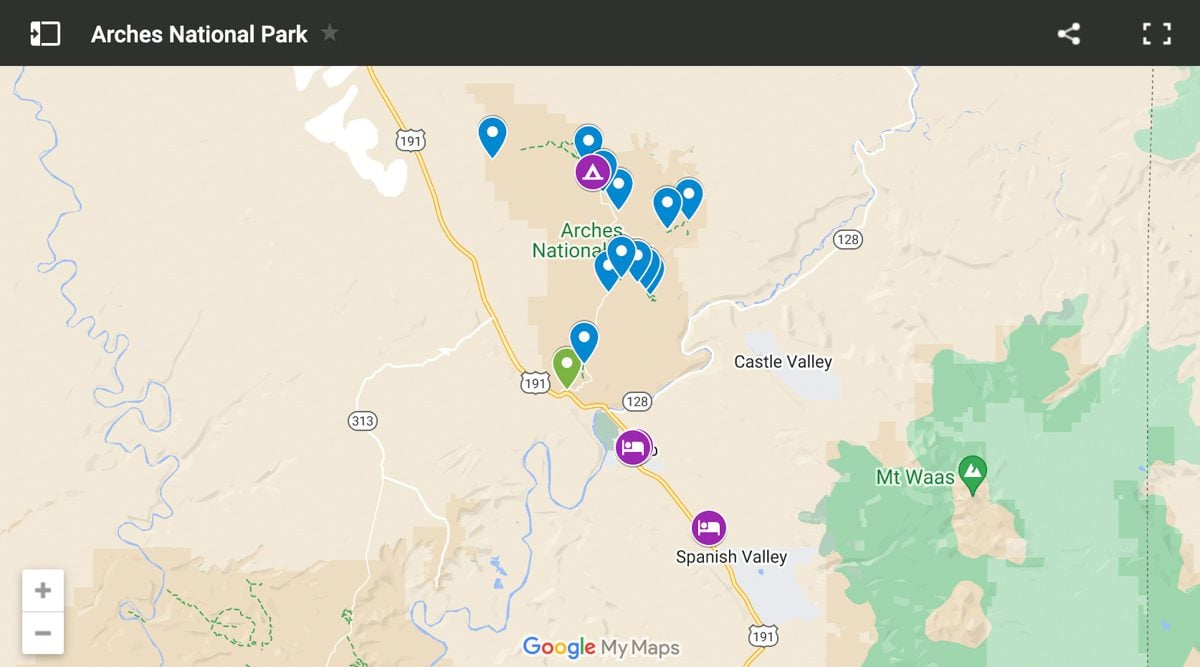 The map above displays the main entrances, campgrounds, lodging options, and locations for the best things to do in Arches National Park.
---
Things to do in Arches National Park
As described, the park is known for, and filled with amazing arches, but there's a lot more to see within the park to give you good variety during your visit.
Luckily, the park is pretty condensed, so even if you only have a day or two, you can lay a lot of groundwork and see a ton! Here's what we recommend for your visit.
1. Hike to Delicate Arch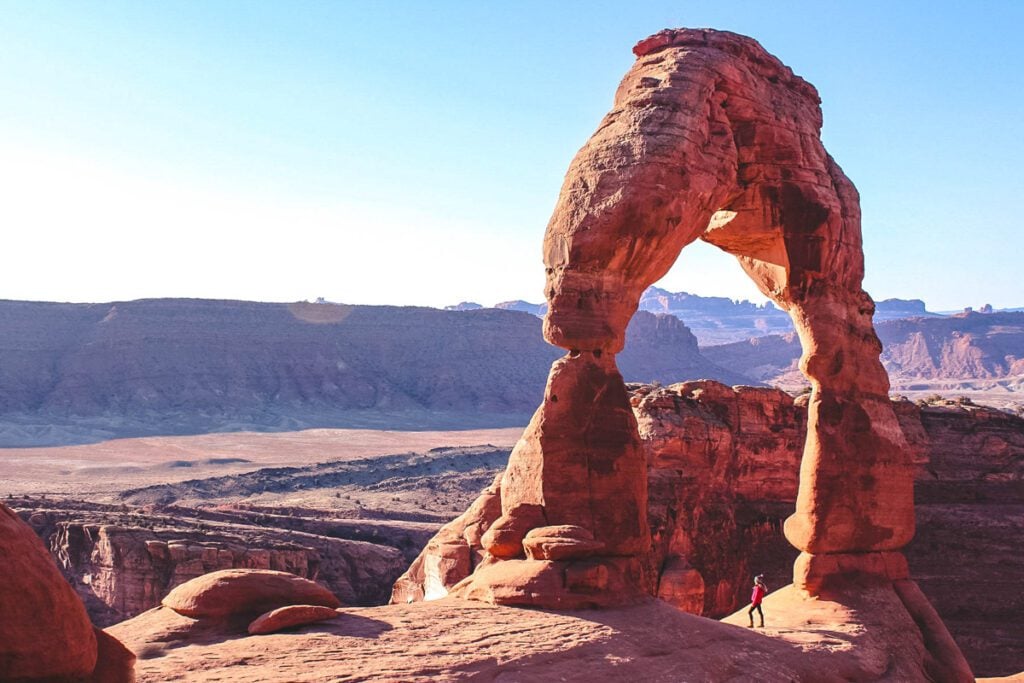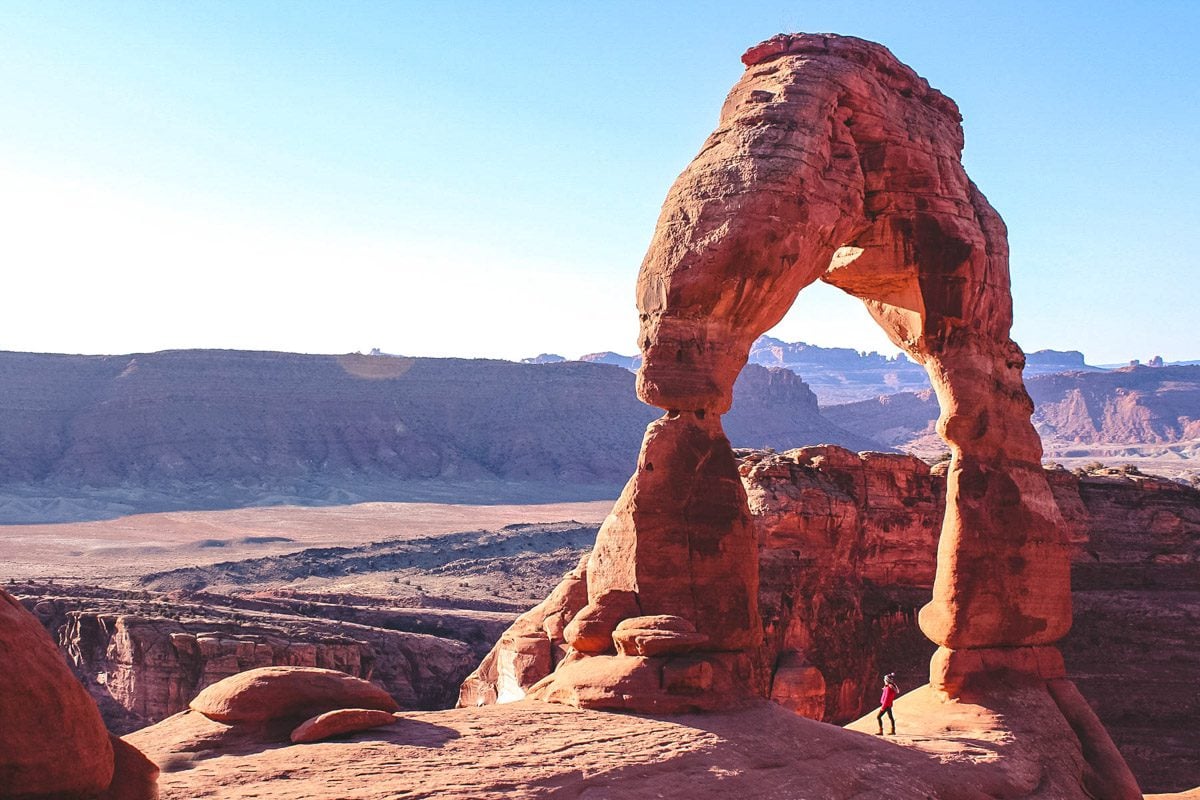 Distance: 3.2 miles, out-and-back
Elevation gain: 629 feet
Difficulty rating: Moderate
This uniquely carved arch is one of the most quintessential things to do in Arches.
There are three ways to see Delicate Arch which make it possible for any age or ability to view it. You can visit it by hiking the tough, 3-mile trail to the arch (which we recommend), or seeing it from afar at the Lower or Upper Viewpoint.
The Lower Viewpoint is only 100 yards from the parking lot, and the Upper Viewpoint is a 0.5-mile (roundtrip) steady climb. The views are unobstructed, but neither of these does the symbol of Utah justice.
It takes about 45 minutes to get to the arch if you're walking at a steady pace. Be sure to factor time in for breaks and exploring at the top. The best times to hike to the arch are either sunrise or sunset. We prefer sunset since you can stick around and stargaze.
When you're almost near the top, don't miss the small detour to Twisted Donut Arch, where you can spot Delicate Arch from afar through a small stone window.
2. Drive the Arches Scenic Drive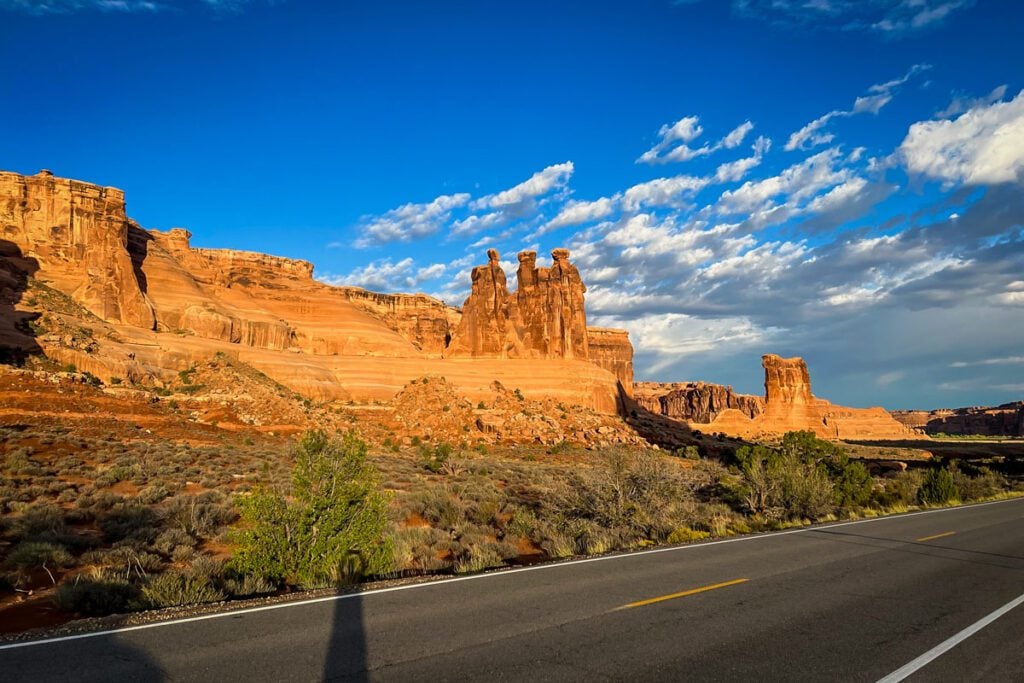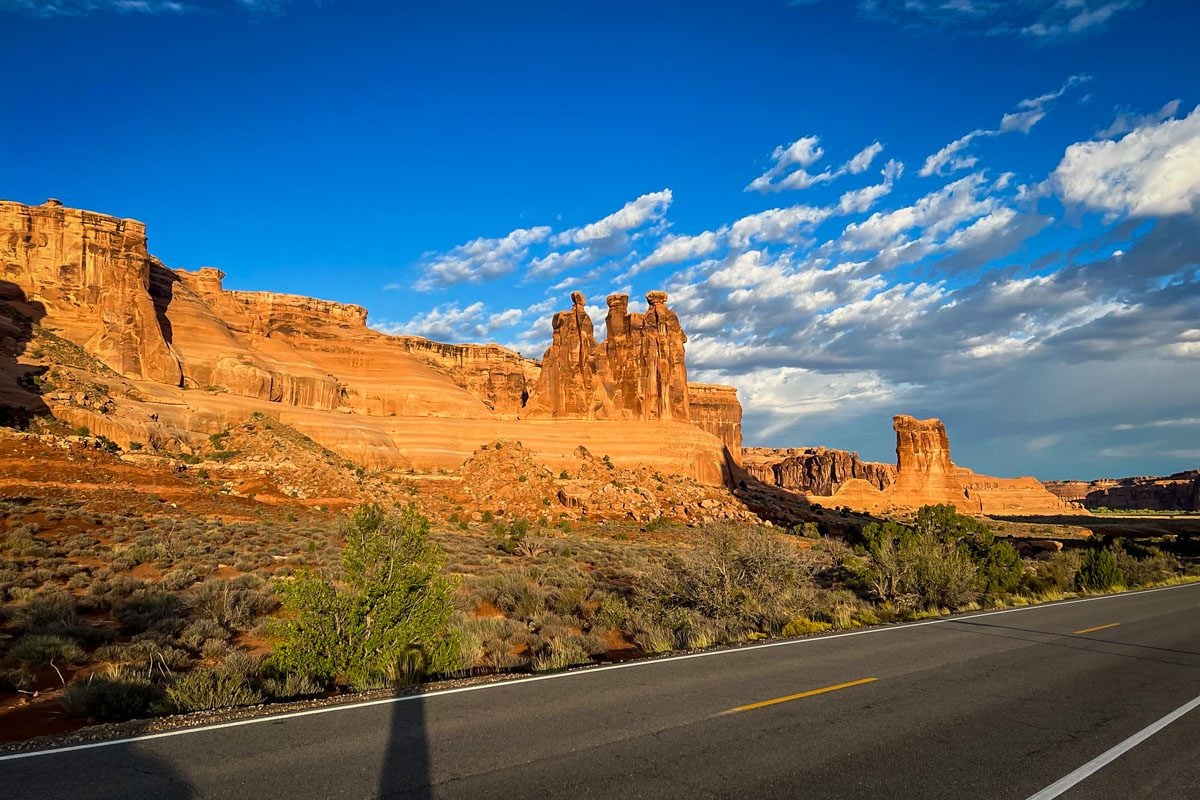 19-miles of arches, rock towers, and vast vistas join you on your journey along the Arches Scenic Drive.
From Highway 191 to the Devil's Garden trailhead, the drive takes a minimum of 30-minutes depending on traffic. If you venture down the spur roads, stop at viewpoints, and hike any trails, the drive time could extend upwards of 3 hours depending on your stops.
If you don't have a lot of time in Arches or are looking for a scenic way to rest your feet, this road passes many iconic stops and pull offs to take photos and relax in a stunning atmosphere.
3. Walk the Windows Loop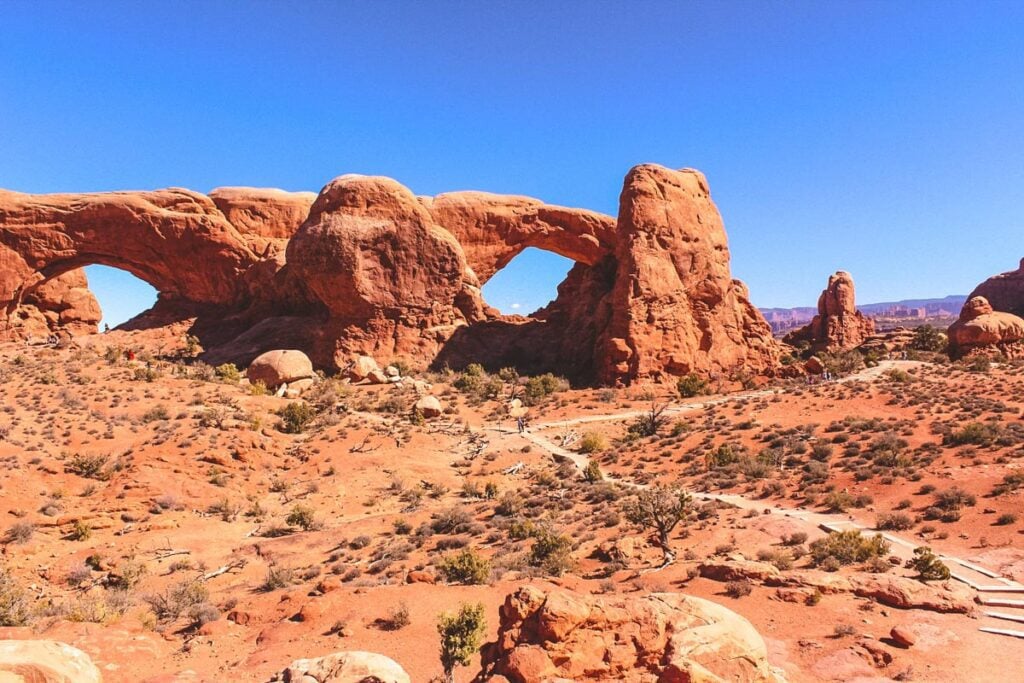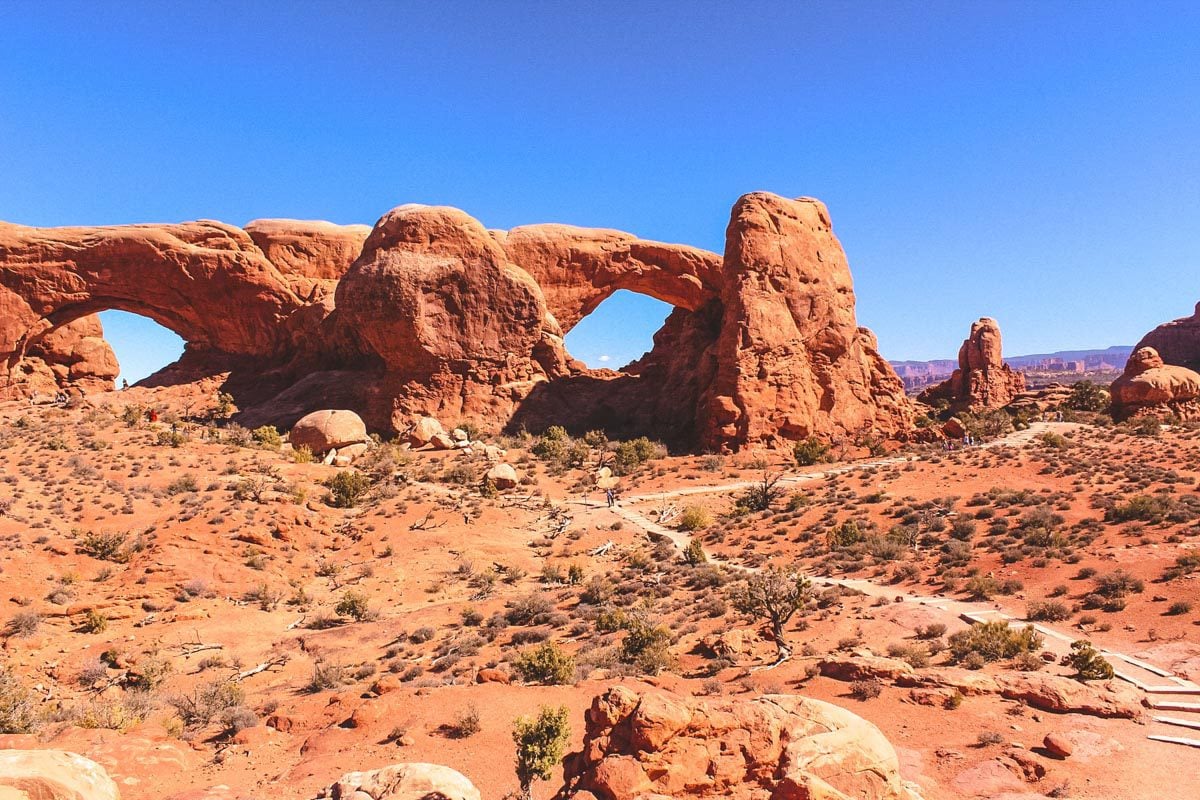 Distance: 0.7-mile loop
Elevation gain: 98 feet
Difficulty rating: Easy
Most of the formations that give Arches its name are located in the Windows Section. Within this expansive area, you'll follow an easy trail to Turret Arch, North Window, and South Window.
You'll feel small walking underneath massive arches and marveling at this picturesque area. One of the best photo ops in this area is looking at the North Window framed by Turret Arch.
This area is popular since it's full of eye candy and very accessible, so it gets extremely busy by the late-morning. Don't be surprised if you need to circle around for a bit to grab a parking spot. Otherwise, try to come here for sunrise to avoid the crowds.
4. Explore the Double Arch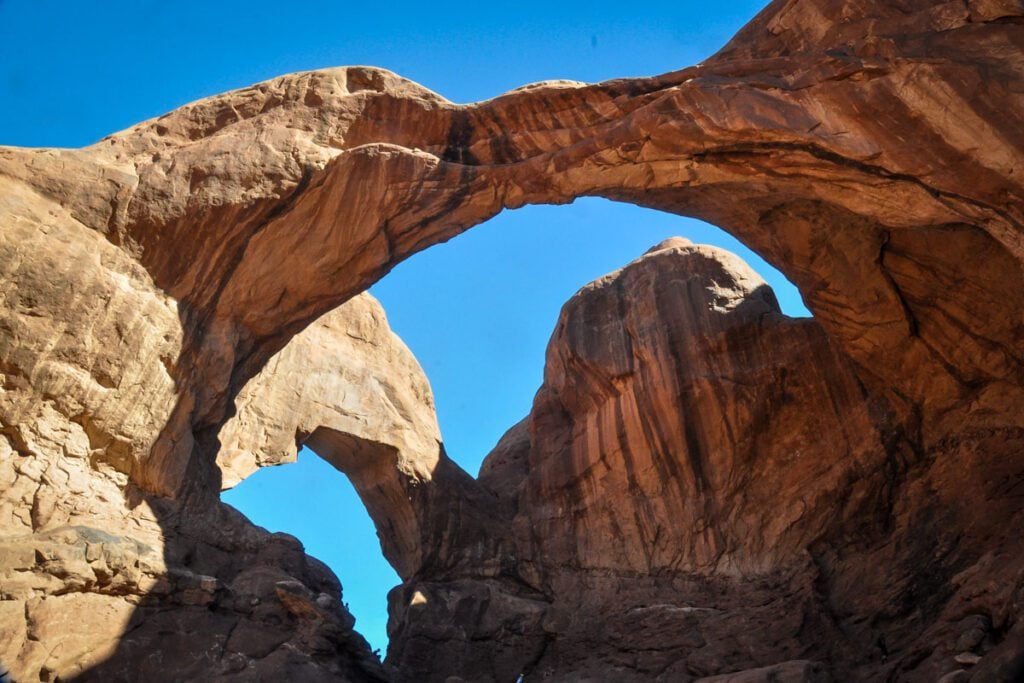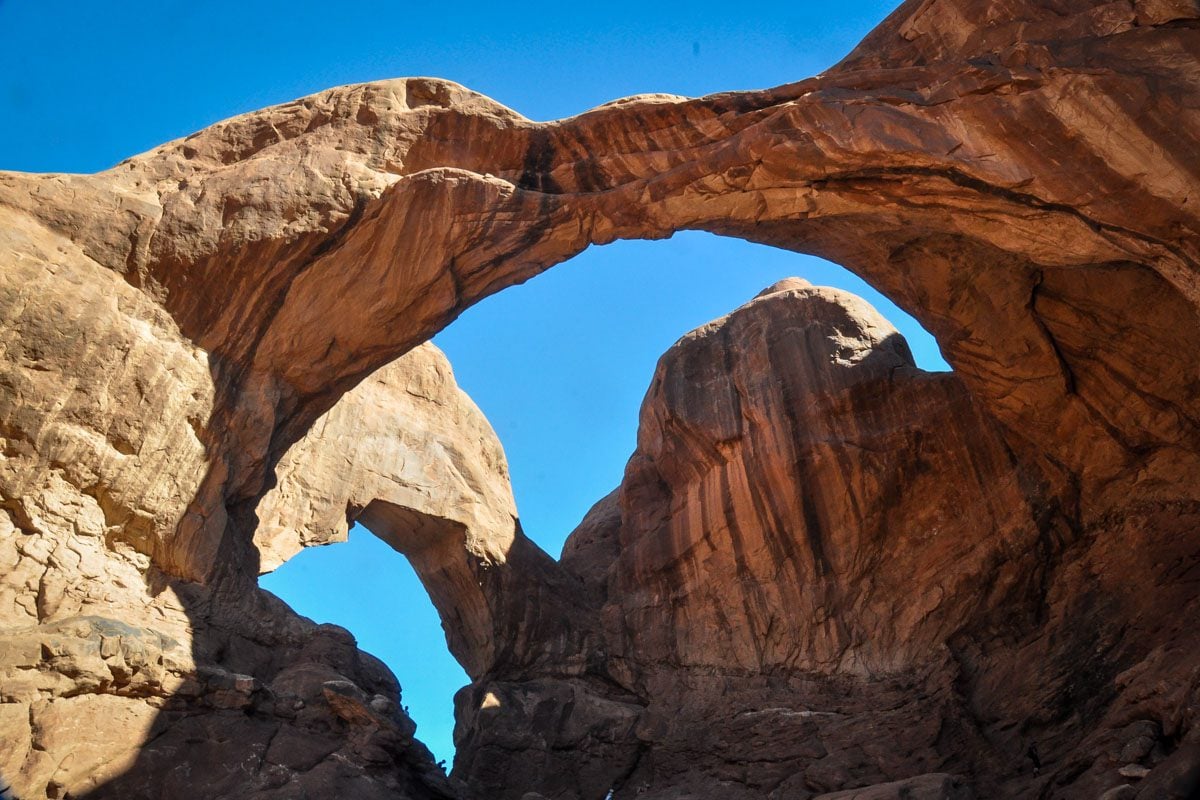 Just across from the Windows Section is the tallest, and second longest arch in the park, standing at an impressive 100-feet in the air.
You can easily see this arch from the parking lot, but nothing compares to standing beneath it and looking up at two massive archways that weave through the sky.
If you're parked at the Windows section, you won't even need to leave your car to visit Double Arch since it's in the same area and you can walk right over.
Fun Fact: this arch is in the opening scene of Indiana Jones and the Last Crusade! We kept humming the theme song to ourselves while we were there!
5. Take in the views at the Garden of Eden Viewpoint
Just steps away from the parking area, you'll be transported into a mars-like landscape with sandstone pillars among seas of desert grass.
Garden of Eden is one of the best viewpoints in Arches National Park and is nice for a quick pit stop if you're exploring Balanced Rock or the Windows Section.
6. Get off the beaten path at Tower Arch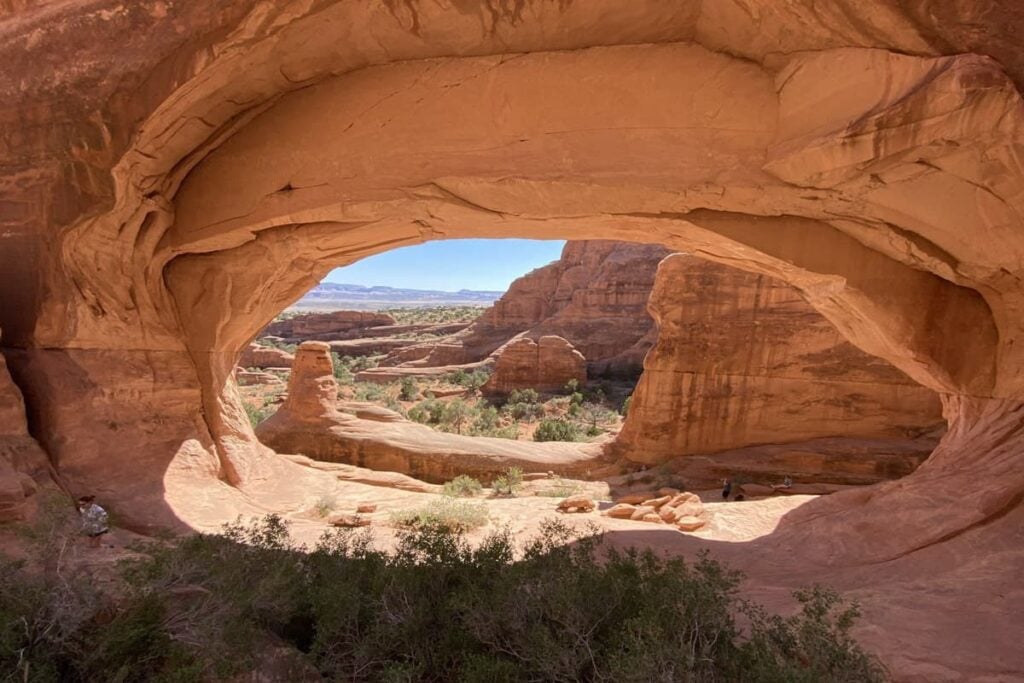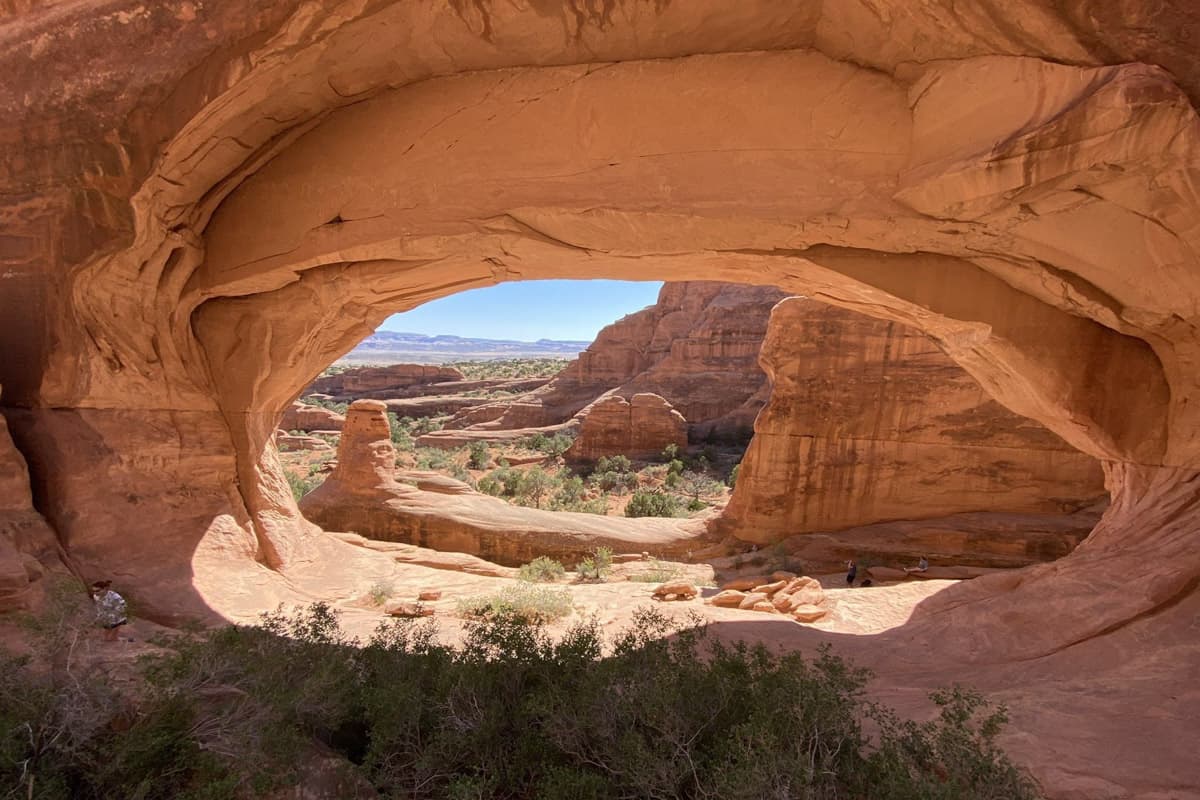 Distance: 2.4 miles, out-and-back
Elevation gain: 600 feet
Difficulty rating: Moderate
No matter how crowded a National Park gets, there are always places to ditch the crowds and take in some of the most unspoiled views. Tower Arch is one of many spots in Arches National Park.
It's located in the Klondike Bluffs, a very remote part of Arches that most people gloss over. The 2.4-mile out-and-back trail is one of the most diverse in the park and changes scenery with every step.
After feeling like you've just discovered a new world, you'll find the best view looking out at the desolate and expansive north end of the park from underneath the archway.
To get here, you'll follow the Salt Valley Road inside the park to Klondike Bluffs Road directly to the trailhead. The road is badly washboarded, so take things slow and do not attempt to drive this road in poor weather.
7. Take a ranger-led hike of the Fiery Furnace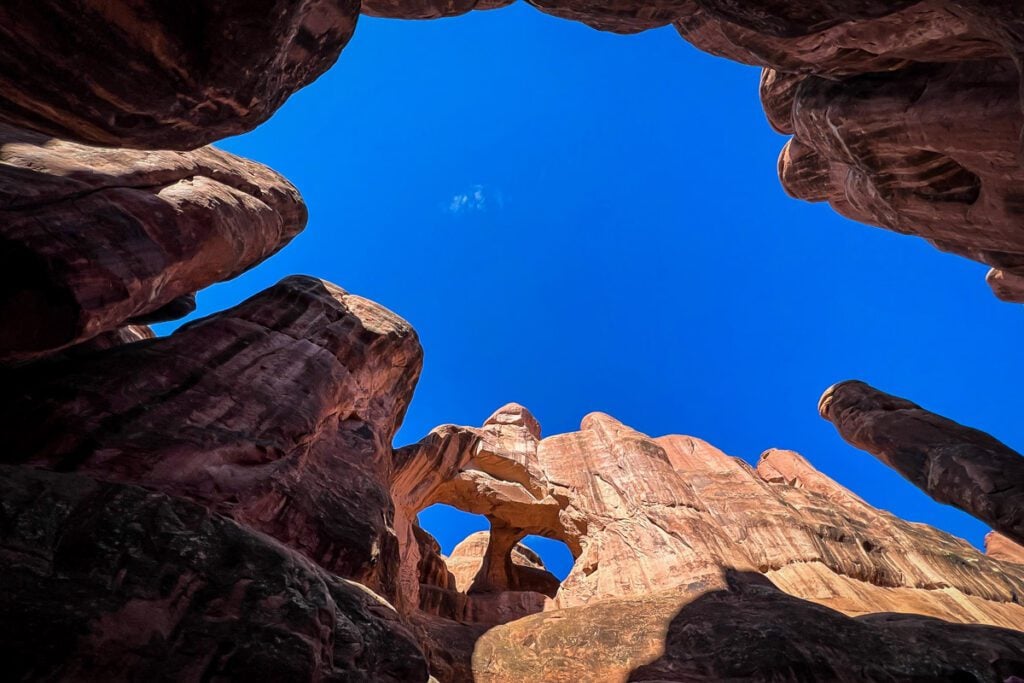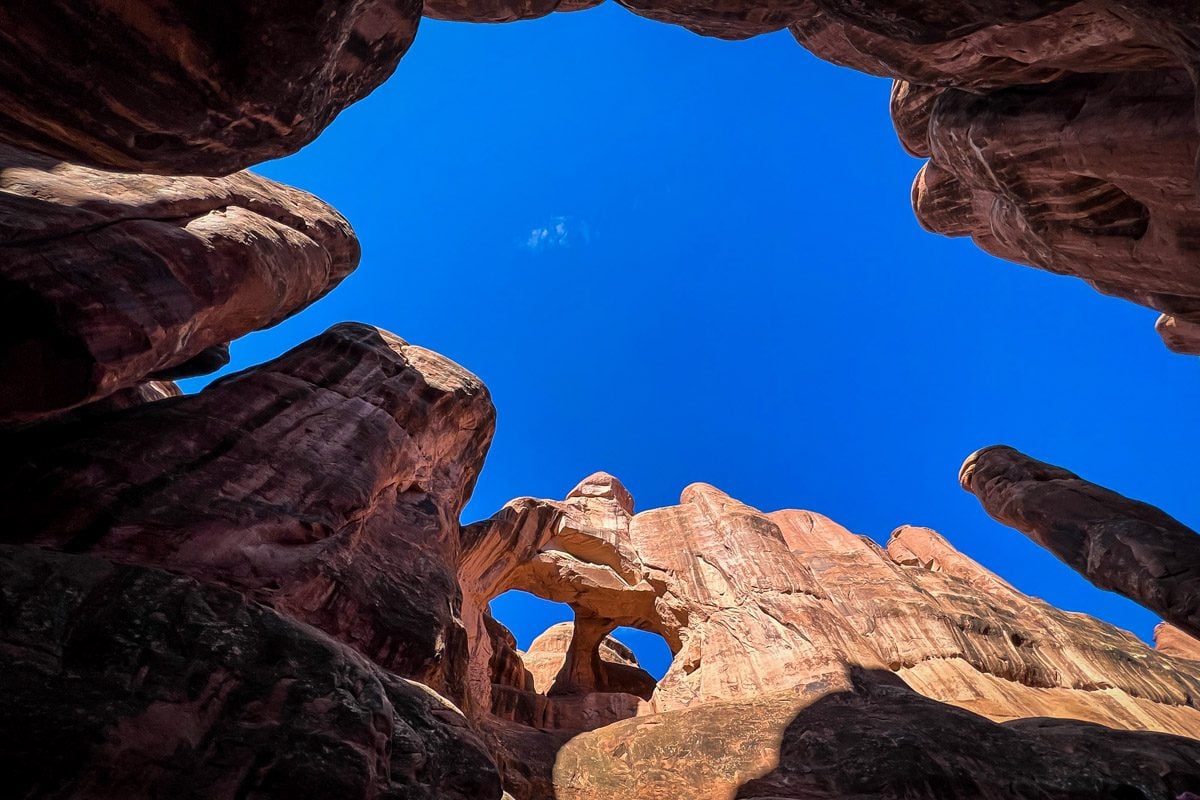 Distance: 2.1-mile loop
Elevation gain: 492 feet
Difficulty rating: Moderate
This exciting and adventurous trail weaves through a labyrinth of sandstone where you'll step into an entirely different landscape than the one you left.
The only way you're able to hike this trail is with a ranger or with a self-guided permit. We don't recommend a self-guided tour of the Fiery Furnace unless you're an experienced hiker and navigator.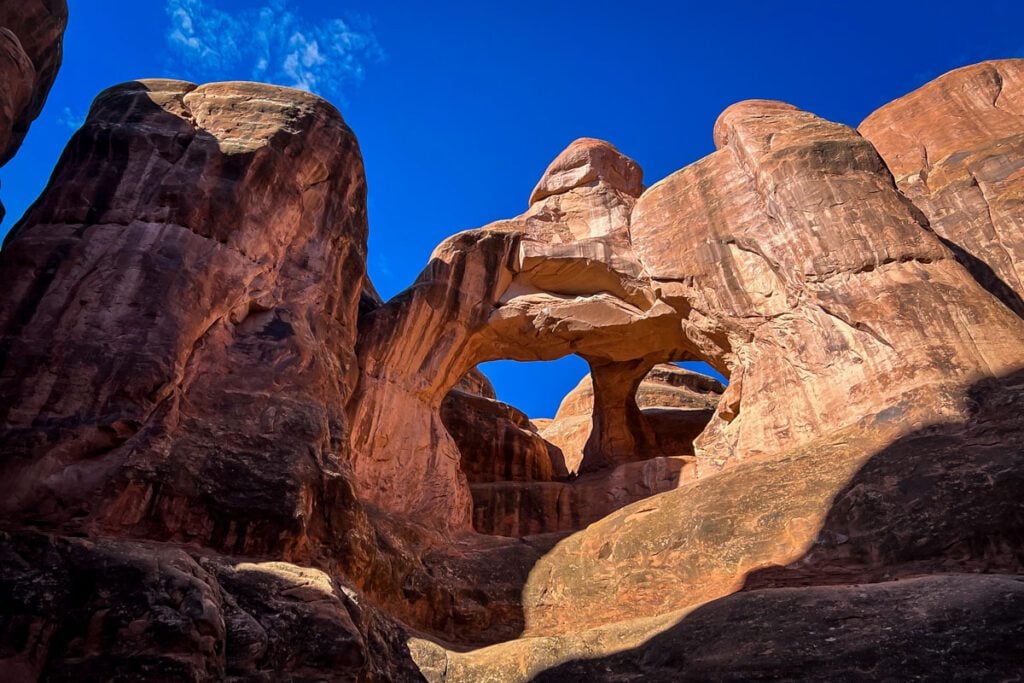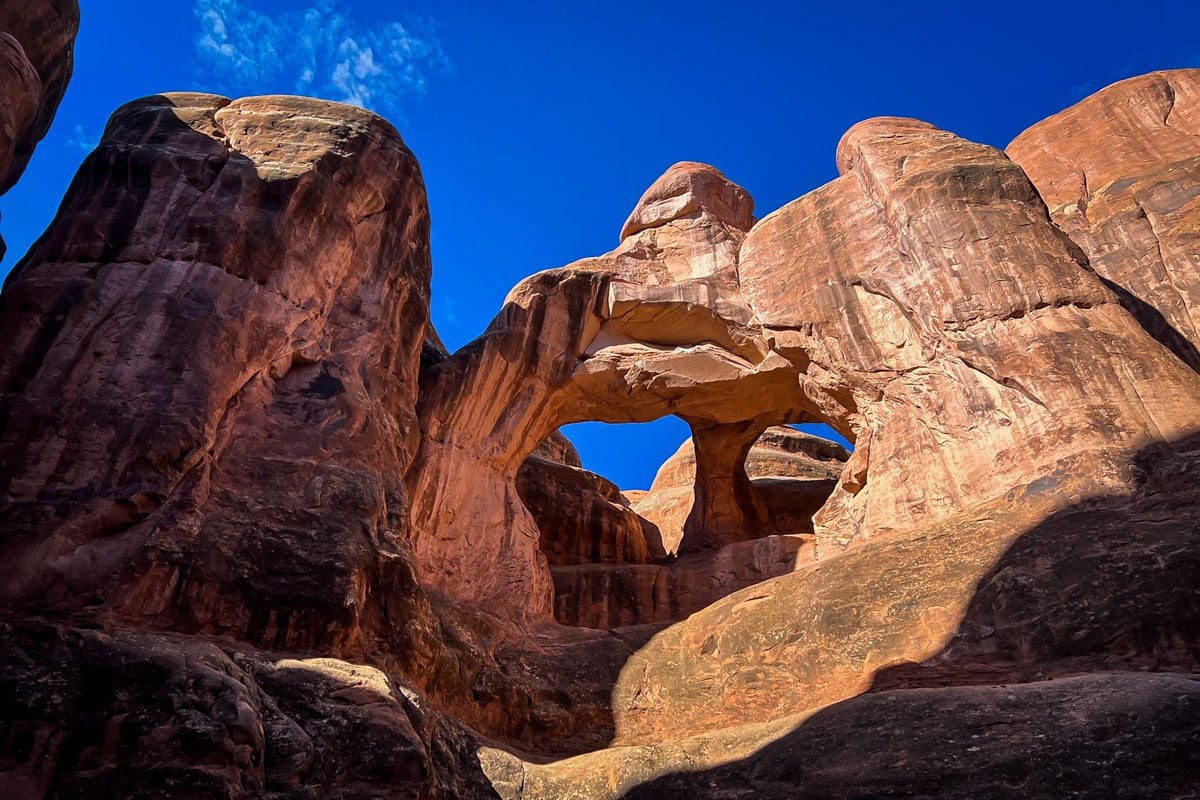 With abrupt dead ends and sandy footprints going astray, it's very easy to get lost in here. You'll need to know where you came from and how you got there since GPS won't work among the towering rock walls.
Going with an expert is definitely the way to go, and can reserve a spot up to 7 days in advance on recreation.gov. Once you arrive, you need to pick up your tickets at the Visitor Center up to an hour before your hiking time and meet with the ranger.
8. Go back in time at Wolfe Ranch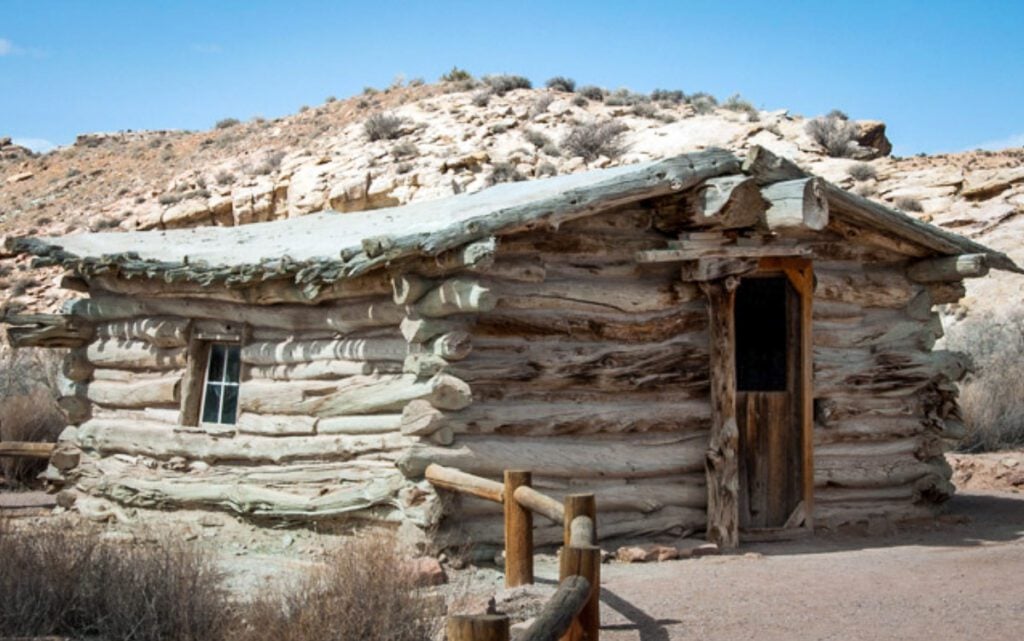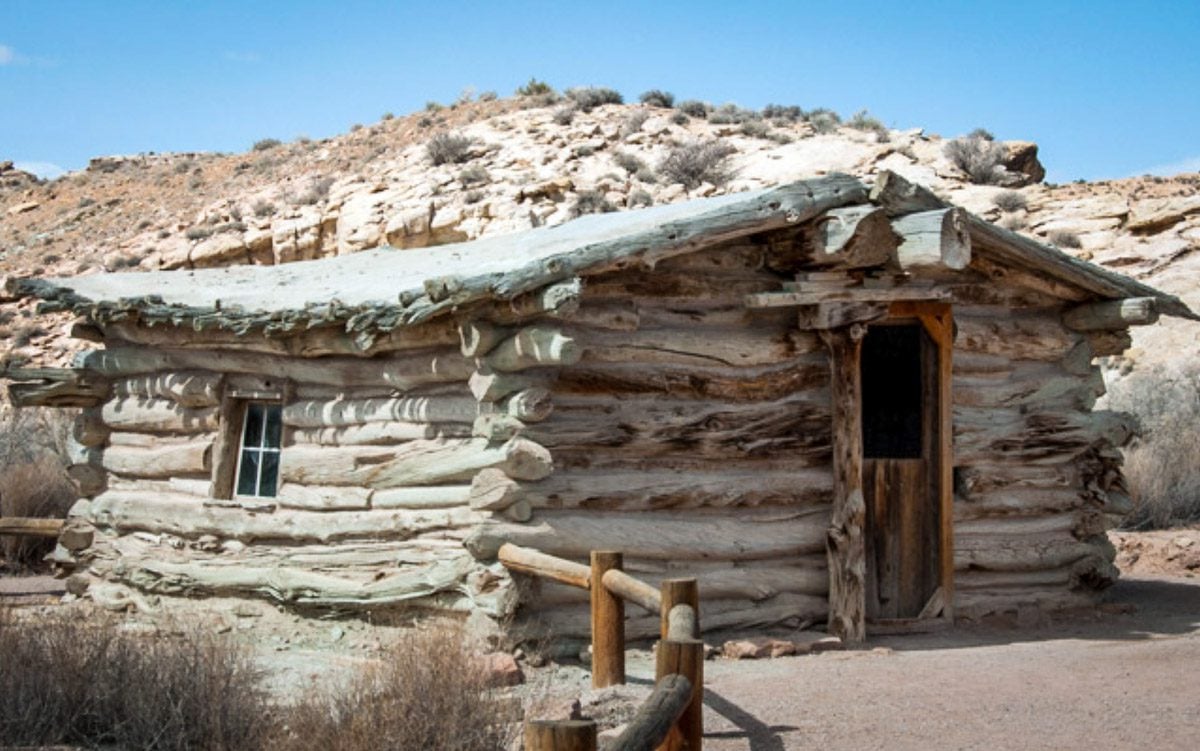 This quaint, one-room cabin greets hikers at the Delicate Arch Trailhead. Its small wooden frame has stood tall for over 100 years and is an interesting stop for history and petroglyphs.
Before the cabin was established, many of the indigenous tribes passed through Arches to hunt game and collect water. Along the short half-mile trail past the cabin, you can spot Ute Tribe petroglyphs etched into the Navajo Sandstone.
The etchings are immaculately preserved, better than some other areas where you can view them, so it's definitely worth stopping here to see them. It's a wonder how they're overlooked by many.
If you're looking for things to do in Arches that don't involve hiking, this is one of the top spots!
9. Hike the Devil's Garden Trail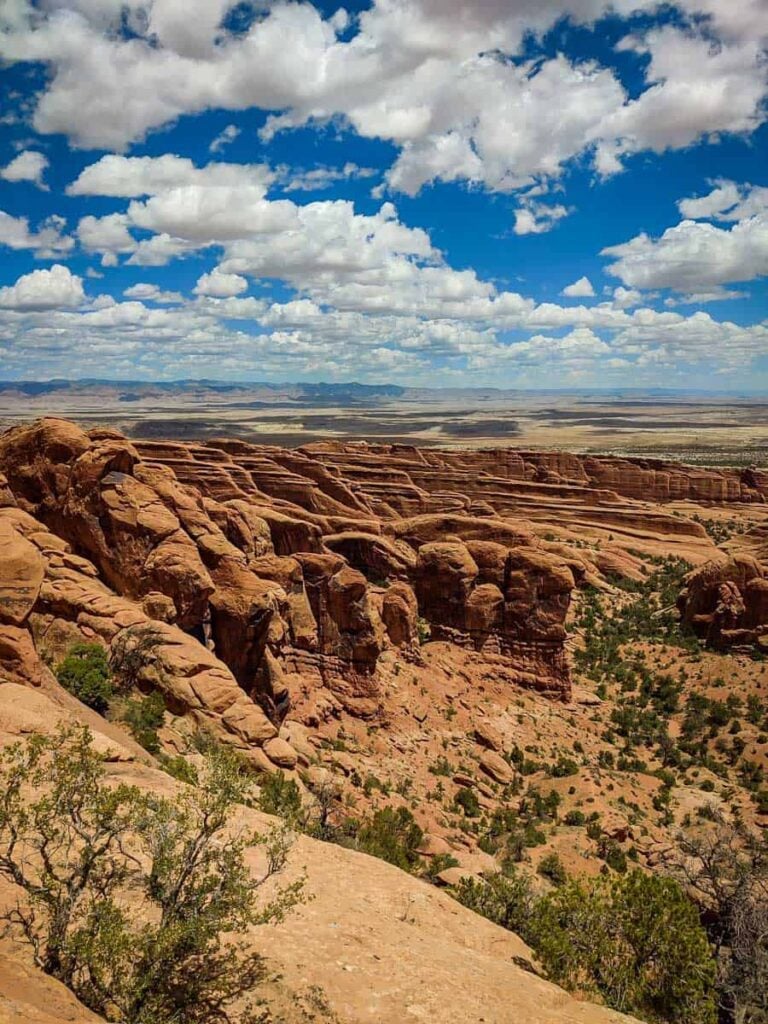 Distance: 7.8-mile loop
Elevation gain: 1,085 feet
Difficulty rating: Challenging
Widely known as one of the most jam-packed trails in Arches, this diverse and scenic trail has a new arch to discover mile for mile.
The highlight of the trail is Landscape Arch, the longest free-standing arch in North America. It spans over 300-feet across and is a sight to behold right off the main trail.
The best part about the Devil's Garden Trail is that you can make the hike as long as you want. Many people hike out-and-back to Landscape Arch, but we recommend hiking to at least Navajo Arch and Partition Arch since they're the most spectacular (and not that much further).
If you want a bit of adventure, you can add on the primitive loop to the regular trail and do the full ~8-mile trail. Note the primitive trail is only marked by cairns and is ideal for experienced hikers.
10. Admire the views at Park Avenue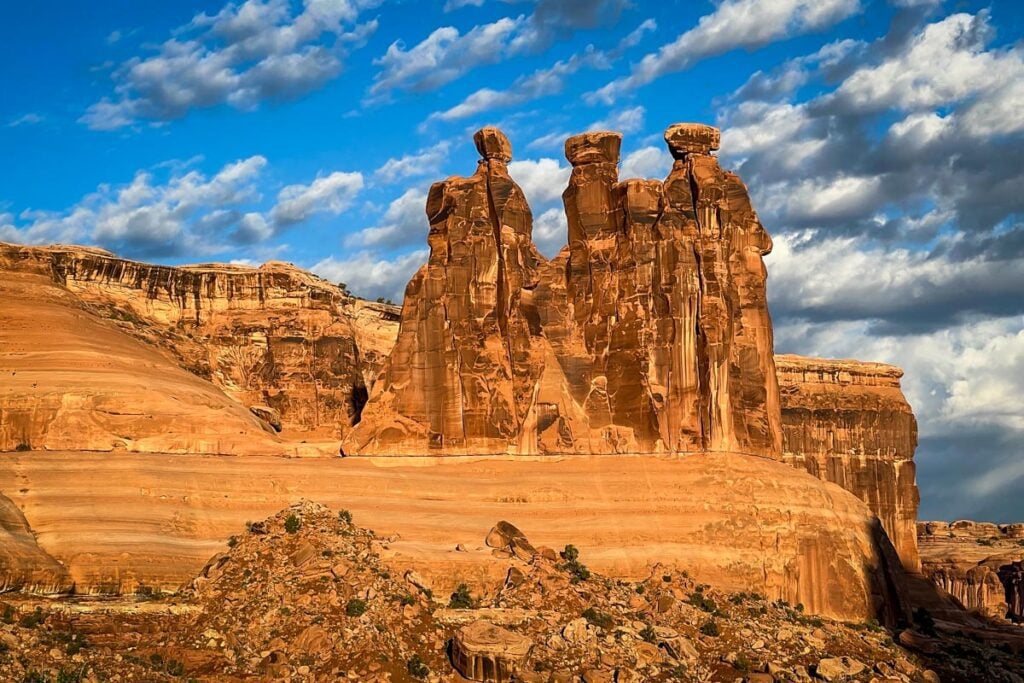 The Three Gossips and Courthouse Towers are highlights of this mile long walk through a hallway of massive rock formations.
Logistically, this 1-mile trail is a point-to-point, making transport a little tricky if you only have one car. The best way to tackle it is by hiking as far in as you'd like and then turning around. This way you won't have to worry about transport and can make the hike as long as you'd like.
We recommend starting at the Park Avenue Trailhead and hiking to Courthouse Towers since the trail is downhill from there. If you go in the other direction it will be a more uphill walk with 300-feet of elevation gain.
11. Go stargazing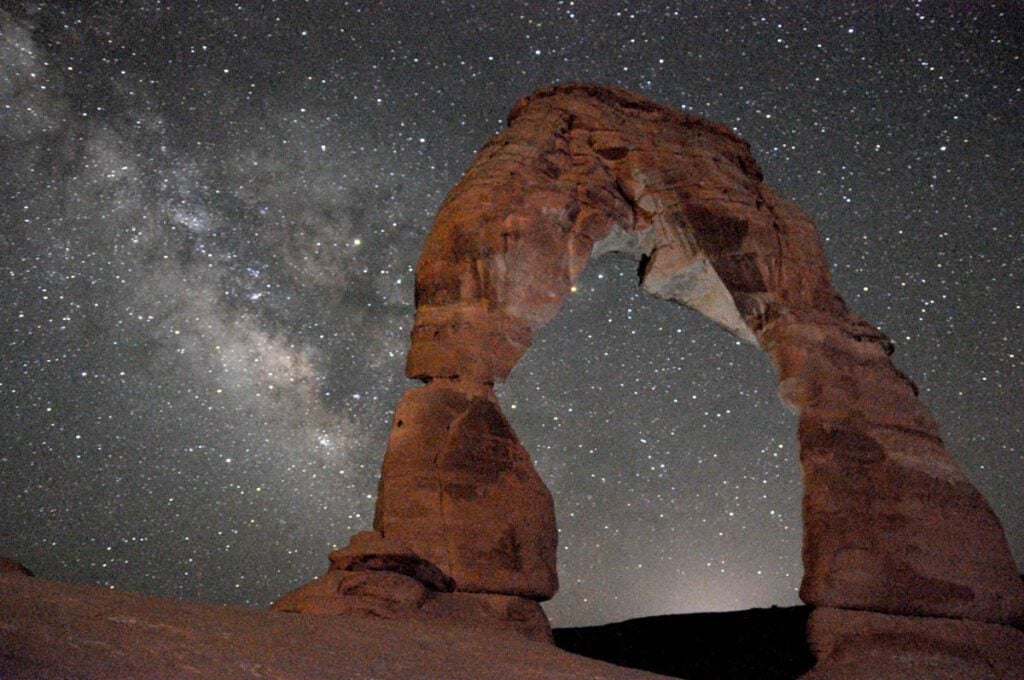 Recognized as an International Dark Sky Park, Arches has some seriously spectacular views of the night sky. On clear nights, you can spot the milky way striped through billions of glittering stars.
Our favorite place to see the stars was at Delicate Arch after watching the sunset. If you're planning on doing the trail late in the day, we definitely recommend sticking around for the sun to go down.
Other great spots to go stargazing in Arches are the Windows Area, Balanced Rock, Panorama Point, and the Garden of Eden Viewpoint, but any area with an open sky will put on a show.
Be sure to allow at least 30-minutes for your eyes to adjust to the dark and be sure to bring your star charts and headlamp with red-light capabilities to maximize viewing.
12. Hike to Sand Dune Arch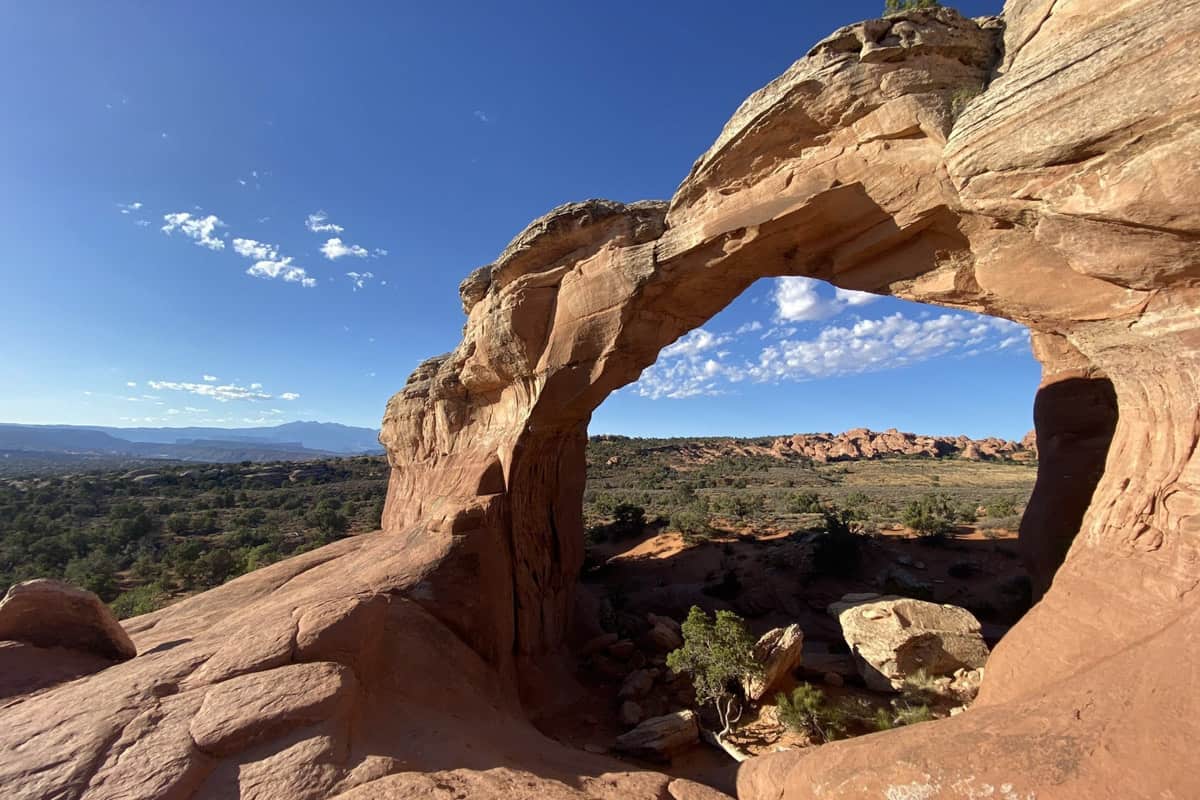 Distance: 2.8-mile loop
Elevation gain: 321 feet
Difficulty rating: Moderate
Halls of narrow sandstone towers take you to this picturesque arch nestled in fin-shaped rocks. The best part? You'll spend more time exploring the area than hiking to the arch!
This is one of the shortest and easiest trails in the park that is perfect if you have little ones. The trail is about 0.3-miles and takes less than 15-minutes to complete.
If you want to take in more scenery, you can do the full loop that's about 3-miles and see Broken Arch and Tapestry Arch as well. It's a moderate hike and takes a little bit over an hour to see everything excluding breaks.
13. Check out Balanced Rock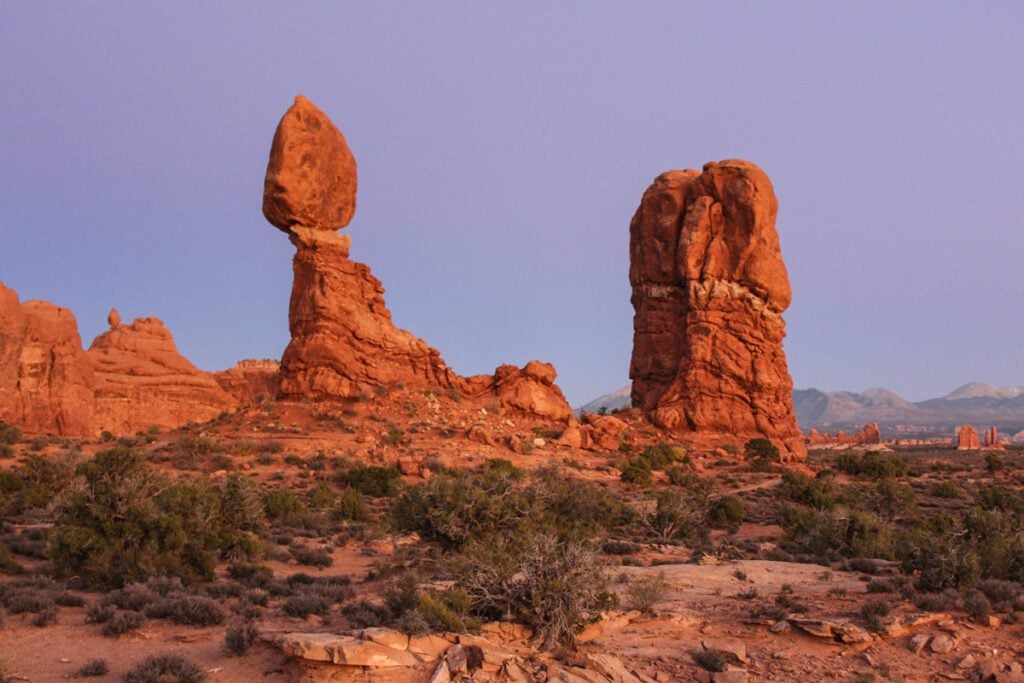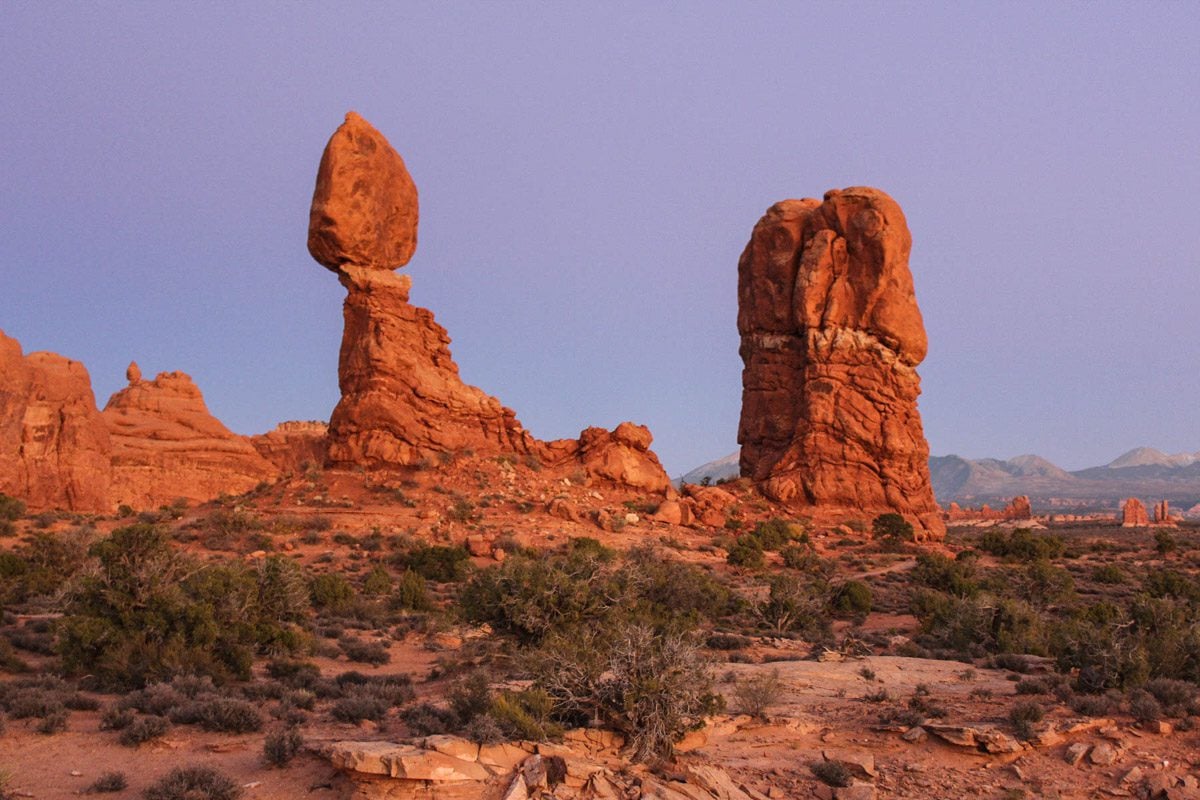 Although Arches National Park is known for magnificent and expansive carved archways, this 3,600-ton rock balancing on mudstone outranks many of them for its gravity-defying visuals.
The short 0.3-mile trail circumnavigates the rock spire, giving you 360-degree views of the balancing rock. You can see the formation from the side of the road, but it's worth taking the trail to get more up-close views.
---
Where to stay in Arches National Park
The only lodging inside Arches National Park is for camping. However, Moab and the surrounding areas are rich with amazing stays and public lands for you to cozy up under the stars.
Campgrounds in Arches National Park
Devils Garden Campground: Undoubtedly, this is the best, and only place to stay inside Arches National Park. It's close to some of the best hikes in the park, Devil's Garden and Tower Arch. Book a site FAR in advance because these book up months in advance.
Campgrounds outside the park
While camping at Devils Garden Campground in Arches may be more convenient, if you aren't able to get a spot in the park, there are many campgrounds located around the park as well.
If you're traveling in a campervan or simply hoping to save money on your visit to Arches National Park by camping along the way, we have a deal for you!
The Dyrt is our favorite campsite locating app with the largest database of campgrounds (44,000+ campsites and counting!) and over 1 million user-submitted reviews. Plus, it's super user-friendly, and has some pretty cool features, like outdoor gear contests and forums to connect and seek advice from fellow campers, that you won't find on any other camping app.
Try their Pro Membership for FREE for 30 days and gain access to the offline version of the app, utilize their trip planning feature AND get exclusive discounts on campsites and gear!
Lodging near the park
Moab is an up and coming town right at the edge of the Arches National Park boundary. If you didn't grab a place to stay inside the park, you won't even notice since it's so closeby.
Southwest Airbnb: This adobo home is the perfect basecamp for adventure. With modern amenities, hot tub, pool access, and a breathtaking view of the Moab Rim, you'll feel right at home.
Expedition Lodge: Stay in the heart of Moab, just minutes away from Arches National Park. This lodge caters to a wide variety of travel styles with its diverse and lively atmosphere.
Hoodoo Moab: This splurge-worthy, modern stay near the heart of downtown Moab is filled with top-notch facilities and amenities.
What to pack for visiting Arches National Park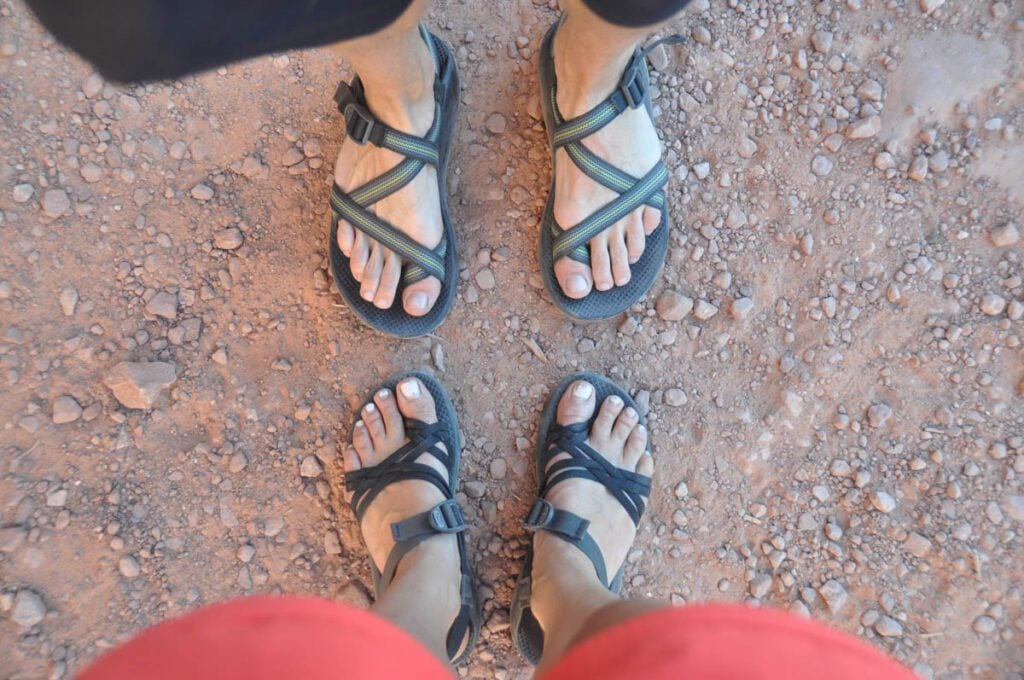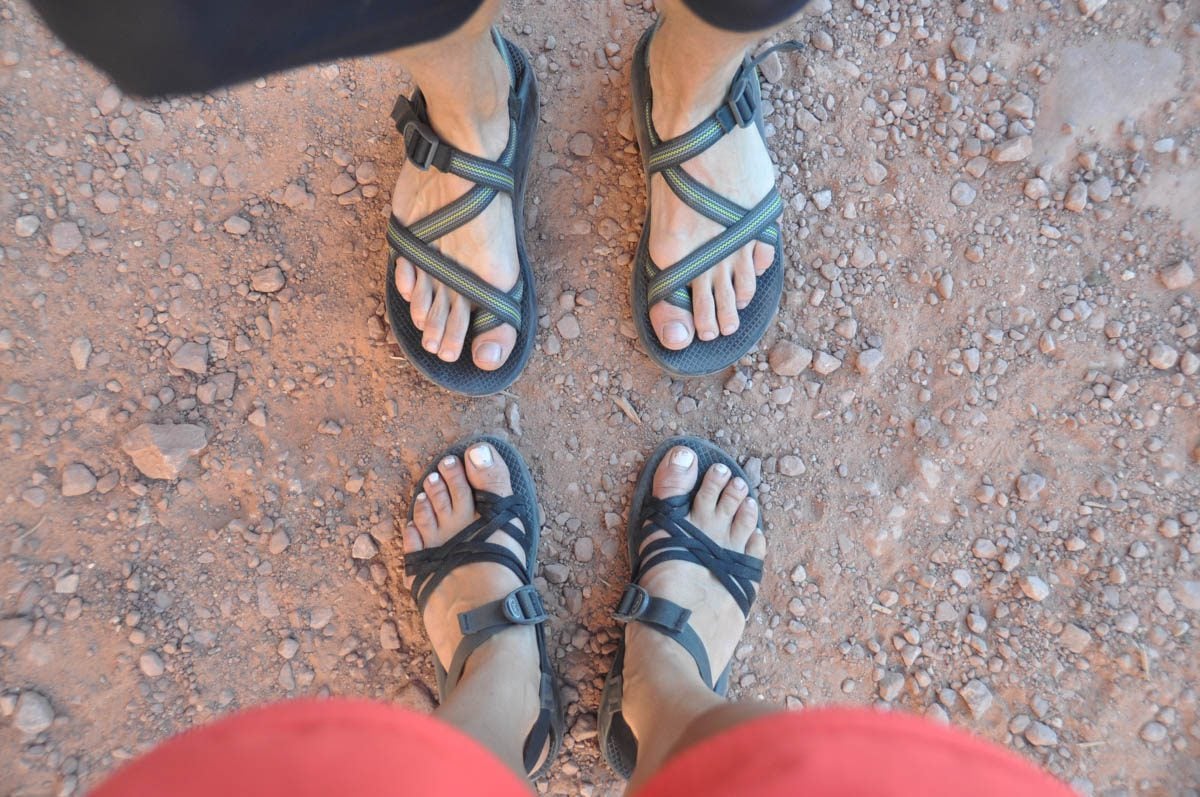 Hydration pack and/or water bottles
Sun protection: sunscreen, sunglasses, hat
Bug spray (we prefer the natural stuff)
Camera (be sure you have a bag so you can put away your camera for the Angel's landing hike!)
Hiking shoes or Chacos if you prefer
Comfortable hiking clothes (always dress in layers!)
Snacks
AllTrails Pro (or download Google Maps offline for the area in case you lose service)
Tips for visiting Arches National Park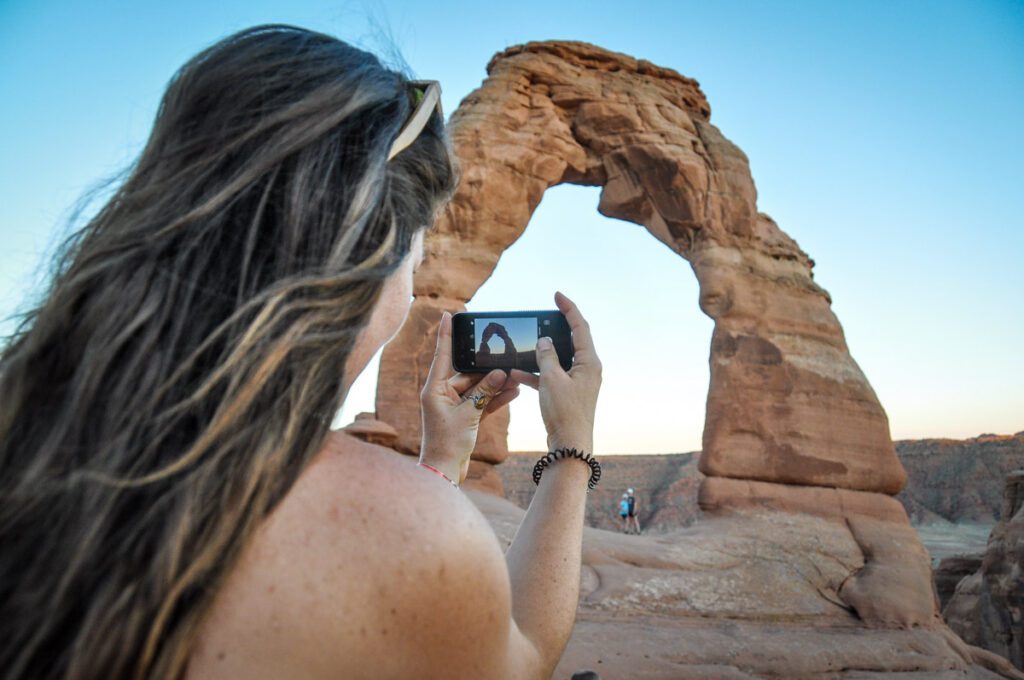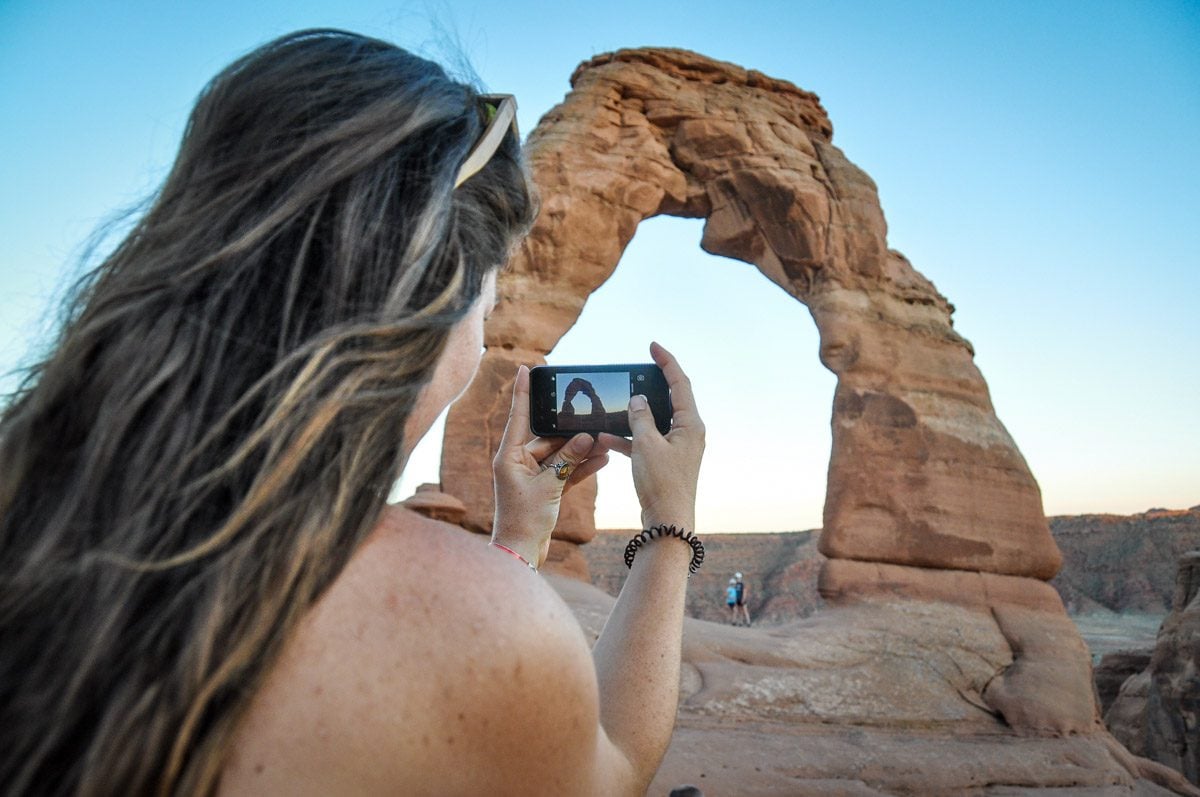 Stay updated. Arches has seen record visitors in the last few years, resulting in them closing any entry to the park in the afternoon. Follow the park's Facebook page or Instagram for on-time updates.
Be patient. If you're entering the park anytime past 8-9 am, expect to wait in line to get in and for parking to be extremely limited. The park gets crowded!
Wear light clothing. Light clothing helps refract the sun rays and keep you cooler.
Plan hikes for the early morning or evening. We recommend staying past sunset or getting into the park before sunrise since the weather is ideal during these times of day and the crowds are a lot thinner than midday.
Visit the most popular spots early in the morning. Arches is so compact that crowds linger almost everywhere inside the park. Plan to see the most popular sights like the Windows section, Double Arch, and Balanced Rock early before the crowds arrive.
---
Check out our other Utah National Park guides
Save this article on Pinterest for later!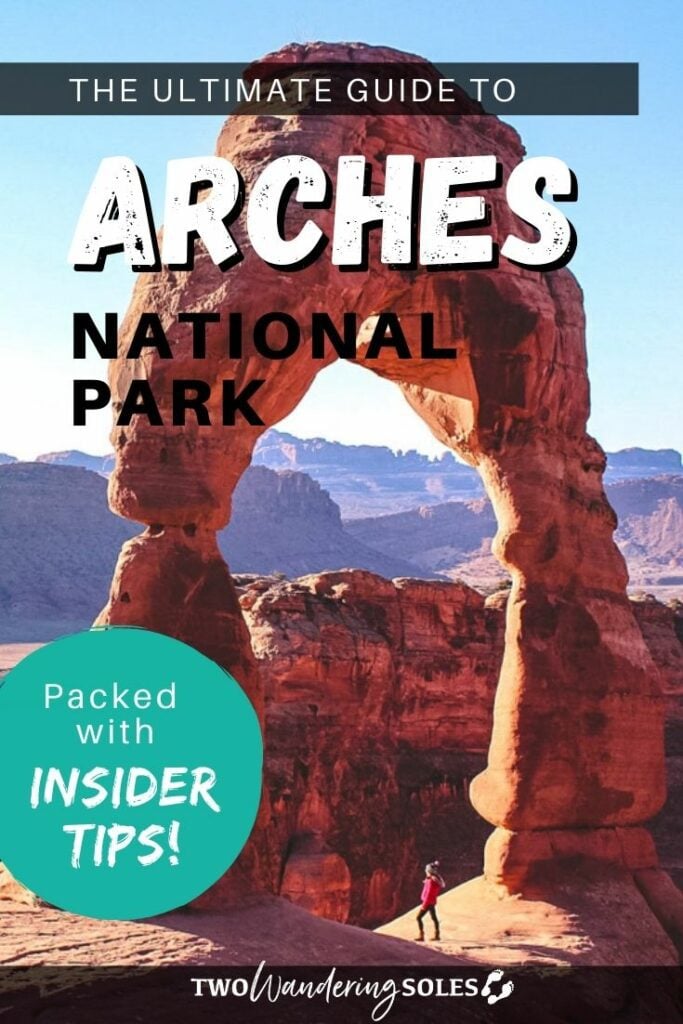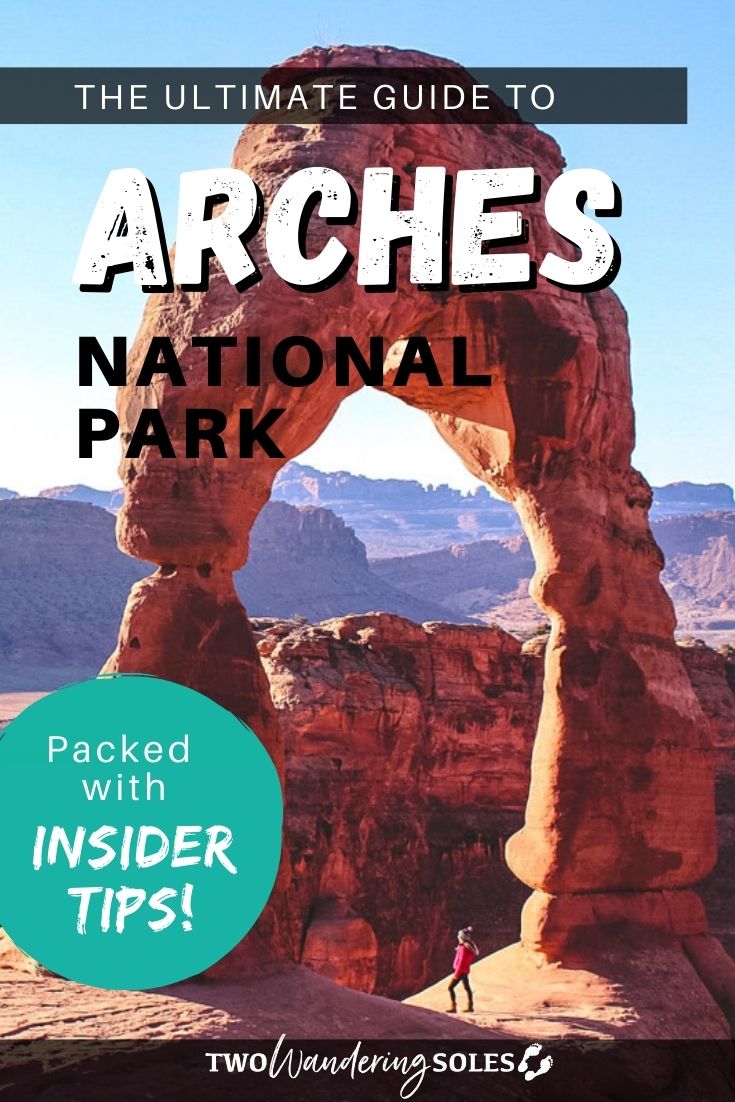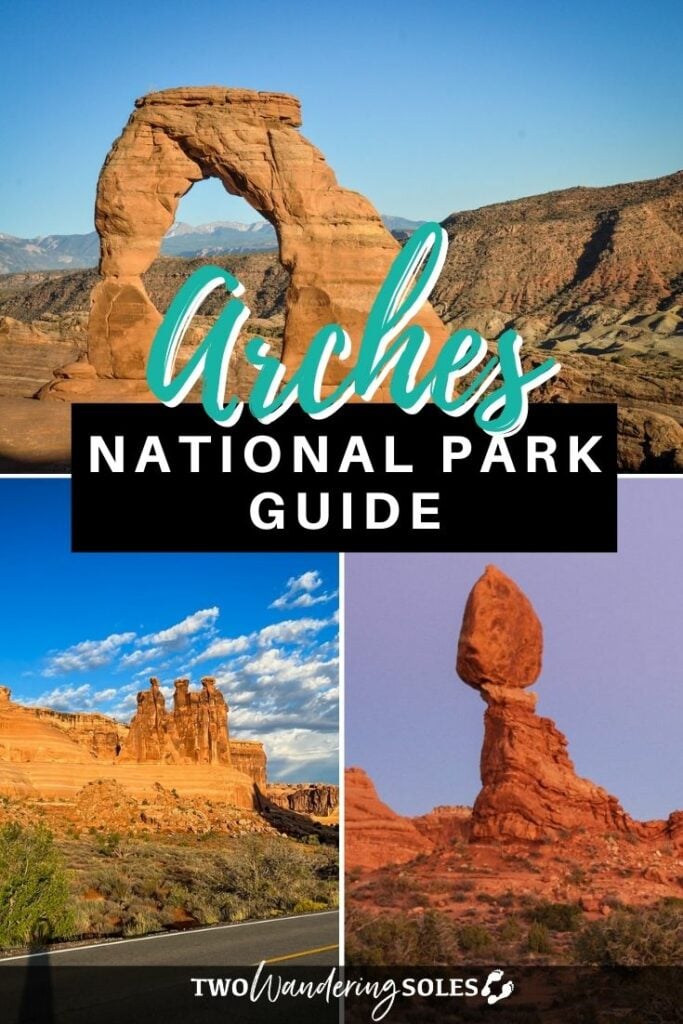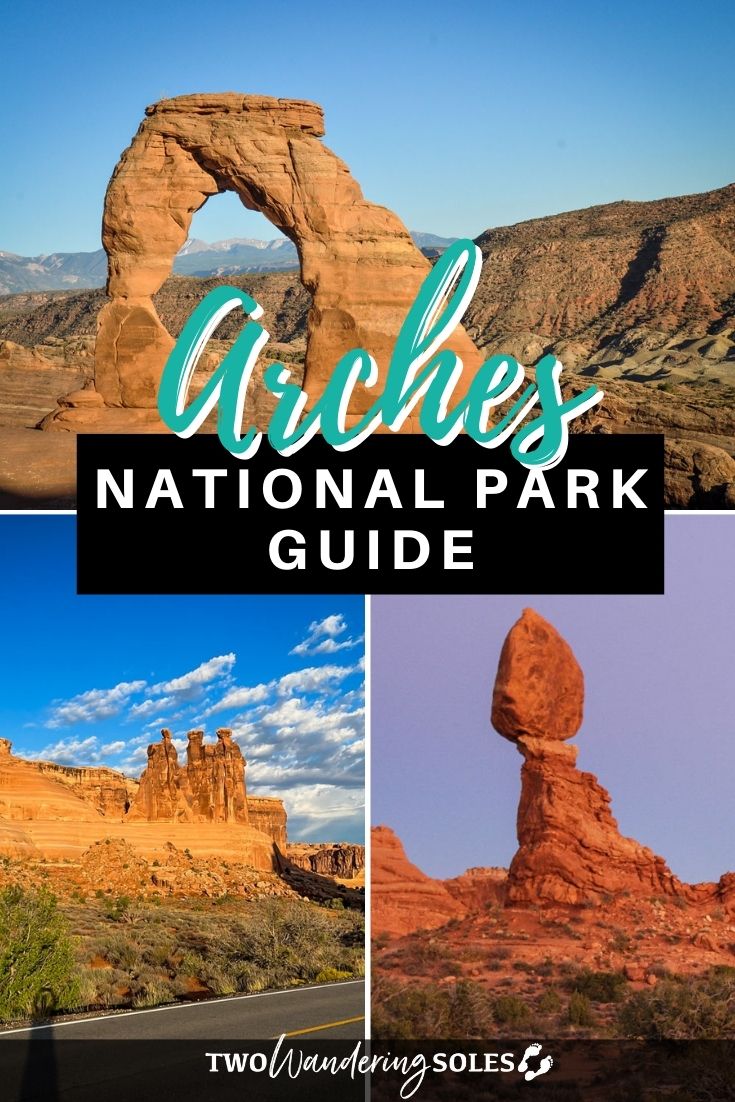 We want to hear from you!
Have you been to Arches National Park? What was your favorite part? Are you planning a road trip to Utah? We'd love to hear from you in the comments below!