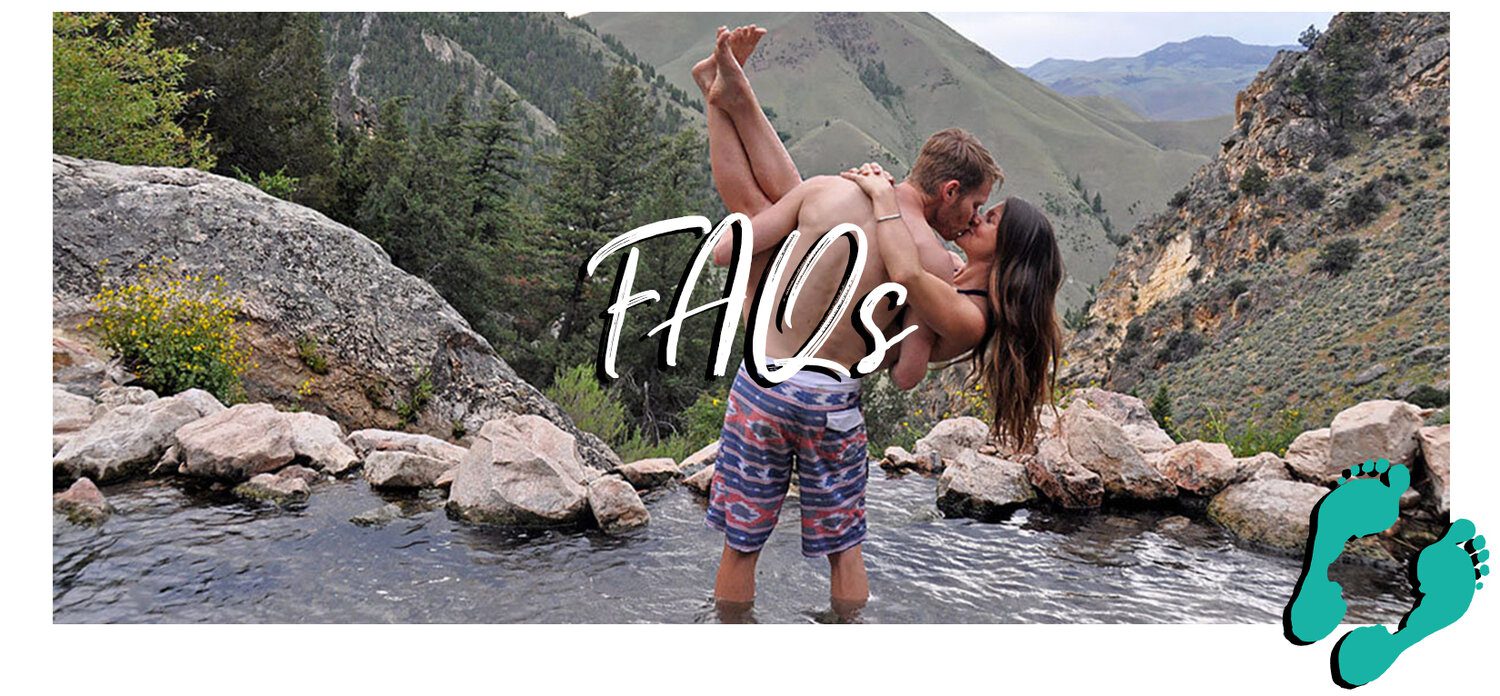 If you've browsed our site for a bit and find yourself with some nagging questions, you've come to the right place.
Here are the most common questions people ask…
How did you two meet?
We actually met in high school. It's a pretty cute story, get the mushy details here in our About Us page.
When did you start traveling?
Unlike many other travel bloggers out there, neither of us grew up traveling internationally. For us, it came a bit later in life.
Our entire world changed during our senior year of college when we studied abroad for a semester. We boarded an international flight – a first for both of us – and landed in the cobblestoned streets of Florence, Italy. We spent the next four months traveling around Europe and discovering a world we never knew existed. And we've been hooked ever since.
How would you describe your travel style?
We seek adventure and off-the-beaten-path experiences. We travel on a budget, but are happy to splurge on once-in-a-lifetime activities, like a hot air balloon ride in Turkey or a scuba diving liveaboard in Thailand.
And whether our travels take us to small villages or huge cities, we always try our best to travel responsibly.
*Read more about our travel style.
How many countries have you traveled to?
While counting countries has never been the main goal for us, we know some people are curious about where in the world we have traveled.
To date, we've traveled to 4 continents and visited 47 countries. We feel very privileged to have been able to take so much time to dedicate to traveling.
You can see the countries we've visited on the map on our destination page.
How do you afford to travel so much?
This is the question we get asked most often.
No, we don't come from rich families. No, we're not drug smugglers, nor did we win the lottery.
We have earned every single penny that has funded our travels. We actually have a buttload (pardon my nerdy curse word!) of student loans that we have been paying since we graduated from university. Yes, even while traveling.
I won't ramble on here much longer other than to say that we never could have afforded all this traveling without teaching English in South Korea. In just one year we saved $44,000 together (not just earned, SAVED), which gave us a jump-start on traveling and putting time into growing this blog.
Find out everything you need to know to teach English overseas.
If you're looking for the full breakdown of how we afford this lifestyle, download our e-book where we explain just that. It's totally free and PACKED with tips.
When did you start Two Wandering Soles?
We started this blog back in 2014, and let me tell you, it has been one wild ride. What started as a passion project has transformed into our full-time jobs in 2017.
Learn more about our mission and the meaning behind the name "Two Wandering Soles".
Do you make money on this blog?
Yes. We have been blogging full-time since October 2017, and oh my goodness, has it been a crazy. We have learned so much about the world of blogging (and about ourselves). It has been so much work and very difficult at times, but now we can't imagine ourselves doing anything else.
It has given us a sense of freedom that we never thought was possible, and allows us to work from places like cute cafes in Chiang Mai, Thailand or near the beach in Bali. Plus, we get to work together on building something we love and believe in.
Sound like something you're interested in?
We put together a FREE mini course with materials to show you how YOU can make money blogging too.
So if you're interested, enter your email below and you'll start the 7-Day Blogging Bootcamp Today!
It's super detailed, straight to the point (we hate fluff), and well worth it.
What are both your roles with Two Wandering Soles?
Our roles are changing and overlapping all the time, but we do have very different skill sets (aka journalist vs. engineer), so we work really well as a team.
Katie = content creating queen!
She's typically the one writing the articles, taking and editing the photos and managing social media.
Ben = behind-the-scenes extraordinaire
He's the SEO expert, the one looking at analytics, contact-point for companies, and the one handling all things technical having to do with the website.
What camera do you use to take your photos?
We have a few different cameras, but we shoot mostly with our Nikon D7500. We recently upgraded from a Nikon D90 that we had for 9 (yes, 9!) years. R.I.P.
We also have a GoPro HERO5 Black that we take on our active adventures, and we have a DJI Mavic Air drone that we're always super excited to play around with.
Related: Read more about our camera equipment and our top travel photography tips!
What was it like living in a campervan for 3 months?
Oh my gosh, it was the best 3 months of our lives. Yes, seriously. But that doesn't mean there weren't seriously uncomfortable times, like getting woken up at 5 a.m. by a park ranger who was about to release snakes and lizards into the vicinity for a "raptor avoidance training".
Yes, that's a true story.
Read more about our #vanlife adventures, or watch the video below where we answer all the questions we know you're wondering.
What's your favorite place you've visited?
This question is soooo difficult to answer and we always have different answers… It depends on our moods when you ask, I suppose.
For a beach vacation, the Philippines wins – hands down.
For incredible hiking, it's hard to beat Nepal.
For food we would both say Vietnam or maybe Thailand. Or maybe Italy… (Please don't make us choose just one!)
For incredibly kind locals, both Myanmar and Colombia won us over; and Turkey was one of the countries that surprised us most.
Our favorite part of the United States is without a doubt the Pacific Northwest. Washington State has our hearts.
And India is the country that gave us the biggest culture shock but has become one of the places we can't wait to get back to and explore more.
Can I write a guest post for Two Wandering Soles?
Yes! We love connecting with talented writer and passionate travelers, and we'd love for you to share your tips with our readers.
Before submitting your pitch, please read through our Guest Post requirements, as we will not consider any requests from those who have not done their research.
How can my company partner with Two Wandering Soles?
We love working with companies whose values and principles aligns with our own. If you've familiarized yourself with our mission and you think we'd make a good match (yay!) head to our Work With Us page and fill out a contact form to give us a better idea of how you think we could work together.
We look forward to hearing from you!
Still have questions?
Feel free to make a comment in any relevent blog article and we'll do our best to answer whatever it is you're wondering. Or you could contact us through our Say Hello from. Can't wait to hear from you.