Pulling from both British and South Pacific influences, New Zealand cuisine is interesting and relies heavily on locally-sourced ingredients. From Māori Hāngi to the country's famed seafood, we've rounded up the best New Zealand foods to try (and skip!).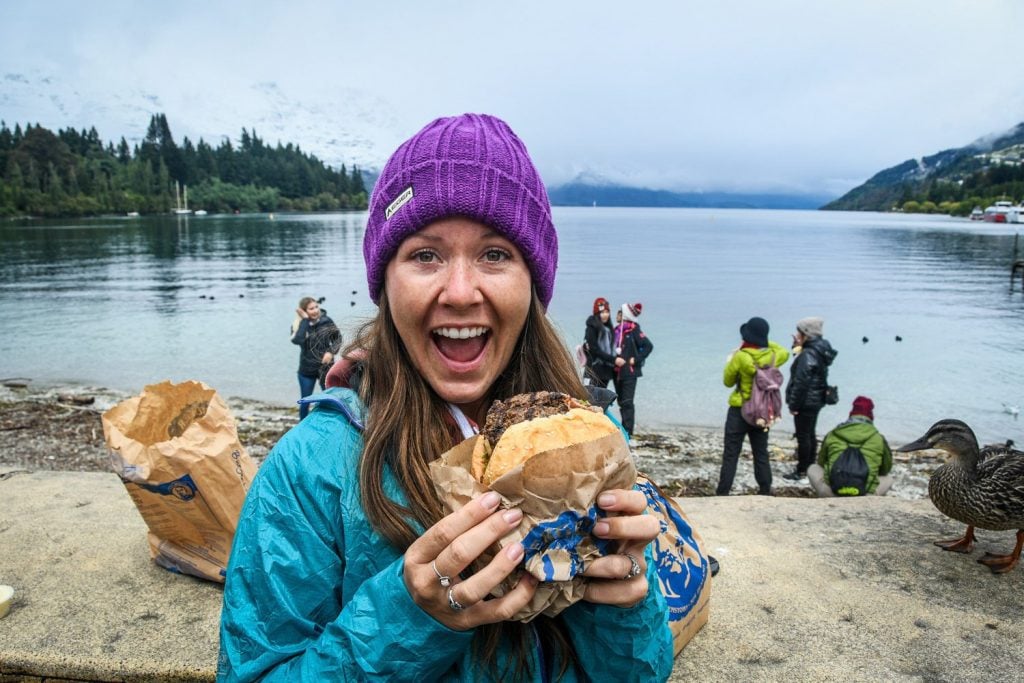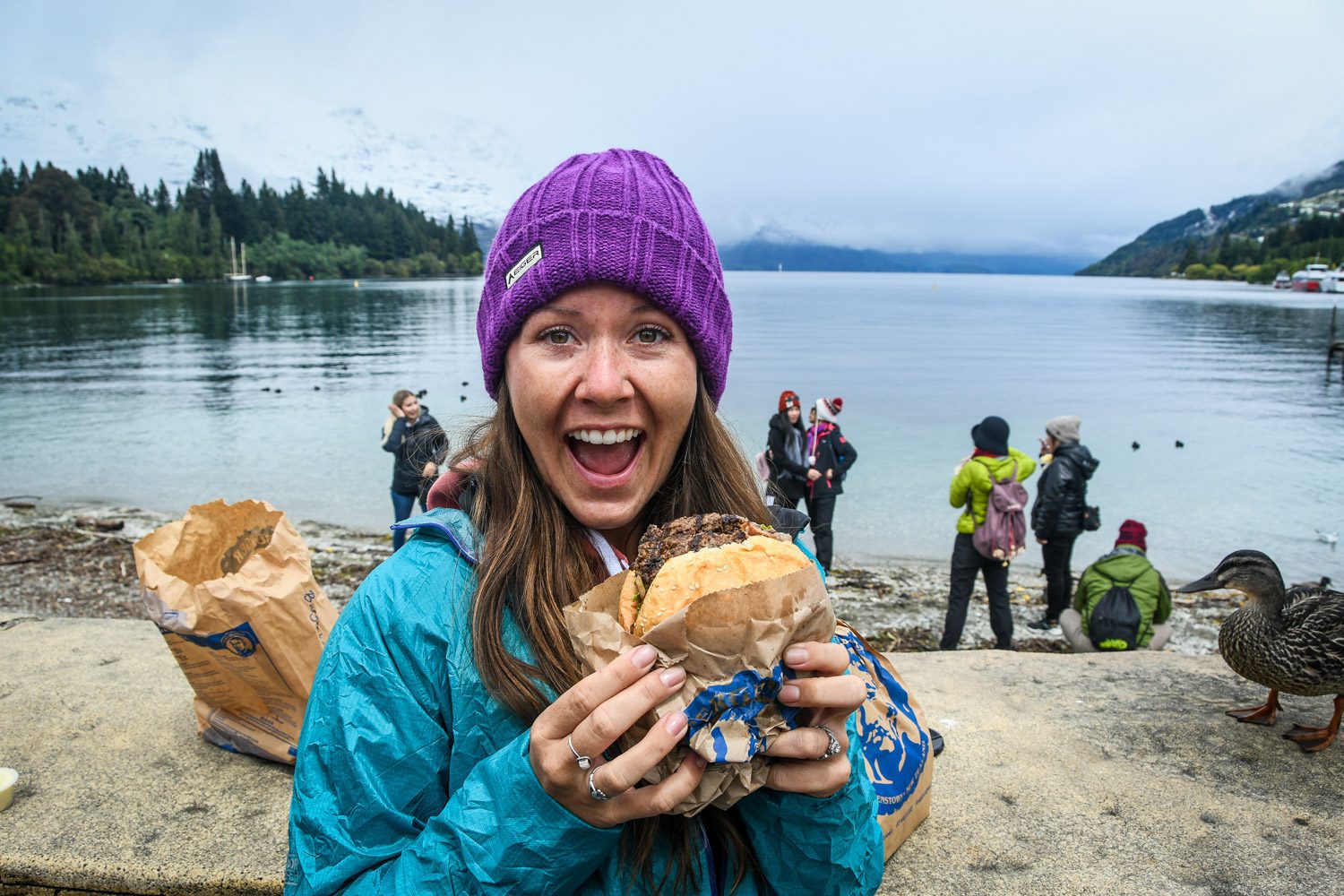 We always love trying as much of the local cuisine as possible on our travels. So, as we were preparing to travel to New Zealand, we found ourselves wondering, What is traditional New Zealand food?
New Zealand cuisine draws influence from indigenous Māori and Polynesain roots. There are also several dishes you'll recognize as versions of British staples.
In New Zealand, there is also a strong focus on locally-sourced farm-to-table food. For this reason, you'll see many restaurants that have a heavy focus on seafood, as well as lamb. We were truly impressed with the level of quality of most restaurants we dined at in New Zealand.
While Kiwi cuisine is certainly not as diverse or flavorful as Thai food or Mexican cuisine, there are some New Zealand foods you should definitely try on your trip.
In this article, we'll cover the most popular foods in New Zealand, as well as some desserts and drinks that Kiwis are particularly proud of.
1. Māori Hāngi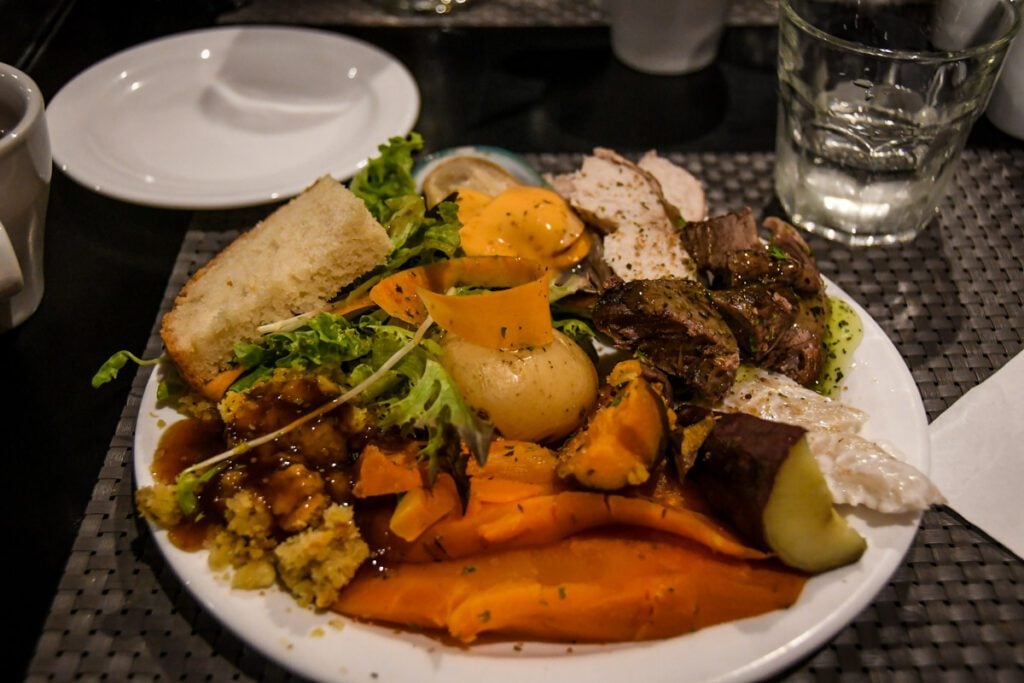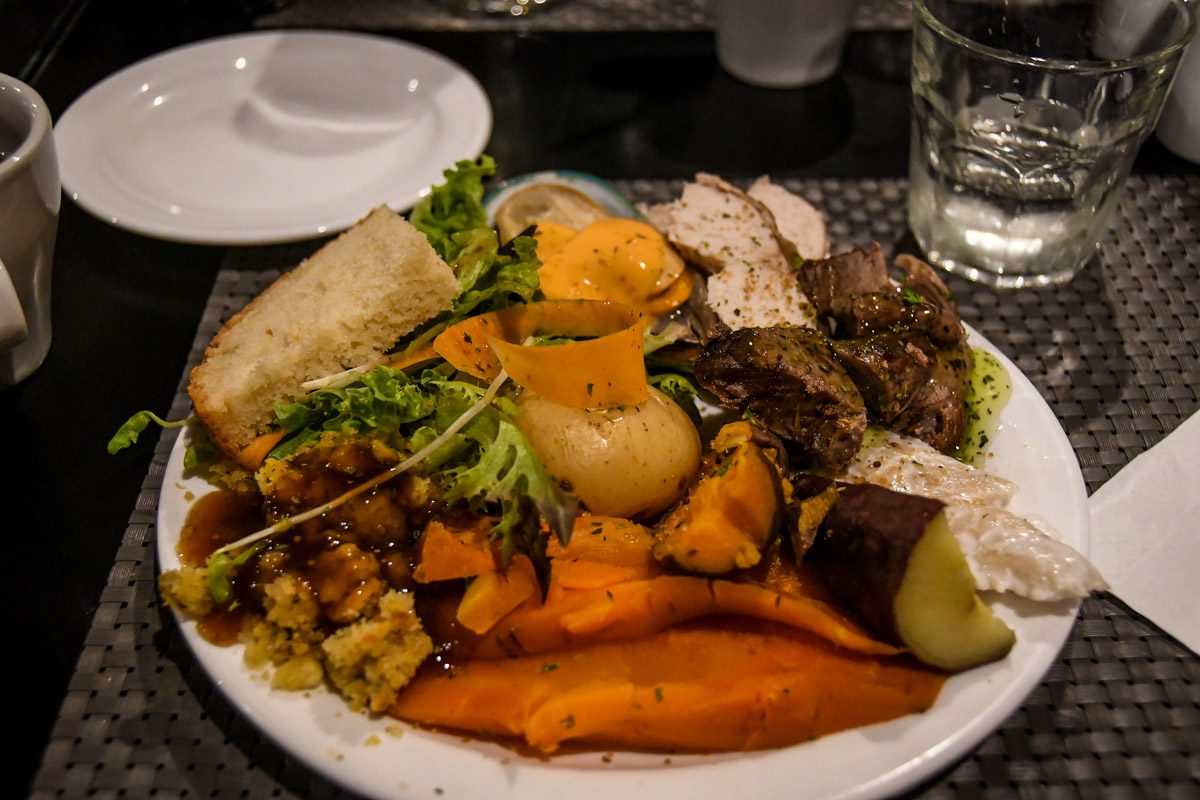 Hāngi is a quintessential style of cooking perfected by the techniques of the Māori people.
Hāngi is not necessarily a singular dish. Instead, any combination of ingredients cooked Hāngi-style is both a delicious meal and an amazing cultural experience.
It involves slow-cooking ingredients in a pit or underground oven known as an "umu", lined with hot stones and fire.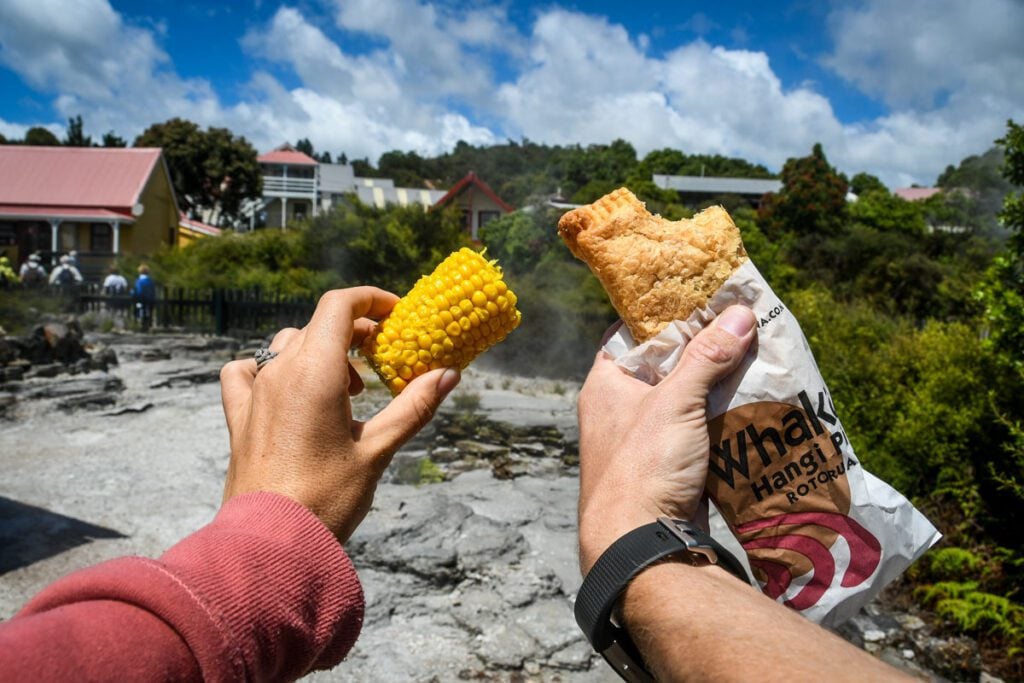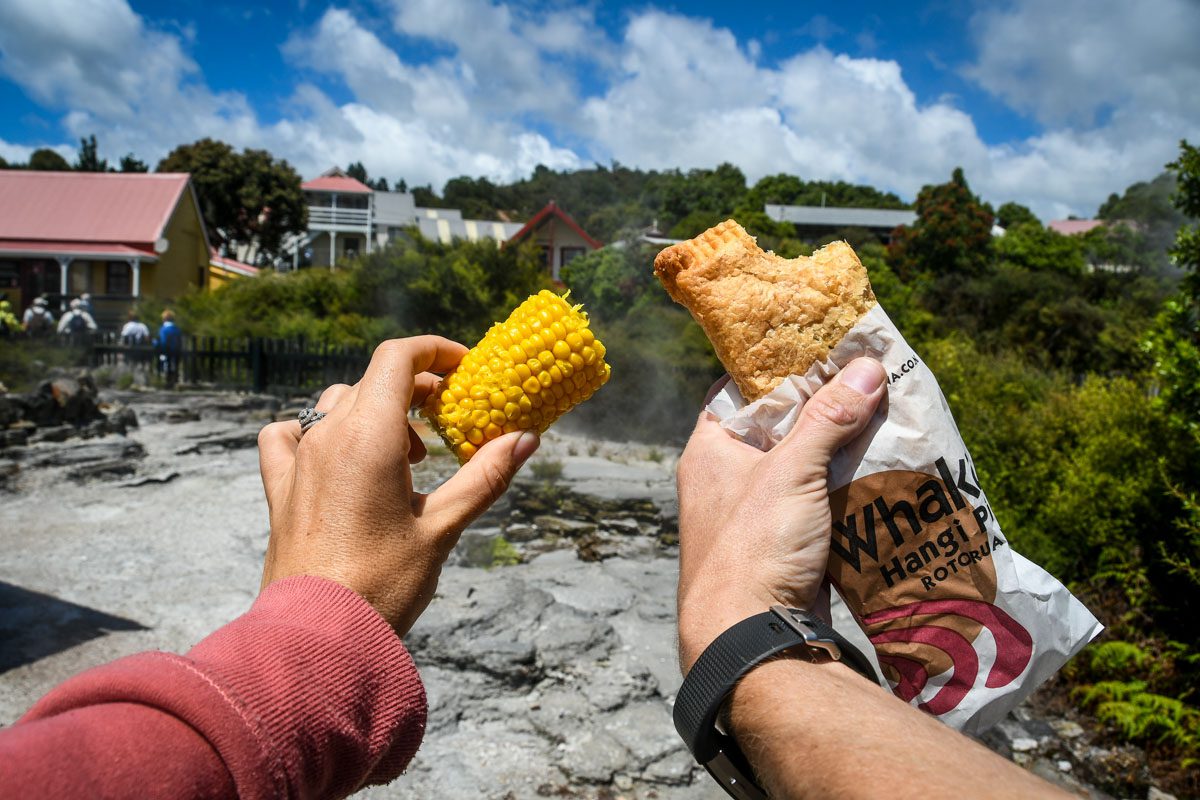 Usually, you'll find a variety of meat and vegetables wrapped in flax leaves: chicken, pork, sheep, seafood, as well as pumpkin, taro, sweet potato (kumara), cabbage, squash, and yams (oca).
This cooking style was a staple of New Zealand food for centuries. Nowadays it's mostly reserved for special occasions and events since it takes almost an entire day to cook.
Head to Rotorua, the heart of Māori culture, to indulge and have your fill of authentic Hāngi.
Fun Fact: This type of cooking can be found all around the Polynesian islands, where the Māori peoples ancestors originated from. If you're traveling in Hawaii, you can go to a luau for a feast cooked in an earthen oven called an imu. Or if you're sampling the food in Tahiti, you'll see this type of traditional feast called an ahima'a.
2. Golden kiwi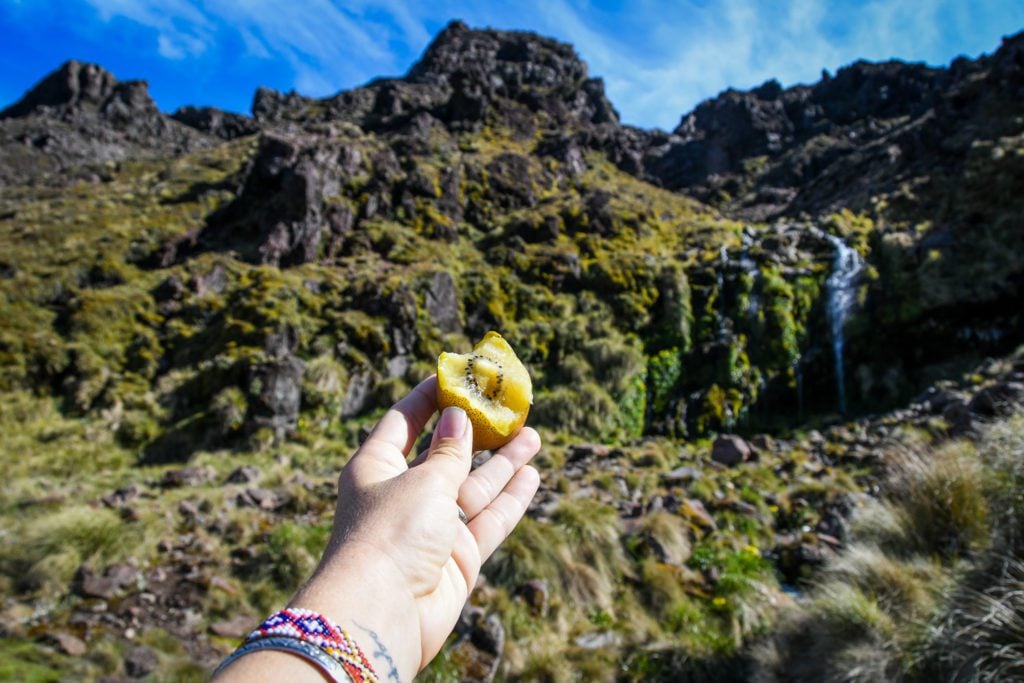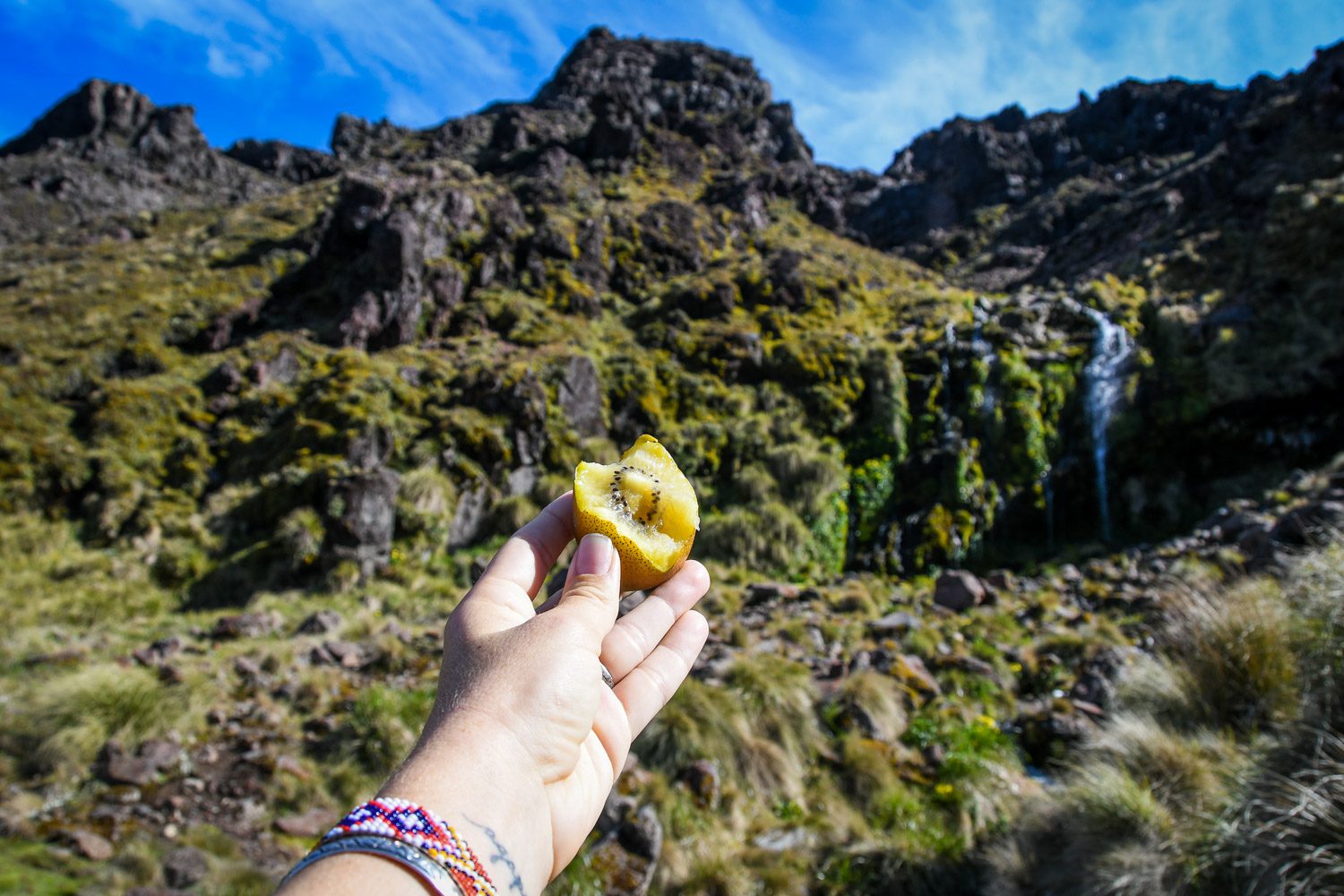 Given that "Kiwi" is the slang term for New Zealand locals, it only makes sense to sample their special golden kiwifruit. These are both as the country's main export and as a staple topping for their beloved dessert, pavlova.
You can enjoy the green varieties as well, but the golden kiwifruits are milder and sweeter. They are also less fuzzy with fewer seeds on the inside.
You can buy golden kiwifruits in grocery stores year round. They are often sold in bundles with a special kiwifruit spoon (a spoon with a knife as a handle so you eat the fruit on-the-go).
Peak harvest season for kiwifruit is from March to June. This is also one of the best times to visit New Zealand, and your kiwifruit will taste especially good!
Fun fact: There are 3 types of "kiwis" in New Zealand: "kiwis" the people (locals), "kiwifruit" the fruit, and "kiwi bird" is an iconic bird endemic to New Zealand.
3. Fish 'n chips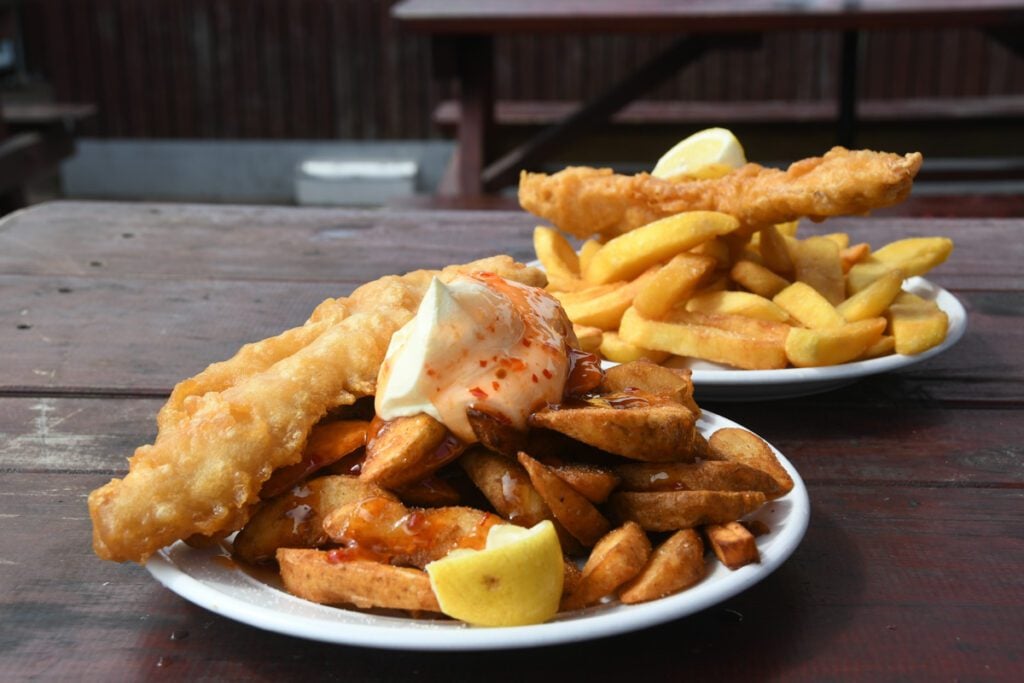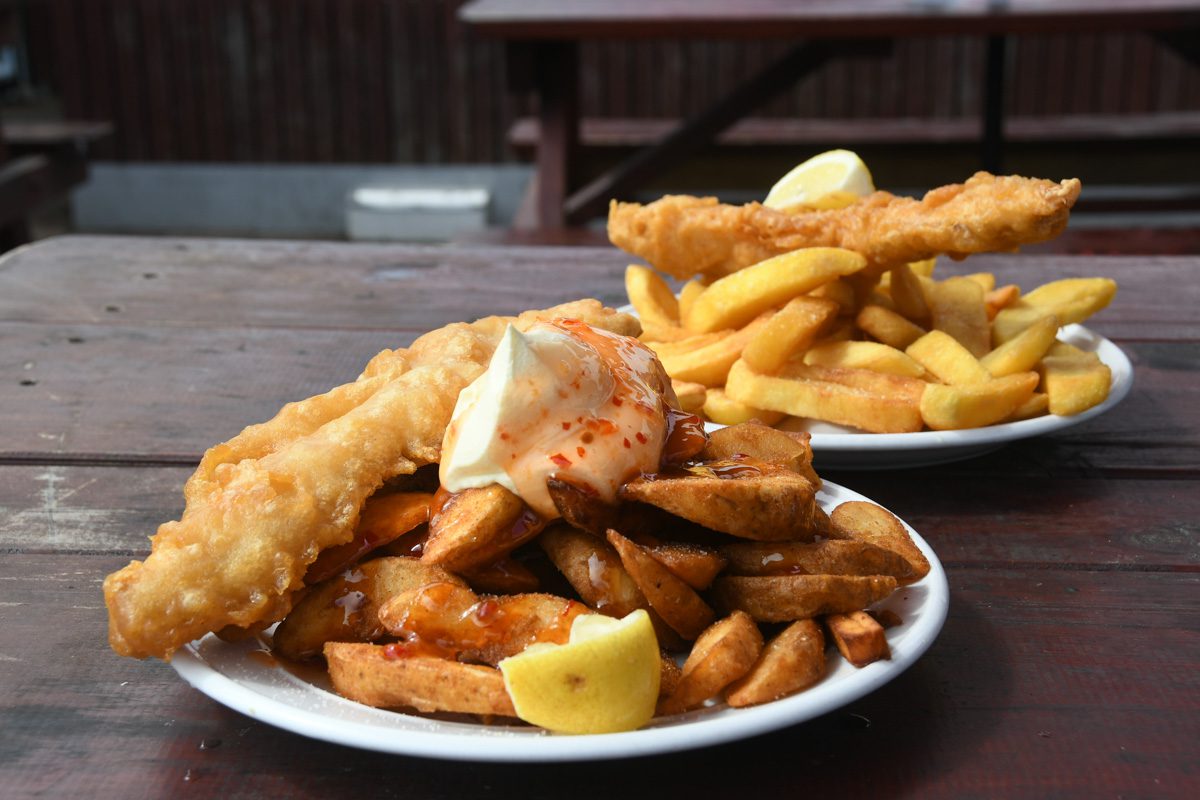 Fish 'n chips is widely recognized as a staple dish in Great Britain and the United Kingdom. So it's no surprise Kiwis have adopted the staple and put their own spin on it.
The basic concept is the same: battered and fried white fish with thick-cut chips, or fries.
In New Zealand cuisine, you have a variety of different fish options. The tarakihi snapper and hoki are some of the most common. If your local spot has kahawai, trevally, or blue mackerel, definitely give those a try!
The fish 'n chips come wrapped in paper with a side of tomato sauce. (Bonus points if the paper is piping hot and has subtle fresh grease stains.) We recommend enjoying the Kiwi way: beachside, or anywhere on a hot summer evening.
You won't have to search long or hard to get your fish n' chips fix in New Zealand. Shops and stalls are (literally) everywhere around the country.
4. Sauvignon Blanc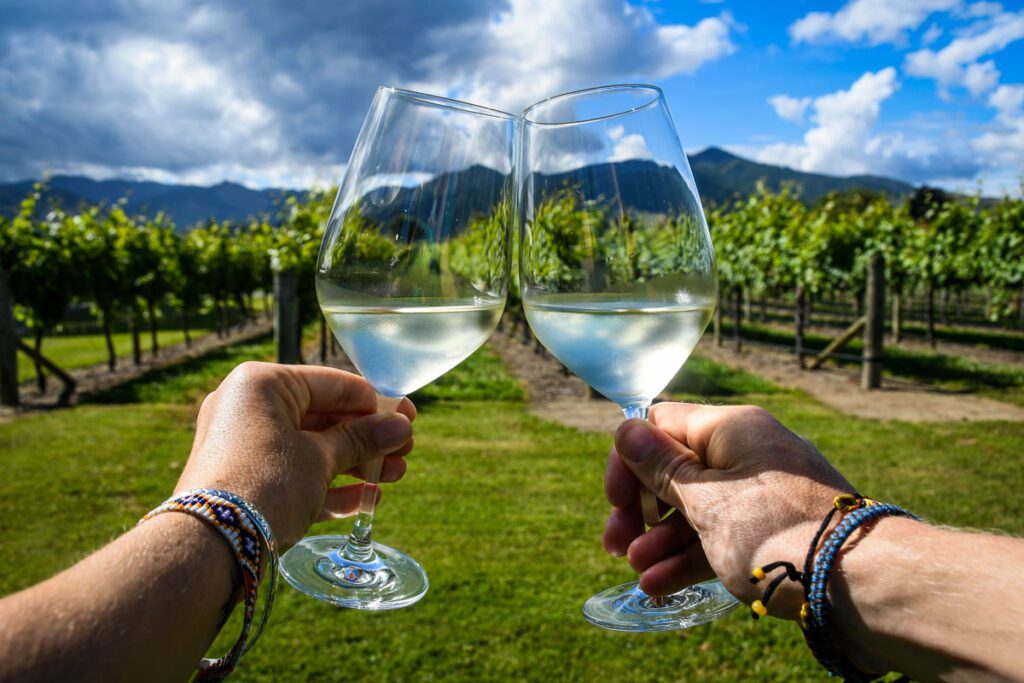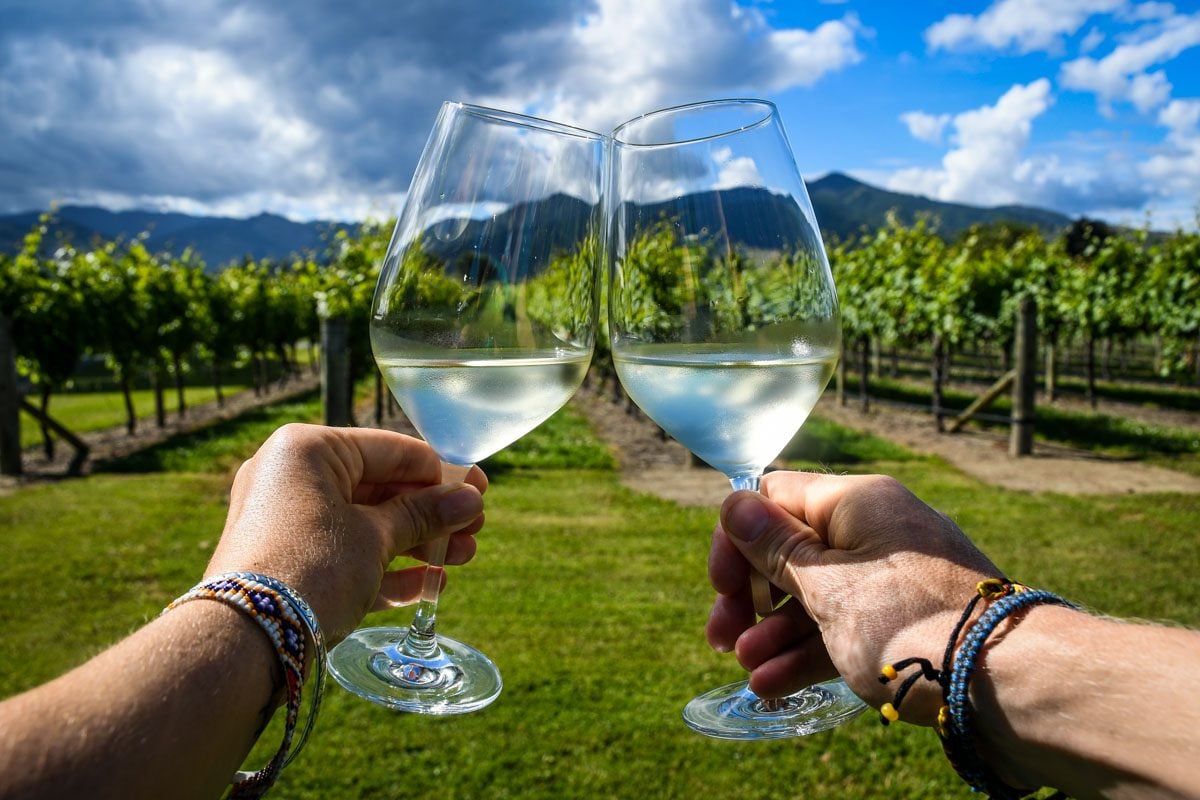 Aside from their legendary seafood (which pairs perfectly with Sauvignon Blanc), New Zealand is famous for their wine.
You can taste and buy wine all around the country, but it's best sipped at the actual wineries.
The 10 different wine regions across New Zealand are dotted with award-winning wineries. Your options are seemingly endless no matter where you are.
Every winery in New Zealand has unique settings, menus, and specialties. Rather than settle for just one tasting, you can opt for a New Zealand wine tour for a fun, boozy day trip!
Some of the most popular regions are Waiheke, Hawkes Bay, Gisbourne, Marlborough, and Central Otago. Read more about our winery recommendations.
5. Mānuka honey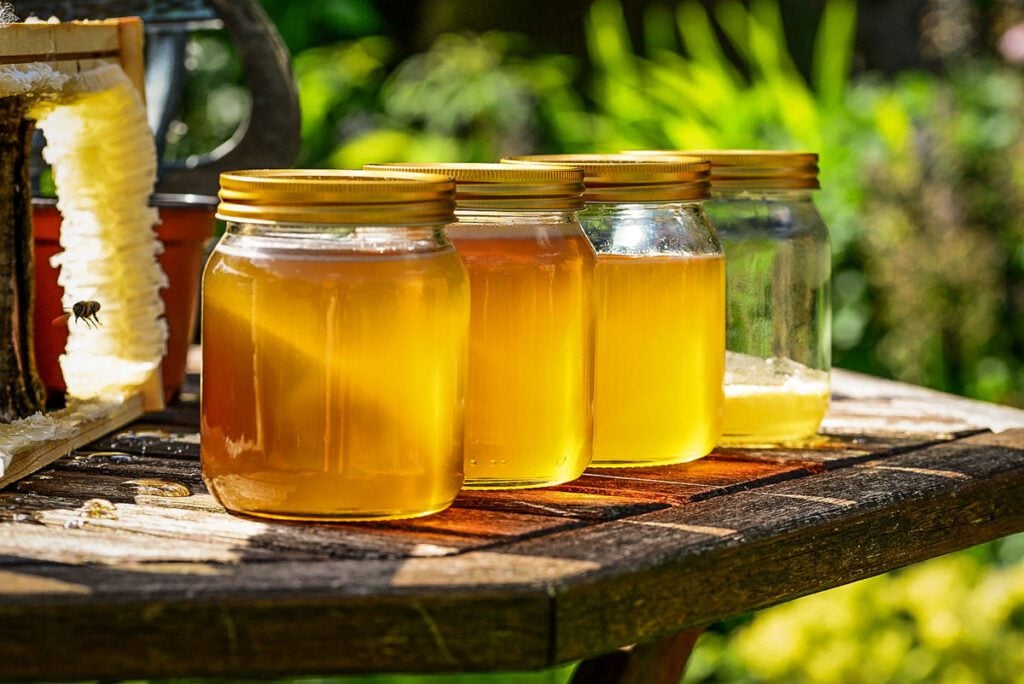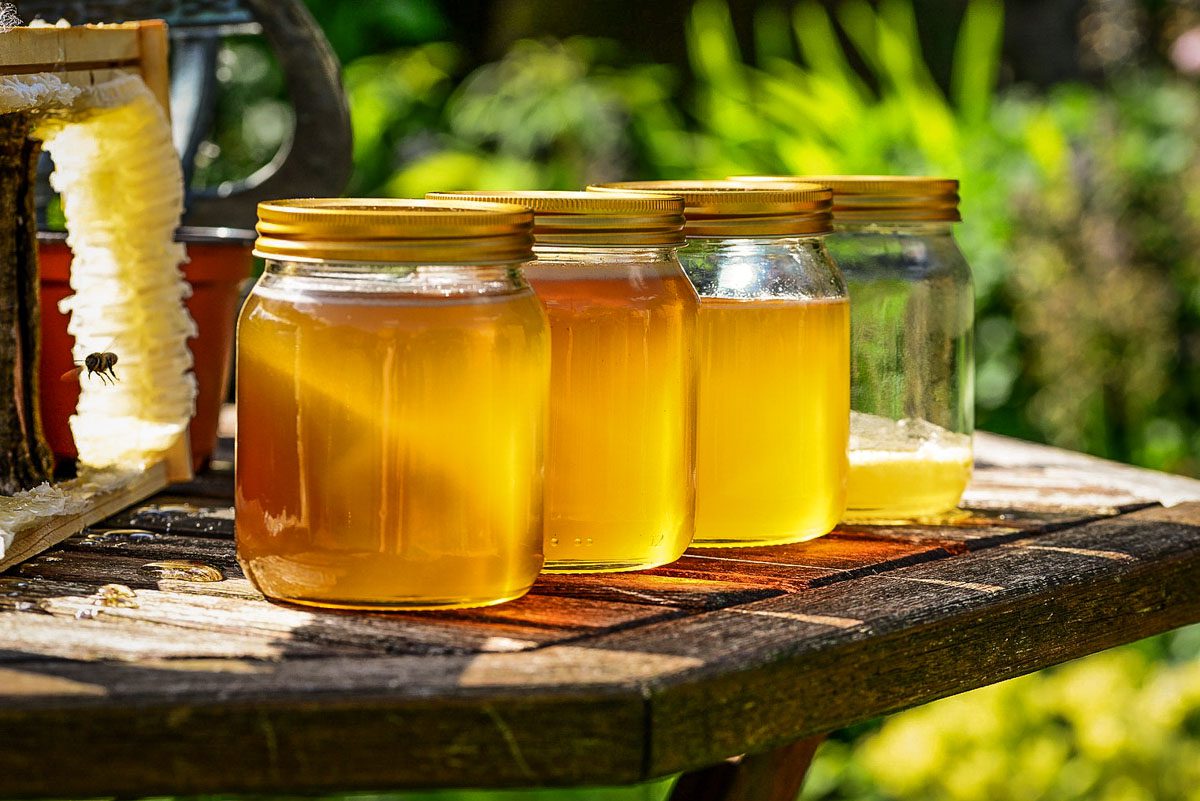 Mānuka honey is recognized internationally for its otherworldly medicinal properties. Most people don't know that it's harvested using the nectar of the Mānuka tree, which is endemic to New Zealand.
This tree is what gives the honey its unique benefits and flavor profile. It has a strong, aromatic and earthy flavor compared to regular honey, and is sometimes described as slightly more bitter.
It's said that the purer the component of mānuka is, the more beneficial (and expensive) it is.
A little goes a long way though. Kiwis take just a spoonful to help with allergies and to improve their long-term health.
You can find the honey all around the country at supermarkets, farmers markets, and even dedicated honey shops. This honey is a delicacy, which makes it an incredible New Zealand food to bring back home as a souvenir!
6. Fresh seafood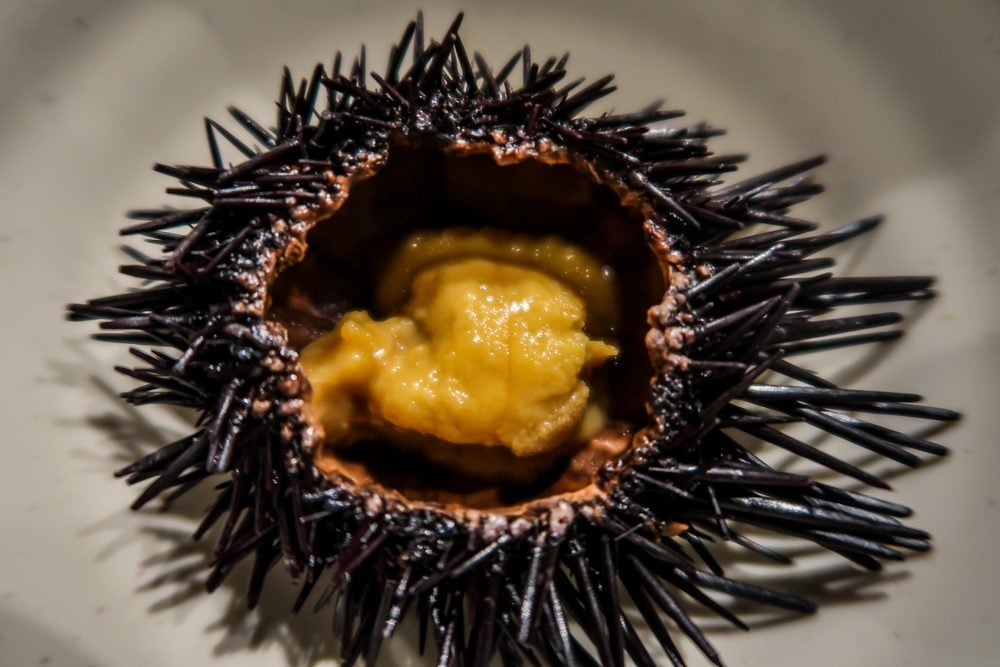 New Zealand comprises two main islands, both with a combined coastline of over 14,000 km (8,700 miles). So naturally their seafood is a force to be reckoned with.
What separates the seafood here from the rest of the world is the pure, mineral-rich waters that surround the country.
Fresh seafood from these waters has a rich and delicious flavor that can't be replicated anywhere else in the world. You'll definitely want to add it to your list of New Zealand foods to try!
Must-try seafood options
Crayfish: A prized catch of local fisherman and divers, these are worth the splurge if you get the opportunity!
Kina: The fleshy insides of local sea urchin have been a Kiwi delicacy for centuries.
Scallops: New Zealand's mineral-rich waters make for especially good scallops.
Pāua: The delicious dark green meat of these large sea snails are encased with famous abalone shells. These shells are often used by locals as ashtrays.
7. Salmon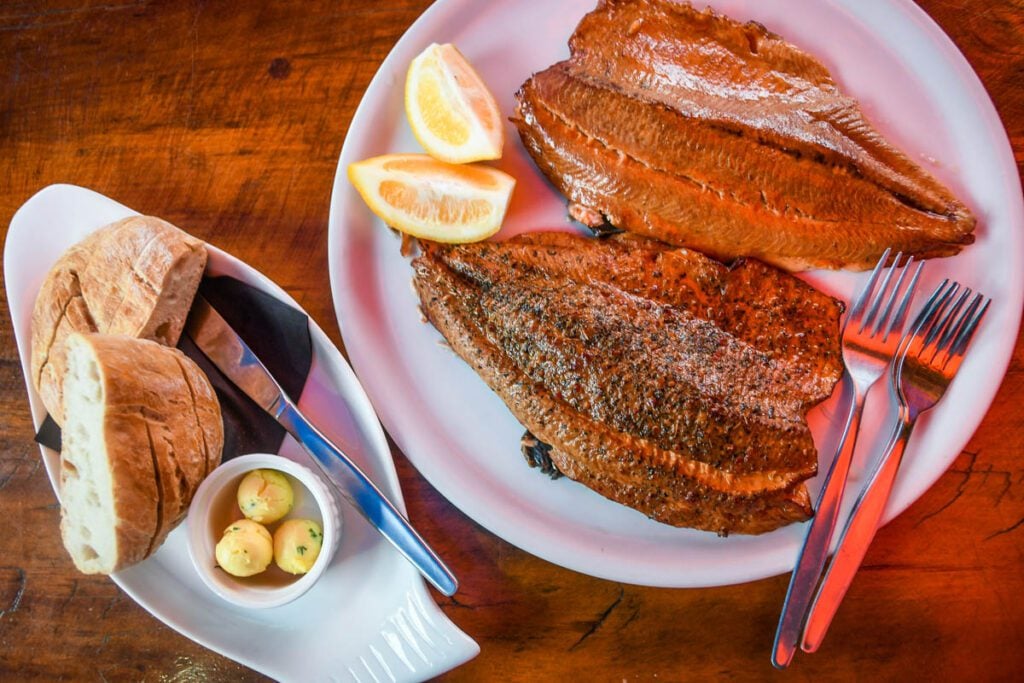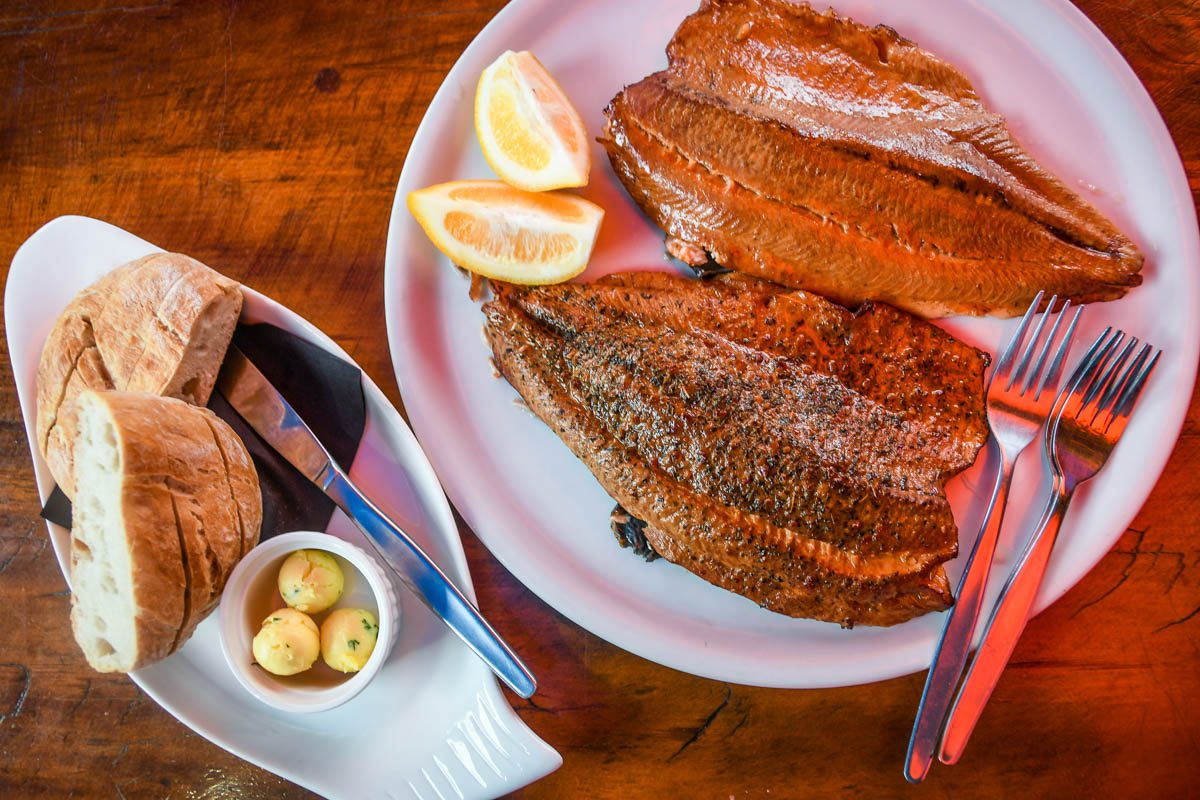 The world-renowned "King" salmon is the only fish farmed in New Zealand. It's known for its exceptional quality and taste.
Fun fact: Only 0.7% of the world's salmon is of the King variety and New Zealand supplies over 50% of it!
Kiwis sustainably farm the king salmon from egg to plate. It has the highest omega-3 levels per serving and is one of the highest-quality forms of protein in the world.
They thrive in the cold waters of Mt Cook (Aoraki), Wānaka and Akaroa, and are enjoyed raw, smoked, or grilled!
Fun foodie experience: Near Abel Tasman National Park in NZ's South Island is Anatoki Salmon Farm, where you can fish for your own salmon, then have it cooked to your liking!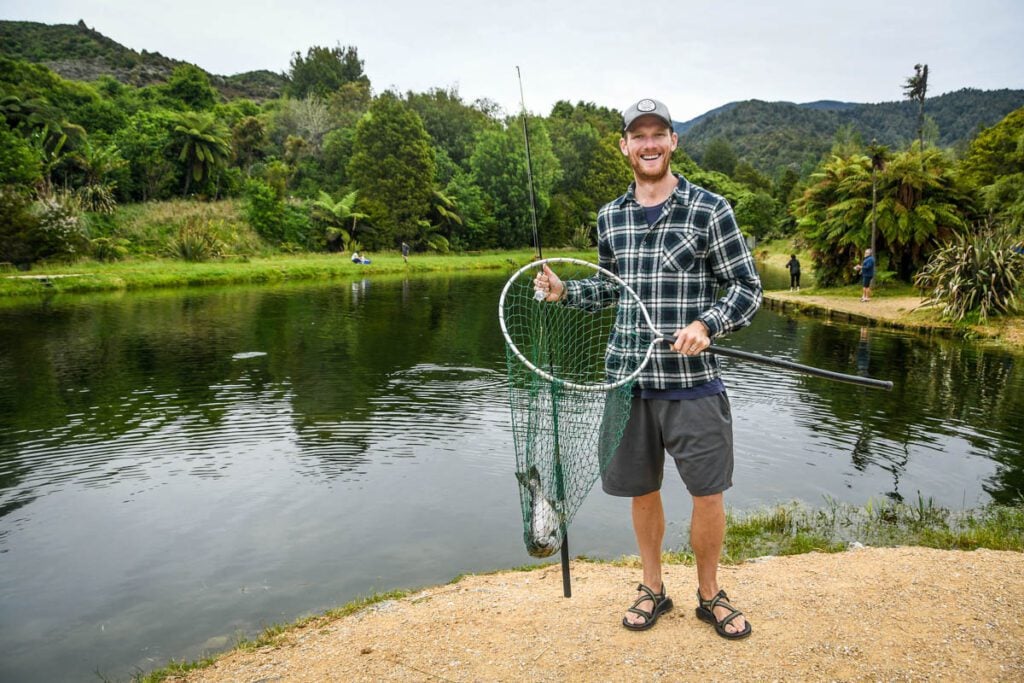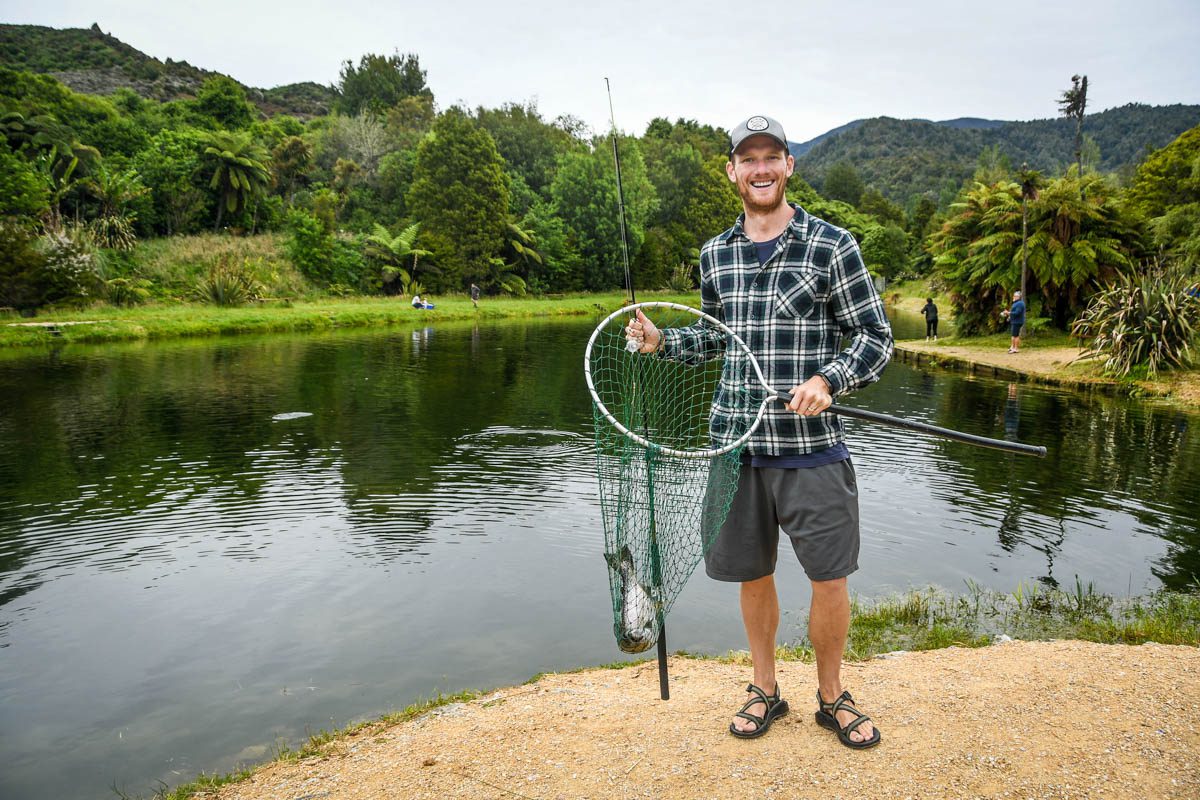 Good to know: If you're perusing a menu and happen to notice a special breed offered called Ōra King, this is worth the splurge to taste! It's the highest known quality and is compared to what wagyu is to beef!
8. Kiwi burger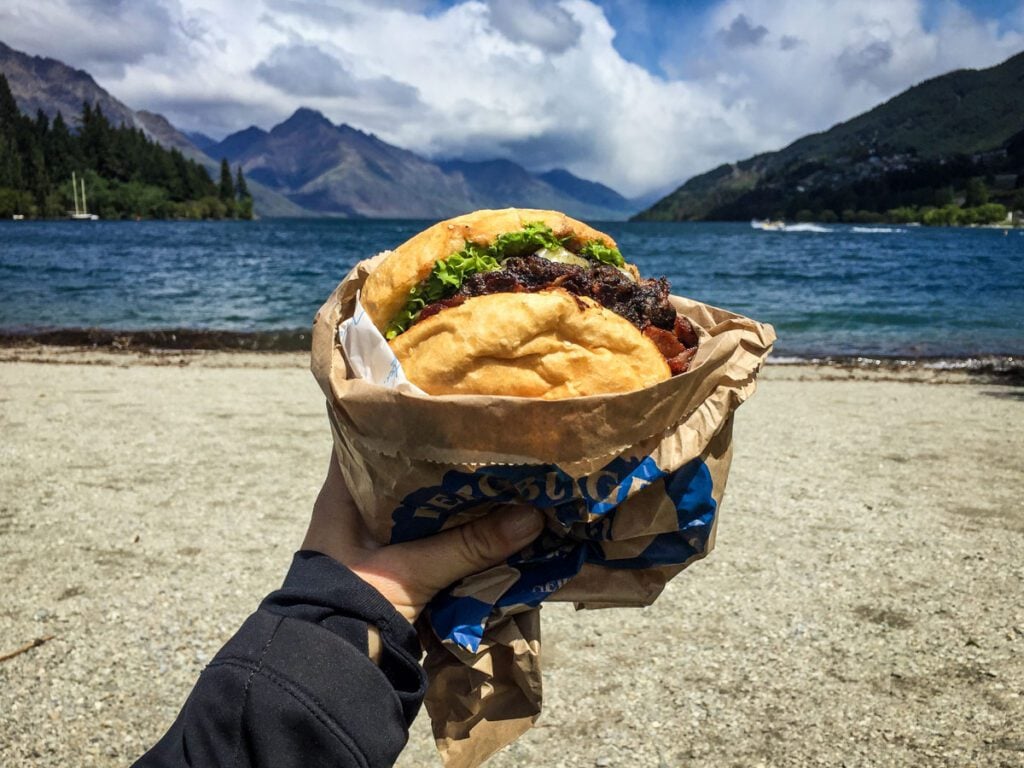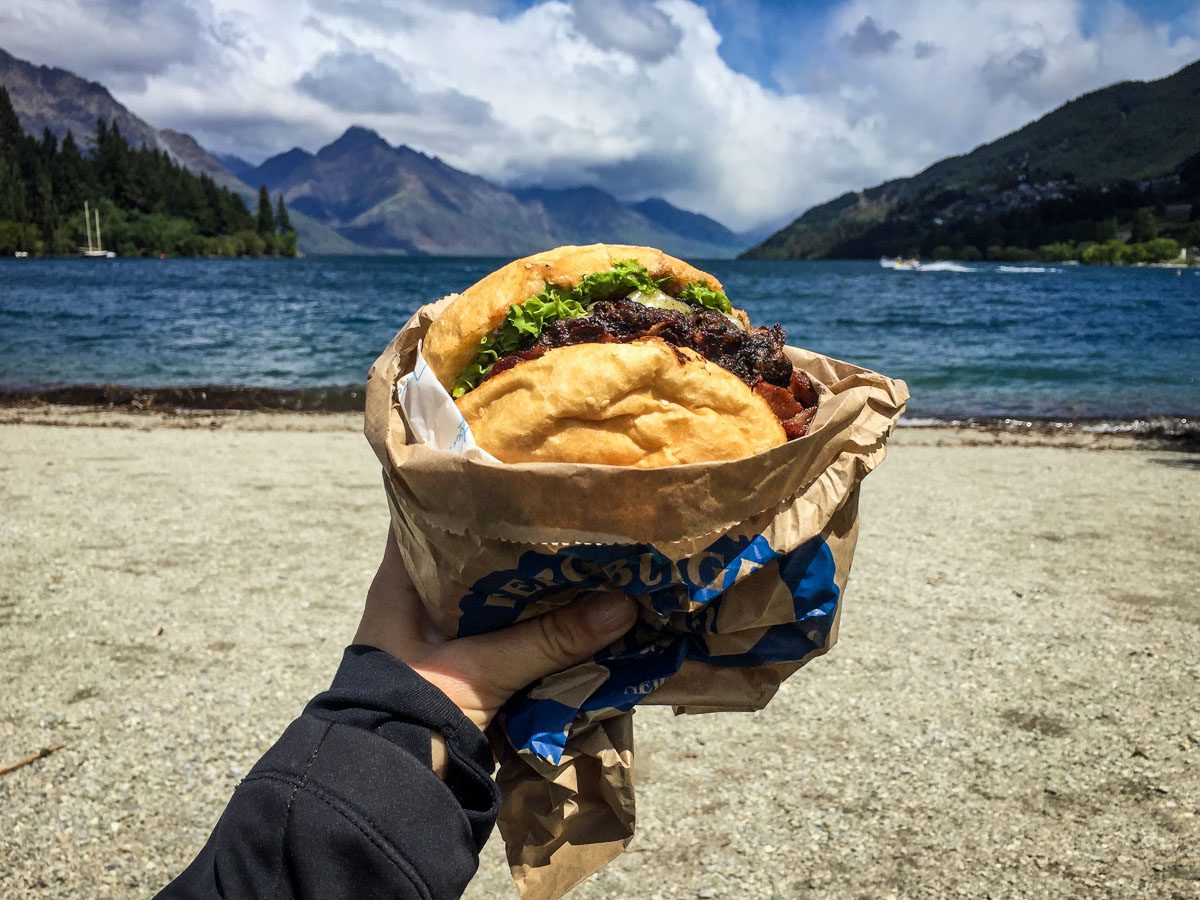 New Zealand took the basic burger up a notch by smashing a 4oz beef patty with all the fixings, plus a fried egg, beetroot between two toasted buns.
While not exactly recognized as a national dish, you can find a 'Kiwi burger' at most pubs and restaurants around the country. They are even sold at McDonalds!
The holy grail of this burger can be found at the world-famous Fergburger in Queenstown. They serve what is considered the "great kiwi burger", which includes beef, lettuce, tomato, red onion, aioli, cheese, and tomato relish.
Good to know: Kiwi burgers are very common at most pubs and restaurants; however, they're not always labeled as "Kiwi" on the menus. Any burger with beet or egg is the same thing, just under a different alias.
9. Green-lipped mussels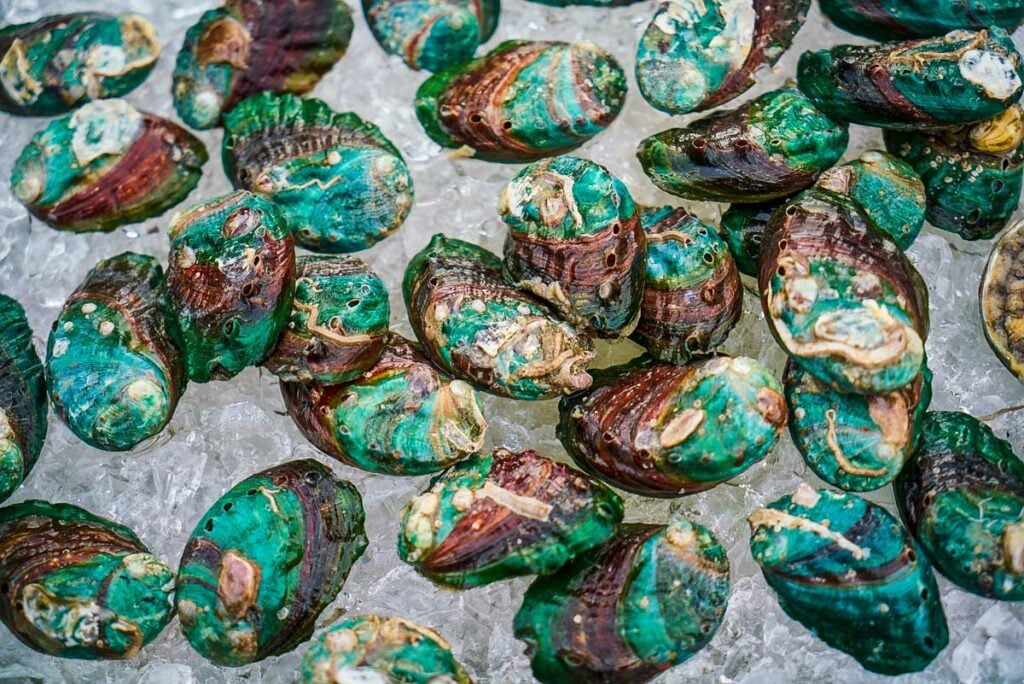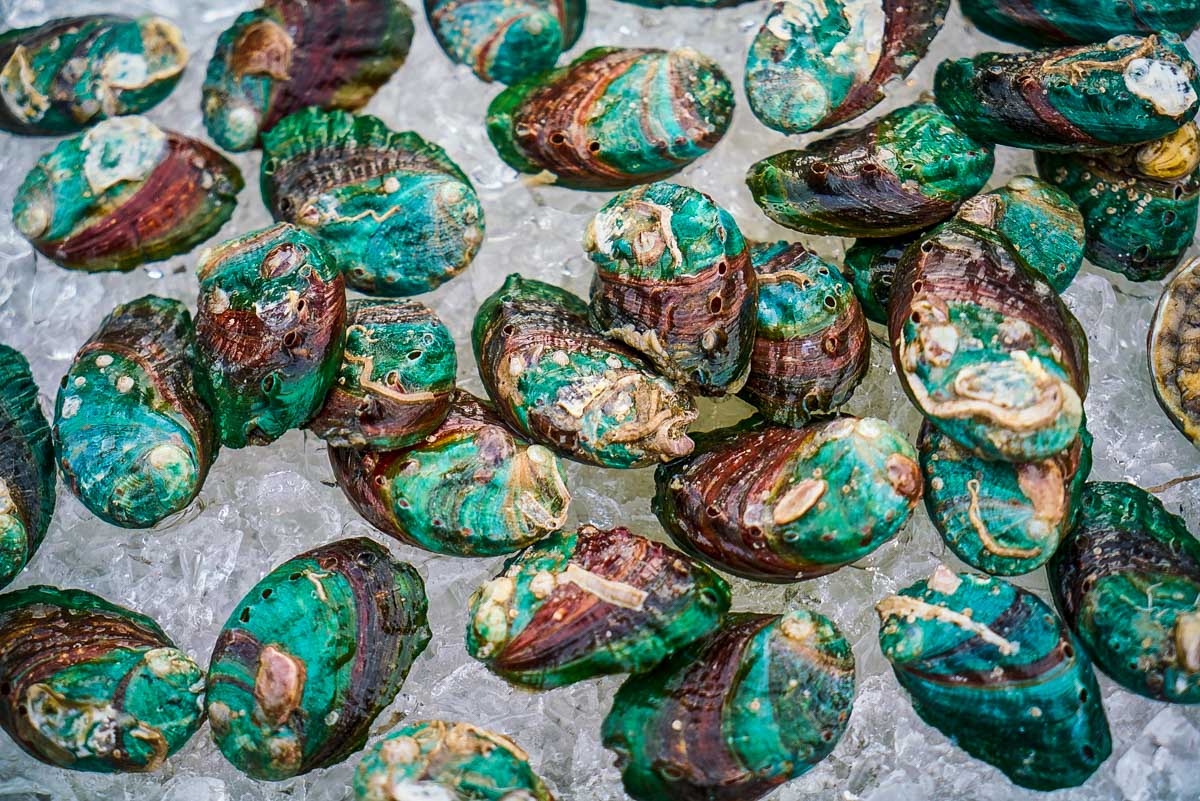 The green-lipped mussel, "green-shelled mussels", or "kuku" in Māori, are one of the largest mussel species in the world. They are known for the bright green color that lines the edges of their shells.
While they're considered a delicacy around the world, they're abundant and cheap in New Zealand. A must-try if you're a seafood lover!
You can find them on menus all around the country. However they are freshest in Havelock (considered the "Greenshell Mussel Capital") on the South Island. And in the waters around Auckland on the North Island.
10. Lamb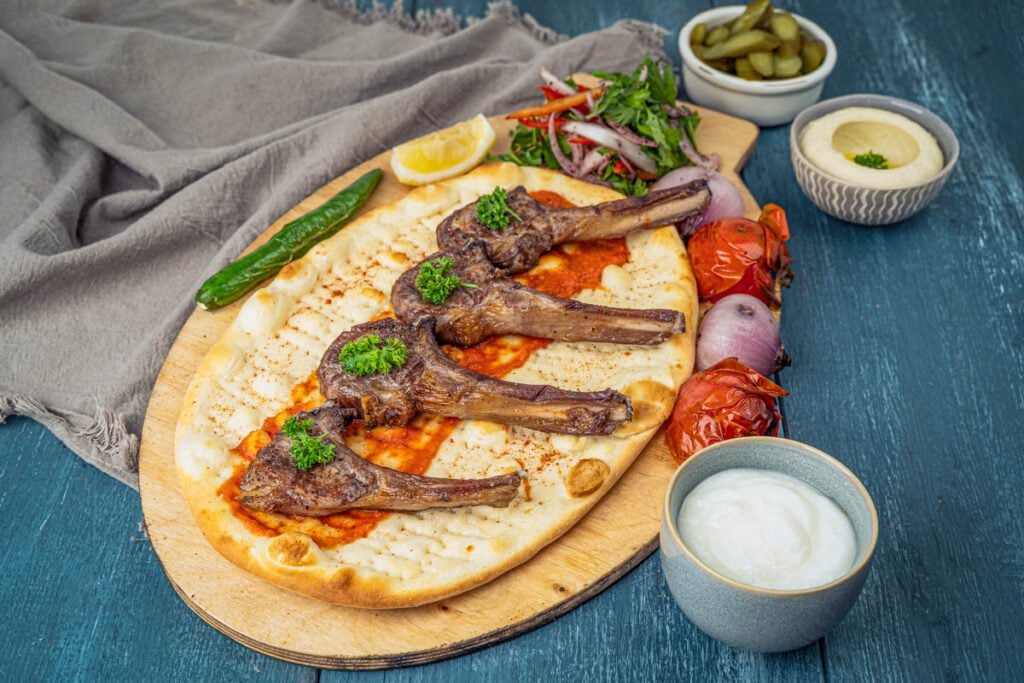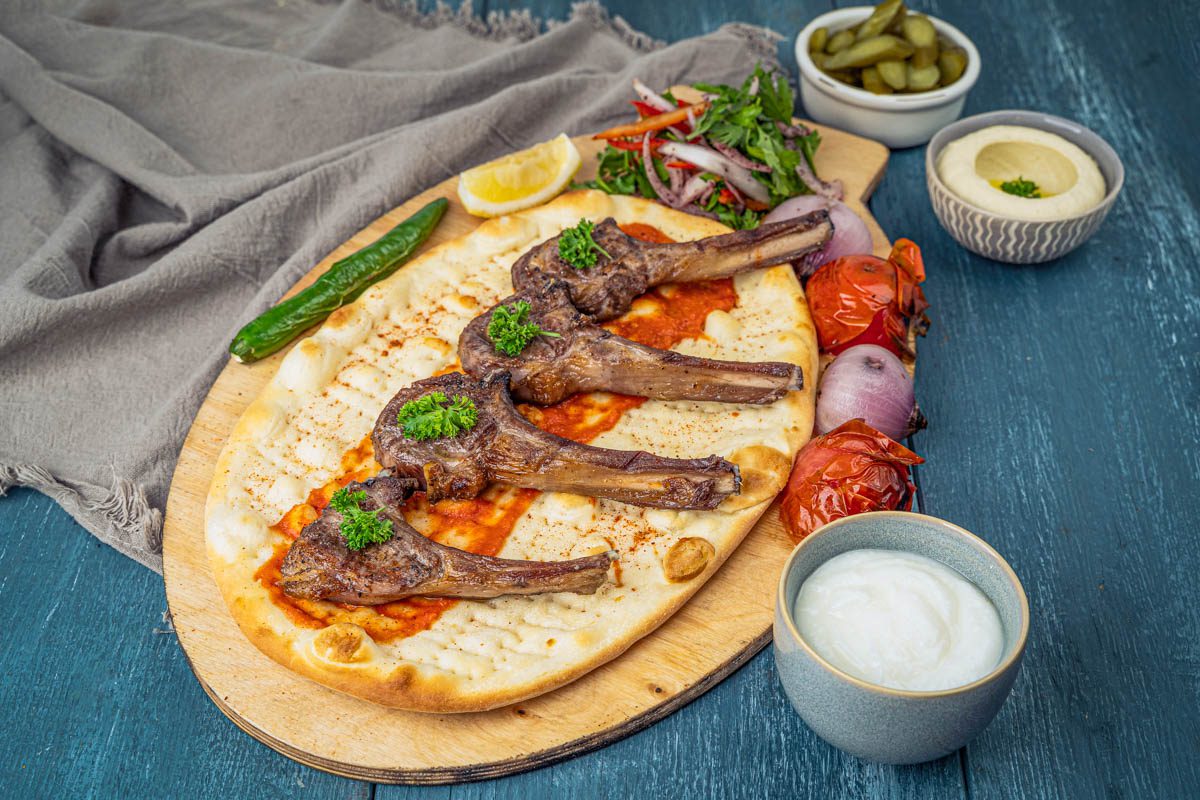 One of our favorite fun facts about New Zealand is that Kiwis are drastically outnumbered by sheep — we're talking 6-to-1. So it's fitting that New Zealand has worldwide praise for its lamb… Plus a plethora of jokes and stereotypes surrounding it.
All jokes aside… Lamb is one of the country's main exports and a Sunday staple in locals' homes.
It's most commonly served roasted with vegetables and potatoes. Lamb is also the star of many New Zealand foods, including the country's most delicate dishes.
Most high-end restaurants will feature lamb on the menu. However, you can try it in plenty of local restaurants if you're traveling on a budget.
11. Whitebait fritters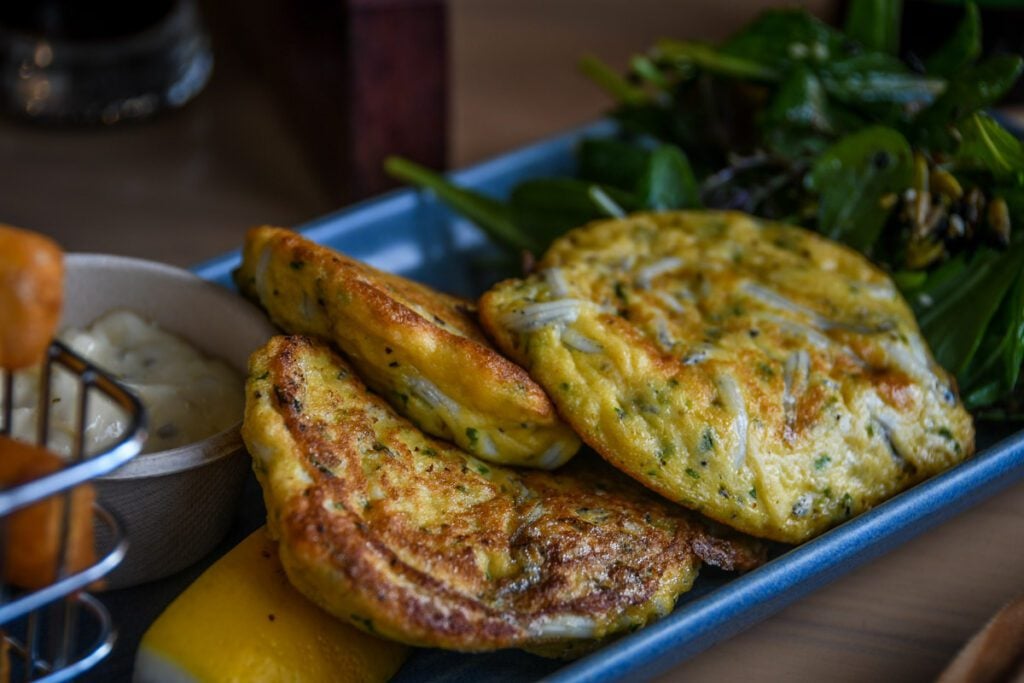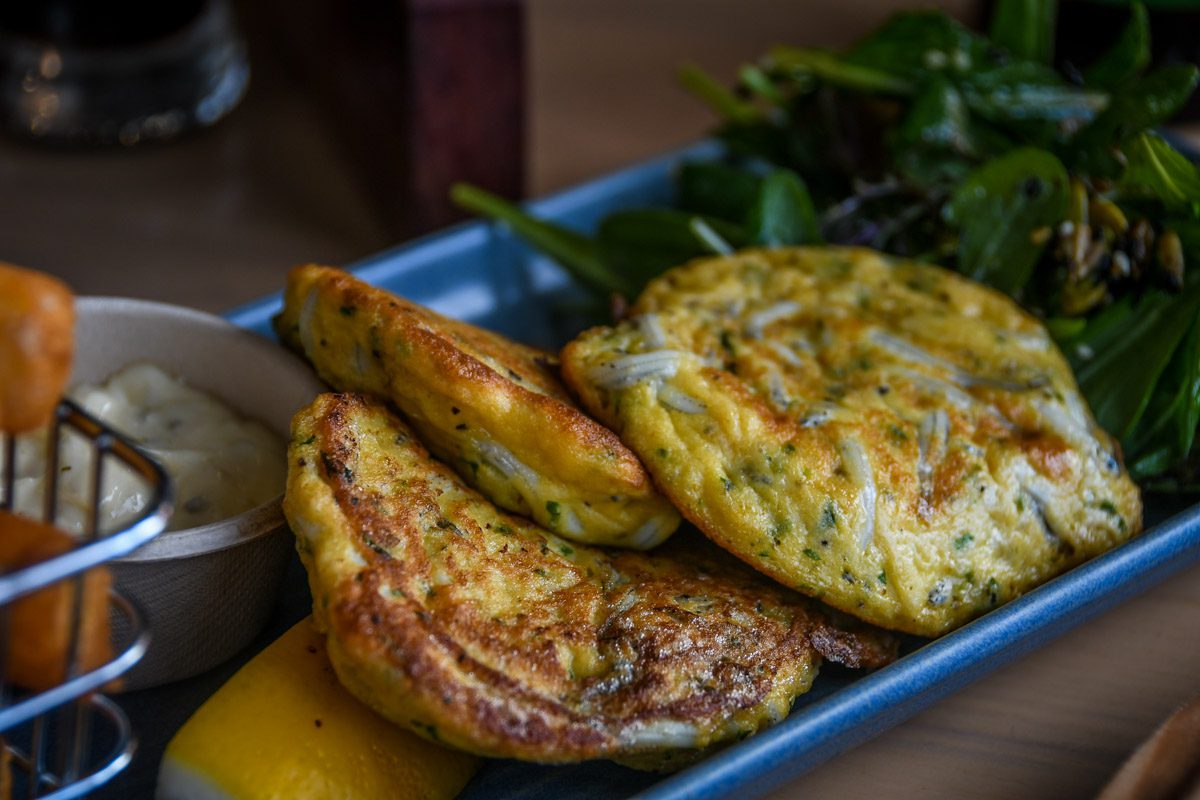 The most expensive and prized seafood in New Zealand is whitebait. The delicacy is made from small, immature fish that congregate in freshwater river mouths from mid-August to November.
These tiny fish are caught using handheld nets. They are then pan-fried whole with beaten eggs, butter, salt, pepper, and lemon juice, creating the famous whitebait fritter.
It's pretty much a fish omelet, but always referred to as a 'fritter'. (Even though a true fritter contains both eggs and flour).
Since the fish are still young, the meat is very tender. It has a delicate flavor that's easily overpowered, which is why they're cooked into the egg mixture whole. Less is more!
Fishing for whitebait is a notoriously difficult and lucrative job. The seasonal window is small and river beds are severely limited. These factors contribute to its high regard around the country and its hefty price tag.
A note on sustainability: In the past, whitebait has been overfished and populations have declined. The DOC has implemented plans to protect whitebait and regulate fishing. If you plan to try this New Zealand delicacy, we'd recommend trying whitebait that is sourced from Manāki, which is the first sustainable whitebait farm. You can check their Facebook page to see which restaurants around New Zealand they supply.
12. Hokey Pokey Ice Cream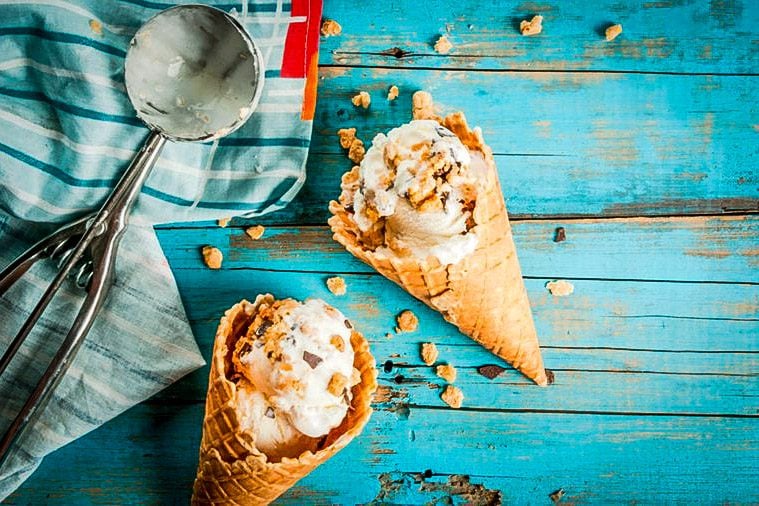 When the hot days of summer are beating down on New Zealand, locals look to none other than a scoop or two of their beloved Hokey Pokey ice cream to cool down.
"Hokey pokey" is the British/Kiwi slang for honeycomb toffee.
Ice cream shops all over the country serve bits of honeycomb toffee swirled into vanilla ice cream, creating the perfect, well-balanced ice cream flavor.
Giapo in Auckland currently holds the title for the best hokey pokey ice cream in New Zealand. If you find yourself in the area, definitely stop in to try a scoop. They coat this special flavor in a thin layer of dark chocolate!
Fun fact: We've only heard "hokey pokey" used to refer to a dance here in the states, but tell this to a Kiwi and they'll definitely look at you funny, and may laugh!
13. Oysters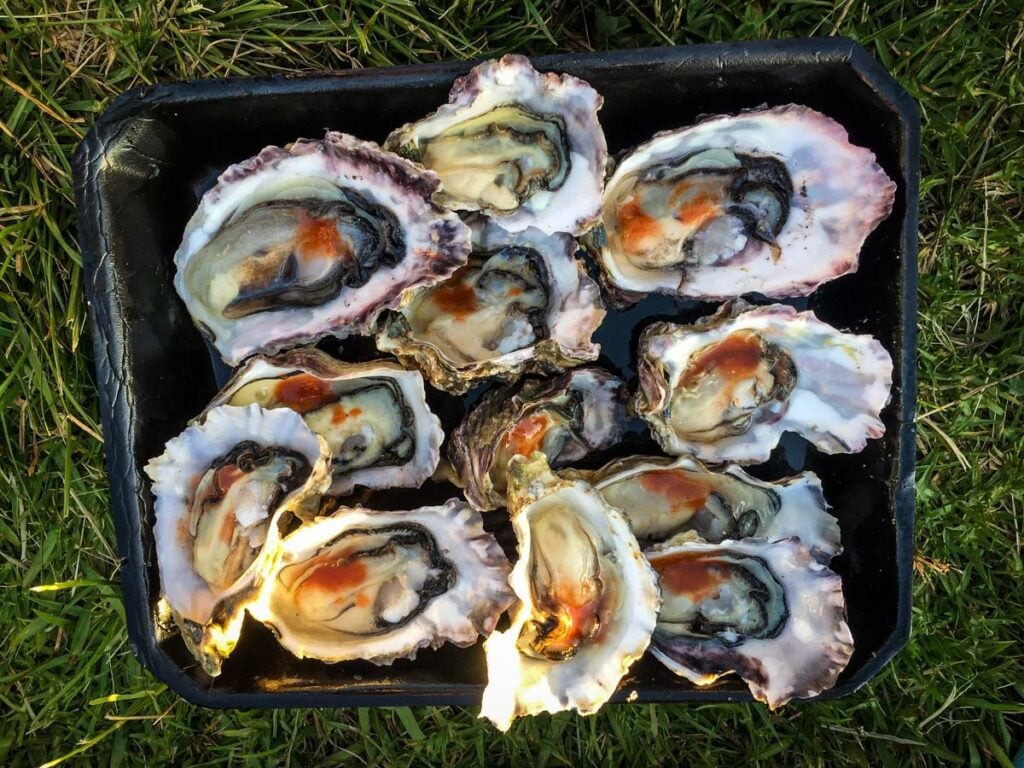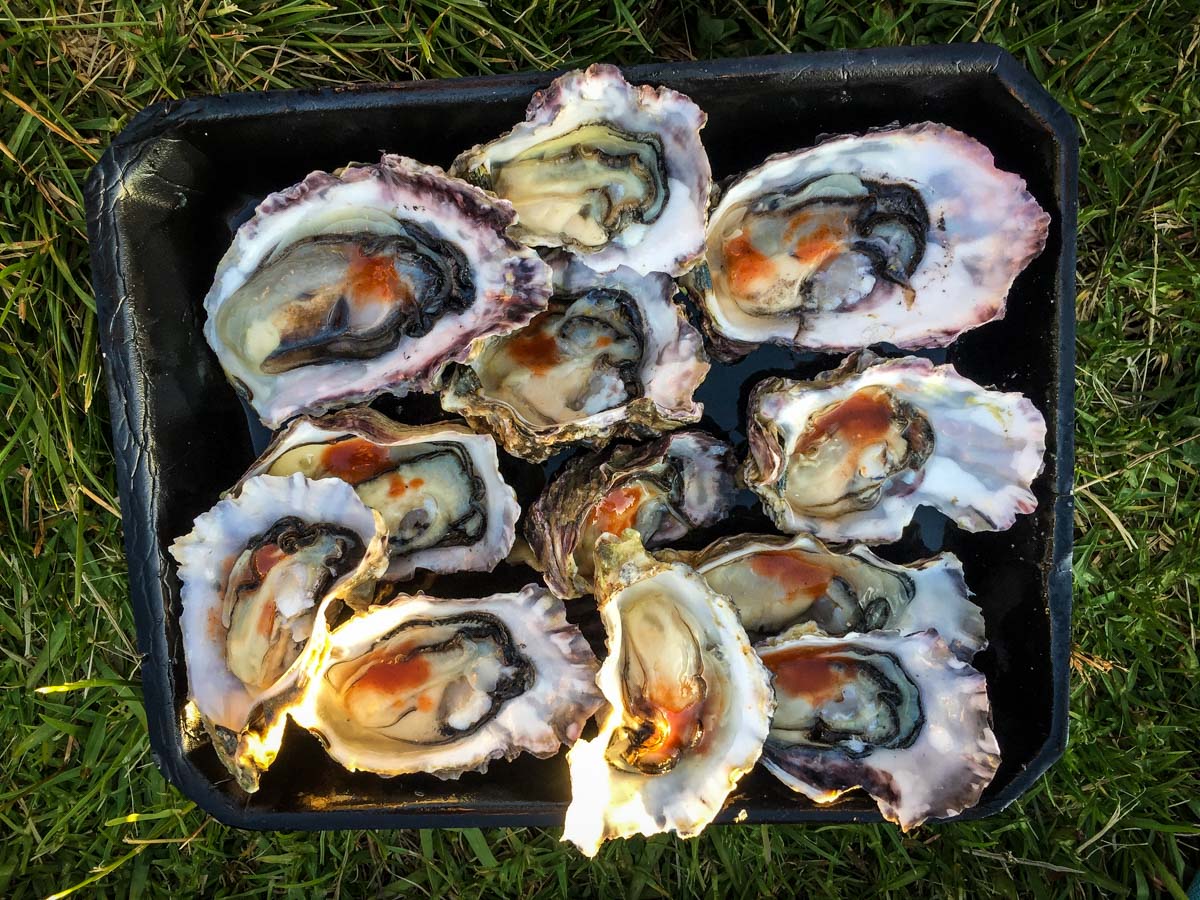 Any trip around the South Island is not complete without trying their regional delicacy, oysters.
They've been caught off the shores of New Zealand for centuries. However, you want to look for bluff oysters specifically, which are a large variety that have a soft brine.
Their taste is described as intense and they're said to be the most flavorful oysters in the world. Bring your best shucking skills and enjoy them raw or cooked.
For the complete oyster experience, head to the Bluff Oyster Festival that typically occurs in the last week of May.
Good to know: Bluff oysters are in season from March to August, something to think about when considering the best time to visit New Zealand.
14. New Zealand Cheese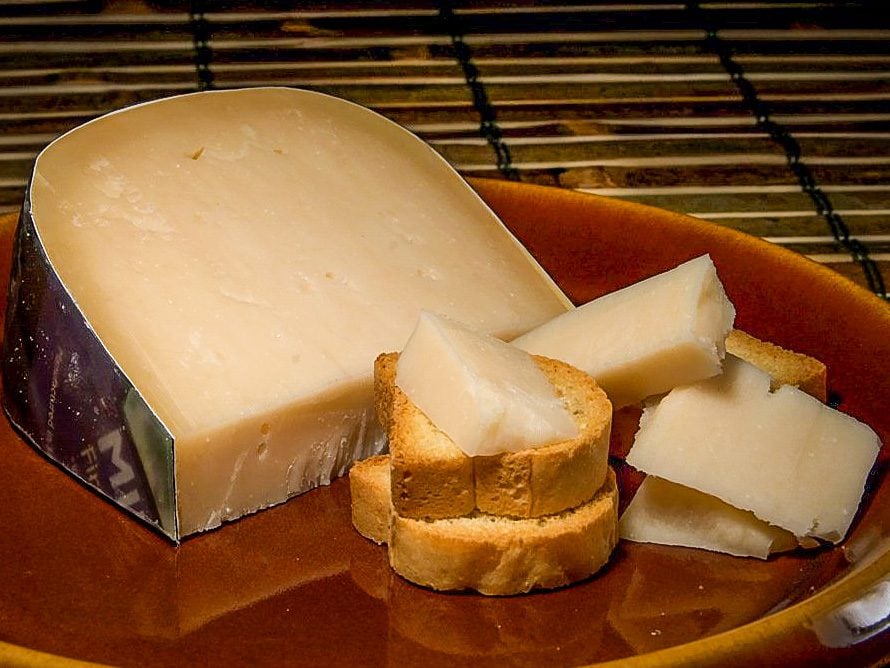 Like their wine and seafood, New Zealand is world-famous for their cheese and dairy products.
Head to a local supermarket and try variety of different cheeses. Make your own platter, or visit the actual factories where you can tour and enjoy samples.
These are some of the most popular, award-winning cheeses you'll want to look out for:
Meyer Vintage Gouda
Evansdale Farmhouse Brie
Mahoe Aged Gouda
Whitestone Farmhouse Cheese
Mainland Cheese
Airedale
For a more casual way to indulge in the country's cheese scene, you can pick up a cheese roll. This is essentially a slice of bread with cheese-based filling that's rolled up and toasted until crispy.
As simple as it may seem, cheese is a staple food of New Zealand's South Island, most notably in the Southland and Otago regions.
15. Feijoa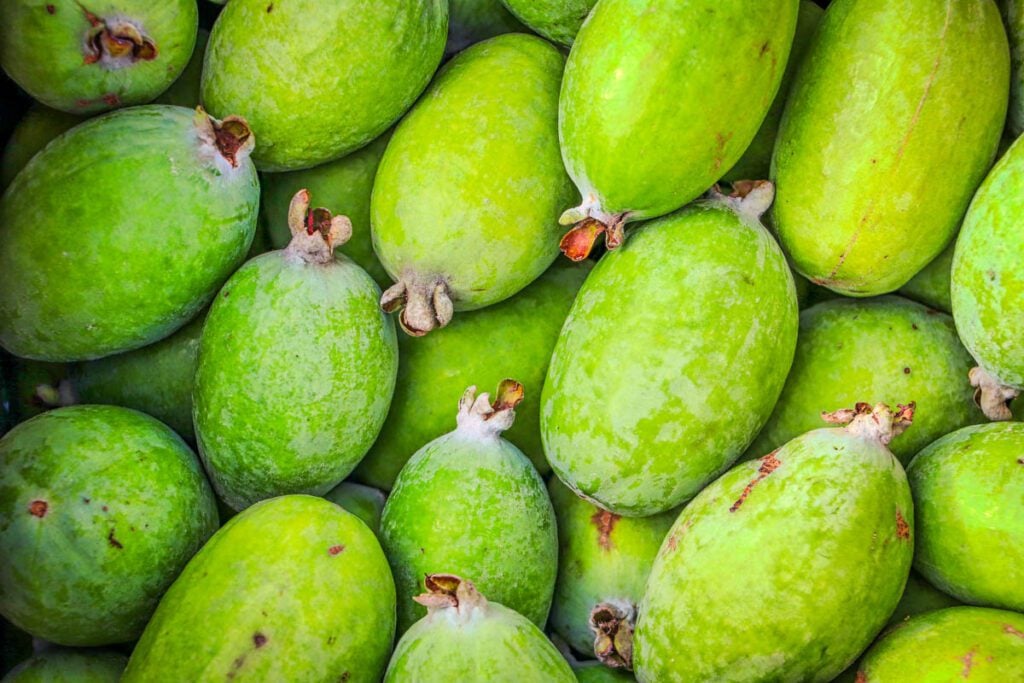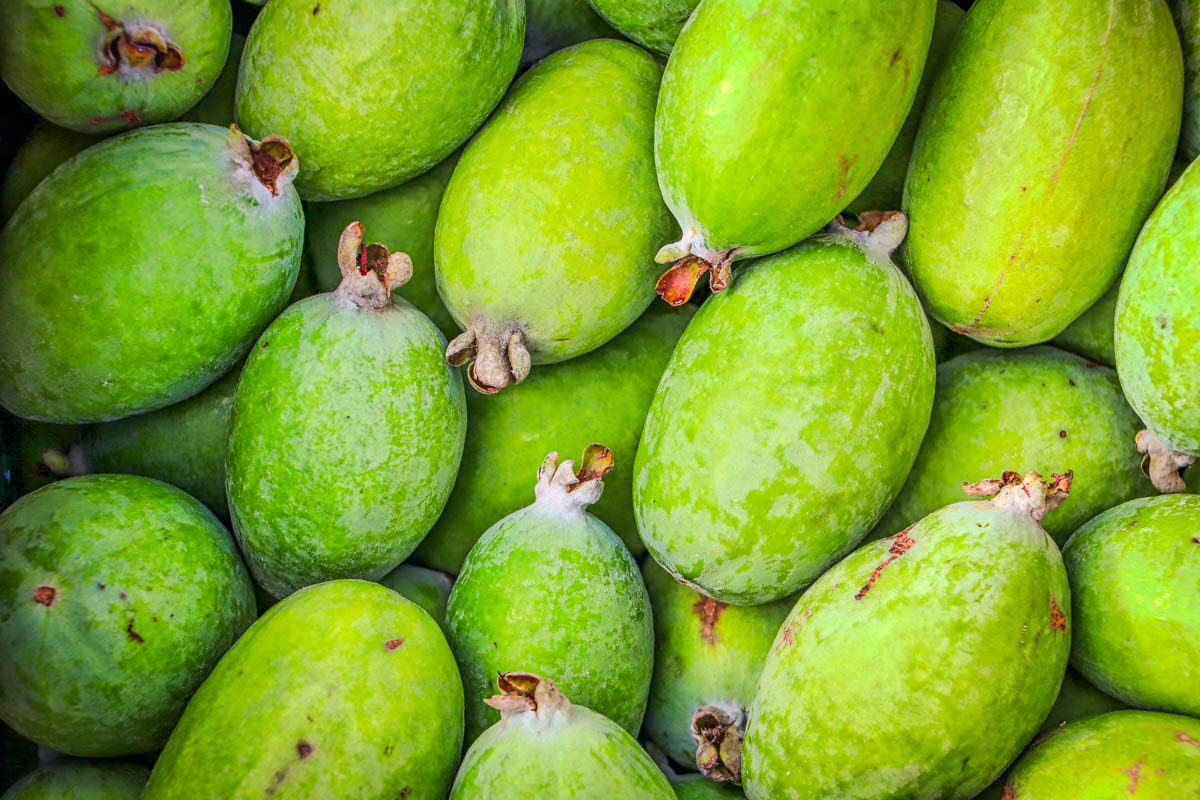 Although native to South America, these vibrant green, egg-shaped fruits are proudly claimed by the Kiwis as a quintessential New Zealand food. It's no wonder they grow there in overwhelming abundance.
They pack a very strong flavor that's compared to that of a green apple or a guava-pineapple combo.
To enjoy, slice the fruit in half and scoop out the insides, just like you would a kiwifruit. The skin is not normally eaten since it's pretty tough.
Kiwis use the fruit in baking, jams, juices, alcohol, and other drinks. So keep an eye out for more ways to try feijoa!
Good to know: You can pick up these seasonal fruits at supermarkets and farmer's markets from March to May.
16. Whittaker's Chocolate
Whittaker's Chocolate is the best chocolate company in New Zealand and easily puts any Hershey's product to shame.
It's said that you haven't really tried chocolate until you've tried Whittaker's Chocolate.
These are some of Whittaker's most well-loved bars and treats:
Classic block: Classic chocolate bar that comes in a variety of different flavors.
Peanut slab: Small but thick rectangles of chocolate filled with roasted peanuts.
Jelly tip: A legendary collaboration of Whittaker's Chocolate and Tip Top Kiwi Ice Cream.
The same family has made the chocolate for centuries, crafting the perfect recipe that's creamy, smooth, and not too sweet.
You'll definitely want to buy extra to take home with you!
17. Lolly cake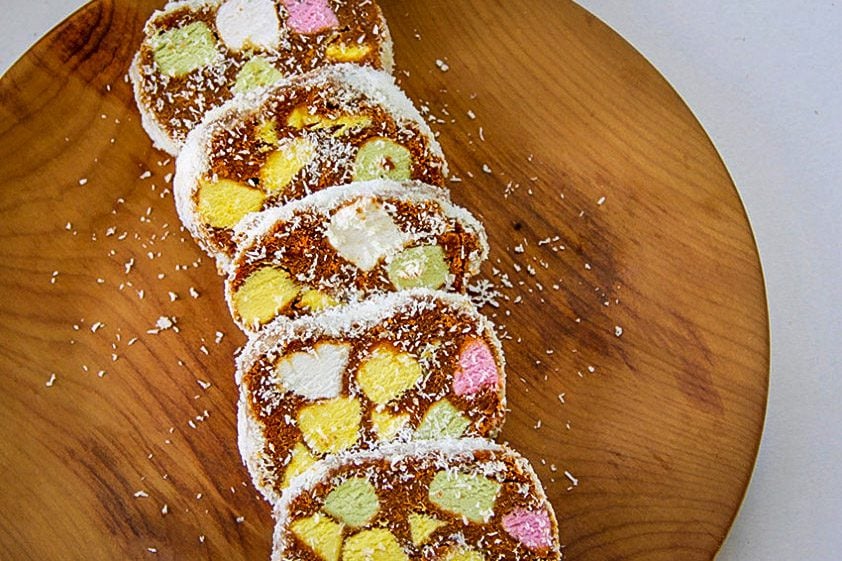 Not gonna lie, this popular New Zealand food does not appeal to me at all, so I skipped it. But when it comes to desserts, if you think the sweeter the better, you might love lolly cakes.
They're made by combining condensed milk, malt biscuits, butter, and Eskimo lollies (sort of like marshmallows but with a harder exterior and chewy texture).
Once combined, they're formed into a log, rolled in desiccated coconut, then chilled until ready to serve. The texture is a bit like cookie dough.
Although the final product is rather unusual, most Kiwis grew up eating lolly cake. You can find it as a staple in most bakeries, supermarkets, and coffee shops.
18. Pavlova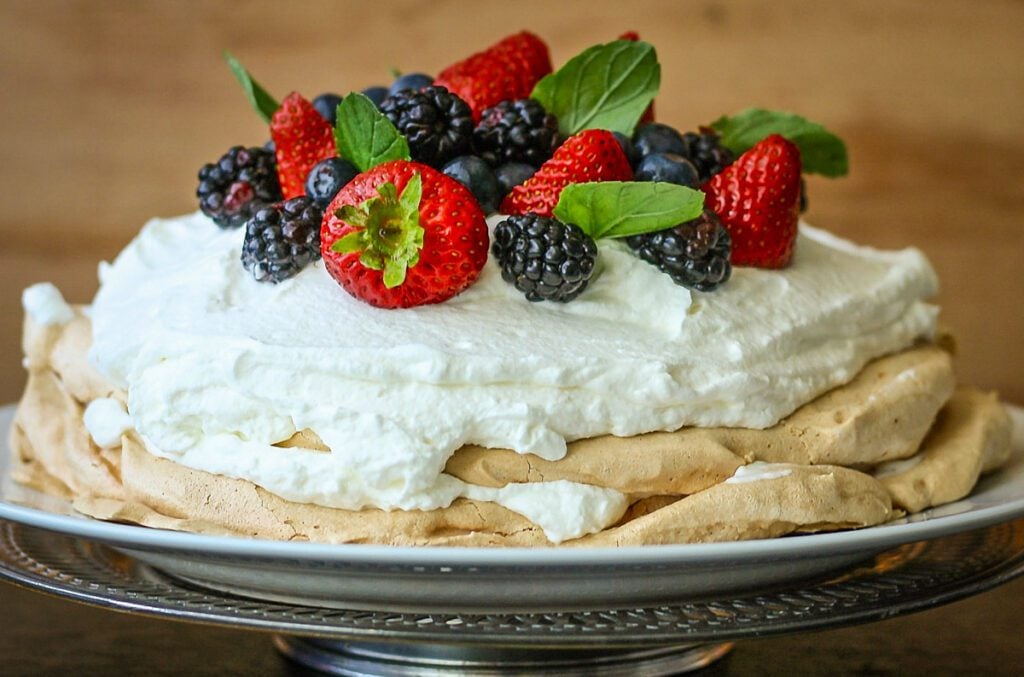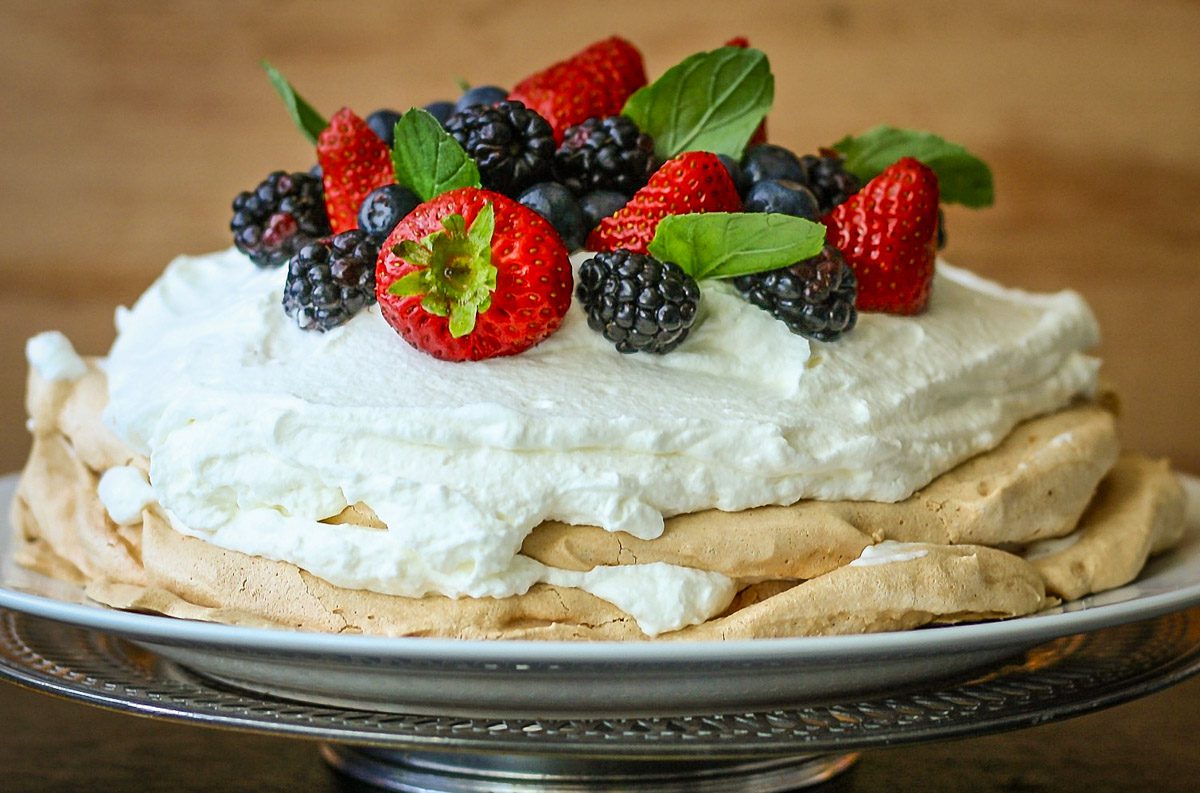 Pavlova, or just "Pav", is a meringue-based dessert topped with whipped cream and fruits.
While simple and delicious, this dessert is the cause of an intense rivalry between New Zealand and Australia.
Ask any Kiwi or Aussie who invented the Pavlova, they'll claim that it originated in their respective countries. Neither will budge on claiming the rights to this sugary treat.
It's a never ending dispute between the two, but regardless, the dessert still stands as a quintessential New Zealand food.
Fun fact: Feud aside, everyone agrees this dessert was named after a Russian ballerina, Anna Pavlova, who visited both countries in the 1920s.
19. Marmite
Loved by Kiwis, but controversial to tourists, you either love or hate marmite.
The popular breakfast spread is made from the byproduct of brewing beer. The taste of martite is very salty and has a yeasty flavor to it.
It's best on a piece of toast or crackers, with a generous amount of butter.
A word of warning, though, it has a strong flavor and a little goes a long way! Some people apply it like they would jelly or jam and are overwhelmed with the flavor.
Good to know: New Zealand marmite has a more mild flavor and stickier consistency than UK marmite and Australian vegemite. If you've tried the other two and didn't like them, give the Kiwi version a try!
20. L&P soda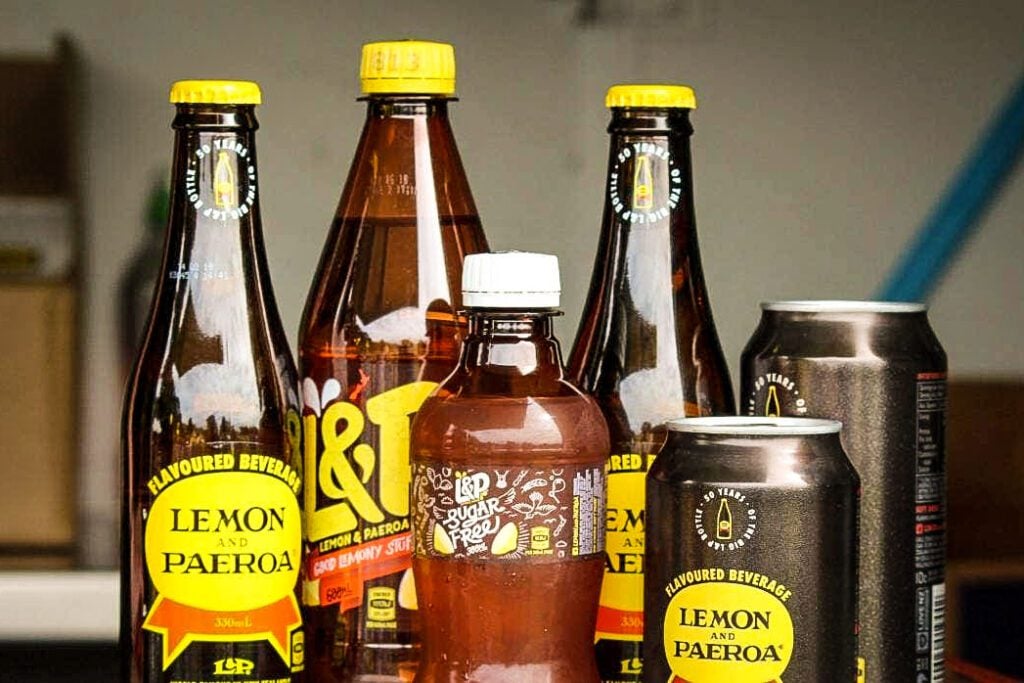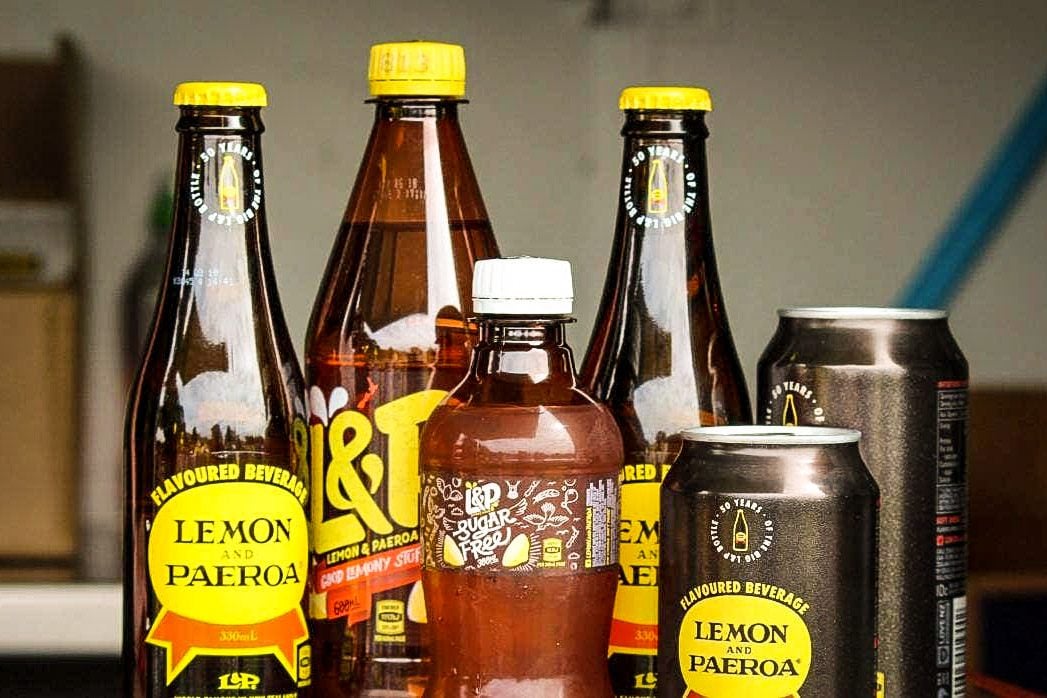 What Coke is to the United States, L&P (Lemon & Paeroa) is to New Zealand.
While Paeroa is technically just a mineral water, there are a lot more flavors mingling in this soda than just lemon and sparkling water.
It's compared to a lemony and sweeter Sprite, as well as a sugary cough syrup with notes of ginger ale.
You can buy them basically everywhere. If you happen to be in Paeroa (where the soda originated), you can pose with your drink in front of a giant L&P bottle.
Fun fact: L&P's campaign slogans are a running joke across the country: originally labeled "World famous in New Zealand", then modified to "World famous in New Zealand since quite recently", and "World famous in New Zealand since ages ago" when the soda was modified with aspartame.
21. Jaffas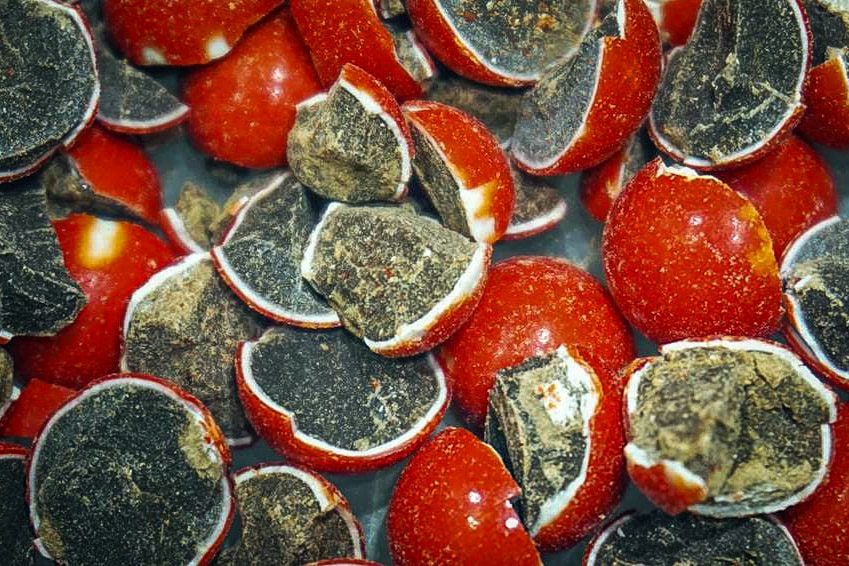 Jaffas are small, round balls of chocolate with a red coating that tastes like sweet Jaffa oranges (hence the name).
They're not hard to find as they're sold in large packs all across the country.
The candy is most commonly sold in movie theaters and iconic for the sound they make when dropped or rolled on a wooden floor, as well as their part in Australian and New Zealand folklore.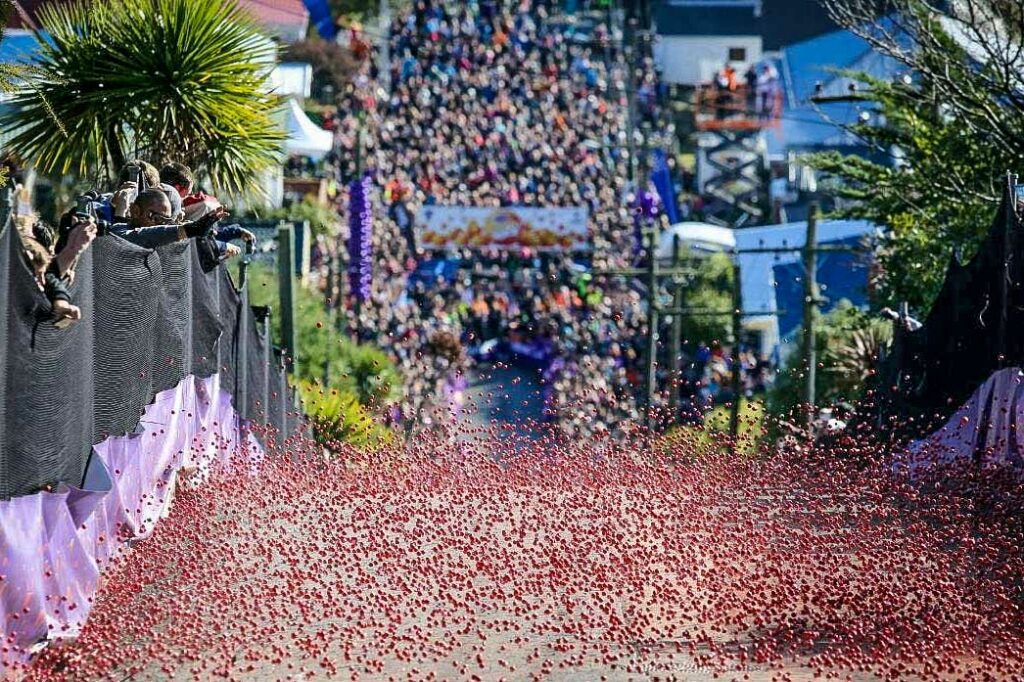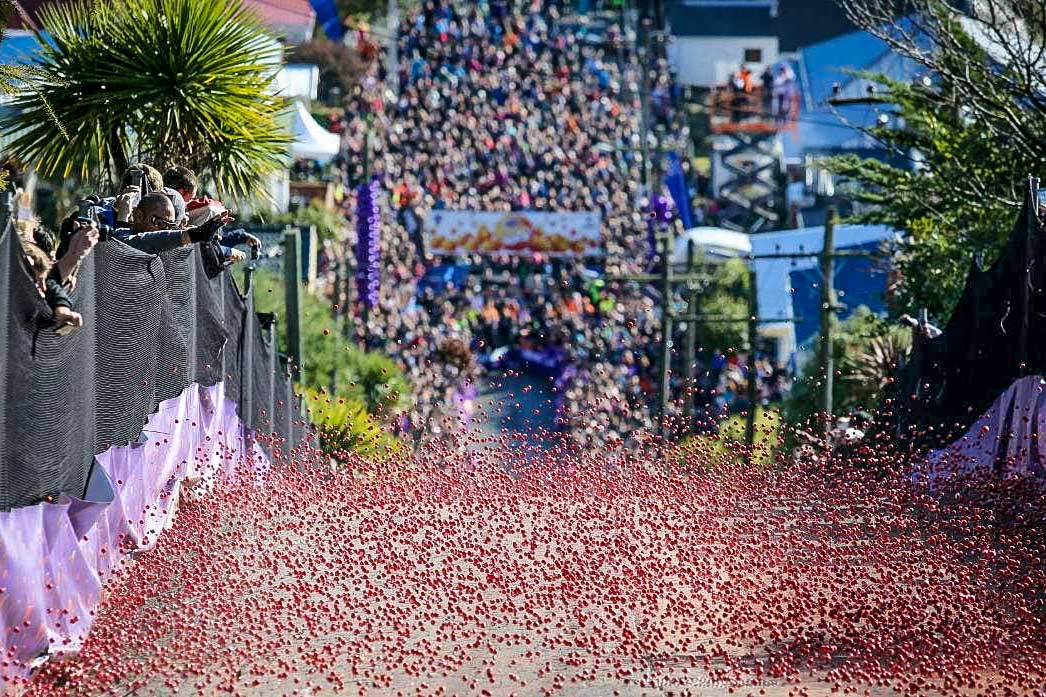 Fun fact: Each year in Dunedin, New Zealand, over 30,000 Jaffas are rolled down the steepest residential street in the world (as noted by the Guinness Book of World Records), as part of the Cadbury Chocolate Festival.
22. Meat pies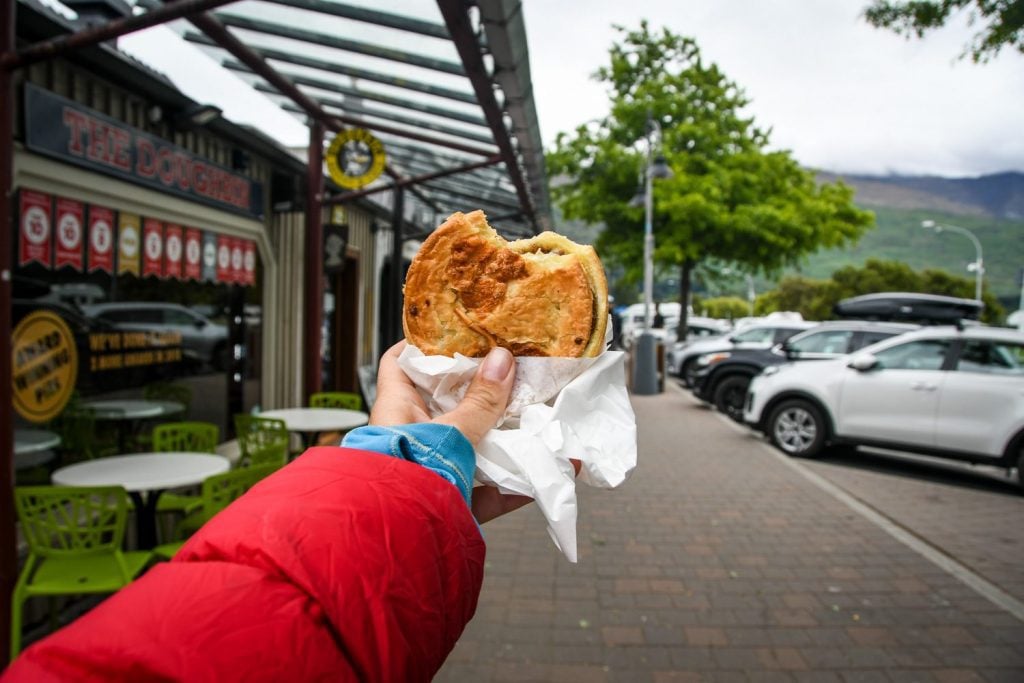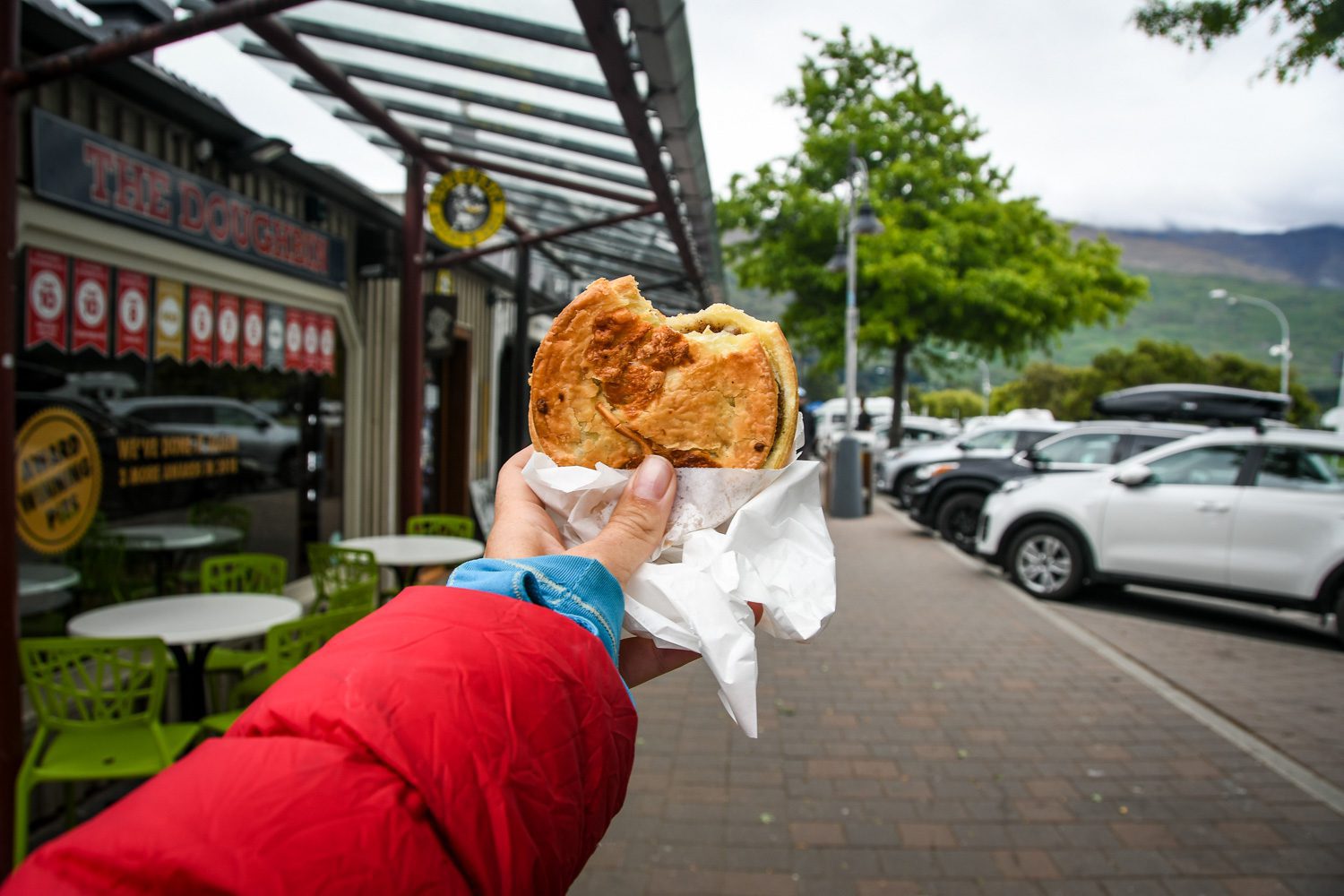 When visiting New Zealand, it won't take long for you to see signs for meat pies… everywhere. Bakeries, cafes, General Stores, and even gas stations sell these savory pastries. Which, yes, are technically British.
Meat pies come in all sorts of flavor combinations, from traditional beef with a couple veggies and gravy, to more inventive flavors, like Thai chicken curry and lamb with mint jelly.
Try one, try 'em all. There are even non-meat options for our vegetarian friends.
Eating out in New Zealand
Tipping is not expected in New Zealand.
At many restaurants around the country, you will order from a counter and then be served at your table.
In general, eating out in New Zealand isn't cheap, but there is a large focus on fresh and locally-sourced ingredients. Be sure to factor the cost of restaurants into your budget if you plan to eat out a lot on your trip.
Kiwi words to know for the supermarket
In New Zealand, they use a lot of the British words for vegetables. If you're not familiar with these terms, you might be a bit confused in the produce section. Here are some of the most common:
Capsicum = bell pepper
Aubergine = eggplant
Courgette = zucchini
Coriander = cilantro
Kumara = sweet potato (this term is totally a Kiwi word!)
Rocket = arugula
---


Are you planning a trip to New Zealand?
We have TONS of resources on travel in New Zealand and destinations throughout the country. Check out our Ultimate New Zealand Travel Guide for all the answers to your most burning questions, or read some of our favorite articles below.
Save this article on Pinterest for later!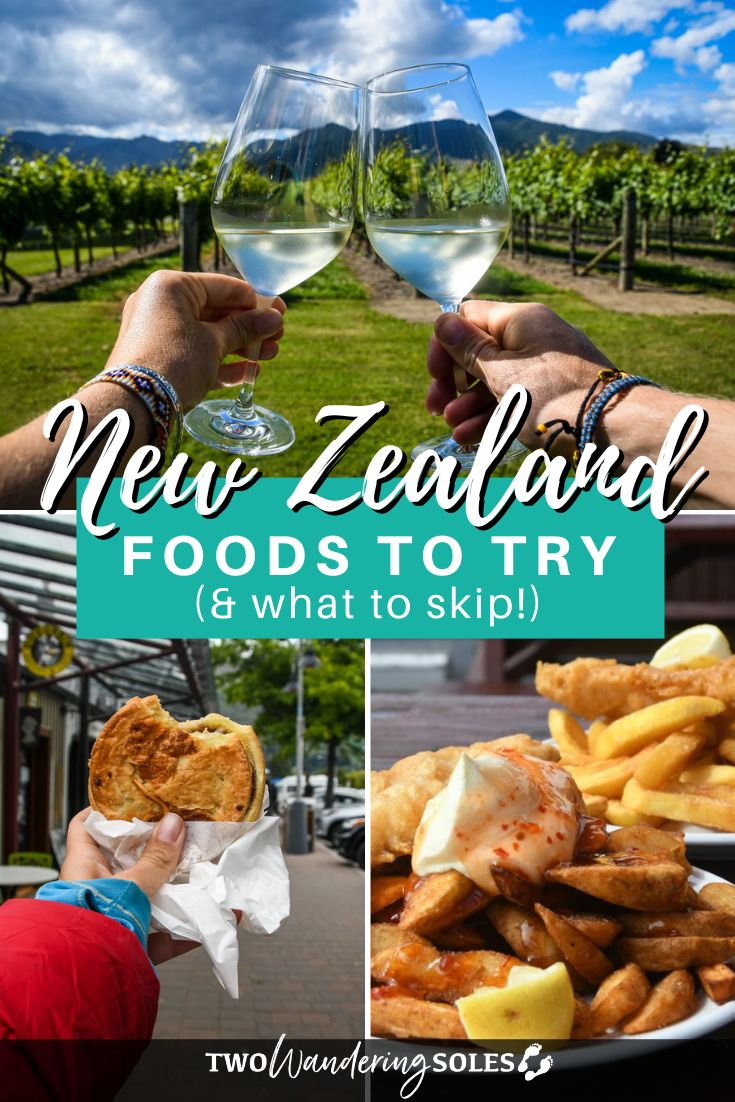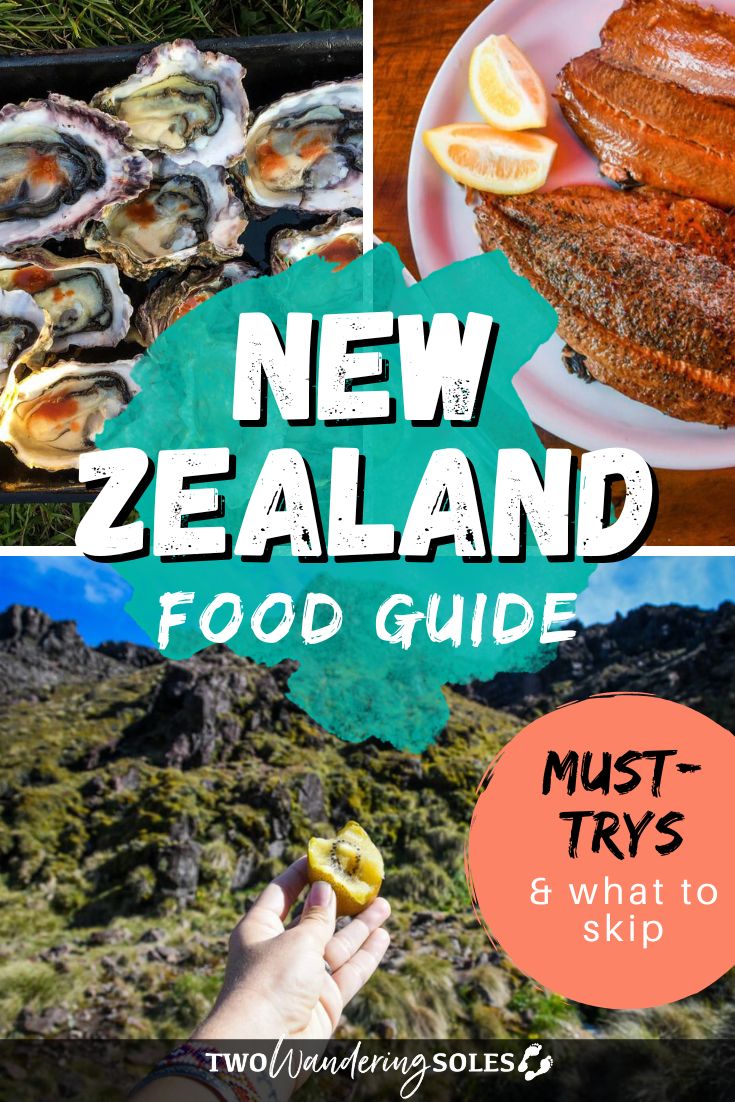 We want to hear from you!
Which of these New Zealand foods has you drooling? Any dishes we missed? Have questions about planning your trip to New Zealand? Let us know in the comments below and we'll do our best to get back to you!