The picture-perfect town of Hood River offers endless opportunities for outdoor recreation. Whether you're interested in the orchards and wineries, epic water sports and hiking, or one of the longest ski seasons in North America, there are endless things to do in Hood River, Oregon and we are going to cover them all.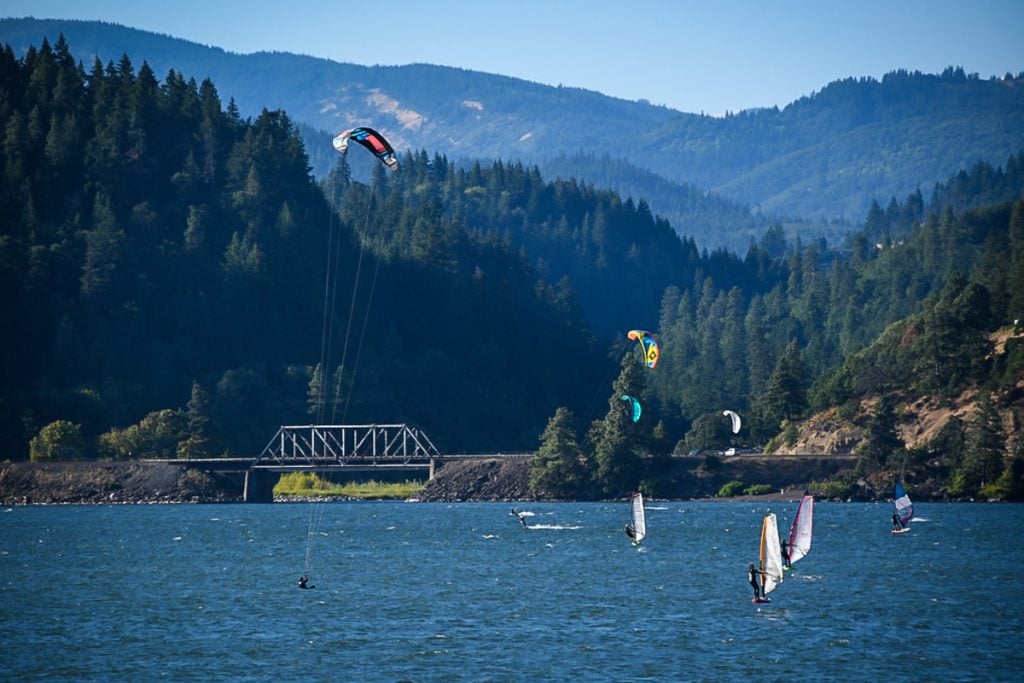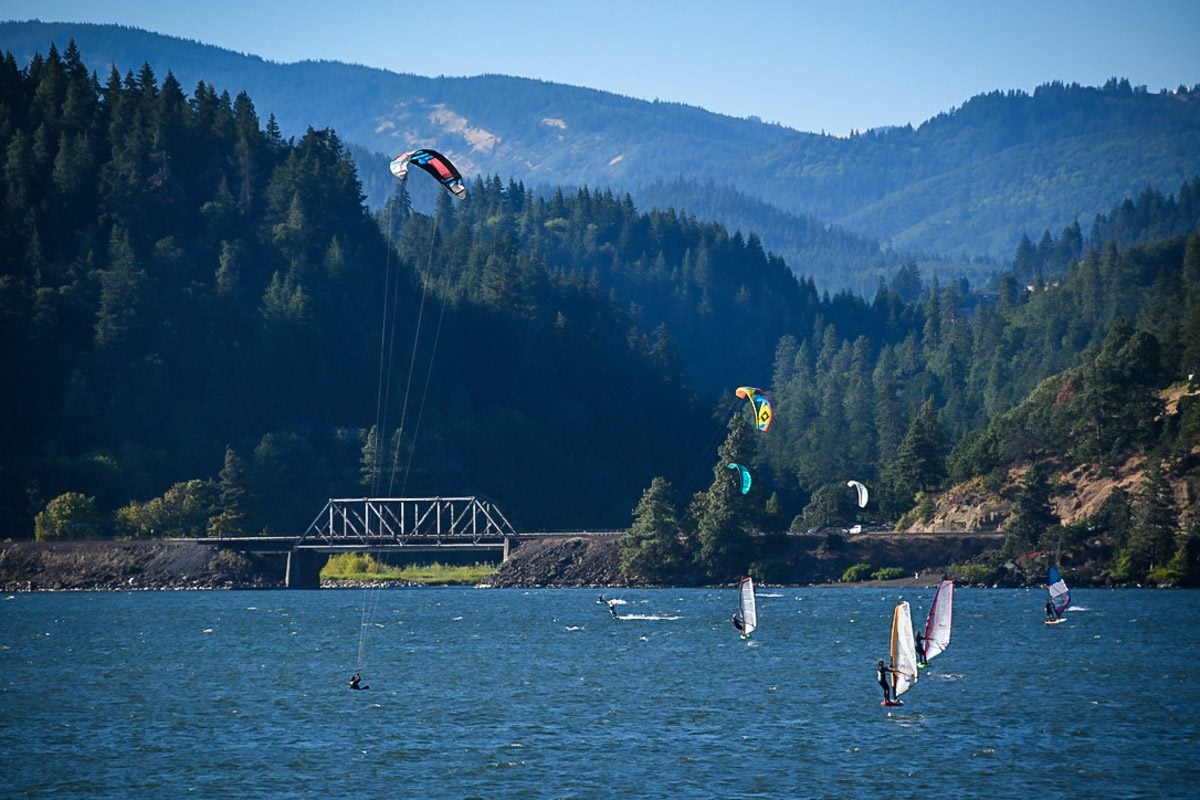 Situated on the banks of the mighty Columbia River and bordered with fruit orchards and vineyards, Hood River is one of our favorite little towns in Oregon. Nested in the Hood River Valley, the climate here is drier and sunnier than the coast, which makes it the perfect place for outdoor recreation.
With massive mountain peaks like Mount Hood and Mount Adams looming in the distance, a cute downtown strip, and sandy river shores, there are plenty of things to do in Hood River.
Being that we live just a couple hours away in Bend, Oregon, we find ourselves coming back to this charming town time and time again (and we still aren't sick of it!). We've put together a guide of the best things to do in Hood River, packed with insider tips and tidbits that'll make your trip unforgettable.
Article contents
---
---
Best time to visit Hood River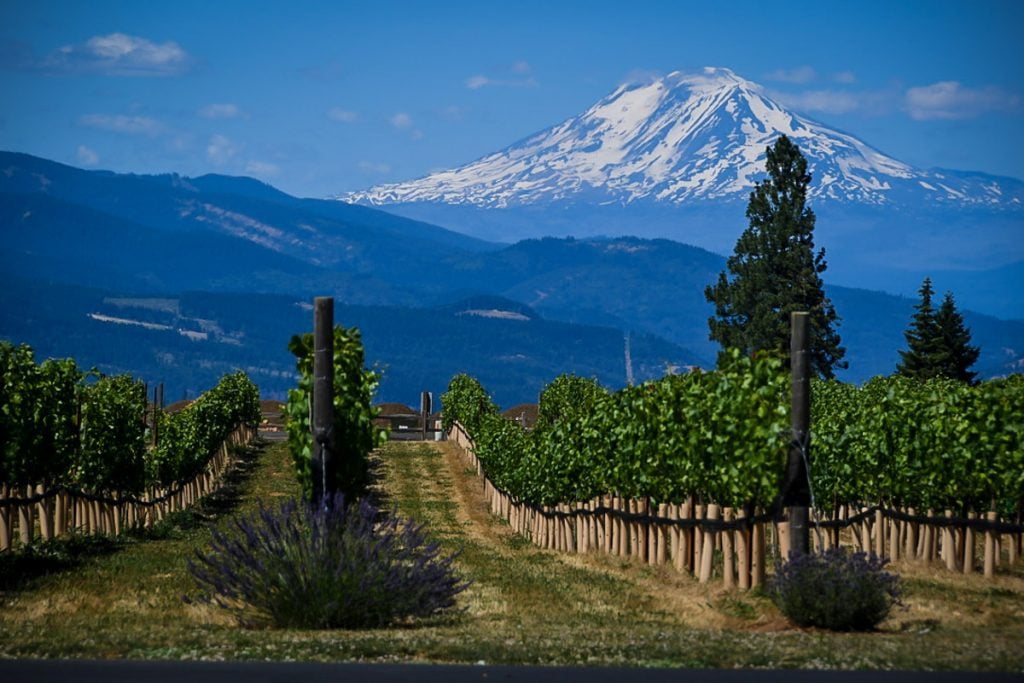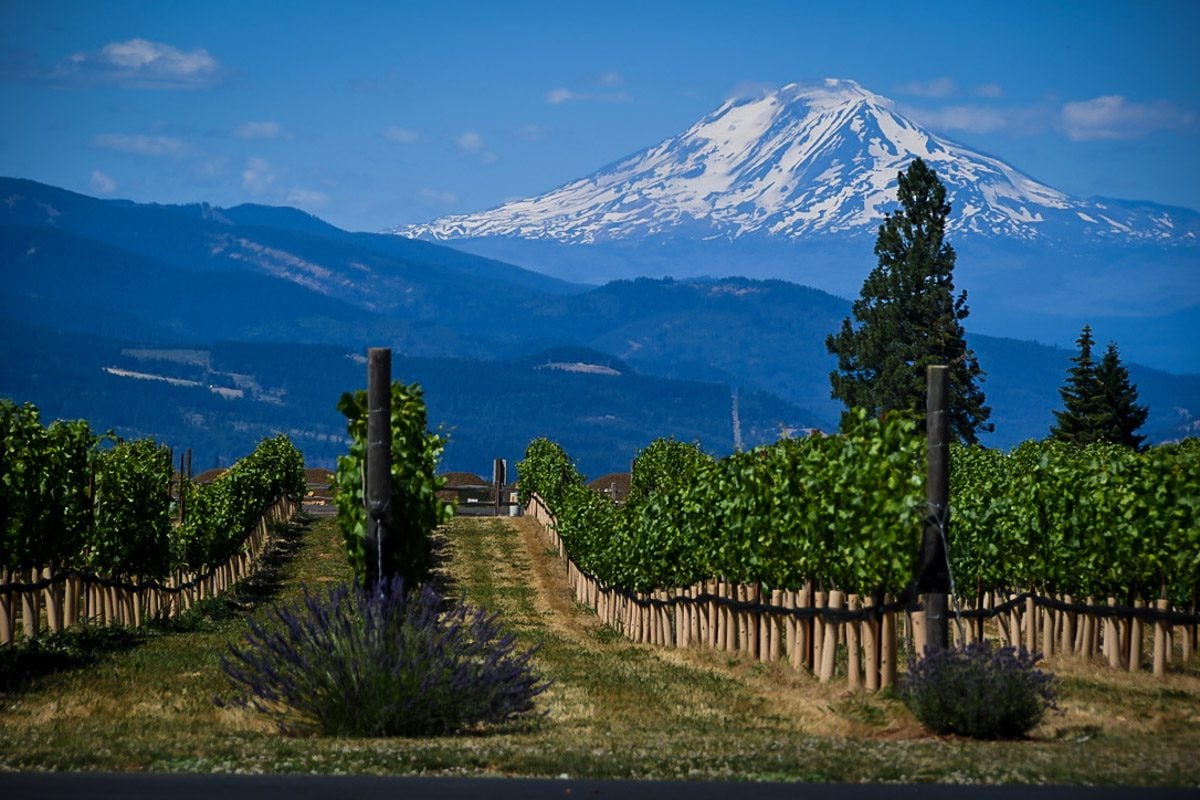 We've visited all year round and truthfully can't choose a favorite time because Hood River has a unique draw in every season.
Spring brings pastel blossoms to the orchards outside of town and is the perfect season to tackle some hikes (put Dog Mountain on your list for wildflowers and epic views!).
Summer is a perfect time to visit the flower fields, pick your own cherries and hang out on the Columbia River.
Fall brings comfortable temperatures and the opportunity to pick your own apples and pears in the nearby orchards.
Winter is relatively mild in this riverside town, but offers easy access to epic skiing at the resorts on Mount hood.
How to get to Hood River
Hood River is almost exactly 60 miles east of Portland, making for an easy one-hour drive. It's basically a straight shot down I-84 and makes for a great day trip from Portland.
Because of its proximity to the city, getting to Hood River is a cinch even without your own vehicle. Here are the best options:
Columbia Area Transit (CAT) – The Columbia Gorge Express Eastbound Route runs between Portland and Hood River (and Cascade Locks). A GOrge Pass gives you unlimited routes on fixed-route rides like this one!
Greyhound – Bus routes take you directly between Portland and Hood River.
Hood River PediCab – Offers pickup and dropoff services to and from Portland International Airport (PDX) with advance reservations.
Rideshare – We don't recommend this option, as it's by far the most expensive, but in a pinch, you could call an Uber or Lyft to take you all the way to Hood River.
Columbia Gorge CarFree – This unique and very handy website is dedicated entirely to helping people figure out transportation logistics in the Gorge region without having their own vehicle!
---
Things to Do in Hood River
Like much of Oregon as a whole, Hood River is an outdoor lovers' paradise — but that's just the beginning. From wine tastings and visiting u-pick farms to hiking and learning extreme adventure sports, there's no shortage of things to do in Hood River.
1. Drive the Fruit Loop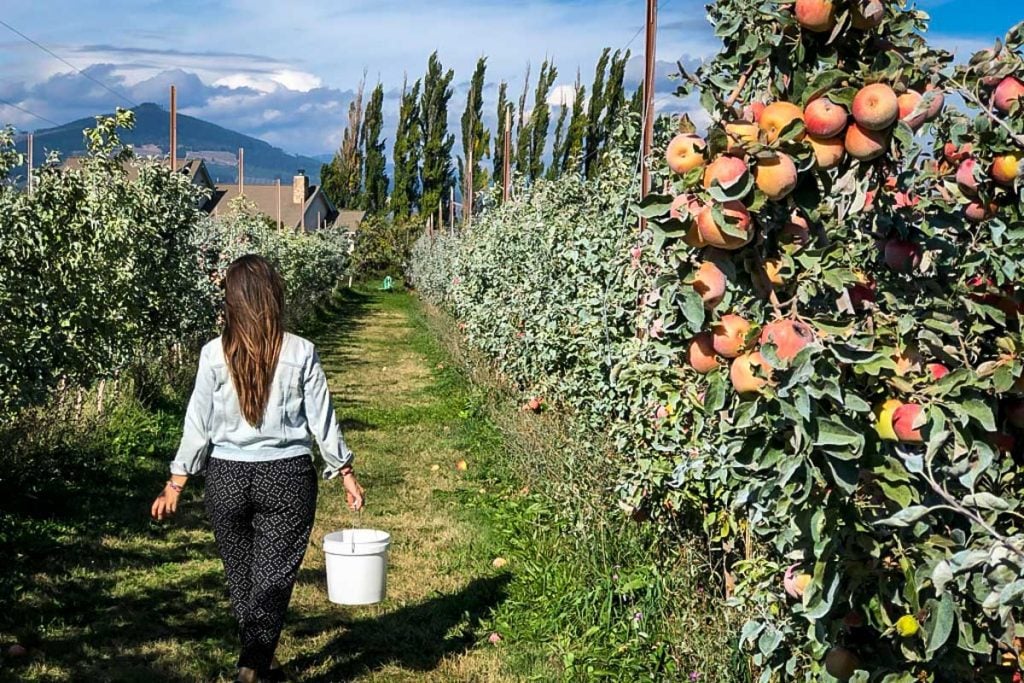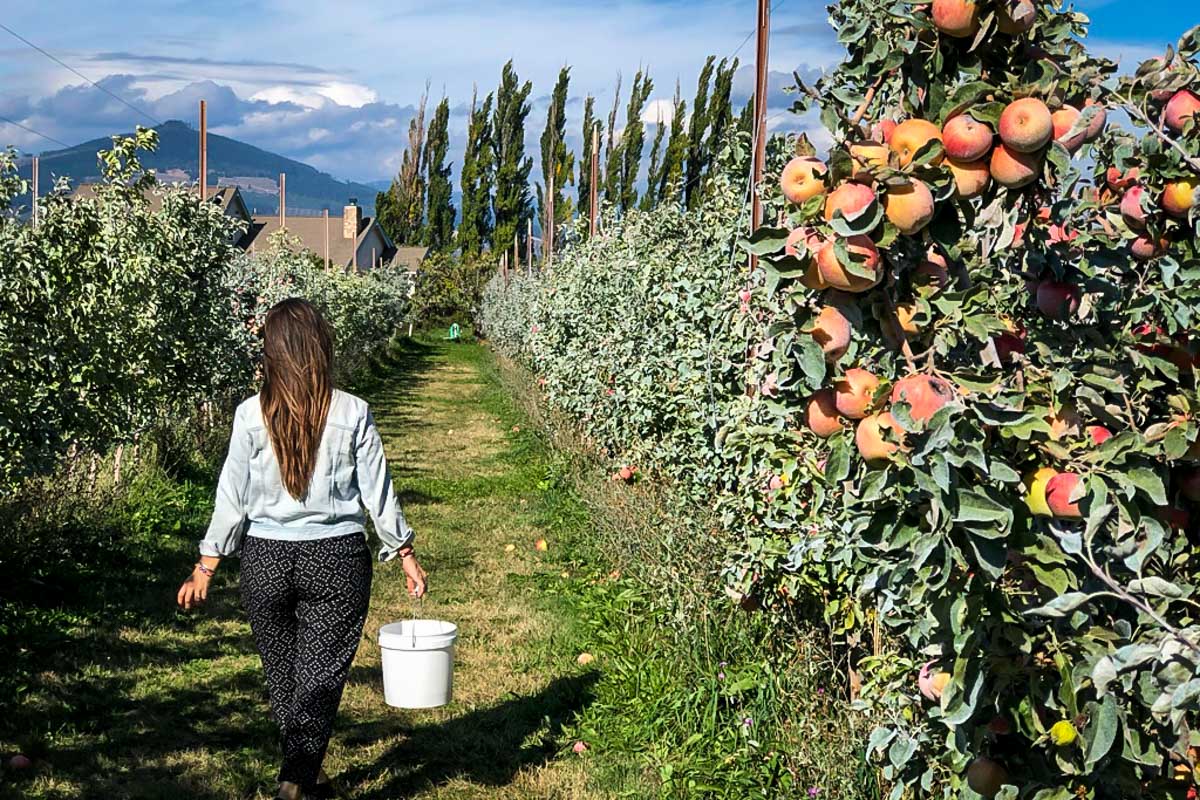 Driving the cheekily-named Fruit Loop is by far one of the best things to do in Hood River!
It's a 35-mile scenic drive through the country, passing nearly 30 of the region's wineries, farms, orchards, produce stands, breweries, cideries, and flower fields. There are also a few coffee shops, country stores, and antique stores sprinkled in.
Make it a day trip and create your own self-guided tour by deciding on a handful of stops. We recommend hitting a variety, including a winery or two (or three — no judgment here!), a brewery or cidery, and several fruit stands.
Note: most vendors close by 6:00 pm, even during the summer (and several close at 4:00 or 5:00 pm!), so plan accordingly.
While the Fruit Loop is accessible year-round, many of its businesses are seasonal and may not be open outside of the growing season. Check the official Hood River Fruit Loop Facebook page for the most up-to-date information on openings and other events.
Our favorite stops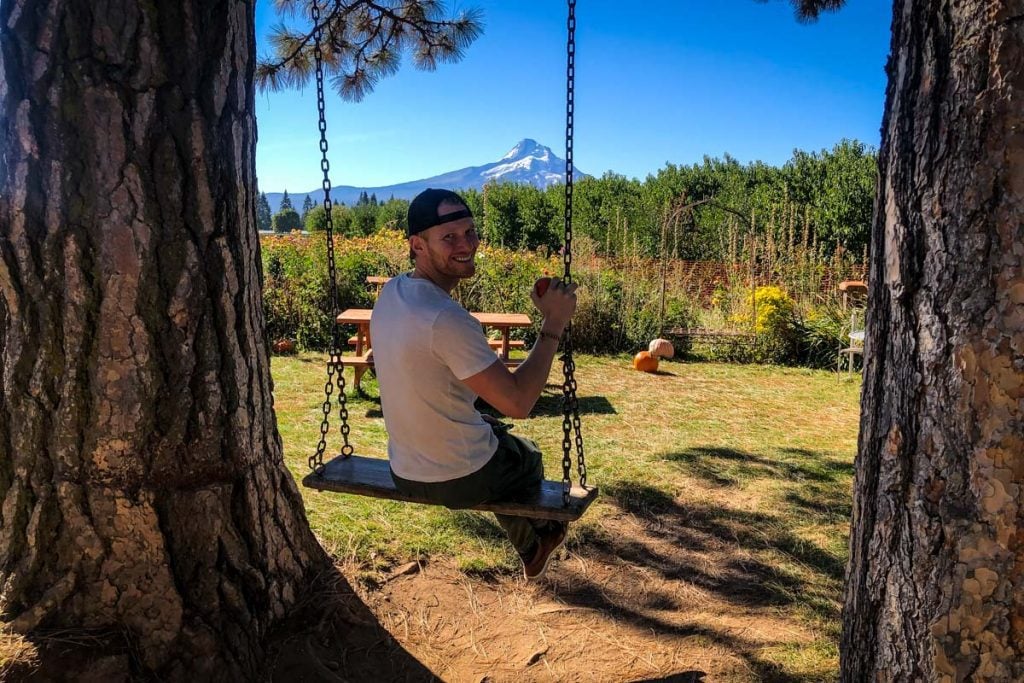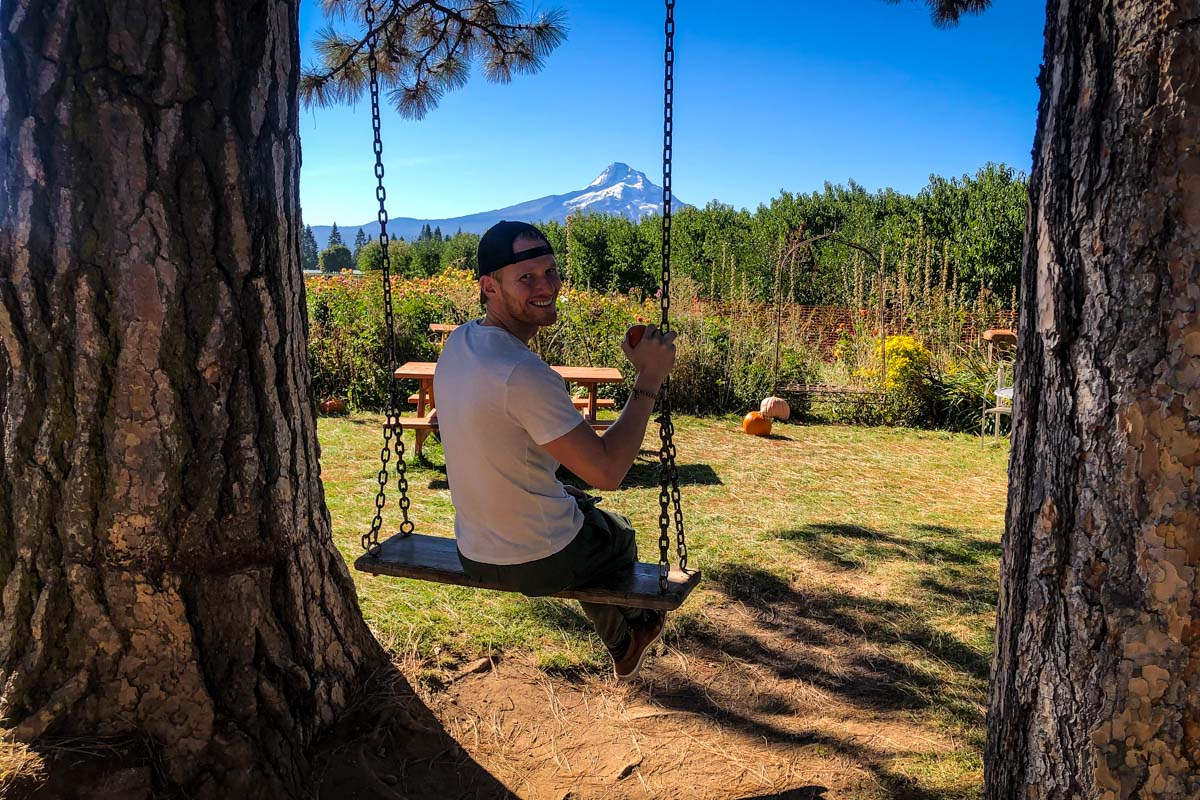 Apple Valley Country Store: Nestled in a river valley, this country store looks like something out of a postcard. Be sure to try the pear dumplings (I'm drooling just thinking about them!) and their huckleberry milkshake.
Packer Orchards & Bakery: During harvest season, you can pick a bag and fill it with pears or apples for a small price. We chose the $5 bag and packed it full of a variety of pears! They also have a nice selection of pickled vegetables, jams and baked goods.
Hood River U-Pick Orchard: Our favorite orchard

Small petting zoo, hammocks, can bring your own picnic
Organic U-Pick Cherries

Late June thru Mid-July
Bings, Rainiers, and Pie Cherries

Organic U-Pick Apples

Mid-September thru Mid-October
Honey crisp & Gala
We have a complete guide to driving the Hood River Fruit Loop, including all of our favorite stops and everything you need to know to plan your trip.
2. Take in the views at Panorama Point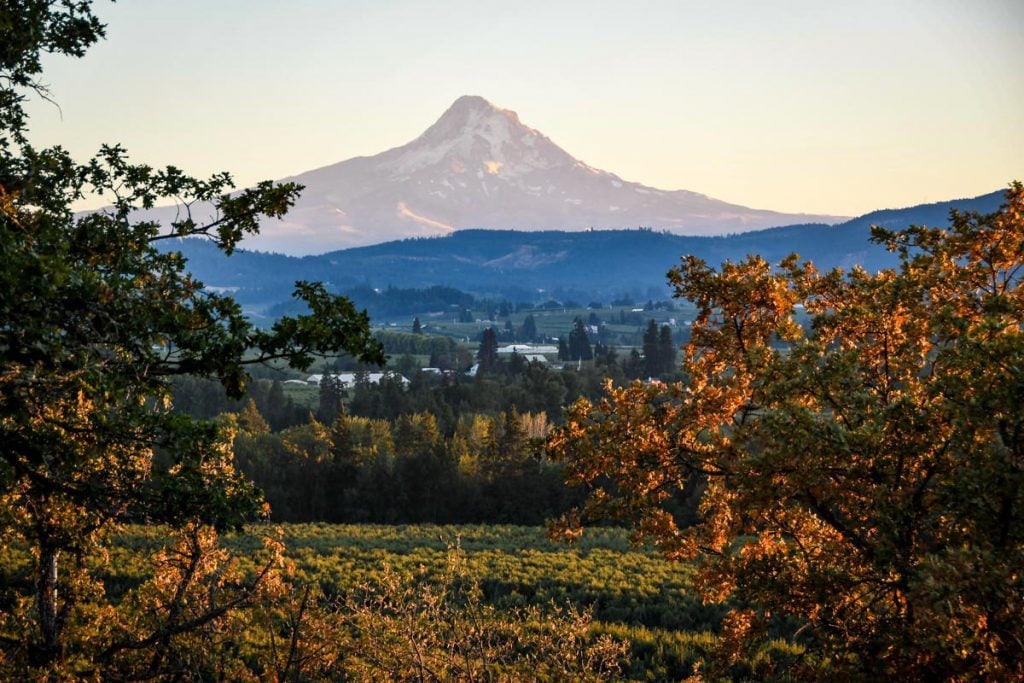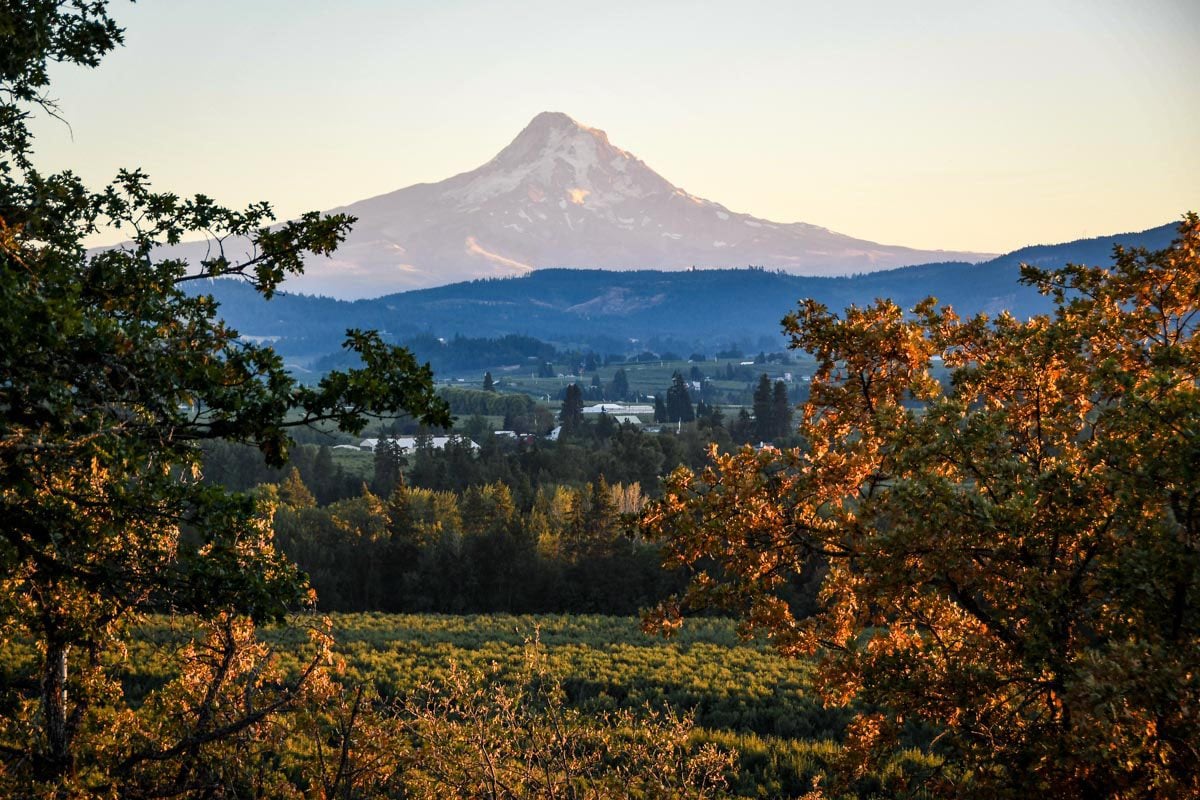 Whether you have just a few hours in town or you're staying for a long weekend, checking out the epic views from Panorama Point absolutely has to be on your list of things to do in Hood River!
This super accessible viewpoint packs a tremendous punch, as you can drive right up to it and it's only about 10 minutes from downtown.
Once there, enjoy panoramic (as the name implies!) views of the Hood River Valley, stretching from Mount Hood to Mount Adams and including all the scenic fruit orchards in between. On clear days, you may even see Mount Saint Helens!
If you time your visit just right, you'll catch beautiful color from the fruit trees blooming in the spring (the entire valley is cast in a lovely pink hue!) or richly-colored fall foliage in autumn. To be clear, though, it's always a good time to head up to Panorama Point — even in the winter, the views are spectacular.
Panorama Point is actually set up like a small park, with restrooms, picnic tables, and plenty of parking. There are also a few interpretive signs explaining the agricultural history of Hood River. Note that the gate closes nightly at 6:00 pm.
3. Check out Hood River's brewery scene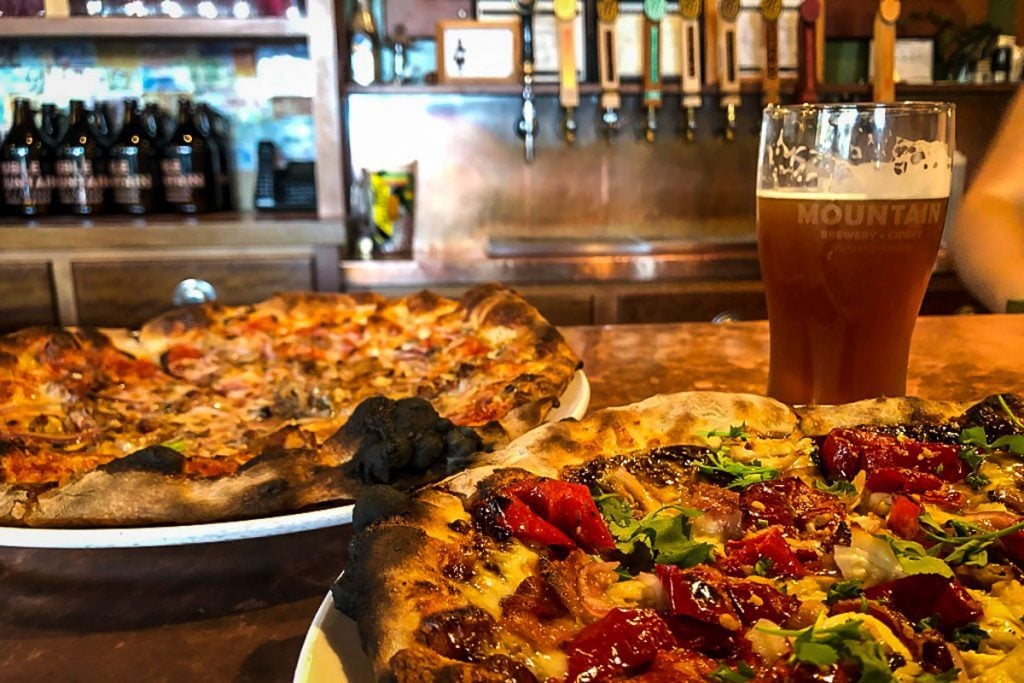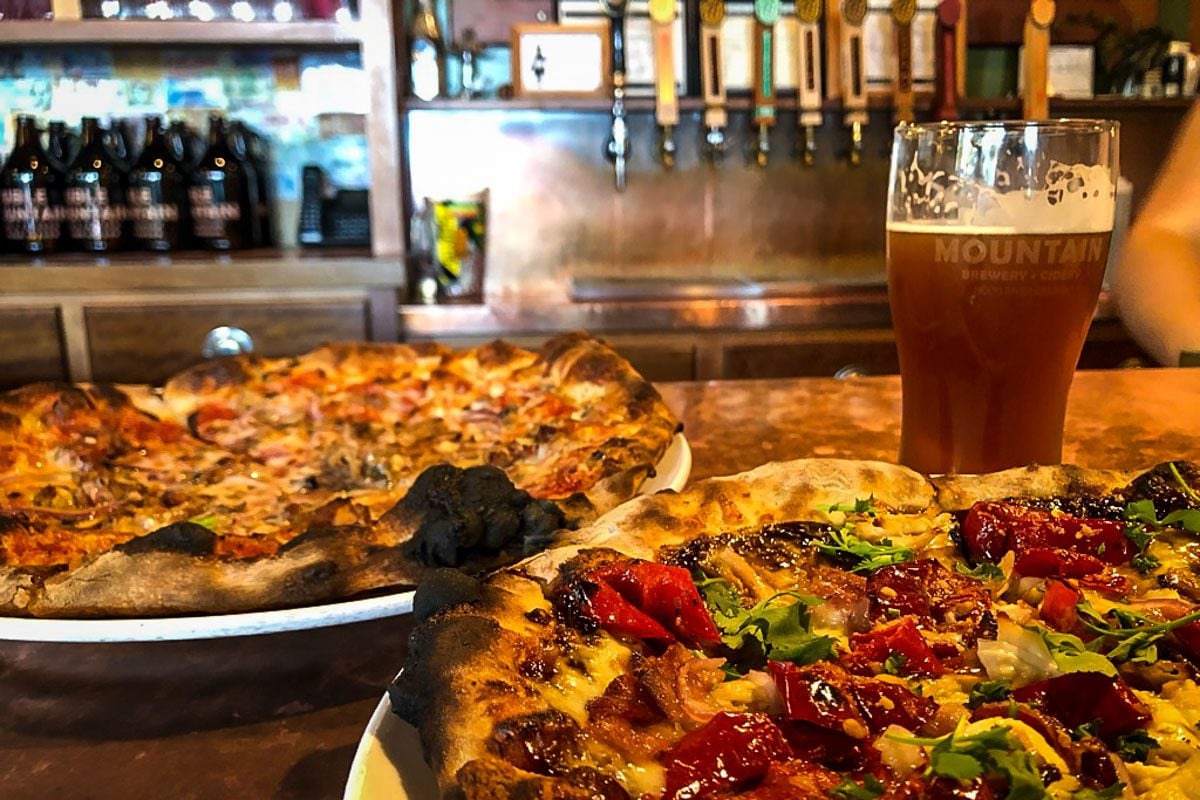 Hood River is unequivocally associated with wineries and cideries, but one of its hidden gems is the growing brewery scene. Several craft breweries have popped up in the last few years, making Hood River an even more amazing destination. Now, beer enthusiasts like us can have their proverbial cake and eat it, too (or should it be "and drink it, too"?!).
As a bonus, many Hood River breweries are situated along the Fruit Loop, so you can kill two birds with one stone and check both items off your list. Double bonus: most of Hood River's breweries have incredible views and delicious food too!
Here are some of our favorite breweries in town:
4. Try (or watch!) kiteboarding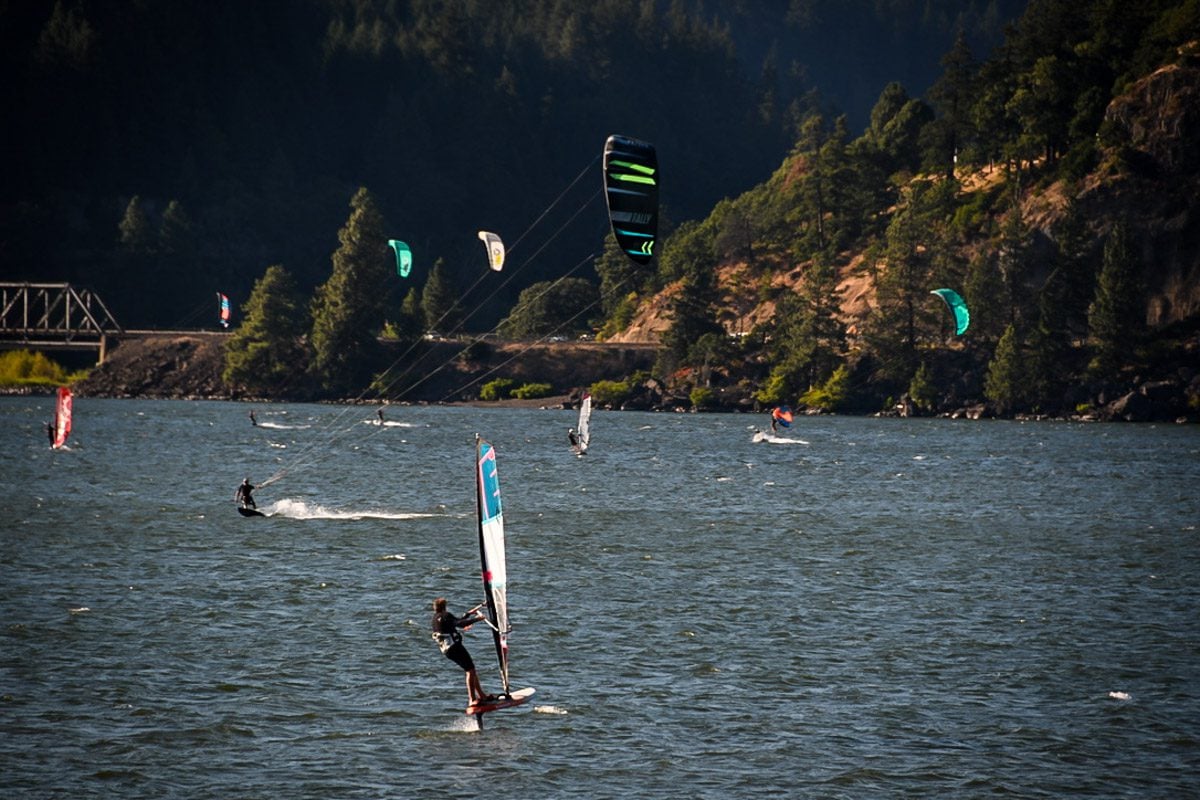 Hood River is renowned as the Windsurfing Capital of the World, so it should come as no surprise that it's also a major kiteboarding destination.
The mountains surrounding the Columbia River Gorge create a deep, narrow channel where wind consistently blows. Importantly, though, these winds are steady rather than gutsy — the optimal conditions for wind-related sports such as kiteboarding.
Add in the postcard-perfect scenery, an abundance of other outdoor recreation, and the laid-back local vibe, and it's no surprise that extreme athletes flock to Hood River.
Kiteboarding isn't exactly the type of sport that you simply show up and do one day, so you'll need to plan ahead if you actually want to try it yourself. Hood River has several kiteboarding schools (yep, totally a thing!) like Gorge Kite, so you could take lessons before attempting it on your own.
If staying firmly on land and simply watching others attempt kiteboarding is more your speed, that's another great thing to do in Hood River. On warm, sunny days, head to the river with some picnic supplies and set up for a couple of hours. You won't believe how many brave souls are out on the water (and in the sky!) when the weather is nice!
The Hood River Event Site near the sandbar is a popular launch spot. Don't worry if you've never heard of it or have no idea where it is — you can't miss the kiteboarders taking off!
5. Visit Hood River wineries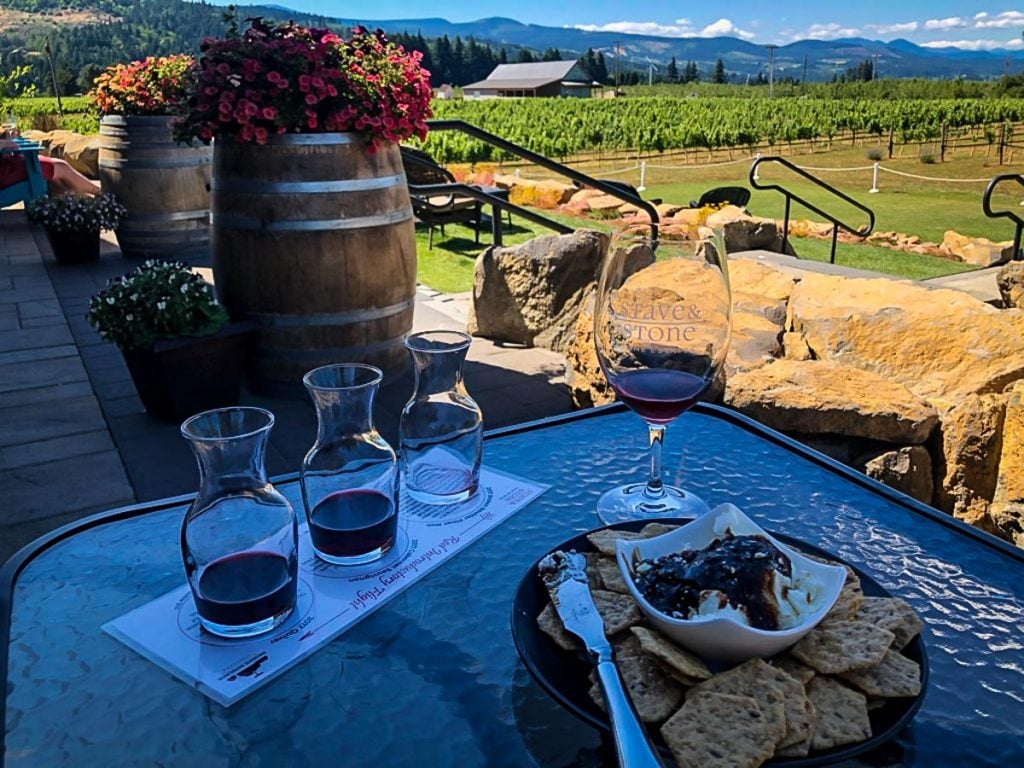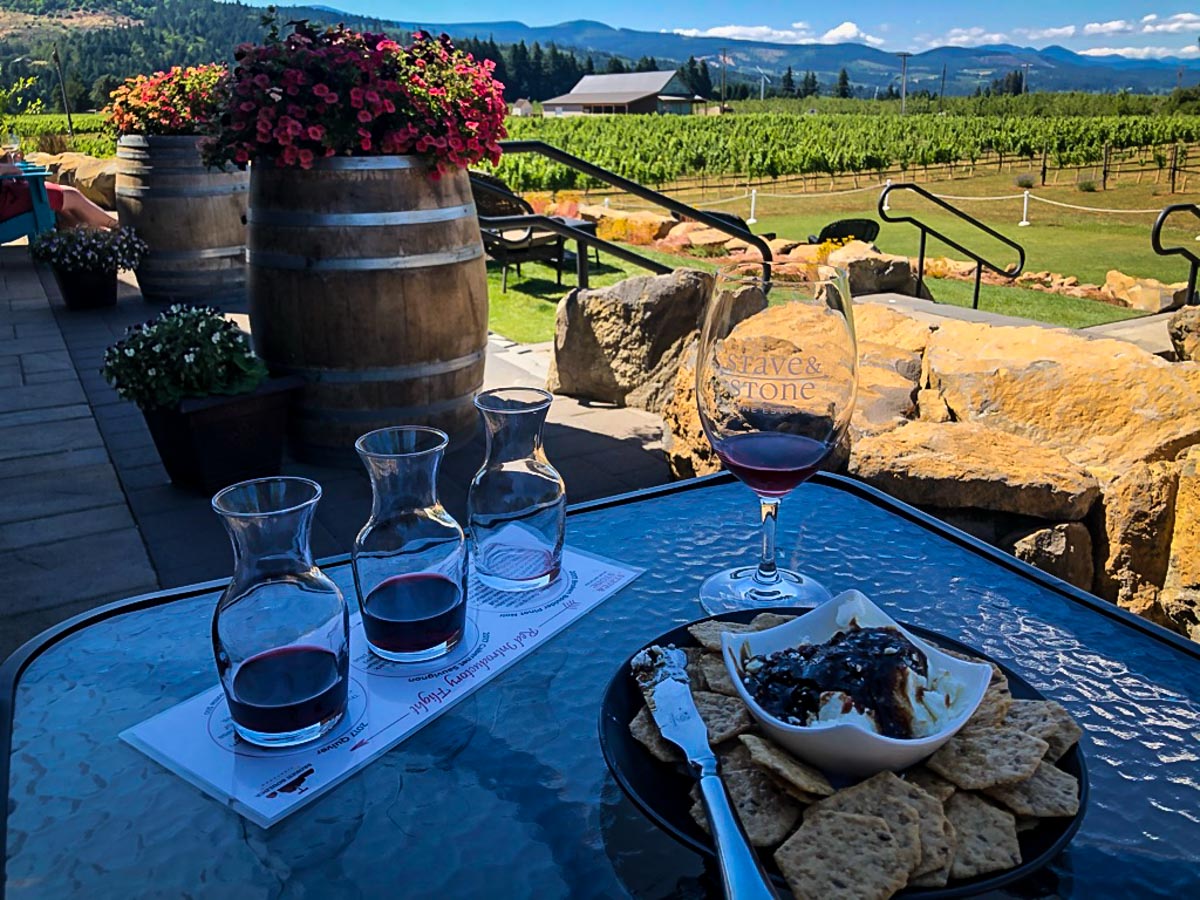 In case you haven't figured it out by now, visiting the wineries in Hood River is one of the best things to do here. With over 80 vineyards and nearly 40 wineries, there's truly one to suit every taste, vibe, and budget — and nearly all of them have killer views and outdoor seating areas, to boot.
Why are there so many wineries in this small town? We're glad you asked!
The climate in Hood River is significantly drier and warmer than the coast, and the soil is extremely fertile. This all has to do with Hood River's unique geography, with both the Columbia River and the Cascade Range in its backyard. It also happens to be the perfect recipe for grape-growing and wine-making.
Thanks to Hood River's relatively compact size, it's easy enough to visit two or three wineries in a single visit. We really enjoy going on a hike or driving the Fruit Loop, then stopping for a glass of vino and some light bites at a couple of our favorite wineries.
Stave & Stone is our hands-down favorite winery and we never miss a visit when we're thinking about what to do in Hood River! It's situated right on the Fruit Loop and has ahh-mazing views of Mount Hood and the mountains stretching out in every direction.
Stave & Stone is also open year-round (not all Hood River wineries are!) and they have super inexpensive tasting flights; starting at just $10! Order a flight and a cheese board, then find a cozy spot on the patio to take in the views.
6. Indulge in ice cream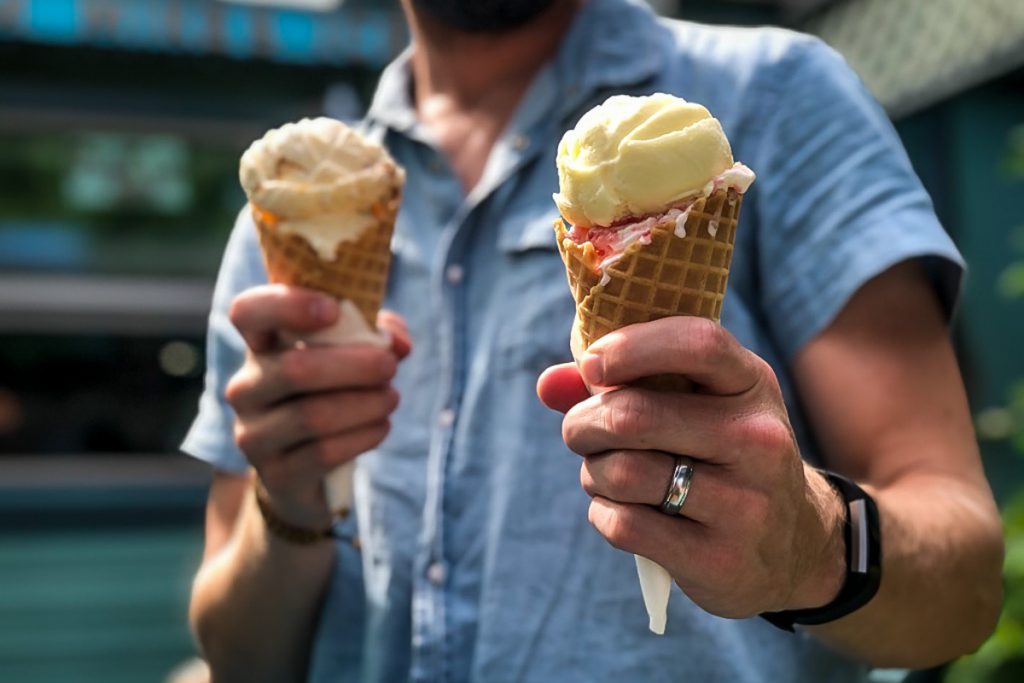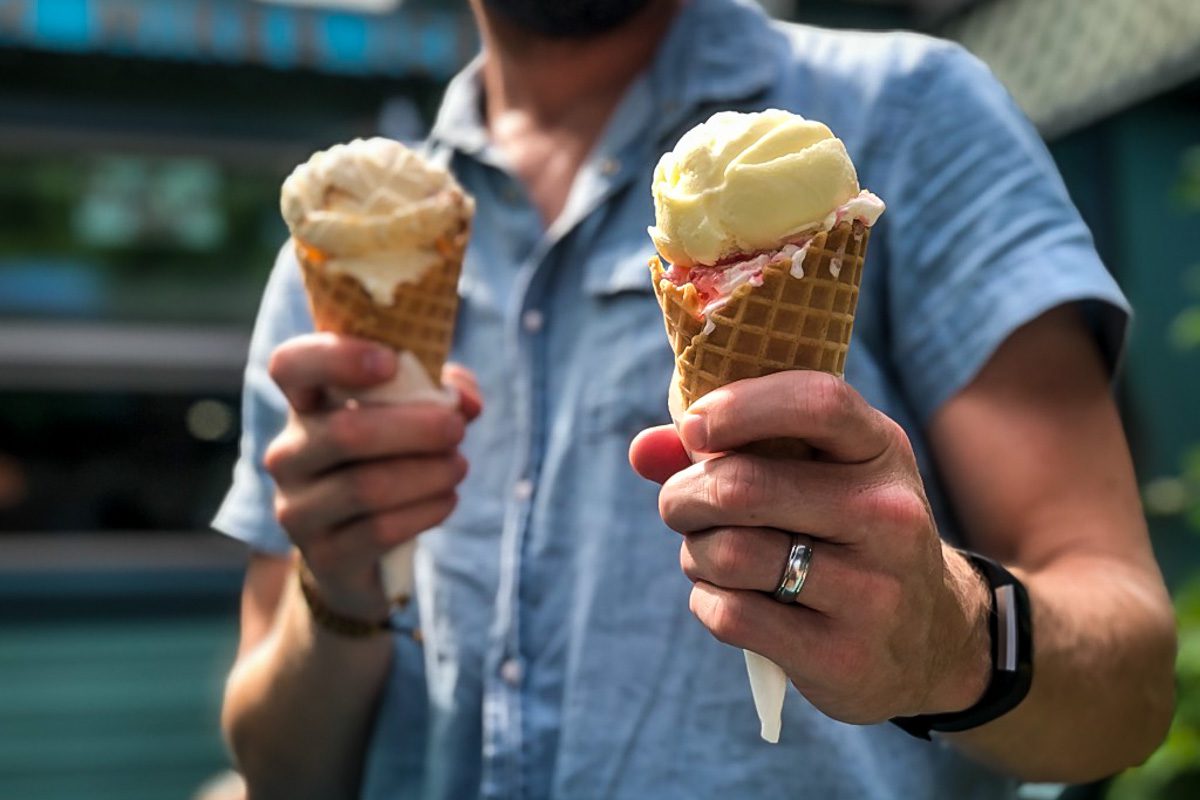 We know what you're thinking….an ice cream place gets its very own spot on your list of things to do in Hood River?! YES — because it's genuinely that good! Mike's Ice Cream is a Hood River institution, having been in the same spot downtown for over 30 years.
The physical store is reason enough to stop into Mike's. It's adorable, with a grassy front lawn area, brightly-colored benches and Adirondack chairs for seating, and plenty of shade. Grab a generously-sized scoop inside (try the salted caramel or anything seasonal!), then stake out a spot outside and people-watch while you enjoy your cone.
Insider tip: Mike's is cash-only and it's only open seasonally, typically from April or May through early October. There will almost certainly be a line, but be patient — it's well worth it!
7. Take a hike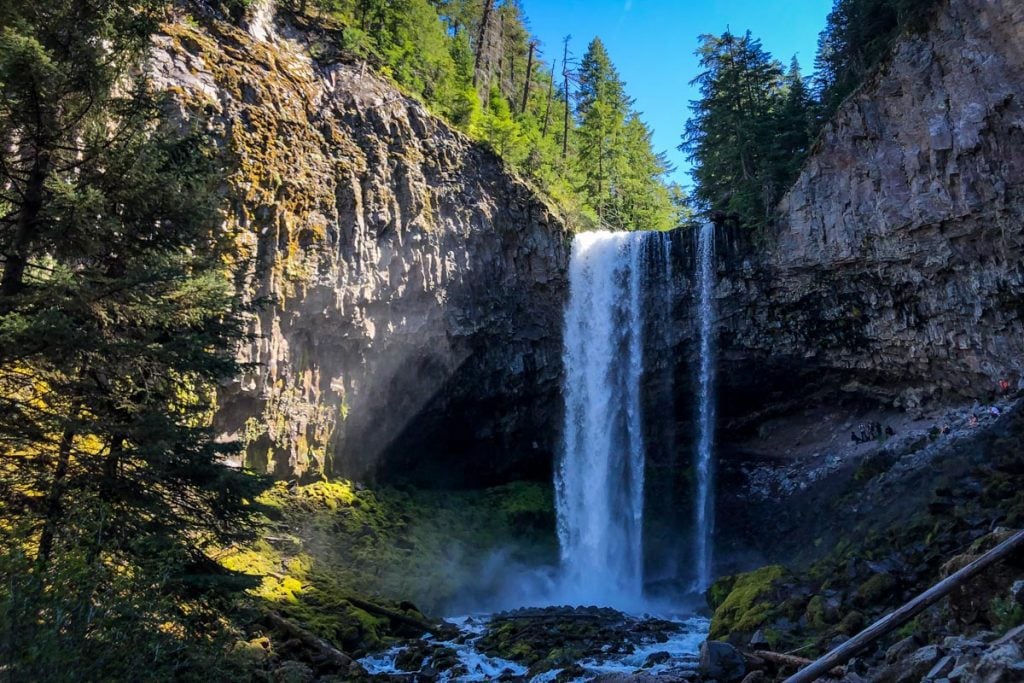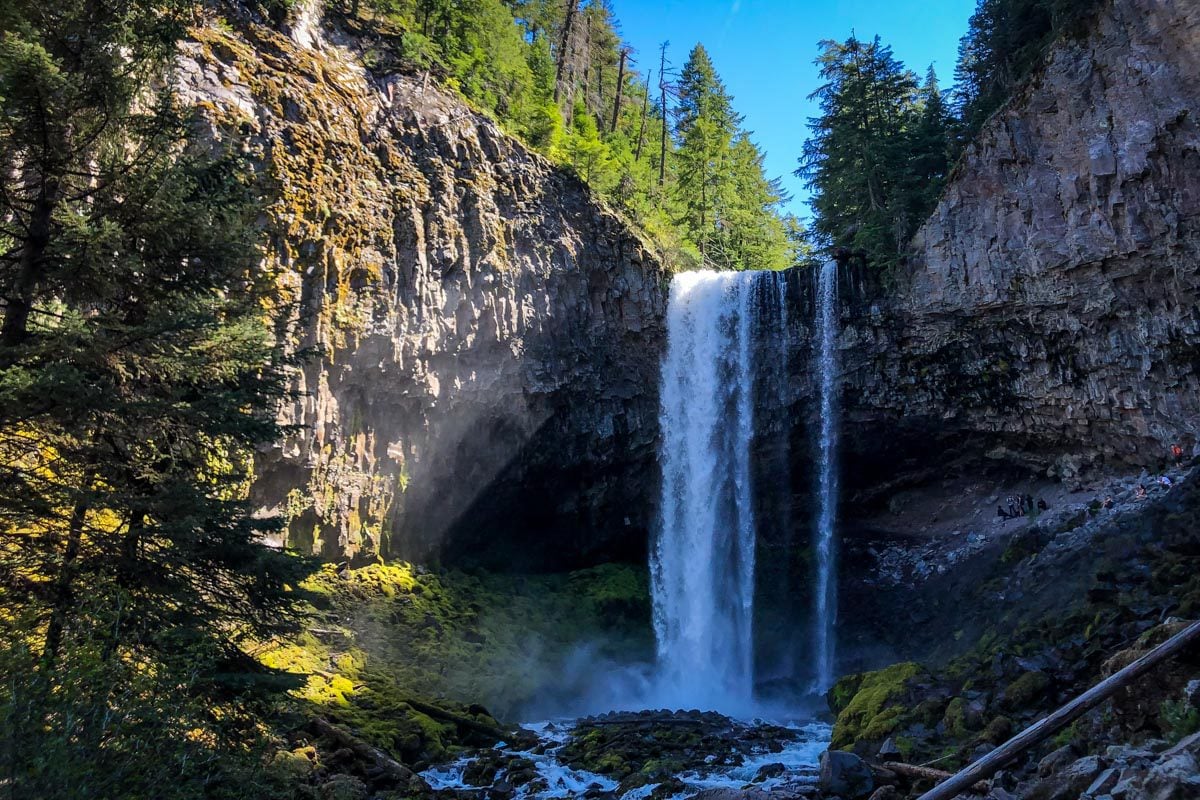 It's no secret that we love to hike, and Hood River has some amazing trails. How could it not, nestled in the heart of the Columbia River Gorge at the foothills of the Cascades?!
Best of all, several of the best Hood River trails are easily accessible right in town and they all have incredible views. Two of our favorite trails are Dog Mountain and Tamanawas Falls.
Dog Mountain – This fantastic 6.5-mile loop hike is so famous for its spring wildflower blooms that a permit is required during peak wildflower season (typically from April through mid-June)! It involves a steep uphill climb of nearly 3,000 feet, so it's considered one of the more strenuous hikes in the Gorge, but bucket list-worthy, nonetheless.
You can combine this hike with the Augspurger Trail to create a loop that offers spectacular river views and only adds 1.5 miles.
During peak weekends, the Columbia Area Transit (CAT) runs a shuttle service from Hood River to the Dog Mountain trailhead. Parking tends to get absolutely insane, with the lot full before 10:00 am on most weekends — so the shuttle is an excellent option.
Tamanawas Falls – This hike is short and sweet and it's just a 30-minute drive from town, making it one of the best things to do in Hood River. The 3.4-mile hike brings you to the waterfall, a broad curtain-like cascade flowing dramatically over a 110-foot volcanic cliff.
This waterfall hike is best enjoyed in the summer or fall, when pops of color from wildflowers or changing leaves add visual interest. However, it also freezes solid in the winter, so it's a great cold-weather day hike if you have snowshoes or crampons.
8. Window shop downtown Hood River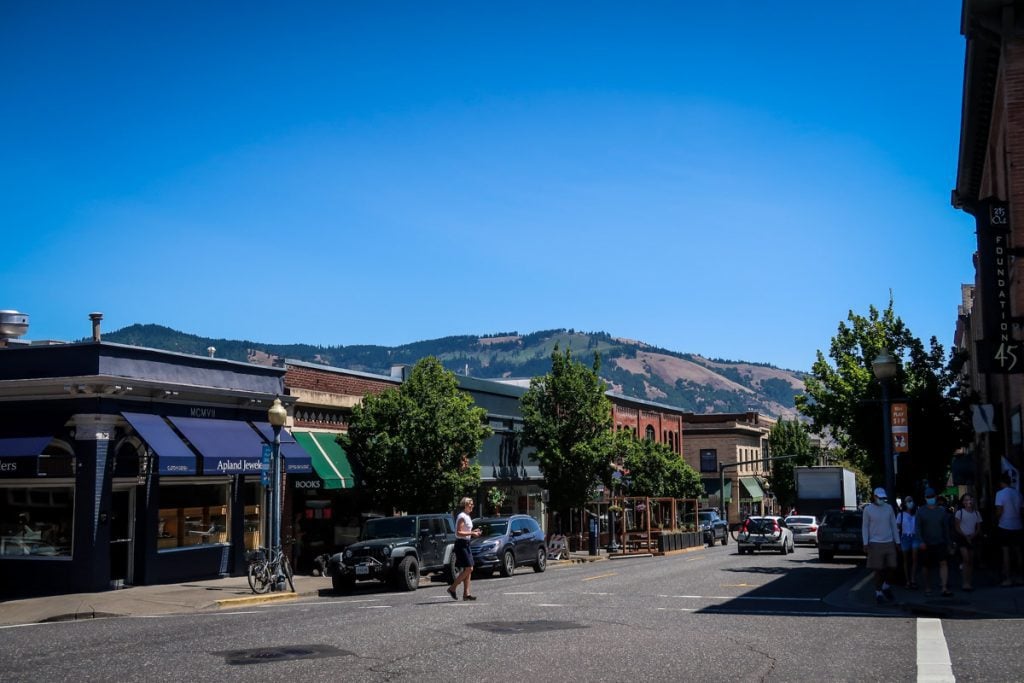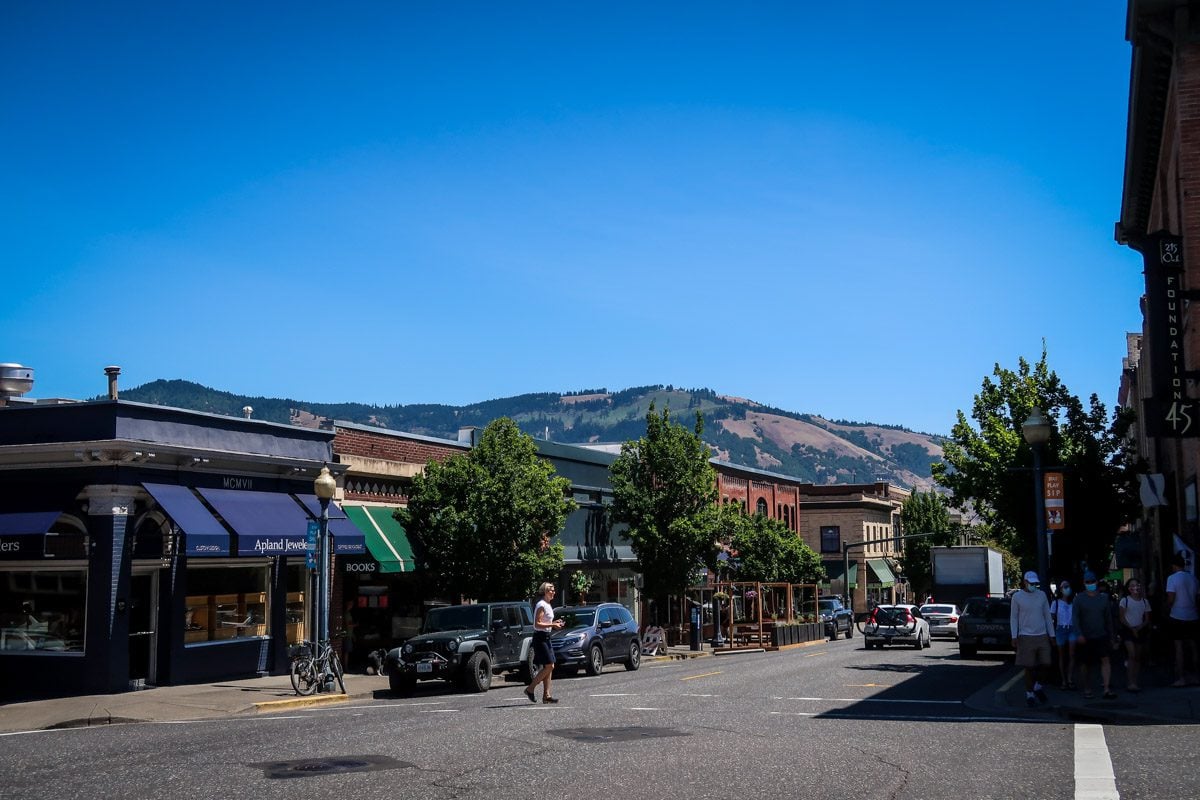 Downtown Hood River centers around charming Oak Street, lined with trees and well-preserved historic buildings. This bustling shopping district features an eclectic mix of over 30 restaurants, cute boutiques, outdoor outfitters and gear shops, art galleries, quaint coffee shops and cafes, high-end designer shops, and antique stores.
When it's nice out, another one of the best things to do in Hood River is grab a coffee and pastry from one of the cafes and spend a few hours popping in and out of shops. Oak Street is an excellent place to pick up one-of-a-kind treasures, whether for a gift or to treat yourself. Some highlights include:
9. Pop into art galleries
Hood River has a thriving, up-and-coming arts scene that lends a really cool, eclectic vibe to the entire community. You'll find several art walks and pop-up exhibits throughout the year, as well as a handful of permanent galleries. There are a few downtown and others scattered throughout Hood River, but our absolute favorite is Art on Oak.
This unique gallery is technically an artists' cooperative, or co-op, and it features every imaginable type of artwork. Paintings, pottery, jewelry, sculptures, journals, leatherwork, soaps, metals, glass, wood…it's all here! The best part is that you could come in every week and find a different selection each time.
10. Explore Mount Hood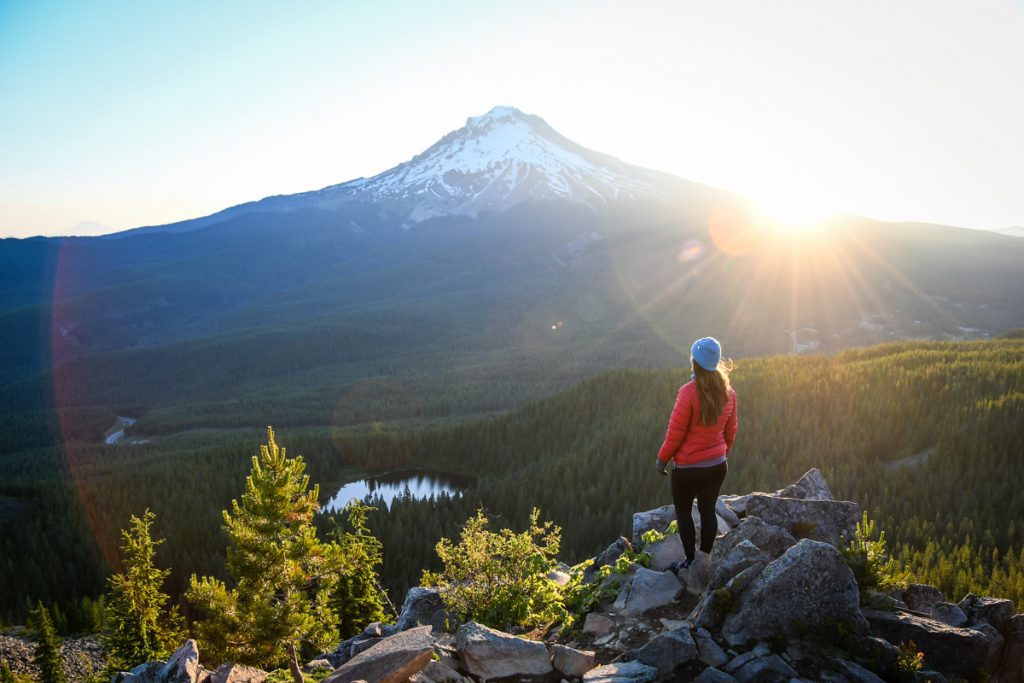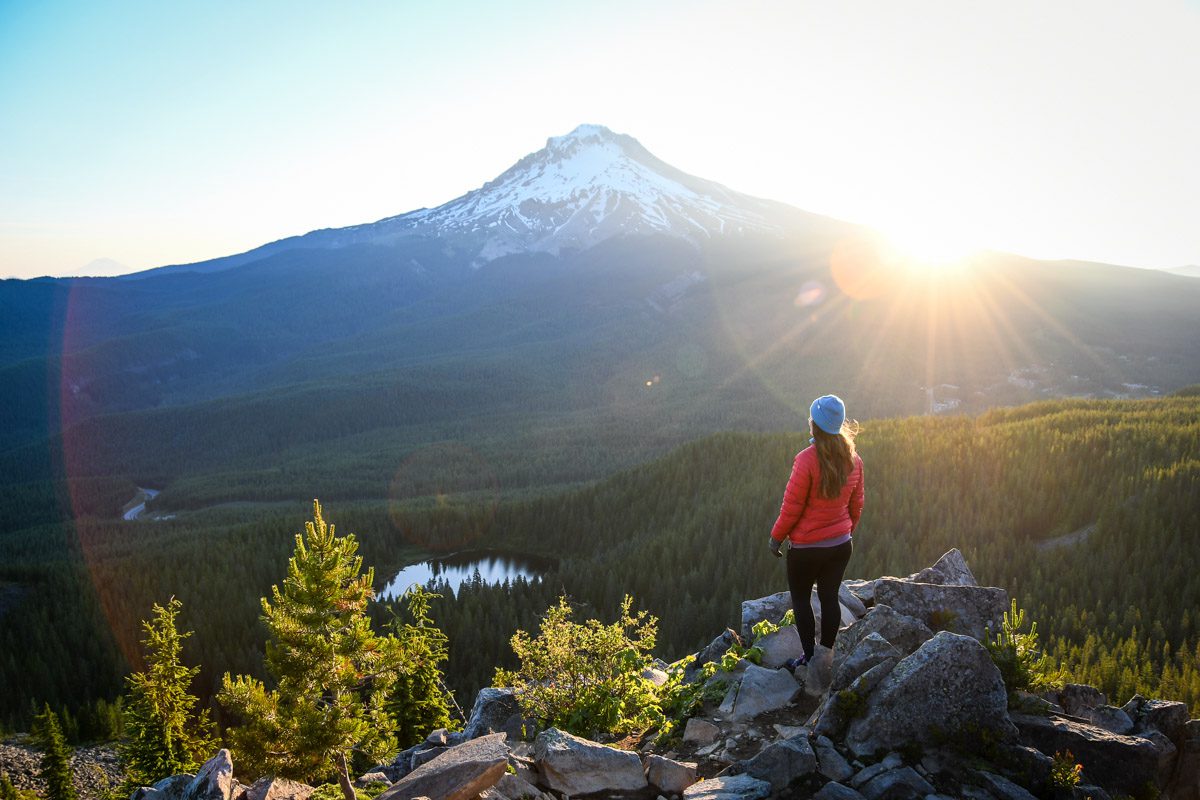 Not only does 11,245-foot-tall Mount Hood loom over the entire Hood River Valley, but it also provides four-season outdoor recreation.
Mount Hood is perhaps best known for its winter sports, and rightfully so — the mountain is home to the largest night ski area in the U.S., Mount Hood SkiBowl (try Cosmic tubing!), and the longest ski season in all of North America at Timberline Lodge. Timberline is open for a whopping 10 months out of the year!
Insider tip: During ski season, the CAT runs a Gorge-to-Mountain Express shuttle between Hood River and Mount Hood Meadows for just $5 roundtrip!
During the summer months, enjoy Mount Hood's hidden-gem hiking and biking trails. Note that snow may be present through August, so dress and pack accordingly!
One of our favorite trails on Mount Hood is Wildwood Recreation Site, situated directly on the banks of the Wild and Scenic Salmon River. With easy-to-navigate boardwalk trails for views into the water, this is one of the best things to do in Hood River for families.
For something with more mountain scenery, hit Trillium Lake Loop. This easy 1.9-mile trail packs a serious punch, wrapping around the lake and offering spectacular views of Mount Hood. You're welcome to kayak or SUP on the lake and, while difficult to secure a spot, there are fantastic campsites at Trillium Lake Campground.
And if you're feeling up for a backpacking adventure, the Tom Dick and Harry Mountain hike (pictured above) is one of our all-time favorites.
11. Engage your senses at Hood River Lavender Farms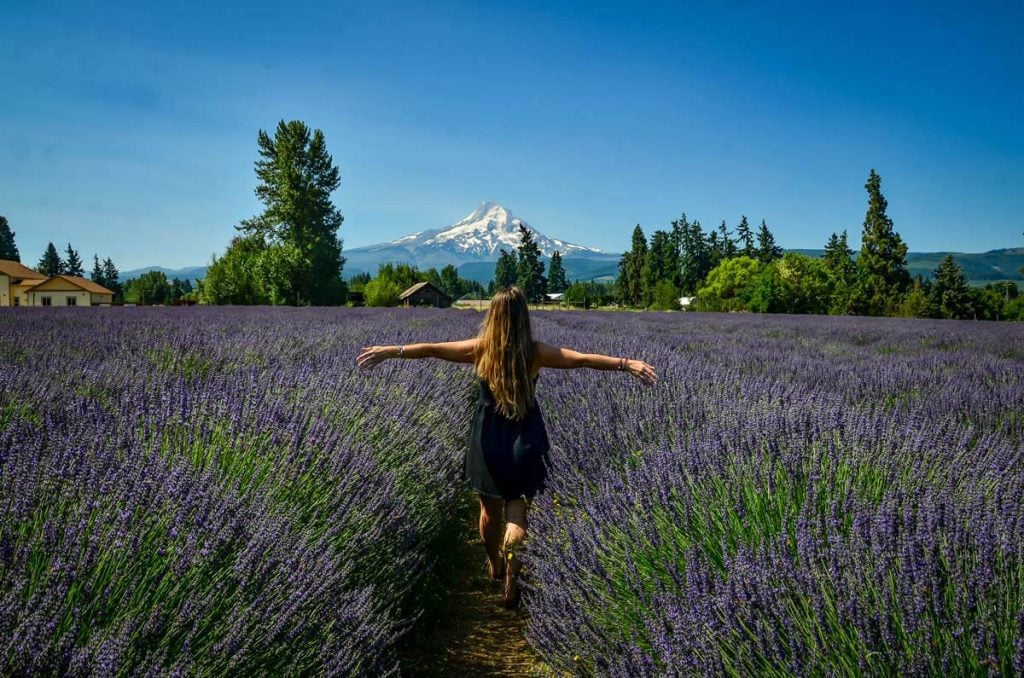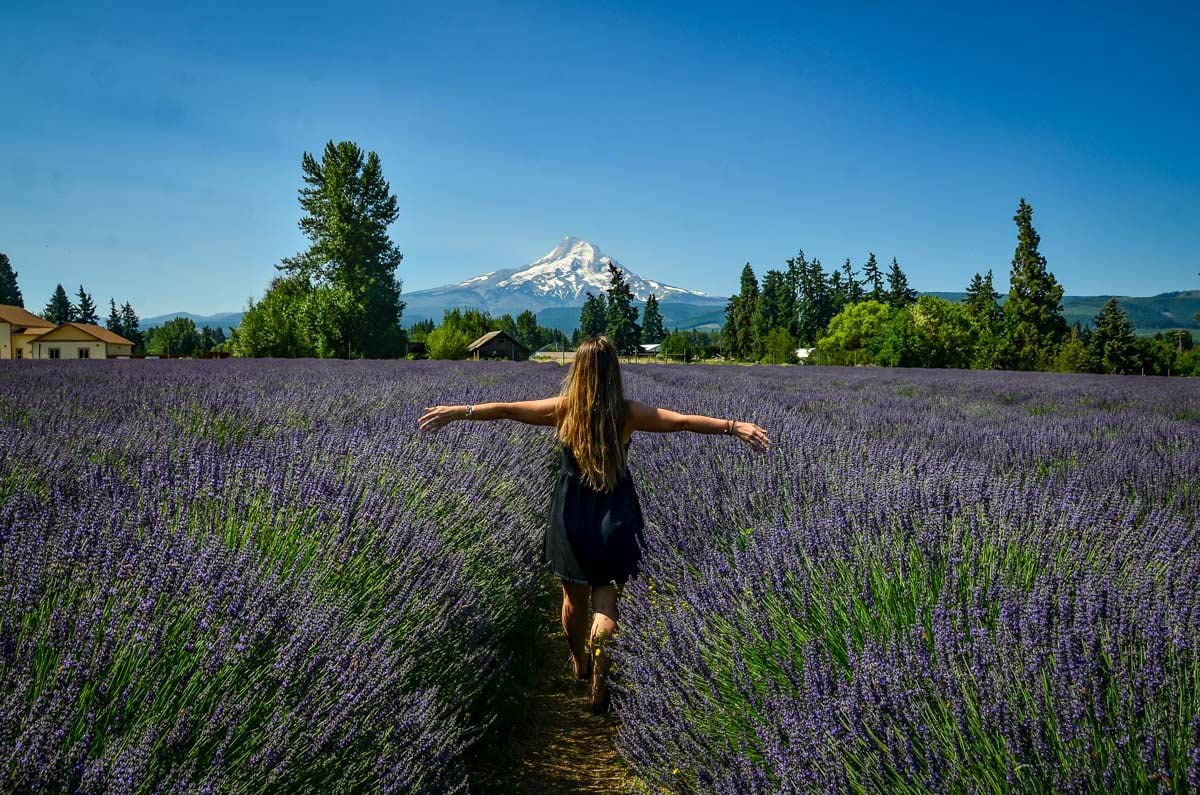 Open seasonally from April through October, Hood River Lavender Farms deserves a slot on your Hood River itinerary. The certified-organic, family-owned farm boasts fantastic views of the mountain, a country store with hand-made bath and beauty products, and of course, expansive lavender fields.
During peak bloom season in June and July, visitors can stop by and pick their own lavender bundles or watch the distilling process. There are also friendly farm animals that roam the property, including goats, and a beautiful outdoor seating area with yard games.
We haven't even told you the best part yet: the lavender farm is directly next to our favorite Hood River winery, Stave & Stone! After picking your lavender, walk over to the winery for a glass of vino, then play a few rounds of cornhole.
Psst! Check out these other breathtaking Oregon lavender farms you can visit!
12. Stroll the riverfront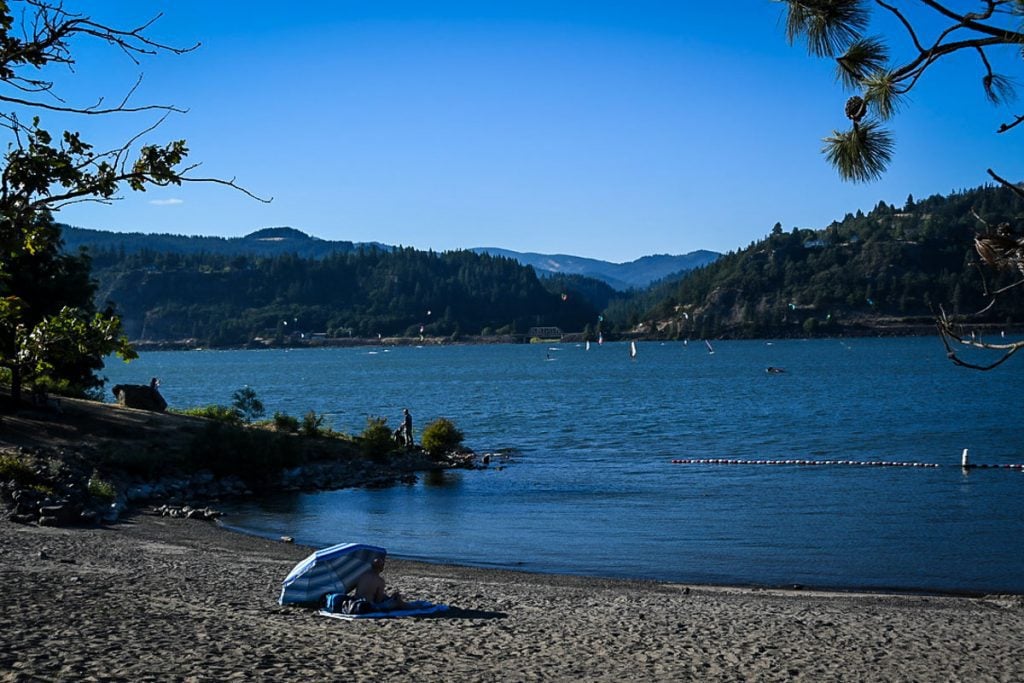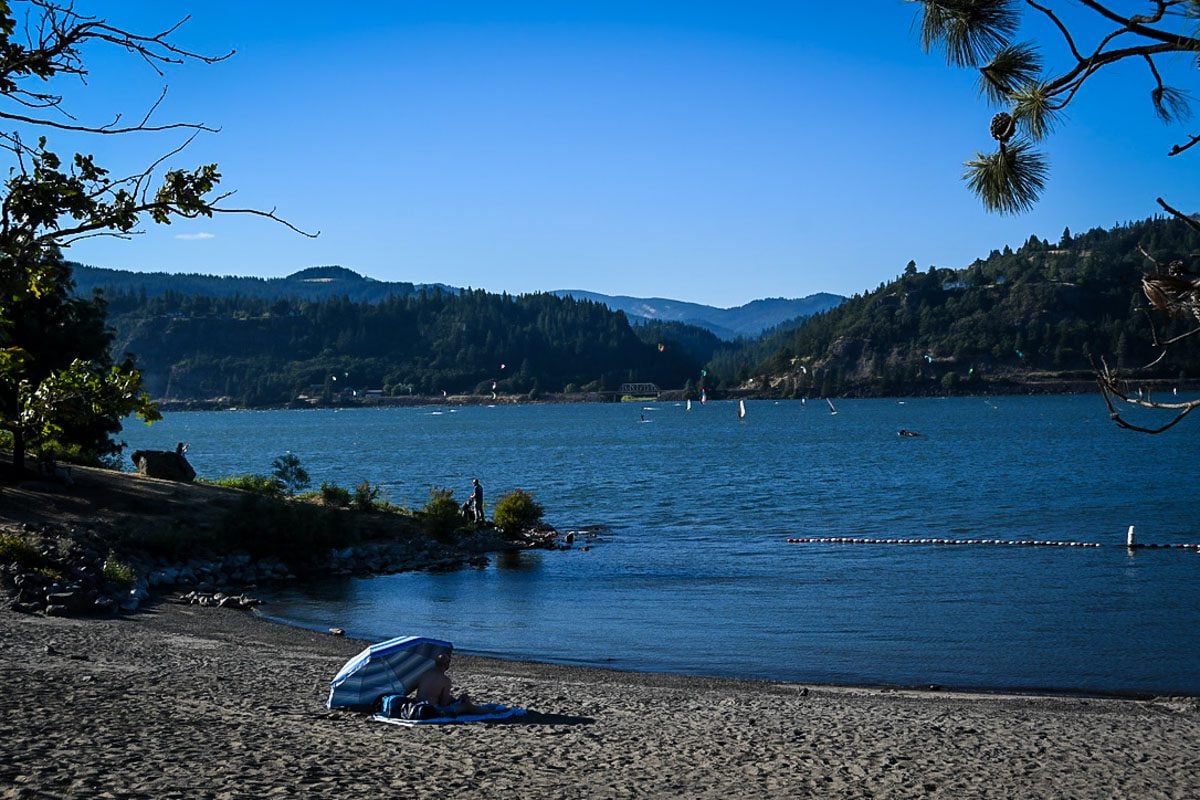 Hood River's Columbia River waterfront is a lively hub of recreation with small parks, beaches, and multi-use trails. With prime river access, it's also one of the main areas for water recreation. Remember earlier when we mentioned the Hood River Event Site is a great place for watching kiteboarders? Here it is!
Grab a coffee nearby and bring the whole family down to the riverfront for excellent people-watching. For one of the best (and totally free!) things to do in Hood River, you can walk near the marina and check out all the boats, see how lucky the local fishermen are as they reel their lines in, and watch the paddlers, kiteboarders, and windsurfers.
13. Visit White Salmon, Washington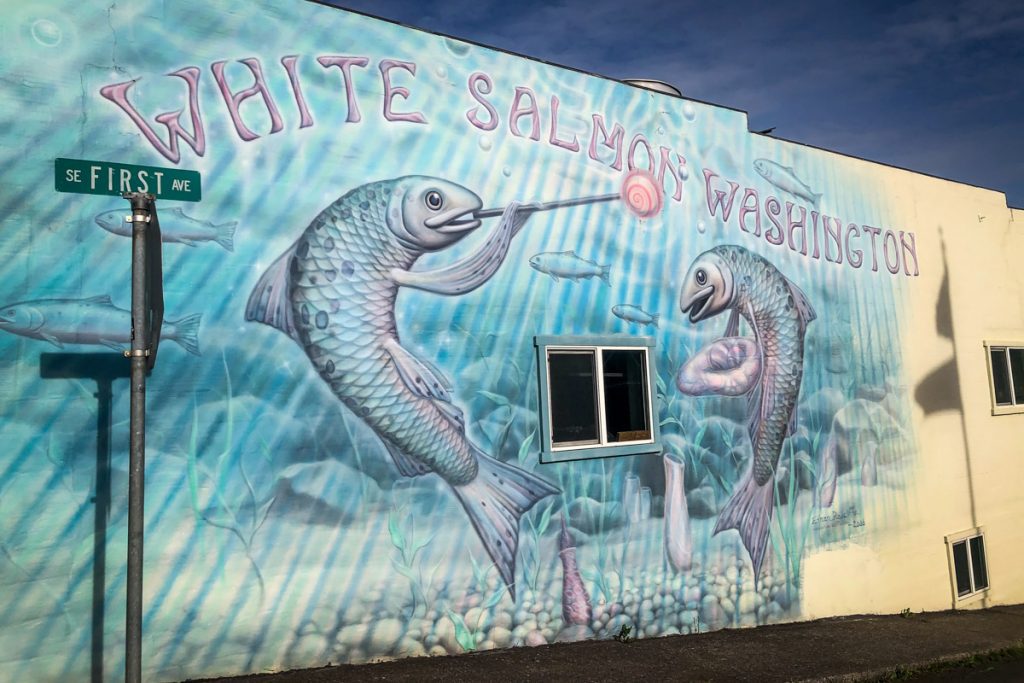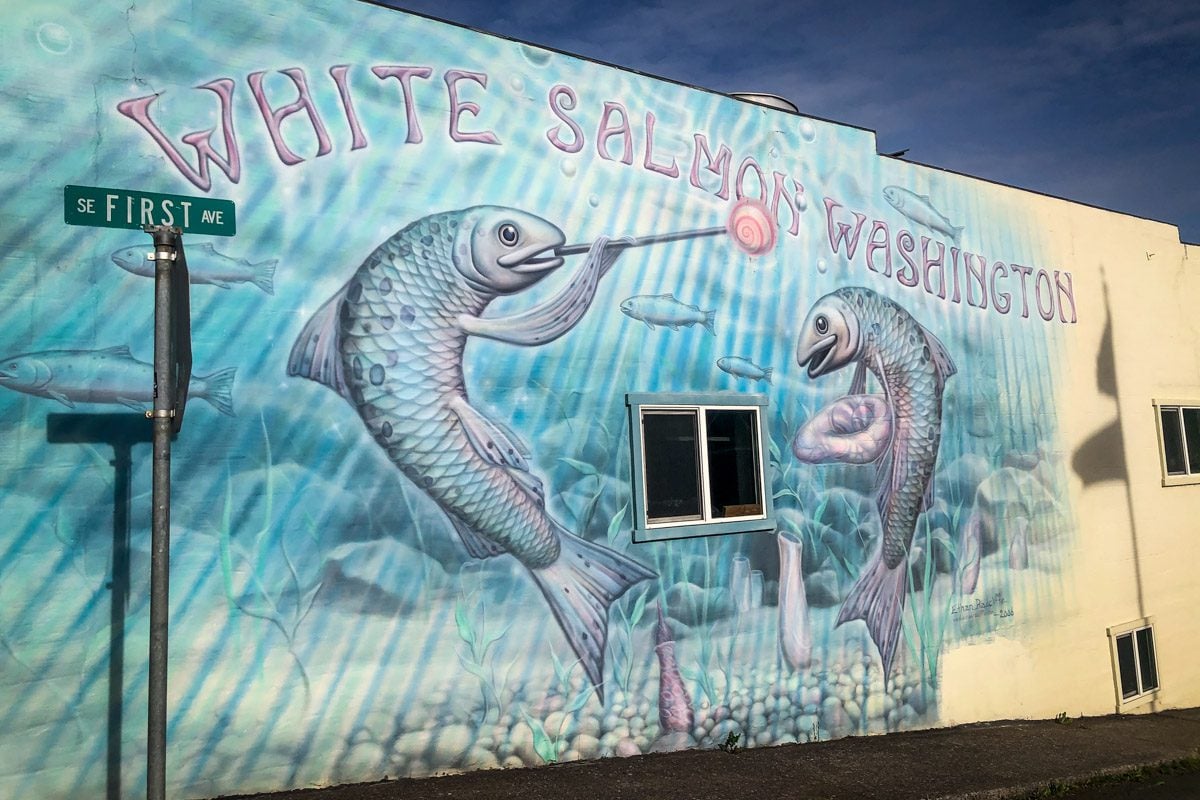 While technically this isn't something you do in Hood River, it's still a must in the area. White Salmon is just across the Columbia in Washington state and often considered Hood River's "little sister." That's probably a fair comparison, as White Salmon is comparatively much quieter but just as charming, scenic, and outdoors-focused.
Pay the nominal ($2 or $3) toll to cross the Hood River Bridge and make a beeline for Everybody's Brewing. Order literally any beer on tap and the to-die-for pulled pork nachos (fair warning, the portion is enormous — you may want to share!), then snag a seat on the patio and take in the epic views of Mount Hood. Seriously, the scenery is even better on this side of the river!
While you're here, stroll around and count how many salmon murals you can find on the streets. Hint: there are a LOT of them in this small town!
14. Bridge of the Gods
Visiting the historic Bridge of the Gods in Hood River is another must. Part of the PCT, the iconic bridge crosses the Columbia River between Cascade Locks, Oregon, and North Bonneville on the Washington side.
Fun fact: The lowest-elevation point of the entire PCT is actually here on the Bridge of the Gods!
You can cross the scenic bridge in a vehicle, on a bicycle, or on foot. Note that there is a $2 toll each direction for vehicles.
If hiking is more your style, you can hop on a section of the PCT and head to Dry Creek Falls from the bridge. The 4.4-mile out-and-back hike is relatively easy and very family-friendly, passing through picturesque Gorge scenery and gaining just 725 feet of elevation.
15. Columbia River Gorge Waterfalls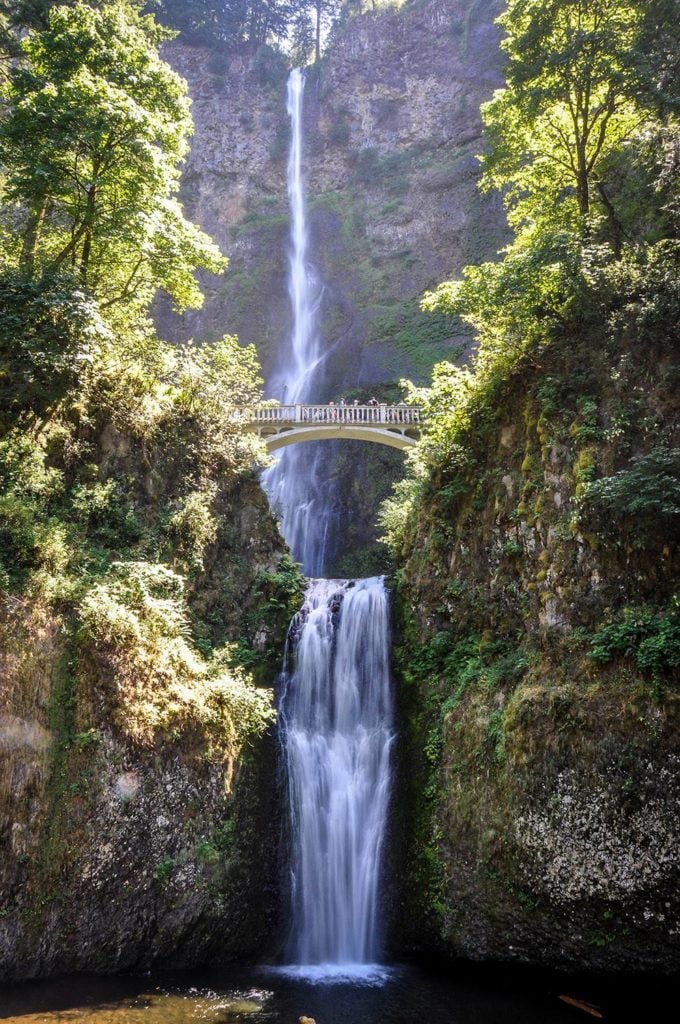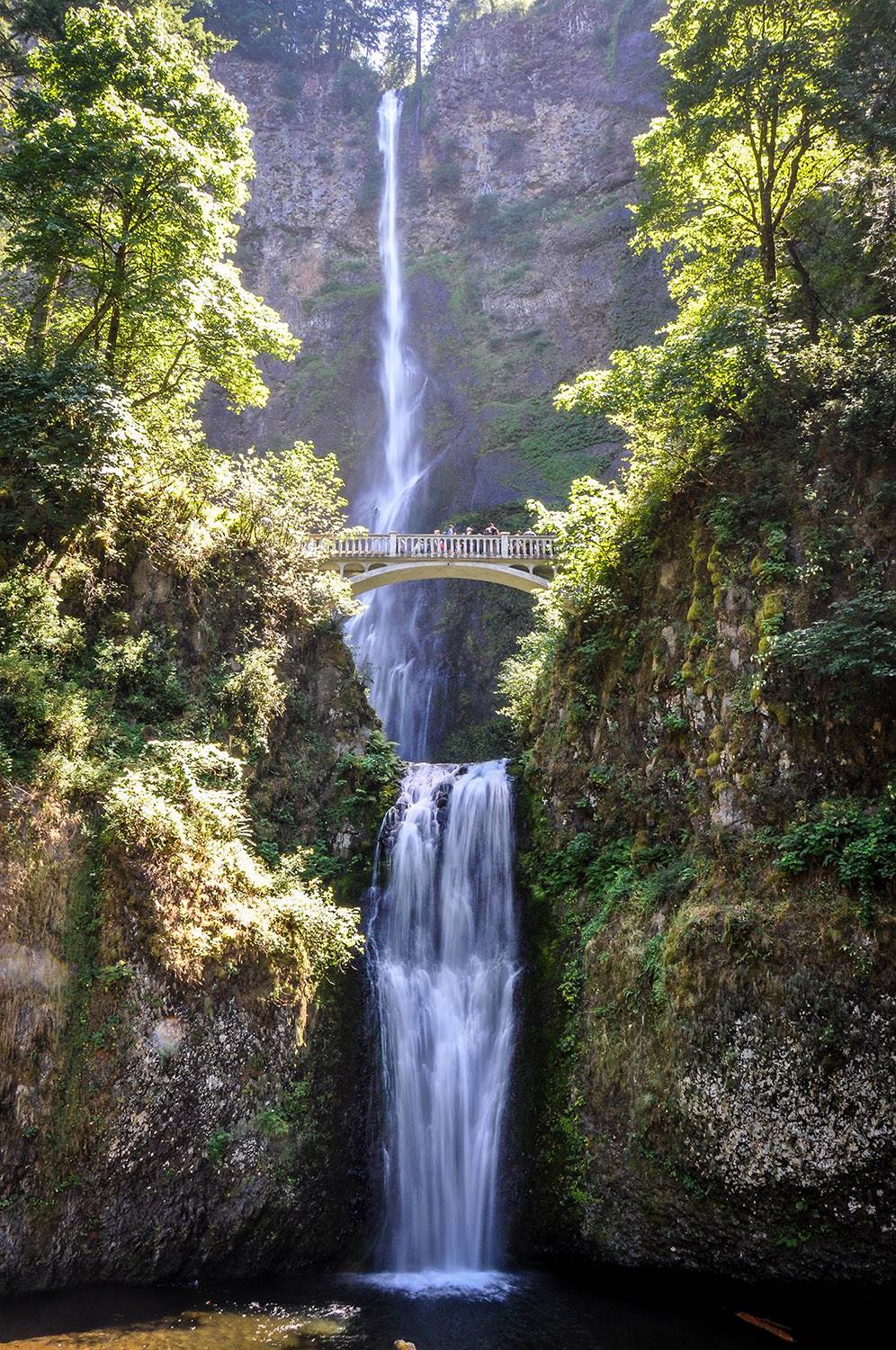 The lush green, moss-covered, ethereal landscape in the Gorge region embodies everything the PNW is so famous for — including, and perhaps especially, waterfalls. In fact, there are more than 90 waterfalls just on the Oregon side of the Columbia River Gorge alone. Really!
Even if you're only making a day trip from Portland, there are so many waterfalls in this area that chasing one or two of them should be included in your list of things to do in Hood River. Uber-famous Multnomah Falls is the obvious star of the show in the Gorge, but that's just the beginning. Some of the closest, most impressive waterfalls to Hood River include:
Dead Point Creek Falls
Tamanawas Falls
Starvation Creek Falls
Elowah Falls
16. Mount Hood Railroad
Who doesn't love a good ol' fashioned train ride?! The Mount Hood Railroad is nearly a century old and takes passengers on scenic rides with several offerings throughout the year.
Passing through orchards alongside the Hood River, the "classic" ride is the 1.5-hour Hood River Valley Excursion.
This is one of the most popular things to do in Hood River for visitors and residents alike, but even more beloved are the railroad's special events. Highlights include the festive Polar Express holiday train, a champagne brunch on holiday weekends, and a live-entertainment train "robbery" that passengers participate in.
17. Paddle the Columbia River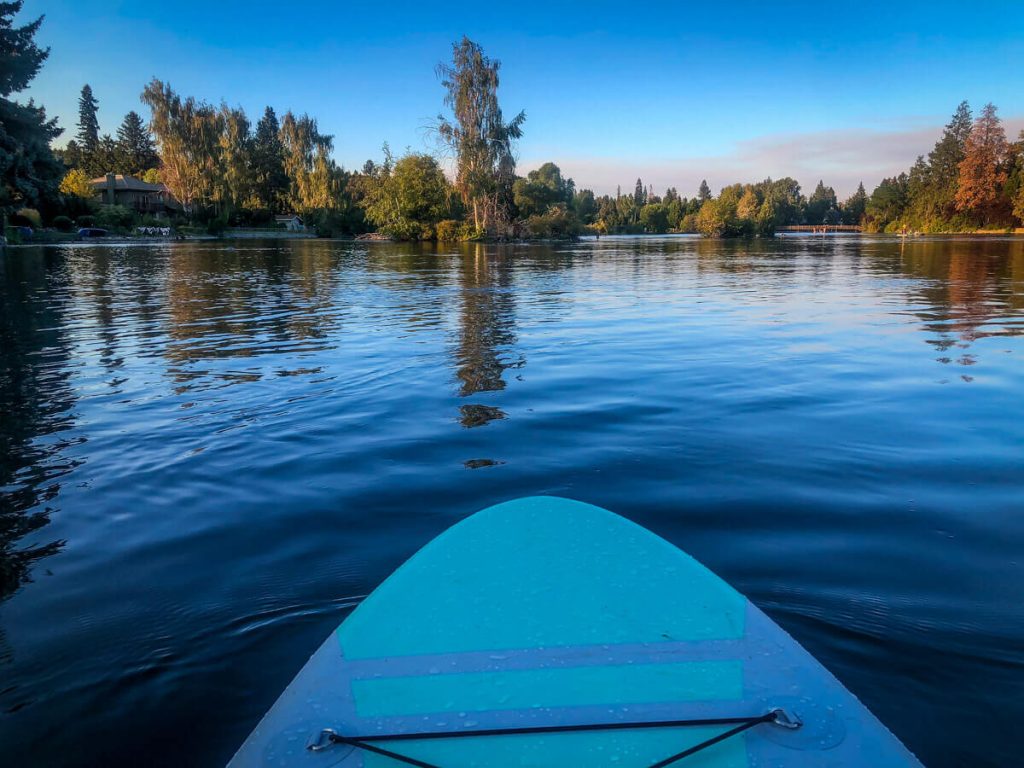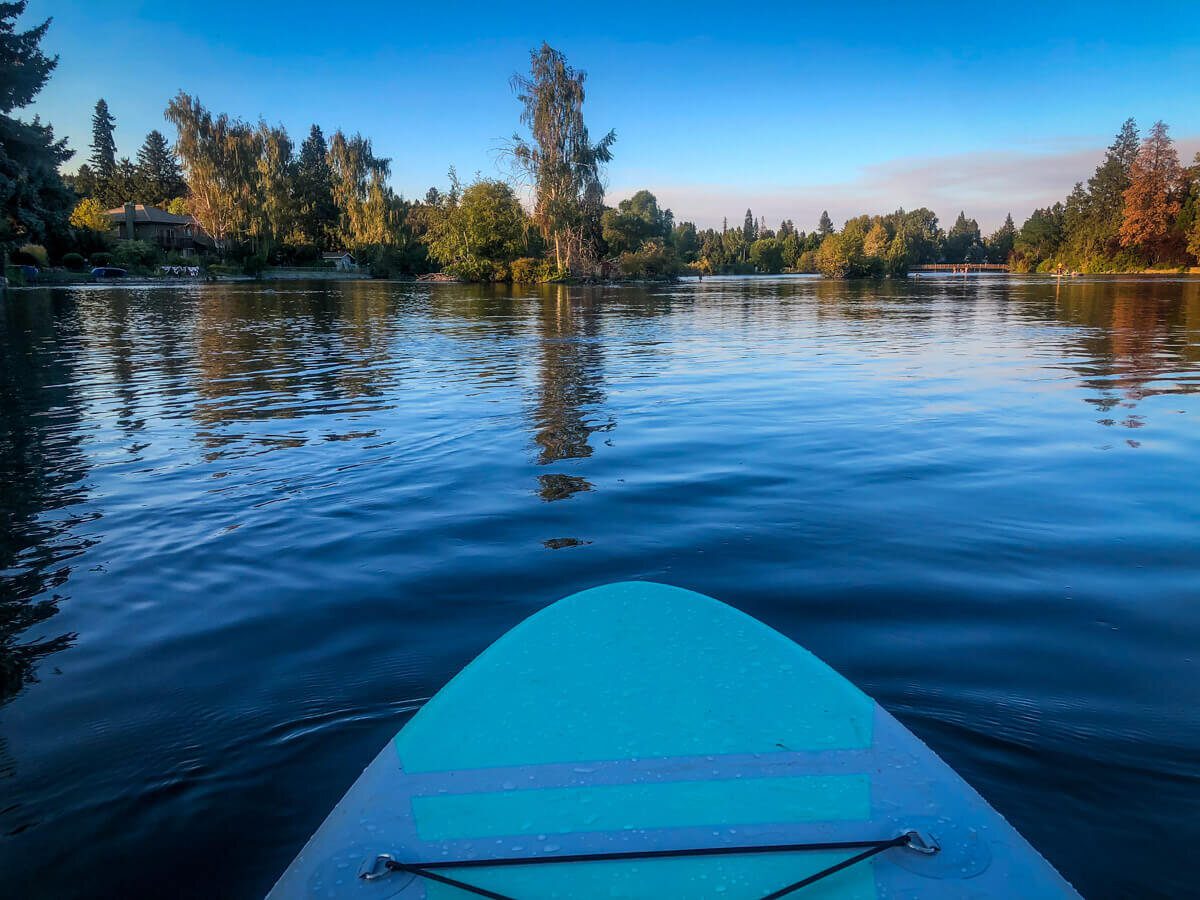 The Columbia River provides endless recreation opportunities, and they aren't all heart-pounding or extreme. In fact, one of the best things to do in Hood River is leisurely paddle the river in a kayak or on a stand-up paddleboard.
If you don't have your own kayak or SUP, no worries — Hood River SUP and Kayak offers rentals and tours. We highly recommend the two-hour morning tour and the company even offers one-hour group lessons for beginners (choose a kayak or SUP)! There's also a sunset tour that launches from a location near Stevenson, Washington that offers epic sunset views from a vantage point in the Gorge.
There are several places throughout town to put into the water, but one of the best is right along the riverfront. Right near the Event Site that's so popular with kiteboarders and windsurfers, there are a few calm inlets perfect for launching your paddling adventure.
---
Where to eat in Hood River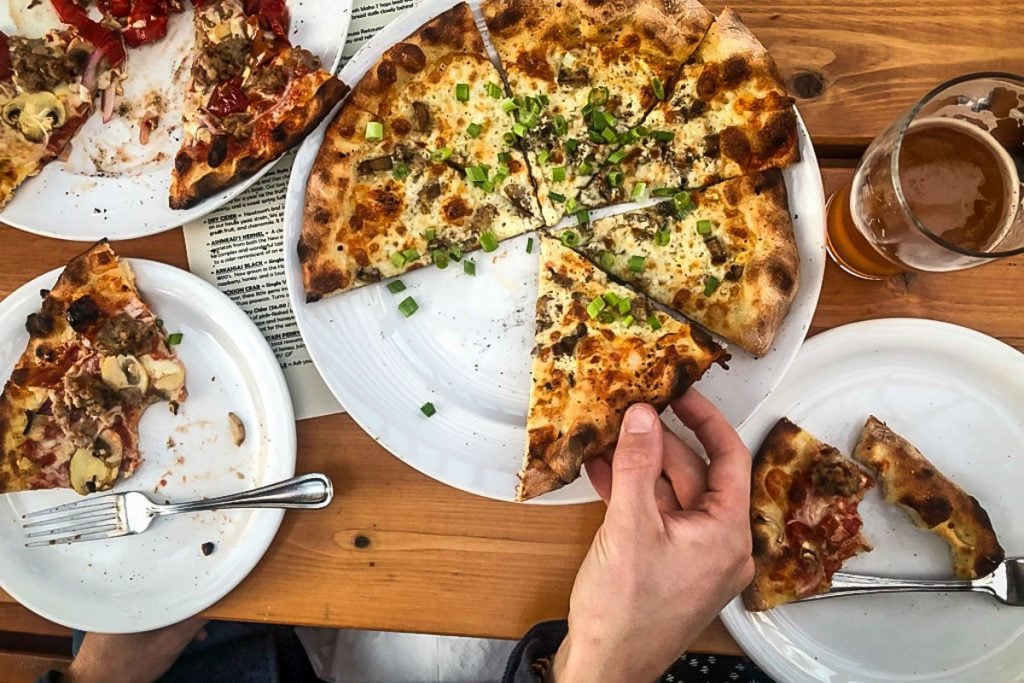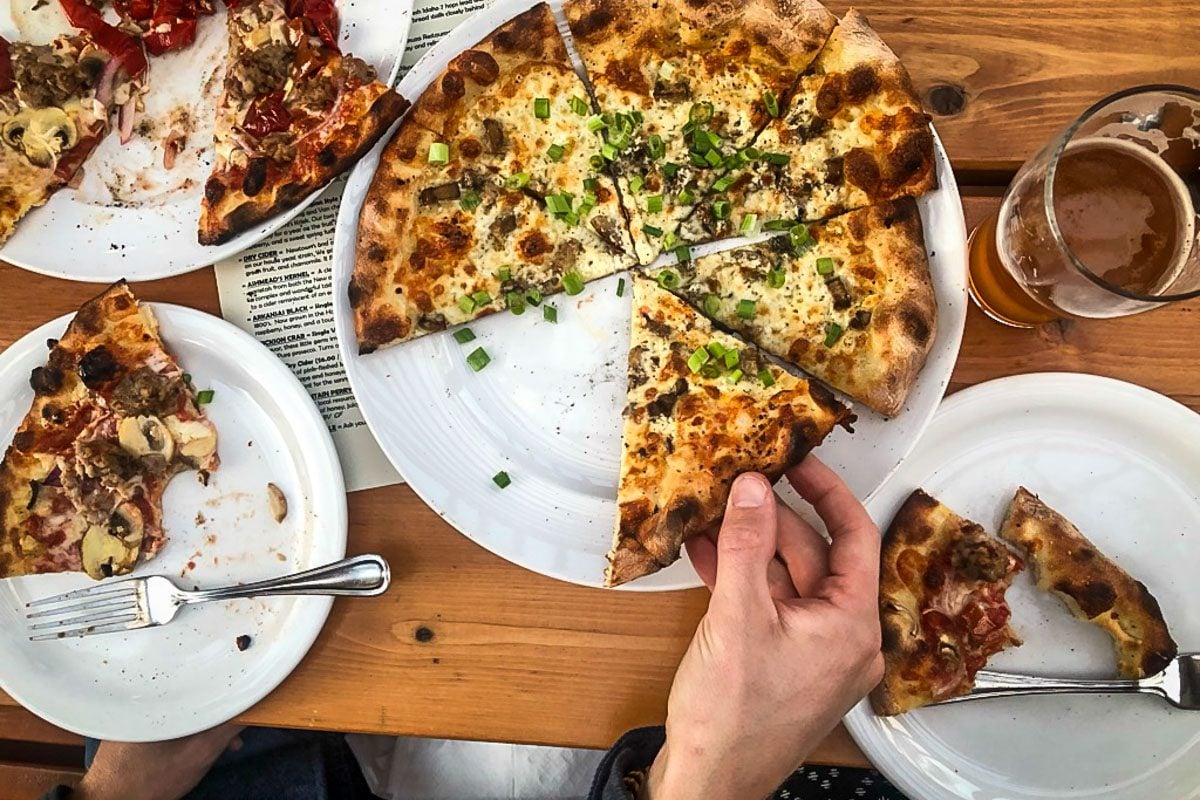 Hood River's foodie scene is just as varied as the rest of the city, with at least a couple of options for literally every taste and budget. From quick casual to fancy sit-down restaurants with a view, you definitely won't go hungry in Hood River!
Where to stay in Hood River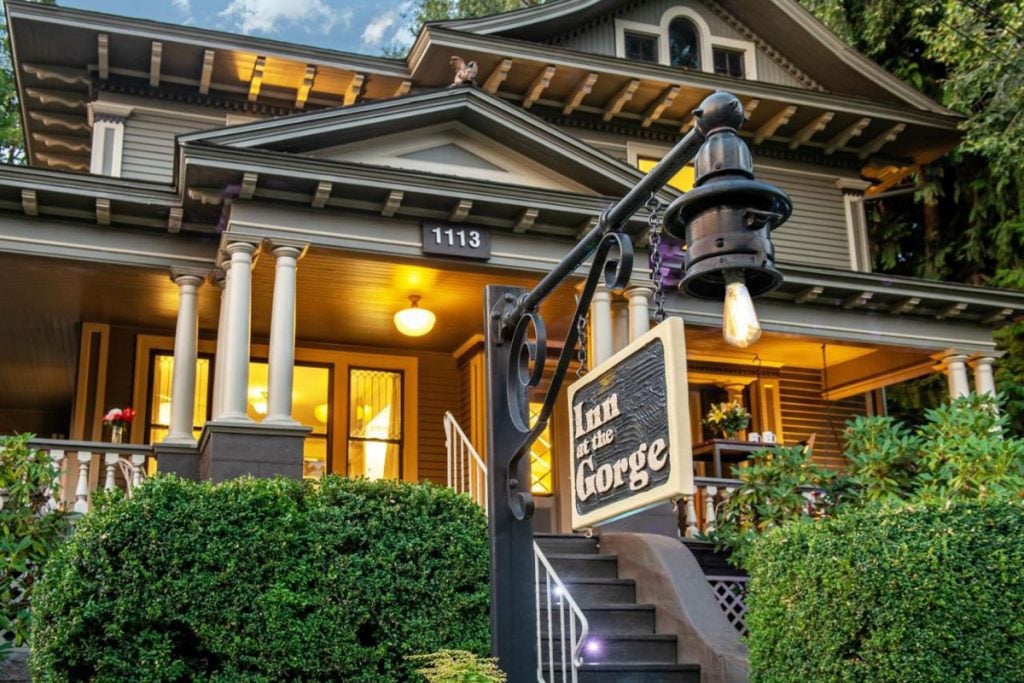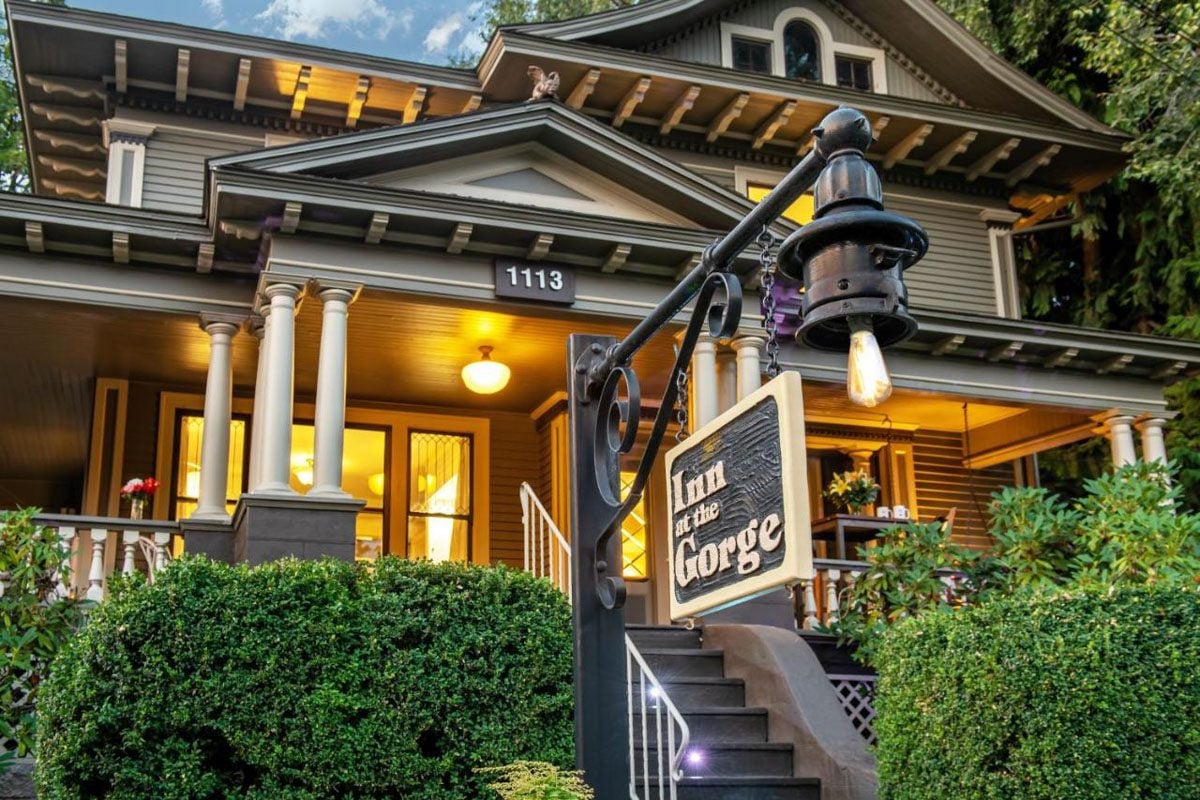 Inn at the Gorge: B&B in a cute residential section of town offering welcoming, super comfy accommodations and a delicious, hearty daily breakfast. There are six guest rooms, all uniquely decorated, plus shared outdoor spaces including an enormous, quaint wraparound porch and a lovely private backyard with a big deck and hot tub. The Inn at the Gorge is also within walking distance of several restaurants and other Hood River hotspots.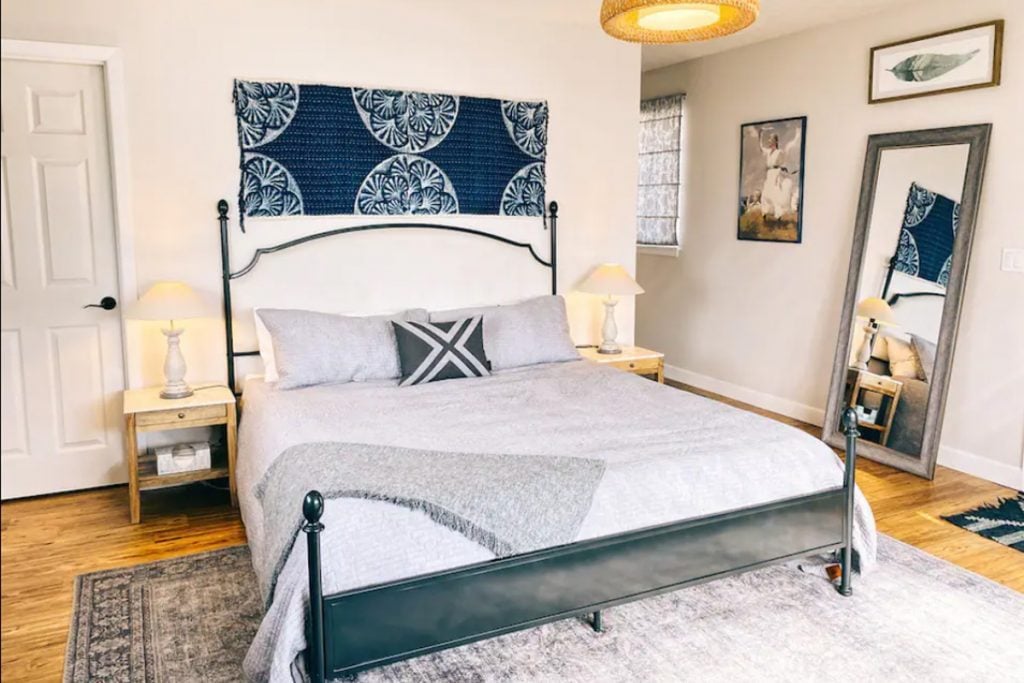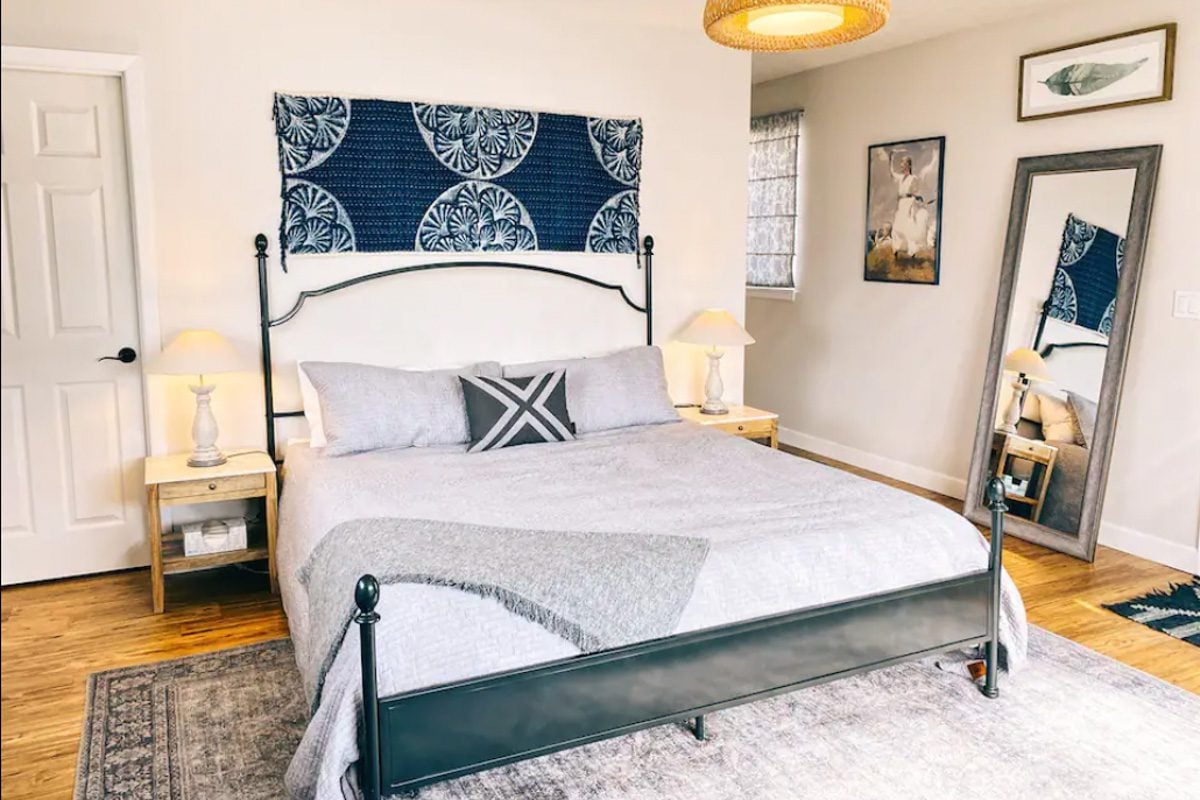 Gorge Nest: Adorable, centrally-located self-contained guest suite with everything you could possibly want or need for a Hood River getaway. While there isn't a full kitchen, you do have a mini-fridge, microwave, and hot water dispenser, plus the owners stock coffee supplies and snacks (and a wine opener!).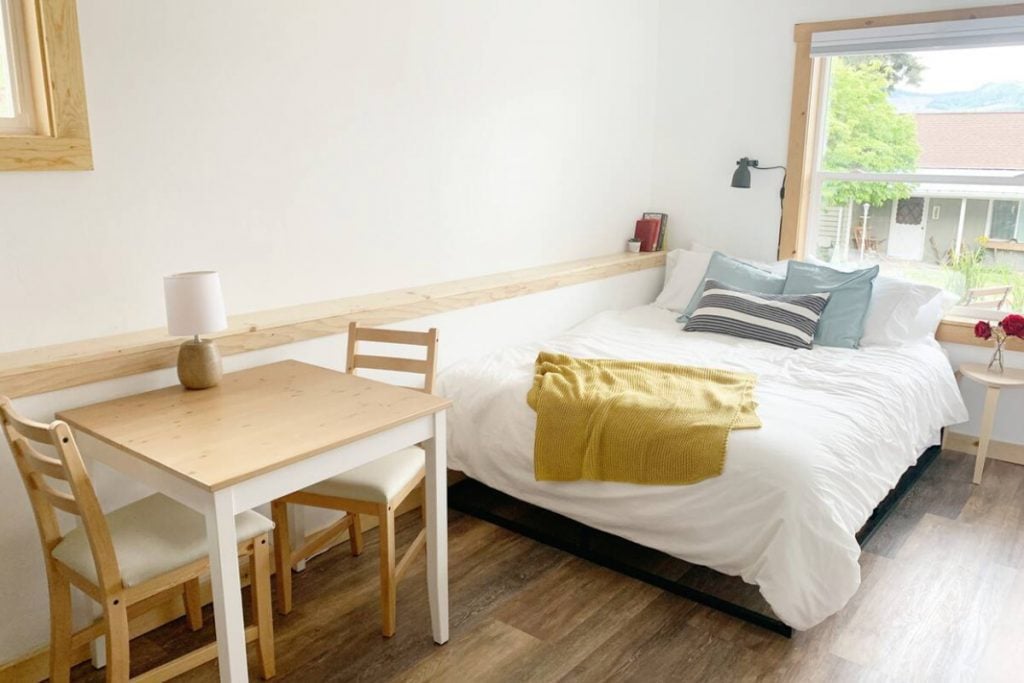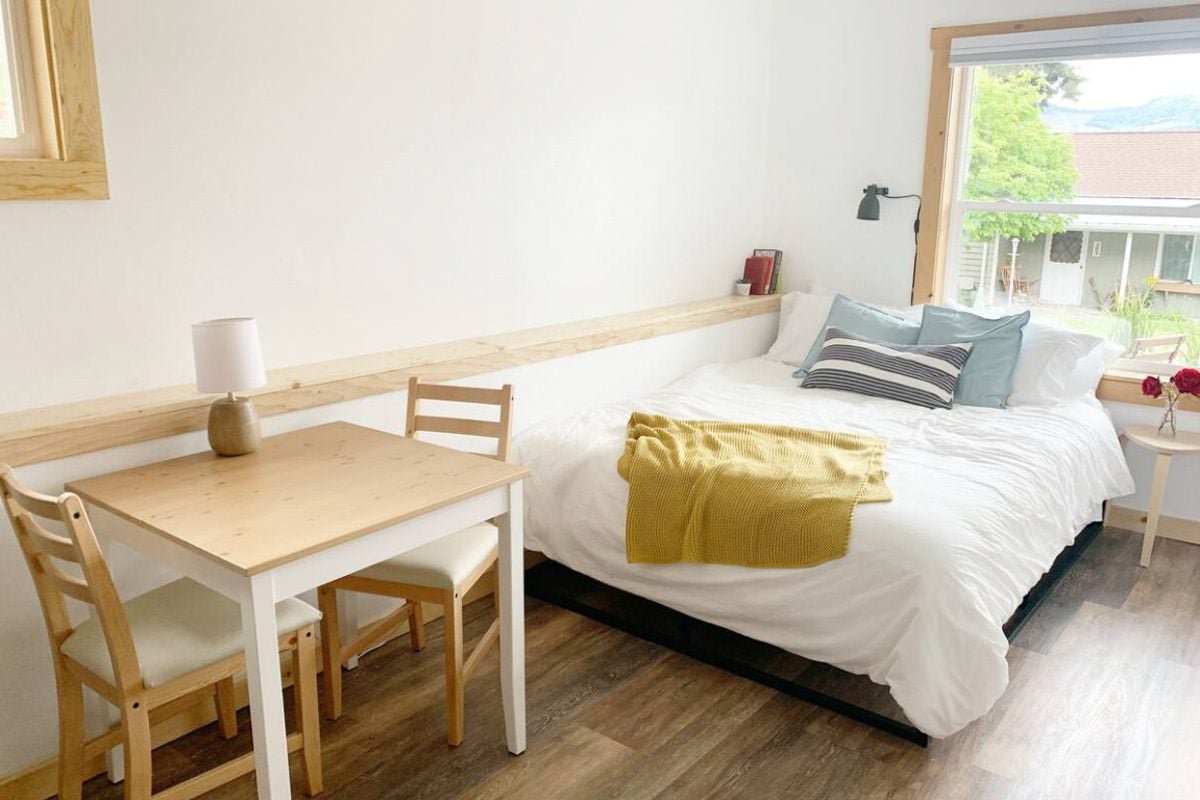 White Salmon Guesthouse: Just across the river on the Washington side in White Salmon, this light, airy guest house is ideal for solo travelers and couples. It's two blocks from downtown (where you'll find Everybody's Brewing) in a super walkable location, making it an ideal basecamp for all your Gorge adventures. The guest house has ultra-fast wifi and a kitchenette, plus a front porch and parking space right out front.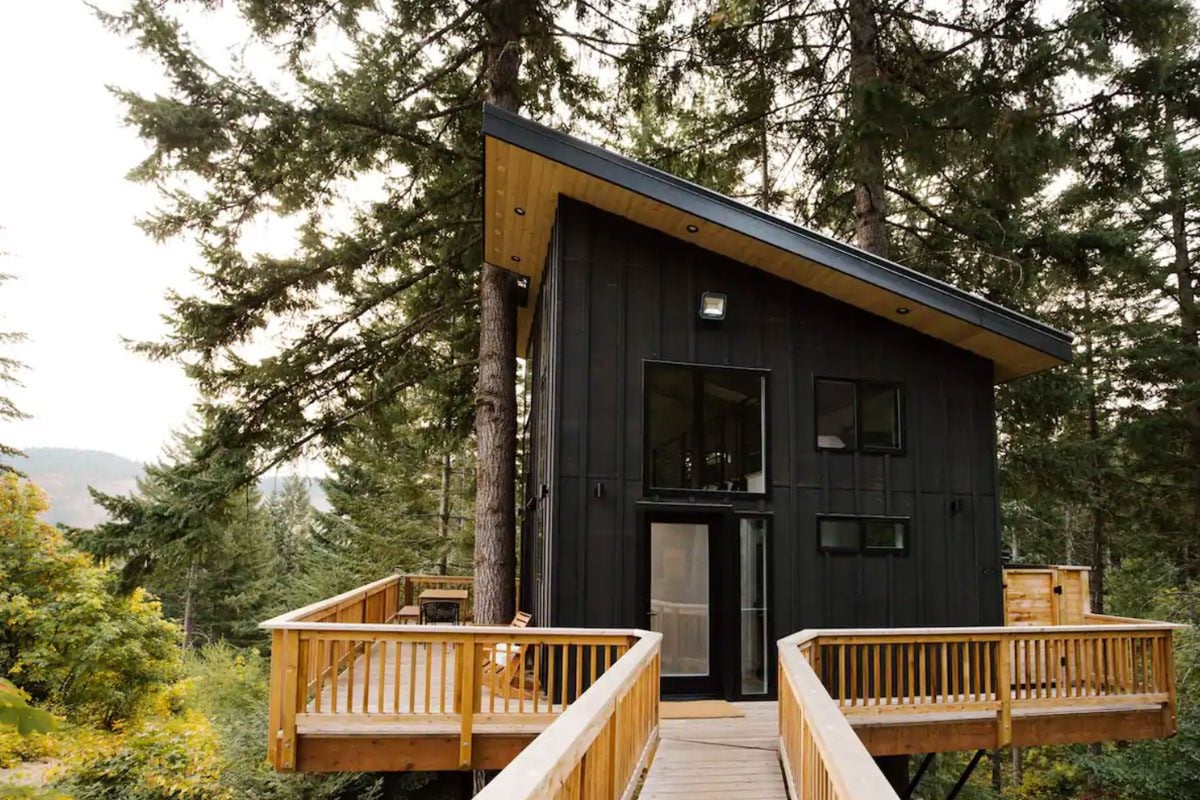 Klickitat Treehouse: Also in White Salmon, this dreamy treehouse deserves a spot on your bucket list. The modern space comes with every imaginable amenity, including a full kitchen indoor wood-burning fireplace, wraparound deck with BBQ, and a private fire pit. The views of Mount Adams are to-die-for and thanks to the 18-foot floor-to-ceiling windows, you can enjoy them from anywhere in the treehouse.


Are you planning a trip to Oregon?
Being that Oregon is our home state, we have TONS of content to help you plan your trip. Start with our Oregon Homepage and be sure to check out the articles below. Leave us a comment if you have any more questions!
Save this article on Pinterest for later!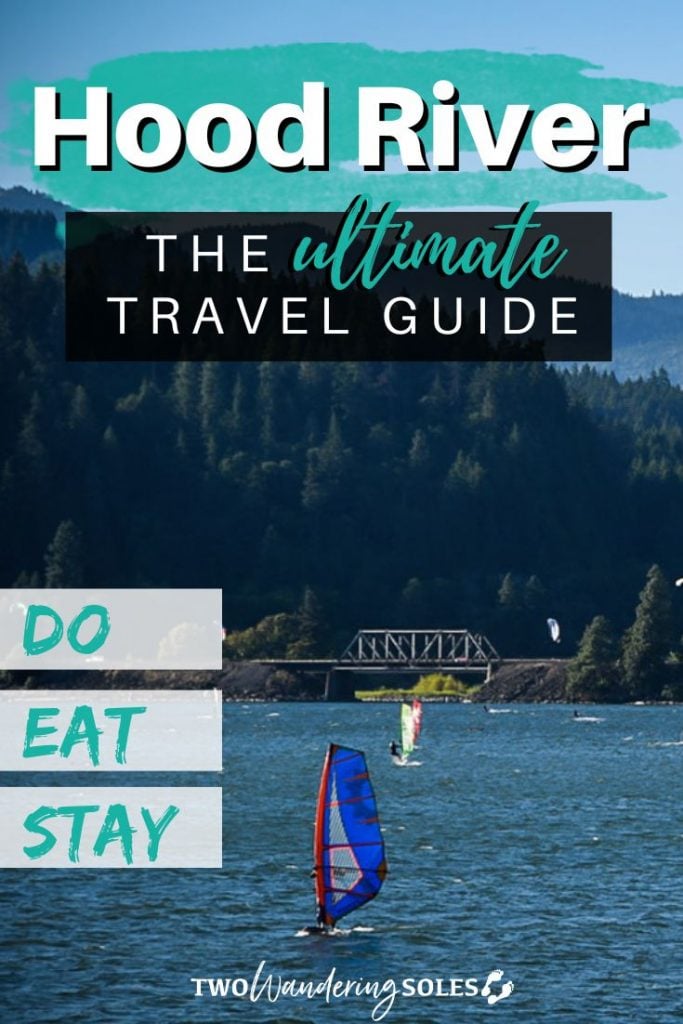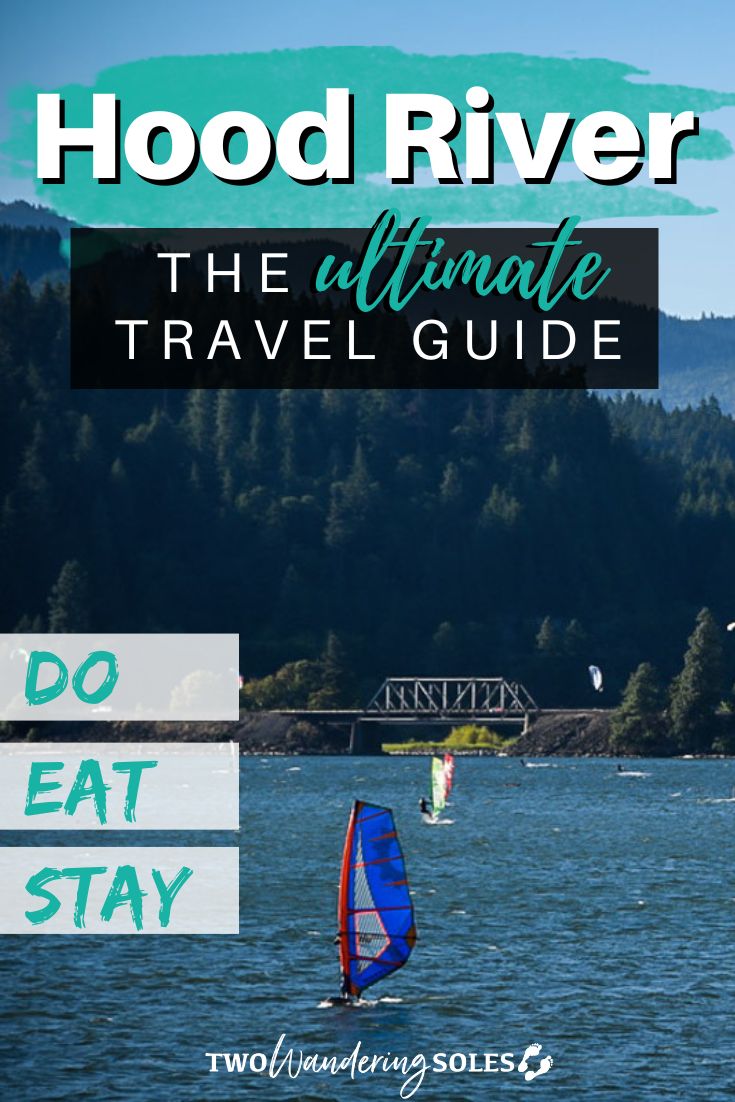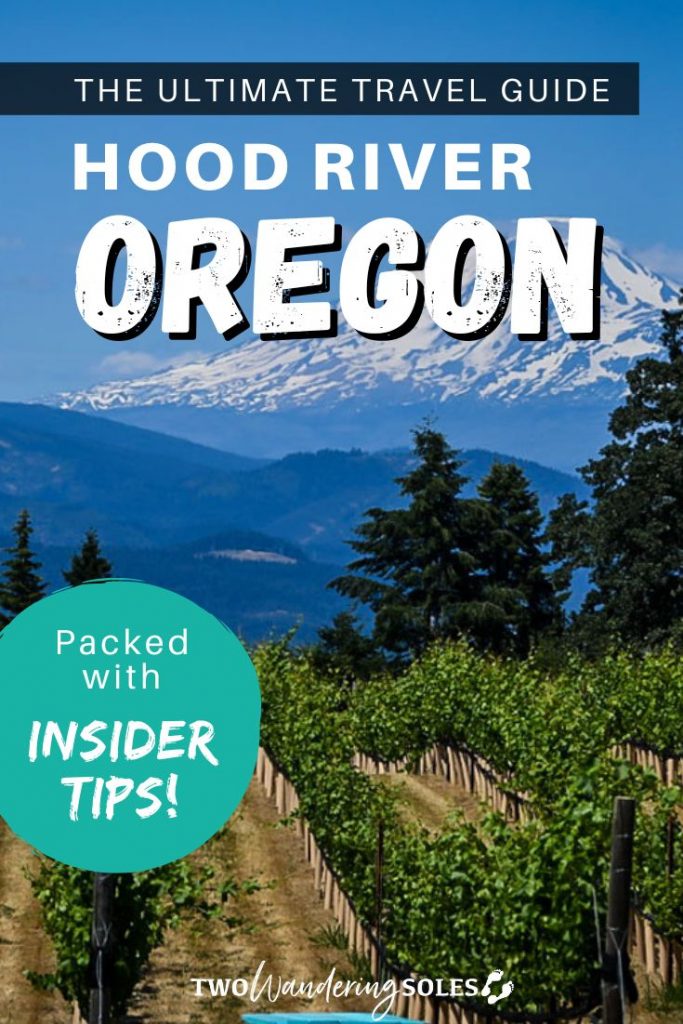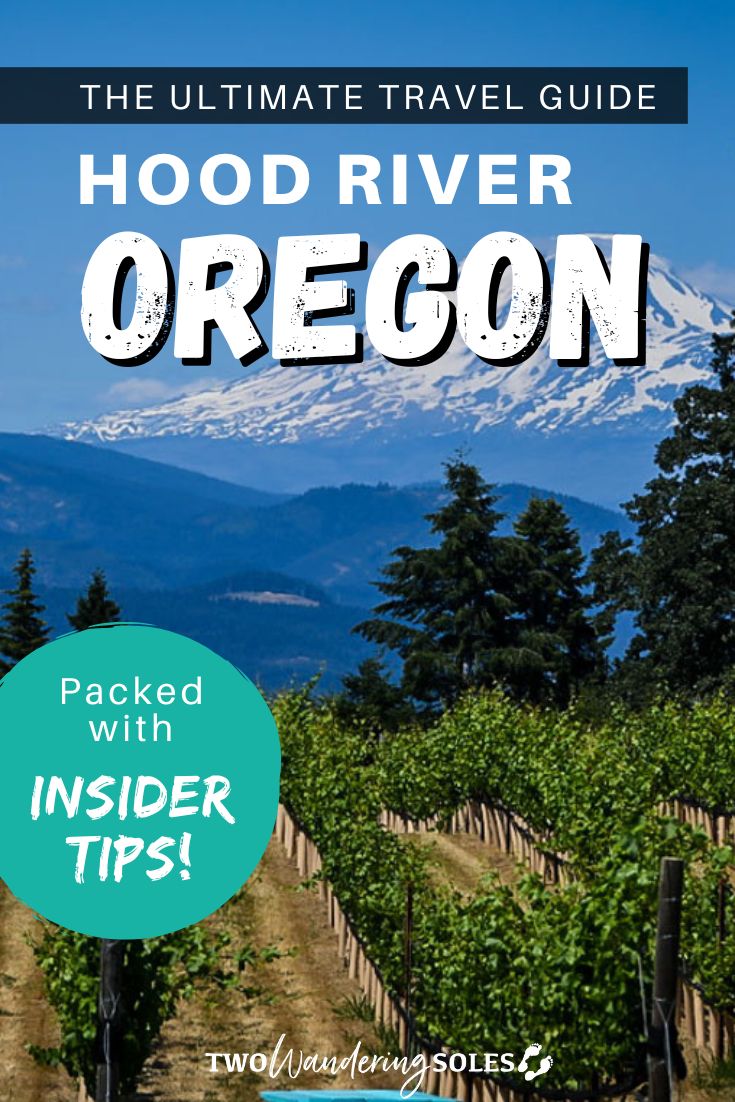 We want to hear from you!
Have you been to Hood River, Oregon? What was your favorite part of the town? Have questions? Comment below and we'll do our best to get back to you!