One of the best ways to see this incredible country is by circumnavigating the island on Iceland's iconic Ring Road. You'll have the opportunity to visit lots of the unique landscapes that make up the highlights of Iceland on a Ring Road road trip and we're sharing all of our can't-miss stops!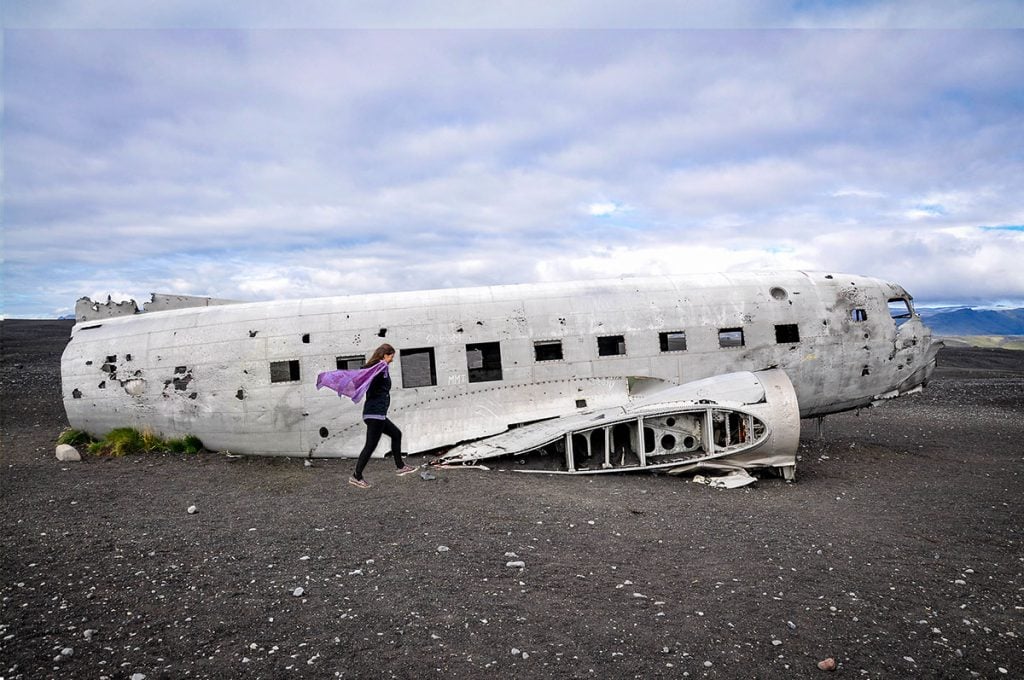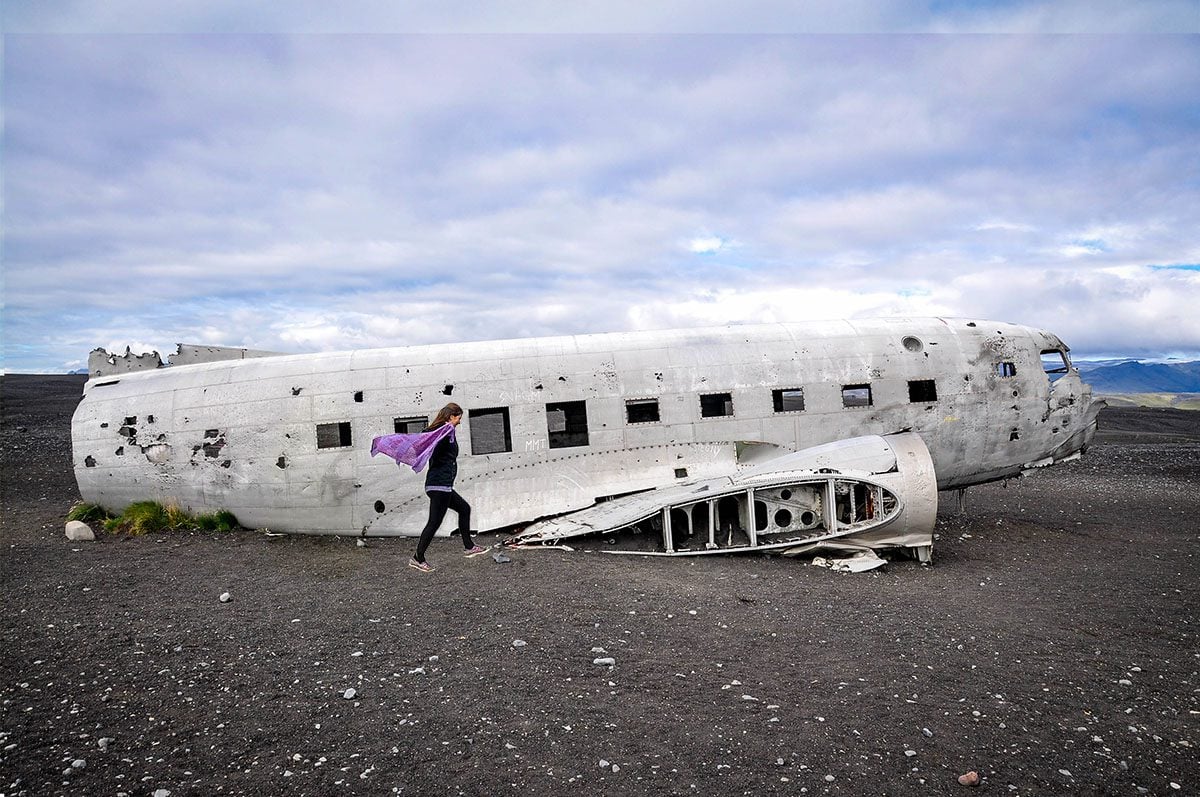 Encircling the island nation, Iceland's iconic Ring Road brings travelers through some of the country's most varied landscapes.
Hop in your rental car, crank some tunes and cruise past black sand beaches, glaciers, fjords, and geothermal hot spots as you circumnavigate the country. Iceland's Ring Road also snakes through charming towns begging to be wandered and passes by waterfalls worthy of pulling off to the side of the road to gawk in awe. It's a great way to check all the top things to do in Iceland off your list.
This route truly makes one of the best road trips in the entire world.
We've driven Iceland's Ring Road on two (very!) different trips and gathered all our tips and favorite stops along the way to share with you.
In this article, we're going over some frequently asked questions about this road trip. Plus, we're sharing the very best stops along the Ring Road so you have everything you need in order to plan the perfect road trip itinerary.
Want help with more logistical planning? We have a complete guide to planning your Iceland road trip, from vehicles rentals options to budgeting and rules for driving in Iceland, it has everything you need to know.
Article contents
---
Ring Road Map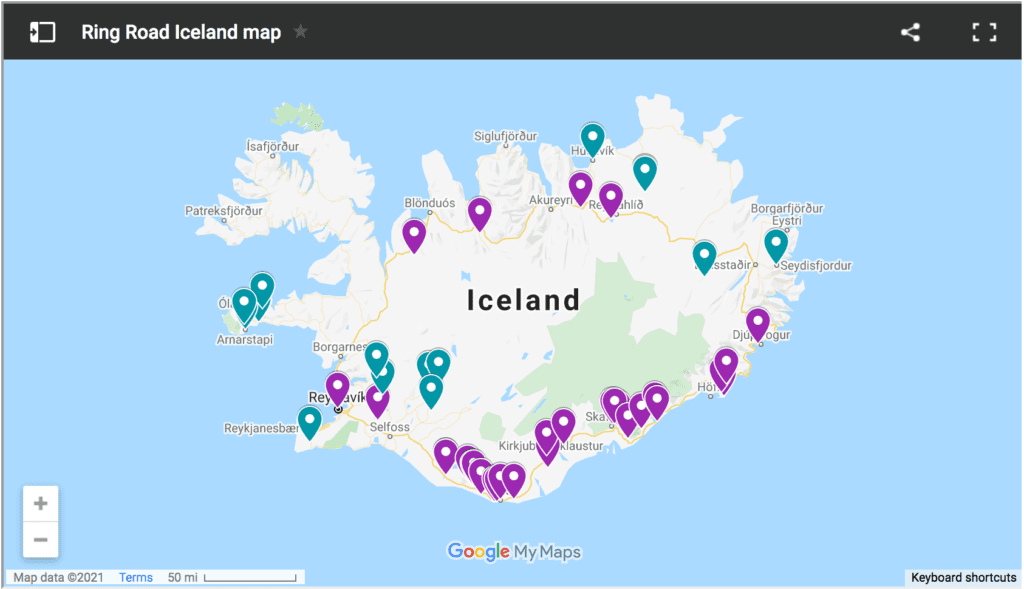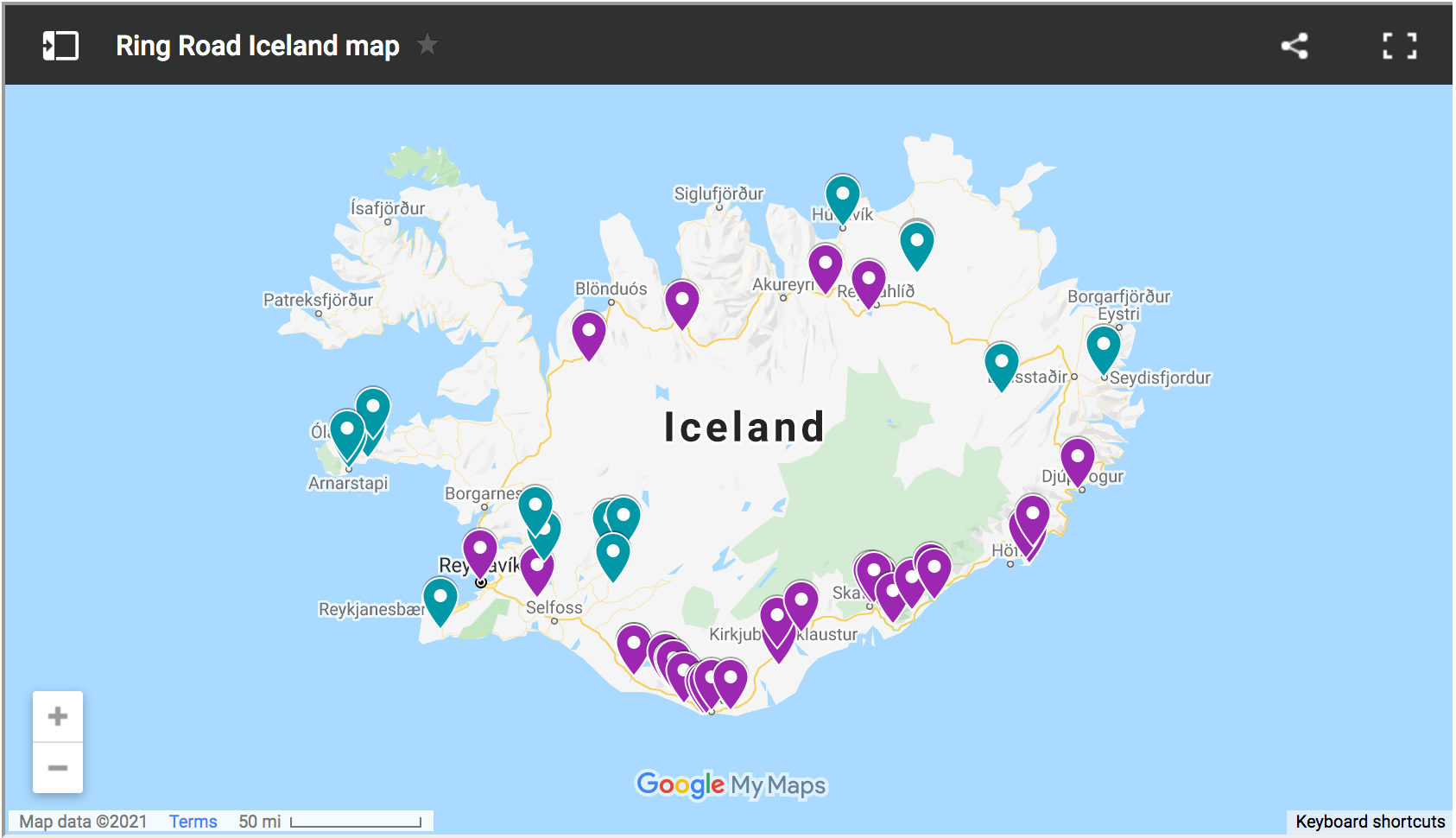 This map shows the Ring Road as it loops around the country. You'll see it covers a fair bit of ground and includes many stops along the way.
We've highlighted a few of our favorite stops on the Ring Road, and we're going into greater detail in the sections below.
FAQs & things to know about Iceland's Ring Road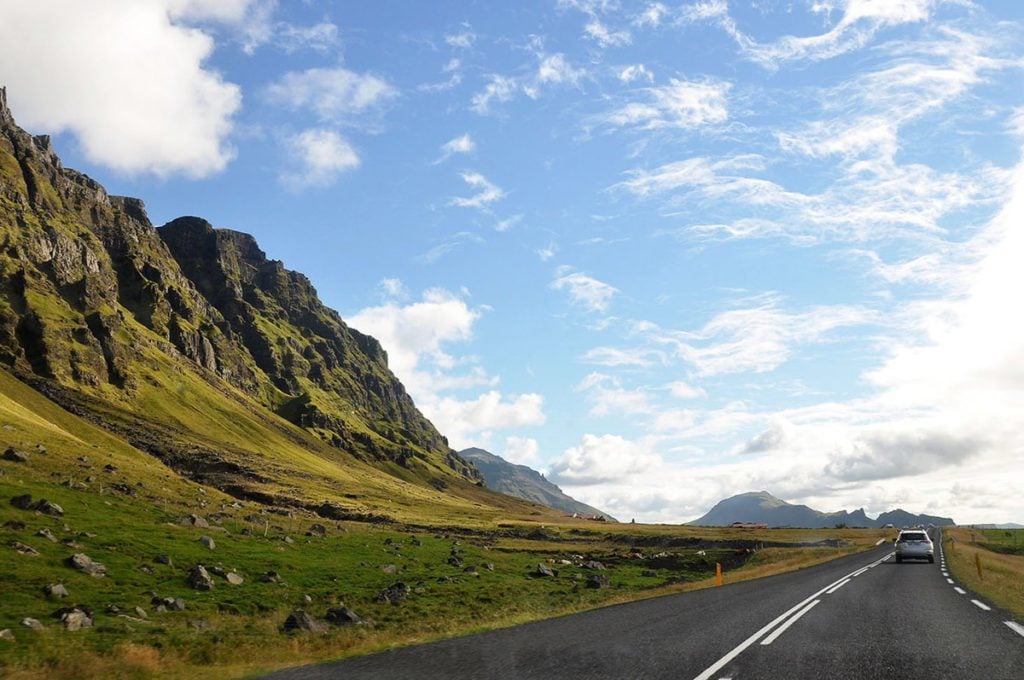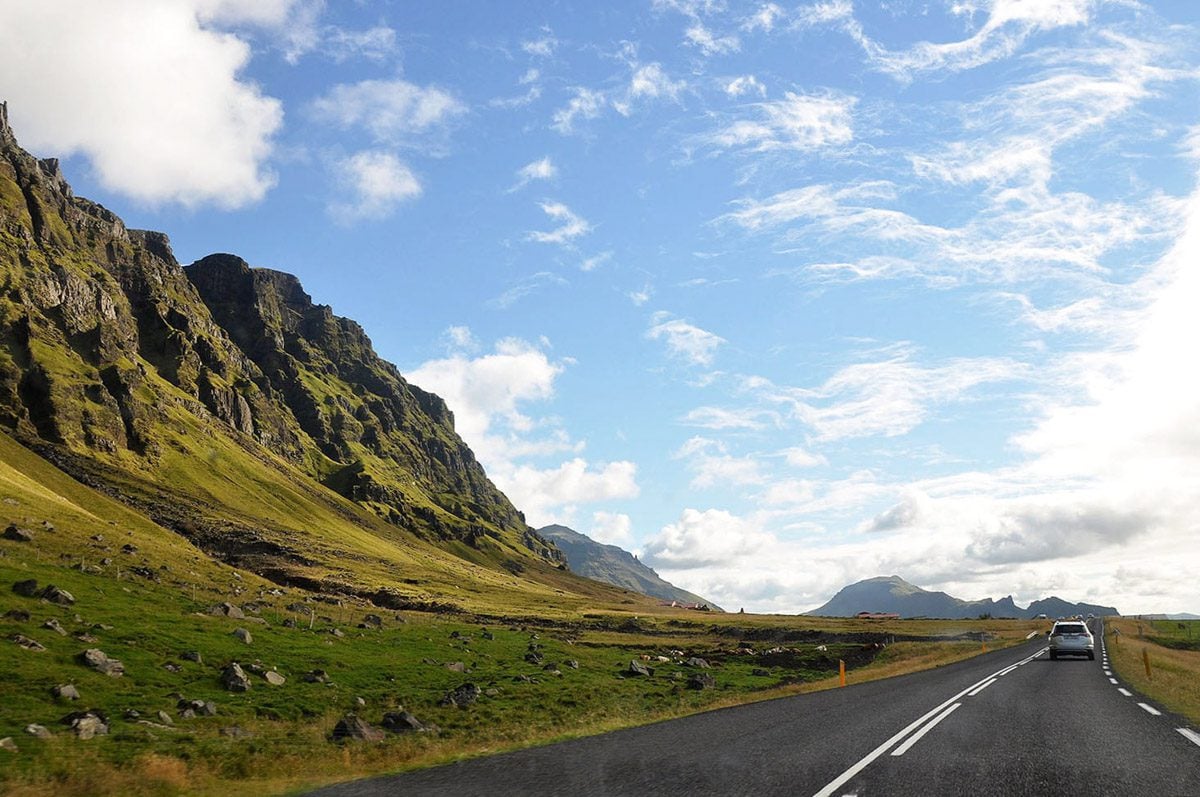 Before we dive into the best sights to see on the Ring Road, let's go over a few things you should know about this popular driving route.
How long is Iceland's Ring Road?
In total, the Ring Road loop is 825 miles (1,328 km).
That is roughly the same distance from Seattle to San Francisco. Or London to Edinburgh and back again.
How many days do you need to drive the Ring Road?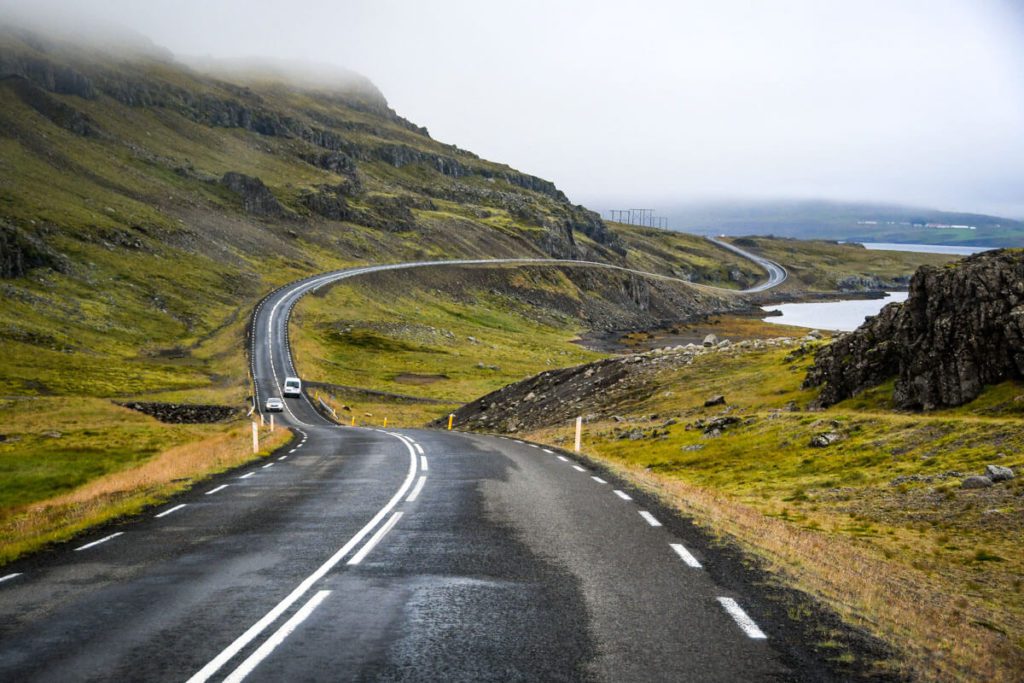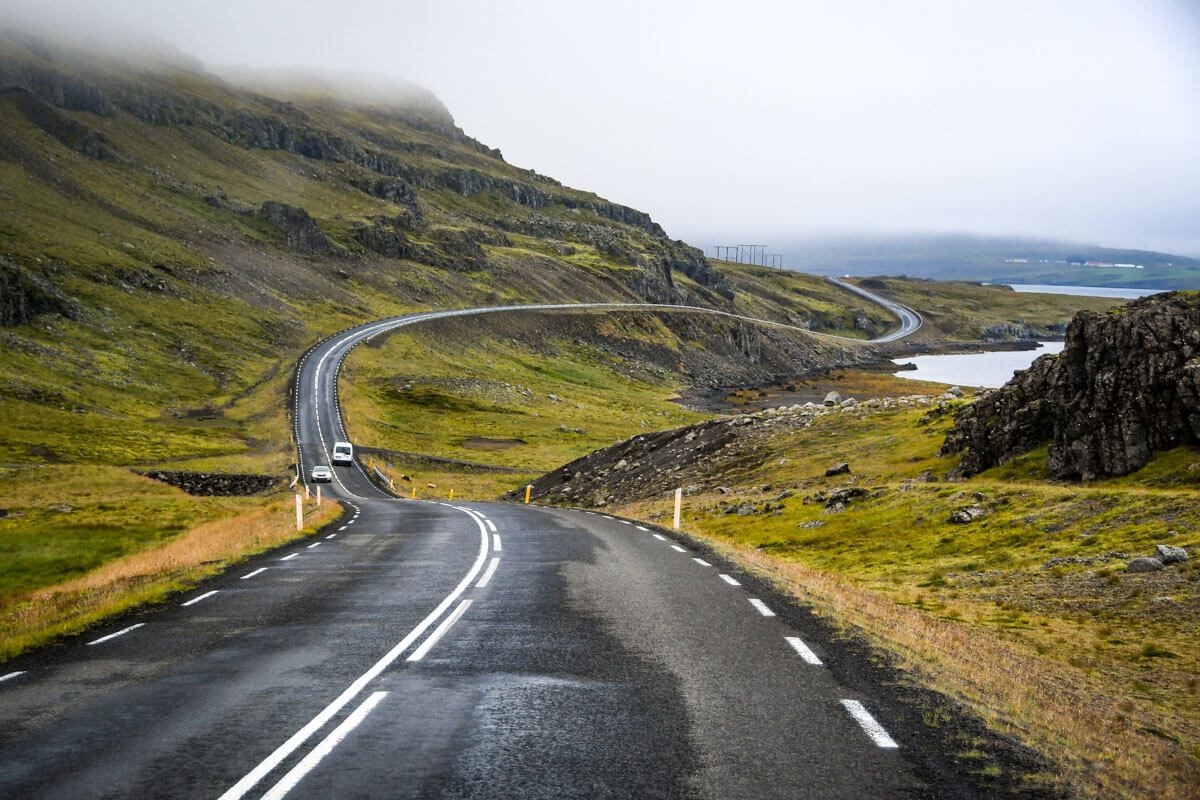 There are all sorts of opinions out there on this. And truthfully it comes down to your travel style.
Generally, people spent between 7-14 days on the whole Ring Road route.
Our advice: We'd highly recommend allocating at least 10 days to driving the Ring Road.
While you can certainly do it with less time and still see some of the major attractions along the way, it will likely feel rushed and you will have to pass by some pretty spectacular places.
Personally, we think the beauty of this route is getting to explore some lesser-known spots and being able to take your time along the way. Another thing worth noting is that taking any type of road trip in Iceland requires some level of flexibility. The weather in Iceland is notoriously unpredictable, and even the best laid plans may need to be adapted.
Only have 1 week? In our opinion, this would be too rushed to do the entire Ring Road. We think it's too much time inside a car and not enough actually exploring. We'd still recommend taking the Ring Road, but instead of doing the entire loop, we'd recommend sticking to Iceland's Southern Coast. In fact, we put together a perfect 7-day Iceland itinerary that covers some of the most spectacular sights in Iceland.
Ring Road is also known as Route 1
The nickname "Ring Road" is a little more fun, and it illustrates how this road does in fact encircle the whole country. However, if you are looking on a map, you'll see Ring Road marked as Highway 1.
Do you need a 4×4 vehicle to drive Ring Road?
You do NOT need a 4×4 vehicle to drive the Ring Road. All of the Ring Road attractions mentioned in this article are accessible by a normal (non 4×4 vehicle).
That said, if you are planning to travel to Iceland in the wintertime, having a 4×4 may make you feel a bit more comfortable in case of icy road conditions.
You CAN drive the Ring Road in the winter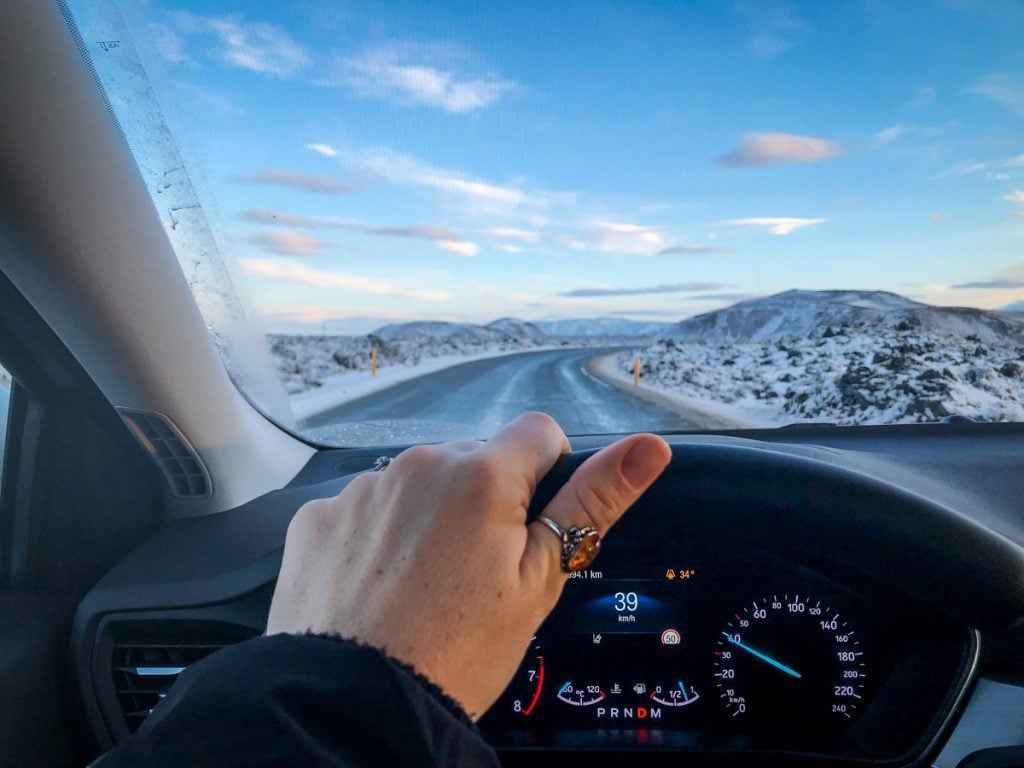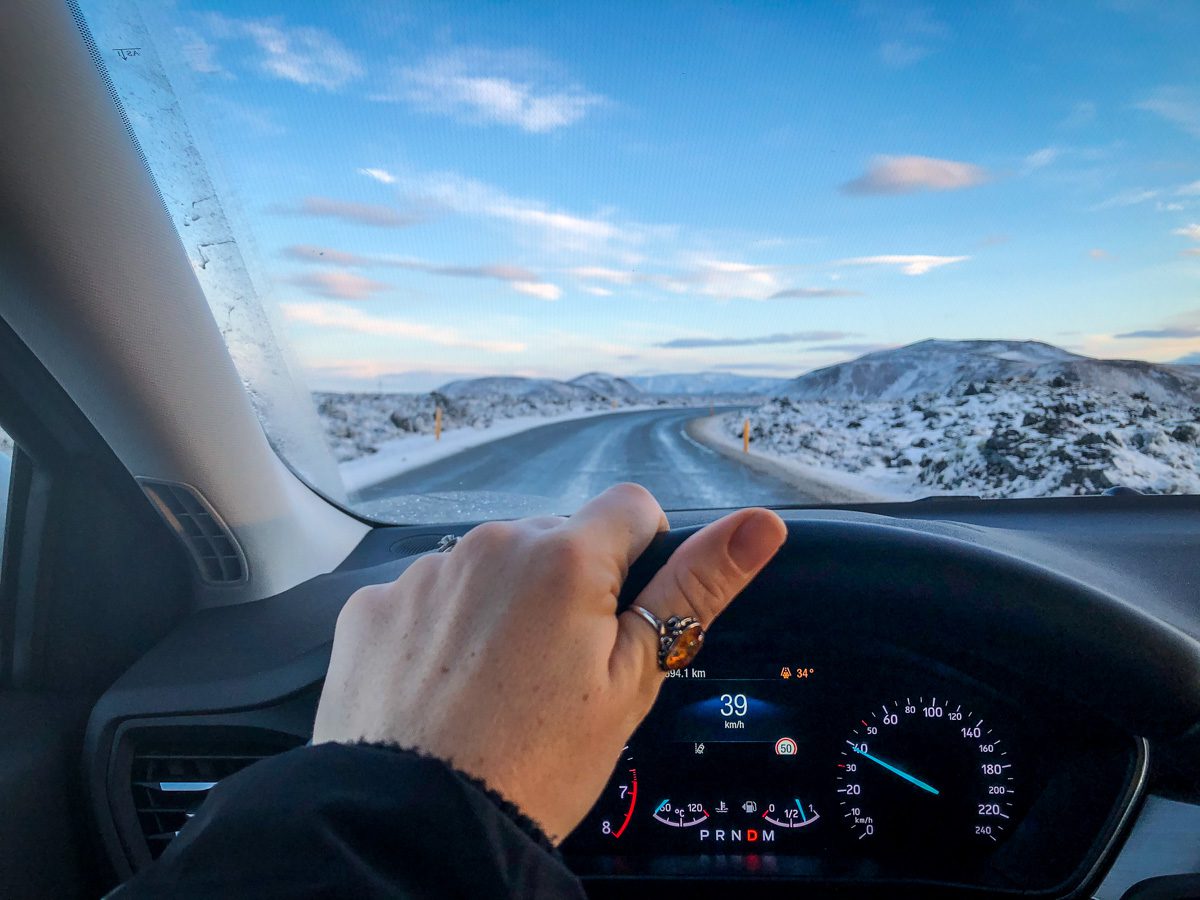 If you're considering traveling to Iceland during the wintertime, you will have the unique opportunity to (hopefully!) see the Northern Lights and experience this country during a time of year when there are few other travelers.
Being that the Ring Road is the major highway around the country, it remains open year round. That said, there are three things you should keep in mind:
You'll have shorter daylight hours to explore, meaning that you won't be able to pack as much into one day as you would during the summer months.
Some attractions on this list may be inaccessible. If there's anything on your "must visit" list, do a little research to see if it's something you can realistically see during the winter.
Make sure your vehicle has a "winter kit". This typically includes things like jumper cables, snow tires, flashlights, a snow scraper, etc. and it's pretty essential if you're driving during winter time.
Want more information about what Iceland is like during the winter? We have an article that goes over the best times to visit Iceland as well as what to realistically expect during each season.
It circles the whole country, but leaves a lot out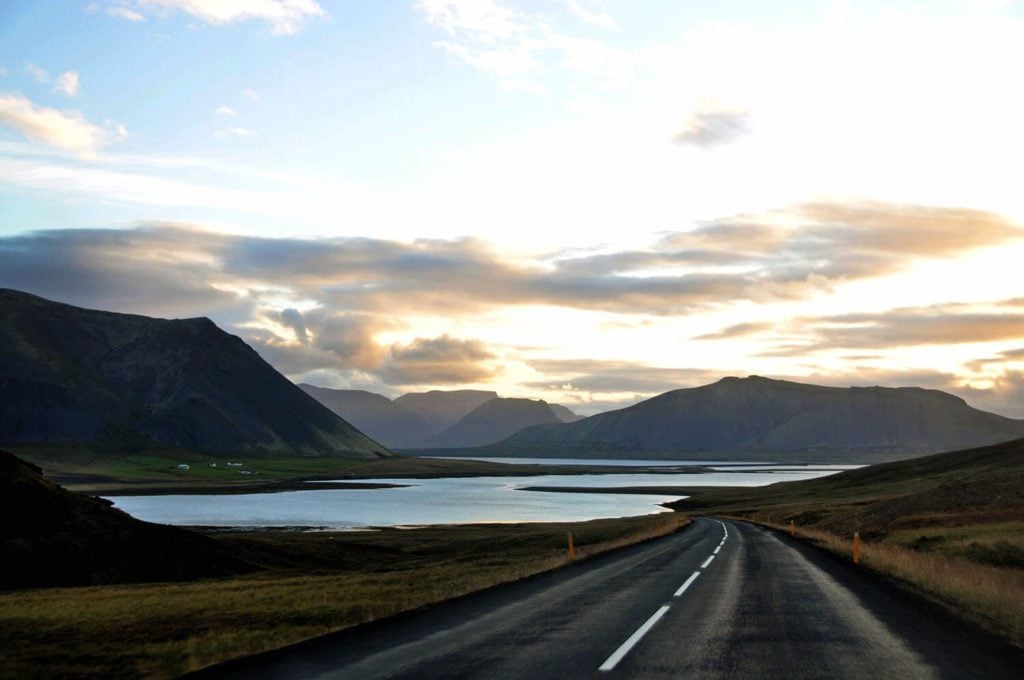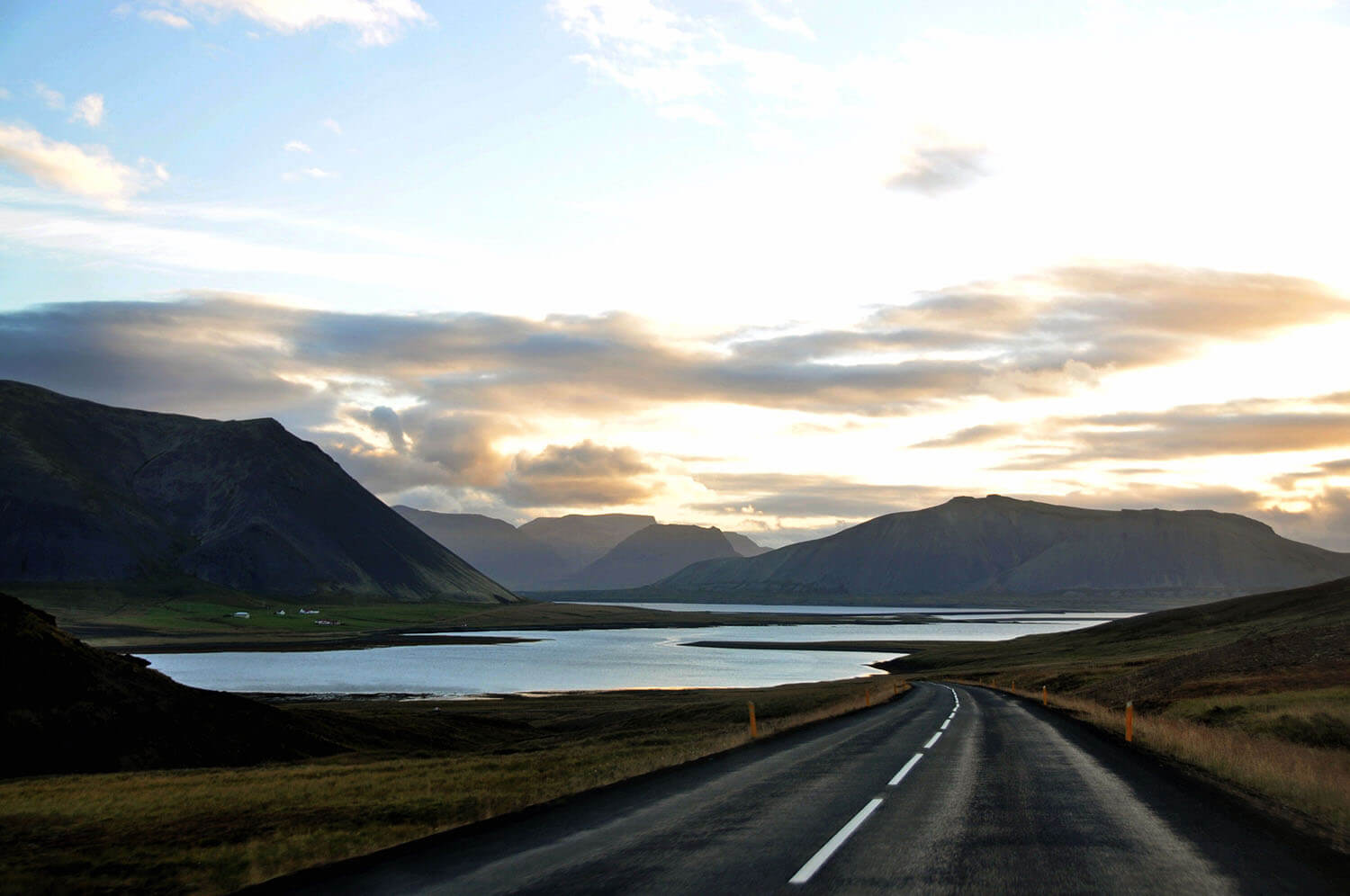 Sure, the Ring Road loops around the entire island nation, but there are some additions you may want to include on your itinerary if you have time.
Golden Circle: This is a short loop you can easily tack onto the beginning or end of your trip, as it is near Reykjavík and will bring you to some of the most famous attractions in the country.
Snæfellsnes Peninsula: Another fabulous addition to your Ring Road Iceland trip, the Snæfellsnes Peninsula has some spectacular waterfalls, beautiful walking tracks and cute fishing villages.
Westfjords: If you have several extra days to play around with, the Westfjords are remote and stunning. Bonus: They are still relatively untouched by tourism, so adding this region onto your trip will give you an entirely different feel than the rest of the country.
And this just scratches the surface, folks. There are plenty more places in Iceland to be explored, like the Icelandic Highlands (4×4 required) and the northernmost reaches of this island nation.
There are some boring parts
Yep, I said it. There are some stretches of the Ring Road where you'll be stopping every 10 minutes because there is just so much to see. And then there are some portions of this route that are straight up boring. I'm not going to sugarcoat it.
Take advantage of these sparse stretches to cover some major ground because there will be other days where you won't be driving very far at all.
Clockwise vs. Counterclockwise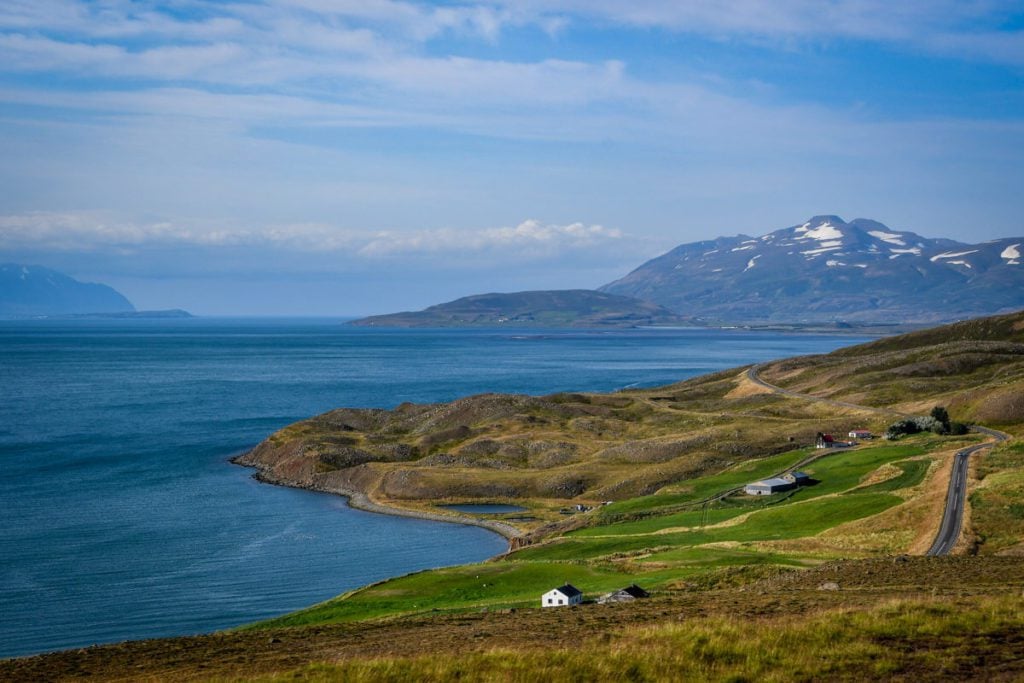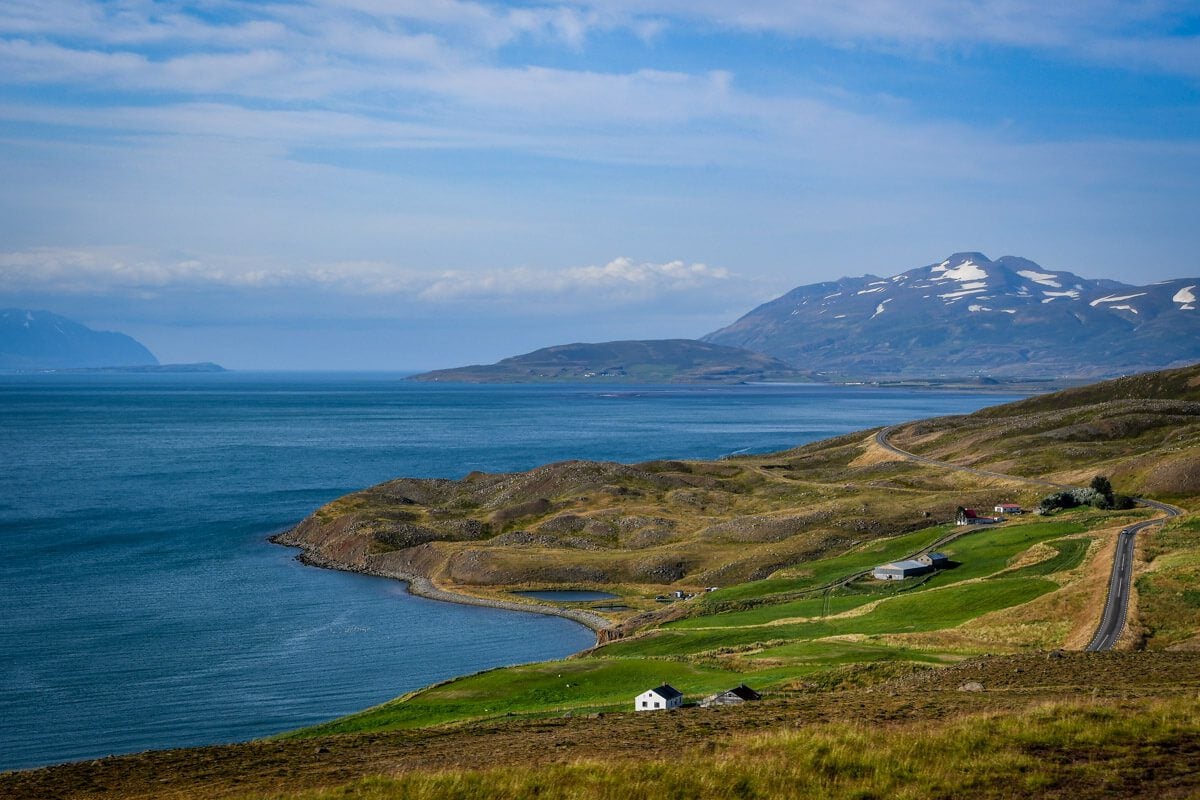 "Should I drive the Ring Road clockwise or counterclockwise?"
If you're wondering this, you're not alone. We spent quite a bit of time researching this very question as we planned our own Iceland trip.
Both directions are fine, but personally, we'd recommend going counterclockwise for a few reasons:
Iceland's South Coast has the highest concentration of attractions. This means you'll start your trip with shorter driving distances so you can adjust to jetlag and get used to driving in a different country.
The stops along Iceland's South Coast are truly spectacular and shouldn't be rushed. If poor weather or something else alters your travel plans, you'll want to have the most flexibility in this region. If you save this until the end of your trip, you may not have this luxury.
This region is the most popular, meaning some of the first stops you'll hit will likely be pretty crowded. The crowds will be fewer and fewer as you continue your Ring Road journey. We prefer this progression instead of going from relatively empty to more and more crowded.
Fill up on gas when you can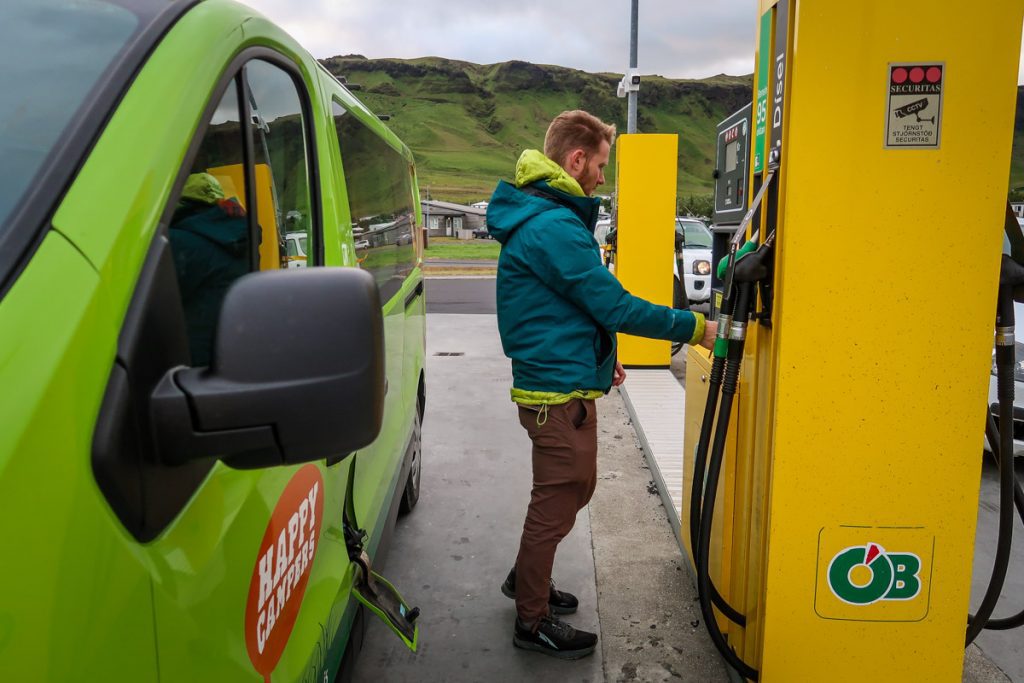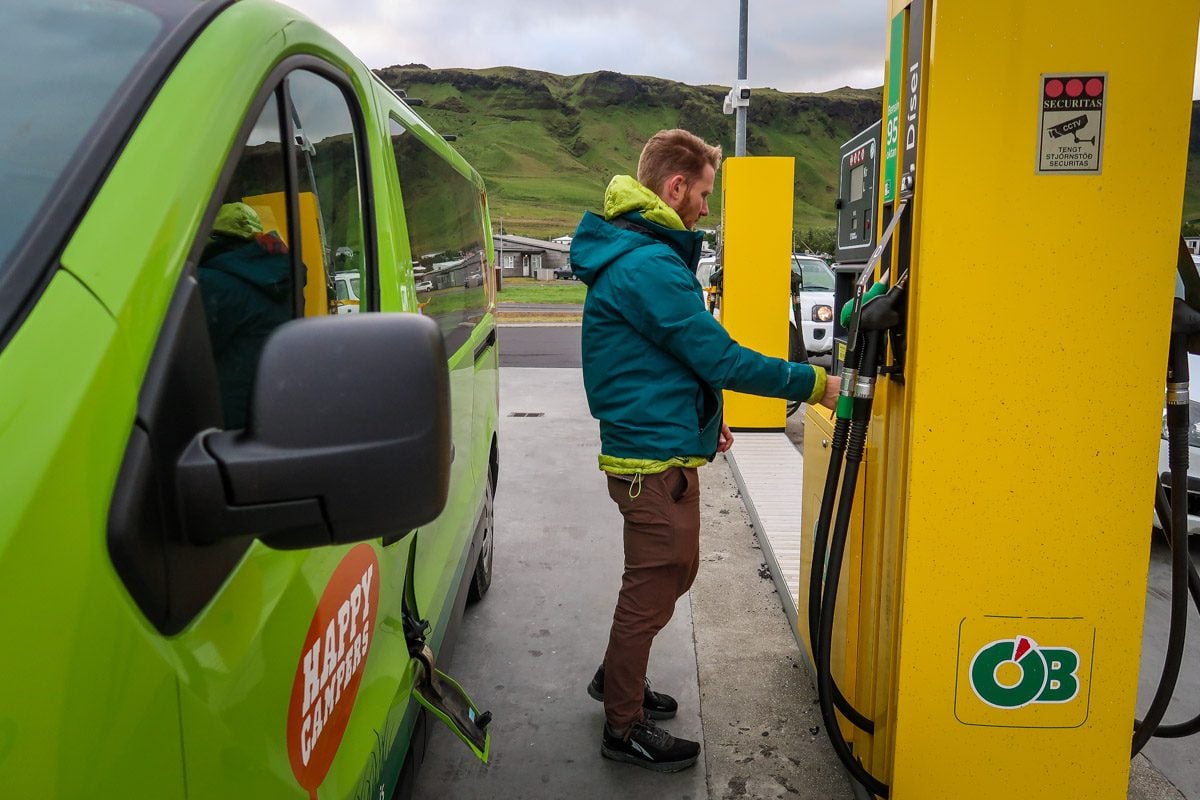 Gas stations are very common around Reykjavík and other major cities, but in between towns is a different story. Fill up when you have the opportunity so you don't find yourself driving through the remote countryside nearing empty…
And yes, the rumors are true. Gas in Iceland is very expensive.
Insider Tip: Save money using these Iceland budget tips so you don't have to fret about the cost of gas (which you frankly can't control!)
Some road rules are different from what you may be used to at home
Before hopping behind the wheel, be sure to read our guide to driving in Iceland. While we've found it to be a pretty easy country to navigate, there are some crucial things that you need to know before stepping on the gas.
How to plan the perfect Ring Road road trip
Determine which of these stops on the Ring Road are "musts" for you. Be sure to take into consideration how many days you have for this trip, as that will limit how many of these stops you'll be able to squeeze in.
To visit all of the stops on this list, you'll need 9-10 days.
Where to stay along the Ring Road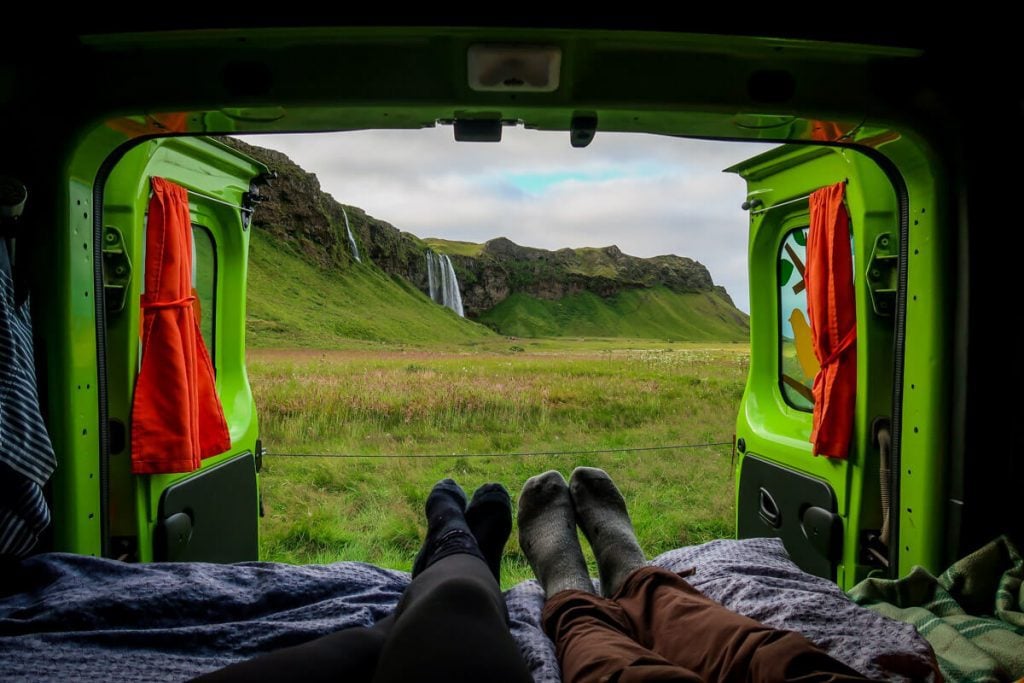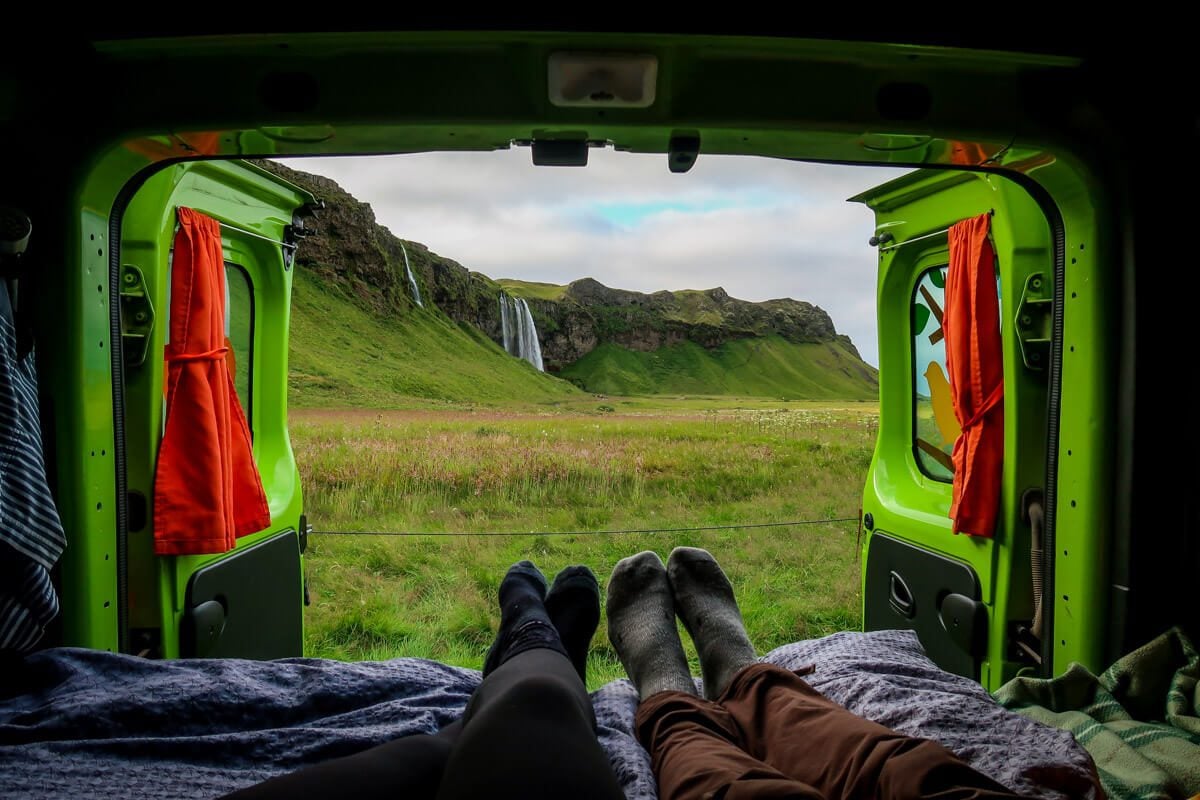 Even though the Ring Road will bring you through some desolate and remote areas, there are all sorts of accommodation options along the way.
Airbnbs: There are some pretty fantastic properties scattered around the country. We even curated a list of amazing Iceland Airbnbs to help you on your search.

Hot Tip: Turn on the "hot tub" filter and see if there are any places along your route where you can soak beneath the stars in total privacy.

Guesthouses: There are some really wonderful guesthouses all around the country. The type of places you stay in will be determined in large part by your budget, as they aren't exactly cheap. So figure out how much you plan to spend on average per night before you begin your search.
Campgrounds: We're huge advocates of taking an Iceland camping trip (we've done it twice and have loved both experiences). Iceland is well set-up for camping, and there are sites all around the country. If you're considering this type of trip, be sure to check out our guide to camping in Iceland.
Tip: We've found one of the best ways to travel around Iceland is in a campervan. Out of all the camper van companies out there, we like Happy Campers the best. They are a family-run company providing excellent vehicles with all the gear you need for an epic road trip in Iceland.
And the best news… We've partnered with them to give our readers a 5% off their campervan rental when you use our coupon code: TWS5. Just enter the coupon code TWS5 at checkout on Happy Campers website.
We also put together a HUGE Iceland campervan rental guide with tons of insider tips and advice for choosing the best campervan rental for you. Make sure to give it a read before booking your trip!
---
Read Next
---
38 Best Stops on the Ring Road
By now you know that the Ring Road essentially loops around Iceland, helping visitors circumnavigate the country. But what exactly will you see along the way?
There are truly endless adventures along the Ring Road, and in this article, we're sharing the best of the best stops on this iconic route!
Good to know: Some of these stops aren't directly on the Ring Road, and you'll have to venture a bit off of Route 1. However, none of these stops require a 4×4 vehicle, and we're only including them if we think they make a worthy detour.
1. Reykjadalur Thermal River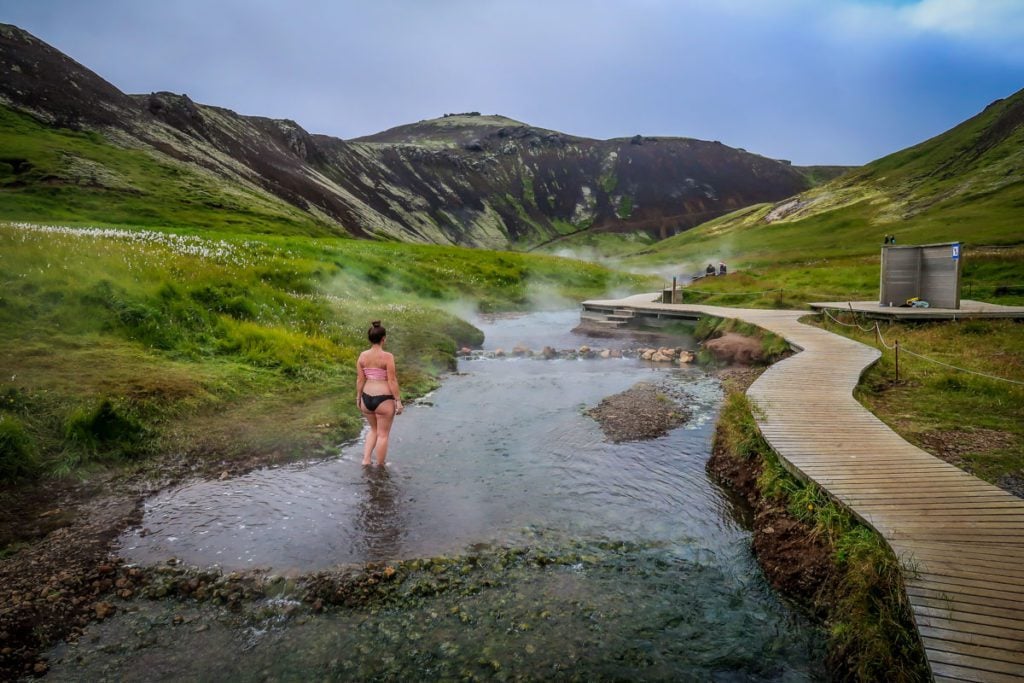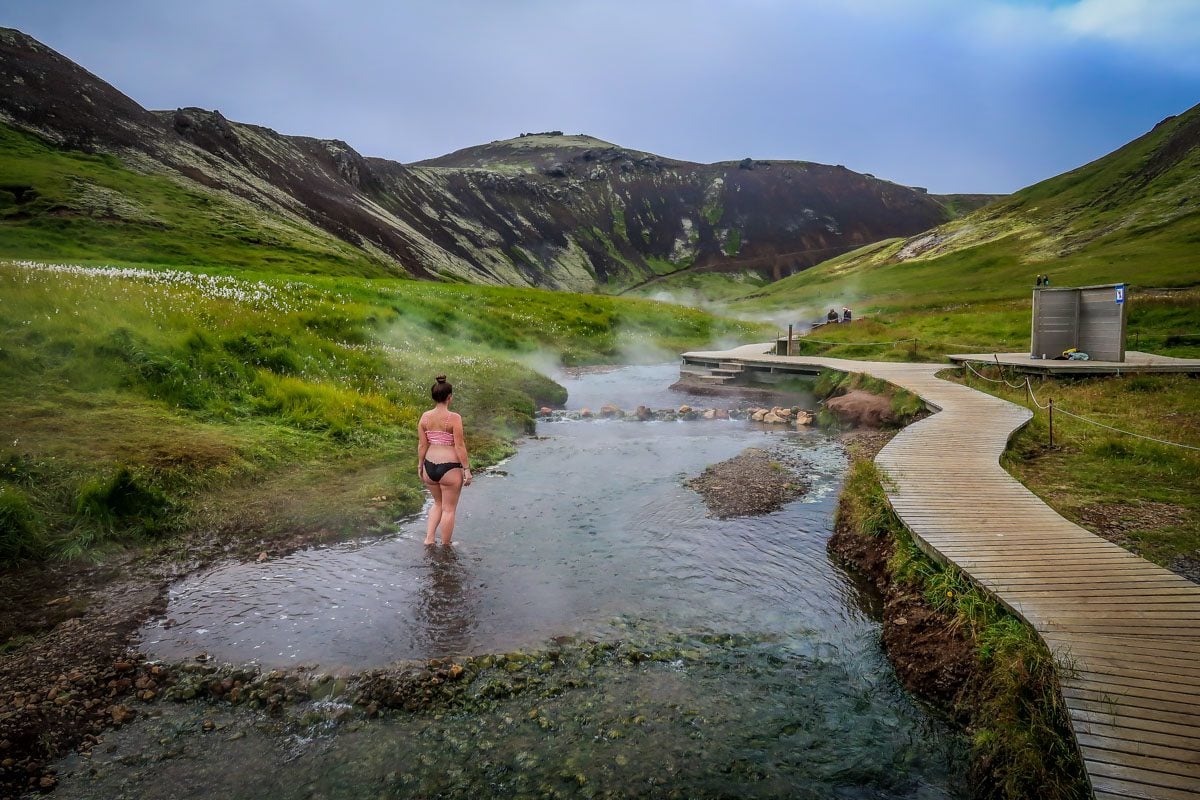 At a glance: Magical hot spring river that requires a hike
Imagine soaking in a steamy river nestled in a lush, green valley with grazing sheep and rolling hills. Sounds pretty damn dreamy, right?
Well, all you need to turn that dream into reality is a trip to Iceland and a bit of a hike.
The hike to get to the Reykjadalur Thermal River is 5 miles out and back, with moderate elevation gain. It should take about 1 hour each way. Find out exactly how to get there in our ultimate guide to visiting Reykjadalur Thermal River.
This was one of our favorite hot springs in Iceland, so we'd definitely recommend making the effort to get here!
2. Golden Circle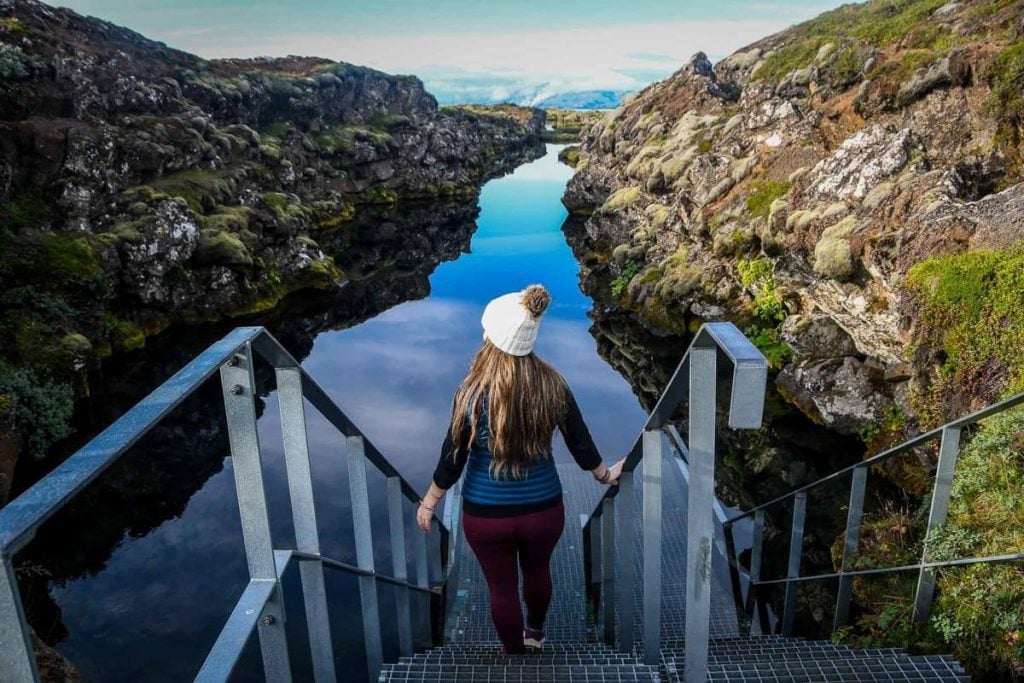 At a glance: Loop that brings visitors to 3 of Iceland's most iconic attractions
Worthy detour off of the Ring Road
While this driving loop is not located on the Ring Road at all, it is a short detour that should be on every first-time visitor's Iceland itinerary.
This loop brings you to three of the most famous attractions in Iceland:
Thingvellir National Park:
Iceland's first National Park and the location where two continents meet
Easy walks, unique geological formations, and rich Icelandic history
Geysir:
Boiling mud pits with a geyser that shoots up to 20-40 ft every 5 to 10 minutes.
Gullfoss:
One of the most beautiful and iconic waterfalls in Iceland
While this driving route technically only includes these three landmarks, we created a perfect Golden Circle route that will also bring you to some hidden gems as well as excellent places to get food along the way.
Note: Iceland's natural landscape is beyond beautiful and you'll want to stop for pictures around every curve. Our rule of thumb was for every hour of driving (according to the time Google maps gives you), add at least 10 more minutes for photo ops. Check out our collection of Iceland photos here and find out where to get the best shots around the country.
3. Hrunalaug Hot Spring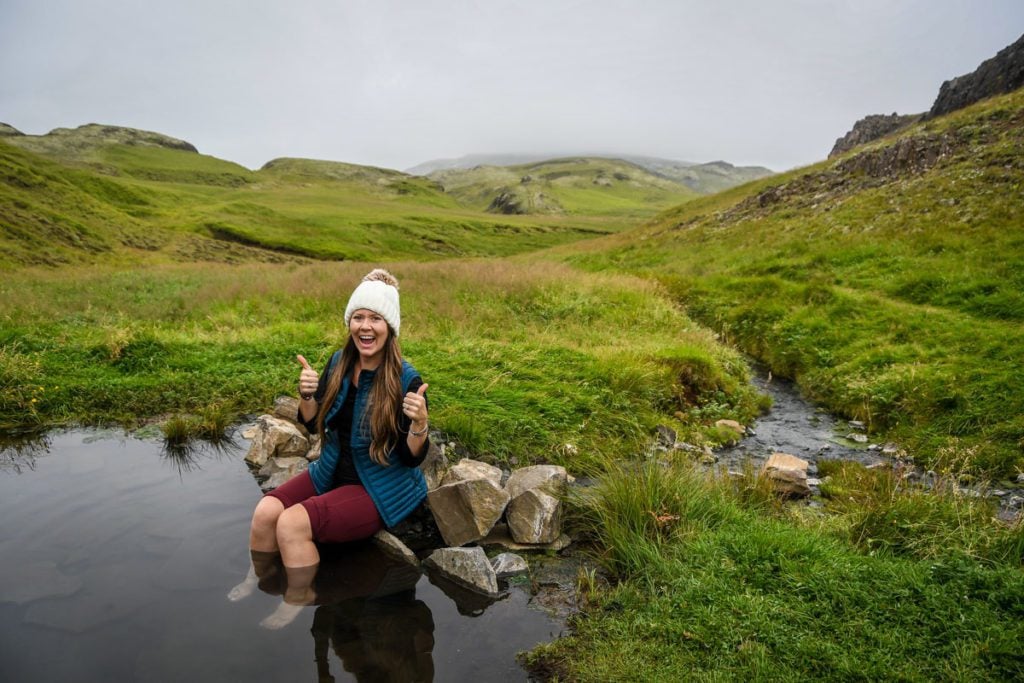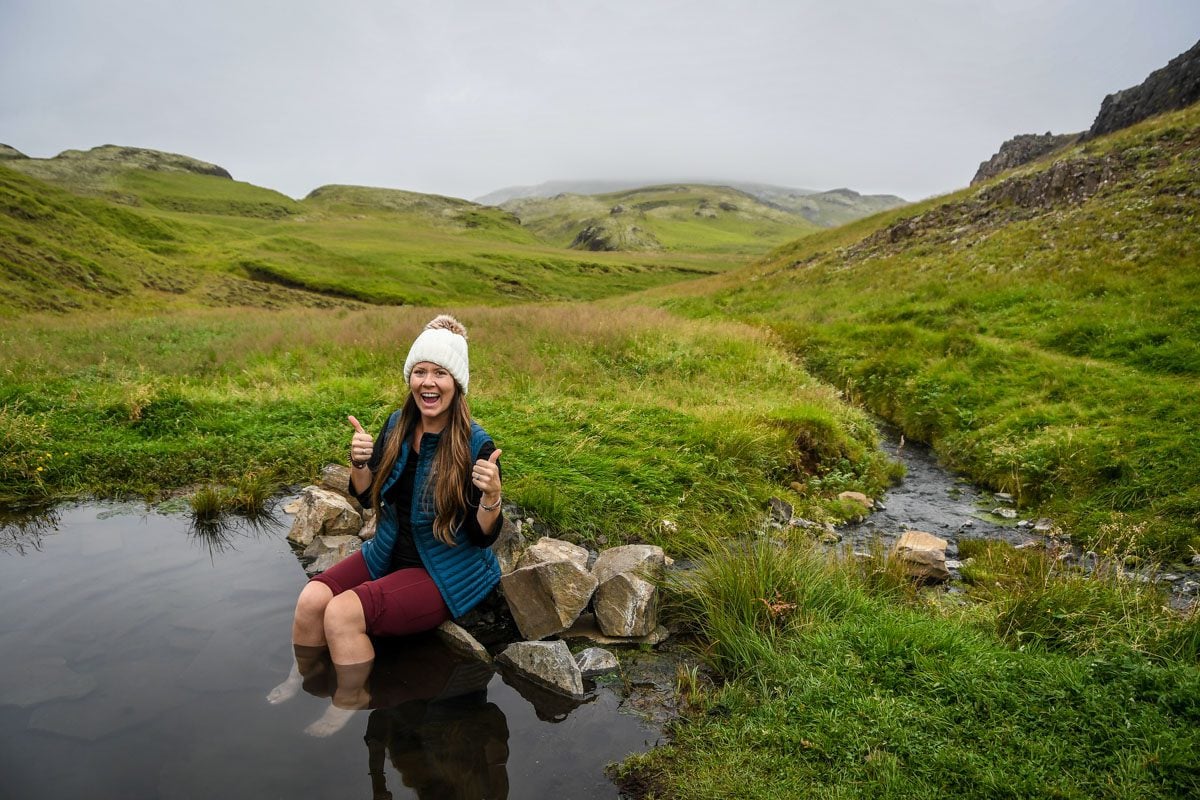 At a glance: Natural hot spring in a bucolic setting
Worthy detour off of the Ring Road
This small, natural hot spring makes a good stop after completing the Golden Circle loop (before getting back on the Ring Road). Surrounded by grassy knolls, you'll feel as if you've been transported straight to The Shire.
This hot spring is located on private property, and there is an honesty box near the parking lot where you can pay the 1,000 ISK fee ($7.50). Also, please be respectful and take all trash with you. Littering has become a problem at this hot spring in the past.
Alternative: If you prefer more developed hot spring resorts, the Secret Lagoon is nearby in the small town of Flúðir.
4. Seljalandsfoss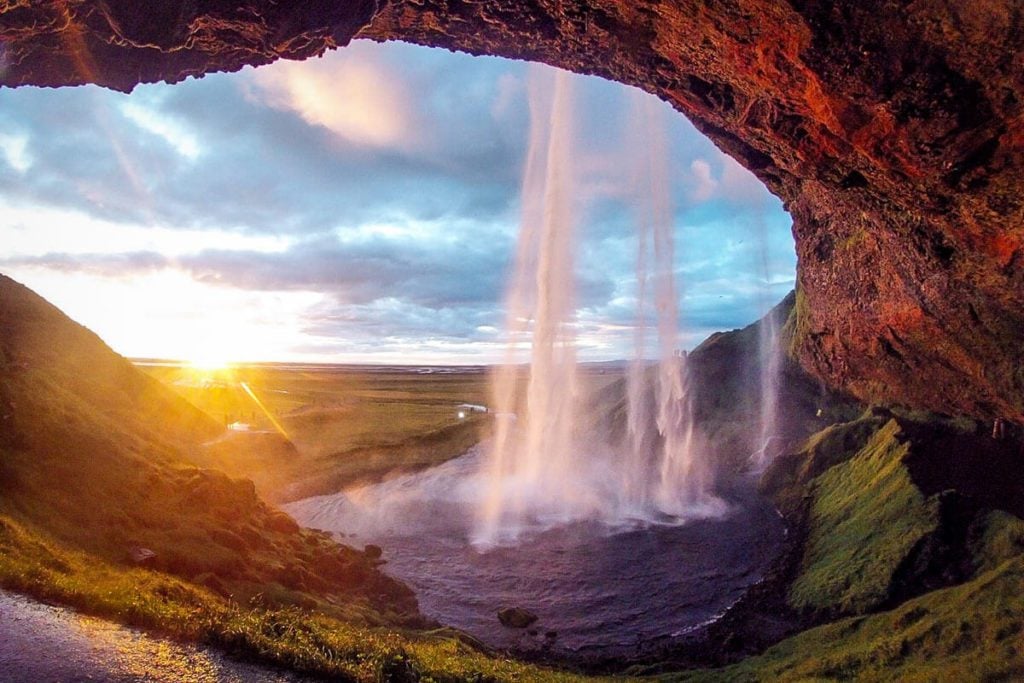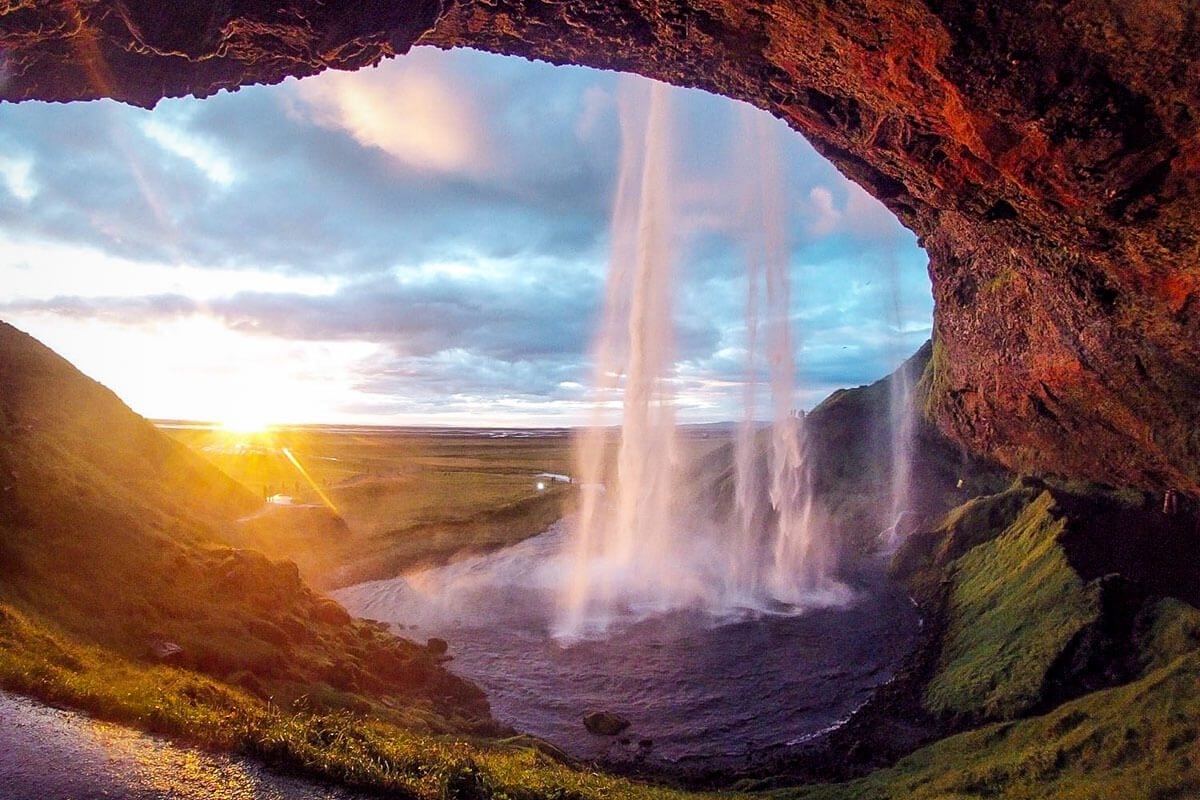 At a glance: Famous waterfall that visitors can walk behind
One of the most picturesque waterfalls in Iceland, Seljalandsfoss is unique in that you are able to walk behind the waterfall to get a different view. The setting makes for some incredible photos, especially if you visit at sunset. Just be sure to stay until the sun has fully disappeared behind the horizon and then the gold turns sadly back into clear water.
Note: Like we said, sunset (on a clear evening) is the absolute best time to be at this waterfall. We went there in the morning and again in the afternoon, and neither were nearly as impressive as sunset. Plan ahead and look up what time the sun sets on the day you plan to be there and pray for clear skies!
This is easily one of the best waterfalls in Iceland, so we'd definitely recommend making the effort to get there at sunset.
Psst! Looking for some more ideas of romantic things to do? We've got you covered with our Iceland Honeymoon guide!
5. Gljufrabui waterfall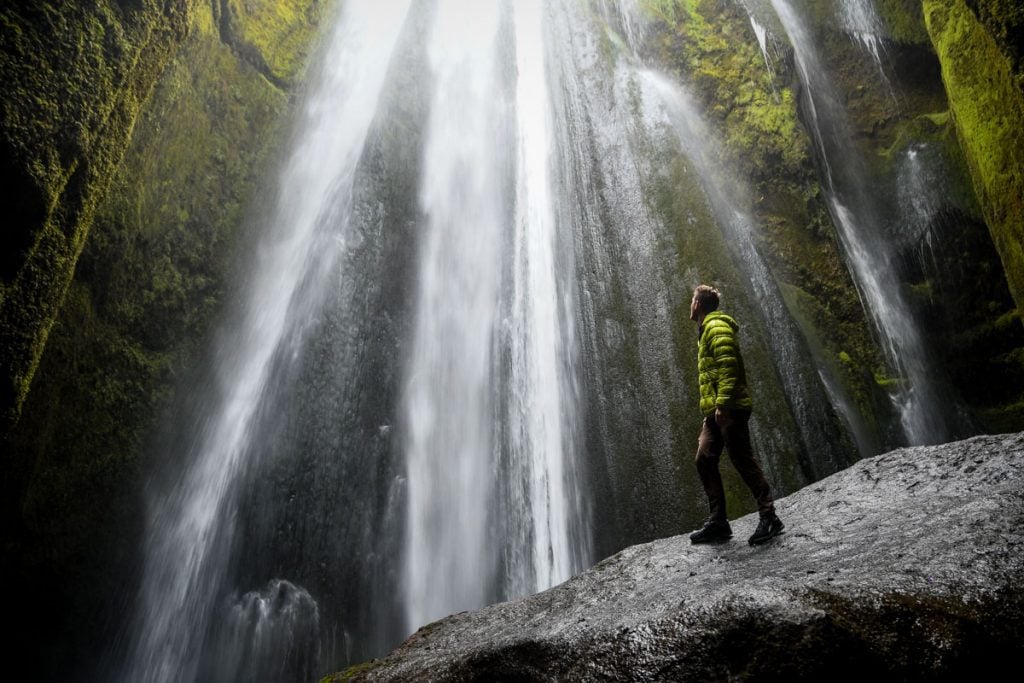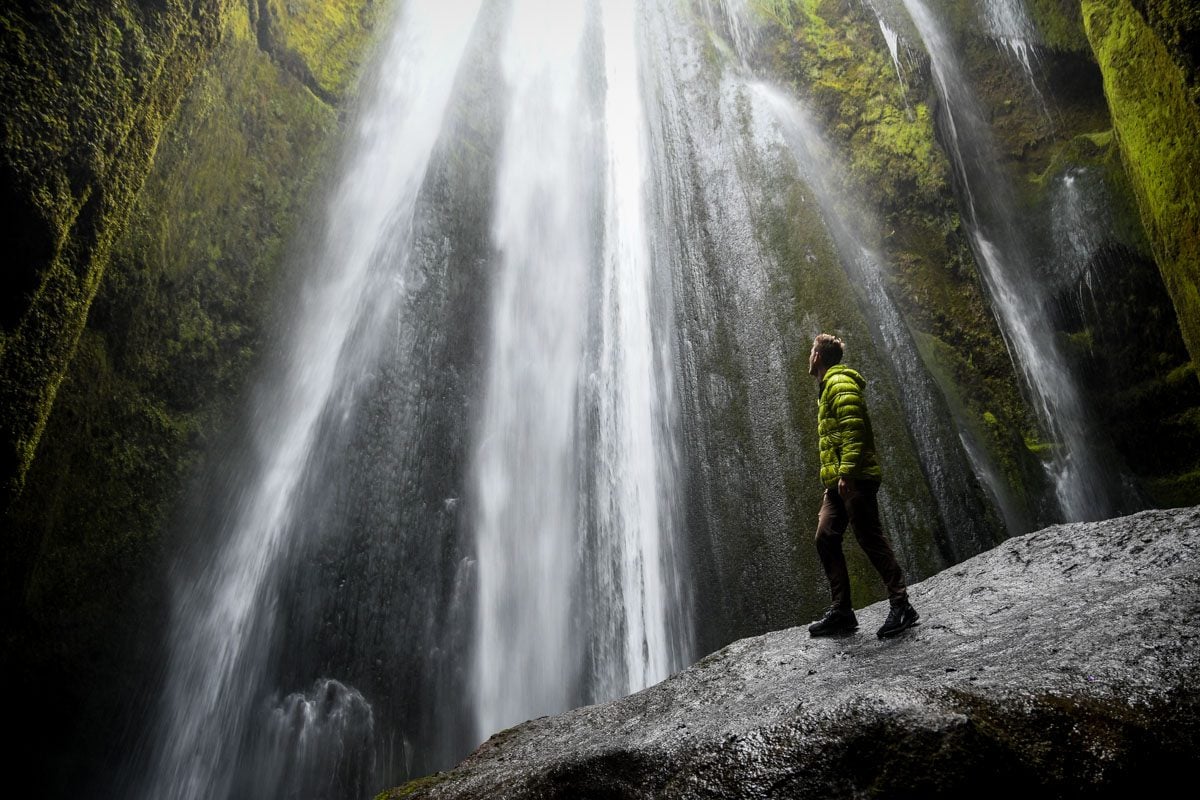 At a glance: Waterfall hidden in a canyon, very close to Seljalandsfoss
Tucked inside a narrow slot canyon, this waterfall is easy to miss unless you know it's there. (We missed out on this one during our first trip to Iceland!) Located a short walk from the famed Seljalandsfoss, this waterfall is much less-known than its iconic neighbor.
Be sure you're wearing sturdy, waterproof footwear, as you'll need to scramble over some wet rocks on the short walk to this waterfall.
6. Seljavallalaug Swimming Pool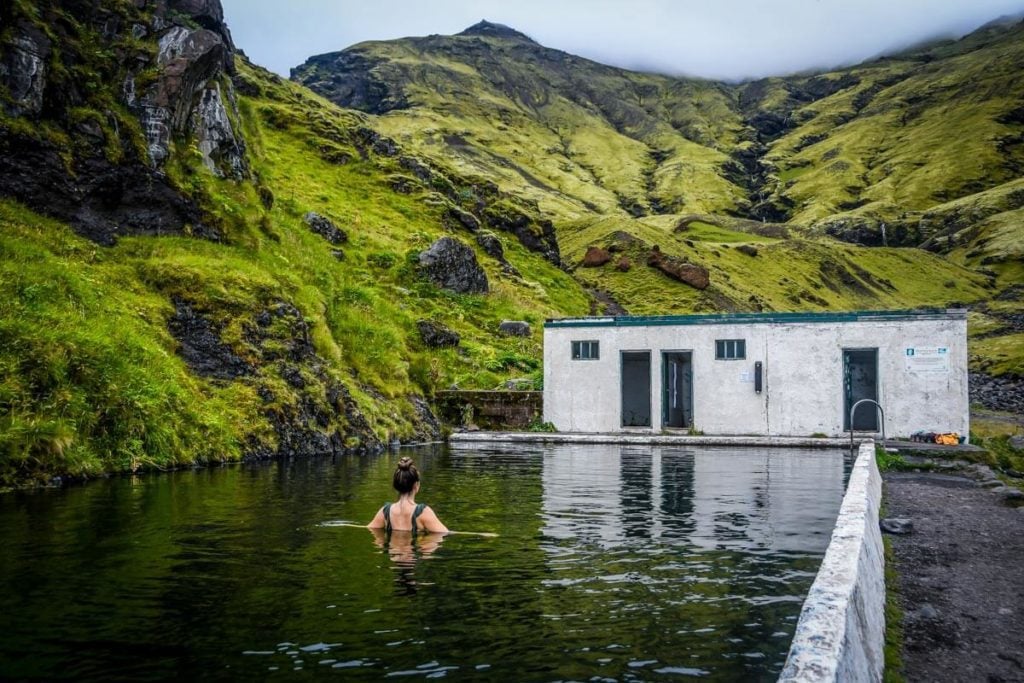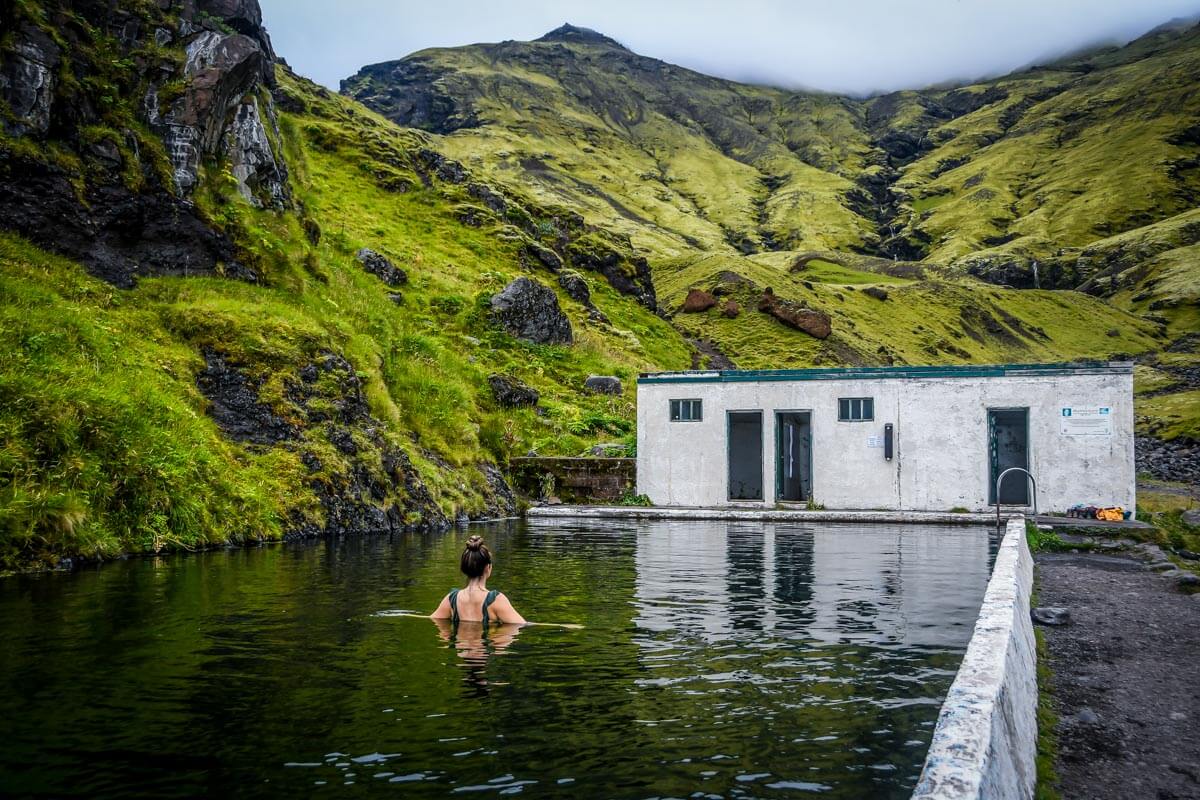 At a glance: Iceland's oldest public swimming pool, situated in a lush canyon
At just 2.5 km from Ring Road and an easy 20-minute "hike" along the riverbed from the parking lot, Seljavallalaug swimming pool is a hidden local gem we'd recommend visiting if you're up for a bit of an adventure.
This free open-air swimming pool makes a great alternative to the considerably more pricey Blue Lagoon if that just isn't in your budget.
Built in 1923 as a place to teach fishermen how to swim, this is one of the oldest public pools in all of Iceland (some accounts claim it is the oldest). The 25-meter outdoor public pool is fed by a natural hot spring which trickles off the hill straight into the pool.
The facilities here are minimal, just a few simple changing rooms, and we read that it gets serviced once a season to remove the algae. Which is something you can expect to see a lot of here.
We have a complete guide to visiting Seljavallalaug swimming pool with all the other information you should know.
7. Skógafoss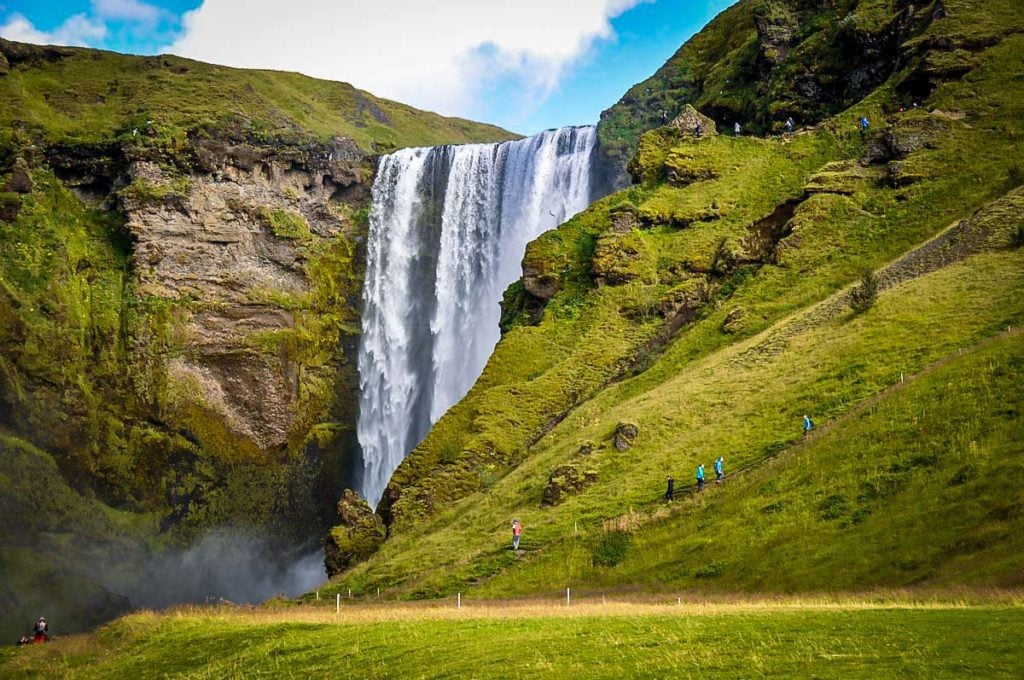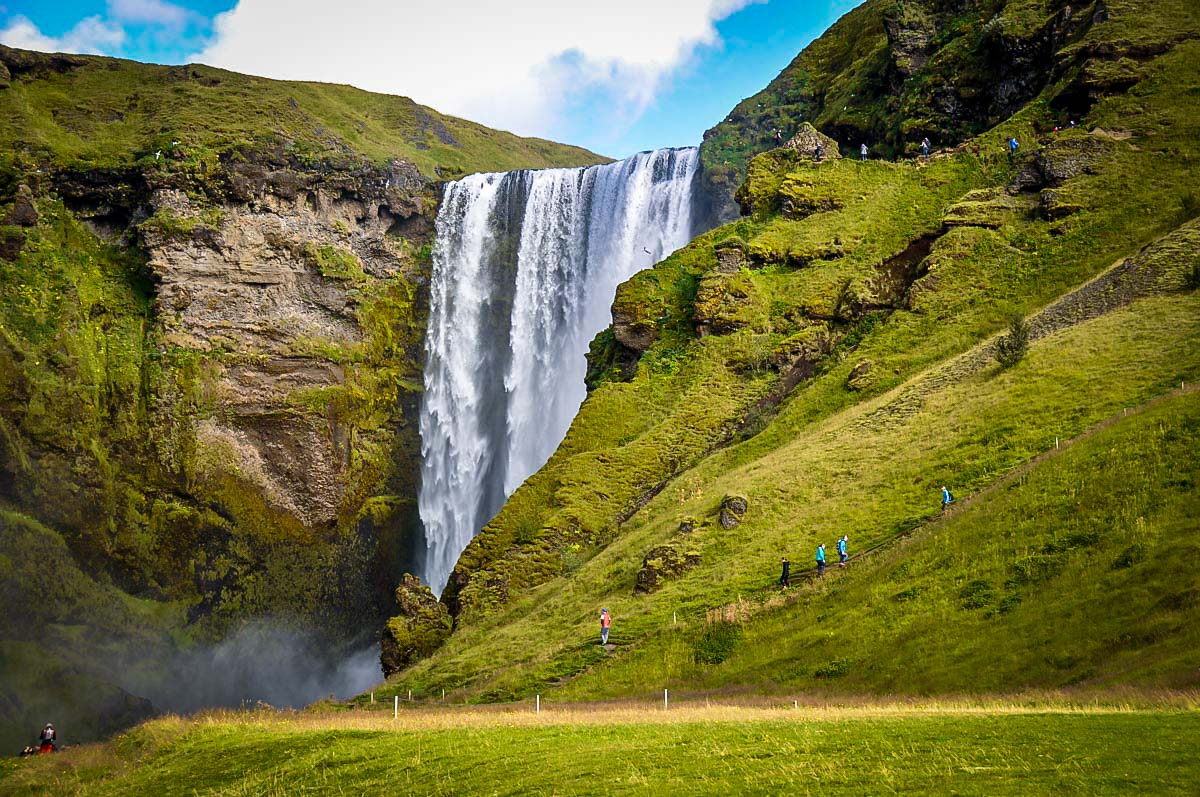 At a glance: One of the most iconic waterfalls in all of Iceland
This astounding 200-foot waterfall in Iceland is best known for the fact that you can walk right up to it. There is a staircase next to the falls you can climb to get a bird's eye view and you'll likely see a rainbow form in the mist.
The popular waterfall can get super crowded during the day, but it's still a really cool sight to see. If you have time, we'd highly recommend continuing on the path at the top of the staircase for as long as you feel like walking.
This is called "Waterfall Way" where you will see some of the most beautiful waterfalls along this mostly flat trail. Twenty-six in all and with far fewer crowds. (We noticed that the crowds started to thin out after about 1 mile of walking.)
Insider Tip: If you're an avid hiker, you may want to consider adding an extra day to your itinerary to do the Fimmvörðuháls hike, arguably the best day hike in Iceland which begins at the top of Skógafoss.
8. Kvernufoss Waterfall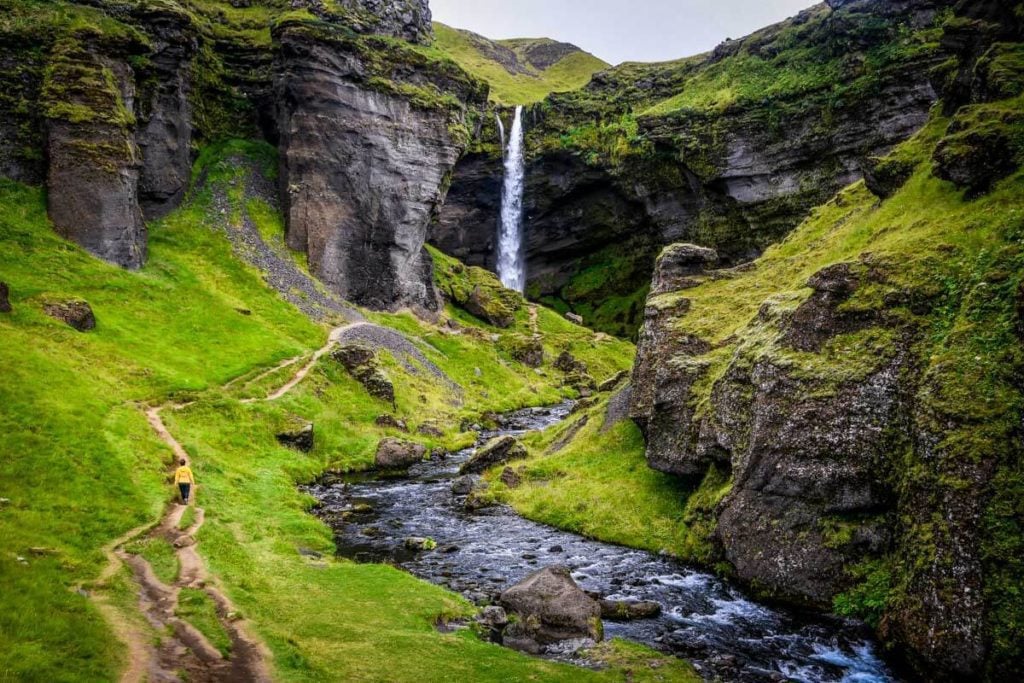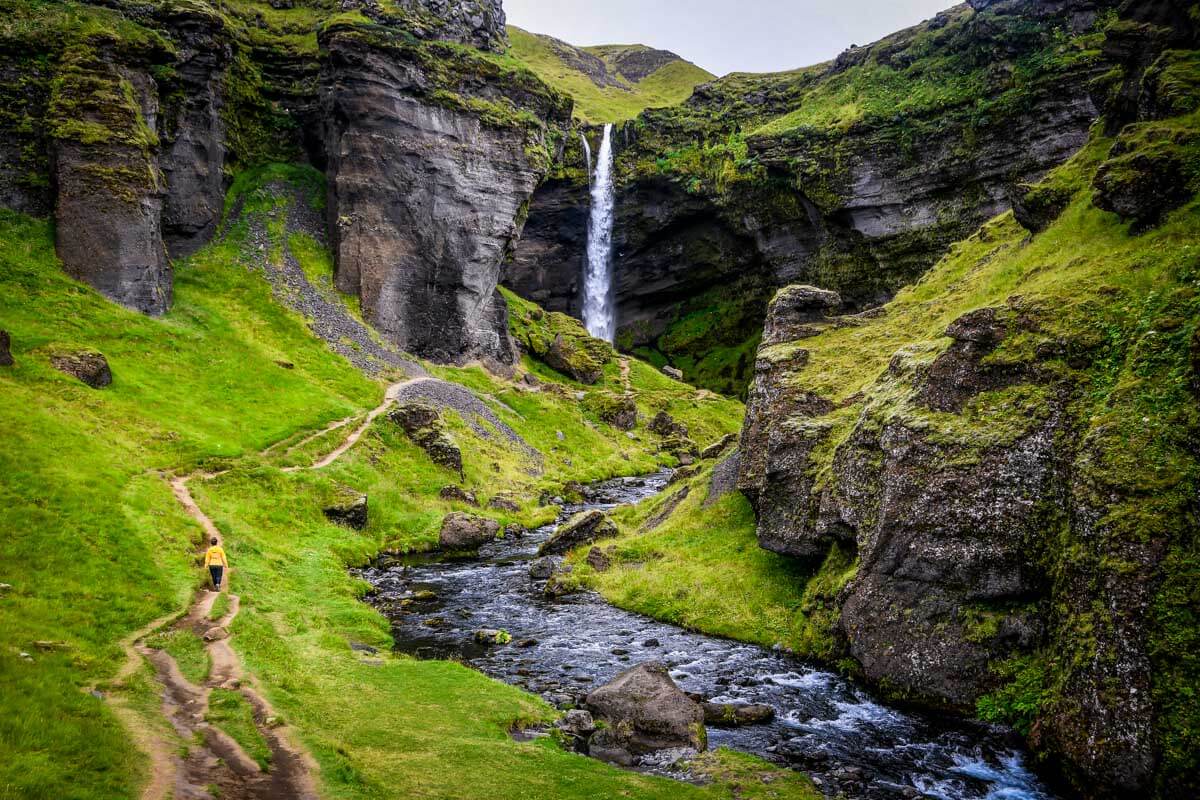 At a glance: Lesser-known waterfall that requires a sort, easy walk to reach
This is another hidden gem that many visitors miss. Just behind the Skogafoss Museum, you'll find a dirt path with a small sign indicating it's the trail to Kvernufoss. Be sure to pay for parking before you set off on a short walk.
While nearby Skógafoss draws tour buses and huge crowds (for good reason), this waterfall is still somewhat a secret, and is jaw-droppingly beautiful.
9. Sólheimasandur Plane Wreck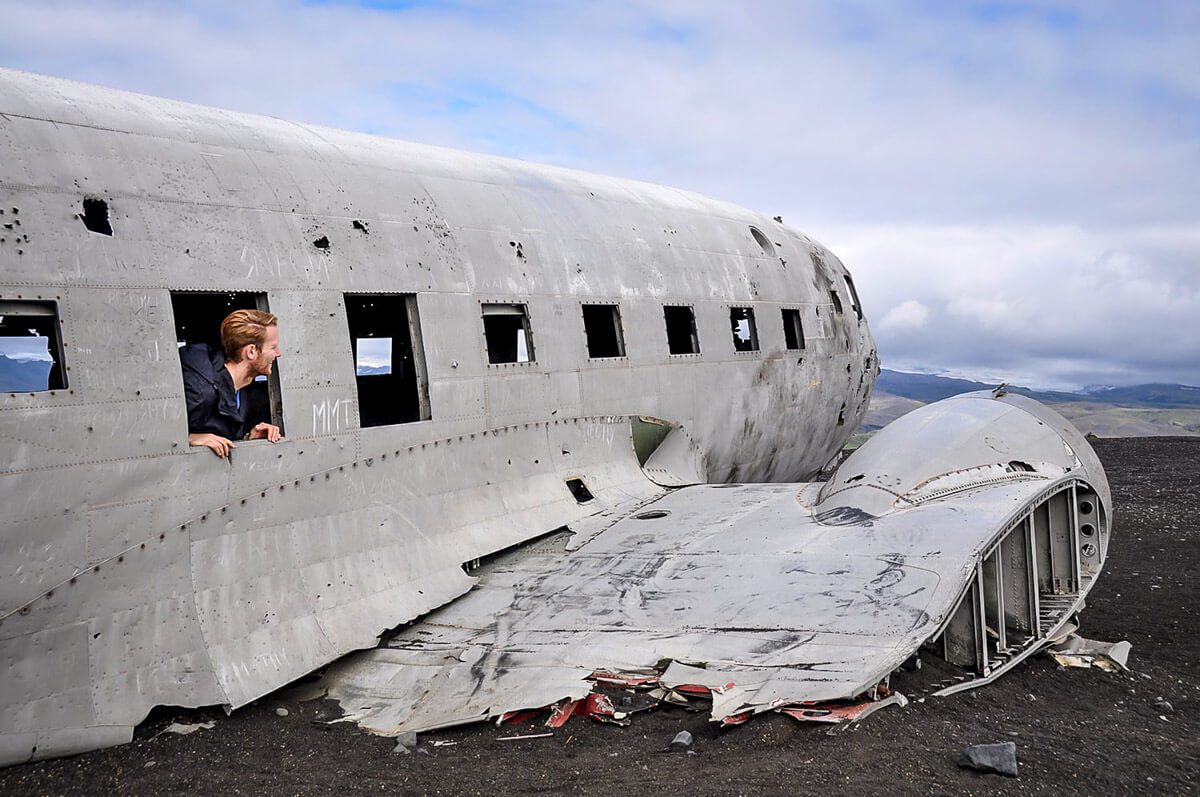 At a glance: Eerily photogenic plane wreck on a black sand beach
This Insta-famous sight sure is something to behold… and photograph.
In 1973, a U.S. Navy plane ran out of fuel and crash-landed on a stretch of black sand beach in Iceland. Miraculously, there were no casualties. Today, it is a popular tourist attraction and is especially loved by photographers.
As you're driving on Ring Road, you'll see a parking lot, which is often packed with cars. The walk to get to the plane wreckage is roughly 5 miles round trip. And I'm gonna be real with you: It's boring. The path is flat and easy, but there is really nothing to see until you get to the plane, so it's up to you to determine whether or not getting this photo is worth a couple of hours of your time.
Don't feel like walking? There is actually a shuttle service which will bring you from the parking lot to the plane wreck so you can cut out the walking time. The drive is just 15 minutes each way, and shuttles run frequently from 10 a.m. to 5 p.m. daily during peak season. Tickets cost 2,500 ISK ($19) per person.
Tip: If you're visiting Iceland during the summer months with long days and midnight sun, try to check out the plan "after hours" later in the evening or super early in the morning to avoid the crowds and still have plenty of "daylight" to photograph.
10. Dyrhólaey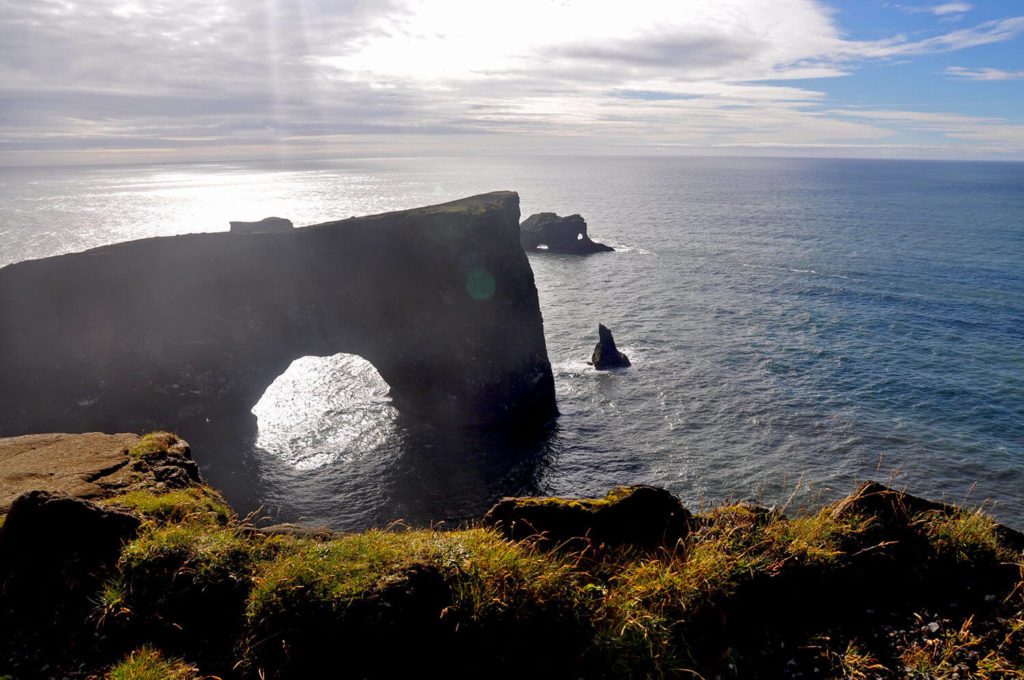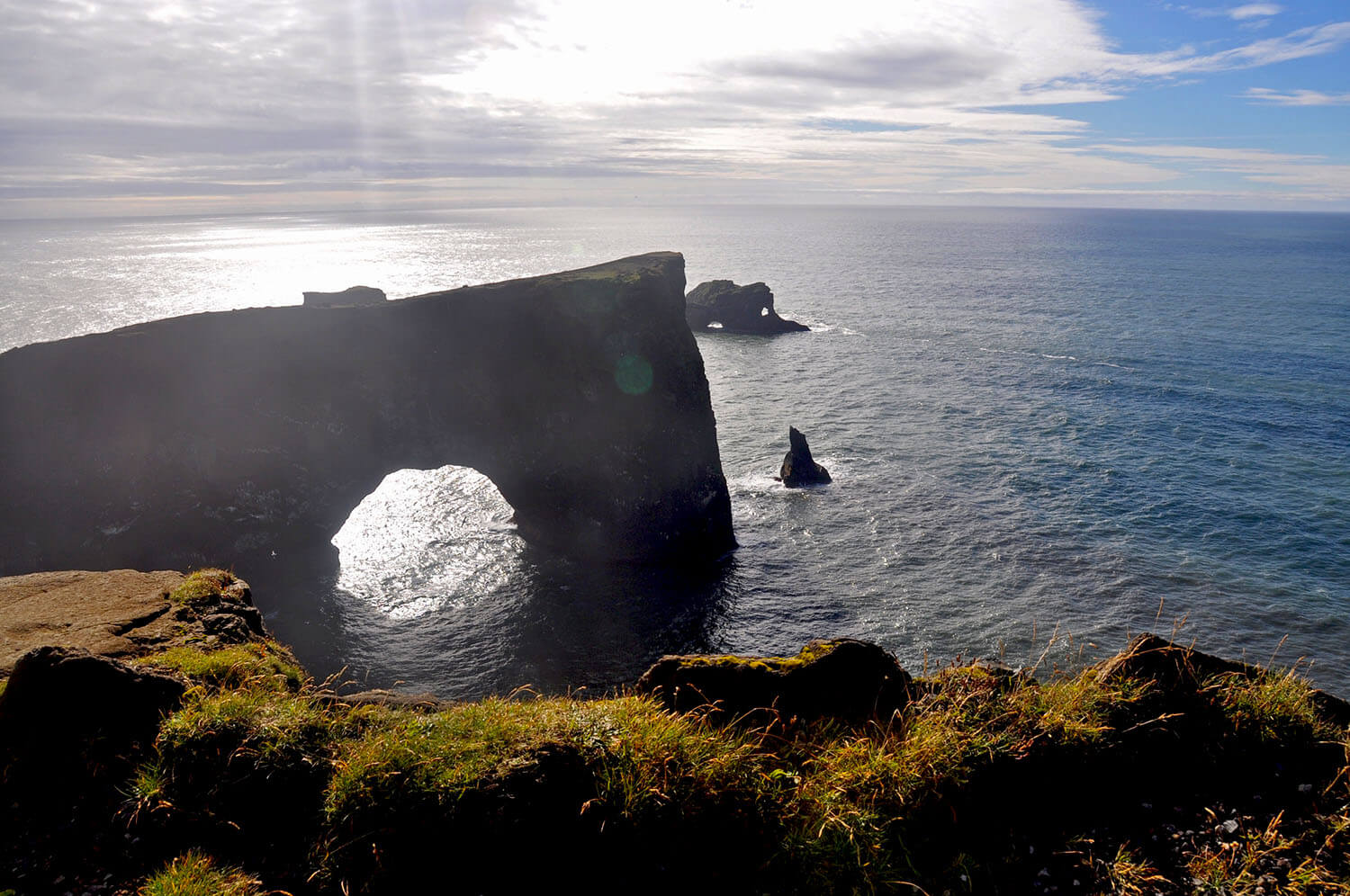 At a glance: Seaside cliffs with interesting rock formations and epic views
This cliffside viewpoint offers sweeping ocean views over black sand beaches below. You'll also see some pretty interesting rock formations—notably the Dyrhólaey rock formation pictured above, as well as a lighthouse.
If you're visiting in the early summer months, you may be lucky enough to spot some puffins nesting here!
11. Reynisfjara Black Sand Beach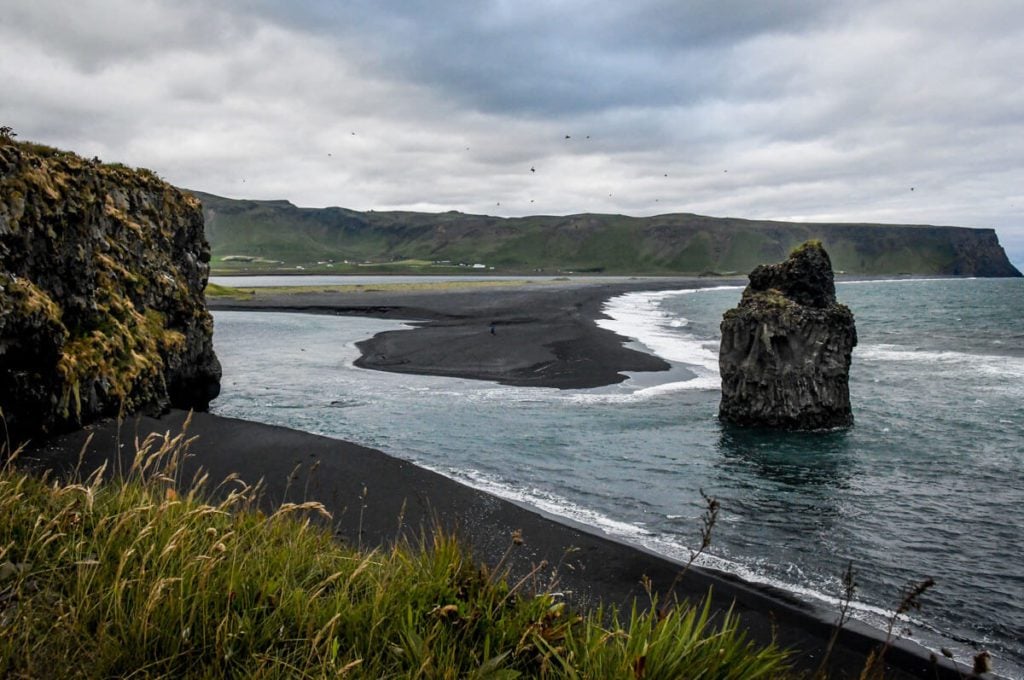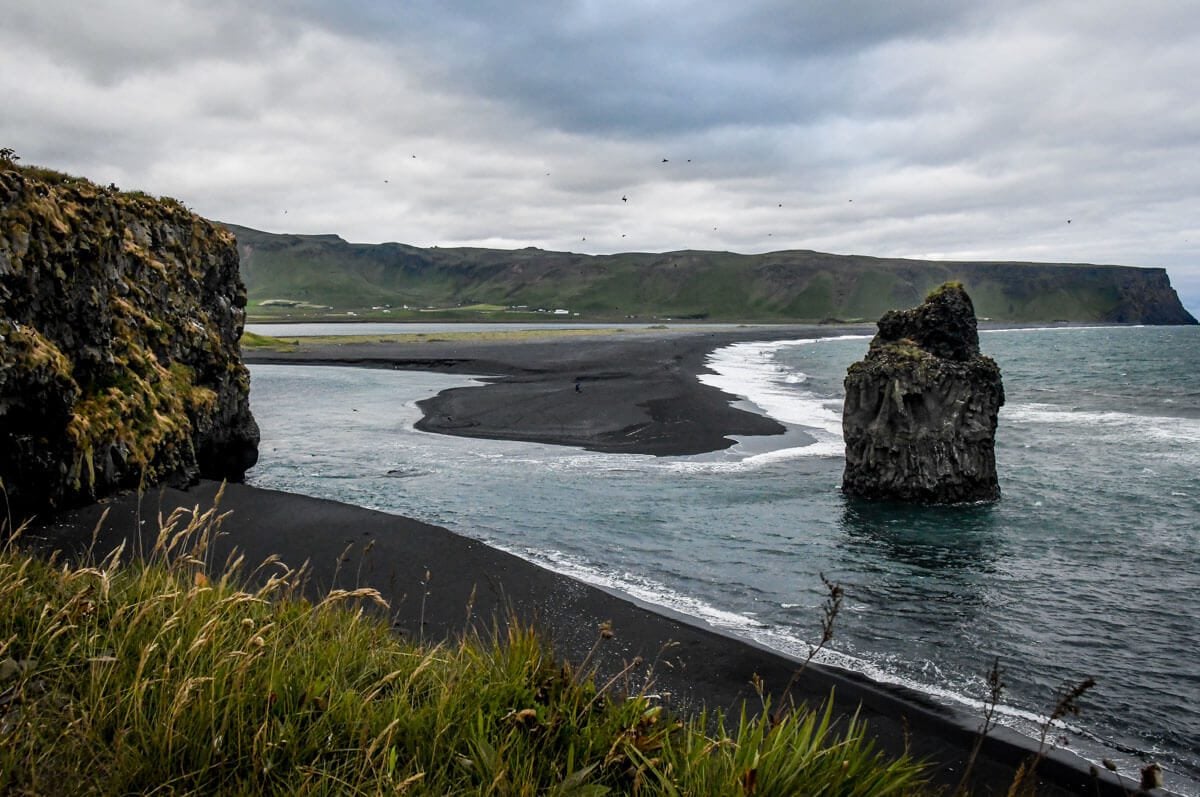 At a glance: Most famous black sand beach in all of Iceland
Not only is this the most famous black sand beach in Iceland, but Reynisfjara is actually pretty well known throughout the world. The stunning and unusual landscape is unlike anything you've ever seen.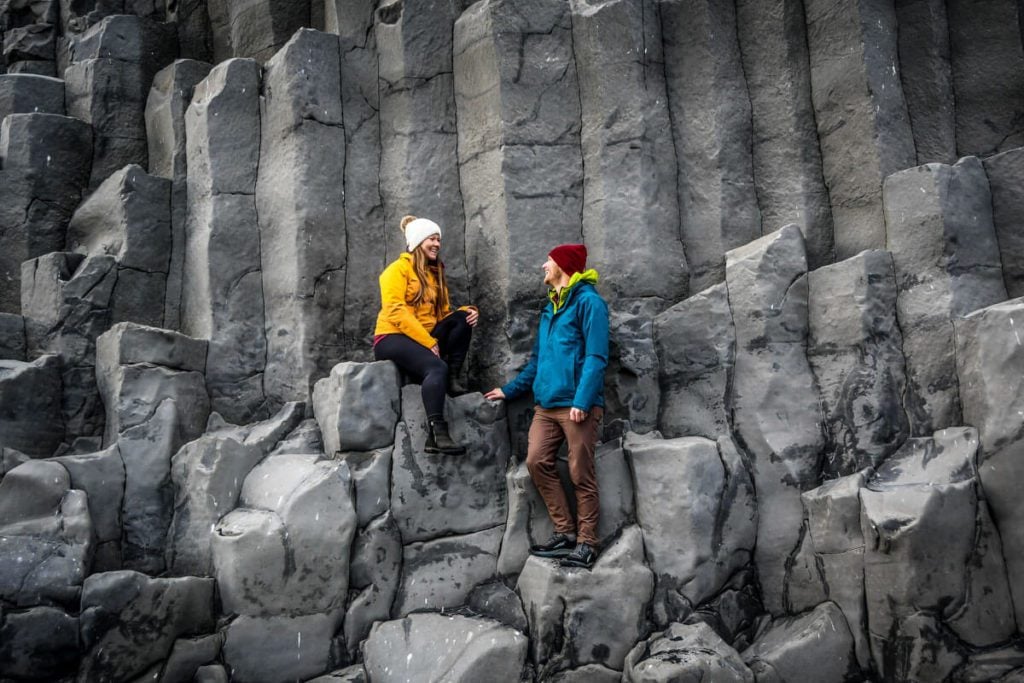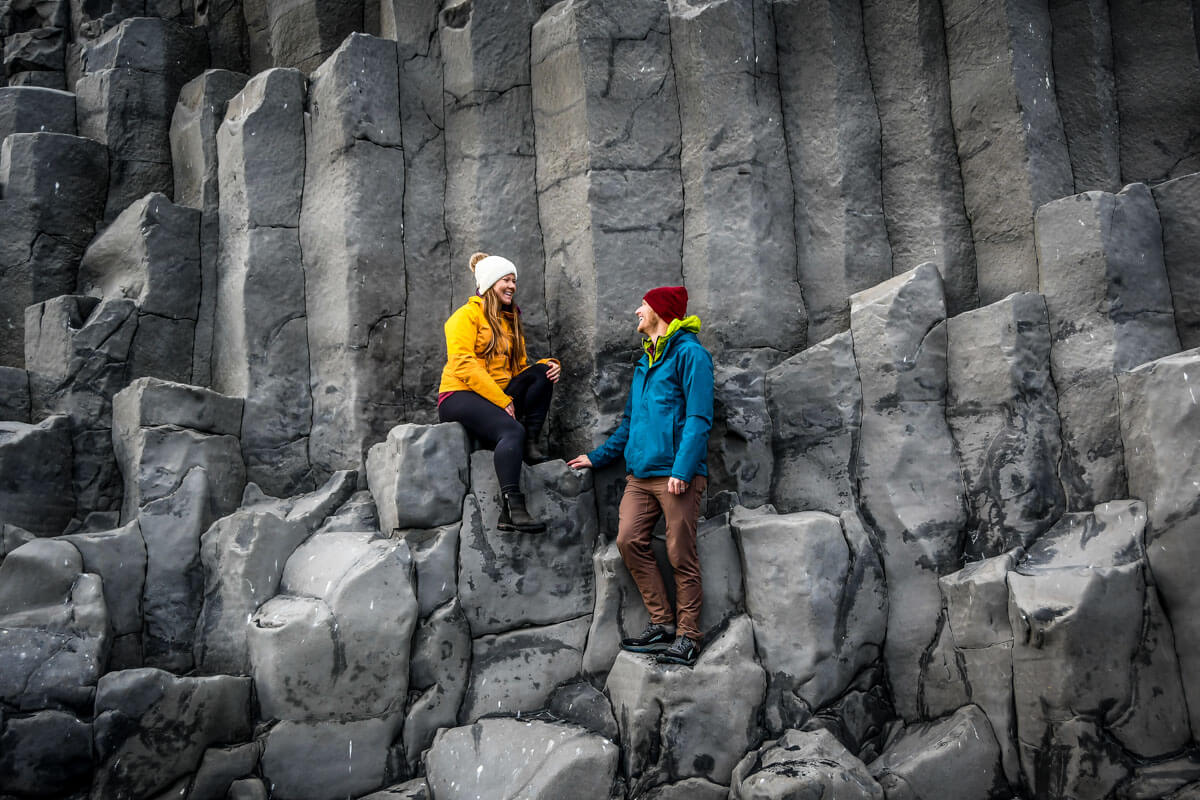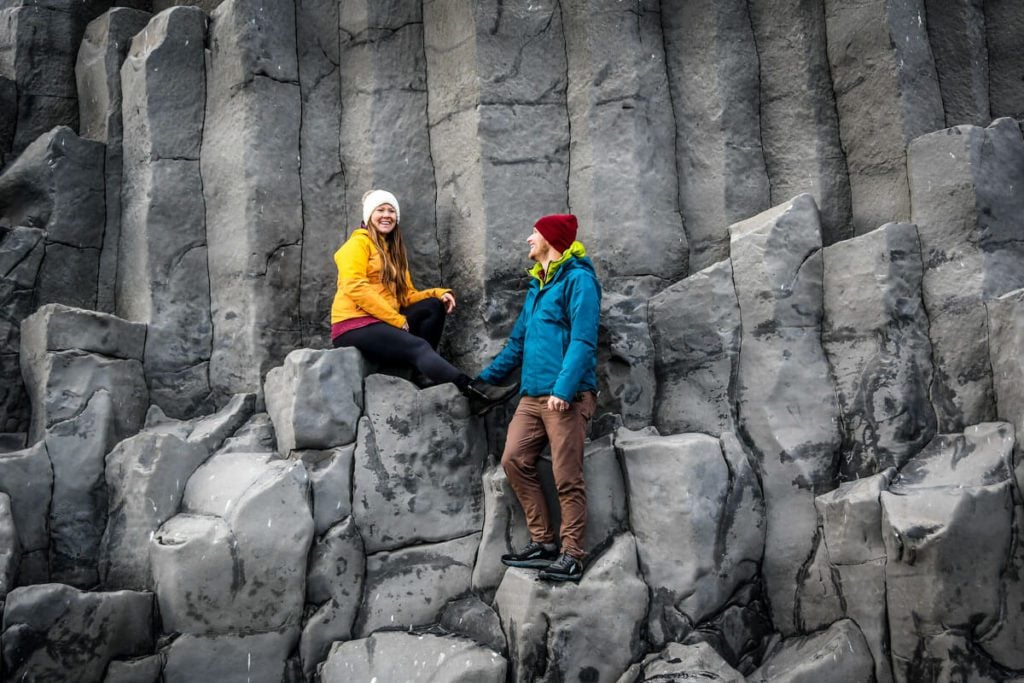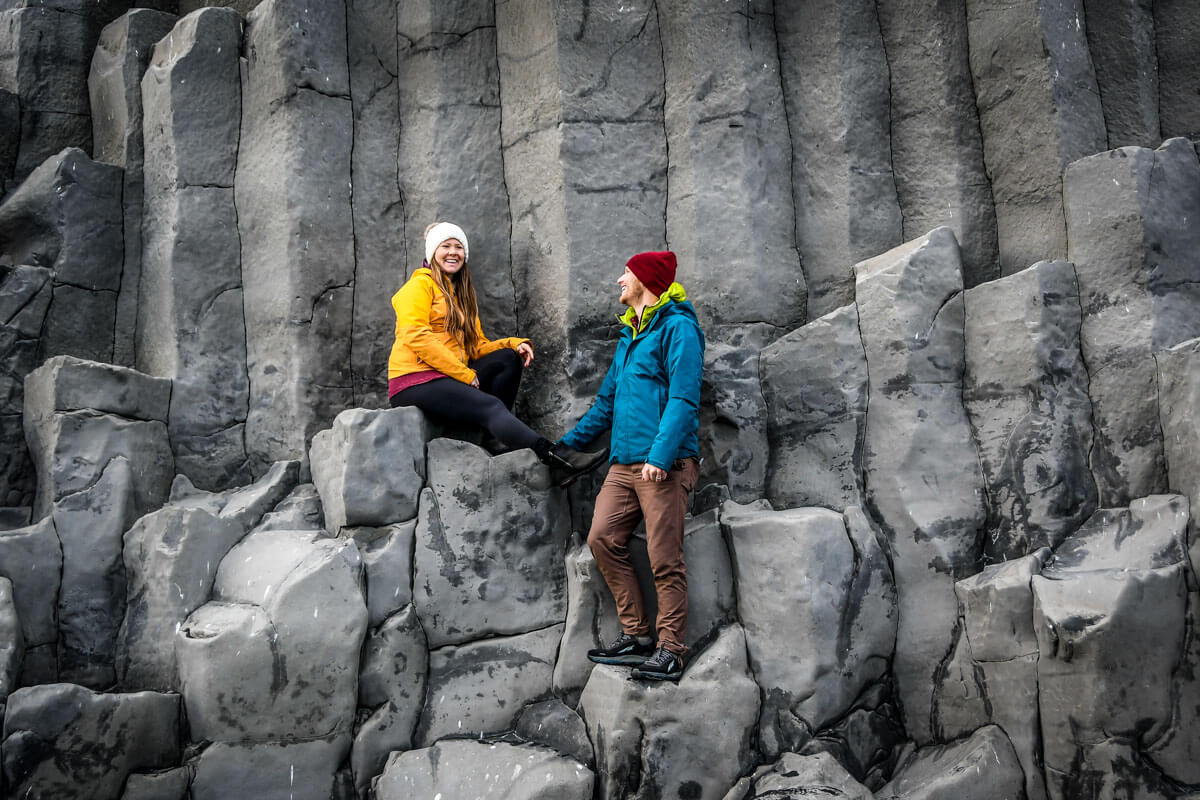 Shockingly symmetrical hexagon columns line this beach's shores and if you look out to sea, you'll see some more unique rock formations jutting upwards toward the sky. Icelandic folklore would have you believe these were once trolls that have been turned to stone.
While it's undoubtedly touristy, these otherworldly rock formations and the ink black sand that makes up the beach are still very much worth visiting.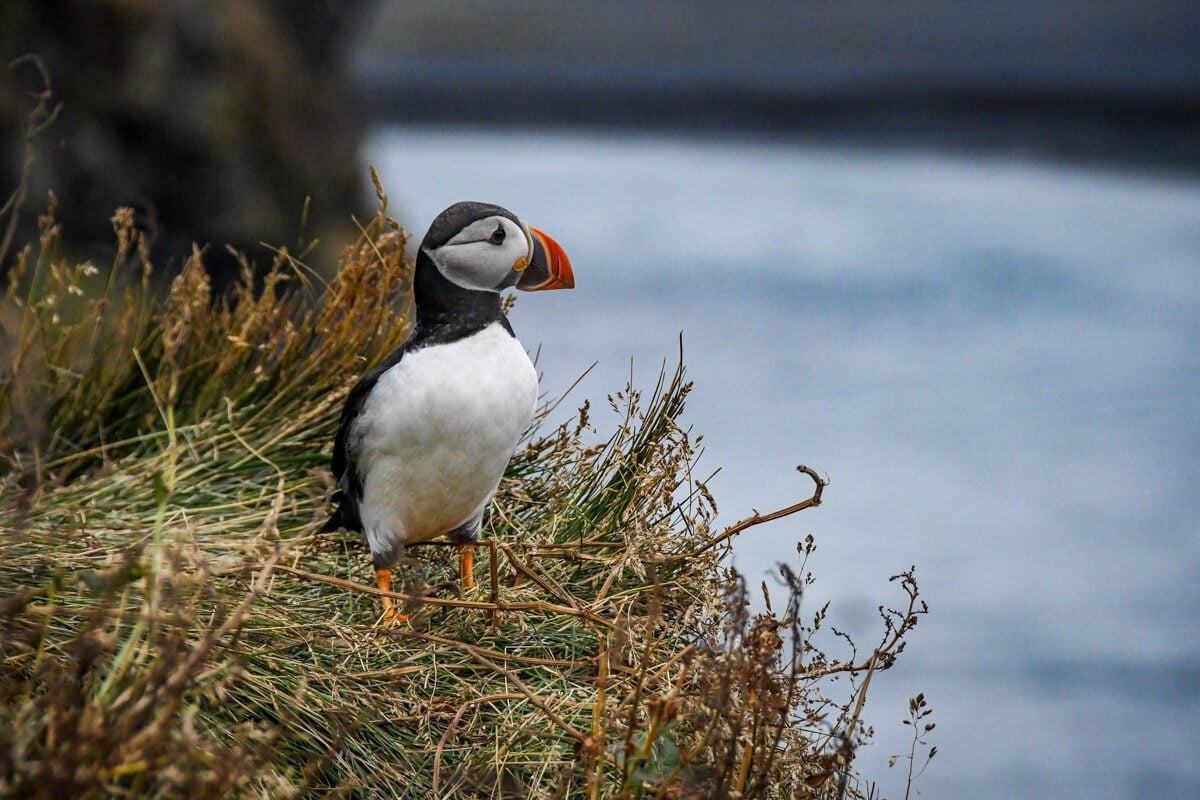 Plus, if you are visiting in the spring and summer months, you'll be there for prime puffin-spotting season! Reynisfjara Beach plays host to thousands of these little cuties for a few months out of the year, usually May through August. The colonies are most active during the evenings, so it's best to plan your visit to the beach accordingly.
We put together a guide to Iceland's most famous black sand beach so you can find out exactly what to expect and how to plan your visit.
12. Vík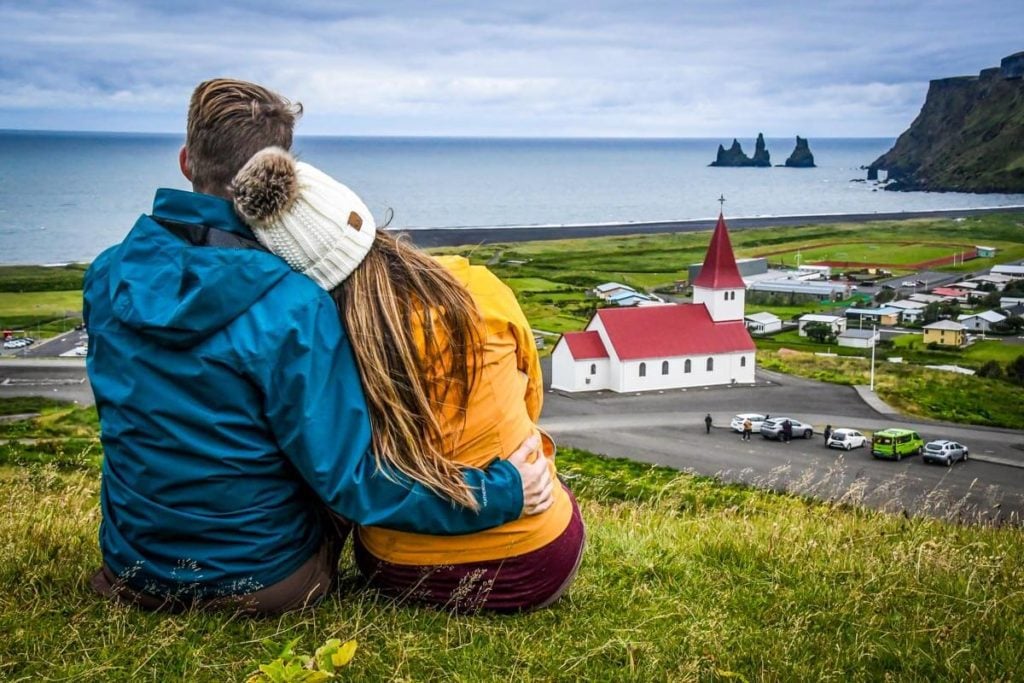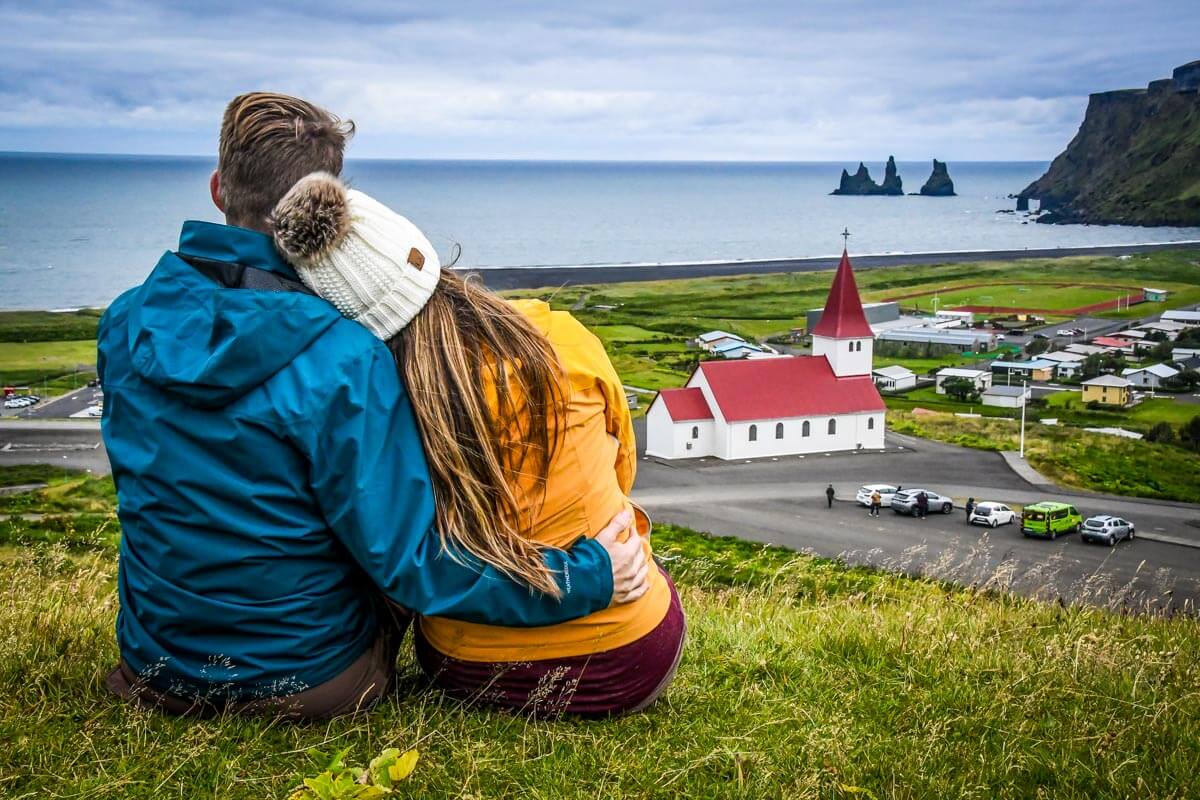 At a glance: Charming seaside village with lots to do nearby
The Ring Road passes right through the town of Vík, making it a perfect place to get out and explore. Not only is it one of the most picturesque towns in Iceland, but there are lots of fun things to do nearby.
Things to do in Vík:
We have a complete guide for things to do in Vik, Iceland, but here are some highlights:
Lava Show: See lava up close and learn about how volcanoes work from a fascinating teacher. Daily shows at 1:30 p.m. and 5 p.m.
Grab a mocha at Skool Bean: This school-bus-turned-coffee shop is well worth a visit. Their fancy drinks are a treat!
Church Viewpoint: Vík's church is iconic. Get a really nice view by taking the small path behind the parking lot to the top of the hill. Once at the top, you'll find a small cemetery and a stunning view of the village below.
The Soup Company: If you need a hot meal, we'd highly recommend getting a bread bowl of Lava Soup at The Soup Company. It comes with one refill and is super tasty!
13. Hjörleifshöfði hellir (Yoda Cave)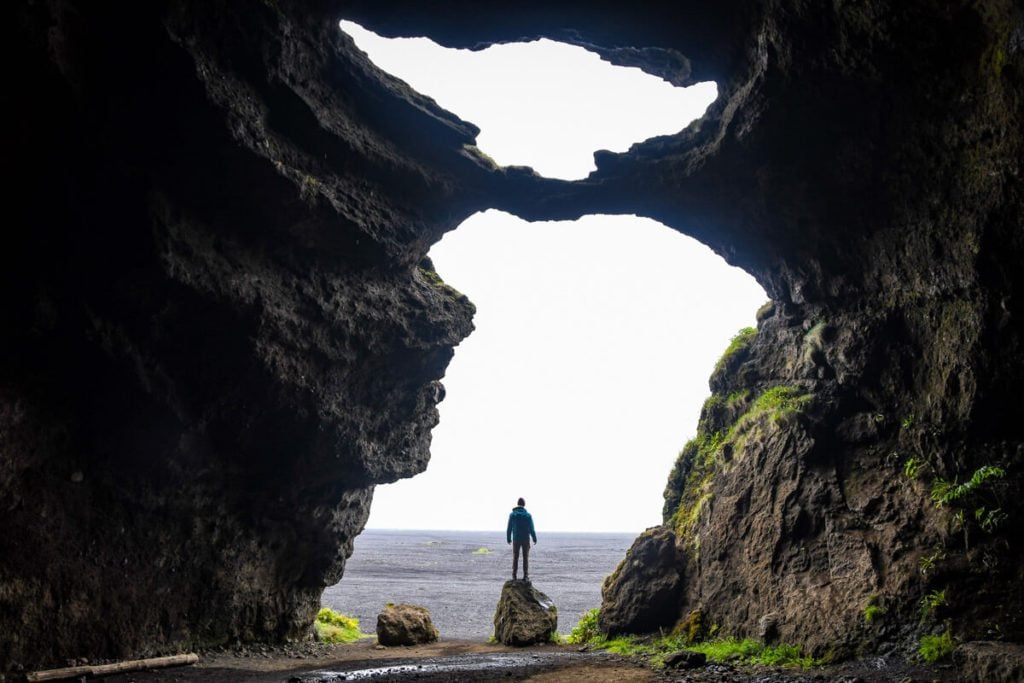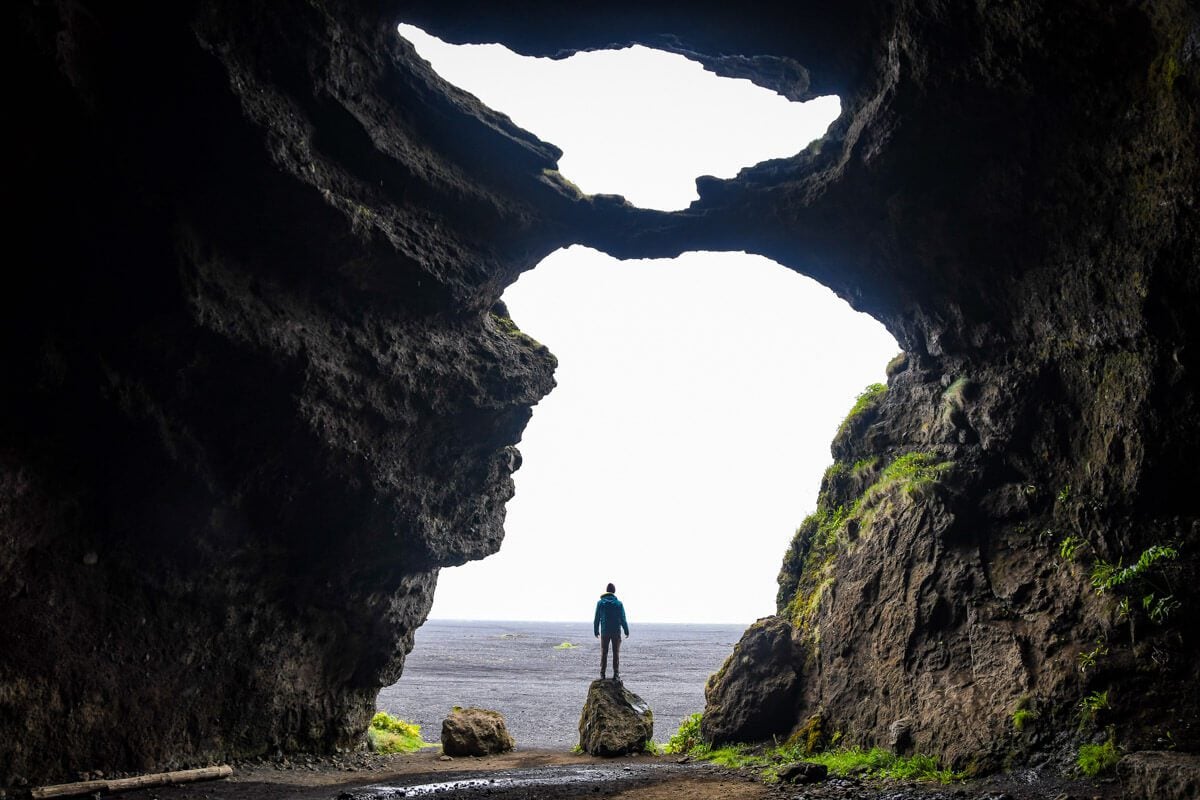 At a glance: Oceanside cave that resembles the silhouette of Yoda
Located just off the Ring Road, this cave is surprisingly still somewhat of a secret. It doesn't require much effort to get to as you can drive right up to it, and it makes a fun quick stop along your journey.
Walk into the cave and as you look outward, you'll notice the opening bears a pretty strong resemblance to Yoda!
Whether you're a Star Wars fanatic, a budding photographer, or merely looking for unusual sights on your Ring Road road trip, this is an easy stop to add to your itinerary.
14. Eldhraun Lava Field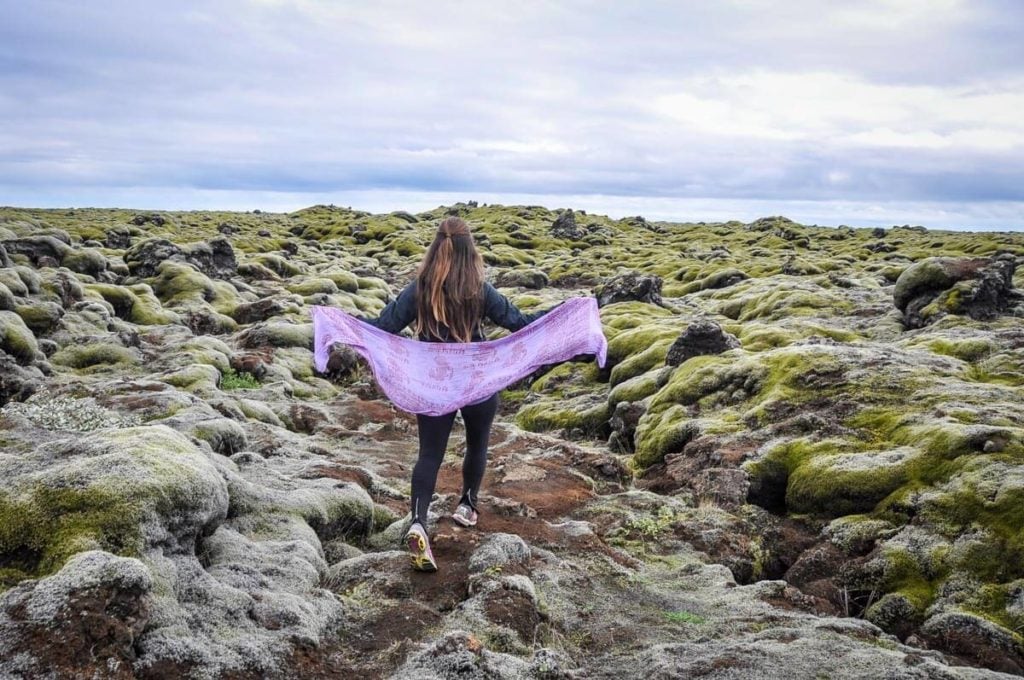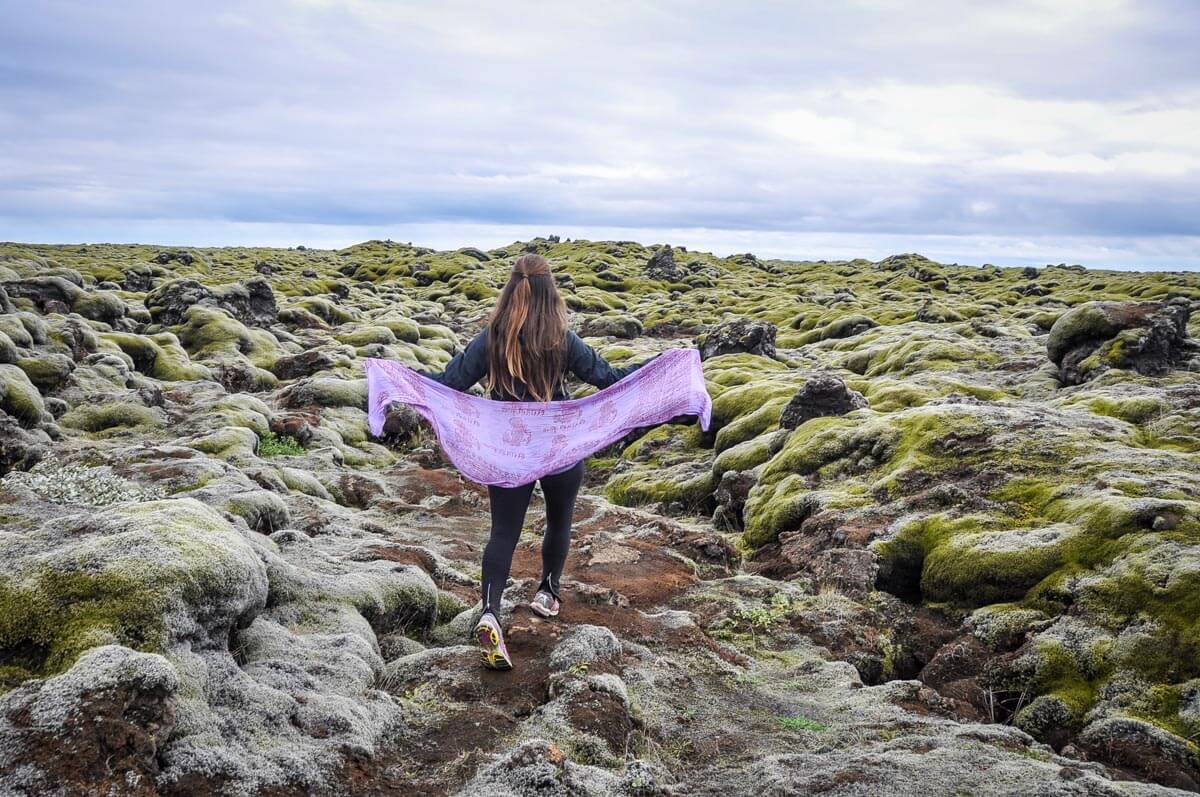 At a glance: Moss-covered lava fields where you can stretch your legs and take some photos
This is a quick stop to stretch your legs in a unique landscape. You'll be able to wander through lava fields covered in seafoam green moss in a juxtaposition that'll have you feeling like you've been transported to another planet. Like Mars, but green!
Responsible travel tip: Be sure to only walk on the marked paths. Do not step on the moss, as this environment is incredibly fragile and can take hundreds of years to repair itself from something as minor as someone stepping off the trail.
15. Fjaðrárgljúfur Canyon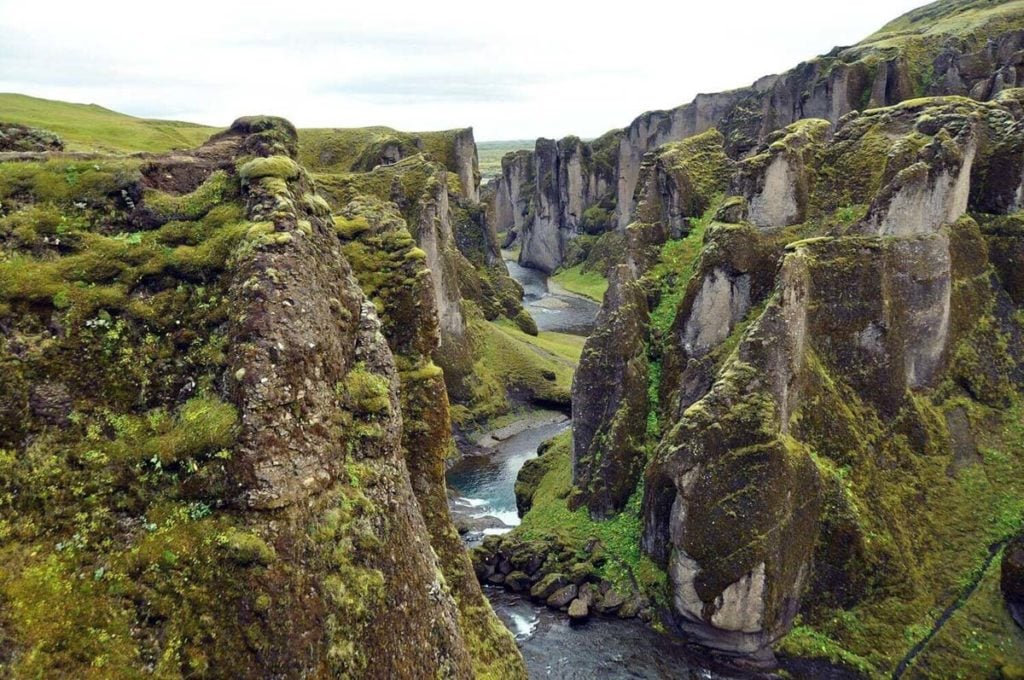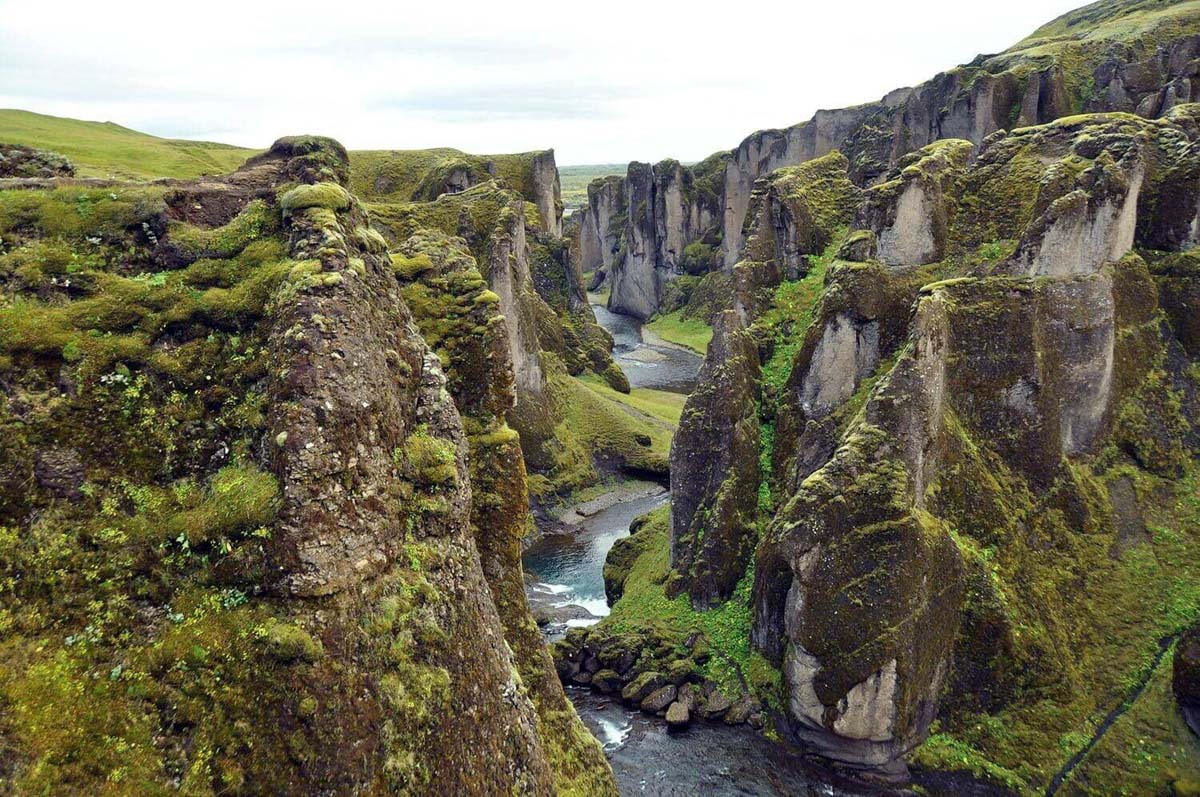 At a glance: Lush, green canyon with a walking path and epic viewpoints
Fjaðrárgljúfur… try saying that three times fast. Or just one time, for that matter! (Icelandic words are challenging, friends!)
Despite its intimidating name, this is definitely a must-see spot on your Iceland itinerary. This moss-covered canyon is absolutely dreamy.
With well-marked paths and viewpoints that overlook the winding river below, this is a pretty popular stop along the Ring Road (and rightfully so). It's also one of the best Iceland hikes we did while we were there.
16. Foss a Sidu Waterfall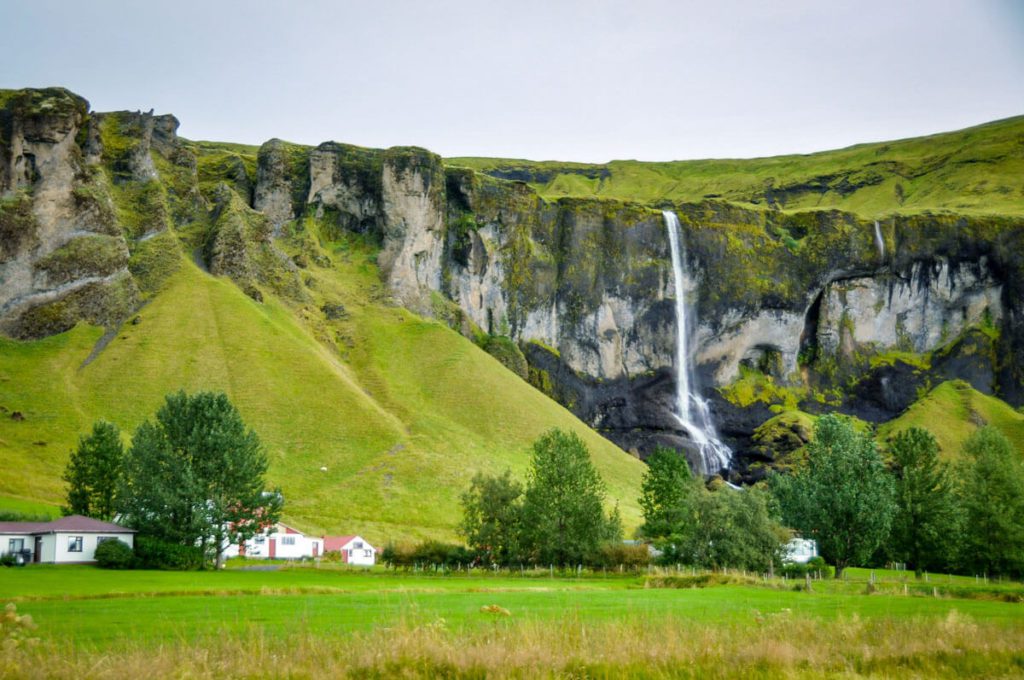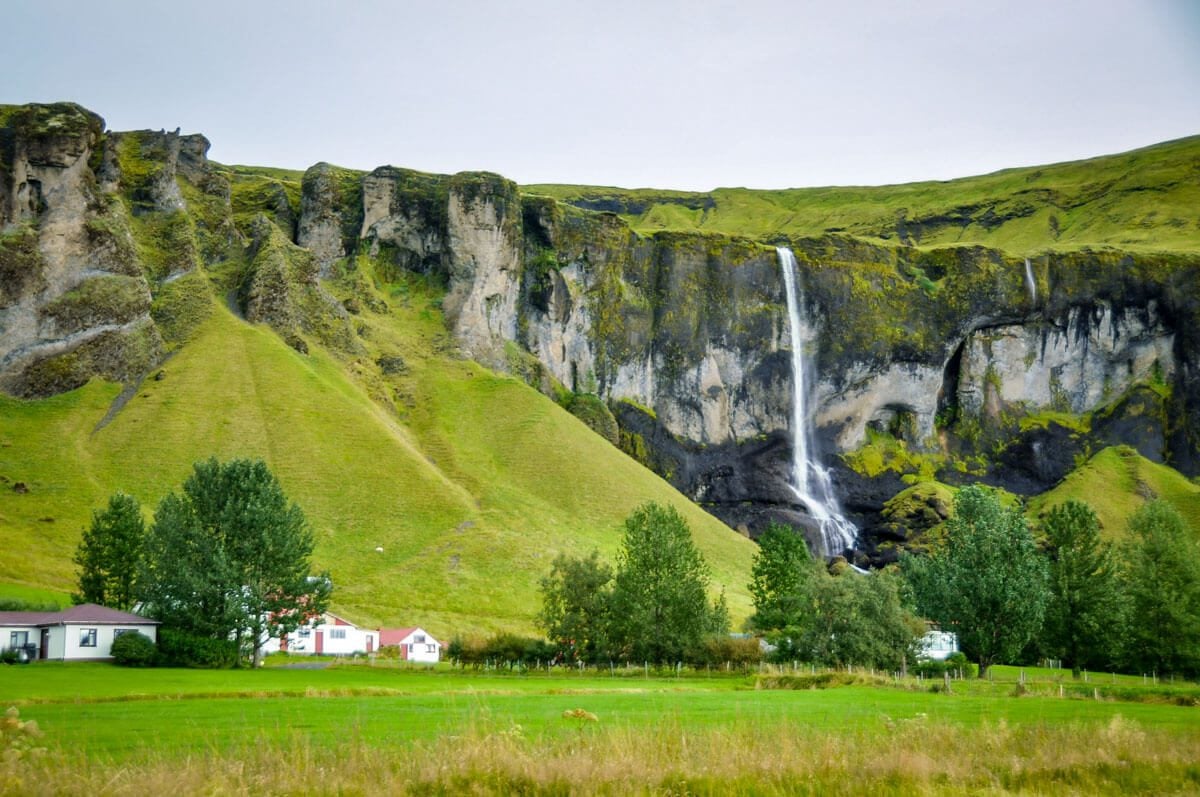 At a glance: Massive roadside waterfall worth a quick stop
You'll be able to see this towering waterfall from the road. Instead of craning your neck to see it while driving, pull off and park so you can really get a good view. It is pretty spectacular for a roadside waterfall, after all.
Also, if you're traveling with a drone and it's a clear day, this would make a pretty epic place to shoot. Unfortunately it was rainy when we passed by, so we didn't want to risk it.
Insider Tip: There is a cute little cafe on the opposite side of the road from this waterfall that's a nice place to warm up for a bit. While we were there, the service was pretty bad (they were serving a larger party and forgot about us for 45 minutes). But the cake and coffee were good, and we hope our experience was just a fluke.
17. Svartifoss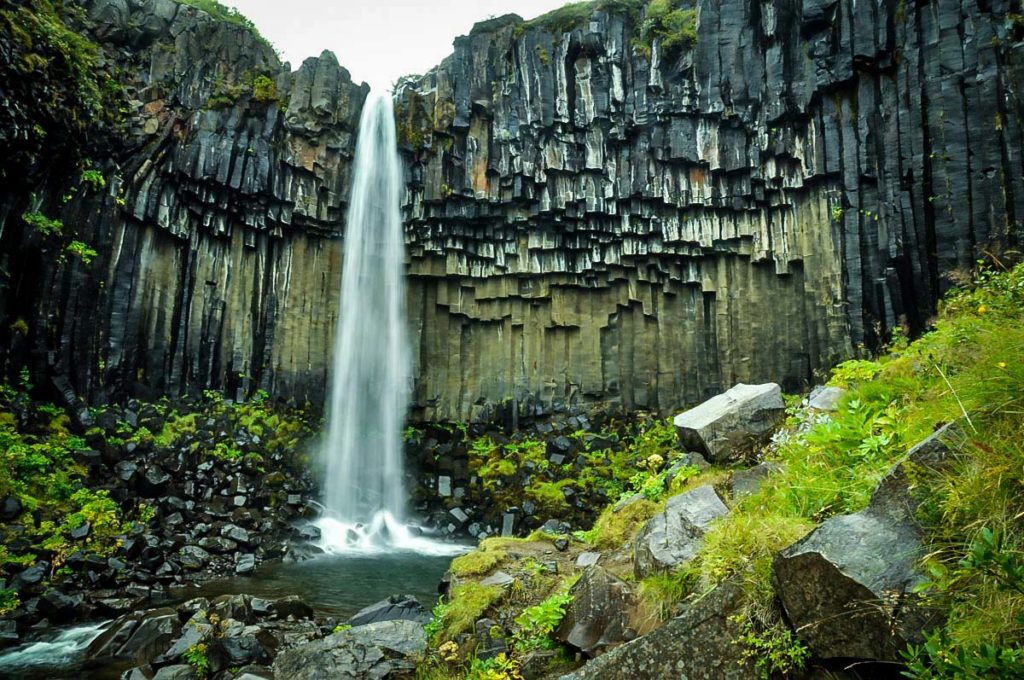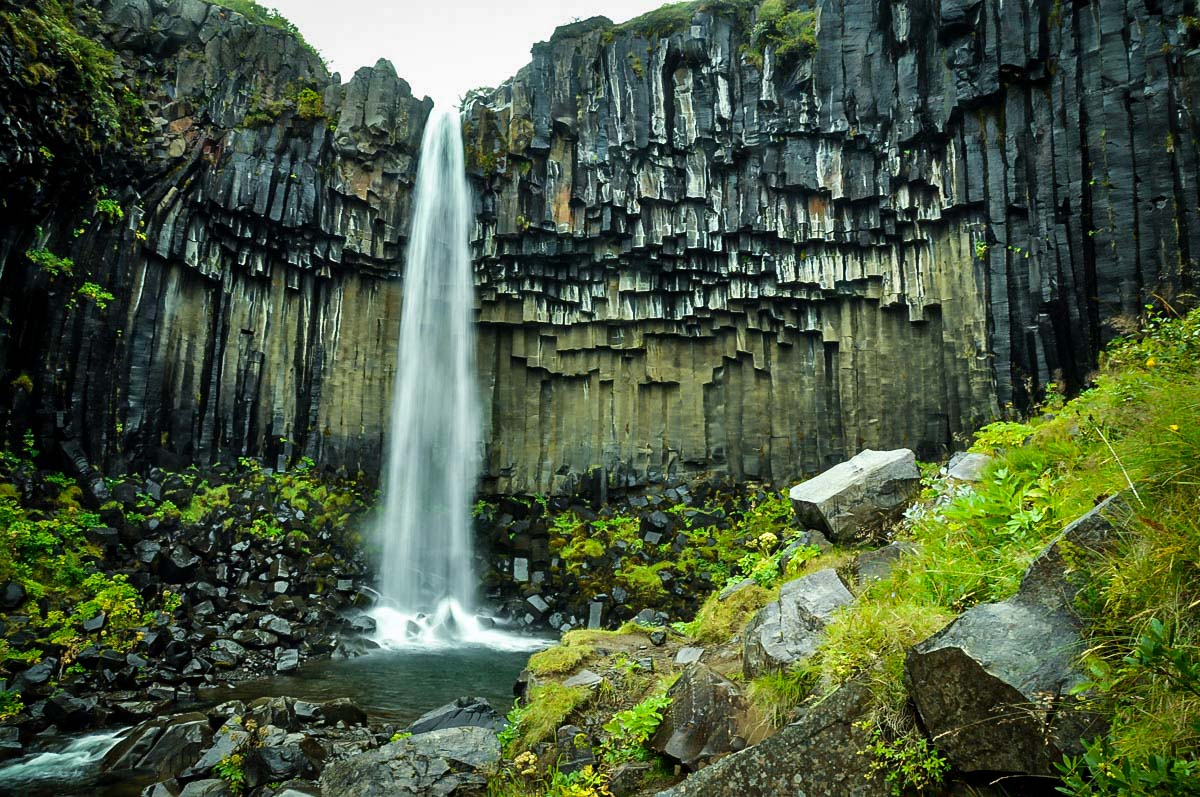 At a glance: Unique waterfall surrounded by black basalt columns, requiring a hike to reach
Known as the "Black Waterfall", Svartifoss is surrounded by dark basalt columns and is located in Vatnajökull National Park.
To get to the falls itself, visitors will need to hike a relatively easy 2.5-mile loop which passes by this unique waterfall. Plan at least 1.5 hours for the hike, and bring your camera!
18. Svínafellsjökull Glacier View Point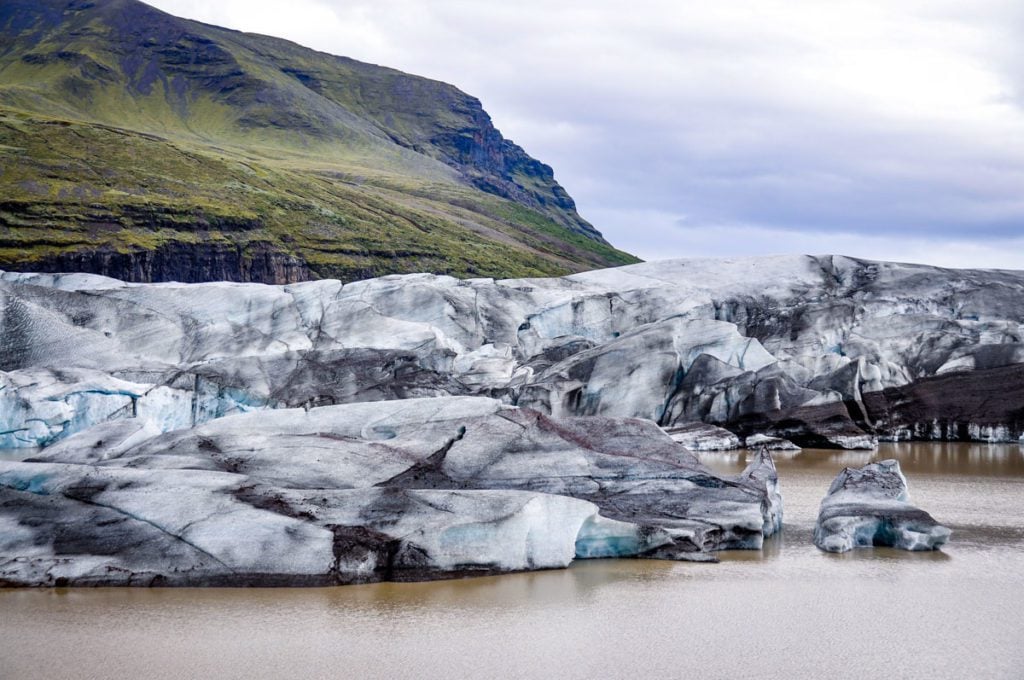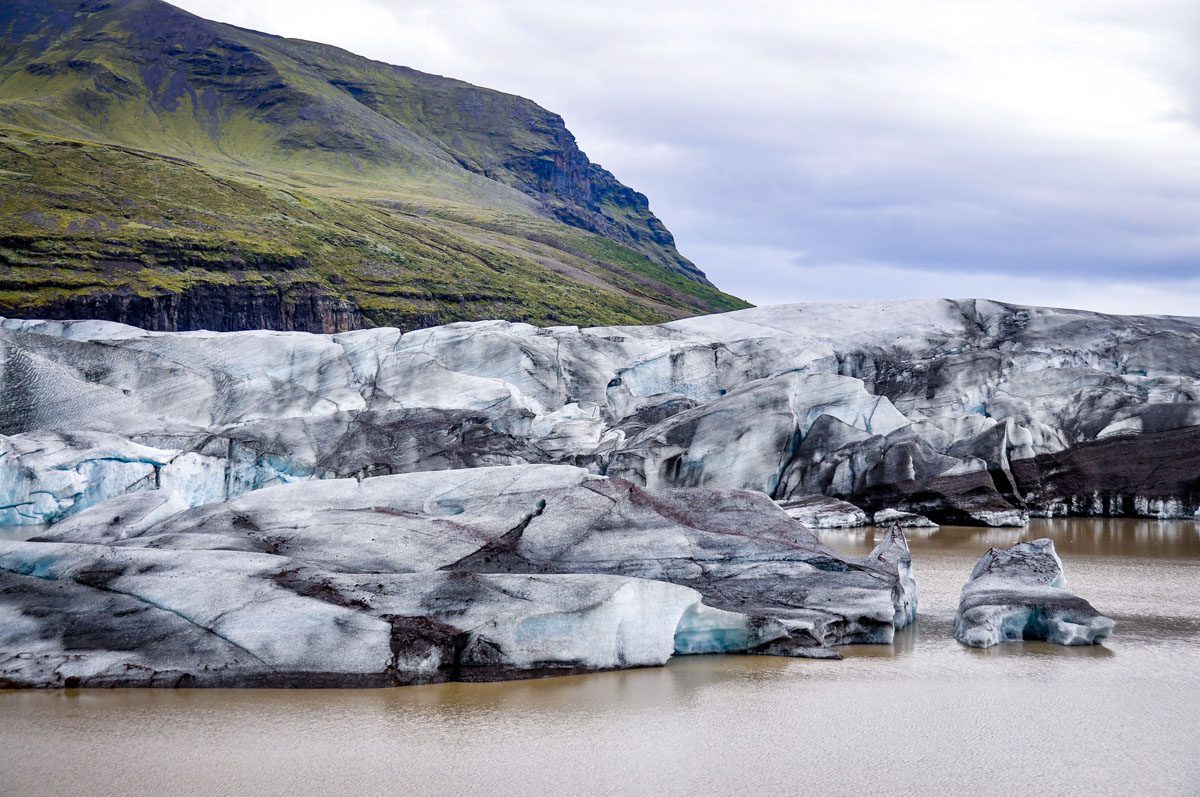 At a glance: View the Svínafellsjökull glacier from a short distance
A short drive from Ring Road highway, you can get quite the up close view of Svínafellsjökull glacier.
To get there, exit Route 1 and follow the dirt road toward the glacier for about 2 kilometers. If the road is closed, then you'll have to park on the pullout next to Ring Road and walk the 2 km.
From the small parking lot next to the glacier, it is a short walk up to the terminus (aka the edge of the glacier). Be careful as the path is dirt and has a steep drop off into a glacier lake. Not a fall you'll want to make!
19. Skaftafell Glacier Hike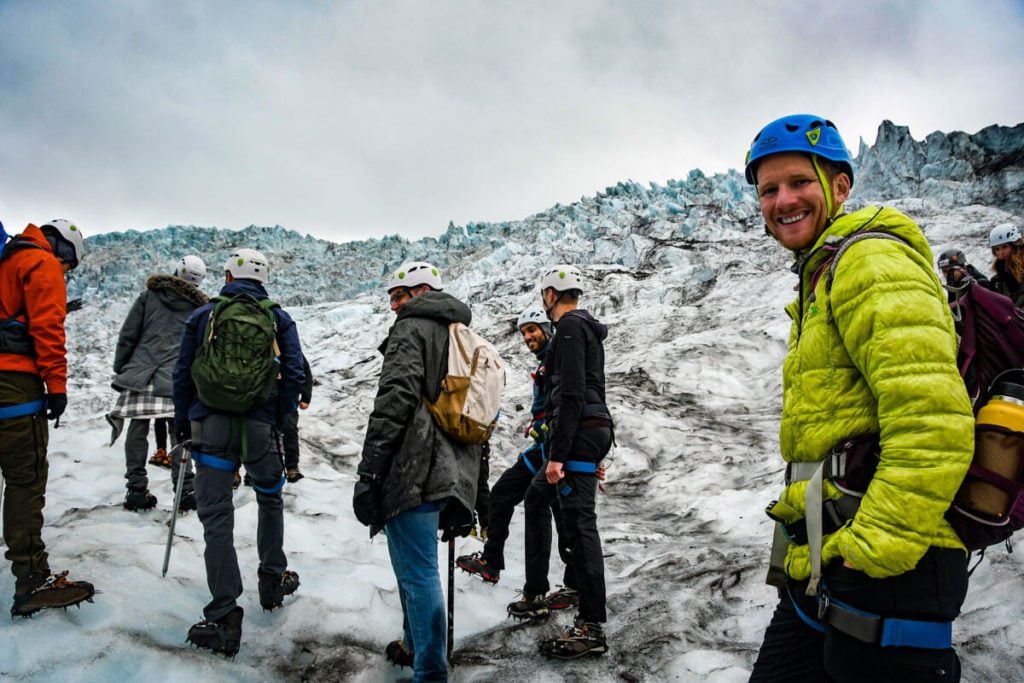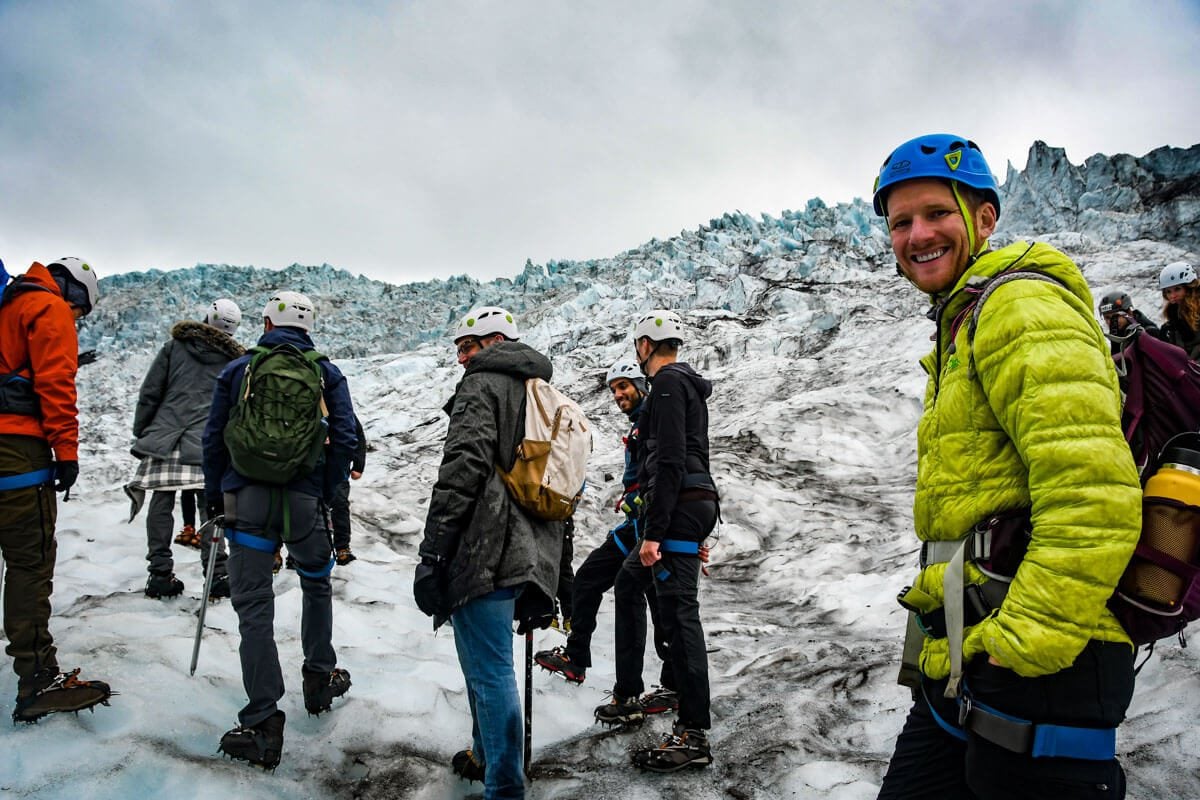 At a glance: Hike on a glacier with a tour guide
If you have an appetite for adventure, doing a glacier hike in Iceland will likely be one of your most memorable experiences.
As we all know, glaciers around the world are shrinking at a rapid rate, so being able to actually get up close and hike on one is an experience that is pretty unforgettable. And sadly, it may not be a possibility for generations to come.
Skaftafell is an outlet of Iceland's largest glacier, called Vatnajökull. Located in a national park of the same name, this section of the glacier is possible to hike along with a tour operator.
On this tour, you'll be geared up with crampons, an ice axe, a harness and a helmet, and you'll be accompanied by a professional who has experience on this ever-changing glacial terrain.
Our advice: Most tour companies in the area offer different tour lengths. If you have the time, we'd highly recommend choosing the 5-hour tour, as you'll get a much more in-depth experience than the shorter hikes.
Alternative: Another cool way to get up close and personal with some of the most unique landscapes Iceland has to offer is by taking a guided tour into an ice cave. Some ice caves are only open in the winter months, while others are open year-round. This is definitely on our bucket list for the next time we're in Iceland!
---
Want to save time and energy on planning?
We've traveled to Iceland 3 times now and spent weeks living in a campervan, traveling around the country. We've been able to explore a lot of what Iceland has to offer!
We've compiled our experience to create the perfect Iceland itinerary. Our itinerary is for 7-9 days and meant to be explored while traveling in a campervan. It includes the highlights of the southern coast of Iceland. 
That means this itinerary covers all the Ring Road stops we've listed up until this point!
We'll send you our complete 7-9 day customizable itinerary, filled with tips and advice. Just click below to get your perfect Iceland itinerary today!


---
20. Hofskirkja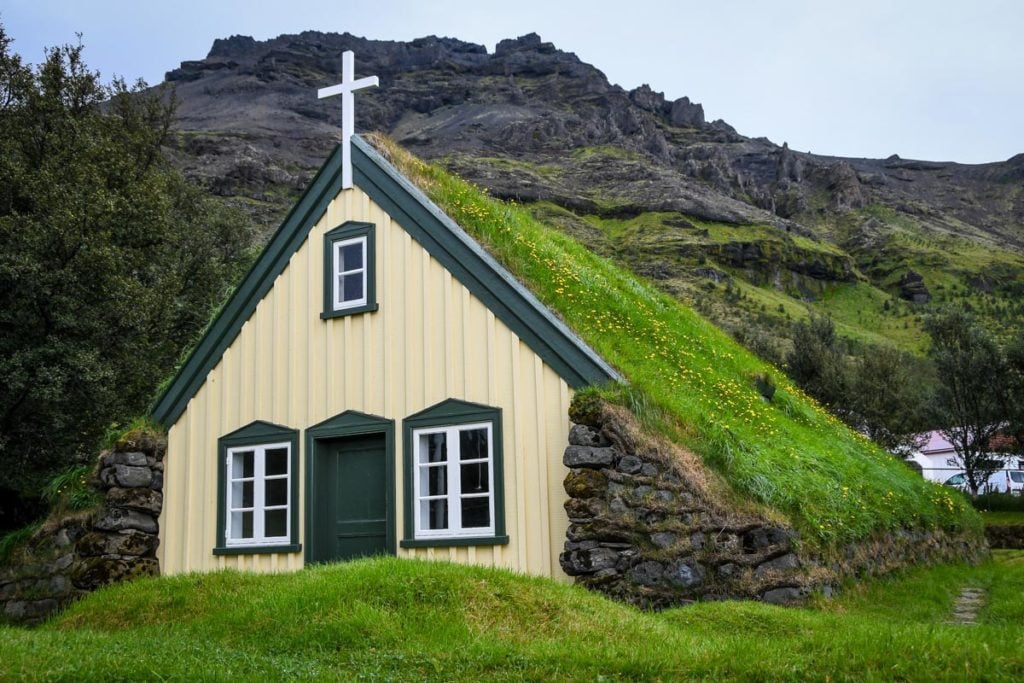 At a glance: Historic turf church that makes a nice photo opp
One of the most beautiful churches along the Ring Road, this makes a nice short stop on your road trip.
The roof is covered in turf, as was the traditional building method in Iceland beginning back in the 1800s. With the scarcity of lumber to be used as a building material, Icelanders resorted to the creative use of sod. This resource was readily available and helped to insulate homes.
While you're visiting, imagine yourself stepping back in time.
21. Múlagljúfur Canyon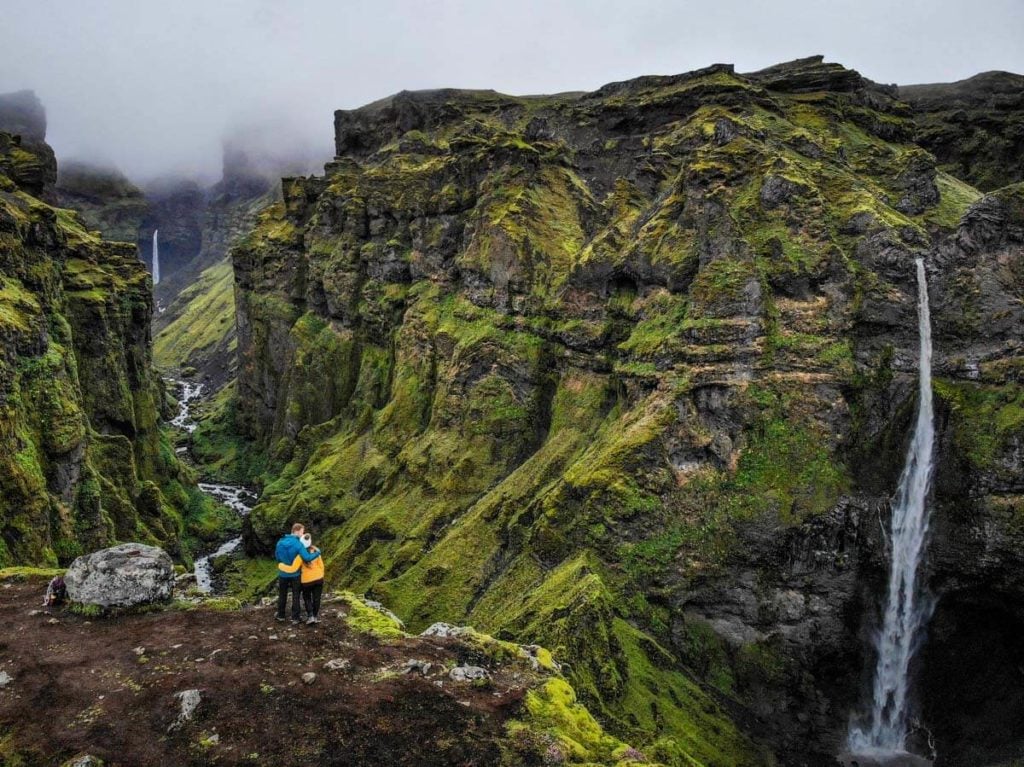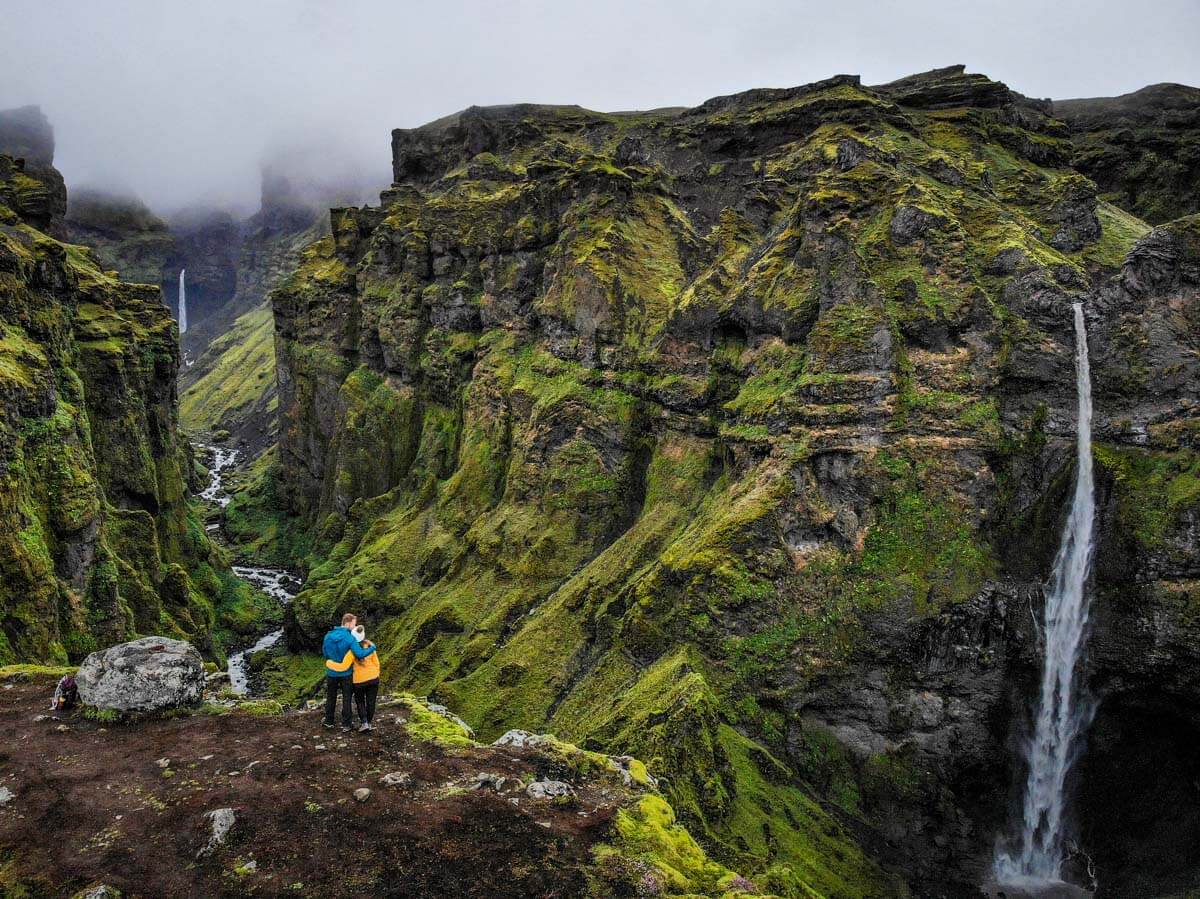 At a glance: Lush canyon somewhat similar to Fjaðrárgljúfur, but far less crowded
The only word we can describe this place with is magic.
Múlagljúfur Canyon isn't on the typical list of must-see sights on the Ring Road, meaning that it is still a hidden gem. That said, I don't think it'll remain secret for long, so we highly, highly recommend making time for this stop.
On the day we visited, we crossed paths with only two other couples – which is rare for such a picturesque spot in Iceland.
Once you park, there is a 3.6-mile hike (round-trip) that brings you to a canyon that looks straight out of Jurassic Park. Instead of pterodactyls flying overhead, there are birds, and instead of the sounds of dinosaurs, you'll hear the roaring of waterfalls. There is a pretty spectacular viewpoint where you can see one waterfall right in front of you and another at the end of the canyon in the distance.
Like I said, pure magic.
22. Jökulsárlón Glacier Lagoon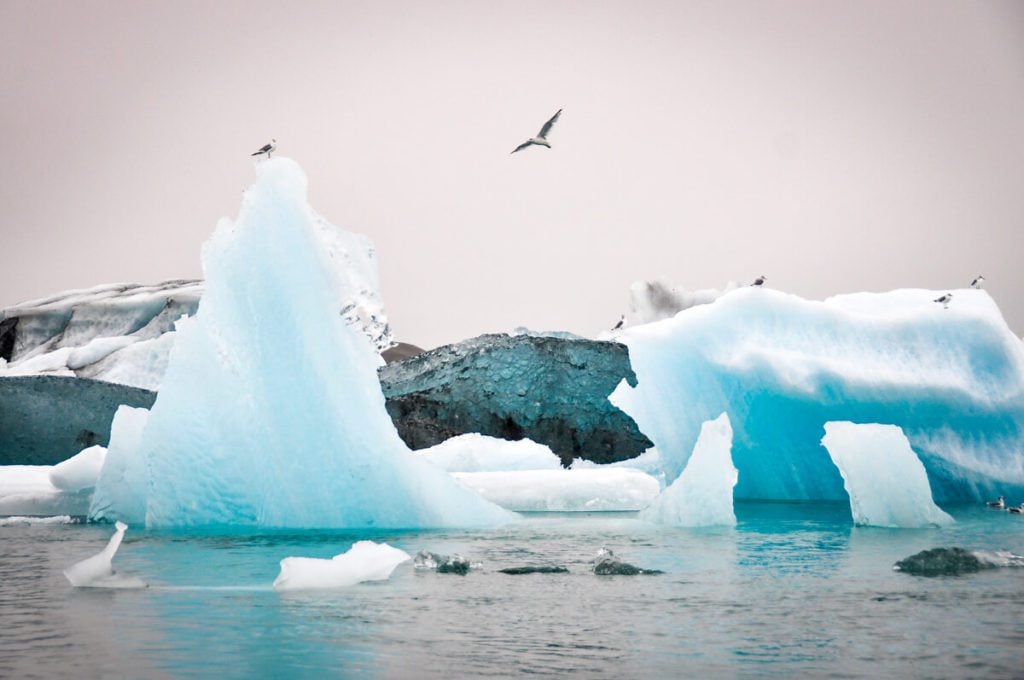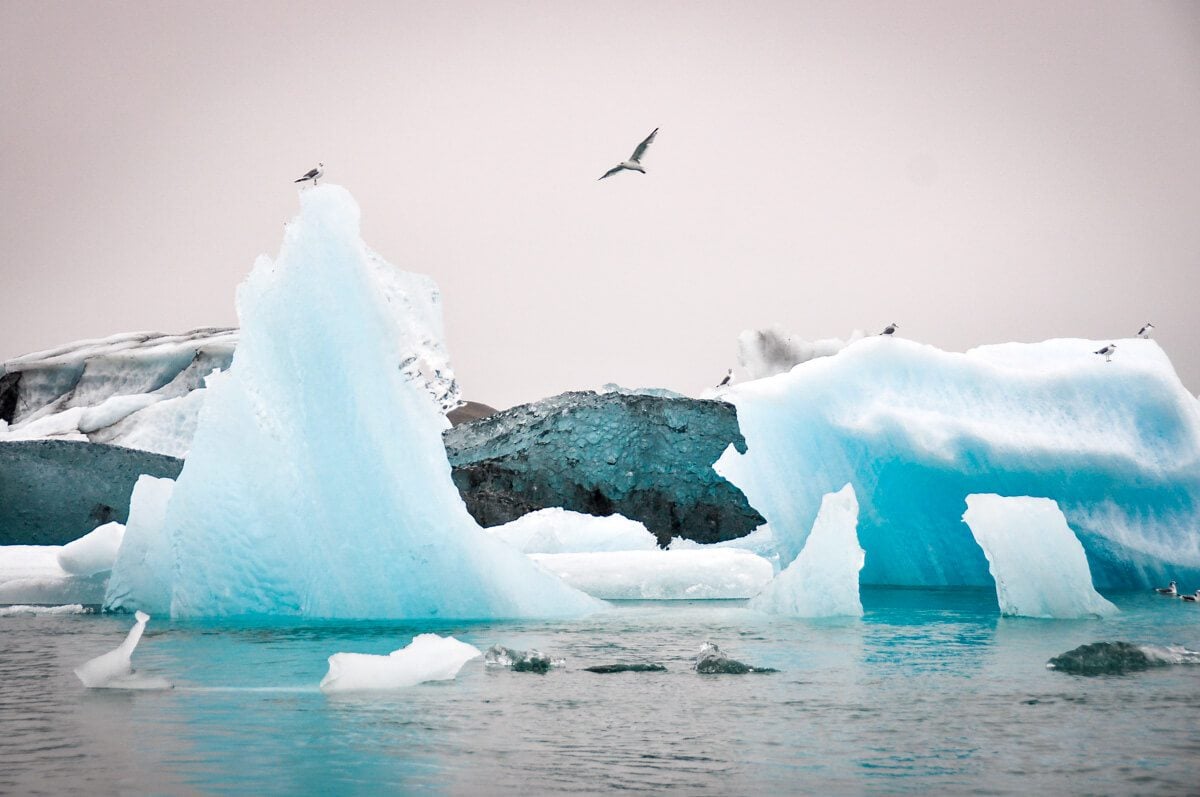 At a glance: Glacial lagoon dotted with icebergs
This glacial lagoon is a must-see for anyone driving the Ring Road.
We've visited this lagoon twice and it was different each time. This small body of water is filled with icebergs that have broken off of the nearby glacier, creating a patchwork of icy blue that is constantly changing.
One thing that struck us was how each piece of ice is totally unique. Some are opaque while others are a striking shade of blue that's also somehow see-through. They each have different textures and shapes, and together create a masterpiece that is constantly moving.
Photography tip: Do a timelapse video on your phone so you can see the icebergs as they move.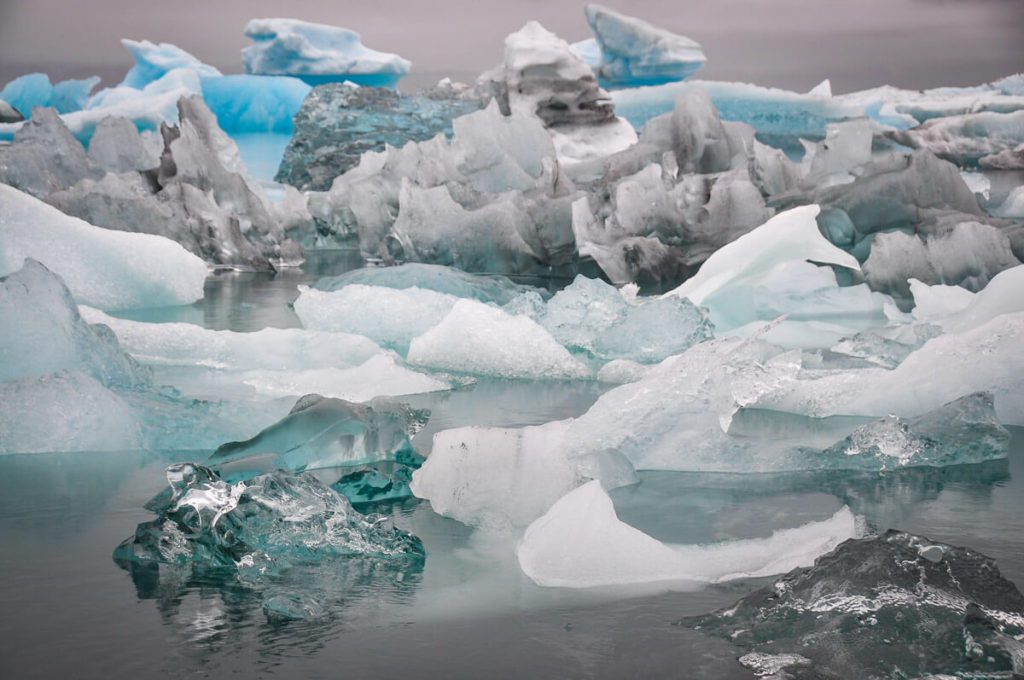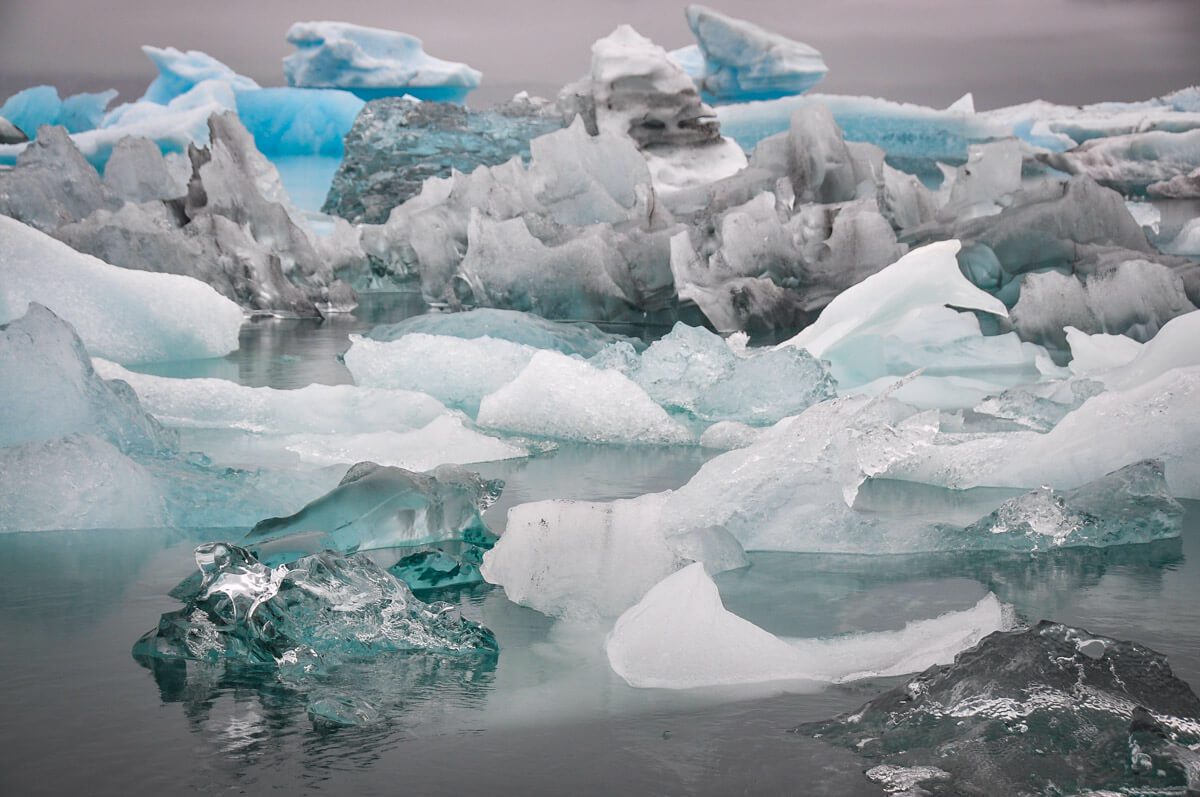 While you're at Jökulsárlón Lagoon, keep your eyes peeled for seals, as they can be spotted playing amongst the icebergs, which is quite a cute sight to behold, I must add! The icebergs are also a popular resting place for seabirds.
We've only experienced this lagoon from the shore, but if you have the time and interest, you can book a boat excursion or even a kayak trip which will give you a totally different perspective of this unique place.
Good to know: Park before the bridge, on the southwest side. From here, you can also walk to Diamond Beach (which is next on this list).
Insider Tip: Not far from Jökulsárlón is its smaller, lesser-known sister, Fjallsárlón. Make a stop here to compare the two!
23. Diamond Ice Beach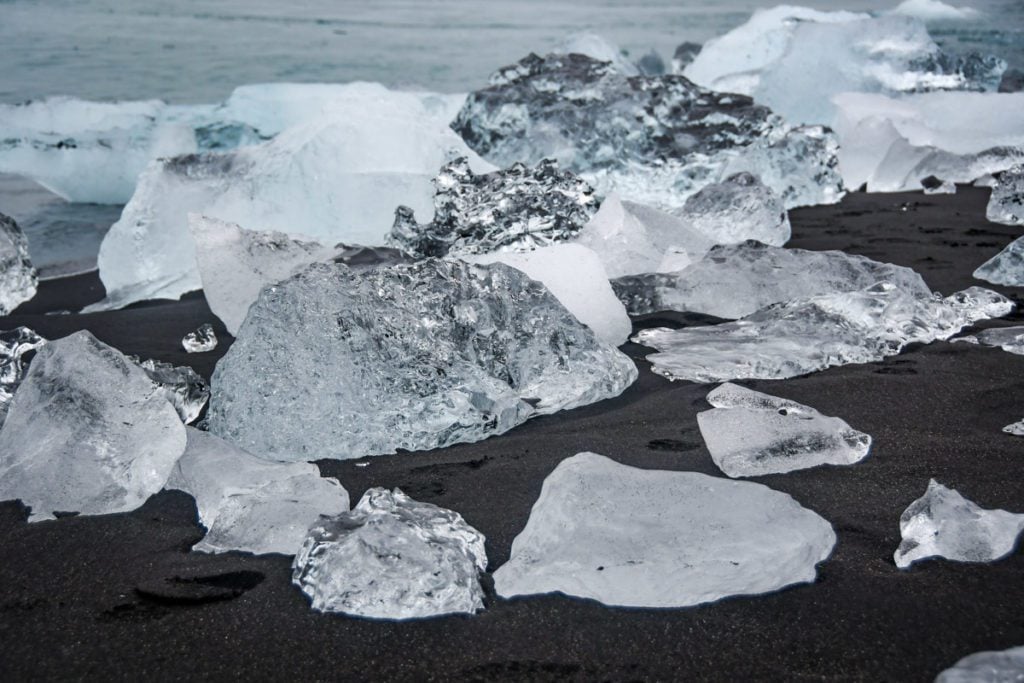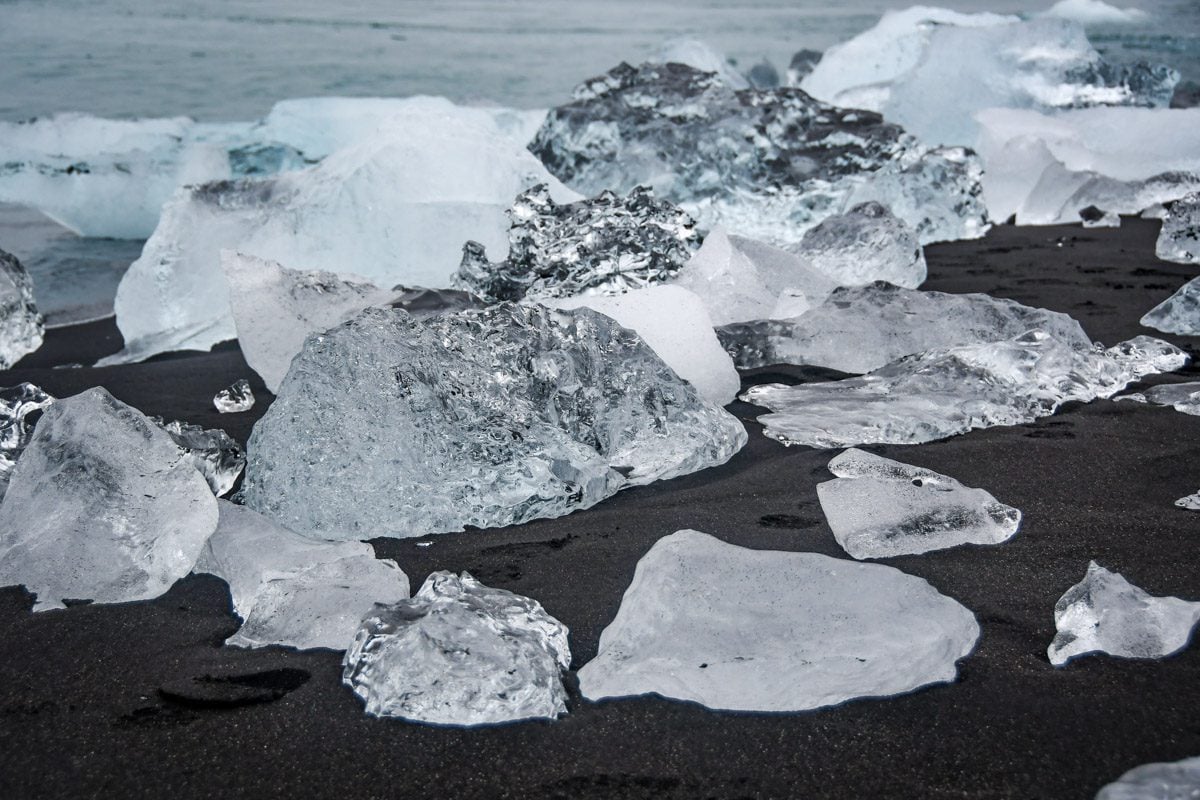 At a glance: Black sand beach strewn with sparkling ice chunks
I'll promise you one thing: This isn't like any beach you've ever been to before!
Not your average stretch of sand, this black sand beach is littered with pieces of ice in all shapes and sizes. Sparkling in the twilight hours like diamonds, it's not hard to see how this place got its name.
The famous Jökulsárlón Glacier Lagoon has a small outlet passing through to the Atlantic Ocean. As water flows toward the ocean, chunks chip off the icebergs and find their final resting place on this eerily beautiful beach.
Photography tip: Lighting is at its best around sunset or even just after, during "blue hour". Each piece of ice is an interesting shape and color, making it an incredibly fun place to photograph. If you're a keen photographer, check out our round up of Iceland photo spots.
24. Stokksnes / Vestrahorn
At a glance: Isolated peninsula popular with landscape photographers
Majestic mountains create a backdrop, jutting upwards from the black sand beach on this peninsula. The whole place is a photographer's dream.
Good to know: This peninsula is privately owned, so there is a 900 ISK ($7) entrance fee per person required to visit. If you pay to camp here, the entrance fee is included.
Personal Note: Sadly, while we were there, the mountains were completely shrouded in clouds, making it impossible to see (or photograph) the beauty of this area. However, if you luck out and visit on a clear day, be sure to follow some of these travel photography tips to get the best shots of this epic scenery.
25. Red Chair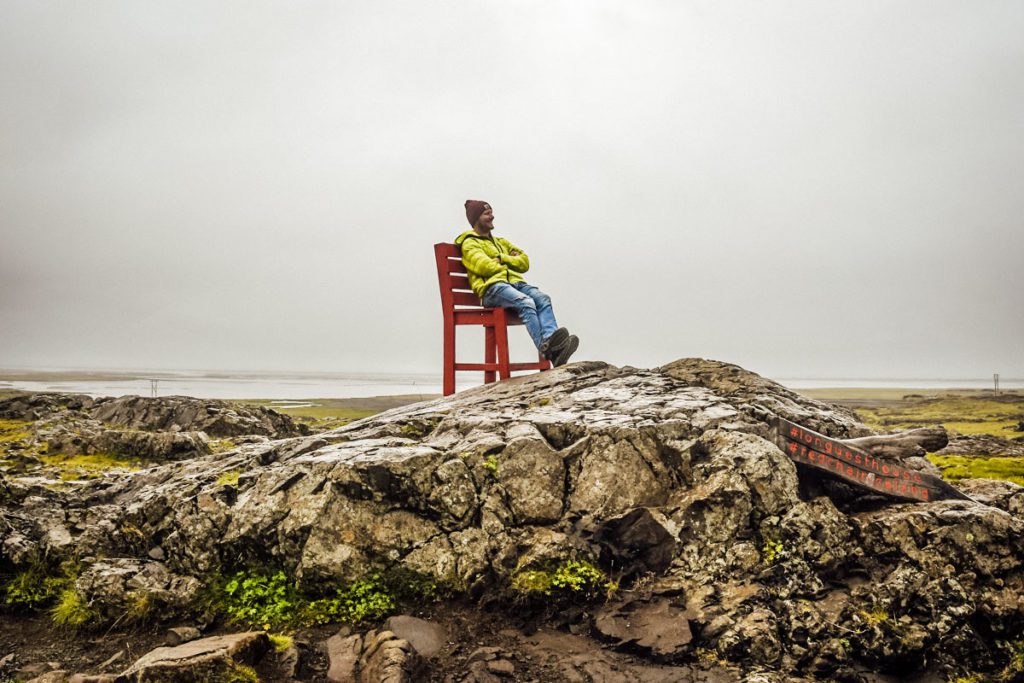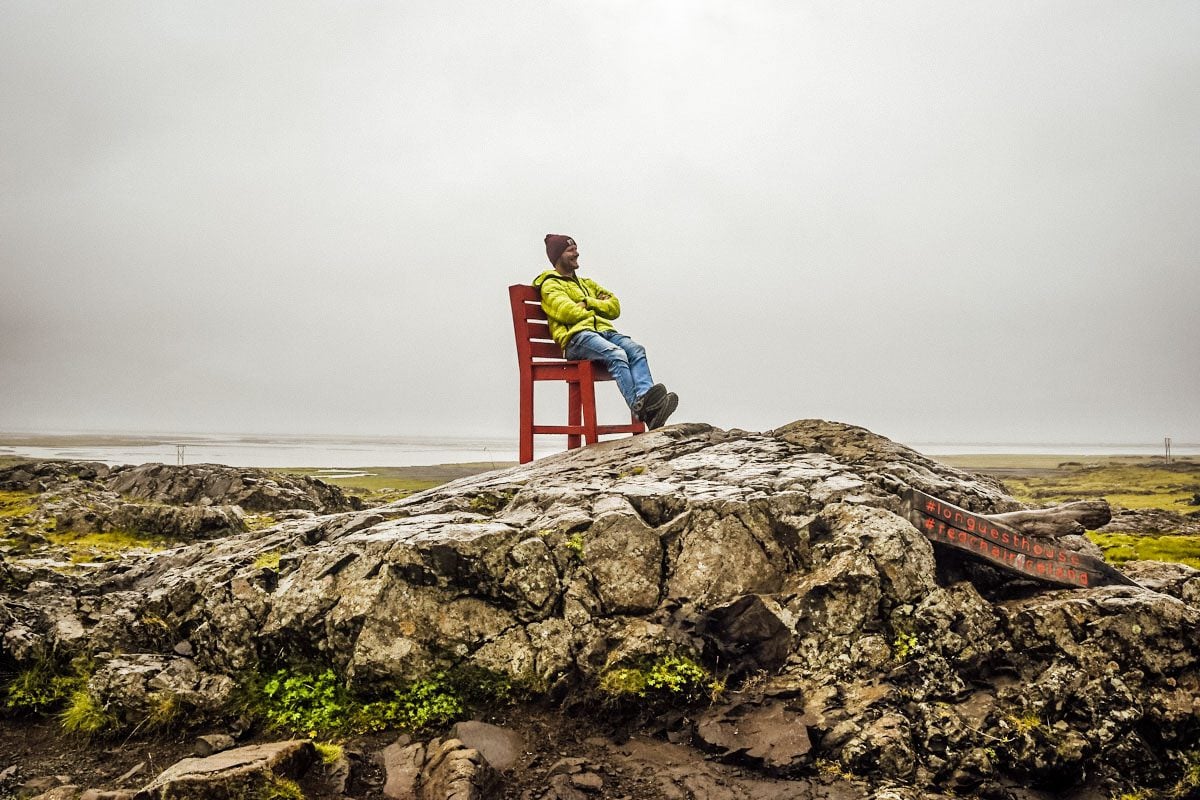 At a glance: Very simple art installation on the side of the Ring Road
This is just what it sounds like: a red chair on the side of the road. It's not all that exciting, especially when compared with all the other Ring Road sights on this list, but for some reason the juxtaposition of this oddity attracts a lot of people to take photos here (we're guilty of this too!).
There's no need to go out of your way to see it as it's literally located beside Route 1.
It makes a good place to get out of your car, stretch your legs and snap a picture, but not much other than that.
26. Djúpavogskörin Natural Geothermal Pool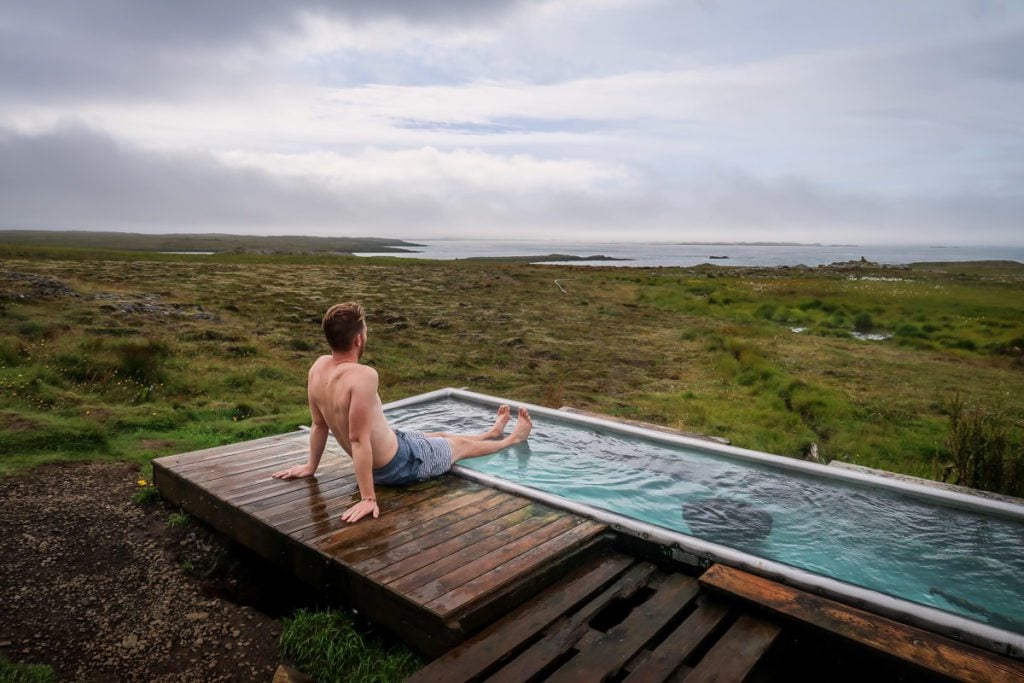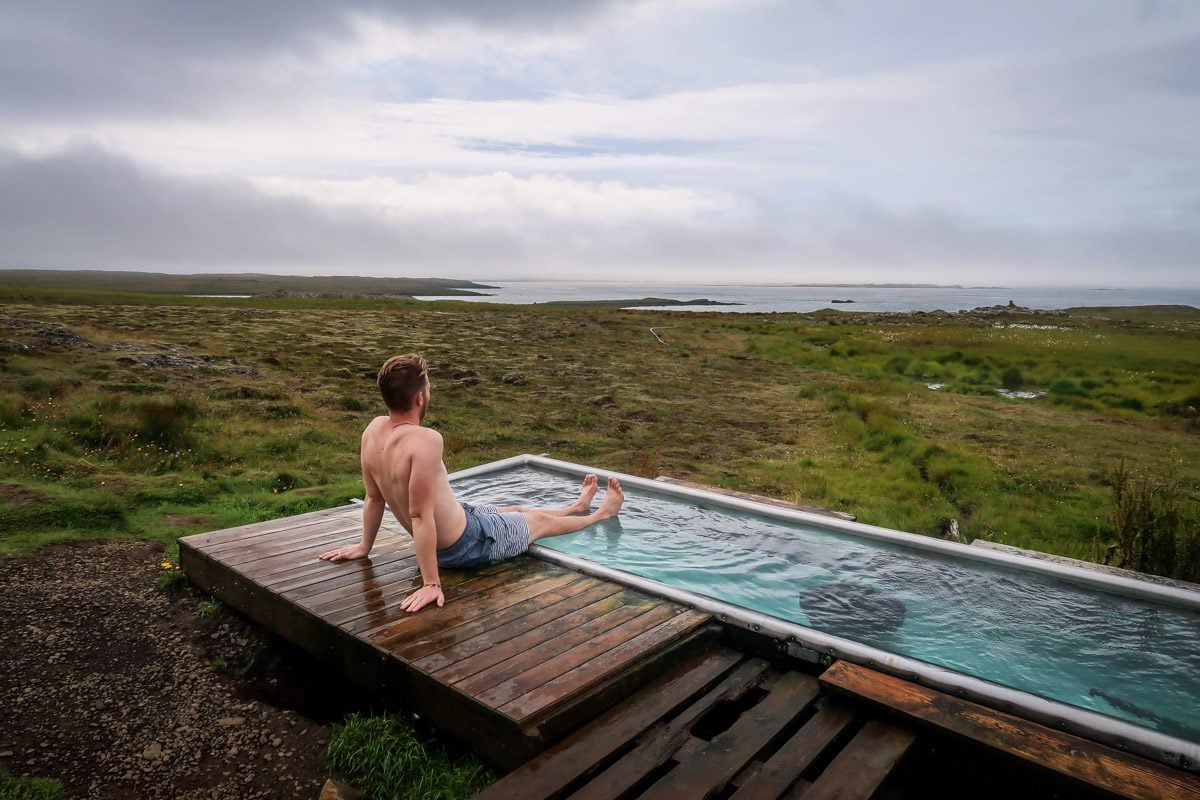 At a glance: Small soaking pool with ocean views in Iceland's Eastfjords
This small (and free!) hot pot would comfortably fit 4 people (and not many more!). Luckily, its remote location might mean you get it all to yourself.
But be warned, the water is very hot, making it a little uncomfortable to actually get in for a soak. We found ourselves dangling our feet in the water and taking in the ocean views until other people arrived.
27. Seydisfjordur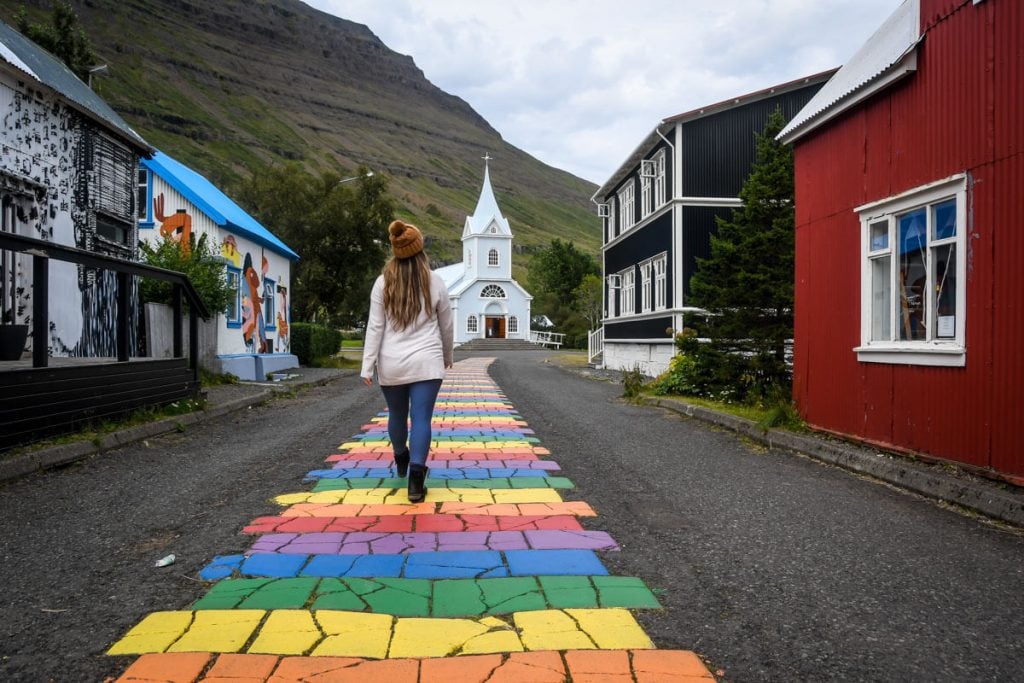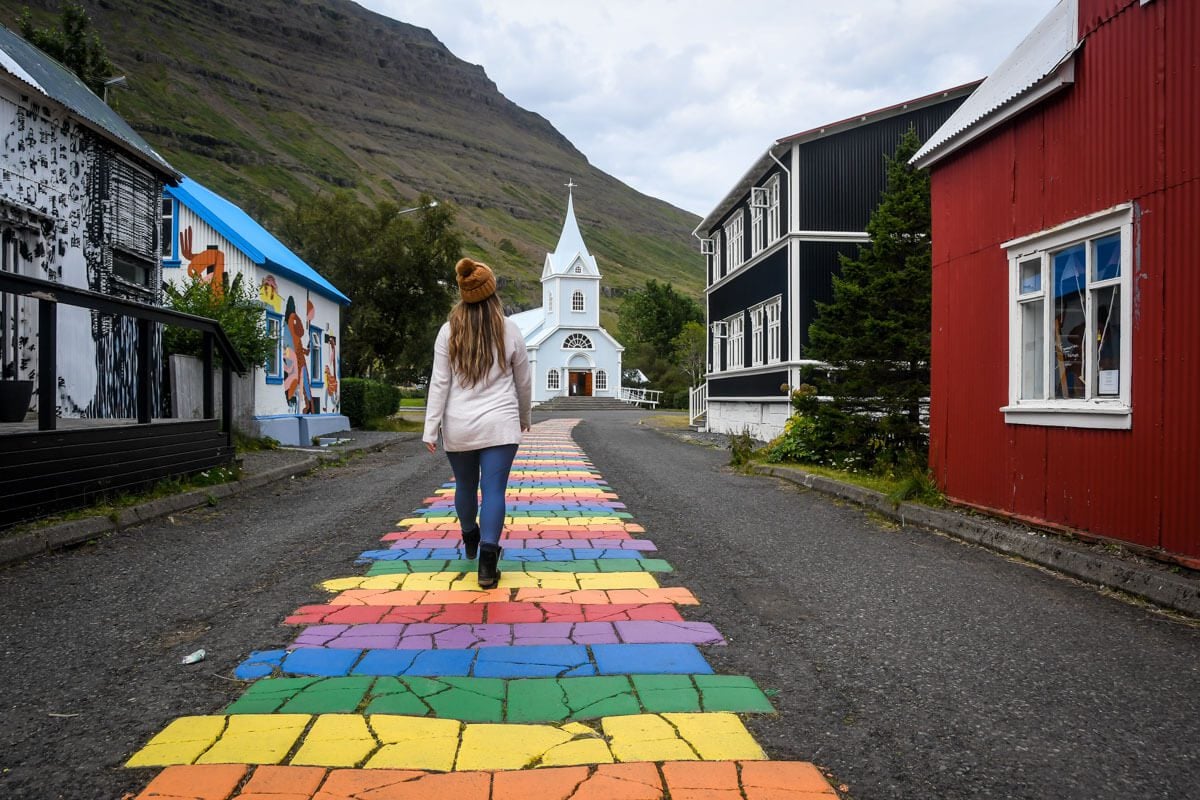 At a glance: Adorable town known for its "Rainbow Road" leading up to a small church
Worthy detour off of the Ring Road
Requiring a short detour from the Ring Road, the picturesque town of Seydisfjordur makes a worthy spot on your Iceland itinerary. Even the drive to get there is beautiful, so take your time to appreciate the views (and take it slow on the winding turns).
Nestled in a fjord, this waterside town has beautiful views, cute boutiques and plenty of restaurants. The most iconic sight in town, however, is the "rainbow road" (or Regnboga Vegur as it's called in Icelandic), which leads to a small church, making a perfect photo opp. It is a smaller version of the famed "rainbow street" in Reykjavík.
Insider Tip: Looking for a tasty yet cheap lunch? Head to the Fancy Sheep food truck and order their lamburger… you won't be disappointed! (Their fish and chips were pretty tasty too, but the highlight for us was definitely the burger!)
28. Stuðlagil Canyon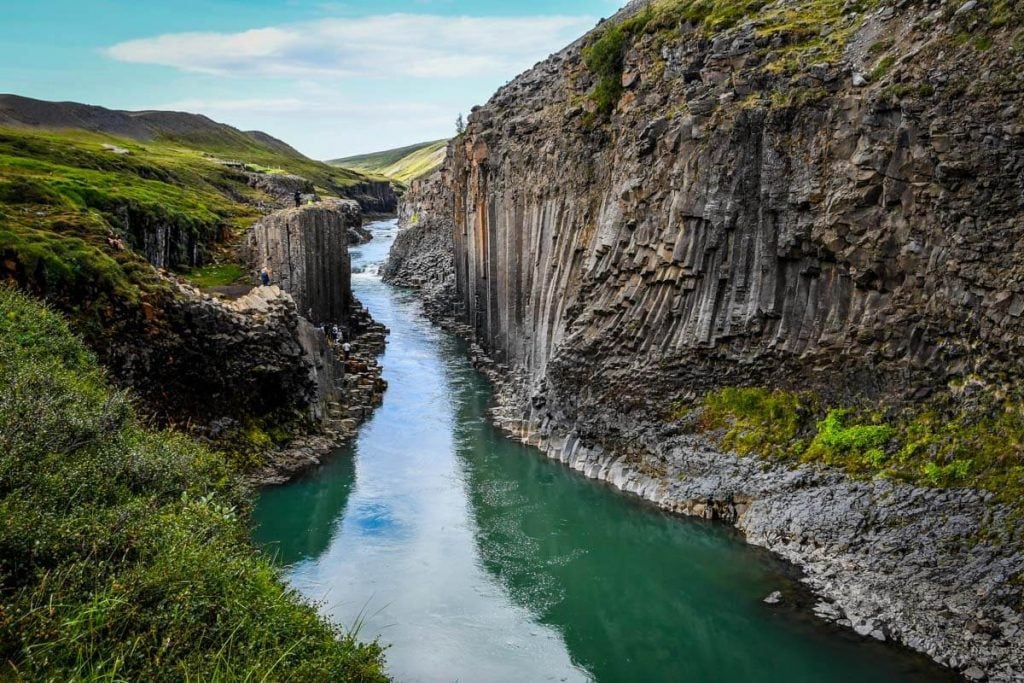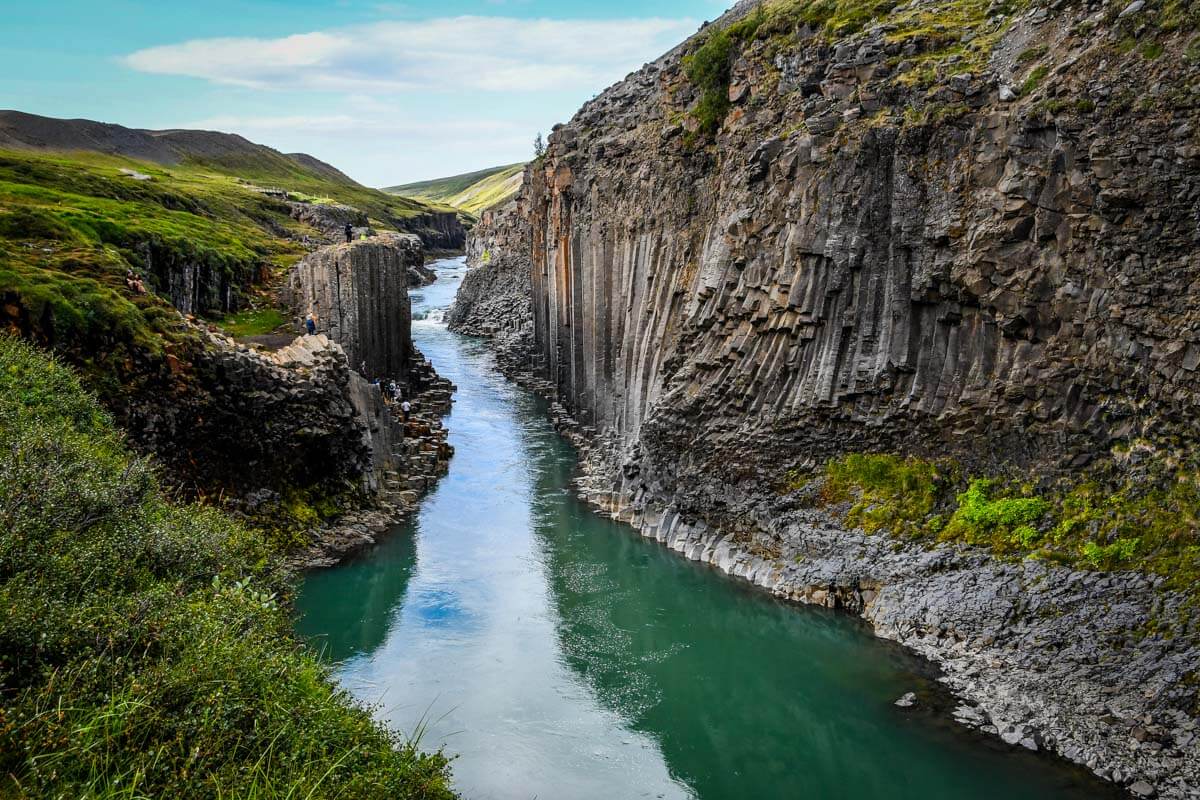 At a glance: Basalt column canyon with a icy blue river carving its way through
Worthy detour off of the Ring Road
Nestled in a glacial valley, Stuðlagil Canyon is the place where you can see the country's largest collection of basalt columns. These towering hexagonal rock formations almost look fake with the vibrant river carving a valley through the middle.
This colorful canyon has become quite popular over the last decade, and despite appearances on the 'Gram, there will be plenty of people vying for the same iconic shot. While this Instagram-stunner may no longer be considered one of Iceland's hidden gems, we still think the natural phenomenon is pretty dang cool to see for yourself.
We put together an entire guide to visiting ​​Stuðlagil Canyon so you will know what to expect and how to plan your visit. Hint: You'll want to check out our map and directions before heading there as Google Maps isn't quite accurate here.
29. Dettifoss and Selfoss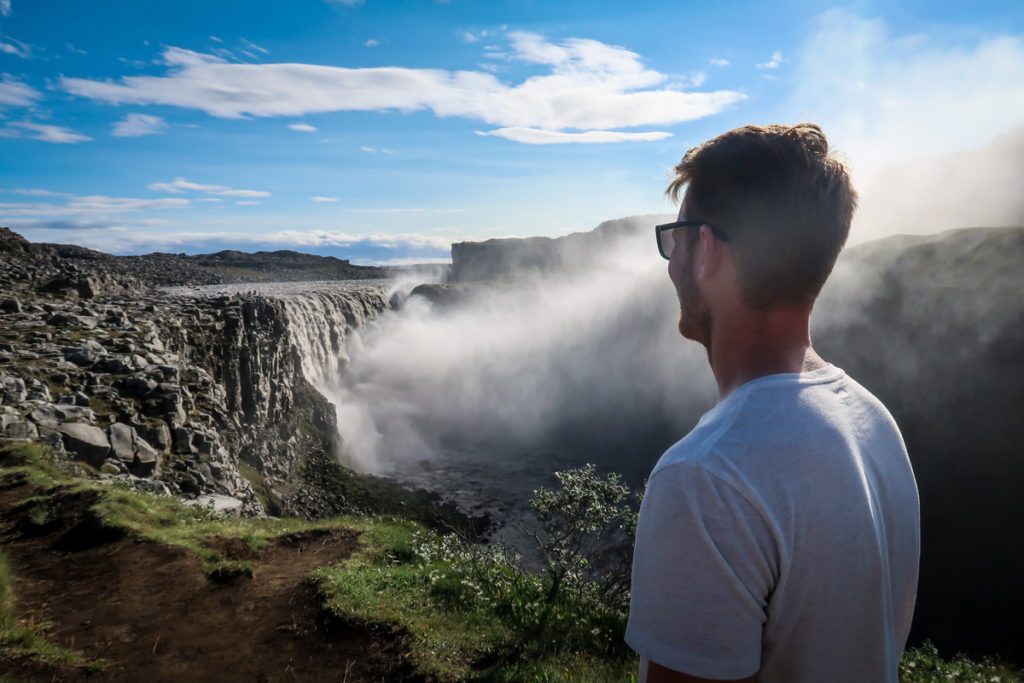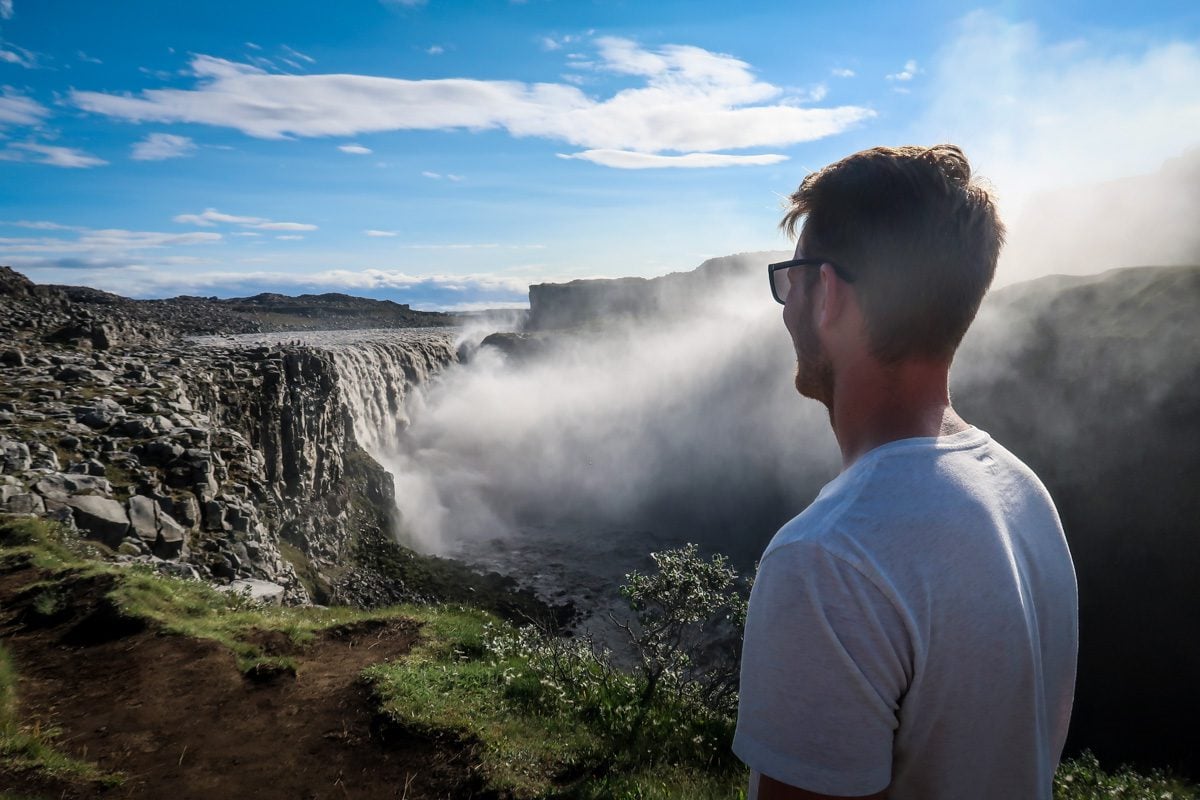 At a glance: Two incredibly powerful waterfalls located near each other
Worthy detour off of the Ring Road
This unique set of waterfalls in northeastern Iceland is definitely worth a short detour (about 30 or so km off the Ring Road).
Said to be the most powerful waterfall in Europe (or the second most powerful by some accounts), Dettifoss is 100 meters (330 ft) wide with a 44 meter (144 ft)drop. Just a short walk down the same river is Selfoss, with a mere 11 meter (36 ft) drop, but equally as beautiful.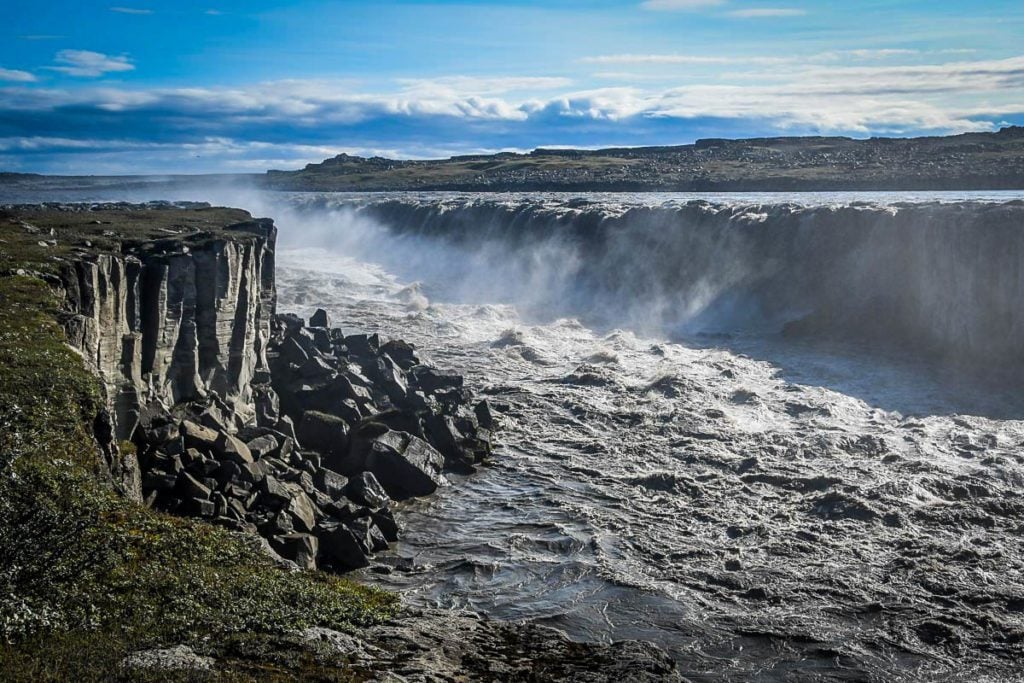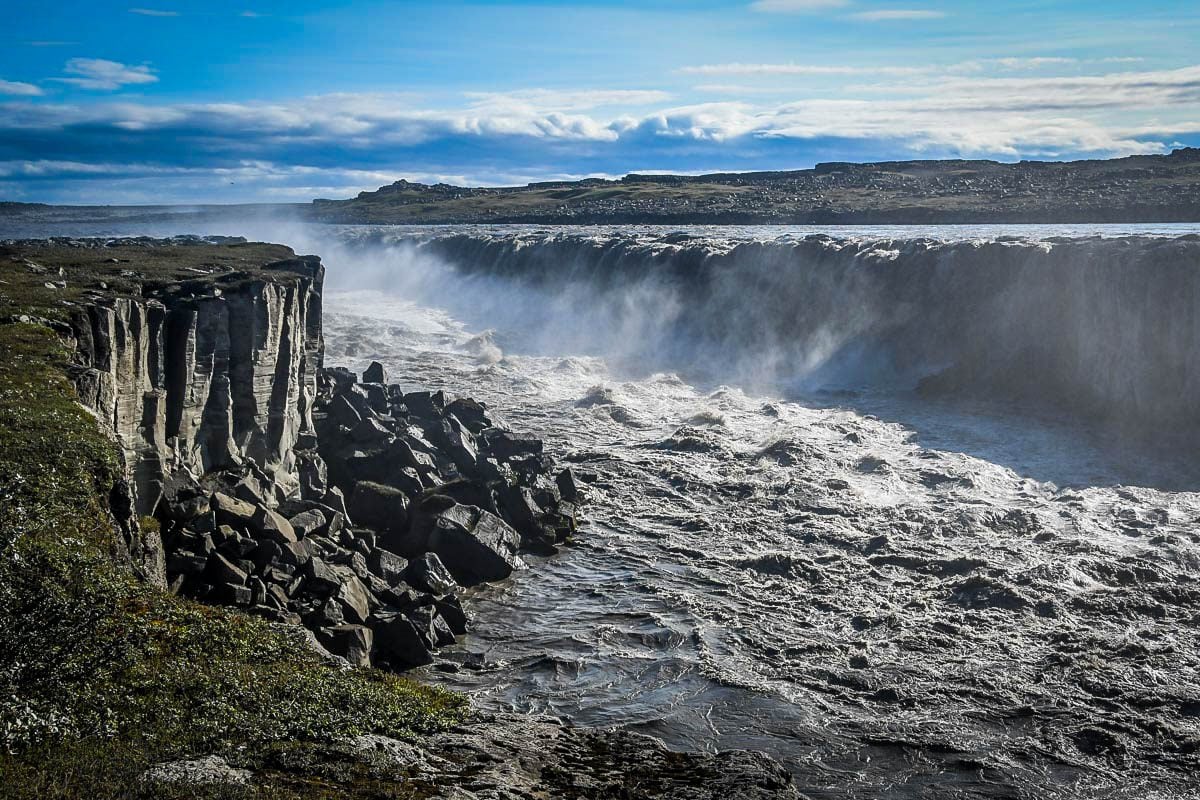 Important info: You can visit these waterfalls from the eastern side of the river or the western side. Each has its pros and cons, but you can't cross the river, so you'll have to choose one or the other (or spend an hour driving between the two points).
Personally, we visited the eastern side (kind of by accident), which requires a drive on a long gravel road. The western side is supposedly paved, but the views are quite different. Read up on the differences so you can choose which side you want to visit.
Note: The walk between the two falls is about 20-30-minutes (1.4 km) from Dettifoss to Selfoss. The trail isn't super well marked and you'll have to climb over some large boulders to pass.
30. Lake Mývatn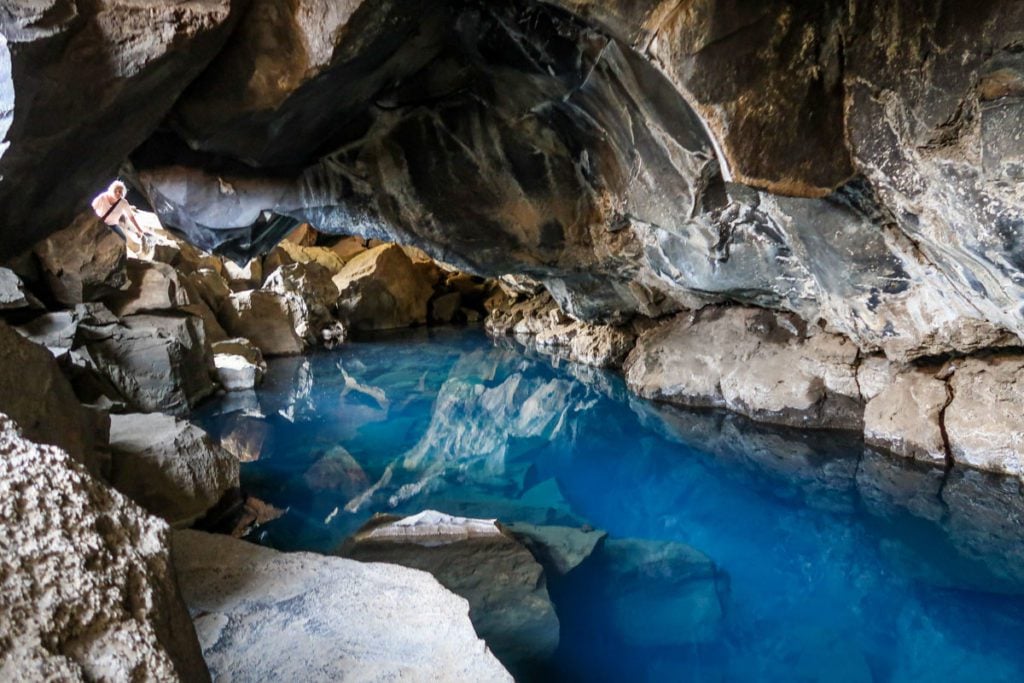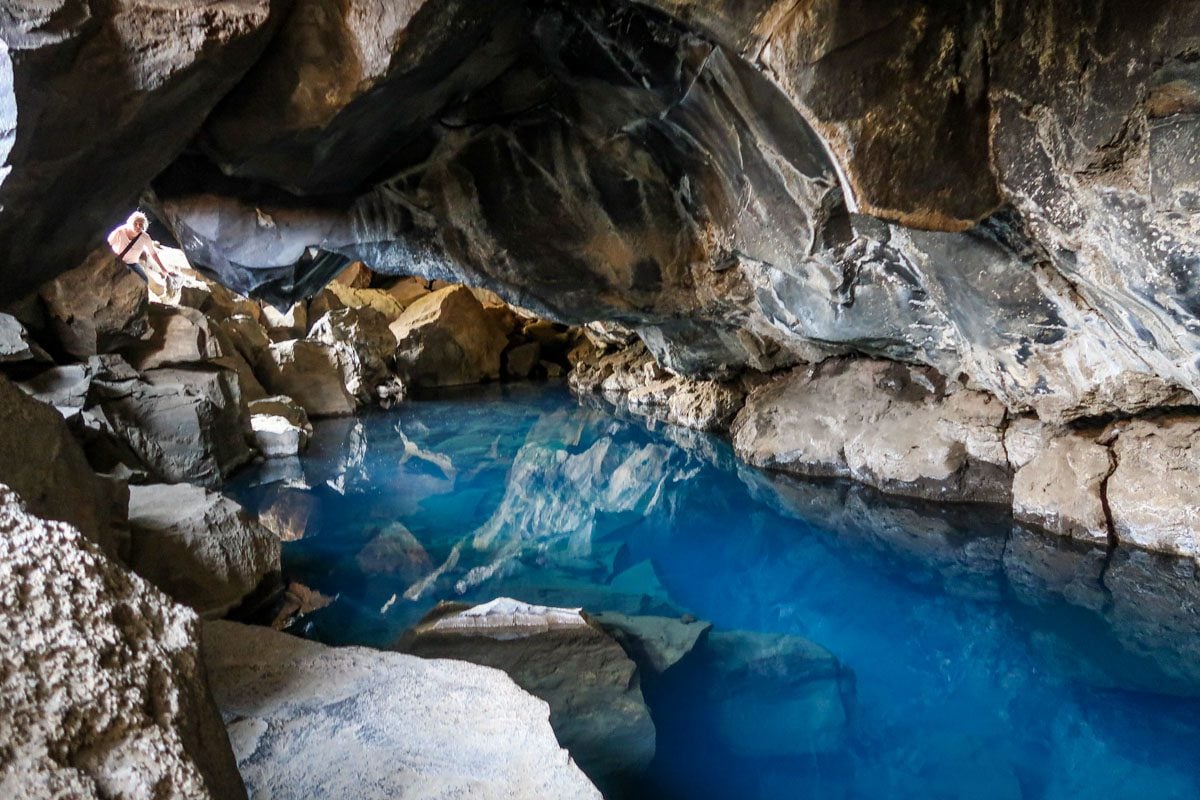 At a glance: Large lake and geothermal hot spot
This lake is located smack dab on the Ring Road, and makes a popular stop for road trippers. This area is known for its geothermal activity, desolate landscapes and hot springs.
Attractions near Lake Mývatn:
Mývatn Nature Baths: This hot spring resort is often likened to the Blue Lagoon because, like its more famous sister, it has milky blue waters rich in minerals. However, not nearly as crowded or expensive. Check out our Iceland hot springs guide for more information on visiting.
Námafjall Hverir Viewpoint: Bubbling geothermal mud pits that are, how shall we put this… quite fragrant!
Grjótagjá: You can drive right up to this cave and peek inside. It used to be used for soaking, but this is no longer allowed as water temperatures have risen to dangerously hot levels. It's a quick stop and photographs well.

Hint: GOT fans may recognize this place where Jon Snow and Ygritte soaked together in an iconic scene.

Hverfjall crater: If you have some time and don't mind a bit of a hike, you can hike to the rim of this crater for some great views.
Dimmuborgir: Lava field with walking paths.
Vogafjós Farm Resort: If you're looking for a place to eat nearby Lake Mývatn, this would be our pick. We didn't personally eat here, but it looked like a great option.
Krafla Crater: A bit of a drive from Lake Mývatn, this volcanic crater is filled with water and visitors can hike to the rim for some pretty spectacular views.
Our personal opinion: While this area is neat to see, especially to compare the geographical features to other parts of Iceland, it was one of the only places we were somewhat disappointed. This isn't to say you should skip it altogether, but personally, it just wasn't a favorite of ours. If you're short on time, maybe this will be helpful as you prioritize your route.
Good to know: If you plan to camp near this area, there are said to be tons of midges (kind of like gnats or mayflies), so you may want to bring insect repellant or other protection. It is really the only area in Iceland that you'll need to really worry about bugs. But you have been warned! We did not camp here, so we didn't have any issues with bugs at all.
31. Húsavík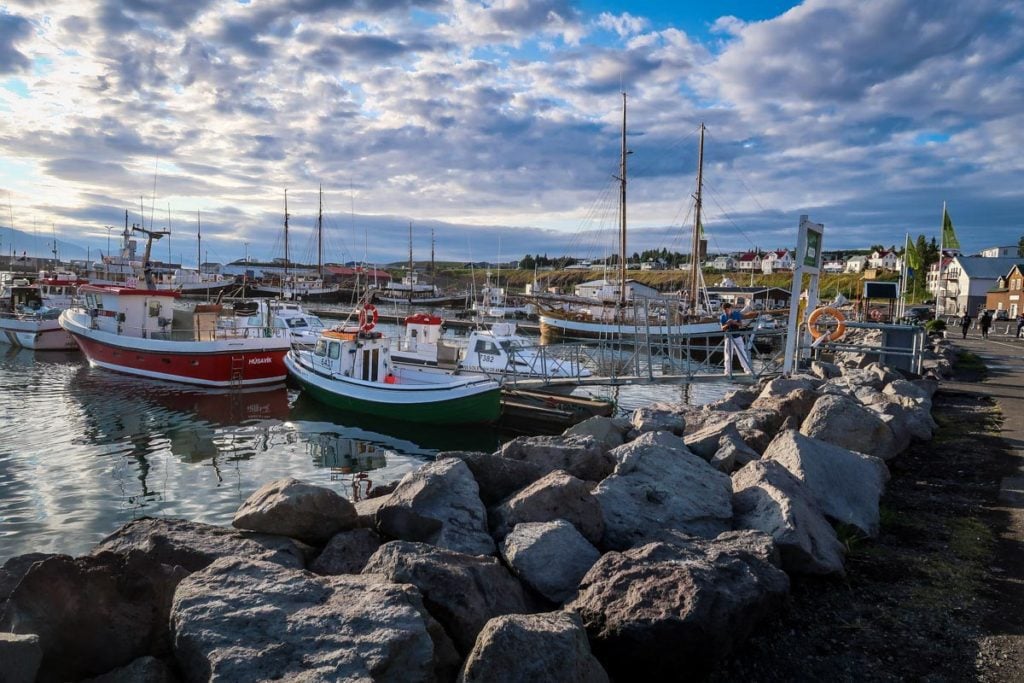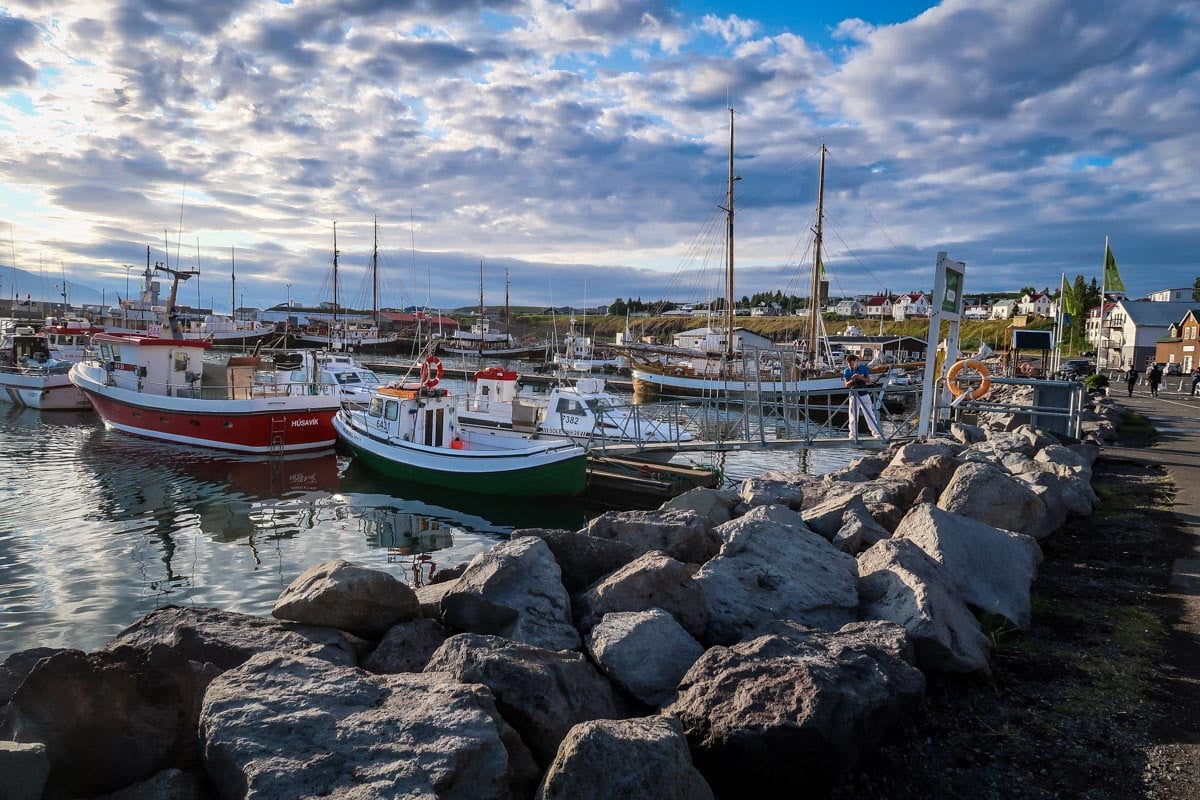 At a glance: Picturesque fishing village in northern Iceland
Worthy detour off of the Ring Road
This quaint fishing village looks like it's straight off a postcard, and is well worth adding to your Ring Road trip (even though it requires a slight detour).
Things to do in Húsavík: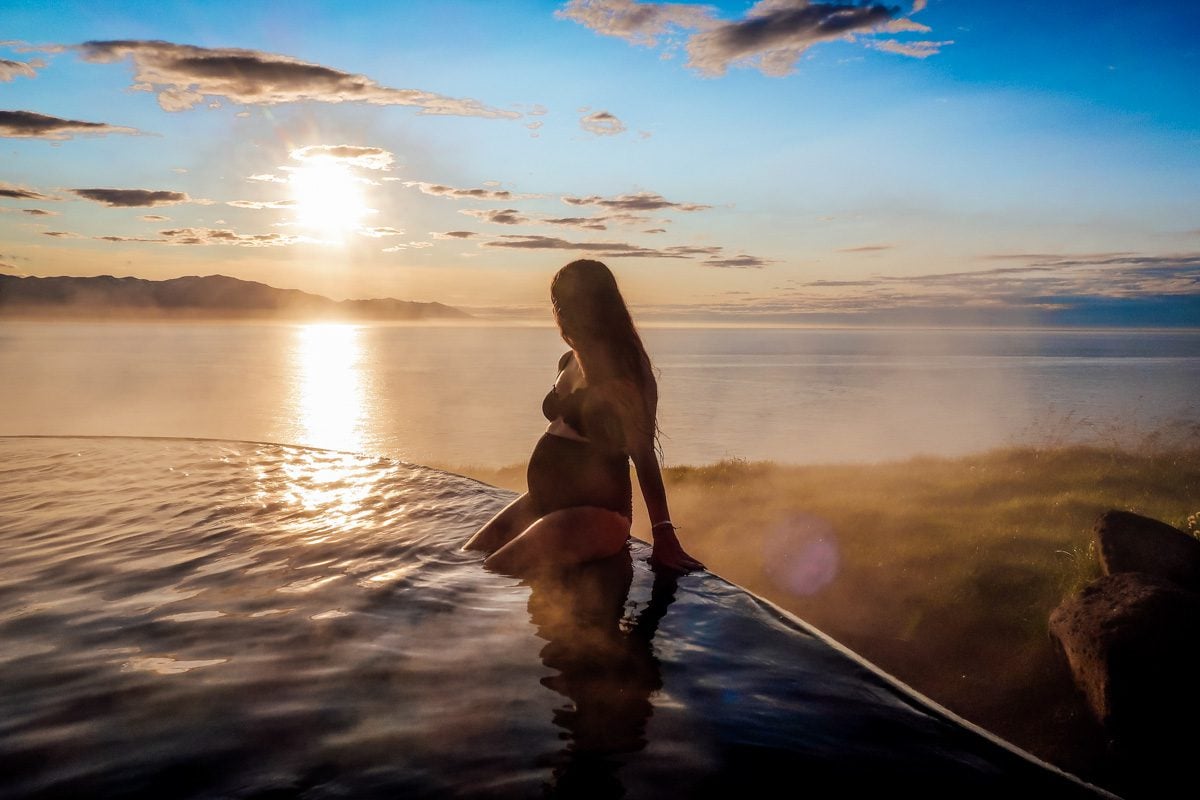 Whale Watching: Húsavík is known as one of the best places to go whale watching in Iceland. We did a whale watching trip with North Sailing, and while we only saw one whale from afar, we were impressed by the high environmental standards all whale watching companies in Iceland must follow. Cross your fingers that you get luckier than we did!
Geosea thermal baths: These hot pools overlook the ocean, and are a perfect spot to soak while taking in the sunset.
Eat fish: Since Húsavík is a fishing town, it's a good excuse to get your seafood straight from the source! There are several restaurants in town, but if you're looking for something cheap, quick and delicious, we really enjoyed this seasonally-open fish and chips shop. Tip: Portions are large, and we split one between the two of us!
Insider Tip: If you like watching travel movies inspired by the places you're visiting, watch Netflix's "Eurovision" before your trip! Starring Will Ferrell and Rachel McAdams, this goofy and sweet movie is set in Húsavík and is fun to watch if you plan to visit this town.
Looking for a campsite nearby? 66.12 NORTH is a short drive from Húsavík and was one of our favorite campsites in Iceland.
32. Goðafoss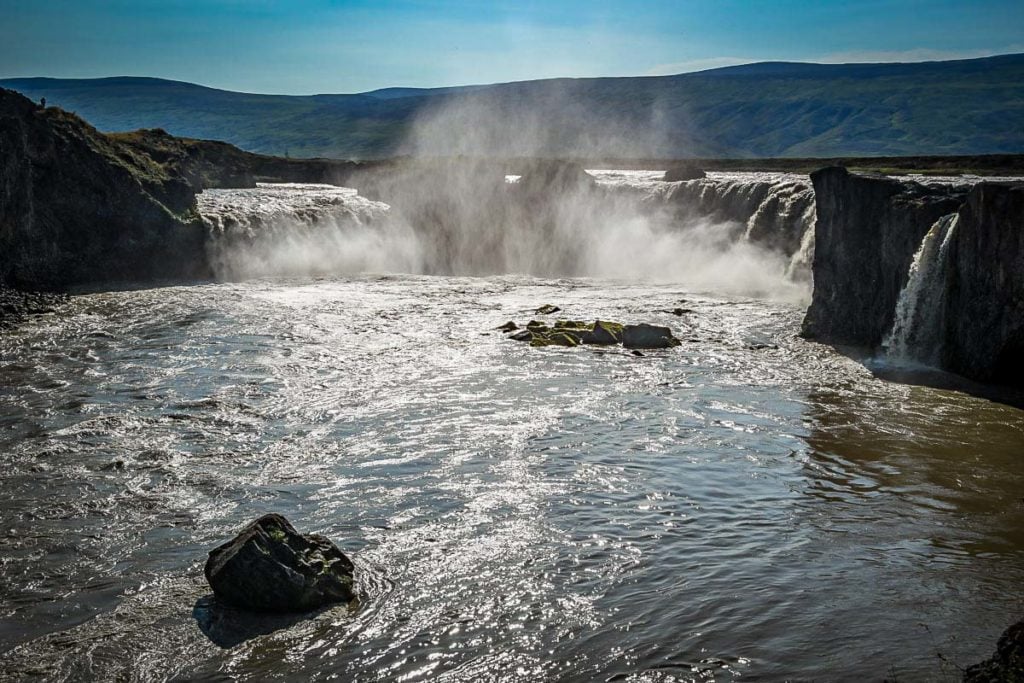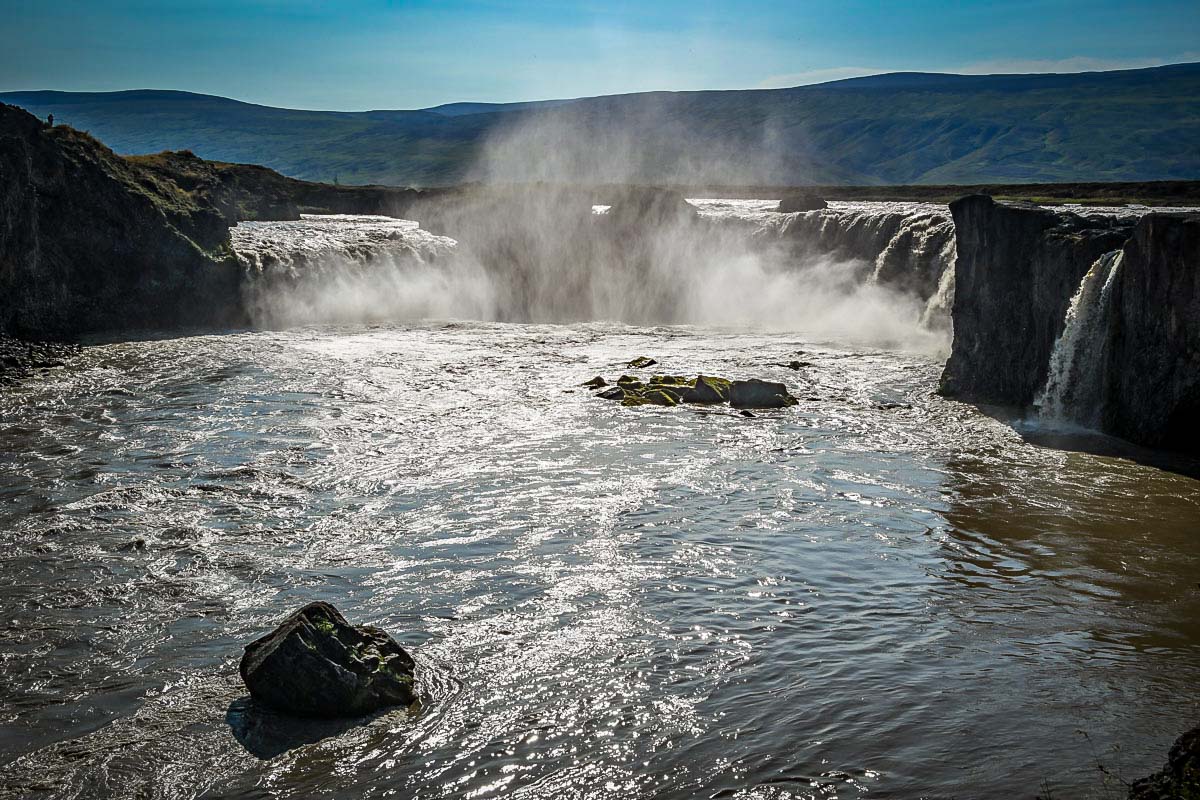 At a glance: Easily accessible waterfall located on the Ring Road
Translated to "Waterfall of the Gods", Goðafoss is a horseshoe-shaped waterfall located on the Ring Road. Easily reached via a short, paved walk from the parking lot, this makes a popular stop on a Ring Road trip given its accessibility.
Our Opinion: Personally, we didn't find this waterfall to be nearly as impressive as some of the others on this list, it still makes a good stop to stretch your legs without veering too far from your route.
33. Fosslaug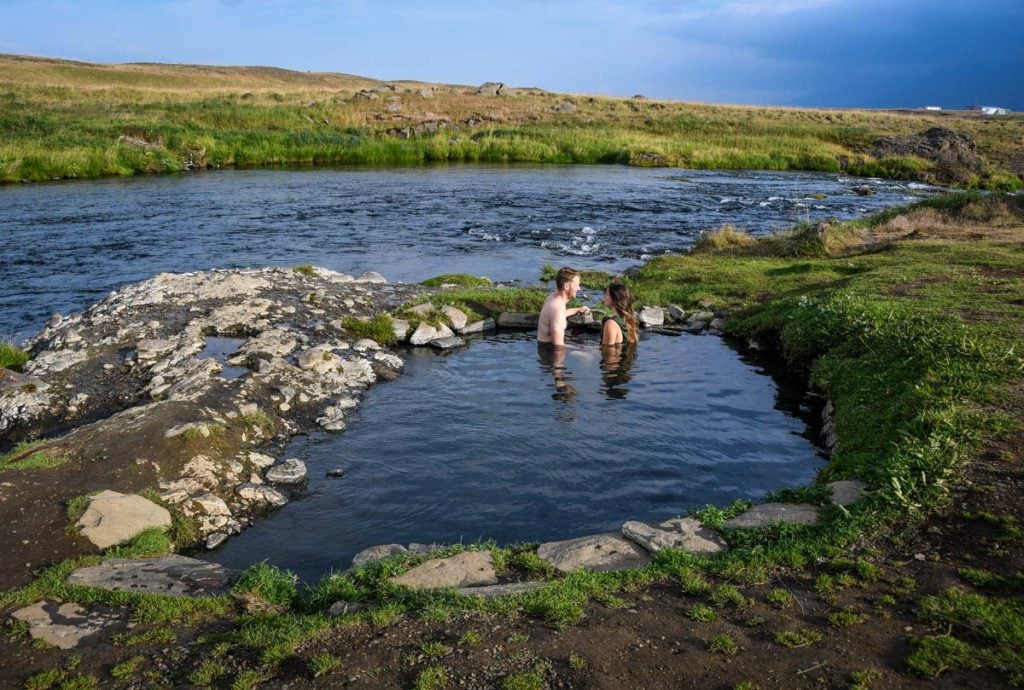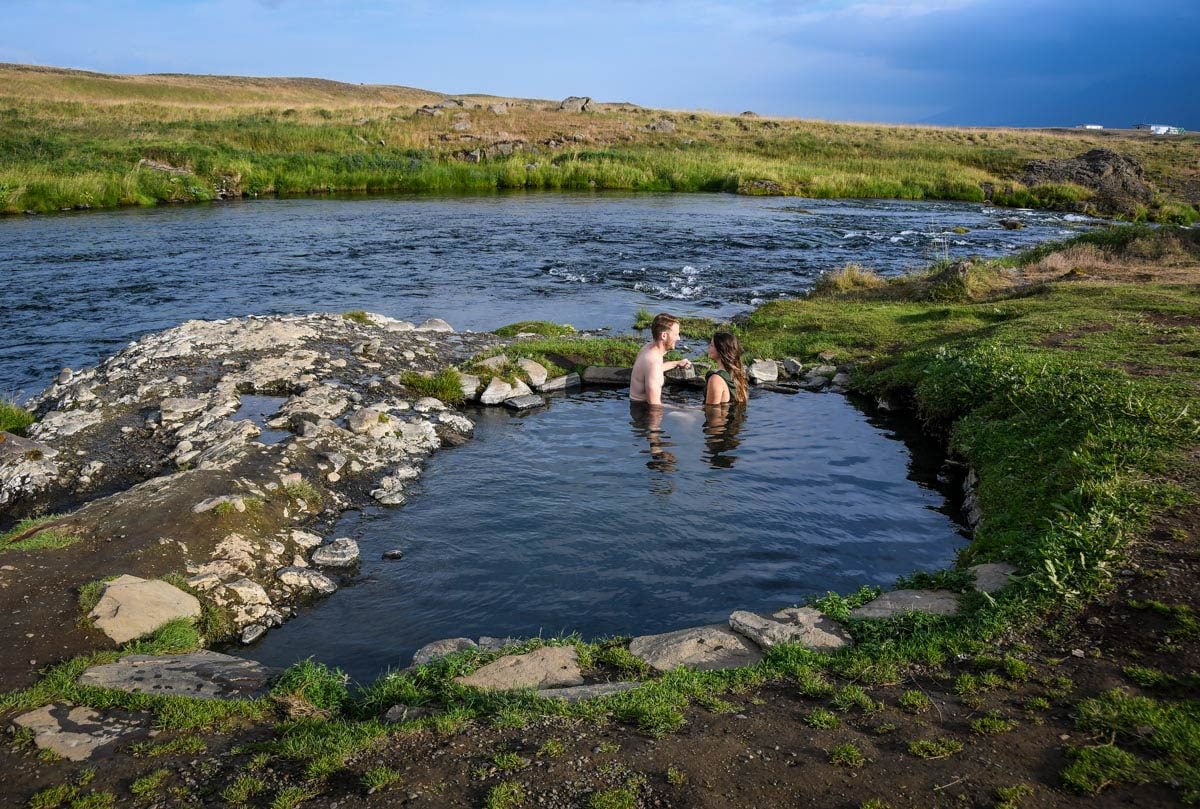 At a glance: Natural hot spring next to a river
This small hot pot nestled beside a small river in northern Iceland is truly a gem and most definitely a worthy detour from Ring Road. A natural hot spring with clear water, bucolic views, and the sound of a babbling creek passing by, you really can't get more idyllic than this.
Even better, there is a small but picturesque waterfall, named Reykjafoss, just around the corner!
The water temperature here is closer to lukewarm than hot so you can spend as long as you like relaxing and taking in the views. Come early in the morning or around sunset to have the best chance of having the hot pot all to yourself.
Insider Tip: As you're heading back onto the Ring Road after soaking at this hot spring, stop by the Church in Víðimýri, which is covered in turf and makes a pretty photo.
Check out our guide to visiting Fosslaug Hot Spring & Reykjafoss Waterfall for how to get there, plus everything you need to know.
34. Kolugljúfur Canyon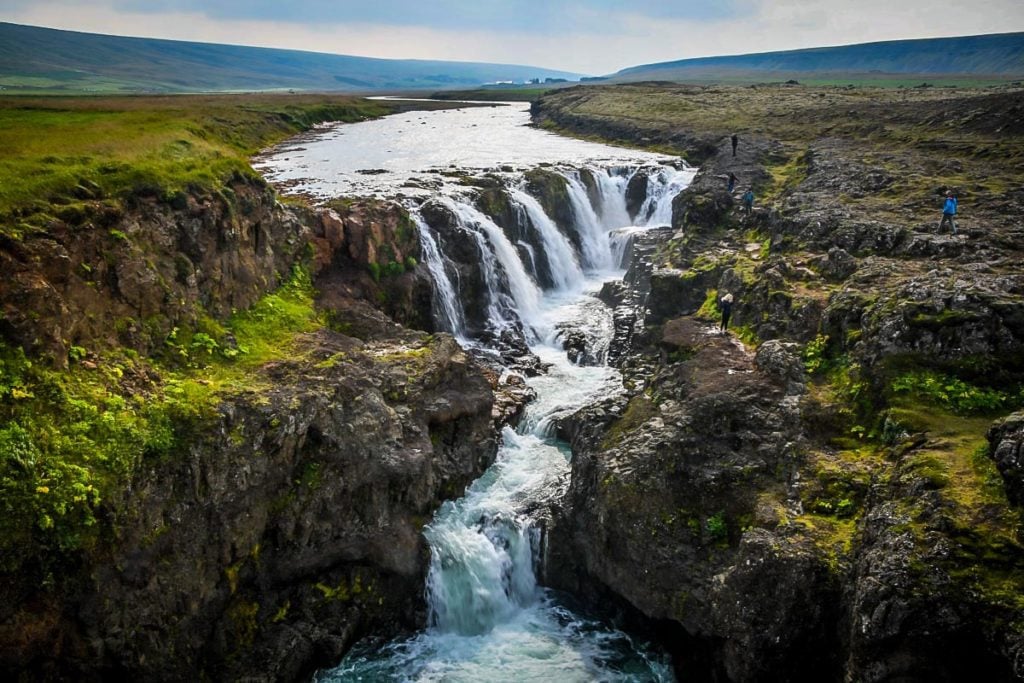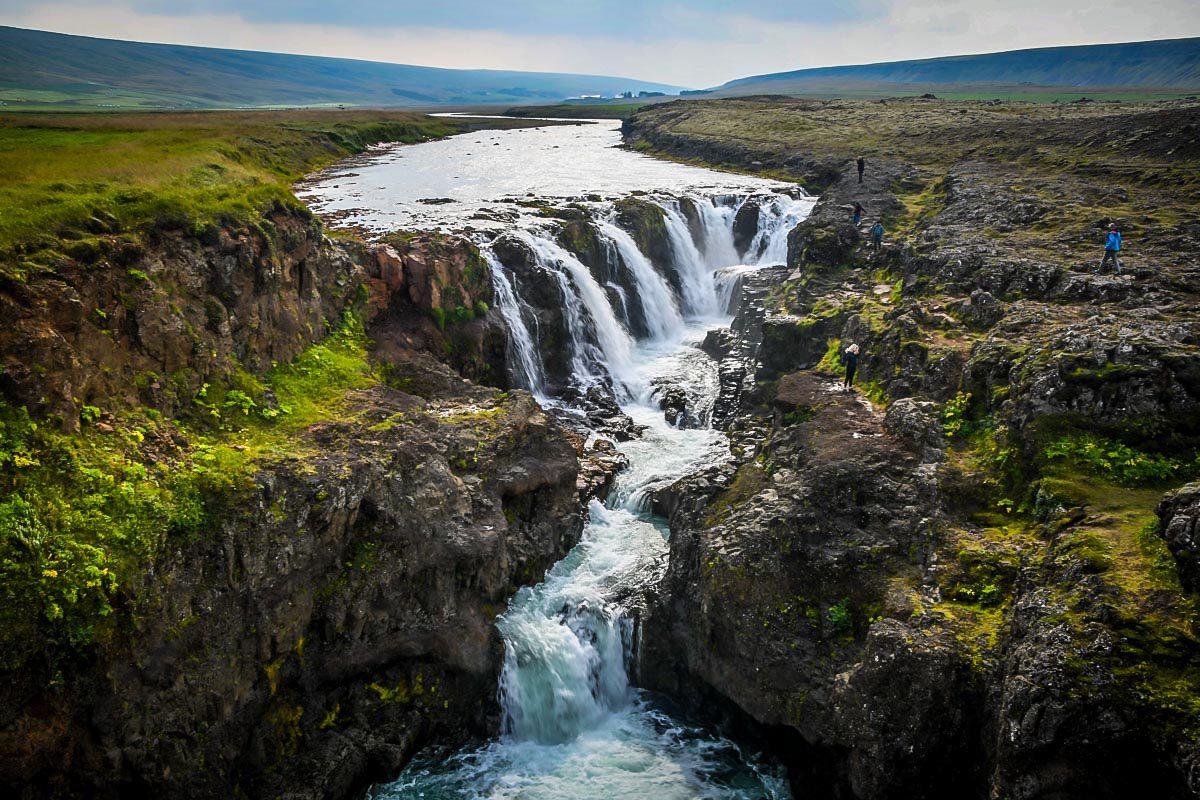 At a glance: Canyon with a nice waterfall and some short hikes
Located in North Iceland, the Kolugljúfur Canyon is a great spot to get out and stretch your legs while driving the Ring Road. Not gonna lie, the stretch of road where this canyon is situated is one of the… how shall I put this… least interesting portions of the journey, making this canyon extra special.
Legend has it that a giantess named Kola lived in this canyon. It is said that she fished salmon each day, and wore away the canyon little by little, creating the potholes and curvatures that you can see today.
Walk across the bridge and along the canyon rim for some beautiful views, and to stretch your legs before hopping back onto the Ring Road.
35. Snæfellsnes Peninsula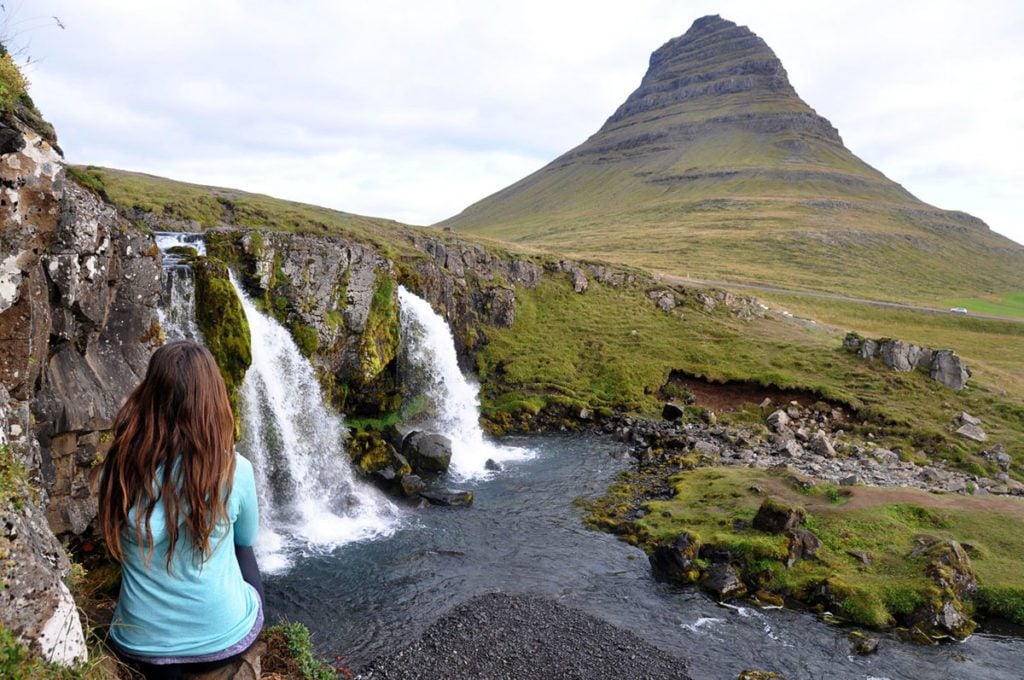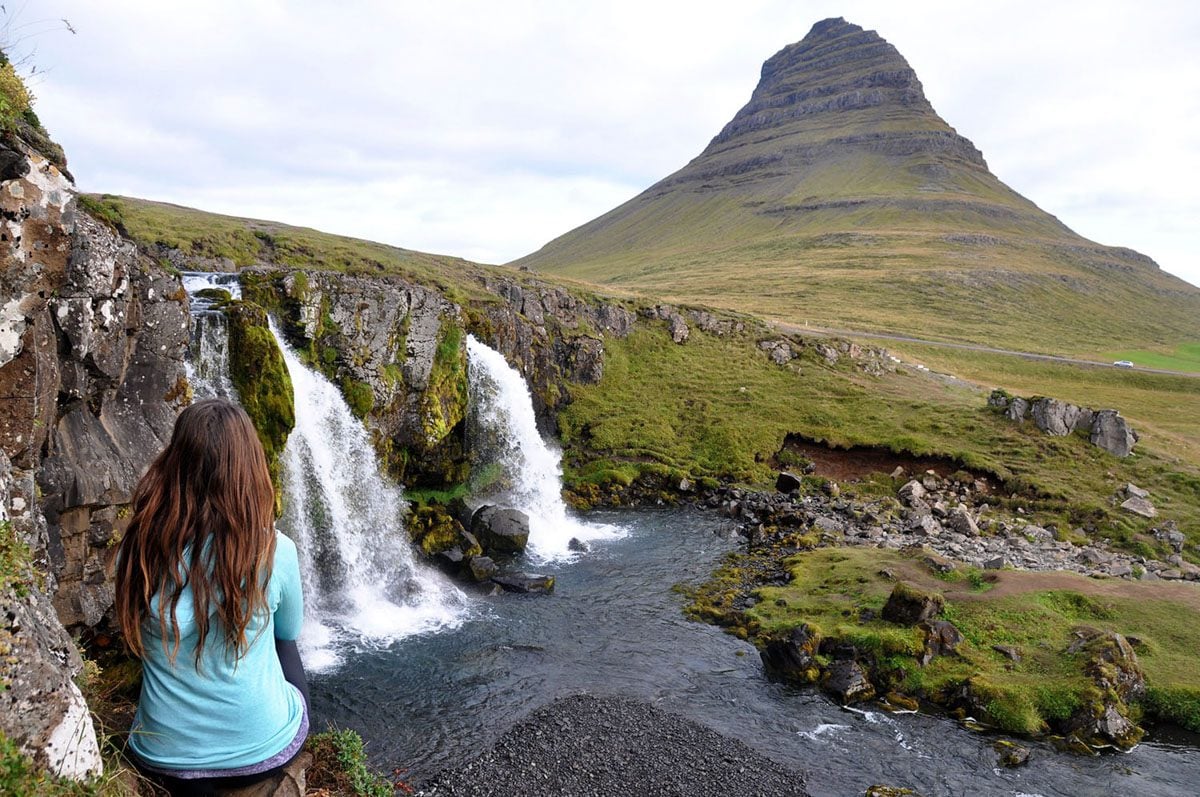 At a glance: This peninsula has beautiful waterfalls, beaches and walks
Worthy detour off of the Ring Road
This peninsula is sandwiched between the Westfjords to the north and the Reykjanes Peninsula to the south (where Iceland's international airport is located).
While the Snæfellsnes Peninsula is in fact a detour from the Ring Road, it is a good one. There are some iconic sights, easy walks and hidden gems on this peninsula, so make some time for it if you have a bit of wiggle room in your itinerary.
Attractions on the Snæfellsnes Peninsula: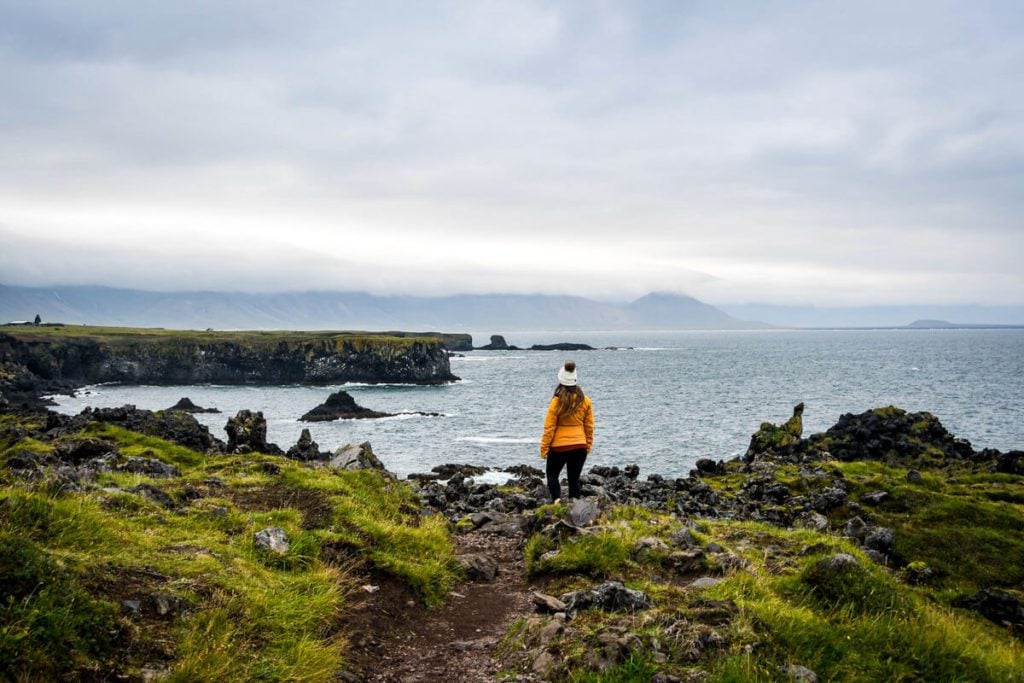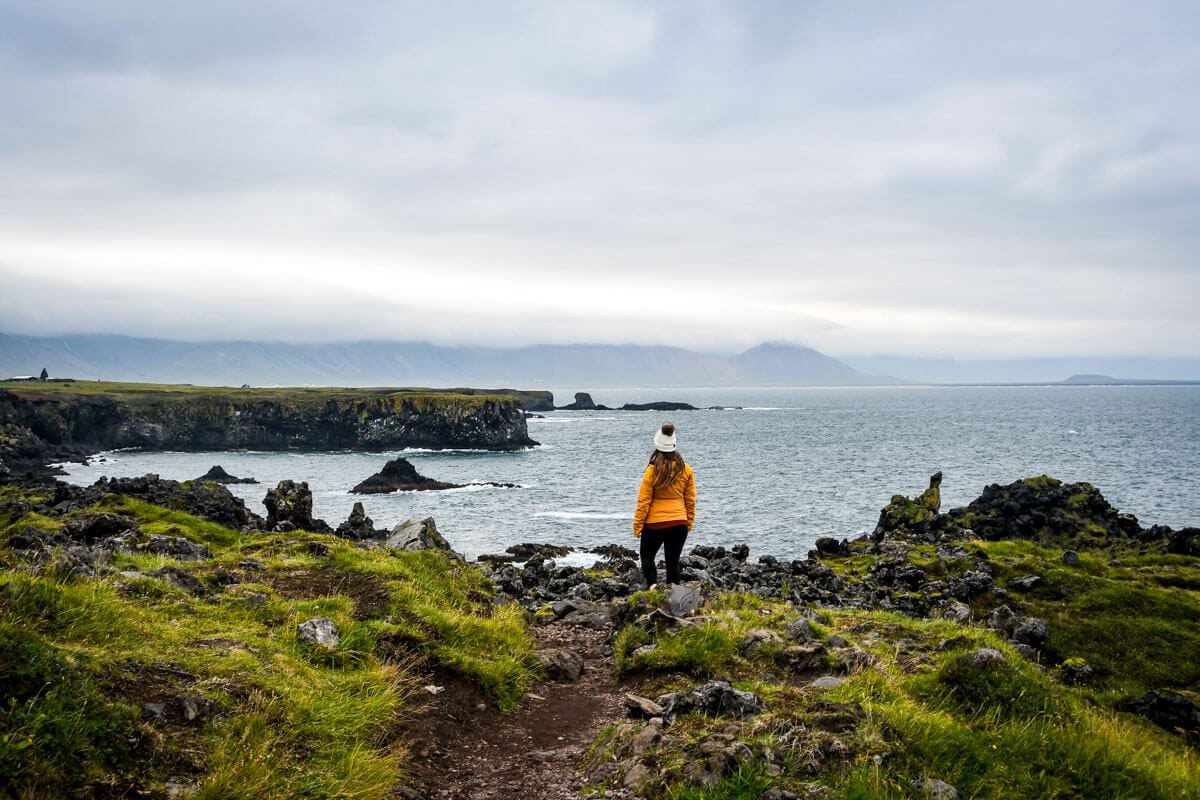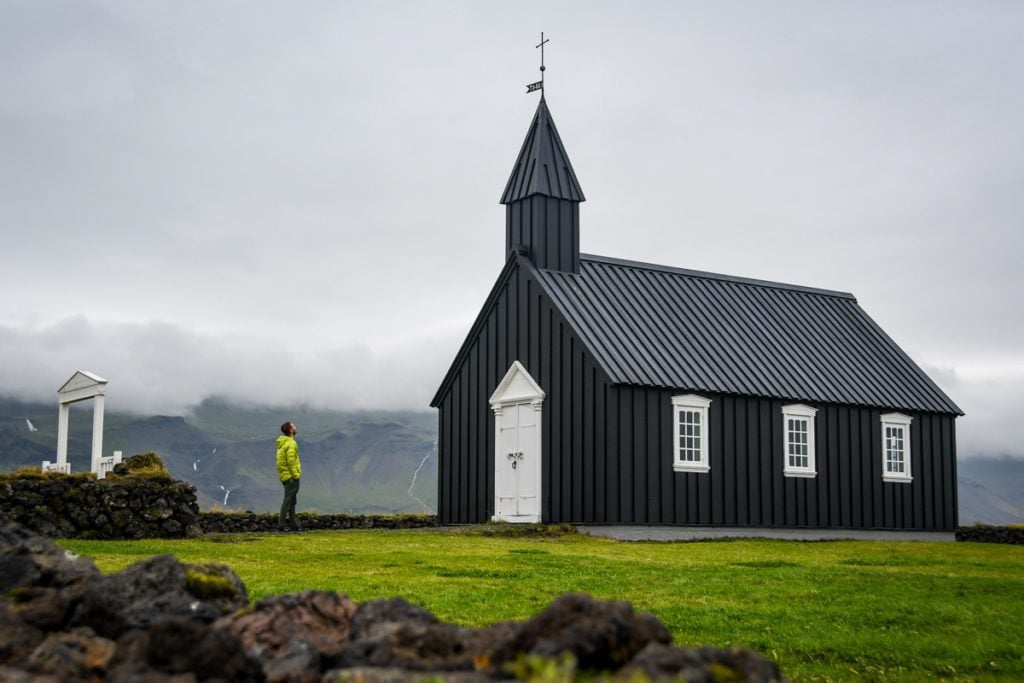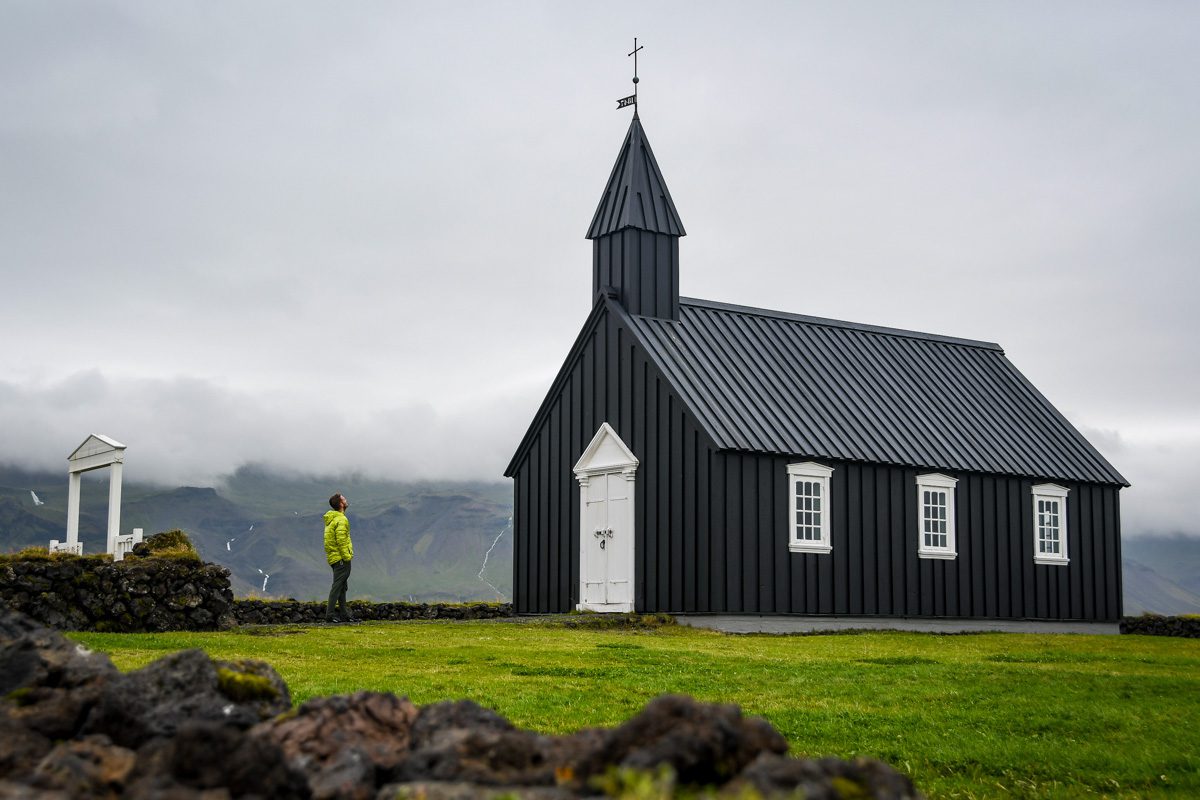 We put together a route to see the highlights of the Snæfellsnes Peninsula in one day, just check out Day 1 of our 7-Day Iceland itinerary.
36. Glymur Waterfall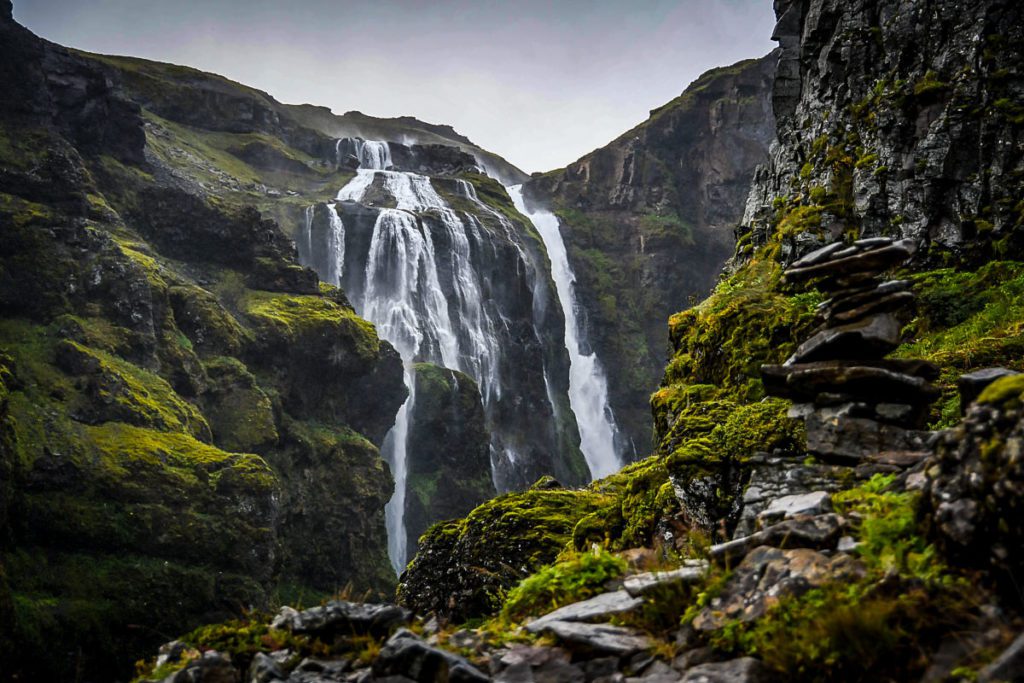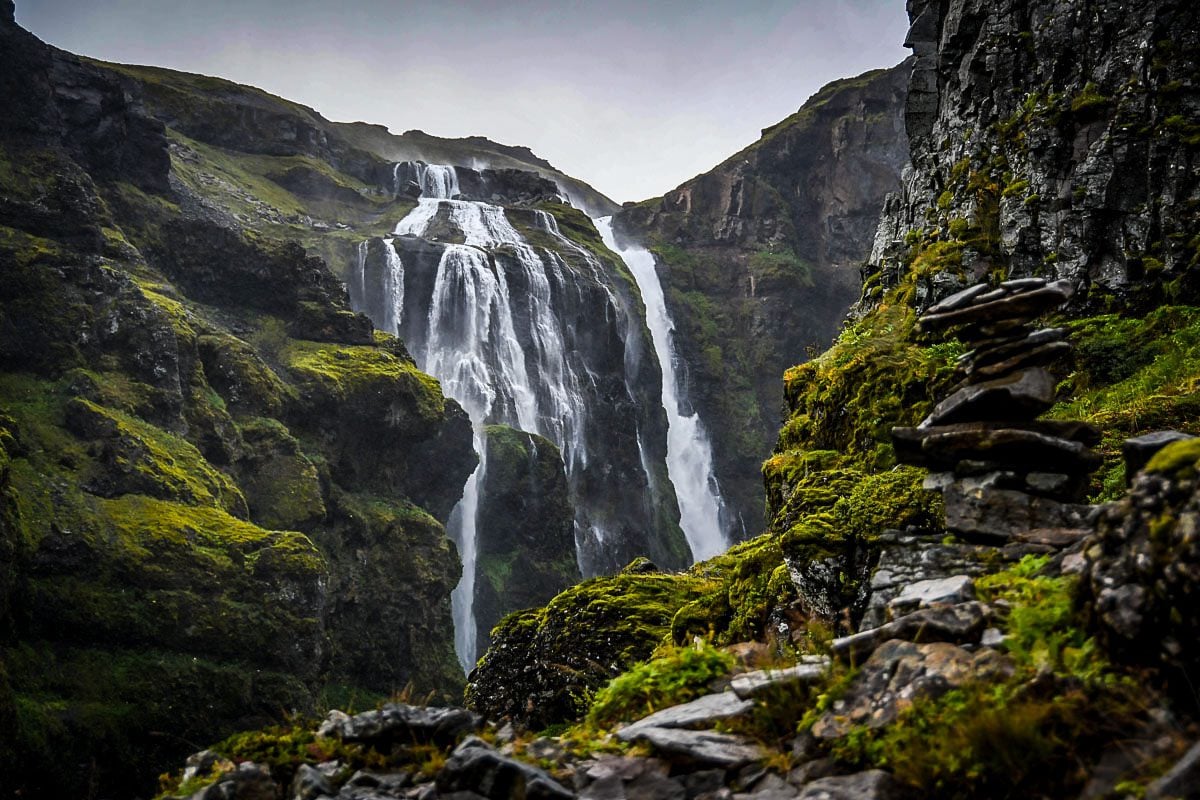 At a glance: Iceland's second tallest waterfall, accessed by a challenging hike
Worthy detour off of the Ring Road
Until a remote waterfall was recently discovered in a relatively inaccessible region, it was long believed that Glymur was the tallest waterfall in Iceland. But hey, second tallest ain't bad either!
Getting to this waterfall requires a bit of effort, but as long as you have the time and an adventurous spirit, it is so worthwhile.
The 4.3-mile hike packs in a punch with 1,300 feet in elevation gain. But the lush canyon views and towering falls at the end are worthy rewards for the heart-thumping effort. Beware that you will need to cross a rushing river on this trail, which requires some shimming on a fallen log while holding onto a guide rope.
Find out exactly how to get there and everything else you need to know in our Glymur Waterfall hiking guide.
37. Reykjavík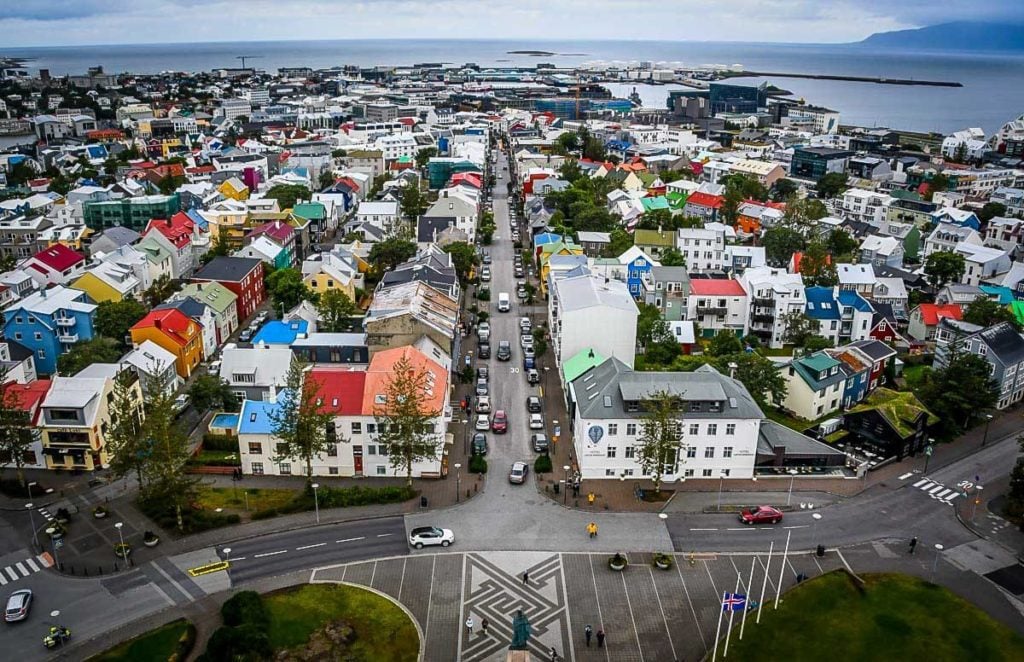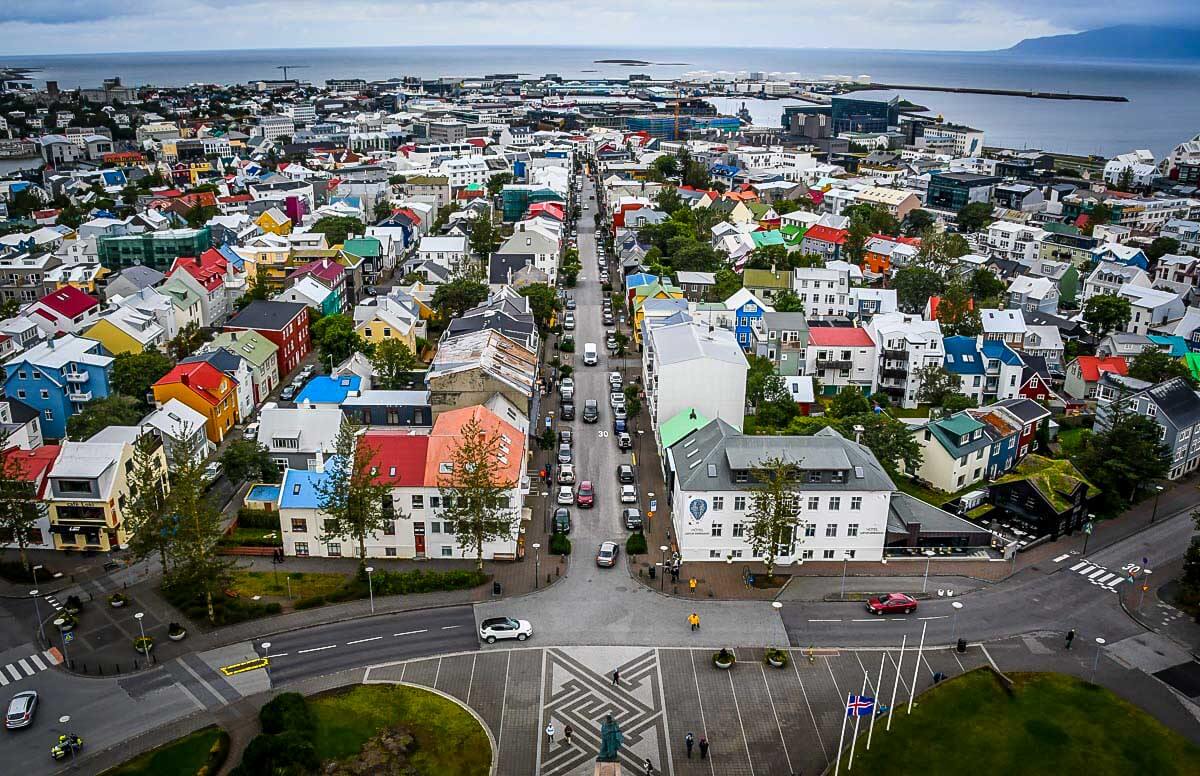 At a glance: Iceland's colorful and charming capital city
It may be your jumping off point, or the last stop on your Ring Road Iceland road trip, but either way, you'll likely be spending at least some amount of time in Reykjavík. The good news is, there are actually some really cool things to do in this small city, packed with spunk and charm.
Here are just a few ideas:
Have dinner in the new harbor
Take in the view at the top of the bell tower of the church
Join a free walking tour
Go to a public hot pool and mingle with locals
Try all kinds of Icelandic food on a food tour
We've rounded up the top things to do in Reykjavík including mini-adventures, sights to see and culinary experiences so you can plan your time here according to what you want to do most.
38. Blue Lagoon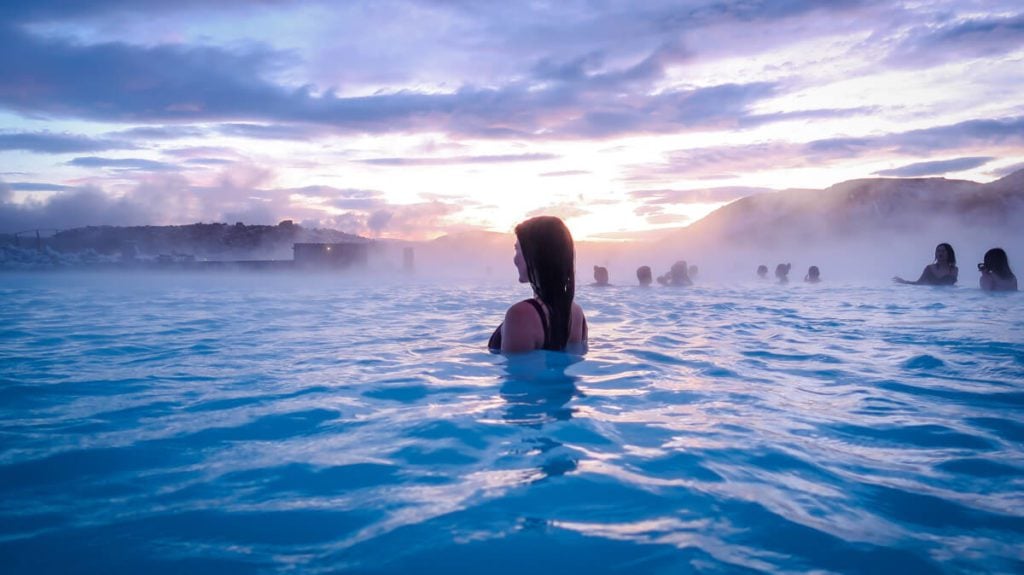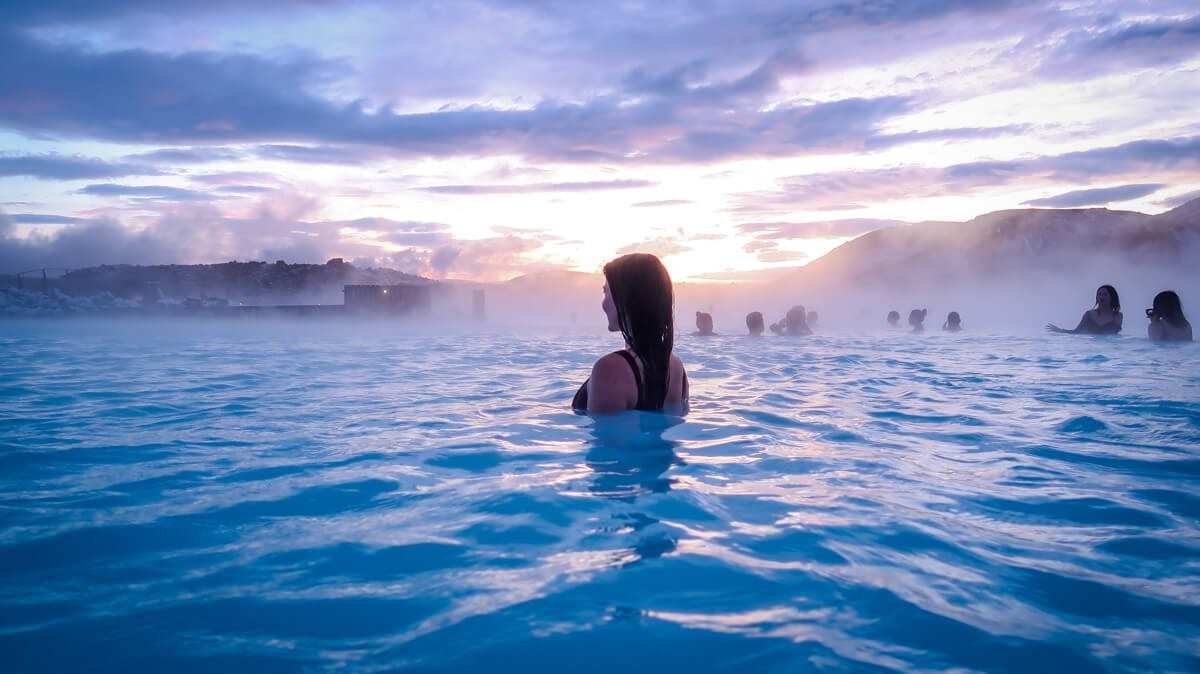 At a glance: Iceland's most famous hot spring resort
Worthy detour off of the Ring Road
If you're looking for a place to wind down at the end of your Ring Road drive, the Blue Lagoon is certainly a worthy stop. Better yet, it's located on the Reykjanes Peninsula pretty close to the airport, so it's a great final stop before heading home.
Undoubtedly the most famous hot spring in the entire country, this world-renowned resort allegedly draws more than a million visitors annually. We still think a stop at the Blue Lagoon is worth the effort and the crowds if you can fit it into your budget. Entrance tickets here start at $53 USD per person and vary based on package levels and the time of year.
Surrounded by lava stones, iconic milky-blue pools have varying temperatures, so you can move around and find one that suits you. Plus, with a complimentary beverage (prosecco, please!) and silica face mask, you'll feel totally pampered soaking here.
What to pack for your trip to Iceland
We know it can be overwhelming packing for a trip to a new destination. That's why we spent hours creating this super helpful PDF just for you.
In this free Iceland packing list PDF download, we've provided packing checklists for everything from clothing and toiletries (for both women and men!) to what shoes to pack and extra items you may want to have on-hand if you plan on traveling in a campervan.
Plus, we're sharing tons of packing hacks and tips for traveling in Iceland that you won't find anywhere else!


Are you planning a trip to Iceland?
We have TONS of resources on travel in Iceland and how to make the most out of your trip. Check out our Ultimate Iceland Travel Guide for all the answers to your most burning questions, or read some of our favorite articles below.
Save this article on Pinterest for later!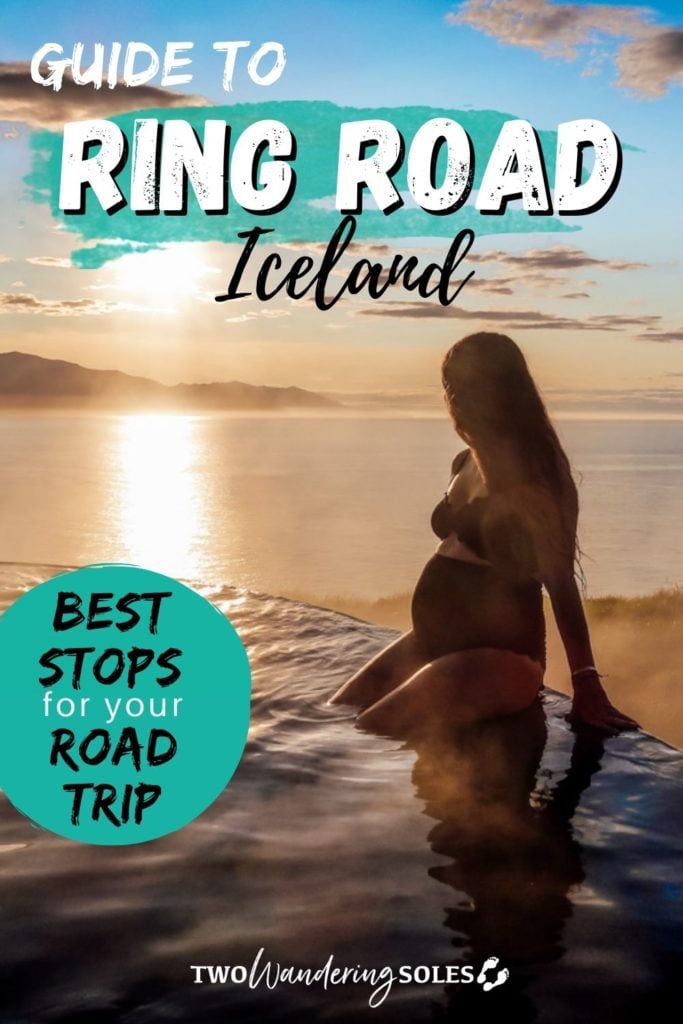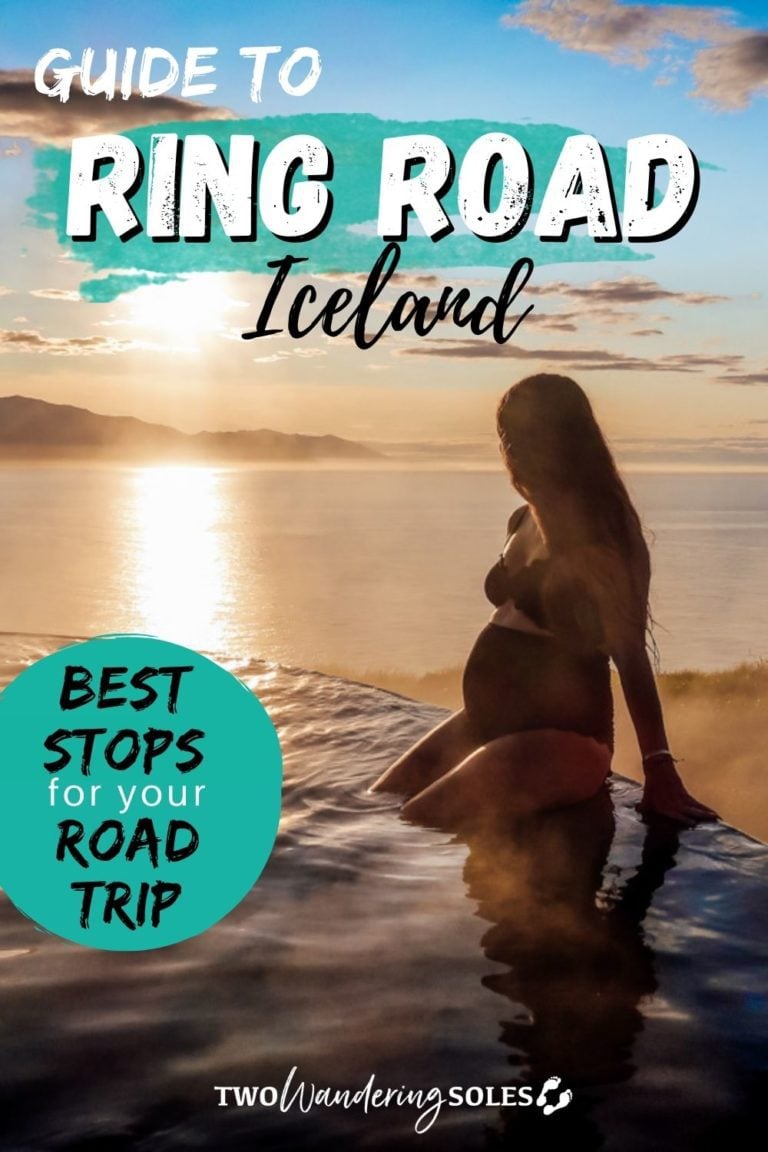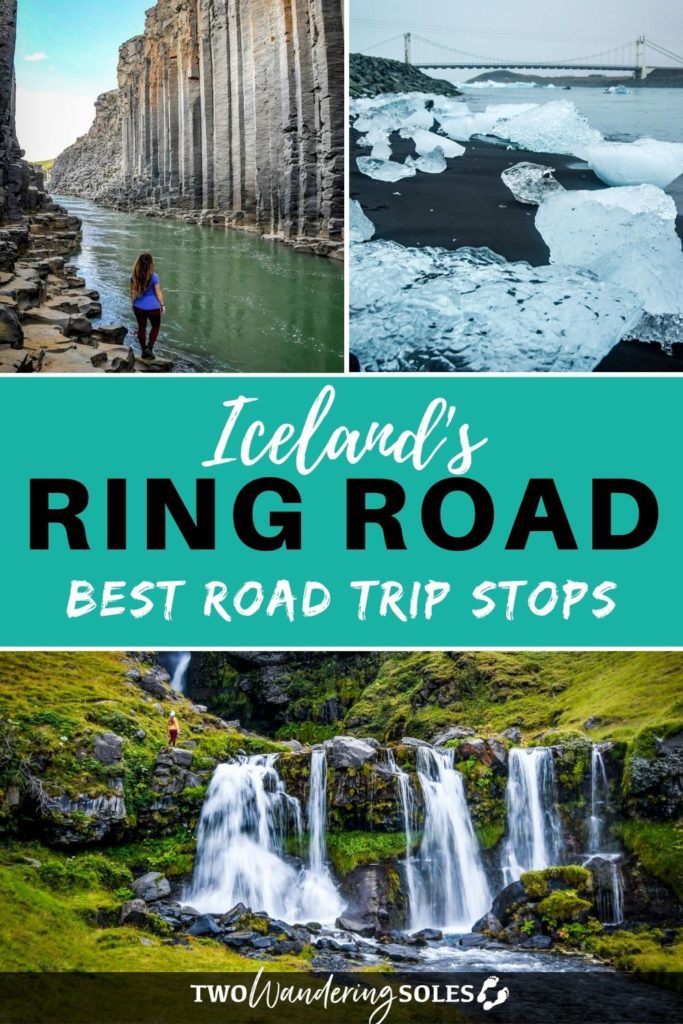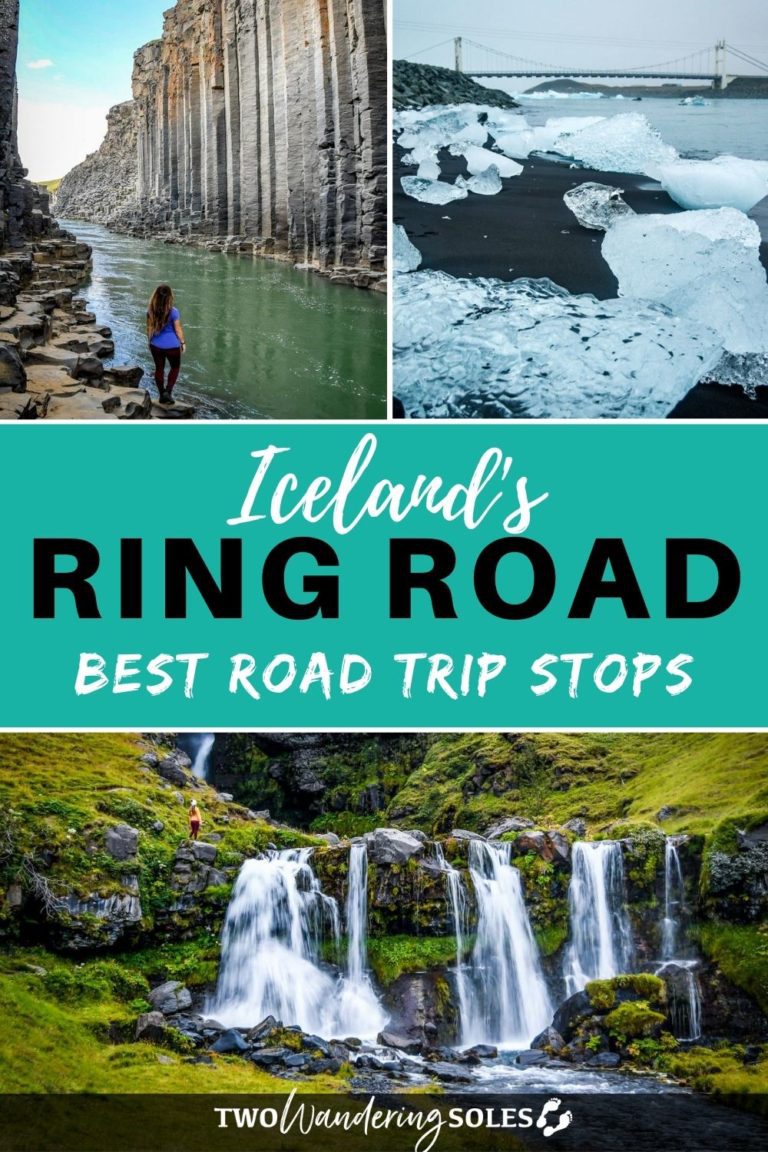 We want to hear from you!
Which are these Ring Road Iceland stops are you most excited to visit? Do you have any more questions about planning your Ring Road trip? Leave your comment below and we'll do our best to get back to you!