The freedom of road tripping is a great way to see all that Scotland has to offer. From vehicle rentals to budgeting to en route entertainment, here is everything you need to help you plan your Scotland road trip.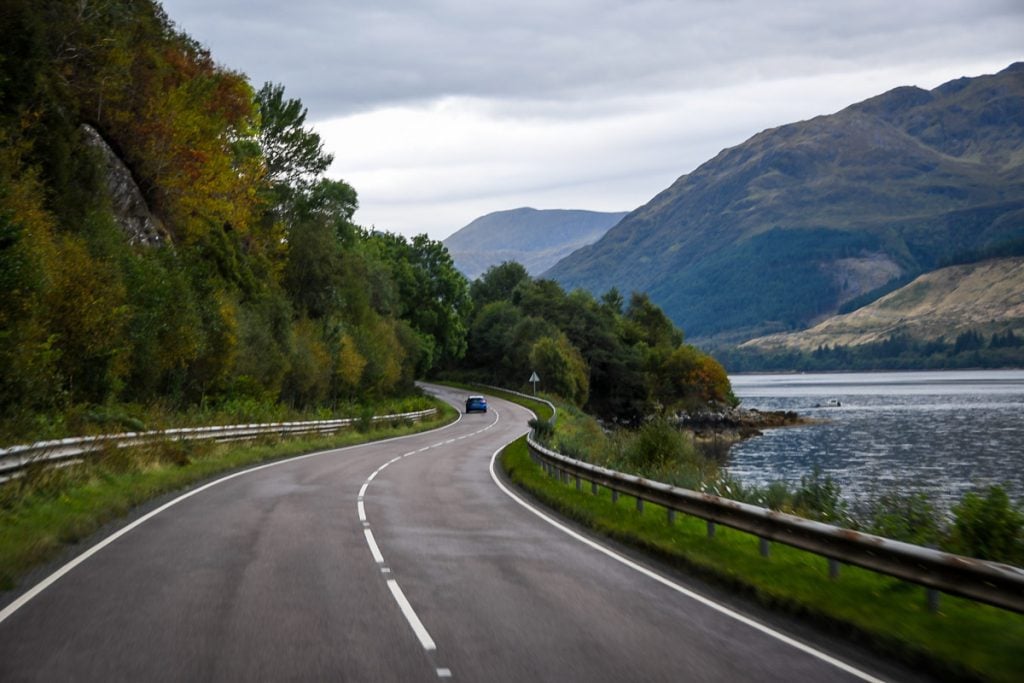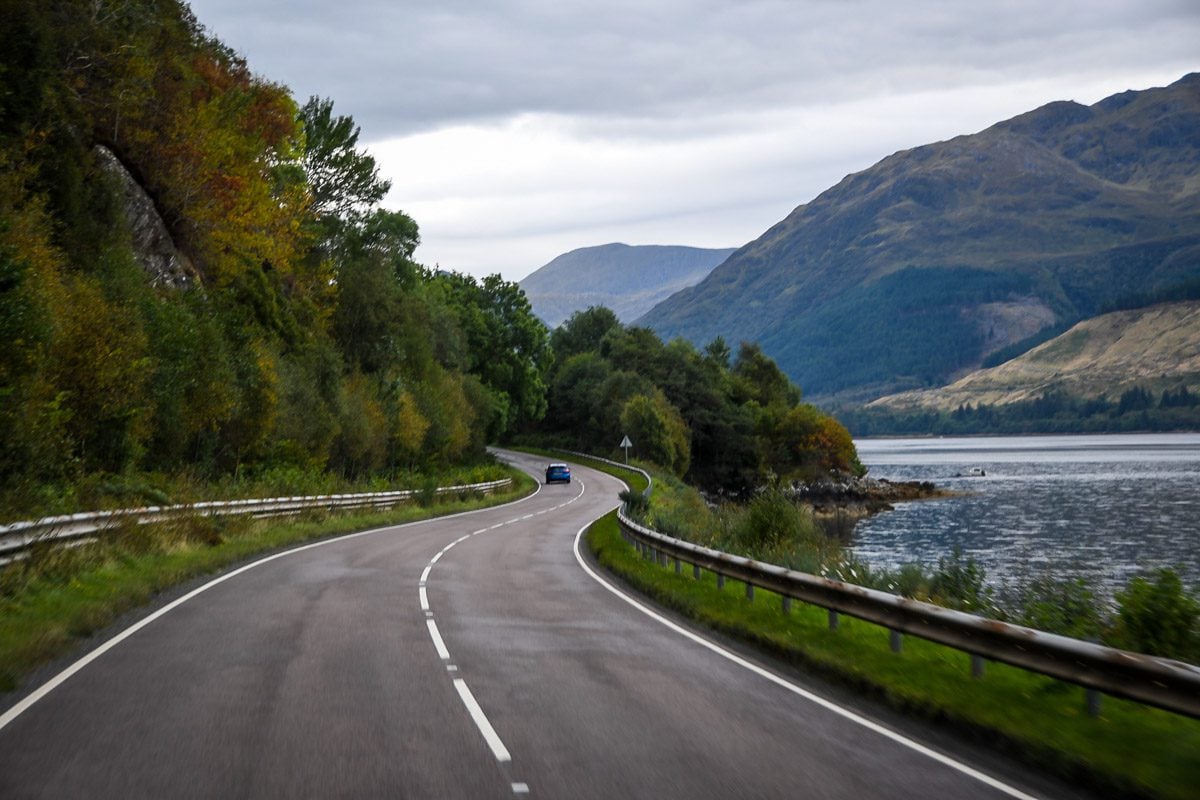 From the endlessly green Scottish highlands to the isles dotted with colorful fishing villages to the vast open beaches of the north coast, there is no better way to explore Scotland than by taking an epic road trip.
After initially being inspired to travel to this country after binge-watching Outlander, we were convinced that while we wanted to see iconic cities like Edinburgh and Inverness, we wanted to be able to really explore the Scottish countryside.
And the best way to do that is undoubtedly on a Scotland road trip.
We spent countless hours researching the best way to spend 2 weeks in Scotland.
And when I say countless hours, I mean it. I was scouring blogs and maps and videos in the wee hours of the night for months on end. Dreaming and plotting our own trip.
The good news is I am about to distill all I learned for you so you don't need to spend months planning like I did.
This is a one-stop-shop for the very best Scotland road trip, packed with insider tips and all the things you won't miss along the way.
Plus, we've created a few different itinerary options for you to choose from so you have a really good starting point when planning the perfect Scotland road trip!
This guide is super info-packed, so grab a pen and paper, and let's dive right in!
Article contents
---
Want to save time and energy on planning?
We traveled in Scotland for about 2 weeks and were able to visit most of the highlights of the country, including most of the top places to visit.
We took our 2-week travels and created the perfect Scotland road trip itinerary. We'll send you our complete 2-week itinerary, filled with tips and advice. Just click below to get your 2-week Scotland road trip itinerary today!


---
What time of year is best for a Scotland road trip?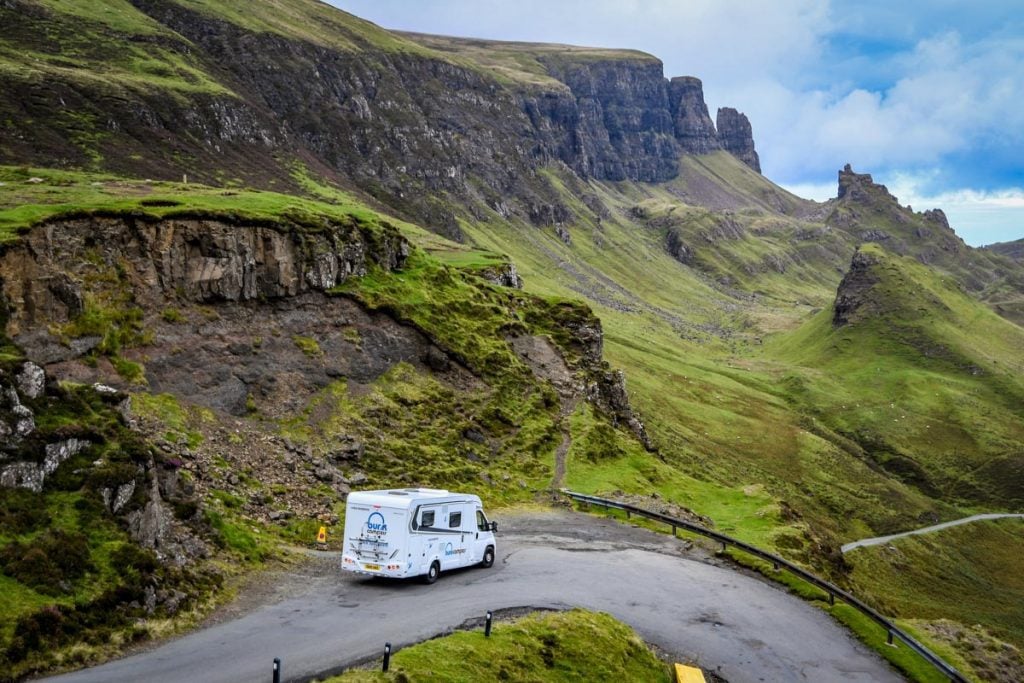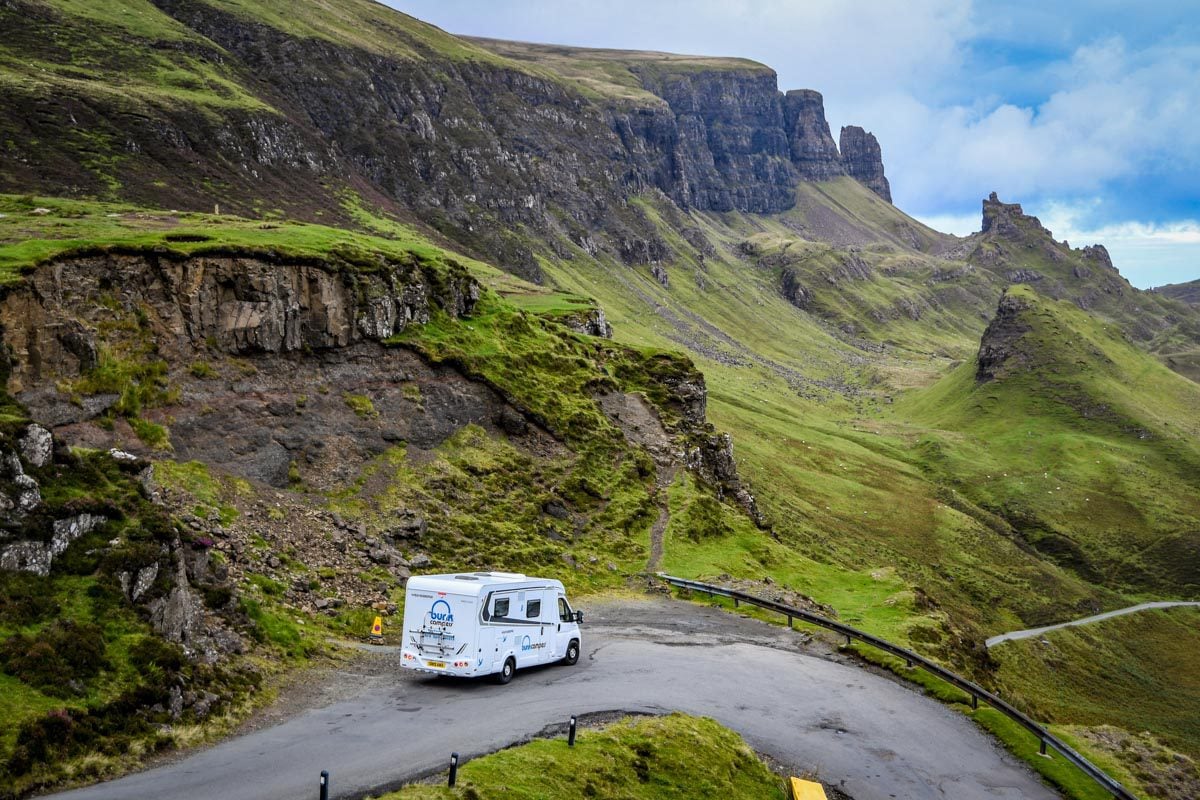 There really is no wrong time of year to plan a Scotland road trip.
Scotland has all four seasons and each has plenty to offer. In terms of weather, it never really gets super hot or super cold (with the exception of the Highlands), so most activities in Scotland are available year-round.
So the best time to plan your Scotland road trip largely depends on what you want to see and do.
We put together an in-depth guide to the best time to visit Scotland, including seasonal weather patterns and other factors to help you figure out exactly when to go.
Campervan vs. Car: Which will you choose for your Scotland road trip?
Let's discuss what mode of transportation you'll take on your Scotland road trip:
Car vs. Campervan
Truly, they each have pros and cons, and they are both excellent choices. Read some of the bullet points below to help determine which would be best for you.
Renting a Car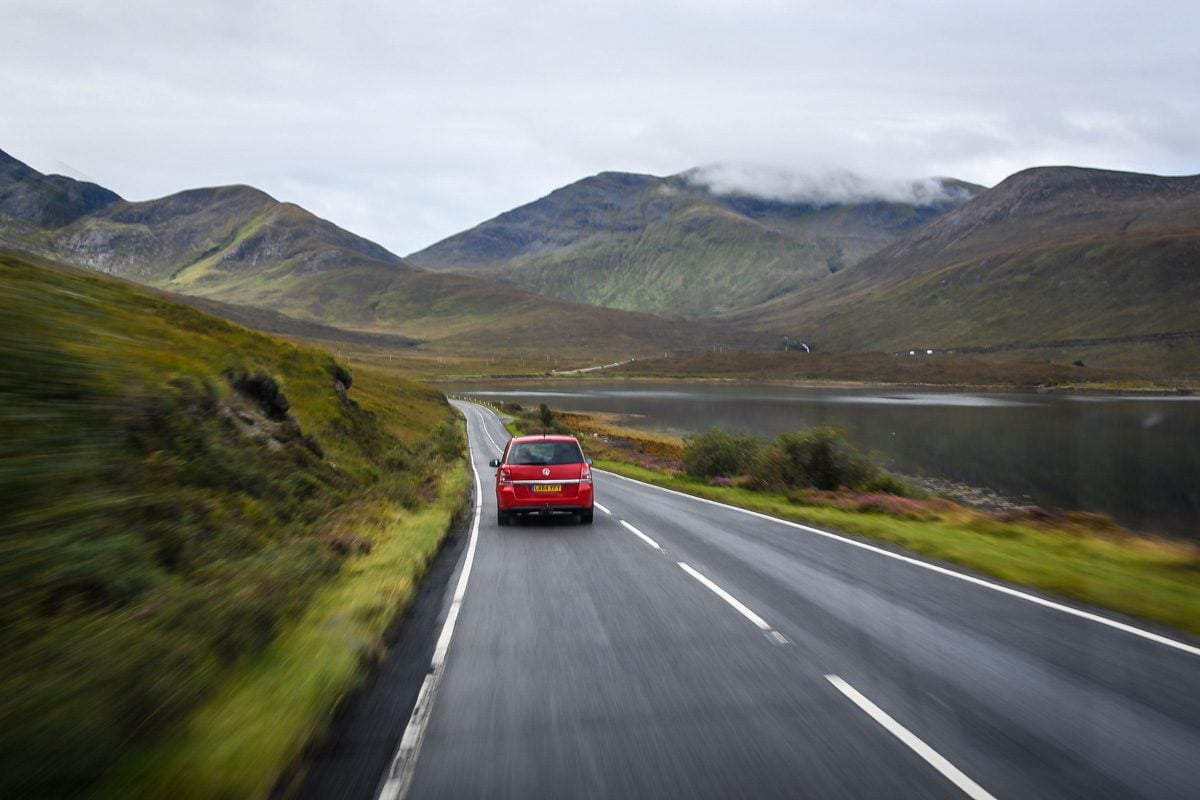 Better for someone who has an overall larger budget for their trip and isn't thrilled with the idea of camping.
Pros:
Easier to drive, which can be especially important if you're used to driving on the opposite side of the road or nervous about handling a big rig.
Easier to maneuver in cities. If you're more excited to spend time in the towns and cities as opposed to the countryside, a car will make getting around and parking much easier.
You will have less "daily chores" to take care of, as you won't need to worry about filling your water tank and emptying your toilet, etc.
You can stay in some really unique hotels and guesthouses along the way!
Cons:
Overall, once you've accounted for accommodation and meals, renting a car often makes the trip more expensive than renting a campervan.
You won't be as self-sufficient. You can certainly stock up on snacks, but cooking entire meals on the road will be pretty difficult in a car (unless you pack camping equipment). This means you'll always need to find places to eat along the way.
You will need to have a more stringent itinerary. Since you will need to stay in hotels or guesthouses, you will need to have your itinerary more mapped out and bookings made in advance. This isn't necessarily a bad thing, but it does make it hard to hang out in places longer or add spontaneous detours along the way.
Is renting a car more your style? We've got some tips for driving in Scotland that you won't want to miss.
Hiring a Campervan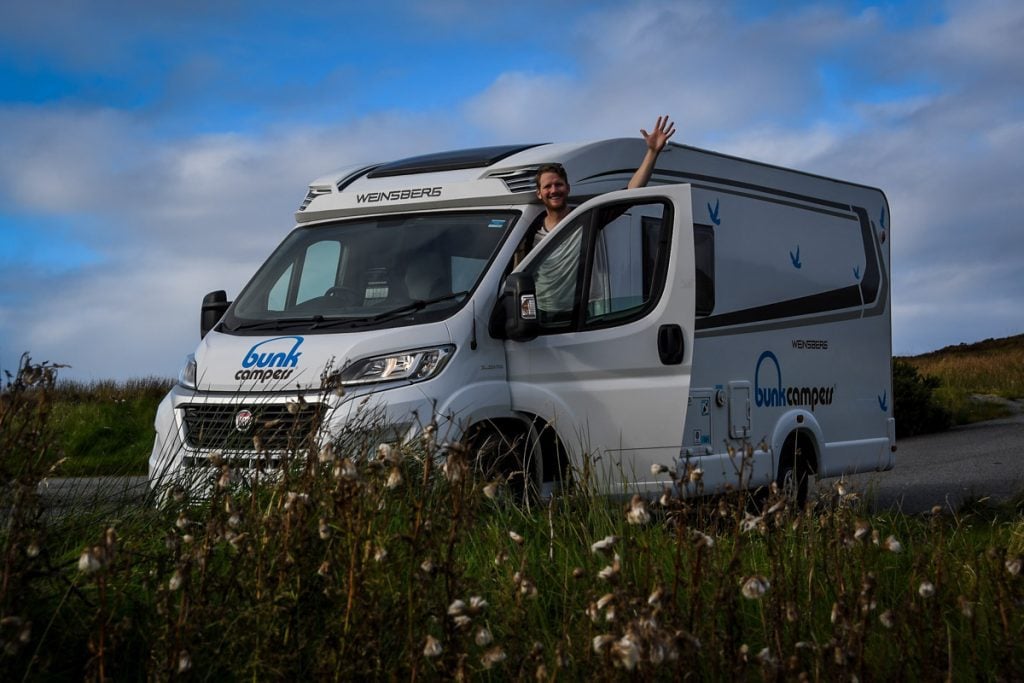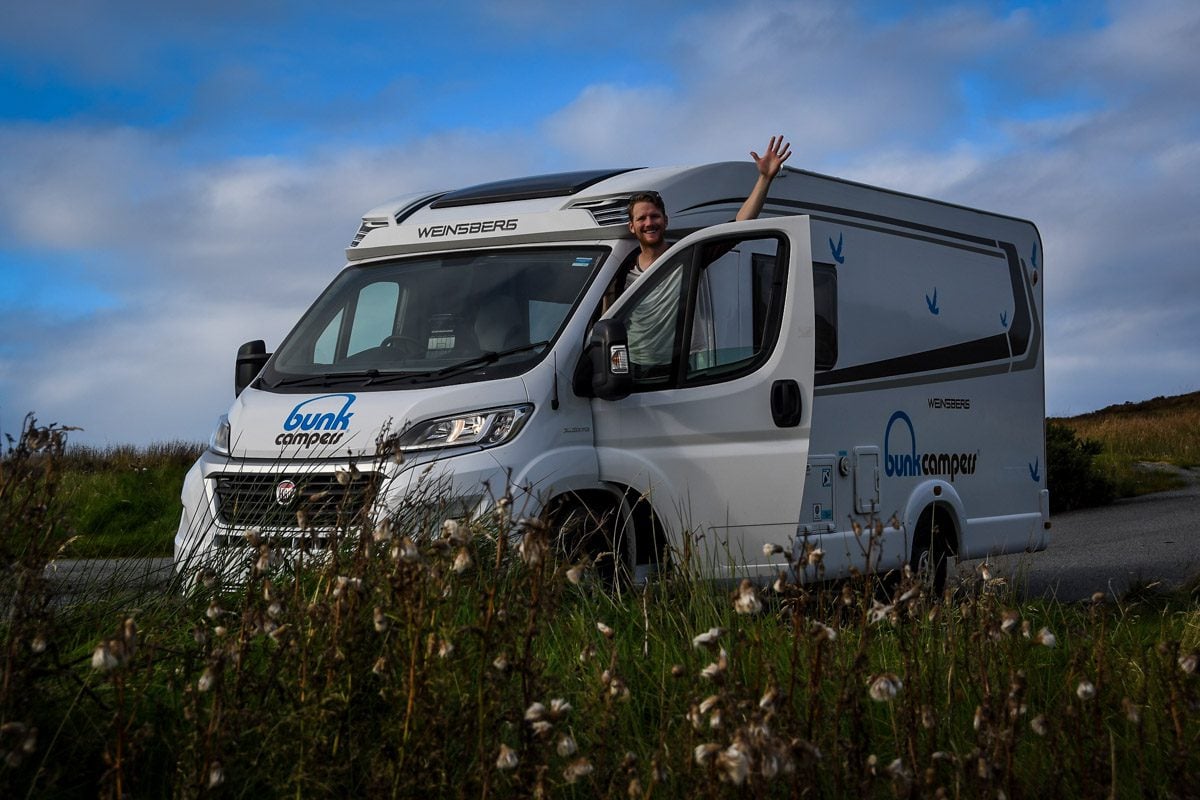 Better for someone who is looking for a unique adventure and willing to encounter some bumps along the way.
Pros:
We're biased (we LOVE campervan travel!), but we think taking a road trip in a campervan is the ultimate adventure of a lifetime!
You can be very self-sufficient: Want coffee? Make some! Hungry? Stop and cook a meal? Need a nap? Pull over and jump in bed!
You can have more flexibility in your route. While you should make campground reservations in the more popular areas in advance, having a camper allows you to be a little more spontaneous with your route. It is possible to wild camp (aka park in a spot that is not a designated campsite), so you don't have to have all your plans nailed down precisely.
Since you won't have to pay for hotels (though established campgrounds do cost money), and you can cook some of your meals, renting a campervan can save you money.
Cons:
Driving a large vehicle can be challenging, especially on Scotland's notoriously narrow roads. If you're used to driving on the opposite side, this can be another layer to consider.
Driving and parking in cities is stressful when you're operating a big vehicle.
You will need to do "chores", like filling your water tanks, emptying your toilet, etc.
Is a campervan more appealing to you? We've got a whole guide to hiring a campervan in Scotland with all the info you need to know.
Tips for driving in Scotland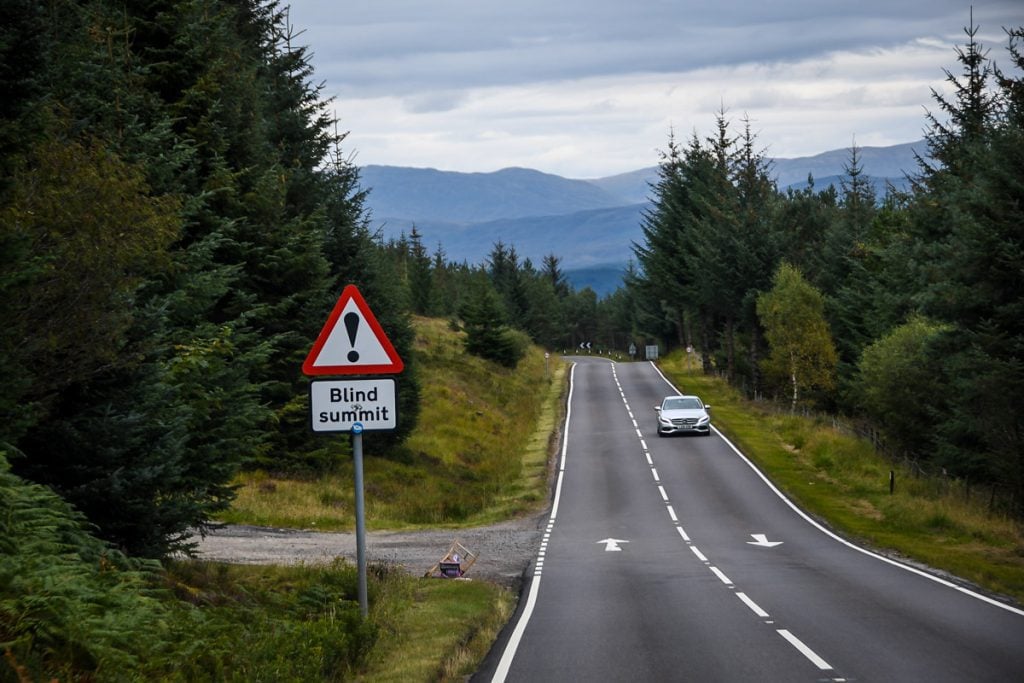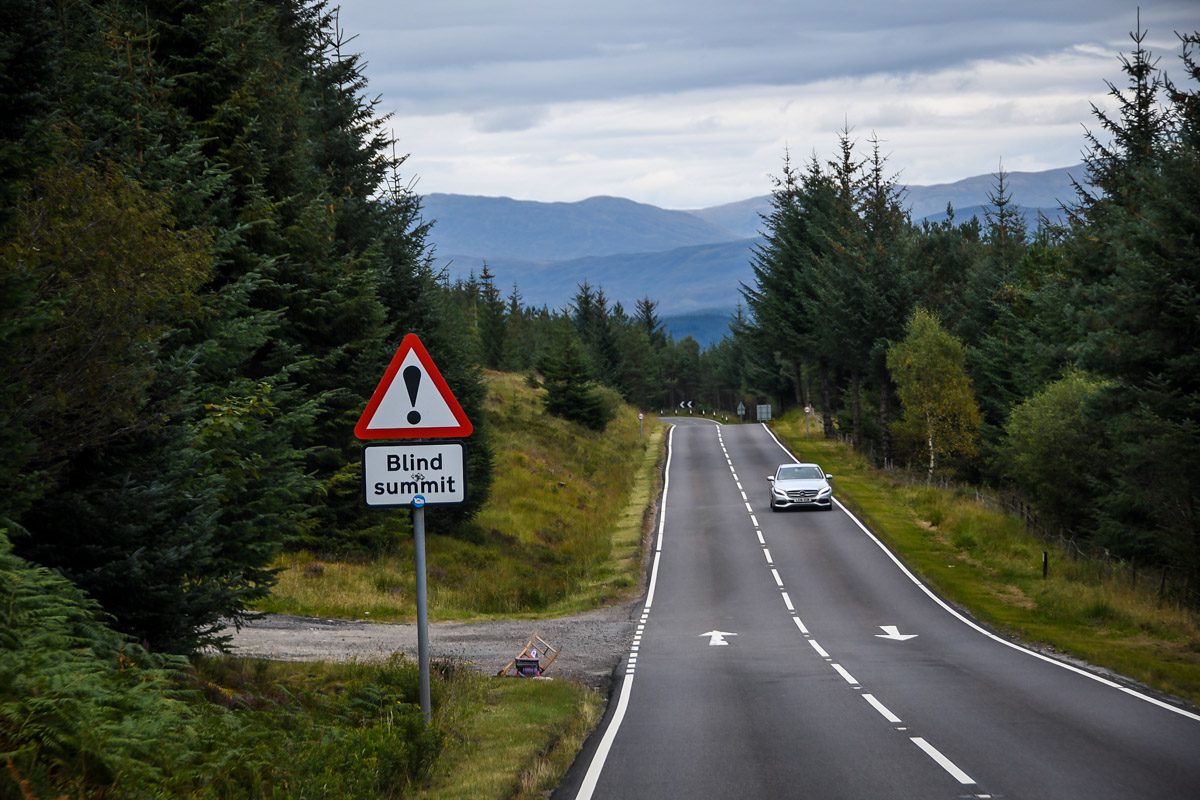 In Scotland they drive on the left side. This is good to remember if you've never had experience driving on the opposite side of the road (especially if you are planning to rent a manual vehicle).
The roads are very narrow in places. Like very narrow. Keep this in mind if you're driving a campervan or larger vehicle.
There are many roundabouts all over the country.
Parking can be difficult in big cities. We'd advise making sure your accommodation provides parking in the bigger cities (like Edinburgh or Glasgow), or search "public parking" in Google Maps to be led to the nearest lot.
We put together an entire guide to driving in Scotland packed with more driving advice and tips for renting a car. Plus, one sneaky thing to look out for when you're parking so you don't get a ticket! Be sure to check it out while planning your Scotland road trip.
Getting Internet on your Scotland road trip
So how does one get cell service or Internet on a Scotland road trip? Good question!
We recommend getting an eSIM. We got ours by using the Airalo app and were really happy with the service we had on our entire trip. Plus, it's super easy and cheap — you basically download the app and pay for the data you need.
Our experience: We each got 10G for our 2-week trip. We had to purchase an additional 5GB on day 10, which was pretty simple. Most people should be fine with the 10G package – as we were using our phones for work purposes during the trip, thus using more data than an average person.
Where to stay on your Scotland road trip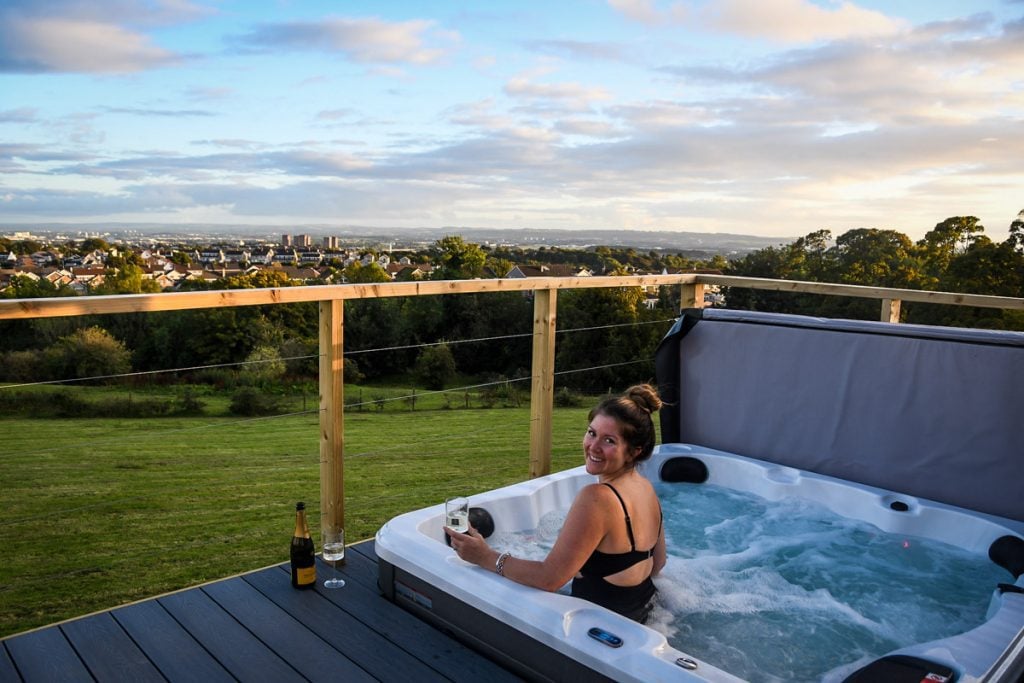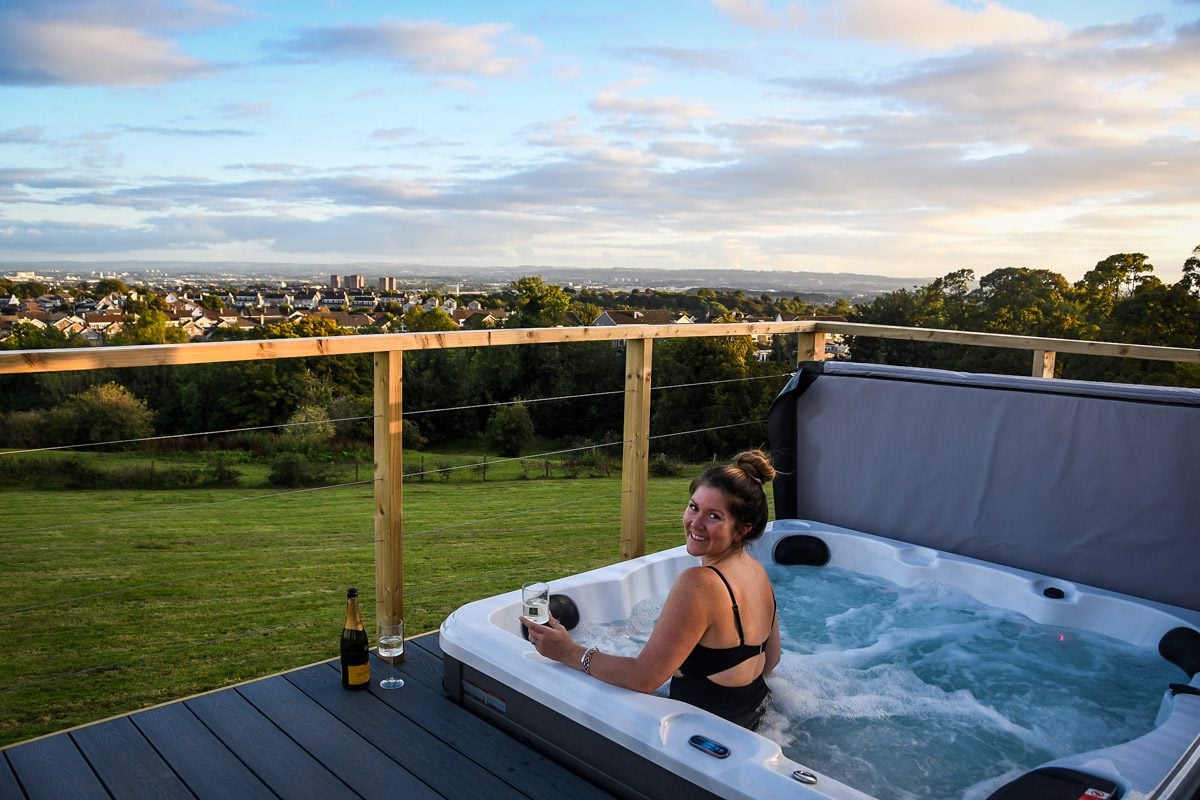 Where you stay along the way is going to depend a lot on whether you've chosen to drive a car or a campervan.
Tips for finding guesthouses and hotels in Scotland
If you're renting a car, you will likely want to stay in guesthouses or hotels along the way. There are some really beautiful and unique places to stay all around Scotland, so we'd recommend coming up with your general route, then using Airbnb or Booking to find accommodation.
Traveling on a budget?
If you have a budget in mind, use the filter function on the booking platforms to show you only properties that fit within your range. This will save you time and keep you within your budget.
Looking for unique places to stay?
There are some pretty spectacular options for accommodation, so if you're looking for places that are a bit out of the ordinary, here are 3 tips:
We love browsing the "Unique Stays" filter in Airbnb to find places that are really special.
Book a room at an inn. There are traditional inns all over Scotland, and most of them have a pub as well as rooms. This can be a fun and cozy place to stay along your road trip.
Try glamping! Even if you're not into camping, we think you'll still be a fan of glamping! For whatever reason, there are a ton of places for glamping around Scotland. Glamping pods can range from pretty rustic to extremely bougie, so you'll be sure to find one that fits your style!
Insider Tip: If you want to pamper yourself, book a glamping pod with a hot tub!
Tips for finding Campgrounds in Scotland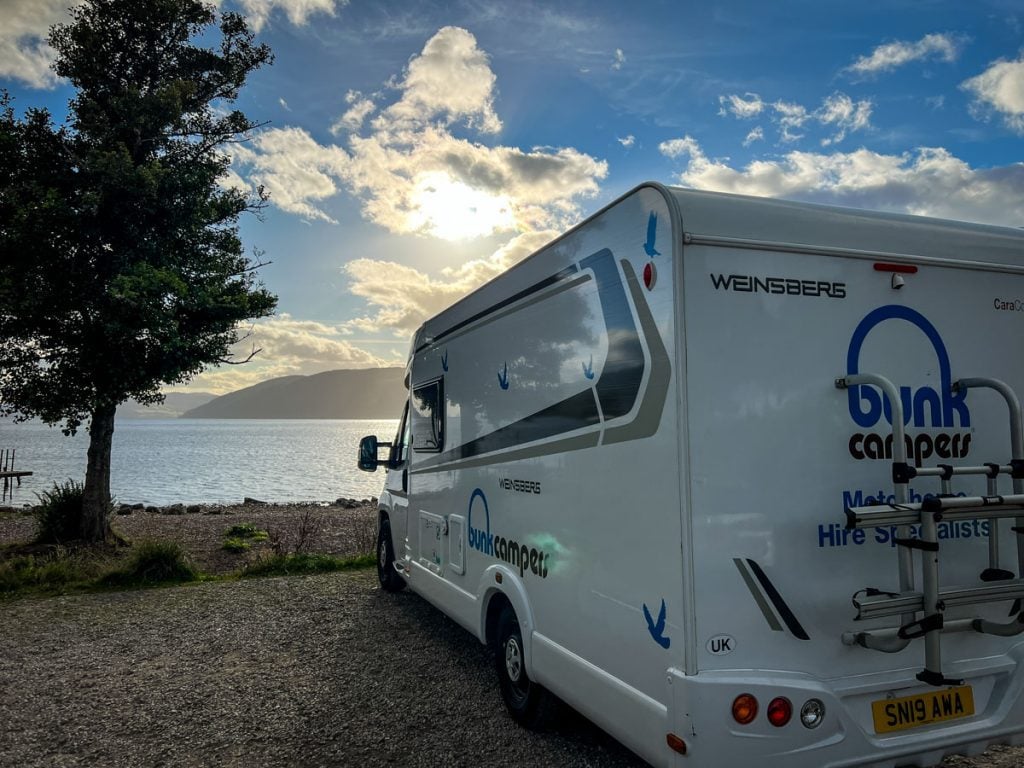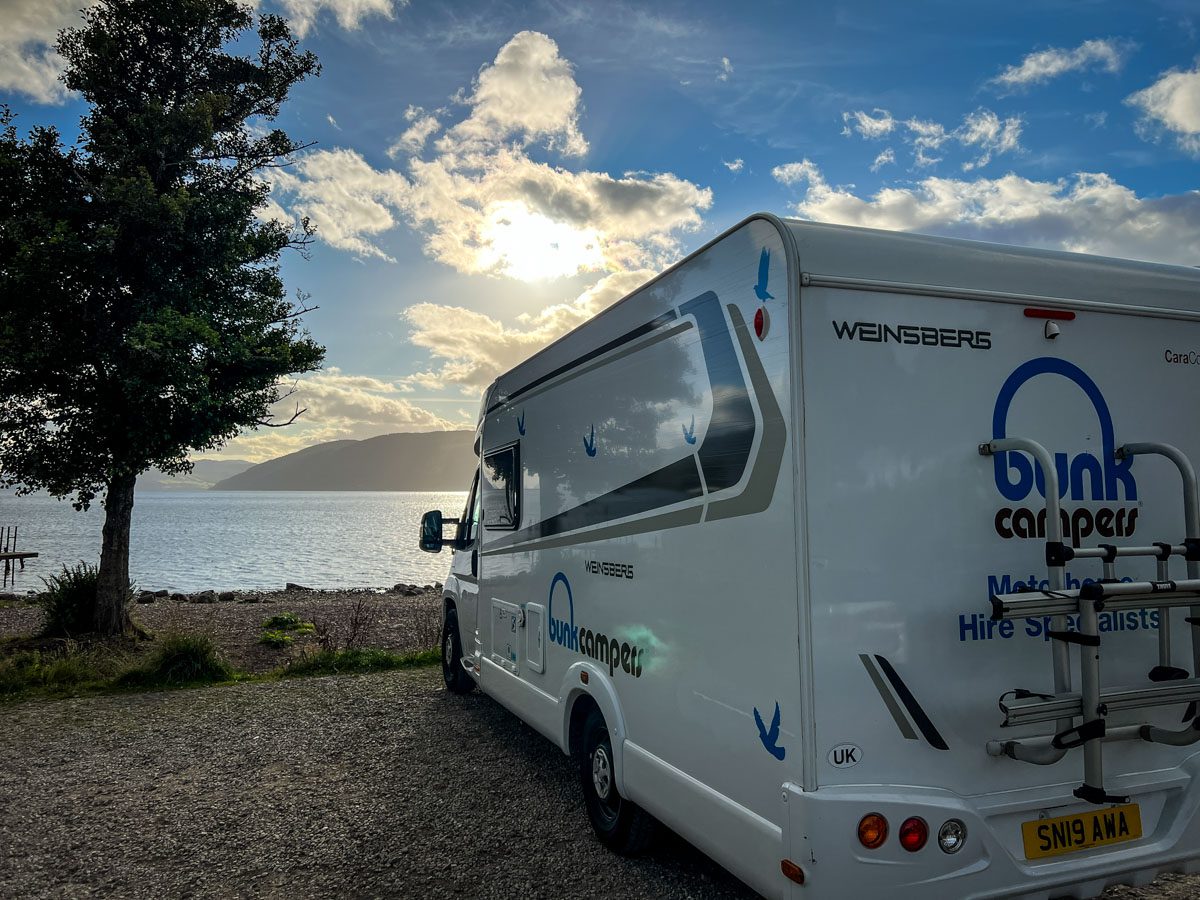 If you're traveling in a campervan or motorhome (or you've got a car and a tent!), you'll be pleased to find out that there are tons of campgrounds all around Scotland.
We've created a Scotland camping guide so you have all the info you need right at your fingertips, including what to expect at caravan parks and a map of some of the best campsites in the country!
Wild Camping
If you're traveling on a tight budget, and don't want to pay for campgrounds every night, it's worth mentioning that it is possible to wild camp in Scotland (aka park somewhere that is not an established campground).
But you can't just park anywhere! We have a resource on wild camping in Scotland so you know the ins and outs and are sure not to inadvertently break the law (yikes!) on your road trip!
What to pack for a Scotland road trip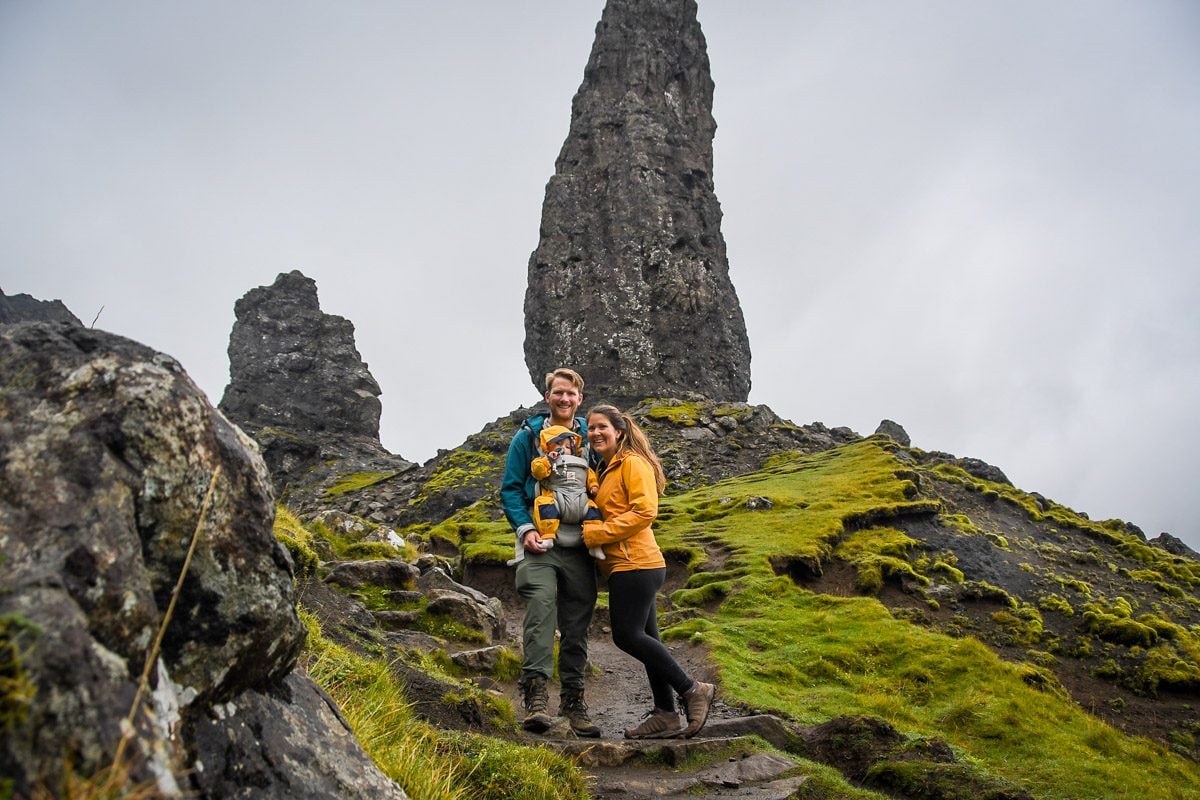 We have a whole checklist of things to pack for your trip to Scotland, but here are some general items you don't want to forget on your road trip.
Driver's license
Dashboard mount: Safety first! You're not allowed to use your phone while driving in many places (plus, it's just unsafe!), so attach your Google Maps to your dash.
Sunglasses: Umm, yeah, this is a must. No explanation needed.
Travel Lumbar Pillow: If you have a bad back (like Ben!), this would be clutch! He had some back issues during our trip, and was wishing we had packed his lumbar pillow. It's way too bulky to fly with though, so I found this pillow for next time!
Water bottle: Must have on a road trip. Our favorite is Hydro Flasks because they keep your water so cold!
Aeropress: If you are a coffee drinker, definitely pack this!
Travel Mug: Bring your own coffee cup in to cafes and save on waste (and sometimes a few cents!)
Universal Outlet Adaptor: A basic travel item that everyone should have so you can plug in your device anywhere.
Car Outlet Inverter: While you're driving, charge your larger devices like laptops and cameras with a portable inverter that plugs into your car.
Portable jumper cables (optional): This tiny little device has a power pack that effectively jumps your vehicle (without another car).
Travel insurance: We NEVER travel without it, but especially for a road trip, it's a good thing to plan for.
Be sure to download our complete packing list for Scotland! It's packed with good suggestions and insider tips to help plan your Scotland trip. And it's completely FREE, so why not!?
Basic Scotland road trip itineraries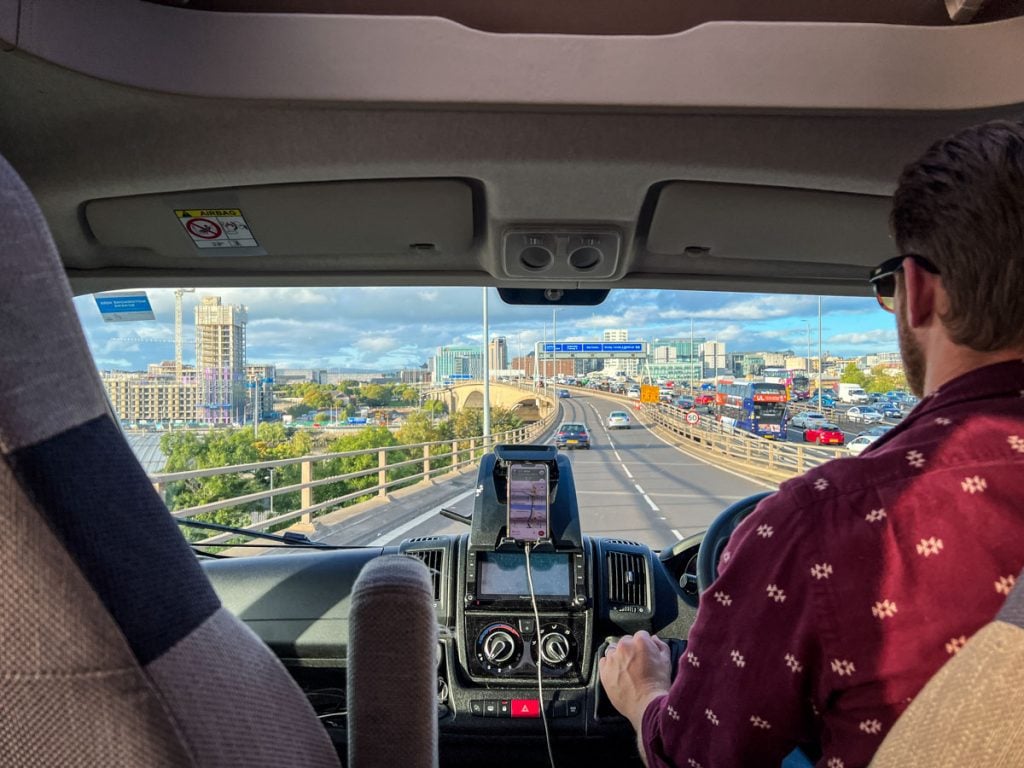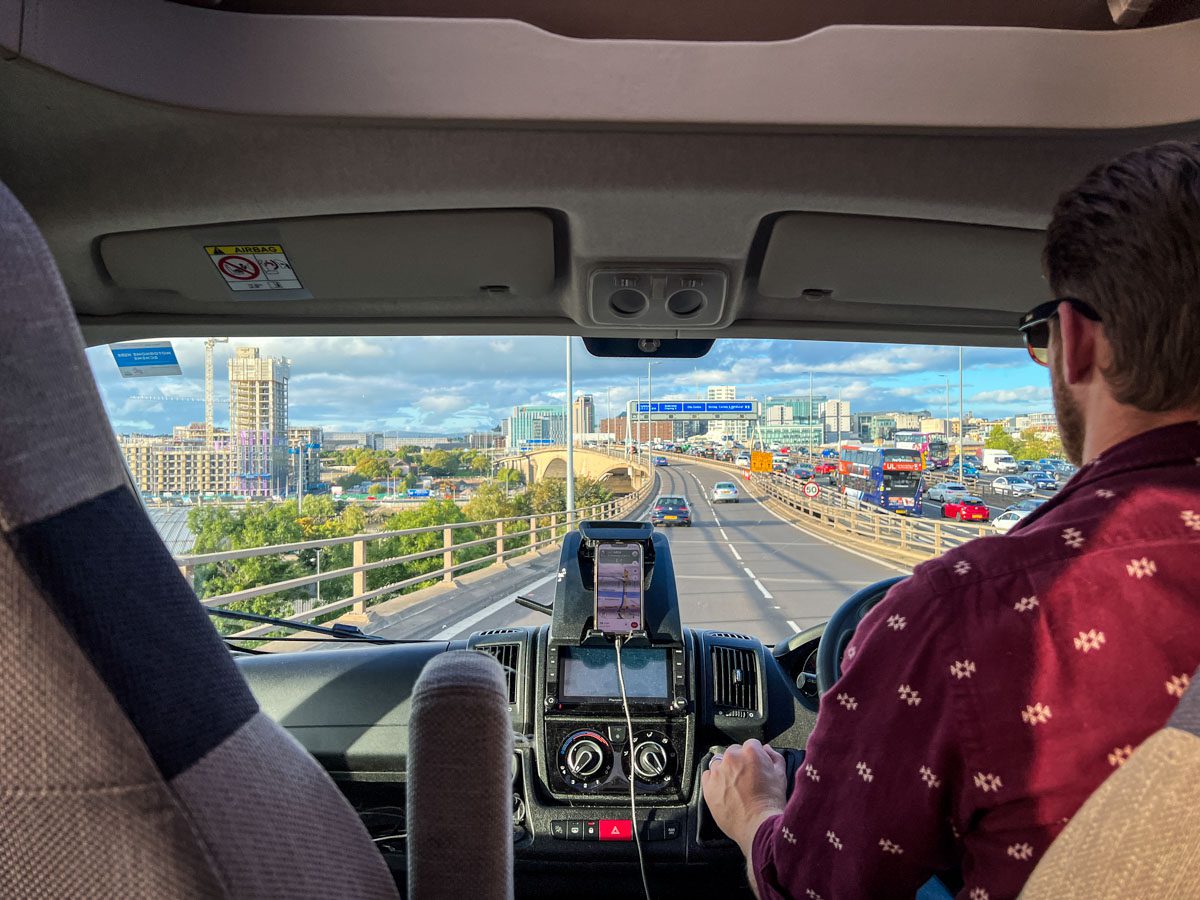 If you want a general route to help you map out your time in Scotland, we've gotcha covered. Below, we have routes that we think are the best use of your time in Scotland (without feeling too rushed!).
1 Week Scotland Road Trip
Day 1-2: Edinburgh: culture and history
Day 3: Trossachs National Park: nature and hiking
Day 4: Glencoe: nature and hiking (our favorite part of Scotland!)
Day 5-6: Isle of Skye: cute towns and natural wonders
Day 7: Glasgow: culture, food and local vibes
2 Week Scotland Road Trip
Day 1-3: Edinburgh: culture and history
Day 4: Cairngorms: nature and reindeer trekking
Day 5-6: Inverness: highland adventures
Day 7: Ullapool, Isle of Skye: seaside village, arrive in Skye
Day 8: Isle of Skye: cute towns and natural wonders
Day 9: Isle of Skye: cute towns and natural wonders
Day 10: Fort William, Glenfinnan Viaduct, Glencoe: Jacobite Express, arrive in Glencoe
Day 11: Glencoe: nature and hiking (our favorite part of Scotland!)
Day 12: Trossachs National Park: nature and hiking
Day 13-14: Glasgow: culture, food and local vibes
Have more time?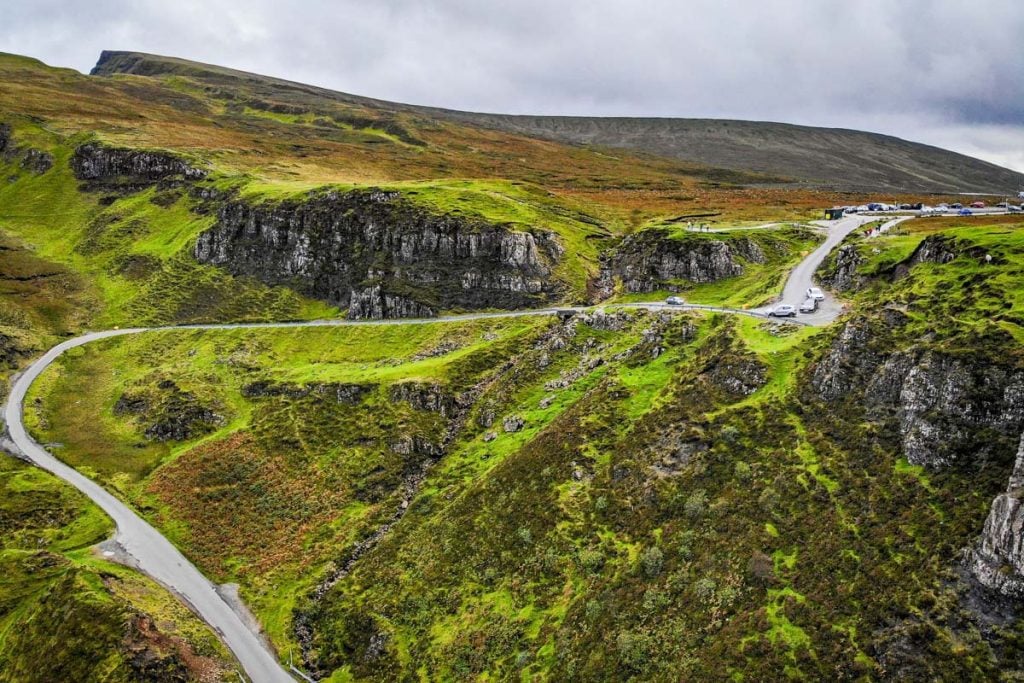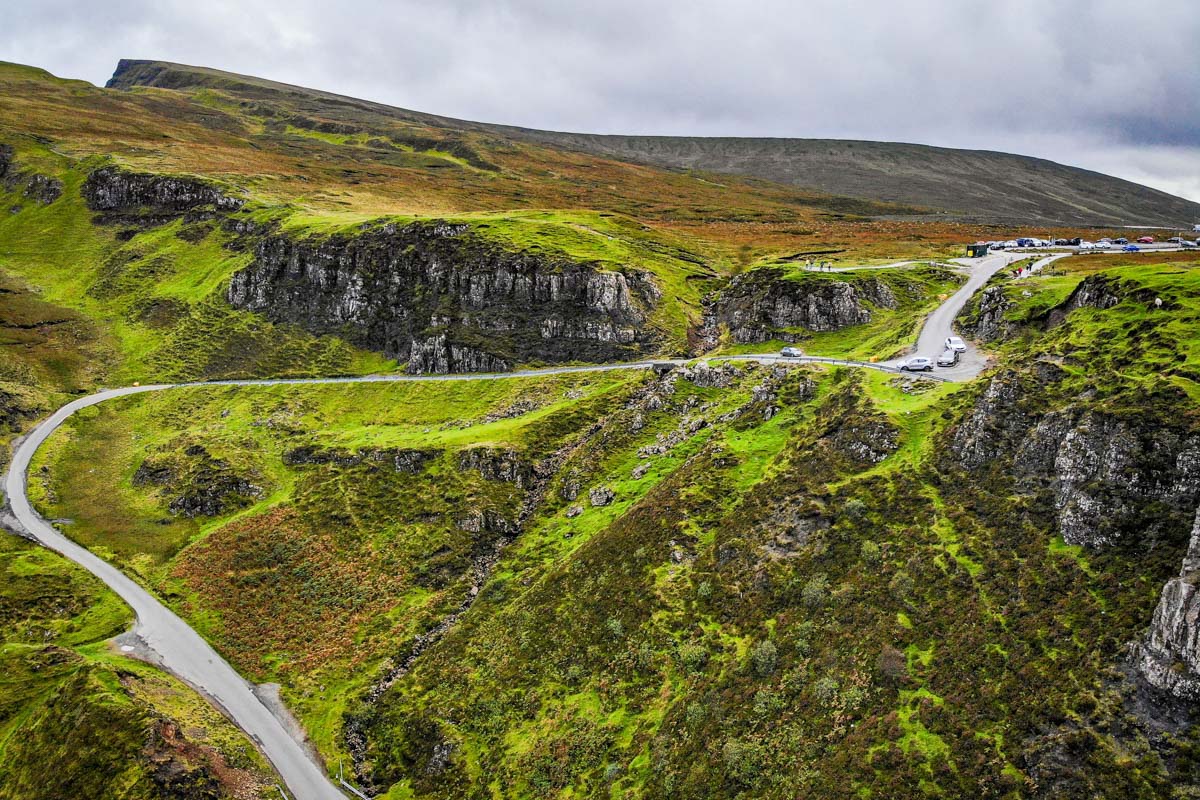 Oh how we wished we had at least another week in Scotland! (But I suppose even with 3 weeks we would have found more things we wanted to do and see!)
On our next visit to Scotland (yes, there will be a return trip!), these are the places we are most excited about visiting:
St. Andrews: the birthplace of golf
Aberdeen: many castles are located near this town
Oban: seaside town in the West Highlands
Isle of Mull: culture, whisky and wildlife
North Coast 500: a spectacular driving route in the very north of Scotland
Our advice: It can be tempting to add all these places onto your already packed itinerary, but we'd caution you away from making your trip too full.
Want all your Scotland road trip planning done for you?


Raise your hand if you don't want to spend hours of time researching and you just want all the info right at your fingertips!
If your hand is up, keep reading…
If you like the research, all the power to you! Feel free to use our itinerary outlines as a starting point as well as our city guides for ideas of things to do (we've got a bunch of them!):
But if you want to save some hours of your life, we've already put in more than enough for you and us combined. Trust us.
And we're happy to share everything we learned — from digging through reviews, Youtube and all sorts of Internet rabbit holes, as well as actually being in Scotland and taking our very own dream road trip!
We've curated what we think is the perfect Scotland road trip, and we want you to be able to copy our route!
In this 2-week itinerary, you'll find:
Can't miss sights and experiences
Where to eat

suggestions for what to order

Where to stay (whether you're camping or doing hotels)

the best campsites to stay on the route
unique guesthouses along the way

Insider Tips
Suggestions for extending this trip
We've spent hours of research putting this all together, just for you!
In full transparency, this is a paid itinerary since it has taken an incredible amount of time for us to create. 
However, we keep all of our paid itineraries affordable – just $17 for an entire 2-week itinerary. We think this is an incredible value considering almost all your planning will be done for you!
Other resources for planning your perfect Scotland road trip
---
Are you planning a trip to Scotland?
We have lots of resources on travel in Scotland and destinations throughout the country. Check out our Scotland Travel Homepage for everything you need to know, or read some of our favorite articles below.
Save this article on Pinterest for later!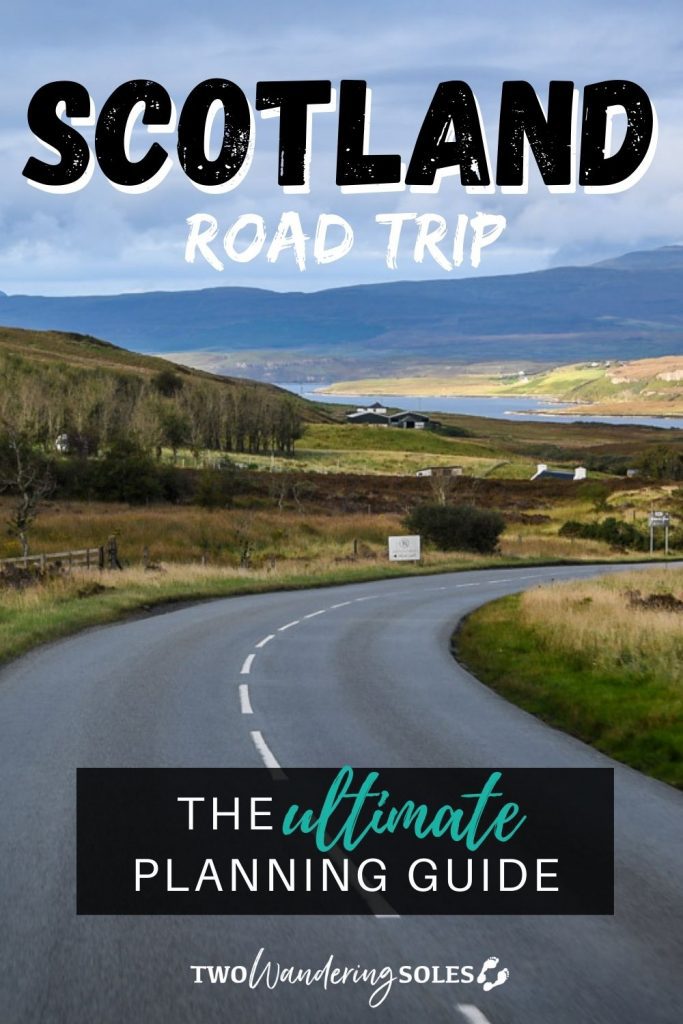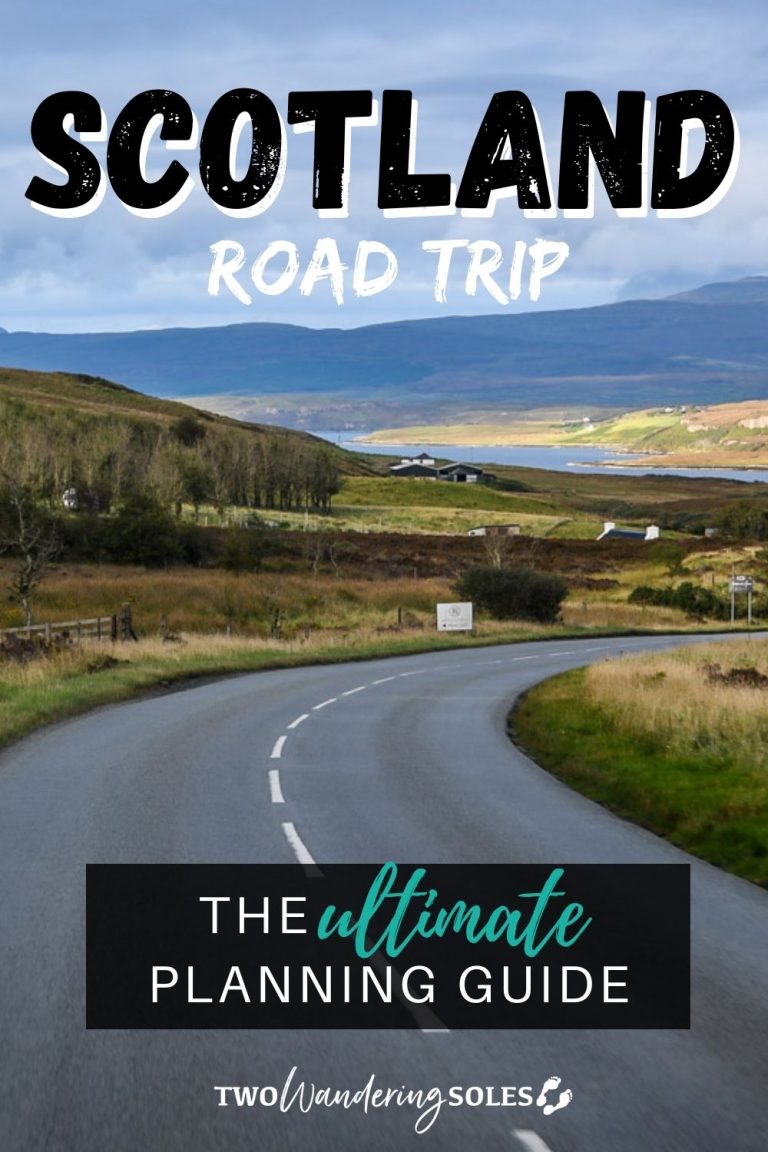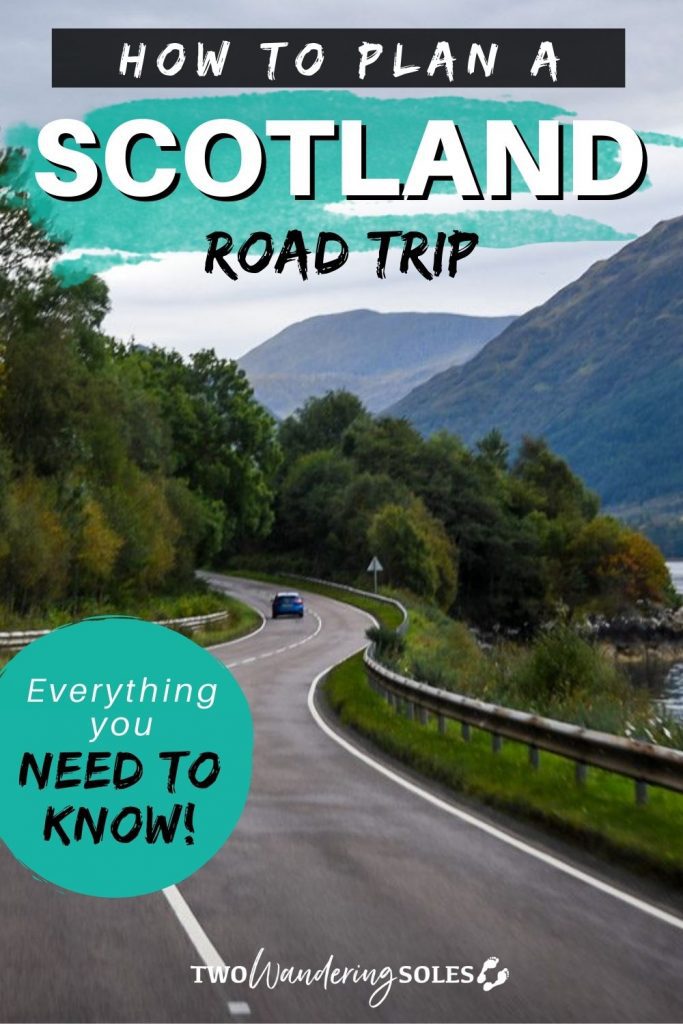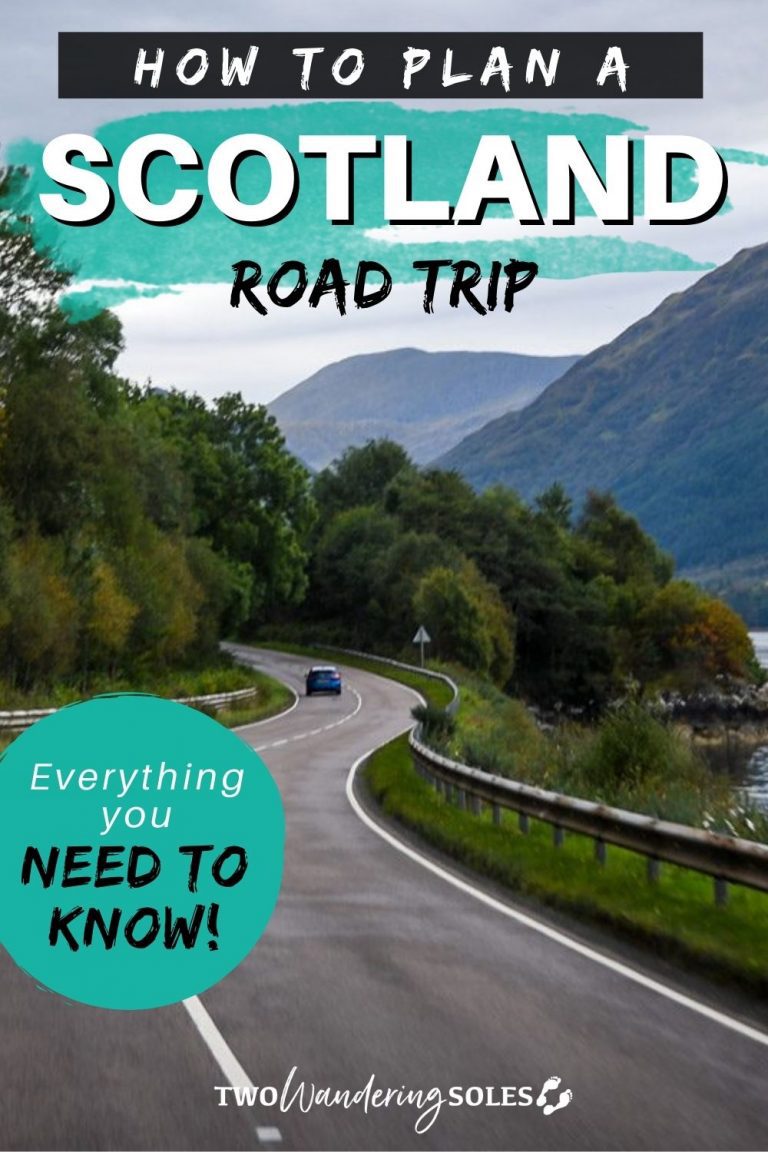 We want to hear from you!
Do you have any more questions about planning your Scotland road trip? Leave your comment below and we'll do our best to get you the answers you're looking for!