Easily the most visited of Utah's Mighty Five, Zion is known for its red rock canyons flanking the scenic Virgin River. In this ultimate guide you'll find everything from where to stay to the best things to do in Zion National Park.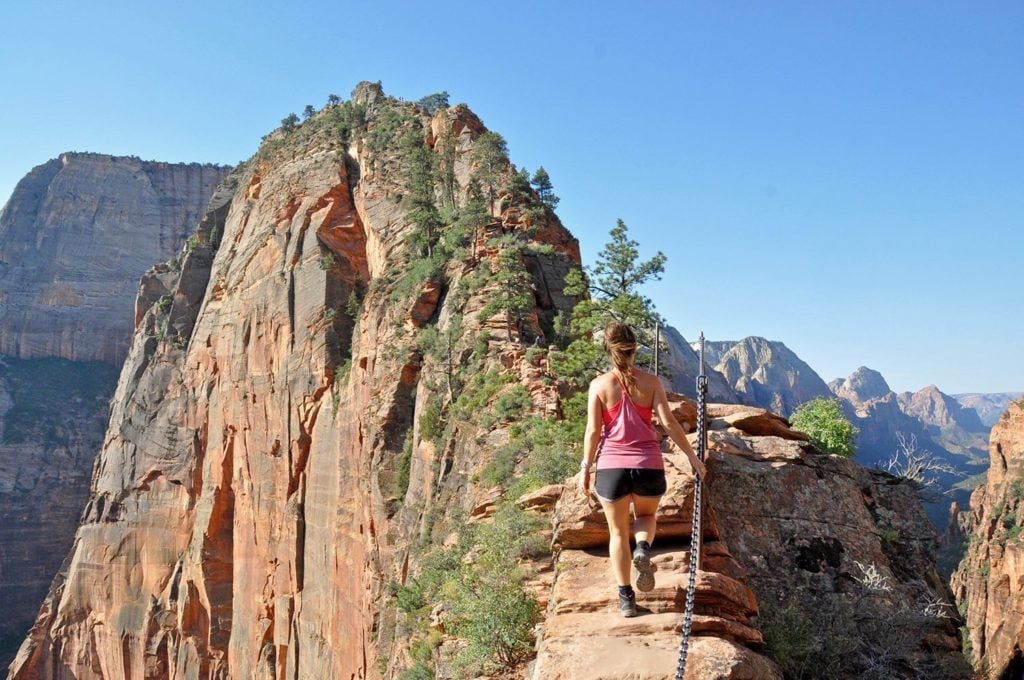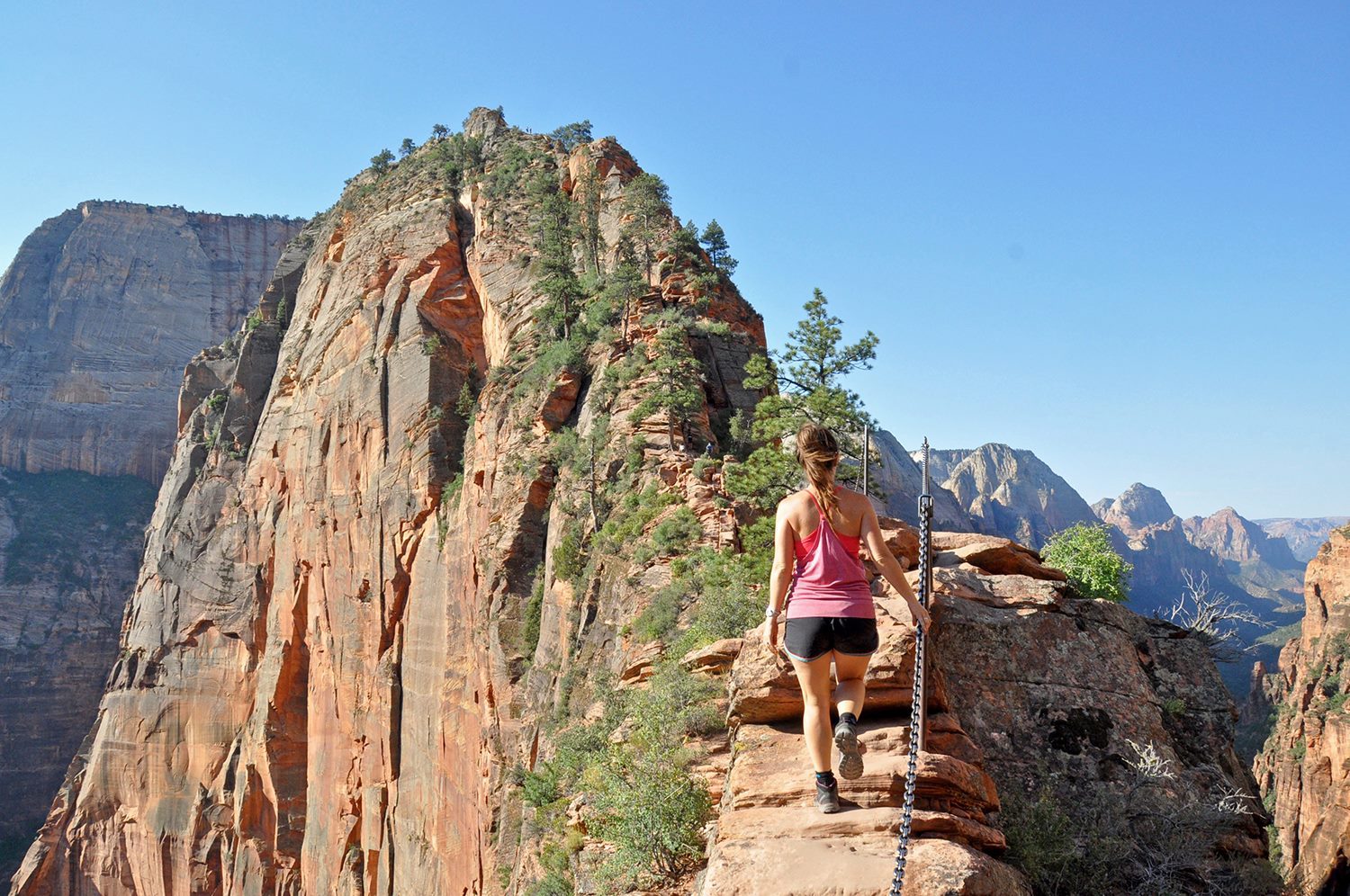 Zion is the most visited of Utah's "Mighty Five" National Parks, and one of the most popular parks in the country. There's plenty of good reasons for its popularity.
Pine trees dot the landscape in clusters and towering red rock cliffs rise on either side of the canyon. Carving through the center is the clear Virgin River. It's breathtaking.
Whether you're in search of a challenging hike with epic views or you'd like a more relaxed visit seeking out waterfalls and splashing in the river (or you want both!), Zion National Park will leave you starry-eyed.
But you're not the only one who wants to enjoy the famed beauty of this National Park. Be prepared to experience its grandeur amongst crowds, no matter what day of the week you arrive.
In the article below, we have outlined everything you need to know to plan the perfect trip, including lots of exciting things to do in Zion National Park. Plus, we'll share our secrets for how to avoid the crowds and all the items you should definitely put on your packing list.
Article contents
---
Zion National Park at a glance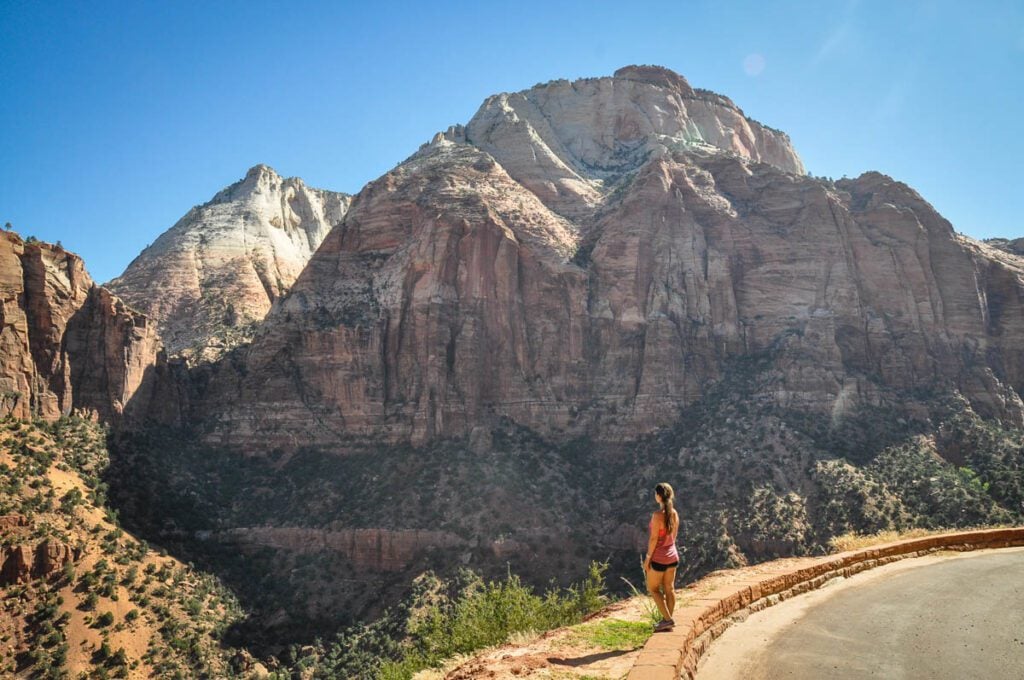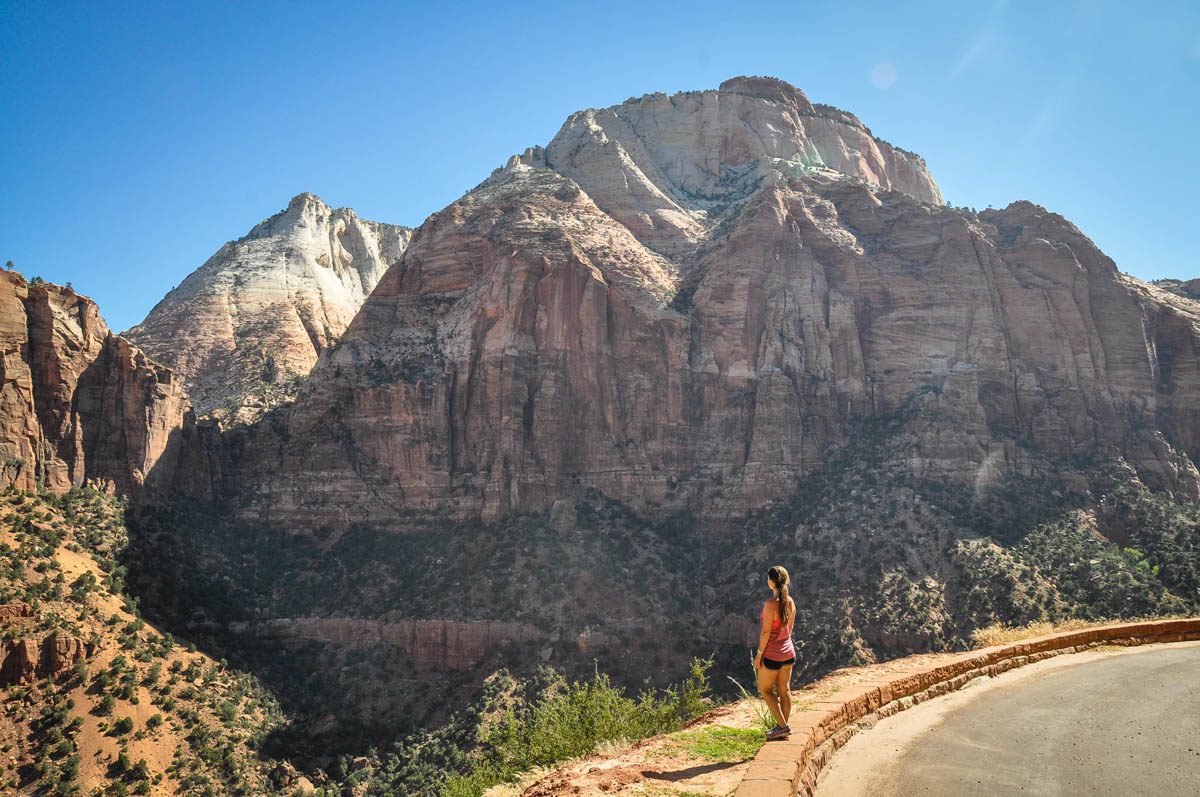 Open: Year-round (shuttle operations vary in the off season)
Entrance Fee: $35/vehicle, $30/motorcycle, $20/hiking & biking, or free with your America the Beautiful Pass
Wildlife: Mule deer, squirrels, bighorn sheep, mountain lions, coyotes, and jackrabbits.
Established: 1909
Ancestral Lands: Zion, originally named Mukuntuweap, was home to dozens of tribes and subtribes for centuries. Tribes like the Southern Paiutes, Ancestral Puebloans, and the Parowan Fremont used the area for hunting and gathering.
Area: 146,597 acres
How to get to Zion National Park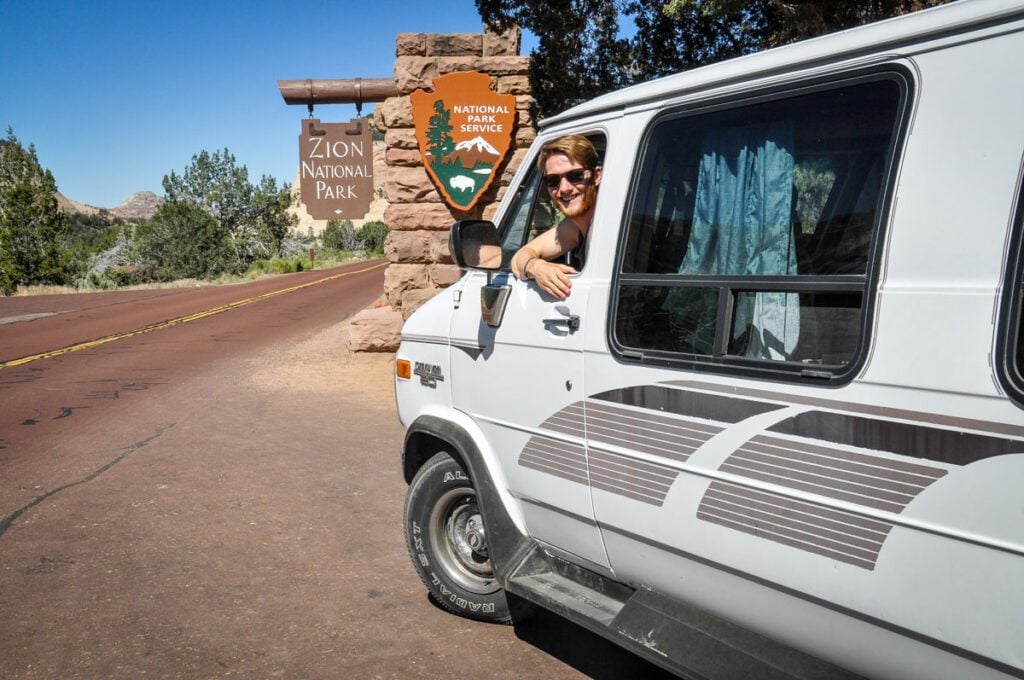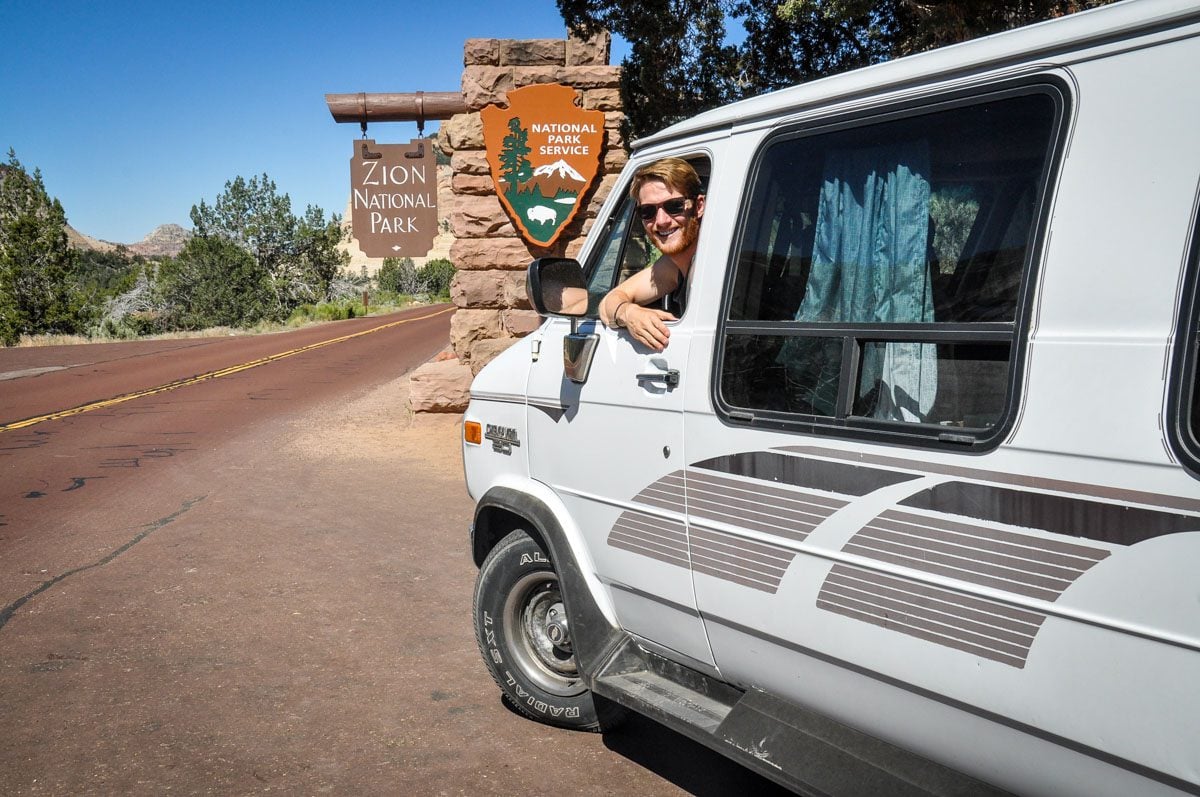 Situated in southwestern Utah, there are many different ways to approach Zion, depending on which direction you're coming from. While some craft an ultimate road trip from their hometowns, some opt to fly into either of the closest airports to Zion and drive from there.
The closest airports to Zion National Park are Harry Reid International Airport in Las Vegas (2.5 hours away), making Zion one of the best day trips from Las Vegas.
The Salt Lake City International Airport is the second closest at 4.4 hours away. If you're only visiting Zion, it's best to fly into Vegas, but if you're road tripping all of Utah's Mighty 5, you can go with either one.
Psst! Start your trip off by first exploring all the best things to do in Las Vegas (besides gambling!).
Driving to Zion National Park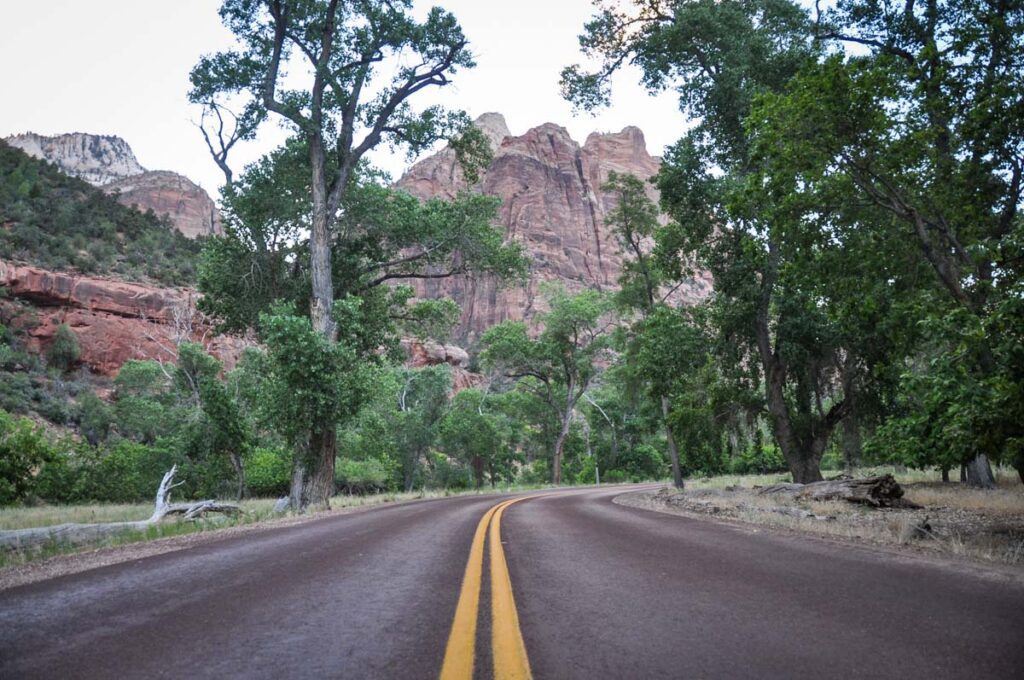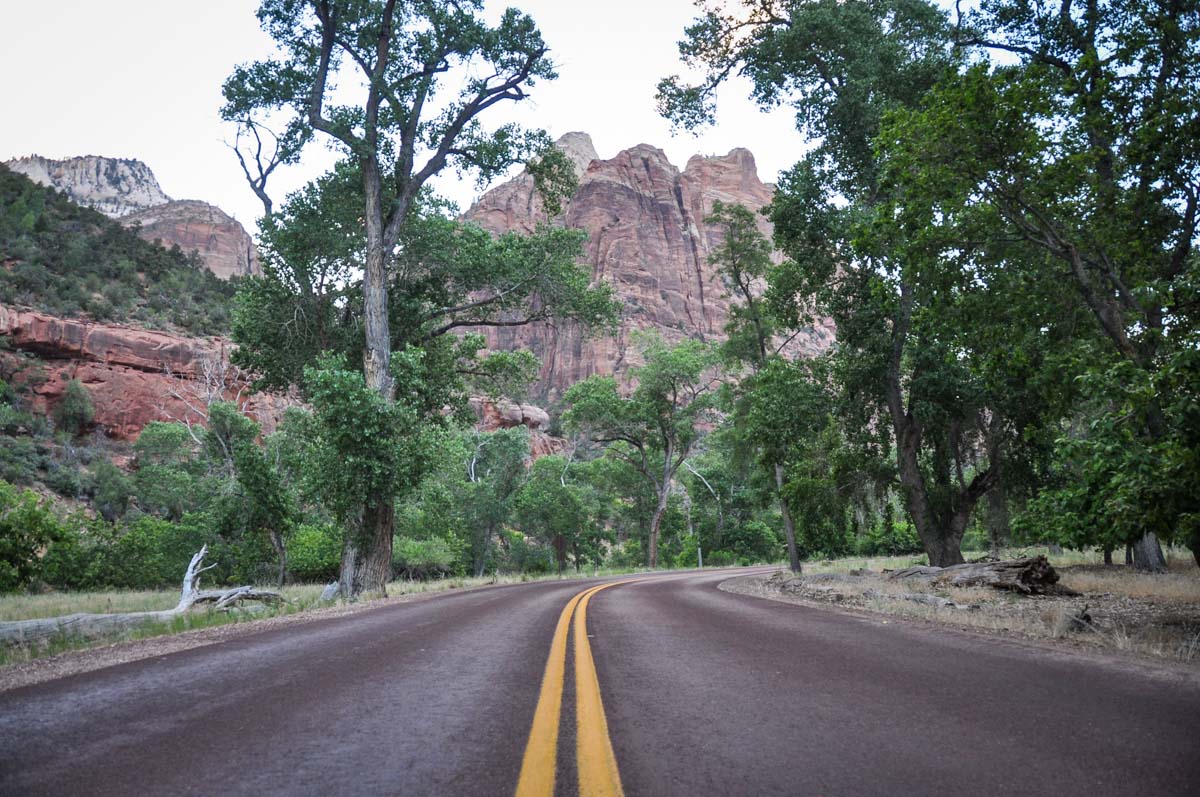 When it comes to driving to Zion National Park, there are a few different ways you can access the park:
Highway 9 East: If you're on a Utah Parks road trip, you'll likely be entering Zion through the East entrance. This route is conveniently part of the Zion Mount-Carmel Highway, one of the best things to do in Zion National Park, so you can check this off on your way to the park. You'll follow Highway 89 south, then get onto Highway 9 in Mt. Carmel Junction.
Highway 9 West: If you're coming directly from Las Vegas or Salt Lake City, you'll get to Zion via the South entrance. From Salt Lake City, you'll follow I-15 south to Toquerville, then link onto Highway 9 via N Toquerville Blvd that will take you all the way to the park. From Vegas, you'll follow I-15 north to St. George, then link onto Highway 9 to Zion.
Psst! Be sure to check out this ultimate Zion to Bryce Canyon National Park itinerary if you're headed there next! Or, you can easily add Zion to a 1-week Southwest US road trip.
Shuttles to Zion National Park
Shuttles aren't the most popular way to get to Zion National Park, but they are available from Las Vegas, Salt Lake City, and many other cities in Utah. The St. George Shuttle offers rides that are comfortable and highly-rated.
With the longer routes to Zion (Las Vegas and Salt Lake City), you cannot book online. You'll have to contact their services directly to schedule a ride. However, there is a direct shuttle to Springdale form the following cities: St. George, Hurricane, La Verkin, Virgin, Springdale, and Zion.
View and book shuttles to Zion National Park.
Getting around in Zion National Park
There are no cars allowed in Zion National Park, but that doesn't mean getting around is difficult by any stretch. There are a handful of different ways to get around in Zion that are seamless, adventurous, or even free!
Free shuttle service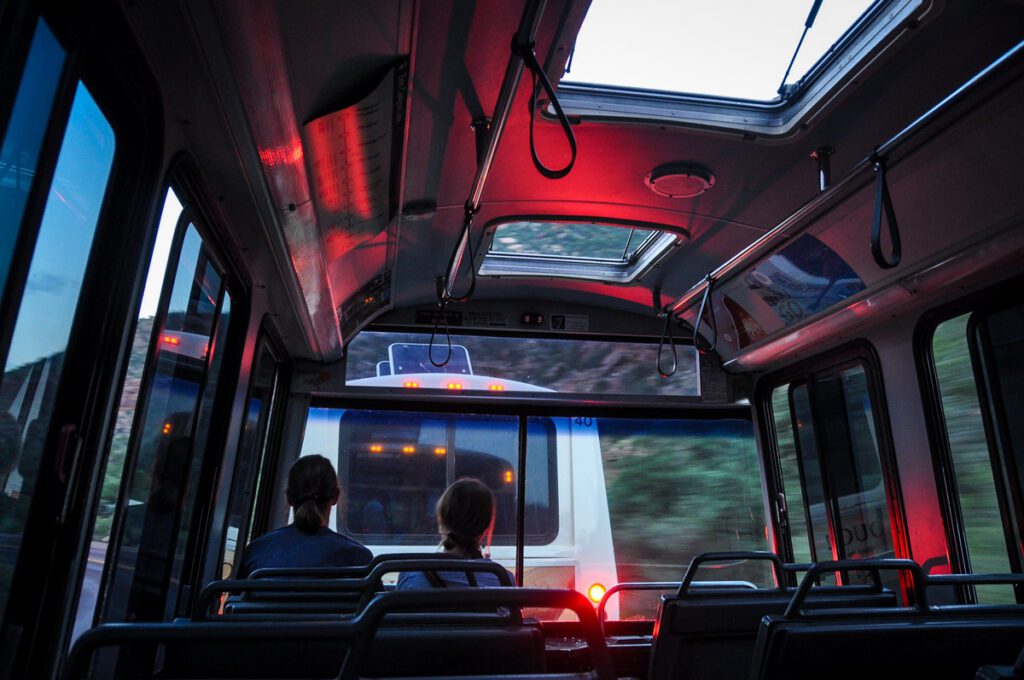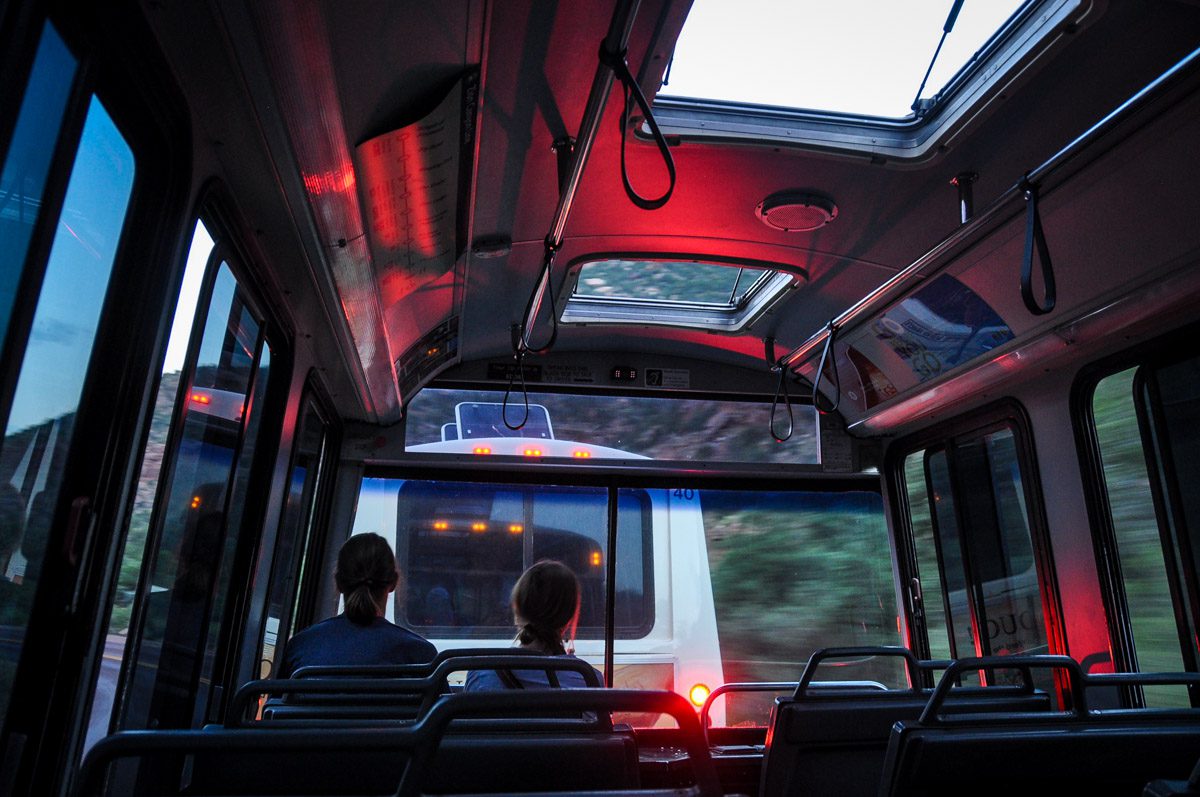 Zion National Park implemented a free shuttle service in 2020 to reduce congestion, lessen pollution, resolve parking issues, and protect vegetation. It doesn't require any reservation or pass to ride and it makes getting around the park super easy and convenient.
The shuttle runs from the Zion National Park Visitor Center to the Temple of Sinawava, and makes stops along the way at various trails and viewpoints.
Shuttles come by every 15-minutes and fill up quickly since seats are minimal. There are two buses and they complete 2-3 shuttle loops every hour.
Tip: It's important to remember that the shuttle will not stop unless you inform the driver of where you need to be dropped off or if there are people waiting to be picked up.
If the shuttle is full, it will not stop to pick you up. For this reason, don't rely on the very last shuttle to get back into town. If it winds up being full, you'll be left to walk (up to 9 miles!) back to the Visitor Center.
Note: If you're not staying inside Zion, there is an additional shuttle that runs from Springdale to Zion Canyon Village. This is only a short walk from the Visitor Center shuttle stop heading into Zion.
Get more information about Zion's free shuttle service here.
eBike rentals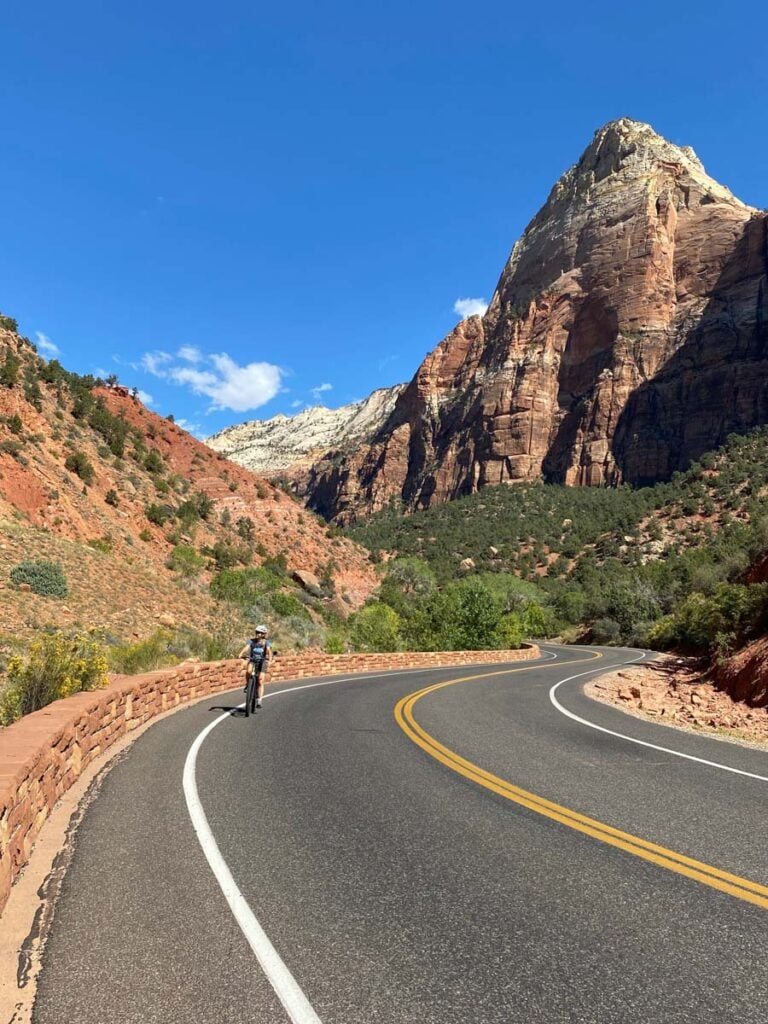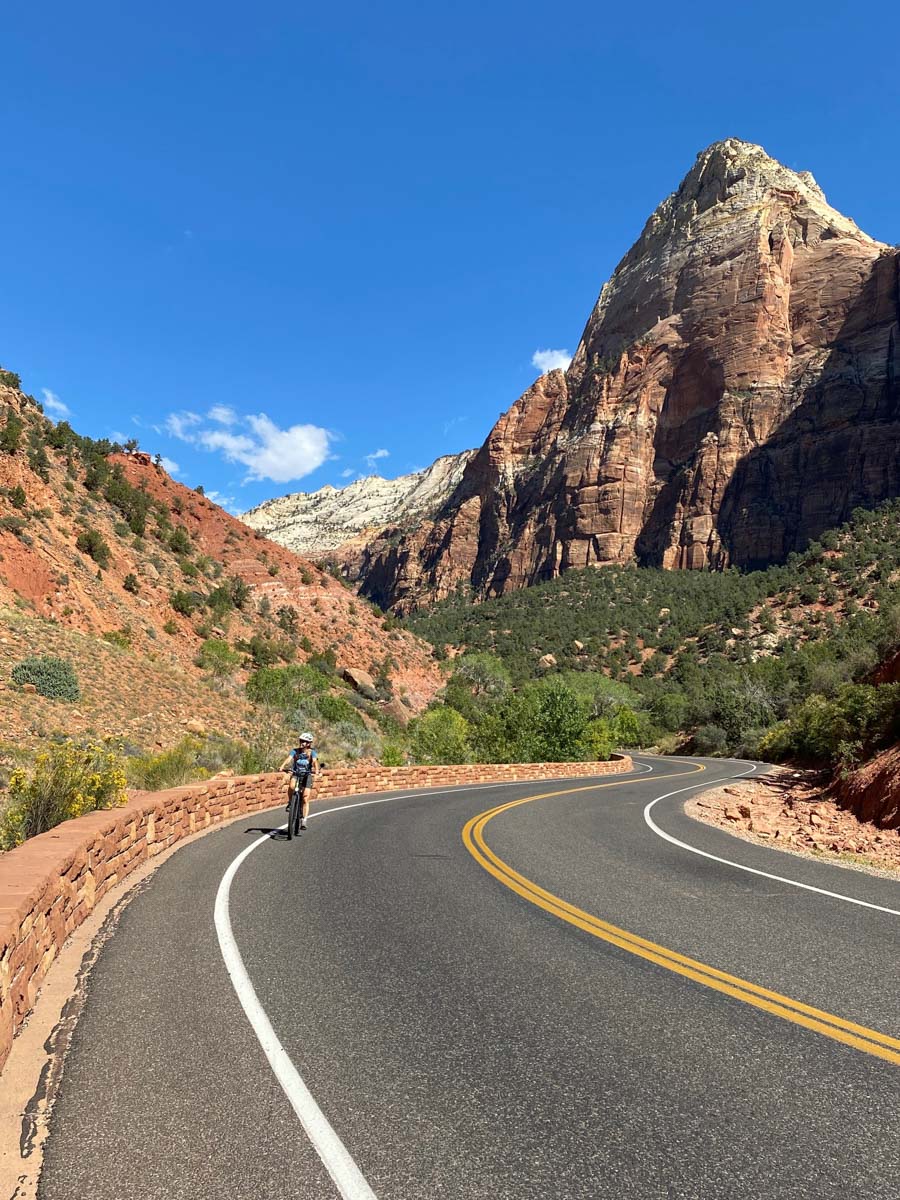 Electric bike rentals have become a popular activity and transit option in Zion since the ban on vehicles. Plus you'll have a nice breeze against the scorching hot desert temperatures.
Zion Outfitter in Springdale is a great place to rent from because the shop is right next to the south entrance of Zion. So you can pick up your rental and immediately be biking your way down the Pa'rus Trail. It's quick and they're one of the highest rated rentals in town.
The shop offers three different types of bike rentals, so you can rest your legs with an eBike or go old-school with a pedal bike:
Pedal-assist eBike: $79/day
Adult bikes: $39/day before 12:00 pm, $29/day after 12:00 pm
Child bikes: $29/day before 12:00 pm, $19/day after 12:00 pm
Driving (off season ONLY)
When the shuttles aren't running, Zion will open its famous Zion Canyon Scenic Drive to passenger cars. This is one of the main selling points of visiting Zion in the off-season, right along with the diminished crowds.
If you want to self-drive through the park, it's important to plan your visit during the days the shuttles don't run. They update the shuttle schedules yearly, so double check the current schedule, but here is a good overview:
Shuttles run:
Daily from March to November
Weekends in February and March
Near the end of December for the holidays.
Wanna try out van life while visiting Zion National Park?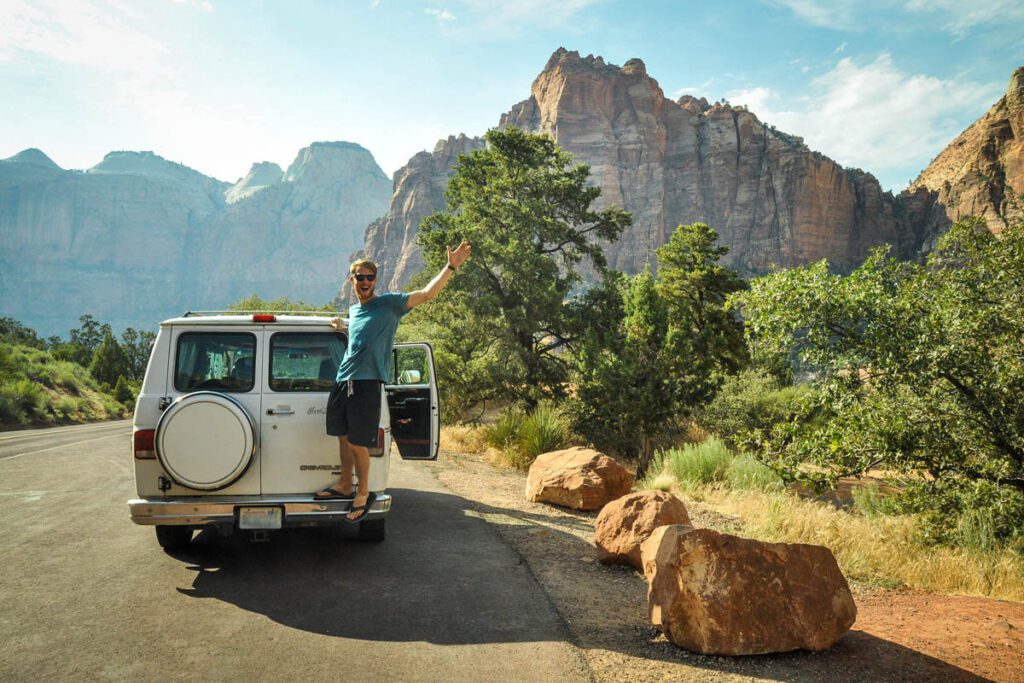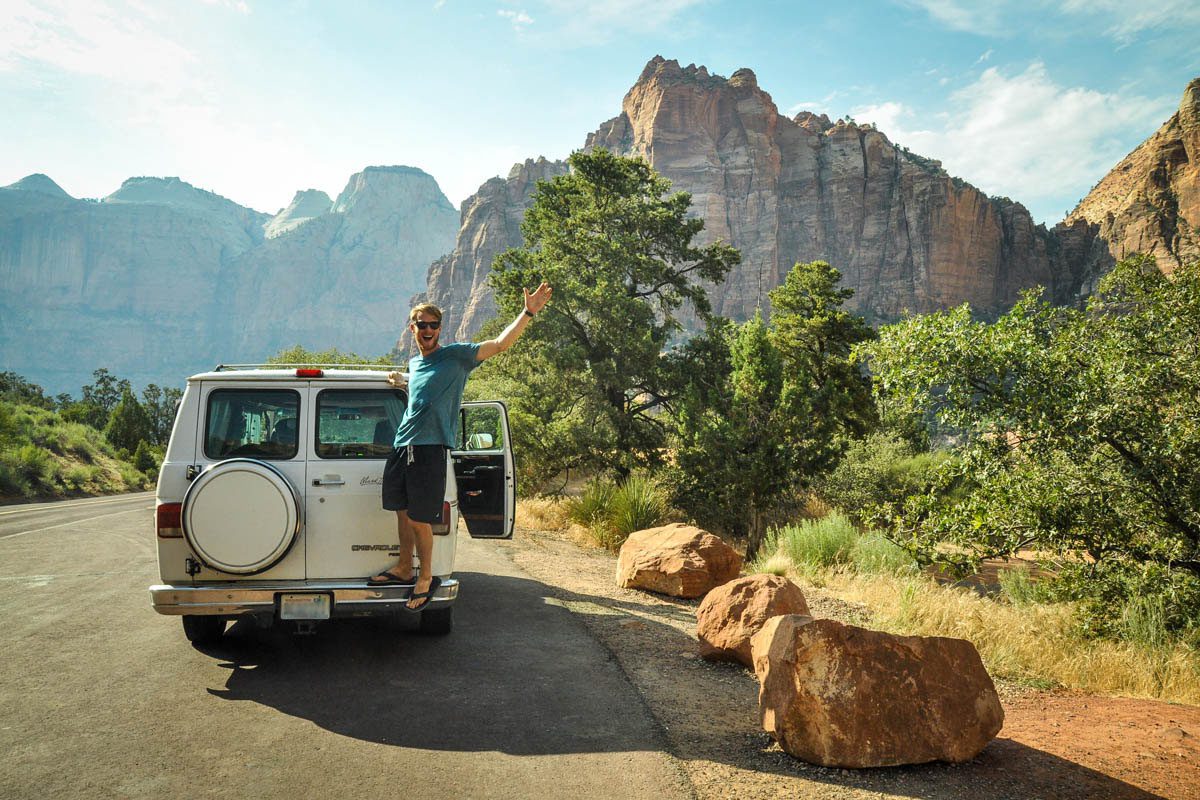 It's no secret we're obsessed with #vanlife. If you don't have the time (or interest!) in building your own conversion but you still want to give van life a test drive, we've got some ideas for you…
Check out our list of top companies for USA Campervan Rentals, from budget to bougie, we've even included some exclusive discounts for our readers!
One company we'd recommend looking into is Escape Campervans. They have 12 different locations across North America (including Las Vegas and Salt Lake City). And they come fully loaded with all the gear you need for an epic road trip. Plus, their rates are fair and affordable.
BONUS: We've partnered with them to give you a 10% off discount when you use our link!
We have plenty of recommendations for campervan-friendly campsites in the where to stay section below.
Entrance fees and tickets
Private vehicle: $35, valid for 7 days
Motorcycle: $30, valid for 7 days
Per person: $20, valid for 7 days

If you're planning to visit more than one of Utah's "Mighty 5" National Parks, we'd highly encourage you to look into getting an annual park pass. At $35 per vehicle, entering Zion, along with most other national parks in the U.S., can be expensive.
For just $80 per year, you can purchase the America the Beautiful park pass. This pass grants you free access to all of the national parks. Plus it also covers your entrance to over 2,000 natural, historical, and recreational sites across the United States.
If you still need convincing, check out our article: America the Beautiful Annual Park Pass: Is it Worthwhile?
Psst! Check out some of our other favorite national parks on the west coast & Western U.S. that make great adventure and hiking destinations.
How many days do you need in Zion?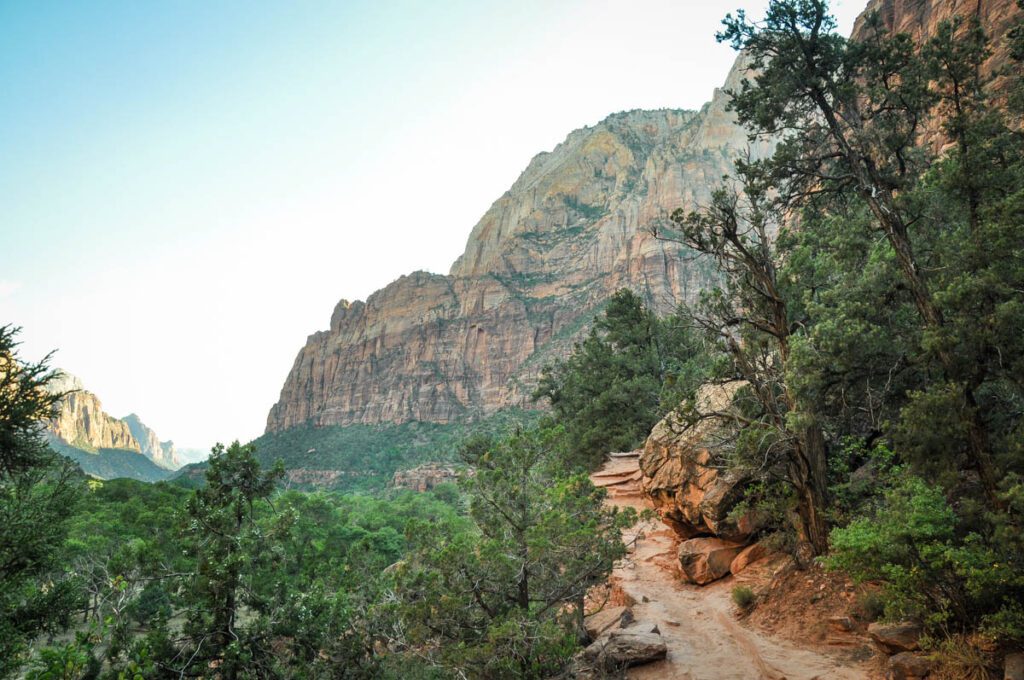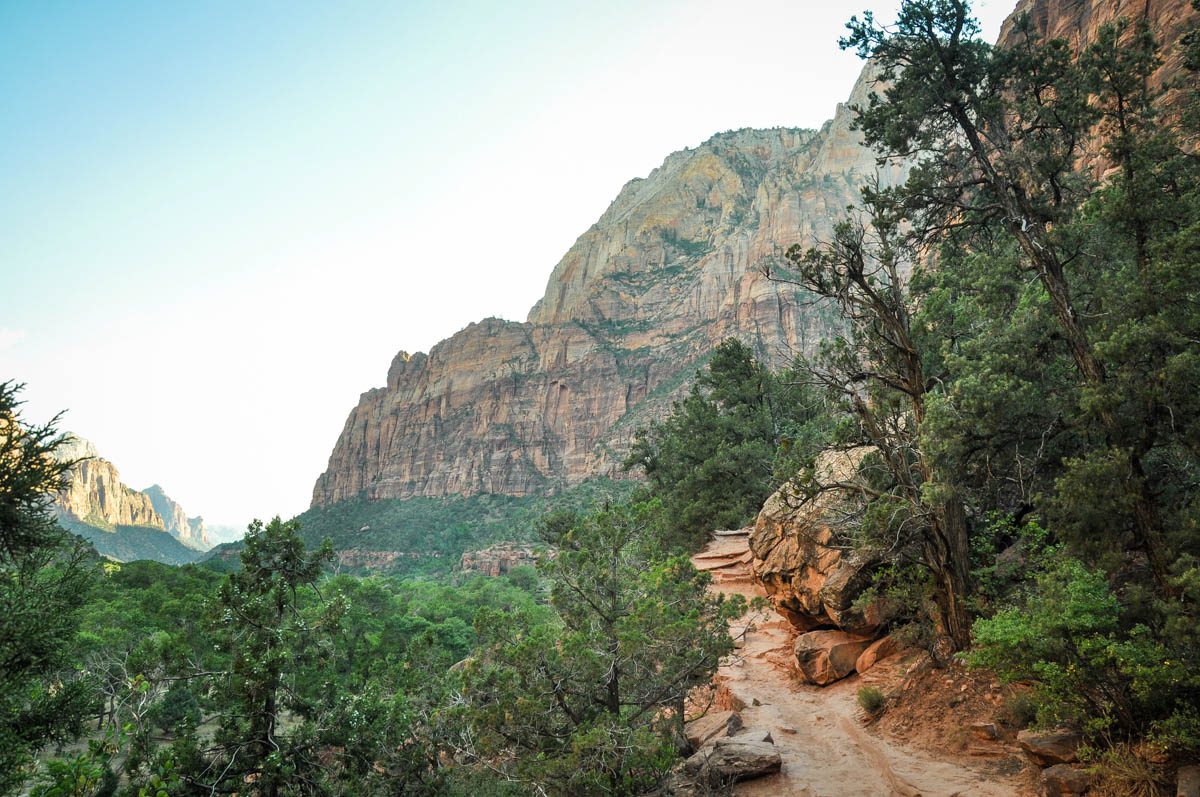 Zion National Park is so massive it would take you a while to get bored in this park! We always recommend spending as much time as you can in a place, but we get it if you don't have the time to spare on your itinerary. Here's what 1-4 days would look like in the park:
1 day: too short, but you can see a few highlights
2 days: you can see some of the major attractions, but it would still be on the short end.
3 days: you will have time to see all the major sights as well as get off the beaten path
4 days: you might even have some time to relax!
When is the best time to visit Zion?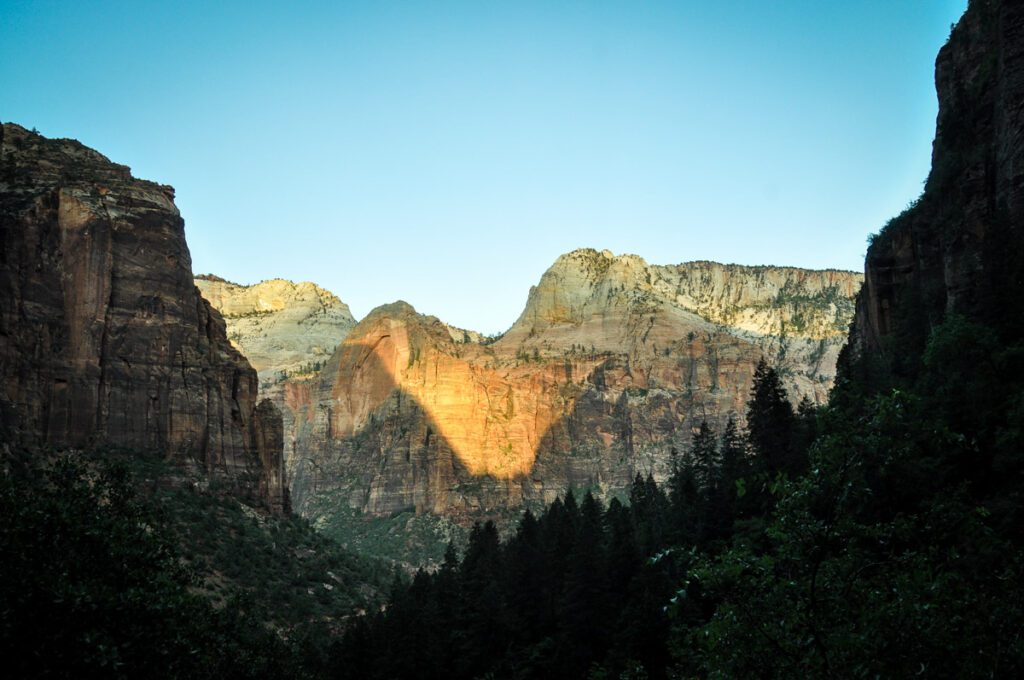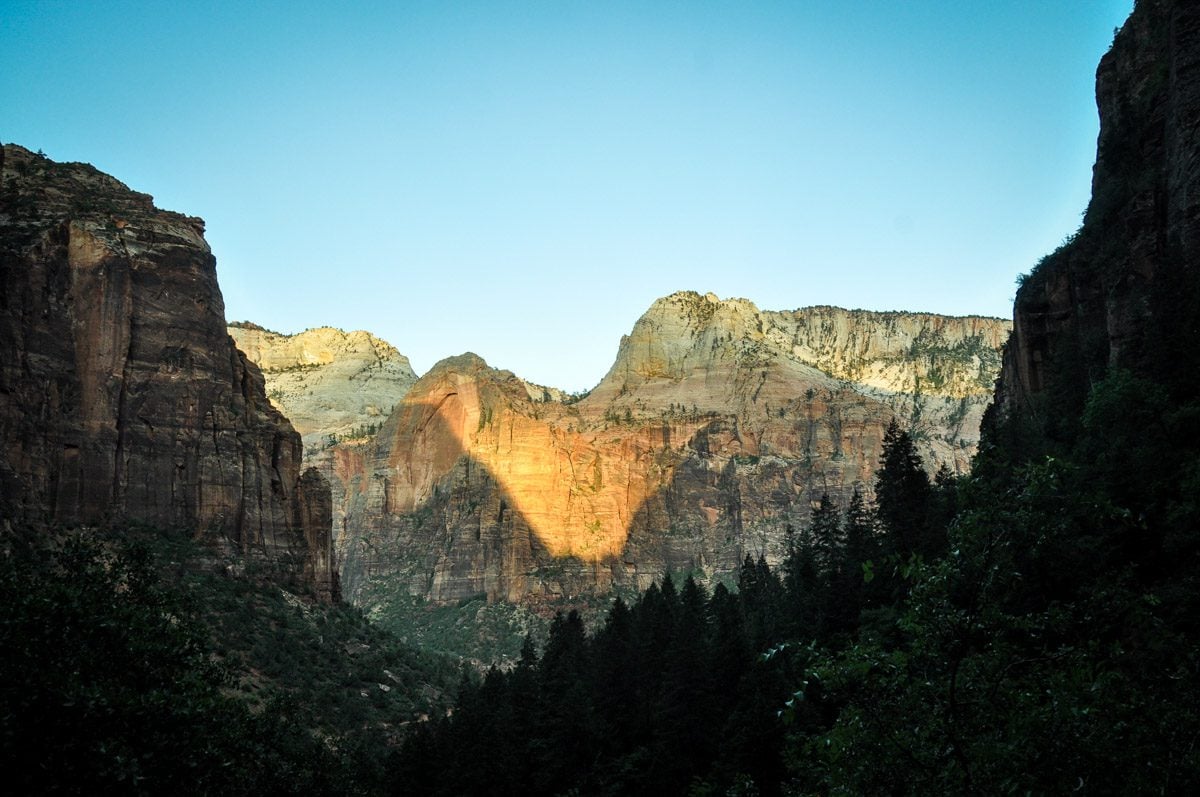 Spring and early summer are great times to visit Zion National Park. The monsoon season between mid-July to September should be avoided because of the risk of flash floods, and walking through the Narrows will be tricky.
If you are visiting during monsoon season, the Narrows won't be impossible to hike, but it will be important for you to check the weather forecast for Zion (and surrounding areas!).
The day before, or day of, you intend to hike, go to the Visitor Center and check in with the rangers. They will have a weather forecast and will be able to give you sound advice.
Fall and winter could also be enjoyable times to visit depending on your interests. During the off season, there aren't any running shuttles, allowing you to walk, bike, or drive the Zion Canyon Scenic Drive.
Crowds are fewer and the weather is opposite to the intense summer heat which makes hiking much more enjoyable. Just be sure to pack the correct hiking gear if the trails have ice or snow.
Psst! Did you know Zion is one of the best national parks to visit in winter?
Zion National Park map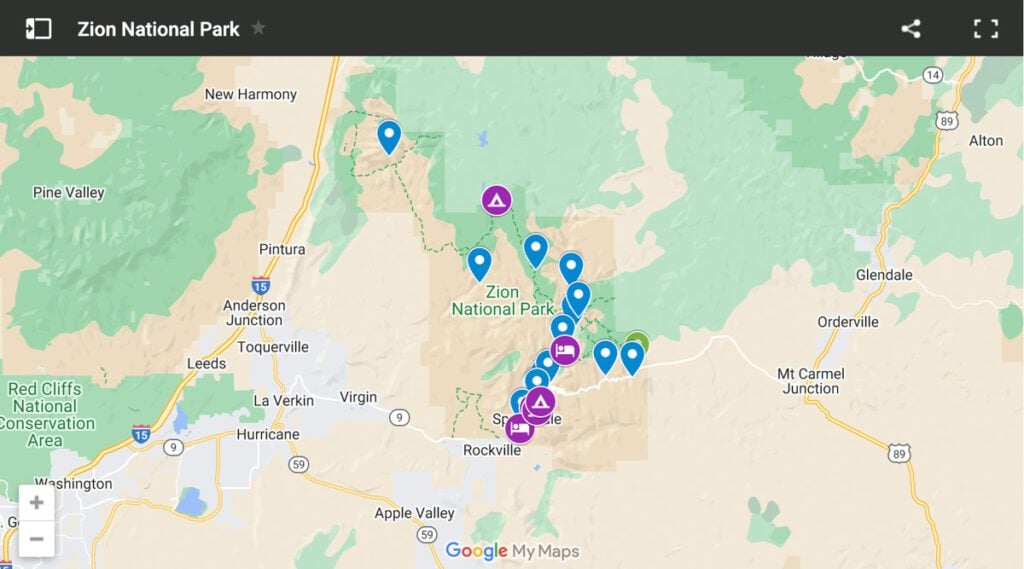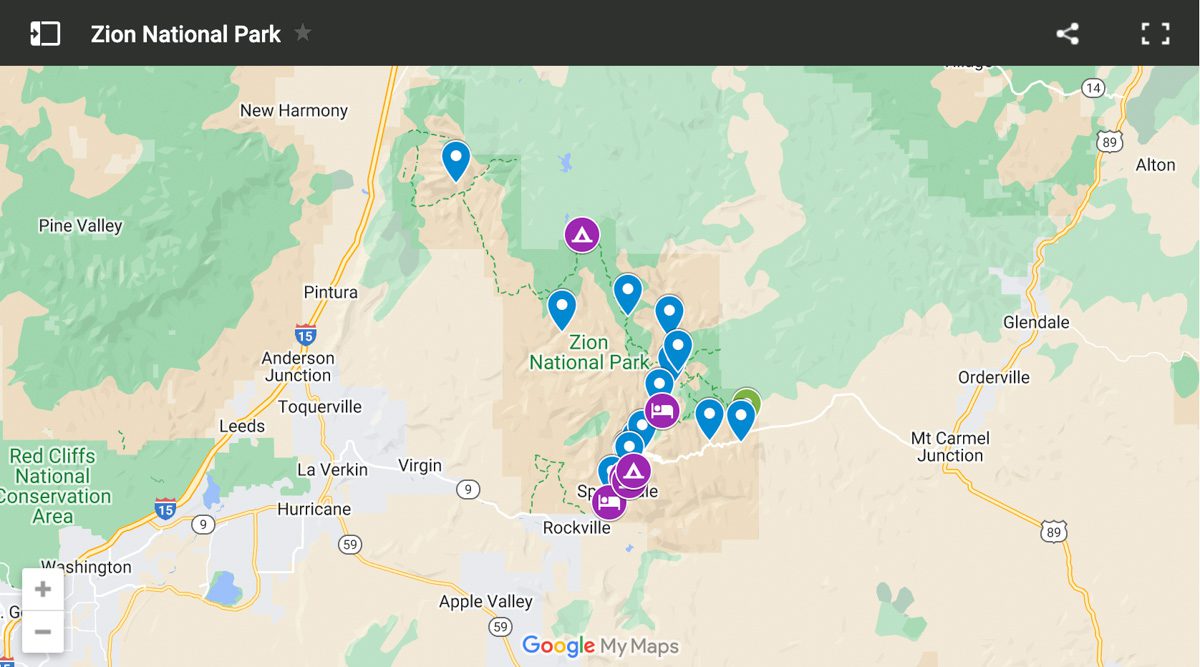 The map above displays the main entrances, campgrounds, lodging options, and locations for the best things to do in Zion National Park.
---
Things to do in Zion National Park
Zion is filled with rich history, iconic hikes, and exciting adventures for all types of explorers. With so much to do inside the park, it would take you years to see it all. Here are the top recommended things to do in Zion National Park.
1. Hike the narrows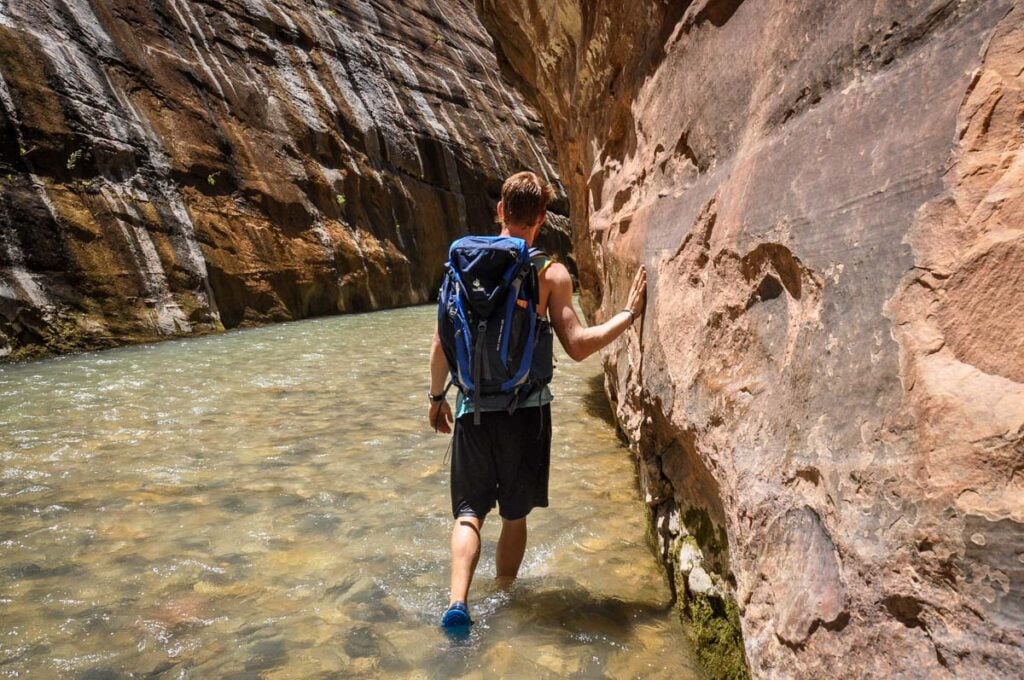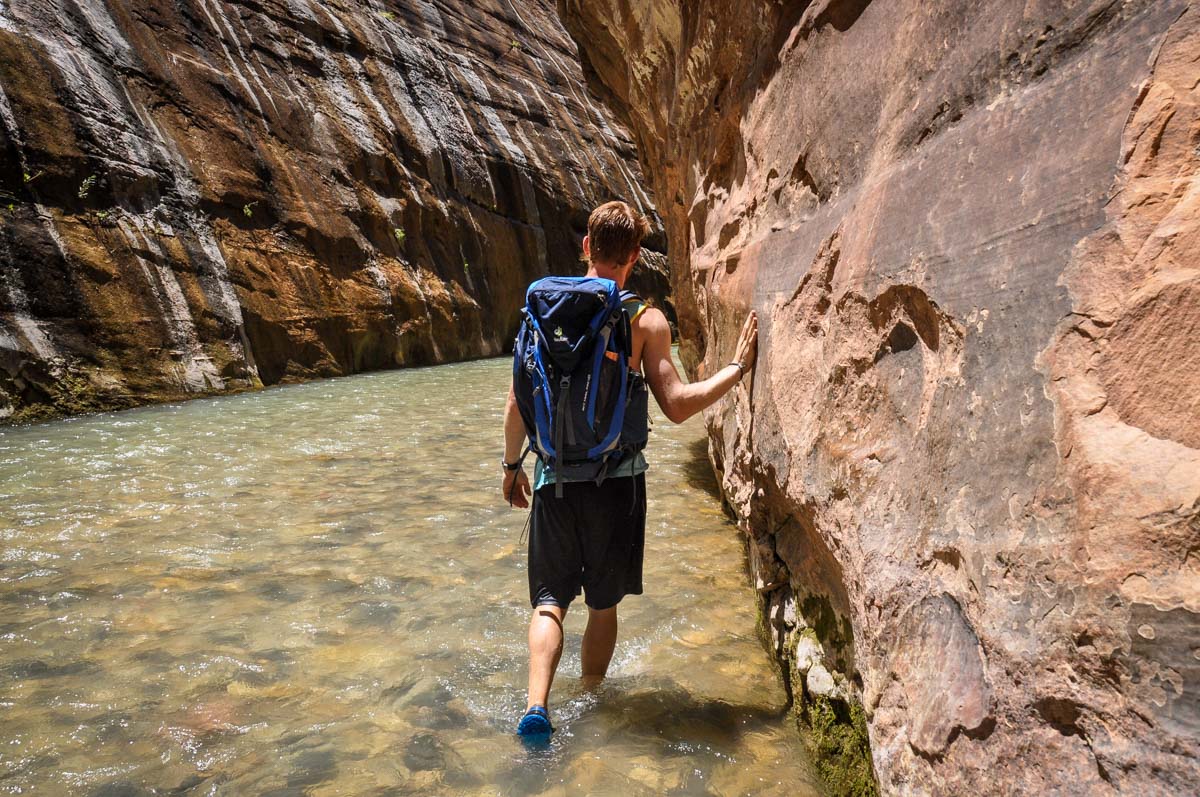 Distance: 8.9 miles, out and back
Elevation gain: 695 feet
Difficulty rating: Challenging
One of the most unique hiking experiences in the world takes you up the river and through the hundred foot walls of Zion Canyon. The hike is an experience unlike any other where you can access the heart of Zion National Park at the 'narrowest' (and most unique!) part of the canyon.
The Narrows can be hiked two ways: top-bottom or bottom-up. 
If you have backpacking experience, the top-bottom route is the best way to avoid crowds and get off the beaten path, otherwise almost everyone visits the Narrows from the bottom-up.
Psst! We have a complete guide to hiking The Narrows on our sister site!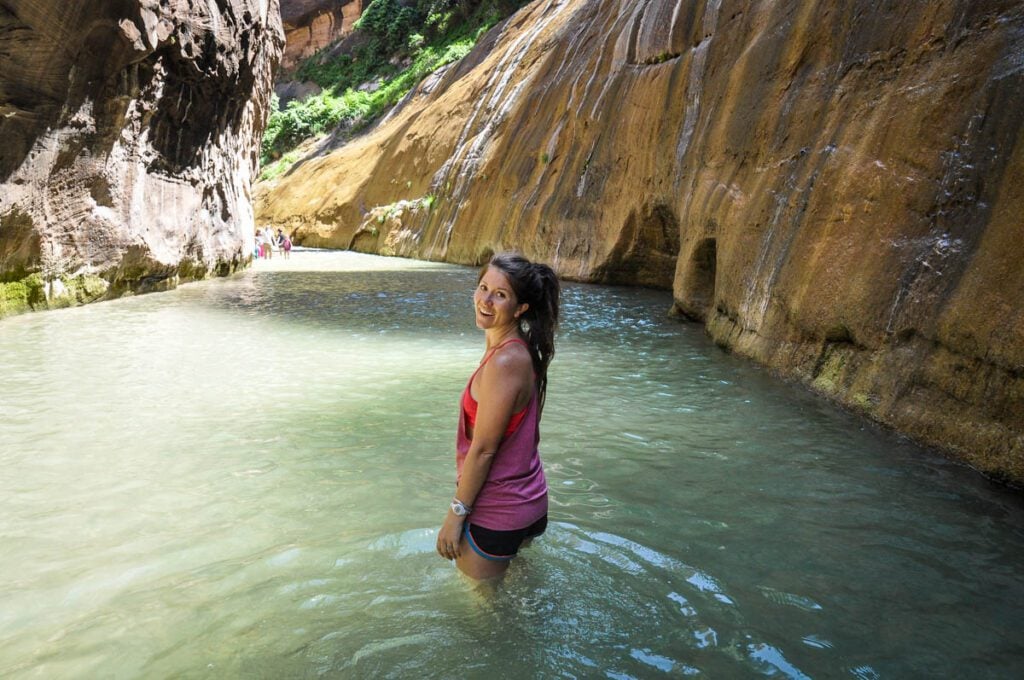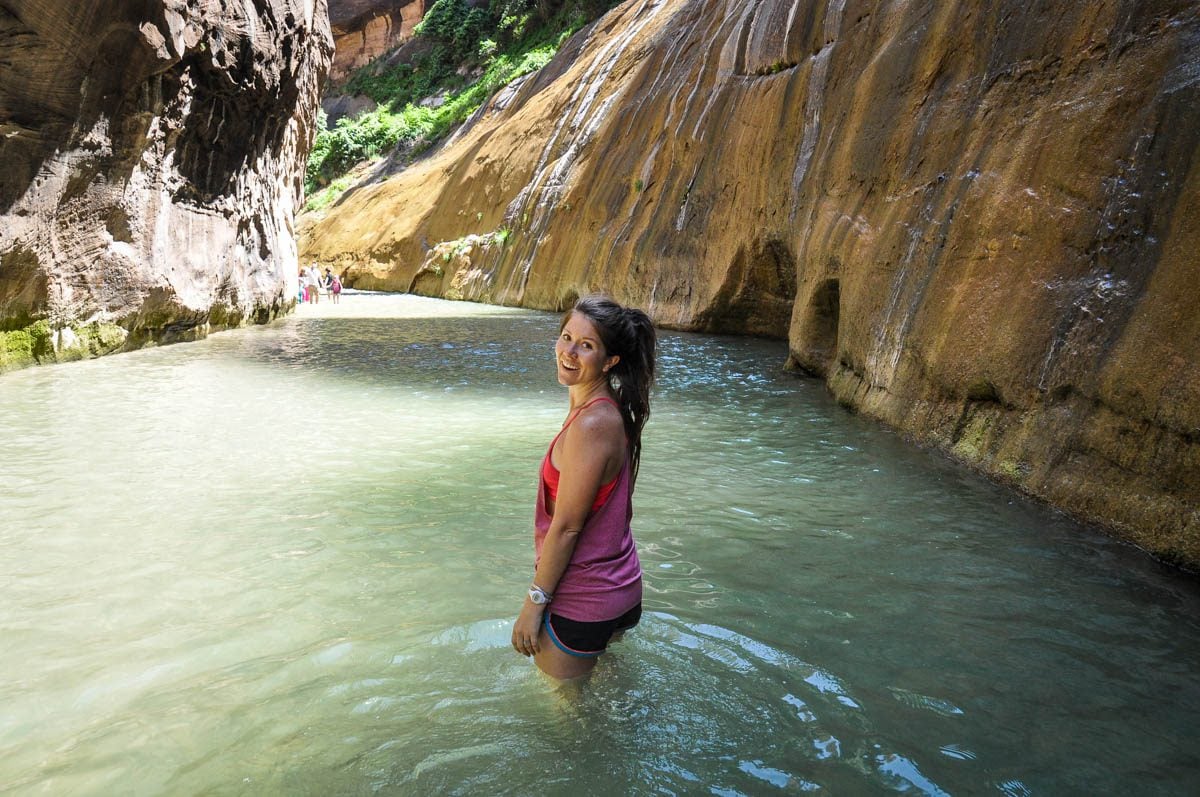 Before you set out and hike it's crucial that you check the flow rate of the Virgin River. An ideal rate is under 70 cubic feet/second. Check the weather, and get the proper gear.
There are many places to rent gear in Springdale including Zion Guru. You'll want to reserve in advance in case they sell out.
Once you've checked those boxes, the Narrows hike begins at the Temple of Sinawava. The best part about this trail is that you can go in as far into the canyon as you want, so it's the perfect all-around hike for incredible views no matter your experience level.
Tip: Be sure to bring a dry bag, since you'll be hiking in water the majority of the way.
This article is full of practical tips you should know before hiking The Narrows.
2. Climb Angel's Landing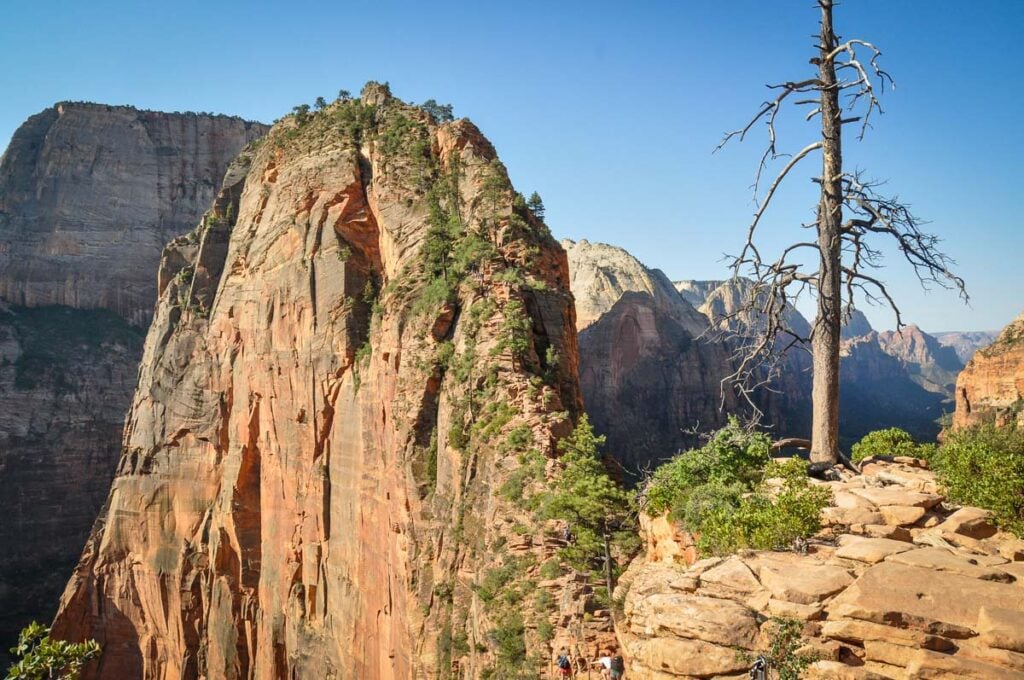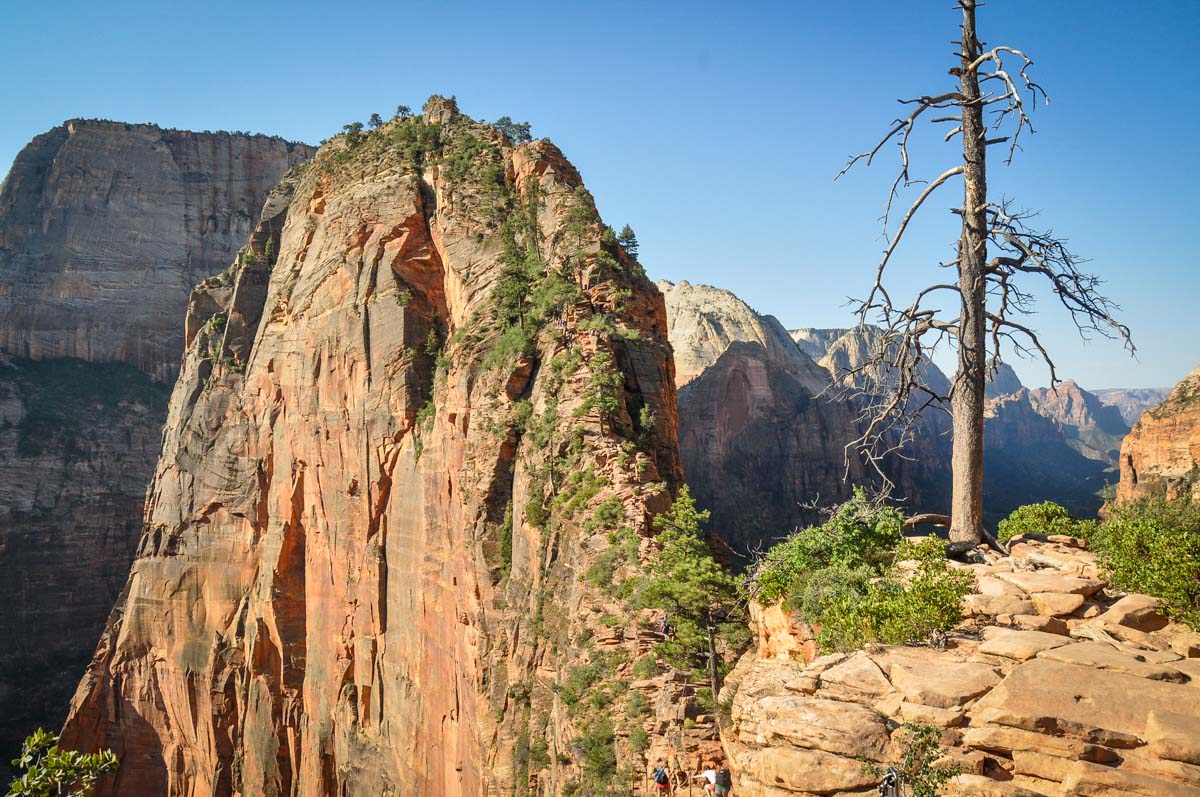 Distance: 4.4 miles, out and back
Elevation gain: 1,604 feet
Difficulty rating: Challenging
Just after the Narrows, Angels Landing is one of the best hikes in Zion National Park, and one of the main reasons hikers flock here. If you don't mind heights and enjoy a good adrenaline rush, this trail should be at the top of your Zion itinerary.
The intense 4.4-mile trail requires you to conquer 21 steep switchbacks known as "Walter's Wiggles." Then you'll need to scale a narrow-spined rock ledge with a 1,200 foot drop on either side.
If this is a bit too much, you can hike out to the panoramic views at Scout's Lookout, just before the chain section, and then hike back down.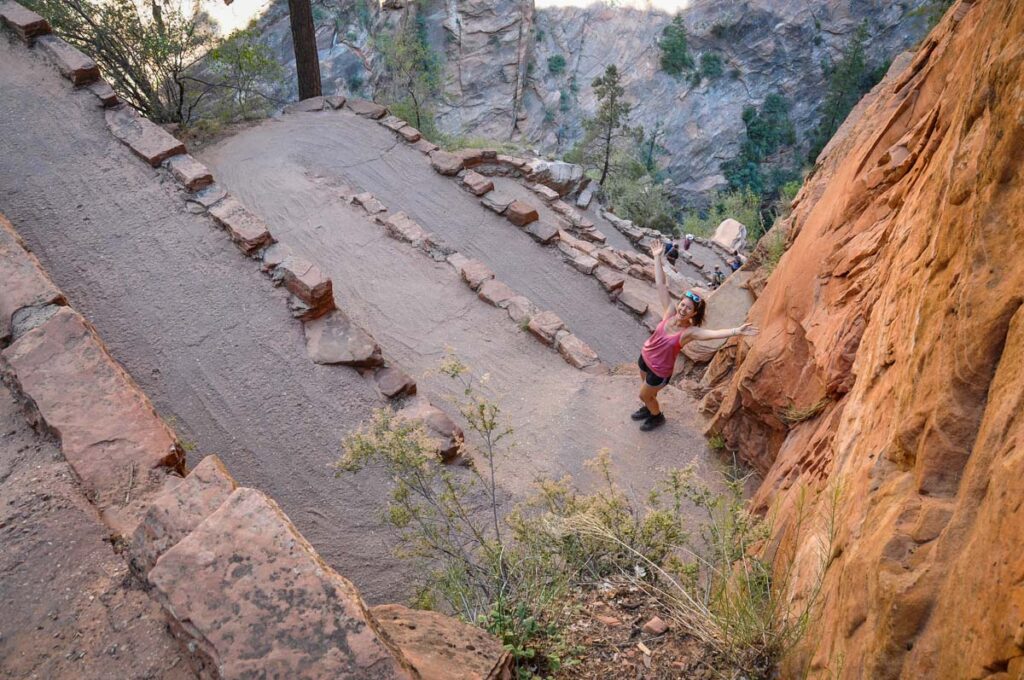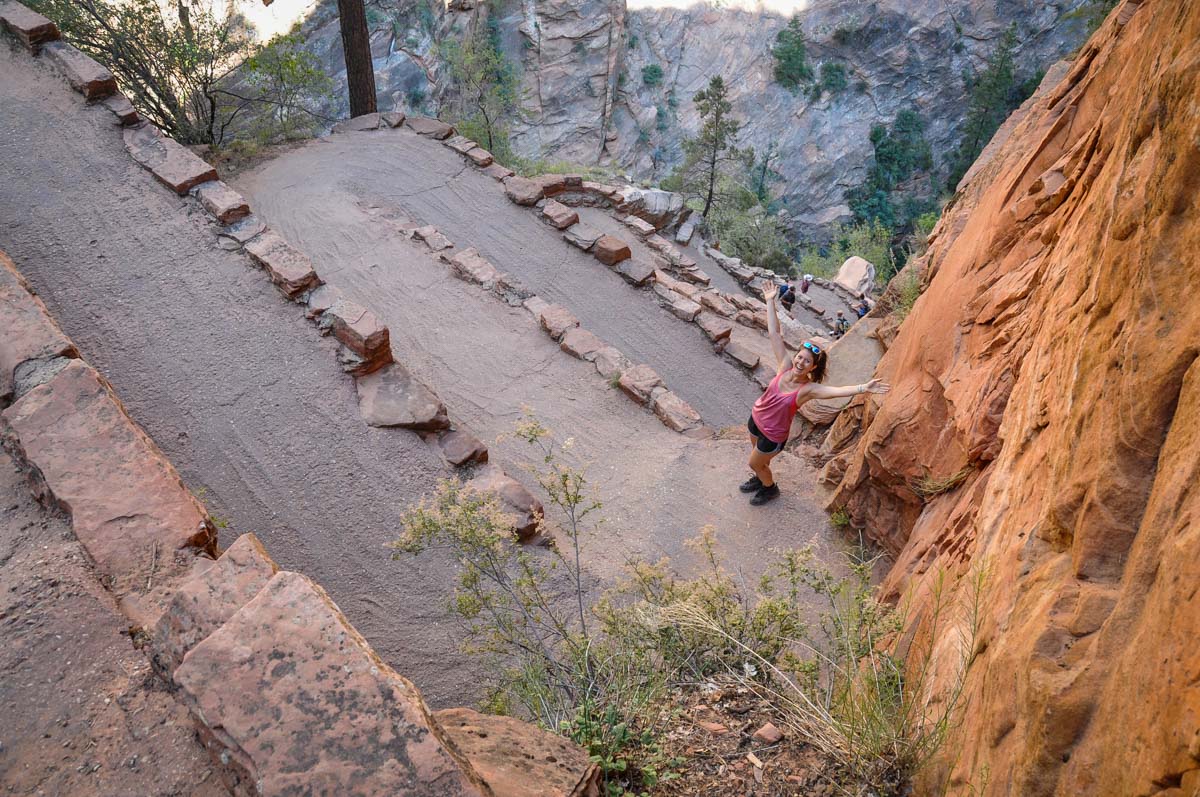 At the top of Angel's Landing, you'll be rewarded with the most expansive views of Zion Canyon, the Virgin River, and the vast landscapes of Zion National Park.
In order to hike Angel's Landing, you'll need a permit. For $6, you can enter a daily or seasonal lottery. The season lottery is live only four months out of the year: January, April, July, and October.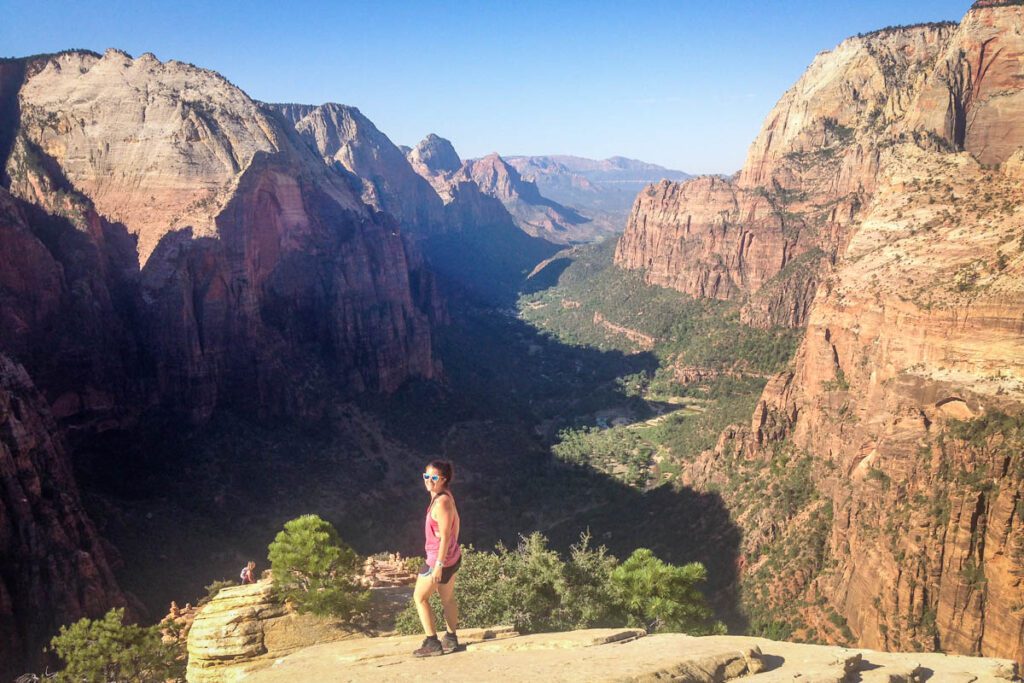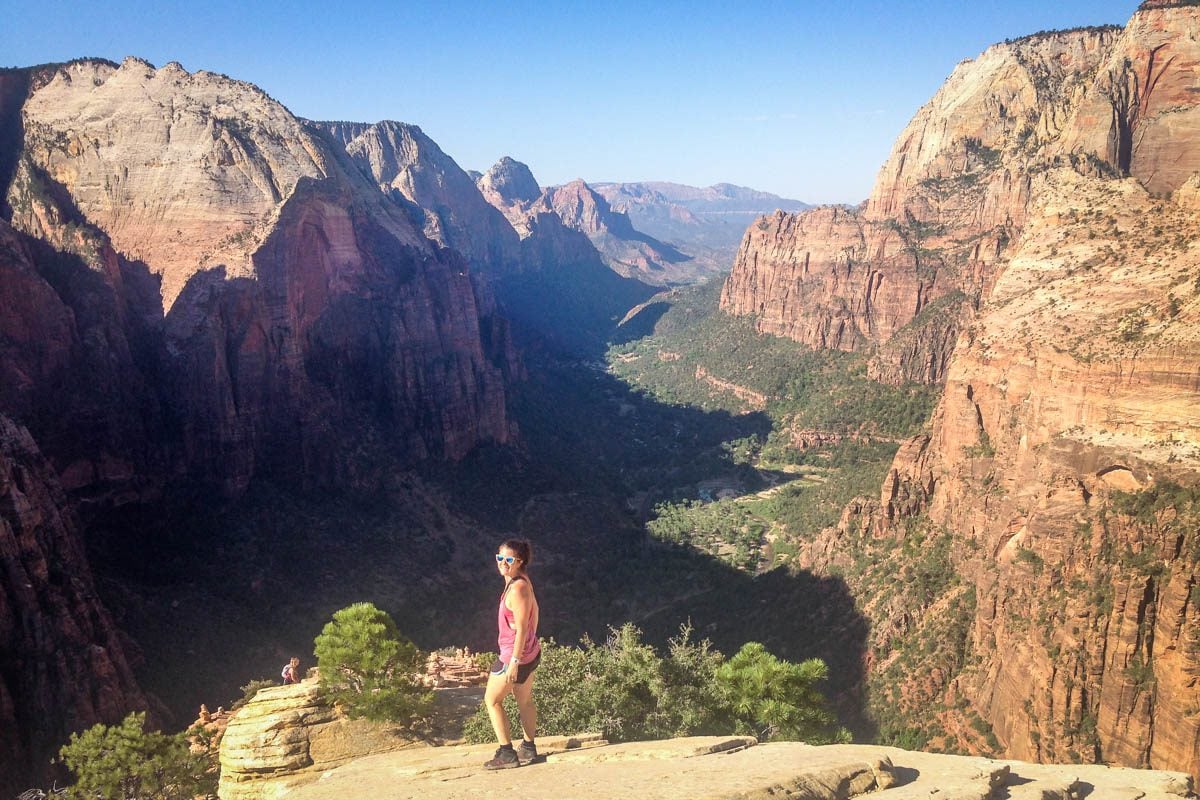 You can apply for a lottery permit here and also view important dates for seasonal lottery releases. The daily lottery goes live starting March 31, and is open from 12:01 a.m. to 3:00 p.m. MST.
Alternatively, at 4:00 p.m. daily, permits are issued for hikes the following day. This is a great option if you didn't win the seasonal lottery since it gives you an extra last minute chance to score a permit.
Read up on some more tips on Angel's Landing before beginning your hike.
3. Rent an eBike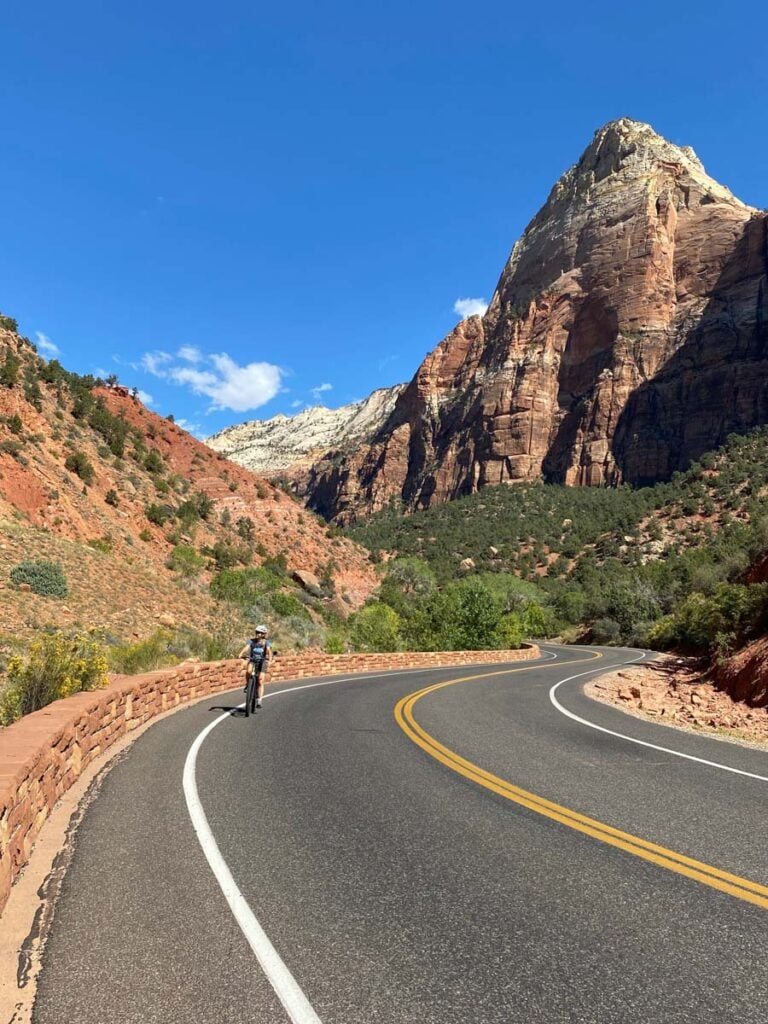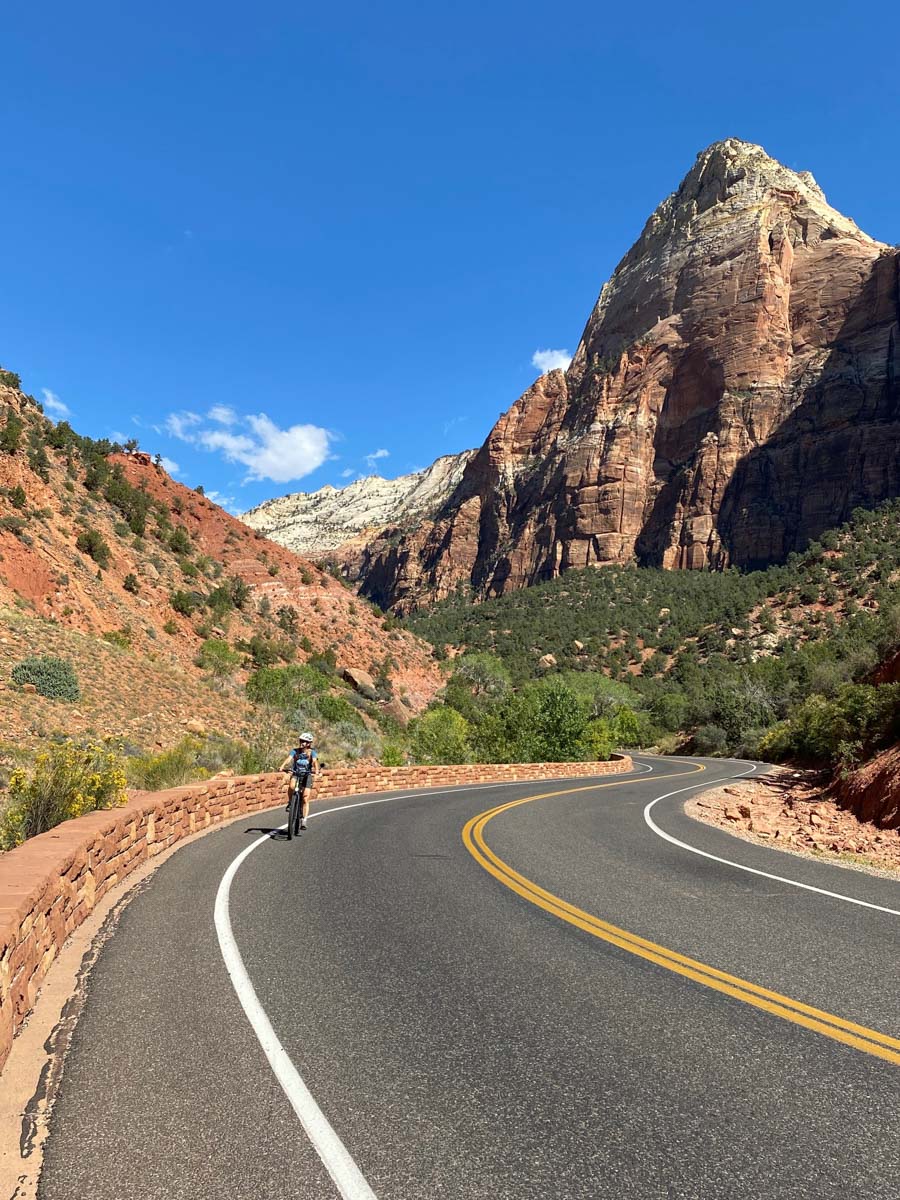 One of the best ways to get off the beaten path in Zion National Park is by renting an eBike. Since you cannot drive around the park and everyone is crowded at the shuttle stops, a bike will give you access to the scenic and peaceful miles between stops.
Refer to the above section on getting around in Zion for suggestions on bike rentals.
You can bike anywhere in Zion, but there are a couple of routes that are the most ideal:
Pa'rus Trail: This is one of the most accessible trails in the park as it's right behind the Visitor Center and completely paved. This 1.7-mile trail follows the Virgin River and gives you the option to stop into the Zion Human History Museum along the way.
Tip: Because this is a popular trail for anyone visiting Zion, you'll want to do this trail in either the morning or evening to avoid crowds.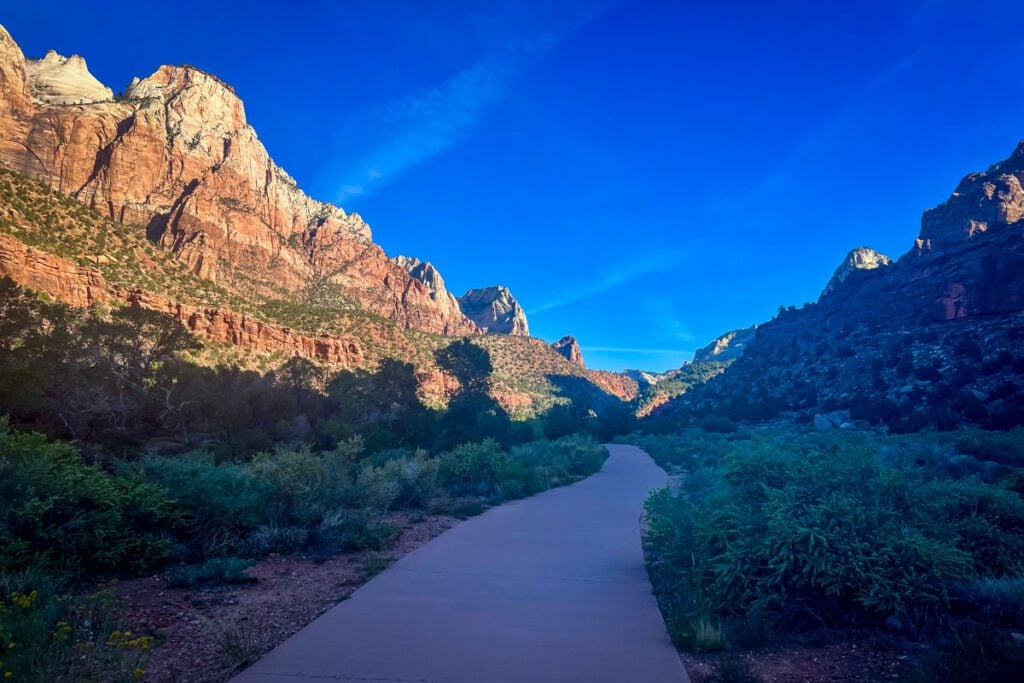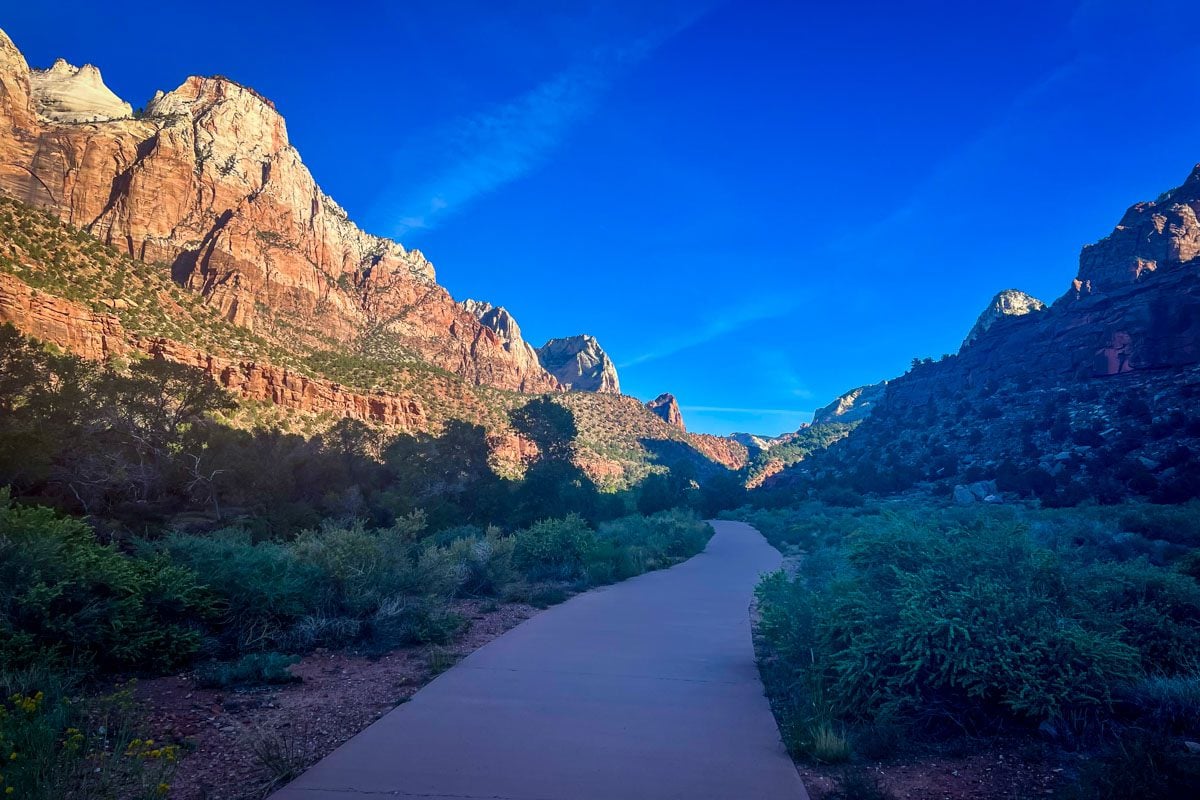 Zion Canyon Scenic Drive: If you're visiting during Zion's main tourism season, this road is only open to shuttles and bikers, so you can enjoy the views along this 32-mile scenic drive in a more immersive way.
Start on the Pa'rus Trail, then continue to the road at the Canyon Junction.
To do the full route, ride all the way to the Temple of Sinawava, then coast back the way you came.
If you want to skip the uphill on the way up, you can take the shuttle to the Temple of Sinawava, then enjoy a downhill ride back to the Visitor Center.
Note: If you plan to take the shuttle with your bikes, each shuttle can only take 3 bikes at a time.
Biking in Zion National Park is completely safe, even with the shuttles running. A shuttle won't pass you unless you have one foot on the ground, and there are no cars allowed on this route, so it will be a very peaceful ride.
4. Explore the Zion Human History Museum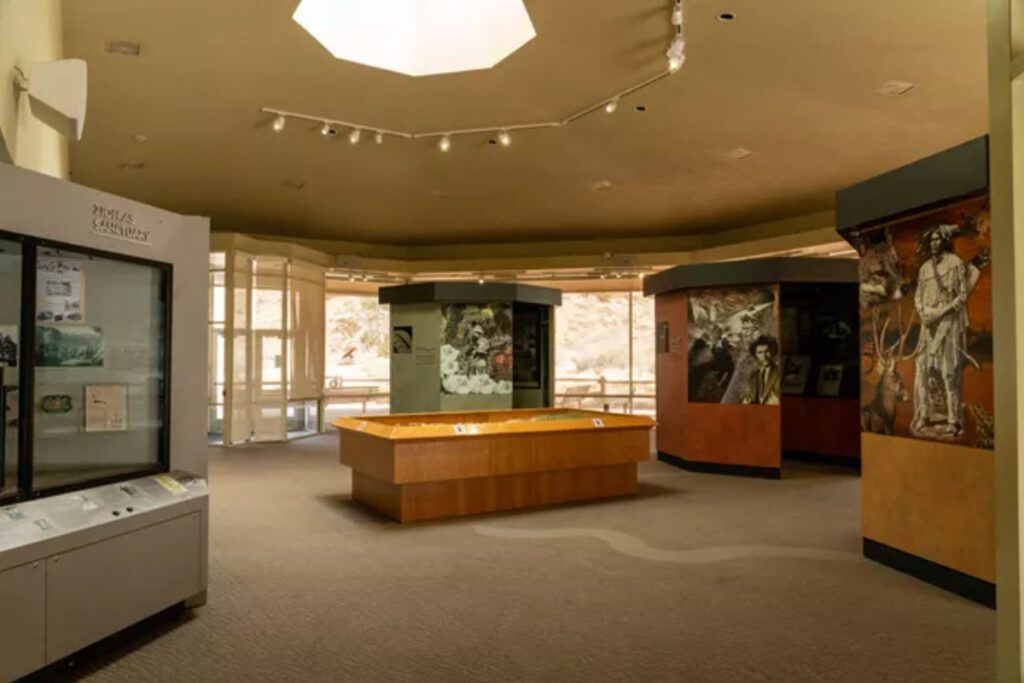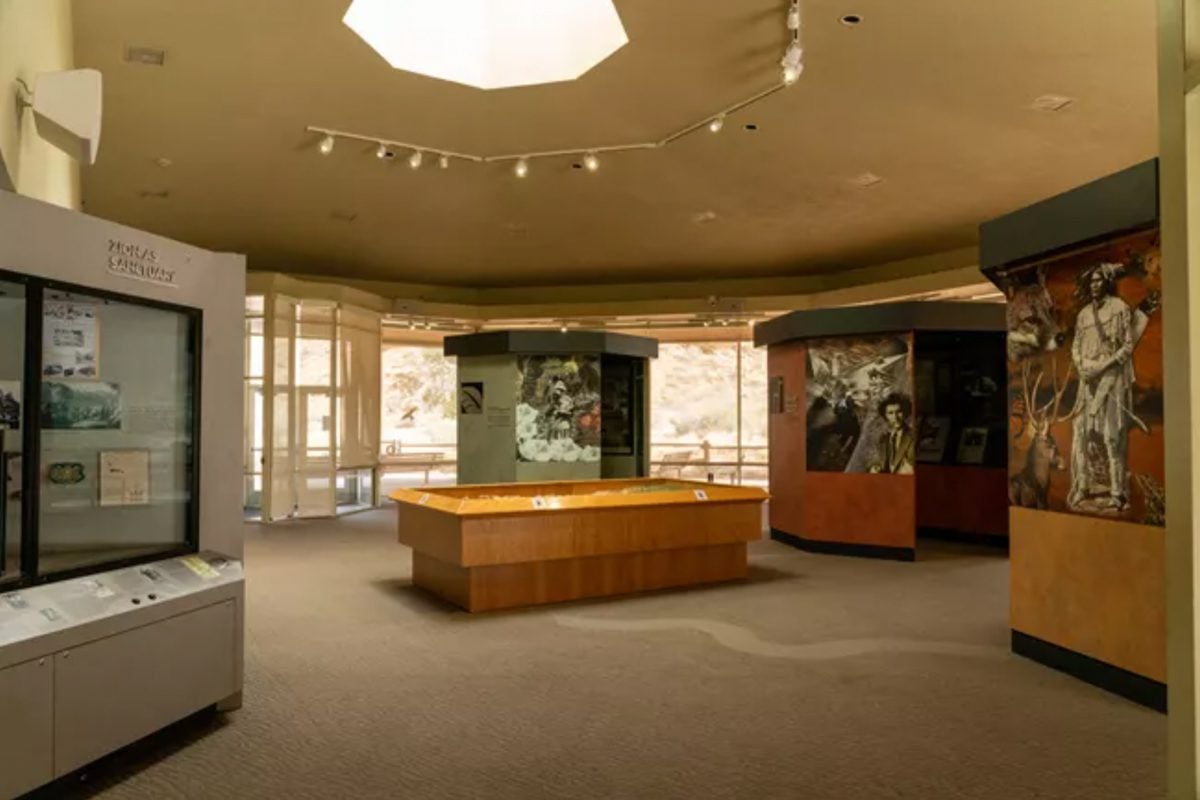 Although Zion was established in 1909, there were indigenous tribes that inhabited the canyon and surrounding area for centuries. You can learn about these tribes and the Euro-American colonizers at the Zion Human History for a better understanding of the park's history.
Inside the museum there are a variety of exhibits where you can learn about the Nuwuvi/Southern Paiute people. These were the people who first named the park and have resided here from 1250 CE to present day.
Other exhibits include history on Ancestral Puebloans, Fremont cultures, and you can even see artifacts that prove that the land in and around Zion has been inhabited since 7000 BCE.
Along with the indigenous history of the park, you will also learn about the early Mormon settlers of Zion that came to the area in the mid-1800s.
The U.S. National Parks have an interesting, and sometimes rather dark history, so this museum is a great way to learn more and educate yourself about the history of Zion National Park.
5. Visit the Emerald Pools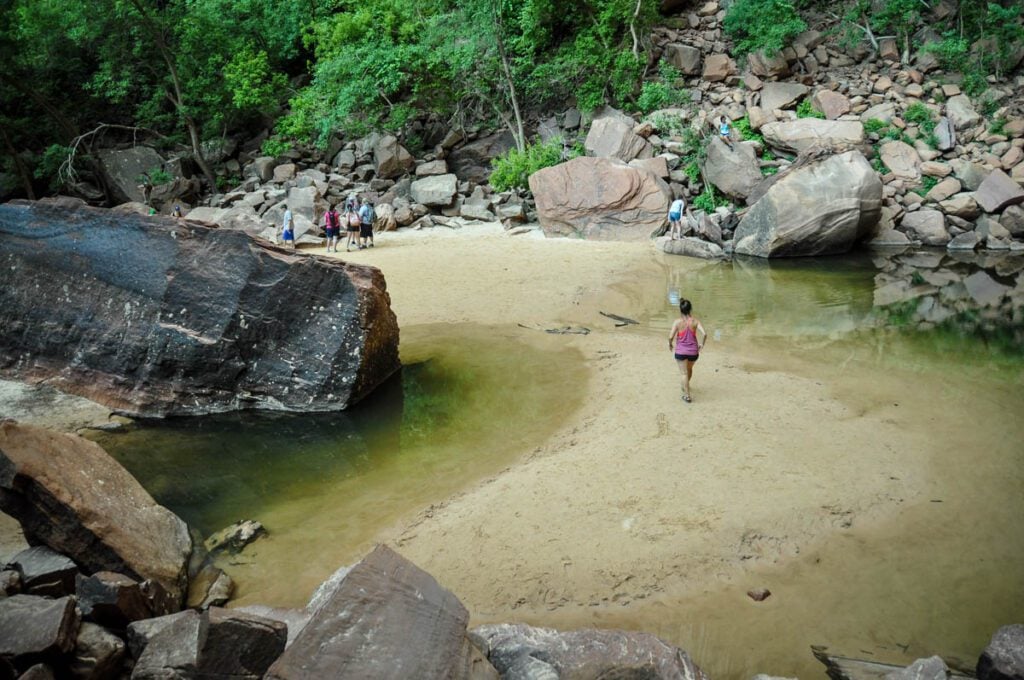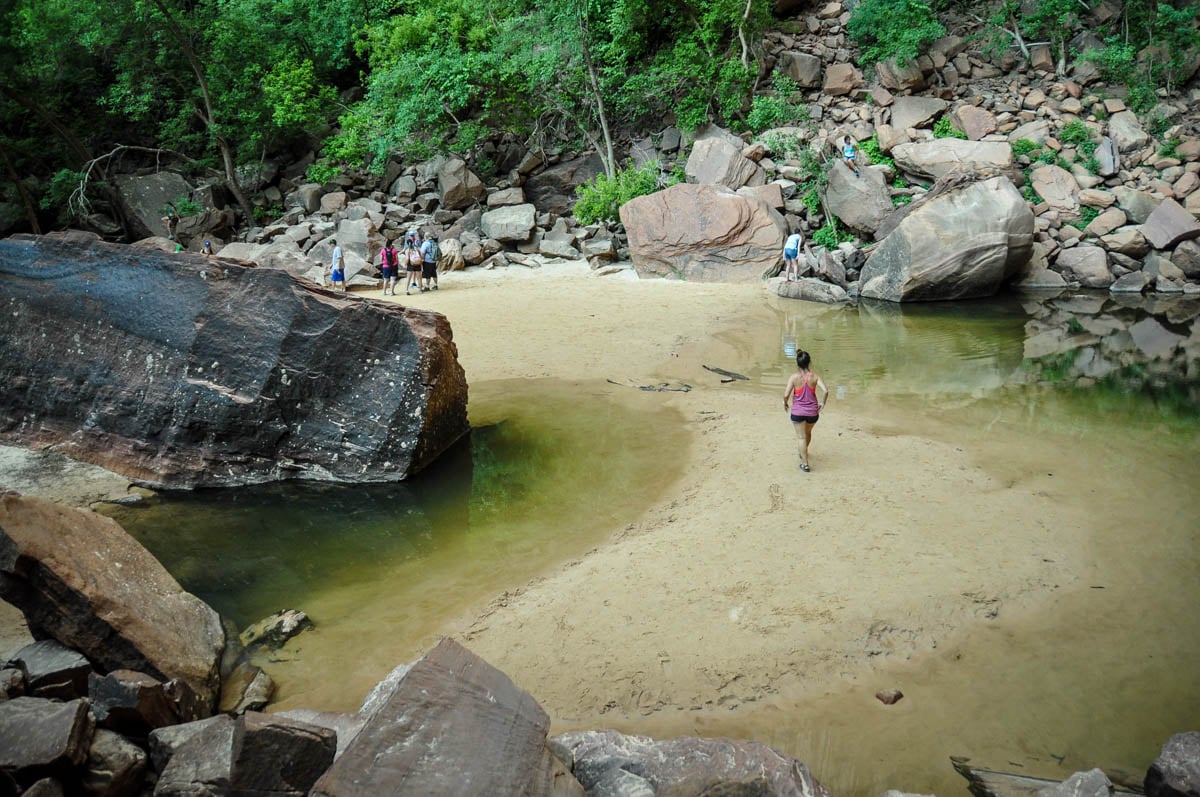 Distance: 3 miles, loop
Elevation gain: 620 feet
Difficulty rating: Moderate
Cool down in Zion along the Emerald Pools Trail. The shady 3-mile trail connects a few pools of breathtaking emerald water and features waterfalls you can walk behind.
This is one of the ideal things to do in Zion National Park for families, or if you've already tackled a challenging hike and are looking for an easier trail to explore.
The oasis of Emerald Pools is located just behind the Zion Lodge. There are a few different ways to access the three pools: Upper, Middle, and Lower.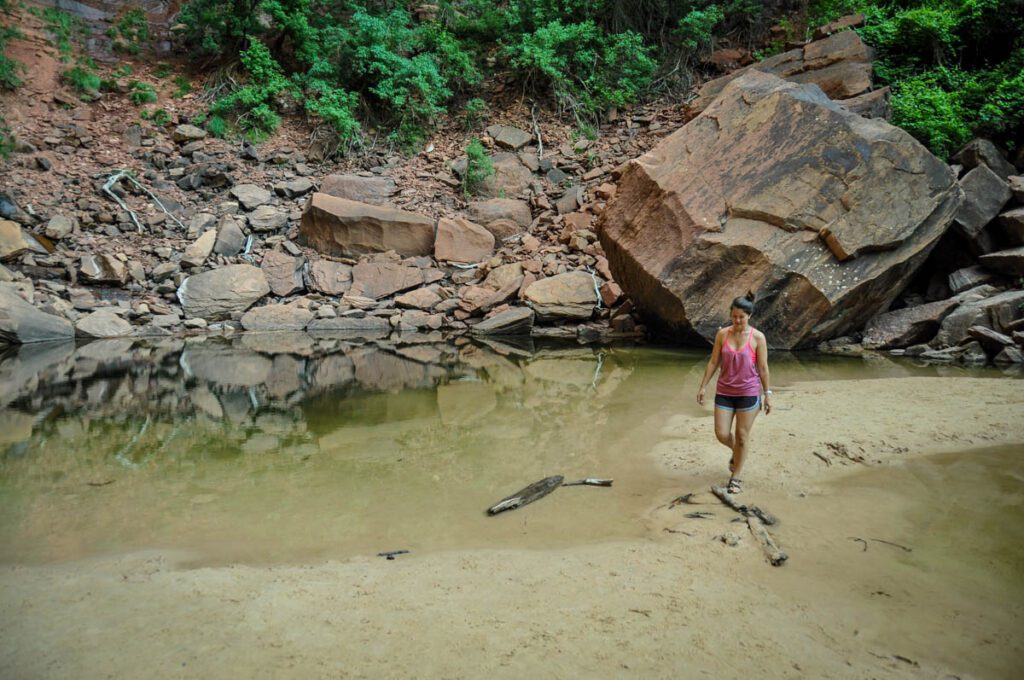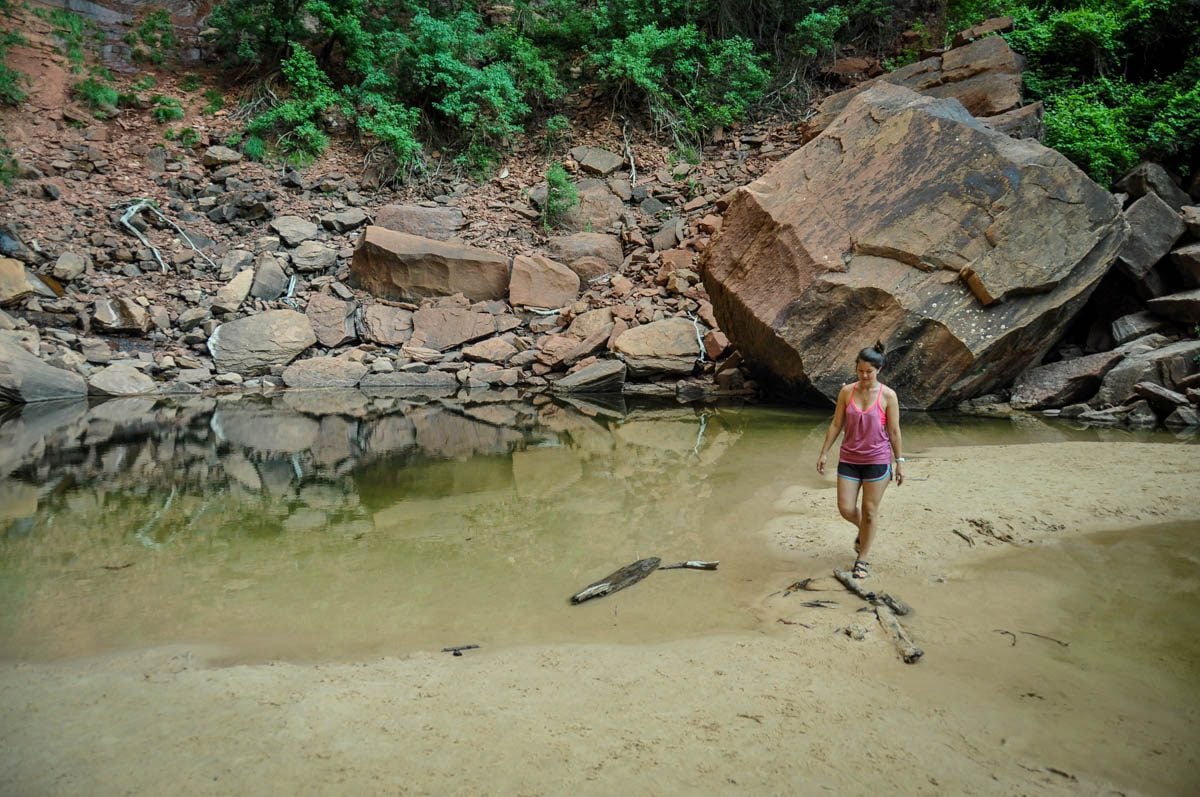 The easiest is a 1.4-mile loop trail that leads to the Lower Pool. The other two trails are moderate with a 2.4-mile out and back trail to Middle and Lower Pools and a 3-mile hike to all three (stats shown above).
We recommend visiting all three pools on the classic Emerald Pools Trail since it's still a relatively short, moderate hike involving the pools, waterfalls, shady maple trees, and stunning vistas.
It's important to note that the waterfalls are best experienced in the springtime or after it has rained. If you're visiting during a dry period, they may not be as flowing as some photos suggest.
Psst! Check out this list of easy hikes in Zion National Park that can be done with kiddos in tow.
6. Search for petroglyphs
Some of the last remnants the indigenous tribes left behind in Zion are thousands of rock carvings, known as petroglyphs. These are pictures and symbols that were chiseled into rock faces using stone chisels and hammers.
Many of these sites are not openly advertised to the public to prevent vandalism, so you'll need to talk to one of the park rangers for permission and more guidance if you want to see other locations. Keep in mind, there are a handful of sites they do not disclose at all.
While visiting petroglyphs, it's crucial that you follow Leave No Trace principles, be respectful, and do not touch the carvings. Different areas feature different pictures, but you'll be able to spot human and animal-like figures, bighorn sheep, snakes, spirals, and circles.
Petroglyph Canyon: These are fairly secret in Zion and are protected by rangers and barriers. You only need to hike the first 0.6 miles of the trail to see two panels of rock carvings that were created over 1000 years ago. Along the trail, you'll be able to awe at over 150 pictures that were carved by the Anasazi and Southern Paiutes.
South Gate Petroglyphs: These rock carvings have faced a bit of damage but are still worth exploring and are some of the easiest petroglyphs to access in the park.

How to get there: About 50 yards east of the South entrance, you'll look for a single flat rock called Sacrifice Rock with a small NPS sign on it. This rock is an ancient summer solstice marker, so on June 21st, another rock will cast a shadow that was said to resemble the "open jaw of the coyote".
7. Float down the Virgin River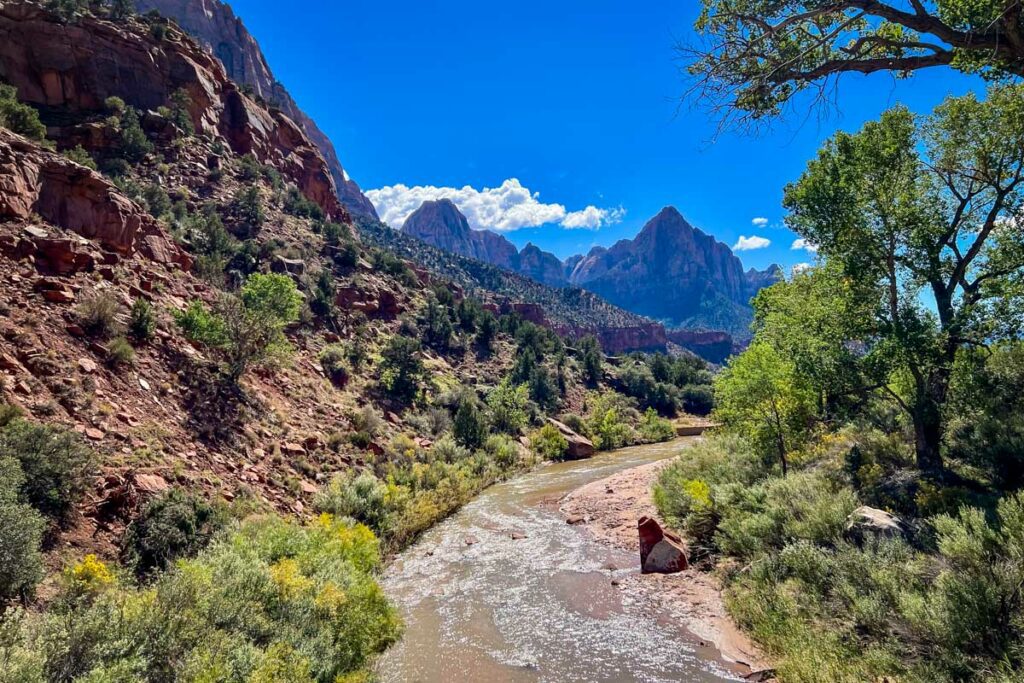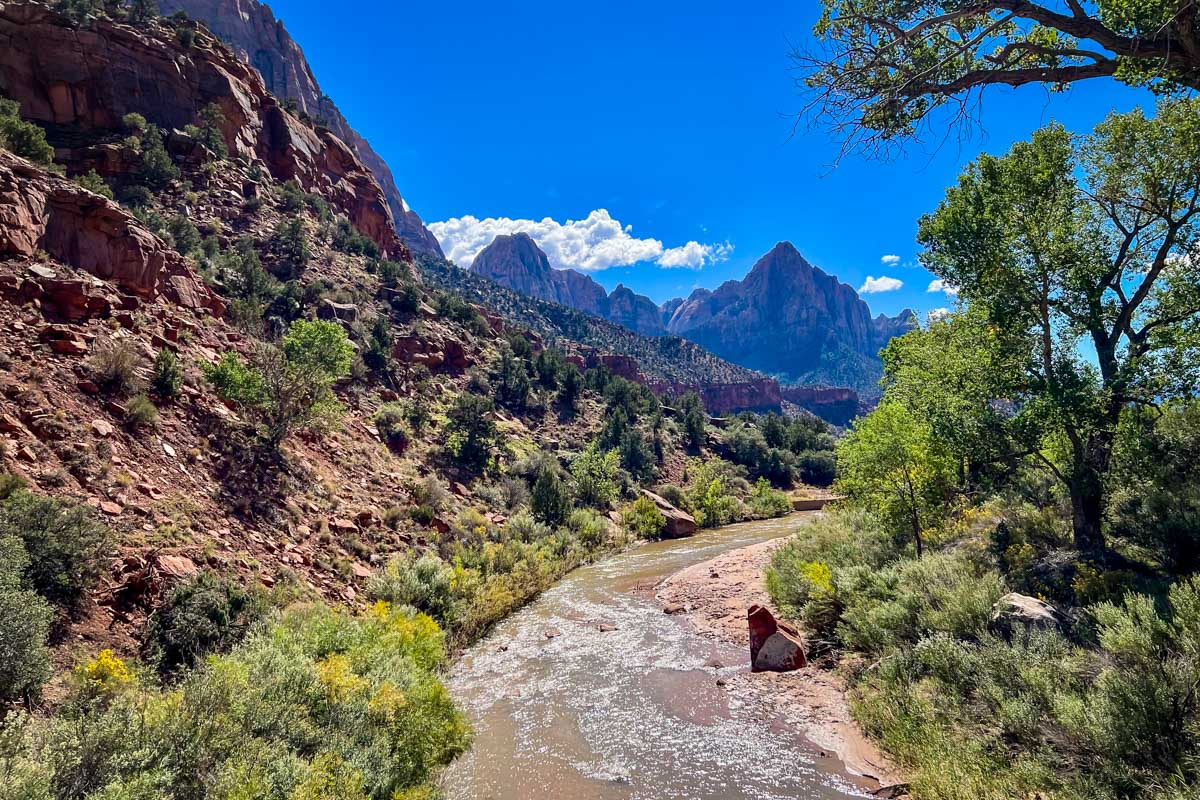 Important note: The Virgin River and other streams in Zion have experienced an ongoing bloom of cyanobacteria in the water, so as of January 2022, floating is not advised. You'll want to avoid contact with water, do not submerge your head in water, and keep dogs and children away from it. Before considering a rental for your visit, keep an eye on updates here.
The best midday activity in Zion National Park is a float down the river that has carved Zion Canyon over millions of years.
The only time you can do this is between 11:00 a.m. and 4:00 p.m. from May to July when the river conditions are favorable, making it a great way to cool down in the summertime heat.
It's also important to note that this isn't your typical, relaxing river float since it requires navigating rocks and small rapids. It's best to be in good physical condition to do this activity. Adventure tubing isn't for everyone, but it's a TON of fun for those that enjoy this type of thing.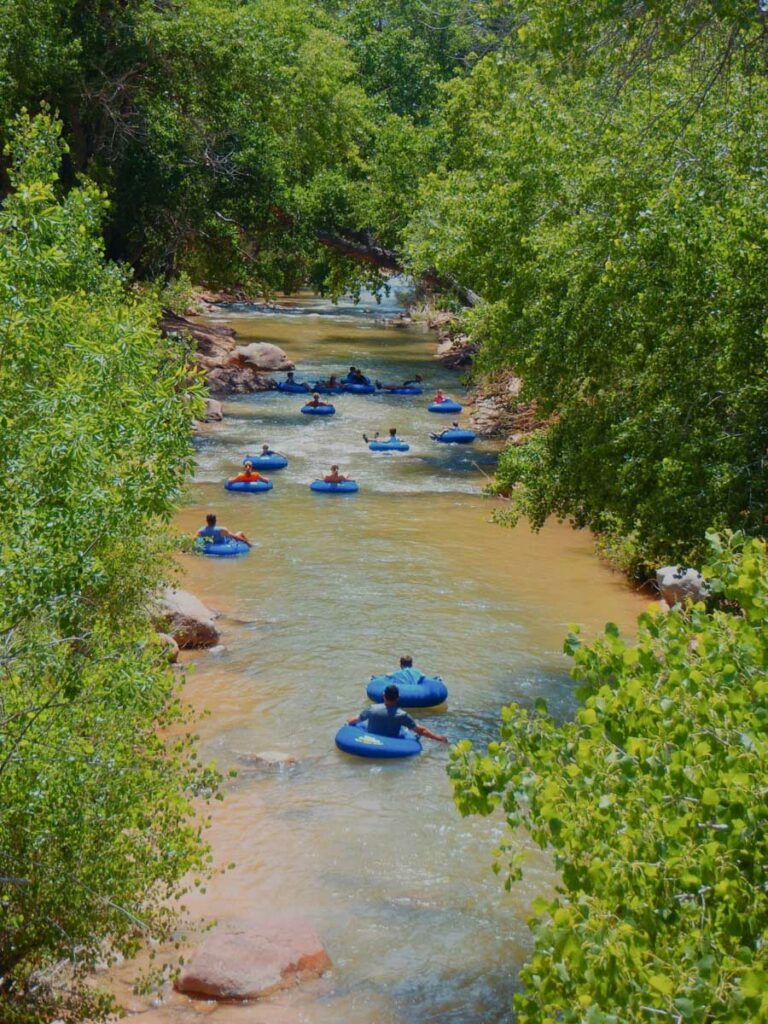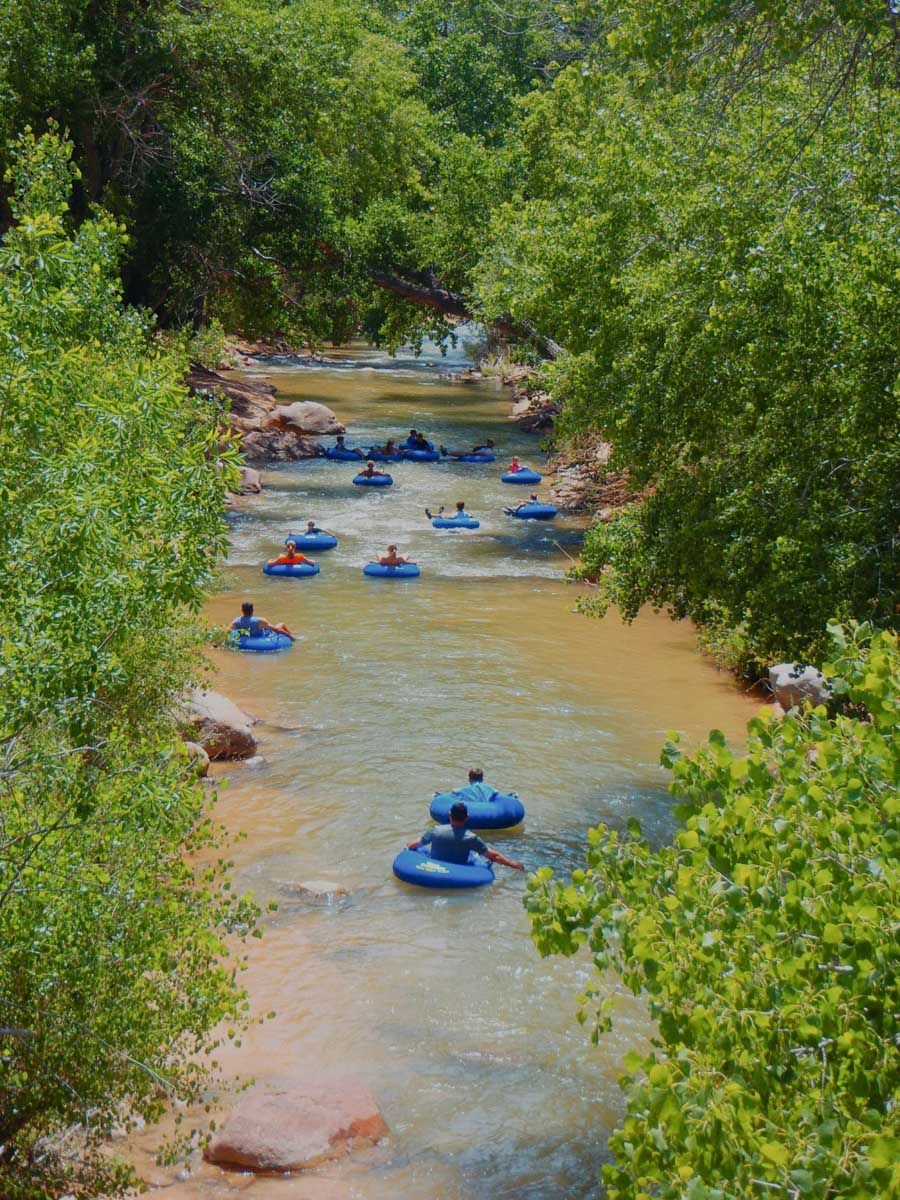 The 2-mile river float starts right at Zion Outfitter, where you can conveniently rent a tube. You cannot reserve tubes in-advance as they're on a first come first served basis, so keep that in mind if you're visiting since it's only open during peak season.
The float takes you through tall, shady cottonwood trees and steep canyon walls as you enjoy a mix of peaceful floating and rapid navigating. Be sure to bring a waterproof bag because everything will be soaked by the end.
You'll exit at Springdale Park, which is marked by signs and a large gravel pit. You can leave your tubes here, then walk to the nearest shuttle stop to head back to the outfitters or onto your next adventure in Zion National Park.
Be sure to pack closed-toed water shoes, sunscreen, a dry bag, and a lightweight travel towel!
8. Watch the sunset at the Canyon Junction Bridge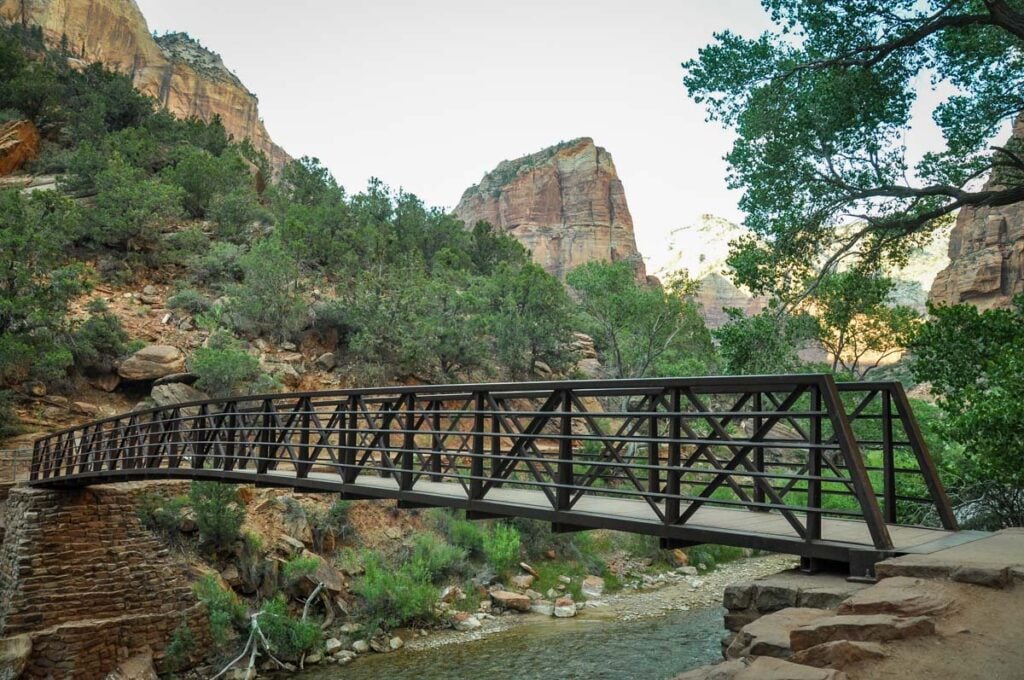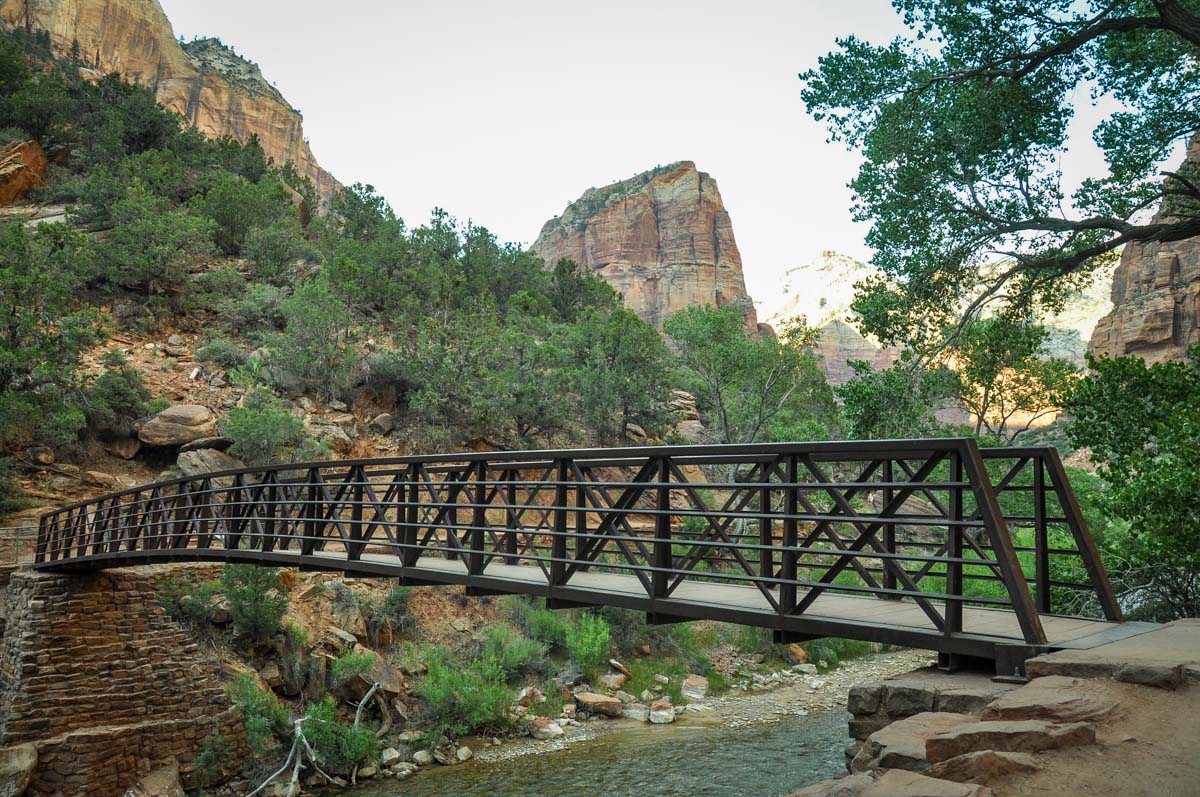 The most photographed location in Zion National Park is the view at the Canyon Junction Bridge since it has the best views of the Watchman Peak. Most commonly visited at sunset, you'll enjoy the towering rock formation illuminated by the red-orange light of golden hour.
The bridge is at the junction between Zion Canyon Road and Zion Park Boulevard. It's best accessed using the shuttle since parking is extremely limited near the bridge. It's not uncommon to see upwards of fifty photographers posted here eager to grab a photo of this incredible view.
If you're looking for an uncrowded place to enjoy sunset or an alternative, the Watchman Trail or the Canyon Overlook Trail are great alternatives that still have amazing views of the Watchman and additional views of Zion Canyon and the surrounding areas.
Tip: To get some awesome shots at Zion, check out this article filled with creative tips to improve your travel photography!
9. Zion Canyon Shuttle scenic tour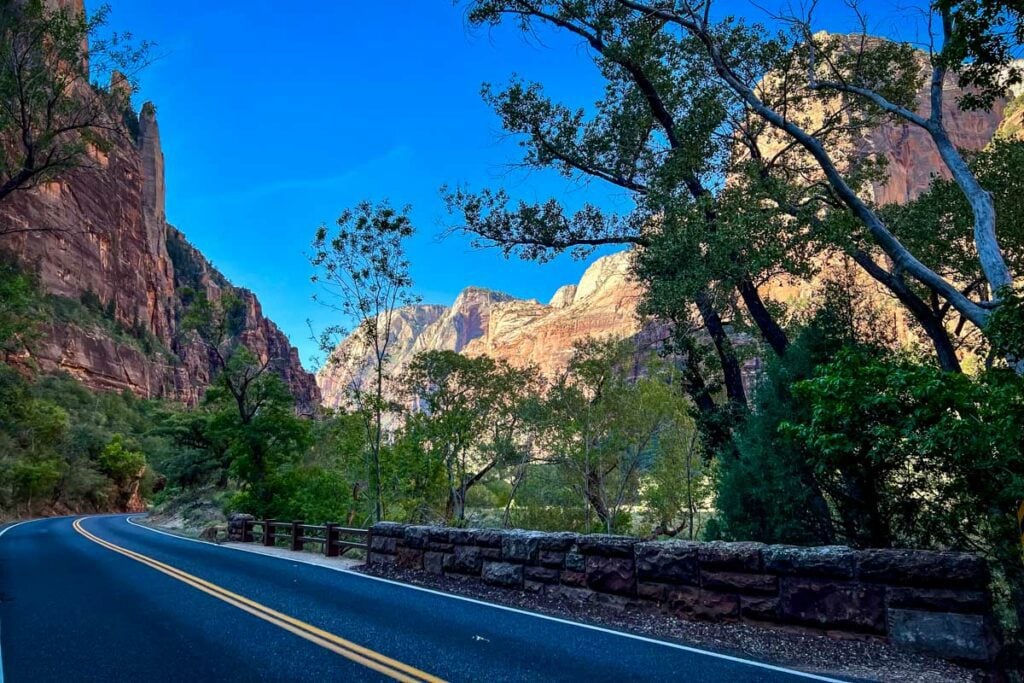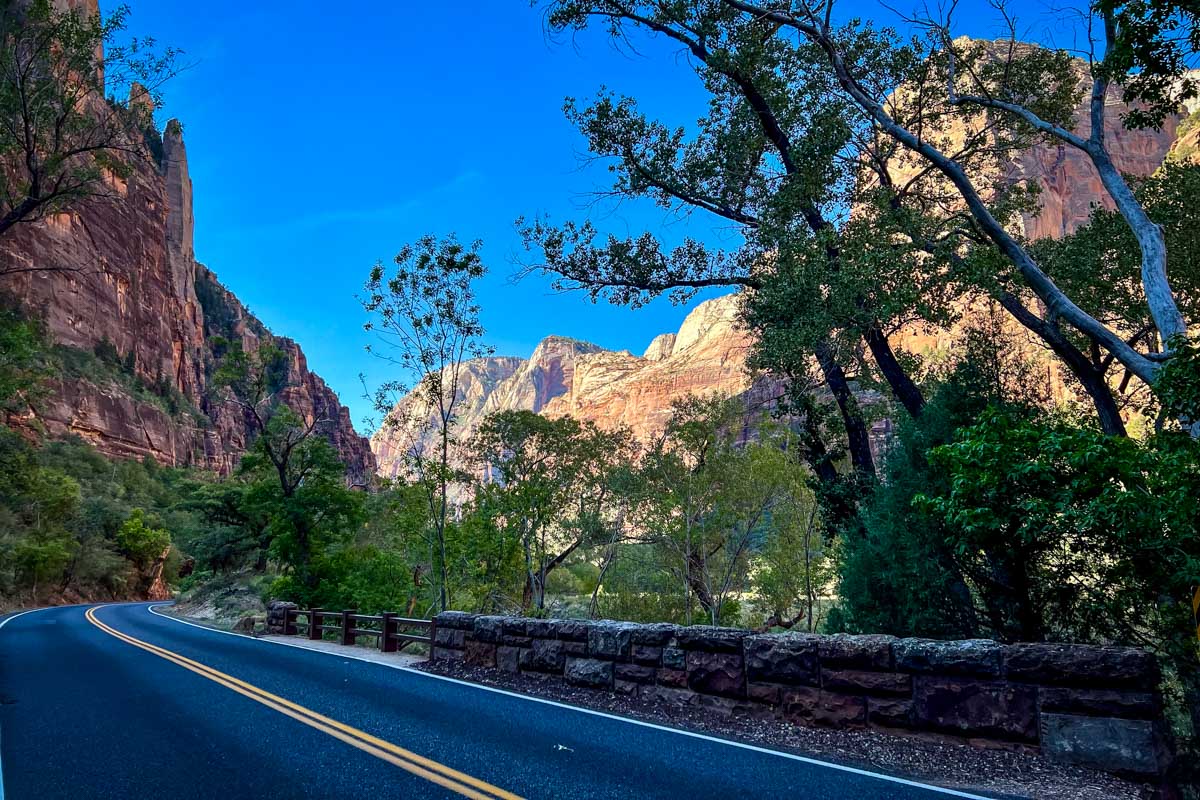 The shuttle tour in Zion National Park is a great way to learn more about the significant rock formations within the park, and to learn a little bit of history at each stop. This is an incredible self-drive when the shuttles aren't running, but if you're visiting in the summer, the shuttle is the only way to drive down it (aside from biking).
Along the drive, the shuttle will make eight different stops along the Zion Canyon Scenic Drive: Zion Human History Museum, Canyon Junction, Court of the Patriarchs, Zion Lodge, the Grotto, Weeping Rock, Big Bend, and the Temple of Sinawava.
From the Zion National Park Visitor Center, it takes about 45-minutes to get to the last stop, the Temple of Sinawava. The full route without getting off will take 1.5 hours.
It's likely you'll experience bits and pieces of the tour throughout the day as you hike, but it's always nice to rest your legs and enjoy the full tour.
If you're boarding the shuttle near the evening, or get off at any stop along the way, do not wait until the last shuttle of the day. If it comes by and it's full, you'll need to walk 9-miles back to the Visitor Center.
This shuttle gives great insight into the details of the park and is totally FREE!
10. Marvel at Checkerboard Mesa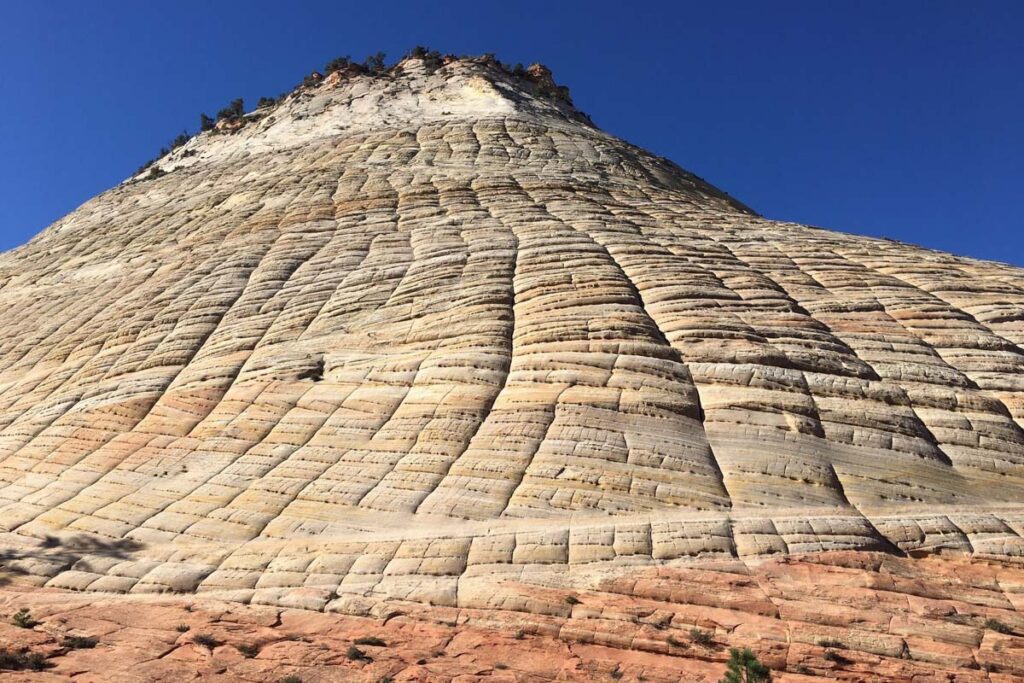 As Highway 9 cuts into the Zion National Park boundary, you'll be amazed at the unique details of Checkerboard Mesa. The fascinating cracked patterns on the face of sandstone hills resemble the grid of a checkerboard, hence the name.
Criss-crosses on the rock formation are due to weathering, wind direction, and a cycle of freezing and thawing. The best spots on the monolith to see these effects are on the north side, but are just as incredible from any angle.
Checkerboard Mesa changes more and more each year, so eventually the erosion will lead to its collapse and it will break down into massive sand dunes.
This can be easily enjoyed driving along the highway, but if you want to explore more of the area, there are a few hikes. You can take the 1.1-mile Mesa Arch Trail up and back down to the road. This short trail is along the main 8-mile Checkerboard Mesa Canyon Trail, so keep that in mind when you're looking at your map.
11. Take in the views at Observation Point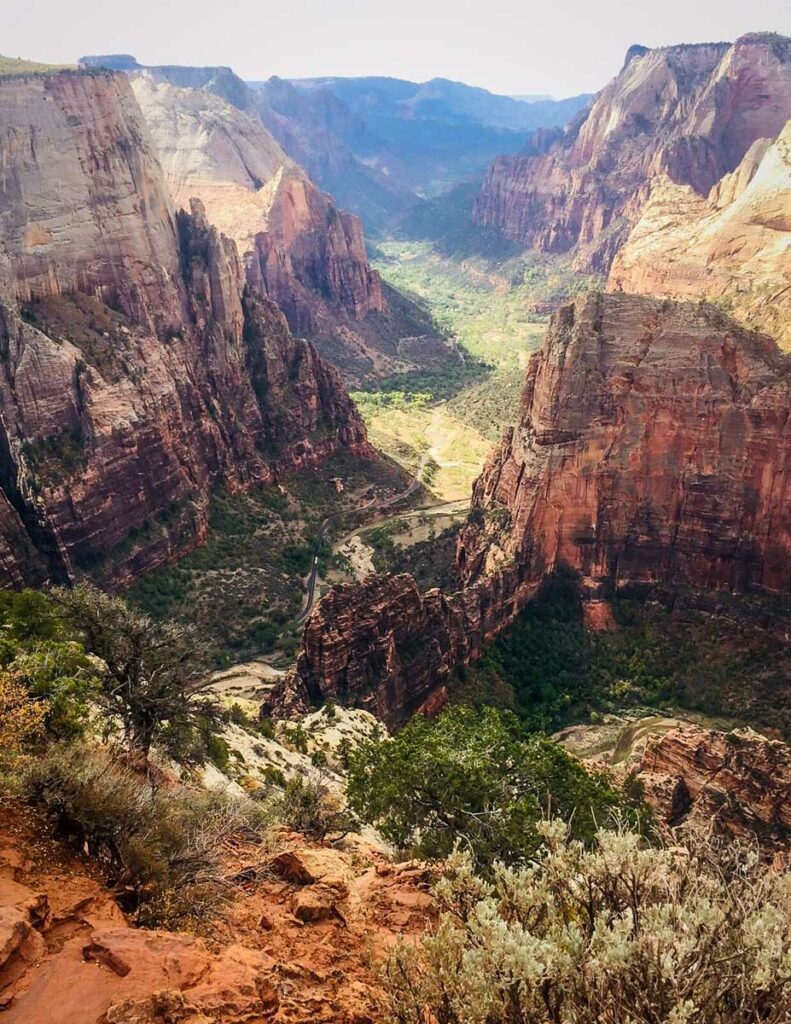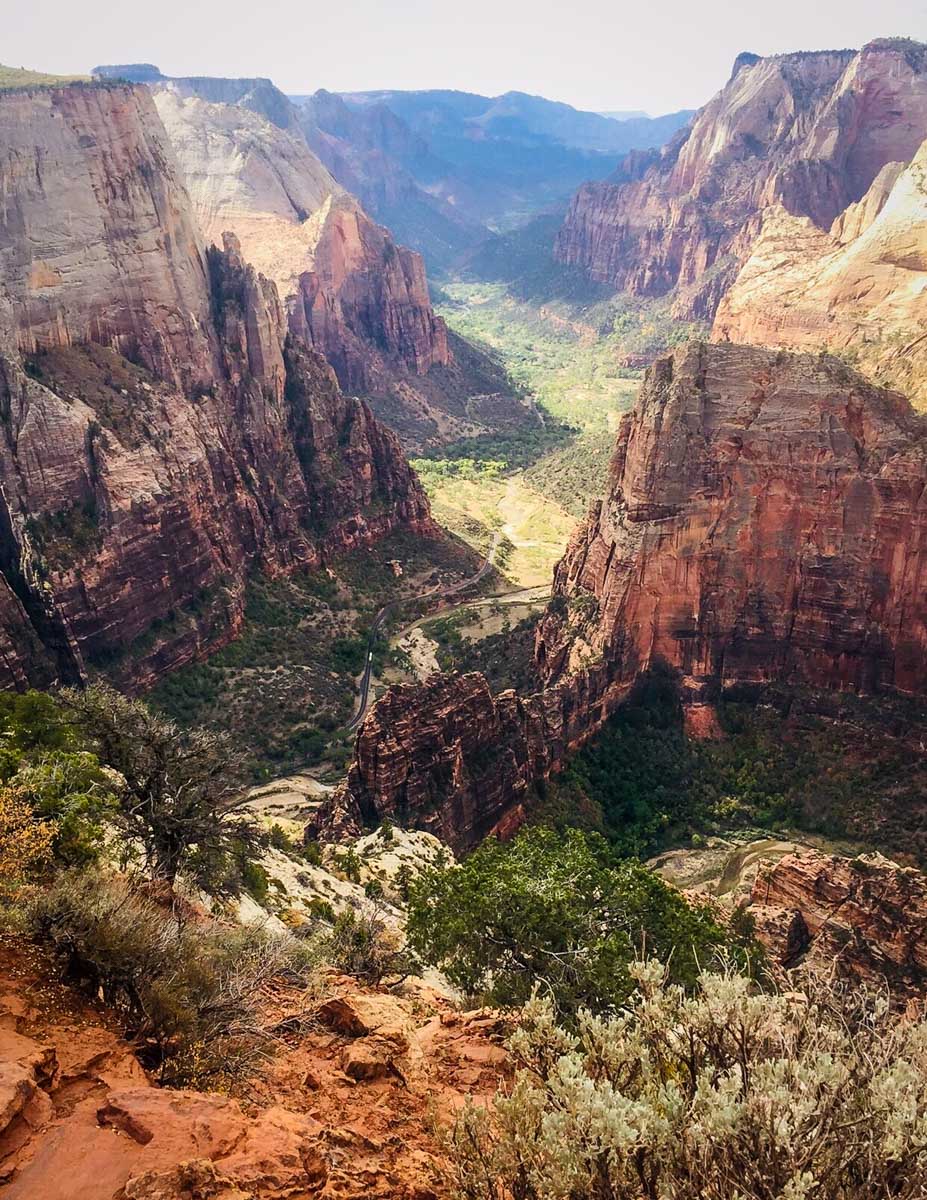 Distance: 7 miles, out and back
Elevation gain: 702 ft
Difficulty rating: Moderate
Observation Point is another one of the most praised things to do in Zion National Park. From this stunning viewpoint, you can spot Angel's Landing, and a ton of famous mesas and mountains within Zion Canyon.
The main route to Observation point is closed due to rockfall, but there is a different, easier way to access the viewpoint right now, known locally as "the old man's way". This route is accessed via the East Mesa Trailhead that's on the eastern edge of the park near Zion Ponderosa Ranch.
The roads out there are a little more rugged and 4WD is recommended to get all the way to the trailhead, but you can opt to park further away and walk the rest of the way to the trailhead if you're not comfortable with your car's abilities. Do not attempt this road in rain because you'll likely get stuck.
Luckily, the trail is around 7-miles and is a casual walk compared to Observation Point's original route of 8-miles and over 2000 feet of elevation gain. The original route is by far more scenic, but both trails end at the same gorgeous viewpoint.
View the status of the trails here to get updates on openings.
12. Drive the Zion-Mount Carmel scenic highway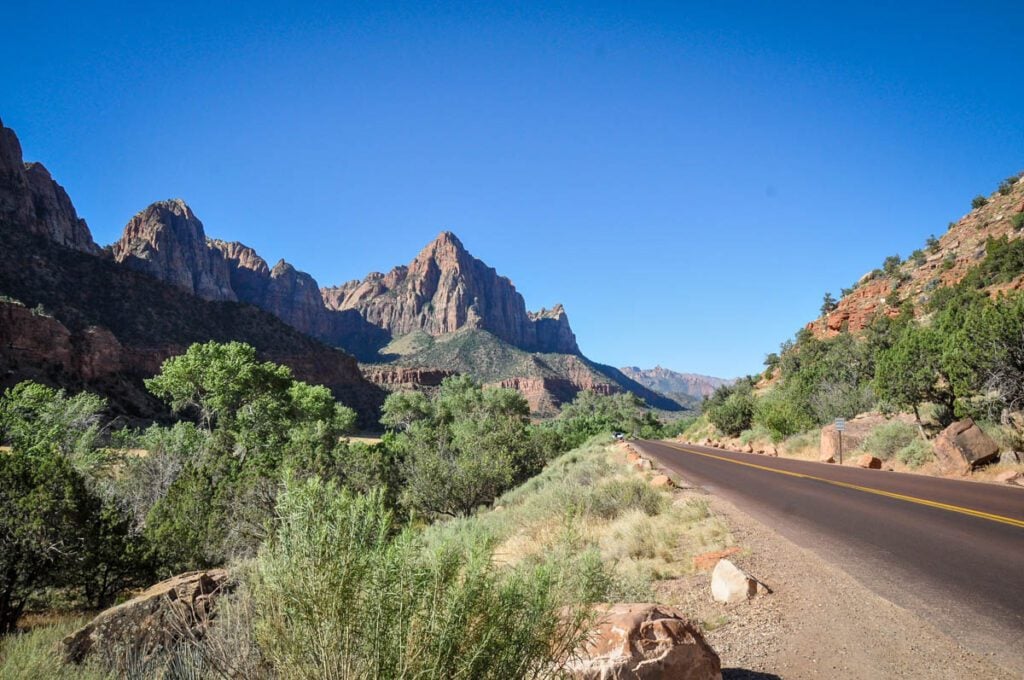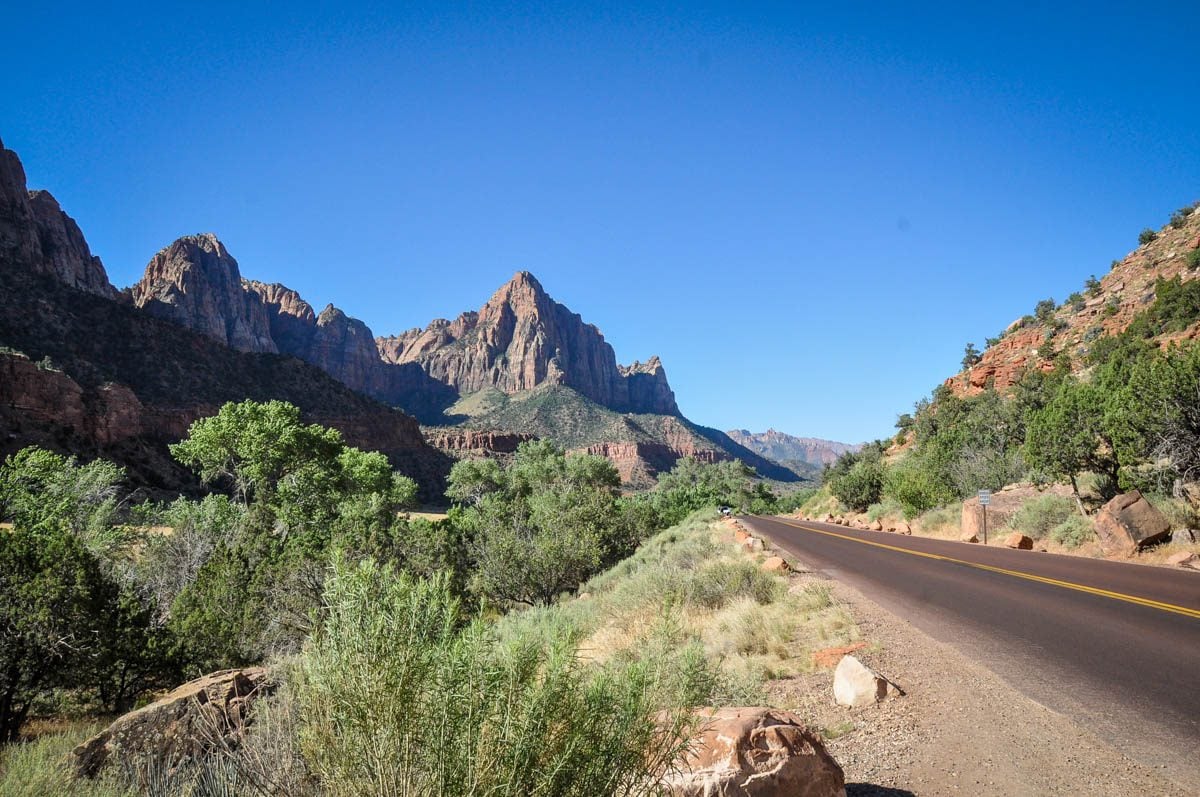 As you drive towards Zion's east entrance, you'll gaze in awe at this scenic highway. The scenery is the main eye candy as you drive in, but the history of the highway is just as fascinating.
The construction of this road was considered impossible because of many geological setbacks, but after going through 146 tons of dynamite, the road was finally finished in 1930, and was considered one of the greatest road-building accomplishments in history for the time period.
With the drive's combination of staggering beauty and advanced engineering, it's known as one of the most scenic drives out of all the National Parks. Beginning at the classic National Park entry sign, the road takes you through mile-long rock tunnels, hairpin switchbacks, and among some of the best views of Zion.
Many people take this route to enter the park, so aim for the early morning or late evening to avoid all the traffic. In peak season, traffic can come to a stand still. But even then, being stuck on a road as scenic as this could be considered a blessing.
13. Get off the beaten path in Kolob Canyon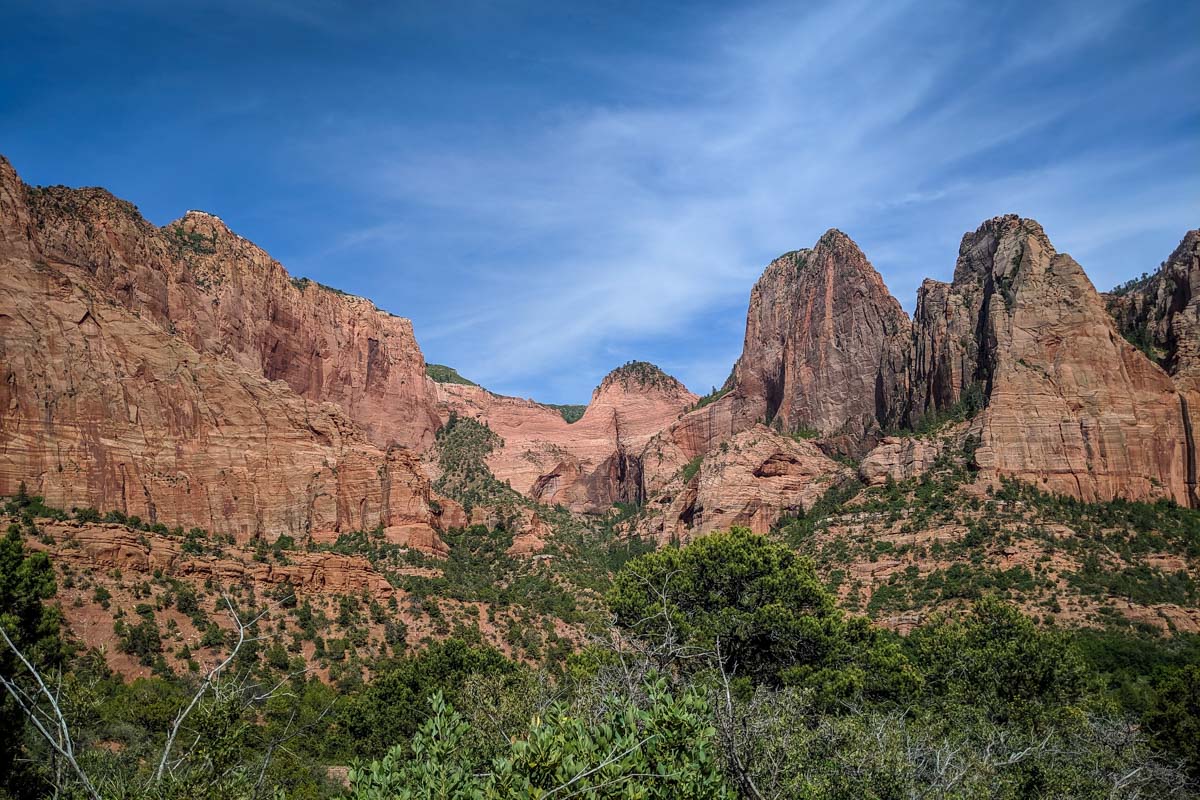 With as popular as Zion National Park is, you wouldn't expect there to be much solitude anywhere in the park, but the Kolob Canyons section is an exception. Northwest of all the action in Zion Canyon, you'll find towering rock formations, quiet, scenic trails, and feel more immersed in Zion's wilderness.
From the South entrance of Zion, it's about a 45-minute drive to the Kolob Canyon's section.
Many people who visit Zion are only here for a few days, which is why this area is so overlooked, but even if you only come out here to drive the Kolob Fingers Scenic Byway and Kolob Terrace Road, you won't regret it.
There are a variety of different pull offs and scenic lookouts to take in the stunning red finger canyons of the area.
Additionally, there are a ton of amazing hiking trails worth exploring like the Taylor Creek Trail for historic cabins, scenic alcoves, and the weeping rock formation near the end. Spring Canyon and the Kolob Arch trails are worth exploring as well if you have extra time in this area.
14. Go on a canyoneering tour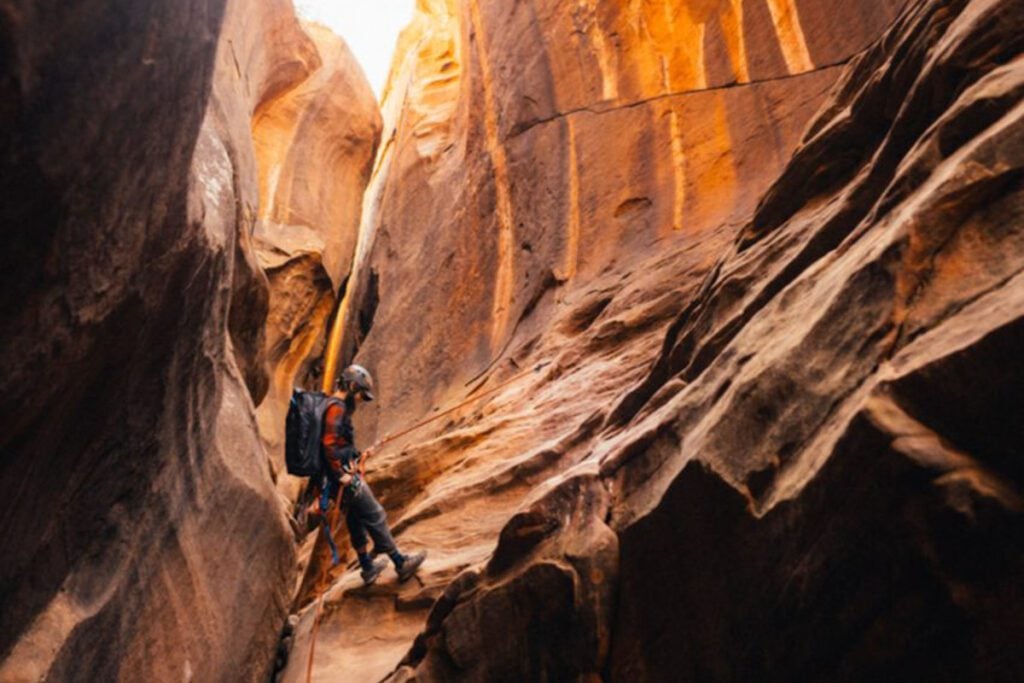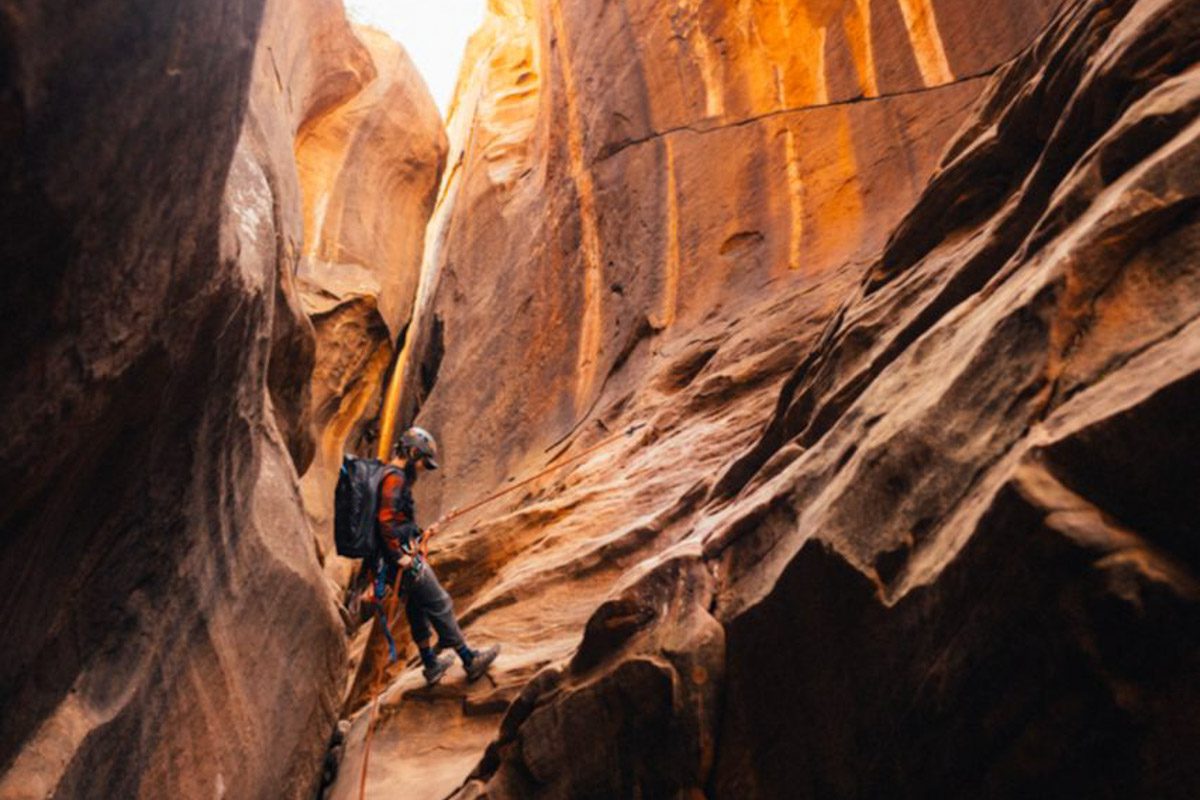 One of the best things to do in Zion National Park to get off the beaten path is to join a canyoneering tour. Canyoneering is a blend of many different hiking techniques to explore a slot canyon: hiking, scrambling, sliding, and the occasional repel depending on where you go.
There are so many canyons and slot canyons around Zion to be explored no matter your experience level, so if you want to try something new, this is one of the best ways to experience a new hobby or adventure with expert, welcoming guides.
There are a ton of guided tours offered in Springdale that all offer beginner routes, or that will cater to your experience level:
Half-day canyoneering tour: This 4-hour adventure is an ideal intro tour for beginners. After meeting with your guides, you'll go over a safety briefing then head just outside of Zion to begin exploring. With your group and guide, you'll work together to hike, climb, repel, and even squeeze your way through the untouched walls of Zion.
Full-day canyoneering tour: Whether you're an experienced canyoneer or an eager beginner, this full day tour has 10 unique rappels that reach up to 100-feet. You'll receive a safety briefing before you head out to explore the otherworldly red walls you won't find anywhere else in the world.
15. Star gazing
One of the most admirable things about the U.S. National Park Service is their commitment to maintaining the most natural experience while still making the outdoors accessible. The best way Zion has done this is by making changes over the years to reduce the amount of light pollution inside the park.
On clear nights in Zion, you can see billions of stars, planets, constellations, meteor showers, and even the milky way! Experiencing the glittering night sky of the park is the best way to wrap up a perfect day of hiking and exploring.
You can enjoy the starry nights from anywhere in the park, but it's recommended by the rangers to head to the Pa'rus Trail and the Zion Human History Museum. It's not advised to be on other hiking trails in the pitch black because of steep cliff sides, exposure, and chances of a wildlife encounter along the trails.
An underrated place for stargazing is on the Zion Mount-Carmel Highway. The road and surrounding areas are expansive, so you won't have anything obstructing your view of the sky. It's also excellent because of the many different pull offs.
To have the best experience stargazing, make sure you pack a headlamp or flashlight with a red light feature. Download a stargazing app to help you identify star clusters.
16. Backpack the West Rim Trail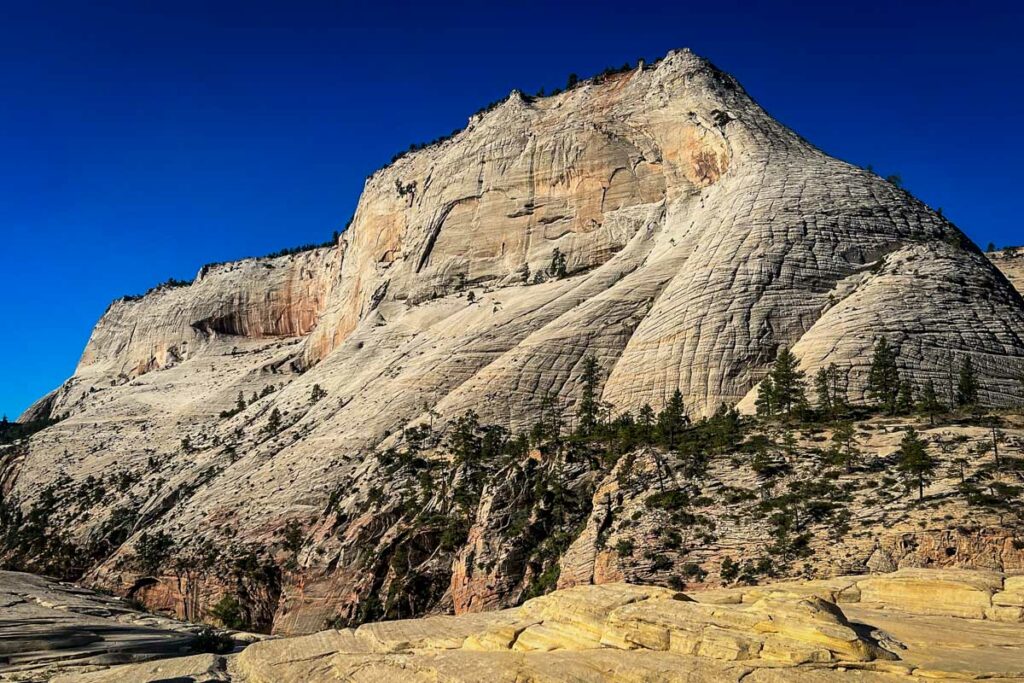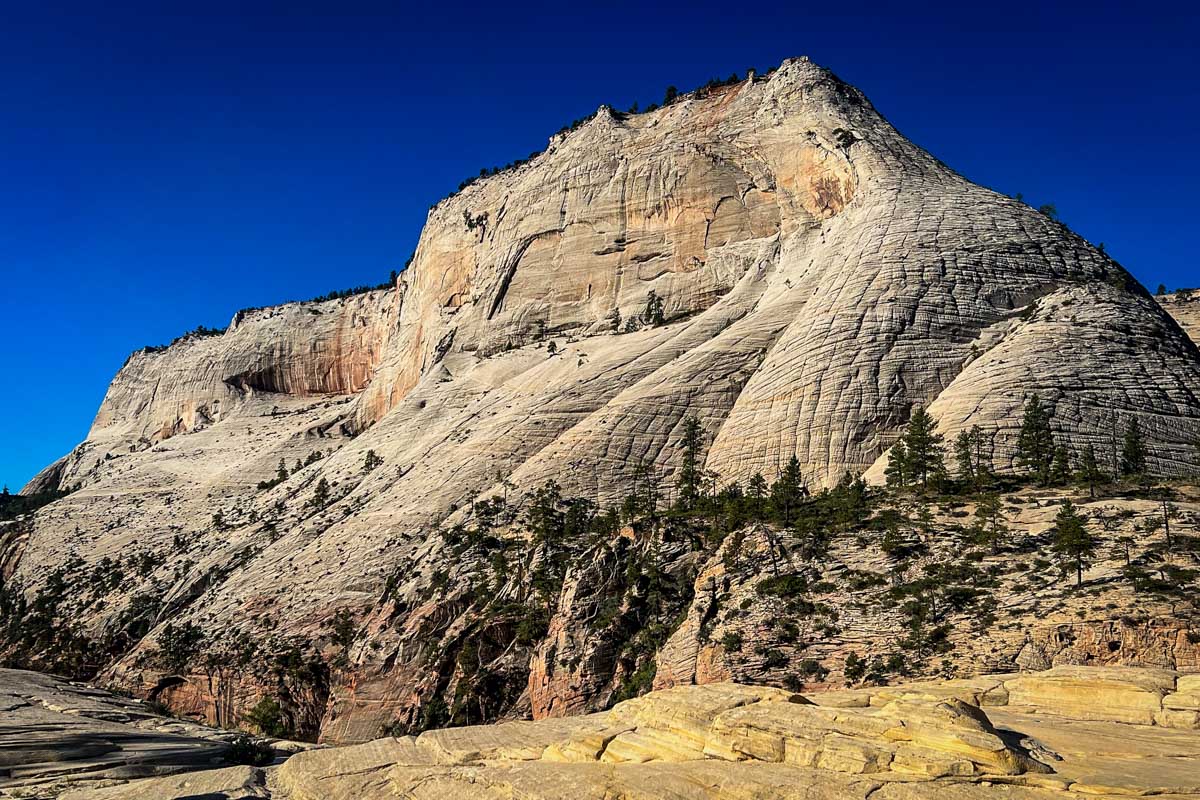 Distance: 14.1 miles, point-to-point
Elevation gain: 1,748 feet
Difficulty rating: Challenging
Backpacking Zion's Wilderness is missed by most, but it is one of the most scenic ways to enjoy the park.
A backpacking trip is packing everything you need for camping and basic survival into a backpack and hiking along a trail for any desired number of days. It requires tedious planning, but the effort reaps a massive award.
Important note: Backpacking, while incredible, requires proper gear and advanced planning in order to be done safely. Be mindful of your capabilities and experience levels to keep yourself before heading out. Read up on these tips for backpacking for beginners.
The 14-mile West Rim Trail is famed among the backpacking community and is best done as an overnight trip starting at Lava Point. It's best hiked 'top-bottom', and requires a wilderness permit in order to camp along the trail.
The most impressive part about this trail is experiencing the contrast of the gray-colored upper canyon vs. the brilliant oranges of the lower canyon.
The trail is lined with unique ponderosas, sagebrush, and yucca starting out, before it descends down into the main canyon. This is one of the most remote trails in Zion, so the views are unlike anything you've ever experienced!
17. Take on the Subway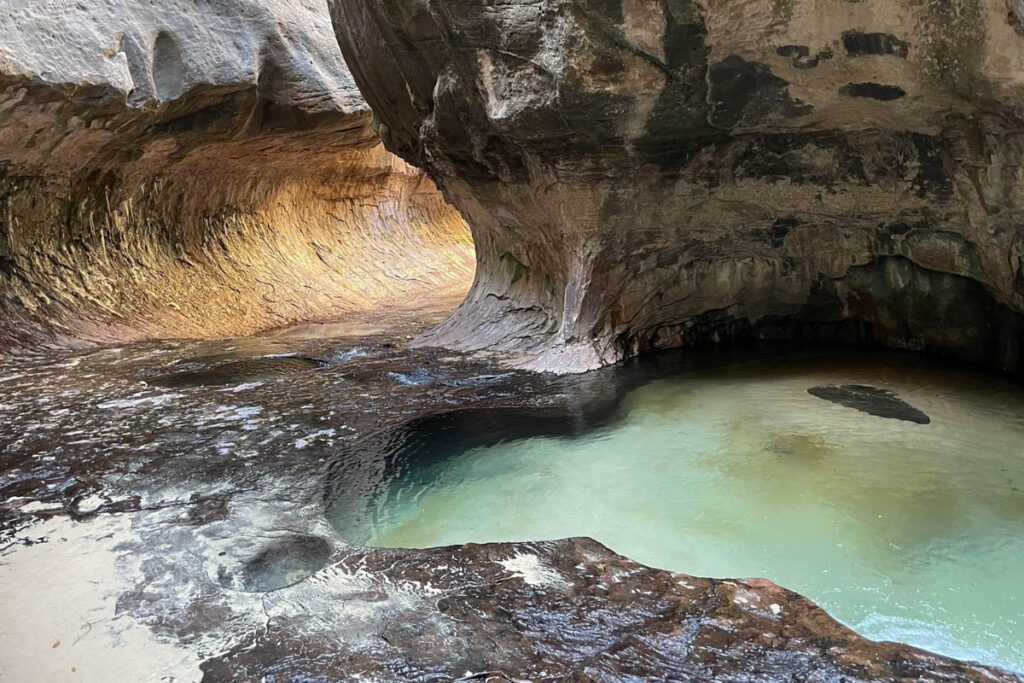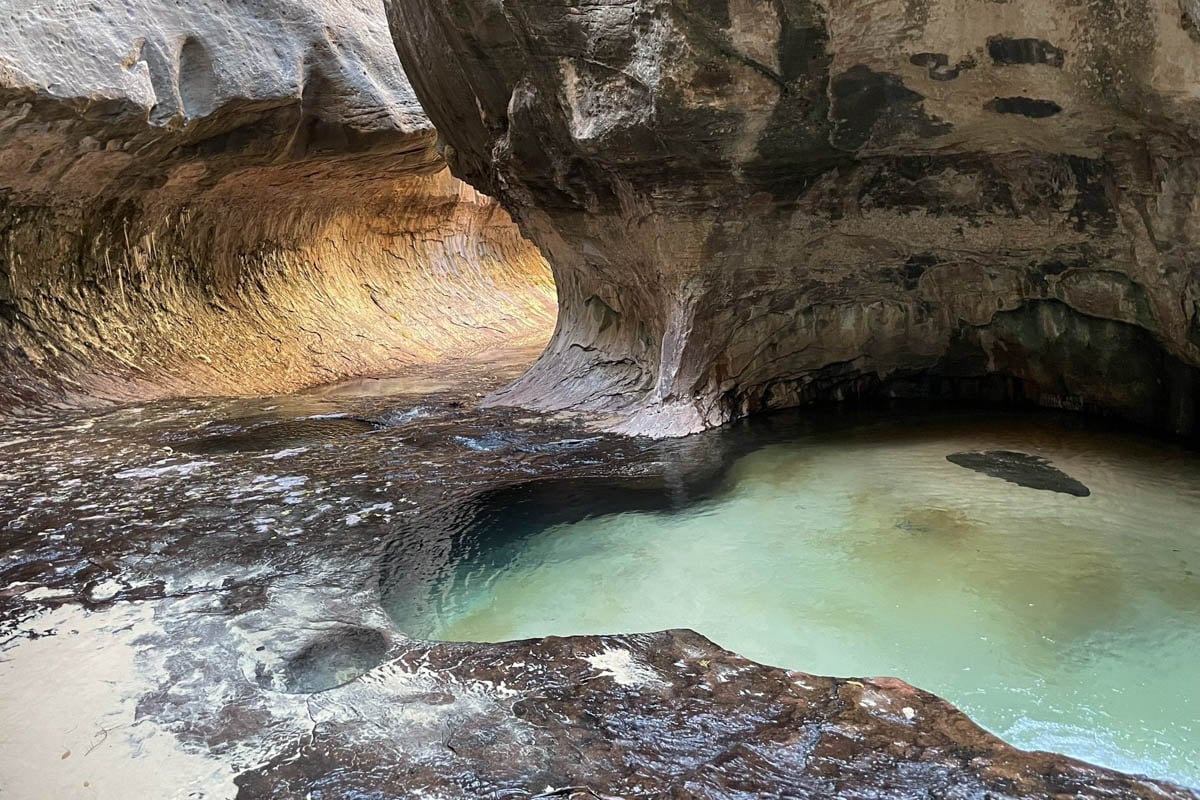 Distance: 9.1 miles, out and back
Elevation gain: 1,305 feet
Difficulty rating: Challenging
There are many geological wonders in Zion National Park, but the Subway takes the cake for being the most magnificent. This hollowed out canyon resembles tunnels of a subway station and has a handful of pools that add to the beauty of this alcove.
The Subway can be explored two ways, top-bottom and bottom-up. Both routes require permits, and the top-bottom route requires technical canyoneering skills to complete safely. The bottom-up route is the perfect challenge for experienced hikers to one of the best views in Zion.
You can expect the ~9-mile trail to take an average of 5-8 hours to complete, but it varies depending on trail conditions, fitness levels, and experience level. You'll want to pack plenty of hiking snacks, water, and filtration if necessary to comfortably hike this trail.
There are 60 permits available per day for the Subway that are released 6 months in advance, and 20 are available for walk-ups and last-minute draws. Lotteries for hikes in the U.S. are notoriously difficult and frustrating, but you won't regret putting in the work for this spectacular trail.
---
Where to stay in Zion National Park
The best places to stay in Zion are either in the park itself or in the neighboring town of Springdale. No matter what your budget is, you can find a nice place to stay for your trip to Zion National Park.
Lodging inside the park
Lodging that's actually inside Zion is extremely limited, but luckily there are a ton of amazing stays in the neighboring town of Springdale. It's crucial that you book these in advance to get a room.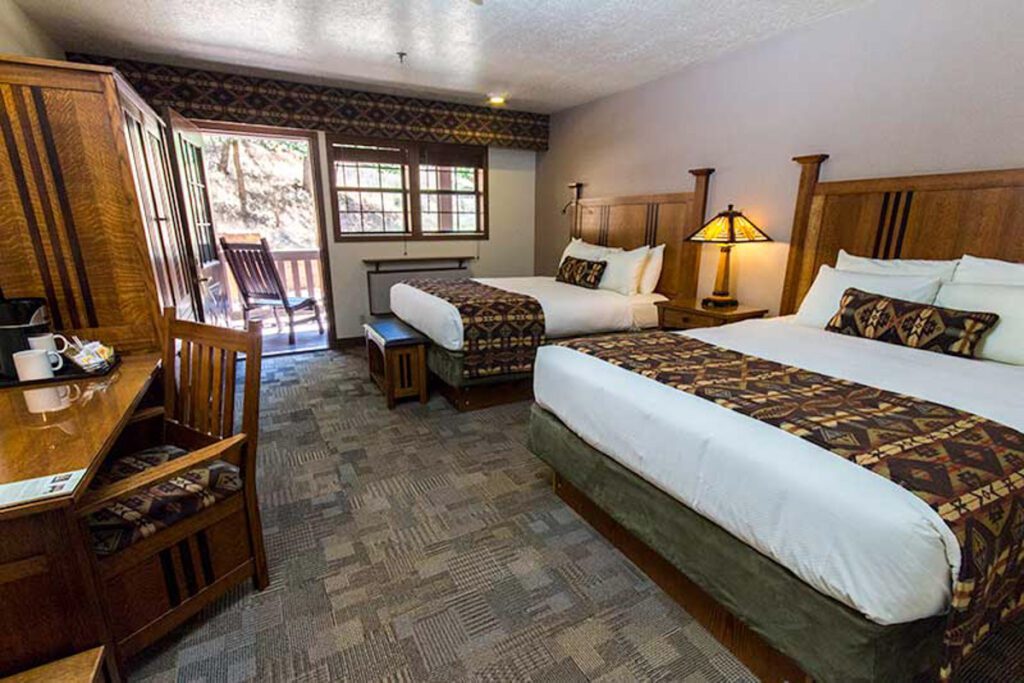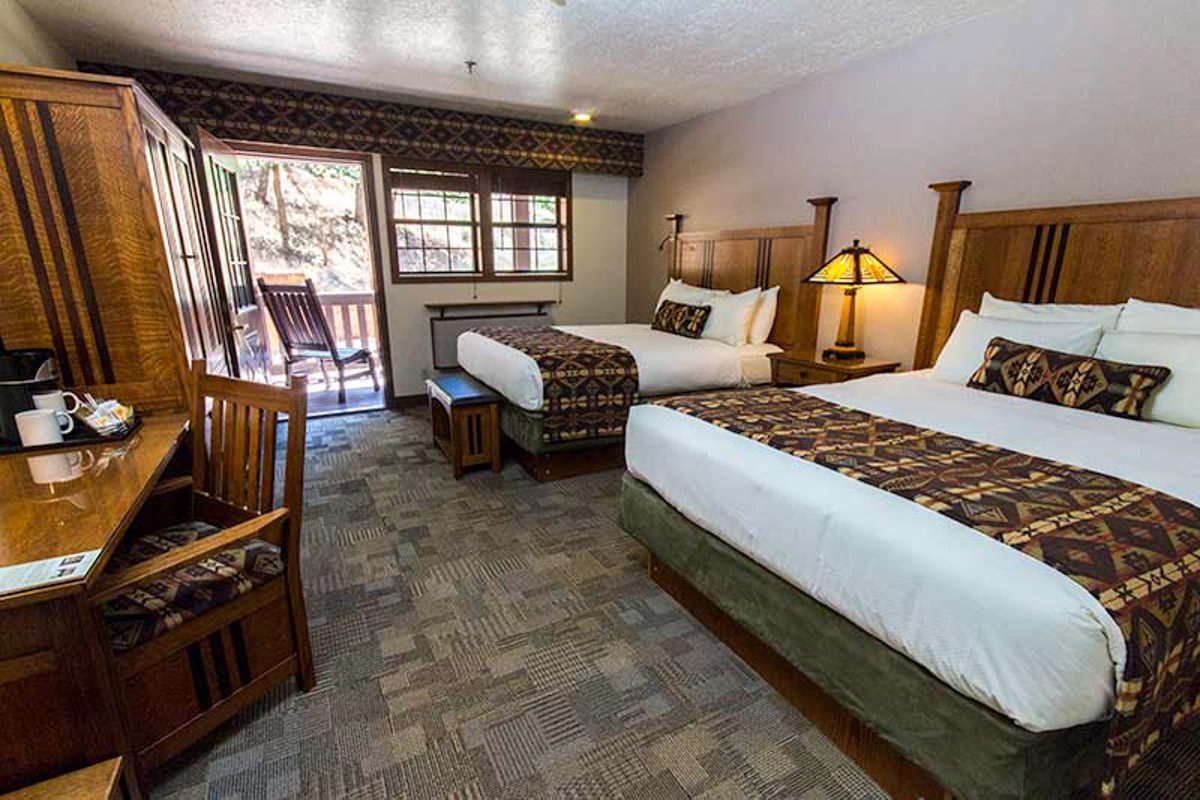 Zion National Park Lodge: This lodge is the only hotel that's actually inside the park. Their free parking is a massive plus since there are severely limited spots, and there are a couple on site restaurants to escape the midday heat. It's in a prime location and books up nearly a year in advance!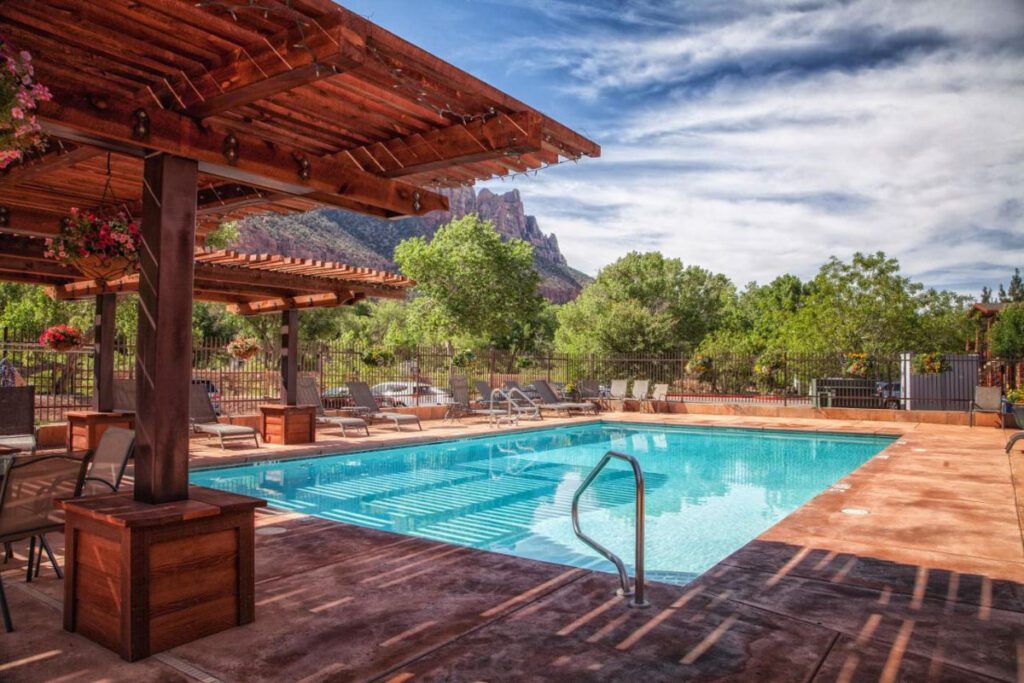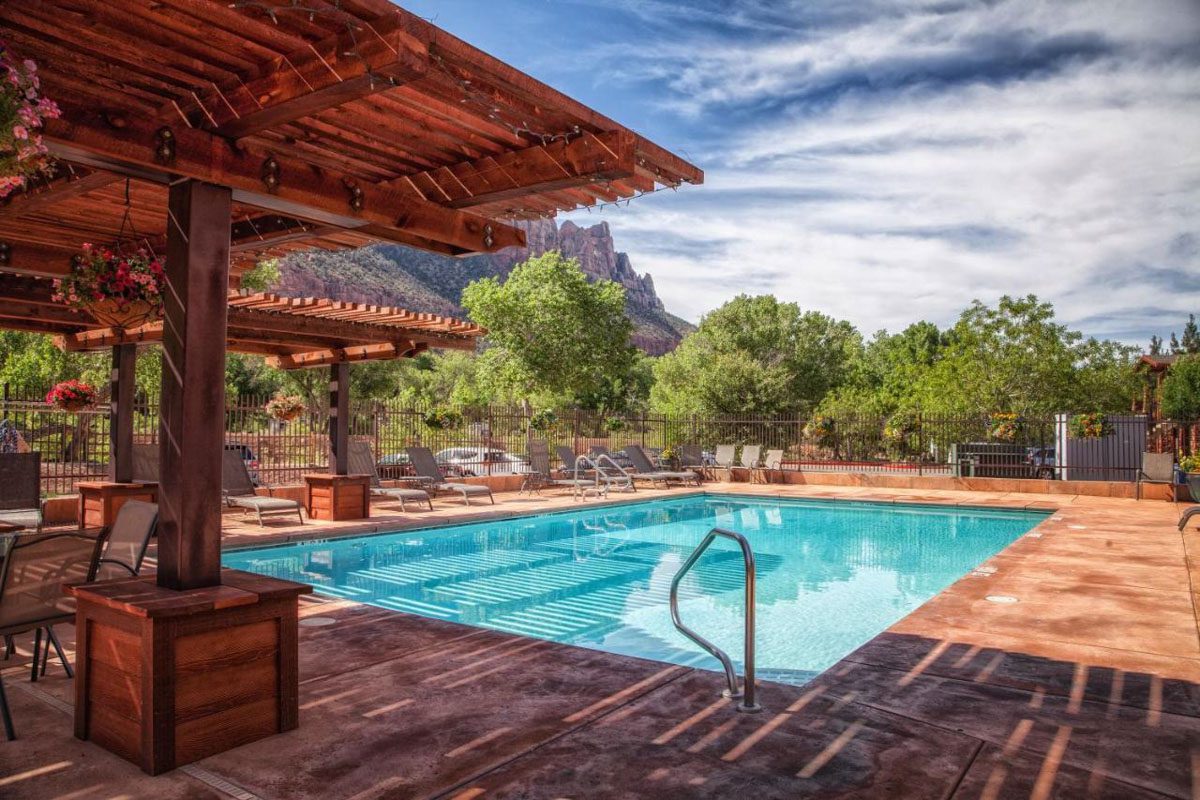 Cable Mountain Lodge: This stay is located right outside the South entrance in Springdale. You can't beat their private beach, outdoor pool, hot tub, and canyon views.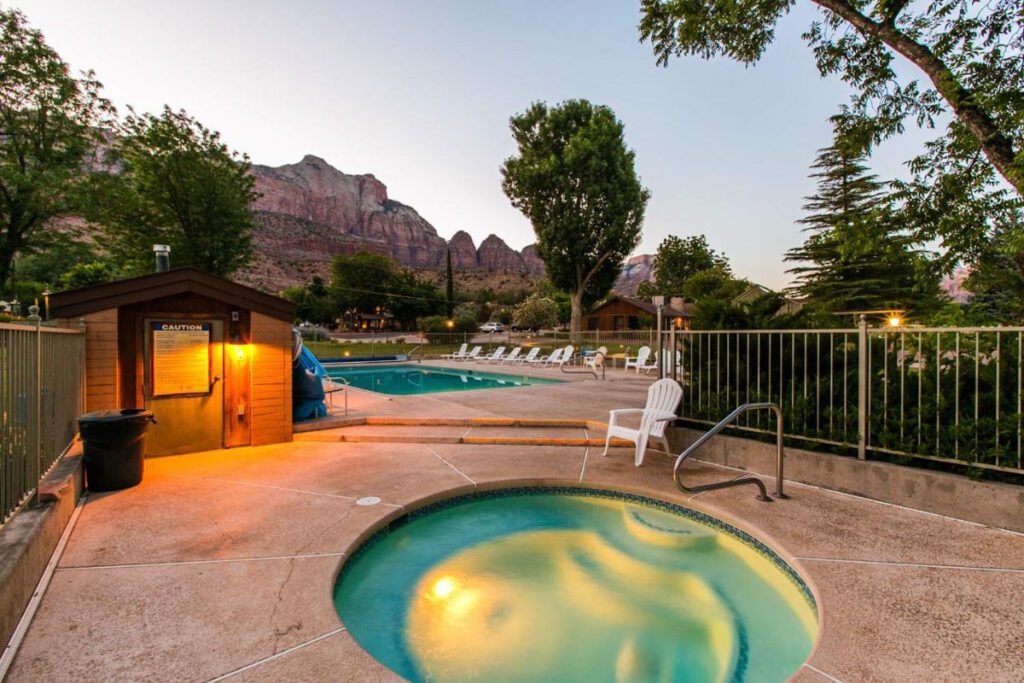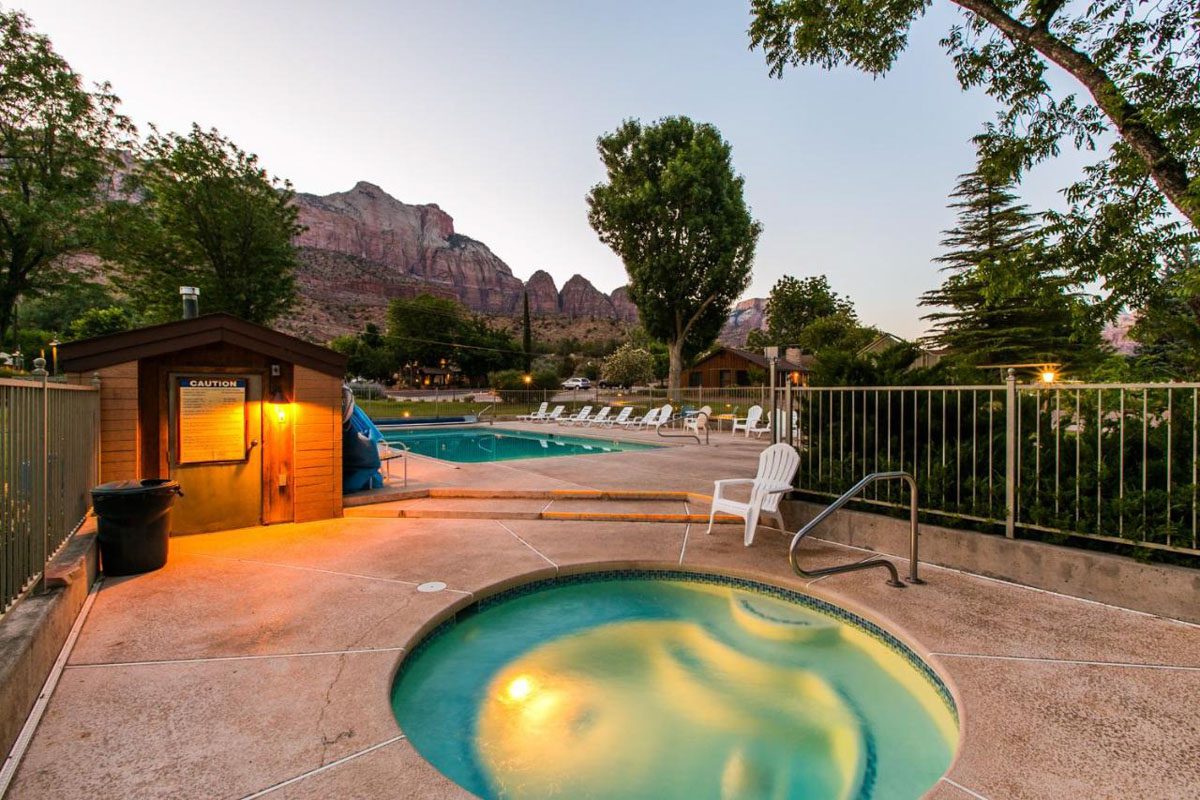 Driftwood Lodge: This hotel is south of downtown Springdale and is an ideal place to stay since it's one of the stops on the town's shuttle. Get access to the Virgin River, cool down in their outdoor pool, and have access to all the restaurants and shops in town.
Campgrounds in Zion National Park
There are a handful of campgrounds in Zion, all of which are reservable in advance. You'll want to book these sites as soon as you know you're going to Zion because these campsites are in a prime location and highly sought-after.
The Watchman Campground: This campsite is along the Virgin River at the park's south entrance. It doesn't have showers, but it is inside the park and is walking distance from the Visitor Center shuttle stop. Reservations open 6-months in advance and book up FAST.
The South Campground: Just past the Watchman campground is the South Campground. It offers the same amenities as the other, except this is more ideal if you didn't book in advance since the sites open 14 days in advance. These book up almost as soon as they drop, especially in high season.
Lava Point Campground: This Zion campground is in the remote, northern area of the park that's perfect for exploring lesser-known trails. It's considered primitive, so there are only pit toilets and you need to bring in necessary supplies like water to be comfortable. You must reserve online, in-advance as the limited spots fill quickly.
Campgrounds outside the park
Camping inside Zion National Park is more convenient but, if you aren't able to get a spot in the park, there are many campgrounds located around the park as well.
If you're traveling in a campervan or simply hoping to save money on your visit to Zion National Park by camping along the way, we have a deal for you!
The Dyrt is our favorite campsite locating app with the largest database of campgrounds (44,000+ campsites and counting!) and over 1 million user-submitted reviews. Plus, it's super user-friendly, and has some pretty cool features, like outdoor gear contests and forums to connect and seek advice from fellow campers, that you won't find on any other camping app.
Try their Pro Membership for FREE for 30 days and gain access to the offline version of the app, utilize their trip planning feature AND get exclusive discounts on campsites and gear!
What to pack for visiting Zion National Park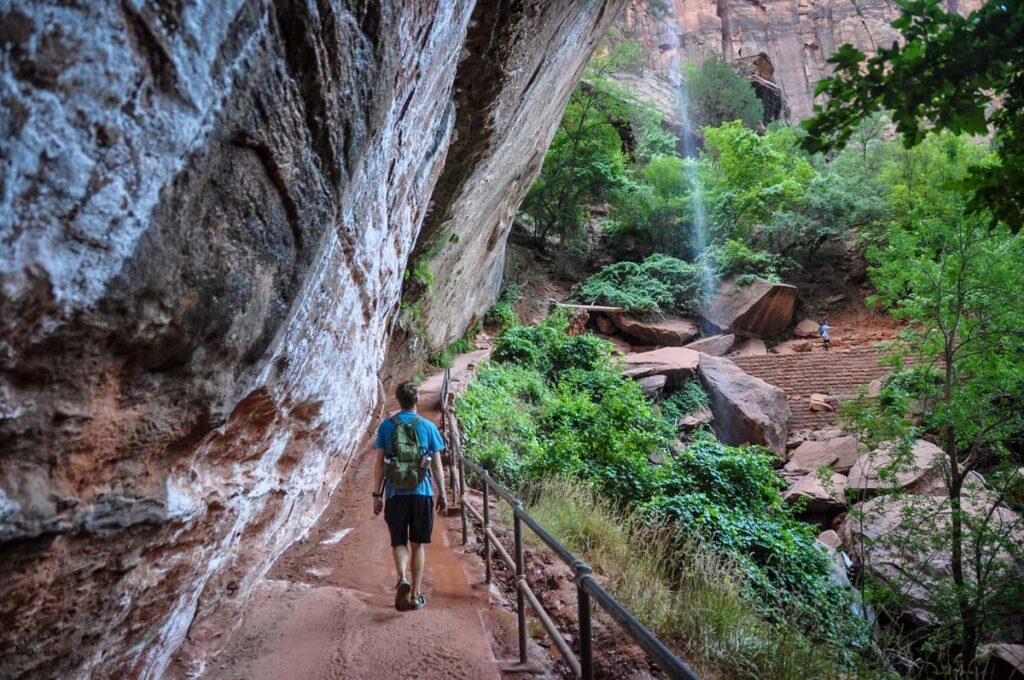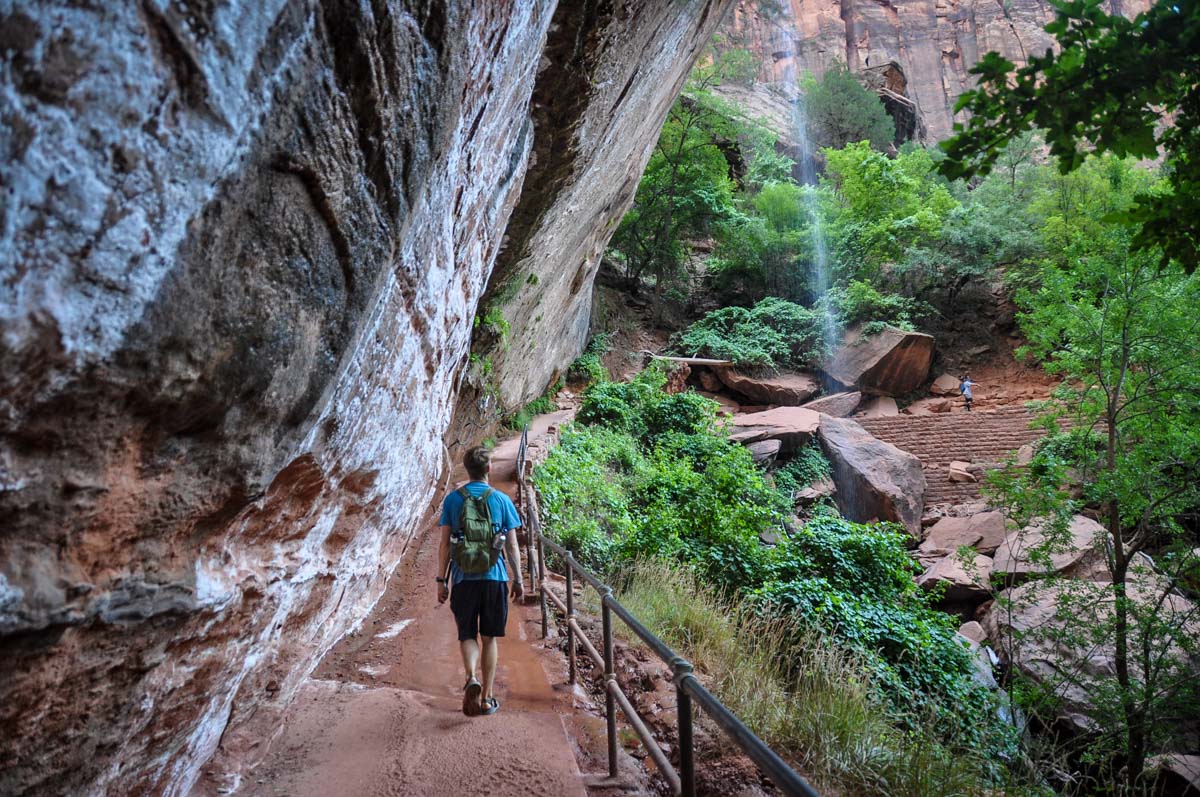 Hydration pack and/or water bottles
Sun protection: sunscreen, sunglasses, hat
Bug spray (we prefer the natural stuff)
Camera (be sure you have a bag so you can put away your camera for the Angel's landing hike!)
Tripod (this is our favorite for hiking)
Hiking shoes or Chacos if you prefer

Note: If you plan to hike the Narrows, Subway, or float the Virgin River, you'll want to bring close-toed shoes that can get wet. Keen makes great shoes for just this purpose!

Comfortable hiking clothes (always dress in layers!)
Swimwear (if you're visiting in the summer and plan to take a dip)
Food for your entire stay (food in the park and nearby town is pretty expensive, so if you're on a budget, plan ahead and bring all the groceries you'll need)
AllTrails Pro (or download Google Maps offline for the area in case you lose service)
Tips for visiting Zion National Park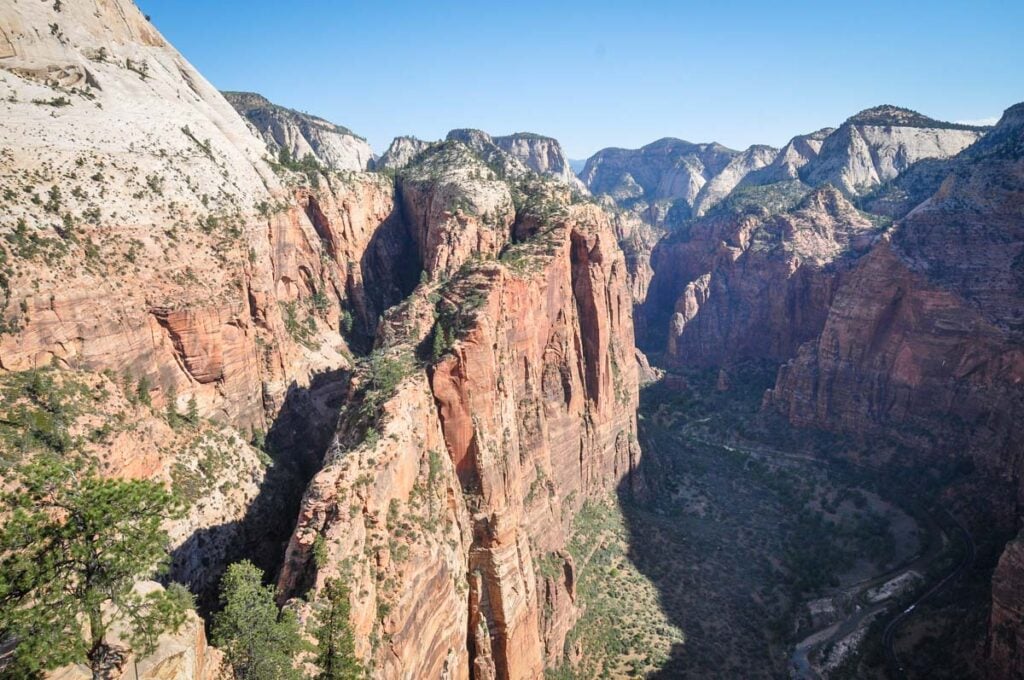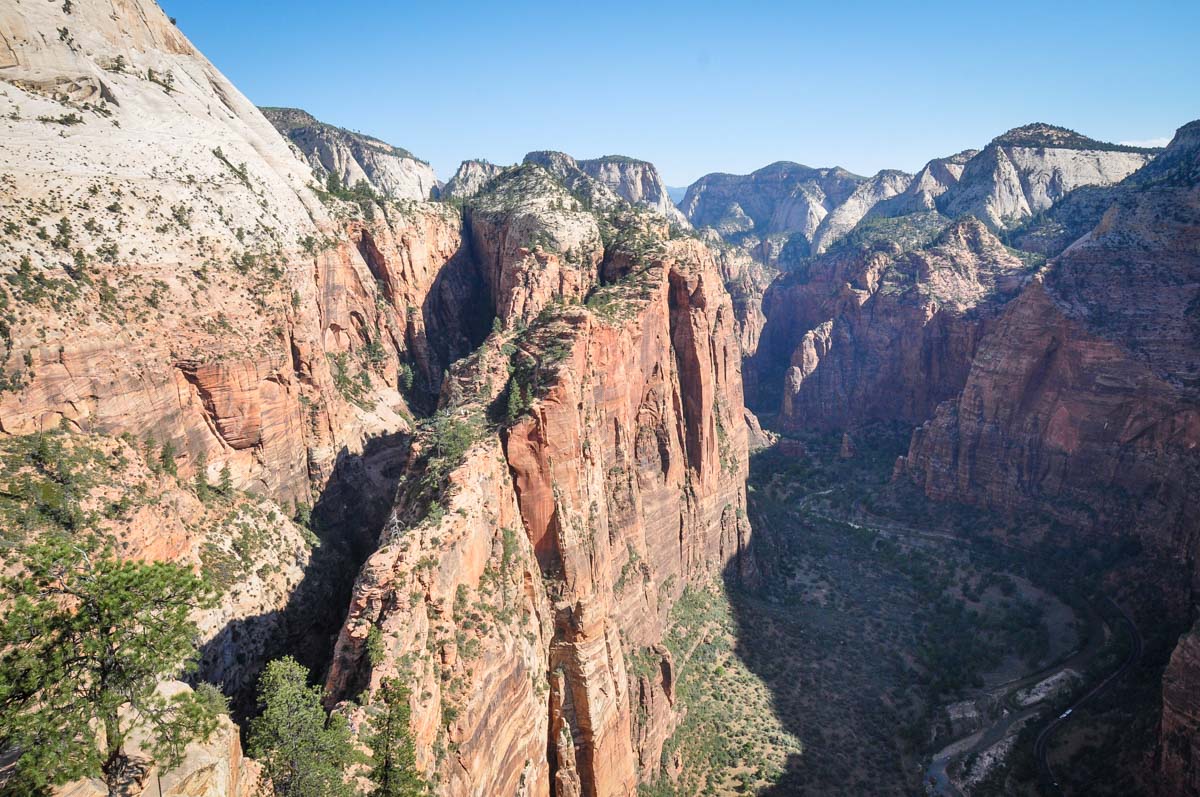 Start early to avoid crowds.This is our biggest tip to avoid the crowds. The lines for the shuttle get exponentially long after 7:30 a.m., and the hikes get crowded as well. To avoid feeling like you're in Disney World, start early in the morning, then take a break during the busy afternoon. Head out again in the early evening for that Golden Hour glow.
Stock up on groceries before getting to Zion. The grocery store in Springdale, the closest town, is ridiculously overpriced for many things (though it's good to know it's there if needed). We saw a bag of chips priced more than $9 USD! 'Nuff said!
Plan "big hikes" for the morning. Zion's main three trails: Angel's Landing, the Narrows, and Observation Point are the three hardest and busiest hikes in the park. It's best to tackle these in the morning when crowds are slimmer and the weather is much cooler. This is easy to do if your trip is spread out over several days.
Talk to the rangers: A quick stop into the Visitor Center can give you tons of insight for your trip. If there is anyone that knows the park like the back of their hand, it's the Zion National Park rangers!
---
Check out our other Utah National Park guides
Save this article on Pinterest for later!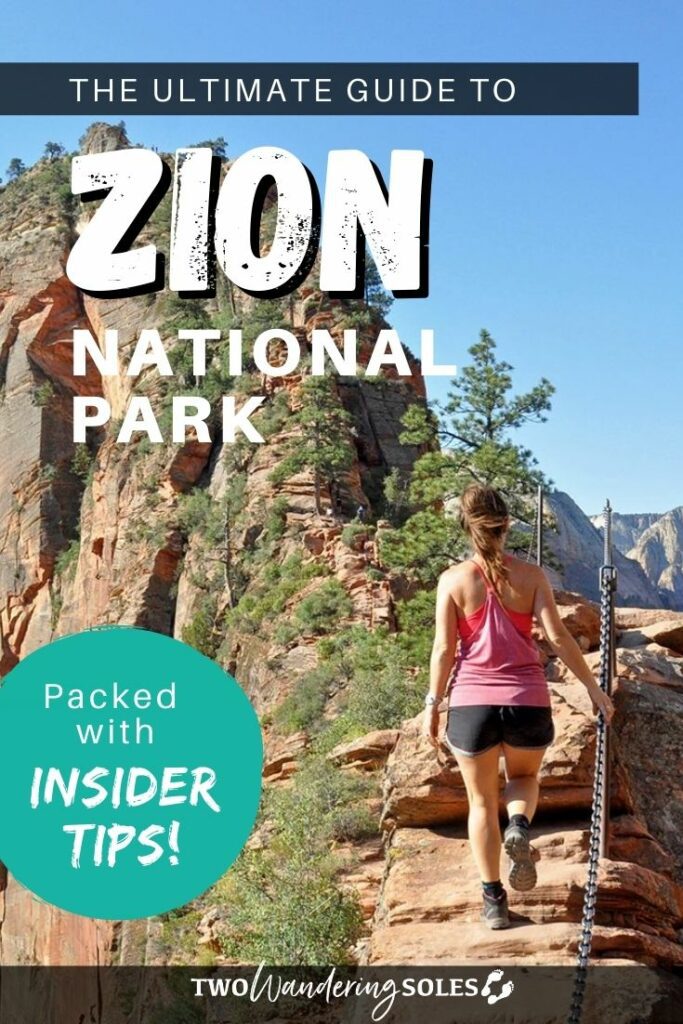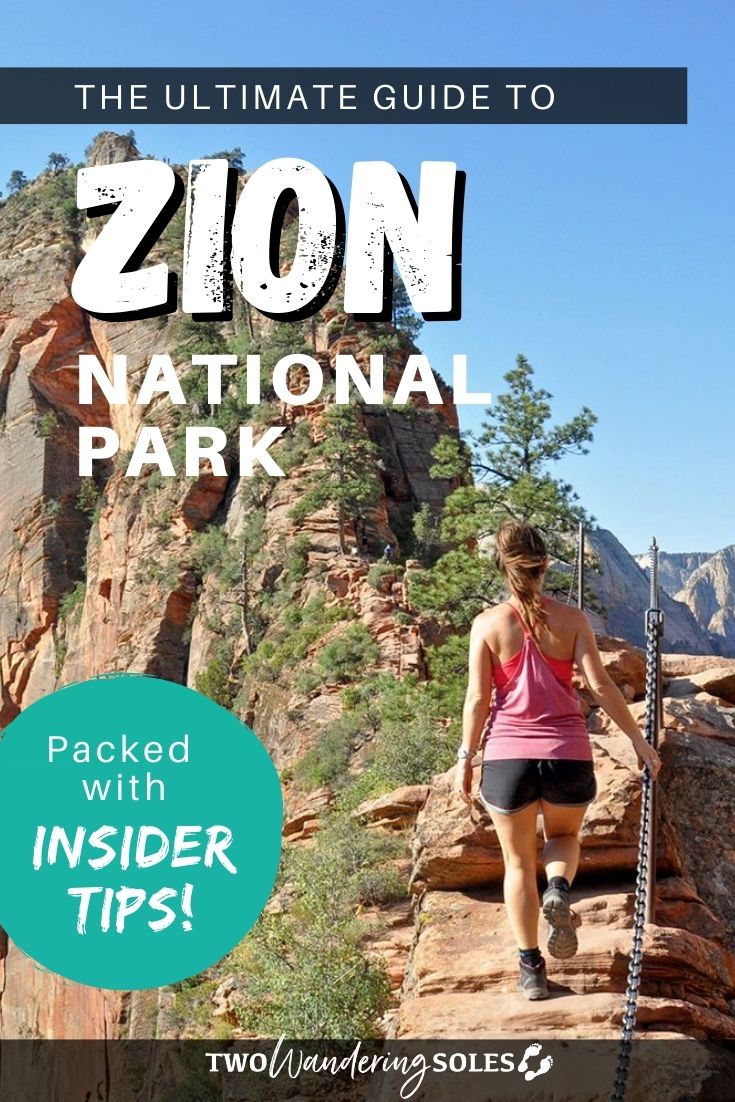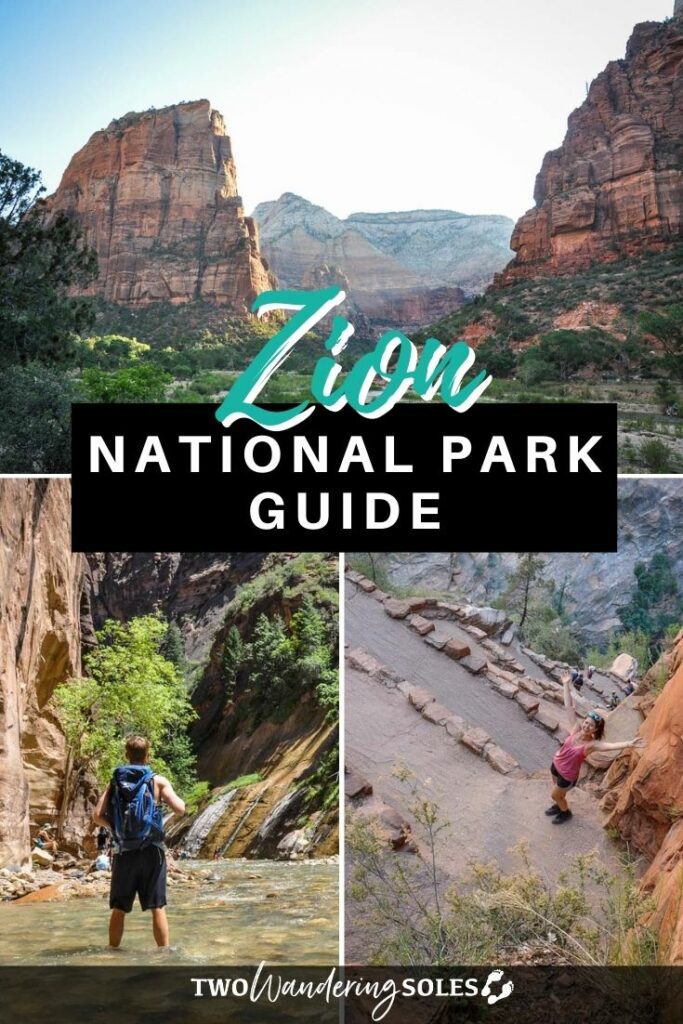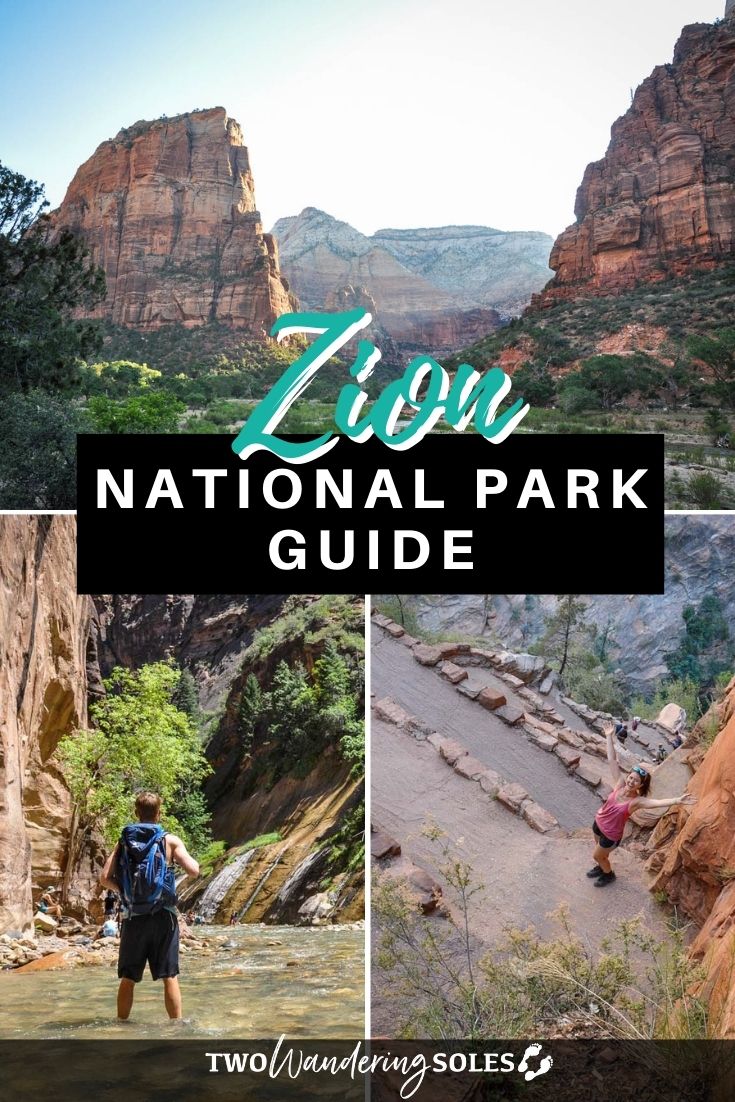 We want to hear from you!
Which is these things to do in Zion National Park is going straight to the top of your bucket list? Have you been to Zion National Park? What was your favorite part? Leave your comment below and we'll do our best to get back to you!