The Oregon Coast truly has something for everyone, from quaint seaside towns with historic streets, to beaches and waterfalls. But with so many adorable, inviting communities, it's tricky knowing which ones are worth a stop. To help you create the ultimate coastal bucket list, we created this guide to our favorite Oregon Coast towns.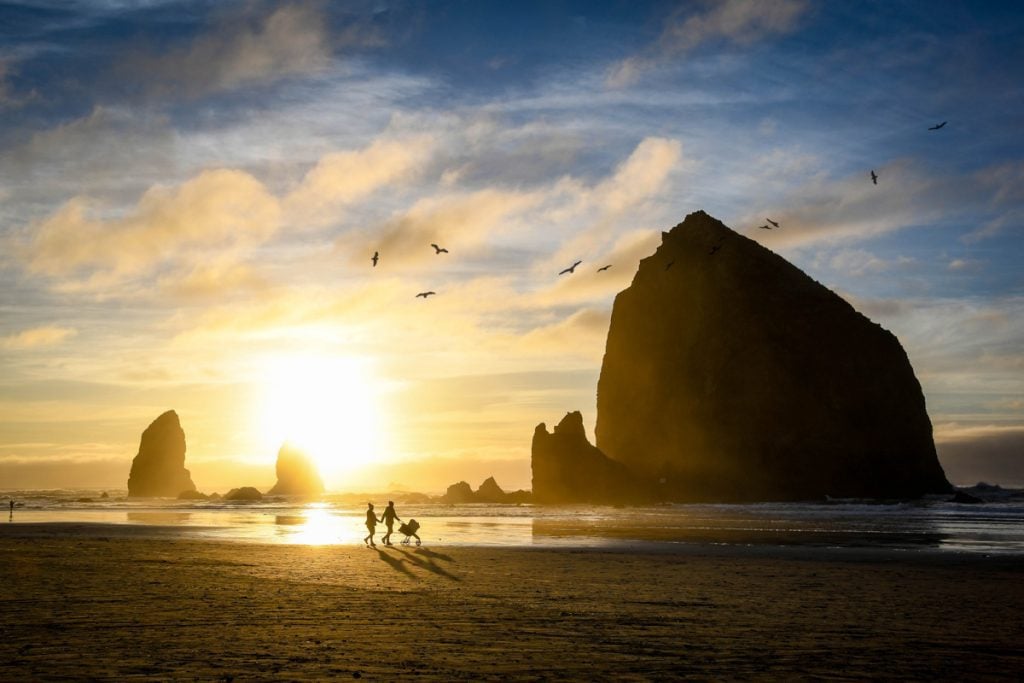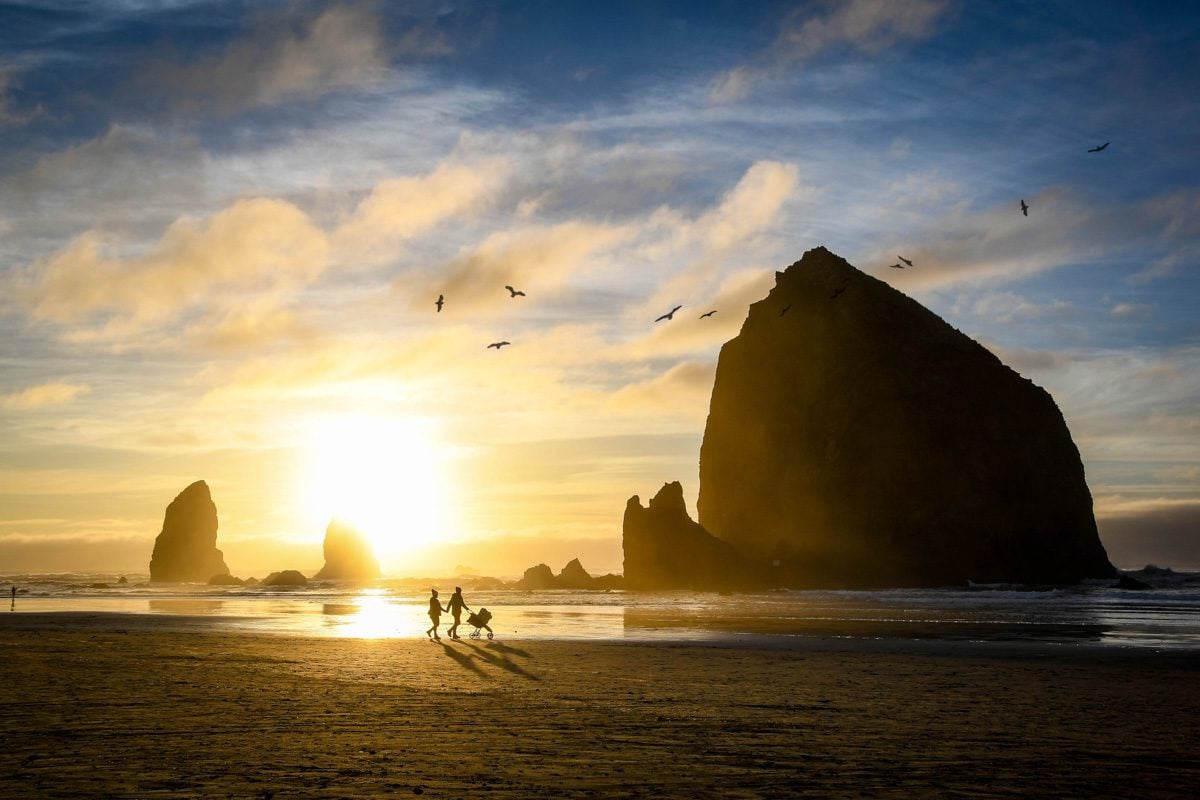 From quirky art communities to sleepy fishing villages and seaside chalets perched on cliffs, there's an astounding diversity among Oregon Coast towns.
Whether you have a specific destination in mind or you're road-tripping down the coast, you'll stumble upon incredible vistas, major foodie towns, and rich cultural experiences.
Ready to start exploring? Check out our list of the most charming Oregon Coast towns!
Map of the best Oregon coast towns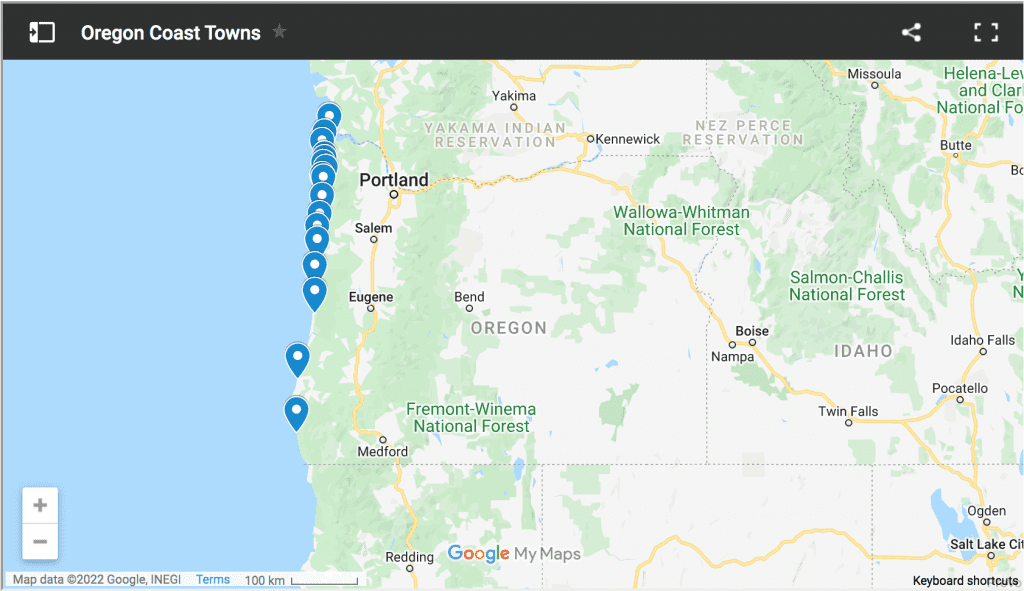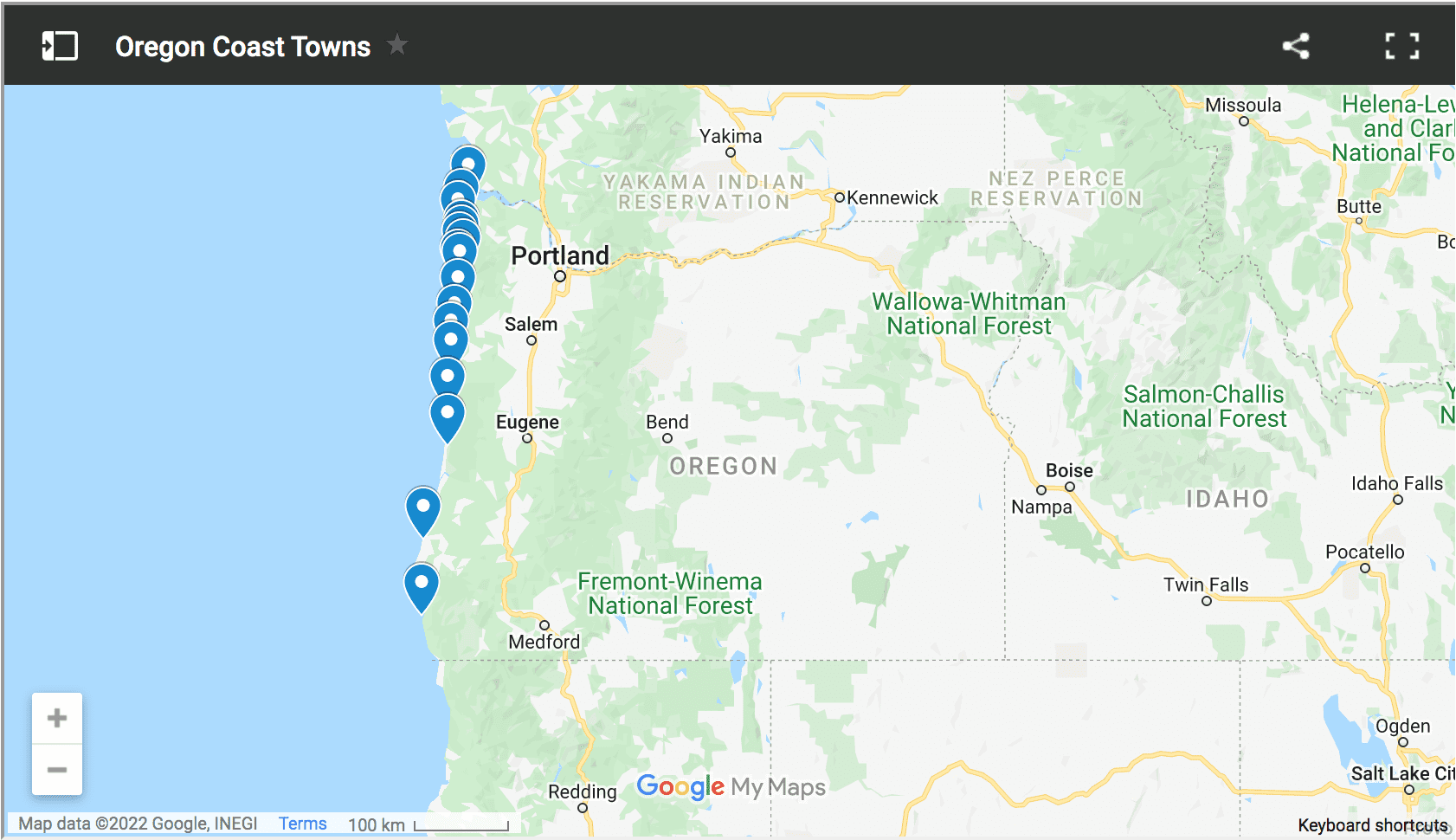 Note: These towns are listed in geographical order from north to south along the Oregon Coast, in case you want to plan a trip visiting more than one.
---
---
1. Astoria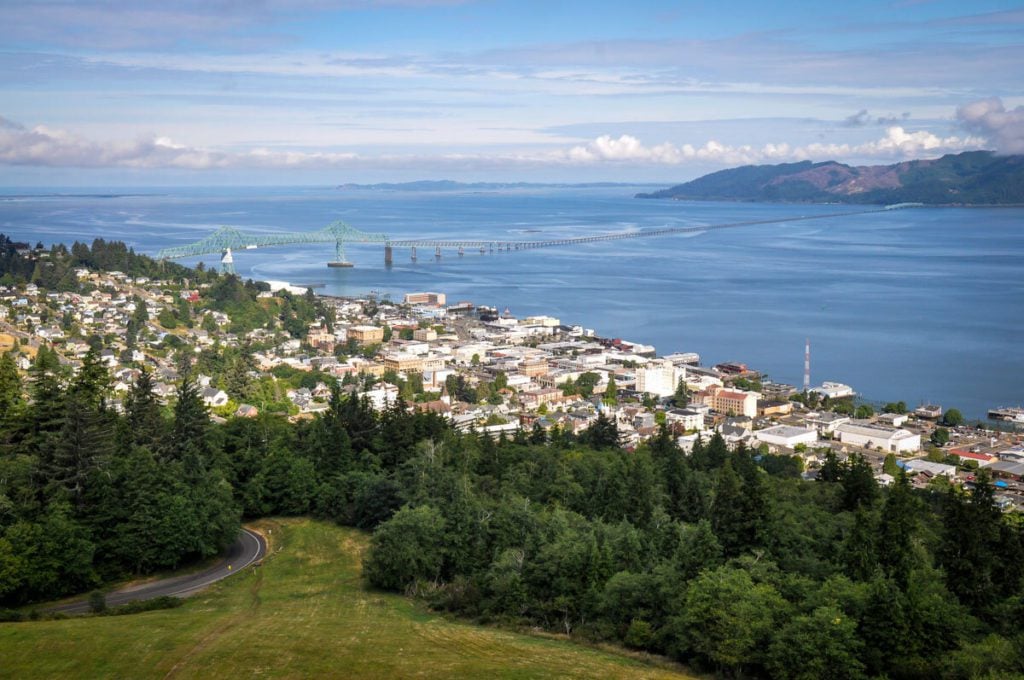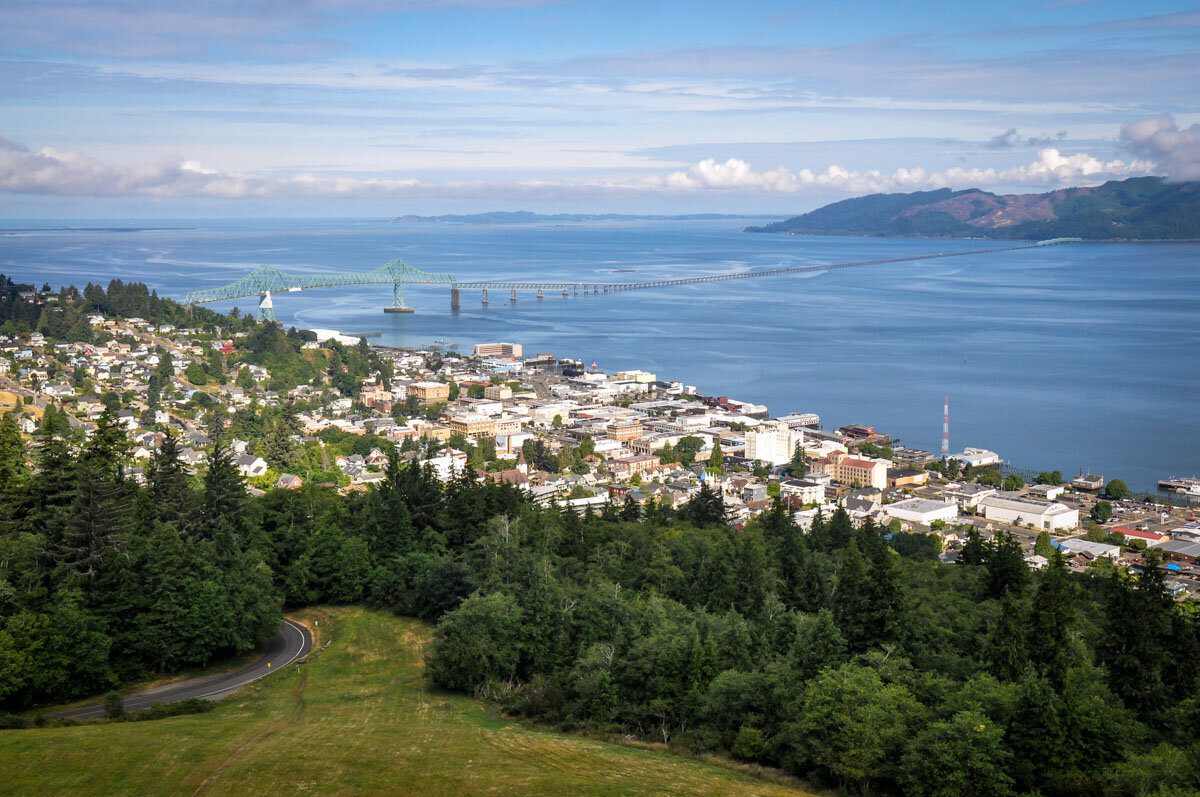 Location: North coast, on the Columbia River
Population: 9,800
Why stop here? A sleep harbor town atmosphere with retro vibes, a surprisingly good food scene, and a ton of things to do.
Best known for being home to many of The Goonies filming locations, Astoria is an eclectic Oregon Coast town centered around fishing.
With interesting museums, several in-town hiking options, and a substantial food & beer scene, it's a great basecamp for exploring the northern coast. Factor in its proximity to Portland (just shy of two hours), and Astoria makes a great day trip.
Top things to do in Astoria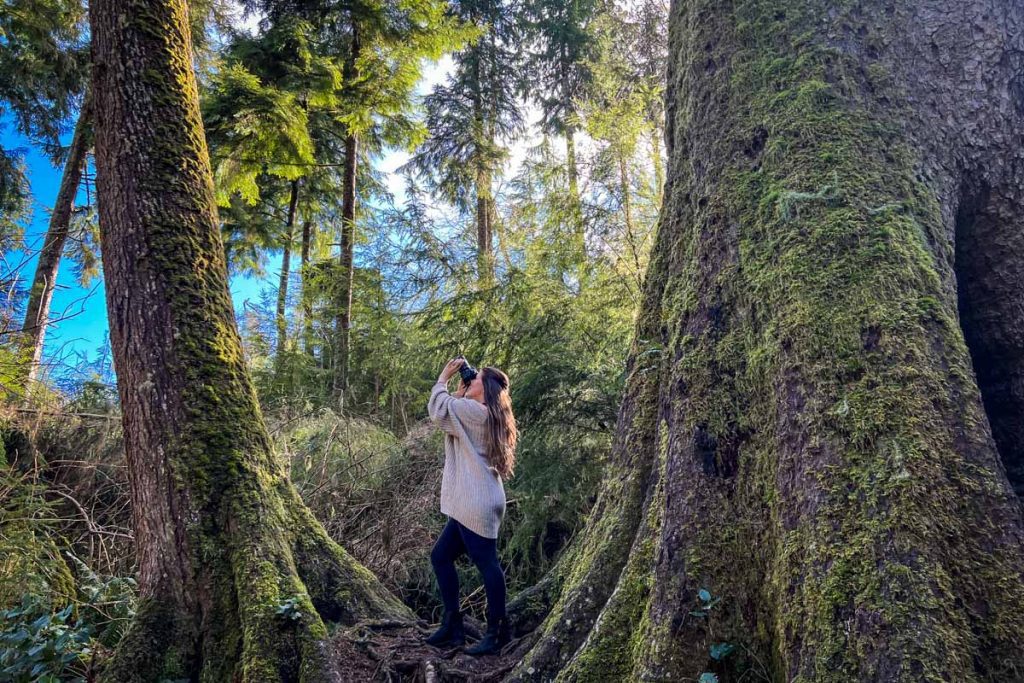 Hike the Cathedral Tree Trail to the intricately decorated Astoria Column for expansive views of the Columbia River and the Pacific.
Stroll the old-timey Main Street, stopping into the Victorian Flavel House Museum and Sunday Farmer's market.
Grab a brew at the waterfront Buoy Beer Company. Sample their delicious clam chowder while watching tankers float the Columbia River estuary.
Venture to Fort Stevens State Park to explore the Peter Iredale shipwreck and white sand beach.
Hike through a verdant old-growth forest on the Gnat Creek Trail.
Where to stay in Astoria
For more ideas, check out our entire guide to Astoria, Oregon, which has everything you need to know to plan your visit!
2. Seaside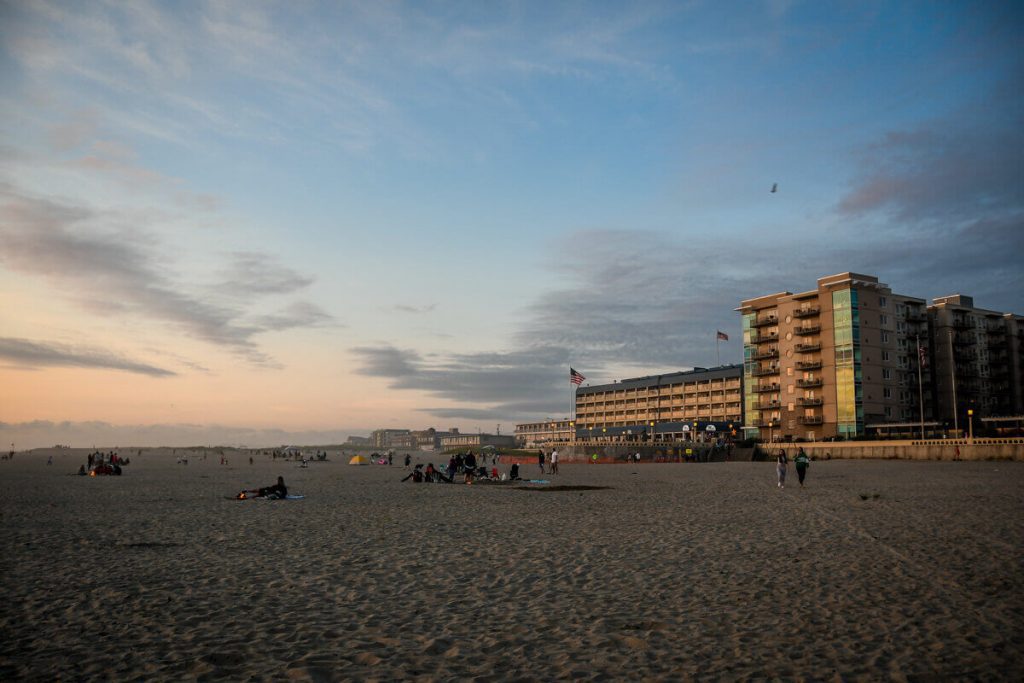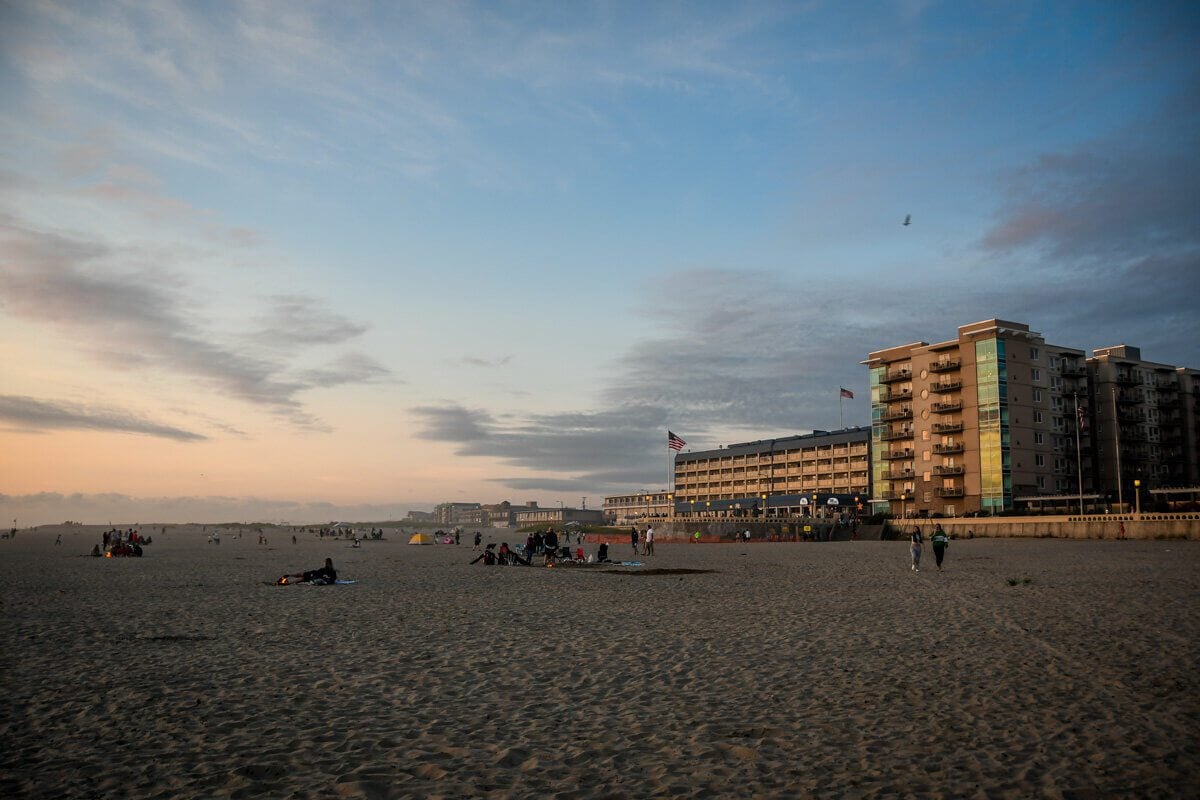 Location: North coast
Population: 6,500
Why stop here? Family-focused beach resort town that's extremely popular with tourists
We've been pretty transparent about the fact that we don't exactly love Seaside. It's a bit too touristy and generic for our personal tastes, but that's just our opinion!
There are many reasons people love Seaside (it is wildly popular, after all!), including the arcade, diners, inexpensive souvenir shops, and an abundance of casual oceanfront spots to grab a slice of greasy pizza.
If you're looking for a classic beach getaway experience, Seaside may actually be one of your favorite Oregon Coast towns.
Top things to do in Seaside
Catch the sunset on the namesake Seaside Beach. While the beach gets extremely crowded, there's a ton of sand so it is not difficult to carve out a spot.
Play classic games or laser tag at the arcade.
For a kitschy family-focused experience, head to the Seaside Inverted Experience.
Stop by the small aquarium to see seals, octopi, and other sea life.
To escape the crowds, head to Ecola State Park. Hike the 2.5-mile Clatsop Loop Trail, then watch the surfers or explore the tide pools at Indian Beach.
Where to stay in Seaside
Psst! Looking to hit the trails? Read up on the best Oregon Coast hikes before you visit and plan to get to the trailheads early before the parking fills up!
3. Cannon Beach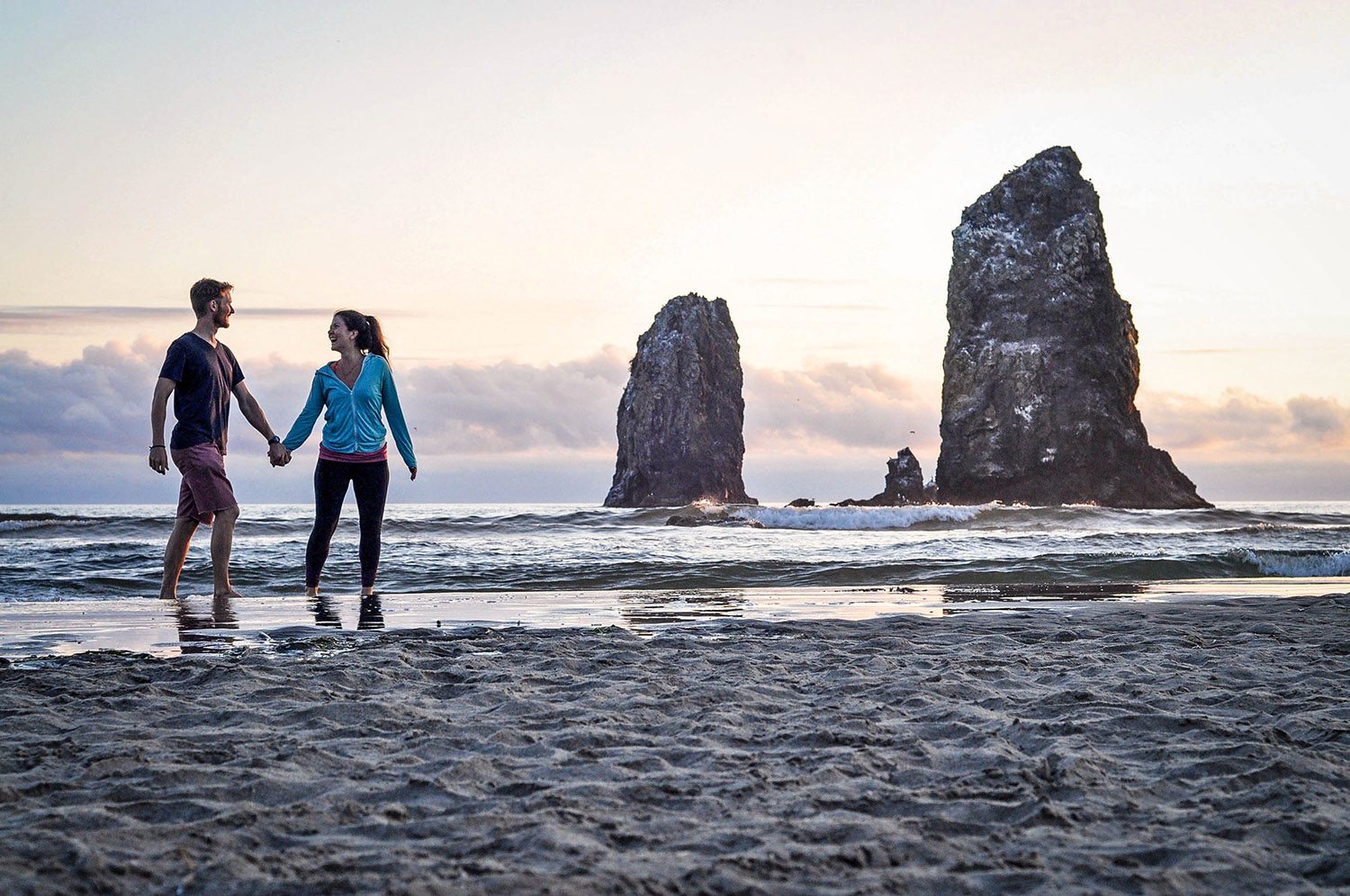 Location: North coast
Population: 1,491
Why stop here?: One of Oregon's most iconic beaches with famous sea stacks and tide pools to explore
Despite being just seven miles from Seaside, Cannon Beach isn't nearly as touristy (though, to be fair, it is a little touristy) and feels much more like a small town.
Iconic Haystack Rock is a stunning sight just offshore and a wonderful backdrop for everything from strolls along the beach to nighttime beach bonfires. Cannon Beach is also a brew lover's dream — both the coffee and the beer kind. With all of these elements combined, it's hard not to fall in love with this small Oregon Coast town!
Top things to do in Cannon Beach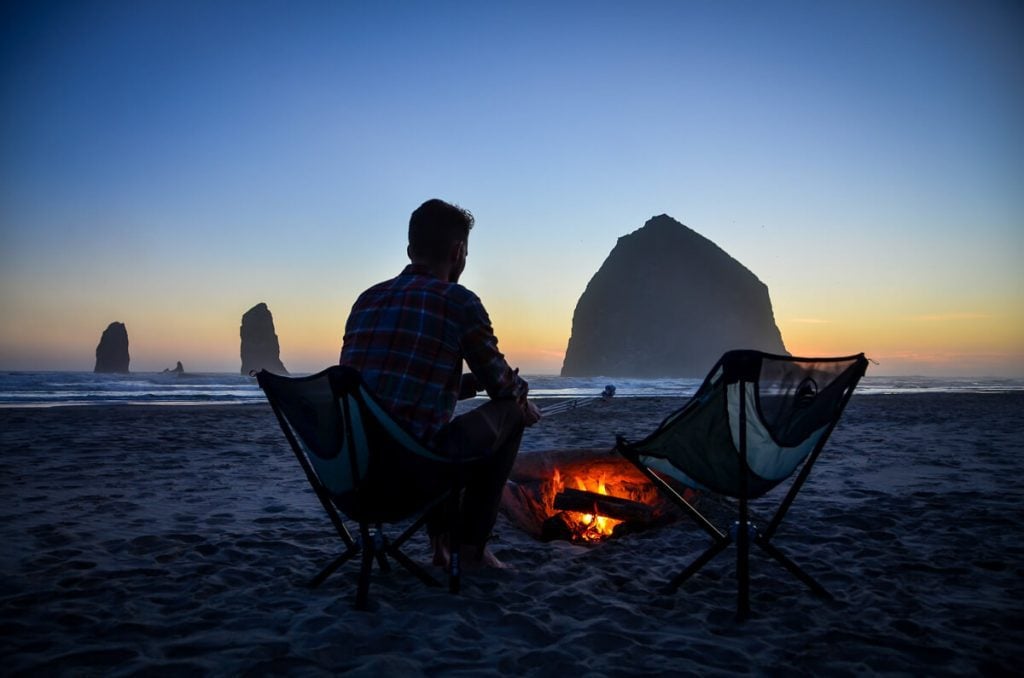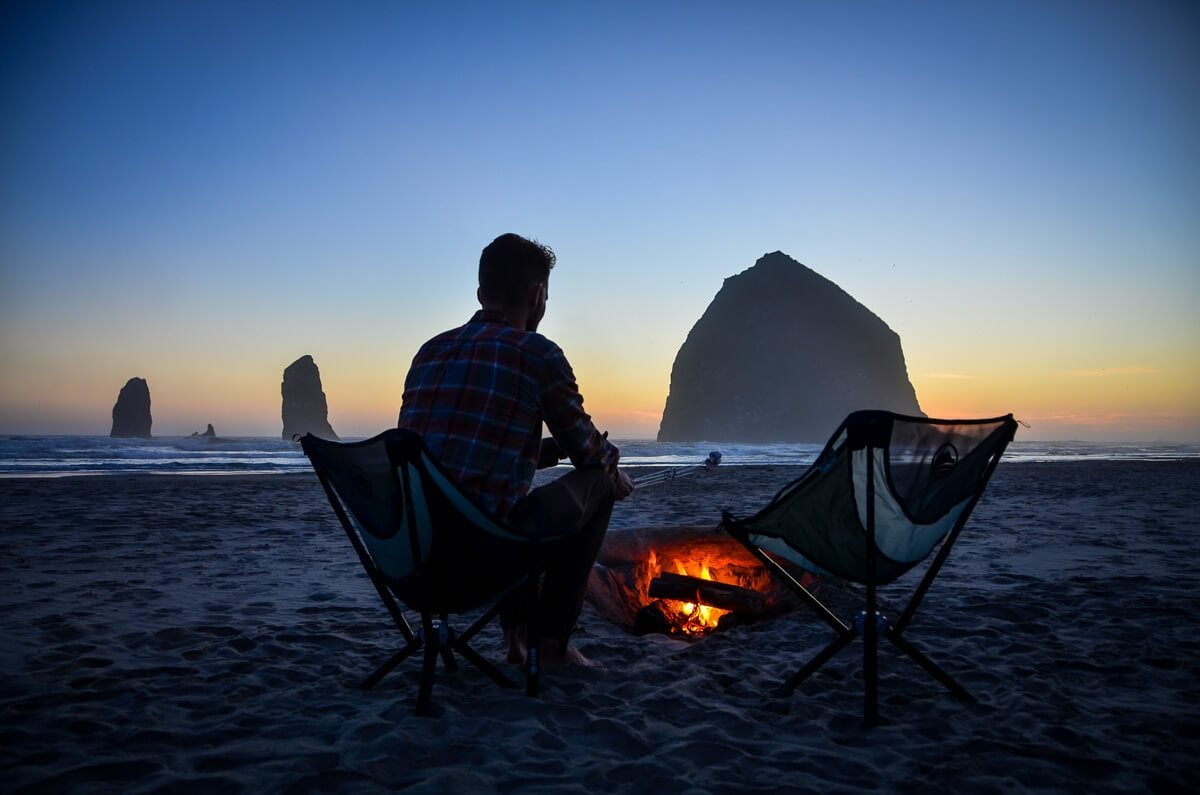 Build a bonfire on the beach to enjoy unbeatable views of Haystack Rock during sunset. One of our favorite activities on the whole Oregon Coast and very much an Oregon "thing," beach bonfires make for convivial (and chilly!) evenings with friends and family!
Wander the quaint "downtown" core, stopping into adorable Sleepy Monk or Insomnia Coffee for a cup o' Joe.
Head to Arcadia Beach to explore tide pools. Be sure to time your visit for low tide!
Hug Point is an absolute must; the beautiful beach here has a sea cave to explore and a waterfall flowing right into the ocean!
Just 10 minutes or so from Cannon Beach, Short Sand Beach in Oswald West State Park (lovingly called "Shorty's" by locals) is an excellent option for swimming, surfing, and hiking.
For more ideas and information, check out our guide to Cannon Beach, Oregon.
Where to stay in Cannon Beach
If you're looking for more, we have a whole list of the best Cannon Beach camping options on our sister sight!
4. Manzanita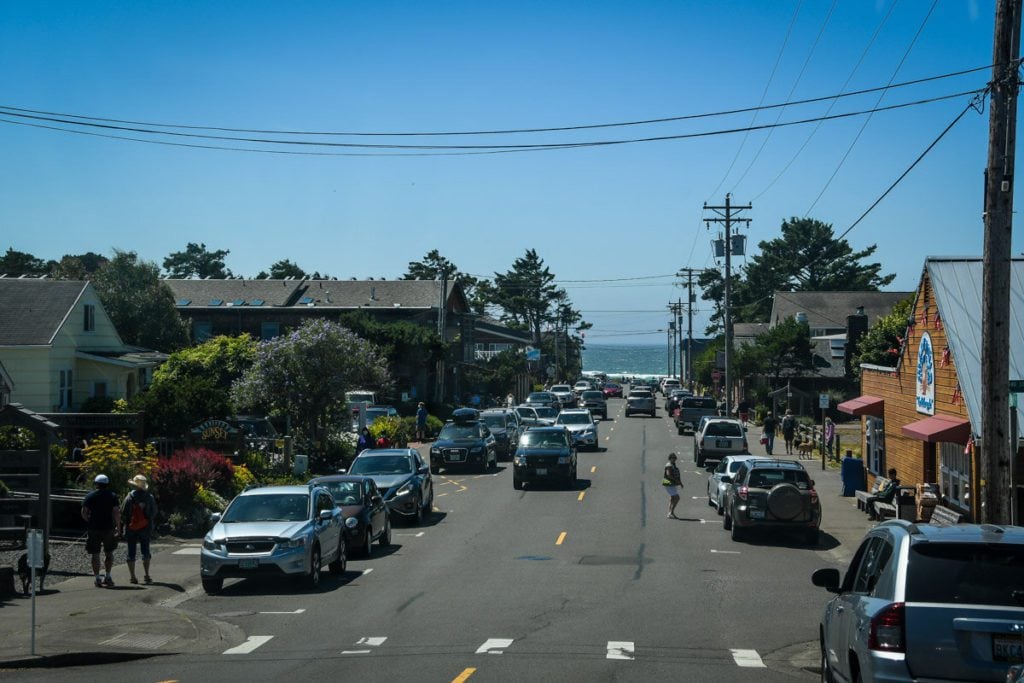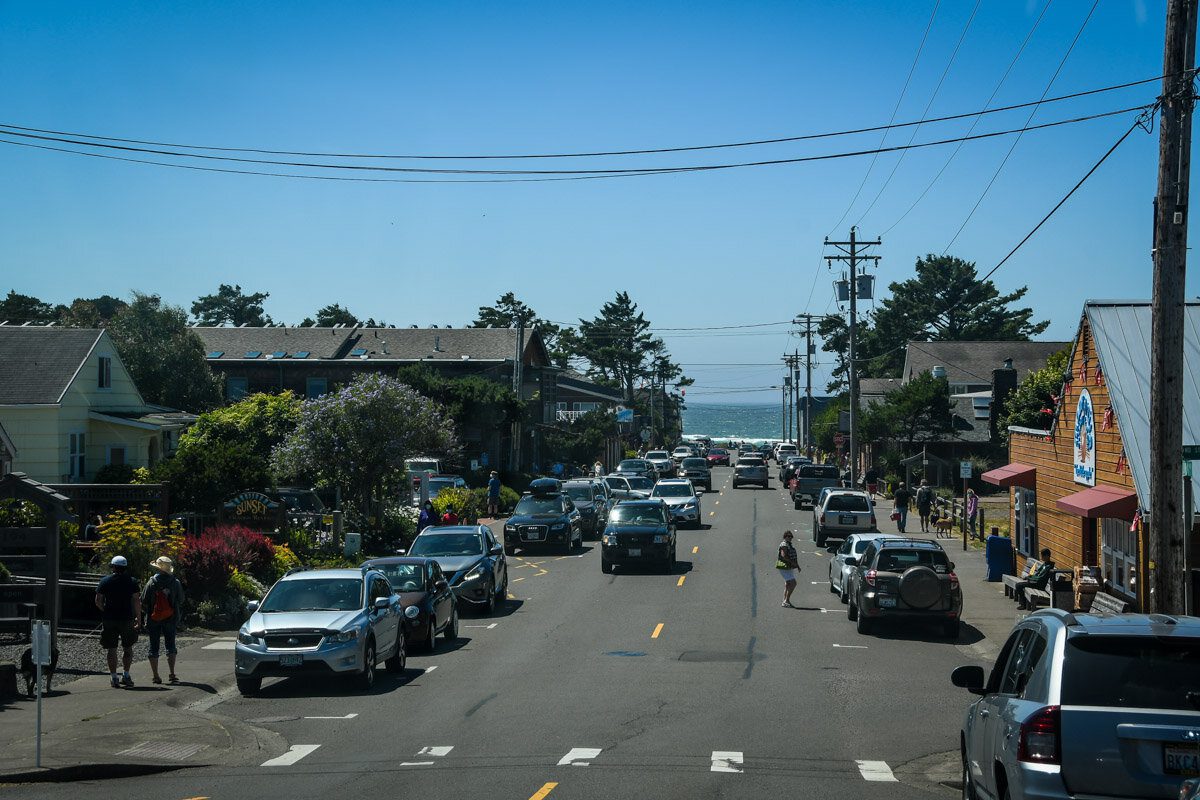 Location: North Coast
Population: 393
Why stop here? A quiet hidden gem among much busier Oregon Coast towns nearby with postcard-perfect scenery and an eclectic, artsy vibe
Tiny Manzanita is more or less a small main street lined with adorable businesses. Don't be dissuaded by its size, though; Manzanita will keep you occupied with a beautiful beach and a few excellent food and drink options.
Add in the stunning surroundings —Manzanita is perfectly sandwiched between the Pacific and dense pine forest—and this is truly one of the most laid-back, tranquil Oregon Coast towns.
Top things to do in Manzanita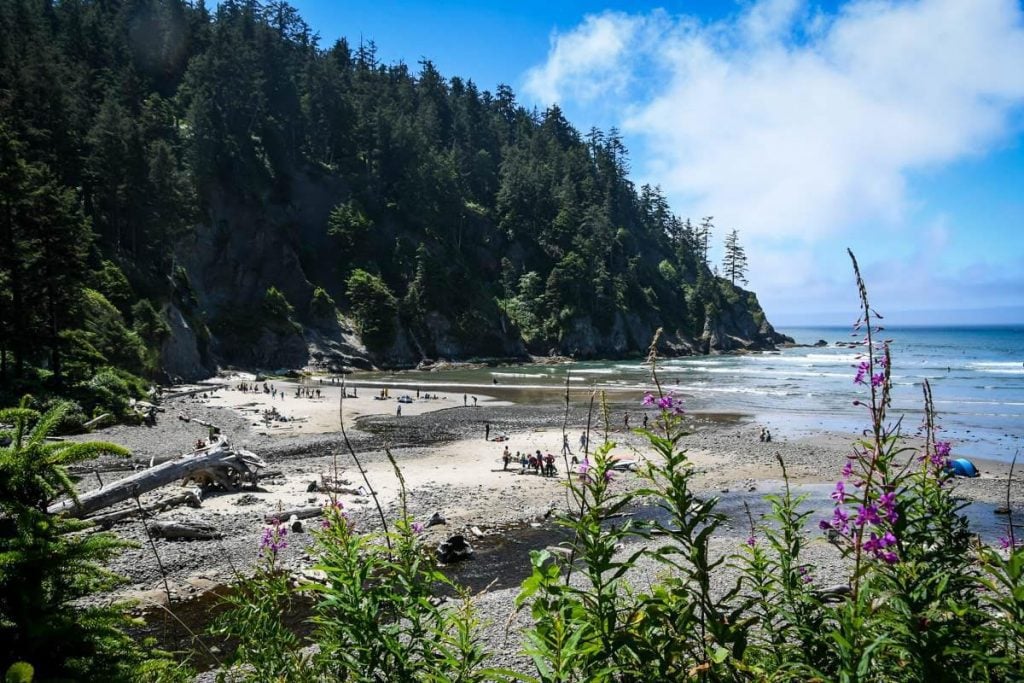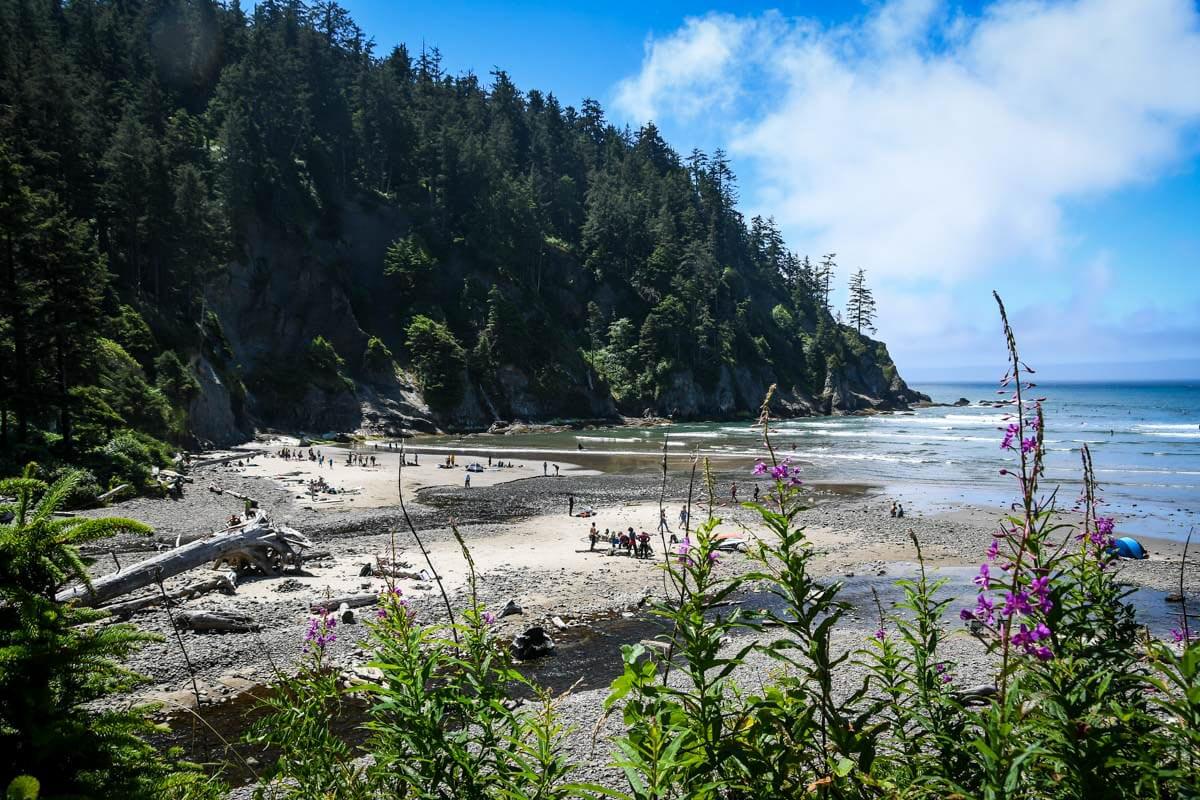 Stroll the artsy main street, stopping by Amanita Gallery for an upscale souvenir.
Savor a relaxing beverage or a flight at the acclaimed Macgregor's Whiskey Bar.
Shop artisan crafts, goodies, and local produce at the lively Friday night farmers' market, open in the summers.
Explore stunning nearby Nehalem Bay State Park, where you'll find sand dunes, quiet hiking trails, and a large beach.
Hike Neahkahnie Mountain in Oswald West State Park. The mostly uphill ascent through a pine forest rewards you with a breathtaking view of the coast and surrounding mountains.
Where to stay in Manzanita
5. Brighton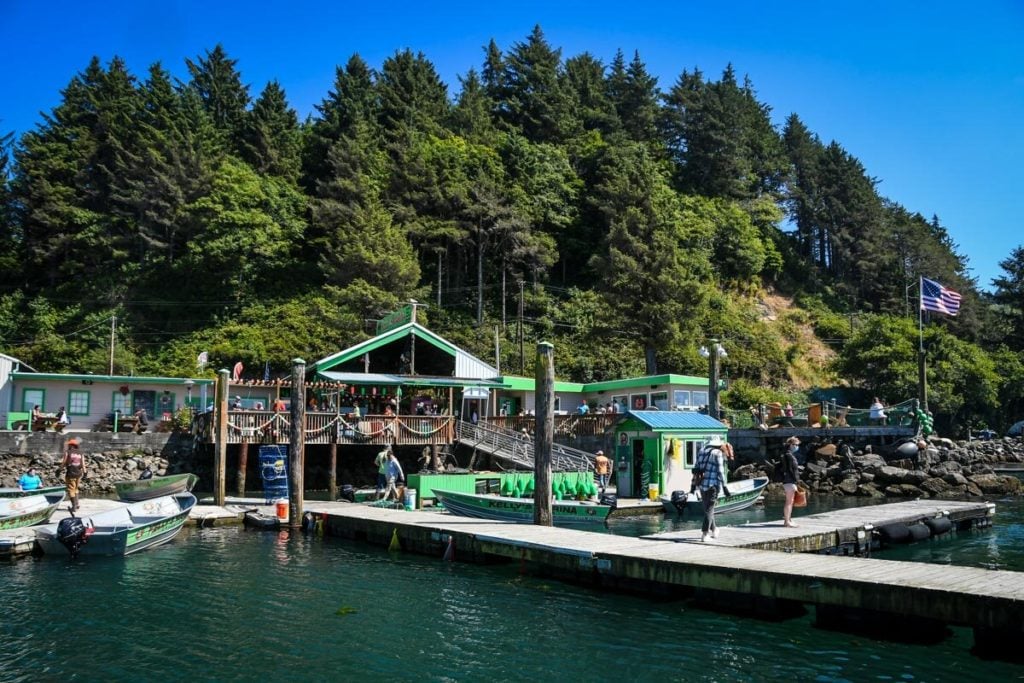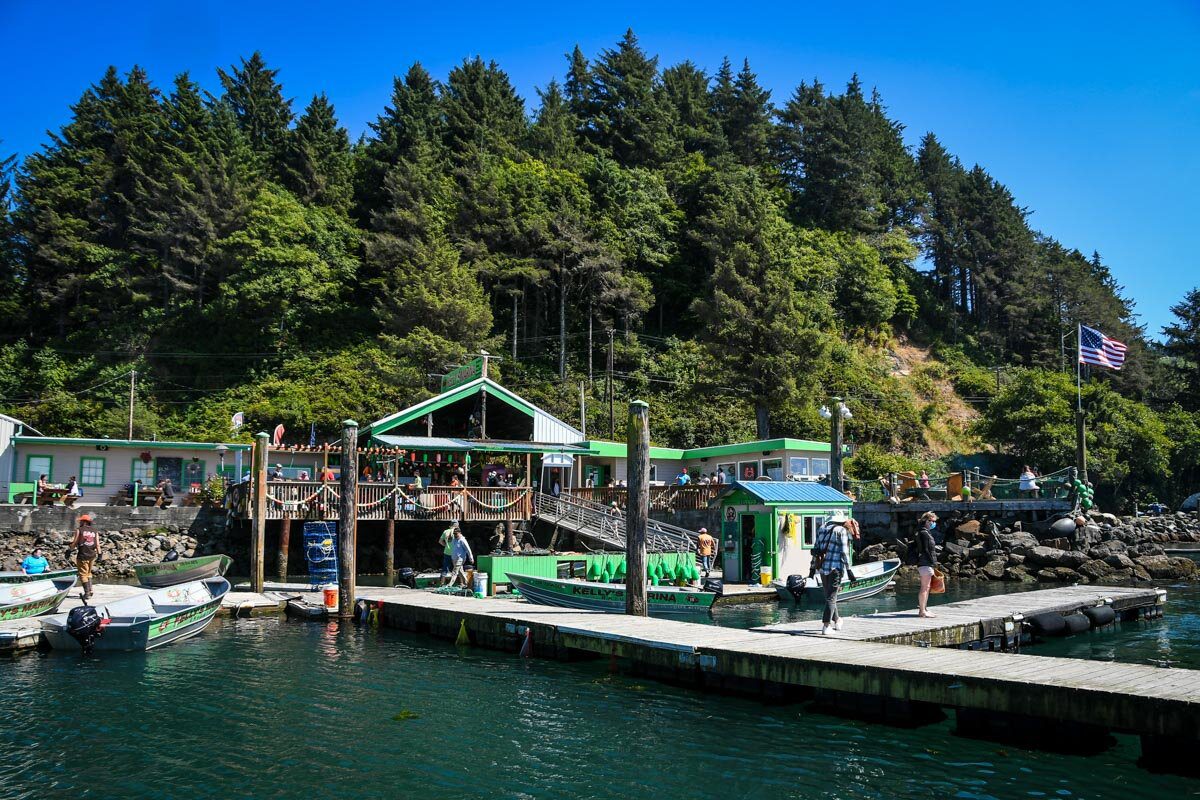 Location: North Coast
Population: N/A; unincorporated
Why stop here?: Crabbing, plus delicious seafood and beer at Kelly's Brighton Marina!
In this small community, it's all about Kelly's, one of our absolute favorite stops on the entire Oregon Coast. Catching crabs, drinking cheap beer, eating delicious, uber-fresh seafood — all with a great view and even better vibes. What more could you ask for?
Top things to do in Brighton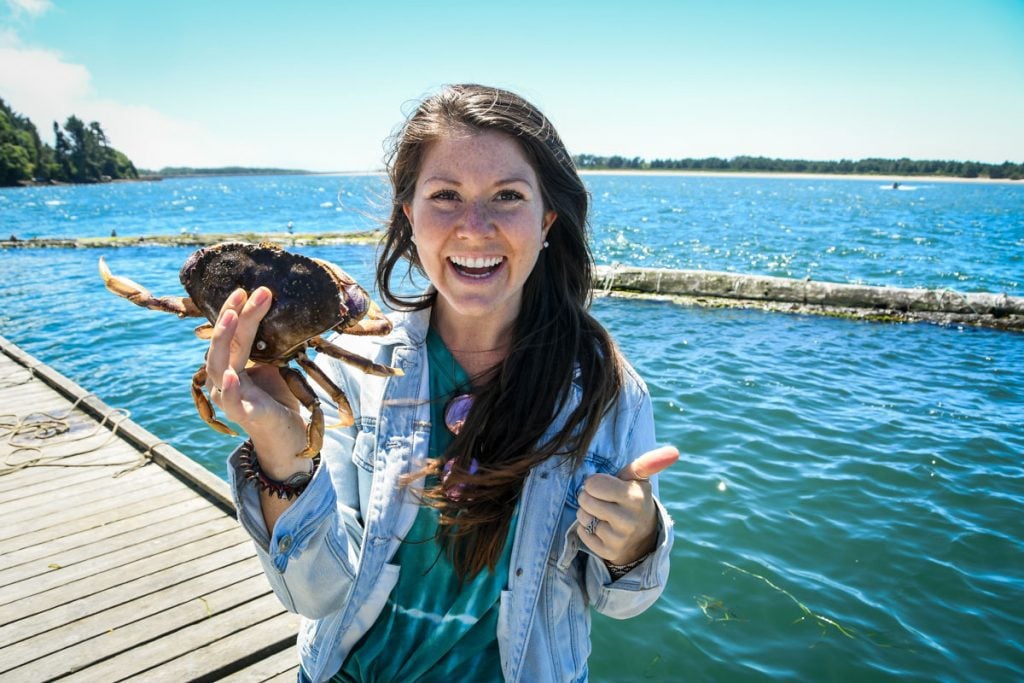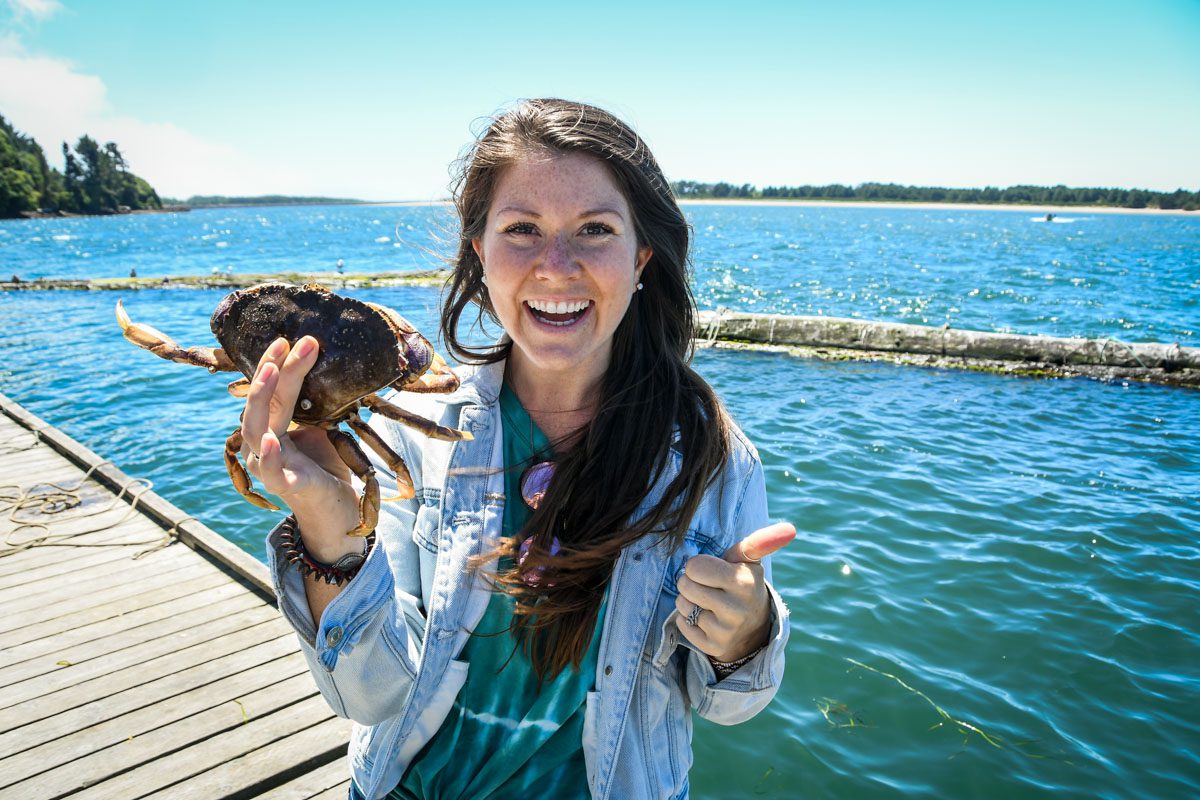 Try your luck with crabbing! Kelly's rents out all the necessary gear and bait, and will even cook any crabs you catch for FREE! Pro tip: bring camping chairs to sit on the dock.
If crabbing isn't really your thing, you can also grab beer from the convenience store onsite and relax on the dock while you watch all the crabbing and fishing action.
If you're short on time, simply stop by the marina for delicious seafood. Aside from crabs, specialties include clams and oysters.
Rent a dinghy from the marina and go fishing in Nehalem Bay (or just cruise around!)
Where to stay in Brighton
6. Rockaway Beach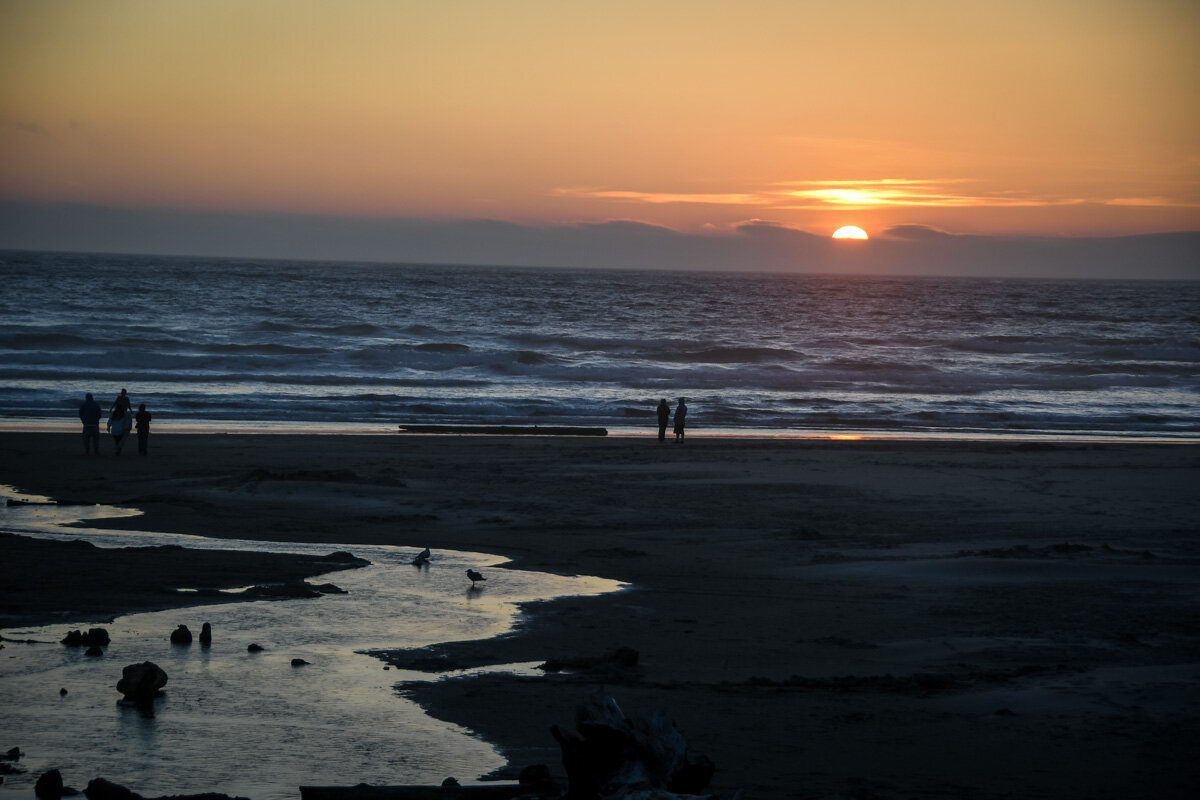 Location: North Coast
Population: 1,166
Why stop here? A cute beach town with a LONG beach and a ton of vacation rentals
Sprawling Rockaway Beach may be slightly less quaint than other Oregon Coast towns; however, it makes for an enjoyable beach weekend without any fuss.
The namesake beach is a long, family-friendly stretch of sand, and the photogenic twin sea stacks just offshore add to the scene. Another interesting thing about Rockaway Beach: the abundance of vacation rentals means everyone has their own little slice of coast and it never feels too crowded.
Top things to do in Rockaway Beach
Set up beach chairs, start a campfire, and picnic on the sand. The archway at Twin Rocks makes for great photo ops!
Sip a cocktail and snack on a panini on Littoral Bar's scenic deck.
Check out Troxel's Rock Garden, an eclectic collection of rocks, art, and fossils that's totally free to visit.
Hike along the easy, half-mile boardwalk trail to the Rockaway Big Tree, a towering 154-foot-tall Western Red Cedar.
For a quieter, scenic beach, head a few minutes north to Manhattan Beach.
Where to stay in Rockaway Beach
7. Garibaldi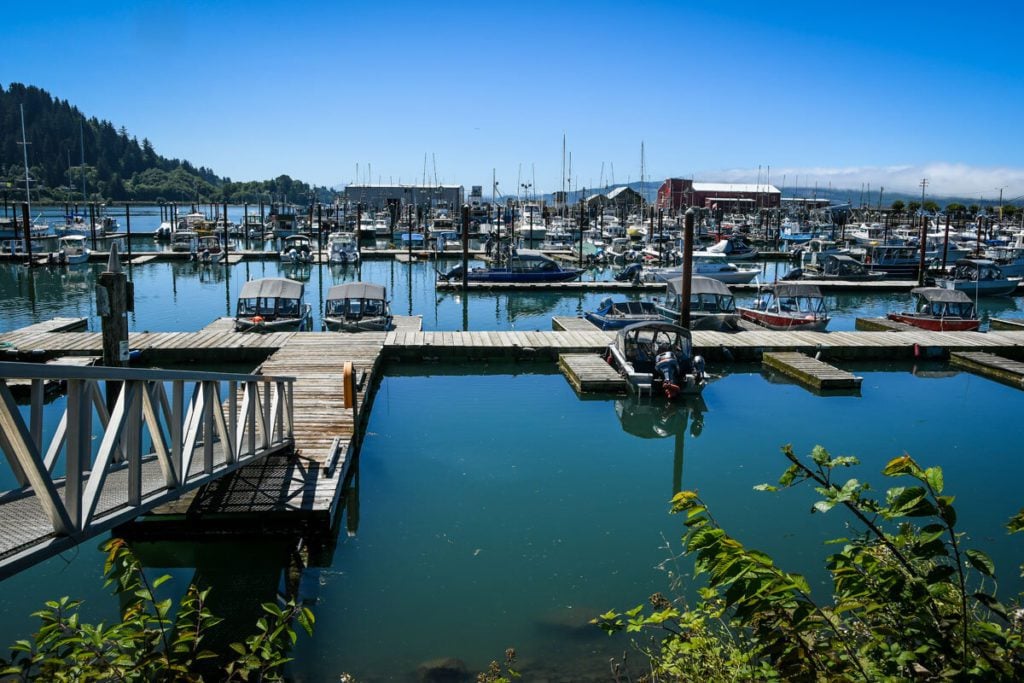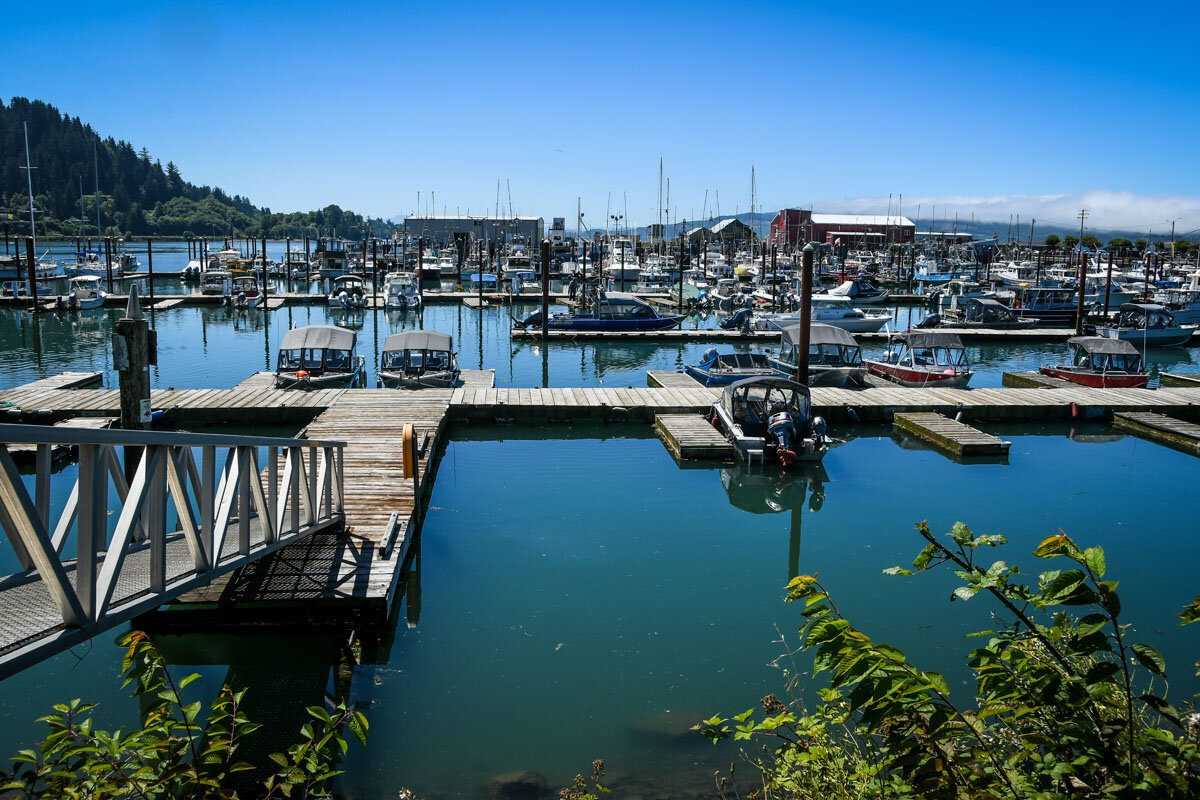 Location: North Coast
Population: 797
Why stop here? A noticeable lack of tourists and an authentic sleepy fishing village vibe
An authentic coastal fishing village most people drive right past, Garibaldi is unique among Oregon Coast towns. There are no tourists. While there may not be many attractions in town, Garibaldi makes a great basecamp for fishing, visiting nearby beaches, and taking in the Oregon Coast at a more relaxed pace.
Top things to do in Garibaldi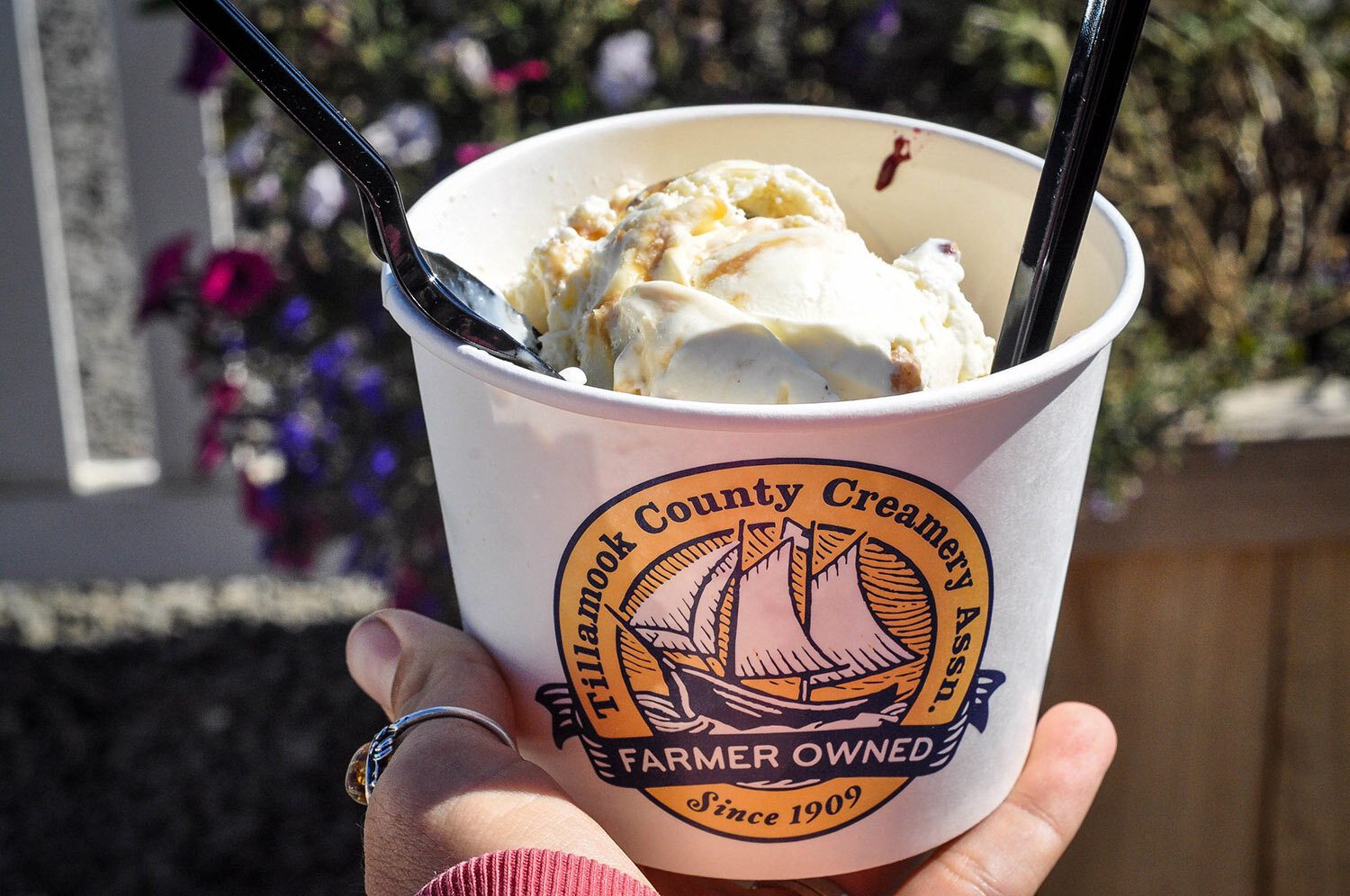 Board the Oregon Coast Scenic Railroad. The antique steam train runs between Garibaldi and nearby Rockaway Beach in the summer and fall.
Enjoy some ultra-fresh fish! Stop by the Sea Baron Fish and Chips food truck or pop into FishPeople Seafood to buy fresh local catches to cook on your own.
Emulate the locals and embark on a guided fishing trip with Lewis and Clark Guide Service.
Drive just outside of town to the renowned Tillamook Creamery, a massive cheese factory and (delicious) restaurant. Tour the state-of-the-art facilities, then purchase a few of your favorite dairy creations. Make sure to leave room for the famously creamy ice cream!
Sample unusual beers brewed with wild-foraged ingredients (think berries, stone fruit, and even wine grapes!) at De Garde, an award-winning brewery in Tillamook.
Where to stay in Garibaldi
Vardo Voyager: an eclectic, cozy former artists' retreat steps away from Tillamook Bay
Barview Jetty County: year-round beachfront camping with a variety of sites, including tiny cabins
Harborview Inn: straightforward motel with a fantastic location literally a one-minute walk from the Garibaldi Marina
8. Oceanside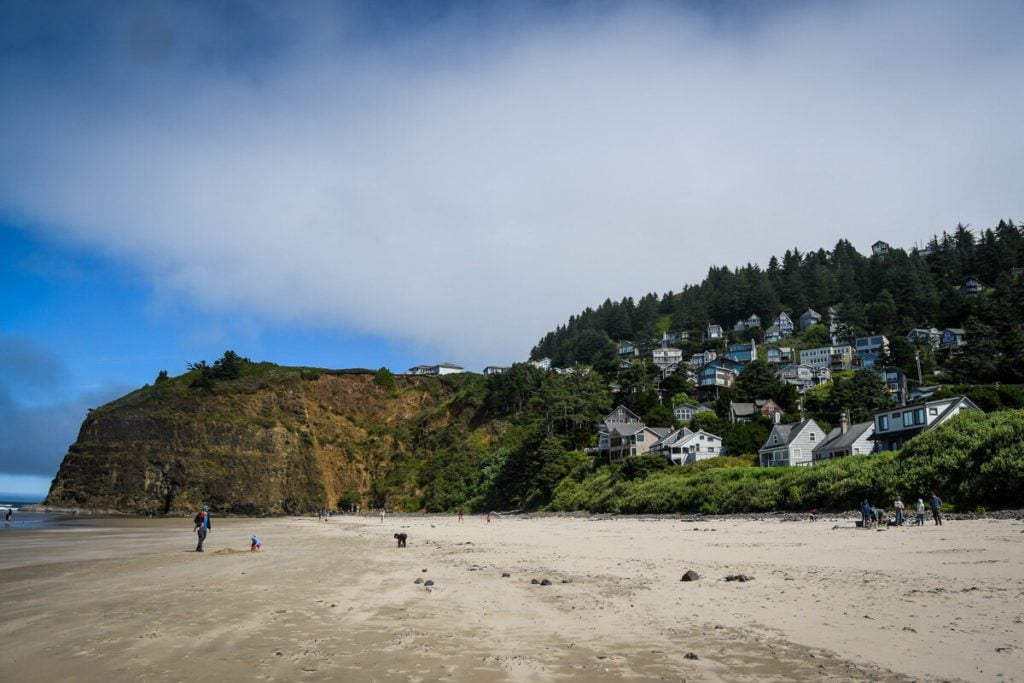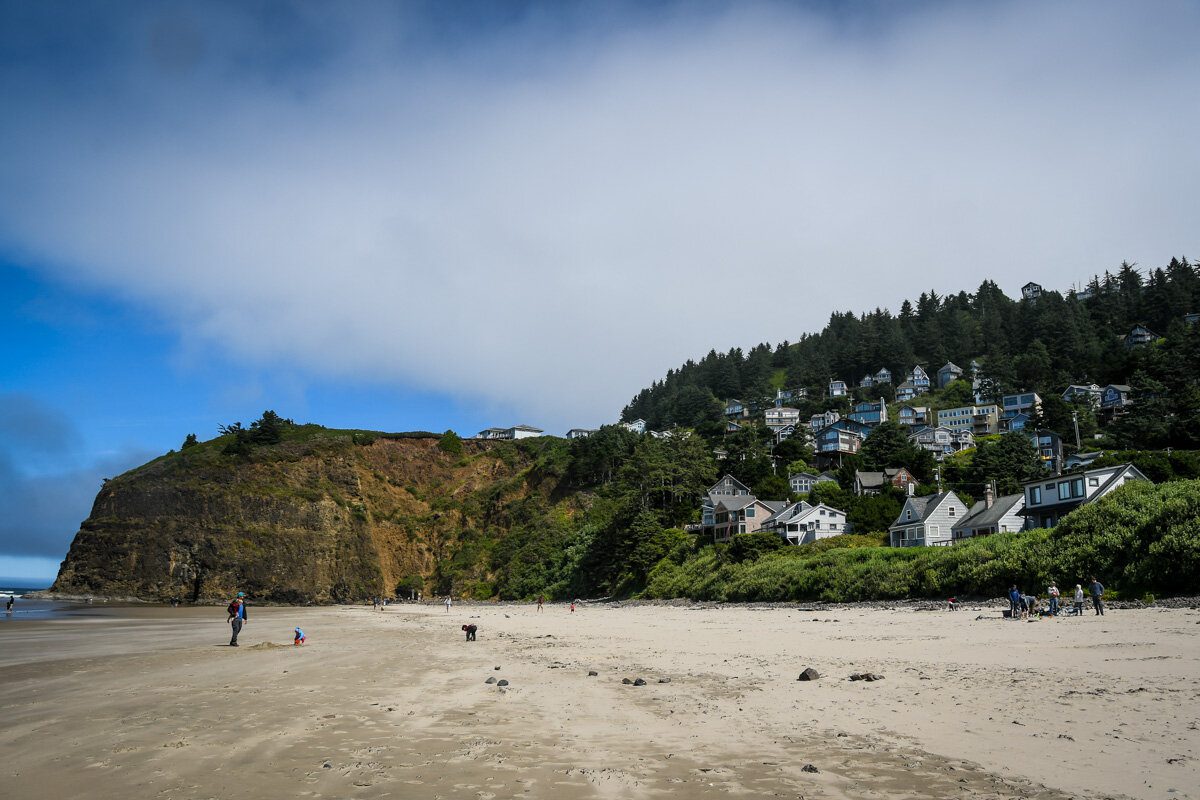 Location: North Coast
Population: 546
Why stop here? A very small, quaint town that just so happens to have a "hidden" beach and be one of the prettiest areas on the entire coast
Picture-perfect Oceanside is truthfully not much more than a smattering of shingle-clad houses on a cliff overlooking sea stacks in the Pacific. That's not necessarily a bad thing, however — it's stunningly beautiful and often overlooked.
The coastline and adjacent beaches are gorgeous and unique, and even though there may be fewer things to do, Oceanside is one of the best Oregon Coast towns for a relaxing or romantic getaway.
Top things to do in Oceanside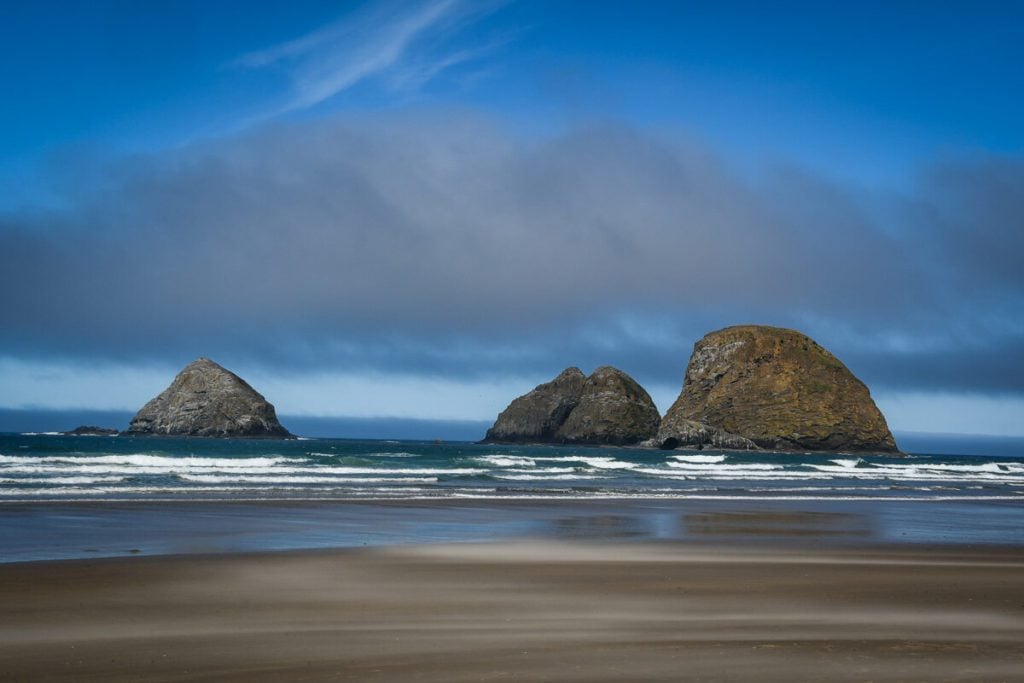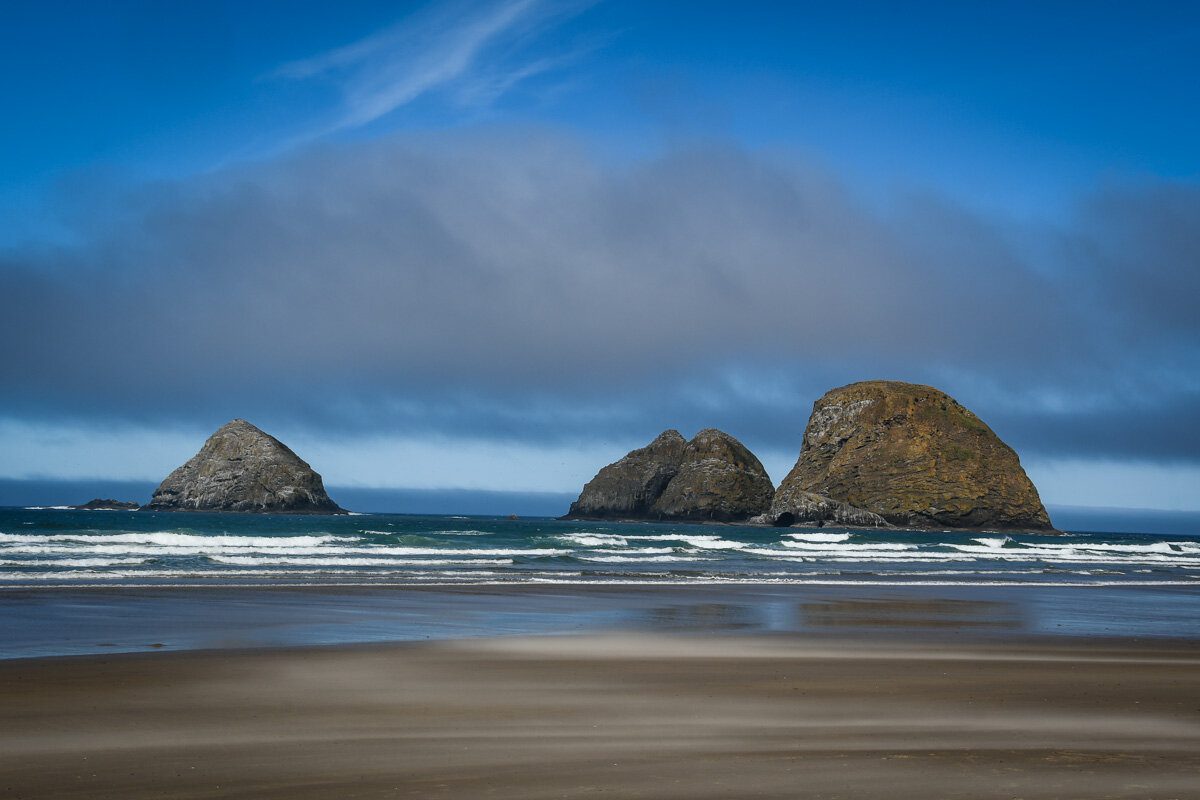 Oceanside's sea stacks are a dominant feature; you can see them from just about anywhere in town.
Walk through an actual tunnel from Oceanside Beach to Tunnel Beach. The 0.4-mile path passes through a tunnel carved into the cliffs and leads to a remote, rugged beach that you're likely to have all to yourselves.
Head to Cape Meares State Park, stopping by the beautiful lighthouse and massive, unique Octopus Tree.
Explore Bayocean Peninsula Park, a beautiful stretch of sand with dunes. Occasionally, bioluminescent plankton washes ashore!
Where to stay in Oceanside
9. Netarts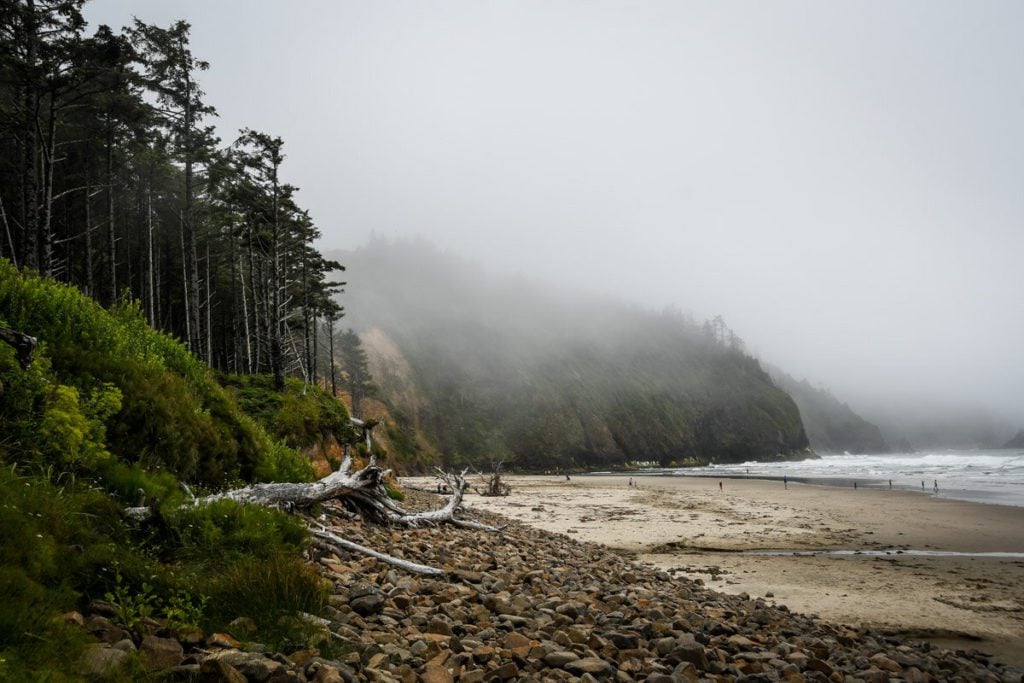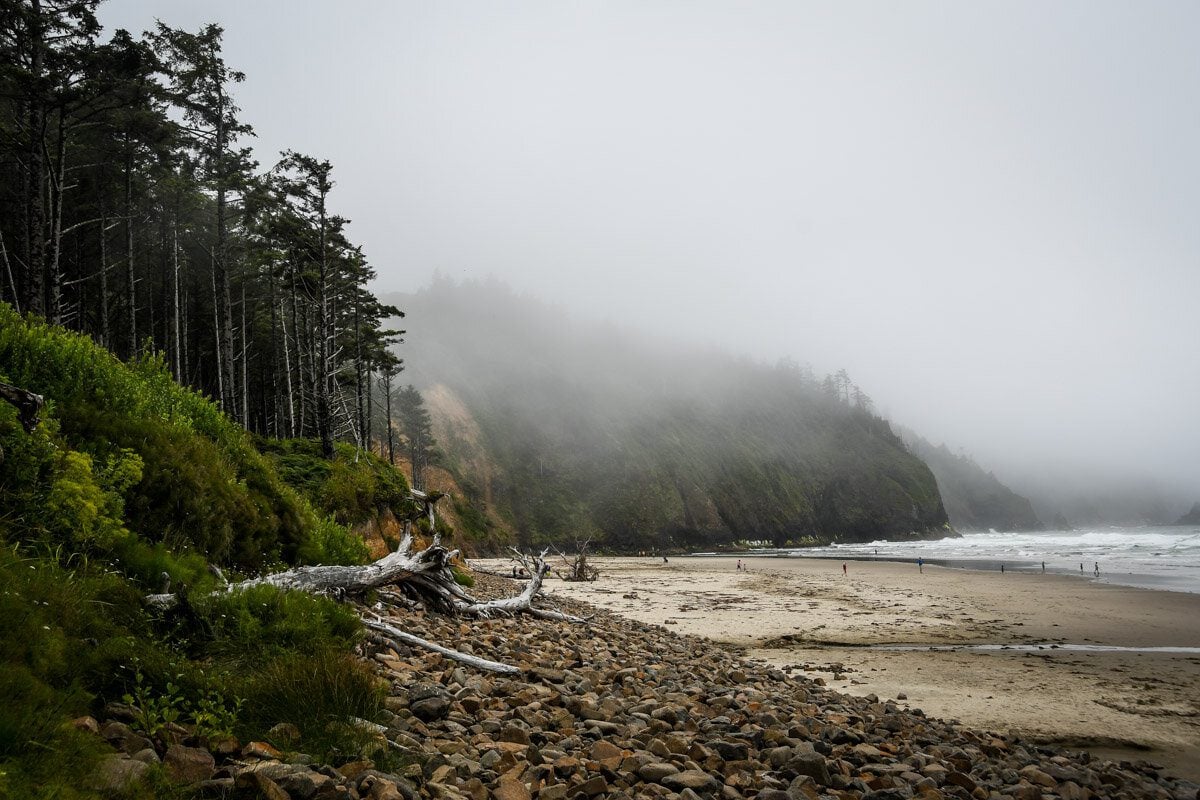 Location: North Coast
Population: 778
Why stop here? A small, non-touristy town for the best fresh oysters on the Oregon Coast!
A slow-paced bay-side town, Netarts is primarily known for its abundance of incredible fresh oysters. One of the least developed parts of the entire Oregon coast, the town is a great stop to experience laid-back seaside life.
Top things to do in Netarts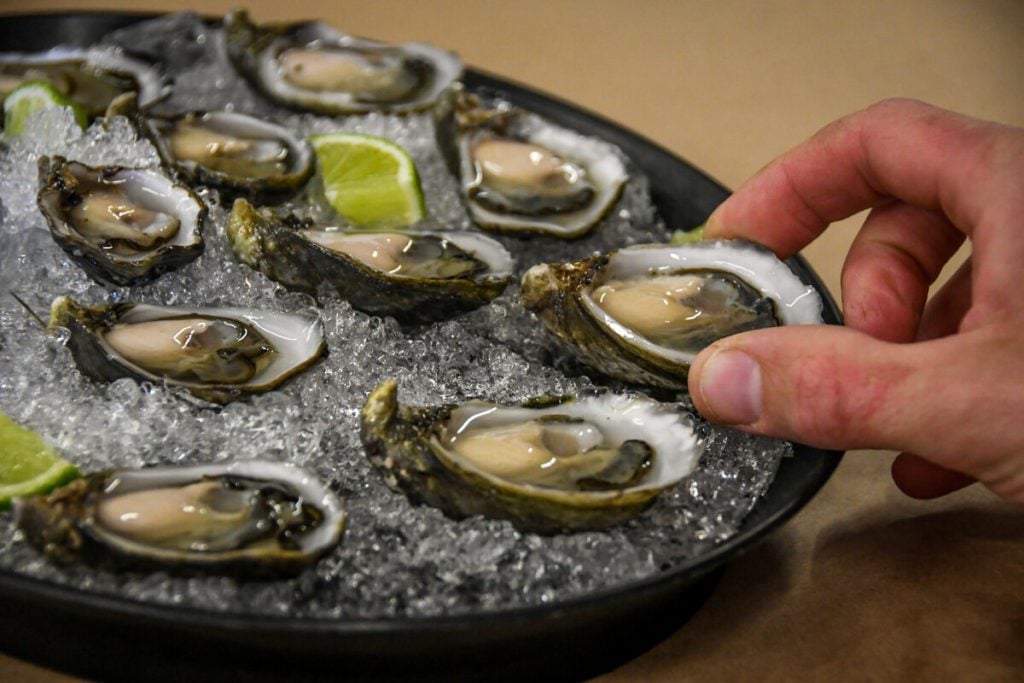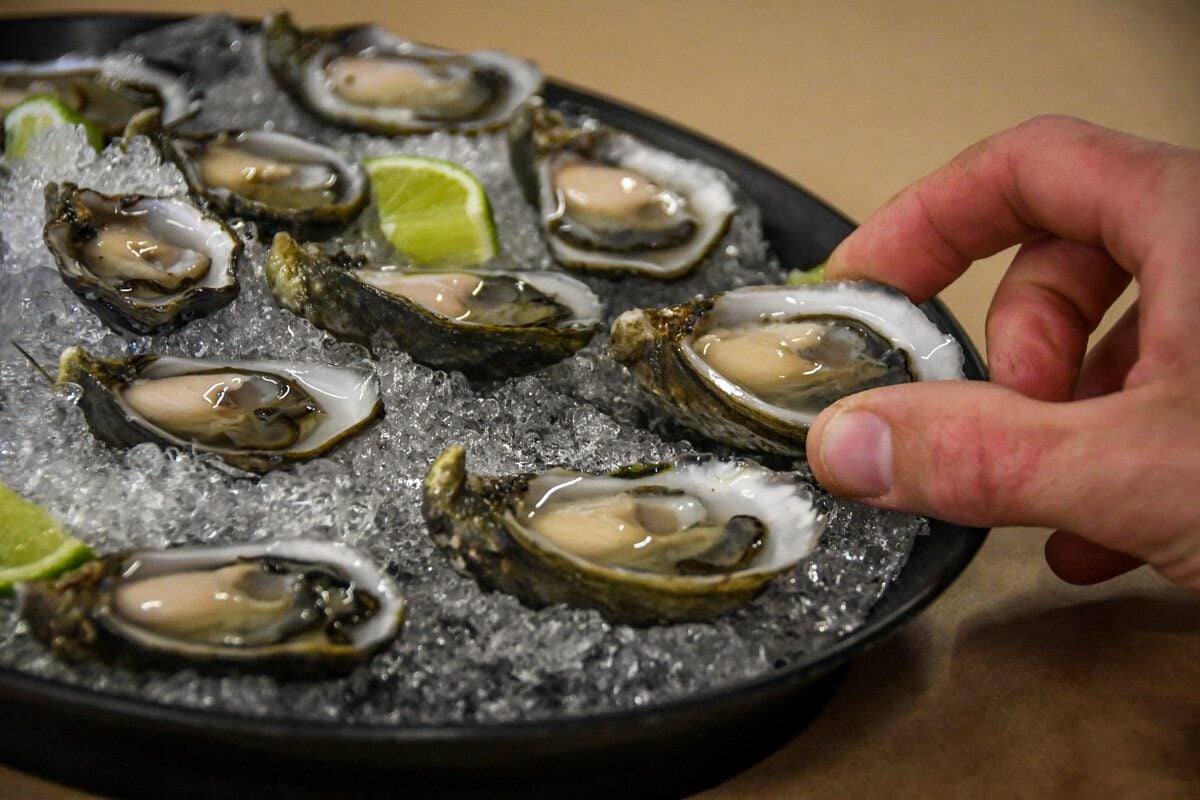 Eat oysters! Portland chef Jacob Harth sets up the weekends-only Nevor Shellfish Farm, where you can sample oysters, barnacles, and other delectable seafood.
Technically just north of Netarts in Tillamook, JAndy is another excellent option for oysters (and wine!).
Visit Jacobsen Salt Co. to learn about salt processing and buy hand-harvested products.
Hike the Cape Lookout Trail for one of the most far-reaching views on the Oregon Coast.
Where to stay in Netarts
10. Pacific City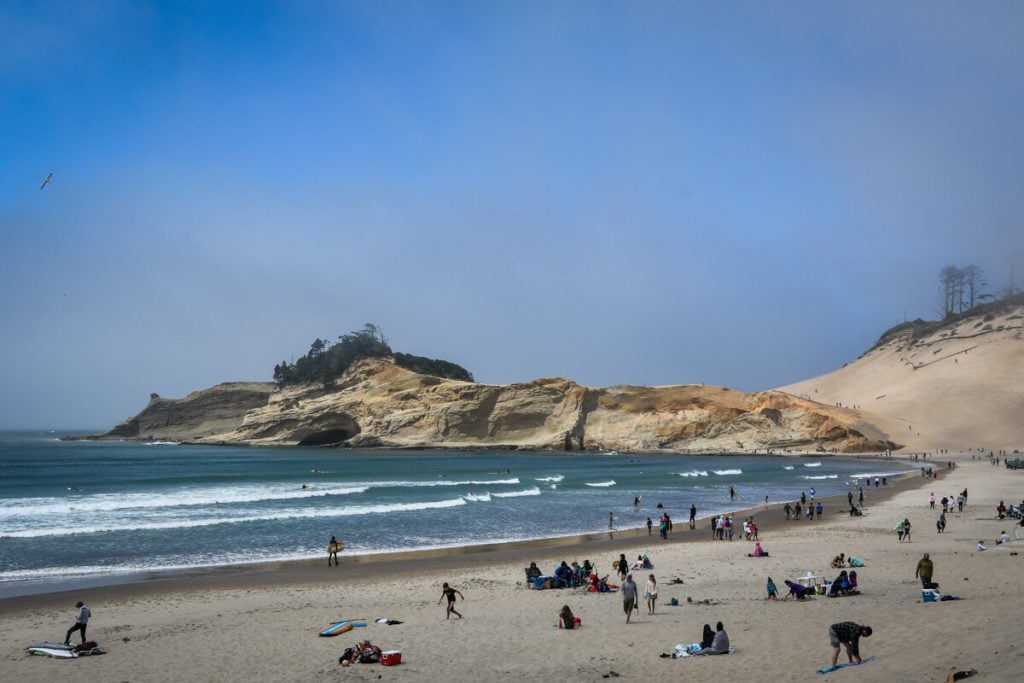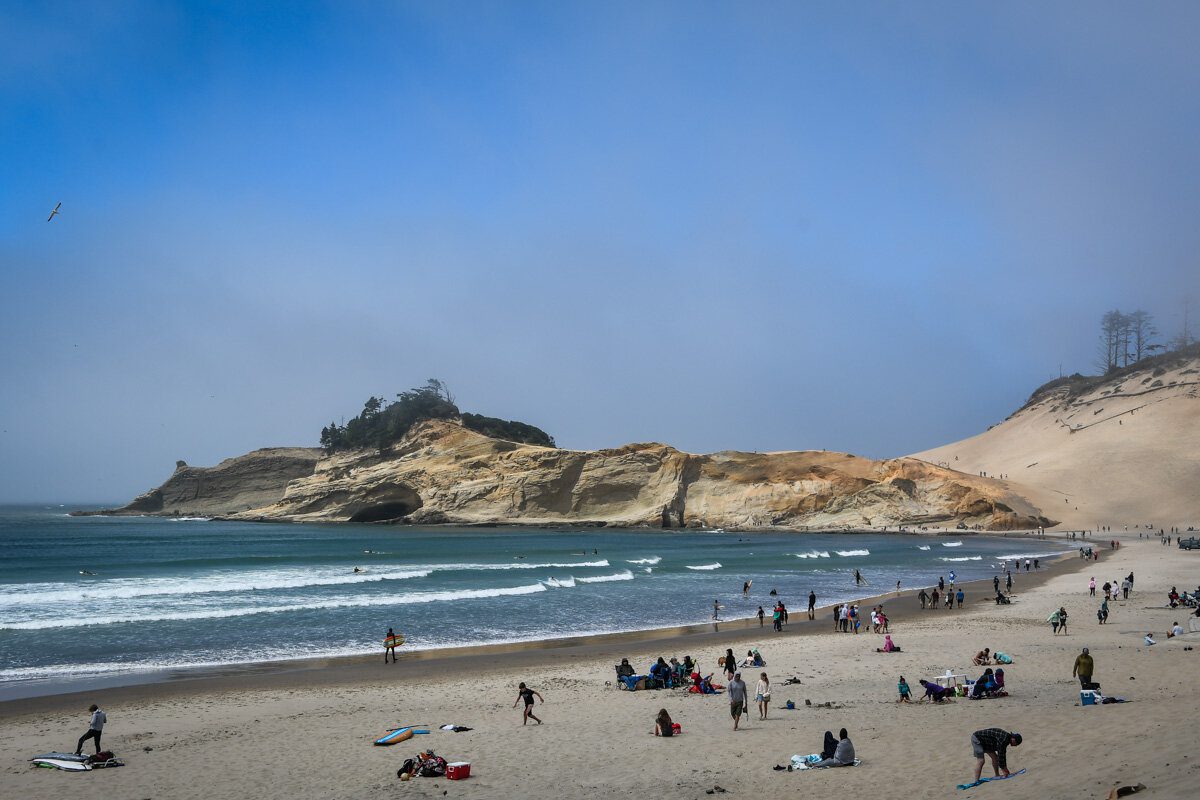 Location: North Coast
Population: 1,076
Why stop here? A popular surf town with SoCal vibes and a large sand dune
Although Pacific City can get excessively crowded in the summer (especially when it's sunny), it's worth a visit for its unique surf-culture-meets-sand-dunes atmosphere.
Fittingly, there are some great laid-back beach bars and restaurants. You'll also find several beautiful natural attractions nearby, including capes and the dunes.
Top things to do in Pacific City
Climb the Great Dune for a workout and expansive views.
Just north of town, explore Cape Kiwanda, a beautiful cape with sea cliffs.
Catch a wave! If you don't surf yourself, pack a picnic and watch others.
Grab a beer at the original beachfront Pelican Brewing Company.
Drive down the 101 to Neskowin Ghost Forest, a group of about 100 eroded tree stumps on the shore.
Where to stay in Pacific City
11. Lincoln City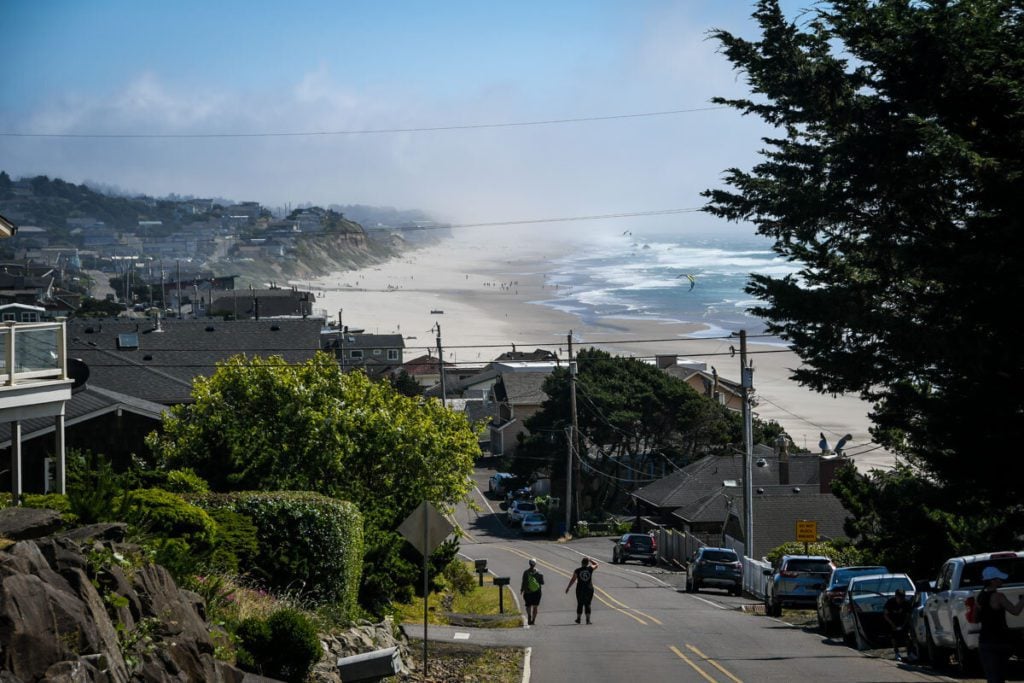 Location: Central Coast
Population: 8,826
Why stop here? A decently-sized city with the biggest beaches of all Oregon Coast towns and quirky community events
One of the largest towns on the Oregon Coast, Lincoln City is, as expected, a bit commercialized. However, it has a ton of attractions to keep you occupied, a surprisingly great foodie scene, and an awesome beach.
The large glass-blowing community and beloved kite festivals also lend Lincoln City an interesting eclectic, artsy vibe.
Top things to do in Lincoln City
Scour the beach for intricately designed glass floats (balls). Through a program called Finders Keepers, local glassblowers "hide" the floats for people to find.
If you don't find a glass float, craft your own at the Lincoln Glass Center.
Hike to God's Thumb for beautiful meadows and dramatic coastal cliffs.
If you're a fan of salmon, Barnacle Bill's is a must-stop, specifically for the famous smoked salmon.
Stroll through the (totally free!) Connie Hansen Garden. Especially in spring, it's filled with blooming flowers.
Where to stay in Lincoln City
12. Depoe Bay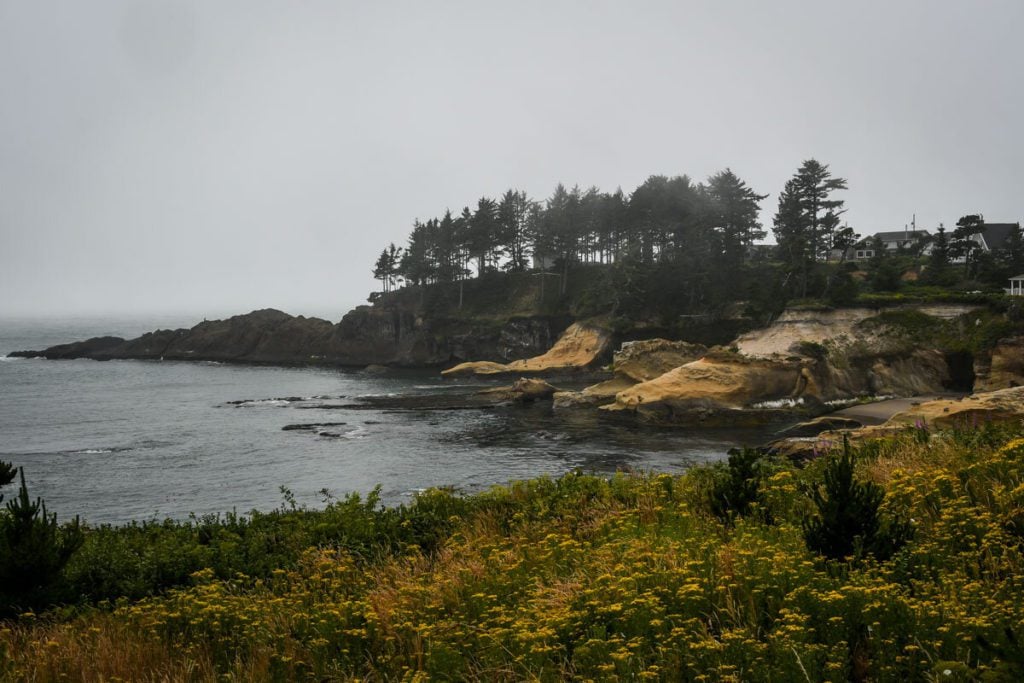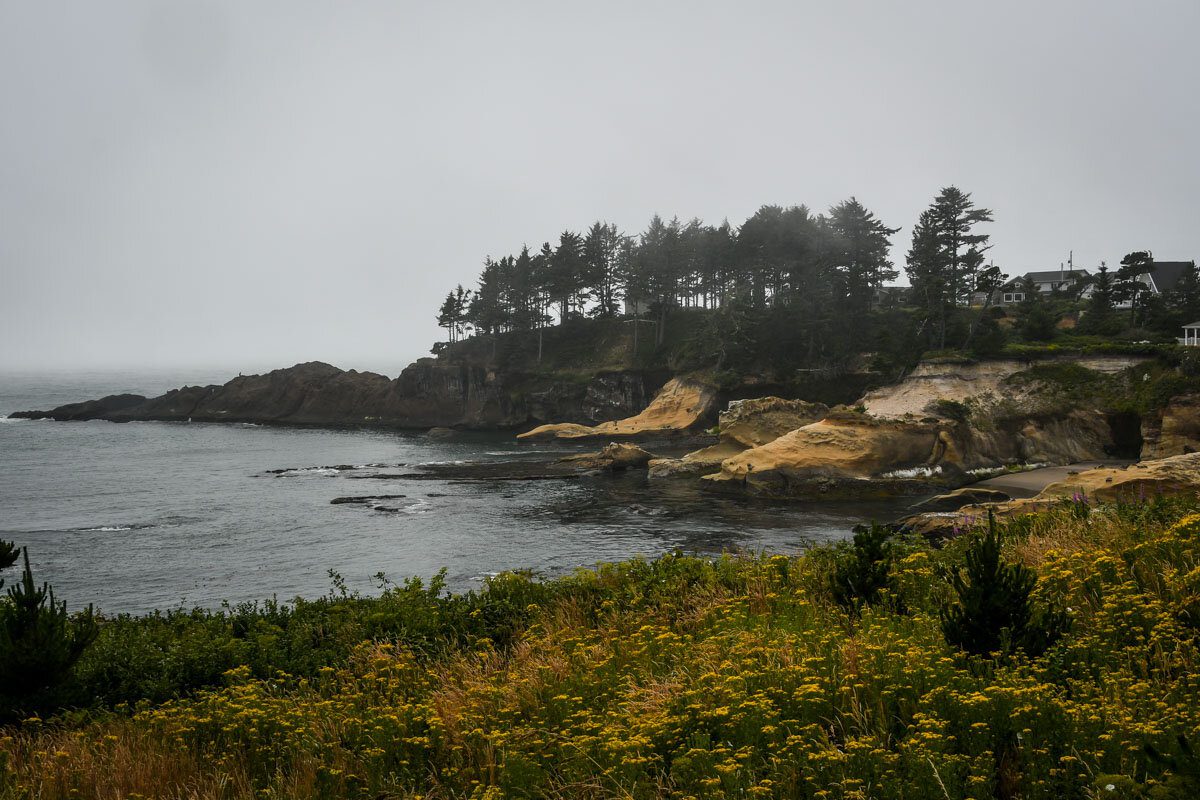 Location: Central Coast
Population: 1,805
Why stop here? The whale-watching capital of Oregon!
Instead of expanses of sandy beach, Depoe Bay has a rugged coastline and distinctly maritime atmosphere —which apparently gray whales love! Stop here for a quiet overnight trip or an afternoon, strolling with a coffee and trying to spot whales. The season runs from March to December.
Top things to do in Depoe Bay
Go whale-watching! You may spot the magnificent creatures from shore, but your best bet is booking a cruise with one of the several local tour operators.
Stroll the oceanfront walkway with a coffee from Left Coast Coffee Co. Note that Depoe Bay is generally windy and rainy; wear layers.
Check tide charts to visit Devil's Punchbowl at low tide. Erosion created this spectacular grotto that you can descend into!
Head to the Boiler Bay Viewpoint to explore tide pools and watch massive waves pummel the rocks. Bring binoculars; this is also a great spot to see whales.
Grab a glass of vino at Depoe Bay Winery.
Where to stay in Depoe Bay
SCP Depoe Bay: sustainability-focused hotel with modern rooms
The Pointe: watch for whales from the living room of this oceanfront condo
Sandy Seclusion: oceanfront home with private path to the beach and a hot tub
13. Newport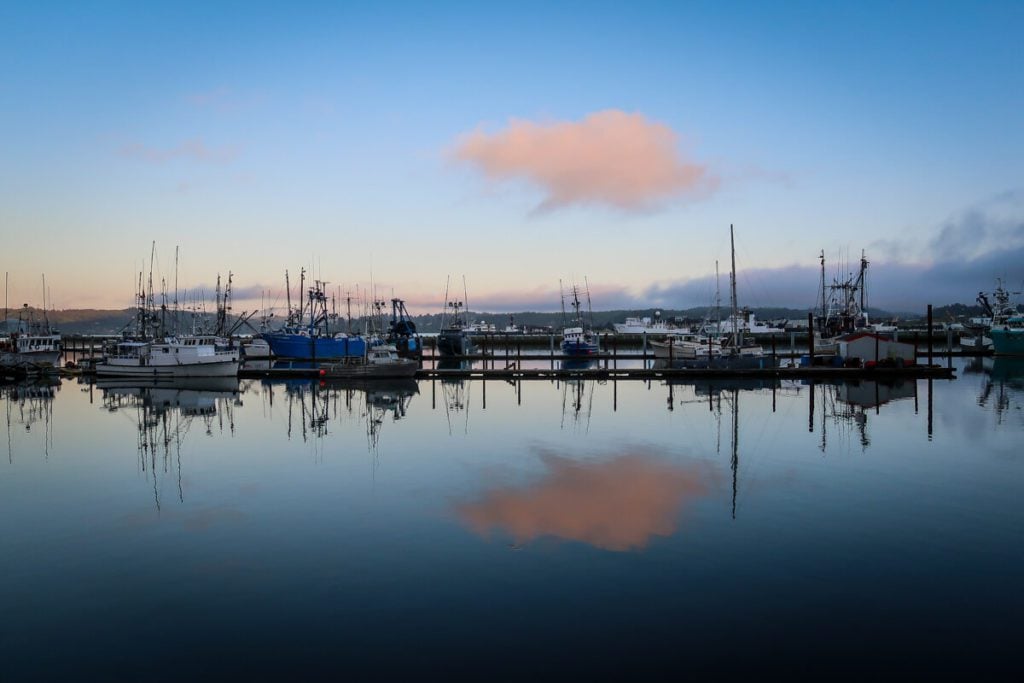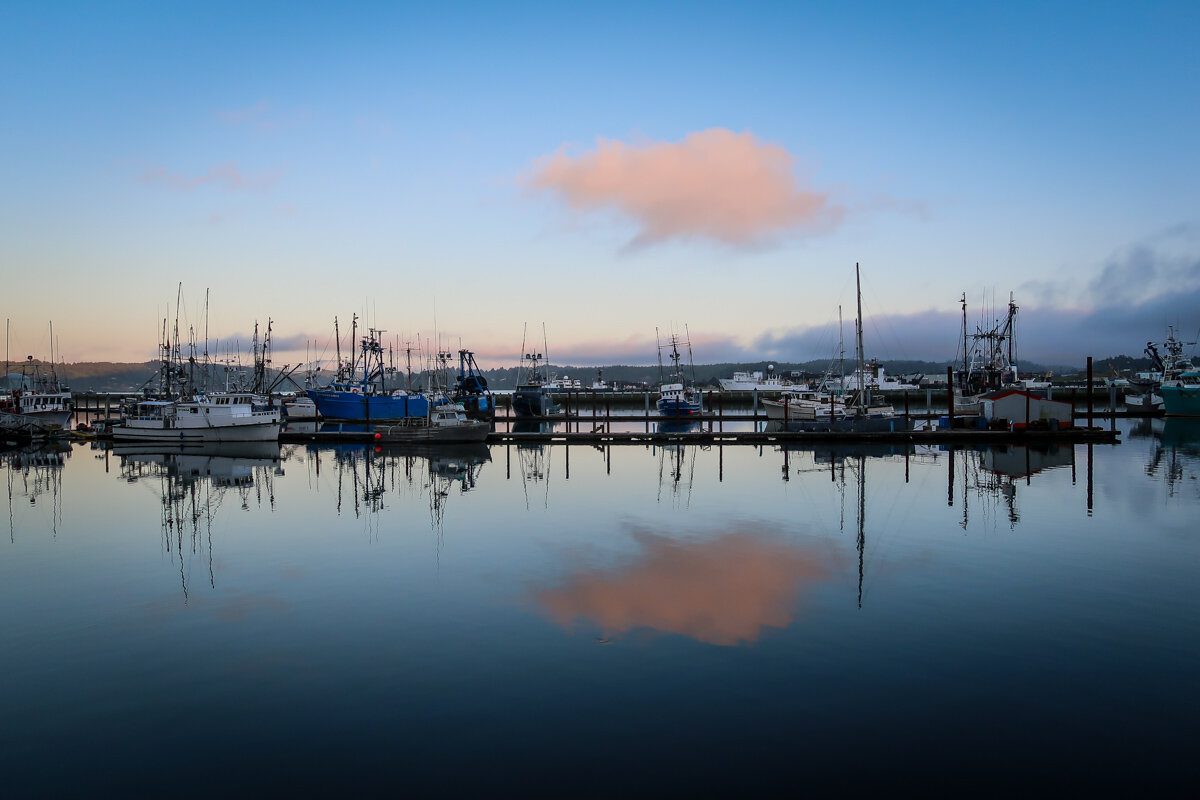 Location: Central Coast
Population: 10,559
Why stop here? A large, bustling city centered around the fishing industry, with tons to see and do (and eat and drink!)
One of the largest Oregon Coast towns, Newport has an interesting mix of touristy attractions (like Ripley's Believe It or Not), natural marine features and wildlife, and a booming brewery scene.
You definitely won't avoid the crowds here, but there's something for everyone. If you're interested in lighthouses, sea lions, birds, and general marine biology, you may especially enjoy this section of the coast.
Top things to do in Newport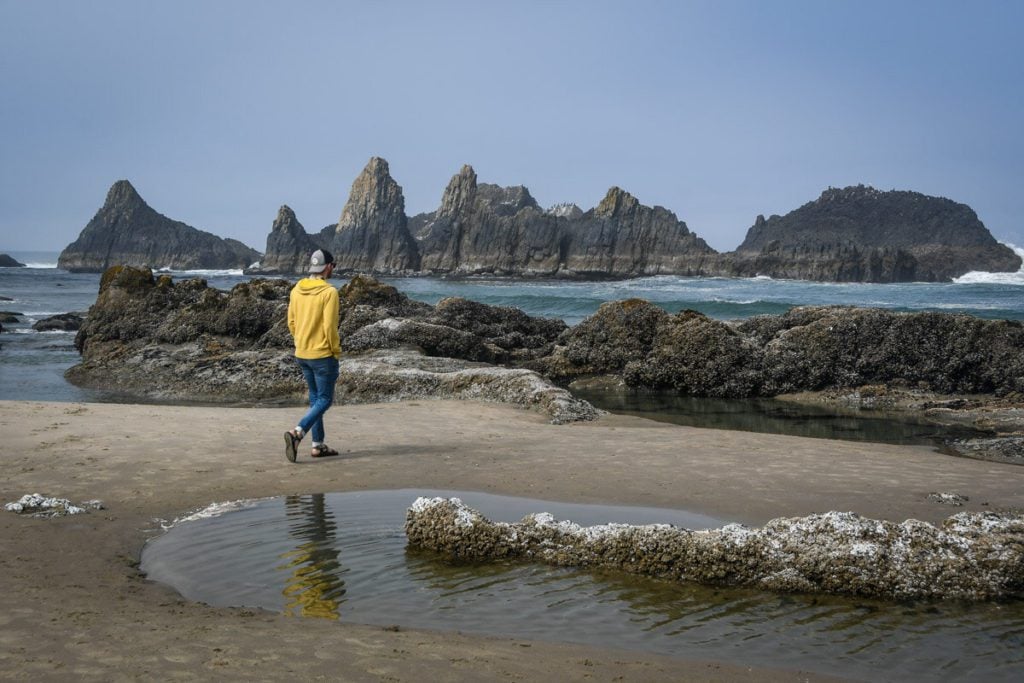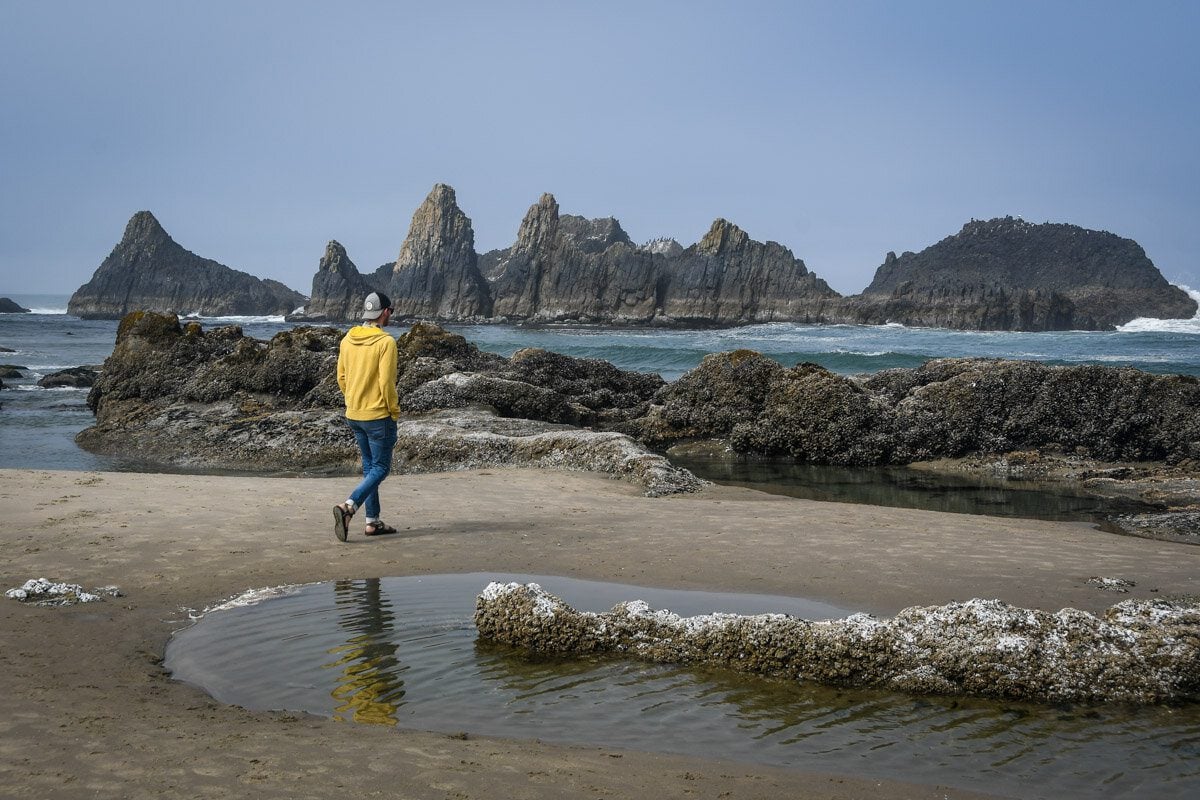 Stroll to the Yaquina Head Lighthouse for beautiful ocean views and bird-watching.
Educate yourself on the ocean by booking a Hatfield Marine Science Center tour, part of Oregon State University.
Walk the rocky jetty (especially the northern jetty) to spot sea lions.
Enjoy fresh seafood! Newport has several great options including Local Oceans and South Beach Fish Market.
Where to stay in Newport
14. Yachats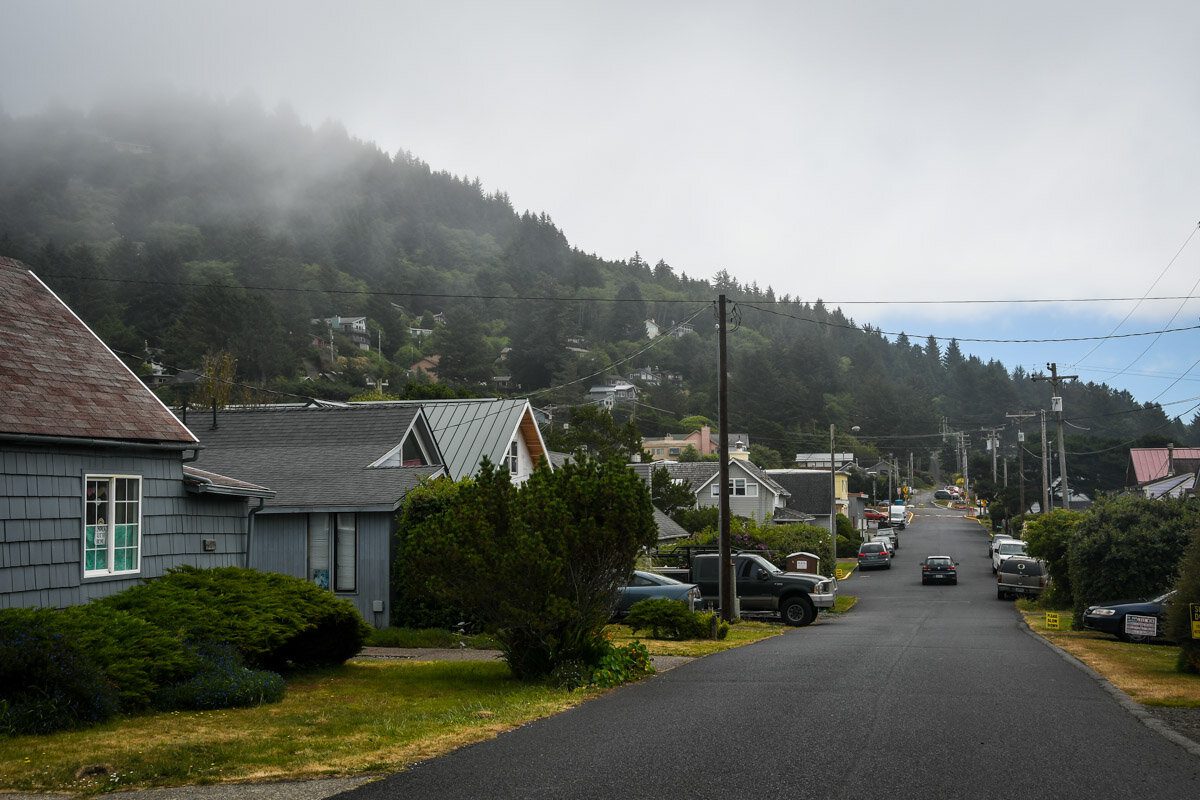 Location: Central Coast
Population: 553
Why stop here? A small, sleepy residential town bursting with charm and gorgeous scenery
One of our favorite stops on the entire coast, Yachats combines jaw-dropping rugged scenery with small-town charm. Arthur Frommer of the famous Frommer's travel guides has even listed Yachats as one of his favorite destinations anywhere in the world.
Unlike many of the other Oregon coast towns to the north, you won't find sandy beaches here. Instead, expect to see waves crashing against rugged black basalt rock. In fact, the name Yachats (pronounced "ya-hots") comes from the Siletz language meaning "dark water at the foot of the mountain."
Top things to do in Yachats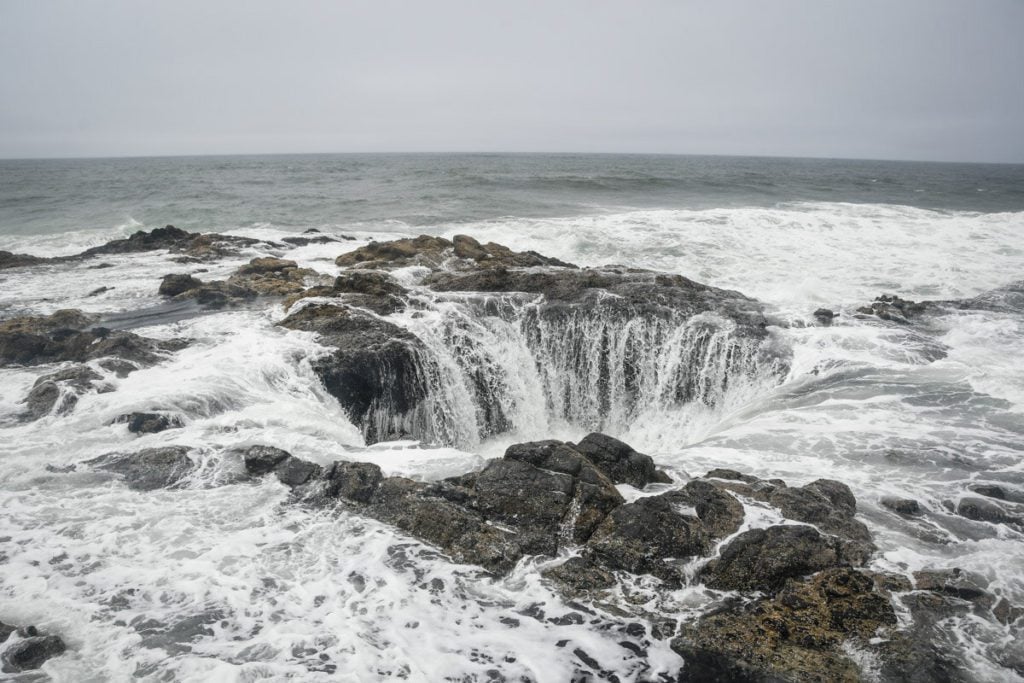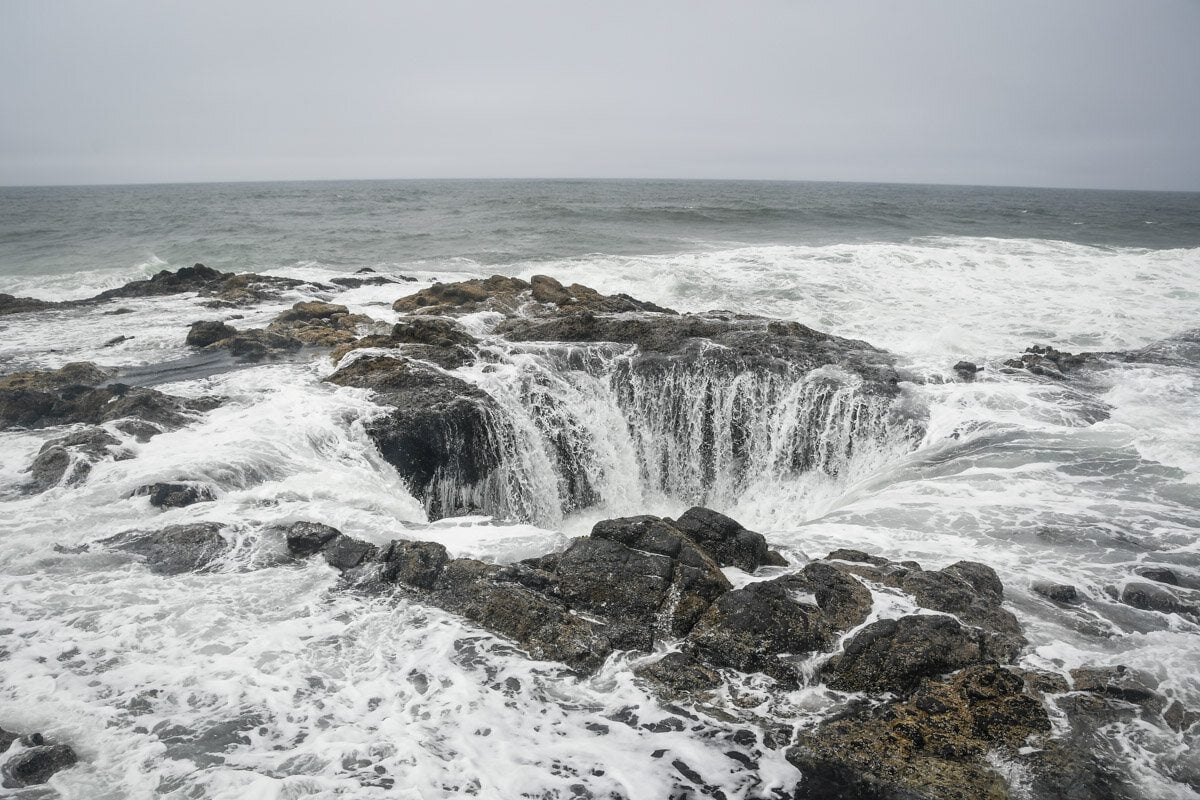 Walk the 804 coastal trail to see the rugged, black-rock coastline that gave Yachats its name.
Although small, downtown is a gem —literally. Buy rare gems at Planet Yachats, browse esteemed art at the Earthworks Gallery, and check out the Little Log Historic Museum.
Sample micro-brews, kombucha, and probiotic sodas at eclectic, welcoming Yachats Brewing + Farm Store.
Hike Amanda's Trail in Cape Perpetua for ocean views and old-growth forest.
Thor's Well and Devil's Churn are musts; in one, waves appear to drain into a bottomless hole, and in the other, magnificent waves batter a crevice.
Drive to Seal Rock, which doesn't have seals but does have amazing tide pools.
For more ideas, check out our entire guide to Yachats, Oregon, which has everything you need to know to plan your visit!
Where to stay in Yachats
15. Florence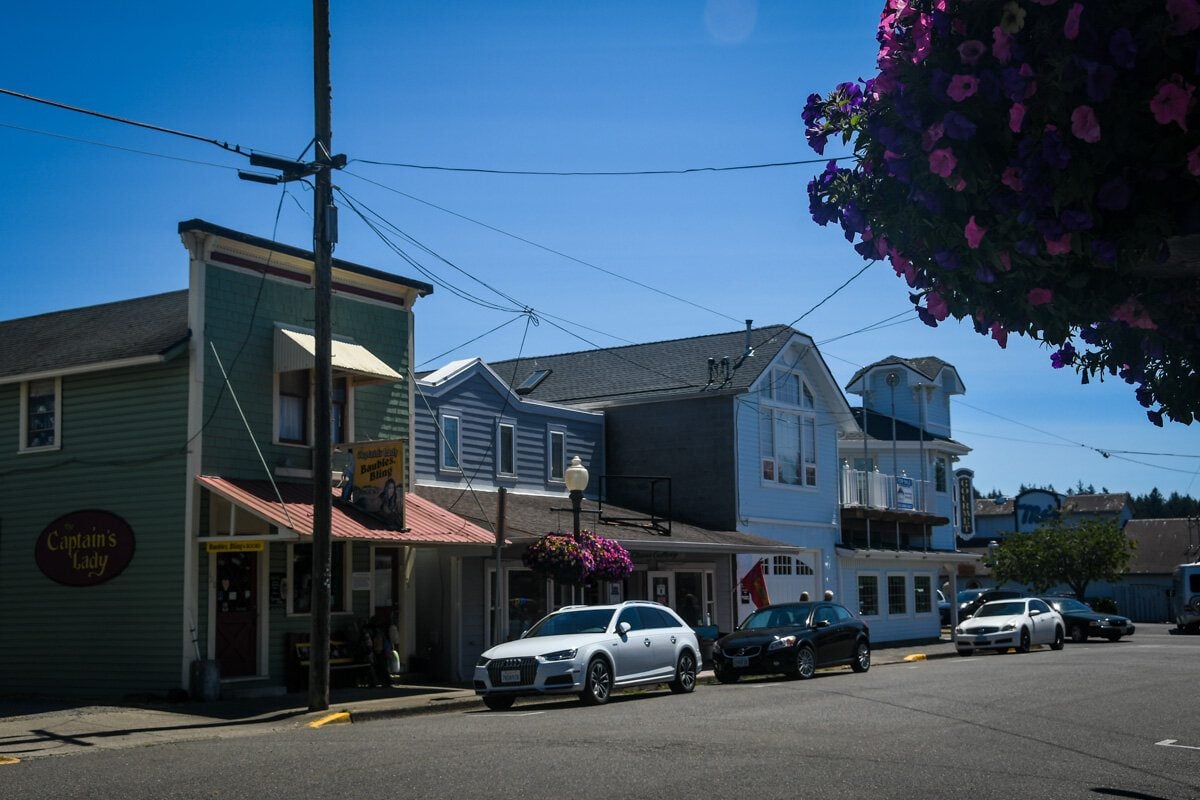 Location: Central Coast
Population: 8,921
Why stop here? An adorable, unique coastal town centered around sand dunes and outdoor adventure
Florence has one of the cutest town centers on the Oregon Coast. Plus, with the way it's situated on the river mount, the town has views of both the Siuslaw River and the ocean.
Just beyond the city center, the sand dunes are Florence's star attraction. If you prefer a slightly more relaxed pace of adventure, there are several great beaches, lakes, and lovely hiking trails nearby.
Top things to do in Florence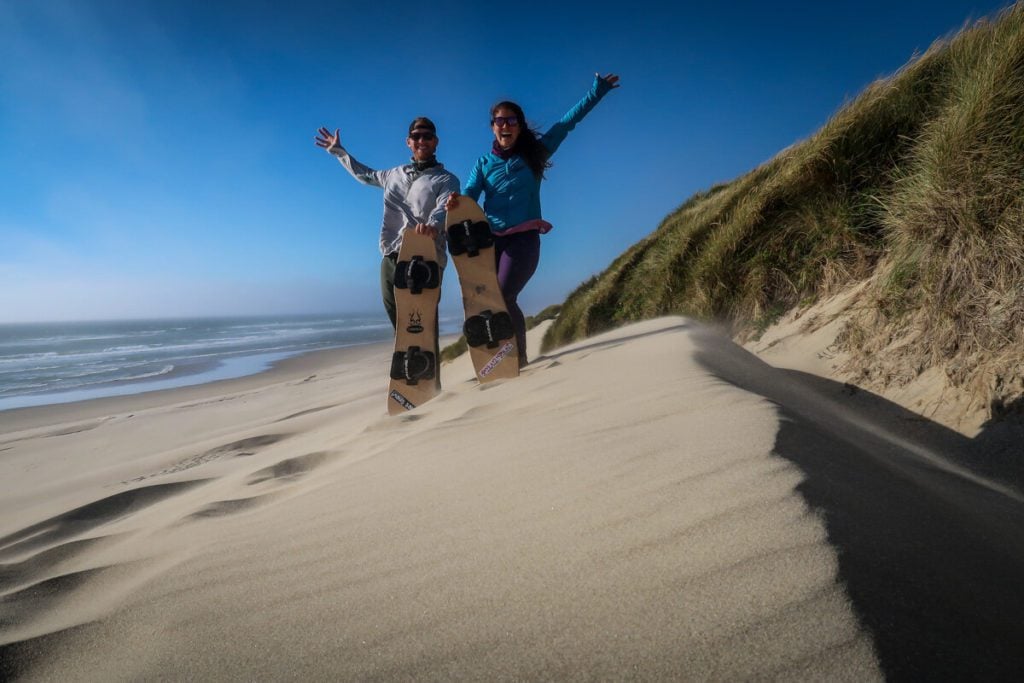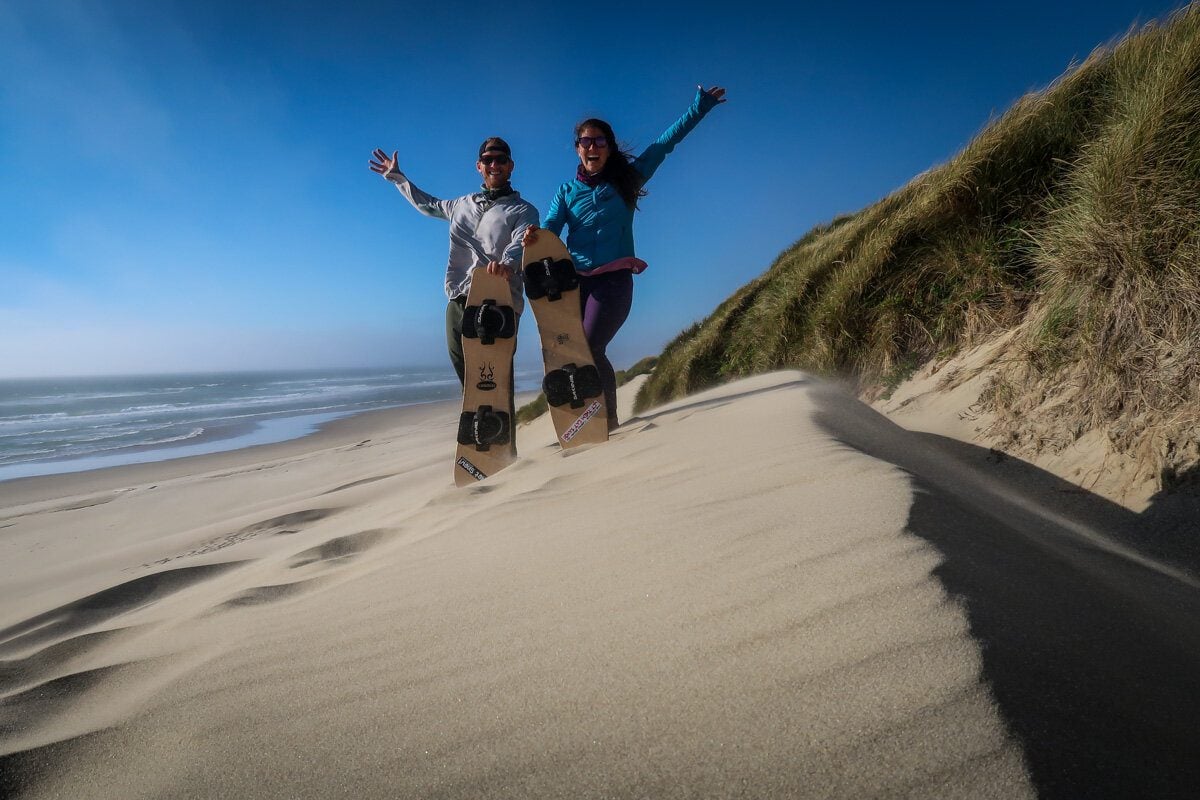 Rent boards from Sand Master Park and try the unique sport of sandboarding! A local pro recommended Jessie M. Honeyman State Park.
Hike to Hobbit Beach, one of the most stunning stretches of sand on the coast. The forest tends to get quite foggy, adding a magical, eerie energy.
Stroll through the muted, multi-colored city center and grab a drink at River Roasters. In the summer, check out the lively weekend farmer's market.
Drive to Heceta Head for one of the coast's most picturesque lighthouses.
Pack a picnic and cruise around exploring the area's several lakes.
Where to stay in Florence
16. Bandon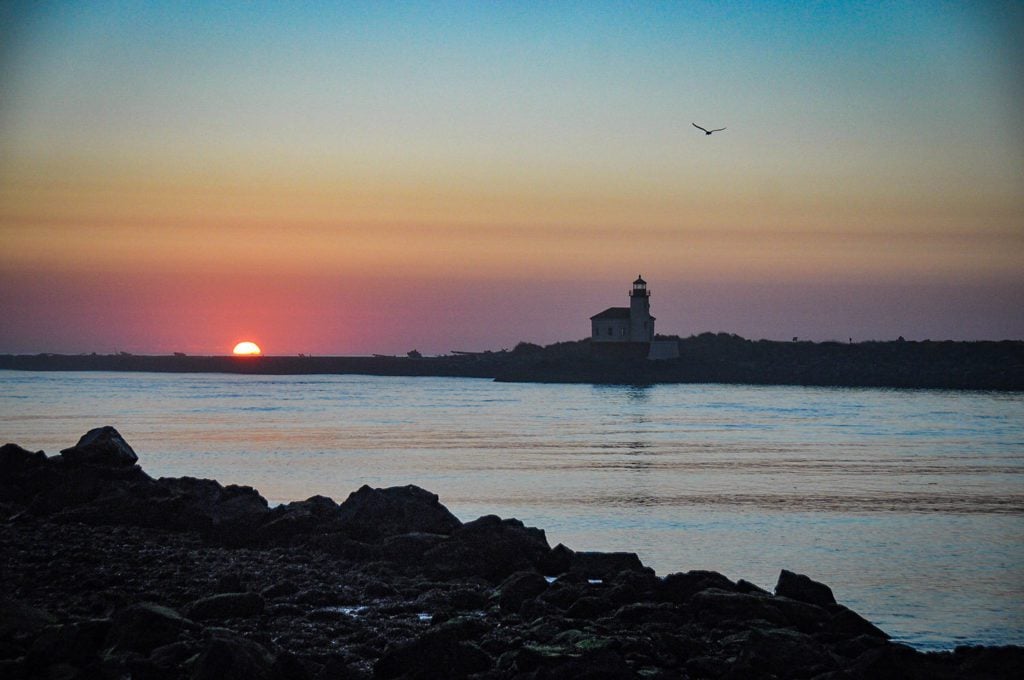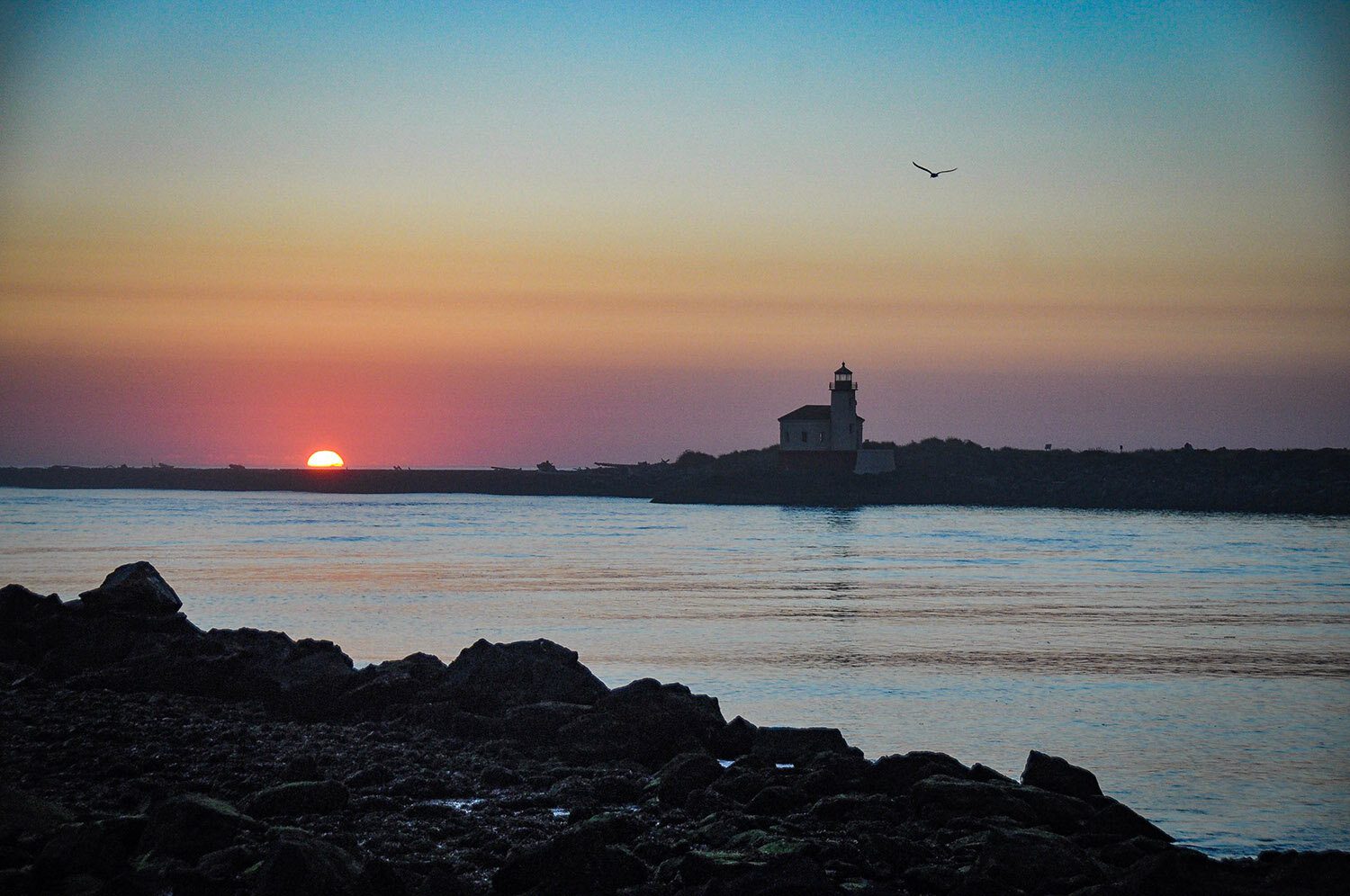 Location: South Coast
Population: 3,100
Why stop here? Discover interesting art exhibits and enjoy fresh seafood in this quiet and scenic town
Artsy Bandon is a quiet, quirky town with several intriguing qualities.
The sand labyrinths and beautiful animal sculptures from Washed Ashore are both family-friendly and certainly memorable exhibits. Plus, you'll find that beaches in Bandon have more solitude than most other Oregon Coast towns.
With numerous delicious seafood options and one especially stunning sunset spot, you'll likely spend more time here than expected!
Top things to do in Bandon
See one-of-a-kind sand labyrinths at Circles in the Sand, a community-driven art project near Face Rock Viewpoint. Verify the schedule and inquire about volunteering here.
Check out an art exhibit made from washed-up beach trash at the aptly-named Washed Ashore gallery.
Head to the Coquille River Lighthouse for one of the best sunsets on the coast.
Hit Blacklock Point for incredible coastal scenery surrounded by wildflowers.
Hike to Agate Beach from the Seven Devils Recreation Area for the most solitude you'll find on the coast.
Where to stay in Bandon
17. Gold Beach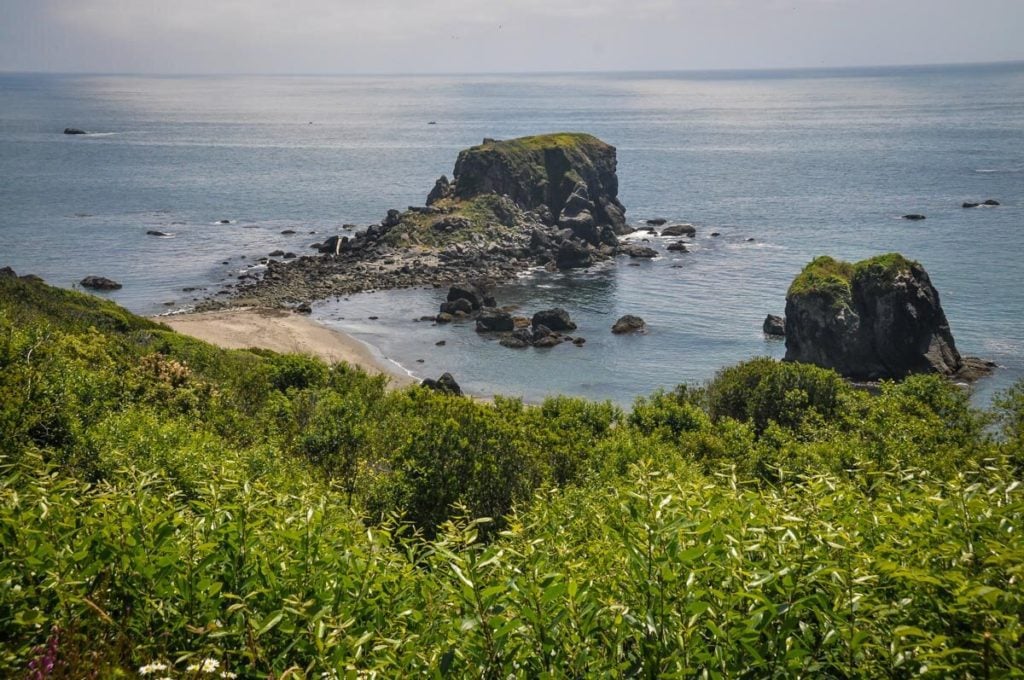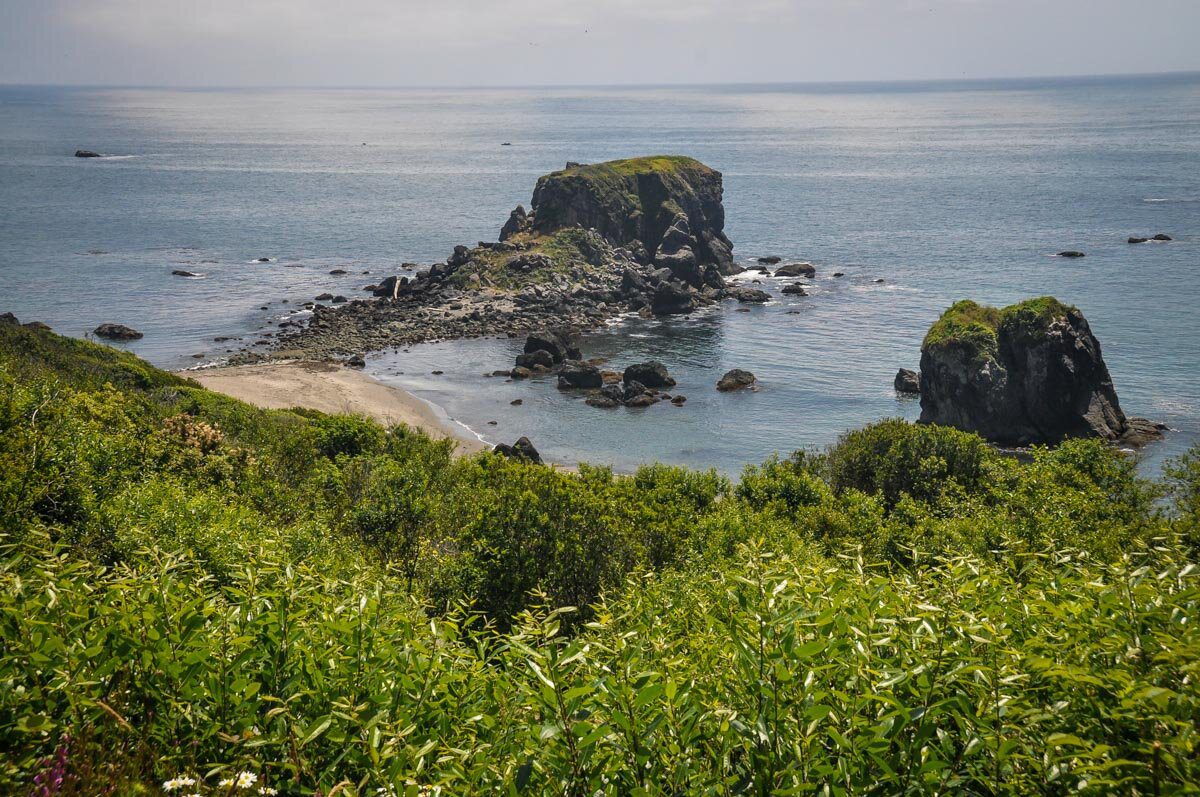 Location: South Coast
Population: 2,418
Why stop here? In extreme southern Oregon, Gold Beach is the perfect basecamp for adventure and spectacular scenery nearby
Although it's not necessarily the cutest or most historic Oregon Coast town, Gold Beach has some of the most striking scenery in the entire PNW at its doorstep.
The Samuel H. Boardman Scenic Corridor packs one jaw-droppingly gorgeous punch after another, with considerably fewer crowds than the northern coast. Spend your time in Gold Beach taking scenic drives, hiking, getting out on the water, and lingering in great restaurants.
Top things to do in Gold Beach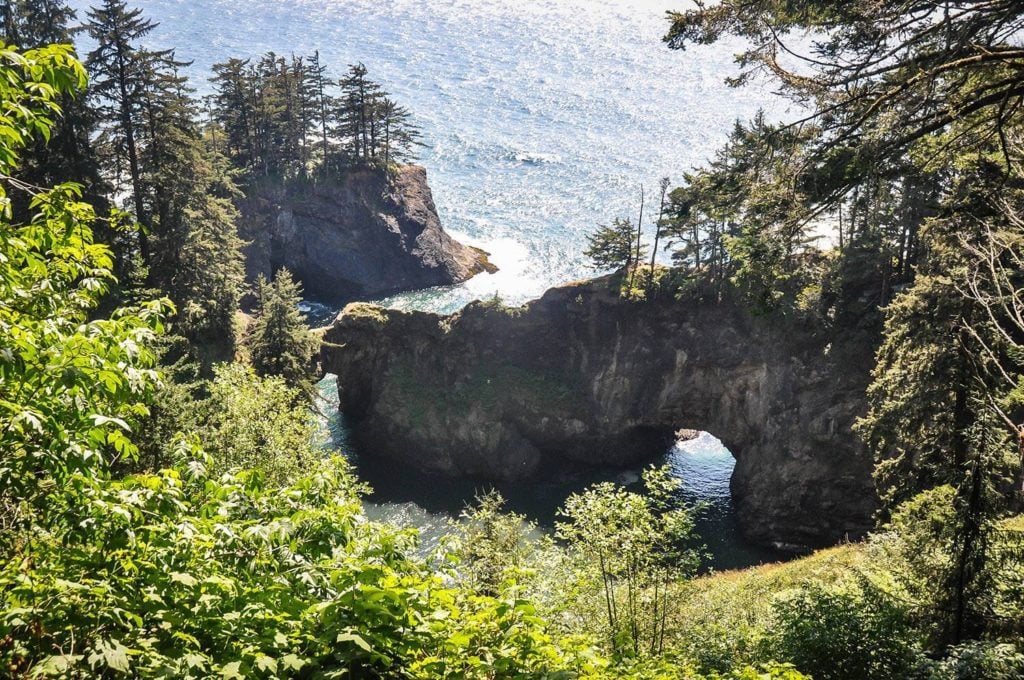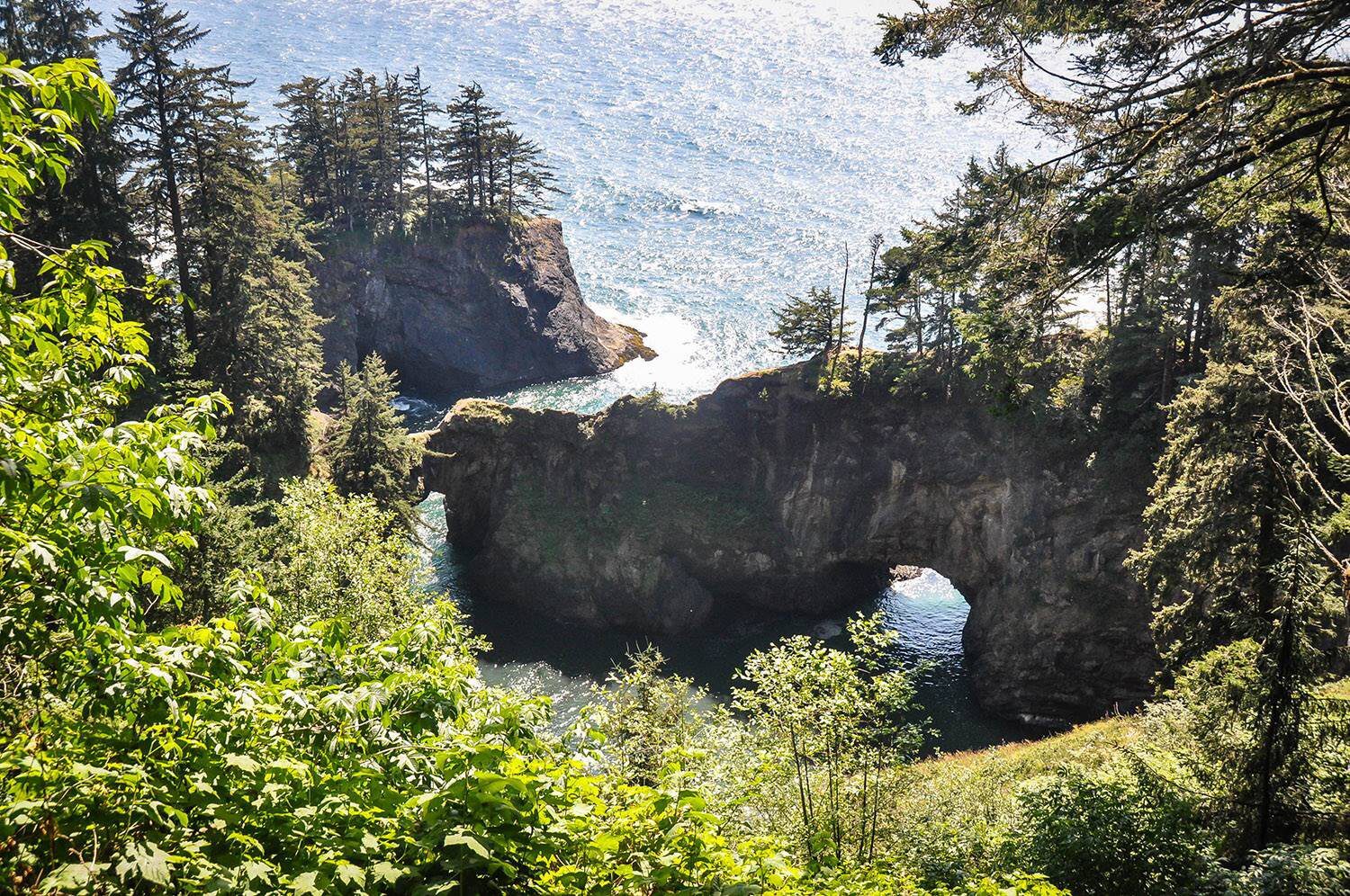 Book a jet boat adventure with Jerry's Rogue Boats. From leisurely cruises to blasting through whitewater rapids, it's the best way to experience the Rogue River.
On a rainy day, pick up a new read at Gold Beach Books after snacking on garlic fries and seafood at Barnacle Bistro.
Hike the Cape Sebastian Trail for dramatic coastal views and a remote beach.
Secret Beach and the Natural Bridges, some of the coast's least-crowded hidden gems, both offer short hikes with insane views.
Whaleshead Beach, also part of Samuel H. Boardman Scenic Corridor, is another must-stop. Bring a picnic!
Where to stay in Gold Beach


Are you planning a trip to Oregon?
Being that Oregon is our home state, we have TONS of content to help you plan your trip. Start with our Oregon Homepage and be sure to check out the articles below. Leave us a comment if you have any more questions!
Save this article for later on Pinterest!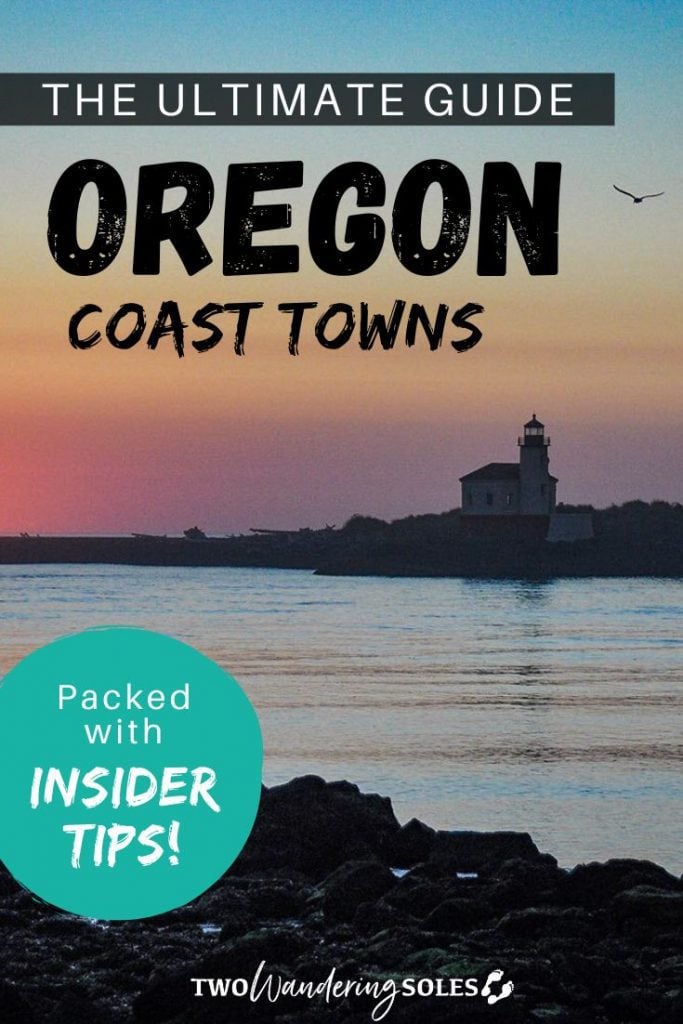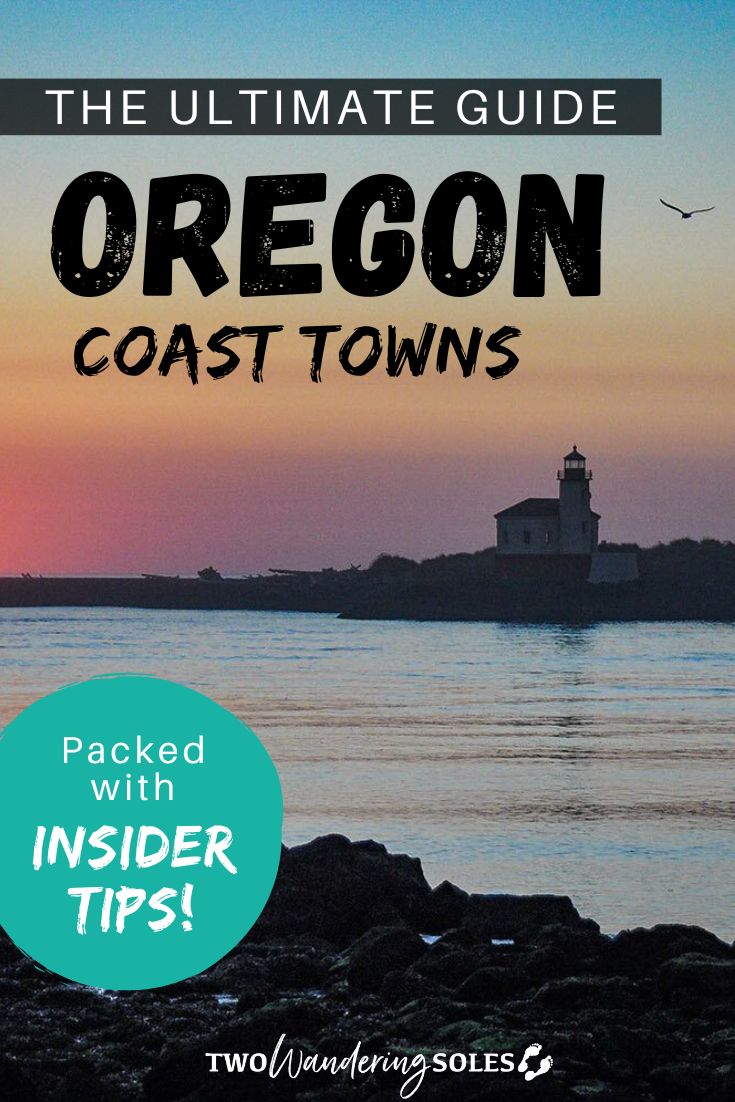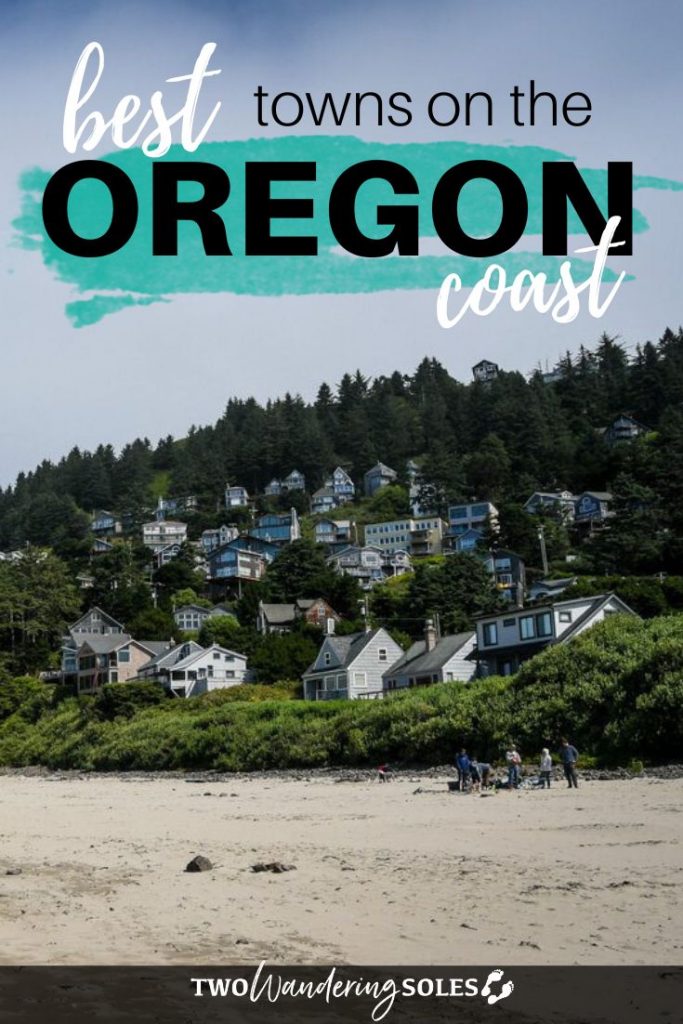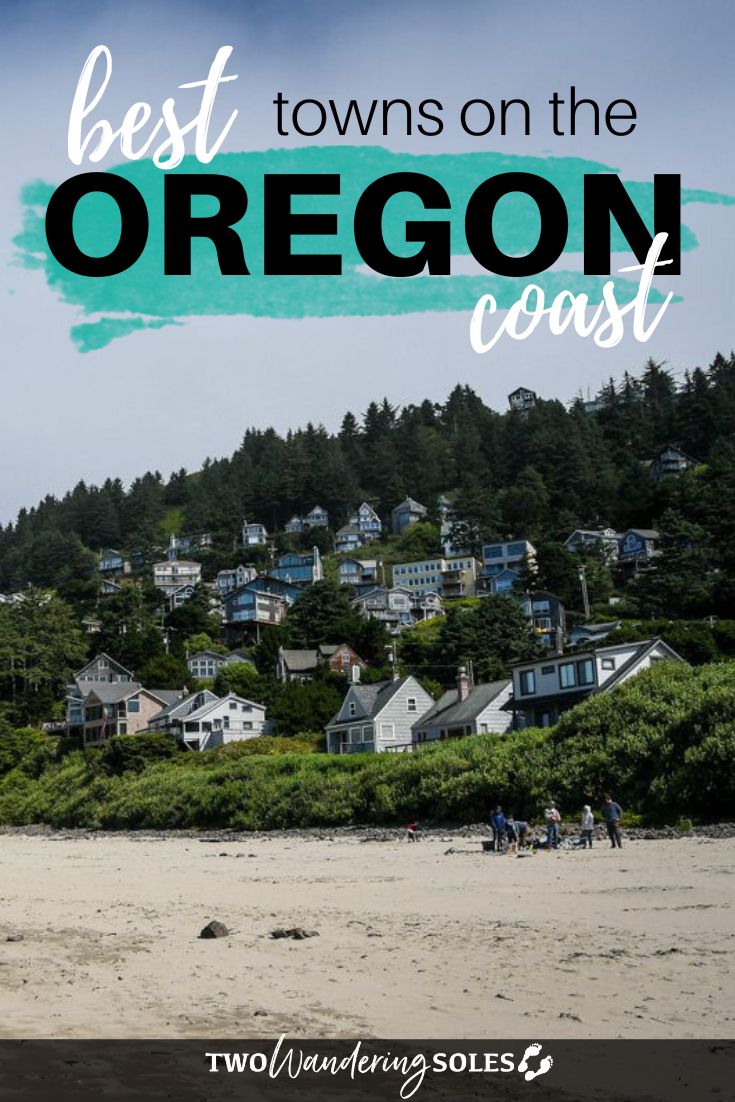 We want to hear from you!
Which Oregon coast town are you most excited to visit? Are you planning a trip to the Oregon coast and have more questions for us? Leave your comment below and we'll do our best to get back to you!