Hiking in New Zealand was one of the major highlights of our trip, and we think it will be one of your best memories, too. This article is not only packed with some of the most incredible New Zealand hikes, and you'll also find lots of local tips and advice so you're truly prepared for an epic Kiwi adventure you won't soon forget.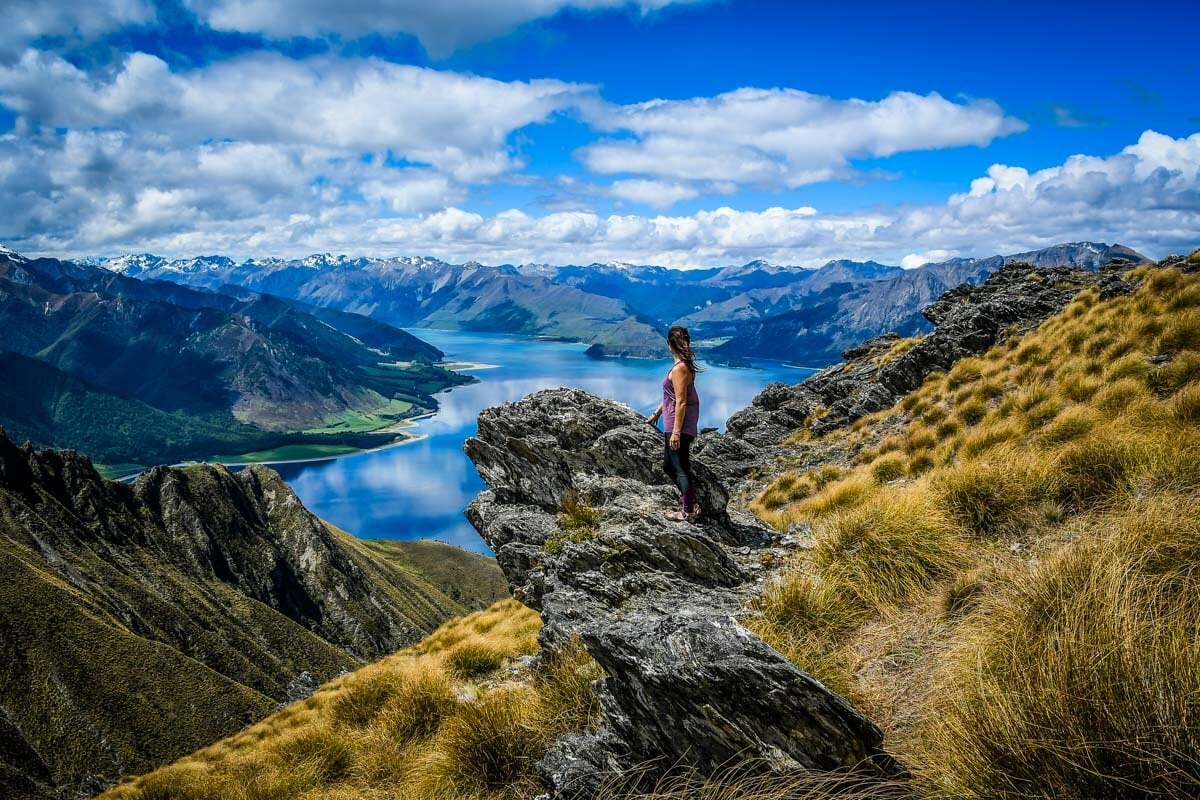 Co-Written by Guest Author: Alice Milne
When we started planning our trip to New Zealand, we were overwhelmed because we wanted to do and see all the things. But with just over a month in the country, we knew we'd have to pick and choose what was most important for us.
We were sure about two things:
We wanted to travel around New Zealand by campervan. Spoiler alert: This was one of the best decisions we could have made!

We wanted to do as much hiking as possible.
We did a ton of research, packed all our trekking gear, and set off in search of some of the best hikes in New Zealand.
We logged a lot of miles (err… kilometers), had lots of laughs, took thousands of pictures, picnicked with some of the best views and sweat through our trekking clothes more than once. We even spent two nights sleeping in the New Zealand wilderness in huts you can only reach by hiking (more on that later!).
We were essentially living out our own Frodo Baggins fantasy, traipsing through lush forests, up desolate mountains, and to postcard-worthy glacial lakes. It was pure magic, and we couldn't wait to share our experiences with you.
We've rounded up some of our favorite New Zealand hikes, but that's not all…
Since we were only in the country for 5 weeks, there are a lot of hikes we didn't get to do (yet!). So to do this article justice, we called upon our friend, Alice, who grew up in New Zealand and shares our obsession with hiking. She has graciously offered to share her insider knowledge from years of hiking in her home country.
Note from our guest author:
I feel extraordinarily lucky to have grown up in New Zealand, a country with such an abundance of natural beauty and biodiversity. As well as for having parents who introduced me to the great outdoors and all the best New Zealand hikes at such a young age. I have lots of fond memories of outdoor adventures throughout my childhood spent hiking, camping and generally enjoying nature. My mum was hiking while pregnant with me (what a badass!), and I've been hiking ever since! -Alice
Types of New Zealand Hikes
No matter what type of hike you're looking for, we've got a variety to choose from:
Length & Difficulty: from short and easy day hikes to grueling (but worthwhile) overnight adventures

Location: you'll find hikes on both the North Island as well as the South Island

Popularity: we've got some of the most iconic hikes in New Zealand, like the NZ Great Walks, as well as some off-the-beaten-path gems
This article is not only packed with some of the most incredible New Zealand hikes, and you'll also find lots of local tips and advice so you're truly prepared for an epic Kiwi adventure you won't soon forget. Hiking in New Zealand was one of the major highlights of our trip, and we think it will be one of your best memories, too.
Things to know about Hiking in New Zealand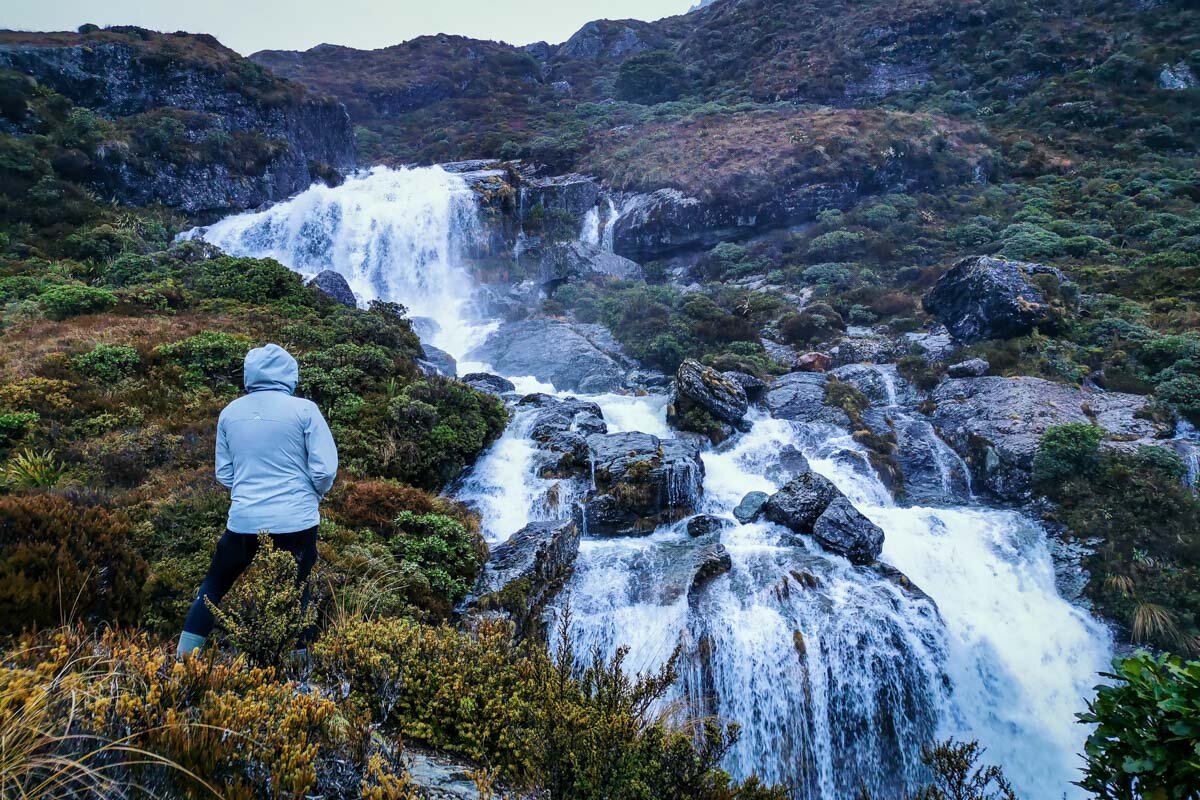 Compared with experiences overseas, hiking in New Zealand can be quite a bit different. For one, we have our own slang.
This can be hard for foreigners to wrap their ears around, and is only possible after you've figured out our unique accent, of course.
"Tramping"
We Kiwis don't even call it hiking or backpacking – we call it tramping. As in, "I'm going to go on a tramp" or "I better join my local tramping club". Yes, I'm serious. No, I don't know why or how that term came about. Yes, you can stop snickering now!
"Going bush"
And for us, going tramping often means "going bush" (heading into the wilderness) for long periods of time in rough terrain. New Zealanders tend to understate things a bit (which, because I'm a Kiwi, is actually an understatement itself – we actually tend to minimize things a LOT).
So when you hear a Kiwi recommend a "short, easy day hike", they could mean anything from a few hours of casual strolling on flat ground, to a full day of clambering up loose scree with 1,000+ meters (over 3,000 ft) elevation gain. You've been warned!
"DOC"
The Department of Conversation (or "DOC" as everyone calls it) is essentially in charge of the protection and conservation of New Zealand's land. The DOC operates many campsites throughout the country, as well as trails and backcountry huts.
"Great Walks"
This is a series of ten of New Zealand's most iconic and popular trails. The Great Walks are maintained (to a very high level) by the DOC and range in length from 20 miles (32 km) to 51 miles (82 km). People typically set aside 3 to 6 days to complete a Great Walk, depending on the specific trail.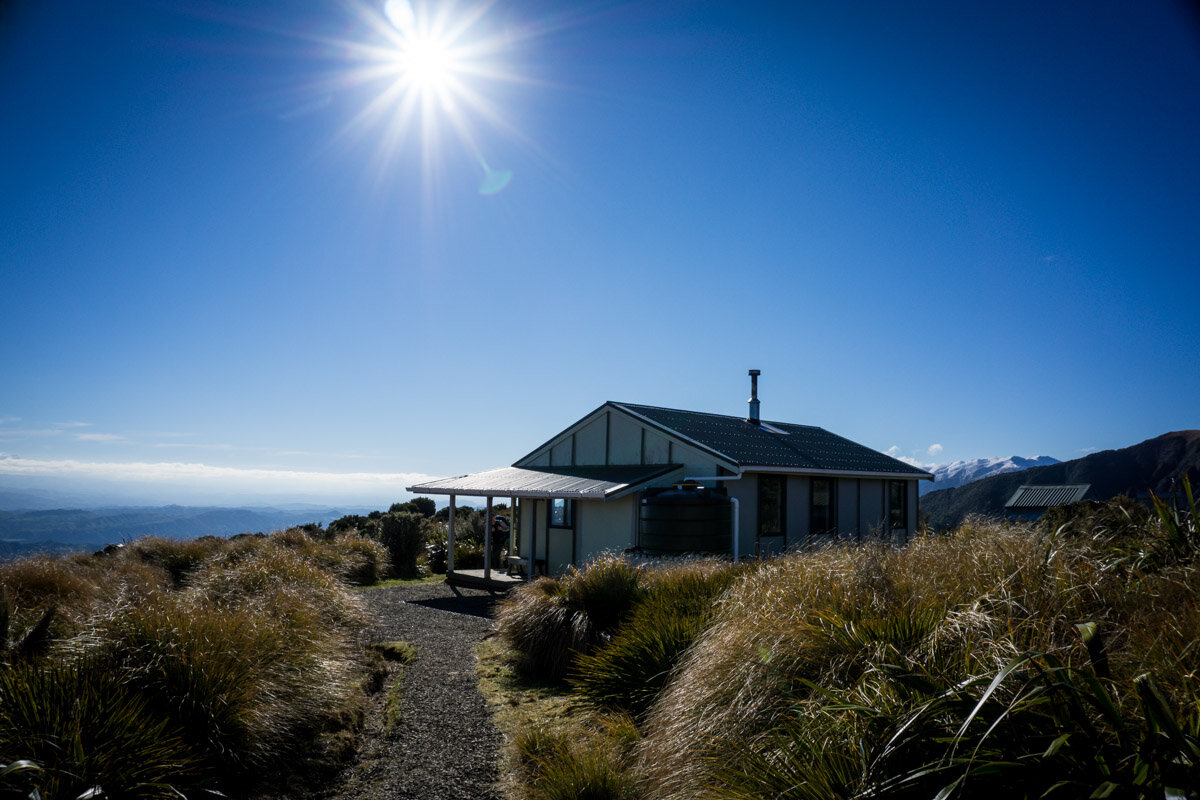 Backcountry Huts
New Zealand has an awesome network of backcountry huts and campsites, maintained by the DOC. These range from the most basic of facilities like a 'bivy' (read: a leaky roof over your head), to the luxury of a 'Great Walk' hut (cooking gas, running water, flushing toilets, and generator-powered lights – swoon).
Some of these huts have to be booked online (like the Great Walk huts), while others are "first come, first served", but still require physical tickets as payment. Always check on the DOC website for booking procedure and pricing – you may be turned away if you don't have the correct booking/ticket.
Related Reading: Before hopping on a plane, here are some things to know about New Zealand that'll make your trip go more smoothly.
Best things about Tramping in New Zealand
Backcountry Huts
My favorite aspect about hiking in New Zealand has to be the backcountry huts. Spending the night in a hut surrounded by wilderness is one of the best experiences you can have in New Zealand.
No dangerous plants or animals
Another thing I love is the fact that you virtually never have to worry about dangerous plants or animals in New Zealand. We don't have any large predators, or any seriously poisonous animals or plants. (But do avoid our native stinging nettle, ongaonga – it's painful.)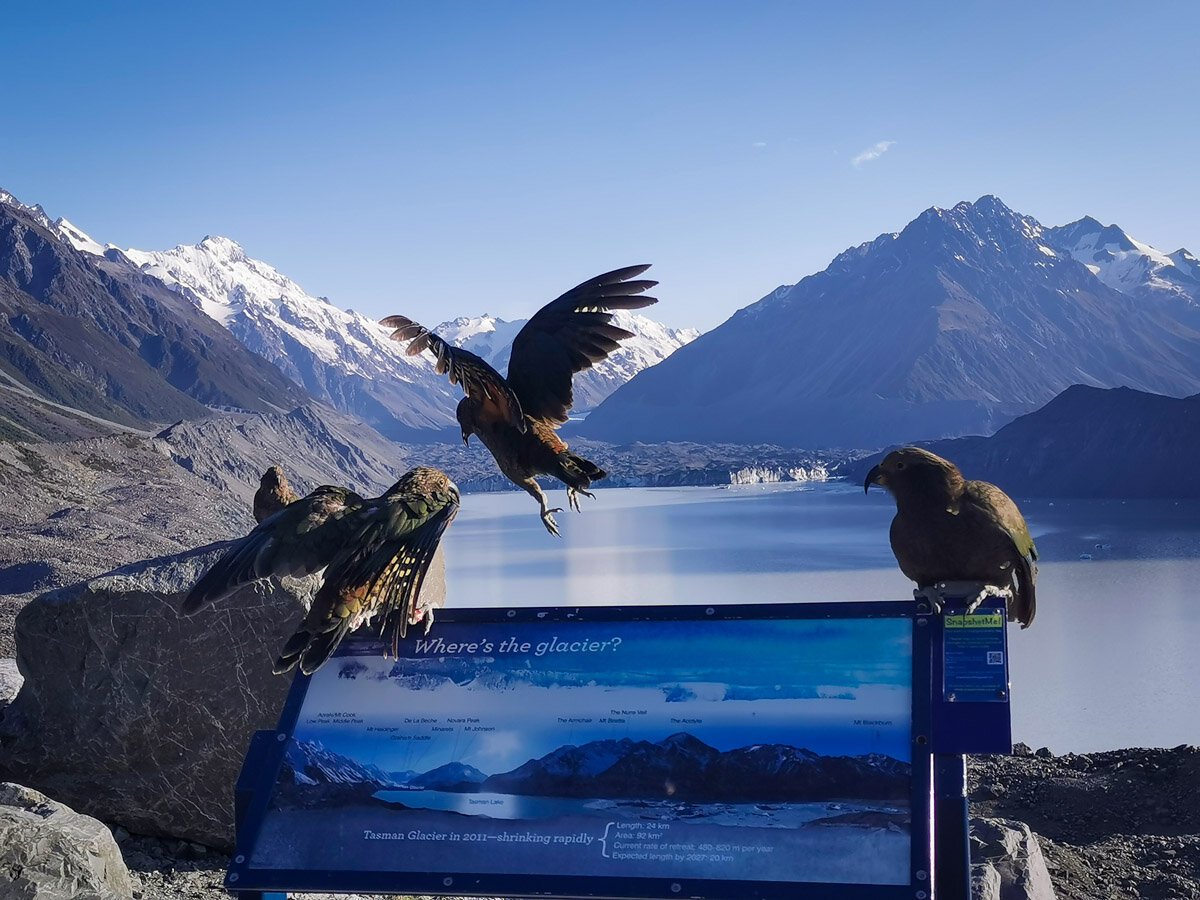 Birdwatching
What we do have is amazing birdlife. New Zealand developed in isolation from other main landmasses. This means our fauna and flora is crazy different from what you might find elsewhere on earth.
In the forest you'll likely come across the piwakawaka / fantail. This curious little fellow often follows hikers hoping to scrounge a snack on recently disturbed ground.

On the mountain tops you might be lucky enough to spot the cheeky kea. This is a gorgeous mountain parrot, the only one of its kind in the world, and my absolute favorite animal. Its numbers are sadly in decline, so if you see one please log your sighting here with the Kea Conservation Trust.

And of course there's the ground-dwelling kiwi – New Zealanders' namesake!
New Zealand Hiking Etiquette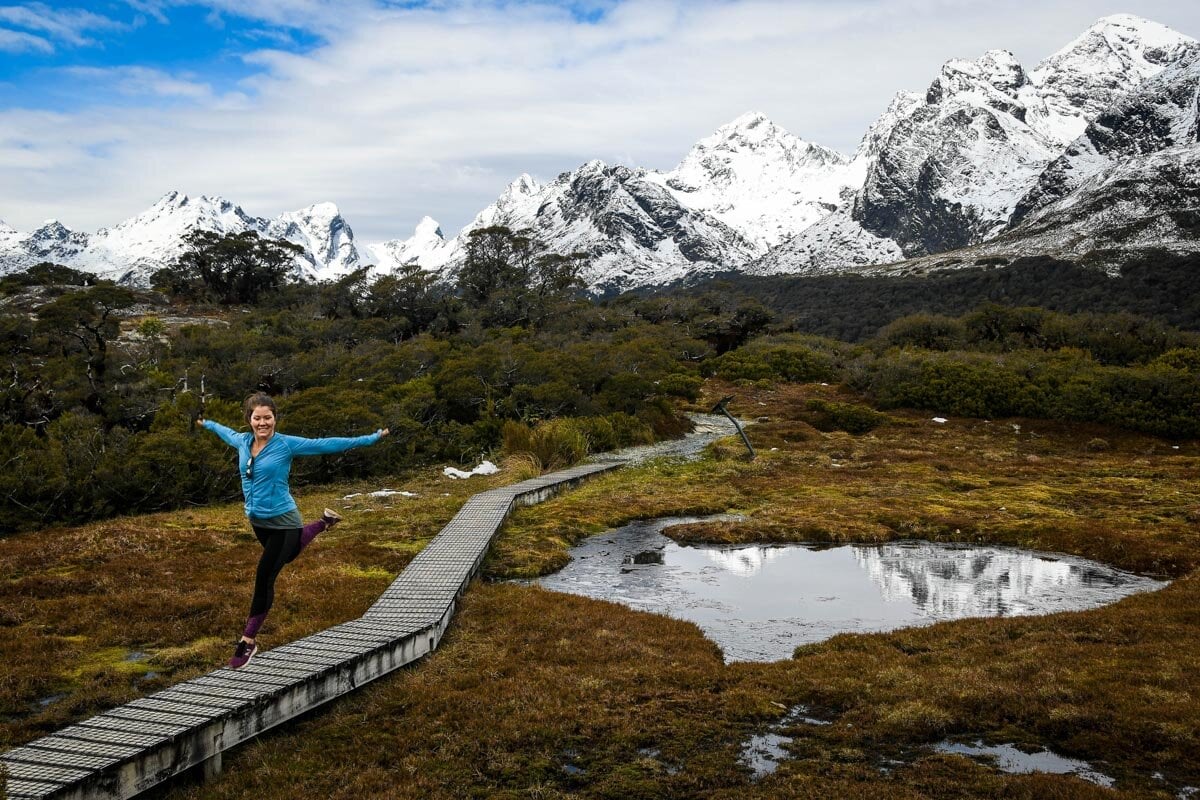 Like all human activities, tramping in New Zealand is defined by certain unwritten rules. I could spend a whole blog post talking about tramping etiquette (and in fact, I have – a local's guide to tramping etiquette), but it mainly boils down to this: respect nature, and respect others.
The big take-aways of New Zealand Tramping etiquette are:
Always leave the environment as you found it (including the huts)

Pack out what you bring in (follow the 7 principles of Leave No Trace)

Clean the huts before you leave

Leave wildlife that you come across alone, and for the love of alpine parrots don't feed them!

Don't forget to say a friendly hello when you're passing people on the trails

Make sure to check track conditions/times before you leave
Related Reading: Find out the best time to visit New Zealand so you can plan your hiking… err "tramping" trip during the best season.
---
Everything you need to pack for your trip to New Zealand!


---
New Zealand Great Walks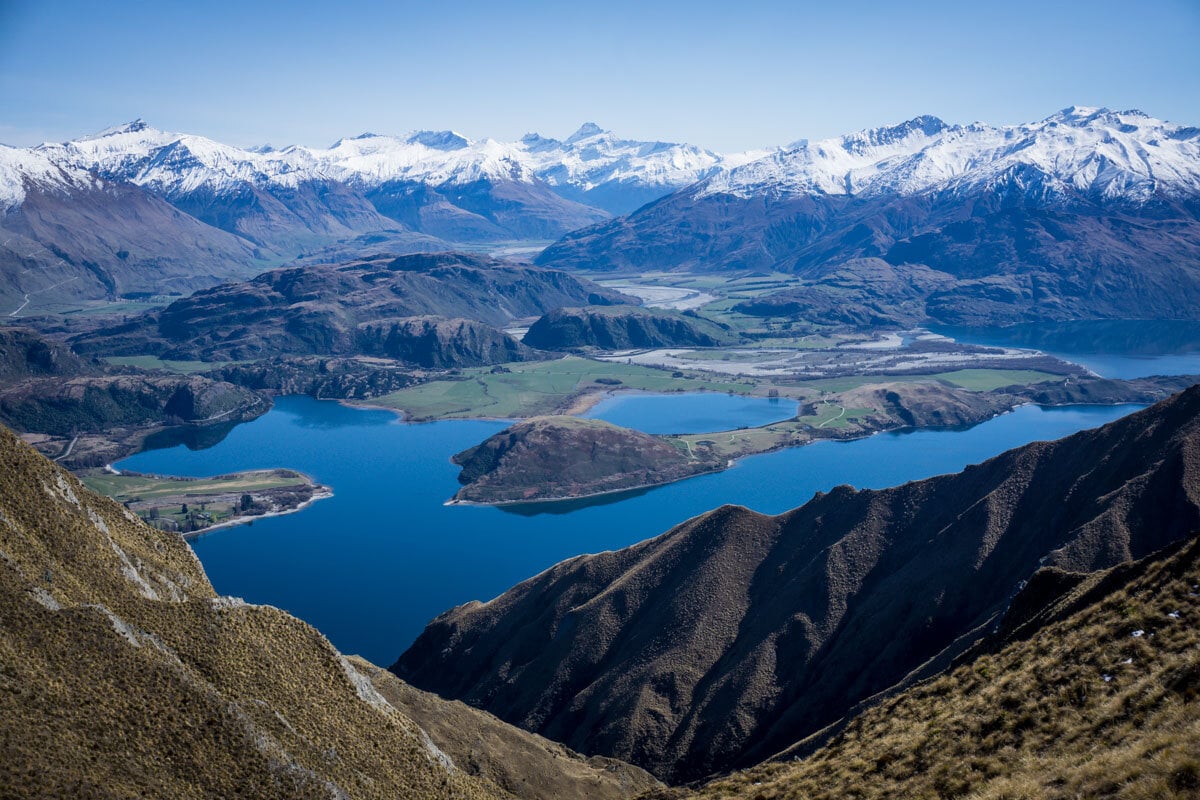 The DOC developed the New Zealand Great Walks system in the 1990s. The aim of this program was to protect fragile environments by restricting numbers on popular hikes, but they also provided a way to market New Zealand tourism for a different audience.
New Zealand currently has ten hikes that have been classified by the DOC as "Great Walks":
Milford Track

Routeburn Track

Kepler Track

Rakiura Track

Abel Tasman Coast Track

Heaphy Track

Paparoa Track

Tongariro Northern Circuit

Whanganui Journey (kayaking or canoeing)

Lake Waikaremoana

Hump Ridge Track (chosen as a new Great Walk and opening as such in 2022)
These ten New Zealand hikes showcase the most beautiful and diverse landscapes in the country across all three main islands (North, South and Stewart/Rakiura).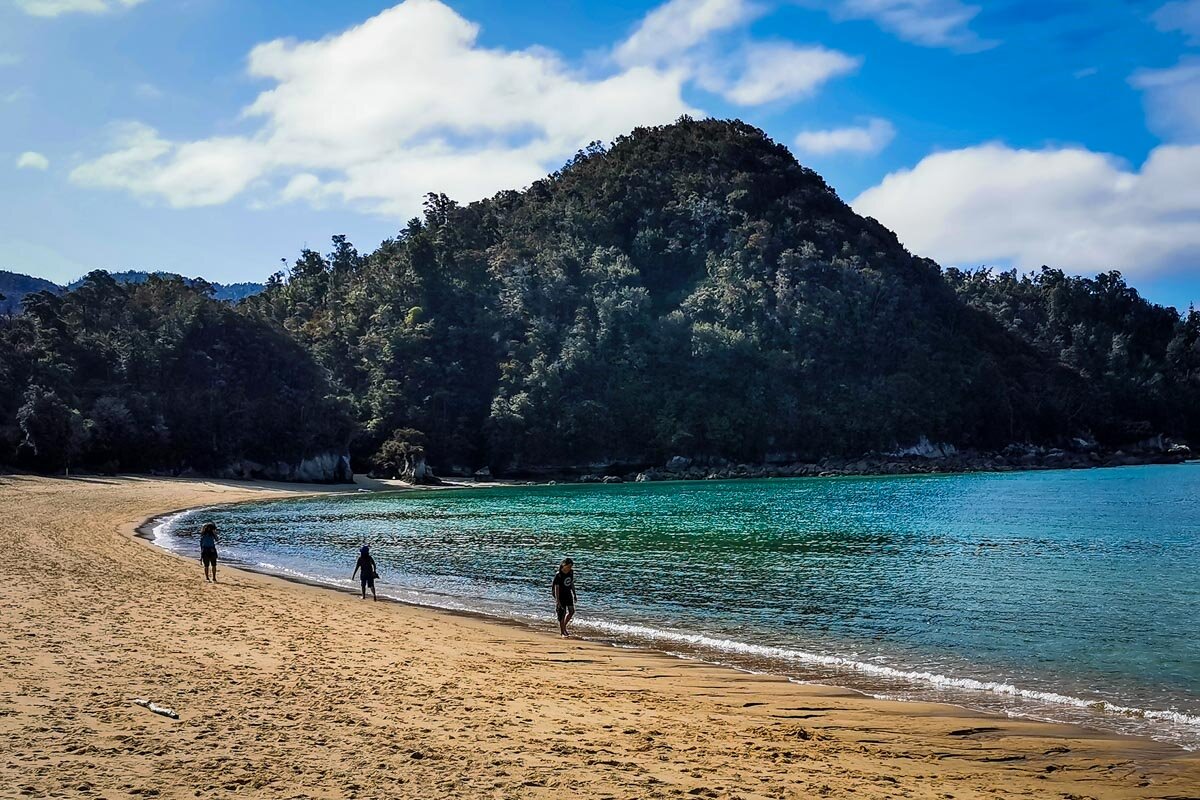 The Great Walks have well-maintained tracks (compared to the rest of the country), including well-serviced and -equipped huts, normally with hut wardens. Although these hikes can still be physically and mentally challenging for some people, this high standard means that they're well suited to beginners and experienced hikers alike.
The Great Walks season is from late spring until mid-autumn (which in the southern hemisphere means October – April). Although bookings for the huts and campsites normally open several months prior to this, they can sell out in minutes for the more popular walks.
Camping isn't permitted within 500m of a Great Walk unless on a designated DOC campsite (which for most of the walks isn't possible due to terrain) – so get in and book your spots quickly!
Outside of this season, the huts have reduced facilities (e.g. long-drop/vault toilets, no gas or water, etc.) and there are no wardens. Additionally many of the bridges are taken out by helicopter to avoid them being damaged by avalanches in winter and early spring.
For these reasons, a lot of the more alpine Great Walks are only recommended out-of-season for hikers with a lot of winter experience. Sometimes they are too dangerous to complete altogether due to avalanche risk, so it's best to check with the local DOC office. 
I've been fortunate enough to experience a few of the New Zealand Great Walks for myself and let me tell you, they are well-worth the trip!
Routeburn Track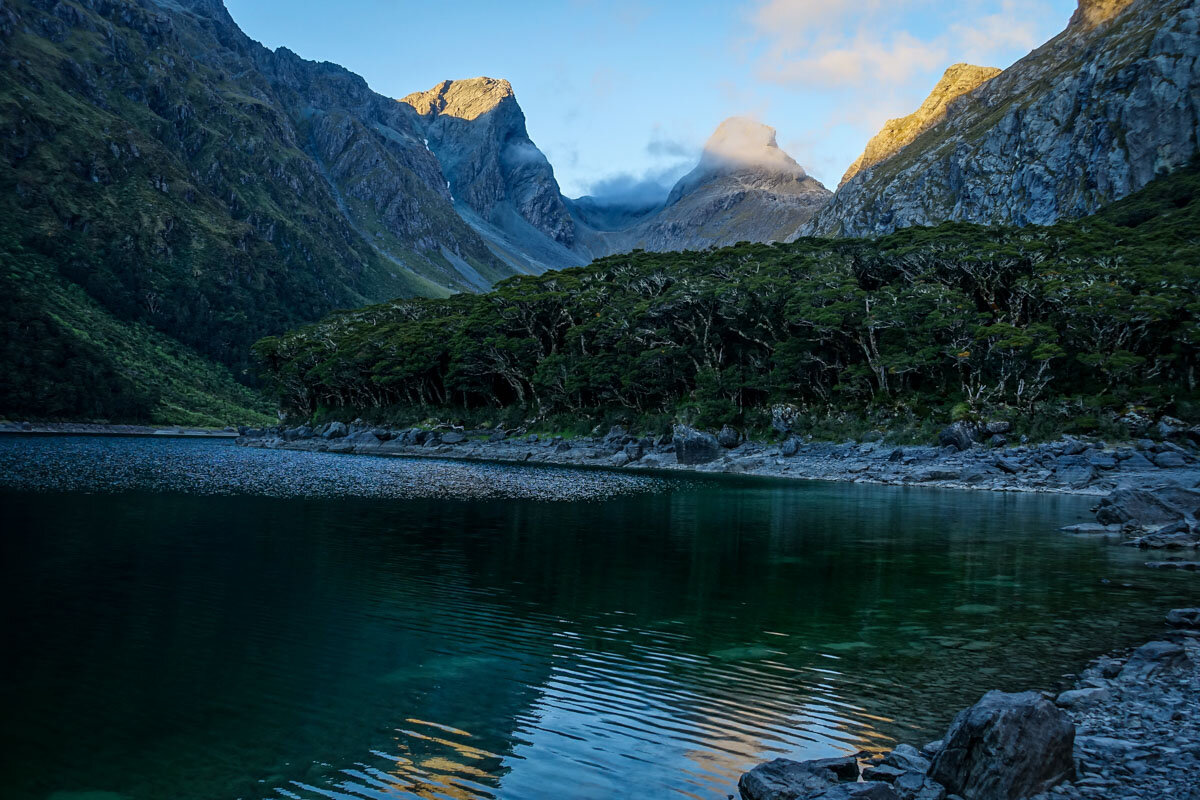 Location: Mt Aspiring National Park and Fiordland National Park, South Island

Length: 33 km (20.5 miles), normally over three days

Elevation Gain: ~800 m (2,624 ft)

Difficulty Rating: Moderate

This hike is for: People who want to experience the South Island's jaw-dropping alpine vistas, with the reassurance of well-maintained huts and tracks, and frequent foot traffic.
The Routeburn Track is one-way, starting from either Glenorchy (near Queenstown) or the Divide (on the Milford Road, near Te Anau). It doesn't matter too much what direction you choose to walk it; just be aware that the track isn't a loop. There are plenty of transport operators that can help you get back to your car/accommodation.
There are several huts to stay in along the Routeburn Track. My advice would be to choose Routeburn Falls Hut and Lake McKenzie Hut. Routeburn Falls is one of New Zealand's best huts; there are a series of waterfalls right behind it, plus an amazing view over the valley from its balcony. Lake McKenzie Hut has a beautiful alpine lake right on its doorstep with views to the surrounding snow-covered peaks.
Tip: We have a full guide to the Routeburn Track that lays out the routes, where to stay and everything else you need to know to plan your trip.
I'd also recommend the side track up Conical Hill from Harris Saddle on the middle day of the hike. This is only worth it in good weather, because the views are astounding – worth the steep two hour return climb.
Milford Track
Location: Fiordland National Park, South Island

Length: 53.5 km (33.5 miles), four days

Elevation Gain: ~850 m (2,788 ft)

Difficulty Rating: Moderate

This hike is for: People who want to experience the forest, mountains, rivers, waterfalls, and Milford Sound. This is the Great Walk.
The Milford Track is one of the best hikes in New Zealand – tickets for the huts sell out within minutes of bookings opening. This Great Walk is more expensive than the others, as it requires boat transport to the trailhead on Lake Te Anau, as well as from the end of the track on the iconic Milford Sound.
The track takes four days to complete, with the most exciting day being the climb up and over McKinnon Pass on day three, including a side trip to Sutherland Falls, the highest waterfall in New Zealand. Be prepared for lots of sandflies (New Zealand's native version of mosquitos, with a very itchy bite). Also be prepared for some wet weather. But don't worry about the rain – that's when the waterfalls really come to life!
Rakiura Track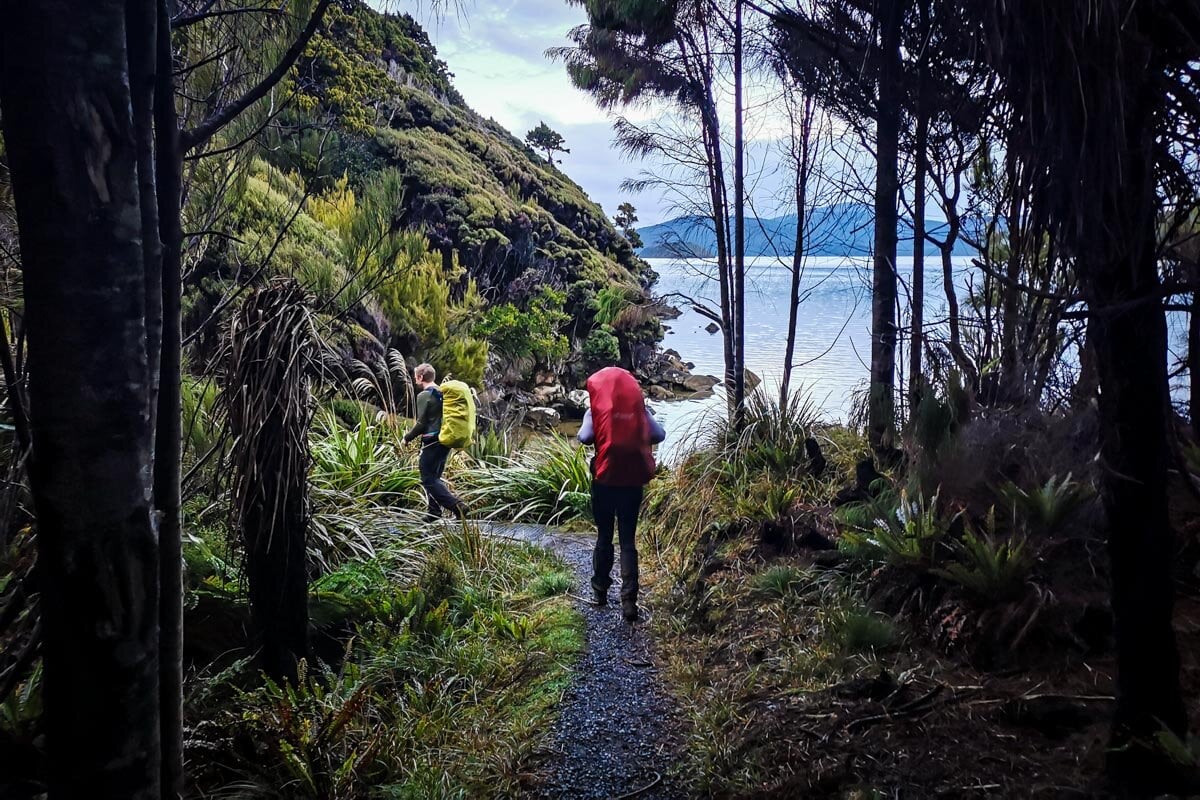 Location: Stewart Island / Rakiura

Length: 32 km (19.8 mile) loop, normally three days

Elevation Gain: undulating coastal walk with no sections over 200 m (650 ft)

Difficulty Rating: Moderate

This hike is for: People who like lesser trafficked walks, wild areas, beaches, and abundant bird life.
Rakiura or Stewart Island is a very different and remote part of New Zealand. What it lacks in general tourist amenities (the post office doubles as the airport, for example), it more than makes up for with its untouched wilderness and amazing wildlife, particularly birds. There are 900% more walking trails than there are roads on the island; a hiker's paradise!
On top of this Stewart Island is arguably one of the most reliable places in the country to see kiwi in the wild. On the Rakiura Track you'll definitely hear kiwi (they're very loud!) and might be lucky enough to catch a glimpse of them. Most New Zealanders haven't even done that!
The Rakiura Track takes three relatively short days of hiking. But be prepared for mud on the track, and sandflies at the huts and beaches. In my opinion, a scenic flight to and from the main (and only) town on the island, Oban, is worth the extra few dollars compared to the ferry crossing.
Abel Tasman Track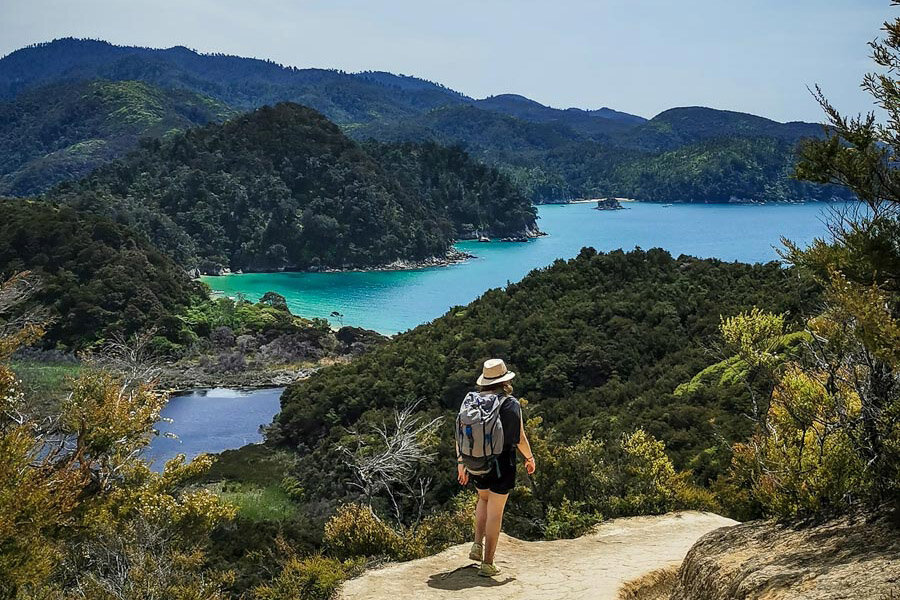 Location: Abel Tasman National Park, South Island

Length: 60 km (37.3 miles), allow 3-5 days

Elevation Gain: undulating coastal walk, with no sections over 150m (500 ft)

Difficulty Rating: Easy – Moderate

This hike is for: People who love perpetual summer, golden sand beaches, and gorgeous blue waters.
The Abel Tasman is a relatively flexible Great Walk. You can choose to do the whole five days' tramping, or you can pick and choose which parts to hike, and which to water taxi or kayak. There are also plenty of huts and campsites to choose from along the way.
The most important thing to be aware of on the Abel Tasman Great Walk is that several parts of the hike cross estuaries that are only accessible at low tide. Make sure you check the tide schedule carefully before setting off, or plan to boat/kayak those sections. And don't forget to reapply sunscreen often, especially if you're wearing 'togs' (Kiwi slang for 'swimsuit').
North Island New Zealand Hikes
The North Island (Te Ika-a-Maui) is the most populous island of New Zealand. Almost three-quarters of the country's entire population lives there. According to Maori legend, the island was a giant fish that was pulled from the ocean by Maui. Nowadays the island is home to volcanoes, geothermal activity, waterfalls, and beautiful beaches… Oh yeah, and plenty of incredible hiking trails!
Psst! If you're interested in checking out the island for yourself, check out our ultimate 2-week North Island road trip itinerary. And if you're interested in seeing both islands, we put together the ultimate 1-month New Zealand itinerary for you, following the exact route we took.
Tongariro Crossing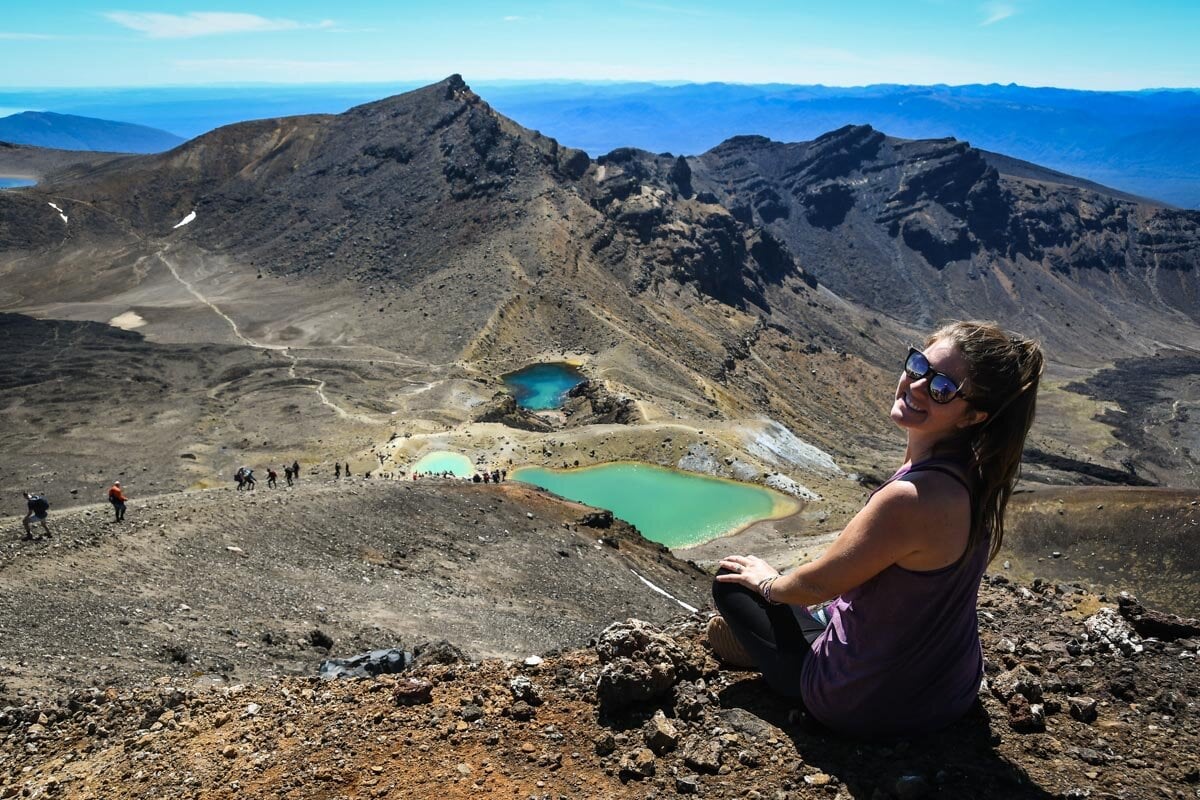 Location: Tongariro National Park

Length: 19.4 km (12.1 miles), should take between 7-8 hours

Elevation Gain: 820 m (2,690 ft)

Difficulty Rating: Difficult

This hike is for: Hikers who want a challenging hike through an otherworldly landscape of desolate volcanoes and brightly colored lakes.
Often touted the "world's best day hike", Tongariro Crossing is well worth adding to your North Island itinerary.
Since this trail is not a loop, hikers must make transportation arrangements to get to the trailhead. We'd recommend purchasing a shuttle ticket ahead of time and camping near the pick-up point if possible. Once logistics are sorted, be prepared to journey through some of the most unique landscapes you've ever seen.
Glimpse Mount Ngauruhoe, better known as the inspiration for Mount Doom in the Lord of the Rings, and climb up the scree-filled trail until you reach the iconic viewpoint (you'll know it when you see it). Soak up the sight of the three sulfuric lakes below – each a neon-turquoise hue that'll make you wonder if you need to get your eyes checked.
A word of warning: Be prepared to share the trail with others, as this is an extremely popular trek for both travelers and locals. 
We have an entire guide to hiking the Tongariro Alpine Crossing route with everything you need to know about the shuttles, what to pack, and tips for along the way.
Pinnacles Hut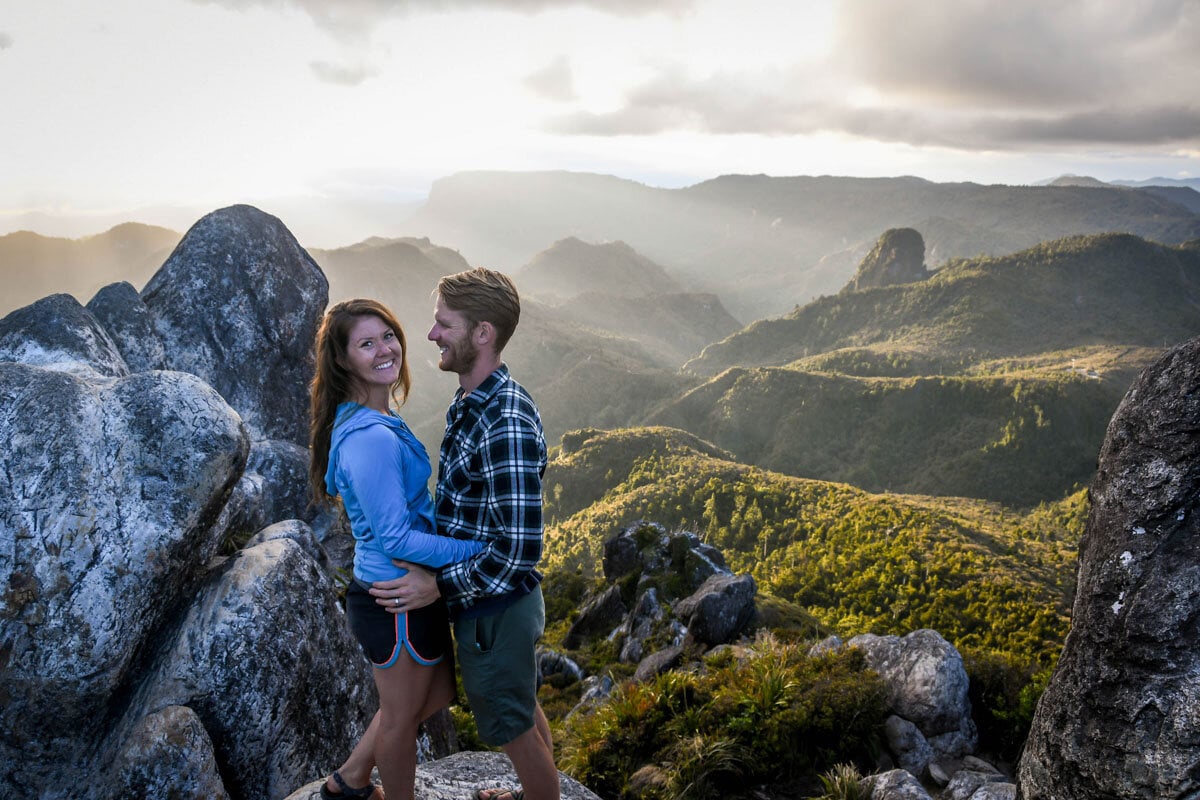 Location: Coromandel Peninsula

Length: 6 km (3.7 miles) start to hut

Elevation Gain: 706 m (2,317 feet)

Difficulty Rating: Moderate – Difficult

This hike is for: People wanting to stay up at the famous (and massive) Pinnacles Hut to catch the sunrise/sunset at the Pinnacle Rock formations. 
This is one of the more tame backcountry hut experiences you can have in New Zealand. The hike itself isn't too difficult, and the hut is plush and outfitted with all the cooking tools you could need. Sleeping 80 people – yep, 80! – spending the night here is an experience in itself. 
But the real star of the show is the pinnacles viewpoint, which is an additional 40 minutes or so past the hut. Come for sunrise or sunset for an incredible sight above the clouds.
New Chums Beach (Wainuiototo Bay)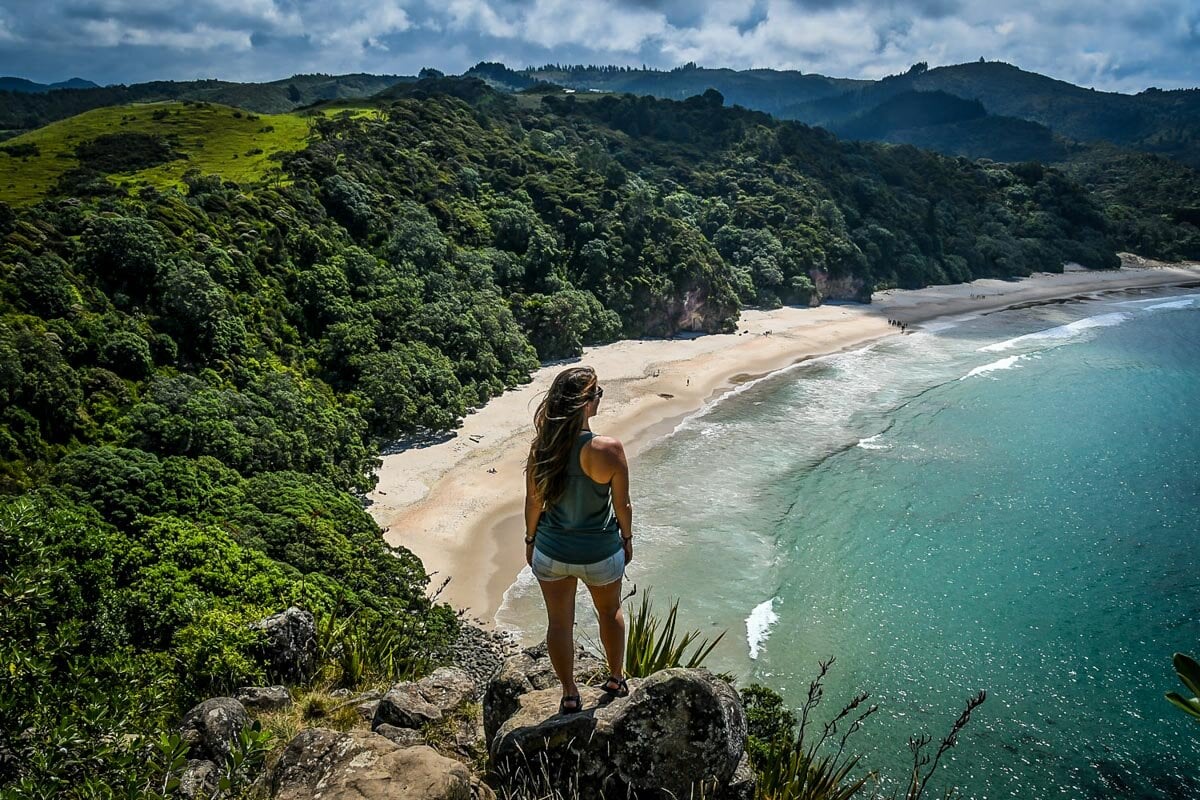 Location: Coromandel Peninsula

Length: 1.5 km return (0.93 miles), should take about 1 hour return, try to go at low tide

Elevation Gain: 18 m (59 feet) over saddle to beach, side trip to Motuto Point (viewpoint is a 85m steep climb

Difficulty Rating: Easy

This hike is for: People wanting to escape the crowds at Hot Water Beach to enjoy a chill beach day to themselves.
One of the most beautiful beaches on the Coromandel Peninsula, New Chums Beach stretches almost 1 km long. All this space means you can have some sandy real estate to yourself without the crowds you'll find at nearby Hot Water Beach. 
The hike to get here is short but is a little rocky near the start, and is best to go at low tide. Once you enter the forest it becomes quite magical. You have the option to hike up to a lookout point (Motuto Point is 85 meters up, but worth it!) before heading down to the beach for a beautiful day in the sun.
Pouakai Tarns via Mangorei Track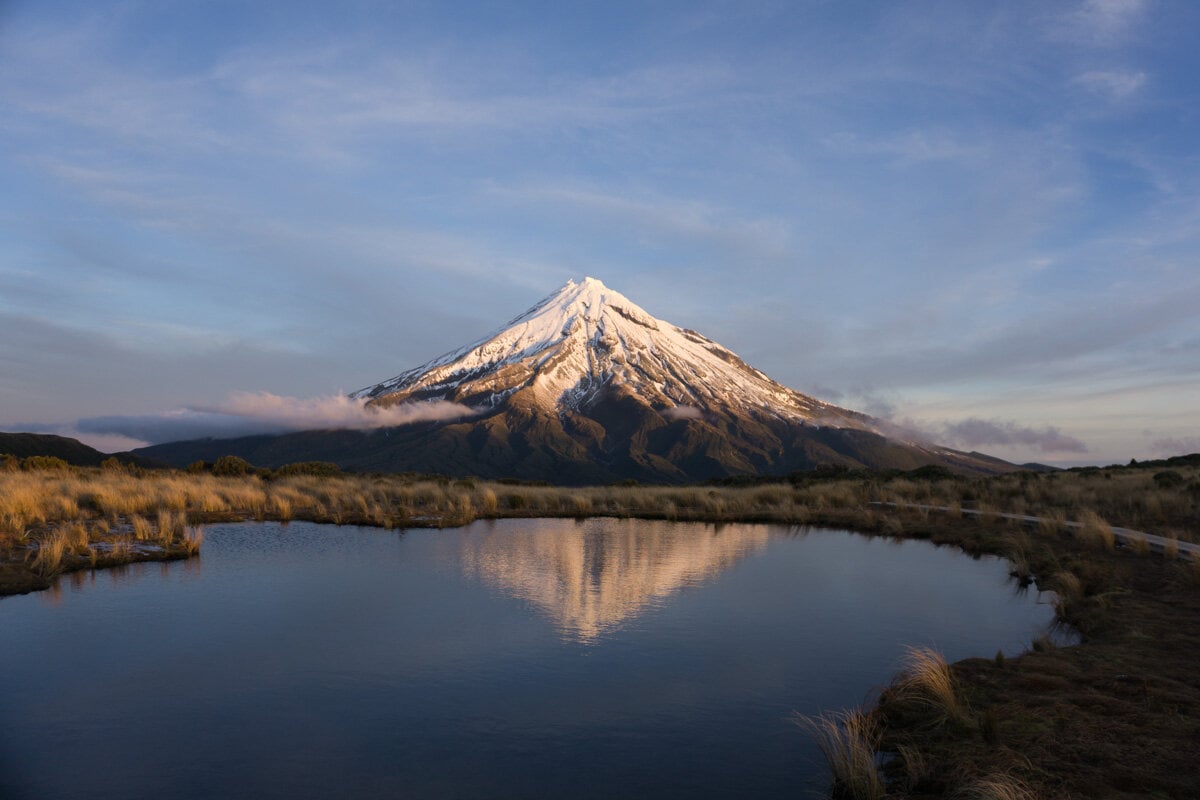 Location: Egmont National Park

Length: 13 km (8 miles) return, option of overnighting at Pouakai Hut

Elevation Gain: 680 m (2,230 ft)

Difficulty Rating: Easy – Moderate

This hike is for: People who are looking for the best photo opportunities of the magnificent Taranaki/Mt Egmont. 
The little tarn (mountain pond) on the ridge above Pouakai Hut provides absolutely jaw-dropping reflections of Taranaki on a still day. You may have even seen it gracing the cover of the Lonely Planet Guide to New Zealand!
To get there, park at the end of Mangorei Road, a 20 minute drive from New Plymouth. Power up Mangorei Track, passing Pouakai Hut (great to stay in for sunrise and sunset shots of the tarn), before reaching the top of the ridge and your first views of Taranaki. At the junction, turn to the left and walk down the ridge for 10-20 minutes to arrive at the famous tarn.
Cape Brett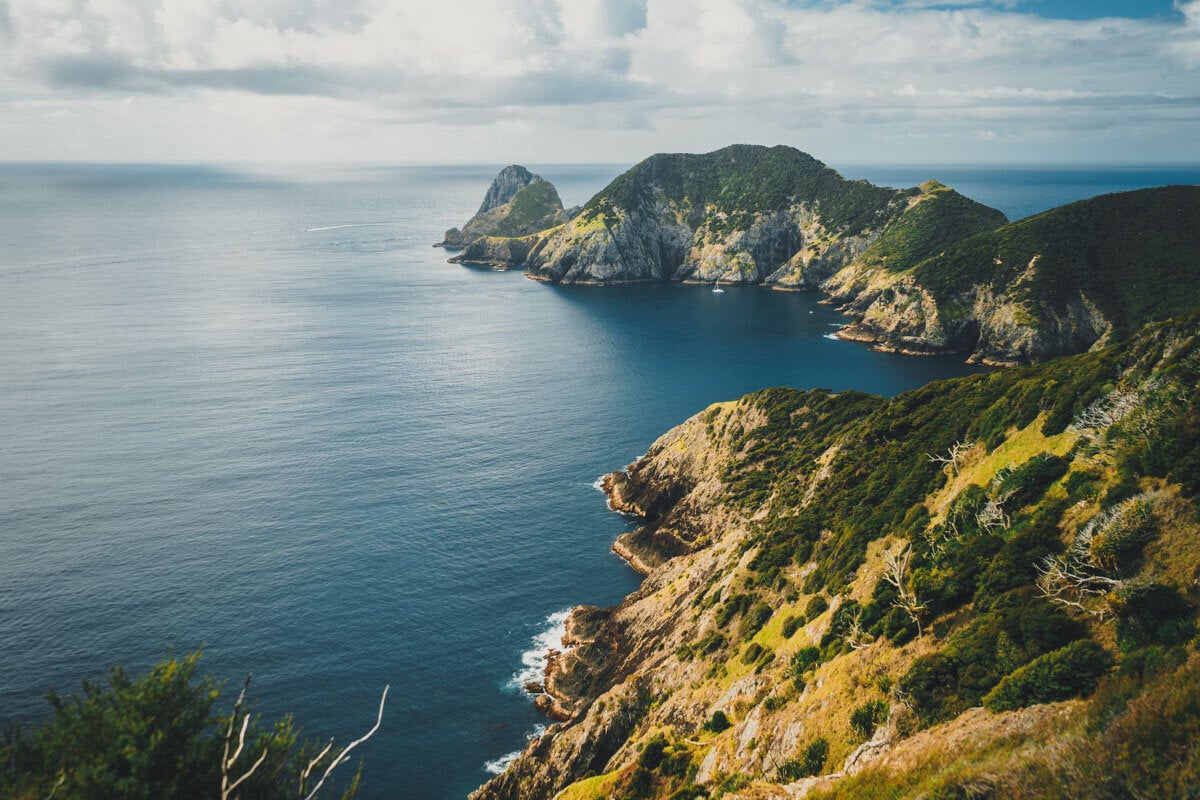 Location: Northland

Length: 16.3 km (10 miles) one-way, overnight at Cape Brett Hut

Elevation Gain: undulating walk along coastal ridges, highest point is 345 m (1,132 ft)

Difficulty Rating: Moderate

This hike is for: People who want beautiful high coastal views with dramatic cliff drop-offs.
Cape Brett is a gorgeous gem of a hike in the far north of the North Island. I would recommend walking to the lighthouse and staying at the hut, then the next day walking back to Deep Water Cove and catching a booked water taxi back to your car (avoiding the long walk back out with less interesting views). Water supply at the hut can vary, so please check with the local DOC office before heading out. You may need to carry all of your water in with you.
South Island New Zealand Hikes
The standout feature of New Zealand's South Island (Te Waipounamu) is its mountains – which make it the perfect playground for hiking! The Southern Alps form the spine of this island, which according to legend was Maui's waka or canoe. The weather is generally colder than the North Island, but, like all of New Zealand, is very temperate and can change at the drop of a hat (we explain more about this in our article on the best time to visit New Zealand).
Psst! If you're looking for an epic route, check out our 2-week South Island road trip itinerary.
Lake Marian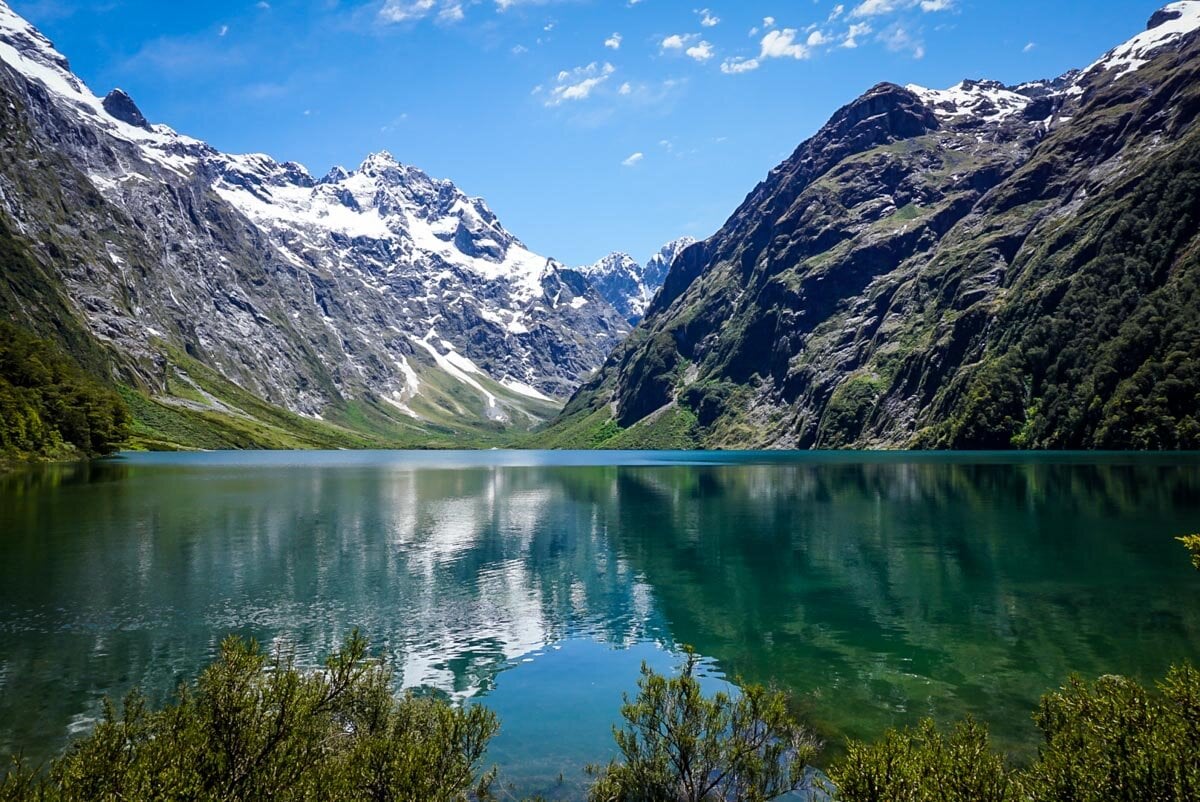 Location: Fiordland National Park

Length: 3.1km (2-mile) return, allow at least 3 hours

Elevation Gain: 380 m (1,247 ft)

Difficulty Rating: Easy

This hike is for: People who want amazing views of a gorgeous alpine lake in the heart of Fiordland.
Lake Marian is one of the (relatively) easily accessible gems of Fiordland National Park. The walk is a short half-day hike, although the track does climb steadily uphill. There are a few points where you may have to use tree roots as hand holds, and the terrain is uneven.
The reward at the end is a jaw-dropping vista overlooking a pure emerald lake with mountains rising from its shores and snow-capped peaks high above. Make sure to allow at least three hours return for this hike, you'll definitely want to spend a good amount of time soaking in the view.
Note: In winter and early spring this track can be closed due to avalanche danger, check with the local DOC office at Te Anau.
Copland Track / Welcome Flat Hut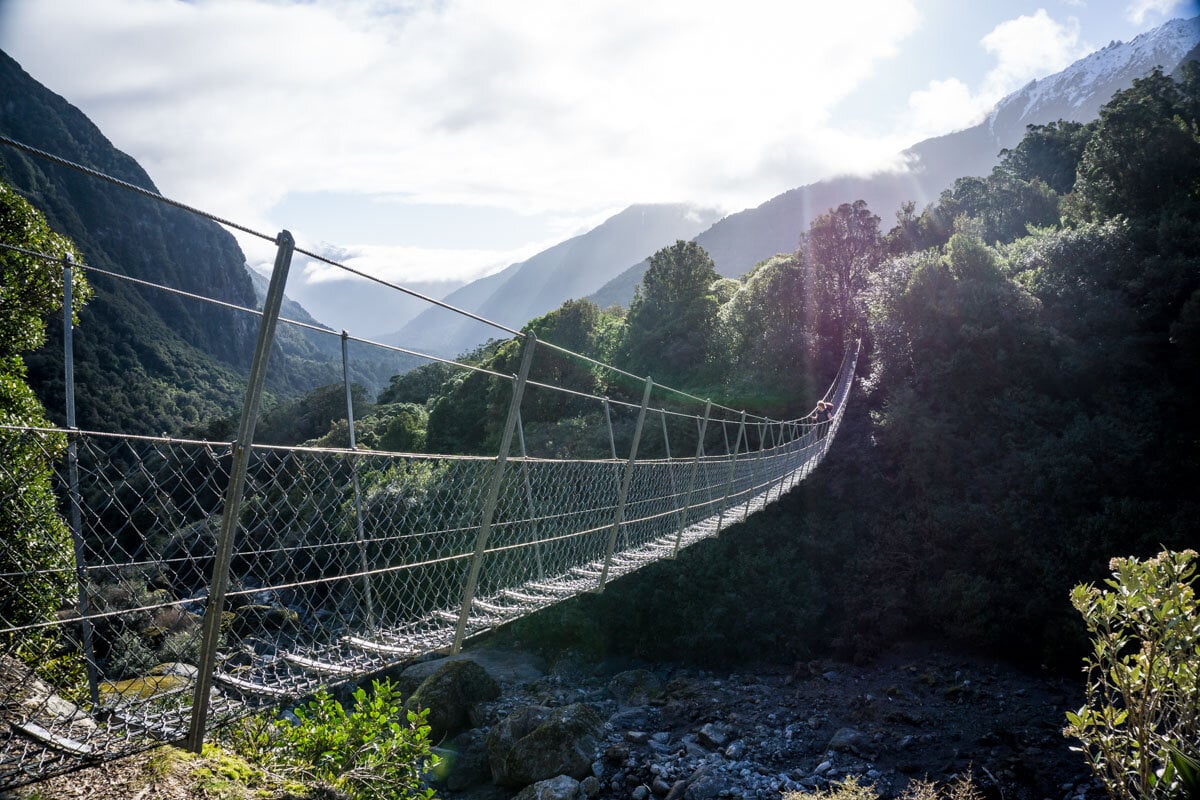 Location: Tai Poutini National Park

Length: 36 km (22 miles) return, overnight at Welcome Flat Hut

Elevation Gain: 400 m (1,312 ft)

Difficulty Rating: Moderate

This hike is for: People who want to soak in pristine, natural hot pools surrounded by mountains.
New Zealand is home to many geothermal hot spots, including the Welcome Flat Hot Pools – the absolute best reward after a day's hiking! You'll be ready to peel off your hiking boots and soak your feet (and body) in them after walking up the track next to the Copland River. Just remember to take sandfly repellent (and ensure it is safe for use in the pools).
Insider Tip: this track crosses several streams and follows the Copland River. It is not safe to tackle before or after heavy rain.
Roys Peak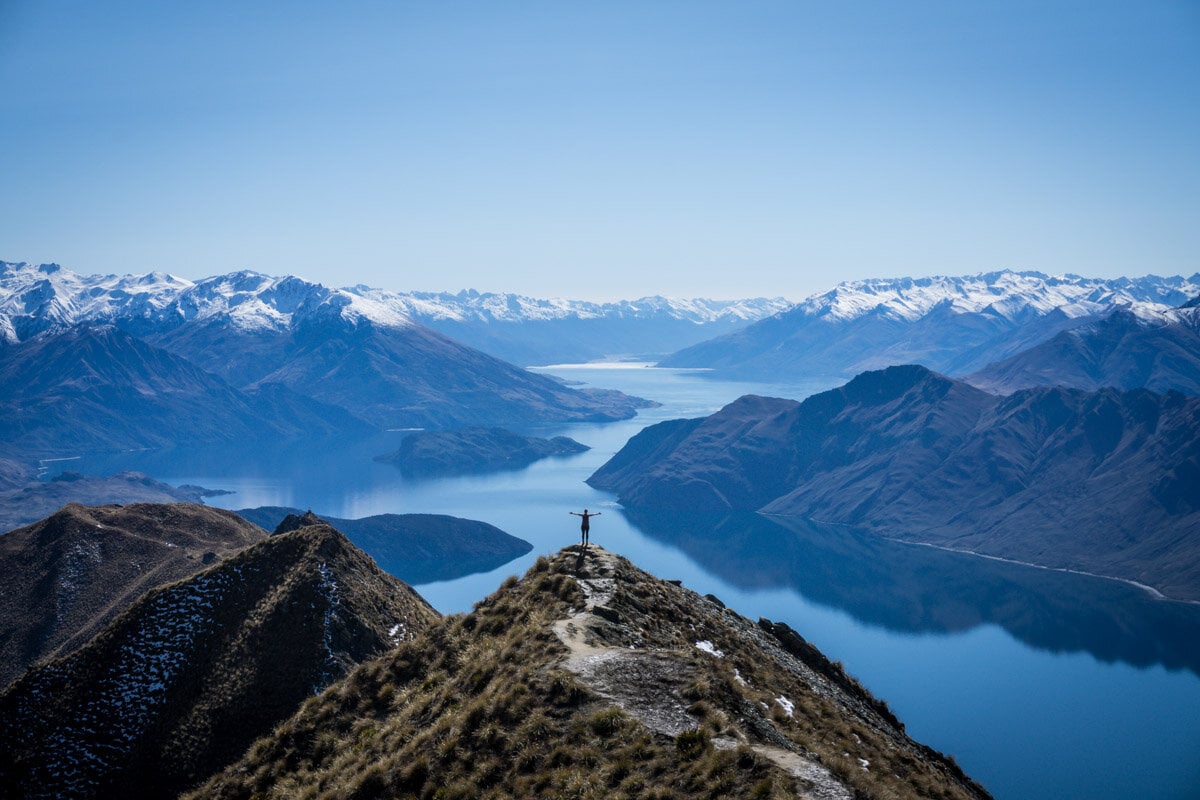 Location: Wanaka

Length: 16km (9.9-mile) return

Elevation Gain: 1,100 m (3,610 ft)

Difficulty Rating: Easy – Moderate

This hike is for: Hikers who are craving AMAZING views of mountains and lakes, but don't mind sharing them with other people.
Roy's Peak is an iconic New Zealand hike with famous views over Lake Wanaka and the surrounding mountains, including Mt Aspiring. Many thousands of people complete this walk every year, but despite this it is a steep uphill climb that should not be underestimated! The famous viewpoint is only 3/4 of the way to the summit, and it's worth the extra 20-30 minutes to climb to the top for even better views.
Note: Part of this walk goes through farmland and it is closed over lambing season each year (1 October – 10 November).
Key Summit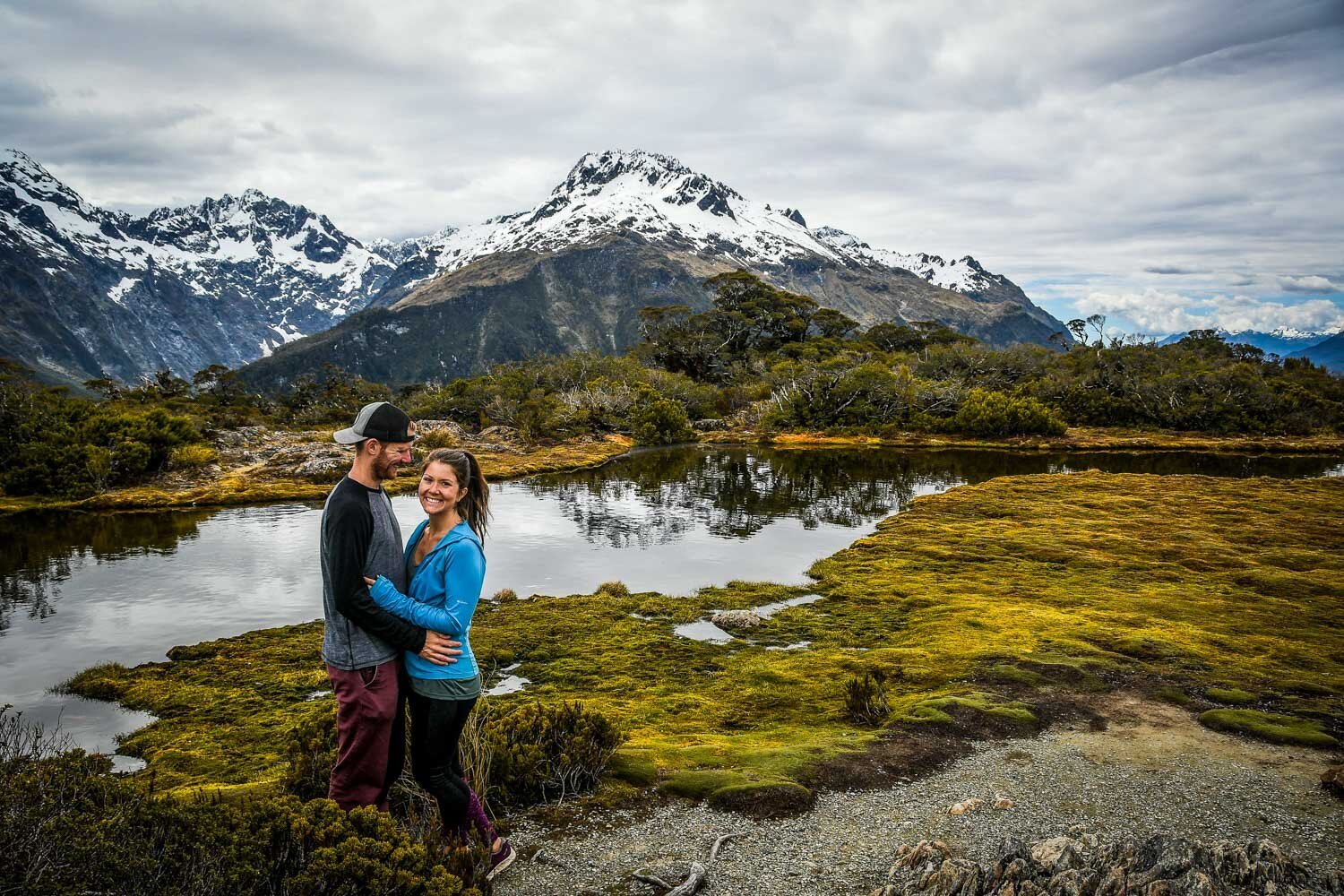 Location: Fiordland National Park

Length: 7.5 km (4.7 miles) out and back, should allow at least 3 hours

Elevation Gain: 423 m (1,389 ft)

Difficulty Rating: Moderate

This hike is for: Hikers wanting 360 degree views of the surrounding mountain ranges on the way to Milford Sound
Well worth a stop on your way to Milford Sound, Key Summit gives you a panoramic view of the peaks of Fiordland National Park. This trail is part of the much longer Routeburn Track, giving you a glimpse into one of New Zealand's Great Walks without the time commitment.
The hike up isn't anything all that noteworthy, but once you reach a series of switchbacks you'll know you're getting close to the top. You'll eventually reach a somewhat flat plateau on which you'll find a trail encircling the summit. There are lots of perfect spots to soak up the views, so be sure to pack a snack to enjoy the sights with.
Isthmus Peak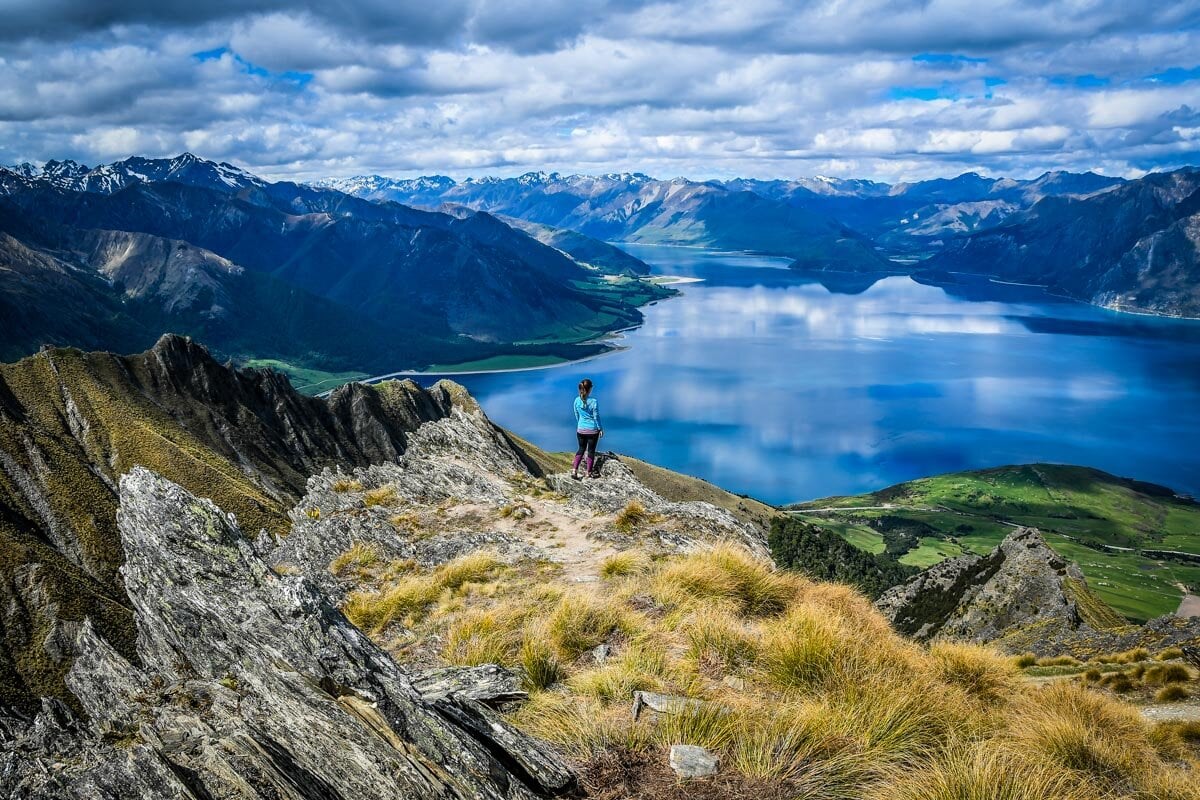 Location: Wanaka

Length: 17 km (10.6 miles) return

Elevation Gain: 1,049 m (3,444 ft)

Difficulty Rating: Difficult

This hike is for: Hikers wanting similar views that you'll get at Roy's Peak without the crowds
While staying in Wanaka, we heard about a trail that had similar views to the famous Roy's Peak, but without all the crowds, and we were intrigued… This ended up being our favorite day hike in New Zealand because it was one of the least crowded trails and had insanely epic views.
The trail begins in an idyllic pasture filled with sheep, climbs up alpine meadows and sheer cliffside drops, and ends at a summit overlooking two bodies of water. Did you know that an isthmus is a narrow piece of land that crosses a body of water? I didn't know that until this hike!
If you're up for a longer and somewhat challenging day hike, we'd highly recommend Isthmus Peak. Wear sun protection and layers, as much of the hike is exposed to the elements, and be sure to pack plenty of food and water.
Brewster Hut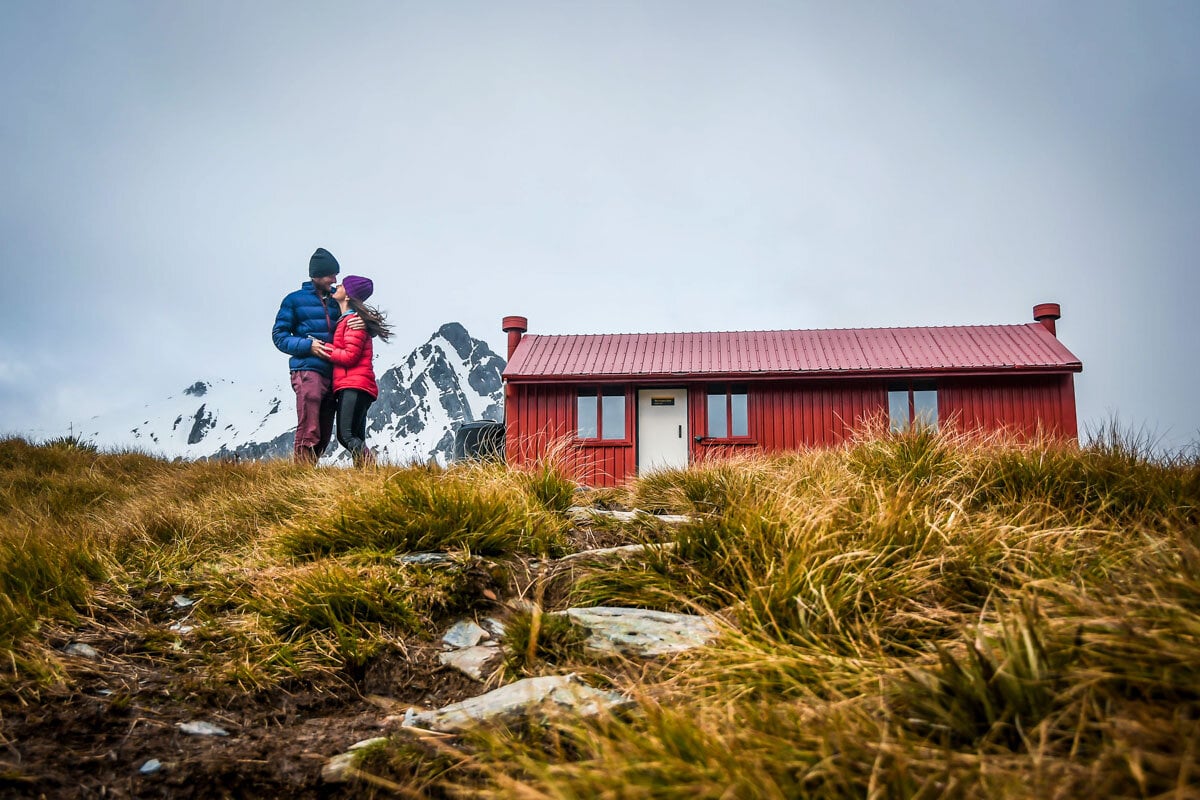 Location: Mount Aspiring National Park

Length: 5.8 km (3.6 miles) return

Elevation Gain: 989 m (3,248 ft)

Difficulty Rating: Difficult – Very Steep Entire Hike

This hike is for: Hikers wanting a short (but very steep) hike up to a mountain hut to spend the night with incredible views of the mountains and Haast Pass gorge below.
This hike is challenging and mostly uphill through a beech forest. Once you reach the treeline, you're in for a treat because the views will open up to 360-degrees of peaks in all directions. Continue on, being careful on the ridgelines – especially in high winds. 
Eventually, you'll see a red dot in the distance, signaling you've made it to your final destination: Brewster Hut! Less popular than many other huts, Brewster still boasts epic views that you'll share with fewer people. That's a win in our book!
This 12-bunk hut sits amidst giant peaks and is truly a sight to behold. The amenities are primitive, and when we were there water was in short supply, so be sure to bring plenty with you. The drop toilet is perhaps one of the most scenic (and semi-frightening!) we've ever set eyes on, as it hangs over the edge of a cliff.
During our stay, there were only three others staying in the hut, and we all shared tea and swapped stories after sunset. If you have the opportunity to stay in a backcountry hut, it'll make for some very sweet memories.
Insider Tip: Be sure to read about what to pack for backcountry huts at the bottom of this article!
Hooker Valley Track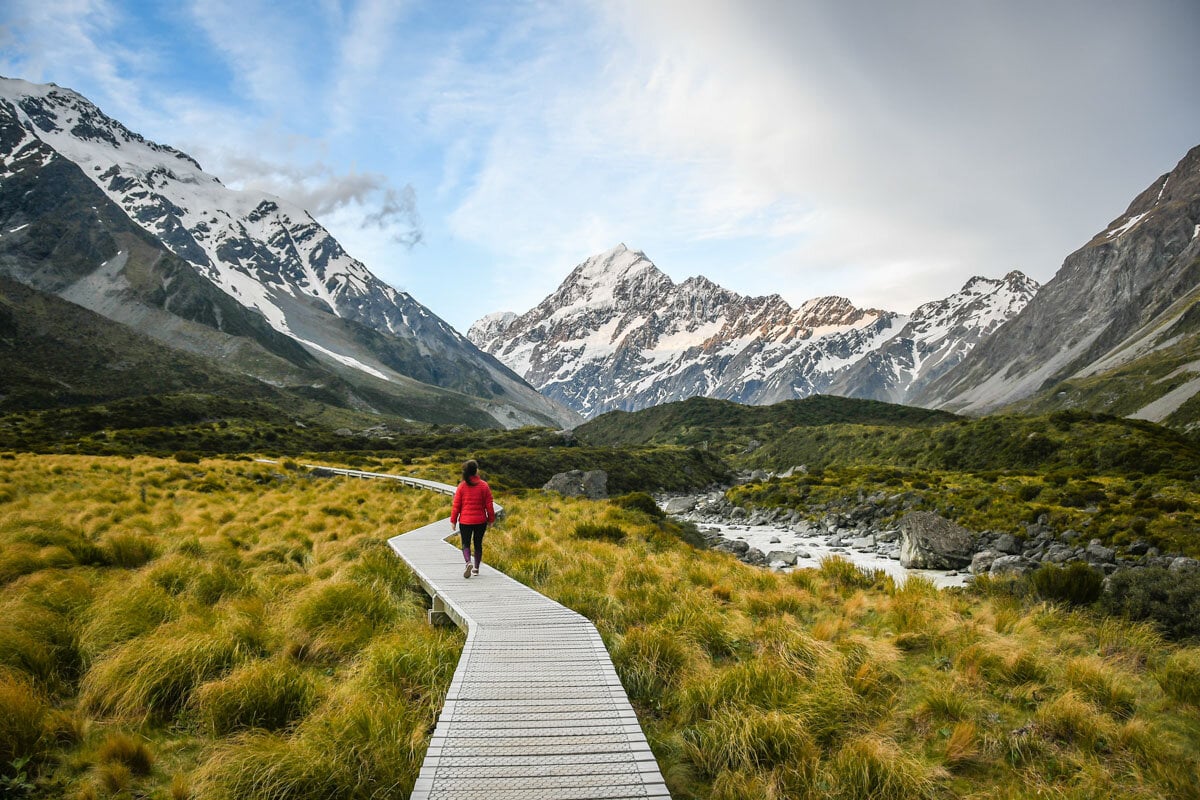 Location: Aoraki/Mount Cook National Park

Length: 10 km (6.2 miles) return, should take 2.5 – 3.5 hours

Elevation Gain: 367 m (449 ft)

Difficulty Rating: Easy

This hike is for: All hikers wanting to experience the beauty of the south island's most iconic mountain and be surrounded by epic views and rushing rivers. 
With minimal elevation gain and well-maintained trails and boardwalks, this hike is suitable for people of all ages and levels of fitness.
Though easy, this hike is pure magic, especially if you hit the timing right. To avoid the crowds, we'd recommend getting there early or later in the day. We began the walk in the early evening hours as most people were leaving. We got to see the warm sunset glow hit the mountains, signaling the day was coming to a close.
Cross over suspension bridges (be cautious on windy days) and at the culmination of the walk, you'll get a view over Hooker Lake, which is dotted with icebergs, and Mount Cook (Aoraki) in the distance.
What to Pack for Hiking in New Zealand
As when hiking in other parts of the world, it is highly recommended that you pack the "ten essentials" for any New Zealand hiking adventure. This is to help keep your trip safe and enjoyable, and includes even short day walks – you never know when you might have to spend an unplanned night outdoors!
Navigation + communication: Personal locator beacons (PLBs) save lives! Most of New Zealand's hikes do not have cell-phone coverage. PLBs work via satellite and are easy to rent for a small cost from many stores in New Zealand, check out the full list here. If you are in a legitimate emergency, rescue is normally free in New Zealand. Additionally, always carry a physical map of where you are hiking and understand how to use it.

Light source: Always carry a headlamp and spare batteries.

Sun protection: So important in New Zealand! The hole in the ozone layer and minimal air pollution means that your skin can burn here in ten minutes or less, even on a cloudy day. Our national slogan is "slip, slop and slap" – slip on clothing to cover up, slop on some sunscreen, and slap on a hat… I'm not kidding, look it up!

First aid kit: Including bandaids/plasters, pain relief, insect repellant, antihistamines, and blister wool.

Knife: A small pocket knife is always good to have. 

Fire: If you're overnighting in New Zealand (other than in a Great Walk hut) you'll likely be carrying matches, gas and a stove. However it's always a good idea to take waterproof matches or candles, even on short walks in case you need to start a fire. Be aware that there can be restrictions on lighting fire – check here before you light.

Shelter: At the very least carry a lightweight emergency blanket or bivy bag (easy to find in most outdoor stores).

Extra food: Always take more food and snacks than you expect you'll need for that particular hike, just in case you have to spend an extra day or night.

Extra water: You can either take extra water, or if you know the hike you're embarking on will have water access, then take either purification tablets or a filter. (Hint: Katie and Ben use the Steripen and swear by it!)

Extra clothes: While New Zealand wildlife normally isn't a killer, our changeable weather certainly can be. Always pack a jacket that is wind and rainproof, as well as multiple warm layers for both top and bottom. Never wear jeans or cotton while hiking.
Related Reading: For more information on clothing and fabrics, check out this list on what to wear hiking that goes over seasonal changes and which fabrics are best for wicking sweat.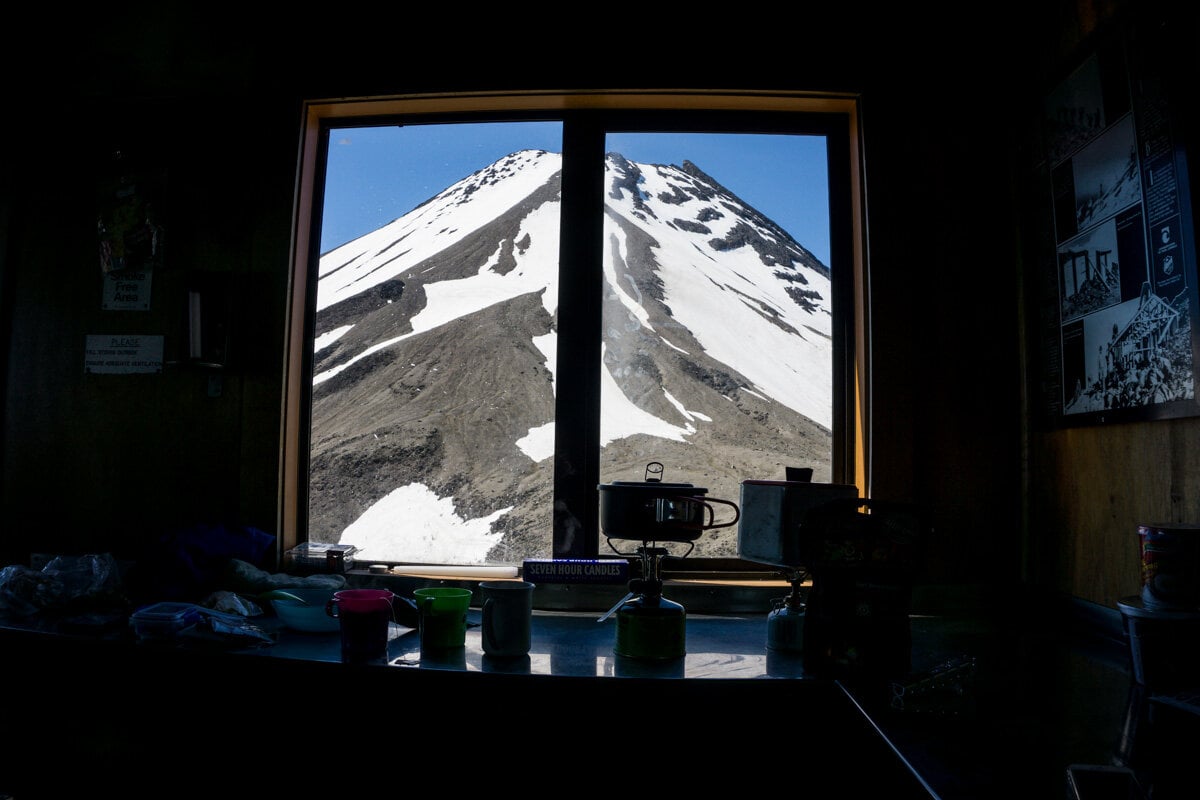 In addition to this, the huts in New Zealand are relatively basic. They provide tables and chairs, bunks with mattresses, toilets (often long-drop/pit), and running water (boil before using!). Some will also contain fires, but these are for heating and not cooking. If you are planning an overnight tramp, you will normally have to pack the following (although check the local visitor center or DOC website as they'll be able to give you information specific to the hike you're planning):
Sleeping bag + pillow (mattresses are normally supplied)

Toilet paper and hand sanitizer (sometimes this is supplied/leftover, but sometimes not – you don't want to be caught without!)

Cooking and eating utensils (e.g. pot, plates, cups, cutlery)

Gas cooker + gas to boil your water and cook your food

Light (e.g. headlamp, candles, lanterns – most huts don't have lighting or electricity)

Toiletries (some huts will have soap for washing hands but that's it), include dishwashing soap + tea towel for cleaning your dishes

Hut ticket, proof of booking or cash (system is dependent on each hut)
If you're unsure of what you should take on a particular hike, the friendly folk at the local outdoor gear store or DOC center will be more than happy to give you a hand.
---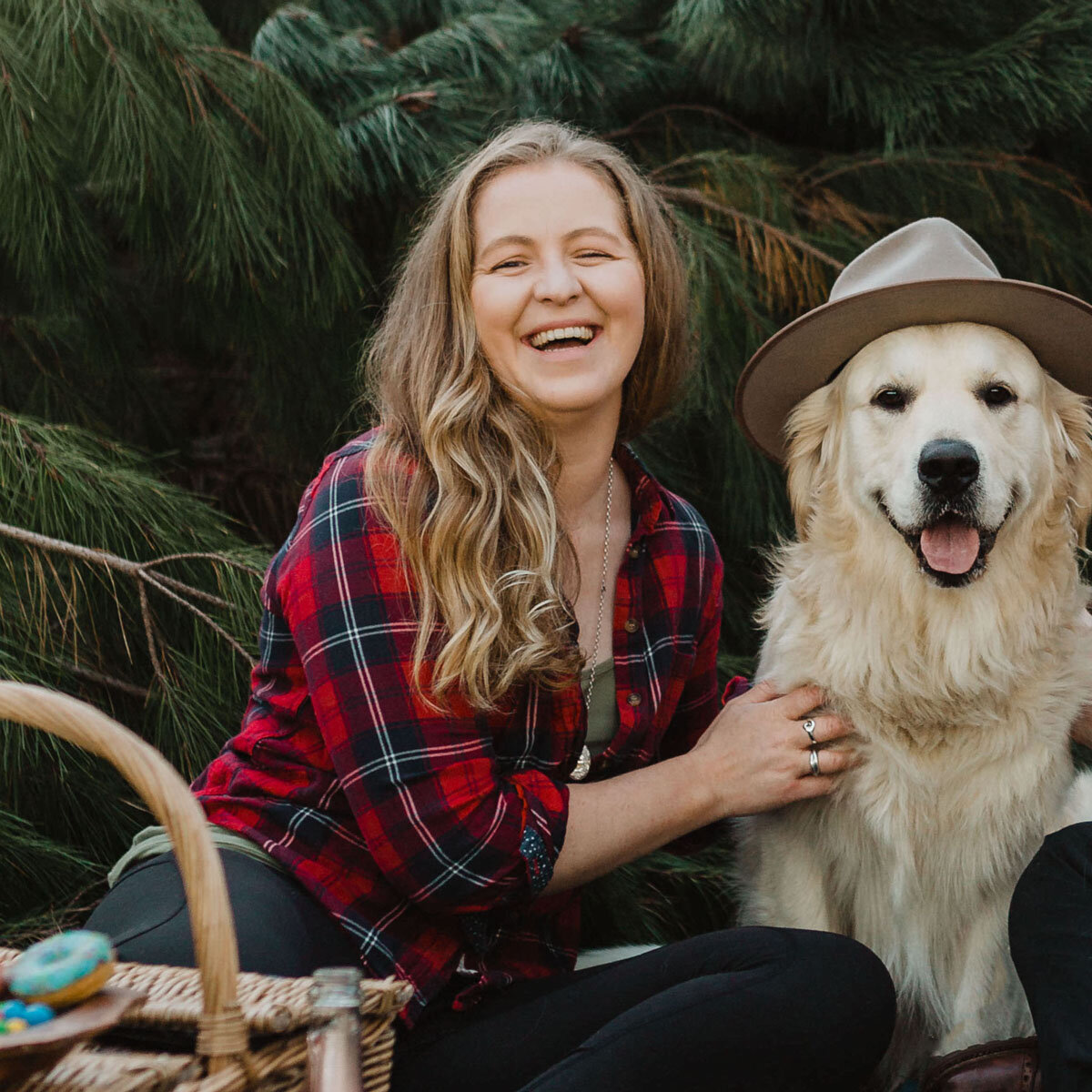 About the author…
Alice is a New Zealand gal who loves chocolate and hiking (in that order). She's been hiking since before she could walk, and writes all about her hiking adventures in New Zealand, as well as helpful guides for beginner hikers on her blog Alice Adventuring. If you have any questions about New Zealand adventures or hiking in general, send her a DM on Instagram.
---
Are you planning a trip to New Zealand?
We have TONS of resources on travel in New Zealand and destinations throughout the country. Check out our Ultimate New Zealand Travel Guide for all the answers to your most burning travel questions, or read some of our favorite articles below.
Save this article for later on Pinterest!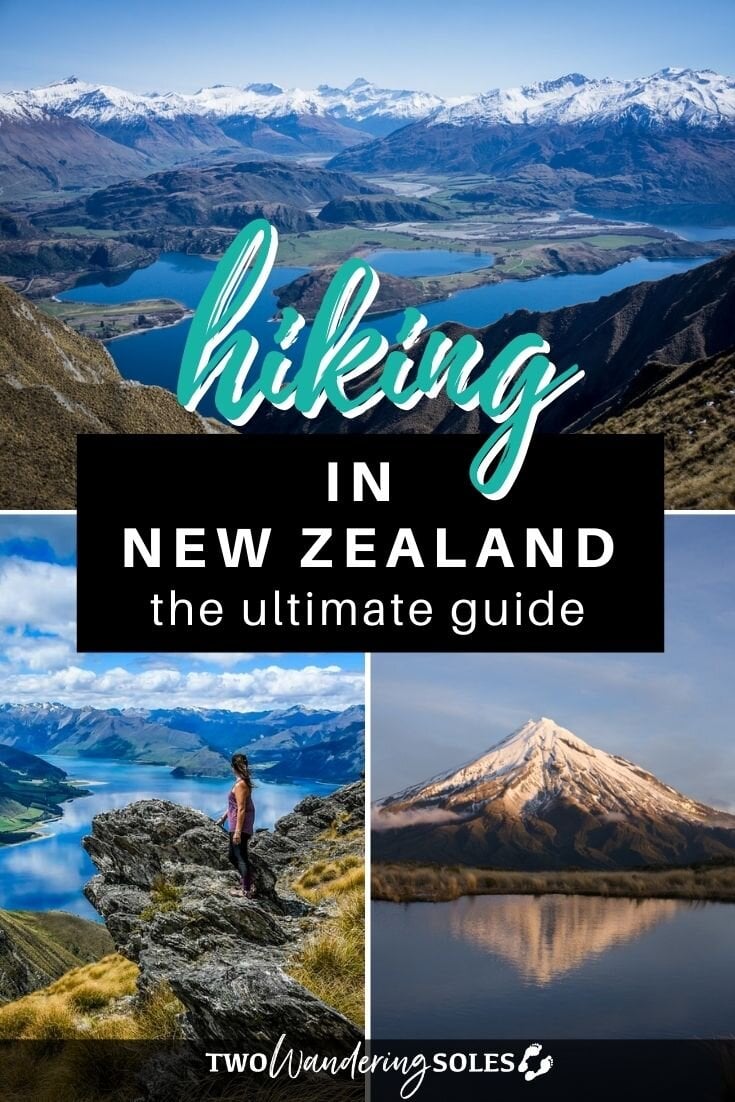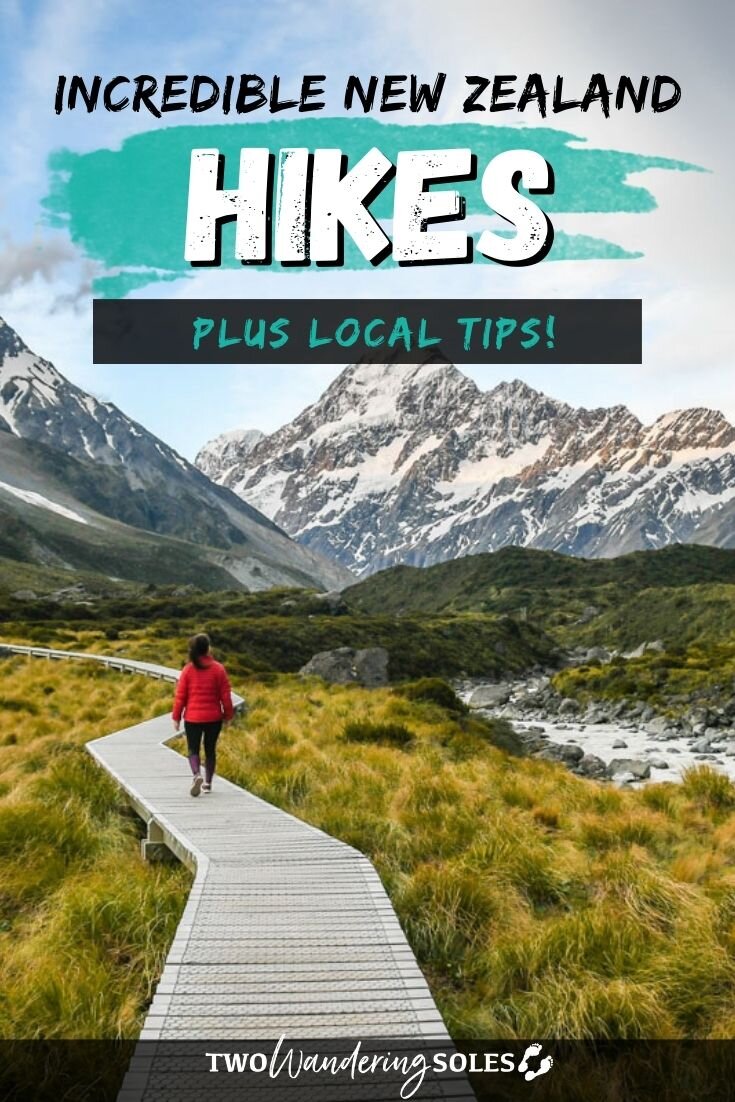 We want to hear from you!
Have you ever been tramping in New Zealand? Do you know of any great New Zealand hikes we left off this list? Leave your comment below and let us know!