Witnessing the cherry blossoms in Japan is a once-in-a-lifetime travel experience. In this guide, we breakdown when and where the best places celebrate the cherry blossom festival in Japan.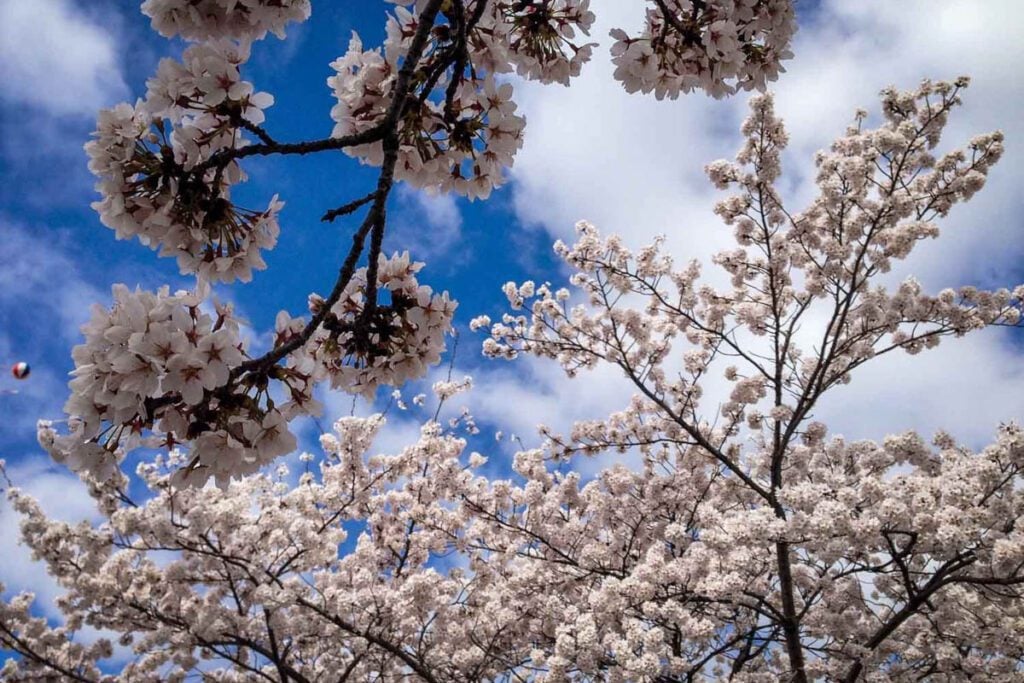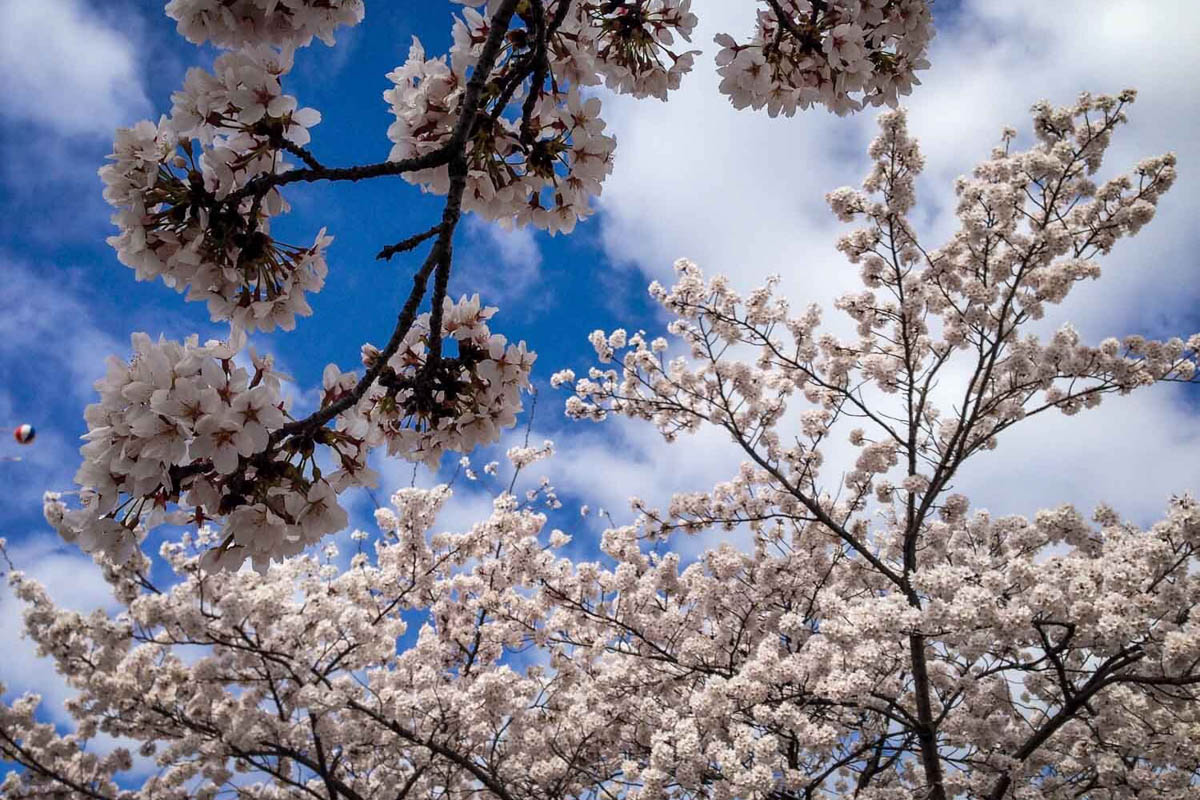 It's no secret that Japan is renowned around the world for the sea of pink and white cherry blossoms that sweep across the country each spring.
In fact, the art of viewing the ephemeral nature of cherry blossoms has been ingrained into Japanese culture for centuries, so much so that it has its own special name, known as "hanami".
Viewing the cherry blossoms in bloom is a truly bucket list worthy experience and one of the top recommended things to do in Japan.
In this guide, we break down exactly when and where you should plan your visit for viewing the cherry blossoms in Japan. We've also rounded up all our best tips for celebrating the cherry blossom festival to help you plan the perfect itinerary.
Article contents
---
Other resources for planning your Japan trip
---
When is cherry blossom season in Japan?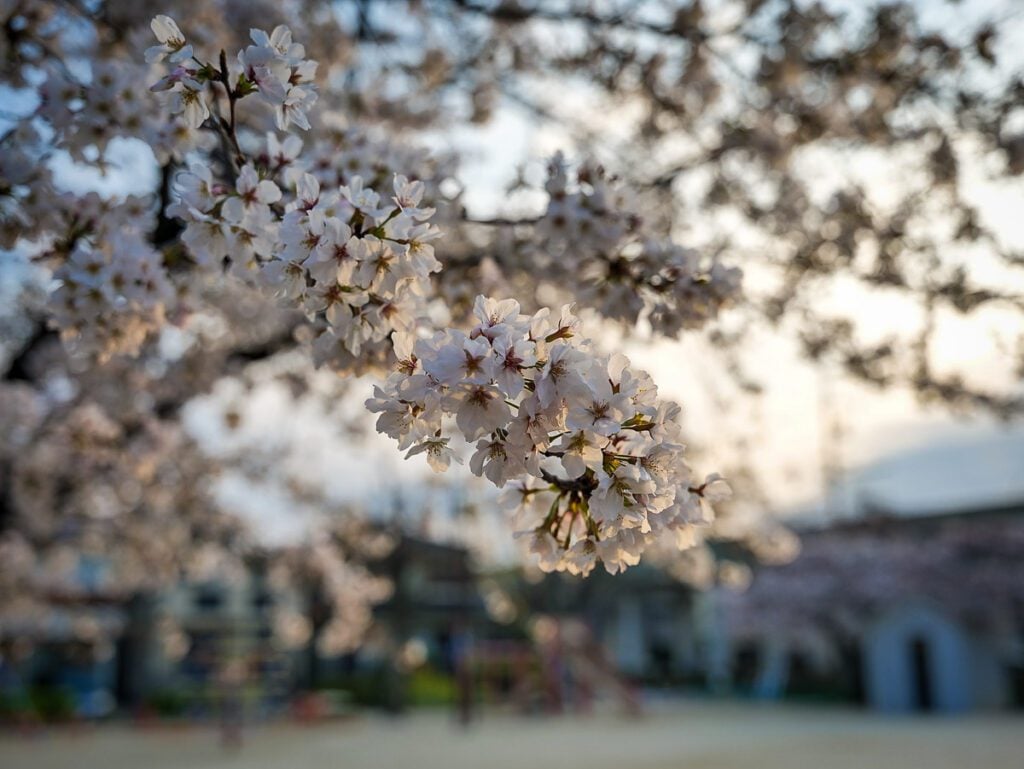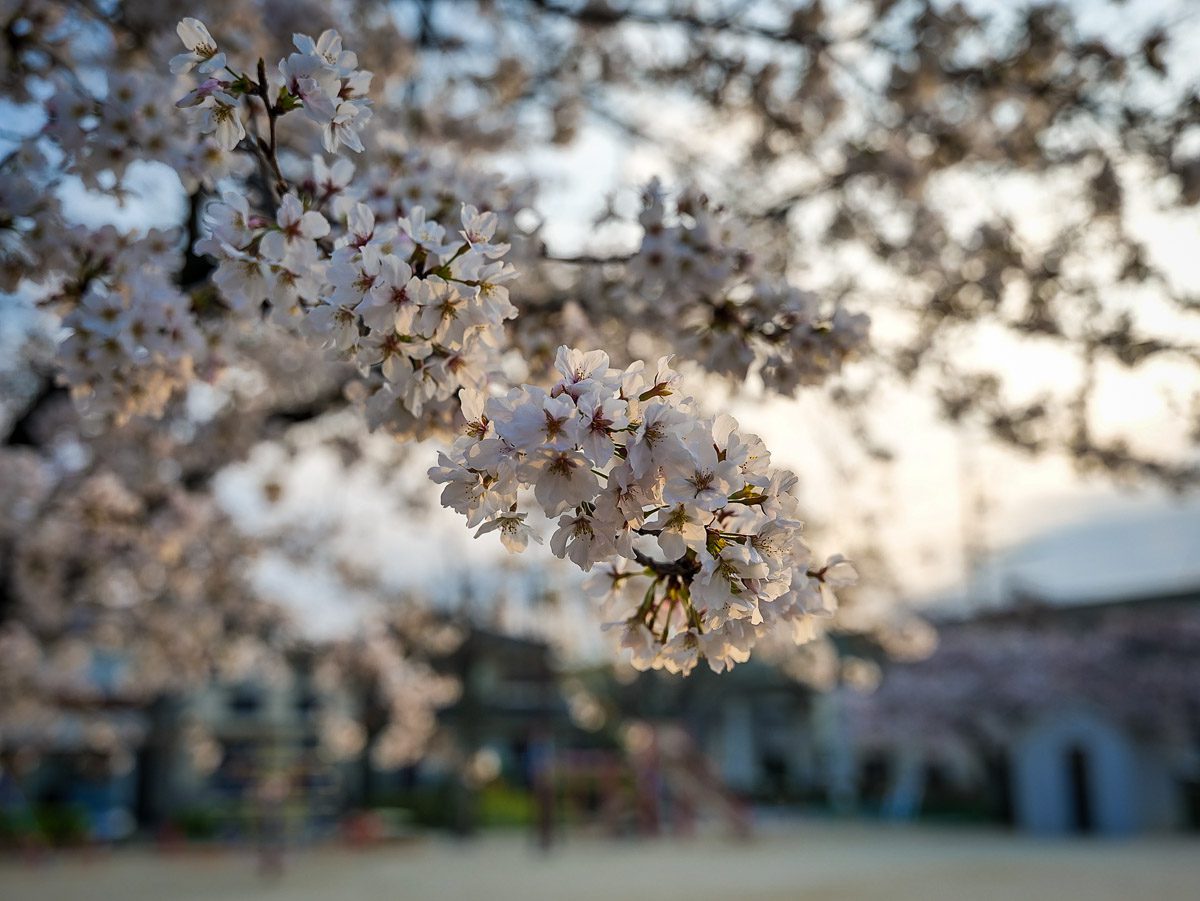 The prime season for cherry blossoms in Japan is typically at the end of March, and lasts about two weeks. However, every year the window changes since the blooms are dependent on many environmental factors like temperature, wind, and rain.
Early spring is the prime target for blooms in the Kanto Region, but the peak dates change depending on where in the country you're traveling to.
The diving hub of Okinawa experiences blooms as early as January, whereas in the northern region of Hokkaido, blooms pop up at the end of April into May. So if you happen to miss the blooms in the southern regions, you can head north and still get an opportunity to see them.
Luckily, because this season has become a worldwide phenomenon, there are cherry blossom forecasts and tracking apps that predict peak dates with very high accuracy. Using these apps, you can get a pretty good idea of when and where you need to be for the best blooms around the country.
Psst! For an in-depth guide on the seasonal weather patterns and other factors, check out our complete guide on the best time to visit Japan.
---
Where to see the cherry blossoms in Japan
Cherry blossoms bloom in over 1,000 locations across Japan so there are endless places you can visit to see them. We've broken down the best locations below with helpful tips for planning your visit.
Kyoto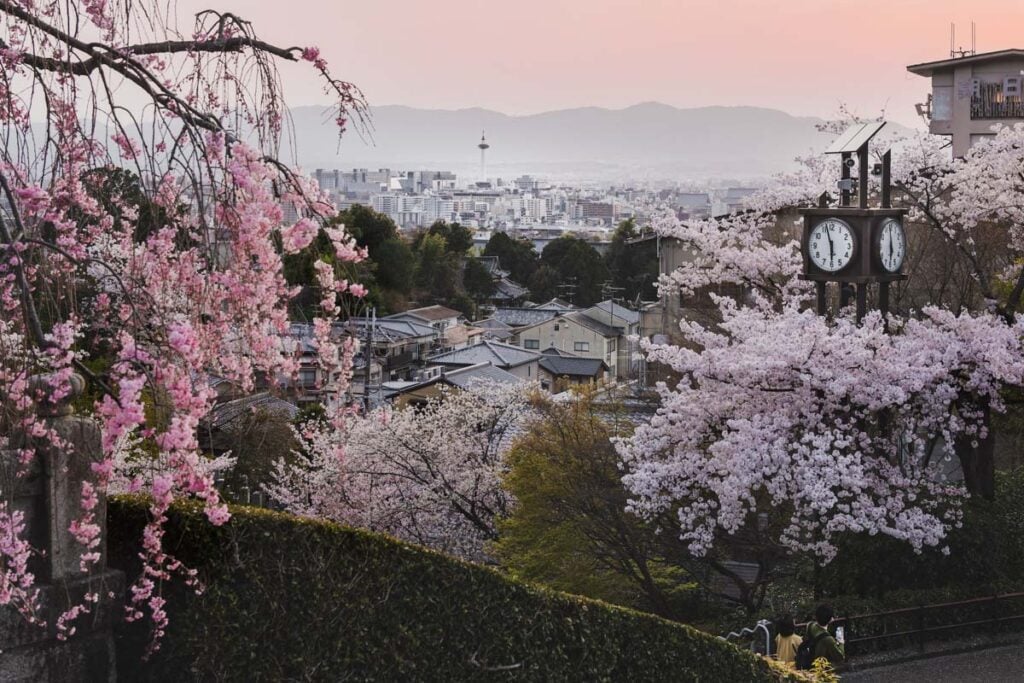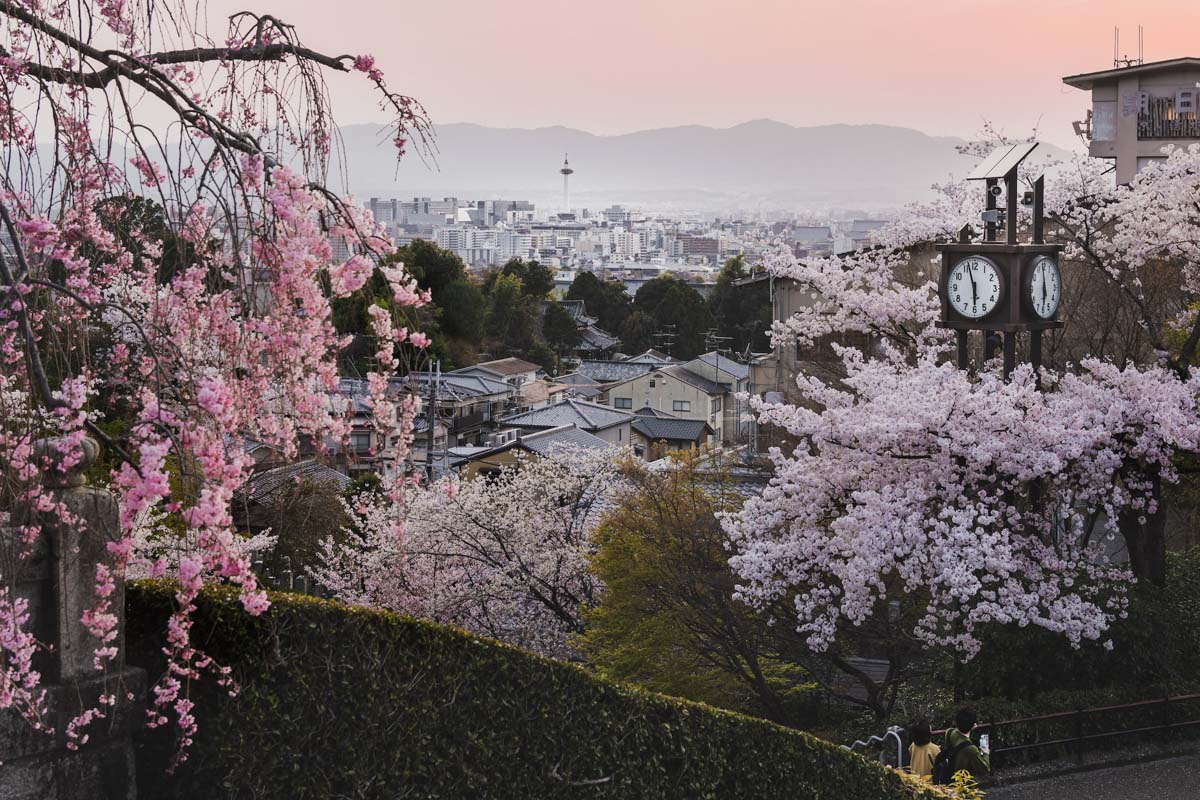 When to go: end of March – early April
Kyoto is in the cultural and historical heart of Japan, known as the Kansai Region, and is widely recognized as one of the main epicenters for cherry blossom season.
What sets Kyoto apart from other places to see sakura in Japan are all the temples, shrines, castles, and 17 UNESCO World Heritage Sites that serve as a stunning backdrop for the colors of sakura season.
Psst! Check out our bucket list of things to do in Kyoto before you leave!
Best places for viewing the cherry blossoms in Kyoto
Philosopher's Path: This scenic walking path is lined with cherry trees. During the night, the blooms are illuminated with lanterns.
Maruyama Park: This is the most popular place in Kyoto during cherry blossom season. Walk among peaceful gardens and ponds surrounded by sakura.
Kiyomizu-dera Temple: Wander blossom-filled grounds at one of the most significant temples in Japan. Plan your visit during the night to see the evening light ups, a must see during cherry blossom season.
Keage Incline: This National Historic Site has nearly 100 blooming trees lining a picturesque railway.
Haradani-en Garden: Enjoy endless weeping cherry trees in this peaceful garden favored by locals. The trees here tend to bloom a bit later, which is perfect if you missed the first bloom window.
Where to stay in Kyoto
Osaka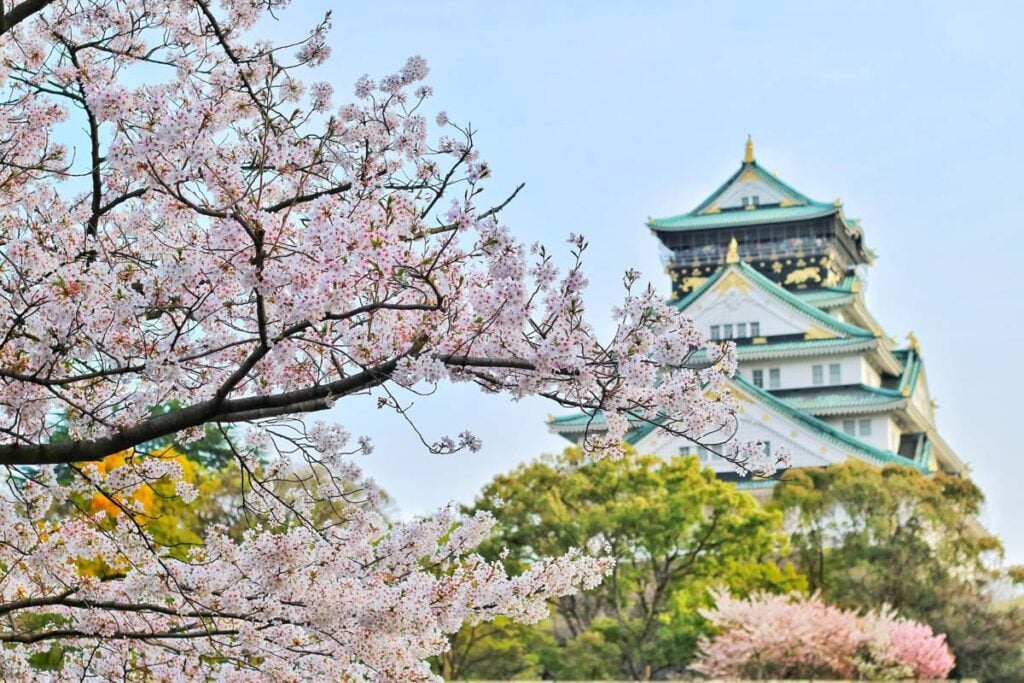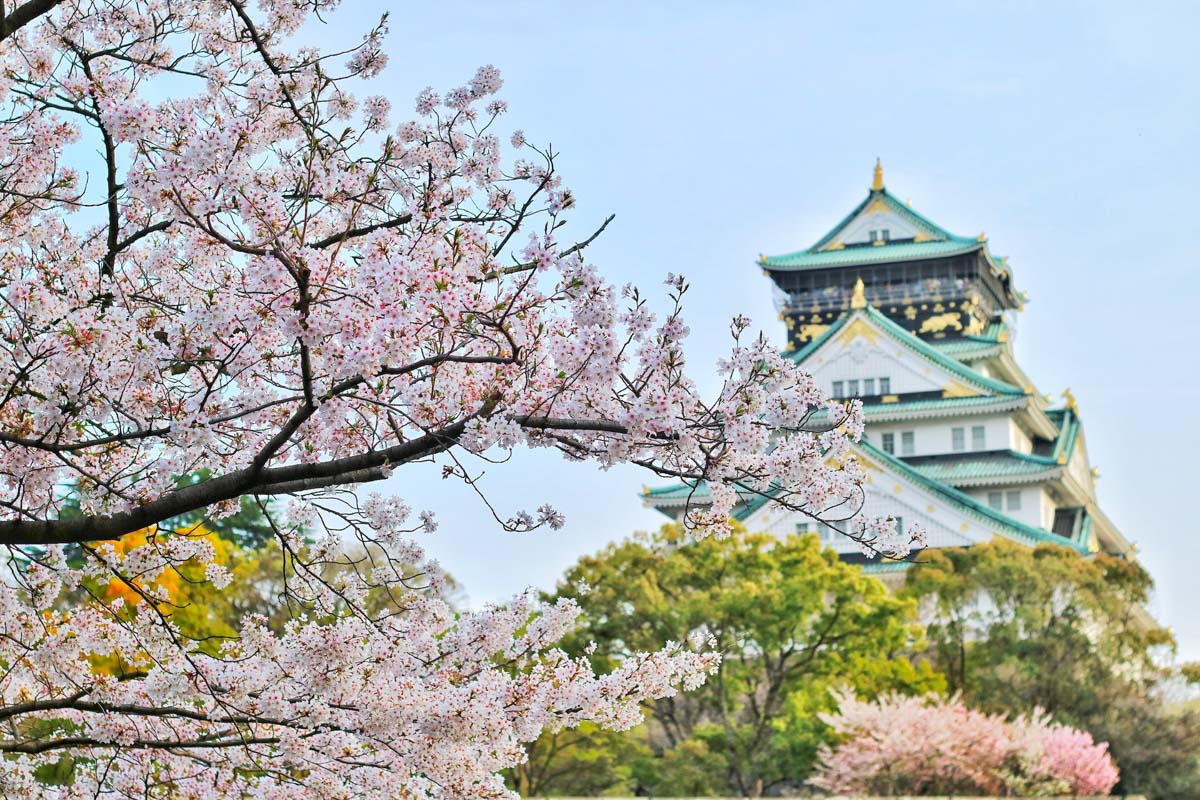 When to go: end of March – early April
The street food capital of Japan celebrates the sakura season with thousands upon thousands of cherry trees planted across the city.
One of the main draws to head to Osaka for cherry blossoms is all the gourmet street food and Japanese food. Wander the streets of the city and try some of the country's top dishes while gazing at stunning blooms.
Related: We share all our favorite places in the city in our guide to exciting things to do in Osaka!
Best places for viewing the cherry blossoms in Osaka
Osaka Castle: The standing symbol of Osaka is filled with over 3,000 cherry trees, creating one of the best viewing locations in the Kansai region.
Banpaku Memorial Park: One of the 100 best cherry blossom locations in Japan, you can wander around 5,500 different cherry trees and learn about the relationship between sakura and Japanese culture.
Kema Sakuranomiya Park: This riverside park follows the Ogawa River through central Osaka. It comprises three different parks that make up the beautiful, 2.6 mile stroll through nearly 5,000 cherry trees.
Osaka Mint Bureau: The official head office of the Japanese Mint opens the grounds for one week in April to view over 400 famous cherry trees. Note advanced reservations are required.
Mount Yoshino: View over 30,000 cherry trees bloom in the Kii Mountains at the most popular hanami location in Japan.
Where to stay in Osaka
Psst! Check out our list of the most beautiful places in Japan you'll have to see to believe!
Tokyo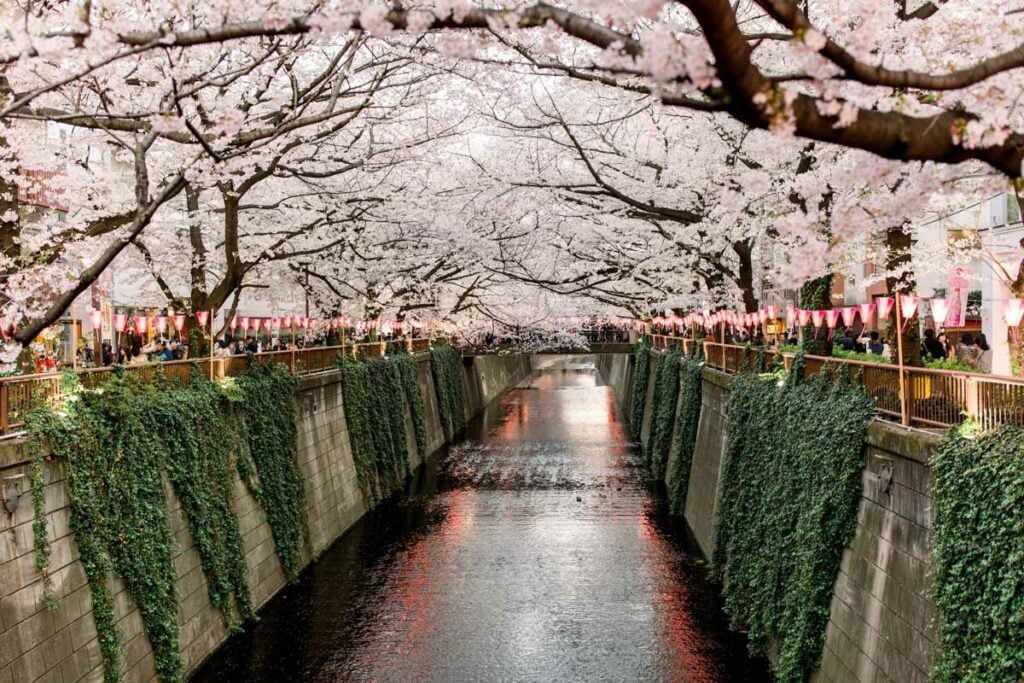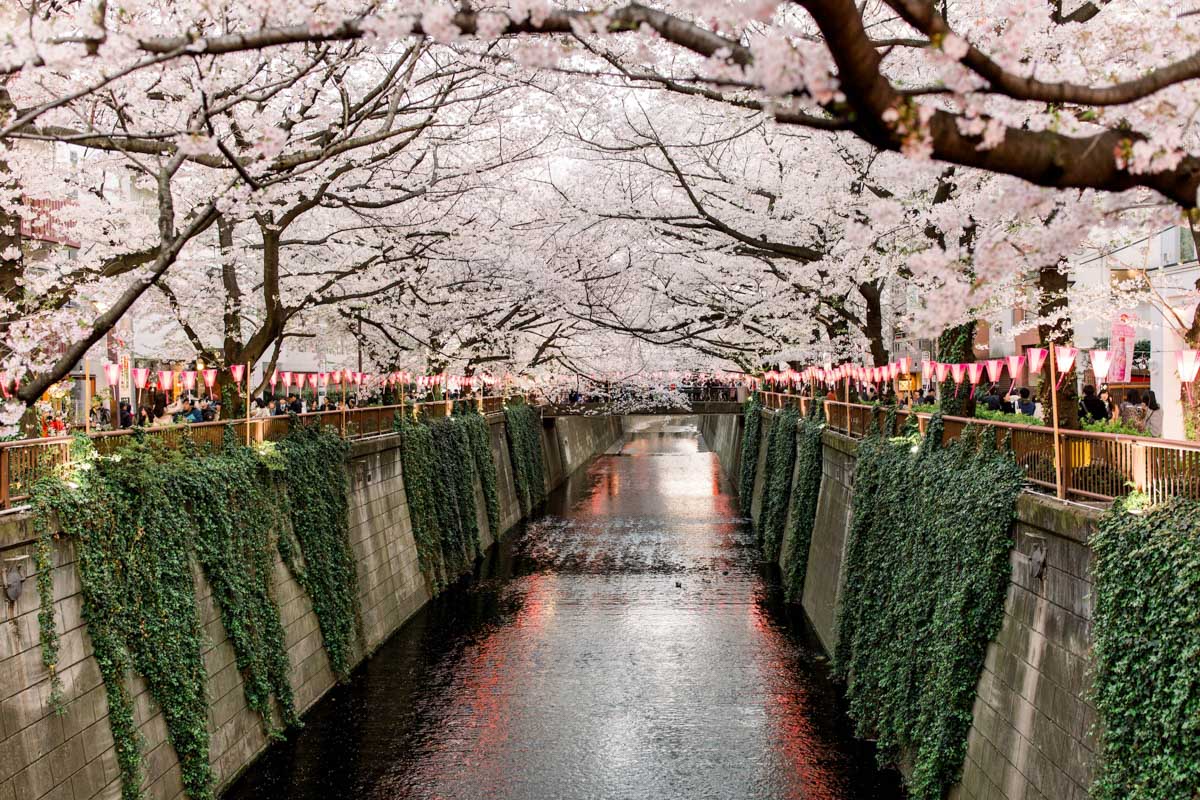 When to go: end of March – early April
It's no secret that Tokyo is one of the best cities in Japan for cherry blossoms. You can venture out into many of the city's parks and walk through thousands of pink and white blooms.
Even the infamous Ueno Park has been one of the most beloved locations for hanami in the city for centuries.
From teamLab Borderless to the never-ending list of the best things to do in Tokyo, the urban and edgy atmosphere of this culture-rich city will take your cherry blossom experience to the next level in this beloved metroplex.
Best places for viewing the cherry blossoms in Tokyo
Where to stay in Tokyo
Nagoya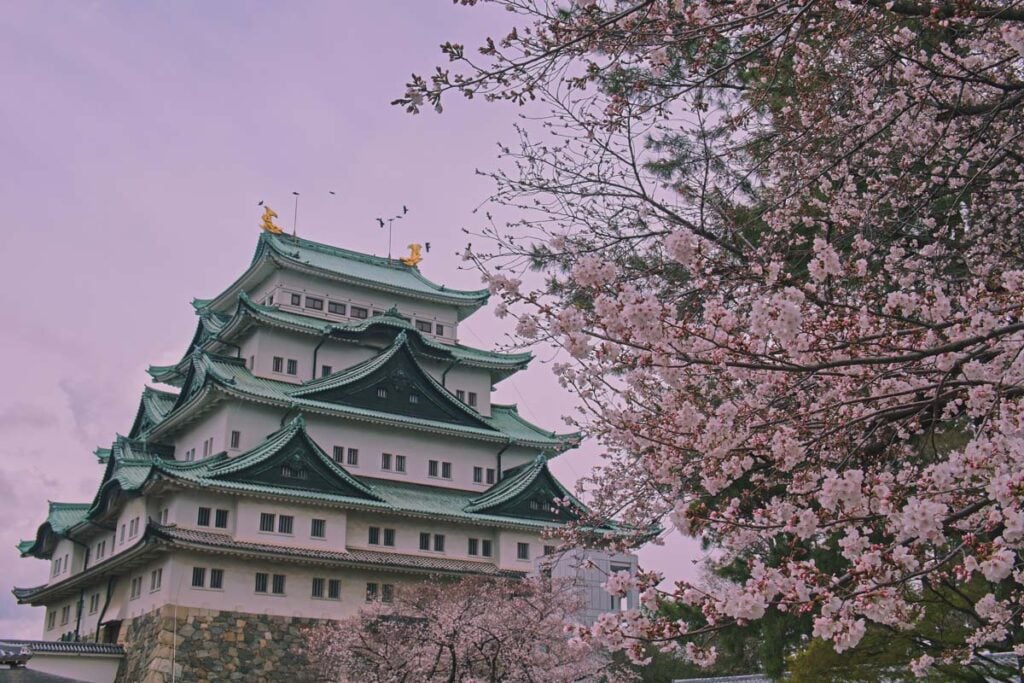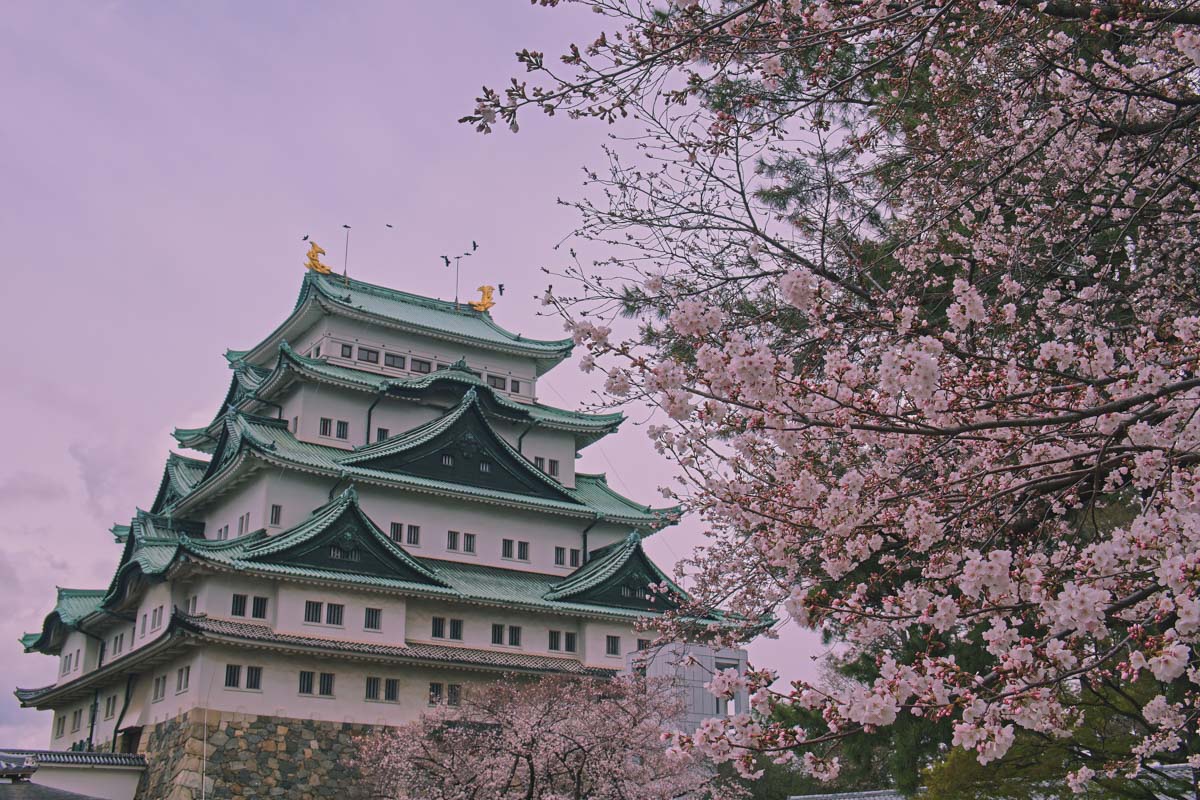 When to go: end of March – early April
Nestled between many major cities, Nagoya holds a few of the top 100 places to see cherry blossoms in Japan, and is one of the main hubs for hanami in the Aichi Prefecture.
This shipping and entertainment hub fills with vibrancy as thousands of sakuras bloom across the city. Most notably, the Yamazaki River is one of the most sought-after viewing locations in all of Japan.
Best places for viewing the cherry blossoms in Nagoya
Where to stay in Nagoya
Yokohama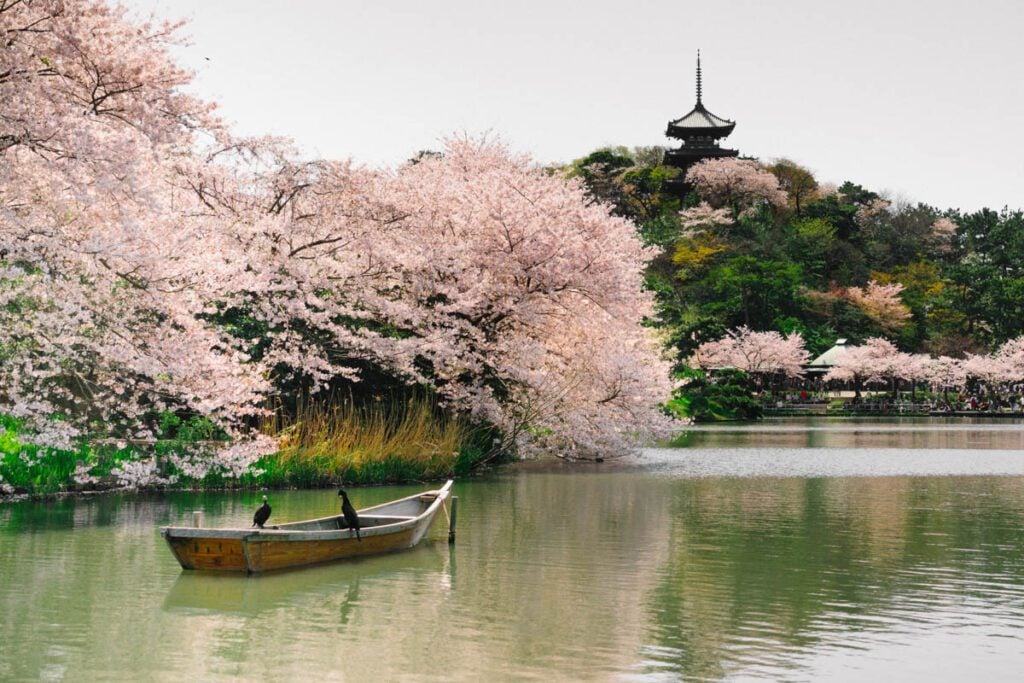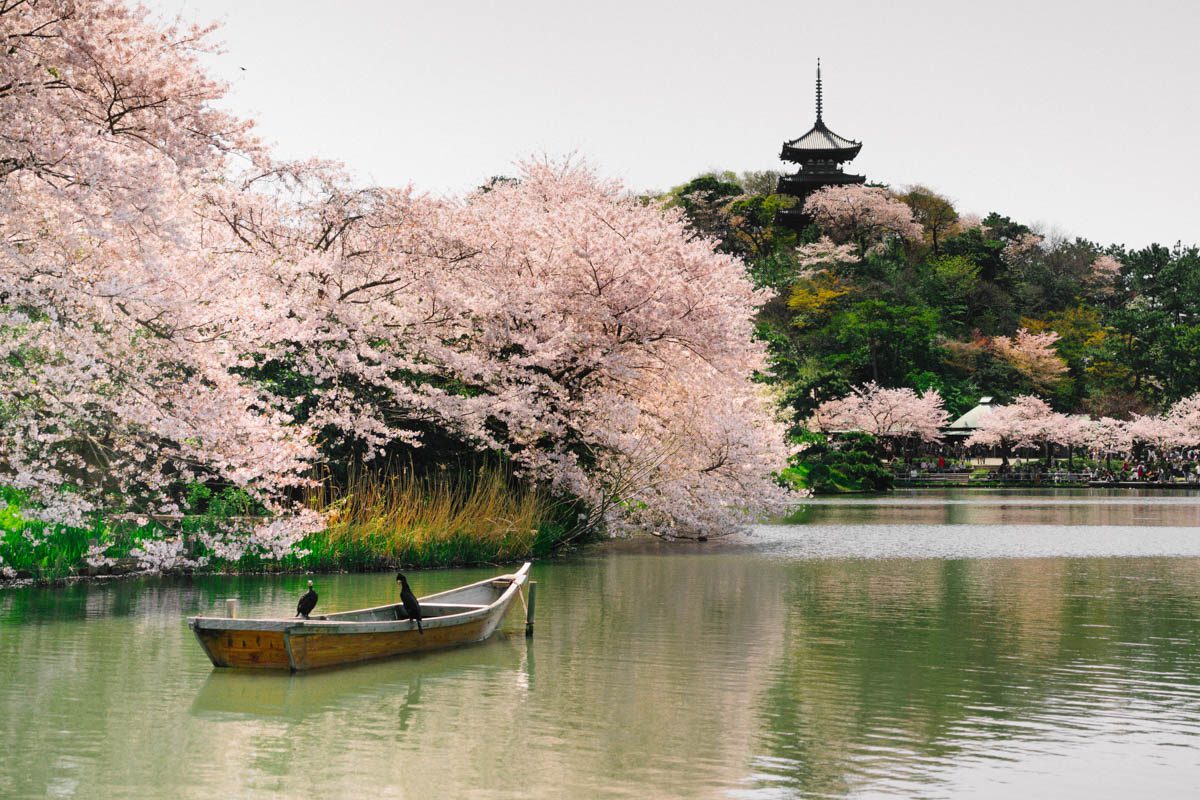 When to go: end of March – early April
The second largest city in Japan, and one of the most exciting day trips from Tokyo, holds a handful of exciting cherry blossom locations. Yokohama's blend of traditional and modern architecture serves as a stunning backdrop to thousands of sakura.
The city is renowned for its cross-border ties of culture and friendship that help create its unique individuality and laid back atmosphere.
Because it's close to two major airports, it makes an ideal base camp for getting around to other major cities across Japan for hanami.
Best places for viewing the cherry blossoms in Yokohama
Where to stay in Yokohama
Fukuoka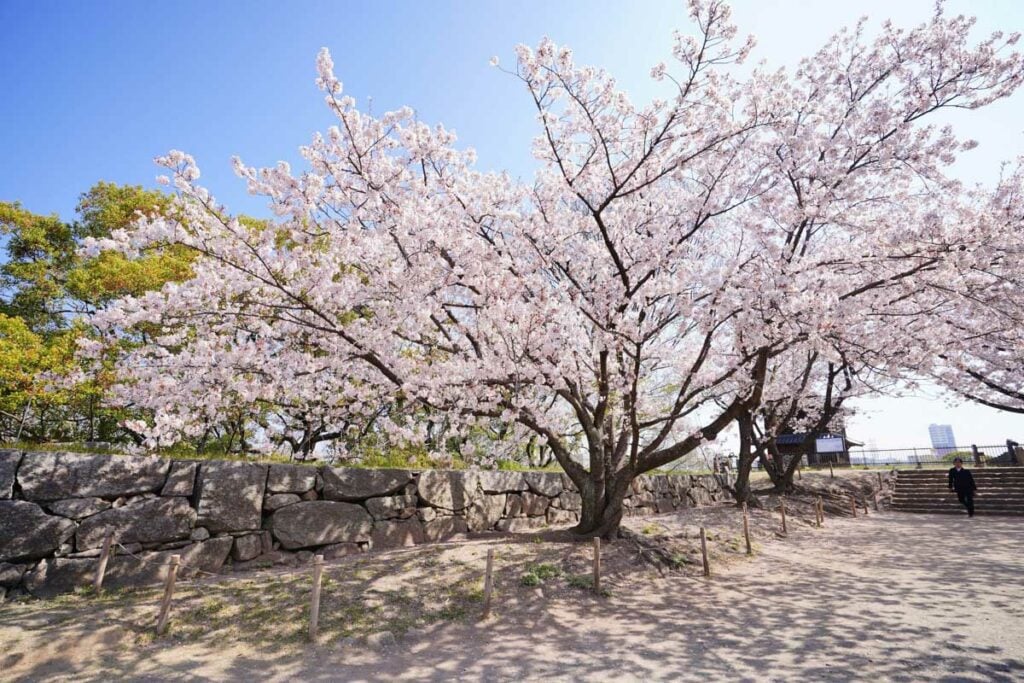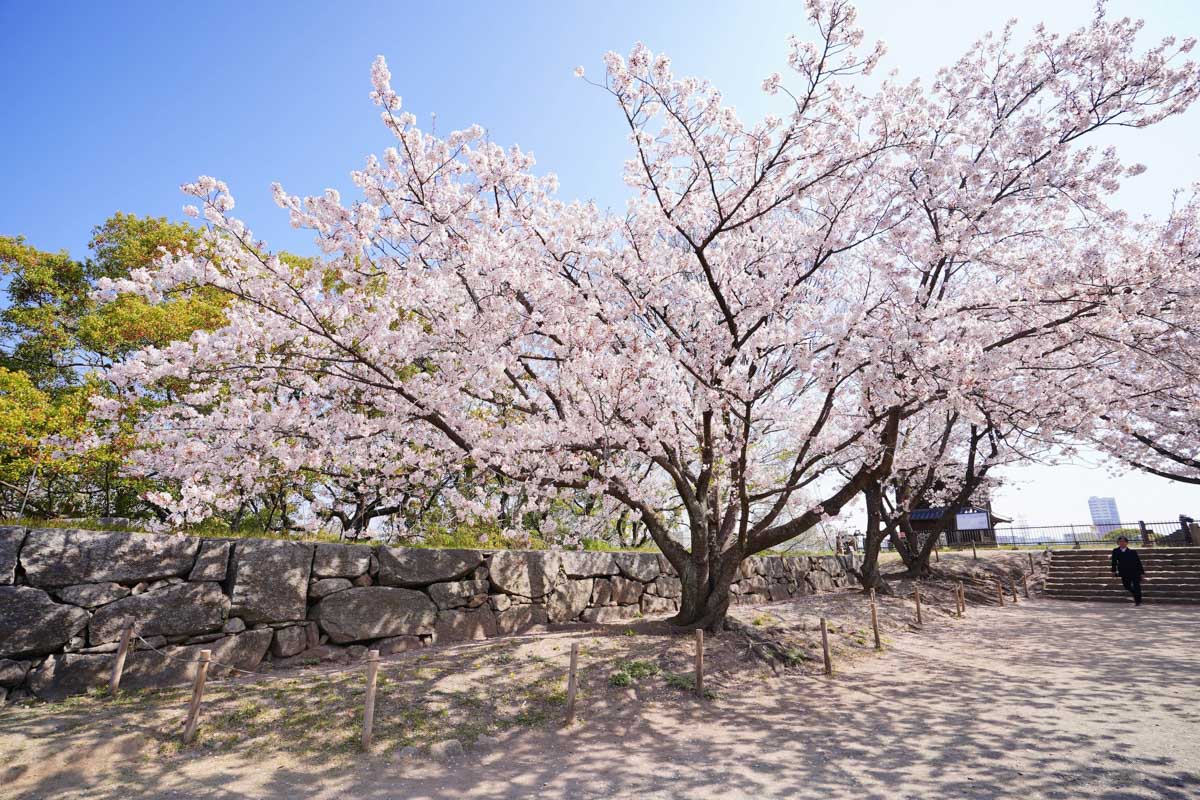 When to go: late March – early April
This seaside city is one of the first cities in Japan to welcome the pink and white tidal wave of cherry blossoms.
As the capital of the southern region, and the 6th largest city in Japan, Fukuoka has prime hanami locations dotted around the city.
Its ancient temples, beaches, and modern shopping malls make the city an exciting place to explore while searching for cherry blossoms. It's rumored that some of the best ramen in Japan is in Fukuoka, the perfect way to fuel your hanami sessions!
Best places for viewing the cherry blossoms in Fukuoka
Nishi Park: Another one of Japan's top 100 cherry blossom locations, this hillside park is filled with thousands of blossoming cherry trees.
Maizuru Park: Explore hundreds of cherry trees blanketing the ruins of Fukuoka Castle. Don't miss the views from the observation platform.
Uminonakamichi Seaside Park: Rent a bike and explore over 2,000 cherry trees along this expansive and scenic peninsula.
Atago Shrine: Follow hundreds of cherry trees lining the steep climb to the hilltop shrine. Take in views over Hakata Bay and the Fukuoka city skyline.
Nokonoshima Island: Fields of yellow rapeseed and stunning cherry blossoms fill this island just off the coast of Fukuoka.
Where to stay in Fukuoka
Sendai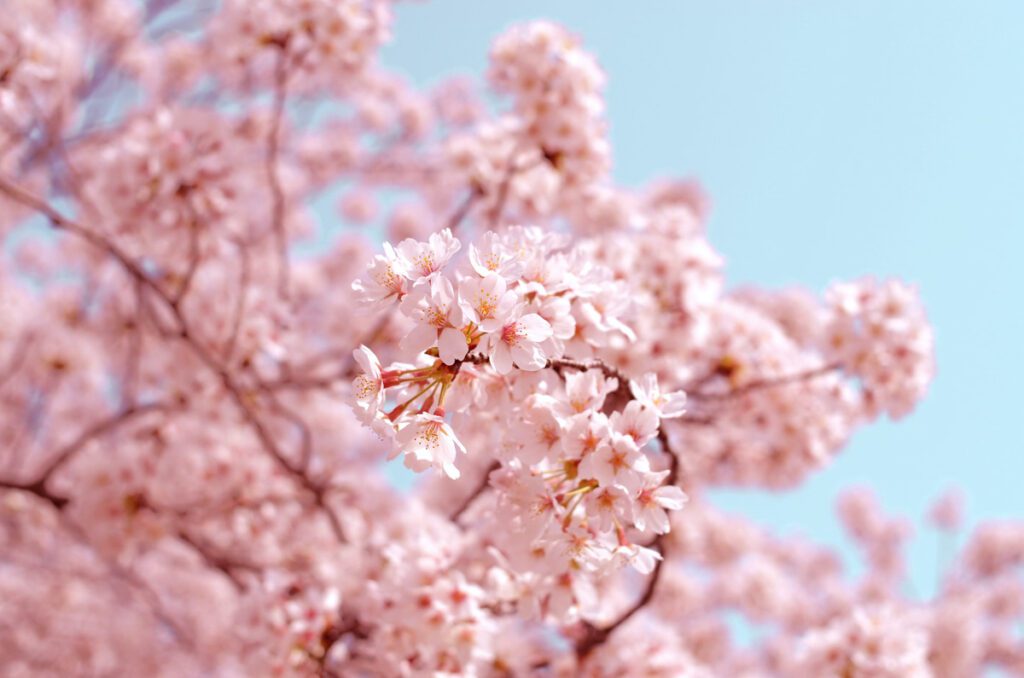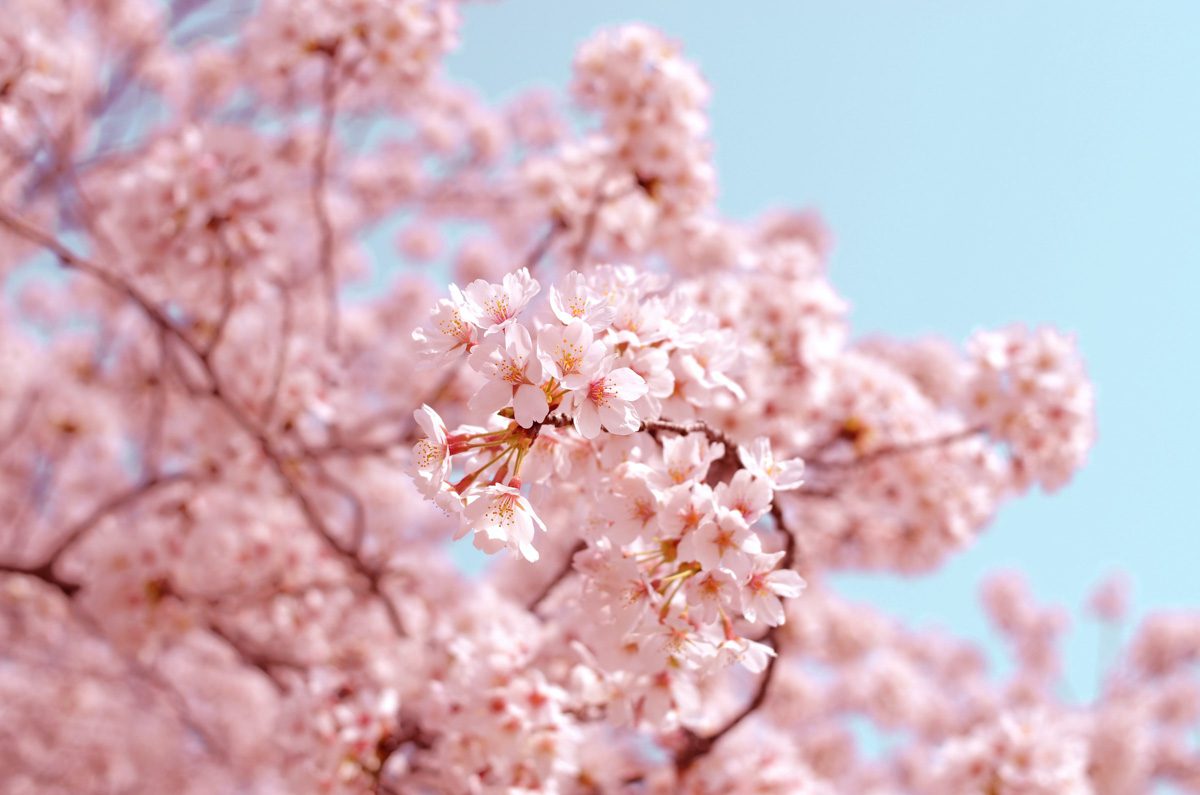 Centuries-old shrines and temples contrasting against the city's modern skyscrapers and nightlife make Sendai the perfect basecamp for sakura season.
Sendai is compact, making inner city travel easy and fast to various locations. It also has a little bit of everything from samurai history, nature, cuisine, and culture like many of the other major cities do, but is more low-key and without the floods of tourists.
Best places for viewing the cherry blossoms in Sendai
Where to stay in Sendai
Sapporo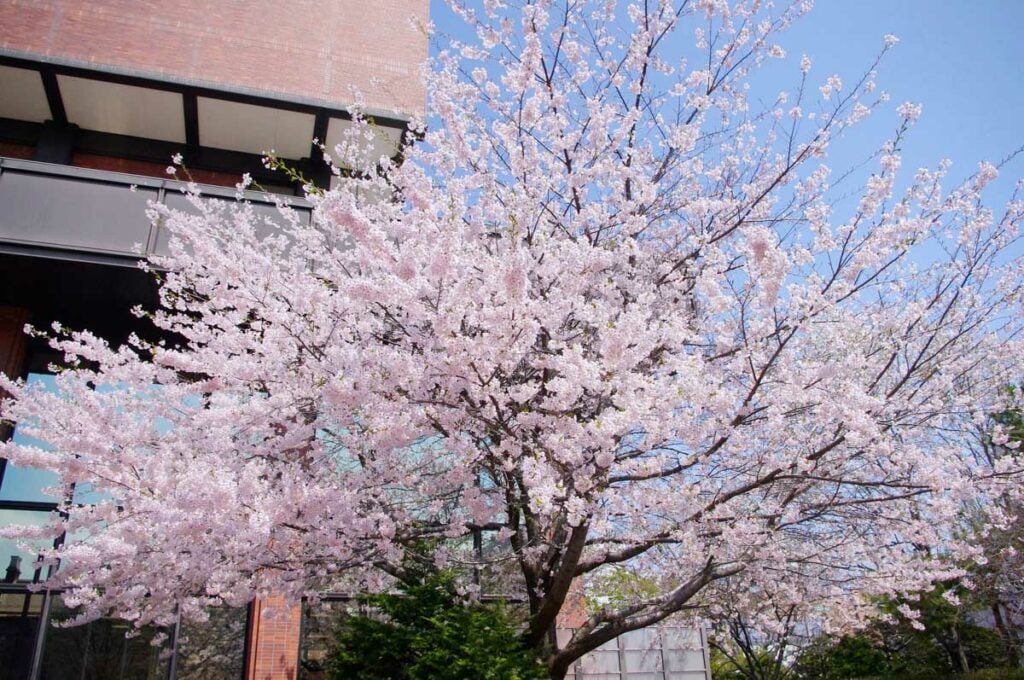 When to go: end of April – early May
Located in the northernmost region of Japan, Sapporo experiences some of the latest, and most unique blooms during sakura season.
The city is in the coldest region of the country, so the climate and plants are much different here than they are in Tokyo, Kyoto, Osaka, and the rest of Japan.
You'll be able to relish in cherry tree varieties that don't grow anywhere else in the country along with the region's vast array of wildflowers and natural beauty.
Best places for viewing the cherry blossoms in Sapporo
Where to stay in Sapporo
---
Cherry blossom festivals in Japan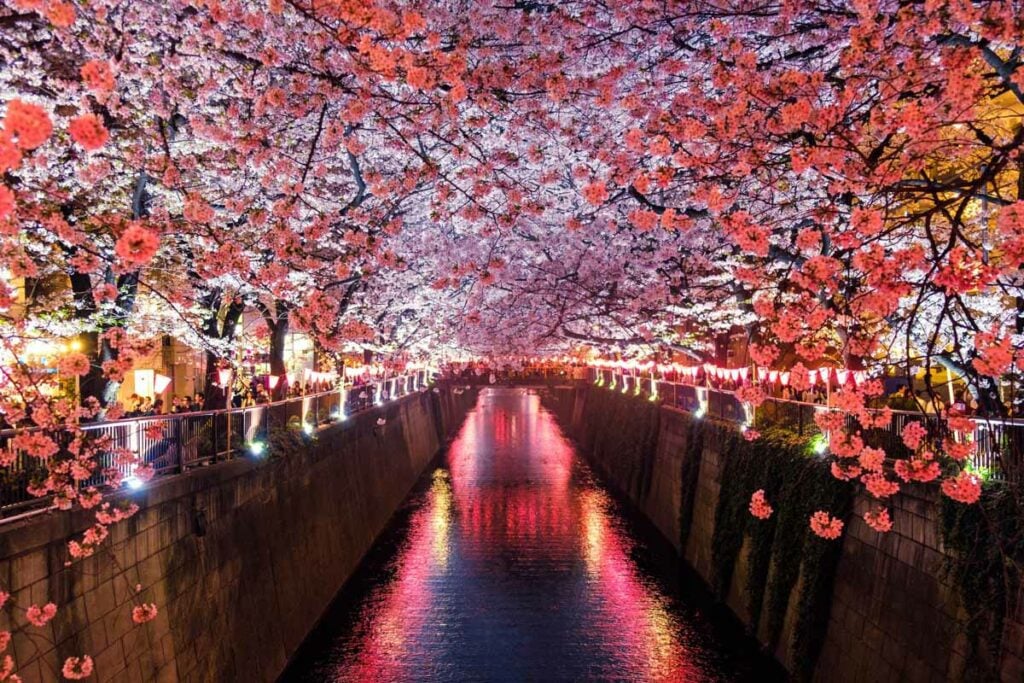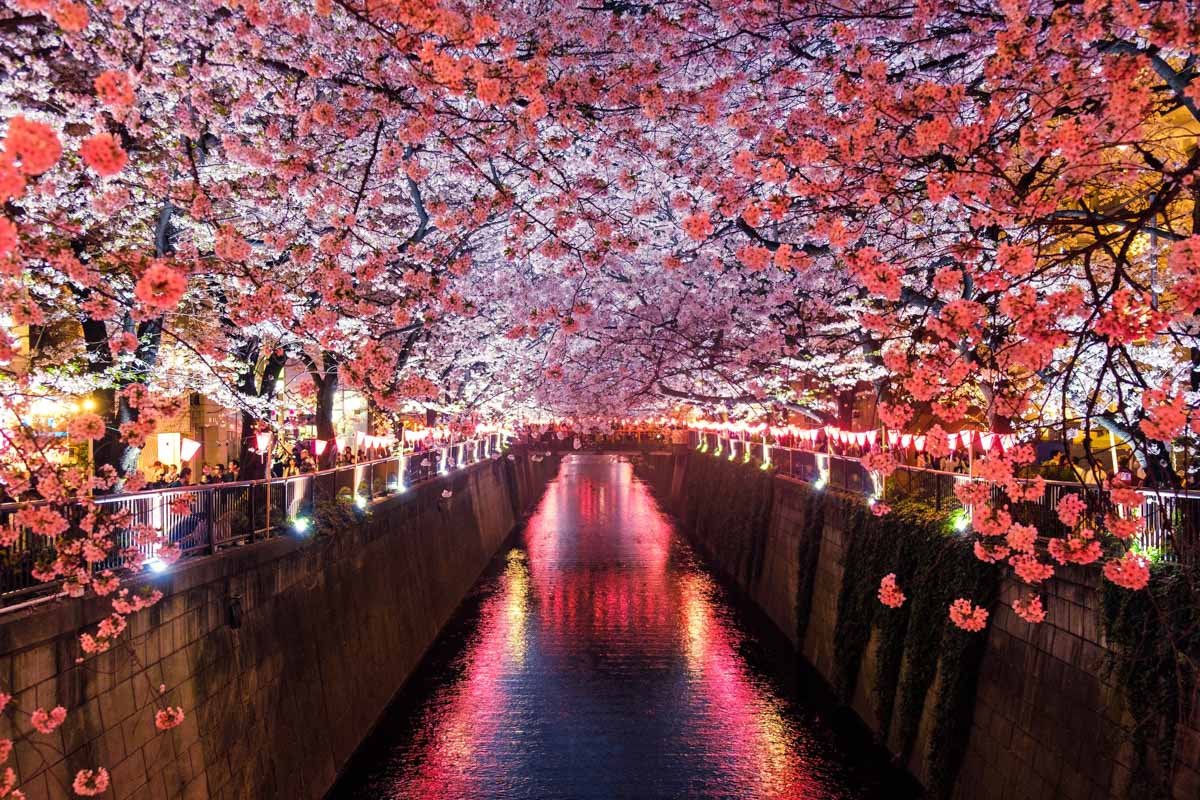 Cherry blossom season is a nationwide event across Japan. The season is most commonly celebrated with a picnic, parties, and sake.
The trees bloom everywhere in Japan, but the most spectacular locations put on festivals to celebrate the season. These celebrations are the perfect addition to any Japan itinerary!
Ueno Park Cherry Blossom Festival Tokyo: One of the largest and busiest celebrations of hanami in Japan. Enjoy local food and crafts, boat rides, and the blossoms illuminated at night.
Fuji Kawaguchiko Cherry Blossom Festival: The Fuji Five Lakes Area is one of the most spectacular locations for cherry blossoms. Celebrate along the north shore of Lake Kawaguchi.
Hirosaki Castle Park Cherry Blossom Festival: Millions of travelers flock to this centuries old castle to celebrate the season with traditional Japanese dance, craft stalls, and street food.
Kawazu Cherry Blossom Festival: This February festival welcomes the first blooms of the season from over 8,000 trees of the kawazu-zakura variety, which only grow in this region.
FAQs about cherry blossoms in Japan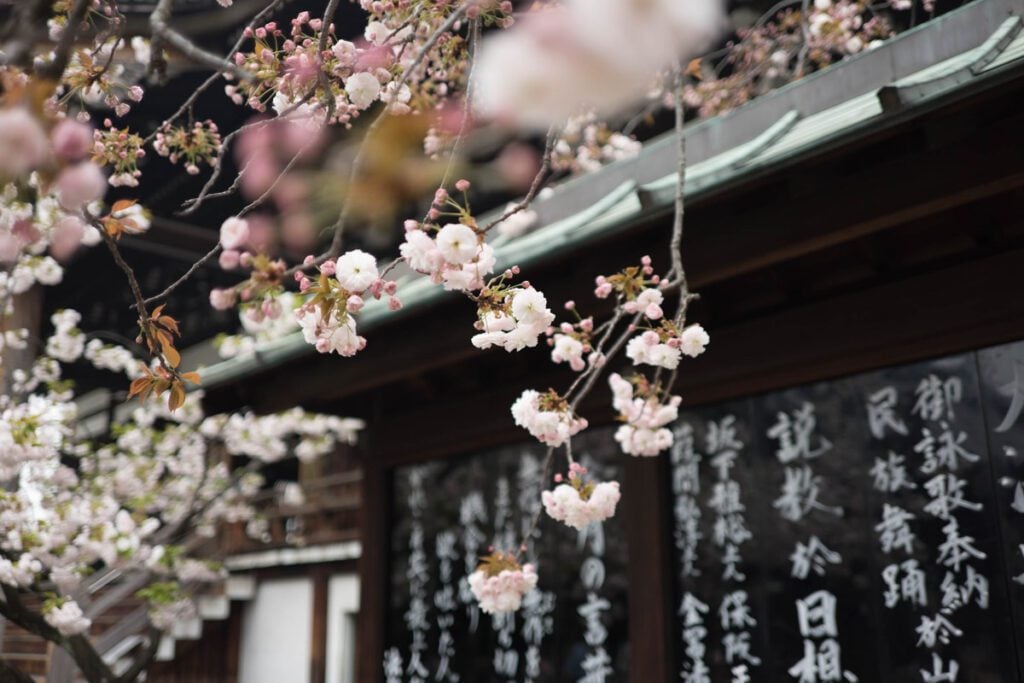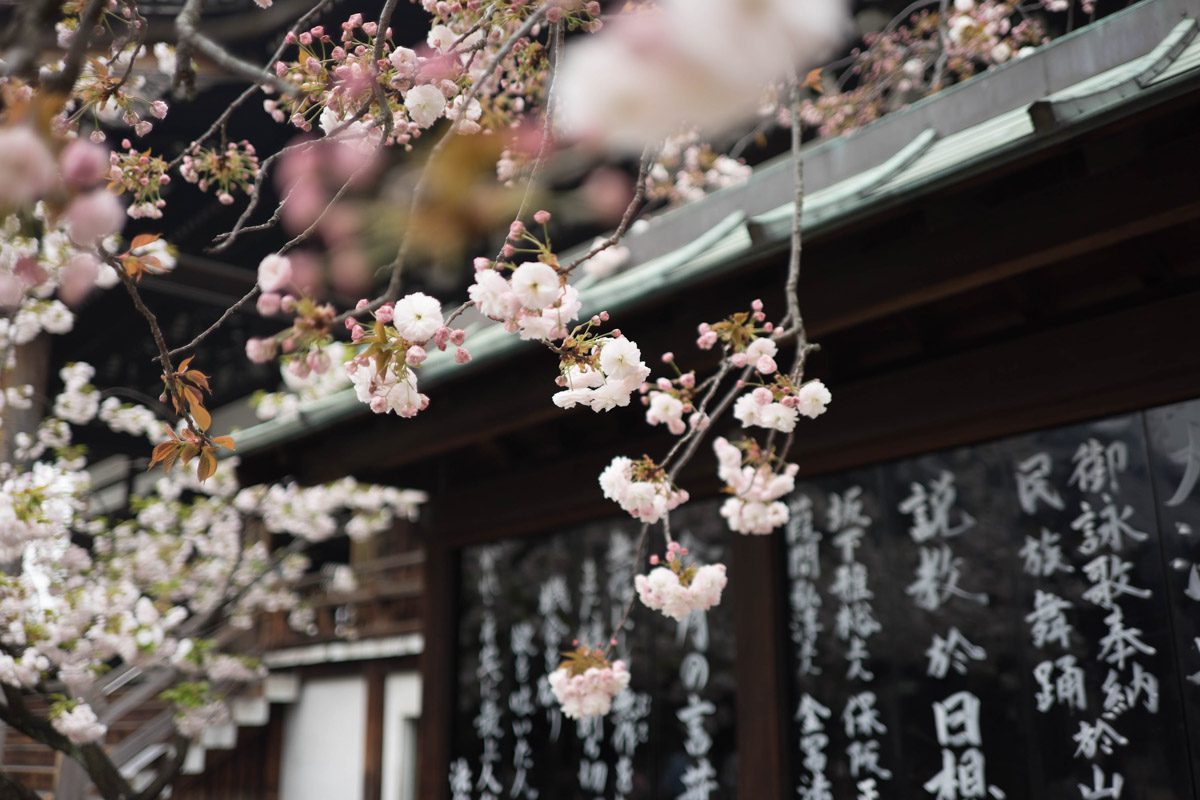 Planning a trip to see the cherry blossoms is an art in and of itself. Here are some important things to keep in mind as you plan your visit.
What is so special about cherry blossoms in Japan?
Cherry blossoms, known as sakura in Japan, have been an admired nationwide phenomenon that's been traced back to the Heian period more than 1000 years ago.
In fact, the art of admiring the pink and white petals every spring has its own name, hanami, literally meaning "flower viewing".
The ritual of hanami in Japan is a national pastime with deep cultural and religious roots. While the petals' biggest draw is their beauty, for the locals, the cherry blossom season is celebrated in literature, poetry, and art for its allude to life, death and rebirth.
The ephemeral window of the cherry trees blooms remind admirers of the importance of living in each moment and to revel in the transience of life.
How long do cherry blossoms in Japan last?
The cherry blossom season only lasts a few weeks, with peak blooms lasting only one week.
Once the first blooms appear, called kaika, the full bloom appears over the next week, called mankai. After peak bloom, the blossoms will begin to fall and the season is over.
How far in advance should I book my accommodation for cherry blossom season in Japan?
Both locals and international travelers flock to Japan to see the country blanketed in cherry blossoms, making it one of the busiest times of year to visit Japan.
It's best to book your accommodation as early as you can. Shoot for 6-12 months in advance to get the best picks for hotels, hostels, and other stays.
How do I get around Japan to see the cherry blossoms in more than one place?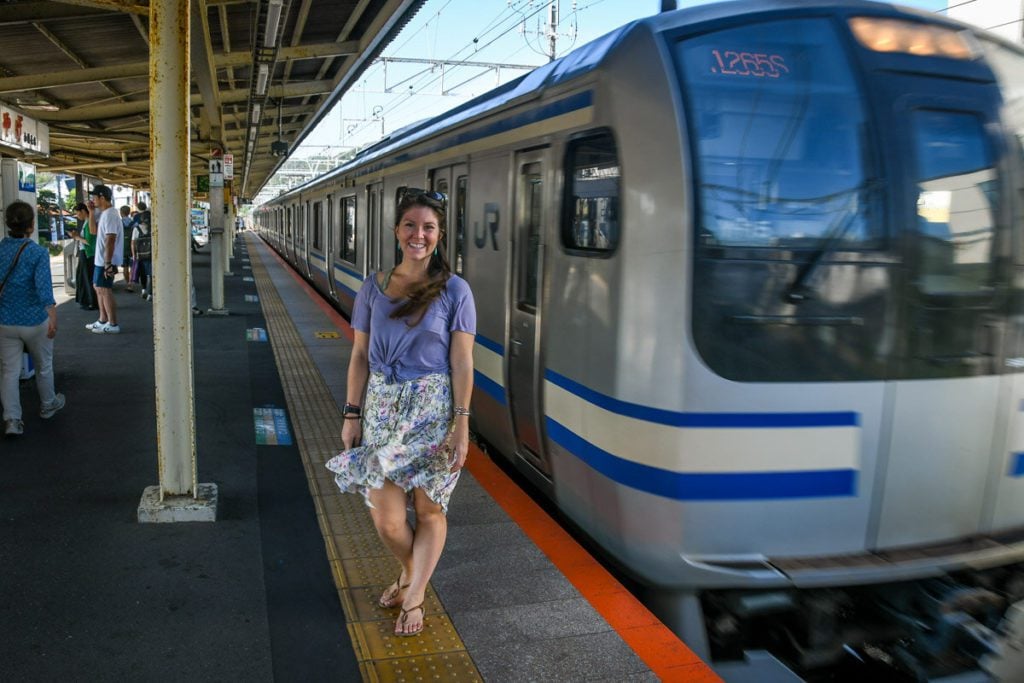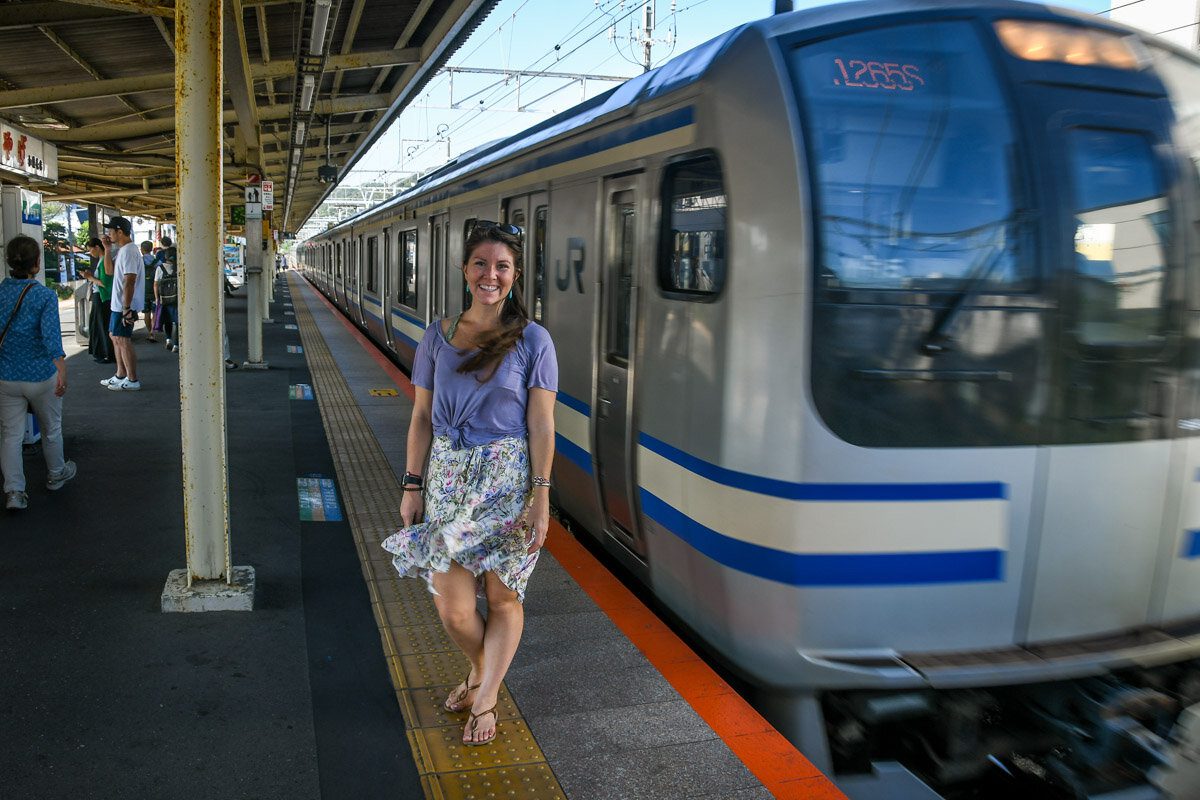 All of the best places to see cherry blossoms in Japan can be accessed via Japan's hyper-efficient rail system. Trains are one of the best ways to get around the country, especially to hop around and get your fill of cherry blossoms before the season ends.
A Japan Rail Pass will be your lifesaver for getting around the country on the cheap. We have an entire guide on how to purchase a Japan Rail Pass ticket that covers costs, what to expect, if it's right for you, and all the ins and outs of getting around Japan by train.
How much should I budget to visit Japan during cherry blossom season?
Budgeting for Japan largely depends on your travel style since you can experience the country in a lot of different ways depending on what you can afford to spend.
We've visited Japan twice now, both on the wallet-friendly side of things and can confidently say it is possible to travel the country cheaply, even for cherry blossom season!
When starting to form a budget, there are a number of things to consider, which we cover in our guide to what a trip to Japan costs. We break down the real costs of things in Japan and give realistic numbers for budget, mid-range, and splurge-worthy trips which we think you'll find useful!
What else should I do on my trip to Japan?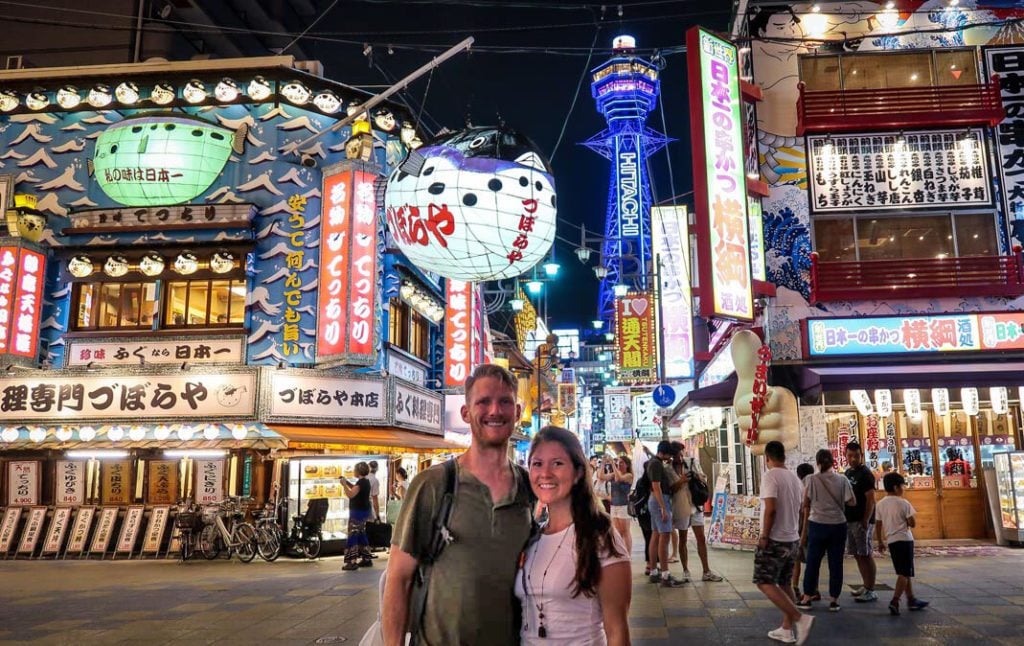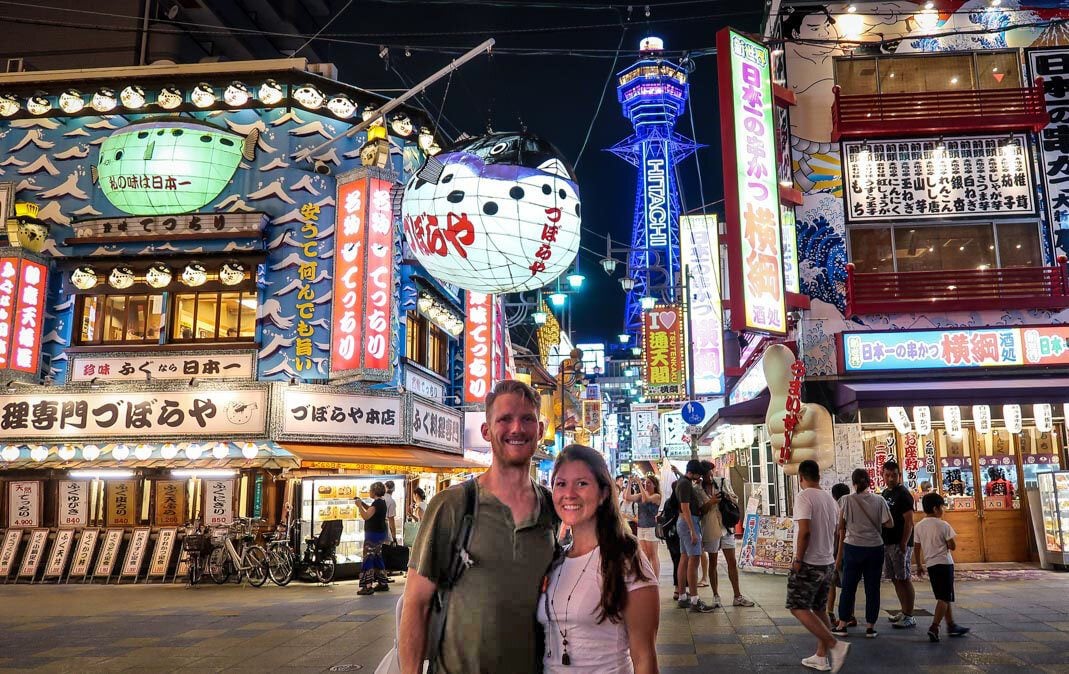 Although Japan is small in size, the country is filled with some of the most unique travel experiences in the world, many of which are easy to integrate into a trip to see the cherry blossoms.
Whether you want to admire Mt. Fuji against a stunning backdrop, see the snow monkeys in Jigokudani Park, or eat your way through this gastronomic country, we have the ultimate list of things to do in Japan to fill your itinerary.
Is there anything else I should know before booking my trip to see the cherry blossoms in Japan?
From the vending machines in every spare corner of the country to practicing proper etiquette, there are many parts of Japan's complex culture that you should know before you go.
Get the full low-down with all of our Japan travel tips! You'll arrive in Japan with all the must-know information to navigate the country and culture with a little more ease.
---
Are you planning a trip to Japan?
We have TONS of resources on travel in Japan and destinations throughout the country. Check out our Ultimate Japan Travel Guide for all the answers to your most burning questions, or read some of our favorite articles below.
Save this article on Pinterest for later!
We want to hear from you!
What are you planning a trip to see the cherry blossoms in Japan? Do you have more questions for us?Leave your comment below and we'll do our best to get back to you!