Finding a super cheap flight is one of the most exciting feelings. Not only have you saved money, but you're about to plan an adventure! We're sharing all our tips and secrets for how to find cheap flights all over the world. After reading this, you'll have the tools you need to score an amazing flight deal for your next trip.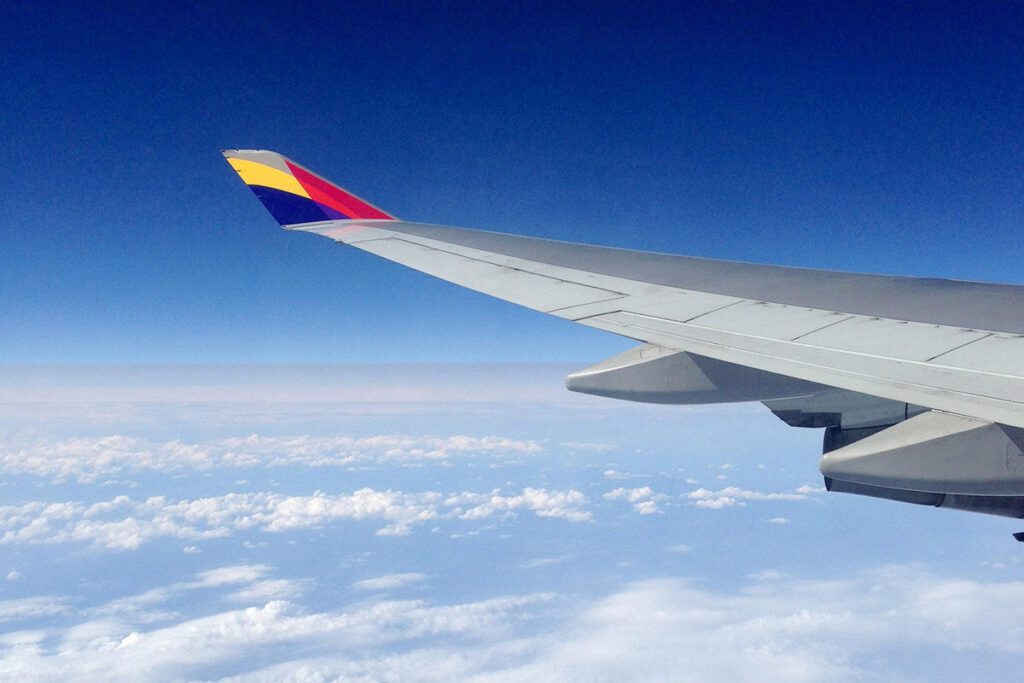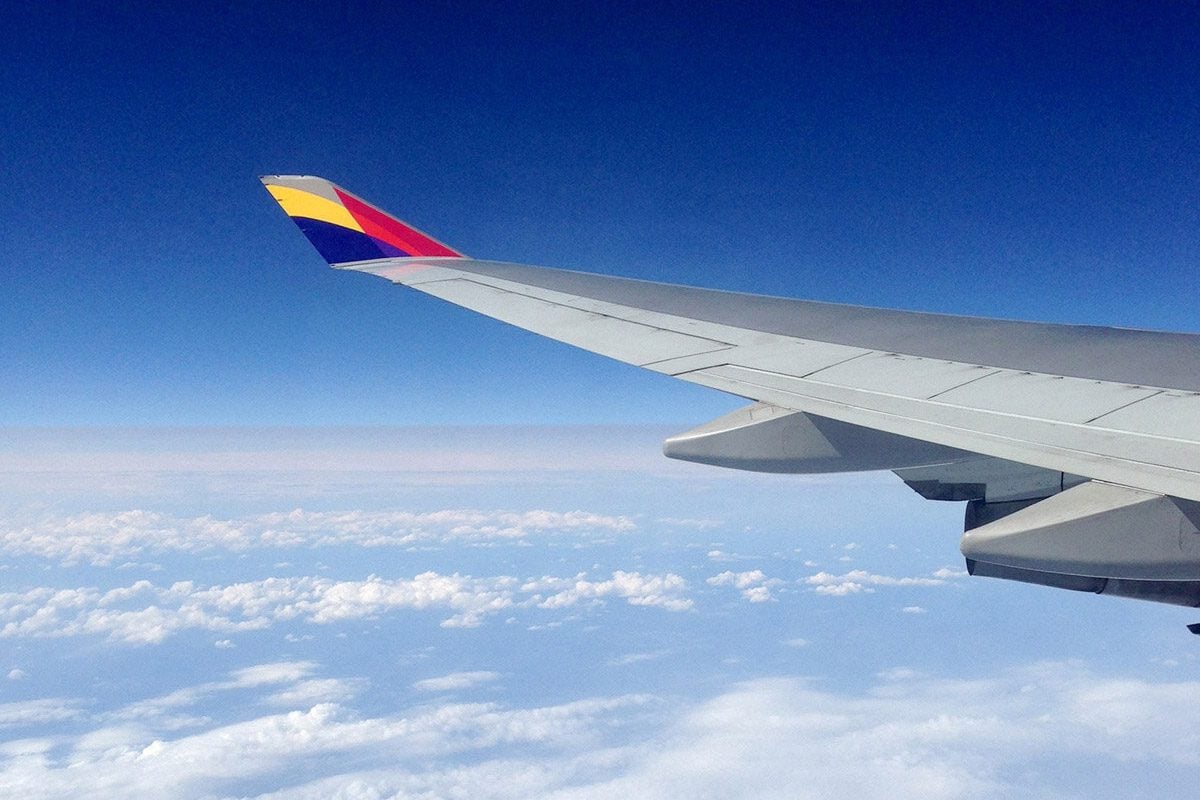 There is something super satisfying about clicking the "purchase now" button on an incredibly cheap flight.
Now you have an adventure to look forward to, and you saved a lot of money (that you can put toward mojitos on the beach or an epic experience like skydiving!). But how do you find these super cheap flights?
While there isn't an exact science that works every time, we're going to share some practical tips and creative hacks that have helped us find amazing deals on airfare all around the world.
Related Reading: Traveling on a budget is much more than simply finding a cheap flight. We've broken down exactly how we afford to travel and are sharing our top tips you can use too!
1. Get notified about mistake fares
We all know that person who is constantly jet-setting around the world and claims to always get a "great deal" on their flights. So how do they do it?
It's likely that they have some insider information… And you can get it too.
Sign up for newsletters:
These programs will let you know the best deals right now and will let you in on mistake fares.
What exactly are mistake fares? Airlines make mistakes too. And sometimes the accidental price posted is a fraction of what it should cost. However, they typically honor the price you bought it at.
The only catch is that you need to jump on it before the airline notices the mistake. That's why it's helpful to have an email alert, like the programs listed above. Otherwise, you'll have to sit on your computer all day scouring the search engines. Yeah, no thanks.
So what kind of deals are we talking about? We recently saw a round-trip flight from LA to Hawaii for just over $300! Say whaaaat?!
And here is an email we recently received for NYC to Santiago, Chile for $290 round trip!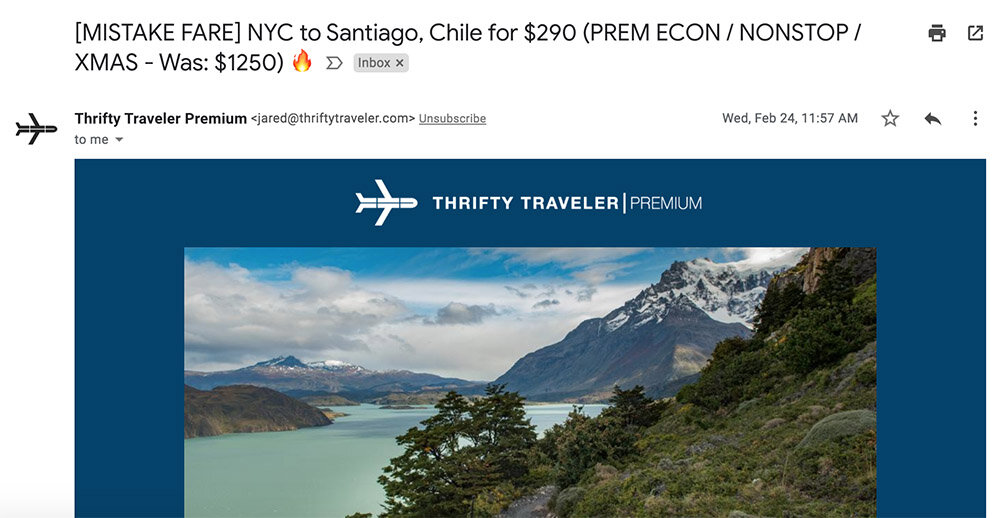 Most of these email programs have a free membership and a paid option. The free one obviously shows you less deals.
If you're serious about getting a good deal and plan to go on a few trips throughout the year, the annual cost (typically around $45) will be well worthwhile. Check out the Premium Version from Thrifty Traveler.
Good to know: Know that these newsletters typically come every day, so send it to an email where a daily message won't bother you. But also understand that people who find amazing flight deals are looking ALL the time. You really have to be on top of it to catch those mistake fares.
2. Compare, compare, compare!
Google "typical cost of from X to X" and get a baseline price, then start doing your research.
We usually start with Skyscanner because we love the fact that you can see the cheapest days each month to fly.
Once we have a flight in mind, we compare the price with other search engines like Google Flights and Momondo.
Remember some airlines, like Southwest Airlines, for example, will not be listed on these search engines (see tip #15). It's a good idea to do a quick Google search for airlines that fly to your destination to make sure you have all your bases covered.
Once you've found your lowest price between these search engines, it's a good idea to check the airline's direct website, just to compare. If the price is the same, book directly from the airline's website to avoid any outside booking fees.
3. Don't wait until the last minute
There is almost no benefit to waiting until the last minute to book your flight. In fact, Expedia did a study and found that prices often rise sharply 30 days before departure.
We've learned the hard way and waited a bit too long on some flights. And we've never found a good last-minute deal. We often get the same flight we were originally looking at, but the price tag is a bit steeper.
Don't make the same mistake. Book at least a month in advance. Don't rely on a good last-minute deal, because you'll rarely find one. (Check out tip #5 to see how far in advance you should look for the best deals!)
Related Reading: Learn how we save money for travel by following these simple steps before your trip even begins!
4. Be flexible
This isn't always an option if you have set vacation time or a destination in mind. But if you can be flexible on your dates or where in the world you are traveling, you are going to find much, much better deals.
Know WHERE you want to go?
Hop on Skyscanner and check out their "cheapest month" feature. You can choose a destination, say Bangkok, and they will show you which month will give you the cheapest fares.
Then, see the whole month so you can choose the absolute cheapest date to fly.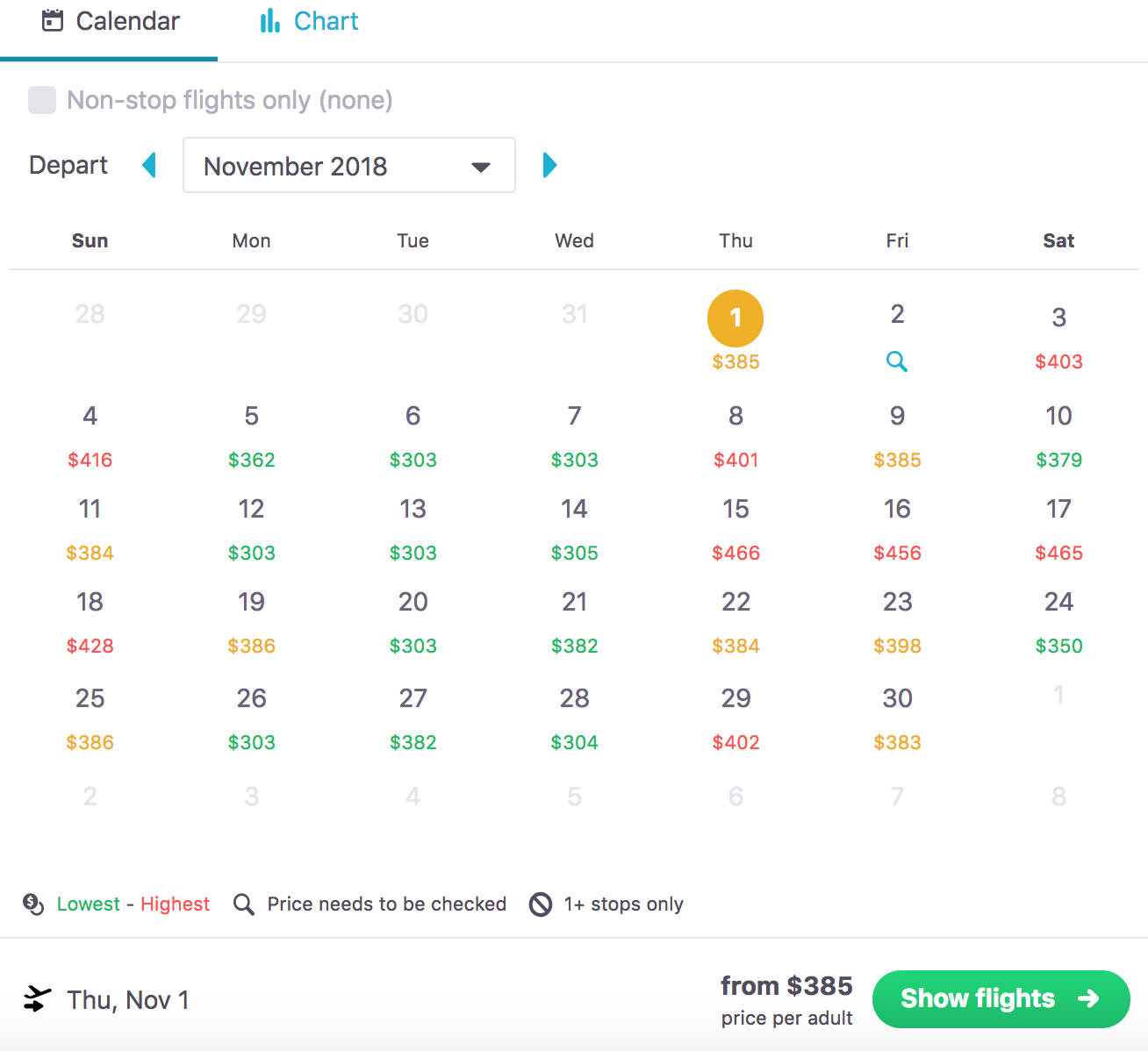 Know WHEN you want to fly?
If you can be flexible about where you're flying, you'll be in for a really good deal.
Know you want to travel somewhere warm in January? There's another feature on Skyscanner (click "explore map") where you can select your home airport and your travel month, and it will show you the cheapest places in the world you can fly to at that time of year.
Narrow it down by selecting only warm climates, and BOOM. You've got places to choose from!
Example: When I search using Minneapolis as my home airport with the dates January 2019, it looks like Honolulu, Orlando and Los Angeles all fit the bill if I'm looking for a warm domestic trip. (See image below)
Responsible Travel Tip: Did you just save a ton of money by finding a cheap flight? Great! Consider putting some of that money toward offsetting your carbon footprint to reduce your impact on the environment.

My Climate helps you calculate the emissions from your flight, and you can choose different climate projects to put your money toward. (There are many other carbon offsetting programs out there!) Bonus: If you're a citizen of Germany or Switzerland, these donations are tax deductible!
5. Know WHEN to start looking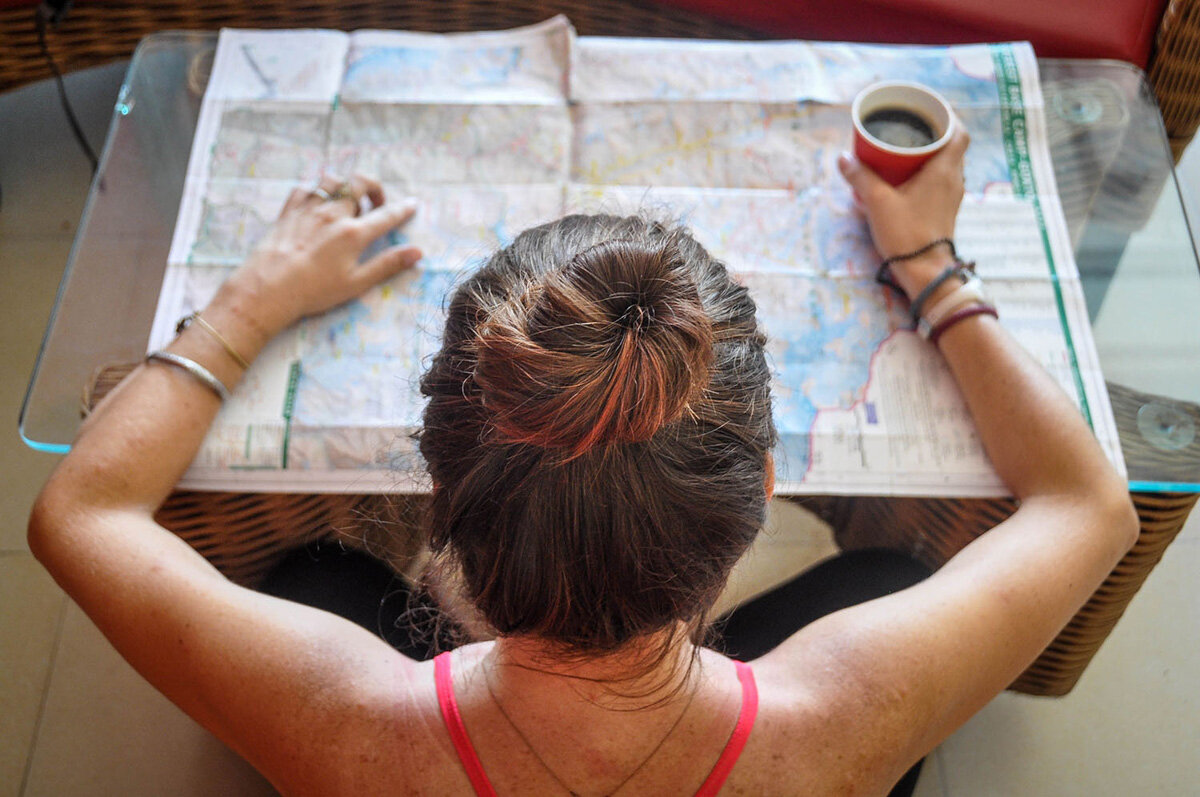 Depending on which part of the world you are planning to fly to, there are different recommendations for how early you should start looking for flights.
(Note these recommendations have changed a bit in the last few years.)
Flying to Europe: 99 days before

Flying to USA: 54 days before

Flying to Asia: 90 days before

Flying to Central America: 61 days before

Flying to South America: 81 days before

Flying to Africa: 119 days before

Flying to the Middle East: 119 days before

Flying to Australia and South Pacific: 89 days before
This infographic from CheapAir is a good visual representation: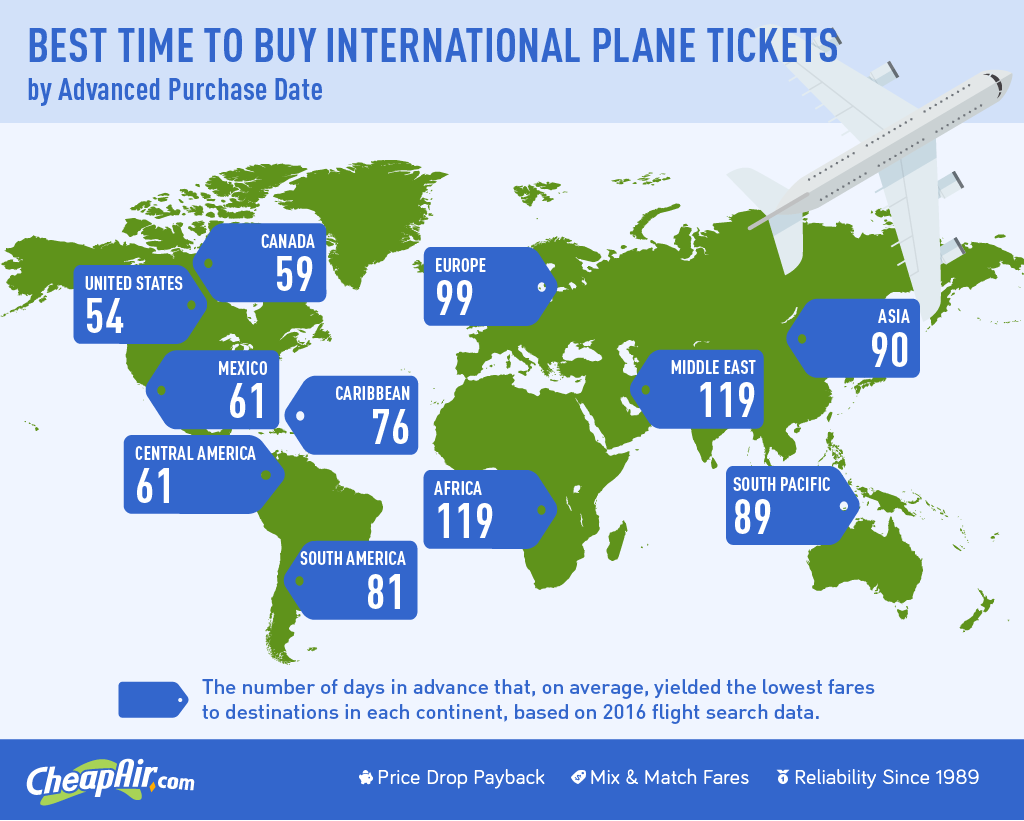 6. Travel in the off-season
Traveling to Japan for cherry blossom season in the spring would be an incredible experience, but it won't come cheap. Thousands of tourists from all over the world want to see the cherry blossoms too, so airfare is at peak prices (and so are hotels!).
If you're looking to travel to Japan on a budget, going during the off-peak season will typically open you up to some great hotel deals and cheap flights. Plus, you won't have to deal with the crowds you would at busier times.
Related Reading: Did you know winter is one of the best times to travel in Japan? Here's why!
And while we used the example of Japan, this theory applies to just about every destination. Low or shoulder seasons are a great time to travel on a budget.
7. Fly in September or October
Did you know September and October are the cheapest months to fly? That's because families are typically starting back at school, and traveling is not an option. The demand is low, and therefore so are the prices.
Airlines sometimes use this low-season to entice people to do their vacations before the crazy busy holiday season. Anyone want to go to Oktoberfest!? Seems to be the perfect time!
If your lifestyle offers the flexibility, it can be a great month to find good flight deals.
Other cheap times to fly: January through mid-May is also typically a pretty inexpensive time to fly (with the exception of Spring Break!).
8. Book on a Tuesday… or not?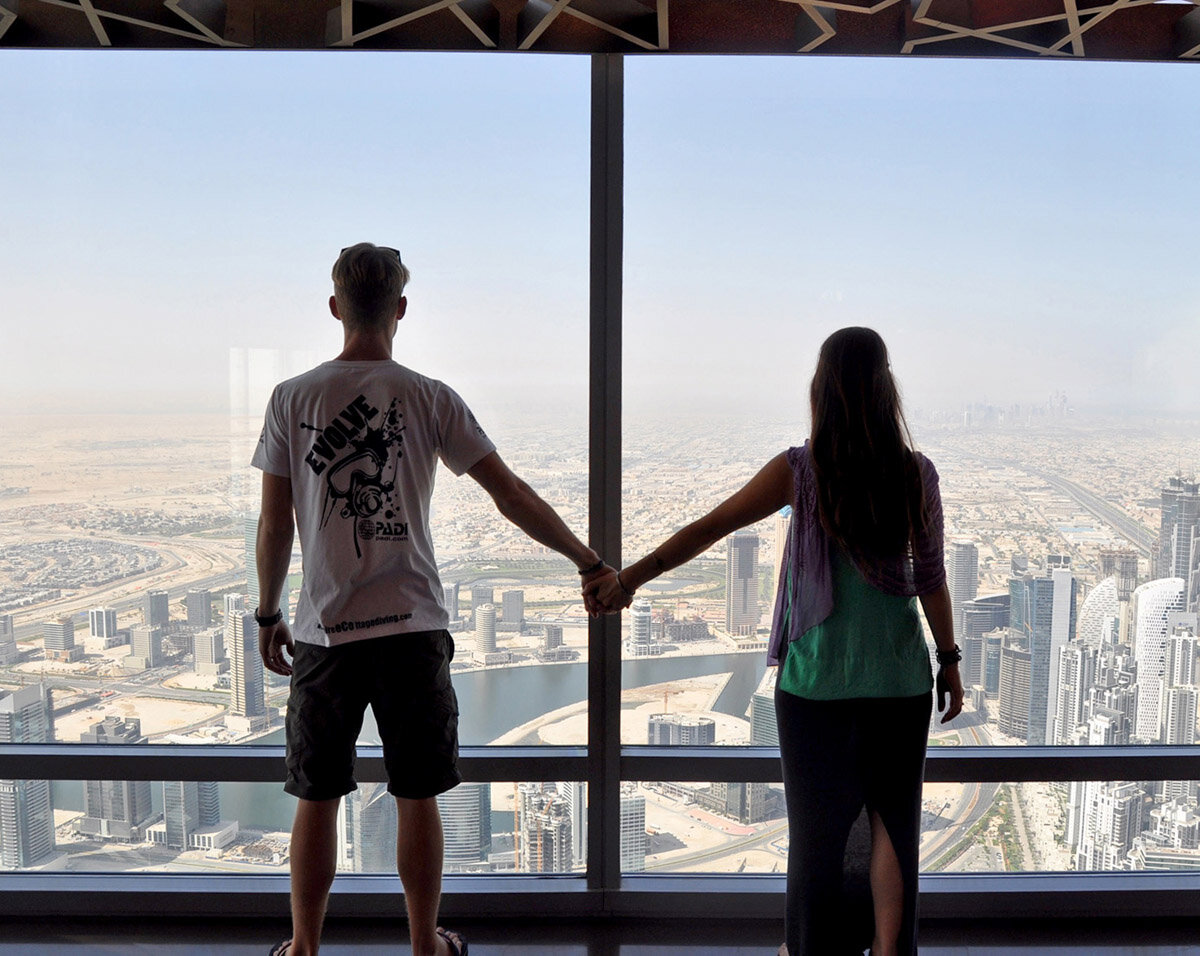 There was a well-known rumor that Tuesday is the best day for finding good flight deals. This is because major airlines would release mid-week dips in price, and the smaller airlines would follow suit. But as technology becomes more automated, these dips in price happen more randomly.
CheapAir found that the price of a plane ticket changes an average of 71 times from being released. They found that the fluctuation is typically around $33, so it's not like you'll be paying a ton more if you don't catch it at it's cheapest. But they found that these changes in price happen every 4.5 days. So if you have enough time to track your flight, watch the price for a week or so before jumping on it.
It might not be a Tuesday, but this way, you'll typically catch it as it dips at least once.
9. Join a loyalty program
If you fly often, signing up for a frequent flyer program can be a good idea. If you tend to fly with one airline, learn who their partners are and book flights exclusively with this group. Over time, the miles will add up. If you open a credit card with them, it will add up even more.
But this tactic only works if you fly quite a bit and are okay paying a bit more per flight than jumping on mistake fares.
Related: Find out which travel credit cards we always travel with.
10. Consider your baggage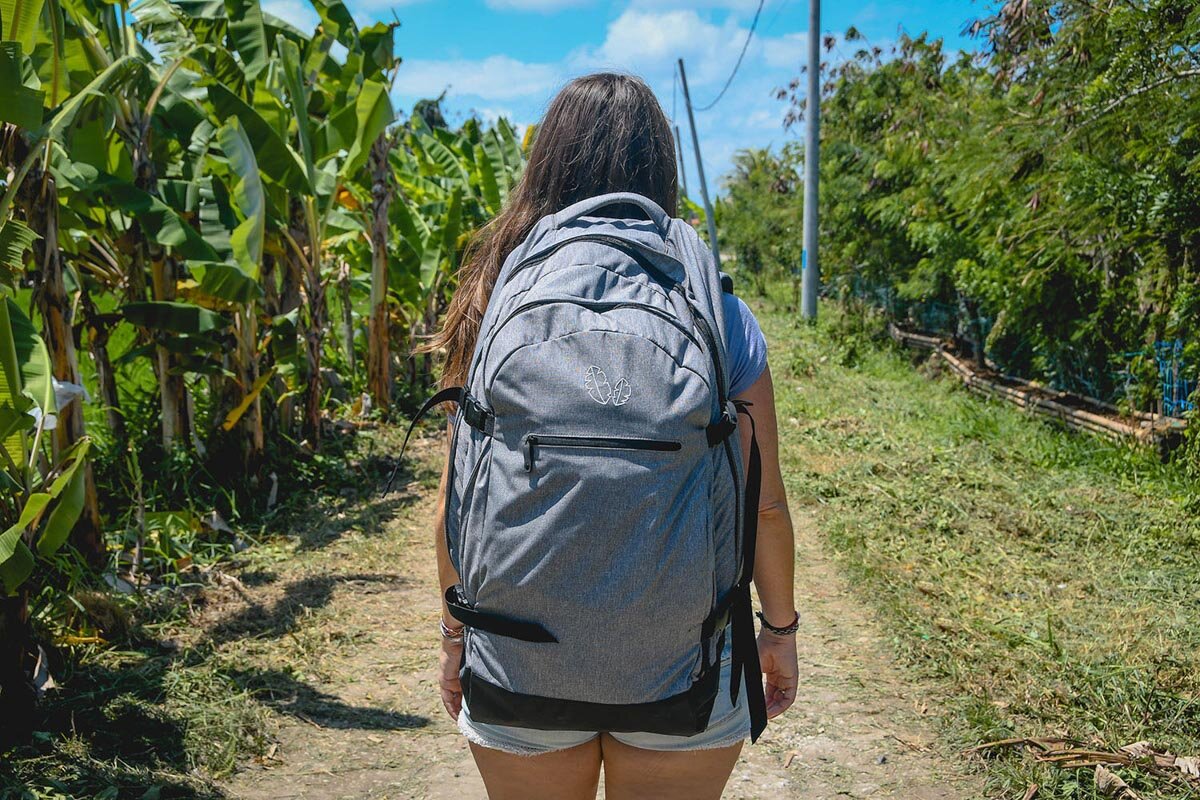 A lot of the discount airlines (think Spirit and Ryan Air) advertise deals that sound too good to be true. And they are.
Sure, you can fly from Fort Lauderdale to Cartagena for $87, but you'll be charged for every single bag you bring up to $65 at the gate for a carry-on size bag. So when you add in your 2 carry-on size bags, you're looking at anywhere between an extra $74 – $130.
When you total it up, you could have flown a much nicer airline for the same price (and more leg room!).
11. Understand the airport
Just like hidden baggage fees, another cost you might not think about when you see that amazing deal is that the airport you're flying into is way outside of the city and will require a costly transfer.
For instance, in Manila, Philippines if you want to get from the international terminal to any one of the three domestic terminals (Yes, three separate terminals, three separate buildings) you need to take a taxi that will take about 20-30 minutes.
Before booking a flight into a smaller airport, add in the cost of transportation to your final destination. Stansted and Gatwick airports in London may be a bit cheaper to fly into because they host budget airlines, but it will take you over an hour to get into London with a one way cost of about £8 or more.
And remember that late arrivals often have even steeper fees. If you know you won't be able to find a local bus at 1 a.m., add in a nighttime taxi fare to that airline ticket. If it's still much cheaper than other options, it's a good idea to book it.
12. Get a travel Credit Card
Ahhhh, the subject that you've been waiting for: Travel Credit Cards!
I'm going to start by saying that travel credit cards used to have much better benefits than they do now, but that doesn't mean they aren't worthwhile. You can still earn points for travel, and it's pretty nice being able to use those points to book a free flight! Plus, some cards will grant you access into airline lounges. Yes, please!
The other point I want to make is there is a lot of biased information out there on the subject of credit cards.
Often times the ones with referral programs are listed on travel blogs as "the best travel credit card"! What you may not realize is that person is making commission when you sign up for the card they recommend.
But there are some credit cards that are just as good (if not better), that aren't mentioned at all because there is no commission to be made.
Now that I've gotten those points out of the way, let's go over some of the best cards and what benefits they offer. (In full transparency, of course.)
Capital One Venture Card (our Go-To card when traveling and booking travel):
Annual Fee: $95 (waived the first year)

Sign up Bonus: 50,000 points (worth $500) if you spend $3,000 in the first 3 months.

Points: 2x points for every dollar spent.

Perks: Erase travel purchases easily no matter who you book with. Also this card has no foreign transaction fees.

*This card has no referral program, so we do not make any money by recommending it. That's why you won't always see it listed as a top travel credit card.
Annual Fee: $95 (waved the first year)

Sign up Bonus: 50,000 bonus miles after spending $4,000 in the first 3 months. Redeem through Chase Ultimate Rewards and get 25% extra points, making the sign up bonus worth a $625 value.

Points: 2x points for every dollar spent on travel and dining. 1x points for everything else.

Perks: No foreign transaction fees.

*Note: This link is an affiliate link to Chase, if you sign up through here we get a little commission at no extra cost to you. For this reason, you'll see this card promoted everywhere across the internet, because people are making money off of it. It is honestly, a good card with good benefits, and that is why we got two for ourselves.
Annual Fee: $95 (waived the first year)

Sign up Bonus: 60,000 points (worth $600) if you spent $4,000 within the first 3 months.

Points: 3x points for purchases on travel and gas, 2x points for purchase on entertainment and dining and 1x point for everything else. Must redeem points through Citi ThankYou Travel Center selected vendors.

Perks: No foreign transaction fees.
Annual Fee: $550

Sign up Bonus: 60,000 Membership Reward Points (worth $600) once you spend $5,000 within the first 3 months.

Points: Receive 1 point for every dollar spent, but when you redeem you get 5x the point value when you book flight or hotels through American Express.

Perks: Huge benefits with this card: Up to $200 Uber credit, $200 airline fee credit for incidentals, $100 toward Global Entry or TSA Precheck and access to more than 1,000 airport lounges worldwide.
13. Play around with different airports
Flying to NYC? Instead of getting your heart set on a certain airport, check that box that says "all airports in this area". La Guardia might be a better deal than JFK, for instance. And Fort Lauderdale is sometimes half the price of flying into Miami directly.
Be sure to add in the cost of ground transportation to your final destination (see #11), but sometimes this can be an easy way to find a good deal without searching too hard. This tip is especially useful when booking overseas flights.
Interesting to know: Did you know that clearing your cache or opening an incognito window won't make any difference when searching for cheap flights? We used to do this all the time, but we've recently learned this makes no difference at all.
14. Book 2 separate flights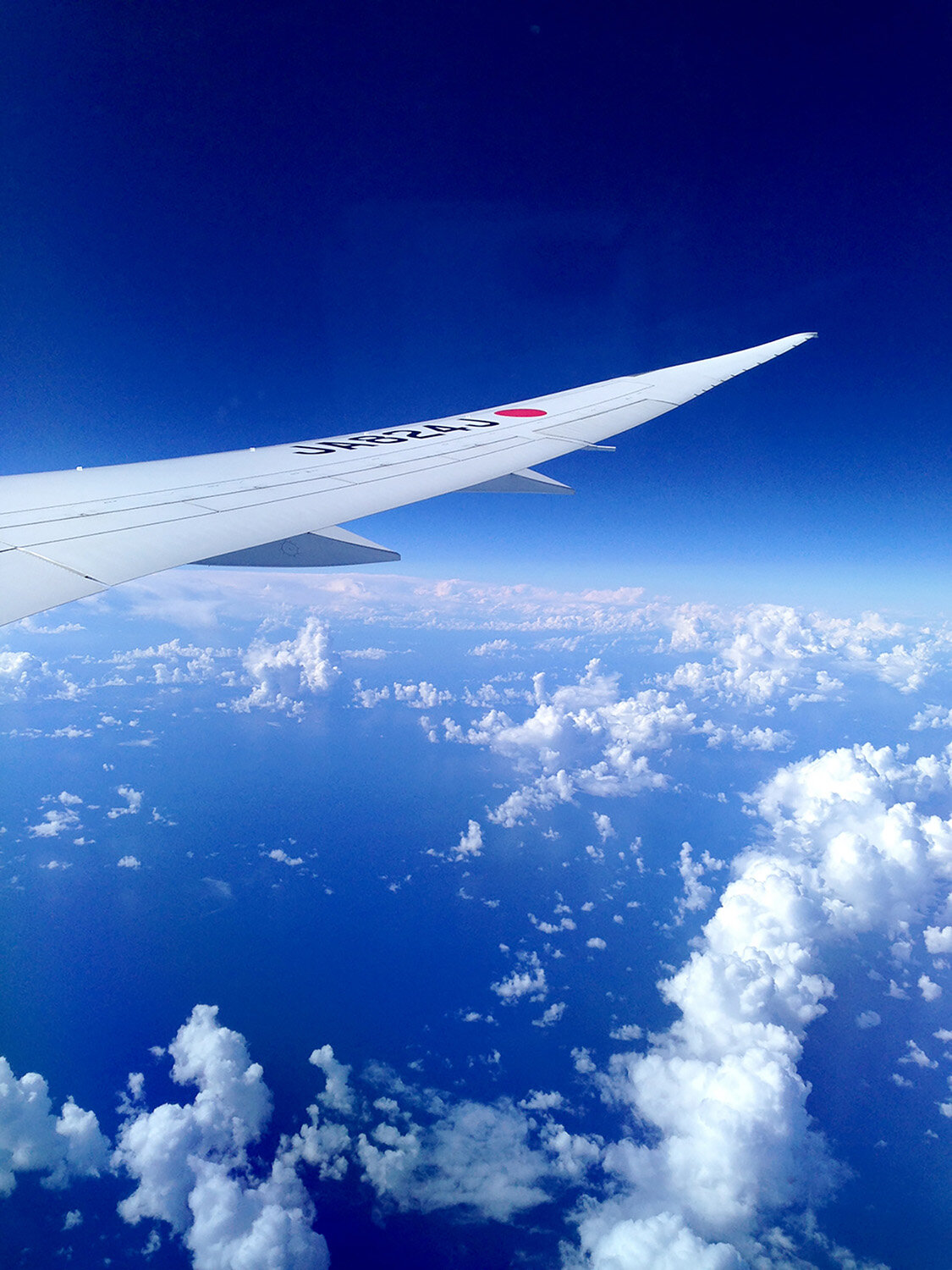 When you're flying a long distance, pay attention to where your layovers are. It might be cheaper to book the legs separately.
For instance, this is a route we fly often: Minneapolis to Bangkok
When we put that into the search bar, we can see there is a layover in Los Angeles, then again in Tokyo.
Instead of booking it altogether, it is often cheaper to buy one flight from LAX to Bangkok. Then we'll purchase a separate flight on a domestic airline from Minneapolis to LAX.
Things to consider: When you purchase flights separately, make sure you have a long enough layover. If you miss the second flight, the airline won't be able to make the switch for you. We typically go for at least 3-hour layovers just to be safe in case the first flight is delayed. And we are sure to get a travel insurance policy that covers missed flights!
Also, be sure you read up on both airlines' baggage fees. If they both have fees, you will have to pay twice, and this might add up.
This tactic sometimes allows us to find great deals, but other times, there's not enough of a savings to make it worthwhile.
15. Don't forget about Southwest for flights in the US
Southwest has generous baggage fees and often has great deals on domestic flights. But why don't they show up when you look on Google Flights or Momondo? You're not missing something: it's because Southwest only shows their flights on their own website.
Sometimes they have much better deals than the rest of the airlines, so it is worth making the extra effort to check out.
Hot Tip: If you frequently fly between two cities that are on a popular Southwest route, it might make sense to get a Southwest Airlines credit card. Read up on the fees and benefits here.
16. One way vs. Round trip
When booking a flight, look up the prices separately for one-way and round trip. Sometimes one option is much cheaper. Many of the mistake fare flights are round trip because there are more complicated and airlines screw up on the final cost.
But one ways can be a good deal too. For example, if a red-eye route is flying from Chicago to New York because it needs to fly out early in the morning, the flight can be a lot cheaper. An empty plane costs a lot of money so airlines make it enticing to purchase.
17. Sit near the gate
This is a hack that has worked for us a couple times. It only works if you can be flexible with your schedule and if you're on an oversold flight, but it's still worth sharing because we've gotten a few free flights this way!
When you're on a flight that's likely to be overbooked, get to the gate early and sit near the desk.
When they ask for volunteers to go on a later flight, you'll be at the front of the line. And you'll need to hurry, because there'ss often a mad dash to the desk. Don't worry; you will be compensated (hopefully handsomely!).
When flying from LA to Tokyo, we volunteered to take a later flight and were EACH compensated $800 in flight vouchers. We have used that $1,600 to take a few flights since! The craziest part was we were heading to Bangkok and our new flight left an hour and a half later. But it was direct, so we actually arrived in Bangkok earlier than we would have on our original flight plans.
But we didn't even get the best deal: The two men who got to the line ahead of us, got on a later flight and were upgraded to first class! And if you need take a flight the next day, the airline will book you a hotel room and provide you with meal vouchers. It doesn't always work out that perfectly, but we have used this trick a few times now.
How do you know if your flight is likely to be overbooked?
Think popular cross-country or cross-ocean routes, like LA to NYC or LA to Tokyo. The more expensive the flight, the higher the compensation they can offer.

Popular travel times: aka the holiday season or spring break.
Insider Tip: You can even go up to the gate agent directly and ask if they are overbooked and looking for someone to bump.
Final Thoughts: Consider if saving money is worth it
Sometimes cheap flights just aren't worth it.
Consider all the factors like layovers, airline quality, total length of travel and arrival time before jumping on a small number.
Here's an example of what I mean:
Before booking that ridiculously inexpensive flight to Rome, think about how you will have a 7-hour layover in Amsterdam (not really enough to get out and explore the city). Then you arrive in Rome at 4:30 a.m. when the only way to get to your hotel is an overpriced taxi. And check-in at your hotel isn't until 2 p.m., unless you book the previous night, of course.
So now you have a long layover, an overpriced taxi and an extra night at a hotel to consider. Is it really worth saving $100 on your flight?
In that case, my answer is hell no. I'd be happy paying $100 more for a nicer airline, a shorter layover, and a more convenient arrival time.
Know how much discomfort and inconvenience you are willing to endure for a good deal.
---
Interested in more budget travel resources?
Be sure to check out our Budget Travel homepage for resources on everything you need to get your travel budget started and more! Or you can read some of our favorite articles about budget travel below.
Save this article on Pinterest for later!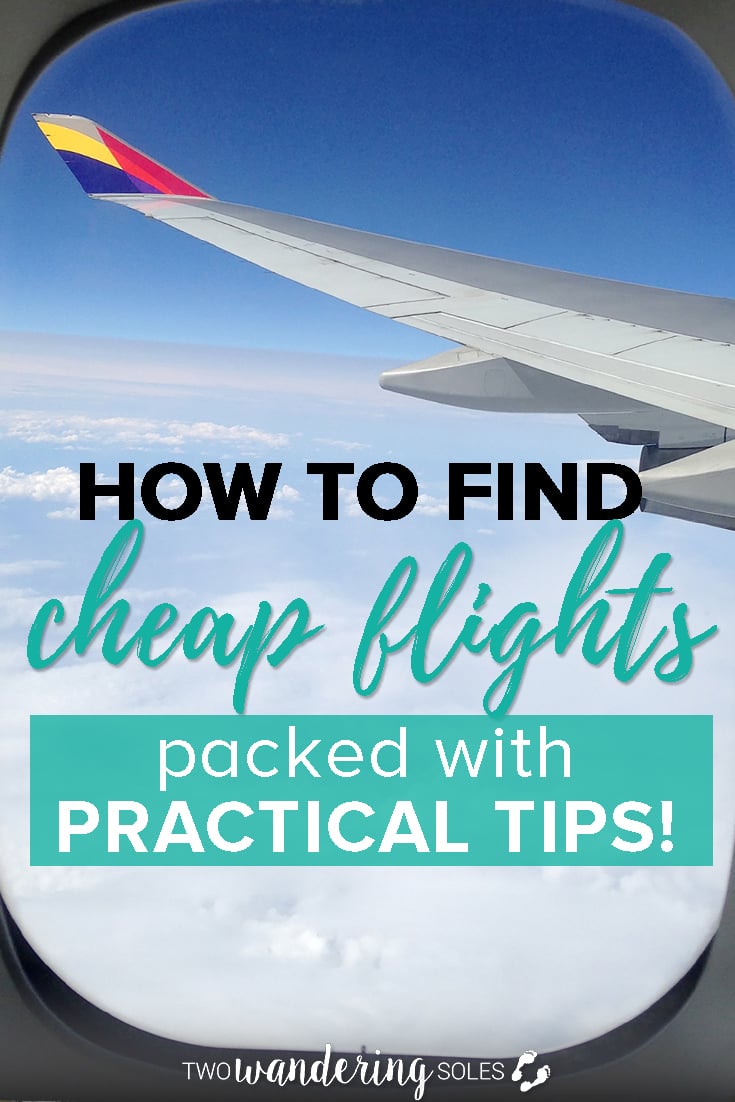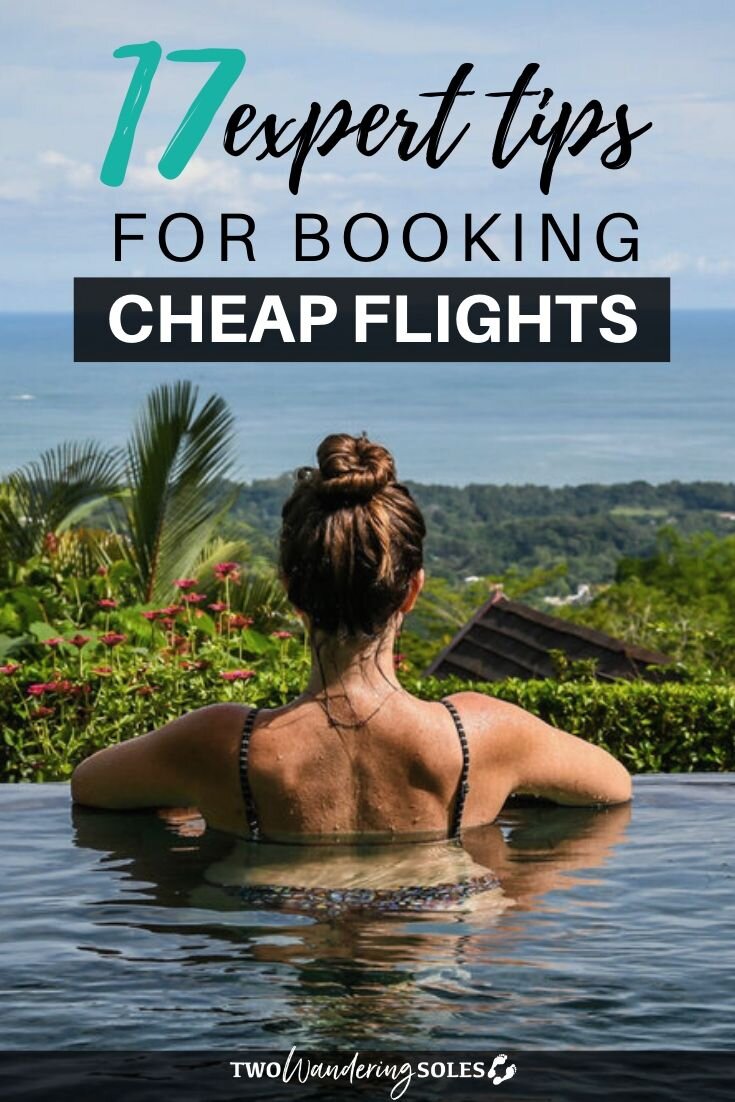 We want to hear from you!
Have questions about booking flights? Any tips you use that we missed? Comment and share below. We'd love to hear from you!