If you're planning a trip to this part of the world, you'll want to check out this highly curated list of the best Airbnbs in Mexico. We're sharing our favorite stays to meet every need — from budget-friendly, to the most unique accommodation, to some seriously incredible properties!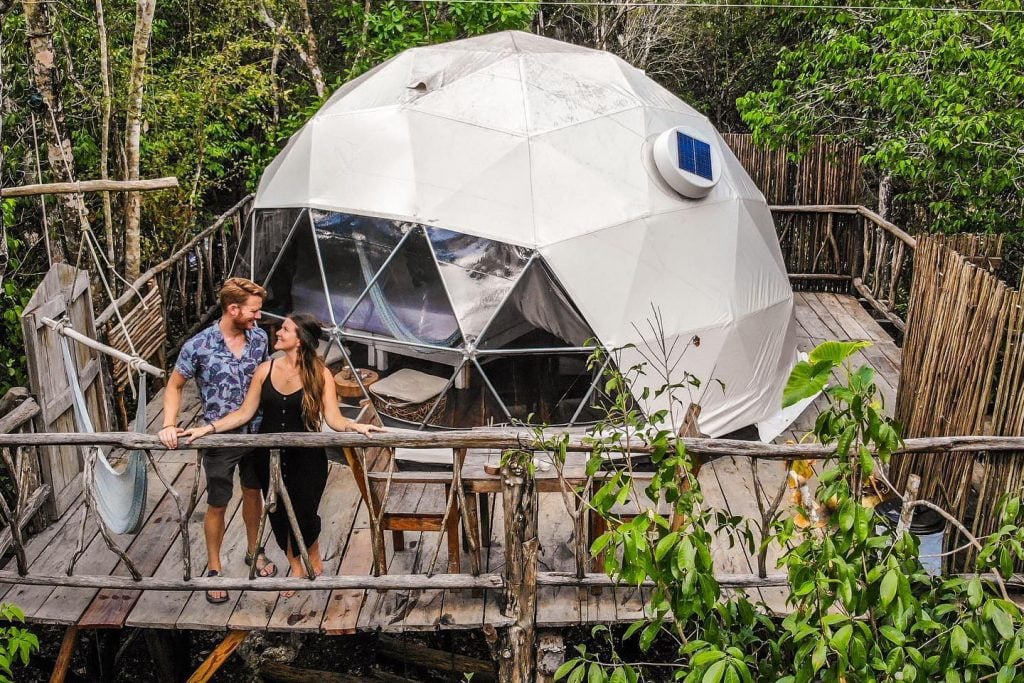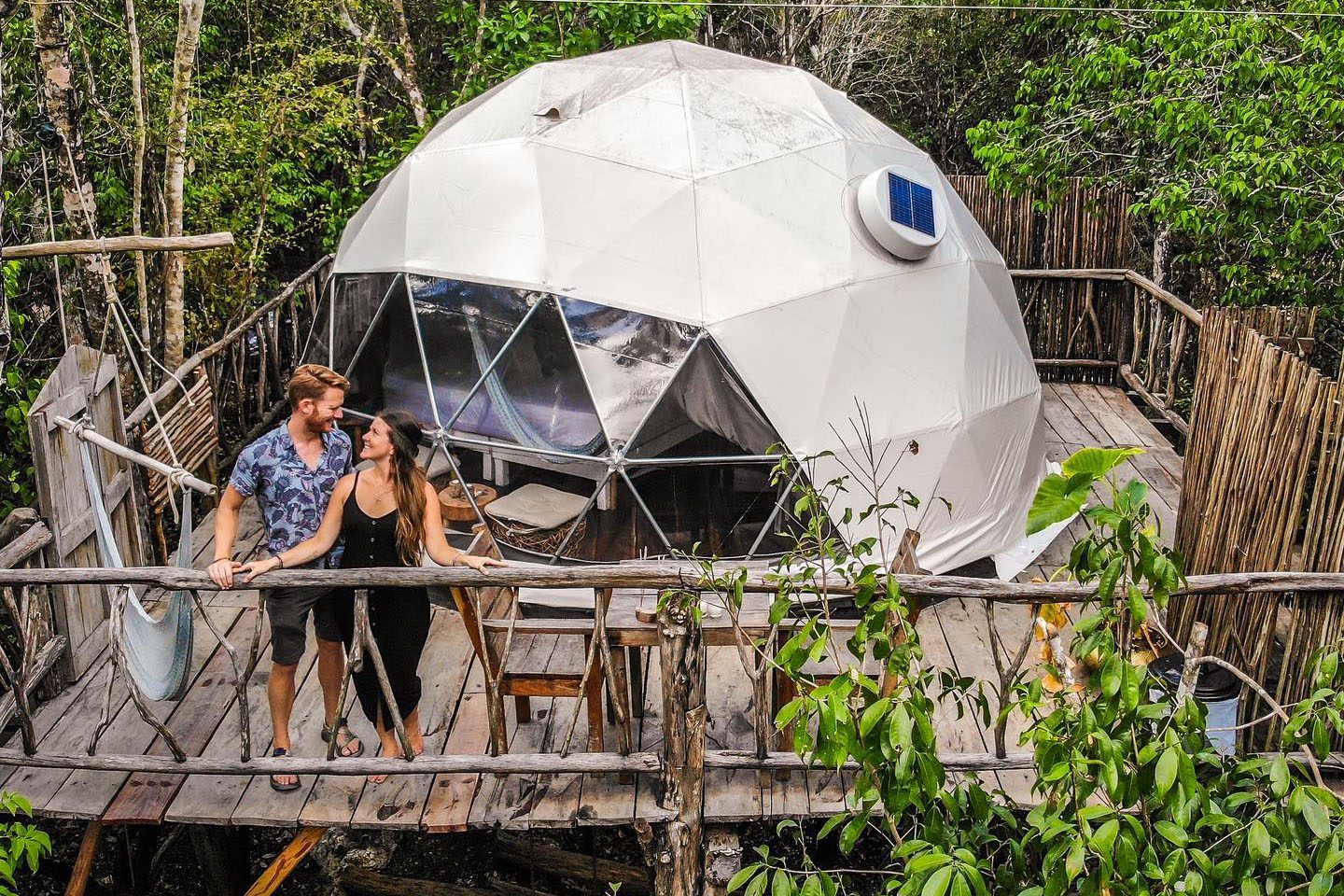 When people share they have traveled to Mexico, but after further questioning we find out they only have stayed in a resort in Cancún, we look at each other and internally scream "There are SO many better places to experience!"
From Baja to the Yucatán, there are endless places to visit in Mexico. Each state in Mexico is different and is worth exploring.
Whether you're traveling for a week with family or on a long multi-month trip, we'd encourage you to avoid those crowded resorts and check out this list of amazing Airbnbs in Mexico.
Why stay at an Airbnb in Mexico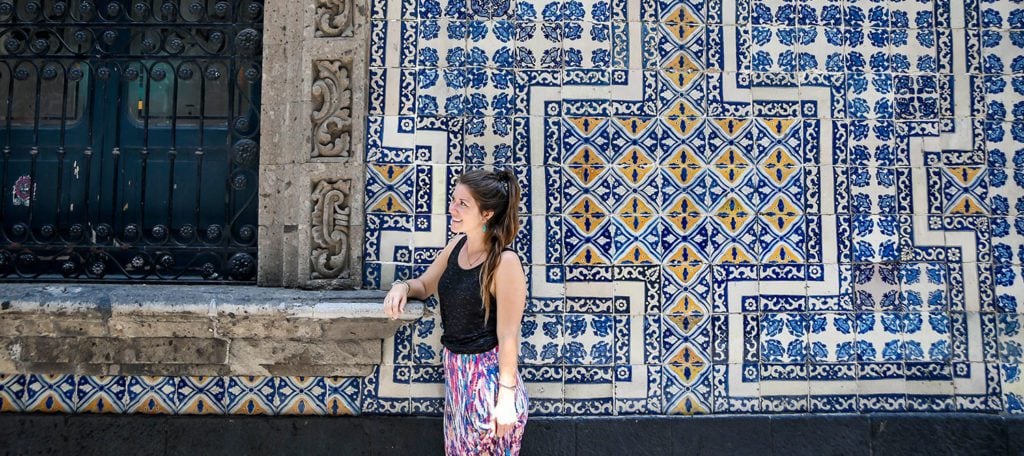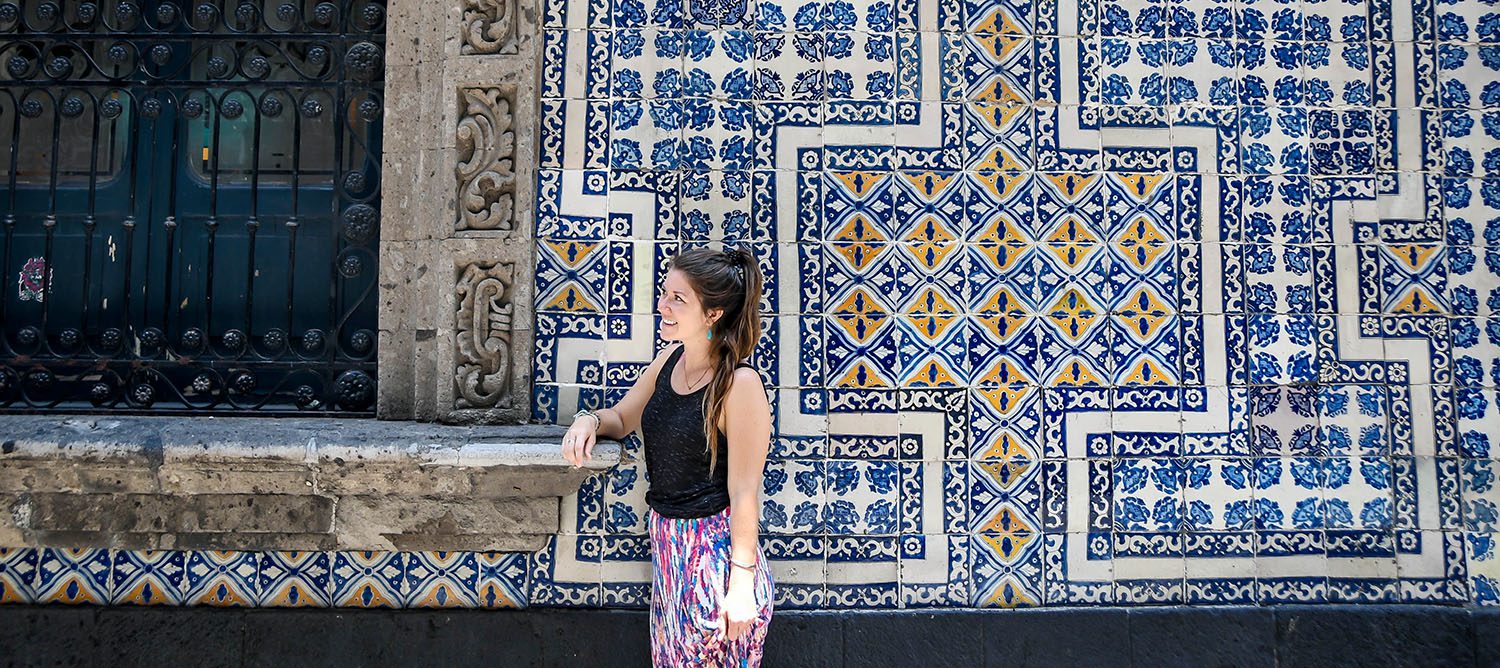 Renting an Airbnb is one of our favorite ways to get to know a place. Airbnbs in Mexico range from ultra luxurious to eco-friendly chic. Plus, they offer experiences you won't get in a hotel:
Experience the country from a local's point of view

Stay in a location outside of the major hotel areas

Enjoy the comforts of home like a stocked kitchen or laundry facilities

Stay together with your family or larger group

Save money on longer stays

Try out a unique accommodations like a treehouse in Tulum or a lighthouse in Puerto Angel
Psst! Is this your first time considering staying in an Airbnb? We put together an entire article on how to book an Airbnb, from setting up your profile to exactly which filters we use when we book.
Where to stay in Mexico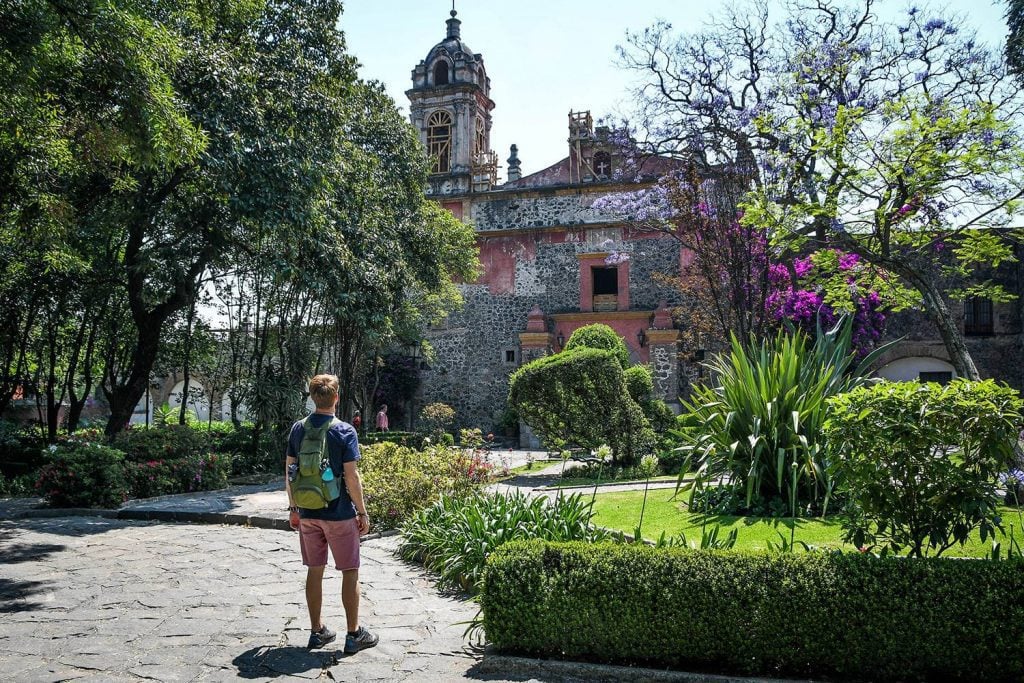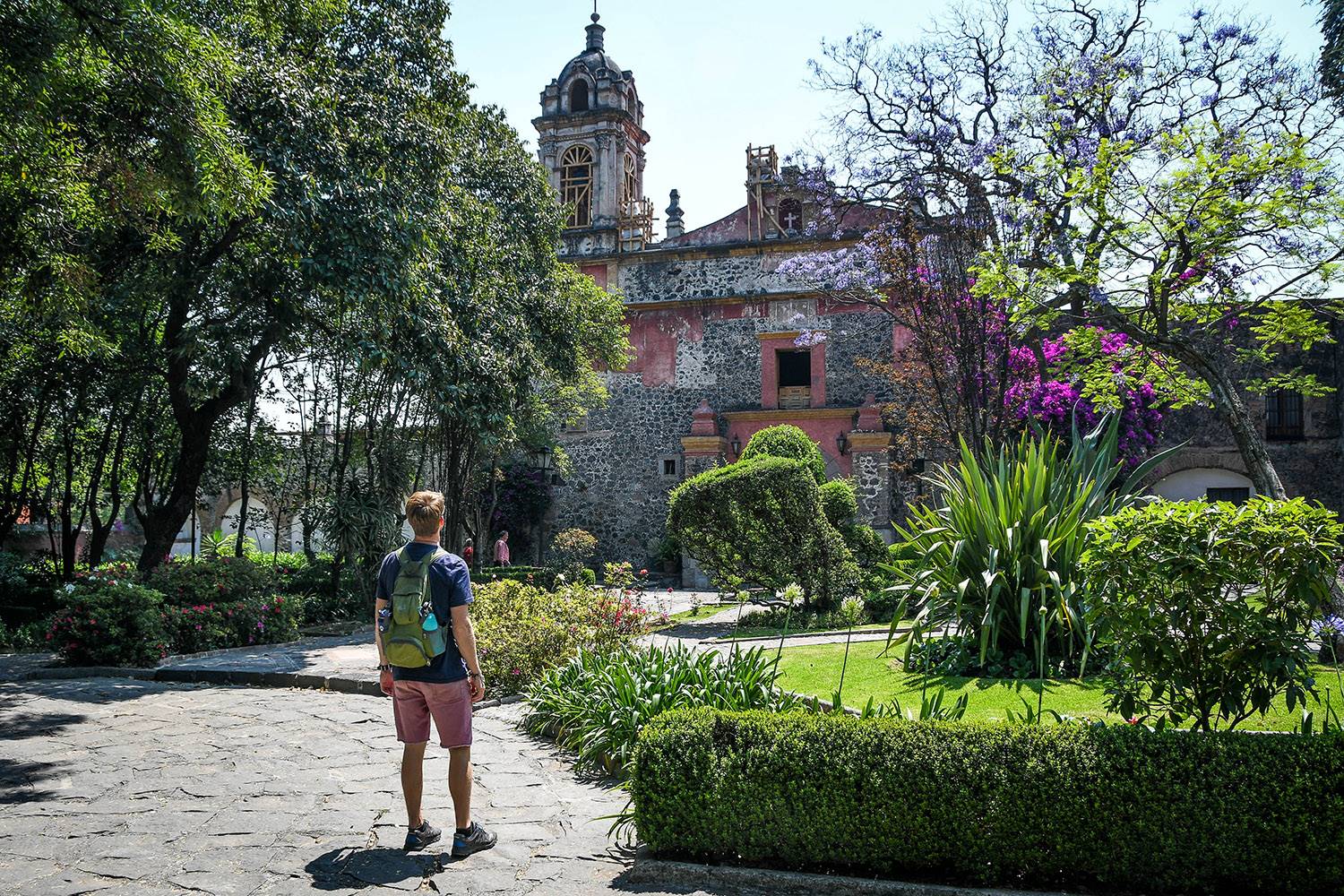 Where to stay in Mexico depends a lot on your travel style and what you plan to do while you're there. We organized this list of Airbnbs in Mexico based on popular destinations and regions. Click on one of the categories below to jump to that section of the article, or just keep scrolling.
Tulum:

Beach town on the Caribbean coast in the southern Riviera Maya known for its white sand beaches.

Yucatán Peninsula:

Separating the Gulf of Mexico from the Caribbean Sea, the 'hook' of Mexico is known for its Mayan ruins, natural sinkholes called

cenotes

and excellent cuisine.

Mexico City:

The densely populated high-altitude capital of Mexico is a destination where modern blends with traditional. Oh, and it's well-known street food scene is to die for!

Central Mexico:

Notable destinations within the central area of Mexico include picturesque colonial cities like San Miguel de Allende, Guanajuato Taxco and Puebla.

Oaxaca:

A state on the southwestern Pacific coast of Mexico recognized by its capital that shares its name, Oaxaca is known for having some of the best cuisine in Mexico as well as a diverse landscape of mountains and beaches.

Chiapas:

The southernmost state in Mexico bordering Guatemala, Chiapas is characterized by mountainous highlands and dense rainforest. Known for Mayan archeological sites and the Spanish colonial town of San Cristóbal de las Casas.

West Coast & Baja:

This is a broader category for the sake of this article we're including Mexico's west coast and Baja Peninsula in one section. The area is best known for surfing and resort towns.
Our top 5 recommendations:
Don't have the time or patience to read through the entire article? Here's the quick n' easy rundown of the best Airbnbs in Mexico for your specific needs.
Be sure to download our complete packing list for Mexico! It's packed with good suggestions and insider tips to help plan your Mexico vacation. And it's completely FREE, so why not!?
The 17 Best Airbnbs in Mexico
This list is rounded out with stays for solo travelers on a budget, couples and families or larger groups. It includes unique stays like an eco-friendly treehouse where your breakfast is delivered by pulley system, all the way up to more luxurious retreats with all kinds of amenities.
Tulum Airbnbs
Once a sleepy beach town on the Caribbean coast, Tulum is now a hotspot for influencers, billionaires and party-goers from all over the world. The vibe is a cross between eco-spiritual chic and lavish extravagance. It's become so popular we decided to give Tulum its own category.
Best value stay in Tulum | Sanah Villa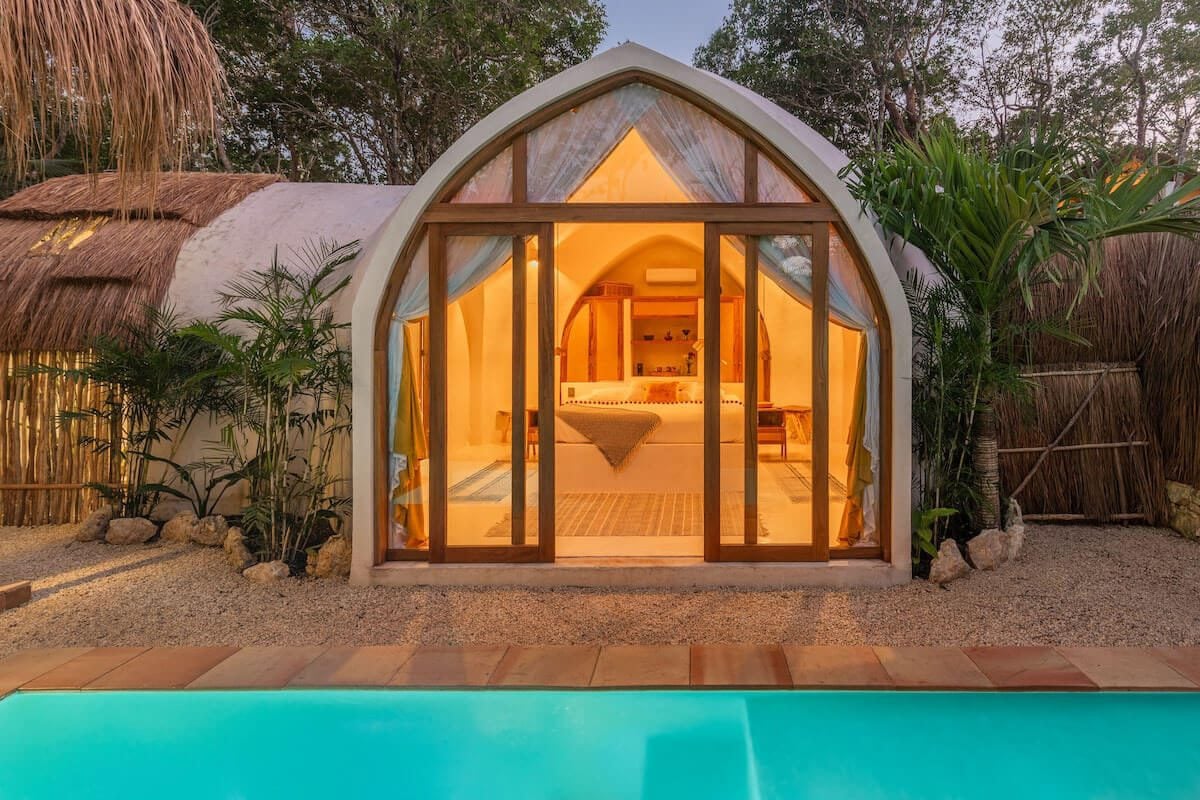 Private oasis in the jungle
Location:

Outside the town of Tulum

Budget:

$$

Number of Guests:

2

Minimum Stay:

1 night

Superhost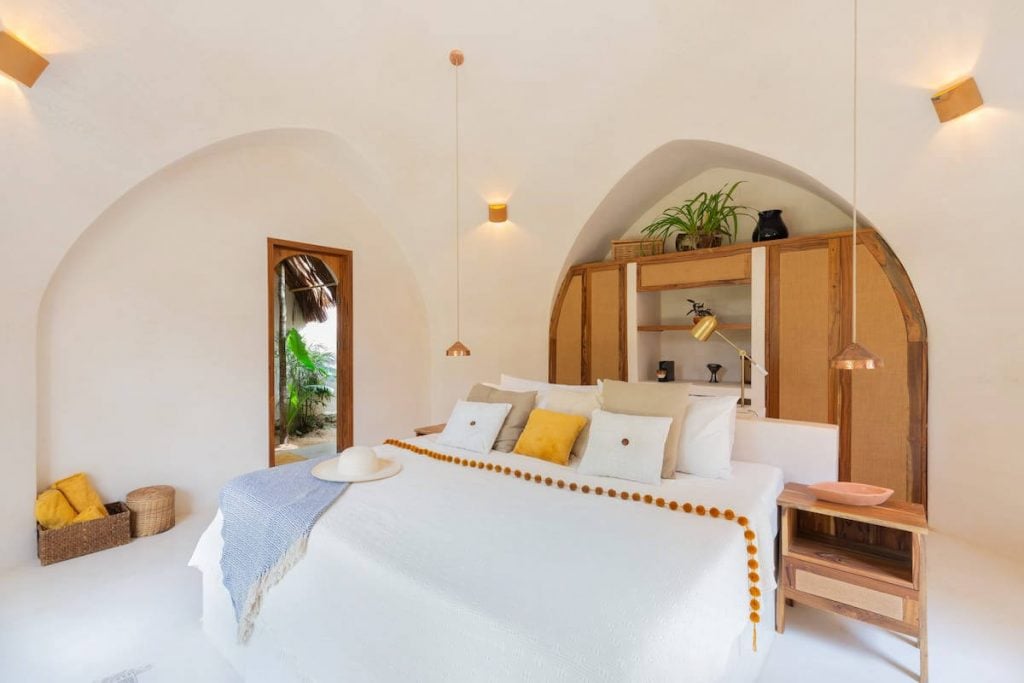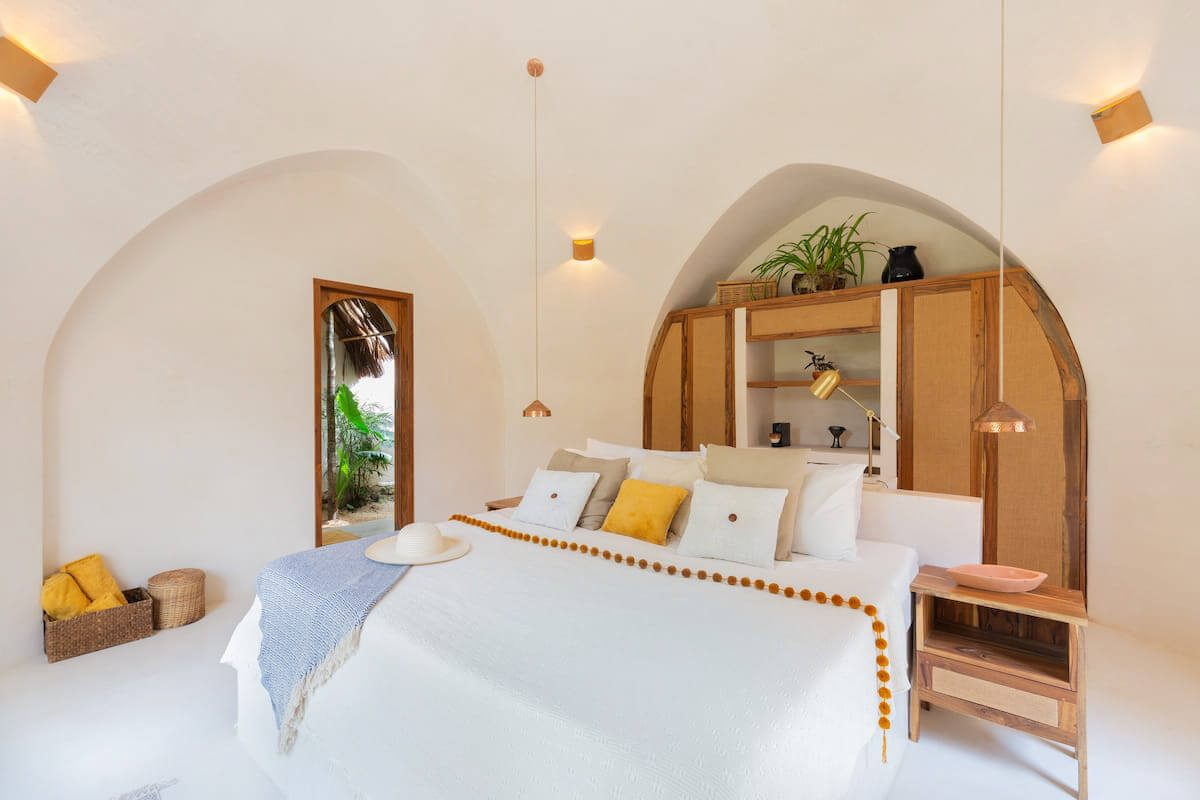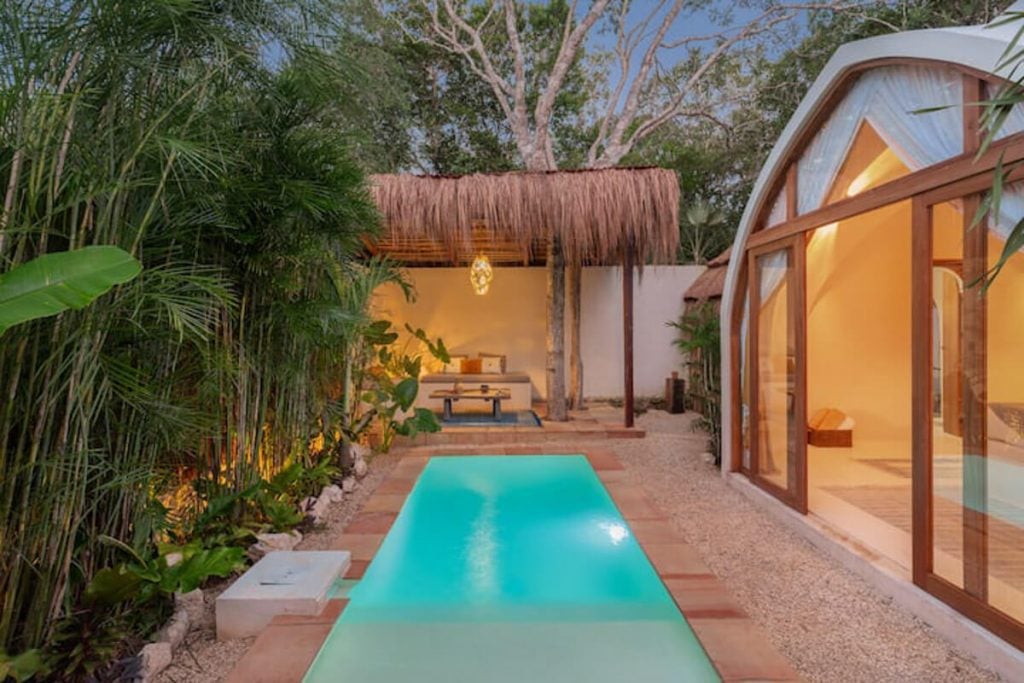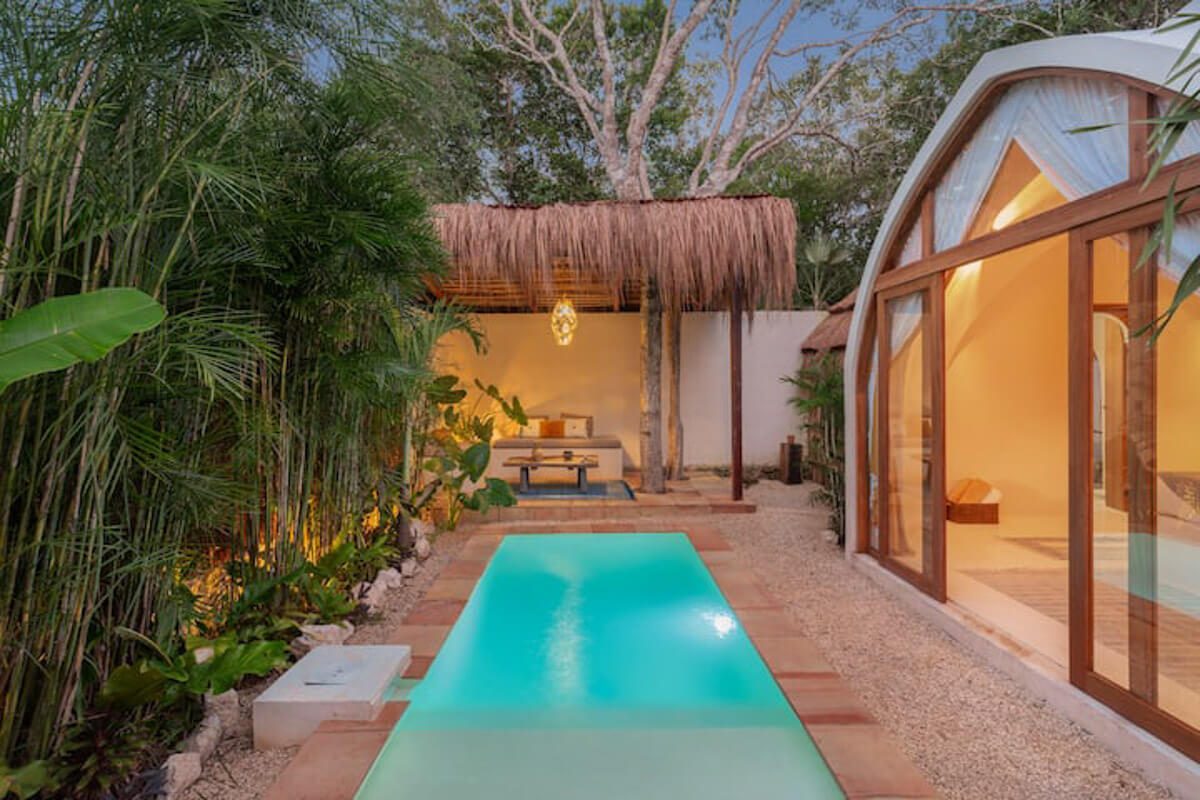 Situated in the jungle outside the town of Tulum, this luxurious one bedroom abode will give you all the privacy and peace and quiet you are looking for. Featuring a stunning private pool, just 5 minutes from the town of Tulum and a 15 minute drive to the sea, you'll have everything you need for a relaxing Tulum vacation.
Guests commented that the onsite staff were very helpful and communicative.
"Such a magical place! Between the private pool, bunnies and incredible breakfasts, the staff were so helpful and communicative during our stay… We had the best honeymoon and would definitely recommend staying at Villas Sanah!" – Suzanne, August 2021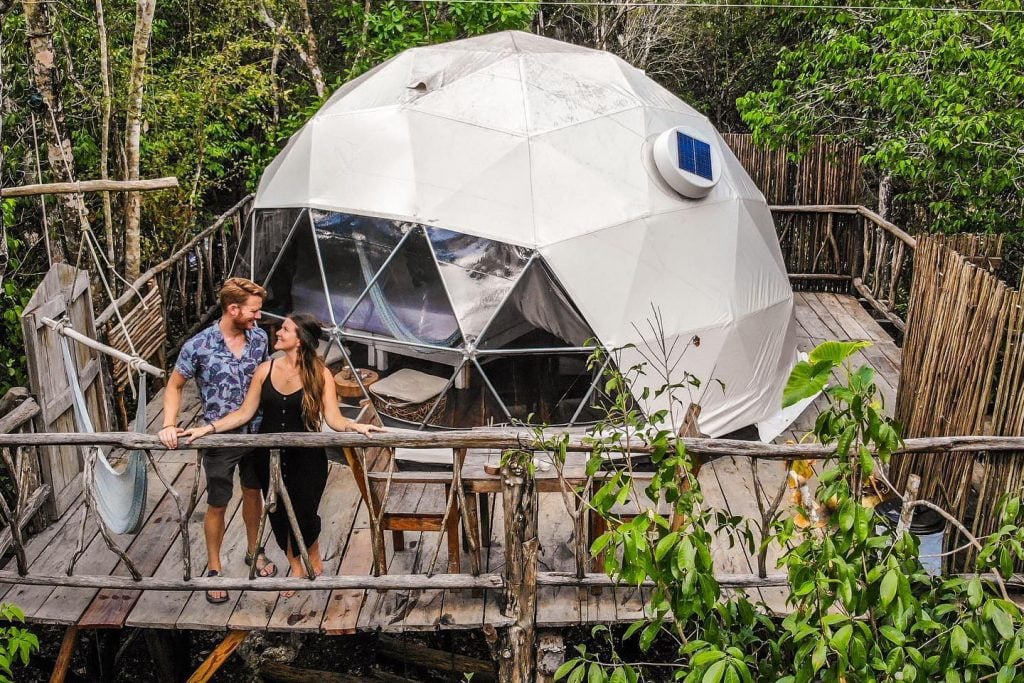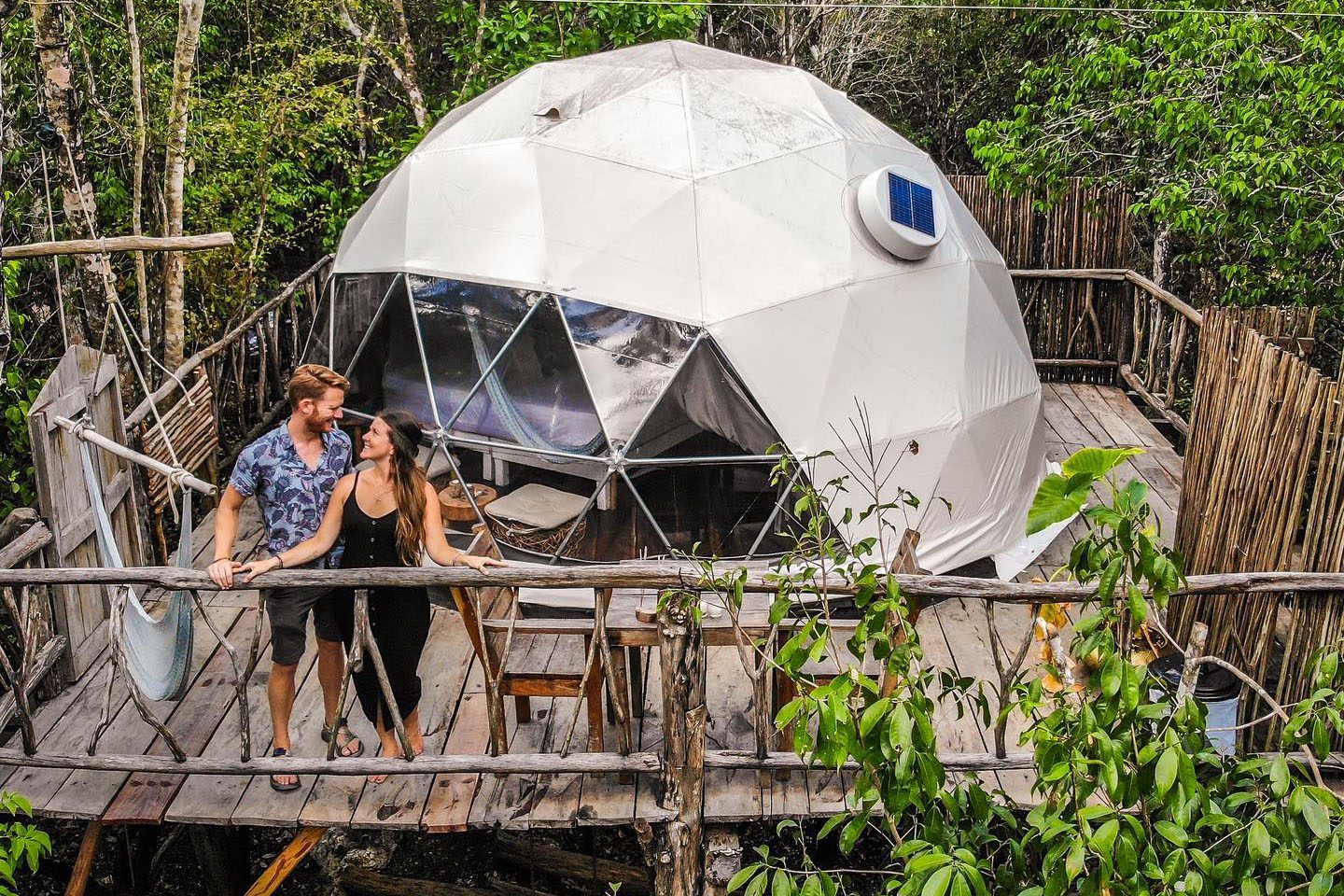 Location:

near Tulum (10 minute drive through the jungle)

Budget:

$$

Number of Guests: 2
Minimum Stay: 1 night (we'd recommend at least 2 nights)
Superhost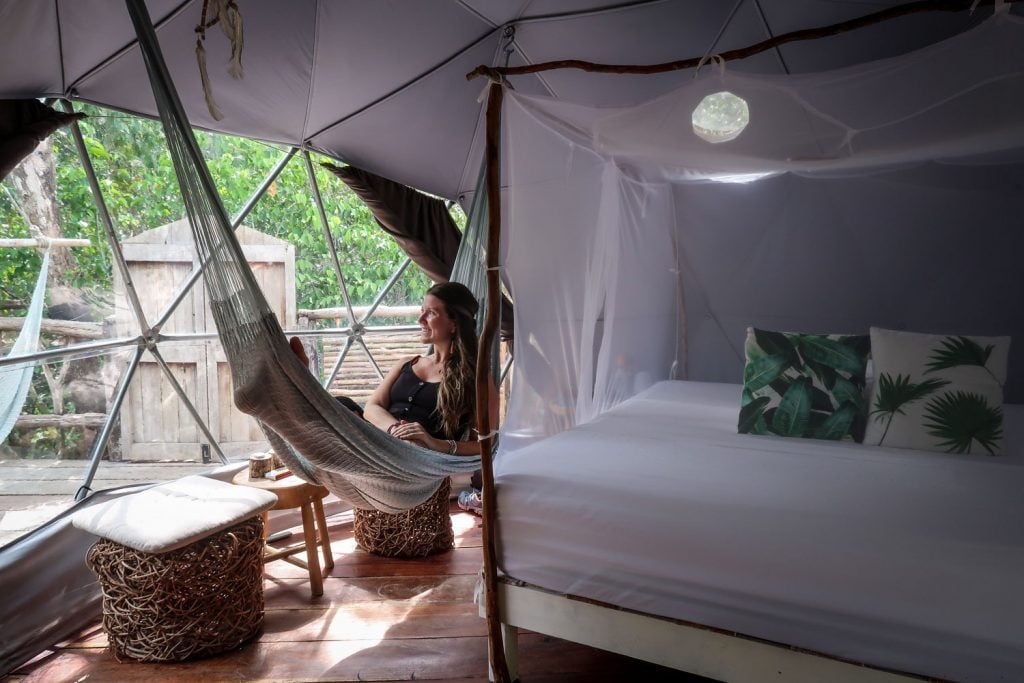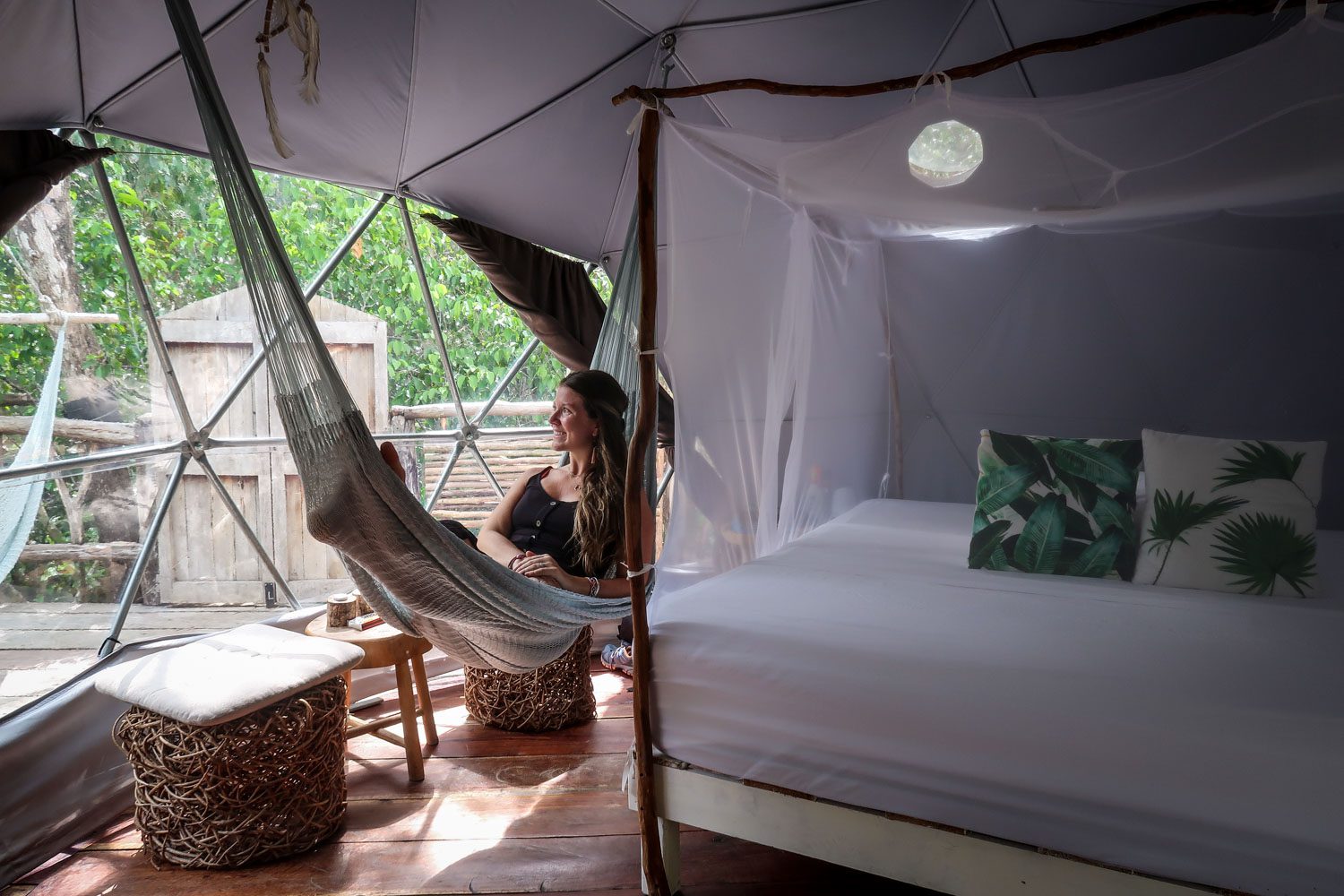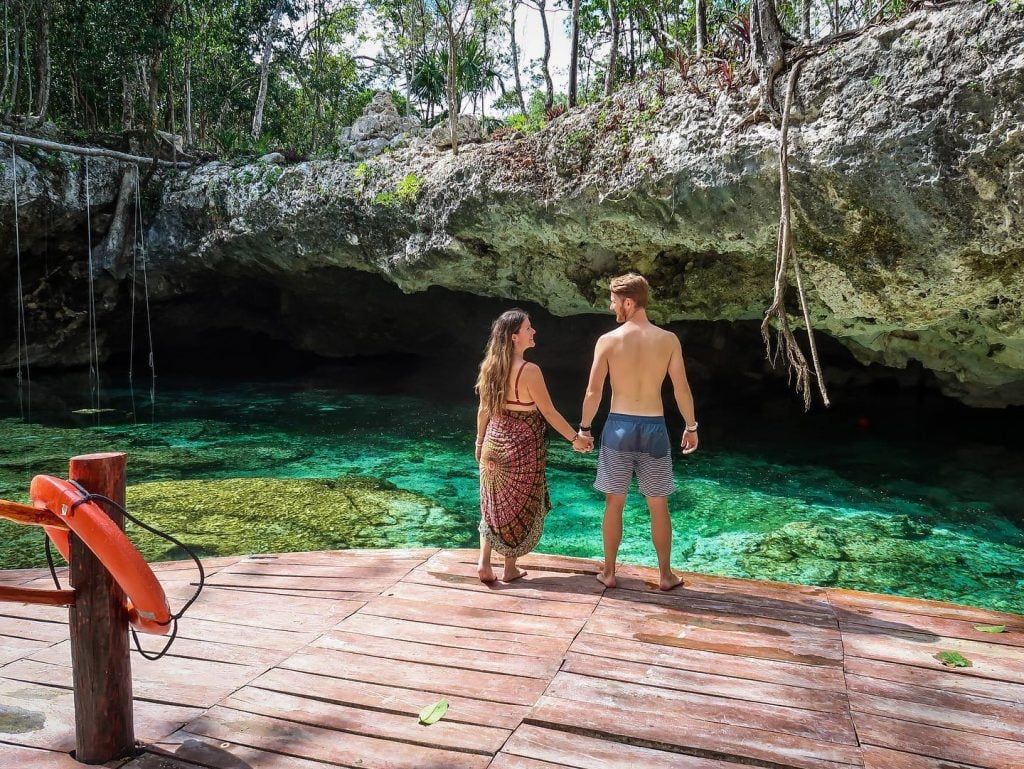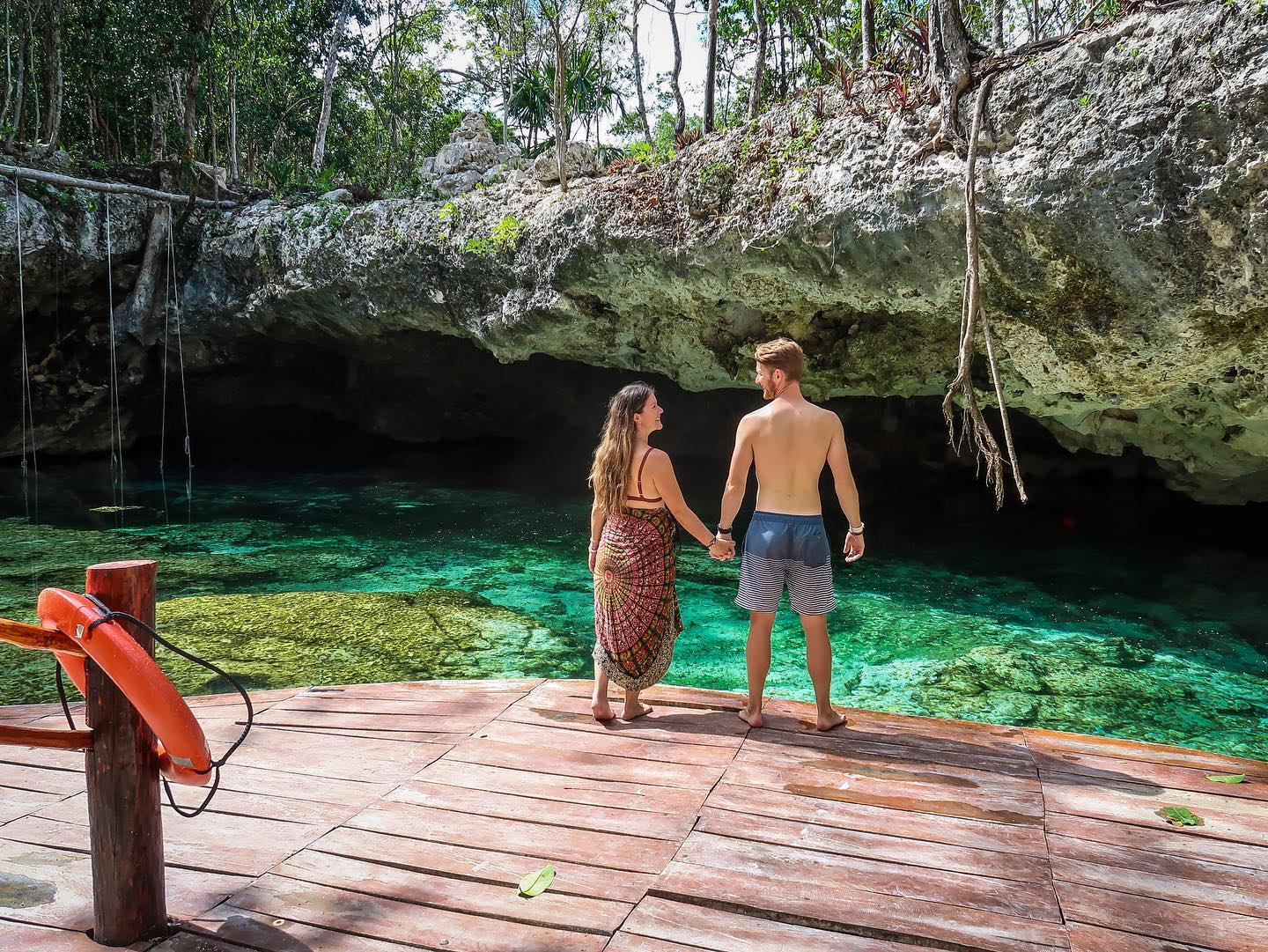 We'll be honest with you – we didn't love Tulum. The only thing we loved about it was our stay at this incredible Airbnb.
This off-grid geo dome isn't for everyone but if you have an adventurous spirit and are looking for an unique off-the-beaten-path experience, we can think of a better place to suit.
The dome is very well equipped for a "glamping" experience with a few eco-friendly touches. The amazing hosts have seemingly thought of everything you need for during your stay.
One of the best parts about staying here is it is located very close to a little known cenote you just might get all to yourself! Another highlight was the breakfast at this place. We don't want to spoil the surprise too much but it is magical.
Located about a 15 minute drive from the actual town of Tulum, the road to get here is bumpy and wild.
Also, we'd recommend spending a minimum of two nights here as one night wouldn't be enough to experience the location.
Best budget stay in Tulum | Jungle Cabin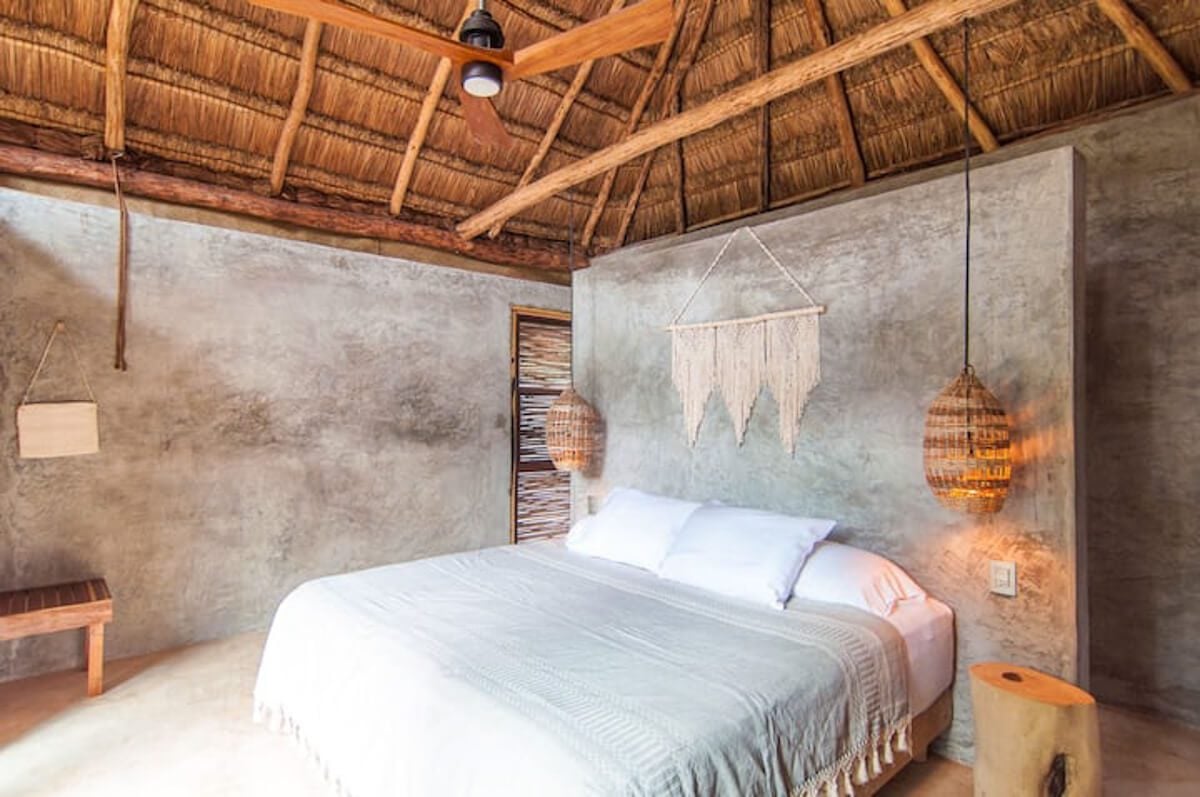 Private jungle oasis in the heart of Tulum town
Location:

Town of Tulum

Budget:

$

Number of Guests:

2

Minimum Stay:

2 nights

Superhost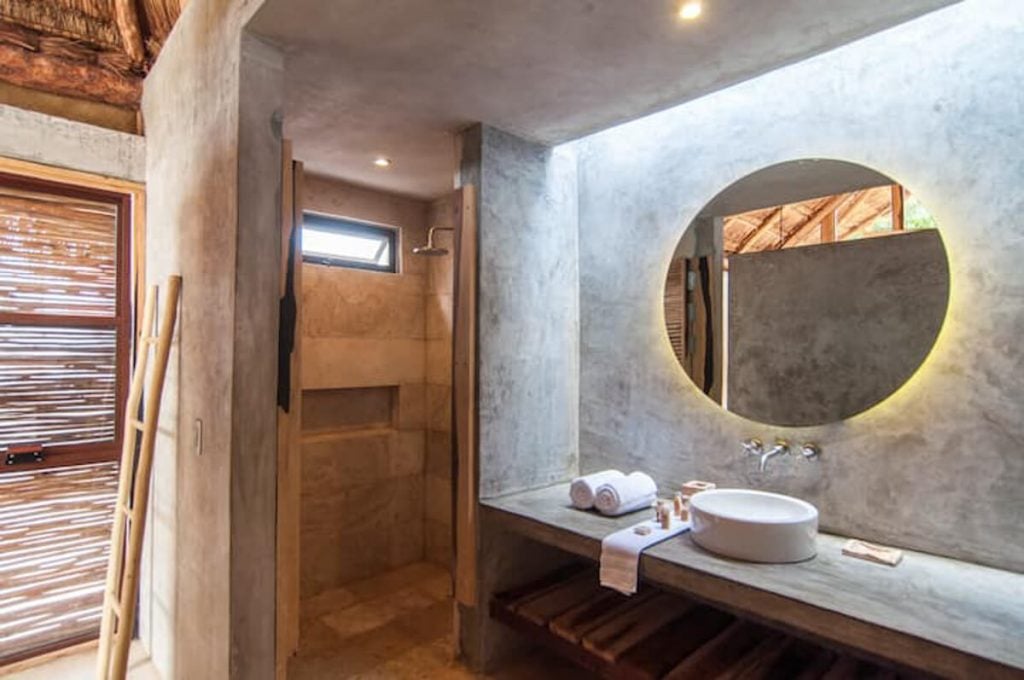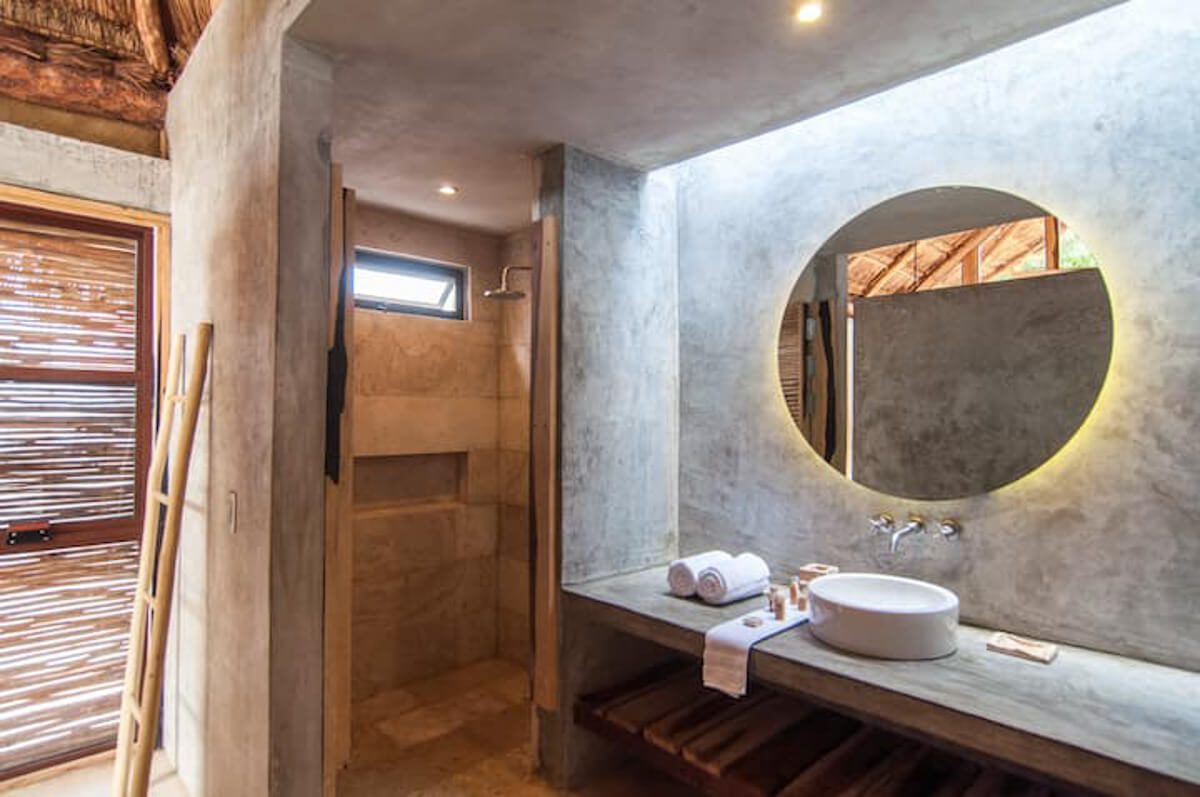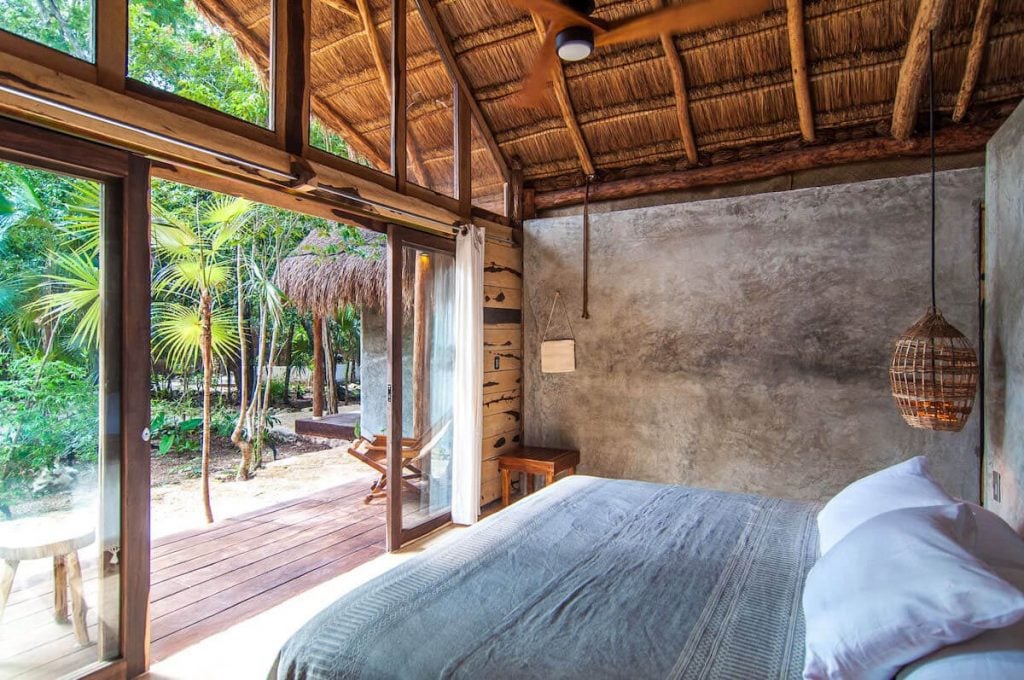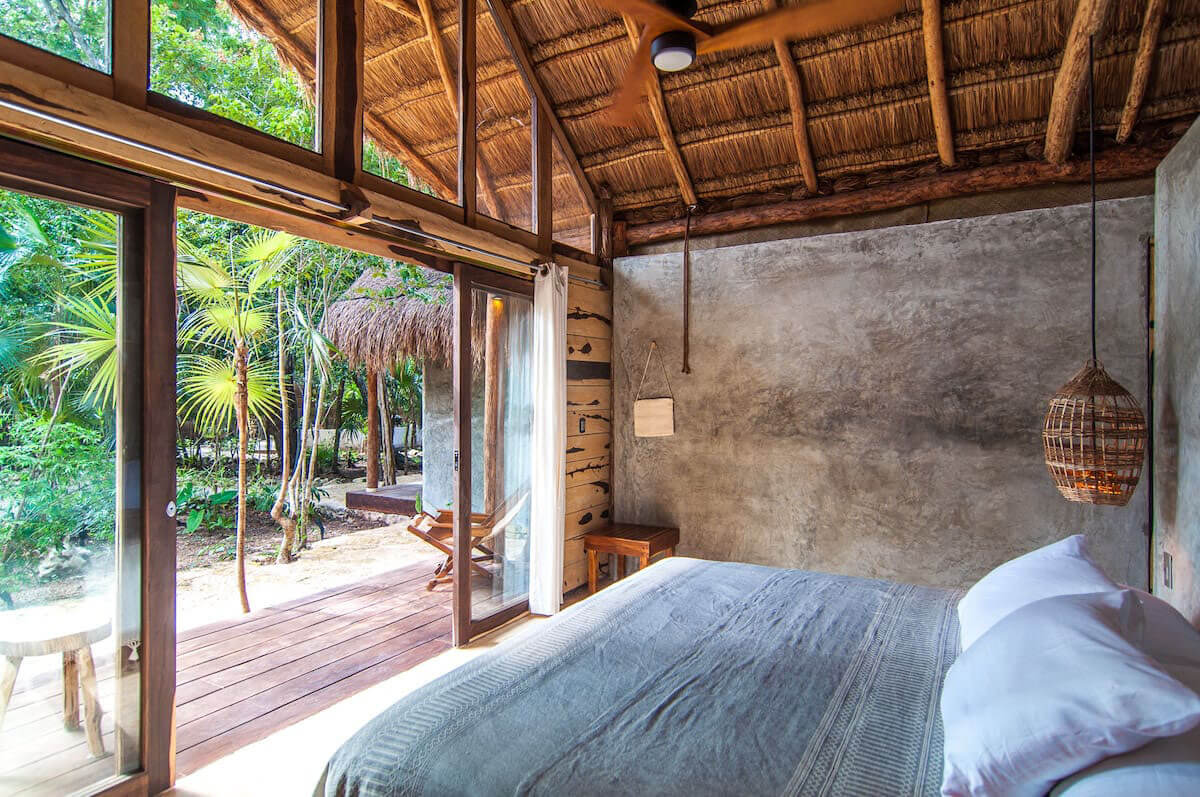 Somewhere between a private hostel room and a private villa, these jungle cabins are an ideal place for budget travelers to relax after a day of exploring Tulum.
Each of the 5 Acacia Project cabins in the town of Tulum were built from natural and locally-sourced materials and include handmade furniture and decor. The single room cabin includes a kitchenette with mini fridge, an ensuite bathroom and AC.
We love to see the use of locally-sourced building materials and handcrafted decor.
"This is a little jungle oasis for anyone looking for something a little off the beaten path. It's about a 5 min drive from Tulum town, tucked away. The garden is gorgeous and the rooms are beautifully designed." – Stacie, August 2021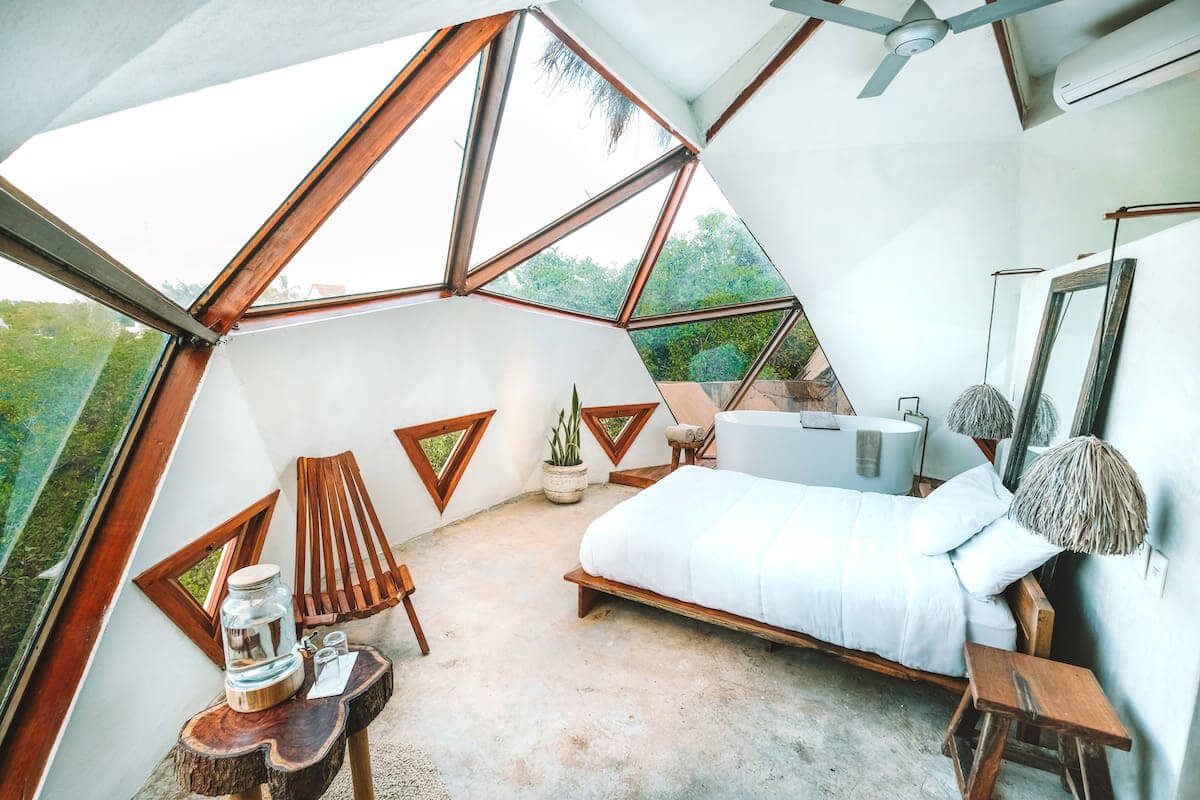 Unique jungle stay with incredible views
Location:

Tulum Beach

Budget:

$$$

Number of Guests:

2

Minimum Stay:

1 night

Superhost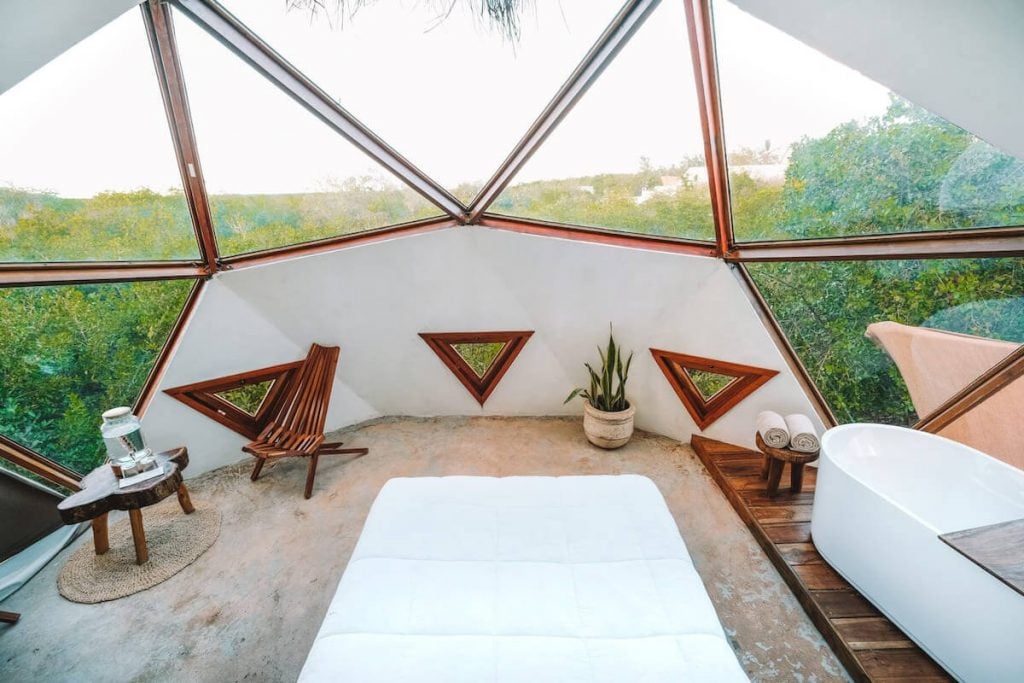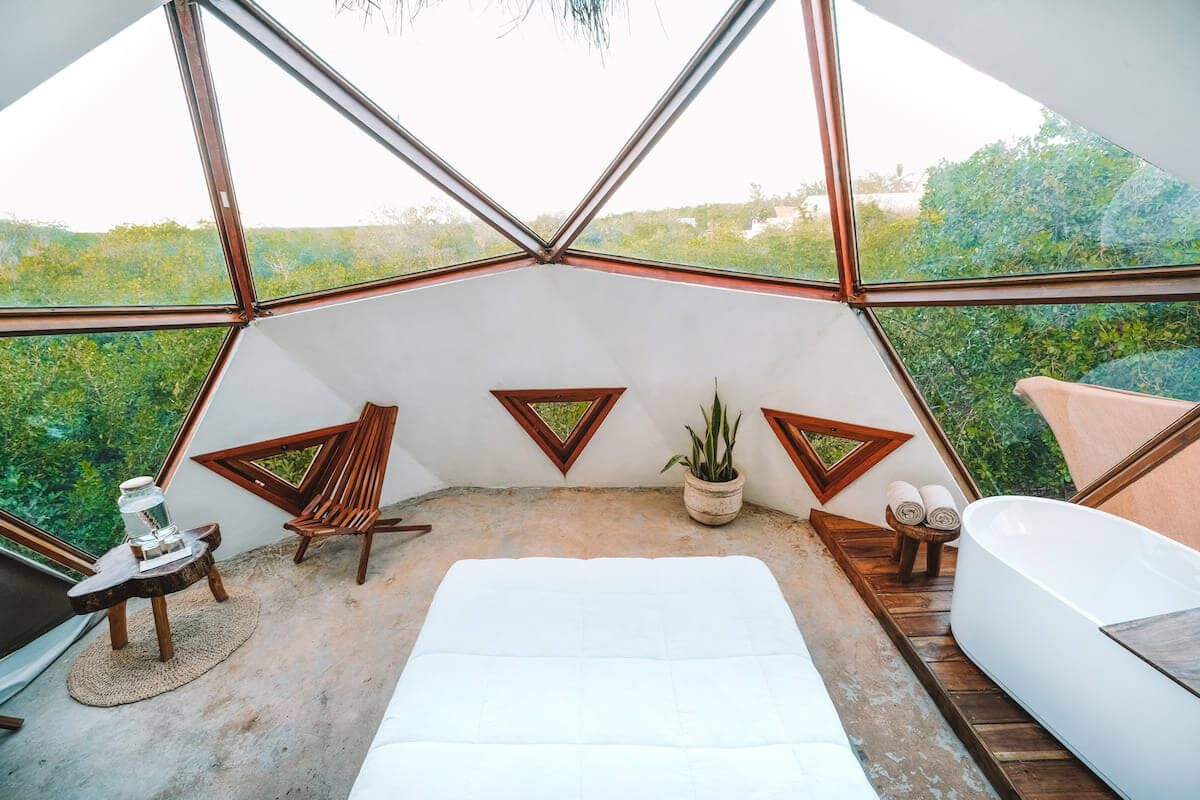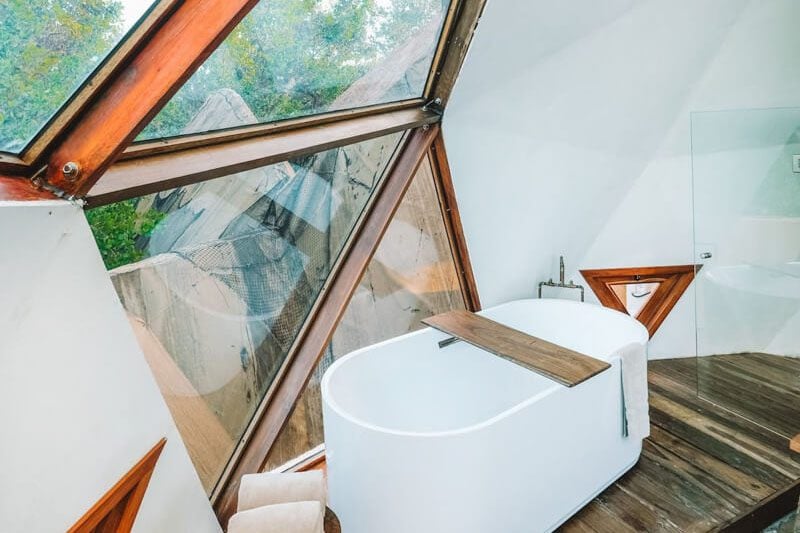 Situated in the jungle, steps from Tulum Beach, this unique dome stay offers guests a chance to sleep underneath the stars in luxury accommodation. The single room accommodation is part of the Mamasan boutique resort which includes a restaurant and rooftop bar in Tulum's hotel zone.
Guests love the incredible views and in-room bathtub for a relaxing soak. We loved to hear that the resort focuses of eco-friendly practices and
"One of the most amazing Airbnb's and in such a great prime location." – Sierra, May 2021
Honorable Mention:
Poolside Zen

: A 3 bedroom villa with private pool just outside the town of Tulum

Secret Oasis

: A one bedroom apartment with private garden and pool in downtown Tulum

Charming Apartment

: A 2 bedroom apartment with communal pool in downtown Tulum.
Airbnbs in Mexico's Yucatán Peninsula
With popular Riviera Maya destinations on the Caribbean coast like Cancun and Playa del Carmen, you've definitely heard of the Yucatán peninsula, even if you didn't know it by name.
We think the lesser-known but just as worth a visit colonial towns like Mérida and Valladolid, not to mention the natural phenomenon that is the Bacalar Lagoon, are definitely reasons worth spending some time there. So much so that we even put together an article of all the adventurous things to do in the Yucatán.
Psst! Check out this article on the best things to do in Mérida if you plan to visit the largest city in the Yucatán. If you're more of a beach goer, we put together a complete guide to Playa del Carmen after living there for a few months.
Best jungle retreat near Valladolid | Casita Jabín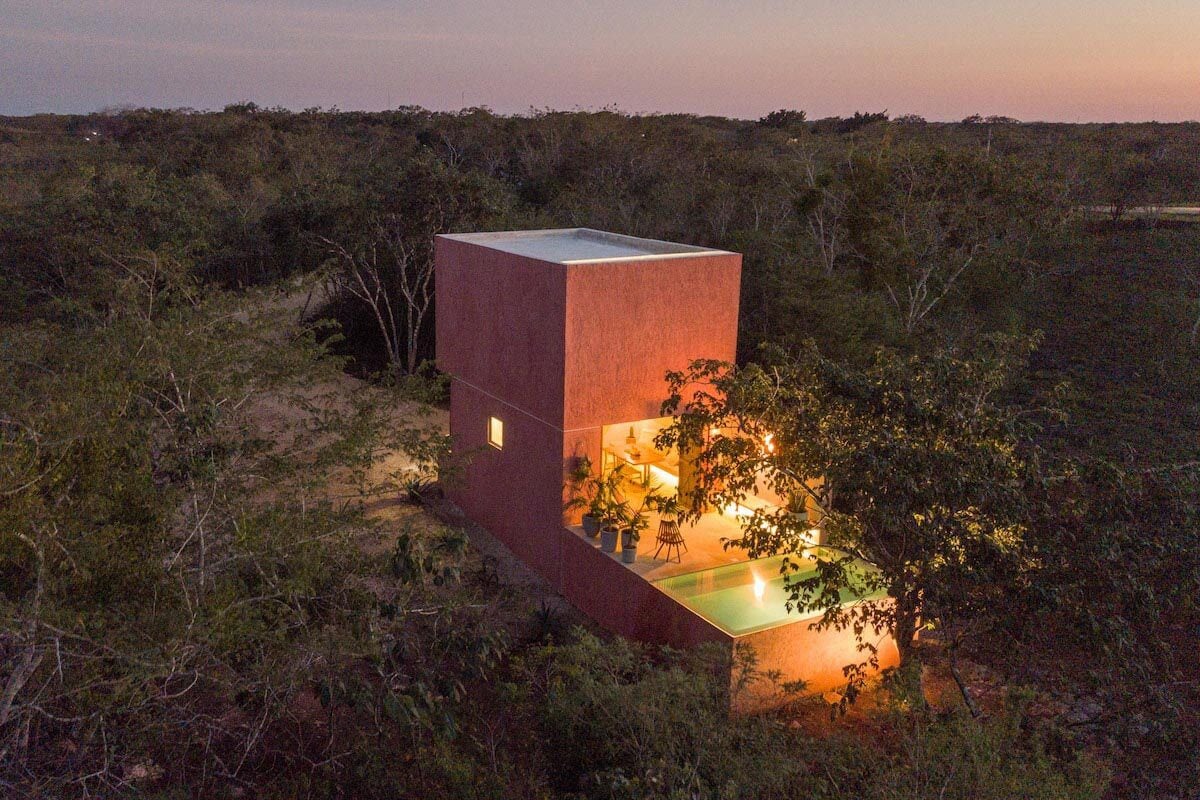 A contemporary jungle retreat with private pool
Location:

Outside of Valladolid

Budget:

$$

Number of Guests:

3

Minimum Stay:

1 night

Superhost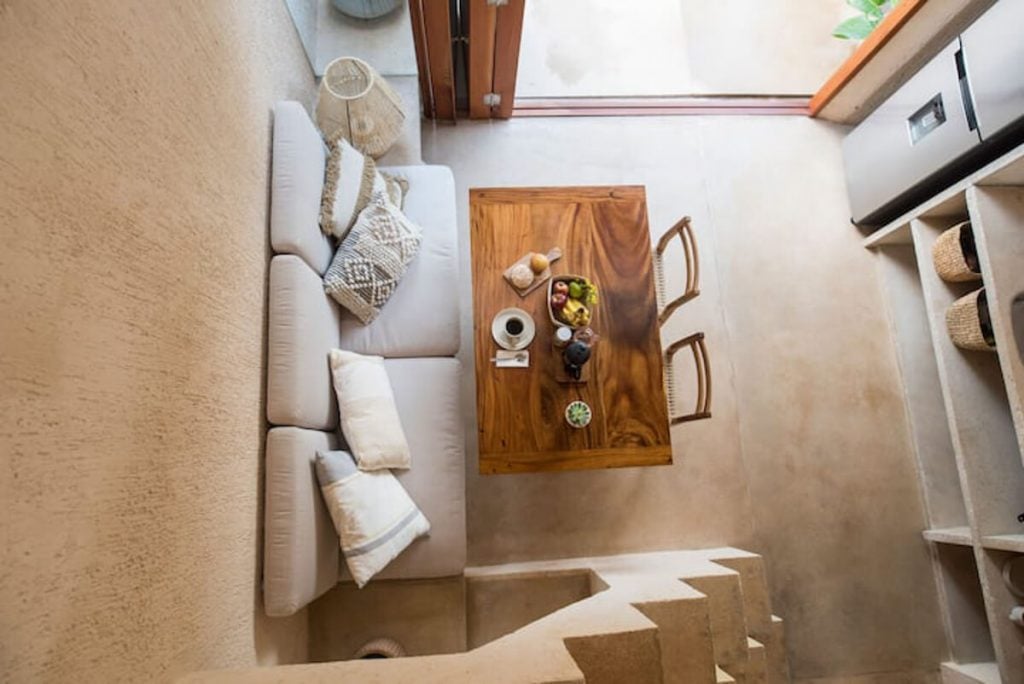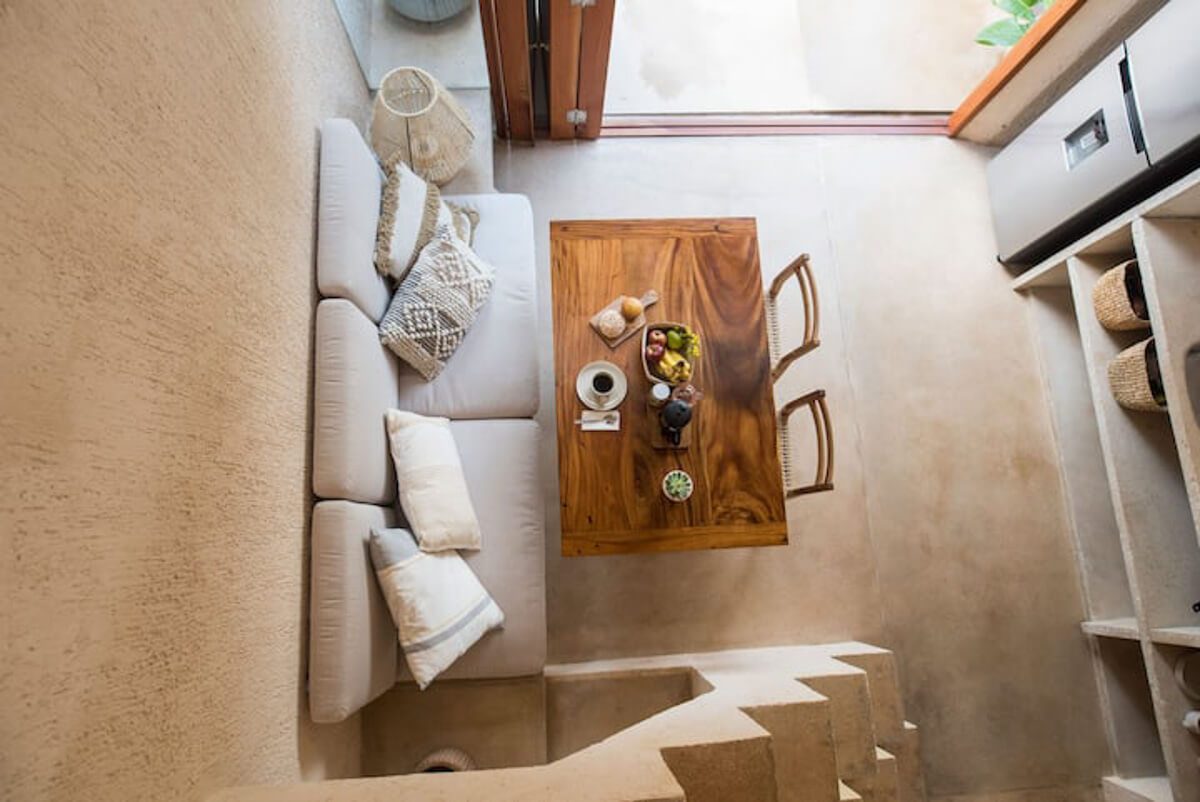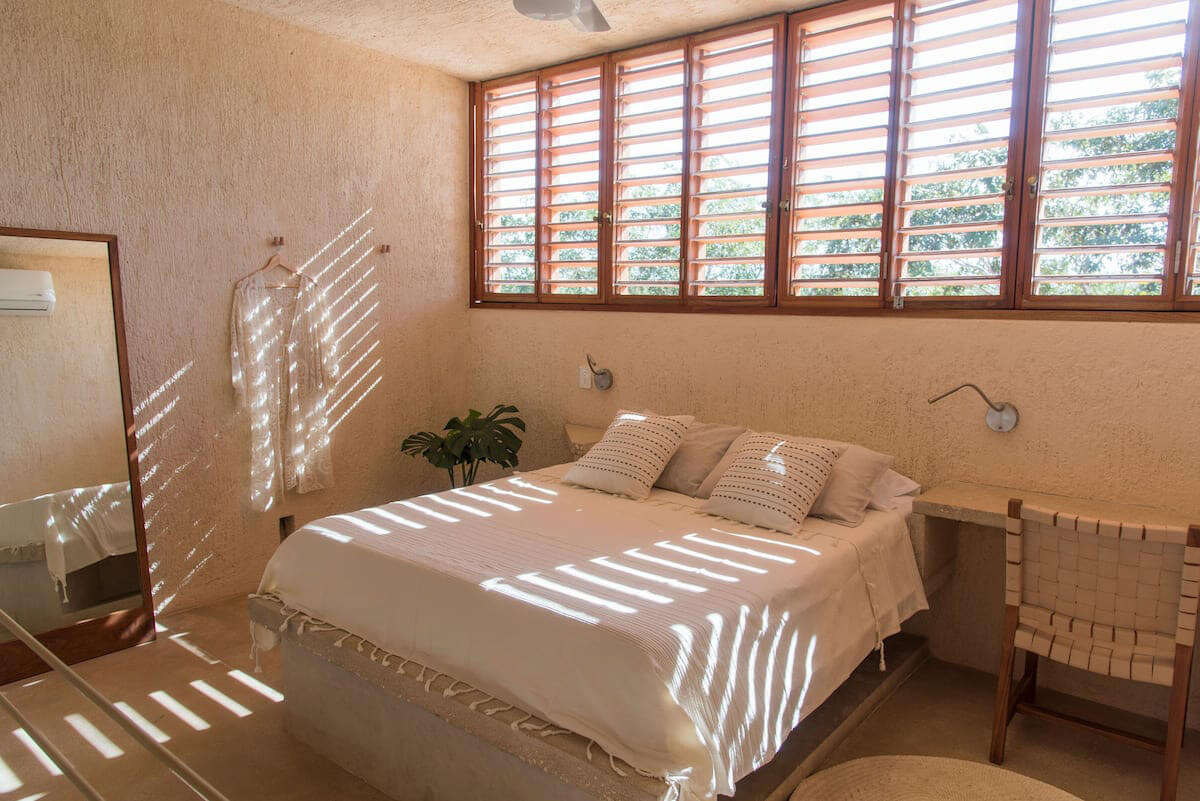 A unique opportunity to retreat from the city, this beautiful modern one bedroom villa is located 10 minutes outside of the colonial town of Valladolid in the Yucatán jungle. The space includes amenities like a memory foam mattress, fully stocked kitchen and an open-air shower in the bathroom. If the private plunge pool onsite isn't enough, Cenote Suytún is located just across the street.
We love that the space was built using local materials and construction techniques, in harmony with its natural surroundings.
"Beautiful private casita, exactly as pictured. We had a great stay and especially enjoyed the privacy, jungle surroundings and well designed space. The plunge pool was a lifesaver for beating the heat!" – Merika, July 2021
Best historical stay in Merida | Casa Wayib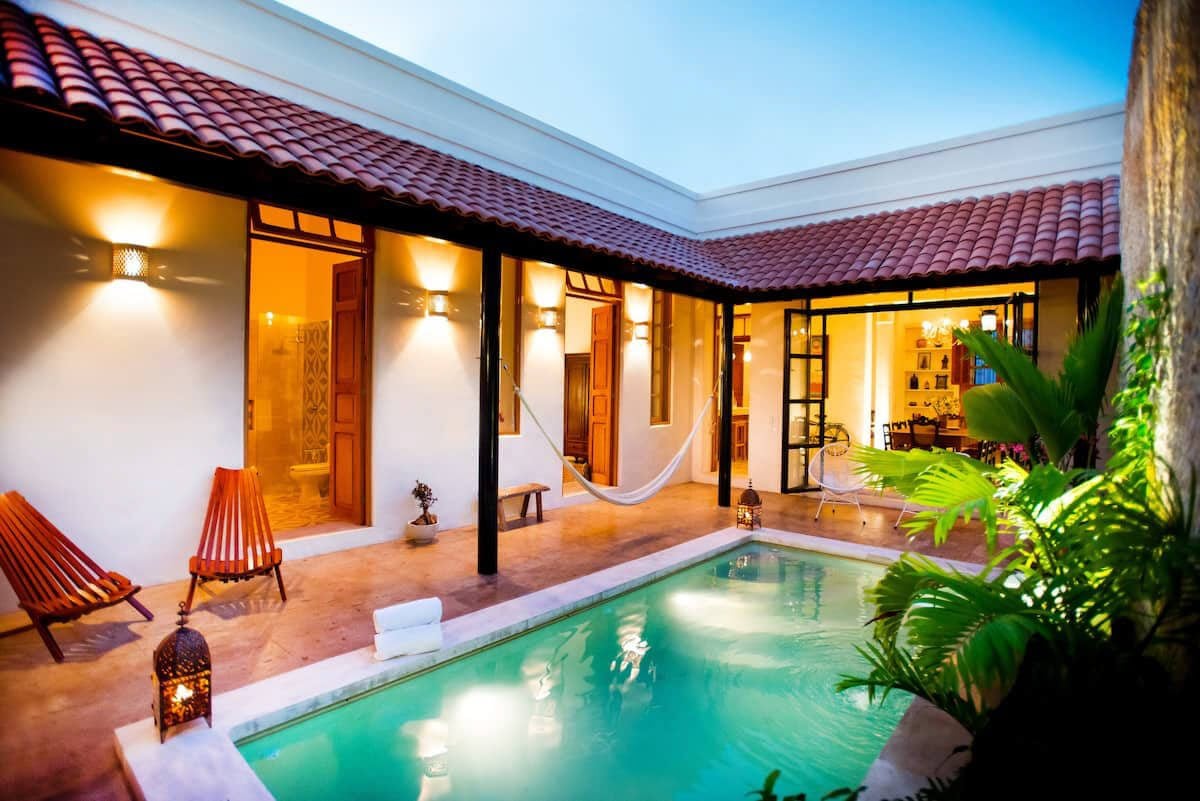 Renovated historical home in Centro
Location:

Merida

Budget:

$$

Number of Guests:

4

Minimum Stay:

3 nights

Superhost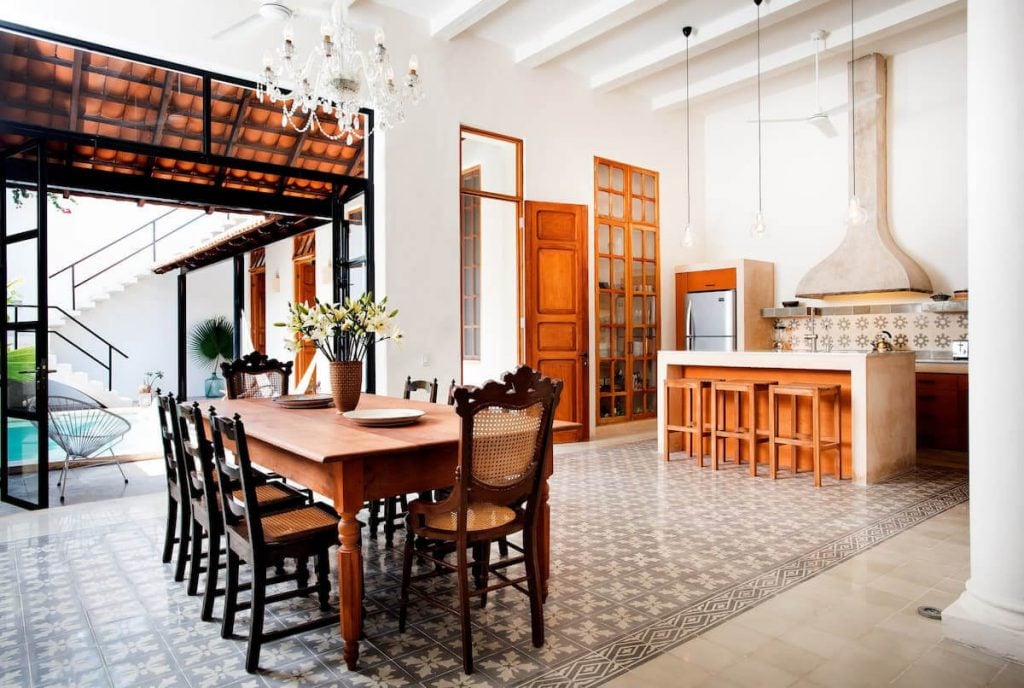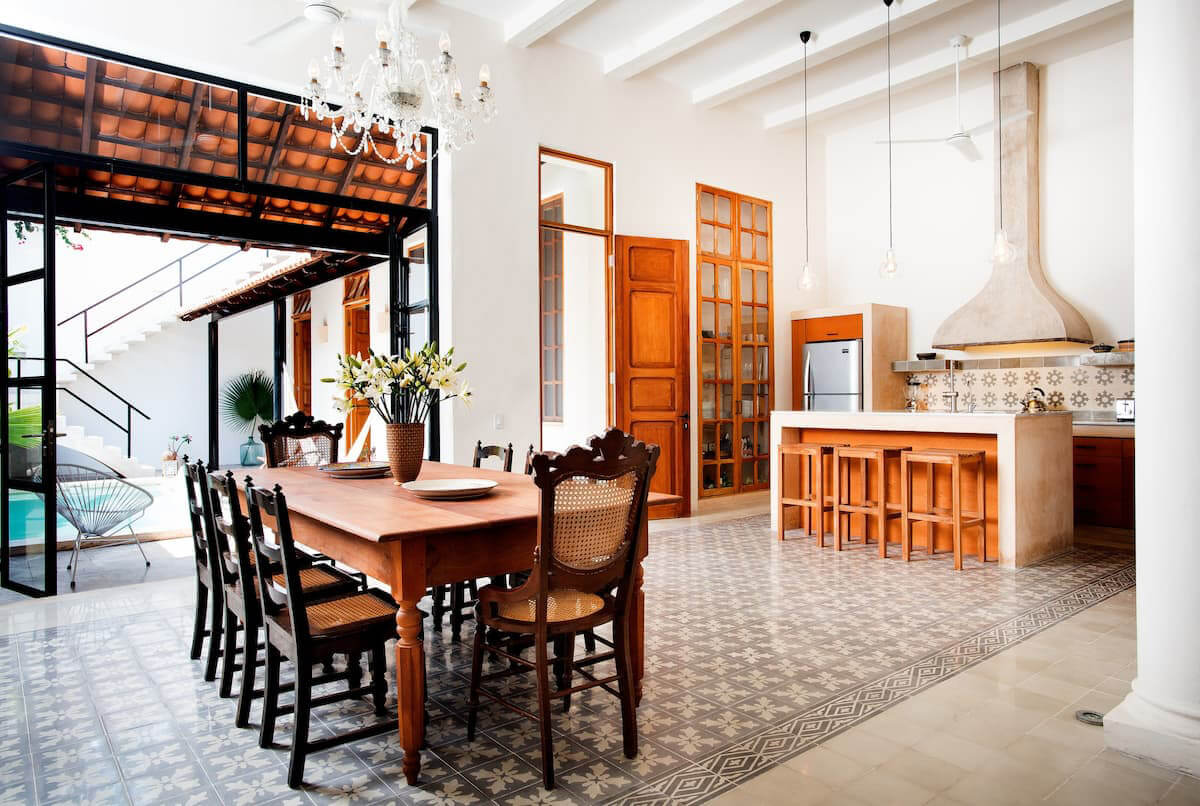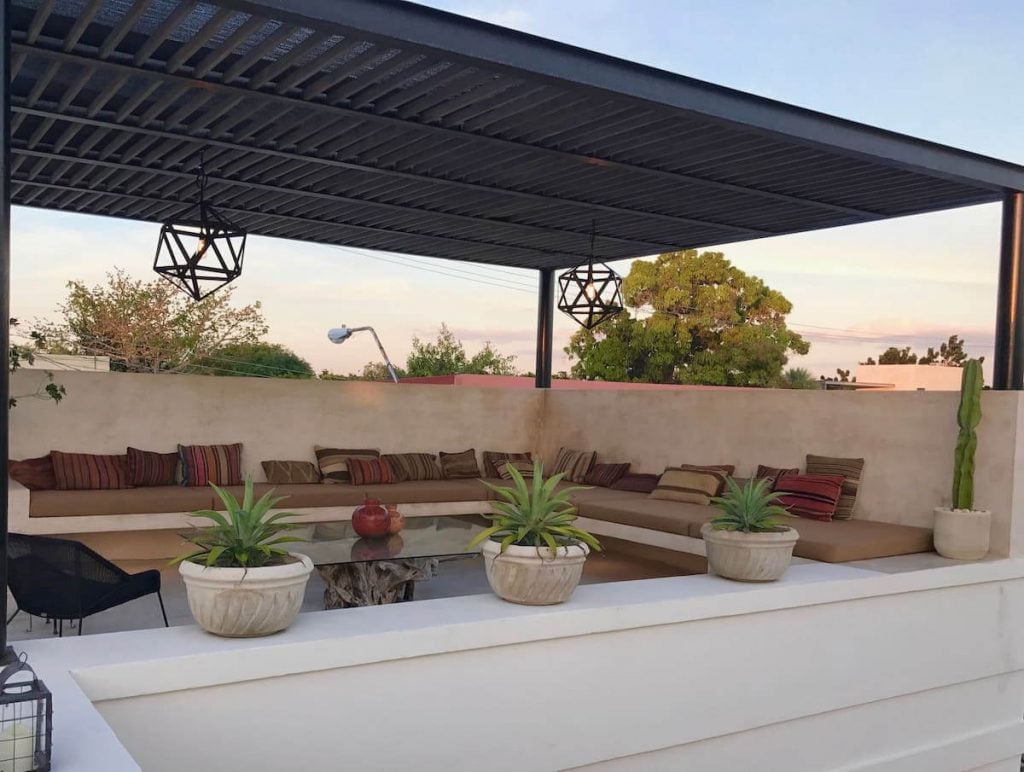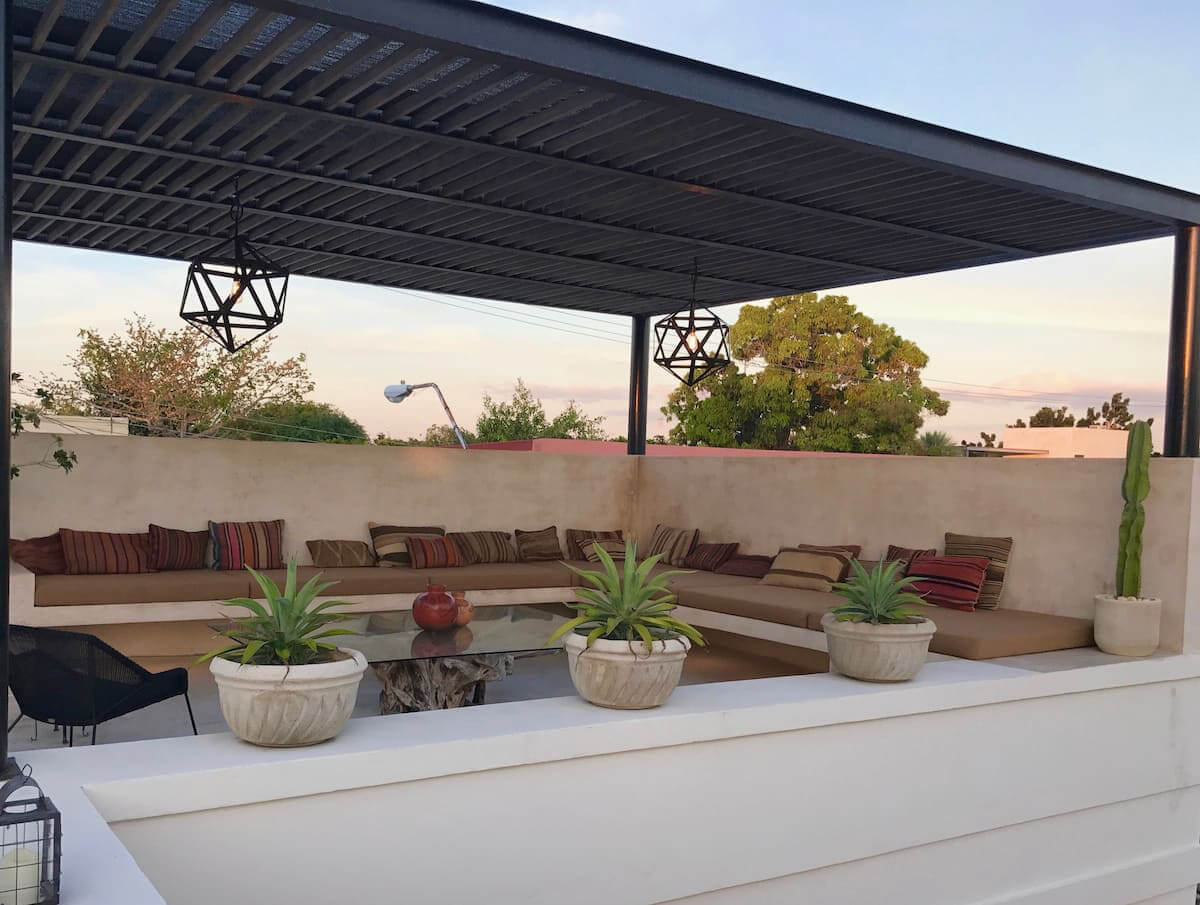 Situated in the central historical neighborhood of Merida, this stunning historical home was originally built in 1930 and underwent an extensive renovation that was completed in March 2014.
Featured in Architectural Digest Mexico, Casa Wayib blurs the lines between indoor and outdoor space with a large private courtyard, pool and rooftop terrace. The 2 bedrooms both have ensuite bathrooms and there is a custom fully-stocked kitchen.
Guests rave about the location and the amenities of the property.
"We stayed for two weeks, and our only regret was not staying longer. The place is gorgeous, centrally located, but very private and peaceful. The kitchen is very well equipped and we had a great time cooking. Thank you for a great stay!" – Becca, July 2021
Best location near Bacalar | Casa Kuuts Ja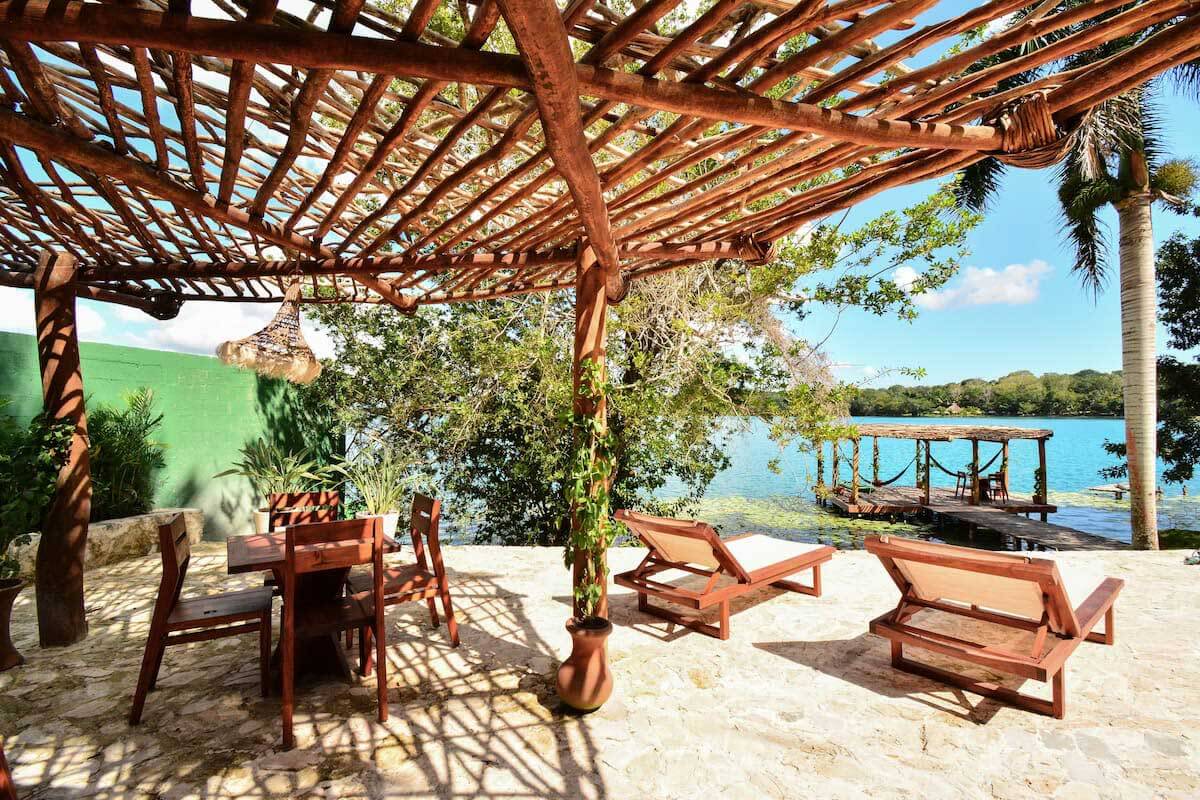 Unique vacation rental on the Bacalar Lagoon
Location:

Xul-Ha

Budget:

$$

Number of Guests:

5

Minimum Stay:

2 nights

Superhost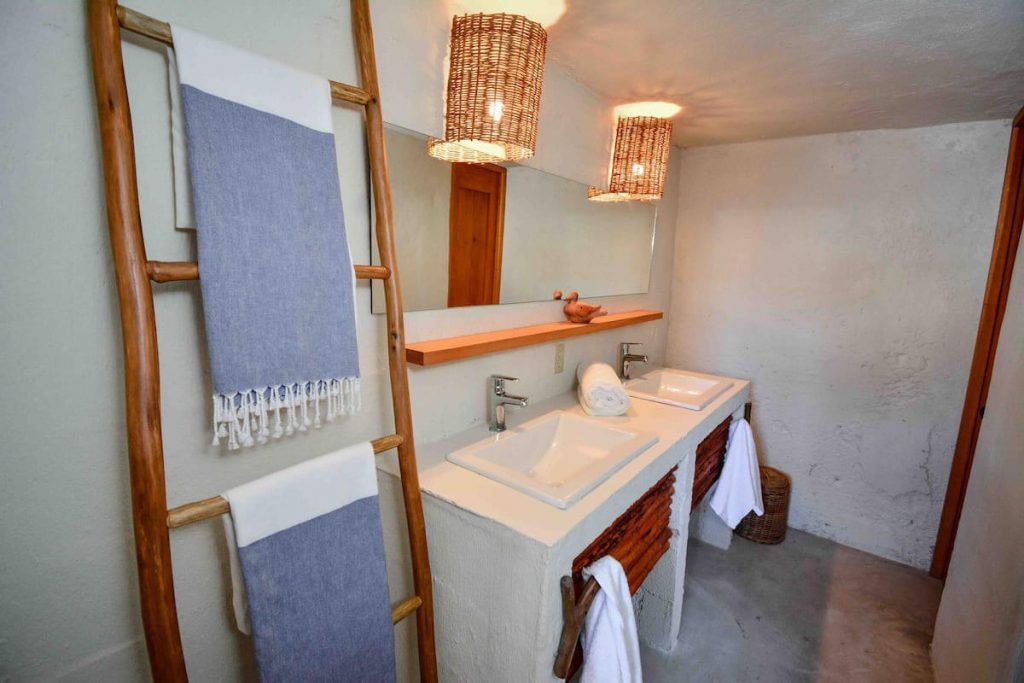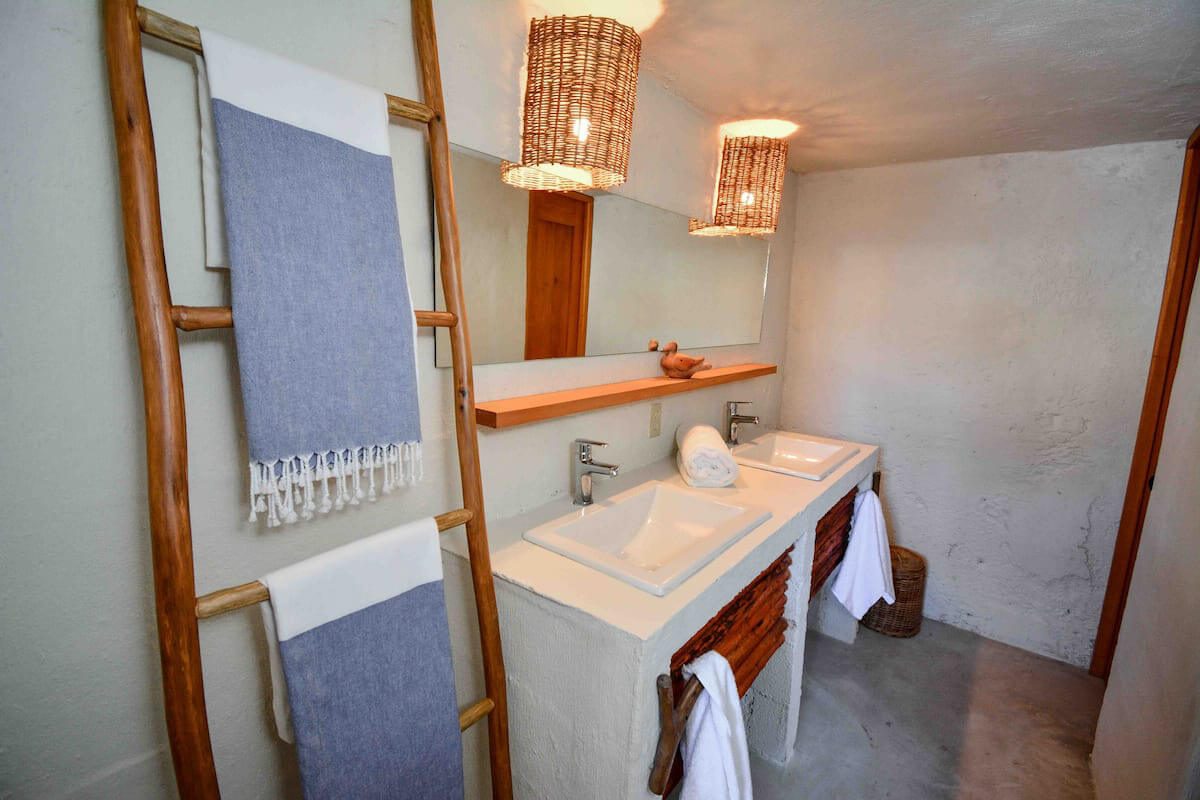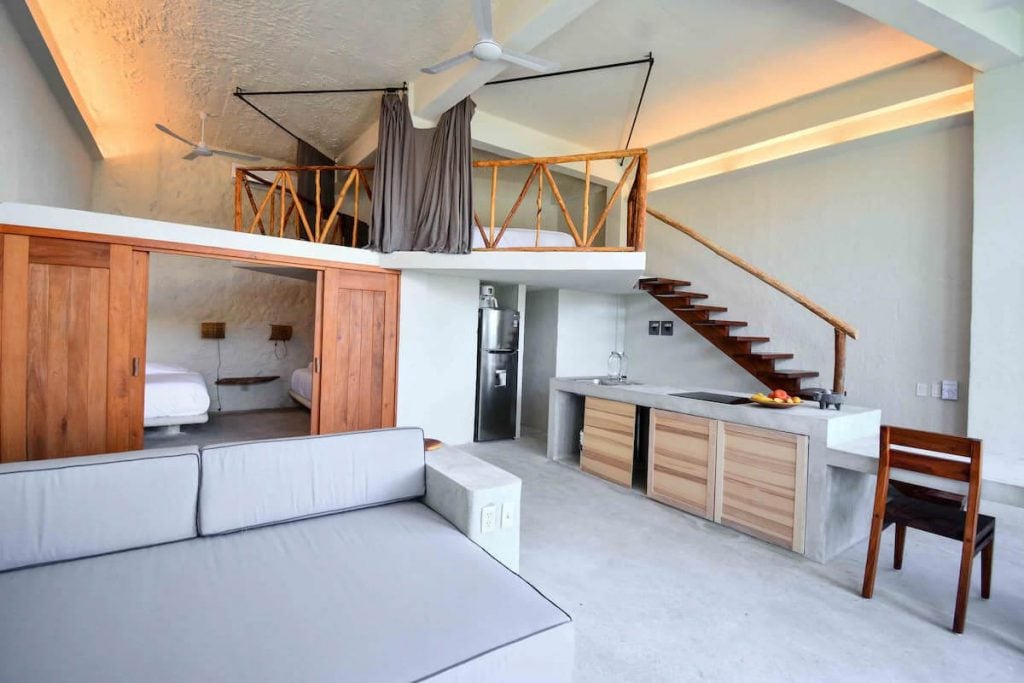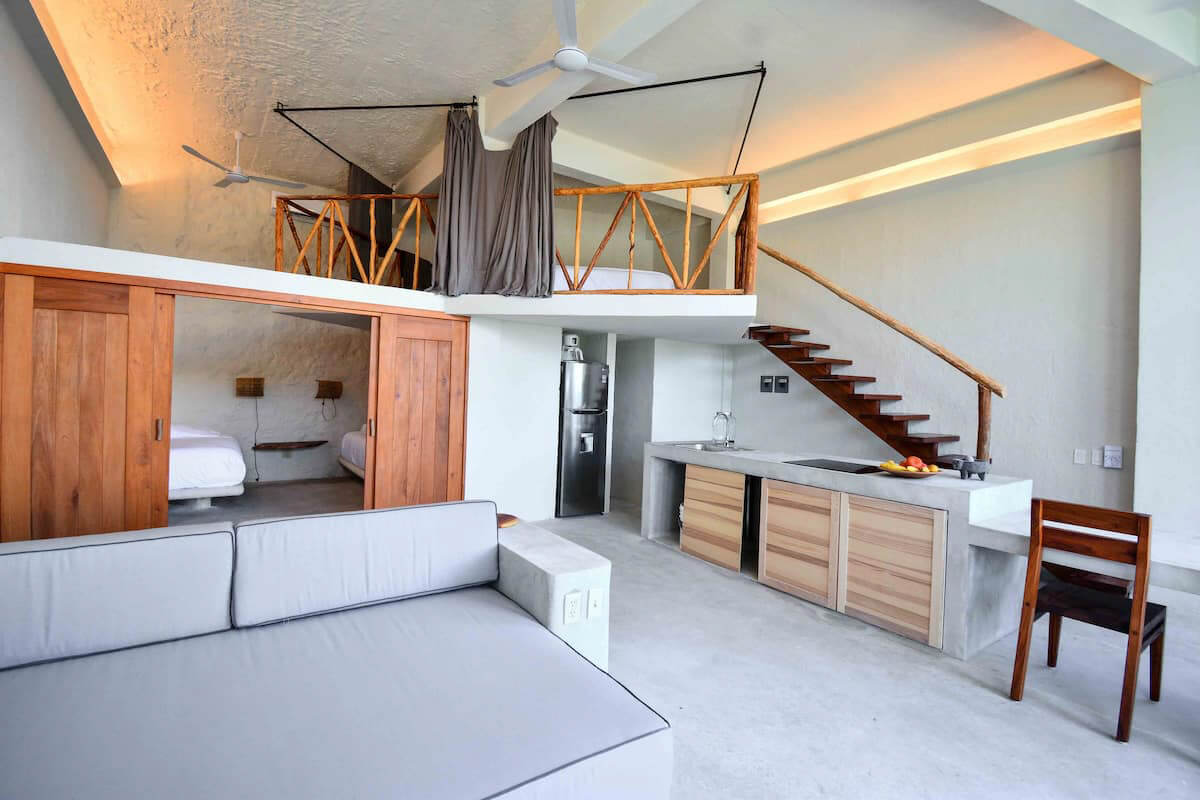 Situated on the coast of the extraordinary Bacalar Lagoon in the small town of Xul-Ha (10 minutes from downtown Bacalar), Casa Kuuts Ja is one of four unique vacation homes on the property. This modern 2 bedroom abode is integrated into the area's natural environment with natural building materials and plenty of outdoor space including a swimming pool and private dock on the Lagoon.
Guests loved the remote location and easy access to the stunning lagoon.
"The perfect place to relax and disconnect. We enjoyed swimming and kayaking here more than the touristy activities in Bacalar. The water is a beautiful color and you can cook, hang out, and enjoy the nature." – Zach, July 2021
Honorable Mention:
Mexico City Airbnbs
As one of the highest-populated cities on Earth, this place truly surprised us by how much we enjoyed it. CDMX, as it's known to locals (for Ciudad de México), gives off NYC vibes but with a much friendlier demeanor, cleaner sidewalks and an abundance of green space.
Popular neighborhoods for visitors include Centro, La Condesa, and La Roma (divided into Norte and Sur).
There are so many things to do in Mexico City, it can be overwhelming to decide where to start. We came up with the perfect Mexico City itinerary that covers all the must-see attractions in just 3 days.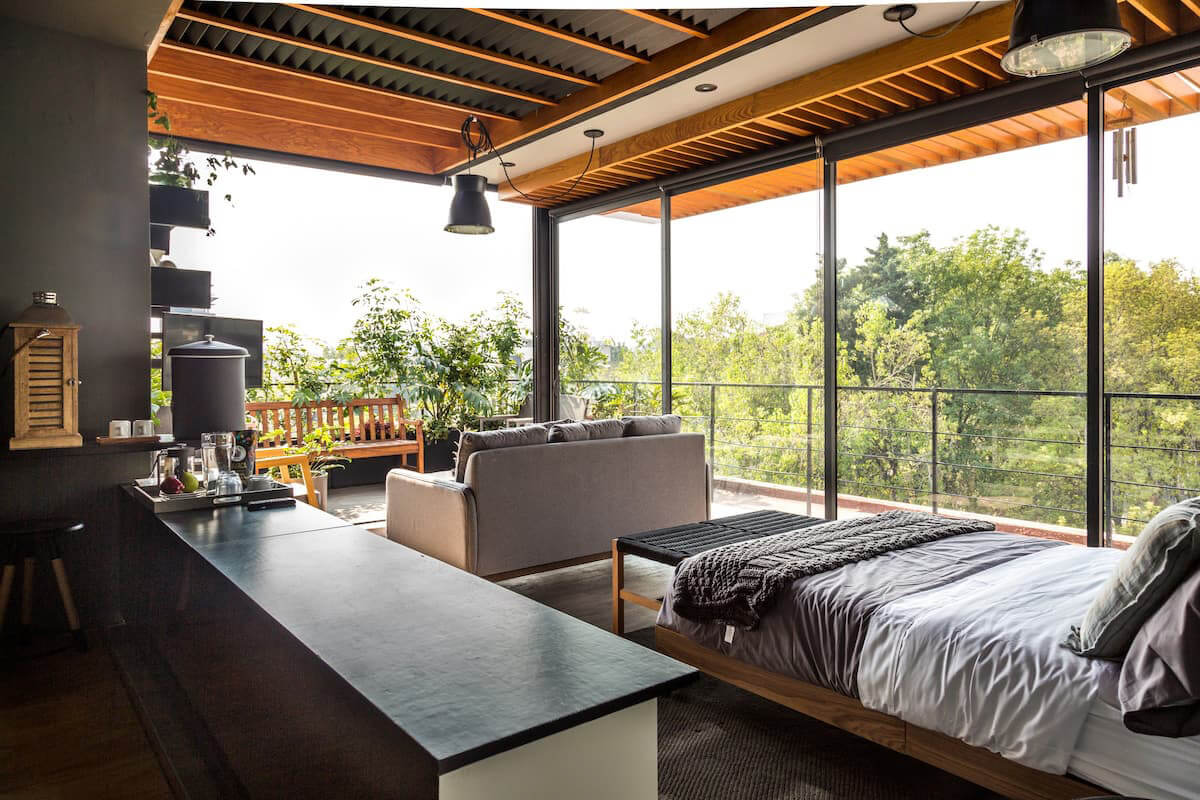 Modern loft with private terrace in Condesa
Location:

La

Condesa neighborhood

Budget:

$$

Number of Guests:

2

Minimum Stay:

2 nights

Superhost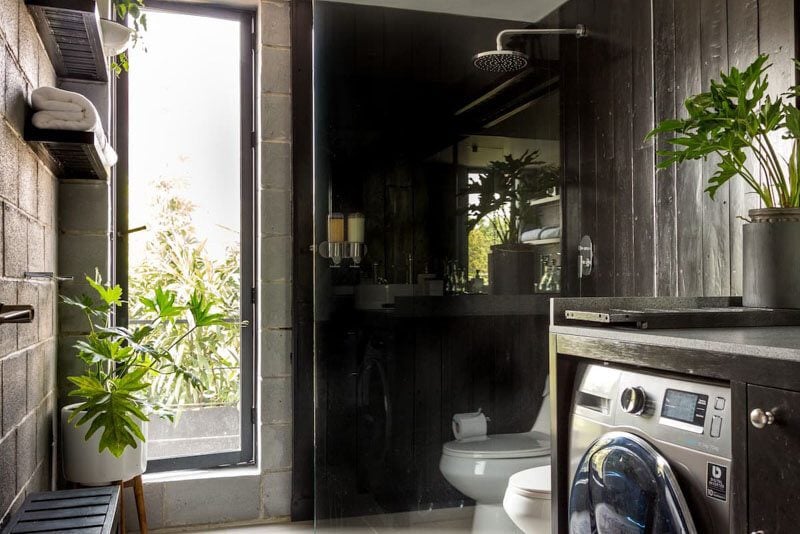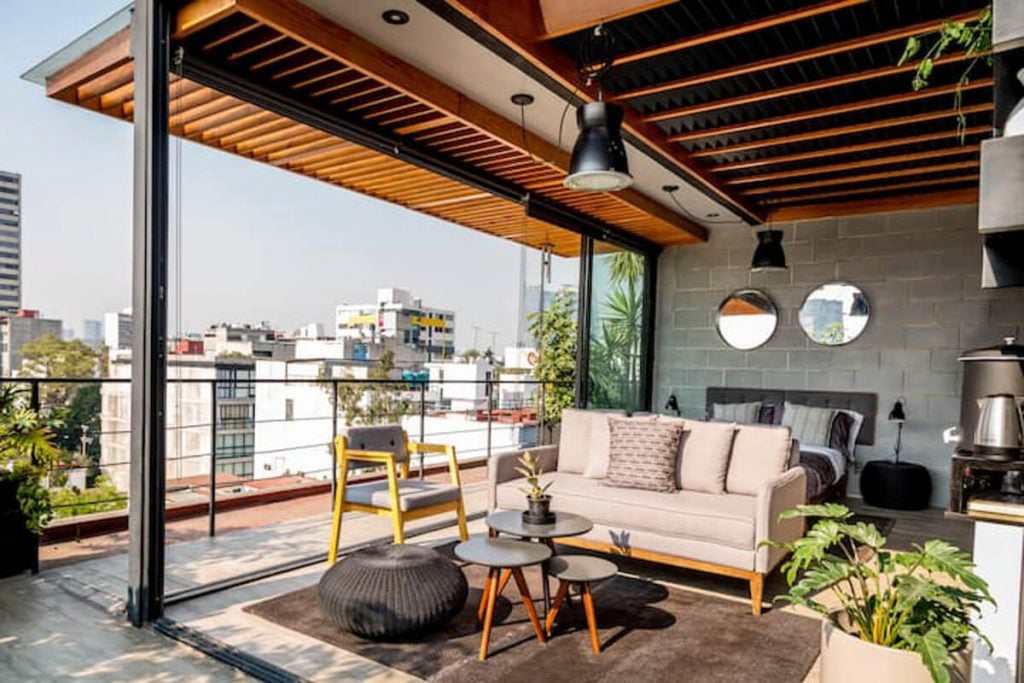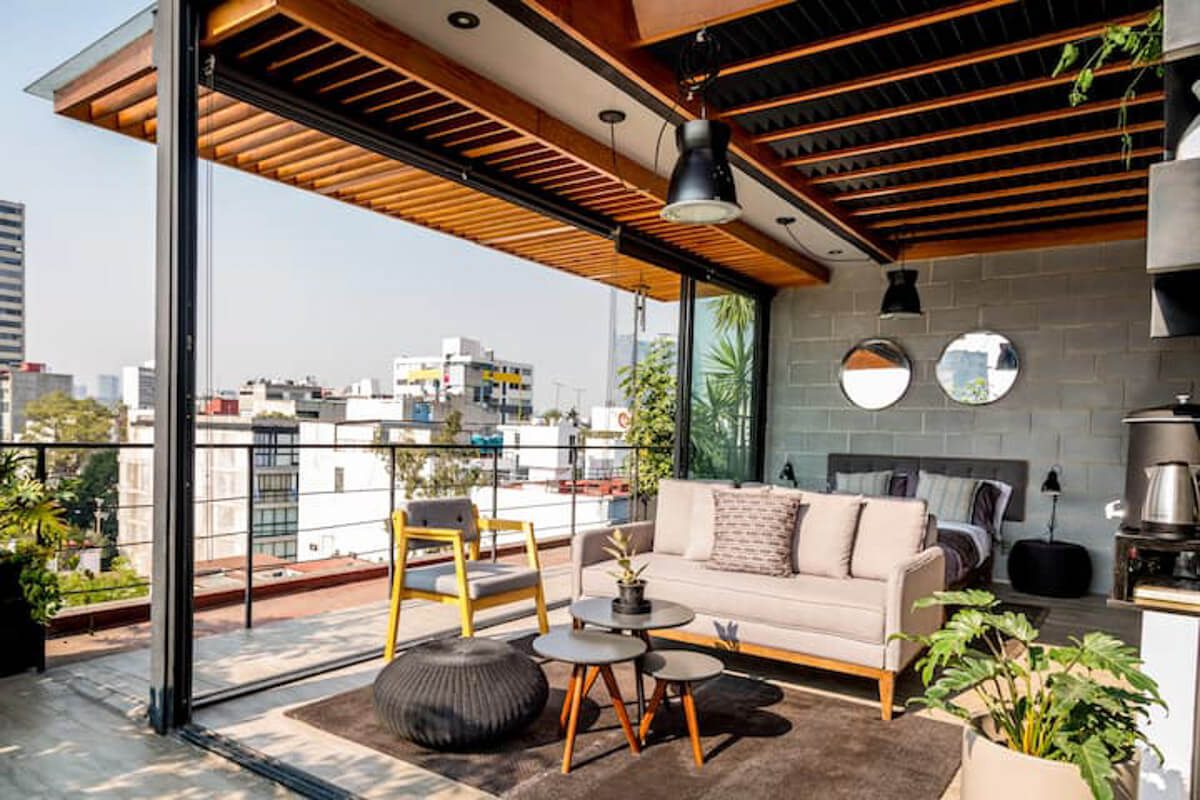 Situated in the heart of Condesa, you can walk to tons of restaurants, markets and parks from this contemporary studio. The beautifully decorated apartment opens up to a large private terrace full of plants. With an ensuite bathroom, full kitchen and 24-hour security, you'll be all set to enjoy your time in CDMX.
Guests loved being able to enjoy the sunset from the private terrace.
"A very cool apartment, extremely well-located near restaurants in Condesa with a beautiful terrace view. Would definitely stay again!" – James, August 2021
Best value for families or group travel | Casa Tierra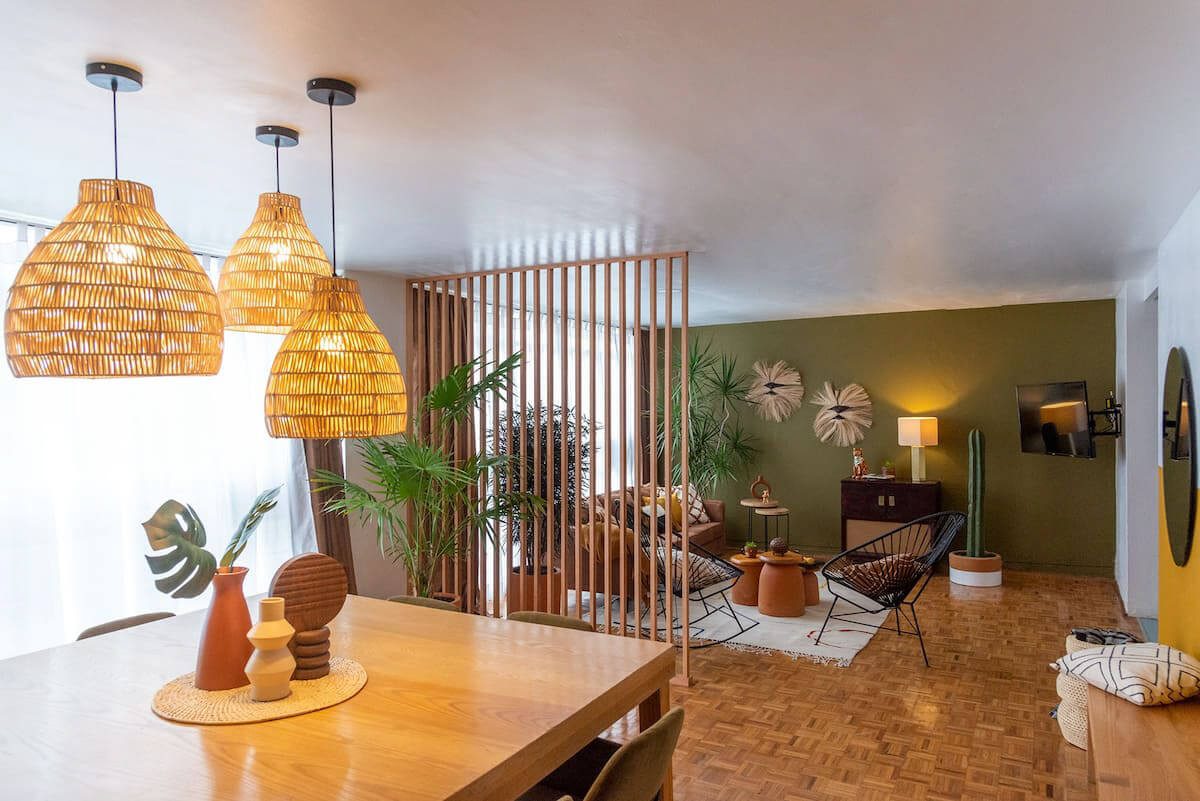 Modern spacious Roma Norte apartment
Location:

Roma Norte neighborhood

Budget:

$$

Number of Guests:

10

Minimum Stay:

1 night

Superhost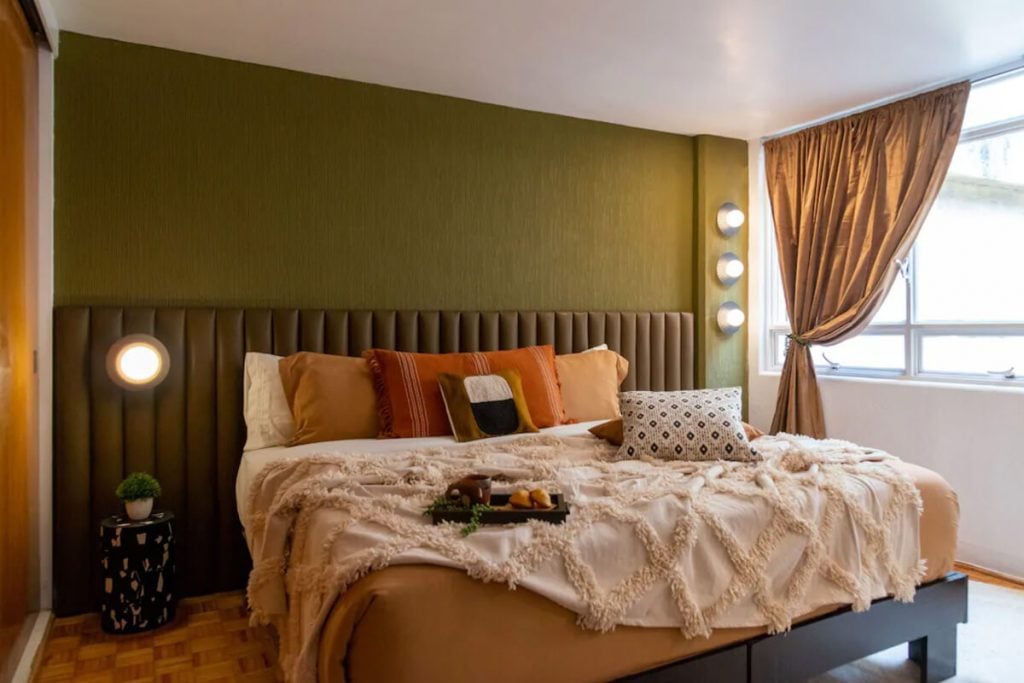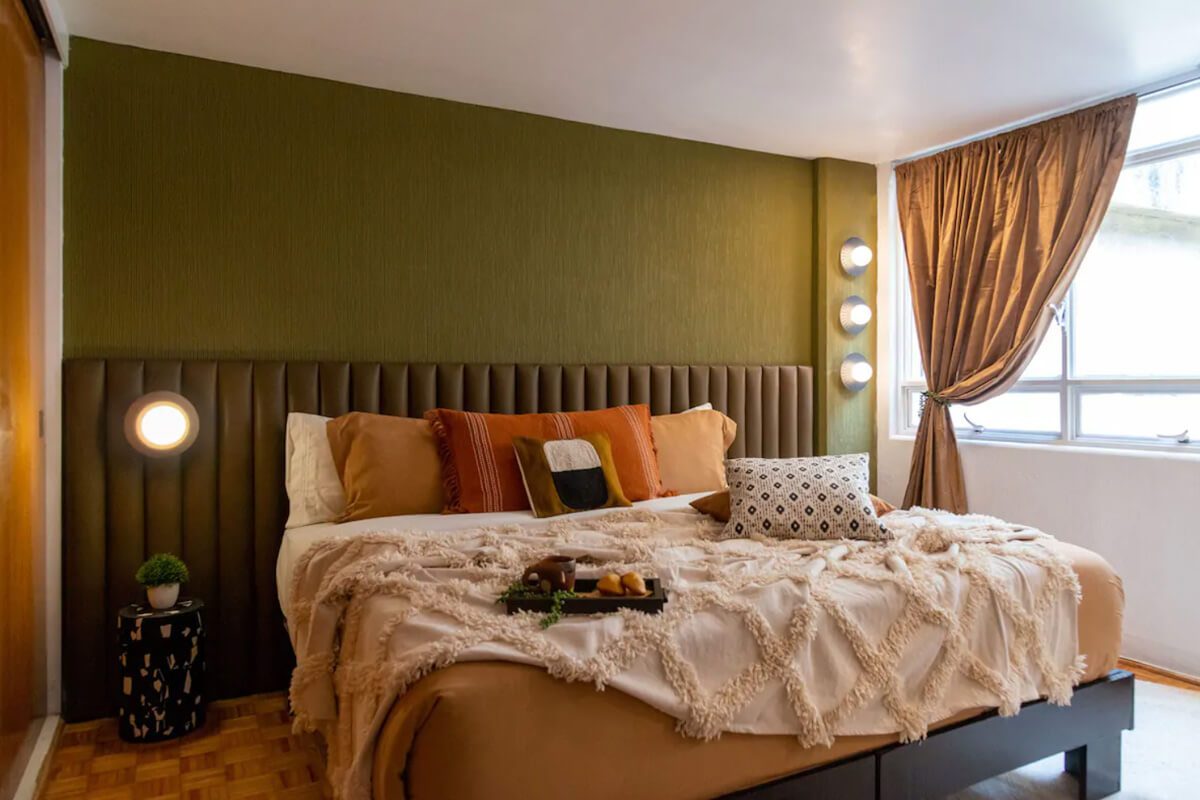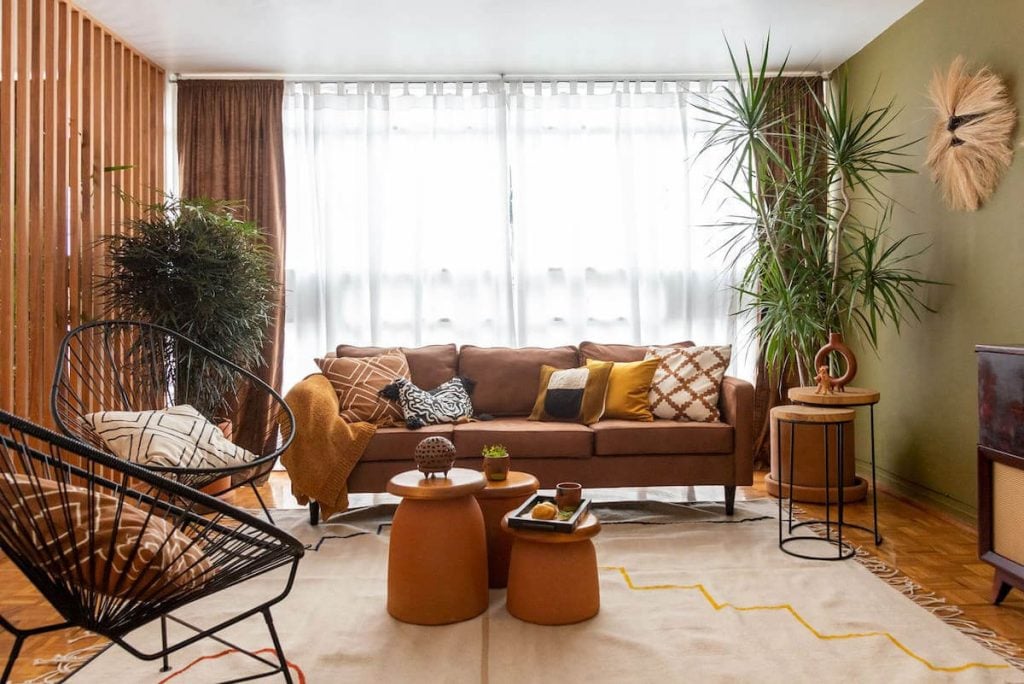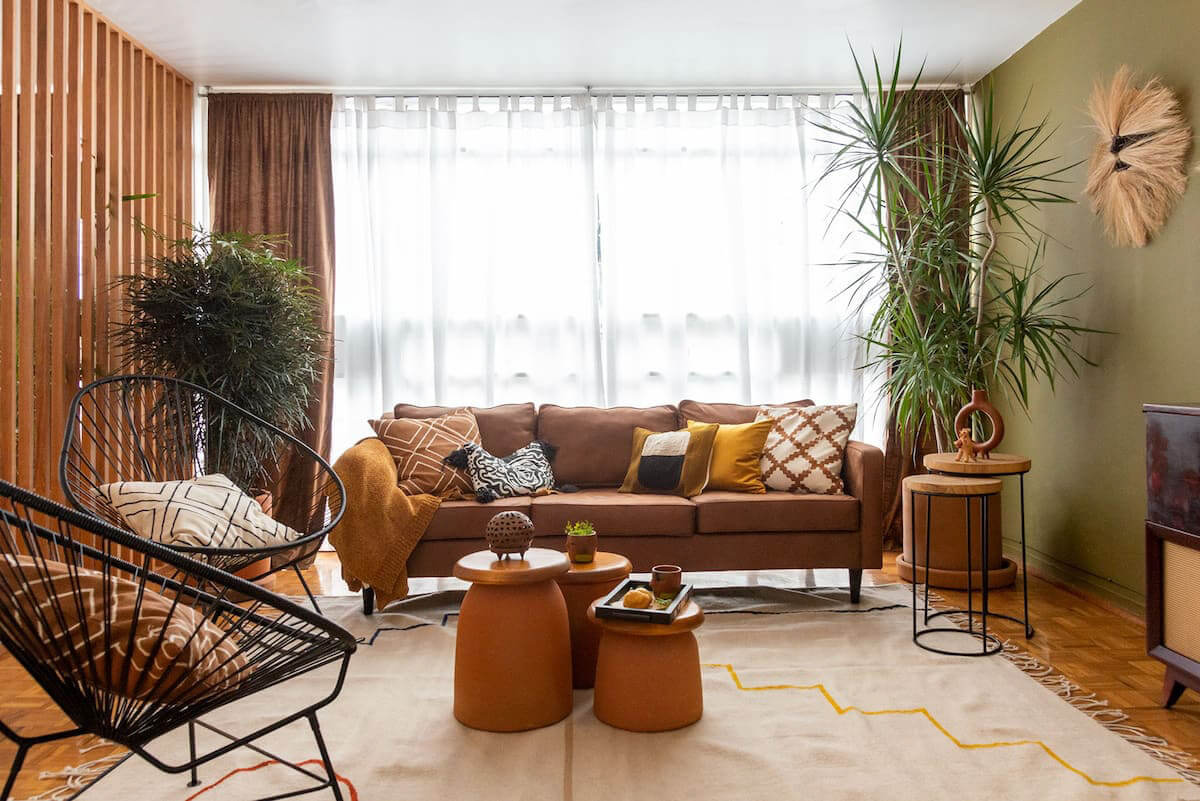 This beautifully decorated 4 bedroom apartment is the perfect space for families or groups traveling to Mexico City. Situated in the Roma Norte neighborhood, the bright and cheerful apartment is within walking distance to lots of restaurants, shops and attractions.
Each room is equipped with blackout curtains, comfortable beds and electric fans and heaters. The host offers a free cleaning services once a week for stays lasting more than 7 days and filtered water and a recycling program are included.
Guests raved about the ideal central location on Alvaro Obregon.
"Well laid out property with well equipped kitchen, bathroom and living spaces. The location was perfect…close to plenty of restaurants, café and street food. Safe neighborhood and easy check in." – Summer, August 2021
Stylish bohemian penthouse
Location:

La Condesa neighborhood

Budget:

$$

Number of Guests:

8

Minimum Stay:

1 night

Superhost | Plus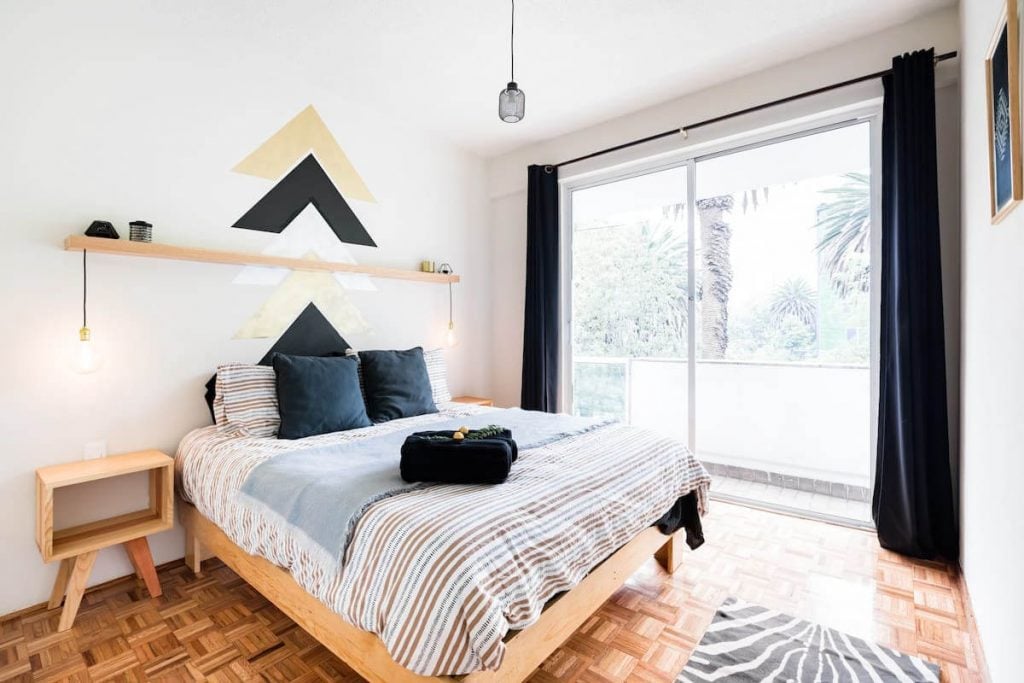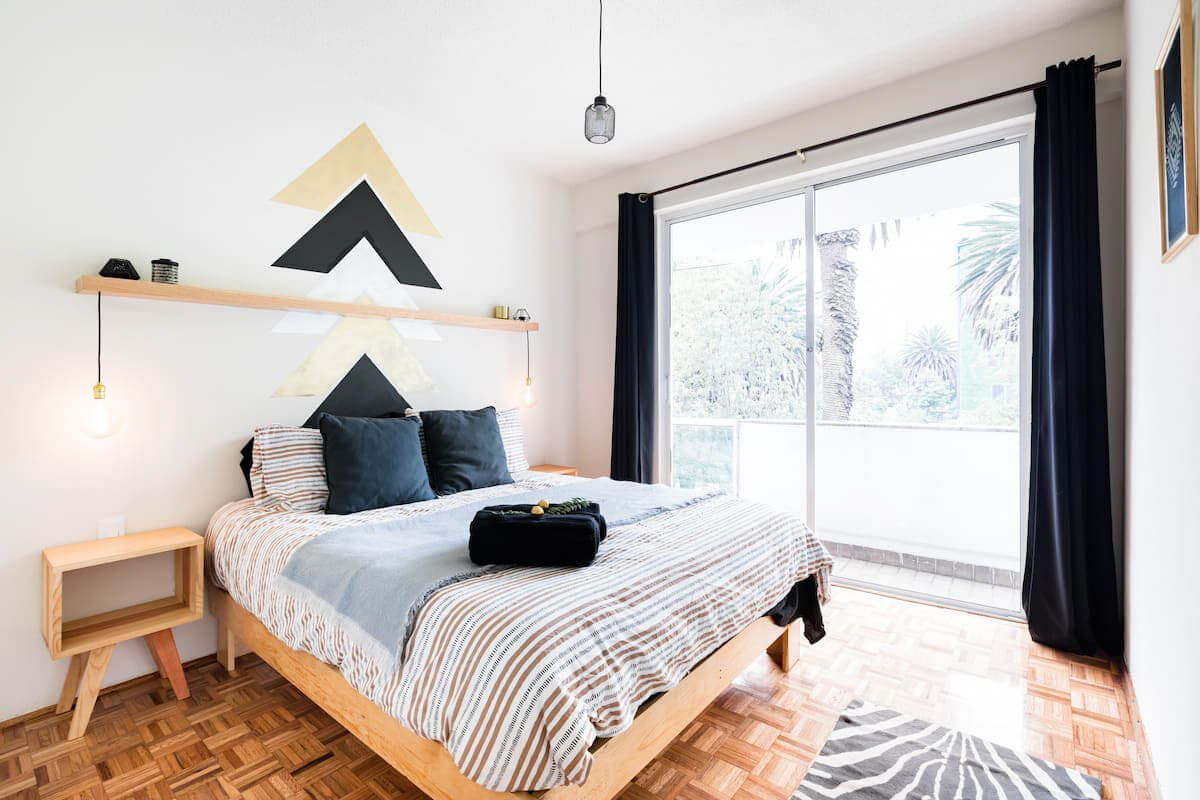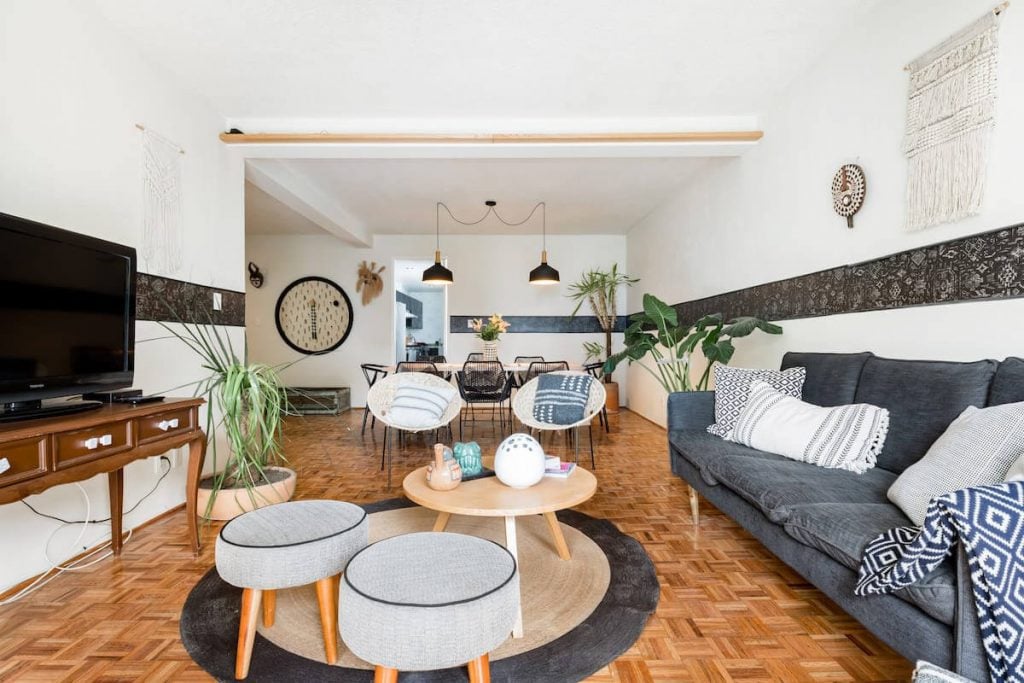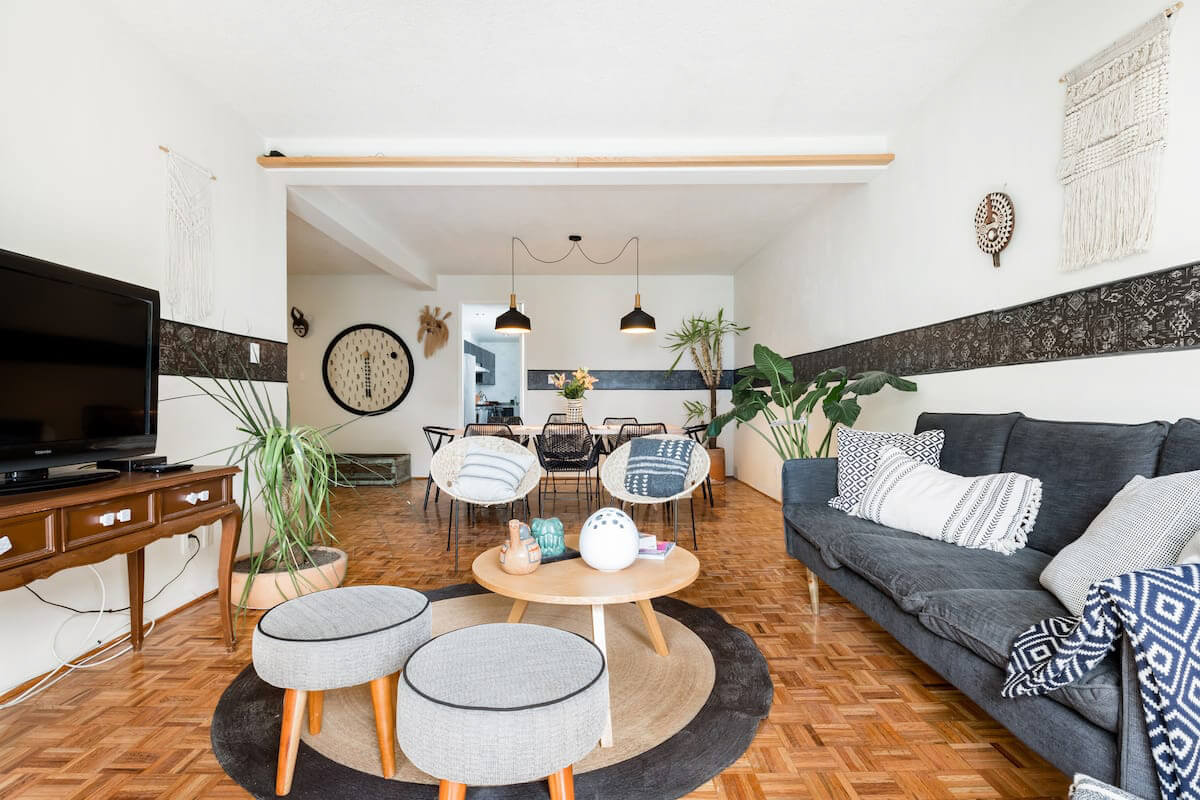 Walk to restaurants, shops and Parque Mexico from this stylish "tribal bohemian" inspired penthouse apartment. The 4 bedroom space is bright and sunny with a full kitchen and small private terrace.
Guests raved about the convenient location.
"Great location, great apartment, and the communication was quick and easy. Would recommend!" – Tyler, August 2021
Honorable Mention:
Central Mexico Airbnbs
Outside of Mexico City, we haven't spent much time elsewhere in central Mexico ourselves, but we've heard great things. The charming colonial towns, the authentic cuisine, the welcoming and friendly people and the affordability are all reasons we'd like to visit central Mexico in our future travels.
Psst! Find out more about central Mexico by looking at all the fun things to do in Puebla.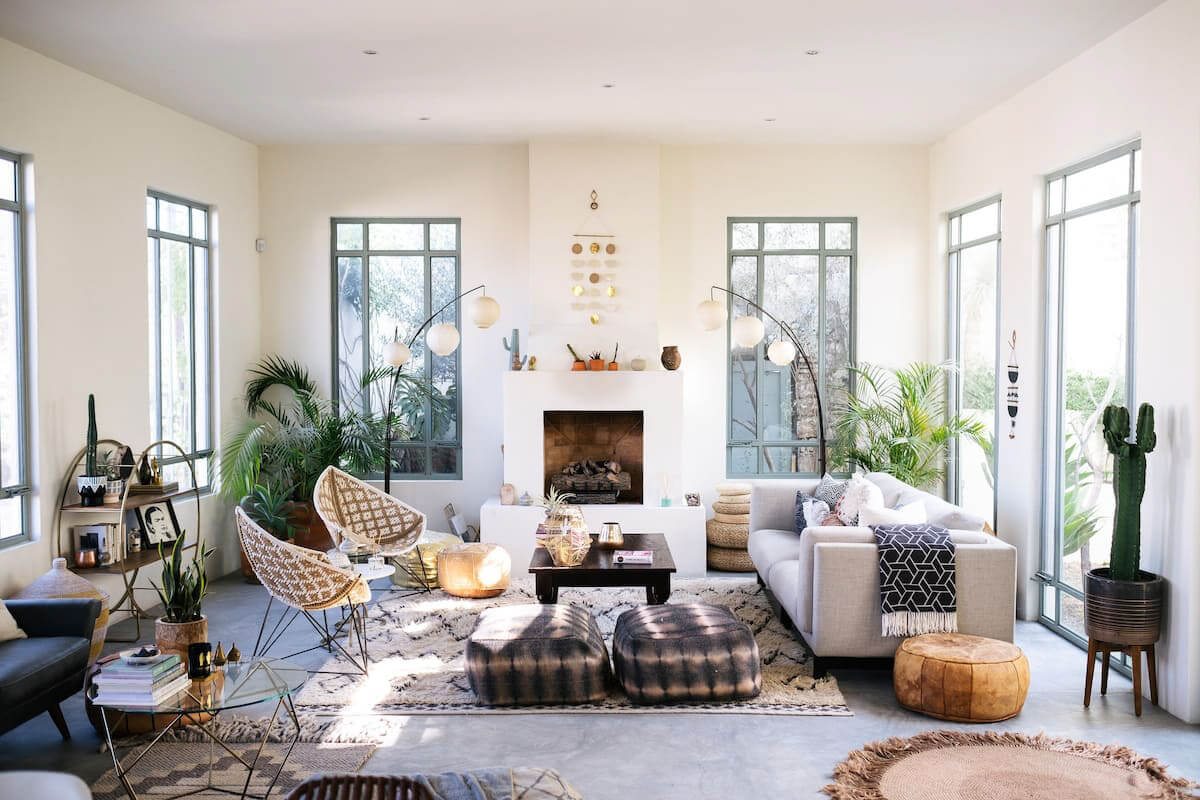 A tranquil oasis in the center of San Miguel
Location:

San Miguel de Allende

Budget:

$$

Number of Guests:

4

Minimum Stay:

2 nights

Superhost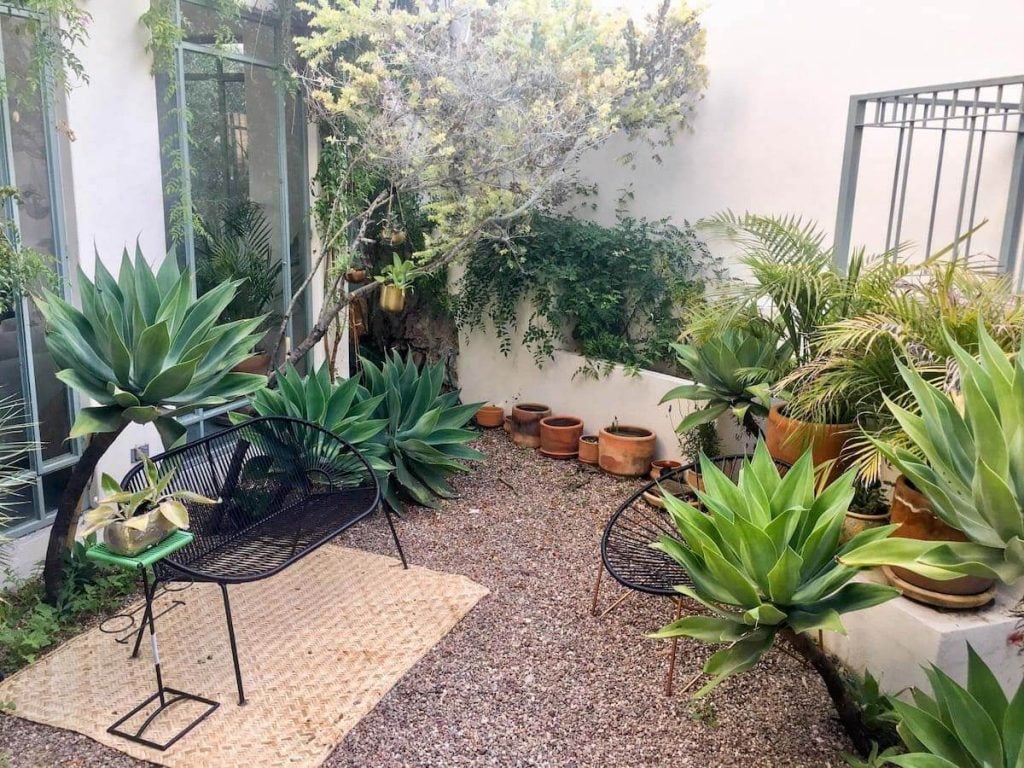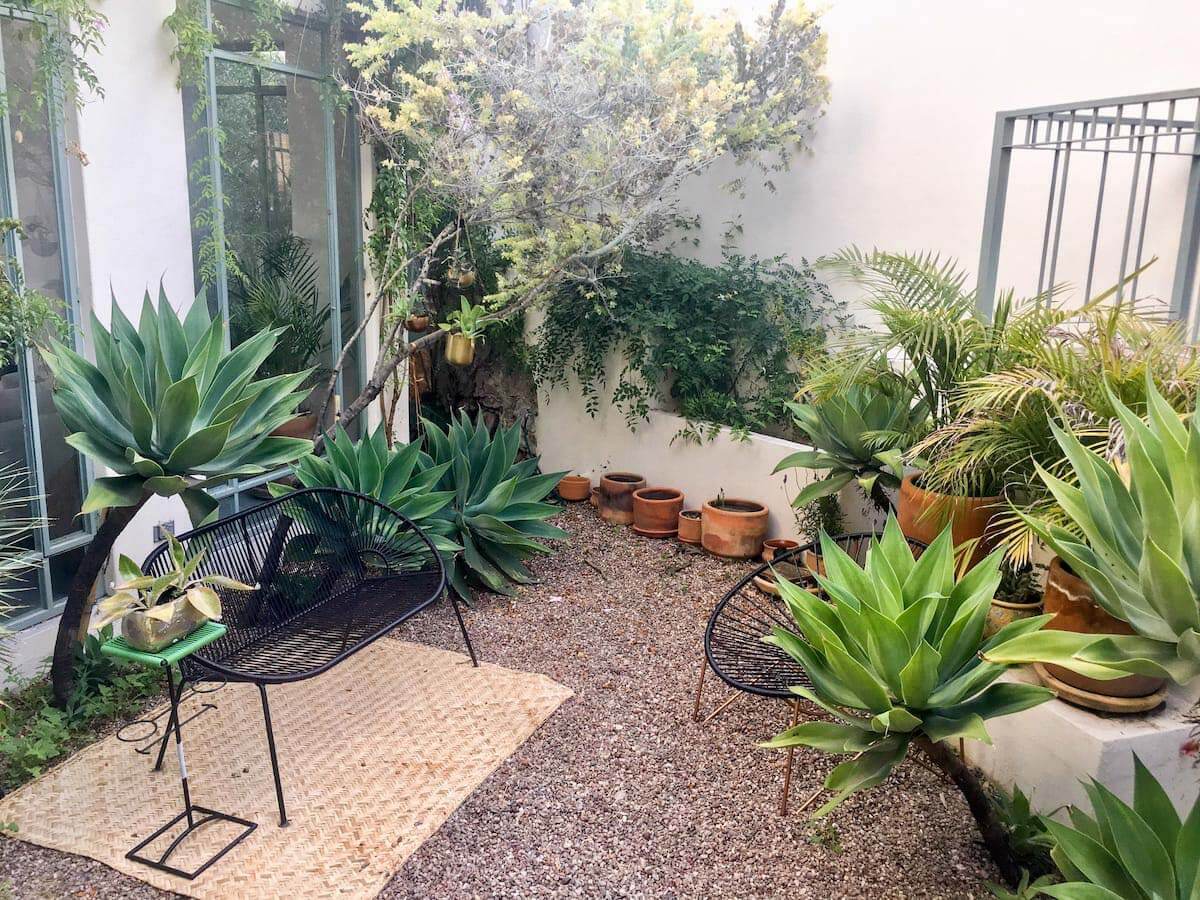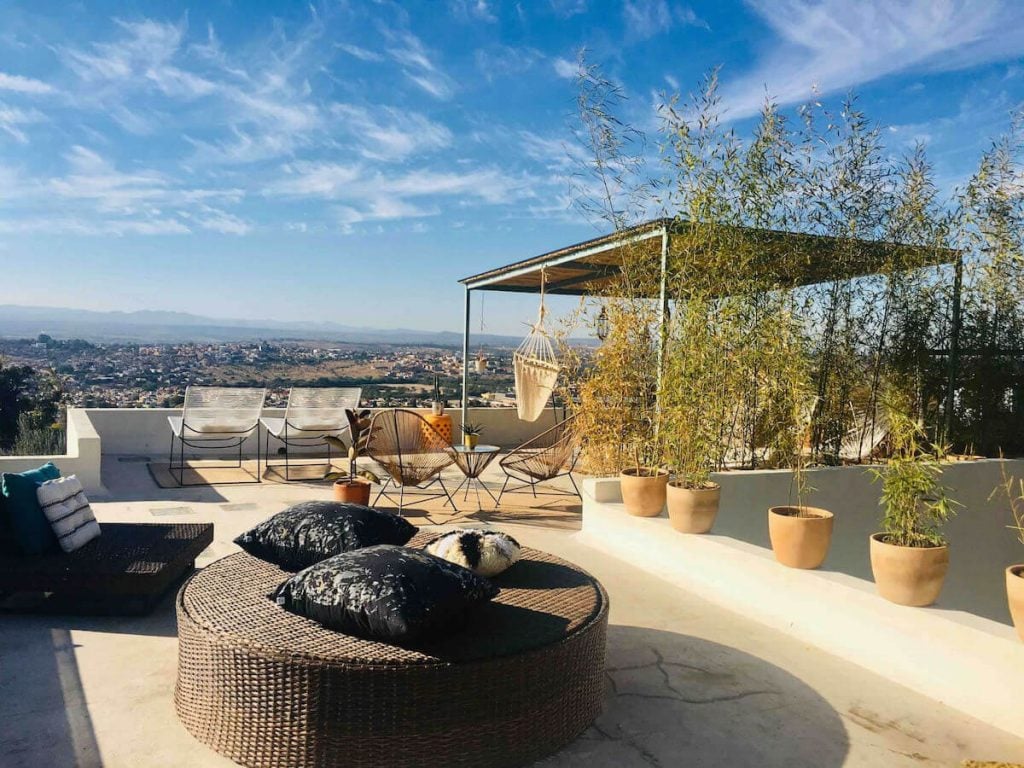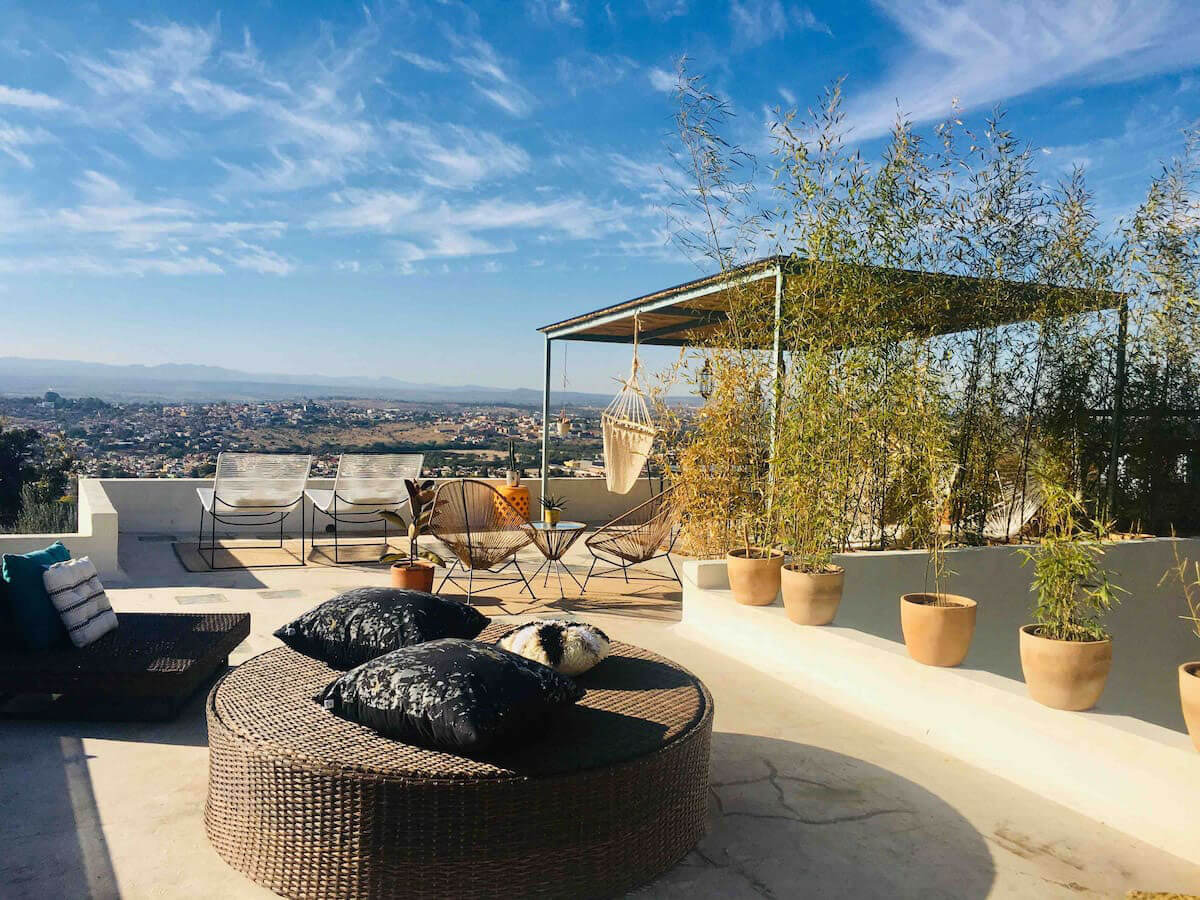 Known for its vibrant street life with friendly locals and expats on every corner, San Miguel de Allende is the charming colonial town where this home is located. You'll be steps from the action, the artisan market, cafes, galleries, boutiques, restaurants, and live music, in your own private oasis. The 2 bedroom abode features a private garden and rooftop terrace, tastefully decorated living spaces and even in-home laundry.
Guests love tasteful decor and thoughtful touches throughout the home.
"We absolutely loved staying at Jamie's place! The decor was so well curated and we really enjoyed all of the plants and open living area. Was well located and would definitely recommend this place for a getaway to lovely San Miguel." – Sarah, August 2021
Honorable Mention:
Airbnbs in Oaxaca, Mexico
One of the most popular destinations in Mexico for Dia de los Muertos (or Day of the Dead) celebrations in November, Oaxaca City and the surrounding state offer incredible experiences year round.
We spent some time there while backpacking through Mexico and found no shortage of things to do in Oaxaca from tasting the renowned cuisine to hiking through the Sierra Norte's indigenous villages.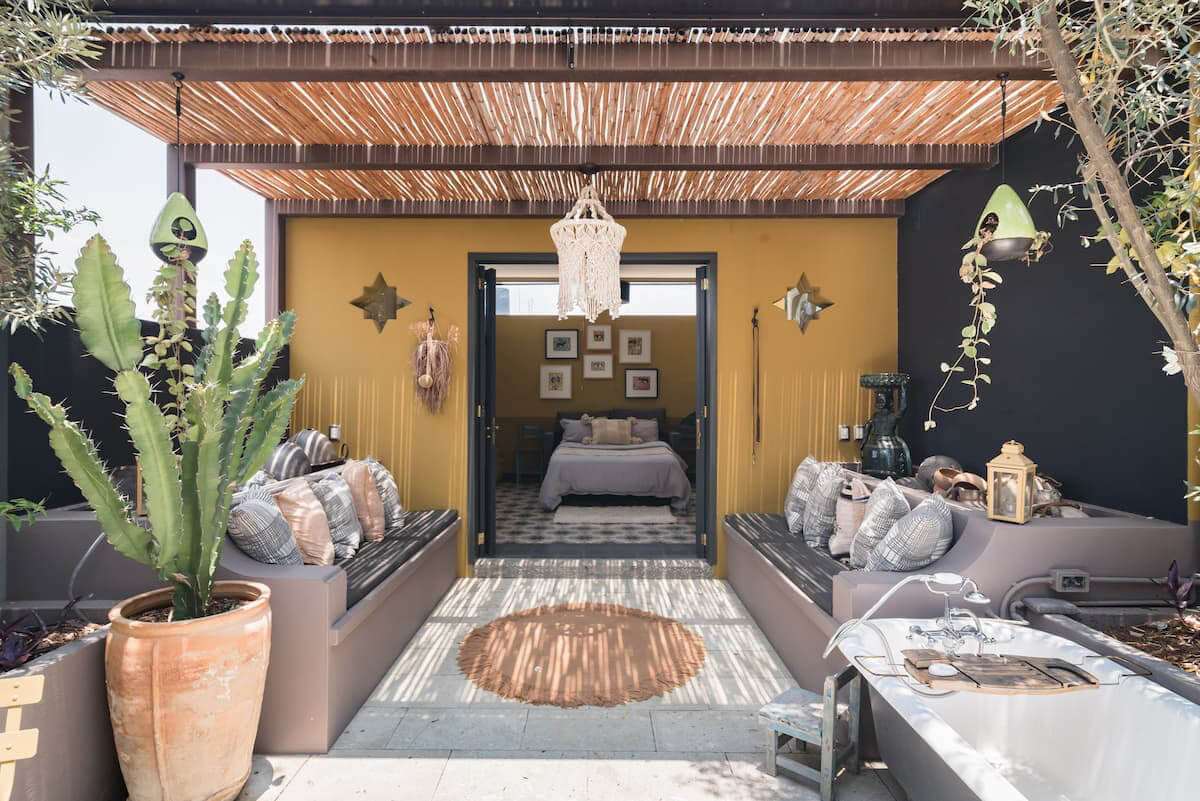 Contemporary penthouse with outdoor bathtub
Location:

Oaxaca City center

Budget:

$$$

Number of Guests:

3

Minimum Stay:

7 nights

Superhost | Plus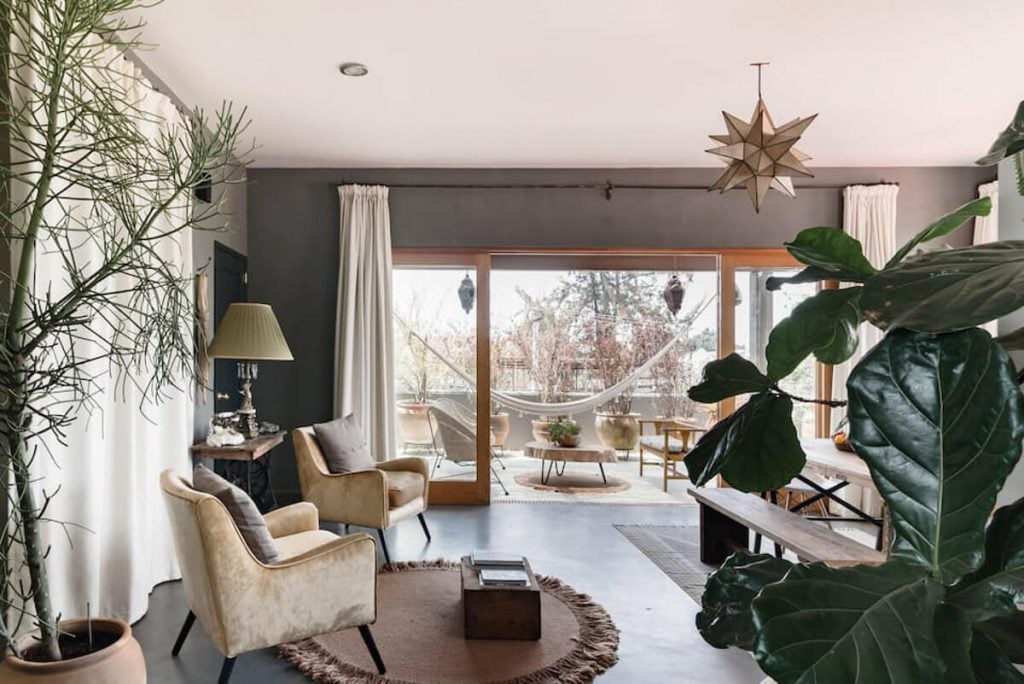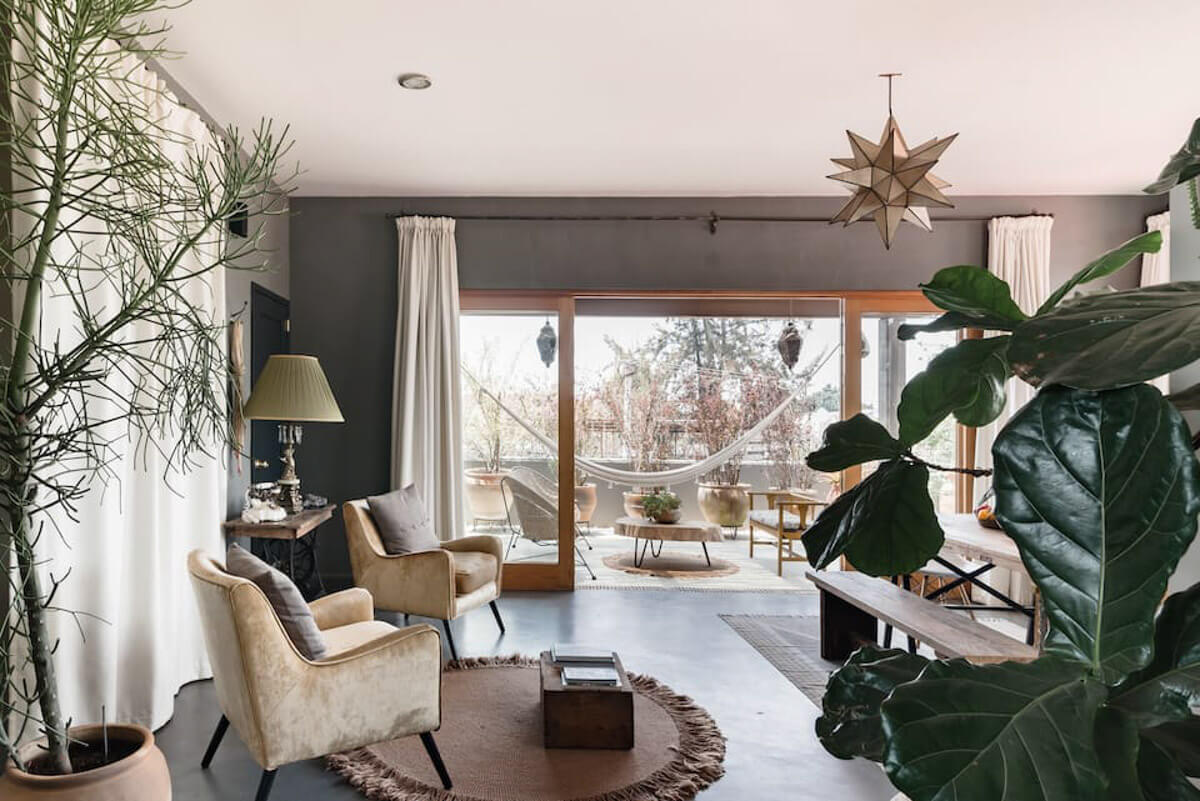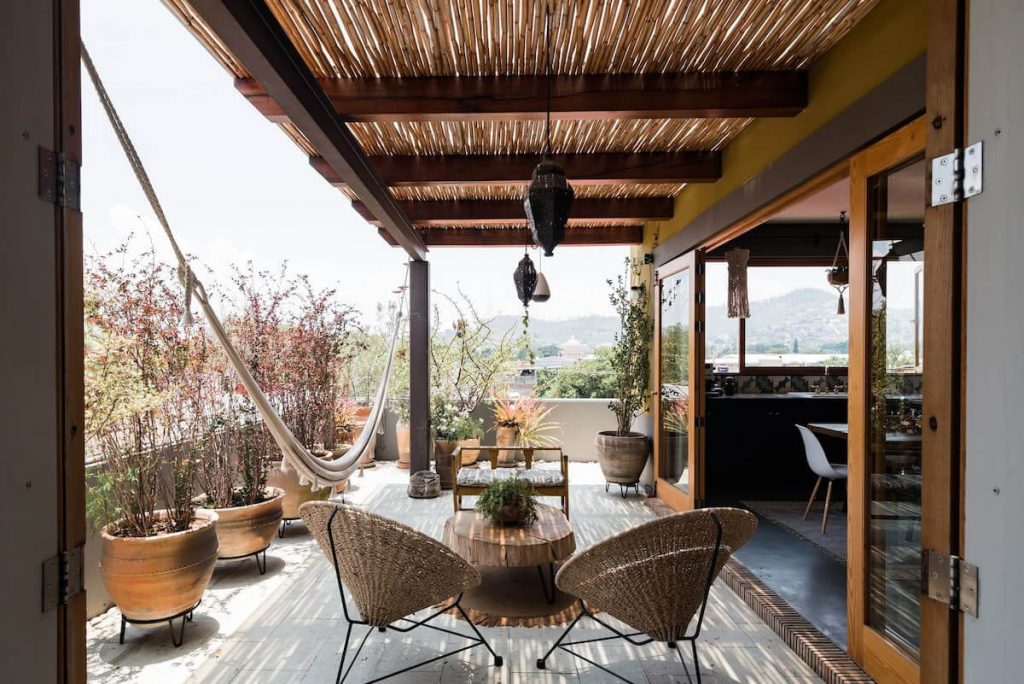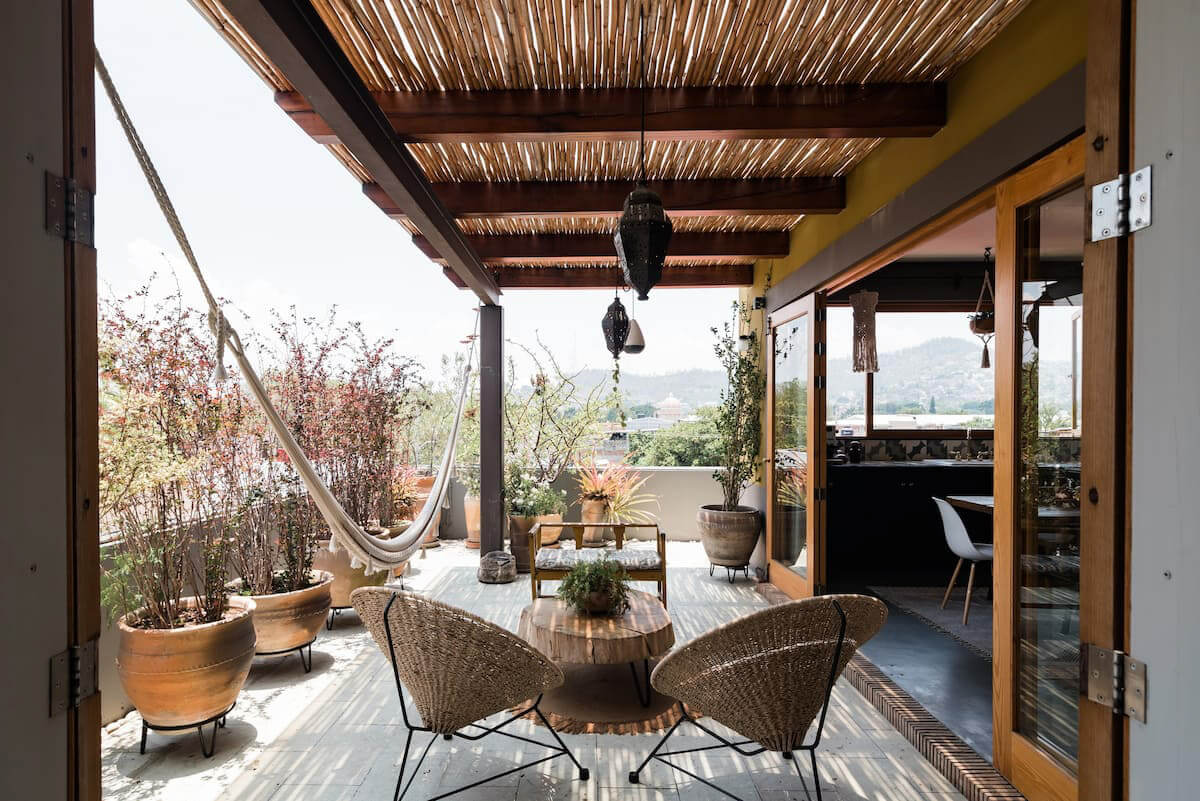 Perhaps the best feature of this modern 2 bedroom penthouse is the large outdoor terrace. The hosts have truly embraced outdoor living by putting a clawfoot soaking tub on their terrace. The beautifully curated 2 bedroom home is perfectly situated in Oaxaca City's historic city center within walking distance to all the action.
Guests rave about the beautifully decorated space and outdoor amenities.
"What an absolute gem of a home. Right away, Raúl made me feel at peace in this excellently decorated penthouse. It seems Raúl considered every detail when designing this space; from the outdoor speakers, the windows all facing west (sunsets!) or the excellent outdoor areas. I had a blast here, and would come back in a heartbeat." – Aaron, October 2020
Best traditional stay in Oaxaca | Villa Rey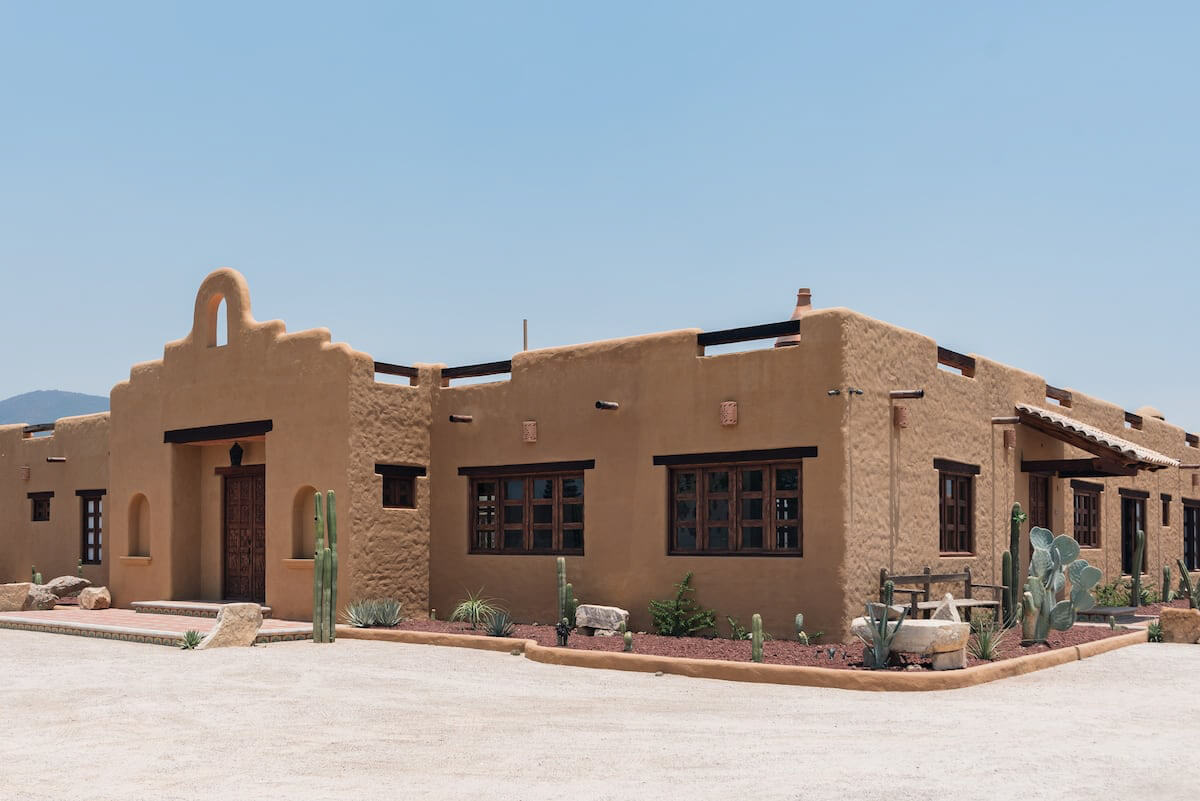 Traditional hacienda near Oaxaca City
Location:

San Francisco Lachigoló

Budget:

$$$

Number of Guests:

6

Minimum Stay:

3 nights

Superhost | Plus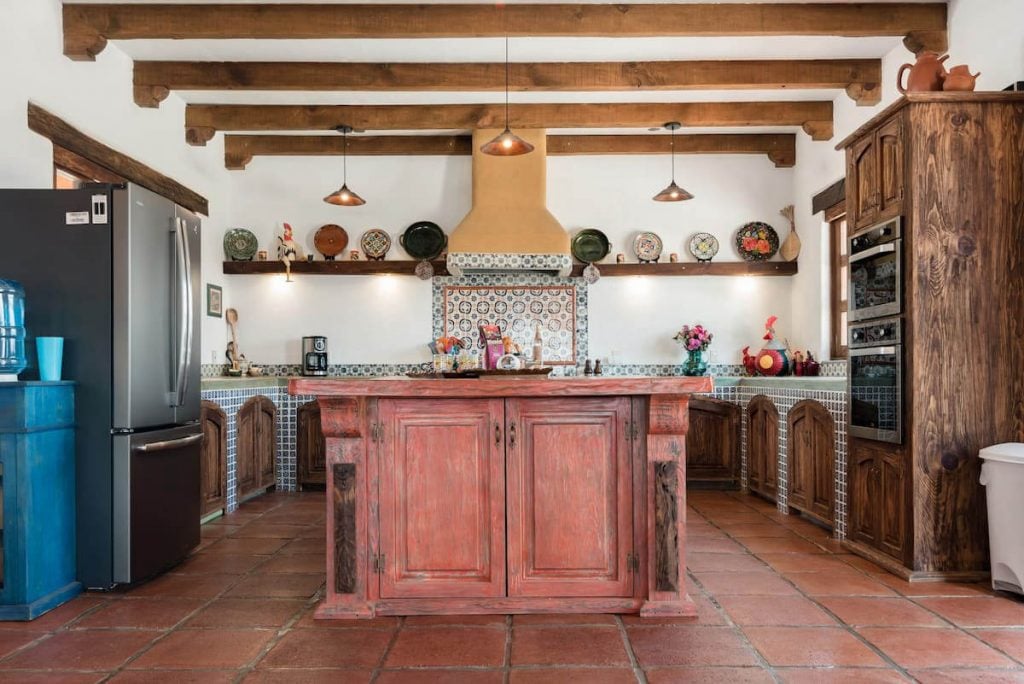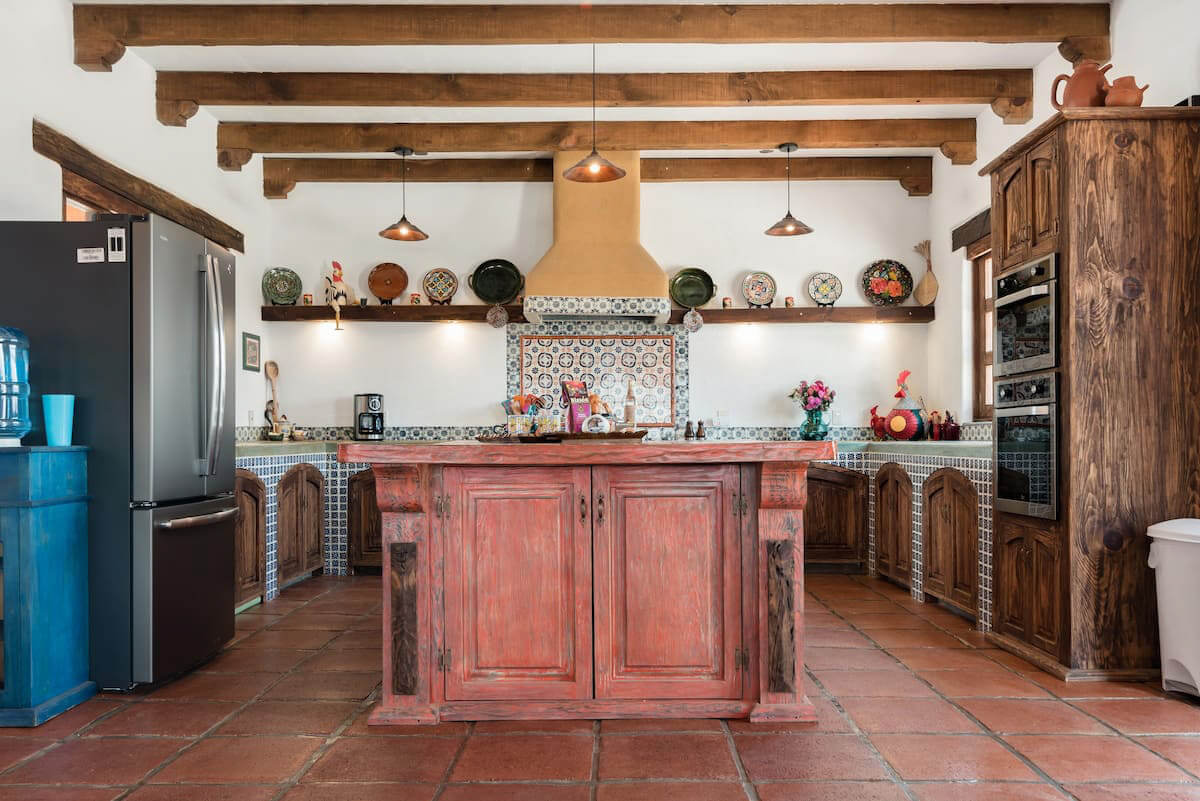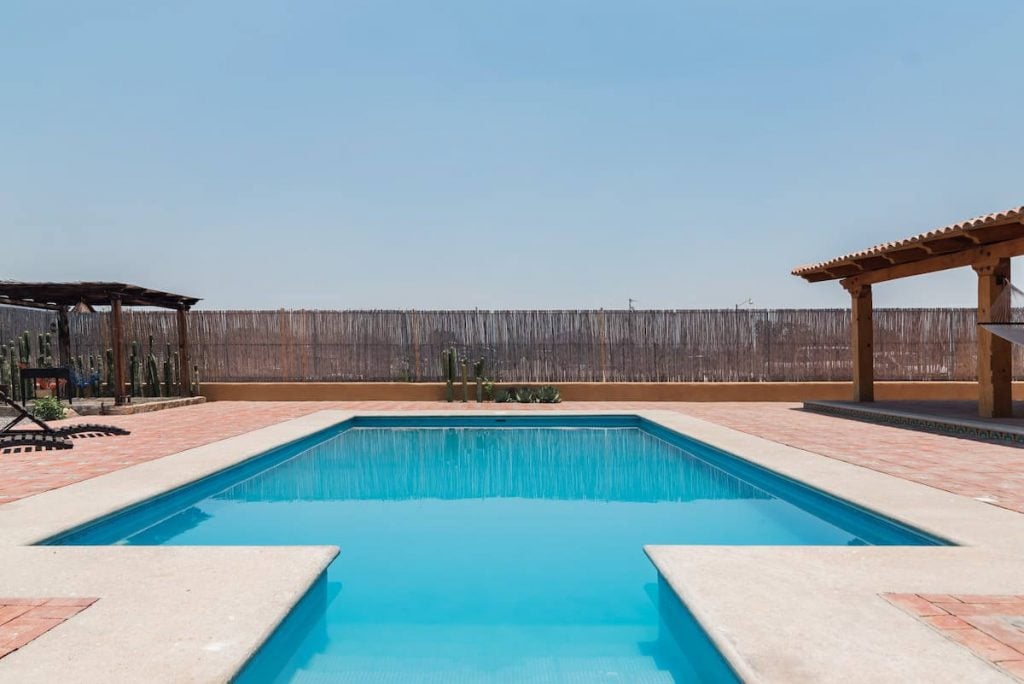 This 5-star rated property, located just 30 minutes east of Oaxaca Centro, is the perfect stay for guests who want to experience a more traditional side of Oaxacan culture in a quieter area outside the bustling downtown. The beautiful 2 bedroom home is built as a traditional hacienda, or guest house, and decorated in the same style.
Guests love the private pool and views from the rooftop terrace.
"The home is even more beautiful in person than the photos do justice. Being outside of the city…where it is much quieter it made for a great place to unwind after a day of exploring. We made great use of the pool on the hotter days and Chamin came multiple times to ensure cleanliness, and the rooftop view of the mountains is a gorgeous place to relax… Antonio & Chamin are fantastic hosts that hold their home to a very high standard. Without a doubt we will look to stay here again on our next trip to Oaxaca!" – Bennett, August 2021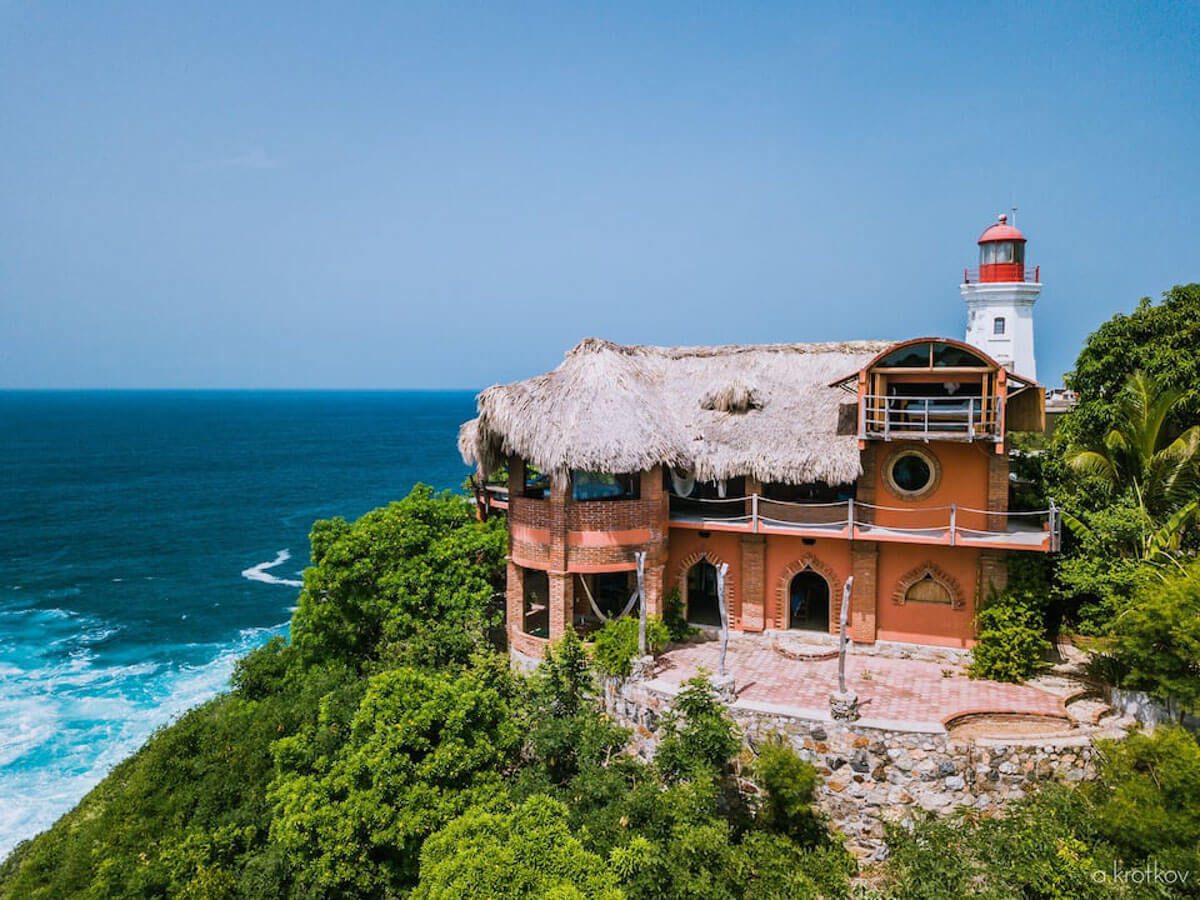 Cliffside home with stunning views
Location:

Midway between Puerto Angel and Zipolite

Budget:

$$

Number of Guests:

9

Minimum Stay:

2 nights

Superhost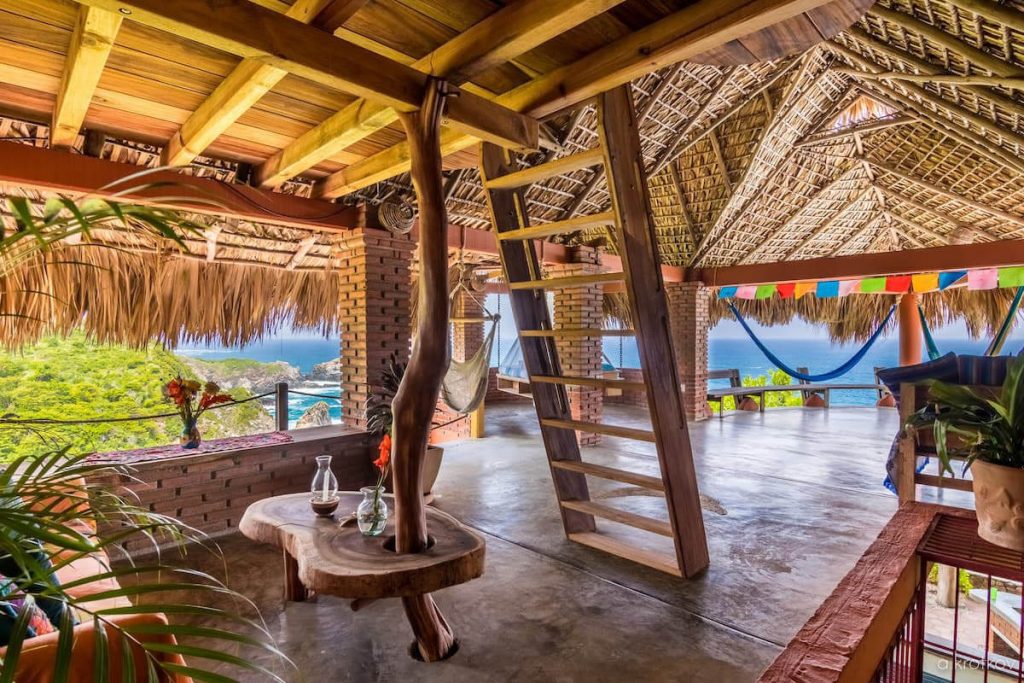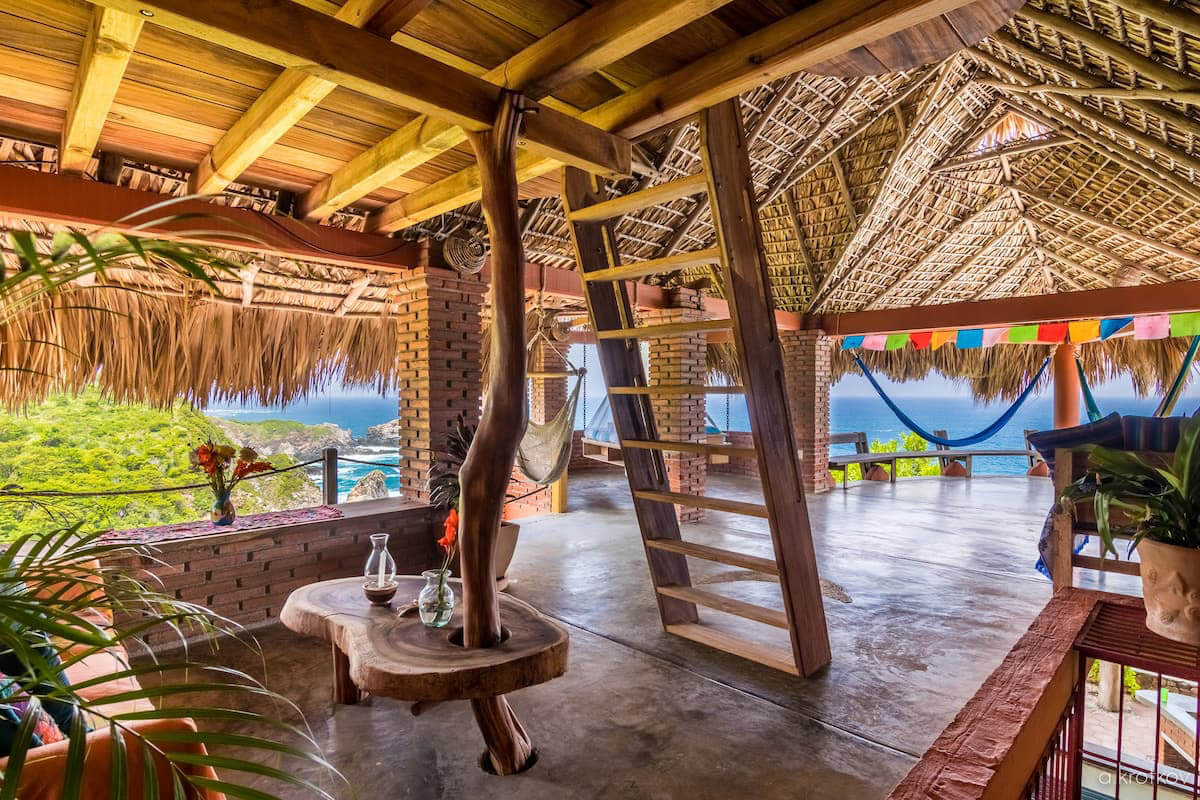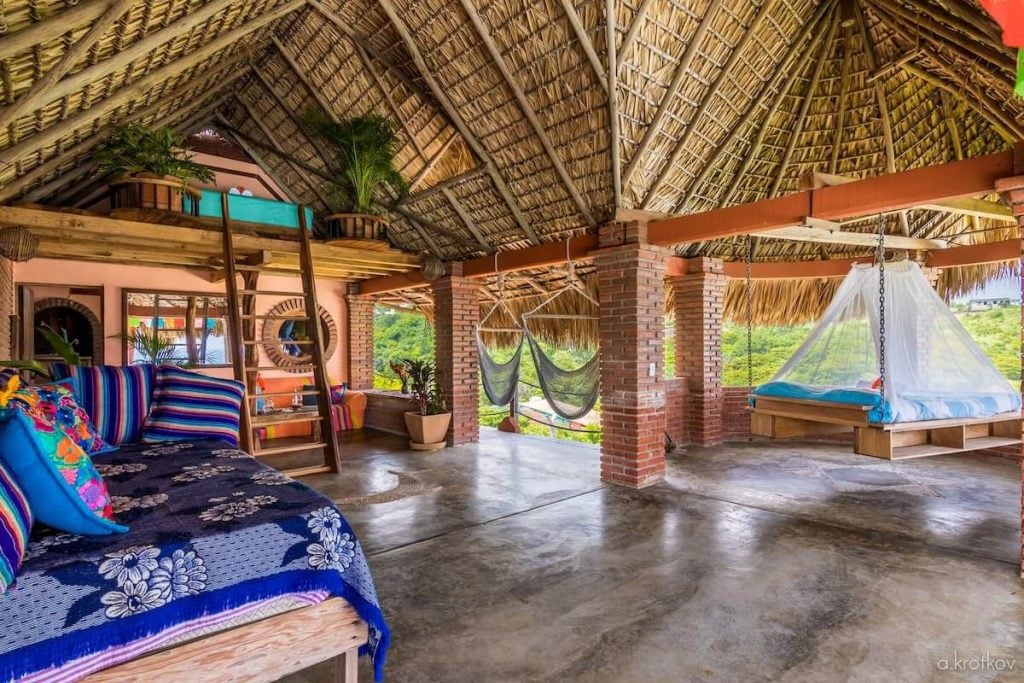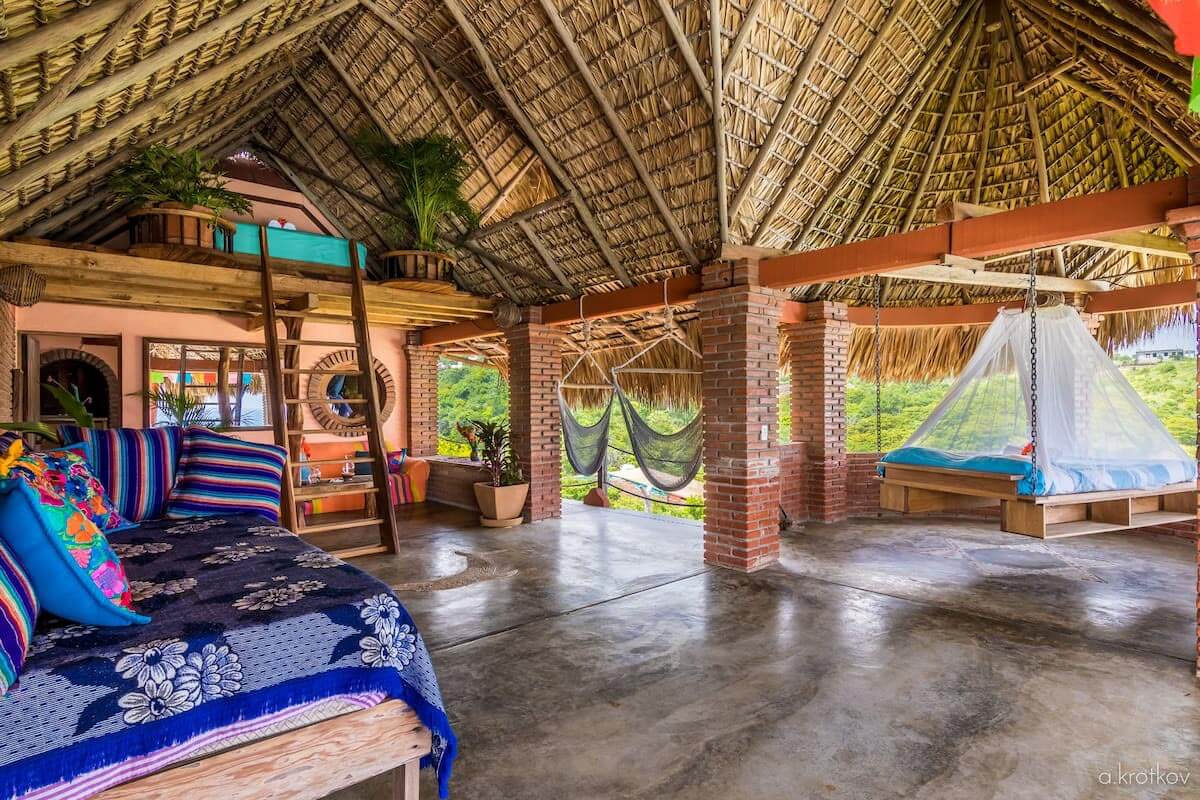 You'll be hard pressed to find any stay quite like Casa Faro, which sits atop a cliff overlooking the Pacific Ocean next to Puerto Angel's historic lighthouse. The traditionally decorated, semi open-air space is large and perfect for big families or groups looking for a secluded oceanside getaway.
The home includes 7 beds, a chef's kitchen indoors as well as an outdoor kitchen, plenty of indoor-outdoor living space and 180 degree views of the Pacific. One thing to note is the bathroom and shower areas are in a separate space, just a few steps across a patio from the front entrance to the house.
Guests love the unparalleled views and privacy of the remote location.
"Our stay at Casa Faro was incredible!… The house itself was very beautiful and the views were some of the most amazing I've ever seen…The house is in a very remote location but there are many beautiful beaches and several restaurants within a short drive. This was definitely the most unique Airbnb I've ever stayed in and I would highly recommend it to others!" – Morgan, July 2021
Honorable Mention:
Airbnbs in Chiapas, Mexico
An often overlooked state for it's more popular neighbors, Chiapas is one of our favorite places in Mexico with so much adventure to be had there. The charming Spanish colonial town of San Cristóbal de las Casas stole our hearts with its cute cafes, amazing textiles and nearby nature. We found our favorite of the Mayan ruins, Palenque, there as well.
Centrally located modern apartment
Location:

San Cristóbal de las Casas

Budget:

$

Number of Guests:

4

Minimum Stay:

1 night

Superhost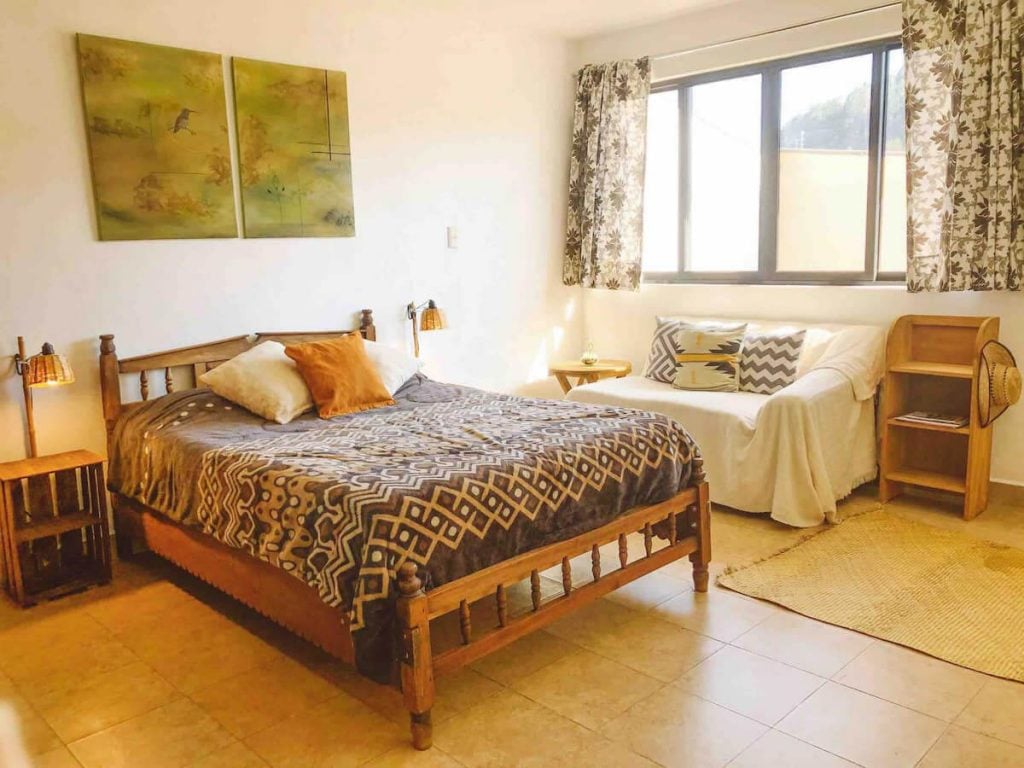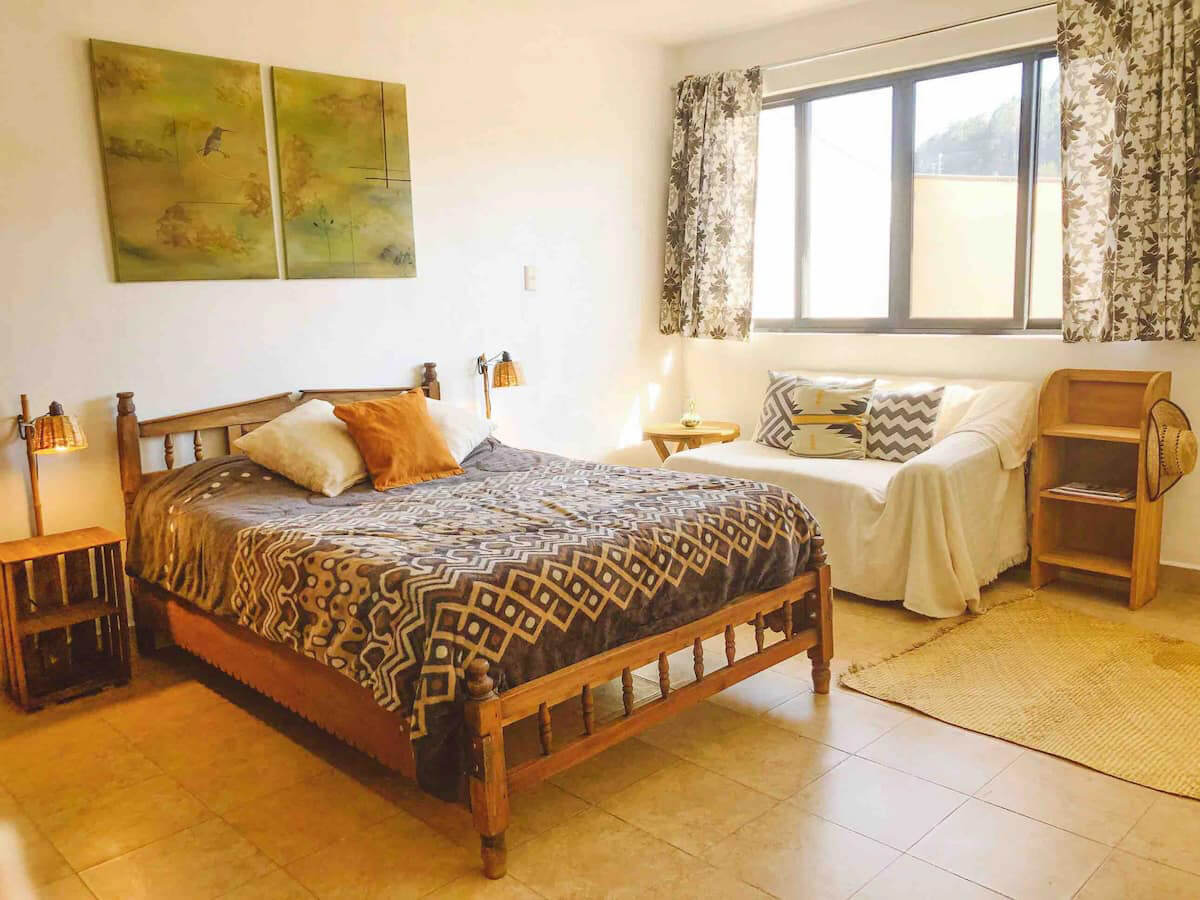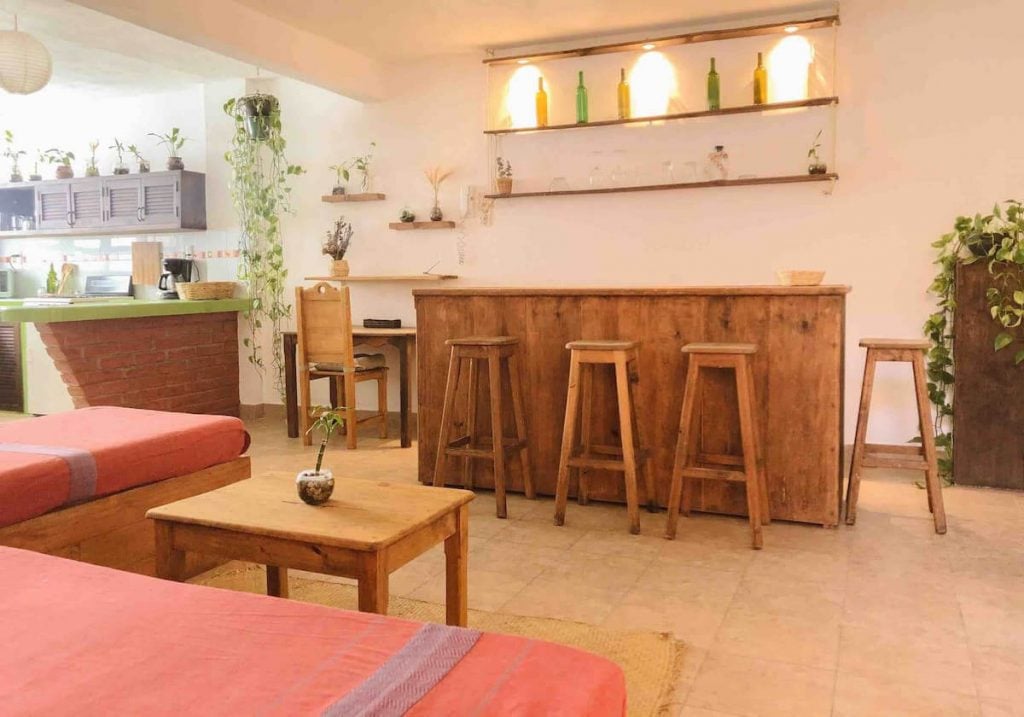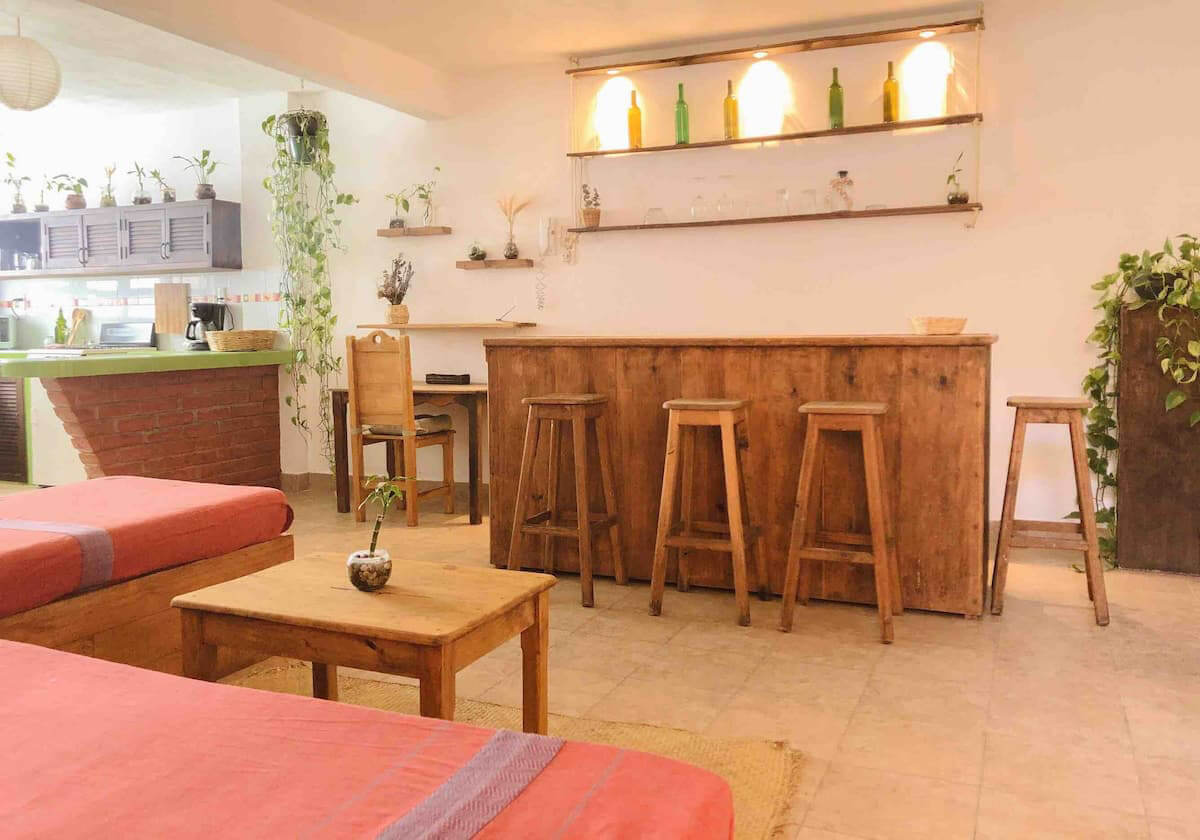 Stay in one of the most traditional and central neighborhoods of San Cristóbal de las Casas, just steps from the main attractions. This beautifully decorated 2 bedroom apartment is heavy on space and easy on the budget. The apartment is great for families, or longer-term travelers and comes with a secure parking spot.
Guests love the ideal location, not far from the city center, but still quiet and residential.
"Elena's place was probably the most beautiful Airbnb we have stayed at. It's also in the perfect location (not far from the center of town) yet quiet. We also appreciated having a secure place to park our car. Elena is an excellent, kind and attentive host. I highly recommend her place." – Nisrin, August 2021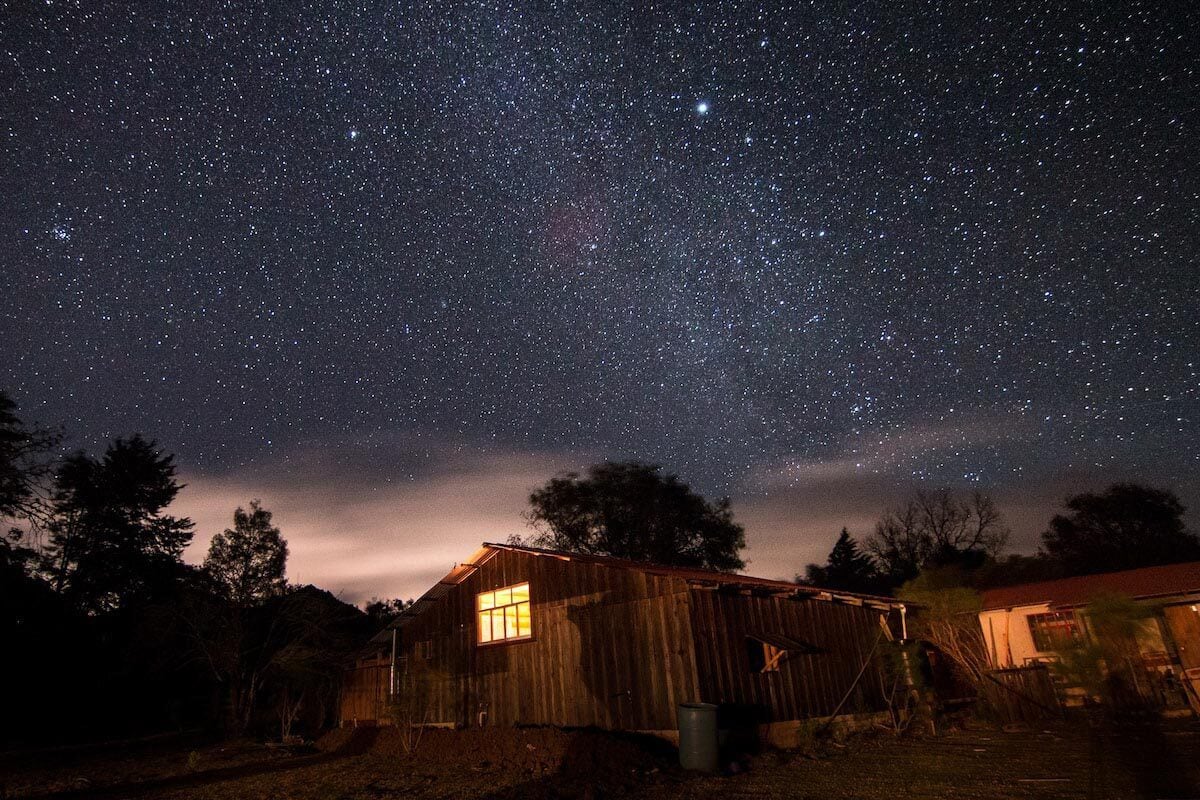 Cosy cabin on a horse ranch
Location:

San Isidro Chichihuistan

Budget:

$$

Number of Guests:

5

Minimum Stay:

2 nights

Superhost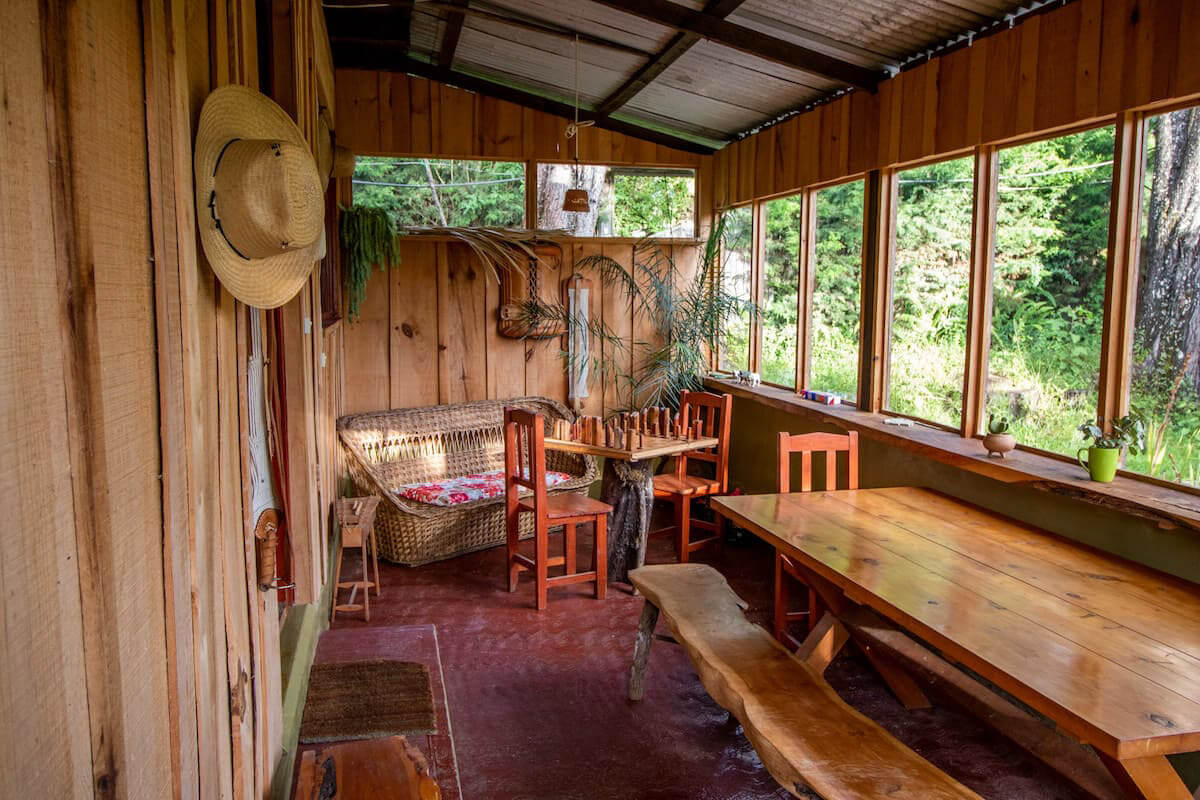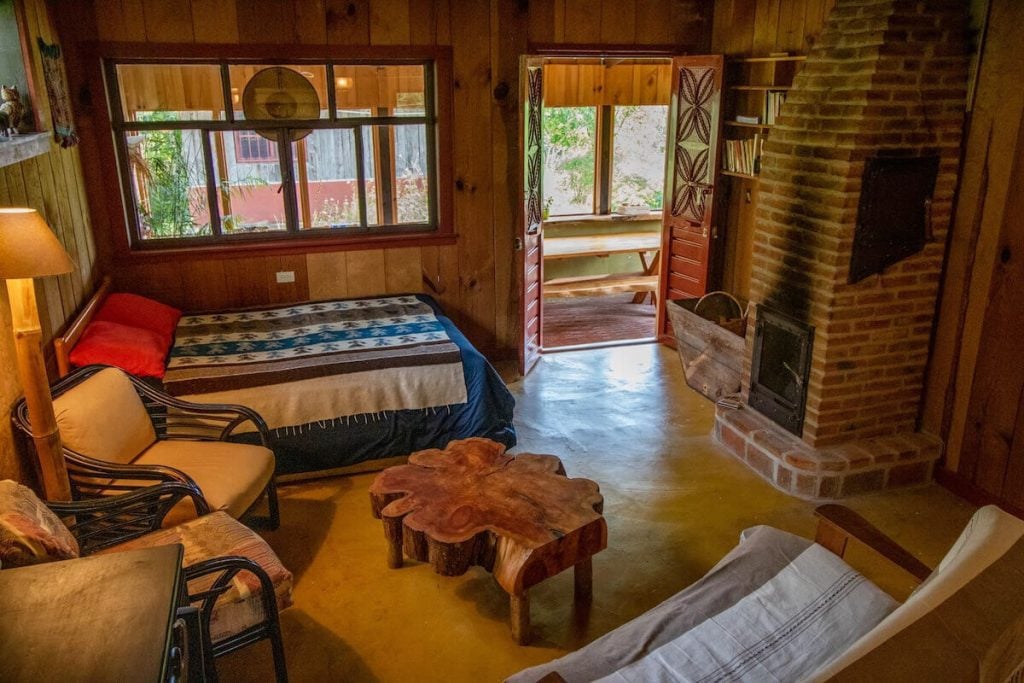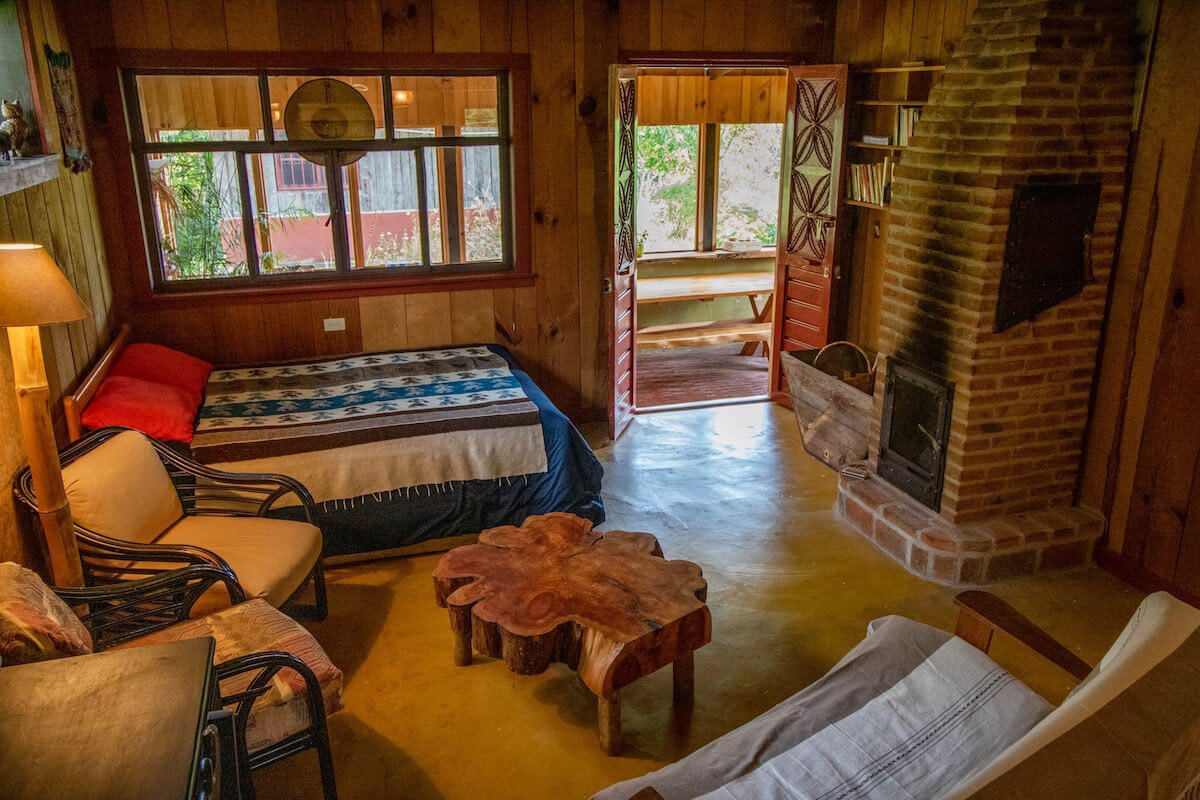 Surrounded by 100 acres of forest and prairie, El Rancho Evergreen is the guest house on a working equestrian ranch. This unique 1 bedroom property is the perfect place to disconnect and re-energize yourself, tucked away in a valley 45 min south of San Cristóbal de las Casas.
Guests rave about the unique and personal experience with the friendly hosts and give them 5 stars across the board.
"Our stay at the ranch was nothing short of magic. Stephanie and Sam are great hosts who have created something truly special outside the city. I'd recommend Rancho Evergreen to anyone traveling through Chiapas!" – Alexa, August 2021
Honorable Mention:
Airbnbs on the West Coast & Baja Mexico
Marked by popular destinations like Puerto Vallarta and Mazatlan, and smaller but growing surf towns like Sayulita, you can imagine Mexico's west coast is a popular destination for beach-goers and sunset chasers.
Similarly, the Baja Peninsula, you know the part of Mexico that sticks out below California, is best known for the resort town at the very tip. You've probably heard of it: a little place called Cabo San Lucas.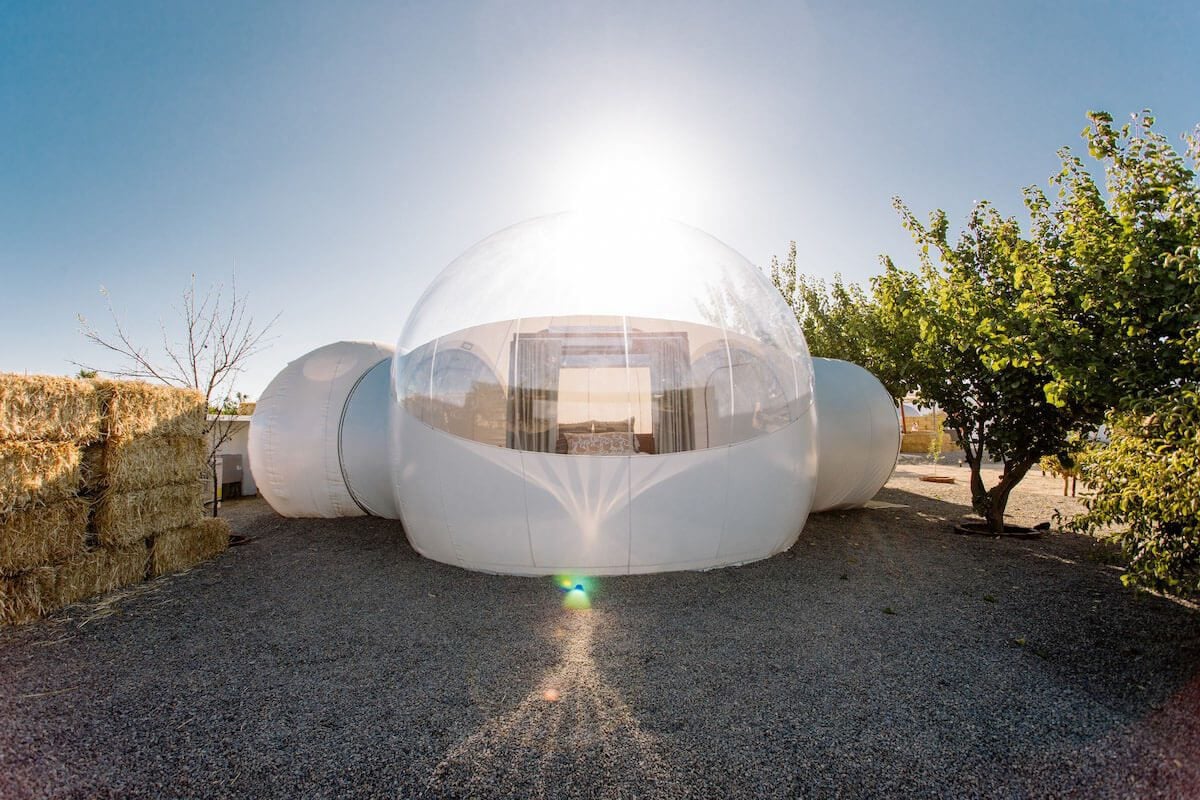 Bubble tent with hot tub
Location:

Valle de Guadalupe

Budget:

$$$

Number of Guests:

2

Minimum Stay:

1

Superhost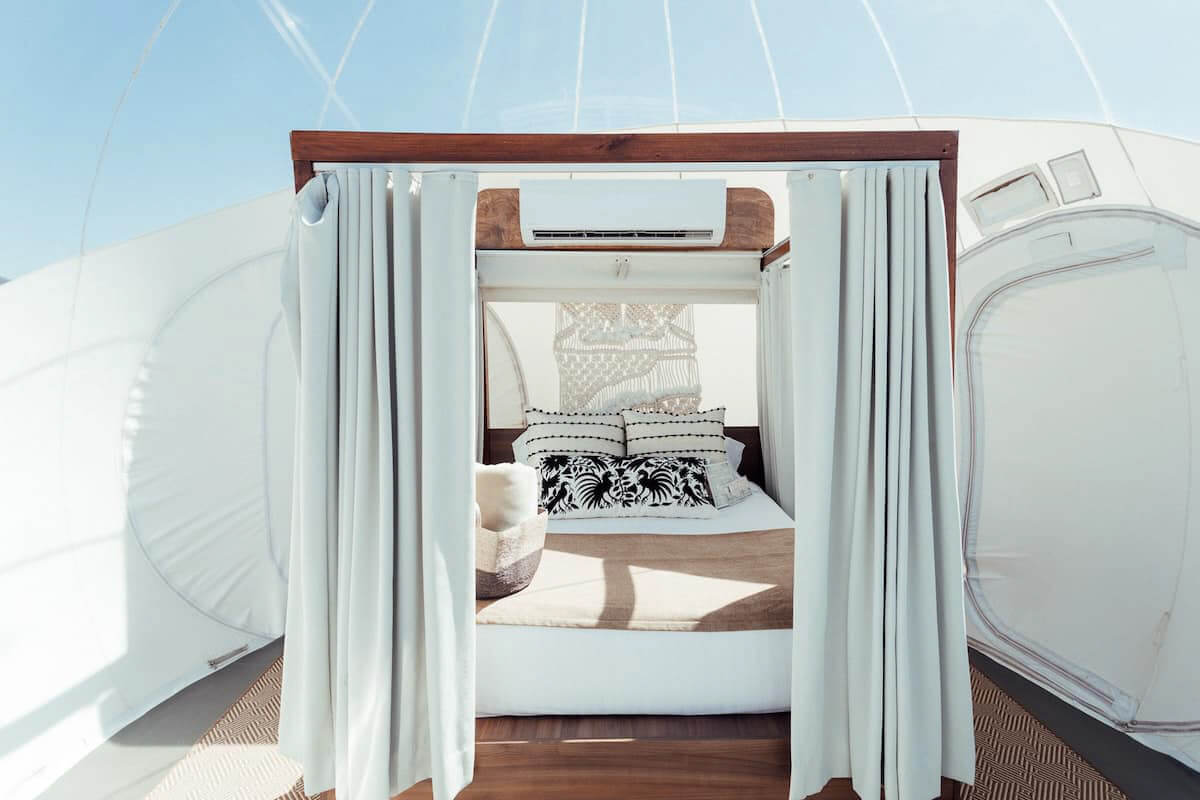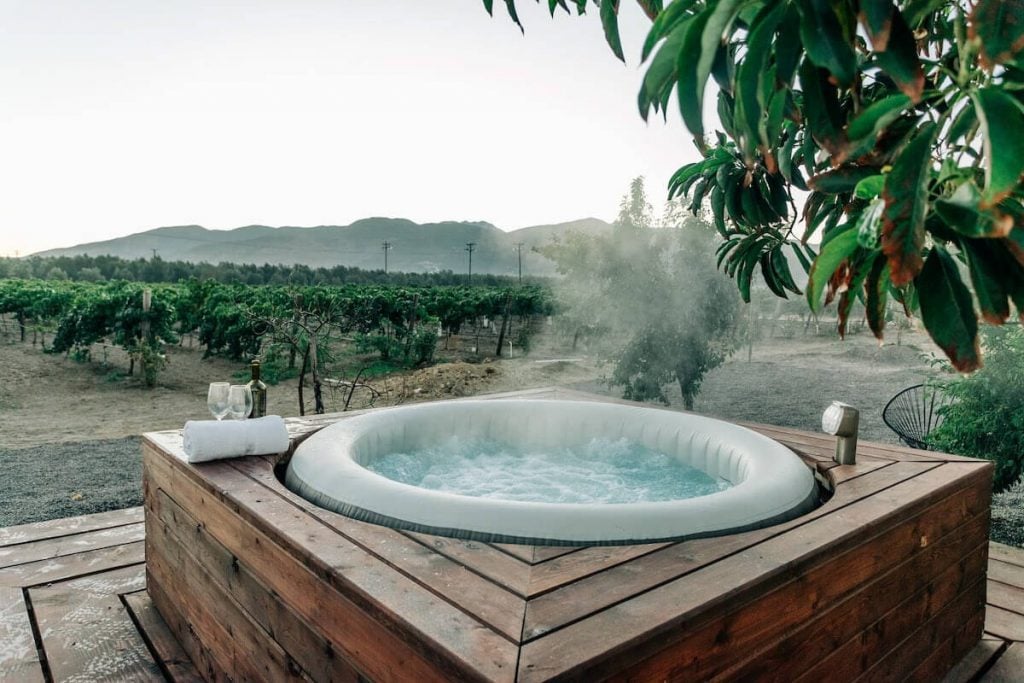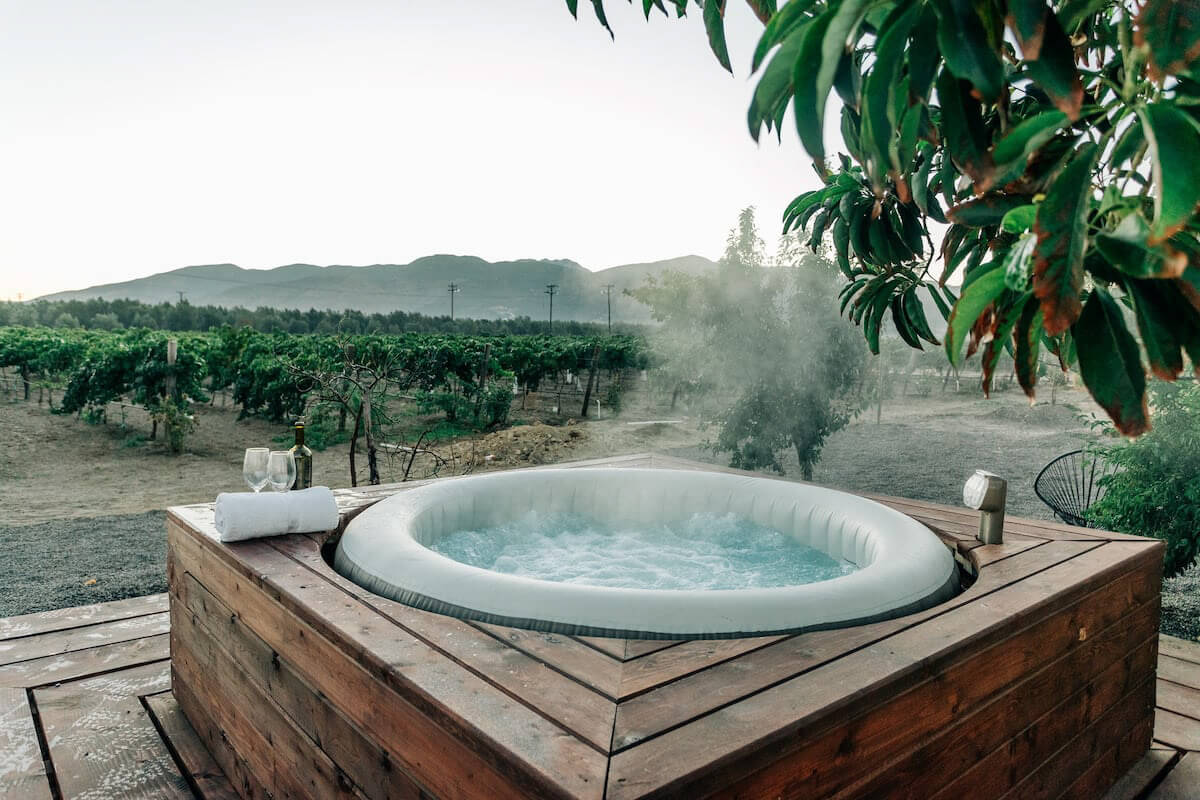 Situated in the heart of Mexico's wine region, Valle de Guadalupe, this unique dome stay offers guests a chance to sleep underneath the stars in luxury accommodation. The unique accommodation is part of the Campera Hotel Burbuja, which includes a restaurant, concierge and wine tasting.
Each of the 10 bubble suites has its own AC and heating, full sized bed with privacy curtains, and a full bathroom. They even have wifi!
Guests love the incredible views and in-room bathtub for a relaxing soak. We loved to hear that the resort focuses of eco-friendly practices and
Guests loved being able to watch the stars from the private jacuzzi tubs at night, or directly from bed through your private bubble.
"Everyone was super friendly and helpful from the moment we arrived to the moment we left. I've already recommended this experience to a couple of friends and family. The bubble was clean, neat and everything worked." – Lidia, August 2021
Honorable Mention:
Can't find an Airbnb?
Here's a quick list of recommended boutique properties, hotels and hostels in Mexico.
Recommended hostels:
LUM:

A social hostel offering free bicycles in the town of Tulum

Selina Sayulita:

A brand new coworking/coliving hostel in Sayulita Mexico
Recommended mid-range stays for couples in great locations:
Hotel Azul:

A boutique hotel with rooftop terrace in Oaxaca Centro

Casa Delphine

: A boutique property owned and designed by a jewelry designer in San Miguel de Allende

Casa Lecanda:

A seven room hotel just off the Paseo de Montejo in Merida
Recommended luxury stays with all the amenities:
Are you planning a trip to Mexico?
We have lots more resources on travel in Mexico and destinations throughout the country. Check out our Ultimate Mexico Travel Guide for all the important travel information, or read some of our favorite articles below.
Save this article on Pinterest for later!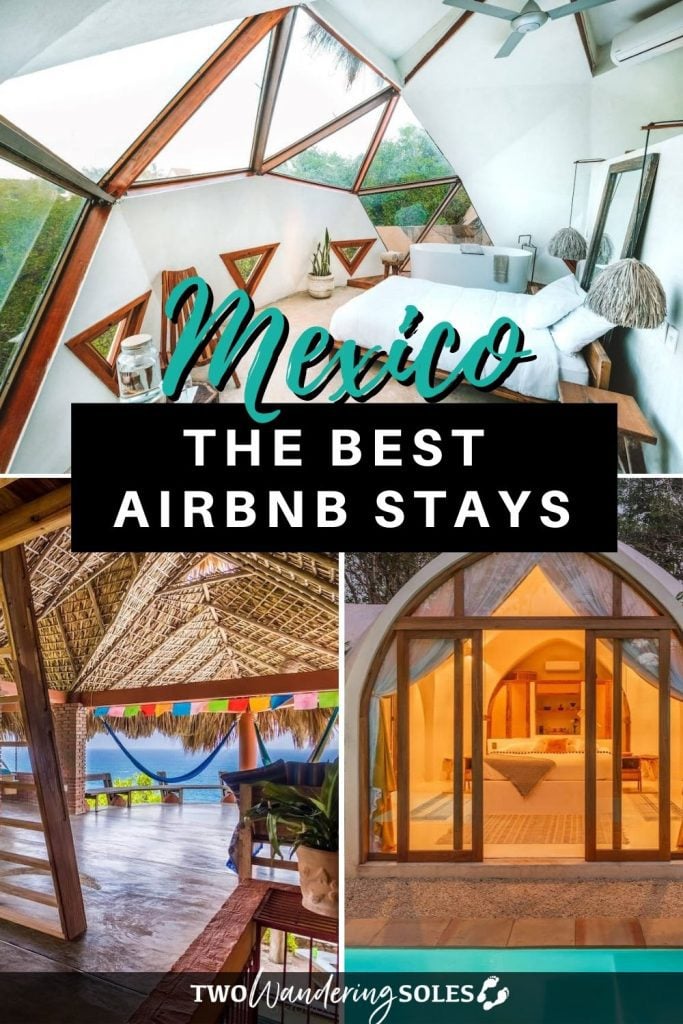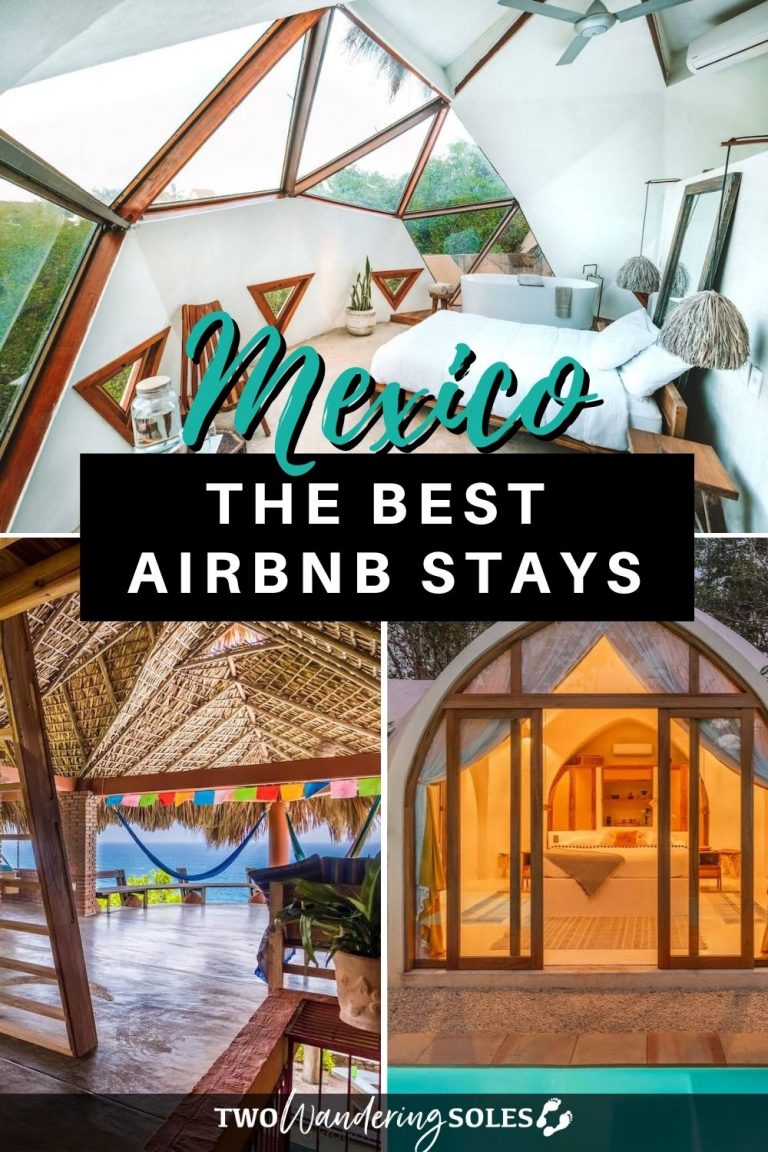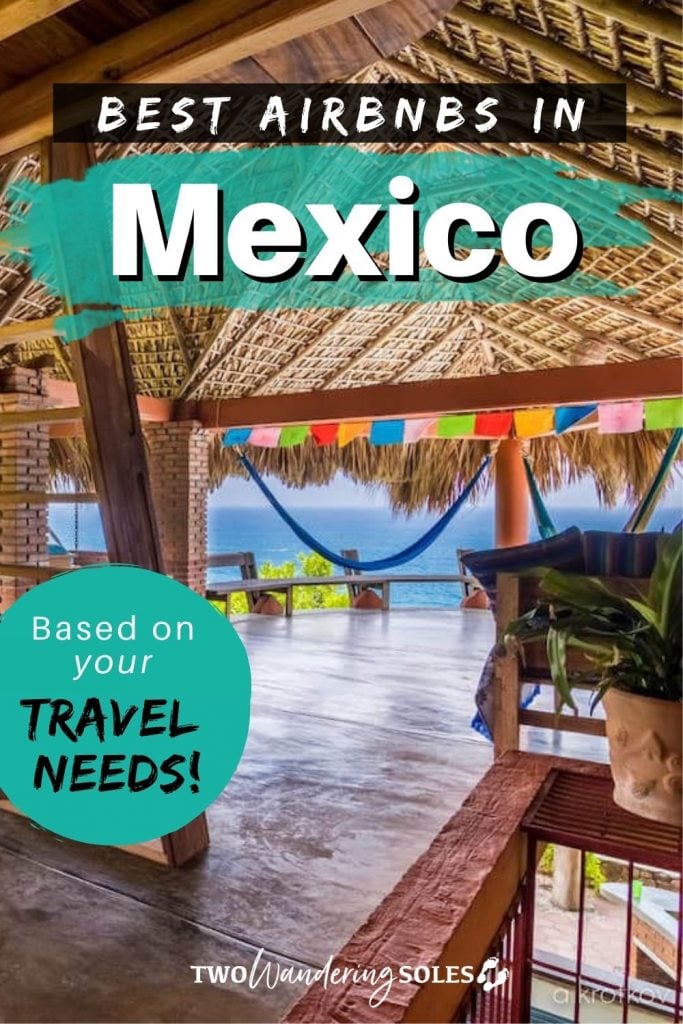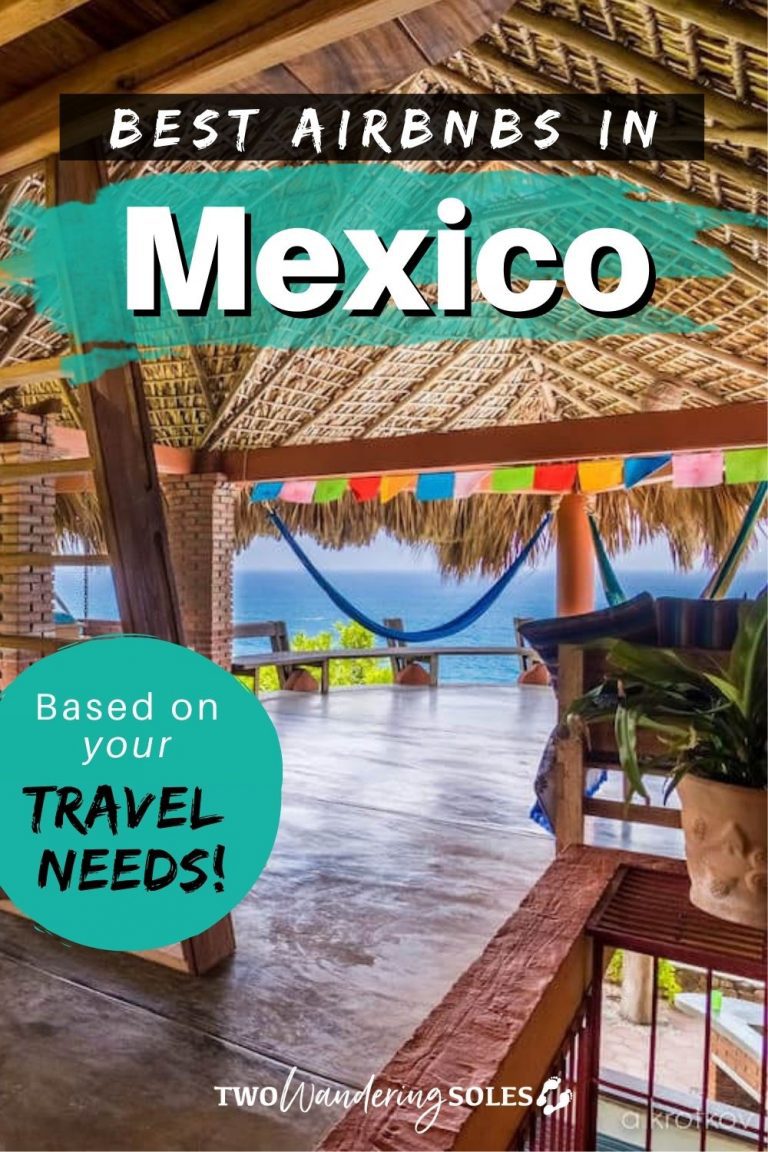 We want to hear from you!
Are you planning a trip to Mexico sometime soon? When will you be traveling? Do you have any more questions you want answered?
Comment below and we'll do our best to get back to you with the answers you need!