Situated at the foot of the Rocky Mountains, Denver is an exciting city that'll keep you on your toes. We're sharing the best things to do in Denver, Colorado — from outdoor adventures to free activities to the most delicious food in town. This Denver city guide is filled with insider tips and unique ideas for planning your trip to the Mile High City!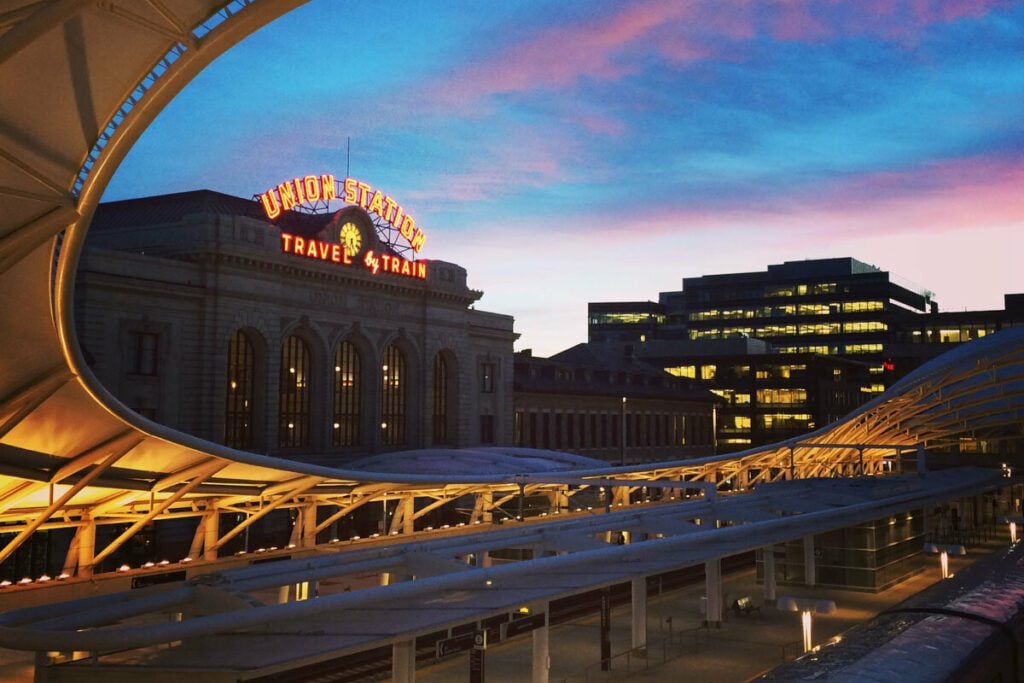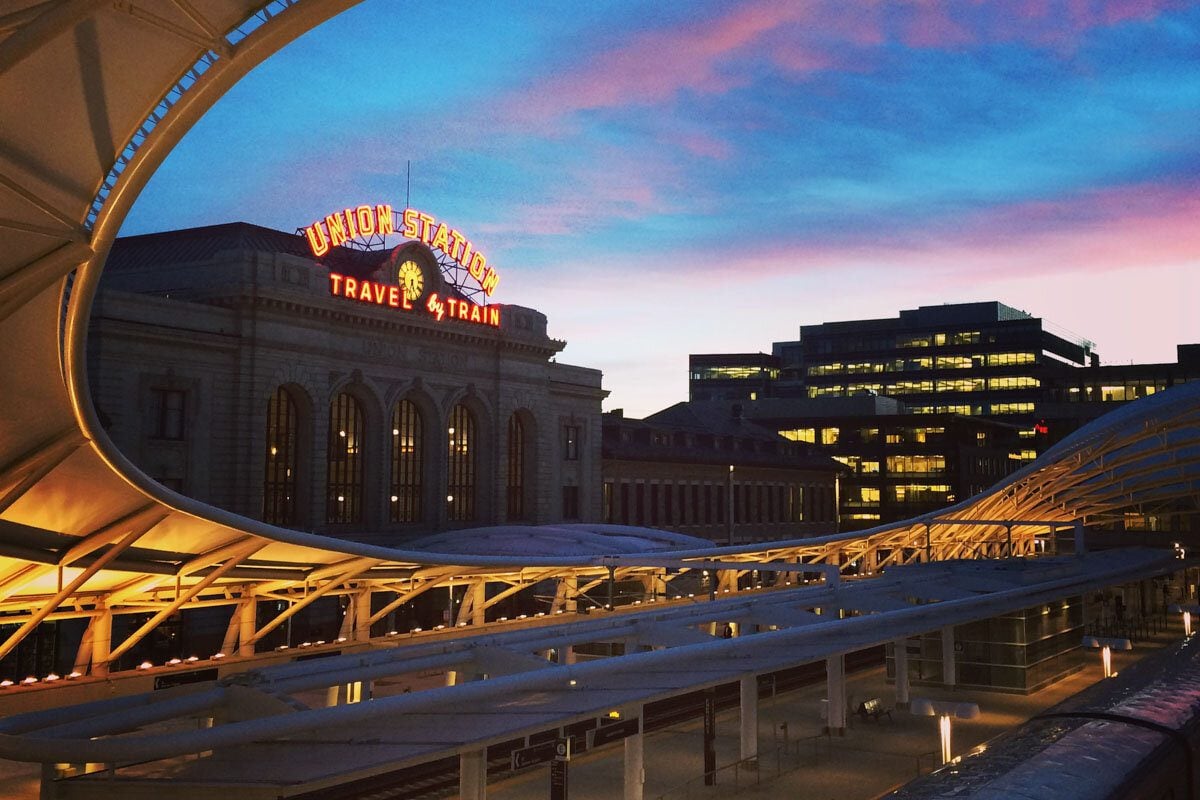 With snowcapped peaks looming in the distance and promising adventure, as well as a top-notch foodie scene and ever-growing list of craft breweries, Denver has something for every type of traveler.
Outdoor adventurers and city slickers alike will fall in love with Colorado's capital city.
Epic, heart-thumping adventures? Yep.
World-class dining? You bet.
Lively nightlife scene? Sure thing!
Free things to do? Oh yeah.
There are so many fun things to do in Denver that it can kind of make your head spin as you're trying to plan a trip.
Denver is a city we've been to a handful of times, but usually on our way to other destinations. So we never properly explored it… until now.
Our editor, Amanda, called Denver home for more than 2 years and knows the city well. Like, really well. So when we were planning to stay in Denver for a few days on a road trip, we asked for a few suggestions, and she replied to us with 10 pages worth of suggestions. TEN PAGES!
We decided it would be a shame for our eyes to be the only ones to see her suggestions of things to do in Denver, so we decided to co-author this article to share all the goods with you.
It's part local insight (Amanda!) and part outsider eyes (us!).
The Denver guide is packed with unique and fun things to do, local tips, best restaurants, where to stay, and a few other important tidbits. We hope this guide helps you plan an amazing trip to the Mile High City, filled with adventure, good eats and a few surprises sprinkled in!
Article Contents
Psst! If you have more time, be sure to check out our bucket list of epic things to do in Colorado!
---
Outdoor Adventures in Denver
Situated at the base of the Rocky Mountains, it should come as no surprise that there are seemingly endless outdoor activities in and around Denver.
We're sharing some of the best things to do outside in the "mile high city", from heart-thumping adventures to low-key ways to enjoy some time outdoors.
1. Practice Yoga on the Rocks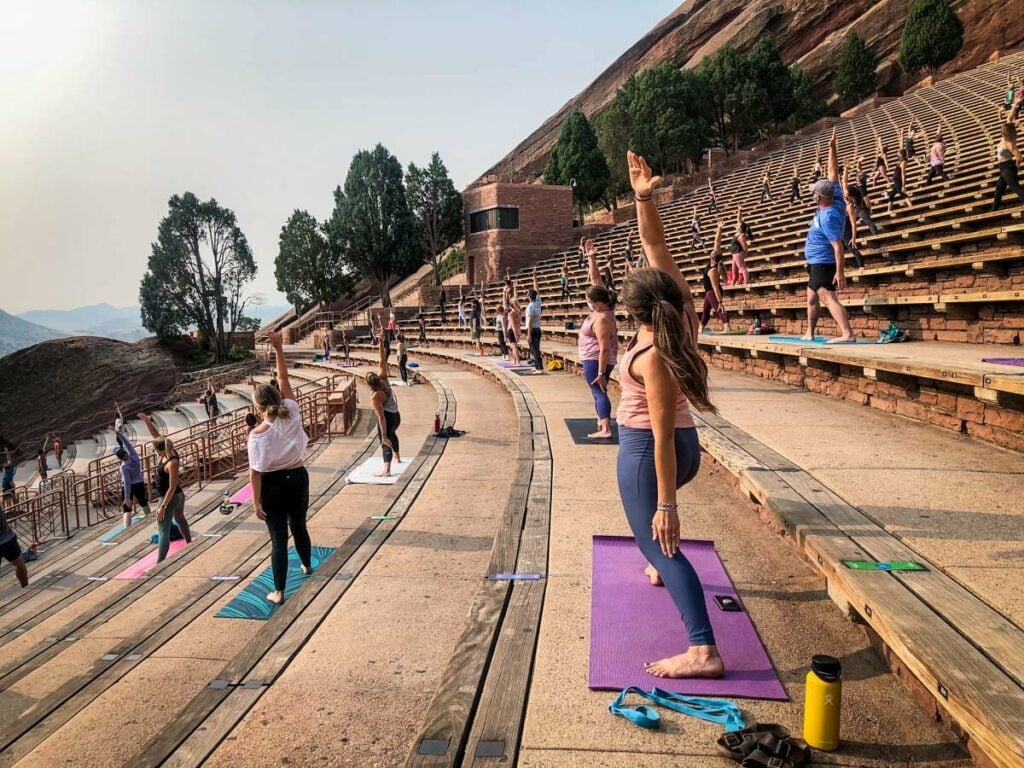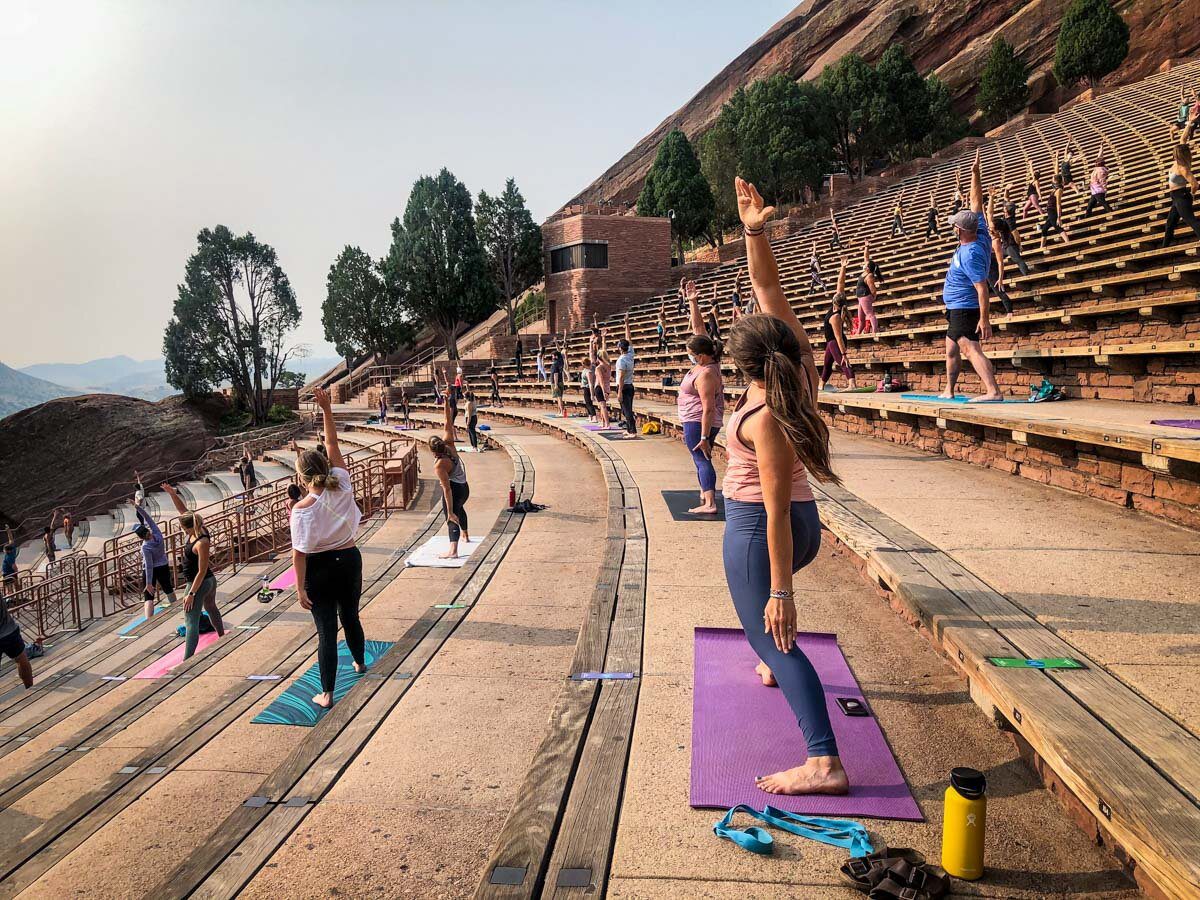 If you want to get your downward dog on, you'll have no shortage of places to choose from in crunchy Denver. But if you want to practice yoga with a twist — literally and figuratively — you might be interested in heading out of town for a morning session.
Yoga on the Rocks is a longstanding Denver tradition, and after hearing about it for years, this was at the top of my "to do" list in Denver.
While it looks quite a bit different lately — people are spaced at least 6 feet apart, advanced tickets are required, and masks must be worn the entirety of the class — it was still a pretty wonderful experience. Plus, it was good to know they're doing everything they can to keep people safe.
Going through a flow in such a beautiful place with incredible acoustics is, well, blissful to say the least.
Yoga on the Rocks (summer only)
Friday: 7 a.m., 8:30 a.m. & 10 a.m.
Saturday: 7 a.m. & 8:30 a.m.
Sunday: 7 a.m., 8:30 a.m. & 10 a.m.
Admission: $17 per person (annoyingly, when we bought tickets they had all been snatched up by a third party, so we had to pay a bit more money)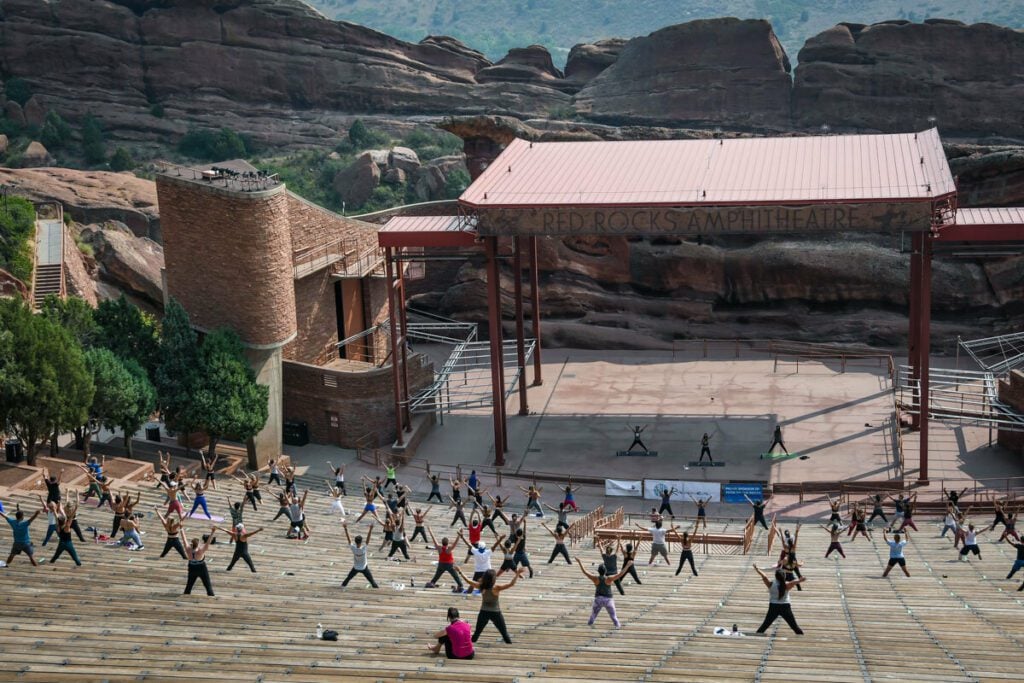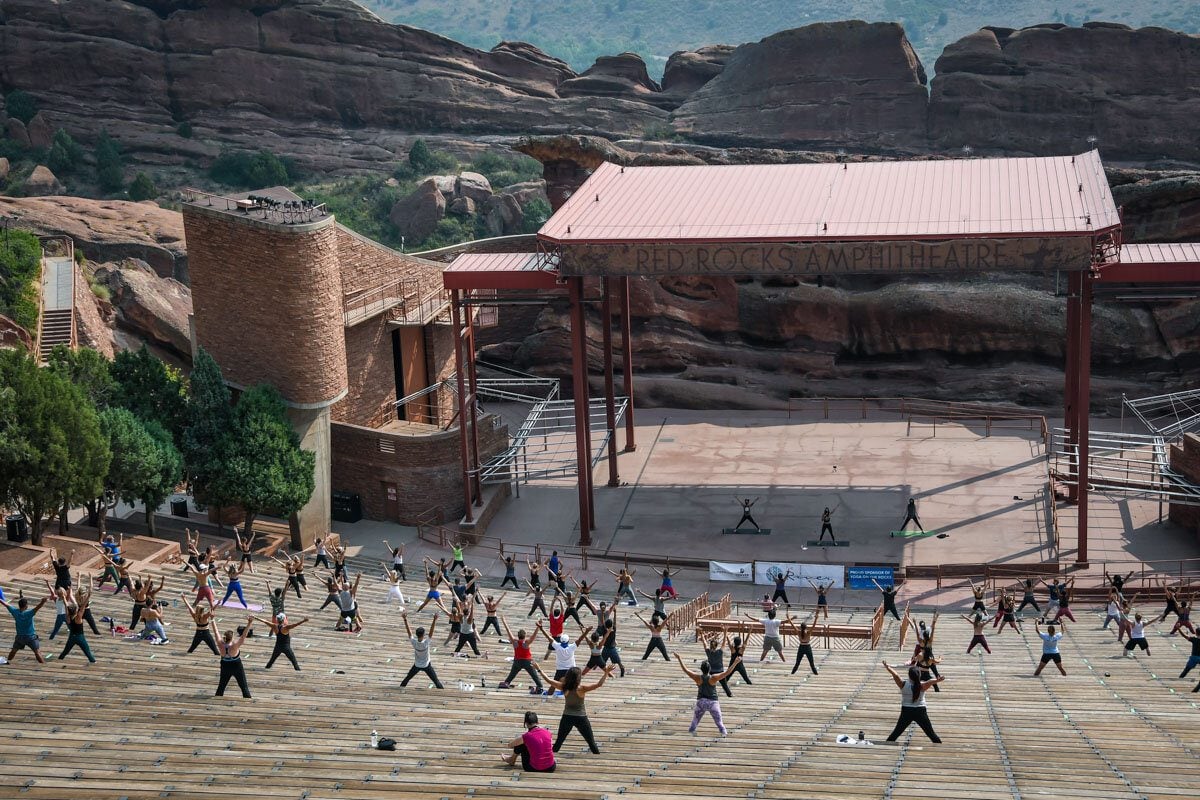 Shoutout to our instructor! On a related note, I just have to take a minute to shout out the instructor of our class, Ali Duncan.
She was a fantastic teacher (I've never cried at a yoga class until this one!), and she is the founder of Urban Sanctuary, a yoga studio and wellness center. The space looks heavenly, and they offer a wide variety of classes from regular yoga flows to naked yoga (yep!).
And the even cooler part about Urban Sanctuary is that they are focused on creating a space for POC and those who are often left out of the typical "yoga world". There are PRIDE-only and POC-only classes as well as those open to all. If you have time while in Denver, check them out!
Planning a trip to Colorado? Find out the best time to visit Colorado based on seasonal weather patterns and your personal travel style.
2. Catch a show at Red Rocks Amphitheater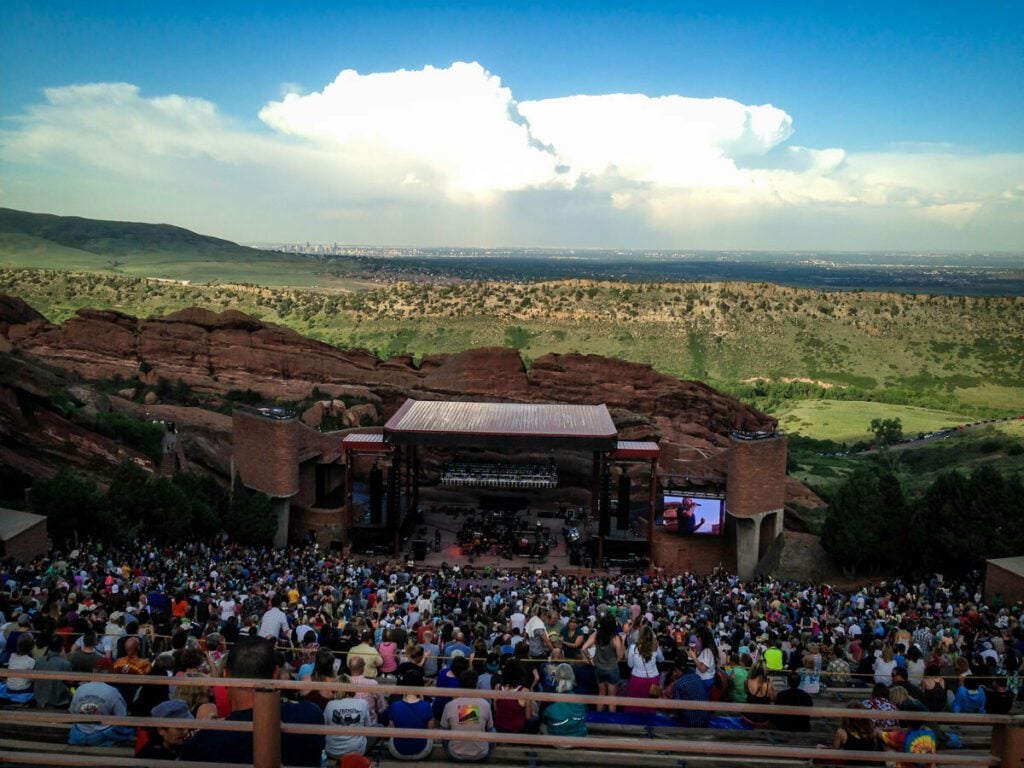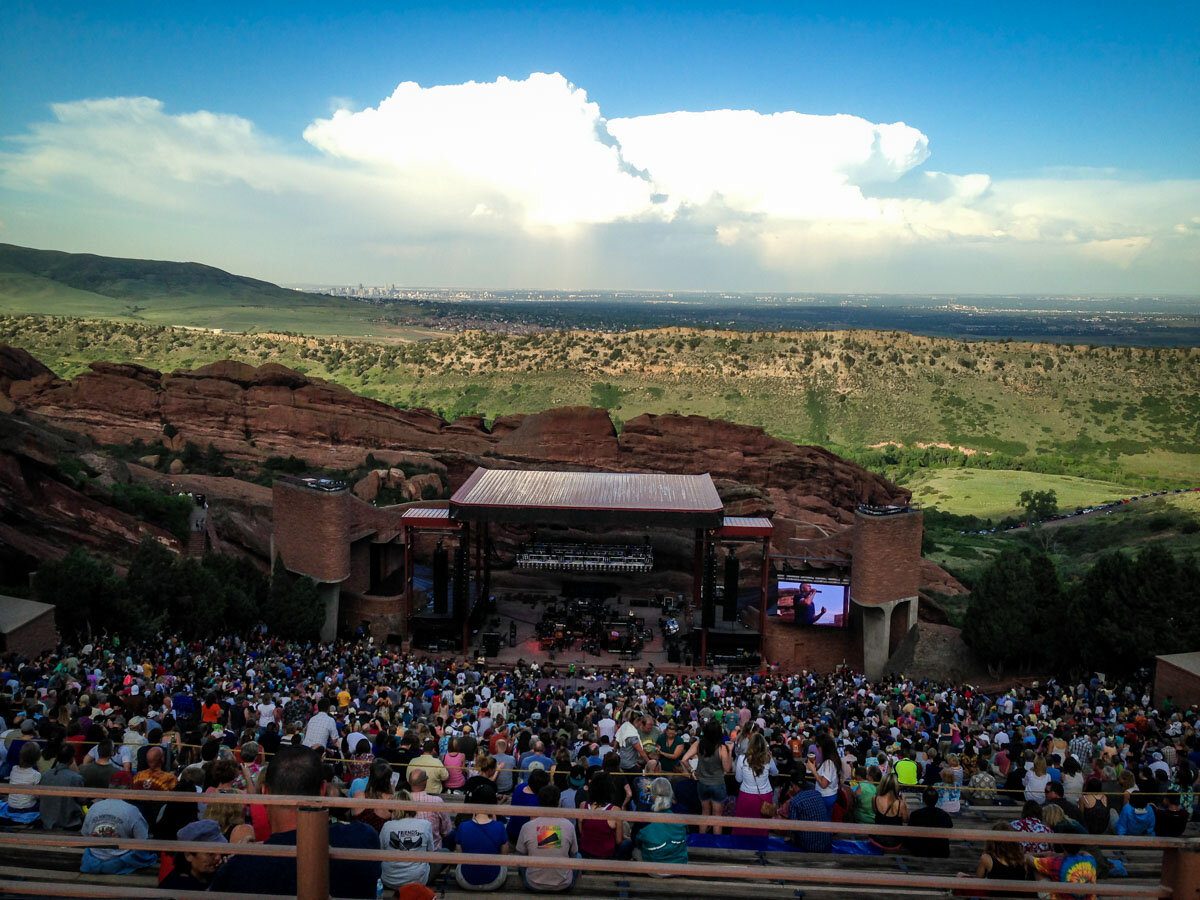 Speaking of this incredible venue… If you ever have the chance to see an artist you like perform at Red Rocks, DO IT. Make a trip out of it. It is an experience you will cherish, and quite honestly, it will spoil most other concerts for you.
Back in 2011, Ben and I booked a trip to Denver to see our favorite band play at Red Rocks and to this date it is still our favorite concert ever.
Perhaps it was because we got our seats upgraded from row 52 to row 2…
Perhaps it was because we're both obsessed with outdoor venues…
Perhaps it was because the band we were seeing had just reunited after several years of not touring…
Perhaps it was a combination of all of the above.
There are lots for tailgating and vendors onsite selling everything from Coors to local craft brews. Oh, and food too. Because that's important.
There is something pretty incredible about the venue — rock formations rising from the ground to create the illusion of an intimate space and nearly perfect acoustics.
It is pretty incredible watching the venue shift from being bathed in afternoon sunshine to cast in a red glow at sunset to becoming an undulating movement of people grooving to their favorite artist beneath the stars. Like we already said, if you have the chance, book a show here. You won't regret it.
Plus, being that it's just a quick 30-minute drive from downtown, it's makes it easy to combine a show into a trip to Denver.
Important Note: Currently, the summer concert series is not taking place at Red Rocks, but keep this in mind for future travels.
Can't catch a show? Even if you don't have the chance to see a show at Red Rocks Amphitheater, it is still very worthwhile checking out the venue and the surrounding area (yes, even while empty!). The park is open to the public daily, subject to scheduled events, and is a popular place for early morning grinders (aka stair runs!), hiking and biking enthusiasts, and a great place to catch a sunrise.
3. See an outdoor movie in the summertime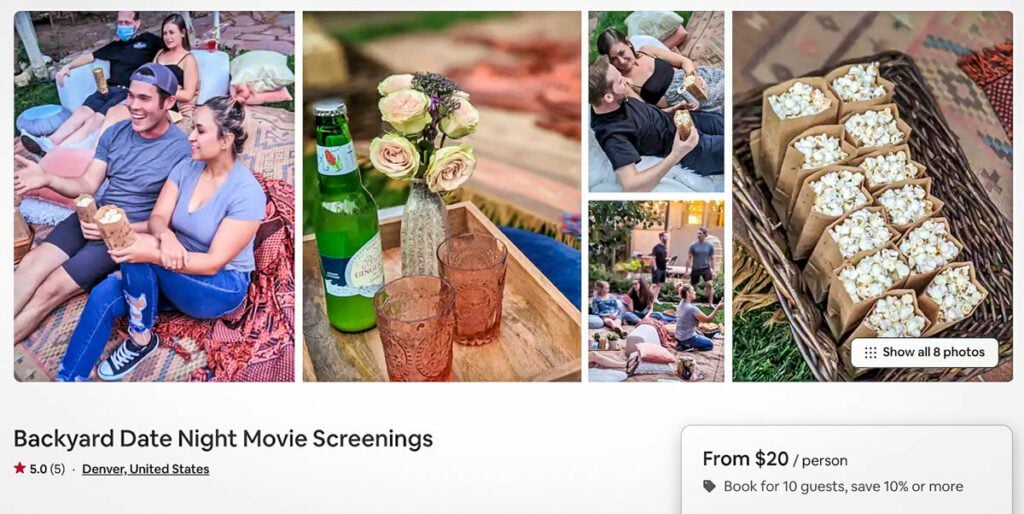 Since we're still on the topic of Red Rocks, another cool event series they offer in the summer is Film on the Rocks. It's exactly what it sounds like: movies in an epic outdoor venue… and you can bring your own snacks. Sounds like the perfect date night to me!
But Red Rocks isn't the only place to catch an outdoor flick during the summertime in Denver. Below is a list of more venues where you can catch a movie under the stars. (Some are even free!)
Founders Green in Stapleton: Starting in June, the Movies on the Green Series is open to the public and free to attend. Come early to snag a seat and enjoy a concession stand with fresh popcorn and food trucks.
Dick's Sporting Goods Field: Hosts a pop-up drive-in movie theater during the summer time in Lot G at the park. Check the MCA website for dates and details.
Avanti F&B: Every Thursday night at 9 p.m. during the summertime, bring your lawn chair and receive a free beer from Alamo Draft House!
Denver Mart Drive-In: Denver's outdoor theater with the largest state-of-the-art digital screen, FM audio transmission and a cafe. They show double-features every Friday, Saturday and Sunday night from Memorial Day to Labor Day.
88 Drive in Theatre: Serving the community since 1972, this is the only remaining original drive-in movie theater in Denver. The only thing that's changed in the last 40 years is the digital project screen. You must have a working car stereo or portable FM radio to hear audio.
There are also plenty of other outdoor movie showings all summer long at venues in the 'burbs surrounding Denver, so check out Denver's official website for more information.
Insider Tip: For a an intimate movie experience that's a twist on the typical theater, check out this backyard movie night from Airbnb Experiences.
4. Float down the River in Golden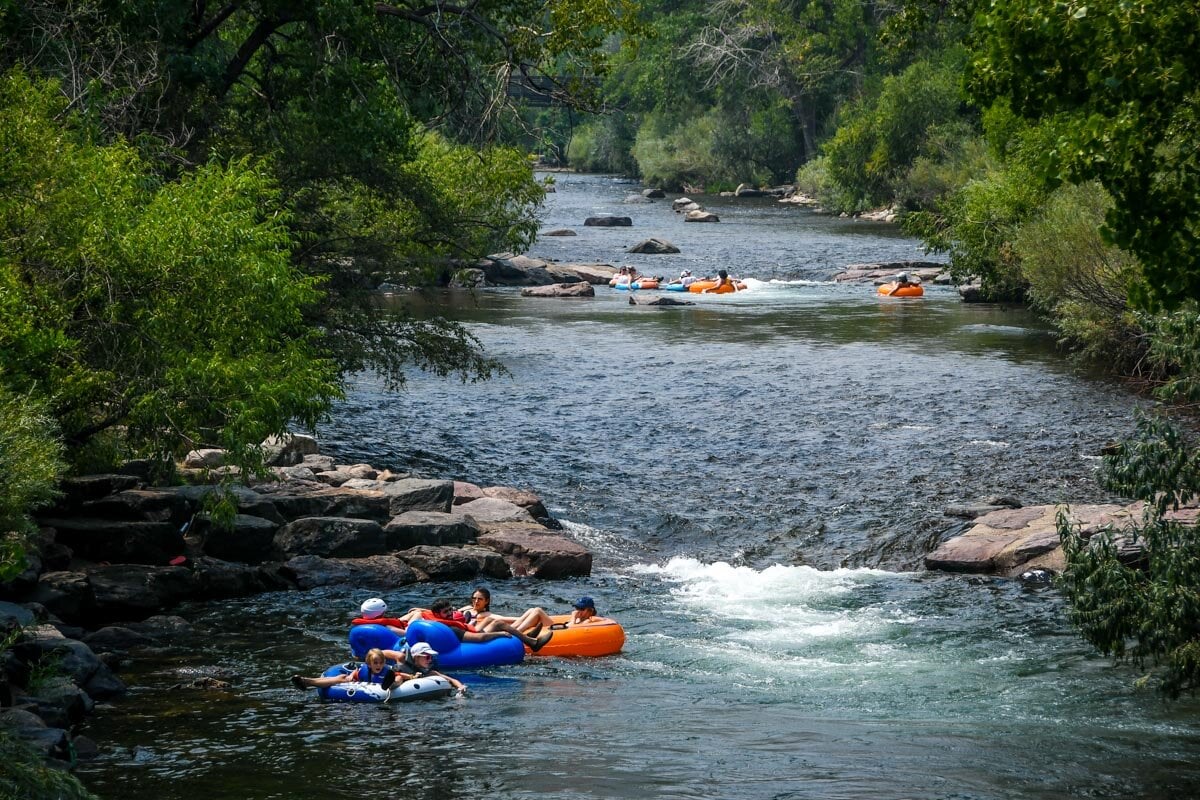 If you're visiting Denver in the summertime and are looking for a refreshing way to escape the heat, keep reading…
Just 30 minutes from downtown, the town of Golden is a great place to spend an afternoon. Straddling Clear Creek, the water is one of the biggest draws to the town when the weather heats up.
There are sections of rapids, so this isn't a boring float!
Good to know: Water levels vary throughout the season, with the highest levels in the early summer months, making the river run fast. Alternatively, if you're visiting in late summer, the water levels tend to be quite low and the river is much slower-flowing.
Bring your own tube, or rent one from Adventure West:
Single tube: $20 per day
Double tube: $40 per day
*Rentals include complimentary lifejacket and helmet. (FYI when we visited and the water was low, we didn't see many people wearing them.)
Insider Tip: If you'd prefer to rent a tube, be sure to reserve your tube online, as they can book out especially on summer weekends. They were fully-booked on the day we visited.
You can put in your tube in at many points along the river, and you'll want to take out at Parfet Park. Walking with your tube along the river from the take out point, then floating all the way back takes about 1 hour in total, so the great thing is that you can do a couple of laps!
Hungry?! For a super satisfying lunch after a river float, head to Bob's Atomic Burgers for greasy but super yummy grub and a milkshake. We split one burger, a small set potato fries and small onion petals. Godzilla sauce was a pretty great addition too!
5. Go on a hike near Denver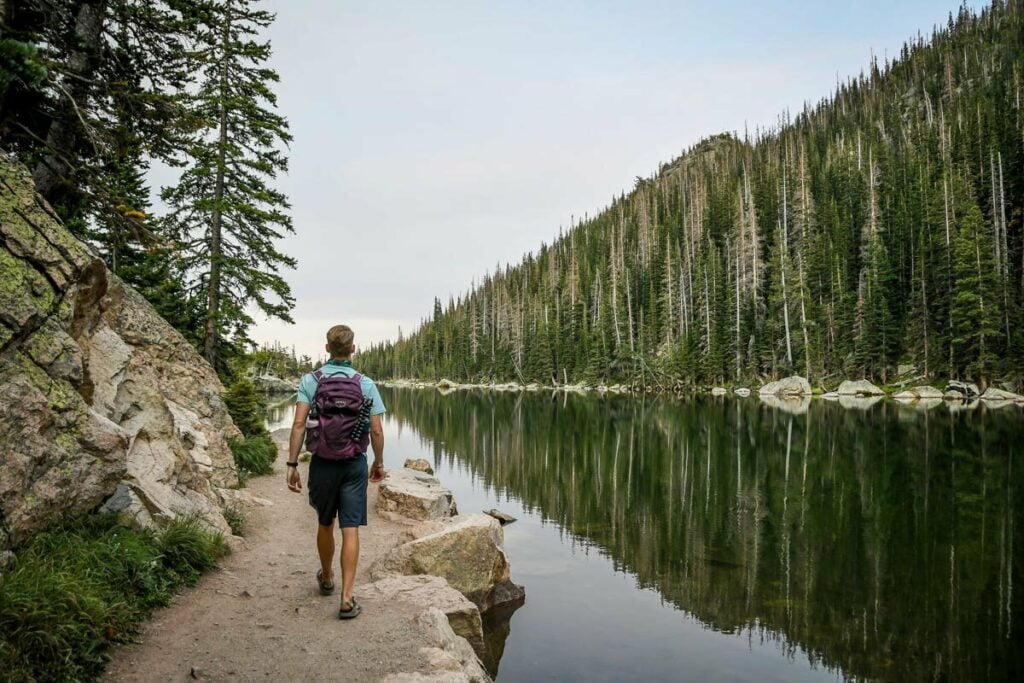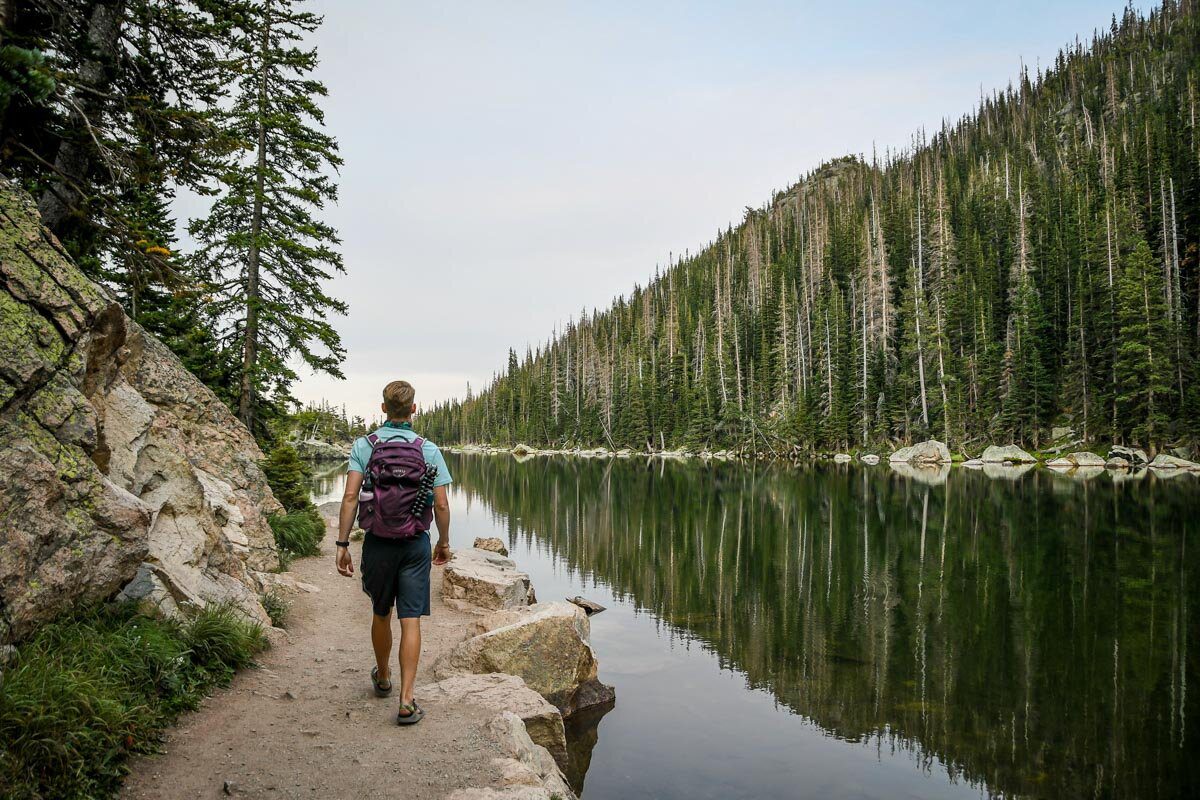 You don't have to go far outside the city limits to find yourself surrounded by nature in the beautiful foothills and Rocky Mountains. If you have a car, you will have nearly unlimited options for hiking in every direction. However, plenty of the hikes can be reached by public transportation from Denver as well.
Insider Tip: Download the app AllTrails to find hikes near you along with reviews, photos, elevation gain, and difficulty level.
If you're interested in hiking while in and around Denver, here are some areas to begin with…
Table Mountain (Golden)
Distance: 2.7 – 7.7 miles
Difficulty: Moderate
Drive from Denver: 25 minutes
Access the great butte known as Table Mountain in Golden from neither of the North Table Mountain Trail or the South Table Mountain Trail. On top of the vast plateau filled with windswept grass, you'll have access to a variety of different trail options.
Red Rocks (Morrison)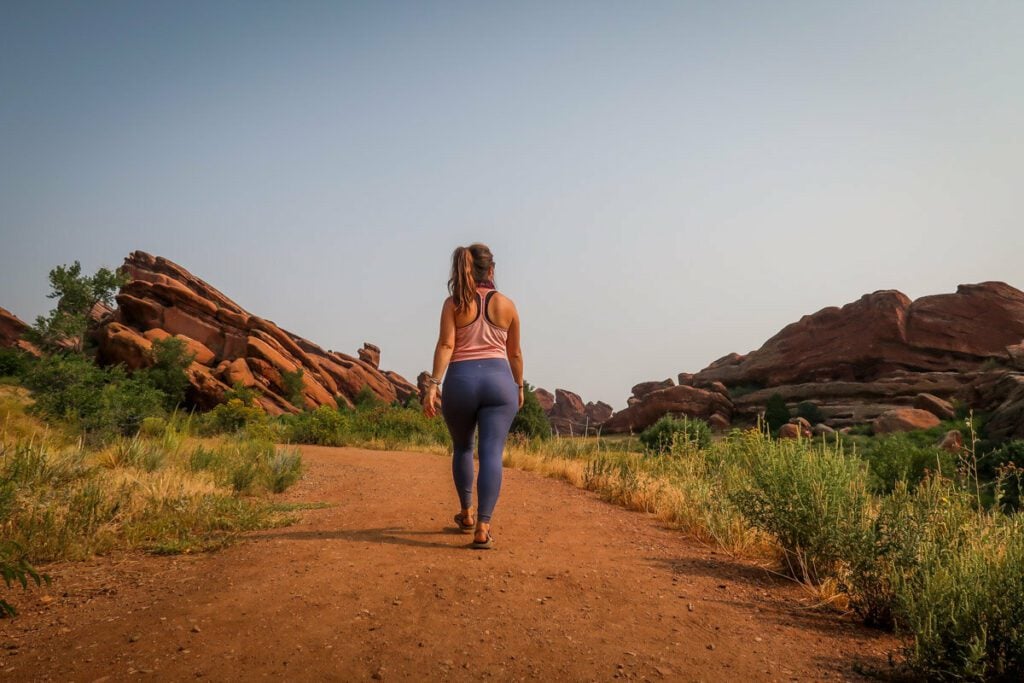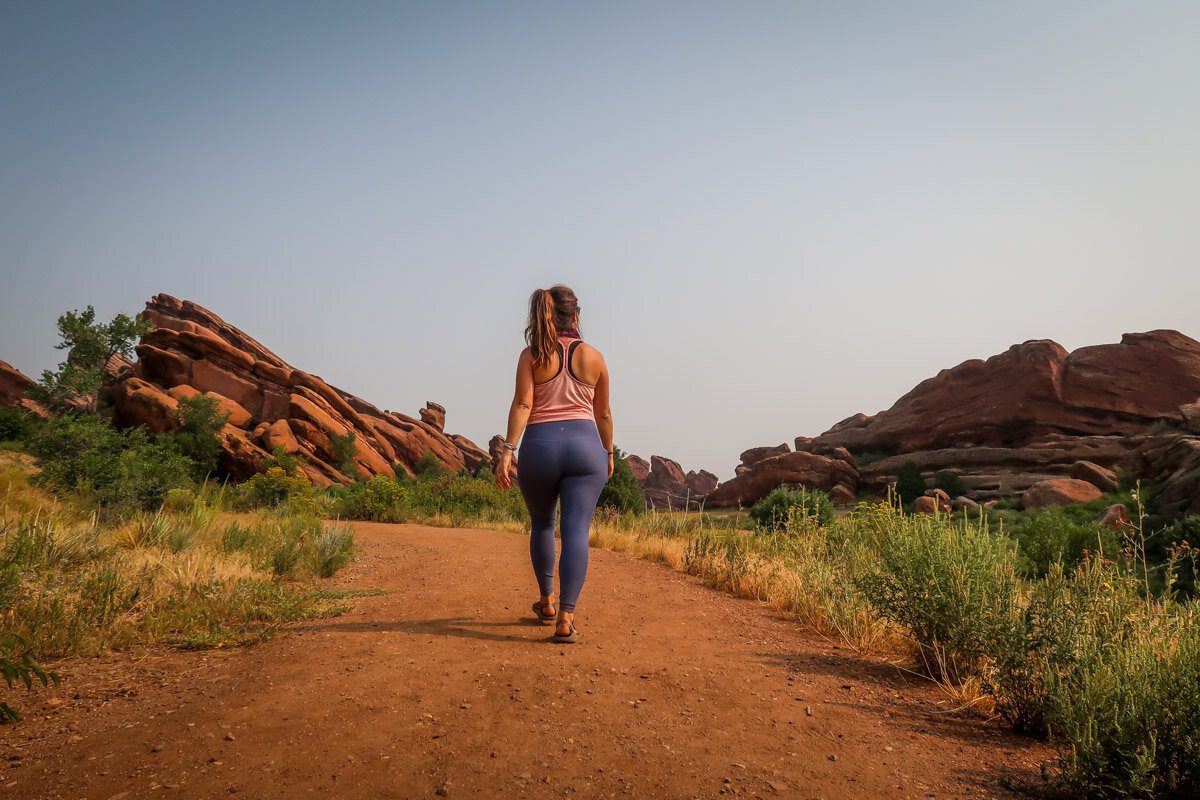 Distance: 1 – 6 miles
Difficulty: Easy – Moderate
Drive from Denver: 25 minutes
Red Rocks Amphitheater Park provides access to a number of different scenic trails from easy 1-mile jaunts to the longest Red Rocks Trail 6-mile loop.
Chautauqua Park Royal Arch Trail (Boulder)
Distance: 3.5 miles
Difficulty: Moderate
Drive from Denver: 30 minutes
While it's not very far in distance, this hike will take you about 2.5 hours to complete out and back, depending on your pace. Constant switchbacks are rewarded with a giant arched rock formation and sweeping views of the city of Boulder from the peak.
Mount Sanitas Loop Trail (Boulder)
Distance: 3.2 miles
Difficulty: Moderate
Drive from Denver: 30 minutes
This heavily trafficked hike can be done in about 1.5 hours (or longer for slower hikers) with a lot of altitude gain. Think climbing stairs for almost an hour straight. The loop trail can also be done as an out and back on either the steeper side or the more steady incline side. 
Psst! We also have a complete round up of the best hikes near Denver on our sister site. Check it out for more inspiration!
6. Spot Bison in an Urban Wildlife Refuge
Comprising more than 15,000 acres of land, Rocky Mountain Arsenal National Wildlife Refuge is one of the largest urban wildlife refuges in the United States. More than 330 species of animals call this land home, including bison, deer, coyote, and hundreds of species of birds.
Follow the 11-mile self-guided wildlife driving route, or get out on the trails with your camera. Being that this refuge is on the way to the Denver airport, it makes a good stop on your way into or out of town.
Free to enter
Open 6:30 a.m. to 6:30 p.m., 7 days a week
Currently, the number of cars allowed to enter at a time is capped at 200
7. Learn to rock climb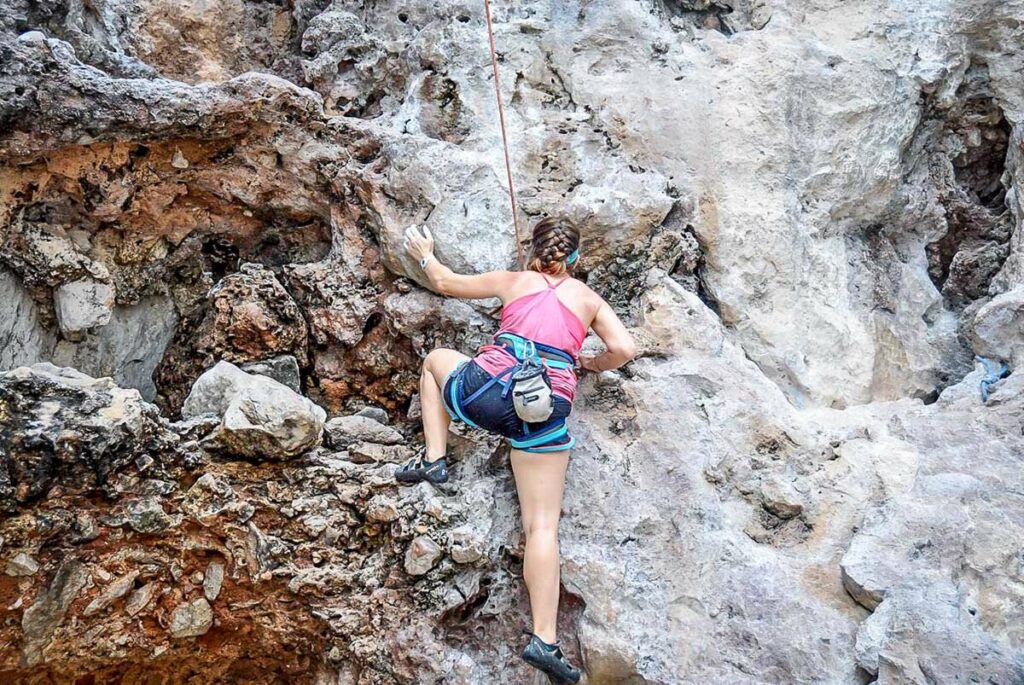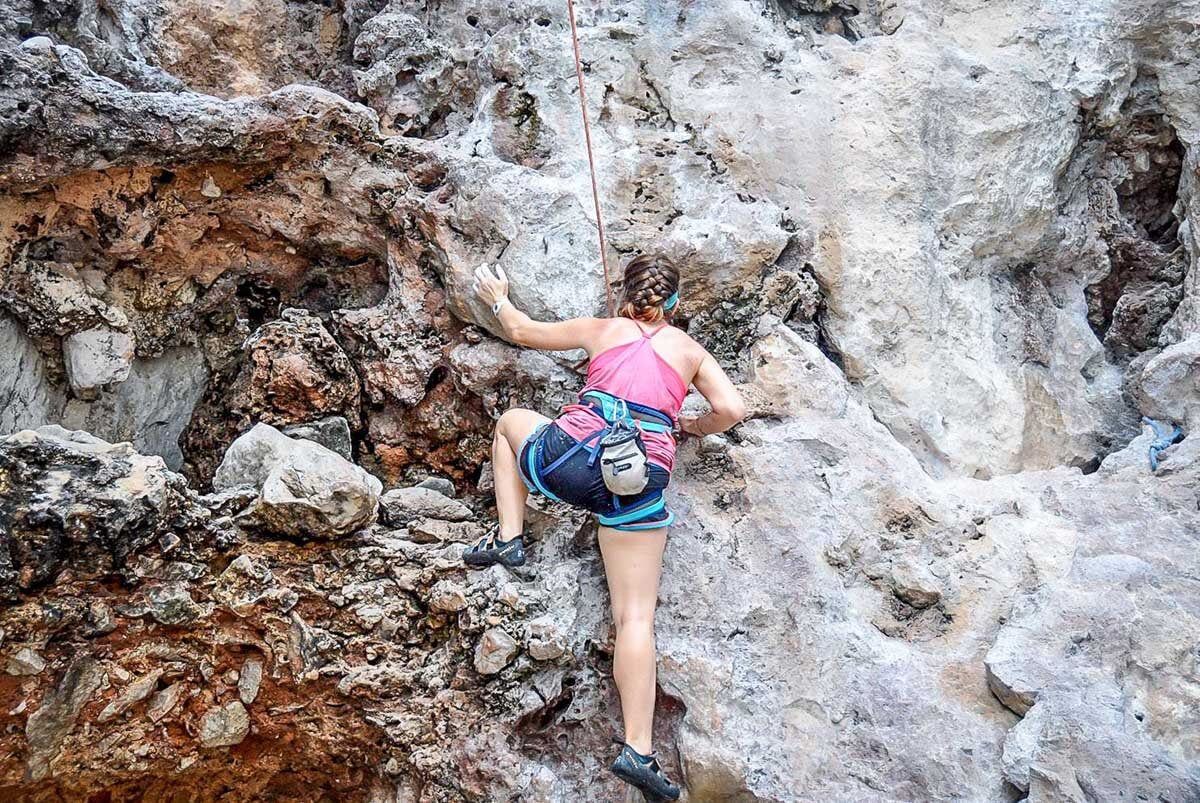 We are low-key infatuated with rock climbers. We've gone climbing in a few places with guides or friends, and each time leave itching to do it again.
If you, too, want to learn, Denver might just be a good place to try it out. And if you're reading this rolling your eyes because you're already a pro, you likely already know that there is some epic climbing just outside the city.
Denver Climbing Co. offers courses for all skill levels (whether you're a total newb, or you're advanced and just want a guide). The great thing is that you won't be climbing at an indoor gym… you'll actually learn to rock climb outdoors on real Colorado rocks. They provide all the equipment and a professional climbing guide.
So if you, like us, have been obsessing over trying out climbing, get your booty out there and experience one of Colorado's favorite outdoor activities!
---
Food & Booze in Denver
One of our favorite things about traveling is trying local cuisines and checking out restaurants that are known for serving up something special — whether it be a refined, 5-star dining experience, or more often than not, a hole-in-the-wall surprise.
And we also love scoping out cool cocktail bars, happy hour deals, and of course, sampling as many local craft beers as possible.
Come with us as we share some of the best foodie and boozy experiences Denver has to offer…
8. Take a Food Tour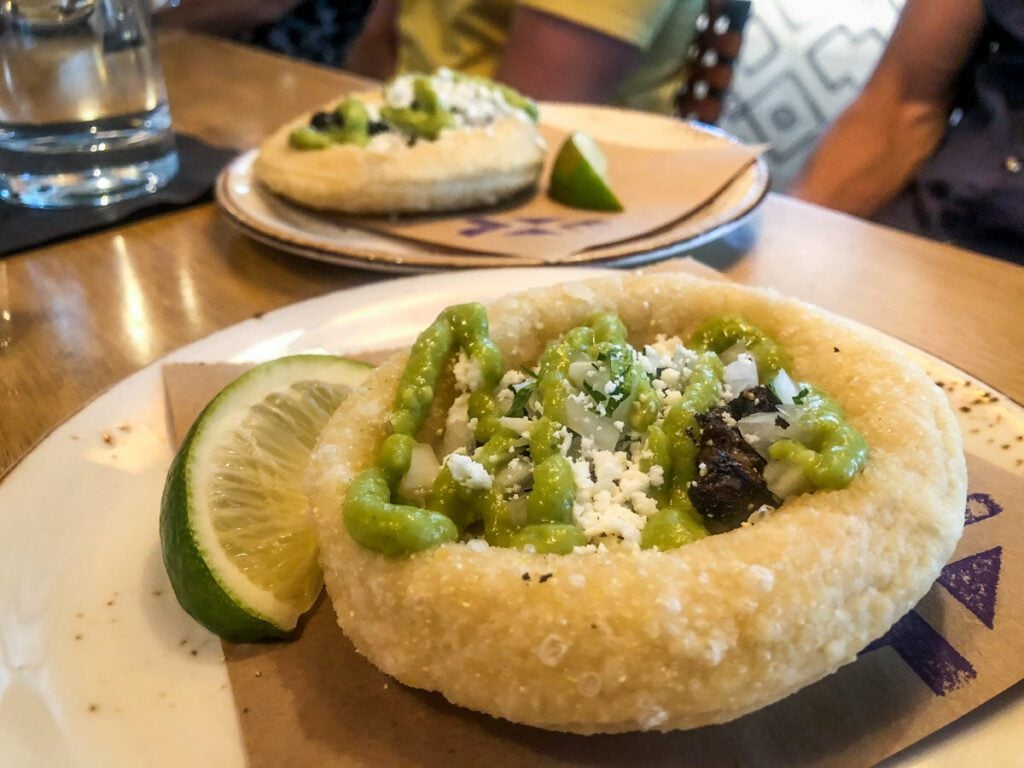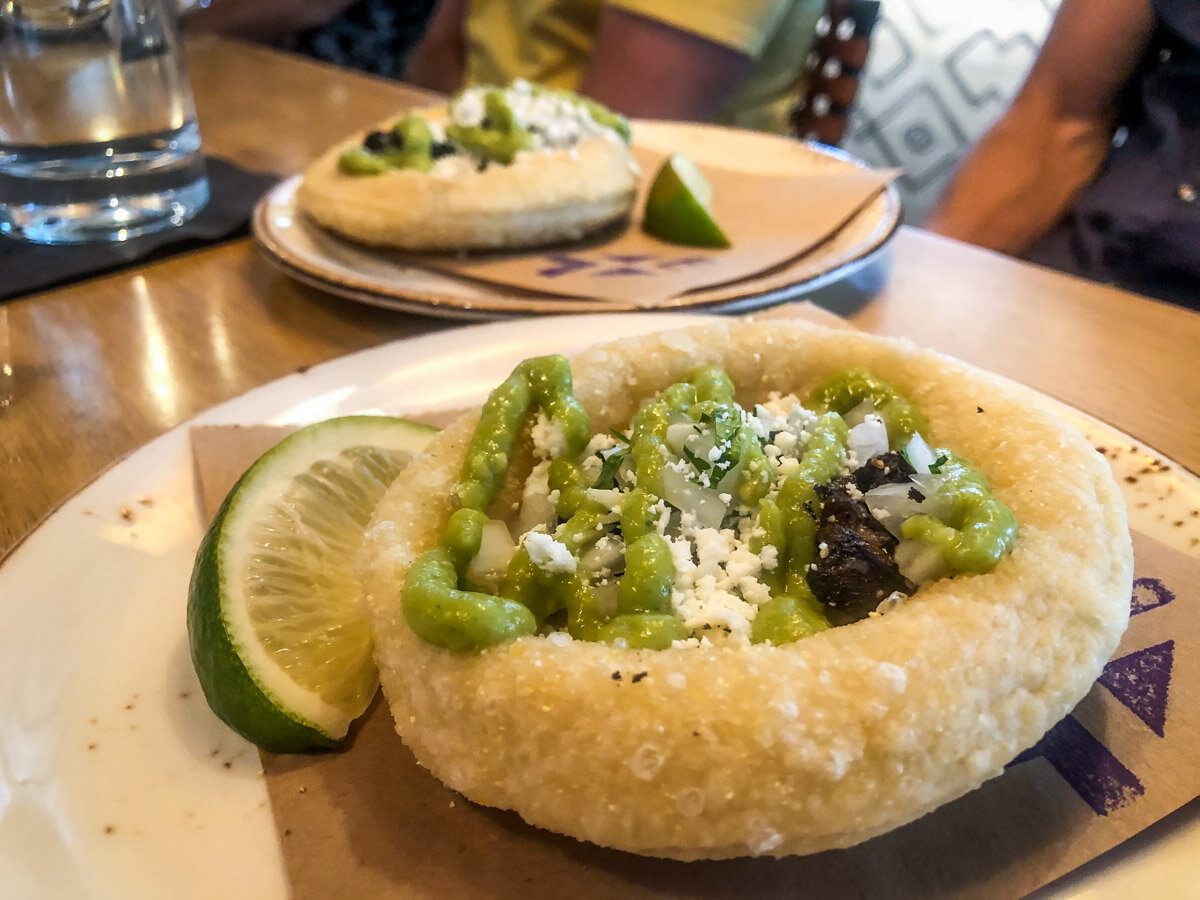 We like… err… LOVE food. Anyone else?!
While traveling around the world, we've come to love taking cooking classes and more recently, food tours. Not only do you get to sample some of the best food the location has to offer, but you often get to learn little tidbits that you'd never discover on your own.
Like most major US cities, Denver has a ever-expanding culinary scene and we thought it would be a great destination to let our tastebuds loose. And man, we were right!
When Delicious Denver invited us to join their Downtown Food Tour we knew we'd be in for a good time.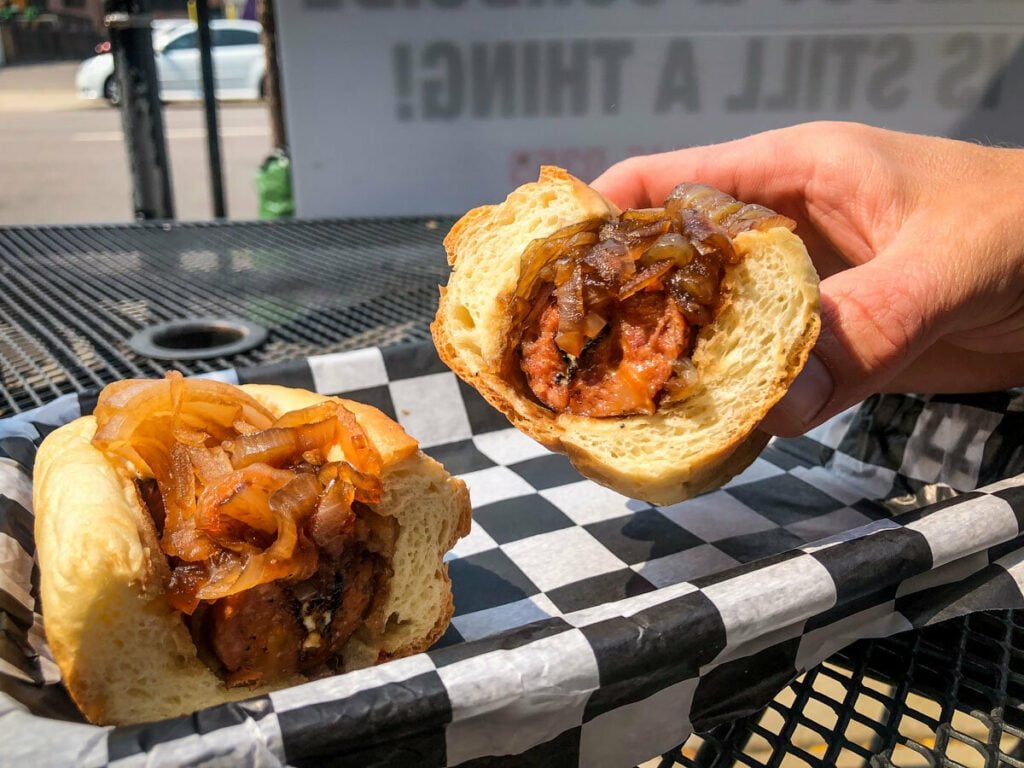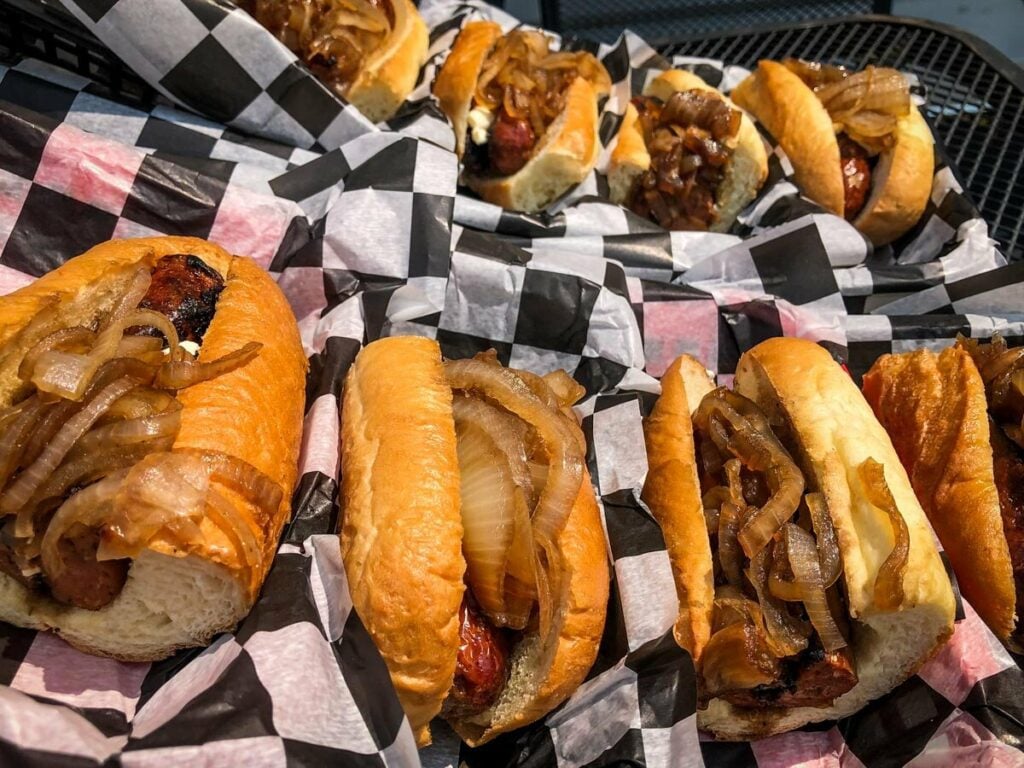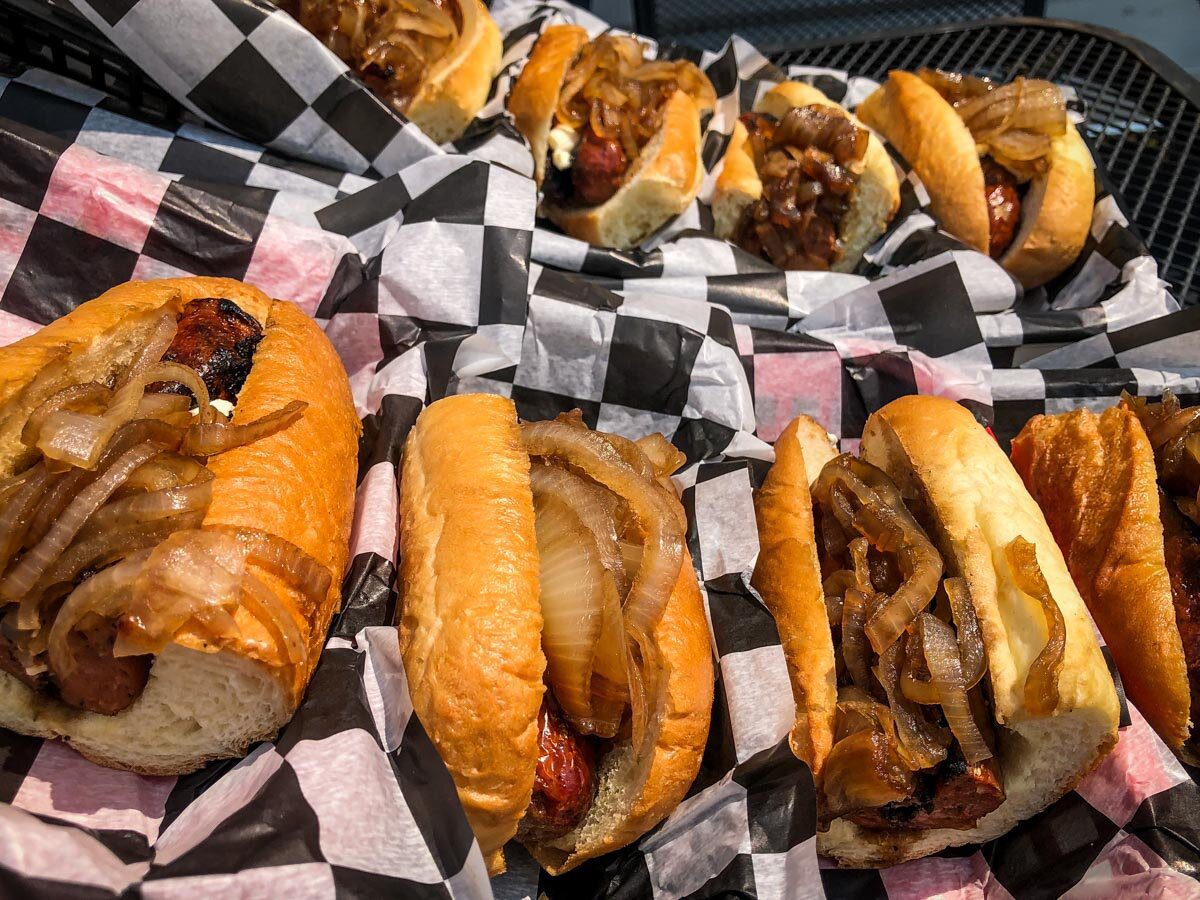 On this food tour, I guess you could say we "ate our way around the world" as we made our way through the city. We sampled pizza, gourmet hot dogs (featured on Guy Fieri's DDD), quite possibly the best empanadas we've had in the US, a twist on street tacos made with Navajo fry bread. And we topped off the tour with gelato, because as I often say, "There's always room for ice cream… it just fills in the cracks!"
All along the way, our guide shared little pieces of history and insider tips. It was certainly a great start to our time in Denver!
Another cool thing about Delicious Denver is that you can choose from a few different food tour itineraries, depending on what it is your craving:
Downtown Food Tour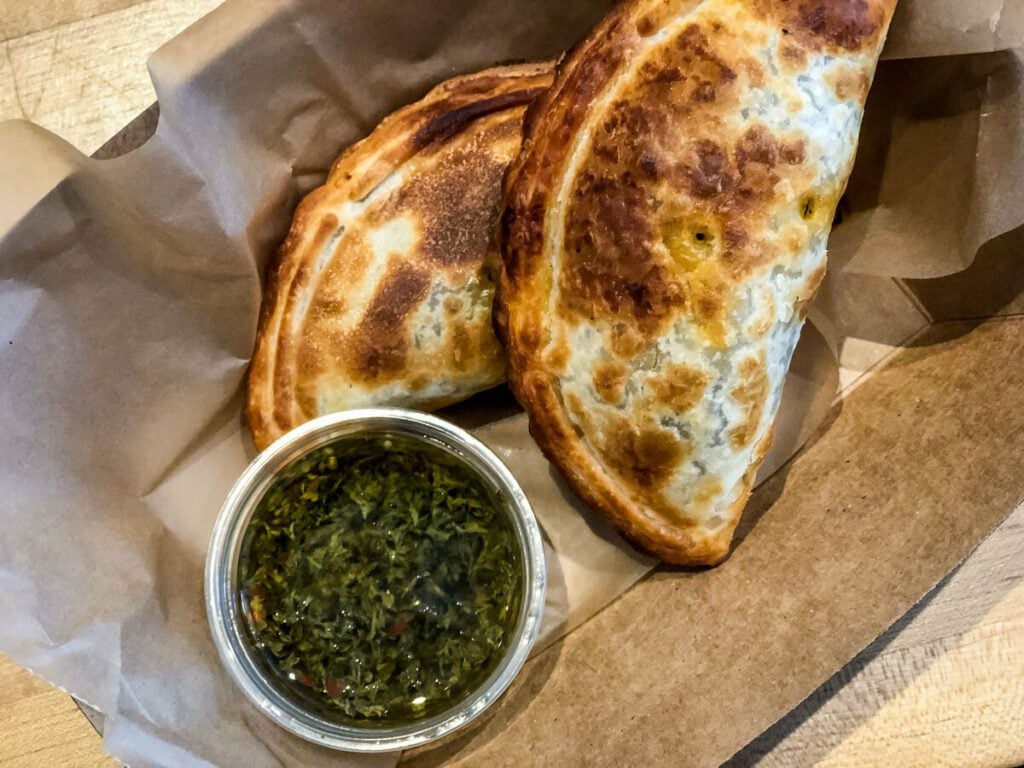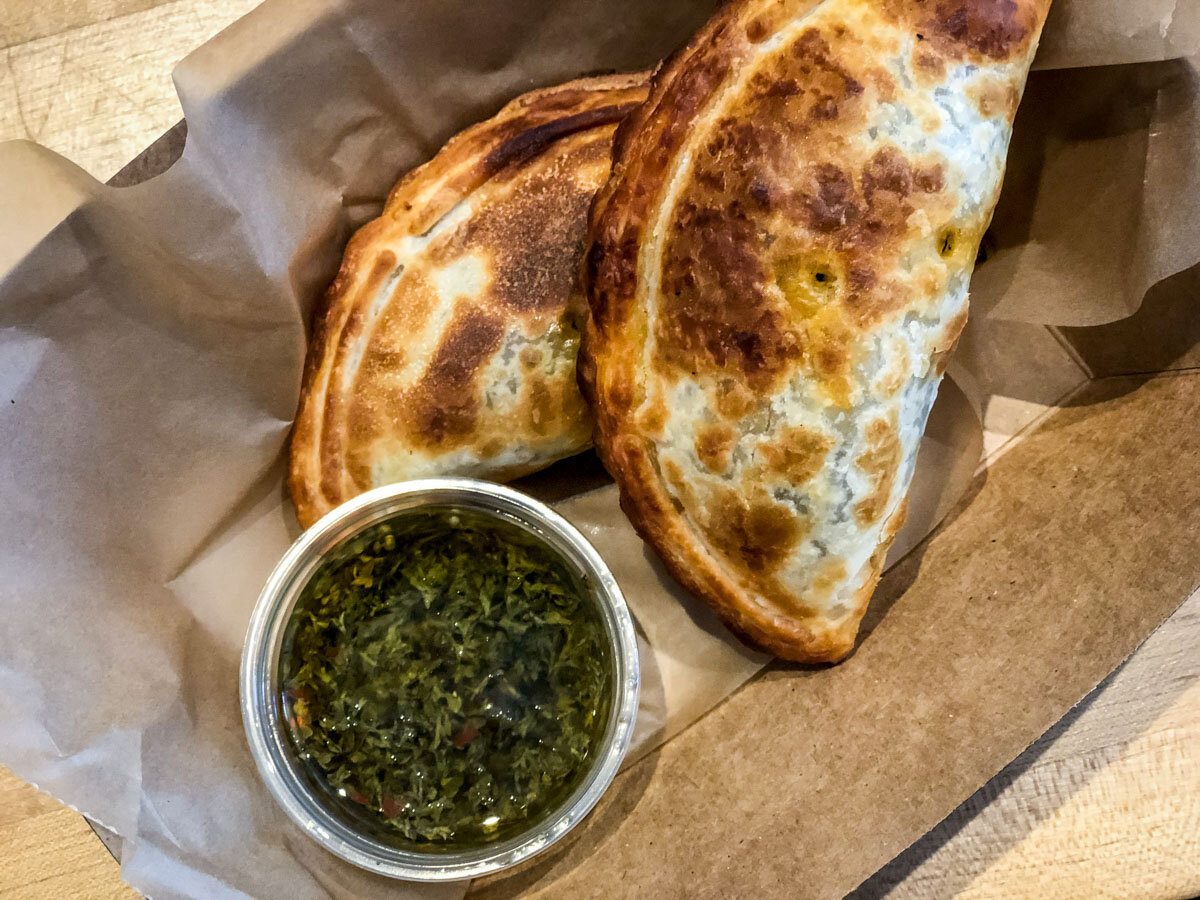 Explore historic downtown Denver while sampling a variety of hand-picked dishes.
When: 1 – 4 p.m. Thursdays – Sundays
Price: $65 ($90 with 3 optional drink pairings)
What's Included: 5 food tastings (a full lunch), 3 optional alcoholic drink pairings, a guided walking food tour
Cocktails & Tastes
If you love a good craft cocktail, this tour through some of downtown Denver's best cocktail bars will be right up your alley. And don't worry, it's not all booze! Drinks are paired with small bites to keep you from getting hangry.
When: 4:15 – 6:30 p.m. Fridays & Saturdays
Price: $85
What's Included: 5 craft cocktails, 4 paired bites (small plates), a guided walking food and drinks tour
Food & Beer
The River North District (or "RiNo" as abbreviation-obsessed locals call it!) is home to some of Denver's best breweries and eclectic dining options. Go brewery hopping and learn a little on the way.
When: 1 – 4 p.m. Saturdays
Price: $65 ($90 w/ beer pairings)
What's Included: 5 food tastings (a full meal), 4 optional beer pairings, a guided walking tour through RiNo
Bonus: We have an exclusive promo code just for you! Use the code TWOWANDERINGSOLES when checking out for $5 off any tour.
9. Grab Happy Hour at a former Mortuary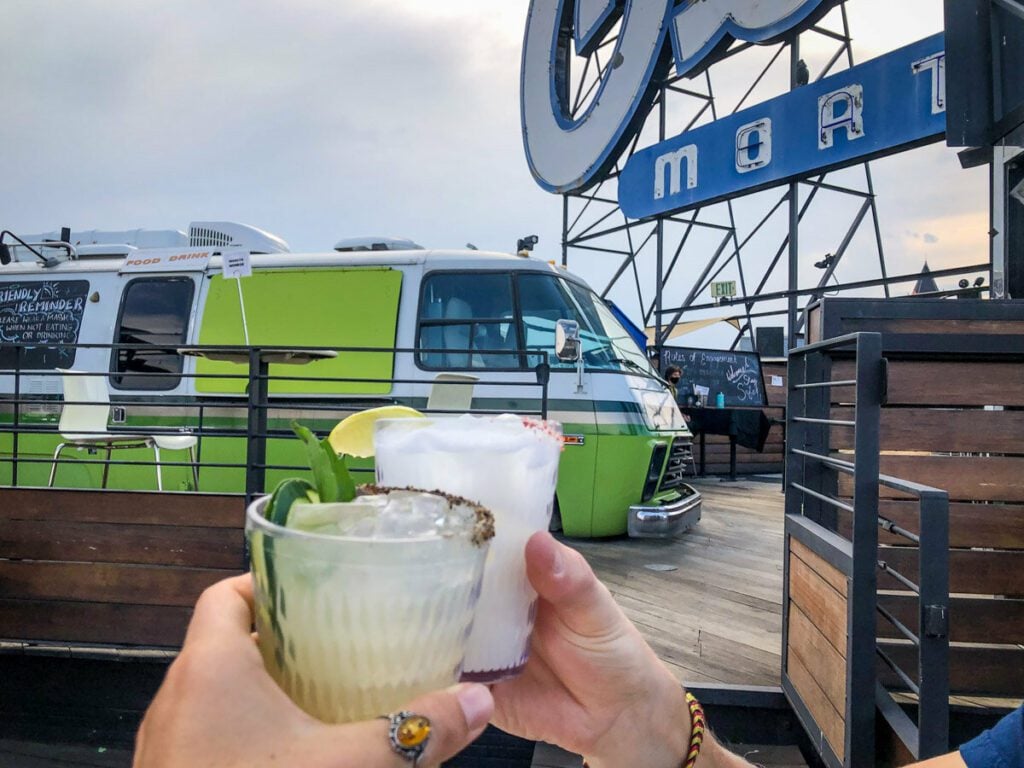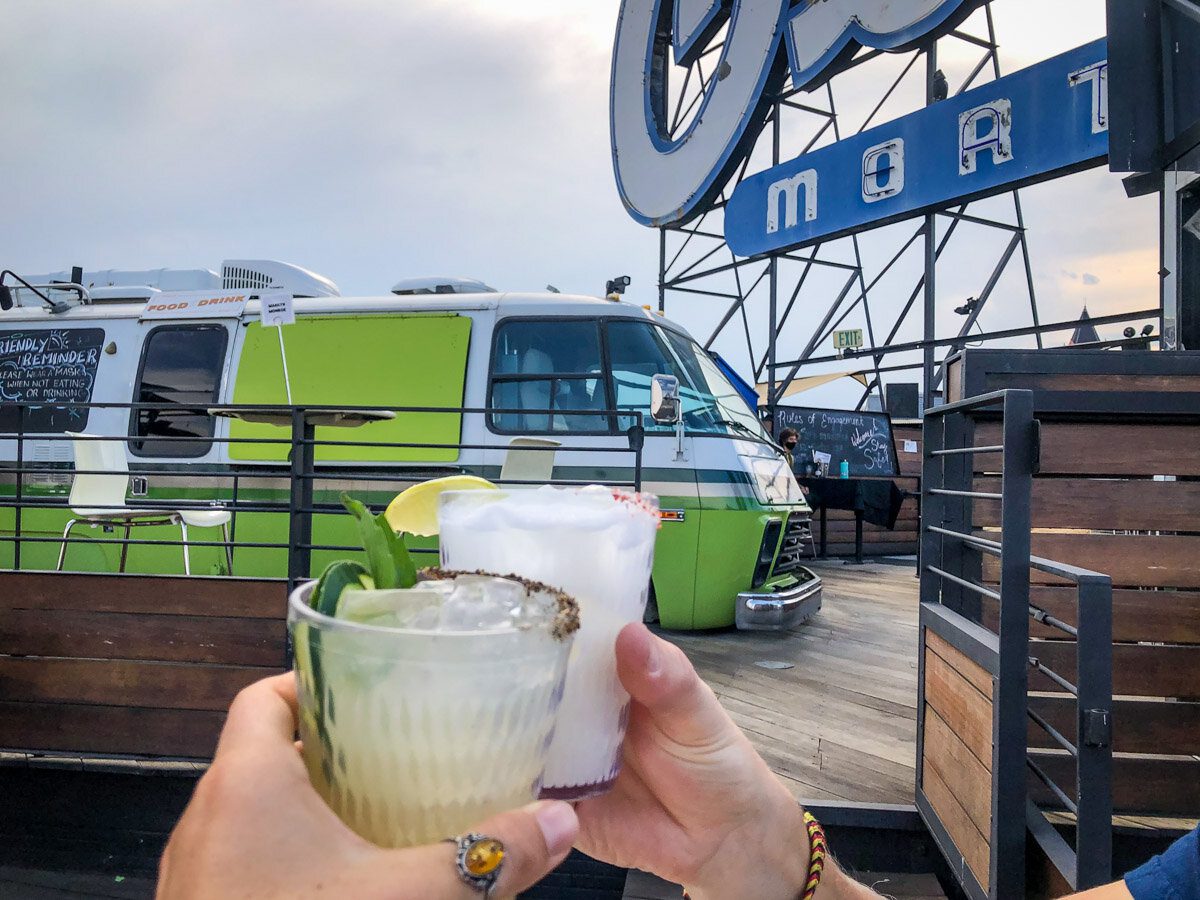 Was it the word mortuary that caught your eye?
Not gonna lie: That's initially what intrigued me and led to my eventual dragging of Ben to this Denver institution for drinks.
Located in the Lower Highlands neighborhood (or LoHi, as the cool kids call it), Linger is a trendy restaurant/bar with a rooftop and great happy hour (more on that later), but it wasn't always such a happy place to be.
I'm gonna be honest, while the whole mortuary thing was what piqued my interest, the real reason to come here is their happy hour. You likely won't even really notice anything unusual about the venue, and the drinks and food are good enough to make you forgetthat it was ever anything other than a delightful restaurant.
The name Linger pays homage to its previous name, Olinger Mortuary. And a sign on the roof is pretty much the only reminder that this building was anything other than a hip Denver eatery.
The happy hour deals are fan-freaking-tastic, but it doesn't last long (just 1 hour!). So our advice would be to get there at the start of HH so you can order a couple rounds.
Happy Hour: 4 – 5 p.m., Monday – Thursday
Signature Cocktails: $6
Wine: $6
Craft Beer: $5
Small Plates: $5 – $6

eclectic selection inspired from global cuisines
pork belly bun, lemongrass potstickers, goat cheese-stuffed dates wrapped in bacon, etc.
Check out the whole HH menu here.
Just a heads up: Linger is closed on Mondays.
Other happy hour spots in Denver:
Tacos Tequila Whisky (Highlands, City Park, Cap Hill): Happy hour drinks and bites for under $6! Plus the best tacos in town in my humble opinion…

When: 3-6 p.m. Tuesday-Sunday, all night on Monday

Ophelia's Electric Soapbox (Downtown): Eclectic "gastro-brothel" fare with $5 craft cocktails

When: 5-6:30 p.m. Monday-Friday, 3-5 p.m. Saturday & Sunday (*Temporarily closed for 2020)

Postino Wine Bar (LoHi): "5 'till 5 everyday!" means $5 a glass, before 5 p.m., including brunch on weekends! They also have $5 pitchers of beer for the non-wine lovers out there.

When: Everyday until 5 p.m., (+ $25 bottle & a board after 8 p.m. Mon-Tues)

Jax Fish House (Downtown): $5 cocktails and $2 oysters (flown in fresh daily!), what more could you ask for from Denver's favorite seafood bar?

When: 3:00 – 5:30 p.m., everyday
10. Step back in time at a Speakeasy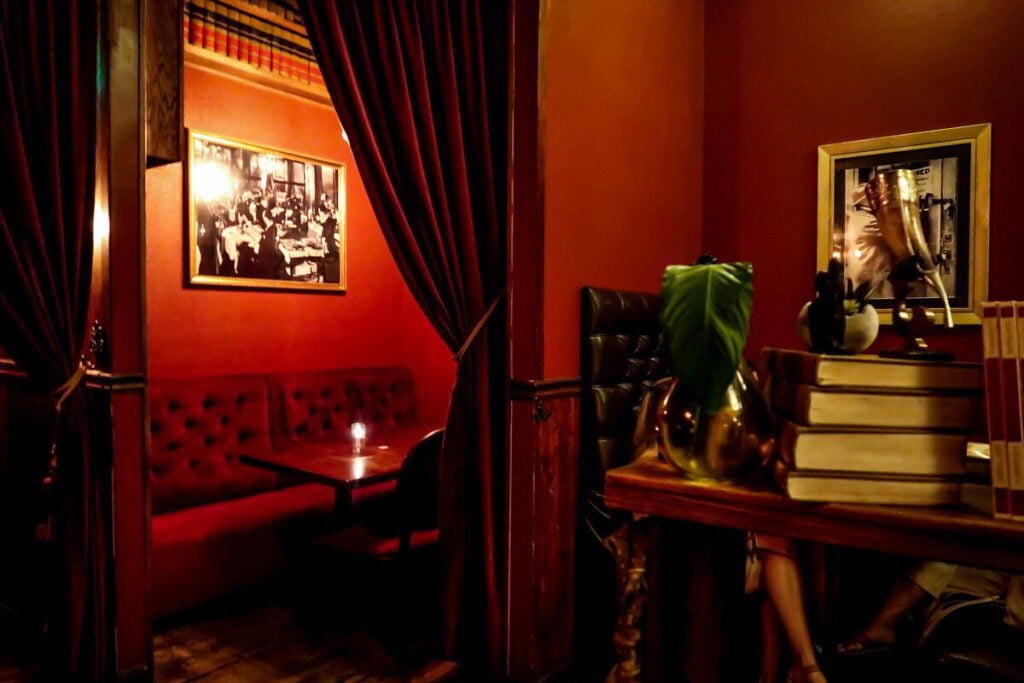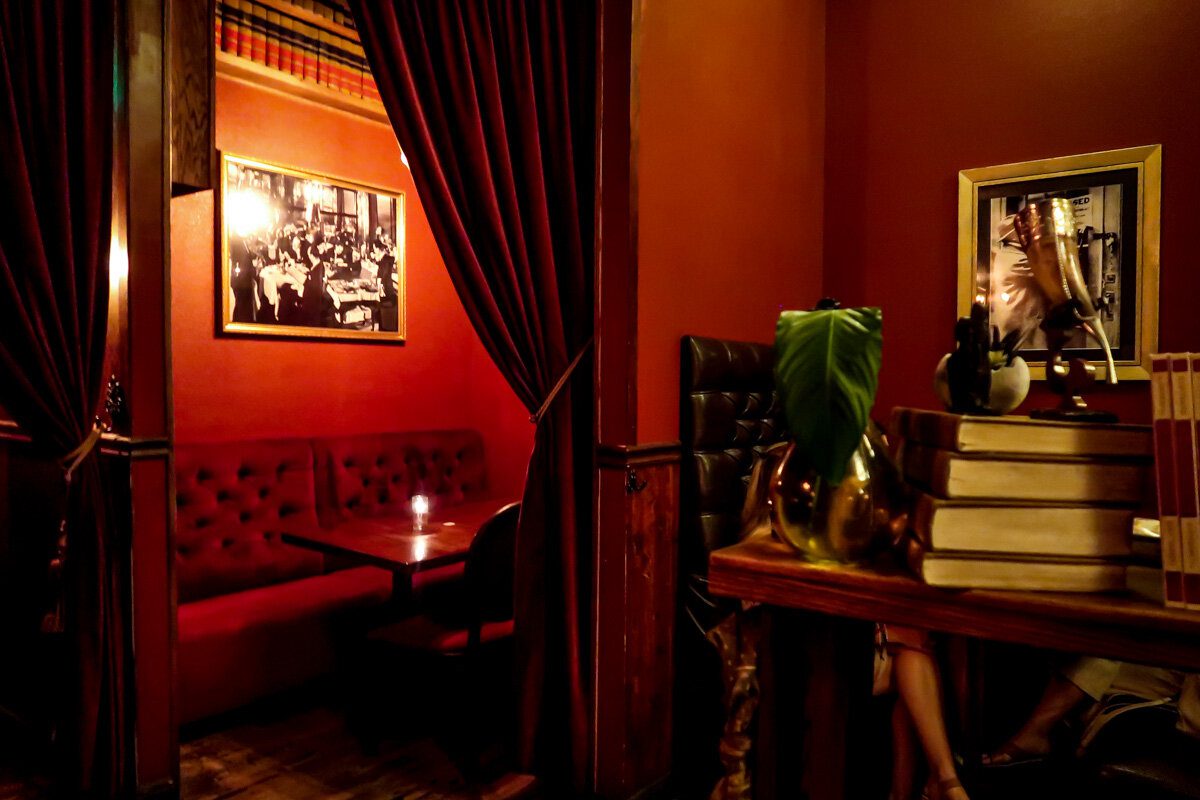 We have a growing obsession with speakeasies.
Maybe it's the intimate, dimly-lit interiors. Maybe it's the smell of leather and aged books and smoked whiskey. Maybe its the feeling that just for a moment you'd stepped back in time into a mahogany world with secret passageways and moustashed men with pinstriped fedoras who use phrases like, "Hey there, darlin', what can I getcha to wet your whistle?"
Okay, let's be real… My obsession with speakeasies is with the drinks.
While researching things to do in Denver, we'd come across a few mentions of Williams & Graham, so we decided to make reservations. (Be sure to do this if you want to get in.)
Situated in LoHi behind a bookstore facade, this intimate, dimly-lit space oozes prohibition-era charm.
Our first round of drinks was chosen from the menu. We tried to choose drinks that sounded interesting and not like what we usually order. They were very good. And beautifully presented.
But for our second round, we ordered a bartender's choice and told them what liquors and flavors we like, and they NAILED them both.
My cocktail was made with tequila, cucumber, spicy peppers and lime
And Ben's was with whisky, smoke, passionfruit and deliciousness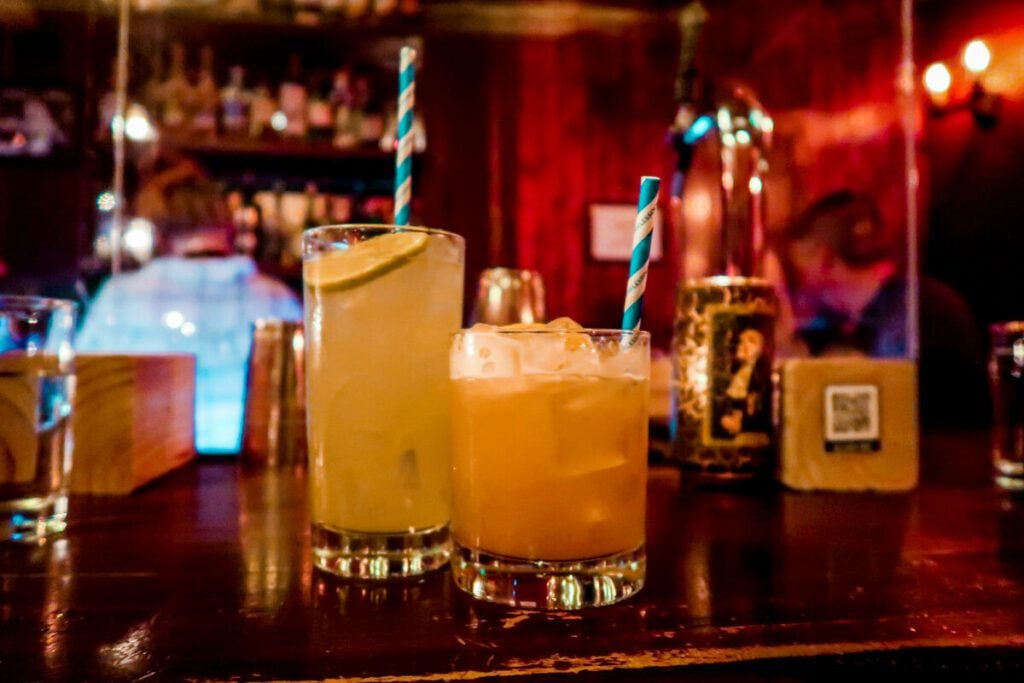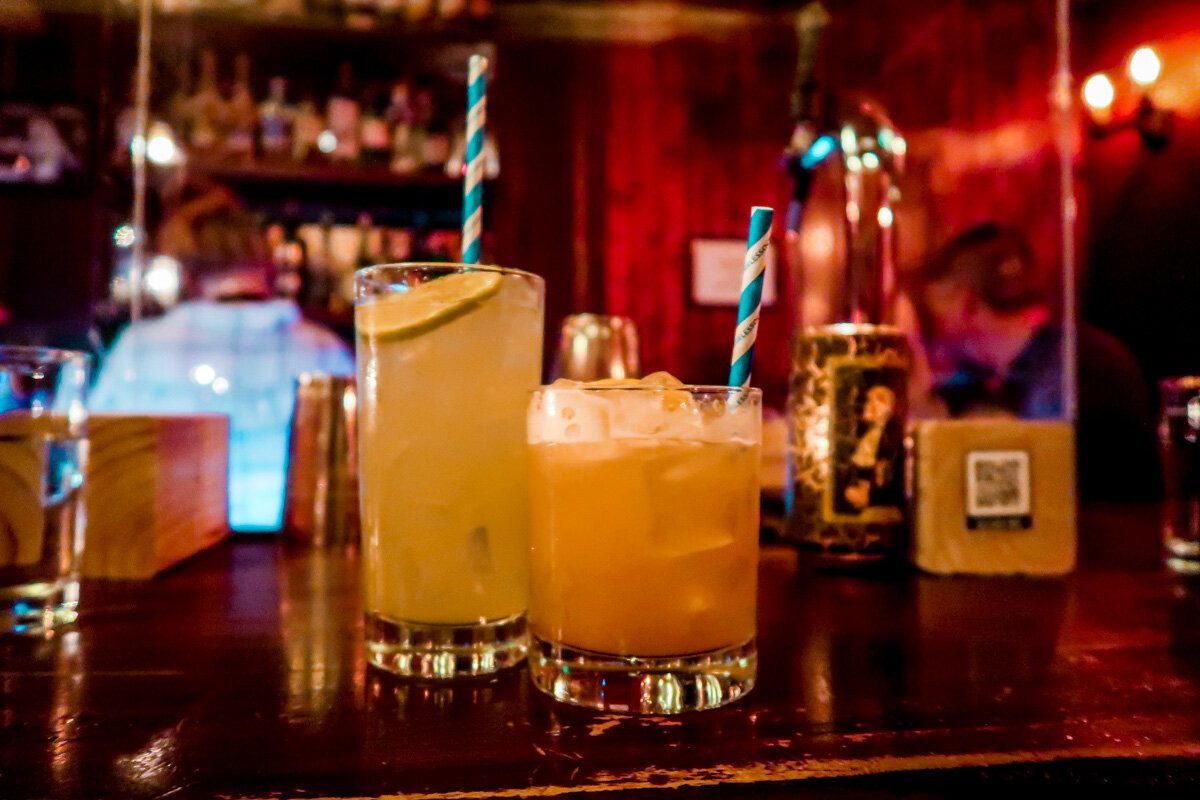 Our advice would be to start by telling them what you like instead of ordering off the menu. It is a couple dollars more, but in our experience, super worthwhile. Additionally, we've read rave reviews about the food here, but we only ordered drinks on our visit.
Do it yourself: As previously mentioned, be sure to make a reservation. Also, if the "Williams & Graham" door is blocked off (it was on our visit), go straight to the doorman at Occidental and give your name. We don't want to spoil things too much, but there's a bookshelf and a secret door involved.
Price: In general, speakeasies aren't necessarily a very budget-friendly option, as drinks tend to start at $15. That said, if you're up for a splurge, a speakeasy will be the best place to spend a little more on drinks and atmosphere.
More Denver Speakeasies
If you can't snag a spot at Williams & Graham, don't worry because Denver has a handful of speakeasies to choose from:
11. Go brewery hopping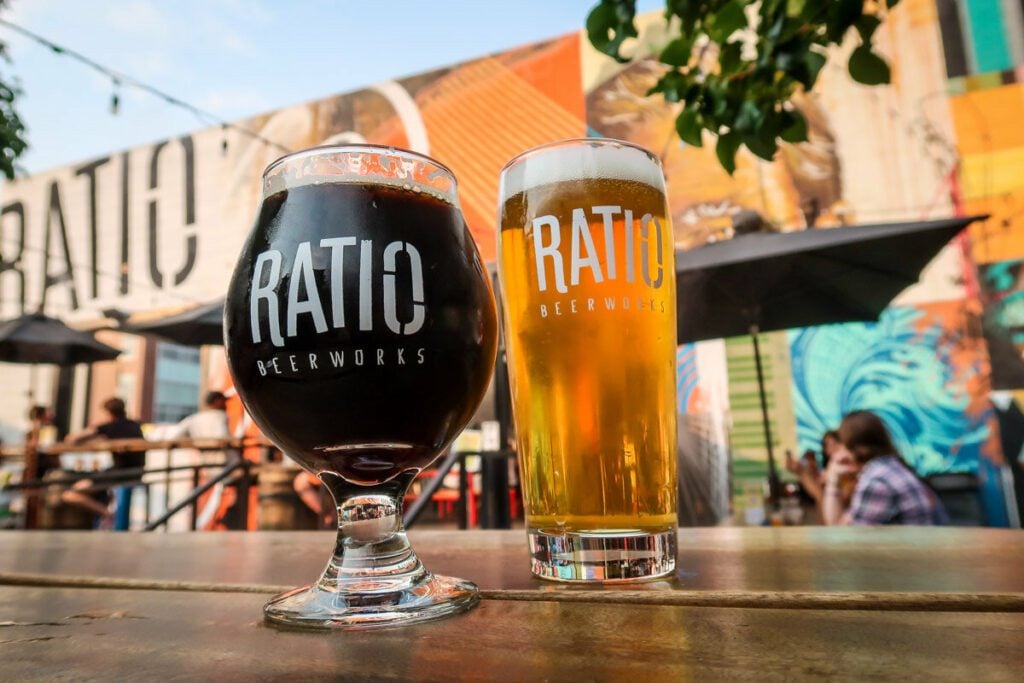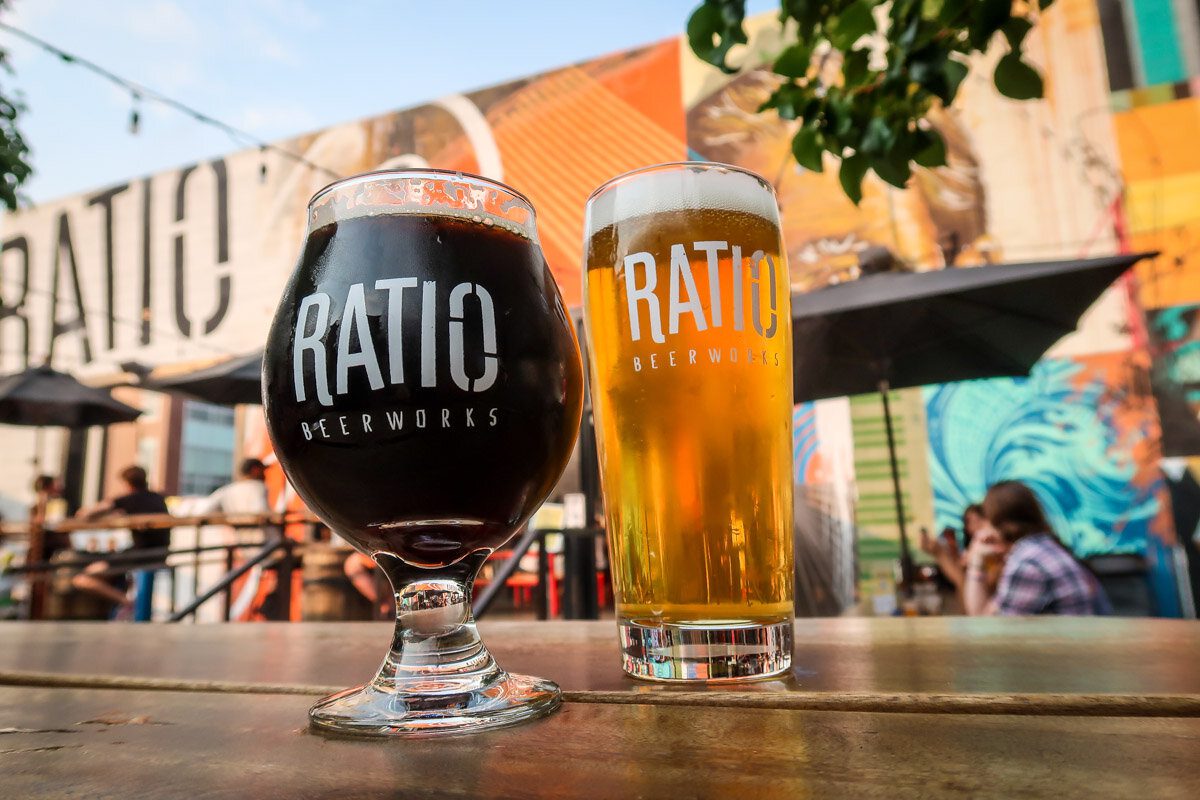 Confession: I'm not a fan of Coors (Denver's most beloved beer). Please don't judge.
But lemme tell ya, I am a huge fan of many of the city's craft brews. And there are lots. Frankly, you could live in Denver and still not sample them all.
Denver has a lot of breweries. And by "a lot", I'm talking more than 150. I mean, are you surprised? It seems like every major US city has their own craft beer scene, and we are here for all of them.
We visited during the summertime and sought out breweries with cool outdoor spaces.
Here are the ones we visited (and loved):
The breweries listed below are on our "wish list" of places to visit in the future:
Some of the bigger guys:
Pro Tip: Denver's official website offers this handy Beer Trail Map that will help you plot out your brewery tour by neighborhood!
Not into beer? Here are some other options…
Psst! For More info on each neighborhood, jump to the bottom of this article where we have descriptions and explain the abbreviations.
12. Have a play date with Mary Jane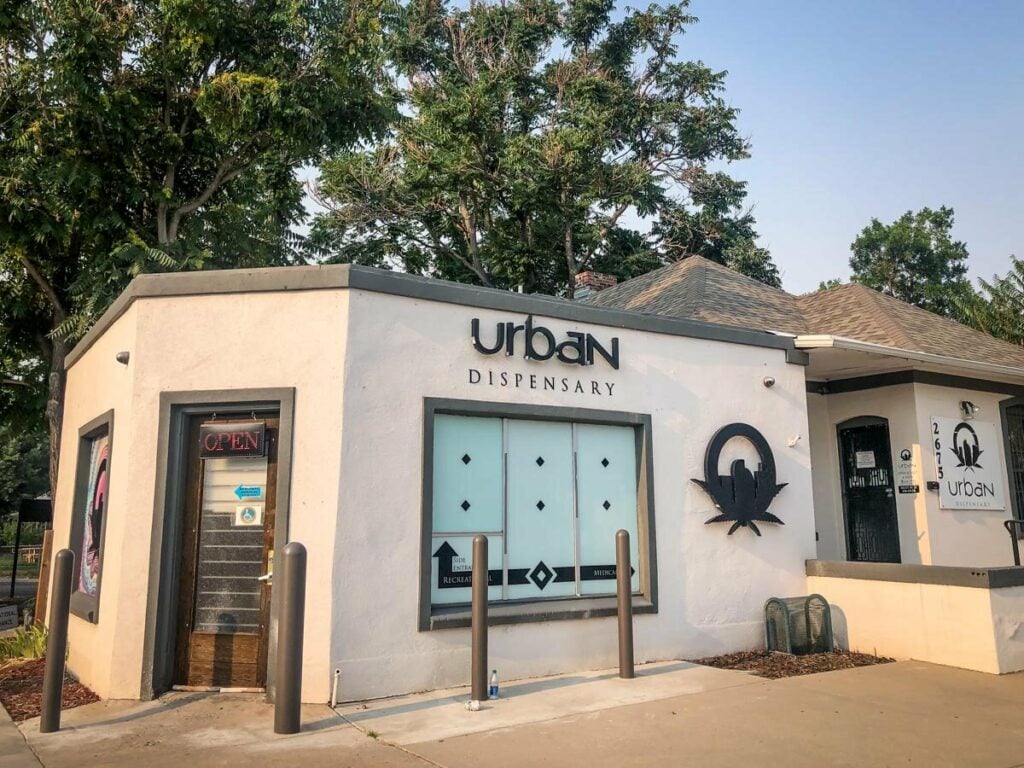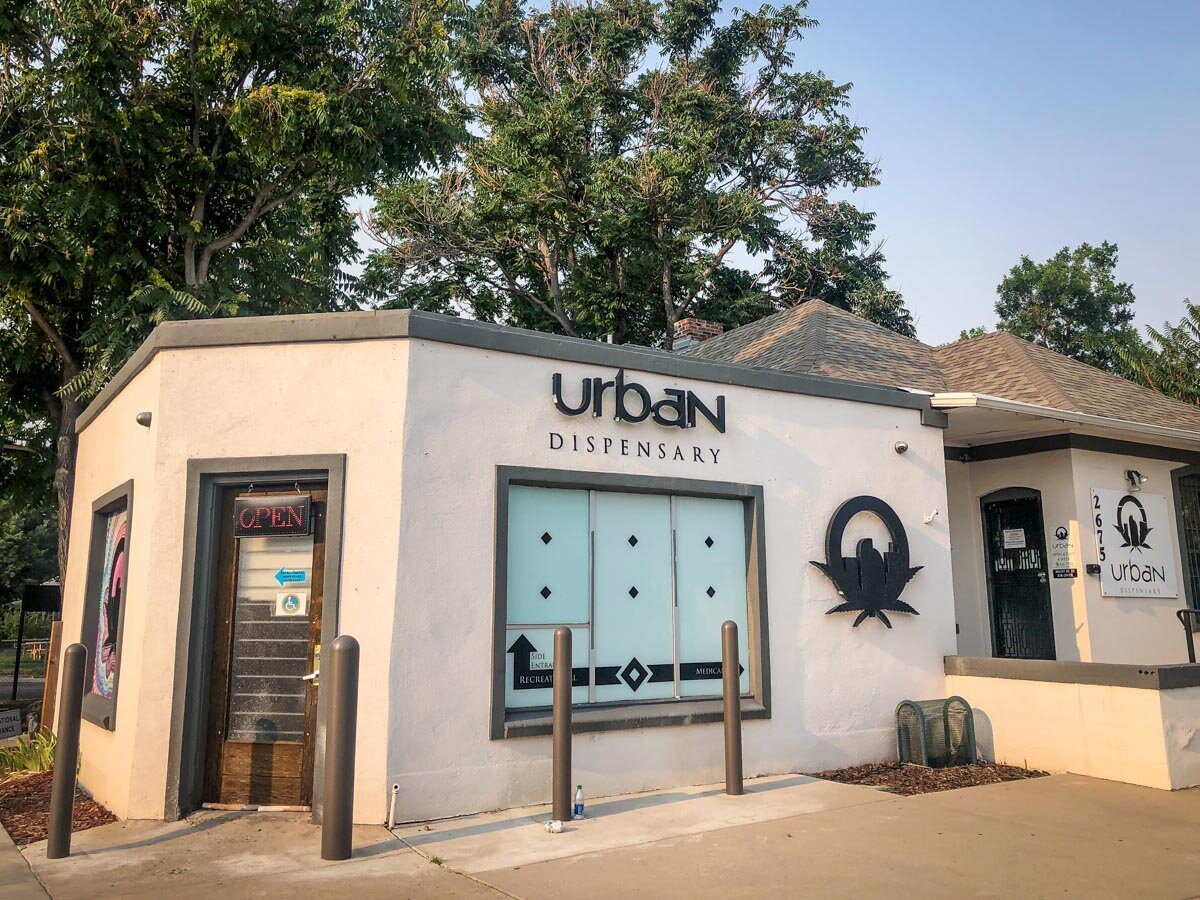 Being that Colorado was one of the first states to legalize recreational marijuana (tied with Washington), it should come as no surprise that many visitors want to give it a whirl… err, puff… while they're in town.
If you choose to partake, here is some information you should know:
Dispensaries: You can purchase recreational marijuana in the form of flower and edibles. You can simply search "dispensary" in Google Maps to see where they are located around town (there are a lot).
You must be over 21 years of age to enter.
Have your ID ready as well as cash on hand, as dispensaries do not take credit cards. There may be an ATM on site, and some dispensaries accept payment by debt card.
The staff at dispensaries tend to be helpful, so ask questions or tell them what you're looking for and they can give recommendations.
IMPORTANT: If you are going to use marijuana recreationally on your trip to Colorado, be sure you're familiar with the laws.
It is NOT legal to:
consume in public
share with minors
drive under the influence
fly with marijuana or bring it out of Colorado
Here are three unique ways to have an extra special time:
International Church of Cannabis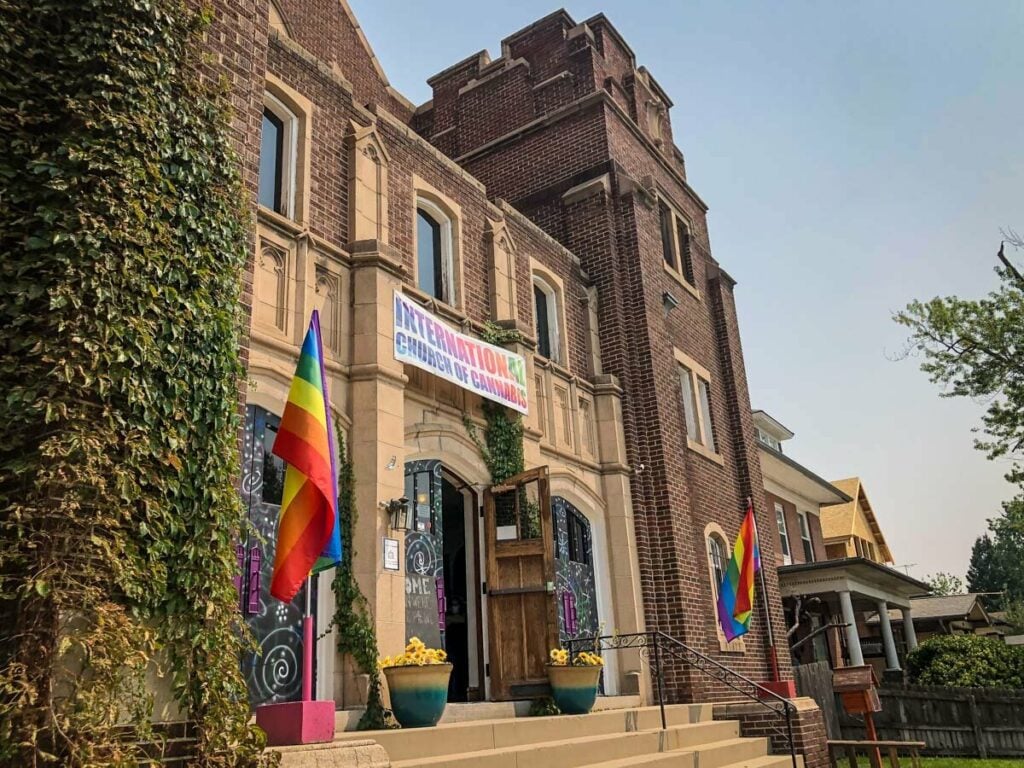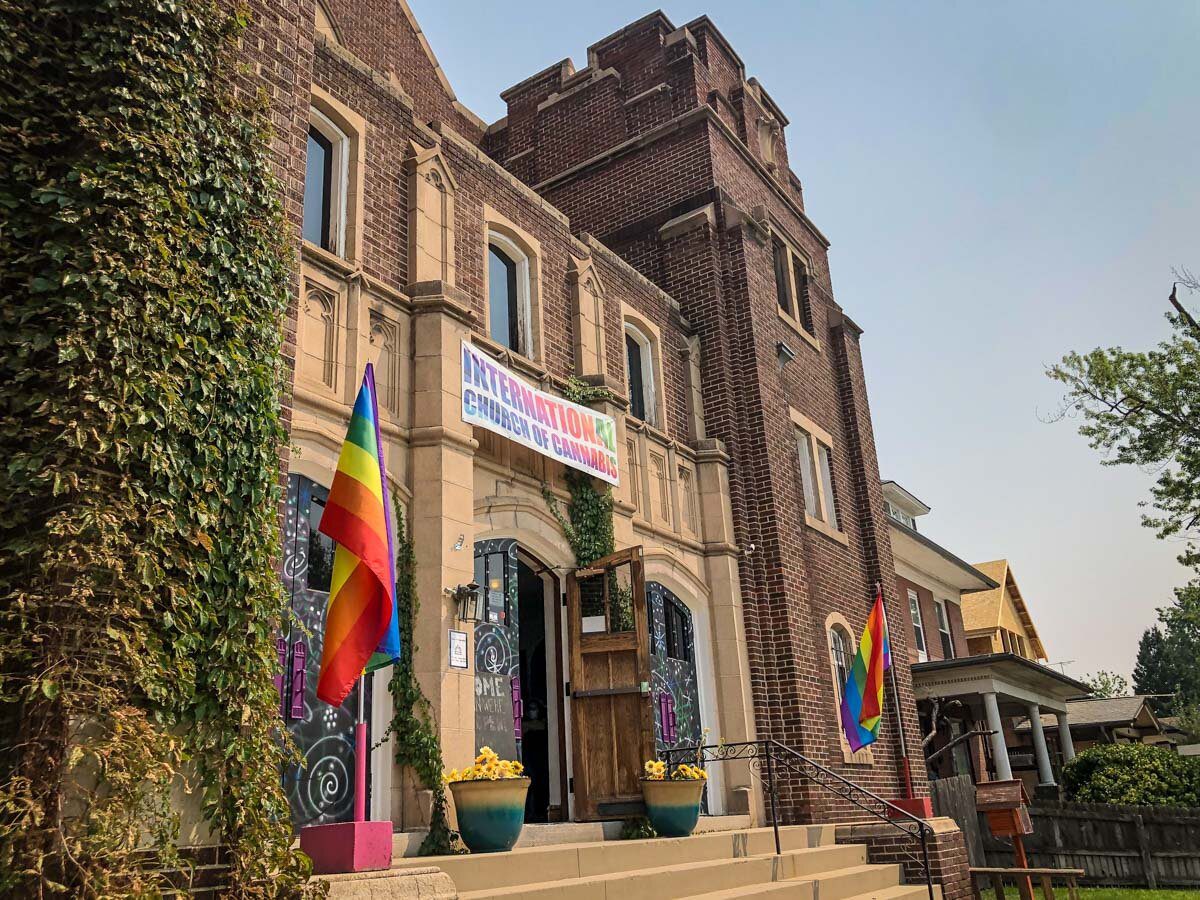 This is not your typical church, that's for sure!
According to their website, their mission is "…to offer a home to adults everywhere who are looking to create the best version of themselves by way of the sacred plant. Our lifestance is that an individual's spiritual journey, and search for meaning, is one of self-discovery that can be accelerated with ritual cannabis use."
The inside of the church has magnificent murals, but what people flock to is the laser light show. Partnered with a guided meditation, this experience is called "Beyond" and happens 20 minutes past the hour, every hour.
We showed up, excited to see the interior of the church, but upon reaching the entrance were told that it was a $25 "donation" to enter. We ended up leaving because we just weren't prepared to pay $50 to see the inside. However, if this experience sounds like it might be up your alley, we've heard from some that Beyond is worth the price.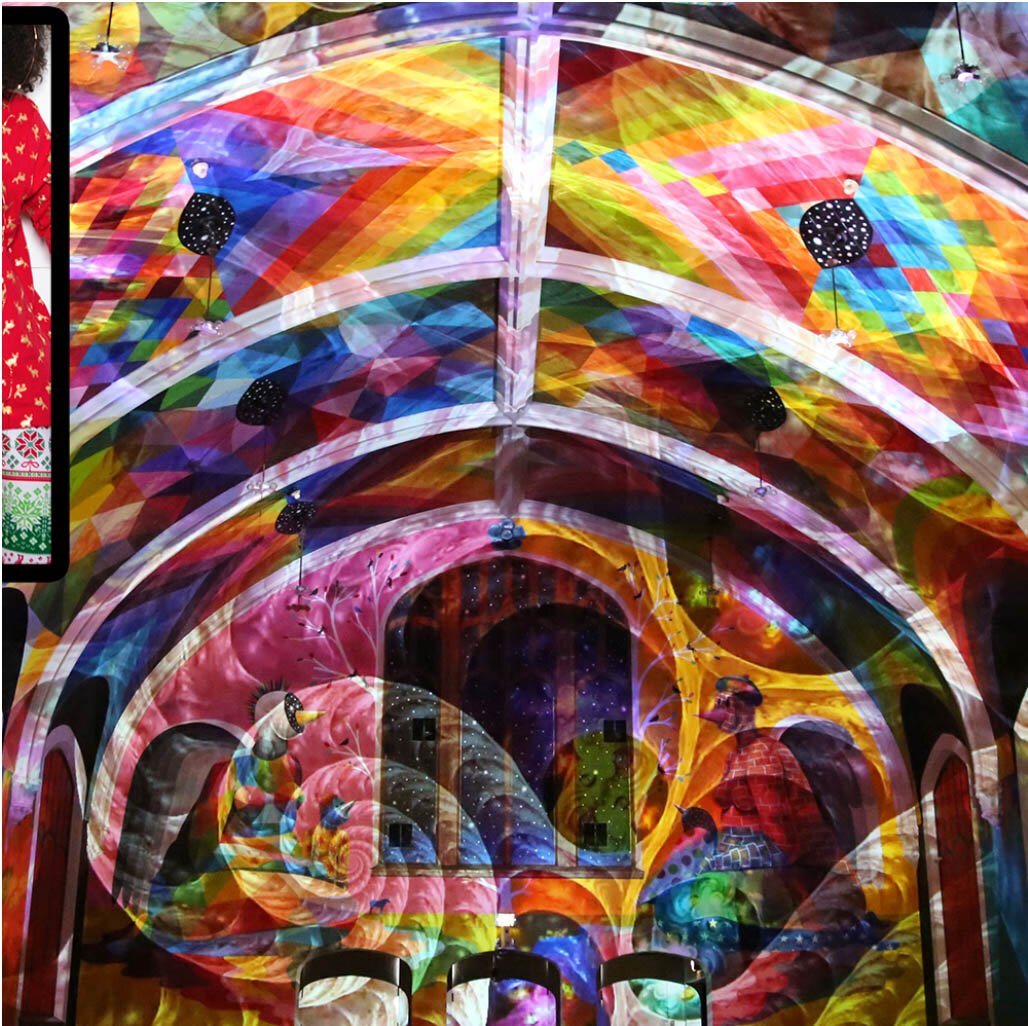 Hours:
Friday – Monday: 12 – 6 p.m.
Tuesday – Thursday: 1 – 2 p.m.
Cost:
Adults: $25
Students: $20
Children (under 12): $10 (and yes, we did see a couple kids on the premises, so it seems to be family friendly
Yoga + Marijuana
I had never heard of this trend until researching our trip to Denver. And I've gotta say, I can see the appeal.
As ABC affiliate, The Denver Channel, so eloquently put it, this combination mixes "downward dog with doobies".
A handful of studios (that qualify as social clubs) around the city allow yogis to bring their own marijuana (BYO…M) and even incorporate smoking into the breathing techniques. Some 420-friendly yoga teachers claim that it can help people quiet their minds and focus on their practice.
So where can you get your downward-dog-and-doobie on? Bend & Blaze is the city's most well-known ganja practice, but there are others too.
*2020 note: Bend & Blaze has paused in-person classes, but are offering virtual sessions for the time being.
Carve your own pipe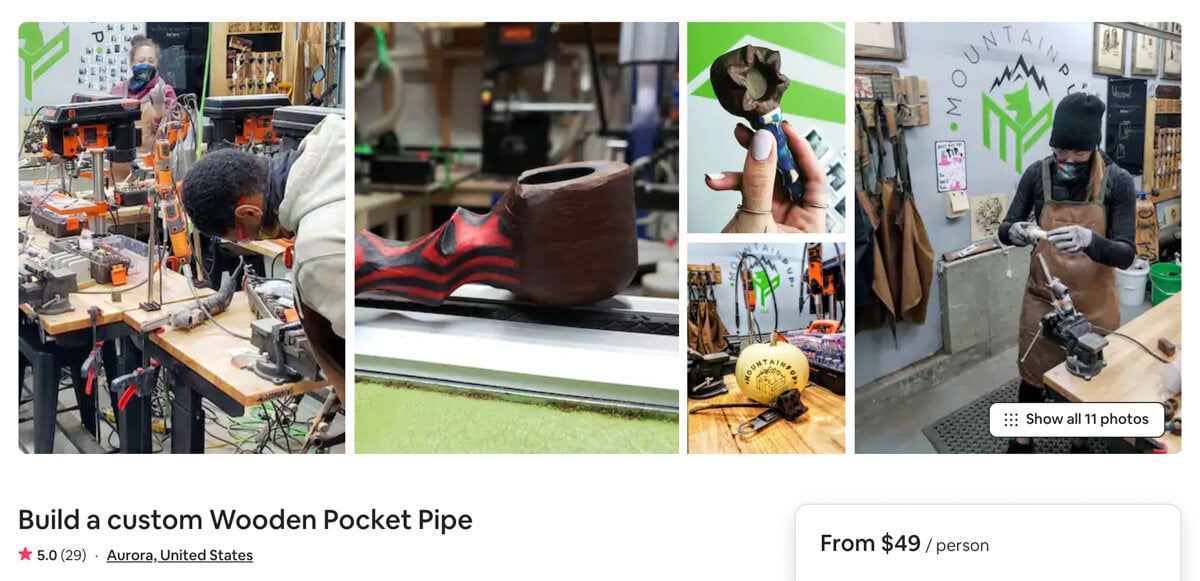 If you're creative and like to get your hands dirty, this might be a perfect activity to add to your Denver itinerary.
Airbnb Experiences are a great way to do something totally unique on your travels — no matter where in the world you might be.
The rave reviews on this particular experience as well as the affordable price ($49) and cool souvenir you get to take with you, make me upset that we didn't find out about it until writing this article. I guess we might just have to sign up next time!
13. Eat your heart out at a Food Truck or Food Hall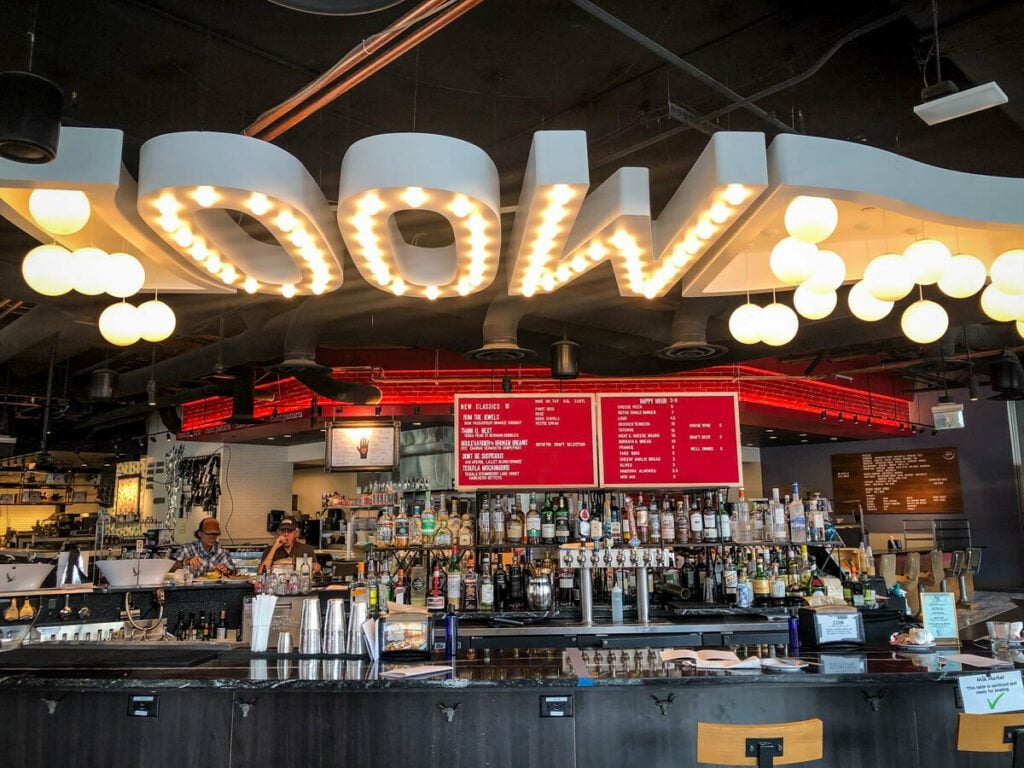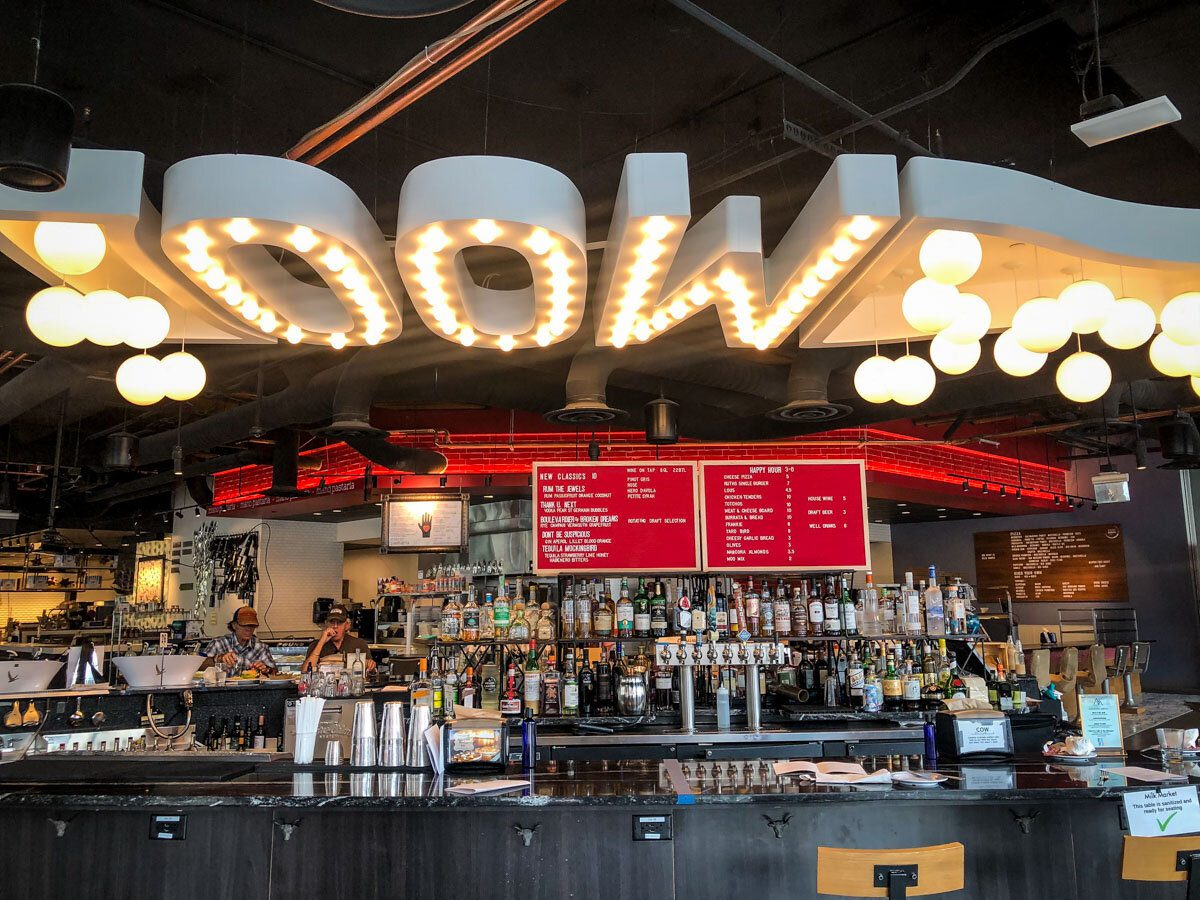 We love splitting meals because it give us the chance to try more dishes. Anyone else?!
One of the best things about hitting up a food truck pod or an indoor food hall is that you have all sorts of different cuisines at your disposal.
Can't decide on street tacos or dim dum? Why not get both, and a scoop of gelato for dessert!
Anything is possible at a food hall or pod of food trucks. Plus, it's also a good solution when traveling with people who all are craving something different.
Food Trucks in Denver
Because of low start-up fees and few regulations, Denver is ranked as one of the top US cities for food trucks to get their start. So it comes as no surprise that you'll find them parked outside many-a-brewery.
For the most diverse selection, head to the Civic Center where you'll often find a few food trucks lined up with a selection of different options.
Every summer the Civic Center Conservancy partners with local businesses to put on the annual Civic Center EATS culinary event in Denver. Join the fun on Wednesdays and Thursdays from 11:30 a.m. to 1:30 p.m. where a variety of Denver's best food trucks gather on the southwest side of the Central Promenade of the historical Civic Center Park.
Insider Tip: Follow @CivicCenterEATS on Facebook to check out the food truck schedule before you arrive and get real-time event updates.
And for a list of pretty much every food truck in Denver, check out Go Truckster for descriptions and upcoming locations.
Food halls in Denver
Food halls are great for finding a variety of different food and drink options all under one roof. As an added bonus, some double as a great co-working space, artisanal markets, or even nightlife hotspots. Denver certainly loves their food halls and there are a few notable ones around the city. Here are a few highlights:
Denver Central Market (RiNo)
With 11 vendors, this indoor market in the RiNo district feels in a way like a marketplace of the past. You can stop in and pick up cuts of meat from the butcher, freshly made bread from the artisan bakery, and specialty chocolates, all to go.
If you'd prefer to enjoy a meal onsite, that's an option too. Mix and match from the different vendors — oysters, a craft cocktail, a hearty salad and a wood-fired pizza, anyone?! There is plenty of outdoor seating where you can enjoy your bites while surrounded by evocative murals and string lights, or post up inside with your laptop to get some work done while you snack.
Psst! There's even a second version of this food hall at the airport, so you can grab your favorite eats one last time before leaving the city.
Avanti Food & Beverage (LoHi)
Coined as a Collective Eatery, this modern day food hall is built into a bi-level shipping container and features an eclectic mix of vendors from pizza to sushi. Each of the 6 different restaurant concepts feels a bit like a food stall or permanent food truck with community seating throughout. At night the bar scene comes alive and the rooftop is guaranteed to be a hot spot all summer long.
The Source Hotel + Market Hall (RiNo)
At the base of The Source Hotel are two market halls that feature 25 vendors and artisans. Here, you'll find Israeli cuisine, pizza, sushi, smoked meats and gelato. A little something for everyone!
Denver Milk Market (LoDo)
Situated on the iconic Dairy Block, the Milk Market is centrally-located and offers varied dining options. From hot fried chicken to fresh pasta to bao buns to lobster rolls, it can be hard to choose! But that's the beauty of a food hall — you can sample a few different dishes all under one roof.
14. Satisfy your sweet tooth with Little Man Ice Cream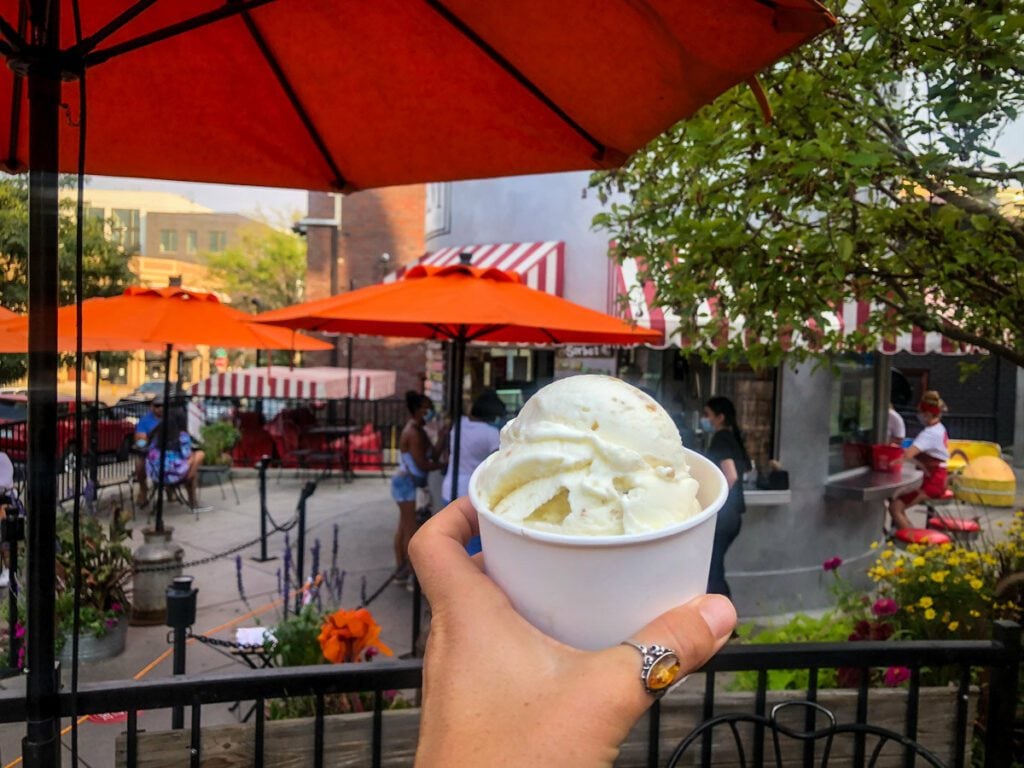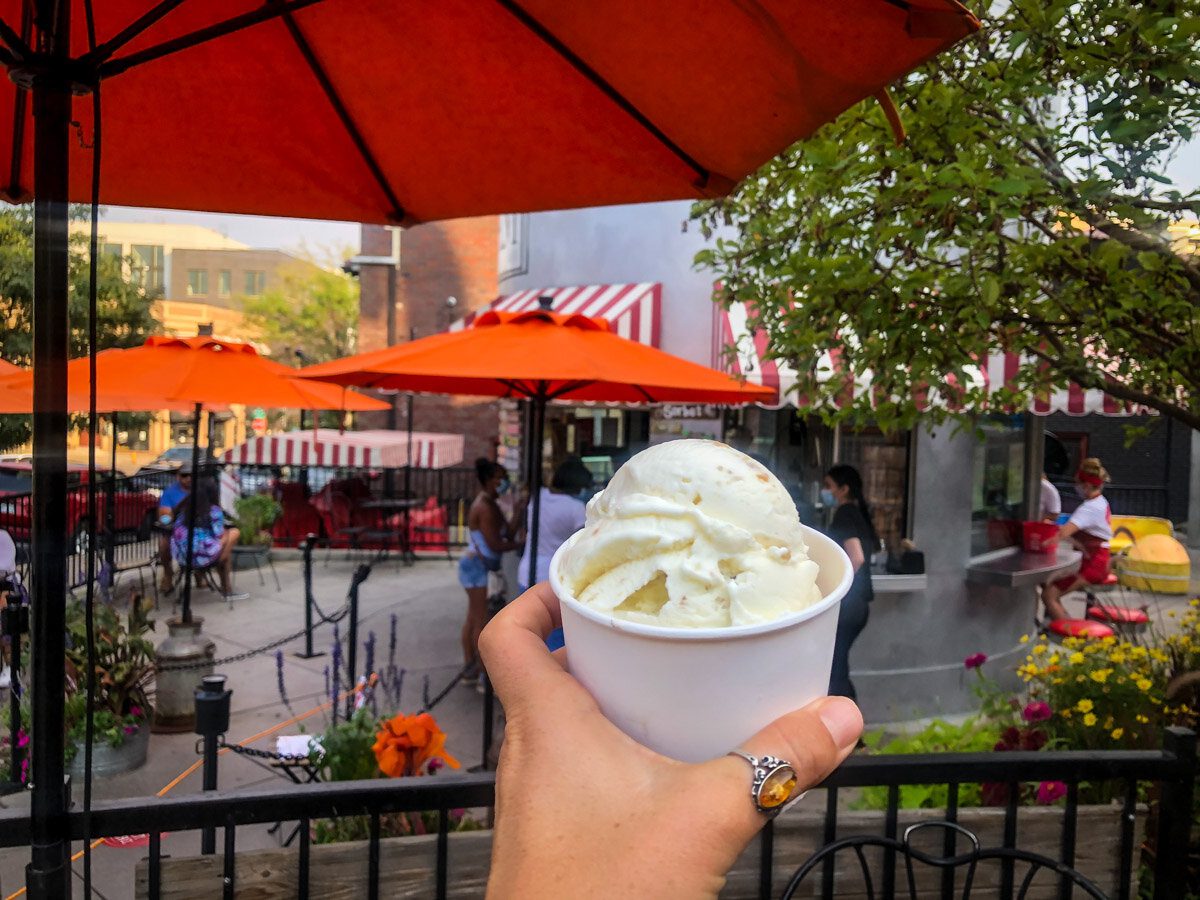 Located on 16th street in Denver's LoHi neighborhood is the iconic ice cream shop known as Little Man's.
You can't miss this place as it's shaped like a giant milk jug and often has a line forming well down the block. However, the line goes pretty quickly (we hardly had any wait when we were there!) and the small batch homemade ice cream with unique flavors – like Salted Oreo, Horchata and Lemon Lavender – is totally worth the wait!
Good to know: We love the fact that they give back with their "Scoop for Scoop" initiative. According to their website, they match each scoop of ice cream purchased with a "donated scoop of rice, beans, or other essentials to a community in need anywhere around the world".
15. Get glazed at a craft doughnut shop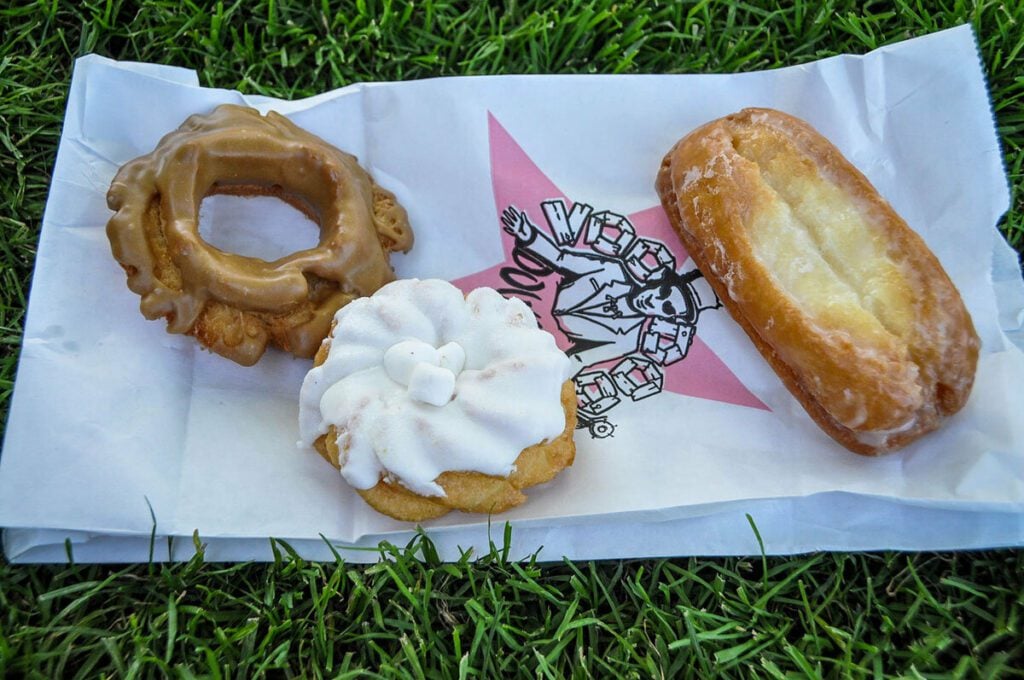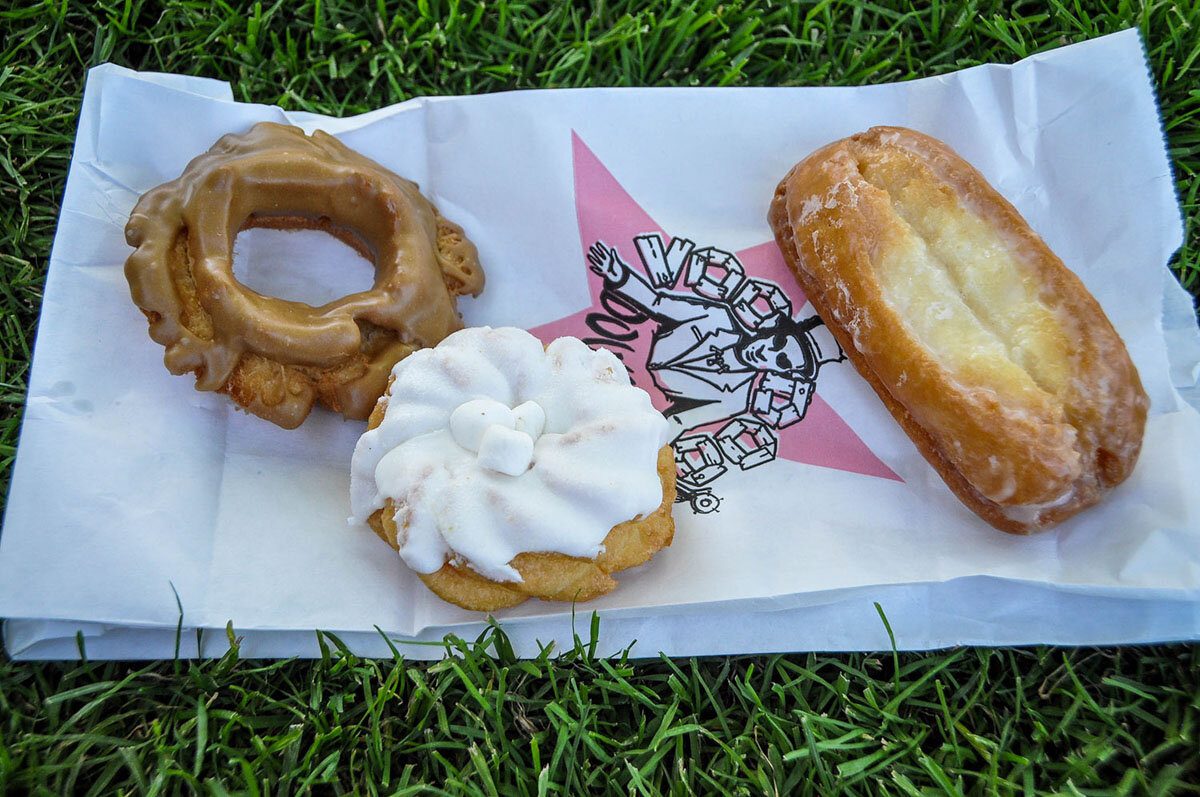 Speaking of sweet treats… let's chat about where to get the best and most creatively-topped fried dough in the city!
If you're wondering what constitutes a craft donut, let me be the first to introduce you to this delicious hipster invention. Pushing the envelope on flavors with a burst of creativity, craft donuts are far from your average Dunkin.
These delightful craft donut shops are popping up all over the place in hipster towns near you, and Denver has no shortage. Check out some of the highlights below.
Glazed and Confuzed: A Denver original, this stoner-themed shop goes by the motto: "Not Your Daddy's Doughnuts!" Highlights include gluten-free, vegan and even a doughnut made with CBD.
Habit Donut Dispensary: Coined as the 'cheeky bakery on Platte,' Habit has made quite the name for themselves in Denver's doughnut scene with their "boozy injections" and CBD cocktails. Alongside their premium chef-driven doughnuts, they also sell alcohol, cannabis and cigarettes.
Voodoo Doughnuts: After their original location in Portland gained an almost cult-like following, this unconventional pastry shop continues wow-ing with an ever changing and rotating menu of eclectic flavors such as the Bacon Maple Bar, Bubble Gum, and Dirt (aka vanilla frosting and Oreo on a raised donut).

Personal Opinion: To be totally honest, we were disappointed with Voodoo in Portland and don't quite think it lives up the the hype. But if you're into quirky flavor combinations, you might love this famed chain.
Other honorable mentions include: OMG Donuts, The Donut House, and City Donuts
16. Have a boozy brunch
Are you a Bloody Mary person or a Mimosa fiend?
Or perhaps you're both… hey, me too!
Luckily for all boozy-brunch lovers, Denver has a plenty of options for getting your morning buzz on.
Linger (LoHi): globally-inspired cuisine, bottomless brunch and rooftop seating
Snooze AM Eatery (various locations): American breakfast classics with a twist, bloodies, bubbles and coffee cocktails, plus sustainability and community outreach efforts
Root Down (LoHi): trendy farm-to-table fare with bottomless mimosas
Pig & Sprout (LoDo): casual brunch for carnivores and vegetarians alike, plus mimosa flights and brunch-inspired cocktails
Old Major (LoHi): contemporary farmhouse cuisine, bottomless mimosas and outdoor seating
Second Home Kitchen + Bar (Cherry Creek): "Pajama brunch" on Sundays with bottomless mimosas and a DIY bloody bar
Stowaway Kitchen (RiNo): eclectic global cuisine, specialty coffee and brunchy cocktails
Need a break from the booze?
Denver Biscuit Company (various locations + food truck): real southern biscuit creations on steroids (well not exactly, but you should see the size of these things!)
Rosenberg's Bagels & Delicatessen (Five Points, Stapleton): authentic New York City bagels in a classic deli setting
---
Free & Cheap Things to do in Denver
If you're traveling on a budget, this section is for you! We've rounded up some of the best free and cheap things to do in Denver to help you stretch that dough.
17. Marvel at Denver's iconic Union Station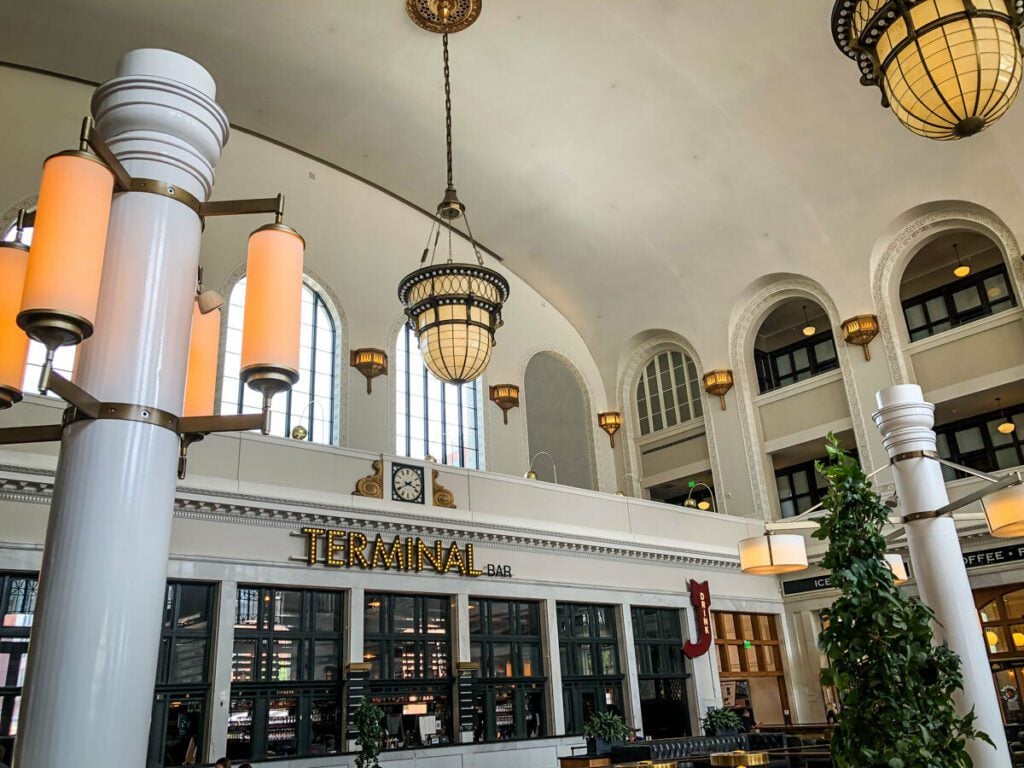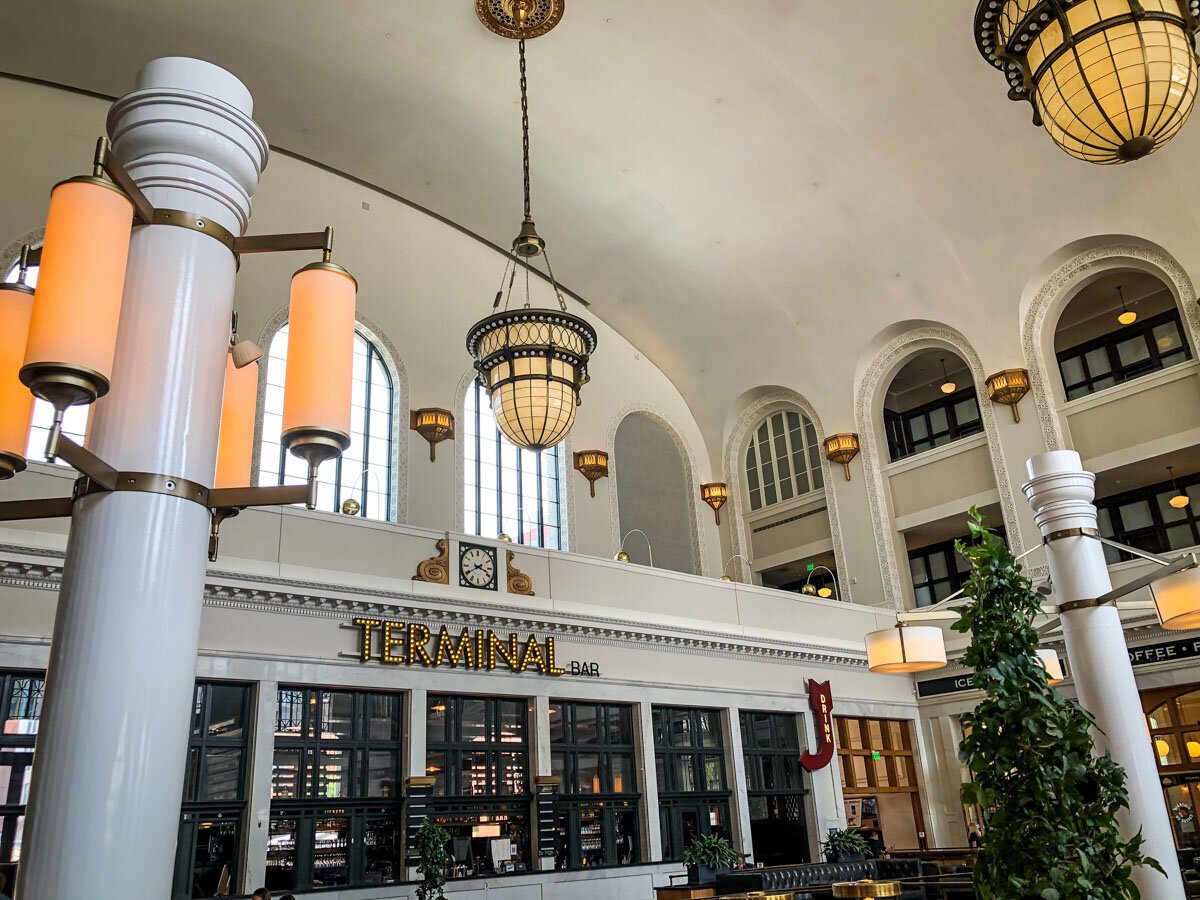 Before you're like, "Why would I want to visit a train station?!" hear us out…
We had the same thoughts, but I'll be the first to tell you that:
a) the architecture and decor in this place is crazy beautiful, and
b) there are lots of great restaurants and cafes around the premises
Nicknamed "Denver's Living Room", Union Station underwent a major remodel in 2012, and today looks like something out of a movie. Think historic charm with a trendy modern twist.
With black leather couches and handsome chandeliers, you might feel like you've stepped back in time were it not for the strong AC (a welcomed relief on a sweltering summer day) and the trendy onsite cafes.
We saw people posted up on couches with their laptops and others on coffee dates with friends. So yeah, the train station certainly lives up to its nickname and could even be described as charming… a word I wouldn't typically associate with a US train station, that's for sure.
Not only is Union Station a functioning public transit hub in the center of the hip Lower Downtown area (also known as LoDo), this century-old historic building plays host to a myriad of popular Denver eateries and even a luxury hotel.
Even if you're not passing through on a bus or train, this renovated landmark is well worth a visit. Grab a cocktail at the posh Cooper Lounge on the second level or a quick bite and a beer at the Terminal Bar while you admire the architecture. Browse the curated boutiques for souvenirs or satisfy your sweet tooth at Milkbox Creamery.
Once you've taken everything in, find yourself a table at one of the many popular restaurants housed here. There's something for everyone's taste from trendy brunch to fine dining:
ACME Delicatessen & Pizzeria: Artisanal deli-style sandwiches and fast-fired pizzas
Mercantile Dining & Provision: Fine dining with high-end ingredients from a James Beard Award winning chef
Next Door American Eatery: Spicy, salty, acidic & tasty food, plus drinks
Snooze AM Eatery: A Denver institution and popular brunch spot – they don't take reservations and the place closes in the afternoon so there will be a wait on weekends
Stoic & Genuine: Sustainable seafood house, oyster and granita bar
Terminal Bar: Colorado craft beer, signature cocktails, wines and elevated bar food
Ulteria: Tapas inspired by the Iberian peninsula countries of Spain and Portugal along with specialty gin cocktails
Tip: If you're visiting Denver around Christmas time, be sure to pop into Union Station to see the giant tree and all of the holiday decorations!
18. Rent bikes or scooters to explore the city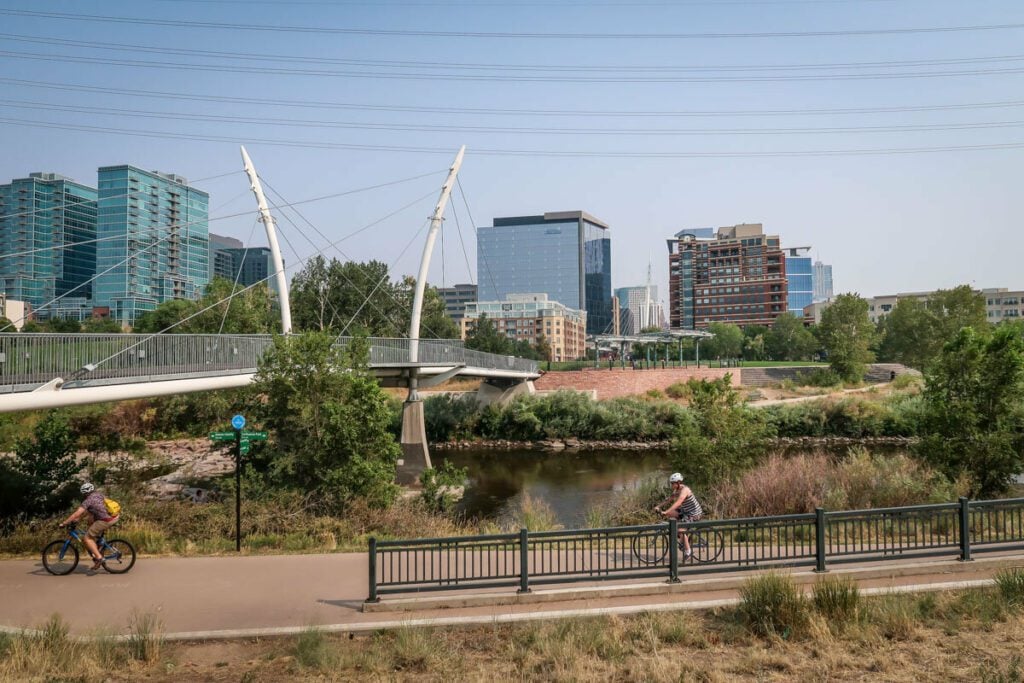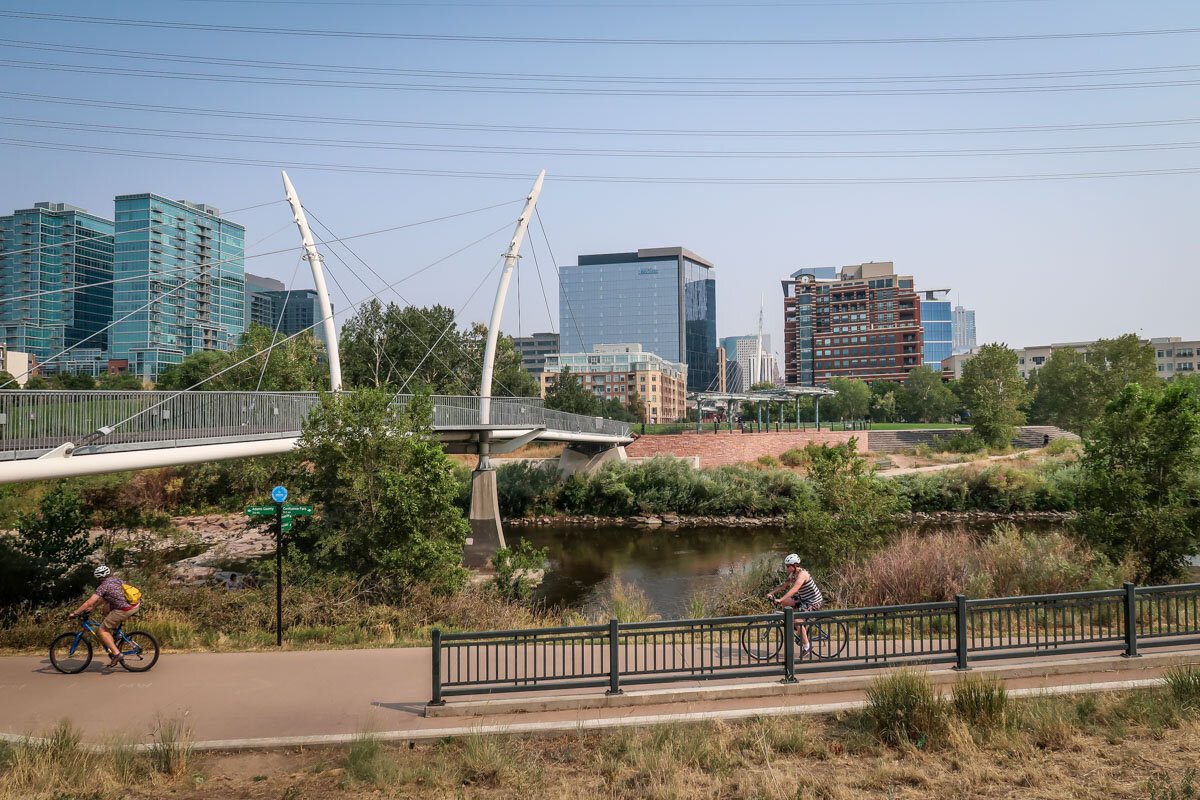 Denver has a few different bike share and electric scooter operators available throughout the metro area.
Hop on a set of wheels and make your way through the popular Denver neighborhoods stopping for bites, sips and views along the way!
Important Note: If you plan to bike in Denver, please read the safety note at the bottom of this article!
19. Hunt for street art in the RiNo Art District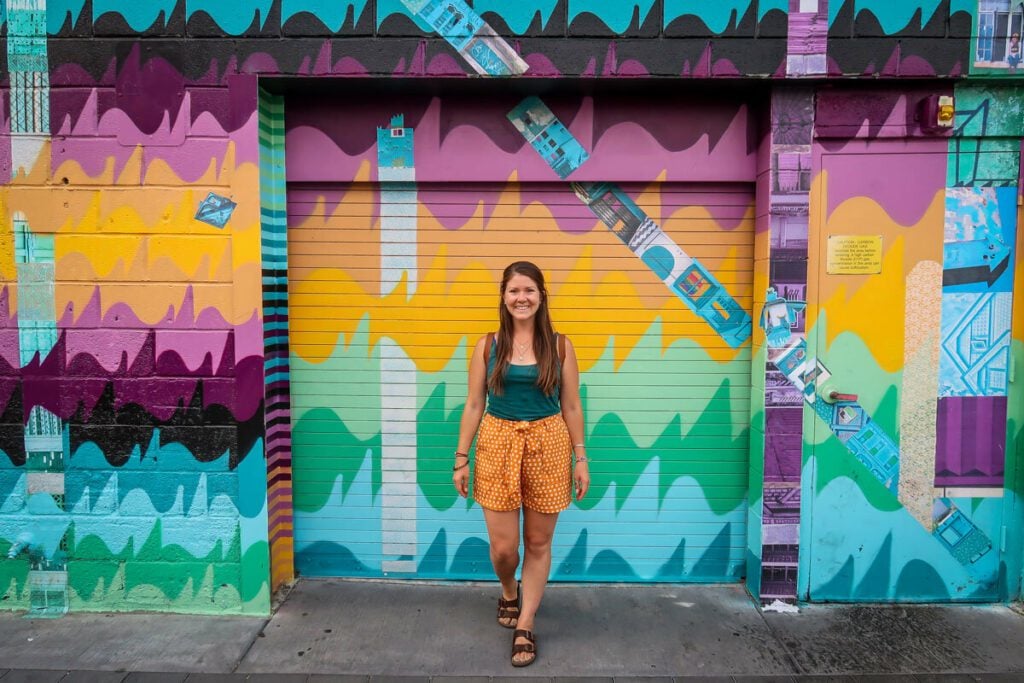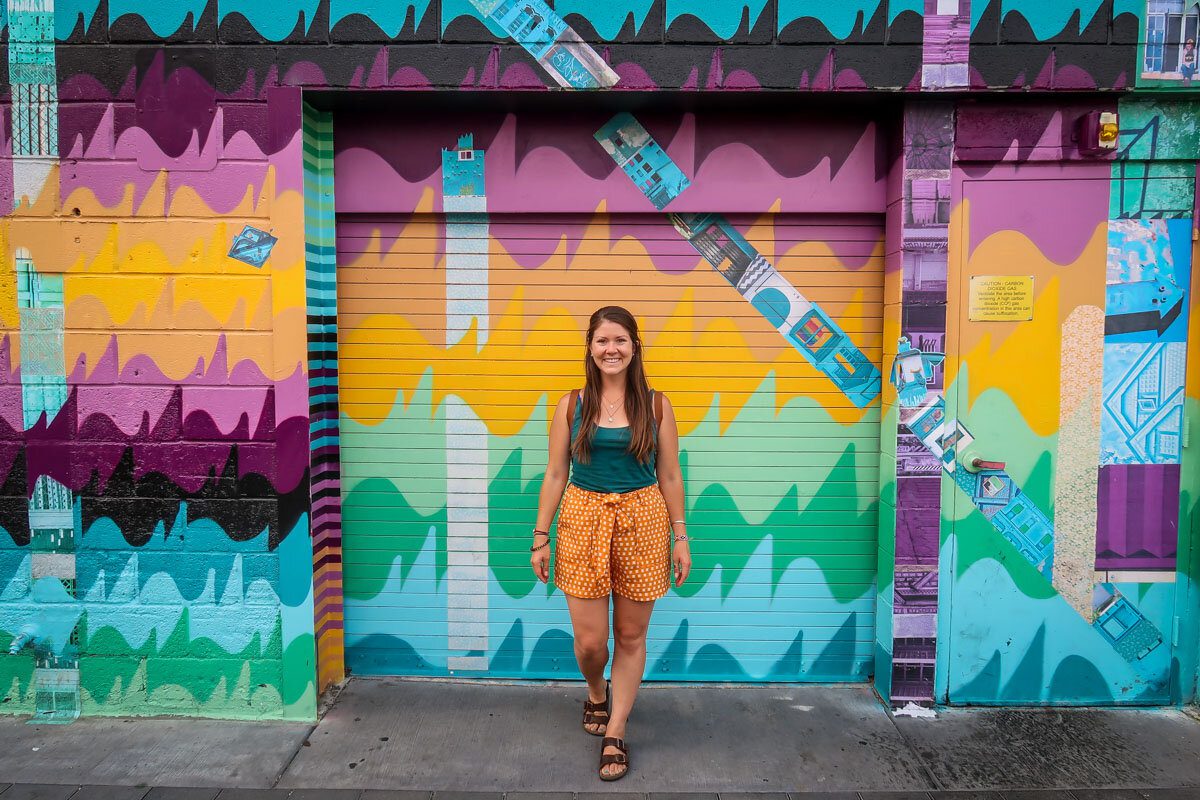 If we haven't already made it clear, Denver locals love their abbreviations. Or shall we say, they love their abbrevs…?
RiNo, or the River North neighborhood, was once an industrial area that was overlooked by many. But as the city's real estate market boomed, unlikely areas started to be transformed into the latest hot spots. And RiNo is a perfect example.
This neighborhood had its emergence in the past decade and has since become a sought-after area full of trendy restaurants and taprooms. But it is perhaps best-known for its street art.
We once took a street art tour in London and ever since learning about street art culture (seriously fascinating stuff!), we can't look at it the same. So now wherever we are in the world, we love wandering past murals and graffiti and discussing symbolism and what we see in each piece.
While in RiNo, keep your eyes peeled for creative renditions of rhinos (the animal!). You don't have to stretch your imagination much to see why this was chosen as the neighborhood's mascot.
Psst! Denver Graffiti Tours is currently suspending all tours until early 2021, but it sounds like an excellent way to dig deeper into the Denver street art scene if that interests you.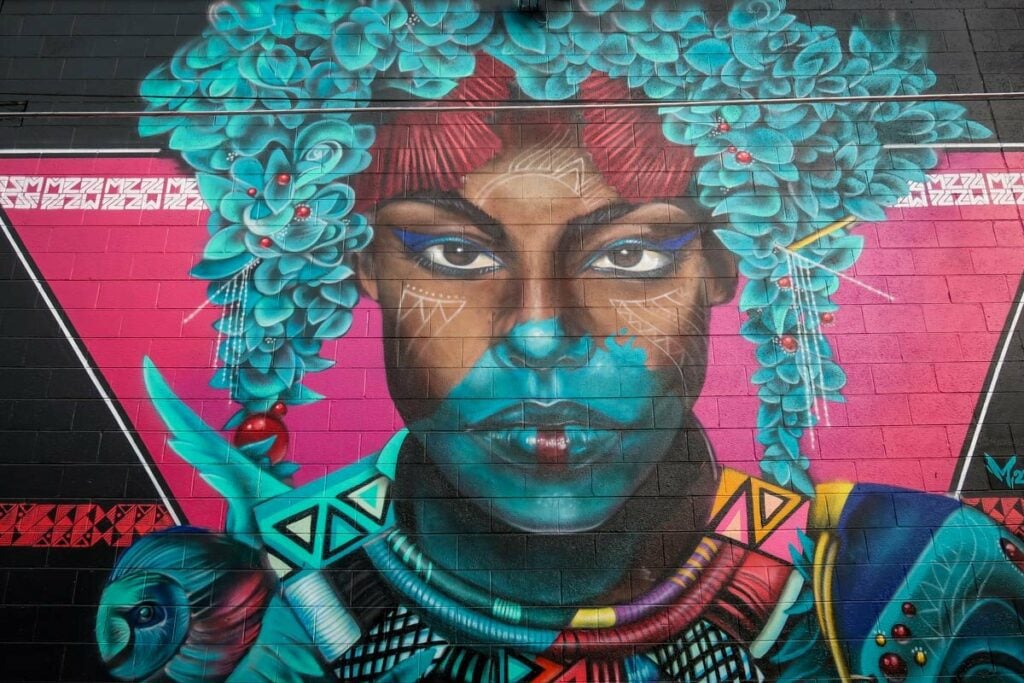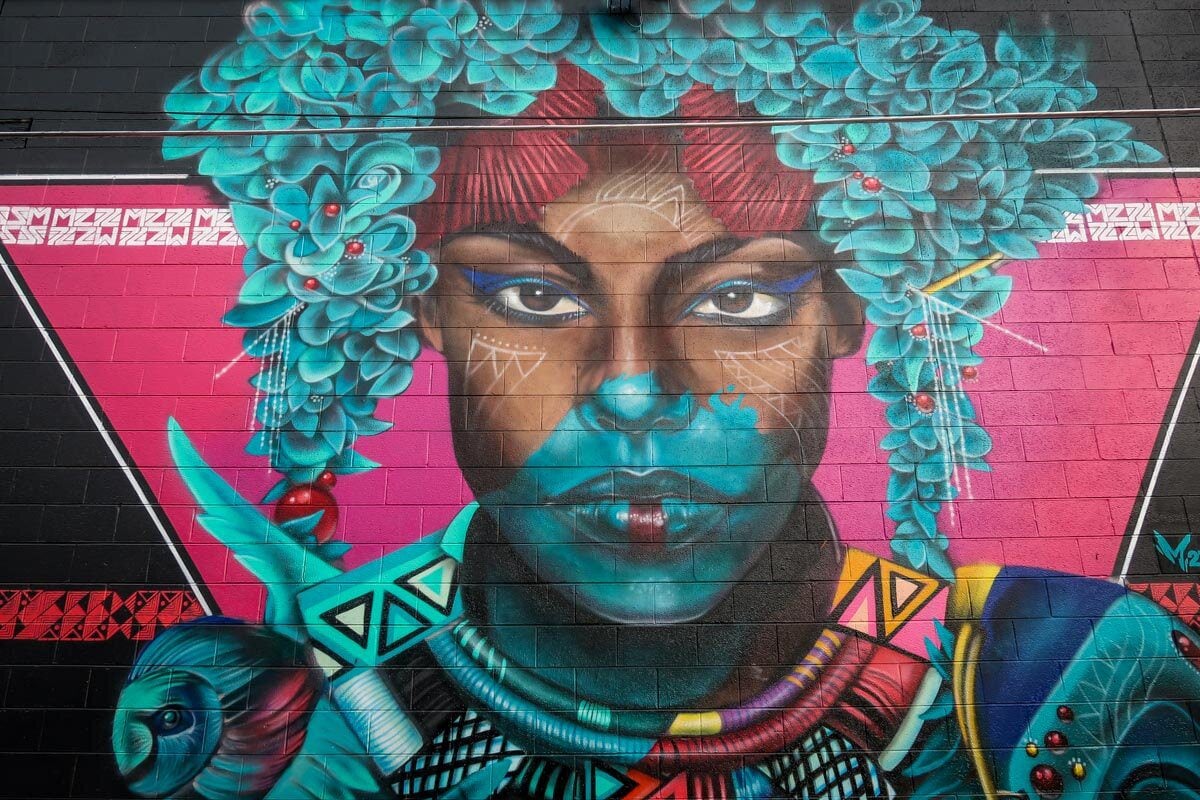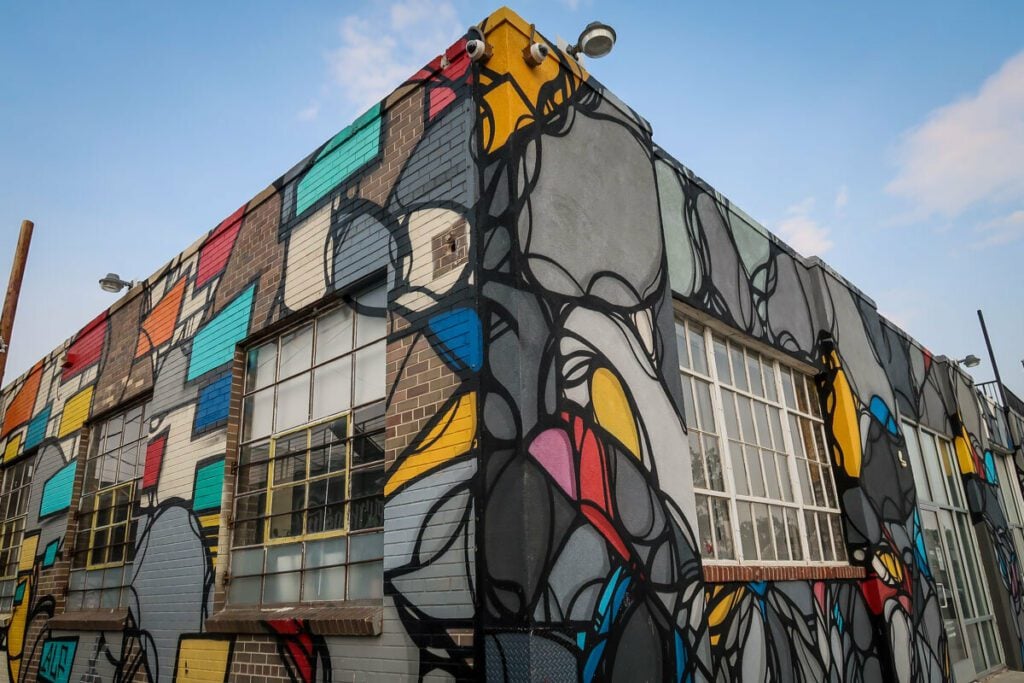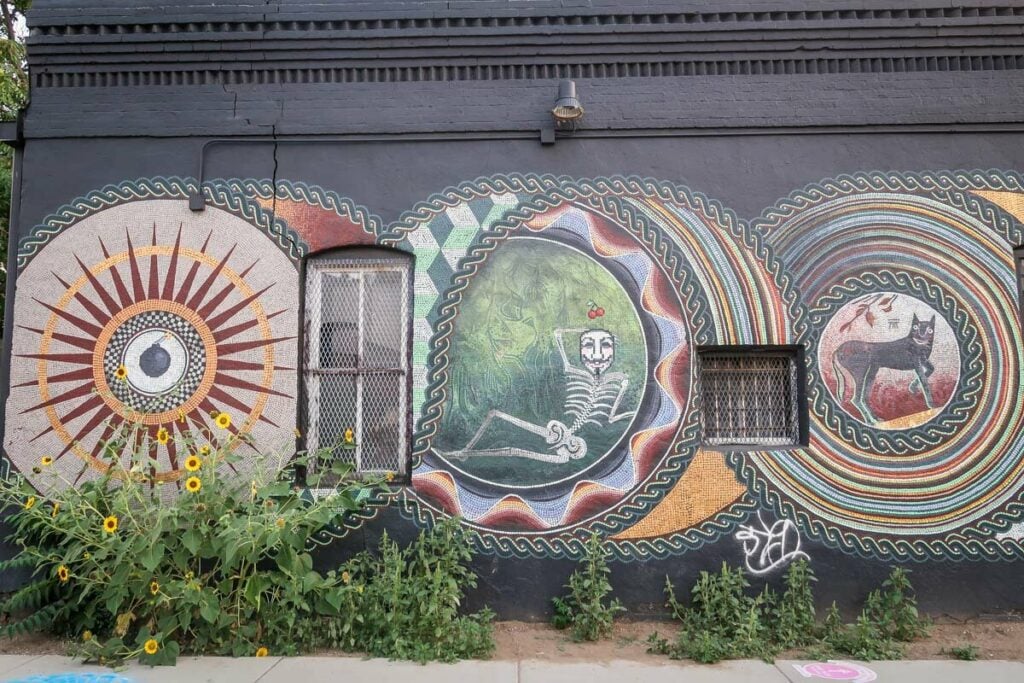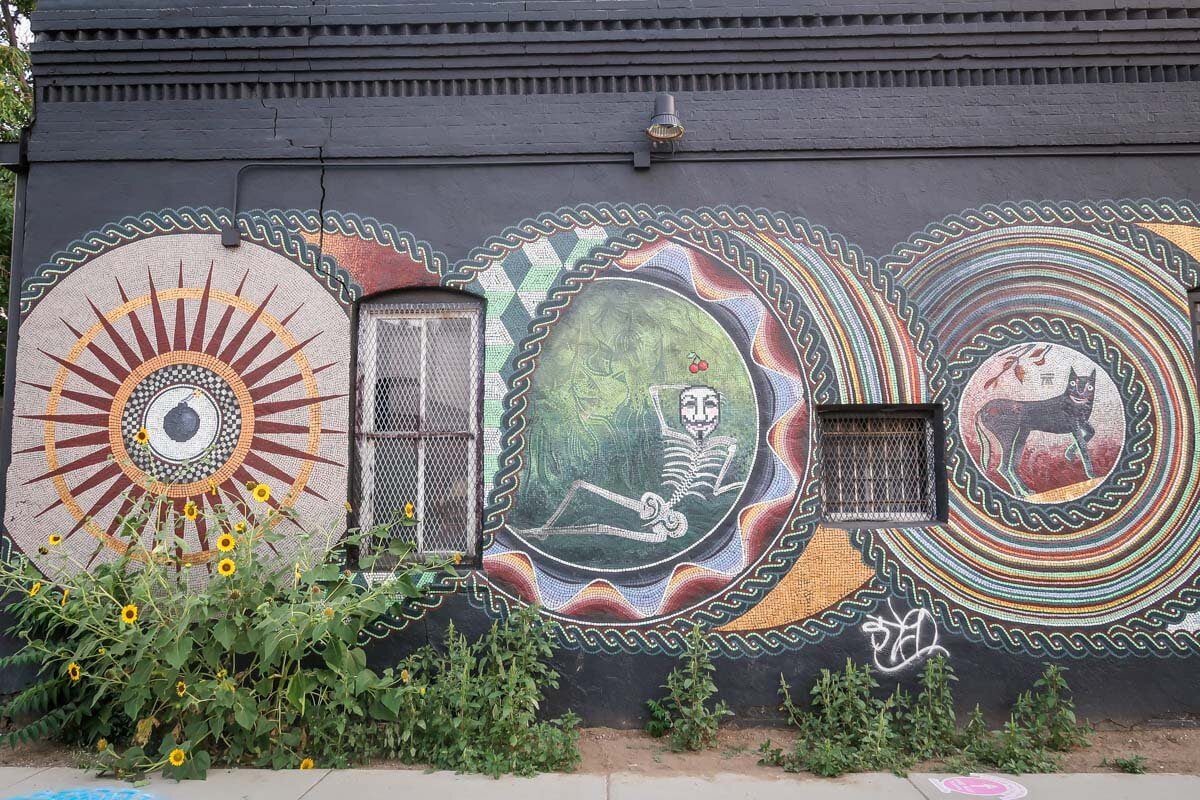 Street Art in RiNo
Honestly, we just wandered around the RiNo district with no direction, but here are some notable works to check out if you want to have a specific destination:
"Larimer Boy and Girl" by Jeremy Burns: Walk one way and see the boy, face the other direction and see the girl, at 27th and Larimer
"Reverberations" by Damon Soule and Justin Lovato: Geometric patterns that depict outer space on Larimer between 25th & 26th
2936 Larimer St.: A women with a head full of buildings painted on the garage door by artists David Choe, Flores, Kreig, and DSTRBO
2668 Walnut St.: The entire building was painted by Vyal One in psychedelic orbs.
Are you a huge art fan? You'll also love the Santa Fe District. See below for a cool monthly event hosted in this neighborhood.
First Friday Art Walk
While we're on the subject of art, if you happen to be in Denver on the first Friday of the month (you lucky duck!), try to work the city's monthly art walk into your itinerary. Head to the Santa Fe neighborhood, which is hailed as Denver's Art District, to take part in the fun.
Wander the many galleries and studios and chat with artists who have their work displayed on the street and alleyways. Grab a bite at a food truck and absorb the lively atmosphere.
This event takes place year-round — rain or shine (just not during pandemics*).
*2020 Update: All Art Walk festivities are currently being held virtually until further notice. Get up to date info here.
20. Shop local at a Denver Farmers Market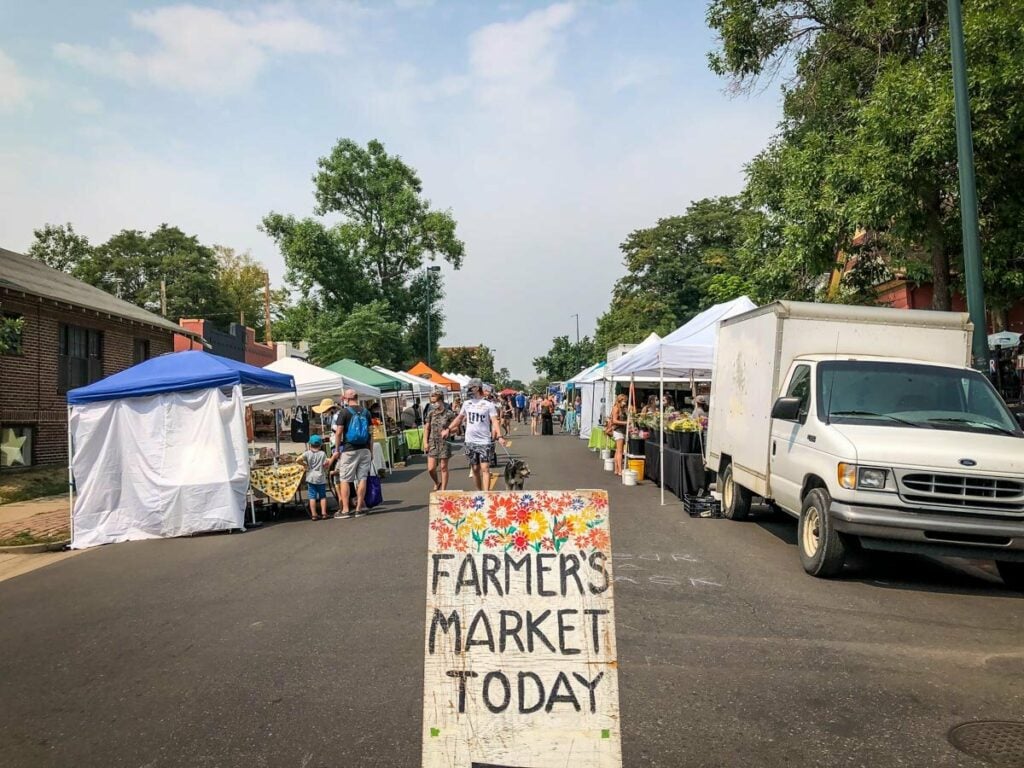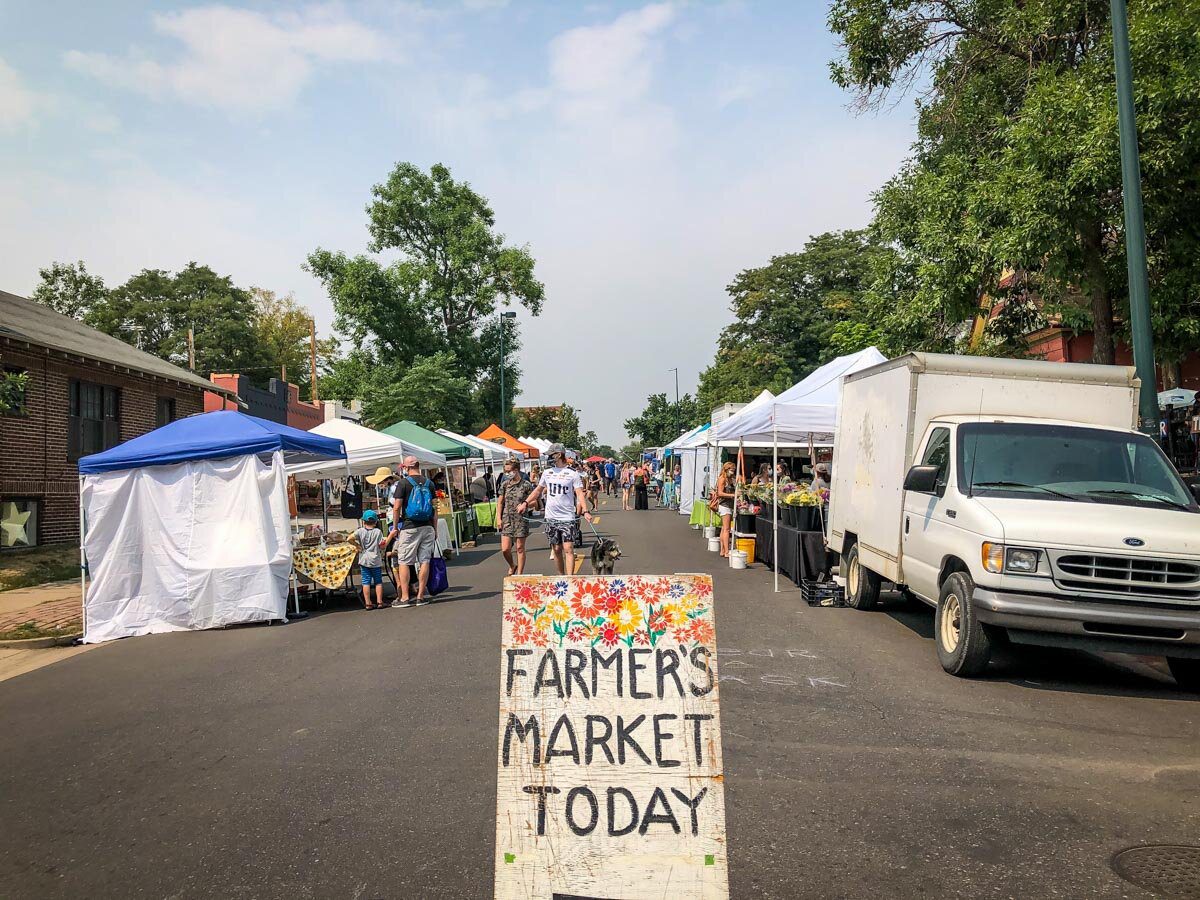 If you're visiting Denver during the spring or summertime, you'll likely run into one of the many farmers markets spread throughout the city. While you're sure to find farm-fresh produce, baked goods and food trucks, these weekly events are not just about the food.
They each take on more of a street fair vibe in their own rights, drawing large local crowds with activities and entertainment.
We loved wandering around the Farmer's Market at Highlands Square (pictured above), but there are plenty more around the city. Check Denver's official website for a weekly schedule of farmers' markets in the Denver metro area.
21. Picnic in the park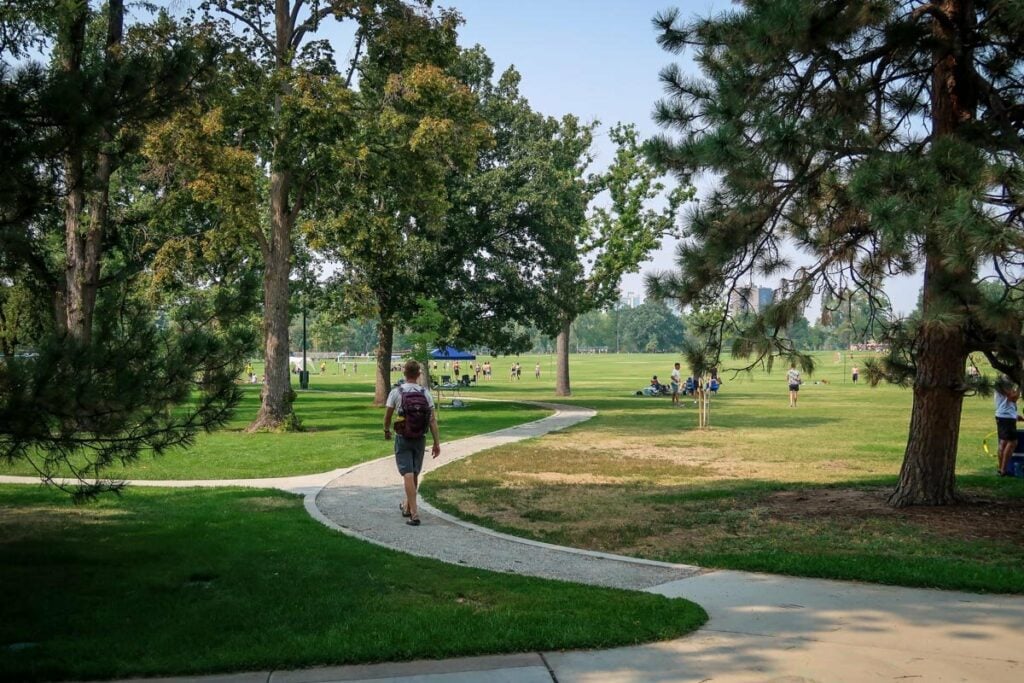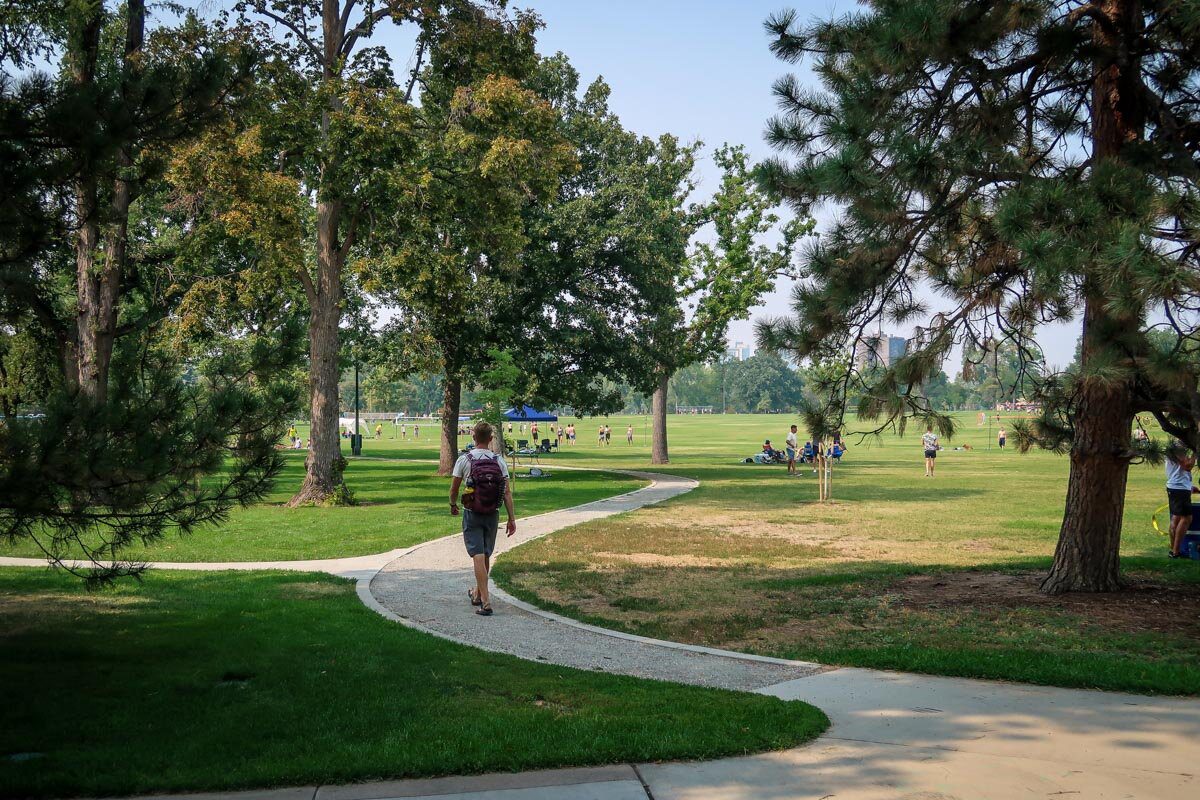 The city and county of Denver offer more than 200 outdoor parks totaling over 500 acres of green space for urban recreation. So pack a blanket, a book, a frisbee and a picnic and head to a patch of green space for some relaxation.
Below are some of the most popular parks in Denver:
Cheesman Park
This peaceful, grassy expanse, which is adjacent to the Botanic Gardens, was built on a former cemetery. The Pavilion is a historical landmark at the center, built in 1910. If you're lucky, you can catch a free movie screening here on clear summer evenings.
City Park
A mix of trees and wide open green space near Uptown and the Denver Zoo, this park plays hosts to a lot of recreational sports leagues and public events. Each summer from June to August, the park puts on a free Sunday concert series called City Park Jazz.
In 2020 they are live-streaming the events so you can watch from home!
Washington Park
In the center of one of Denver's popular neighborhoods, you'll find a vast expanse of flat green space dubbed "Wash Park" by locals. Encircled by a 2.6-mile bike-free loop, this park is great for running or picnicking. (Pictured above)
On Google Maps Wash Park looks like it would be something like NYC's Central Park. I mean, there's a boathouse and a big lawn and a flower garden and everything. We went out of our way to get here, but honestly, we were left a bit disappointed. The pond was scummy, the flower garden was completely dead and shriveled (maybe it was just the wrong time of year?), and the boathouse was, well, definitely not like Central Park.
Personal Opinion: It's not necessarily a destination park that you should go out of your way for. That said, if you're looking for a wide open green space and running trails, this may be just what you're looking for!
Confluence Park
As the name implies, this park is situated on the confluence of two rivers: South Platt River and Cherry Creek. There are some jogging paths, grassy hills, a riverside path, and even a small whitewater park. In early August when we visited, people were tubing and hanging out in the water, though it was really low and smelly.
Safety Note: We've heard reports that bikes are often stolen in and around Confluence Park, so be cautious if you have a bike.
22. Learn the city's history & secrets on a Free* Walking Tour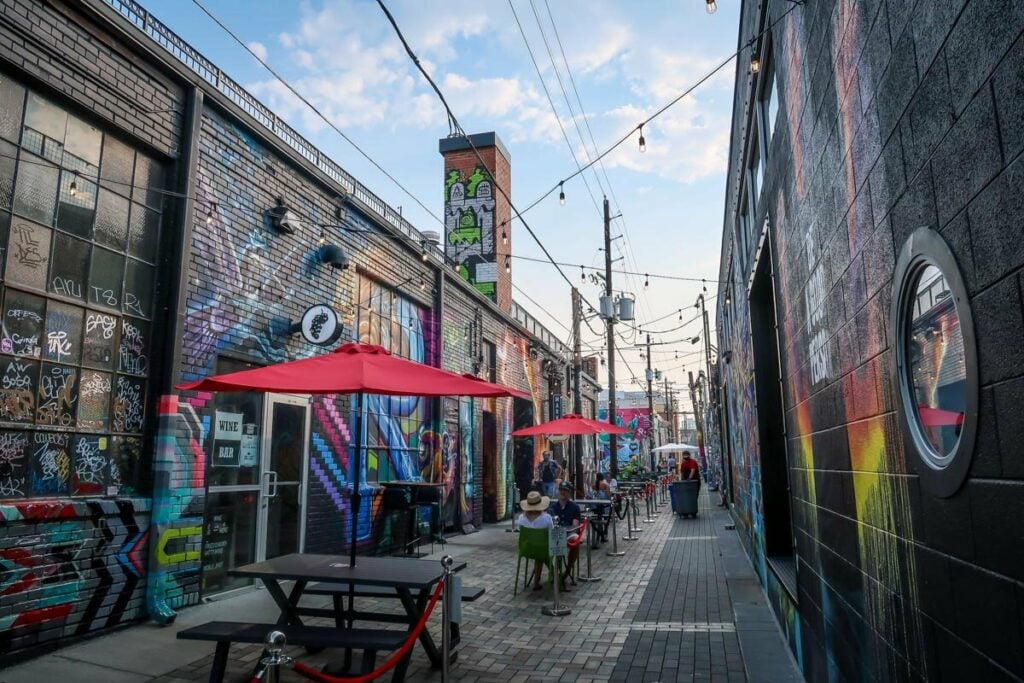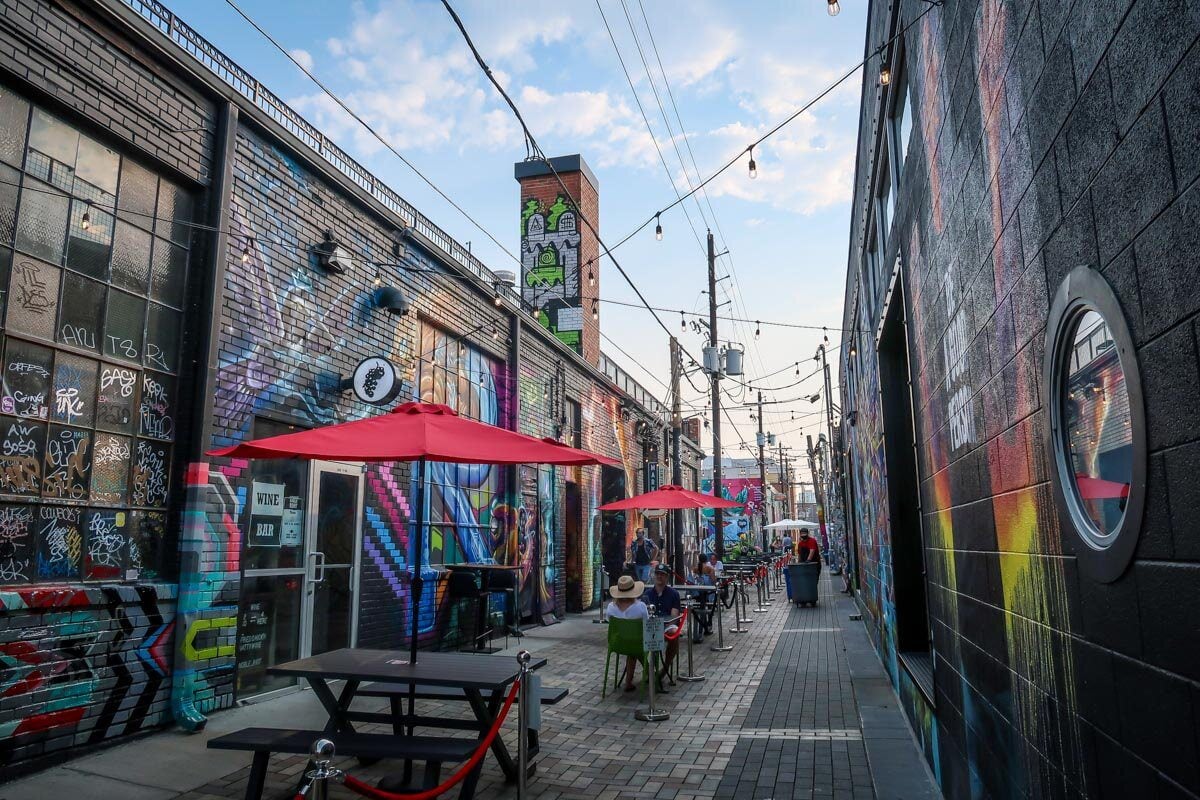 Often times when we arrive in a new city, we find the best way to get our bearings is to take a free walking tour. These tours give you a good orientation on the neighborhoods and give you the opportunity to learn some of the area's history and little-known secrets.
Plus, you get the chance to ask a friendly local questions — whether you're curious about the best restaurants in town, the most lively nightlife, most worthwhile hikes, ask away! You can even ask about rumors you've heard like, "Is it true that Denver has underground tunnels?"
Spoiler Alert: Yes, it's true! One of the main purposes was to allow women to make their ways to the hotel rooms of wealthy men without being seen. But these tunnels are no longer accessible. Sorry to squash your Ninja-Turtle-meets-Indiana-Jones dreams…
Do it yourself: Tours run daily from May – October and begin at 10 a.m. The tour starts from the front steps of the Colorado state capitol building and covers roughly 1.7 miles, lasting 2 – 2.5 hours.
Alternative: Instead of meeting in person at the specified time, you can download an audio tour onto your phone for $10. Choose from three different itineraries and go at your own pace.
*2020 Update: While the name is "FREE Walking Tour", there is currently a fee for all guests as tour sizes are limited to just 10 people. The fee is $25 for adults and $17 for children, allowing the tour guides to earn livable wages even with reduced group sizes. In the past, you could just show up, but reservations are required for the time being.
23. Cheer on the Rockies at Coors Field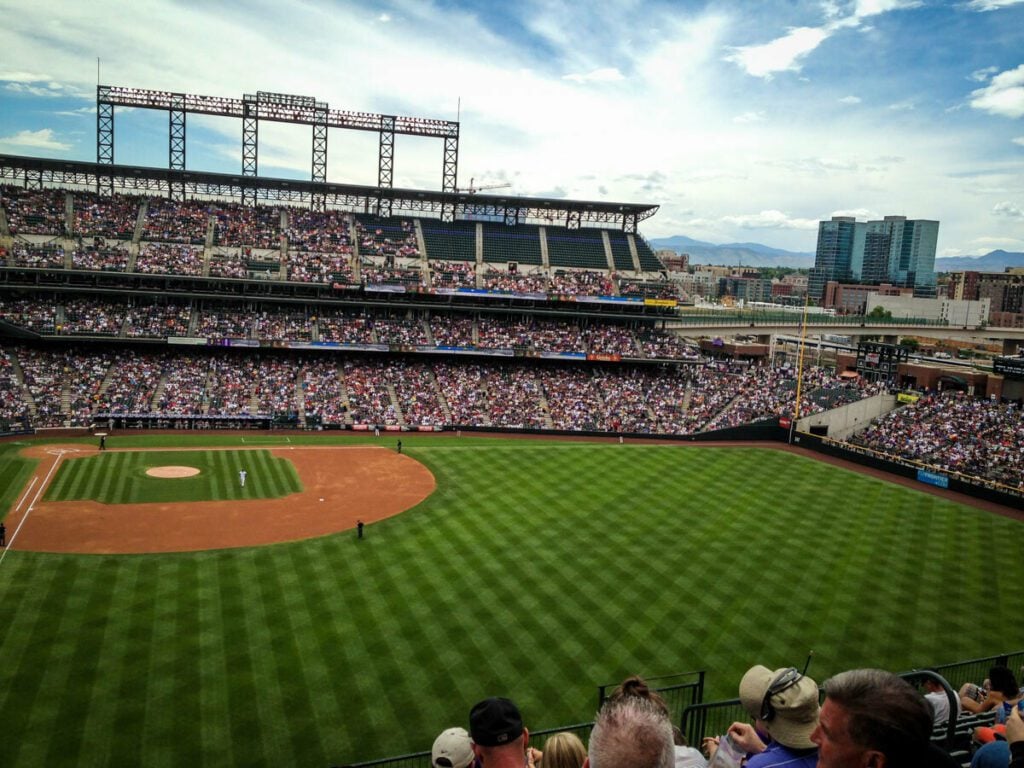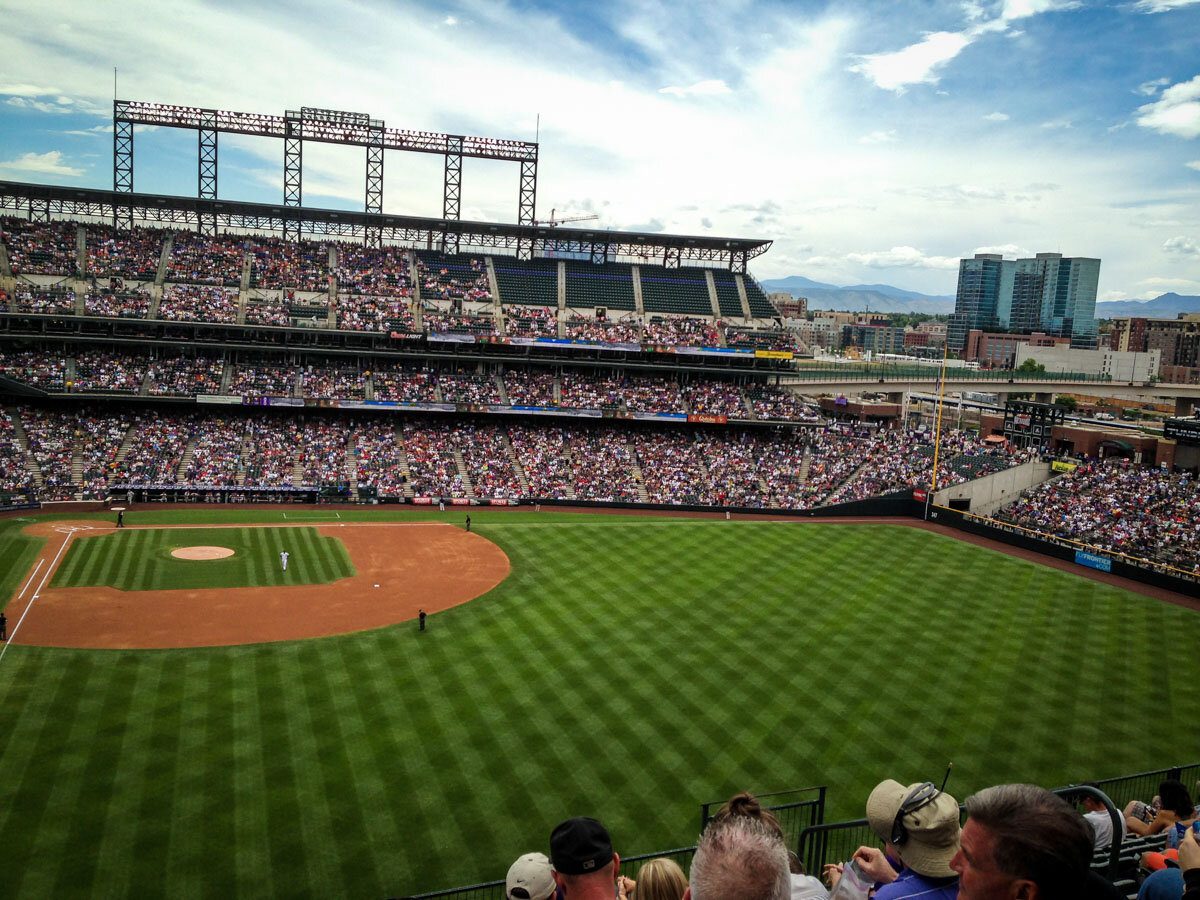 There's nothing quite like experiencing a baseball game on a beautiful summer day, hot dog in hand, with the Rocky Mountains as your backdrop.
Be sure to check out the Colorado Rockies schedule to see if there is a home game during your visit to the mile high city. (Fingers crossed for 2021!)
Budget tip: The "rockpile" seating is the center field bleacher section at the far end of the stadium, known for being the cheapest seats in the park. You can score tickets for as little as $6! That's precisely why this activity is on the "free and cheap" section of this list. It can be inexpensive, but it can also add up if you choose more expensive seats and load up on food and drinks.
As a bonus, the stadium is located in the Lower Downtown neighborhood just blocks from Union Station, so there's plenty to explore before and after the game. Have a pre-game beer on the rooftop of next door Jackson's sports bar or dance the night away with the live DJ afterwards.
Fun Fact: It is rumored that the Coors logo is stamped on every single brick of this stadium. It may just be rumor, but that would be one heck of a way to ensure no other brand can take over.
24. Explore the best parts of Downtown Denver
Downtown Denver is quite walkable if you have a plan. LoDo, or lower downtown district, has some micro-districts that should definitely be on your list to check out while in Denver.
We'd recommend walking this route (or in reverse), and stopping whenever something piques your interest:
Coors Field
Dairy Block
Union Station
16th Street Mall
Larimer Square
Insider Tip: Come hungry (or thirsty!), as there are many great cafes, restaurants and bars along the way.
The Dairy Block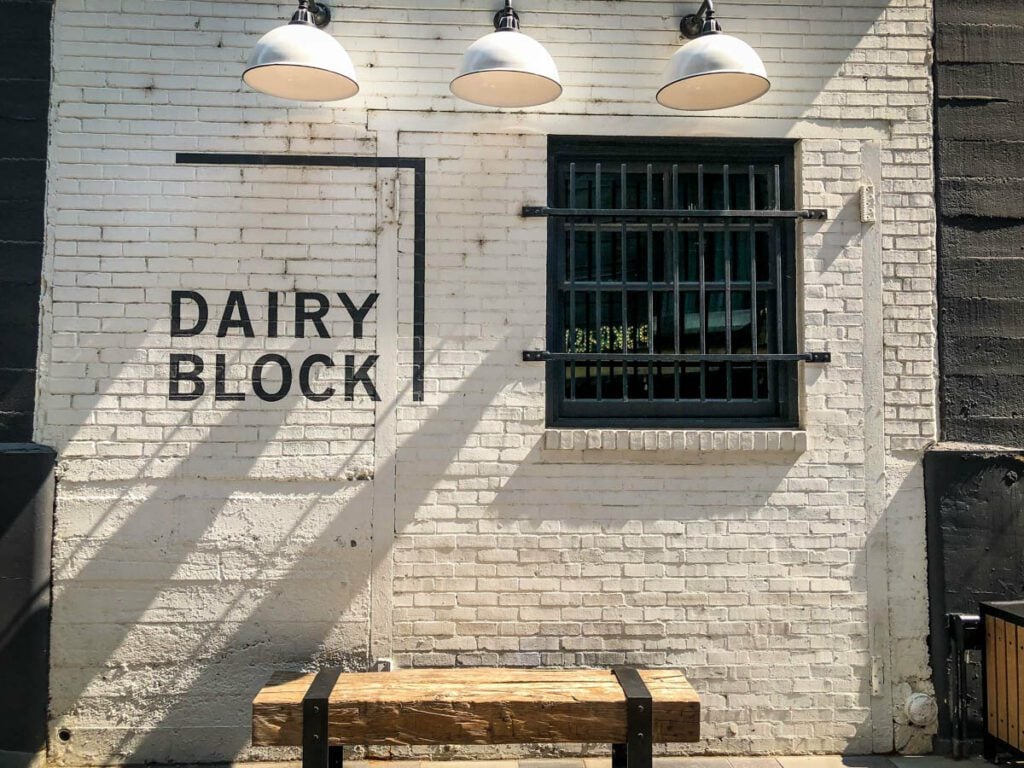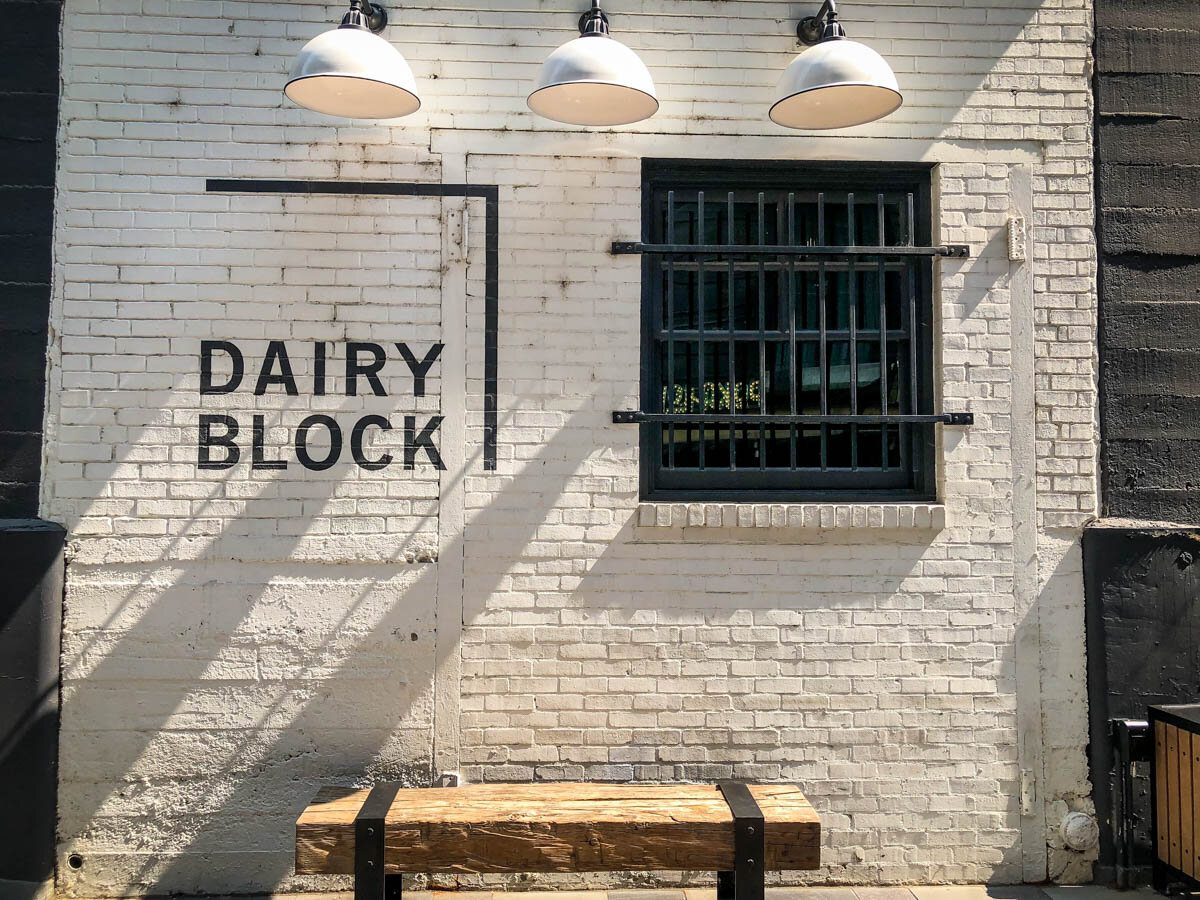 This historic block was once home to — you guessed it — a dairy factory. But today you'll find locals and visitors alike, wandering through the pedestrian block, pausing for a wine tasting or to explore the indoor food market.
According to the official Dairy Block website, this is a "micro-district" (I didn't know there was such a thing!) that is a "celebration of artful and unexpected experiences". In less flowery and more literal terms, this area is more or less a large alleyway that has been dolled up a bit and boasts a lively mix of inventive eateries, upscale boutiques, and a stylish hotel.
Plus, there are sneaky art installations — some more obvious than others — scattered throughout the block. If you spot something that looks like a cog-and-wheel on one of the brick walls, turn the crank for a musical surprise. Each one plays a different tune!
Notable stops in the Dairy Block:
Huckleberry Roasters: locally roasted coffee and pastries
Blanchard Family Wines: tasting room
Seven Grand: whiskey bar known for carrying 700+ whiskies
16th Street Mall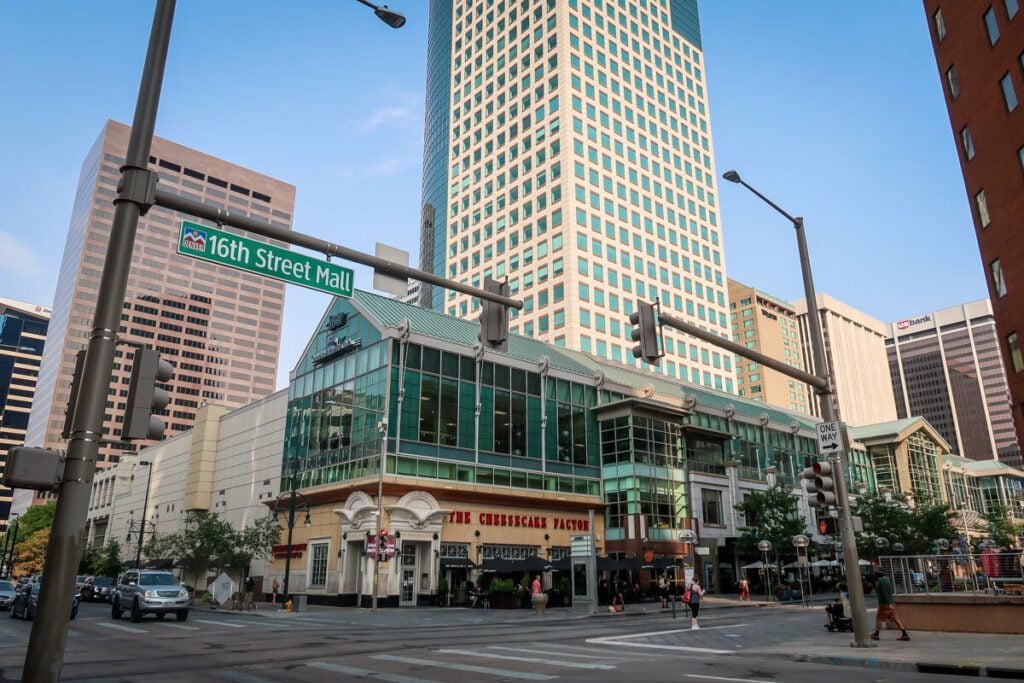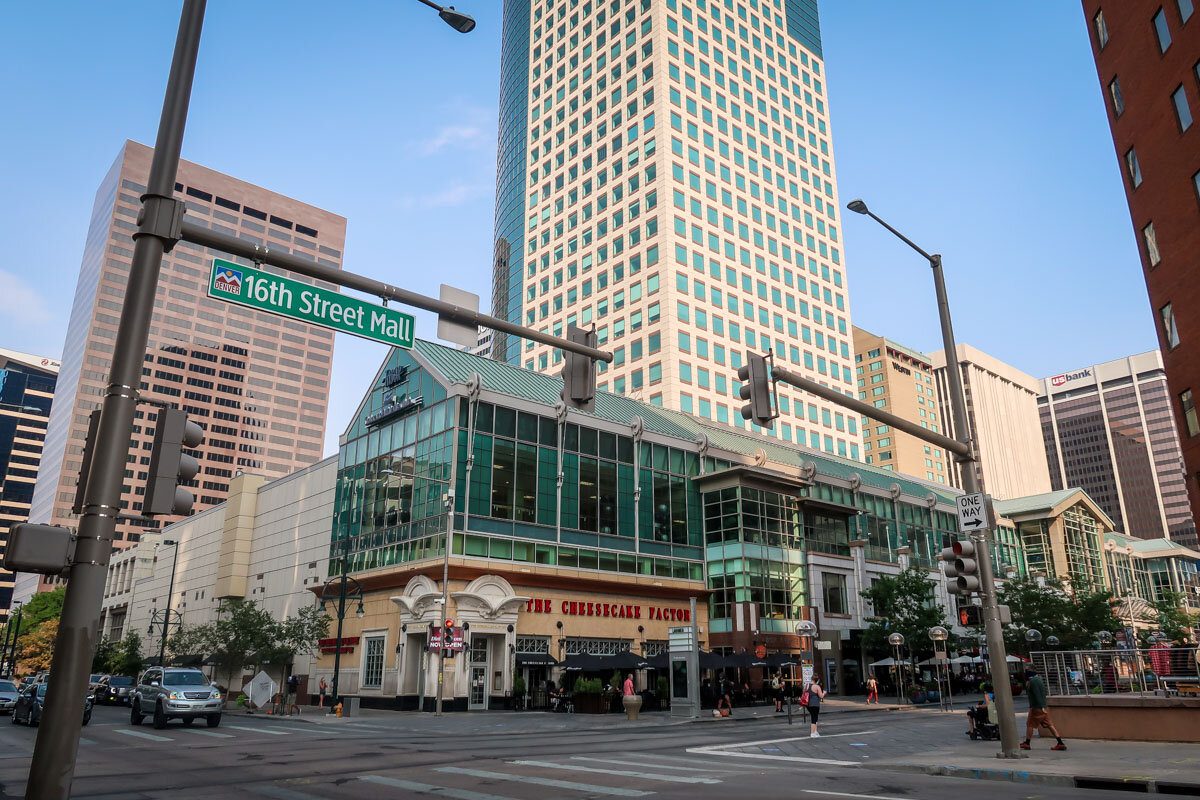 This one-and-a-quarter mile long pedestrian promenade runs along 16th street in downtown Denver, beginning near Union Station.
The mall features plenty of outdoor cafes and notable restaurants (great for people watching!) and ends at Denver Pavilions, a shopping center and movie theater. The north end of the mall continues over 3 walking bridges and pathways connecting to the hip Lower Highlands (LoHi) neighborhood filled with restaurants and bars.
Insider Tip: If walking is a challenge, or you just want to get off your feet for a bit, you can hop-on and hop-off the free shuttles, dubbed "MallRide", that run the length of the promenade stopping on every corner. At night the mall is lit up as horse-drawn carriages and pedi-cabs transport people along the walkway.
Larimer Square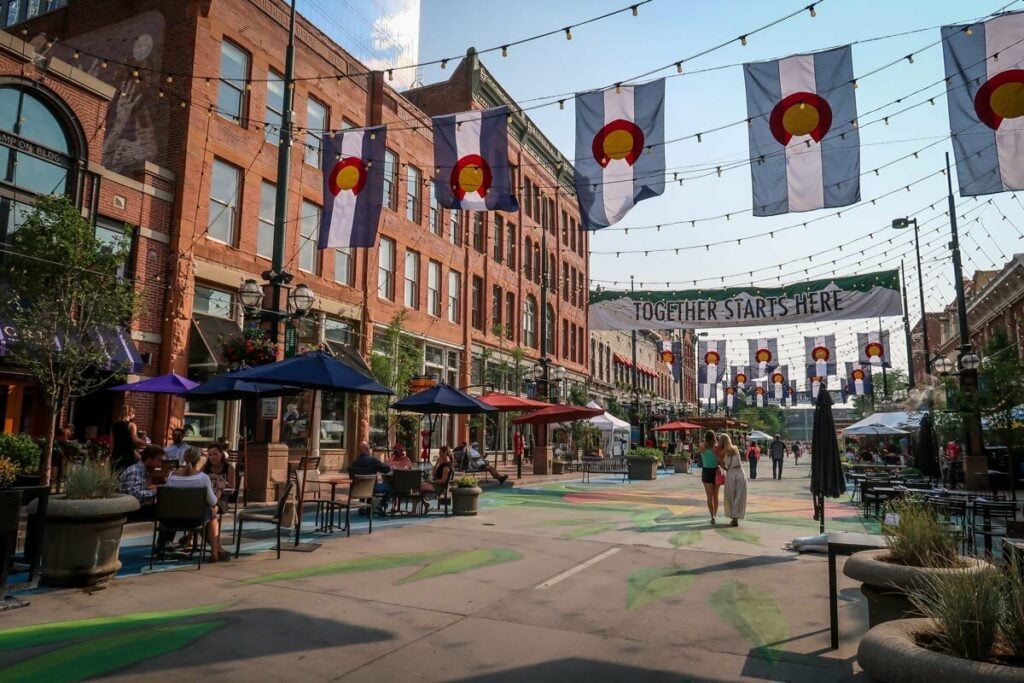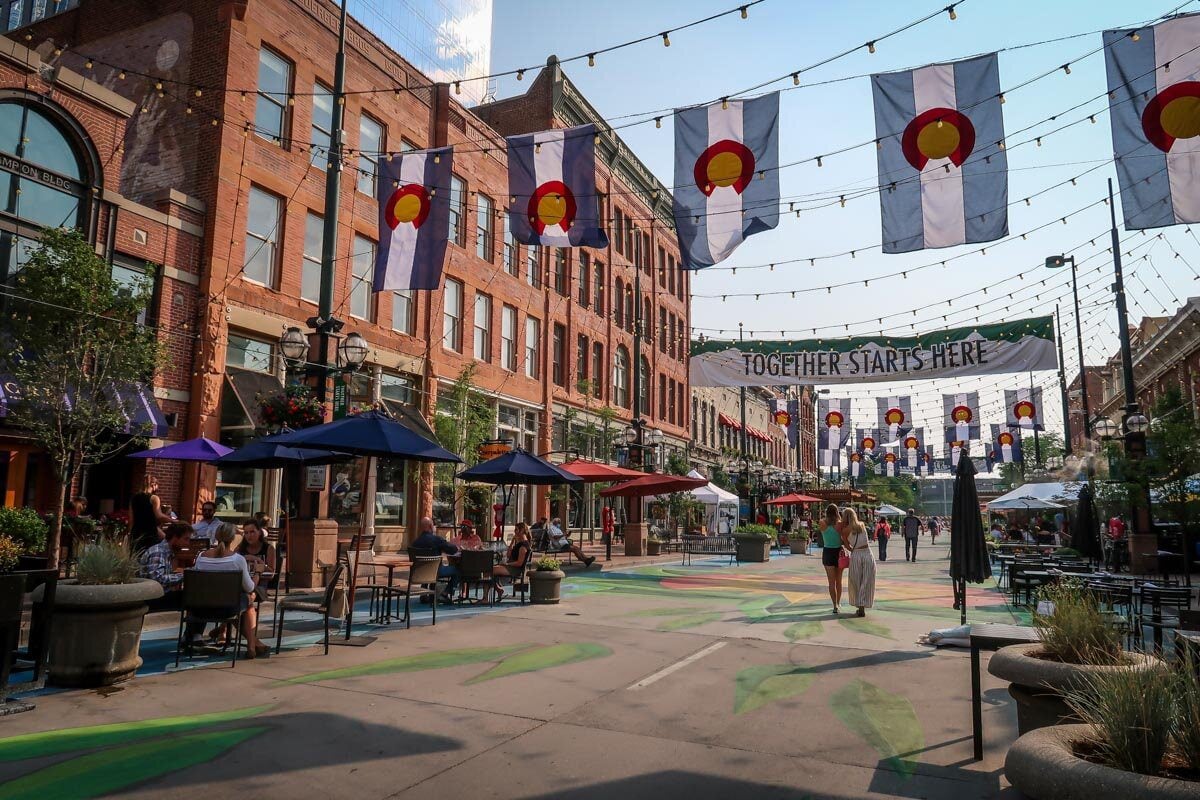 Often touted as the most "charming square in Denver", this pedestrian block is lined with cute cafes and cocktail bars we can see how it earned its accolades.
For the most beautiful ambience, we'd recommend wandering this block at dusk as the canopy of twinkling lights that drapes this square in a golden glow, cocooning it from the rest of bustling downtown. Here you'll find everything from chic boutiques to chef-driven restaurants, cocktail bars and nightlife.
Fun Fact: Larimer Square was the first designated historic block in all of Denver and is known as the place where the city began. Its namesake, William Larimer Jr., was a Kansas state senator and very much conniving man who is credited with founding the city of Denver and developing much of the land in what is present day downtown.
Larimer Square Restaurants & Bars:
Osteria Marco: Italian dining, handcrafted pizza, cured meats
Rioja: imaginative Mediterranean cuisine by James Beard Award winning chefs
TAG: "Continental Social Food", eclectic dishes & cocktails
Tamayo: Mexican cuisine & margs
Corridor 44: Denver's first and only champagne bar and restaurant
CRU Food & Wine Bar: Wide variety of wines by the glass and "wine country cuisine"
---
Rainy Day Activities (aka indoors!)
While we were spoiled with great weather on our most recent trip to Denver, we've been there in the past with less than ideal conditions.
If you find yourself in Denver with less than perfect weather — think a rainy day or perhaps more likely, a SNOW storm! — we've got you covered with a handful of fun indoor activities.
While these indoor activities are perfect for a rainy day, they can also be nice to throw into your Denver itinerary even on a nice day. Sometimes you've just gotta get outta the sun!
25. Airbnb experience

Learn something you've always thought would be cool… like glass blowing!
Head out on an adventure with a local… on an epic sunrise hike!
Or do something totally random… like hanging out with llamas!
Airbnb Experiences is a great way to connect with locals in the place you're visiting (basically anywhere in the world!) and create a unique memory that you'll take with you.
While not all of these activities are indoors (actually many involve hiking or the great outdoors in some capacity!), Airbnb Experiences is a good place to start looking for some unique things to do that you wouldn't typically think of…
Like pipe carving, or glass blowing, or tincture making.
26. Get fancy with afternoon tea
Some days you just gotta treat yo'self, know what I mean? What better place to rest those weary feet than the historic Brown Palace Hotel.
Taking in guests since 1892, this hotel has hosted presidents (Dwight D. Eisenhower, for one), celebrities (the Beatles, Taylor Swift and the Rolling Stones, to name a few!) and royalty.
Enjoy a traditional afternoon tea in the atrium of the Brown Palace Hotel. Enjoy your tea with scones and Devonshire cream with the grand piano serenading you in the background.
Afternoon Tea:
Signature tea starts at $41
Closed Mondays and Tuesdays
Make reservations
And if you're really in the mood for pampering, check out their onsite spa and make a day of it!
27. Get lost in a Book at Tattered Cover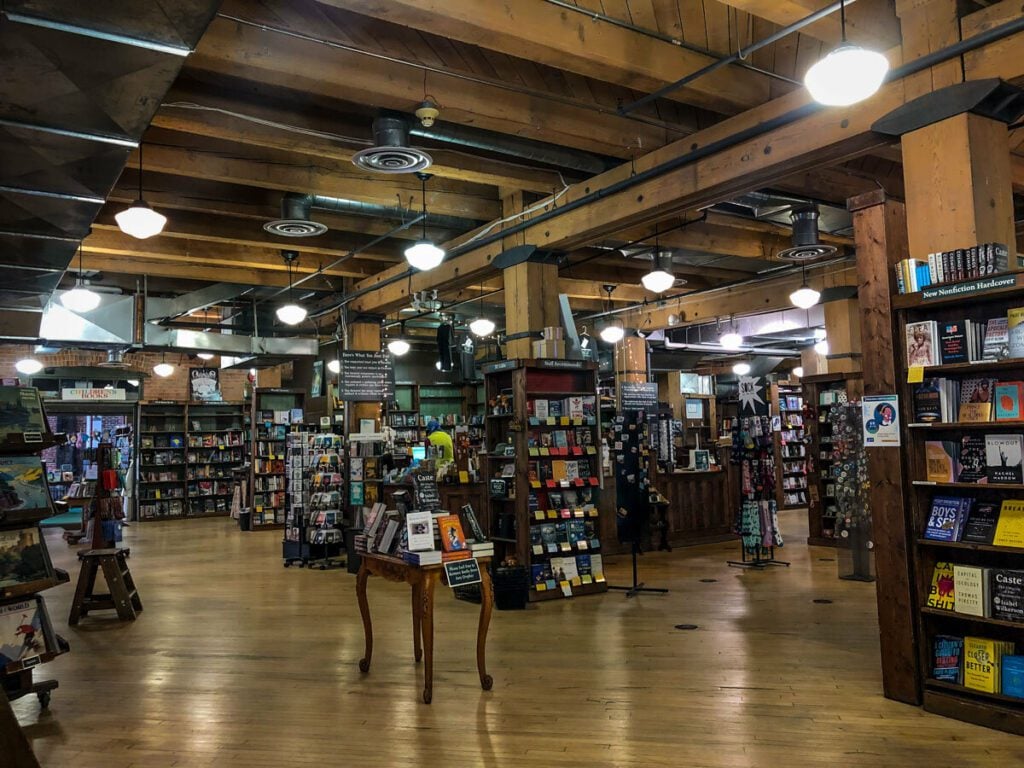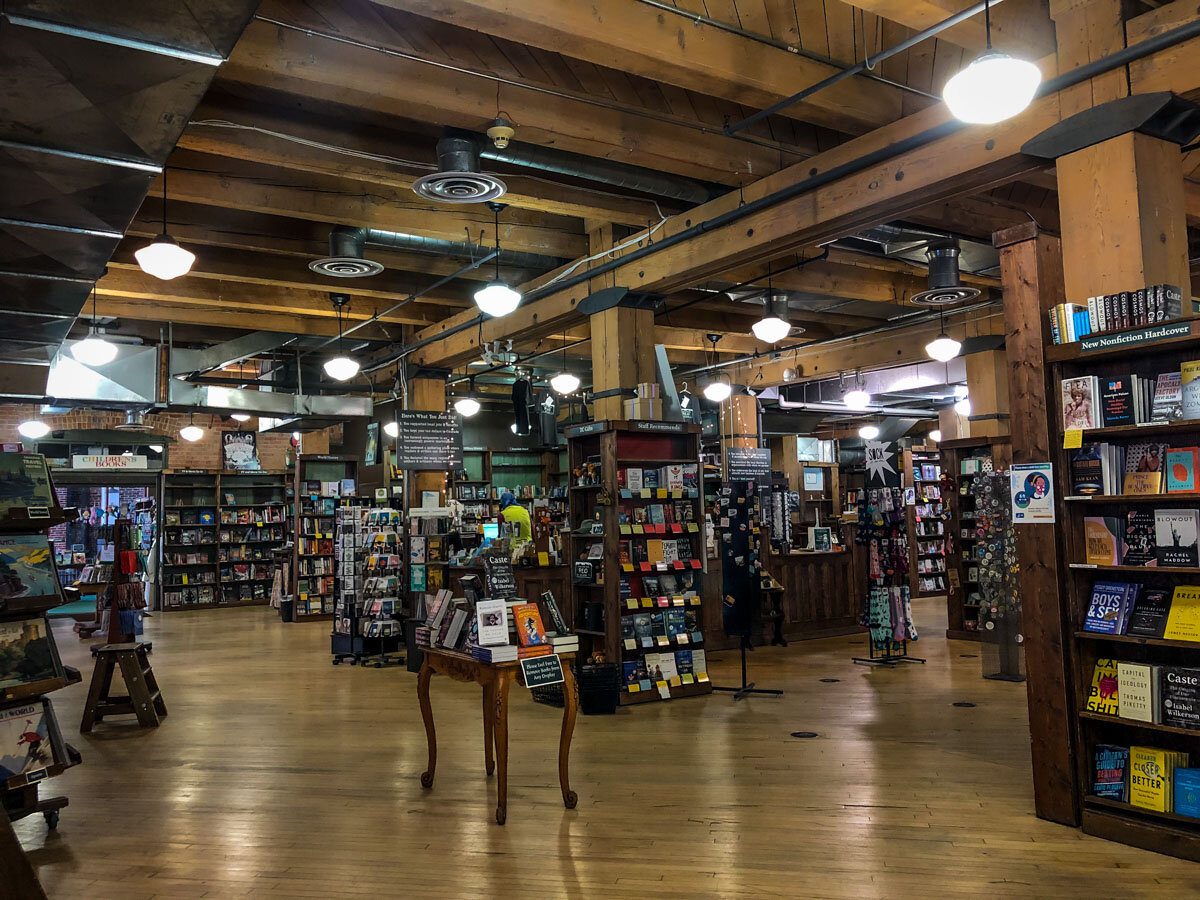 The original Tattered Cover Bookstore opened in 1971 in Cherry Creek North. It has since become one of the premier independently owned bookstores in America and an institution in the historic LoDo neighborhood.
The large store is furnished with plush couches and overstuffed chairs giving it a cozy feel, making it welcoming place to spend an hour or two quietly reading while sipping a coffee from the cafe. A perfect way to spend a day with less than perfect weather!
28. Learn how whiskey is made
Take a tour of Stranahan's distillery to see how their Rocky Mountain Single Malt Whiskey is made.
Tour: $20 per person
Guided Tasting: starting at $30 per person
Cocktail Making Class: $60 per person
You can also just head to their nationally-acclaimed lounge and enjoy a handcrafted whiskey cocktail.
Good to know: Stranahan's is only open Friday – Sunday
29. Travel back to the 80's
If you're an eighties child or just have an obsession with Furbies, you'll love wandering Fifty-Two 80's, a unique twist on an antique/thrift shop where all items can be traced back to one decade (give or take).
Depending on how old you and your travel companions are, visiting this shop could be a thrill ("Omg, this is the exact Care Bear I had growing up!") or a bore ("Mom, what the heck is this totally lame video game that doesn't even look real?!"). Answer: Pac-Man, obviously *eye roll*.
30. Do an escape room
If you haven't tried an escape room before, it can be a really fun activity with a group or even just as a couple. The gist is, you'll be locked in a themed room with your travel partner(s) and with have one hour to solve a series of clues in order to find your way out. If you manage to escape before the hour is up, you win the game!
Are you ready to put your thinking caps on?! Denver has a multitude of different escape room experiences to choose from, and here are just a few:
EscapeWorks (Downtown)
Puzzah! (Downtown)
Escapology (Five Points)
Room 5280 (South Denver)
The Escapist (South Denver)
Epic Escape Game (City Park West)
31. Get your game on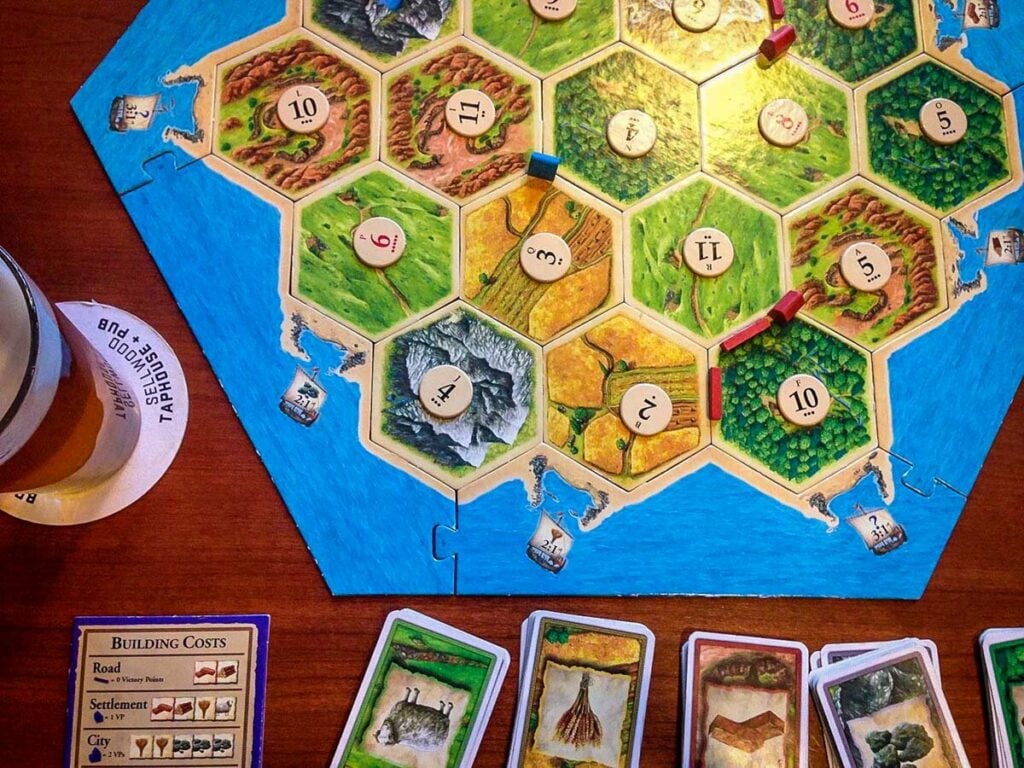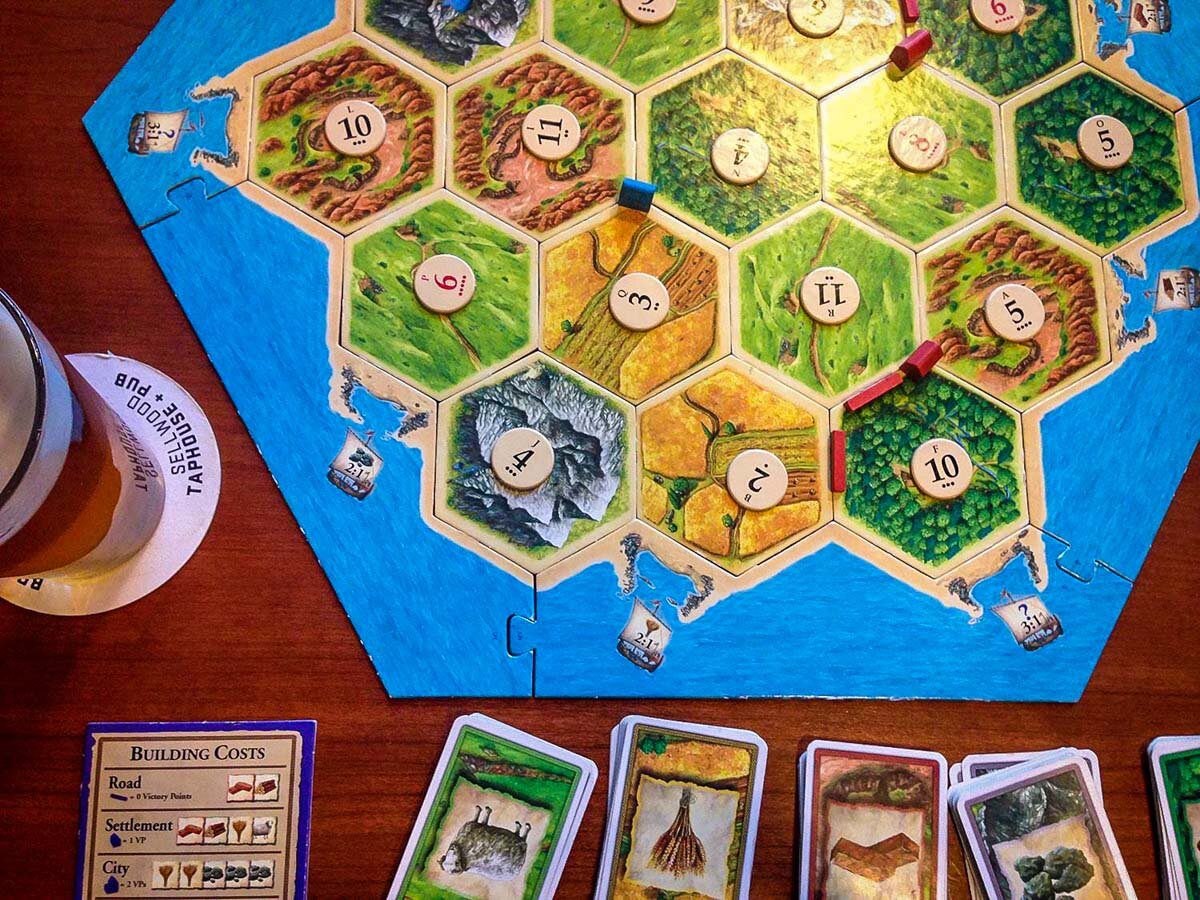 There are few better ways to spend time indoors than with a good games.
The Game Lounge: With pub food, beer, board games and lawn games, all in an intimate space, this is the perfect rainy day escape!
Board Game Republic: With pretty much every board game ever invented and a food and drink menu all in a wide-open space, this is a good space for spending the afternoon.
Punch Bowl Social: Come for bowling, darts, shuffleboard, life-size Jenga, pool, old school arcade games and karaoke. Oh and food and drinks to sustain all the fun!
Topgolf: This indoor/outdoor twist on golf makes it possible to play the sport come rain, shine, hail or blizzard.
32. Learn something new at one of Denver's many museums
Though Denver may fly under the radar in terms of cultural hubs in the US, the Mile High City is filled with museums. From art to nature and science to history, there is a museum to cover plenty of interests here.
Check out the exhibits at some of the most noteworthy museums below:
Molly Brown House Museum: This 14-room Victorian mansion was once home to the Unsinkable Molly Brown. After her extraordinary journey on the Titanic, the beloved home was frozen in time to commemorate Molly as a historical figure. As a child, I was obsessed with the Titanic (is that weird?) and next time I visit Denver, this is on my list.
Denver Art Museum: With themed exhibits across multiple architecturally remarkable buildings, the Denver Art Museum is not only the city's biggest, but easily it's most popular.
Kirkland Museum of Fine & Decorative Art: Named after Colorado's most distinguished painter, Vance Kirkland, this museum covers every major design period since the 1870's. The salon-style set up exhibits an impressive international decorative art collection.
Wings Over the Rockies Air & Space Museum: Situated in airplane hangers of the former Lowry Air Force Base, this museum dedicated to the history of aviation and space travel is truly larger than life.
Denver Museum of Nature & Science: Families flock here for kid-friendly interactive exhibits from dinosaurs to outer space and the human body. However, the biggest draw is the blockbuster expeditions that will require purchasing tickets ahead of time and showcase world class collections from history.
Museum of Contemporary Art Denver: With an ever-rotating collection of modern art, you never know just what you'll find when you visit the MCA Denver, but it's always worth it. Be sure to check out their rooftop cafe for some of the best views in the city!
33. See live music
The music scene in the Mile High City is thriving and there are plenty of options to see live music on any given night of the week. Plan ahead and catch an array of different musical genres from local acts to big names. Or simply walk down the bar-lined streets and you're sure to hear a live band playing somewhere.
Check out some of Denver's best live music bars:
Ophelia's Electric Soapbox: this former brothel is now a restaurant that serves food, cocktails and live music
El Chapultepec: a budget-friendly jazz bar
Herb's Hideout: no-frills watering hole in LoDo with food, music and dancing
The Bluebird Theater: intimate and historic venue
For larger shows, check out the schedule at these favorite Denver venues: Fillmore Auditorium, Ogden Theatre, Mission Ballroom, and Cervantes' Masterpiece Ballroom.
2020 Note: Most of these venues are currently closed. Check their website for up-to-date information.
---
Day trips from Denver
While the city of Denver itself has seemingly endless things to do, one of the great things about its location is its proximity to so many adventures.
We're sharing some of the best day trips from Denver including epic things to do in the great outdoors and cute nearby towns to check out if you have the time.
Be sure to check out our complete guide to day trips from Denver for more detailed information on each trip and plenty of other great ideas!
34. Hike a "Fourteener"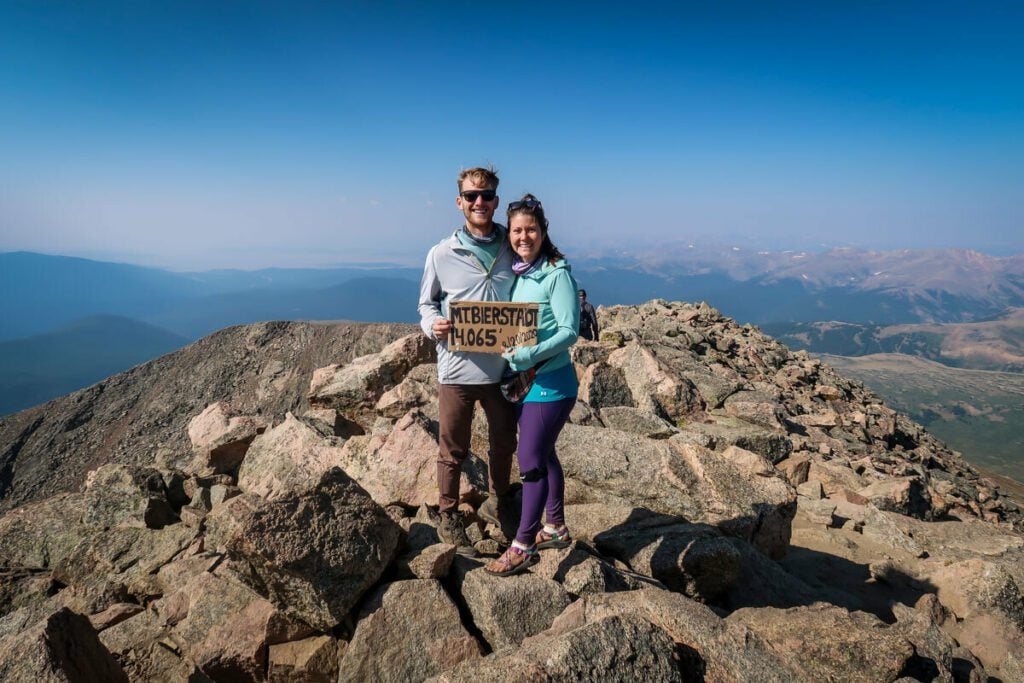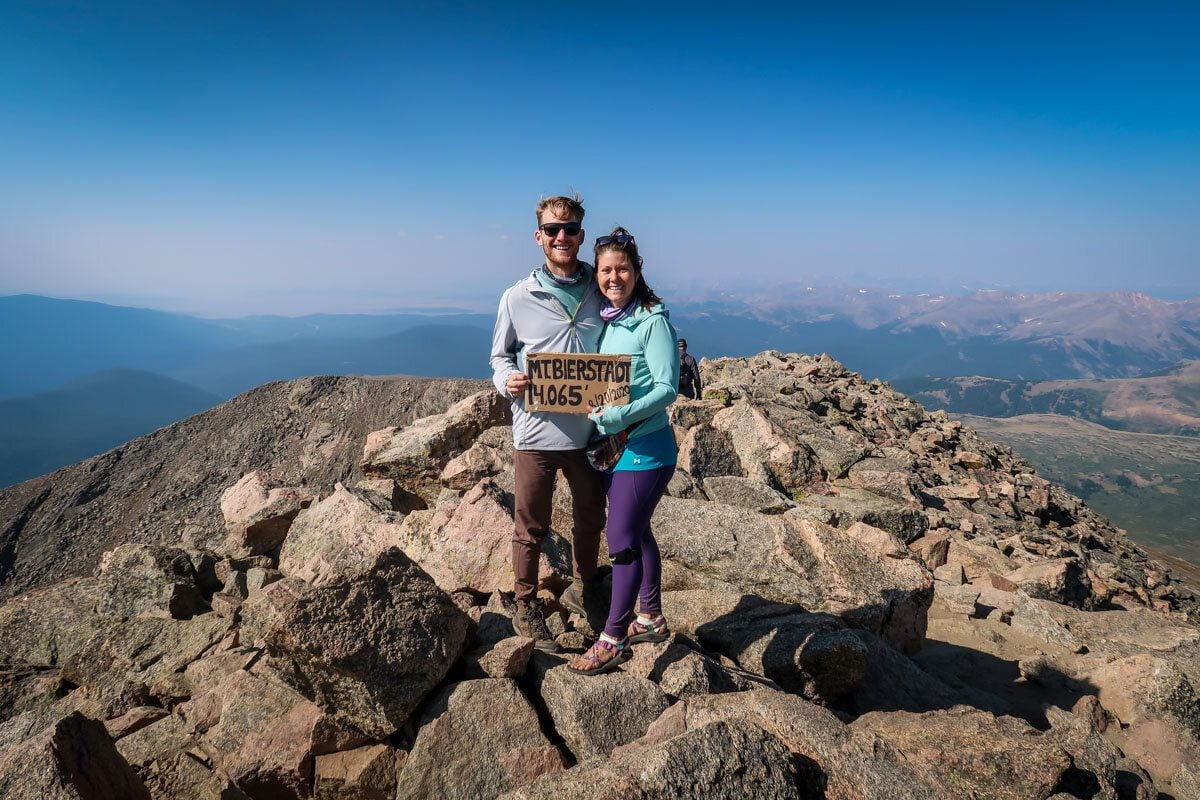 Coloradans proudly refer to the mountain peaks exceeding over 14,000 feet in elevation as "fourteeners" (14-ers). Interestingly, Colorado has more fourteeners than any other state in the U.S. which makes hiking one a bucket list item for many people visiting Denver.

Whether you're an advanced or novice hiker, Denver offers a vast amount of fourteeners that will give you the opportunity to experience the fresh mountain air. Since most of the hikes are within a short drive, you can easily tackle one on a day trip from Denver.

While hiking an elevation of 14,000+ feet might seem daunting, just remember that Denver is already at high elevation, so you're not going to be hiking the whole 14,000 feet. Many fourteeners only require 3,000 feet (or so) in elevation gain from the beginning of the hike to the summit.
So we say: just do it!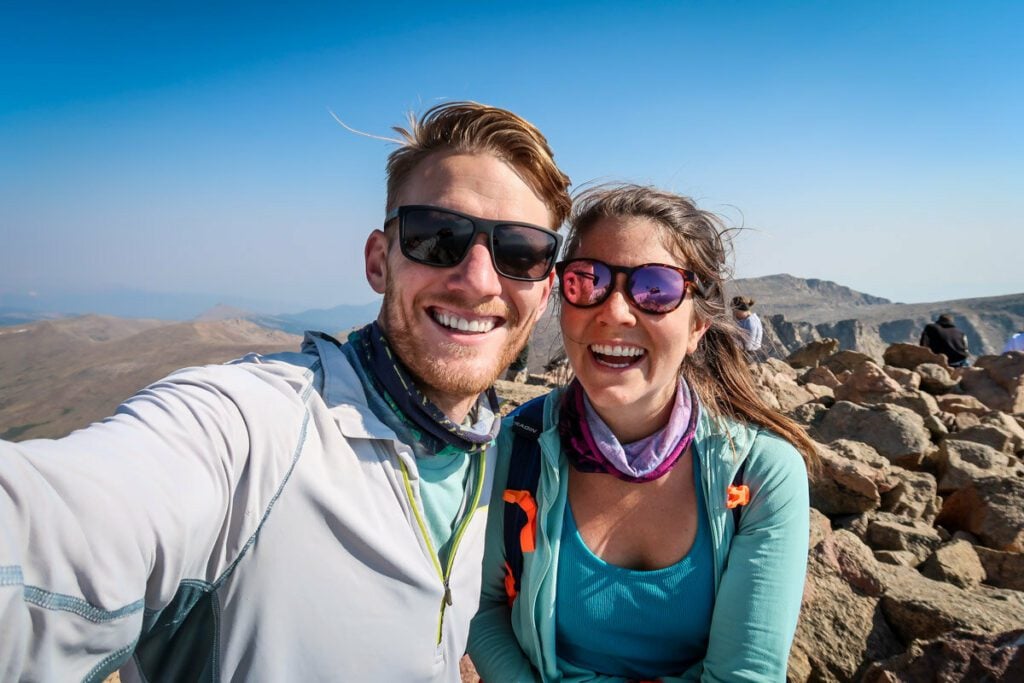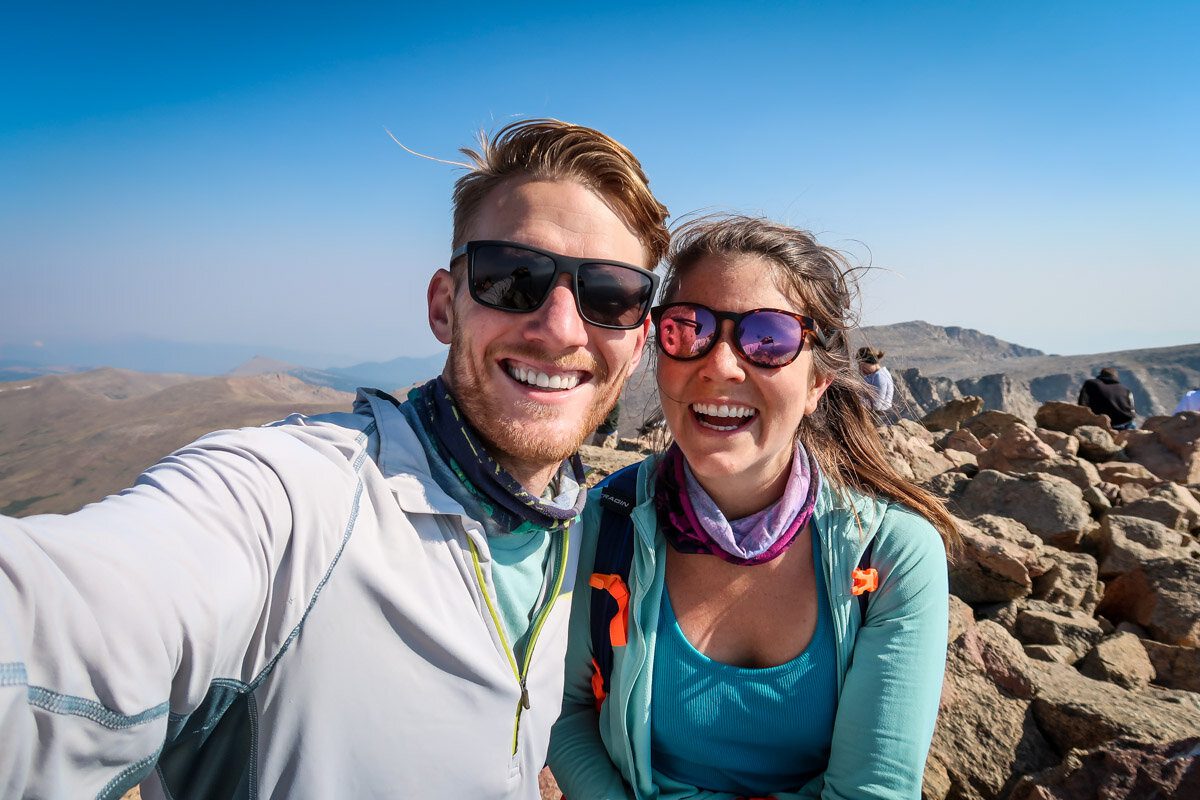 Some notable 14-ers to hike near Denver include:
Mount Bierstadt: 7.5 miles out and back | 1 hour 45 minutes from Denver
Grays Peak: 8 miles round-trip | 2 hours from Denver
Torreys Peak: 8 miles round-trip | 2 hours from Denver
Pikes Peak: ~14 miles round trip | 2 hours from Denver
Longs Peak: ~14 miles round trip | 1.5 hours from Denver
A word of caution: Be sure you do your due diligence in terms of thoroughly researching the hike you choose, packing the correct supplies and being mindful of how you're feeling during the hike. Give yourself a few days in Denver to acclimate to higher altitude before attempting your first hike.
Be sure to check out our day trips from Denver guide for tips on hiking a fourteener!
35. Explore Rocky Mountain National Park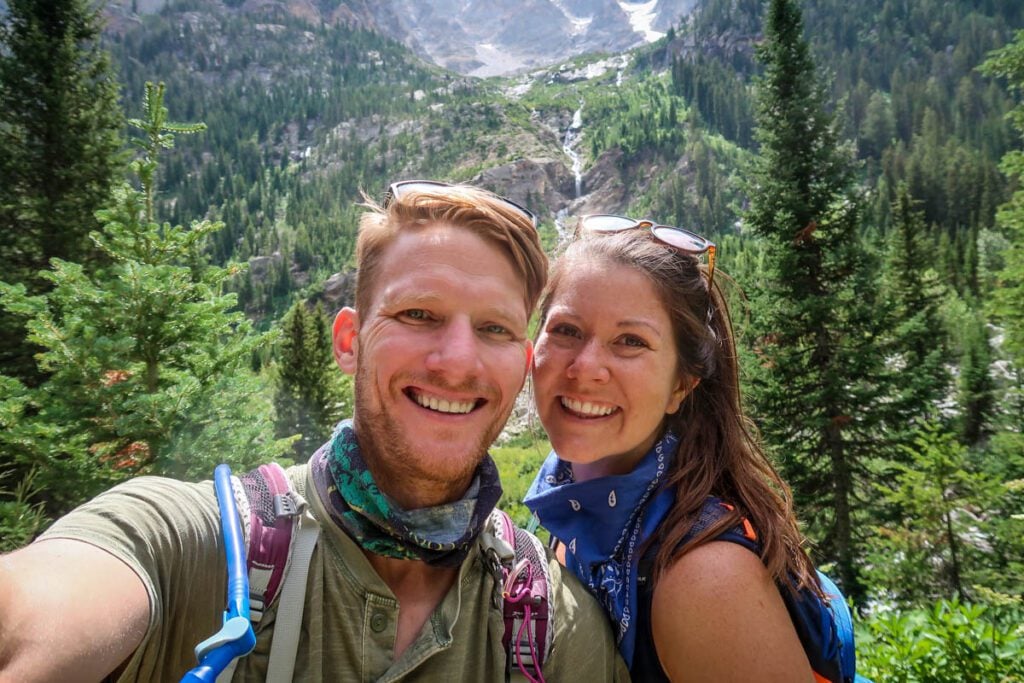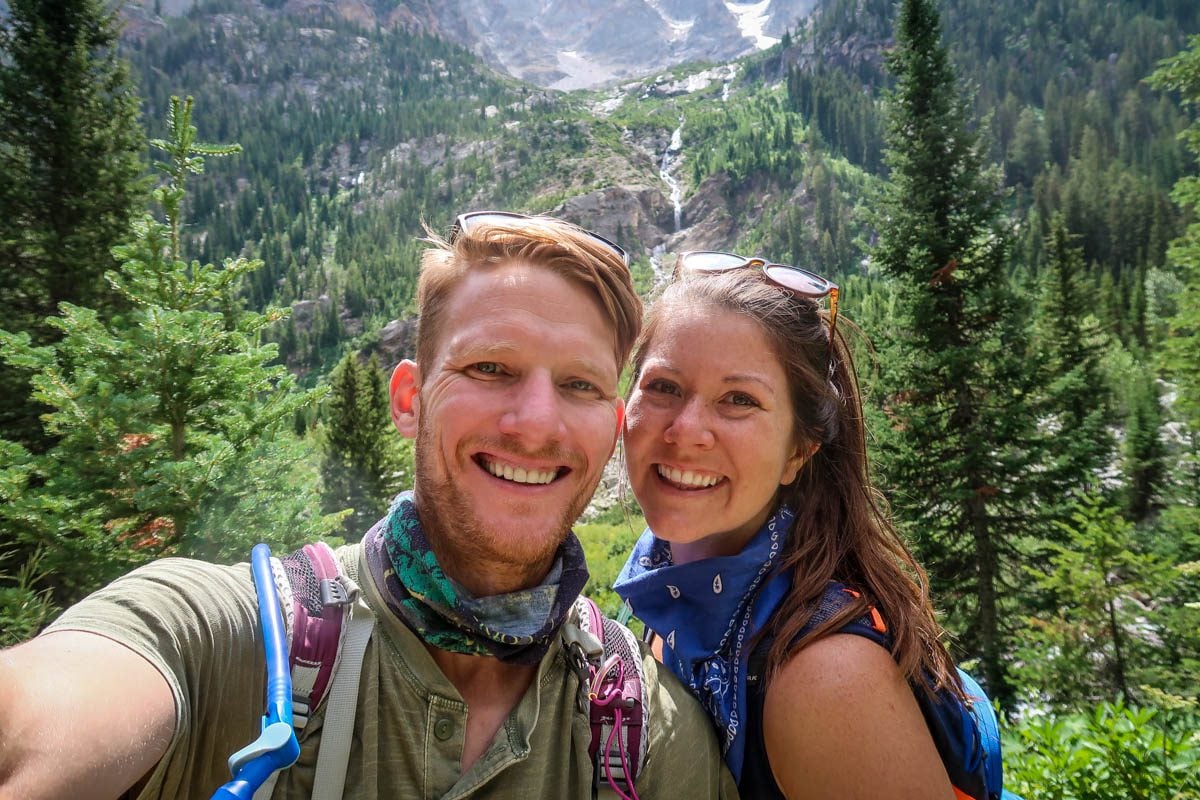 Rocky Mountain National Park is a great day trip option as it's just over an hour drive from Denver. Catering to true nature lovers, it takes you straight out of the city and into the heart of the wilderness. If you have time, you might consider an overnight trip, too.

Getting into the park is a little tricky so make sure you plan ahead and secure a timed-entry permit if you're traveling from May through October. If you're planning to backpack, you'll need an additional permit.
While the regulations can seem a little frustrating, the permits work to regulate the traffic in and out of the park and, at the end of the day, it helps keep nature undisturbed and natural.
Whether you decide to go for the day or take on a backpacking adventure, you'll be absolutely stunned by the scenery. We mean it! We outlined some of our favorite hikes in Rocky Mountain National Park and offer some helpful backpacking tips as well on our sister site.
36. Drive Mount Evans Scenic Byway
The drive on Mount Evans Scenic Byway is a perfect day trip from Denver. Aside from taking pictures (and trust us, you'll want to!), you don't even have to leave your vehicle.

The road is paved and aside from frequent twists and turns, it is a safe and peaceful drive offering stunning views of mountain vistas, turquoise lakes, and pine forests. We promise that you don't want to miss it.
Tip: Pack some Dramamine or ginger crews if you are prone to car sickness!
37. Day trip to Boulder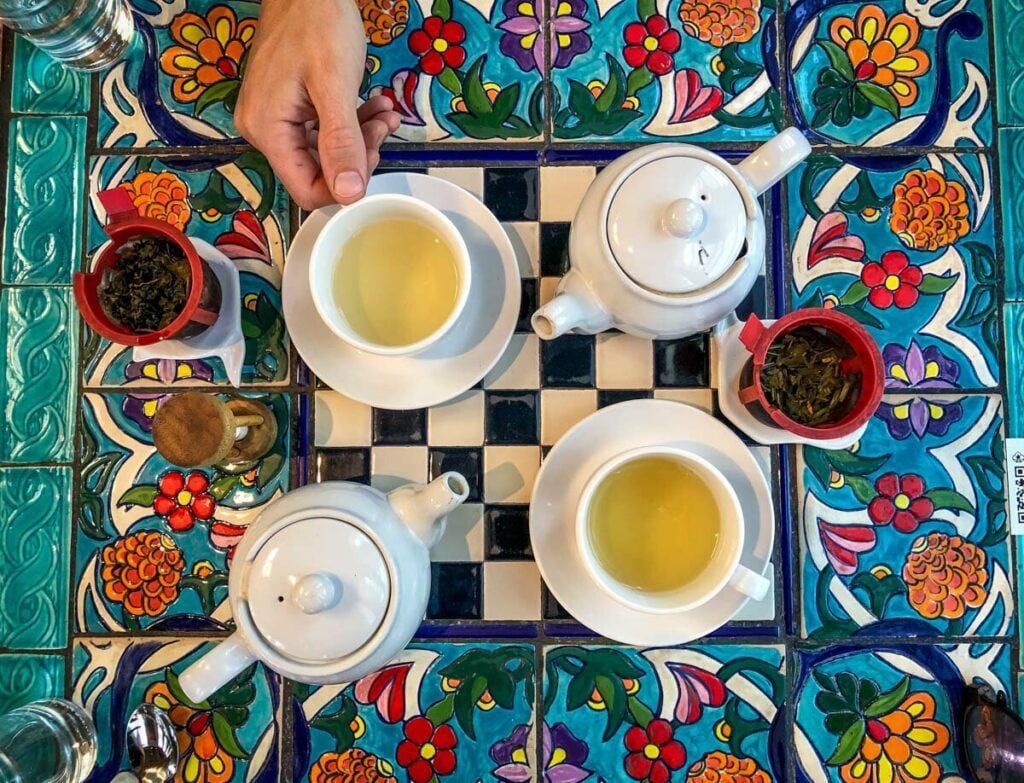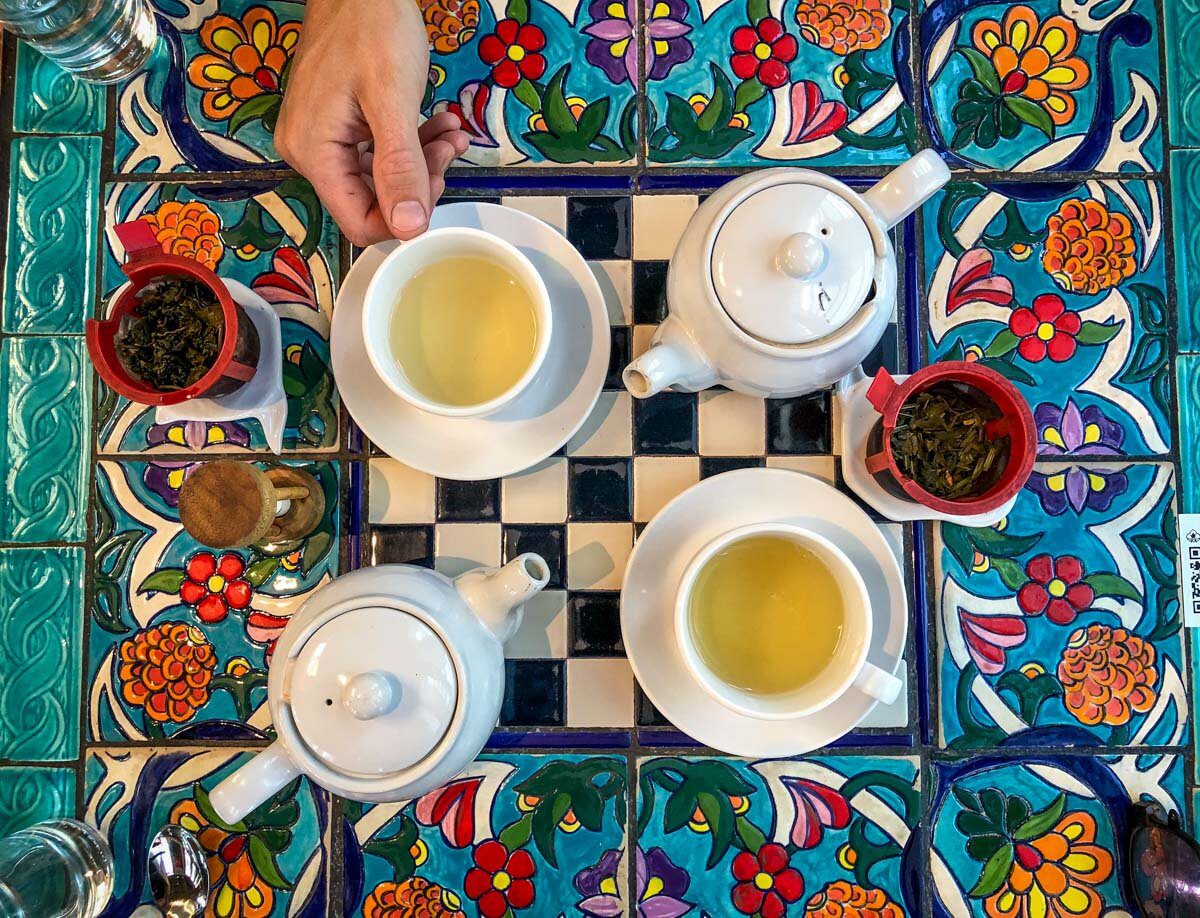 Nature lovers will find countless hiking trails to suit their needs, and foodies will revel in the array of choices when it comes to local eateries. Definitely check out Pearl Street which is a pedestrian walkway through the center of downtown sprinkled with great shops, restaurants and street performers!
For some nature, we highly recommend a visit to Chautauqua Park, which has a surplus of hikes in the foothills of the Rocky Mountains, known as the Flat Irons.
We also loved Dushanbe Tea house— an authentic tea house shipped piece by piece from Tajikistan and reassembled in Boulder near a peaceful creek. Adjacent to the tea house there is an excellent farmers market that takes place on Wednesday and Sundays.
38. Spend the afternoon in Golden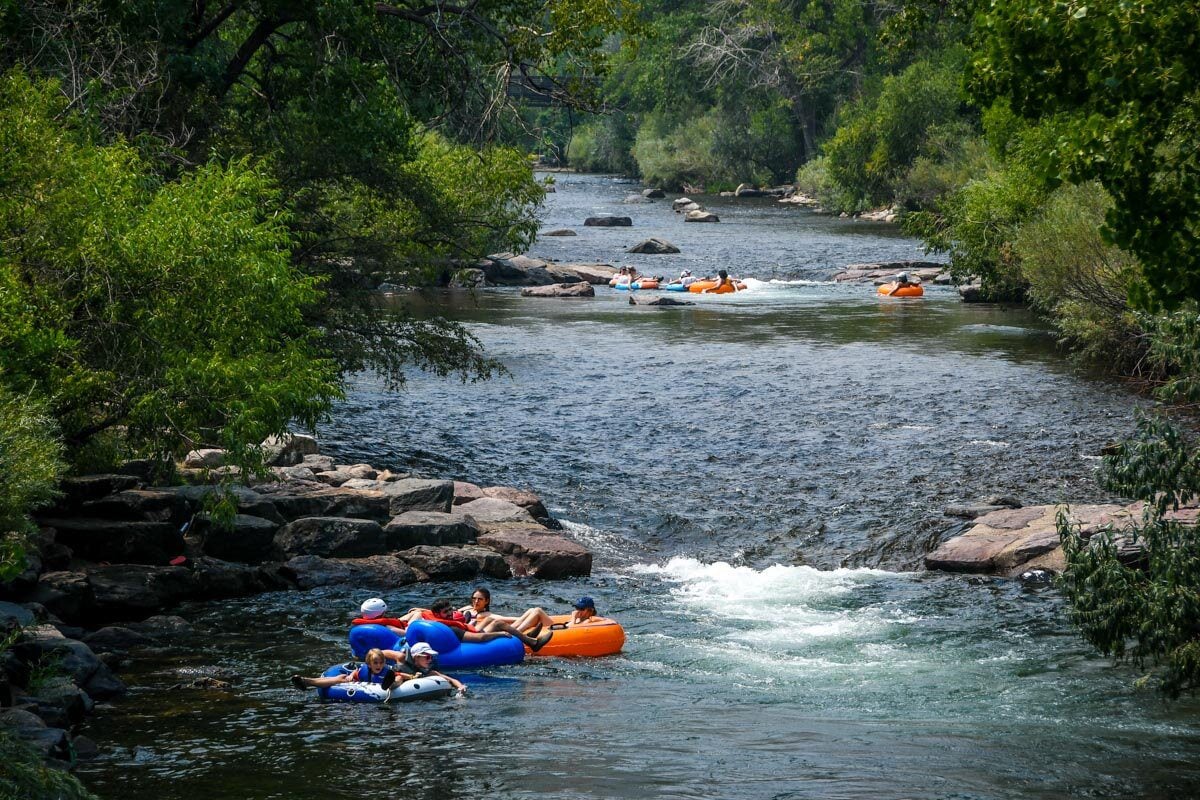 Golden is just a short drive from Denver making this the perfect day trip location!

This charming mountain town is much more of a gem than golden—see what I did there? It has a cute Old Western vibe and offers plenty of local shops and eateries to keep you occupied for an afternoon.

We highly recommend a float down the Clear Creek River (#4 on this list!) while visiting Golden. It is a perfect way to cool down in the summertime.And while we definitely preferred the beers served at the craft breweries in town, you can also take a free tour of the Coors Brewery in Golden. Either way, you won't run out of beer options to try!
Of course we cannot leave out the hiking opportunities… Golden, like many of the mountain towns near Denver, has outstanding hiking. Hiking one of the Table Mountain trails will reward you with great views of Golden all the way to Denver.
39. Go whitewater rafting
Seeking an adrenaline rush? Why not try some whitewater rafting?
There are many rafting opportunities throughout the state of Colorado, but if you're looking for an excursion near Denver, Clear Creek is going to be the closest place to get your rapids on.
Not only is Clear Creek just a quick hop away from Denver, there are also numerous rafting companies to choose from there to suit your needs and skill level. We personally recommend Clear Creek Rafting company as a reputable company that offers trips ranging from beginner level (suitable for children) to gnarly Class V rapids!

The best times for whitewater rafting in Clear Creek are from mid-May to mid-August!
On a related note: Find out what to pack, how to best prepare, and what to wear white for water rafting.
40. Explore Garden of the Gods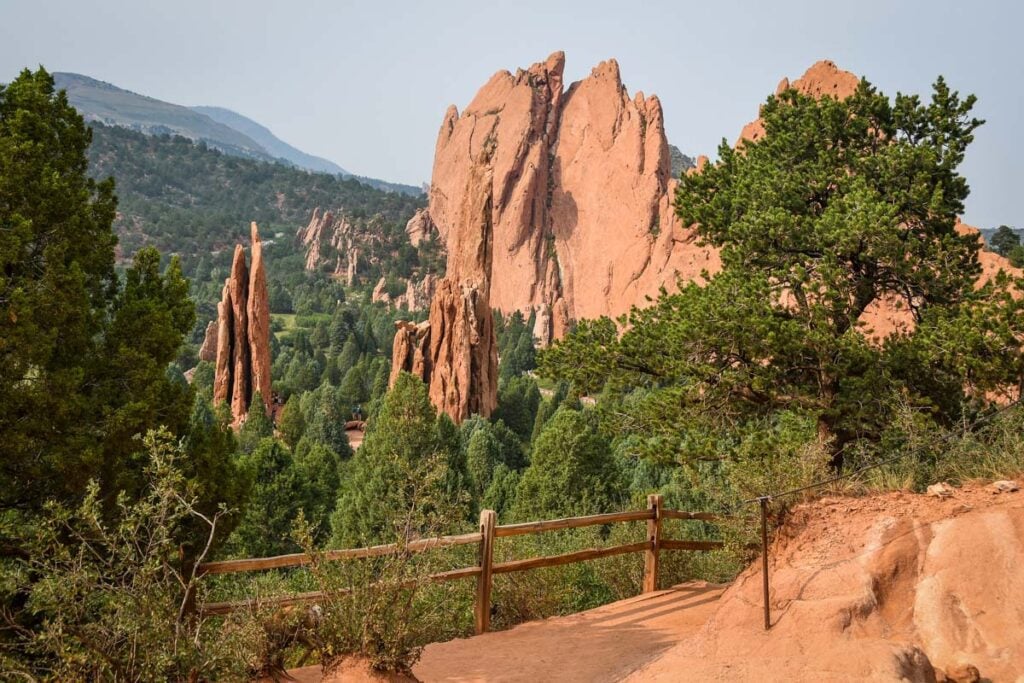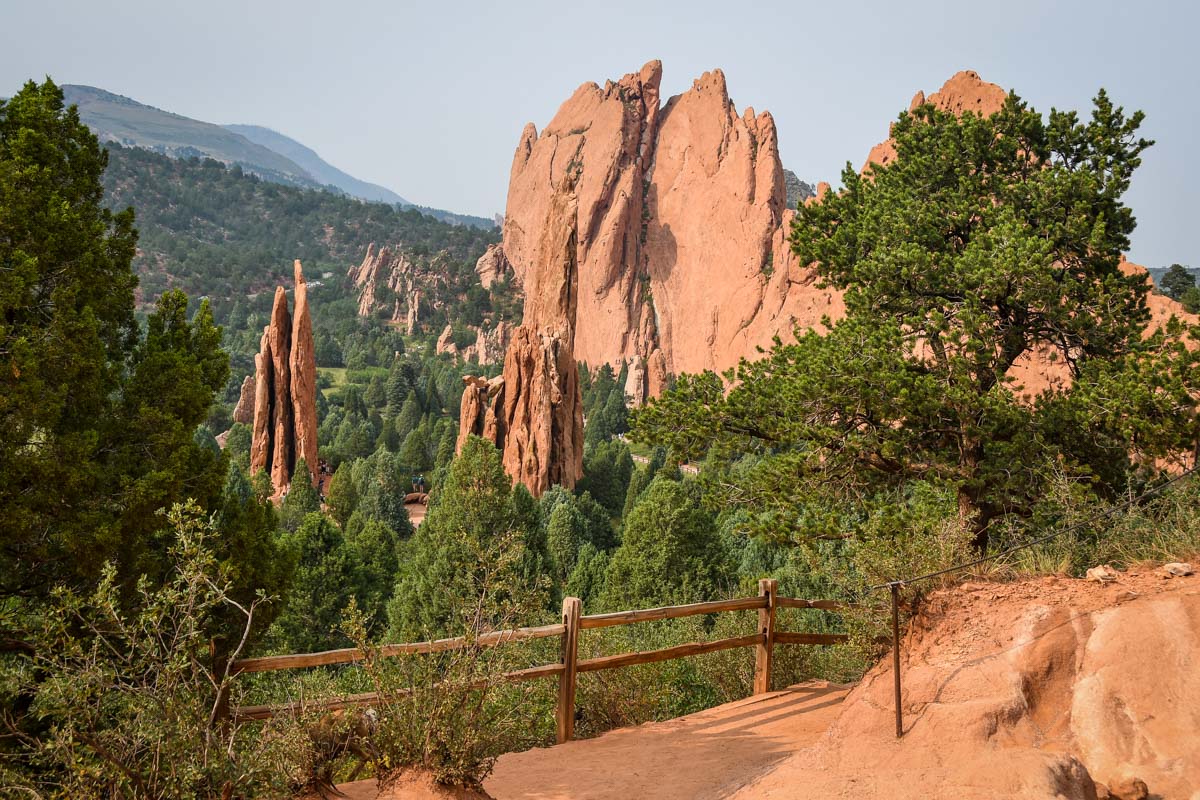 Nature lovers, rock climbers and photographers will flock to this gorgeous set of 300-million-year-old rock formations seemingly in the middle of nowhere. The good news is, it's really only about an hour south of Denver making Garden of the Gods a perfect day trip location.
While there are a lot of hikes in the area, we highly recommend the Garden of the Gods Loop trail as it's quick and easy—you'll be able to fit all the highlights into a quick daytime visit.
The best part: Garden of the Gods is completely free!

41. Go Skiing near Denver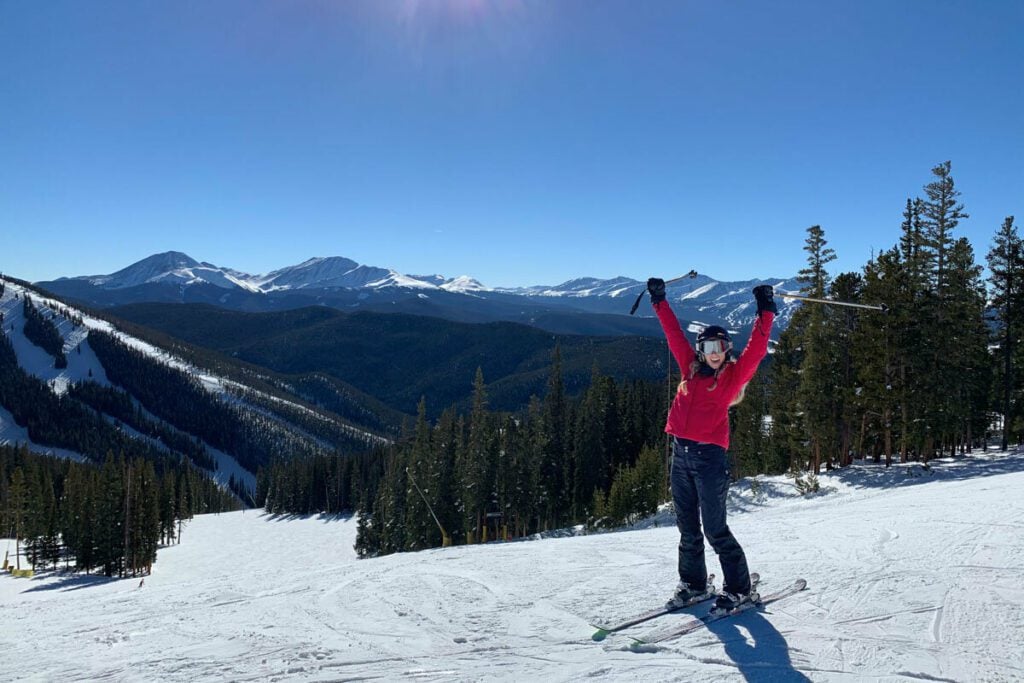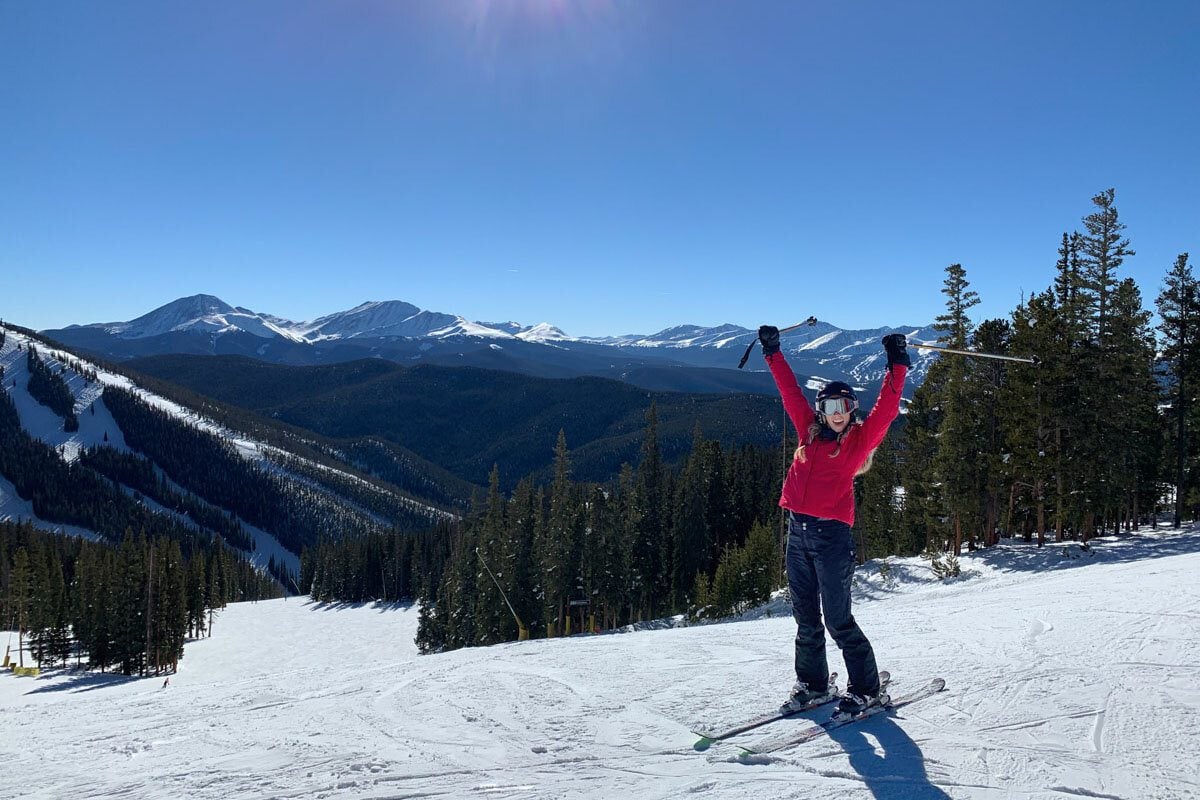 We couldn't very well leave skiing off this list, now could we?!
If you happen to be visiting Denver in the wintertime (jealous!), taking a day trip (or extended getaway) to one of the many nearby ski resorts is likely at the top of your list of things to do.
Here are some of the closest ski resorts to Denver as well as what they're known for:
Note: all prices below are for the 2022/2023 season. Be aware that prices may vary depending on when you buy your ticket and the number of days you'll spend skiing. Many of the mountains have a three day pass 'discount.'
Arapahoe Basin: With around 1,400 skiable acres, 'A-Basin' is one of the smaller resorts near Denver, geared towards more advanced ski and snowboarders with a focus on terrain. Known for the longest ski season in the state, a tailgate-friendly parking lot and extreme terrain areas.

Distance from Denver: 64 miles, 1 hour, 15 minutes
Lift Ticket Cost: $59-99 on weekdays, $109 on weekends and holidays
SeasonPass: $619 for adults, (also available on the Ikon Pass)

Eldora Mountain: Located north of Denver near Boulder, Eldora is smaller than the resorts on the I-70 Corridor with just around 700 skiable acres and only a couple dozen trails. It's more of a locals' ski area and great for beginners.

Distance from Denver: 50 miles, 1 hour, 15 minutes
Lift Ticket Price: $149 for adults
SeasonPass: $719 for adults, (also available on the Ikon Pass)

Keystone: A larger Vail-owned resort with 6 peaks and over 3,100 skiable acres. There's something here for every level of skier/snowboarder from back bowls to tree runs, a terrain park and even night skiing.

Distance from Denver: 69 miles, 1 hour, 20 minutes
Lift Ticket Price: $143-$180
SeasonPass: $365 for adults, (also available on the Epic Pass & Summit Value Pass)

Winter Park: The "oldest continually operating ski resort in the state" currently boasts over 3,000 skible acres and 166 designated trails. Advanced skier/snowboarders may find more for themselves here, but the size of the resort means even beginners will have plenty to experience.

Distance from Denver: 66 miles, 1 hour, 20 minutes
Lift Ticket Price: Starting at $108 for adults when bought in multi-day packages; starting at $143 for single-day tickets
SeasonPass: $649 for adults, (also available on the Ikon Pass)
These are just a few of the well-known resorts near Denver, but there are plenty more. Check out our guide to Colorado ski resorts for more detailed information to plan your ski trip near Denver.
---
Where to Eat in Denver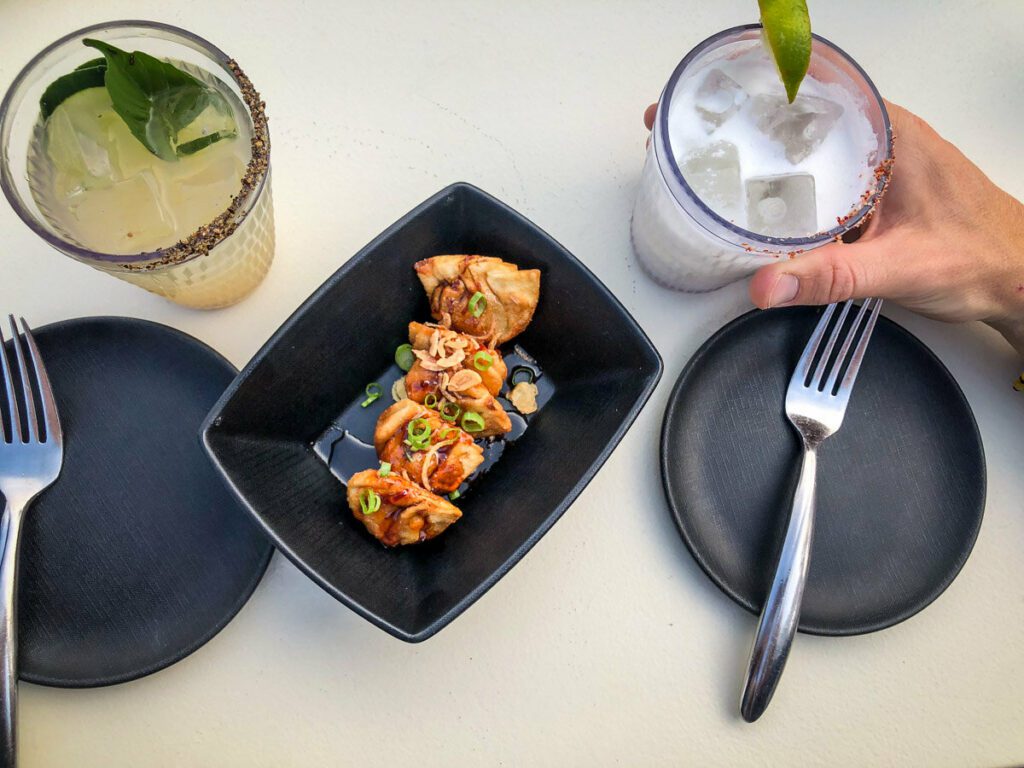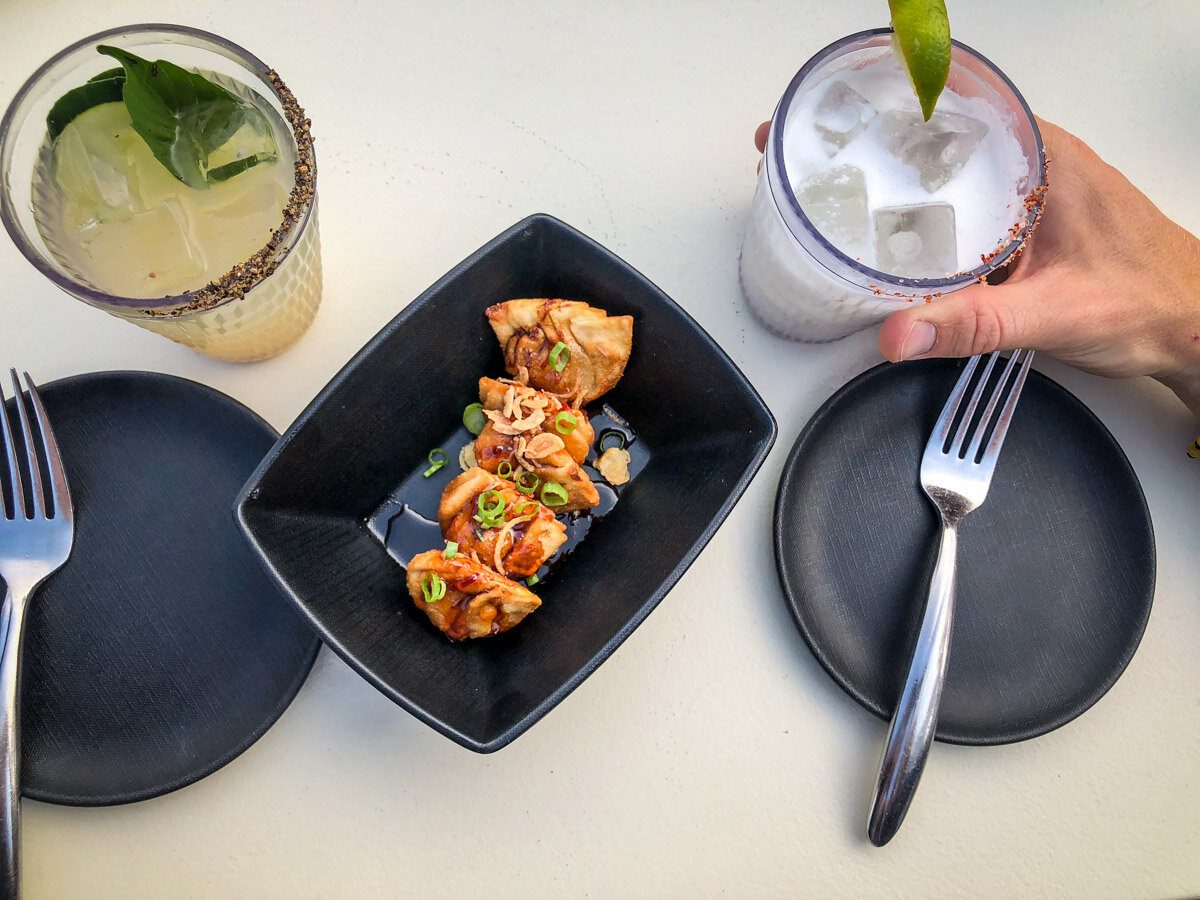 Just like any major city, it's impossible to make a truly complete list (especially as new places continue to pop up all the time!). Throughout the article we've mentioned many-a Denver staples as well as some new favorites, but here are just a handful of stand-out restaurants in Denver.
This list is a combination of Amanda's suggestions, places we tried and loved, as well as our Airbnb host's local picks, and are all somewhat close to the city center:
We also list many more of the best restaurants in Denver by neighborhood in our guide to where to stay in Denver.
Where to Stay in Denver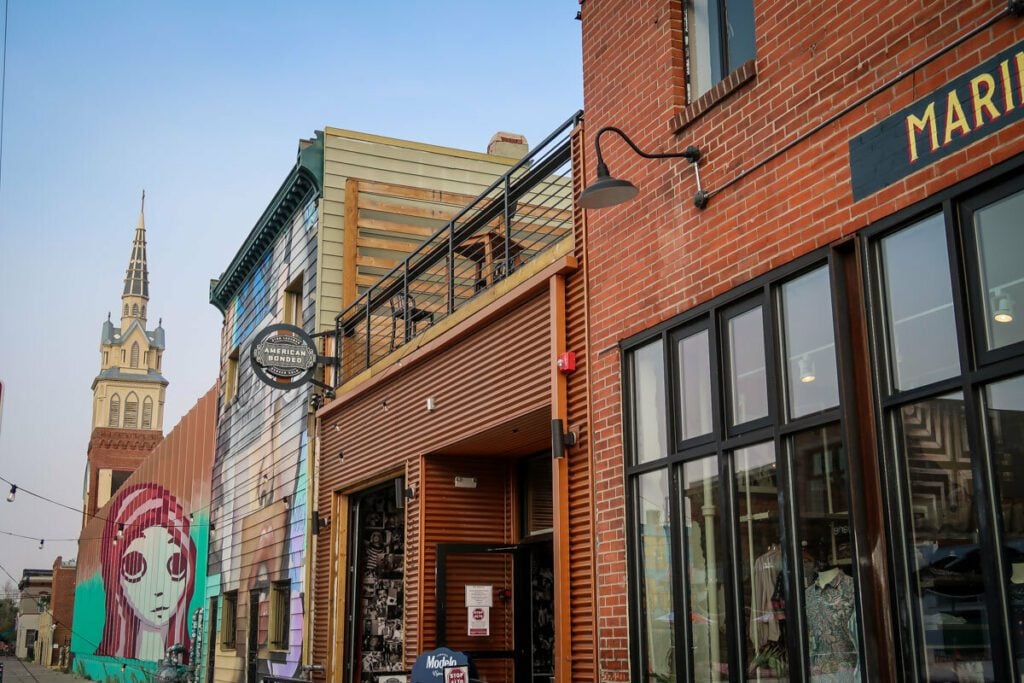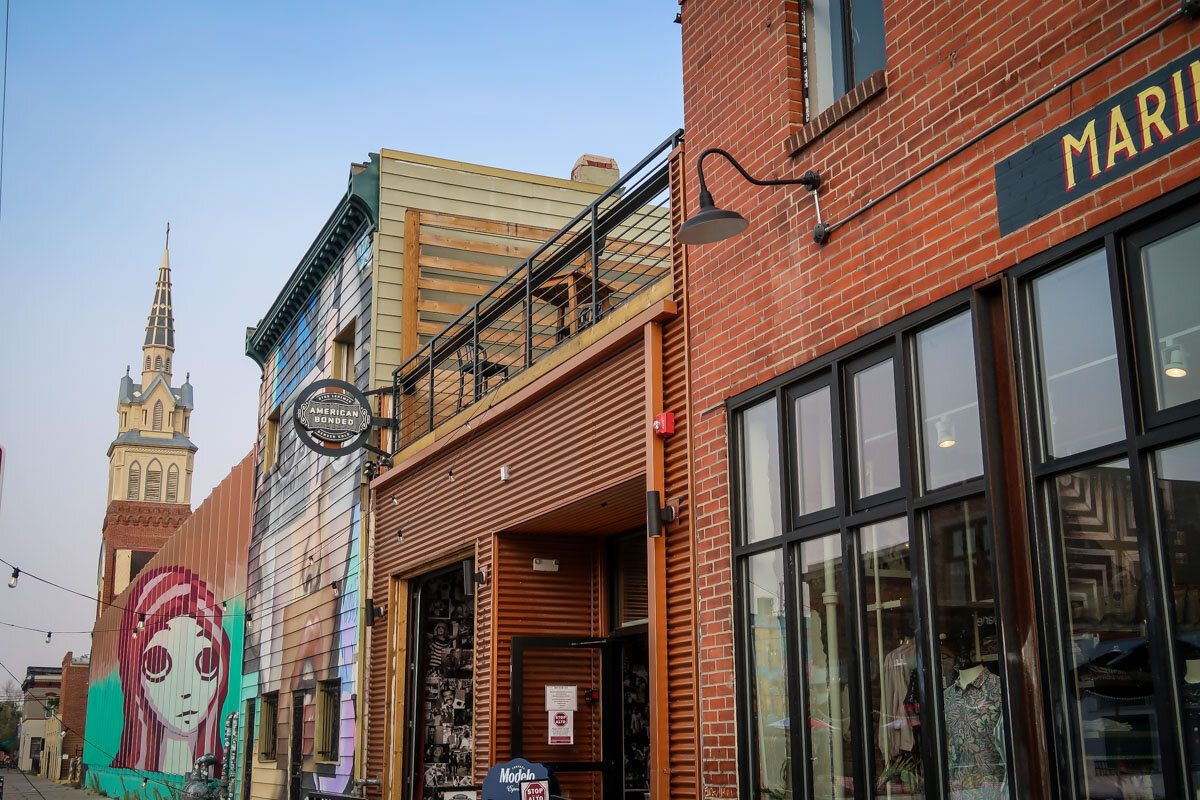 Denver is a large city, so figuring out exactly where to stay can be a bit overwhelming. Plus there are so many different neighborhoods to choose from!
When we first started planning our trip to Denver, we realized that Denverites (is that what you call them?!) really love their abbreviations. Just check out the neighborhood names below!
Denver Neighborhoods
LoDo = Lower Downtown
LoHi = Lower Highlands
RiNo = River North District
Cap Hill = Capital Hill
Uptown
Cherry Creek
Wash Park = Washington Park
We put together an entire article outlining where to stay in Denver depending on your specific travel style and needs. In that article, we go over the highlights of each neighborhood and pros and cons for making each your base to explore the city. Plus we share our top hotel and Airbnb recommendations.
We also put together a giant guide to the best Airbnbs in Denver with top recommendations for each neighborhood, price point and even larger stays for families and group travel.
If you're looking for some quick recommendations, here are our top recommended hotel and Airbnb stays for your first trip to Denver: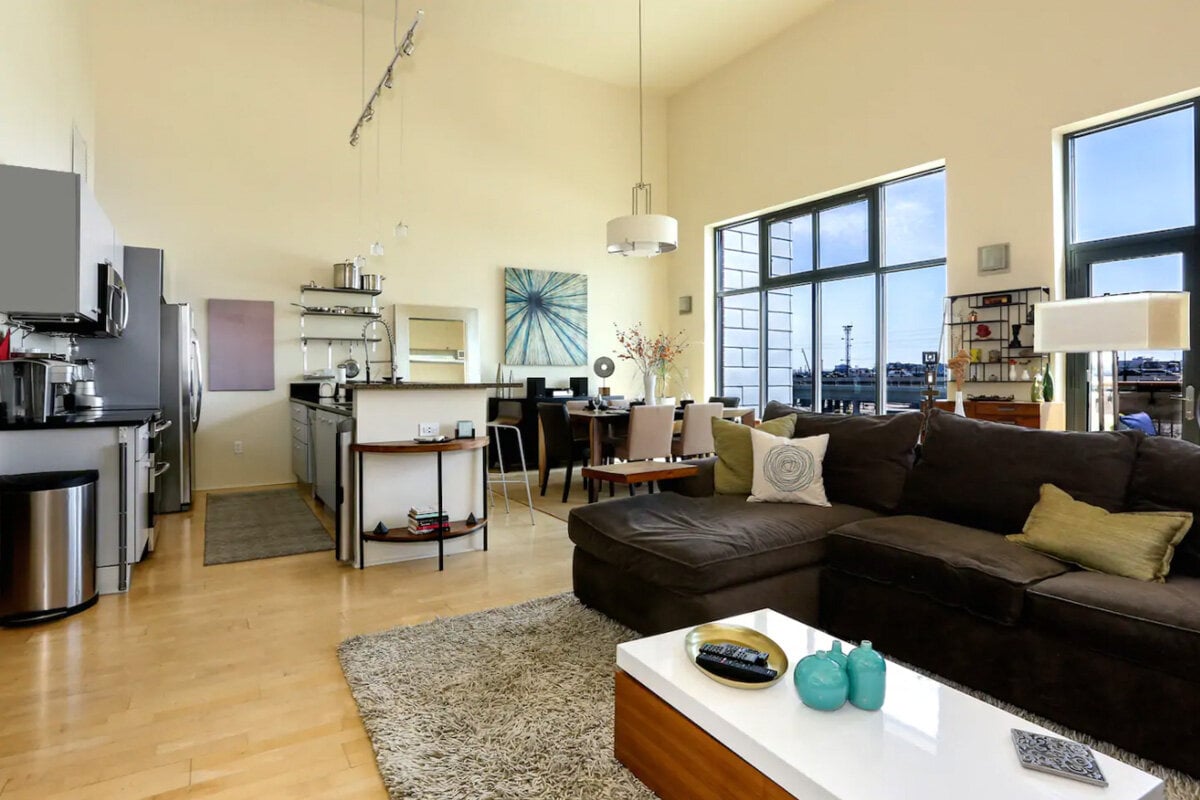 Airbnb: Downtown Denver Loft – This modern loft features a single bedroom, open floor plan and 18' high ceilings. The enormous windows let in plenty of natural light and provide views of the surrounding LoDo neighborhood. Perfect for a solo traveler or couple who wants to be right in the heart of the action.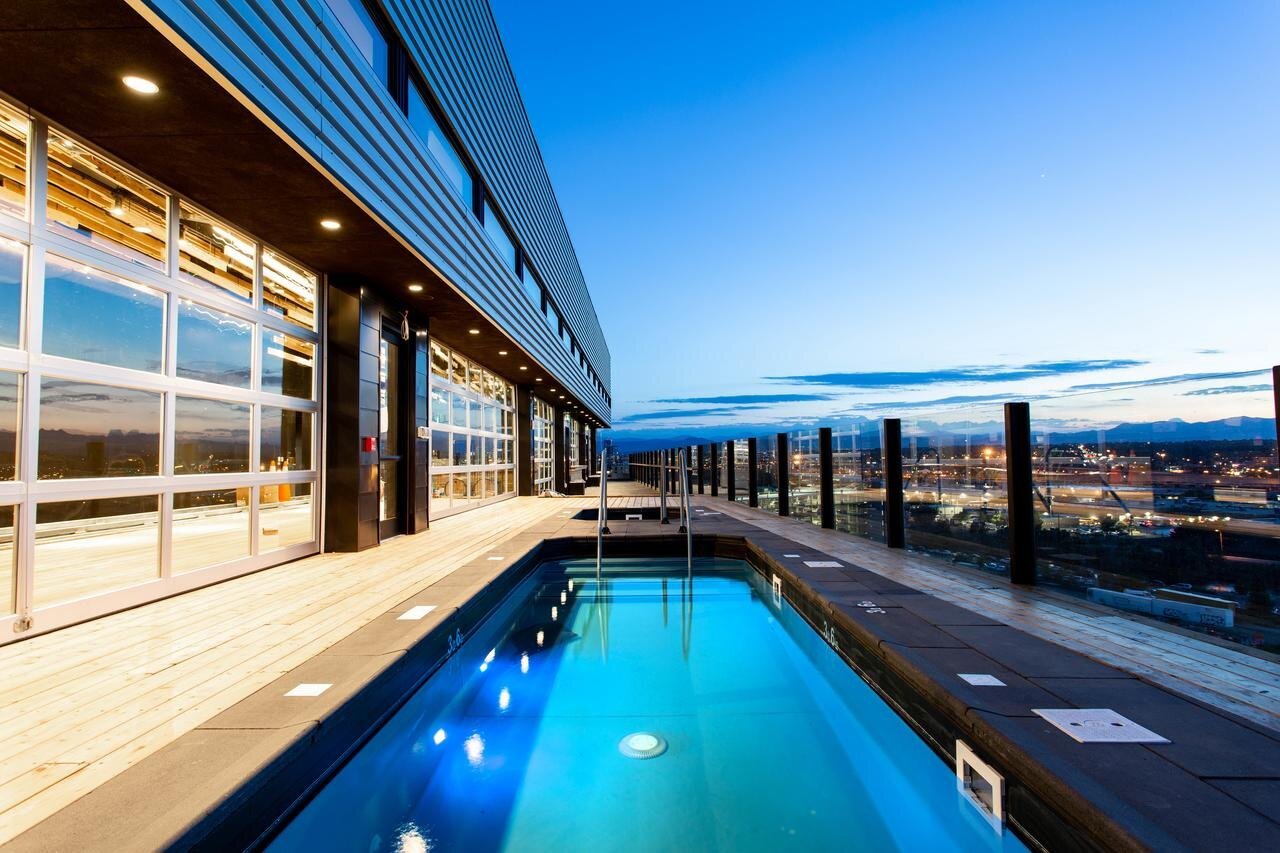 The Source Hotel – Built up around the original and ever-popular food hall, The Source Hotel offers guests an outdoor swimming pool, fitness center, bar and rooftop restaurant. The original building, which is connected to the hotel, is a RiNo staple, featuring popular restaurants like Acorn, Smōk, and Safta.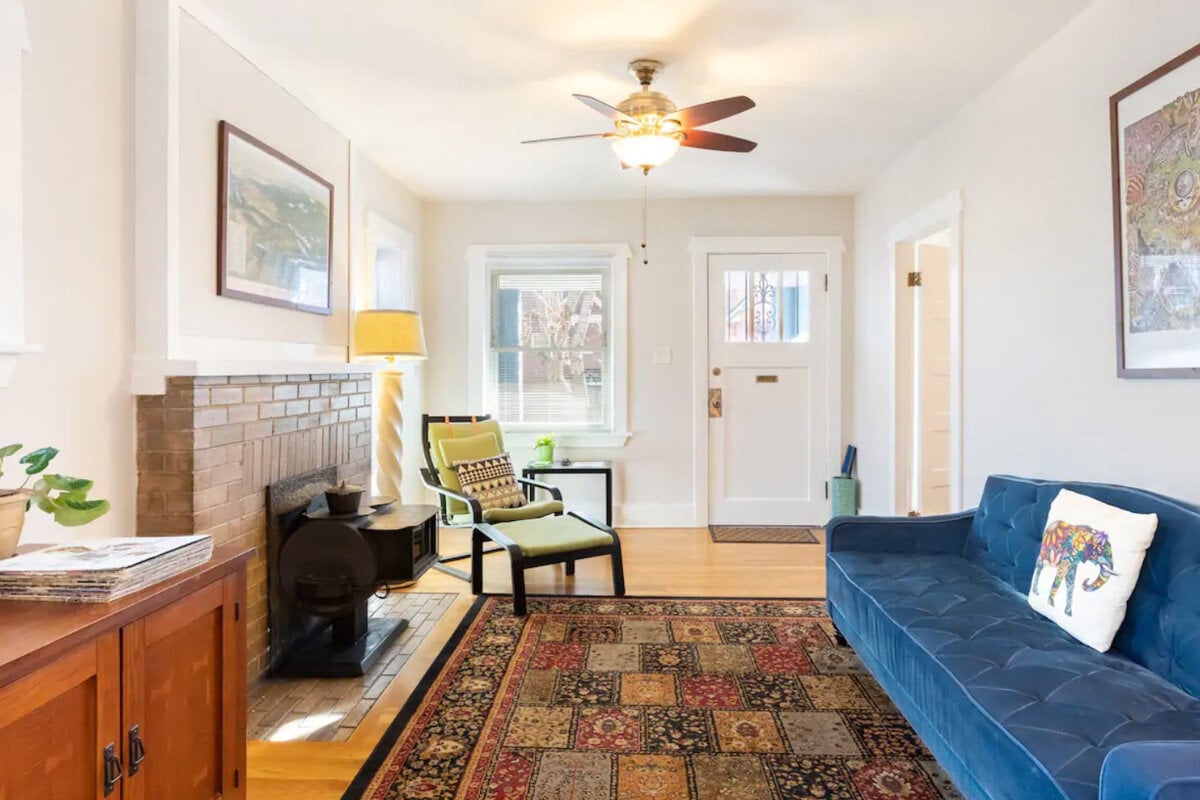 Airbnb: Sunny Cottage in LoHi – This charming Airbnb Plus property has 2 bedrooms, a full kitchen and even a cozy fireplace. It is steps from the action in LoHi, but far enough from downtown where it'll stay quiet in the evenings. Perfect for a couple or family wanting to explore the city.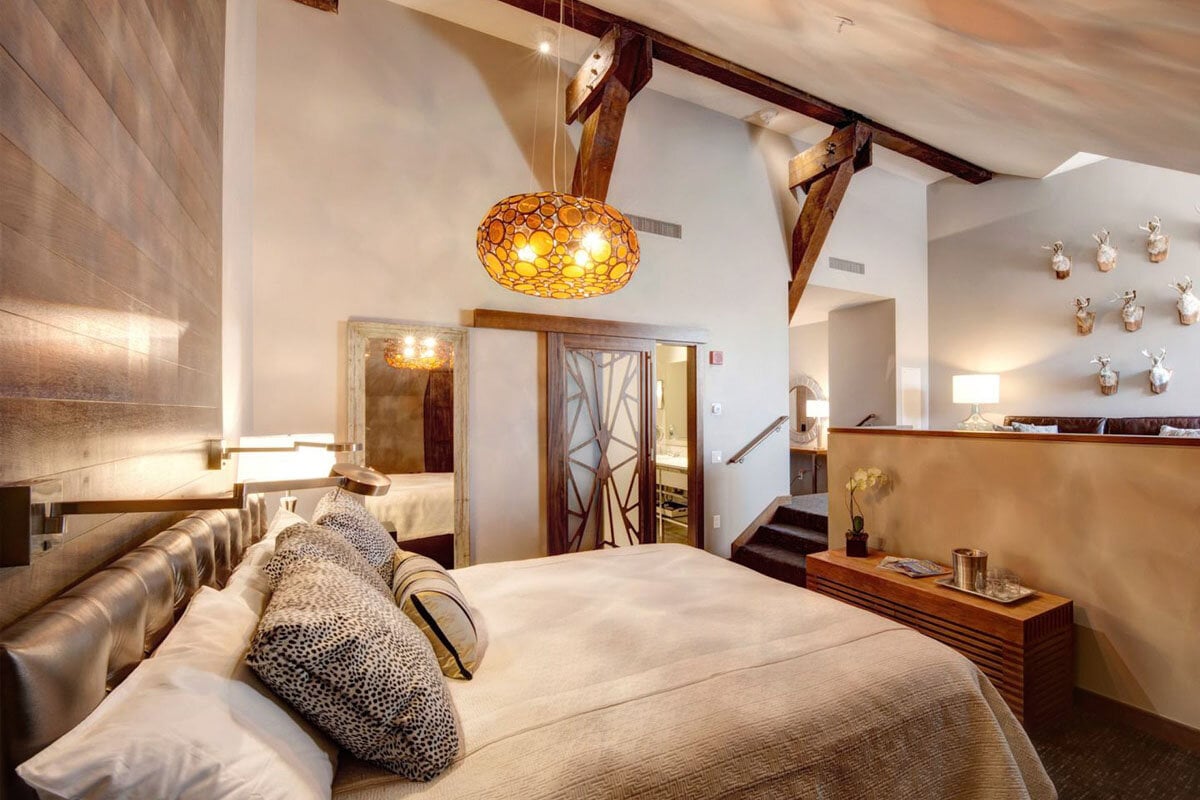 The Crawford Hotel – A luxurious stay in the heart of the action at Denver's iconic Union Station. This hotel offers direct airport train access, courtesy Tesla transportation, free craft beer at the Terminal Bar and priority seating at Snooze AM Eatery (something that will come in handy on the weekend when the wait time can be over 2 hours!).
---
A Note on Safety
In our experience, Denver felt like most other US cities. While there are certainly pockets where you may want to use extra caution, most areas felt safe. That said, we do want to address an experience we had in Denver because it would have been helpful for us to know this ahead of time.
We were traveling to Colorado with mountain bikes on our van (locked to our bike rack). Sadly, on our last morning in the city we woke up to find they had been stolen (locks cut). After filing a police report and doing a bit of searching in online forums, we learned that Denver is notorious for bike theft.
There's even a Facebook Group dedicated to stolen bikes in the city, and from reading all sorts of other peoples' accounts, we soon realized our experience wasn't just a random bout of bad luck. It's actually the norm.
While this can happen anywhere (not just Denver), we'd encourage anyone traveling with bikes to practice extra caution. If you're staying in an Airbnb, ask if you can bring the bikes inside. Or if you're staying at a hotel, see if there is a special bike storage area or onsite cameras.
---
Planning a trip out west?
We have TONS of resources on travel in the US and how to make the most out of your trip. Check out our Ultimate USA Travel Guide for everything you need to know, or read some of our favorite articles below.
Save this article for later on Pinterest!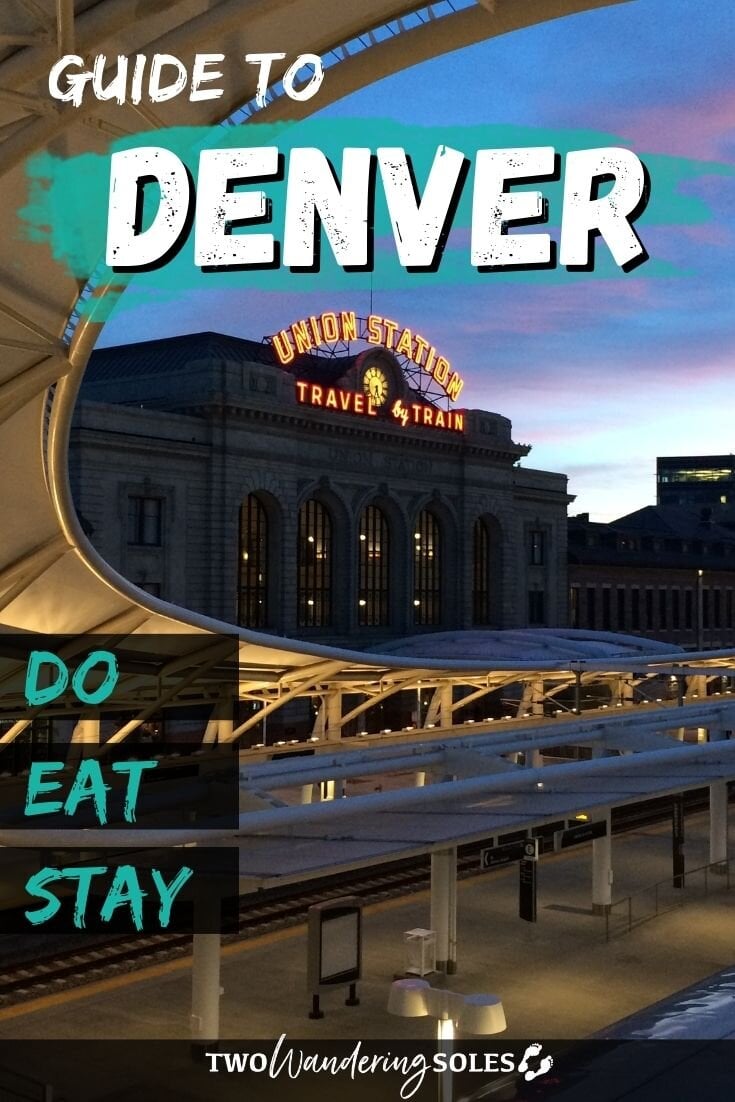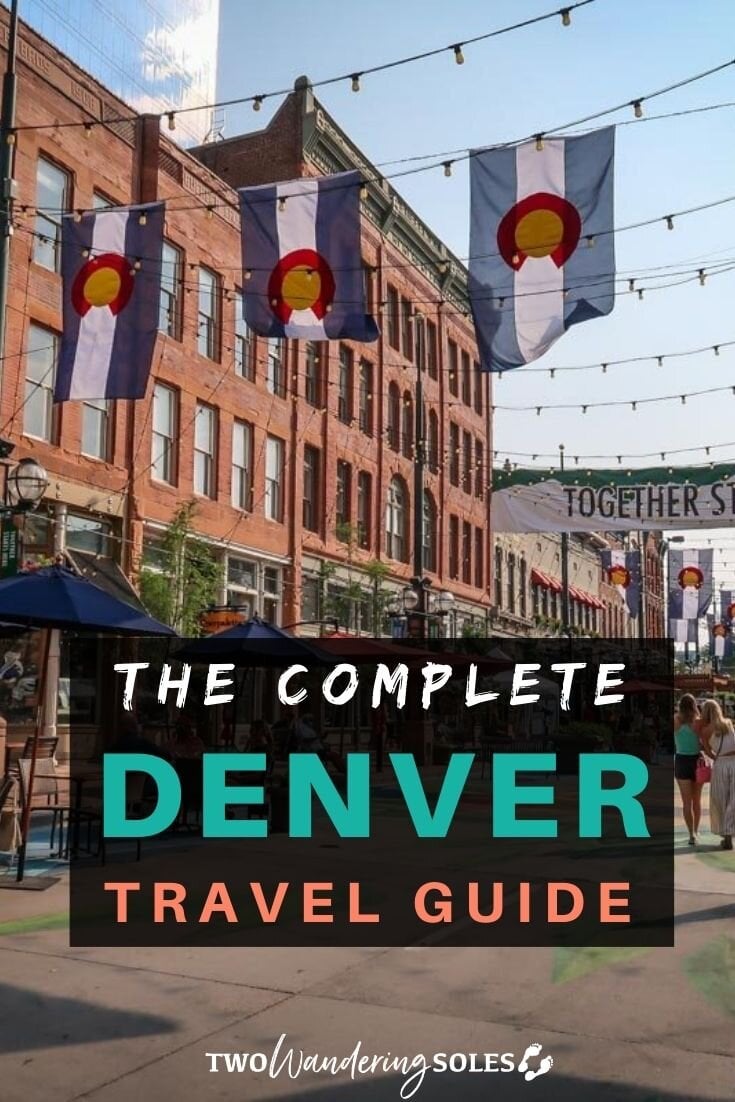 We want to hear from you!
Have questions about planning your trip to Denver? Anything you think we missed? Let us know in the comments below and we'll do our best to get back to you!