If you're looking for an Iceland campervan rental, you've come to the right place. In this article, we break down all of the FAQs about traveling Iceland in a campervan, plus tell you about the best Iceland campervan rental company which we just so happen to have an exclusive discount code for.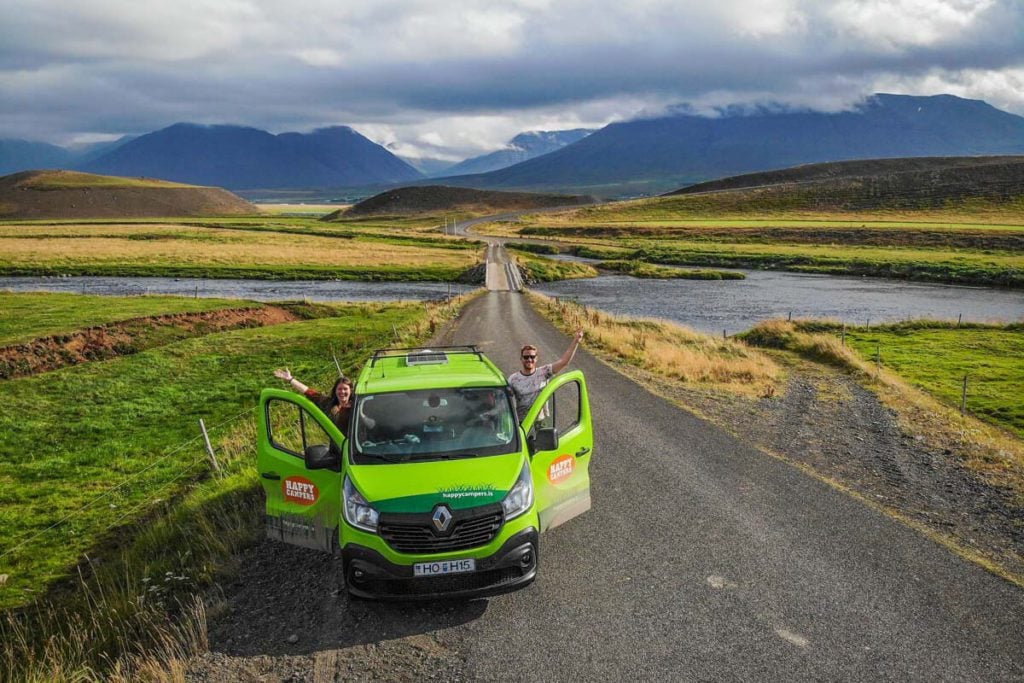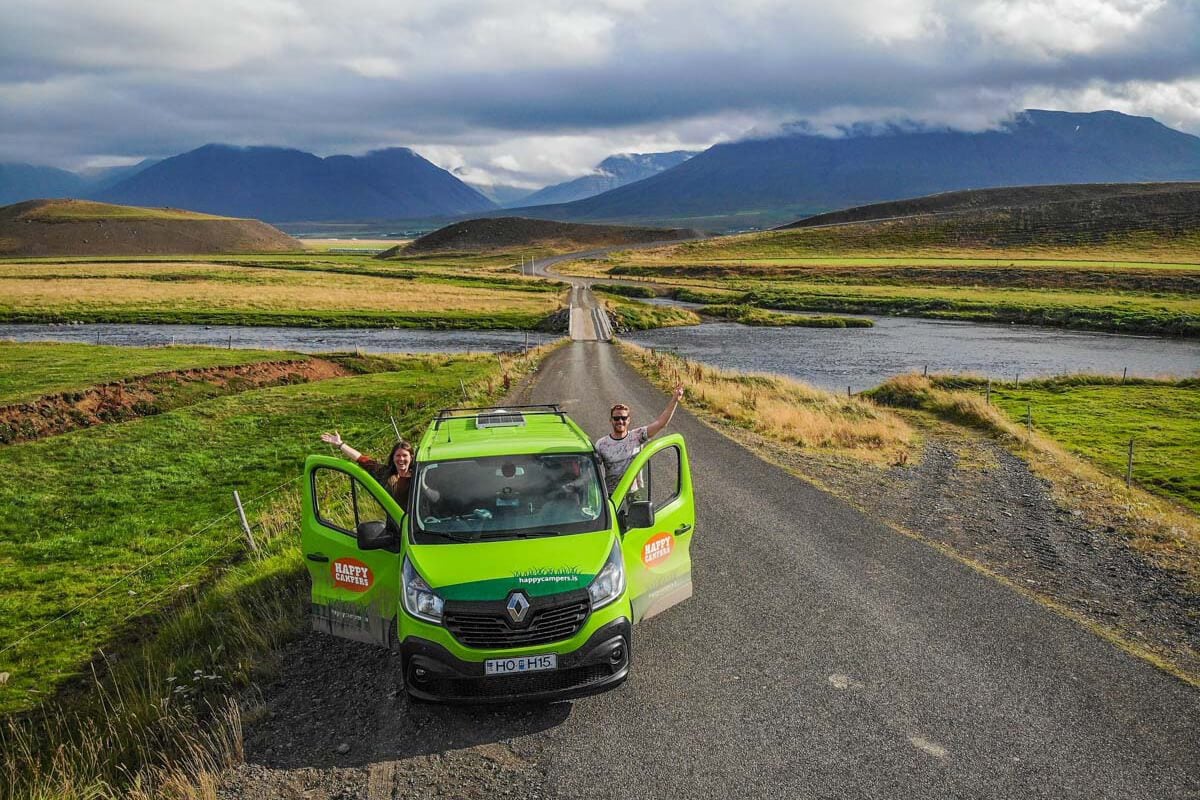 Exploring Iceland in a campervan was a dream trip of ours for many years. We finally made it happen, and I can honestly say it lived up to our expectations in every possible way.
If you've been tossing around the idea of renting a campervan in Iceland, our initial reaction is to scream through our computer screens, "JUST BOOK IT! YOU'LL HAVE THE ADVENTURE OF A LIFETIME!"
But if you're still hesitant and have lingering questions (and aren't totally convinced by the slightly crazy all-caps exclamation above!), you've come to the right place.
In this article we're going to go over pretty much everything you need to know about renting a campervan in Iceland – including the not-so-pretty parts.
We'll share exactly how to choose the best van rental company for your needs and we're sharing our personal campervan packing list (full of items we've personally tried and tested over the years).
We're also going over all the most commonly-asked questions about campervan travel so you feel 100% prepared for your trip.
Psst! Read this next to help you plan your ultimate Iceland road trip.
We truly do believe that after reading this, you'll be totally ready for a once-in-a-lifetime adventure taking on Iceland in a campervan!
So what are you waiting for? Let's dive right in…
Guide to Renting a Campervan in Iceland
Here's what we cover in this guide. Click on any of the links below to jump down to that section, or keep scrolling to get all the juicy details.
---
Why you can trust us about campervan rentals in Iceland
If you're new to this blog (welcome!), we want to share a few reasons why you can trust us about all things campervan-related:
Now do you understand why I said we're obsessed!?
I mention all of this to let you know we have a lot of personal experience on this subject. We truly know what we're talking about and in this article, we're sharing our expertise with you.
Also, we simply love connecting with others who are interested in RV and campervan adventures, so let's be friends!
Quick English language note: We use the words "rental and "hire" interchangeably in this article. So we might say "Iceland campervan hire" or "hiring a campervan in Iceland" and it means the same as "renting a campervan in Iceland."
Our personal experience traveling in a campervan in Iceland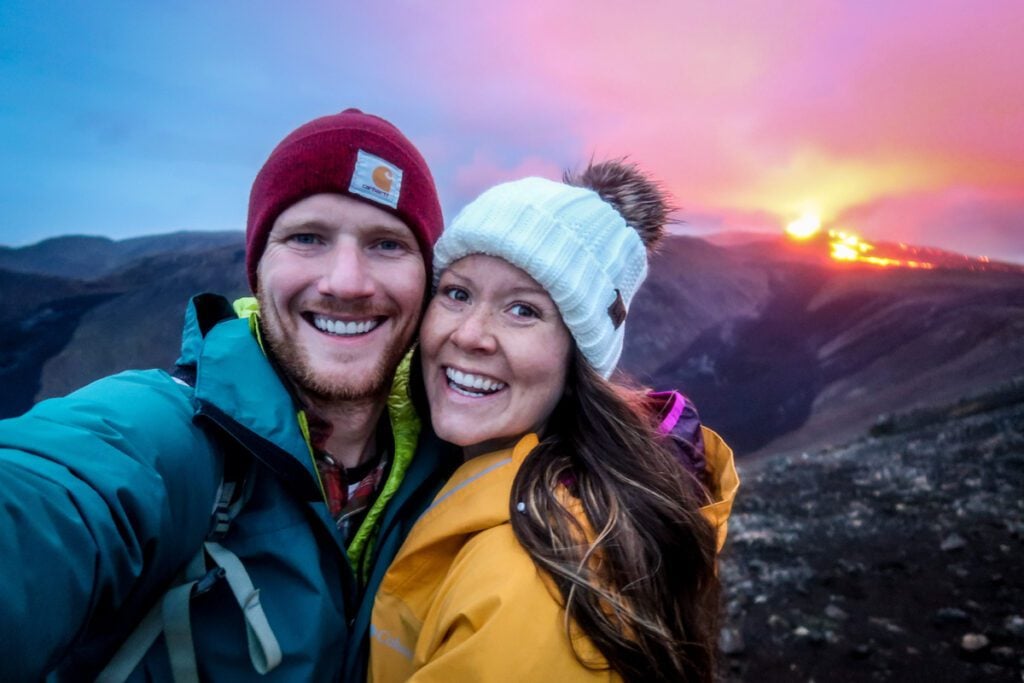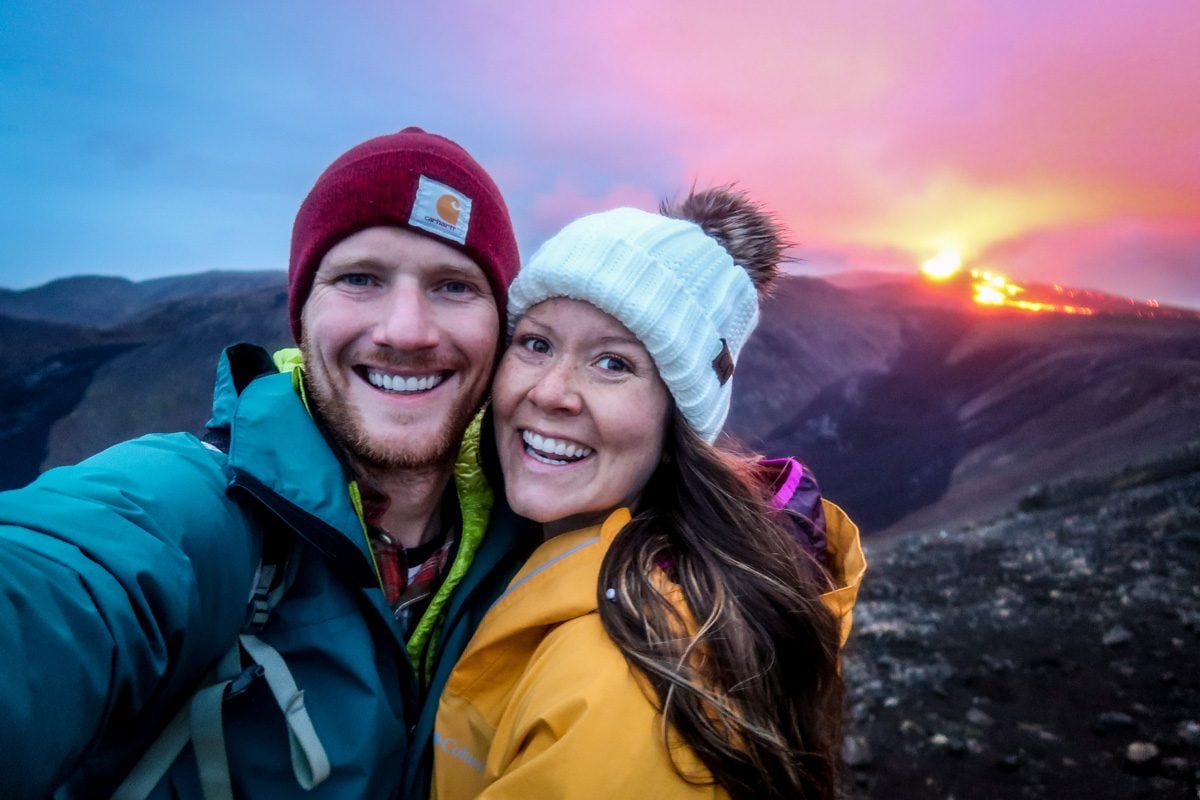 We've traveled to Iceland multiple times and one of those trips was a two-week campervan road trip around the Ring Road.
We feel like a campervan or motorhome really gives you an added level of freedom that you just don't have when you're staying in a hotel or Airbnb, and we honestly think it's the best way to explore Iceland.
Since we've personally explored Iceland in a camper ourselves, you can trust that we know what we're talking about in this article and are sharing tips that will truly help you plan your own trip.
Our top Iceland campervan rental recommendation
If you just want to skip to our overall recommendation, here it is:
Our top pick is Happy Campers. We booked with them and LOVED it! We also have a discount code for you down below so keep reading for that.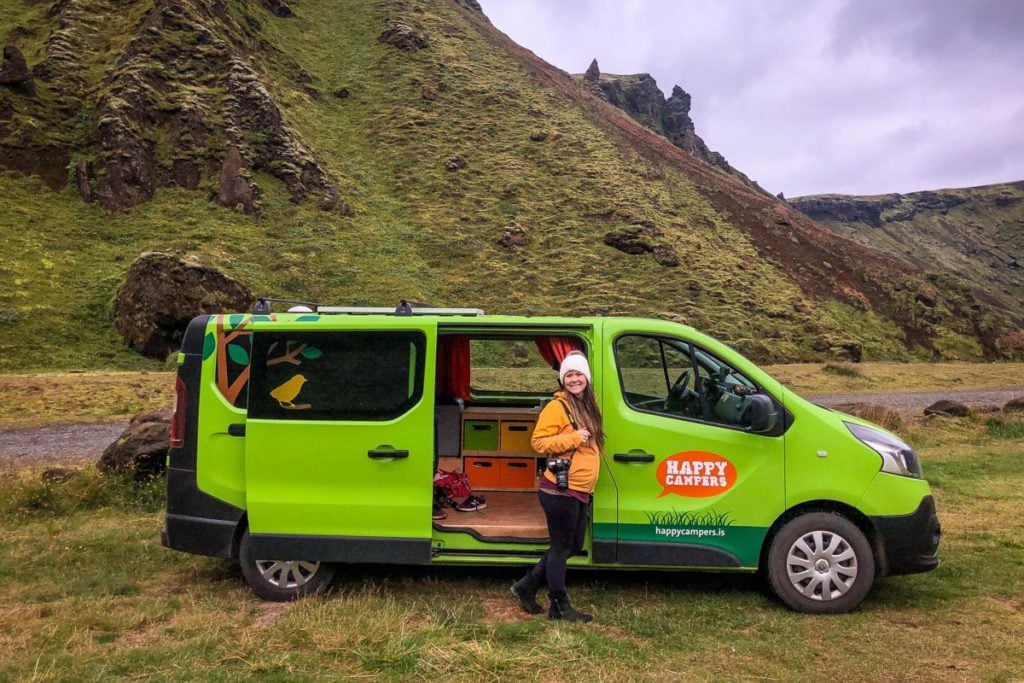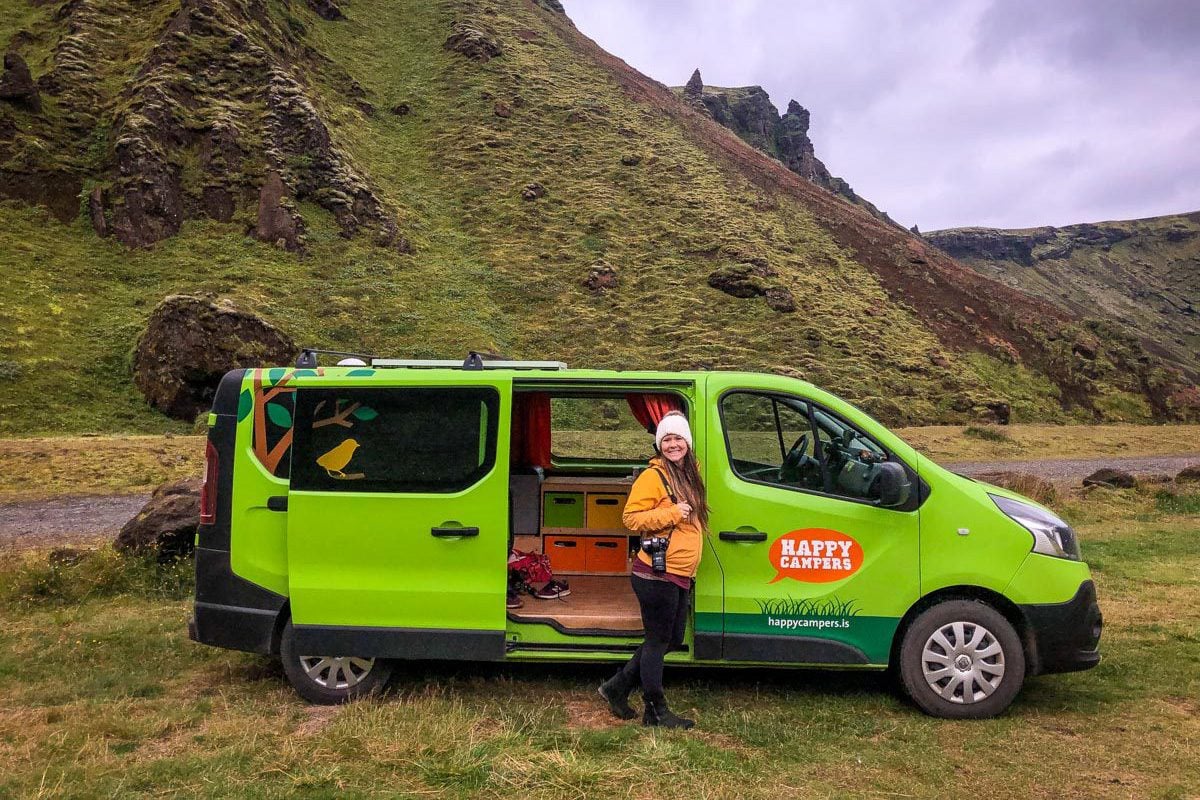 If for some reason our top pick doesn't work out for you, we'd recommend using Motorhome Republic to compare all rental options for your dates.
We'd highly recommend you continue reading this guide as it is packed with insider tips on what to look for when choosing your vehicle, mistakes to avoid, and some other companies we'd recommend if you have a different budget or travel needs.
---
Want to save time and energy on planning?
We've traveled to Iceland 3 times now and spent weeks living in a campervan, traveling around the country. We've been able to explore a lot of what Iceland has to offer!
We've compiled our experience to create the perfect Iceland itinerary. Our itinerary is for 7-9 days and meant to be explored while traveling in a campervan. It includes the highlights of the southern coast of Iceland. 
We'll send you our complete 7-9 day customizable itinerary, filled with tips and advice. Just click below to get your perfect Iceland itinerary today!


---
How to book a campervan rental in Iceland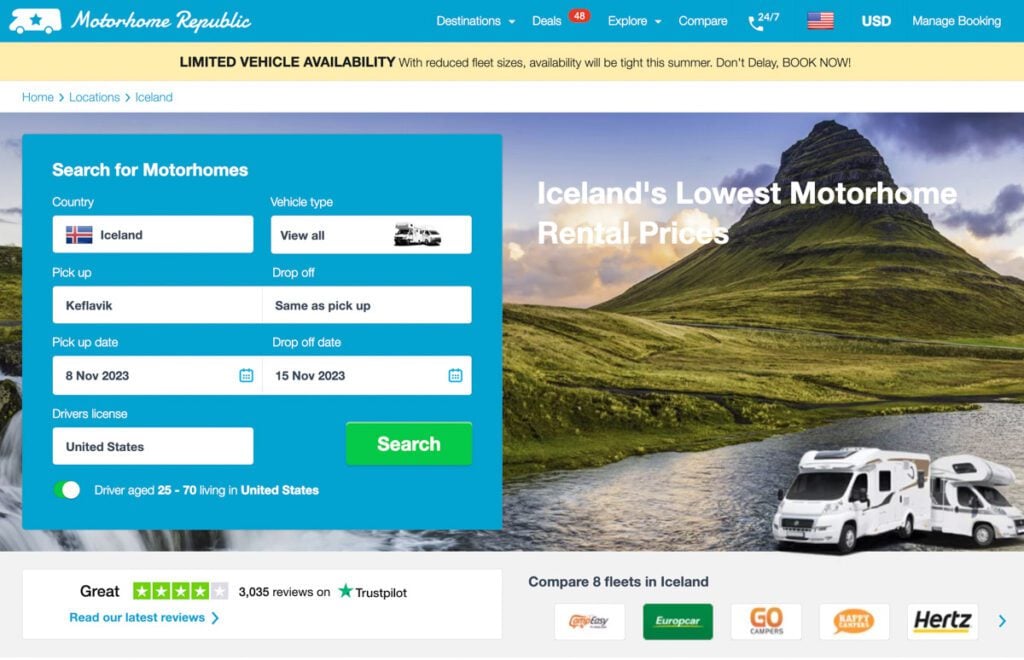 Trying to figure out which company to rent a campervan through can be a daunting task.
We've done it 4 times now, so we know how overwhelming it can be the first time.
Our go-to place to find the best campervan rentals in a particular destination is Motorhome Republic. This is an aggregate (kind of like what Booking.com is for hotels or what Discover Cars is for car rentals) that rounds up all the options in one place so you can easily compare them.
We really like using their filters because you can input the number of travelers, and other important features like "automatic transmission" and amenities like a toilet or shower.
Additionally, you can choose to display options within a price range or filter by the highest reviews, making it a really handy and user-friendly tool.
Take our recommendation: If you simply trust us that Happy Campers is the best (which it is!), go to the Happy Campers website, scroll down to the type of camper you fancy, and tap BOOK NOW. Select your dates, and fill in your info and you'll be all set!
Best campervan rental companies in Iceland
Okay, you've got Motorhome Republic pulled up for your dates and you can see all your options… But how do you even begin to choose between the companies?
Being that we've personally rented campervans all around the world (and have built 3 of our own!), we feel like we have a really good handle on what to look for.
The companies below have been hand-picked by us, and we think each can be a good choice depending on what it is you're looking for.


We've scoured reviews, compared specs, and analyzed prices to bring you a comprehensive list of the best campervan rentals in Iceland so the decision is a little simpler for you.
We're sharing what company we chose to rent with, but we'll also highlight some other companies in case you think a different one would be a better fit for your personal needs or budget.
For each company, we're sharing pros, cons, and price points (budget or mid-range) to make this big decision a breeze.
Price range: $-$$
Recommended for: all types of travelers
Pick-up/drop-off locations: Keflavik, just 5 minutes from the airport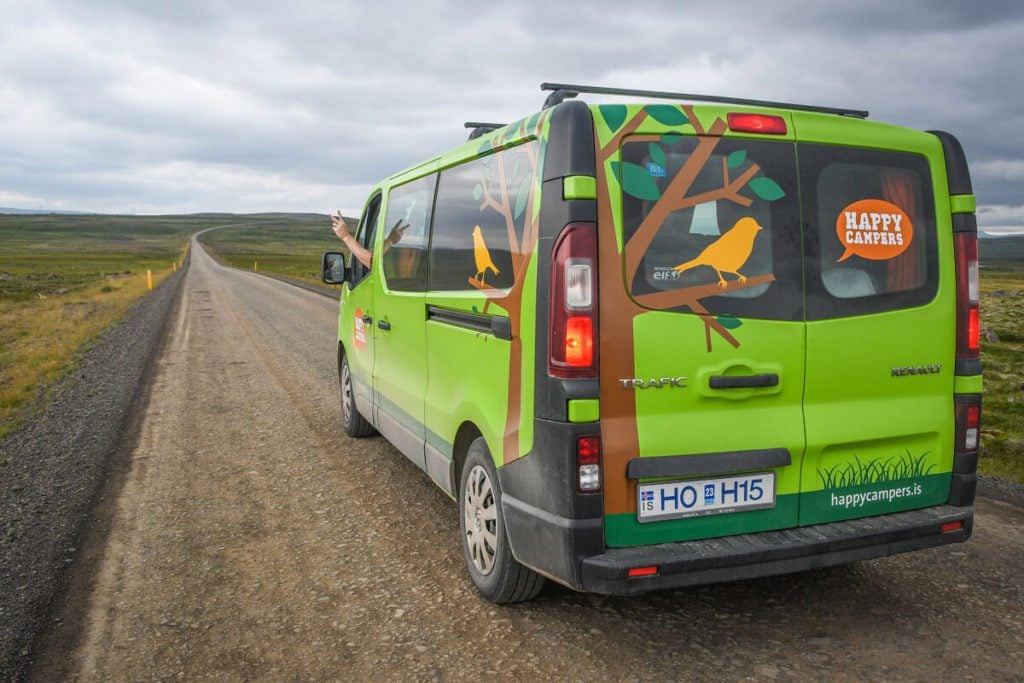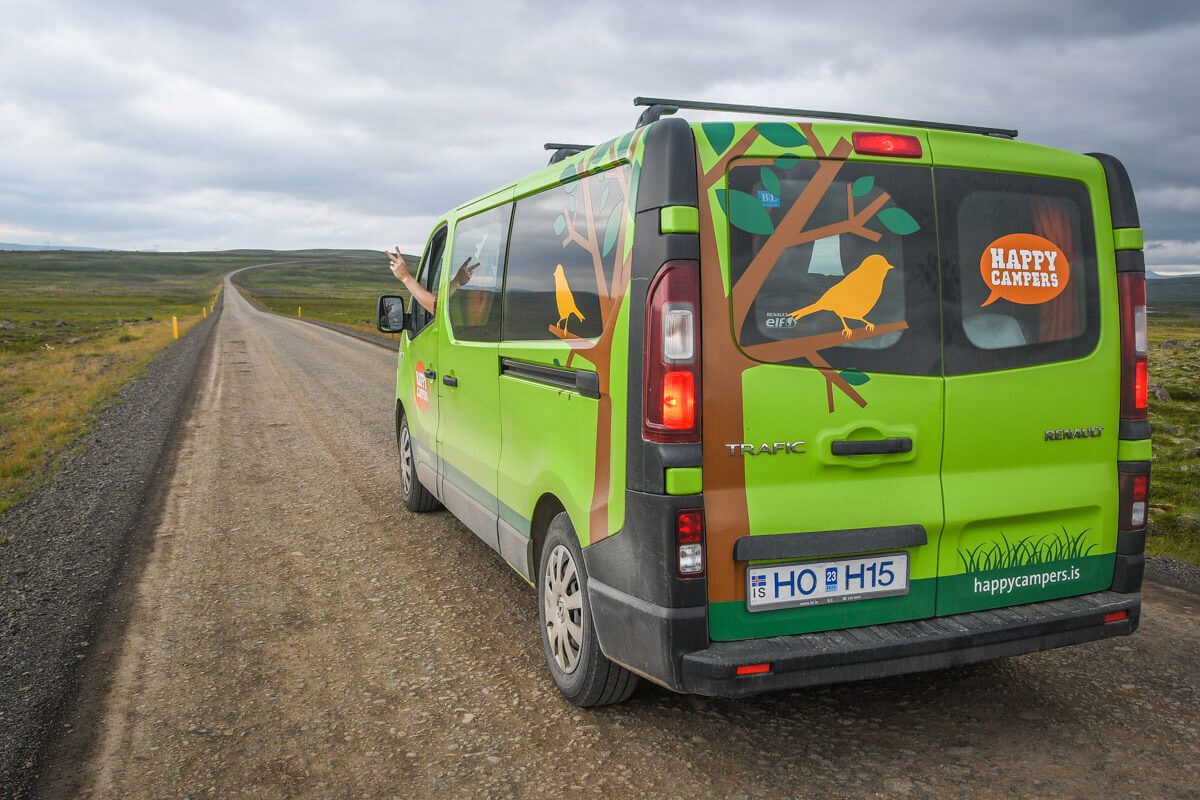 Happy Campers is a family-run campervan rental company that was established in 2009, making it the first of its kind in Iceland. They have more than 1,200 5-star reviews, so we're not the only ones who've had a great experience with them!
In an effort to keep this section short (we'll go into further detail about our experience in the next sections) we're just sharing our favorite pros and some cons we noticed when renting through Happy Campers. But don't forget about the discount code below!
Type of Vehicles: Happy 1 (sleeps 2, drives 2), Happy 2 (sleeps 2, drives 4), Happy 3 (sleeps 5, drives 5, tall roof), Happy 4×4 (sleeps 2, drives 4, 4×4 vehicle)
Here are some of the things we appreciated about Happy Campers:
Benefits:
Family business in Iceland
1,200+ 5-star reviews
Colorful and well-designed van layouts
Longest-running campervan rental company in Iceland
Many different layout options as well as different price points
The Happy App comes on the tablet in your van, and is super helpful!
Unlimited 4G WiFi for up to 5 devices (in most of their rentals)
Unlimited miles
Partner discounts are available for some tour companies around the country
They have everything you need for renting a campervan during the winter season
They plant 1 tree for every booking in their "Happy Forest", which is located near the rental office
Free cancellation
Free airport shuttle
Cons:
Like most campervans in Iceland, Happy Campers 1, 2, and 3 are not insulated well. The Happy 4×4 is insulated. But the Webasto heater kept us warm all night long.
Access to the under-seat storage was a bit clunky but doable.
Happy Campers Discount Code
Now here's the part you've been waiting for…
We've partnered with Happy Campers to offer an exclusive discount to our readers. When booking, be sure to use the code TWS5 to get 5% off your total rental bill (that adds up to quite a bit!).
Price range: $-$$
Recommended for: all types of travelers
Pick-up/drop-off locations: Keflavik, just 5 minutes from the airport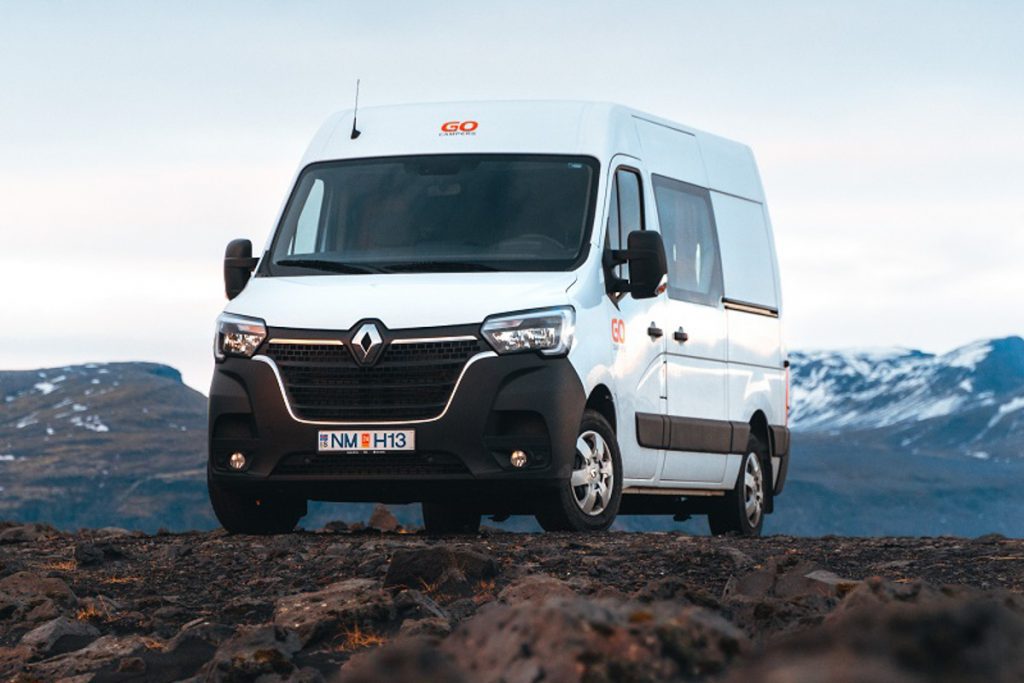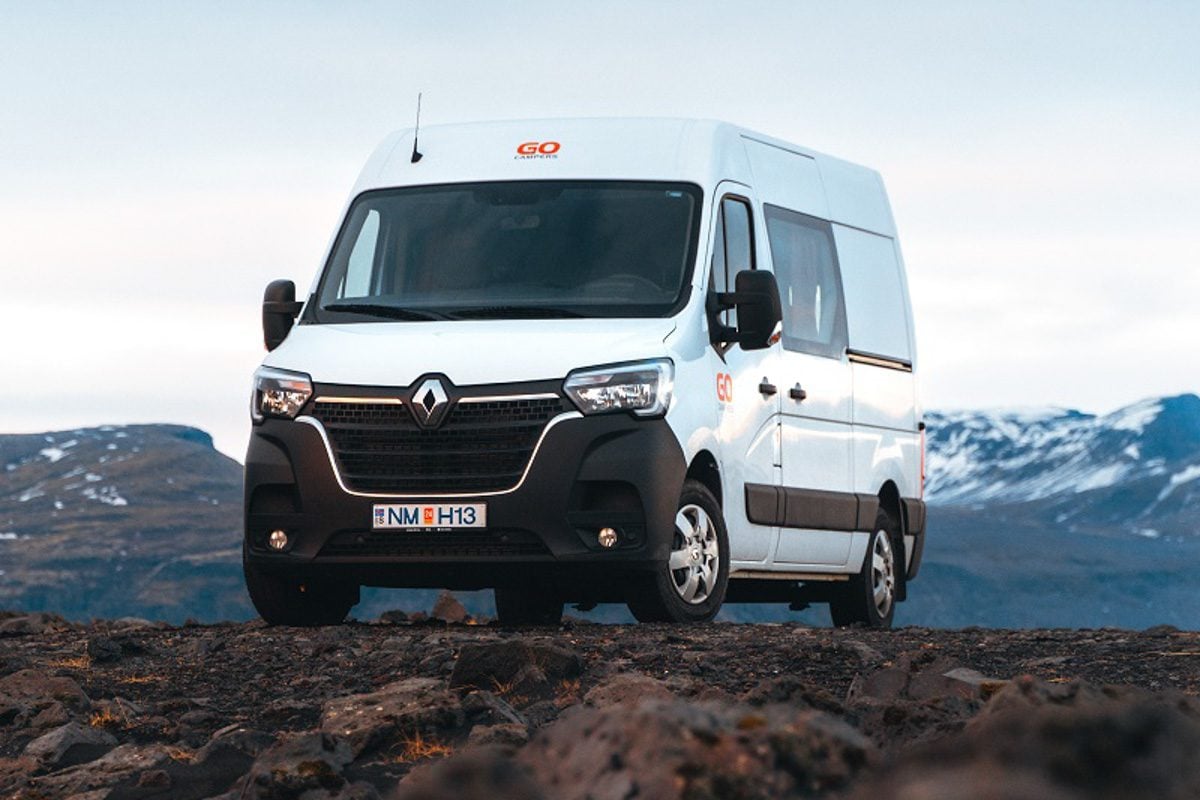 Go Campers is one of the most popular rental companies in Iceland. We love supporting locally owned companies while we travel, so this was one of our top contenders when we were on the hunt for the perfect Iceland campervan rental.
They have one of the widest varieties of rentals from a basic campervan to larger rigs with 4×4 capabilities, so no matter your travel style, you can find a campervan that best suits your specific travel needs.
Who is this rental for: Travelers that don't want to break the bank, but want a variety of options to find the perfect campervan. Go Campers have ten different campervan builds to choose from, so they're a great company to go with for all types of travel styles.
Type of vehicles: Go Smart (2-Pax), Go Iceland Camper (2-Pax), Go LITE Camper (3-Pax), Go Big Camper (5-Pax), Go 4×4 Camper (2-4 Pax)
Benefits:
Highly-rated local company
Rentals come with a fuel discount card at select gas stations
Rentals are compact and easy to drive.
Larger rental options that fit the whole family.
The rental fleets are newly built ranging from 2015 to 2022.
A lot of different rental options depending on where you're traveling in Iceland.
Depending on your travel style, the plain exterior design is excellent for staying under the radar.
Cons:
You can only stand up in the larger model conversions.
The 4×4 models are more compact and offer less space.
No toilets inside.
Some vehicles have a 5-day minimum.
Cost per day: Varies depending on campervan style
Peak season costs: 32,000 – 88,000 ISK/day (~$240-$647 USD/day)
Low season costs: 11,600 – 39,700 ISK/day (~$85-$290 USD/day)
Price range: $-$$
Recommended for: all travelers, especially couples and friends
Pick-up/drop-off locations: Keflavik, just 5 minutes from KEF airport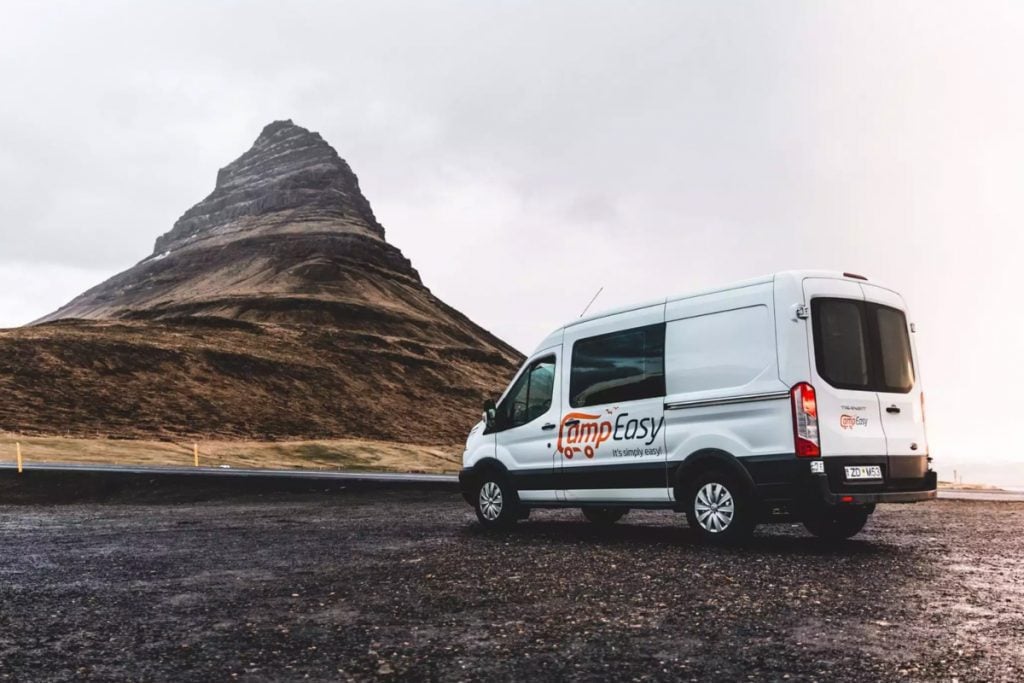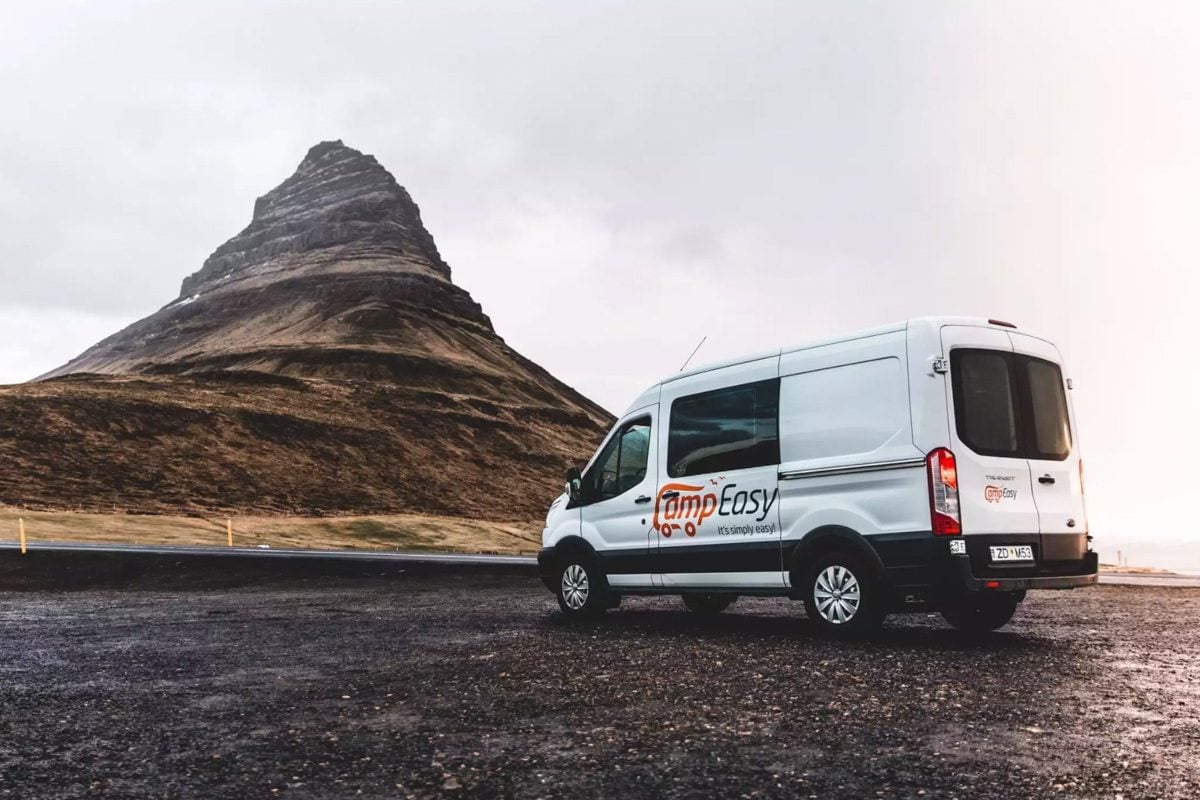 CampEasy is the highest-rated, family-run campervan rental company in Iceland. Their builds focus on comfortable beds and roomy living areas so that you can make the most of your home on wheels while exploring Iceland.
They prioritize feature-rich Volkswagen base models to build the perfect custom campervans to add to their existing fleets.
If you're looking for a new and shiny campervan to take for your road trip, their new fleet has an impressive selection of vans that are 2020 and newer. If you don't mind an older build, they rent their older fleet for cheaper, making it a great budget-friendly option.
Who is this rental for: From backpackers to boujie travelers that are looking for a reliable Iceland campervan without compromising comfort and amenities.
The new fleets are appealing for those that want all the frills and have extra money to spend while the older fleets are a great budget-friendly option.
Type of vehicles: New Fleet: Easy (Small, Fun, Auto, Big), Easy 4×4 (Ranger, Clever, Viking) / Older Fleet: Easy X (Small, Fun, Auto Big), Easy 4×4 X (Clever, Viking)
Benefits:
One of the highest-rated Iceland campervan rentals.
Large-capacity fuel tanks and amazing gas mileage.
Larger rentals are available that will fit the whole family.
They rent out their older campervan fleet for cheaper.
Discounts are available for early bookings, low-season bookings, and bookings over five days.
Depending on your travel style, the basic exterior design is excellent for staying under the radar.
Cons:
You cannot stand straight up in smaller models.
Limited storage space.
Cost per day: Varies depending on campervan style
Peak season costs: 53,000 – 91,000 ISK/day (~$389-$665 USD/day)
Low season costs: 14,000 – 35,500 ISK/day (~$105-$259 USD/day)
Important Note: These prices are before any discounts are applied, so make sure you put in your trip dates to see all of these prices discounted. The discounts on their 4×4's (both fleets) are especially worth looking into to compare prices.
Campervan Reykjavik
Price range: $$-$$$
Recommended for: larger-budget travelers
Pick-up/drop-off locations: Keflavik, 5 minutes from KEF airport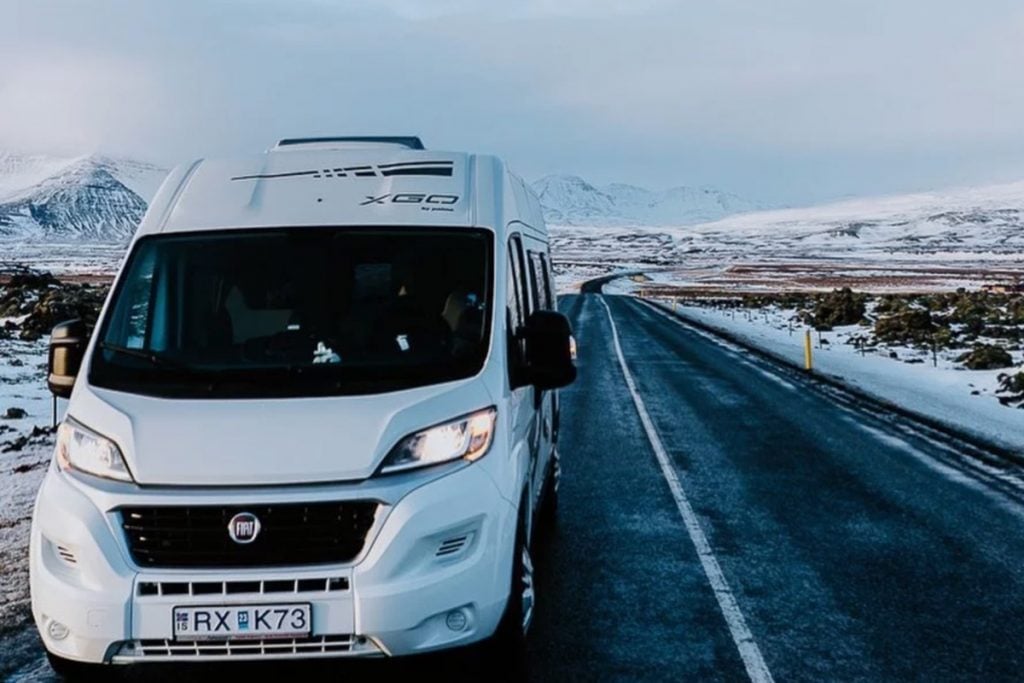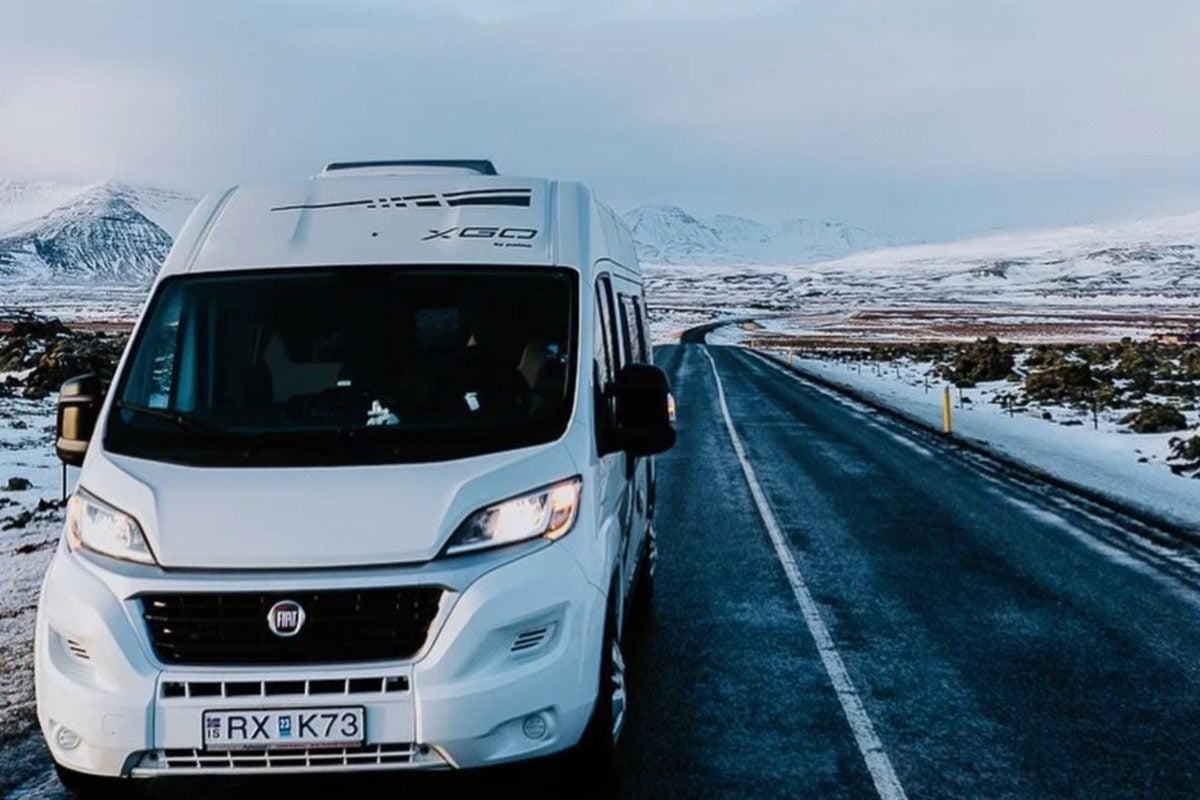 Campervan Reykjavik is registered with the Icelandic Tourism Board and has been providing quality, top-notch Iceland campervan rentals since 2008. Almost all their builds are new and updated, so they can take on rough roads and Iceland's ever-changing weather with ease.
They value creating long-lasting relationships with their customers by sharing their extensive local knowledge and experience so that you can have the most memorable campervanning trip.
Who is this rental for: From travelers with a larger budget that don't want to drive big rentals to couples that prefer a full-service motorhome for road trips.
Type of vehicles: Nissan NV-200/Kangoo, Fiat Doblo Maxi, VW Caddybeach Mini Camper, Duster/Jimney 4×4 Roof Tent, Forester/Renegade 4×4, Renault Trafic, Renault Master, Marco Polo 4×4 / VW Ocean, Fiat Ducato XGO X-Van, FIAT Citroen Plasy HP63, Knaus Weinsberg Pro, FIAT XGO Dynamic 35/39.
Benefits:
Full pricing transparency
Many different styles and layouts to choose from, including motorhomes.
Newer models from 2016 to 2022.
Low-profile builds and rooftop tent options for stealth camping
Free insurance (CDW, SCDW, GP, and TP)
Cons:
Fewer automatic options.
On the expensive side since all insurance is automatically added to the cost (and you're unable to take it off).
Rentals don't come with kitchen utensils, table and chairs, or sleeping bags.
Larger rentals can be difficult to drive.
Cost per day: Varies depending on campervan style *prices include insurance
Peak season costs: 19.000 – 66.000 ISK/day (~$135-$460 USD/day)
Low season costs: 11.000 – 47.000 ISK/day (~$80-$330 USD/day)
Motorhome Iceland
Price range: $-$$
Recommended for: Couples and large families
Pick-up/drop-off locations: Keflavik, 5 minutes from KEF airport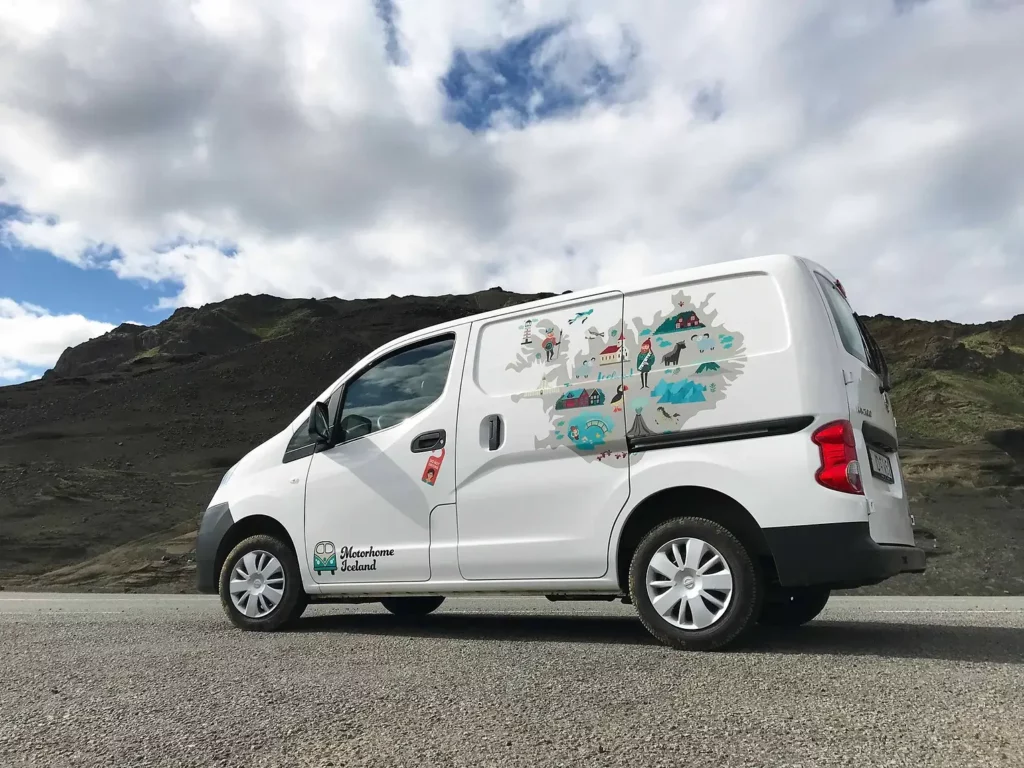 Motorhome Iceland is one of the most trusted motorhome rental companies for bringing all the modern amenities of a home on the road.
They're a part of Scandinavian Travel Services EHF, which is recognized by the Icelandic Tourist Board, which means they offer stellar customer service along with updated campervans with all the bells and whistles.
Who is this rental for: Couples and large families that want to travel Iceland thoroughly, at their own pace. Motorhomes are an attractive option for older couples looking for the most comfortable place to stay after adventuring all day.
Type of campers: Camper for 2, Camper for 3, Camper for 5, Camper 4×4 for 3, Camper 4×4 Navara, Camper 4×4 for 5.
Type of motorhomes: Motorhome for 2+, Motorhome for 3, Motorhome for 4+ PLUS, Motorhome for 6, Motorhome for 6+.
Benefits:
All the comforts of home, but on wheels.
Showers and toilets inside the motorhomes.
Loads of storage space and potable water inside the builds.
New builds reduce the risk of car troubles.
Cons:
Driving a larger vehicle can be difficult.
Poor gas mileage for motorhomes.
High cost per day.
Cost per day: Varies depending on campervan style
Peak season costs: 44.000 – 102.000 ISK/day (~$310-$715 USD/day)
Low season costs: 20.000 – 44.000 ISK/day (~$140-$310 USD/day)
*Note: You cannot book motorhomes during winter time.
Kuku Campers
Price range: $-$$
Recommended for: backpackers and budget-conscious travelers
Pick-up/drop-off locations: Keflavik, 5 minutes from KEF airport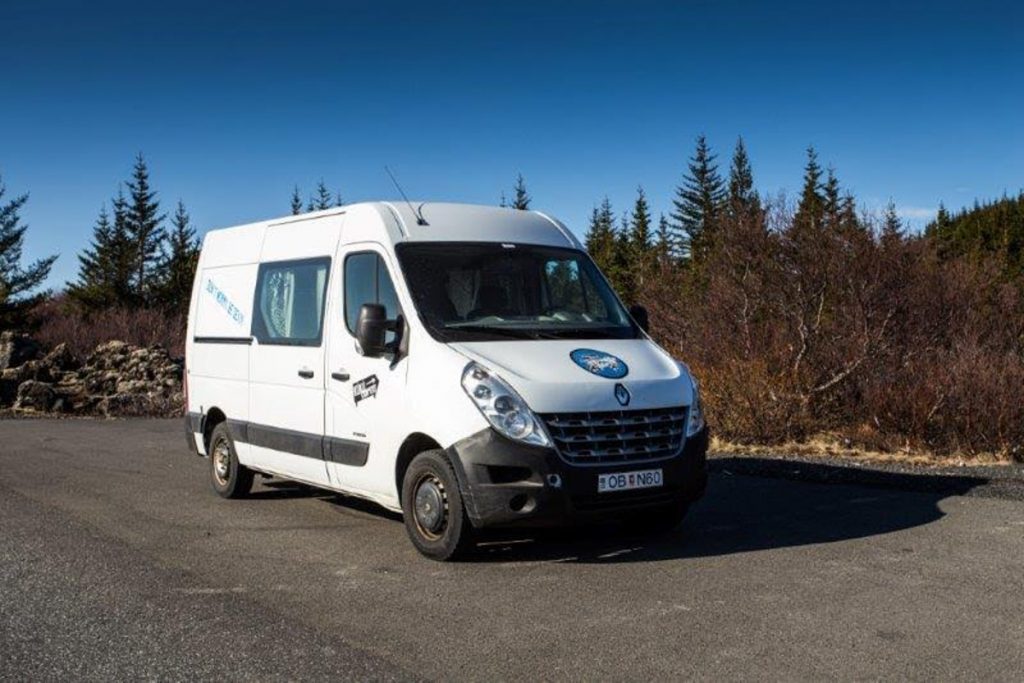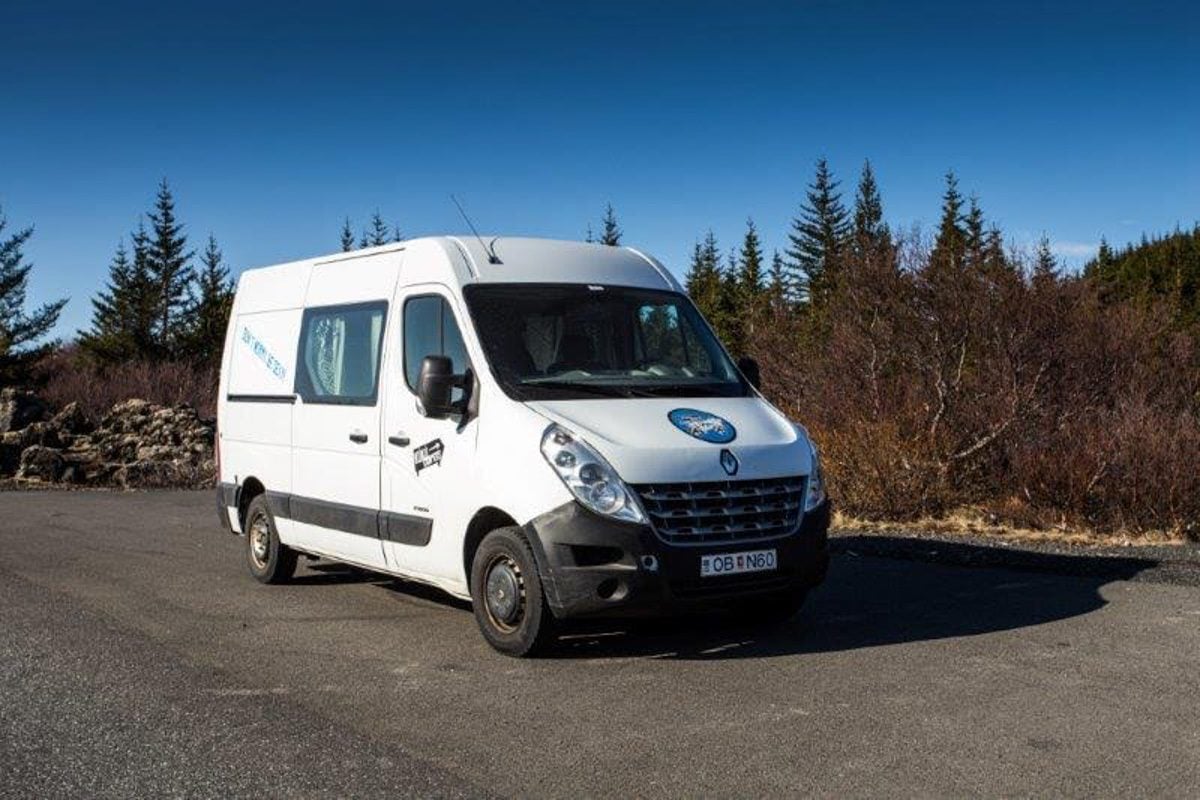 Kuku Campers is the largest campervan rental company in Iceland and has offered a variety of rentals for the ultimate road trip since 2012.
They value "doing vacation differently" by getting off the beaten path and away from all the tourists. With their variety of unique Iceland campervan rentals, you'll get to have the trip of your dreams without breaking the bank on a rental.
Also, if you're a Game of Thrones fan, some of the employees know a few hidden filming locations around the island…
Who is this rental for: Backpackers and international travelers looking for the best, budget-friendly way to get around. Great for close friends since the smaller models can sleep three across.
Type of vehicles: Campervan (A, AA, AB, B, BA, C, CA, E, EA), Camper (D, F, G, H, I J)
Benefits:
Their rental fleets offer campervans with fun exteriors or stealth exteriors depending on your style and personality.
The fleet is unique for a wide variety of trips through Iceland.
Free extra driver and basic insurance.
One of the cheapest options available.
Cons:
The cancellation fee is €100 (the rest of the cost is refunded, but this gives less cushion for booking far in advance).
Cost per day: Varies depending on campervan style
Peak season costs: €145 – €349/day
Low season costs: €77 – €102/day
If you're not interested in using our Happy Camper discount above or they just don't work out for your travel dates and you don't fancy any of the other options we've shared, you can search for the perfect camper on NorthBound.is. and check their availability for your travel dates.
It's a booking website like KAYAK, but more localized and specifically for campervans and cars in Iceland. They have a filter for 4×4 vehicles and another for motorhomes if you are looking for something like that.
Why rent a campervan in Iceland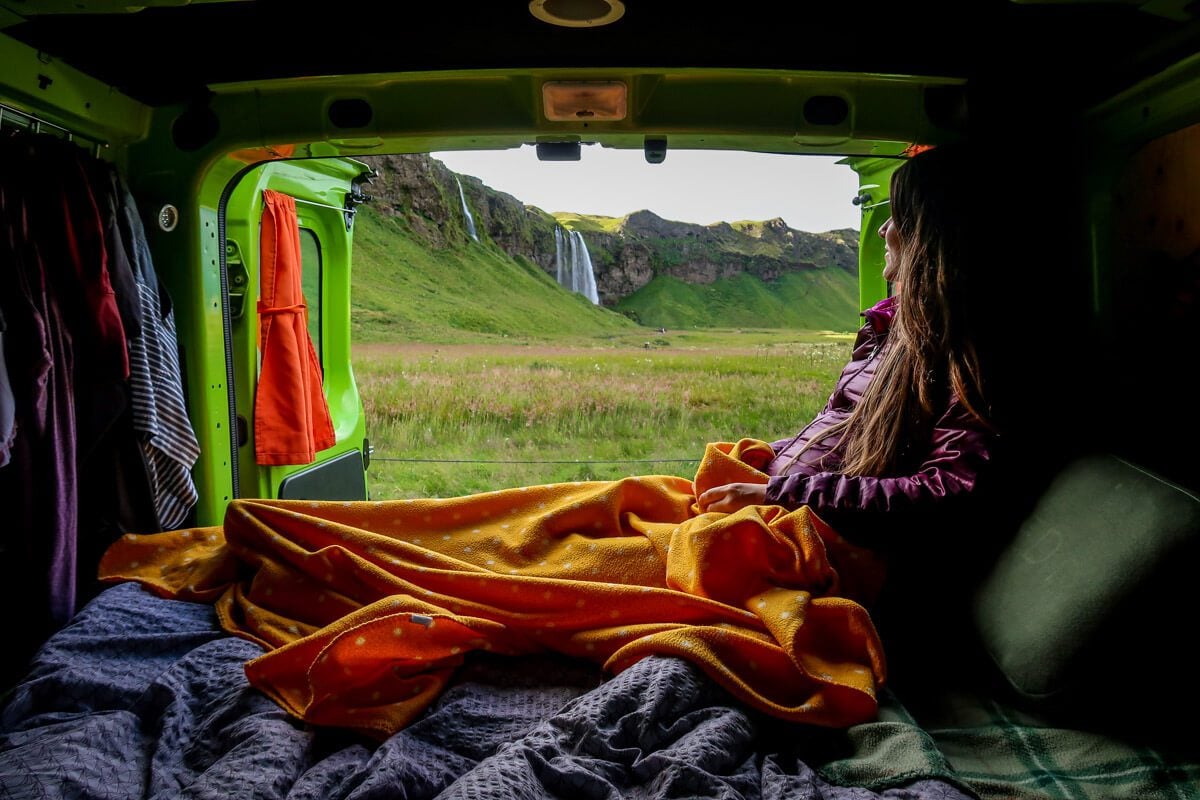 It's no secret that we're obsessed with campervans. We've built two of our own and rented them around the world. In total, we've spent more than a year living in different campervans, so we'd like to think we know a thing or two about the subject.
We even wrote an entire article about why we love vanlife.
If you've never traveled in a campervan before, you may be wondering what makes it a good choice for your Iceland trip.
Well, here are a few reasons we personally think traveling Iceland with a campervan is an amazing way to experience this country:
It's an adventure of a lifetime. You can wake up to incredible views and venture off the beaten path. It's honestly a trip you will never forget.

Wanna fuel your wanderlust? Check out these road trip quotes and get ready for one epic adventure!

Iceland is very well set up for campervans. There are campgrounds and facilities all around the country to make it easy to travel in a van, even if you're a newbie to this travel style.
It's a more comfortable camping experience. Unlike with a tent, a campervan will allow you to sleep on an actual mattress rather than on the ground. Plus, a campervan will protect you from the elements like rain and wind, and you don't have to set anything up or tear it down – you are always camping-ready.
It can save quite a bit of money. With a kitchen on wheels, you can cook as many meals as you'd like. Plus, you can skip costly hotels.
Why not rent a campervan in Iceland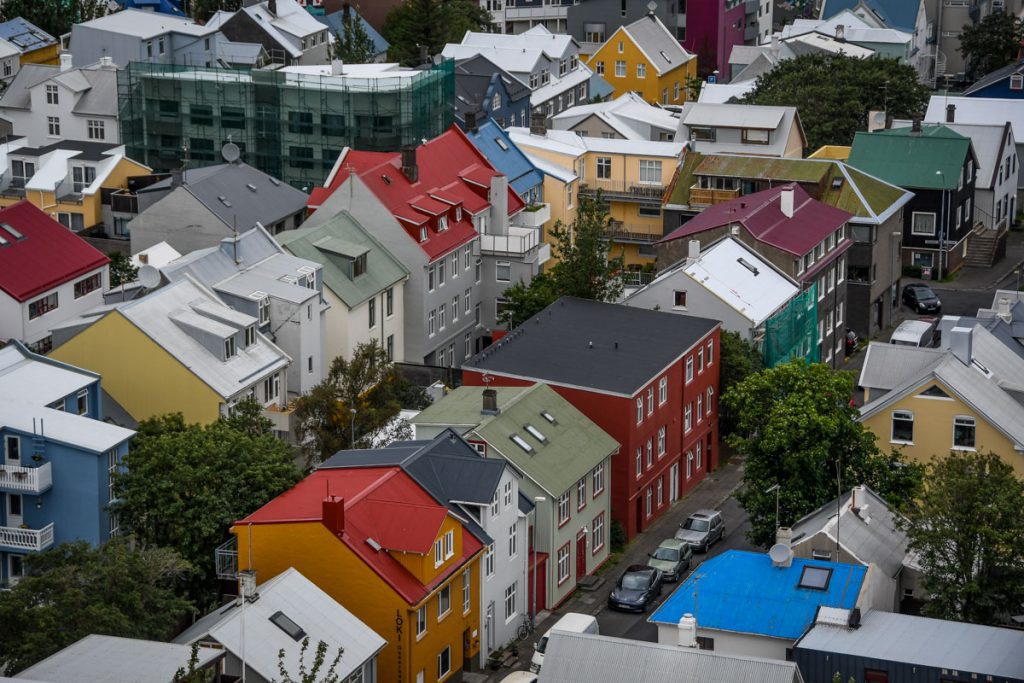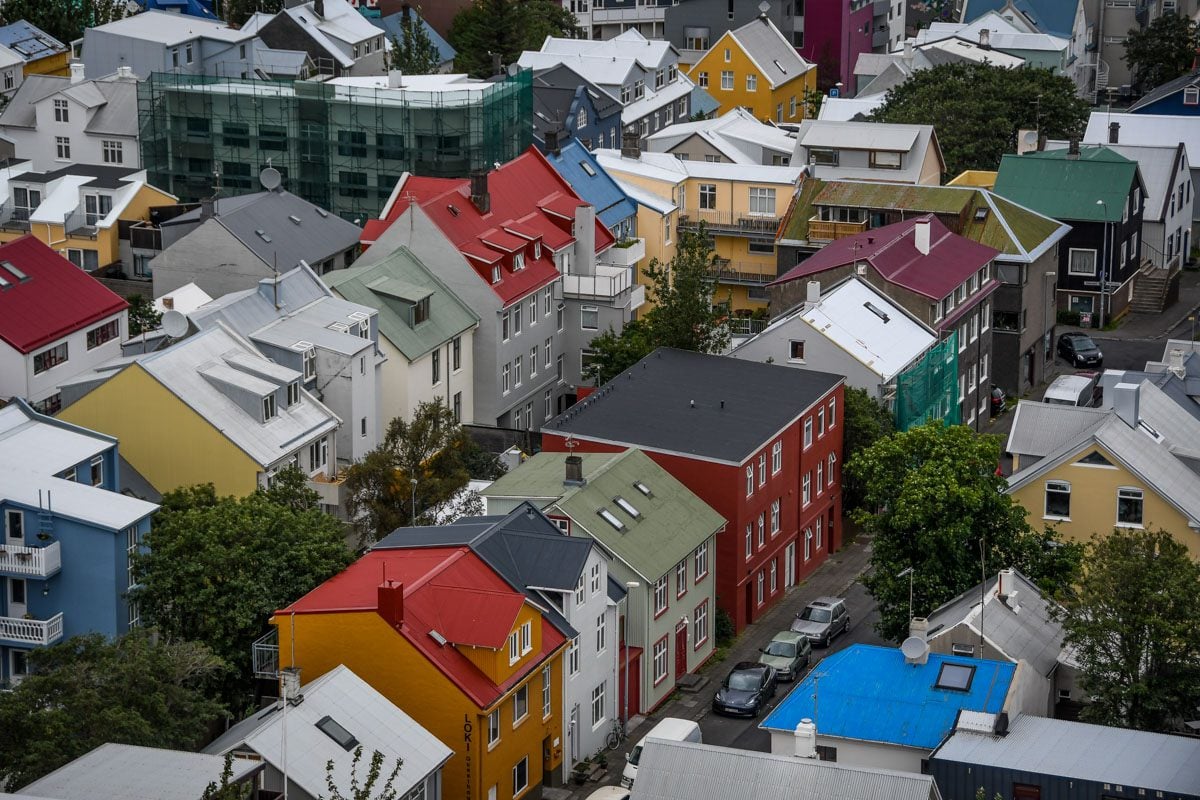 While we are biased and think campervans are pretty damn great, we know this type of travel is not for everyone. We're going to be totally honest with you…there are definitely some not-so-wonderful parts about campervan travel. We even wrote all about our least favorite parts of vanlife here!
Before committing to renting a campervan, see if any of these statements sound like you.
Renting a campervan in Iceland may not be for you if…
you're not on board with the idea of using a public shower or toilet. While most campground showers that we used were very private and decently clean, they did vary in quality. Plus, it's not like a hotel where you have your own shower inside your room. You still need to make a trip to the shower, and in some cases may need to wait until others are done using it. Same goes for toilets.
you don't feel comfortable driving a large vehicle. While we felt like our campervan drove almost identical to a minivan, we know that people have all different levels of comfort when it comes to driving (especially in a different country). You know yourself and whether this is something you can get used to or not.
you have a hard time sleeping in new places. While campervan travel is definitely going to be a big step up in comfort from camping in a tent, you'll still be making some sacrifices. You won't have nearly as much privacy as in a hotel. You'll have to walk to use the bathroom or shower. You'll be able to hear the wind and rain much more than you would inside a building. And your bed likely won't be as comfortable as a mattress in a proper guesthouse. If these things are going to make it difficult for you to enjoy your trip, you may want to reconsider renting a campervan.
If after reading those statements, you think you might be better off renting a car and staying in hotels or Airbnbs along the way, no worries – you'll still have an incredible trip.
Psst! Be sure to check out our round up of the best Airbnbs in Iceland!
However, if that didn't scare you off, we are pretty confident you will have an absolute blast with a campervan in Iceland.
But one last thing before you commit (we want to make sure you've fully thought it through!)…
Campervan vs. tent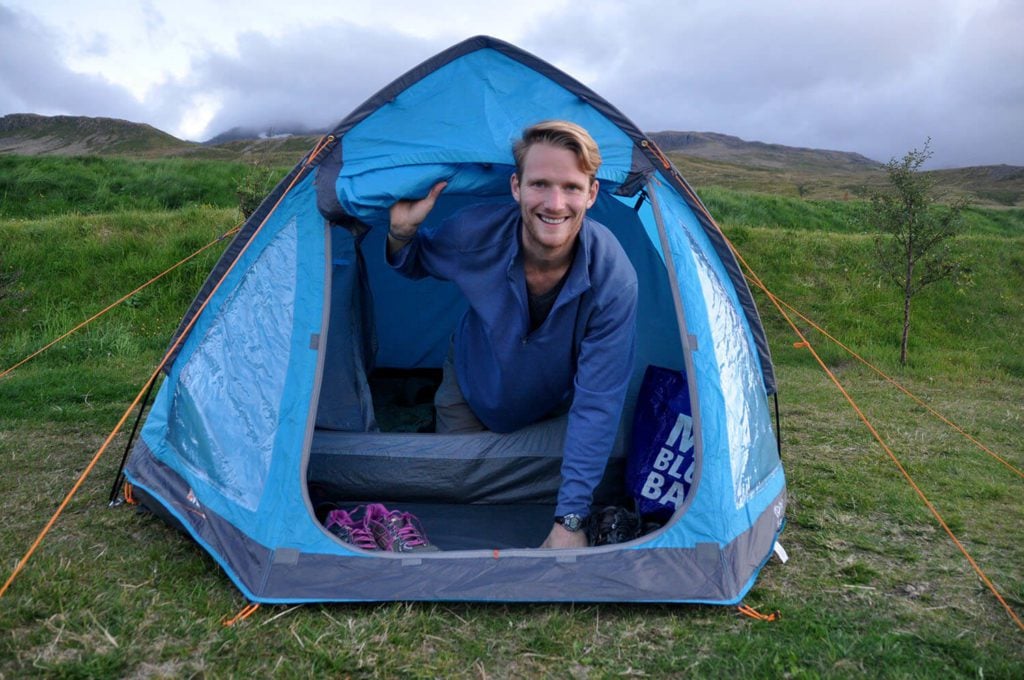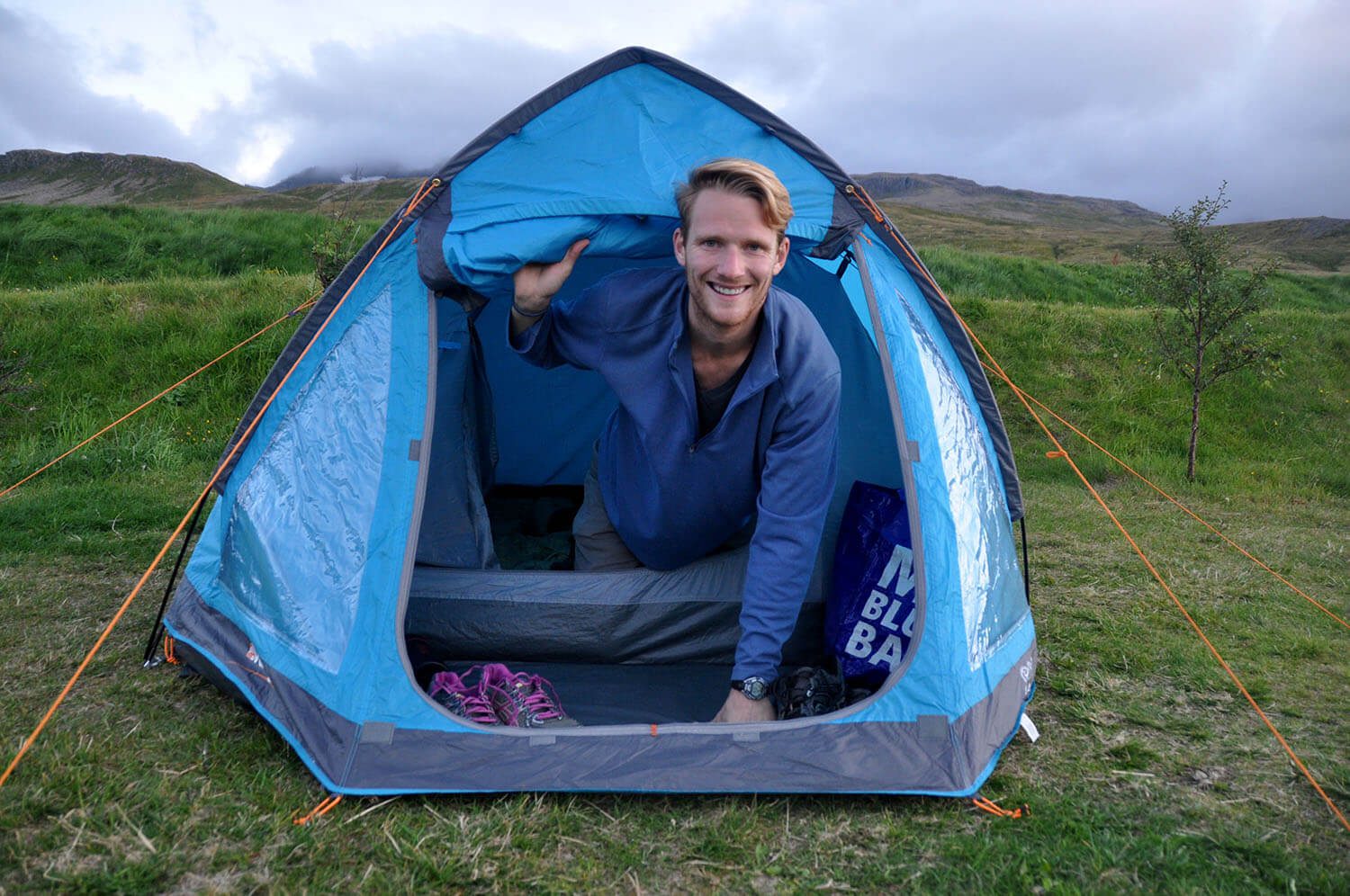 Are you curious how a campervan compares to sleeping in a tent?
Well, we've experienced both tent camping and renting a campervan in Iceland:
During our first trip to Iceland in 2016, we camped in a tent.
On our more recent 2021 trip, we rented a campervan.
Both trips were incredible, so we are proof that either option can be a good one, depending on your needs and priorities.
Out of the two options, we personally enjoyed the campervan more. Iceland is known for harsh weather, a campervan will protect you from the elements like strong winds and heavy rain. Let's just say, tent camping in these conditions will be quite an… adventure.
That said, tent camping is undoubtedly cheaper, so the best option for you comes down to your budget and personal preference.
Still need help deciding? We've gone over all the pros and cons of tent camping vs. campervans in Iceland here.
Iceland Campervan Rental Guide


By this point, you should be pretty confident that traveling Iceland in a campervan is a good choice for you.
But now what…?
I bet you've got a bunch of questions scrambled up in that head of yours: Which rental company is the best? How much does a campervan rental cost? When do you need to make your reservations?
Let's just say we've been there, and we're here to help!
Things to consider when choosing a campervan rental in Iceland
First, let's go over all the things to think about as you start looking for a campervan rental in Iceland.
1. What is your budget?
Obviously, your budget is going to play a large role in the type of campervan you choose to rent. There are quite a wide range of rental options – from pretty budget-friendly (and somewhat bare bones) to damn near luxurious with a price tag to match.
Getting an idea of how much you plan to spend per day on a campervan rental will help you determine which company and model is the best choice for you.
Keep in mind that your campervan rental is both your transportation and your accommodation. Instead of paying for a hotel and a rental car, you have just one cost.
That said, you'll also need to factor in two more things:
Campgrounds: on average 1500 ISK / $12 per person per night
Gas: 250 ISK per liter / $7.30 per gallon
Read Next: Use our guide to figure out your total Iceland trip budget.
Ways you can save money on a campervan rental:
Opt for a low-top van
Choose manual transmission over automatic
Skip the 4×4
Travel outside of peak season
See if the campervan rental company has older vehicles that they rent for a discounted price (with Happy Campers, these models are called "EXperienced")
Bonus budget tip: Use our exclusive discount code! That's right, if you choose to go with Happy Campers (the company we rented from), use our code TWS5 to get 5% off your total rental bill (that can add up to quite a bit!).
2. Do you want a high-top or a low-top campervan?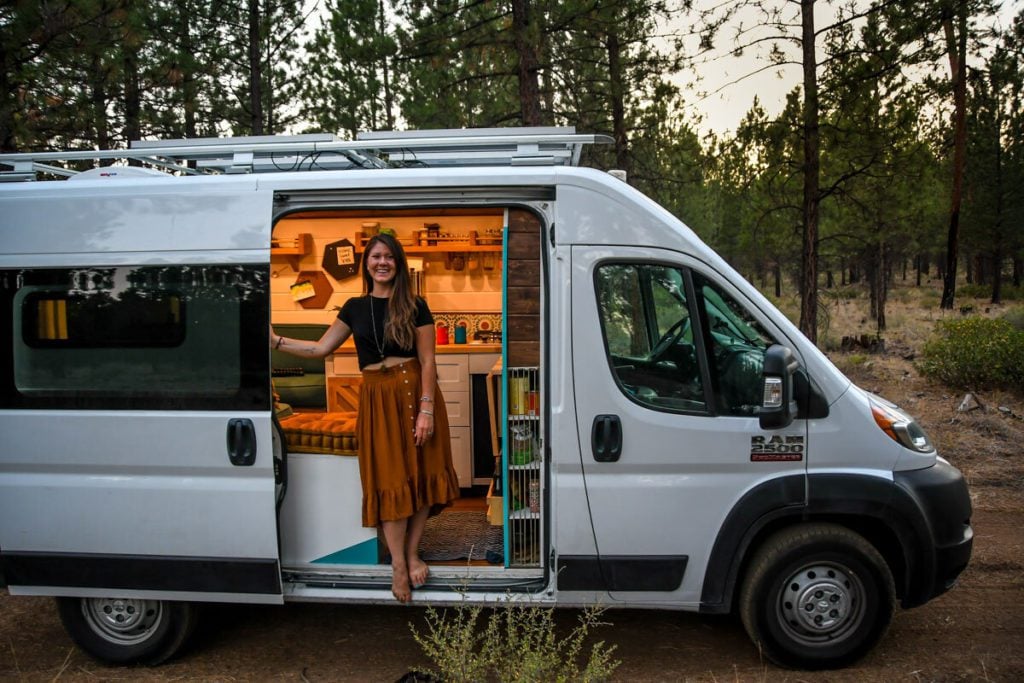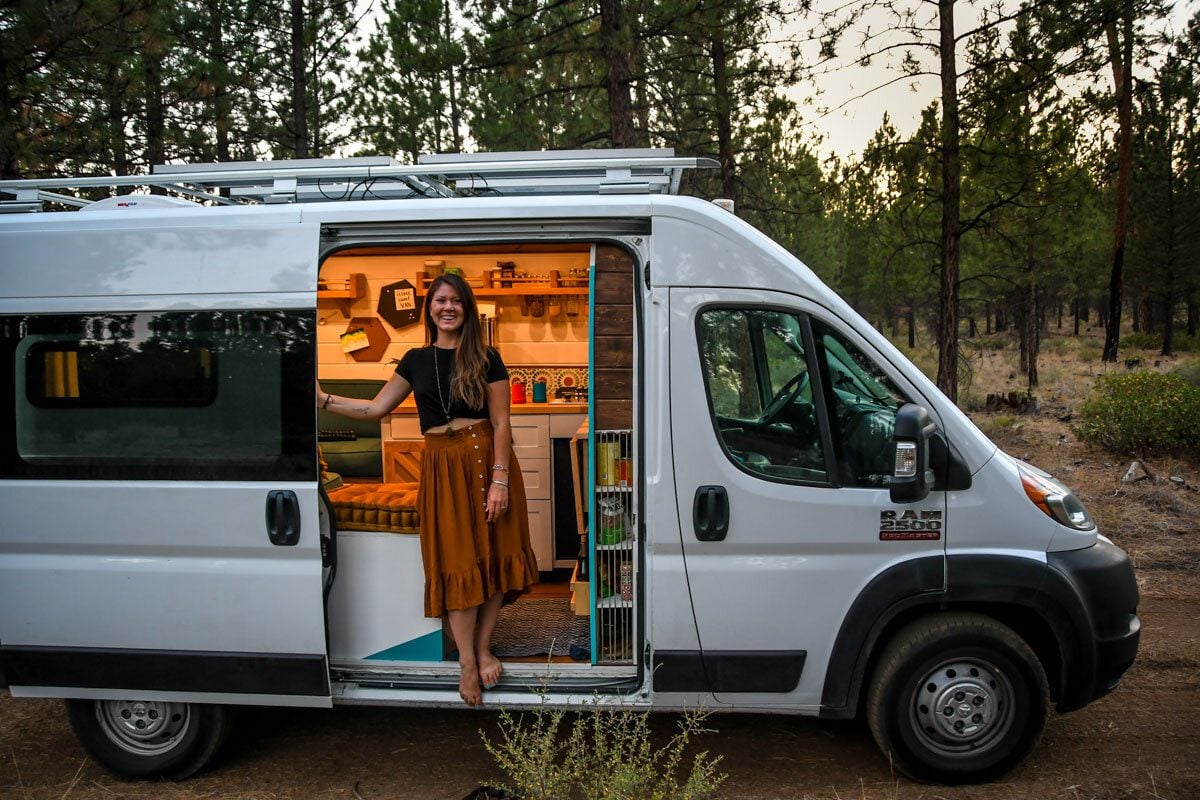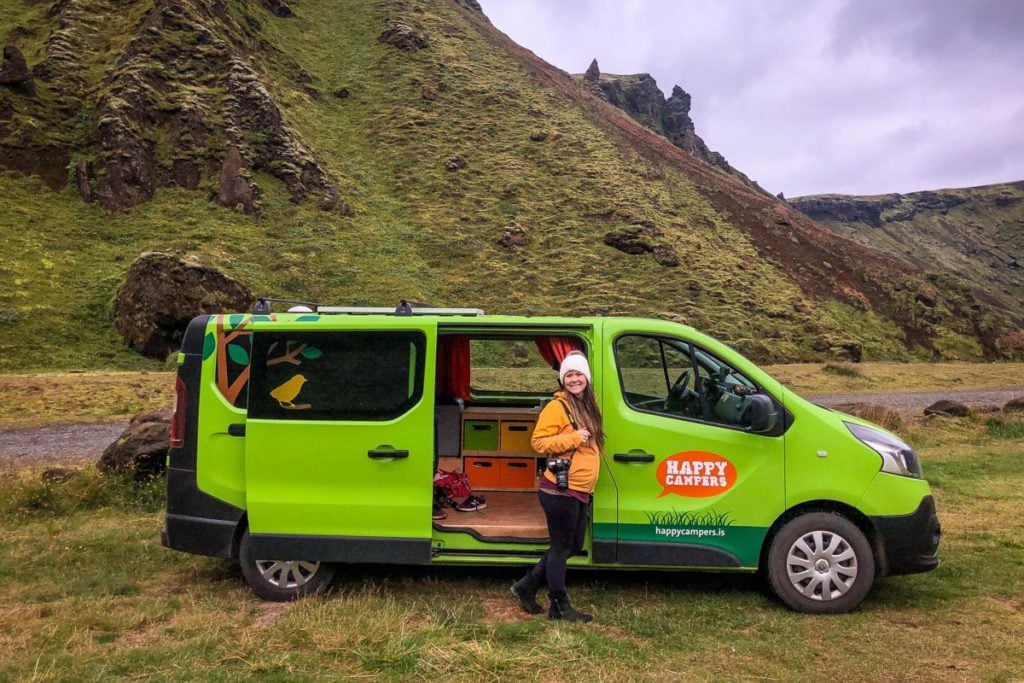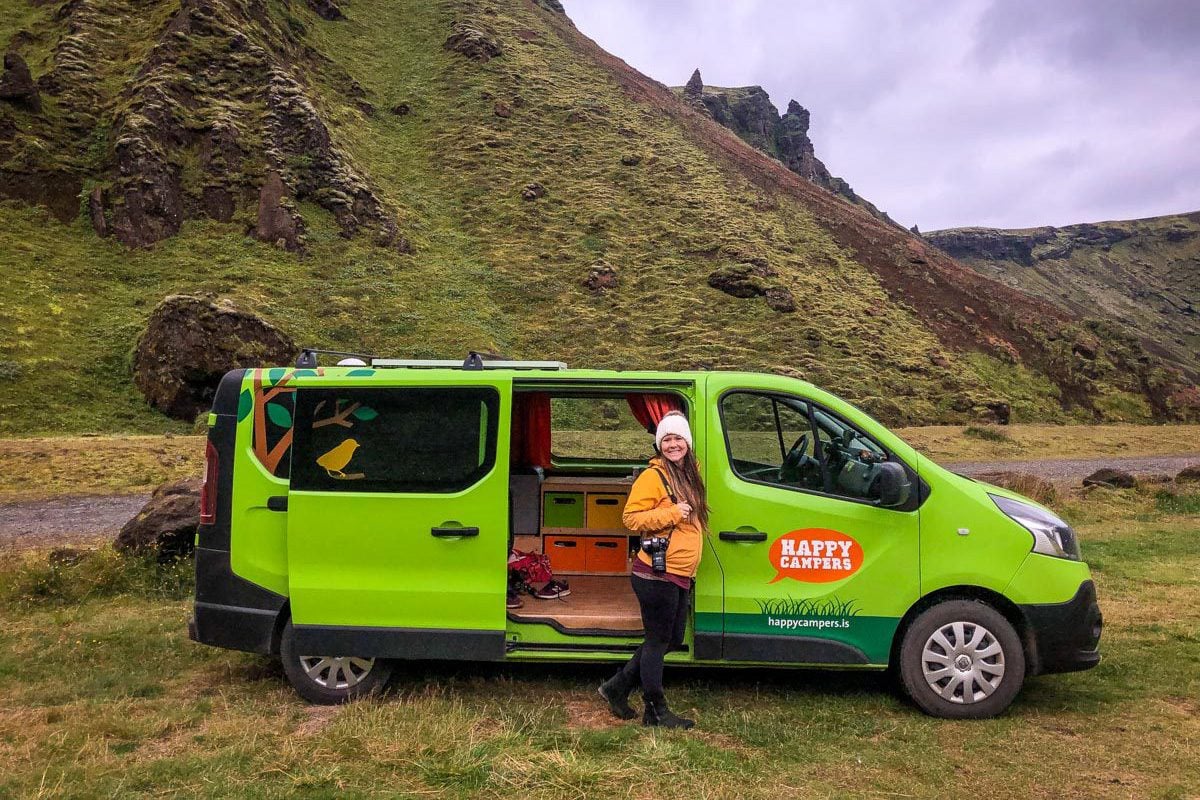 Many of the budget campervans are not designed to be able to stand up inside.
In a low-top vehicle, certain tasks like making the bed, cooking and getting dressed can be a bit tricky when you can't stand upright. On the flip side, a benefit to a low-top vehicle is they are more streamlined, uses less gas, and are easier to drive if you're not used to big vehicles.
Think about what this means and which vehicle you'd prefer. If standing up is a priority for you, be prepared to shell out a little more money for this luxury. Also, try to make your booking as early as possible, as there are fewer of these types of vehicles on the market.
Personal experience: We've had experience in both campervans that you can stand up inside and those in which you cannot stand. While it is definitely more comfortable to be able to stand, we personally feel like low-top vehicles are easier to get used to than you might think. Our very first DIY campervan conversion was a low-top.
Our campervan rental in Iceland had a low roof (aka we could not stand up inside), and we made it work just fine for our 2-week trip. That said, if you have a larger budget to work with, a high-top roof might be a worthy splurge.
3. How many people will you be traveling with?
The number of people you'll be sharing the vehicle with can make a big difference in determining the vehicle you choose.
If you're traveling solo, you'll be just fine with even the smallest campervan.
If there are two of you, you will have the biggest selection of vehicles to choose from, as this is the most common layout.
If you're traveling with 3-5 people, you will have a limited option of layouts you can choose from, but there are options! For example, the Happy 3 model sleeps 5 people.
Another important thing to consider is this: How close are you to the person/people you are traveling with?
If it is a new friend or acquaintance, you may want a bit more room, as living in a campervan is… umm, how shall we put this… very close quarters. If it is a close friend or partner, you may do just fine with less space.
Psst! Make sure you ask these questions to your campervan travel partner before you book your van rental.
4. What size vehicle are you comfortable driving?
If you have a big budget to work with and you are hoping for a pretty high level of comfort, you might be drawn to the bigger motorhomes. They do look pretty damn luxurious! But before pulling the trigger, consider what it will be like to drive a large vehicle like that.
There are many gravel roads throughout Iceland, and while we felt very comfortable driving our van, there were a handful of times we were incredibly happy we weren't driving one of those gigantic motorhomes.
If you have experience with large vehicles, you might be just fine operating one of the bigger models. But if you're a more cautious driver and the thought of handling a big rig makes you nervous, then maybe a smaller vehicle will make an easier transition.
Budget Note: Remember that larger vehicles are going to require a significantly higher gas budget.
5. Do you prefer Manual vs. Automatic Transmission?
A very important factor that can be easily overlooked if you're not paying attention is whether you want to rent a vehicle with an automatic or a manual transmission.
Many vehicles in Iceland are manual, and while this will be disclosed in the vehicle's description, it's not always the first thing you'll see.
Whether you're renting a car or a campervan, be sure you know for sure whether it's automatic or manual.
Budget tip: If you know how to drive stick shift, this can be a way to save a bit of money as manual transmission cars tend to be a bit less expensive. That said, if you're not super comfortable with it, this is not the place to save money.
6. Determine if you need a 4×4 vehicle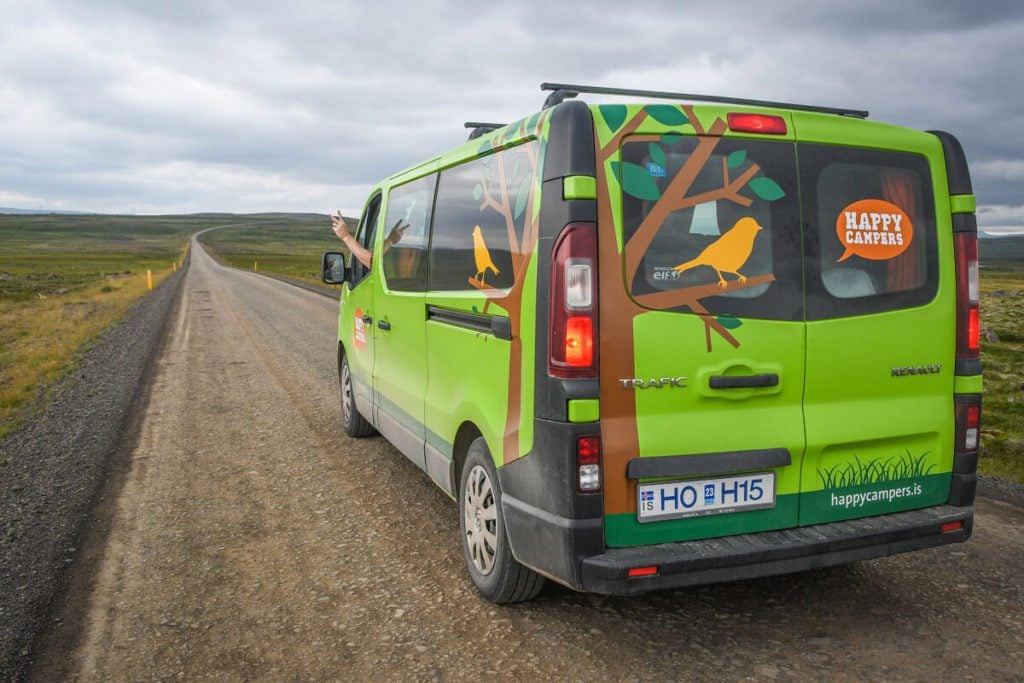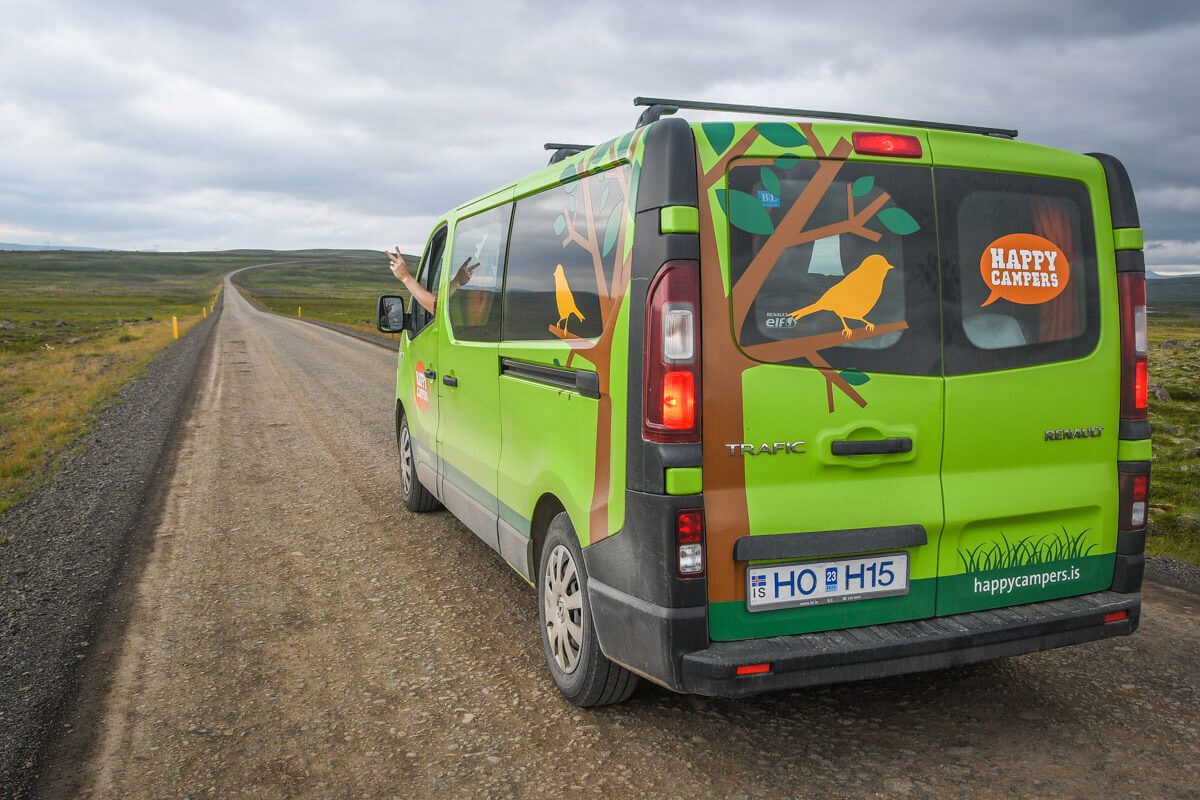 It's important to figure out whether or not you need a 4×4 vehicle, as this will impact your rental options.
So this begs the question: "Do I need a 4×4?"
Probably not.
If you are planning to drive the Golden Circle or explore on the Ring Road, you can see all the major sights with a regular (non 4×4) vehicle.
Here's why you may want to consider a 4×4:
You plan to visit the Highlands. This remote part of Iceland is only accessible via "F roads", which can only be driven with 4×4 vehicles.
Another region where we'd recommend having a 4×4 is the Westfjords. We were told we could still go there in a non-4×4, but the roads are in pretty rough condition, making a 4×4 pretty handy.
You plan to be spontaneous and get off the beaten path often. If you don't want to be limited to which sights you can see, having a 4×4 vehicle might be a good choice. While you can drive on many gravel roads in a normal vehicle, a 4×4 will handle better. In truth, there were a few spots we wanted to visit during our trip but couldn't since we did not have a 4×4.
You plan to visit Iceland in the wintertime. While not crucial if you're sticking to the main roads, it could give you a little more peace of mind knowing you have more control in potentially slick conditions.
Final thoughts: All in, 4×4 vehicles aren't too much more expensive, so if you're on the fence, it might be an upgrade you're happy to make. That said, there are far fewer 4×4 vehicles in Iceland, so they tend to book up quickly. If having a 4×4 is important to you, be sure to make reservations as soon as you're able.
Search on NorthBound.is to find the perfect 4×4 truck or campers for your travels in Iceland.
7. Know what's included
Before booking your campervan rental, be sure you're super clear on what is included and what's not.
Here are a few things to do some digging on:
Cancellation policy: Will you get your money back if you need to cancel? How far in advance do you need to make this decision? (The rental company we chose gives customers a 100% refund up to 24 hours before their reservation, which is super generous!)
Insurance: What is included in your rental price? Do you want to add additional coverage? How much does it cost per day?
Mileage: Do you have unlimited miles? Most rental companies should have unlimited miles/kilometers but double-check this as you don't want to get stuck paying a fee for going above the limitations.
Accessories: What accessories are included? What's not included that you will have to pay extra for? Does it make sense to rent or buy this item?
Airport shuttle: Will your campervan rental company pick you up from the airport? Will they drop you off there after returning your van? Do they have a shuttle to Reykjavík? Transportation to and from the airport can be quite expensive, so a shuttle service is definitely a perk that can save you a bit of money.
The Best Campervan Rental in Iceland: Happy Campers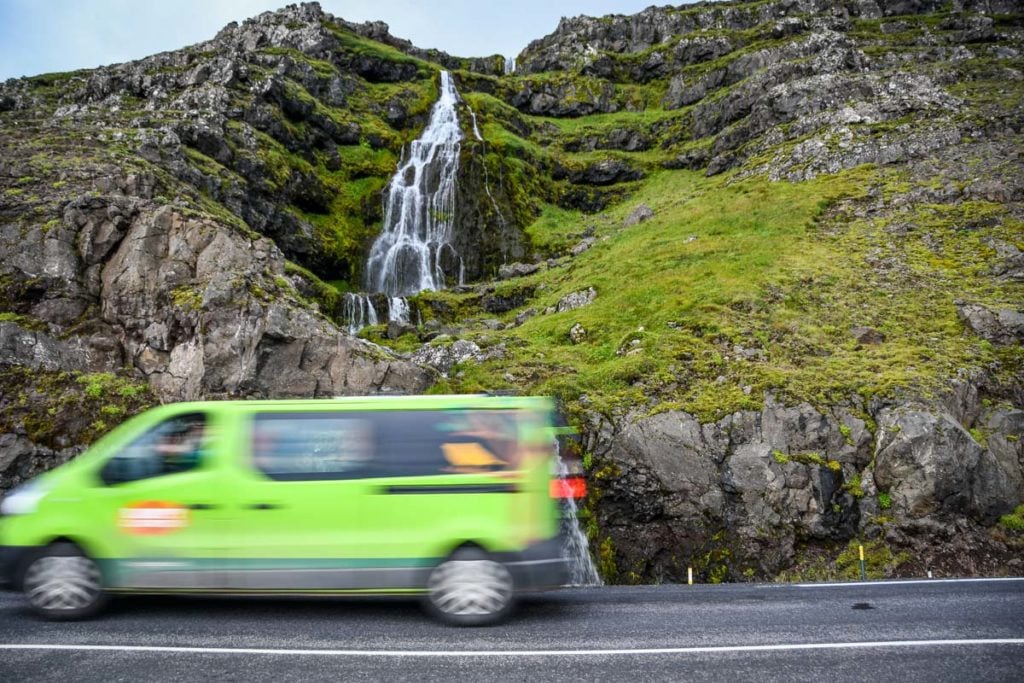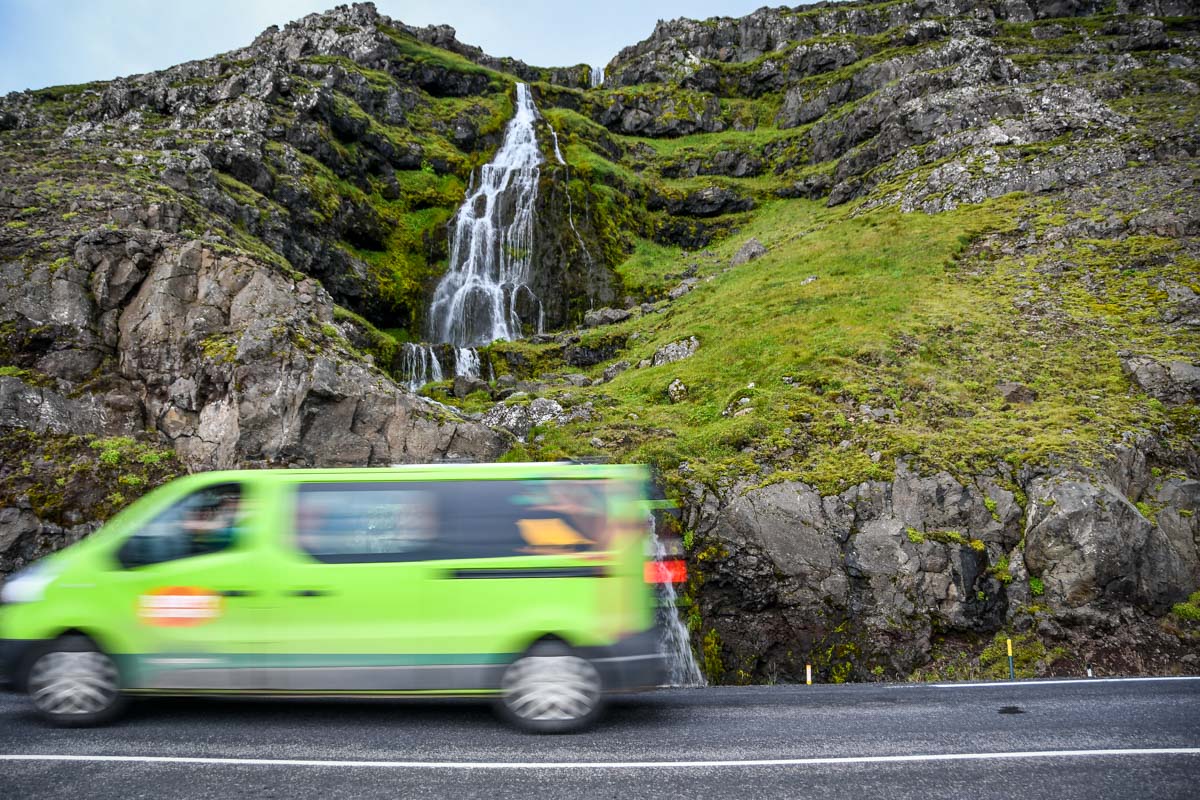 There are a lot of campervan rental companies out there, and they all have their pros and cons. Some cater toward travelers with bigger budgets and higher-end taste, while other companies work to make campervan rentals affordable to all. And then there are companies in between that have options for all sorts of travelers.
As long as you do your research, read through reviews, and have realistic expectations, we think you'll find a company that you are truly happy with.
The company we chose may or may not be the best option for you, so it's important for you to really take into consideration your needs and budget (aka really read the section above!), so you can determine the best choice for your trip.
What campervan rental company did we choose?
We did a ton of research, and chose Happy Campers for many reasons, all of which we'll be explaining below.
Campervan Rental Options from Happy Campers
One thing we really appreciate about Happy Campers is that they have a pretty great variety of options to choose from when it comes to campervans. There are different layouts – from small and minimalist to more decked out – and they have quite a few different price points to satisfy travelers with varying budgets.
Happy 1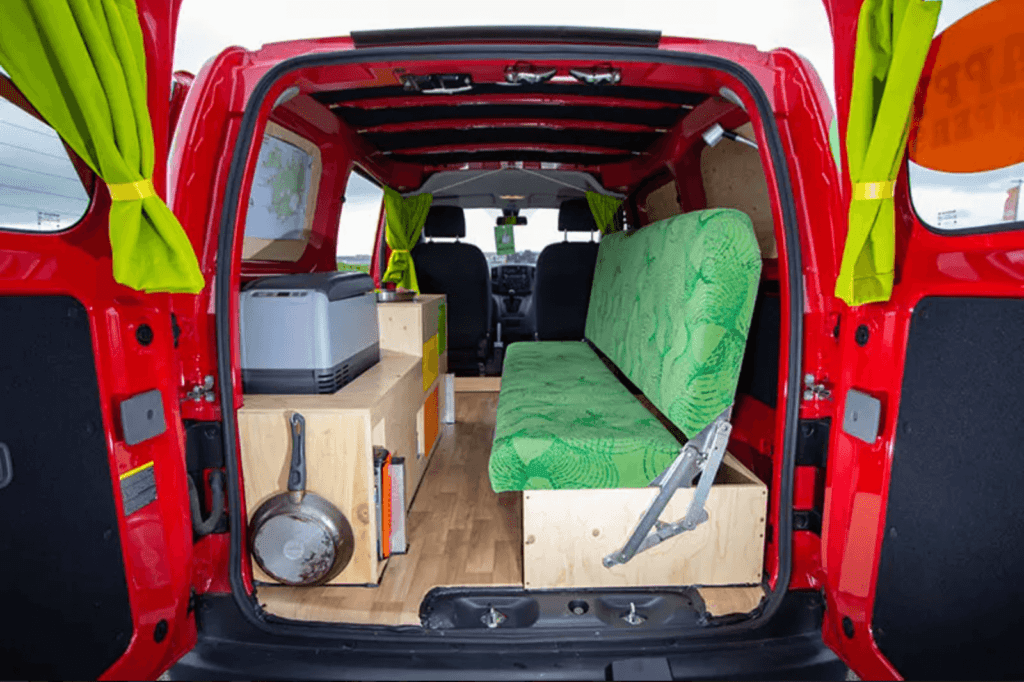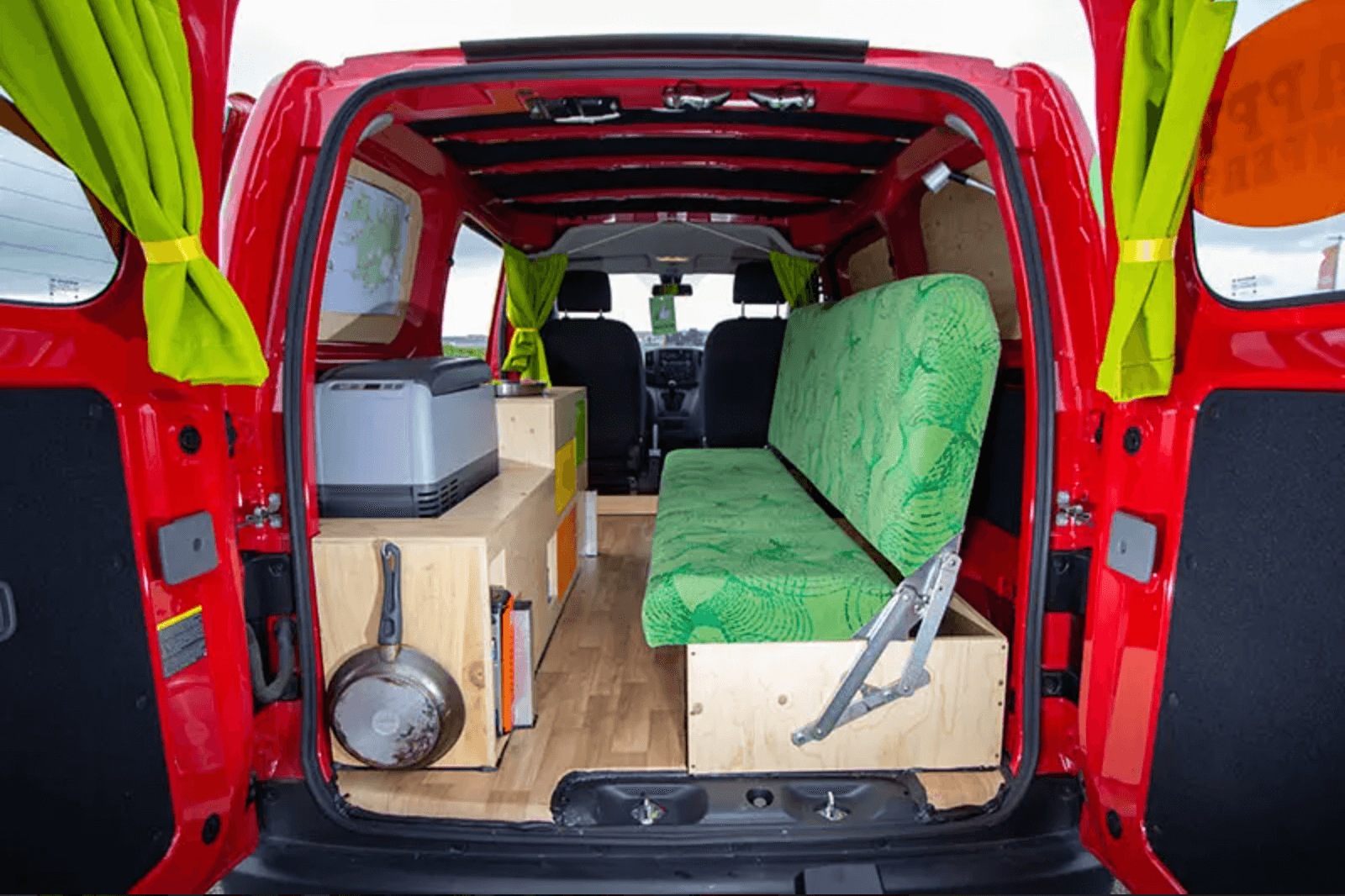 Sleeps 2, Drives 2
Budget-friendly
Compact layout, but has everything you need
Easy to Drive, like a small SUV
Manual and Automatic Transmission (Automatic costs slightly more per day)
Prices:

Summer (Peak): €150/day June 15 – Aug 31
Spring/Fall (Shoulder): €120/day May – Jun14 & September
Winter (Low): €90/day October – April
Happy 2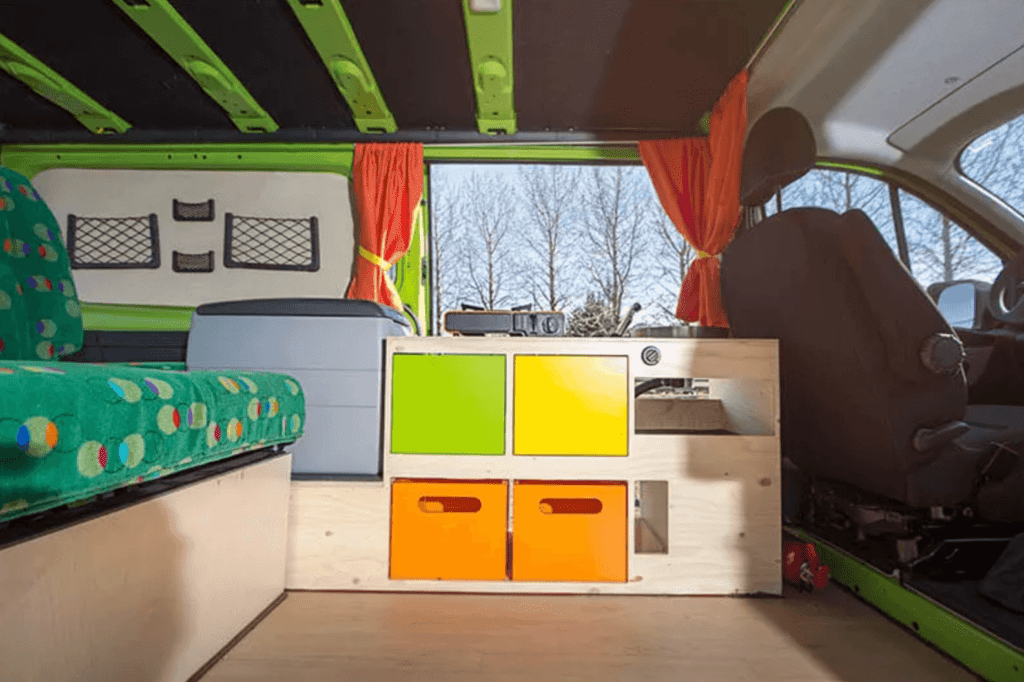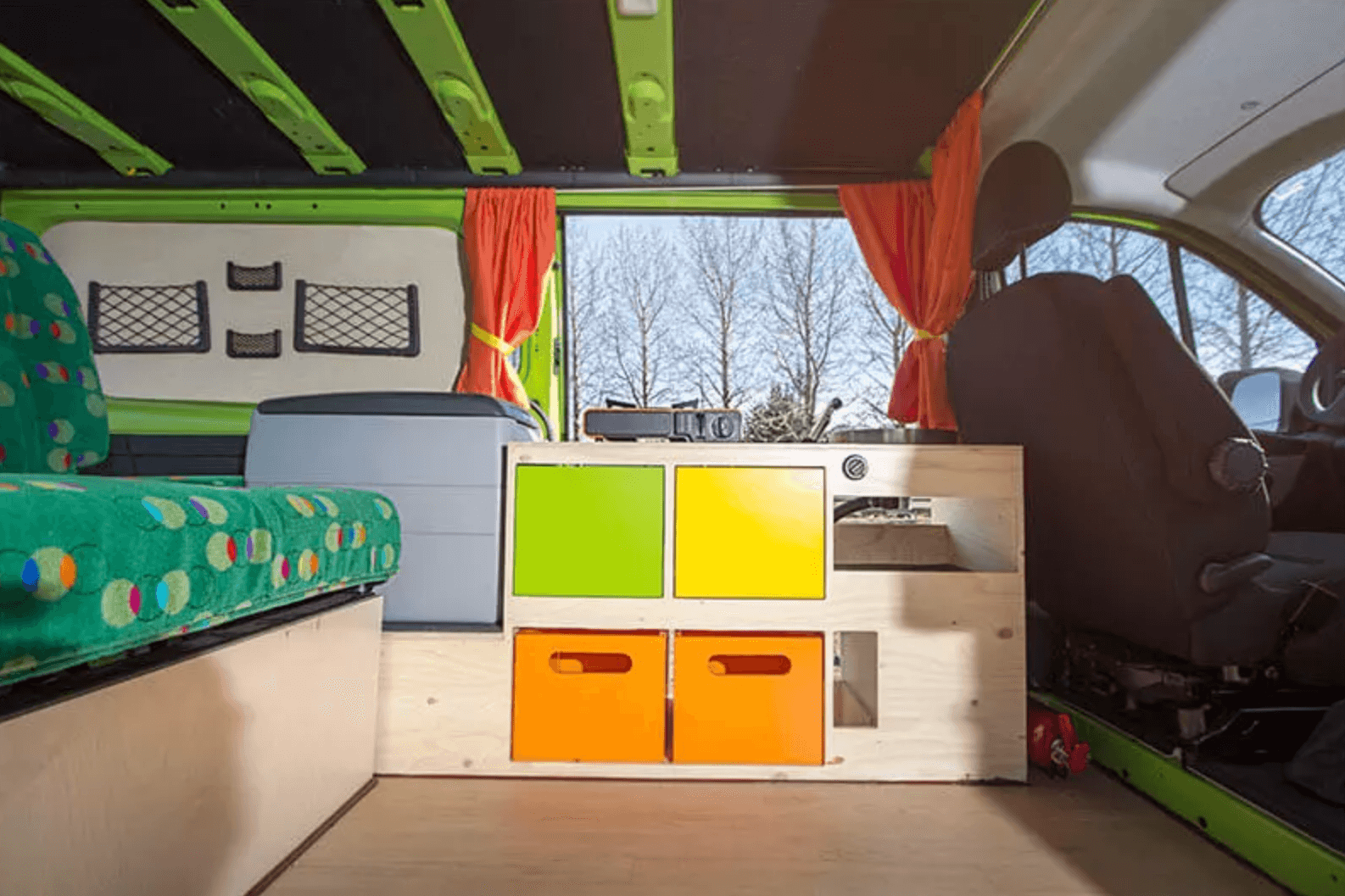 Sleeps 2, Seats 4
Affordable
Roomier than the Happy 1
Able to store more luggage
Drives like a minivan (in a good way)
Manual and Automatic Transmission (Automatic costs slightly more per day)
Prices:

Summer (Peak): €220/day June – August
Spring/Fall (Shoulder): €180/day May & September
Winter (Low): €135/day October – April
Happy 3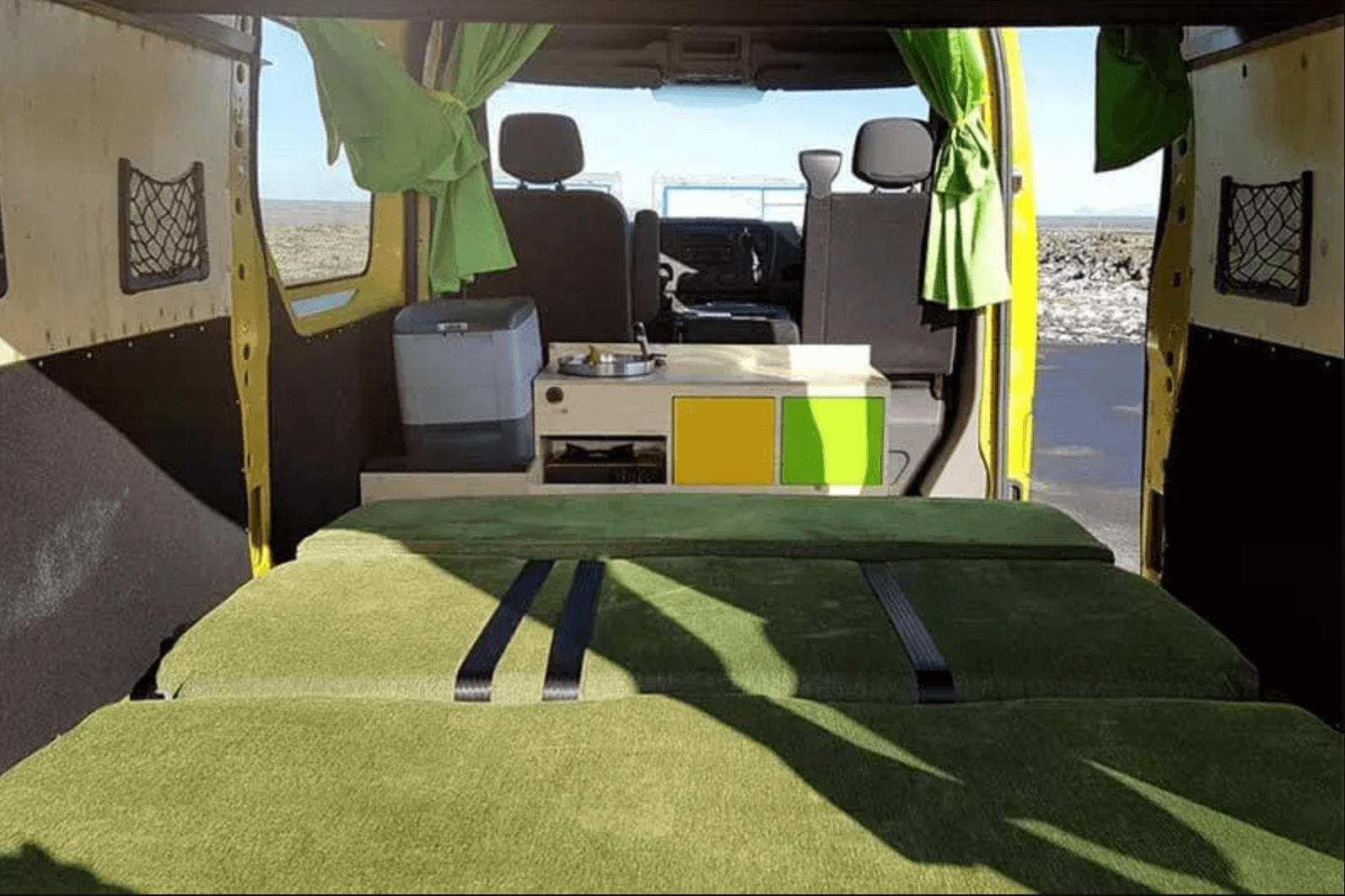 Sleeps 5, Seats 5
The most cost-effective if you have more people to split the cost
Spacious Layout (jumping jacks anyone!)

Good to know: If standing upright is a must for you, this is the only model that allows you to have all the headspace you need!

The cargo van size looks intimidating but is actually easy to drive
Plenty of room for luggage
Manual Transmission Only
Prices:

Summer (Peak): €280/day June 15 – Aug 31
Spring/Fall (Shoulder): €210/day May – Jun14 & September
Winter (Low): €150/day October – April
Happy 4×4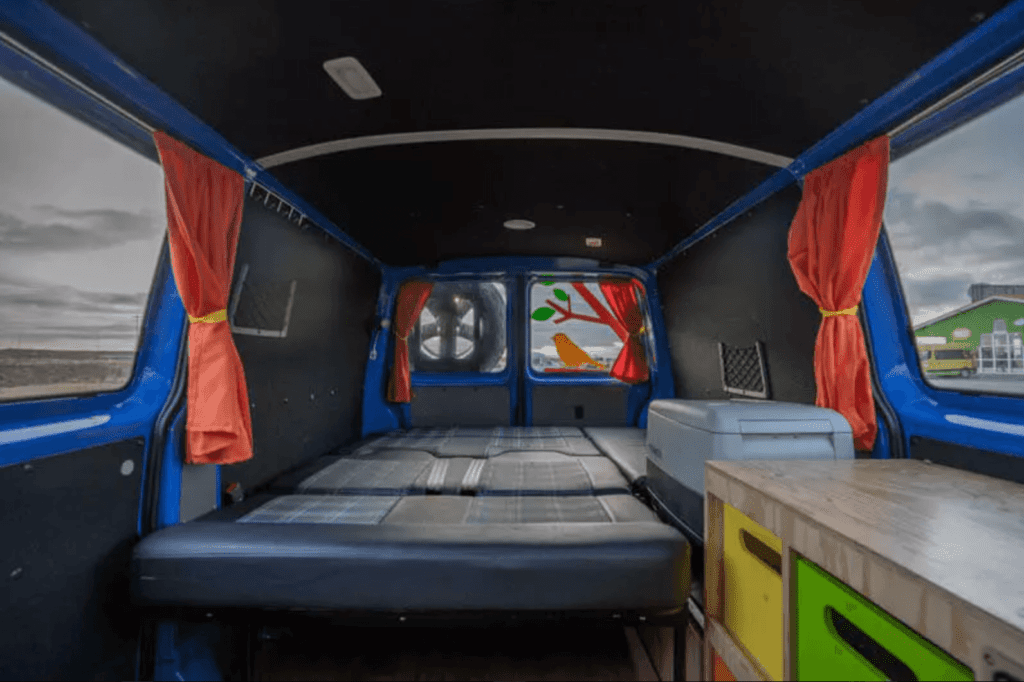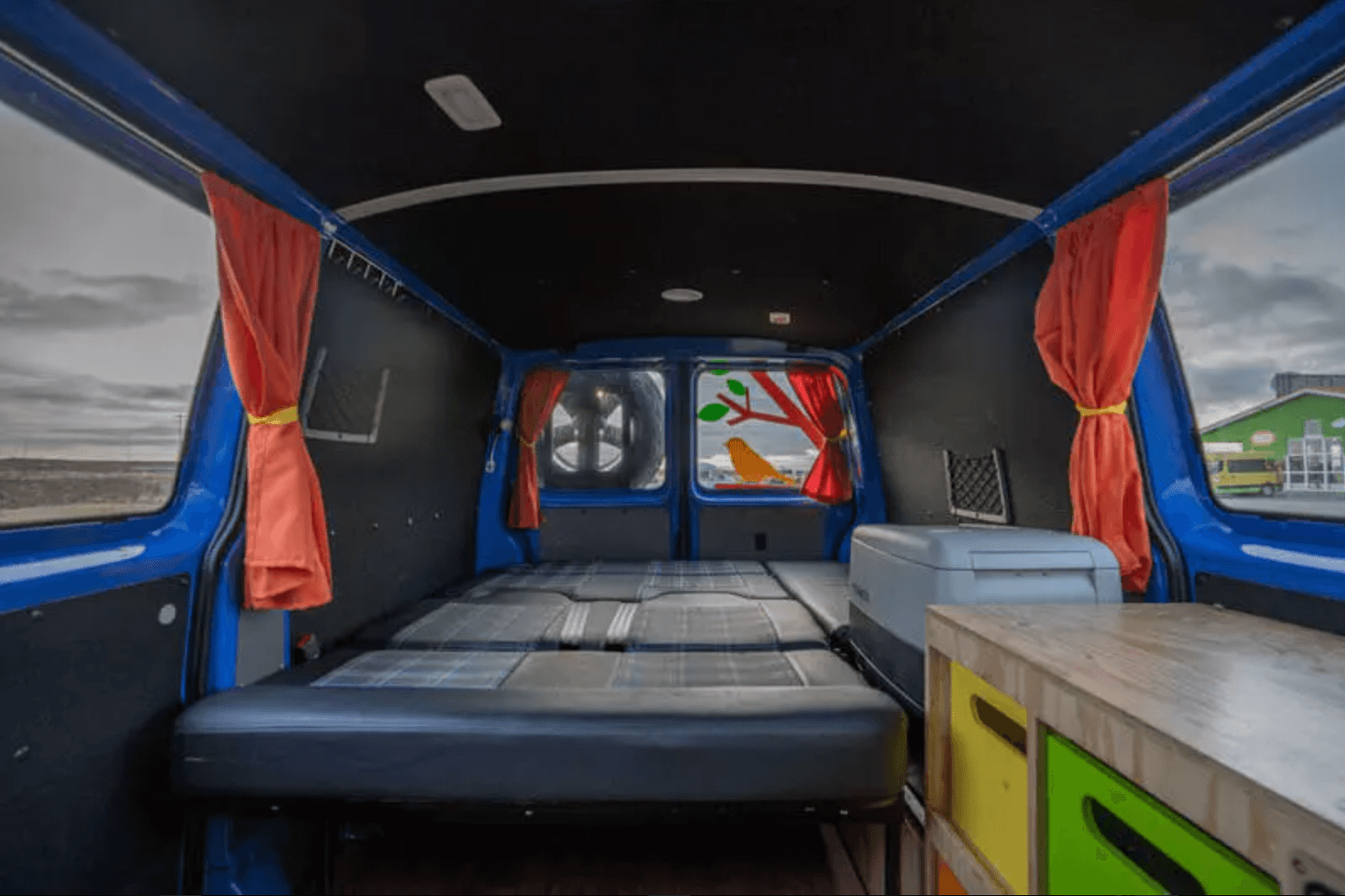 Sleeps 2, Drives 4
4×4 vehicle makes it capable to drive on F-Roads
Wool insulated walls
Same convenient layout as Happy 2
Drive like a minivan, but the 4×4 makes dirt roads a breeze
Plenty of space for luggage
Automatic Transmission Only
Prices:

Summer (Peak): €310/day June 15 – Aug 31
Spring/Fall (Shoulder): €240/day May – Jun14 & September
Winter (Low): €210/day October – April
EX versions of Happy Campers
Get ready for a HOT BUDGET TIP…
If you're browsing on the Happy Campers site, you might notice that they offer the same vans but an "EXperienced" version of them, denoted with the EX after the name (i.e. Happy 1 EX).
The EX models have the exact same layout as the regular campers but they are in a slightly older (aka "well-loved") vehicle.
So how old are we talkin'? 2014 is the oldest version they still operate, while most of their regular inventory are 2019 and newer (as of the time of writing this in November 2021).
You'll get all the same gear as the other Happy Campers but at a reduced price, about €20 to €30 off per day depending on the season and camper style. EXperienced versions are available in Happy 1 EX, Happy 2 EX and Happy 3 EX. There is no Happy 4×4 EX (as of now).
Important Note: The EX models do not come with the Happy Driver App or Internet Hotspot, but can be added on for an extra €10 per day.
Automatic vs. Manual
This is another consideration you'll have to make when booking your campervan rental. Do you want an automatic or manual transmission?
Budget Tip: The manual vehicles tend to be slightly cheaper, so if you're comfortable driving stick and want to save a little cash, it makes a good choice! The automatic models are anywhere from €5 to €40 more per day depending on the season and type of camper, so be sure to check before you book.
Check to see if the model you're interested in comes in manual or automatic:
Happy 1: Manual AND automatic options
Happy 2: Manual AND automatic options
Happy 3: ONLY manual
Happy 4×4: ONLY automatic
Our experience: We meant to get an automatic, but accidentally booked a manual transmission and we were pretty surprised when we hopped in the van for the first time. Luckily, Ben knows how to drive a manual so we were all good.
However, since my stick-shift experience is limited to driving around parking lots and spouting out a lot of curse words, this meant Ben had to drive the entire time. Oops! (Maybe we didn't book this by accident after all…)
Good to know: If you can only drive automatic vehicles (like me), you may need to start your search for a campervan rental a bit earlier as this will limit the vehicles you're able to drive.

Automatic models tend to book up a faster, so try to get a head start on the reservation process. Remember, you can always cancel your booking with Happy Campers free of charge.
Campervan Tour Highlights
Let's bring you on a little tour of the van we rented…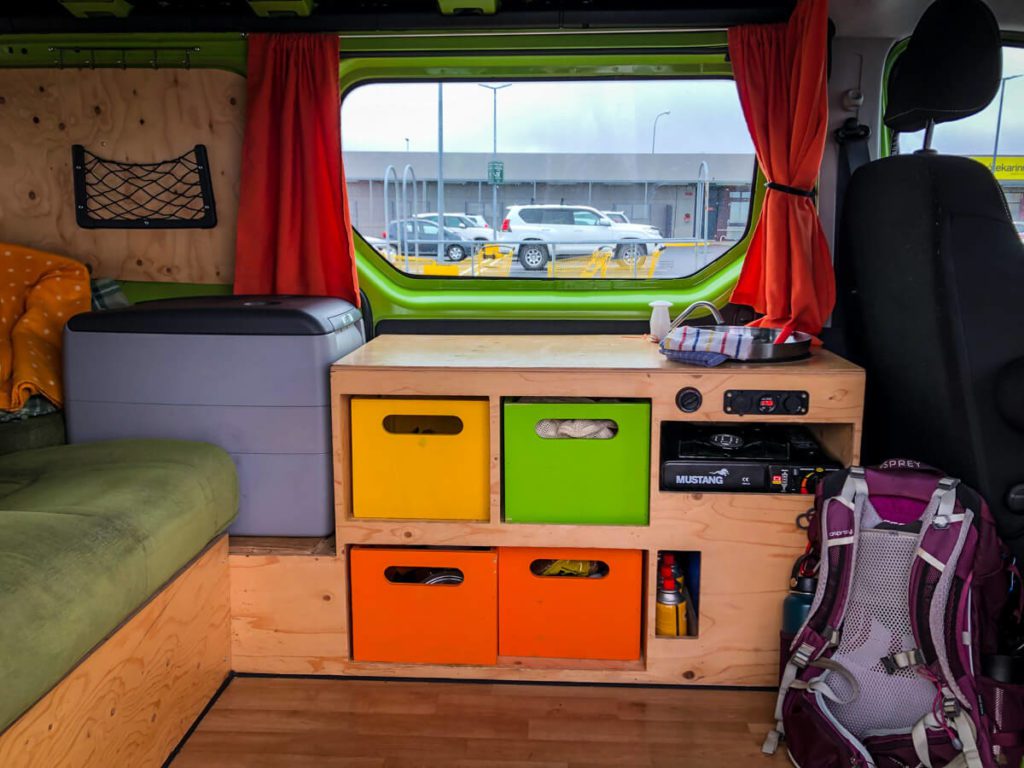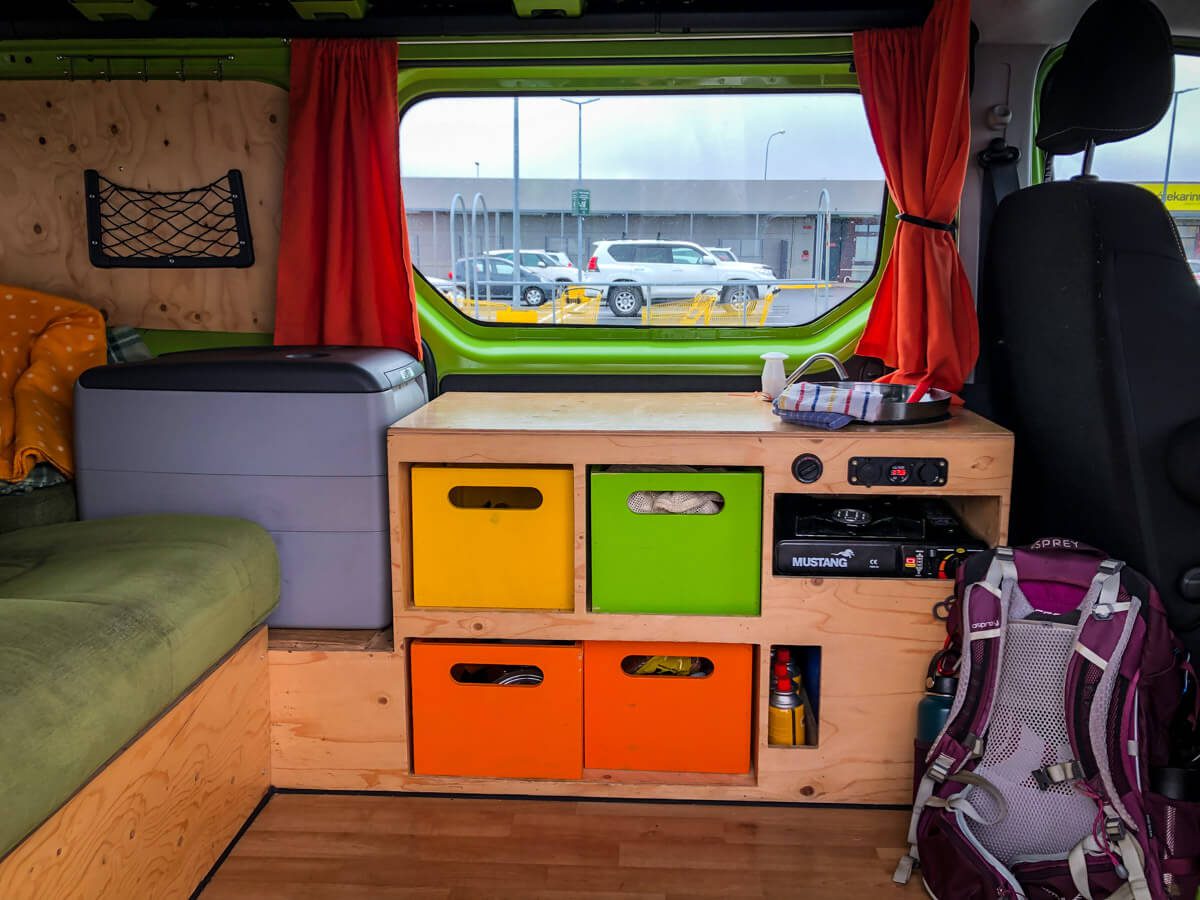 Happy 2 Model
Not an EX model
Manual transmission
Kitchen
Electric cooler
Single burner stove
Dishware, cutlery, dish soap
Sink with hand-pumped water
Passenger's seat is on a swivel
Gives another place to sit inside the van
Bed
Bench seat converts into a bed
Decently comfortable (though we're spoiled with an amazing mattress in our campervan at home, so we wished there was a bit more padding)
Thick duvet, fleece blankets, pillows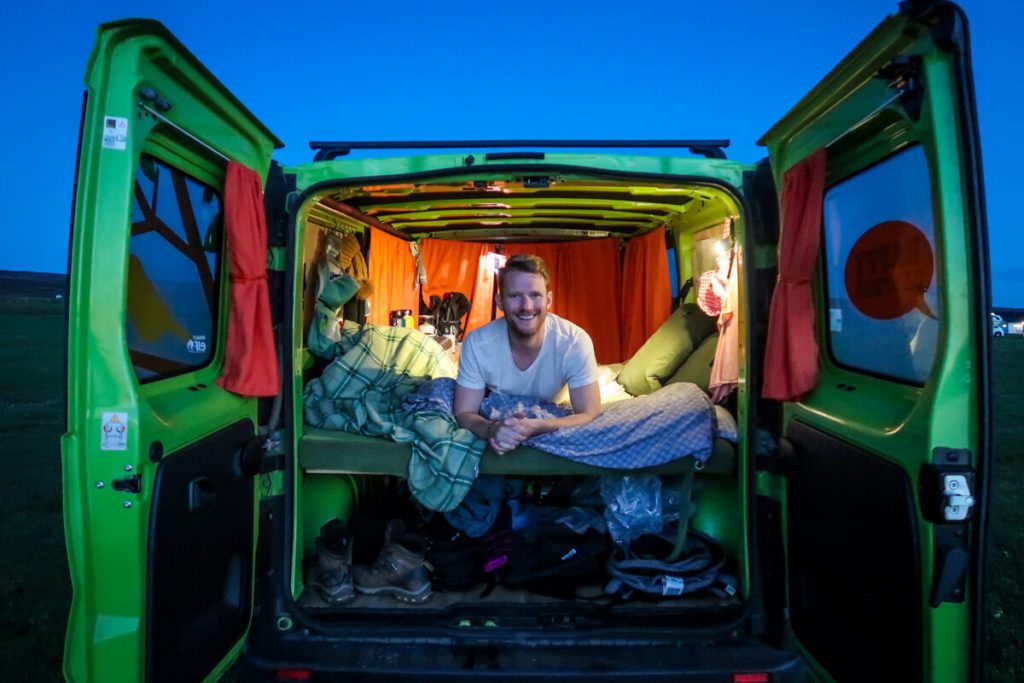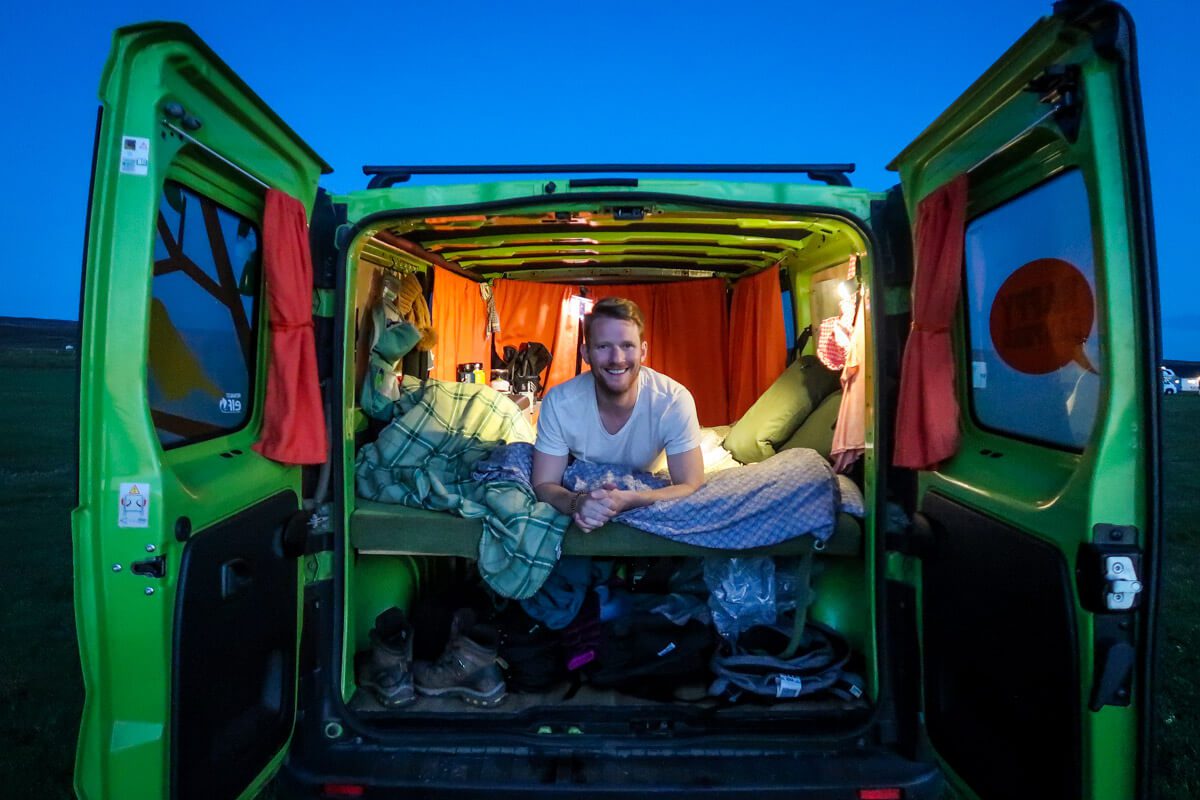 Powerful heater
Personally, we only had to run it for about 10 minutes before bed to get the van warm enough for sleeping. It can be run throughout the night if you'd like.
Storage
Nice crates in the kitchen area in which we stored our food, toiletries and other things we needed to access easily.
There was also storage in the back of the van that we could reach by opening the trunk. This was perfect for storing our bags, hiking boots, tripod, and other bulky items.
There were also quite a few hooks for hanging damp towels and swimsuits, as well as little pouches where we could keep small things like our headlamps, gloves, and a deck of cards.
Bench seat storage is good for keeping things like clothes, however, in our vehicle, this was kind of cumbersome to access.
Our (honest!) opinion about Happy Campers
We truly had a great experience with Happy Campers and we would 100% book with them again. That said, just like any campervan rental, there is room for improvement.
In this section, we're sharing exactly what we loved and what we didn't love, so you can determine if they are a good fit for you.
Happy Campers Pros: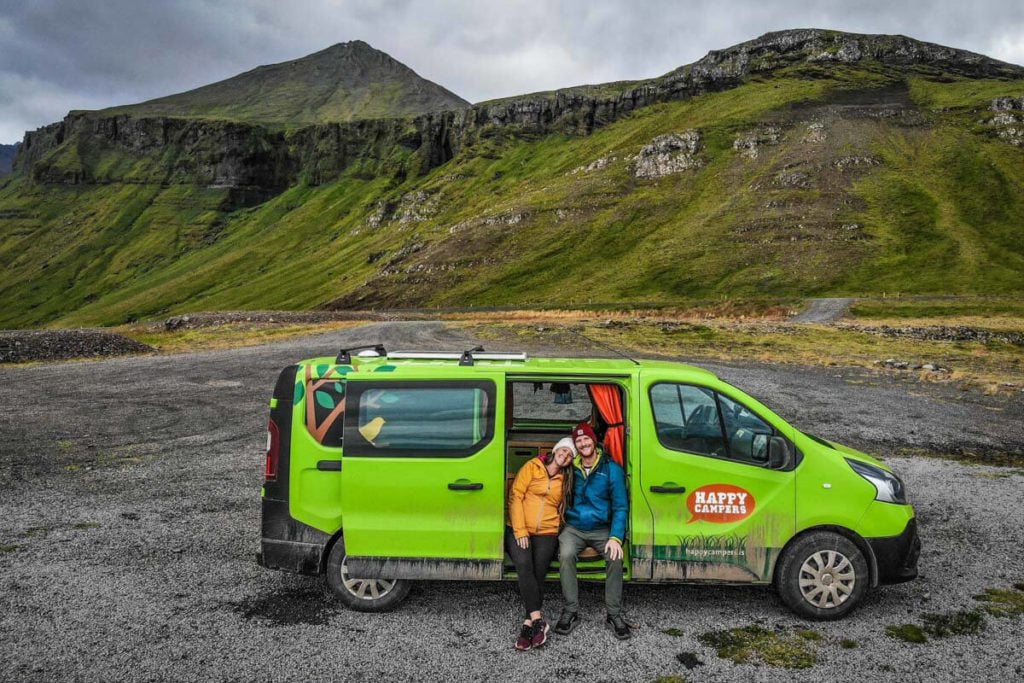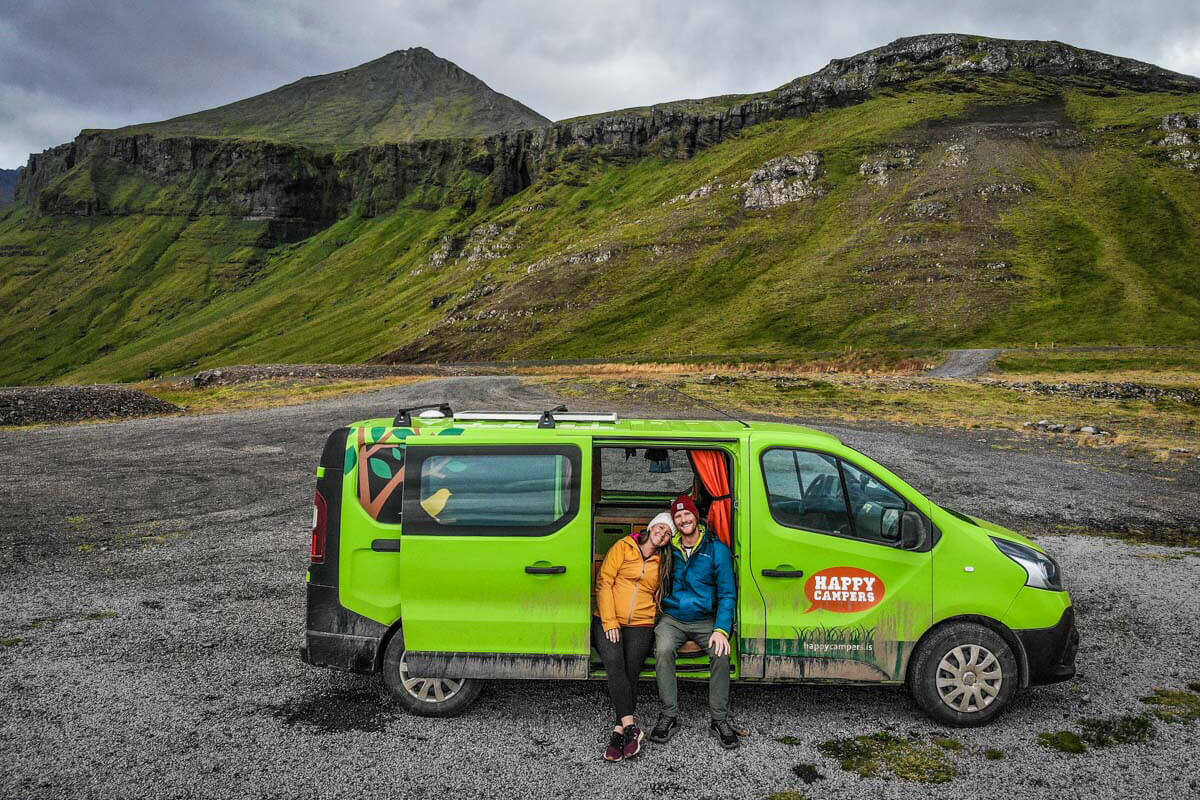 There were many things we really loved about our Happy Campers van. Here are a few:
Customer service: Prior to our trip, we were very impressed by the level of customer service we received. We had (a lot!) of questions, and the Happy Campers staff was patient and helpful.
When we showed up in Iceland, the staff greeted us and gave us a thorough orientation to driving and camping in Iceland. Oh, and they have an espresso machine you can use for a pick-me-up (which is essential after an overnight flight!).
Additionally, a staff member came with us to give us a full, 1-on-1 tour of our specific van. He went over exactly how to use everything and answered all of our questions.
Free cancellation: Happy Campers offers customers 100% of their money back if they cancel before 24 hours of picking up the vehicle. This is a super generous cancellation policy, and while we didn't have to use this, it was nice knowing we'd get our money back in case of an emergency.
Many choices of campervans: Happy Campers has a large and diverse flight of vans to choose from. They have options for most budgets and travelers.
If you're on a budget, make sure you look into the vans labeled as "EX". This stands for "EXperienced", meaning they've been on the road a bit longer and are rented out at a lower price than their newer twins.
If you don't know how to drive a manual transmission, don't worry! Happy Campers has a good selection of automatic vehicles too. Just be sure to book earlier if possible, as these are in high demand.
If you want to get off the beaten path, you might be interested in the 4×4 models, as they will allow you to venture off on the "F roads".
If you're traveling with a big group, the Happy 3 has room to sleep 5 people.
Navigation & Chat system: The tablet that is provided is clutch! Not only does it have a GPS, but it also works as a hotspot to share WiFi with your other devices.
Additionally, with the tablet you can live chat with staff at the office. This came in handy a few times for us – once when a light came on in the vehicle indicating we needed to fill up with AdBlue (a liquid that reduces the emissions of a diesel engine) and once when our battery died.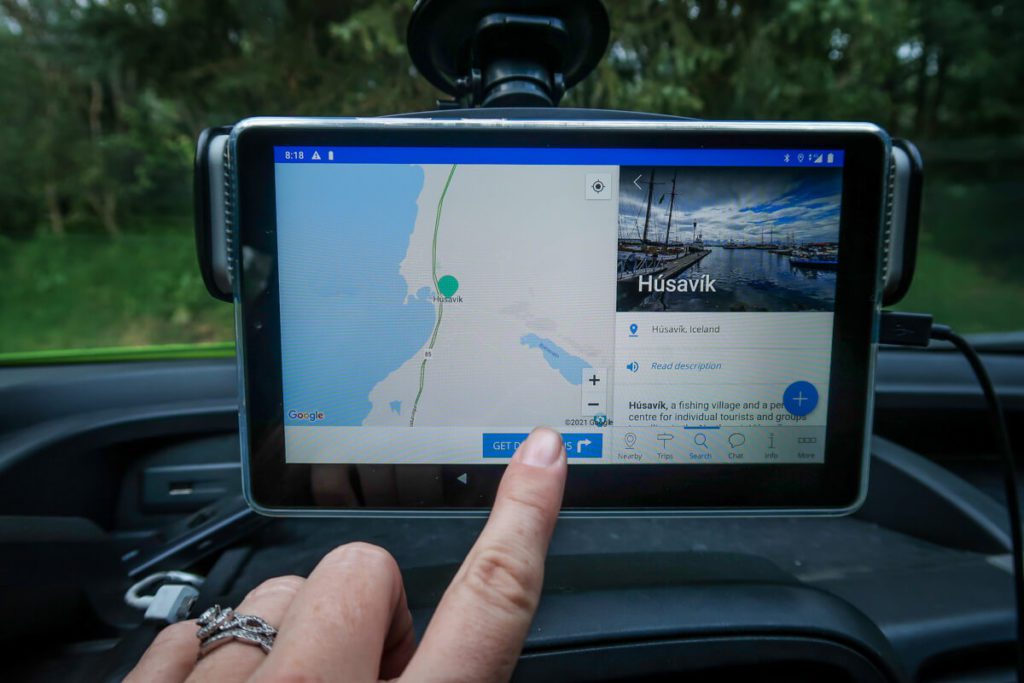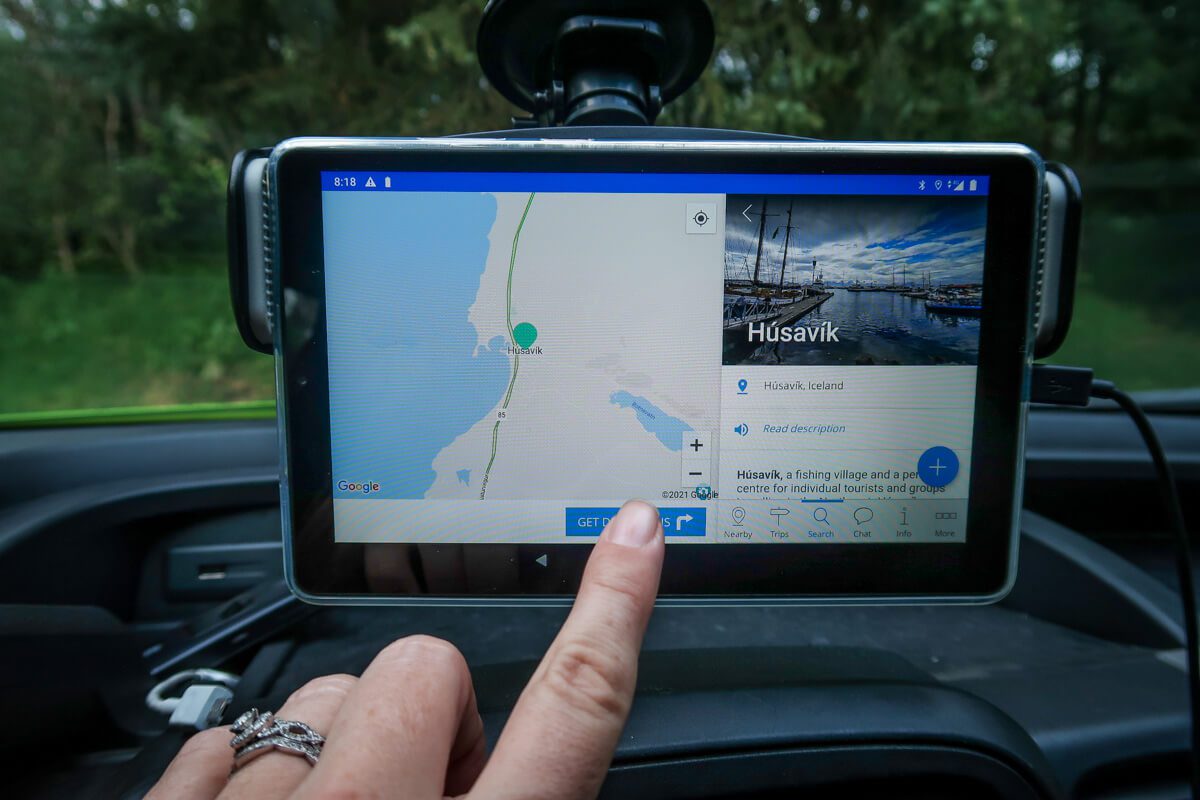 Heater: The heater worked incredibly well to warm up the van. Personally, we like sleeping in cooler temperatures, so we found we only needed to run it for about 10 minutes before hopping into bed and the van heated up to a toasty temp. It can be run all night long if you prefer cozy sleeping conditions. With a heater this powerful, there truly is no need to worry about getting cold in your campervan
Kitchen: The kitchen was well-equipped and had pretty much everything we needed for cooking.
Insider Tip: We rented folding chairs from Happy Campers (it's an add-on they offer), and while we didn't have the opportunity to use them outside very often, we always set up one for cooking. It was much more comfortable to have a chair to sit on since we couldn't stand up in the model of van we rented.
Cooler: The cooler worked a lot better than we had anticipated. In fact, when turned up to the higher settings, it froze some of our produce, so we had to make sure we had it set in the middle.
Easy to drive and park: The model campervan we chose (the Happy 2) drove very similar to a regular minivan. There wasn't even really a learning curve to driving it, and parking it was simple. It was in good condition, and we really had no complaints about the vehicle itself. If you choose a larger vehicle, it might take a little longer to get used to.
Privacy curtains: In our personal campervan, we are spoiled with magnetic blackout curtains that also insulate (they're honestly amazing!). I will say the curtains in the Happy Camper were better than I anticipated. They did a good job of giving us privacy.
That said, they didn't do anything for insulation (more on that in the cons section). And they weren't exactly black-out curtains, which can be noticeable during the months with long daylight hours.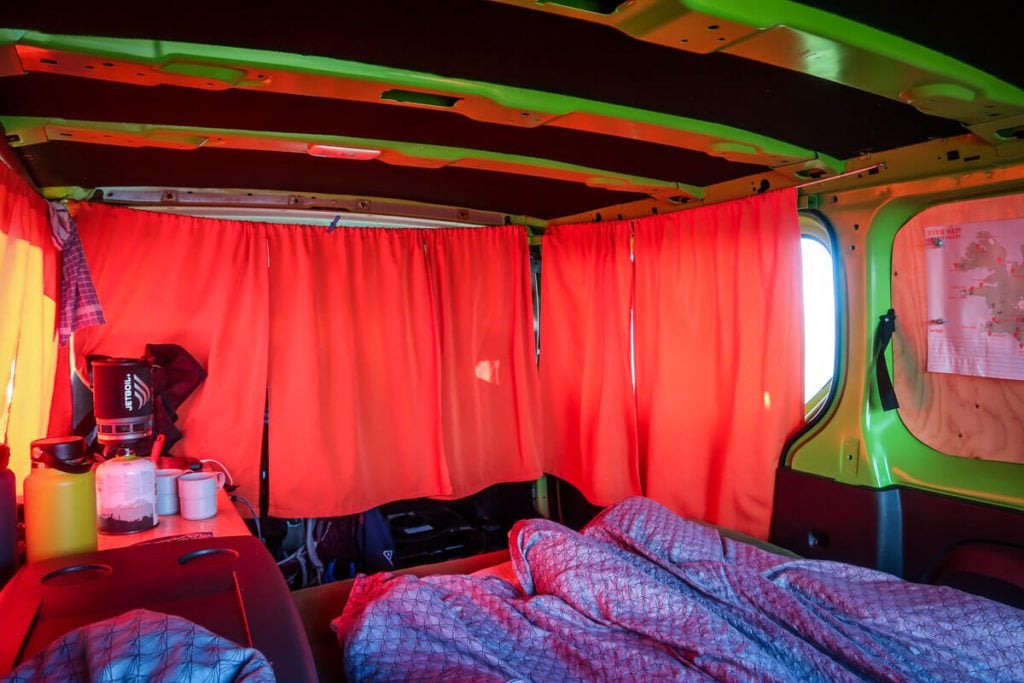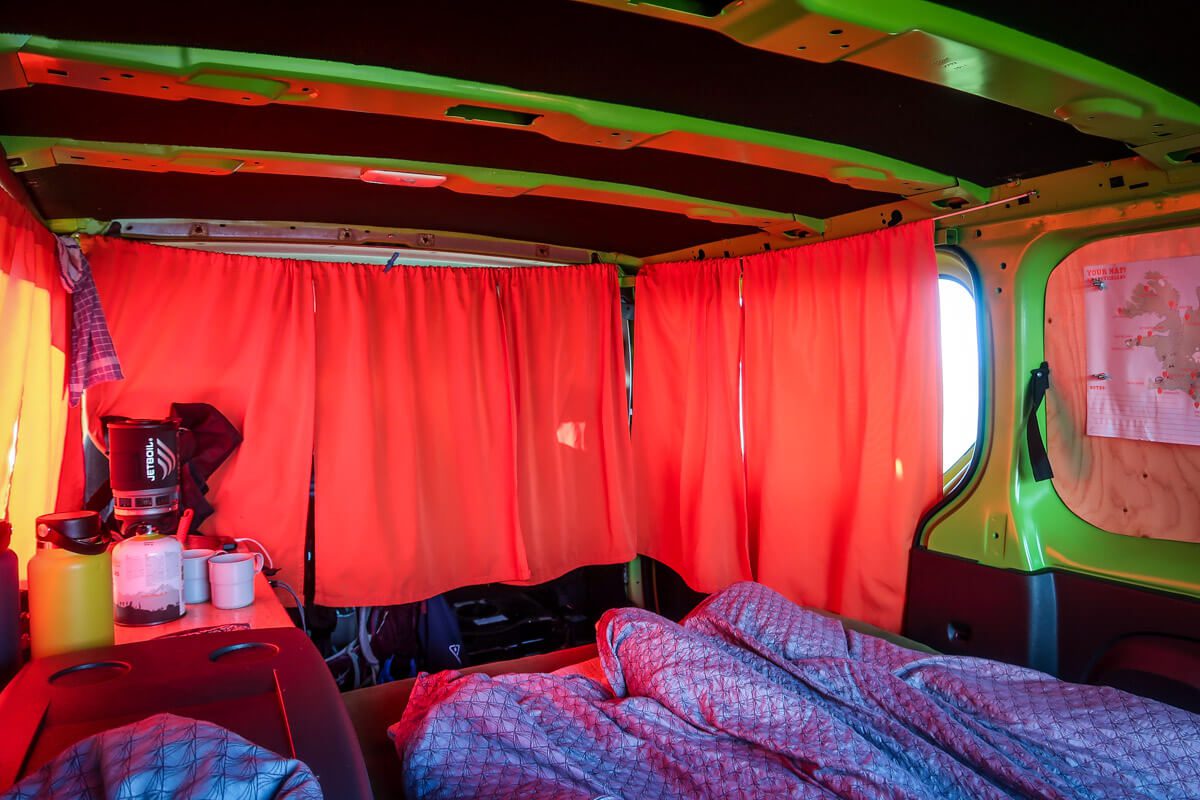 Happy Campers Cons:
We'll be honest and say that we are kind of picky about campervans, as we've built two of our own to be just the way we want them. So we are tough critics.
Here are some of the (minor) things that weren't ideal:
Storage under the seat: There was plenty of storage in our van, however, there was a little bit of an issue. The best place to store our clothes was beneath the bench seat, which was pretty tricky to access. This opens up and also converts into the bed.
The problem is that instead of opening up like a chest, the seat opens up toward you. This means you have to bend over the seat to reach down and get whatever is stored beneath (which was very difficult for a short person, like myself).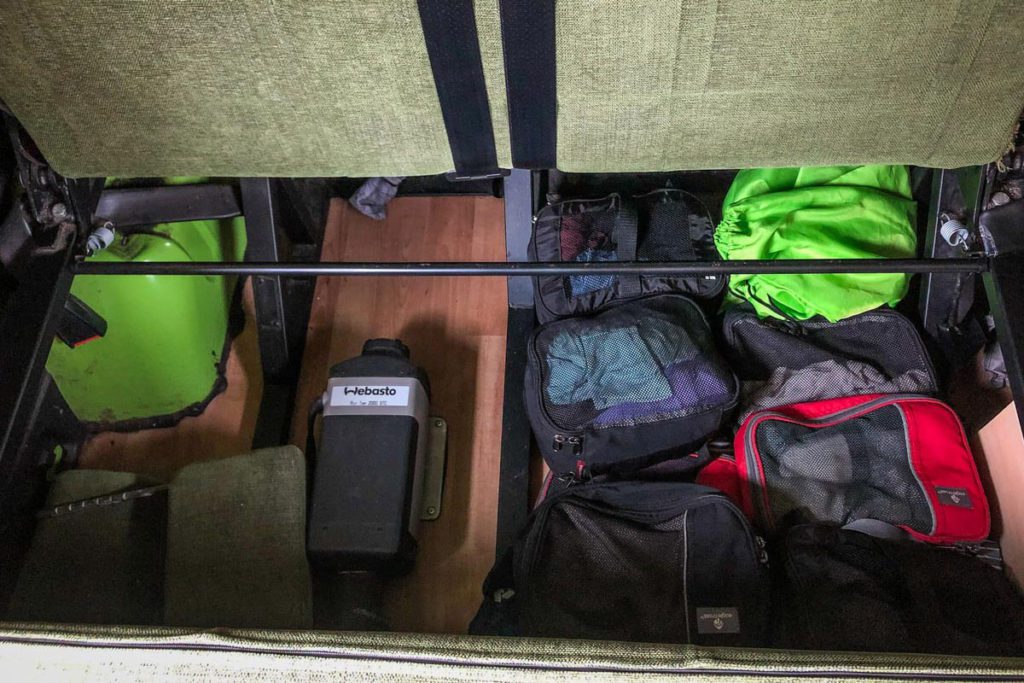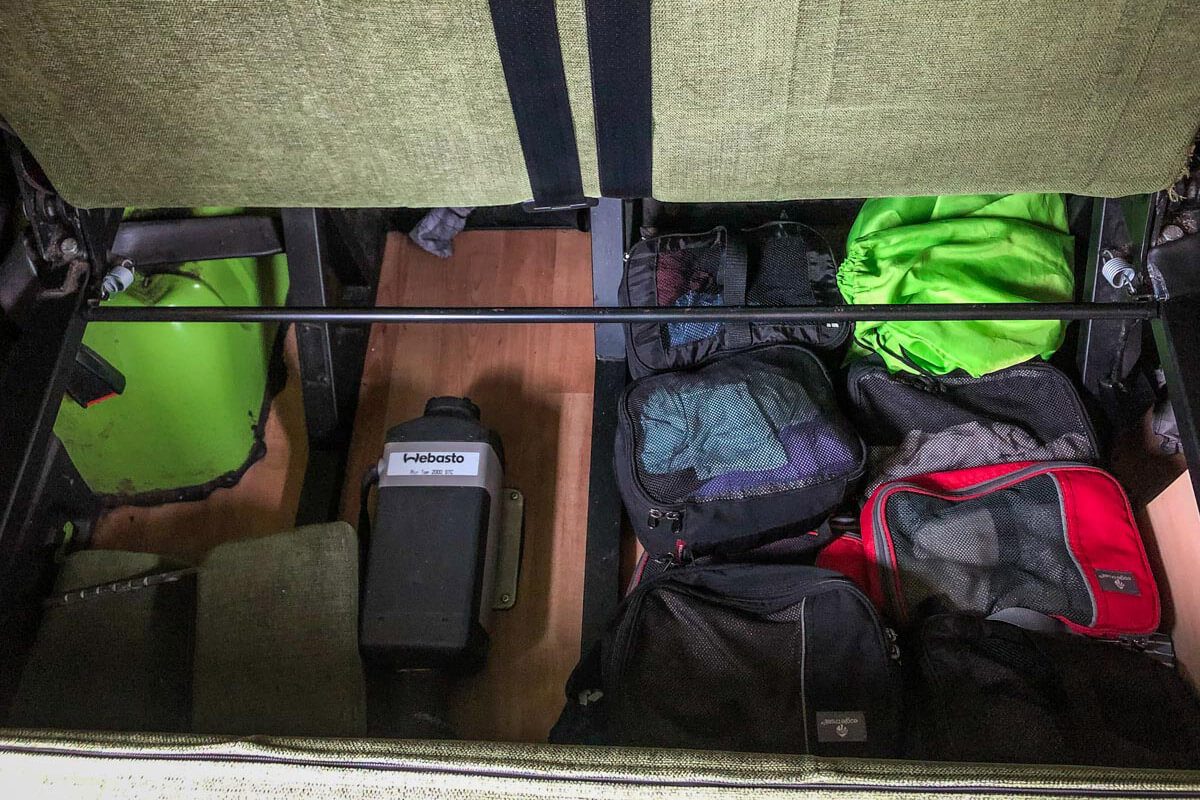 Insider Tip: We were so happy we had all our clothes organized in packing cubes.
Even though it was a pain to bend over the bench, we could just grab a cube instead of trying to find an individual piece of clothing.
Lighting: There wasn't a ton of lighting inside the van. The overhead lights turned on when the door was open, but it wasn't a good solution to leave them on very long. The only lights that were really meant to be turned on at night were two "reading lights" near the bed.
While the sun doesn't set until quite late during most of the summer, it would have been nice to have a bit more light inside the van. Luckily, we had packed headlamps as well as an inflatable solar light, both of which we used pretty often.
Pillows: The bedding we were provided was just fine. We even snagged a few fleece blankets to have as extras (they have these for all customers to take if they'd like). The problem was we hadn't checked our bedding thoroughly before leaving the parking lot, and that night we discovered we only had one pillow. Thankfully, we had packed our own camping pillows, just to be safe.
Hopefully, this won't be an issue for you, but it brings up a good point: no matter what company you choose to go through, be sure to confirm you have all the essentials (including bedding) before leaving the parking lot.
Not insulated: This was probably our biggest gripe with our rental van. When building our own van conversion, we made sure to insulate our campervan with sheep's wool.
So we know firsthand how big of a difference it can make at controlling the temperature inside the van (keeps it cool when it's hot out and warm when it's cold outside). Plus, it helps handle moisture really well, keeping our van from getting damp and stinky.
Note: The only Happy Camper that is insulated (and with sheep's wool) is the Happy 4×4.
Not being insulated meant that it got cold quickly, and on the rare hot days, it was hard to cool it down inside.
A bigger frustration was that without insulation, moisture would condensate inside the vehicle. This was especially hard on our DSLR camera. When we'd wake up in the morning, the lens would be full of condensation. Thankfully, we found a pretty good solution to keep moisture at bay…
Hot tip: If you're traveling with camera equipment, try this so you can avoid lens condensation: Wrap the camera in a soft towel, then put it inside a large dry bag (make sure you have a high-quality one that is large enough to fit your camera).
Make sure you get the air out and seal it up tightly. In the morning, wait until you've had a chance to open up the doors and let the moisture in the vehicle escape before opening the dry bag. This should keep your camera free from condensation.
Long story short: We wished that the Happy Campers vans were insulated, as this would have helped keep the temperature inside more stable, and more importantly, it would control the moisture.
Happy Campers Discount Code
Now here's the part you've been waiting for…
We've partnered with Happy Campers to offer an exclusive discount to our readers. When booking, be sure to use the code TWS5 to get 5% off your total rental bill (that adds up to quite a bit!).
Iceland Campervan FAQs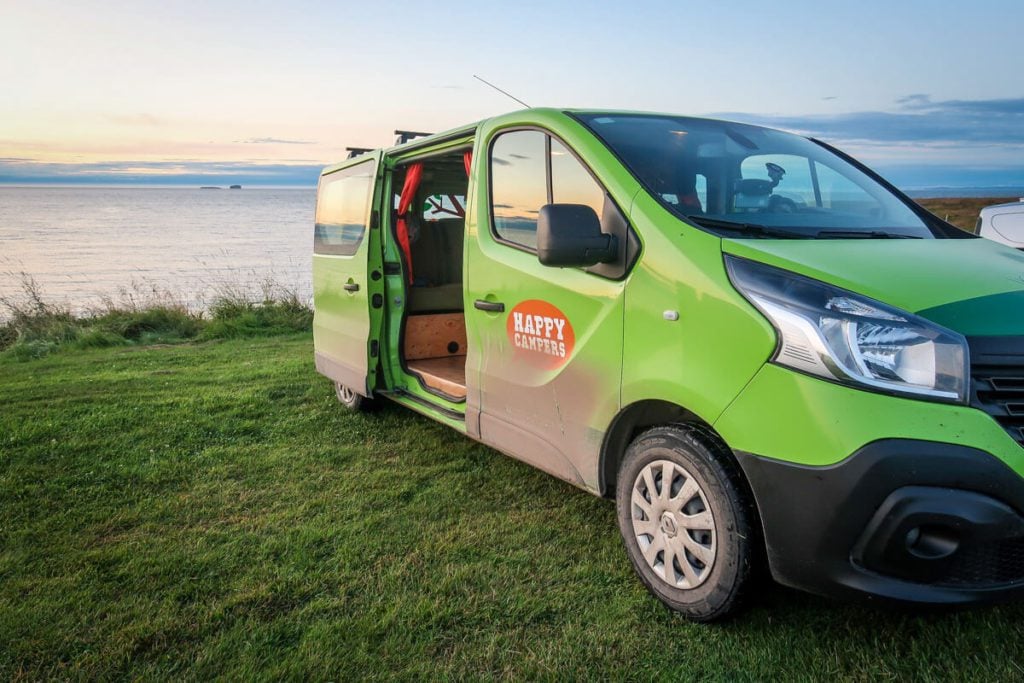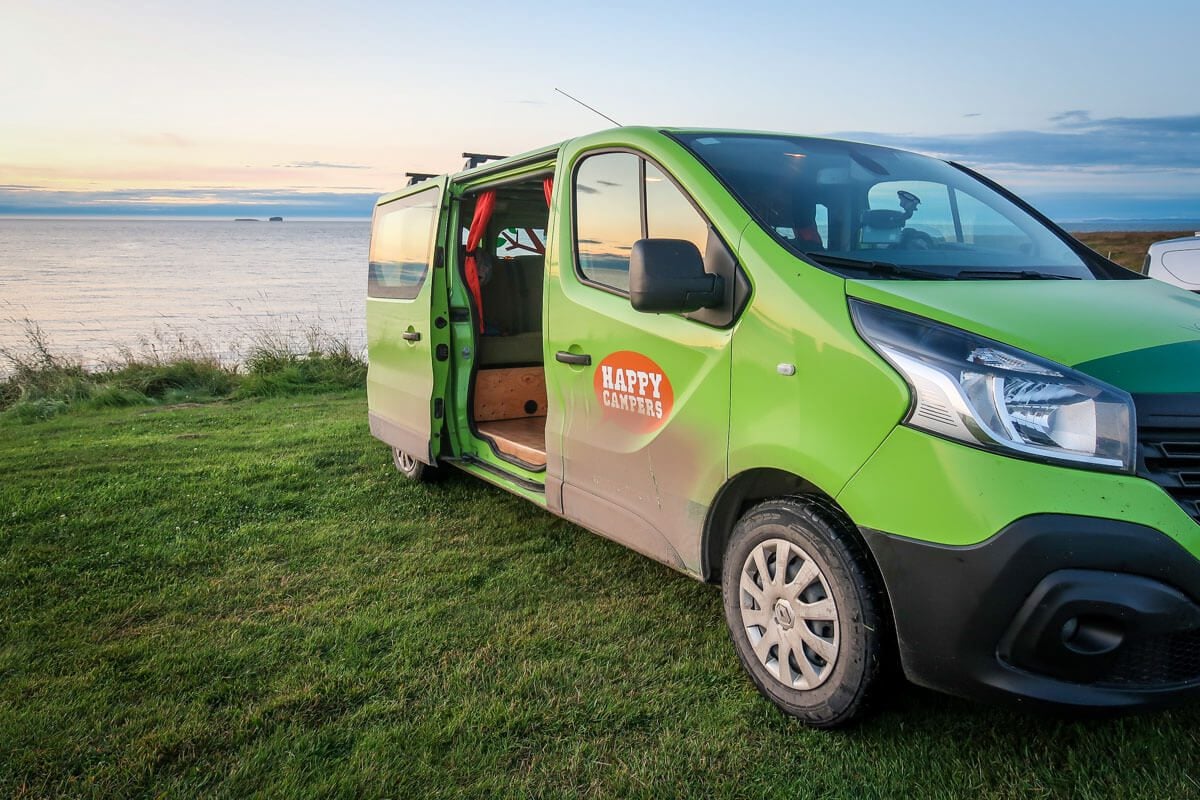 I know we had tons of questions at this point, so we're going to go over some of the things you may still be wondering…
What's included in a campervan rental?
This depends greatly on which company you rent from. However, nearly all campervans should come with the following:
Bed & bedding
Sink with running water (and a tank you can fill with fresh water)
Stove & propane
Cookware & utensils
Cooler and/or refrigerator
Heater
Depending on the campervan rental company, these amenities can be very basic or quite luxurious. Also, most companies have the option to add extras, which are typically charged separately. This can include:
GPS system (included in our Happy Campers rental)
WiFi hotspot (included in our Happy Campers rental)
Camp chairs or table
Coffee press (if you don't want to rent, we suggest this AeroPress, which is made for travel)
and more!
How much does it cost to rent a campervan in Iceland?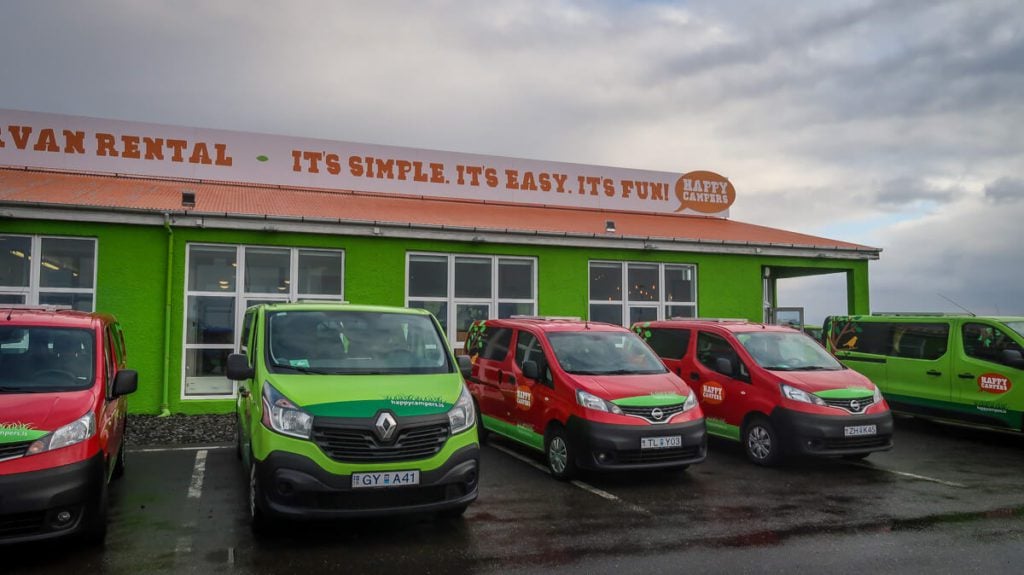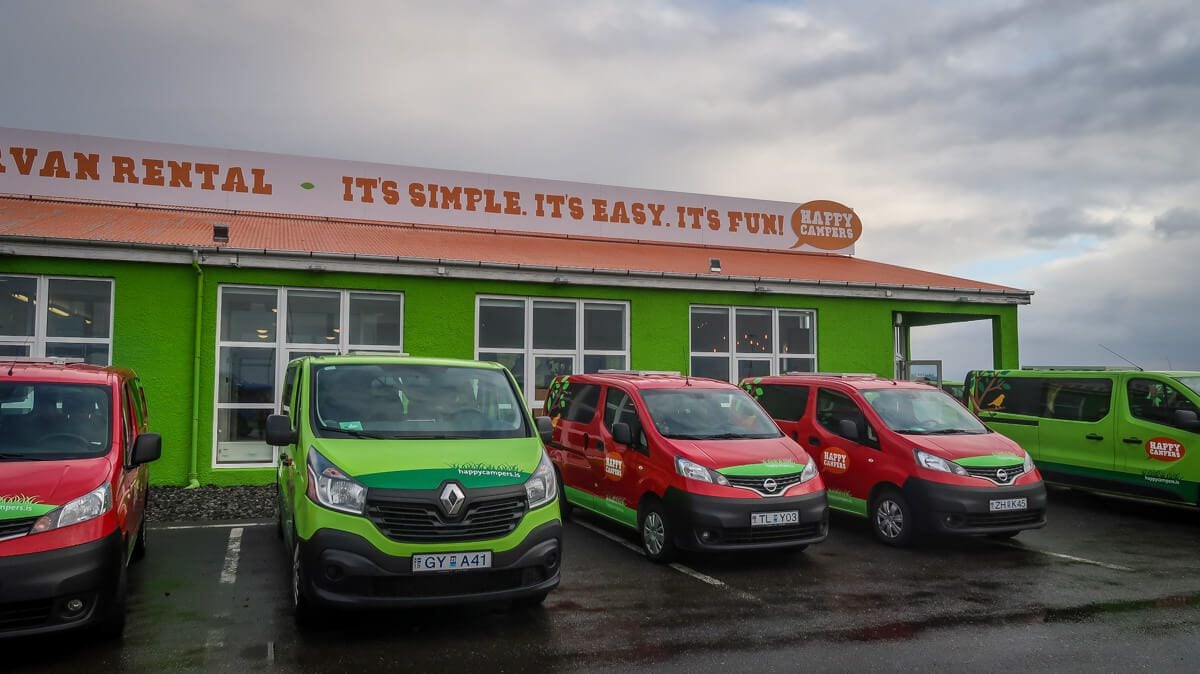 We're going to come right out and say it: Iceland campervan rentals aren't cheap. Even if you go with the absolute cheapest company out there, you'll still be paying a considerable chunk of money.
However, traveling in a campervan is a great way to save money during your trip because you can cook your own meals (much less expensive than eating out!) and campsites are much cheaper than staying in hotels.
So just how much do campervans cost in Iceland?
Well, it depends on a few things…
Time of year: First of all, the time of year can affect the price significantly. If you are traveling in the peak summer season (aka June – August), expect to pay peak rates. And on the other hand, if you travel during off-peak season, you might be able to score a nice rate. Shoulder seasons (before and after peak season) will grant you a rate that is neither crazy expensive nor super cheap.
Here is an idea to get you started:
Happy 2 Prices:
Peak Season: €220/day (June – August)
Shoulder Seasons: €180/day (May & September)
Low Season: €135/day (October – April)
Type of van: The cost of your van will also depend on the type of van you choose.
Are you renting a 4×4? What about automatic vs. manual transmission? Are you renting an older version or a newer model? All of these factors will impact the overall cost of your campervan rental.
For instance, the Happy 4×4 is more expensive than the Happy 2 because it has 4×4 capabilities as well as being insulated.
Happy 4×4 Prices:
Peak Season: €310/day (June 15 – August 31)
Shoulder Seasons: €240/day (May – June 14 & September)
Low Season: €210/day (October – April)
Additional Costs: One important thing to remember is you may also have add-ons and insurance fees.
Do I need an international driver's license?
Most likely, no.
Any valid driver's license with Latin letters is accepted in Iceland for rental cars and campervans.
However, if your driver's license does not have Latin letters (for instance, if it only has Japanese characters or Cyrillic script), you will need an international driver's license.
What is the best time for a campervan trip in Iceland?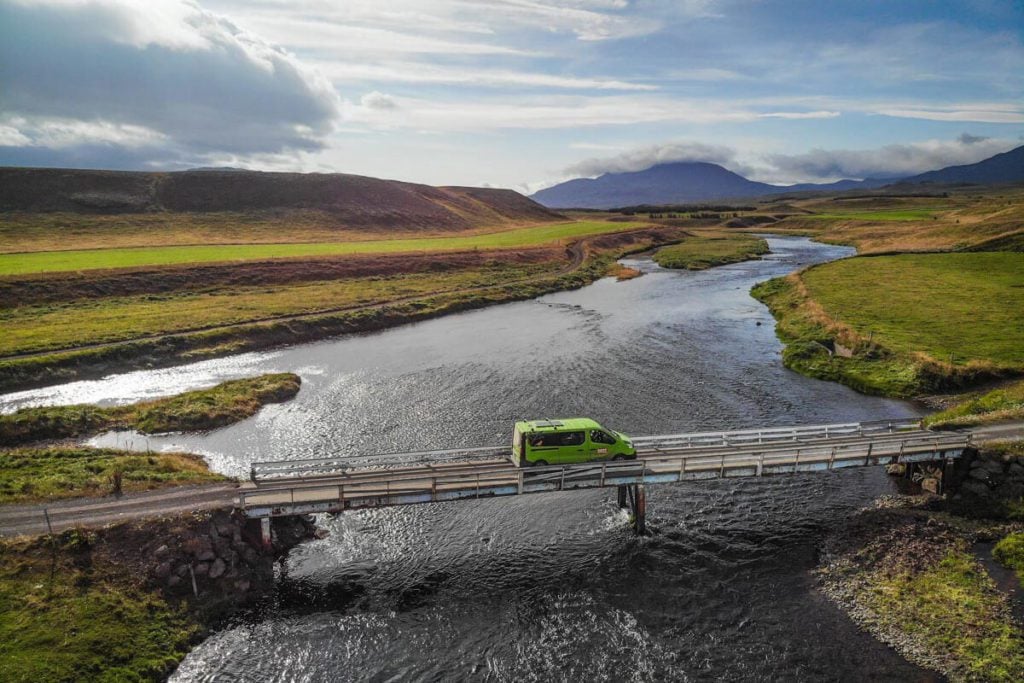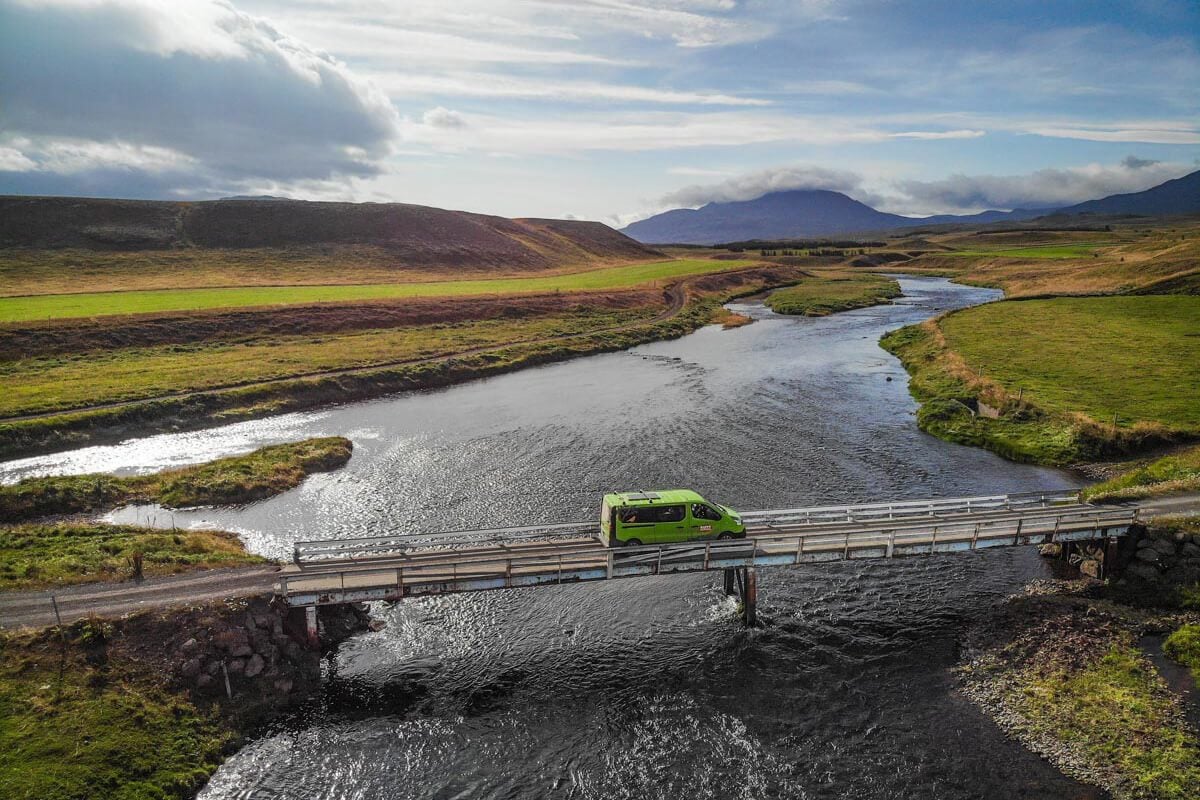 The best time to camp in Iceland is arguably going to be during the summer months. This is when you'll have the most hours of daylight during which you can explore. Plus, you'll have the best chance of mild temperatures.
That said, summer is peak season and rental prices will be at their highest. If you can plan your trip for spring or fall, you could snag a better rate.
Curious about seasons and weather throughout the year? We've broken down what to expect in this article about the best time to visit Iceland.
Can I rent a campervan in Iceland during the wintertime?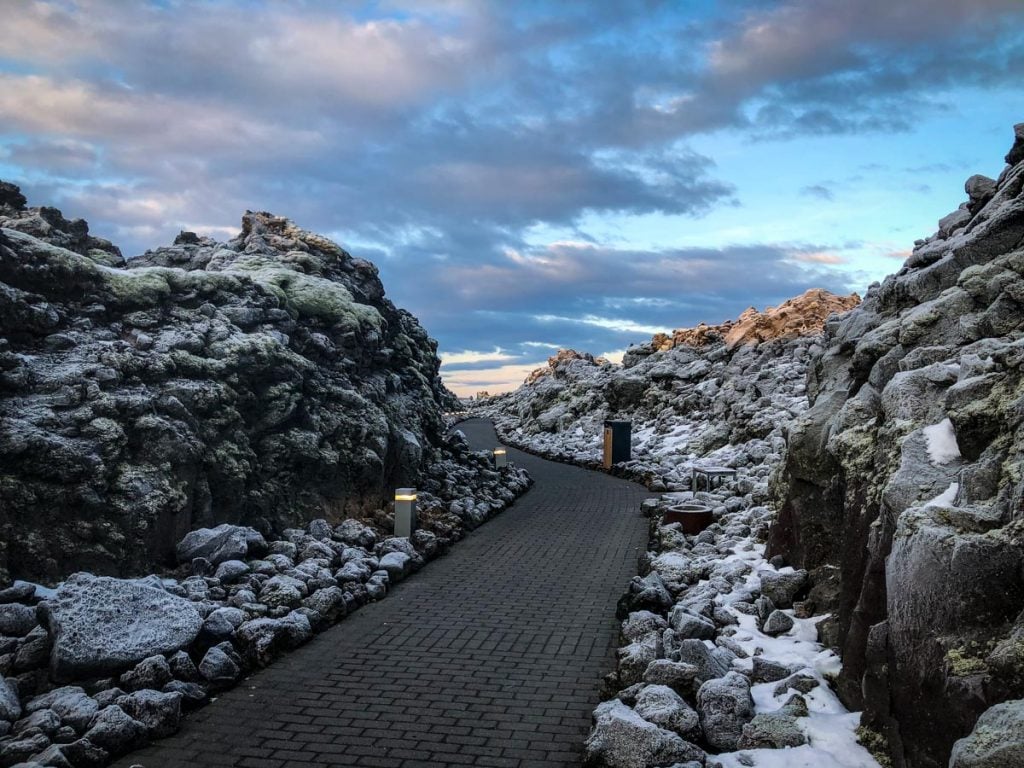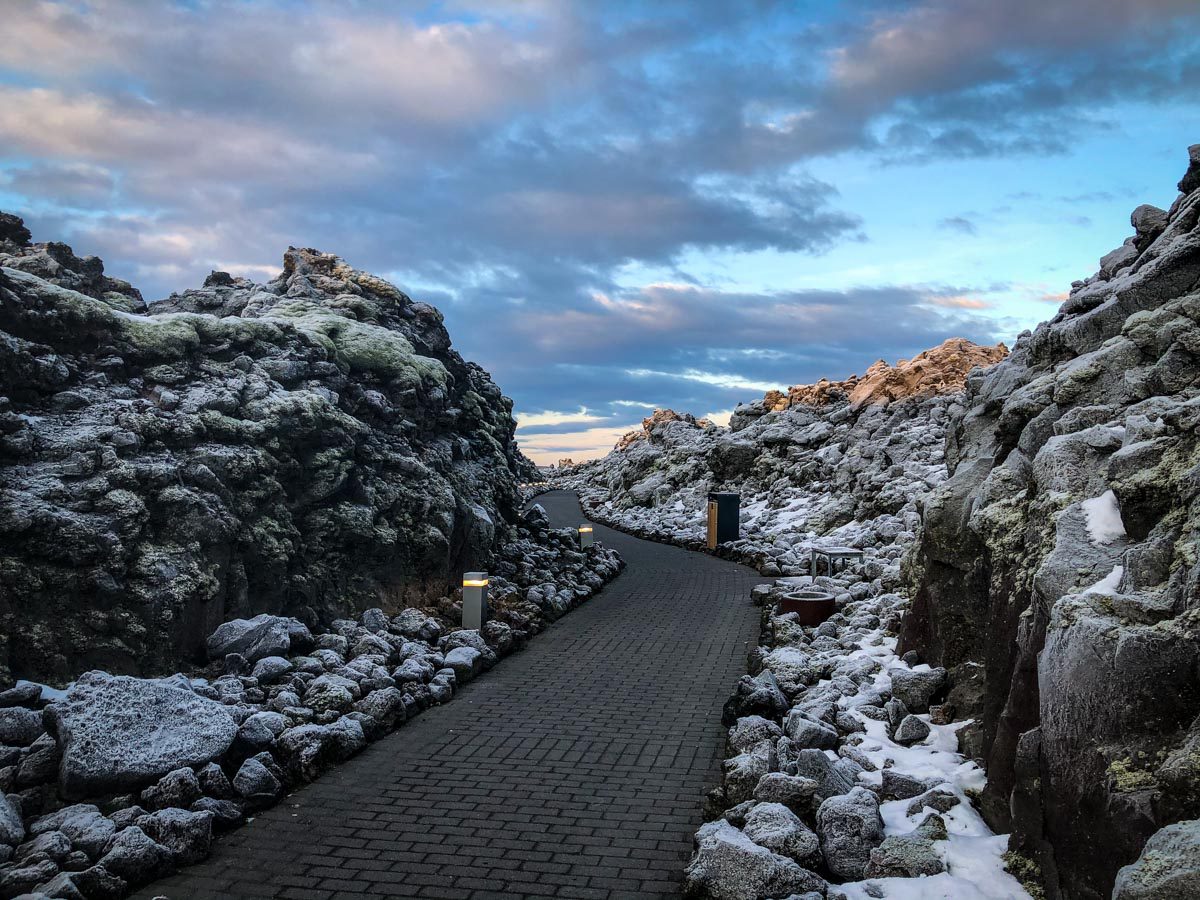 If you are hoping to see the Northern Lights in Iceland, you'll want to visit between October and February for the best chance of spotting them (though you could get lucky and see them during the off season!).
An important thing to know is that many of the campgrounds in Iceland close at the end of September. There will still be some open, so you'll want to do a little extra research.
Also, if you plan to travel in a campervan during the winter, make sure your rental company provides a "winter kit". Happy Campers, for instance, provides guests with a winter kit, studded snow tires, a powerful heating system, extra power, and insulation.
What about campervan insurance?
Most companies include Collision Damage Waiver (CDW) insurance included in the price of the rental, which typically covers theft or damage to the vehicle. CDW does not cover bodily injury caused by an accident. This is one of the many reasons we never leave home without travel insurance.
Insurance through your credit card: Some credit cards cover the CDW with their own rental car insurance, but those coverages typically don't apply to campervans, RVs or trucks. Be sure to read the fine print on your credit card rental car insurance policy.
Vehicle insurance is always a little bit tricky, but it feels even more complicated in Iceland.
There are all sorts of types of coverage you can add on that are unique to Iceland. We've broken it all down for you right here so you have a better idea of what to expect and how to make the best decision for you.
Bottom line: Adding or declining insurance is really a personal choice, and you have to assess the risk you're willing to take.
How far in advance do you need to make reservations?
We'll get straight to the point here: The earlier you can make your reservation the better.
Iceland is a small island nation and frankly, there is a limited supply of vehicles in general. There are even fewer campervans. And if you're looking for something specific – say automatic transmission with a high-top roof – you'll definitely want to get a head start on your search.
Additionally, if you are planning to travel to Iceland during peak tourist season (June – August), you'll want to get a jump start on making any crucial reservations (like your campervan booking) as early as you can.
Something to consider: Understand the cancelation policy of the company you choose to rent through. Some of them are very strict, while others have no penalties for canceling, meaning it might make sense to go ahead with that booking as soon as you are able.
For instance, Happy Campers has free cancellation up to 24 hours before pick up, so we weren't too worried about making our reservation as early as possible.
Where can you camp in Iceland?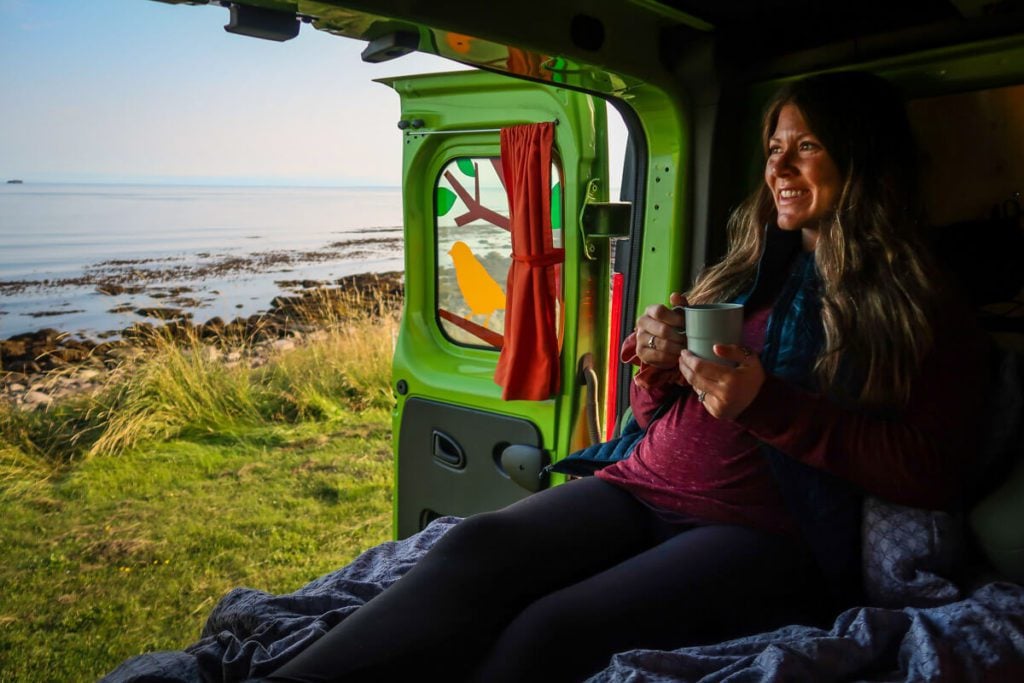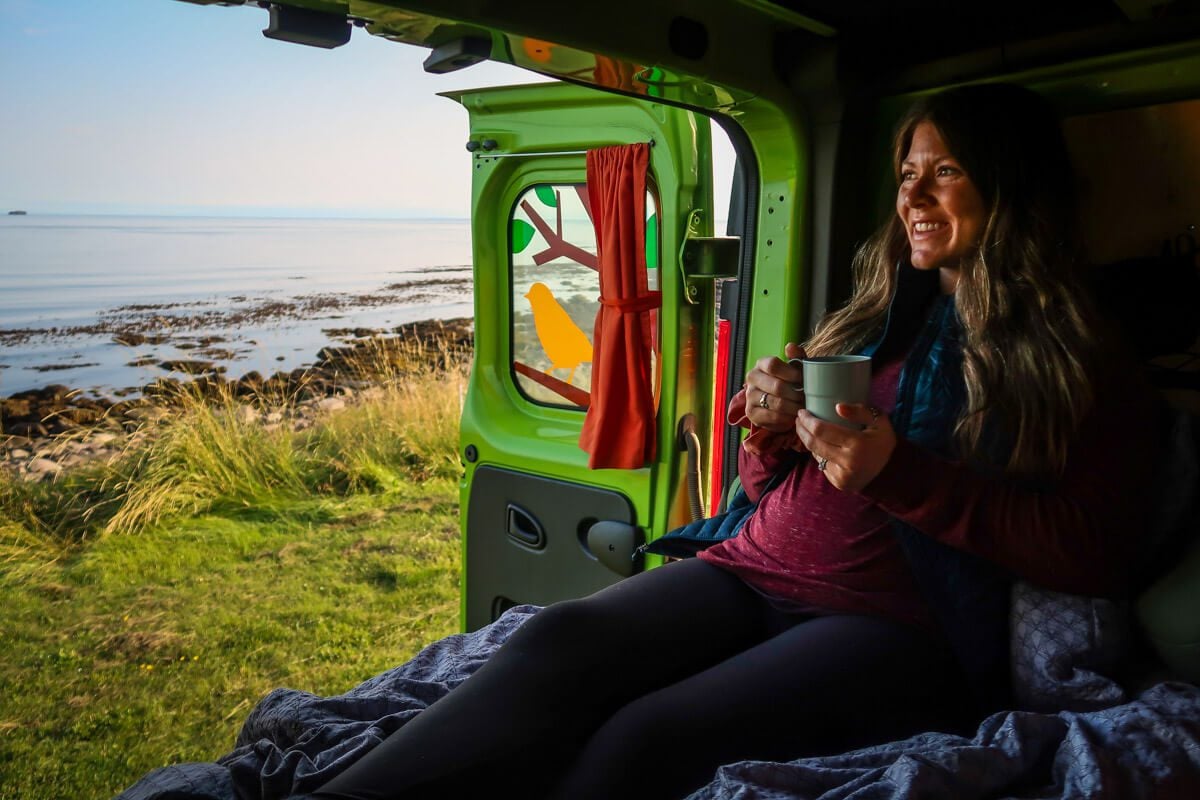 In Iceland, you must camp at a designated campsite (see below for a couple of exceptions).
Campgrounds in Iceland may be a bit different from what you're used to (especially if you're coming from the USA or Canada).
We've written all about what to expect at campgrounds in Iceland so you feel prepared!
Are there toilets in campervans in Iceland?
Most campervan rentals in Iceland do not come with a toilet. There are exceptions to this, and if having a toilet is essential to you, this will help you choose a rental company (as many will be eliminated from the get-go!).
Why don't most campervan rentals have a toilet?
For one, there are public restrooms all over the country and every campground has toilet facilities.
Secondly, the most common type of toilet you'll see in campervan rentals is a cassette toilet, which is honestly good for emergencies but not a great solution for every time you've gotta go. They often require chemicals and frequent emptying, making them kind of a pain. (And they're not very convenient for going number 2.)
Still curious? We wrote an entire article about campervan toilets (not even shitting you!), so you can understand how they work and what different options there are on the market.
Even if you have one for emergencies, you might not find yourself using it all that often. For example, we had a cassette toilet in our campervan rental in New Zealand, but because of how annoying it would be to clean and empty, we didn't even use it once in our month-long trip.
For that reason, we didn't find it necessary to spend a lot more money to have a toilet in our Iceland campervan rental.
So, where do you go to the bathroom?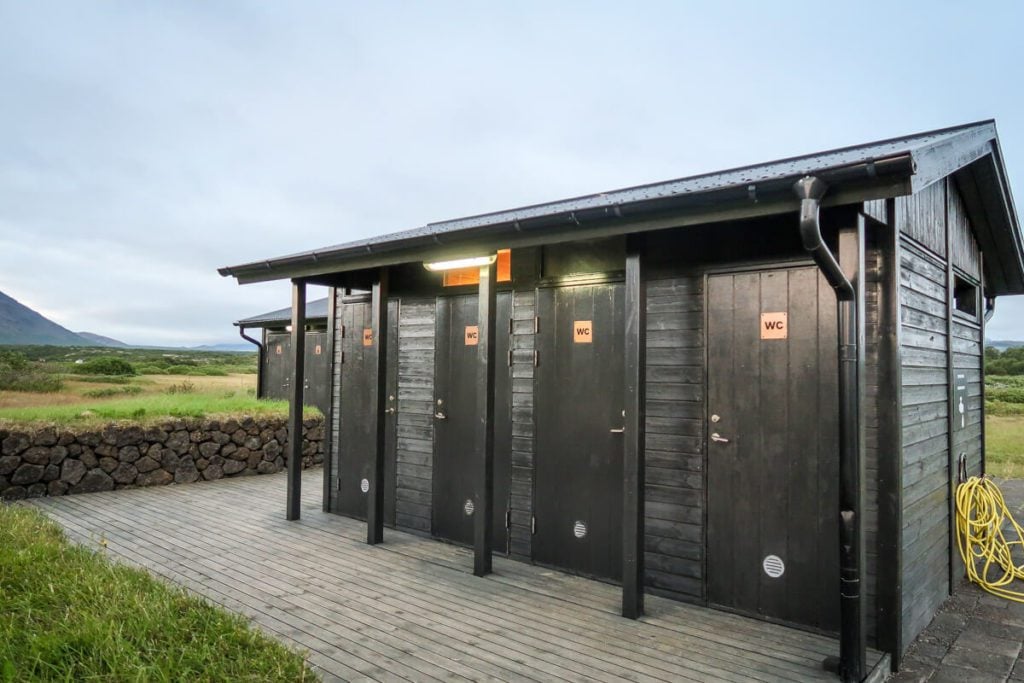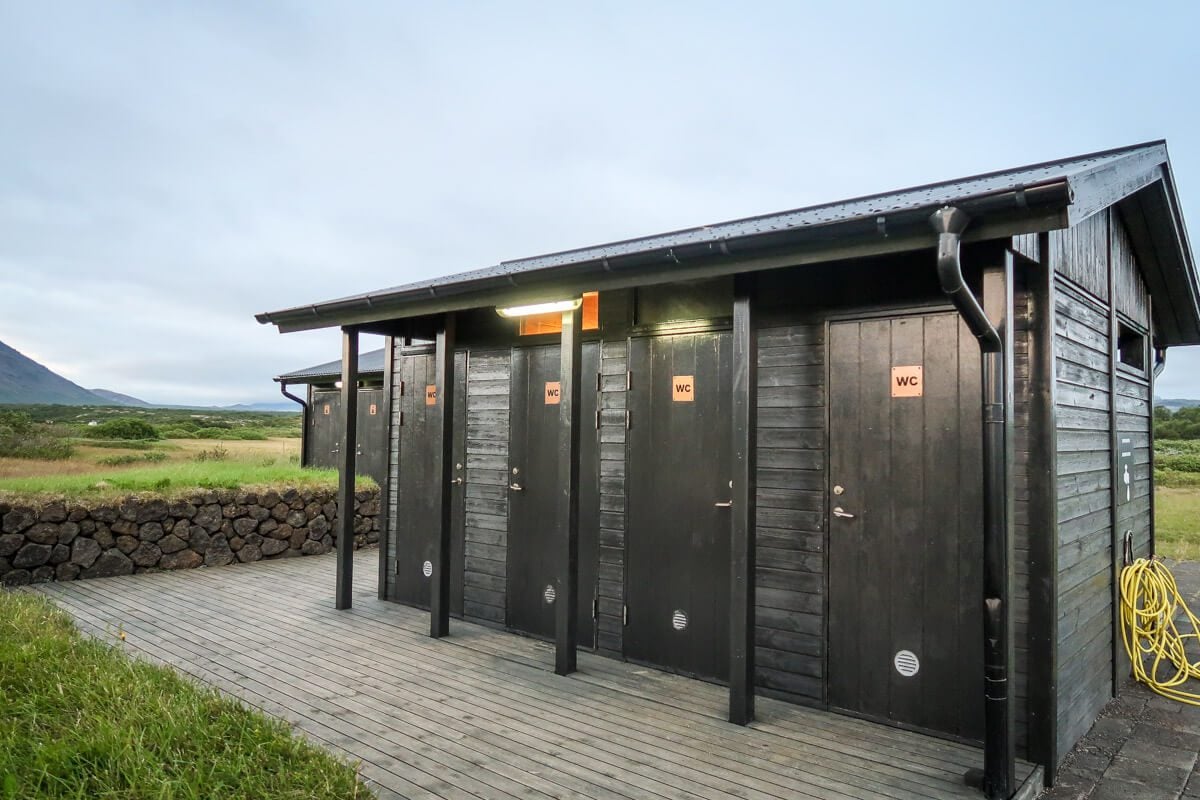 Attractions: Almost every major attraction will have a public restroom. There are a handful of them that charge a fee (and usually accept credit cards), so just be prepared for that. I believe we only paid for one such restroom during our entire trip.
Hiking trails: Many (but not all) hiking routes have toilets at the trailhead.
Restaurants, stores, cafes: If you're eating or shopping, be sure to take advantage of the facilities.
Rest stops: There are a handful of turnouts along the Ring Road that have toilets (some with a fee). Typically you'll see signs for these, but you can also search "restroom" on Google Maps to see any that are nearby.
Gas stations: Another good place to relieve yourself on the road.
Campgrounds: All campgrounds have toilet facilities. Consider parking near them if you don't want to have a long walk.
Still feeling uneasy about not having a toilet?
I feel ya. Let me remind you that I was 6.5-months pregnant during our Iceland trip, so this was a major concern of mine too. I didn't want to have to throw on shoes and a jacket in the middle of the night to hobble over to the public bathroom, after all.
The solution? It might sound crazy and kind of strange (I thought so too!), but have you thought of having a large (empty) bottle in your van to, well, you know…? If you're a guy, this is a simple solution that needs no extra explanation. But for ladies, you'll also need one of these devices to help you out.
I'll say from personal experience that it's not the most comfortable pee of your life, but once you get used to it, it can be a lifesaver. Just be sure to keep a little TP around too!
How do you shower?
Unless you rent a full motorhome, you will not have a shower in your campervan. And honestly, it's not that big of a deal because almost all campgrounds have shower facilities.
We'd recommend paying specific attention to campground reviews that mention the showers. Here are a couple of things to look out for:
Cleanliness: Campground showers do vary in cleanliness. Pay attention to reviews that discuss this. We only stayed at one campground where we felt that the showers were in need of maintenance. All the rest were what we would expect of a public shower.
Cost: Some campgrounds charge a fee for guests to use their shower. Typically, these campgrounds might have a lower per person cost per night (but not always). We only stayed at one such campground, and it cost 300 ISK ($2.30) for 3 minutes of hot water.
Hot water: Campground showers should almost exclusively have hot water. We did not encounter any that did not have hot water. That said, we made sure to read reviews and chose ones that seemed to have nicer facilities.
Insider Tip: When we were debating between where to stay, we'd often choose the campgrounds that had better showers or didn't charge extra for them.
Our experience: Not having a shower in our campervan wasn't a big deal at all as we were able to find them whenever needed. There was never a day where we wanted to shower and could not find one.
Here are a couple of takeaways:
We found we didn't need to shower every day anyway. After long hikes, we obviously wanted to clean up and there were other days when we were chilly and just wanted to warm up in a hot shower. But there were also days where we didn't even work up a sweat (it can be pretty cold even in the summertime!), so we didn't feel like we needed to rinse off. And there were also days where we did so much adventuring that we arrived at our campground so late we didn't feel like showering. We packed body wipes to freshen up with on these days.
When going to developed hot springs, you'll have access to their showers, so you likely won't need to shower at your campground too.
Tips for traveling to Iceland in a Campervan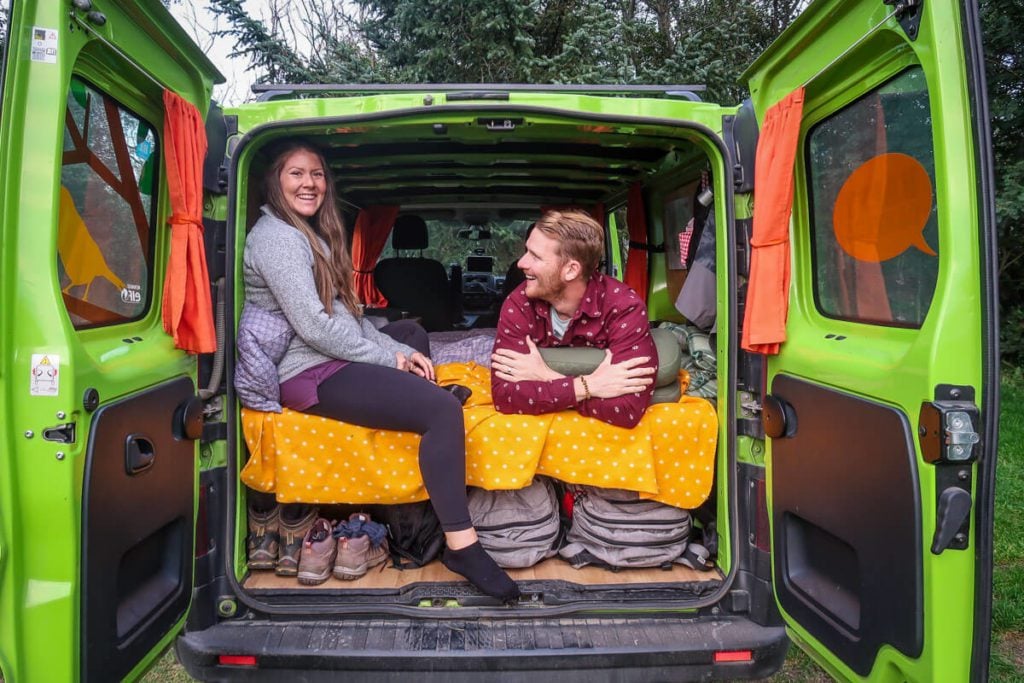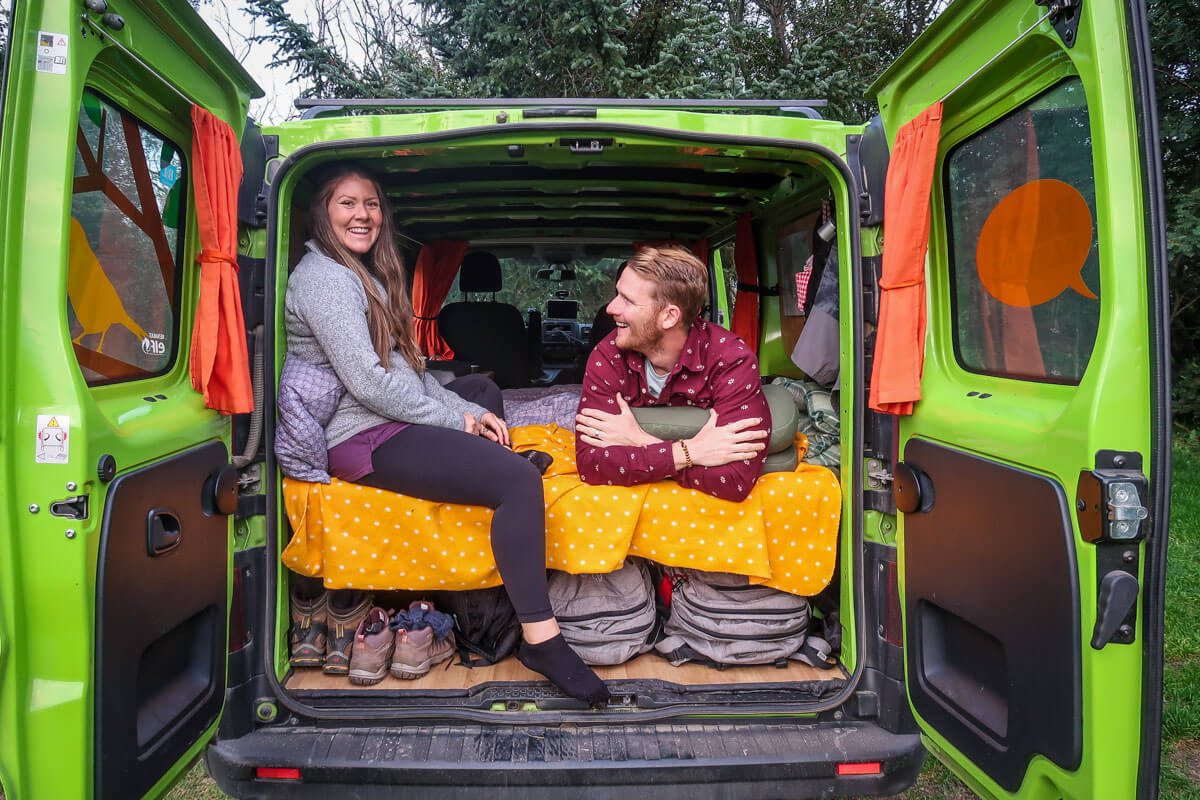 We've built two of our own campervans and have traveled in van rentals around the world, so we'd like to think we've picked up a few tips and tricks along the way.
Here is some of our best advice to keep in mind, especially if this is your first time traveling in a campervan.
1. Pack smart
While living and traveling in a tiny space, it's important to pack only what you need and not a ton more.
Clothes: When it comes to clothes, think about packing layers, waterproof items and things that can be worn more than once. You really won't need a brand new outfit for every day (trust us on this).
Other items: There are some things that make campervan travel infinitely easier. Lucky for you, we've created a list of items to think about packing – many of which are things you probably have sitting around at home but might not have thought to bring.
2. Stay organized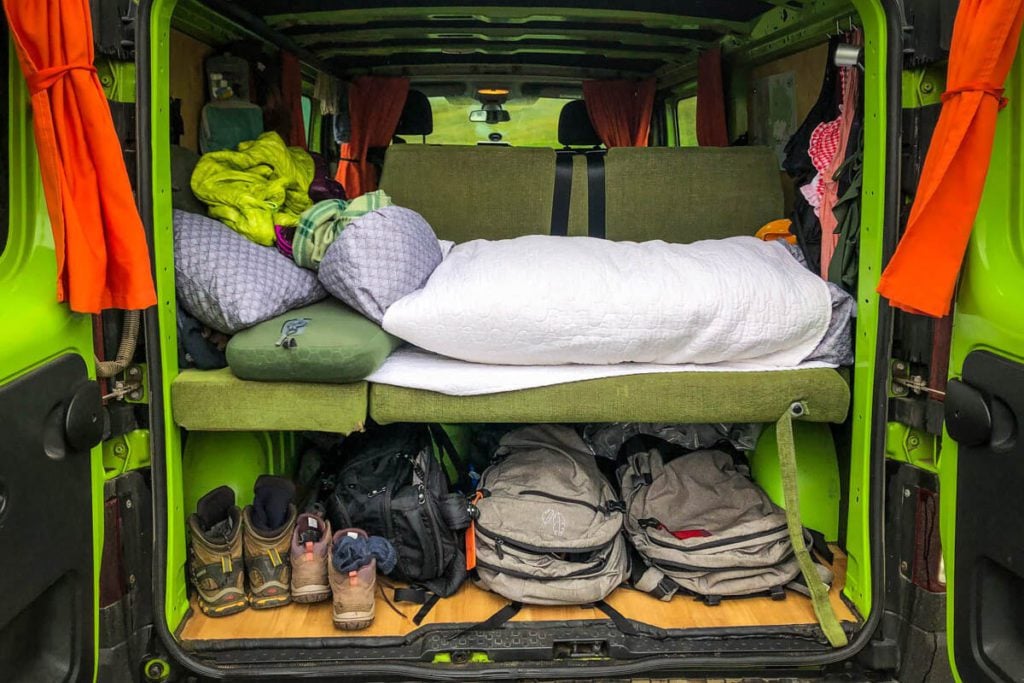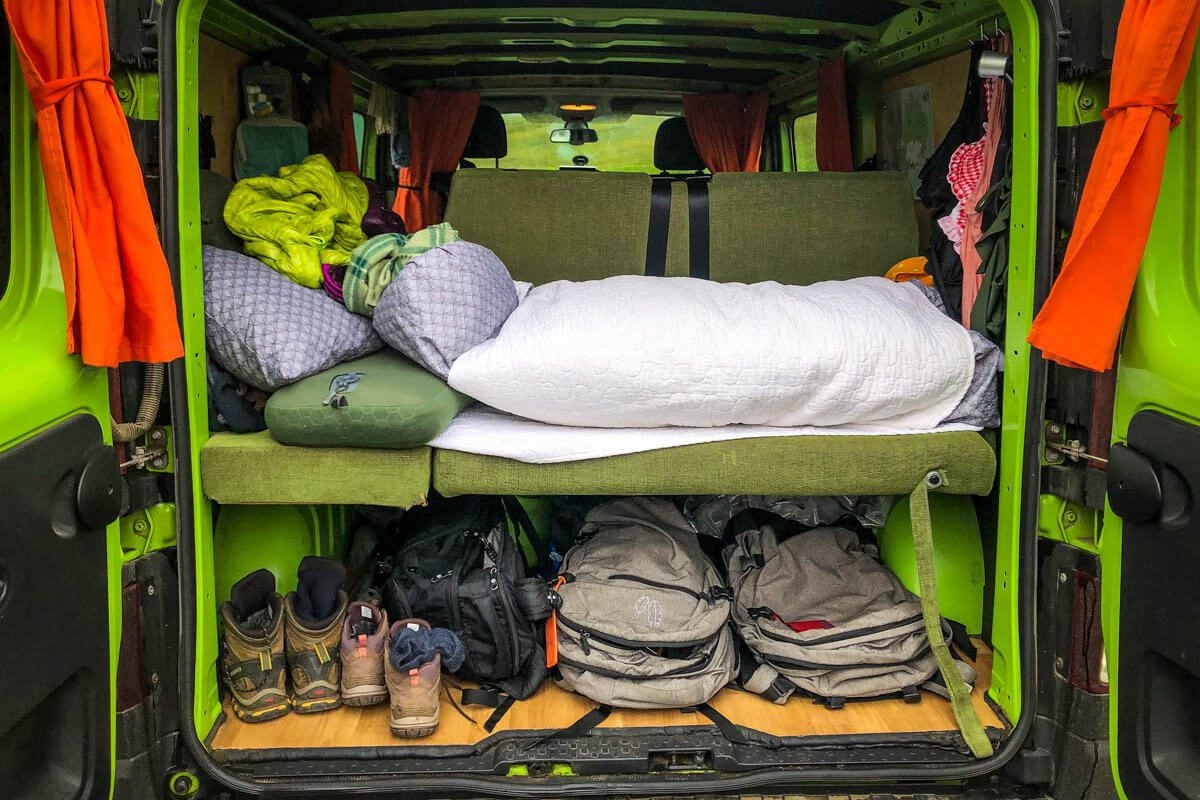 Trust me when I say that clutter in a campervan will make you start to go a little crazy! The more organized you can stay, the better.
We'd suggest taking a half hour when you first get your campervan to get everything in place. Our van from Happy Campers had colorful crates, which were super handy for keeping essential items easy to access.
They had them already organized with utensil holders, dishware, etc. We moved things around a bit and consolidated so we could have an entire crate for food and another one for toiletries.
These items are super helpful for staying organized in a campervan:
Packing cubes: keep your clothes compact and organized
Laundry bag: use this to keep your dirty clothes separate from clean ones (if you don't have an actual laundry bag, a drawstring backpack works great)
Toiletry case: organizes all the toiletry essentials in one place
Chip clips and/or rubber bands: for closing food bags
Reusable baggies: helpful for storing all sorts of things – from snacks to small miscellaneous items
3. Take "before" photos
Before putting those keys in the ignition, be sure to take photos of the exterior and interior of your campervan, paying extra attention to any flaws. Keep them in an album in case you need to dispute any damage when you return your vehicle.
We do this when renting any type of vehicle anywhere in the world. We've never had to use the photos as proof, but it gives us peace of mind knowing we have them just in case.
4. Be sure you have all the essentials before driving away
As we already mentioned, we realized when we were making the bed the first night of our trip that we only had one pillow. There are so many things that go into a campervan, so we can see how it got overlooked.
Our recommendation is to make sure you have blankets, pillows, utensils, pots, and anything else you know you'll need before leaving the parking lot. We were already too far away to return, so we made due with one pillow along with the camping pillows we had packed.
5. Have a plan for cooking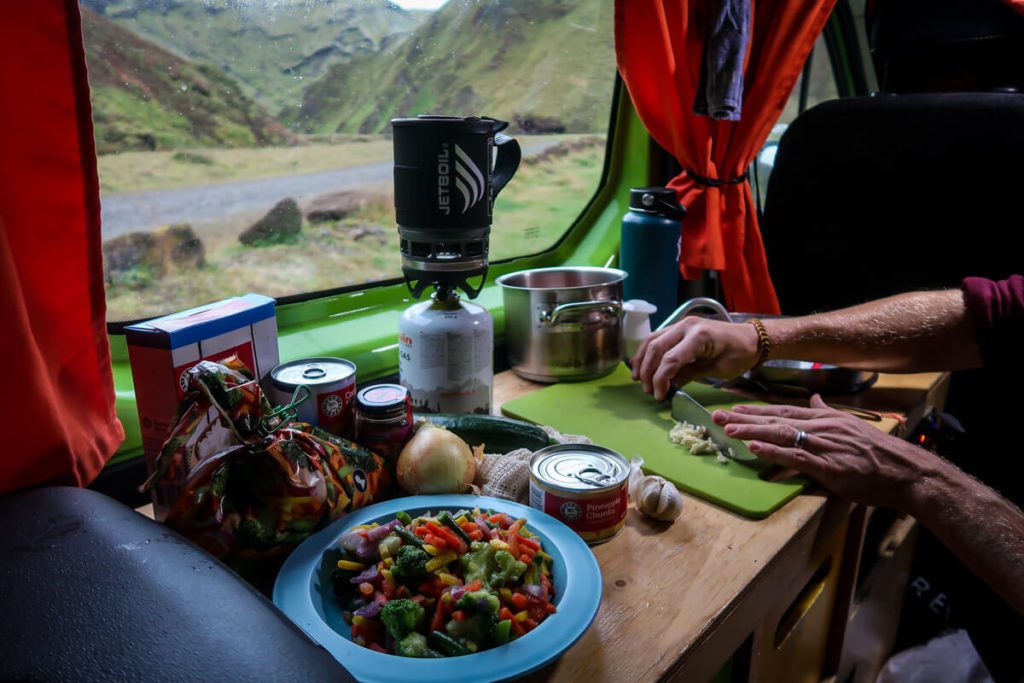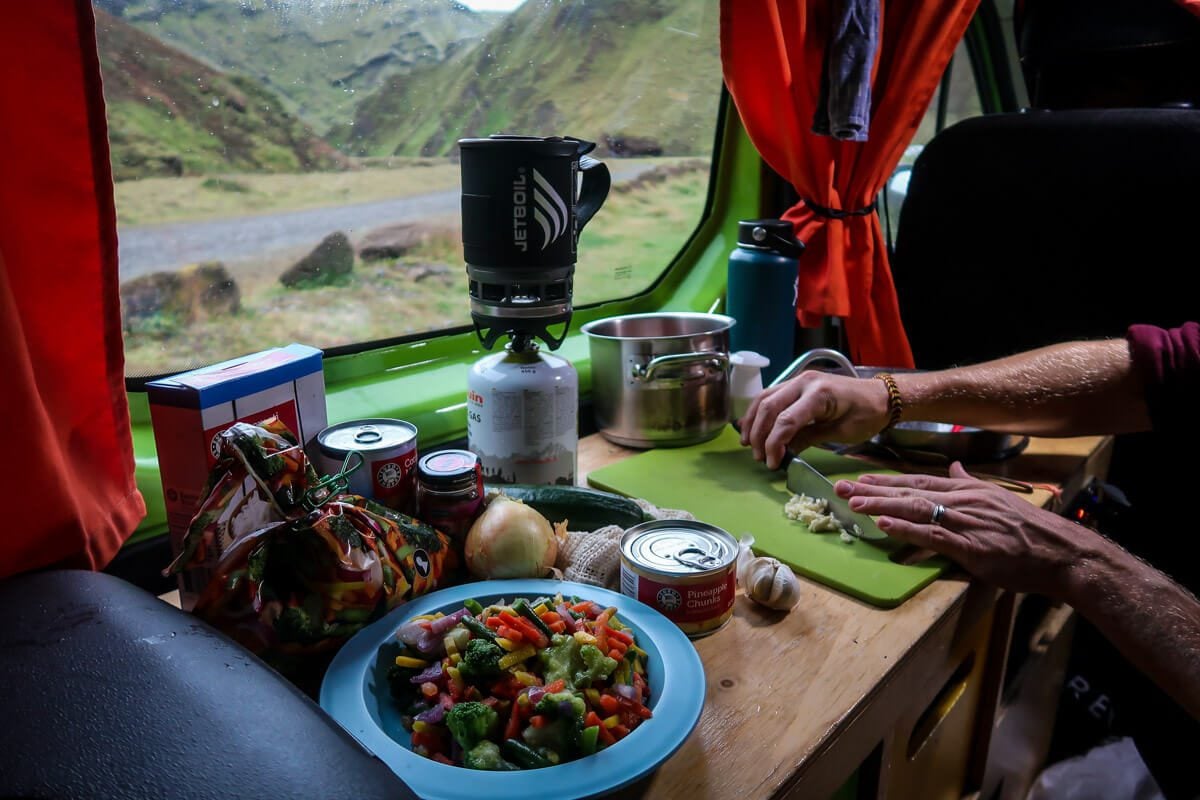 If you've never done much camp cooking, you'll probably want to come up with a bit of a plan before your trip. Cooking in a campervan kitchen or a shared kitchen at a campground will likely be quite a bit different from what you're used to at home. Having some meal ideas will come in super handy.
We've built two of our own campervans and have rented them for travels around the world. So it's safe to say we've cooked many-a-meal in tiny campervan kitchens!
Lucky for you, we've got just the things you need:
6. Research campsites ahead of time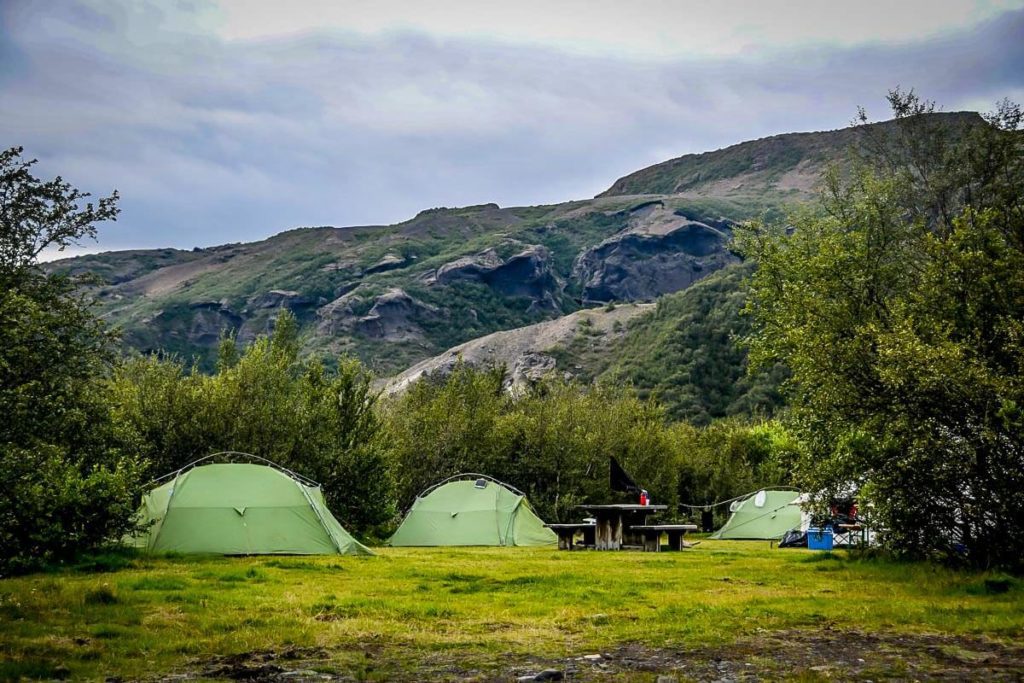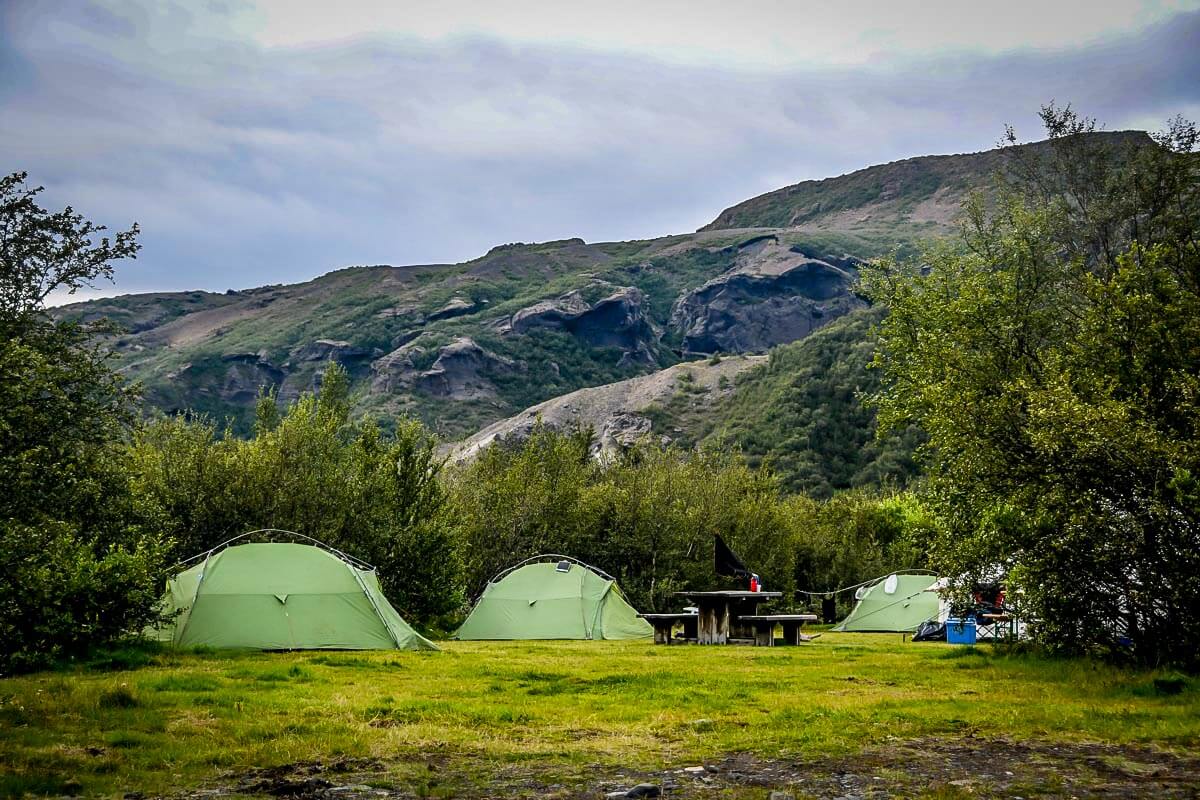 Campsites in Iceland can vary quite a bit in the facilities they offer, so do a little bit of research ahead of time so you know what to expect at each. We also like reading recent reviews so we have realistic expectations.
We personally find that if our own expectations are in check, we'll have a better attitude and can enjoy our experience more than we would if we arrived and are completely disappointed because we expected more.
Let me just sum it up for you like this: Some campgrounds in Iceland are wonderful – clean with generous amenities. And others leave a bit to be desired, but are the only option around, so they work just fine for a night (as long as you're prepared!).
Check out some of our favorite campsites in Iceland here.
7. Come with a route in mind…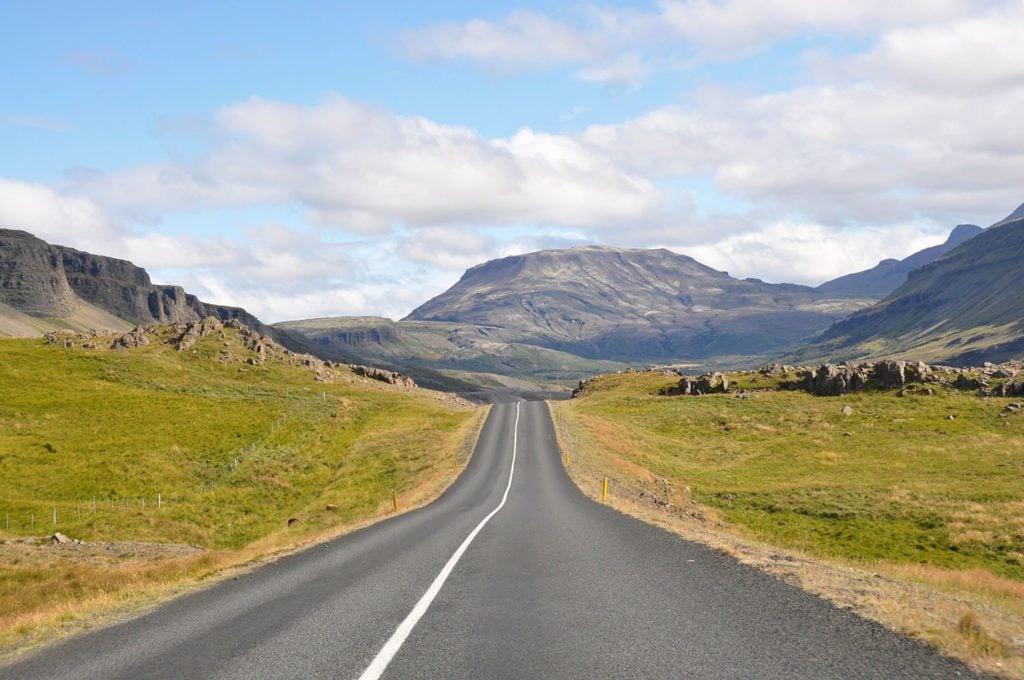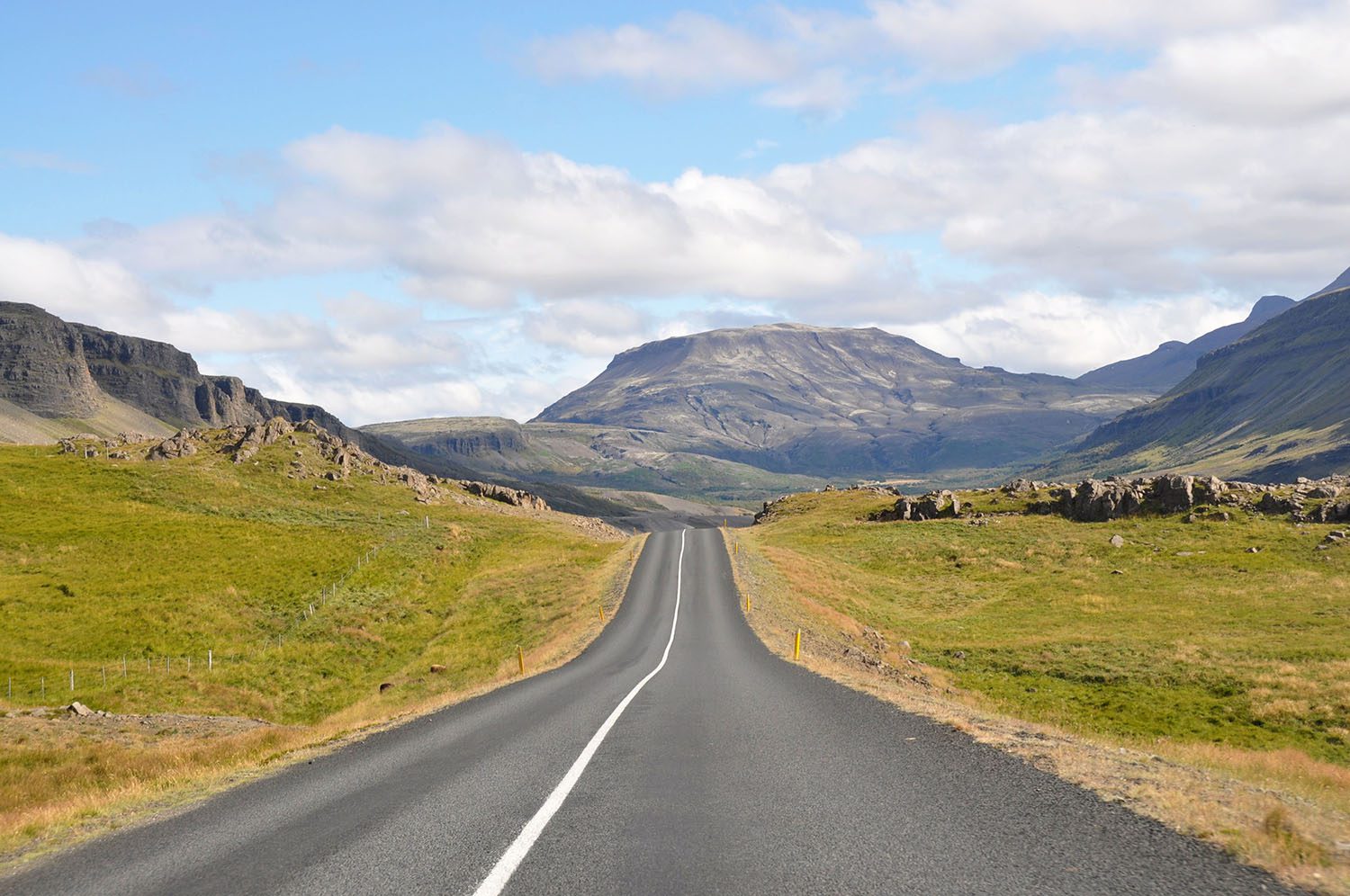 Part of the magic of taking a road trip is taking side roads and getting a little lost, wouldn't you agree?!
However, in our opinion, Iceland isn't a place to just completely "wing it". Here's why:
a) It's easy to miss amazing spots if you don't know where they are. We'd highly recommend pulling over at any roadside stops that pique your interest, however, many cool places aren't marked with road signs.
You'll want to narrow down the major spots you want to stop along the way before your trip because it's very easy to miss them. You don't want to find out that you passed by an epic hot spring simply because you didn't know it was there.
b) Do you need a 4×4? Before reserving your vehicle, you'll want to know whether or not you need a 4×4. This means you'll need to do some research on the places you plan to visit, as there will be roads that are only accessible if you have the proper vehicle.
Not sure if you need a 4×4? We've given our two cents here…
c) Gas is expensive. Being that Iceland is an island nation and all petrol must be imported, gas is not cheap. It makes more sense to really think through the places you want to see so you don't have to backtrack or go significantly out of the way and rack up an eye-watering bill at the gas station. Having a somewhat planned route will help you make the most of your gas budget.
Curious about how much gas in Iceland costs? We recorded every single cent we spent on our Iceland trip (including gas money), and are sharing our total Iceland trip cost so you know what to expect.
We compiled all of our experiences from 3 separate visits and put together what we think is the perfect 7-day Iceland itinerary for your first trip. You can follow ours exactly or just use it to help you plan your own route along Iceland's Ring Road.
8. …but be flexible too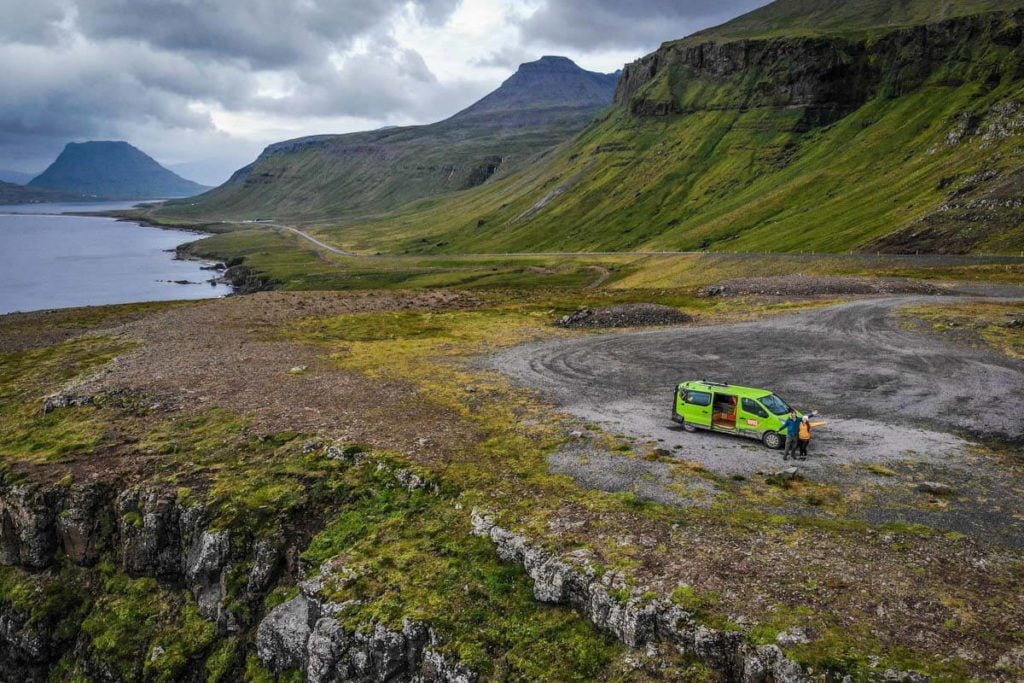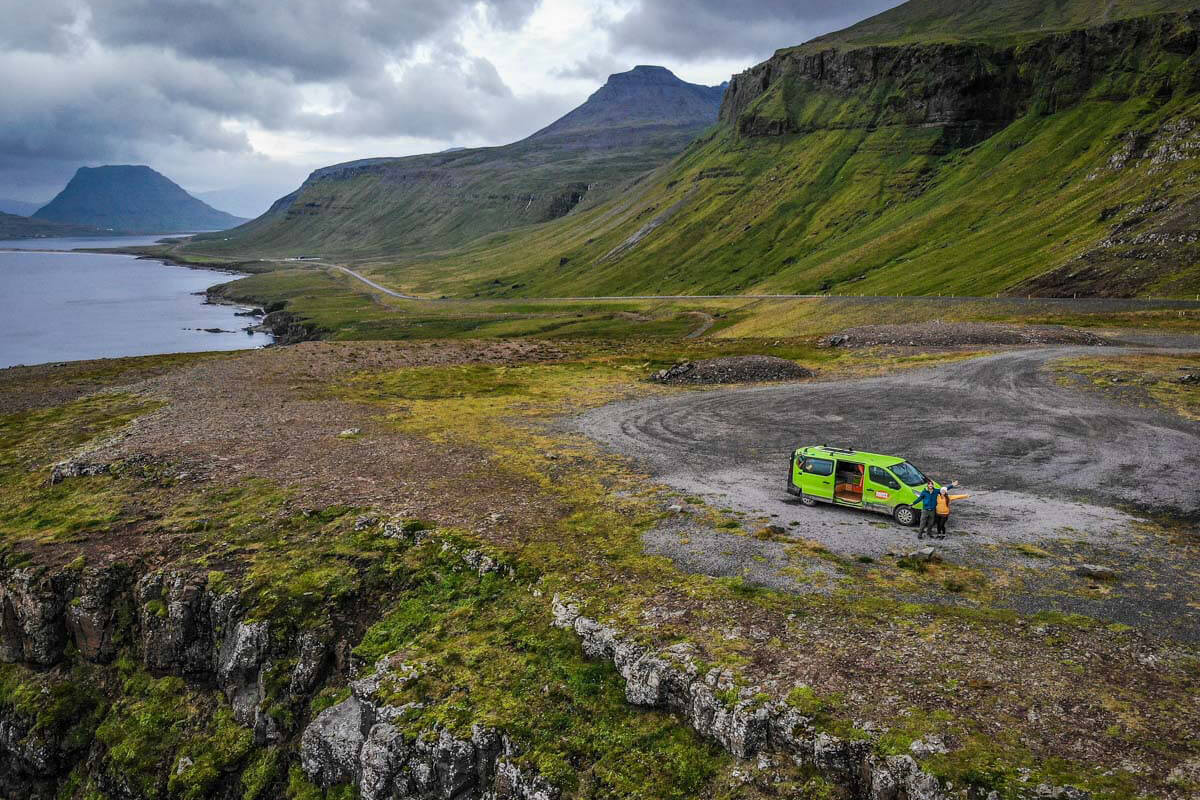 We think the point above is very important, but perhaps even more crucial is to come to Iceland with an open mind.
During your trip, keep in mind that the only thing you can count on is that some things will go differently than you expected.
If you come with a super strict itinerary with no wiggle room, chances are you'll have some major disappointments.
Weather in Iceland is unpredictable, and some views might be completely clouded over. This happened to us on more than one occasion.
You may experience some trouble on the road and need to adjust your schedule. Our van battery died in the middle of nowhere and we had to figure out how to get a jump!
Driving times between places may take significantly longer than you expect. This is super common, so give yourself ample time to get from place to place.
Some small businesses may be closed when you arrive. Yep, even if it says they should be open on their website.
Our advice is to make plans, but be flexible and willing to alter your schedule a bit if needed. This attitude will help you have a much more enjoyable trip.
Wondering how to start planning your itinerary? Here's the process we use to plan a killer road trip.
9. Be prepared for ALL weather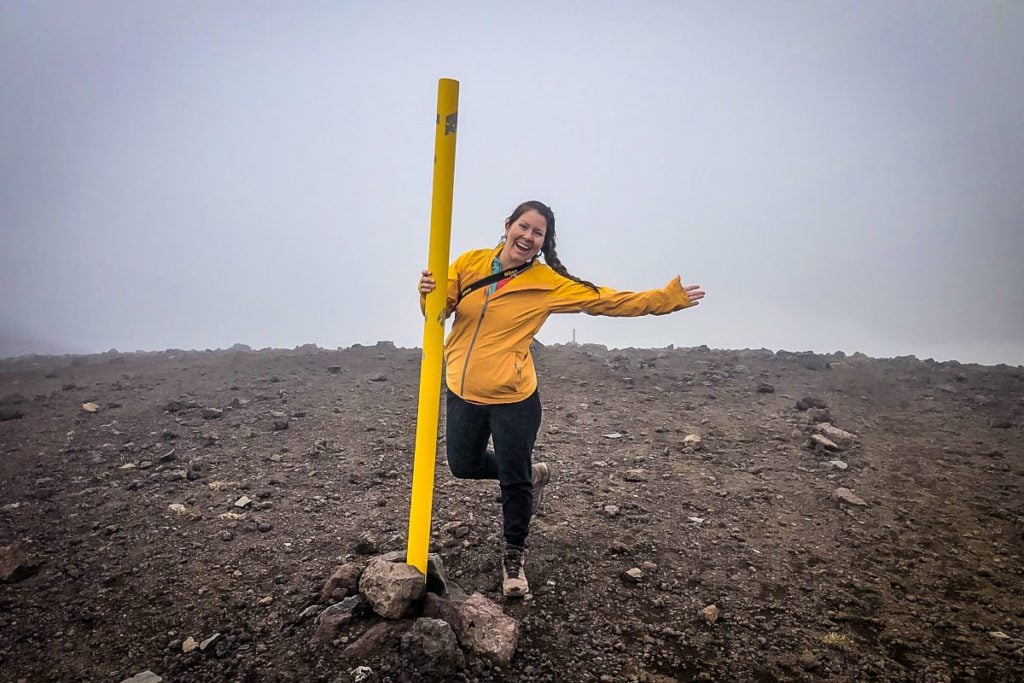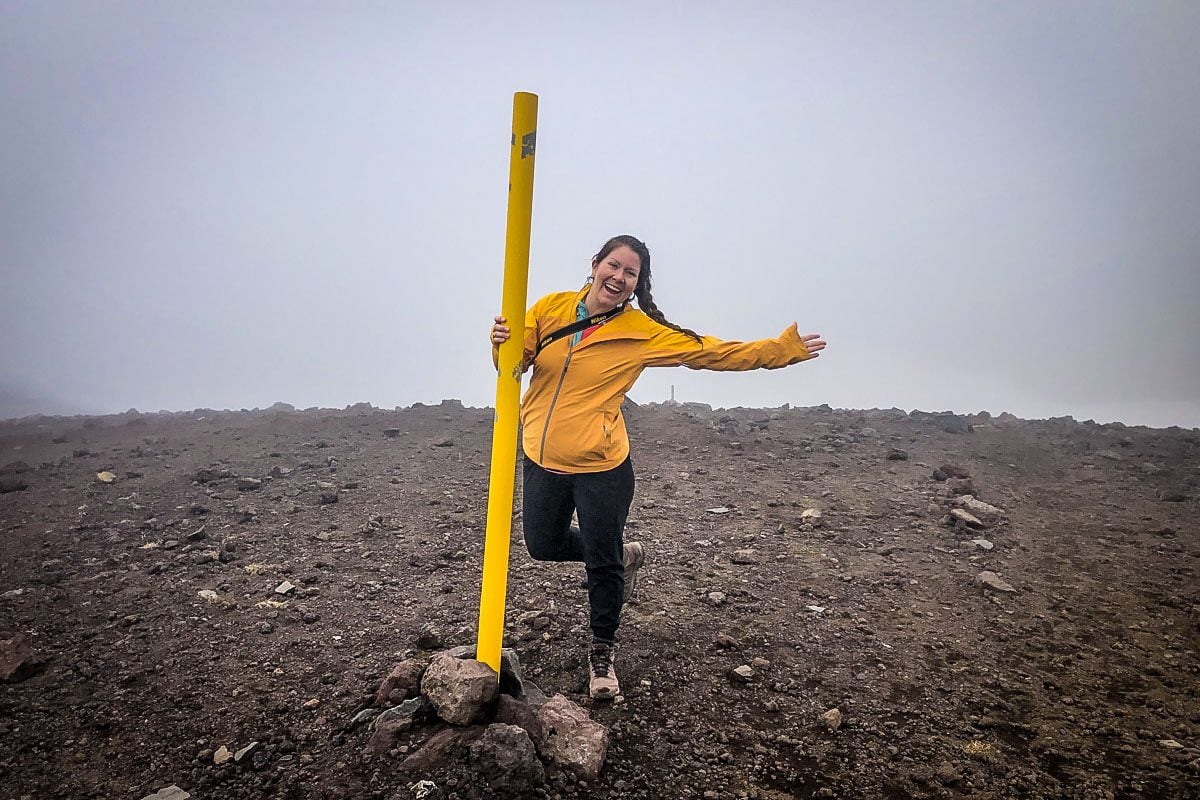 Let's get cliché for a moment. Read the quotes below and let them really sink in:
"If you don't like the weather, wait 5 minutes."
While this quote was originally from Mark Twain, and many places around tout it as sort of a local anthem, you'll hear it a lot in Iceland. The weather is notoriously unpredictable, and in one day you can experience sunshine, wind, rain and sleet.
Even if you set out on a hike and there are no clouds in the sky, bring a rain jacket with you. And when you show up to a view and it's totally obstructed by fog and rain, have a little patience. Sometimes waiting just a few minutes will be all it takes for the winds to shift.
In a similar vein, if you wake up to sunshine, don't expect that to last all day. The climate and weather will vary quite a bit just miles apart, so you could very well drive through all different conditions in one day.
"There isn't bad weather, just bad clothes."
Being born and raised in Minnesota, we're both very well-versed with this quote. Throughout bitter Midwest winters, this is a popular saying, and I think it translates really well to planning a trip to Iceland as well.
No matter what time of year you visit Iceland, here's what you can count on:
Rain
Cold temperatures
Strong winds
Be prepared with rain gear (the high-quality stuff makes a huge difference), warm layers, and a good attitude. With the proper gear, you can still explore in less-than-ideal conditions.
You'll especially want to make sure you have clothing that is warm enough and quick-drying if you are traveling in a campervan. Being cold and wet is going to make you miserable, so pack accordingly.
10. Download these apps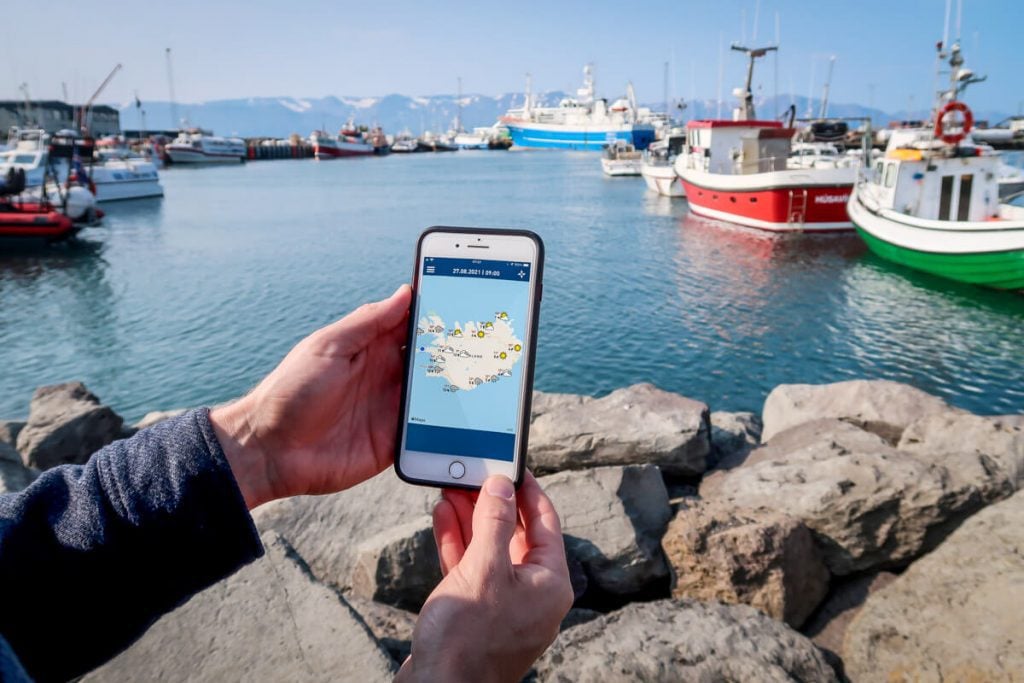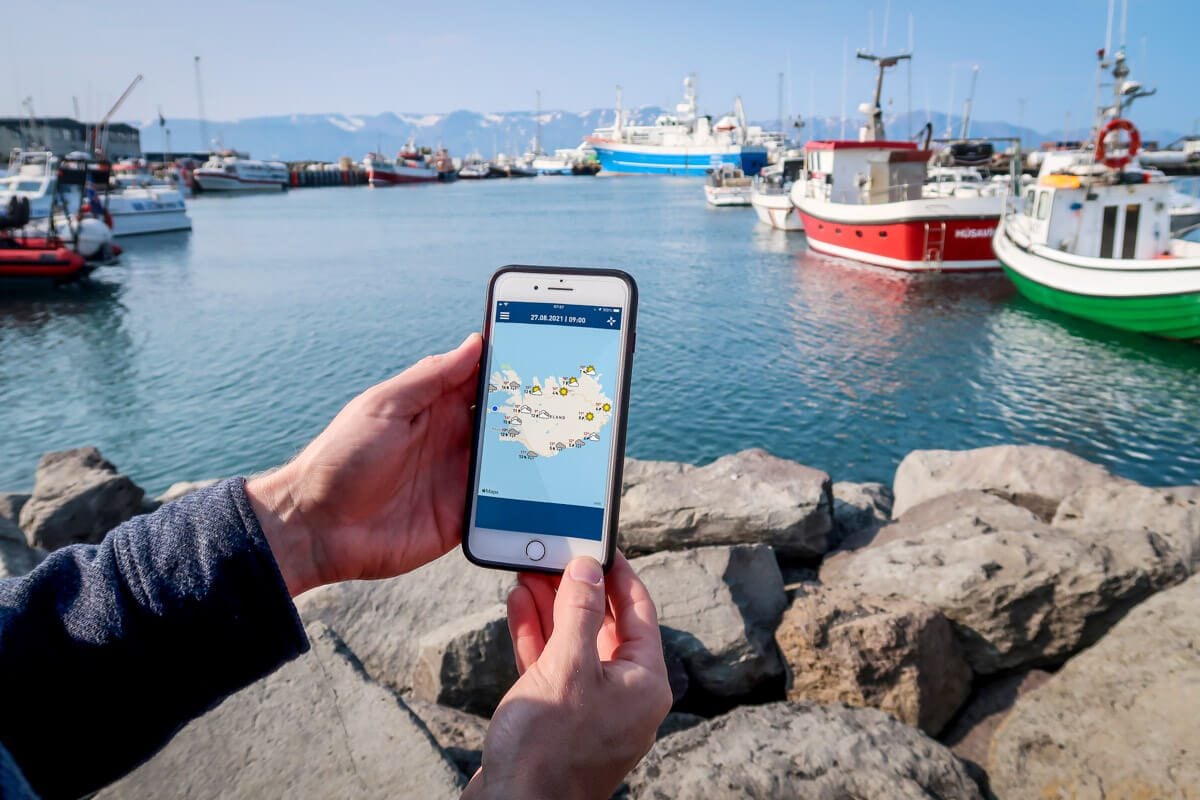 There are a handful of apps that'll make traveling in a campervan a lot easier (or more fun):
SafeTravel: shows current road conditions
Google Maps: download the offline version of Google Maps
Vedur: this has the most accurate weather forecast for Iceland
112: this app can help you share your GPS location in case of emergency
Bensin: this shows you the best gas prices at stations near you so you can choose the cheapest place to fill up
Spotify: queue up your favorite road trip playlist
Libby: connect to your local library and borrow audiobooks for free! Perfect for road tripping!
Psst! Here are more Iceland apps to download before your trip!
11. Do some reading before you get behind the wheel in Iceland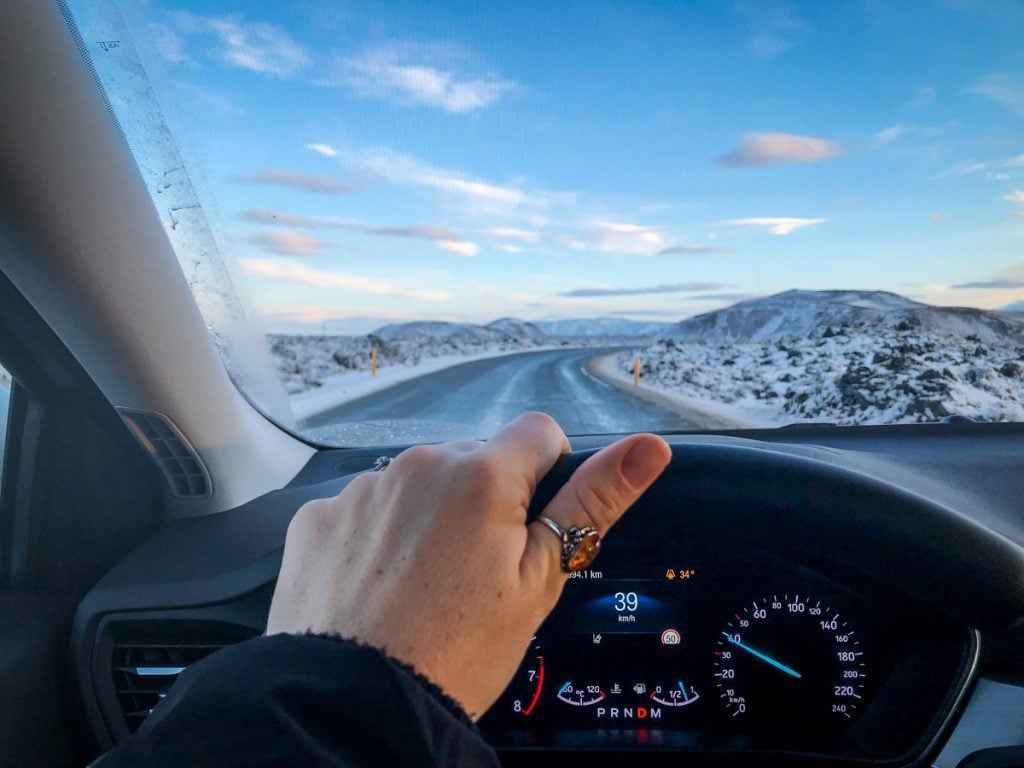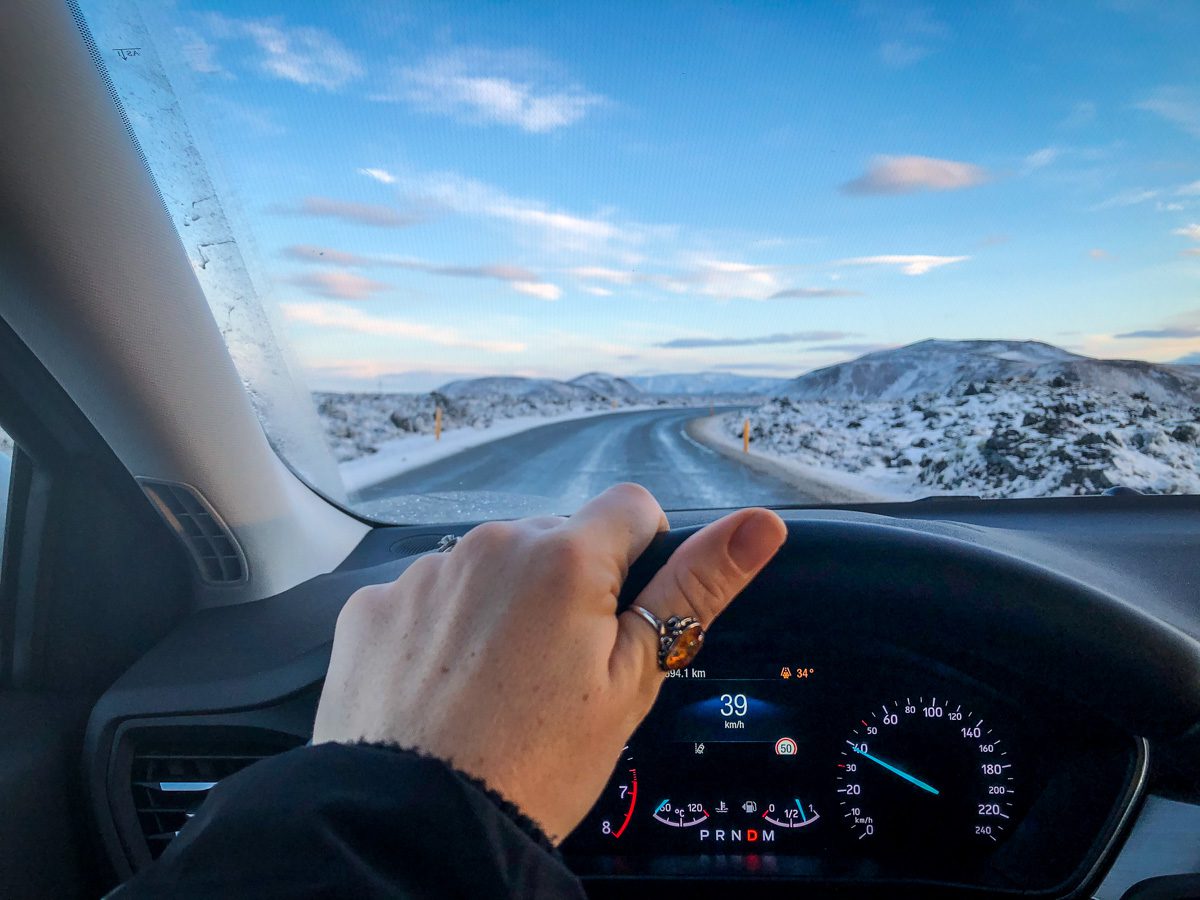 You may be wondering how difficult it is to drive a campervan in Iceland, and the truth is, this is a very personal question.
It is going to come down to the specific campervan you choose as well as your comfort level driving larger vehicles in general.
Personally, we found driving in Iceland to be quite easy. With the exception of Reykjavík and the surrounding area, the roads typically aren't too crowded.
In Iceland, you drive on the right side of the road (which we're used to in the United States), and most roads are pretty easy to navigate.
All that said, there are some things that are super important to know before popping those keys into the ignition.
We've created a guide dedicated to tips for driving in Iceland that will be helpful whether you're driving a car or campervan. It goes over things to watch out for, a tricky rule for roundabouts that can cause accidents if you're not prepared, and much, much more that is specific to driving in Iceland.
Make sure you check out that article and bookmark it so you feel confident when getting behind the wheel.
Iceland Campervan Packing List
Here are some items we'd recommend packing specifically if you are renting a campervan in Iceland. Many of these are items we keep in our own campervan and have come to love having with us.
Organization
Packing cubes: an essential for keeping your van organized
Hanging toiletry organizer: we were able to hang this on a hook in the van, making it super easy to access what we needed
Dry bag: essential for keeping valuables dry in Iceland's wet climate
Reusable grocery bag: for grocery shopping and organization
Reusable baggies: come in super handy for snacks and storing small items
Kitchen
Rubber bands & chip clips: Trust us, you'll need a way to keep those food bags closed so they don't spill all over your van.
Garbage bags: Our van didn't have a garbage can or bags, so we were happy we brought a few small garbage bags from home. Regular plastic bags could work too, but you must pay for them in the stores in Iceland.
Spices (see what spices we packed)
Snacks: dried fruit, nuts, protein bars
AeroPress Go: If you are a coffee drinker, this is super handy!
Jetboil (optional): We loved having a way to boil water quickly for coffee or tea. That said, it's certainly not necessary.

Note: If you bring a Jetboil, you can't fly with propane, and will need to pick one up once you land in Iceland. Your campervan rental company may even offer these.

Dehydrated meals (optional): These are a super quick meal idea and work great for a quick hot lunch or dinner.
Multi-tool (you can only pack this in checked luggage)
Dr. Bronner's biodegradable soap: our campervan didn't have a grey water tank, so packing a small container of this biodegradable soap made us feel more comfortable doing dishes when the water would go into the ground. Bonus: Ben also uses this as body wash and shampoo!
Toiletries
Body wipes: For a way to freshen up on days you don't feel like showering
Dry shampoo
Hand sanitizer (this one is our favorite!)
First Aid Kit
Sleeping
Eye mask: especially helpful during the summer months where the sun sets very alte
Travel pillow: good to have just in case you don't love the ones provided (or so you can have more pillows for sitting up in the bed)
Hat and gloves: yes, even during the summertime!
Sleeping pad (optional): We wouldn't recommend buying one specifically for this trip, but if you have a lightweight sleeping pad at home, you may as well bring it for some extra cushion. We wished we had packed ours because while the mattress was fine, it could have used a bit more padding.
Electronics
Be sure to download our complete packing list for Iceland! It's packed with good suggestions and insider tips to help plan your Italy trip. And it's completely FREE, so why not!?


Are you planning a trip to Iceland?
We have TONS of resources on travel in Iceland and how to make the most out of your trip. Check out our Ultimate Iceland Travel Guide for all the answers to your most burning questions, or read some of our favorite articles below.
Save this article on Pinterest for later!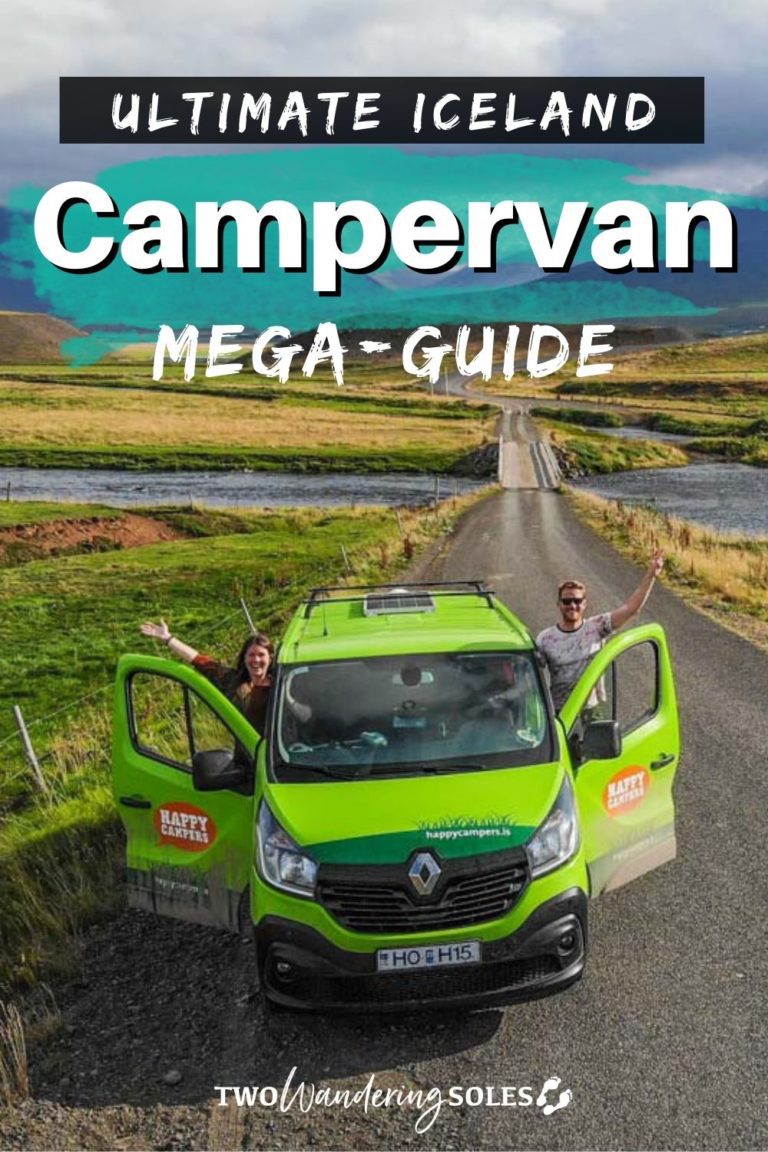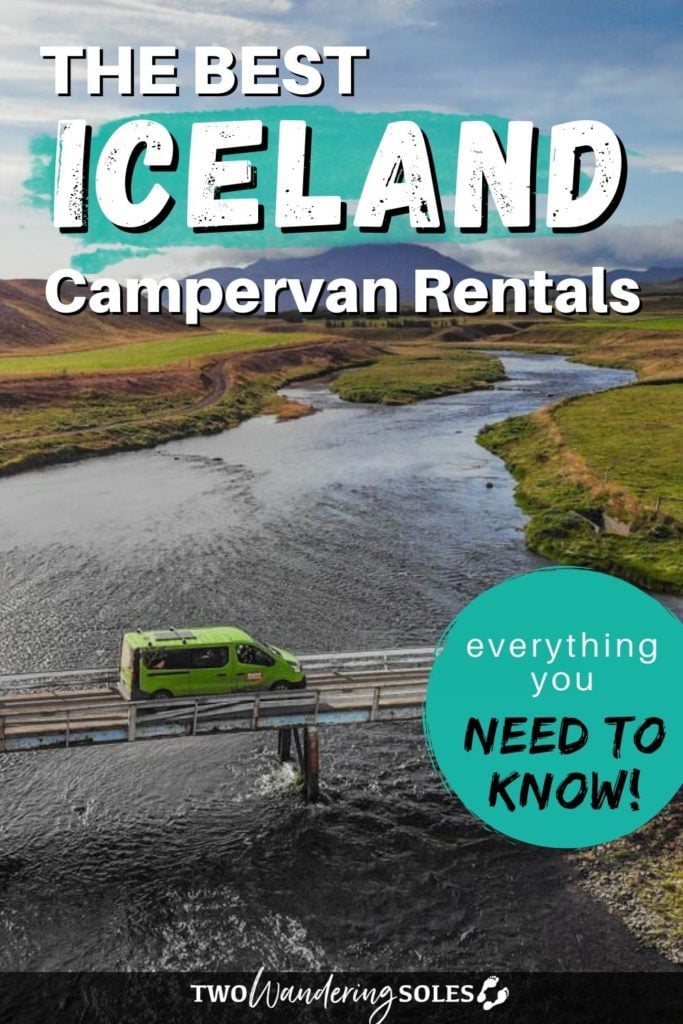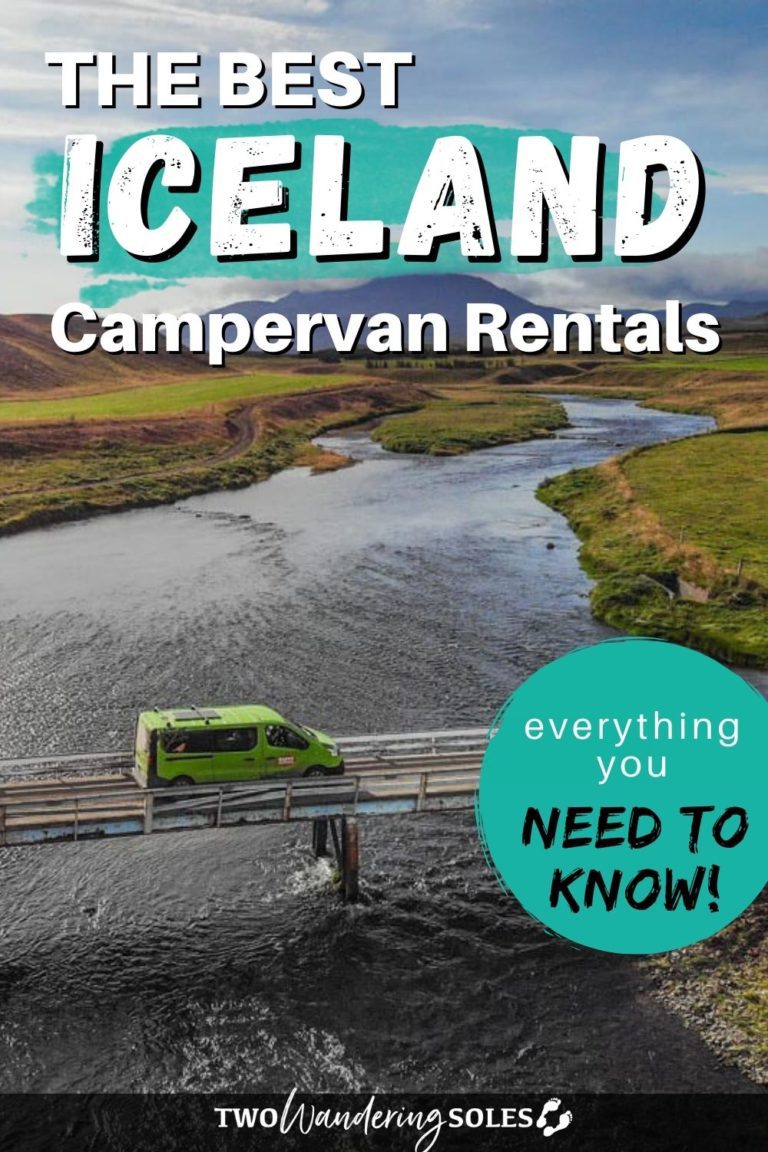 Disclosure: In full transparency, our Happy Campers rental was sponsored in exchange for coverage on our website. As with anything that we get for free, we disclose this to our readers and share our completely honest opinions (even the not-so-great parts). Additionally, we did a great deal of research before our trip to compare many campervan companies. For several reasons, Happy Campers was the one we would have personally chosen regardless of having a partnership.
We want to hear from you!
Are you planning a campervan trip and still have questions about your Iceland campervan rental options? Leave your comment below and we'll do our best to get you the answers you're looking for!