Searching for the best campervan to hire for your Scotland trip? We've rounded up the best rental options along with pros, cons and insider tips so you can plan the perfect campervan trip!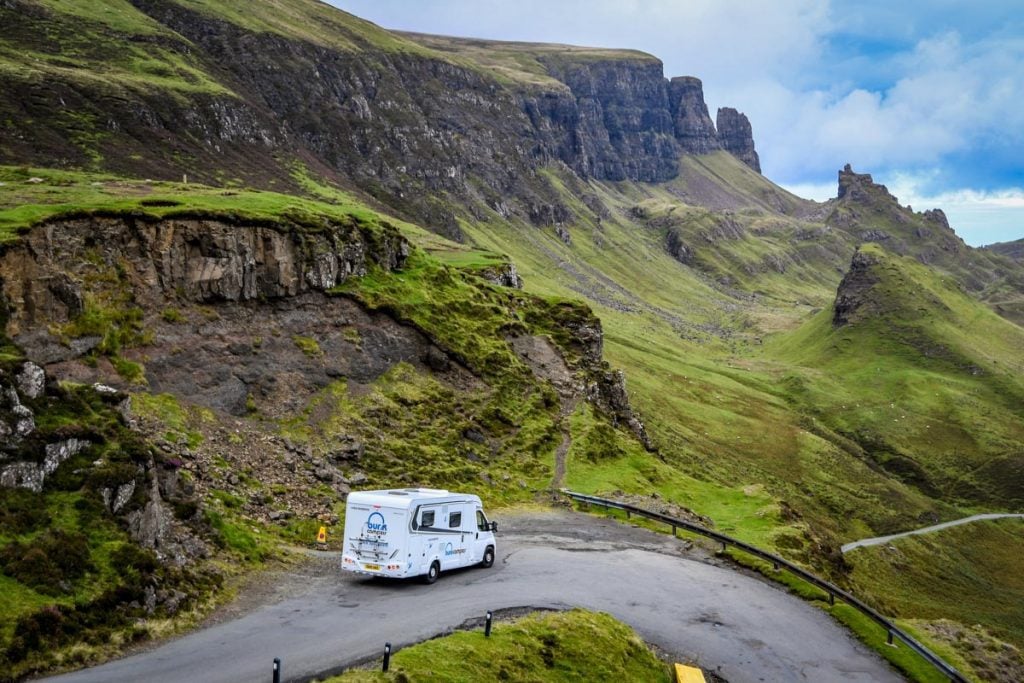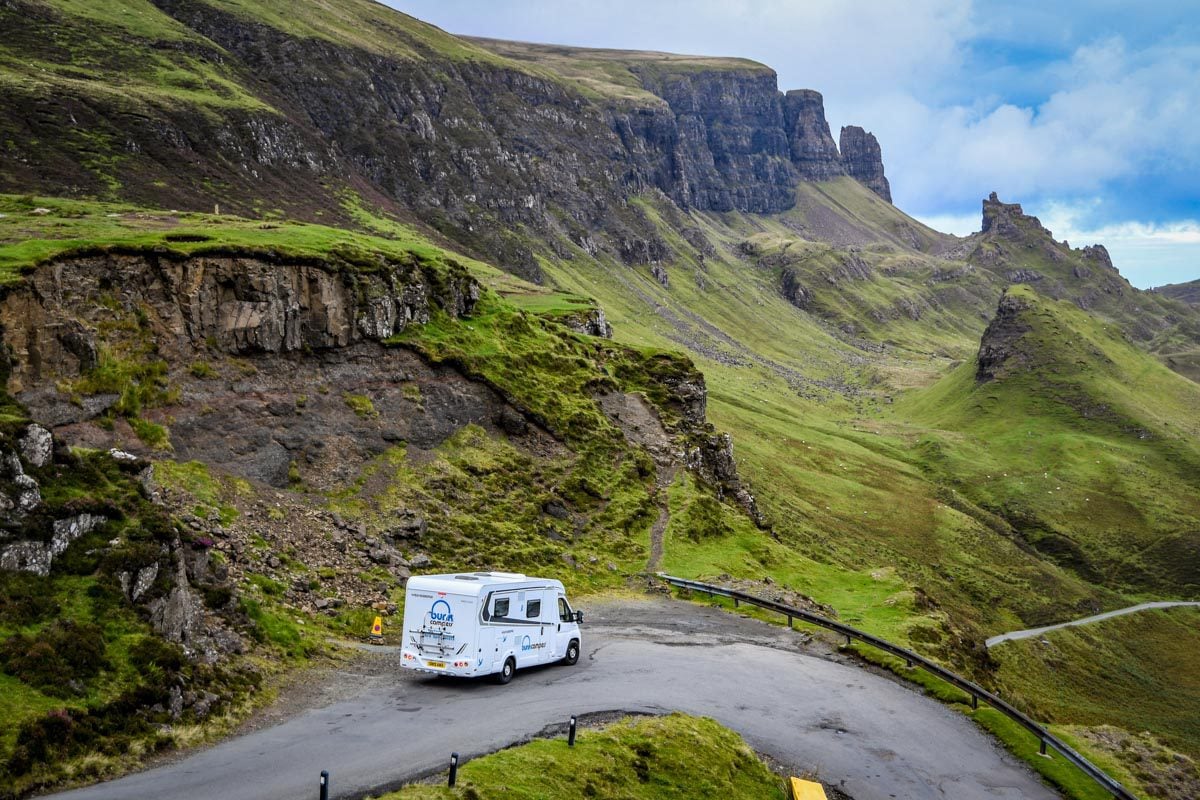 If you are considering renting a campervan in Scotland (I assume you are because you're in this article, after all!), I have two words for you:
DO IT!
We have taken campervan trips all over the world (we're kind of obsessed!) and we think hiring a campervan in Scotland is undoubtedly the best way to see the country.
In this article, we're going to break down exactly why renting a campervan in Scotland is the best idea you ever had, what to look for when choosing a rental RV, and all sorts of insider tips like what to pack.
Why we're experts on campervan rentals
If you're new to this blog (welcome!), we want to share a few reasons why you can trust us about all things campervan. And also, we simply love connecting with others who are interested in RV and campervan adventures, so let's be friends!
We have personally built 3 campervans from scratch.
We have traveled all over the US in our own campervans.
We have rented vans in New Zealand, Iceland, Scotland, and Ireland.
Now do you understand why I said we're obsessed!?
I mention all of this to let you know we have a lot of personal experience on this subject. This article was not just written by a freelancer who has never stepped foot in a campervan (like many other articles out there!).
We truly know what we're talking about and in this article we're sharing our expertise with you.
Quick English language note: We use the words "rental and "hire" interchangeably in this article.
Article Contents:
Planning a trip to Scotland? Find out the best time to visit Scotland based on regional weather patterns and your personal travel style.
---
Want to save time and energy on planning?
We traveled in Scotland for about 2 weeks and were able to visit most of the highlights of the country, including most of the top places to visit.
We took our 2-week travels and created the perfect Scotland road trip itinerary. We'll send you our complete 2-week itinerary, filled with tips and advice. Just click below to get your 2-week Scotland road trip itinerary today!


---
Why hire a campervan or RV in Scotland?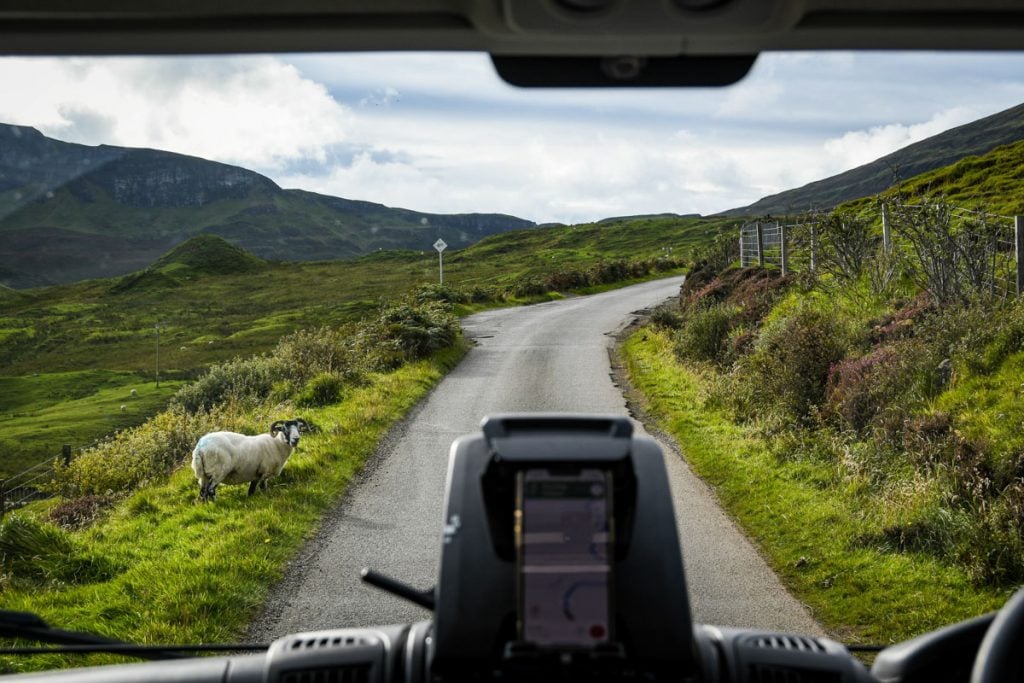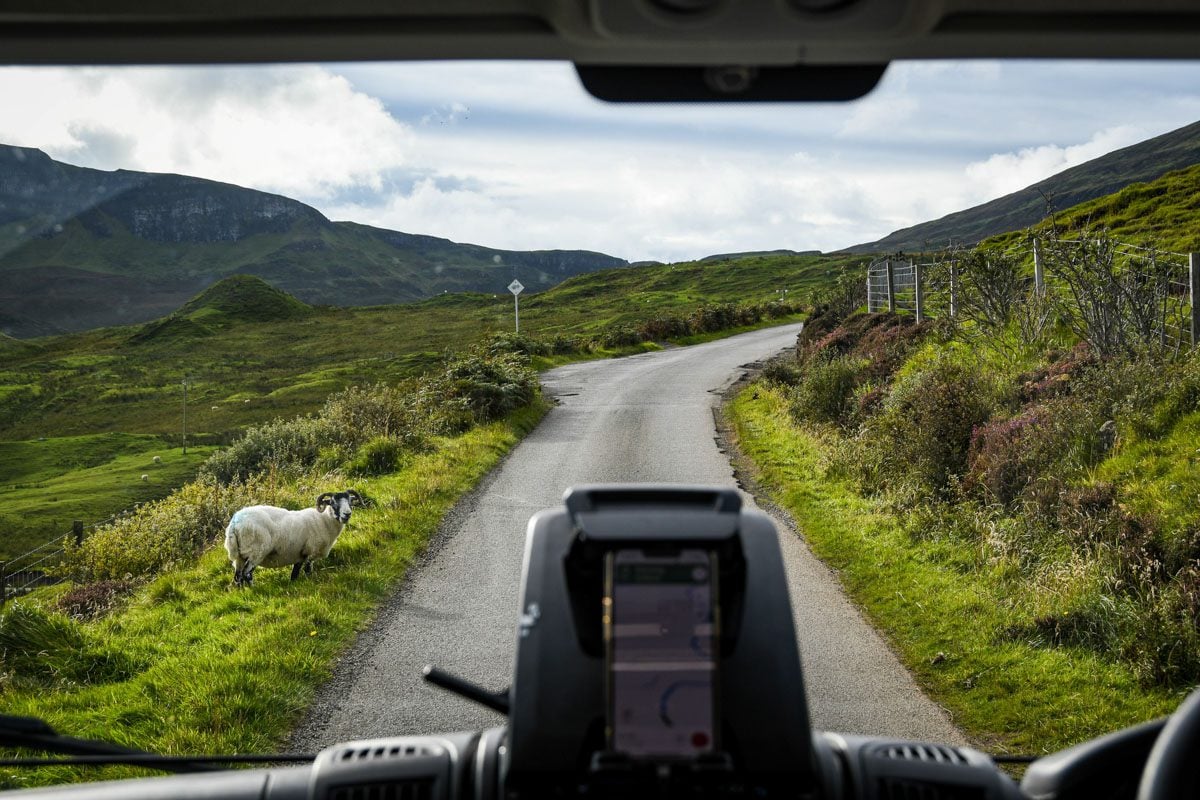 Still need a little convincing on the whole renting a campervan thing?
We get it. If you've never experienced traveling in a campervan, the idea of it can be a little daunting. Don't worry though — we literally have all the resources you need to make your trip a success. But more on that later…
First, let's chat about why renting a campervan in Scotland is a good idea. Scratch that. An AMAZING idea.
a) You can save (a lot!) money.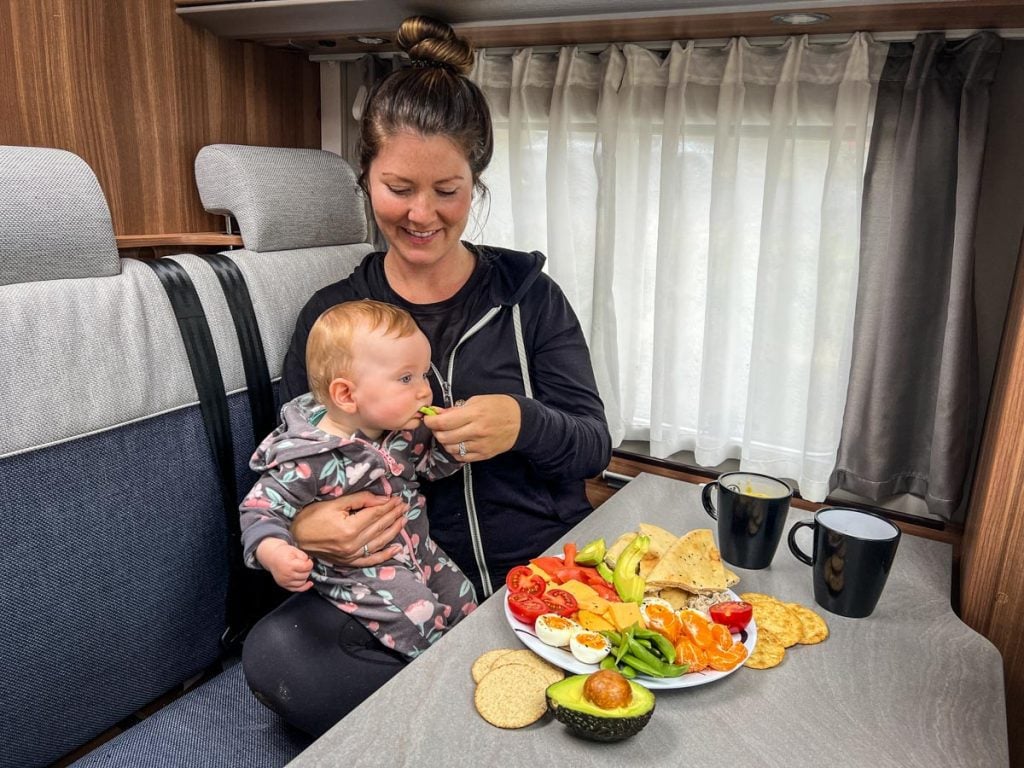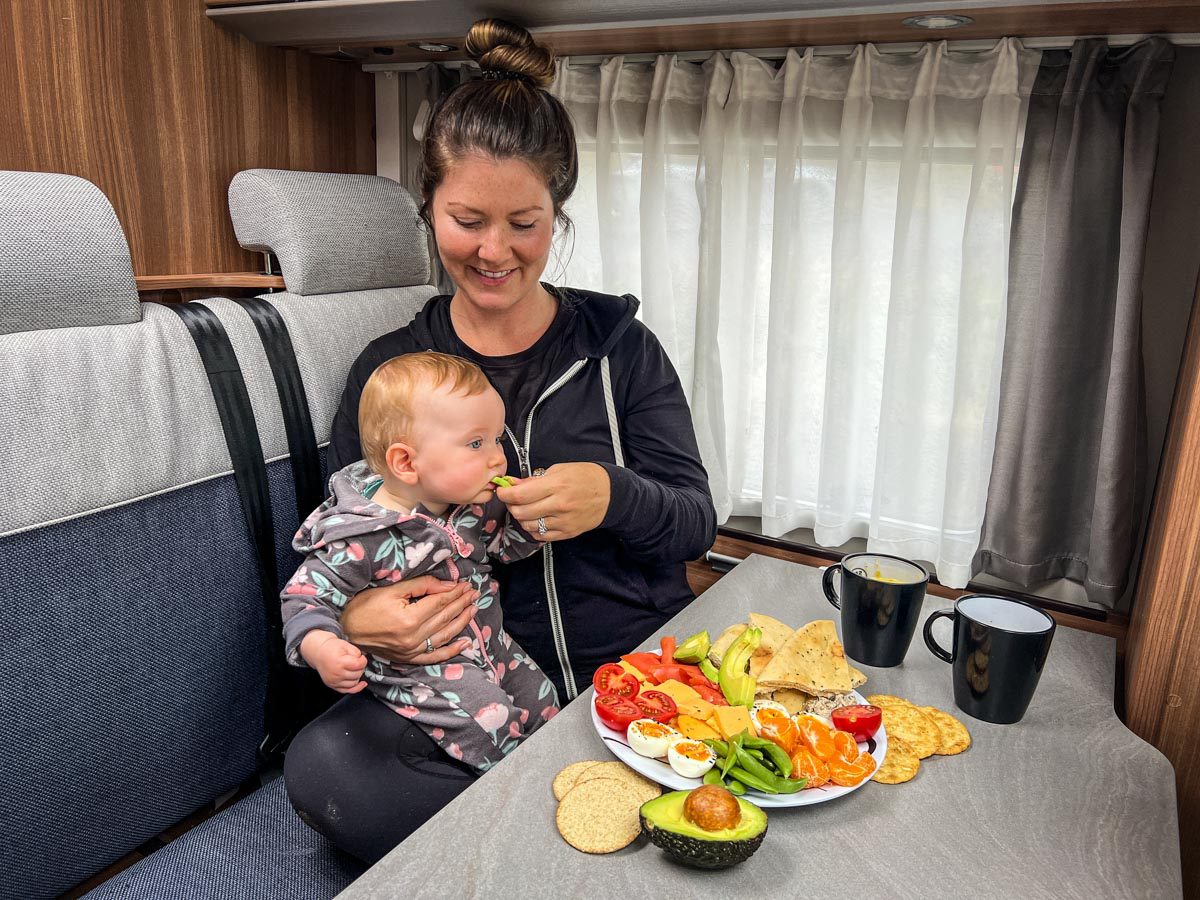 Renting a campervan is like having a car, a hotel, and a kitchen all in one place.
Sure, the total cost per day isn't cheap, but consider what it would cost to book a hotel room, rent a car, and eat out for every meal.
Most likely, a campervan will save you quite a bit of money.
b) You have ultimate freedom.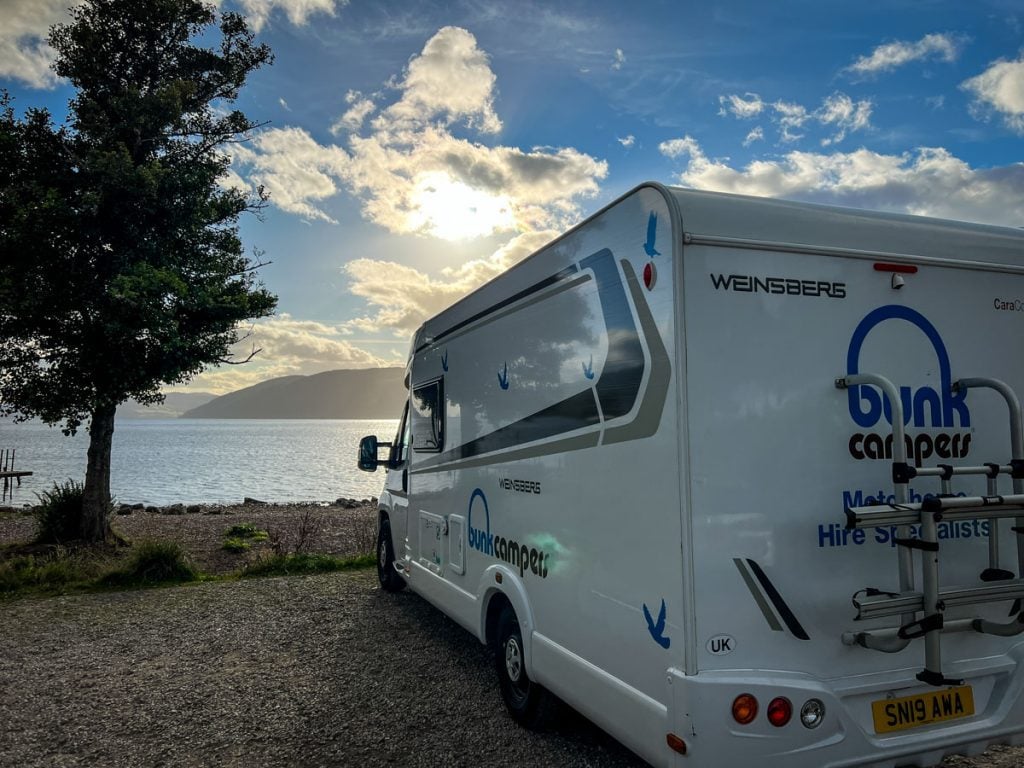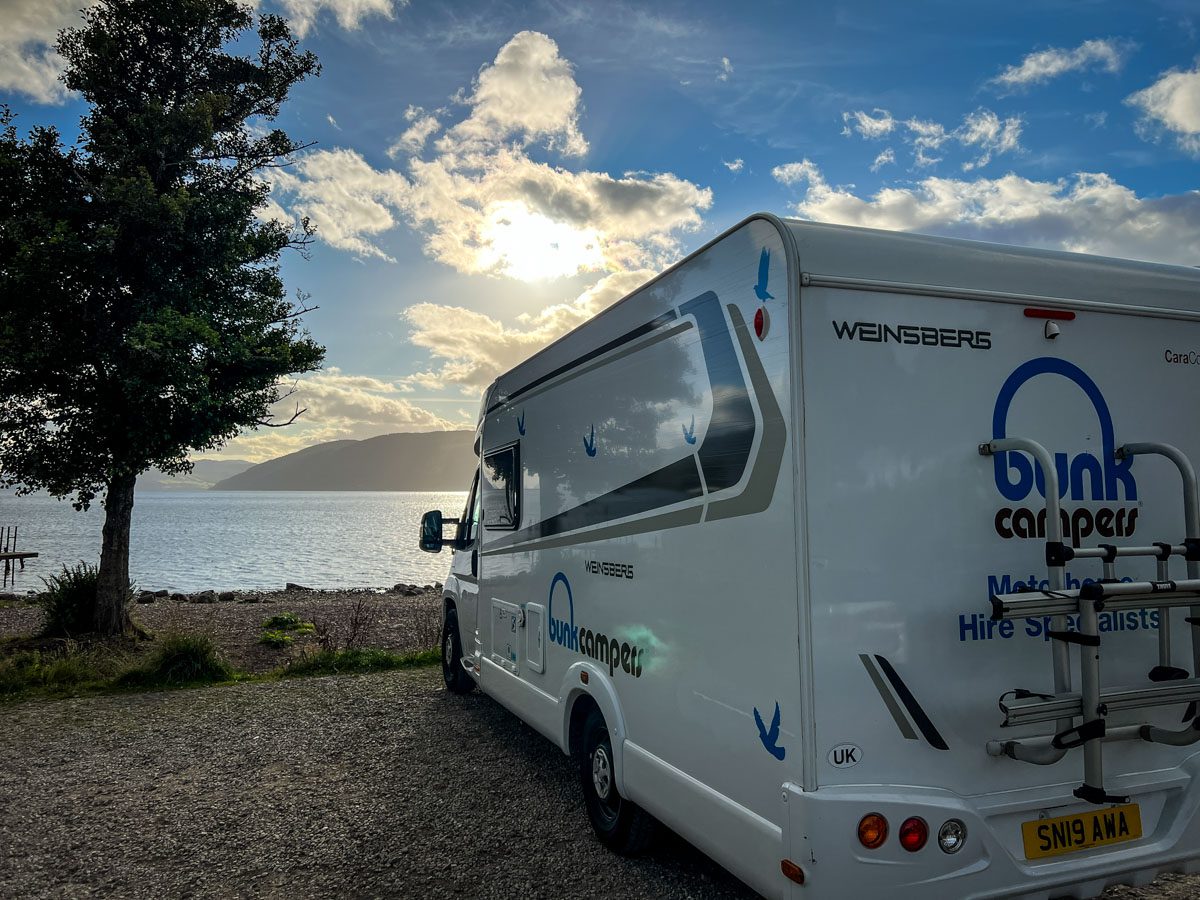 With a campervan, you have more flexibility than if you are staying in hotels.
Do you like a place? Stay longer.
Want to move on more quickly? Go for it.
Got a local tip and you want to switch up your route completely? Consider it done!
While having campground reservations is recommended at least a day or two in advance (more on that later), you have the ability to have a less rigid route.
c) It is an epic adventure of a lifetime!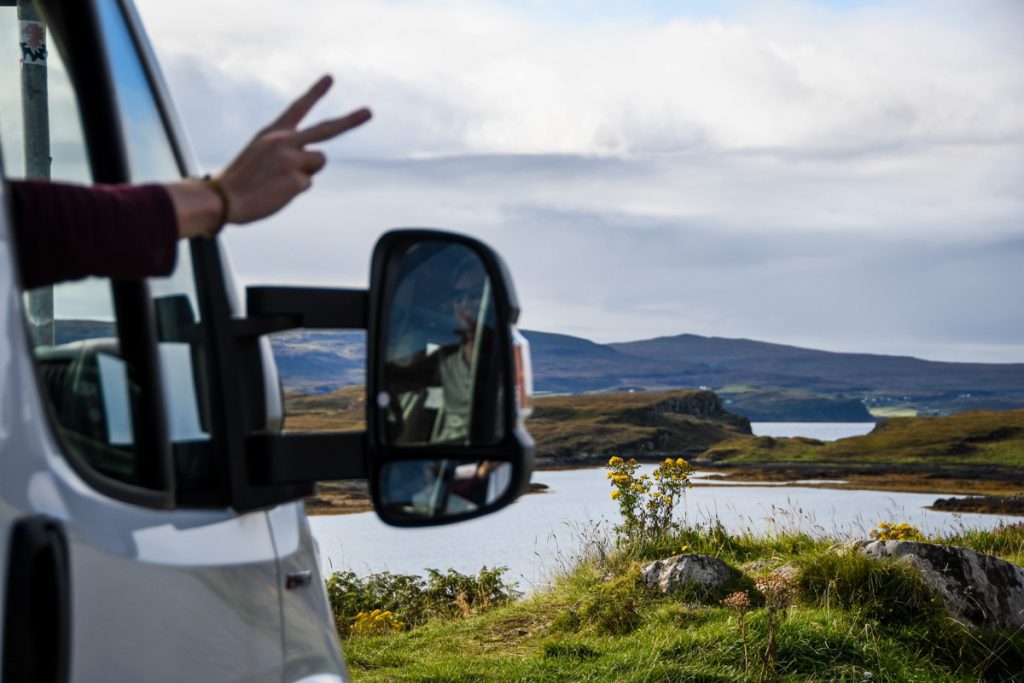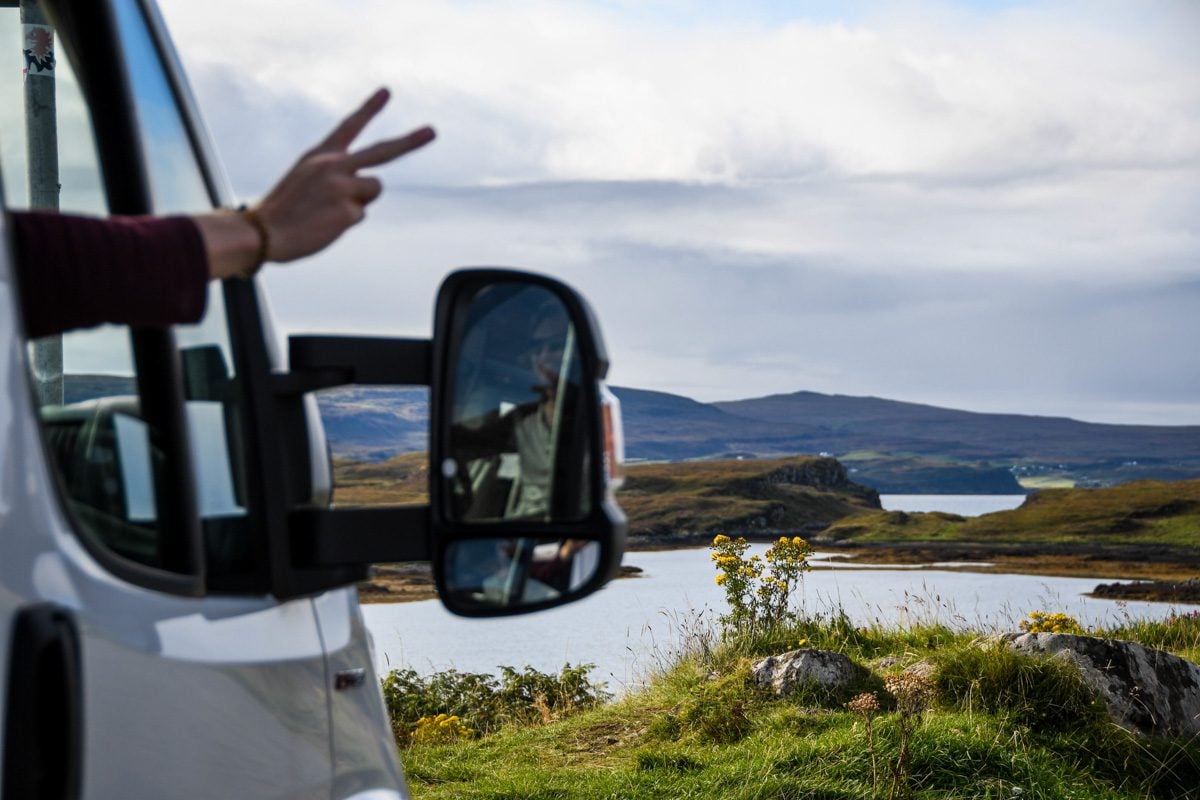 You'll be telling your grandchildren about this adventure.
'Nuff said.
---
Want the perfect campervan itinerary?
We traveled in Scotland for about 2 weeks and were able to visit most of the highlights of the country, including most of the top places to visit.
We took our 2-week travels and created the perfect Scotland road trip itinerary. We'll send you our complete 2-week itinerary, filled with tips and advice. Just click below to get your 2-week Scotland road trip itinerary today!


---
What types of campervans or RVs can I rent?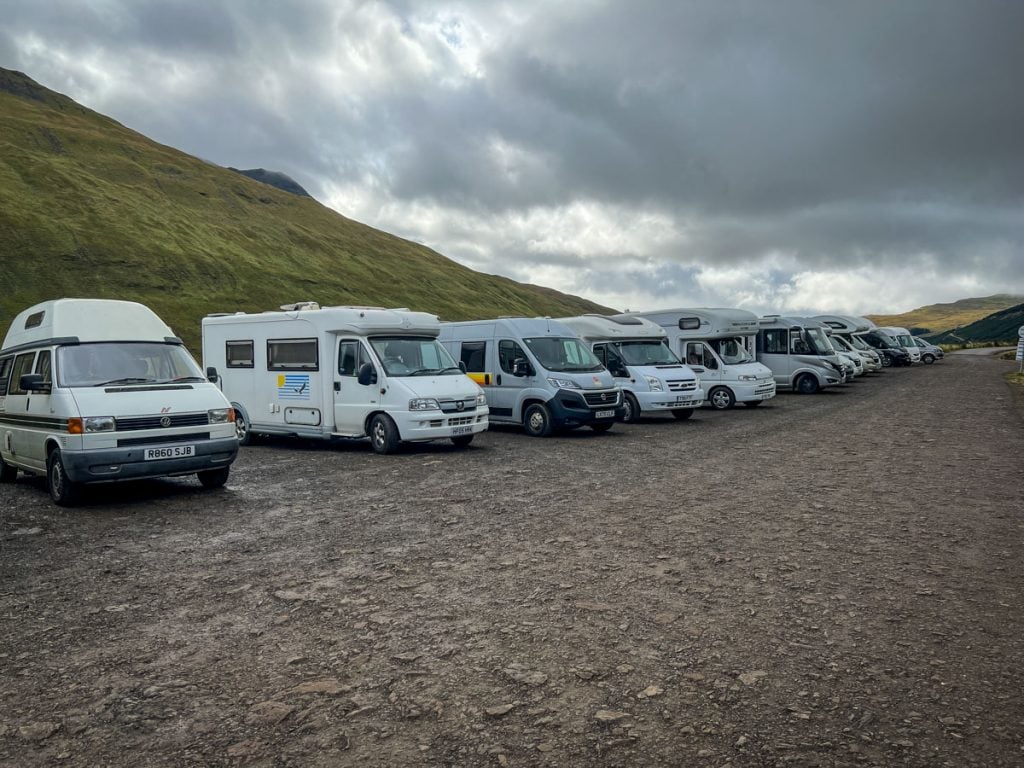 There is a huge variety to choose from. We've listed a handful of different types below, but if you're still confused, hop down to the next section where we've broken down some of the major things to consider that'll make your decision easier.
Low-roof converted minivan: ideal for budget-minded adventurers
Pop-up campervan: iconic old-school campervan style
High-roof campervan: spacious while still easy to drive and park
Mini-motorhome: home on wheels, perfect for a young family
Large motorhome: pile in the kids, bikes, and a dog for an epic road trip
Things to think about when choosing an RV or campervan rental in Scotland
Consider your answer to the following questions, as they will help you narrow down the best campervan rental for your personal needs.
How many people are you traveling with?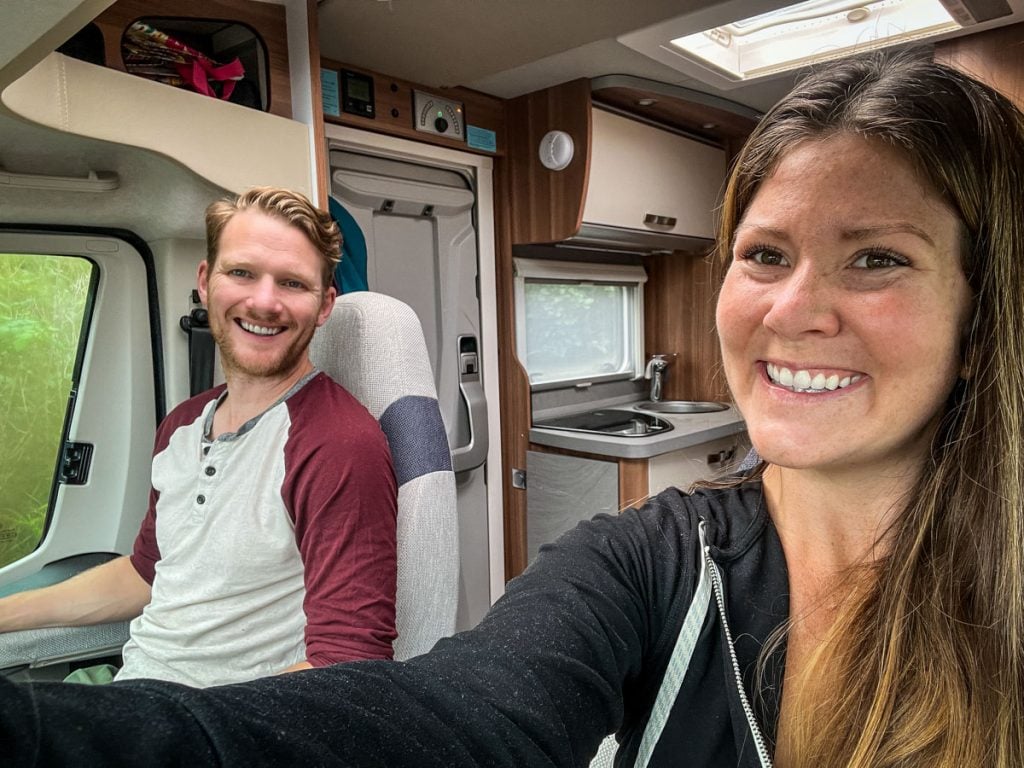 How comfortable are you with driving a large rig? If you have an RV at home, perhaps deriving a motorhome will be no big deal for you. However, if this is your first time in a larger vehicle, a campervan will be an easier transition for you.
In short, our advice is to get the smallest possible size you think will work for you. Trust us, many of the roads in Scotland are narrow, and you'll be happier with a smaller vehicle.
What is your budget?
The answer to this question might help you narrow down your rental choices, so it should be one of the first things you really dive into.
In general, a campervan will be cheaper than an RV. And a low-roof vehicle will be cheaper than a high-roof vehicle.
If you're curious about how much a campervan rental in Scotland costs, we have a whole section about that. Jump there now.
Do you need a high-roof vehicle?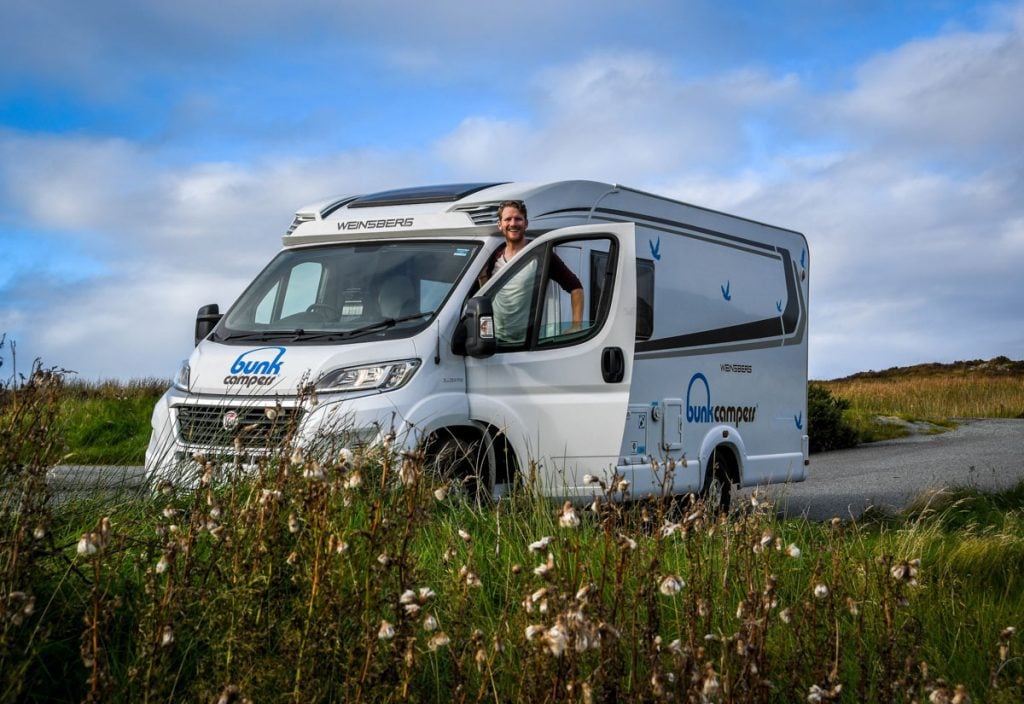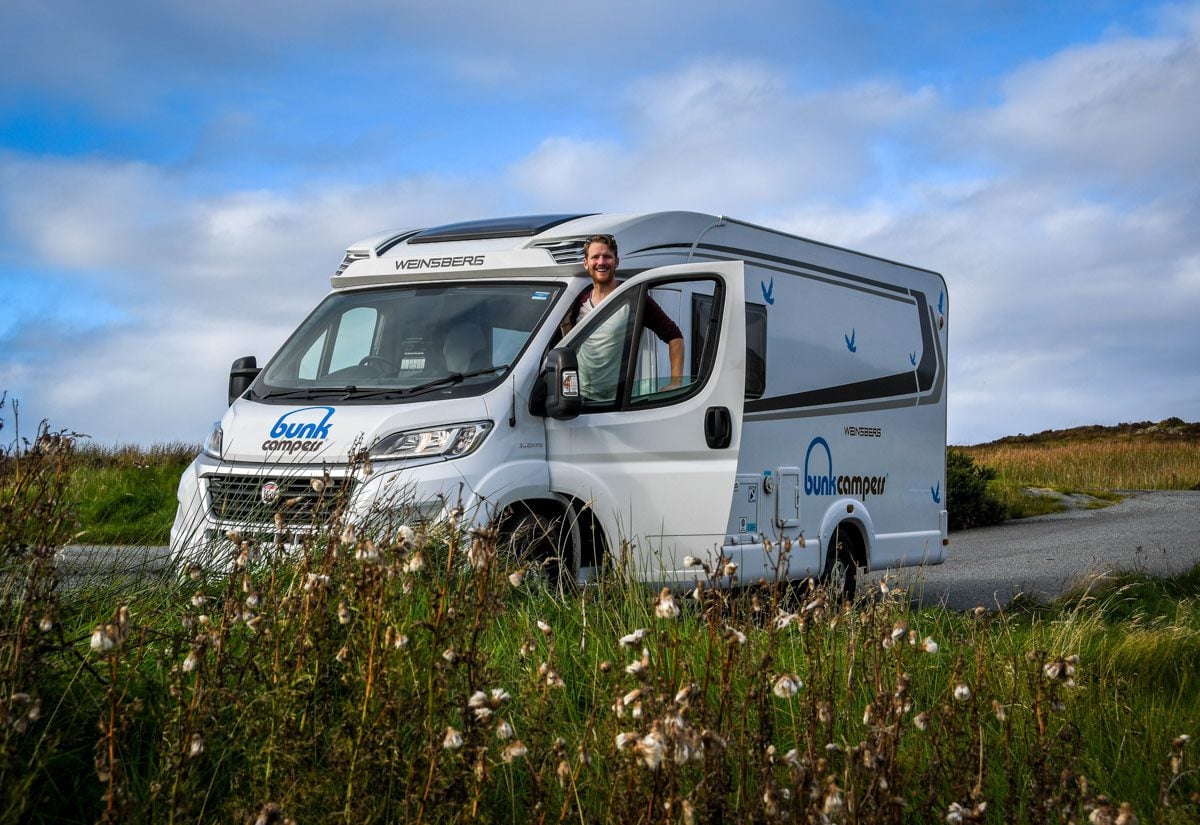 Think about this one for a minute: Do you need to be able to stand up inside your campervan? This will help make getting dressed, cooking and just hanging out more comfortable. But it will mean you'll likely be in a higher price bracket.
If a low roof isn't a deal breaker, you can probably save quite a bit of money.
Our opinion: We've had lots of experience in both low-roof and high-roof vehicles. When we were on a budget, it was a great way for us to save money, especially when we were traveling in places where we spent a lot of time outside.
However, once we've spent more time in a high-roof van (and after having a baby!) I don't know if we could go back to a low roof. It is just so much more comfortable being able to stand up.
How luxurious of a set-up do you need?
From super basic to extra bougie, there are all types of campervan and RV rentals. Determining your budget is the first step, as this will help you narrow down your options.
From there, think about your personal preferences: Are you used to roughing it? Do you have a lot of camping experience? Or will splurging for a more plush vehicle be worth every penny to you?
Keep this in mind as you're sifting through your rental options.
Can you drive a manual transmission?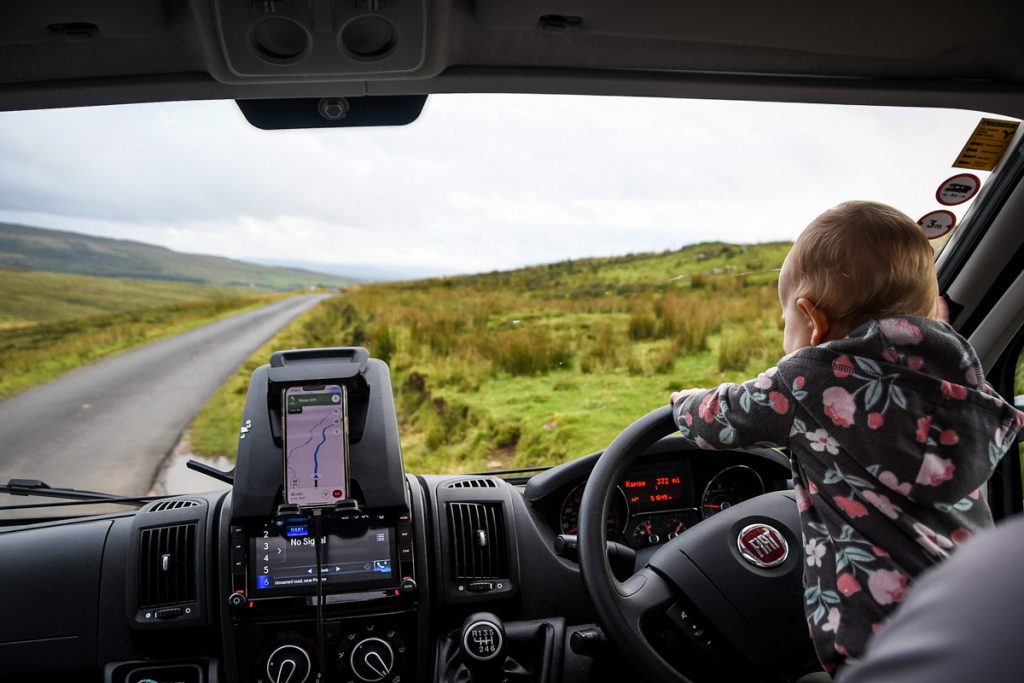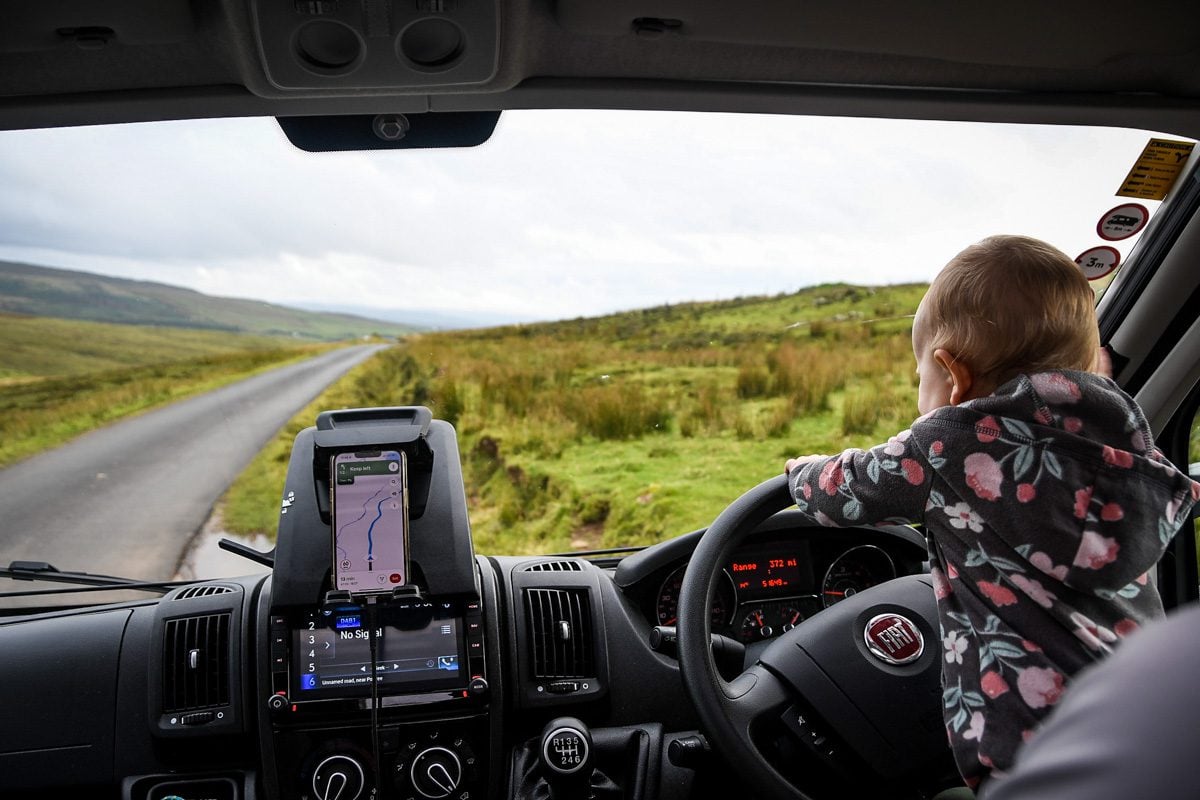 In the UK, many vehicles have manual transmissions, so if you're able to drive a stick shift, you will have more options to choose from.
If you can only drive automatic transmission or know you'll just feel a lot more comfortable (no shame there!), don't worry; there are options for you! Just know you will have a smaller selection and you may be paying a bit more money overall.
How much does a campervan hire cost?
Campervan rentals will vary drastically, depending on the following factors:
which company you choose
type of vehicle
time of year
manual vs. automatic transmission
how far in advance you make your reservation
To give you a general price range:
1 week in Scotland in July for a 2-berth campervan will cost about £1120 ($1266 USD (priced in Oct 2022))
1 week in Scotland in January for a 2-berth campervan costs about £490 ($554 USD (priced in Oct 2022))
Other costs to consider
In addition to paying the nightly rental fee, you won't want to forget these other things:
Additional rental add ons
Campground fees (average £25 to £35 per night)
Insurance (ranges from £0 to £50 per night)
Gas (we averaged about £35 per day)
Best Campervan Rentals in Scotland
We've scoured reviews, compared specs, and analyzed prices to bring you a comprehensive list of the best campervan rentals in Scotland so the decision is a little simpler for you.
We'll share what company we chose to rent with, but we'll also highlight some other companies in case you think a different one would be a better fit for your personal needs or budget.
For each company, we're sharing pros, cons, and price points (Budget or Mid-Range).
Bunk Campers: Best Overall Campervan Rental in Scotland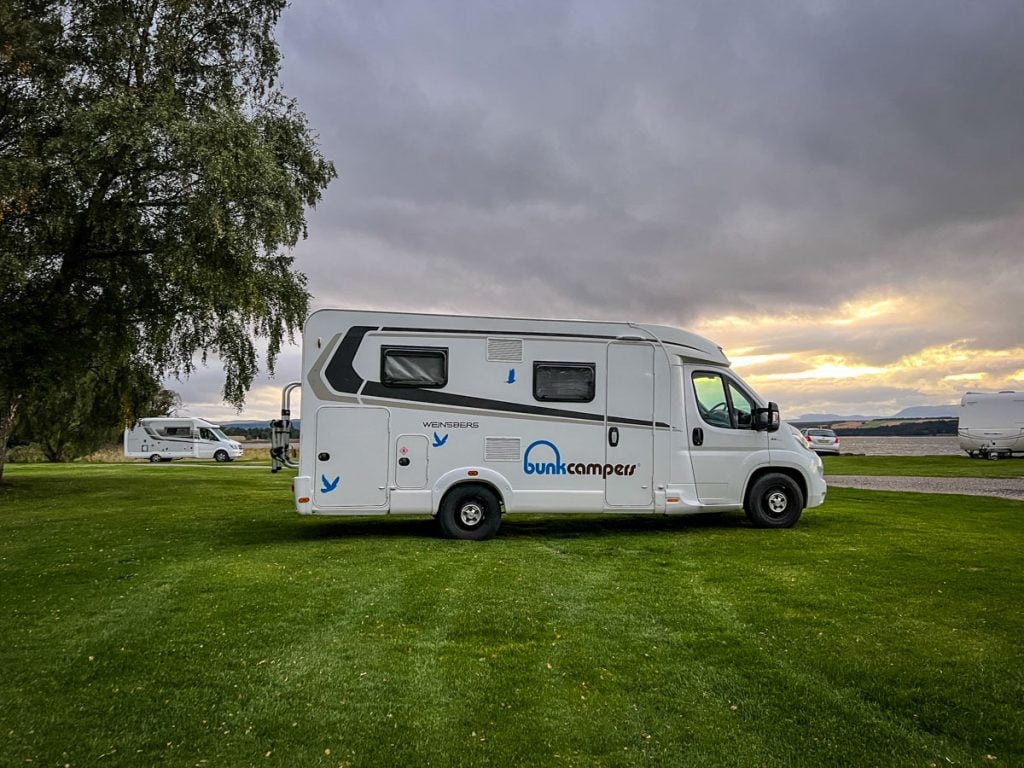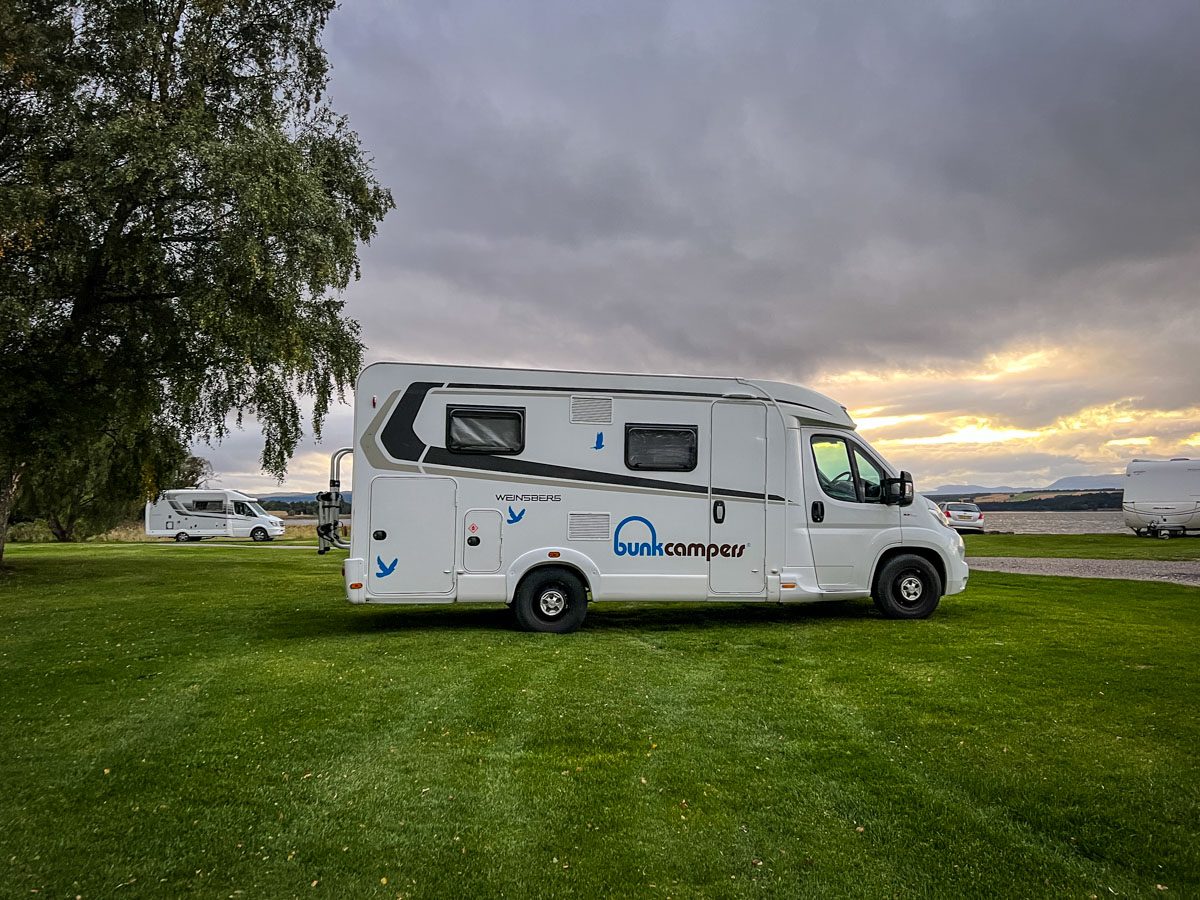 Price Point: Mid-Range
In business since 2007, Bunk Campers is based out of the UK and Ireland. They have a variety of sizes, prices and types of vehicles, making Bunk Campers a great choice for most travelers.
At a glance:
They have a variety of different rigs — including a range of sizes and price points — making it a great choice for most travelers.
Bunk Campers is our top pick
We did a lot of research before our trip — comparing and contrasting just about all of the companies out there — and we landed on Bunk Campers.
If you're still deciding, we have a detailed review of the vehicle we rented with them (Aero Plus), as well as our honest opinion of the whole rental process. Click the button below to read more.
Spaceship Rentals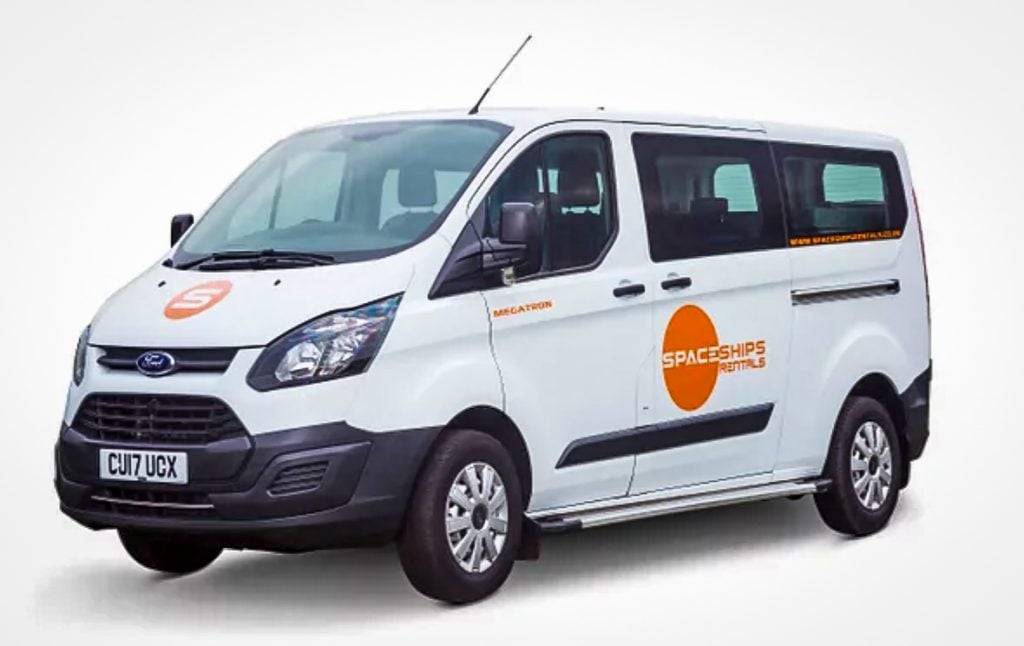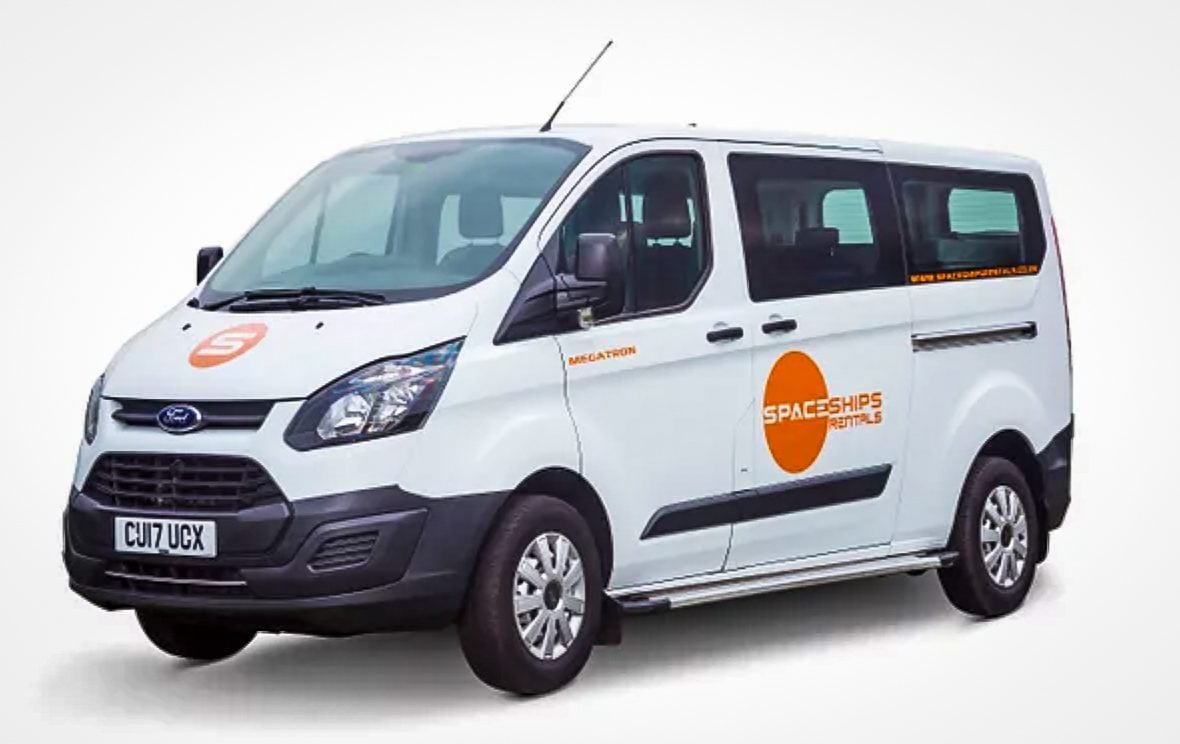 Price Point: Budget
Known for their converted minivan "spaceships", these budget-friendly campers are nice for no-frills travelers.
At a glance:
They have done a good job with the limited space that they are working with inside a mini-van. But you're not able to fully stand up in these vehicles making it hard to cook and change clothes.
McRent Rentals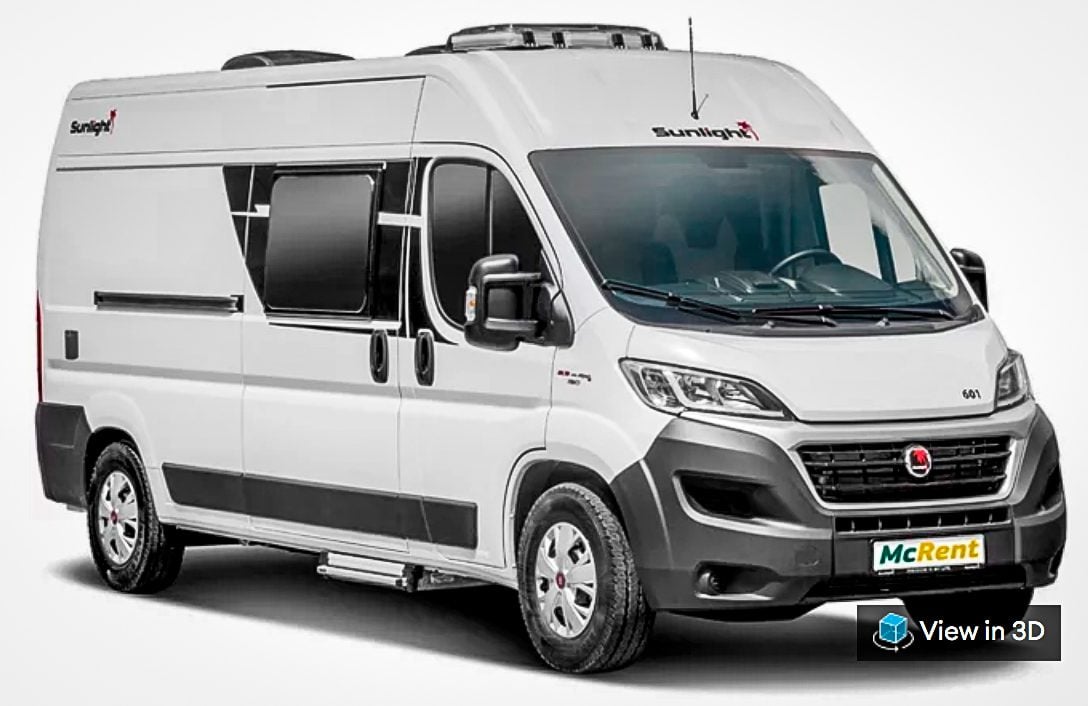 Price Point: Mid-Range
One of the largest campervan and motorhome rentals in all of Europe with hubs in 17 countries. They have vehicles ranging from pop-up vans to large fully-integrated motorhomes.
At a glance:
This would most likely be our second choice in a campervan rental in Scotland as they have a large selection of choices and availability for last-minute offers.
Just Go Motorhomes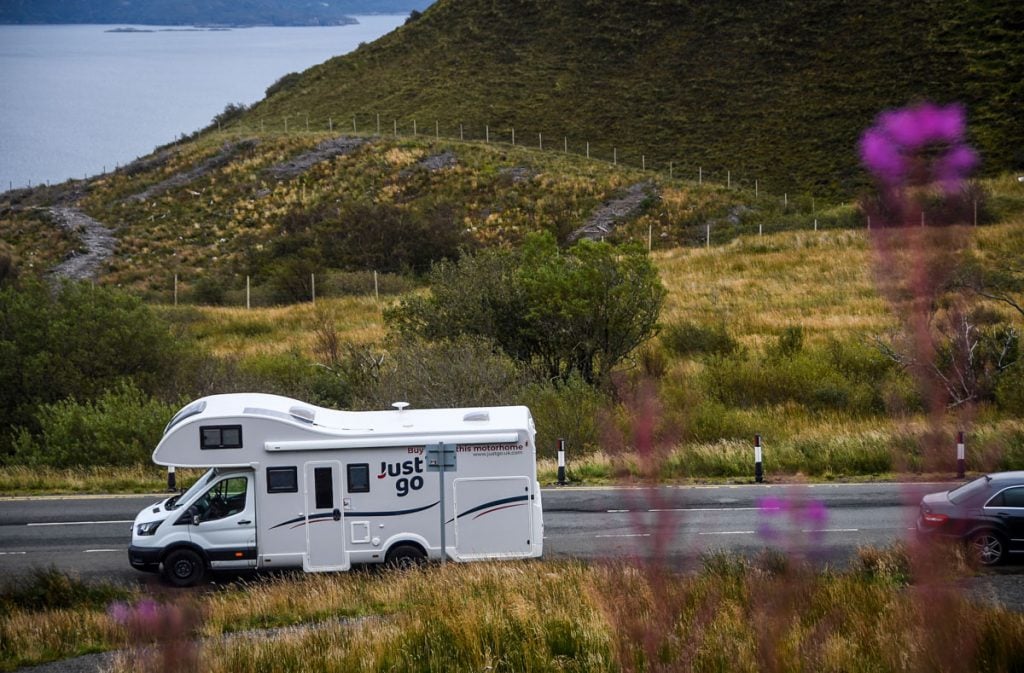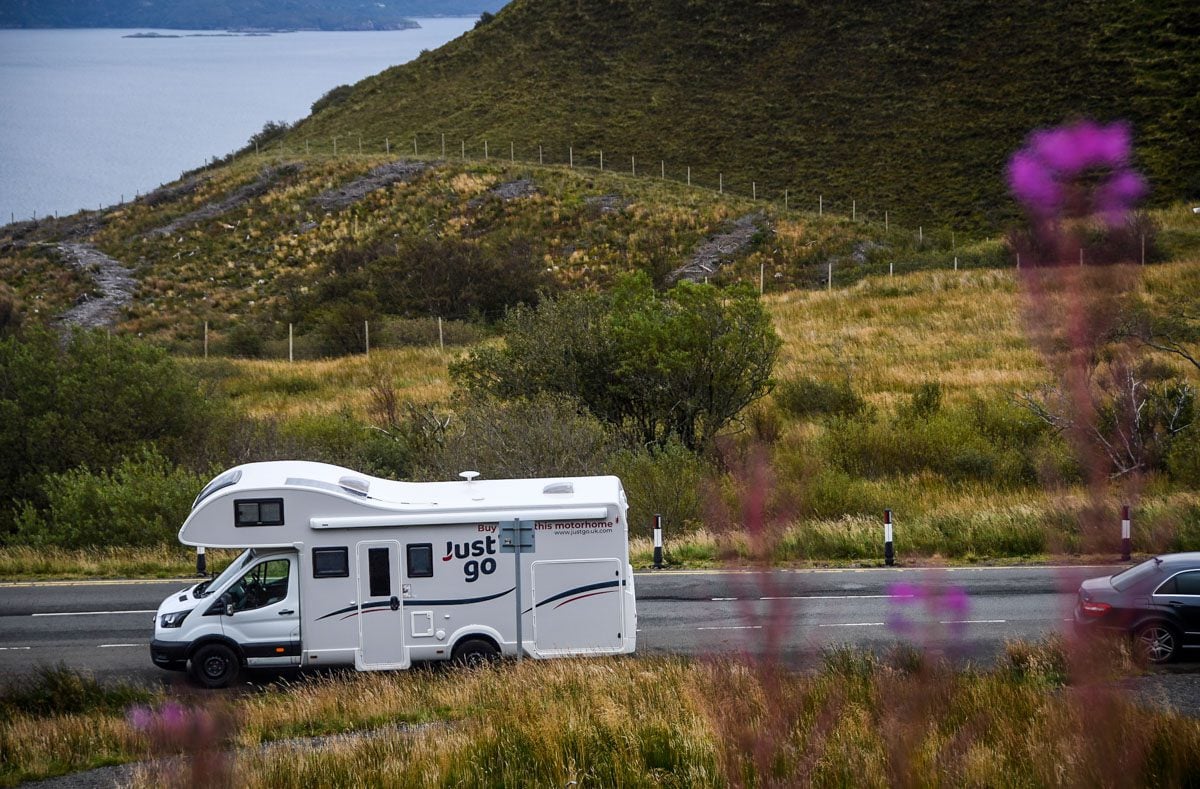 Price Point: Mid-Range
Specializing in motorhomes, Just Go is an international company with locations in Australia, New Zealand, the USA, and the UK.
At a glance:
They have a variety of motorhome styles, with some unique features like split bathrooms and dropdown second beds. However, some of the styles would be way too big for the roads in Scotland as they do not offer campervans or mini motorhomes.
---
Love the idea of campervan trips around the world? Here are some more ideas for you to bookmark for future travels:
If you're feeling a bit nervous about driving a campervan in Scotland, we know where you're coming from. It can be daunting driving in a different part of the world, and with a big rig on top of it!
To ease your nerves, we've put together some of our top advice and tips for driving in Scotland, as well as some pieces of information we wished we would have known!
Scotland Campervan Rental FAQs
I get it — there is a lot to think about when it comes to renting a campervan in Scotland. Let's go over some common questions and see if we can get them answered!
How expensive is gas in Scotland?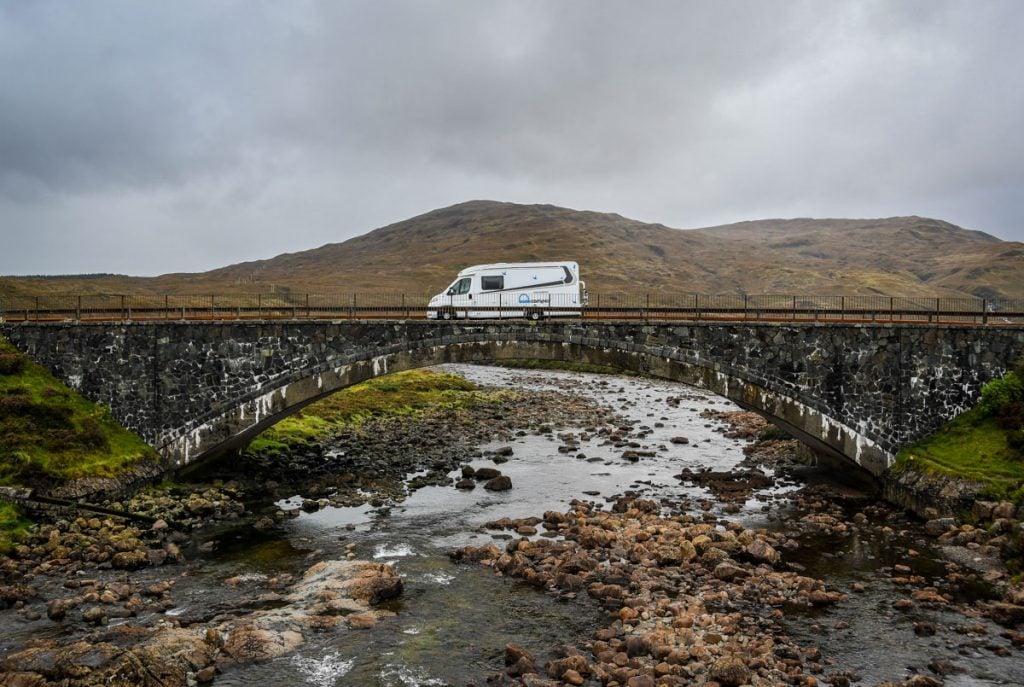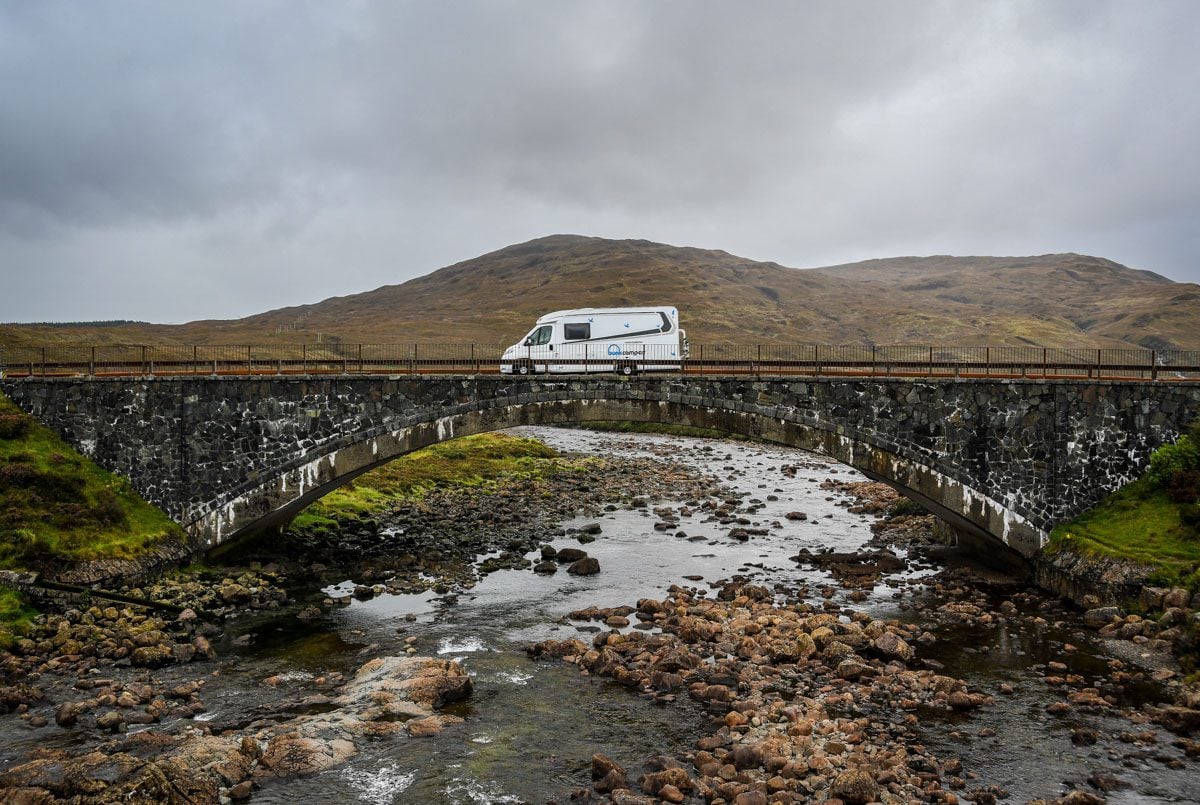 Well, it ain't cheap!
Gas prices fluctuate, so it's hard to put a number here, but we filled up our nearly empty tank three times and each fill up was over £100.
If budget is important for you, be sure to factor the cost of gas as well as campground prices into the cost of your campervan rental.
Insider Tip: Be sure you know whether your vehicle is gas or diesel. Our campervan was diesel, so we had to be sure we filled up at the proper pump at the gas station.
Do I need an international driver's license to rent a campervan in Scotland?
Most likely, no! Unless your home country's license is in a non-Roman language (Japanese, Russian, etc.), you will not need an international driver's license.
Can I bring a child on a campervan trip?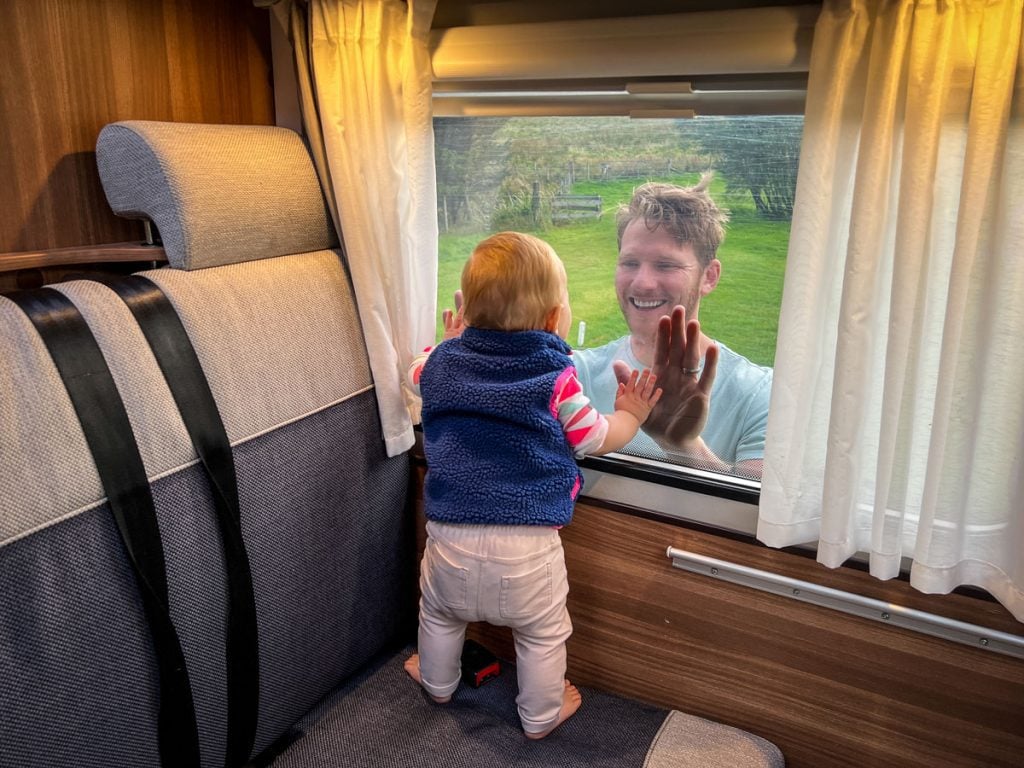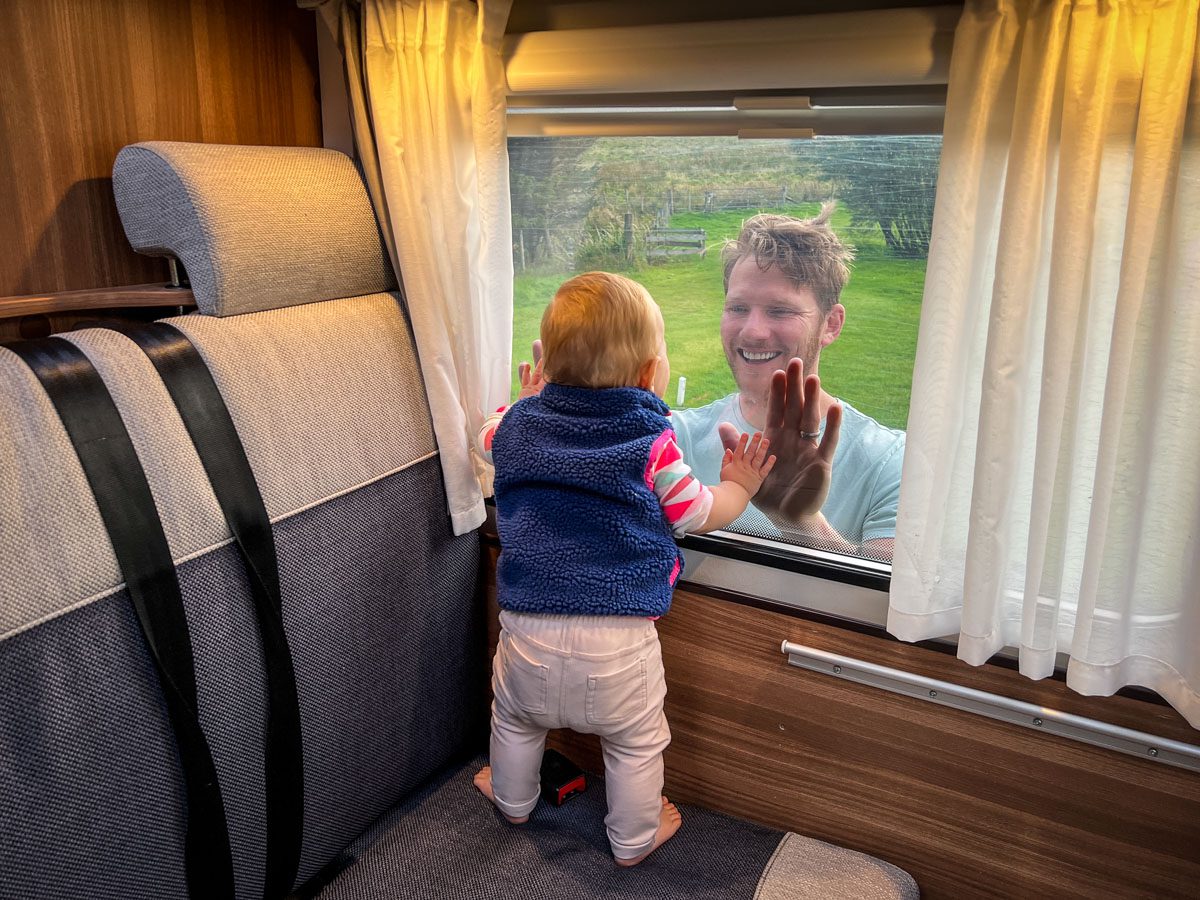 Absolutely! We did!
In fact, on the day we picked up our campervan rental, the Bunk Campers crew said we were the third family with a baby that day. Apparently, it's a pretty popular thing. (I guess we're not the only crazy ones!)
You will need to select a vehicle that has enough seating for your family. And you will need to think about what you will do about a sleeping space. (We have tips on that!)
Which is better: A campervan or RV?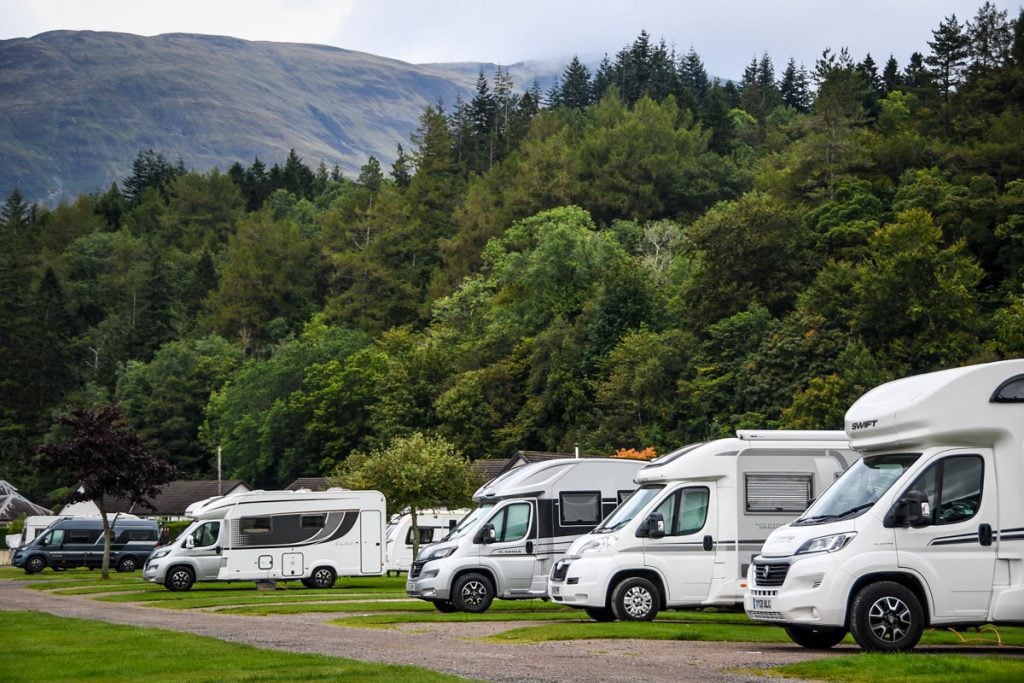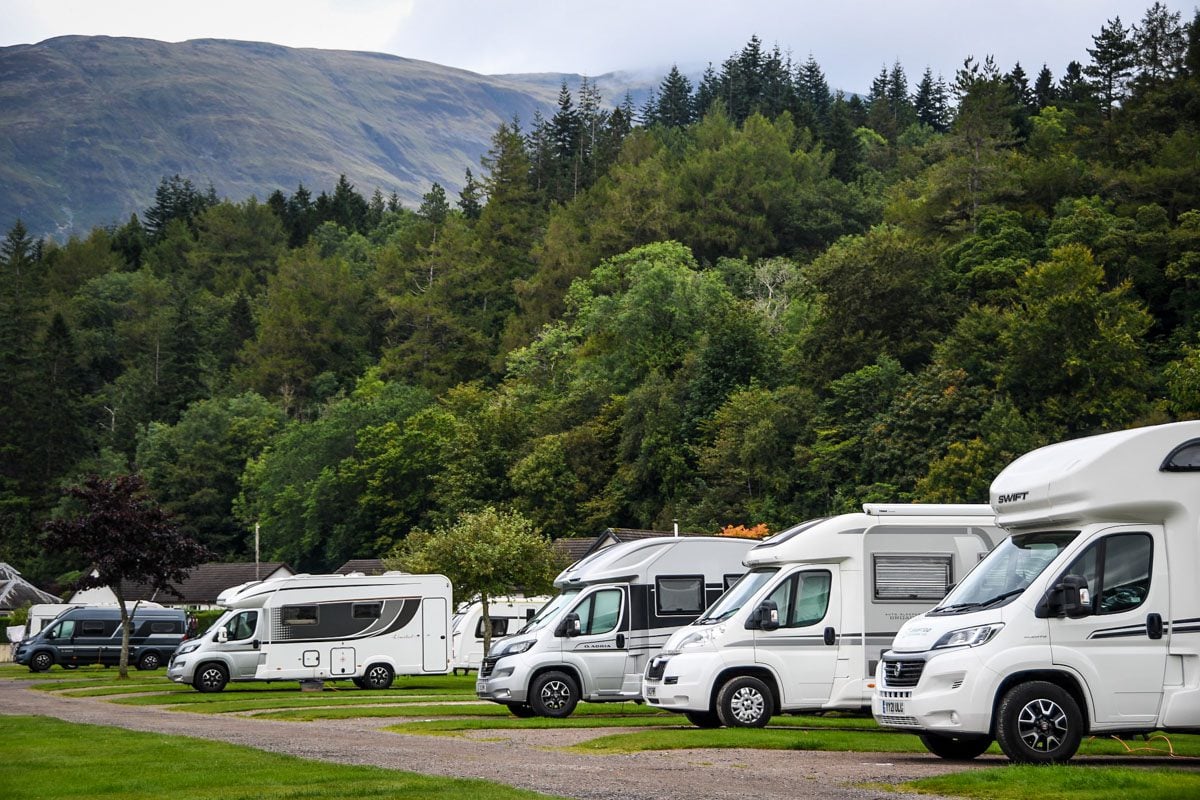 The answer to this is truly a matter of personal opinion, but here's our opinion:
If you're traveling solo or as a couple, we'd absolutely recommend a campervan to keep the size to a minimum. However, if you're traveling with a small family, a campervan may be too small to fit you all comfortably, so a small l motorhome might be a better option.
Should I rent a campervan if I'm just visiting Edinburgh and Glasgow?
No.
We'd only recommend renting a campervan if you're able to do a bit of a road trip in the country. Trust us when we say the worst part of renting a campervan is driving in big cities. Plus, trying to find parking is no fun.
If you're just exploring the major cities in Scotland, opt instead to stay in an Airbnb or hotel and use public transport or Uber/taxis to get around.
Psst! Plan your trip with our round up of all the best things to do in Edinburgh, including the quintessential activities and some off the beaten path experiences you won't want to miss!
How difficult is it to drive a campervan in Scotland?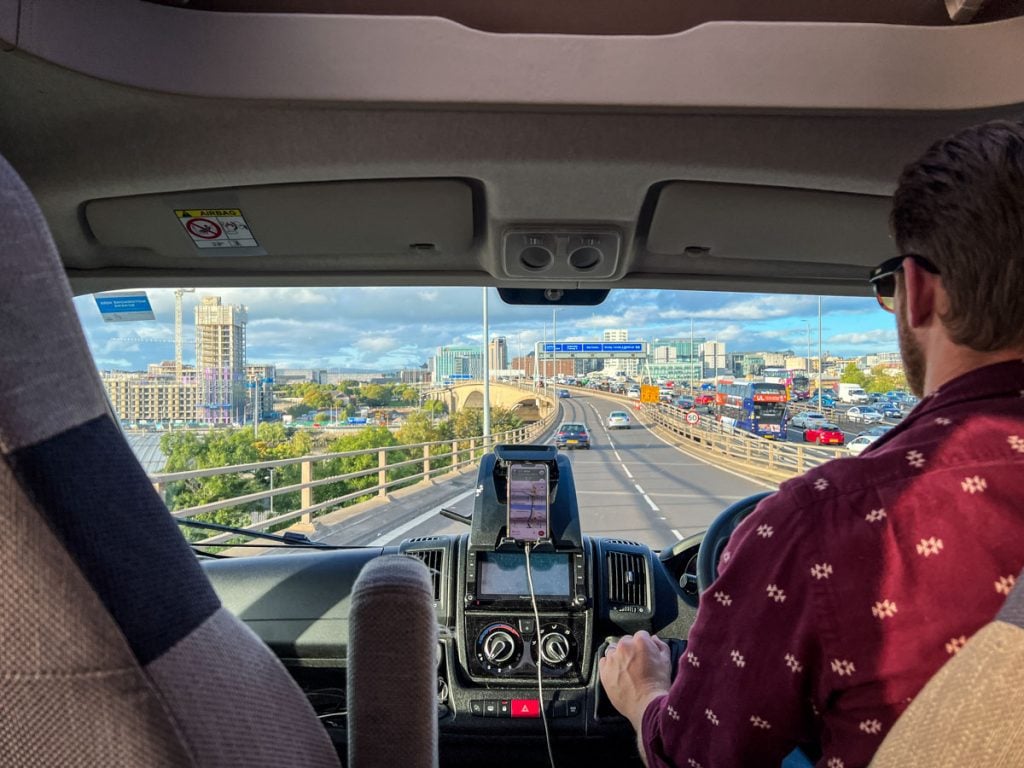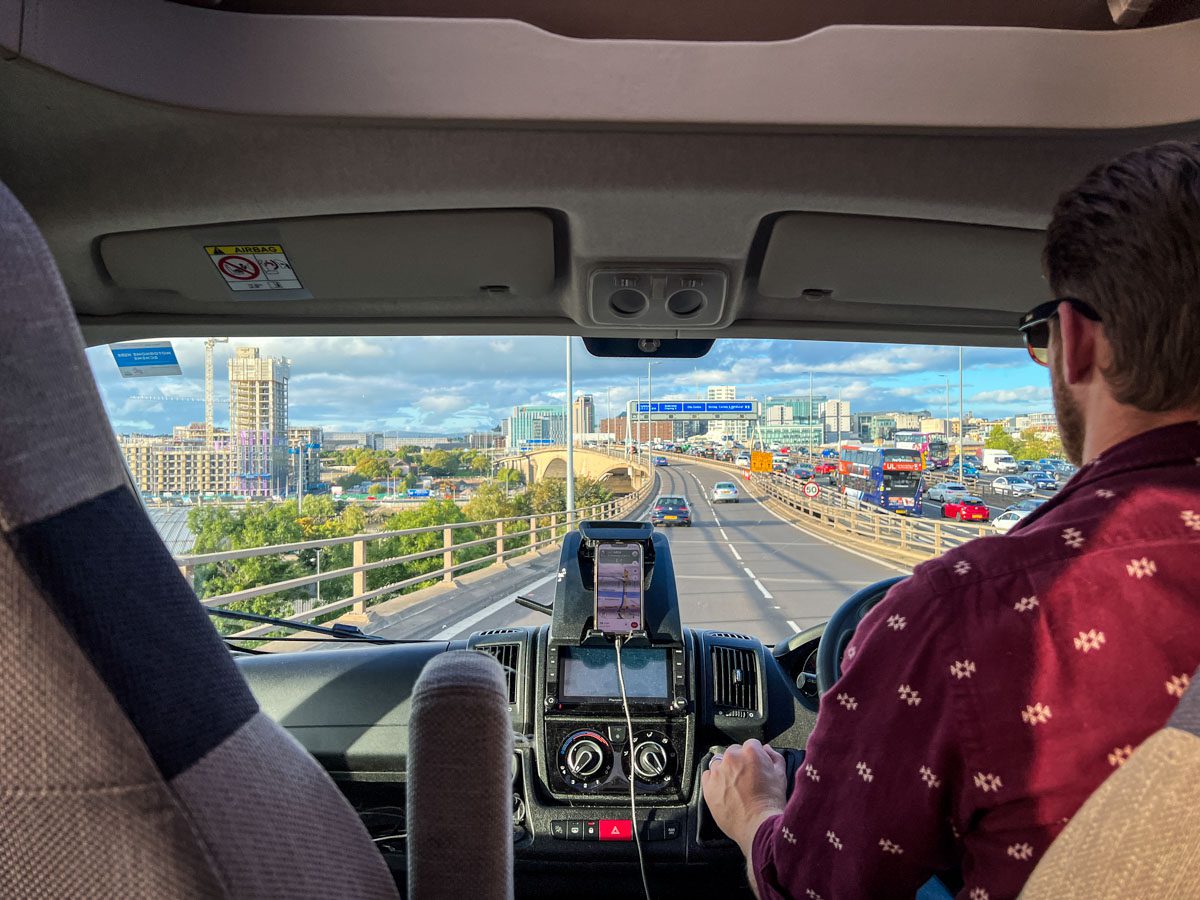 This is a very subjective question. Everyone is going to have a different comfort level with this.
But I will say that even with lots of experience driving around the world, driving in Scotland had some unique challenges:
The roads in many places were very narrow, making our 3-meter-wide camper, feel a bit bulky.
Also, the vehicle was a stick shift. Ben used to have a manual car but hasn't driven a stick in a while, so it took a little remembering for the first couple of hours before it felt really natural again.
Lastly, being that we are from the United States, we're used to driving on the right side of the road, so being on the opposite side of the road added another dimension to the experience.
It was kind of a trifecta of challenges, but even so, it was such an incredible trip and worth every ounce of minor anxiety (in our opinion).
Insurance for your campervan trip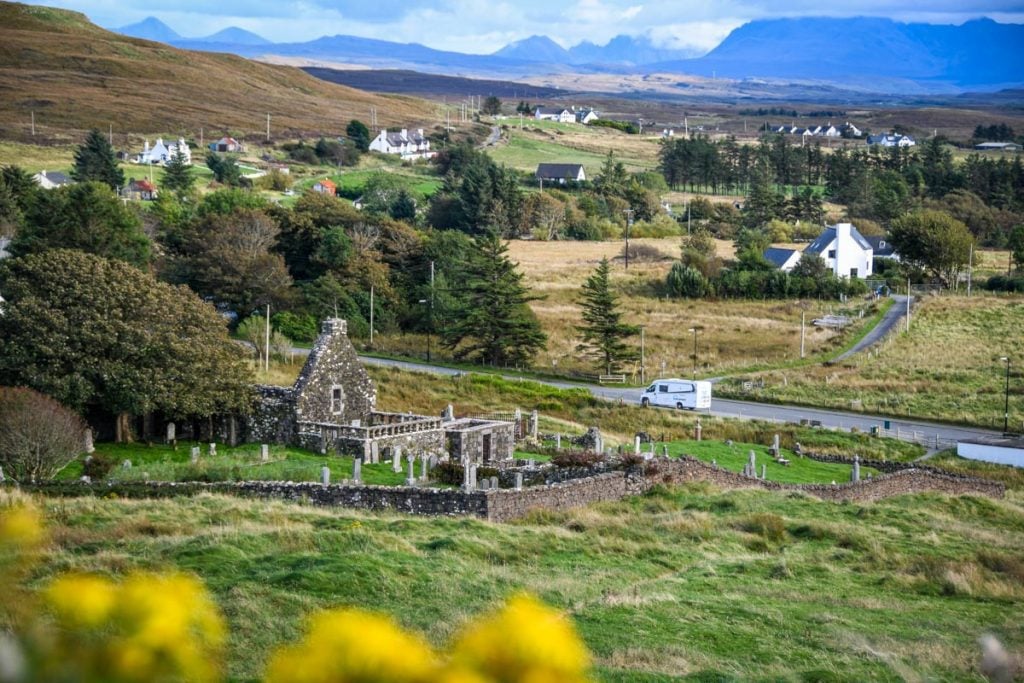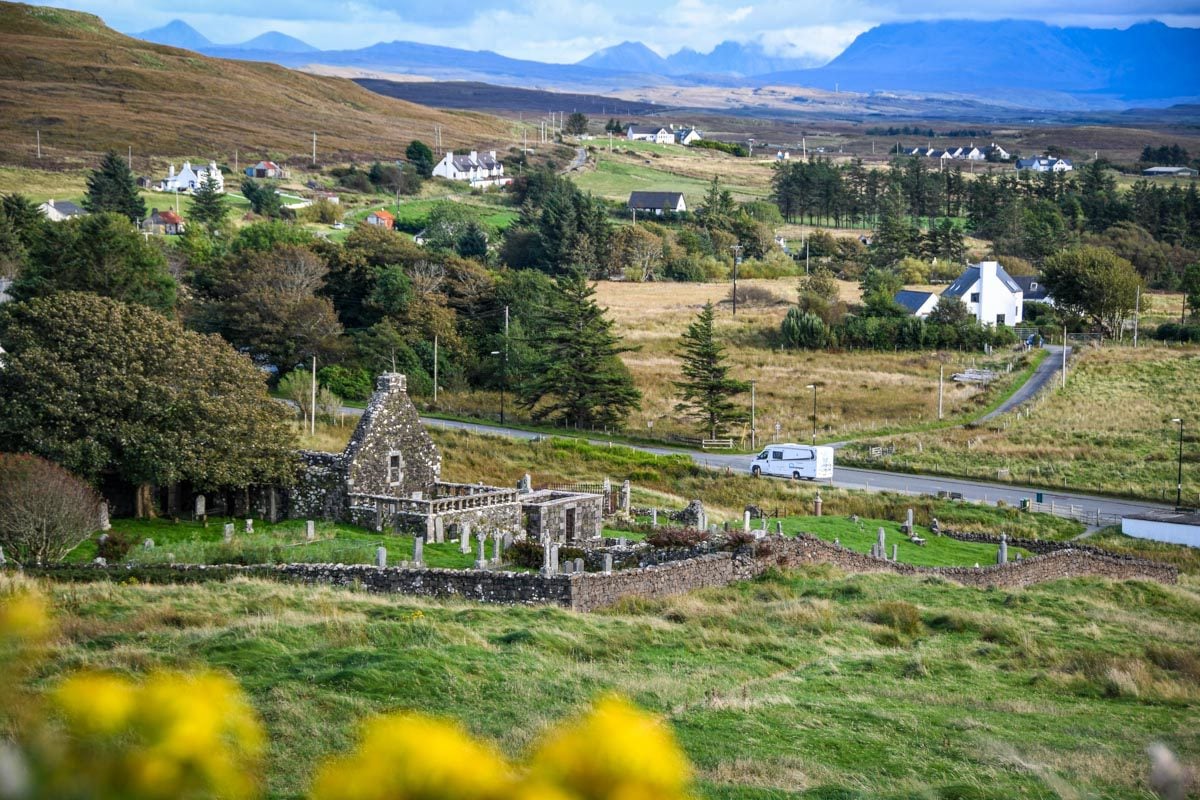 Insurance is always one of those tricky topics to write about because it widely varies from person to person depending on the amount of risk you are willing to take.
For us, when we are traveling in another country, we always want to be covered because we have heard some horror stories of accidents happening abroad.
We chose to take the highest insurance package for this trip since it was our first major road trip with our baby girl on board. It just helped us sleep better at night knowing that we were covered in case something happened.
You can choose to select no coverage for your Scottish campervan rental, but be prepared to lay down a large security deposit of at least £2,000.
Read the fine print of your credit card: A typical credit card rental car insurance policy only covers 4-door sedans and not campervans, so don't rely on that coverage.
As always, whether you get campervan rental insurance or not, we recommend getting medical travel insurance. For this trip, we purchased a very reasonable package from Safety Wing insurance.
Packing for a campervan trip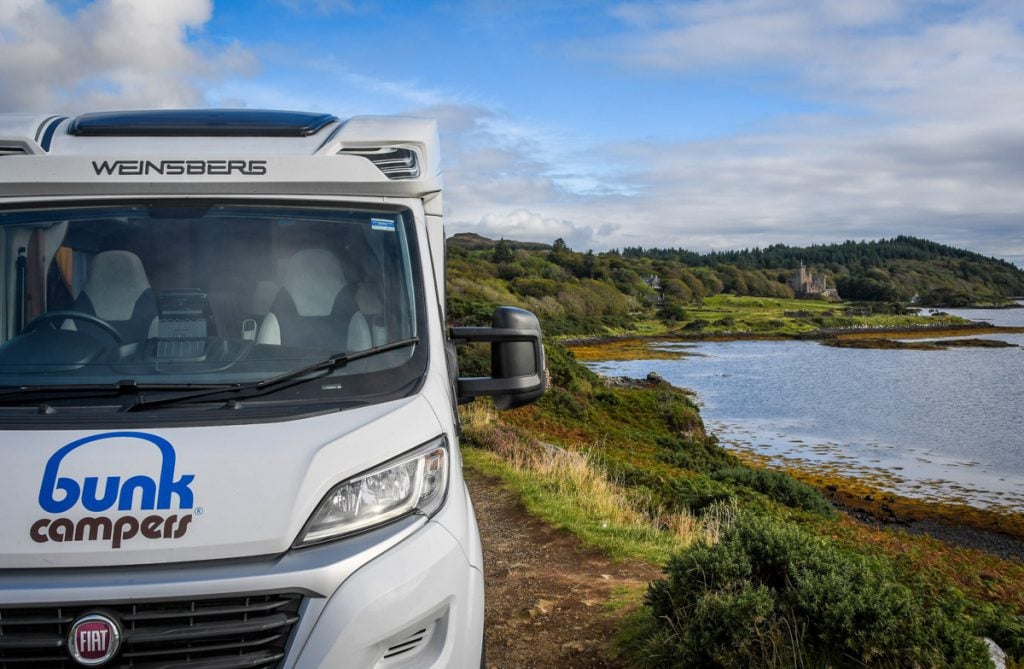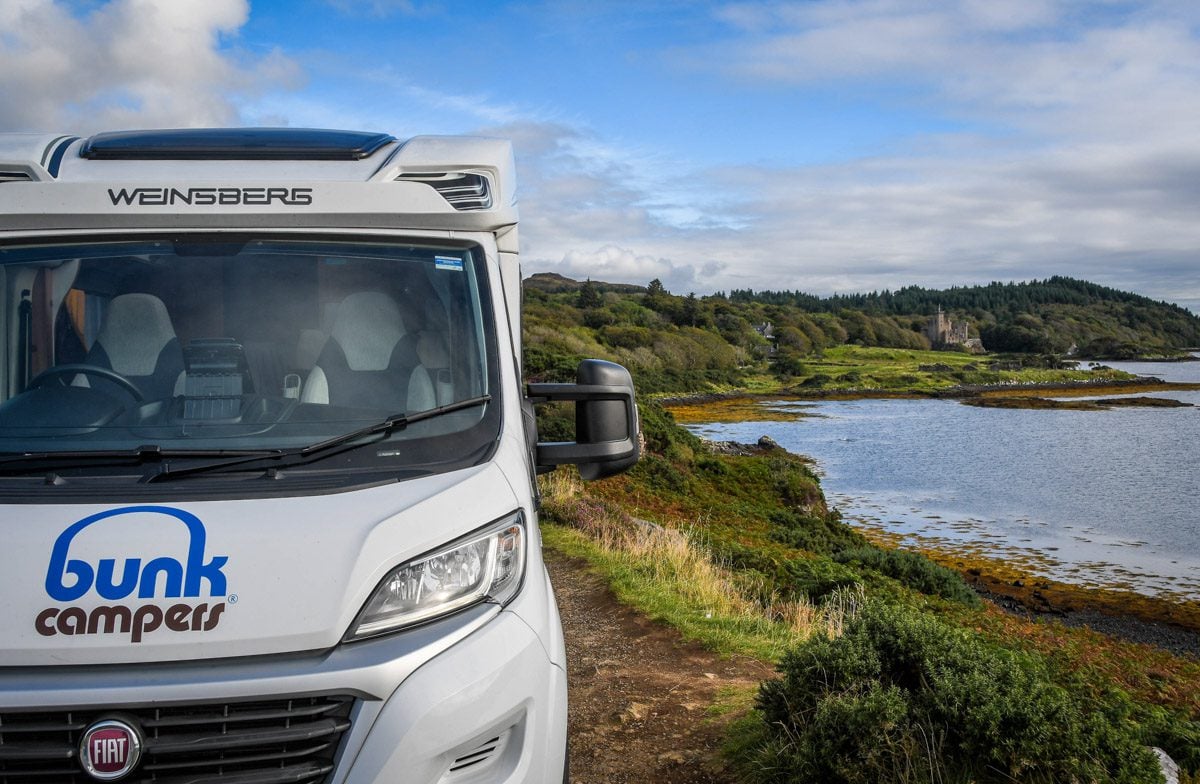 We have a whole checklist of things to bring for your Scotland Campervan trip, but here are some items you don't want to forget.
Aeropress: If you are a coffee drinker, definitely pack this!
Rubberbands and/or chip clips: This is something that is often overlooked, but important to keep the food you buy sealed (think bags of granola, crackers, etc.).
Spices and oil: When going on a campervan trip, we always like to bring our own spices so we don't have to stock up. You can bring mini containers filled with your faves (we bring high-quality salt, pepper, cayenne, and any others that strike our fancy). We like this leak-proof container for storing olive oil or coconut oil.
Travel Lumbar Pillow: If you have a bad back (like Ben!), this would be clutch! He had some back issues during our trip, and was wishing we had packed his lumbar pillow. It's way too bulky to fly with though, so I found this pillow for next time!
Universal Outlet Adaptor: A basic travel item that everyone should have so you can plug in your device anywhere.
Car Outlet Inverter: While you're driving, charge your larger devices like laptops and cameras with a portable inverter that plugs into your car.
Shower shoes: Trust me when I say you don't want to go barefoot in some of the campground showers! We packed flip-flops, but wished we had packed slide-ons instead so we could go more seamlessly between the van (wearing socks) and the shower.
Be sure to download our complete packing list for Scotland! It's packed with good suggestions and insider tips to help plan your Scotland trip. And it's completely FREE, so why not!?
Packing for a baby on a campervan trip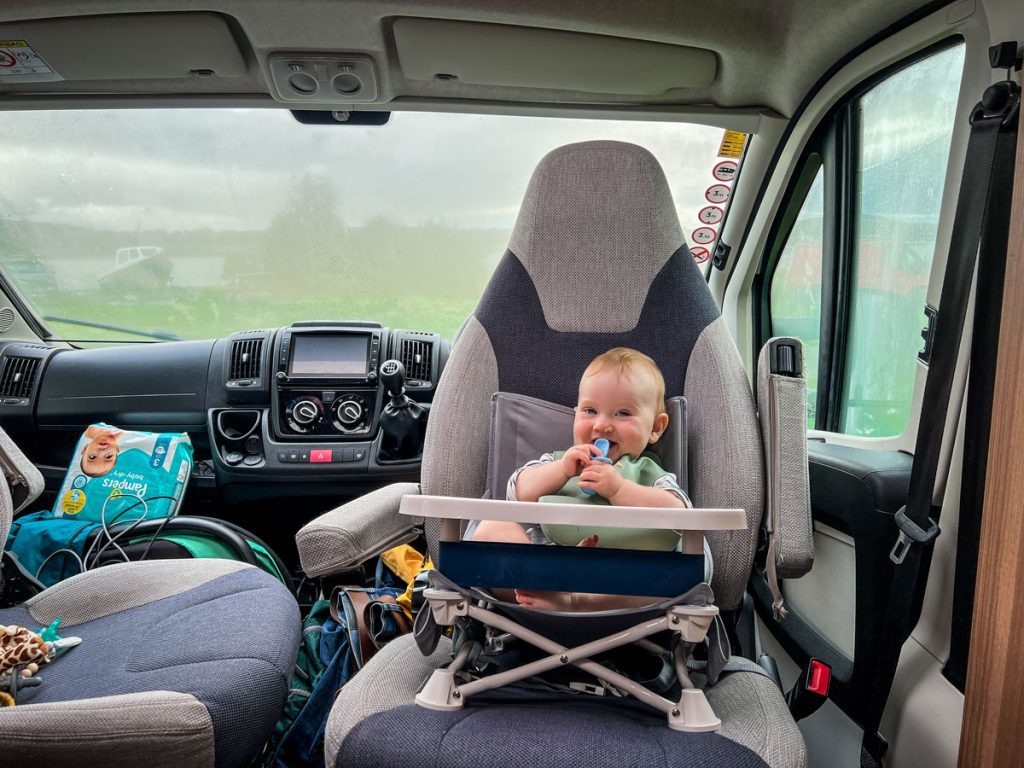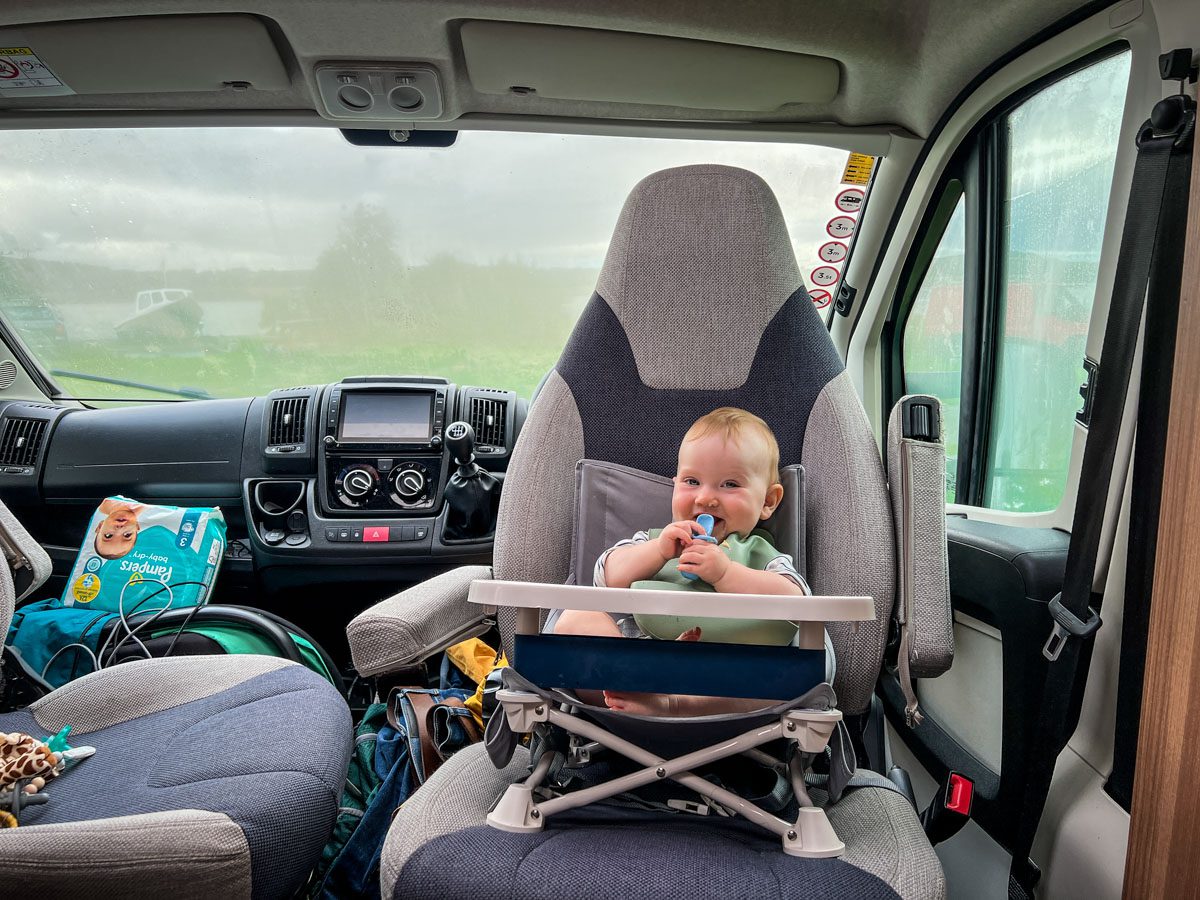 This checklist has a whole section of all our baby-related items we recommend, but here are a few things we'd definitely recommend bringing if you are renting a campervan with a little one in tow.
Travel high chair: We love this portable high chair and use it in our personal campervan at home. We also flew with it to Scotland and loved that our daughter had a seat in our Bunk Camper.
Travel tent: This is the sleeping tent that we use on trips. It packs up super small and gave her a safe space to sleep.
Your favorite baby foods: We found some similar baby foods (pouches) while in Scotland, but the selection was more limited than I was expecting (at least at the stores we went to). If you have favorites, we'd recommend prioritizing packing foods over diapers and wipes, as those will be easier to find (unless you're very particular on the type).
Travel sound machine: we don't go anywhere without this!
Tap light: This light is super handy at home or on travels.
Campervan logistics with a baby
One of the biggest questions we got about doing our campervan trip with our daughter (who was 9 months old at the time), was, "Where does your baby sleep?"
Since the Aero Plus only has one bed, we had a little workaround.
We brought this travel tent from home and when it was time for her to go to sleep, we put the tent on top of the bed. We turned on our travel sound machine and used this tap light to be able to see.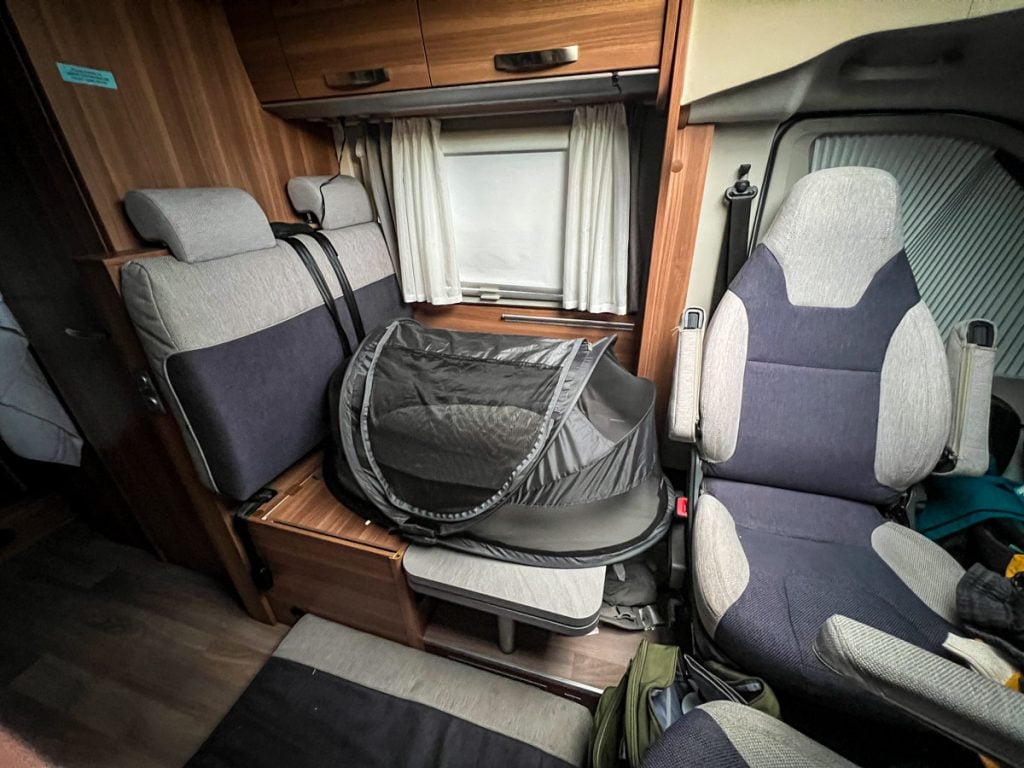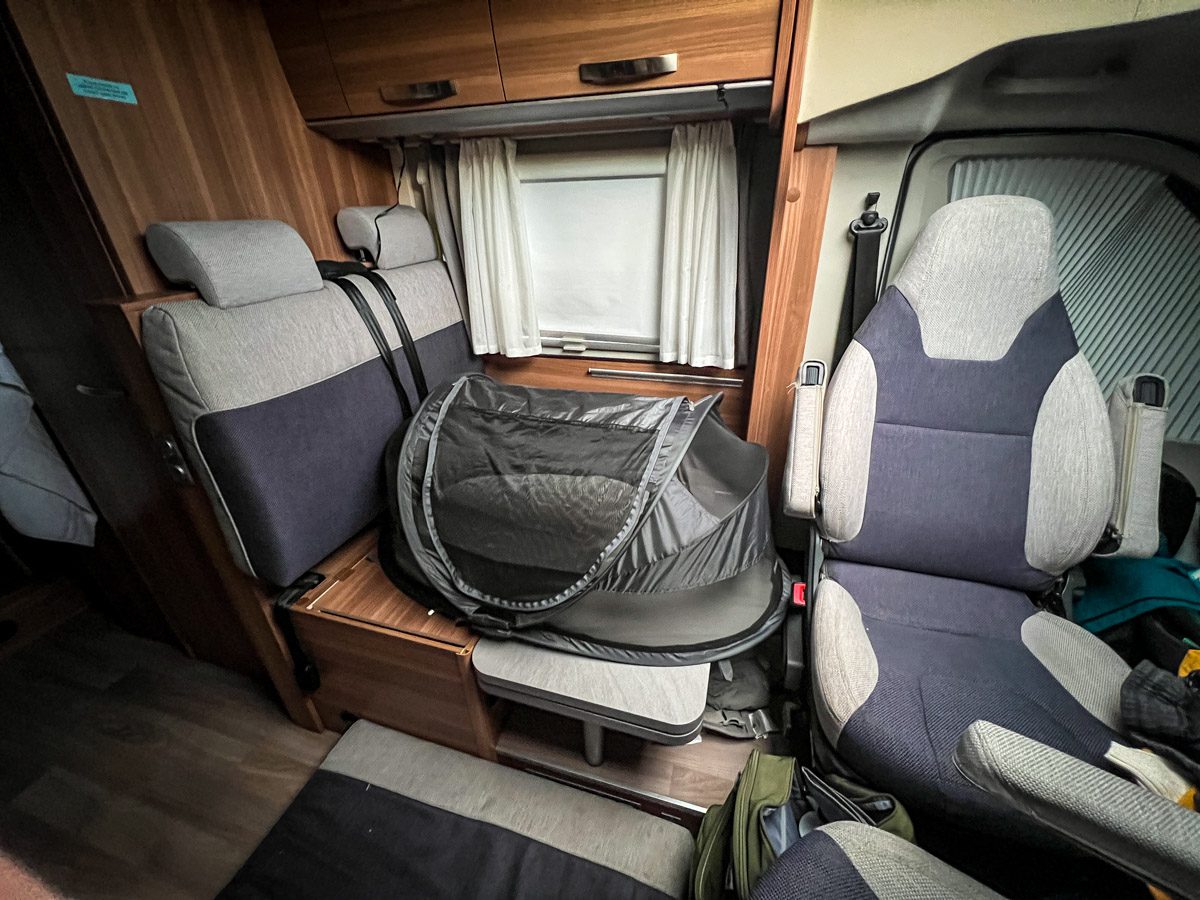 We set up our baby monitor so we could keep an eye on her as an added safety measure.
We then closed the curtains so that we could keep the lights on in the main area of the vehicle. Then we'd enjoy dinner, hang out and watch Netflix on our laptop!
When it was time for us to go to bed, I would usually do a dream feed while Ben moved her tent to the bench seat as well as the baby monitor. We secured the tent using the seat belt so it couldn't move.
Then, we went into bed and put our daughter in the tent.
There were a few nights when she woke up a bit unsure of where she was, so we brought her into bed with us. The bed in the Aero Plus had more than enough room for the three of us.
Note: We're comfortable with co-sleeping and have done so at home on some occasions, so this wasn't a big deal for us. However, everyone has their own comfort level with sleeping arrangements.
Where to stay in your campervan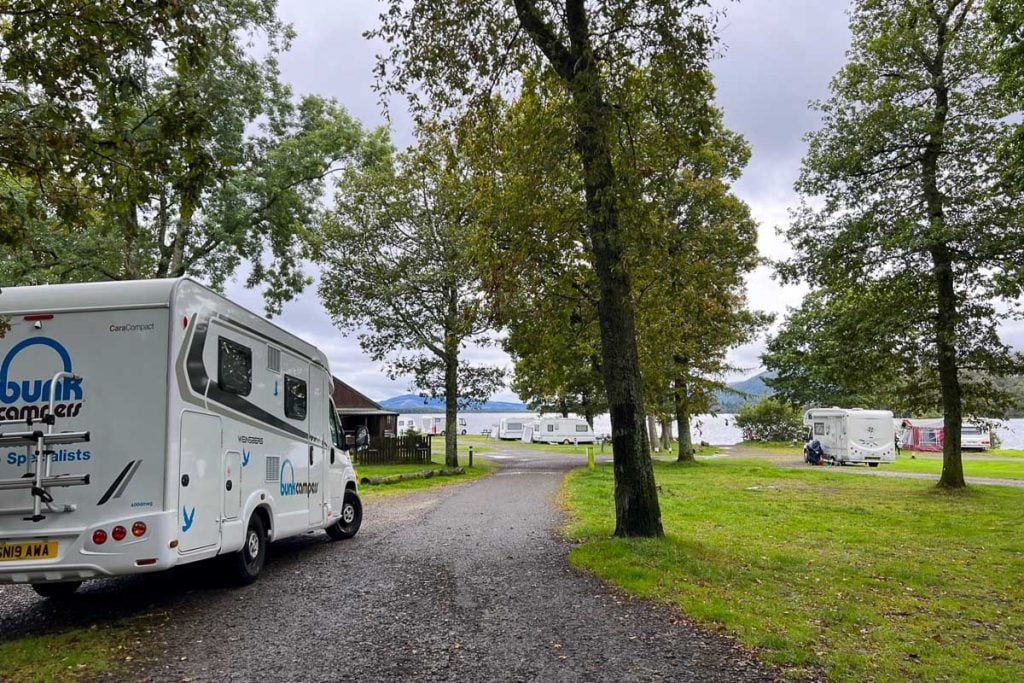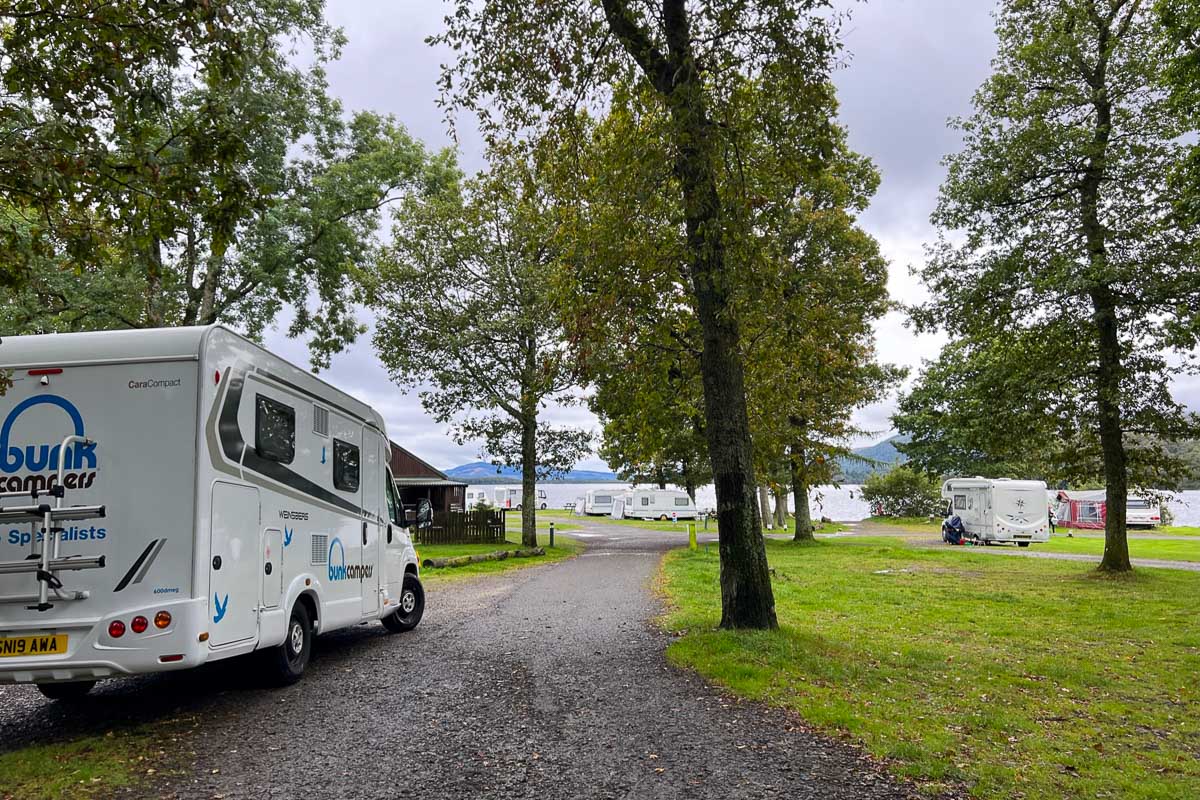 You'll be happy to know that there are tons of campgrounds all around Scotland.
We've created a Scotland camping guide so you have all the info you need right at your fingertips, including what to expect at caravan parks and a map of some of the best campsites in the country!
Wild Camping
If you're traveling on a tight budget, and don't want to pay for campgrounds every night, it's worth mentioning that it is possible to wild camp in Scotland (aka park somewhere that is not an established campground).
But you can't just park anywhere! We have a resource on wild camping in Scotland so you know the ins and outs and are sure not to inadvertently break the law (yikes!) on your road trip!
Perfect Scotland campervan road trip itinerary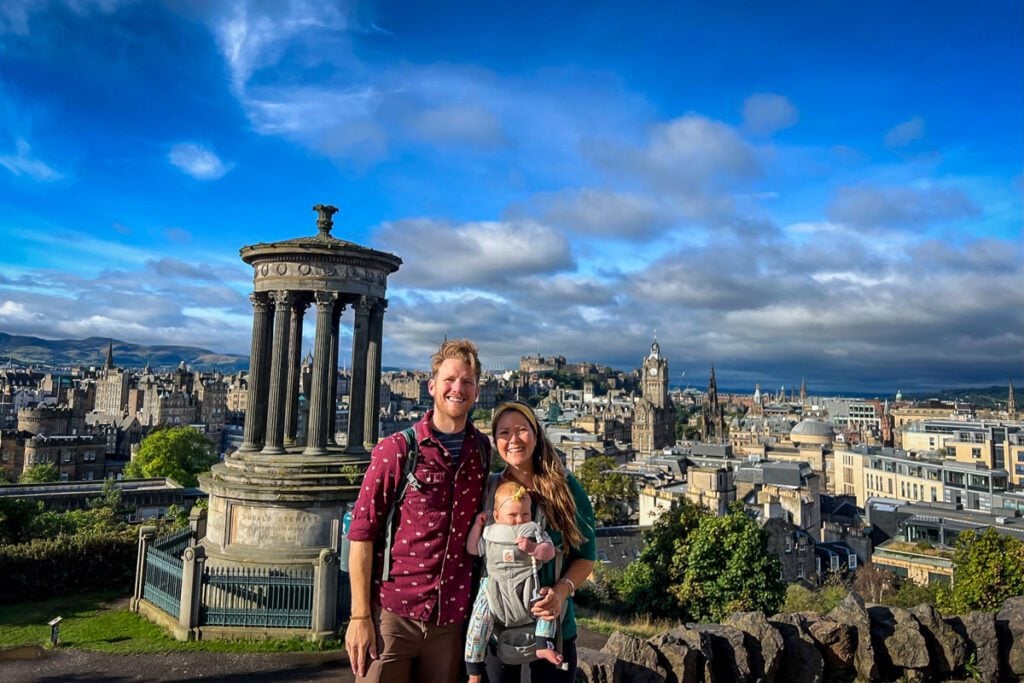 Raise your hand if you don't want to spend hours of time researching and you just want all the info right at your fingertips!
If your hand is up, keep reading…
If you like the research, all the power to you! Feel free to use our itinerary outlines as a starting point as well as our city guides for ideas of things to do (we've got a bunch of them!):
But if you want to save some hours of your life, we've already put in more than enough for you and us combined. Trust us.
And we're happy to share everything we learned — from digging through reviews, Youtube and all sorts of Internet rabbit holes, as well as actually being in Scotland and taking our very own dream road trip!
We've curated what we think is the perfect Scotland road trip, and we want you to be able to copy our route! 


In this 2-week itinerary, you'll find:
Can't miss sights and experiences
Where to eat

suggestions for what to order

Where to stay (whether you're camping or doing hotels)

the best campsites to stay on the route
unique guesthouses along the way

Insider Tips
Suggestions for extending this trip
We've spent hours of research putting this all together, just for you!
However, we keep all of our paid itineraries affordable – just $17 for an entire 2-week itinerary. We think this is an incredible value considering almost all your planning will be done for you!
---
Are you planning a trip to Scotland?
We have lots of resources on travel in Scotland and destinations throughout the country. Check out our Scotland Travel Homepage for everything you need to know, or read some of our favorite articles below.
Save this article on Pinterest for later!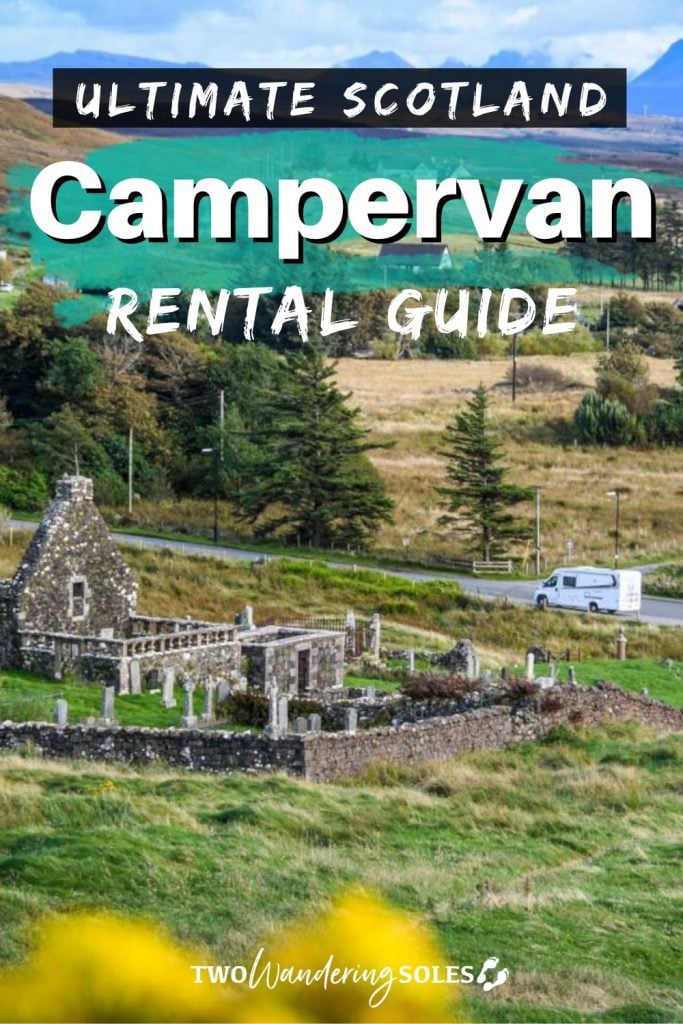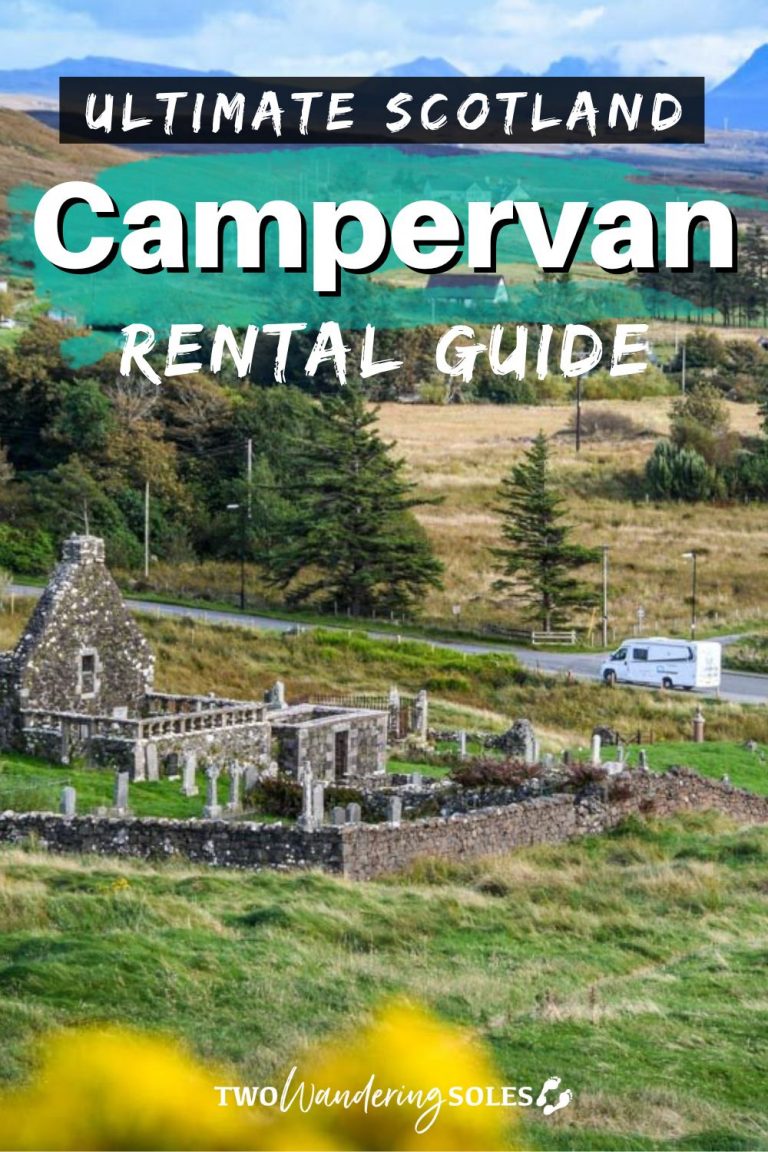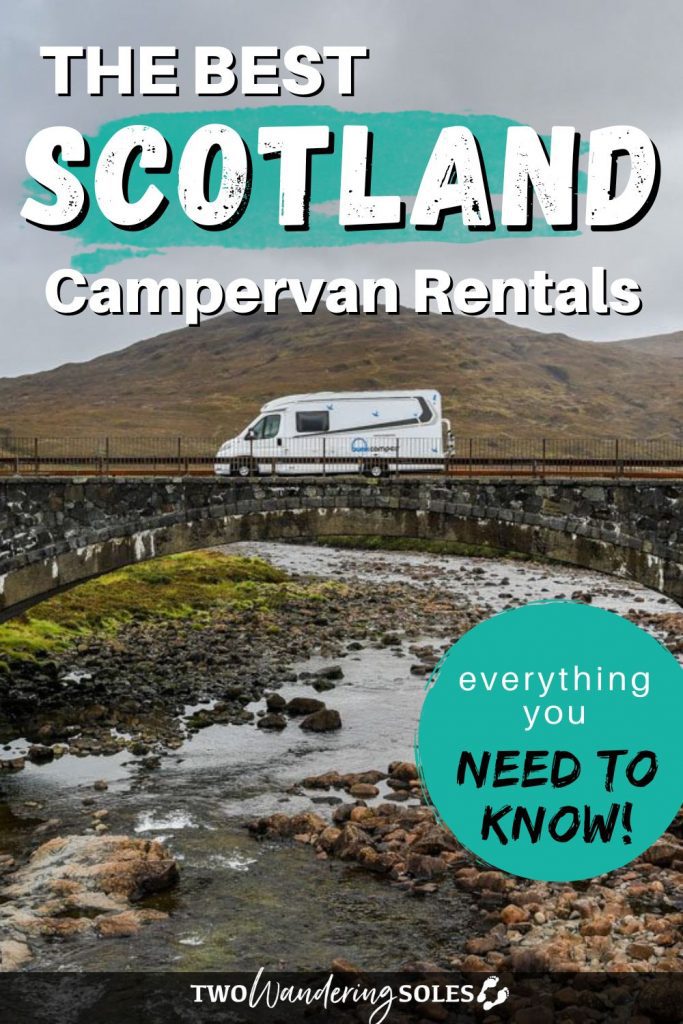 We want to hear from you!
Are you planning a campervan trip and still have questions about your Scotland campervan hire options? Leave your comment below and we'll do our best to get you the answers you're looking for!