Hawaii is known for its pristine beaches, rugged volcanic landscapes, world-class surf, and welcoming aloha culture. With so much to see and do, deciding on the best time to visit Hawaii can be tricky. This guide can help, offering details on weather and activities in each season.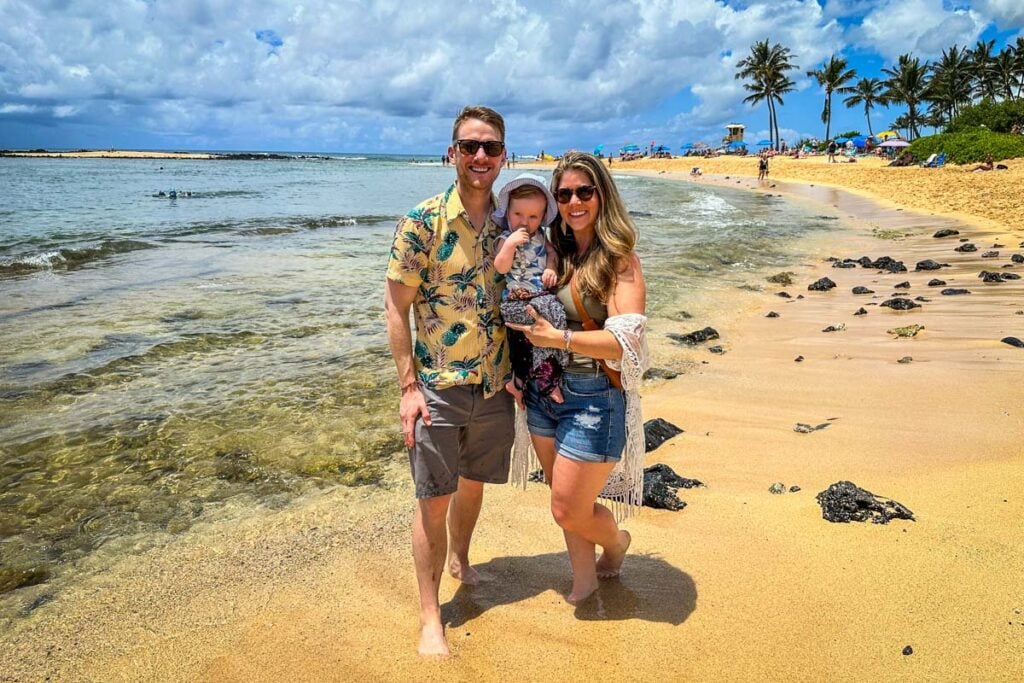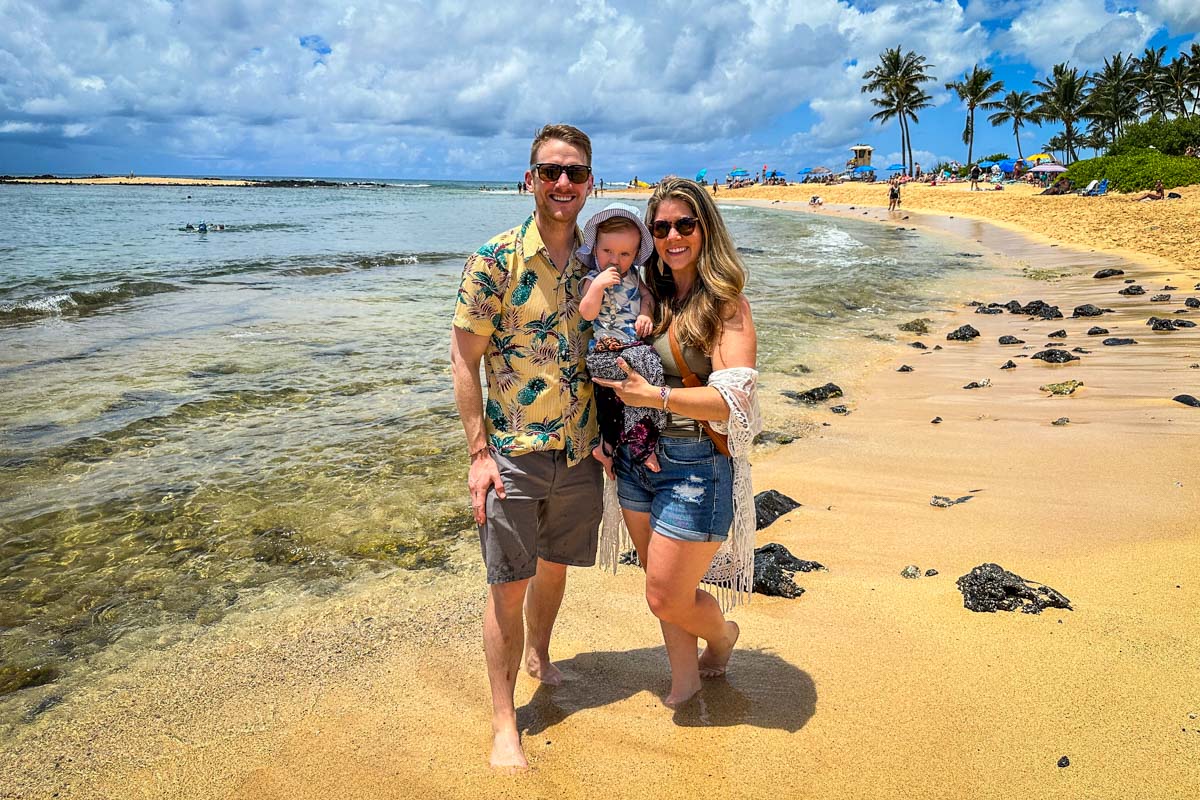 As one of the world's most beautiful places with one of the mildest climates, it's easy to think that the best time to visit Hawaii is, well, any time.
It is indeed a glorious vacation destination drenched in sunshine and comfortable temperatures year-round. However, the island state does experience a distinct rainy season and has a diverse climate, so certain months are better suited to particular areas and activities.
Helping you sort this out is exactly why we put together this guide to the best time to visit Hawaii. Read on for everything you need to know to plan your dream itinerary!
When is the best time to visit Hawaii?
The best time to visit Hawaii is any time between late March and late October. These months bring the warmest weather, calmest water conditions, and lowest chances of rain.
There is one notable exception: if you're serious about surfing, you may actually want to visit Hawaii in the winter, when swells are generally much larger.
However, the best month depends on which island(s) you plan to visit and how you want to spend your time. Conditions differ slightly from island to island, so activities vary accordingly – the best time to swim or snorkel isn't necessarily the best time to go whale-watching.
Answer these questions to get started:
What region of the country do you plan to visit?
Are you easily bothered by crowds?
Are you negatively affected by high humidity?
Do you prefer to spend your time outdoors at the beach or exploring a new city?
Are you planning to do activities like whale watching, scuba diving, or surfing?
Thinking about your answers to these questions is going to help you start to determine when to visit Hawaii.
Article contents
Overall BEST time to visit Hawaii
Want a quick recommendation? Jump down to see our personal advice for the best time to visit Hawaii. Plus, we'll share what times of year we'd avoid visiting!
---
Our experience
We visited Hawaii in April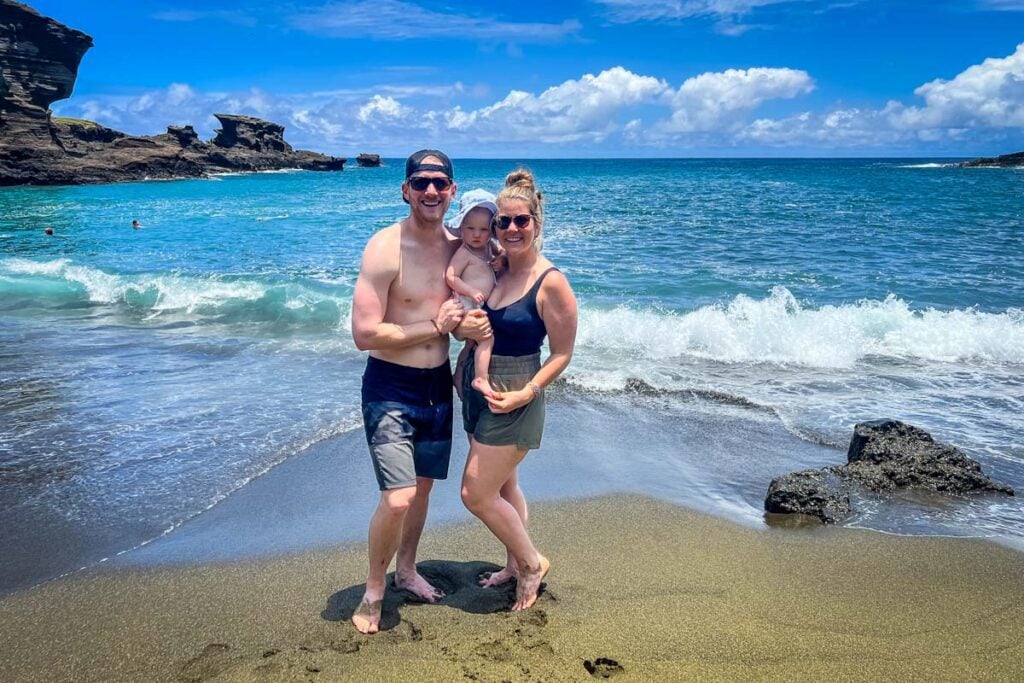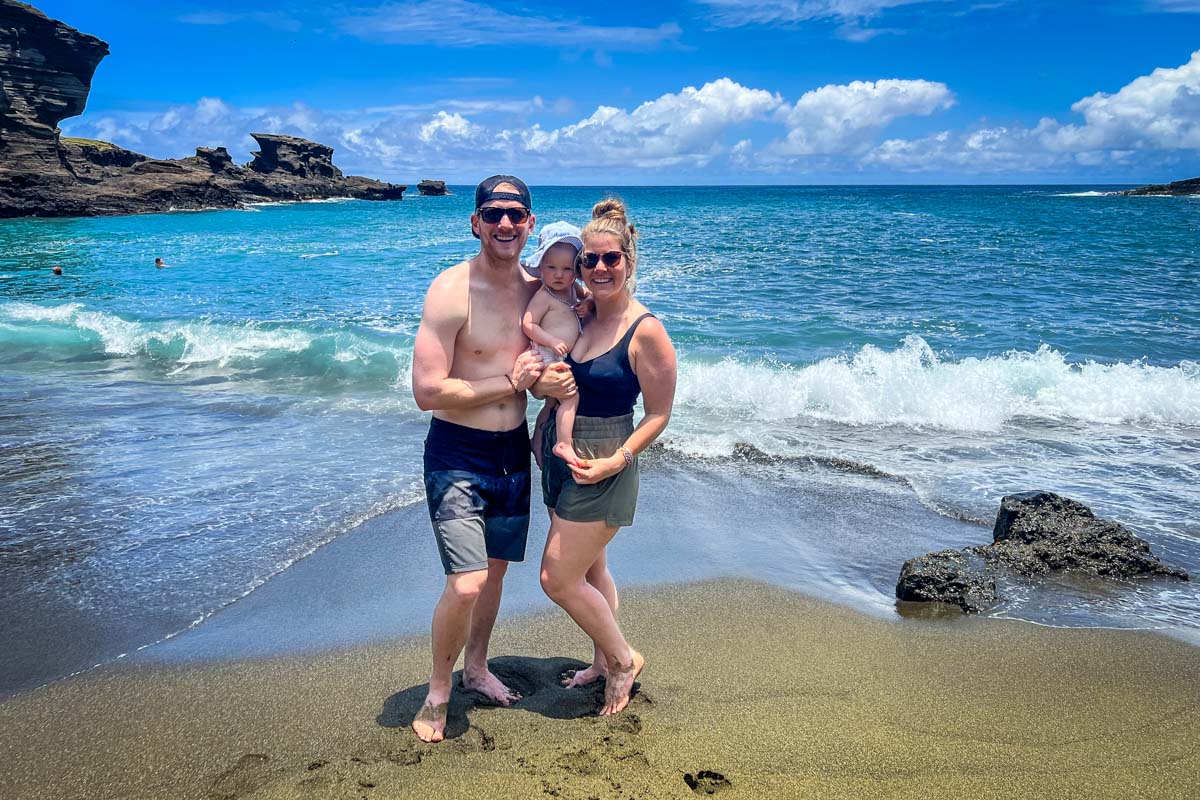 When: early to late April (2023)
Where: Kauai and Big Island
Our experience:
We visited on the tail end of spring break, and had trouble finding accommodation when booking (kind of last minute). Overall, we found Kauai to be harder to find accommodation than on Big Island; though, we were wanting to stay in one place in Kauai, so that may have made it trickier.
Accommodation in Hawaii is very expensive all year round. While we likely paid less than at the very peak of tourist season, it was still very expensive.
On Kauai we had decent weather. We had a mix of rain and some totally sunny days.
While hiking on the Kalalau Trail (Kauai), we encountered very muddy paths and one torrential downpour, which made the hike quite a bit harder than in the drier summer months.
On Big Island, we had near perfect weather, and since the island is more spread out, it didn't feel very crowded.
Would we recommend visiting Hawaii in April?
Mostly, yes. We had good weather overall, however, if you can go at a different time of the year, you may find better availability and rates on accommodations.
Hawaii geography overview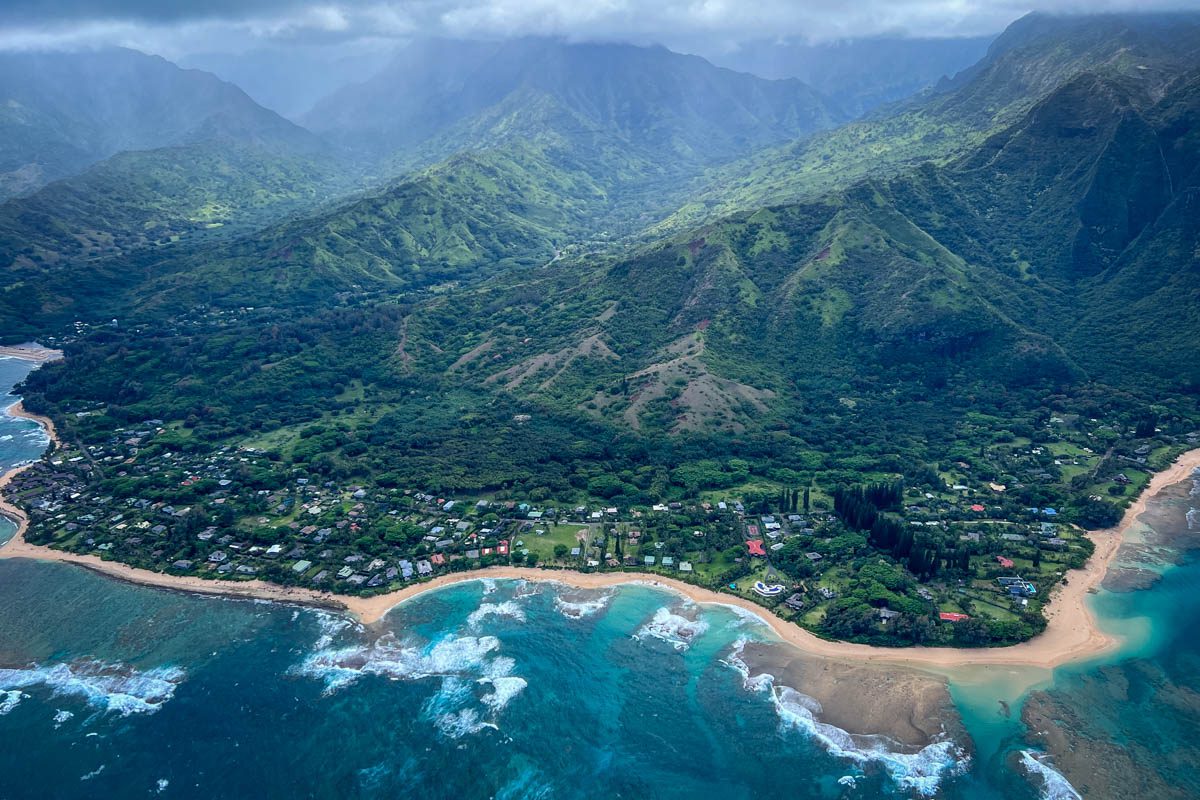 Hawaii is in the Pacific Ocean, 2,000 miles west of the California coast. Only 7 of its 132 islands are inhabited: Big Island (Hawaii), Maui, Molokai, Lanai, Oahu, Kauai, and Niihau.
The Hawaiian islands mark the southeast end of a sequence of volcanoes that started forming over 70 million years ago. All have volcanic terrain, dotted with lush rainforests and fringed by white and black sand beaches.
Each of the islands experiences its own unique micro-environment, with geographic features including volcanic valleys, tropical rainforests, arid deserts, and high-altitude alpine regions shaping the topography.
There are also sometimes significant differences in temperatures, humidity, and rainfall at sea level versus higher elevations.
This explains why the best time to visit Hawaii isn't necessarily specific to each island, but rather to the different regions within each individual island.
Weather in Hawaii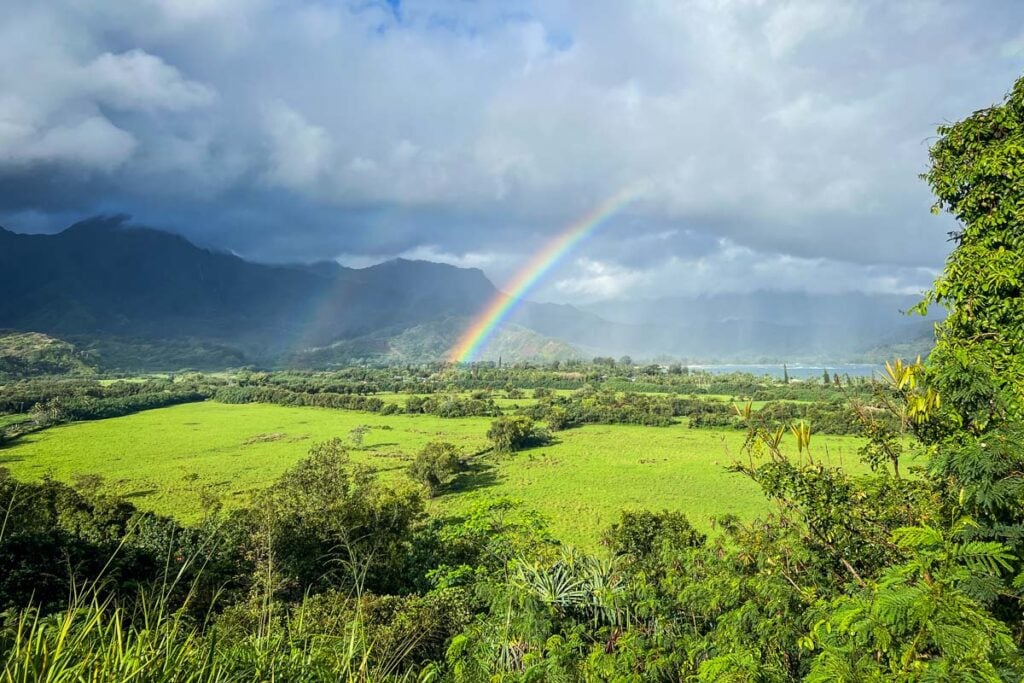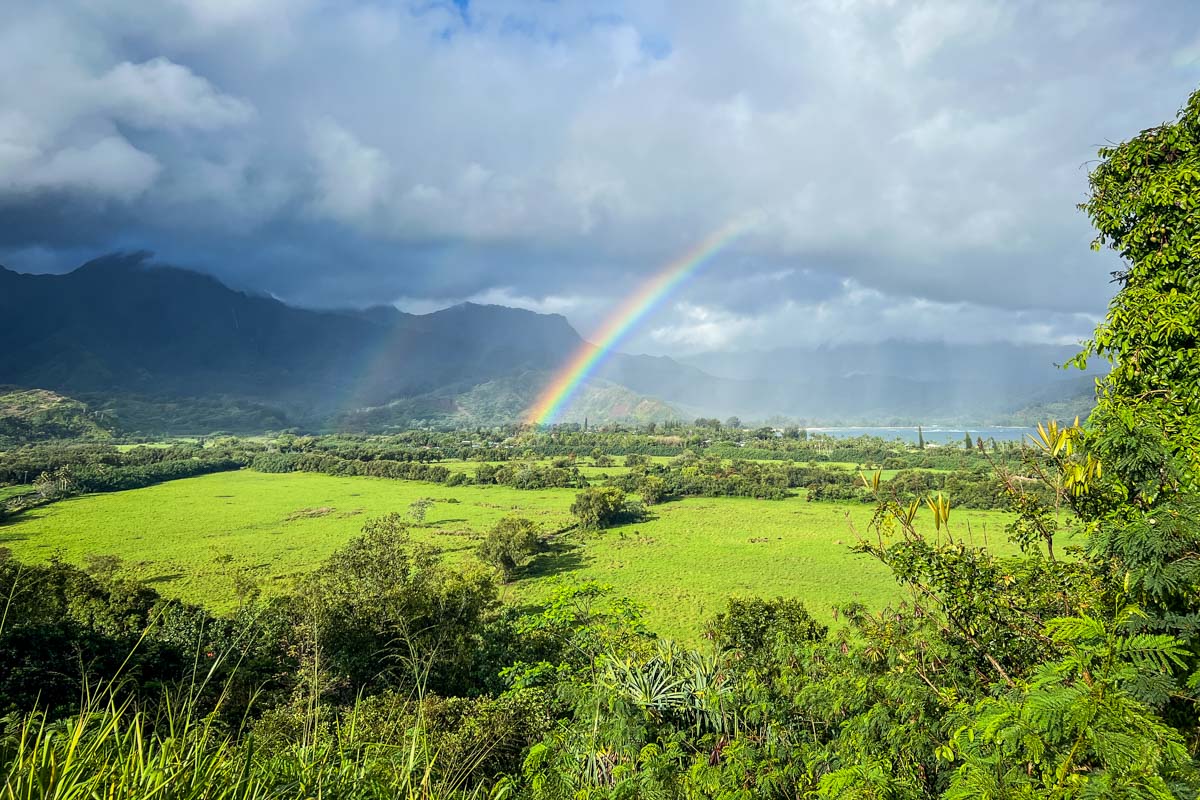 Unlike other destinations, tropical Hawaii experiences just two seasons: summer and winter. Fall and spring? Not in Hawaii!
Summer generally falls between May and October, while winter lasts from November through April.
The average daytime temperature during the summer is 85°F (29.4°C), dropping to around 75°F (23.9°C) at night.
Temperatures cool slightly in the winter, but you're still looking at average daytime temperatures above 73.4°F (23°C). Winter also constitutes the rainy season in Hawaii. Rain is undeniably more common in the winter, but due to the islands' microclimates, you can almost always find an area on each one that remains dry while it rains elsewhere.
Hawaii's localized weather conditions are exactly why you shouldn't automatically veto a trip during the winter rainy season!
As all the Hawaiian islands experience trade winds, there is generally always at least a slight breeze. When these winds pause, the weather can take a quick turn for the extremely sticky and storms can be expected.
Stats on Hawaii weather & seasons:
Warmest month(s) in Hawaii: July & August
Coldest month(s) in Hawaii: December through February
Rainiest month(s) in Hawaii: November & March (December in Kauai, the rainiest island overall)
Driest month(s) in Hawaii: June through August
Most crowded month in Hawaii: August
Least crowded month in Hawaii: April
---
Summer in Hawaii
Let's run through what you should expect during summers in Hawaii, when the temperatures are at their highest and the islands are generally drier.
May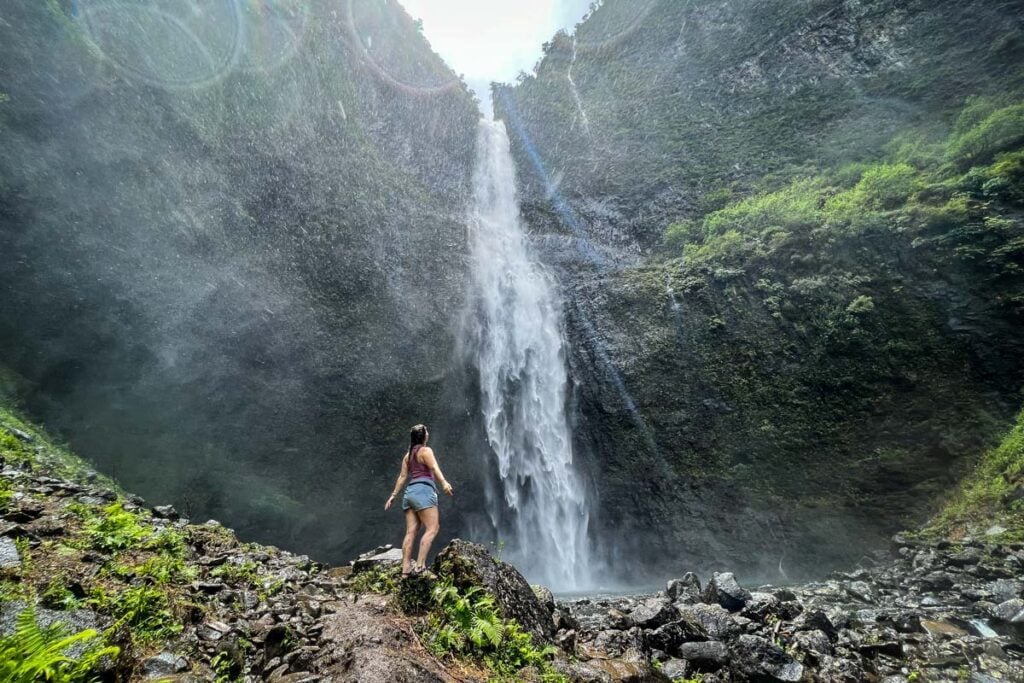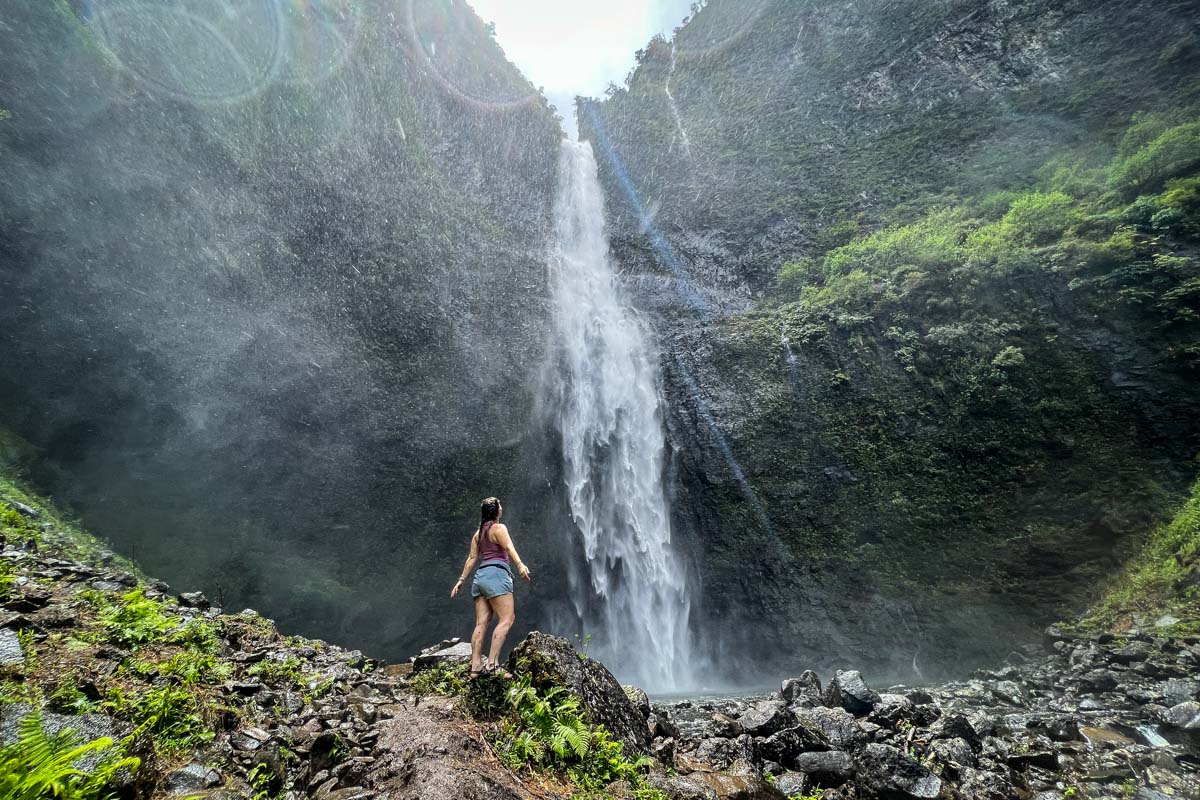 As Hawaii transitions into summer, temperatures sit between 75-79°F (24-26°C) in Kauai and Lanai, while the other islands enjoy an average of 82.4°F (28°C).
Because this is the start of the season, the islands are mostly quiet, with few tourists until Memorial Day weekend attracts the first wave of summer visitors. Many people consider this the best time to visit Hawaii, especially for budget accommodations and fewer crowds.
Plus, the beloved month-long celebration of Hawaiian music and culture, Mele Mei, kicks off in May.
June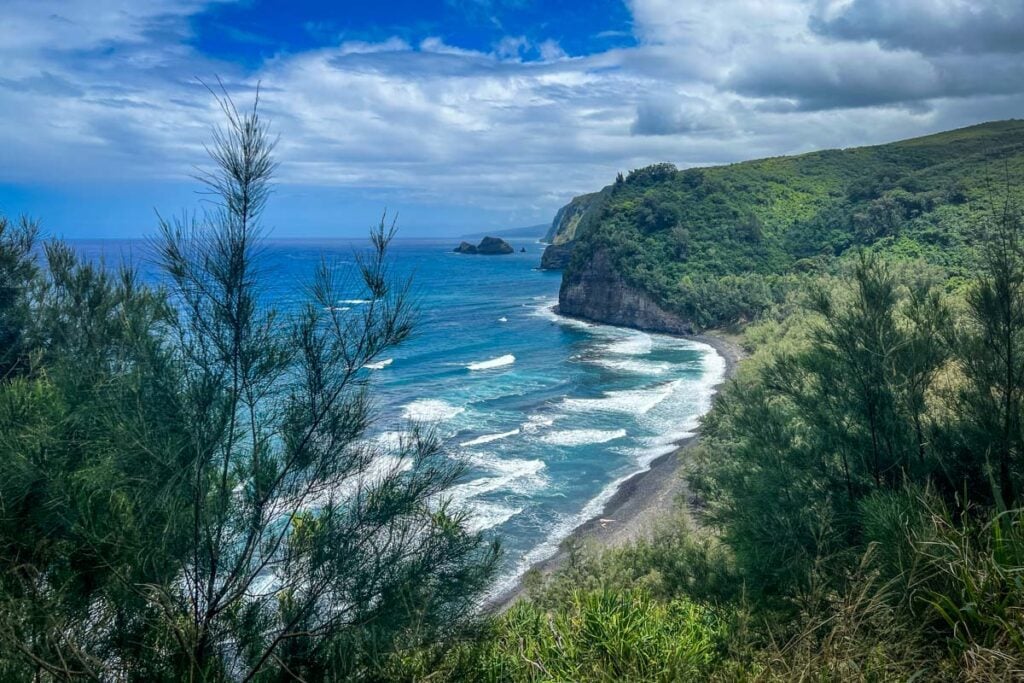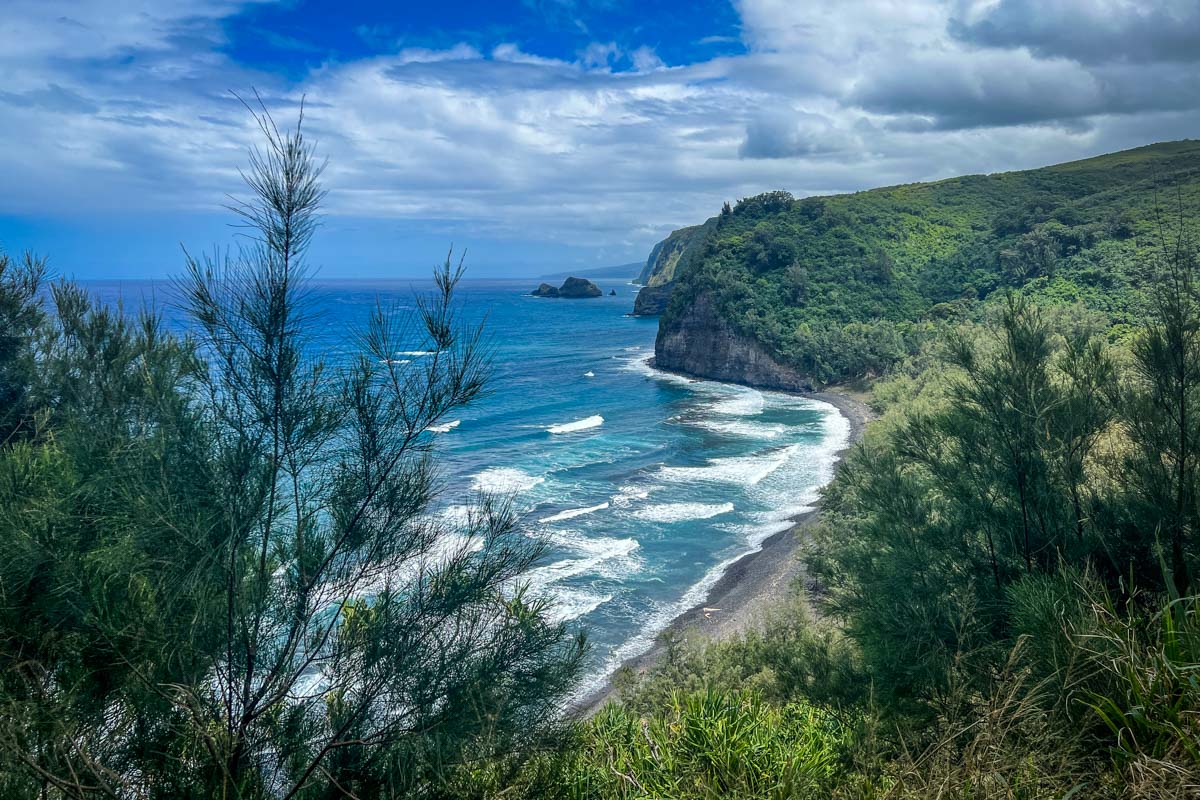 June brings the lowest volume of rainfall to the Hawaiian islands (including Kauai), while the sun shines and temperatures start to peak.
All islands experience an average temperature of at least 77°F (25°C), while the Big Island pushes 84.2°F (29°C).
Early June is another excellent time to visit Hawaii without the crowds. Keep in mind that mid-month, schools close throughout North America and hotels start to book out.
July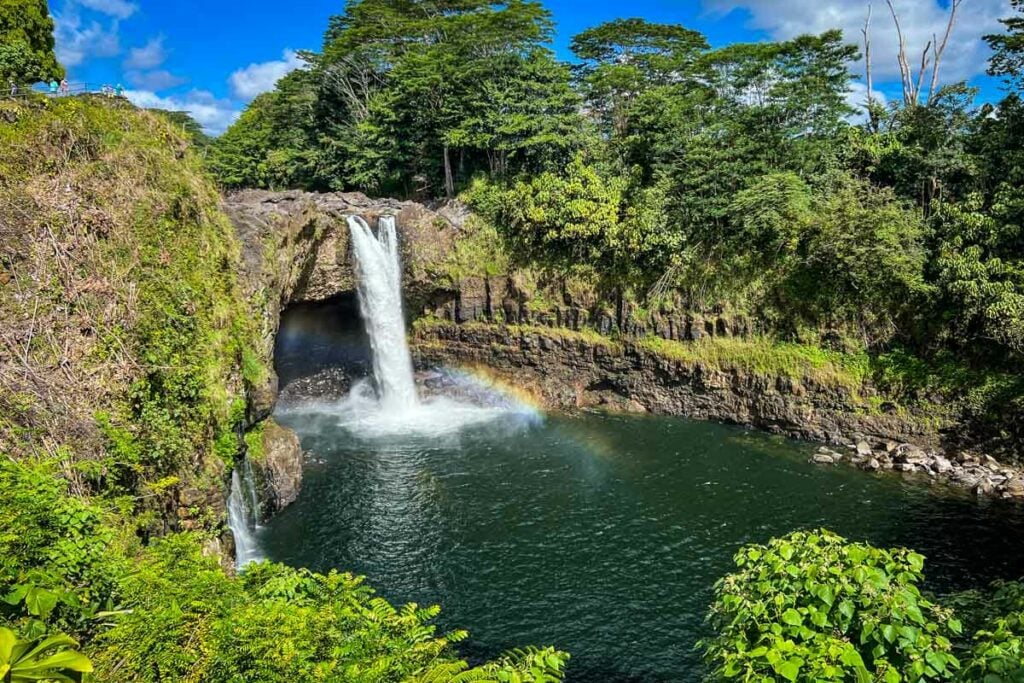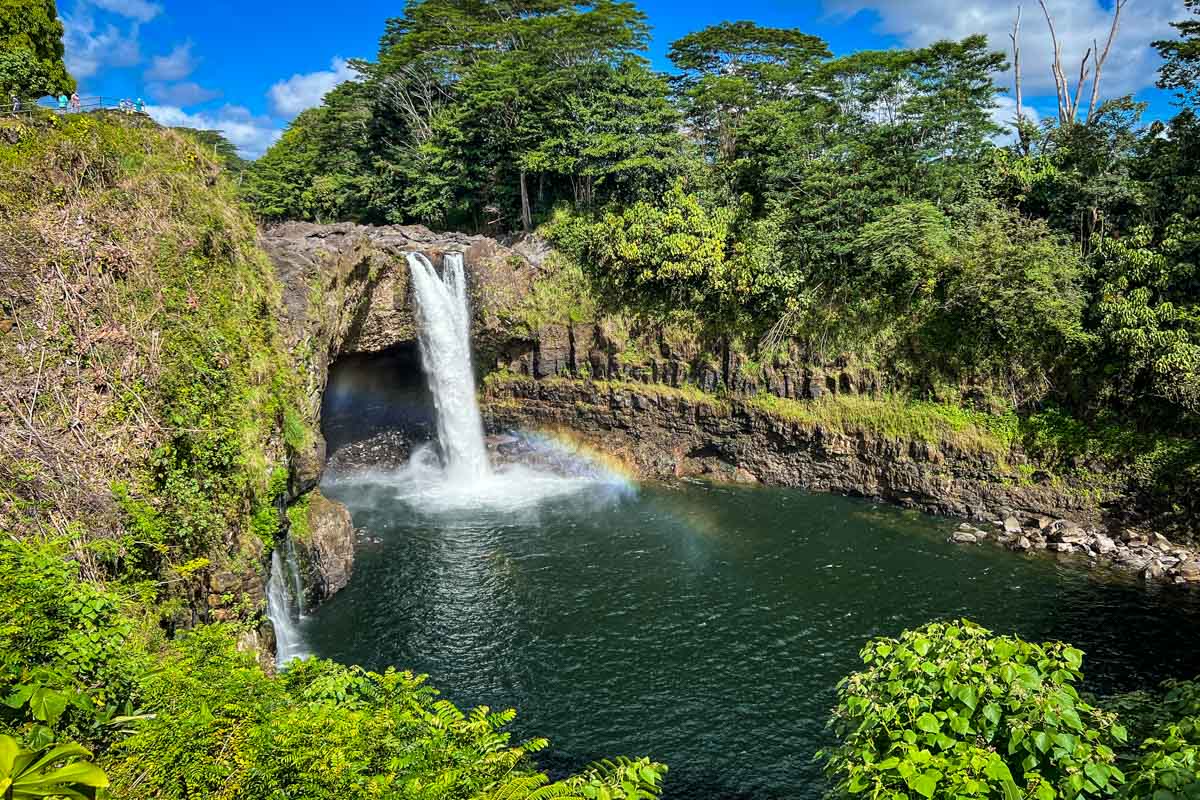 July sees an influx of tourism from all over the world. All islands are bathed in temperatures between 82-86°F (28-30°C) and enjoy long, sunny days.
Maui and Oahu are both in full swing, with popular beaches filling up with families and restaurants and bars drawing in crowds come nightfall.
If you don't love crowds and higher prices and aren't bound by school vacation schedules, you may prefer to skip visiting Hawaii in July.
August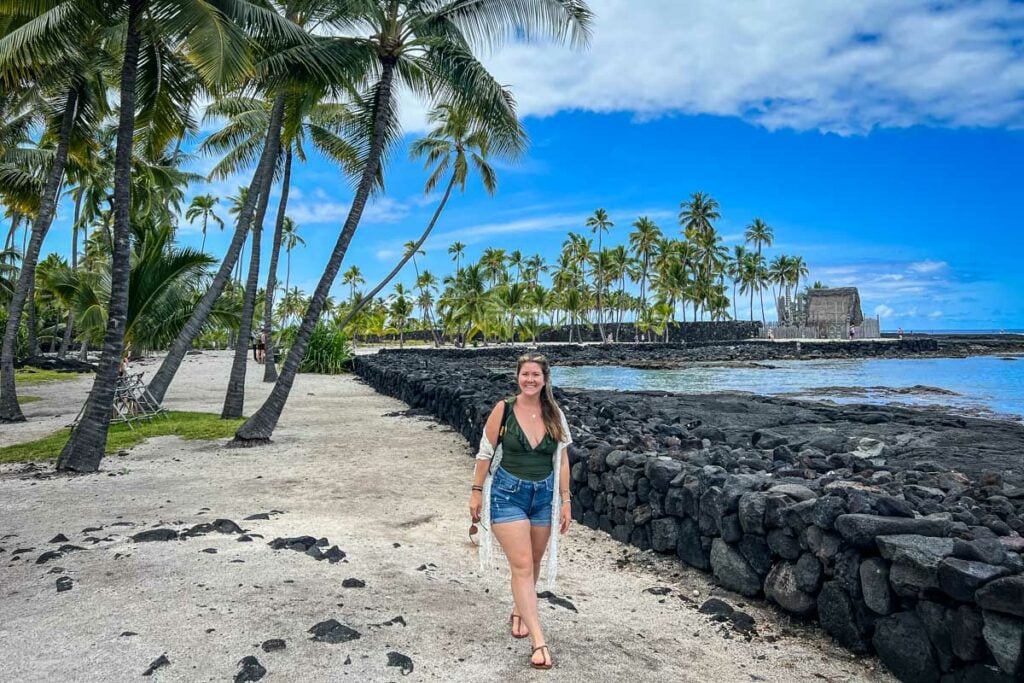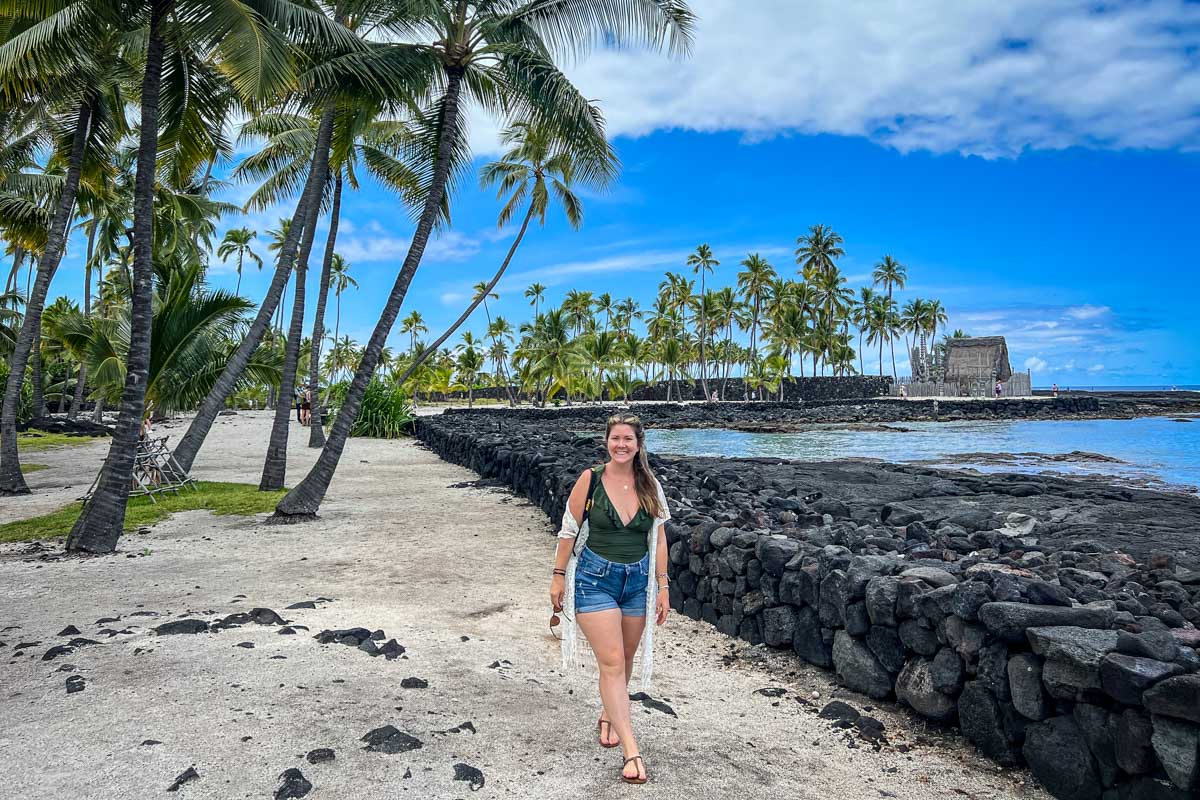 Continuing from July, August is the pinnacle of Hawaii tourism. This is the best time of year for hitting the beach and checking out the countless festivals across the islands. All islands host end-of-summer, family-friendly carnivals with rides, games, and food stalls.
Things start to quiet down toward the end of the month, so aim for late August if you're hoping to avoid crowded beaches.
September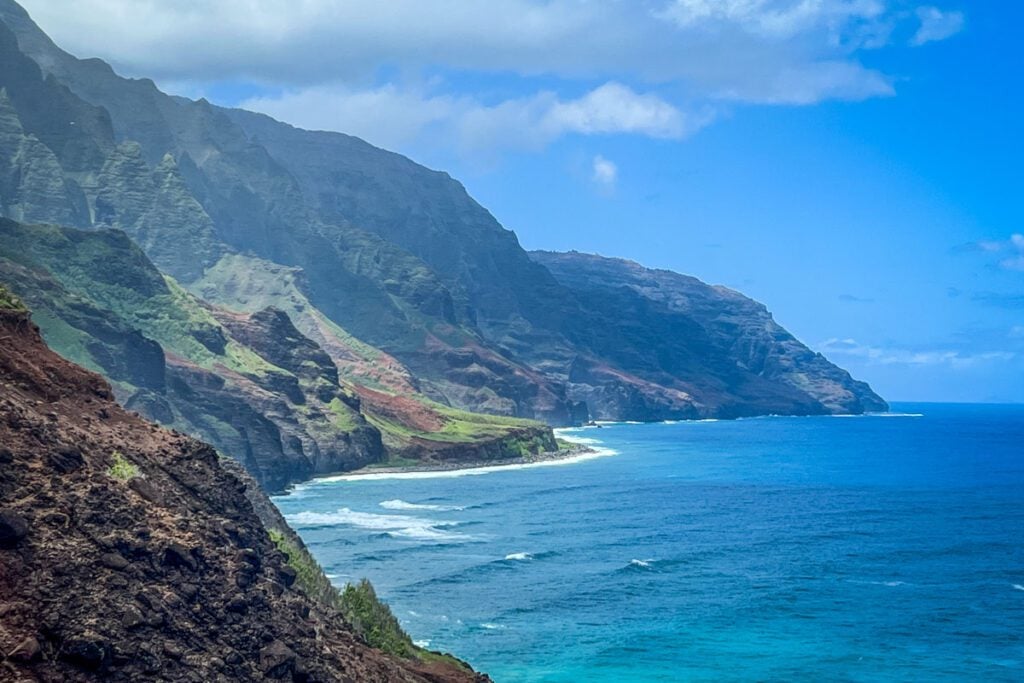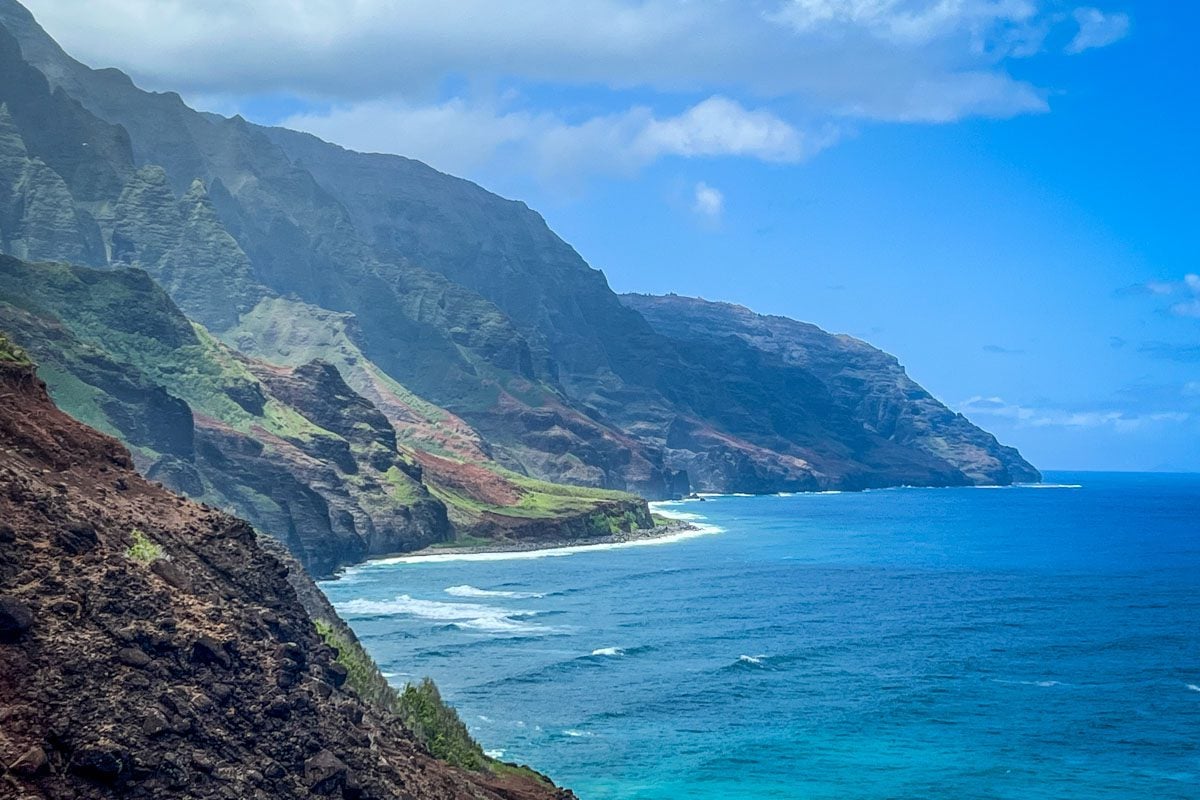 Crowds ease but temperatures stay high, making September a top contender for the best time to visit Hawaii.
Underwater visibility is particularly good this time of year, so it's an excellent time for snorkeling and diving. September also continues as a wonderful time for festivals, particularly Oahu's Aloha Festivals.
Early October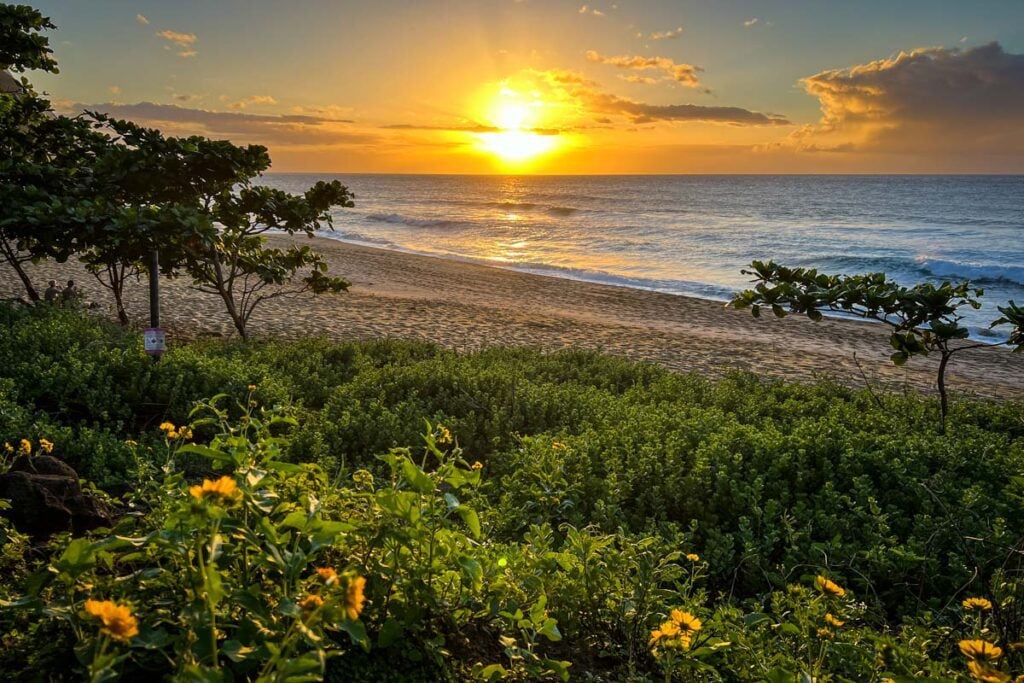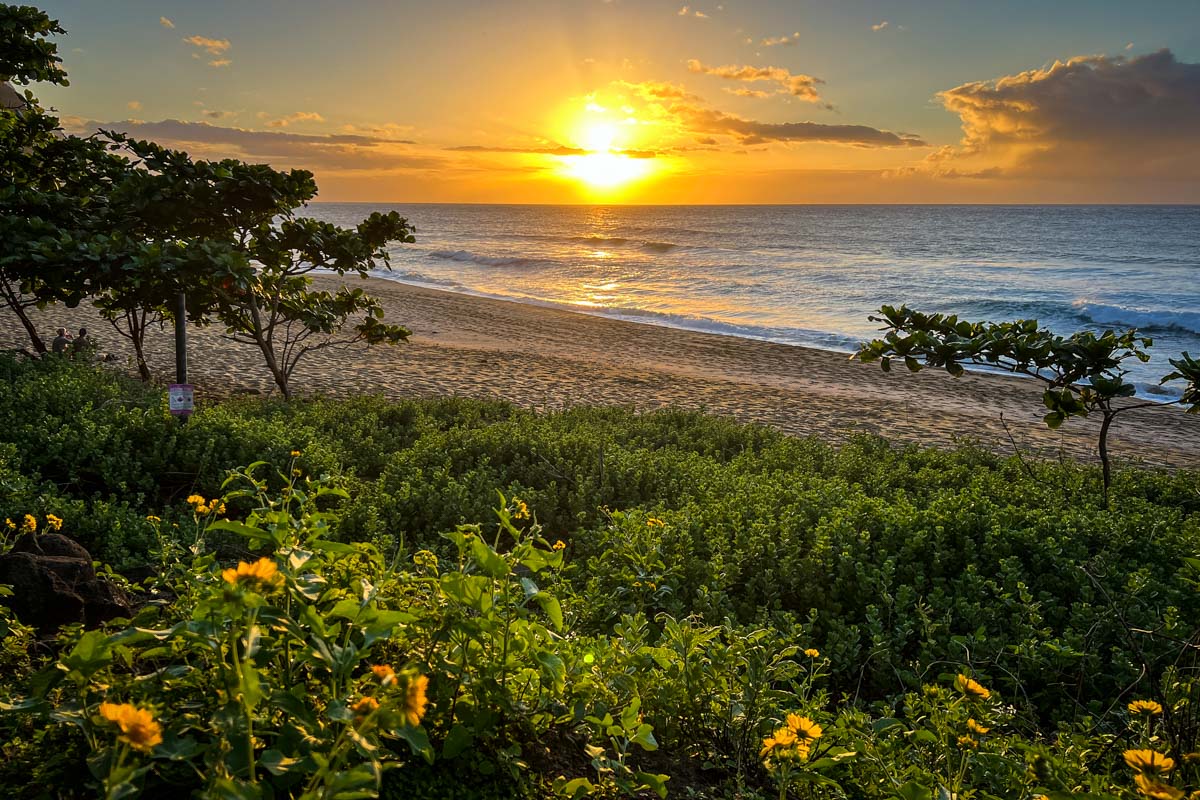 October marks the end of summer, and the islands see a huge drop in tourism as rain becomes more widespread.
Accommodation and rental car prices plummet and you're still looking at temperatures in the 80s (Fahrenheit, 20s Celsius), but there's an increased chance of storms. October also means food and music festivals galore across all the islands.
Best places to visit during summer in Hawaii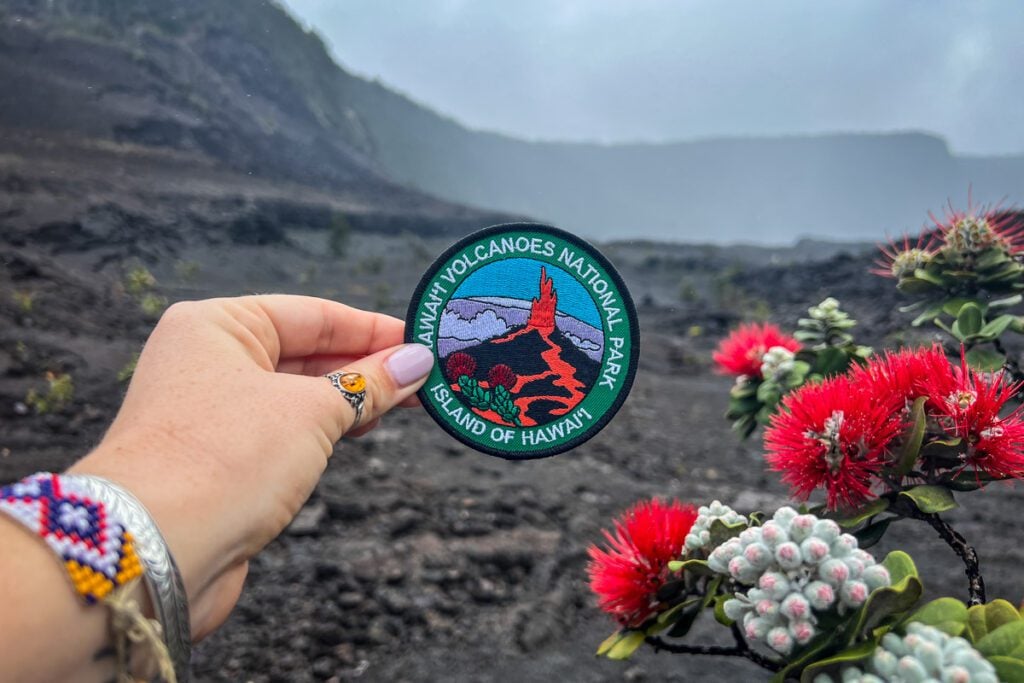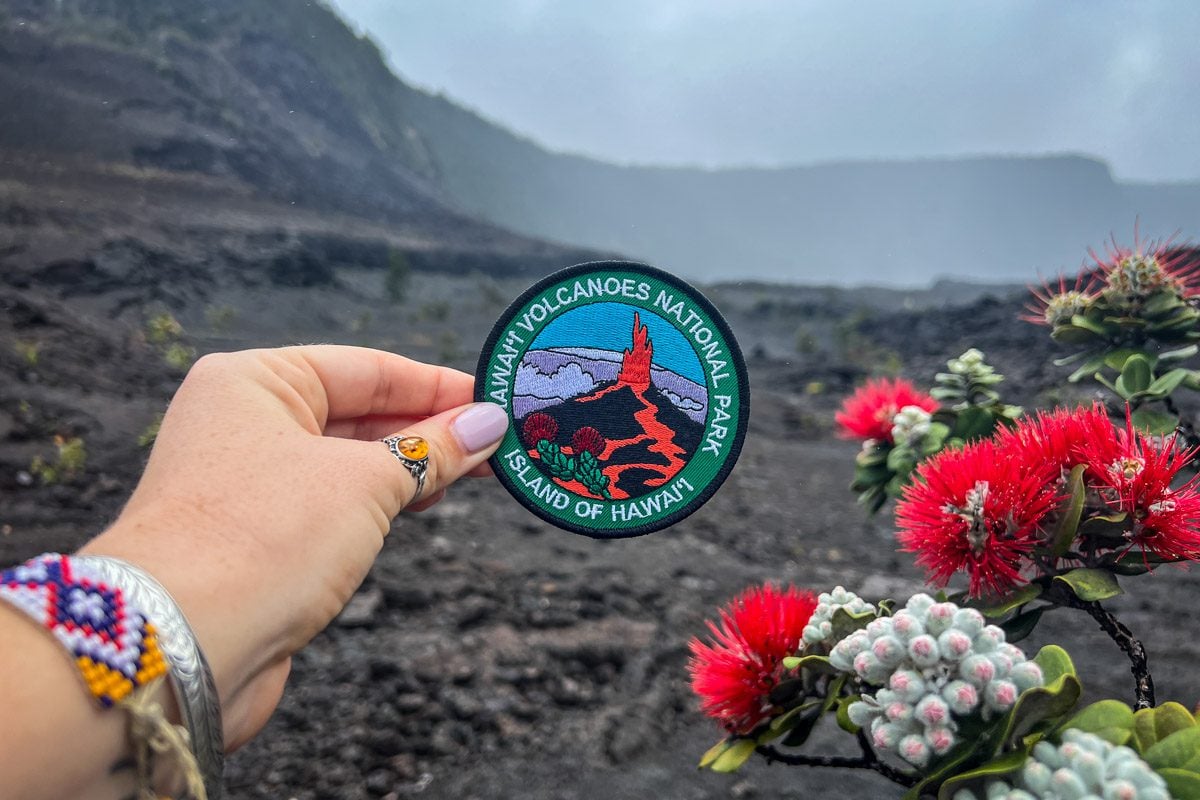 Oahu: This surf-centric island is home to iconic Waikiki Beach and hosts the annual Aloha Festivals, an exciting way to immerse yourself in Hawaiian culture.
Kauai: Take advantage of drier conditions and explore the Garden Isle, particularly by snorkeling or hiking at Kōkeʻe State Park.
Hawaii Volcanoes National Park: Summer is the best time to visit Hawaii Island's star attraction, home to two of the world's most active volcanoes: Kīlauea and Mauna Loa.
Kealakekua Bay State Historical Park: This seaside park on the Big Island offers swimming, snorkeling, hiking, and kayaking.
Maui: Enjoy festival season and some of Hawaii's best snorkeling beaches.
Diamond Head: Family-friendly hiking trails pass old military outposts and offer stunning views from the crater rim.
Best things to do during summer in Hawaii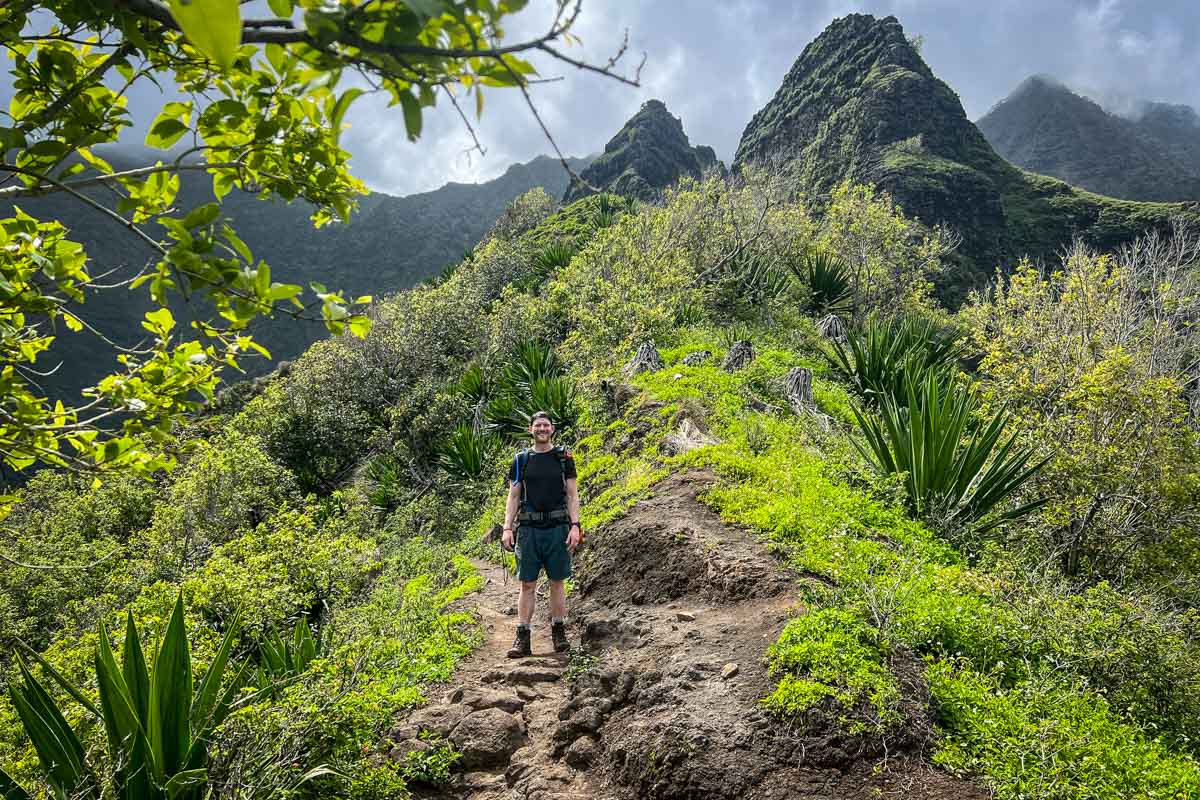 Scuba diving with whale sharks. Chances of seeing the gentle giants are at their highest from late March until late July.
Snorkeling. Visibility is best in September and conditions are ideal for snorkeling off the islands' southern shores. Gear rentals are available on nearly all beaches.
Hiking. With less chance of rain, summer is the best time to visit Hawaii for hiking of all kinds.
Windsurfing. Oahu has the best wind from June through August, while Maui's season runs from March until October.
Road to Hana. You can tackle Maui's famous scenic drive any time of year, but you'll benefit from the additional hours of sunlight and lower chances of rain in the summer.
Experience Bon Season. This series of Buddhist folk dance festivals occurs between June and Labor Day.
Be a festivalgoer. Take your pick from the Hawaii International Film Festival, the Hawaii Food and Wine Festival, and the Kauai Chocolate and Coffee Festival.
Winter in Hawaii
Although winter means rainy season, that's not necessarily a reason to discount traveling to Hawaii in winter.
Late October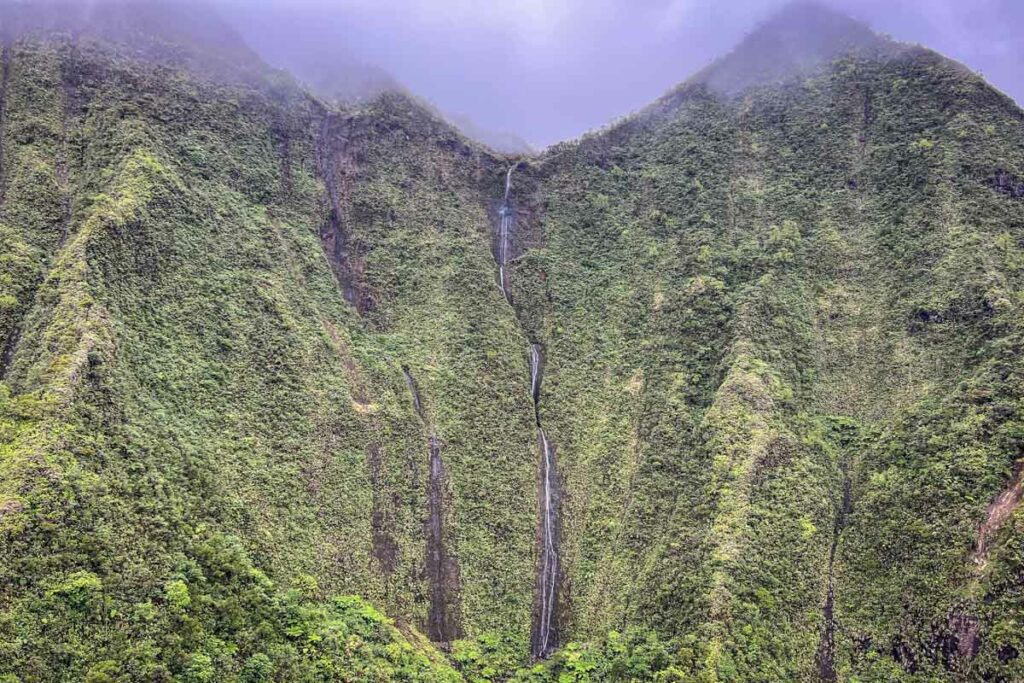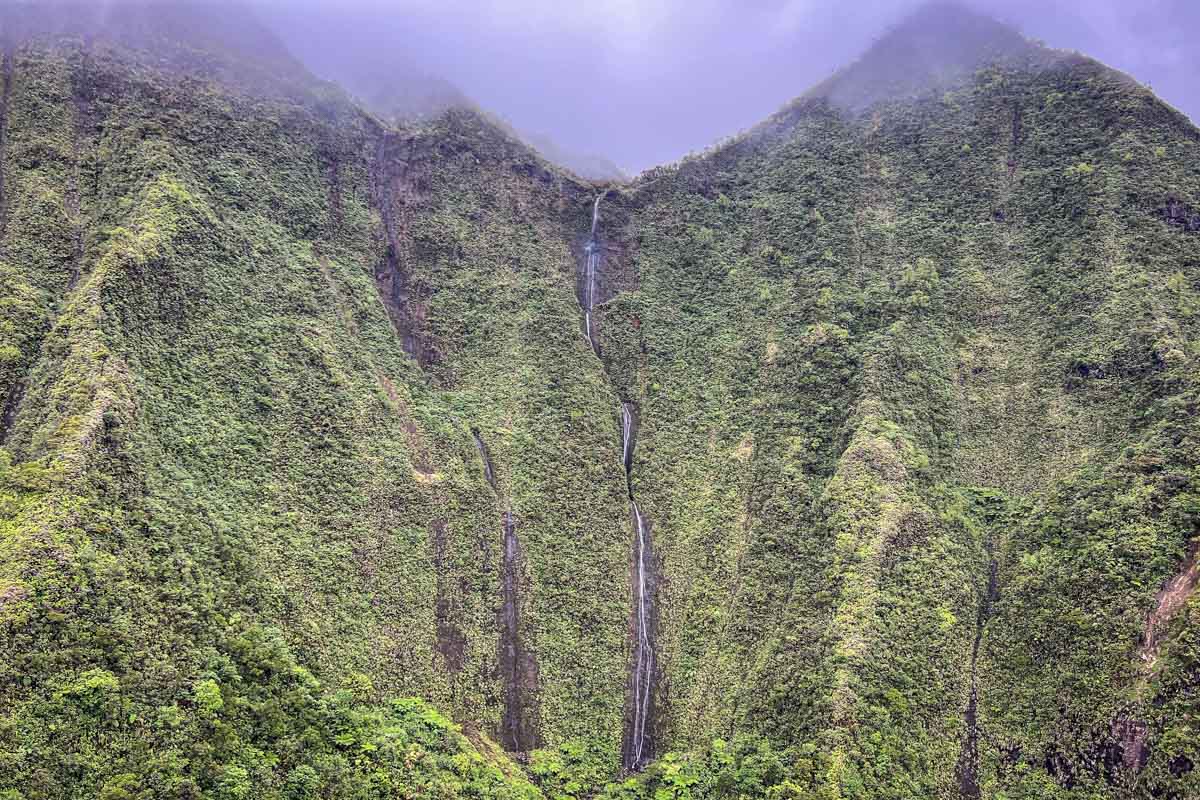 Summer slips into winter toward the end of October, but temperatures remain pleasant with averages of 78.8-86°F (26-30°C). The big change is that all islands are much more prone to rainfall, especially Kauai.
The Hawaii Food and Wine Festival happens on Big Island and Oahu at the end of October.
November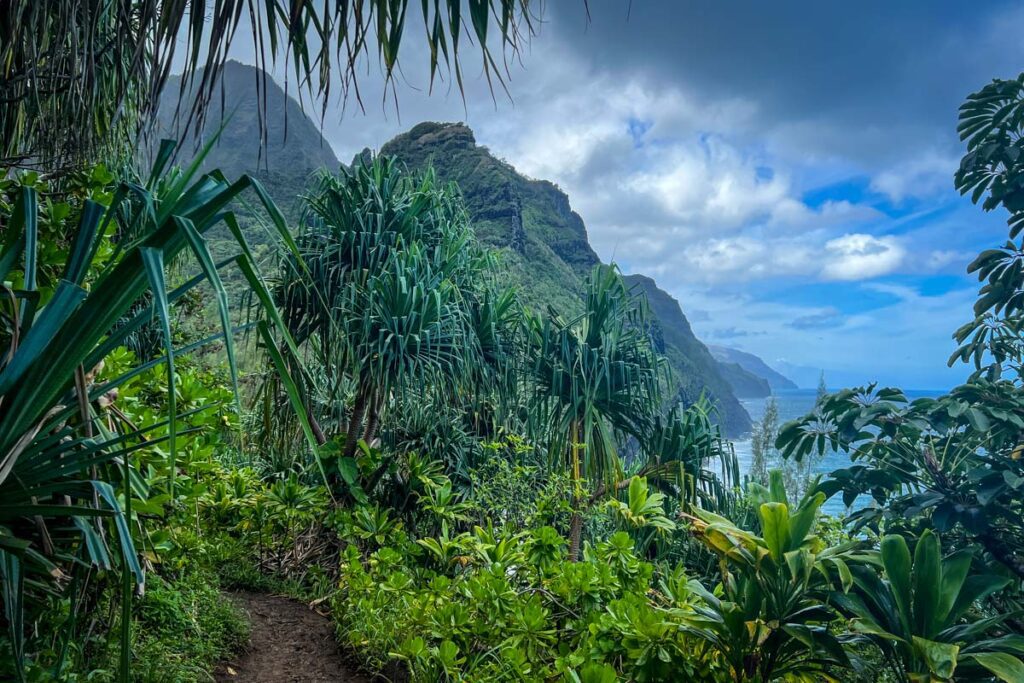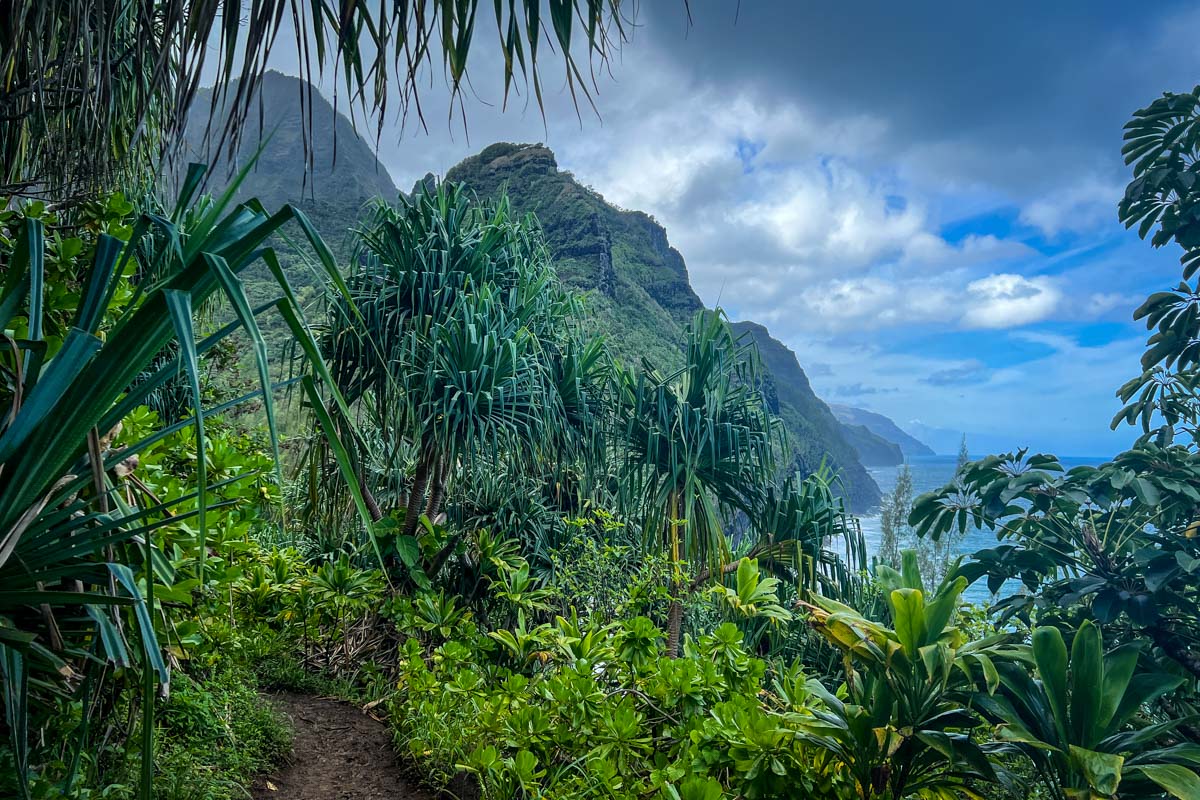 If you chase big waves, you may consider this the best time to visit Hawaii. Oahu's legendary North Shore hosts the Vans Triple Crown of Surfing in late November or early December.
Note that November is one of the rainiest months across all islands — again, especially Kauai, which receives an average of 14.5 inches. If the rain makes you chilly, warm up with a brew at the annual Kona Coffee Cultural Festival on Big Island.
December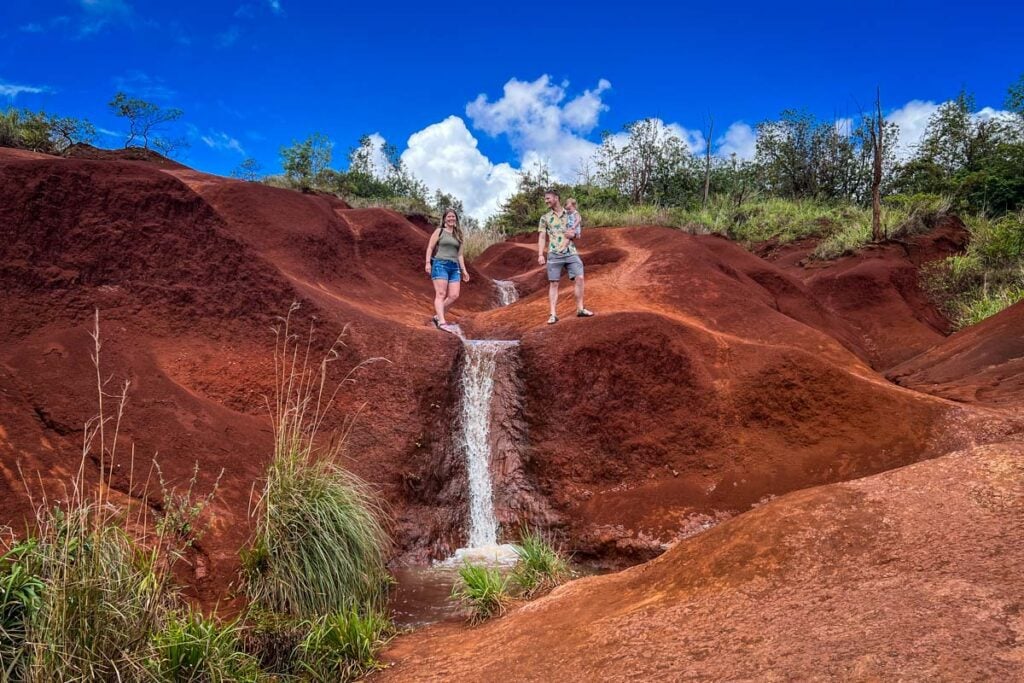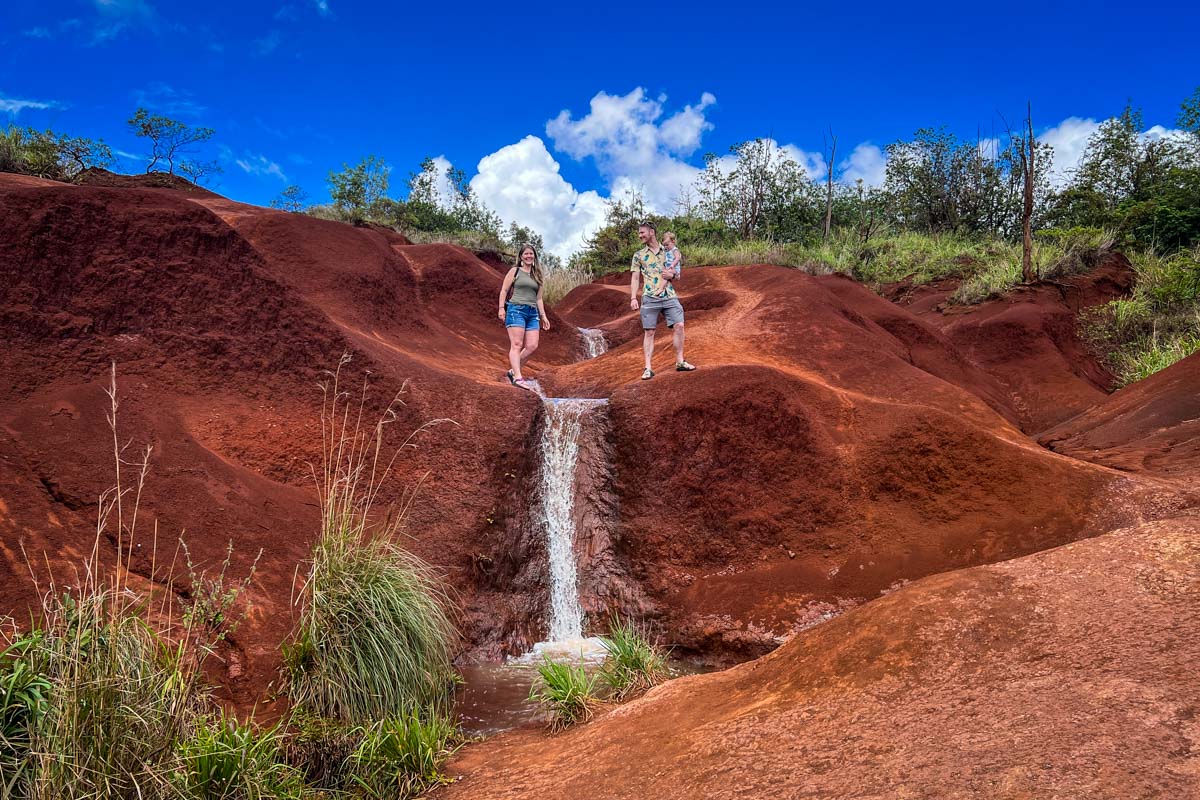 Starting off relatively quiet, tourism picks up throughout the month and drives hotel and flight prices up right before Christmas and New Year's. Unless you cope well with crowds and budget isn't a major concern, this might not be the best time to visit Hawaii.
December is when the annual Honolulu Marathon occurs, so if running 26.2 miles in paradise is on your bucket list, secure your place way ahead of time.
January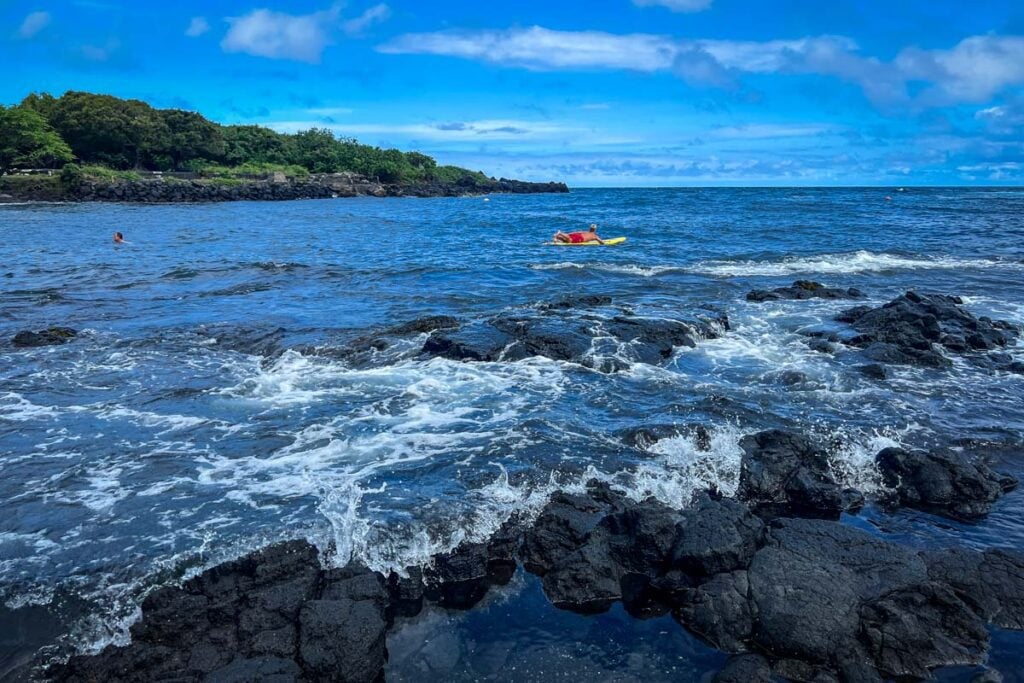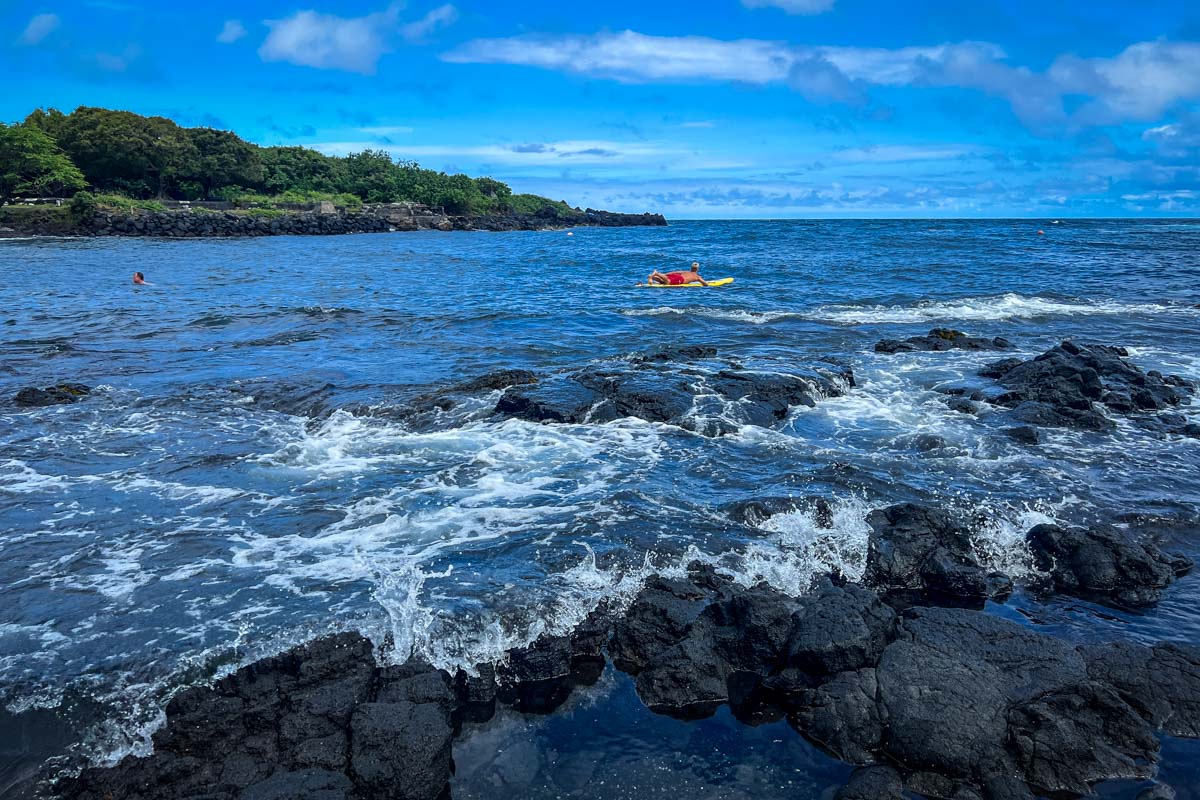 Surf's up! January sees the start of high season for surfers. Usually scheduled for January or early February, the Billabong Pipe Pro is another surf festival to add to your calendar.
Even though this is full-blown winter rainy season, Hawaii is extremely busy throughout January with the surf crowd and travelers seeking winter sun — and whales. This is also a popular month for golfers.
February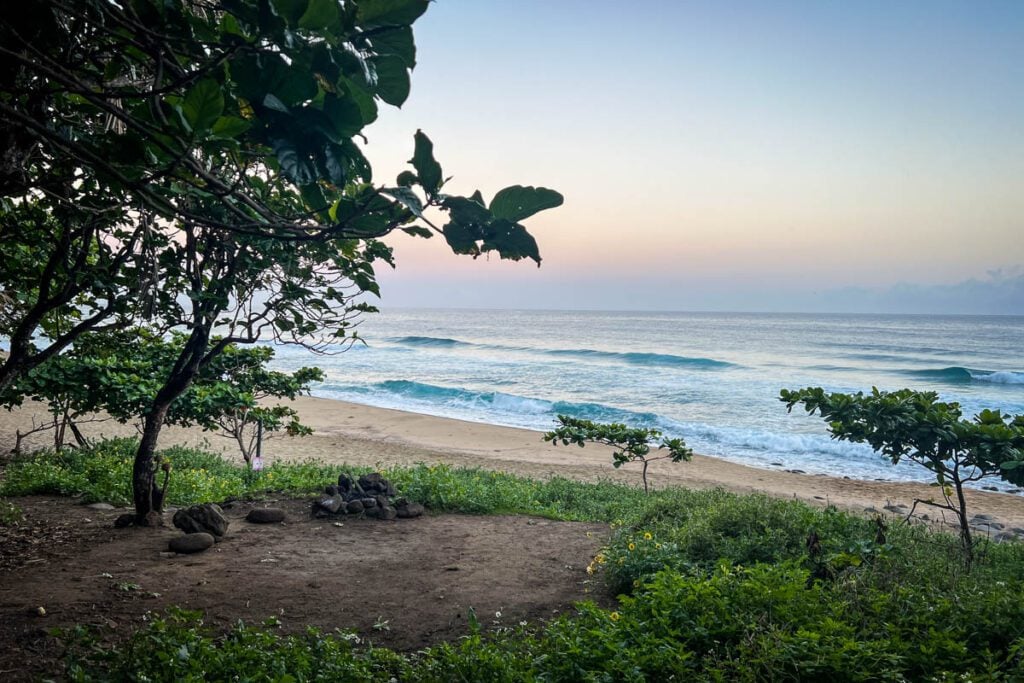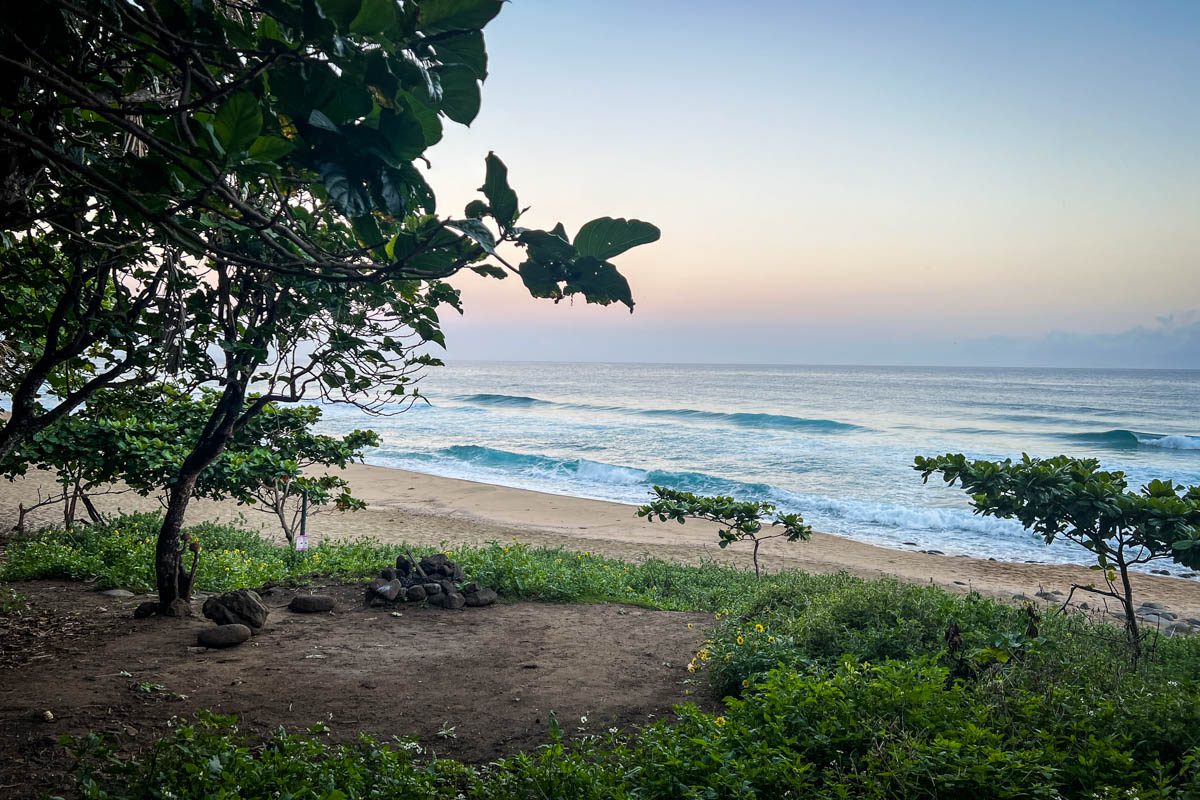 February follows January as one of the best times to visit Hawaii for surfing. However, the influx of winter tourism tapers off and prices start to fall in February, so you have a great chance to find bargains in the second half of the month.
This is also the peak of humpback whale season, with Maui being the best island to spot them.
March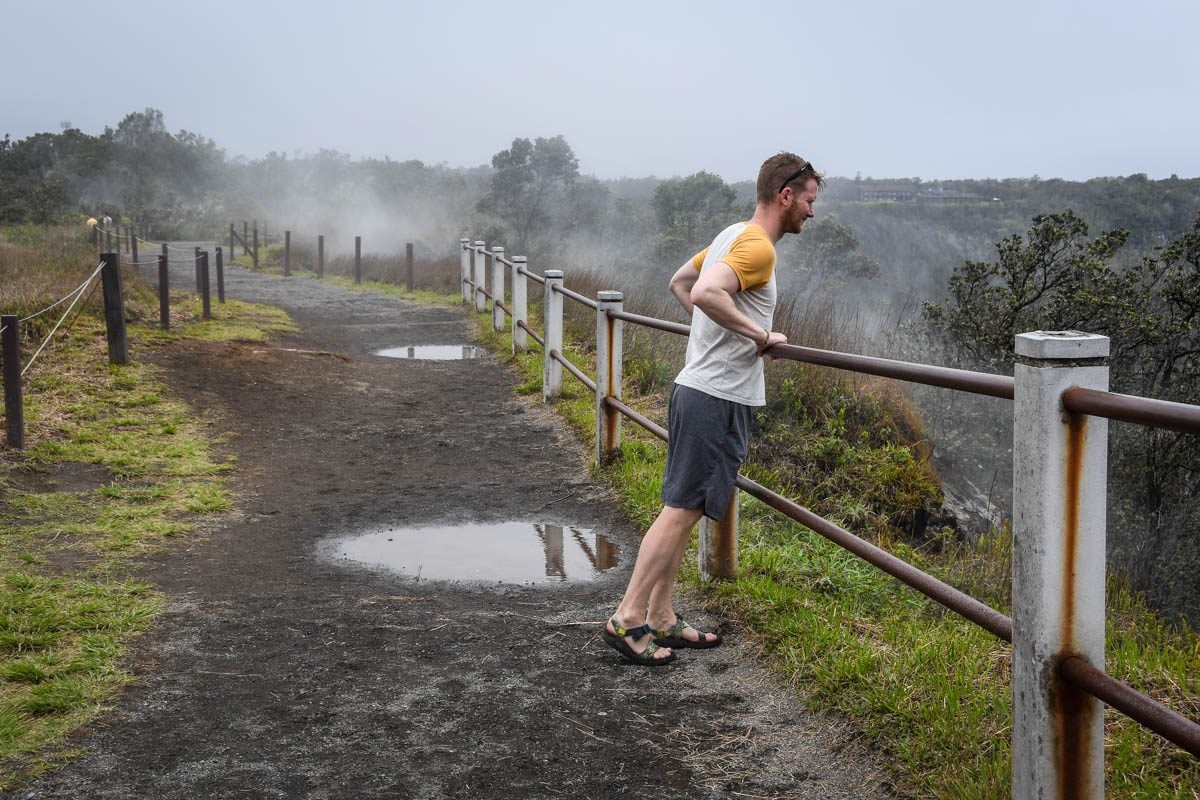 Tourism spikes over spring break, but otherwise March is generally a quiet time in Hawaii. Although temps start to rise, March is one of the wettest months across the islands and fickle storms will keep you on your toes.
This is a great time to check out the historical attractions on Oahu or Molokai, or pick up a low-season hotel deal.
April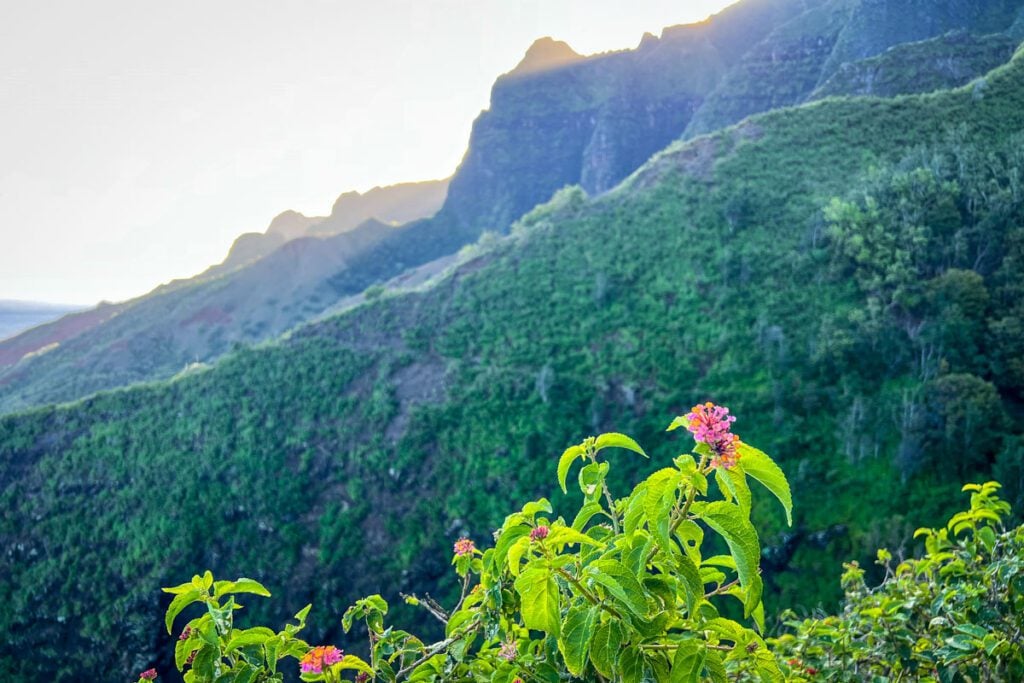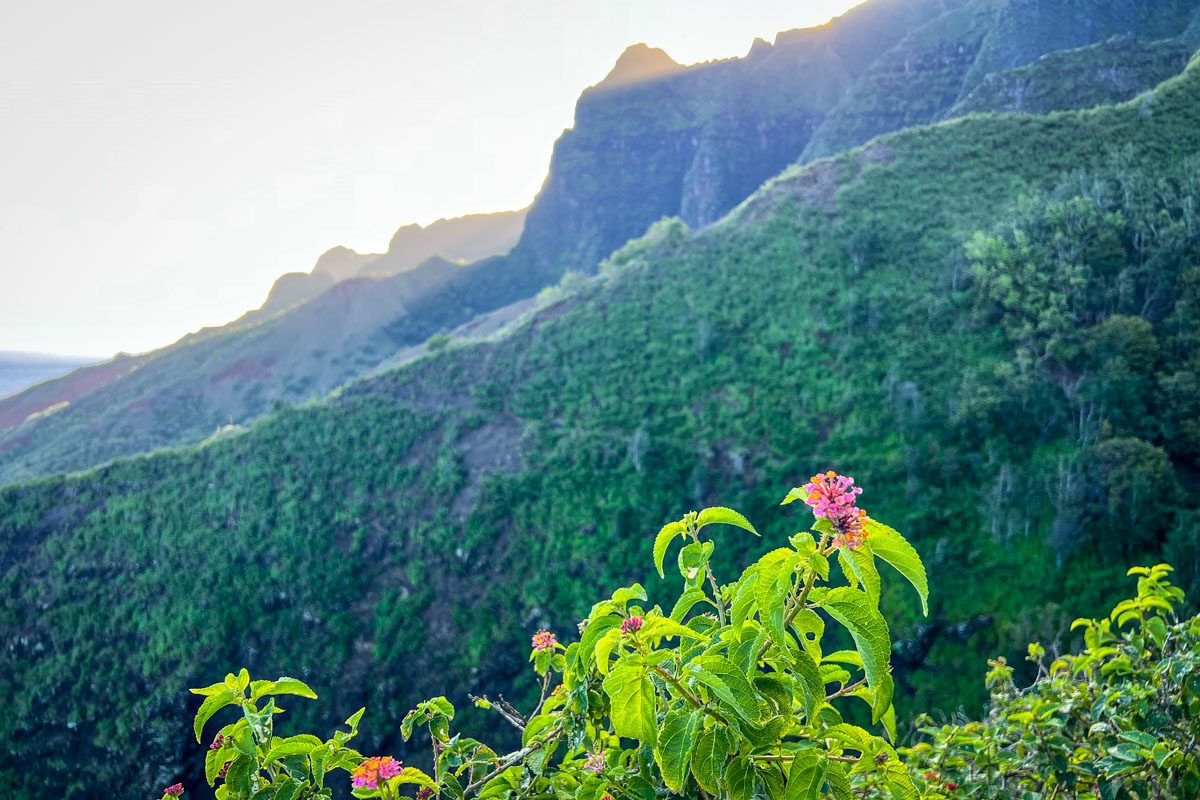 April is the best time to visit Hawaii for avoiding crowds. As evening temperatures are significantly warmer than March, you can enjoy al fresco dining and explore the national and state parks with pleasant weather.
An added bonus is that wildflowers start to appear across the valleys!
Best places to visit during winter in Hawaii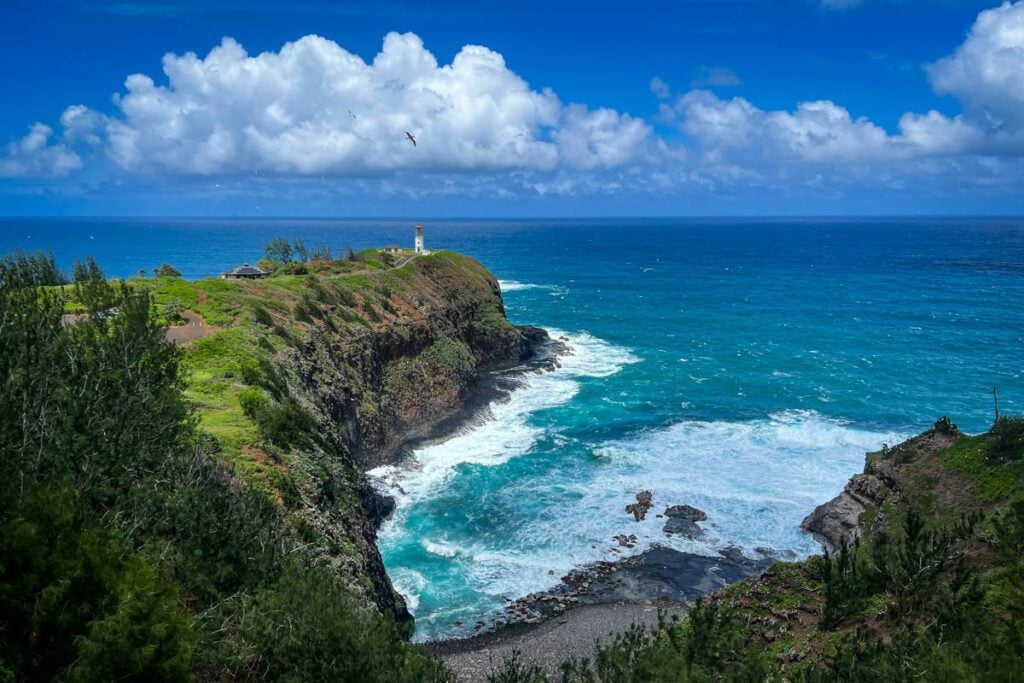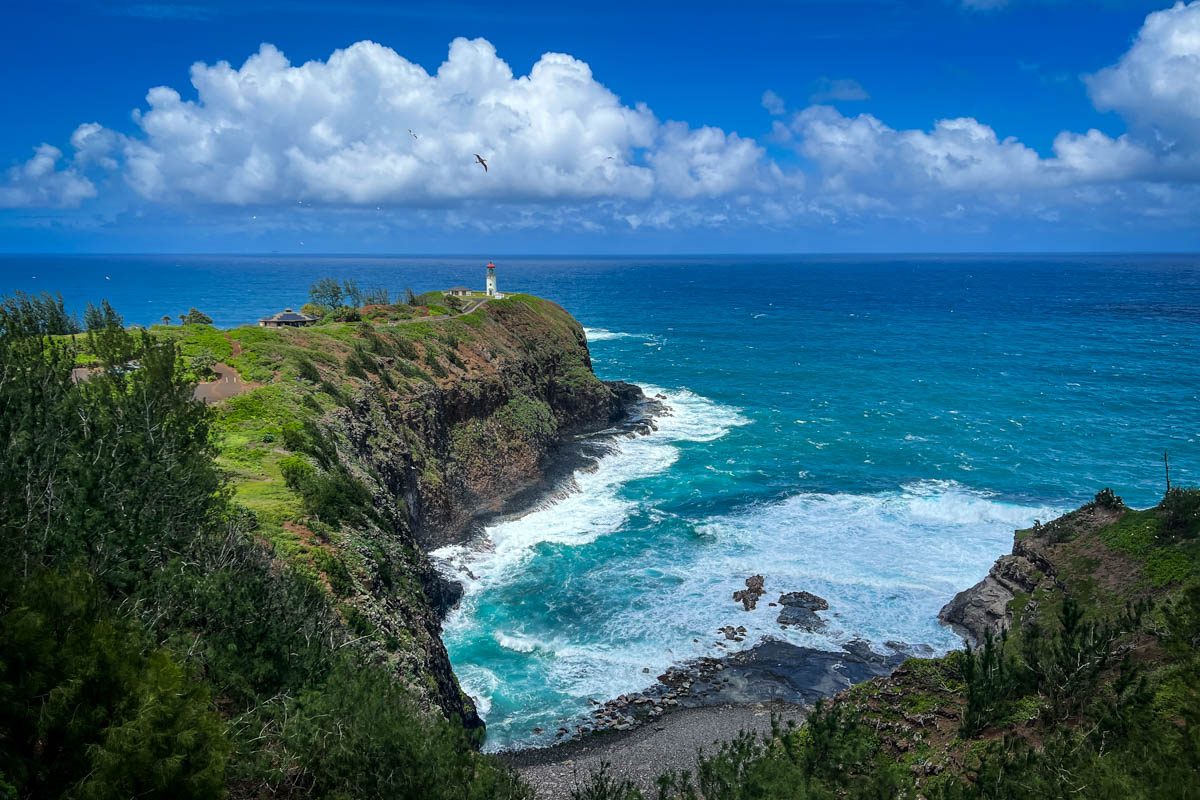 Maui: The best island for spotting humpback whales, plus the lowest levels of rain overall and calm conditions best suited to snorkeling.
Lanai: Play golf while you soak up the sun at some of the most luxurious resorts in Hawaii.
Pearl Harbor: The only US naval base with National Historic Landmark status makes a fascinating day out, rain or shine.
Mauna Kea: The visitor center near the 13,796-foot summit of this dormant volcano offers unparalleled stargazing. During the winter, expect to see snow up here too!
Kilauea Point National Wildlife Refuge (Kauai): Visit the historic lighthouse, watch for seabirds, and see the gigantic North Shore waves.
Molokai: Experience one of the quietest islands and witness the traditional games at the Ka Molokai Makahiki Festival in January.
Best things to do during winter in Hawaii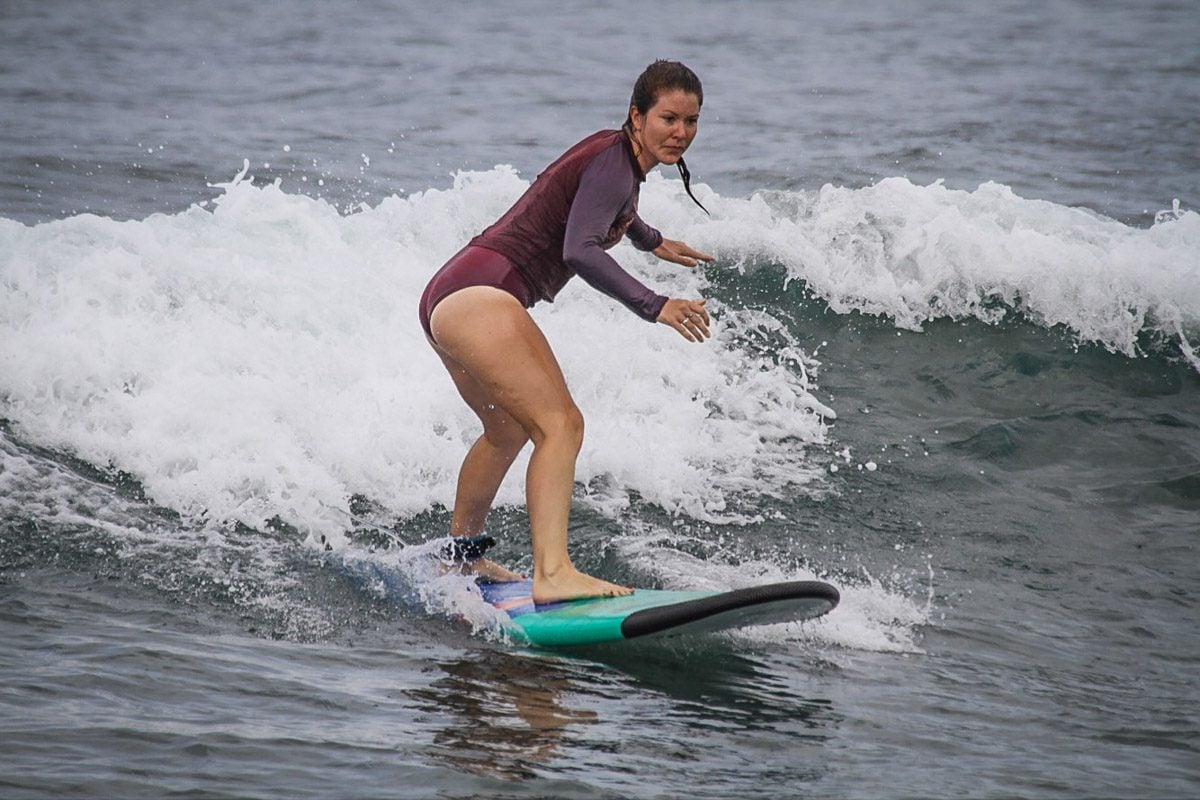 Whale watching. Humpback whales migrate from Hawaii to Alaska at the end of the year and the peak season is from January through March.
Surfing. The waves off the Hawaiian islands are at their strongest in winter. This is the best time to visit Hawaii for advanced surfing or catching a surf event.
Snorkeling. Since the temperatures stay warm, you can snorkel even in winter. Conditions are more suitable on the islands' northern shores, but pay attention to flags and safety guidelines.
Canoeing and kayaking. These activities are generally safe all year in Hawaii, and in the winter, you may spot whales as you paddle!
Browse the farmers' markets. Filled with local produce, baked goods, and crafts, all islands have them. Plus, you can top up your immune system with delicious citrus and tropical fruits.
Visit museums and cultural attractions. The rainier months are the perfect time to plan a few indoor activities across the islands.
Best time to visit Hawaii in our opinion…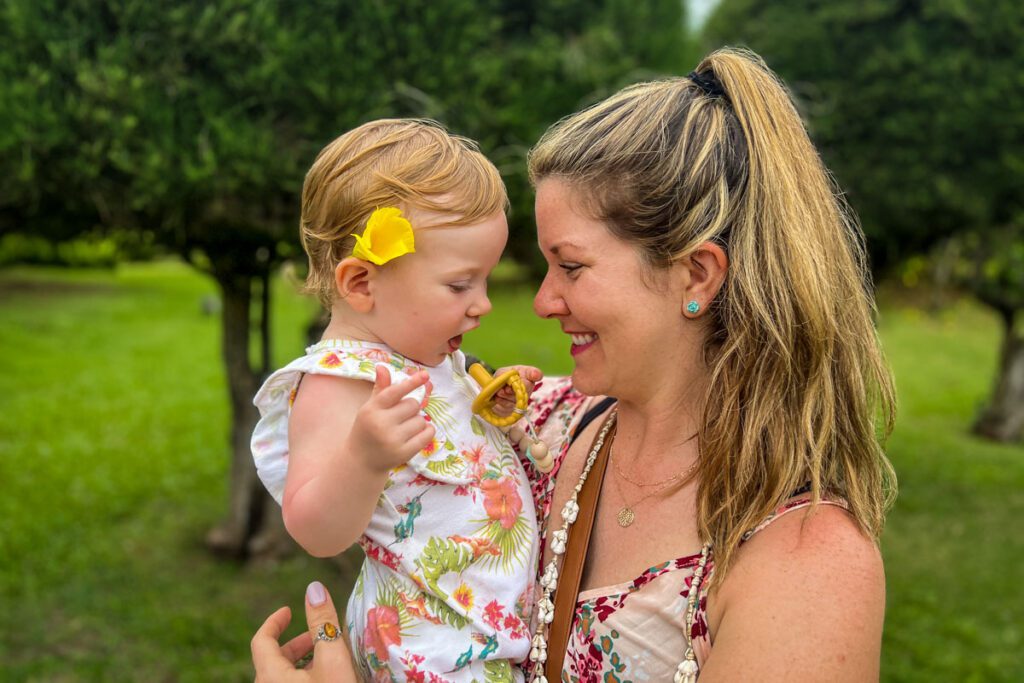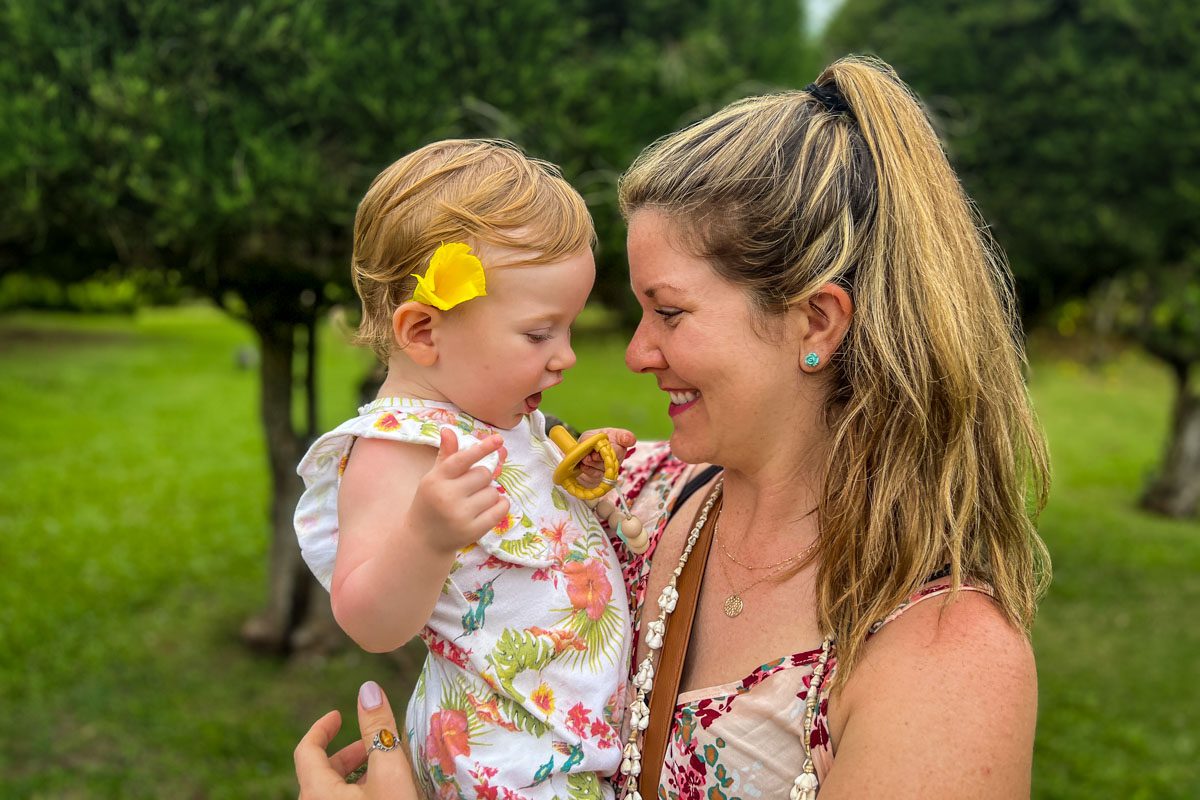 In our opinion, the best time to visit Hawaii ultimately depends on what you prefer to do.
If hiking and exploring the volcanic landscape is your dream, visit in the summer. Hiking is still totally possible in the winter, but you'll need to be more flexible due to the potential of heavy rainfall, plus trails are significantly more muddy.
If you're chasing the biggest waves, the best time to visit Hawaii is between January and March. However, surfing is available year-round in the state where the pastime originated.
For beaches and snorkeling adventures, you can enjoy the Hawaiian sand and reefs in any month. Just bear in mind that in general, the northern shores are recommended in winter, and the southern shores during summer.
Summer into September is perhaps the best time to visit Hawaii for cultural events, as this is when many key festivals are held.
The busiest months are July/August, and December/January. To escape the crowds and benefit from lower prices, visit Hawaii in either April or September.
What to pack for your trip to Hawaii
We know it can be overwhelming packing for a trip to a new destination. That's why we spent hours creating this super helpful PDF just for you.
In this free Hawaii packing list PDF download, we've provided packing checklists for everything from clothing and toiletries (for both women and men!) to what shoes to pack and extra items you may want to have on-hand just in case.
Plus, we're sharing tons of packing hacks and tips for traveling in Hawaii that you won't find anywhere else!

---
Are you planning a trip to Hawaii?
We have lots of resources on travel in Hawaii and destinations around the islands. Check out our Hawaii Homepage for everything you need to know, or start by reading some of our favorite Hawaii travel articles to help you plan your dream vacation to the Aloha State:
Save this article on Pinterest for later!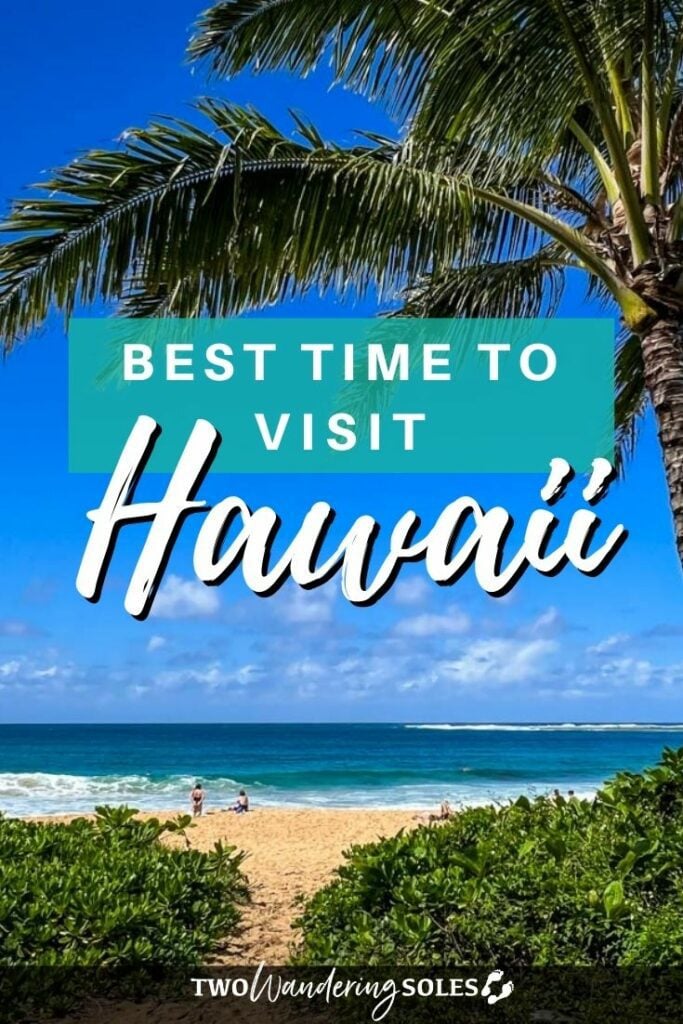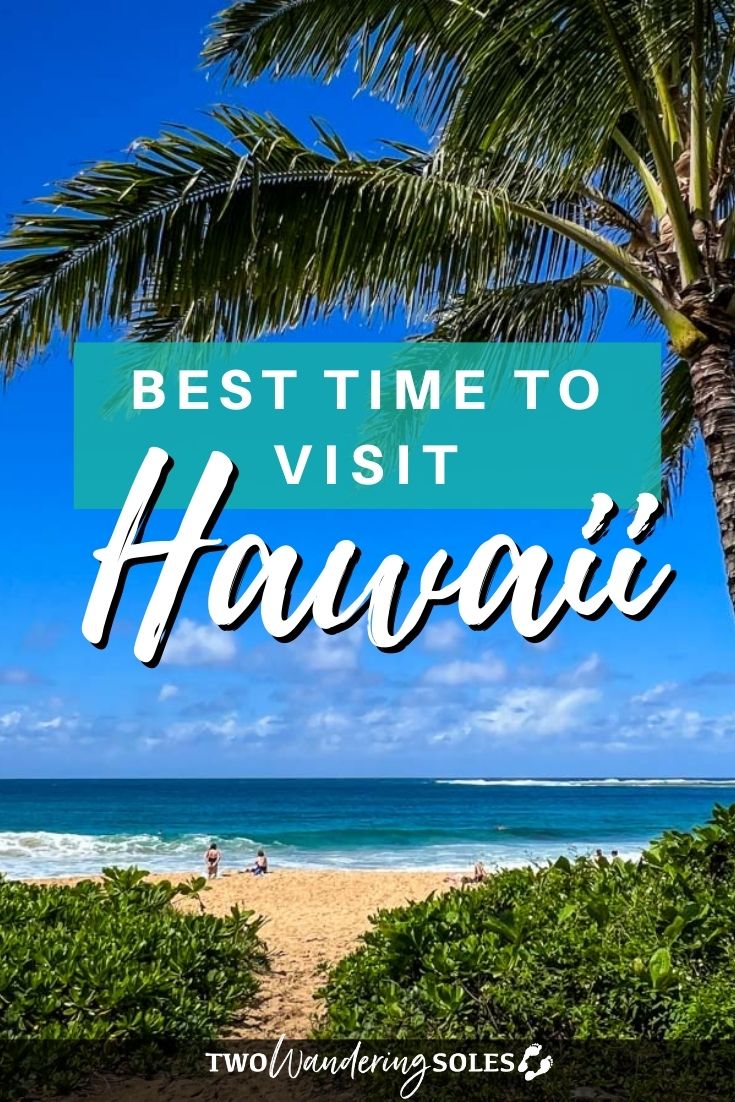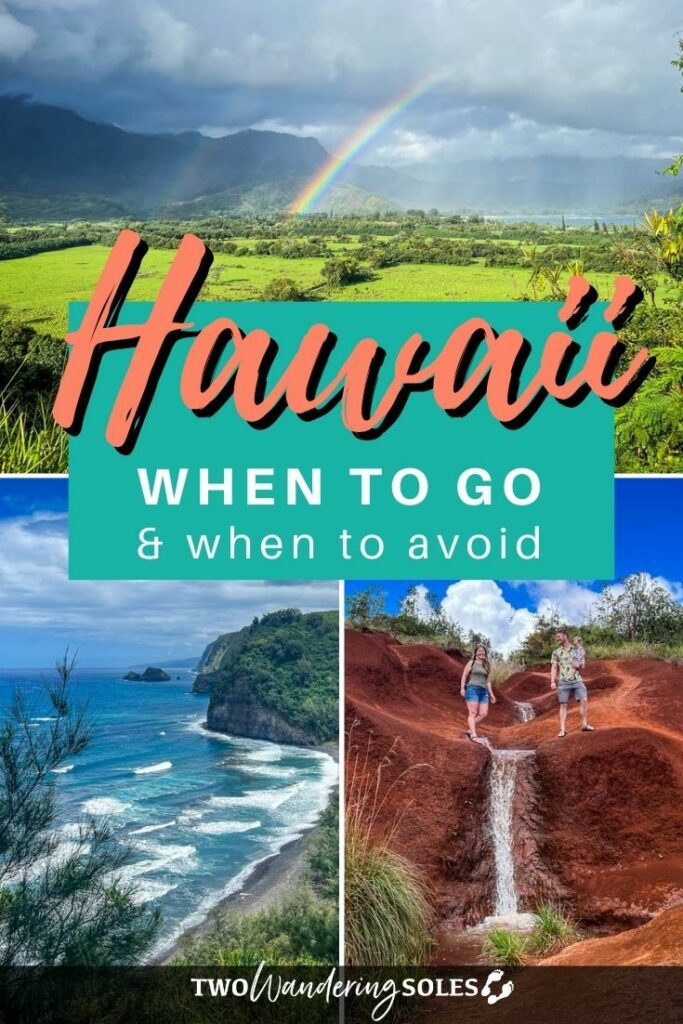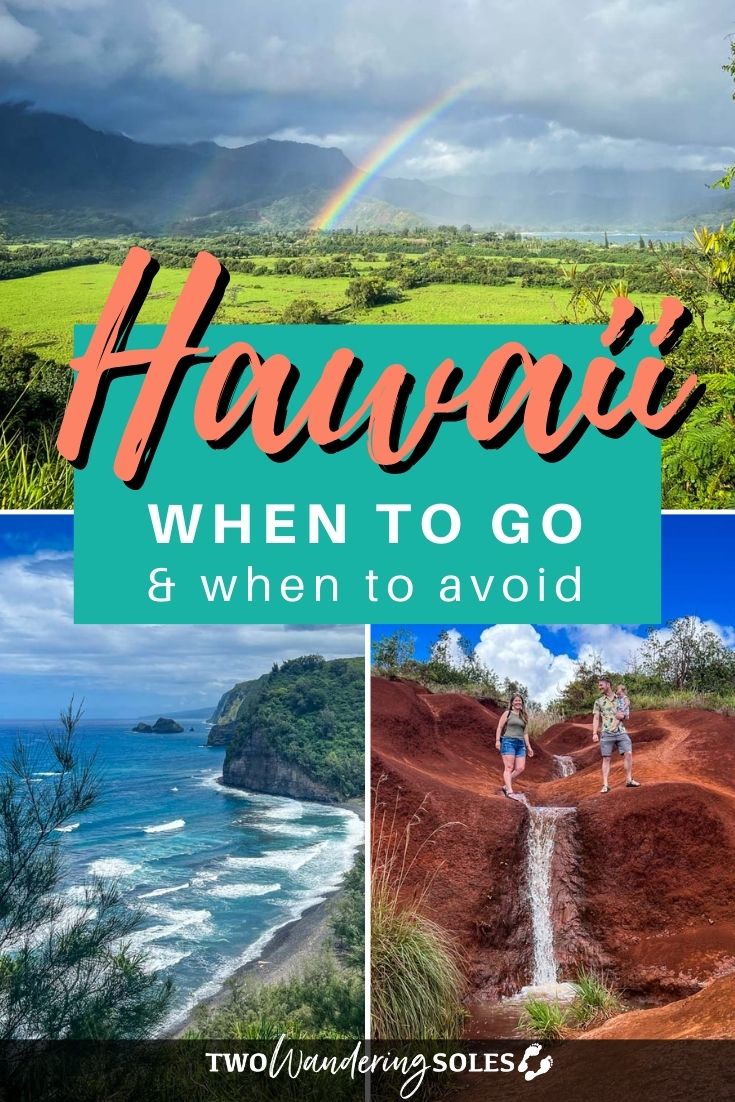 We want to hear from you!
Are you planning a trip to Hawaii and have more questions? Comment below and we'll do our best to get back to you!