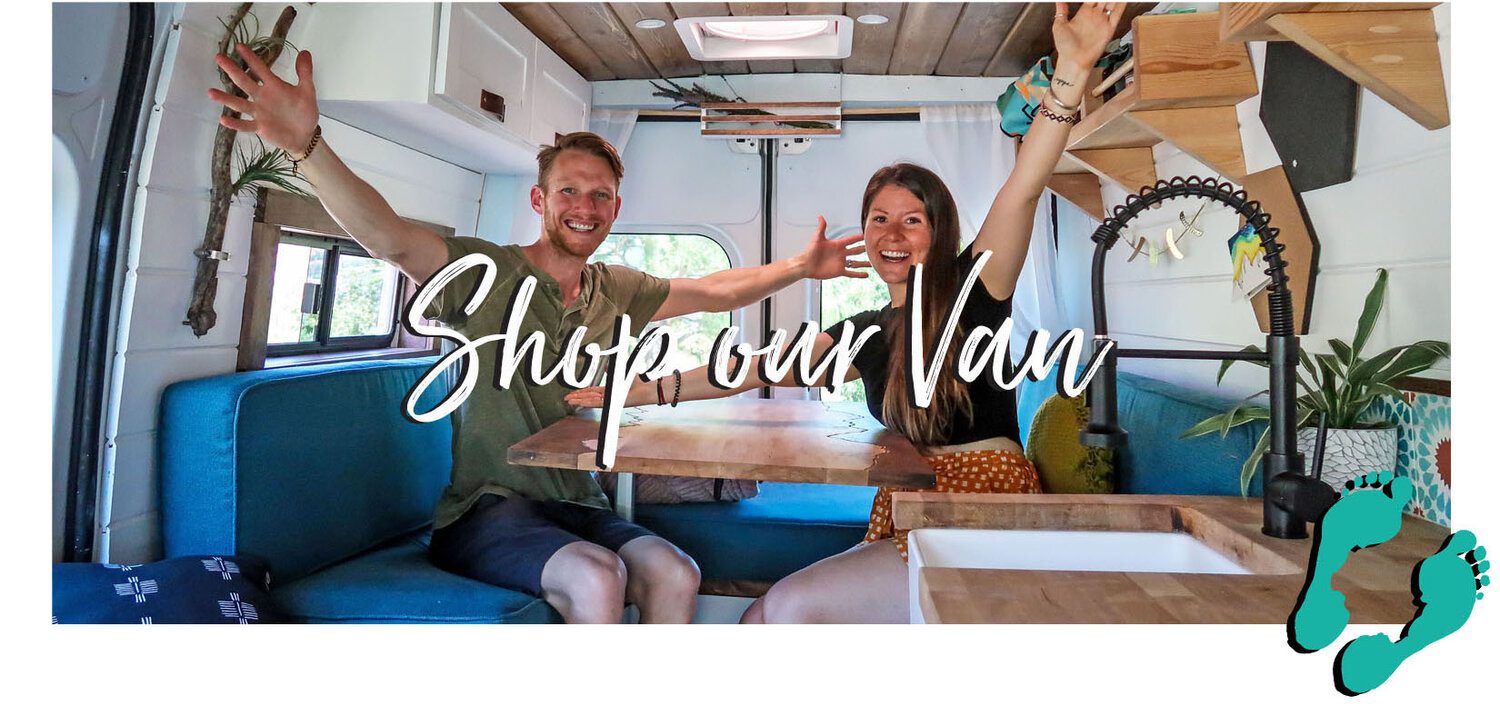 You may have caught on that we are a bit campervan obsessed. We built out first van on a shoestring budget in less than one week! Our second campervan was a much bigger undertaking as we planned and prepared for months, took our time learning everything we could find on the Internet about campervan builds and recorded our entire process to share with our readers.
Here is where you will find all of the camper van supplies we used to build out every part of our van. We've organized this page by the different stages of our build. If you know which stage you're looking for, click the link to jump down to that section, or just keep browsing…
Get on the road faster!
After building two campervans completely from scratch, we decided to create the resources we wish we would've had along the way. We spent the better part of a year creating Van Conversion Academy.
No more headaches or hours of research… Click below to learn more about Van Conversion Academy and get on the road faster!
Electric System
We love being able to charge our computers, phones and all our other travel gear using the electrical system in our van. Having LED lights, a water pump for our sink and an electric fridge really make our van a comfortable living space. This was one of the more complex portions of our build, so be sure to plan accordingly.
Note: This information below is for reference only. I am not a certified electrician and I'd recommend getting your electrical set up checked over by a electrician before you hook everything up. If your electrical is set up incorrectly, it can lead to dangerous situation.

I got my system looked over by a electrician and that gave me peace of mind knowing that my van is safe from electrical problems.
Want to learn exactly how to build and install your solar-powered campervan electric system? 
Installing electricity in your campervan can seem like an overwhelming task, especially if you have no prior experience working with batteries, wires and solar panels.
Save yourself the headaches and hours of research we went through with step-by-step instructions, video tutorials, tools & materials lists and blueprints you can actually copy so you can get electricity anywhere!
Click below to learn more about our Electrical System Workshop.
Solar System
Insulation & Temperature Control
Kitchen
We could not be more happy with our small campervan kitchen. We designed it to have plenty of storage and extendable countertop space. The butcher block countertop looks really nice, but it does require a little maintenance with oil and wax once in a while. We also love cooking in our van, and our two burner gas stove is the perfect size.
Bed & Benches
Toilet
Adding a composting toilet was one of the biggest improvements from our previous van build. We no longer have to park near a trailhead or public park to use the bathroom. Deciding which kind of toilet to put in your campervan can seem like a challenging endeavor as there are lots of options out there. But for us, the Nature's Head was a no-brainer. I wouldn't choose any other toilet for a campervan.
Water System
Propane System
Windows
This is all a lot, where should I start?
We understand just how overwhelming it can be to start this process so we poured all of our personal experience and advice into a resource just for you.
Enter your email when you click below to immediately receive our Vanlife Jumpstart Toolkit, your FREE mega guide to jump-starting your #vanlife dreams!
Van Decor
Extras
These items just really didn't fit into another category… so they are here 🙂
Tools Needed