When visiting Edinburgh, you must experience the beloved midday tradition of afternoon tea. In this guide we uncover the best afternoon tea in Edinburgh and everything you need to know for planning and reserving your afternoon tea experience.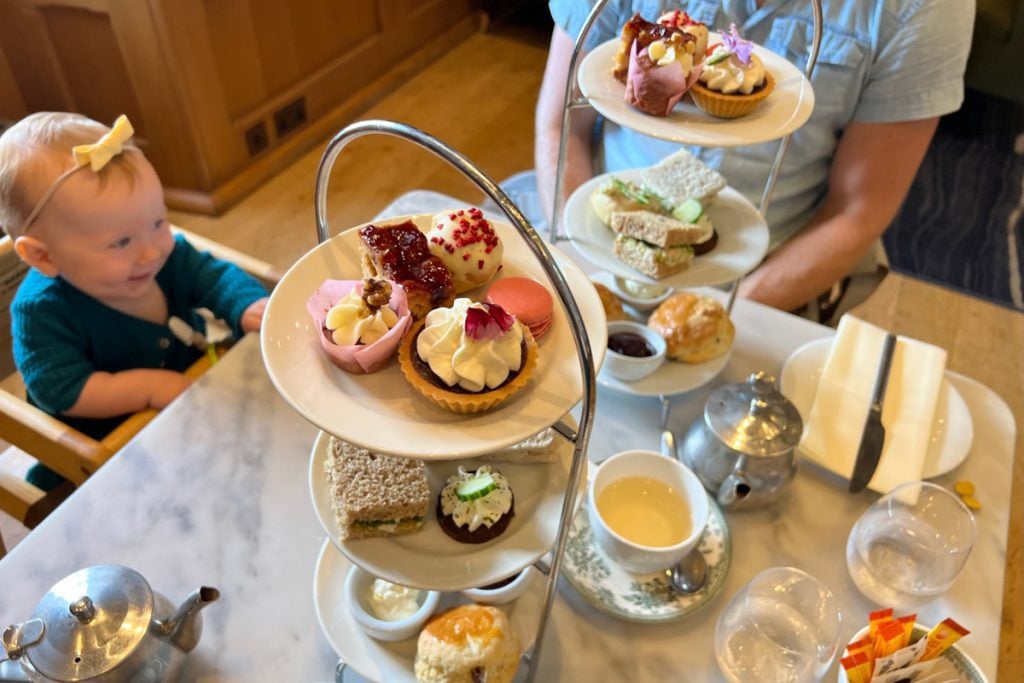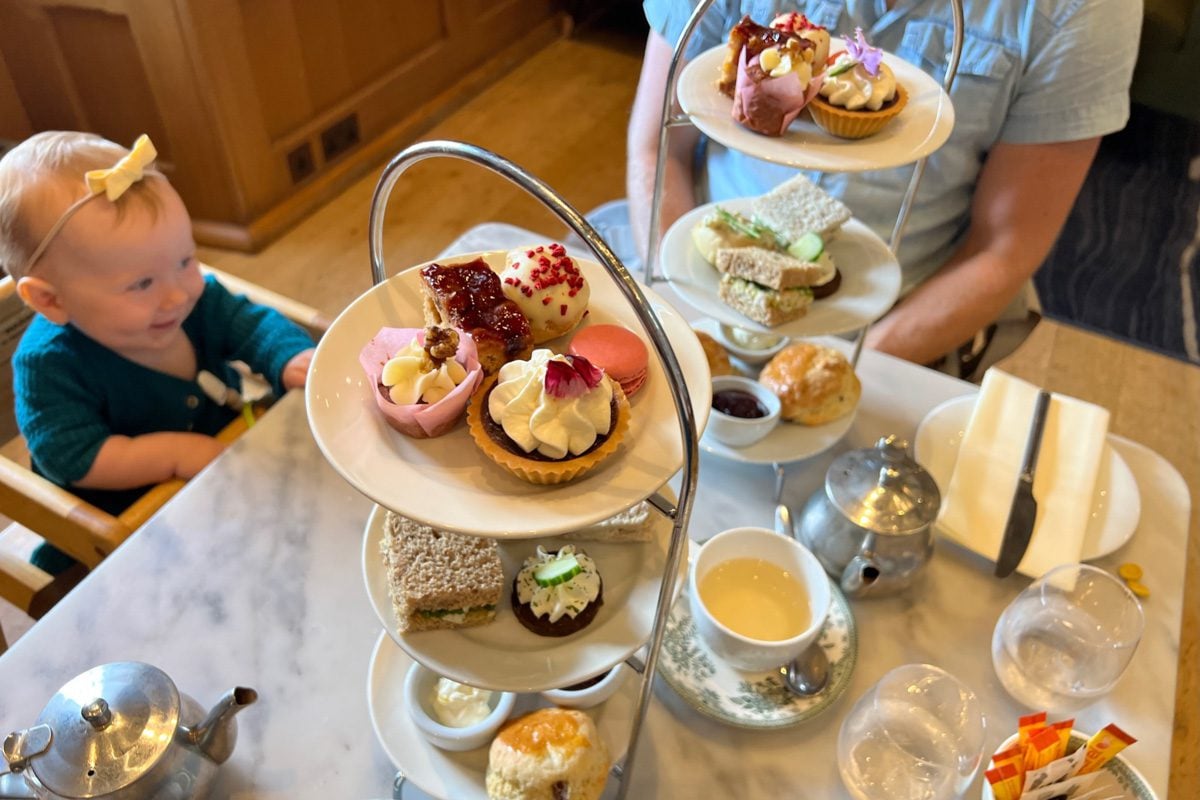 Anyone else start getting hangry at about 3pm?
Good, I'm glad to know I'm not the only one!
Lunch is long gone but it's not quite dinnertime, so what is one to do? Well, the Brits sure have it figured out…
Afternoon tea is a much-loved tradition throughout the United Kingdom, and Scotland is no exception.
Planning an afternoon tea in Edinburgh should absolutely be on your itinerary for your visit to this Scottish city. It was definitely a highlight of our trip!
There are an overwhelming amount of places that do afternoon tea in Edinburgh, so we dove in and did all sorts of research to help narrow down the options for you.
We're going over everything you need to know – from the prices to the hours to the creativity of the menus – so you can book the perfect afternoon tea spot!
We've also gone ahead and answered some frequently asked questions, like:
What should I wear to afternoon tea?
Or, What are my options if I am gluten-free or vegan?
And Do I need reservations for afternoon tea? (Spoiler alert: Yes, you should definitely book in advance. We learned the hard way!)
We've even gone as far as choosing the very best place to do afternoon tea in Edinburgh, so if you just want the quick answer, click here to see our top pick.
Without further ado, pour yourself a cuppa, and let's dive right in!
Article contents
Be sure to download our complete packing list for Scotland! It's packed with good suggestions and insider tips to help plan your Scotland trip. And it's completely FREE, so why not!?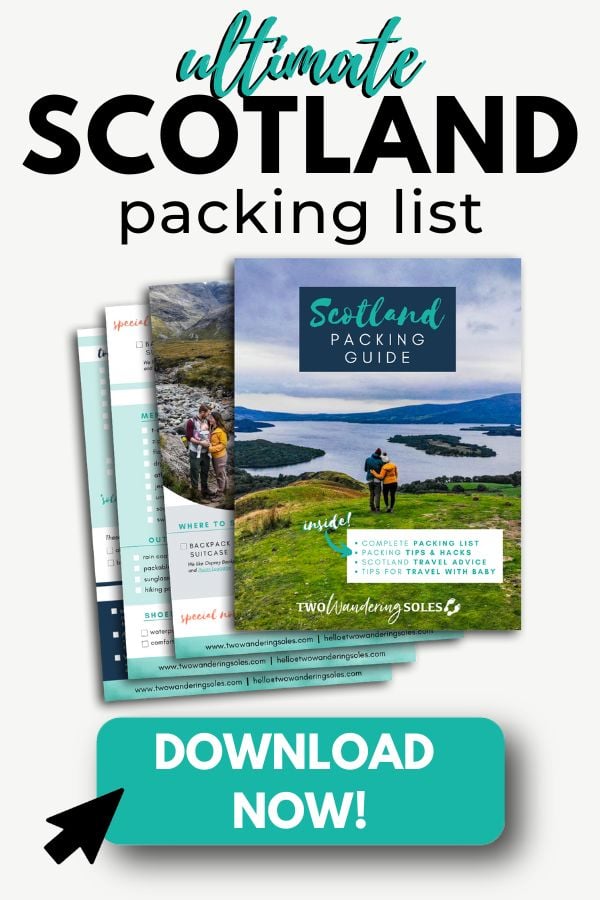 ---
What to expect at afternoon tea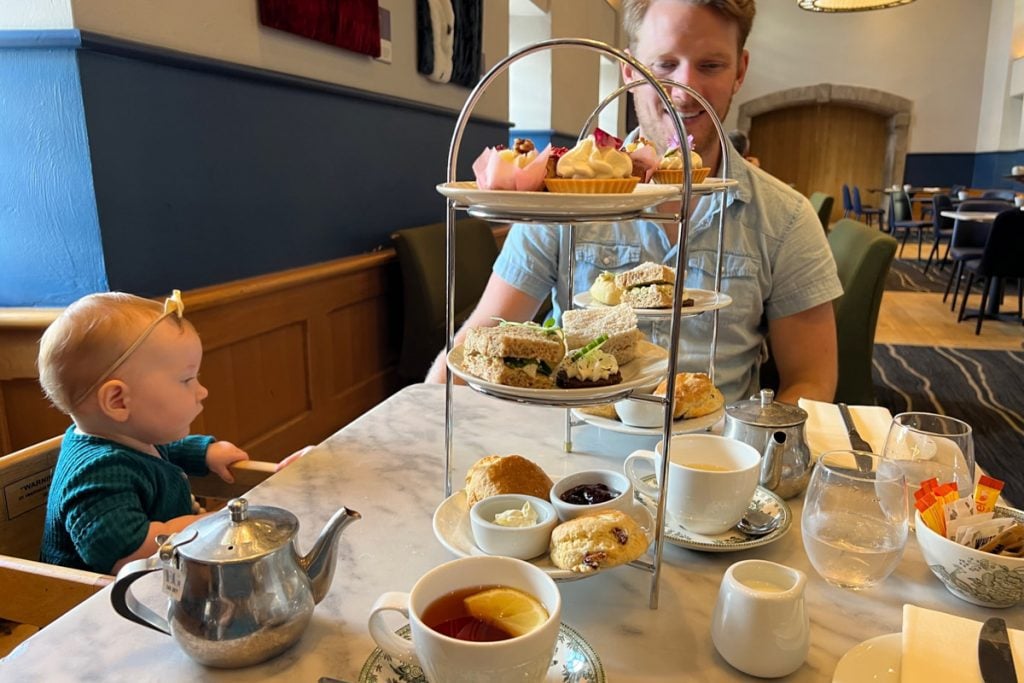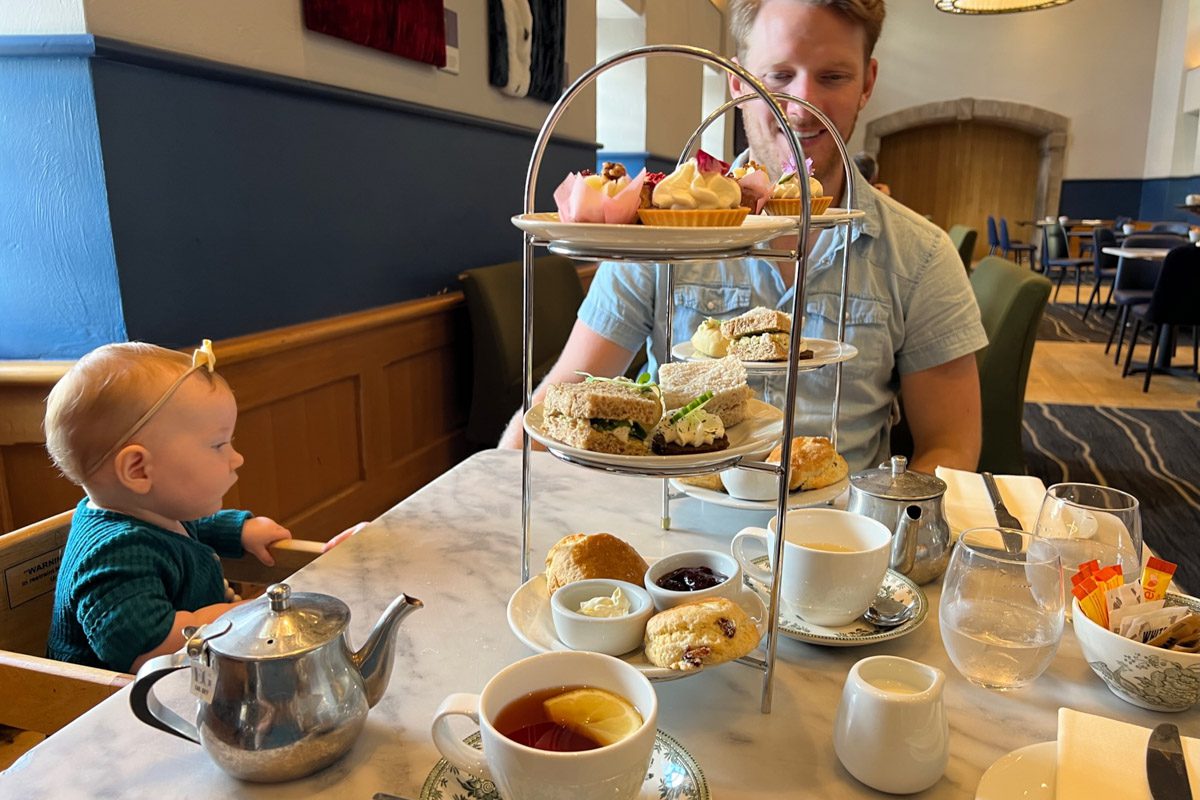 While the atmosphere, price and creativity of the menu can vary quite a bit, there are a few things you can always expect at an afternoon tea.
You will be served a pot of your choice of tea, with milk and lemon on the side. The tea is important, yes, but we think the food is what really makes this experience special.
You'll be brought a platter – usually 3 tiers – brimming with finger foods.
One level of the platter will typically be devoted to the ubiquitous scone, served with clotted cream and jam. Simple and delicious.
Another tier will have savory finger foods, like mini quiches and tiny sandwiches.
The last tier will be full of sweet delights. Think macaroons, eclairs, and tiny cakes.
Come hungry, because while each individual bite may be small, they do add up and chances are you'll be leaving pretty full.
Wanna kick things up a notch?
Many places that serve afternoon tea have the option to add a glass of champagne or a gin cocktail for an additional charge.
Sounds like a good way to jumpstart happy hour to me!
Brief history of afternoon tea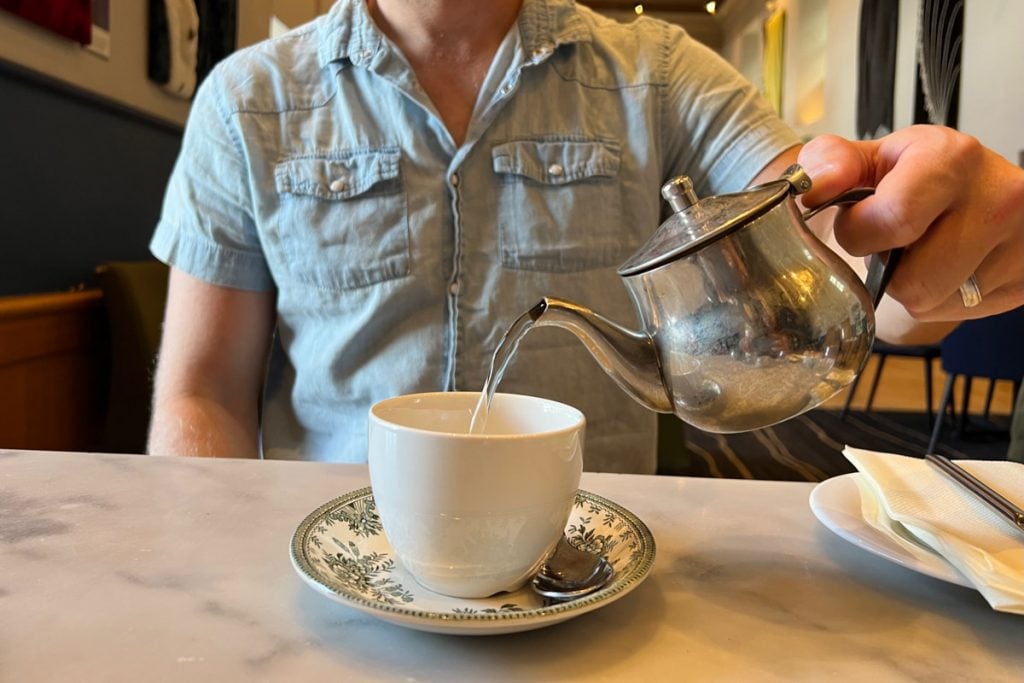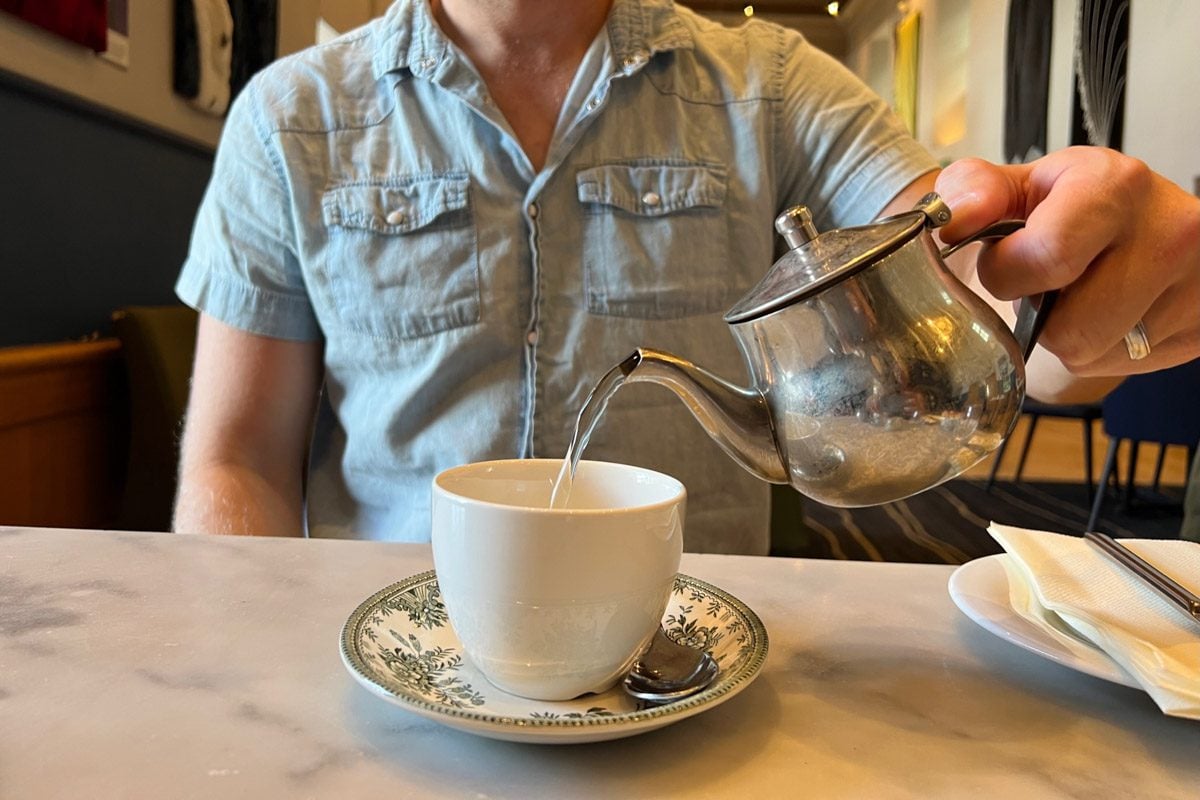 Since the 1660s, drinking tea has always been a favored custom in the United Kingdom, but the concept of 'afternoon tea' wasn't established until 1840 by Anna, the Seventh Duchess of Bedford.
In her England home, there was a long period between lunch and dinner, so the Duchess would ask that tea and sandwiches be brought to her room in the late afternoon. After she began inviting friends to indulge with her, the movement spread rapidly across England in the 1880s.
Afternoon tea is now a beloved afternoon tradition across the United Kingdom and one of our top recommended things to do in Edinburgh.
---
Best afternoon teas in Edinburgh
Each venue described below has a unique draw – whether that be a historic venue, unrivaled culinary offerings, affordable pricing, family-friendly atmosphere, or a magical twist!
We describe each locale on a much more detailed level below, but here are the winners at a glance.
There are far more places in Edinburgh that serve afternoon tea, however, we wanted to narrow the list down to the very best in the city to help you choose.
1. The Colonnades in the Signet Library
Sophisticated venue & unique flavors
Boasting the self-proclaimed "best afternoon tea in Edinburgh", the Colonnades is extremely popular and for good reason. It is perhaps the most photogenic venue in the whole city, and the food offerings are elevated and unique.
Set inside the historic Signet Library, this afternoon tea oozes sophistication and class.
Their menu changes so they can highlight the flavors of each season. Guests can expect unique savories, like autumn vegetable wellington and inventive sweets like pistachio & cardamon brûlée. And the ubiquitous scones and clotted cream, of course.
They have both gluten free and vegetarian menus, making this a great choice for just about everyone.
Our opinion: The Colonnades was our top choice, but they were fully booked during our travel dates. Learn from our mistake and book your seats well ahead of time.
The Colonnades afternoon tea details
Review of The Colonnades afternoon tea
"An exquisite afternoon tea in an amazing location and atmosphere. You're settled inside a historical and beautiful library. The savory and sweet selection is unique with some interesting flavours such as white chocolate and wasabi. I particularly enjoyed how quiet the setting was which lends itself to a lovely peaceful afternoon tea.

The staff are professional and the service is perfect. They cater for allergies with care and ensure everyone is served properly. The average price is around £55 which I think for this level of service and quality is just right. I'm giving 5 stars for memorable event and overall recommend this place for afternoon teas. Given its central location, it is very accessible if you're visiting Edinburgh." -Nuric​
2. The Edinburgh Castle
Affordable & Convenient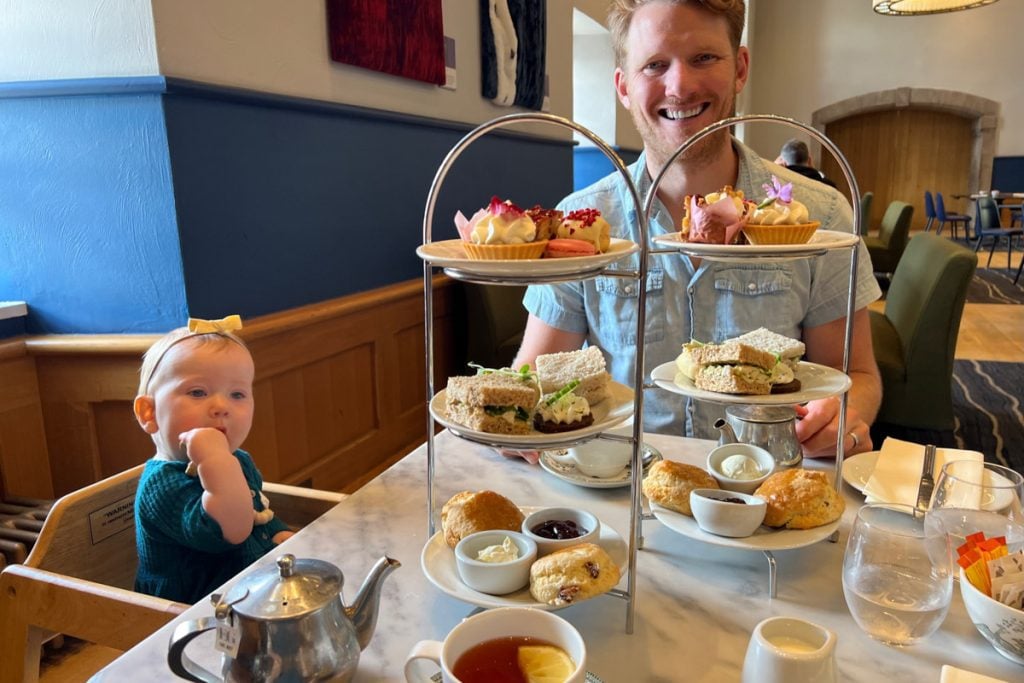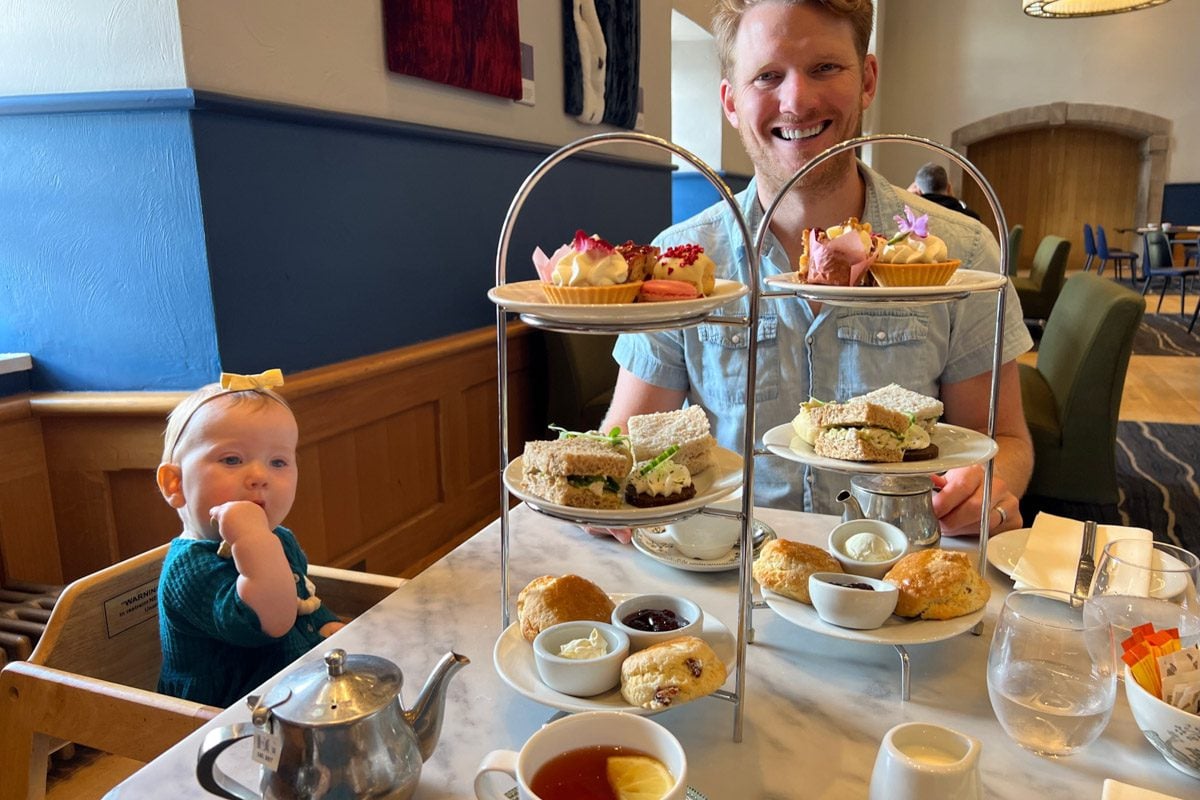 This is one of the most affordable and convenient places to have an afternoon tea experience in Edinburgh, as your tea includes entrance into the castle grounds. If you have limited time in Edinburgh, this can be a good choice, as you can visit the castle and have afternoon tea all in one place.
They are also very family-friendly, and have high chairs for their littlest guests.
The food offerings are what you'd expect of an afternoon tea – egg salad on brioche and smoked salmon with crème fraiche on brown bread – with nothing really pushing any boundaries. But sometimes the classics are exactly what you want.
Our personal experience:
This is where we personally did an afternoon tea while in Edinburgh, as they were one of the only places that allowed children that weren't fully booked during our travel dates.
We had a great overall experience, however, the food was nothing special and the atmosphere didn't have the charm that some of the other venues boast. If we hadn't been traveling with a baby, we would have chosen a different spot for afternoon tea.
Edinburgh Castle afternoon tea details
Review of the Edinburgh Castle afternoon tea
"The staff is friendly, the surrounding lovely, and the food and drink very good. If you are in the city, and are planning to visit the Castle, be sure to consider having tea there for a unique experience." –David
3. The Witchery
Decadent candlelit tea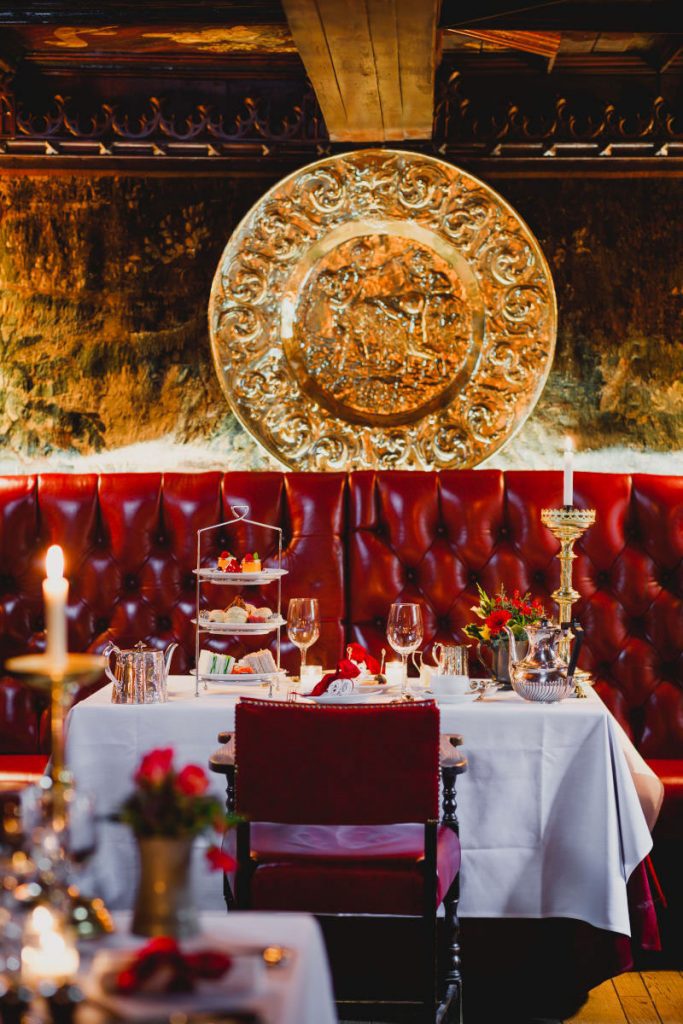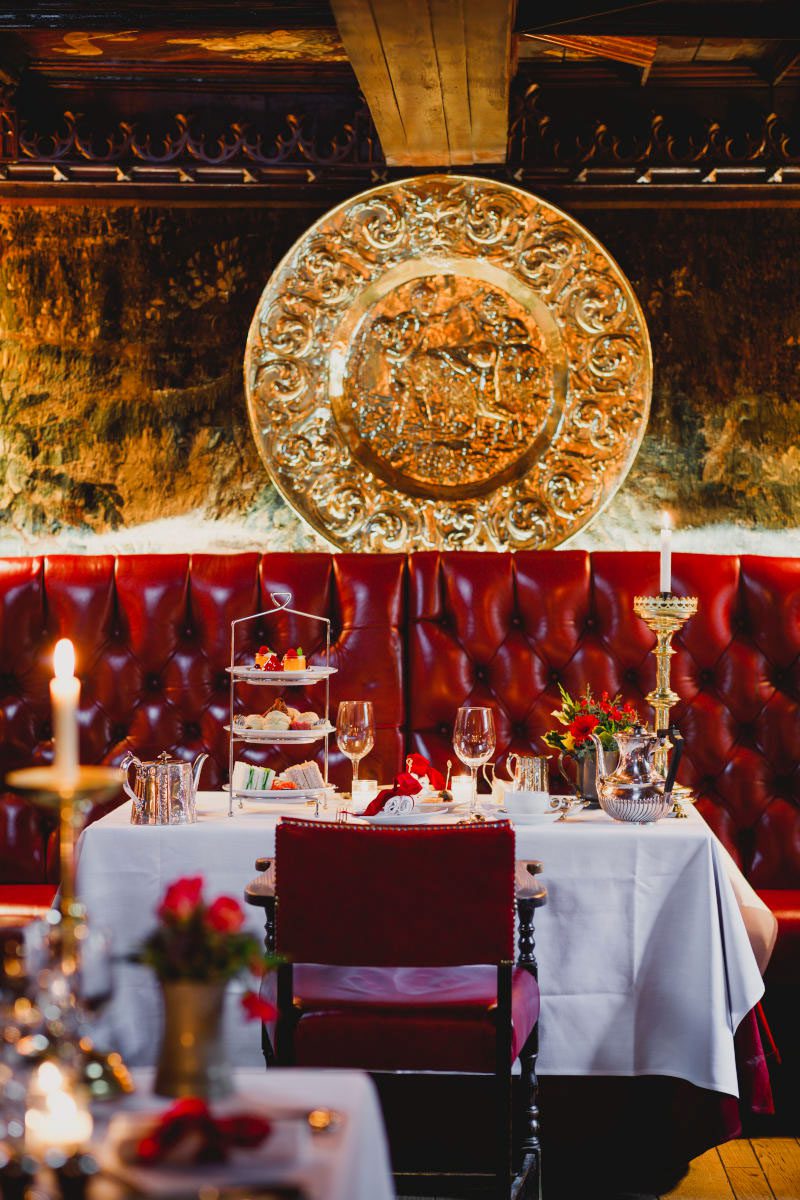 For one of the best afternoon teas in Edinburgh, make your way to the ornate and mystical atmosphere of The Witchery. Their candlelit, traditional Scottish dining rooms make the perfect, intimate setting for a memorable afternoon tea experience.
Their unique take on afternoon tea is considered finer dining, but you receive more than what you pay for in their second-to-none service, quality, and house-made bites.
In both dining rooms, choose any specialty loose leaf tea and indulge in their cakes, one-of-a-kind sandwich fillings, and freshly made scones, all piled high onto silver cake stands.
Good to know: This establishment does not allow children.
The Witchery afternoon tea details
Review of The Witchery afternoon tea
"5/5 – Yep, they cast a spell on me! The location is incredibly beautiful and unique. The staff are extremely professional and certainly know what fine dining looks like…The food is outstanding – highly recommended the cauliflower starter, steak tartar and the rhubarb crumble. Divine. Oh and my husband raved about the rabbit terrine… It's not a cheap experience, but it was worth every penny in our opinion. Relax in the candlelight atmosphere and enjoy a truly special experience." –Alexa
4. The Dome
Sumptuous tea in a New Town landmark building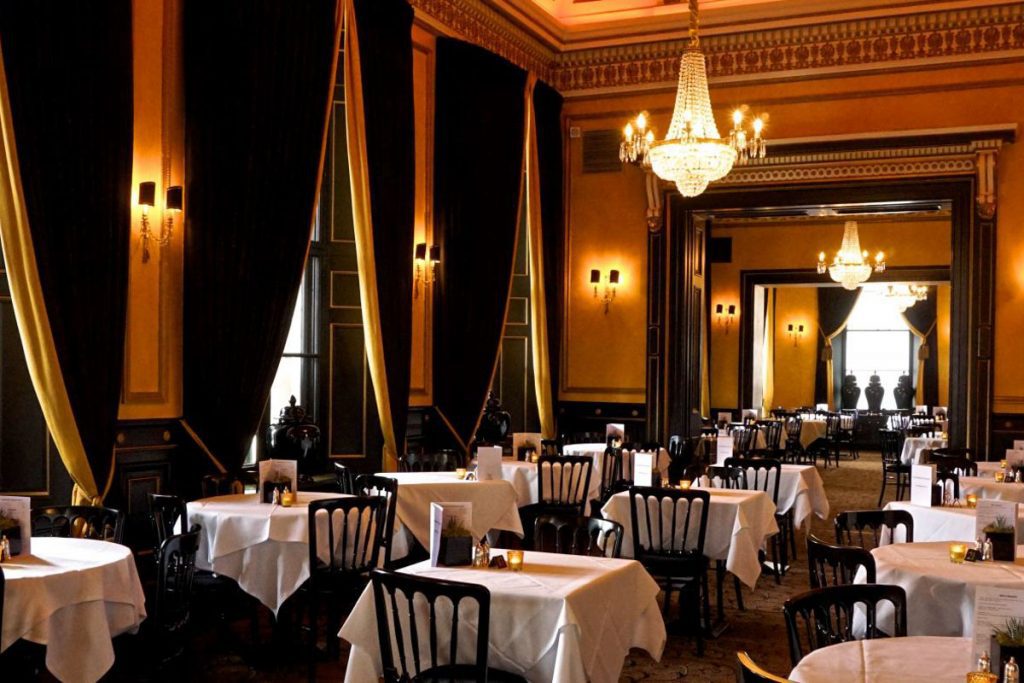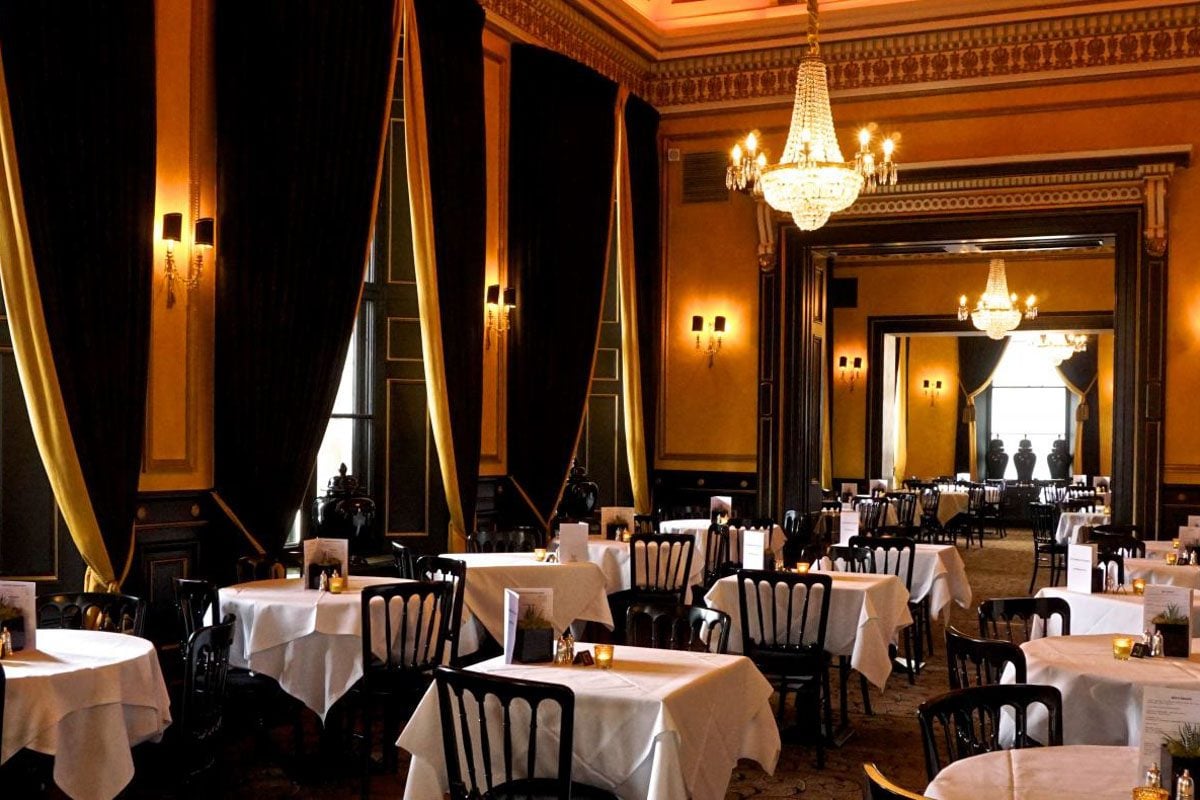 Feel as though you've traveled back in time while immersed in the ornate details of the Georgian Tea Room inside the Dome. They offer a wide variety of different afternoon tea experiences, making it a very inclusive and diverse afternoon tea in Edinburgh.
From traditional to vegan and kid-friendly afternoon teas, there is a little something for everyone. Enjoy their classic scones with clotted cream and jam, or delight your taste buds with their savory sandwiches and tartlets.
Afternoon tea at the Dome is always in high demand, especially during the holidays, so make a reservation to secure a sought-after spot. There is a required deposit of £10 per person to make a reservation.
The Dome afternoon tea details
Review of The Dome afternoon tea
"Utterly glorious! Booked afternoon tea for two in the Georgian Tea Rooms inside The Dome a long time ago as a surprise anniversary gift for my boyfriend. He said it was the best thing we did in Edinburgh, he absolutely loved it…The service was wonderful. All of the staff members were so courteous, friendly and attentive. We were asked what the occasion was with genuine interest, and when we began expressing interest in the history of the building, one of the waiters began telling us all about it and retrieved a page of information for us to read.

I'd recommend it to anyone visiting Edinburgh and I certainly want to return. Thanks so much for a great experience." –Evie
5. Tigerlily
Hip, Instagrammable atmosphere at an affordable price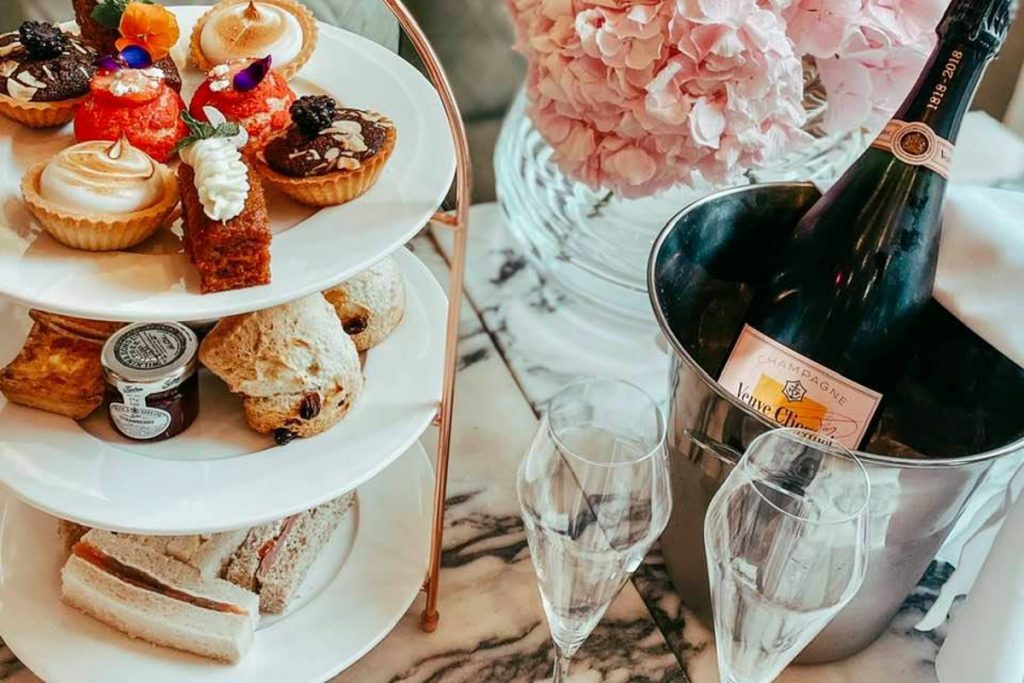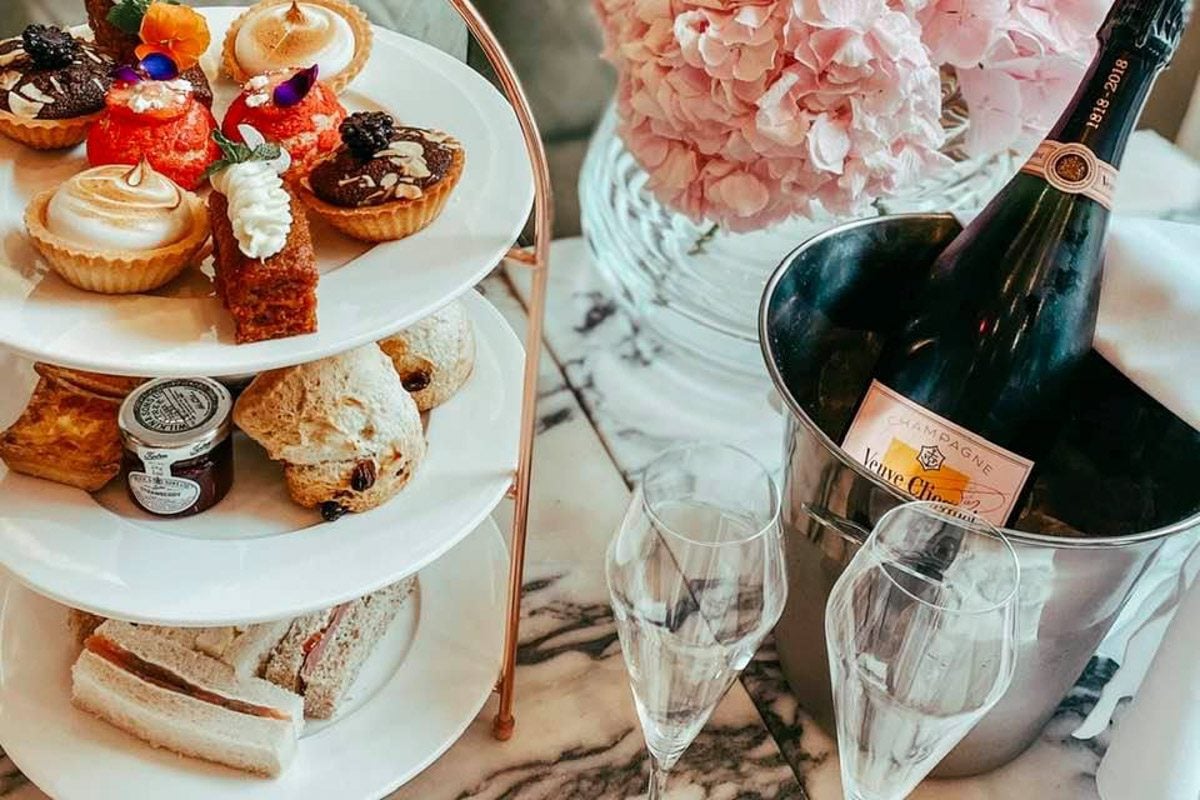 Tigerlily is among many of the trendy and fashionable hot spots along George Street. This makes it the perfect afternoon tea if you're shopping in the area, on neighboring Princes Street, or exploring New Town.
Their contemporary take on high tea draws you in while their charming atmosphere and en-trend vibe keeps you coming back to sample their variety of afternoon teas.
With an interior as stunning as this, you'd expect luxury prices, but this is one of the most affordable afternoon teas in Edinburgh. Their savory caramelized red onion & goat cheese quiche is the perfect companion to their diplomat cream-filled choux buns.
Tigerlily afternoon tea details
Review of Tigerlily afternoon tea
"We enjoyed our afternoon tea here yesterday. The staff were all very friendly and accommodating, swapping one of the items we couldn't have (for dietary reasons) with another. Great ambience, helpful and welcoming staff. The afternoon tea was great, it was a family occasion." –Mari
6. The Grand Cafe
Cheery afternoon tea for all ages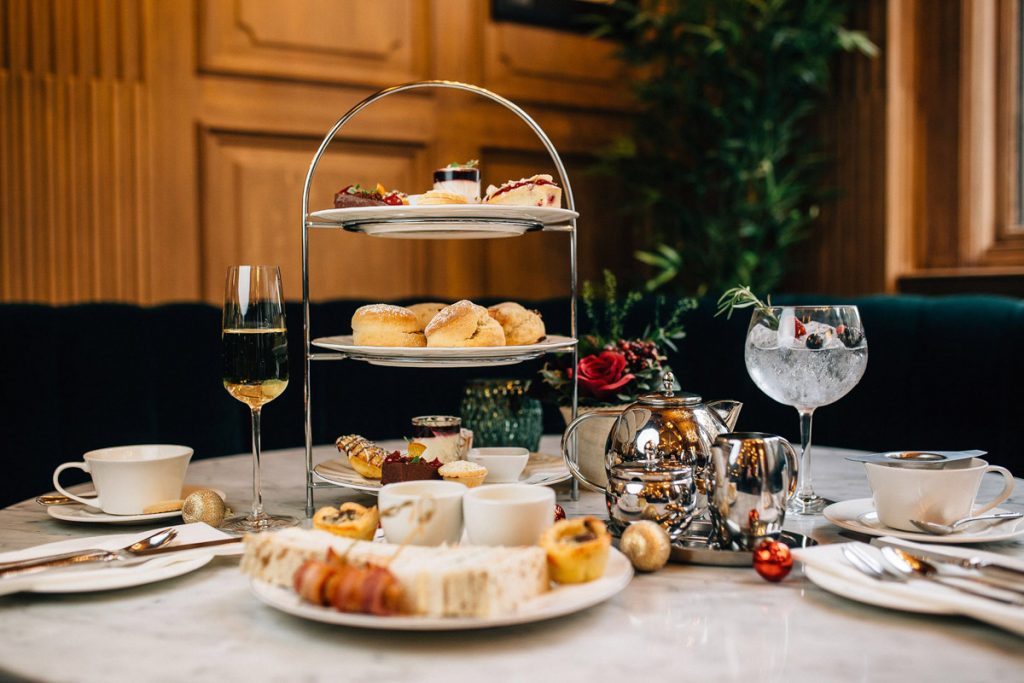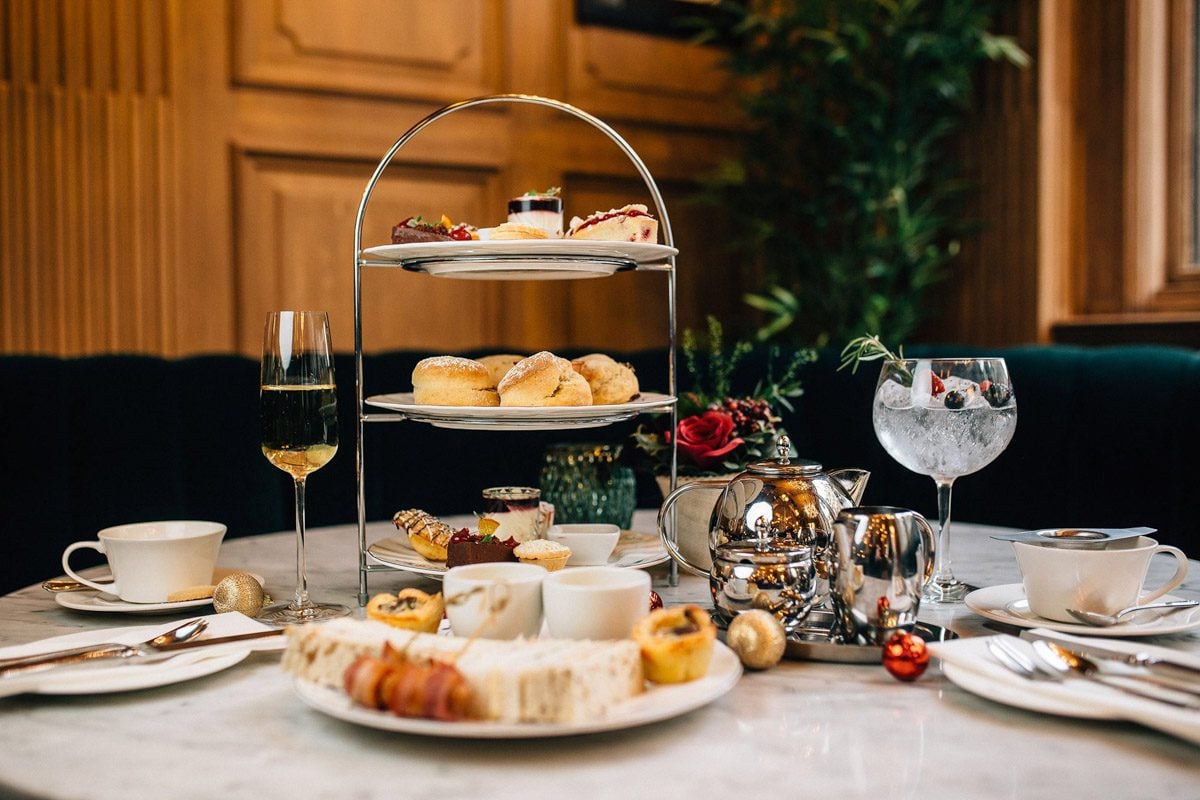 Nestled in one of Edinburgh's most beautiful venues, the Scotsman Hotel handcrafts a legendary afternoon tea inside its Grand Cafe.
Not only do they make everything in house (including the jam!), they have the widest selection of loose leaf tea to accompany their finger sandwiches, scones, sweet treats, and canapes.
On Saturdays, there is a live pianist from 2 – 5:30 pm that sets this afternoon tea in Edinburgh apart from many of the others. They pride themselves on their own interpretation and revival of Scotland's favorite midday tradition and invite you to share it with them.
Good to know: Booking 24 hours in advance is required, or call for same day availability.
Pair it with an evening showing at the Scotsman Picturehouse (for more info, check out #26 on our list of things to do in Edinburgh)
The Grand Cafe afternoon tea details
Review of The Grand Cafe afternoon tea
"Summary: fabulous decor, excellent food, a more relaxed atmosphere, and live music make this one of the best place spend an afternoon drinking tea or an evening sampling the excellent cocktail menu.

The high tea and brunch in particular are excellent. They also offer a section of beautifully made cakes to accompany an afternoon cup of tea should a full platter be too much. The Grand Cafe is in my opinion a staple of Edinburgh's dining scene. A place to always fall back to, assured that you will not leave disappointed." –Andreas
7. Clarinda's Tearoom
Kitschy & casual, no reservations required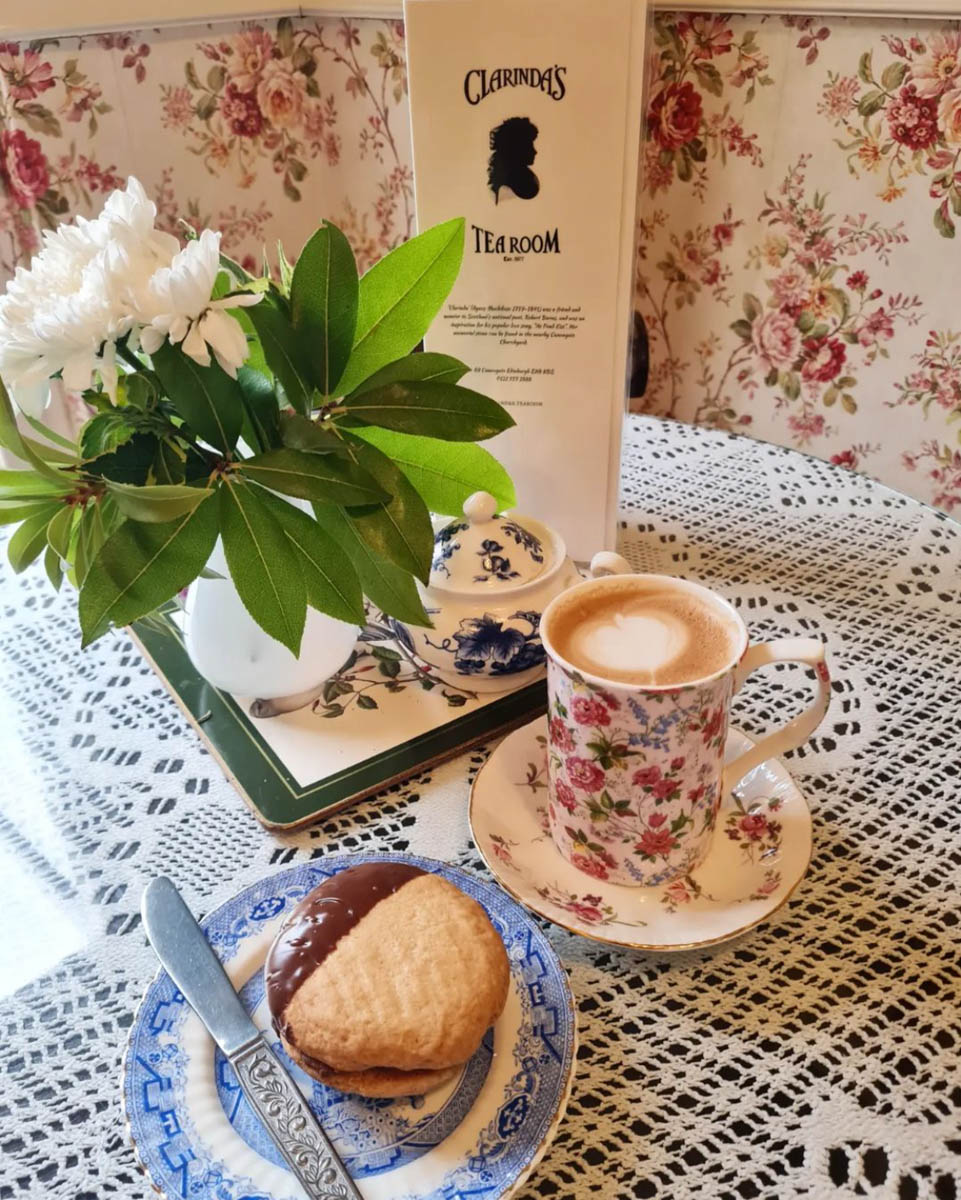 For a laid back, casual afternoon tea experience, make your way to Clarinda's Tearoom on the Royal Mile. When you first arrive, you'll feel as though you've stumbled into your grandmother's home among the floral decor and white crocheted tablecloths.
This afternoon tea experience is more of a 'create-your-own' rather than a set menu and price. You can order your favorite pot of tea and order any assortment of sweet and savory baked goods to enjoy.
Clarinda's Tearoom doesn't take reservations, so this is the best afternoon tea in Edinburgh if you're looking for a last minute option in Old Town.
They've been serving up their freshly baked scones and beloved cream tea in Edinburgh since 1976, so know that you won't be disappointed if you need to wait a bit for a table.
Note: They don't take reservations.
Clarina's Tearoom afternoon tea details
Review of afternoon tea at Clarinda's Tearoom
"We loved this place so much, we've been there 2 times. We loved everything…We've tried a lot of things on the menu and we're pretty sure we can say that there's something for everyone and it will be good. We recommend that place and we will come back and eat here again! –Thibauld
---
Edinburgh afternoon tea FAQs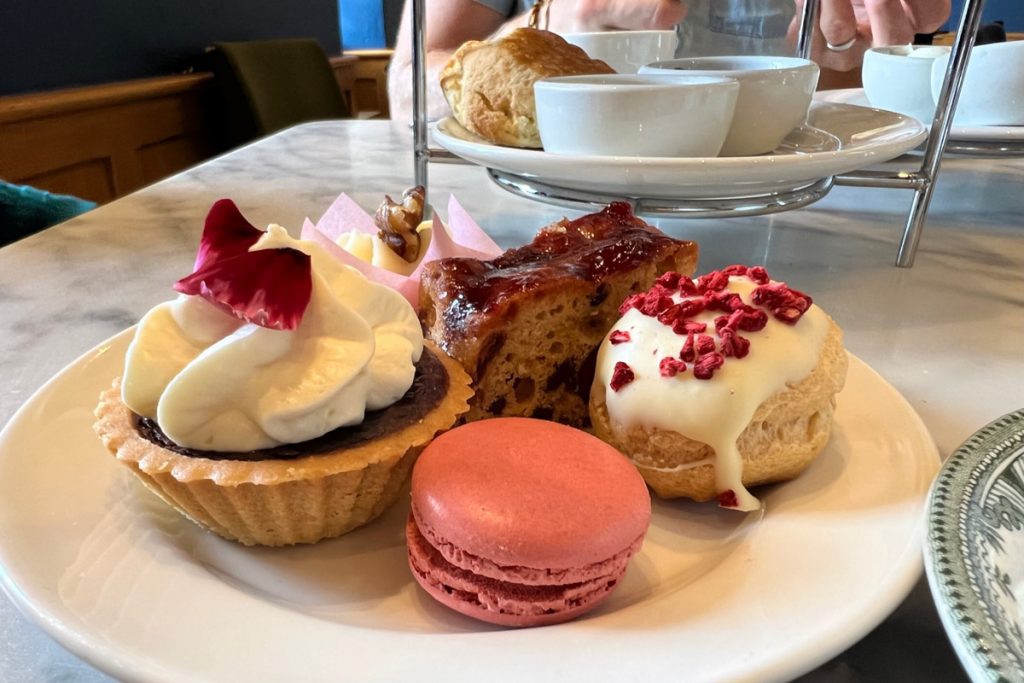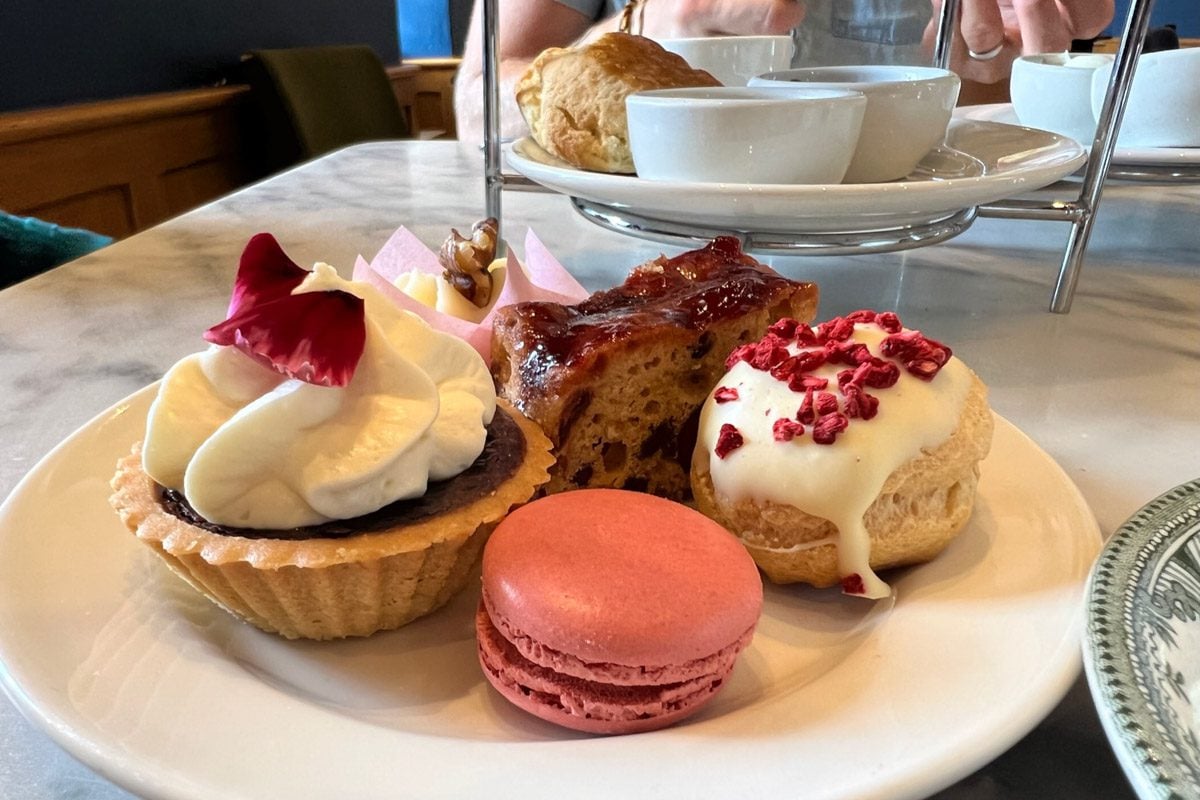 You have questions, we've got answers! Let's spill the tea…
Do I need a reservation for afternoon tea in Edinburgh?
We would highly recommend booking your afternoon tea well in advance, as many of these venues fill up completely. We were not able to go to our top choice because they were already completely booked for our travel dates.
What should I wear to afternoon tea?
Some of the establishments are on the fancier end, so be sure to check if there are any dress codes to follow.
How much does afternoon tea cost?
Afternoon teas range in price from roughly £20 to £60 per person. There may be options for add ons, such as champagne, which will cost more.
Can you do afternoon tea with kids?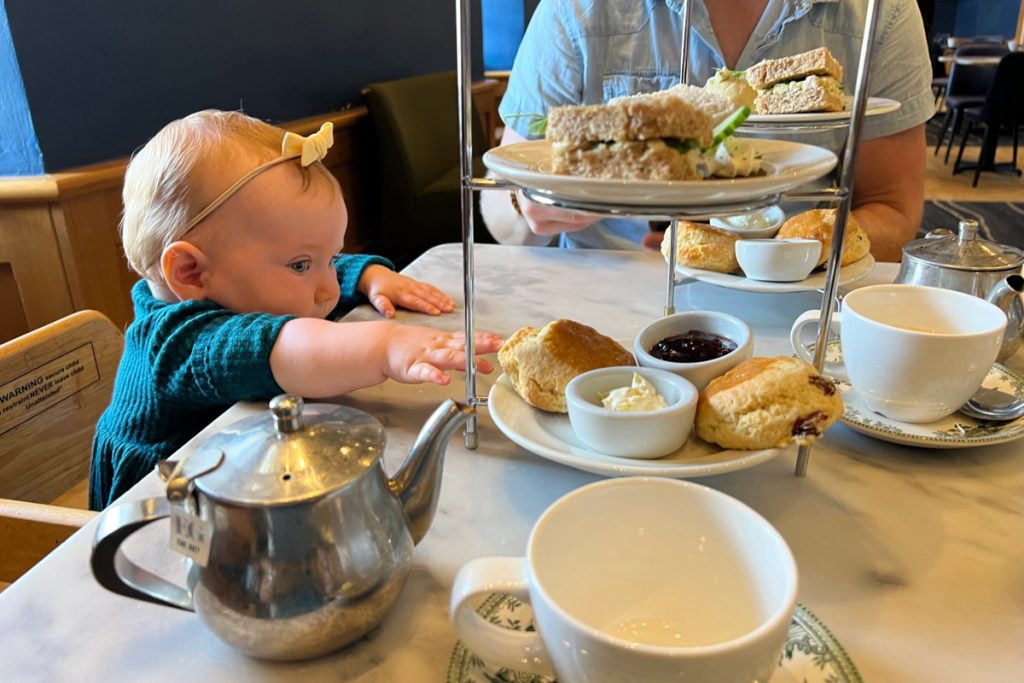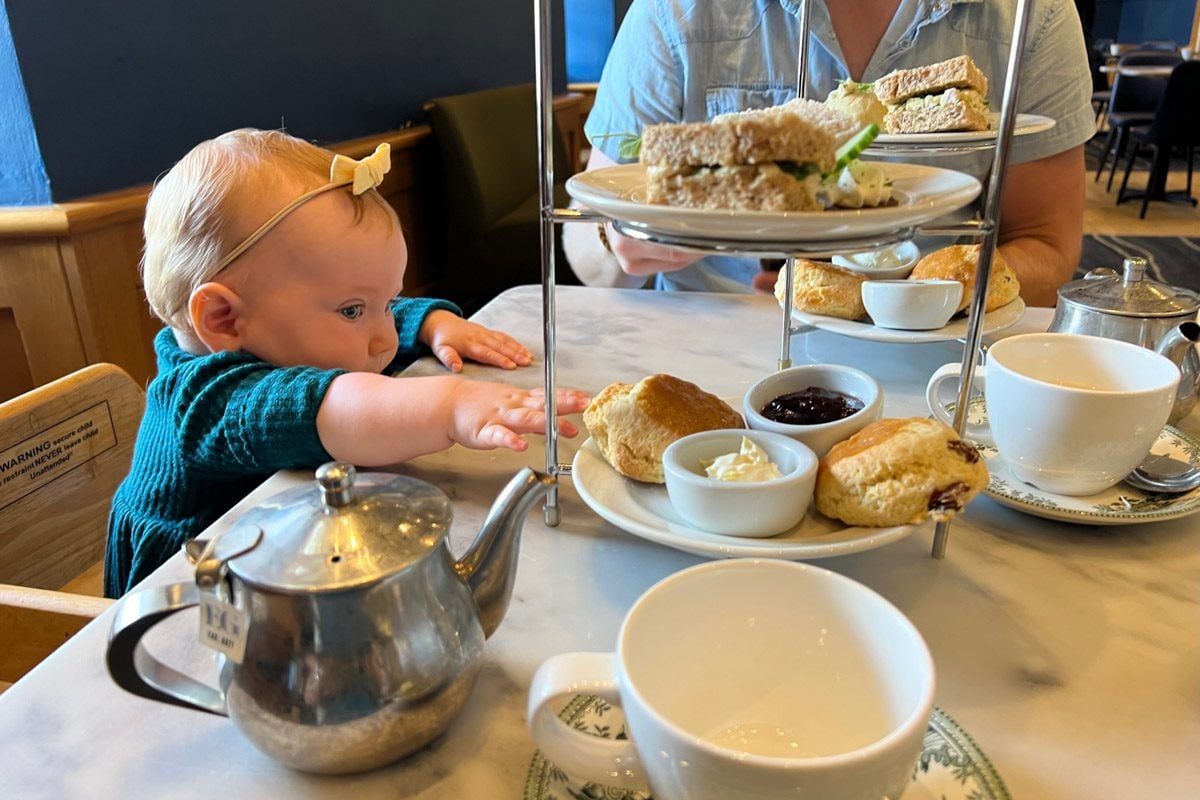 Not every venue is family friendly. If you are traveling with children, be sure to check with the venue to see if they allow kids (it can be difficult to tell if they do from their website).
Venues that allow children at afternoon tea:
How long does afternoon tea last?
Most afternoon teas are at your own pace, so once you're served, it's up to you how long it takes. Some establishments have set times for their tea service.
We'd recommend planning on an hour and a half to enjoy your afternoon tea experience.
What if I am vegetarian, gluten free, or have other dietary restrictions?
Many places can accommodate dietary restrictions, but it's good to check ahead of time.
Vegetarian options should be available at most venues; but other types of options, such as gluten-free offerings, may be harder to come by.
The Colonnades in the Signet Library has a gluten free menu, so that would be our recommendation for GF travelers.
How much food will I get at afternoon tea?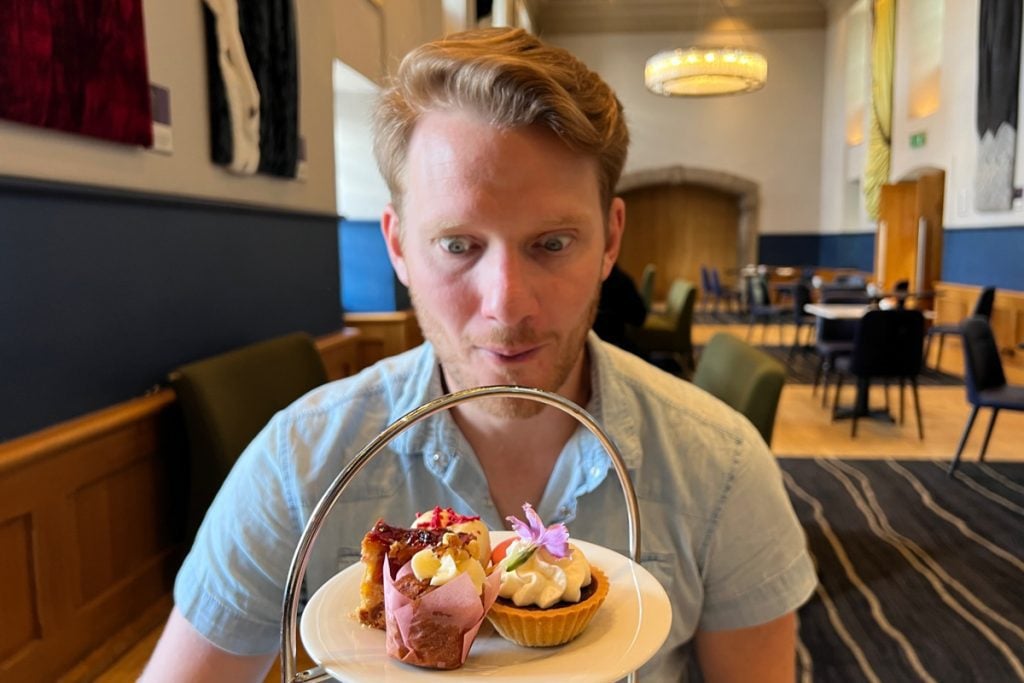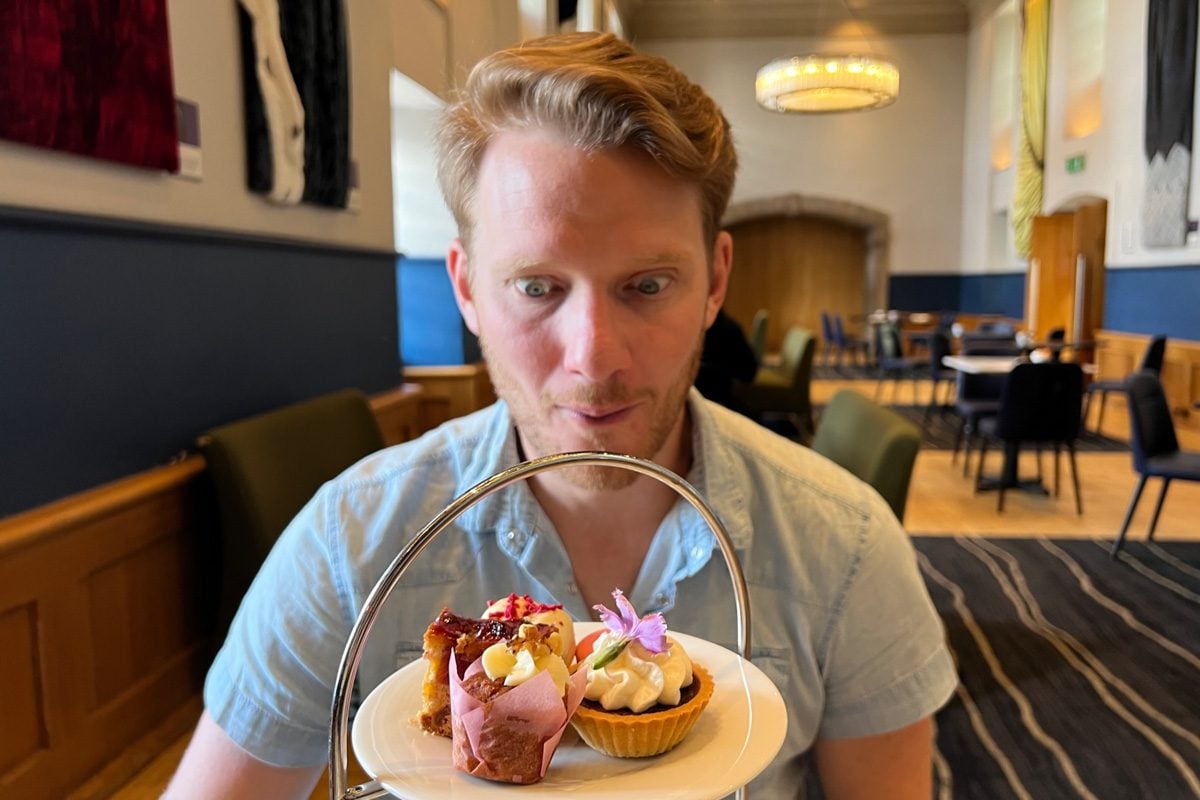 The exact amount varies from place to place, but in general, you should come hungry. It might not sound like a lot, but all those finger foods add up, and you might not even be able to finish it all!
What if I don't like tea?
To be honest, the food is almost a bigger focus than the tea itself, so you'll still have a great time even if you're not a fan of tea.
Some establishments will give you the option of choosing tea or coffee. You can also typically order other types of drinks as well, if you really don't want the tea.
Can I get an alcoholic beverage at afternoon tea?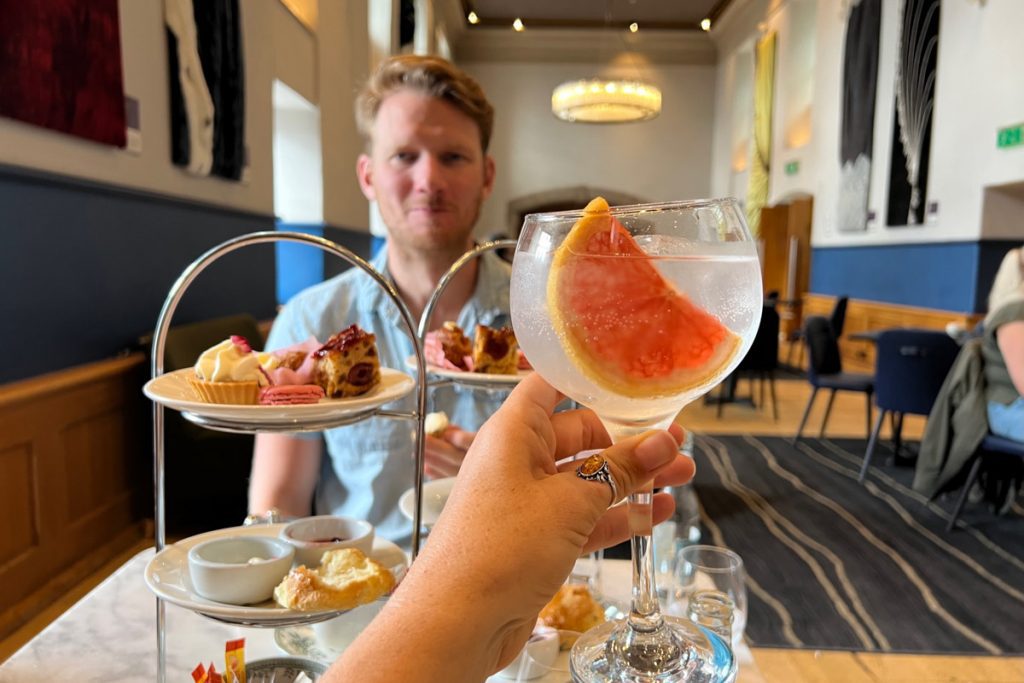 Many afternoon teas will give you the option of upgrading your package to include an alcoholic drink, like champagne or a gin cocktail. It's the perfect way to kickstart your afternoon!
---
Are you planning a trip to Scotland?
We have lots of resources on travel in Scotland and destinations throughout the country. Check out our Scotland Travel Homepage for everything you need to know, or read some of our favorite articles below.
Save this article on Pinterest for later!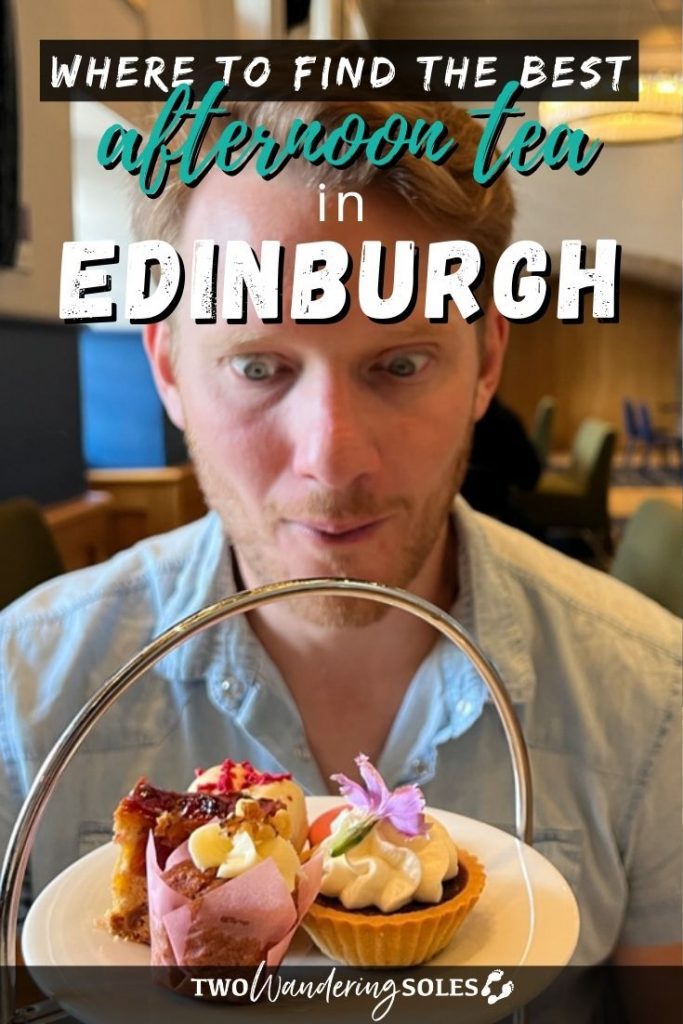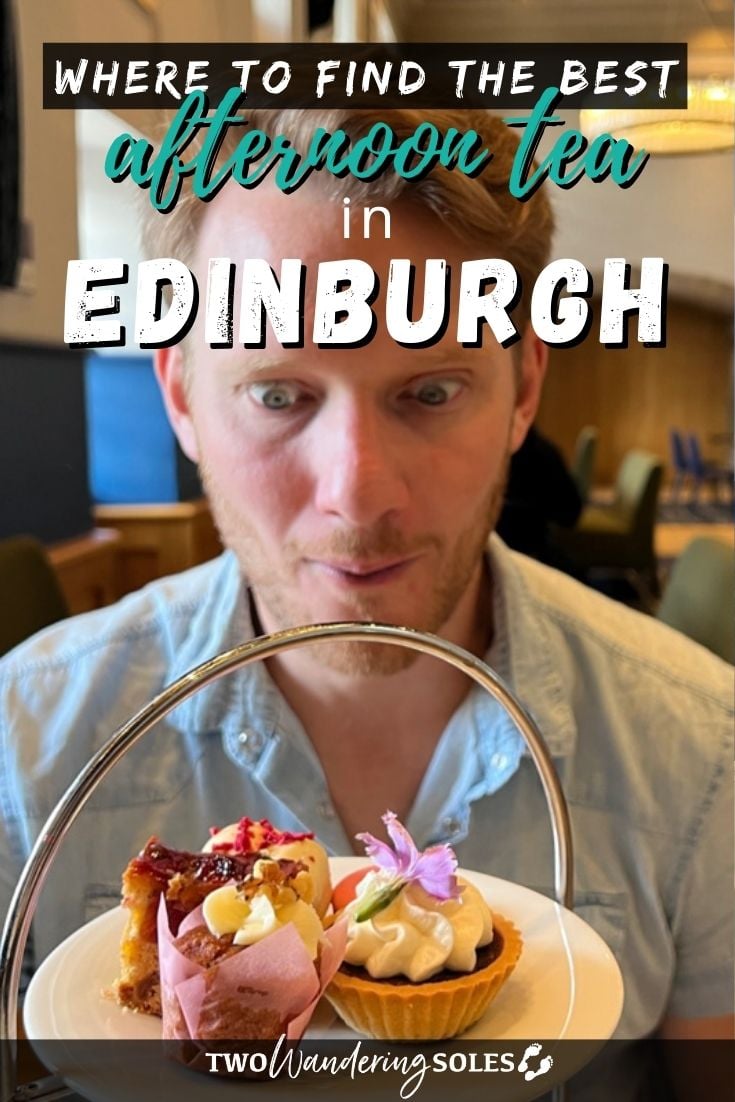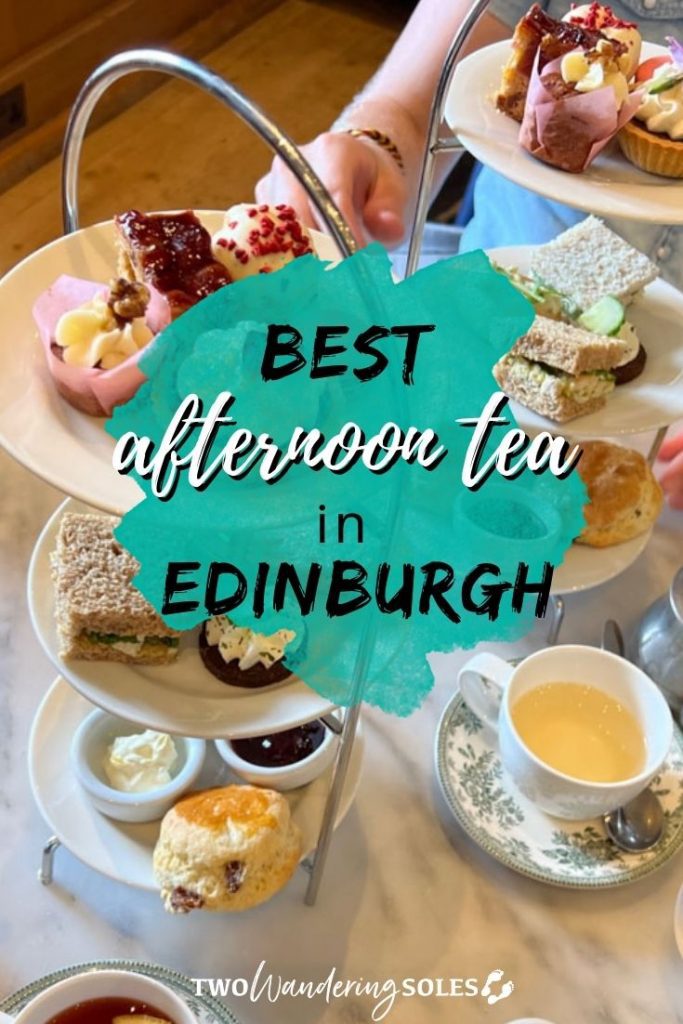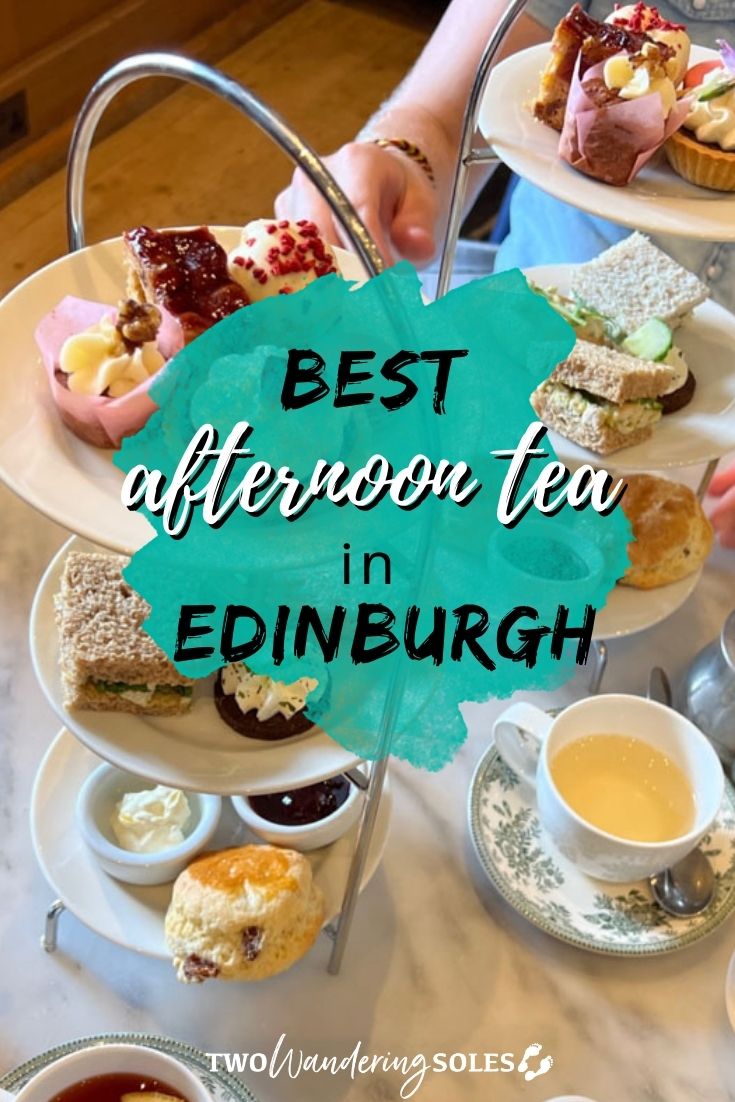 We want to hear from you!
Have you had afternoon tea in Edinburgh before? What was your experience like? Have more questions for us about afternoon tea in Edinburgh? Leave a comment below and we'll do our best to get back to you!