The Eternal City will captivate you with its ancient wonders, acclaimed gastronomy, and rich history. In this guide, we dish out all the top things to do in Rome, including everything you need to know to make the most of your visit.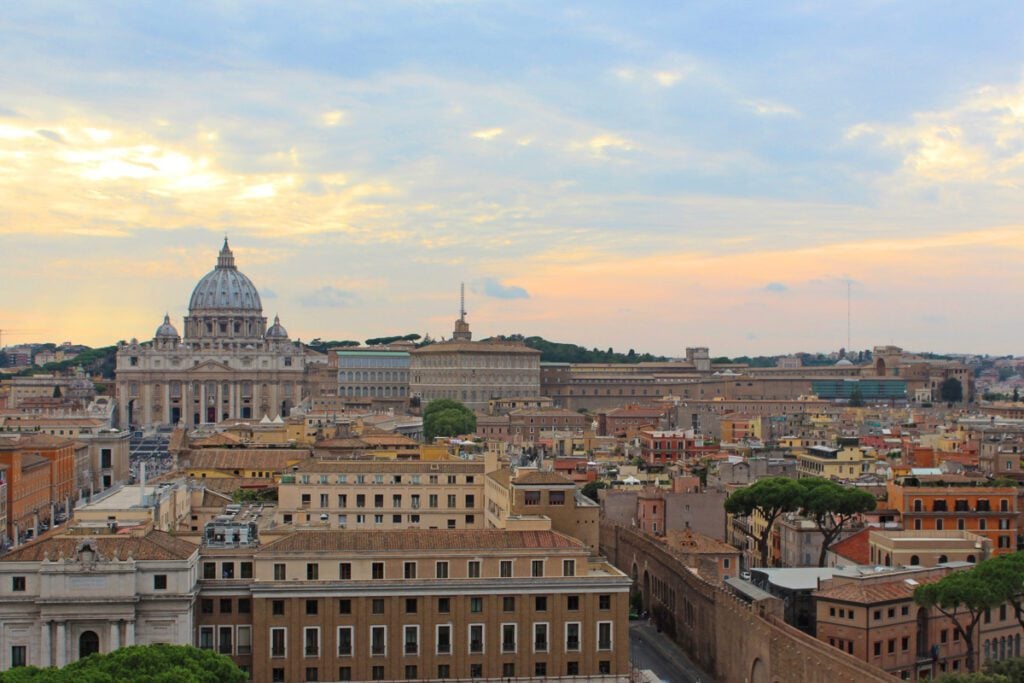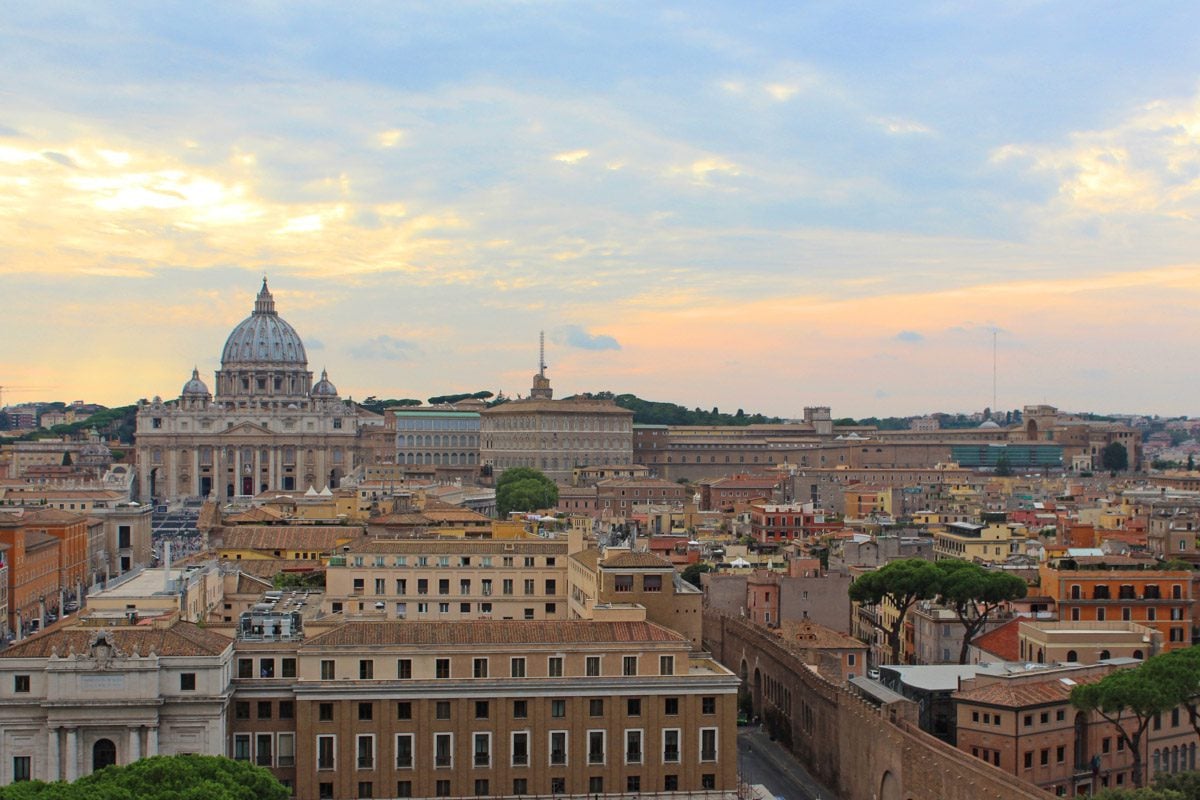 Known as the eternal city, the center of the ancient Roman Empire and a place where modern meets history in a harmonious entanglement, this iconic city is most travelers' introduction to Italy.
Whether your interests lie in architecture, shopping, history or food, there are so many things to do in Rome, you will certainly find ways to fill your time here.
With a history spanning over 2,500 years, Rome is one of the oldest cities in the world, and draws visitors from around the globe to marvel at its many wonders.
The high volume of tourism means it can be hard not to feel like just another one of the camera-touting tourists spending all of your time standing in long lines. But that doesn't have to be the case at all.
In this article we are covering all the best things to do in Rome, how to get around, where to eat and where to stay. Plus we've got some insider tips for you to avoid the crowds and make the most of your time here.
Rome Travel Guide
For more tips and advice for planning your trip to Rome, jump to the following sections (or just keep scrolling to see it all!).
---
Top things to do in Rome
If you're looking for the very best things to do in Rome, here are our top recommendations:
Explore the Roman Forum and Palatine Hill
Walk around the Colosseum
Go on a food tour
Catch the sunset from Castel Sant' Angelo
Venture through the Borghese Museum & Gardens
Throw 2 coins in the Trevi Fountain
Keep reading for more detailed information on each of these things and more ideas of fun things to do in Rome.
1. Explore the Roman Forum and Palatine Hill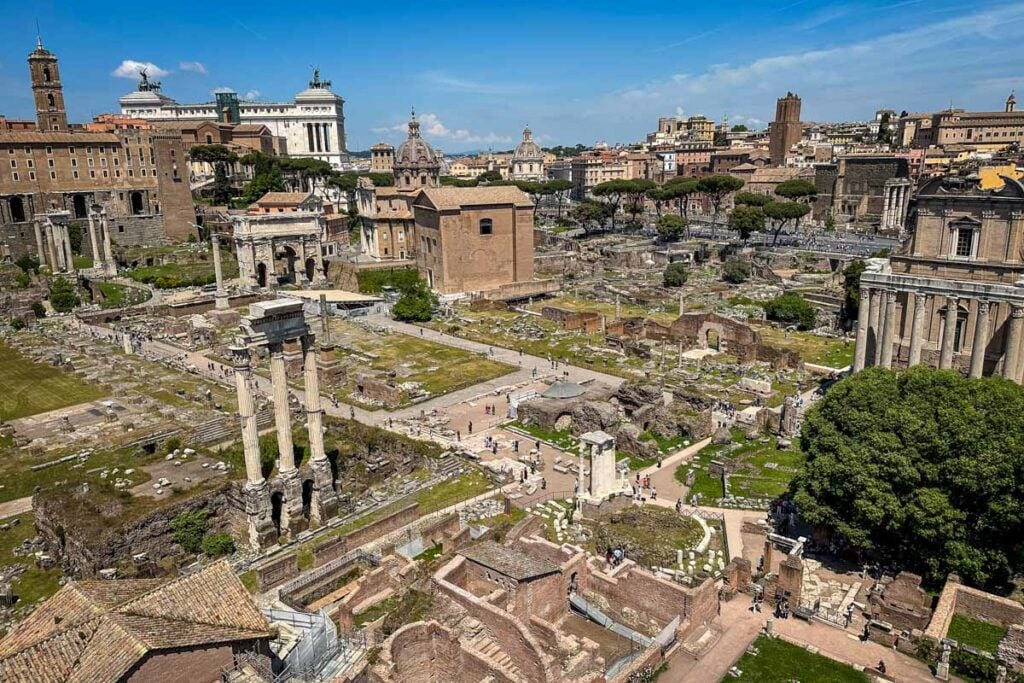 Once a thriving market, the Roman Forum was slowly transformed into the heart and soul of the Ancient Roman Empire after all the most important temples, government buildings, and monuments were built by a line of emperors.
While today it's mostly spare columns and ruins, its fascinating history makes it easy to imagine the magnificence of what it once was as you wander through it.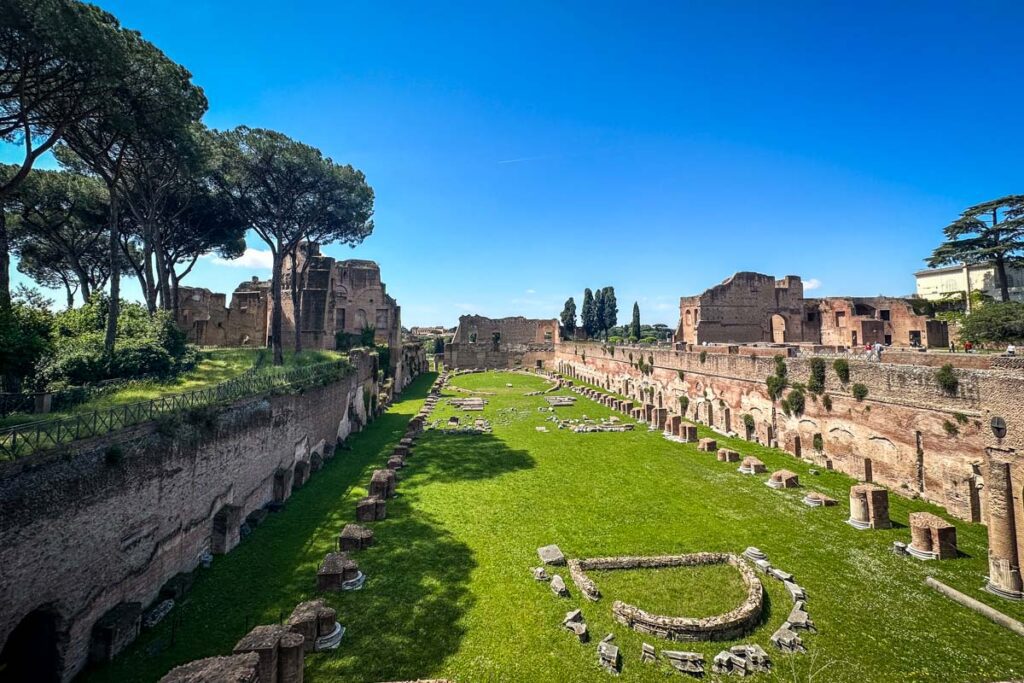 Adjacent to the Forum is Palatine Hill, the most significant of the seven hills Rome was built upon. This archaeological site holds legends, myths, and remarkable history from the time emperors and aristocrats lived there.
Hours: 8:30 a.m. to 7 p.m.
Entrance fee: €18 ($19.75 USD) *tickets include entrance to the Colosseum and Palatine Hill
2. Walk around the Colosseum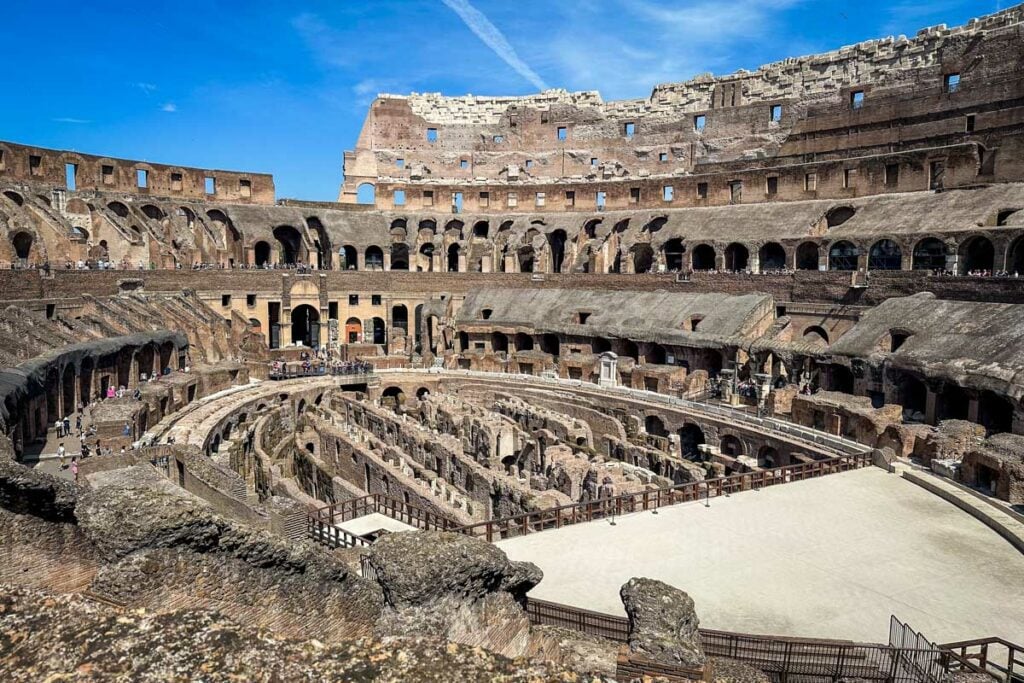 For 400 years, this arena was used as an entertainment complex at the center of ancient Rome. The area hosted gladiatorial games, battle reenactments, theater plays, and even prisoner executions for an audience of nearly 50,000 people.
As magnificent as it was during its time, it mirrors the same significance today as it's the symbol and centerpiece of Rome, a UNESCO World Heritage Site, and one of the new Seven Modern Wonders of the World.
Good to know: Tickets should absolutely be purchased in advance. Grab a skip the line ticket to avoid waiting in long lines or consider a guided tour to bring this treasure to life. Aim to get your ticket for opening time to avoid the crowds of midday.
Hours: 9 a.m. to 7:15 p.m.
Entrance fee: €18 ($19.75 USD)
---
Want to save time and energy on planning?
We've spent a collective 6+ months living in and traveling around Italy, and we've been able to explore a lot of what this country has to offer!
We've compiled our experience to create a classic Italy itinerary that hits the top destinations for first time visitors. Our itinerary is spread out over 10 days and includes the highlights of Rome, Cinque Terre, Florence and Venice.
We'll send you our complete 10-day itinerary, filled with tips and advice. Just click below to get your classic Italy itinerary today!
---
3. Go on a food tour
What better way to experience this foodie heaven than by going on a food tour?
Option 1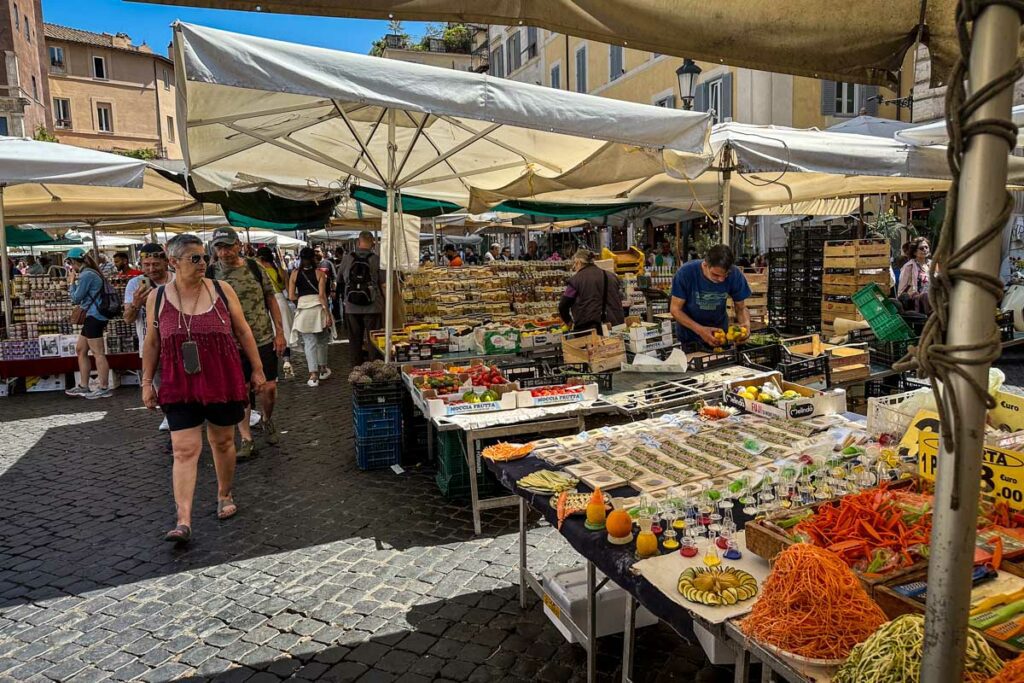 Taste the flavors of Rome on this Street Food Tour in your choice of either the Jewish Quarter or Trastevere. On each of the 5 tastings, you'll enjoy beer or wine and sample anything from supplì, cured meats, gelato, authentic pizza, and seasonal dishes.
What you need to know:
Hours: 2.5 hours
Price: $52.80 USD
What guests are saying
"The tour offered great history and anecdotal stories. Gianluca took the time to answer our questions and make suggestions on places to visit after the tour, based on the group's individual interests. The food was good, typical fare for Rome, and good value for the price!" – GetYourGuide Traveler, April 2023
Option 2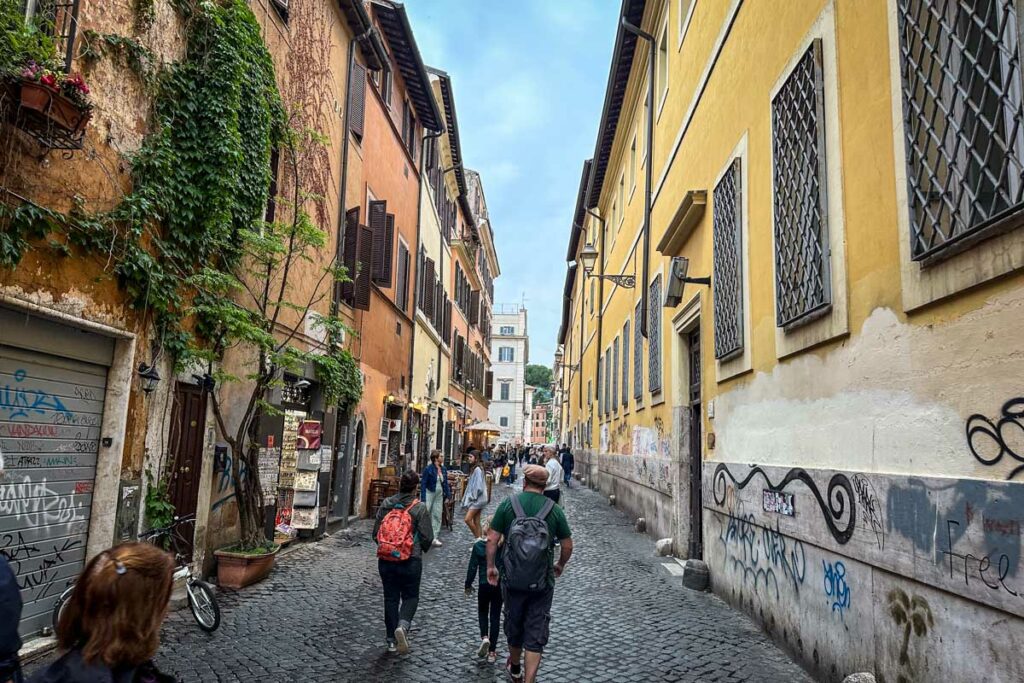 During this Trastevere Sunset Tour, you'll stop at 4 locally-acclaimed eateries to indulge in 20 different tastings. Try handmade pasta, wood-oven pizza, artisanal gelato, fine wine, truffles, decades old balsamic vinegar, among other mouth-watering bites.
What you need to know:
Hours: 4 hours
Price: $130.89 USD
What guests are saying
"Amazing. Surprising. Our host was outstanding with so much knowledge and passion, and a really chill vibe… The best part was the truffles, a really nice surprise. Some of the wines tasted were among the best I have tried. I thought I had tasted pizza a thousand times already, but was shocked how amazing authentic Italian pizza is. The subtlety in the flavor is the key. Savor it, enjoy it." – GetYourGuide Traveler, April 2023
Option 3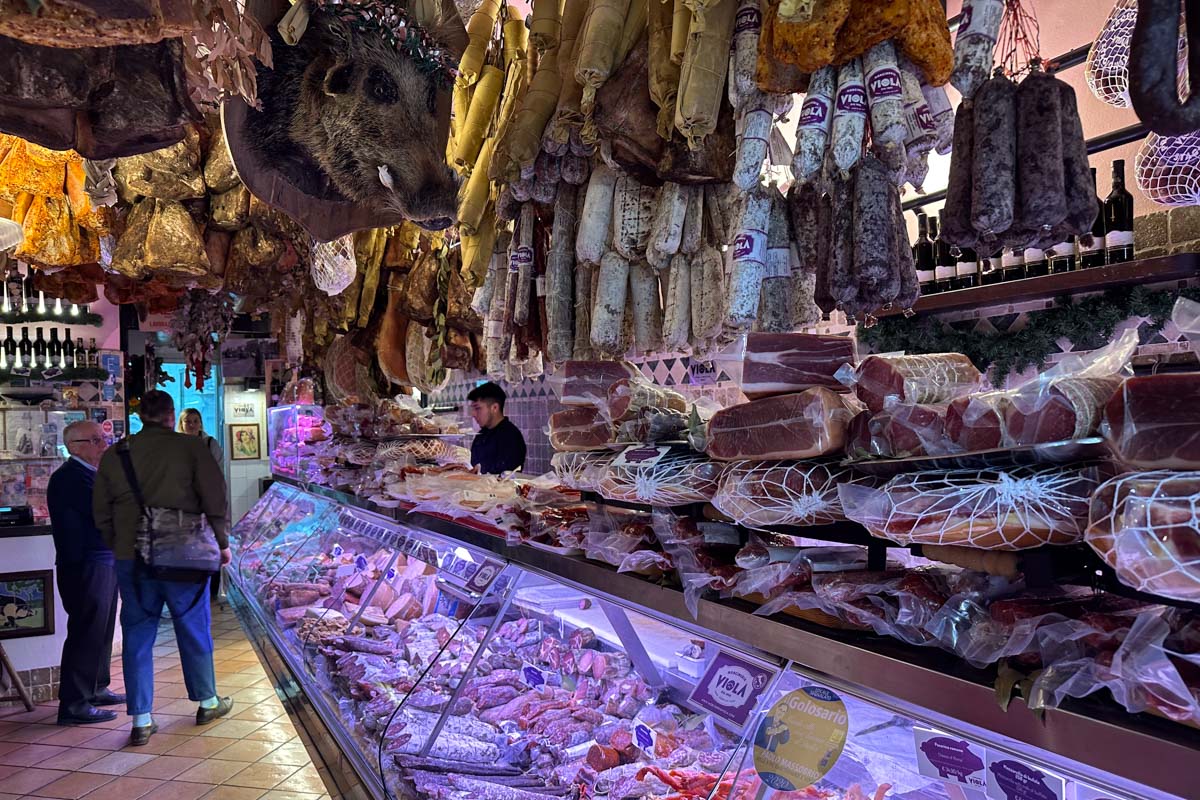 Perusing Rome's largest food market and sampling the city's finest ham, 30-year-old balsamic vinegar, pure truffles, and Anthony Bourdain-approved pizza are highlights of this Rome Food & Wine Tour.
What you need to know:
Hours: 4 hours
Price: $98.99 USD
What guests are saying
"We had an amazing time with our guide Lucrezia, she was very friendly and knowledgeable and answered all of our questions about food and Italy! The food was incredible and we were very very full at the end of the tour!! We tasted so many different types of food and drink including Cannoli, the best pizza, pasta, Italian delicacies and wine and even had a tour of the food market." – GetYourGuide Traveler, February 2023
4. Catch the sunset from Castel Sant'Angelo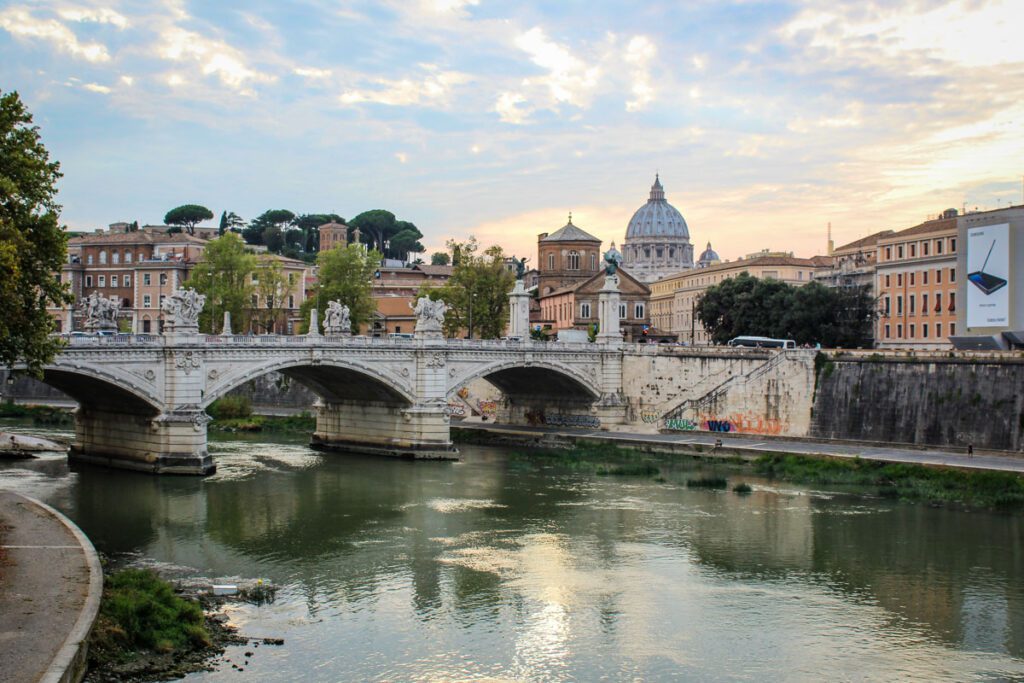 This 2nd-century castle towers against the bank of the Tiber River and was originally the Mausoleum of Hadrian.
Inside you can wander opulent rooms and admire artwork, medieval weapons, prisons, and apartments that served as refuge for the popes. But the real draw is all the way at the top…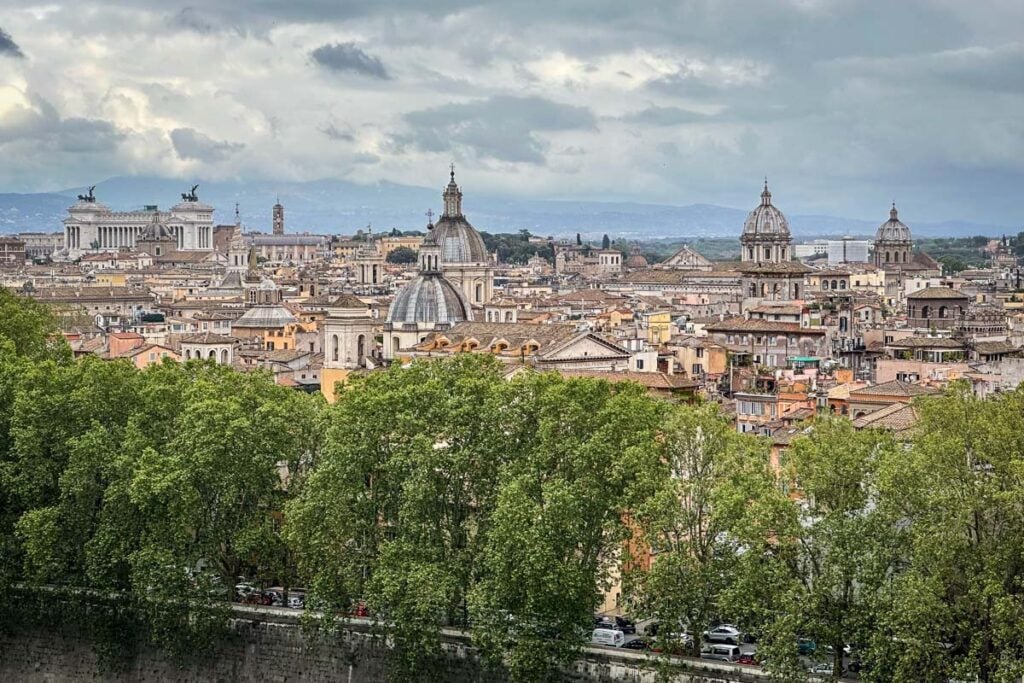 If you time your visit right, catch the sunset from the top of the castle to see all of Rome illuminate as the sun goes down.
Hours: 9 a.m. to 7:30 p.m. *The ticketing office closes at 6:30 p.m.
Entrance fee: €15 ($16.46 USD)
5. Wander the Borghese Museum & Gardens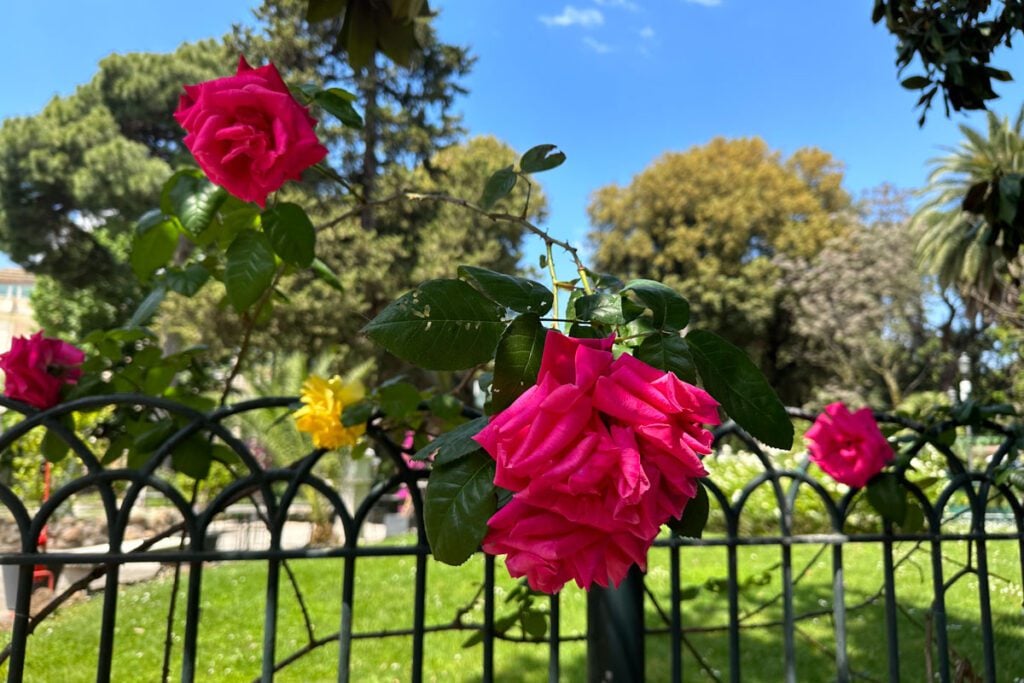 Villa Borghese is a 16th-century family home that has been turned into an acclaimed art gallery featuring the family's private collection and breathtaking landscape gardens.
Walk through the Galleria Borghese and you'll be able to admire one of the finest art collections in the world including early pieces by Bernini, Cavaggio, and other impressive 15th to 18th-century works.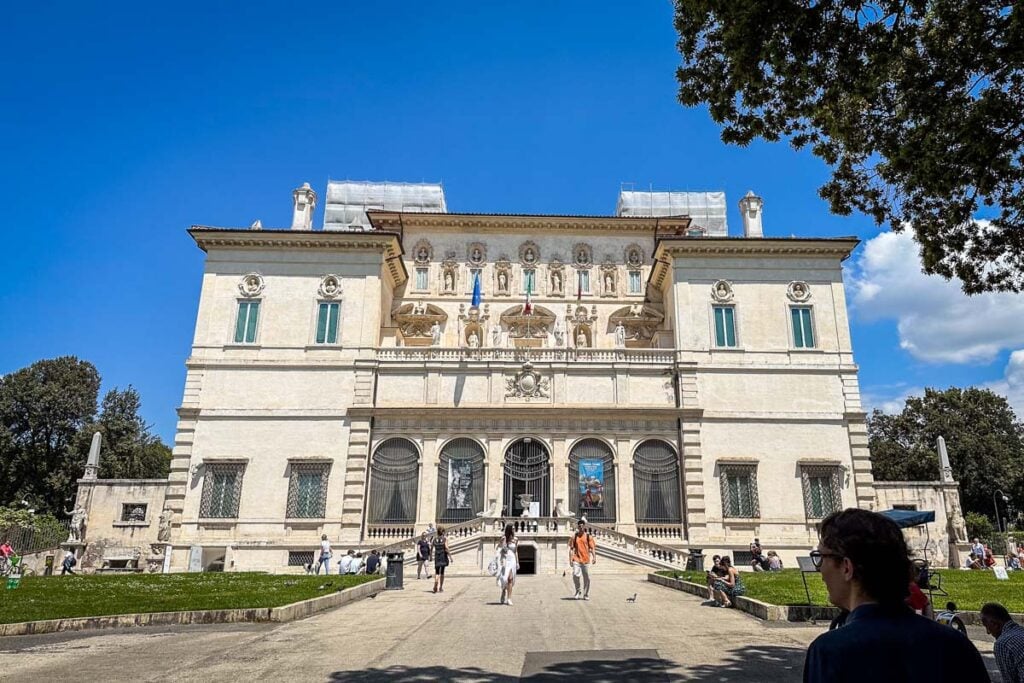 Just outside are the 19th-century Borghese Gardens that serve as an outdoor oasis dotted with sculptures. Don't miss the Water Clock and Temple of Asclepius.
Good to know: Book your ticket in advance as time slots are limited and fill up fast. Grab a skip the line ticket to save a bit of time.
Hours: 9 a.m. – 7 p.m. (Friday – Sunday, Tuesday), 9 a.m. – 9 p.m. (Thursday), 9 a.m. – 10 p.m. (Wednesday), closed Monday
Entrance fee: €13 ($14.26 USD), you can purchase regular entrance tickets on the official website
6. Throw 2 coins in the Trevi Fountain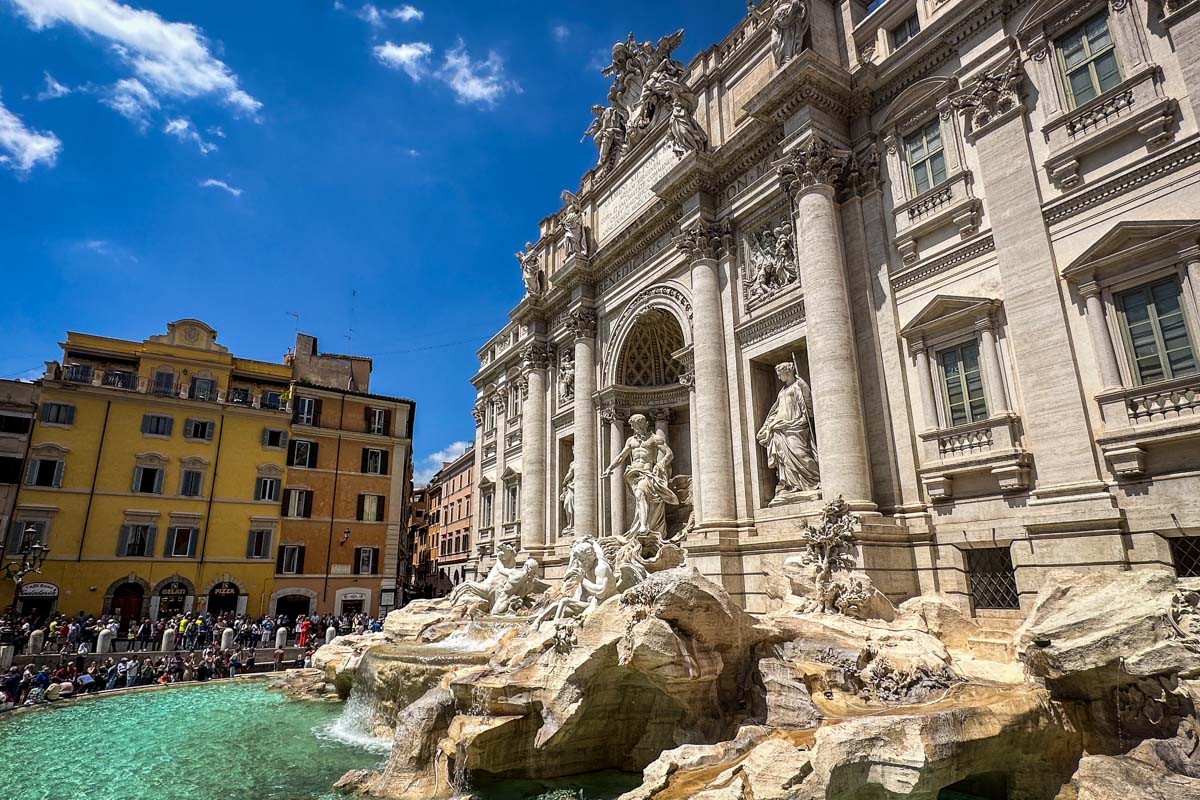 This Baroque masterpiece sculpted from brilliant travertine needs no introduction as it's arguably one of the most famous things to do in Rome.
No visit is complete without turning your back to the fountain, tossing two coins over your left shoulder using your right hand, and dreaming of two fortunes:
One for love.
One to return to Rome.
Tip: The best time to visit is early morning when crowds are thin (before 9 a.m. or after dark), otherwise crowds can be so thick you won't be able to see the fountain, much less throw a coin in.
7. Learn the history of the Pantheon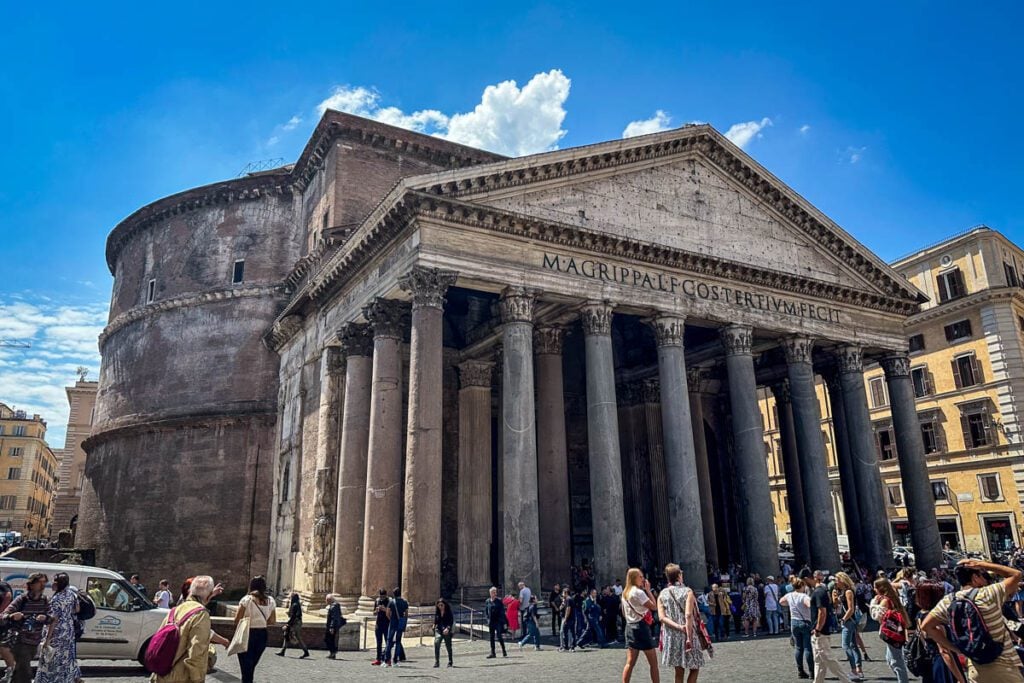 Standing for nearly 2000 years despite destruction, repairs, and pillaging, the Pantheon is the last piece of the Ancient Roman Empire still intact, and an architectural masterpiece of the time.
With harmonious proportions and a complex history to match, a walk through here is essential for any first-timer in Rome. An audio tour or guided tour is ideal as the commentary and stories will bring this marvel to life.
Good to know: Reservations are required to visit on Saturdays, Sundays, and public holidays.
Hours: 9 a.m. – 7 p.m.
Entrance fee: free for all visitors
Tip: Go at dawn so you can see the Pantheon in the daylight and light up at night.
8. Tour the Sistine Chapel & the Vatican museums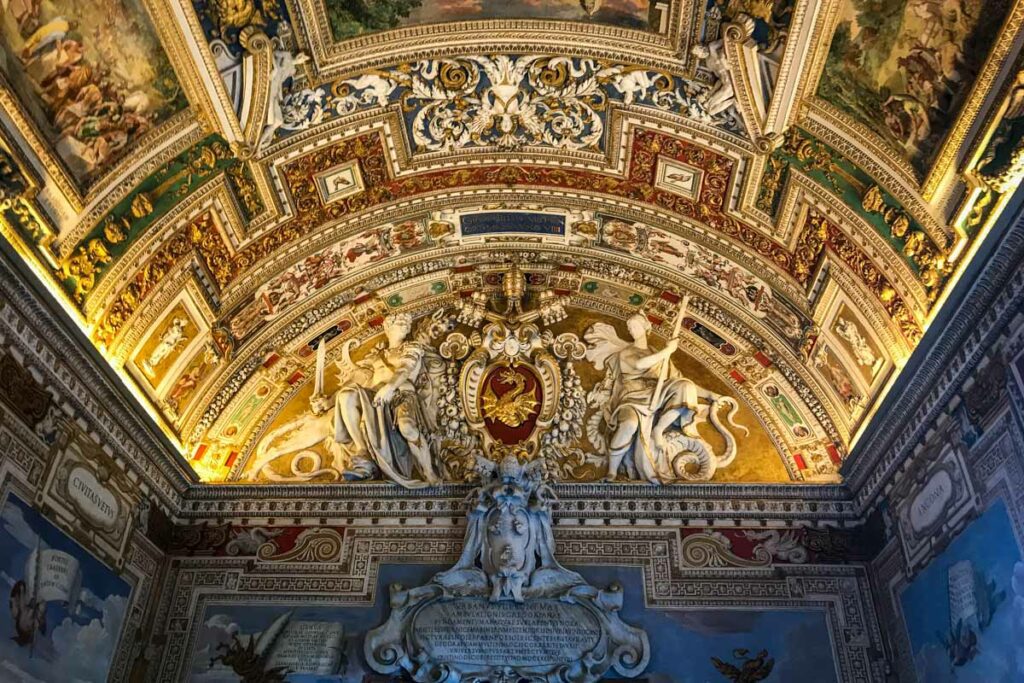 Established in the early 16th-century, the Vatican Museums undisputedly hold some of the most significant art collections in the world.
Inside, there are 24 different galleries to walk through that tell the history of the Catholic Church, birth of the Renaissance, and the rise and fall of the Roman Empire.
The grand finale is Michelangelo's world famous painted ceiling in the Sistine Chapel (which does not allow photos!).
When visiting, you absolutely want to bypass the long ticket lines, which can be done two ways: a skip-the-line guided tour or skip-the-line ticket.
Hours: 9 a.m. to 4 p.m.; closed on Sunday

try to avoid Mondays it can be busier

Entrance fee: €17 ($18.65 USD), you can purchase regular entrance tickets on the official website
9. Climb to the top of St. Peter's Basilica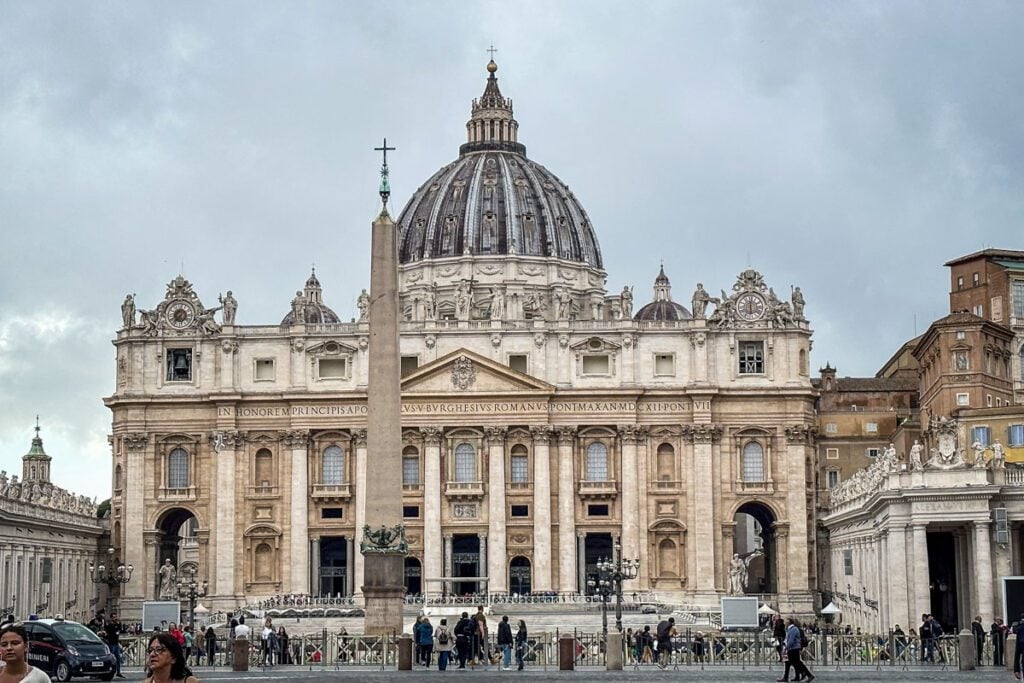 Priceless artwork, a 448-foot dome, and jaw-dropping architecture perfected by the most influential architects of the time sculpt the unmissable St. Peter's Basilica.
While every corner of St. Peter's Square and the basilica's interior is spectacular, the most beautiful and overlooked part of it is right above your head.
At the top of the basilica dome (the tallest in the world!) you can see the famous ceiling mosaics up close and arrive at unparalleled views of St. Peter's Square stretching into Rome.
Good to know: In order to enter you must be dressed modestly with your shoulders and legs covered. Go around 7:30 a.m. when the light is beautiful and there are no crowds.
Hours: 7 a.m. to 7 p.m. (April 1 – September 30), 7 a.m. to 6:30 p.m. (October 1 – March 31)
Entrance fee: €8 ($8.78 USD) if you take the stairs, €10 ($10.97 USD) for the elevator *cash only
10. People-watch in Piazza Navona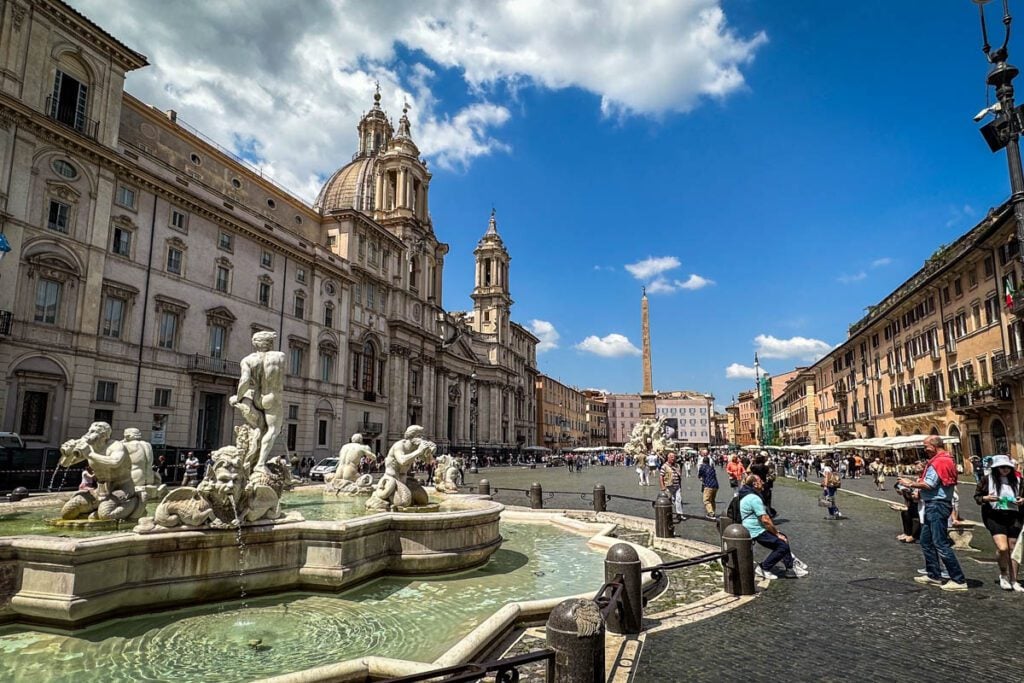 What was once a stadium for festivals and sports competitions in the ancient world, is now one of the largest and most photogenic piazzas (squares) in Rome.
Outlined by restaurants, bars, and coffee shops and filled with complex history, artistic fountains, and a Baroque church, it makes the perfect stop to linger and refuel near all the most popular attractions in the city center.
11. Climb the Spanish Steps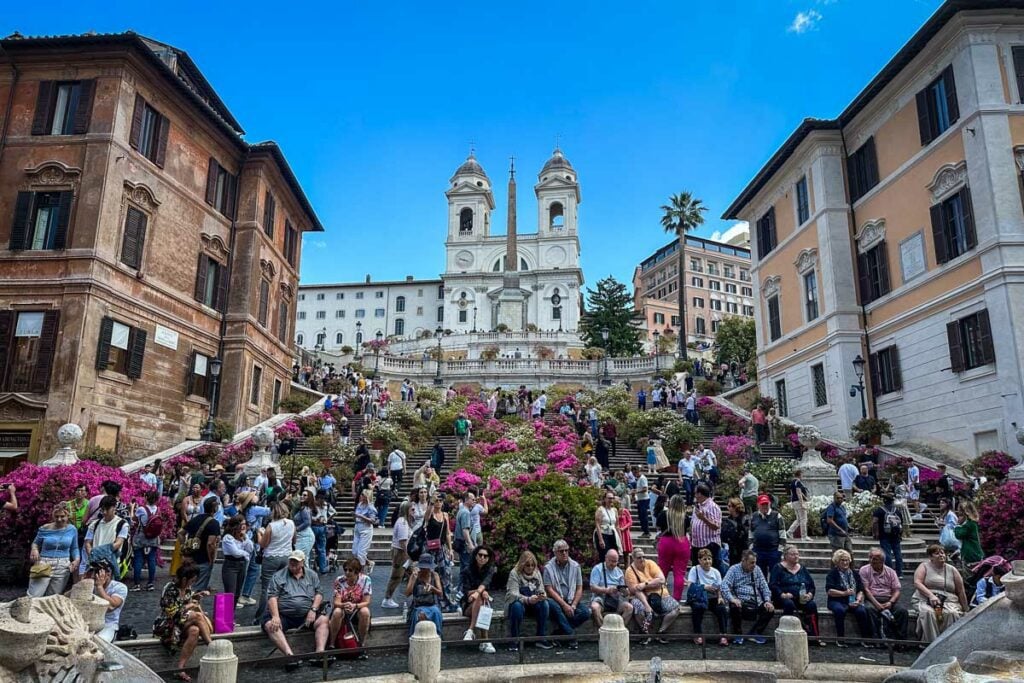 Beginning at the Spanish Embassy and curving their way up to the Trinita Dei Monti (Catholic Church), the Spanish Steps are one of Rome's most spectacular sights and architectural landmarks.
Made of polished stone and decorated with terraces and smaller elements, these wide Baroque steps have been a backdrop in many blockbuster films and inspire artists all over the world.
Good to know: As of 2019, it is against the law to sit on the steps and if you're caught you will be fined a few hundred euros.
12. Hunt for the best gelato in Rome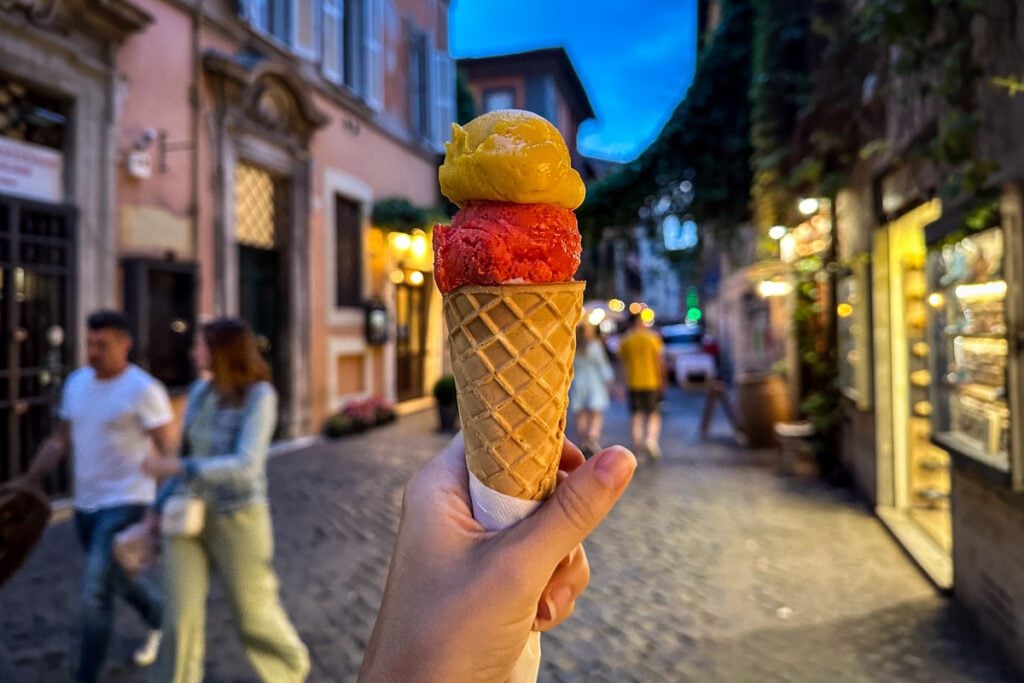 In Rome, gelaterias decorate nearly every street corner, but while a lot are good, there are few that are truly great.
Here are some expert tips for finding the best gelato shops:
Noted as "Gelato artigianale". Indicates the gelato is authentic, handmade, or handcrafted.
Made with simple ingredients. Milk, sugar, and flavor like fruit or chocolate.
Look for natural colors. It should reflect the actual color of the food it's flavored with. When in doubt, look for banana, it should not be bright yellow.
Skip gelato that is stacked high in the serving cases. Look for ones in covered, stainless steel bins.
The shop only sells gelato. A good sign of a quality scoop.
Psst! The my favorite gelato in Rome was at Fiordiluna in Trastevere. Try the strawberry and mango flavors!
13. Take a free walking tour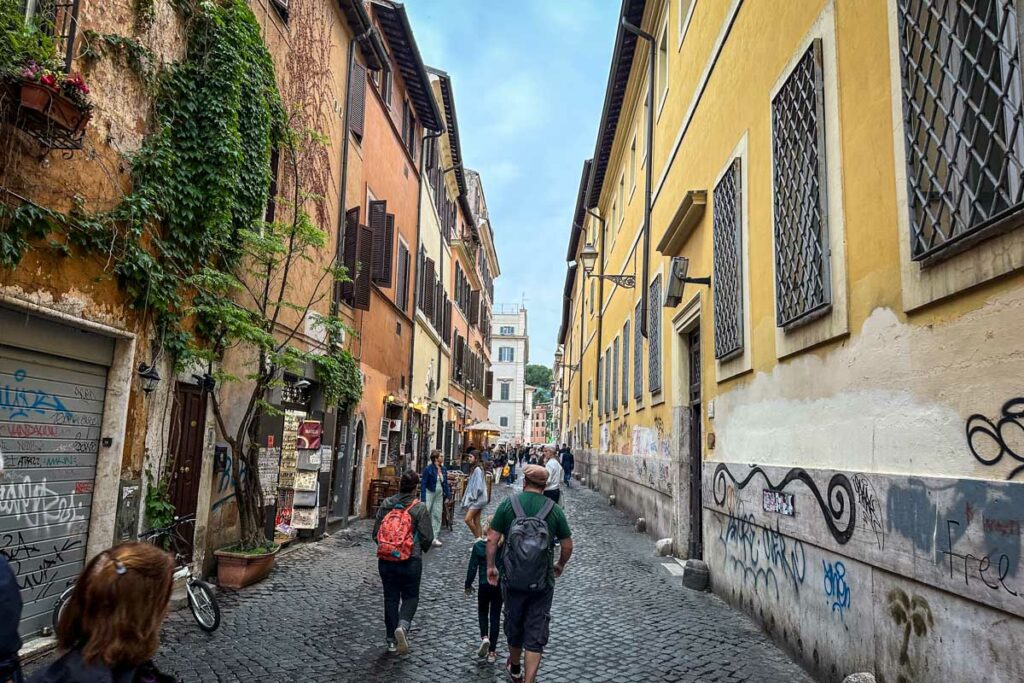 There are daily Free Walking Tours of Rome that are hosted by licensed guides with their masters in either art or archaeology.
As you visit the Spanish Steps, Pantheon, Trevi Fountain, Roman Forum, and see 1st century BC Ancient Roman Aqueducts, their knowledge and stories will aid in the allure and magic of this historic city.
Good to know: The morning and afternoon tours make different stops during each.
What you need to know:
Hours: 2 hours
Price: €1 to book, pay what you want
What guests are saying
"Our guide Laura did an amazing job. She was very knowledgeable and passionate. She even made sure we had plenty of water stops and we could stand in the shade. 100% would recommend it, even if you have the funds to book a private tour!" – Emma (July 2019)
14. Browse Campo Dei Fiori food market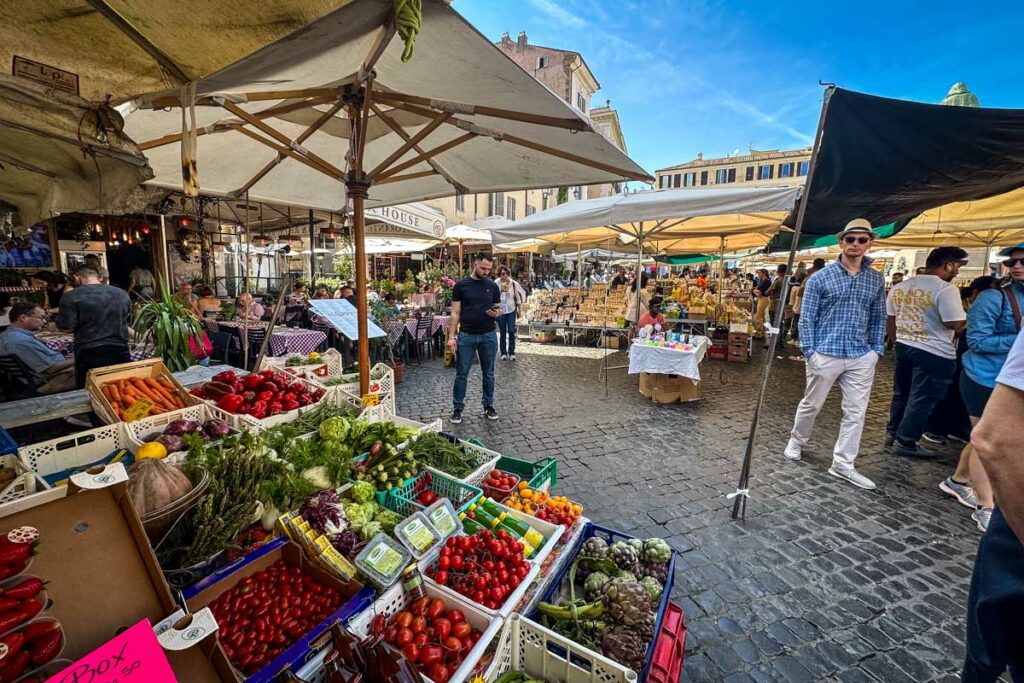 If you want to immerse yourself in the intimate culture of Rome, you'll find it at the Campo Dei Fiori, the oldest food market in the city.
Set in a historic square, you'll find fresh flowers, colorful fruits, vegetables, home wares, specialty goods, and even shoes, and bags.
15. Try the famous white pizza at the oldest bakery in Rome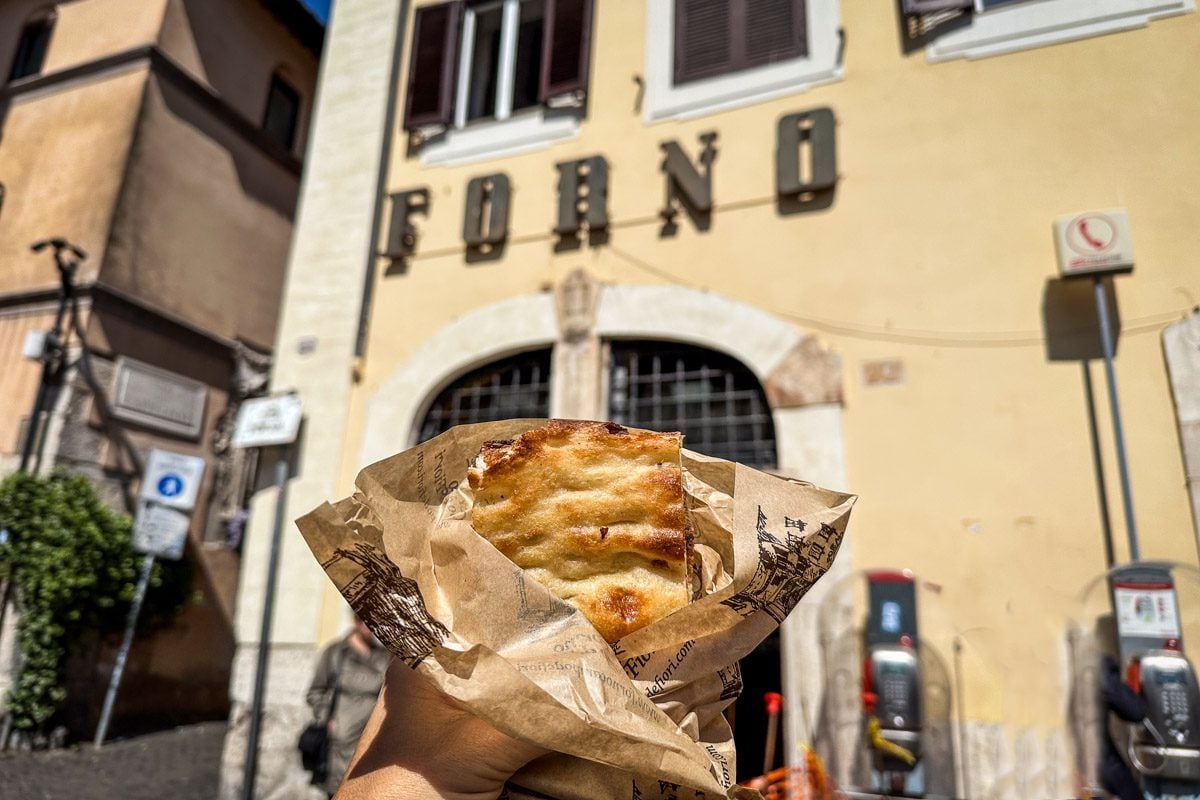 Forno Campo dei Fiori has blended passion and expertise to serve the same traditional bread, pizzas, and specialities for over 30 years.
While any selection won't disappoint, their "white pizzas," a light and delicate bread eaten plain or with your choice of infinite fillings, will be the highlight of your stop.
16. Enjoy a picnic at Giardino degli Aranci
After perusing a local shop for your charcuterie and picnic likings (don't forget a bottle of wine!), take to the plush grasses of the Giardino degli Aranci.
Sitting under fragrant orange trees, you'll take in one of the best vantage points of Rome overlooking Vatican City and the Tiber River.
17. Walk around at night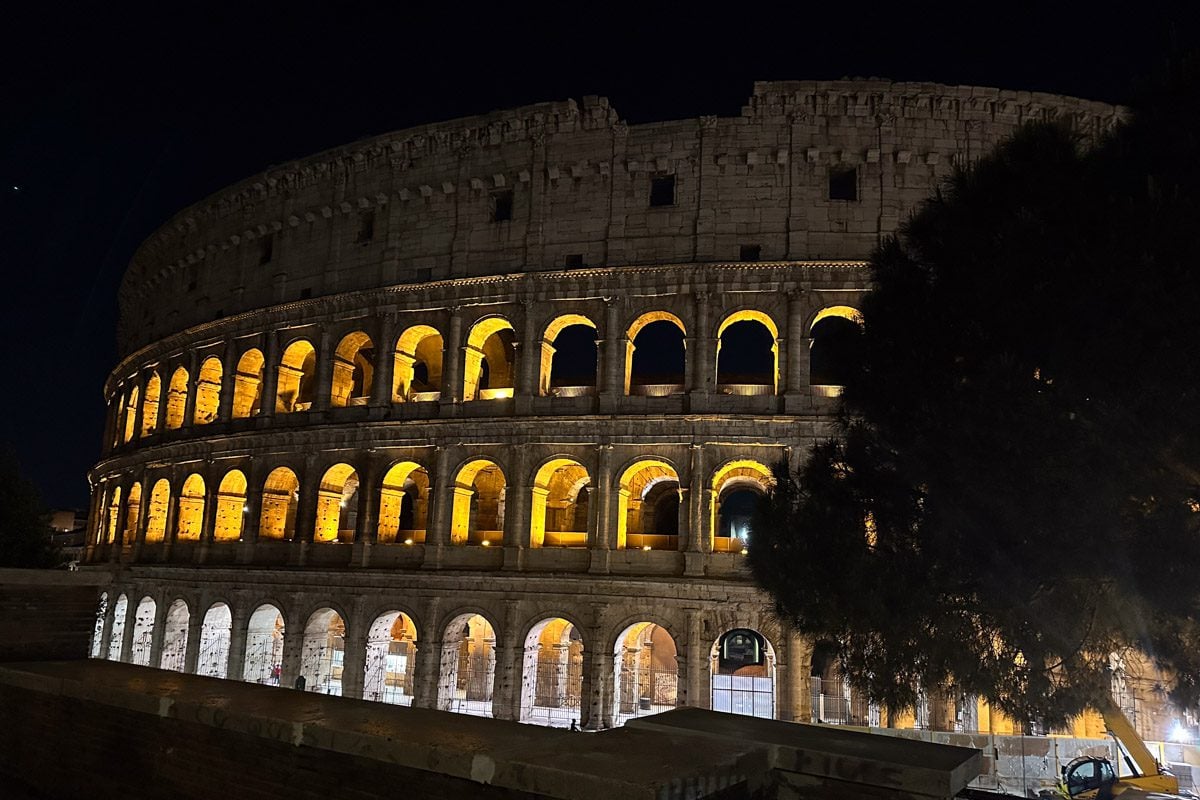 You'll find all of Rome's major attractions look completely different, and dare I say magical, when they are all lit up at night. Plus a late stroll means you have the benefit of less crowds and no midday heat.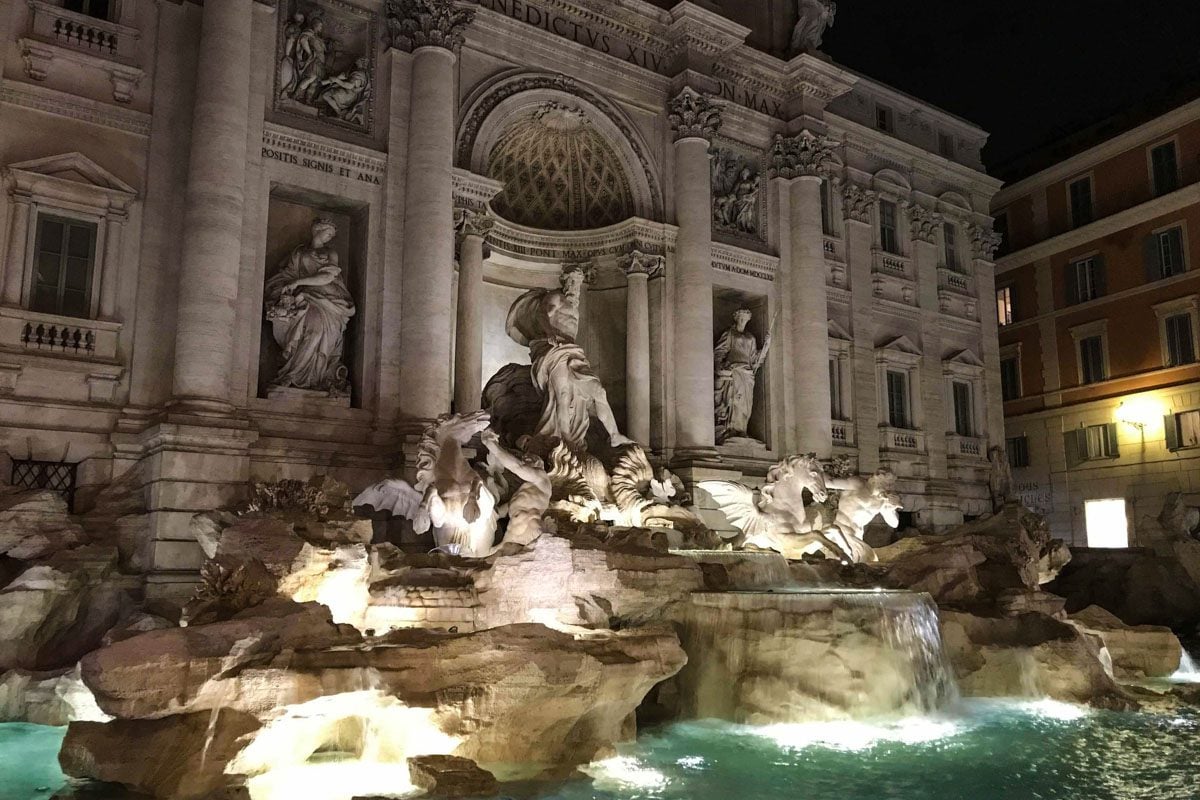 It's actually not so uncommon to wander the city after dark since a handful of popular attractions offer night tours, restaurants serve dinner late, and gelato shops can be open till midnight.
18. Stroll the Trastevere neighborhood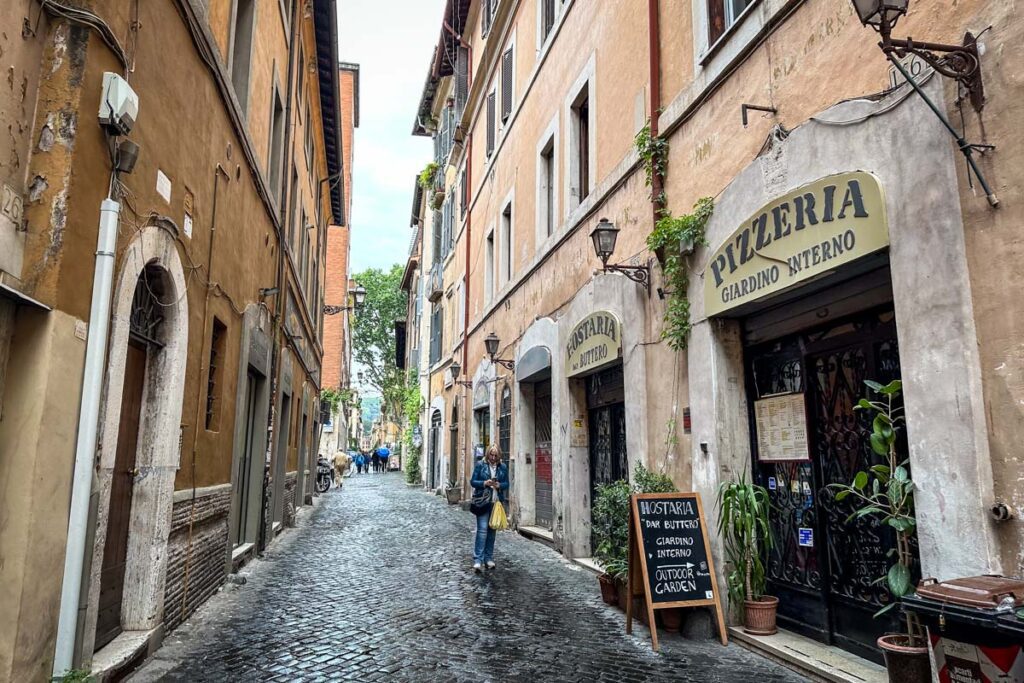 The labyrinth of old-world cobbled streets, Middle Age architecture, and touches of ancient wealth, all topped with a bohemian atmosphere create the local gem, Trastevere.
Traditional and modern eateries, ivy-clad wine bars, and the exciting nightlife create the perfect selection of watering holes and authentic dining experiences in this area.
When you're not grazing on some of the best local fare in the city, you can pop into the Basilica di Santa Maria, Janiculum Hill, and Villa Farnesina.
Fun fact: Its name is unironically made of two Italian words meaning "across the Tiber", tras tavere, that also describes its literal location.
19. Check out the views from Belvedere del Gianicolo
One of the best ways to admire the quality and detail that's attributed to Roman architecture is from the Belvedere del Gianicolo, also known as Janiculum Hill.
Set to the top for hilltop views over Rome's most historic buildings.
20. Enjoy an Aperitivo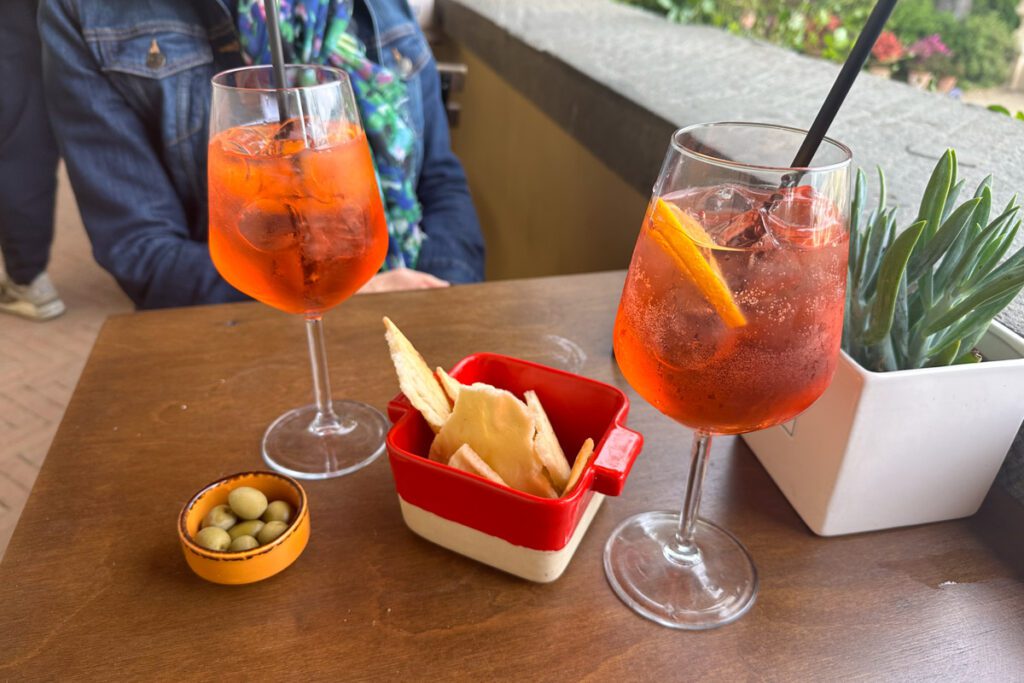 A similar adaptation to the westernized 'happy hour', an aperitivo is a pre-meal drink/ritual that preps your appetite for dinner.
Since most Italians eat lunch around 1-2 p.m. and dinner around 8-9 p.m., it's the perfect in-between where you can wind down your day with a drink, take part in local culture, and have some small bites to take the edge off your hunger.
Do like the Romans do and pop into a cafe for an afternoon aperitivo.
21. Capuchin Bone Church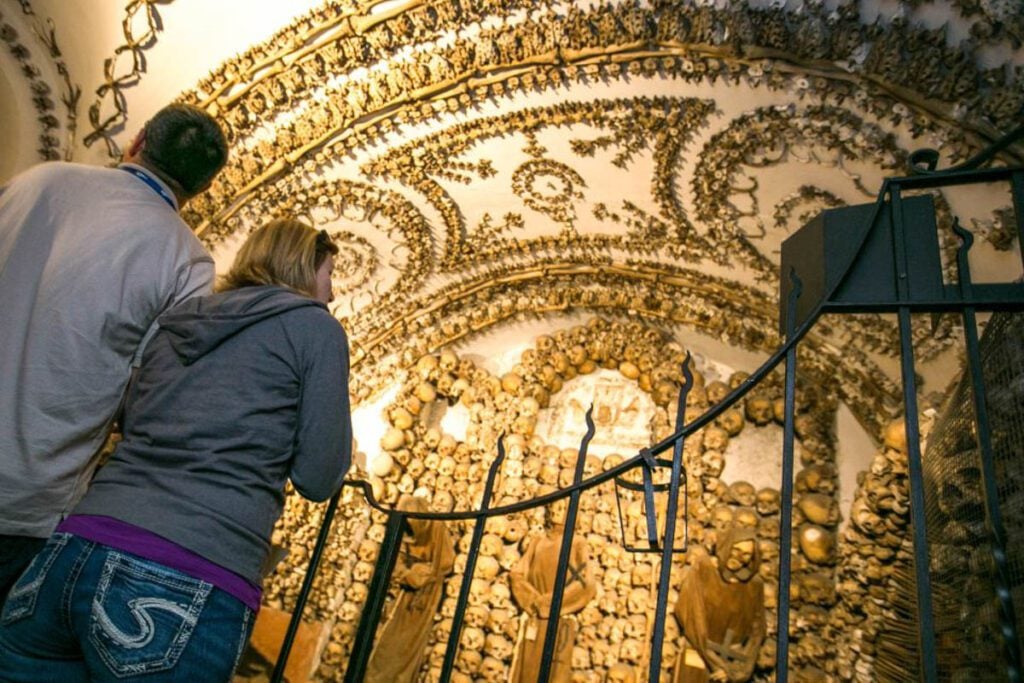 Beneath the Santa Maria della Concezione dei Cappuccini, the bones of nearly 4000 monks decorate the walls and ceilings of the mysterious "Bone Church of Rome".
A visit to these catacombs begins in the museum just inside the church that tells the stories and development of the Capuchin Order using relics, manuscripts, and member vestments.
From there you'll enter the crypt and explore the main corridor lined by six rooms, five of which are ornately decorated with human bones, some in unique patterns.
Hours: 10 a.m. to 7 p.m.
Entrance fee: €10 ($10.97 USD), reduced tickets are €6.50 ($7.13 USD)
Guided tours through the Capuchin Bone Church are very popular, especially since they allow you to skip the line. This Crypts & Catacombs Tour provides history, context, and stories as you tour the eerie and solemn space.
Good to know: In order to enter, you need to be dressed modestly with your shoulders and legs covered.
22. Do a professional photography tour of Rome
Few things serve as a more memorable souvenir than photos, especially in one of the most photogenic and historic cities in the world.
On a Professional Photography Tour with a local, you'll explore the iconic and hidden gems of the city early so you can get memorable photos without the crowds, and wander in a unique and fun way.
What you need to know:
Hours: 1.5 hours
Price: $39 USD / person
What guests are saying
"Our private Photoshoot with Latif was incredible! We booked a 6:30am session to beat the crowds and Latif was an amazing photographer. He took us to multiple locations around Rome, helped us pose and showed us the photos to make sure we liked them before parting ways. My husband and I are not very photogenic but he helped us with poses that seemed natural. I highly recommend it. The price was also very affordable for a private photoshoot. Glad we will have these photos forever to remind us of our time in Rome!" – Presley, United States (April 2023)
23. Italian cooking class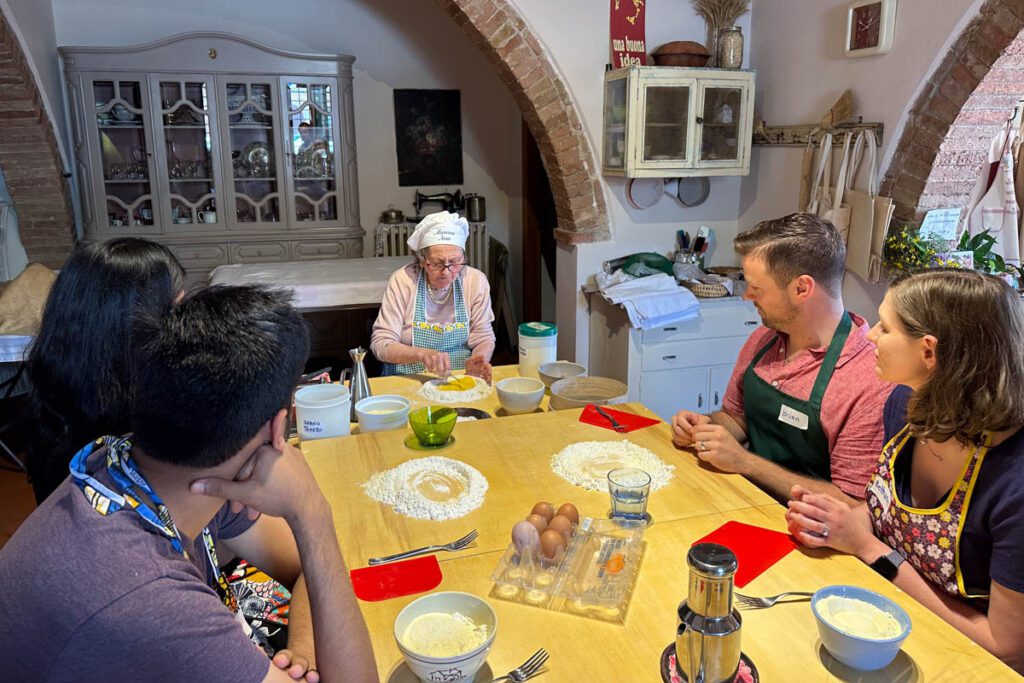 It would be a disservice to visit Rome and not come back with the recipe and skills to make handmade pasta from scratch.
With a 360-degree view of Rome, you'll learn how to make two different kinds of pasta, four sauce recipes, plus the secrets for replicating it back home during this Handmade Pasta Class.
What you need to know:
Hours: 3 hours
Price: $72 USD / person
What guests are saying
"We absolutely loved the cooking class and it was one of the highlights of our time in Rome. The class was very hands on, but also just really fun. The food was delicious in the end and we ended up making good friends who we stayed in touch with after the class. We would highly recommend this class to anyone visiting Rome!" – Jessica, United Kingdom (April 2023)
24. Spend an evening at a wine bar
After a day of galavanting around the city, sipping on Italian wines at an intimate wine bar is a quintessential way to wind down.
These spots are sure to charm you with great wine in a warm atmosphere:
25. Eat fried artichoke in the Jewish Quarter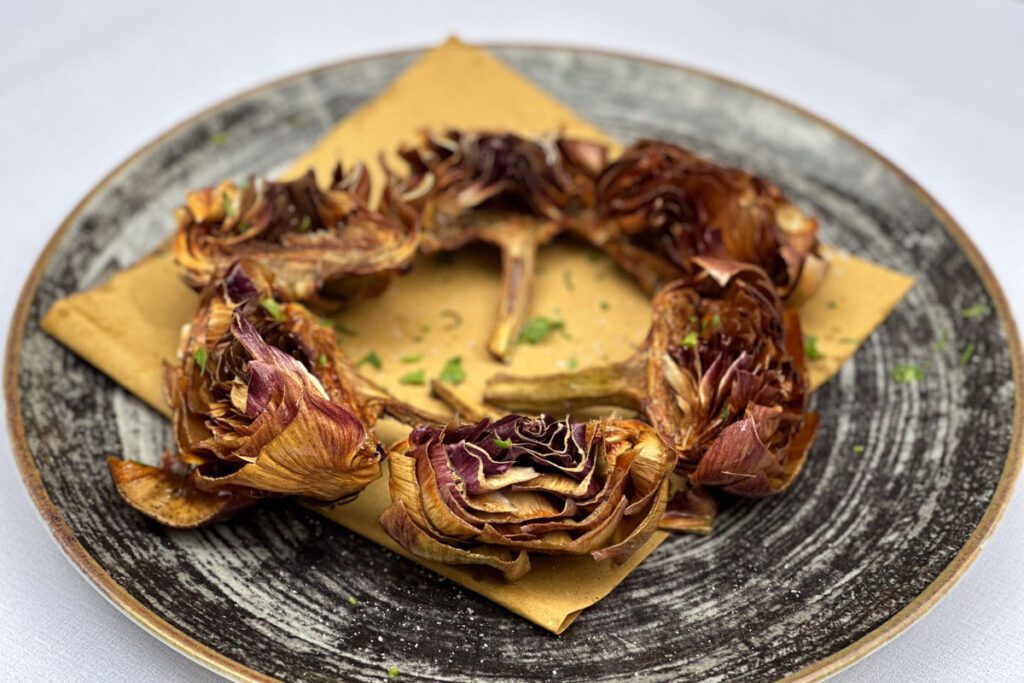 Situated right in the heart of Rome, perusing the Jewish Quarter for artichokes is one of the most under-the-radar and offbeat things to do in Rome.
The neighborhood's historic corners are littered with this comfort food. Look for chalkboards scrawled with "carciofi alla giudia" (Roman-Jewish artichokes) to sample this special dish.
An interesting piece of history…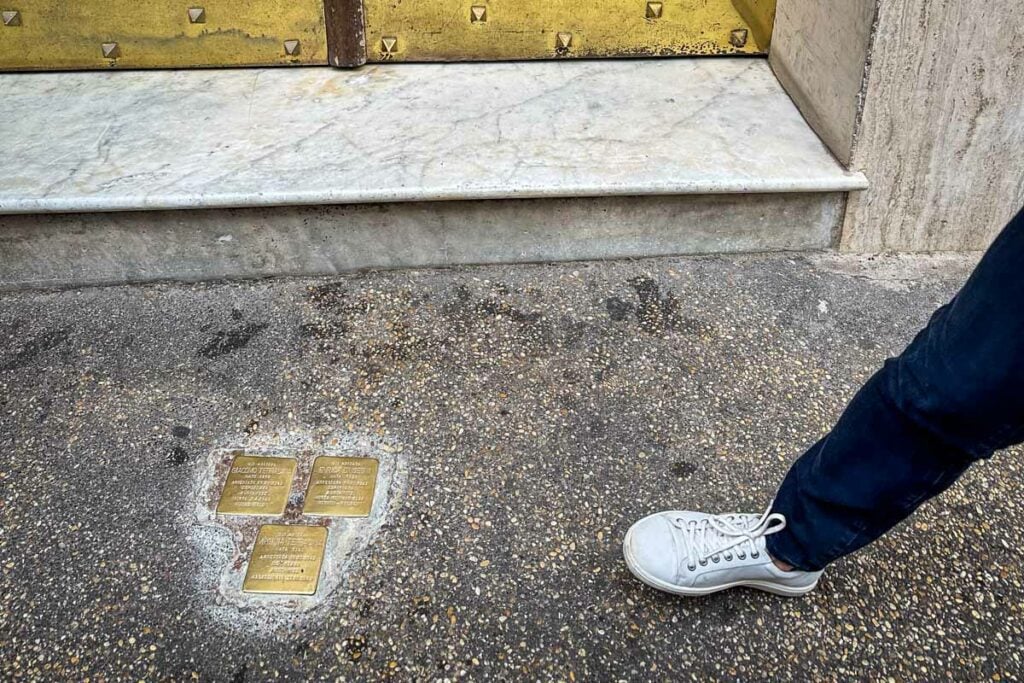 While you're there, take note of the little golden plates woven into the cobblestone in front of certain doorways. Translated in English as "stumbling stones," these bronze pieces are laid in front of homes to commemorate the Jews that were forcefully removed (and mostly murdered) during World War II.
A German artist first started this project, which has grown to include more than 70,000 such memorial blocks, laid in 1,200 cities across Europe and Russia, in 1992 as an initiative remembering victims of the Holocaust. They are now considered to be the world's largest decentralized monument to the Holocaust.
26. Check out Michelangelo's Moses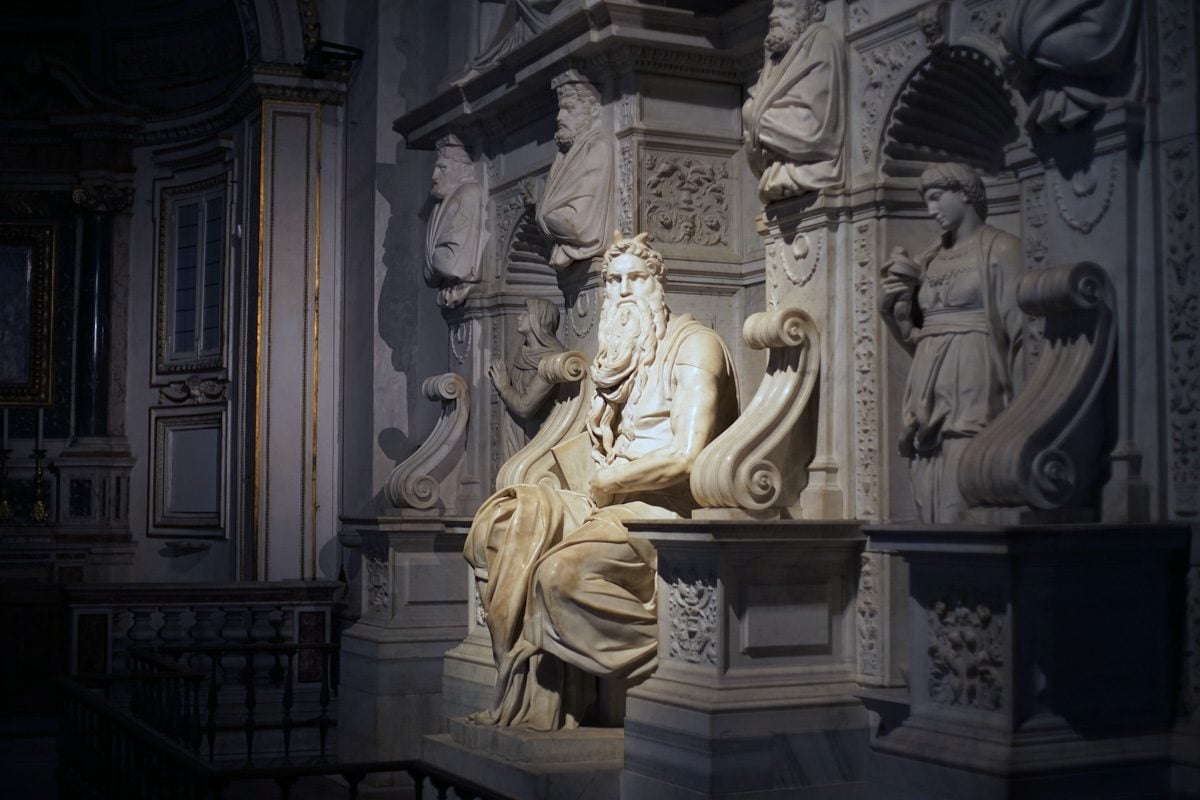 Seated powerfully inside the San Pietro in Vincoli, the Statue of Moses by Michelangelo is one of two centerpieces inside this quiet late 400s church.
The other spectacle not to be missed are the chains that bound St. Peter when he was imprisoned in Jerusalem, that gave the church its name.
Hours: 8 a.m. to 12:30 p.m. and 3 p.m. to 7 p.m.
Entrance fee: Free
27. Tour the Galleria Doria Pamphilj
Holding some of the most opulent private art collections in Rome, the Galleria Doria Pamphilj holds floor-to-ceiling paintings and world-famous works by Raphael, Caravaggio, Bernini, Titian, and Tintoretto.
Beginning in the 15th-century, over 400 works are lined in chronological order all the way up to the 18th-century. The jewel of the gallery is the Portrait of Pope Innocent X by Velázquez.
Hours: Monday – Thursday (9 a.m. to 7 p.m.), Friday – Sunday (10 a.m. to 8 p.m.)
Entrance fee: €15 ($16.46 USD) *€14 ($15.36 USD) if you buy your ticket in person
28. Learn the art of ancient mosaic tile making
Continuing their family's 100-year-old dedication to mosaic artwork, Guiliana and Sara's Ancient Mosaic Making Class takes you through Roman mosaic history and techniques to create something special to take home.
You'll learn how to make your own mosaic in the very studio that helped restore Pompeii, the Baths of Caracalla, National Museum of Rome, and countless others.
Not only is this a great experience, but you'll wind up with a pretty neat souvenir to bring home with you!
What you need to know:
Hours: 2.5 hours
Price: $100 USD / person
What guests are saying
"My family and I absolutely loved this experience! The class started with a history of mosaics and was followed by creating miniature mosaics to take home! They either gave you the freedom to choose your design or gave you a few ancient mosaics to follow as a template. This was one of our most memorable experiences in Rome! I would highly recommend it!" – Jackie (March 2023)
29. Head to Terrazza del Pincio for sunset
Watching the last golden rays of the day drench Rome from the Terrazza del Pincio is an unforgettable thing to do in Rome.
The cultural landmark gives a birdseye view overlooking a bustling square, Piazza del Popolo.
Tip: This is a popular place for sunset so get there early to get a good view.
30. Catch an outdoor movie on Tiber Island
The L'Isola del Cinema is a pop-up outdoor movie theater that shows international and Italian films on an island in the middle of the River Tiber.
Before you settle in for the film, shop nearby at the riverside summer market to grab a bite from the food stalls or a souvenir from the craft stands.
Good to know: Movies are only shown from mid-June to September.
31. Explore Capitoline Hill & Museum
Atop one of the seven most significant hills Rome was built upon, the Capitoline Hill & Museum was designed by Michaelangelo and is filled with ancient sculptures and world-famous works.
Marvel at iconic works like the Capitoline Wolf (nicknamed "She-wolf"), Bust of Medusa by Bernini, The Dying Gaul, and Palazzo Nuovo.
Fun fact: It's believed to be the oldest museum in the world!
Hours: 9:30 a.m. to 7:30 p.m.
Entrance fee: €32.12 ($35.24 USD)
32. Go hunting for truffle
A rare and luxurious cousin to the mushroom, truffles are one of the most expensive foods in the world due to their complex and wild growing conditions.
When you join Matteo on his Truffle Experience from Rome you'll find and collect these treasures with the help of his trained dogs. After a satisfying haul, you'll indulge multiple courses using freshly picked truffles, topping everything off with local wine.
What you need to know:
Hours: 6 hours
Price: $116 USD / person
What guests are saying
"A fantastic tour for those who enjoy and want to learn about truffles. Matteo is a deep expert and shows you the process of finding them in a beautiful forest setting with panoramic views. […] After the forest hunting tour, he takes you back to his home and cooks a fantastic meal extravaganza with course after course of delicious truffle dishes and wine (both red and white). […] Such a unique experience!" – Steve, United States (April 2023)
Psst! Looking for other adventures just outside the city? We put together the ultimate list of best day trips from Rome to give you some fun ideas!
33. Walk through Santa Maria del Popolo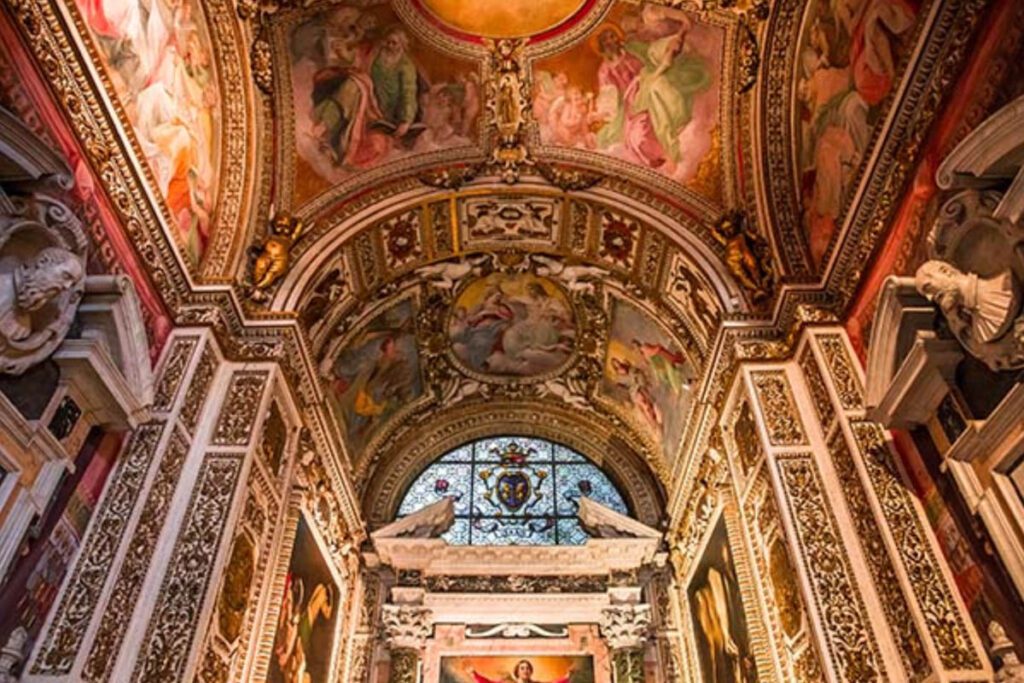 Unassuming by the exterior, masterpieces by Caravaggio, Bernini, and Raphael are situated among the mosaics, marble carvings, and exquisite decor of this basilica.
Good to know: The church isn't always open and closes for mid-morning services, so double check before you go.
34. Go "shopping" at the markets of Trajan
These crescent-shaped, ancient ruins once served as the world's very first shopping mall, which was built around 100 AD.
Today, each stall is filled with objects, sculptures, fragments, decorations, and pieces that create the fascinating and rich Museum of the Imperial Forums.
Hours: 9:30 a.m. to 7:30 pm
Entrance fee: €13 ($14.26 USD)
35. Tour Rome in a vintage Fiat
You can feel the meaning of "Dolce Vita" as you cruise through Rome's ancient streets in the passenger seat of a cherry red Fiat.
On this Fiat Tour of Rome you'll stop at the city's most spectacular squares, churches, monuments, and romantic alleyways, stopping along the way to taste Rome's best coffee, wine, and gelato.
What you need to know:
Hours: 3 hours
Price: $166 USD / person
What guests are saying
"We had the most magical morning zooming around the city with Erion and Landi! […] They gave us the perfect overview of the historical heart of Rome and showed us a few hidden gems as well. I loved how the tour was early in the morning. We had several places to ourselves and got to watch the city wake up around us." – Hayley, United States (April 2023)
---
How many days do you need in Rome?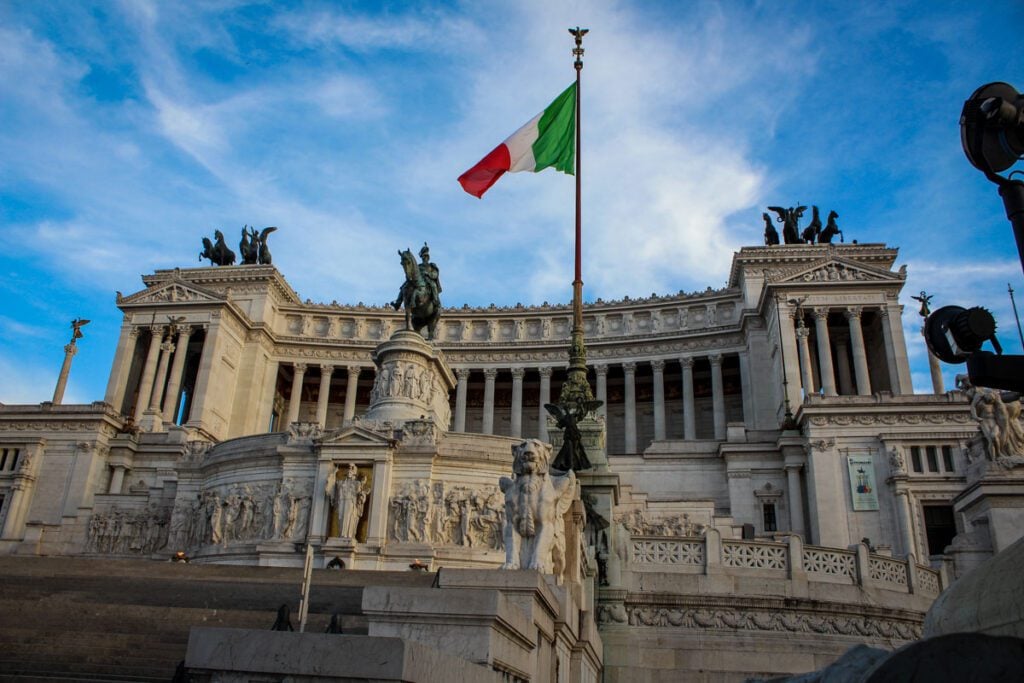 Rome is a big city with a TON of highlights. It's best explored in about 2-5 days.
Here's what 2-5 days looks like in Rome:
2 days: Colosseum, Roman Forum, Palatine Hill, Vatican Museums, St. Peter's Basilica, Trevi Fountain, Pantheon, Piazza Navona.
3 days: Days 1 & 2 + Capitoline Hill, Markets of Trajan, Borghese Gallery, Spanish Steps, Castel Sant'Angelo, Capuchin Bone Church.
4 days: Days 1-3 + Food tour, Jewish Quarter, Trastevere
5 days: Days 1-4 + Truffle hunting, plus more opportunities for aperitivo, wine bars, and shopping.
Best time to visit Rome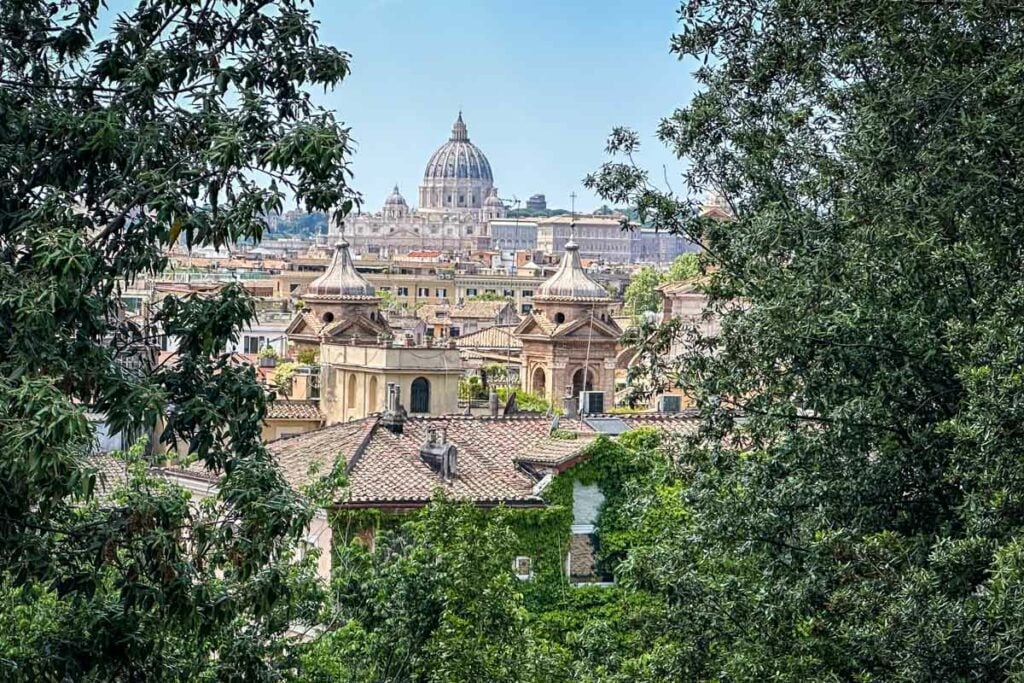 The best time to go to Rome is in the shoulder seasons from late March to May and September to early October. The weather is perfect for sightseeing and the streets aren't filled with tourists yet.
Peak season in Rome is during the summer from late May to early September. Although it's when everyone flocks to Rome, I recommend avoiding the summer months because it's very hot and the crowds/lines will be at an all time high.
The least crowded time to visit Rome is during the winter. This can be an enjoyable time to wander the city and immerse yourself in local culture as crowds are nearly obsolete and the local businesses stay open unlike the smaller coastal towns.
Psst! Find out the best time to visit Italy based on seasonal weather patterns in each region and your personal travel style.
How to get to Rome city center from the airport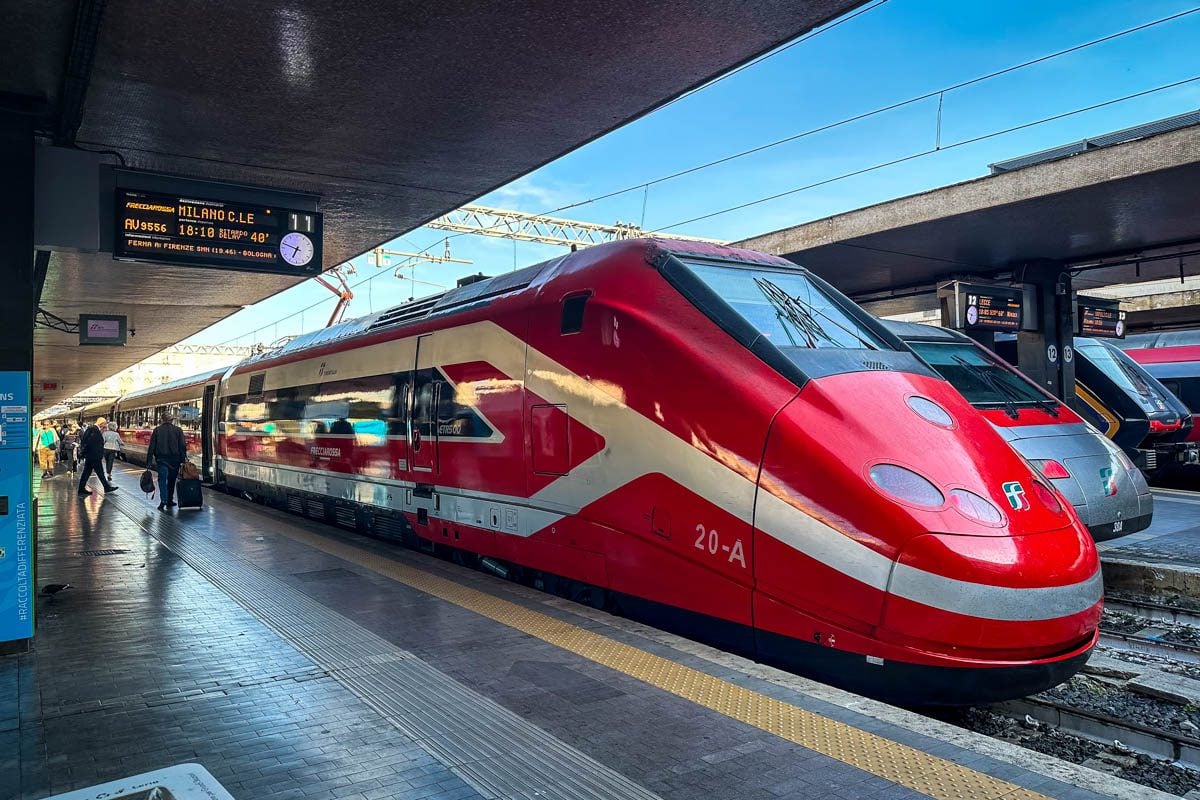 The most efficient, straightforward, and inexpensive way to get to Rome from the airport is using the Leonardo Express, a service that is a dedicated airport-to-city train.
It departs from inside the airport everyday, every 15-30 minutes from 6 a.m. to 11:23 p.m. when the last train leaves.
The ride costs €14 ($15.36 USD) and takes 30-minutes to get to Rome. You can purchase tickets at the ticket window at the train station or using self-service machines.
Note you need to validate your ticket before you board the train and hold onto it until you exit. Validate it by putting it in the little yellow box to get punched before you board, otherwise it is a hefty fine.
Alternatively, you can book a car on Welcome Pickups, which is a bit more expensive for the convenience. They're a highly-rated service with English speaking drivers, and more streamlined than getting a taxi.
Transportation in Rome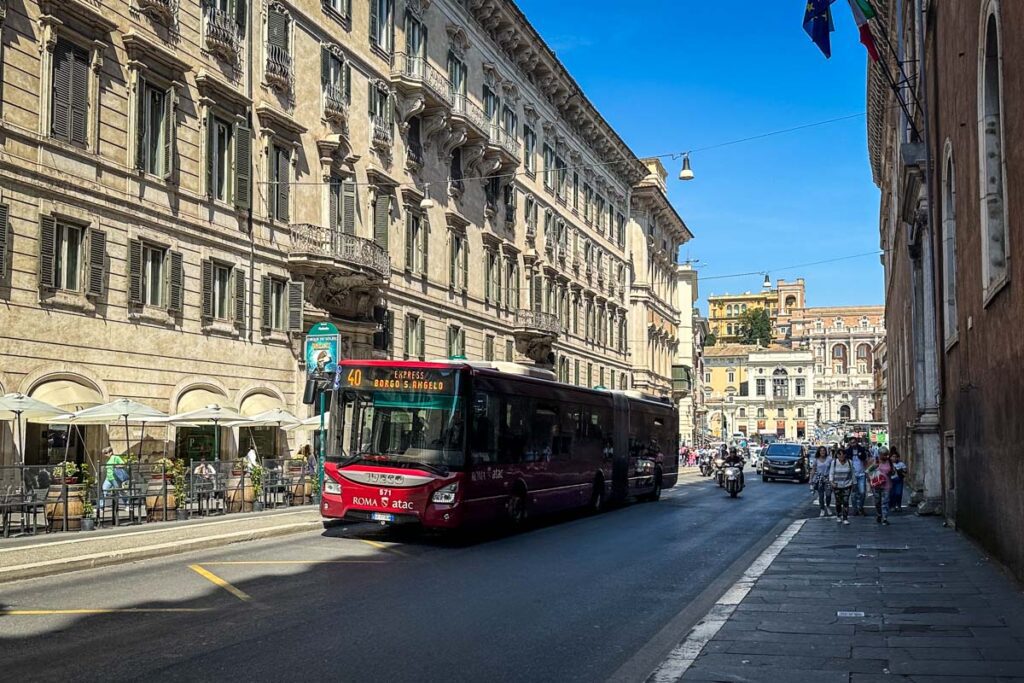 Transportation is plentiful in Rome. Using the public bus and metro systems and walking are the two most economical options.
You can choose from buses, trams, light rail trains, and the metro to get around. They're all run by the same operator, ATAC Company, and you can ride them all using a single transportation card.
These cards vary from 100-minutes to week-long tickets so you can buy one that suits your trip. Purchase one at any of the metro stations using cash.
Since there are so many transportation options, compare the routes vs. walking on Google Maps so you can choose the fastest/most convenient option.
Ubers and taxis are everywhere in Rome. However, Uber only operates in Uber XL or Uber Black, so you'll be paying inflated fees. Taxis will be cheaper than Uber, but still an expensive option so keep that in mind. You can pay and hail one using the Free Now App.
Tip: If you hail a taxi off the street (or get one from the taxi line at the train station), be sure to check they are using the meter to charge for your ride. A lot of drivers will try to tell you it's a fixed rate, but you can politely decline and find another taxi with a meter.
Tips for visiting Rome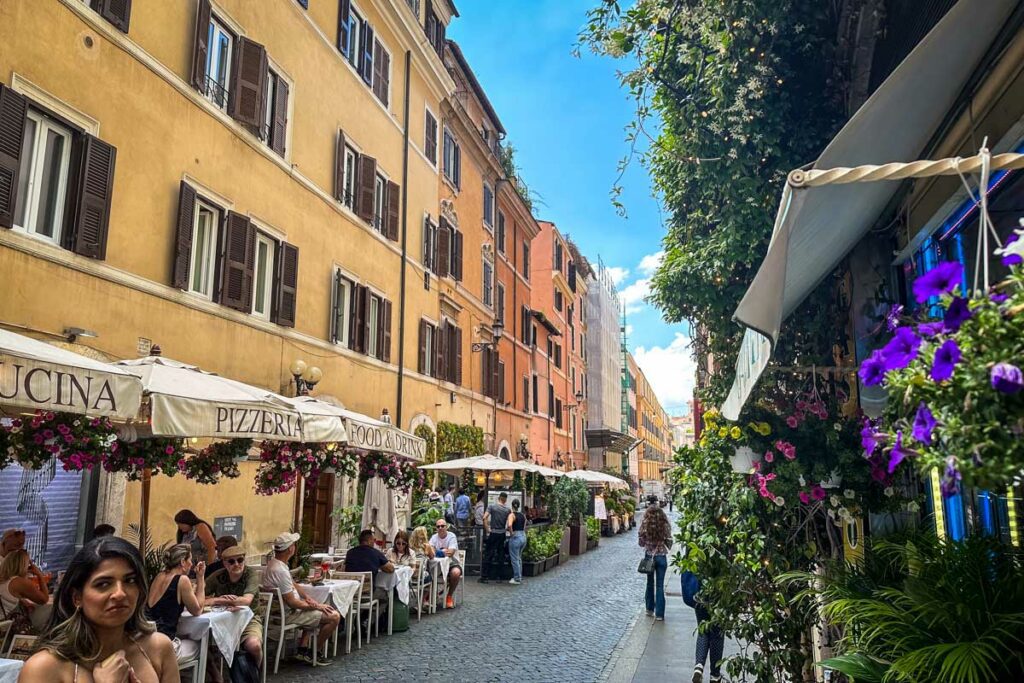 Any trip to Rome requires a bit of advanced planning to get the most out of your visit. Use these tips to avoid common mistakes, ditch crowds, and have a more seamless experience.
Start your day/visit the most popular sites early in the morning. Doing this first thing (before 9 a.m.) will help you avoid peak crowds and wasting time in lines.
Be mindful of your bag/wallet. Pickpocketing isn't uncommon in Rome. Hold onto your purse, especially while eating on the street and don't put your wallet in your back pocket.
Carry cash. Many places won't let you use your credit or debit card for smaller purchases. Plus, restaurants don't split bills.

Note: We found many places in Rome did not accept AMEX.

Embrace the pace. Mealtimes in Rome are long and slow paced, especially dinners. It's not uncommon for dinner to begin late and last for hours as the service is relaxed. Don't forget you must ask your server for the bill if you are ready to pay.
Book as much as you can ahead of time. Most tickets sell out months in advance. It's also not a bad idea to book rail tickets a week or so in advance for big trips if you want to guarantee good seats. Though it's possible to book tickets just minutes before the trip as well.
Take advantage of Free Sunday. On the first and last Sunday of the month, some museums and sites are free to enter. This is a great way to save some money on entrance fees. However, note that these days are often very busy and the skip-the-line tickets are unavailable.

Colosseum and state museums: FREE every FIRST Sunday of the month.
Vatican museums: FREE every LAST Sunday of the month.
General travel tips
Don't use money exchanges. They will take a much higher percentage for themselves and give you a poor conversion rate. Instead, take cash out from an ATM, and be sure to decline the conversion rate for your transaction (your bank will give you the most accurate conversion rate).
Stay connected with an International SIM card. This will be extremely useful for navigating around, buying tickets, and staying connected overall.
Use a VPN. Some of the official websites for transportation and attractions are only available in Italy, so you may need to use a VPN to buy tickets ahead of time.
Where to eat in Rome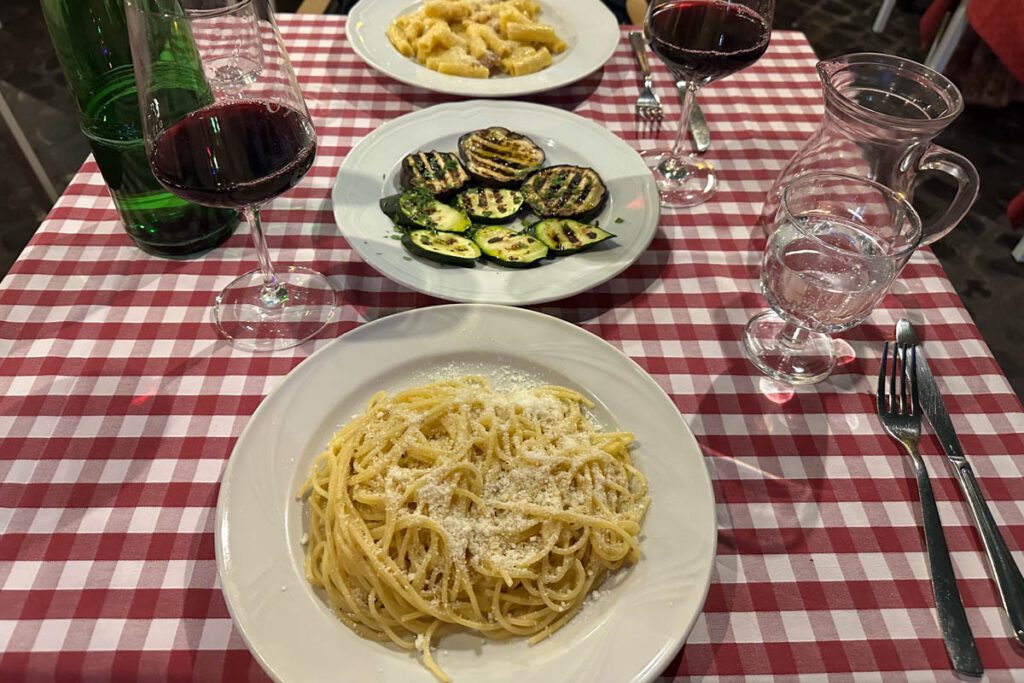 Much like the city's nickname, the food options in Rome are eternal. Below I've highlighted some excellent spots around the city that won't disappoint.
Dinner
Other
Forno: This bakery sells handmade goods made fresh daily and pizza al taglio (pizza by the slice). Try their white pizza—it's a light and delicate bread that you can eat plain or sandwich-style with a different array of fillings.
Gusto: Quaint restaurant/wine bar that is perfect for aperitivo.
Where to stay in Rome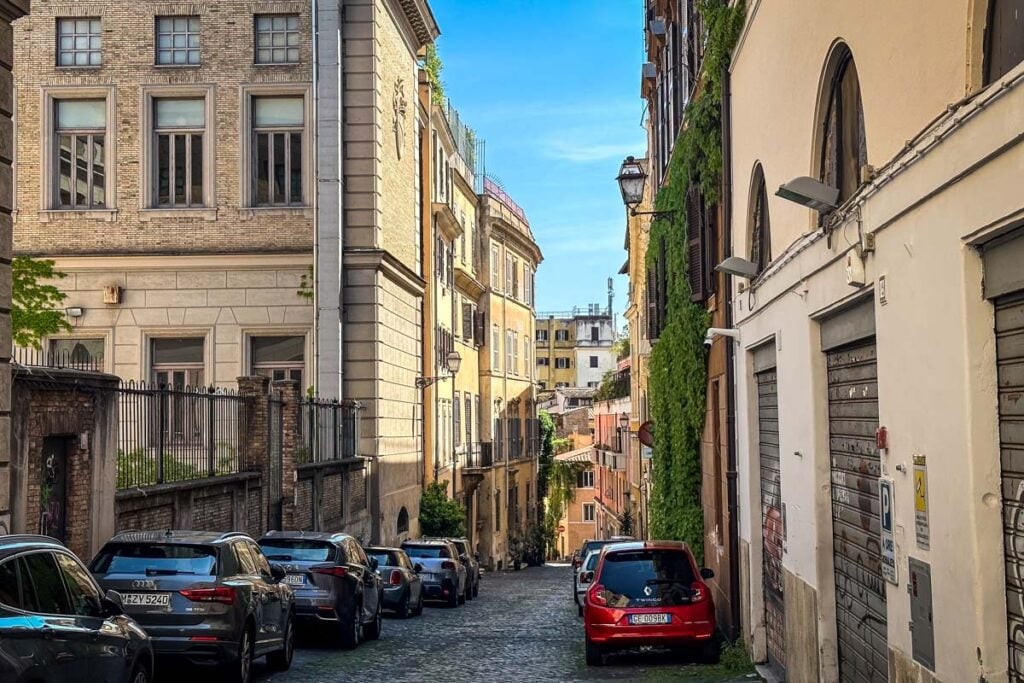 Each with its own distinctive character, feel, and attractions, there are many rione (neighborhoods) of Rome to choose from. We have a complete breakdown of the best neighborhoods in Rome, plus our top Airbnb and hotel recommendations in our Where to Stay in Rome guide.
Here are a few quick picks…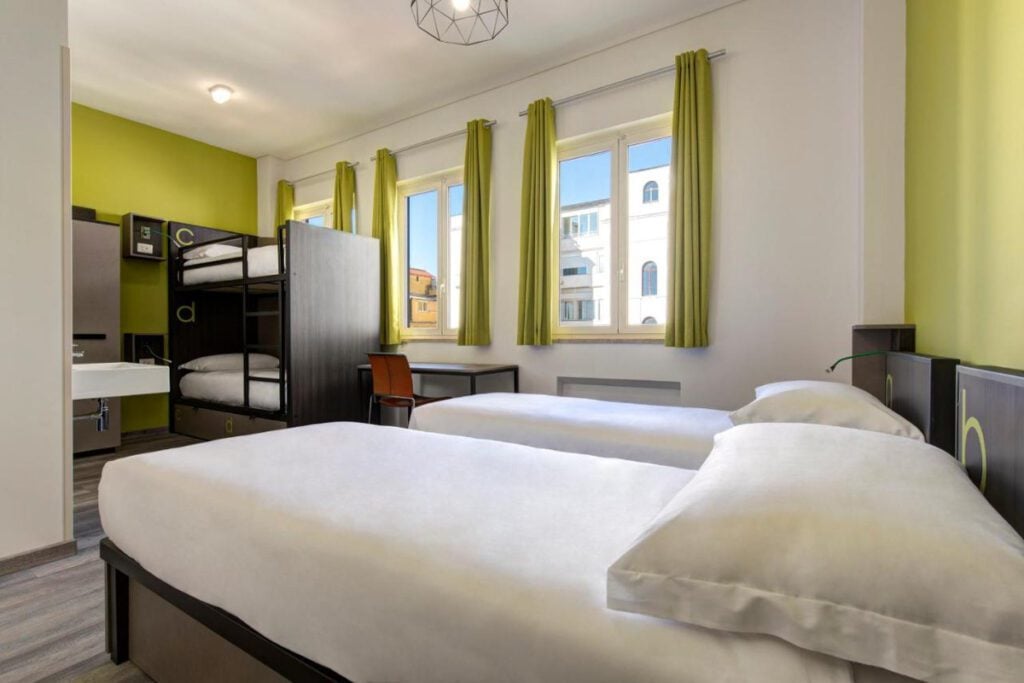 A stone's throw from the main terminal and all the main cultural attractions in the city center, this hostel is in the perfect location. You'll have everything you need here with clean and spacious rooms, nightly events to meet others, a shared kitchen, and breakfast buffet in the morning.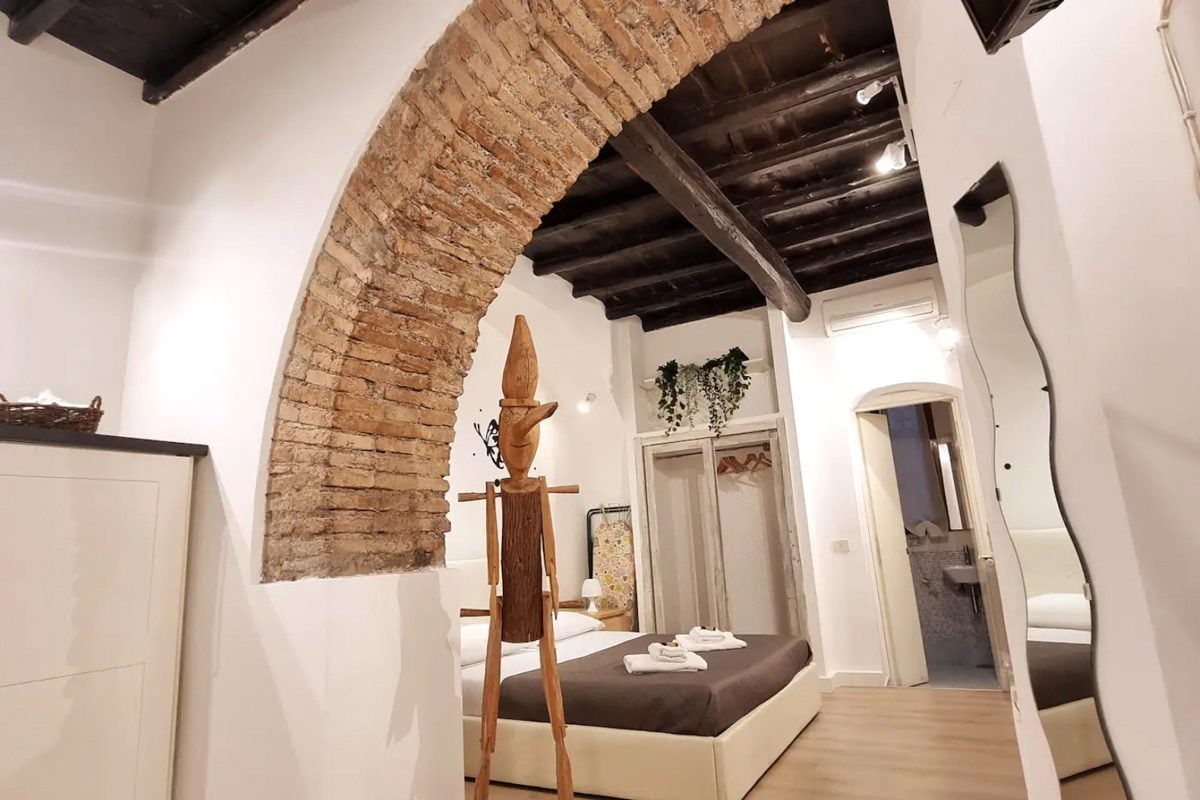 Right in the center of the best food and nightlife in Trastevere, this apartment is full of character and all the creature comforts of home: a kitchenette, washer/dryer, and dining/living spaces decorated with stone archways and wooden beams. It's also a short walk from Vatican City and the Colosseum.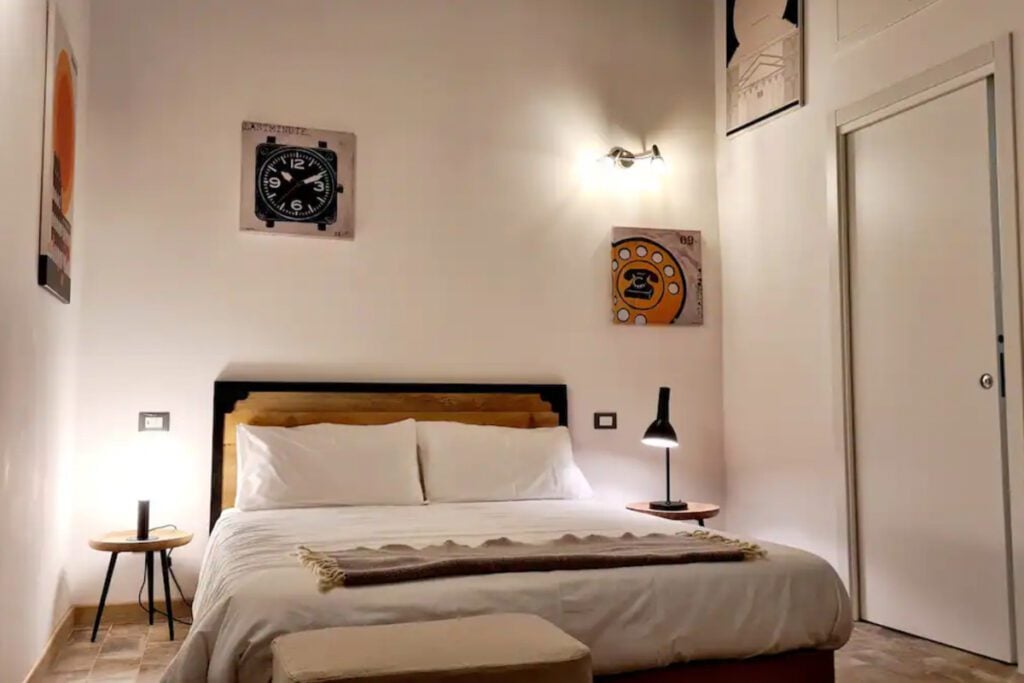 Conveniently situated at Campo de' Fiore market, in the historic center of Rome, this loft apartment will make you feel right at home. It has all the modern comforts you need including a full kitchen, air conditioning, and fast Wifi. All of Rome's top attractions are a short walk away from this stay.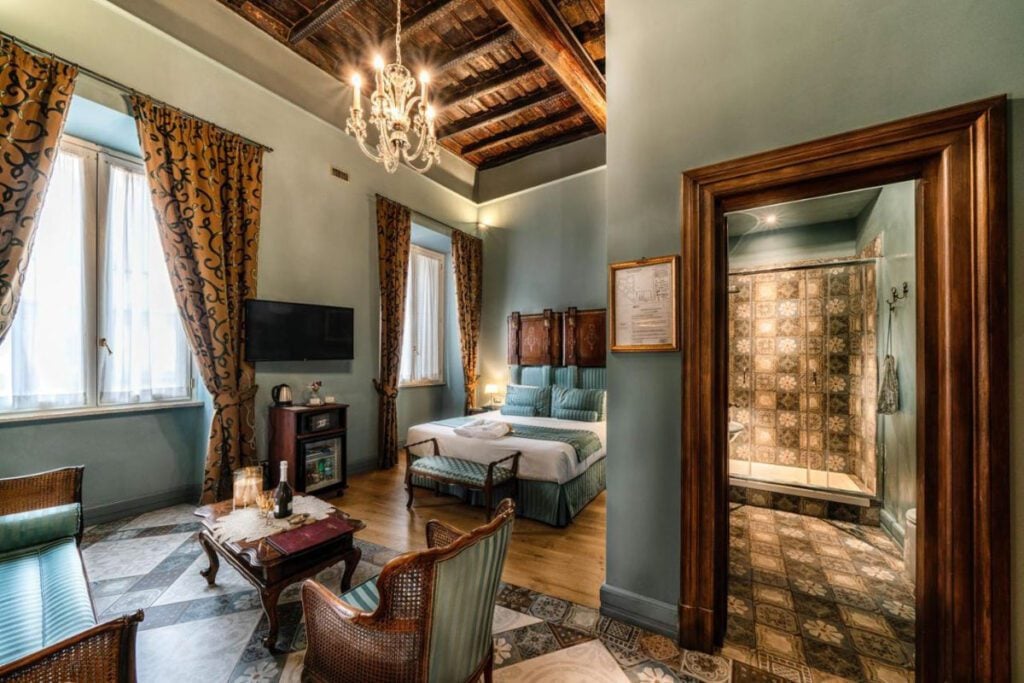 This traditionally decorated hotel will make you feel opulent during your time in Rome. It's located in the center of the historic district with all the amenities to match: free Wifi, daily housekeeping, a private balcony, kettle, mini fridge, and mini bar.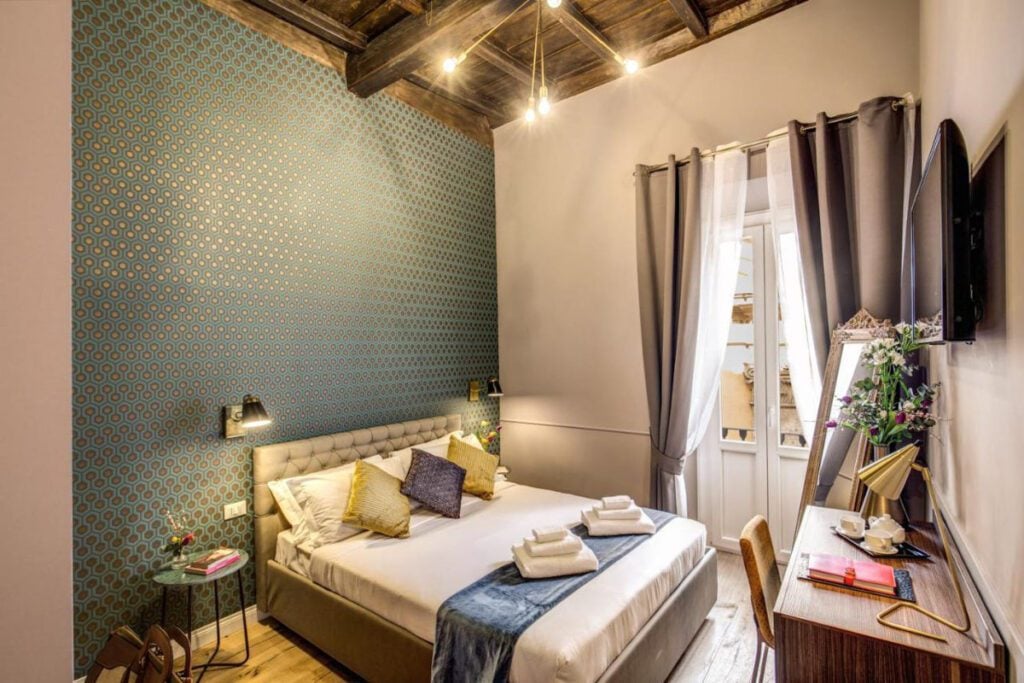 In the heart of the historic quarter, this 3-star hotel offers rooms with balconies, free Wifi, concierge services, kettle, mini fridge, tv, and onsite bar and restaurant. To top it off, it's a short walk from all the most popular attractions in the city.
What to pack for traveling to Rome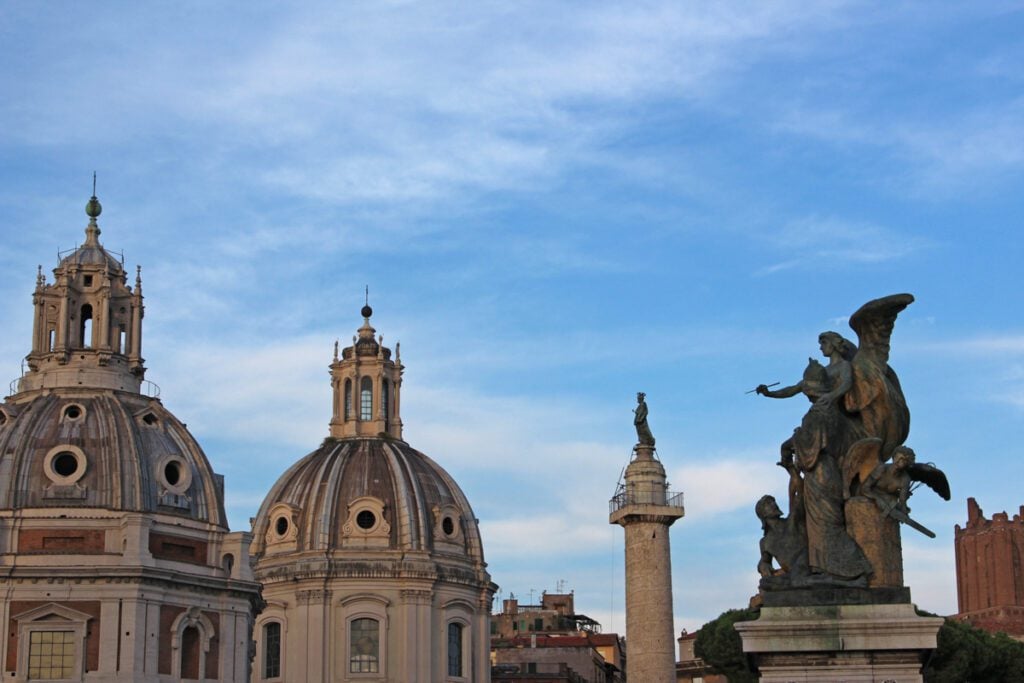 These packing essentials will make your days in Rome more comfortable.
Day bag
Sun protection: sunscreen, sunglasses, and a sunhat
Comfortable walking shoes
Scarf or a light shawl
Camera
Rain jacket and/or umbrella
Be sure to download our complete packing list for Italy! It's packed with good suggestions and insider tips to help plan your Italy trip. And it's completely FREE, so why not!?
Round up of the best things to do in Rome
Here's a recap of all the best things to do in Rome so you can see everything in one place.
Roman Forum & Palatine Hill
The Colosseum
Food tour
Castel Sant'Angelo
Borghese Museum & Gardens
The Trevi Fountain
The Pantheon
Sistine Chapel & the Vatican museum
St. Peter's Basilica
Piazza di Spagna
Piazza Navona
Gelato hunting
Free walking tour
Campo Dei Fiori food market
Forno – Campo dei Fiori
Giardino degli Aranci
Walk around at night
Trastevere
Belvedere del Gianicolo
Aperitivo
Capuchin Bone Church
Photography tour
Italian cooking class
Wine bar
Jewish Quarter
Michelangelo's Moses
Galleria Doria Pamphilj
Ancient mosaic making
Terrazza del Pincio
Outdoor movie on Tiber Island
Capitoline Hill & Museum
Truffle hunting
Santa Maria del Popolo
Markets of Trajan (the world's first mall!)
Vintage car tour
---
Are you planning a trip to Italy?
We have lots of resources on travel in Italy and destinations throughout the country. Check out our Italy Homepage for everything you need to know, or start by reading some of our favorite Italy articles here:
Save this article on Pinterest for later!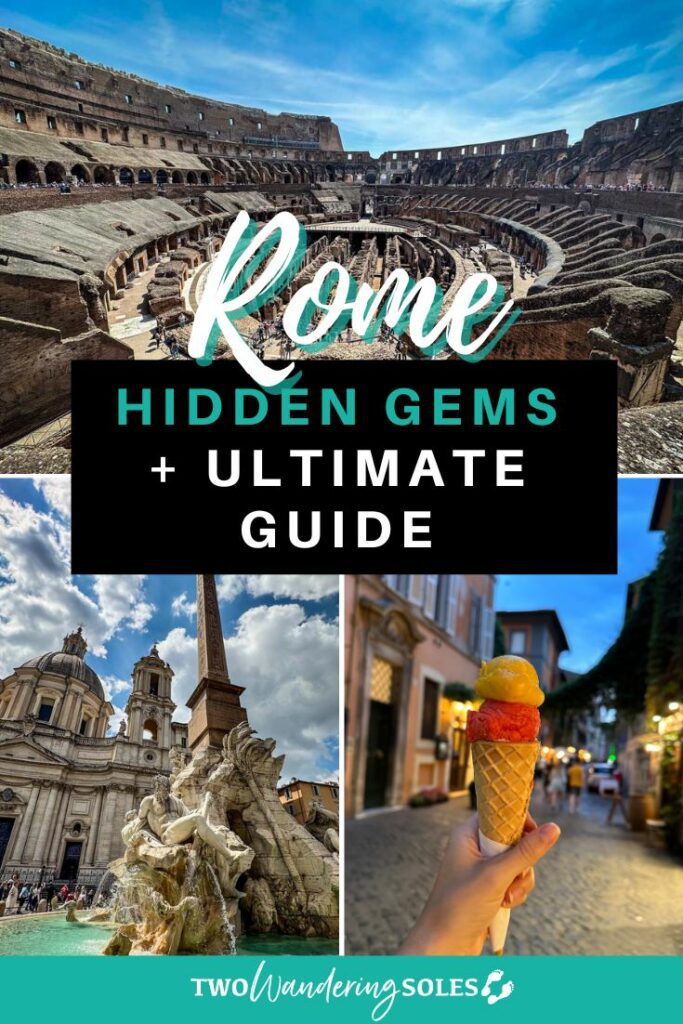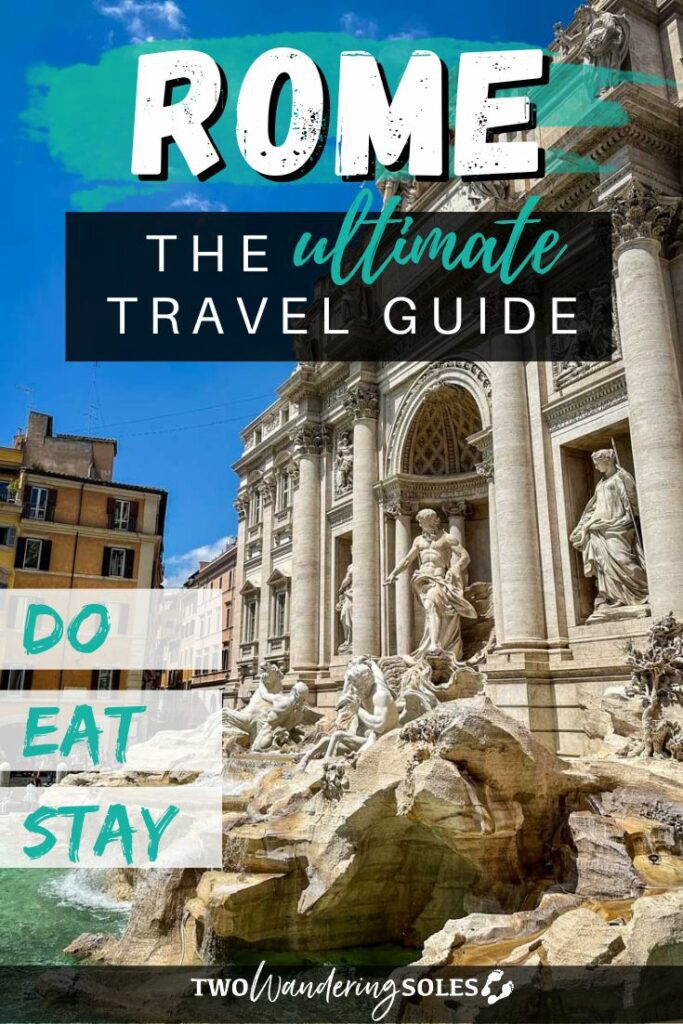 We want to hear from you!
Have you ever been to Rome before? What was your experience like? Which of the things to do in Rome on this list are going straight to the top of your bucket list? Leave your comment below and we'll do our best to get back to you!