As one of the most underrated states in the US, we're here to share with you all of the best places to visit in Utah on a road trip, from the famed "Mighty 5" national parks to the lesser-known draws such as a hike to ancient ruins and a cafe built into a cliffside.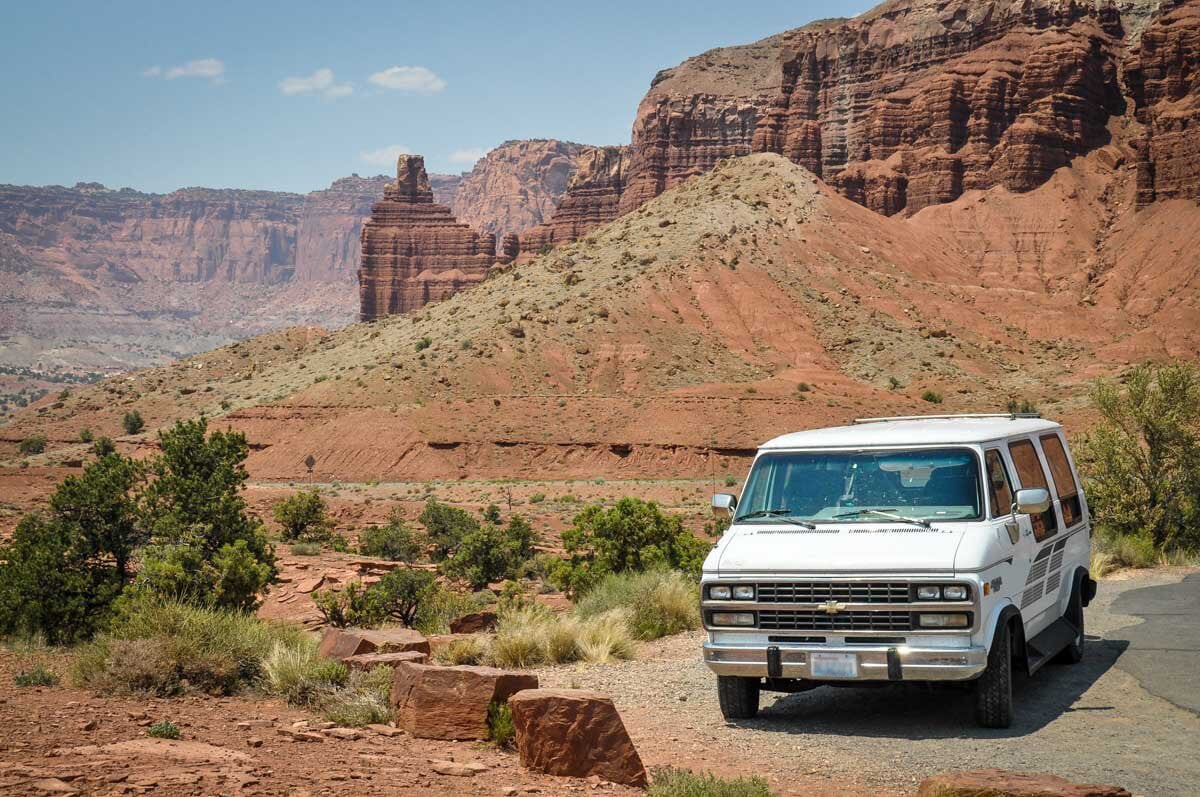 Whether you're planning a vacation with friends or a big ol' family road trip, Utah is a perfect destination for those who love the outdoors and are looking for a bit of adventure! We've rounded up all of the best places to visit on a Utah road trip from the national parks to the hidden gems.
In the interest of organization, we've listed our suggestions in order from north to south, to help you plan your epic road trip and make sure you hit all the best spots in Utah.
We're also going to let you in on all our best tips and advice for these must-see Utah road trip locations – from avoiding the crowds in the national parks to getting that perfect photograph. We'll even share what to pack!
This detailed guide has everything you'll need to plan the perfect Utah road trip!
Whether you're traveling around Utah for the first time or you've lived in the state all your life, there are sure to be some tips in this article for everyone!
In this article you'll find:
We're sharing the best road trip stops in Utah. Some stops are cities while others are national or state parks and landmarks.

We'll describe what makes each place unique, as well as our honest opinion of whether it's worth the stop.

We've got all sorts of tips on what to do and where to stay.

Between each destination, we have the driving time listed so you can plan your route accordingly.
Psst! If visiting Utah's "Might-Five" national parks is on your itinerary, you might want to look into getting the America the Beautiful Park Pass to save money on park entrance fees!
What is the best time of year to visit Utah?
Each season in Utah offers visitors something unique and the best time to visit really depends on what you plan to do while there. Spring and fall have the most comfortable temperatures for hiking and mountain biking. Winter boasts epic conditions for skiing in the high country, and the least amount of tourists in the national parks. Not to mention the opportunity to see some of the iconic landscapes dusted in snow.
And summer generally tends to be an easy time for people to make travel plans. It's also the perfect weather for exploring Lake Powell in the South. We visited Utah during the month of June, and while we had very hot temperatures during the day (especially in Moab), we were still able to do everything we wanted to.
How long should I plan to spend on my Utah road trip?
We'd recommend at least a week if you want to visit all of the Mighty 5 National Parks, to experience Park City during the ski season, or spend time on a houseboat on Lake Powell. We think 10 – 12 days would be ideal for a road trip around the state and would allow you to see some sights outside of the parks as well!
Related: Check out our list of the best road trips around the United States, including advice on how to plan your route.
Want to try out vanlife while visiting Utah?
It's no secret we are obsessed with #vanlife. If you don't have the time (or interest) in building your own conversion but you still want to give vanlife a test drive, we've got you covered! We put together an entire guide to the best campervan rental companies in the US, including exclusive discounts for our readers!
One company we'd recommend looking into is Escape Campervans. They have 12 different locations across North America and come fully loaded with all the gear you need for an epic road trip. Plus, their rates are fair and affordable.
BONUS: We've partnered with Escape to give you a 10% off discount when you use our link!
A note about camping in Utah
We've listed out some suggestions of places to stay for each of the road trip stops listed below. However, one thing to think about is how much money you can save if you opt for camping instead of hotels.
If you're traveling in a campervan or simply hoping to save money on your visit to Utah by camping along the way, we have a deal for you!
The Dyrt is our favorite campsite locating app with the largest database of campgrounds (44,000+ campsites and counting!) and over 1 million user-submitted reviews. Plus, it's super user-friendly, and has some pretty cool features, like a outdoor gear contests and forums to connect and seek advice from fellow campers, that you won't find on any other camping app.
Try their Pro Membership for FREE for 90 days and gain access to the offline version of the the app, utilize their trip planning feature AND get exclusive discounts on campsites and gear!
---
1. Salt Lake City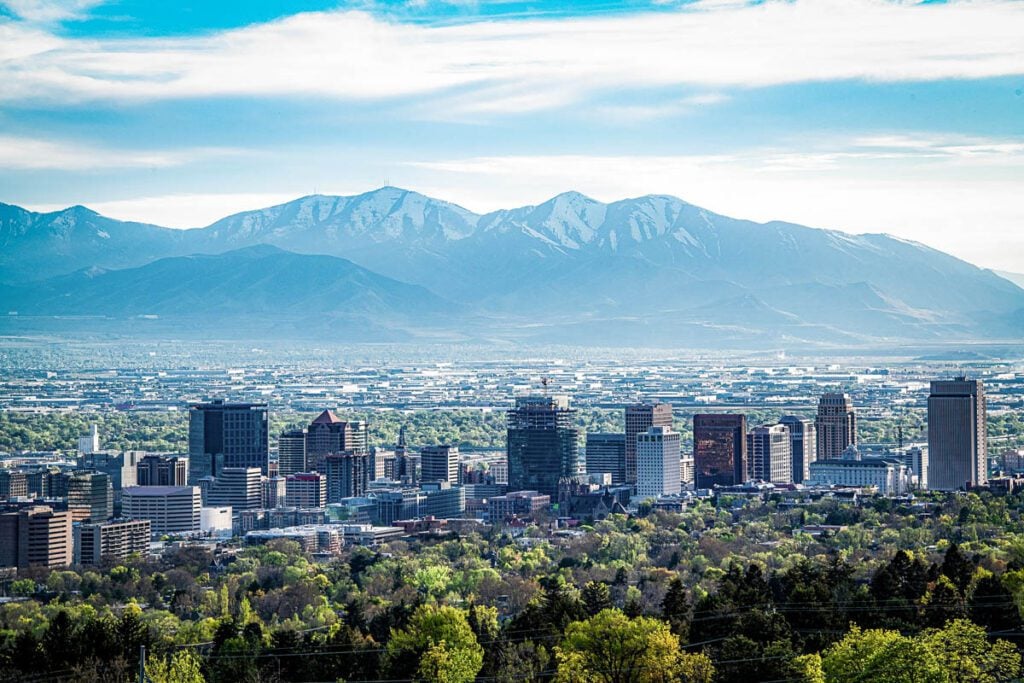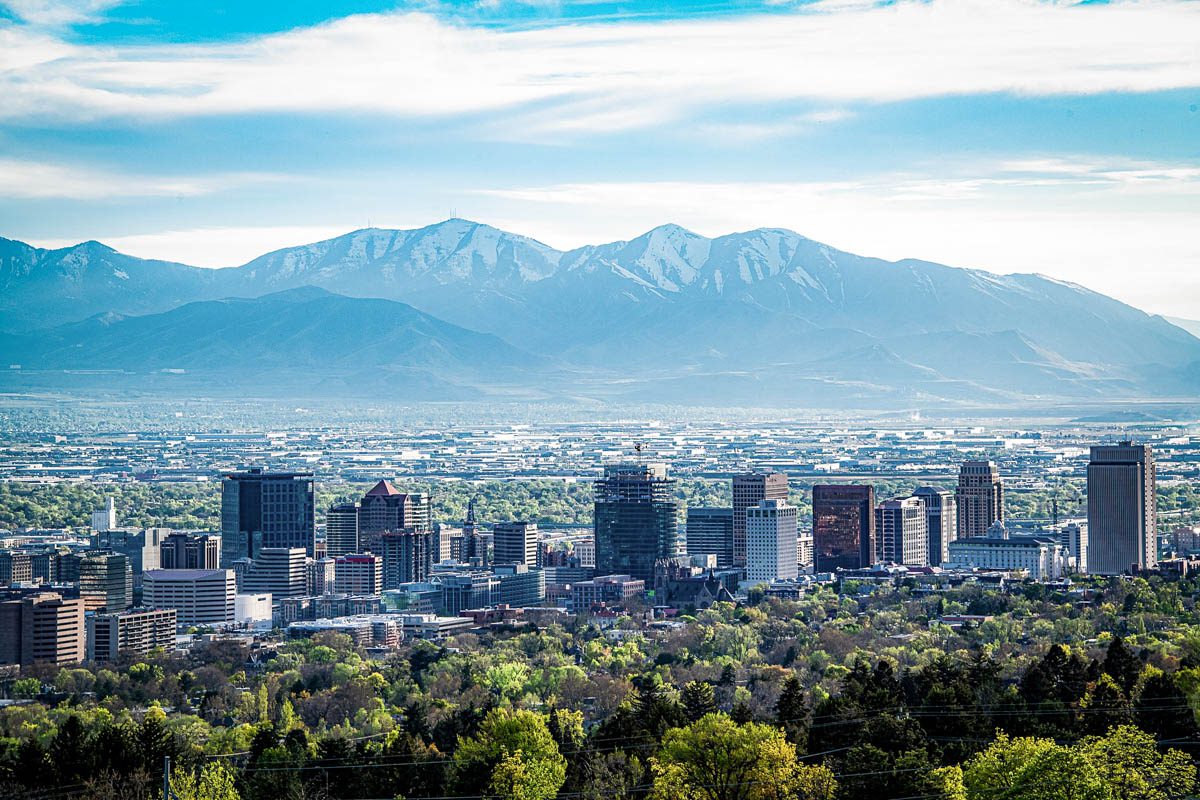 The capital and most populated city in the state and a great place to start your Utah road trip. It has plenty of stunning hikes and outdoor activities, a great food and craft beer scene, and an urban city draw with plenty of interesting museums, parks and neighborhoods to explore.
Top Things to Do in Salt Lake City
Go on a self-guided food and brewery tour

Check out the great Salt Lake

Walk or bike ride through Liberty Park

Explore Big Cottonwood Canyon, hiking or mountain biking

Catch a Drive-in Movie at the Redwood Drive-in Movie Theater
Where to Stay in Salt Lake City
Downtown: As with most cities, staying in the downtown area will put you right in the center of the action close to restaurants and bars.

Central City: A large neighborhood close to downtown, but with more of a residential feel. Still close enough to plenty of things to do.

Avenues/Capitol Hill: The historic districts overlooking the city, full of students and young professions, these neighborhoods are great for travelers on a budget.
Psst! If you are coming from the north, why not spend some time exploring Grand Tetons National Park in Wyoming on your way down!
Park City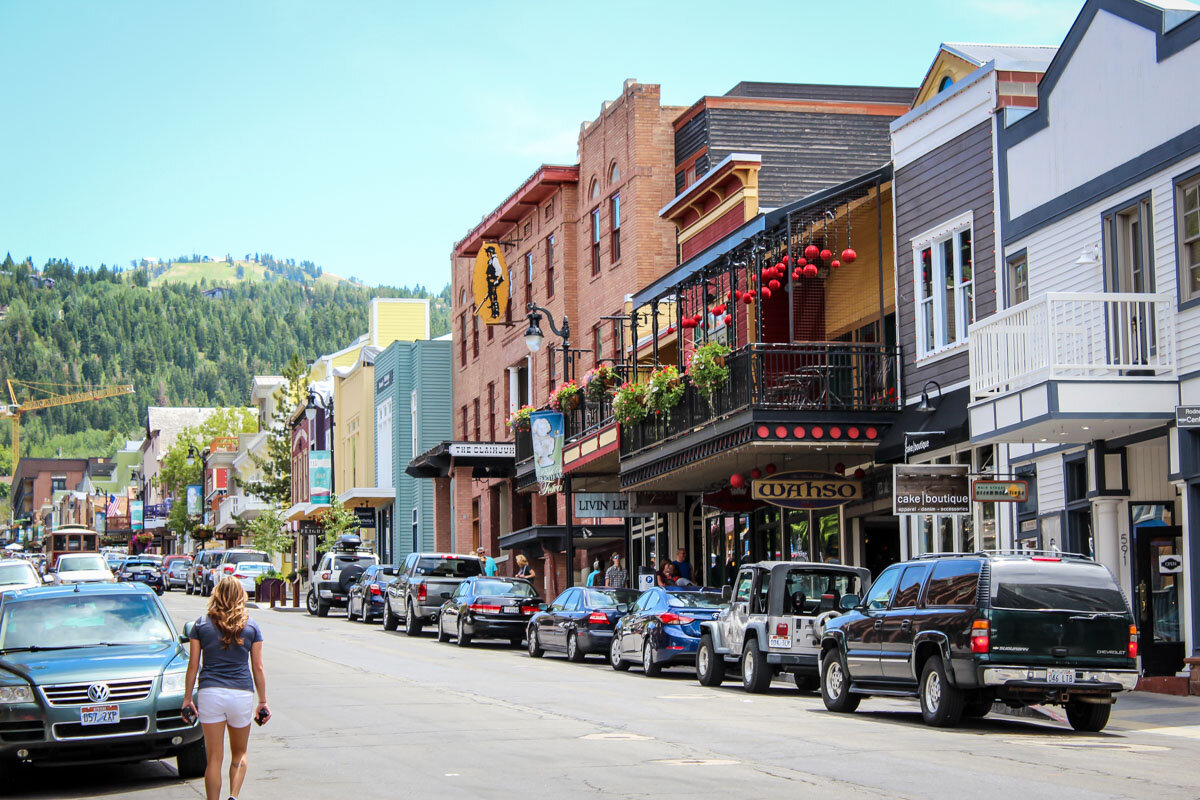 Driving to Park City from Salt Lake: 32 miles / 35 minutes
We all know Park City as the ultimate winter destination. As host of the 2002 Winter Olympics and the annual Sundance Film Festival each January, Park City has quite the name for itself as a cozy ski town in the mountains with plenty of fresh powder.
However, Park City makes a great destination year-round with plenty of things to entertain you during the snow-less months.
Top Things to Do in Park City
Hit the slopes in the wintertime

Visit Utah Olympic Park and ride the Comet Bobsled

Hike, mountain bike, or explore the mountain trails on horseback

Get down and dirty on a 4×4 adventure

Check out the restaurants, bars, and shopping down on Main Street
Where to Stay in Park City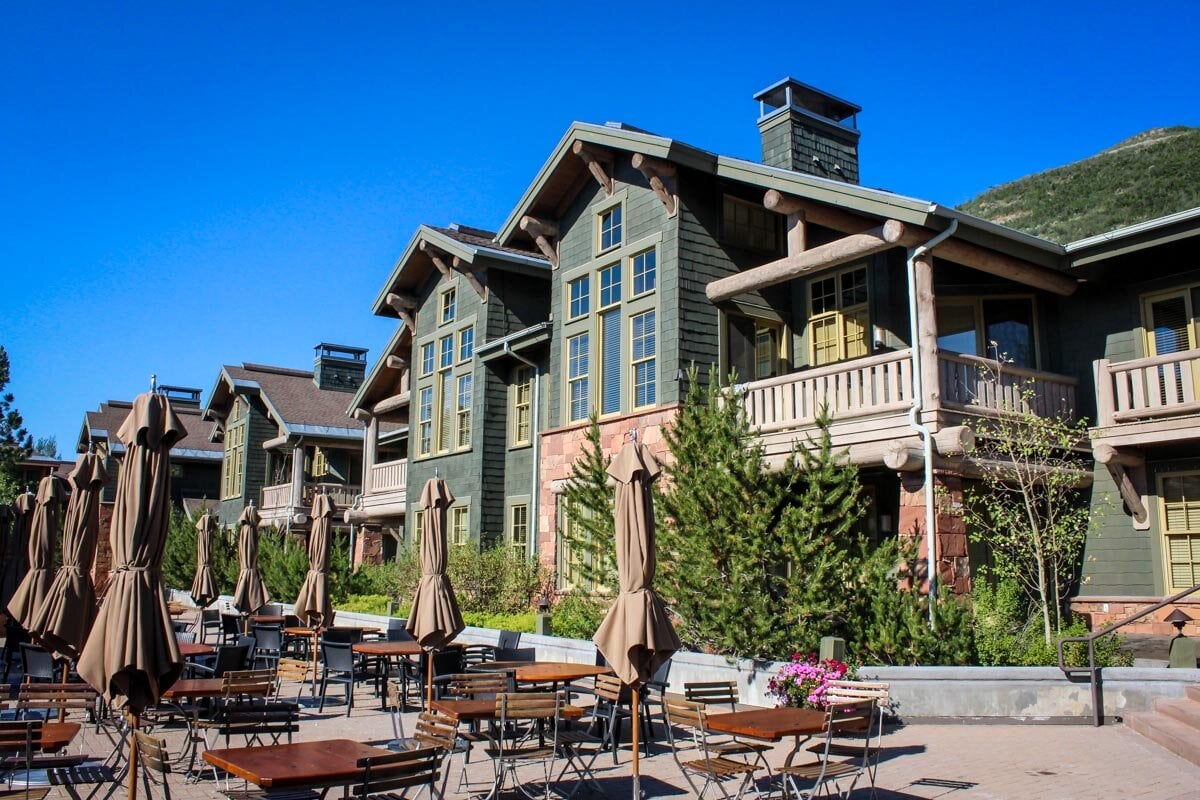 The Lodge is made up of condos with multiple bedrooms so you can pick the size that works best for your group. They also offer concierge service with a chauffeur at your beck and call which eliminates the need for a car rental.
Note: Prices will be steep all over Park City during ski season, but you'll find much better deals on accommodation if visiting during the off-season.
2. Moab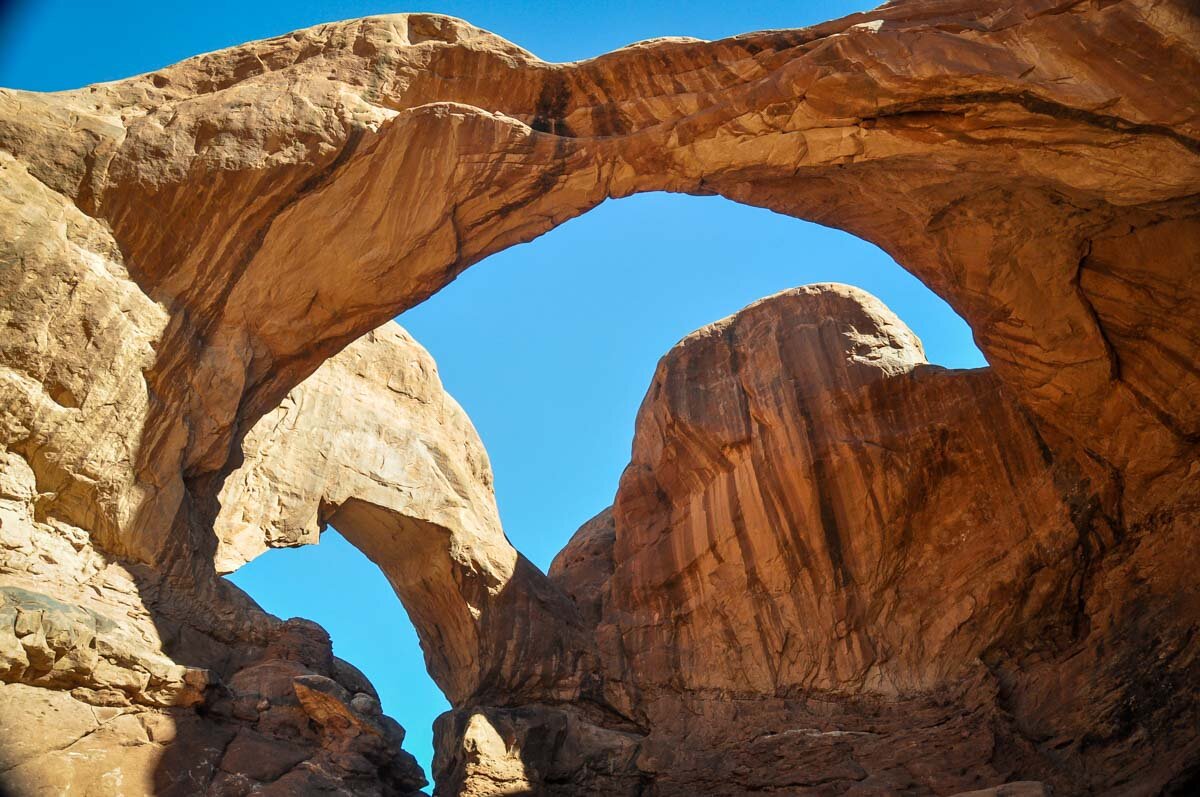 Driving to Moab from Park City: 240 miles / 4 hours 15 minutes
A small city in Eastern Utah, Moab is perhaps most well known as a destination due to its proximity to two of the state's famous National Parks – both Arches and Canyonlands.
Moab is also a popular destination for outdoor adventures, it's also a good jumping off point for some of Utah's best hikes. 
This is a can't-miss stop on your Utah road trip. We recommend basing yourself here for a few days as your explore the nearby parks. 
Top Things to Do in Moab
There are enough things to do in Moab to keep you busy for weeks on end! Here are just a handful of highlights:
White water rafting down the Colorado River

Hell's Revenge: A slick rock hiking, biking and off-roading trail with great views

Get your outdoor adventure on! (Hiking, biking, rock climbing, paddling, etc.)

Go zip lining at Moab Adventure Center

Drive a scenic byway – Potash Road, La Sal Mountain Loop Road, or Utah Scenic Byway 279
Where to Stay in Moab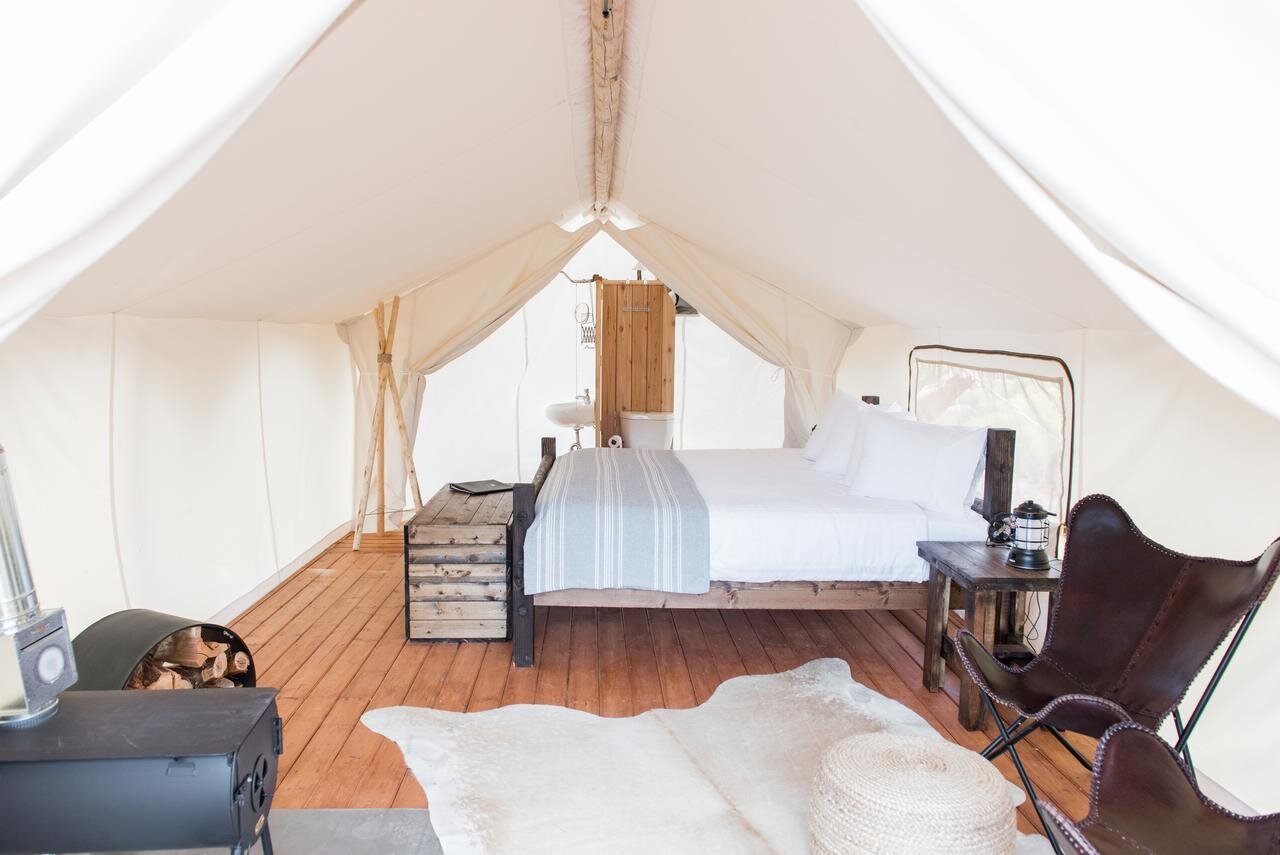 Moab Under Canvas is a unique way to experience the glamping lifestyle and is probably one of the most popular places to stay in Moab thanks to its Insta-worthy offerings. The tents include king sized beds, electricity, a private terrace and a wood-burning fireplace.
Tip: Be sure to book well in advance as this popular spot will sell out!
3. Arches National Park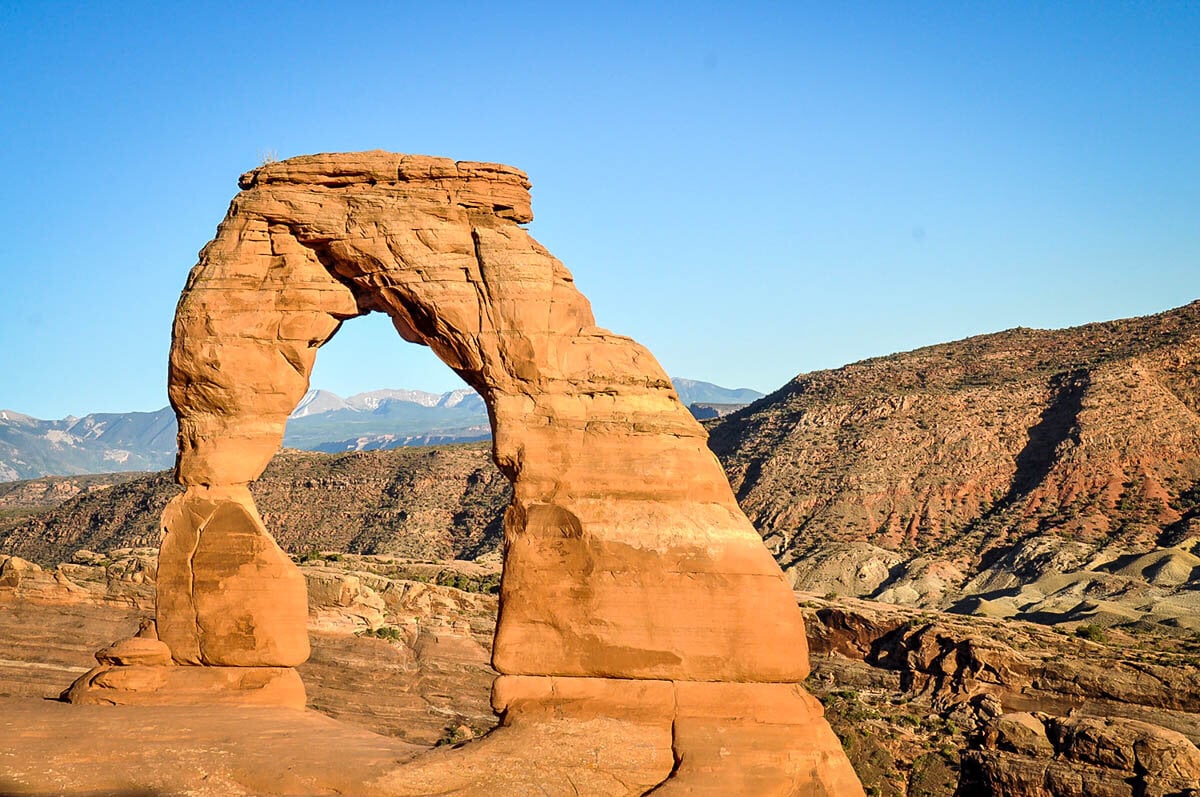 Driving to Arches National Park from Moab: 5 miles / 10 minutes
Perhaps the most iconic of Utah's National Parks, Arches is known for the unique arch formations in the desert sandstone. The most famous of all, Delicate Arch, draws visitors from around the world and is even celebrated on the Utah license plate!
Just outside of Moab, this National Park is popular for good reason and makes a great destination for hiking and sightseeing. (Psst! Here are all the best hikes in Arches National Park!)
Check out our complete guide to visiting Arches National Park.

4. Dead Horse Point State Park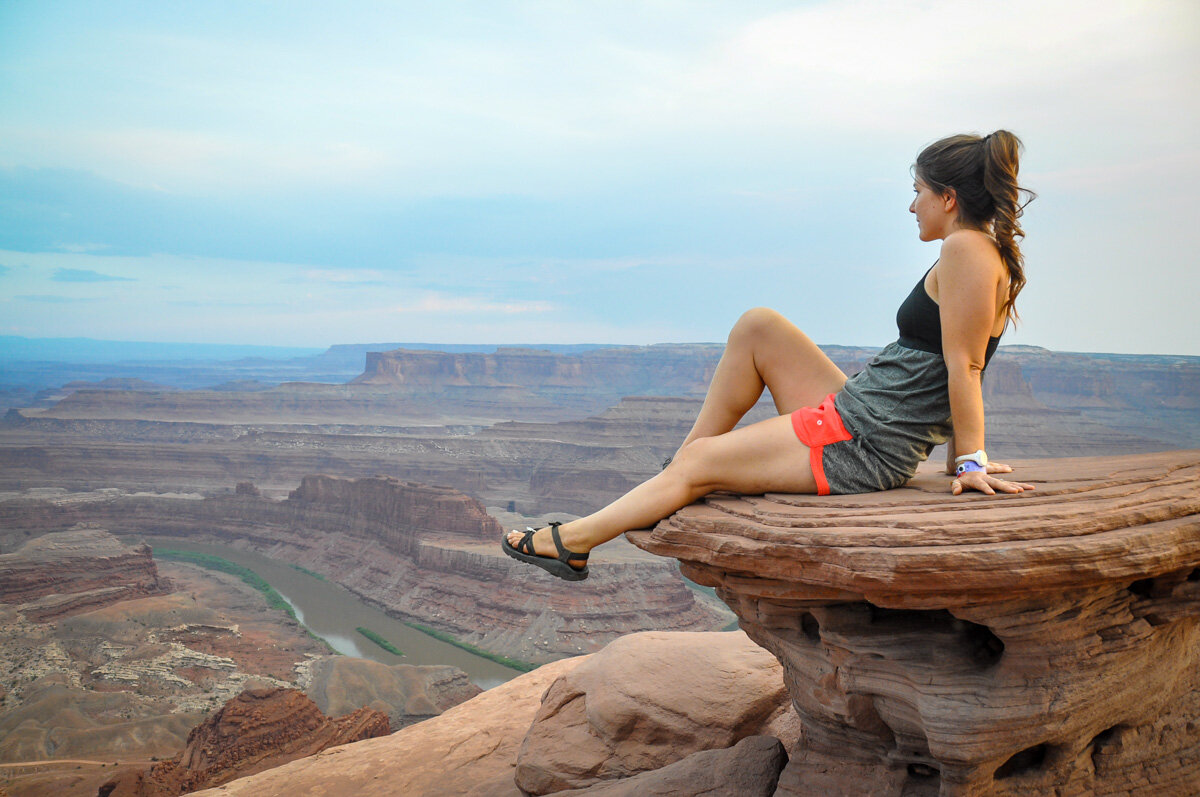 Driving to Dead Horse Point from Moab: 33 miles / 43 minutes
The highlight of Dead Horse Point is the overlook of a particularly photographic bend in the Colorado River where it winds its way through Canyonlands National Park. Legend has it that Dead Horse Point was used as a corral for wild mustangs in the late 1800's (think wild, wild west!"). Today, it's one of the most photographed spots in the US!
There are miles of well-kept hiking trails in the park, most of which are even pet-friendly. The entrance fee is $20 per vehicle (with up to 8 passengers) and your ticket is valid for 3 consecutive days. 
Psst! This is one of the best Utah photography locations you won't want to miss!
5. Canyonlands National Park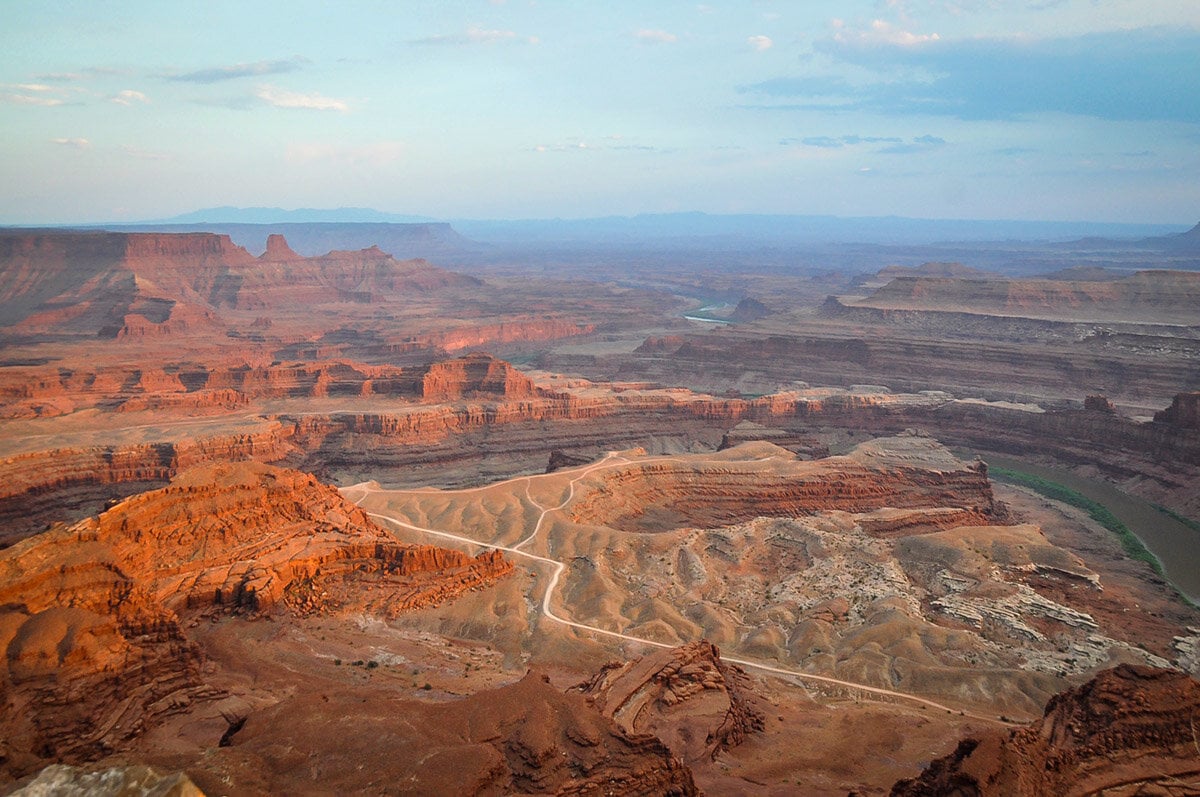 Driving to Canyonlands National Park from Moab: 30 miles / 36 minutes
Known for sweeping canyon views of a dramatic red rock landscape, Canyonlands National Park is sure to make your jaw drop. Located just outside of Moab, this park is easily accessible for people of all ages and abilities.
Drive through the park to one of the many viewpoints at sunset, or lace up your hiking boots and get up close and personal with the land. Check out this round up of the best hikes in Canyonlands to get started. 
Check out our complete guide to visiting Canyonlands National Park.
6. House on Fire Ruins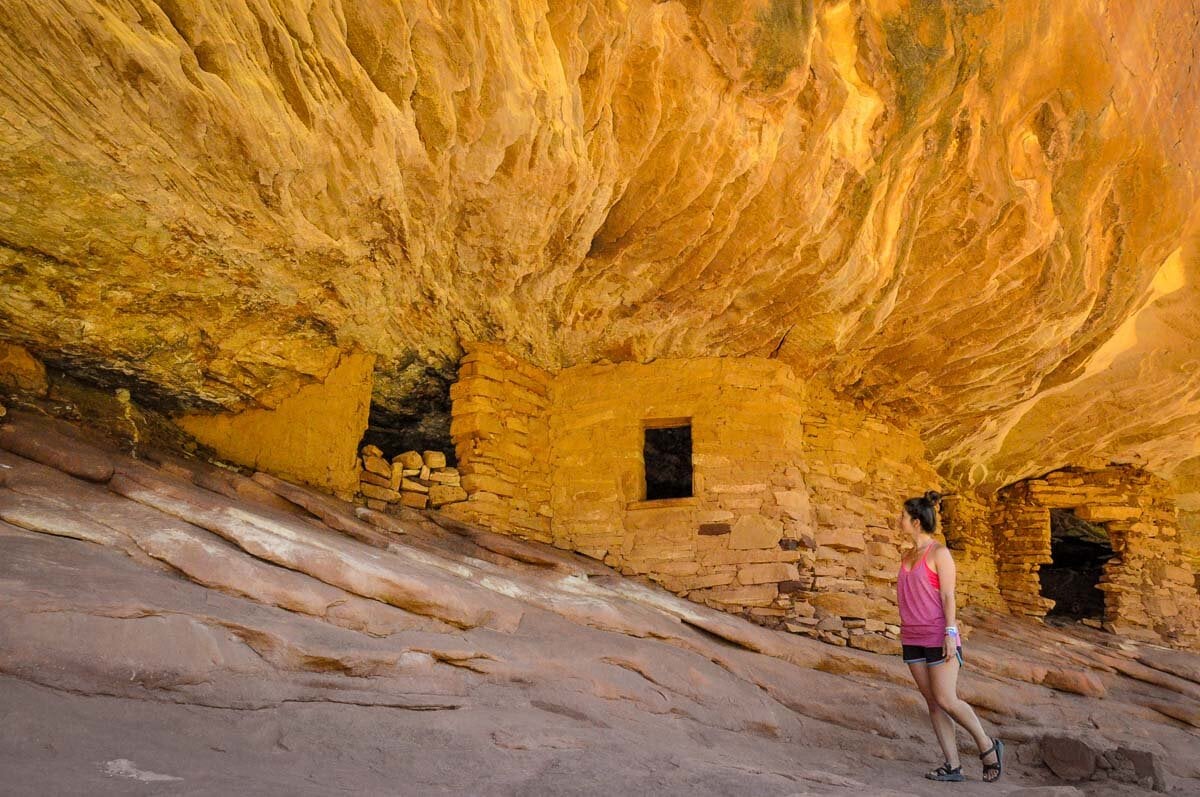 Driving to House on Fire Ruins from Moab: 98 miles / 1 hour 45 minutes
Cedar Mesa is a plateau in southeastern Utah believed to contain thousands of archeological sites dating back to 2,500 years old. The most famous of these is known as "House on Fire" ruins. The ruins are a group of 3 structures with unique markings on the roof that resemble flames in the orange light reflected off the ledge. To see the ruin you'll have to hike down the South Mule Canyon Trail.
The parking area for the trailhead is located at the mouth of the canyon, just about a third of a mile south of UT-95 down Comb Wash Road. The nearly flat trail will take you into the canyon on an easy hike.  About a mile down the path, you'll be able to view the ruins on the right hand side, 25 ft above the canyon floor. 
Beyond the House on Fire ruins, the trail continues up the canyon and there are several more ruins to visit. The total hike will be about 9.4 miles round trip if you make it all the way to the Last Ruins and back. 
Tip: Bring a pair of binoculars if you want to get a better look at the ruins as some of them must be viewed from far away.
7. Bear's Ears
Driving to Bear's Ears from House on Fire Ruins: 17 miles / 40 minutes
The Bear's Ears are a National Monument established by President Obama in 2016. The twin buttes tower over beautiful scenery in the southeastern part of the state where they are so distinctive that they were given the same name in all of the native languages of the region. 
The best way to view the Bear's Ears is from the road, passing by on UT-95 and looking to the north. 
8. Monument Valley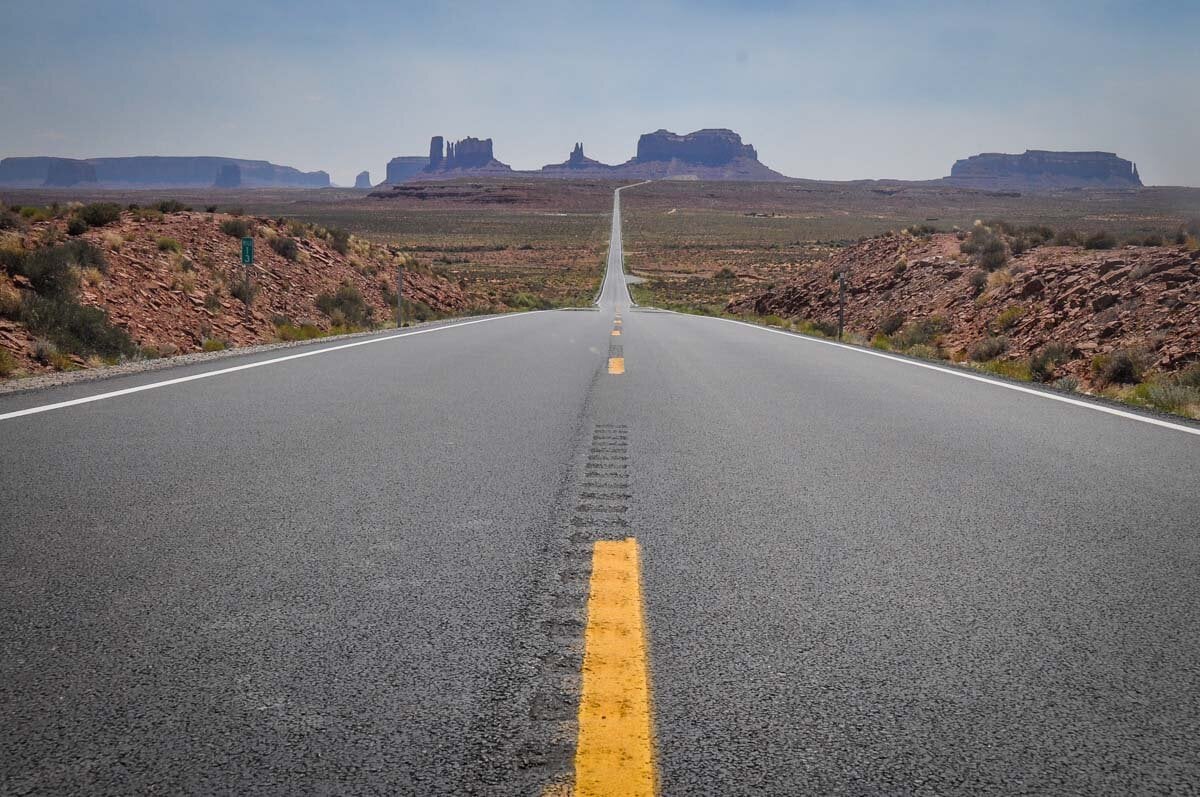 Driving to Monument Valley from Bear's Ears: 68 miles / 1 hour 45 minutes
Possibly one of the most iconic images of the American Southwest, Monument Valley sits on the border of the Utah and Arizona state lines, just 60 miles west of the Four Corners. Located in a Navajo Reservation and established as a Navajo Tribal Park, the valley is best photographed from US Highway 163.  
General admission to the park is $20 per vehicle and $10 per person and can be acquired from the Visitors Center. 
9. Glen Canyon/Lake Powell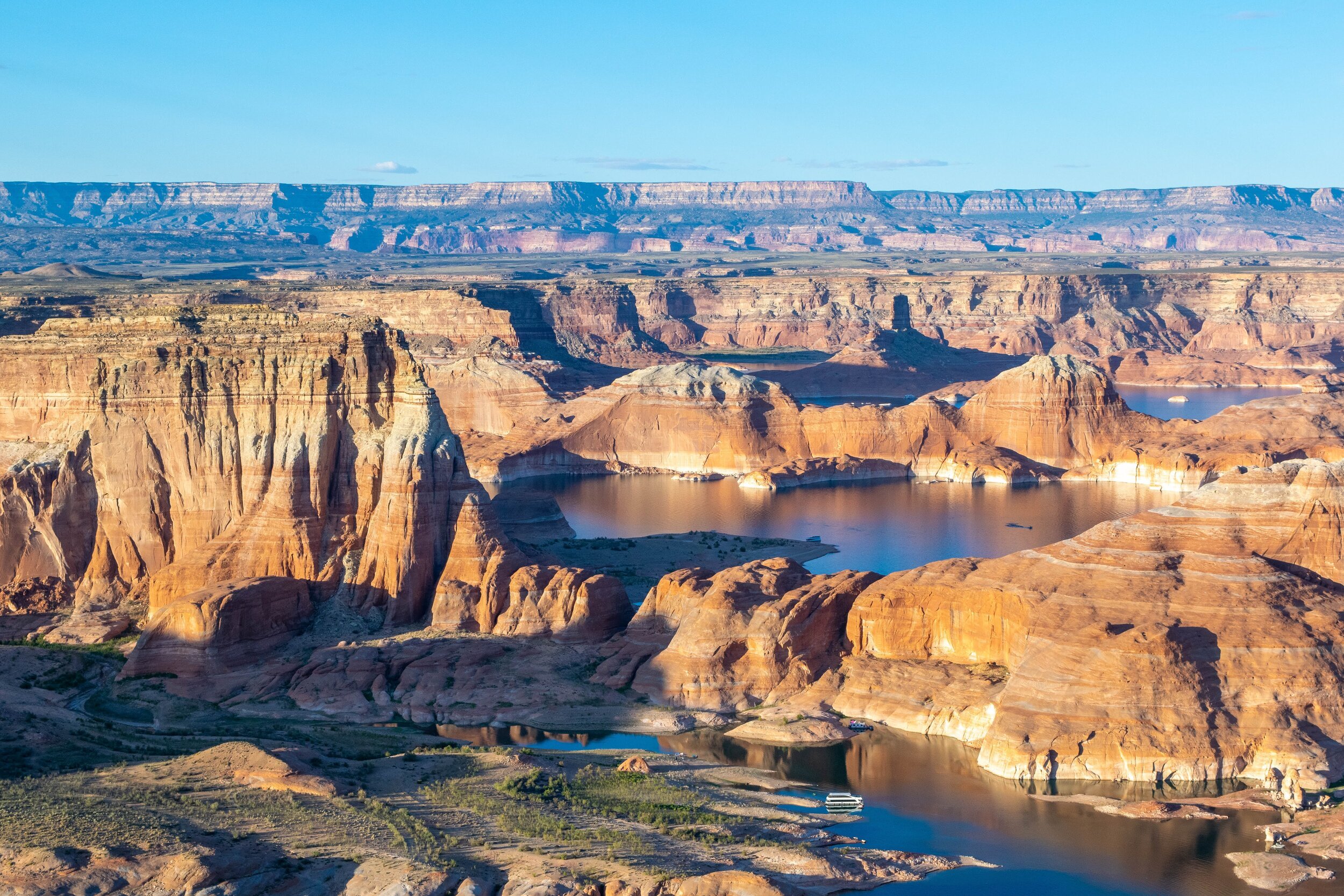 Driving to Glen Canyon from Monument Valley: 123 miles / 2 hours
Stretching from the Orange Cliffs in southeastern Utah all the way down to the Grand Canyon, the Glen Canyon National Recreation area offers more than 1.2 million acres of unique geology, stunning views and the beautiful blue waters of Lake Powell. 
If you don't have Lake Powell on your bucket list already, do yourself a favor and Google Image Search it… just do it! You'll thank us later. The giant lake in Southern Utah is a playground for water sports and outdoor adventure and one of the best ways to experience it is by renting a houseboat.
10. Capitol Reef National Park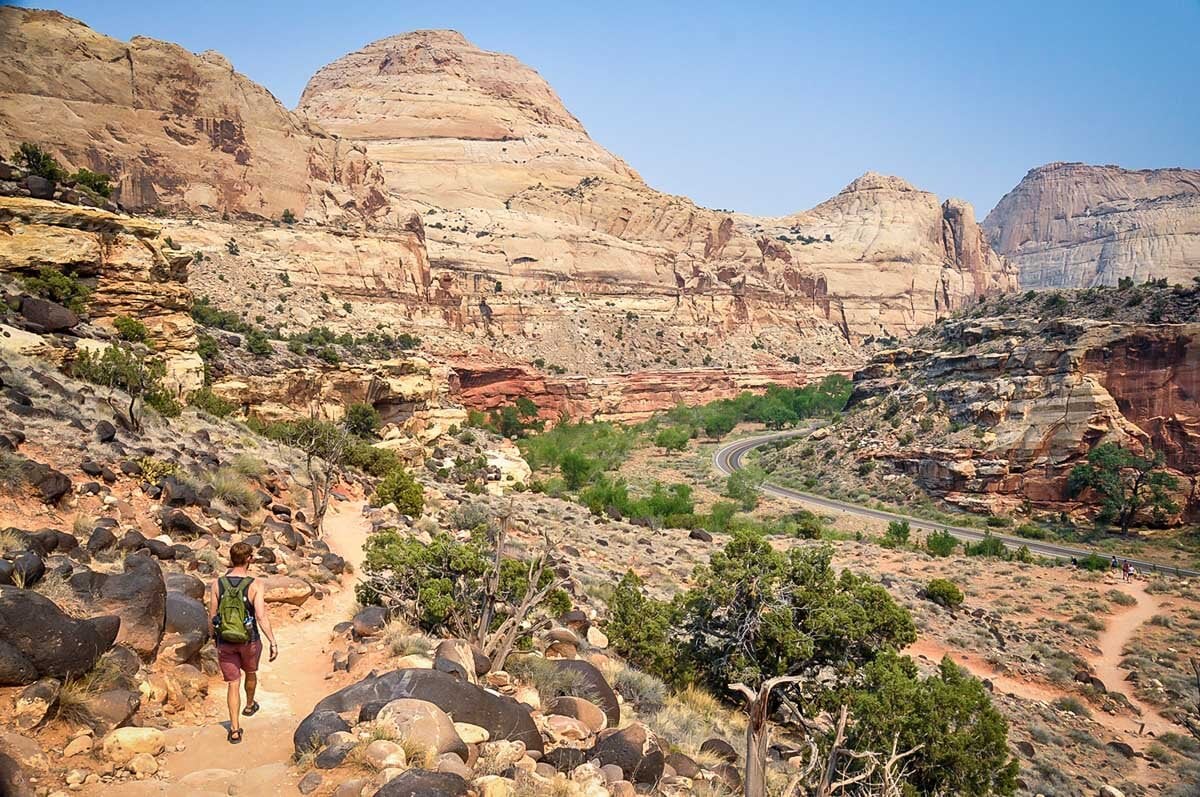 Driving to Capitol Reef National Park from Glen Canyon: 84 miles / 1 hour 30 minutes
Being that Capitol Reef National Park is not near any major cities, many visitors skip over this park during their time in Utah. We think that's a mistake!
The landscape is out of this world, and being that it sometimes gets forgotten on Utah itineraries, it feels a bit "off the beaten path".
Pick fruit from historic orchards, drive through a narrow gorge and see ancient petroglyphs, and do tons of hiking in this gem of a park. We think it'll surprise you!
Check out our complete guide to visiting Capitol Reef National Park.
11. Grand Staircase-Escalante National Monument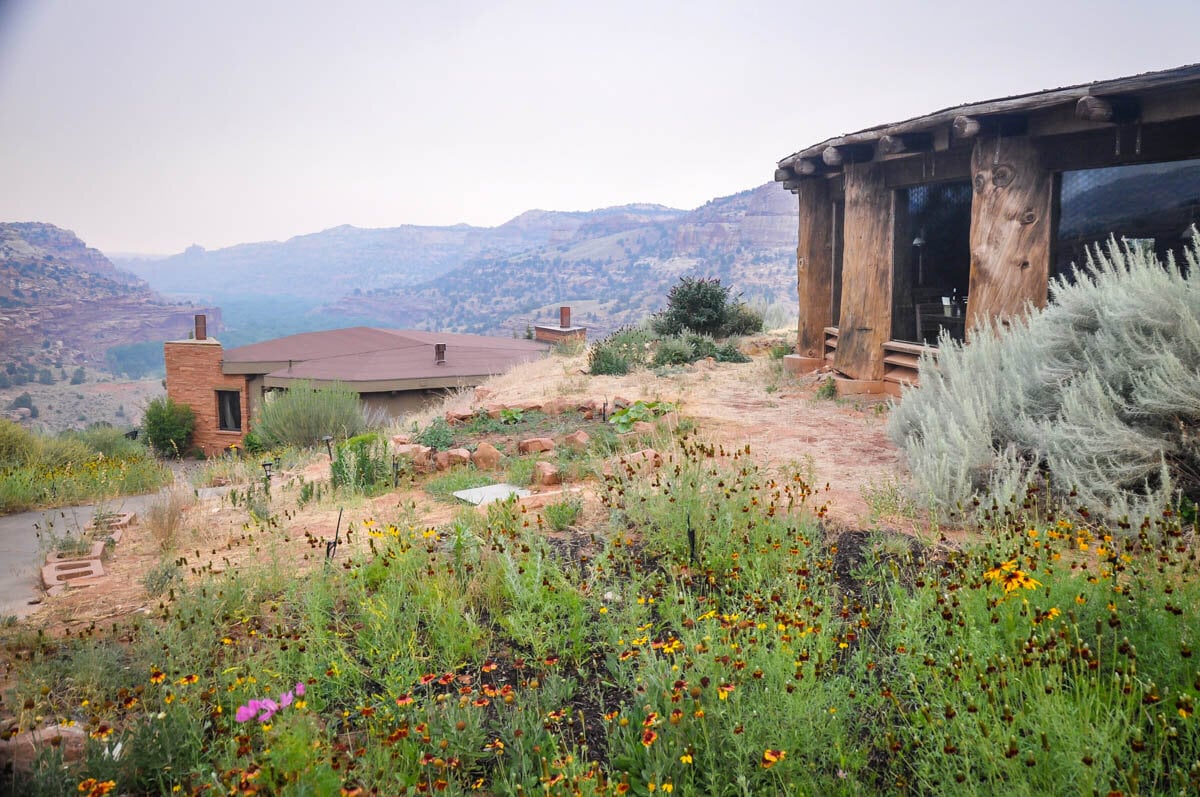 Driving to the National Monument from Capitol Reef National Park: 41 miles / 55 minutes
Spanning over 1.8 million acres, the Grand Staircase-Escalante National Monument is larger than the state of Delaware. In fact, because of its vastness and rough terrain, it was one of the last places in the US to be fully mapped.
If you travel on Hwy 12 from Capitol Reef to Bryce Canyon National Park, you'll get to cruise through one of the most scenic drives in all of Utah. Be sure to pull over at one of the many viewpoints along the highway. Our favorite stop was at Kiva Koffeehouse, which was literally in the middle of nowhere but they have a wonderful view of the canyon below.
12. Bryce Canyon National Park
Driving to Bryce Canyon National Park from the National Monument: 19 miles / 23 minutes
Known for super unique pillar-like rock formations called "hoodoos", Bryce Canyon is a stunner. Wander past rock formations that'll make you feel as if you're in a fairytale and watch as the sunlight dances and casts ever-changing shadows. You'll certainly be enchanted by this national park.
Check out our complete guide to visiting Bryce Canyon National Park. 
13. Zion National Park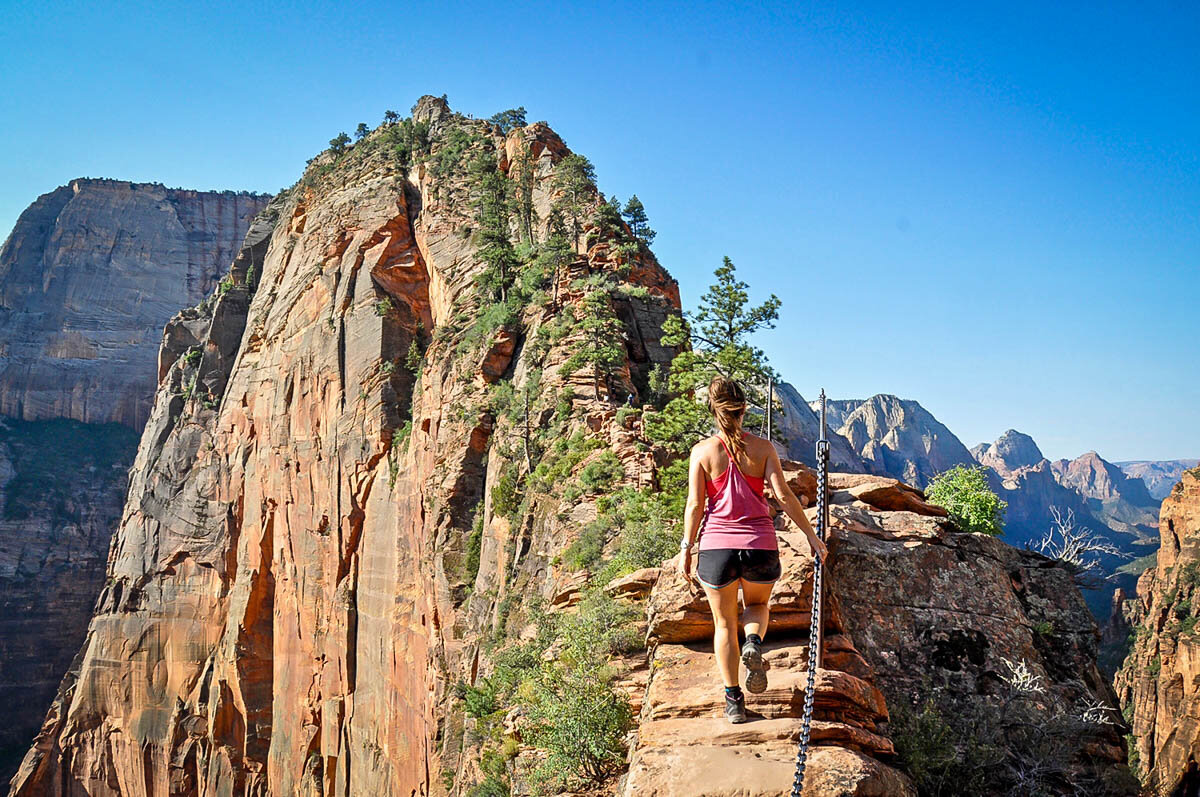 Driving to Zion from Bryce Canyon National Park: 72 miles / 1 hour 20 minutes
Zion is the most visited National Park in Utah, and one of the most popular parks in the country. There is a good reason for its overwhelming popularity.
Pine trees dot the landscape in clusters and towering red rock cliffs rise on either side of the canyon. Carving through the center is the crystal clear Virgin River.
This national park offers strenuous hikes, like the famed Angel's Landing, as well as easy walks the whole family can enjoy! (Psst! Here are some of the best hikes in Zion.)
Check out our complete guide to visiting Zion National Park. 
Psst! If you're planning to visit 2 national parks, we have a perfect 4 day Zion to Bryce Canyon National Park itinerary on our sister site. 
14. St. George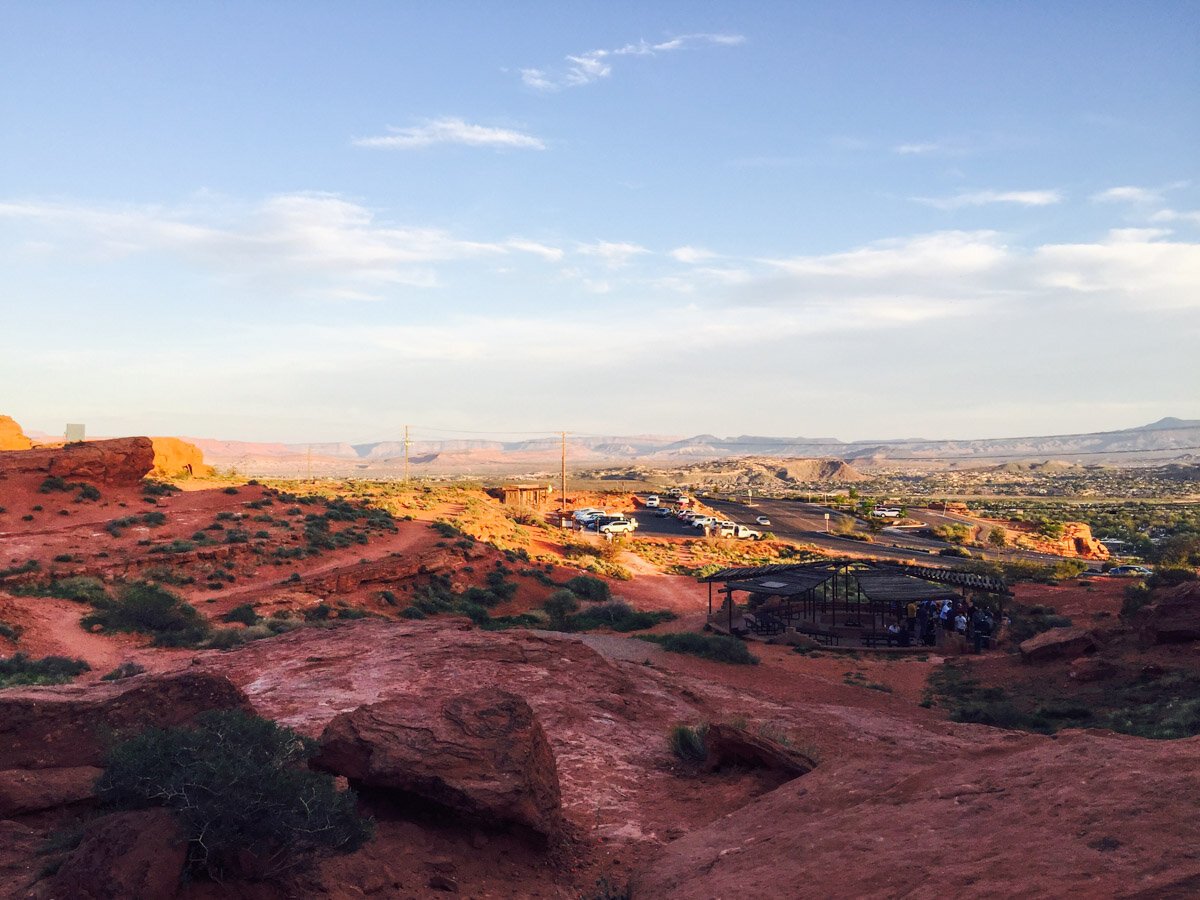 Driving to St. George from Zion National Park: 44 miles / 1 hour
St. George is the gateway to Zion National Park and so many other outdoor adventures. Escape to Snow Canyon State and go hiking through skinny canyons and over massive dunes. Check out the Tuacahn Center For the Arts Outdoor Amphitheater situated amongst the red rocks. Not far away is the Red Reef Trail in the Red Cliffs National Conservation Area, which is a short hike to a series of pools you can take a dip in.
If you're looking for a short and interesting hike, just outside of town is the Anasazi Valley Trail (Tempi'po'op). It's a 3.5-mile round trip hike which leads you to an old Anasazi Farmstead and some very well preserved petroglyphs.
Don't let the fun stop there…
If you are continuing on an epic road trip through the USA, consider driving west and making a pitstop in Vegas! We even wrote up an article on how to visit Las Vegas on a budget so you don't break the bank. 
Next, head west to visit California's Death Valley National Park before hitting up Los Angeles to see one of the most iconic cities in the United States. Once you've had your fill of La La Land, you'll want to head north on route 1 from LA to San Francisco for an epic road trip! You'll see beaches and cute towns along the way, and you'll end up in San Fran – perhaps our favorite big city in the US!
What to pack for your Utah road trip

Packing can be one of the most daunting parts of planning a trip, but lucky for you, we've got you covered with a road trip packing list so you are totally prepared during your visit to Utah. And don't forget to pack some eco-friendly travel gear to help leave no trace.
Utah-specific gear to pack
Hiking clothes

Summer: Tank tops and also light layers to shield your skin from the sun.

Spring and fall: Pack layers because it can get cool at night!

Winter: Lots of warm layers for cold nights. Don't forget a hat and gloves!

Packing cubes – These babies help us keep our clothes organized and compact.

Shoes for hiking – We wore our Chacos everywhere in Utah! We also wore hiking boots a few times.

Tripod

We love our Joby tripod because you can't always trust other tourists to take a nice picture of you (sorry, but it's true!). This tripod is super lightweight and helps us get great shots on all our travels!

GoPro and selfie stick – Great for capturing your adventure in video form!

If you're camping in the National Parks, chances are you'll go a few days without having access to an outlet. We love our Anker charger because we can get 7 phone charges out of it! We did a lot of research on external chargers before making the purchase, and this is one of the best ones you can get!

Cooler for picnic lunches – With the exception of Zion, you won't be able to find food inside the national parks. You'll want to be prepared with plenty of food for picnics and snacking.

Sunscreen

Hat for shade

Sunglasses – We love our bamboo Tree Tribe shades. They are high-quality, lightweight and float in water! And the best part is that 10 trees are planted for every purchase!

Water bottle or Camelback – Our favorite eco-friendly refillable water bottles are the insulated ones from Hydroflask.

Chapstick and lotion – the dry desert heat can wreak havoc on your lips and skin.

Microfiber towel -These towels dry super quickly and pack down tight.

Collapsible backpack – This guy folds up super small and is great for day hikes!
---
Are you planning travel around the U.S.A.?
We have TONS of resources on travel in the US and how to make the most out of your trip. Check out our Ultimate USA Travel Guide for everything you need to know, or read some of our favorite articles below.
Save this article on Pinterest for later!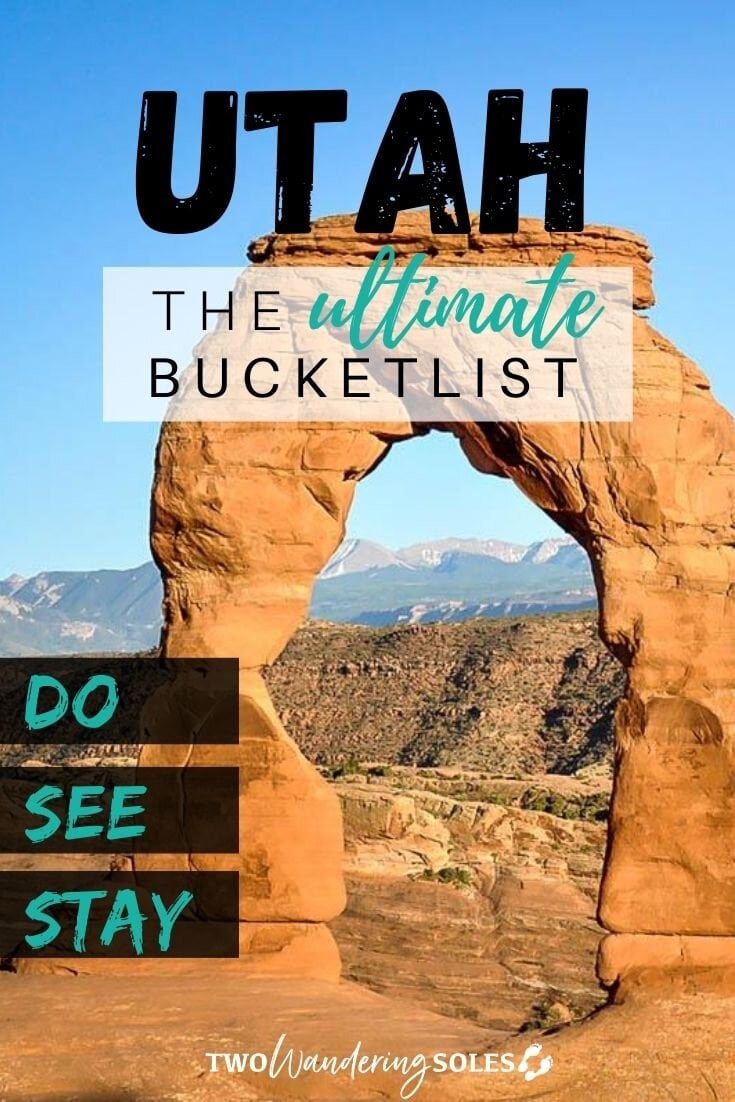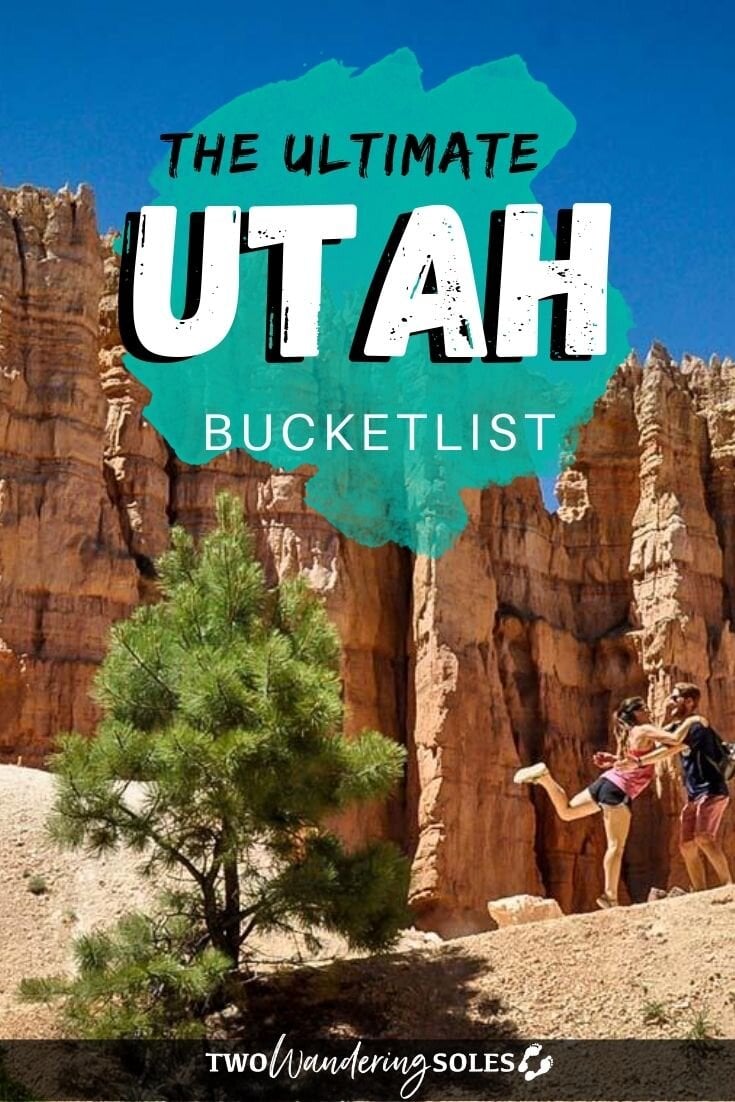 We want to hear from you!
Are you planning a road trip through Utah? What are the places you're most excited to see? Have you been to Utah before and have a place you think we should add to this list? Comment below and let us know!