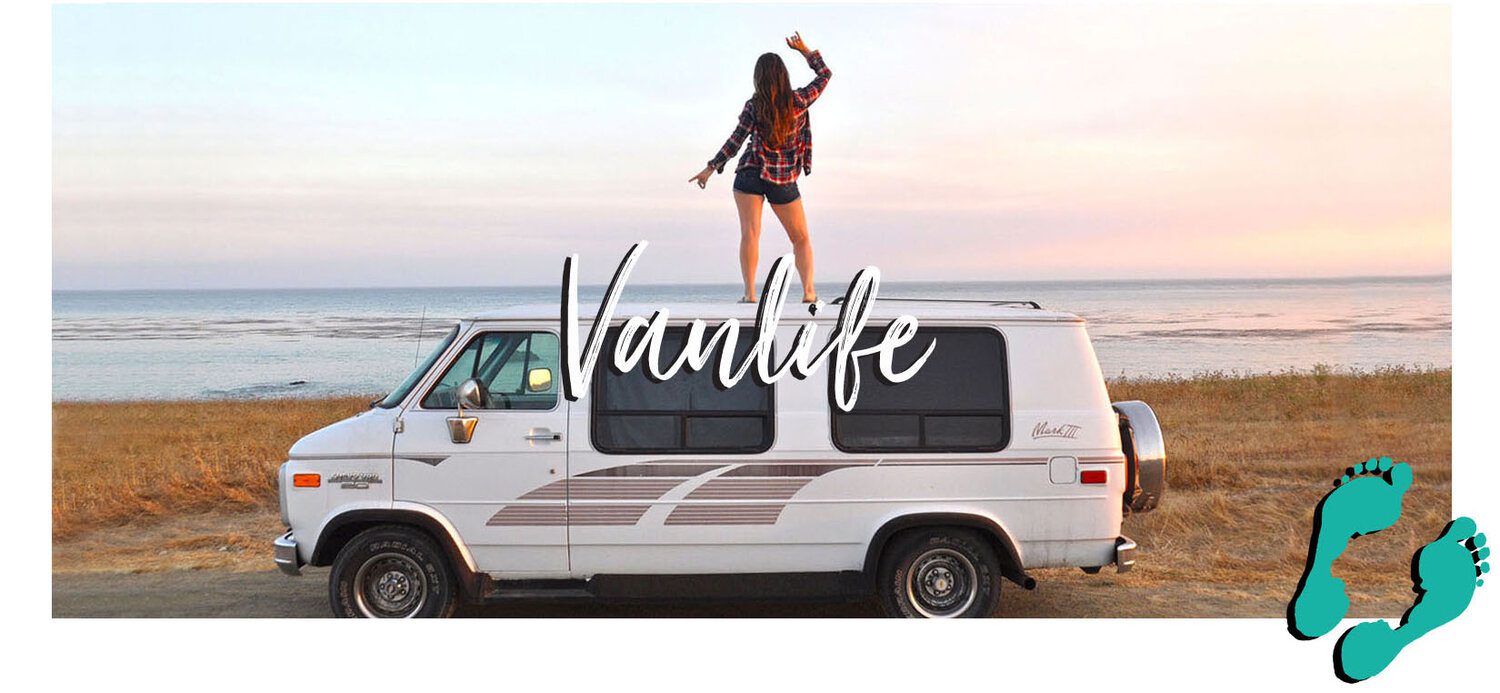 If #vanlife has sparked your interest, you've come to the right place. We've experienced vanlife in multiple countries, and have built two of our own campervans (from scratch!).
We've spent multiple months living in various campervans and have collected all sorts of tips and advice for anyone interested in living the van life!
If you know what you're looking for, click the images below to jump to that topic, or just keep browsing!
Not sure where to begin?
That's perfectly fine.
We've got the answers to all of your questions… and if we don't we're here to point you in the right direction (feel free to shoot us a message!). We're here for you on your journey to vanlife.
Let's start with the basics…
Do you keep seeing the phrase "vanlife" all over social media? Maybe it's accompanied by a hashtag and a perfectly curated photo. Or perhaps you have an acquaintance who is debating jumping into the van life and you're just not sure exactly what they mean.
Don't worry – we're gonna break it down…
Vanlife is the growing trend of people living or traveling in a converted vehicle.
Truth be told, vanlife looks different for everyone.
Here's what I mean:
Basic vs. Luxe: Some have bougie builds with all the creature comforts of a traditional home. Others have incredibly basic builds that essentially serve as a cheap place to sleep.

Full-time vs. Weekender: Some vanlifers live in their vehicles full-time and have no plans of quitting, while others use their campervan as an adventure-mobile for shorter trips.

Young vs. Old: Many vanlifers are young Millennials or Gen Z's that crave adventures, and another big handful are retirees looking for an affordable and fun way to live out their golden years.

Budget vs. Freedom: Some people find vanlife because they want to save money, while others love the freedom this lifestyle brings.

Solo vs. Family: There are solo vanlifers on the road, couples, and even families with children. Those with furry friends, and others that are pet-less.

Digital Nomad vs. Gig Worker: Those that work online with full-time jobs, and others who bounce around from location to location looking for gigs.

Wildnerness vs. City: Some vanlifers spend the majority of their time in the wilderness, doing as many adventure activities as they can squeeze into a day while others base themselves around a city with the amenities they need, taking up "urban camping" at night.
We want to illustrate that there is no right or wrong way to "do van life". Every person has their own priorities, and the beauty of this lifestyle is it can be a good fit for so many different personalities and desires.
Insider Tip: Sometimes it helps to find others who are on a similar path as you. We interviewed a bunch of very different types of vanlifers, and it could be a good idea to find someone you can relate to. Follow their journey, reach out and connect, ask advice… maybe you'll even discover a new vanlife friend!
Living in a Van… Rebranded!
While the concept has been brought to the attention of the masses with the viral hashtag, #vanlife, in the last few years, this is not exactly a new idea. People have been living nomadically for centuries and the van life is just our modern iteration of a lifestyle free from societal conventions and geographical restraints.
You may remember the iconic Chris Farley skit on SNL that featured his character, Matt Foley. He was a motivational speaker who warned young people that if they didn't follow a certain path, they'd wind up "living in a van down by the river".
Farley's comedic sketch portrayed living in a van as a threat. Something that would happen if you were unsuccessful. It's a bit ironic because today, living the vanlife is a dream for many people, young and old. The vanlife movement has helped make it more accepted and desirable to people from all walks of life.
If only Farley were alive today to do a reboot of this sketch!
"Why would anyone want to live in a van?" you ask…
We spelled out exactly why we love this lifestyle in our article about the best parts of campervan life, but here's the short version…
Simplicity: Living in a van allows people to lead a simpler lifestyle. There is not a lot of room, so you learn to make due with less and become self-reliant. This detachment from material things and the practice of minimalism can be incredibly freeing.
Freedom & Adventure: This lifestyle gives you the freedom to travel —unrestrained by societal infrastructure. Sleep beneath a sea of stars in the middle of a pitch-black desert, wake up to the sun rising above the nearby mountain peak with the sounds of a babbling brook.
Whether you choose to live in a van full time or use your van as an adventure mobile to take you off the grid on the weekends, there is no limit to the range the van life can take you.
"Alright, I'm convinced, but where do I start?"
We understand just how overwhelming it can be to start this process so we poured all of our personal experience and advice into a resource just for you.
Enter your email below to immediately receive our Vanlife Jumpstart Toolkit, your FREE mega guide to jump-starting your #vanlife dreams!
Doing your own campervan conversion can be incredibly rewarding… but it's also incredibly overwhelming! We want you to know you're not alone.
We've compiled all sorts of free resources for converting your campervan, from the very first step to the finishing touches. We're here with you, every step of the way.
The very first thing you'll want to do is to come up with a budget for your campervan conversion.
Before you write down any random number, it's a good idea to do some research on the costs associated with building a campervan.
"How much does a campervan conversion cost?"
We value transparency and know how helpful it can be to see others' experiences. We've broken down every single penny that went into our campervan build so you can get an idea of how much a real conversion costs. We've also included ways you can save money in each category as well as worthy upgrades if you have some wiggle room in your budget.
Our Advice: Track ALL of your expenses!
If you're not paying attention to what you're spending your money on, you will go over your budget. There are tons of decisions to make during your conversion, so you'll want to know where you stand with your budget every step of the way.
We're giving away the exact budget tracker we used when building our beloved "Pearl". Keep track of all of your van conversion expenses using our trusted budget tracker. It's our (totally free!) gift to you, because we know how big of a deal staying on budget can be.
"Is it possible to build a campervan on a shoestring budget?"
The short answer: ABSOLUTELY!
Not only is it possible, but we are also living proof that it can be done in less than one week!
Our first campervan cost less than $3,000 for the vehicle, all title & registration fees, AND the entire build. We had very little building experience, yet we completed this conversion in less than a week!
We have tons of resources based on our personal experience that'll help you understand what to budget for and exactly how you can DIY your own campervan conversion on a tight budget.
Budget Van Build Resources:
It may seem obvious, but the first major decision you'll need to make on your vanlife journey will be purchasing a van to convert. Whether you are going full luxury or starting small and simple, finding the right van to fit your exact needs is important. There's no one-size-fits-all solution.
Below is an article that'll help you make the best decision for you:
Best Vans to Convert into a Camper: We go through all the major van models that work best for camper conversion along with their specs, the pros and cons, and some insider tips and things to consider when buying a van for a camper conversion.
Not ready to buy yet?
The best way to find out the the #vanlife is for you is the test it out!
Best Campervan Rentals in the USA: We know how confusing renting a campervan can be so we've rounded up the best USA campervan rentals (for all budgets and regions!). Plus, we're sharing insider tips, things to look for in a rental campervan, & exclusive discounts for 3 of our favorite companies!
Figuring out how you're going to fit everything into your tiny home on wheels can be overwhelming. The articles below will help you get started with the planning process and understand what to take into consideration before you start building.
Things to consider in your design:
What type of bed will you have (fixed or convertible)?
Will you have a toilet and shower?
How much space do you want to dedicate to your kitchen?
What do you plan to do for storage?
Let's start the journey to designing your dream van conversion!
How to Design Your Dream Van Build: The ultimate guide to campervan layouts, no matter your budget or the size of your vehicle. We're walking you through essential questions to ask so that you are able to determine what's most important and design the perfect van for your needs.
Van Conversion Ideas & Inspiration: We've rounded up some unique and diverse van conversion ideas to inspire you, no matter your style or budget.
Not sure where to start?
Designing your layout is the first step of any van conversion. However, we know it can get overwhelming with all the different options. Be sure to nab our Van Build Planner to gather ideas and start thinking about what's most important to you in your campervan conversion.
"What is a fixed bed vs. a convertible bed?"
Once you have your campervan layout finalized, you'll probably be itching to start the fun stuff — building out the living spaces like the kitchen and bed areas. Unfortunately, there are a few steps you'll need to take before you can get to that point.
Be sure you have plans for the following:
Insulation & sound dampening
Subfloor
Installing windows (optional)
Adding a ceiling fan for ventilation (optional)
Walls & Ceiling
Campervan Insulation
Insulating your van will be one of the very first things you'll want to tackle and we're going to make it easy for you with our comprehensive guide.
Campervan Insulation Guide: From natural wool insulation to 3M Thinsulate (and all the options in between), we're sharing the best types of van insulation along with their price points and pros and cons to consider. Plus you can follow our exact process for insulating your van.
Check out our YouTube Tutorials for step-by-step instructions!
"Is there an outline or a course I can follow to show me exactly how to build my campervan?"
It just so happens there is…
After building two campervans completely from scratch, we decided to create the resources we wish we would've had along the way. We spent the better part of a year creating Van Conversion Academy.
We spent countless hours sifting through Instagram, Pinterest, blogs, YouTube videos — the whole gamut. And after going cross-eyed from all our research, we were more confused than ever. Sound familiar? More than once, we purchased the wrong (non-returnable) item and had to start projects from scratch.
We created this course so you don't have to waste your valuable time & money (like we did!). It's exactly what we wished we'd had when we were building our campervans.
WHAT YOU'LL GET:
Step-by-step instructions
Blueprints you can copy
Video Tutorials
Tips & Recommended products
Exclusive Facebook Group access
Lifetime access to the course
No more headaches or hours of research… Click below to learn more about Van Conversion Academy and get on the road faster!
And now the fun part! This is where you get to really dig in and start creating the space you will call your home on wheels. From kitchens to bed ideas to campervan toilets, we've covered it all and are here to help you get building!
Still feeling stressed and overwhelmed?
Take the guesswork & stress out of your van build with our exclusive BLUEPRINTS…
If you're sitting here thinking, "I think I'm ready to tackle this van build on my own, but I'm not sure where to start with the technical stuff," don't worry, you're not alone!
We understand how complicated building a campervan solar electrical system or water system can be (after all we've done it twice!).
Taking the time to comb through hundreds of hours of YouTube tutorials and blog articles is one way to tackle this, but we have an easier solution to simplify your van conversion…
We put together the exact measurements and instructions for you to replicate some of the more complicated systems in our van build, from our exact campervan layout to the electrical, water and propane systems setups.
But wait… it gets even better!
Bundle all 4 of our BLUEPRINTS in one single purchase to get an exclusive discount!
Want to learn exactly how to build and install your solar-powered campervan electric system?
Installing electricity in your campervan can seem like an overwhelming task, especially if you have no prior experience working with batteries, wires and solar panels.
Save yourself the headaches and hours of research we went through with step-by-step instructions, video tutorials, tools & materials lists and blueprints you can actually copy so you can get electricity anywhere!
Click below to learn more about our Electrical System Workshop.
Possibly the most exciting step in this van build process, adding the finishing touches to your van will help you turn your vehicle into a home. Use the resources below to help you put the final touches on your home on wheels!
"I want to save money and make insulated window covers myself!"
Great, you're gonna LOVE them!
These insulated window covers are a game-changer for your van! Magnetic inserts help you regulate the temperature inside your van, blackout the sun, and most importantly give you 100% privacy. You can purchase these window covers online, but they'll run you a pretty penny (like a whopping $500+ penny!).
With our tutorial you can easily make these insulated window coverings at home for a fraction of the cost.
"Where can I find the exact items you used in your campervan?"
We are constantly getting asked where to buy some of the products we used in our van so we decided to make it easy for you…
We put all of the tools, materials, products and pieces together in one place so you can easily shop our van.
Don't forget to watch our Van Tour!
Below, you will find step-by-step tutorials and product reviews to guide you through your own van build. We're here for you every step of the way! Let's get building…
Here you will find all kinds of tips and advice about how to live in a van, plus behind the curtain knowledge about what it's really like, and how to decide if #vanlife is for you.
Wondering how to live in a van?
You'd be surprised at how easy it is to settle into vanlife. The transition from a traditional home to a tiny house on wheels may sound daunting, but we promise you it's possible for anyone – whether you're a digital nomad, a small business owner or a family of five!
We spent a summer living in our first van, Vinny, while road tripping the western United States. While our second van, Pearl, got a few upgrades making it easier for us to go off-grid and stay for longer periods of time, the concept is still pretty much the same. The articles below will help answer some of your most burning questions about living in a van, from what a day-in-the-life looks like to how we keep ourselves clean.
A Day in the Life: Living in a Campervan: Join us in this vlog-style video as we cook meals, explore Mount Baker Wilderness and just live a normal day in Vinny the van!
Campervan Gear Essentials: Our favorite travel products for vanlife from camping gear to kitchen supplies to creative storage that'll make your tiny home life on the road easier.
"How do you get mail on the road?"
This is an excellent question, and definitely something you'll need to think about before jumping into full-time vanlife. There are a handful of solutions, so read through and see which sounds like it would work best for you.
For general mail:
Use a trusted friend or family member's address. This isn't ideal for everyone, but if you have someone you trust to open those important letters or hold things on your behalf, this can be a good temporary option.

Rent a P.O. box. This is a good solution if you're based in one region and can make it to your P.O. box every so often to physically be able to pick up your mail.

Sign up for a digital mailbox. If you will be roaming around and aren't able to physically pick up mail at a P.O. box or a friend's house, a digital mailbox is a good option. There are different packages you can choose from, but most companies will open and scan a certain number of letters per month. This is really useful for getting access to important documents even if you're on the road. The company we use is called Earth Class Mail, which is pretty affordable and doesn't require a contract!
For packages or individual pieces of mail:
Use Amazon lockers. This only works for orders on Amazon, of course. They are quite convenient because these lockers are pretty common in cities big and small.

Have items shipped to a USPS location. If you need to get a package on the road (that isn't through Amazon), USPS stores can hold it for you. We once ordered two backpacks and had them shipped to the USPS location in Telluride because we knew we'd be in that area when the package arrives. This is known as "General Delivery" and mail will be held for up to 30 days. After that timeframe, it will be returned to the sender.
"How do you shower in a campervan?"
This is a question we get asked all. the. time.
The answer really depends on how you decide to design your campervan. Some vanlifers have a dedicated shower inside their van. Others have a spigot outside to rinse off. And others still have no shower at all.
Indoor shower: This allows you to shower anywhere — even while parked in the middle of a city. With an indoor shower, you'll have complete privacy, but it does take up valuable space inside your van. You'll also need to monitor your water usage because you will be responsible for filling and dumping your tanks.

Alternative: We've seen some builds with a collapsible shower that folds up when not in use, meaning it won't take up as much space as a dedicated shower. That said, it will require you set it up and tear it down each time you want to shower.

Outdoor shower: Simple to install and doesn't take up any space inside your van. You must be sure to shower at least 200 feet from any water source and you must use biodegradable products. Additionally, you will need to seek out spots that give you enough privacy to shower (aka you can't just rinse off in a residential neighborhood!).

No shower: If you decide not to have a shower in your van, you can get clean at many places along the road:

campgrounds

public showers (sometimes at community centers, truck stops, ski resorts, etc.)

gyms: many vanlifers get a membership to a local chain that is plentiful in their area, like Planet Fitness

How to Shower in a Campervan: We'll show you to get clean even if you don't have a shower in your campervan.
Note: Covid has made this a bit more difficult with gyms and campgrounds operating with limited facilities. Hopefully, this won't be a long-term problem.
"What are some easy meals I can make in my campervan?"
While there was a bit of a learning curve, we have come to love cooking in our campervan. We have gathered some of our favorite meals that are both healthy and simple to make. Let us know what your favorite is!
Camping Meals: We're sharing our favorite (easy & healthy) camping meals to make life easier!
"How can I make money while living in a campervan?"
There are many ways to make money on the road:
a) find a job that can be done remotely (here's a list of remote job ideas!)

b) create your own income stream by working side hustles or selling a product from your van

b) find gig work or seasonal jobs along the road
Things to think about:
Will your job require you to work specific hours (like a 9-5), or can you get your work done as it fits into your schedule?

How much of the time will you need access to the Internet? What happens if you can't connect?

Will you need to be in a specific area or region in order to work this job? Will the seasons affect your ability to work?

Will you need more than one job to support your lifestyle? If so, how many hours will you need to work per week?
Working on the road is totally possible. During our first vanlife summer, we taught English online (from inside our van!) and did freelance writing, graphic design and social media management. We worked from inside our van as well as coffee shops along the way.
Now, we're full-time travel bloggers, which allows us to work wherever and whenever we want!
"Do you ever get lonely on the road?"
This is a very personal question and everybody deals with loneliness differently.
You know yourself better than anyone else, so if you think you might be prone to getting lonely on the road, here are some tips:
Connect with other vanlifers on Instagram or Facebook Groups and make plans to meet up.

Plan to go to a vanlife gathering (or a few!) where you can connect with like-minded people and make new friends.

Consider adopting a furry friend to be your road companion.

Make it a priority to video chat with friends and family regularly.

Create a routine that you can follow in your campervan, which will help you feel more grounded. Choose things that make you happy: yoga or stretching, going for a morning run, journaling, meditation.

Stay in places long enough to get a little sense of community. Join local Facebook groups and attend meetups.
"How much does vanlife cost?"
We all know money plays an important role in shaping our decisions. Before you jump headfirst into vanlife, it's a good idea to really understand how much daily life will cost on the road. For that reason, we recorded every single expense (and I mean everything!) we incurred on the road.
Living in a van can be a very inexpensive lifestyle if you really watch your spending, but it can also be easy to spend much more than you'd like…
This article will give you a better understanding of what expenses come with day-to-day vanlife and will hopefully give you a baseline to start with.
Daily Costs of Vanlife: We kept track of everything we spent during our 3-month USA road trip, so you can see how much to budget for your own campervan or RV road trip.
"How do I know if vanlife is right for me?"
I'll be honest, living or traveling in a campervan is not for everyone.
While there are all types of vans — from very basic to straight-up bougie — not everyone is going to love being in a tiny space. There are definitely some things that are much harder on the road than they are in a traditional home.
Before jumping into this trend blindly, be sure to do some research and reflecting to be sure this lifestyle is a good fit for you.
Luckily, we've got lots of resources for you to start with…
Have a campervan enthusiast in your life?
Searching for the perfect gift for your favorite vanlifer might seem like a challenging task, but we're making it easy on you. We've rounded up some of our favorite campervan essentials that make super fun and practical gifts for life and travels on the road.
Can you do VanLife with a baby?
Heck yes! We've been traveling around the USA with our daughter in our van ever since she was 7 months old. We even drove from the west coast to the east coast and back all before she was 14 months old. 
We have a tried and true packing list for babes in a van that we use every time we pack up our campervan. Download our VanLife with a Baby Packing List and make your life way easier as new parents living in a van. 
In this section, you'll find all sorts of resources for life on the road. We've got everything from honest insider advice, hacks and tips we've learned, and a peek inside what vanlife is really like (beyond the perfectly curated pictures on Instagram!).
Taking a road trip is one of the best ways to see a new place. You have absolute freedom to explore on your own schedule and get off the beaten path. Plan the ultimate vanlife road trip with our extensive resources that cover everything from the best road trips in the US, to money-saving advice and helpful tips to travel more eco-friendly while on the road.
How do you find places to stay while on the road?
When traveling in our van we usually prefer camping as it's the most affordable and best way for us to really enjoy the tiny home we've created for ourselves. Plus there is something so magical about waking up in the wilderness! The incredible views you couldn't get from anywhere else, waking up with the sun, starting your morning off submerged in nature. There is not a lot that tops those feelings!
Free Camping Guide: Tips and Apps to Find Free Campsites in the USA: We've rounded up our top tips and advice for finding free camping across the US, as well as the best free camping apps out there. Plus, we're sharing the no-BS truth about what free campsites are really like…
What should I pack for a road trip?
I don't know about you, but I really hate that feeling when you first get on the road and have to wonder if you're forgetting anything important. The worst is when you're in the middle of nowhere and realize you're without the essentials and there is no town for miles. This has happened to us on more than one occasion, so we decided to do something about it…
We spent hours creating this packing list so we never forget the essentials. We're sharing it with you (for FREE!) so you can be sure that you've got all you need when you head out on the road.
Know exactly what to bring (and what to leave at home!) for your next road trip by following our ultimate road trip packing list.
How much should I budget for a USA road trip?
If you're planning a road trip across the USA and are trying to stay on a budget, you have come to the right place! We've spent a lot of time living in our van while road tripping through the US and we've become experts at saving money along the way.
Daily Costs of Vanlife: We kept track of everything we spent during our 3-month USA road trip, so you can see how much to budget for your own campervan or RV road trip.

Money-Saving Tips for a Cheap Road Trip: We put together the best, most practical and most creative money-saving tips and hacks so you can road trip for cheap!

Easy & Healthy Camping Meals: Camping is the best way to save money while living in a van, but you'll have to come prepared with a plan for your meals. We're sharing our favorite camping meals to make your meal planning easier!
Where should I go on my next road trip?
Deciding where to go on your next road trip is half the fun of planning it!
We are here to give you plenty of inspiration and advice for some of the best road trip destinations in the USA.
We'd recommend you start here:
31 Best USA Road Trips: This MASSIVE list is packed with routes recommended by travel bloggers all around the US sharing tips about their favorite American road trip.
Here are some of our favorite road trips we've ever taken…
Want more ideas of places to visit?
Check out all of our articles on destinations around the USA!
These guides will help you plan the perfect road trip! We've got destination guides as well as hacks and money-saving tips that you can use no matter where in the world you're exploring…
While we've built all 3 of our campervans in the United States, there are many countries around the world that we dream of exploring by campervan.
Here's our campervan bucket list:
I'm sure this list will continue to grow, but these are the top countries we'd love to explore in a campervan!
We've had the privilege of already experiencing a couple of these places in a van, and we couldn't recommend it more highly!