A dramatic mountainous coastline and jaw-dropping views are just some of what makes Cape Town such a cool place to visit. We rounded up some of the best Airbnbs in Cape Town to help you plan your stay in this coastal South African paradise.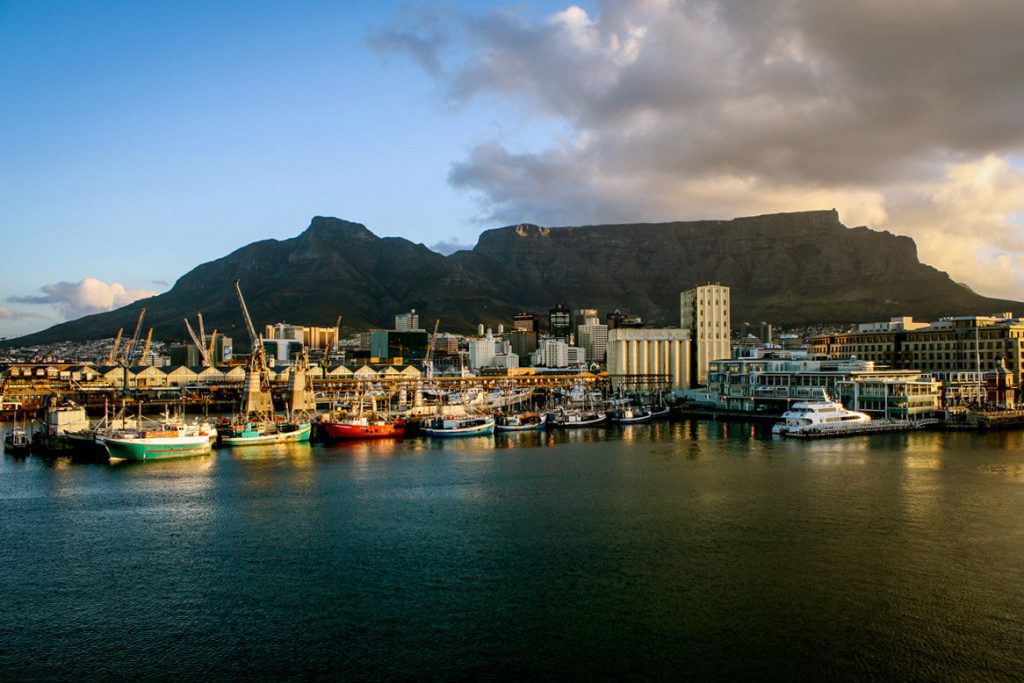 With dramatic coastal and mountain scenery, an incredible foodie scene, excellent museums, vineyards, and so, so much more, it's easy to see why many people fall in love with Cape Town, South Africa.
The perfect basecamp for everything from a stint as a digital nomad to enjoying a long, leisurely vacation, there are so many things to do in Cape Town. So many that you'll want to book accommodation for a sizable chunk of time!
Fortunately, there are plenty of Airbnbs in Cape Town to find the perfect stay for your trip. Boasting unforgettable views and innovative design, this is one place you might actually want to spend time in your accommodation.
We assembled this list of the coolest Cape Town Airbnbs for any occasion. Whether it's a luxurious retreat or you're looking for an urban apartment with an office set up for remote work, we've got you covered.
Cape Town Airbnb Guide
---
Our top 5 recommendations
If you're looking for quick answers, here are our top 6 picks for Airbnbs in Cape Town.
Don't see one that works for you? Don't worry, we've got plenty more recommendations below!
Why stay at an Airbnb in Cape Town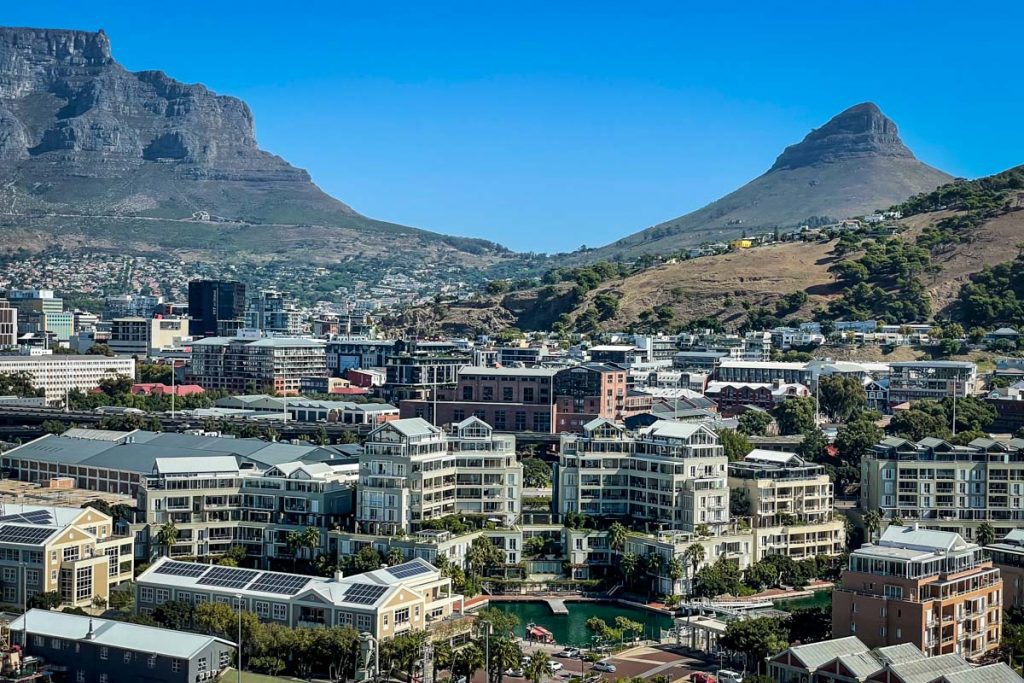 Renting an Airbnb is a fantastic way to immerse yourself in a new place. With so many stunning properties to choose from, there's no shortage of Airbnbs in Cape Town.
Plus, staying in an Airbnb lets you experience some perks not found in hotels:
Stay beachside without the hustle and bustle. Several of Cape Town's most stunning waterfront areas don't have many hotels.
Get an authentic feel for local neighborhoods, away from business districts and tourist hotspots.
Enjoy the perks of longer-term living, like home offices for remote work, kitchens, and laundry facilities.
Split your accommodation with a group, whether to offset the cost or simply enjoy staying together.
Have private access to beautiful terraces, balconies, and other outdoor living spaces showcasing jaw-dropping views.
Save money on longer stays.
Psst! Is this your first time staying in an Airbnb? We've got an entire article on how to book with Airbnb, including tips on what to look for in a listing and red flags to watch out for.
Where to stay in Cape Town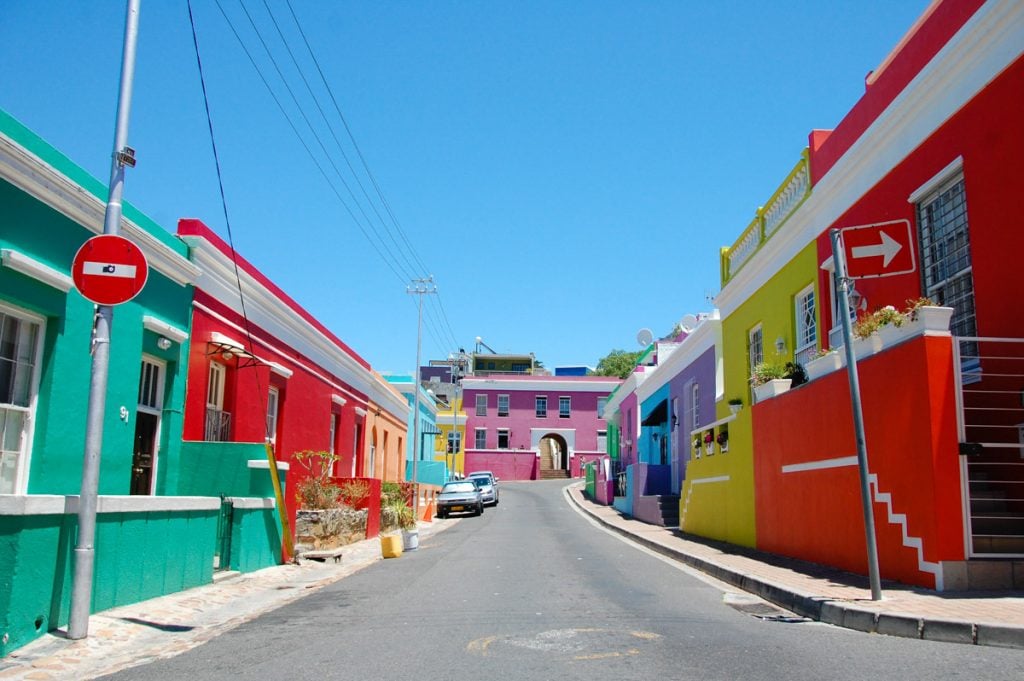 Divided by mountains and comprising over 185 miles (about 300 km) of scenic Atlantic coastline, choosing the "best" Cape Town neighborhood can be difficult.
While districts near the city center offer more urban attractions and less commute time, they can also be more frenetic and crowded. Outlying areas offer tranquil, stunning beaches, but you'll be further from the action in the city center.
Deciding on the perfect homebase for your Cape Town Airbnb largely depends on what you're looking for in your experience. It's a good idea to familiarize yourself with the city's various neighborhoods before booking.
Cape Town Neighborhoods
CBD (Central Business District): Also referred to as the City Bowl, the center of Cape Town has some of the city's best cultural attractions and restaurants, but lacks natural scenery.
Bo-Kaap: Technically part of City Bowl, a vibrant, eclectic neighborhood known for its cobbled streets and historic, colorful homes.
De Waterkant: A small, upmarket slice of City Bowl that's renowned for being particularly friendly to gay travelers, home to the popular Cape Quarter shopping district and lively nightlife.
V&A Waterfront: Bustling development with tons of attractions and a large concentration of accommodation options, most with ocean views. Note that while there's plenty to keep you busy here, it doesn't offer much in the way of a true local feel.
Tamberskloof/Gardens: Quiet, pleasant suburbs in the city proper with beautiful views and convenient to excellent hiking.
Green Point/Mouille Point: Residential waterfront neighborhoods with excellent restaurants, plus great parks and walking paths.
Sea Point/Fresnaye: Cosmopolitan, busy upscale beachfront district on the Atlantic Ocean with excellent dining and nightlife.
Bantry Bay/Clifton/Camps Bay: This string of luxury neighborhoods are a bit more removed from the city and feature some of Cape Town's best beaches.
Hout Bay, Cape Peninsula and beyond: Separated from Cape Town proper by mountains, these areas boast incredible scenery and gorgeous beaches but offer fewer urban attractions. 
Psst! You'll find our guide to the best time to visit South Africa helpful to get the full breakdown on what makes each season distinct and unique to help cater to your trip.
---
Best Airbnbs in Cape Town
From secluded getaways with a cozy mountain town feel to posh beach villas and charming village chalets, there are tons of eye-catching Airbnbs in Cape Town to choose from.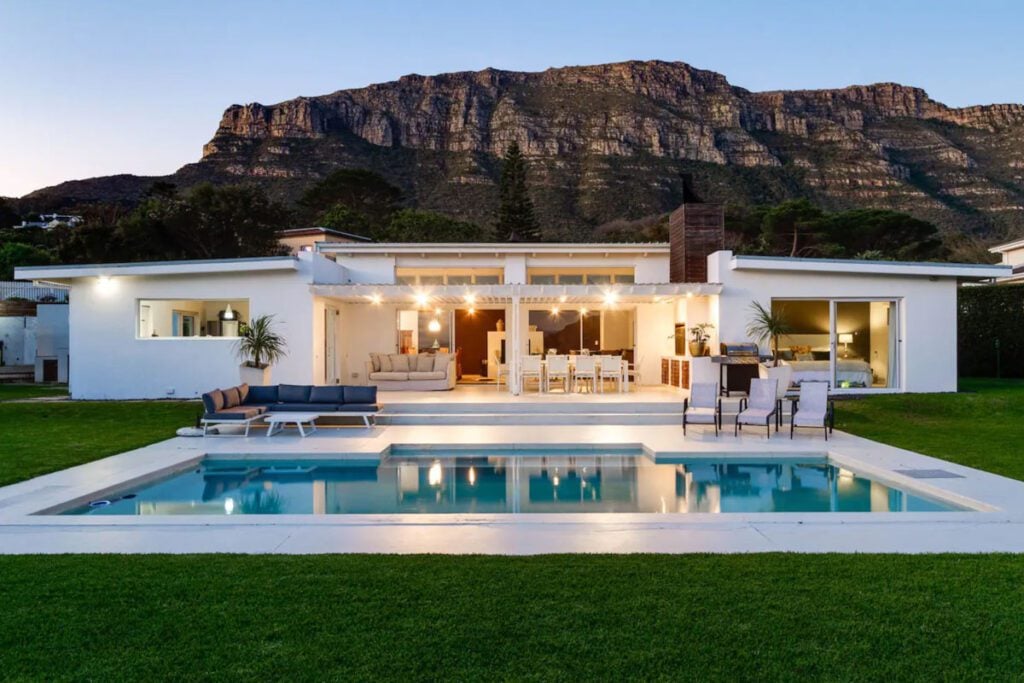 Stunning 5-bedroom home with a pool and spectacular views
Budget: $$$$
Number of guests: 10 guests
Minimum stay: 5 nights
Superhost
This home's perks are so impressive, you can easily spend several days here without leaving! The pool is the star — with a breathtaking mountain backdrop and views of the sea, it's an idyllic place for a swim. With a covered patio, comfy seating, and a chaise steps away, you have the ideal setup for both socializing and relaxation.
The interior matches, with comfy beds and chic decor. And the kitchen boasts excellent amenities, too, with enough counter space and seats to feed a crowd.
Guests are stunned by the scenery, noting it's even better than in the pictures.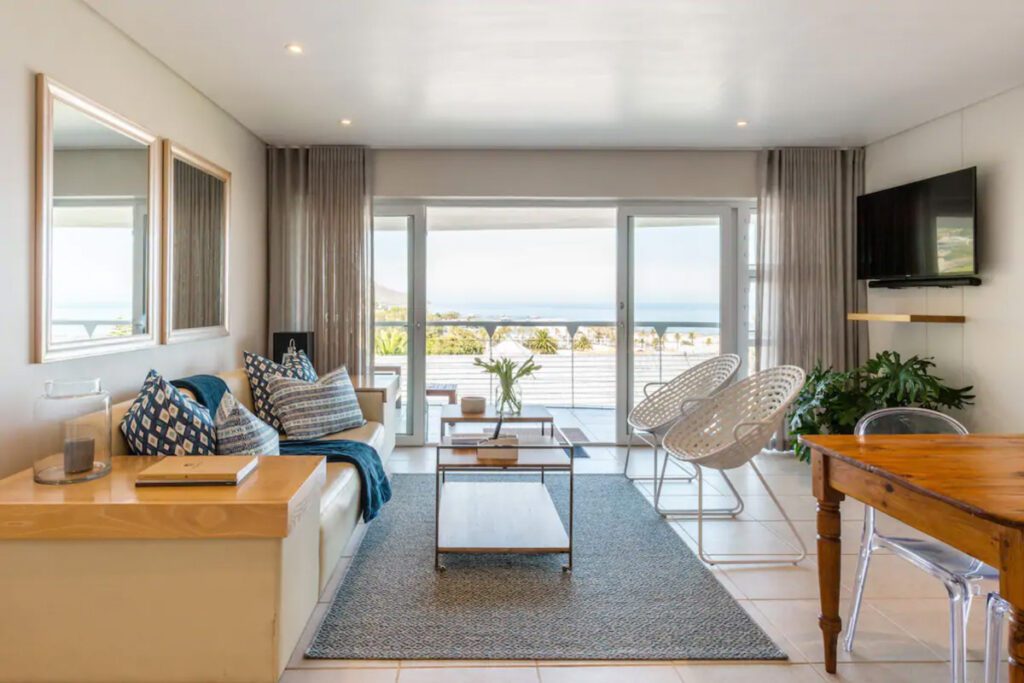 Bright and airy apartment with a hot tub
Budget: $$
Number of guests: 2 guests
Minimum stay: 2 nights
Superhost
Located just a three-minute walk from stunning Camps Bay Beach, this is one of the best Airbnbs in Cape Town for a coastal getaway! The interior is light-filled and cheery, complete with essentials for everyday living like a washer/dryer and fully-stocked kitchen.
The king bed is super comfy and boasts ocean views right out the window. Best of all, the balcony has pool chairs and a hot tub, so it's super easy to relax without even leaving.
In addition to the terrace and amenities, guests love host Robyn's hospitality.
"This has to be one of the most beautiful places I've been in CPT. Amazing apartment and the host is incredible. Enjoyed everything about it. Highly recommend it." – Kelebogile, January 2023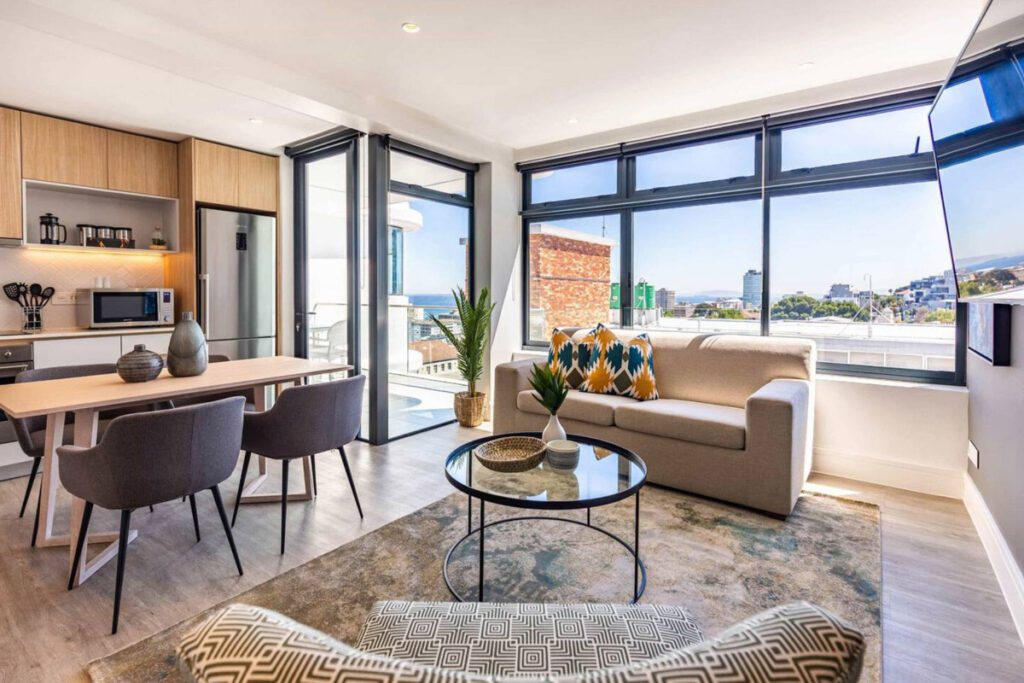 Sleek, comfortable residence in a modern high-rise building
Budget: $$
Number of guests: 2 guests
Minimum stay: 3 nights
Superhost
It's no surprise this Cape Town Airbnb has perfect 5-star reviews! The amenities are modern and highly functional — think super fast wi-fi, washer/dryer, great kitchen, and a shared pool.
Housed in a luxury high-rise, there's also a doorman and secure parking with surveillance. Right outside the door is tony Sea Point, with loads of restaurants, cafes, and attractions nearby. Beaches are just down the road, and a jaunt to beautiful Signal Hill is right out the back door!
Guests note the apartment is sparkling clean, as well as right next to excellent attractions.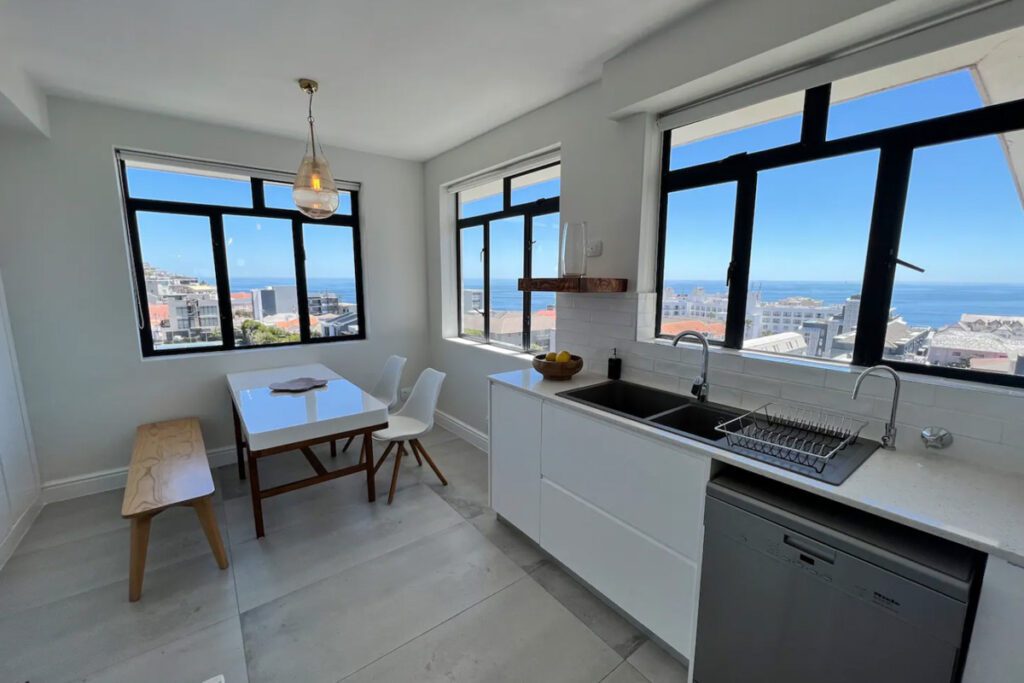 Renovated apartment with sea views in an urban setting
Budget: $$
Number of guests: 4 guests
Minimum stay: 2 nights
Featuring a crisp white color palette and sparkling water views, this apartment is among the brightest, most welcoming Airbnbs in Cape Town. The living room has floor-to-ceiling windows with views that seem to go on forever, the perfect backdrop for a meal.
With fast wi-fi, the property makes for an excellent remote work base. There are two full bedrooms, each with its own bathroom, so it's also ideas for friends or two couples. Factor in the bustling Sea Point location, and it's easy to see why guests love their stay!
Guests mention the host's thoughtfulness, noting every detail is considered!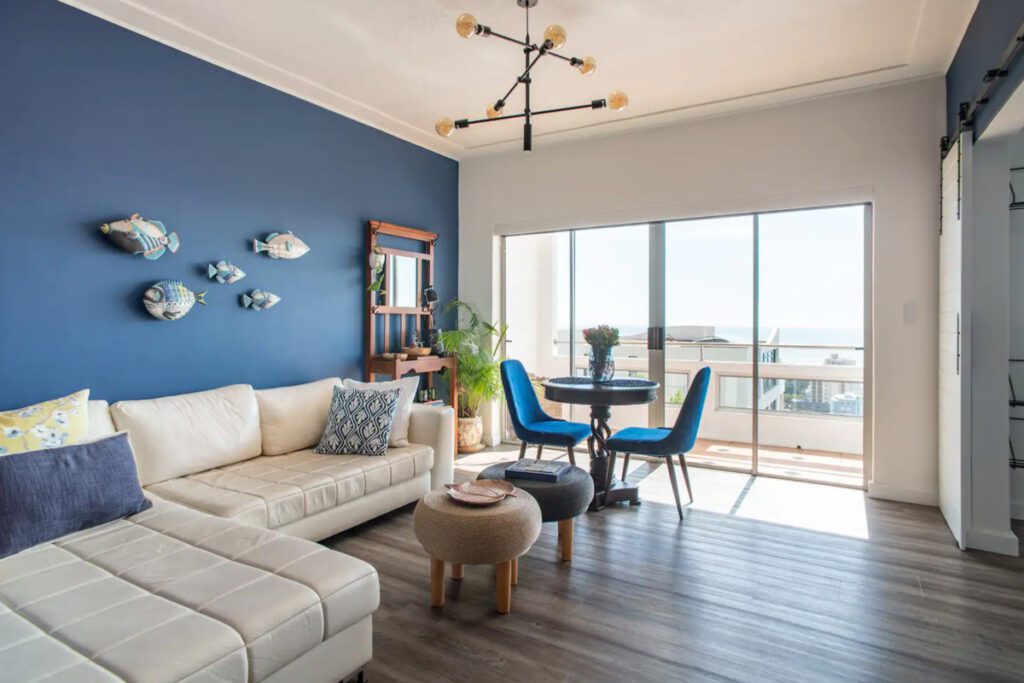 Cozy maritime-themed flat with water views
Budget: $
Number of guests: 2 guests
Minimum stay: 3 nights
Superhost
This apartment offers similar perks to others in Sea Point, like sea views, a balcony, and fast internet, but adds an extra home-y feel. Guests adore the comfy bed, and there's a table outside for al fresco meals.
Located right next to Signal Hill, it's an ideal location for runners, and its higher elevation means epic sunset views! Considering its reasonable price, it's no surprise this Cape Town Airbnb is often booked out. Snag it immediately if it's open for your dates!
Many guests love the property so much, they keep coming back!
"Perfection…as usual since it is my 4th stay! From the welcoming gifts to the yoga mat, not to mention the linen being refreshed twice by lovely Julia during my stay, I had a fabulous time at Andrea's place. Can't wait to come back 🙂 PS: almost forgot to talk about the incredible view! Gets me every time…" – Jacques, December 2021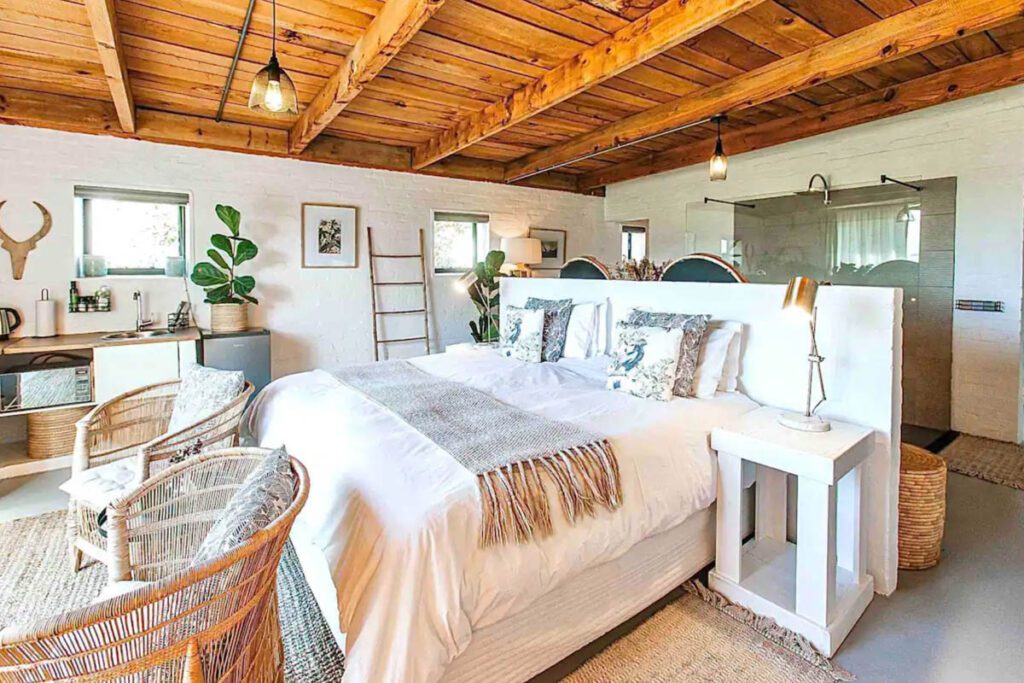 Lavish Bohemian house set among stunning surroundings
Budget: $$$
Number of guests: 2 guests
Minimum stay: 1 night
Superhost
Looking to immerse in Cape Town's renowned natural beauty? This converted artist's studio mixes bohemian charms with resort-like amenities, in a stunning valley.
There's a picture-perfect hot tub under the stars, an outdoor rain shower for post-beach rinses, and guests can even add on private massages and SUP rentals!
The house is filled with beautiful wood-accented decor, perfectly balancing the upscale feel with cozy digs. Add in the fact that you can walk to a secluded beach, and it's confirmed: this is one of the most impressive Airbnbs in Cape Town!
Guests rave about the warm atmosphere and the dreamy surroundings.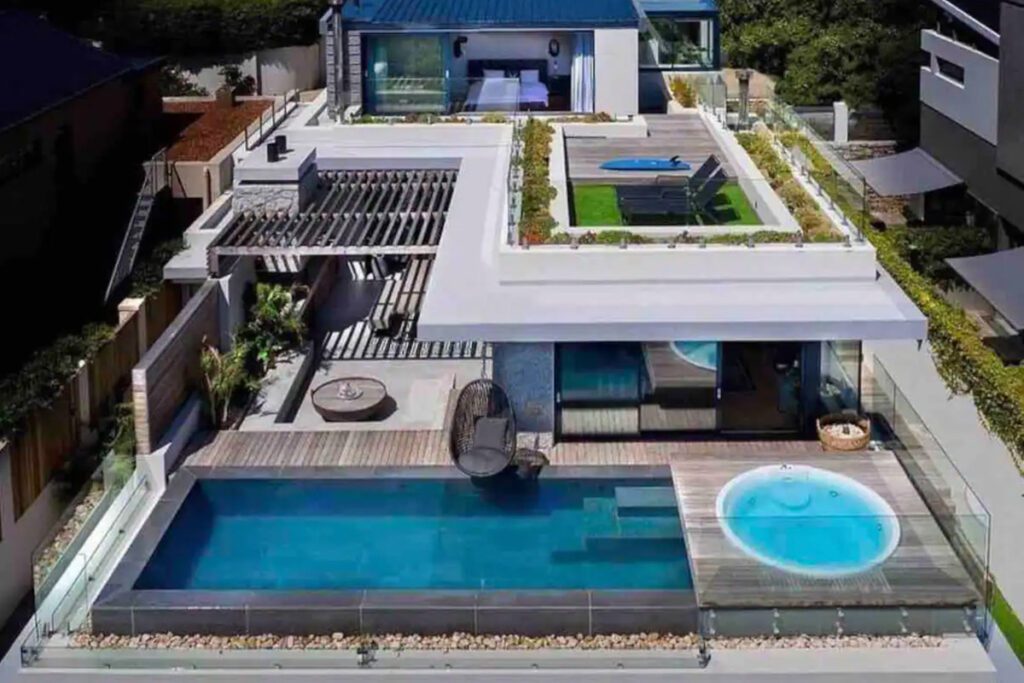 Luxurious contemporary home with a pool right on Llandudno Beach
Budget: $$$$
Number of guests: 2 guests
Minimum stay: 5 nights
Superhost
This beachfront villa delivers the best of modern luxury. The innovative design showcases ocean views from every room.
Water lovers will love it here: the standalone soaking bathtub opens to an impressive panorama, and there's a pool and hot tub on the raised deck. The architecture is stunning, with stone walls seamlessly blending with upscale furnishings.
This property is a destination in itself, one of the most impressive Airbnbs in Cape Town! If you can tear yourself away, Llandudno Beach is a 5-minute walk away.
Guests use the highest superlatives for their experience, describing their stay as unforgettable!
"Brad and Laura's place is absolutely incredible, we really enjoyed our stay. One of the nicest places we have ever stayed in, with incredible views from every room. The location is perfect, moments from the beautiful Llandudno beach. Brad and Laura were great hosts and we really felt at home." – Andrew, January 2023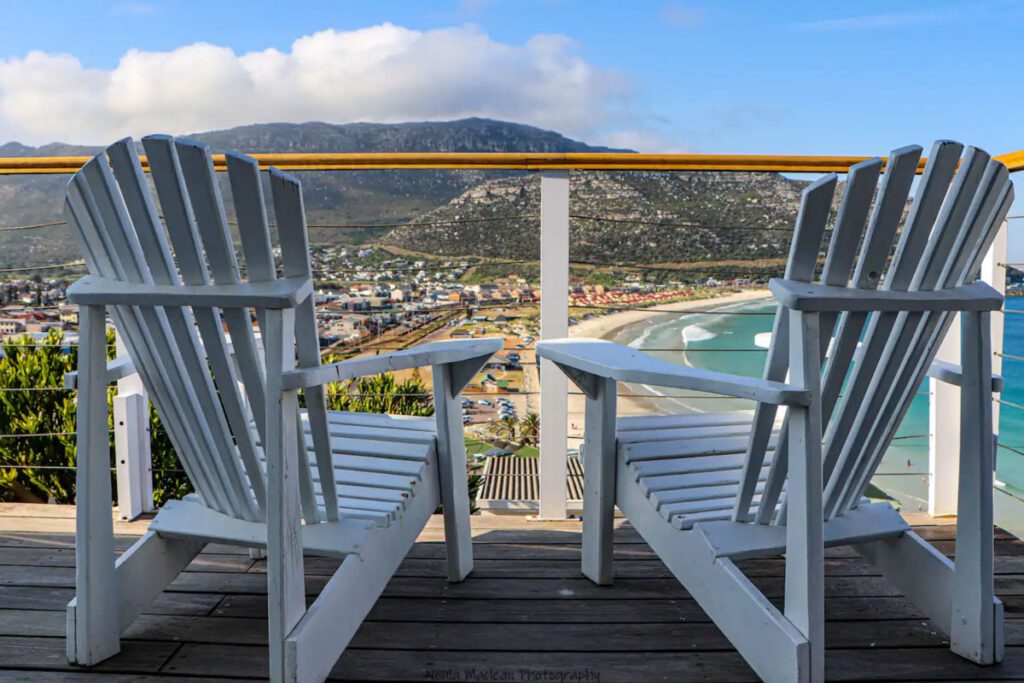 Large beachfront home with solar overlooking False Bay
Budget: $$$$
Number of guests: 6 guests
Minimum stay: 2 nights
For those who want to kick back with family and friends, this cozy house has the perfect social spaces: a large balcony and dining table with ocean views. All three bedrooms have their own bathroom, so the home is ideal for large groups.
The house also has solar panels to provide backup power, a huge perk since power outages in South Africa are common. Plus, the house is just minutes from Fish Hoek Beach, a stunning and relaxed slice of sand.
Guests note the house is really well-equipped for groups, perfect for cooking large dinners!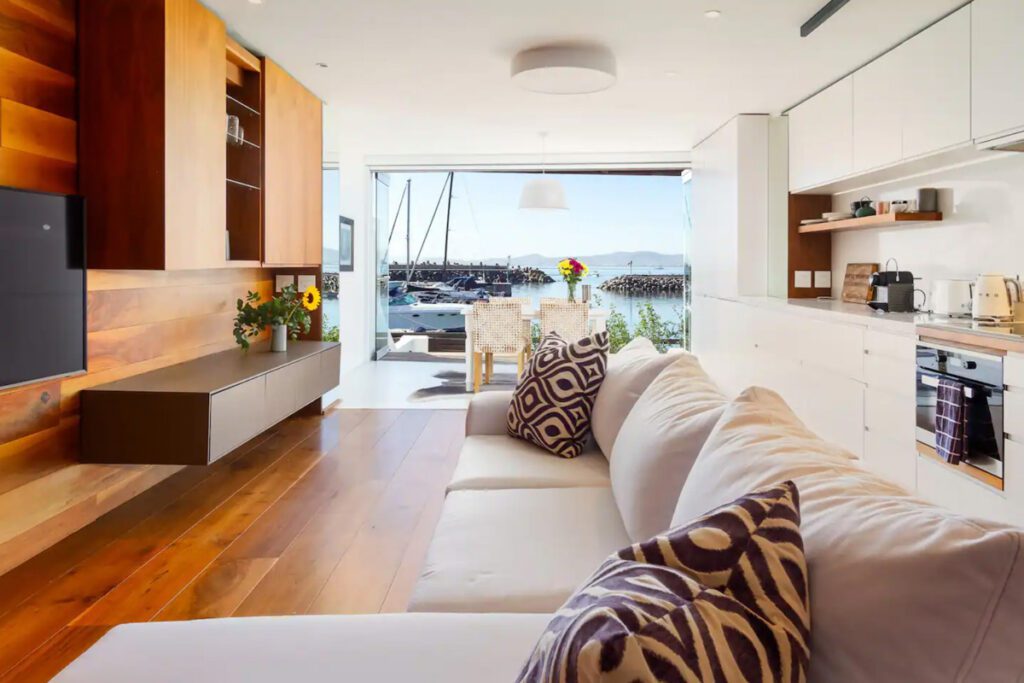 Luxury apartment overlooking Yacht Marina
Budget: $$$$
Number of guests: 2 guests
Minimum stay: 3 nights
Superhost
While many Airbnbs in Cape Town have beach views, this one changes it up with a marina location! The refined studio design creates an airy, light-filled space, bringing the outdoors in. Especially noteworthy is the dining room table, sitting next to floor-to-ceiling windows overlooking the bay.
Feel like going for a swim? There's a shared pool in the complex! Located near Cape Town's waterfront, restaurants, shopping, and cultural attractions like the Zeitz Museum of Contemporary Art Africa are mere minutes away.
Guests laud the property's modern feel and cleanliness.
Large globally-inspired home with a pool in the Cape Winelands
Budget: $$$$
Number of guests: 9 guests
Minimum stay: 2 nights
Superhost | Plus
The unique interior of this large home is filled with an impressive collection of plants, paintings, antiques, and other memorable touches from all over the world.
Outside, the wow factor continues with a lush garden and pool, set against a stunning mountain backdrop. It comes as no surprise the property has been featured by Travel and Leisure and Home Beautiful!
The town it's in, Stellenbosch, is impressive as well. With world-class wineries and one of the best restaurants in the entire world, there's a ton to do right outside the door!
Guests note staying here feels like a once-in-a-lifetime experience.
Psst! While you're there, you'll want to check out some of the best wine farms in Stellenbosch!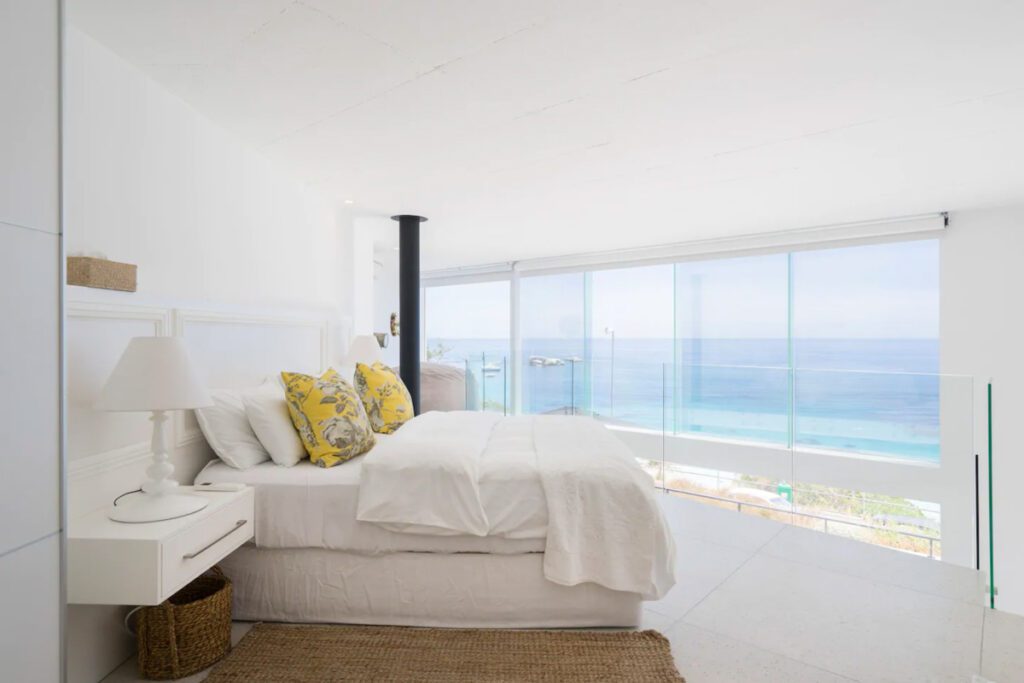 Bright apartment with a pool overlooking the ocean
Budget: $$$$
Number of guests: 2 guests
Minimum stay: 1 night
Superhost | Plus
With an all-white interior, it's hard not to feel energized during a stay at this Cape Town Airbnb. The elegant decor offers plenty of opportunities to relax, with ocean views from the couch, king bed, and the large terrace.
The secluded private pool is gorgeous, set in a well-landscaped garden overlooking the shimmering turquoise waters, and stunning Clifton beach is within easy walking distance.
Unsurprisingly, guests consistently rave about the spectacular ocean views.
"A beautiful apartment with incredible views. This was by far the best place we stayed in South Africa. Once you step out, there is easy access to the beach which is only a few minutes walk from the apartment." – Jasmine, December 2022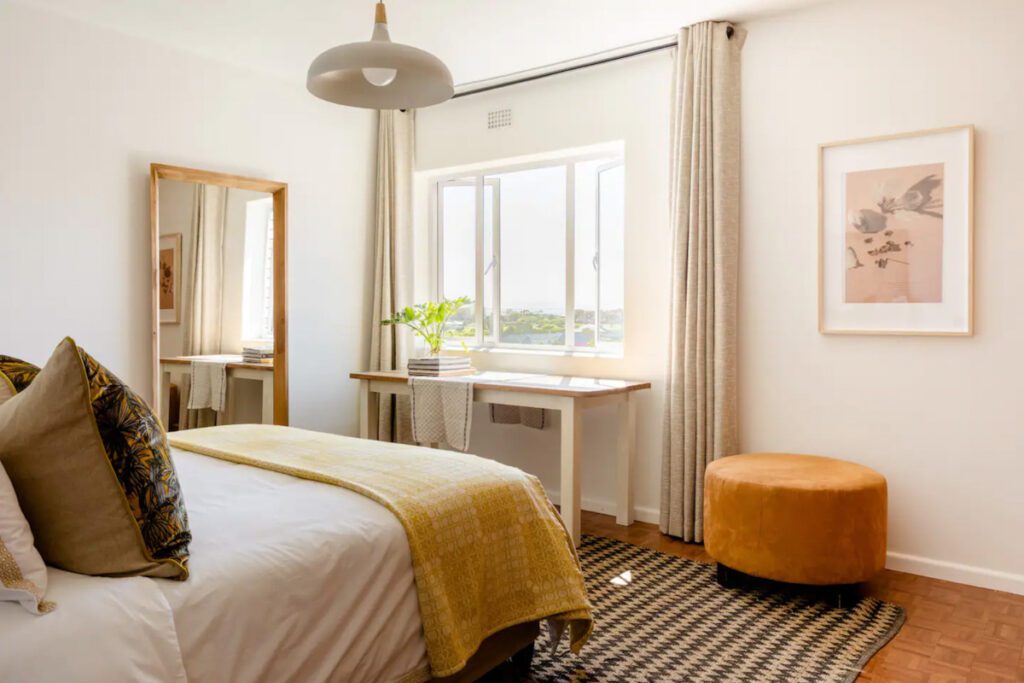 Urban apartment with great views in a highly walkable area
Budget: $$
Number of guests: 4 guests
Minimum stay: 2 nights
Superhost
When you see the excellent amenities and the walkable neighborhood, you'll be shocked by the price of this Cape Town Airbnb!
There's a washer/dryer, well-equipped kitchen, super fast wi-fi, and large TV with Netflix for a night in. Located on the sixth floor, the apartment's balcony view is beautiful, extending all the way to the sea.
The beds are outrageously comfy, making this one of the coziest Airbnbs in Cape Town. When you want to venture out, though, dozens of restaurants, shops, and attractions are within a short walk.
In addition to the furnishings, travelers love the host's flexibility.
Chic oceanfront apartment with a thoughtful design
Budget: $$$$
Number of guests: 3 guests
Minimum stay: 2 nights
Superhost | Plus
Sometimes, what the soul needs is a stress-free oceanfront stay. This apartment checks all the boxes, with not only perfectly comfortable furnishings inside but also beach towels, umbrellas, and even a barbecue for maximizing outdoor enjoyment.
You'll hear the waves without leaving the house, and there's a gorgeous view of the water through the living room's picture windows. Plus, guests have private access to Clifton First Beach (one of the area's four beautiful beaches to choose from!).
Guests rave about the sunsets, which can be enjoyed right from the couch!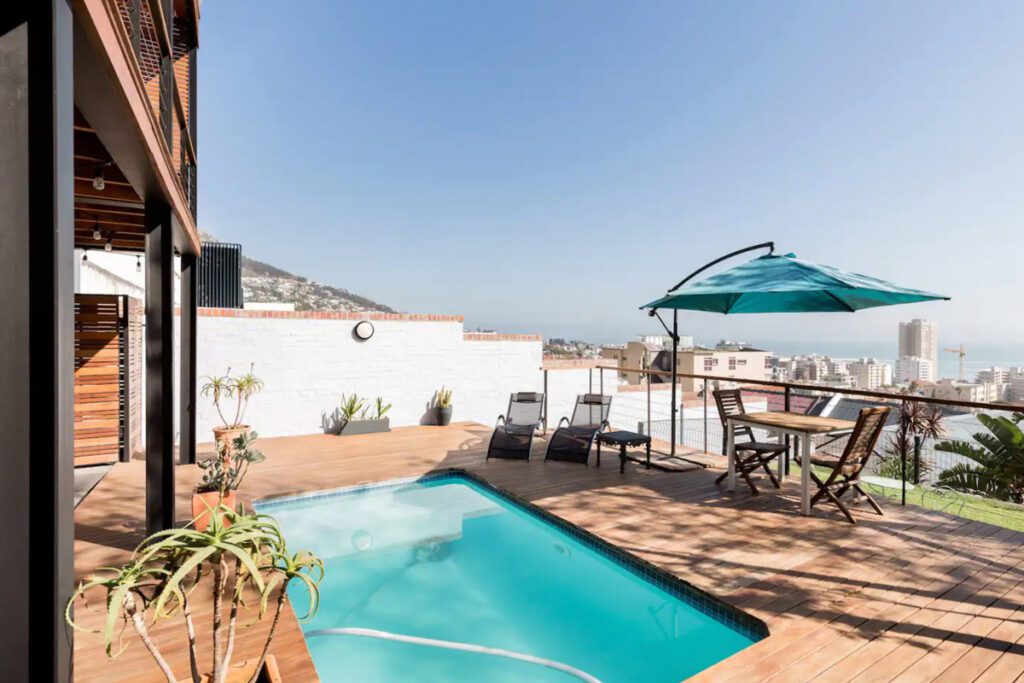 Upscale bungalow-style apartment well-equipped for long-term living
Budget: $$$
Number of guests: 2 guests
Minimum stay: 2 nights
Superhost | Plus
Several little extras at this apartment make it one of the best Airbnbs in Cape Town for working remotely. There are outdoor and indoor tables to choose from, a coffee machine, fast wi-fi, and even a backup generator. No need to stress about losing connection during a video call or missing a deadline!
Of course, it't not always about work, so thankfully, there's a private pool and accompanying lounge chairs. Combined with the grassy patio overlooking the city and ocean, plus the BBQ grill, there are plenty of opportunities to relax, too.
Guests love the Airbnb's proximity to attractions.
"Michael's bungalow was breathtaking, we felt so relaxed the moment we stepped inside. It had everything you could need and was just so stunning, from the views to the style, and added benefit of the pool area, you really don't need to leave at all during your stay! Thanks for sharing this space!" – Lucy, November 2022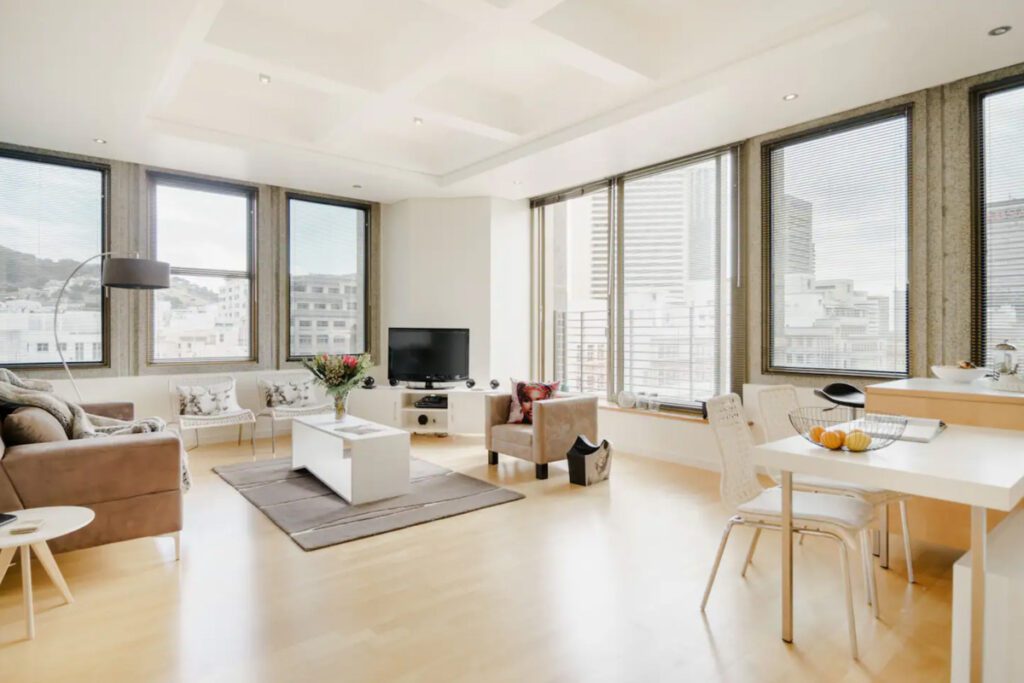 Luxury apartment in the city center with loads of upscale amenities
Budget: $
Number of guests: 2 guests
Minimum stay: 1 night
Superhost | Plus
This Cape Town Airbnb is located in the very center of the city, ideal for travelers who enjoy being in the heart of the action.
The spacious design features an open floor plan, large bed, and functional kitchen. The building has wi-fi and a backup generator, so it's great for working from "home" as you look out the large windows over the city.
Building amenities include a gym and pool, and some of the city's best shopping and dining options are steps outside the front door!
Guests rave about the host's communication, noting she's very accommodating to requests.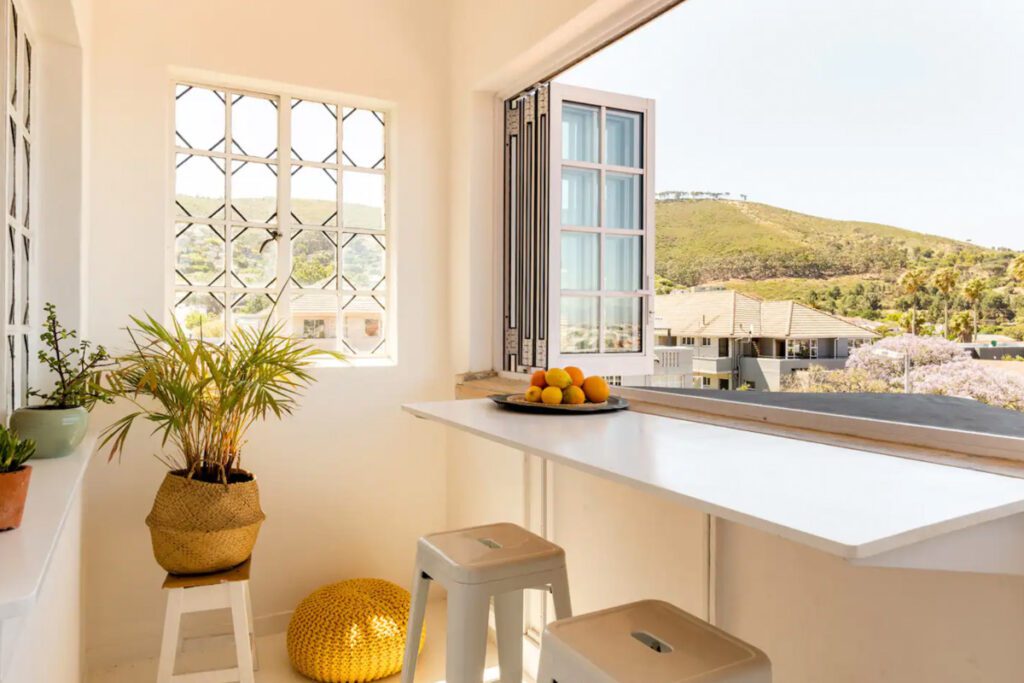 Charming top-floor apartment near the city center
Budget: $
Number of guests: 2 guests
Minimum stay: 2 nights
Superhost
This Airbnb is the perfect urban escape — filled with plants and surrounded by epic views in all directions, yet just a short walk from the CBD.
A perfect encapsulation of Cape Town's winning combination of nature and city, there's nothing quite like looking at Lion Head during a shower.
Located in one of Cape Town's most pedestrian-friendly neighborhoods, quirky local businesses match the apartment's vibe. Think whimsical cafes and independent eateries!
Feeling a night in? The apartment is stocked with board games, and bar seating offers great views over the city.
The host's hospitality and recommendations repeatedly win guests over.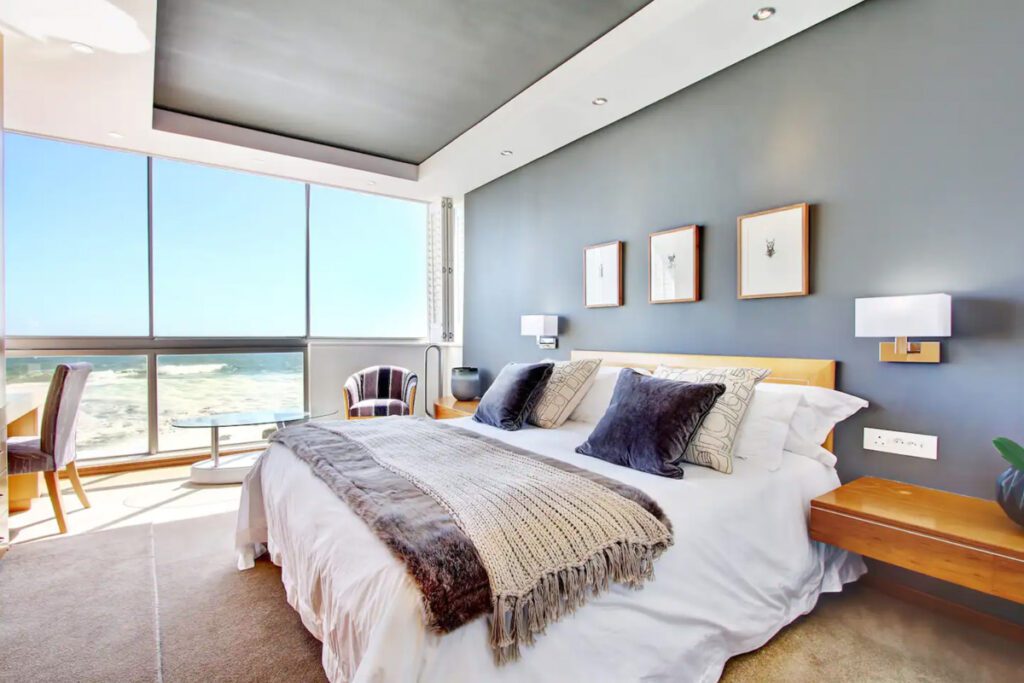 Large oceanfront apartment with loads of amenities
Budget: $$$
Number of guests: 6 guests
Minimum stay: 4 nights
Superhost
The views alone make this one of the best Airbnbs in Cape Town, but the extras really set it apart. The 3-bedroom condo has lightning fast internet, and there's a backup generator, free parking garage, and Netflix in every bedroom!
The seaside location is incredible, with expansive views of the cliffs and sparkling ocean from large windows in every room. When you're enjoying the view from indoors, there's a well-equipped kitchen and a wine fridge.
Guests love the larger-than-life views and host's expert recommendations for Cape Town.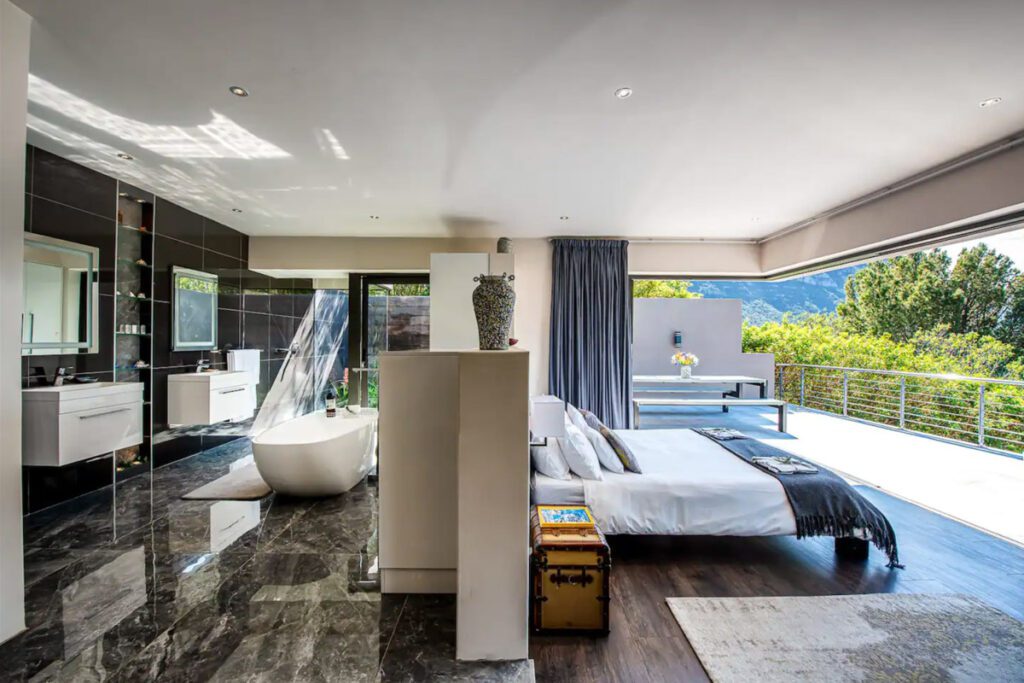 Indoor-outdoor living with an enormous balcony and secret garden
Budget: $
Number of guests: 2 guests
Minimum stay: 2 nights
Superhost
For a quiet, secluded stay, head to this breathtaking off-grid property in Hout Bay. One of the only Airbnbs in Cape Town that's fully self-powered, it matches its eco edge with a small, lush enclosed garden and expansive mountain views.
The bed sits next to the balcony's clever disappearing sliding door, so you can open it and lounge al fresco. The open-plan, all-glass bathroom is just as innovative, allowing you to enjoy unforgettable views as you soak.
Guests love the wood fireplace and indoor-outdoor flow.
"The place is definitely one of a kind and worth every moment. The views from the balcony are exceptional. I'll definitely be back again." – Dineo, December 2022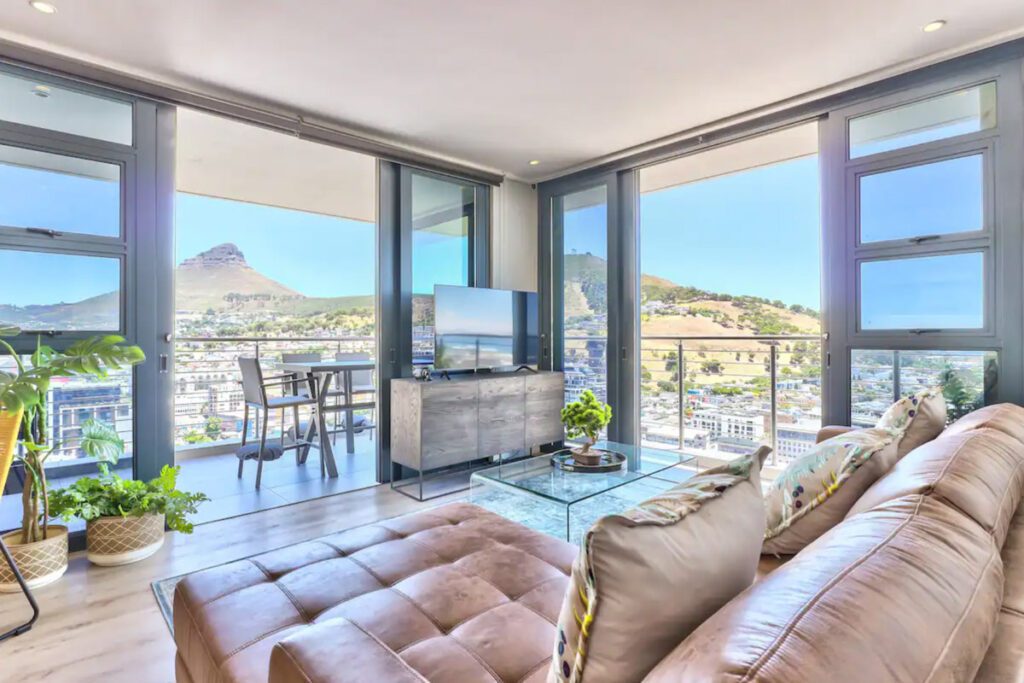 Hotel-like amenities in a high-rise apartment
Budget: $$
Number of guests: 2 guests
Minimum stay: 2 nights
Superhost
With a rooftop pool (on the 27th floor!), a gym, co-working space, 24-hour security, and location in the center of Cape Town, this apartment offers all the upscale conveniences of a hotel with the coziness of an Airbnb!
The view from the living room is spectacular, with vistas of both the mountains and the ocean, but you'll likely want to spend most of your time outside on the wraparound balcony. Inside, there's a well-equipped kitchen, washer, fast internet, and large TV, all designed for long-term stays.
Guests rave about the ideal location and rooftop pool.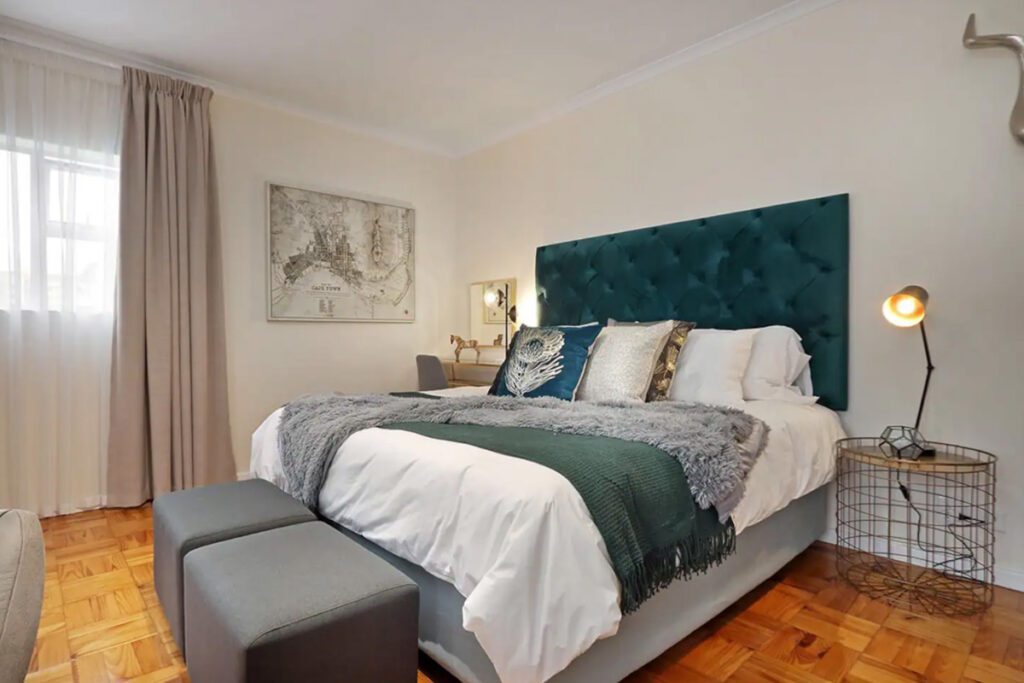 Well-equipped studio in a great location near the V&A Waterfront
Budget: $
Number of guests: 2 guests
Minimum stay: 2 nights
Superhost
Some Airbnbs in Cape Town offer up an excellent location and comfy furnishings in place of grand views. This compact yet impeccably decorated studio has exactly that, just minutes from the V&A Waterfront and within walking distance of several hot spots.
The studio has a washer, fully-functional kitchen with an oven, and a queen-sized bed, plus fiber-optic internet and Apple TV. Outside, in aptly named Green Point, there are tons of parks, trails, and beaches nearby.
Guests love the convenient access to so many local attractions.
Eco-friendly retreat a short walk from the beach
Budget: $
Number of guests: 2 guests
Minimum stay: 2 nights
Superhost
One of the most unique Airbnbs in Cape Town keeps it light, airy, and breathable with a sustainable-focused stay.
With hand-curated local wellness products, an abundance of leafy plants, an acoustic guitar, and a nearby tidal pool perfect for refreshing dips just steps away, this rental home encourages introspection.
Located in Sea Point, the home is within walking distance of Saunders Beach, and there are tons of other attractions right out the front door. The host can even connect you with a massage therapist!
Many past guests report their stay felt personalized and thoughtful.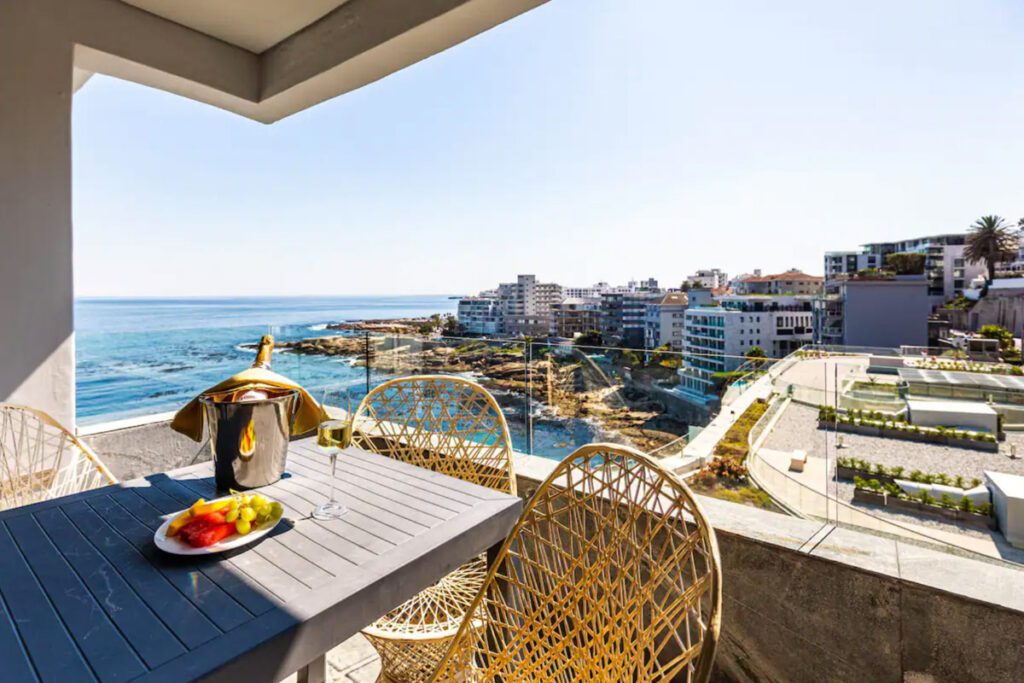 Ultra-stylish apartment with top-tier amenities
Budget: $$$
Number of guests: 2 guests
Minimum stay: 3 nights
Superhost
This property exudes understated luxury, with impressive perks and a gorgeous open floor plan that flows perfectly from room to room. Guests enjoy a shared rooftop infinity-edge pool and sun deck, as well as numerous outdoor dining areas.
Best of all, this is one of the most ideally located Airbnbs in Cape Town, just steps away from the Sea Point promenade and within walking distance of Clifton beaches.
A two-bedroom converted to an oversized one-bedroom with a king bed, there's plenty of room for times when you want to stay in.
Travelers frequently comment on the upscale amenities and kind host.
"Second time for us in this lovely little apartment, nicely decorated, wonderful views, roof terrace, pool close to the sea and much more. Rita, Shauns co-host, was very professional, supportiv and great fun. Berlin did the cleaning perfect. Maybe we come back a third time." – Eva, November 2022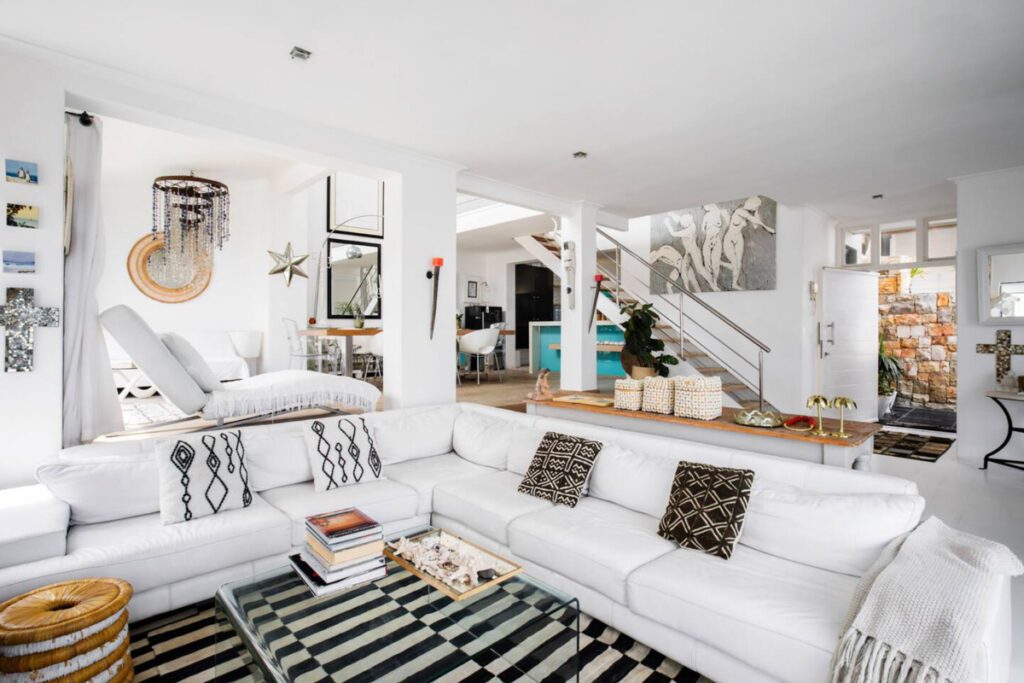 Bright, beautifully decorated home with a private pool overlooking the water
Budget: $$$$
Number of guests: 8 guests
Minimum stay: 2 nights
Superhost
This large four-bedroom, four bathroom home is the perfect city escape for a group, with every amenity you could possibly want.
For starters, there's the private pool and large sun deck overlooking a stunning beach. Indoors, there's a spacious kitchen, fireplace, and plenty of seating to enjoy a game night or simple conversation, and everything is immaculately decorated.
While it feels a world away, the center of Cape Town is less than an hour's drive, and there's a gorgeous beach down the hill.
Guests all rave about the superb view from the deck!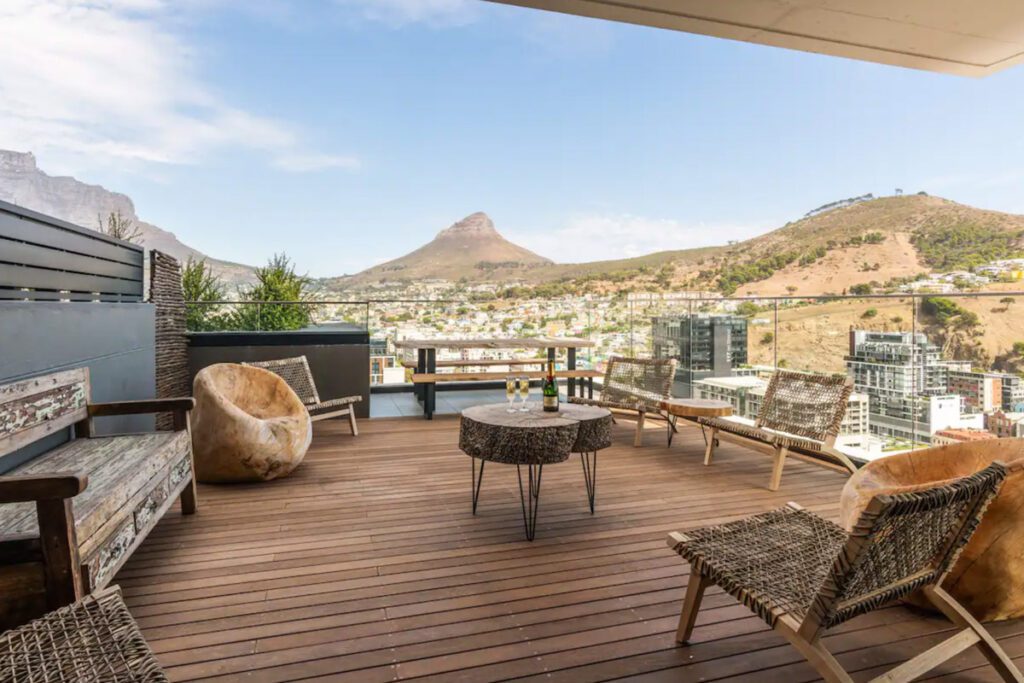 Upscale penthouse apartment with fabulous terrace
Budget: $$$
Number of guests: 8 guests
Minimum stay: 2 nights
Superhost
Many Airbnbs in Cape Town have rooftop decks…but this one (literally!) stands above the rest. With sweeping views of Signal Mountain and the harbor, you'll enjoy everything from yoga to a nighttime glass of wine.
The building also has a beautiful rooftop pool, cafe/bar, and outdoor boxing gym, plus security. In the apartment itself, the decor is wood-clad and elegant, with tons of extra amenities like exercise equipment, high-end toiletries, a dishwasher, and an oversized patio overlooking City Bowl.
Many guests applaud the view (of course!) and the host's friendly communication.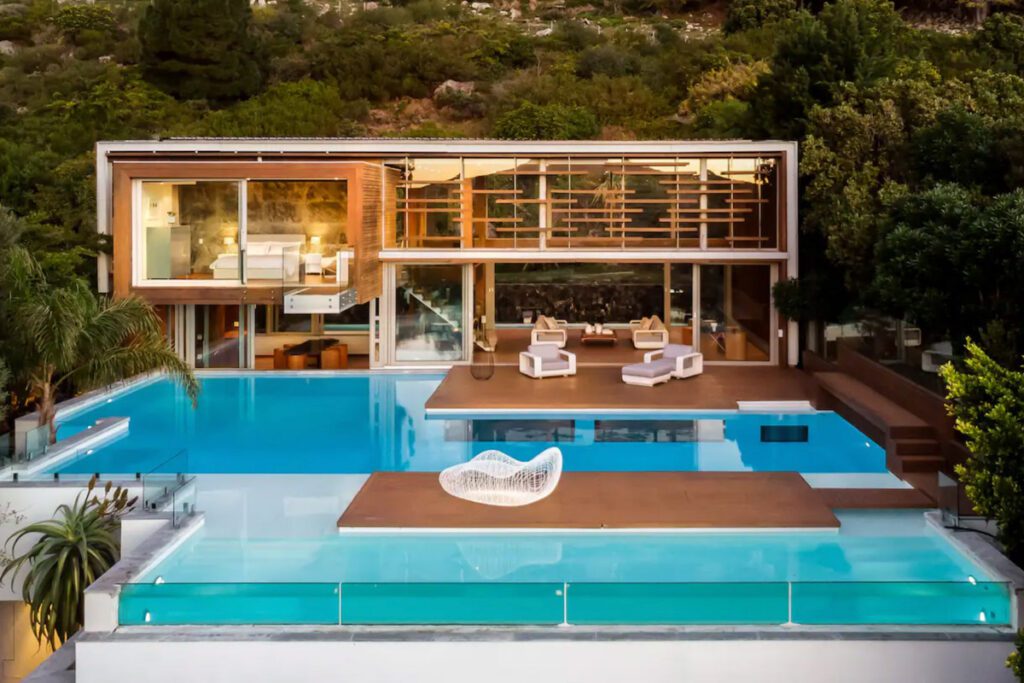 An extraordinary architectural gem with one-of-a-kind features and incredible views
Budget: $$$$
Number of guests: 6 guests
Minimum stay: 4 nights
Superhost | Luxe
There's no question that we saved the best Airbnb in Cape Town for last. The Spa House is one of those stays that's more of an experience than simple accommodation.
This ultra-modern house designed by an award-winning architect has bespoke features like indoor and outdoor pools and an underwater spa. That's not a typo — the "underwater relaxation room" has a steam room, sauna, massage room, and heated salt bath.
Part of the Airbnb Luxe program, a professional team custom-tailors every detail, from check-in to activities during the stay.
Guests are always reluctant to leave, noting every detail is carefully thought-out.
"I loved the spa house, very modern and aesthetically pleasing. The facilities in the house are really worth experiencing; the villa is as described and probably one of my favorite luxe villas experiences. The architecture is one of the best out there." – Khalifa, August 2022
Can't find an Airbnb?
---
You might also like…
Save this article on Pinterest for later!
We want to hear from you!
Which of these Airbnbs in Cape Town would you most like to stay in? Are you planning a trip to Cape Town soon and still have questions? Comment below and we'll do our best to get back to you with the answers you need!