Rugged, remote and wild, Glacier National Park is an incredible place to experience northwestern Montana. We've rounded up the top hikes and best things to do in Glacier National Park to help you plan an unforgettable trip!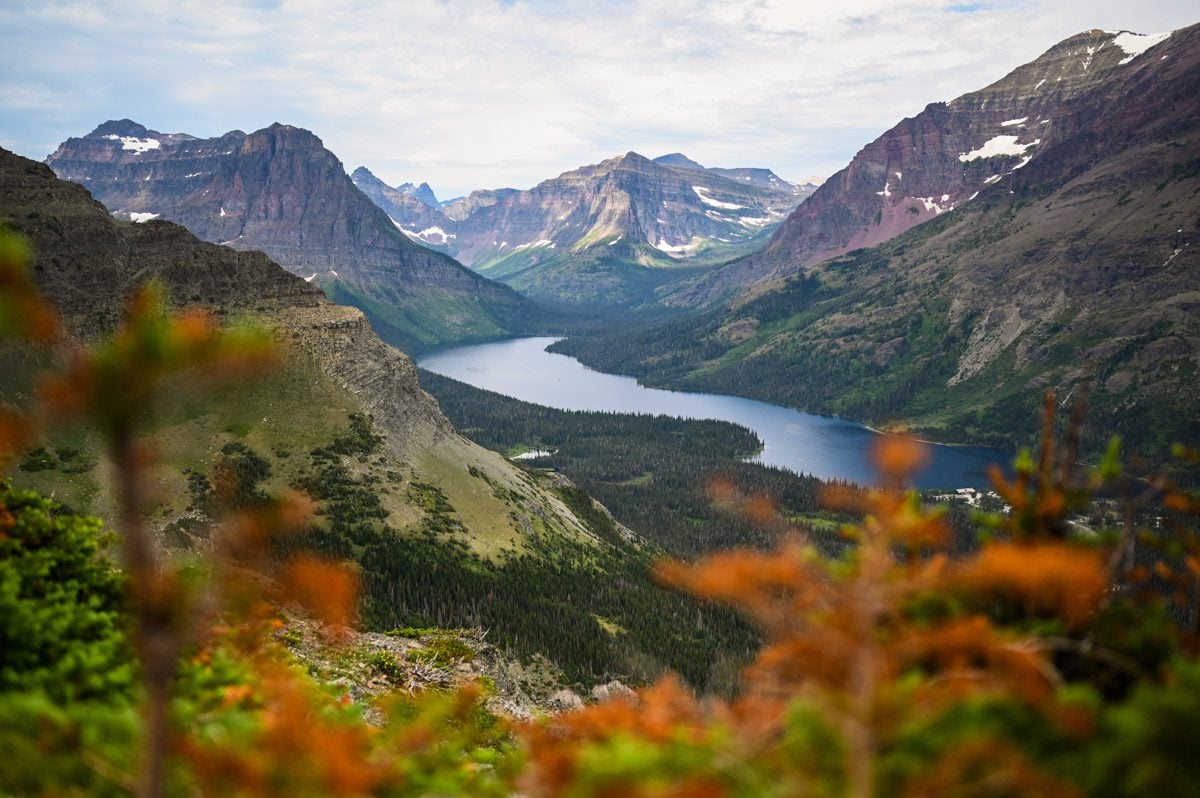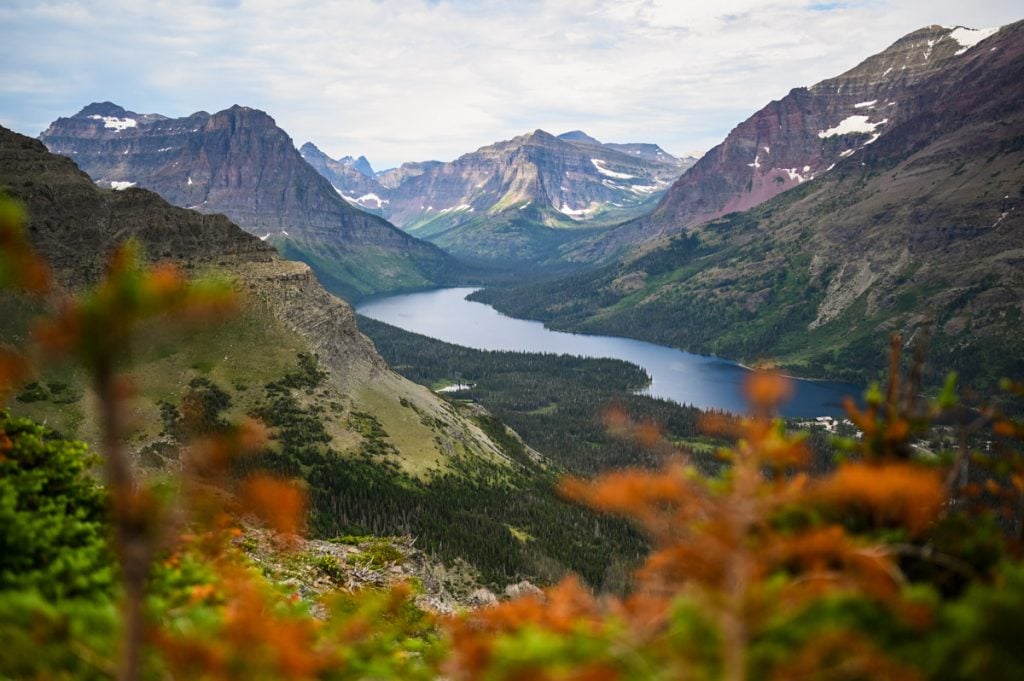 By Guest Authors: Sarah Vaughan and Matthew Cafarella
One of the crown jewels of the continent, Glacier National Park in northwestern Montana is rugged, remote, and wild. The park includes one million acres of immaculate forest, two mountain ranges, over 700 miles of trails, 131 named lakes, and countless opportunities to make incredible memories.
Glacier National Park offers a huge range of outdoor adventures, including hiking, backpacking, fishing, boating, biking, and more. But with so much to do and see, it can be overwhelming to plan how to spend your time.
Luckily, we are here to help!
In the article below, we have outlined everything you need to know to plan the perfect trip, including lots of amazing things to do in Glacier National Park.
Article contents
About Glacier National Park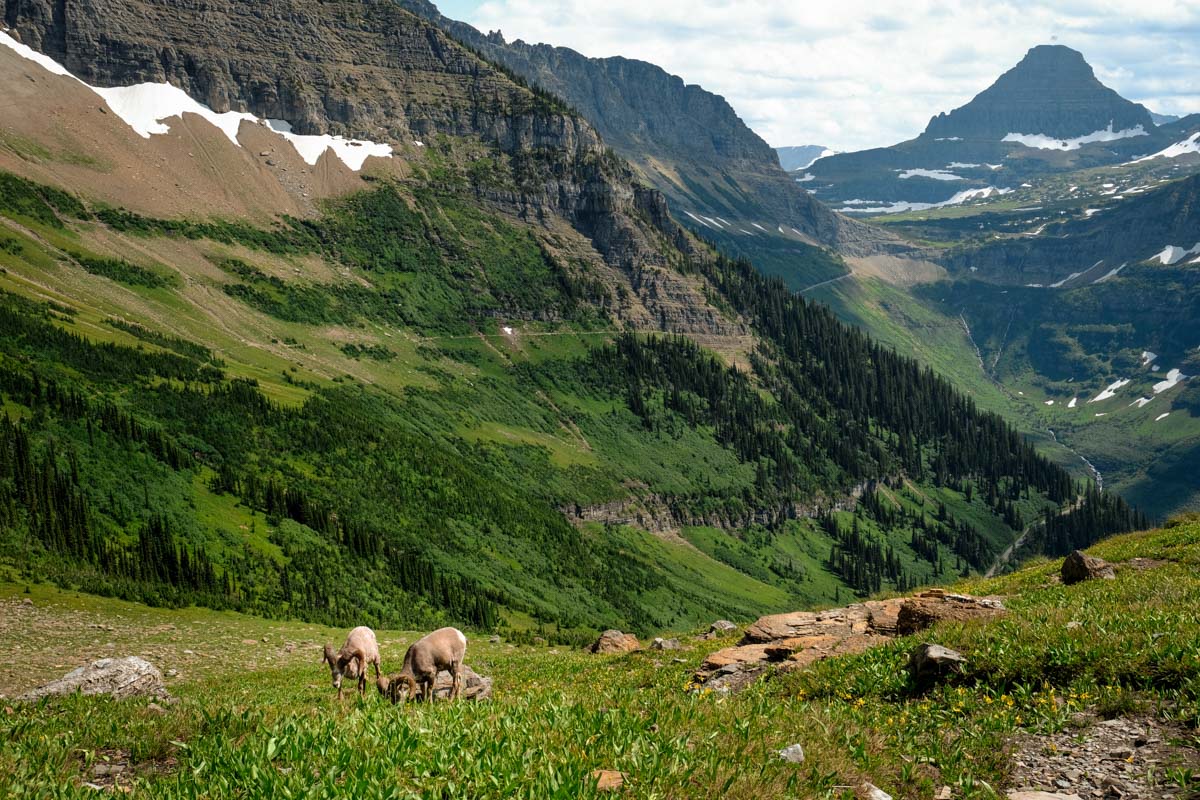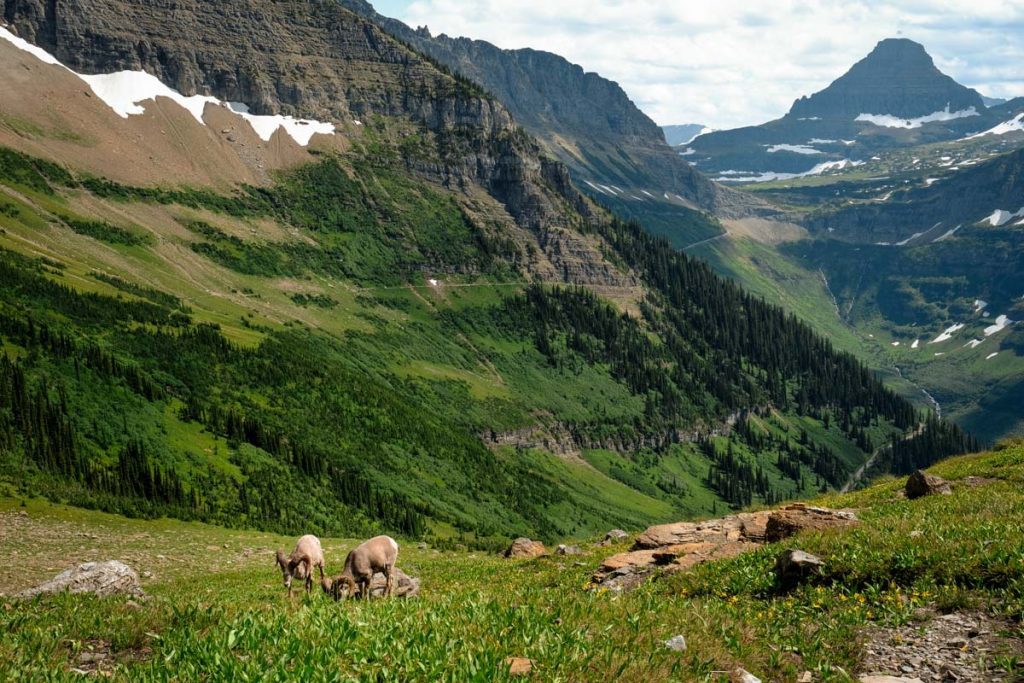 Even though Glacier was designated as a National Park in 1910, it's story starts well before then. Archeological evidence suggests that Native American tribes inhabited the area as many as 10,000 years ago. And the mountain ranges that dominate the landscape began forming over 170 million years ago. Today, the park welcomes over 3 million visitors annually.
While the park is rightfully known best for its stunning scenery, pristine lakes, rocky mountain peaks, vibrant alpine meadows, and diverse wildlife, the man-made history of the park is interesting as well.
After being designated as a national park, the Park Service undertook a campaign to construct numerous chalets and hotels throughout the park designed to portray the area as "America's Switzerland." Many of these lodging options remain in place today and an incredible 350 structures within the park are registered on the National Register of Historic Places.
Glacier National Park is aptly named, as it is home to 25 different glaciers. That being said, at its peak in the mid-19th century, there were an estimated 150 glaciers in the area. Scientists have estimated that all glaciers in the park could melt by 2030, which should be reason enough not to hesitate if you are planning a trip.
Areas of Glacier National Park
Glacier National Park is enormous, with several distinct sections to explore. Below is a brief summary of each area of the park:
St. Mary's: The most popular area of the park, St. Mary's is located on the eastern side of Glacier and includes one of the entrances to the iconic Going-to-the-Sun Road (GTTSR). Logan Pass, the highest elevation reachable by car in the park (6,646 ft) is located within St. Mary's.
West Glacier/Lake McDonald: West Glacier is the main entrance to the park and includes the other start/end point of the GTTSR, as well as the picturesque Lake McDonald.
Many Glacier: Many Glacier is located on the eastern side of the park and is definitely less visited than West Glacier and St. Mary, but is still a fairly popular hiking location.
Two Medicine: Located at the southeastern tip of the park and is more remote than the previously mentioned areas is Two Medicine. However, it's growing in popularity as other sections of the park become overcrowded.
North Fork: Located in the northwestern corner of the park, North Fork is only accessible by dirt road and is primarily used for longer backpacking trips, including Kintla Lake and Bowman Lake.
Goat Haunt: Perhaps the most remote part of the park, Goat Haunt is only accessible by hiking and is nestled between North Fork and Many Glacier. This section of the park borders Canada and includes part of Waterton Lake.
How to get to Glacier National Park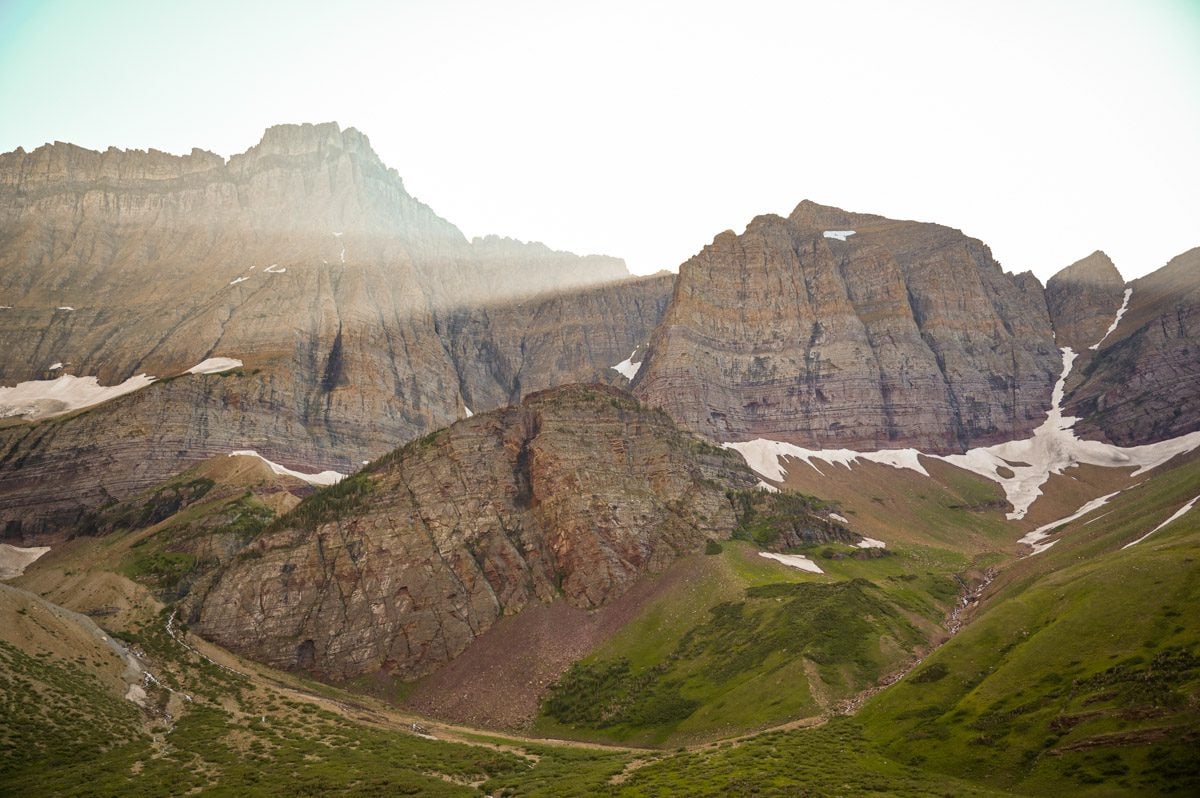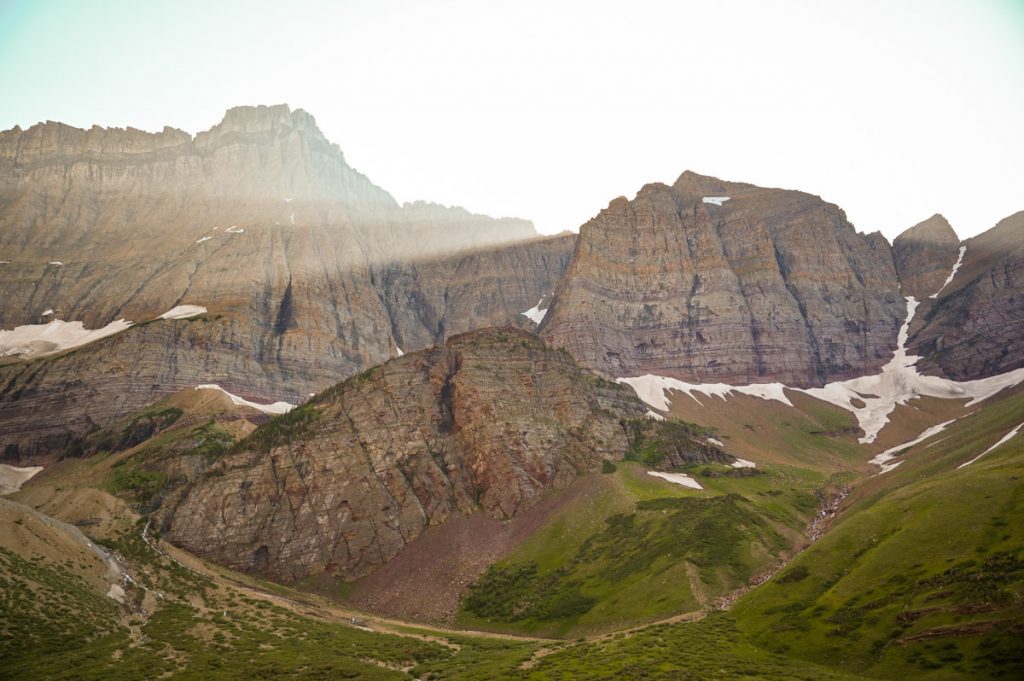 Glacier National Park is located in northwestern Montana, right on the Canadian border. Because the park is so massive, driving times vary drastically depending on which section of the park you are visiting. The main entrance at West Glacier can be reached from:
Whitefish, MT in 35 minutes
Missoula, MT in 2 hours and 30 minutes
Great Falls, MT in 3 hours 15 minutes
Helena, MT in 4 hours
West Entrance of Yellowstone in 6 hours and 30 minutes
Grand Teton in 9 hours
The most popular entrance on the eastern side of the park is St. Mary's, which provides access to the GTTSR. The St. Mary's entrance can be reached from:
West Glacier in 1 hour 30 minutes
Great Falls, MT in 2 hours and 30 minutes
Missoula, MT in 4 hours and 30 minutes
Helena, MT in 3 hours and 30 minutes
If you are arriving by plane, the closest airport is in Kalispell, Montana, located about 45 minutes from the West Glacier entrance and 2.5 hours from the St Mary Entrance. There is also an airport in Missoula, Montana, which may have better flight options but is further from the park, about 2.5 hours from the West Entrance and 4 hours from St. Mary.
Psst! Want to try out vanlife while visiting Glacier? If you don't have the time for (or interest in) building your own conversion but you still want to give vanlife a test drive, we've got the info you need! We put together an entire guide to the best campervan rental companies in the US, including exclusive discounts for our readers!
Getting around in Glacier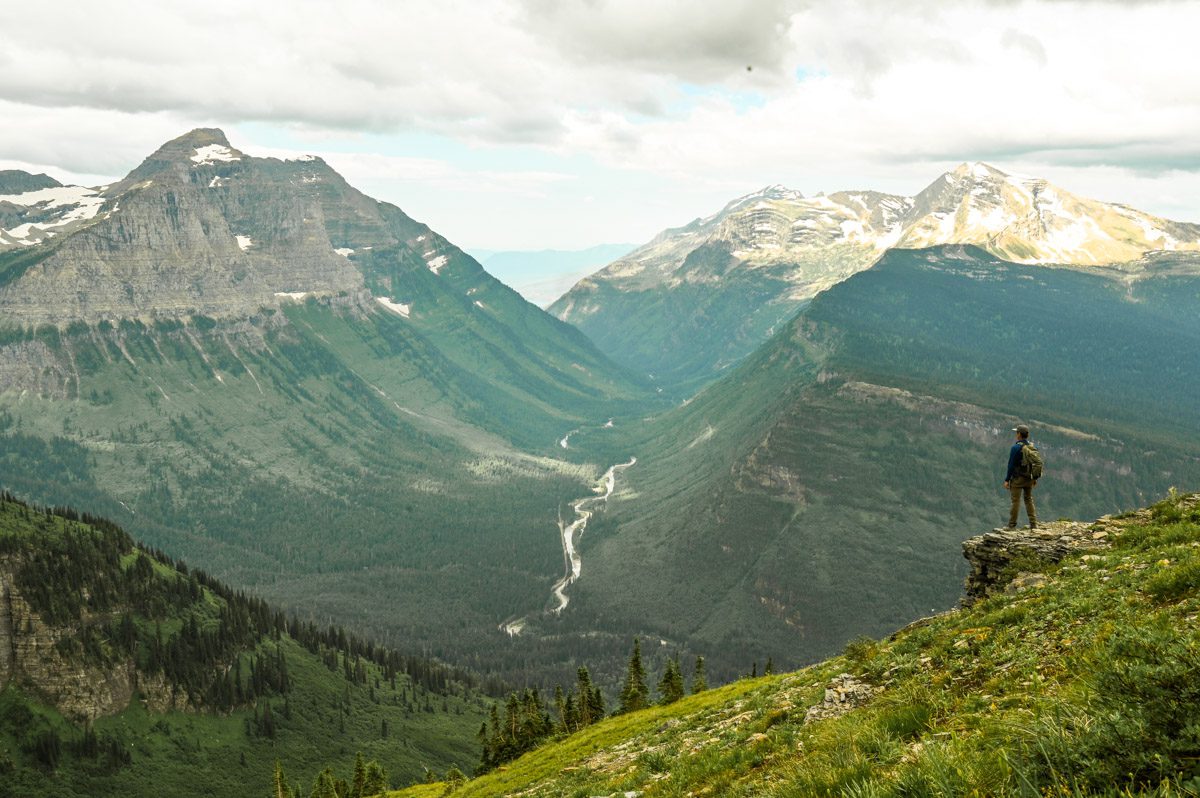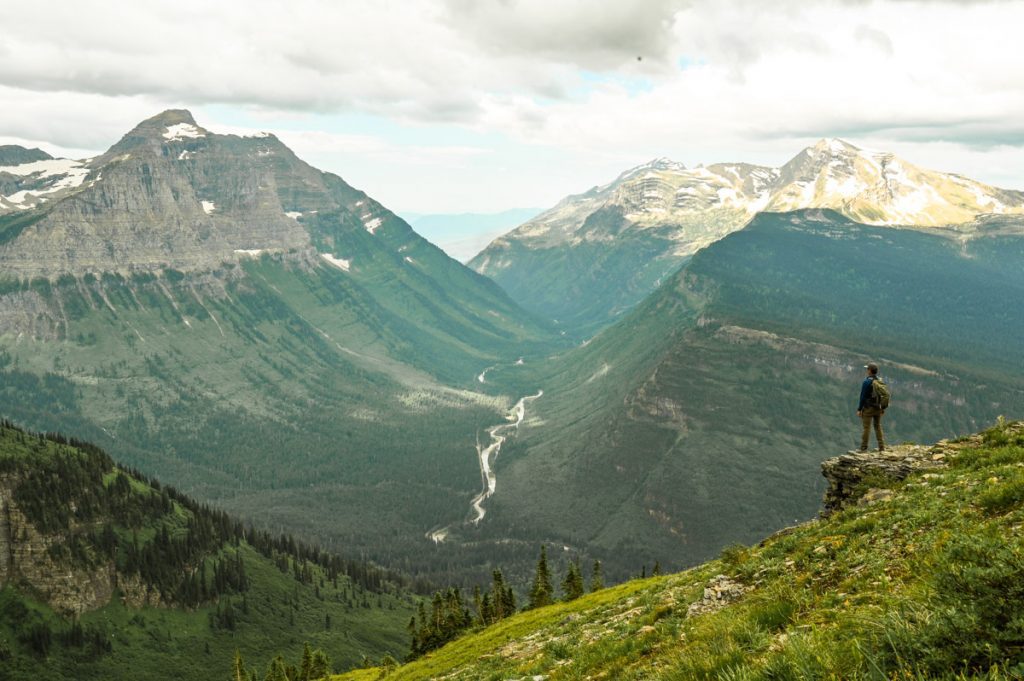 To get around in Glacier National Park, you will need to either drive your own vehicle or rent a car. During the peak season, there is a park shuttle that runs the length of the GTTSR. That being said, it would be tough to get into the park or to any other section of the park without a vehicle of your own.
The park shuttle is mainly useful for avoiding parking trouble at some of the most crowded spots. You can read more about the GTTSR shuttle on the NPS website.
There is also a seasonal hiker's shuttle operated by Glacier National Park Lodges that connects West Glacier, Apgar, Lake MacDonald Lodge, St. Mary and Many Glacier. Tickets for the hiker's shuttle are first-come-first-serve, so we wouldn't bank on it as a reliable form of transportation.
Entrance tickets and fees
Entrance to Glacier National Park is $35 per vehicle and is good for seven days. Alternatively, you can purchase an America the Beautiful Pass for $80, which gives you access to all U.S. National Parks for an entire year. If you plan to visit more than 2 parks in a year, it almost certainly makes sense to purchase an annual pass.
Separate entrance tickets are also required for the GTTSR and the North Fork area. Tickets are in high demand and typically sell out immediately upon release, so make sure to plan ahead. We'll tell you everything you need to know about getting GTTSR tickets below (internal link to item 1 on "things to do in Glacier" list).

How many days do you need in Glacier?
The short answer? As many as possible! There are endless things to do in Glacier National Park and you could easily spend a week here without scratching the surface.
More realistically, we'd say you need at least 2 full days to feel like you have truly experienced the park and you'll probably be ready to move on after 5-7 days, depending on your interests. We met one person who was spending 7 days on one backpacking trip, so it all depends on how you want to spend your time.
When is the best time to visit Glacier National Park?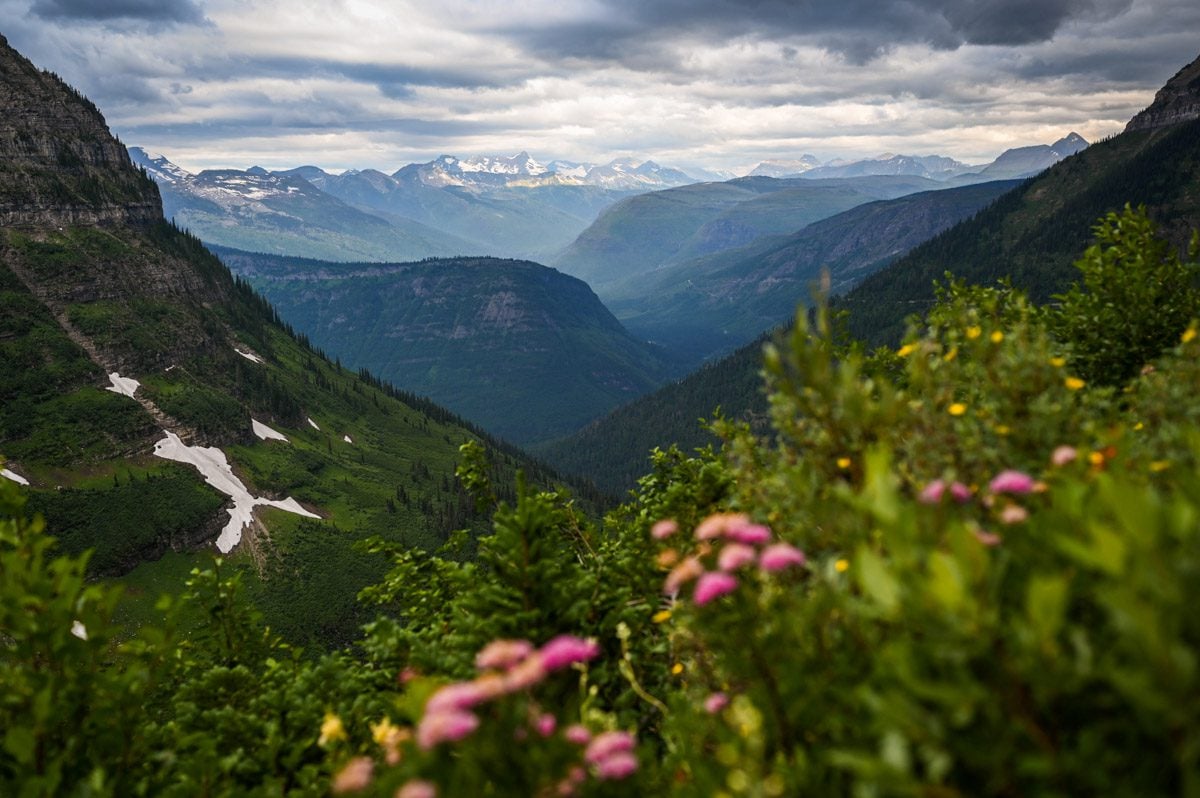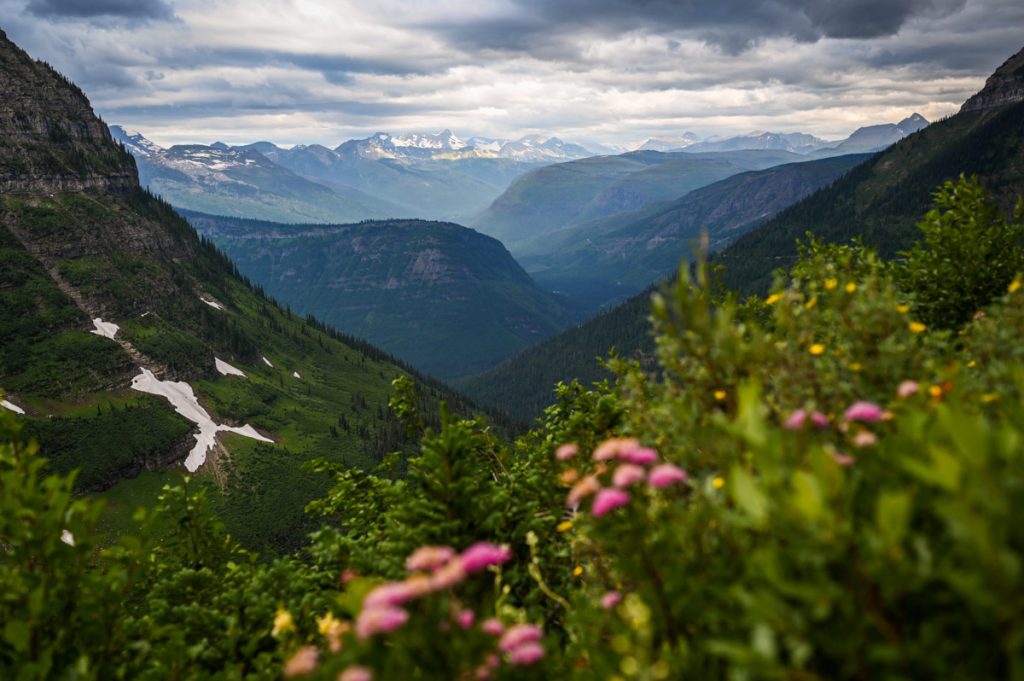 Because the area is at high elevation and gets so much snow, many roads and trails in the park don't open until July or even as late as early August. For example, the full GTTSR typically opens in late June or early July and the trail to Grinnell Glacier is often snow-covered until mid-July.
For many of the best things to do in Glacier National Park, we'd recommend visiting in late July, August, or early September to ensure that your options are not limited.
Glacier National Park map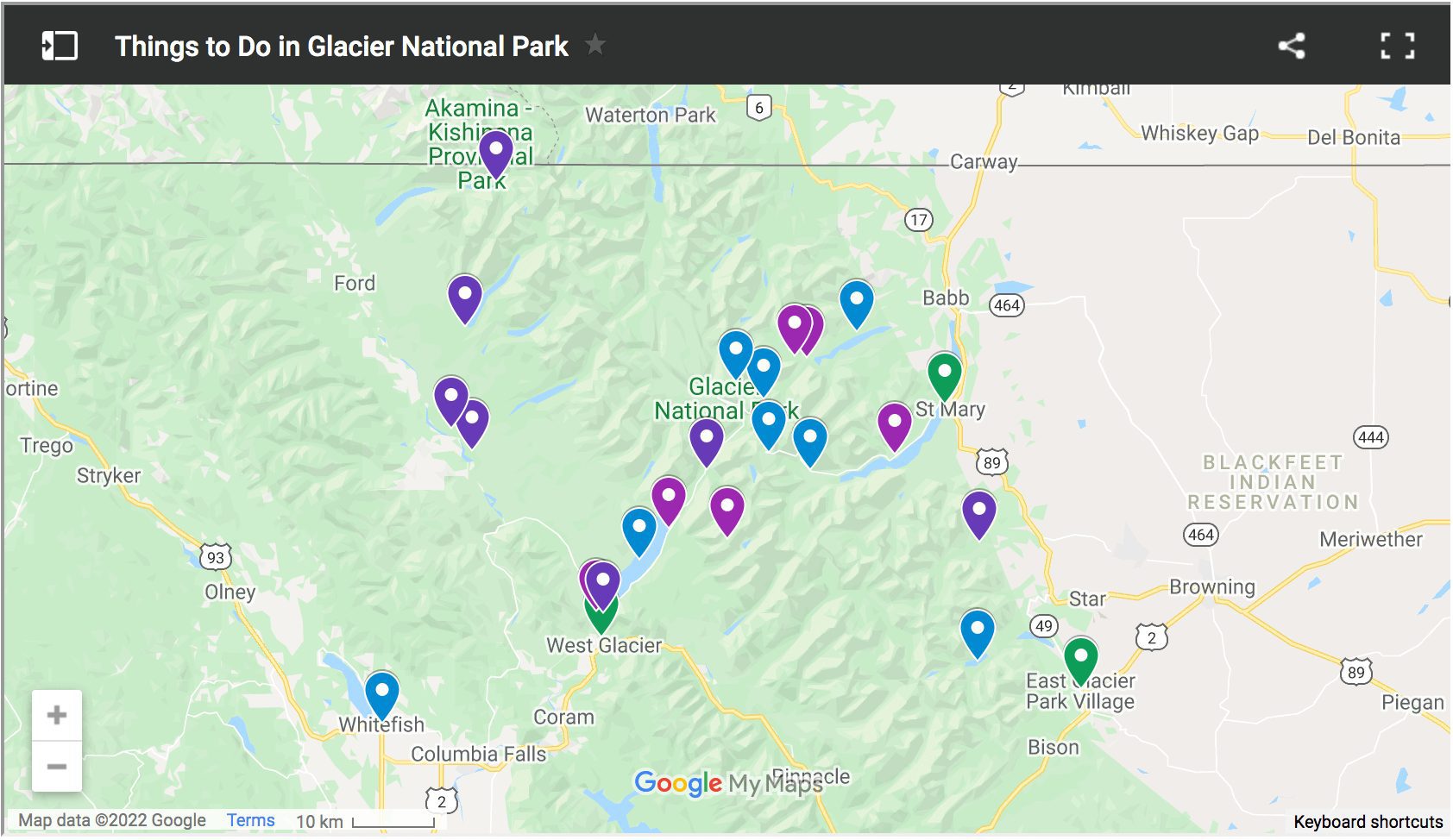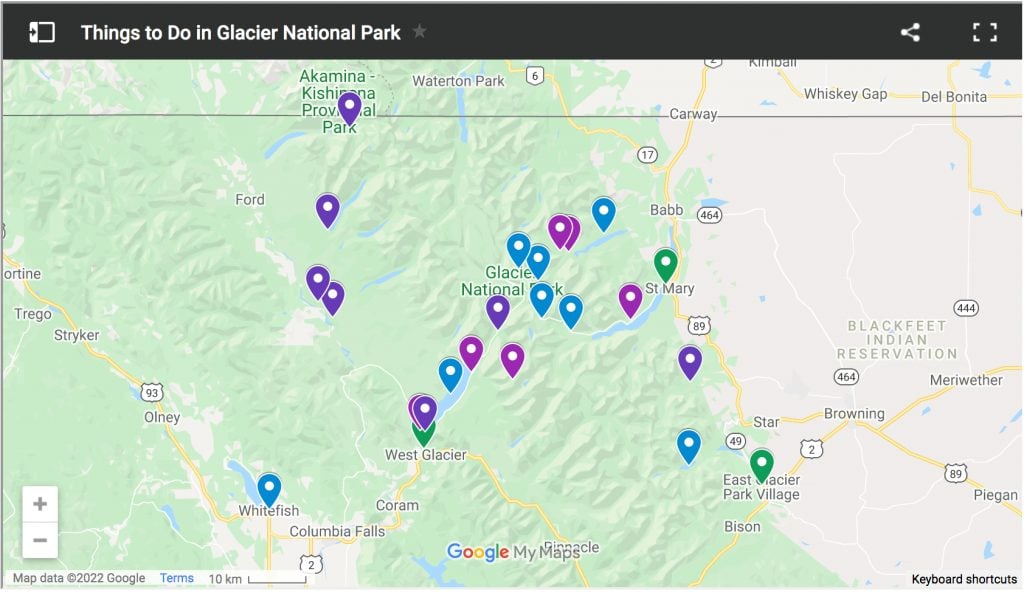 The map above displays the main entrances, campgrounds, lodging options, and locations for the best things to do in Glacier National Park.
---
Things to Do in Glacier National Park
Boredom will not be a consideration when visiting as there are so many great things to do in Glacier National Park. If you only have a few days here, you'll have to pick and choose carefully.
1. Drive the Going-to-the-Sun Road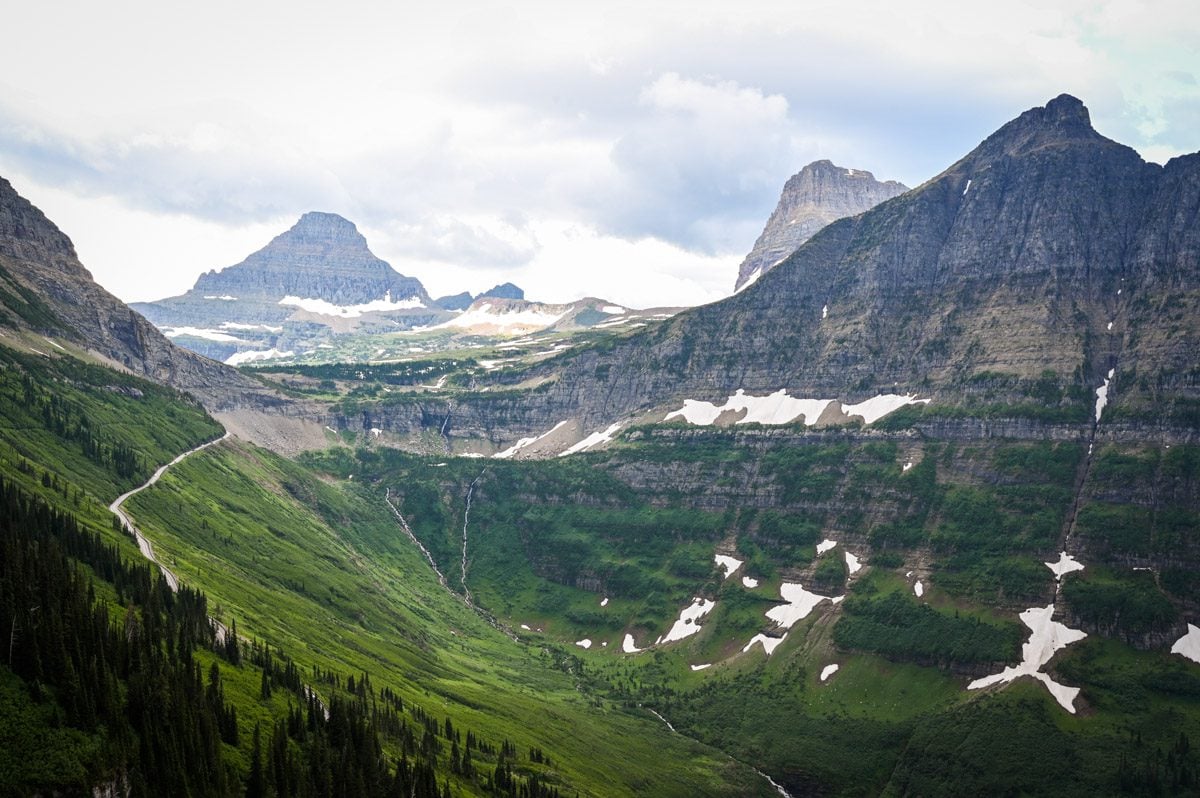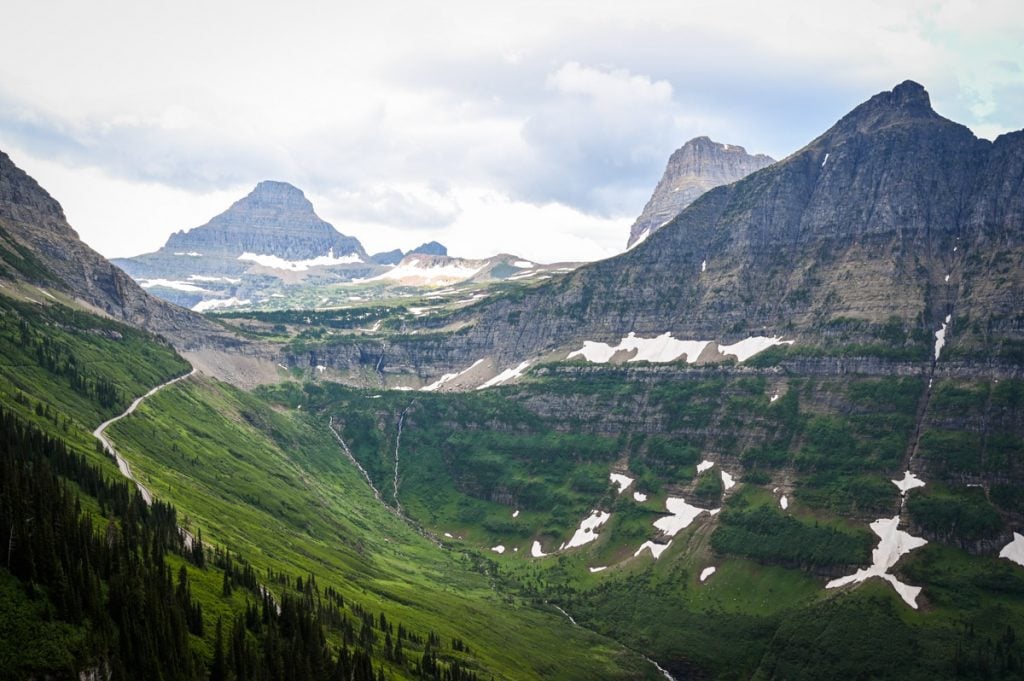 If you only have time for one activity in Glacier, we'd recommend driving the Going-to-the-Sun Road (GTTSR)! This is probably the most popular attraction in the park and allows you to take in everything that makes Glacier so unique.
Starting at West Glacier and ending near St. Mary's (or vice versa), the winding road bisects the park, running for 50 miles through the mountains and across the Continental Divide. The lower portion of the GTTSR is open year round but it is closed at higher elevations from mid October through early July due to snow.
It takes about 2 hours to drive the road one way, plus additional time for stops to take pictures and admire the beauty. The highest point on the road is Logan Pass, which sits at an elevation of 6,646 feet. There is a visitor center at Logan Pass, although the parking lot is typically full between 8:30 a.m. and 4:00 p.m. during the busy season.
Entrance tickets for the GTTSR
With its increased popularity, the park has piloted a timed ticket entry system to drive the GTTSR during peak season. The ticketing rules have changed from 2021 and the park has not yet published complete details for 2022. Below you can find more information on GTTSR tickets, but please note that some of these details may continue to change in the future:
There is a $2 reservation fee per ticket.
One ticket is required per vehicle and is good for 3 days.
Half of all tickets will be made available on March 2nd. The remaining tickets may be reserved on the day before your entrance.
Tickets are released at 8:00 a.m. MT and typically sell out very quickly.
In 2022, entrance tickets will be required from May 27 through September 11th.
If you have reservations at any campground or hotel along the GTTSR, you do not need an entrance ticket for the duration of your stay.
You can find the most up to date information about the GTTSR ticketing system here. 
Psst! Want to combine your trip to Glacier with another incredible U.S. National Park? Check out our 5-Day Glacier National Park to Yellowstone on our sister site to help you plan an epic road trip!
2. Hike the famous Highline Trail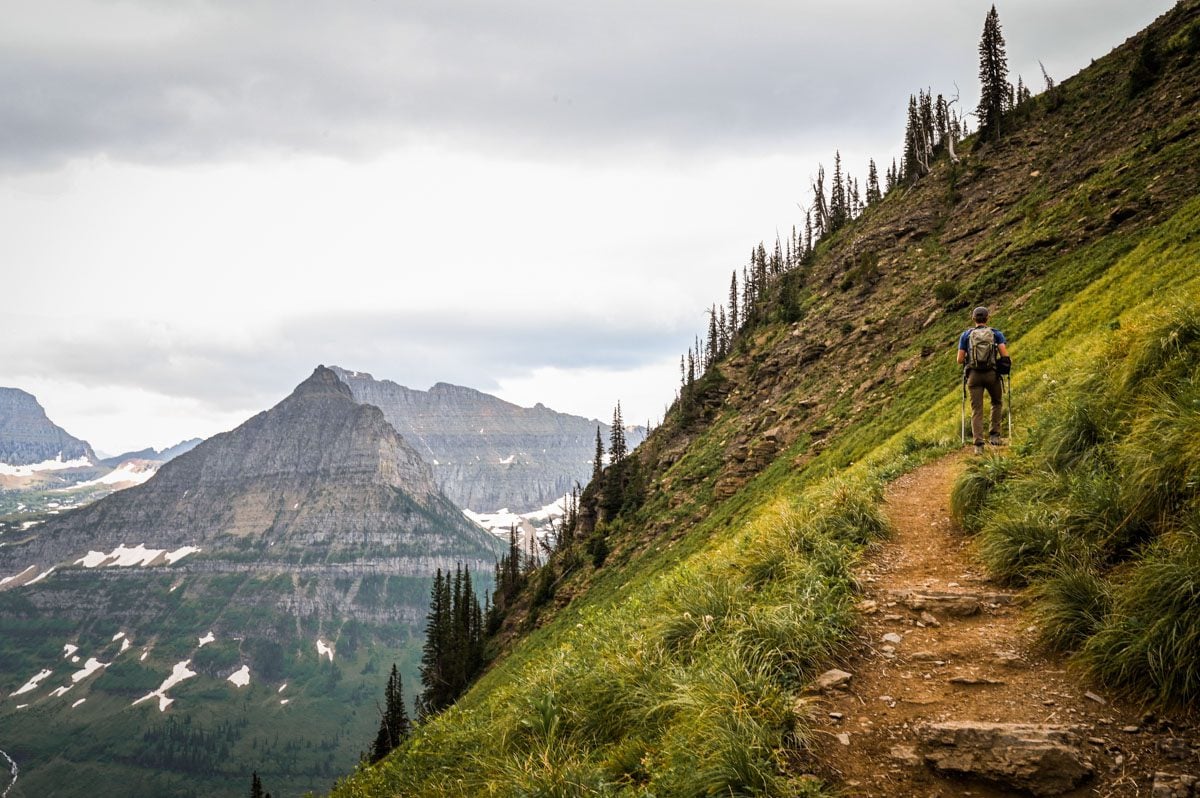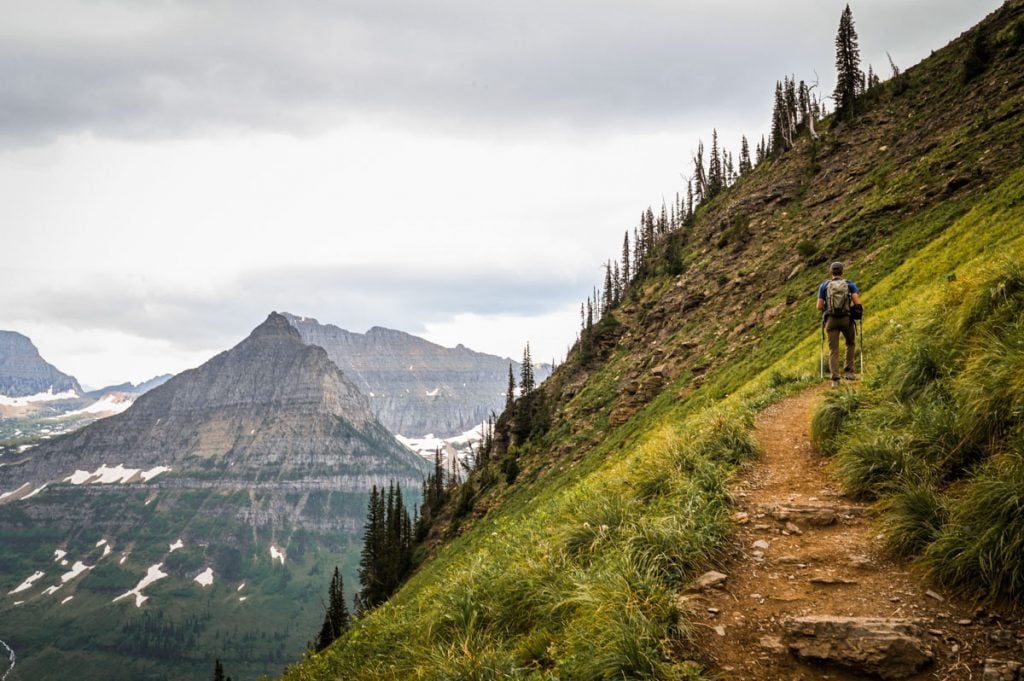 Distance: 15 miles
Elevation gain: 2,580 feet
Difficulty: Challenging
Glacier is a hiker's paradise and no trip to the park is complete without hitting the trails! Hiking the Highline Trail is one of the best things to do in Glacier National Park and easily one of our all time favorite hikes.
The trail is definitely a challenge, covering 15 miles and 2,580 feet of elevation gain. However, it rewards hikers with spectacular views of the surrounding mountains, colorful wildflowers, and opportunities to see diverse Glacier wildlife.
The Highline trail departs from Logan Pass and follows the Continental Divide, also known as the Garden Wall, providing unobstructed views for nearly the entire hike.
About a quarter mile from the trailhead, you will face the infamous ledge, where the trail follows along a 6-8 foot shelf, with a sharp drop off to the left. This section of the trail only lasts for about three-tenths of a mile and there is a handrail installed, but if you are afraid of heights, you might not be a fan. I personally have a fear of heights and thought this section was overhyped—it's really not too scary, so don't let it deter you!
About 6.5 miles into the trail, you will reach an intersection with a trail that branches up to the right. This spur trail is about 1 mile in length and adds nearly 1,000 feet in elevation gain! Which sounds hard (it is) but is definitely worth it because it brings you to the top of the Garden Wall ridge with epic views of Grinnell Glacier below!
3. Visit Many Glacier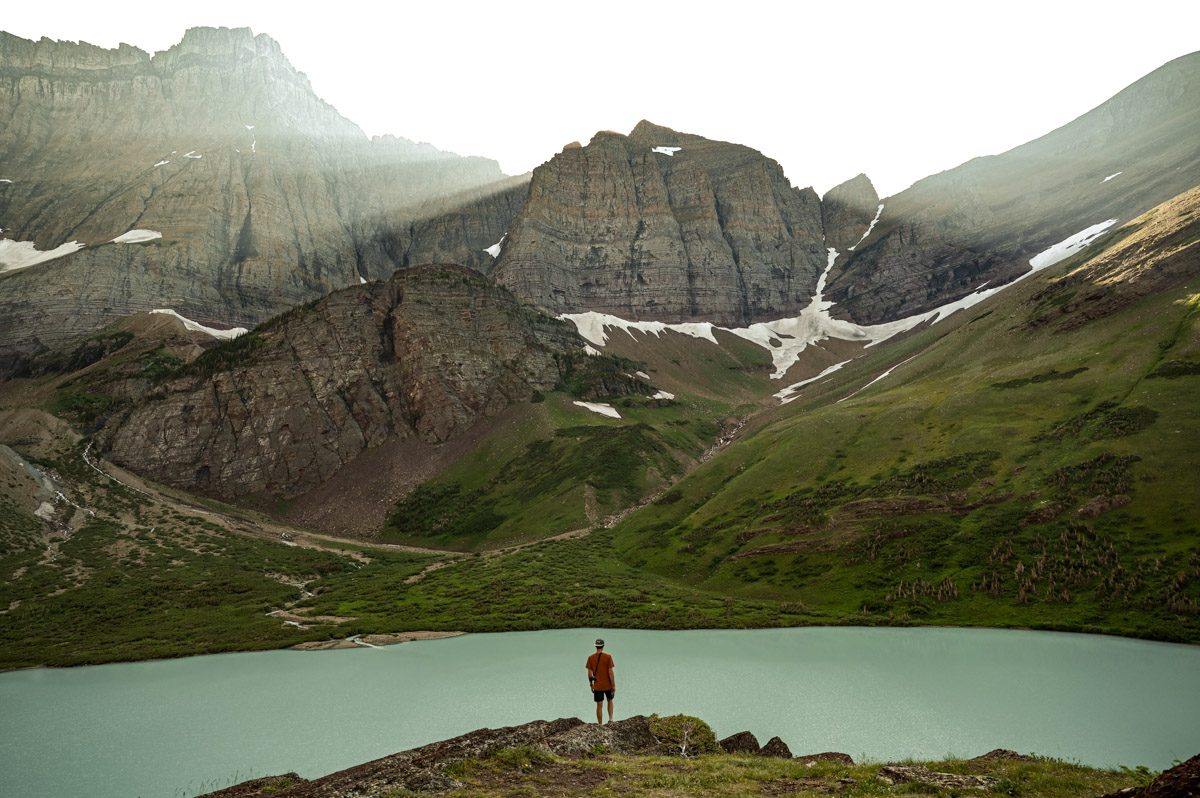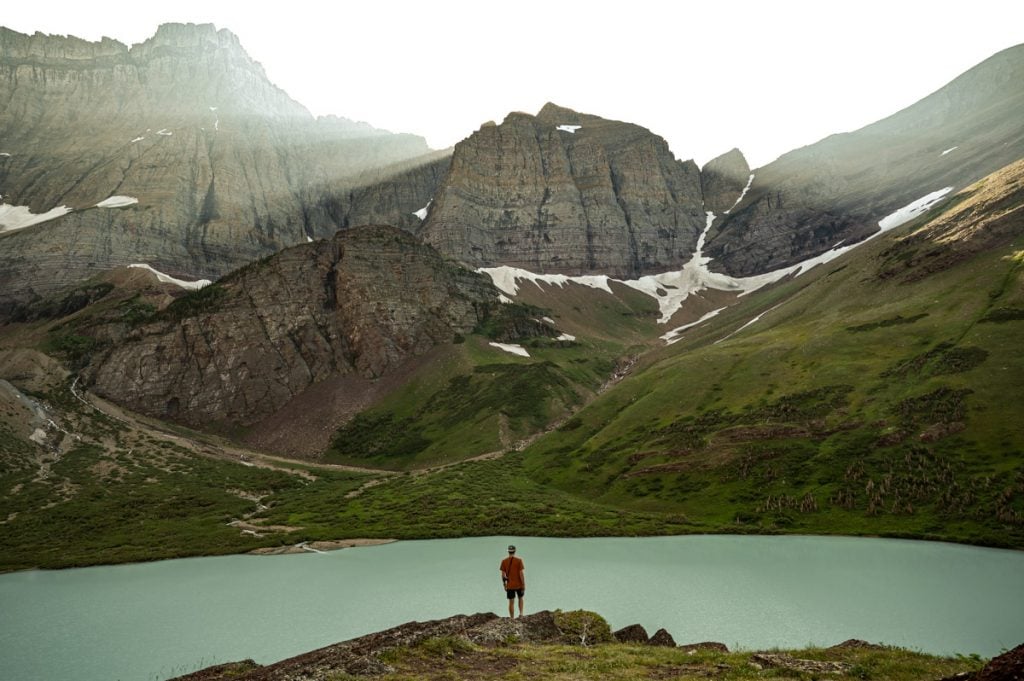 While most visitors tend to stick to West Glacier and St. Mary's, we recommend getting away from the crowds (as much as that is possible) and spending some time in the Many Glacier area of the park.
Many Glacier is home to some of the best trails in the park including Cracker Lake (12 miles), Grinnell Lake (7.1 miles), Grinnell Glacier (11.2 miles), Iceberg Lake (9.3 miles), and Ptarmigan Tunnel (10.5 miles).
If hiking isn't your jam or if you're looking for something different to do, you can take a boat tour on Swiftcurrent Lake with Glacier Park Boats. The tour includes 2 boat rides, across Swiftcurrent Lake and Josephine Lake, with a short walk between the 2 lakes. The whole excursion costs $35.25 per adult and $17.50 per child.
4. Go whitewater rafting
The Flathead River forms the western boundary of Glacier National Park and is a great place to try whitewater rafting, a fun adventure for the whole family!
There are 4 guide companies that have permits from the US Forest Service to run guided trips on the Middle Fork and North Fork of the Flathead River. All guide services offer full or half day trips that typically run around $80 for a half day and $130 for a full day:
5. Take a dip in a glacial lake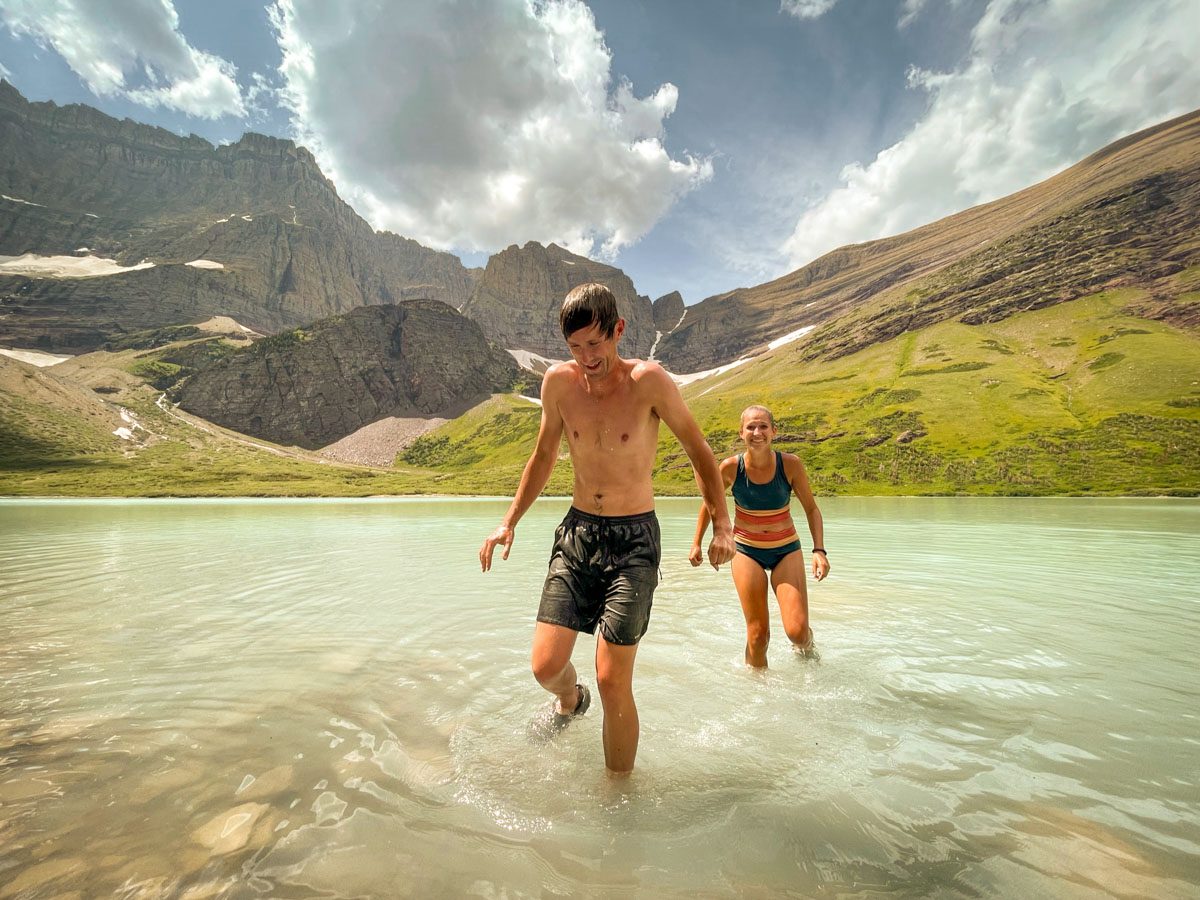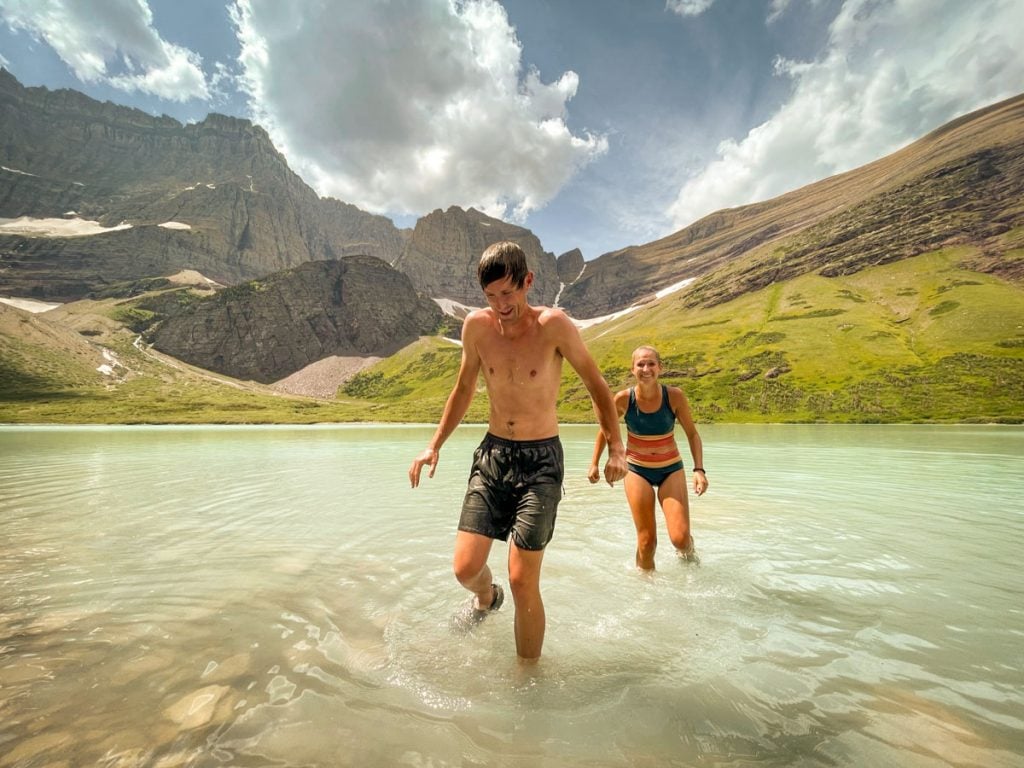 You know that feeling when you reach the end of a long hike on a hot summer day and all you want is a cold drink or something to refresh you? Well, the best way to cool down in Glacier National Park is to take a plunge into an ice cold glacial lake.
You probably won't last too long as the water will be so cold it quite literally takes your breath away (see our faces in the picture above…)! Nonetheless you will definitely feel refreshed as you scramble out of the frigid waters.
There are many hikes in Glacier that provide a cold alpine lake as your reward, but a few of our favorites include Cracker Lake, Iceberg Lake and Hidden Lake.
6. Visit Whitefish, Montana
Whitefish is the closest town to Glacier and the most popular "home base" for many visitors to the area. Luckily, this cute, historic town offers plenty of great things to do! The list below includes just a few highlights of the area:
Additionally, Whitefish has plenty of restaurants, from ice cream and crepes to special-occasion spots:
7. Spot wildlife (from a distance!)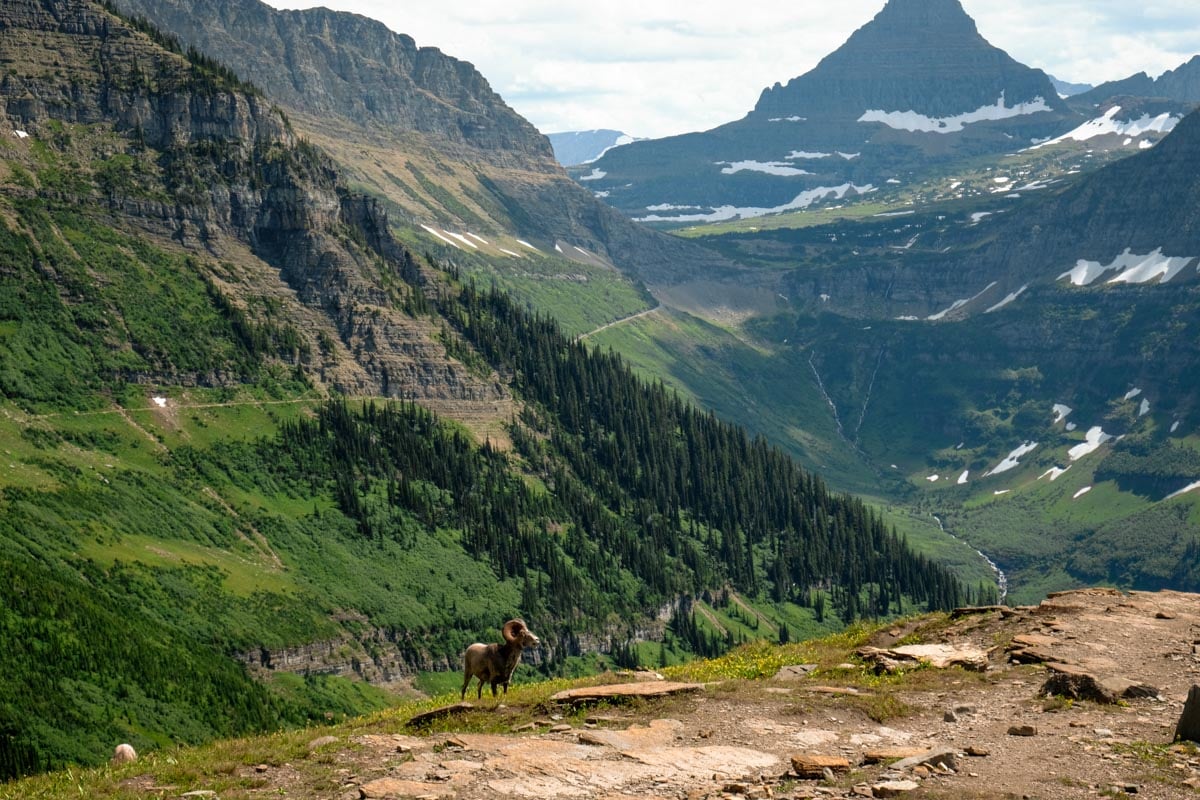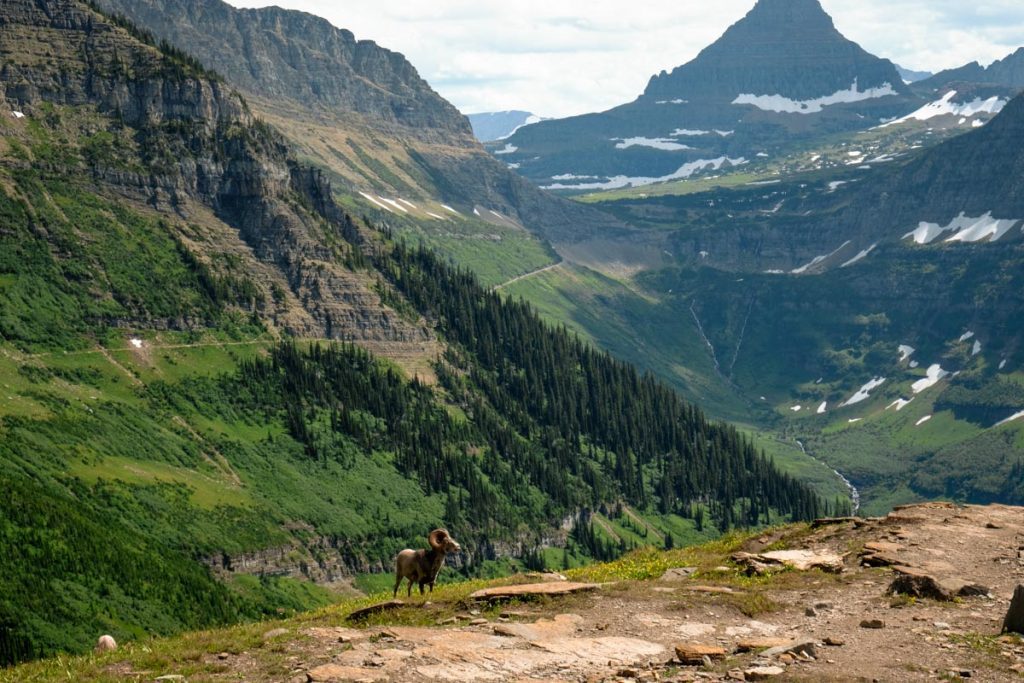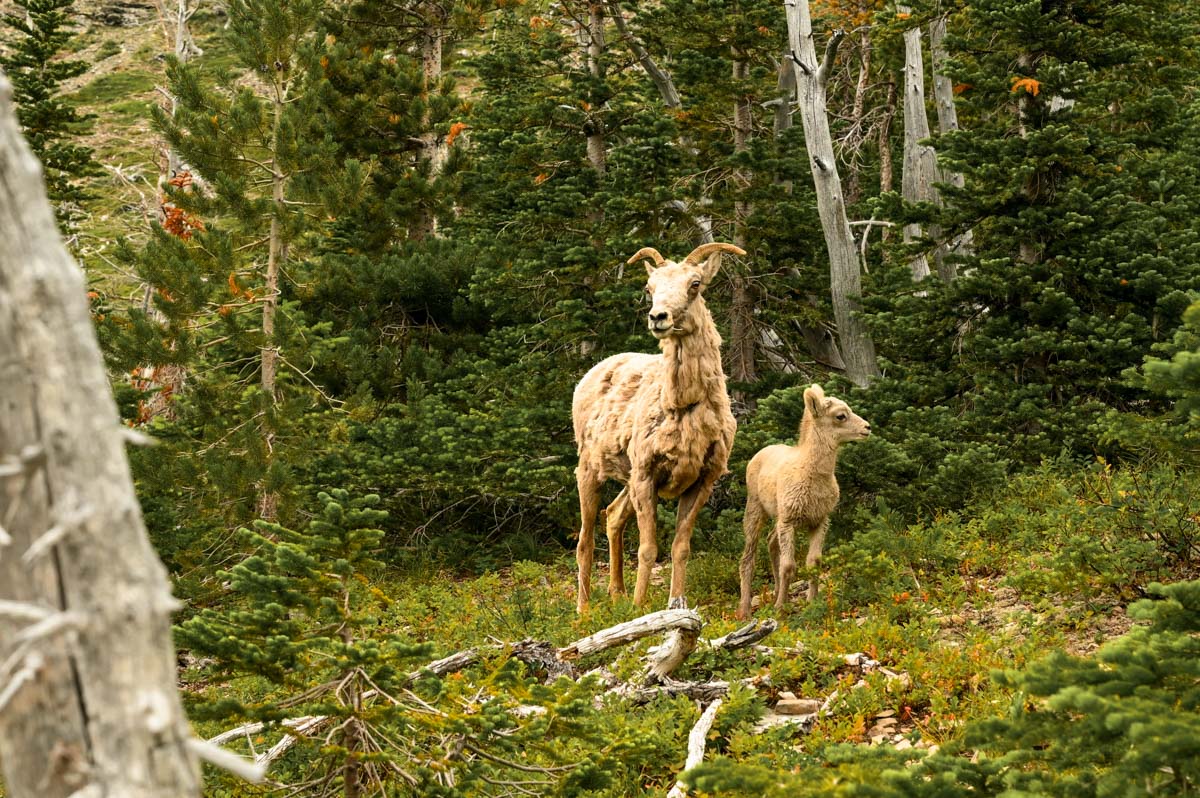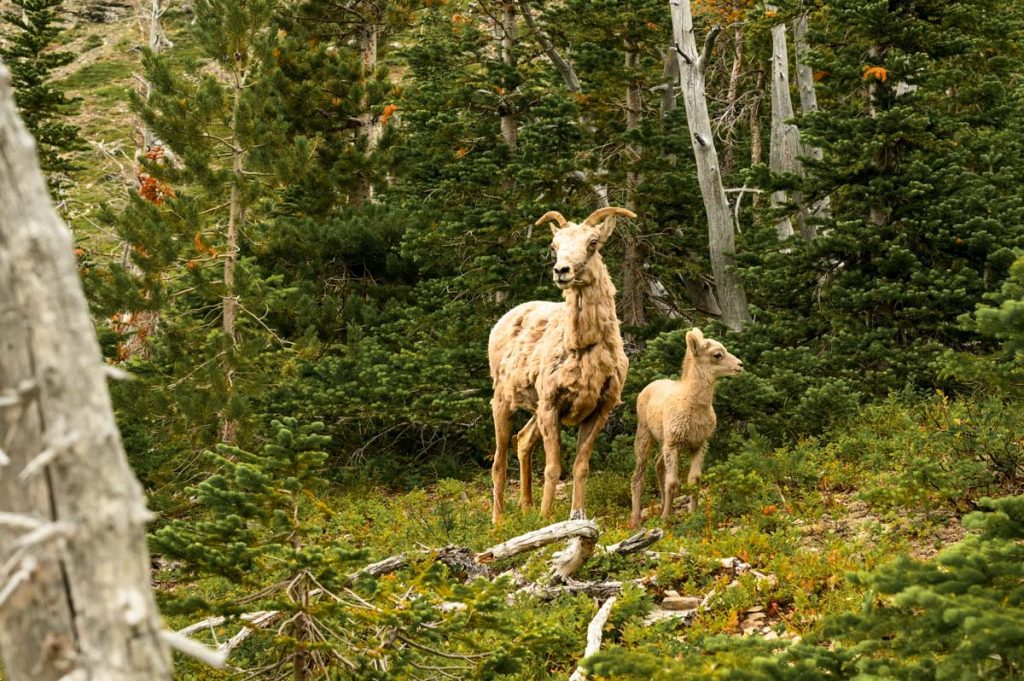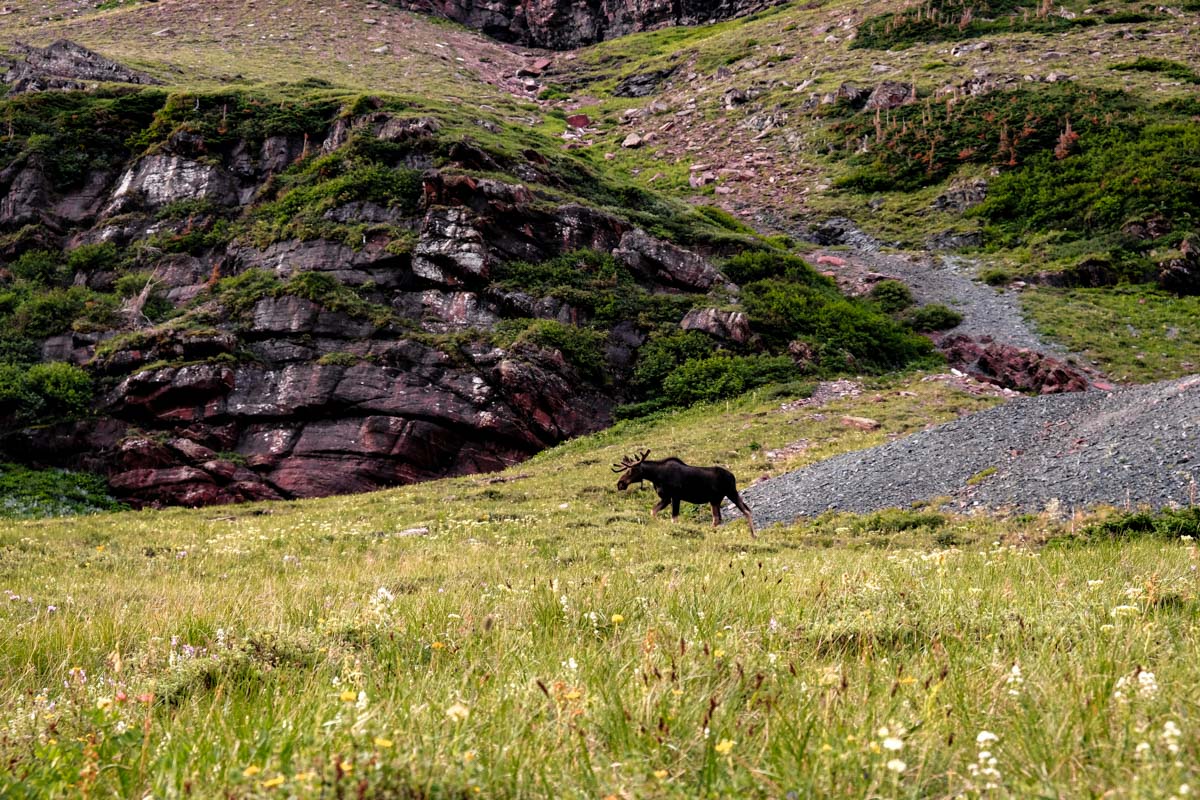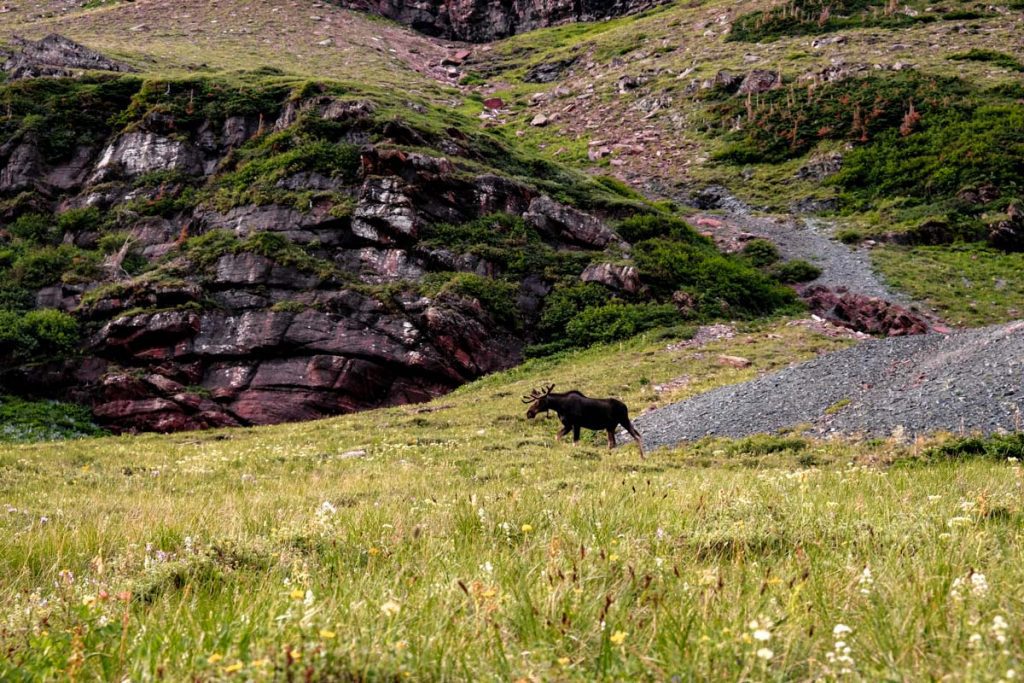 Glacier National Park is one of the largest intact ecosystems in the lower 48 and is home to an incredible diversity of wildlife including mountain goats, bighorn sheep, elk, grizzly bears, moose, marmots, and cute little pikas.
If you spend any amount of time on the trails, you are likely to encounter some wildlife. We once got stuck waiting on a trail because a very grouchy mountain goat was blocking the way and was not happy with the noisy hikers disturbing his lunch!
We also woke up one morning to the sound of two moose ruffling around the shrubs near our tent at Cracker Lake. Luckily, we never had the pleasure of running into a grizzly bear despite the park being home to one of the largest grizzly populations in the lower 48.
Note: You should always maintain a respectful and safe distance from all wildlife. The park asks visitors to maintain a distance of at least 100 yards from bears and 25 yards from any other wildlife. To make it simpler, if the animal notices you or changes their behavior because of you, you are too close!
8. Catch a sunrise at Two Medicine Lake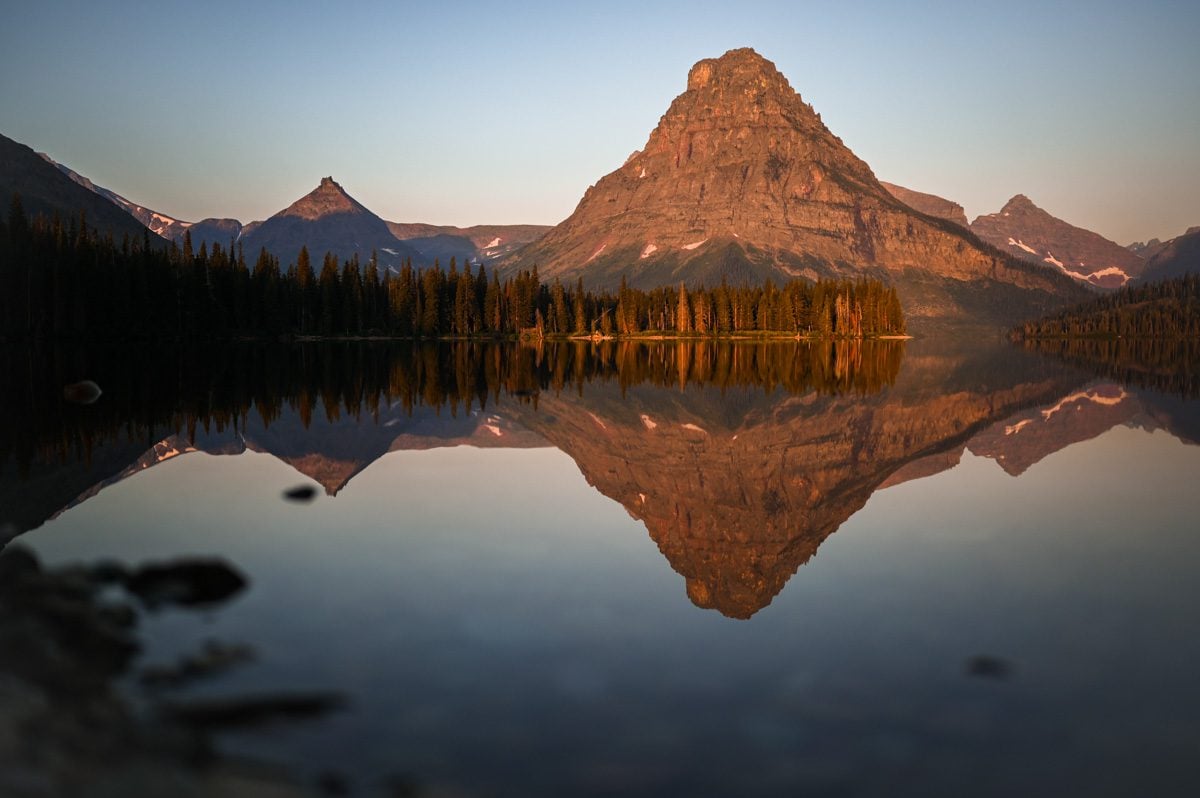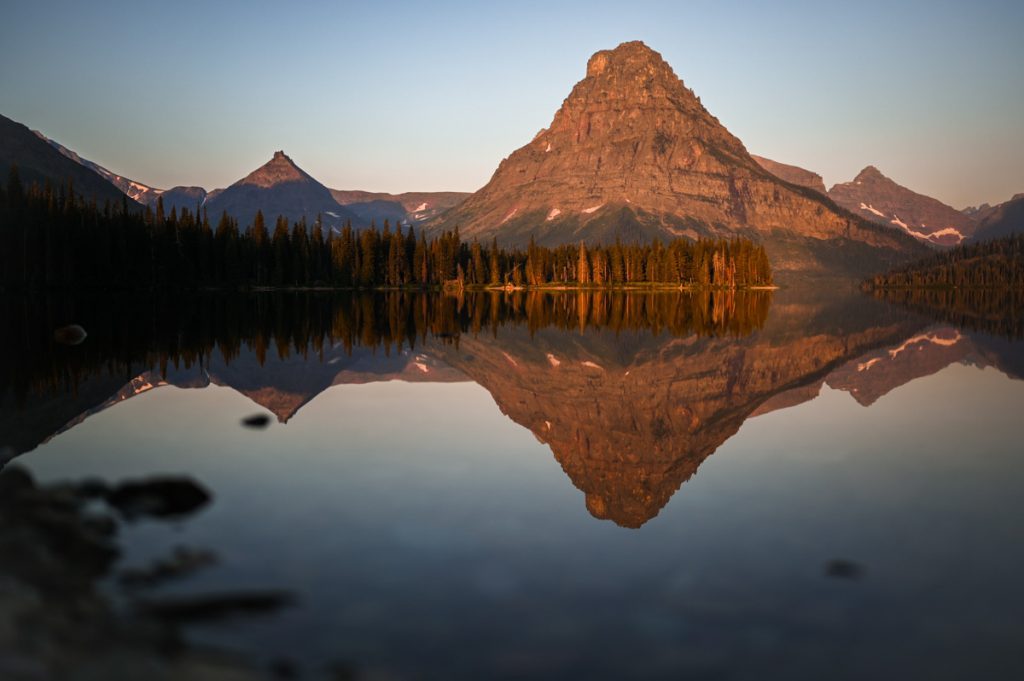 While Glacier is beautiful during the day, it is even prettier in the soft morning light as the sun rises above the mountains and lakes. There are plenty of spots throughout the park to see an epic sunrise, but one of our favorites is from the banks of Two Medicine Lake. Just check out the pictures above to see why.
9. Go on a backpacking trip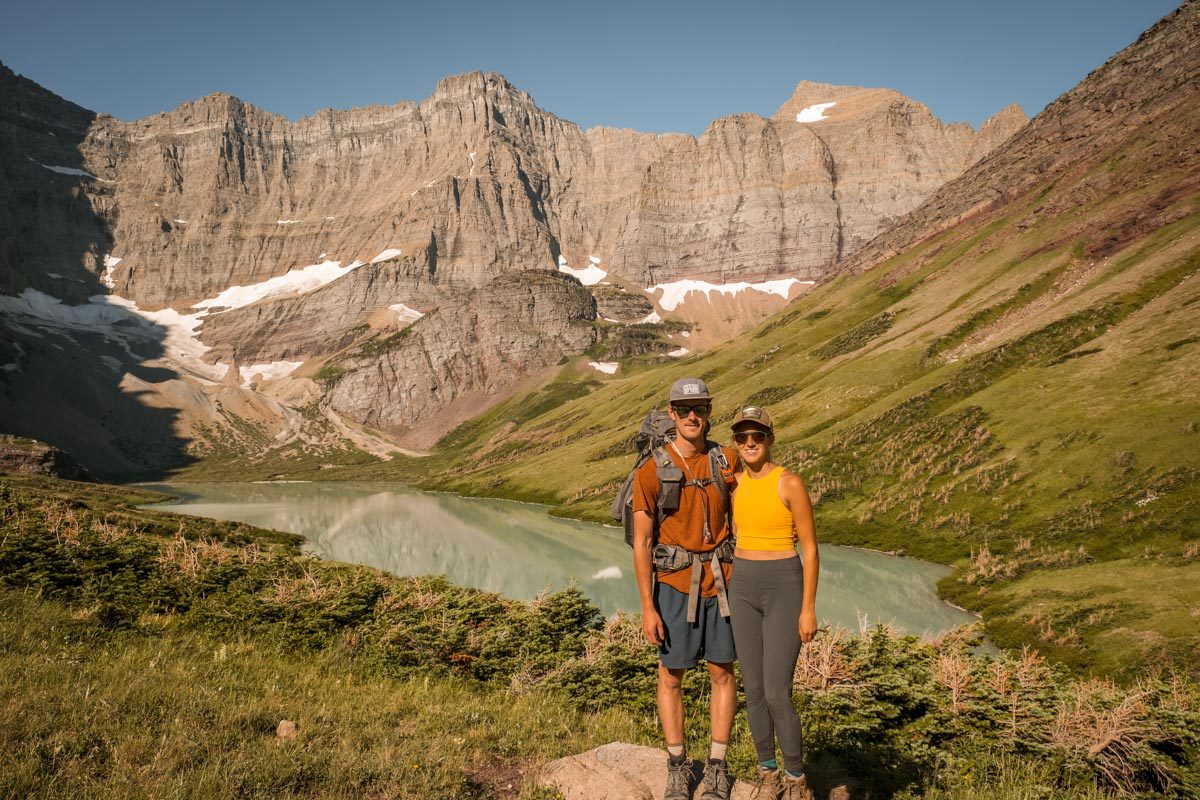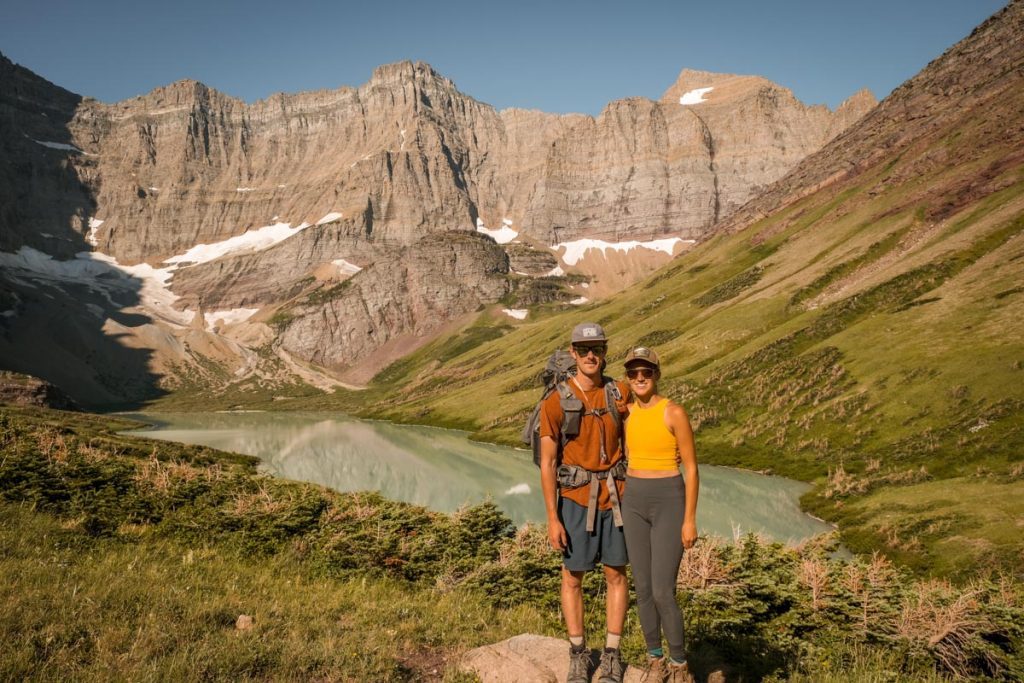 A true Glacier experience is not complete without at least one night under the stars in the rugged and remote backcountry! There are tons of backpacking options in Glacier but a few great routes include:
We found this backcountry map super helpful for planning our backpacking trips in Glacier.
Permits are required for backcountry camping and 70% of all backcountry sites are available for reservation in advance, while the remaining 30% are available as walk up permits starting the day before the start of your trip. Reservations are made available via a lottery system in mid-March for the entire season. Backcountry campsites are $7 per night, and there is also a $40 reservation fee (not charged for walk up permits).
Each backcountry site has an "earliest reservable" date based on weather conditions, which can be later in the season than you'd expect due to lingering snow. Find more info about booking advance reservations here.
Psst! Check out our beginner's guide to backpacking on our sister site for some helpful tips!
10. Hike to a glacier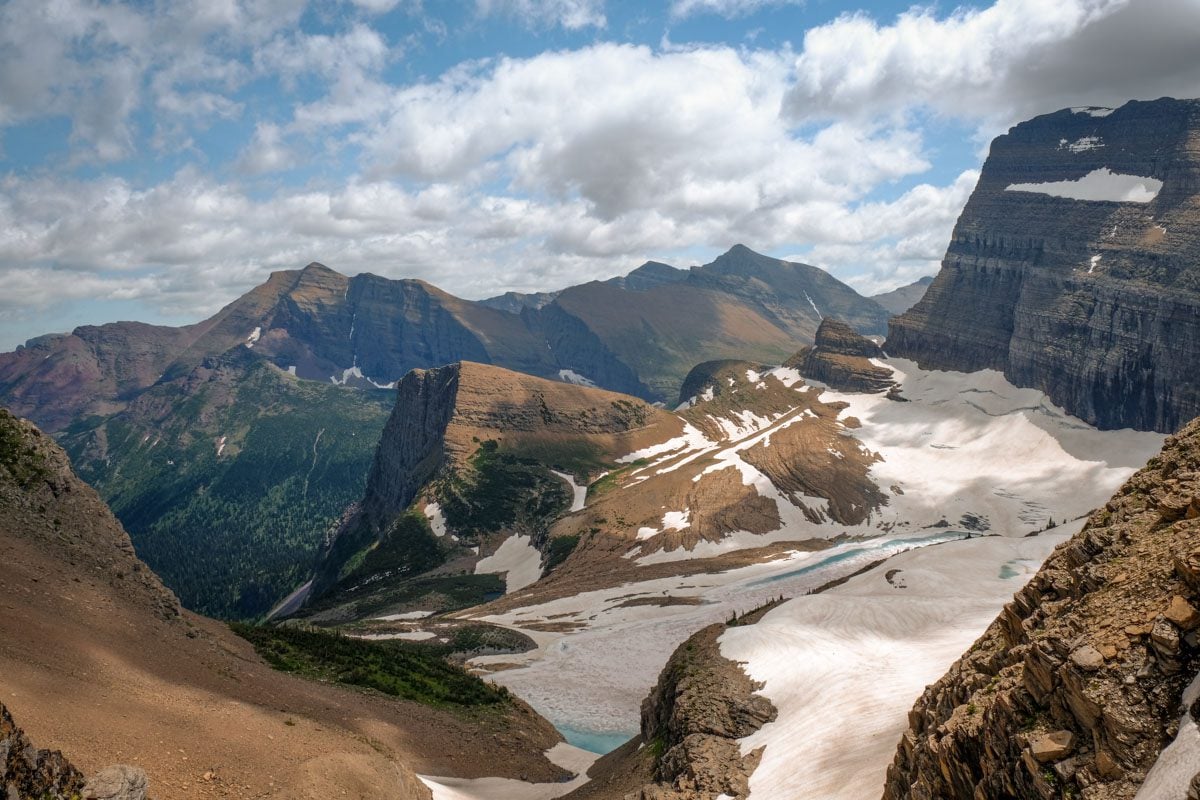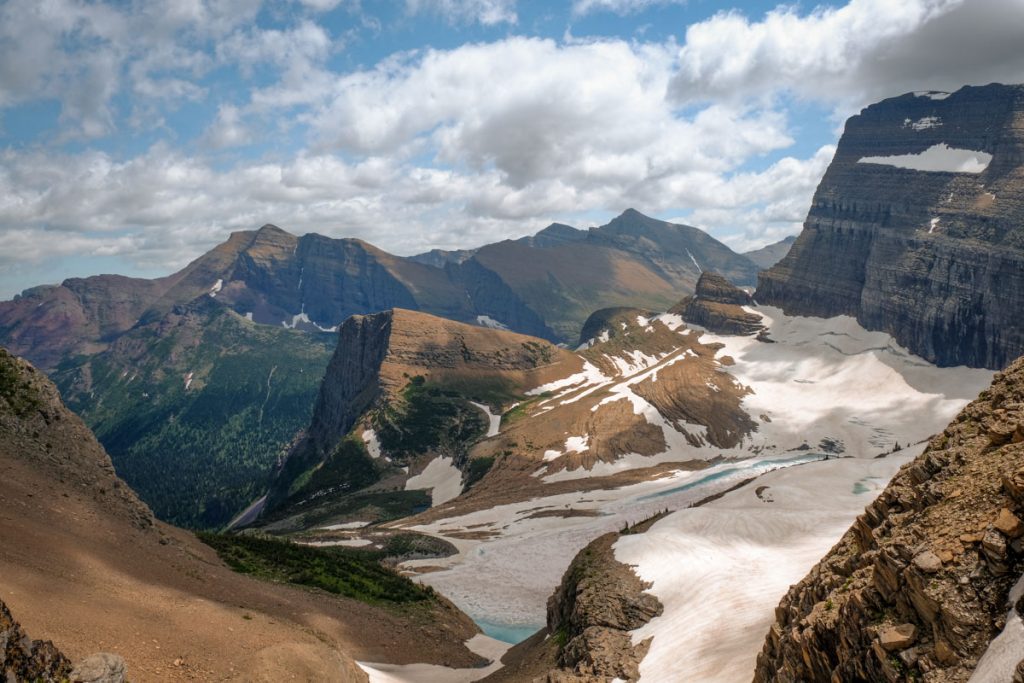 Glaciers aren't as easy to find as you'd expect in a park named after them! There are 25 glaciers in the park and most are located deep in the backcountry. Ironically, North Cascades National Park has the highest concentration of glaciers in the lower 48, with over 300!
Nonetheless, seeing a glacier in Glacier just feels right (when in Rome…as they say). One of the most popular glaciers in the park is Grinnell Glacier which can be reached via an 11.2 mile hike.
The trail climbs just about 2,200 feet and takes you through some of the most beautiful sights the park has to offer. You can also see the Sperry Glacier from the Hidden Lake Overlook Trail, which is a more reasonable 2.9 miles.
If you aren't in the mood for a hike, you can see the Salamander Glacier from the drive into Many Glacier or the Jackson Glacier on the GTTSR.
Fun fact: A glacier is a large chunk or area of snow that has slowly compressed to form ice over many, many years. A distinguishing characteristic of glaciers is their ability to flow or slowly move, carving the surrounding landscape. Glaciers can be just a few hundred meters long or a few hundred kilometers. When visiting Glacier National Park, try to imagine the ways in which moving glaciers have shaped the mountains and valleys.
11. Go fly fishing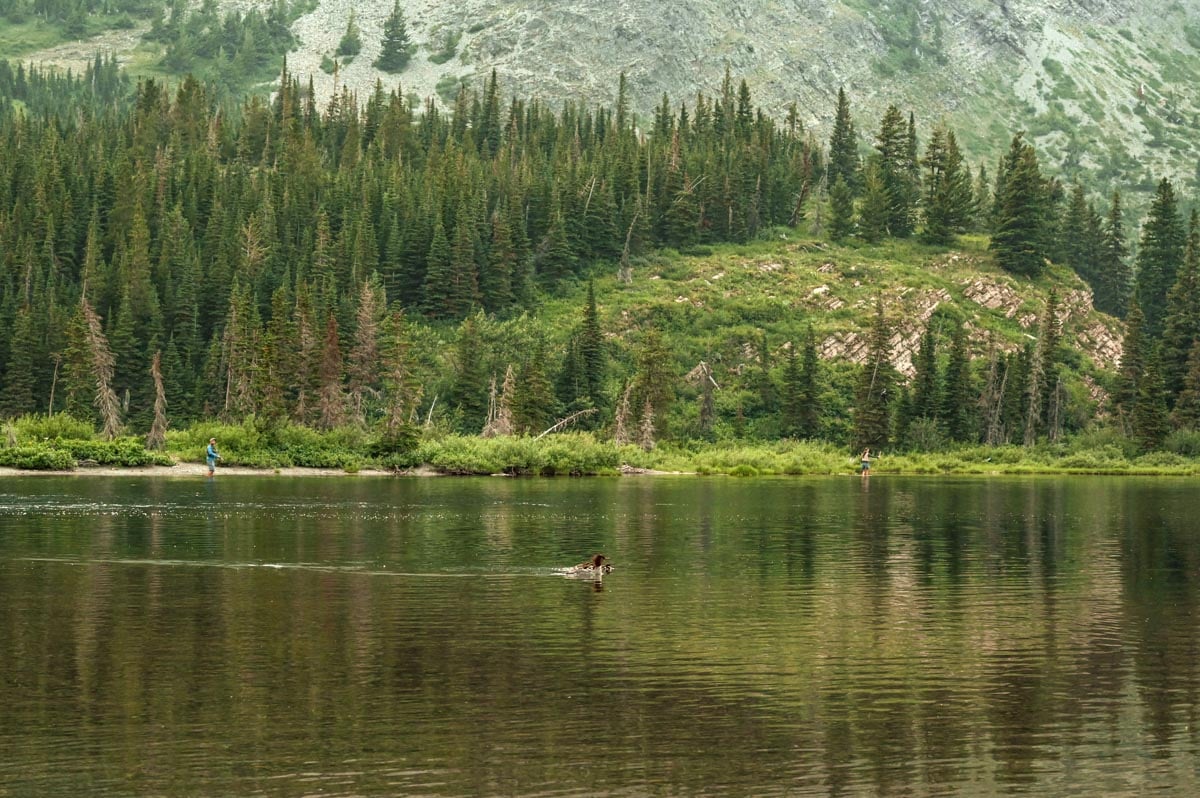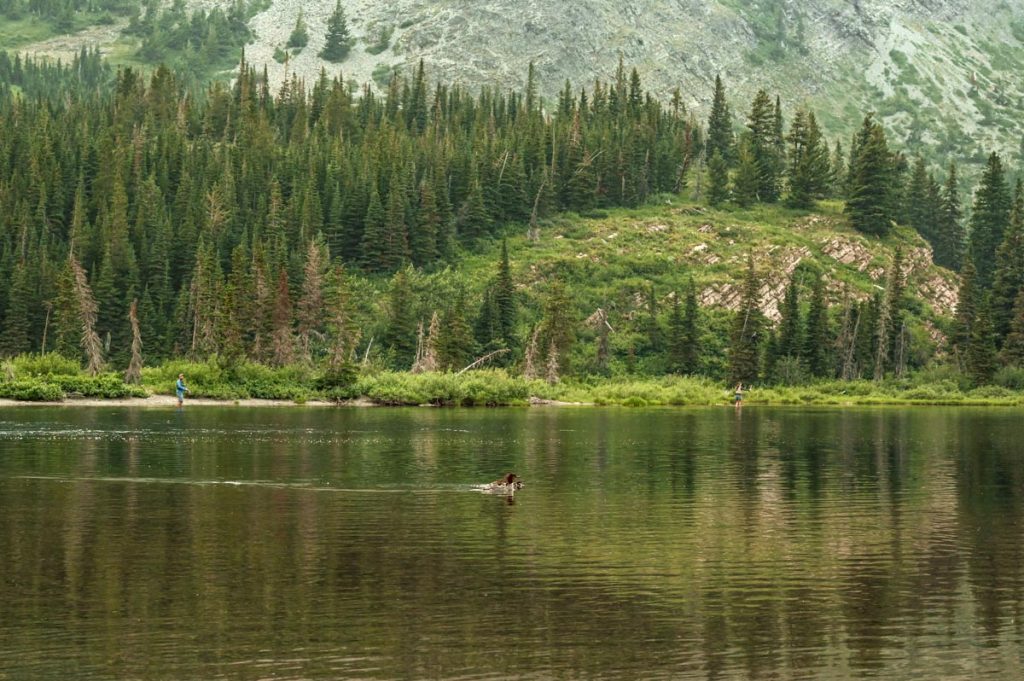 Glacier National Park is home to world-class fly-fishing and is a great place to release your inner angler! Some of the best places in the area to fly fish are:
Flathead River
St. Mary River
Belly River
Two Medicine Creek + Pray Lake
If you'd prefer to join a guided adventure, Glacier Guides offers fly fishing trips, from half day to overnight trips. The prices are $490 for 2 people for half day, $650 for 2 people for full day, and $1350 for 2 people for a 2-3 day trip.
Note that certain areas of the park are closed to fishing to preserve aquatic species. See the full list here.
12. Hit the trails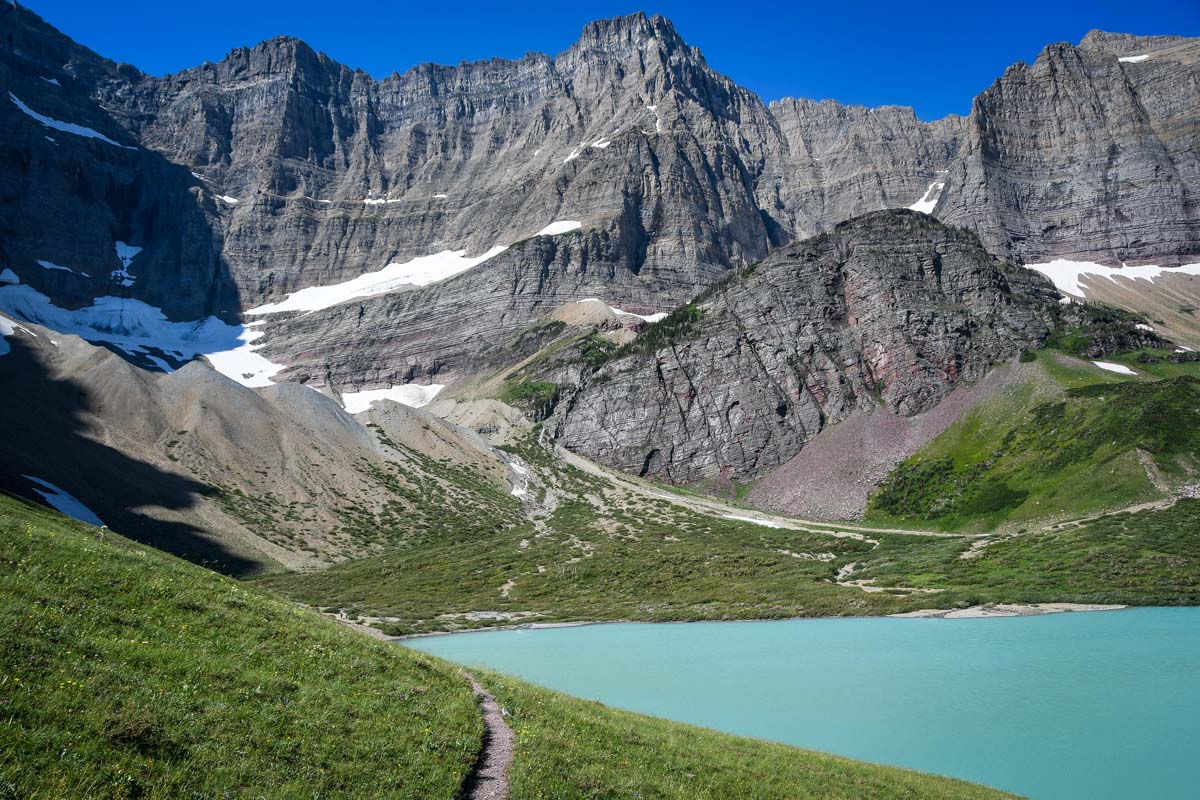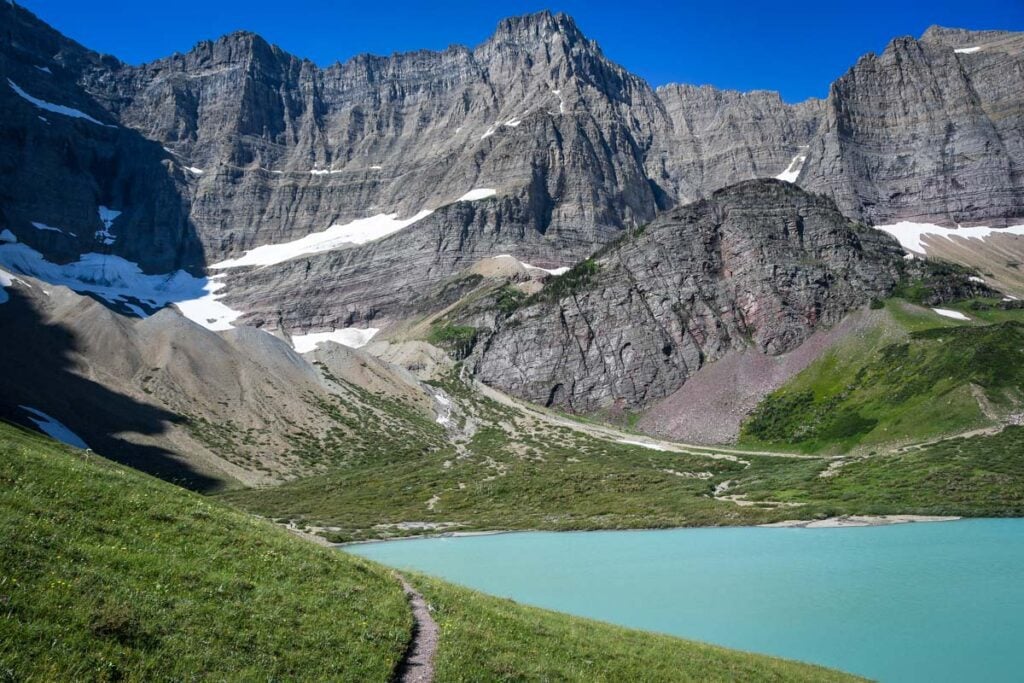 From stunning summits and plush meadow valleys to tranquil lakes and glaciers, there are some pretty incredible hikes to discover in Glacier National Park. Many of the best trails lie well away from other attractions, so you'll want to get "off-the-beaten-path" as they say.
See our round up of the best hikes in Glacier National Park on our sister site to get some inspiration and help you prepare to hit the trails!
13. Explore the park by horseback
As the original means of transportation in the park, horseback riding has a long history in Glacier. Swan Mountain Outfitters is the only tour company offering rides inside the park. They operate tours in three areas – Apgar, Lake MacDonald and Many Glacier. They also offer tours just outside the park in West Glacier. Rides are $60 for 1 hour, $90 for 2 hours, $150 for half day and $225 for full day.
14. Spend a night at Granite Park Chalet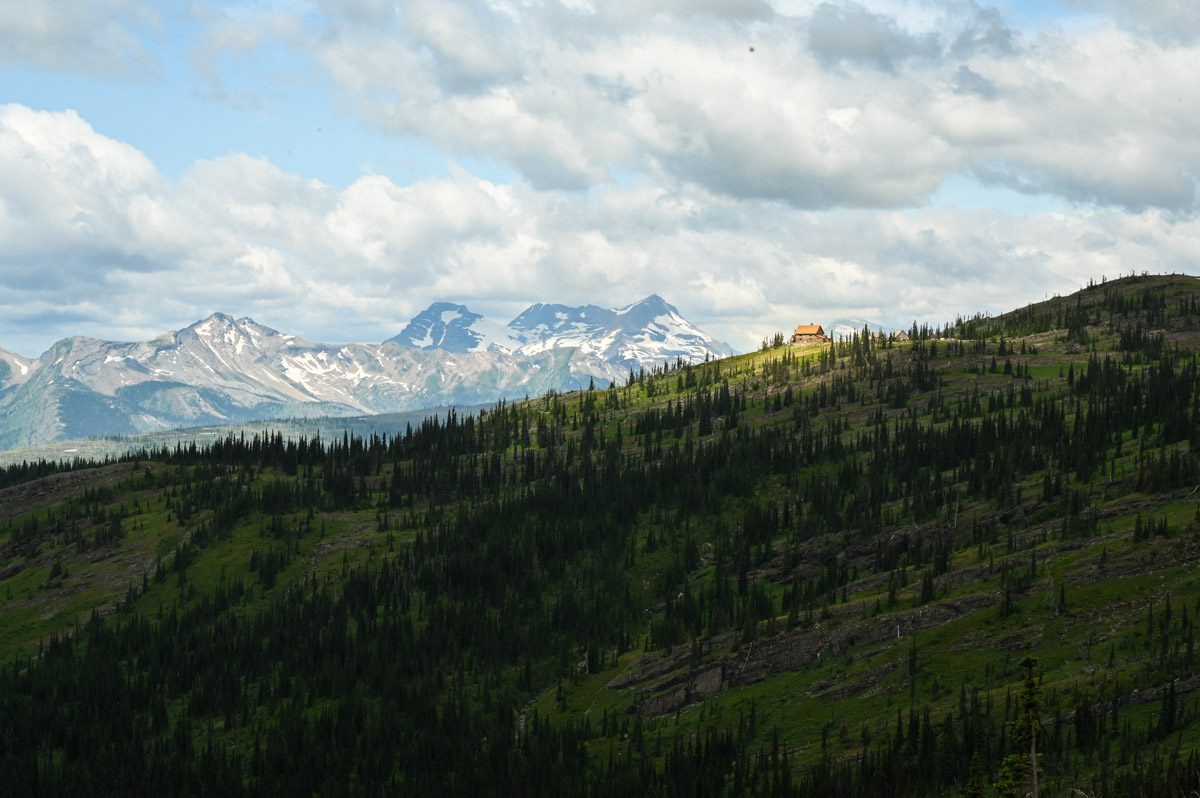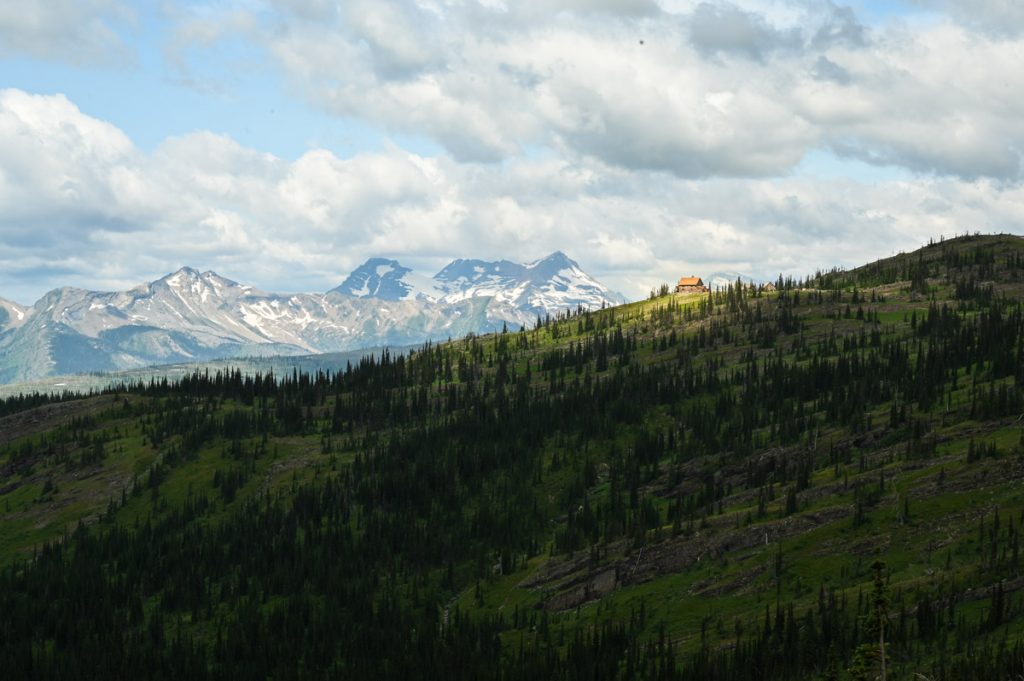 If you're interested in spending a night in the Glacier backcountry, but you're not up for camping in grizzly territory… you're in luck!
The Granite Park Chalet is a rustic cabin perched high in the mountains and deep in the backcountry. Staying at the chalet is like backpacking without the tent, plus a few extra amenities.
You will hike in, bring a sleeping bag, and cook your own meals. However, there is a full kitchen for your use, a snack bar selling packaged food and water, and linen service available for an additional $25 fee.
Granite Park Chalet is open from late June through early September and nightly rates run $124 for the first person in a room and $85 for each additional person. Reservations for the season are made available starting in January each year, and book up quickly.
To get to Granite Park Chalet, there are several possible trails you can hike. The Highline Trail is by far the most popular option, but the chalet can also be reached via the Loop Trail (4.2 miles, 2,200 feet elevation), or Swiftcurrent Pass (7.6 miles, 2,200 feet elevation)
Reservations for Granite Park chalet can be made here
15. Hangout on the rocky shores of one of Glacier's many lakes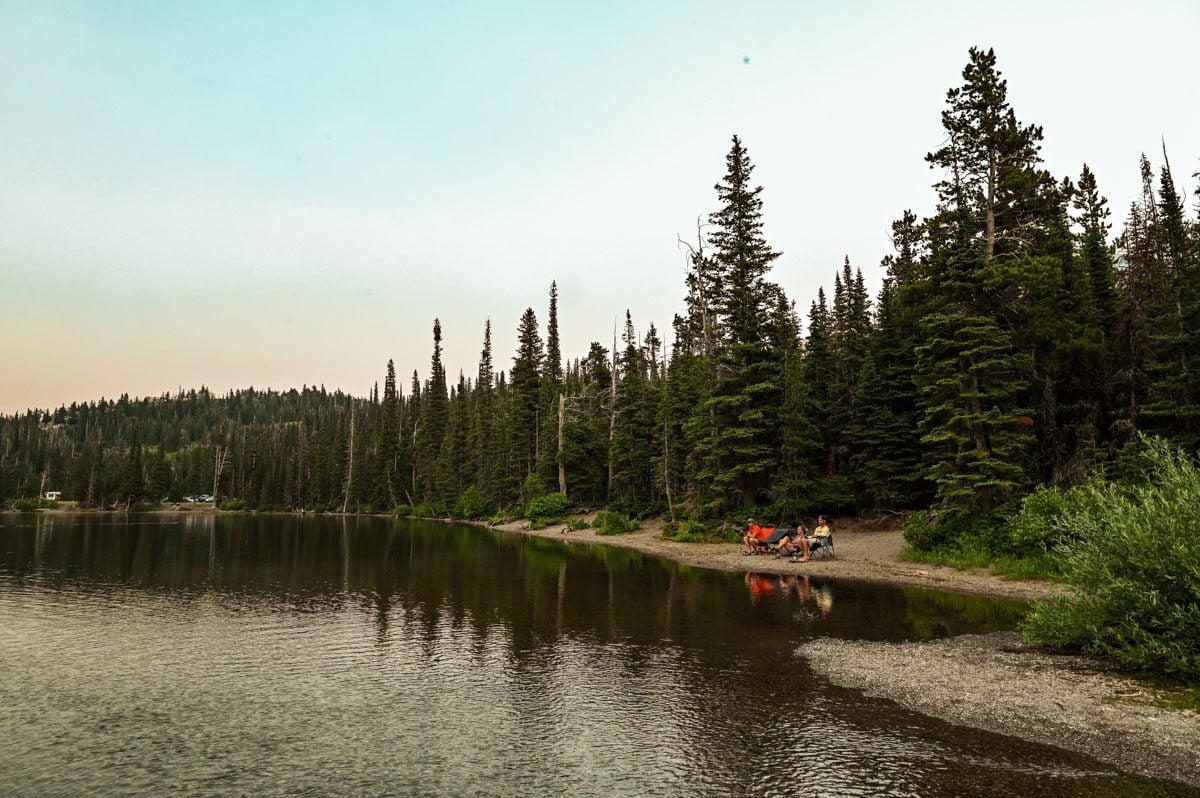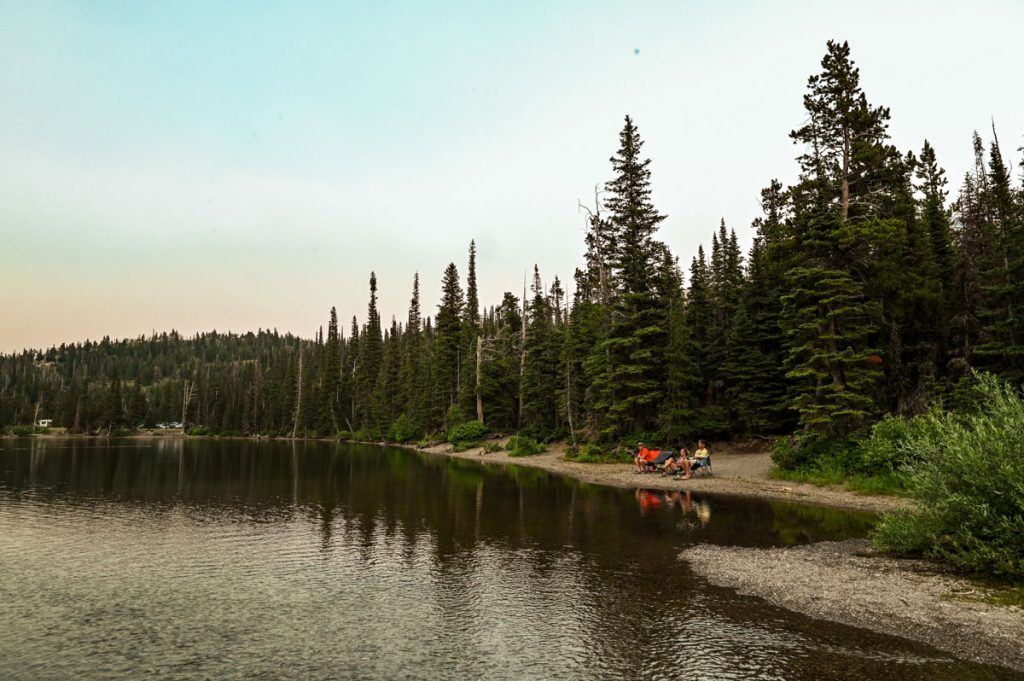 Did you know there are approximately 700 lakes in Glacier National Park? Of the 700 lakes, only 131 are named!
If you have tired yourself out from hiking and exploring the park, grab a chair, crack a beer, and set yourself up for a relaxing afternoon with your toes in the water of one of Glacier's many lakes.
Some of the most popular and accessible lakes are Lake MacDonald, St. Mary Lake, Two Medicine Lake, Swiftcurrent Lake, and Lake Josephine.
---
Where to stay in and near Glacier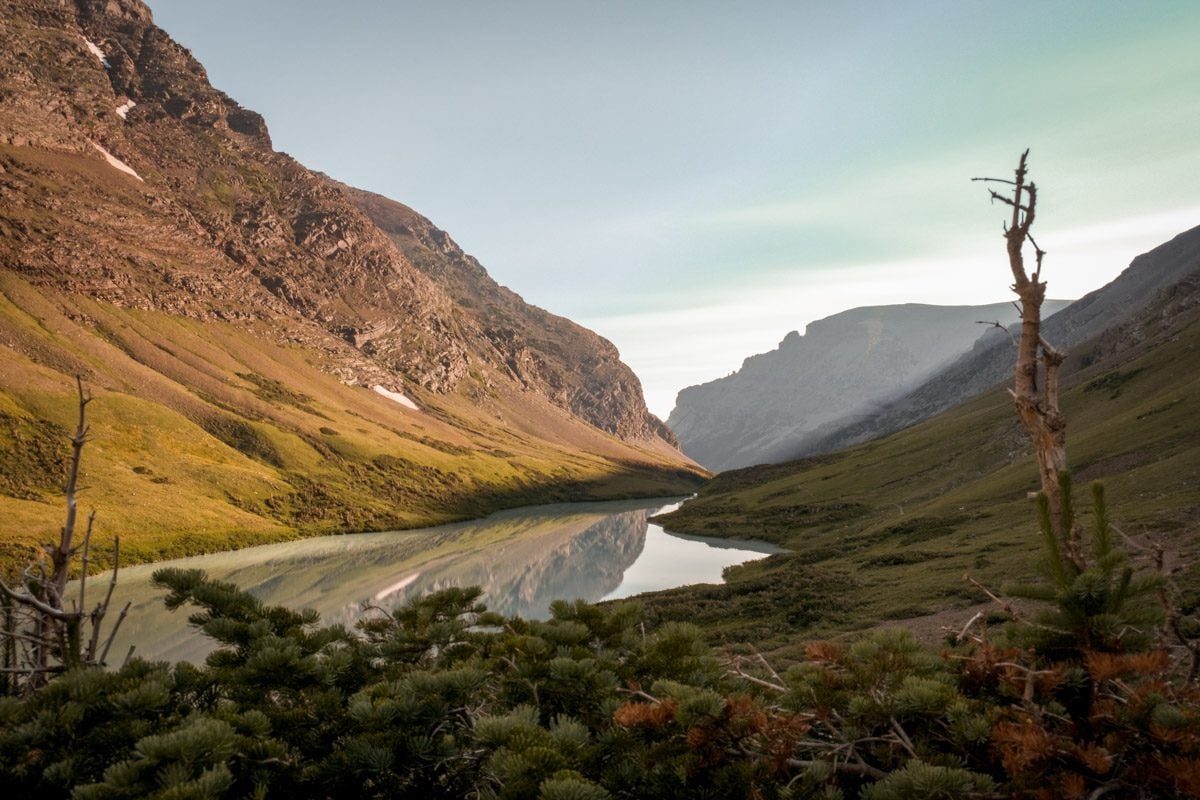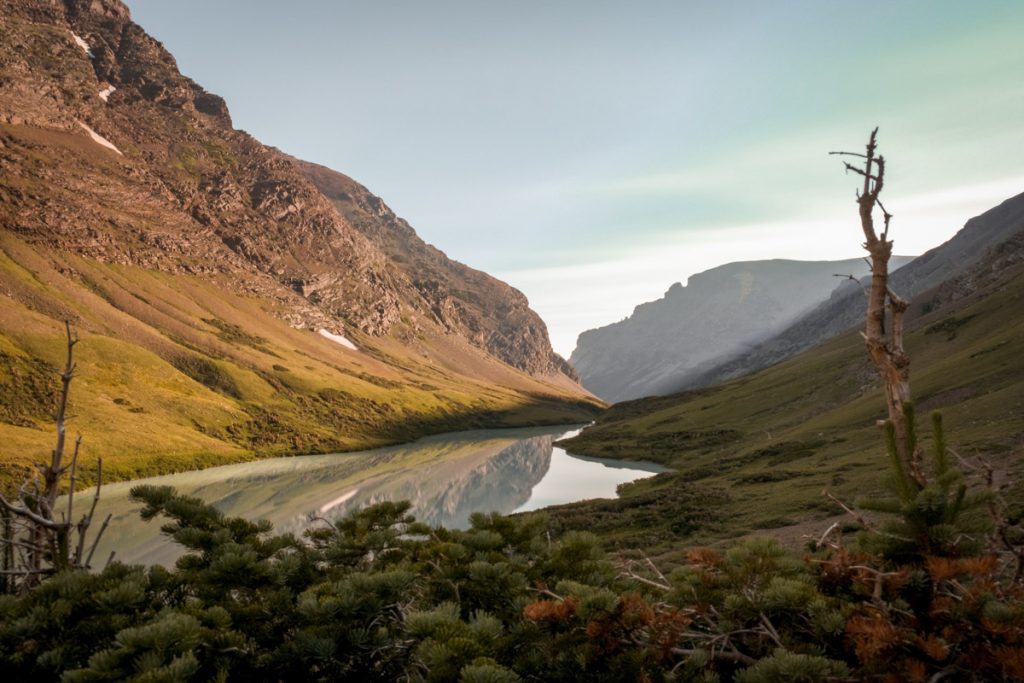 Since Glacier National Park is so large, there are many options for where to stay. The best choice depends on your budget, where you plan to spend the majority of your time, and unfortunately, what is available.
Lodging and campgrounds in and around Glacier book up months in advance during the peak season. We highly recommend you start trip planning at least 6 to 9 months in advance to avoid limiting your options.
Lodging inside Glacier National Park
There are several unique lodging options inside the park, but please note that staying in Glacier typically comes with a high price tag, especially during peak season. We've already highlighted the Granite Park Chalet, but below are a few other options that take a bit less effort to access (ie. you don't need to hike):
Whitefish
If a nice dinner and/or cold beer at a brewery sounds like the perfect way to end a busy day in Glacier, Whitefish is the place for you! Located about 35 minutes from the West Entrance, Whitefish is convenient for any activities on the western side of the park.
There are plenty of places to stay in Whitefish, such as these adorable modern cabins, the lovely Lodge at Whitefish Lake, or the more budget-friendly Chalet Motel.
Columbia Falls
The small town of Columbia Falls gets you even closer than Whitefish to the West Entrance of Glacier, making it a perfect place to stay if you plan to drive the GTTSR or visit Lake McDonald.
We loved our stay at "The Pines" and would highly recommend these cute, cozy and convenient cabins! Cedar Creek Lodge, operated by the same company as Many Glacier Hotel, is another great option in the heart of Columbia Falls.
East Glacier Park
If you plan to visit Two Medicine, East Glacier Park is the best place to stay, located about 25 minutes from the entrance. It's also not a bad option for visiting Many Glacier or the St. Mary areas as well.
With a population of 388, this tiny, rustic town offers just a few lodging options, including the Jacobson's Cottages, the Brownies Hostel (located over a bakery serving pastries and hot pizza!), and single-unit log cabins at Summit Mountain Lodge.
St. Mary
St. Mary is located on the east side of Glacier National Park, just a few minutes from the St. Mary entrance. It's a great option if you plan to drive the GTTSR, hike the Highline Trail or visit the Many Glacier area.
While St. Mary isn't much of a town, there is a grocery store and several lodging options. St. Mary Village is a great choice, offering a range of hotel rooms, several cabins, and cozy tiny homes.
Kalispell
As the largest major town (and by major we mean… a population of roughly 23k!) near Glacier, Kalispell will be the easiest place to find lodging.
That being said, it is located about 45 minutes south of the West Entrance, which puts you close to 3 hours from Many Glacier and over 2 hours from Two Medicine. Therefore, it's a suitable option for exploring the GTTSR, but will involve more driving than staying in the park or one of the smaller towns nearby.
Campgrounds in Glacier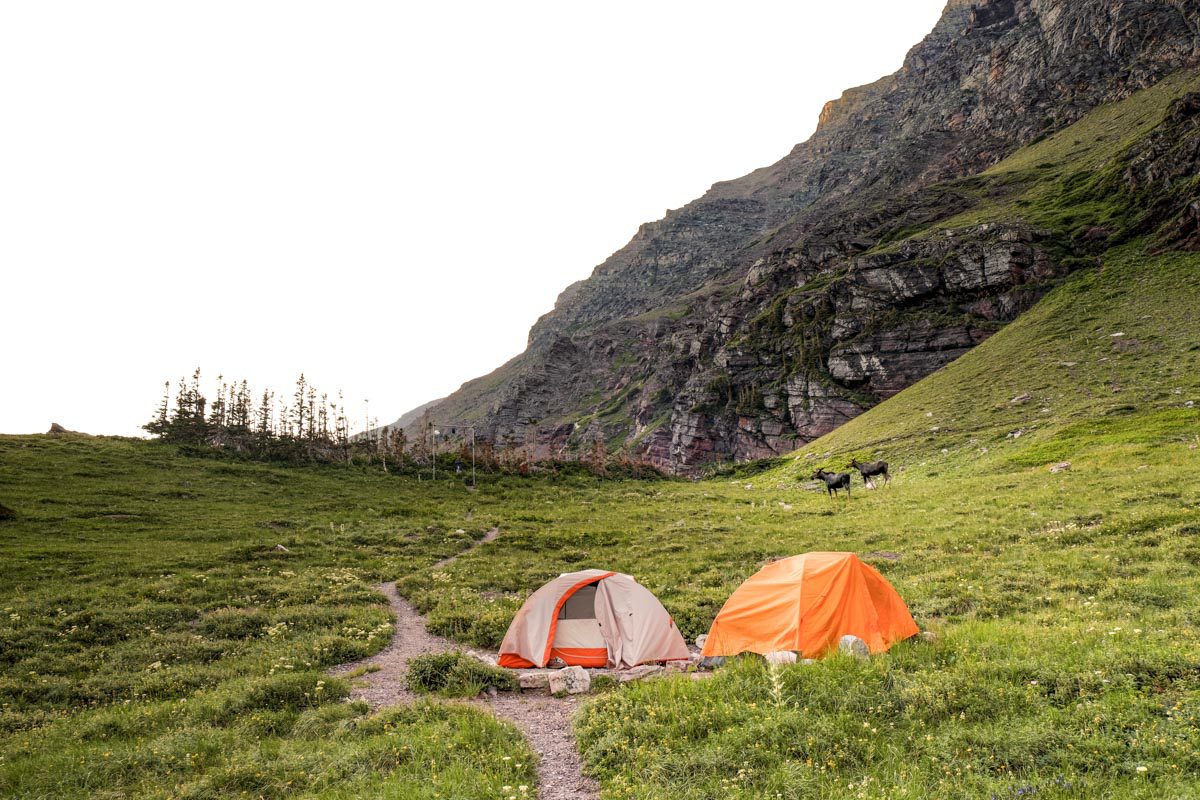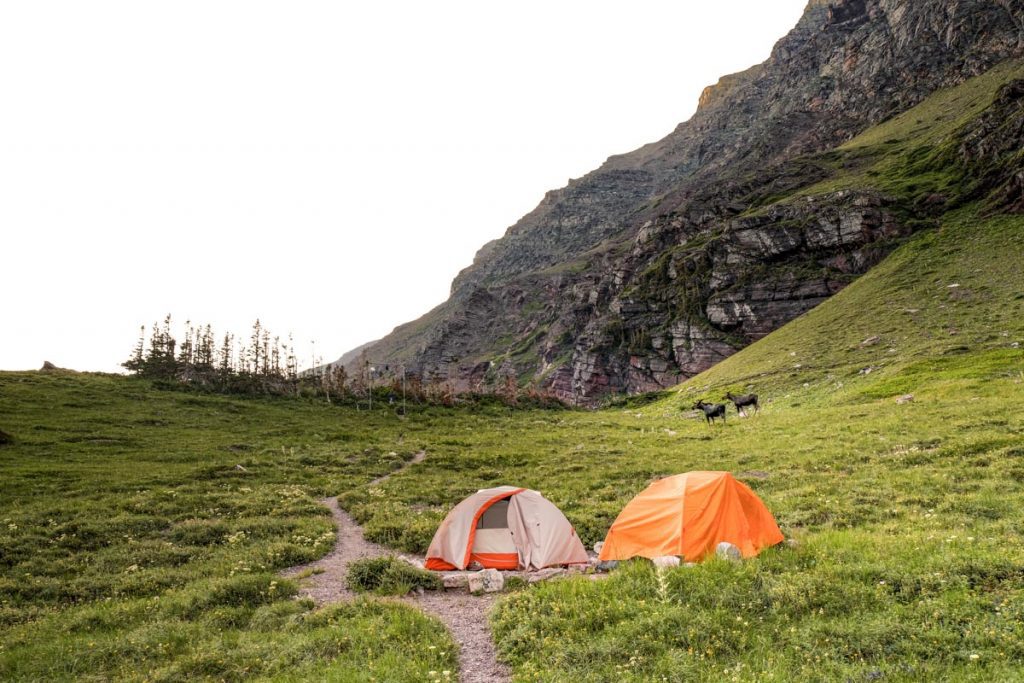 The campgrounds in Glacier National Park are top-notch, with many offering spots in close proximity to beautiful lakes and mountain views. Our campsite at Two Medicine campground was located right on Pray Lake, and winding down with a glass of wine by the water after exploring the park was certainly a highlight of our trip!
There are a total of 13 campgrounds inside Glacier National Park, 5 of which accept advance reservations, including Apgar, Sprague Creek, Fish Creek, Many Glacier and St. Mary. Reservations are made available on recreation.gov 6 months in advance on a rolling basis, and you can count on sites being fully booked almost as soon as they are released.
Note: Apgar and Sprague Creek can only be booked in advance starting in 2022, and the park expects to release reservations for the summer in late March or early April (exact dates have not been given).
The remaining 8 campgrounds are available on a first-come-first serve basis only. These campgrounds are also in high demand during peak season, making it tricky to snag a spot. Luckily, Glacier has a super helpful tool that displays historic fill times for each campground, giving you a sense for how early you need to arrive for the best shot at getting a site.
To be safe, we'd recommend arriving as early as possible and (respectfully) asking other campers who appear to be leaving if they'd be okay with you waiting for their spot while they pack up.
Campgrounds outside the park
Camping inside Glacier National Park is more convenient but, if you aren't able to get a spot in the park, there are many campgrounds located around the park as well.
Whitefish has many RV parks and campgrounds, and property owners even rent out sections of their land for camping on Airbnb. There are also great campgrounds available around Flathead Lake, although staying there is a bit out of the way.
A Note about Camping: If you're traveling in a campervan or simply hoping to save money on your visit to Glacier National Park by camping along the way, we have a deal for you!
The Dyrt is our favorite campsite locating app with the largest database of campgrounds (44,000+ campsites and counting!) and over 1 million user-submitted reviews. Plus, it's super user-friendly, and has some pretty cool features, like outdoor gear contests and forums to connect and seek advice from fellow campers, that you won't find on any other camping app.
Try their Pro Membership for FREE for 30 days and gain access to the offline version of the app, utilize their trip planning feature AND get exclusive discounts on campsites and gear!
Dispersed camping
Free dispersed camping is available in the Flathead National Forest. While this can be a good backup option if you aren't able to secure a campsite inside the park, we wouldn't recommend it due to the amount of driving it would entail.
We're typically big fans of dispersed camping, but Glacier is so big that the small amount of money you would save is not worth the logistical challenge.
You can find more information about dispersed camping in Flathead National Forest here.
What to pack for visiting Glacier National Park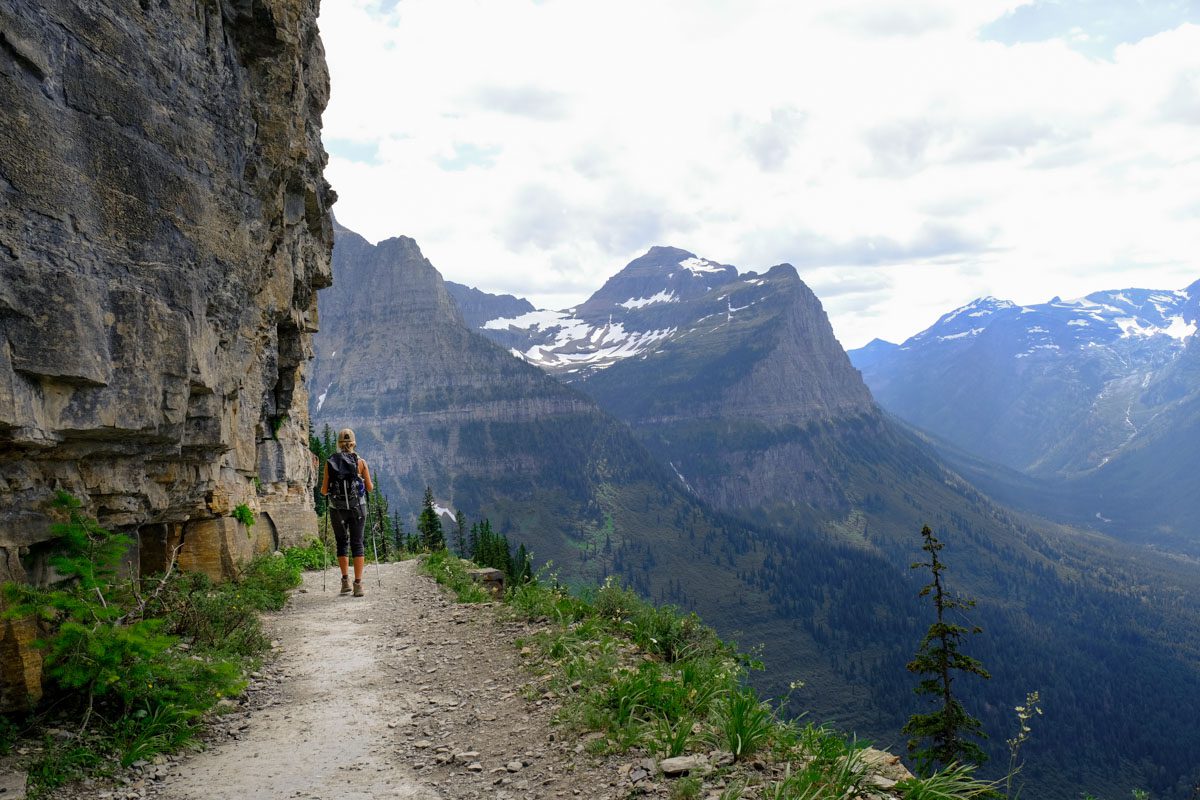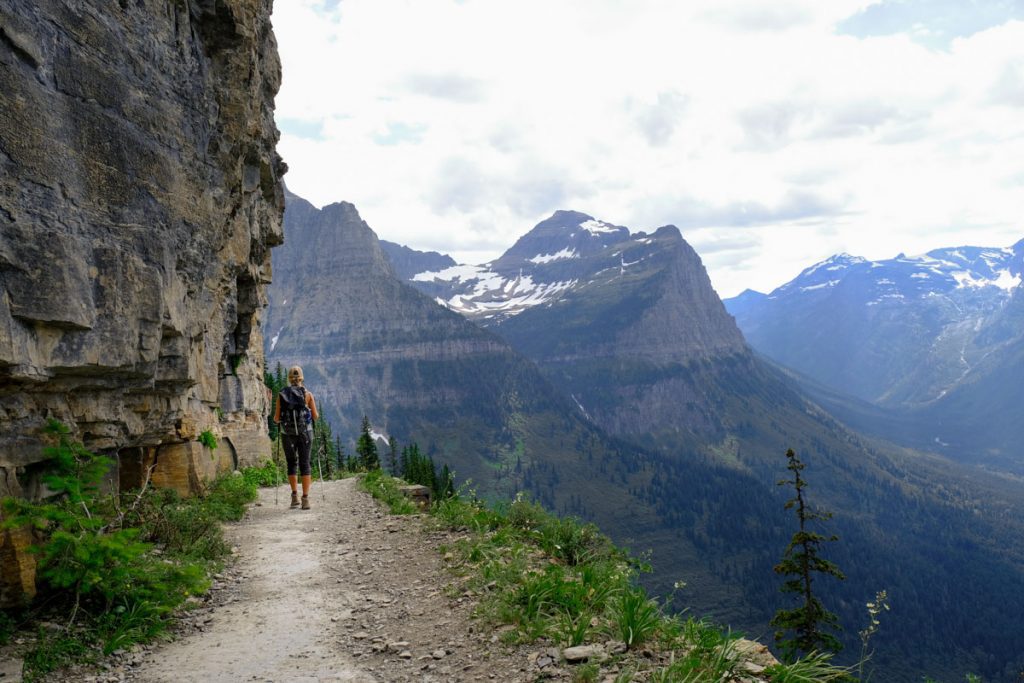 Warm layers: Even in the middle of summer, mornings and evenings in Glacier can get chilly! We recommend packing layers and a warm jacket.
Rain jacket or windbreaker: Winds in Glacier can be brutal (especially along the Highline Trail), so you'll want a jacket to break the wind.
Bear spray: This is grizzly country! If you plan to hike, each person in your group should carry their own can of bear spray in a readily accessible spot (odds are you won't need it, but in the unlikely event that you do, it does no good in your backpack!).
Hydration pack and/or water bottle: A must on any outdoor adventure
Hiking boots: A pair of boots with good traction are important if you plan to hike, as many of the trails are steep and rocky.
Microspikes: If visiting earlier in the fall or early summer, the trails are likely to be snow or ice-covered at higher elevations.
Bathing suit and towel: If you decide you want to take us up on that dip into a freezing alpine lake, be sure to pack a bathing suit and means of drying off.
Tips for visiting Glacier National Park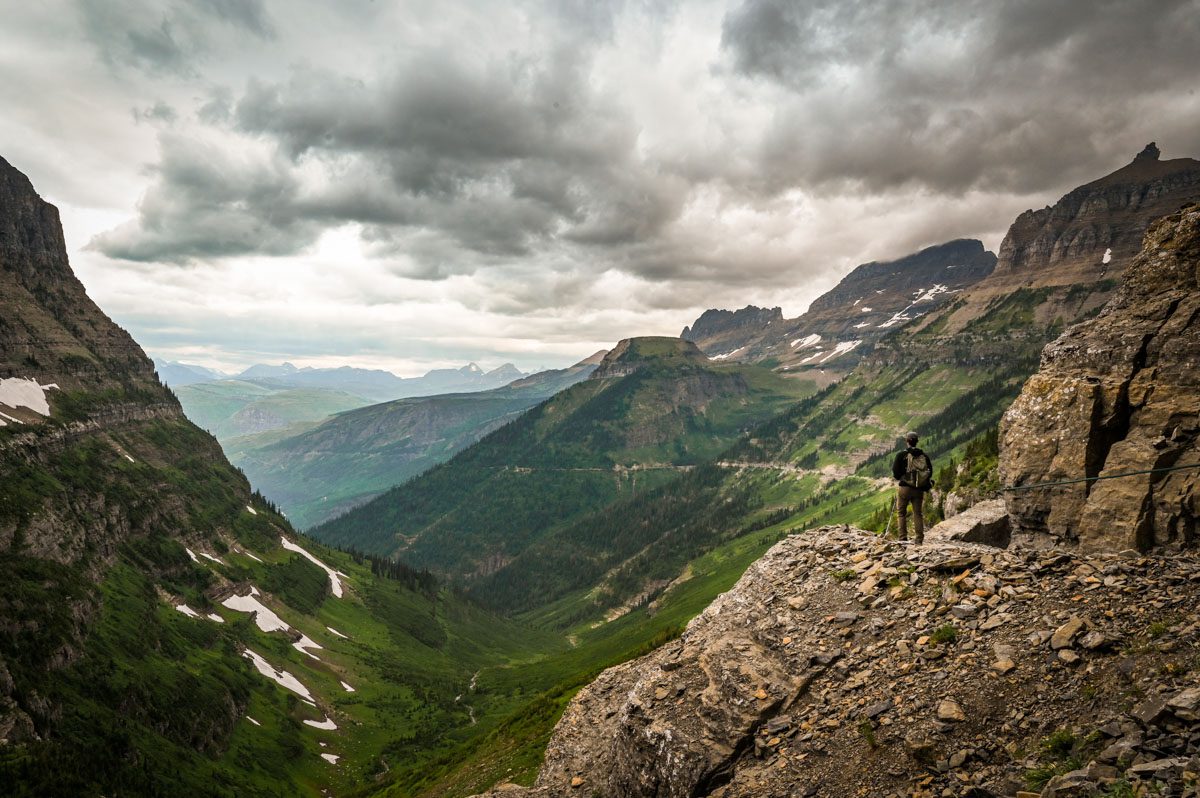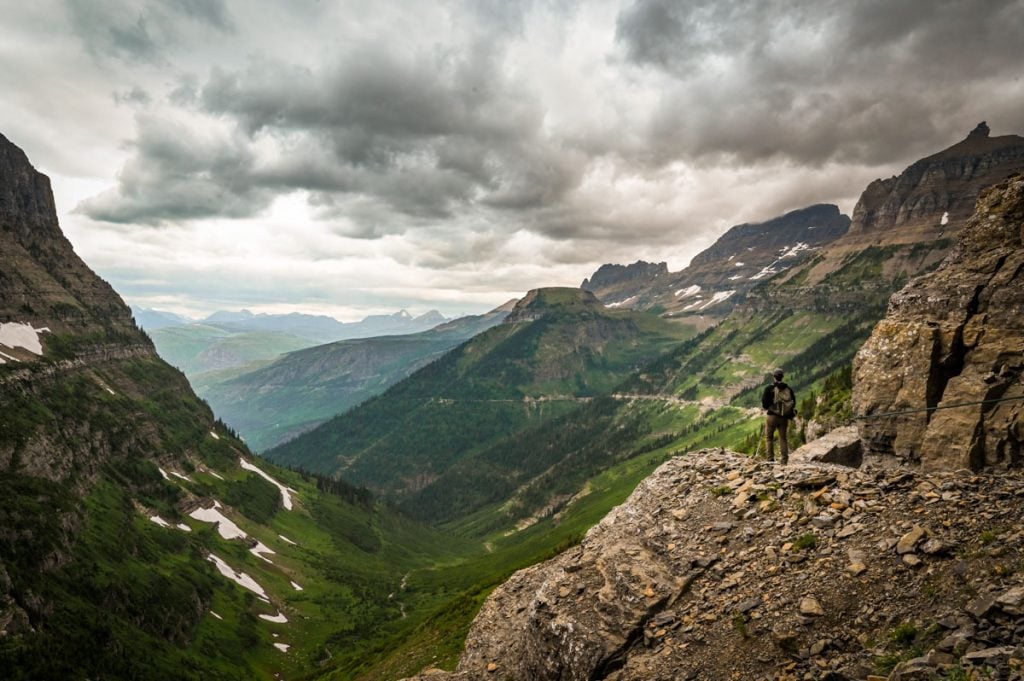 Plan everything way earlier than you think you need to. That includes entrance tickets, campgrounds and lodging, backpacking permits, and tour reservations.
Beware that parking lots at popular areas and trailheads frequently fill up. Plan to get an early start or use the park shuttle to avoid parking issues. We arrived at Logan Pass at 7 a.m. to start the Highline Trail hike and were shocked to find people already circling the parking lot.
Similarly, the NPS will limit access to entire areas of the park if they become overly congested. Again, we highly recommend starting your day as early as possible!
Cell service in Glacier National Park is spotty in some areas and non-existent in others. Before you visit, download trail maps (we use AllTrails Pro) for the hikes you plan to do and be sure to grab a park map to help you navigate.
There are no gas stations inside the park, so fill up your tank before you hit the road!
In 2022, tickets are required to enter the GTTSR and North Fork section of the park. Check the NPS website well in advance of your trip for details on getting tickets.
---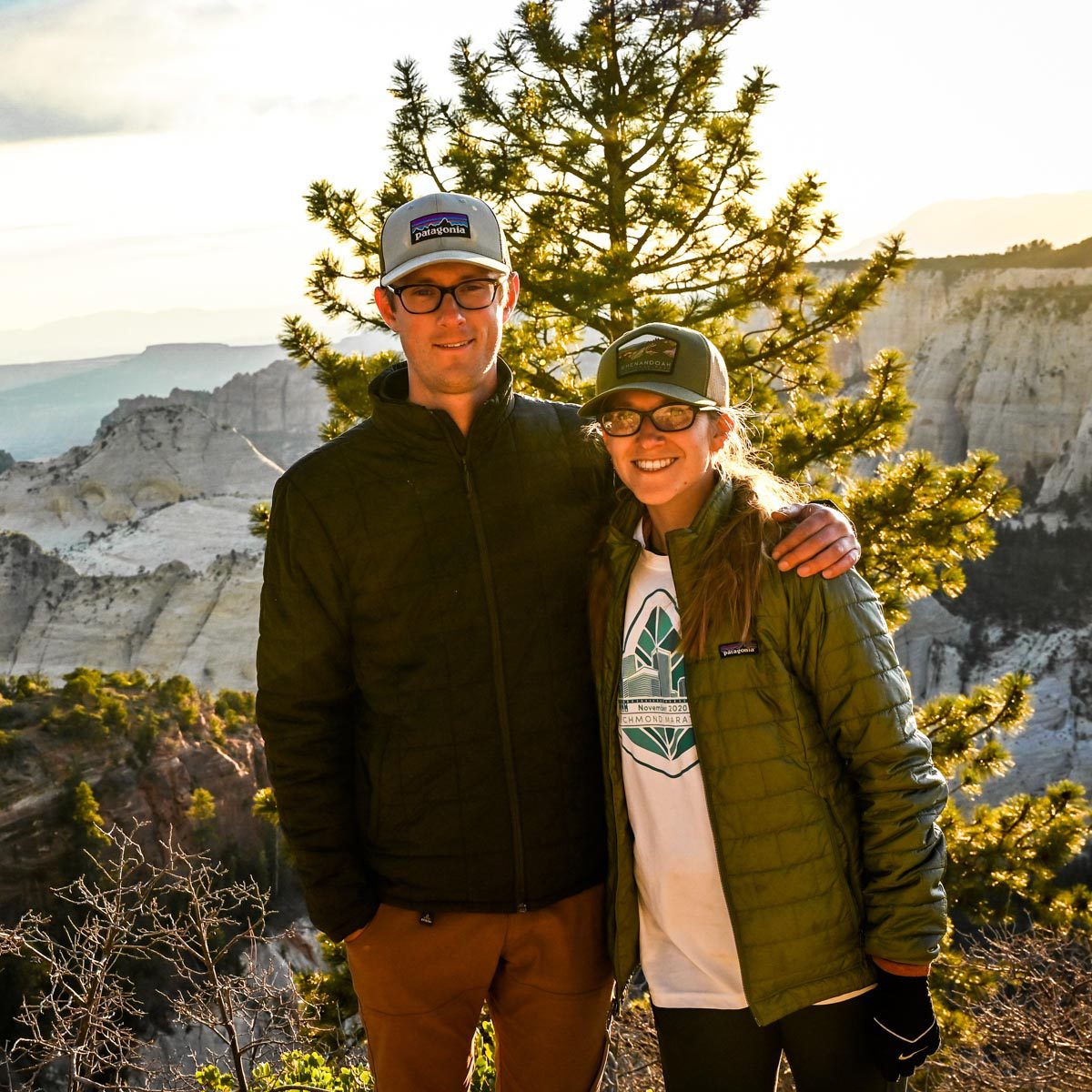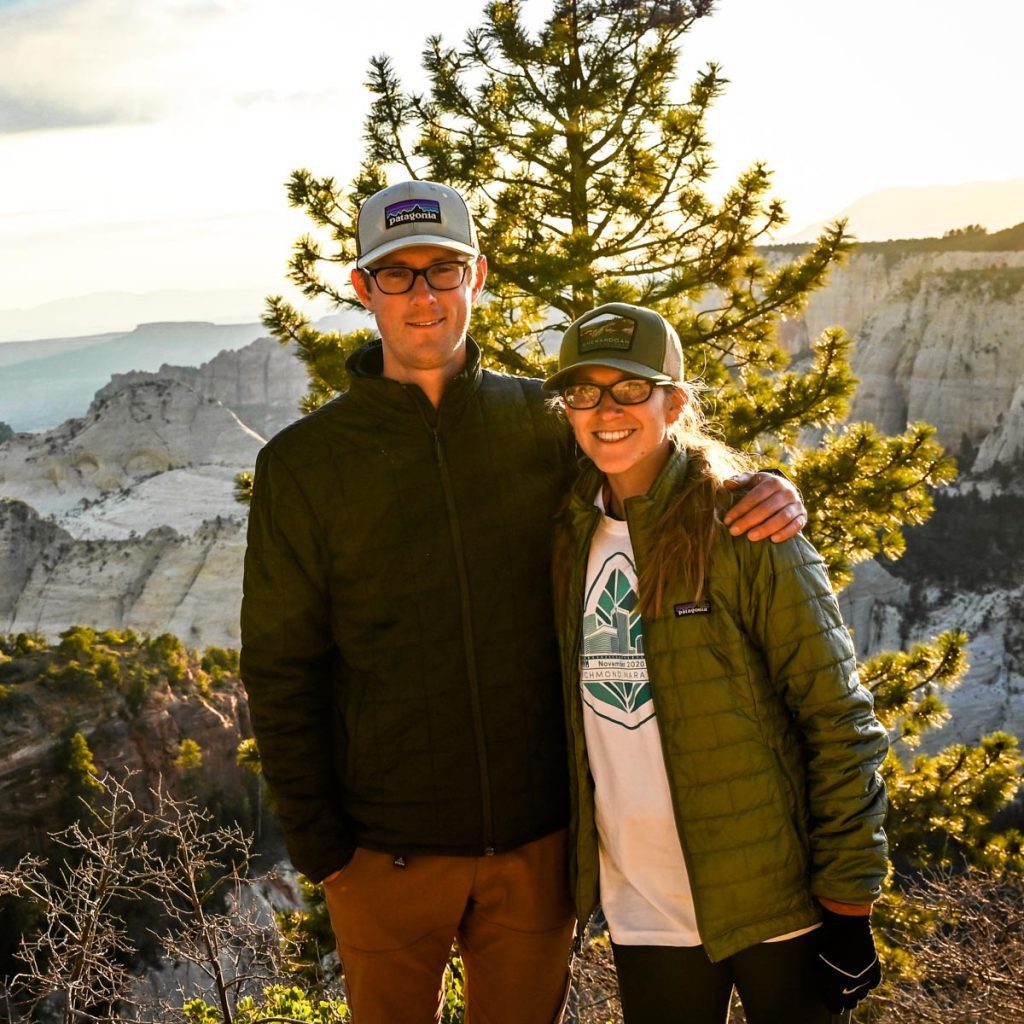 About the authors
Sarah and Matt are two digital nomads, outdoor enthusiasts, and the creators of Two Outliers, an adventure travel and photography blog dedicated to helping you plan your next adventure! They road trip full-time across the United States along with their cat, Fitzgerald, while working full time and spending all their free time hiking, camping, backpacking, and exploring new places. They hope their experiences will inspire others to be outliers too!
---
Are you planning travel around the U.S.A.?
We have TONS of resources on travel in the US and how to make the most out of your trip. Check out our Ultimate USA Travel Guide for everything you need to know, or read some of our favorite articles below.
Save this article on Pinterest for later!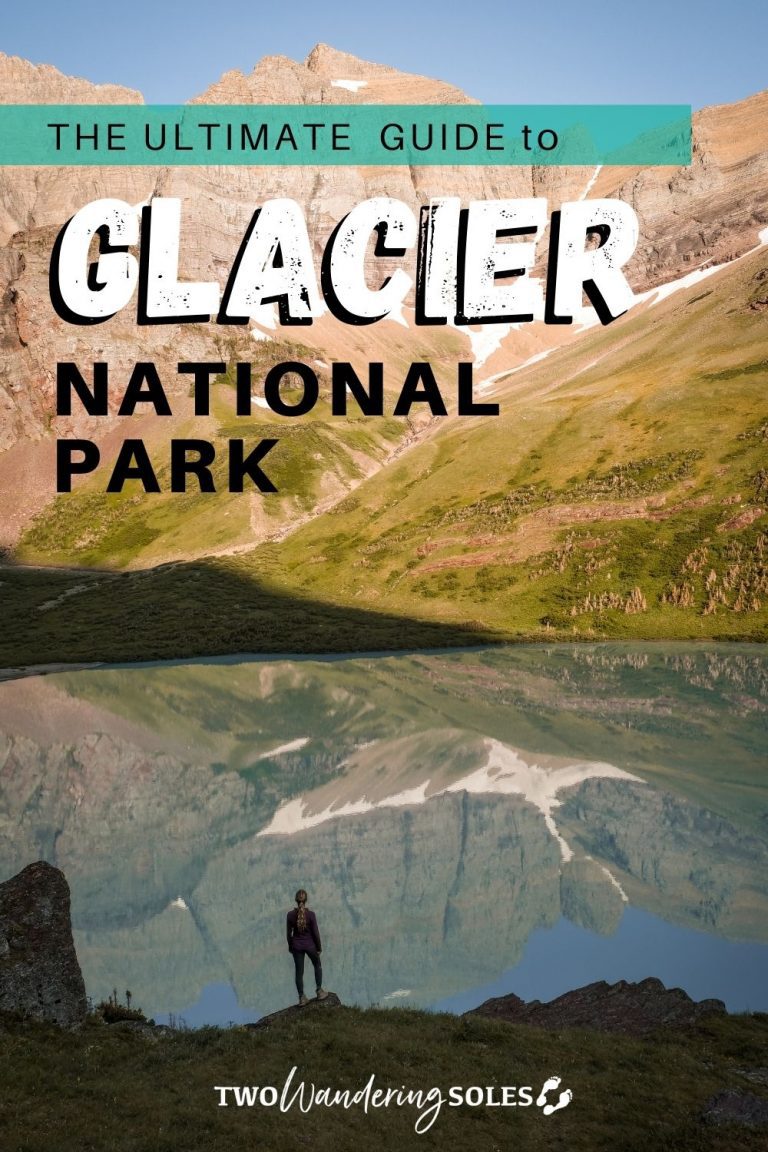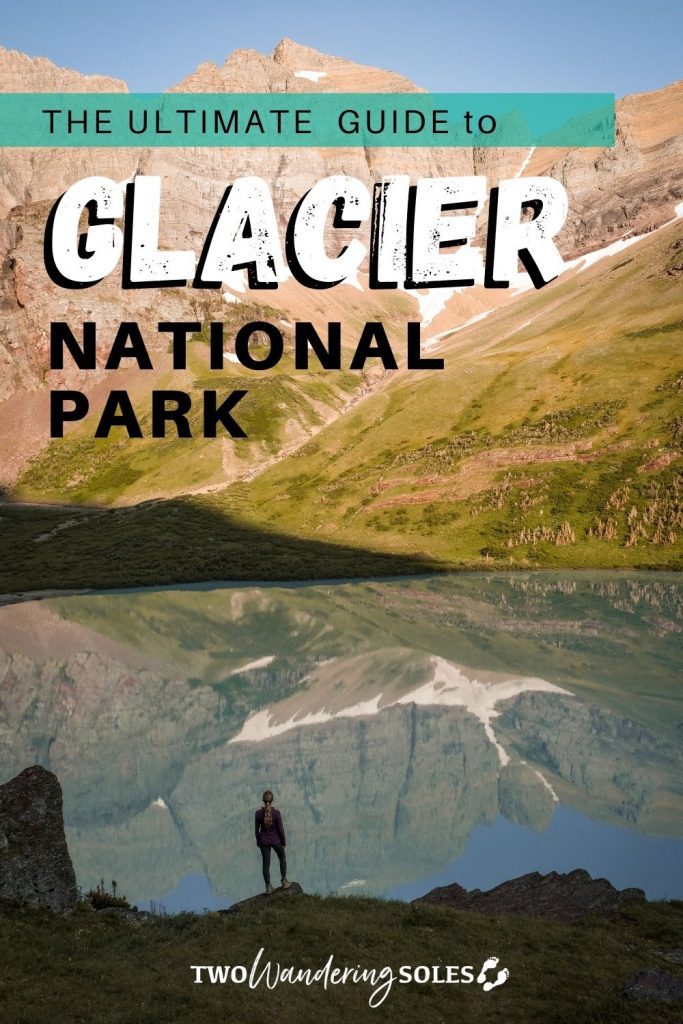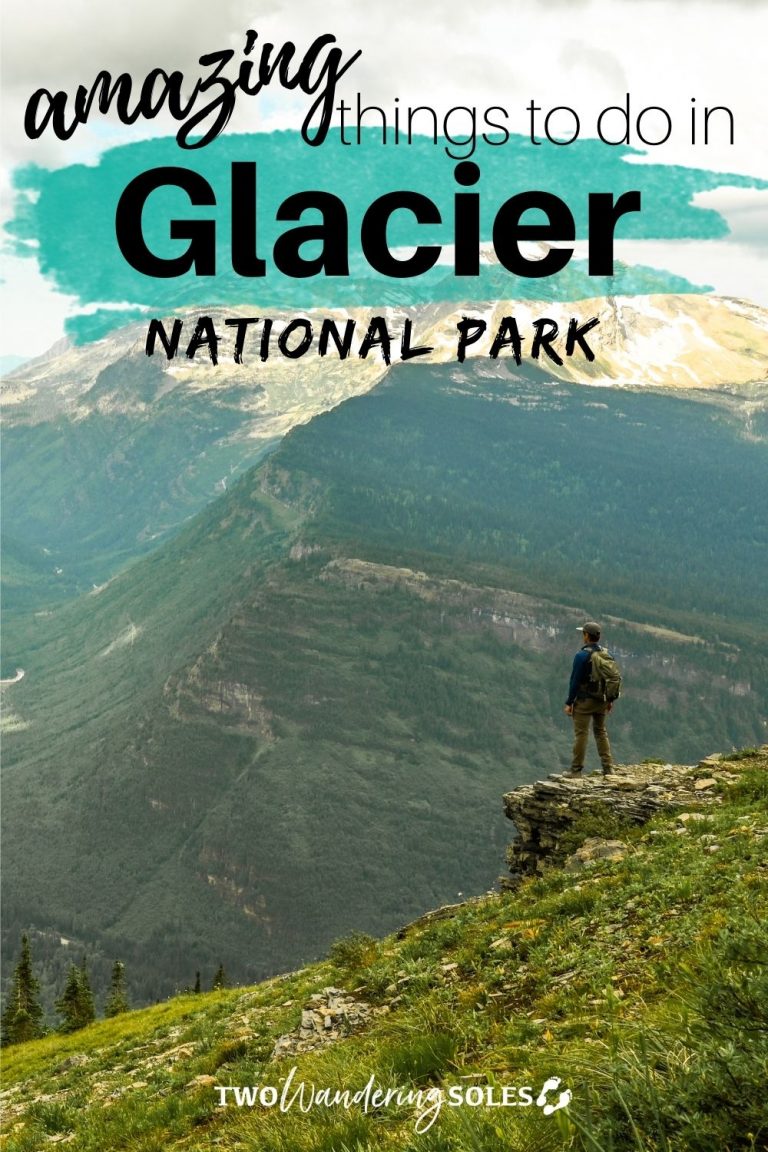 We want to hear from you
Have you been to Glacier National Park? Questions about visiting the park? What would you add to our list of amazing things to do in Glacier National Park? Let us know in the comments section below.