Planning a trip overseas, whether long or short, can seem overwhelming. But it doesn't have to be! In this article, we'll show you how to take the stress out of planning a trip, by laying out a simple step-by-step guide that'll ensure you don't forget anything. Now you can stop stressing and start making your travel dreams a reality!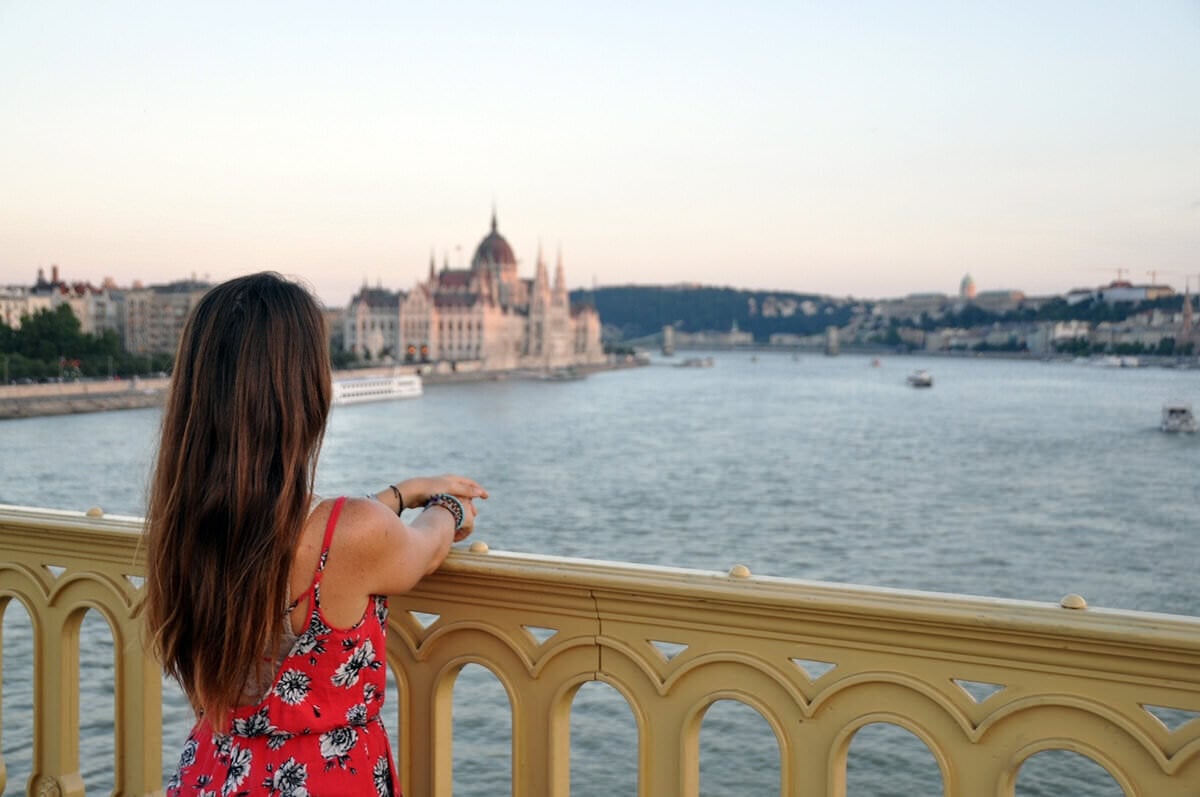 Have you ever been overwhelmed by the idea of planning a trip because it seems too, well… overwhelming?!
There's a lot to think about when planning travel: from getting a visa, to figuring out transportation, to booking accommodation and getting local currency, it can be downright stressful.
And it's a bit contradictory, right? Stressing out over planning what is supposed to be a relaxing vacation. We've definitely been there. Many times, in fact.
But we've learned our share of lessons along the way and now we're here to help.
In this article, we'll show you how to take the stress out of planning a trip, by laying out a simple step-by-step guide that'll ensure you don't forget anything.
We'll show you how to take a travel daydream and turn it into reality.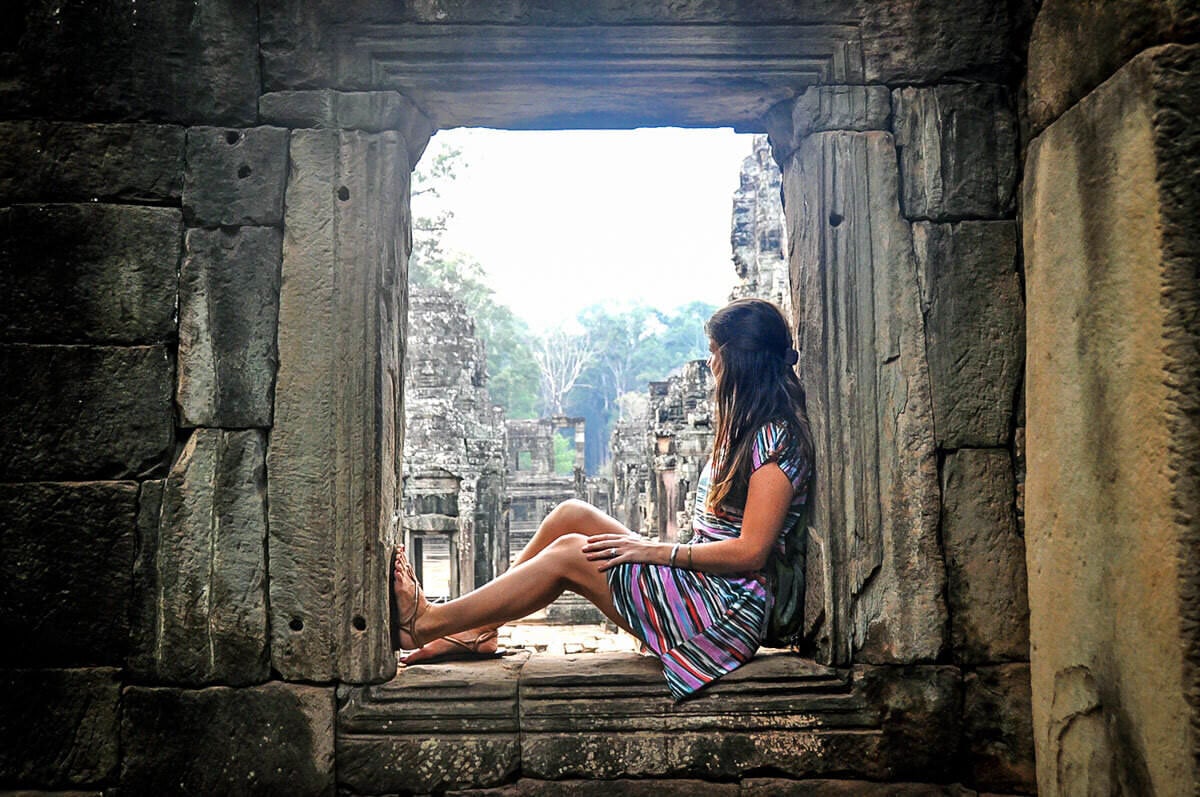 So whether you're planning a 2-week getaway or a journey with no end date in sight, these steps will take you from the brainstorming phase to stepping foot in your destination. We think you might actually fun planning your next trip. That's a dare.
Alright, take a deep breath, because we're digging right in!
---
How to Plan a Trip Article Contents
Step 1: Figure out your travel budget
Step 2: Decide on your travel style/partner(s)
---
Step 1. Figure out your travel budget
Before you can even begin to plan a trip, you need to take a good look at your finances and figure out how much money you have to spend on your adventure. This will dictate a lot of the future steps including where you can travel to and for how long.
This step might sound scary, but we've broken it down for you so you can create your very own customized travel budget. We're even sharing exactly how we afford to travel and stay on budget.
If you have the time before you go, follow these simple steps to save money for your travels.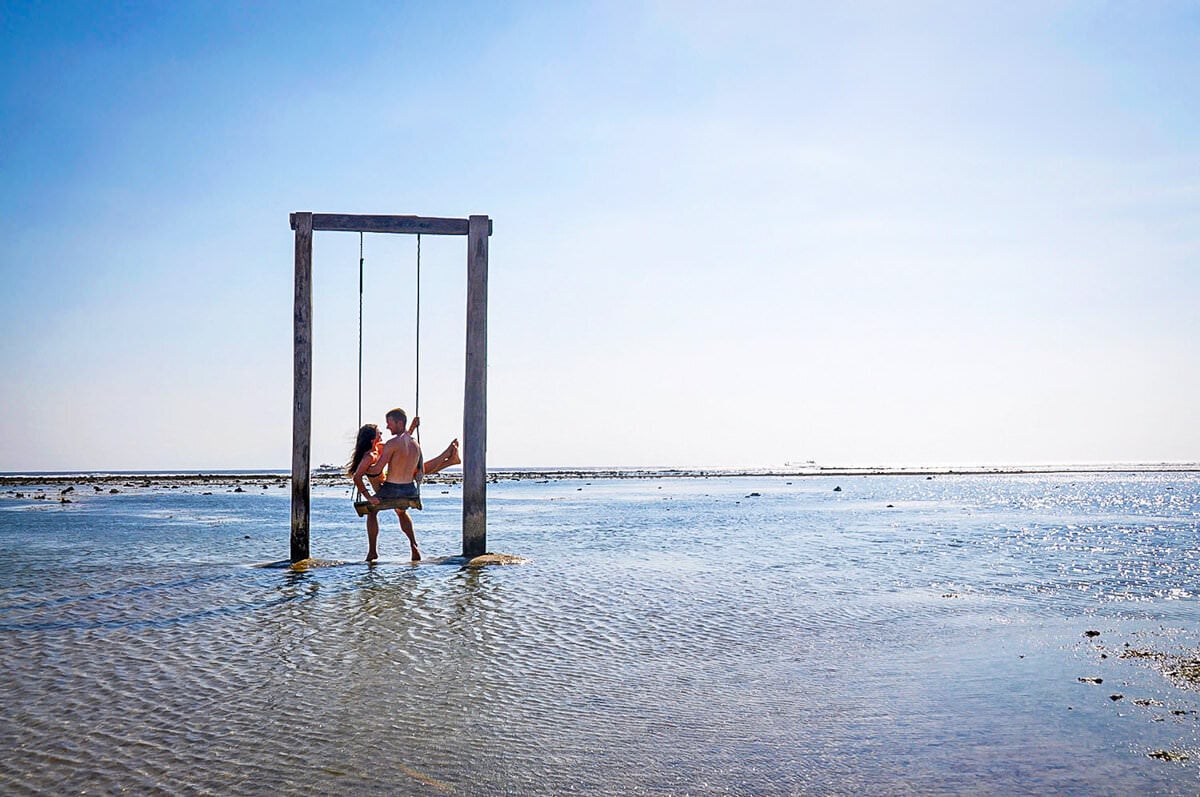 Step 2. Decide on your travel style / partner(s)
Is this a short vacation, a 3-week trip overseas or long term travel that you are planning for?
…And who's coming with you?
Take a moment to answer this question… Are you going to be traveling solo or with a partner? A group of friends, or with your family and children in tow?
The answer to this question can help shape your trip quite a bit. For instance, a solo trip to Tahiti may not be the best choice, as this popular honeymoon destination is going to be swarming with couples on romantic getaways. Likewise, party-centered Ibiza might not be the best place for a wholesome family vacay.
If you are planning on traveling with a partner, don't book your flights without asking them these questions first…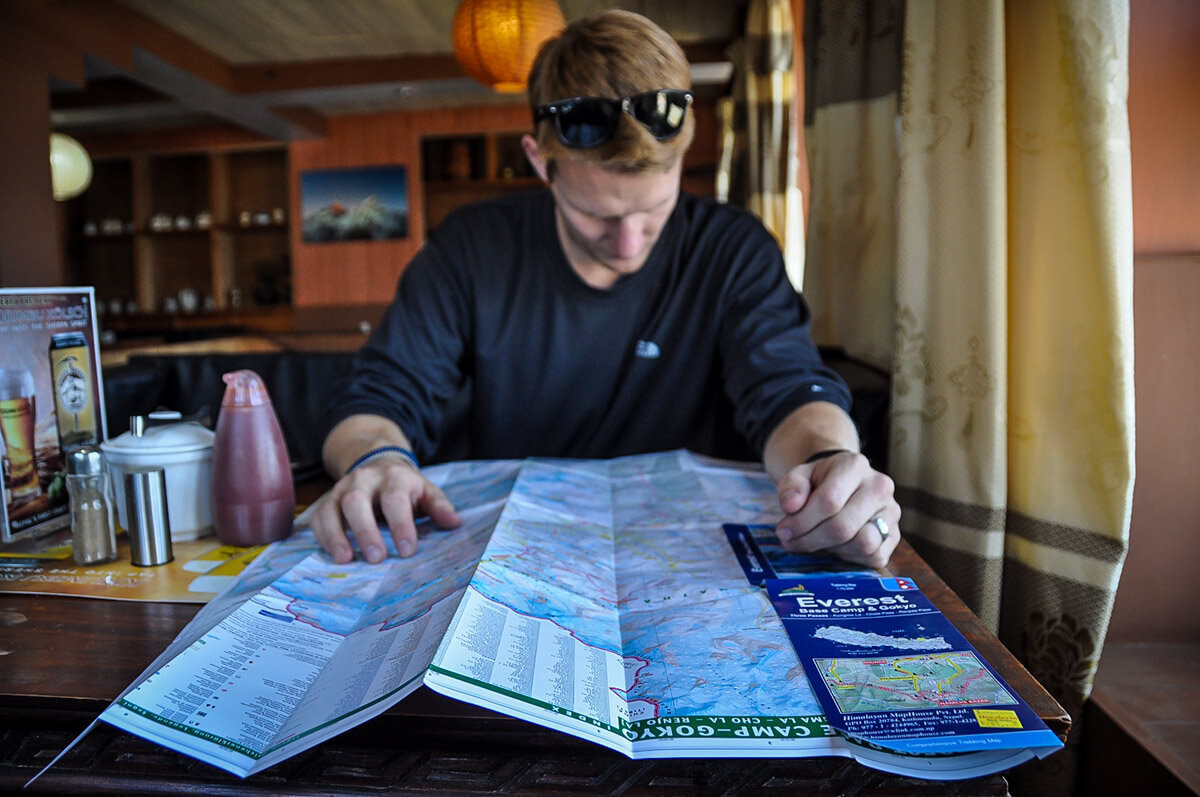 Step 3. Choose a destination
This step may seem obvious for some, maybe you already know exactly where it is you want to travel and that's why you're planning this trip in the first place. For those of you that have a destination nailed down, there are still a few things we'd suggest you consider, you can skip right down to the research step.
For those of you that have the itch to travel, maybe even the vacation time set up, but still have no idea how to narrow down just one place, we suggest looking at a map. No really! Hear us out…
Literally look at a map, and start circling all the cities, towns or attractions you want to visit. Look on Instagram for inspiration. Don't limit yourself. What do you want to do? What do you want to see and experience? When planning a route, we typically look at other trusted bloggers' recommendations.
And no need for paper maps anymore, go digital! Here's a great tutorial on how to use Google My Maps. It's game-changing.
We figure out how many nights we can stay in each city and how we're going to get from city to city. We have many itineraries on our Itineraries page where you can see examples of our travel routes and recommendations. We also suggest taking a look at Lonely Planet travel guides.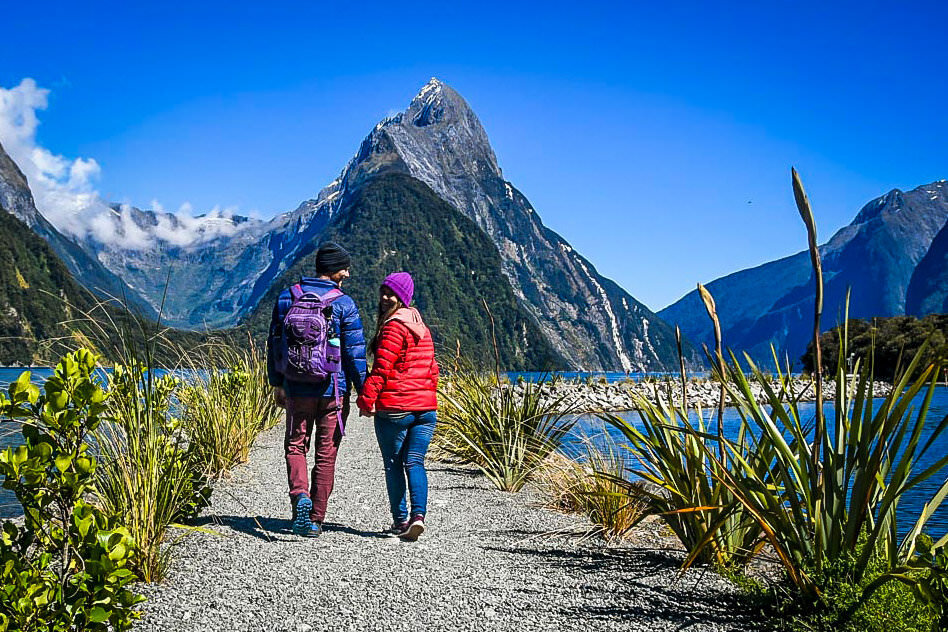 Once you think you've nailed down a place, or places…
Do Your Research
Don't forget to do a little digging and make sure that the time of year you plan to travel is optimal. We have failed to do our research a few times and it ended up really affecting our trip.
Asking yourself the following questions can really save you the troubles or headaches down the road:
What will the weather be like?
Will it be the wet season? Hurricane season? Super-duper-unbearably hot?
Example: We traveled in India during the hottest months of the year and literally could not do much outside some of the days because it was 110 °F (43.3 °C). After that, we vowed never to make the mistake of traveling without really understanding the weather first.
Is it peak tourism season? Low season?
Will it be hard to get a hotel because it's peak season? Will the lines and crowds at tourist attractions be ridiculous?

Likewise, if you are traveling during low season, should you expect a lot of the businesses to be shut down? Will closures hinder your chance to see and experience everything you were hoping to?
Example: We visited Croatia in July – its busiest month of the year – and found ourselves super frustrated with the crowds and jacked up prices. We ended up shortening our time there because we were not enjoying it as much as we expected.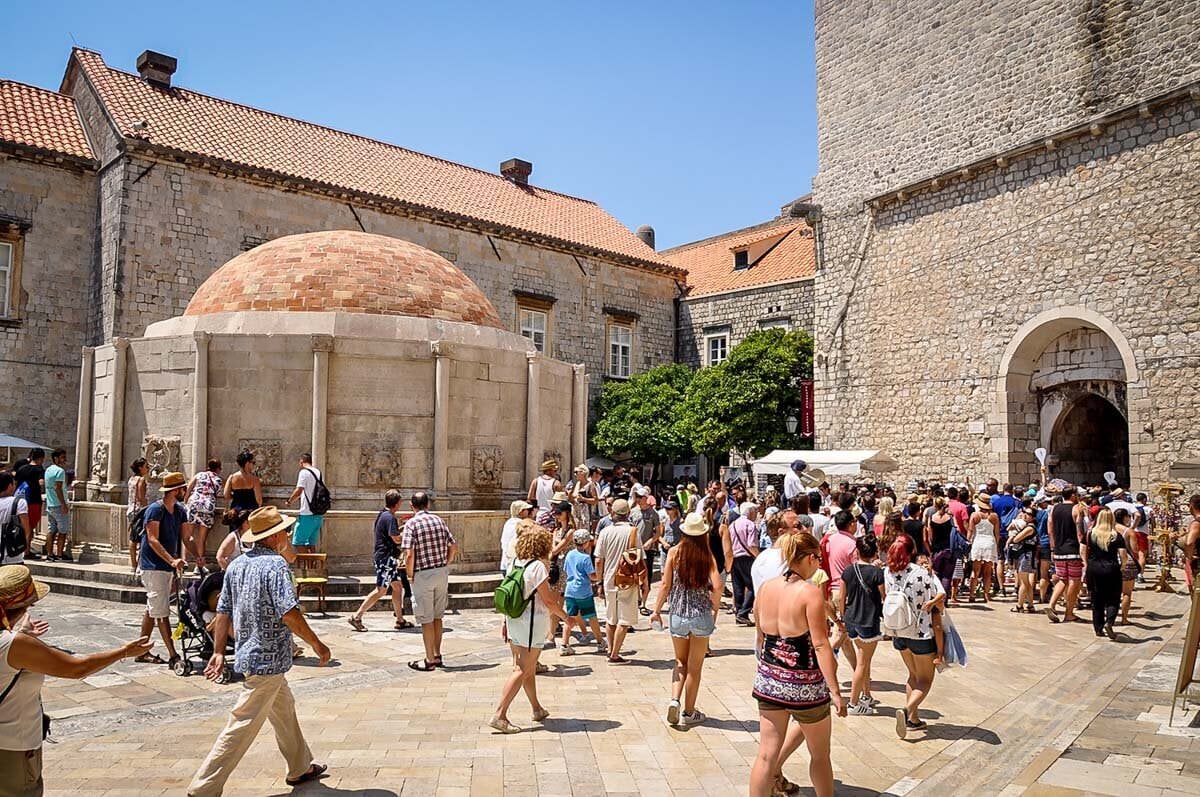 Hold up! Before you start a Googling storm, we've got some good news: there are some resources out there that make this process for researching so much faster!
But don't worry if you don't know where OR when you want to travel… check out this calendar of events around the world for inspiration!
How cool is that?!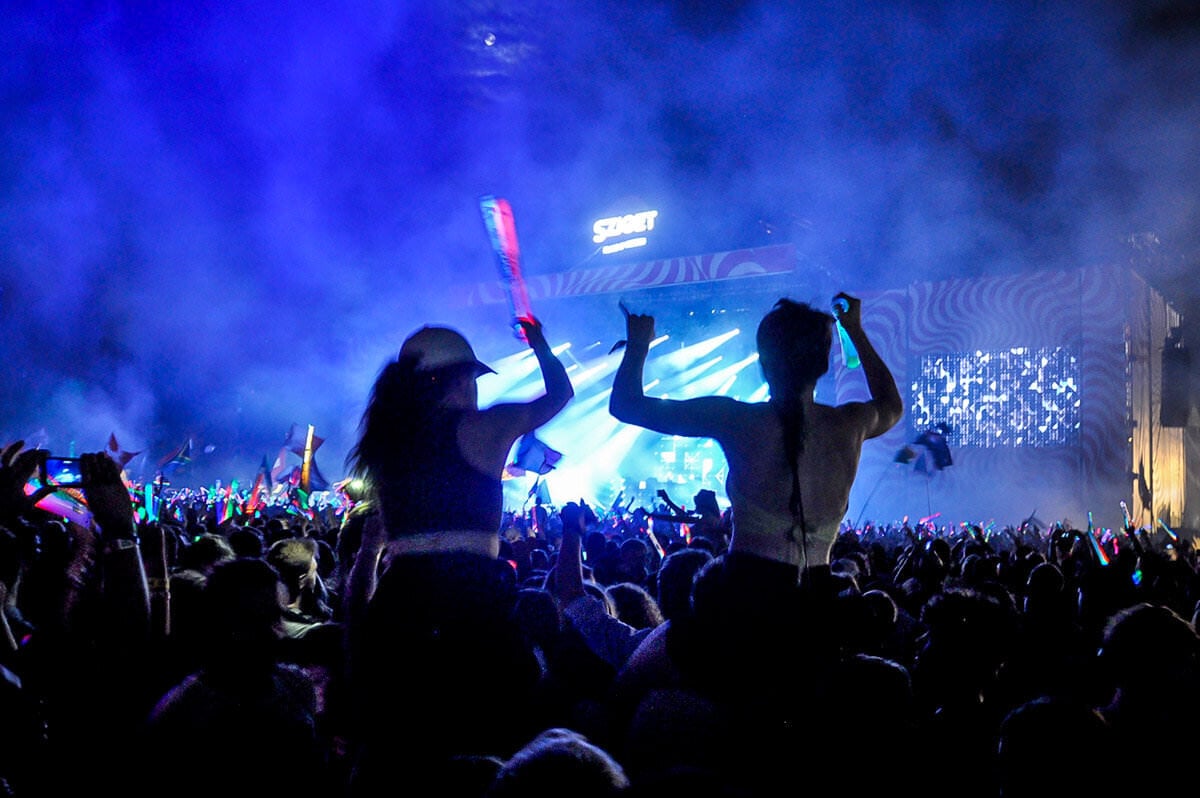 These events span all destinations and interests: from European music festivals (like Sziget Festival in Budapest, pictured above!) to cultural celebrations to naturally occurring events like the migration patterns of wildlife in Africa.
When you find an event that interests you, click on it to learn more.
Pace Yourself
Thinking about your pace will determine how many of the places you circled above you'll realistically be able to see.
Do you want to pack in as much as possible, or do you want to choose a couple places and really get to explore them? Do you want to travel slow and take in the culture to really understand how locals live?
Or do you want to tick places off your list and move from city to city, seeing as much as you can? Maybe a happy mixture of slow and fast? This all depends on the amount of time you have and your budget.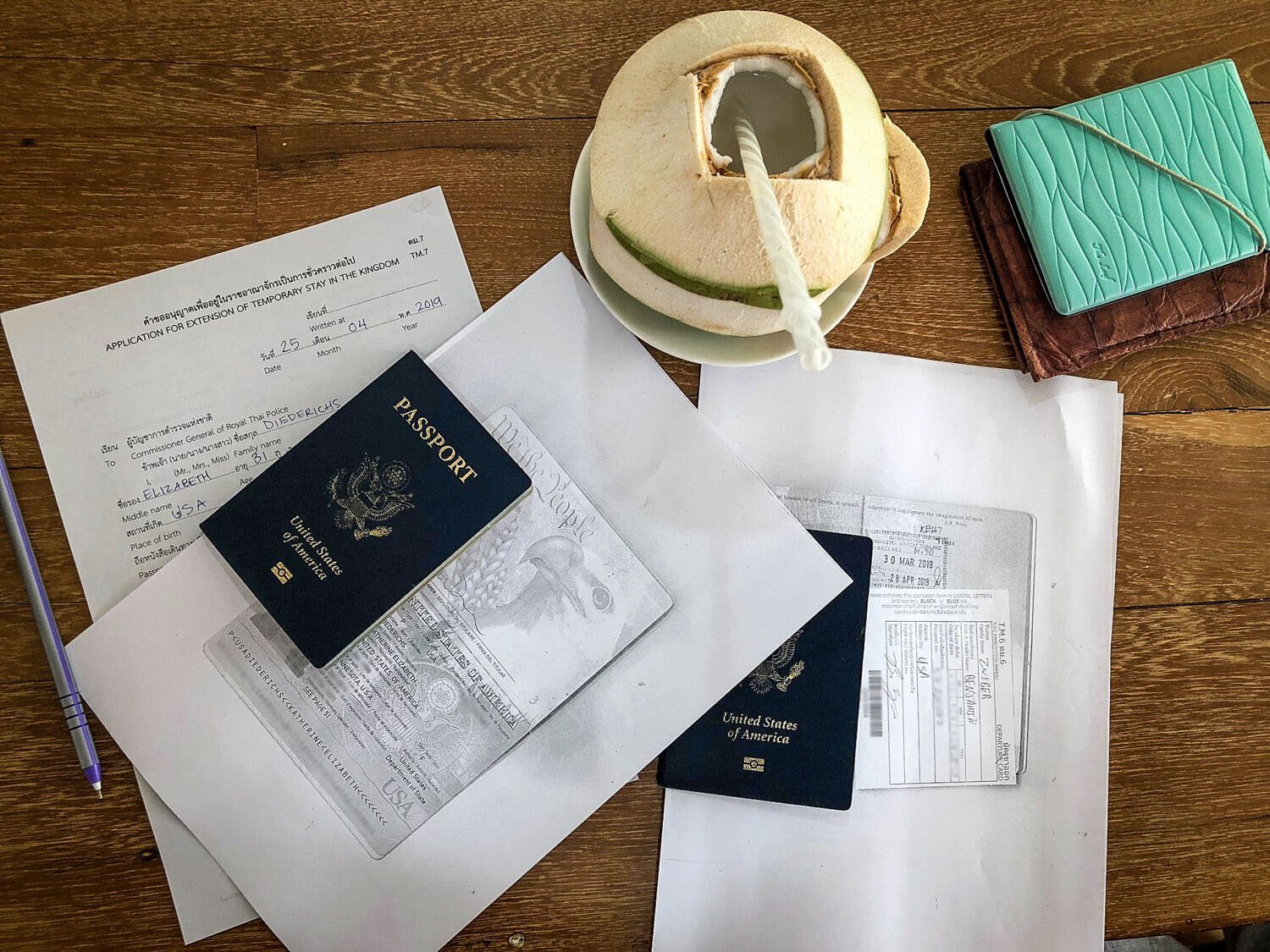 Find out visa requirements
Investigate if you need to obtain a visa for the country or countries you're thinking of traveling to. You may not need one for the first country you arrive in, but will you need one for the other countries in your itinerary? Can you get a visa online, visa on arrival, or do you need to get it in your home country?
For instance, if you're traveling to Vietnam, Americans need to apply for a visa ahead of time (and here's the best and cheapest way to get one).
If you don't know if you need a visa, check out your home country's visa websites:
Psst! Wondering how to stay connected awhile traveling? Use our ultimate guide to getting an international SIM card, including helpful tips for using your phone abroad.
Step 4. Book flights
You know where you want to go? Check. Have your visa? Check.
Now here comes our favorite part: It's time to book a flight!
First, you'll need to answer these questions: What airport will you fly into? Are you going to make a round trip and fly out of the same airport? Or are you departing out of a new place?
Tips for getting the best deals on flights:
Know when to buy. Depending on where you are flying to and from, there are different recommendations for how far in advance you should buy your flight.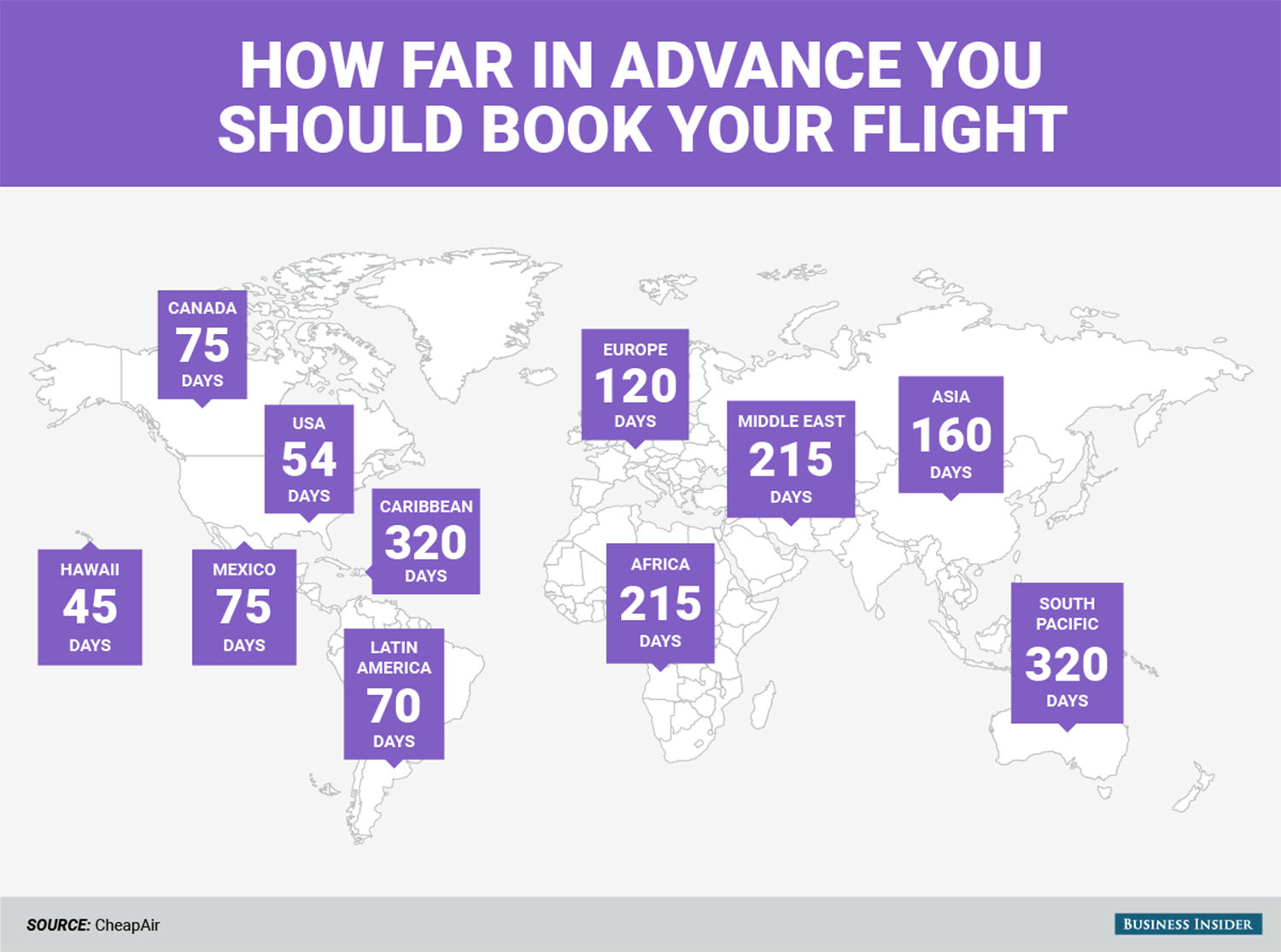 Play around with breaking the flight up. For example, instead of searching for a flight from Minneapolis to Japan, we'll search Seattle to Japan. Then we find a flight from Minneapolis to Seattle. This allows you to have a layover in a cool city, and can be a lot cheaper.
Another good gateway into Asia is flying through China. You can usually find one way tickets to China from major US cities for around $350!
Sign up for price alerts. Many search engines allow you to sign up for alerts between destinations. You'll get email notifications when the fare goes down, so you can jump on it!

There are tons of credit cards that give you miles for purchases. Find the best travel credit card for you here. If you're inclined to get an airline credit card, think about the major airlines at your home airport. You'll most likely be booking flights with that airline so might as well rack up the points.
Don't forget to sign up for the frequent flyer miles program with flight you choose! Many airlines are part of a broad network and the miles are sometimes transferable.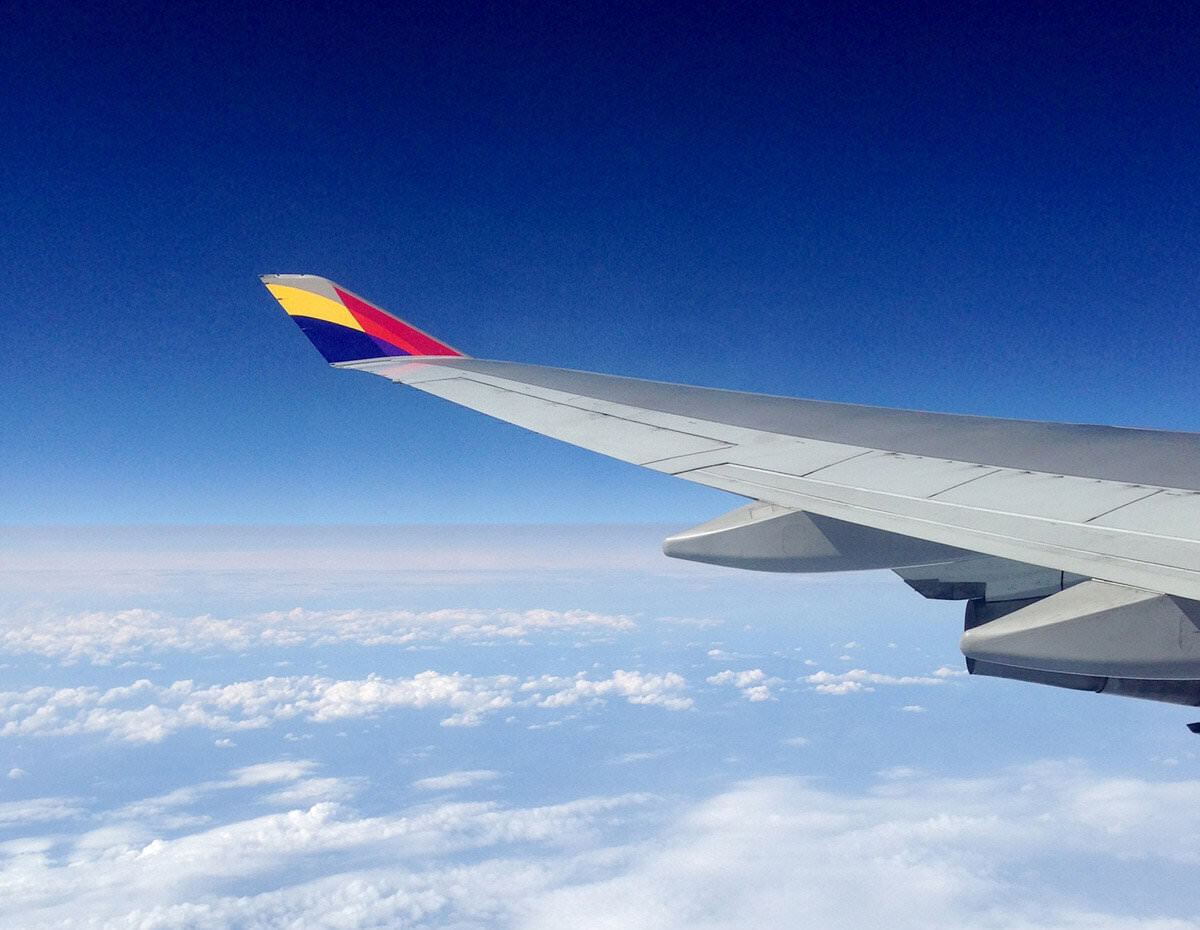 Understanding WHY a flight is cheap is important. Make sure you think about the arrival time at your destination. The cheapest flight might get in at 2 in the morning and you'll have to wait for hours for your guesthouse to open, or hotel check in time.
On the flipside, if you depart super early in the morning, you may have a difficult time hailing down a taxi that early (and have to pay a premium for the ride). Sometimes the absolute cheapest fare will actually cost you more in the end.
If your trip doesn't involve taking a flight, check out these tips for planning an epic USA road trip.
When searching for a flight we like to use Skyscanner first because it allows you to search across the entire month to find the cheapest flight.
Want more tips for finding the best deal on airfare? You're in luck, because we have an entire article dedicated to how to find cheap flights!
Are you a nervous flyer? Don't let the anxiety of flying prevent you from traveling. Check out these tips for fearful flyers that will help put you at ease.
Step 5. Book Accommodation

Depending on how long your vacation is you may choose to book all your accommodation ahead of time or none at all.
For instance, if you only have two weeks, it might be best to arrange your hotels or hostels online so you don't waste precious time trying to figure out accommodation when you'd rather be exploring. Plus, you don't want to run the risk of everything being booked up!
If you're traveling long term, however, you may just book a few days at a time. Or you may prefer to wing it and walk into hotels once you arrive in a town.
We put a lot of consideration into where to book our accommodation when planning a trip.
Location
First, we want to consider location. We may start to research things to do in a destination before this step so we have a better idea of where we will want to visit and what the most central location will be for us.
If a city is known for its nightlife, we might consider staying in a quieter neighborhood. If accommodation costs skyrocket the closer to the city center you get, we may consider saving money to stay somewhere further out.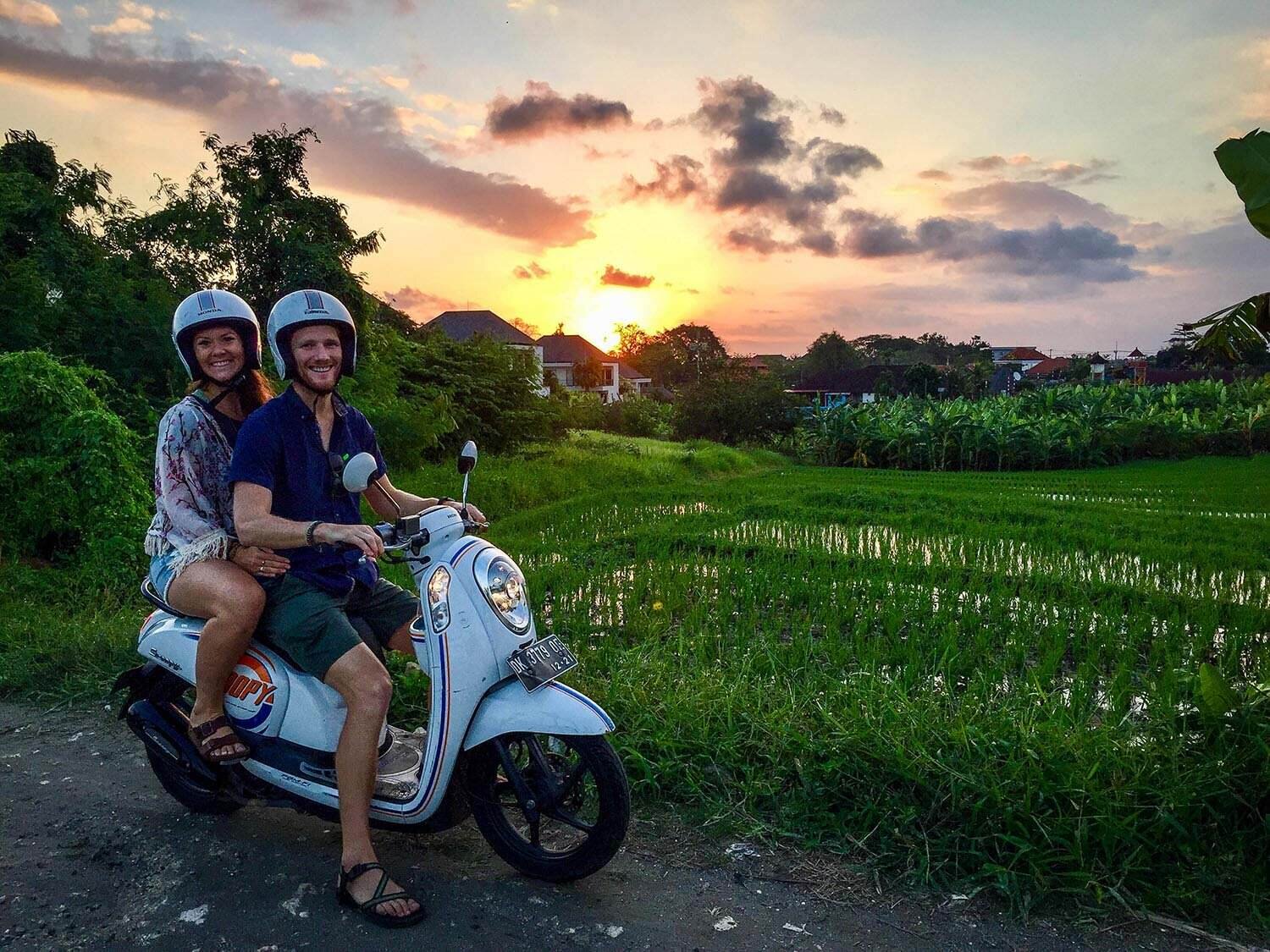 Transportation
We also consider transportation in a new city. If the city is very walkable, we'll want to stay right in the center. If Ubers or public transportation is easily accessible, we may consider saving money by staying further outside the center. We recommend doing plenty of research on transportation options and costs before nailing down your accommodation.
Length of Stay
If we are planning to stay in one location for a longer period of time (a couple weeks or more), we like to have a place that feels a bit more like "home" than a hotel. We love to cook, so a place with a kitchen allows us to enjoy our passion and save money on dining out at the same time! We usually use Airbnb or Booking to find apartment-style rentals in new cities.
If we have a short layover in a city, or are staying just a few nights, we might splurge on a hotel, or even try to save money by booking a hostel.
Everything you need to know about Airbnb: You'll find loads of info on how to book Airbnbs, red flags to watch out for when booking, and our favorite Airbnbs.
Booking Resources
Depending on where in the world we're traveling, we switch up our booking sites. Here are our favorites:
Asia: Booking or Agoda (we find Airbnb is only available in certain cities/countries and not in others in Asia)

Europe: Booking, Airbnb or Hostelworld

USA: Airbnb (we rarely stay in hotels in the US and Hostels aren't nearly as prevalent in the US as elsewhere in the world)
South America & Central America: Hostelworld, Airbnb or Booking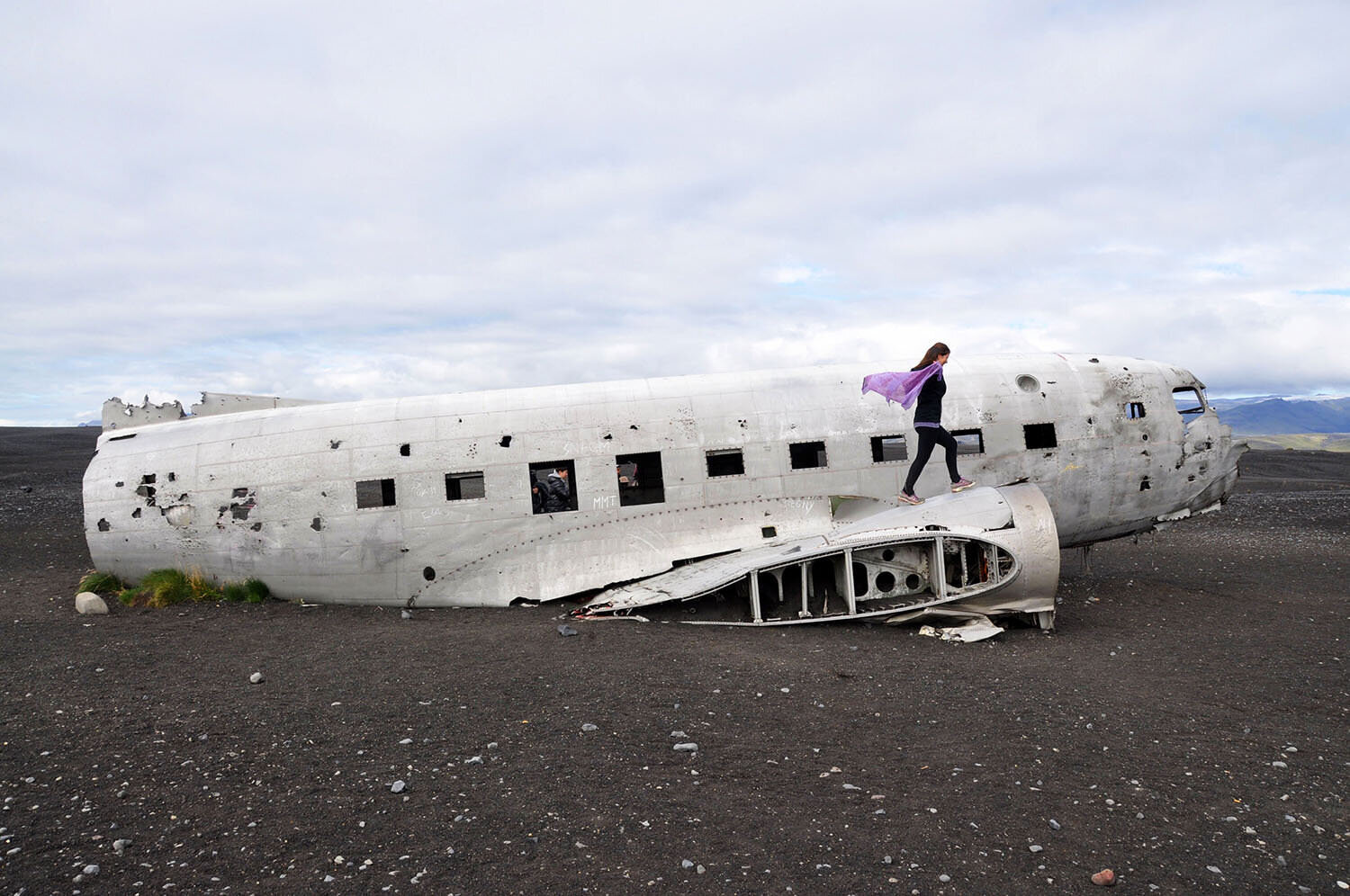 Step 6. Research things to do
This is where the fun really starts…We LOVE doing research to find out what kinds of adventures we can have in a new destination.
Here are a few of our favorite resources for researching travel destinations:
Pinterest: Probably the first place we look when we get curious about a new place. We use Pinterest as a search engine (just like we would use Google!) and we have found in our experience that there is TONS more helpful content on travel there than if we were to try and sift through the first page of Google. We love that you can save articles in organized boards as well to return to later (you may have noticed the Pins we create at the bottom of all of our own articles).
Bloggers: We are constantly looking to other bloggers we trust for advice on new destinations. We have some we follow closely so we always know where to check if they have information on a place. We like to read a few different suggested itineraries for new cities to figure out what the can't-miss attractions are and get ideas on how to plan our own itinerary. We leave comments on posts and reach out via social media if we are still left with questions after reading a blog post about a new place.
Airbnb Experiences: Sometimes just checking out what's offered on Airbnb Experiences is a great way to get ideas of cool things to see and do in a new place. You might even find an experience or 2 you want to sign up for!
Trip Advisor: We like to check reviews for things on trip advisor to see what other travelers have to say about certain experiences or attractions. There can be some seriously good advice on there!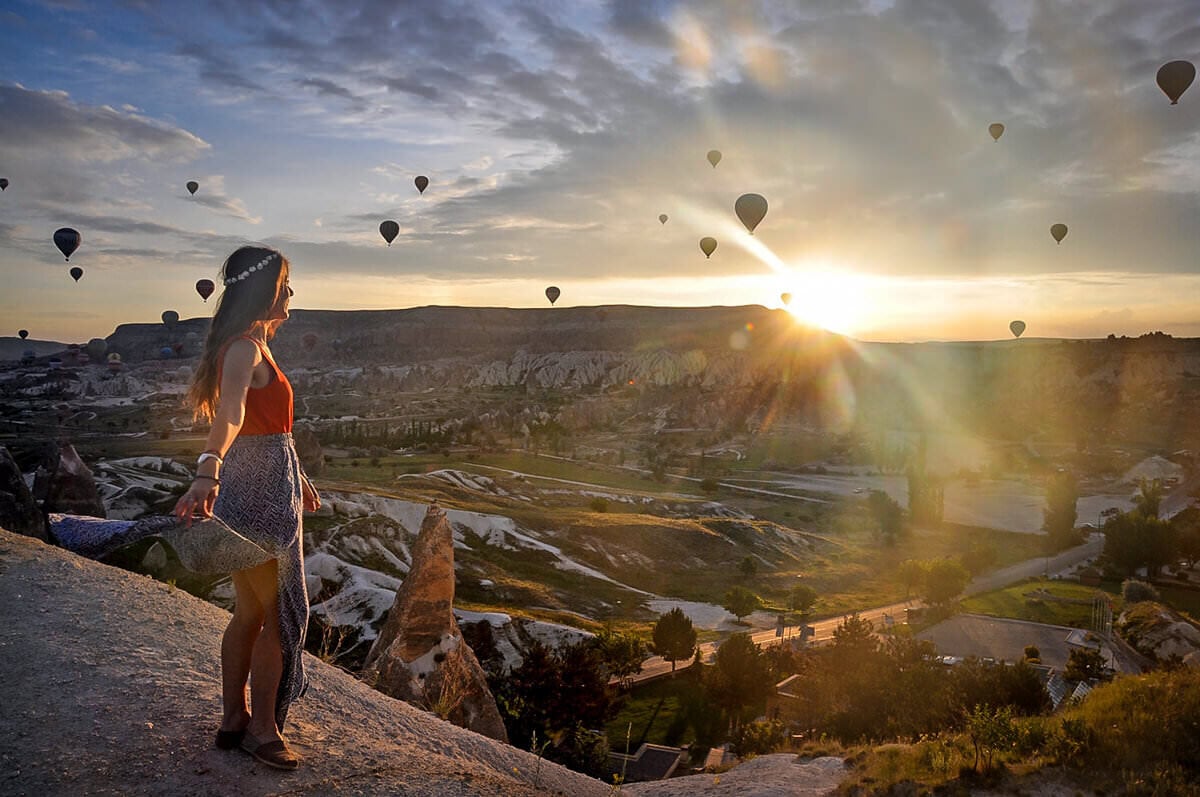 Step 7. Get travel insurance
Even though you might be safer abroad than in your home country, accidents happen everywhere and you should always be covered. We never leave home without travel insurance and neither should you.
One of the most popular travel insurance companies is World Nomads. They cover anyone worldwide and are extremely easy to use. We were covered by them when we trekked to Everest Base Camp and were very happy with our experience. Fill out the info below to get an instant quote:
For more information on how to pick a policy and what we look for in travel insurance, check out our detailed article here.
Be sure to read our essential travel safety tips for more detailed advice about how to stay safe and protect your belongings while traveling.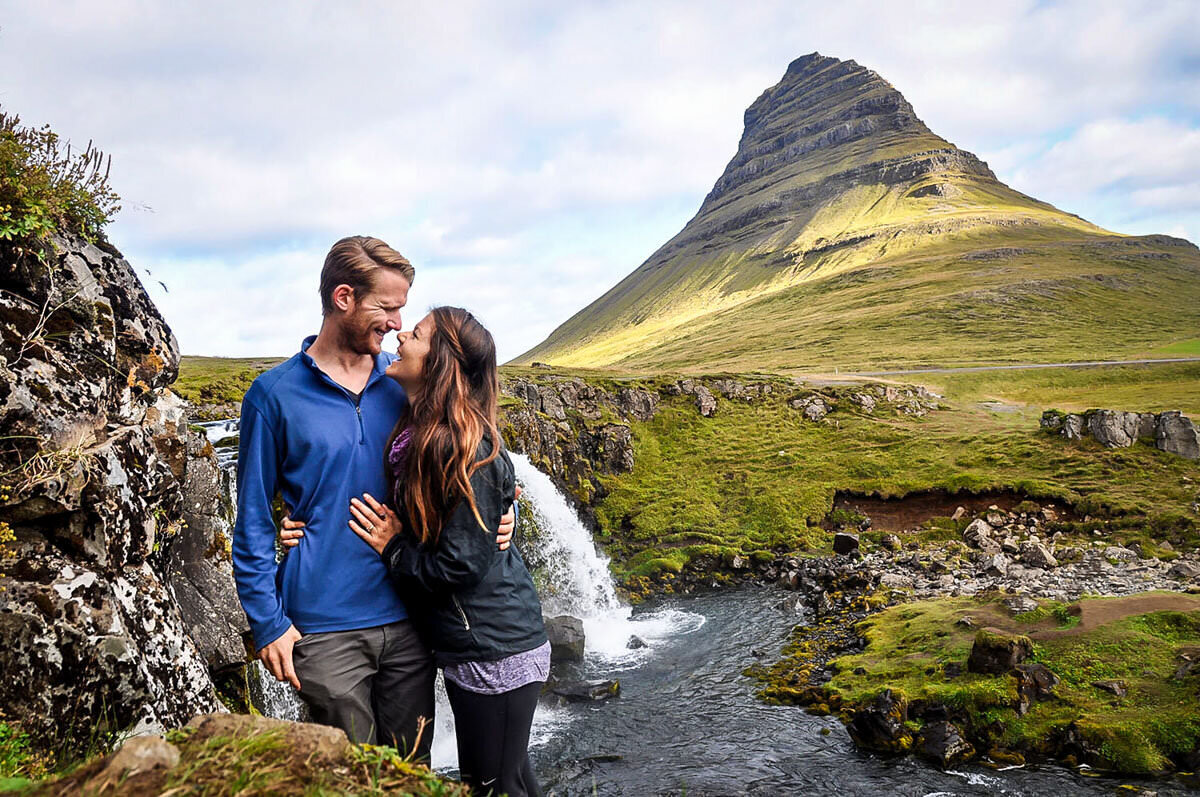 Step 8. Minimize travel risks
There are plenty of steps you can take before you even set foot in a country to minimize your risk of something going wrong.
Register on your country's Smart Traveler program
For Americans, you should sign up for the Smart Traveler Enrollment Program (STEP). Through STEP you'll get emergency updates that would affect your travels, such as bad weather or civil unrest or protests.
It will also give you easy access to your embassy in the country you're visiting. Lastly, if anything bad were to happen to you on your travels, you'd be easier to track down. Check your country's travel department for similar programs.
Get all necessary Immunizations ahead of time
Before setting foot in a new country, you'll want to be sure to protect yourself from foreign disease. Use the CDC website to research vaccinations and medications you might need in the destination(s) you are planning to visit. We'd also advise visiting your doctor before a longer trip to make sure all of your health concerns are taken care of.
Scan your documents and email yourself a copy
Scan a copy of your passport and any credit cards you're bringing, and email it to yourself. Do the same for your travel insurance documents and receipts of the valuables you're carrying. If anything happens to these while you're traveling, you'll have an electronic version.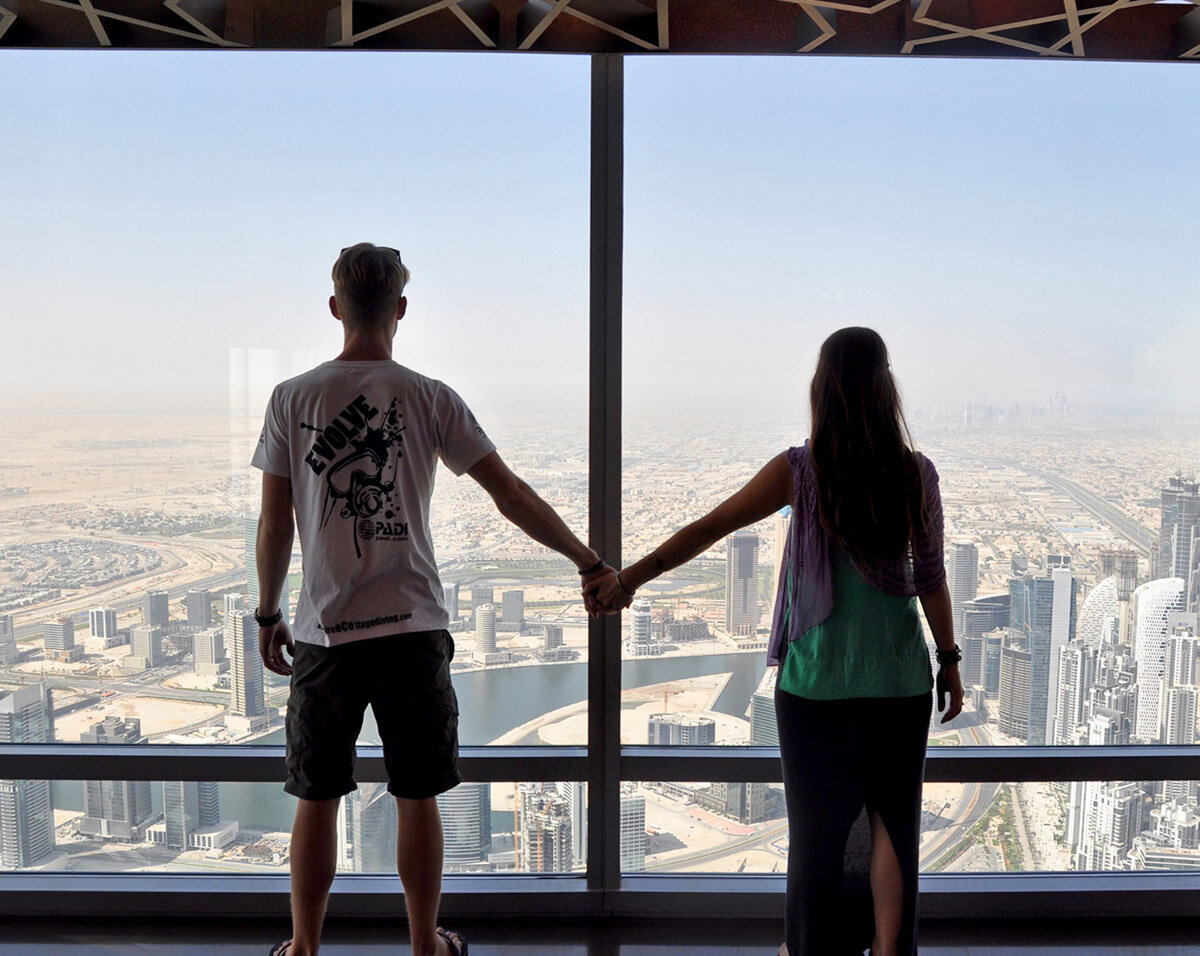 Know common scams
While you're in research mode, do a quick search of common scams in your destination. Being aware of popular scams is often all you need to avoid falling victim.
We have run into plenty of known scams on our travels, especially in bigger cities like Bangkok, and have even fallen victim to some ourselves. Unfortunately, scams are a risk you run in traveling, and sometimes unavoidable, but the more informed you are, the better prepared you will be to avoid getting caught in a tourist trap.
Bring backup credit cards
If you are traveling in a group or as a couple, you have a bit of a support system (assuming you each bring at least one credit card).
This tip is particularly geared towards solo travelers.
You will always want to bring a backup credit card (and perhaps a backup debit or ATM card as well) in case of emergencies. We've been in situations abroad where our cards have been stolen (sometimes it's not always obvious as it happens with a swipe and we still have the card in our possession) and if you don't have a backup, you will have a very hard time accessing your money.
For this reason, we like to keep our back ups in a separate location in our luggage (one in our hand luggage, one in our suitcase) and then leave one behind at our accommodation in case we were to be mugged. It may sound a bit extreme, but it's always good to be prepared!
Secure your belongings
It should go without saying that you'll want to keep your belongings, and especially your valuables in secure places while traveling (you know, use a purse with a zipper for less-easy access and don't hang it on the back of your chair on a crowded street corner cafe). There are some items you can purchase ahead of time to help keep your belongings safe while traveling.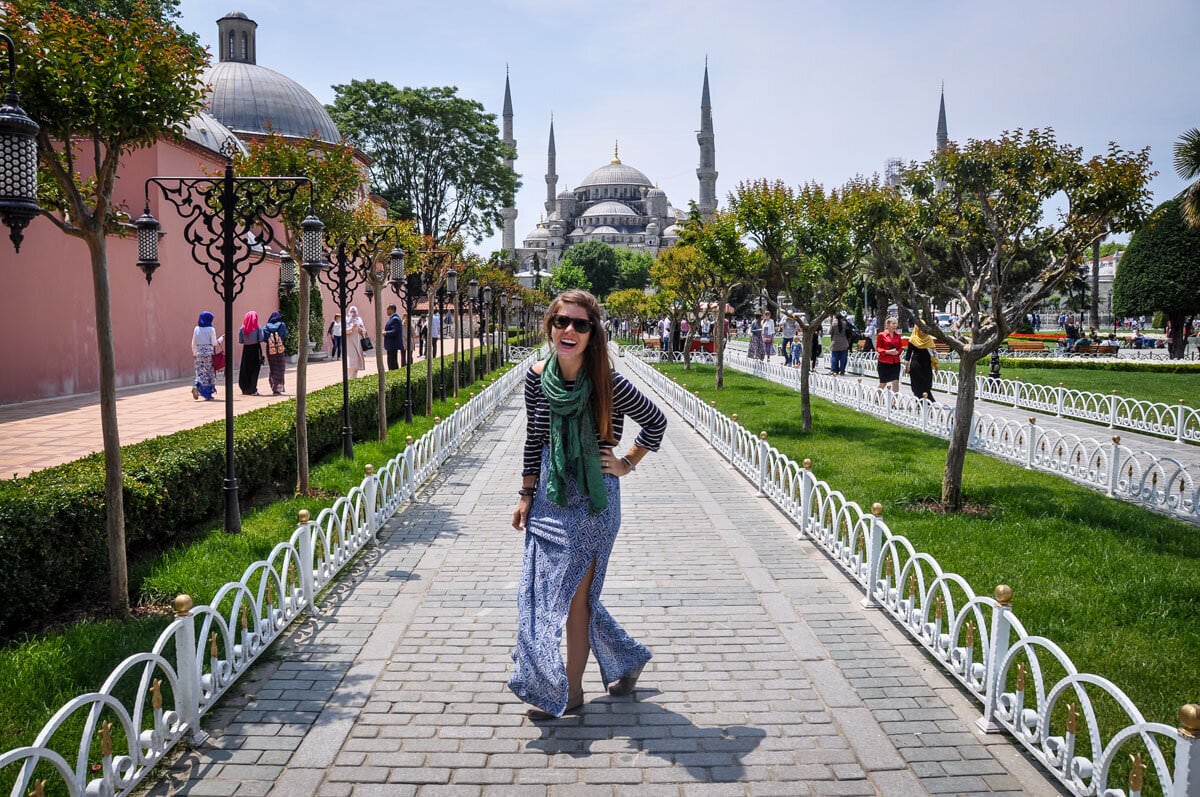 Step 9. Pack
It's starting to feel real now isn't it?! Your trip is coming up fast and it's time to get packing!
Packing for a trip can be quite the puzzle. You want to be prepared and make sure you don't forget anything, but at the same time, don't want to feel weighed down by too much stuff.
If you're a self-proclaimed over-packer, or someone who always ends up using only half the things in their suitcase on every trip… I'm right there with ya! We recommend planning out your packing ahead of time so you are not rushing at the last minute to get everything you need stuffed into your oversized suitcase.
One tip is to lay everything you think you will need for a trip out on a flat surface (your bedspread works great for this) and then take away half — yes half! — of it. That is how much stuff you should realistically be trying to pack.
Another rule of thumb we like to try and stick to is packing in a carry-on for any trip shorter than one month. This may seem incredibly daunting to some, but trust us when we say, you'll be much happier trying to navigate the cobblestone streets of Europe or lifting your luggage onto a train if it's smaller than a 50 pound bag!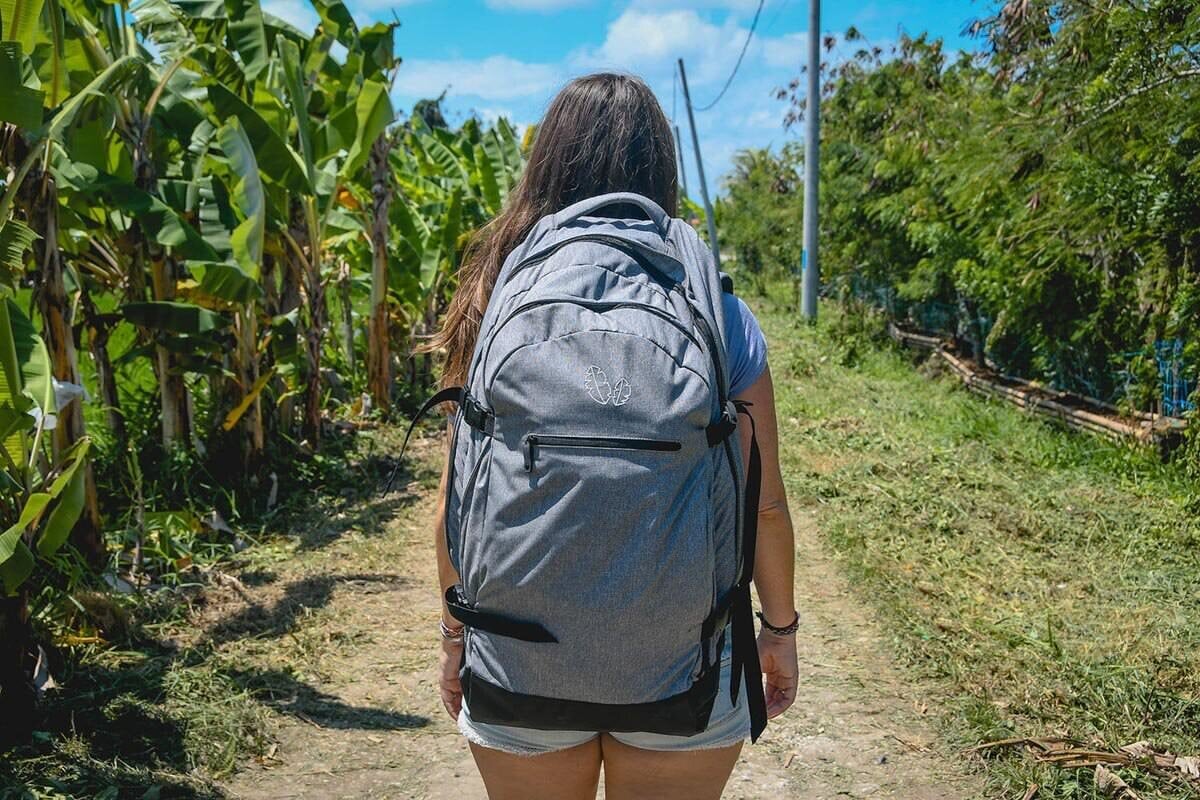 Below are some essentials you'll want to make sure you pack for any trip:
Passport/Identification

Wallet/credit cards (and backups!)

Chargers for all of your electronics

Kindle or e-reader
Think about your electronics
This is a big one not to forget! If you are traveling abroad, you'll want to look into the outlet situation you can expect in your destination and how it compares to that of your home country.
A quick Google search will show you what type of outlets you'll find in the country you're visiting. Here's a great website for electrical outlets. Look at the voltage too, and check the compatibility with any electronics you're planning to bring along. A great purchase is the travel converter with adapters.
Packing Resources
Use these packing resources for tips and ideas to help you pack for your next trip: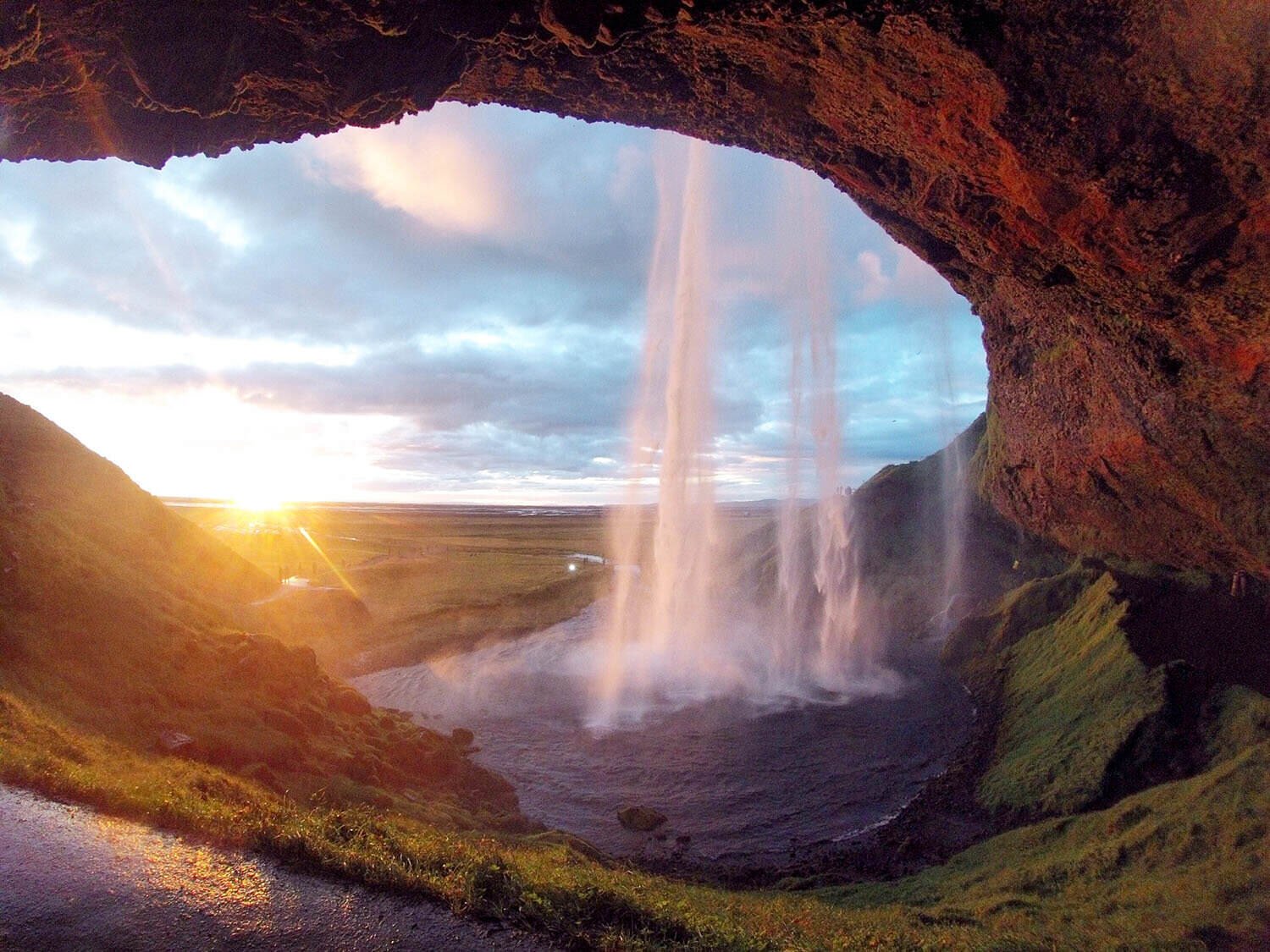 Step 10. Last-minute prep
You've made it to the final step! Your trip is just around the corner and all that's left is doing a little research and making some last-minute arrangements.
Data/Internet access
Research the best way to gain access to data or Internet while you're in your destination. If you're traveling within your home country, this shouldn't be a problem. However, if you are traveling abroad, you might want to consider purchasing a prepaid local SIM card when you arrive. This will be the cheapest way to gain access to data abroad.
Download some helpful apps
Google Translate: Type in something you want to say, and it'll translate the phrase into any language you select. You can even take a picture of a menu written in an entirely different language (like Korean, for example), and it will translate what is written. It is amazing!

Google Maps: Before going to a new location, we typically download the offline map for our destination in our Google Maps app. If you have your GPS turned on, the app will show your current location with a blue dot even when you don't have data or WiFi turned on. This is super helpful if you're on a long bus ride and want to know exactly where you are, or when you're lost wandering around in a big city.

GlobalConvert: This app makes it easy to convert anything from currency to distance to temperature. (Super handy for Americans unfamiliar with the metric system.) And the best part is, it works offline!

Time Buddy: If you're traveling on the other side of the world, this app makes it super easy to figure out time difference between where you are and your home country.

Trail Wallet: Yeah, yeah, I know, we've talked about this one a lot. But it has seriously changed how we travel. This app converts seamlessly through currencies and shows you exactly where you are in regard to your budget. Download this app and you'll be able to travel longer. Seriously.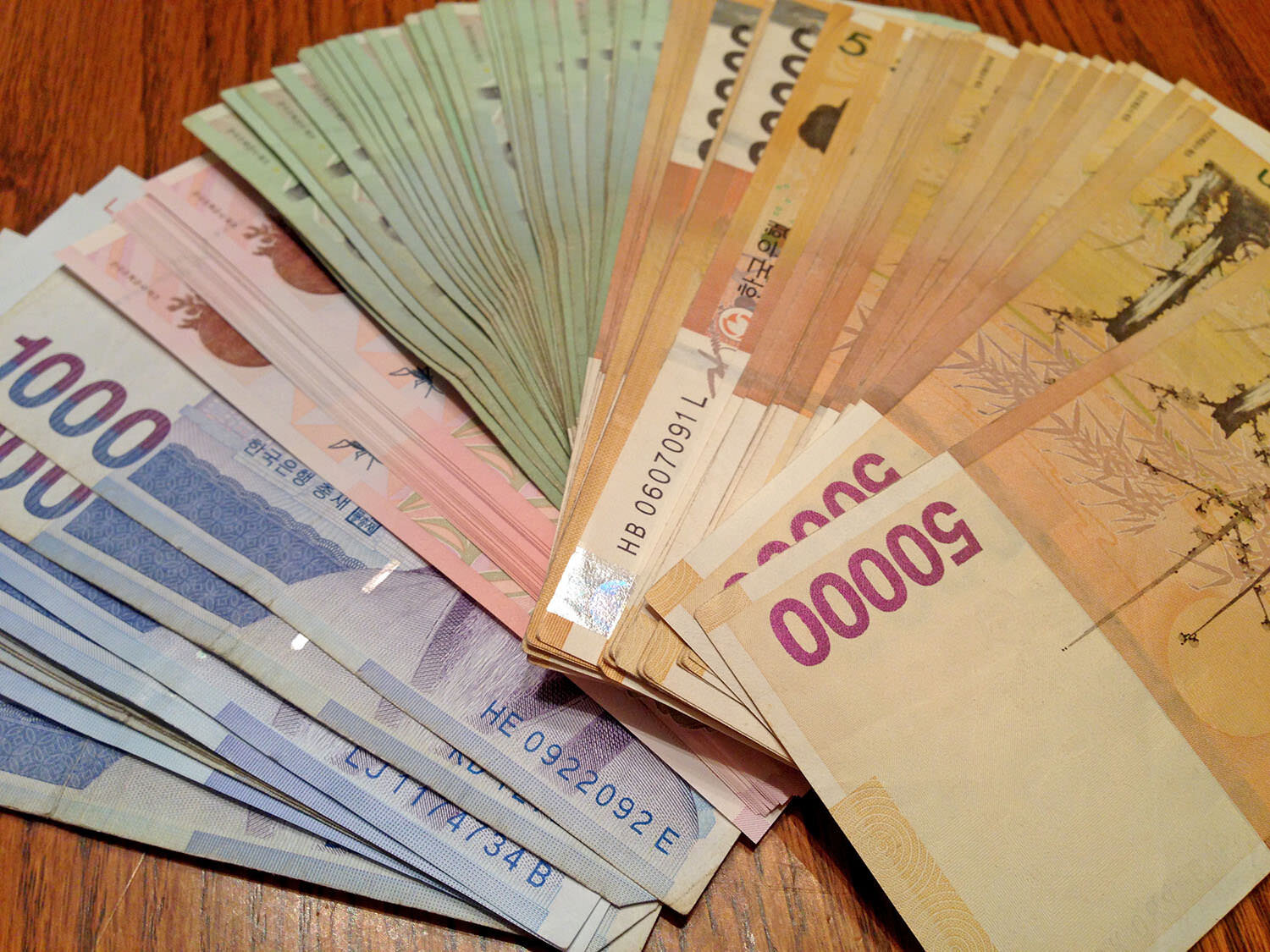 Have a plan for currency
On long-term trips, we typically withdraw money from a local ATM as soon as we enter a new country. We've found we usually get a better rate at ATMs than from currency exchangers (and we don't have to worry about getting scammed).
Our Charles Schwab card (more info here) reimburses all ATM fees, so we only take out small amounts at a time. If you're going on a shorter trip, it might make more sense to order the currency from your local bank before you leave home. Whatever your preference, be sure you have a plan for obtaining the currency of your destination.
Notify your bank of your travel plans
This is a step that can sometimes be overlooked, but can put a serious damper on your travel plans when you enter a new country only to find your bank has automatically shut off your debit card because it thinks you are attempting a fraudulent withdrawal.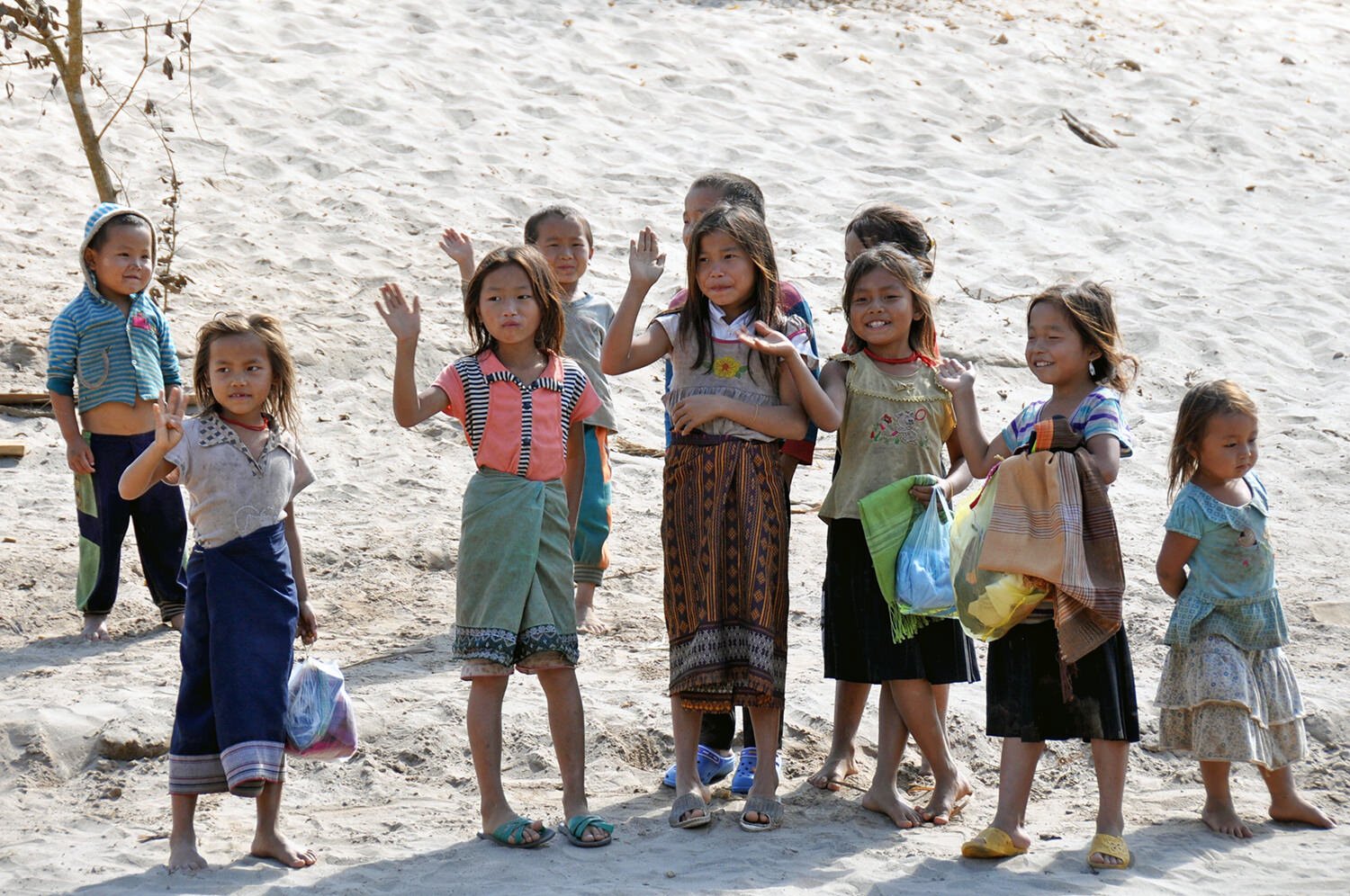 Learn the language (at least a few phrases)
We're not insinuating that you must be able to have a conversation in the local language before visiting a foreign country. But learning a few key words or phrases shows locals that you are trying, and people usually respect this.
You'd be surprised how far learning "hello" and "thank you" can get you. Some other helpful words to learn no matter where you are traveling are: "bathroom", "delicious" and "beautiful".
And don't forget about numbers. Write down the numbers 1 through 10 in a small notebook and translate them. Knowing a few numbers makes it a lot easier to order at restaurants.
If you have any allergies or medical conditions, it's a good idea to write it out and translate it to the language of your destination country. For instance, "I am a vegetarian," or "I am diabetic". Print it out in the local language (and the phonetic spelling) and carry it in your wallet. It will definitely come in handy.
Refine your Manners
A little research can go a long way. Certain gestures you might use everyday, like a thumbs up or okay sign, are offensive in some cultures. Avoid awkward situations by researching some basic manners in the country you're visiting.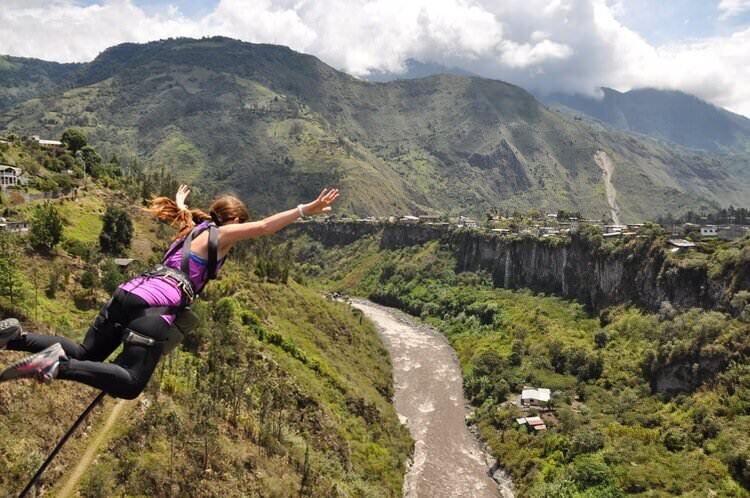 Where to first?
You're ready to take the leap! However, the first few hours in a new country can be a little overwhelming (and the most likely time to get scammed). That's why you should have a plan of how to get from the airport to your hotel (or wherever you're headed first).
We typically write down the address (in the local language and in English) of our first hostel/hotel in a small book or in the notes app on our phone so we can show taxi/bus drivers, that way we don't fumble over mispronouncing street names.
It's also helpful to save the locations of your accommodation, local embassy, hospital and attractions you want to visit in your maps (that you've downloaded offline of course!) before leaving.
Book transportation ahead of time or get specific instructions on how to find public transport. Read our travel tips, other blogs, or guide books on what is the best means of transportation in the specific country you're visiting. If you have a plan and know what you're doing, you'll start off your vacation on the right foot.
Confirm Reservations
It's easiest to call or write to confirm reservations for things like accommodation and transportation before you find yourself in a foreign country with a canceled Airbnb reservation and nowhere to go. Confirm all your important reservations and keep copies of your confirmation receipts in your email.
And there you have it, 10 simple steps to plan a trip to anywhere in the world.
Following these steps will take some of the stress out of trip planning, but it is important to remember that even the best laid plans often go awry. This is particularly true with travel as there are just too many factors outside of your control.
And that's okay. In fact, that is half the fun of it! It's what makes travel such an incredible learning experience and why we keep going back for more.
---
Need help planning the perfect trip?
Be sure to check out our Travel Planning page for resources on everything you need to know from how to get started to packing, budgeting and more! Or you can read some of our favorite articles about planning your next trip below.
Save this article on Pinterest for later!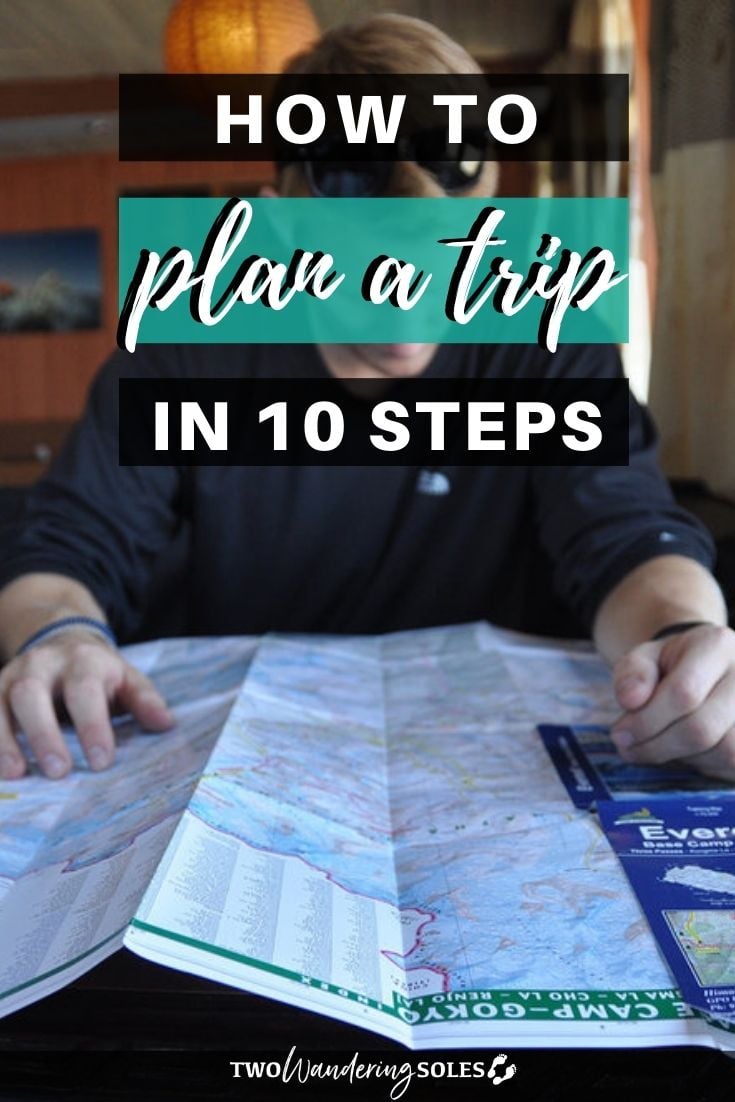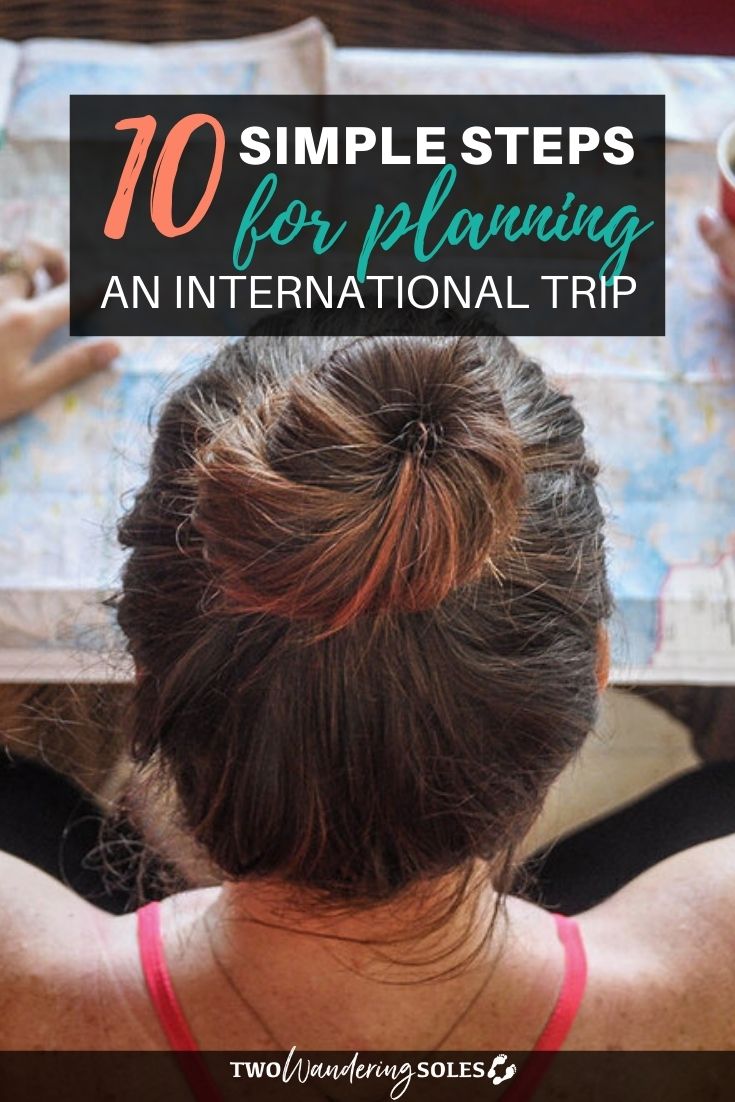 We want to hear from you!
If you still have more questions about planning an international trip, comment below and we'll do our best to answer!