Planning a trip to Hawaii tops many travelers' bucket lists. But with several islands and SO much to do and see, where do you start? In this comprehensive Hawaii trip planner, we cover pros and cons of each island, the best time to visit, travel tips, and much more!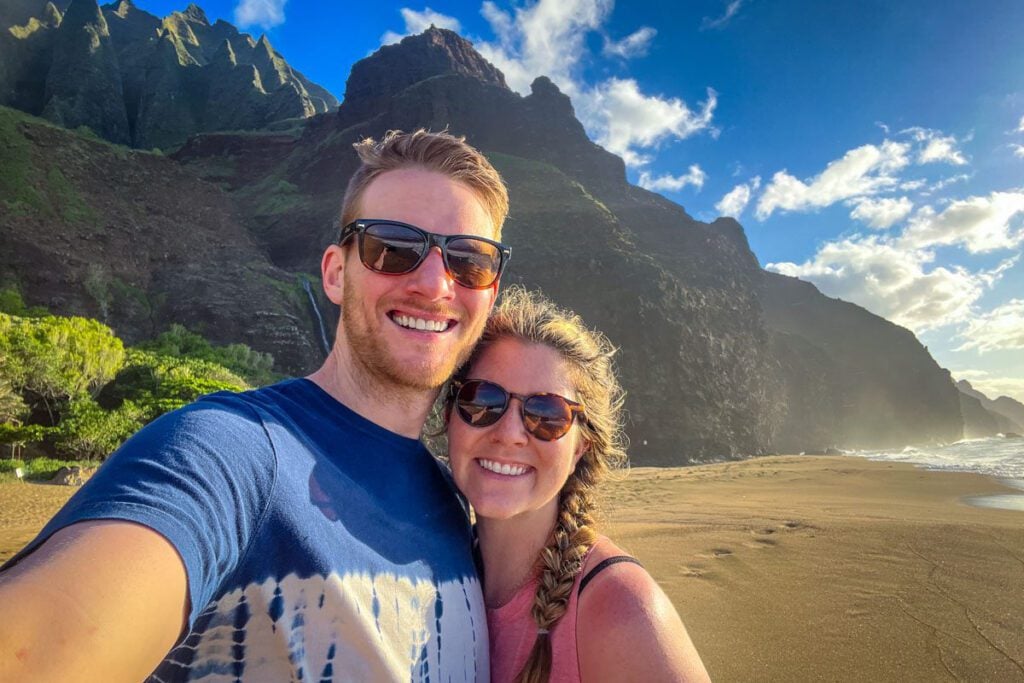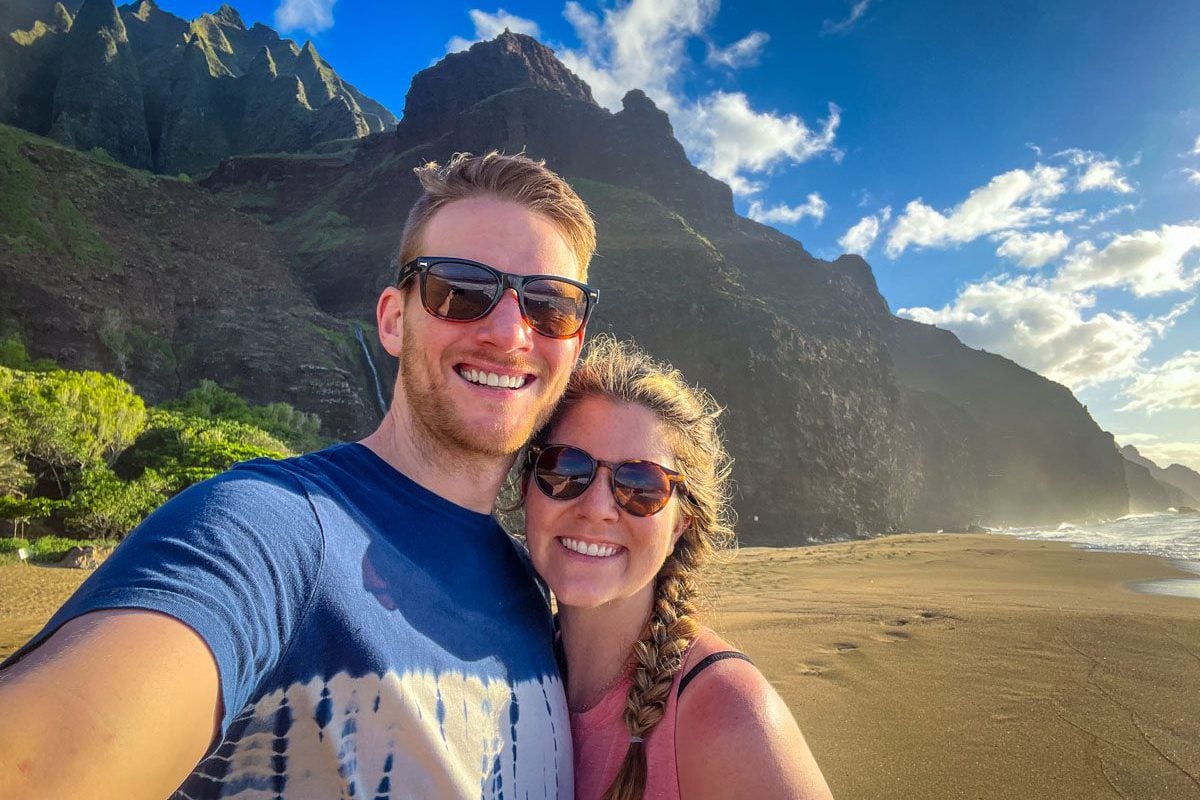 Hawaii is arguably the best beach vacation destination that doesn't require a passport for US citizens.
With lush rainforests, remote hiking trails, world class scuba diving, charming villages, and otherworldly lava fields, there is a lot more to do in Hawaii than just sitting on the beach.
Whether you're interested in having a once-in-a-lifetime adventure, indulging in all the best foods, learning about the complex history of this island state, immersing yourself in Hawaiian culture, or completing a bucket list hike, this chain of volcanic islands is sure to wow just about every type of traveler.
But where do you even start when planning a trip to Hawaii?
Which island(s) should you visit?
How many days do you need?
I get how overwhelming it can be. So we created this Hawaii travel planner to help you make some big decisions about your trip.
After reading this article, you should have a really good start to planning the Hawaiian vacation of your dreams!
Hawaii Trip Planner
---
Our experience in Hawaii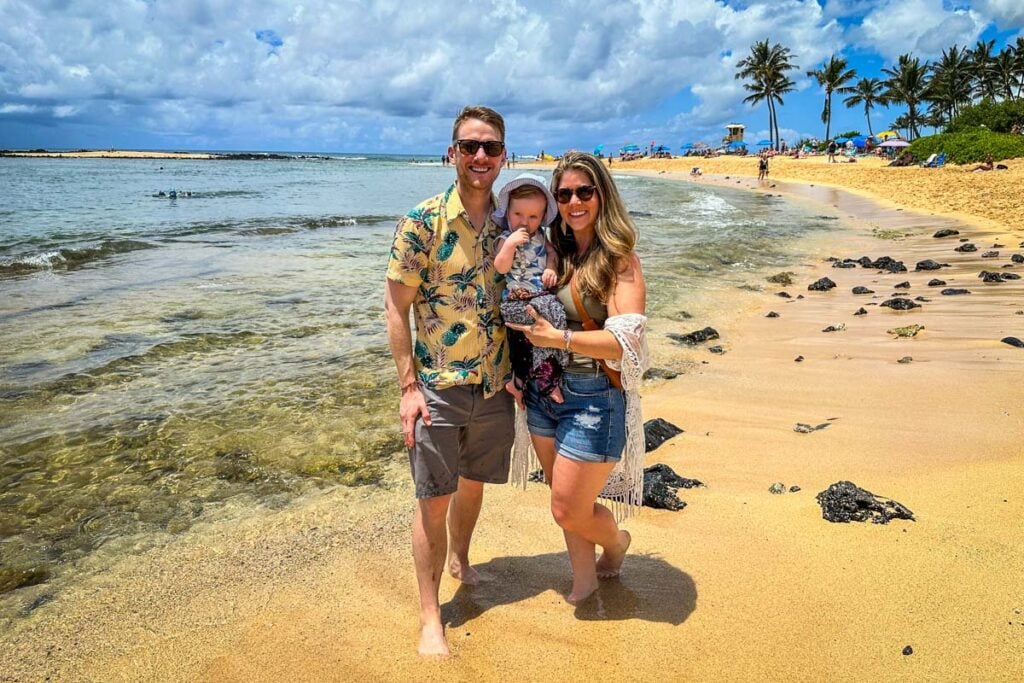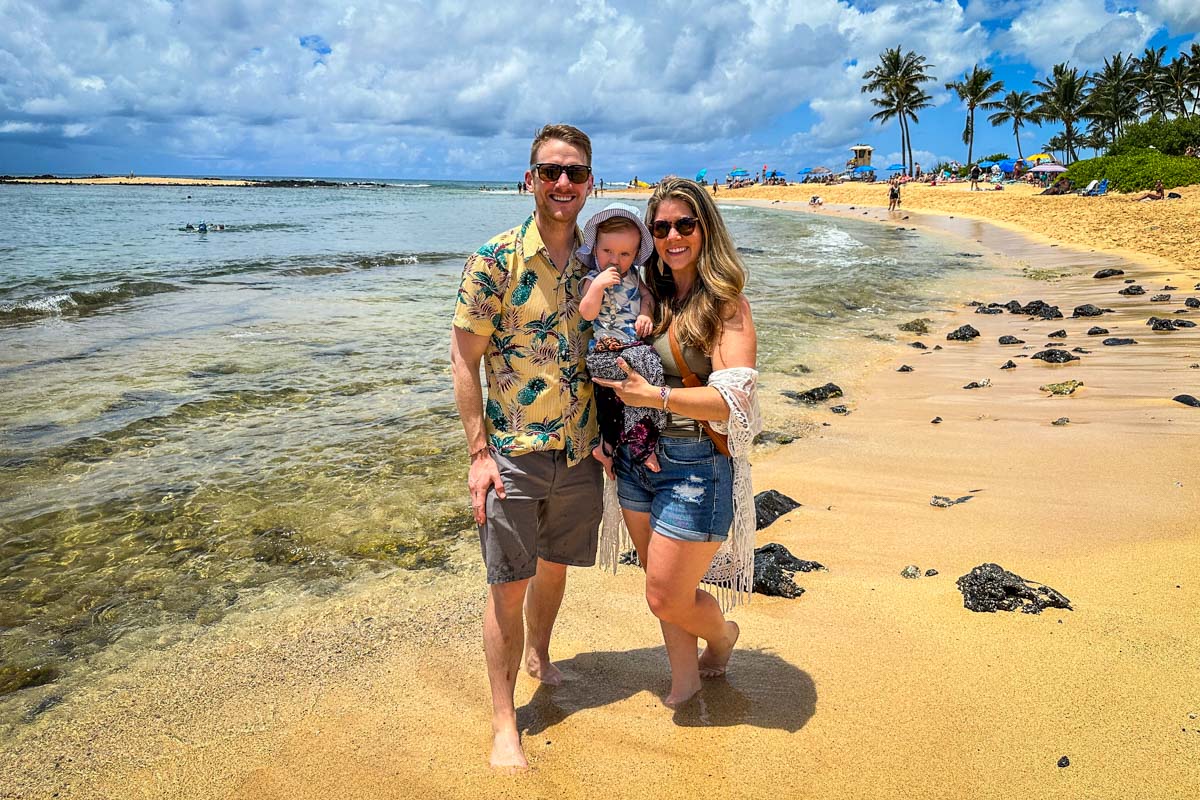 I went to Hawaii once as a kid, again as a teenager (and also as a baby, but does that even count?), and it holds a very special place in my heart. Each year, my grandparents spent 6 months on the island of Oahu, and loved everything about Hawaii, passing the love affair onto just about everyone in my extended family.
Ben has always wanted to go to Hawaii, and being that it has been a (very!) long time since my last visit, we decided to plan our dream trip.
During the planning process, I quickly became overwhelmed with just how much there is to do and how unique each island is. I thought I knew a lot about Hawaii, but wow – it can be surprisingly complex to plan if you want to do more than relax at a resort (nothing wrong with that, by the way).
So after hours upon hours behind my laptop screen researching, emailing friends who've lived in Hawaii, texting with my aunt who has visited Hawaii many times over the years, and getting recommendations from our audience, I finally felt like I was starting to feel comfortable.
In the attempt to help anyone else out there who is feeling a bit overwhelmed (I feel ya!), we created this resource to truly help you plan the Hawaiian vacation of your dreams.
Which Hawaiian Island should I visit?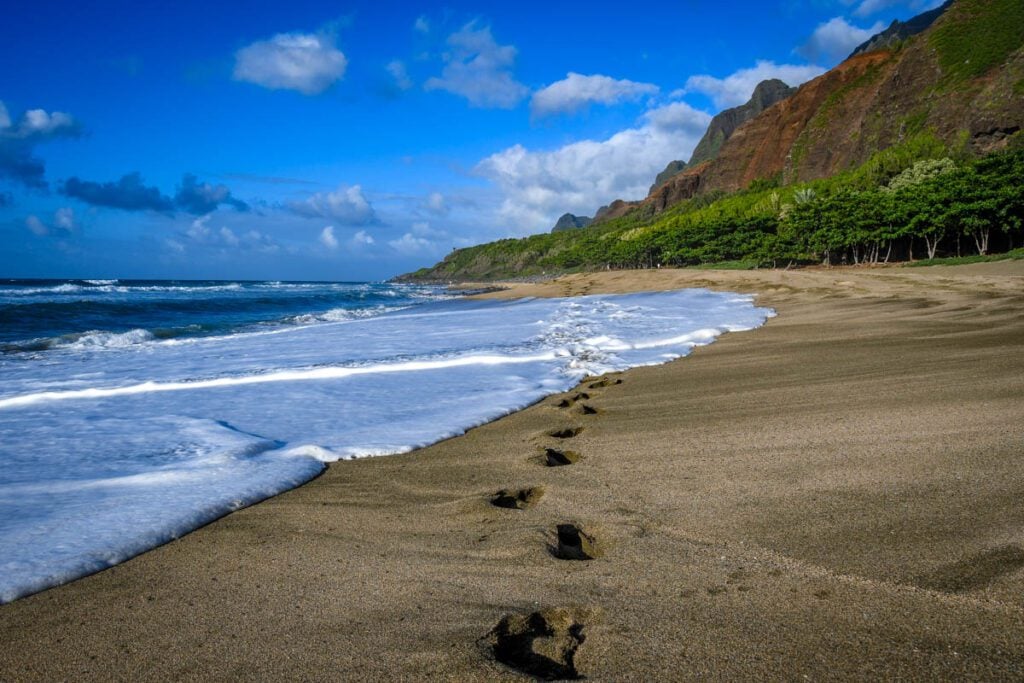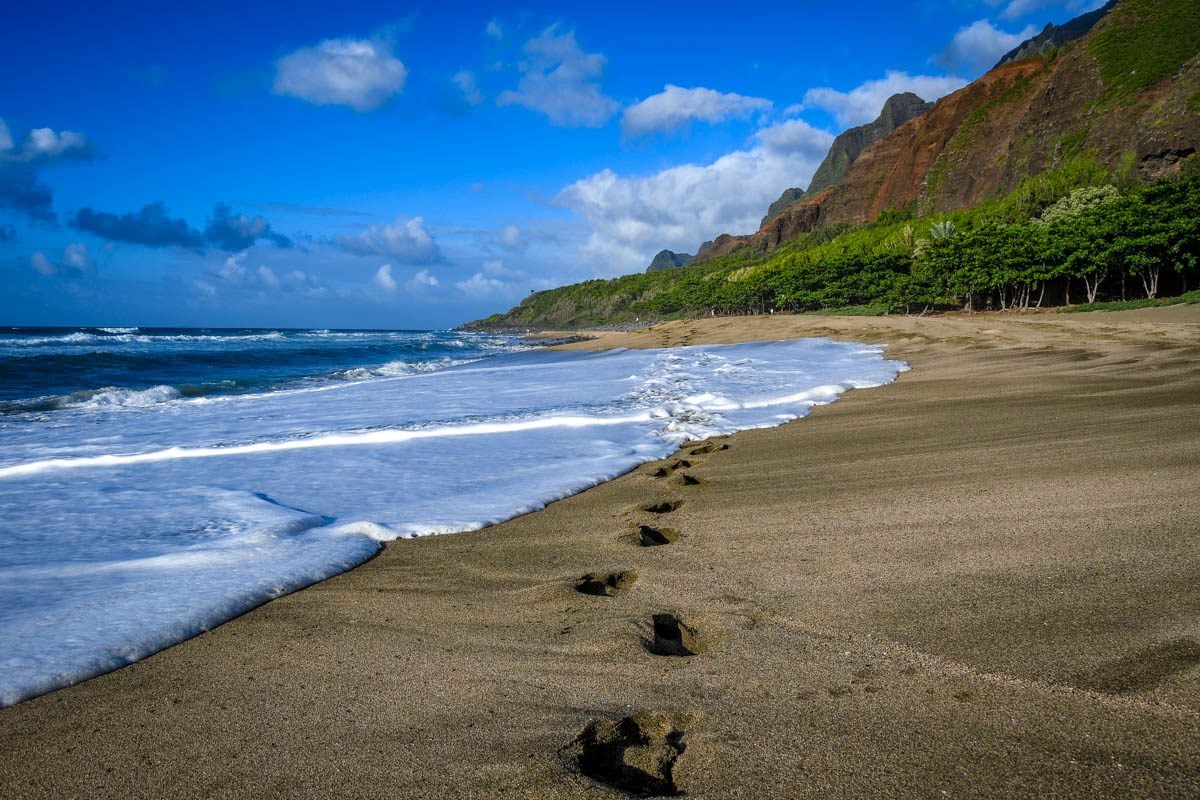 This is certainly the first thing you'll need to decide as you're planning your trip to Hawaii.
If you already know which islands you're visiting, skip this section and continue reading below.
But for those of you who are hemming and hawing about which islands to add to your itinerary, this section will help you narrow it down.
And remember, you can't see it all on your first trip (unless you've got unlimited time and money, in which case, yay for you!).
How many Hawaiian Islands are there?
There are 8 major islands in Hawaii. The entire archipelago consists of 137 islands, but only 7 islands are inhabited.
Of the 8 major islands, there are 6 that tourists can visit:
Most popular Hawaiian Islands
Less visited Hawaiian Islands
Major Hawaiian Islands that cannot be visited:
Ni'ihau: known as Hawaii's "forbidden island", Ni'ihau is privately owned and tourists can not visit it unless invited by one of the island's 170 residents.
Kaho'olawe: this island is currently uninhabited and access is only granted for specific purposes
Map of the Hawaiian Islands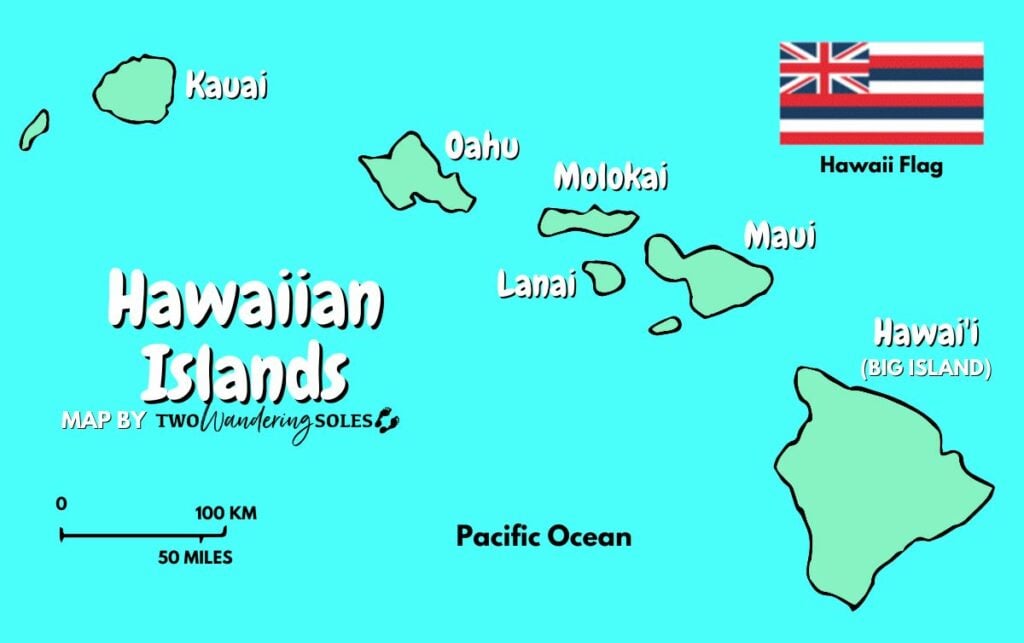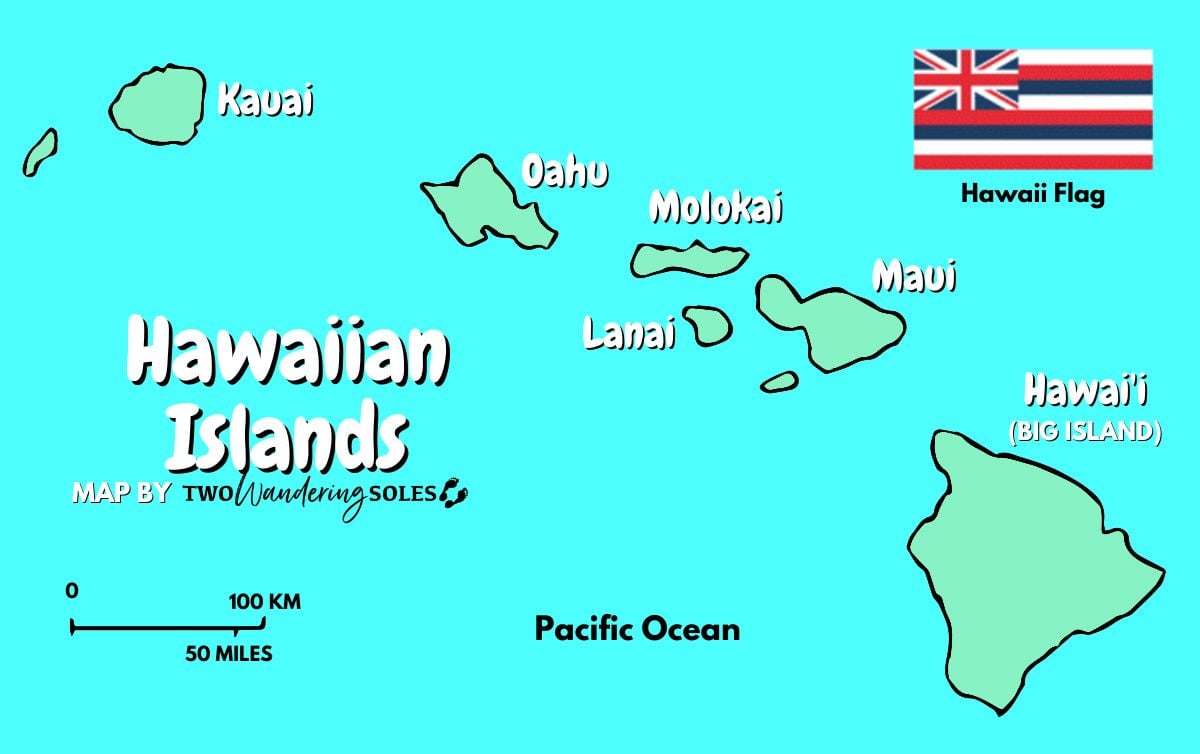 Oahu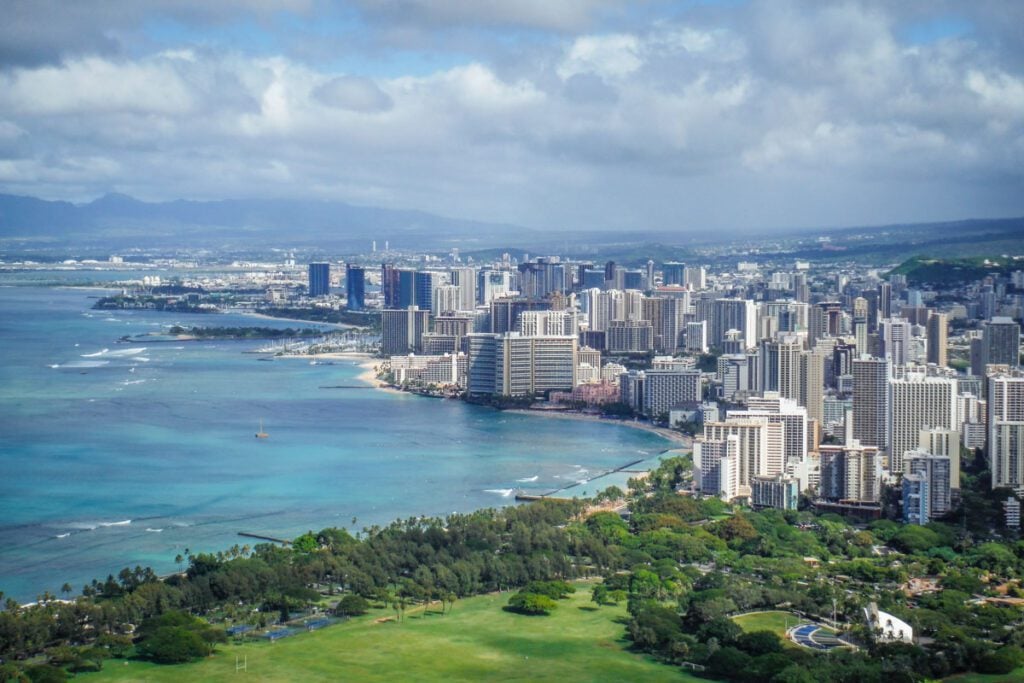 Home to the state capital of Honolulu, world-famous Waikiki Beach, and significant historical sites including Pearl Harbor, Oahu has something for everyone. Add in epic hiking and surfing, and even a Disney resort, it's easy to see that this island has it all!
Unsurprisingly, Oahu is the most visited Hawaiian island — fitting, since it's called "the gathering place." While it can be difficult to find much tranquility, many people appreciate the big city amenities…and the abundance of options and lower prices that come along with them.
For travelers who want an introduction to Hawaii or who are on a budget, Oahu is a great place to start.
Oahu Highlights: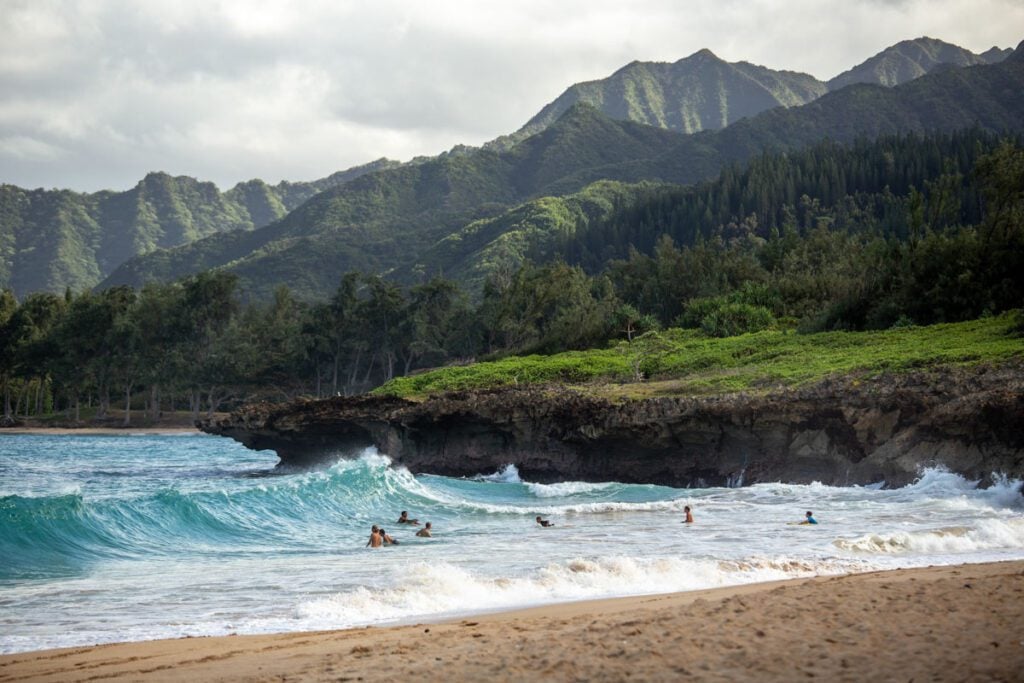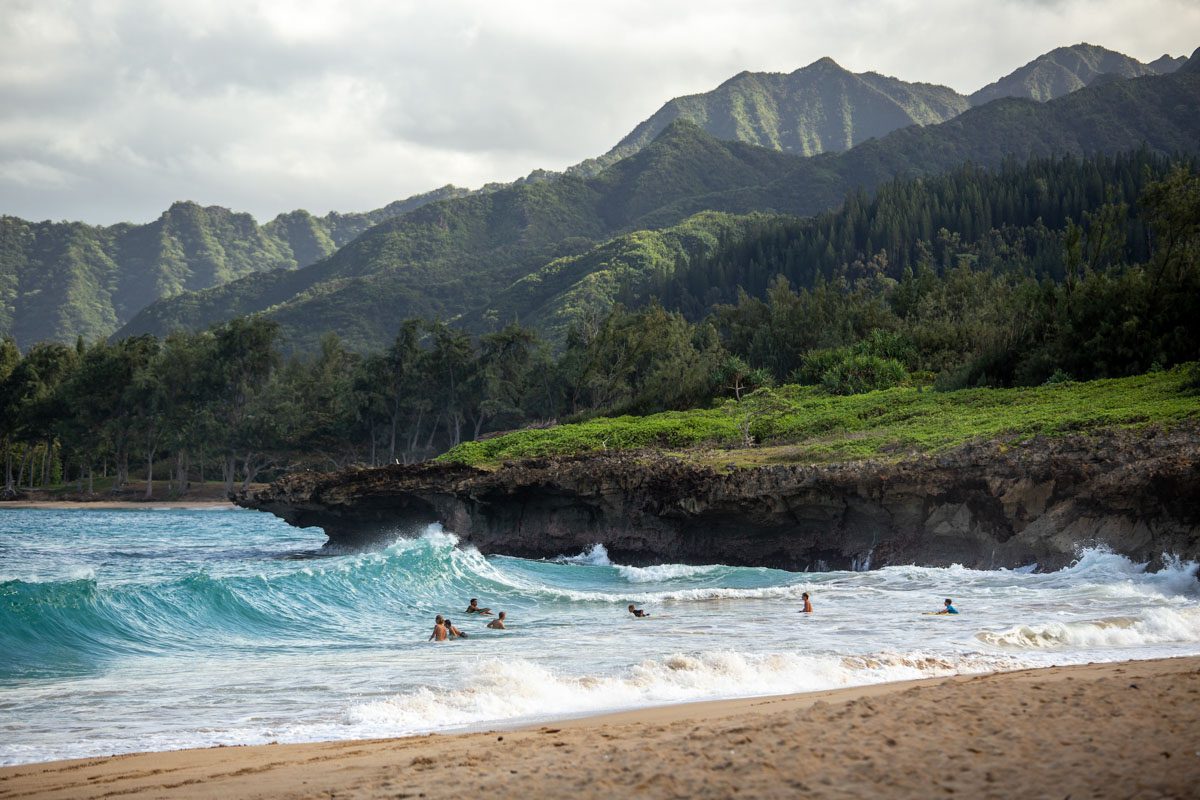 Natural beauty. Let's be honest, all the islands are gorgeous, but many people consider Oahu the most beautiful.
World-class surfing. Oahu's North Shore is home to several of the best surf spots in the world, including the Banzai Pipeline, Waimea Bay, and Diamond Head.
Fantastic hiking. Not only does Oahu have more trails than any other island, but it also has a vast variety. Ocean views, heart-pounding cliffs and ridges, jungles, waterfalls…gang's all here!
Affordability. Flights from the mainland are often cheaper to Honolulu than anywhere else in Hawaii, and there's a much larger selection of accommodations at all price points.
Excellent nightlife. Since Oahu is truly a big city, it has the best nightlife scene of all the islands.
Pearl Harbor. Even non-history buffs include this in their Hawaii trip planner, as it was the site of one of the most significant attacks of WWII.
Fireworks over the beach. A uniquely Oahu experience, the Hilton Hawaiian Village Waikiki Beach Resort hosts an elaborate fireworks display over the beach every Friday night.
Oahu Lowlights:
It's difficult to get away from the crowds. As the most-visited island, solitude isn't really a thing on Oahu. Expect lines at attractions, traffic, and long waits at restaurants.
Finding authentic Hawaiian experiences can be tricky. Because so much of the island caters to tourism, attractions and restaurants often focus on pleasing the masses rather than tradition or authenticity.
Downtown Waikiki. Many first-time visitors are surprised by the high-rise buildings that define the Honolulu skyline and dot Waikiki Beach — it's not exactly the quintessential vision of a lush Hawaiian island.
Accommodation is somewhat limited. While you'll find a wide variety of lodging types and pricing, nearly every option is in Honolulu.
Big Island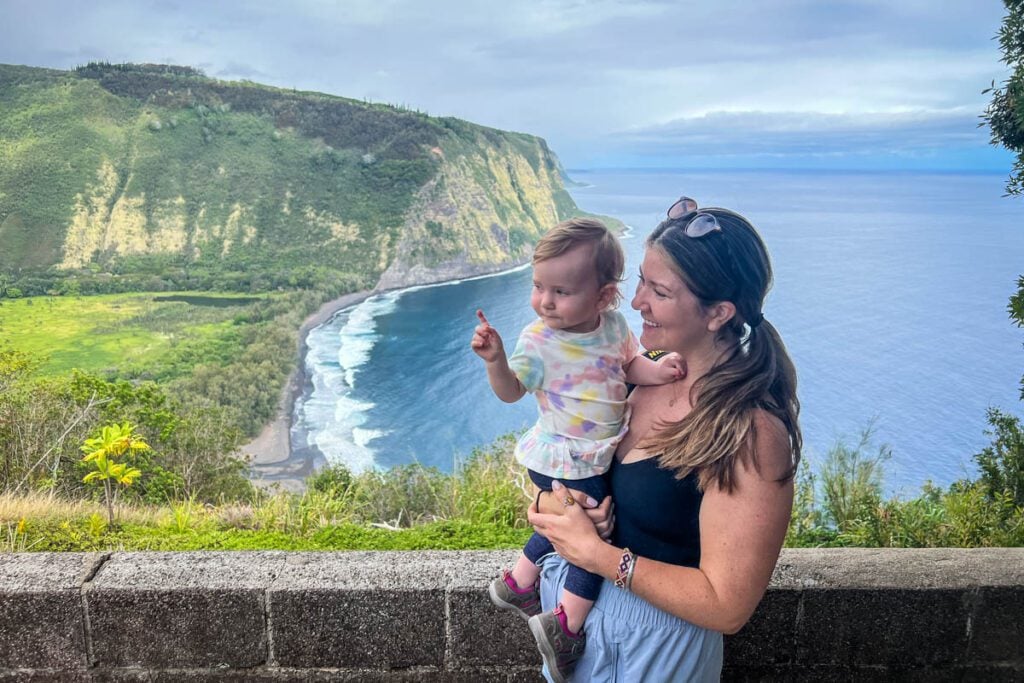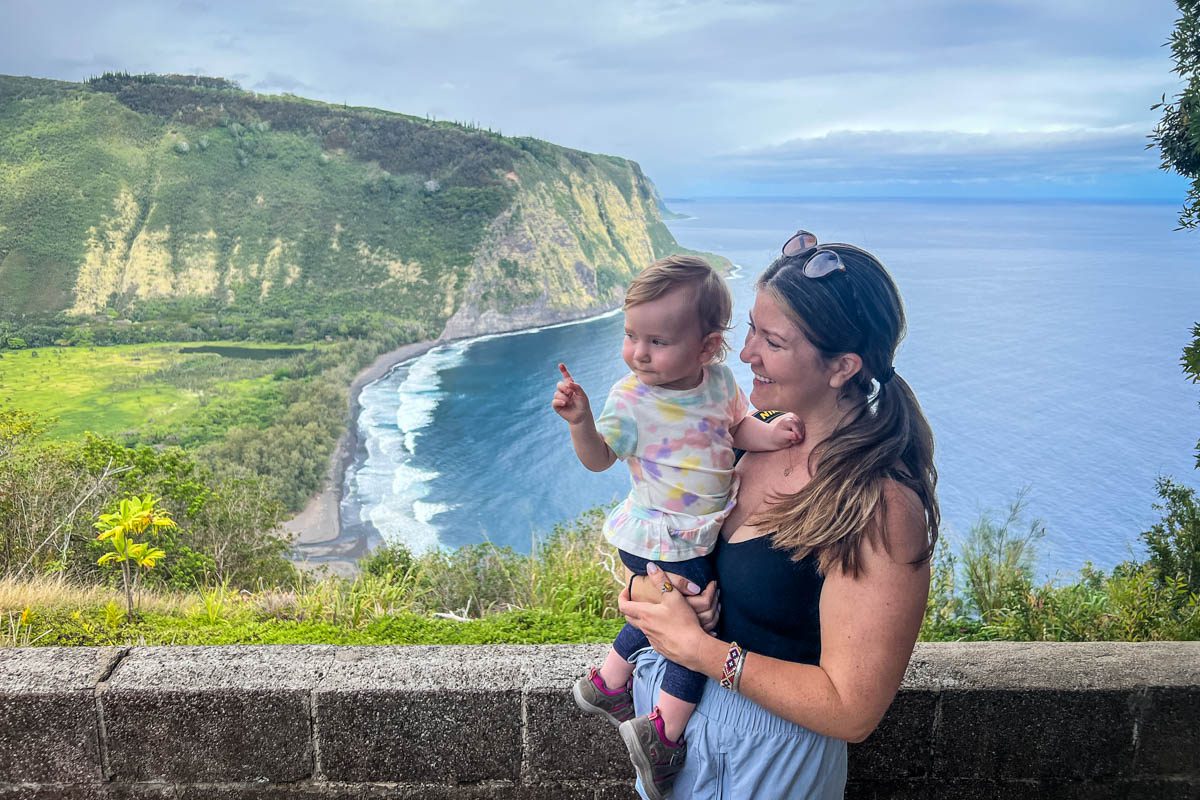 The biggest island by far and with no shortage of things to do, Hawaii — AKA Big Island — is an excellent choice for first-time visitors.
Hawaii Island is bigger than all the other islands combined, accounting for over 60% of the state's land mass! It's home to active volcanoes, the world's tallest mountains, spectacular beaches, and crystal-clear swaths of ocean, perfect for snorkeling and diving.
Big Island has two main hubs: Kailua-Kona on the west coast, and Hilo on the east. Hilo is significantly smaller and less developed, mostly a basecamp for Hawaii Volcanoes National Park.
The Kailua-Kona coast is one of the driest, warmest places in Hawaii, and the majority of Big Island visitors base themselves here. Hilo is the polar opposite, experiencing a substantial amount of rainfall that creates the region's lush rainforests.
If the Big Island is on your itinerary, be sure to check out these resources to help you plan your trip:
Big Island Highlights: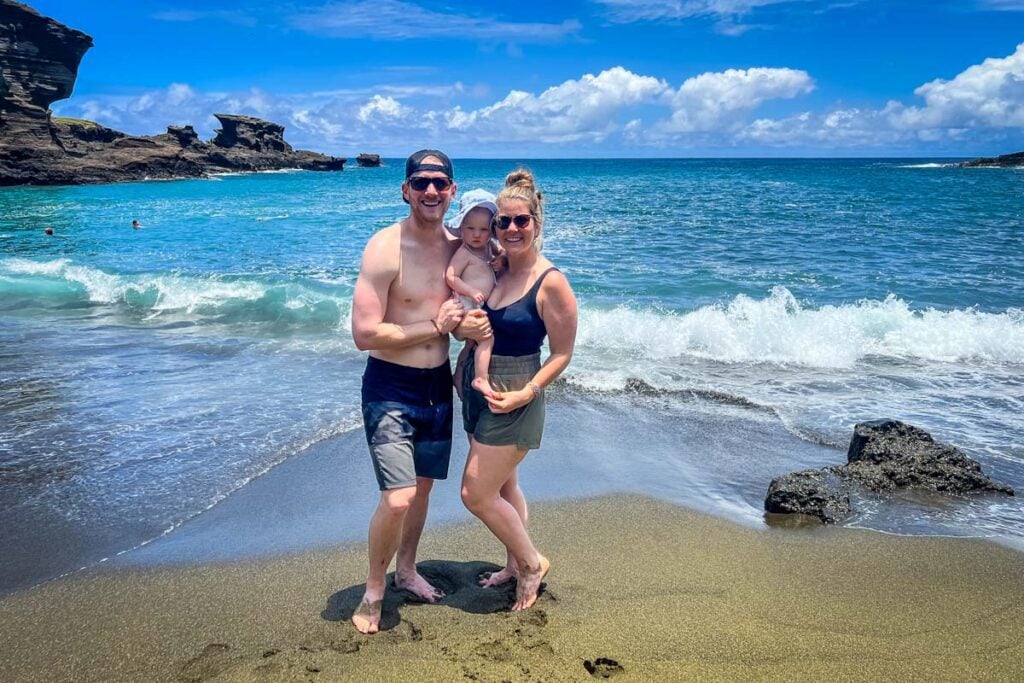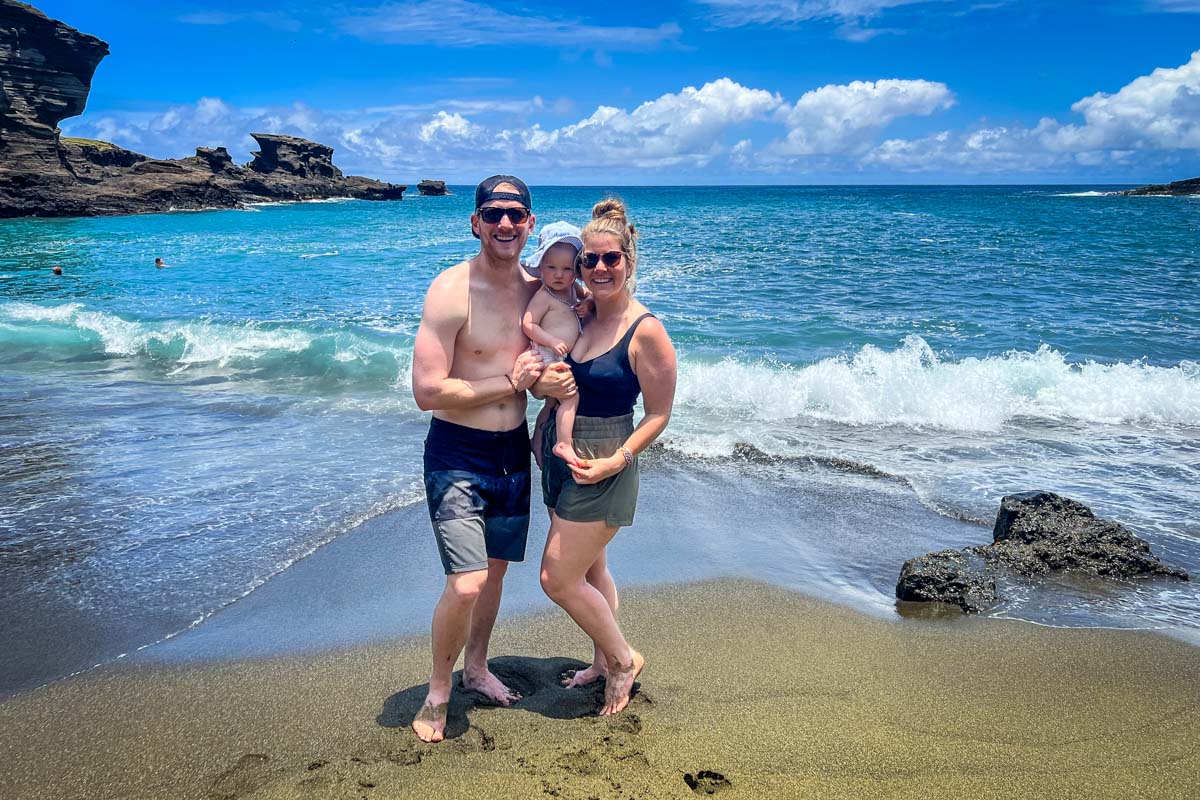 We have a giant list of truly epic things to do on Big Island Hawaii, but here are some of the highlights…
Hawaii Volcanoes National Park. Big Island is one of the planet's most volcanically active places, home to two of the world's most active volcanoes: Kilauea and Mauna Loa. One thing to be aware of, though, is that the volcanoes aren't constantly erupting.
The tallest mountain on Earth. Mauna Kea's base extends nearly 20,000 feet below sea level, so it technically stands over 4,000 feet taller than Mount Everest! From base to summit, it's over 33,000 feet tall, whereas Everest sits at an elevation of 29,029 feet.
Snorkel with manta rays. Unique nighttime tours take you out to snorkel among these "gentle giants" off the Kona coast year-round. You can only experience this in a handful of places on Earth!
It's home to a rare green sand beach. There are just FOUR green sand beaches on Earth, and Big Island has one of them: Papakolea.
300+ miles of hiking trails. Many believe Big Island has Hawaii's best hiking, because of the abundance of trails and their diversity. The island has eight distinct microclimates, so you'll find everything from desert to rainforest to snowy summits!
Lots of room to spread out. Although Big Island is so massive, it's home to just 13% of Hawaii residents. Even in the cities and at popular beaches, it rarely feels crowded!
Excellent weather. The lusher Hilo side of the island gets some rain, but the Kohala Coast on Big Island's northwest side is one of the driest, sunniest places in Hawaii.
Big Island Lowlights:
Exploring means lots of windshield time. Big Island is so massive that driving from one place to another is usually not a quick trip.
Harder-to-reach beaches. Piggybacking on the point above, the best beaches on Big Island almost always require a lengthy drive. It's uncommon for hotels to be right at the beach, unlike other islands.
Somewhat limited accommodation. For such a large island, hotel options are surprisingly lacking. Some resorts are clustered on the Kona side, but the east side (Hilo) is limited to short-term rentals and smaller hotels.
Kauai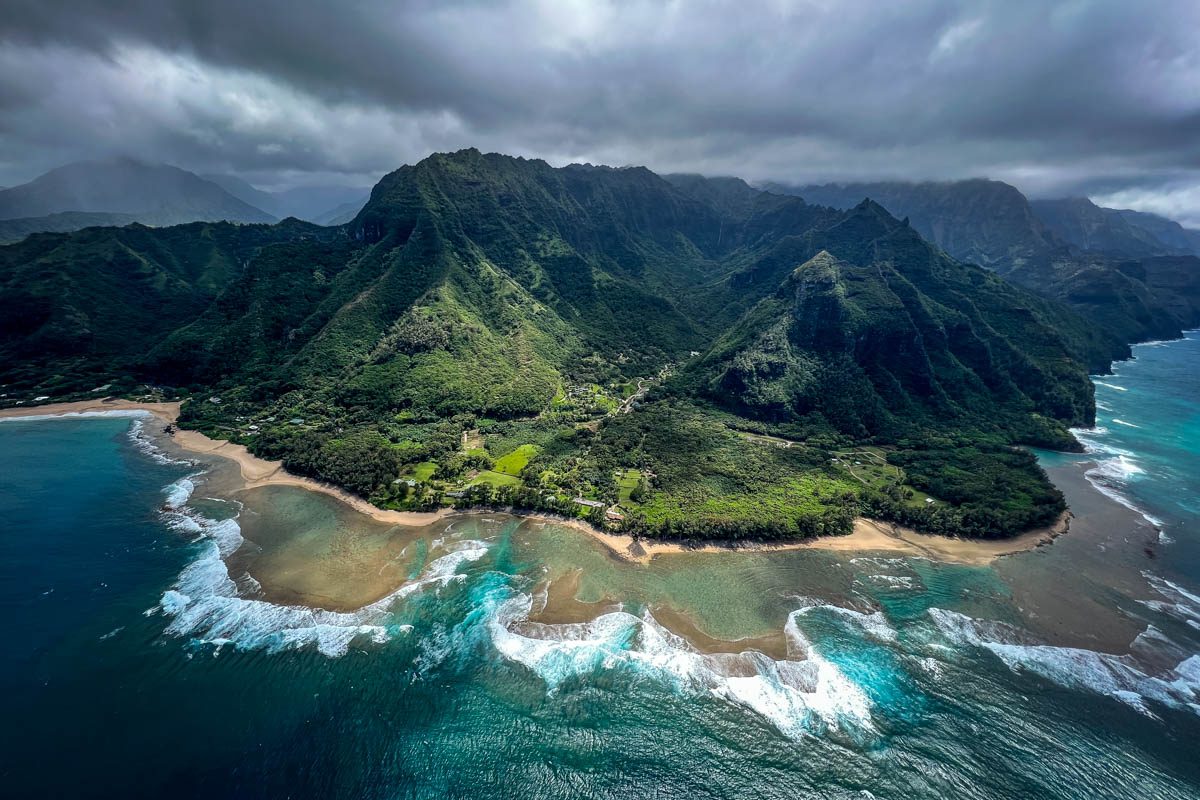 For outdoorsy people and those seeking a laid-back, less-touristy experience, it's hard to top Kauai. This nature lovers' paradise has lush, dramatic scenery: vast canyons, narrow ridgelines, jungles, sea cliffs, and beaches in a kaleidoscope of colors.
Kauai has three main resort areas where hotels and activities are concentrated: Poipu on the South Shore, Princeville/Hanalei on the North Shore, and the east coast, AKA the Coconut Coast.
All three areas have very different vibes, but they all share that coveted small-town charm and noticeable lack of skyscrapers. There are no big cities here, but Kauai still has some big-city conveniences, including big-box stores and excellent restaurants.
Travelers who appreciate wild, rugged beauty and prefer a more easy-going atmosphere should focus their Hawaii trip planner around Kauai.
Kauai Highlights: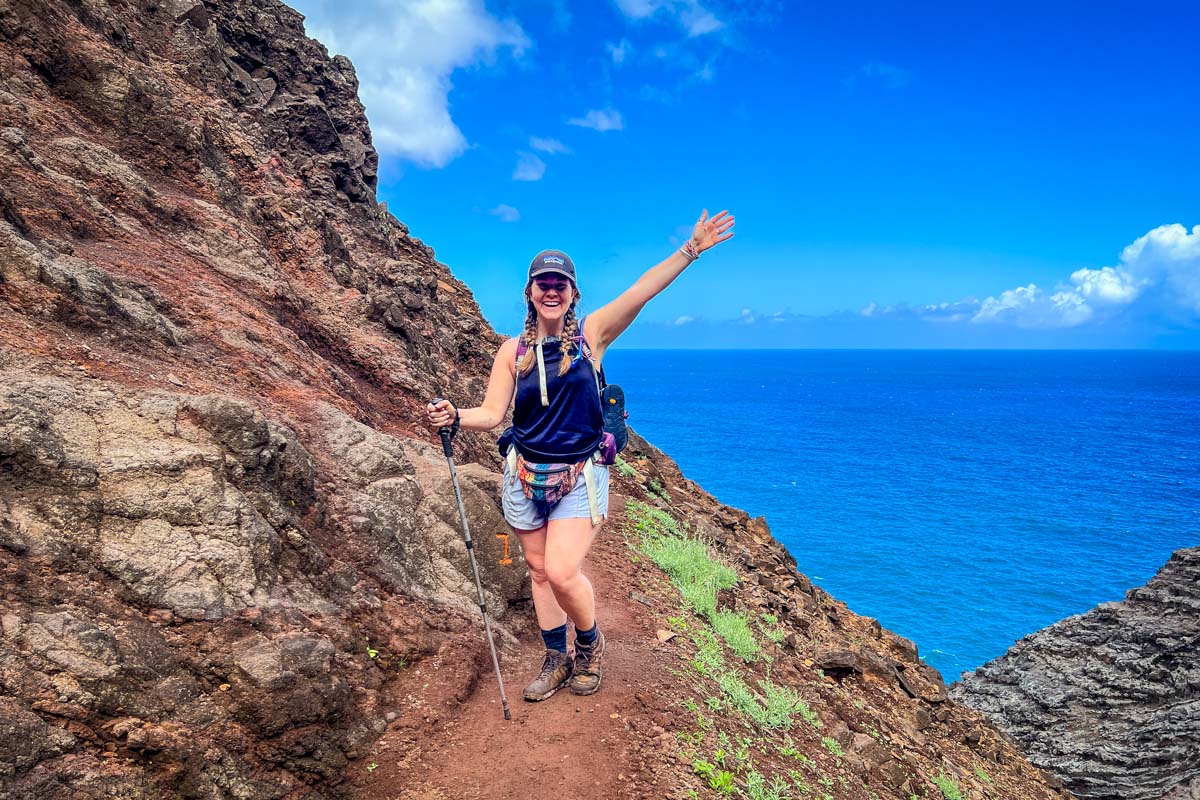 Small-town, authentic Hawaii feel. There is no hustle and bustle on Kauai, and you'll encounter a lot of full-time residents. "Island time" is also real here, so visitors can explore at a slower pace and enjoy several non-touristy experiences.
Napali Coast. One of the most pristine, beautiful destinations on the planet, with zero development. Access is extremely limited (but well worth the effort!), so you'll have to take a boat or helicopter, or hike the epic Kalalau Trail.
Grand Canyon of the Pacific. Kauai's west coast is home to yet another spectacular natural attraction, 10-mile-long Waimea Canyon. Take the scenic drive, tackle a hike or two, and don't miss nearby Koke'e State Park.
The most secluded beaches. Although it's nowhere near the largest island (it's the smallest of the "big four," in fact), Kauai has more beaches than all of its siblings. With so many choices and several being somewhat remote, overcrowding is rarely an issue!
Backpack the Kalalau Trail. If you're an experienced backpacker, this should be at the top of your bucket list! The 11-mile one-way trail is incredibly challenging and consistently named one of the world's most dangerous hikes, but it is spectacular.
The Wailua River. With all the water throughout Hawaii, amazingly, this is the state's only navigable river! Paddle it for a truly once-in-a-lifetime experience.
Psst! Check out our bucket list of things to do in Kauai before you leave!
Kauai Lowlights:
A lot of driving. Things are pretty spread out on Kauai, with sections of the island inaccessible by car. If you aren't familiar with the layout while planning your trip to Hawaii, you may end up spending far too much time just getting around.
It's the rainiest island. Kauai is actually one of the rainiest places on Earth! (this shouldn't come as a surprise, looking at how lush and green it is!). The island gets about three times as much rain as the others, mostly during the winter.
Many of the most beautiful areas are difficult to access. Some of Kauai's most awe-inducing landscapes are off-limits to vehicles. To see them, you'll have to go on a serious hike or book a pricey boat or helicopter tour.
Lack of nightlife. "Nightlife" on Kauai is going out for dinner, and visitors will find that almost everything closes fairly early — 8-9:00 pm. Although there are a handful of excellent restaurants, options are extremely limited.
Maui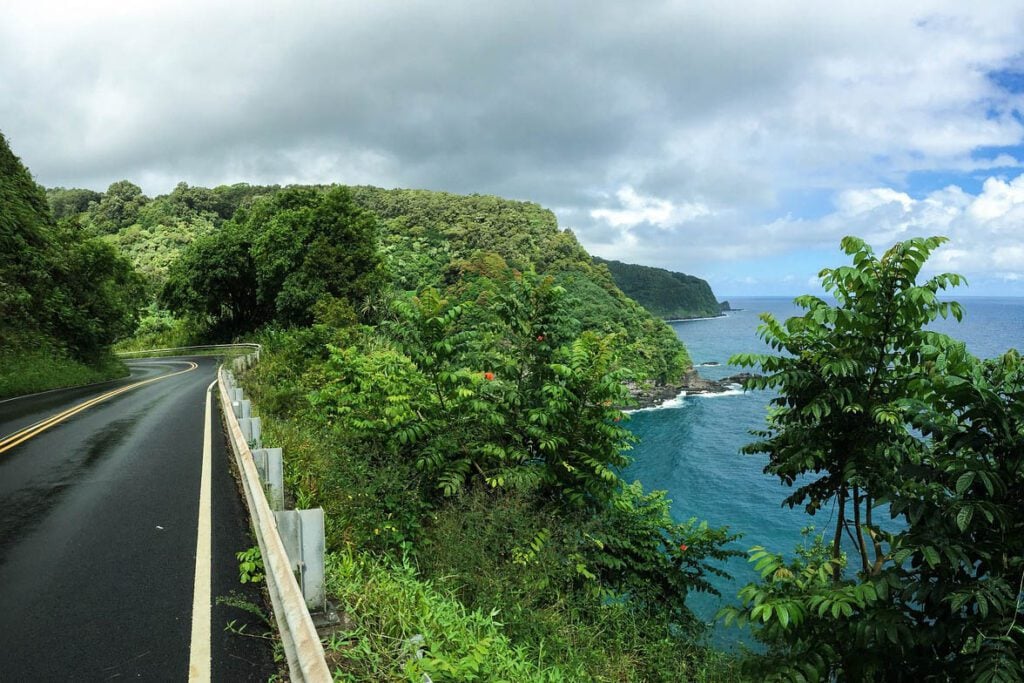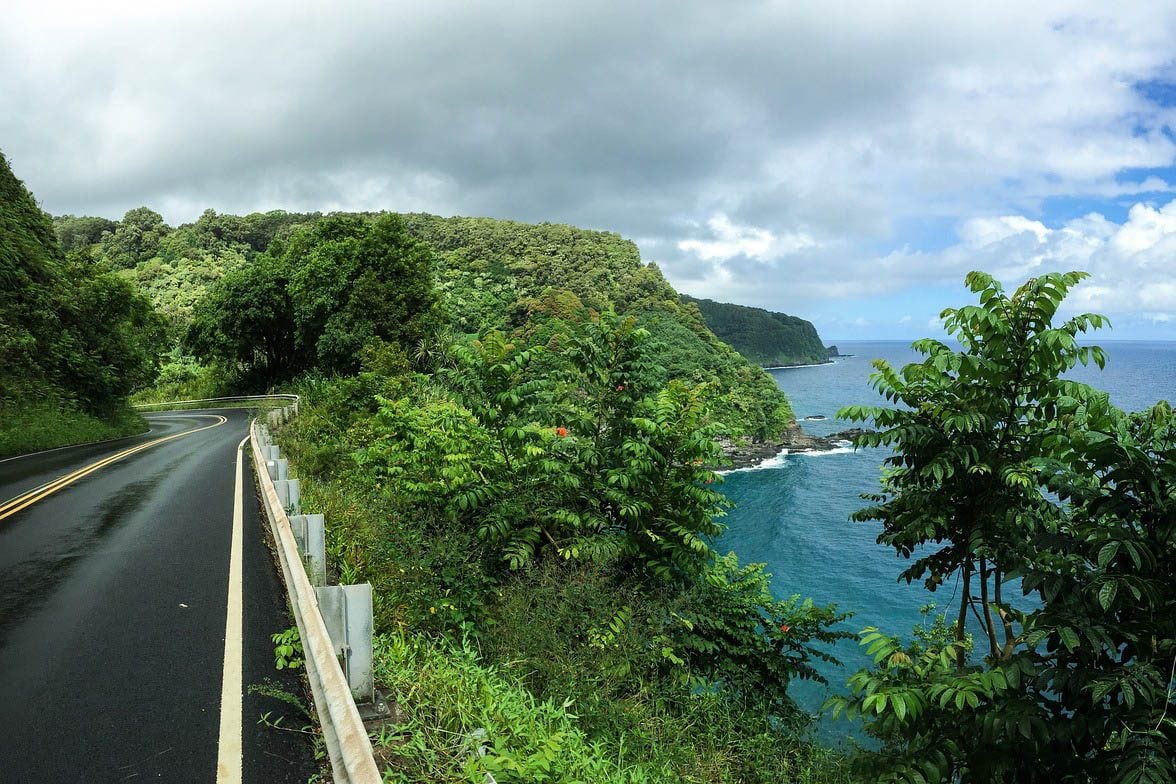 Maui, known as the Valley Isle, is the second most visited Hawaiian island, behind Oahu.
It's easy to see why — in addition to urban conveniences, Maui has fantastic beaches, calm waters, and one-of-a-kind natural attractions. The waterfalls are spectacular, thousands of humpback whales winter here, and it has one of the most unique national parks, Haleakala.
On the other hand, tourism is BIG business on Maui, and the island has more developed coastline and swimmable beaches than any others. Visitors are spoiled for choice with a wide range of oceanfront accommodation, a bustling dining scene, and every tour type imaginable.
Maui may be the right island for you if beaches are a priority, you're looking for varied experiences, and you enjoy sprawling, upscale resorts. Honeymooning couples and travelers with larger budgets will also appreciate Maui's abundance of luxury hotels.
Maui Highlights: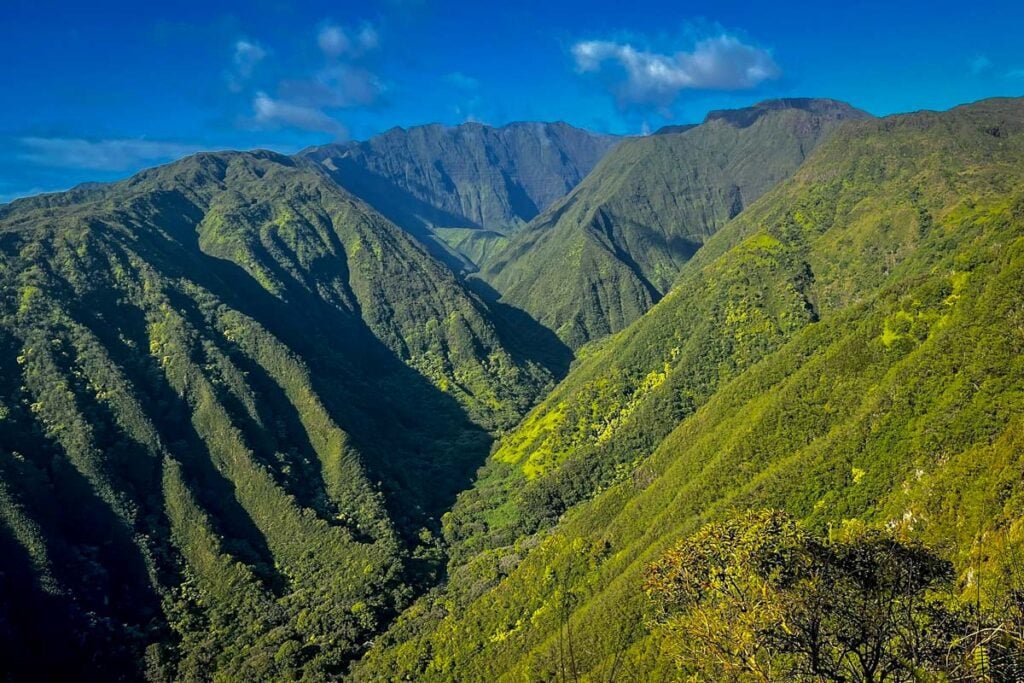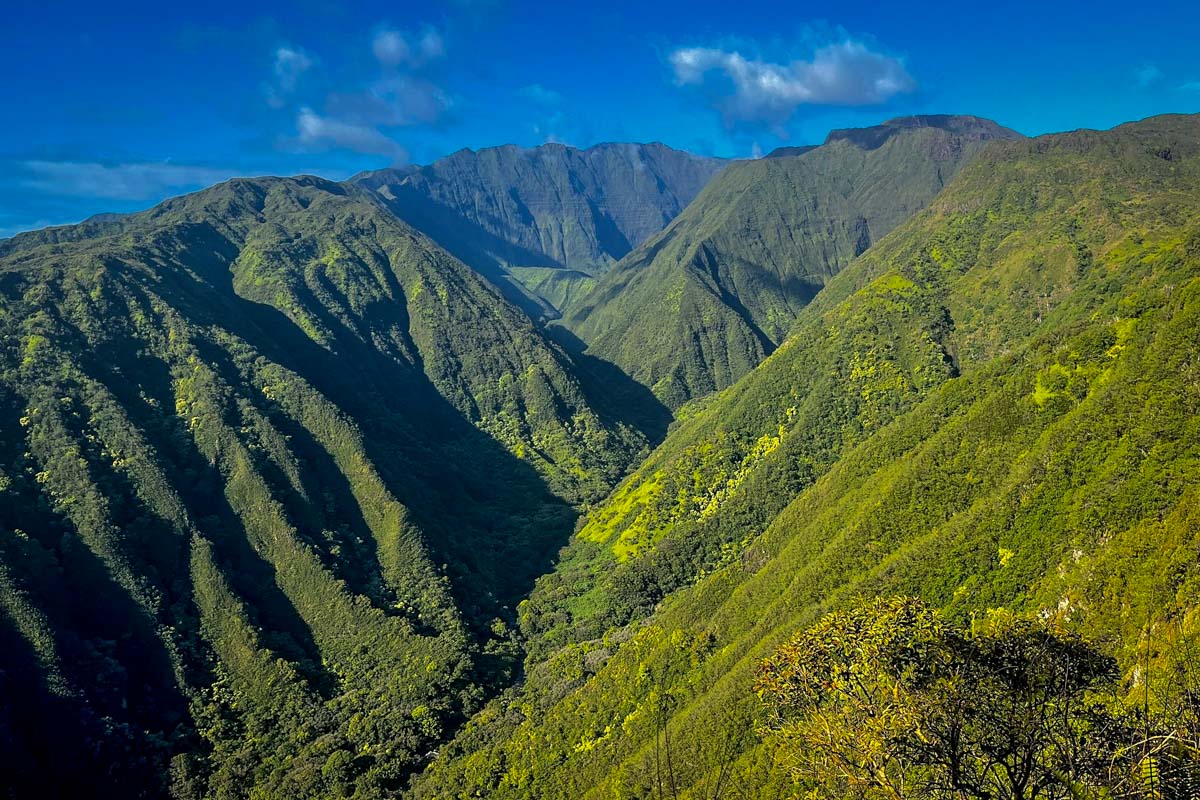 Mount Haleakala. Making up an astounding 75% of Maui, this 10,023-foot dormant shield volcano is the world's largest. The landscape is Mars-like, not at all what you'd expect on a tropical island! Sunrise here is a must, but you need a permit.
The Road to Hana. The famous narrow, winding road topping many a Hawaii trip planner has 500 turns, 50 one-lane bridges, red, black, and white sand beaches, waterfalls galore, epic hikes, and exotic fruit to sample from roadside vendors.
Whale-watching. You can technically see whales anywhere in Hawaii, but your best odds are in Maui. Migrating humpback whales are drawn to its warm, shallow waters, particularly for calving season in the winter.
An abundance of top-tier beaches. Maui has more swimmable beaches than any other island, and lots of development along the coast. That equals many of Hawaii's best beaches, with options ranging from family-friendly to romantic.
Excellent winter weather. Where most Hawaiian islands experience rainy winters, much of Maui is generally sunny and dry. The east side is an exception, where Hana and many of the waterfalls are.
Calm waters. Because of its unique geography with the islands of Molokai, Lanai, and Kahoolawe just off its west coast, Maui's waters are calm, shallow, and warm. This is why the whales come here, and it also makes for fantastic snorkeling.
It's one of the most accessible islands. Geographically, Maui is one of the easiest islands to navigate. The airport is centrally-located and it doesn't take long to drive from place to place (with the major exception being the Road to Hana).
Maui Lowlights:
Extremely touristy feel. There aren't many true locals on Maui, and two of the island's major hubs, Kaanapali and Wailea, are sprawling resort areas specifically built for tourists. You'll be surrounded primarily by other visitors, so there's a lack of authenticity.
It's expensive. Because Maui caters to tourists, it's the most expensive island. Expect to spend more on everything, from rental cars and hotels to tours and even restaurants.
Parking is difficult and pricey. Parking at Maui beaches and in small towns is notoriously challenging, and at some of the nicest resorts, the only option is valet.
There are no proper cities. Depending on your viewpoint, this could actually be a plus, but Maui is made up of several small towns without any major downtown. This means some things are surprisingly lacking on Maui, like nightlife.
Lanai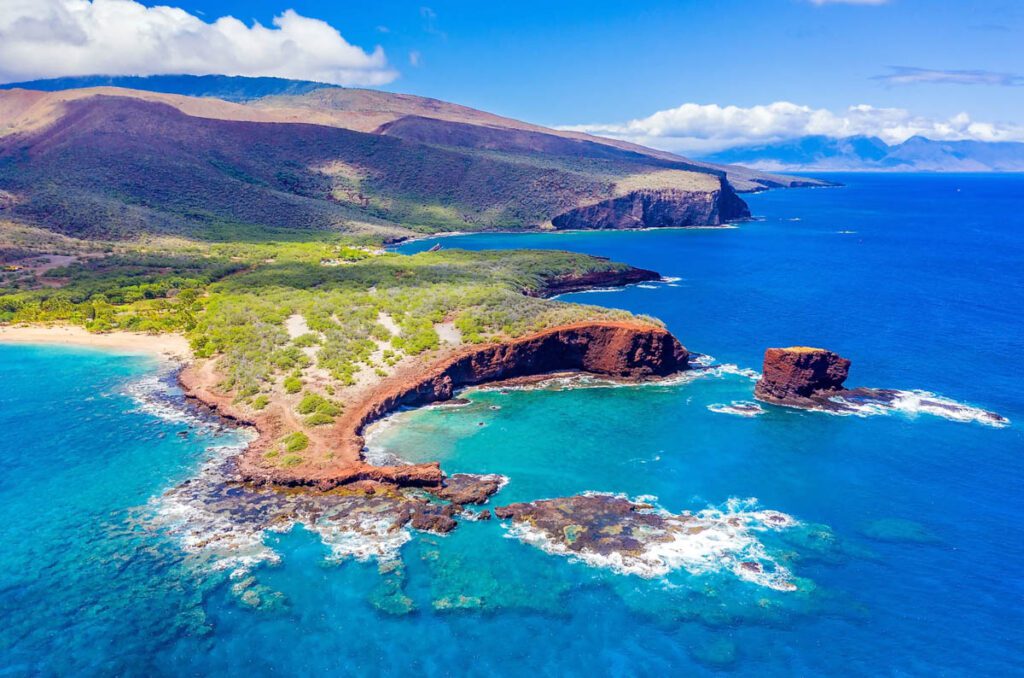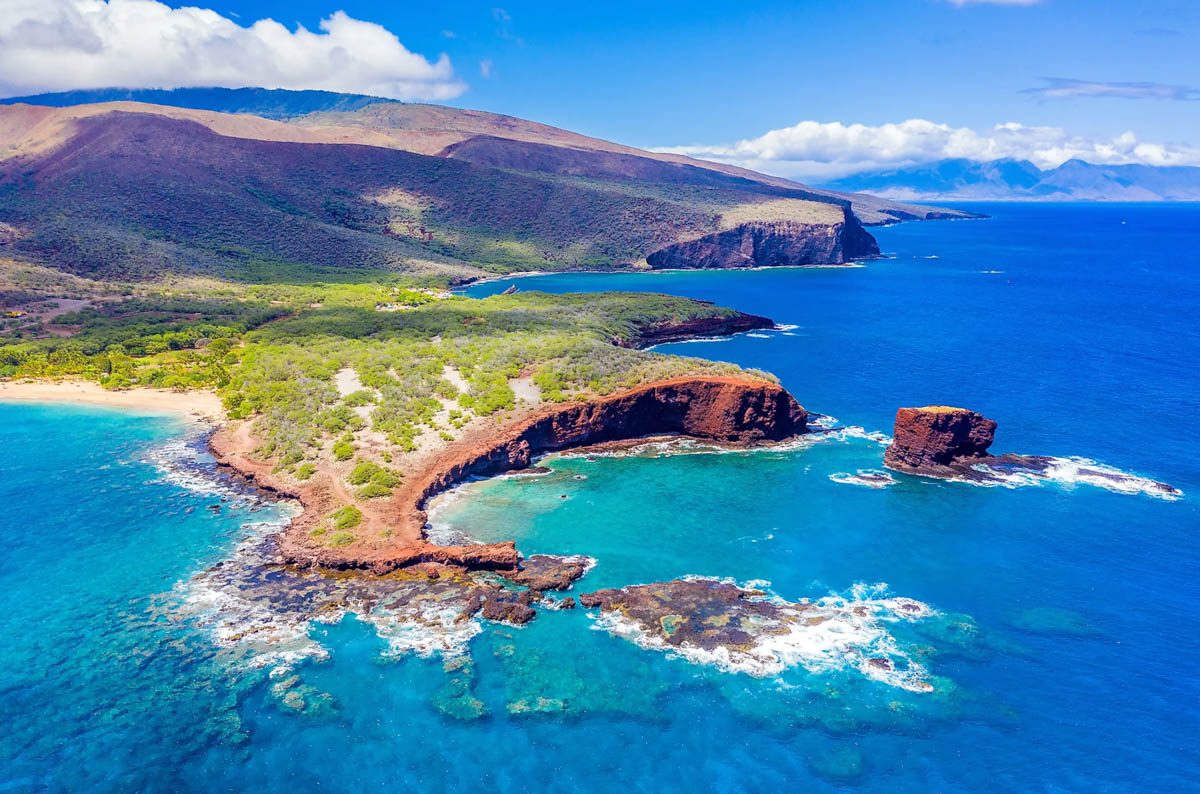 Although it gets a fraction of the visitors that the four main islands do, Lanai has plenty to offer — especially for couples and luxury travelers.
It's Hawaii's smallest inhabited island, yet Lanai is home to several of the state's most luxurious resorts and three championship golf courses. The island is 98% privately owned, so there's very little other development.
If you're looking for a secluded getaway or you're the type who enjoys kicking back and enjoying everything your resort has to offer, you'll love Lanai.
The great thing about Lanai's central location is that it's relatively easy to get there from Maui or Oahu, so you can add a couple of days to your Hawaii itinerary. Flights are under an hour and the trip is stunningly beautiful, almost like you booked a fly-over tour!
Lanai Highlights: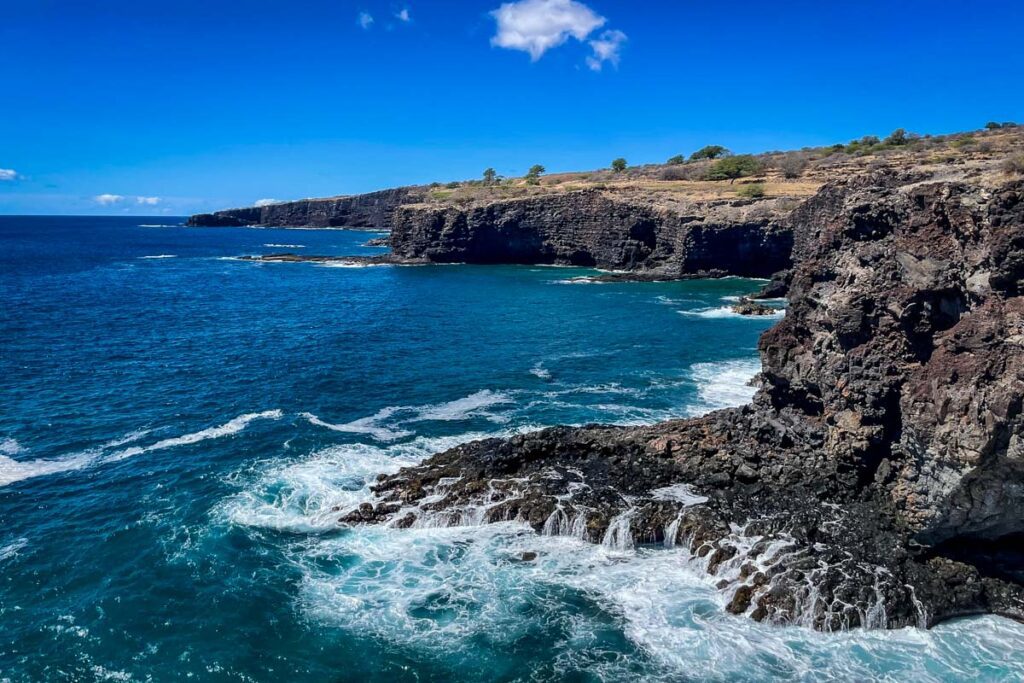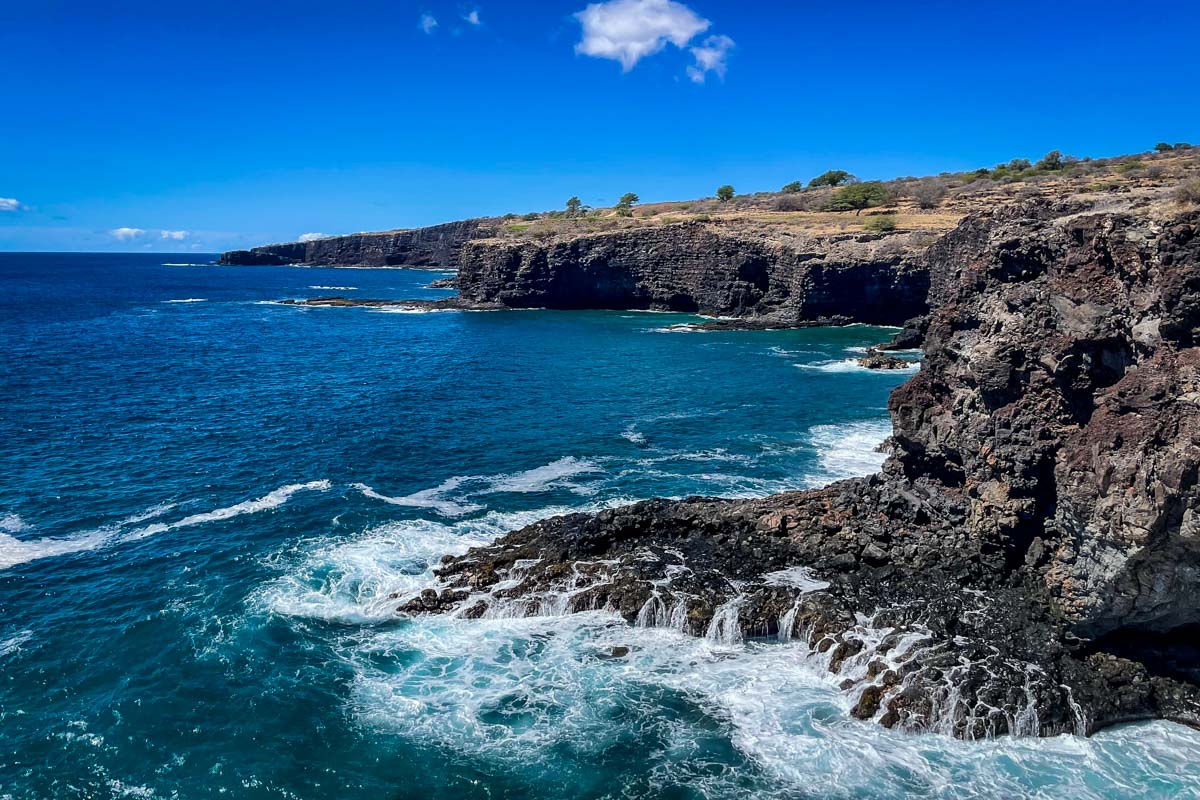 Hulopoʻe Bay. The renowned Dr. Beach once named this beach the best in America! It's excellent for swimming and snorkeling, and there are also tide pools in volcanic rock. This is also where you'll find the Four Seasons Resort Lānaʻi.
Accessibility. Daily flights from Oahu and Maui, plus ferry service from Maui make it easy to visit Lanai, even on a day trip. If you're prone to getting seasick, avoid the ferry, as the passage is often choppy.
Surprisingly varied terrain. This small island has it all: the tropical paradise of Hulopoʻe Bay, rolling farmland (Lanai was once the world's largest pineapple plantation!), martian-like red rocks at Garden of the Gods, and even pine trees.
Fine dining options. Thanks to the presence of Four Seasons on the island, foodies with sophisticated palates will be in heaven. There's an upscale steakhouse, ONE FORTY, plus posh Malibu Farm and even the famed Nobu.
Lanai Lowlights:
There's not much to do. If you enjoy active getaways, you honestly may get a bit bored on Lanai…unless you like to play golf, that is. Four Seasons guests have access to a variety of planned activities, but outside of that, options are few and far between.
Extremely limited hotel options. Lanai has just three hotels, and two are Four Seasons properties. If you're a budget traveler, focus your Hawaii trip planner elsewhere.
Molokai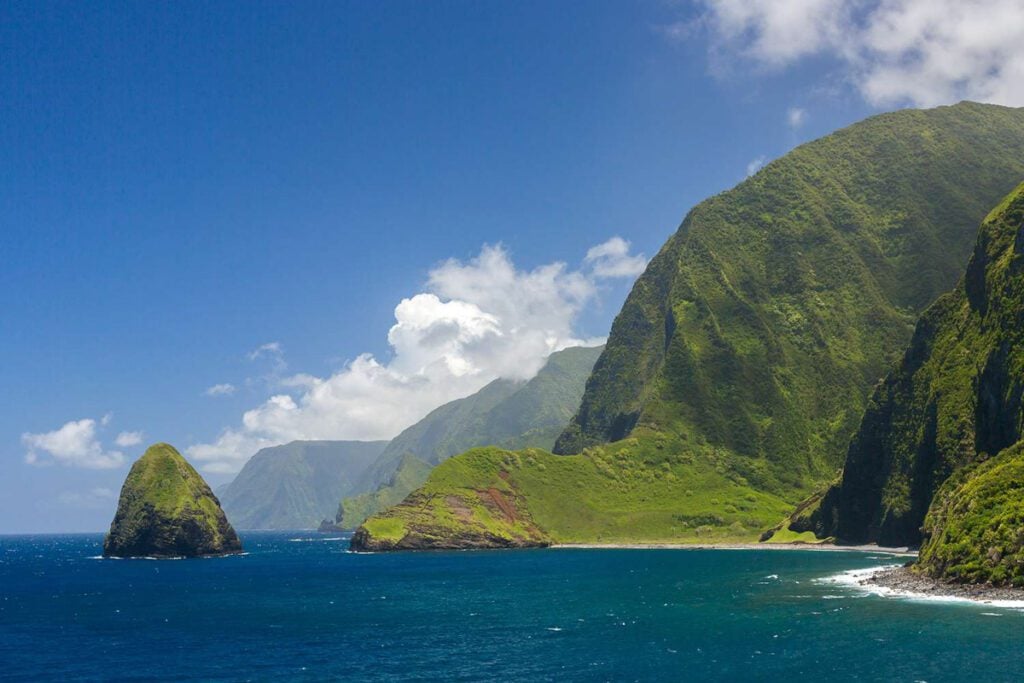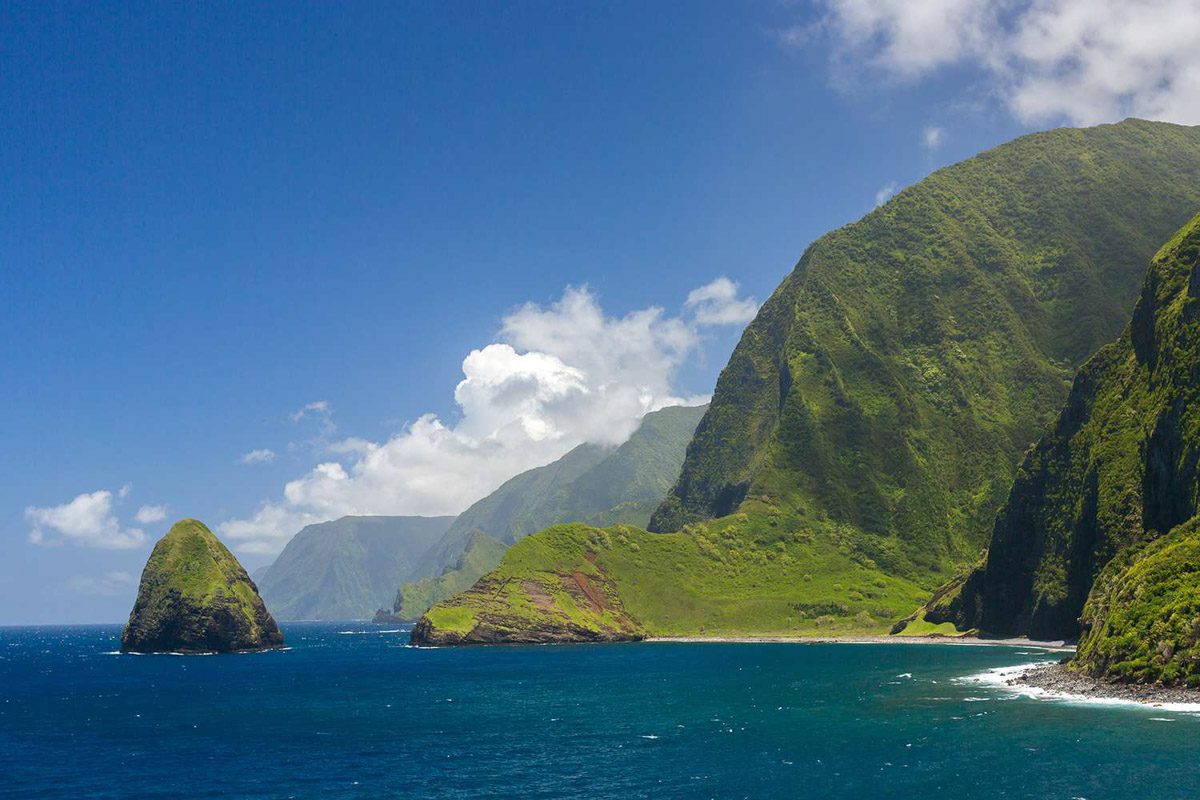 For an authentic "old Hawaii" experience completely devoid of anything remotely touristy, look no further than Molokai. Just north of Lanai, it's the least developed island (literally — it doesn't have a single stoplight!).
Instead, Molokai has a rich culture steeped in tradition and an abundance of wild, untamed nature. The world's tallest sea cliffs soar to nearly 4,000 feet and cascading waterfalls, including some of the tallest on Earth, dot the island.
While its unspoiled beauty is a major draw, Molokai isn't for everyone. Tourism is highly controversial here, and locals have gone to great lengths to ensure it remains limited. There are no chain hotels or restaurants, and "no cruise ship" signs decorate windows.
Of course, some travelers seek exactly this type of place, which is becoming rarer and rarer. But if you're expecting the Hawaii you've seen on social media, you probably won't be a huge fan of Molokai.
Molokai Highlights: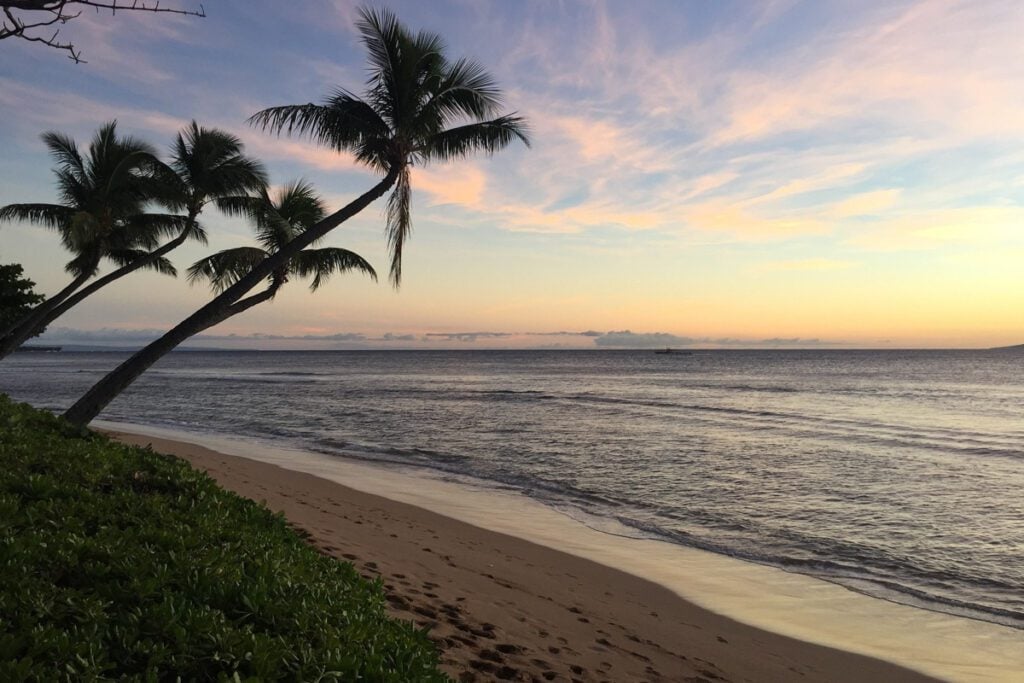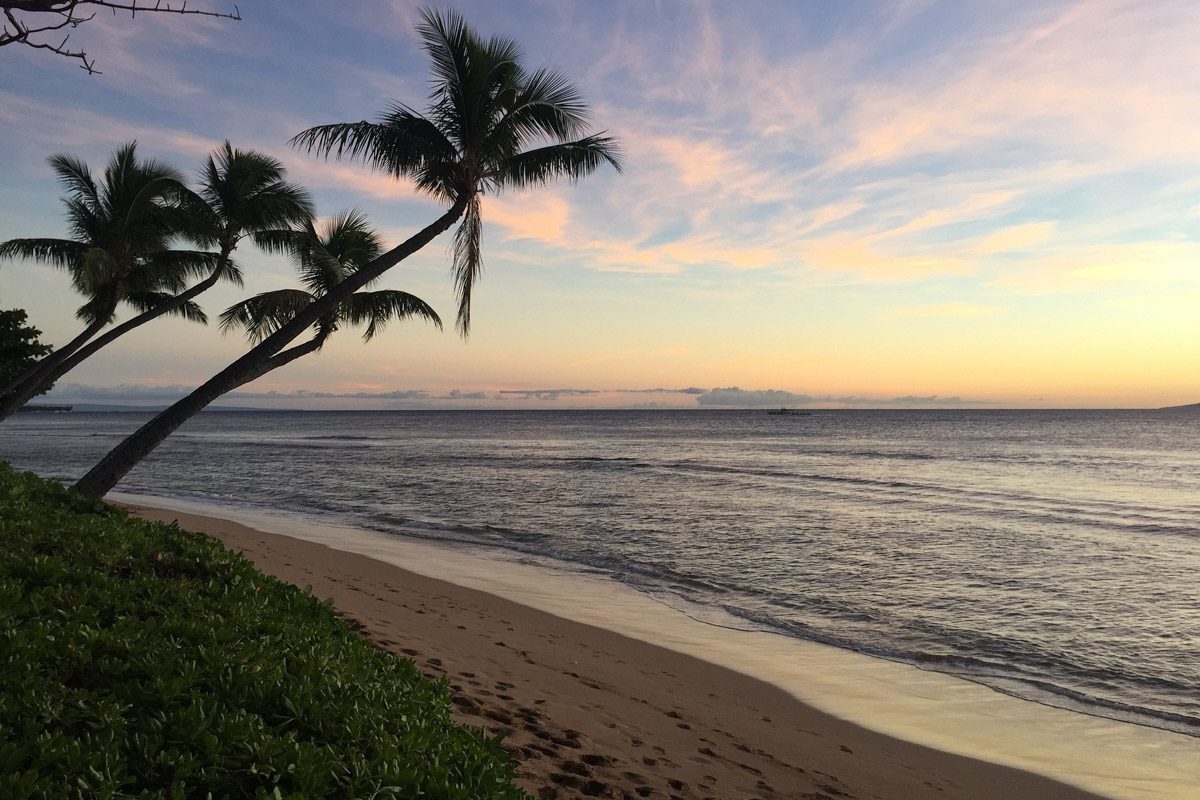 Chase waterfalls. You'll have to work for the views, but Molokai's waterfalls will leave you speechless. 2,165-foot-tall Kahiwa Falls tumbles right into the ocean, while Olo'upena Falls and Pu'uka'oku Falls are among the world's tallest at nearly 3,000 feet.
Halawa Valley. The site of the earliest settlements in Hawaii, you can go on a guided hike to a waterfall here, explore the natural beauty, and see ruins up-close.
Surprising variety of accommodation. Molokai has about a dozen hotels and a smattering of privately-owned cottages, running the gamut from budget to luxury.
Kalaupapa National Historical Park. Molokai has a fascinating and tragic history: it was the site of a leper colony in the late 1800s. Visiting this national park gives you an overview, but it's not easy — you must go with a guide AND get a separate permit.
Pala'au State Park. Take a short hike to Kalaupapa Lookout, a gorgeous viewpoint over the settlement. Don't miss the Phallic Rock, an…unusually shaped rock said to bring fertility.
Kanemitsu Bakery. Tucked in a literal dark alley, this bakery has been churning out Molokai Hot Bread using the same recipe since 1935.
Molokai Lowlights:
Few beaches and opportunities to get in the water. Molokai's coastline is predominantly rocky, so there aren't many places to lounge on the beach or snorkel. It does have one phenomenal beach, Papohaku, nearly three miles long.
Essentials are limited…and expensive. Groceries and other necessities come to Molokai on a barge from Oahu, so store and restaurant prices are extremely high.
There's a lot of gatekeeping. In their attempt to keep tourism to a minimum and attract a different type of tourist, locals aren't quite as forthcoming as they are on other islands. You'll have to get involved in the community to find the island's best spots.
The lack of development means there's zero nightlife. In fairness, this could be viewed as a highlight. For people who aren't outdoorsy, though, there isn't much to do.
Top recommendations
Best islands for…
Families: Oahu, Big Island
Hiking: Kauai, Oahu
Relaxing: Maui, Kauai, Lanai
Whale watching: Maui
Foodies: Oahu, Maui, Big Island
National Park enthusiasts: Big Island, Maui
Snorkeling and diving: Maui, Big Island
Getting off the beaten path: Molokai, Big Island
Nightlife: Oahu
---
Our personal Hawaii itinerary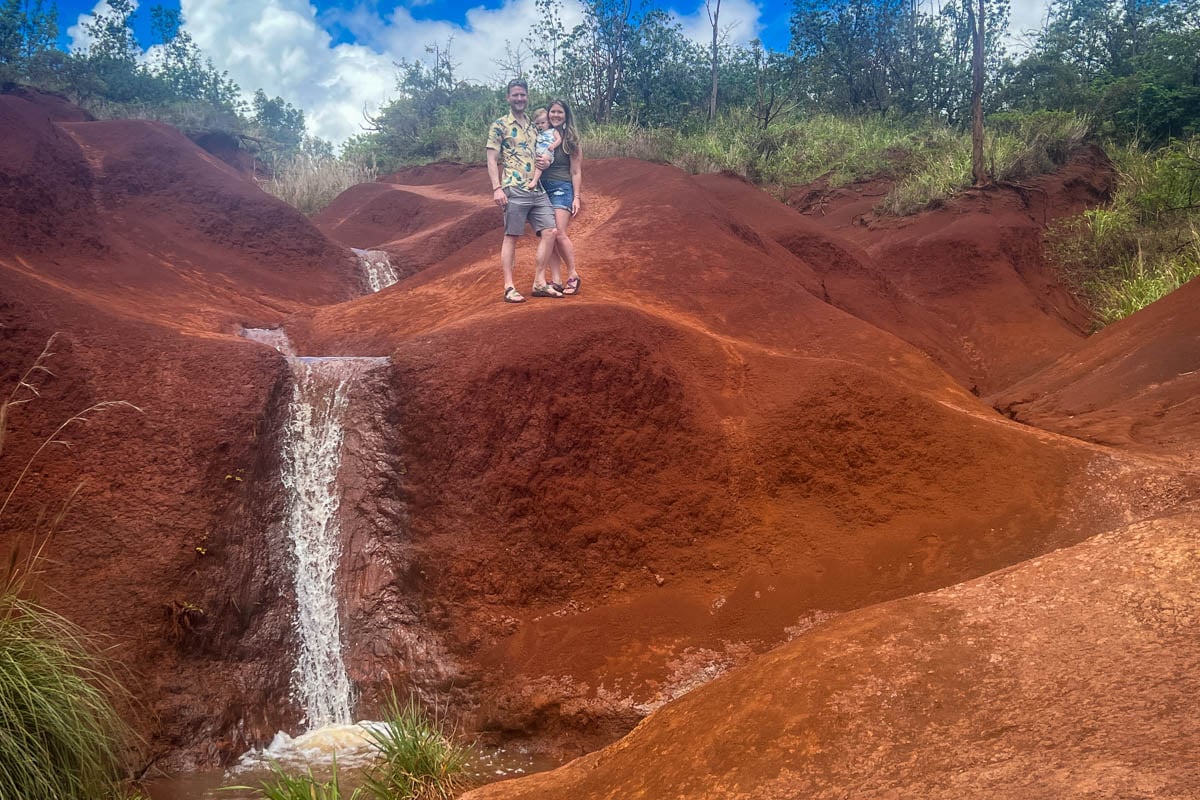 We wanted to visit two islands that felt very different from each other and offered different types of experiences. We also wanted to avoid crowds as much as possible (especially since we were traveling at a popular time of year).
Because of the crowds, we decided to skip Oahu, (plus, it's the island I've spent the most time on so I wanted to see something else).
We also opted against Maui for this trip because we recently read that it is listed as a place that is in danger of overtourism. Fodor's even included Maui on its 2023 No Visit List.
For our 2-week trip, we chose to spend half the time on Kauai, which is the island I've most wanted to visit. Hiking the Kalalau Trail has been on my bucket list for years, so this was one of the main draws. We paired it with time on the Big Island because there are so many things to do and it felt like a good contrast to smaller and rainier Kauai.
2-week Hawaii Itinerary
Kauai: 1 week
Big Island: 1 week
---
Hawaii bucket list experiences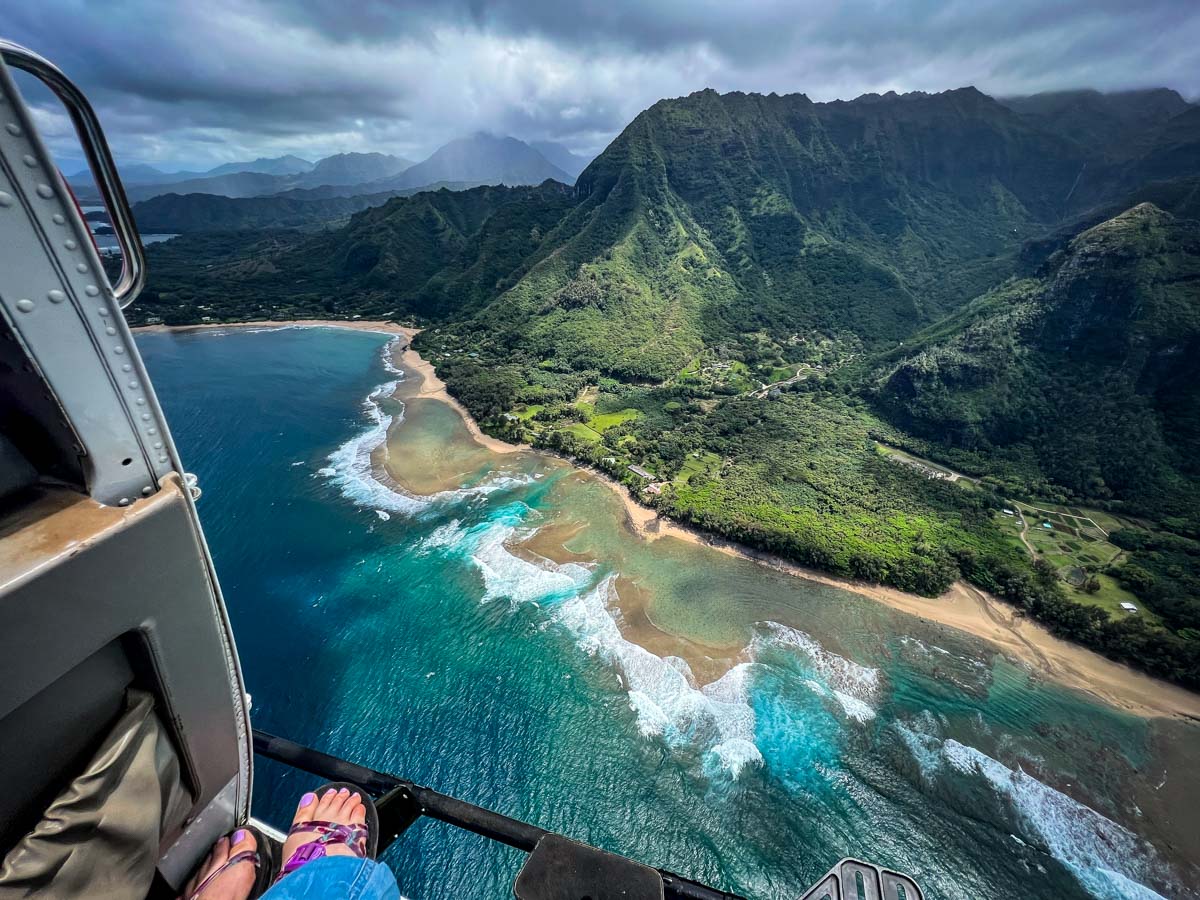 There are endless adventures to be had in Hawaii. Here are just a handful of the incredible bucket list experiences that you can have on just about any island:
Go snorkeling
Take a scenic helicopter flight
Shop local at a farmers market
Learn about how cacao is turned into a chocolate bar on a farm tour
Go on an epic hike (there are many hiking opportunities on the islands!)
Have a mai tai
Visit one of Hawaii's National Parks (Big Island, Maui)
Eat traditional Hawaiian food
Want more ideas? Check out our complete list of the best things to do in Hawaii!
Hawaii travel tips
Hawaii is such a special and unique place.
These tips are specific to Hawaii and should be helpful as you start to plan your travels.
1. Book accommodations as early as possible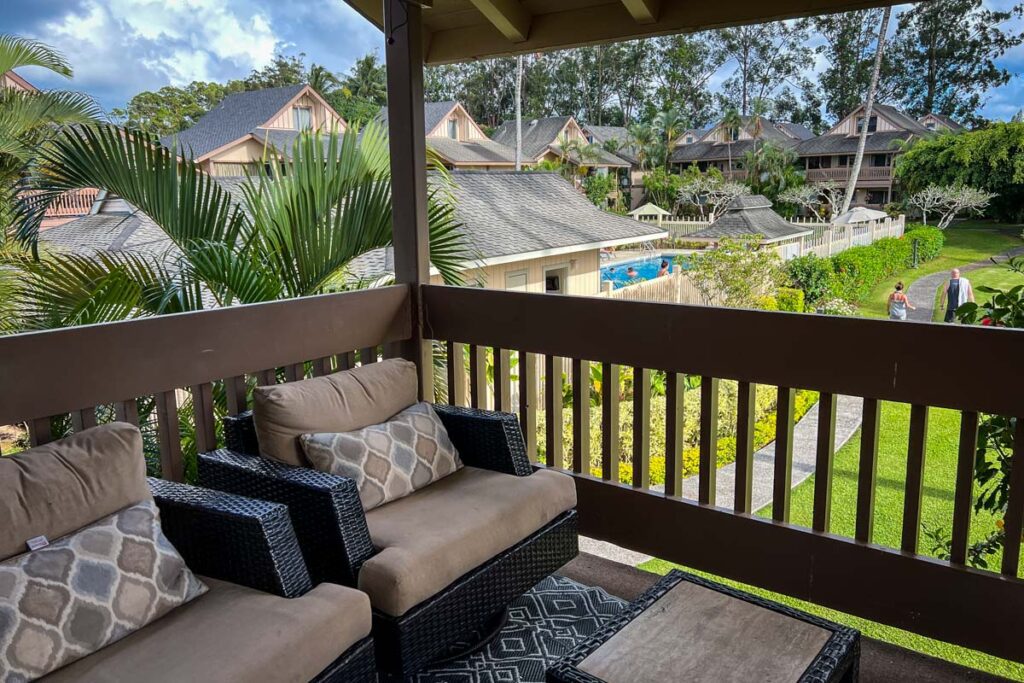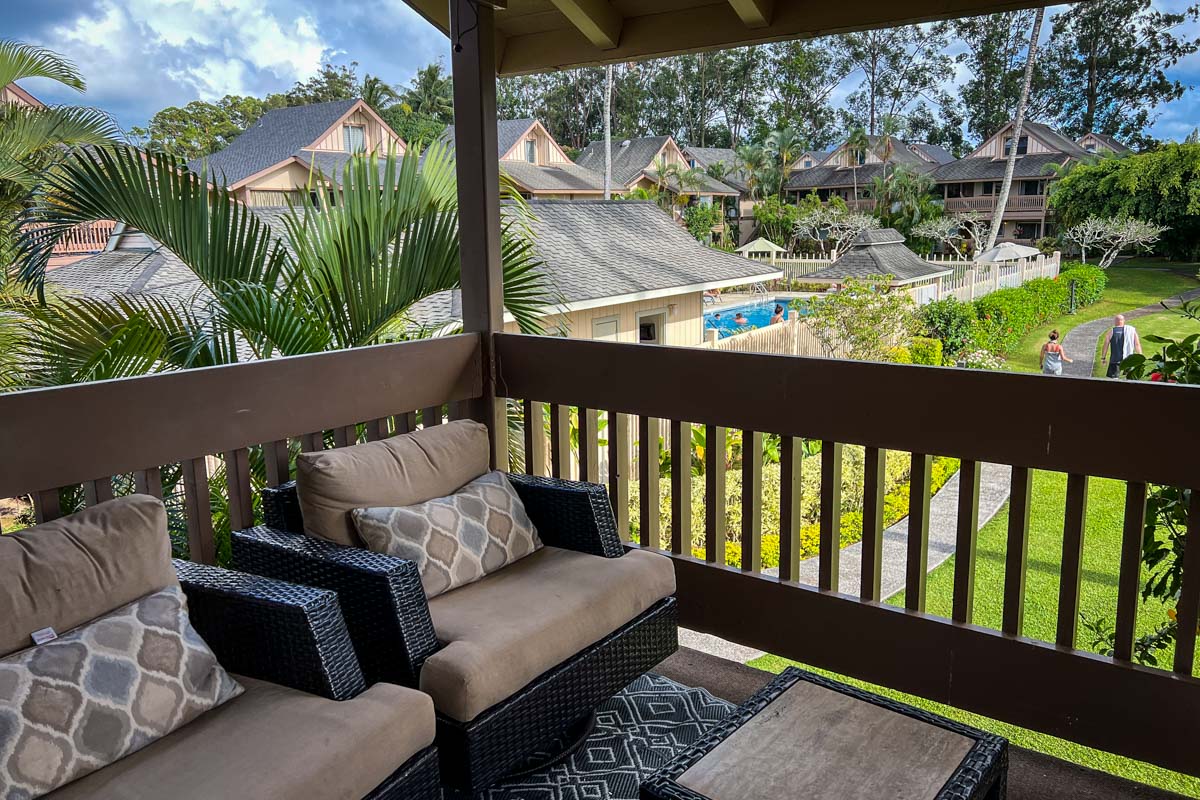 While there are some places around the world where you can make all your bookings a mere month before your trip, Hawaii is a destination that you don't want to sleep on when it comes to planning. This is especially true if you're visiting during a peak tourist season.
Psst! Read up on the best times to visit Hawaii!
Our personal experience:
We started making our Airbnb reservations in February for our April trip and we had very few options that were appealing. Even icky hotels were several hundred dollars per night.
Since we couldn't find anything decent for the entirety of our stay, we ended up having to break up our stays in multiple places.
It worked out great on the Big Island because we wanted to take a little road trip. But on Kauai, we wanted to base ourselves in one area, so we had the hassle of moving all our luggage and checking in/checking out one more time than would have been necessary.
Learn from our mistakes and get on those bookings asap!
Jump down to read our tips for finding budget-friendly accommodation.
2. Read reviews of specific rental car companies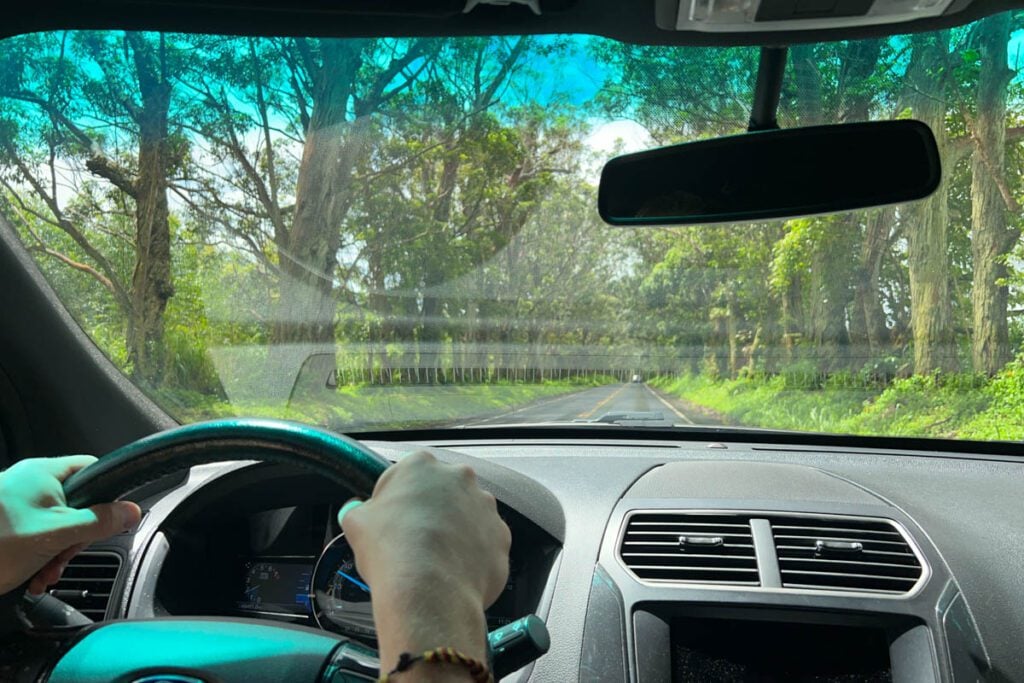 Long story short, before you reserve your rental car, pop over to Google Maps and read through reviews for the specific company location you are considering renting from.
As you're combing through reviews, notice if there are any common issues that come up over and over. That's a red flag! If you find red flags, look into other companies nearby to see if there are any better options.
---
Our personal experience
Alright, get ready for a bit of a rant as well as a key lesson…
We booked a car rental through Discount Hawaii Car Rental* (an aggregate that displays all rental car options). The cheapest car that would work for us (SUV) was through Thrifty. We went ahead and booked without listening to our own advice and reading reviews…
The first problem arose when we landed in Kona, we got a shuttle to Thrifty, and had to wait in line (with a toddler!) for 2.5 hours to get our rental car.
Once we got on the road, we also discovered that there were cockroaches living in the car. When I politely informed the service rep on our return, she visibly rolled her eyes at me and brushed it off.
The thing is after reading reviews, I found that these are very common issues with this specific rental location. Nearly every other review mentions lines lasting more than an hour and cockroaches were a common complaint.
Had we followed our own advice and read reviews, we likely would have chosen a different rental company and avoided the long line, cockroaches, and poor customer service.
After our trip, I realized almost all the other companies in Kona had way better reviews. I would have paid a bit more money not to have to deal with these red flags, and I bet you'd feel the same. Do yourself a favor and dig into your rental car company before handing over your credit card.
*Discount Hawaii Car Rental simply displays the options for all of the car rental companies. In our experience, they had cheaper prices overall than the other platforms we usually use (Discover Cars and RentalCars.com). We'd still recommend booking through them for the best deal, but avoiding Thrifty (at least on the Big Island).
---
3. Invest in a good reef safe sunscreen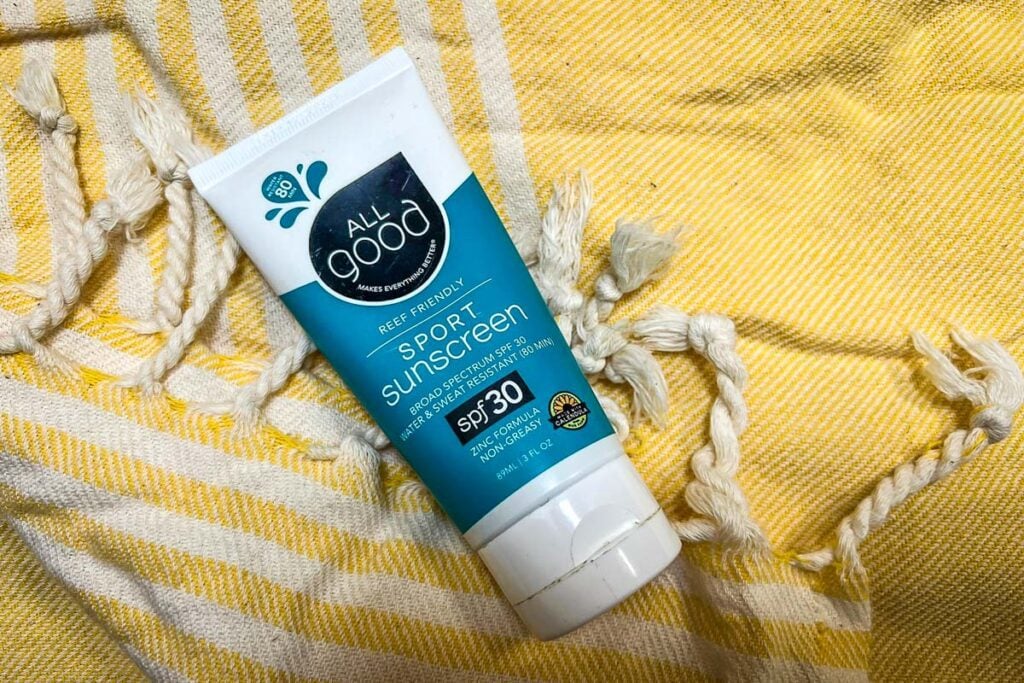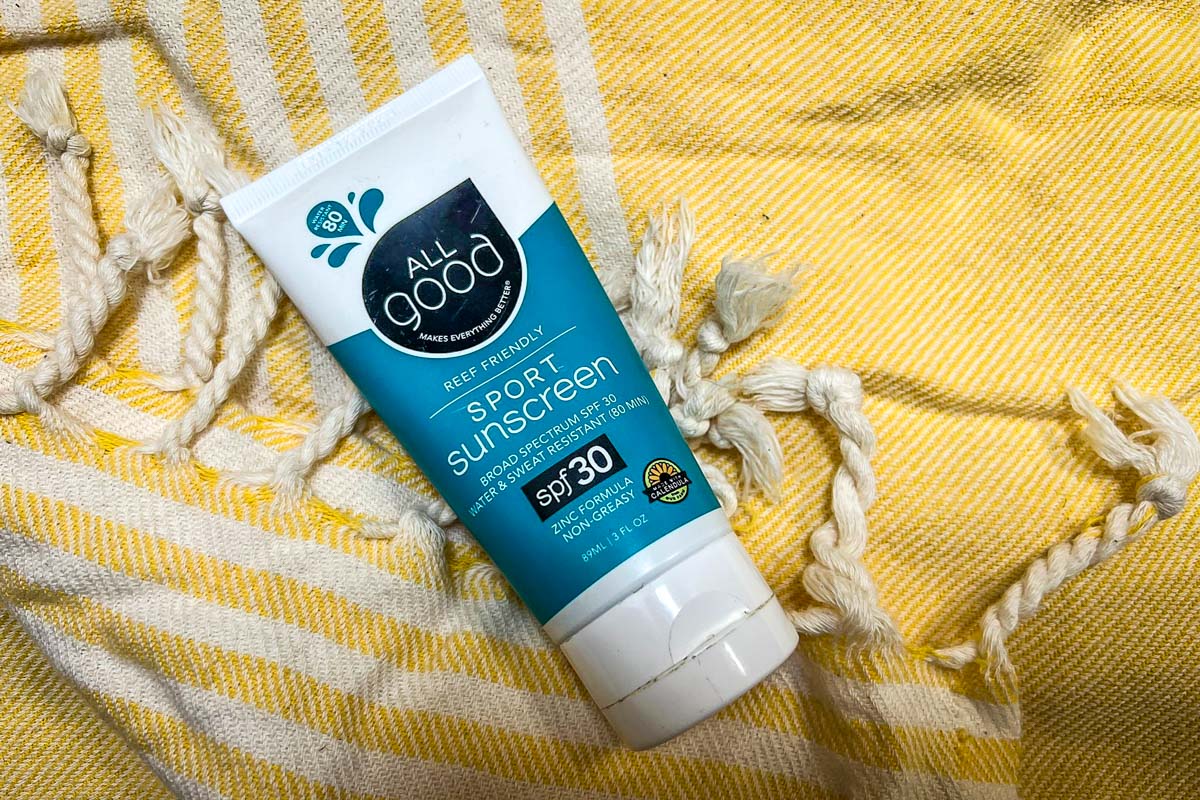 No matter where you are in Hawaii, you should be wearing reef safe sunscreen. Regular sunscreen is harmful to marine life and has actually been banned since 2018 (yes, even for tourists).
Some mineral sunscreens leave a white layer, but this is the brand we personally use and love. We think it absorbs really well, just like regular sunscreen.
4. Pack your own snorkeling gear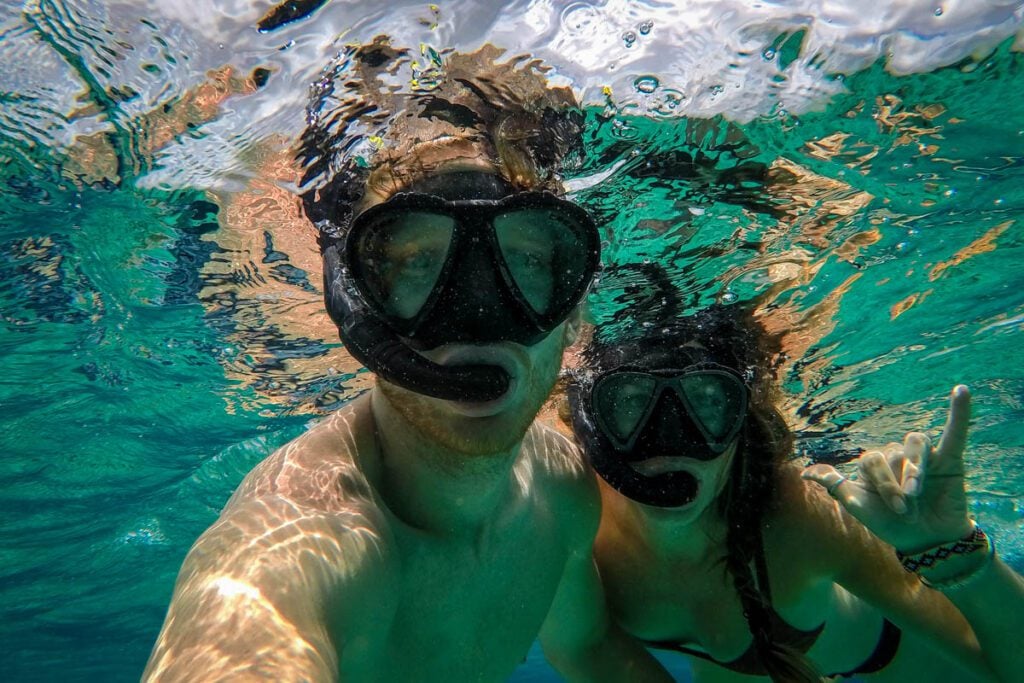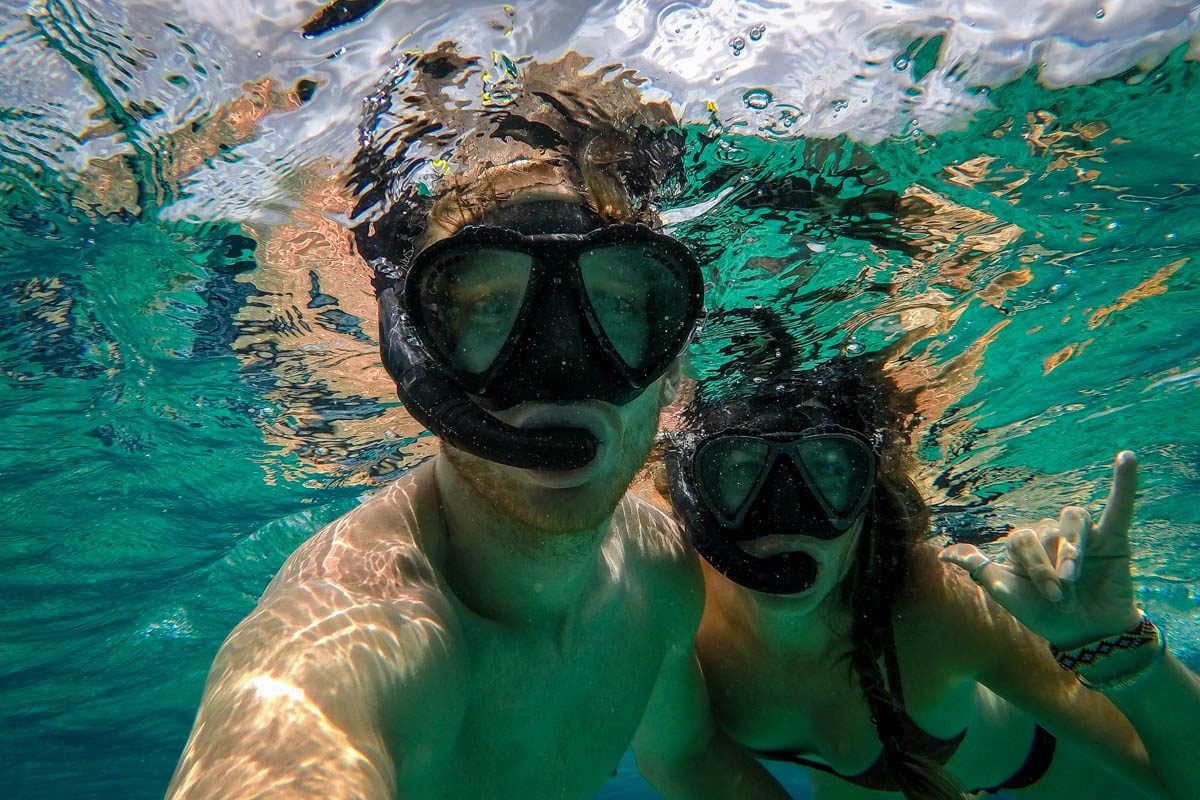 If you plan on snorkeling a lot (3 times or more!), we'd recommend bringing your own gear. If you don't want to pack it, see if your hotel or Airbnb has gear for you to borrow (some do!).
You can certainly rent snorkel gear on the islands, but it'll add up if you're going frequently.
We used rental masks for many years of snorkeling and scuba diving but we recently bought our own gear and have such a huge appreciation for masks that fit well!
Insider tip: If you want to save room in your suitcase, we'd recommend packing only your masks and snorkels and leaving your fins at home. They take up a lot of space and while they're nice to have, they aren't totally necessary. We didn't bring fins and were very happy with that decision.
5. Make dinner reservations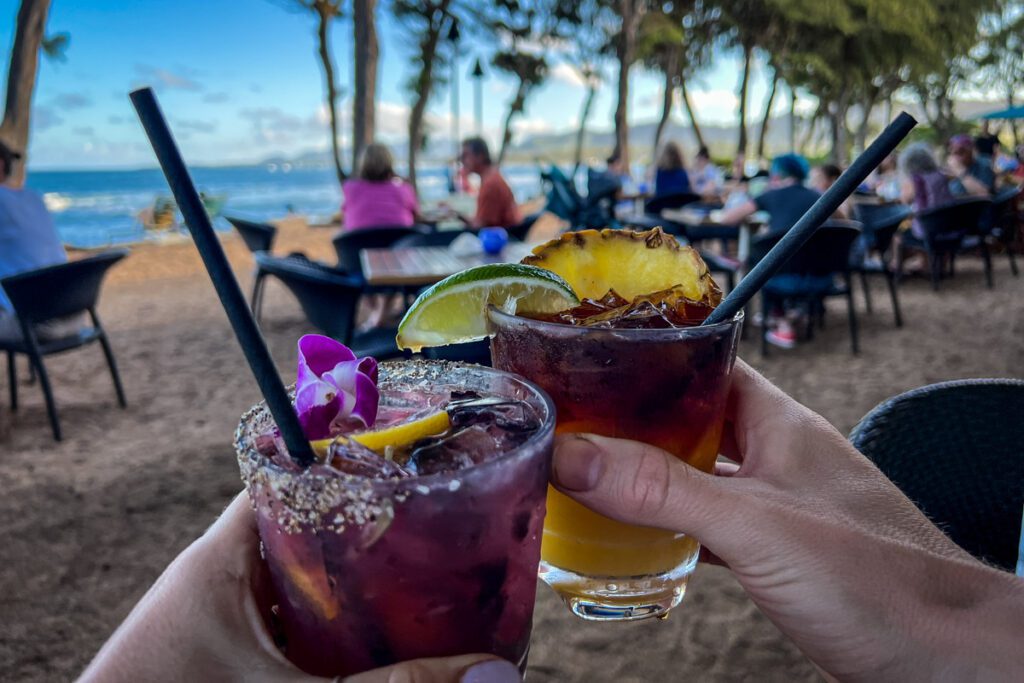 If there's a restaurant you really want to go to during your time in Hawaii, do some digging to see if they take reservations.
There are lots of places where you'll definitely need them. For some of the really popular places, you'll need to secure your table months in advance.
Our personal experience:
We mostly dined at restaurants that didn't require reservations, but one that we'd highly recommend is Merriman's Restaurant. They specialize in local, farm-to-table fare and have locations on the 4 main islands.
We dined with them on the Big Island at their flagship location (Waimea), and had such a wonderful experience. It was by far our favorite meal in Hawaii. Check their website for the menus and to make reservations.
6. Be prepared for rain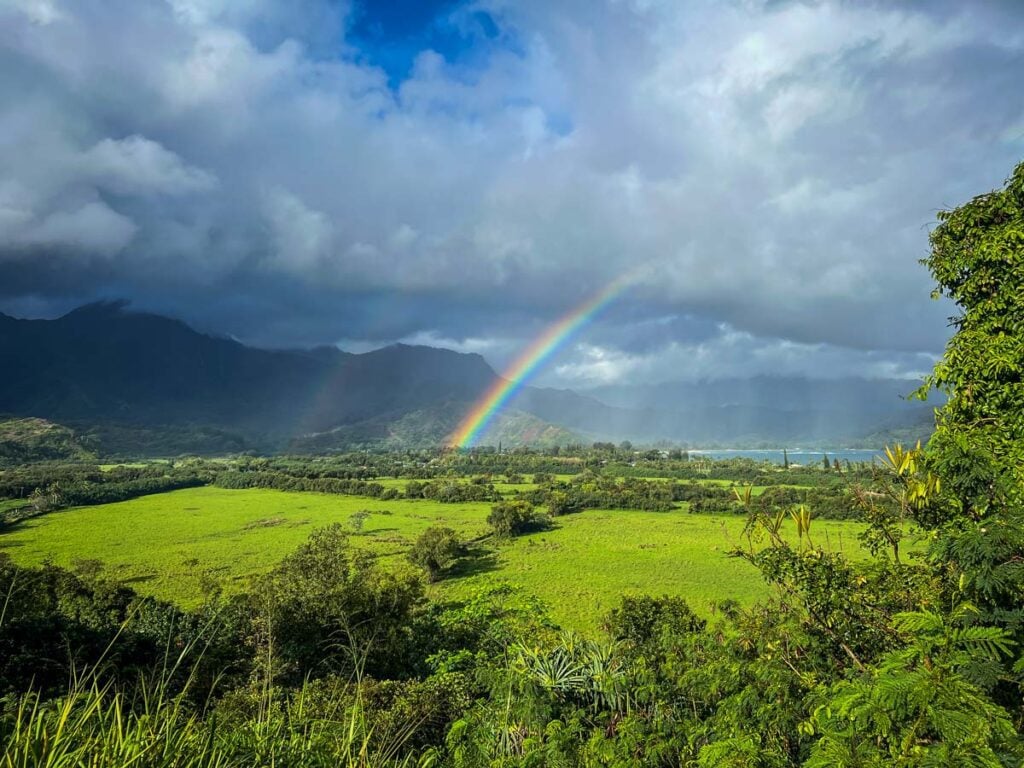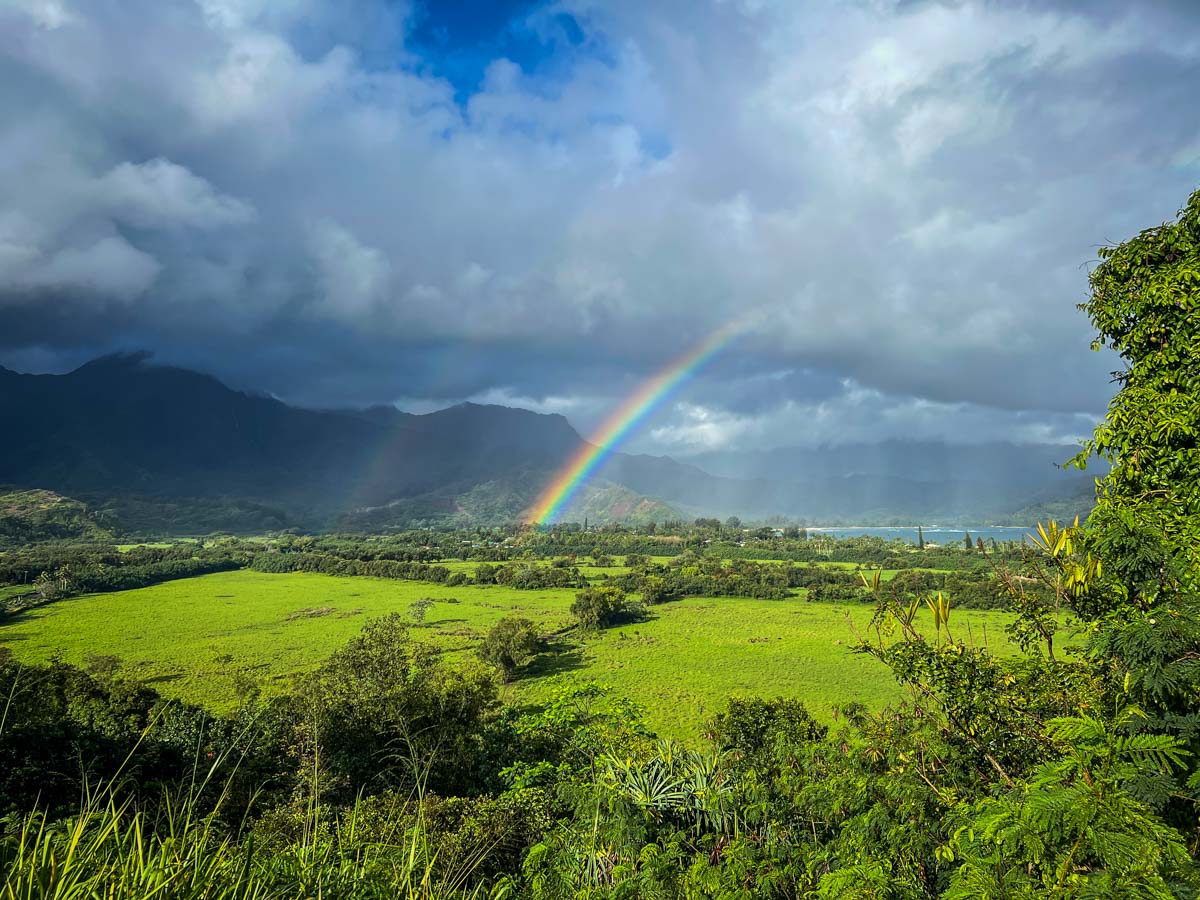 Hawaii is the wettest state in the US, so it should come as no surprise that you will likely experience rain of some sort during your visit. Yes, it can rain even if it's not "rainy season"!
Just like many tropical places in the world, rain comes and goes quickly most of the time. So if you see rain on the forecast don't get too disappointed.
You may experience a light sprinkle while it's still sunny (my grandma, who lived in Hawaii, called this "pineapple juice"). Or, you may encounter a straight up downpour where the skies show no mercy.
You might get both, like we did! After a rain, keep your eyes peeled for a rainbow – there's nothing quite like seeing one in Hawaii. Trust me.
If you experience no rain at all, consider yourself one of the lucky ones!
Insider Tip: We found this travel umbrella to be really handy in Hawaii. (We also used it on our trip to notoriously rainy Scotland!)
7. Have room in your luggage for souvenirs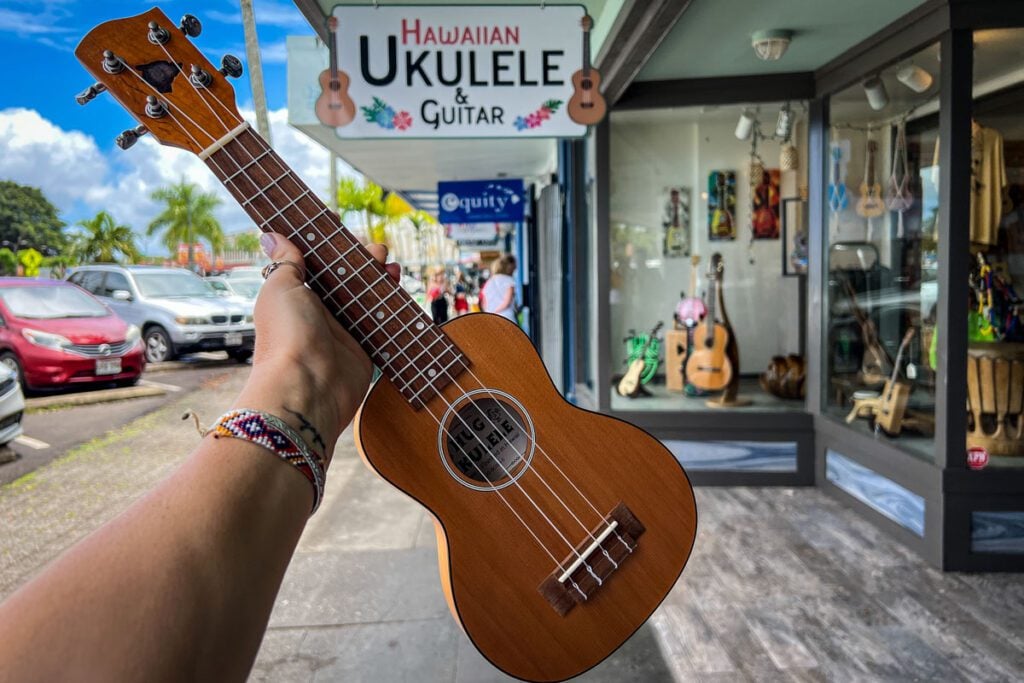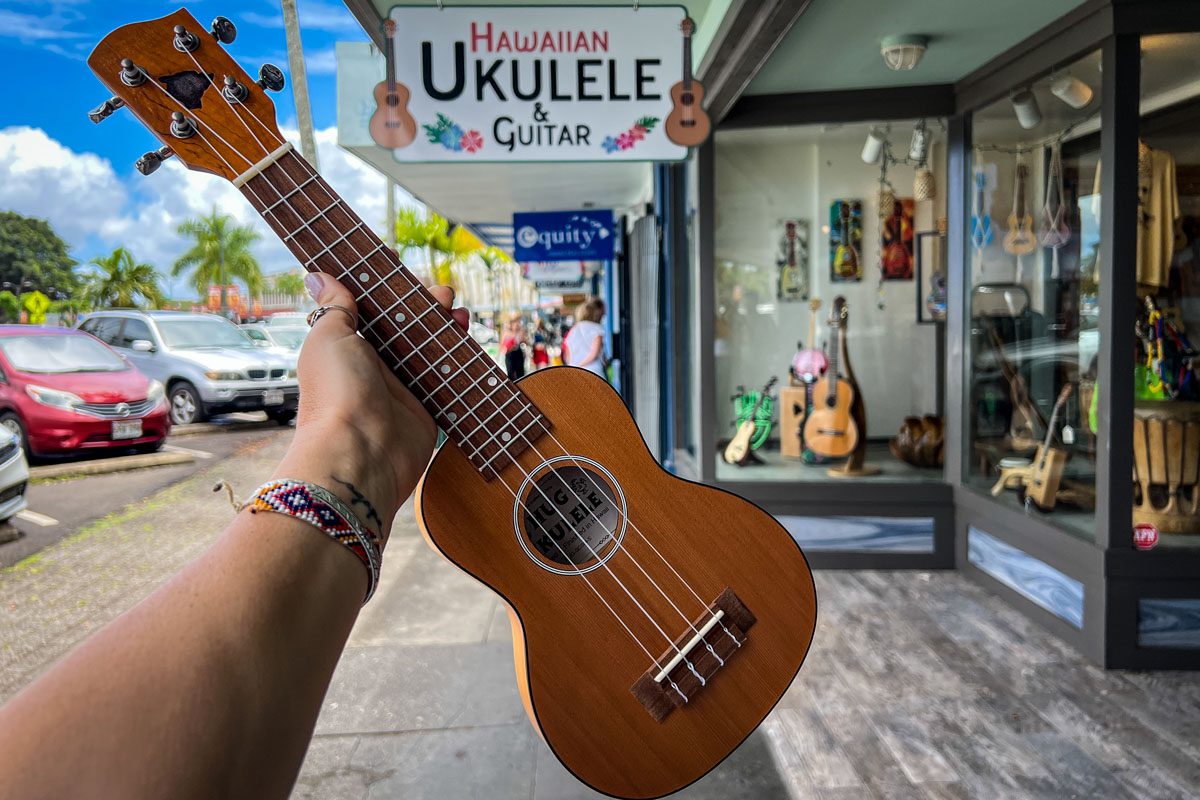 There are so many opportunities to buy souvenirs in Hawaii, that you'll definitely want to have room to bring some gems home.
Now, there are the typical cheesy souvenirs like you'd find anywhere (head to any ABC store for a good selection!), but there are also some really unique and beautiful things that will remind you of your time in Hawaii.
Ukulele*
Local artwork
Koa wood bowls or utensils
Macadamia nuts*
Lilikoi (passionfruit) jam*
Honey*
Jewelry
Kona coffee
Hawaiian sea salt*
I could go on and on… But trust me, and make some wiggle room in your luggage!
*we personally bought these items to bring home!
8. Pack some reusables
We were surprised by just how many restaurants served food in takeaway containers and with plastic utensils. This even happened regularly at restaurants where we were dining in. Sure, some of the utensils are labeled as "compostable", but they still take a long time to break down.
We packed our own bamboo utensils that we love but it took us a while to remember to specifically ask for no utensils (and to carry them on us!).
Bring some utensils, a reusable water bottle, a metal straw, and a reusable bag to do your part to reduce the amount of single-use plastic you consume. We find it especially important to try our best when we're traveling on islands, as trash disposal systems have even more barriers than on larger bodies of land.
Hawaii Packing List
While this is not a comprehensive list, these are some of the items you definitely don't want to forget for your trip to Hawaii!
Sun hat
Swim suit
Rash guard (if you plan to do lot of snorkeling, this will minimize sunburn on your back)
Cover up
Comfortable and lightweight clothing
At least one warmer layer

Good to know: If you plan to go to Mauna Kea (Big Island) or Haleakalā (Maui), you will definitely need some warmer layers as these volcanoes are at very high elevation and can get quite cold.

National Park Pass (if you're on Maui or Big Island)
Be sure to download our complete packing list for Hawaii! It's packed with good suggestions and insider tips to help plan your Italy trip. And it's completely FREE, so why not!?
---
FAQs about planning a trip to Hawaii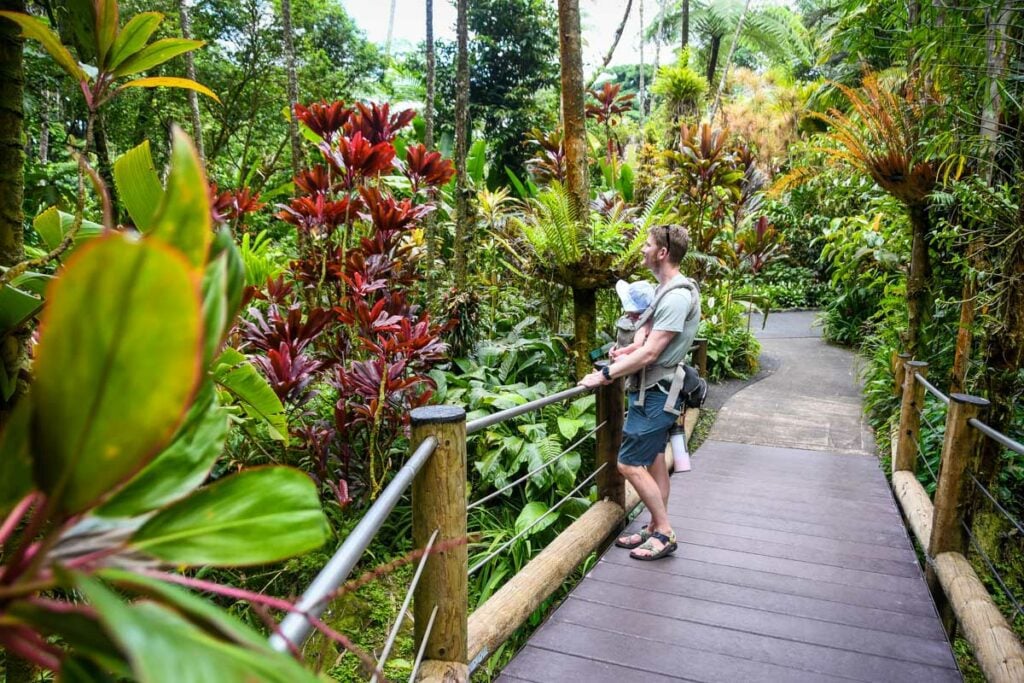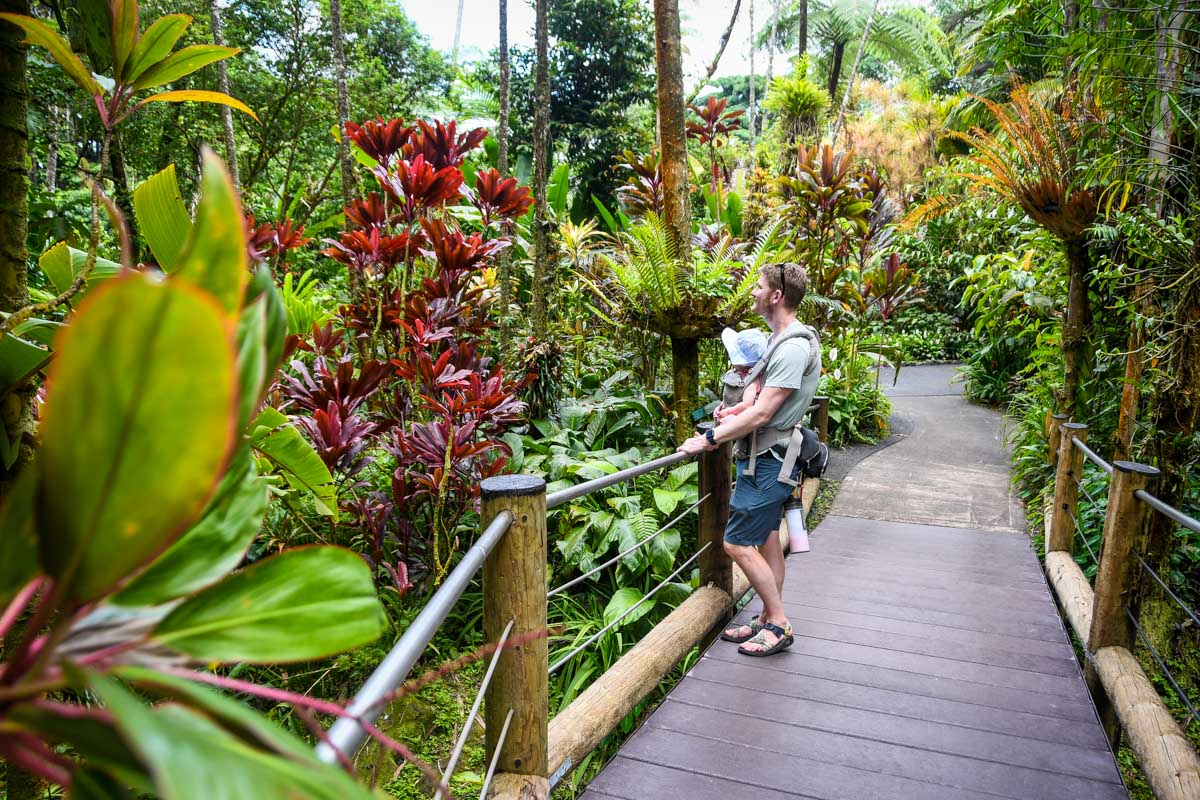 Still have questions after reading through this Hawaii trip planner? We've answered some of the most frequently asked questions below.
How many days do you need in Hawaii?
Is forever too many days?!
Okay, but for real, we think 2 weeks is a perfect amount of time to be able to see 2 different islands really well. You could squeeze in a third island, but you'd have to skip some of the major sights.
If you have more than 2 weeks, wonderful! Add more islands, get off the beaten path, or slow down a bit.
Personally, 5 days would be the minimum amount of time we'd spend on any of the islands.
What is the best time to visit Hawaii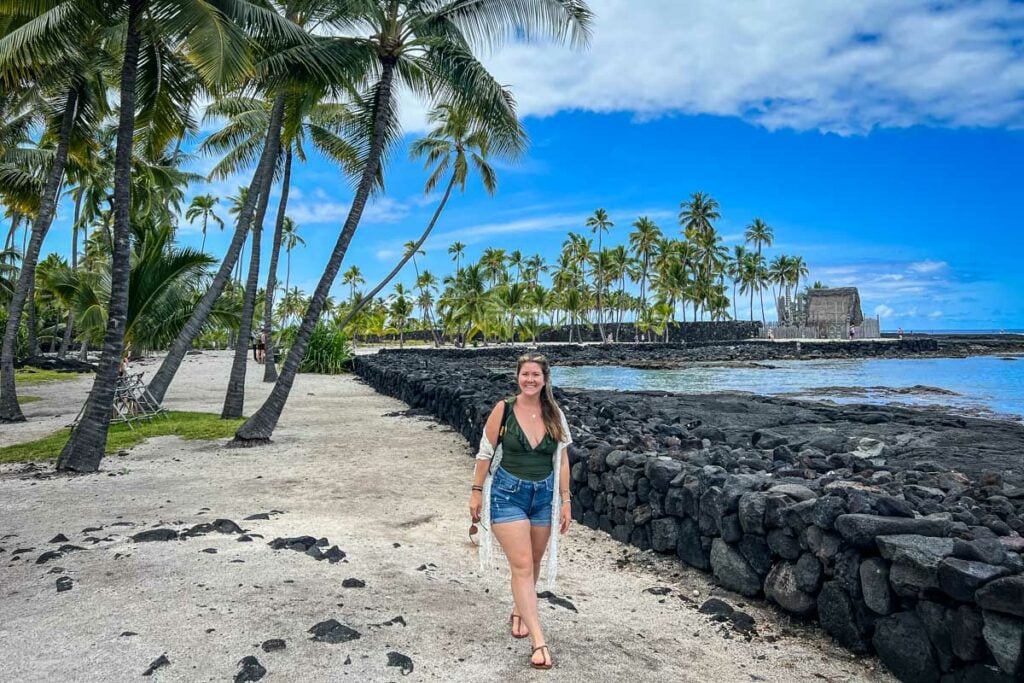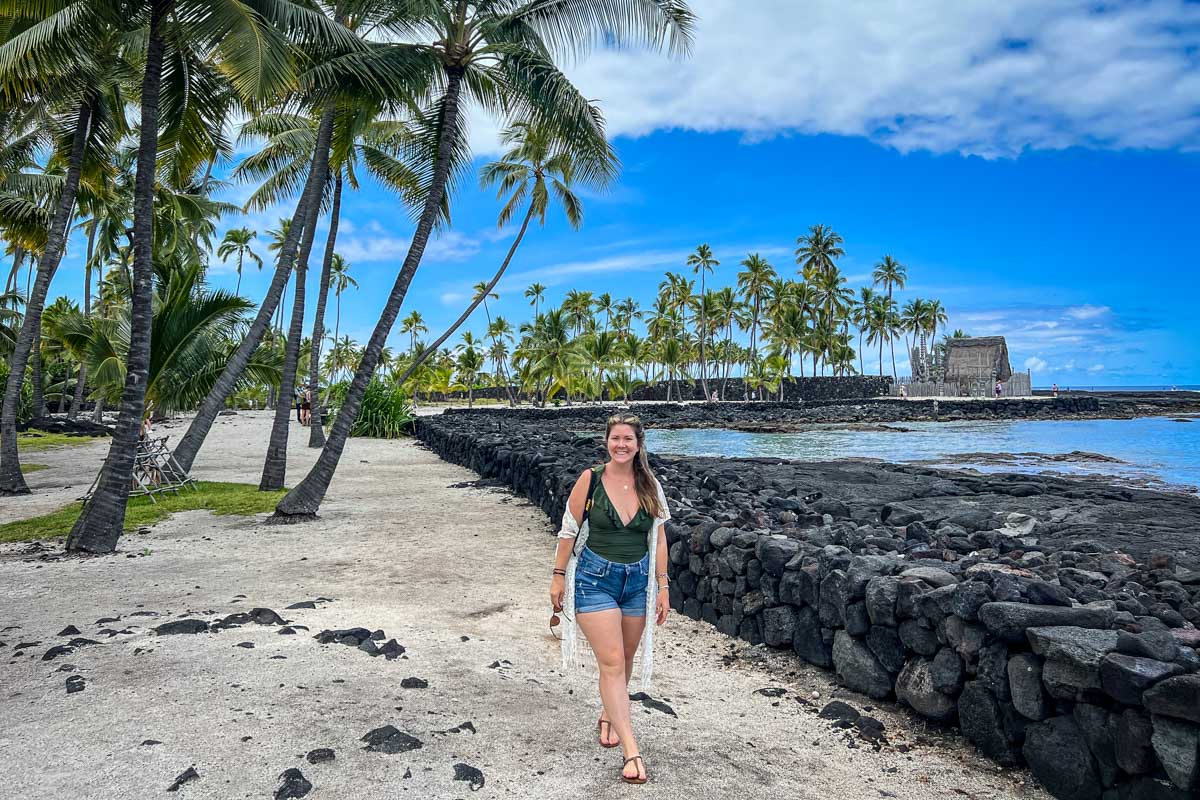 The best time to visit Hawaii is any time between late March and late October. These months bring the warmest weather, calmest water conditions, and lowest chances of rain.
There is one notable exception: if you're serious about surfing, you may actually want to visit Hawaii in the winter, when swells are generally much larger.
However, the best month depends on which island(s) you plan to visit and how you want to spend your time. Conditions differ slightly from island to island, so activities vary accordingly – the best time to swim or snorkel isn't necessarily the best time to go whale-watching.
For an in-depth guide on the regional seasons, weather patterns and other factors, check out our complete guide to the best time to visit Hawaii.
How much does a trip to Hawaii cost?
The answer to this question will vary greatly depending on your travel style and the time of year you go. But the truth is, Hawaii is an expensive destination overall.
Luckily, we do have a handful of money-saving tips to help keep your budget under control.
Is Hawaii kid friendly?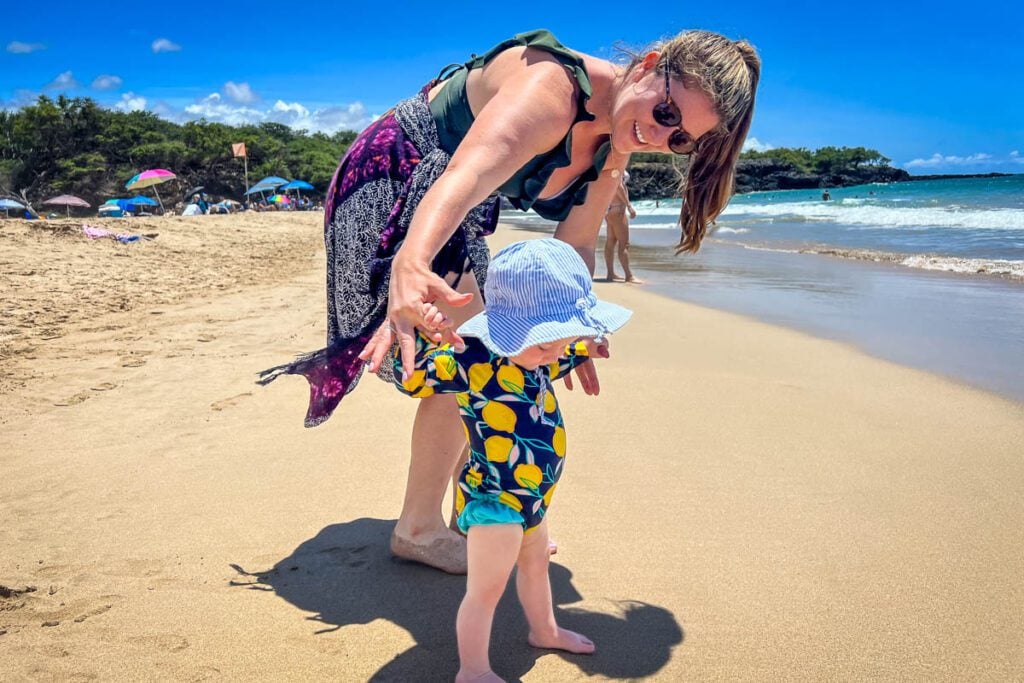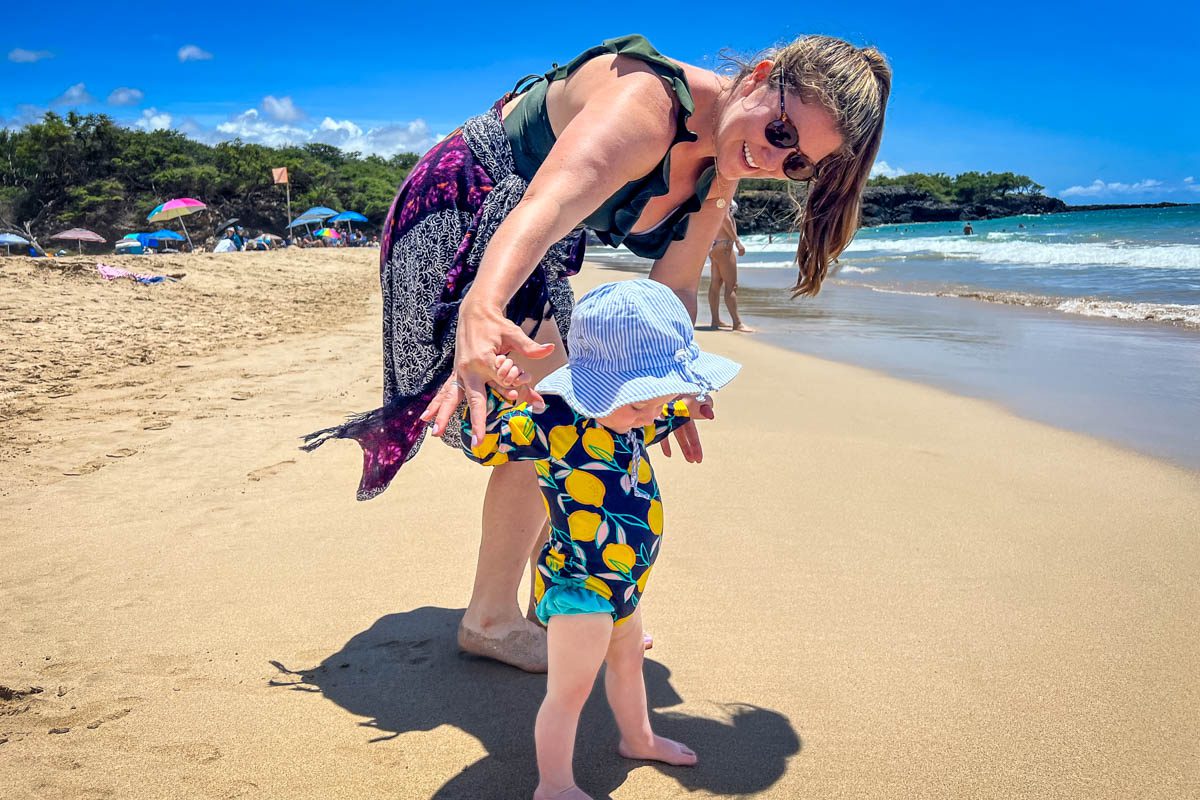 Absolutely! We traveled to Hawaii when our daughter was 16 months old. There are lots of family-friendly activities, accommodations and restaurants in Hawaii.
However, one thing I will point out is that there are a lot of bucket list experiences in Hawaii that are not child friendly too. We have serious FOMO and this part was hard for us, as a lot of the things we wanted to do just didn't allow young children.
Luckily, we were traveling to Kauai with my parents who were kind enough to watch our daughter when we did a handful of non-baby-friendly activities, like the Kalalau Trek (epic, but not great for little ones), Mountain Tubing and a helicopter flight.
We traveled alone on the Big Island and knew we wanted to snorkel with manta rays. Our Airbnb host has two daughters who babysit and we felt comfortable with them watching her for a few hours while she slept at night. Everyone's comfort level is different, though.
Popular activities that young children are not allowed to join:
Mauna Kea summit (we had to skip this)
Night snorkeling with manta rays
Helicopter flights
Scuba diving
Boat tours
Hawaiian words to know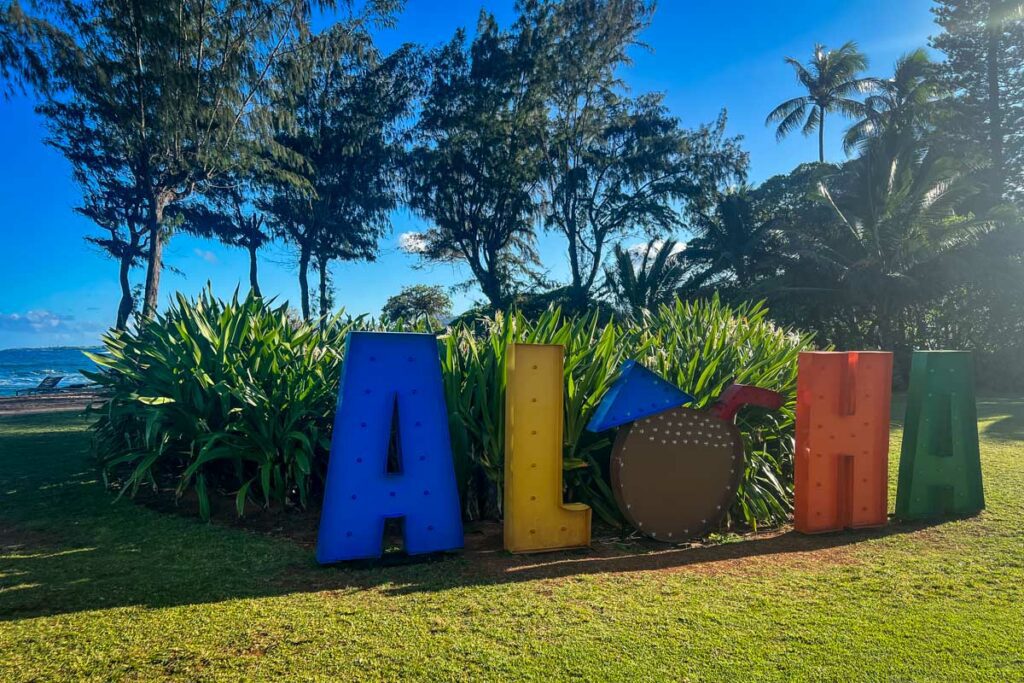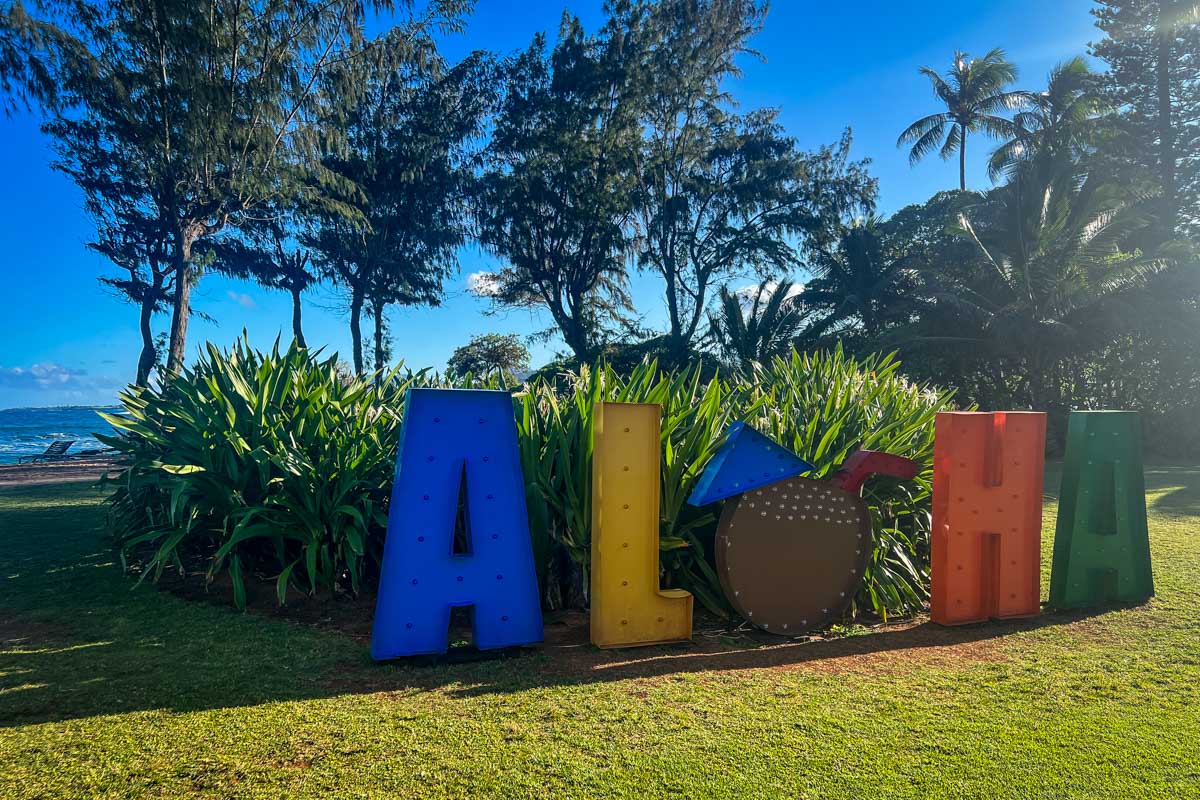 Some of these words are from the Hawaiian language while others are slang.
We tried to narrow down this list to be the words you are most likely to hear on your trip to Hawaii so it's not too overwhelming.
aloha = this greeting can mean both hello and goodbye; it's also a feeling of kindness and love (the aloha spirit)
mahalo = thank you (use this word often!)
ohana = family
lanai = porch or patio
aina (aye-nah) = land
mauna = mountain
honu = turtle
grindz = slang for food
ono = delicious
Pupus (poo-poos) = appetizers or finger food (My grandma who lived in Hawaii used this word all the time! When I was little, I thought that was just the English word for hors d'oeuvres)
lilikoi = Hawaiian word for passion fruit
haole (HOW-lee) = Caucasian or White person; it can be used as a descriptor, but can also be derogatory
shaka = this iconic Hawaiian hand gesture (with thumb and pinky sticking out) is used as a friendly gesture to signify something good (like a thumbs up or a friendly wave). Sometimes referred to as "hang loose" or "right on".
Hawaii fun facts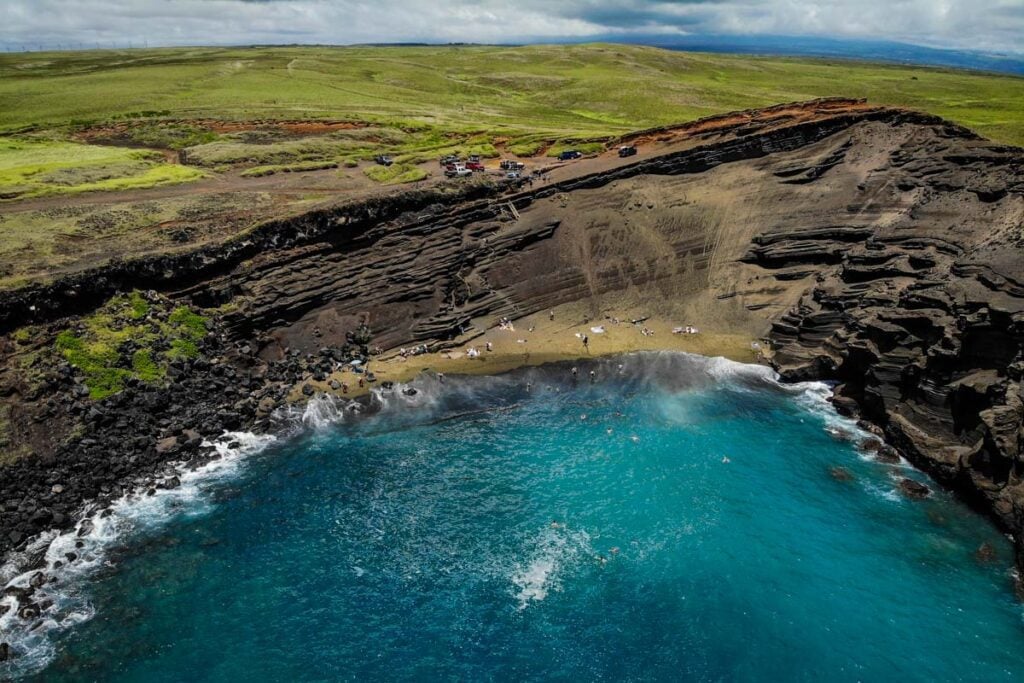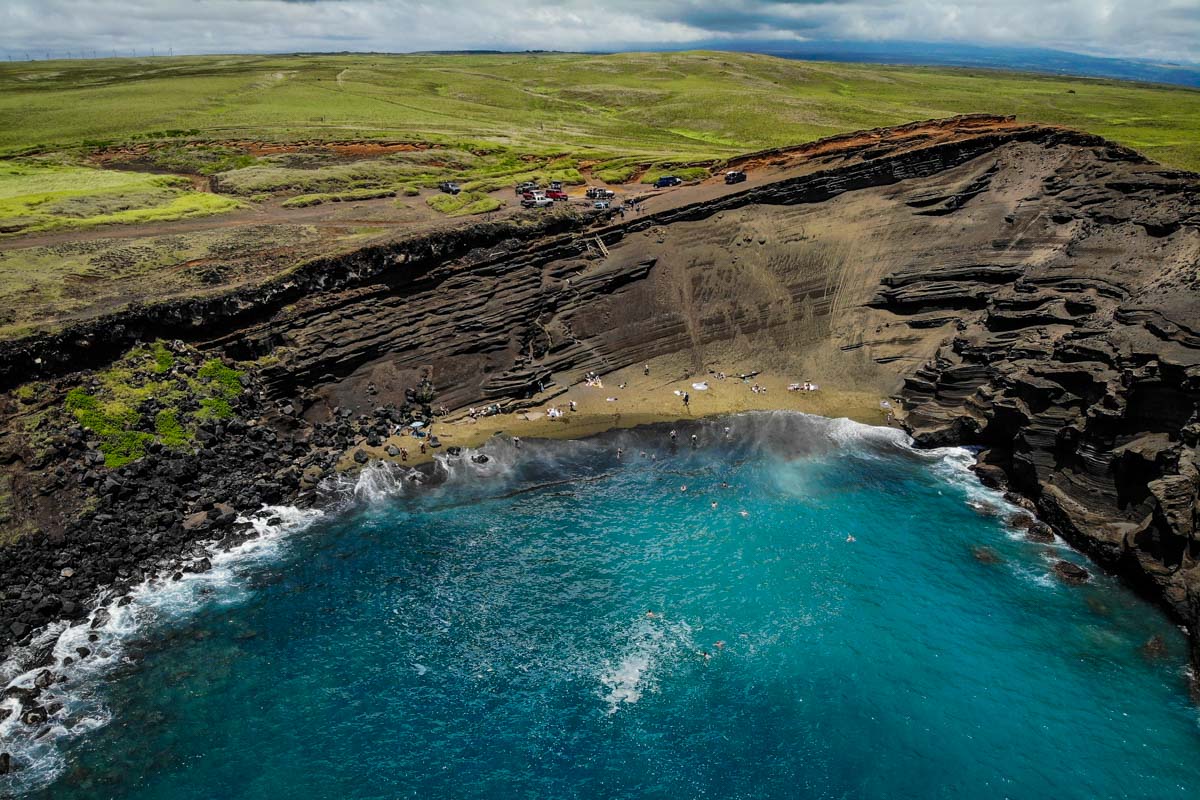 1. Hawaii is the only state in the U.S. that grows coffee beans.
2. Kauai's Mount Waialeale is the wettest place on earth.
3. Contrary to popular belief, neither macadamia nuts nor pineapple are not native to Hawaii.
4. The official languages of Hawaii are English and Hawaiian, making it the only U.S. state to have two official languages.
5. Mount Haleakala (located on Maui) is the largest dormant volcano in the world.
6. Gambling is illegal in Hawaii. The only other U.S. state to ban all forms of gambling is Utah.
7. Surfing is thought to have been invented in Polynesia, but it became truly popular when it was brought to Hawaii.
8. Mauna Kea is the tallest mountain in the world if you measure it from its base on the seafloor (surpassing Mount Everest by more than 1,300 meters).
9. It can snow in Hawaii! The three highest mountains (Haleakala, Mauna Kea, Mauna Loa) get snow each winter and have pretty frigid temperatures year round.
10. Ni'ihau is known as Hawaii's "forbidden island". It is privately owned and tourists can not visit it unless invited by one of the island's 170 residents.
Hawaiian foods to try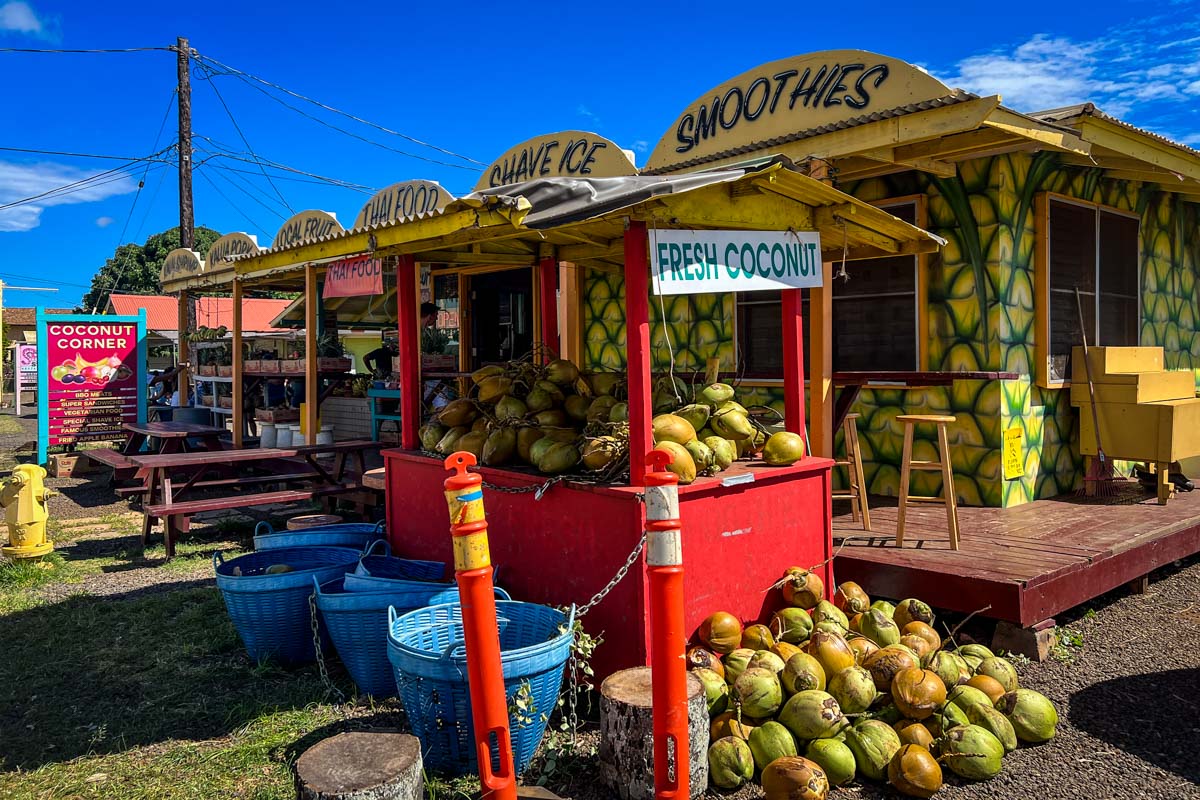 Hawaiian food draws influence from a variety of countries, reflecting settlement and immigration to the islands over centuries.
You'll recognize parts of Japan, China, Korea, Portugal, the Philippines, and Puerto Rico shining among original Hawaiian ingredients to create a unique fusion food.
What makes it truly extraordinary is that rather than all the ingredients blending together, each one retains its integrity and richness, telling the story of immigration, integration, and the invention of something entirely new.
Foods to try: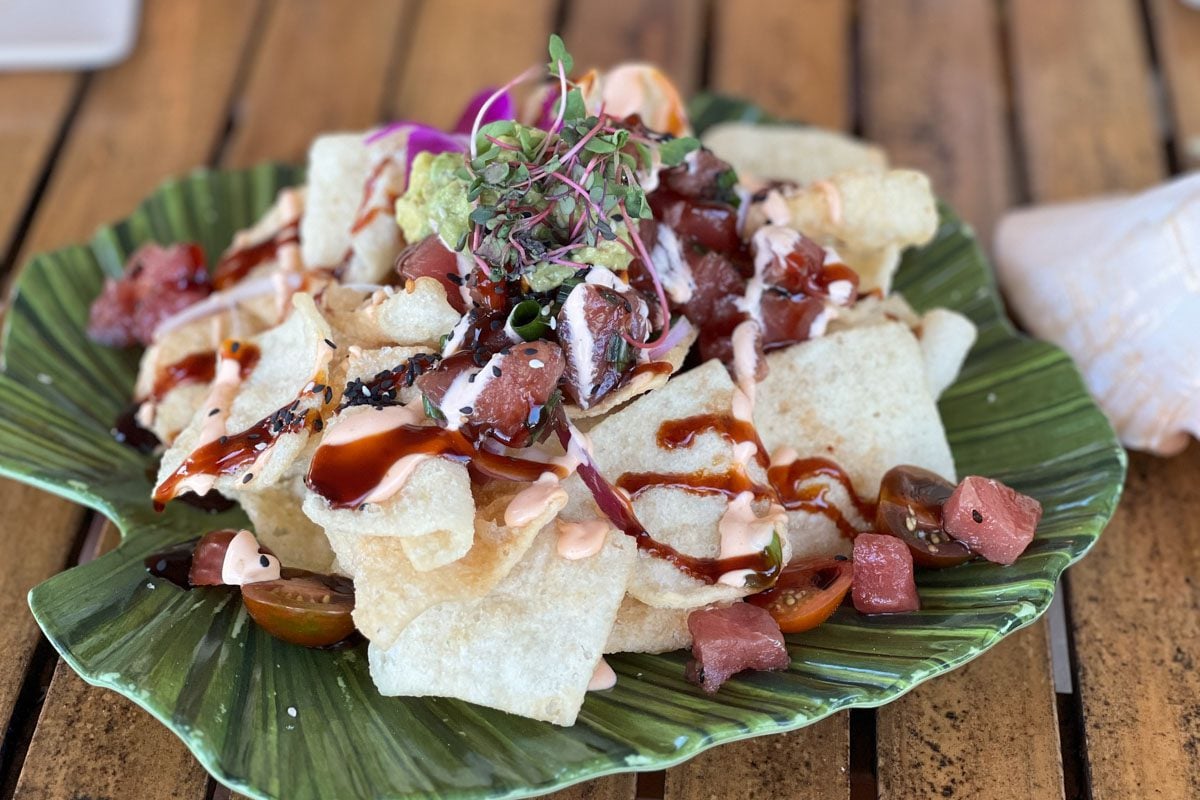 Loco moco: white rice topped with a hamburger, a fried egg, and brown gravy
Spam musubi: grilled Spam slice atop sushi rice, wrapped together with nori
Poi: staple food in the traditional Polynesian diet, poi is a thick and starchy paste made from the taro root and is light purple in color
Laulau: a Polynesian dish where taro leaves are wrapped around a filling, such as pork, fish, or coconut cream
Saimin: egg noodles in hot dashi topped with green onions and kamaboko (fish cake)
Poke: raw fish (typically ahi), diced and seasoned
Huli huli chicken: chicken grilled and marinated in a sweet and savory sauce
Kalua pig: often the star of the food at a luau, kalua pig is cooked for several hours underground in an imu, or earthen oven
Malasadas: fried, flat pastries filled with custard, chocolate, haupia, and guava
Shave ice: finely shaved ice decorated with fruit-based syrups and a wide variety of toppings
Li hing mui: originating from China, li hing mui is salty dried plum, and is a popular flavor for snacks
Haupia: this traditional Hawaiian dessert is made with coconut milk, and has a consistency between coconut jelly and pudding. It is often found at luaus.
Best way to get around Hawaii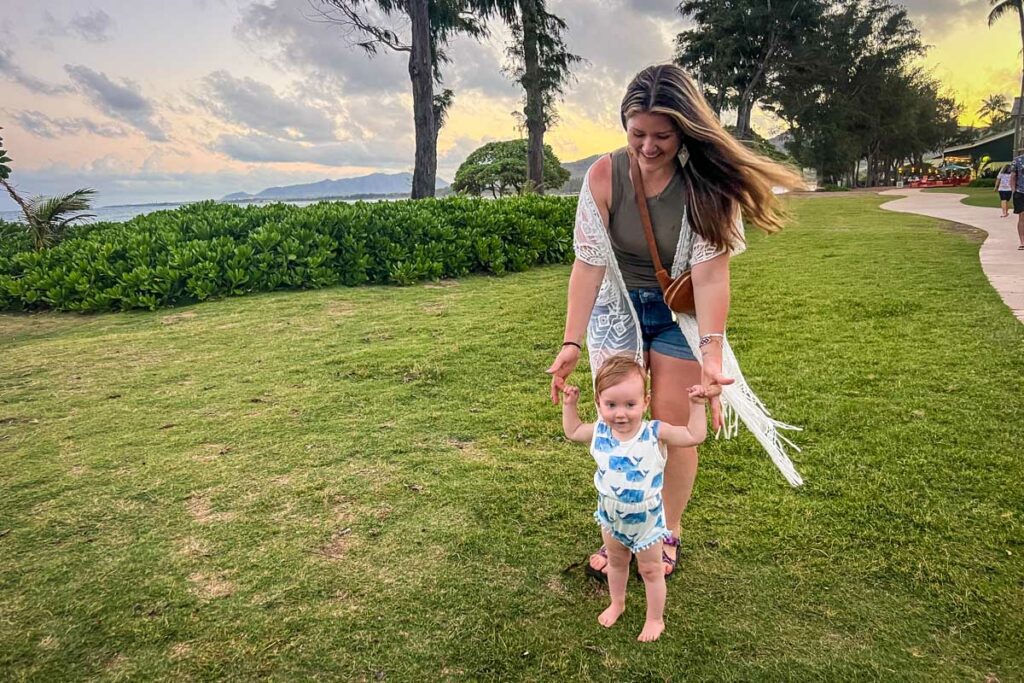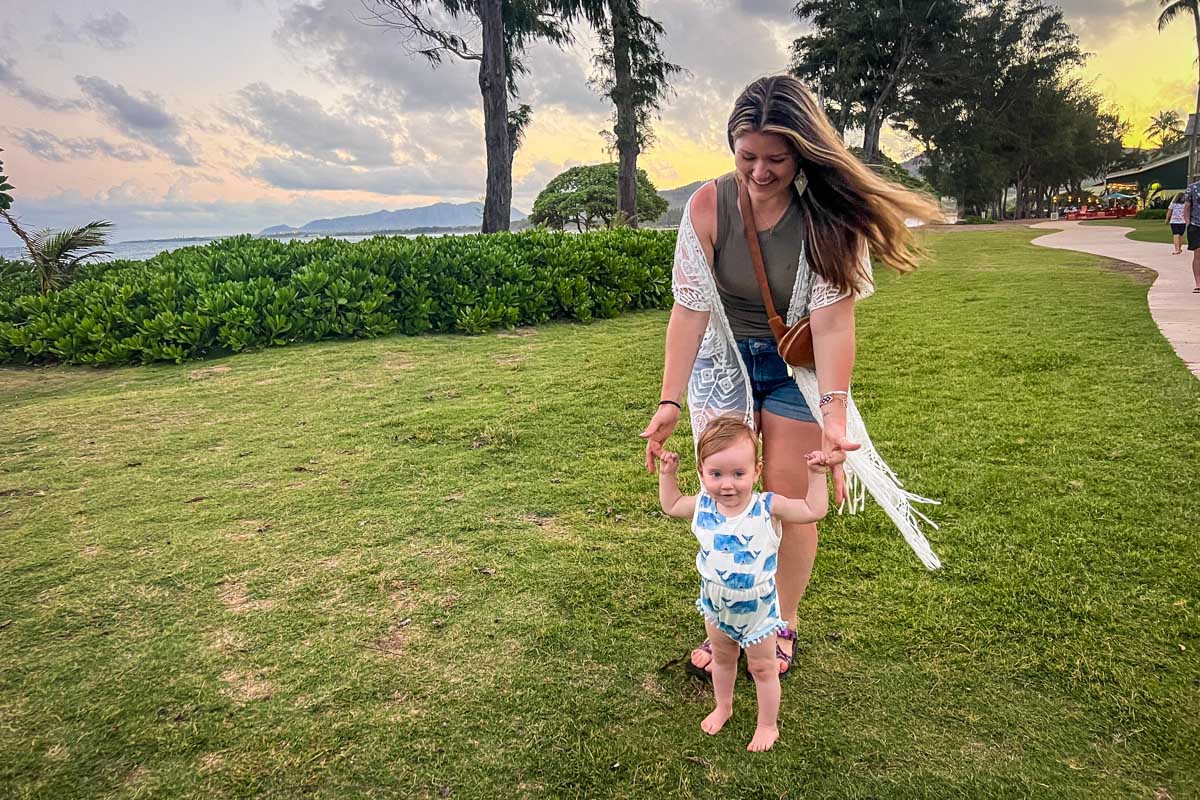 Unless you're on a tour group or just staying in Honolulu, you will definitely need a rental car.
This is a good news, bad news situation…
I'll get the bad news out of the way: Renting a car in Hawaii is expensive. There's no way around it.
The good news is that I have a few tips for saving money:
Typically when we book rental cars around the world, we compare Discover Cars and RentalCars.com to make sure we're getting the best deal.
Lately, we've been finding slightly better rates on Discover Cars, but it all depends on the location.
But as we were researching our trip to Hawaii, we found a new site completely…
Discount Hawaii Car Rental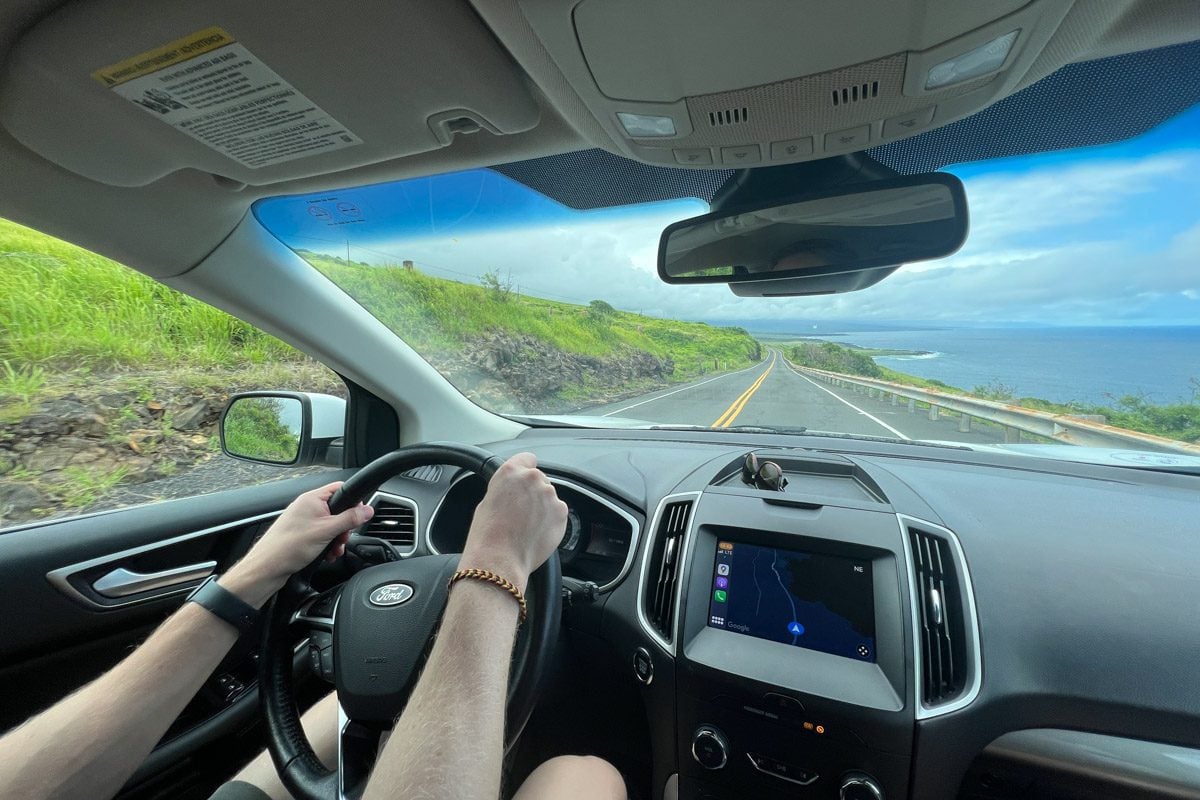 For an 8-day rental on the Big Island, we were quoted $904.35 on RentalCars.com (Discover Cars didn't have a 4×4 option for the Big Island; that's why it's always a good idea to compare).
But on Discount Hawaii Car Rental, our total for the SAME CAR came to $768.70.
That's a savings of $135.65!
Think about how much poke I can eat with an extra $135!
Do yourself a favor and look into all your options, because you might also find a huge savings!
Alternative: Turo
This is a car rental platform where individual people loan out their personal vehicles, kind of like Airbnb, but for cars.
The prices tend to be a bit lower than RentalCars.com, but in our experience were pretty on par with Discount Hawaii Car Rental. Also, on some islands, there aren't all that many cars available on Turo.
While this can be a great option depending on your needs, be sure you've read all the fine print and know exactly where you will be picking up and dropping off your car since it won't be through one of the typical rental companies.
Can you use Uber in Hawaii?
On the bigger islands, Uber is readily available, particularly in busy tourist areas. You'll have no problem ordering a ride on Oahu, Big Island, or Maui, and in Kauai's towns. There is no Uber on Lanai or Molokai.
The biggest thing to be mindful of is that finding an Uber back from a remote area may be difficult (or even impossible). You may not have cell service and even if you do, a ride could be hours away. Look into scheduling an Uber for your return trip, or arrange another ride to be safe.
Another thing to be aware of is that rideshares in Hawaii are expensive. It's worth comparing prices against Lyft, as well as Holoholo, a local rideshare company operating on Big Island, Oahu, Maui, Kauai, and even Lanai.
Hotels vs. Airbnbs in Hawaii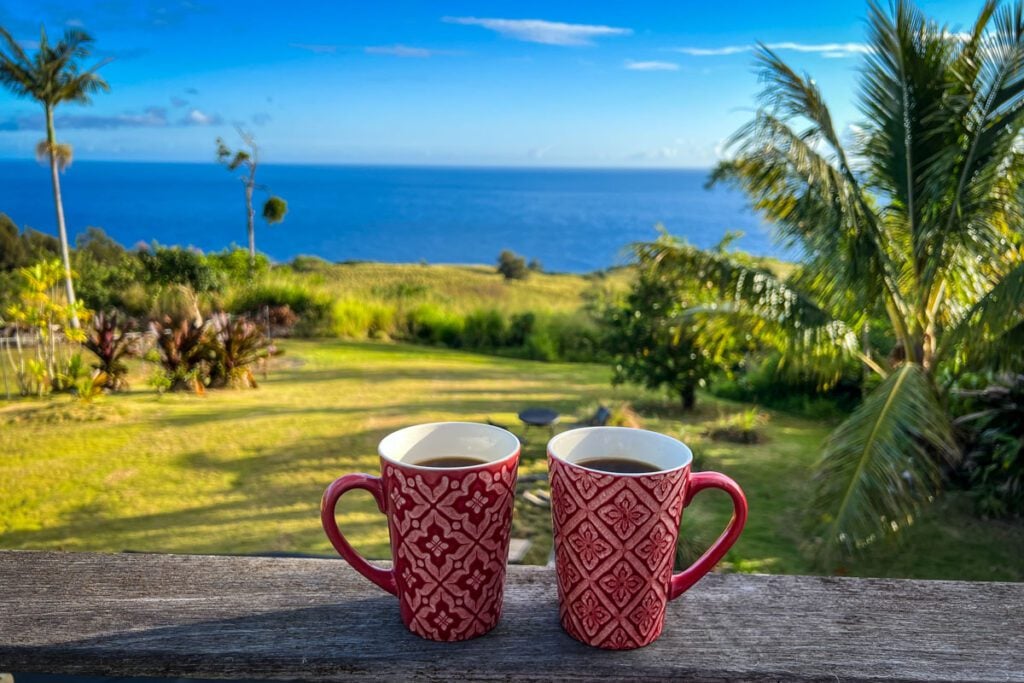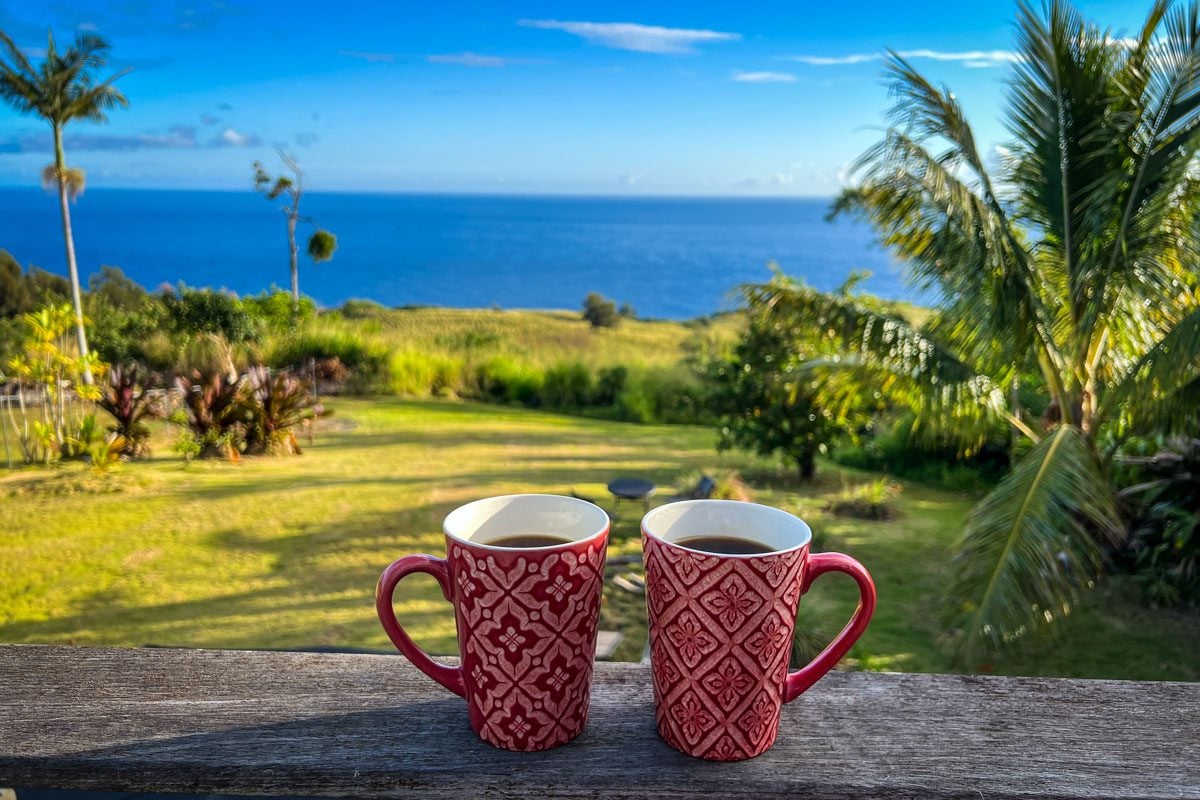 While searching for accommodation in Hawaii, you might be wondering how to choose the best places to stay.
Hotels, resorts and Airbnbs can all be good options, it just depends on your travel situation and what you are looking for.
Pros of Hotels and Resorts
Bigger and nicer pools that what you'll typically find at Airbnbs
Onsite restaurants (sometimes)
Staff to help
Pros of Airbnbs
More privacy
Slightly less expensive overall (in our experience)
There are some super unique Airbnbs in Hawaii
The option to cook for yourself (if you choose one with a kitchen)
How to choose
If you're looking for a big pool, onsite restaurants, and staff to help, a hotel or resort will be a better choice.
If you'd like the option of booking for yourself and a more "homey" stay, an Airbnb will be a good pick.
Insider Tip: If you're visiting during a busy time of year, be sure to book your accommodation asap. We booked accommodation about 2.5 months in advance and we have very limited choices.
Our experience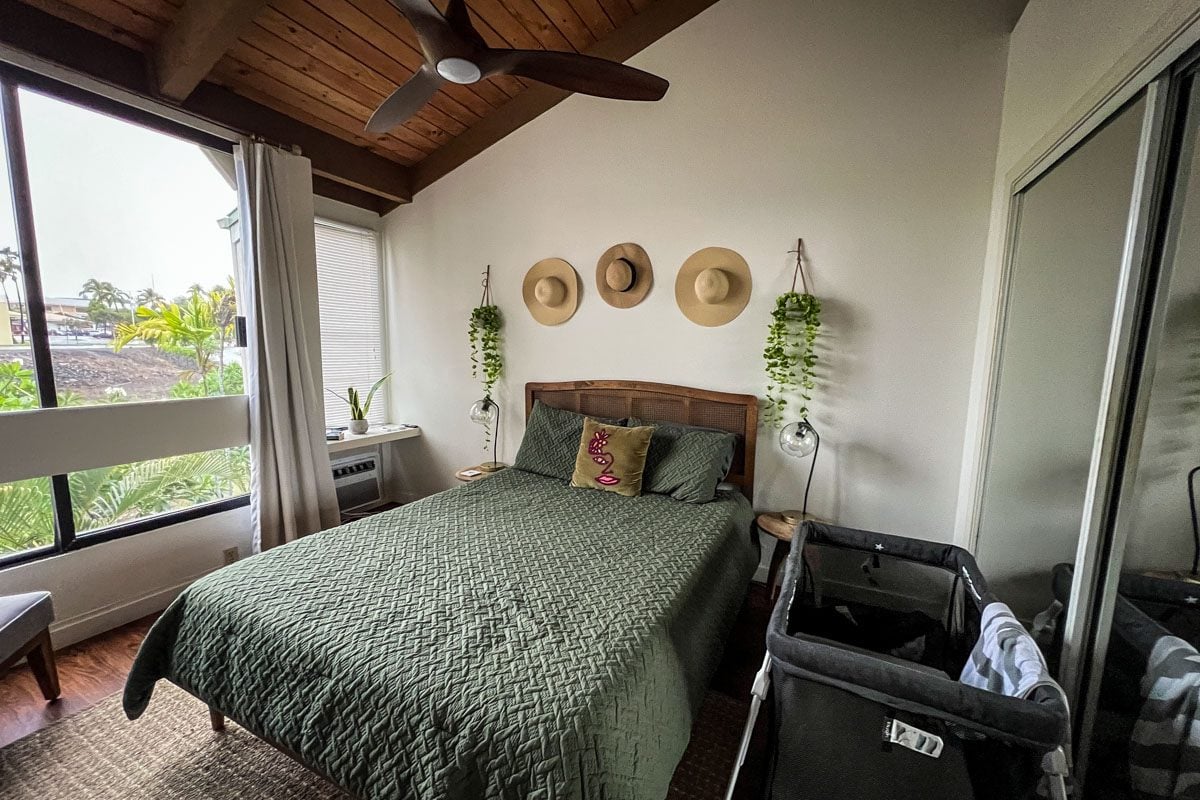 In our experience, we were traveling on Kauai with my parents (5 people total), so an Airbnb was our best option. It also gave us the ability to cook some meals for ourselves.
On Big Island, we were traveling just the 3 of us (Ben, our daughter, Juniper, and myself), so Airbnbs also worked really well.
We prefer Airbnbs a lot of the time when traveling with a baby because we can usually find properties that have separate sleeping spaces so we can hang out at night even after she goes to sleep.
Hawaii travel budget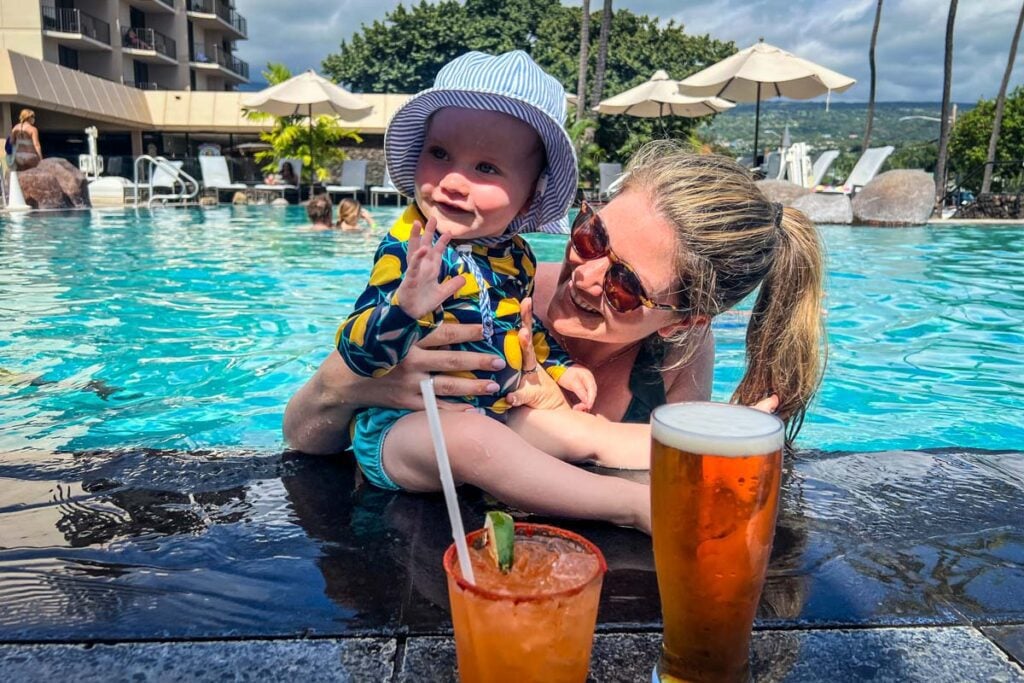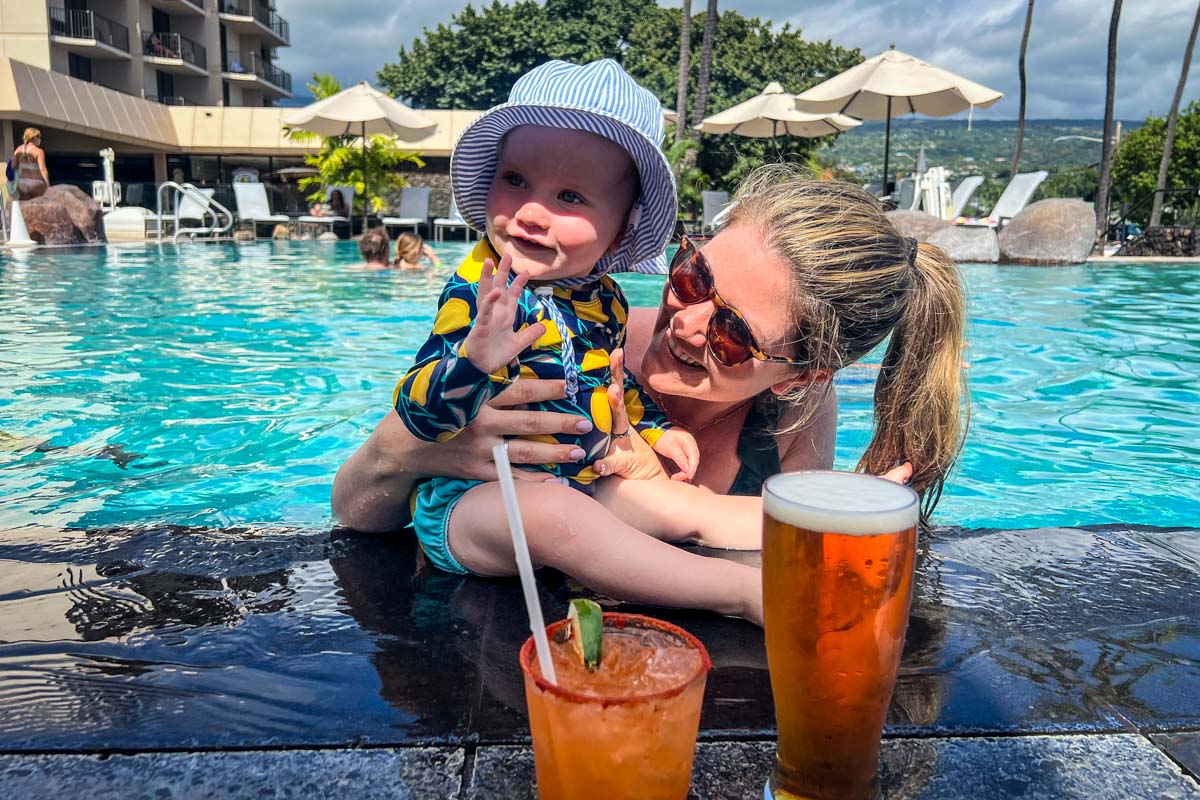 Being that it is an isolated network of islands, the cost of living in Hawaii is high. This means things like groceries, electricity, fuel, and accommodation are all more than you may be used to at home. These costs not only apply to locals, but tourists as well.
Your budget will vary based on your travel style and the time of year you visit Hawaii. Prices really fluctuate throughout the seasons reflecting peak and low tourist seasons.
We've rounded up some average prices for a midrange travel budget so you have an idea of what to expect.
---
Are you planning a trip to Hawaii?
We have lots of resources on travel in Hawaii and destinations around the islands. Check out our Hawaii Homepage for everything you need to know, or start by reading some of our favorite Hawaii travel articles to help you plan your dream vacation to the Aloha State:
Save this article on Pinterest for later!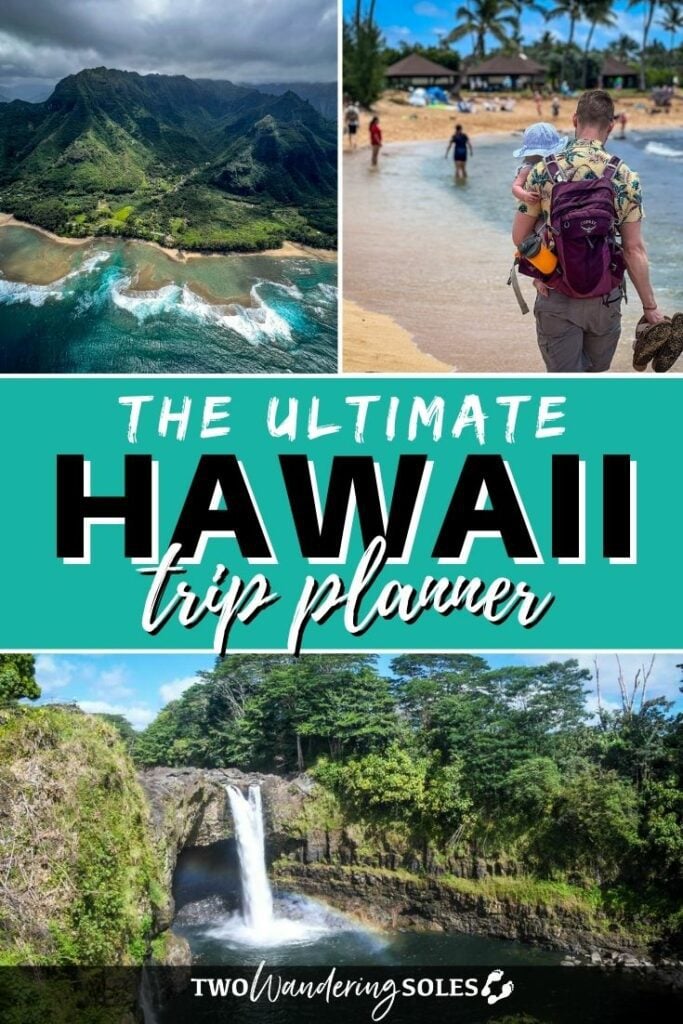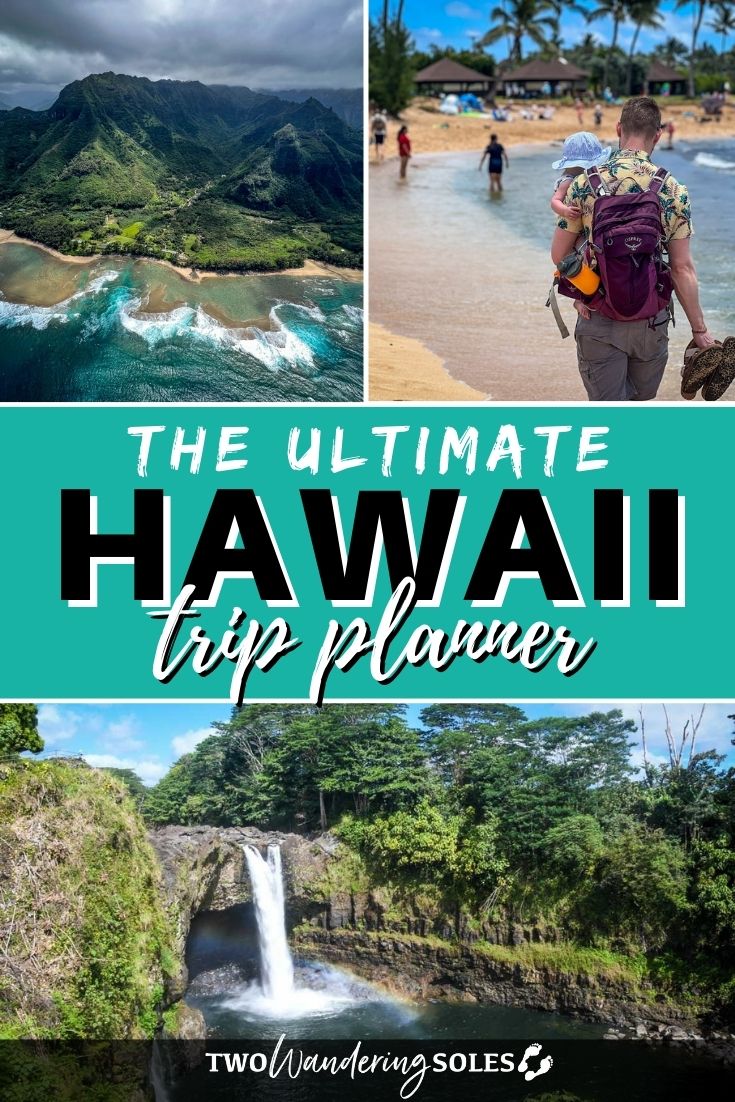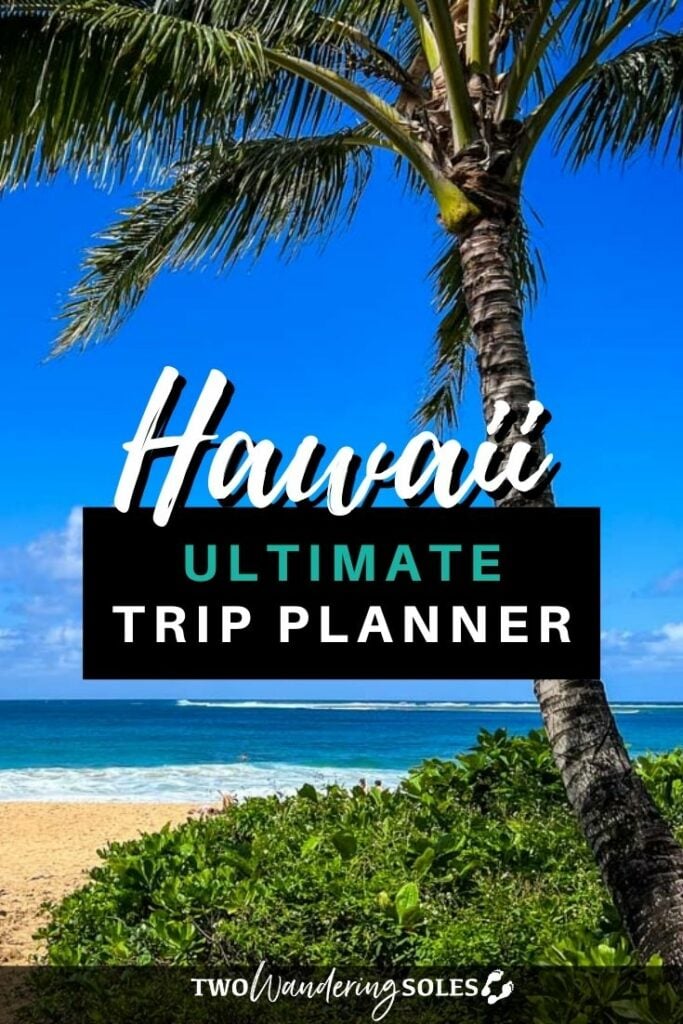 We want to hear from you!
Are you planning a trip to Hawaii and have more questions? Leave your comment below and we'll do our best to get back to you!