We've visited this Oregon Coast gem several times and have rounded up the best things to do in Cannon Beach, whether it's your first visit to this town or your tenth. Follow this guide to find out not only what to do, but where to eat, stay and how to plan your visit.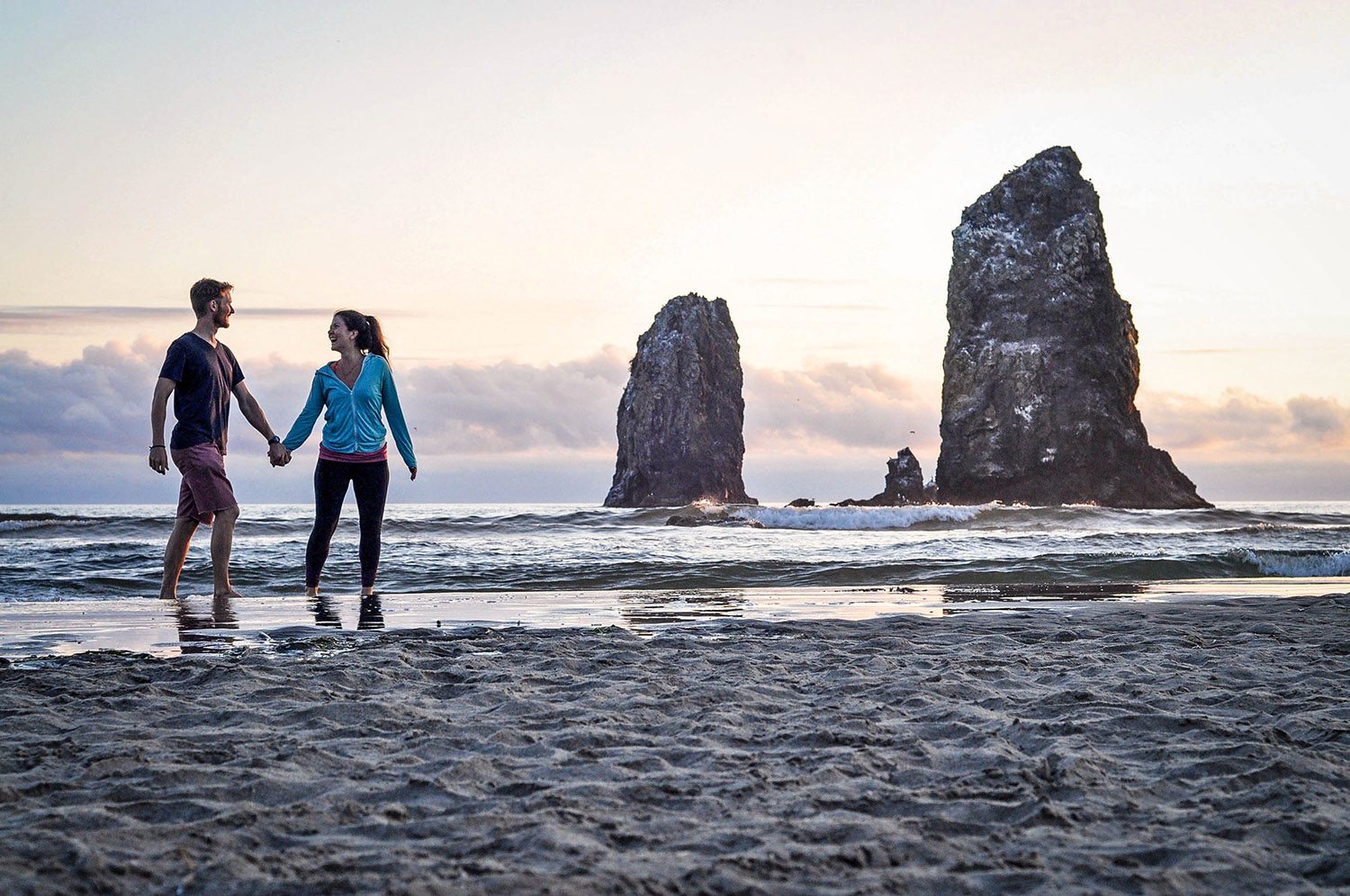 The Oregon Coast is dotted with cute coastal towns, but without a doubt, one of the most charming and picturesque of them all is Cannon Beach. Known for the iconic Haystack Rock that sits in the waters just offshore and makes a stunning backdrop for those epic West Coast sunsets.
Fun Fact: Yes, Haystack Rock was featured in the eighties classic, The Goonies.
Cannon Beach is by definition a tourist town — but the cute kind, if we do say so ourselves! All the houses and buildings have the classic cedar shingle look, oozing laidback coastal vibes. And not far from town are a handful of beautiful surf beaches and forested hiking trails, making Cannon Beach a good jumping-off point for all sorts of adventures.
We've visited this Oregon Coast gem several times and have rounded up the best things to do in Cannon Beach, whether it's your first visit to this town or your tenth.
Let's jump right in…
Planning to visit more places on the Oregon Coast? This Oregon Coast guide has everything you need to know as you plan your trip!
---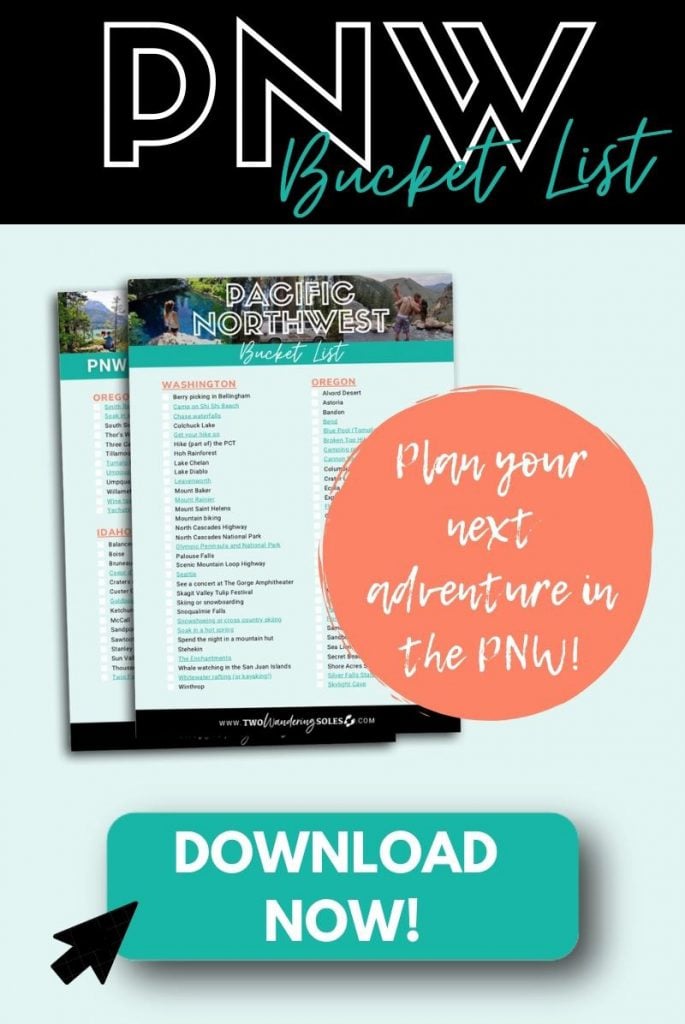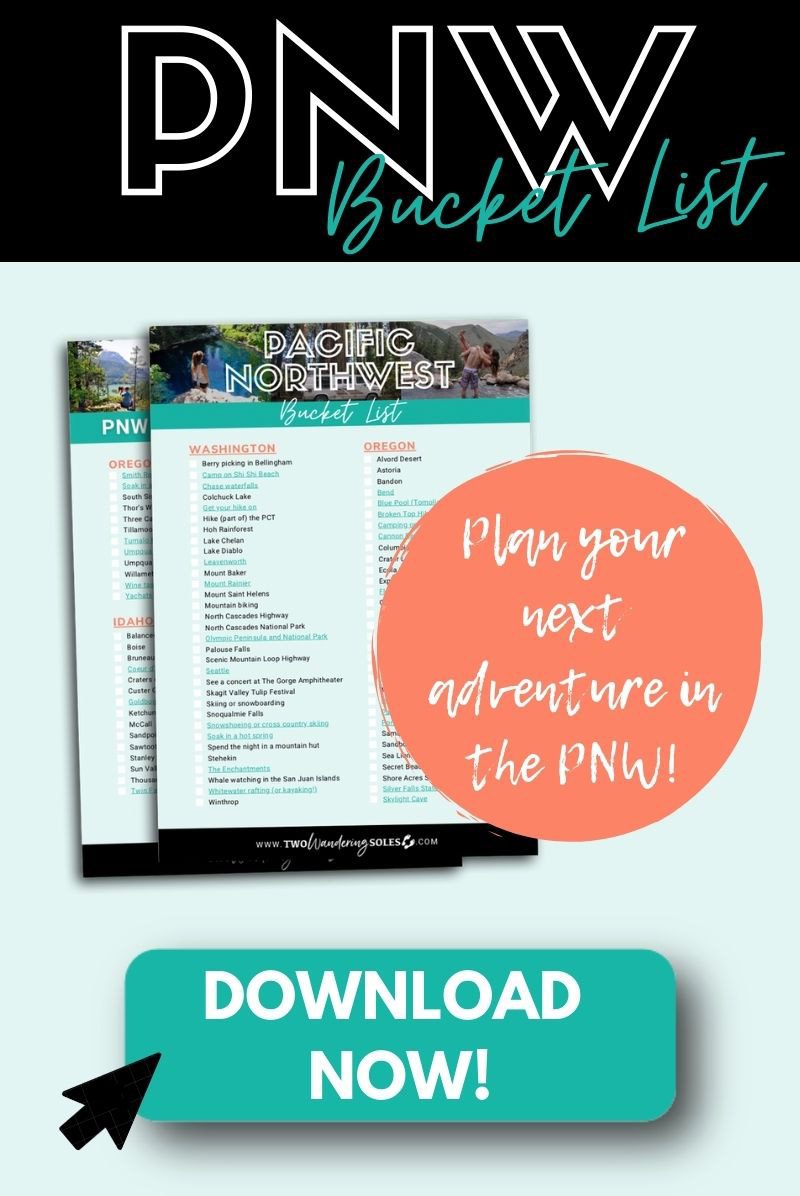 ---
1. Build a bonfire by Haystack Rock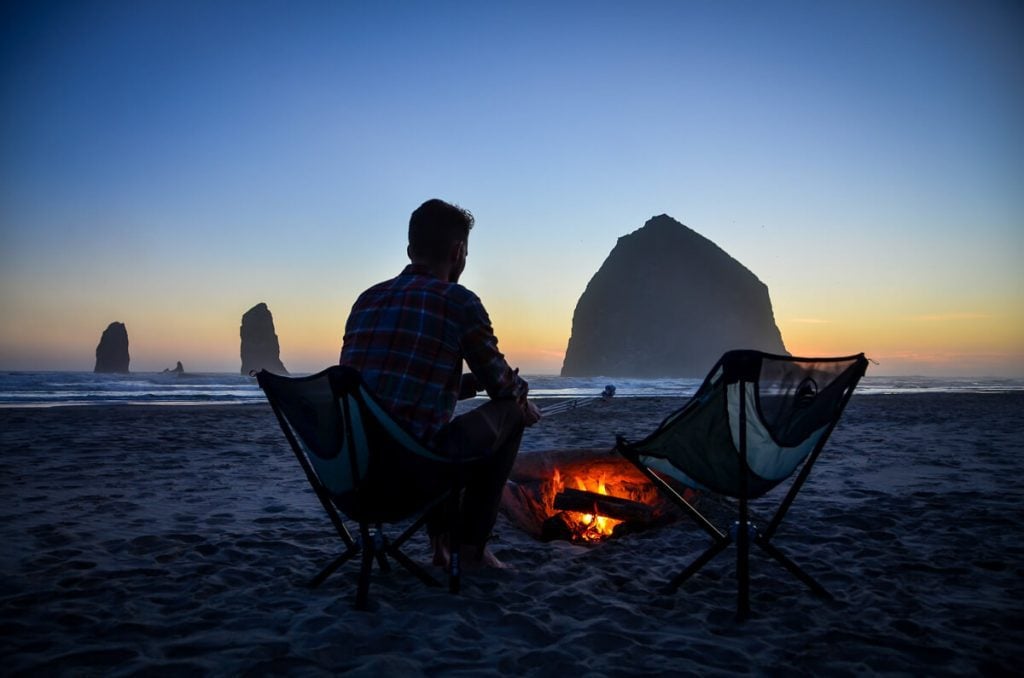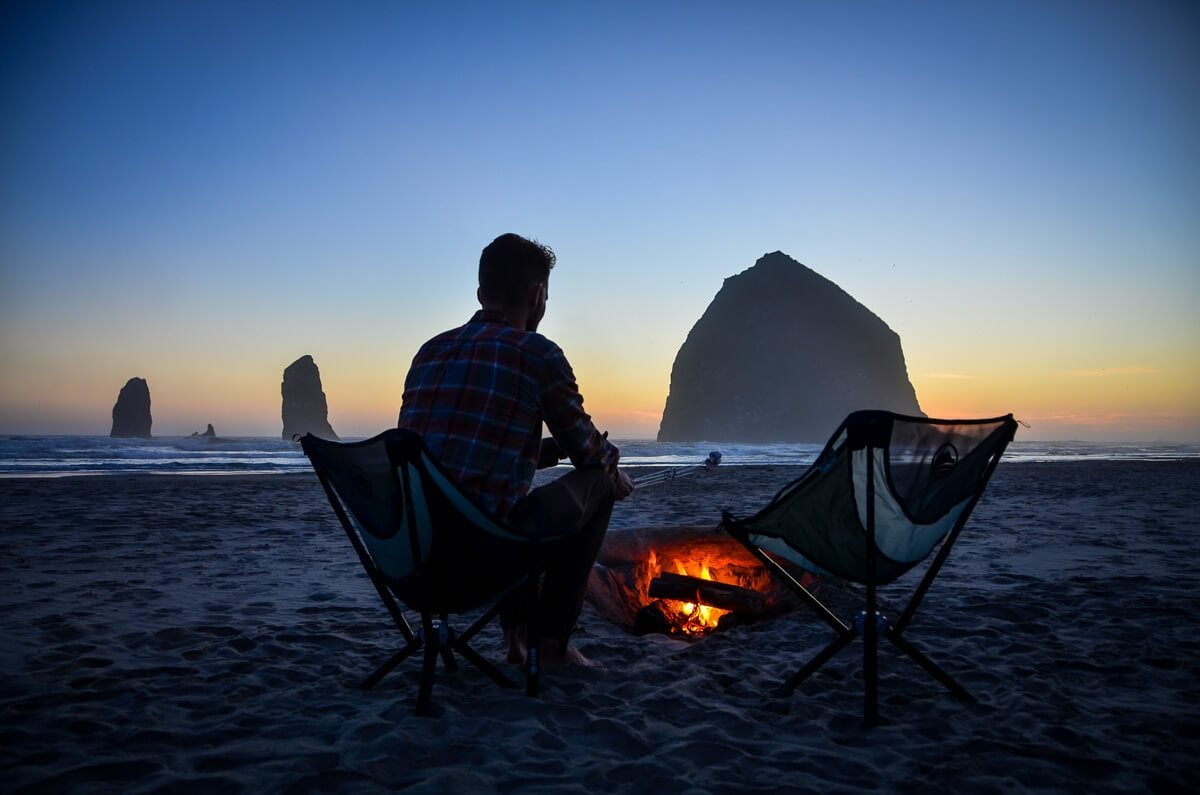 Unless otherwise noted, it is possible (and legal!) to build a bonfire on Cannon Beach. Watching the sun sink in the sky with a bonfire keeping you warm is an Oregon Coast experience you'll never forget. Plus, with the iconic Haystack Rock in the near distance, the view can't get much better.
How to do it yourself: Grab a bundle of wood from one of the grocery stores in town (we got ours at Mariner Market for $7). Be sure you check high tide and also the time of sunset. You definitely don't want to be building your fire in a spot where the tide will wash it away!
Pack s'more fixings and roasting sticks for an extra special treat. And don't forget blankets and extra layers, as it gets pretty cold and windy on the beach in the late evening.
Insider Tip: If the sand is wet, it's a good idea to put a flat piece of wood on the ground as a base for your fire. We had a bit of a rough start getting ours started directly on the sand. We also like to keep fire starters in our "camping kit" to give us a little extra help!
2. Spot starfish (& other critters) in the tide pools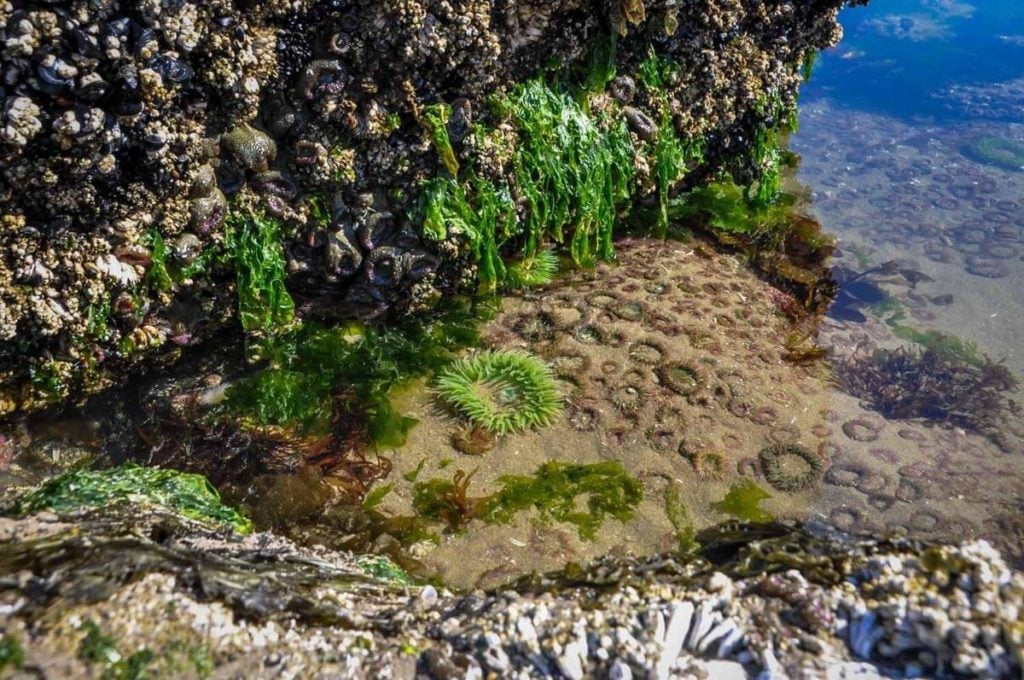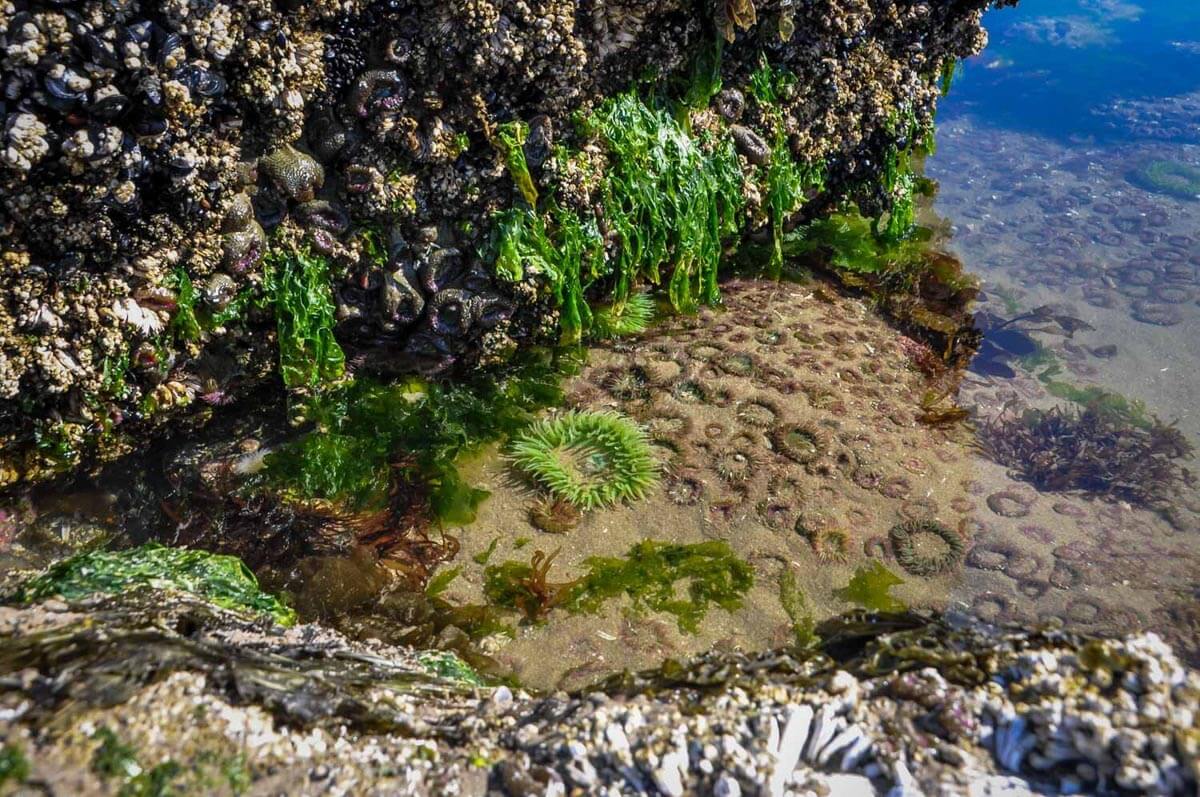 This part of the Oregon Coast is full of starfish, anemones and all sorts of other sea creatures. The best way to see them is to arrive at the beach at low tide. As you walk out toward Haystack Rock, you'll see small pools at your feet.
Be very careful where you step, as to not disturb the little critters in these pools. There are sometimes volunteers standing around at low tide to help ensure people walk carefully and to answer some basic questions.
Psst! Check the tides here.
3. Spend an afternoon at Arcadia Beach
If you just can't get enough of the beach and want a change of scenery, Arcadia Beach is just a handful of minutes south of town and is yet another heavenly slice of the Oregon Coast. Stop for a quick peek or bring chairs and a blanket for an afternoon in the sun.
4. Enjoy a morning coffee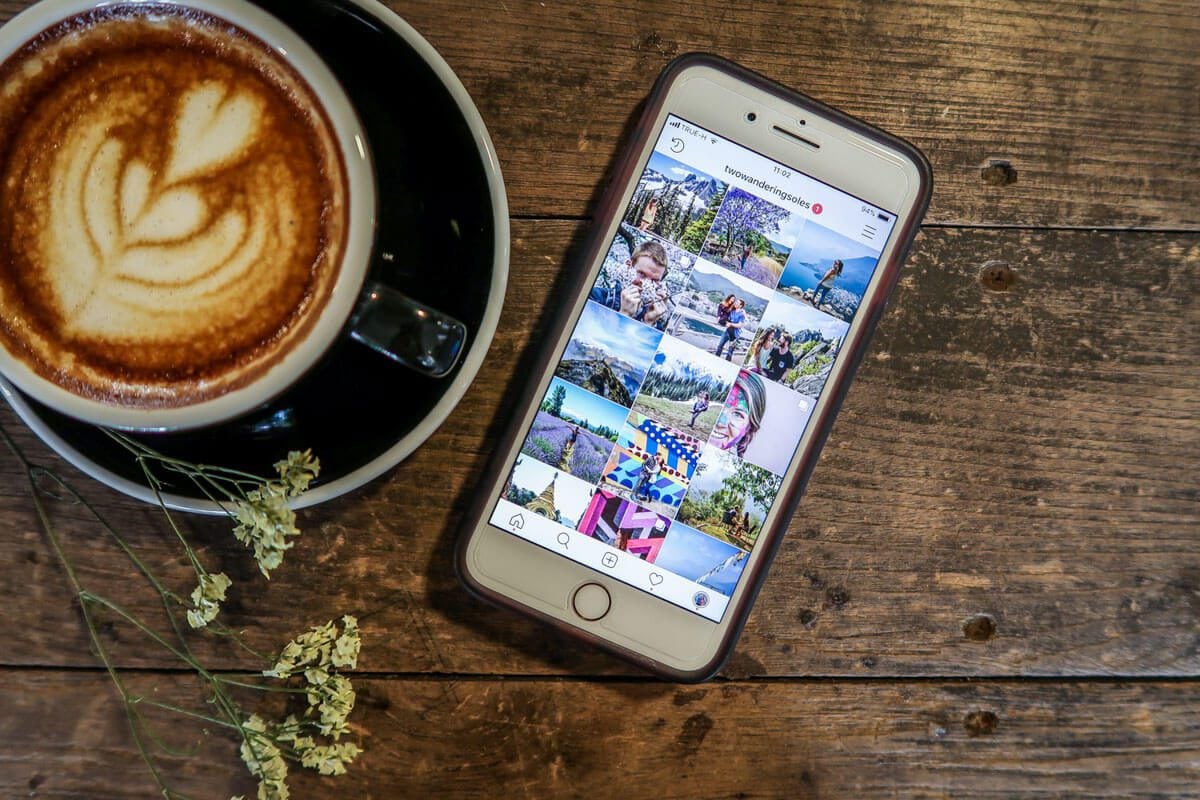 We have a thing for finding cute coffee shops in small towns. Anyone else? Luckily, there are a handful of adorable cafes in Cannon Beach to choose from. Here are a couple of our favorites:
Sleepy Monk: This organic coffee roaster always has long lines, but their specialty coffee drinks and homemade pastries are worth the wait. We love their lemon poppy seed layer cake, morning muffin and savory scones.
Insomnia Coffee: This adorable coffee shop is situated right by the beach and is a gem. Great coffee and pastries and a nice atmosphere make this a great pick.
5. Drive up to Seaside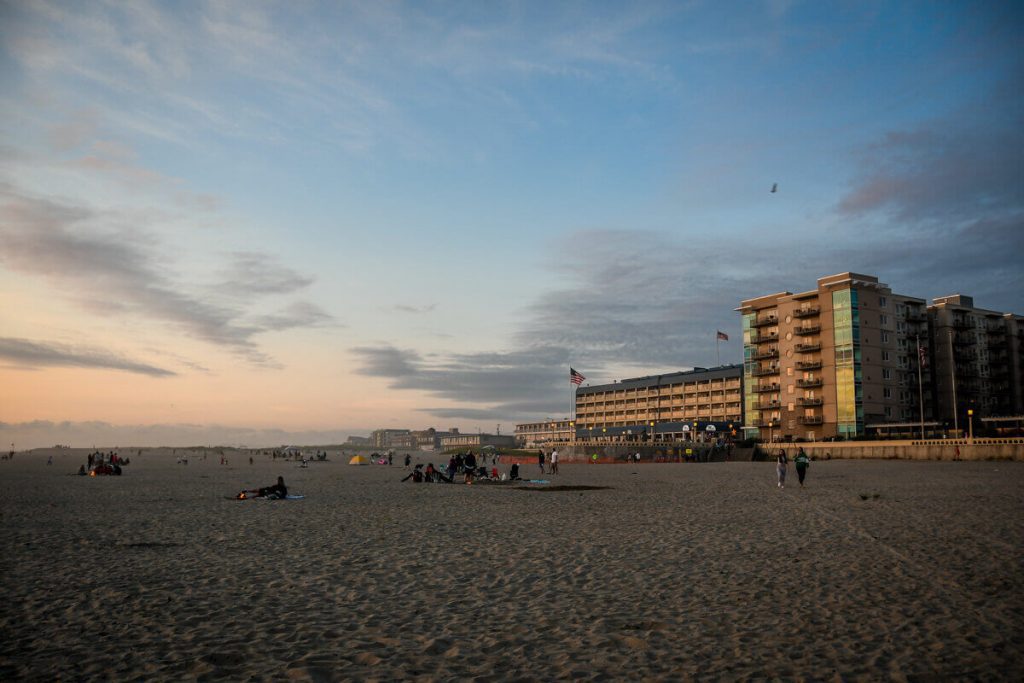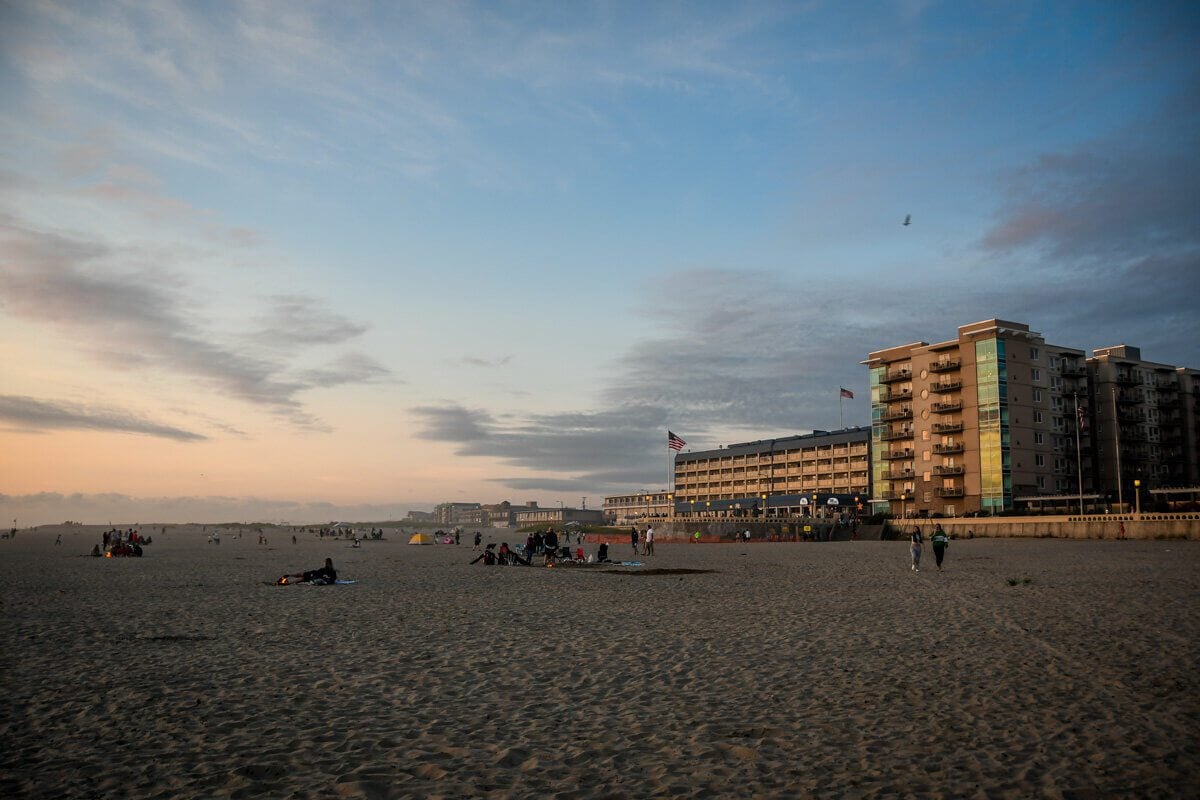 Seaside is a short 10-15 minute drive north of Cannon Beach, but the vibes feel worlds apart. Much more built up and less "curated", Seaside is home to multi-story resorts and many more permanent residents than its smaller neighbor to the south.
Things to do in Seaside:
walk the promenade (pedestrian area)
sample a unique twist on fish and chips at Grizzly Tuna where the fish 'n chips is made with — you guessed it — tuna!
satisfy your sweet tooth at Sea Star Gelato (we loved the cheesecake flavor paired with a berry gelato)
walk along the beach
Our honest opinion: We weren't all that impressed with Seaside (Cannon Beach was much more our style), but some people love it! Check it out for yourself and see what you think!
6. Explore Ecola State Park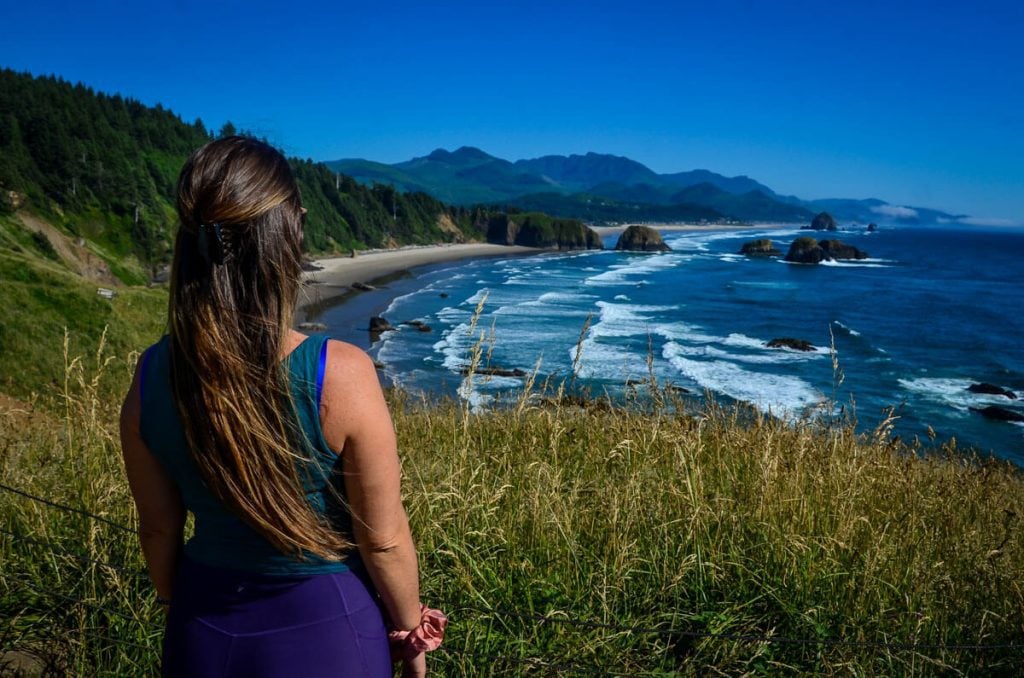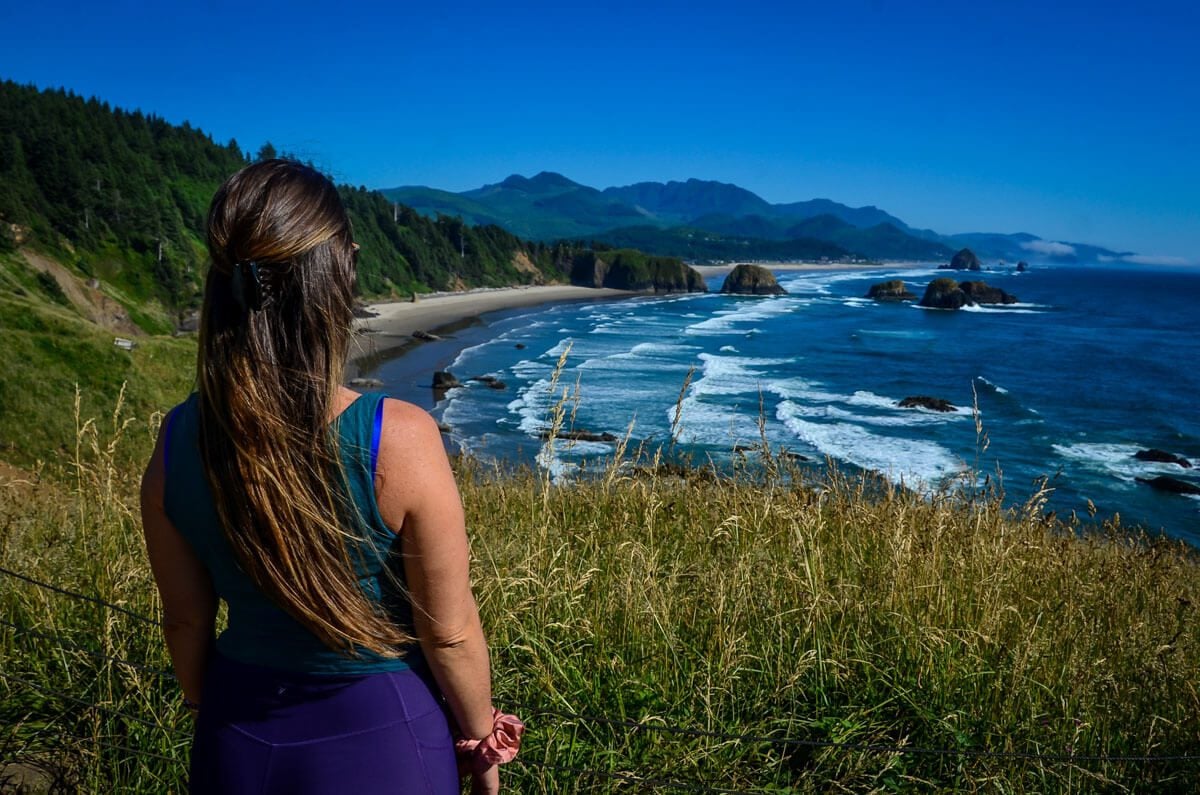 Located just minutes north of town, visiting Ecola State Park is a must on any trip to Cannon Beach. Lush forests, rugged wild beaches, and rocky formations just offshore make Ecola State Park a magical stop on any Oregon Coast itinerary.
If you're into hiking, there are plenty of thickly forested trails to keep you busy. However, if you'd prefer minimal exertion, there are two viewpoints that are well worth checking out.
Ecola Point is the first spot you'll see, and the views are jaw-dropping. Another 1.5-mile drive will bring you to Indian Beach, which is situated in a secluded grove and is a popular surf spot. If you want to "earn" your views, there is a trail between the two points.
Insider Tip: Consider packing a sandwich or picnic lunch to enjoy with a view!
Good to know: The road in and out of Ecola State Park is well maintained, but very narrow and winding. Please use caution and drive slowly, as it can be difficult to see cars coming from the opposite direction around the runs in the road. The park gets very busy at midday during the summer months, and parking spots can be hard to come by. We'd recommend coming in the morning or late afternoon if possible.
Fees: You will need to pay a $5 day use fee unless you have an Oregon State Parks pass ($30 annually).
7. Have yourself a fish n' chips picnic on the beach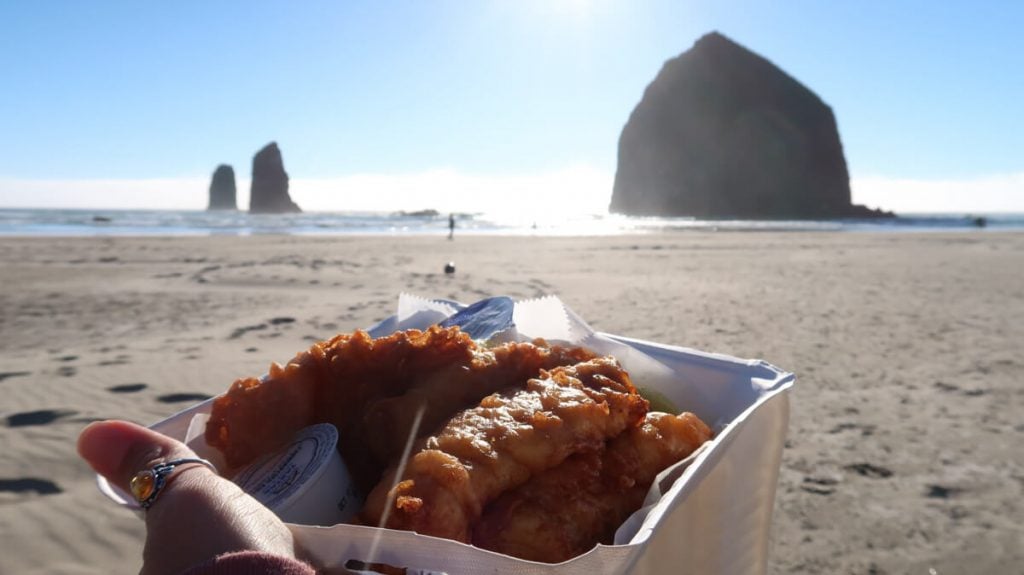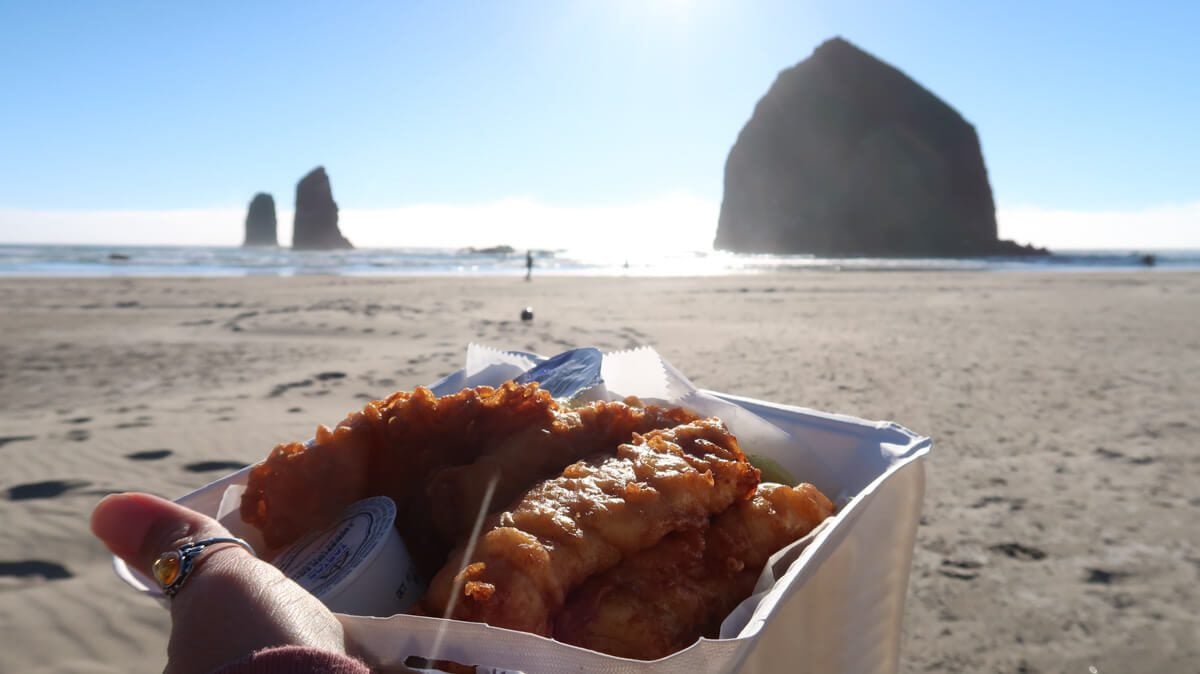 There's nothing more "Oregon Coast" than eating a fresh catch while watching the waves crash onto the shore. Being that there aren't any oceanside restaurants in Cannon Beach, we'd recommend grabbing takeaway at one of the restaurants in town and making the short walk to the beach with a blanket and folding chairs. BYO-drinks and other snacks for a perfect picnic with an unrivaled backdrop.
Insider Tip: Our favorite place in town to grab fish and chips is at Ecola Market. Their 4-piece Pacific cod and chips ($18) is super delicious and splittable between two people. We also typically order a bowl of clam chowder ($8) for good measure! They also have more seafood items on the menu, like popcorn shrimp, oysters, scallops, halibut and more. FYI Ecola Market closes at 7 p.m., so make sure you plan on an earlier dinner if you want to grab a bite here.
8. Wander the cute shops and galleries in town
Cannon Beach is just plain adorable, so spend some time wandering the town and popping into any shops or art galleries that strike your fancy.
9. See a waterfall next to the ocean at Hug Point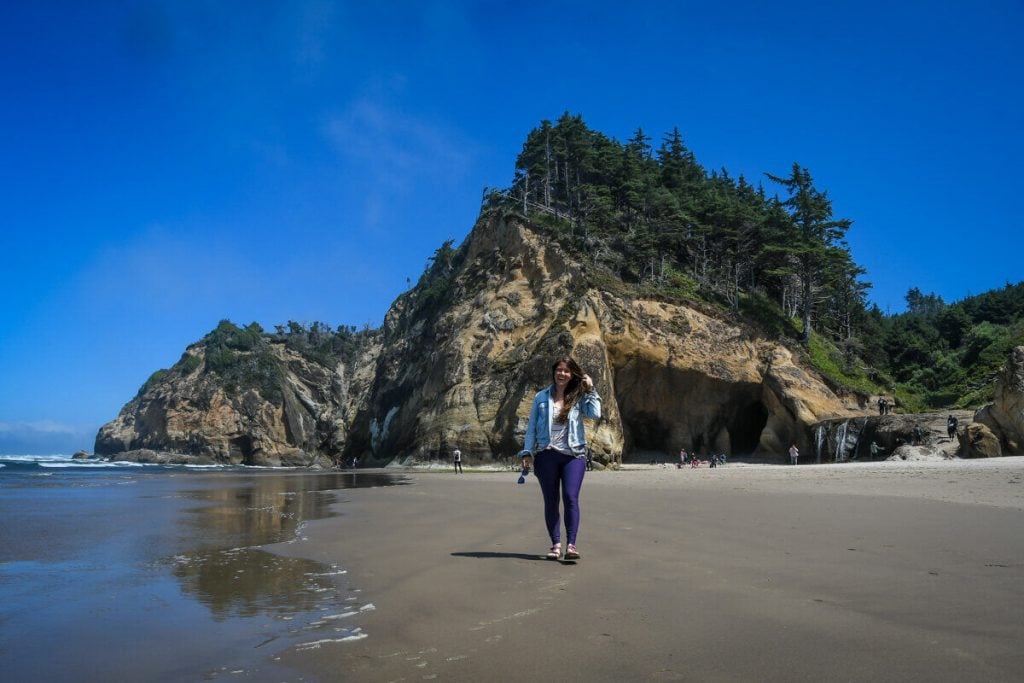 A quick 10-minute drive south of town will bring you to the gem that is Hug Point. This State Recreation Point features a beach with a cave and a waterfall just beside the ocean. It's well worth the stop and the beach is just a short walk from the parking lot.
Insider Tip: Come early, as the small parking lot fills up quickly.
10. Hike to Short Sand Beach at Oswald West State Park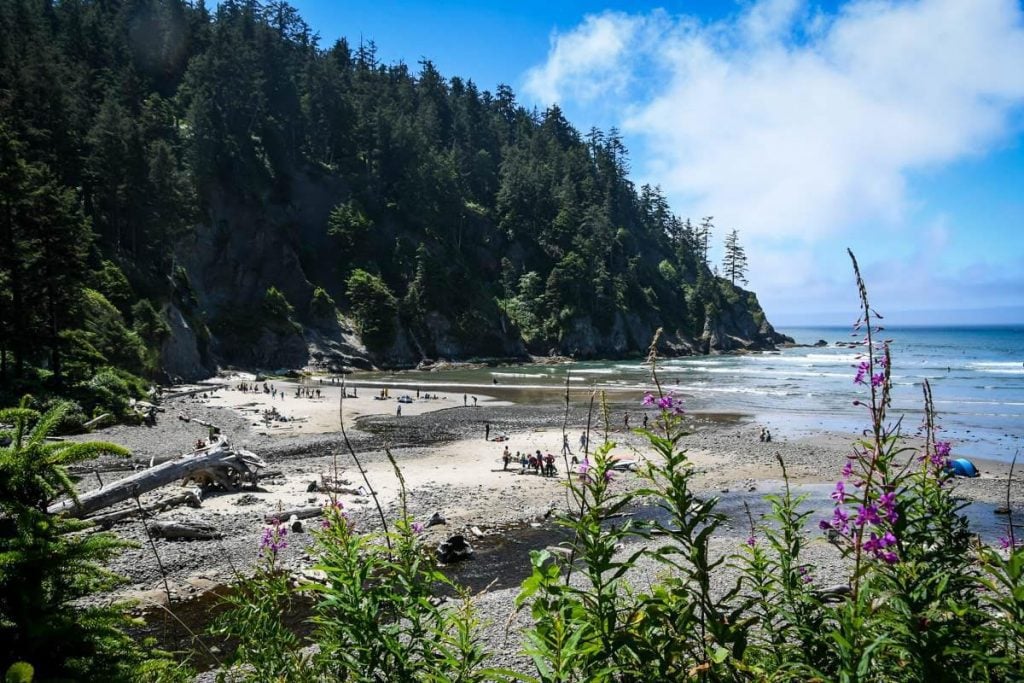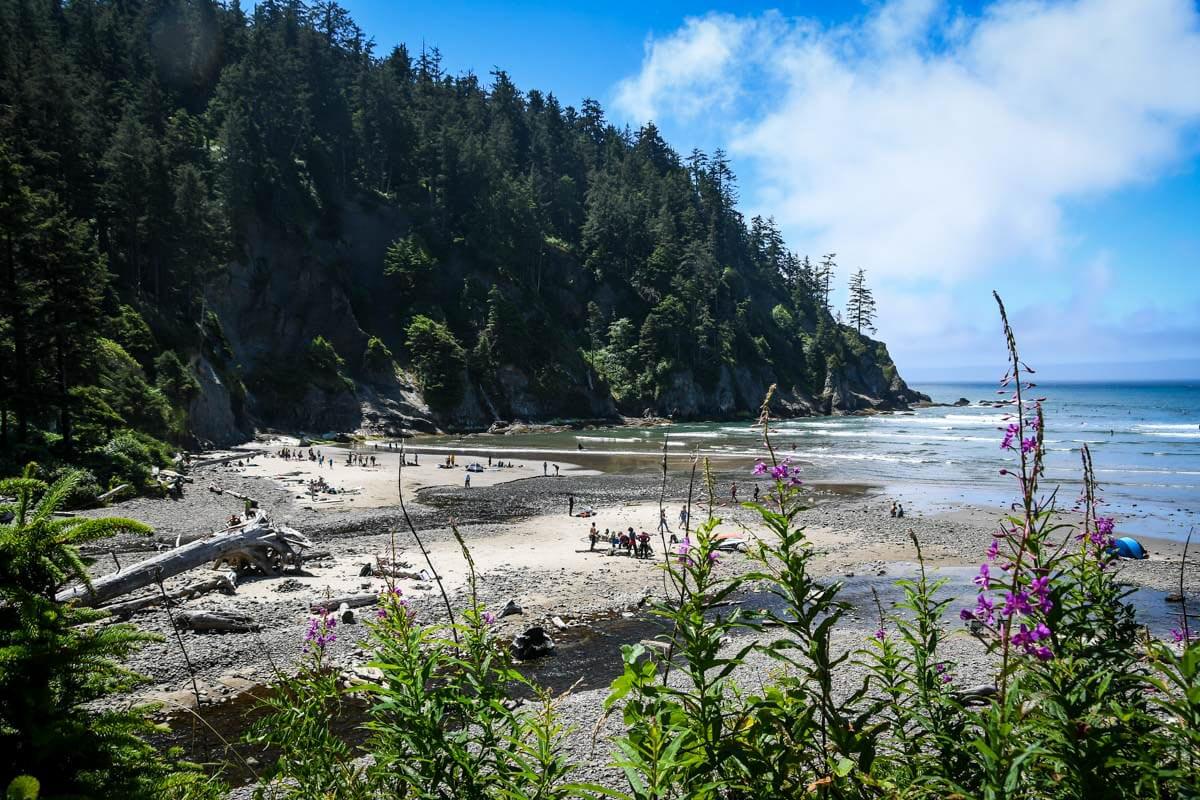 An easy hike through an old-growth forest with an idyllic beach at the end? Yes, please!
This state park is popular, so come early if you want to avoid the crowds. Grab a coffee in town and bring it along for the hike.
Once you get down to the beach, you can either enjoy the view from a picnic table overlooking the ocean or by taking a trail down to the sand itself. This is a beautiful place to watch the surfers (or jump in the water yourself!).
11. Grab a local brew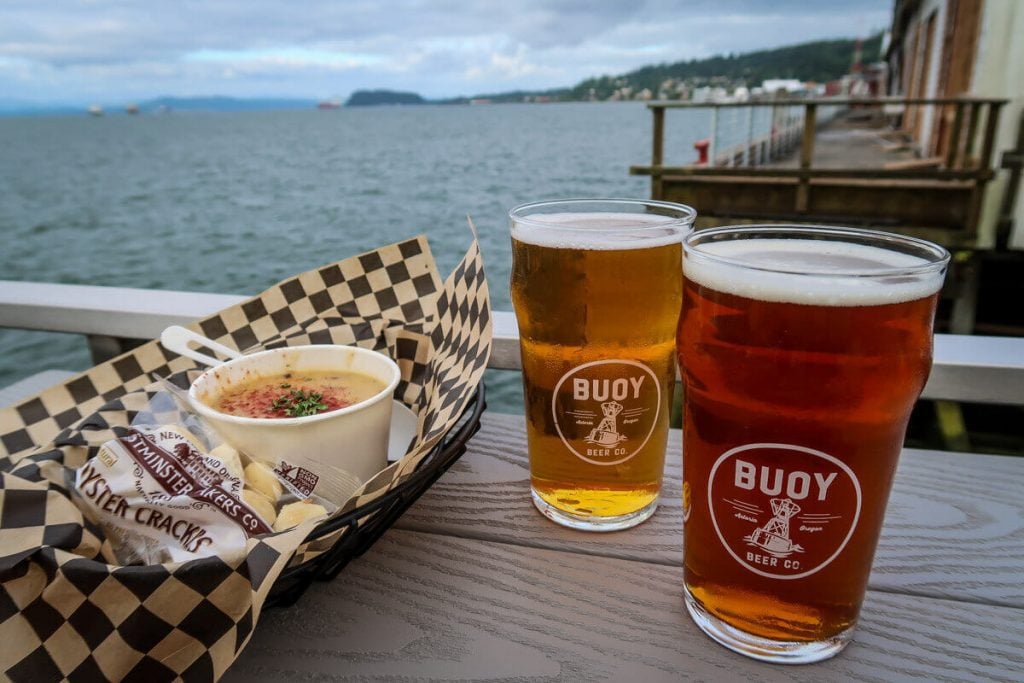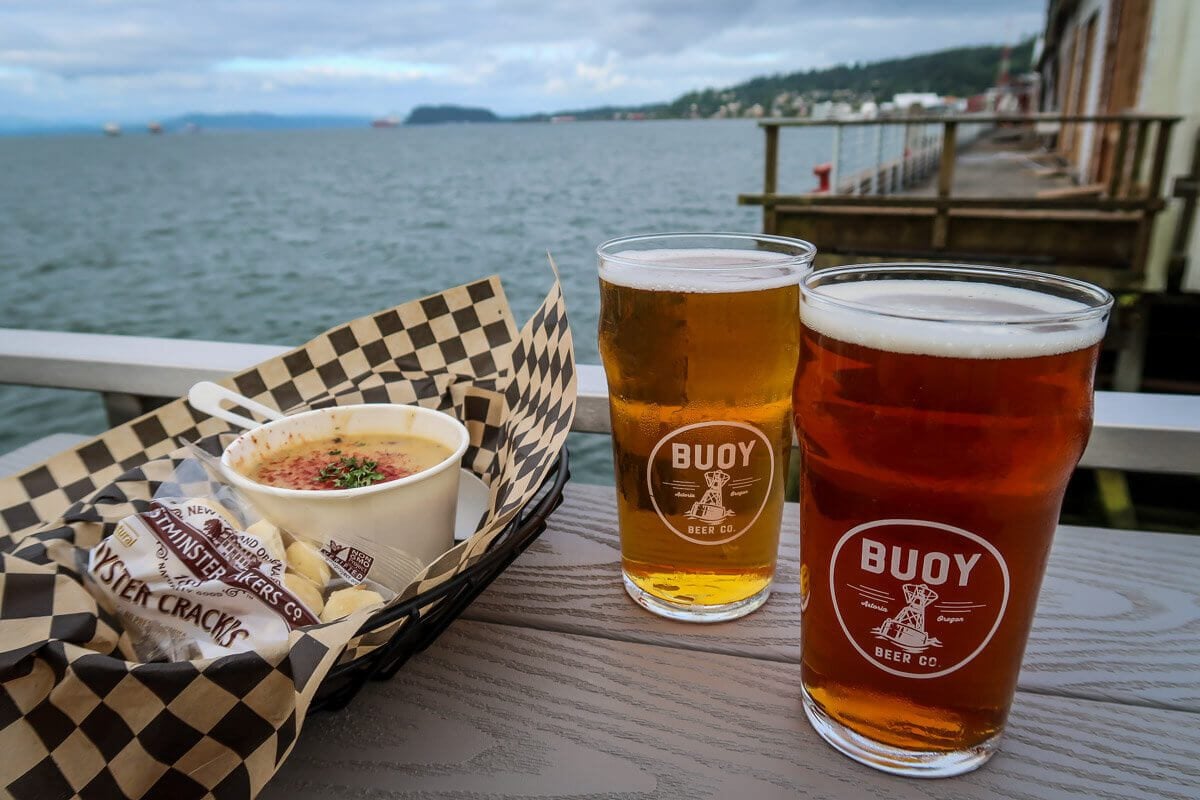 If you're a craft beer fan (us too!), you'll have a couple options in town for sampling a local brew.
Pelican Brewing is an Oregon Coast staple, and while it is headquartered in nearby Pacific City (about 65 miles south on the coast), it's a solid place to grab a beer in Cannon Beach. They also have a pretty extensive food menu, featuring fish 'n chips, burgers and dungeness crab mac 'n cheese.
Public Coast Brewing is, as their motto says, "born and brewed in Cannon Beach". With food and beer, you can't go wrong trying this local spot.
12. Photograph the sunset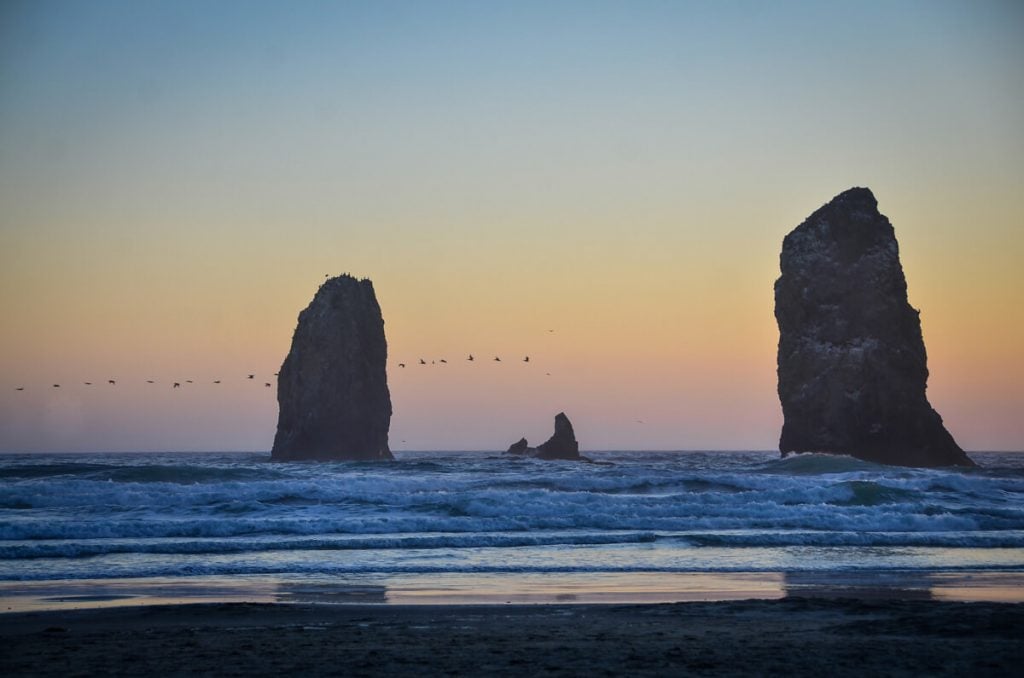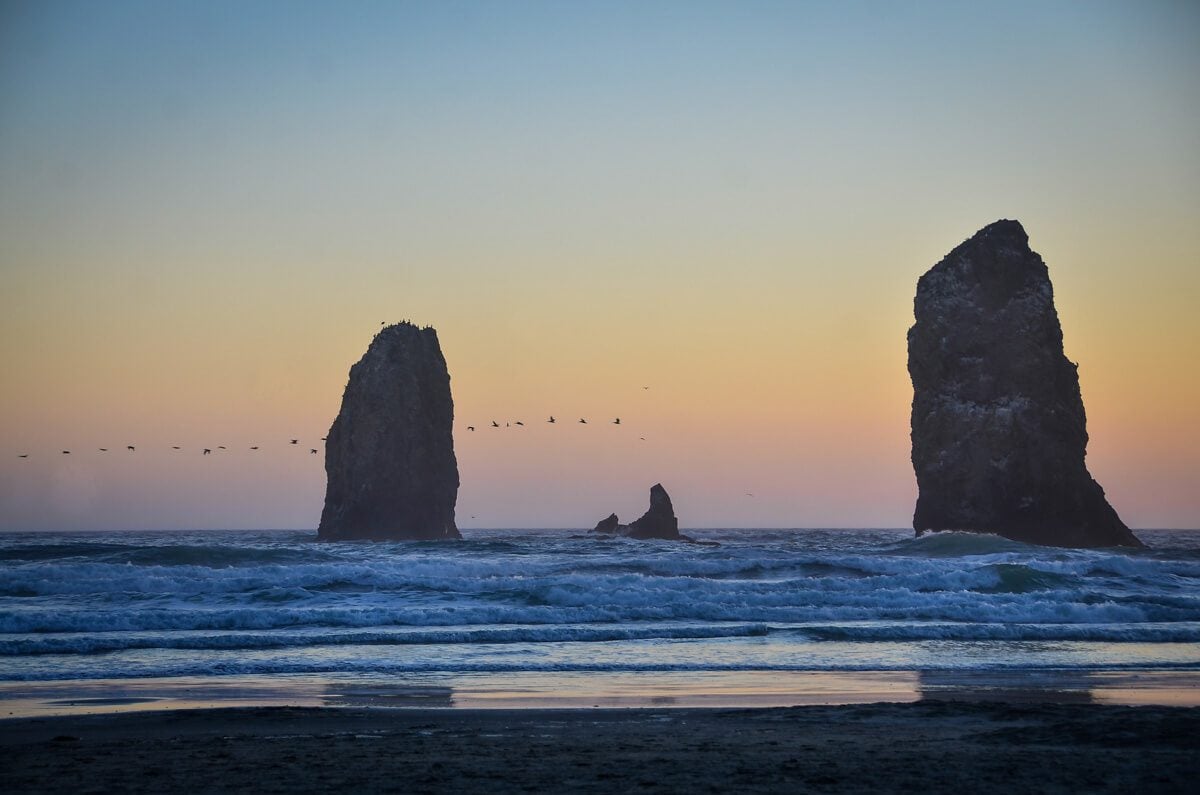 Cannon Beach gets some pretty epic sunsets, so be ready with your camera!
The best place to capture the sunset is near the iconic Haystack Rock. These large sea stack formations just off the coast make a really fun spot to photograph. If you're really into photography, you may want to bring a tripod to capture the
We will point out that weather on the Oregon Coast can change quickly and drastically, so the sunset is different each and every day. If you're lucky, you'll get vibrant colors, but you might also experience wind, clouds, fog and rain (or a mixture of all of the above!)… that's just how it goes on the coast! Be prepared with layers and a good attitude, and you won't be disappointed.
Good to know: No, drones are not allowed at Cannon Beach.
13. Hike to Tillamook Head Viewpoint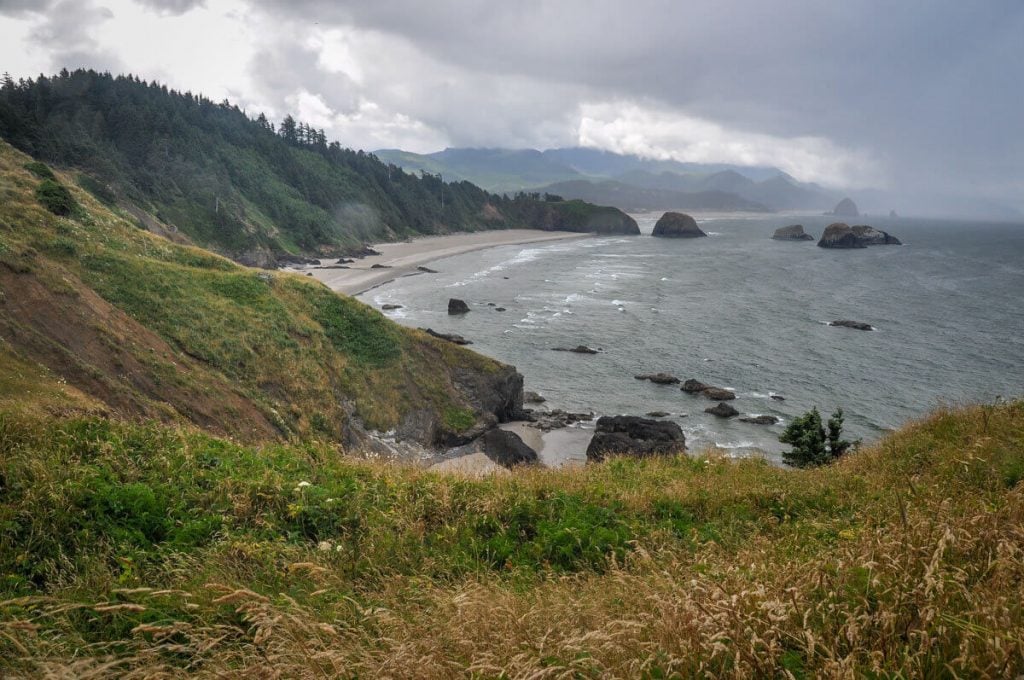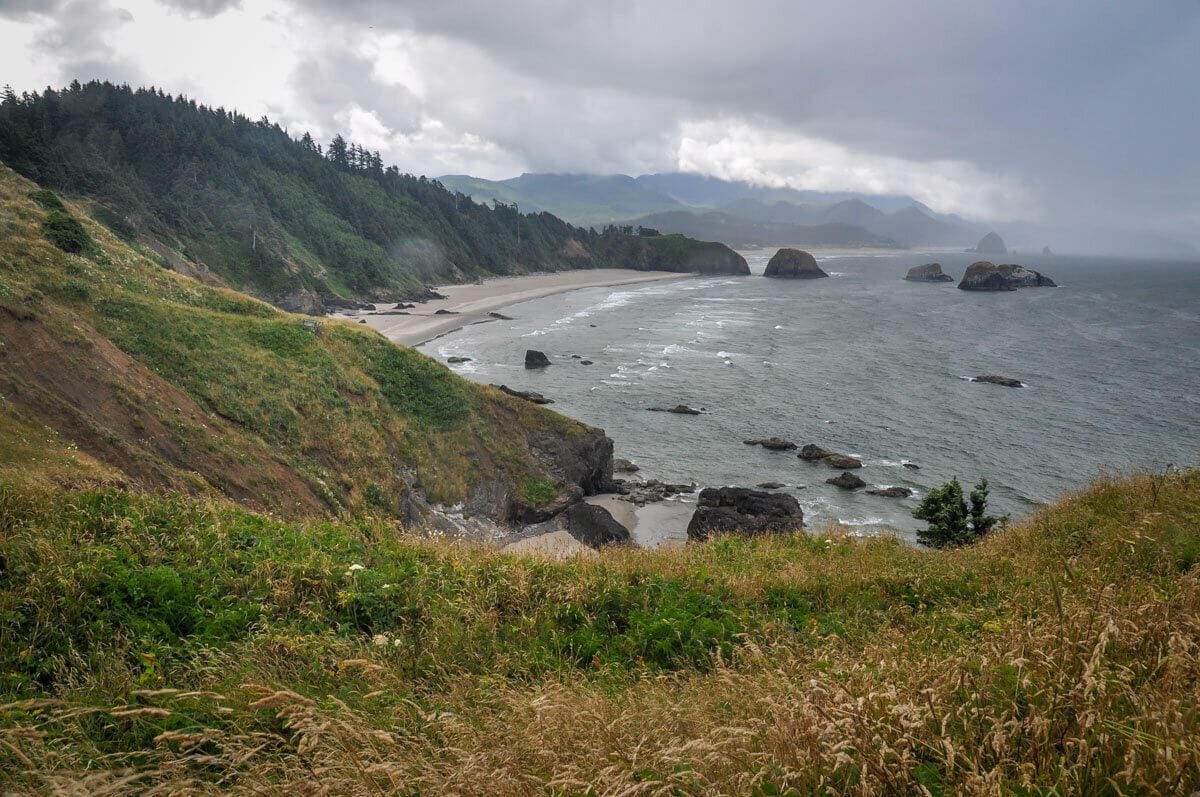 The Clatsop Loop Trail starts and ends in the Indian Beach parking lot and takes hikers through thick old-growth forests and to a viewpoint of the Tillamook Head Lighthouse, which sits on a lone sea stack more than a mile from the shore and looks like it was taken straight from the cover of a mystery novel.
Fun Fact: Lighthouse keepers used to be stationed at "Tilly" for 42 days at a time. Can you even imagine?!
Keep in mind that depending on the weather on the day of your visit, you may have a very limited view of the lighthouse. Marine layer can obscure it from view, so just have that in mind as you start the hike. That was the case for us when we did this hike in late June.
Hiking information: This 2.8-mile loop is rated as moderate and gains roughly 800 feet in elevation (most of which you'll tackle during the first half of the hike).
Feeling adventurous? Along this hike is a grouping of three very rustic huts for hikers to camp in. They each contain just 4 wooden bunks (no mattresses). There is no door, so it's important that you bring proper layers and equipment to stay warm. There is also a fire ring and some areas to pitch tents if you'd prefer that to a communal sleeping situation.
---
Things to know before visiting Cannon Beach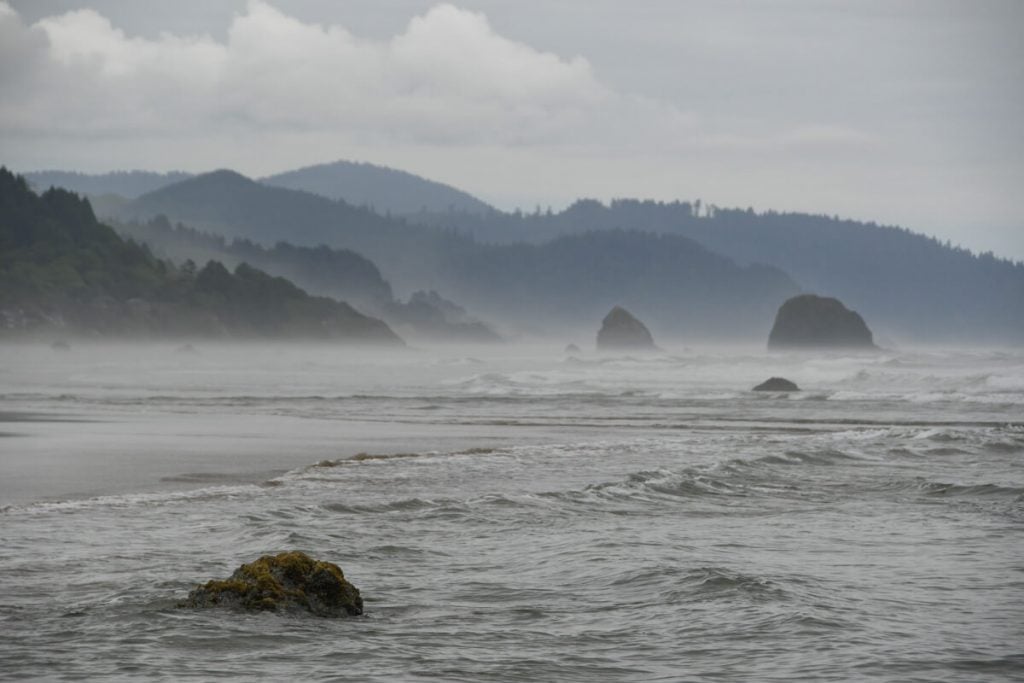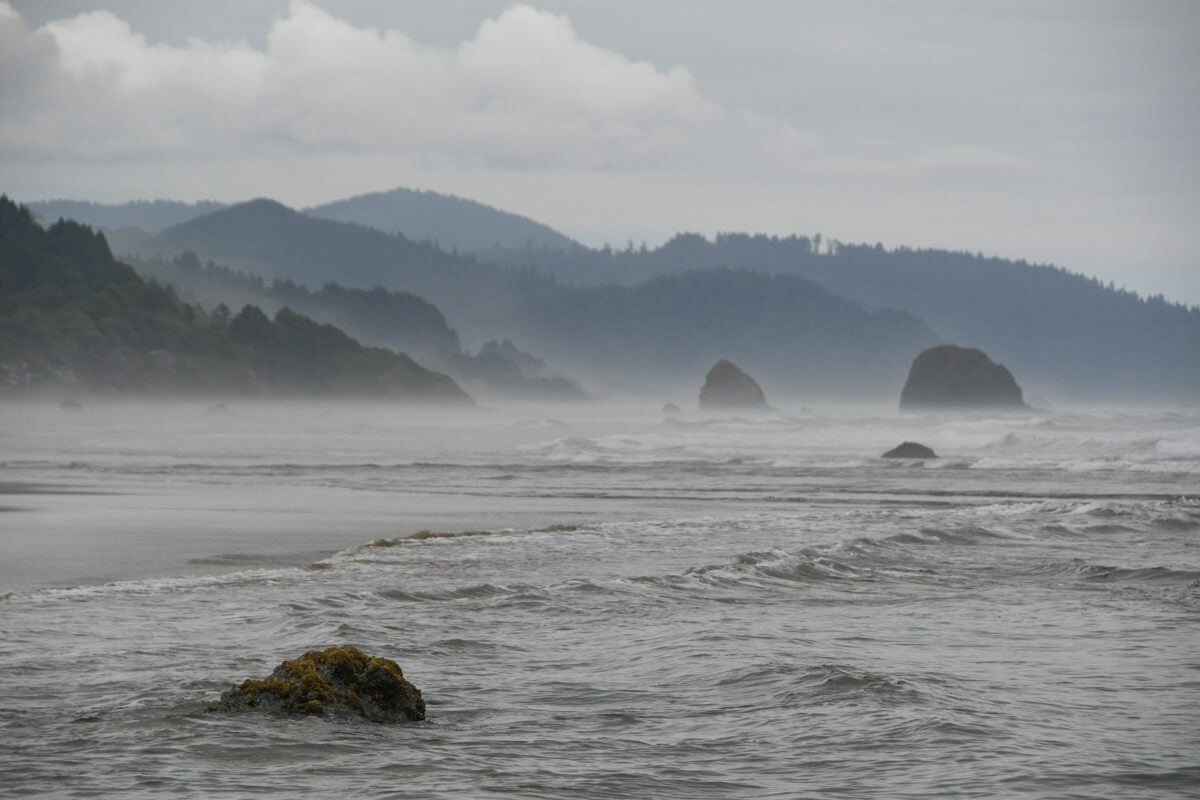 Know what to expect with the marine layer. This coastal phenomenon means that a thick fog can sometimes hang over the ocean, making an otherwise sunny day completely overcast. If you drive inland, the marine layer quickly disappears, sometimes revealing a blue sky! Depending on the day, the marine layer may burn off and leave clear skies, or it may hang around all day.
Bring layers. Even on a sunny day it can get very chilly by the ocean. And at night, expect temperatures to drop even more.
There are a couple public parking lots in town, but they do fill up during busy season. Circle around and have patience!
In this area, it's a good idea to get an early start on the day (especially in the summertime), as many places around Cannon Beach get crowded quickly (and parking lots fill up!). Go early to avoid the crowds, or have patience.
There are public restrooms near the public parking lot in town.
Dogs are allowed on the beach. Just be sure to keep them on a leash or under control. And clean up after your doggo, duh!
Best time to visit Cannon Beach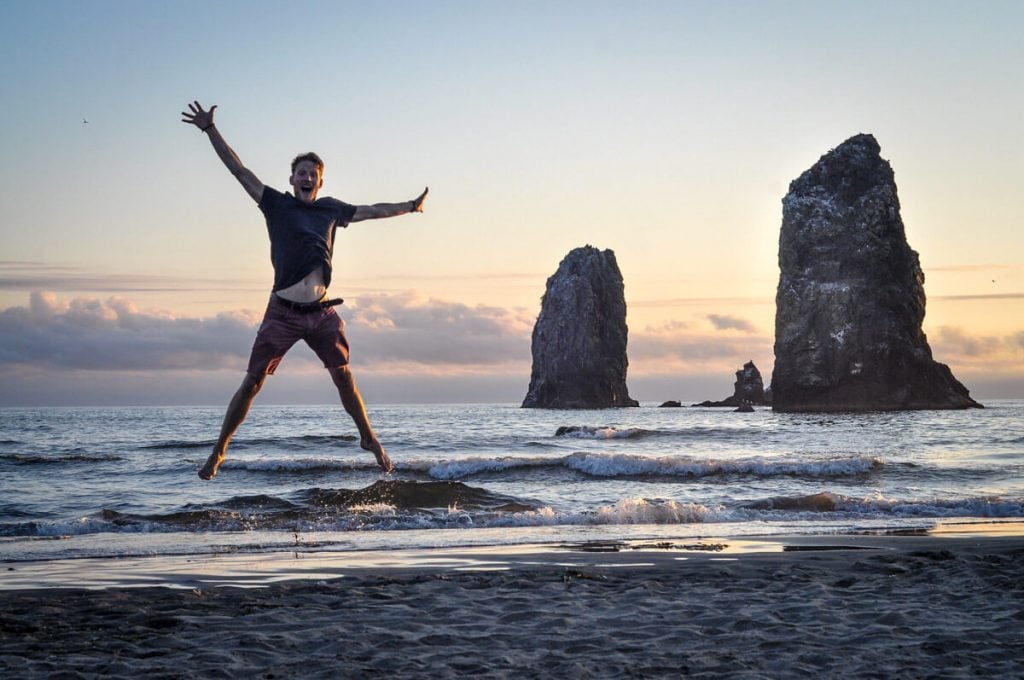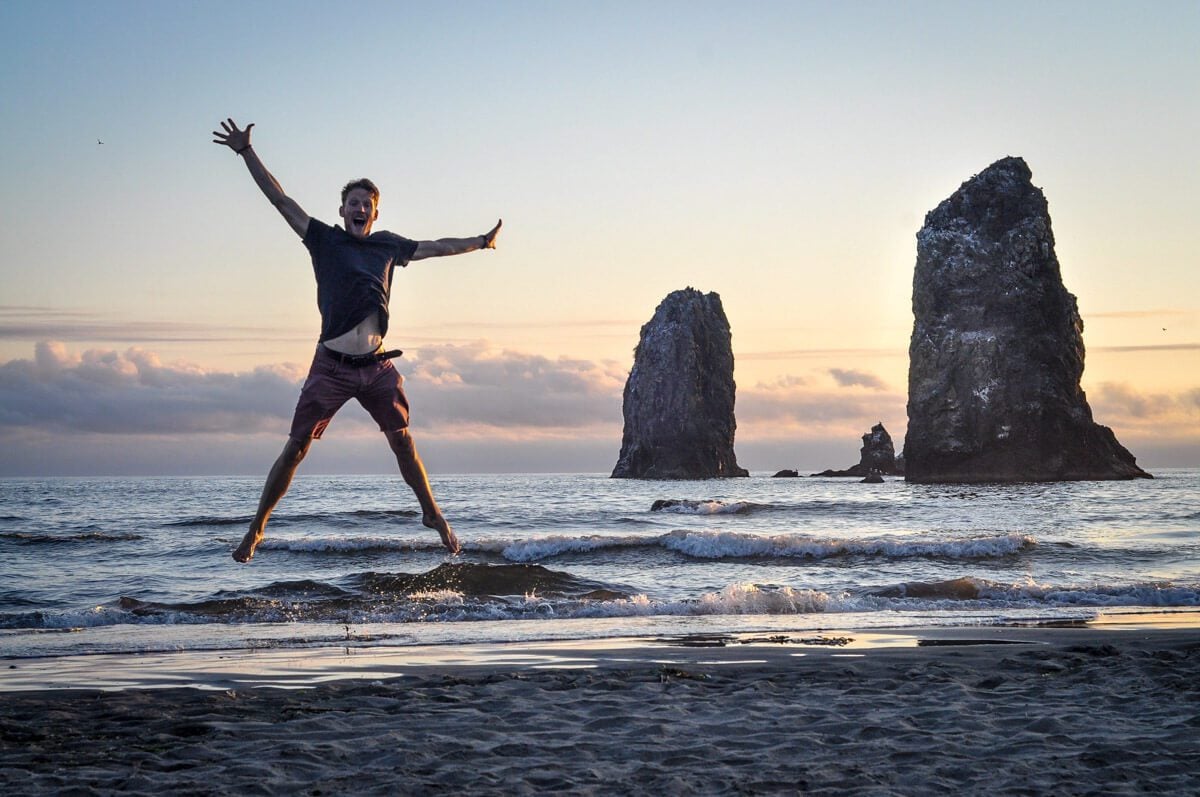 As with all questions of this answer, the answer is more complicated than a simple date or month, and varies based on your specific travel style and interests.
The weather in Cannon Beach, Oregon is fairly moderate all year round. During the colder winter months, the temperature rarely drops below 40° F. Precipitation will be highest during these months, particularly November through April.
During the warmer summer months, temperatures can reach the high 60s. However, summer is the busy tourist season in Cannon Beach and your trip will be affected. Traffic is at its all-time high, parking is harder to find, hotels and accommodations are at peak prices while booked up in advance, and restaurants will require prior reservations or longer wait times.
That being said, if you are able to make plans in advance and have time outside of the weekends, summer is a beautiful time to visit Cannon Beach. The warmer weather and higher chance of sunshine is a major plus. We'd recommend visiting in September as the weather is still at its peak, but kids are back in schools which thins out the crowds a bit more.
With all that in mind, we'd also suggest not to rule out visiting Cannon Beach in the wintertime. While it may seem counterintuitive to visit a beach destination in winter, it's actually quite a nice time to visit the seaside town.
The ocean is completely different during this season, with bigger and more intense waves. Wildlife is abundant and you're more likely to spot the local Roosevelt Elk or Grey Whales offshore. And let's be honest, skipping the crowds of summertime has its allure. The only thing standing between you and a good time is the right clothing!
Where to stay in Cannon Beach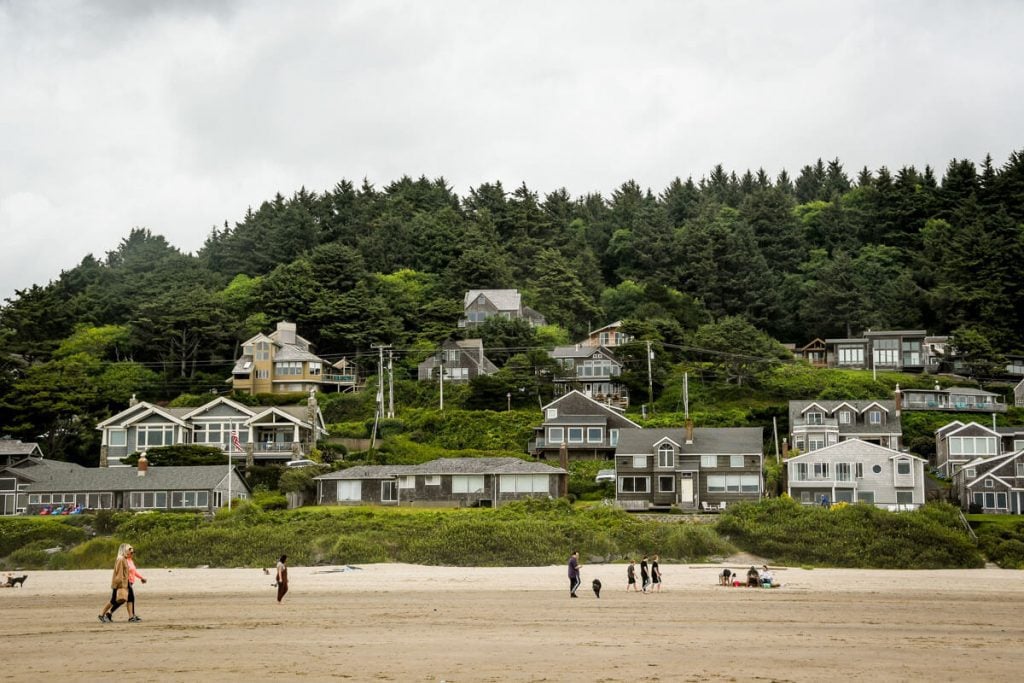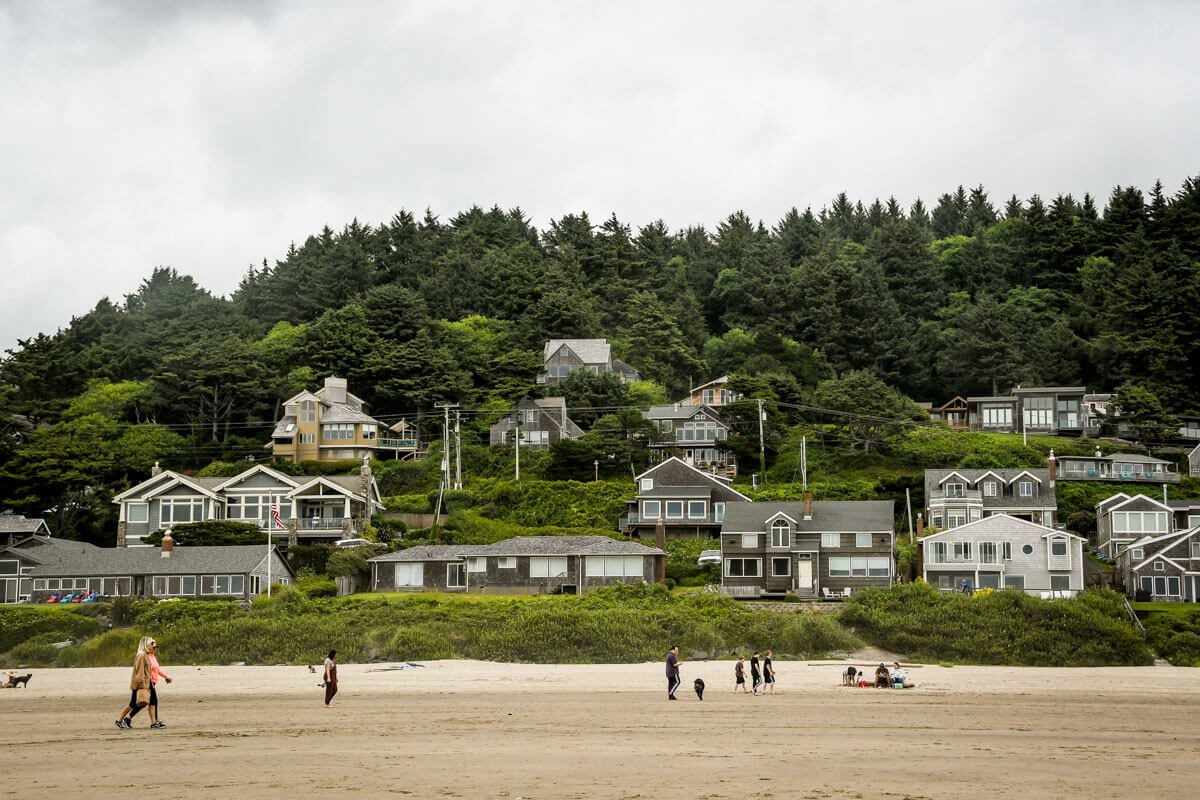 Budget option:
If you're traveling in a campervan or simply hoping to save money on your trip, your best option is likely going to be camping in Cannon Beach.
We like to use our favorite campsite locating app, The Dyrt, to find camping in specific areas because it has the largest database of campgrounds (44,000+ campsites and counting!) and over 1 million user-submitted reviews.
Plus, it's super user-friendly, and has some pretty cool features, like outdoor gear contests and forums to connect and seek advice from fellow campers, that you won't find on any other camping app.
We've got a deal for you! Try their Pro Membership for FREE for 30 days and gain access to the offline version of the app, utilize their trip planning feature AND get exclusive discounts on campsites and gear!
Mid-Range Accommodation: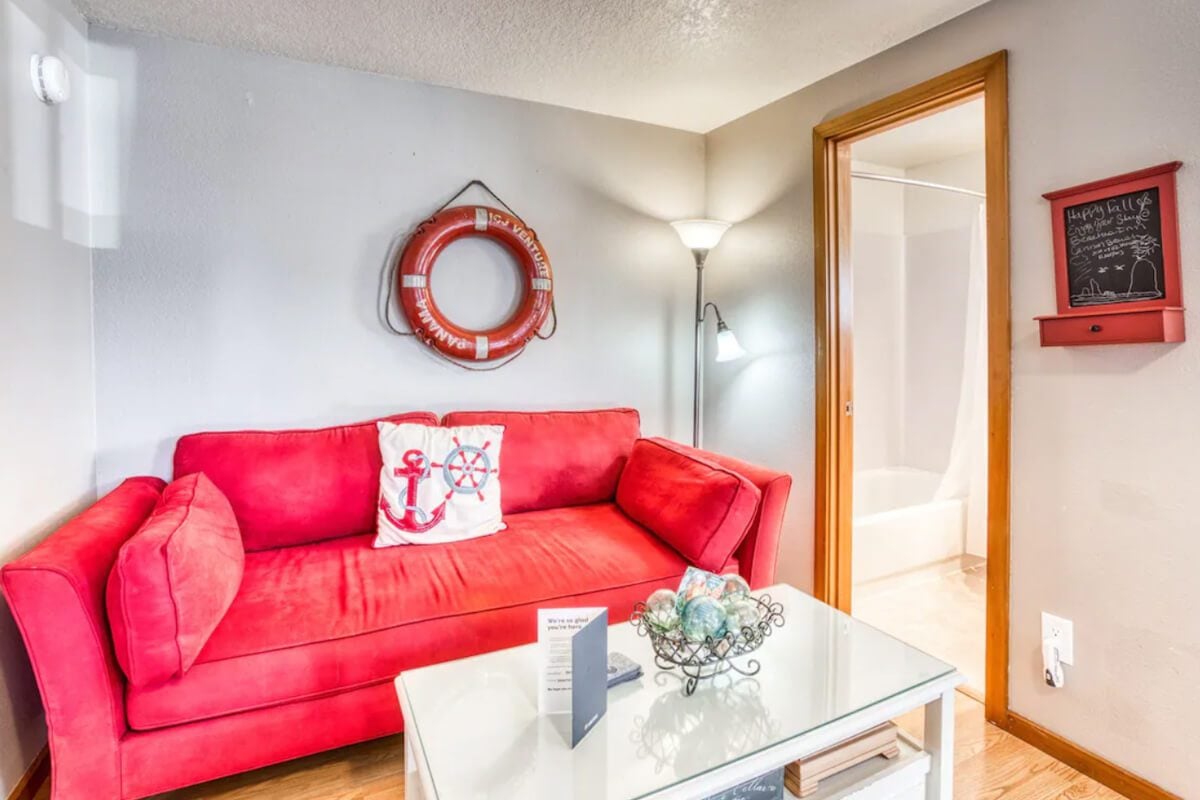 Charming dog-friendly cottage: This adorable guest cottage offers all the comforts of home in a small efficient space. Featuring a fully-stocked kitchen and private outdoor seating area, this cottage is in a great location, just one block from the beach and close to downtown. And as an added bonus, it's pet-friendly!
Splurge Accommodation: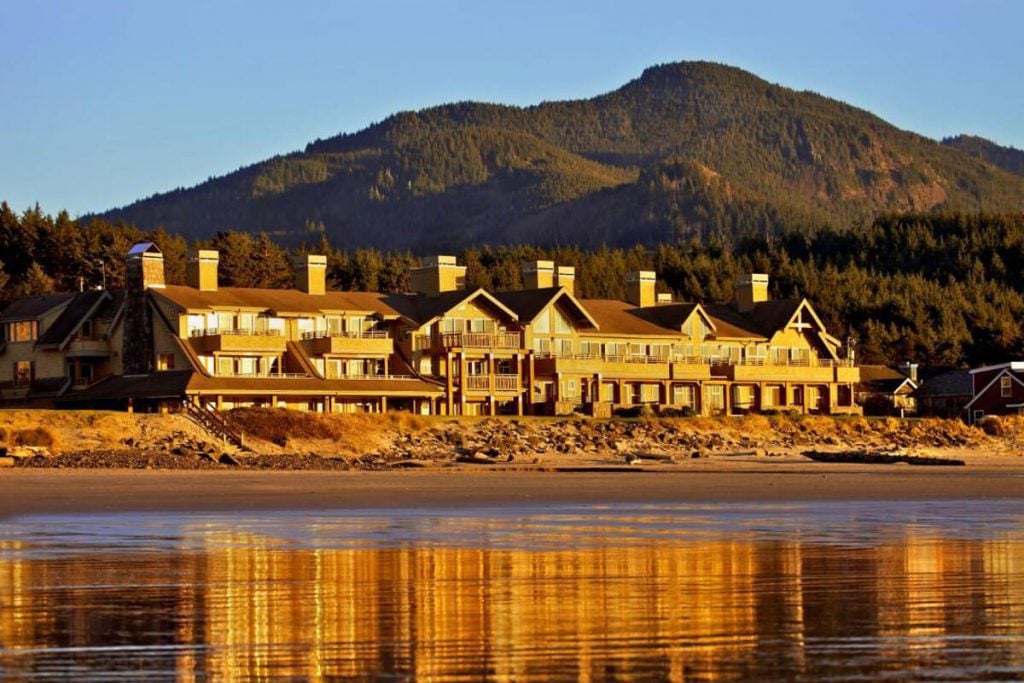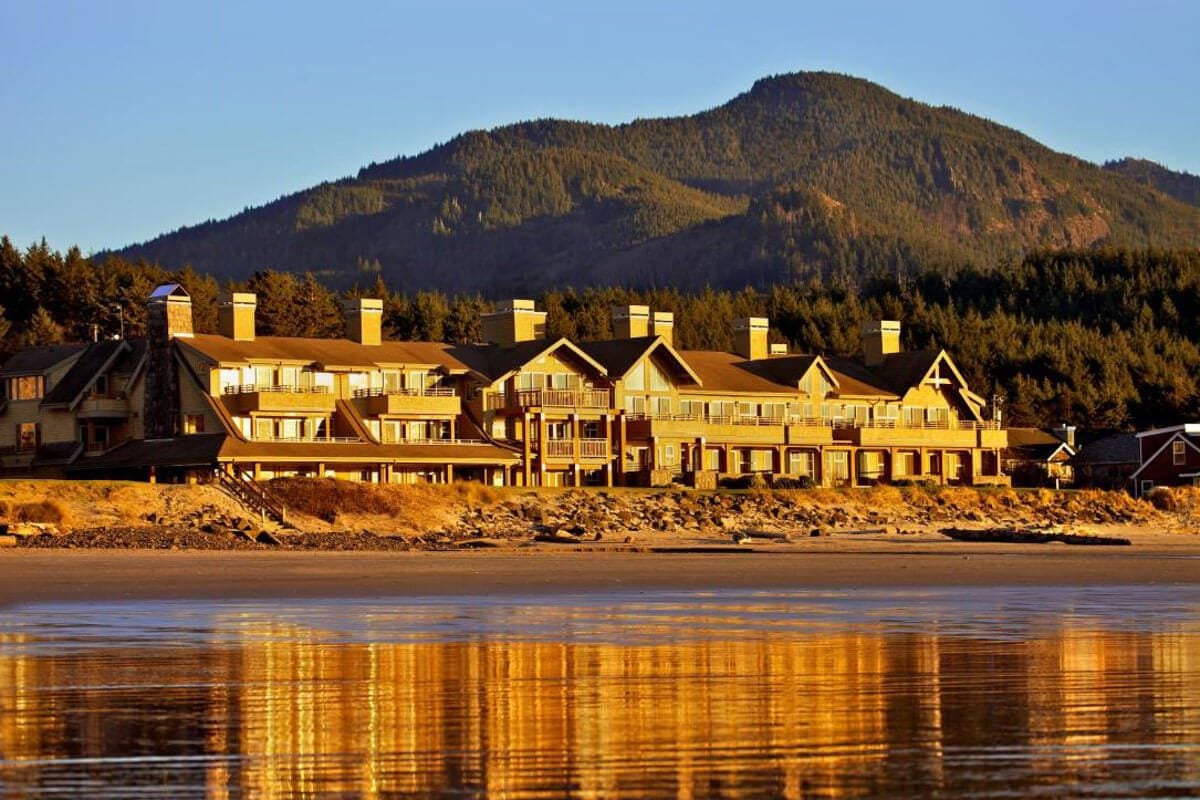 The Ocean Lodge: Located on the southern end of Cannon Beach, these oceanfront rooms feature private decks and balconies overlooking the picturesque coast with stunning views of Haystack Rock. Daily continental breakfast is included with your stay.
How to get to Cannon Beach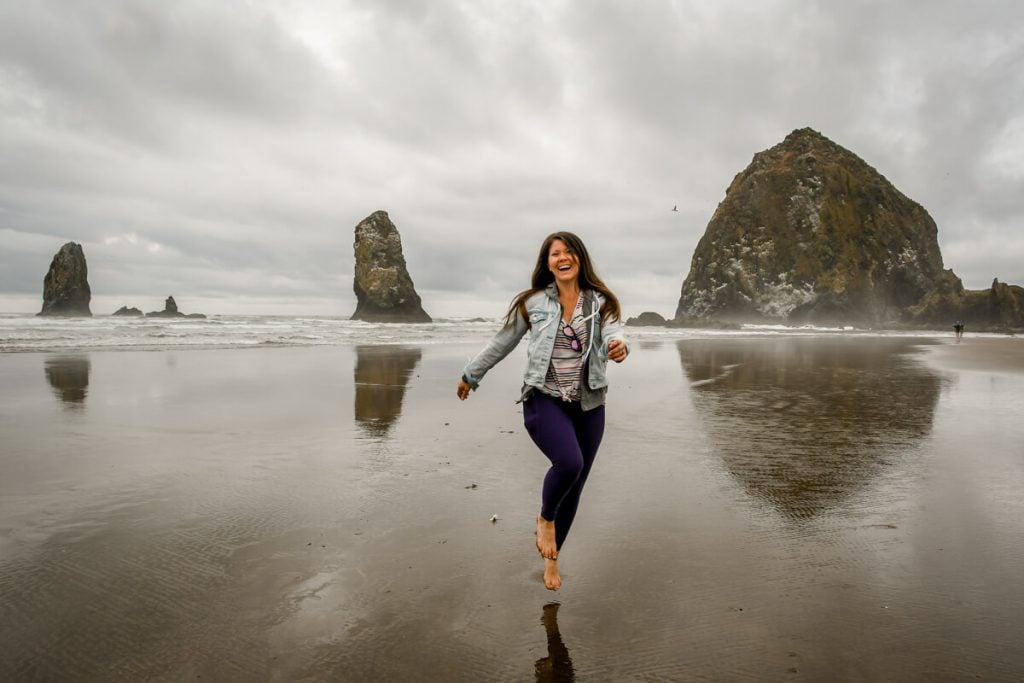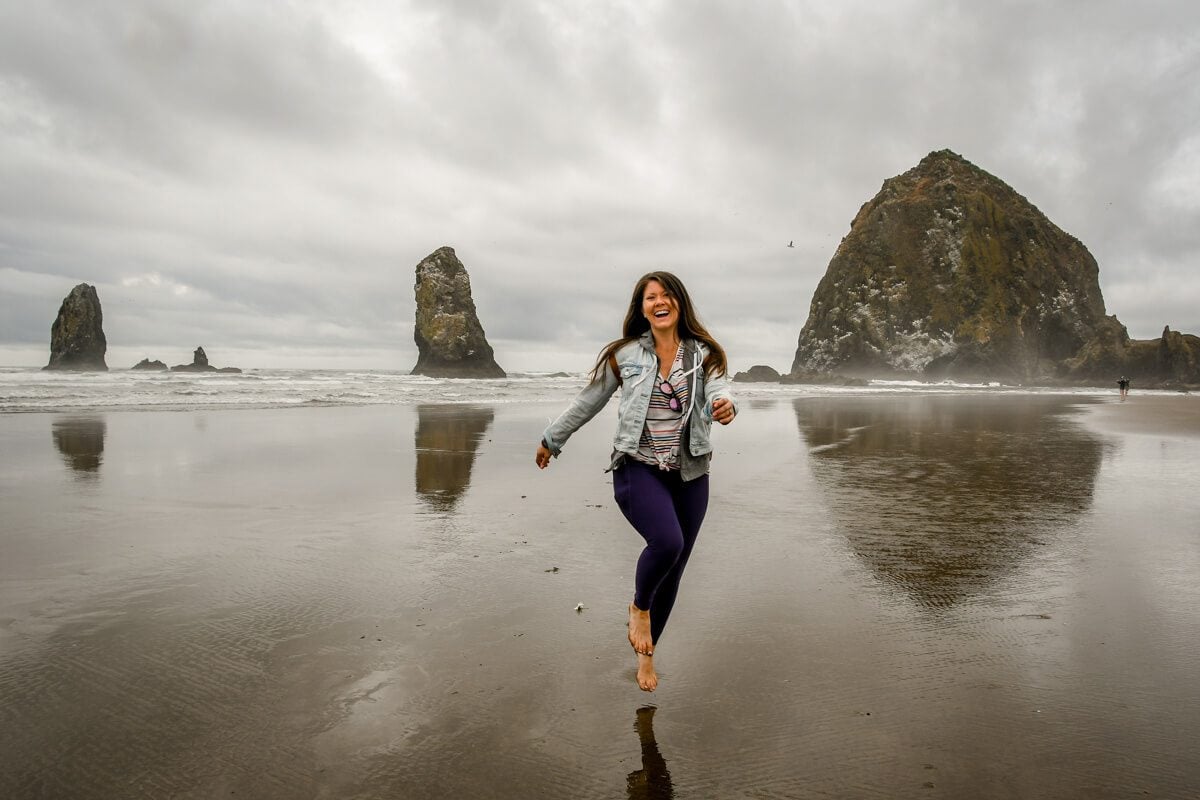 Situated on the coast in northern Oregon, Cannon Beach is just a 1.5-hour drive from Portland (and just under 4 hours from Seattle). To get to Cannon Beach from Portland, you can a few options:
Drive your own or rent a car: Take US 26 west from Portland to the junction of Hwy 101. Merge onto Hwy 101 South for about 5 miles and you'll reach Cannon Beach.
Take the Bus: There are a few bus lines that run daily between Portland and Cannon Beach. Northwest Point offers twice-daily non-stop routes with tickets available through Greyhound and Amtrak.
Public Transportation: Service through Northwest Connector, an alliance of public transport agencies throughout northwest Oregon, can take you from Portland to Cannon Beach and all the way down the Oregon Coast.


Are you planning a trip to Oregon?
Being that Oregon is our home state, we have TONS of content to help you plan your trip. Start with our Oregon Homepage and be sure to check out the articles below. Leave us a comment if you have any more questions!
Save this article for later on Pinterest!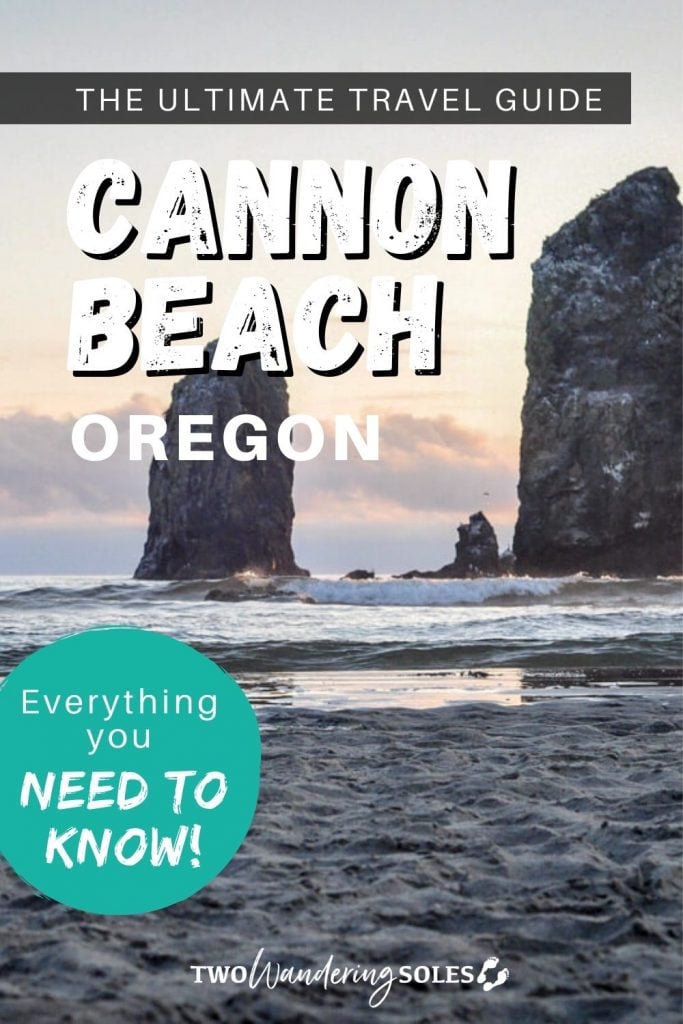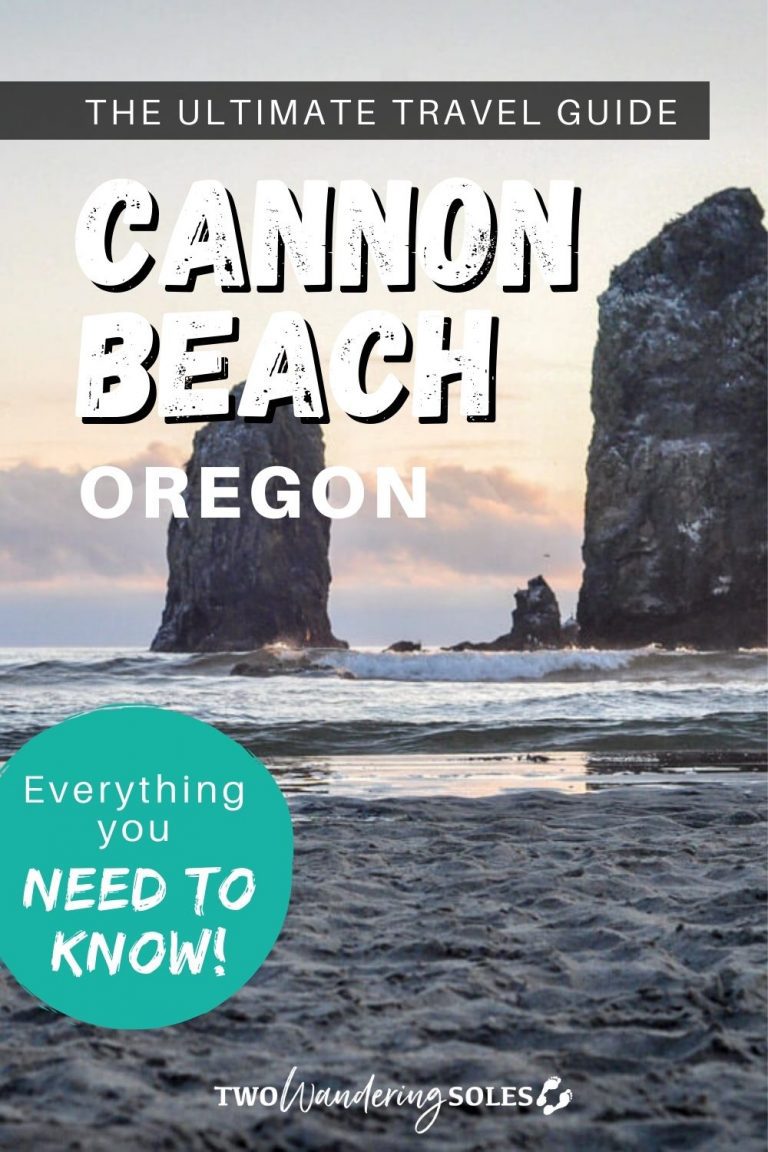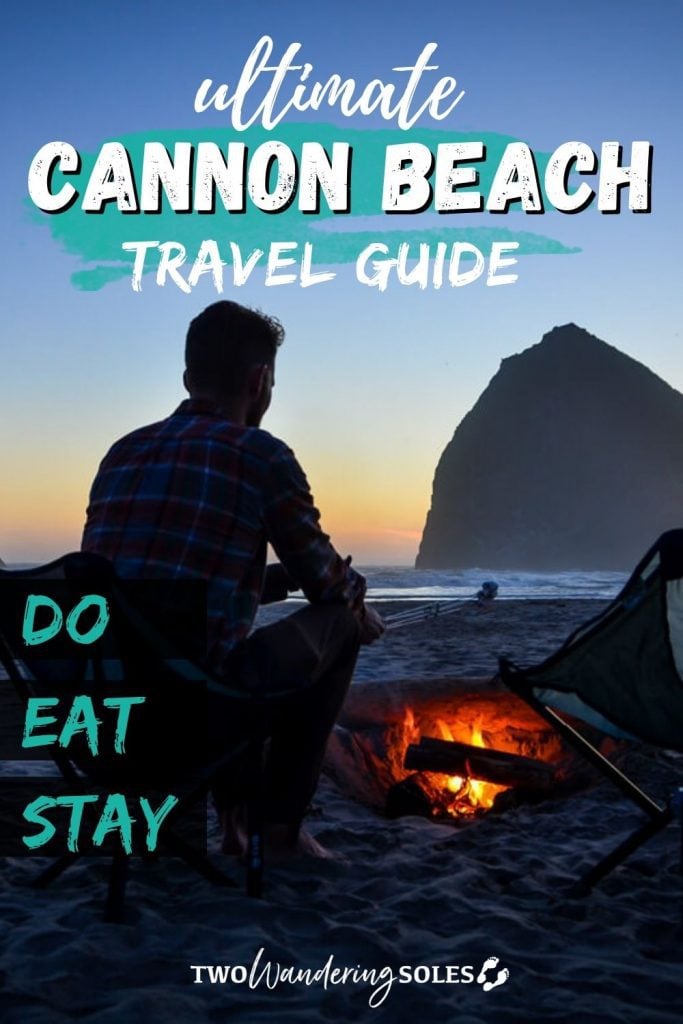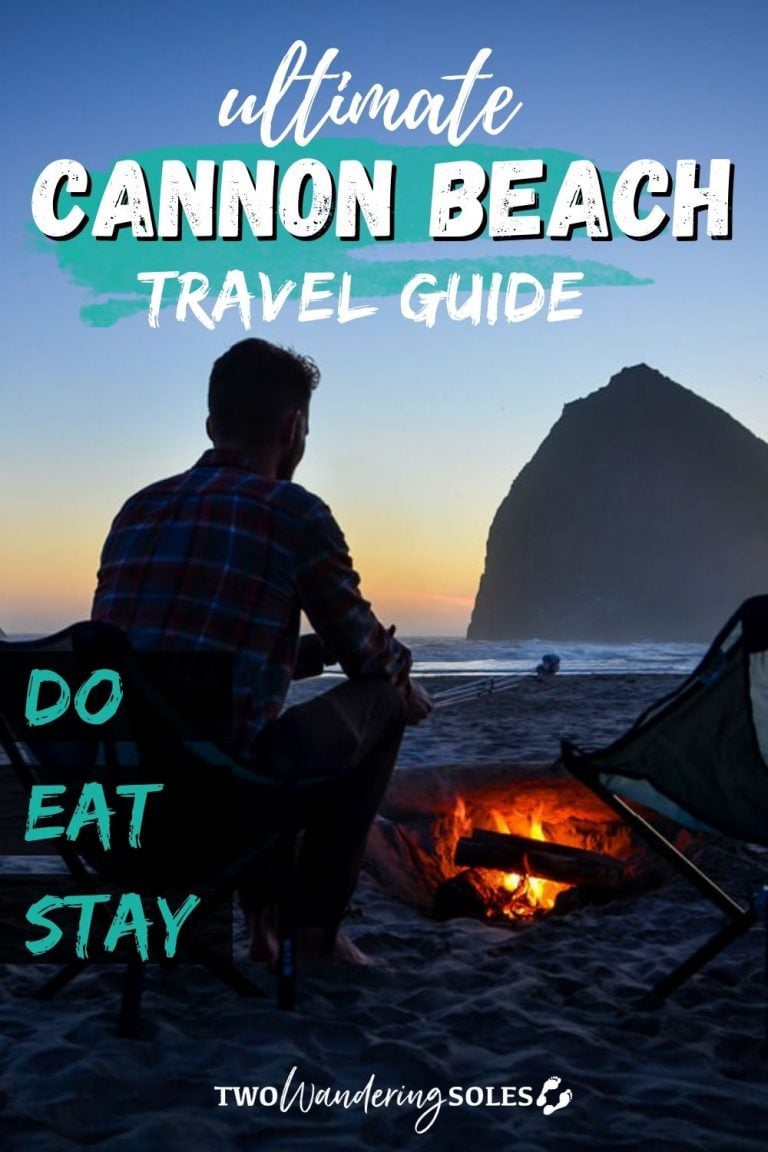 We want to hear from you!
Have you been to Cannon Beach, Oregon? What was your experience like? Are you planning a trip and still have questions? Let us know in the comments below!