It's no surprise that when the weather gets warm in Bend, locals flock to the nearest body of water. As locals, we know a thing or two… Here is everything you need to know about floating the Deschutes River in Bend, Oregon during the summertime!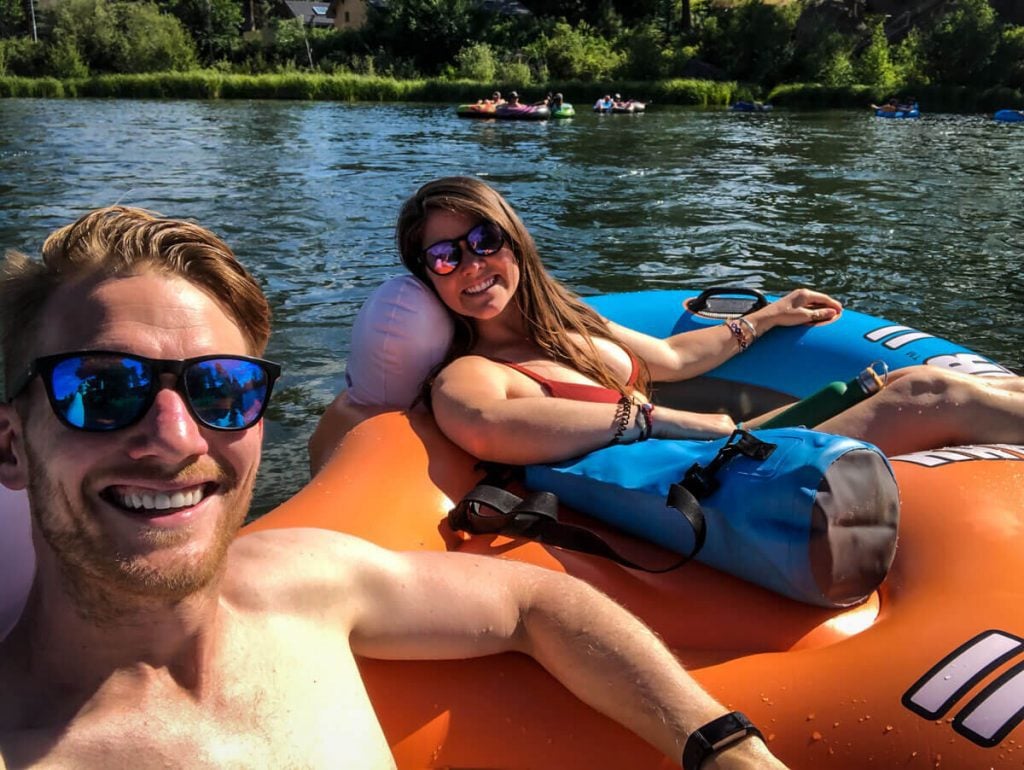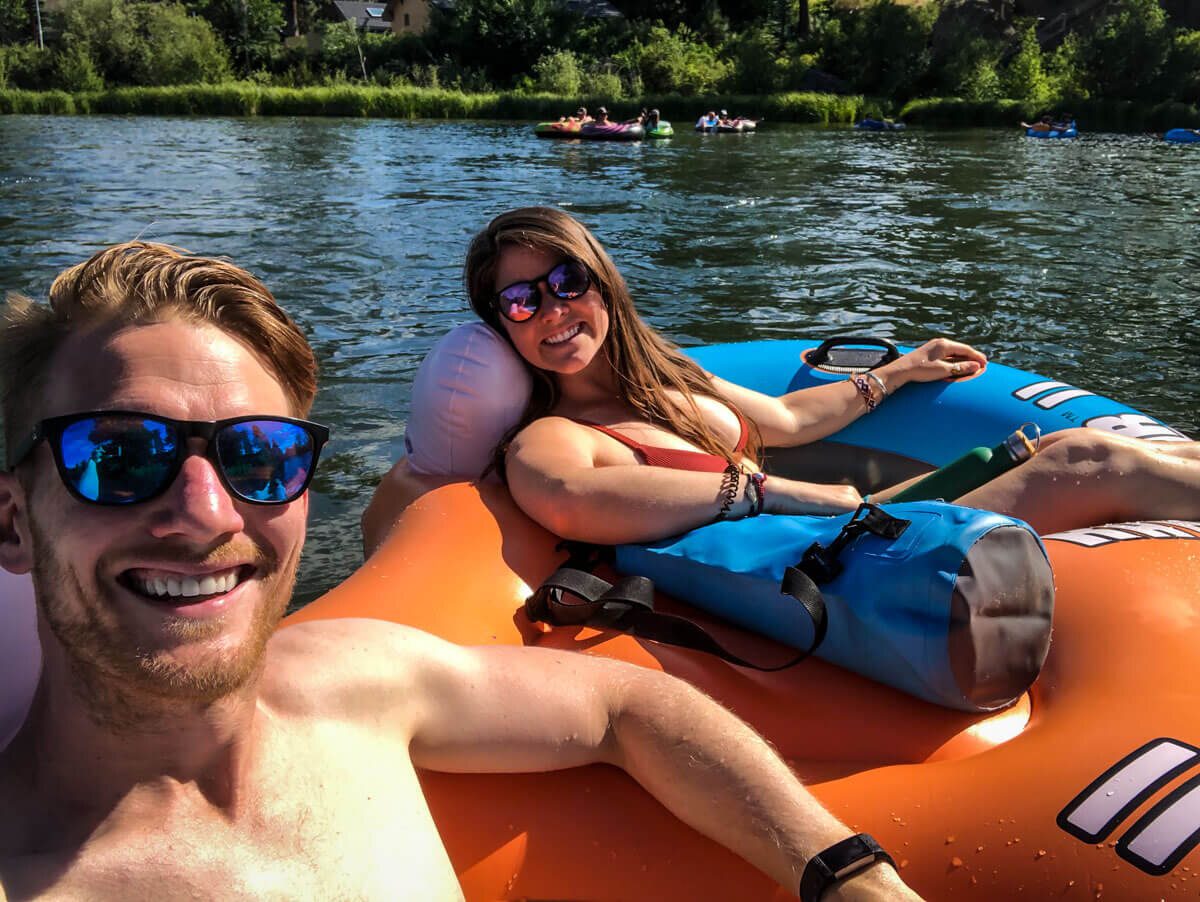 If you're visiting Bend during the summer months, floating on the Deschutes is the thing to do!
On a hot summer's day, take one look at the Deschutes River, which carves its way through the center of town, and you'll likely see it crowded with people on brightly colored tubes or SUPs making their way leisurely down the river.
Being that we live in Bend, we've floated the Deschutes River more times than we can count. In fact, it's one of our favorite things to do in Bend.
If you're visiting from out of town, it can be a little confusing trying to figure out where to put in and where to get out, so allow us to help.
We're going to share exactly how to float the Deschutes River – where to get a tube or SUP and where to start and end. And as per usual, we are sharing all sorts of insider tips to make your float epic!
Article contents
---
---
Best time to float the Deschutes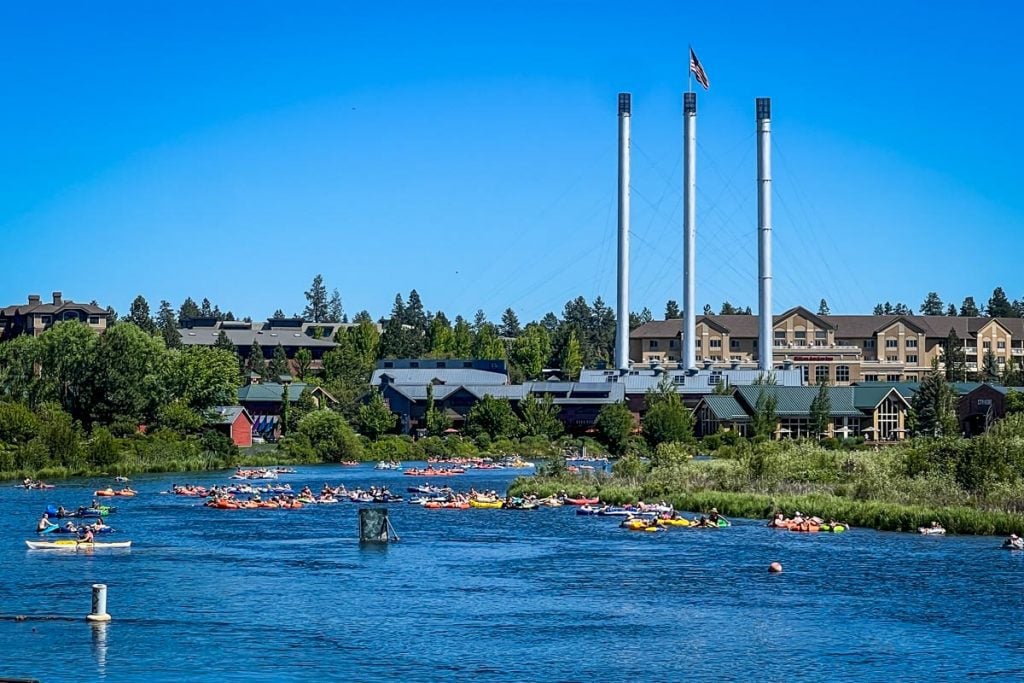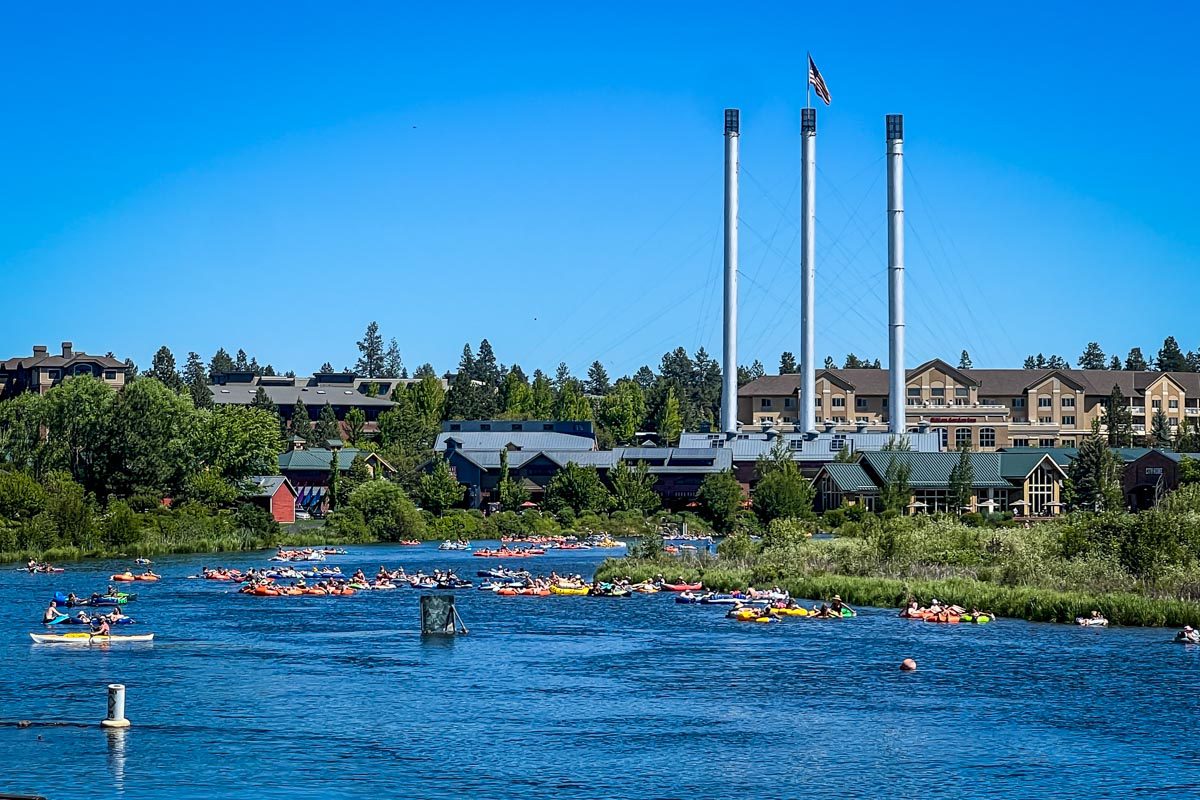 The best time to float on the Deschutes River is during the hot summer months – from mid-June through mid-September.
If you are floating in a tube, you will only want to go during the summer months. Even early June will likely be too cold in Oregon's high desert for tubing. July and August will be your best bet at hot enough temperatures to enjoy this activity.
It is worth noting that the last several years, August and September have seen very bad wildfire seasons. There are some days where the air quality is too smokey for tubing to be enjoyable.
What to expect when floating the Deschutes River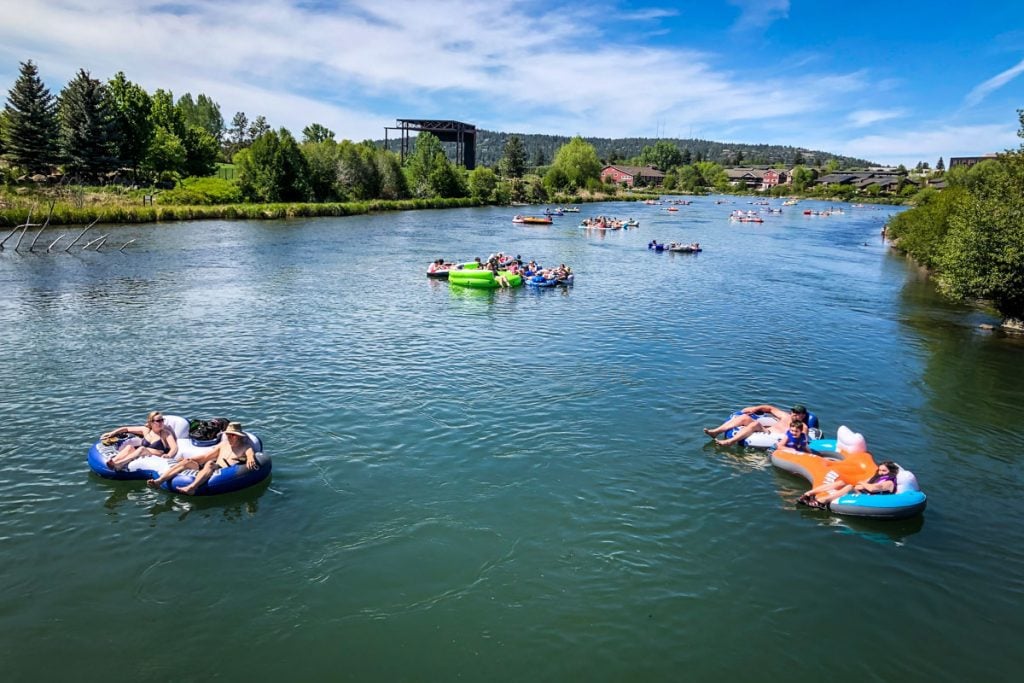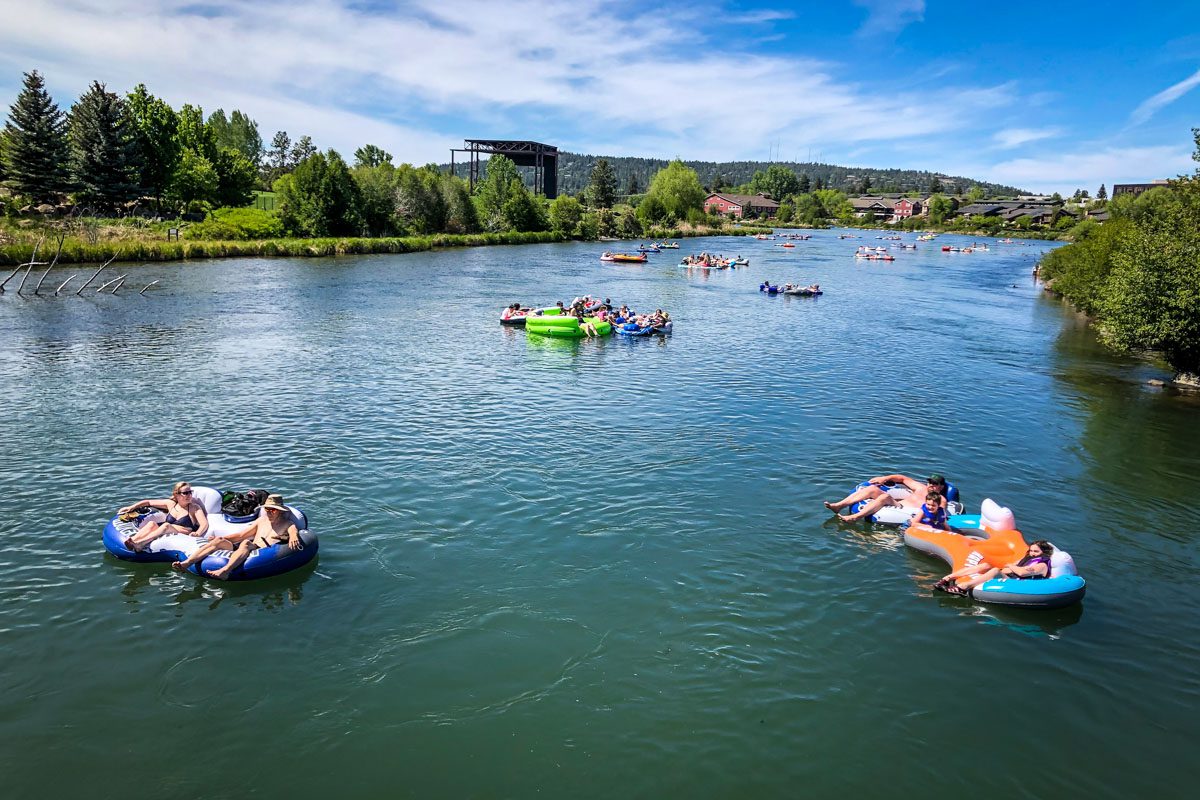 During the summer months, you'll see people of all ages floating the Deschutes River – families with kids, teenagers, bachelor and bachelorette parties – the whole gamut.
You'll also see a good mix of both locals and visitors, as floating on the Deschutes is an activity that can be appreciated by all.
Depending on the day, the vibes on the river can range from laidback and quiet to a party-like atmosphere.
You'll float past residential areas, the lively commercial Old Mill District, and the Hayden Homes Amphitheater. On a clear and sunny day, there are few better ways to experience Bend's beauty.
Weekend afternoons are busiest (though weekdays are increasingly more crowded). And if the weather is sunny and hot, you can damn near guarantee the river will be full of floaters.
Most of the river is a very slow, relaxed float. There are even some areas where you might get a little "stuck" and feel like you're not moving at all.
The one exception to this "lazy river" vibe is at the Bend Whitewater Park. This is located at roughly the halfway point of the float.
Bend Whitewater Park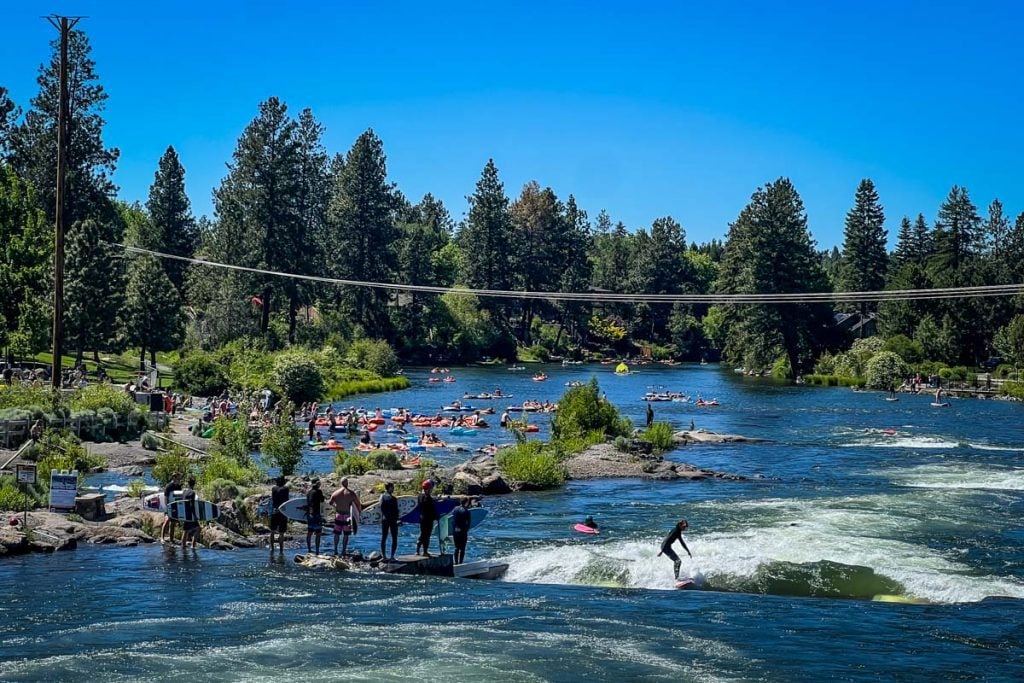 At the Whitewater Park, the Deschutes River is divided into three sections:
Wildlife Reserve
The east portion of the river is dedicated to the wildlife that call the river home. This is where the fish can make their way up the river, and birds and other species can live undisturbed by floaters.
Insider Tip: If you look up, you will see very tall poles with osprey nests at the top. If you have more time in Bend, we'd recommend going on a walk in this area so you can really get a good look at them. If you're lucky, you might even see one of these large birds snacking on a fish!
Surfing Wave
The middle section of the river has a man-made wave for river surfers and whitewater kayakers. It's pretty fun to stand on the bridge above and watch them.
Tubing Rapids
On the west side of the river, there is a series of Class II rapids for tubers. They are relatively mild and a fun change of pace from the otherwise very slow-moving river.
If you aren't up for the rapids, you can get out of the water just before the bridge (there is a sign that marks this). You can then carry your tube or SUP past the bridge and enter after the rapids.
Our advice: Unless you're positive the rapids aren't for you, we'd recommend going for it! It's pretty fun and not too crazy. Just be sure you have everything securely attached, including your sunglasses and hat. Ben lost a pair of nice sunnies in these rapids.
Logistics of floating the Deschutes River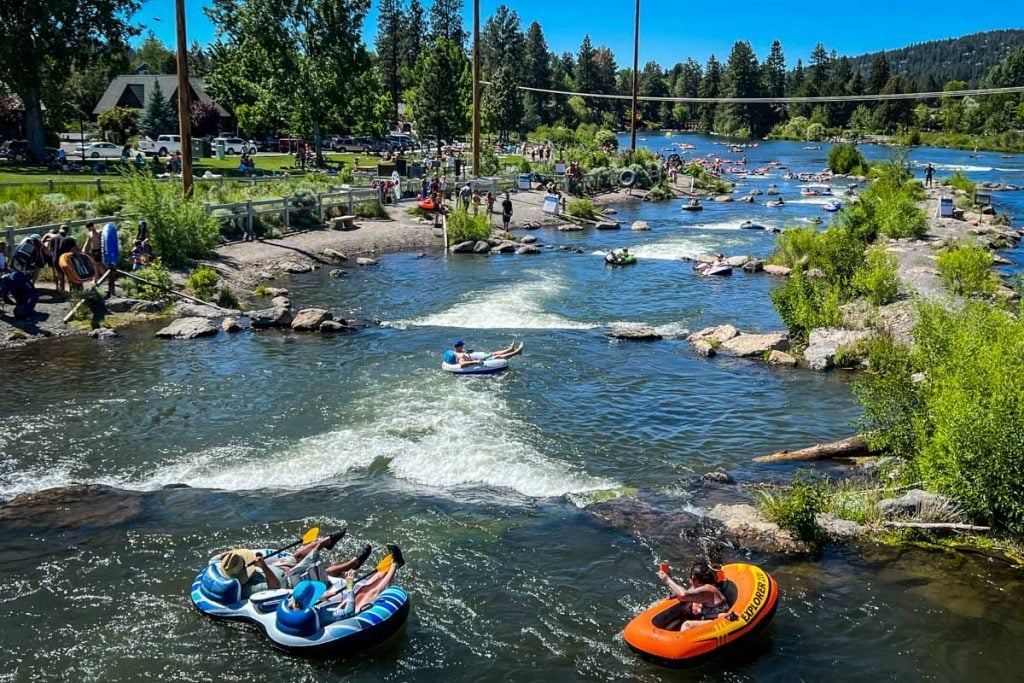 If you're traveling to Oregon from out of town, you might be a little confused on where to start and end your float. We're going to spell it all out for you with Google Maps links and a map (you're welcome!), so there's no need to guess!
You will float the Deschutes River from south to north. Below are the exact starting and ending points.
Where to start
You can put in on either side. However, if you are driving yourself (not taking the shuttle), we'd recommend putting in at Riverbend Park as there is much more parking available.
Midway point
Bend Whitewater Park is located roughly midway through the float. This can be a good place to get out if you would like to have a shorter (roughly 45-minute float). You can get out on the west side of the river here.
Where to end
The put-out point is at the very southern end of Drake Park, on the east side of the river. You will get out just after you go underneath the Galveston Avenue Bridge, so be prepared to exit.
Alternative: If you miss the take-out point (it comes up fast after the bridge!), you can exit the river on the west side near this footbridge. If you plan to take the shuttle, know that you will have to walk back to the east side of the river to be picked up.
How to get to and from floating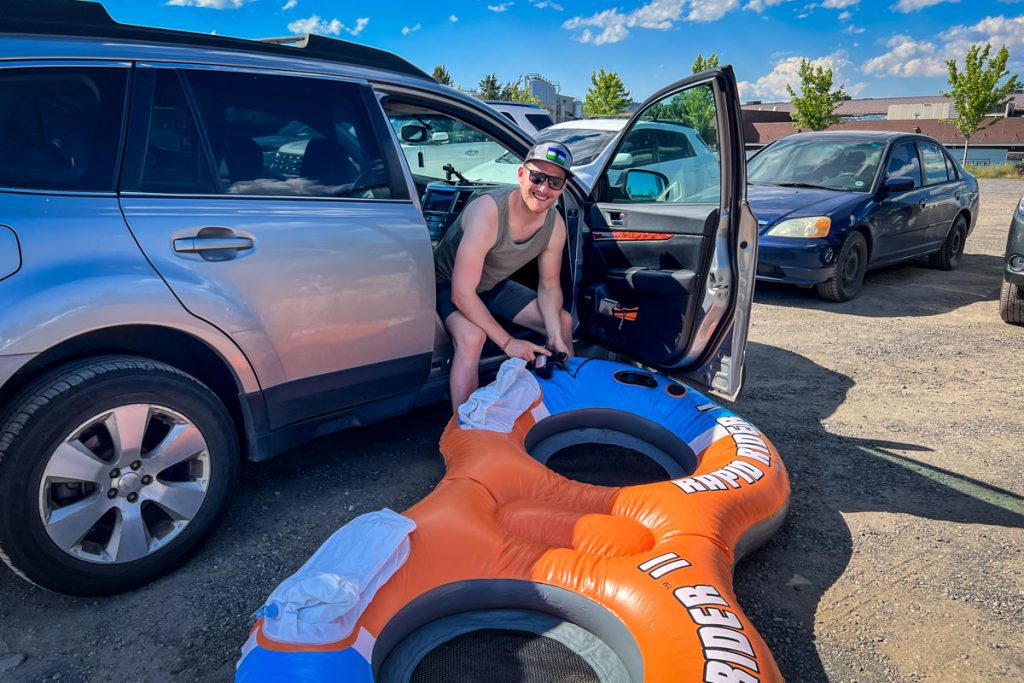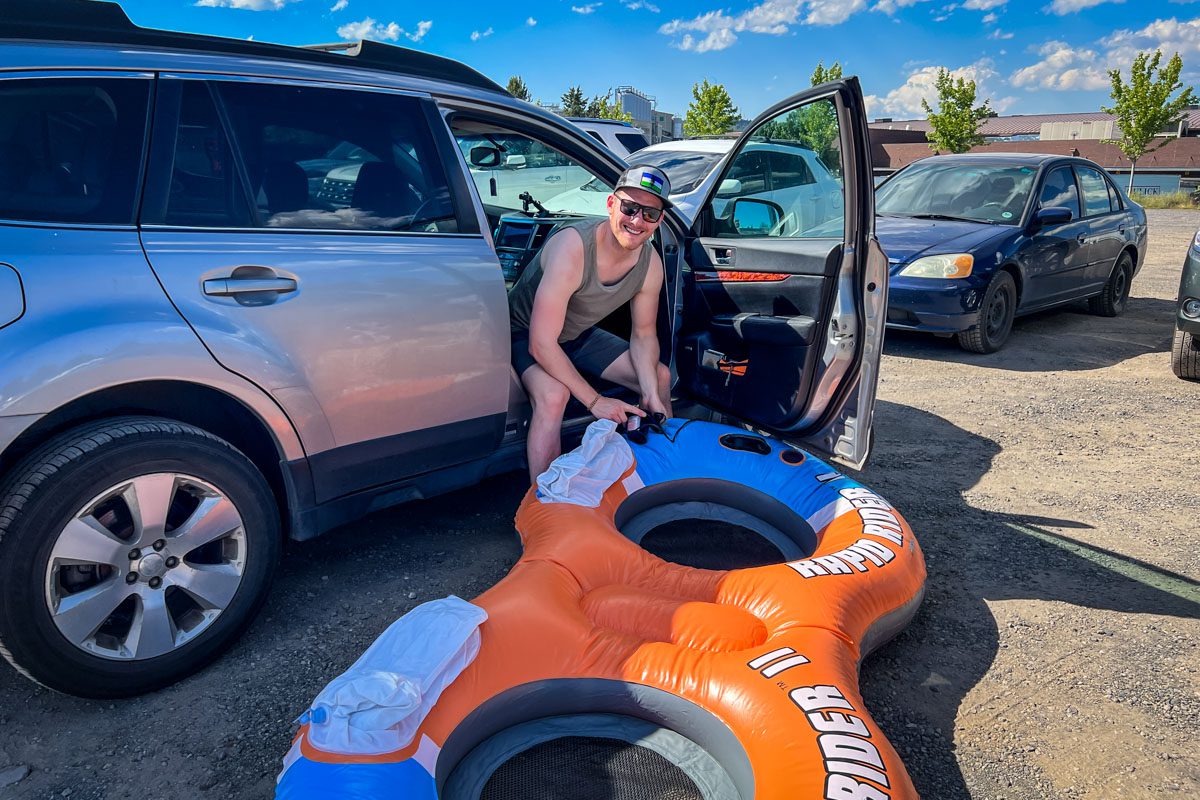 Option a) Drive yourself
Option b) Take the shuttle
We'll go over each option in detail below:
Drive yourself
If you live in Bend or are traveling with others and have two vehicles, you can set a shuttle for yourself by parking one near the takeout point and leaving one at the put-in.
Park one vehicle near the put-out point at the south end of Drake Park.
Important: Be sure to read the street signs, as there have been increased regulations on parking in this area.
Then, drive in the second vehicle to Riverbend Park (west side of the river) where you will start the float.
Put this parking lot in your GPS, as there is ample parking on the west side of the river near the put-in point. If this one is full, there is an overflow lot nearby.
Alternatives:
If you only have one vehicle, you could also take an Uber back to the put-in point.
If you don't mind a shorter float, you can go halfway and then walk back to your car:

Option a) Start at Riverbend Park and get out halfway through at the Whitewater Park. From here, it is roughly a 12-minute walk back to your car.
Option b) Start at the Whitewater Park and get out at Drake Park (the traditional end point). From here, it is roughly a 13-minute walk back to your car.
Take the Shuttle
If you are visiting from out of town and only have one vehicle, you'll likely want to plan to take the shuttle as it'll make logistics a breeze.
Tumalo Creek runs a shuttle service that starts at their Park & Float Lot and costs $6 per person (if you are not also renting a tube). A tube rental and shuttle package costs $24 per person.
You can take the shuttle from the parking lot to the put-in point at Farewell Park. Then, once you exit the river at Drake Park, you'll catch a shuttle back to the lot where you can get back into your car.
Deschutes River Float Map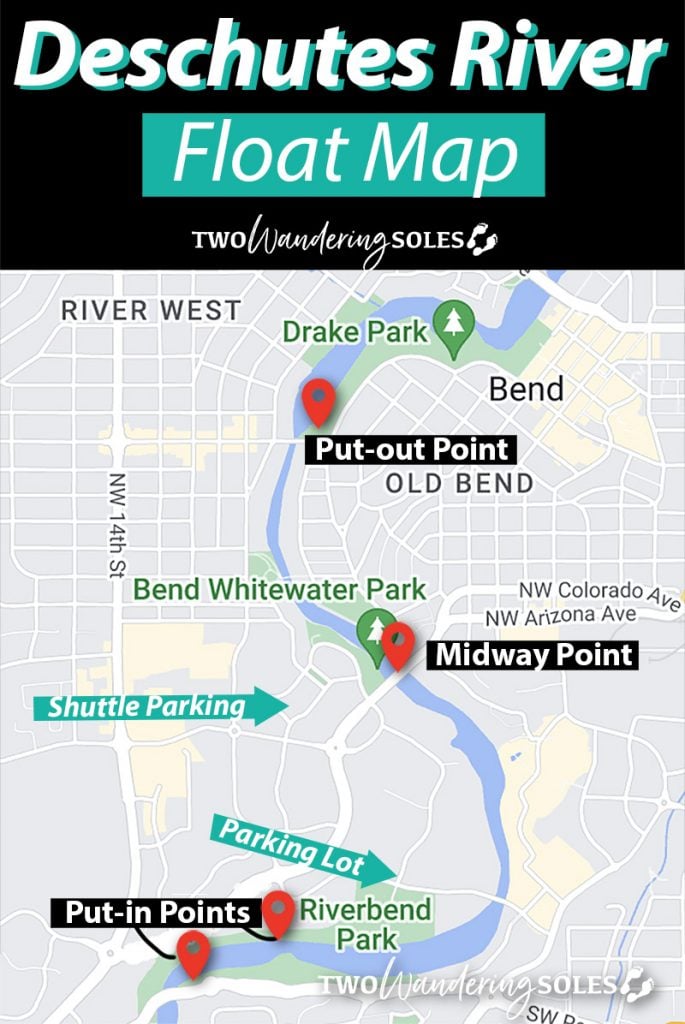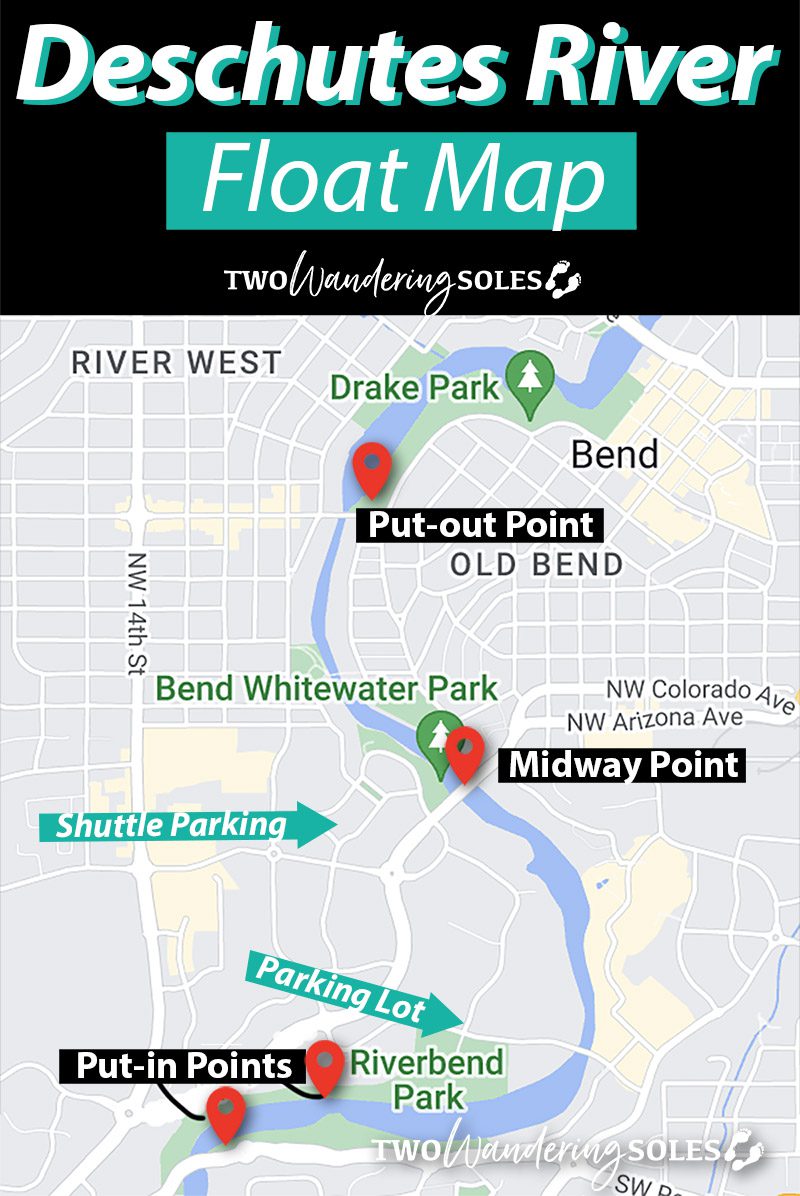 You can see both the put-in and put-out points on this map as well as places to park. We've also marked the Bend Whitewater Park so you know where to expect the rapids.
How long does it take to float the Deschutes River?
The total time can vary depending on the exact day, and whether or not you stop along the way, but in total the float itself should take around 1.5 hours from start to finish.
To give yourself plenty of time, you may want to plan on 2 hours (including getting into and out of the river).
Short on time?
If you want to cut down the time on the river, you can put in at Miller's Park just after the rapids, which will more or less cut the time in half.
This can be a good idea if you only have one vehicle, as you can reasonably walk back to your car (in about 10 minutes) from the pullout point.
If you do just this section, you can expect the float to take roughly 45 minutes.
How much does it cost to go floating on the Deschutes River?
While this is technically a free activity, there may be some associated costs.
If you do not own a tube of your own, you will need to buy or rent one (see the section below for more info).
Also, if you do not have two cars to do your own "shuttle", you can pay $6 per person to take the shuttle.
In short: If you have your own tube and are driving yourself, it will be a free activity. However, if you are renting a tube and taking the shuttle, you can expect to pay $30 per person total.
Does it get crowded?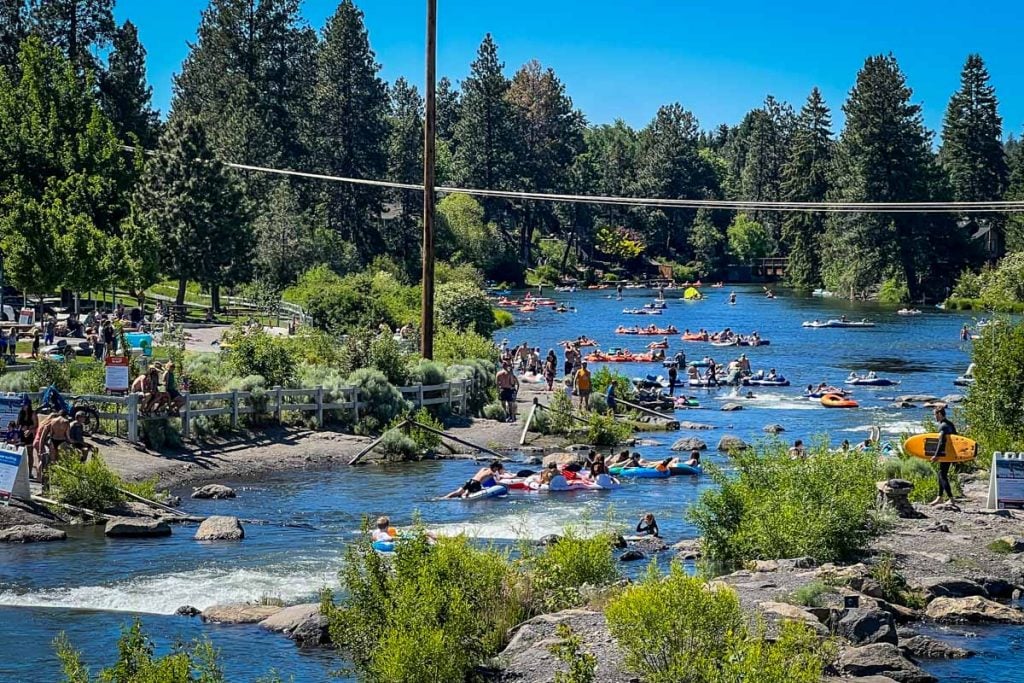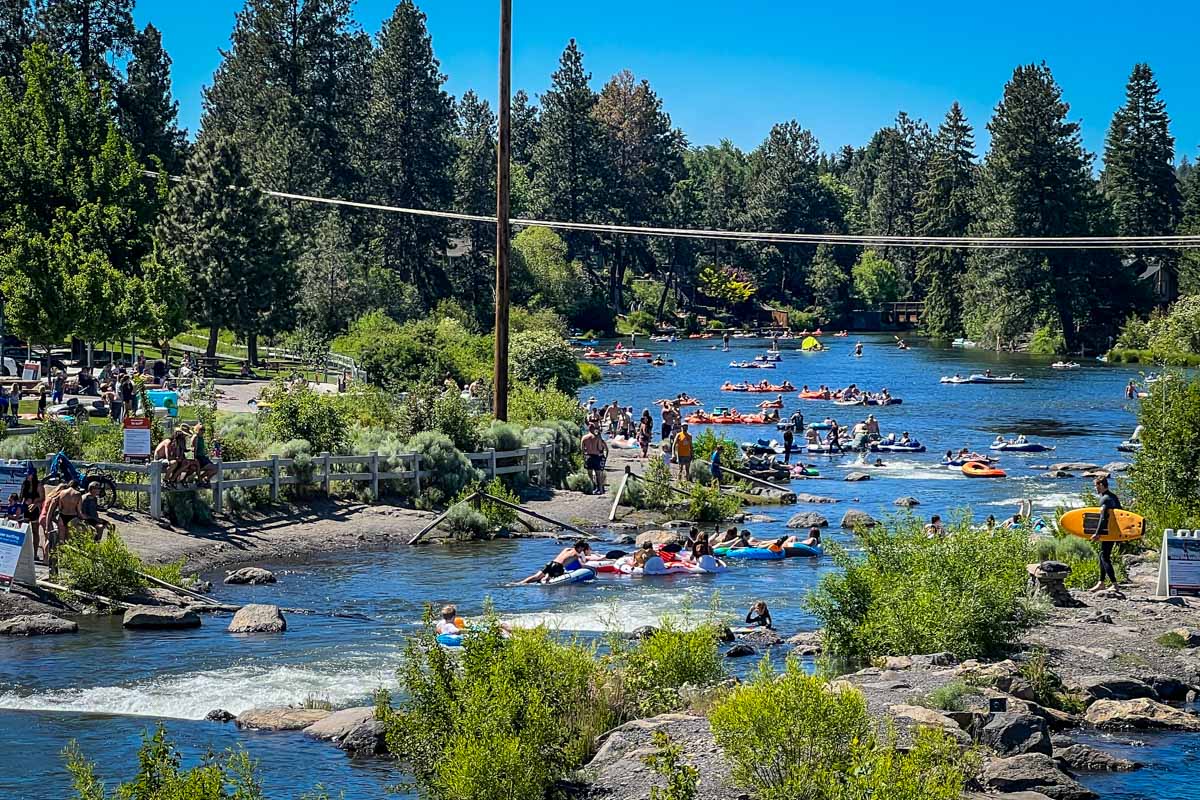 Yes! Floating on the Deschutes is one of the most popular things to do in Bend – both with locals and visitors.
If you want to avoid crowds, we'd recommend heading out on the river earlier, as the crowds get bigger as the afternoon goes on. Tumalo Creek has rentals available as early as 10 a.m.
Also, if you have flexibility in your schedule, try to go on a weekday instead of a weekend; though, if it is a nice day, even a weekday will likely be busy on the river.
Where to rent or buy a tube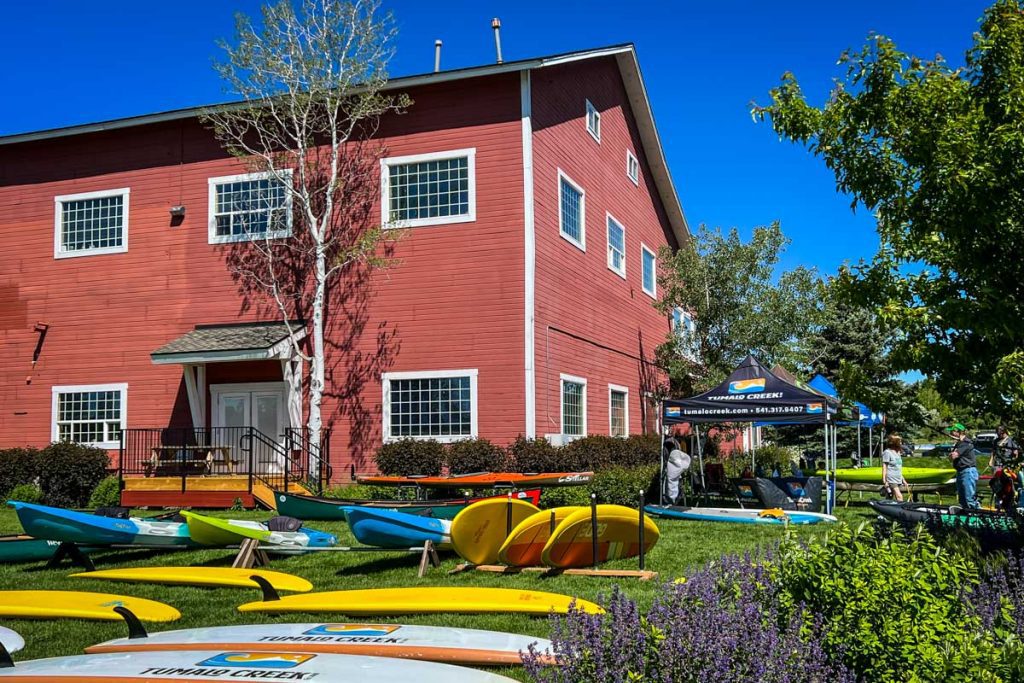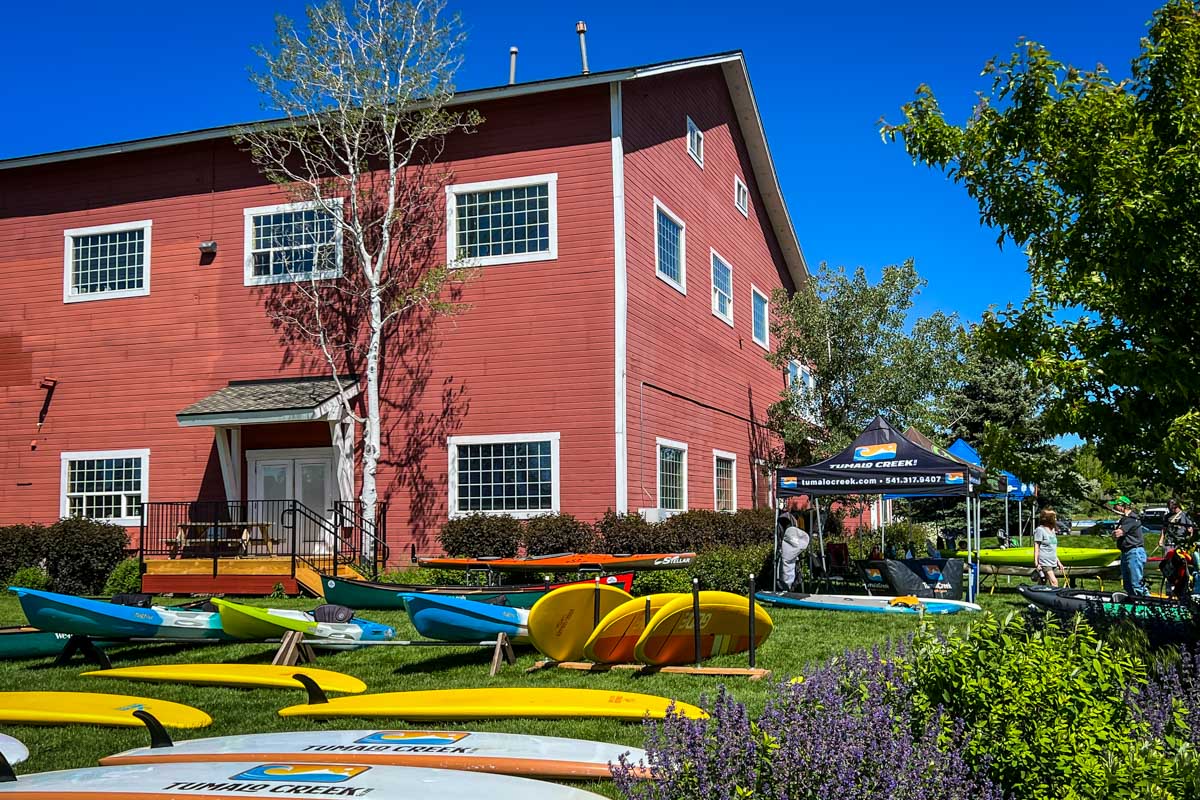 Don't have a tube of your own?
No worries, you can still float the Deschutes! Below are the details for where you can buy or rent a tube.
Rent a Tube
You can rent tubes or SUPs from Tumalo Creek, located near the put-in point.
In addition to rentals, they also offer a shuttle service.
2-hour Float Package: $24 per person
Tube rental
Life jacket
Shuttle to and from parking
Shuttle pass only: $6 per person
If you know the date and time you'd like to float, we'd recommend making a reservation so you're not disappointed.
Some things to consider when renting a tube
Tumalo Creek has a few rules you'll need to follow:
No dogs are allowed on the rental tubes
They do not allow tubes to be tied together
Partying is not allowed
Tumalo Creek rentals is open from 10 a.m. to 4 p.m. daily beginning mid-June. The last return shuttle is at 7 p.m.
Buy a tube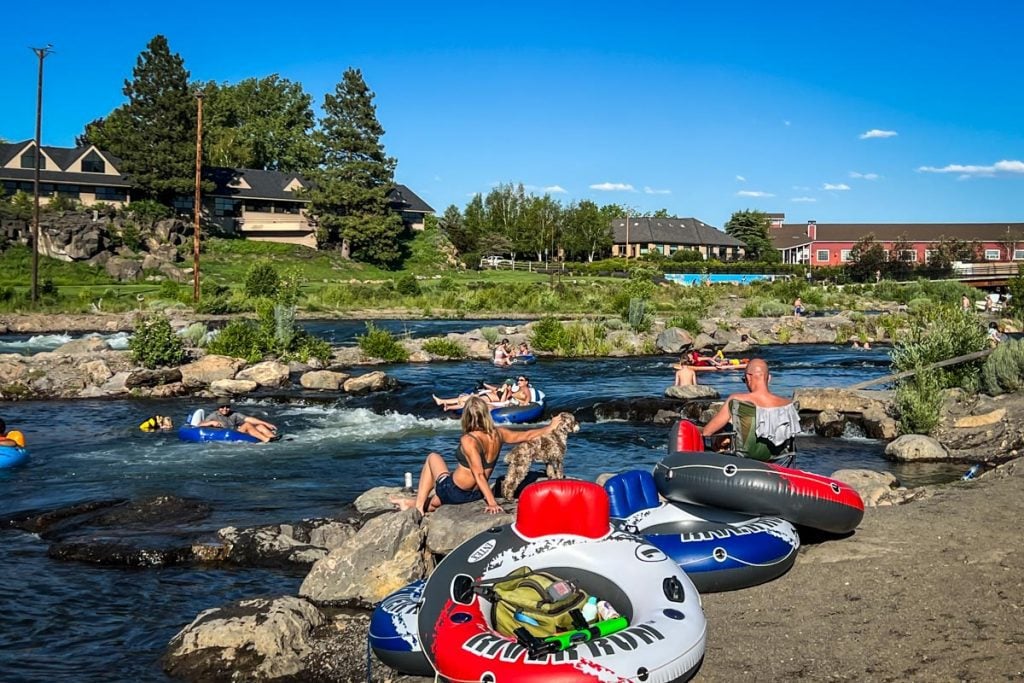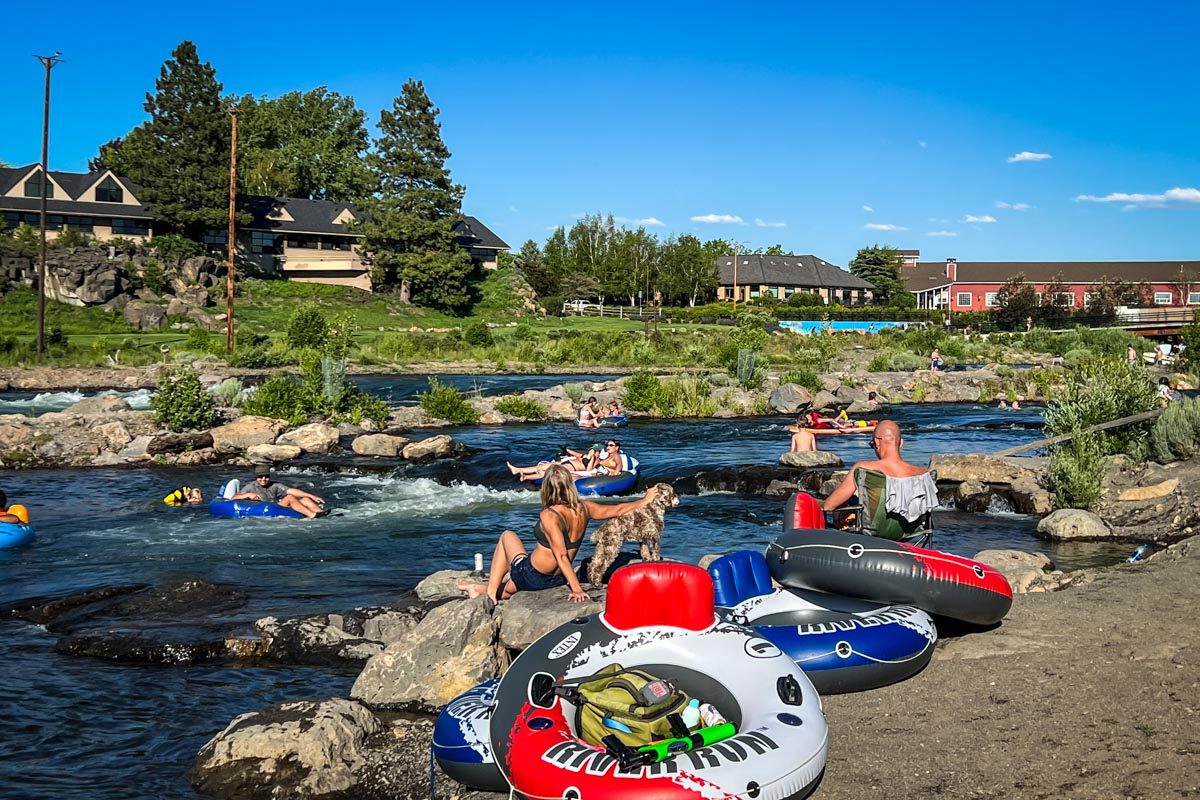 If you plan to do more tubing and want to invest in a tube of your own, you can buy a quality, yet reasonably-priced tube locally from Fred Meyer, REI or Walmart.
We bought a 2-person tube from Fred Meyer for $20 and we've used it to float several times. You can find some cheaper tubes or more expensive ones, depending on what you want.
Alternatively, if you are planning ahead for your Oregon road trip, you could order a tube off of Amazon:
Want to SUP instead?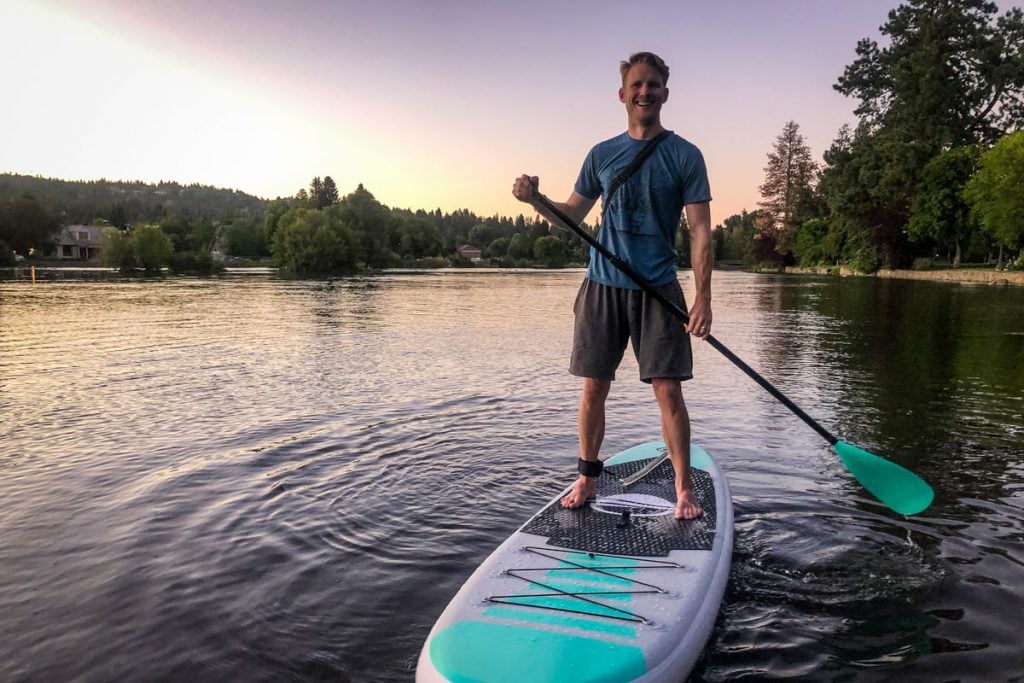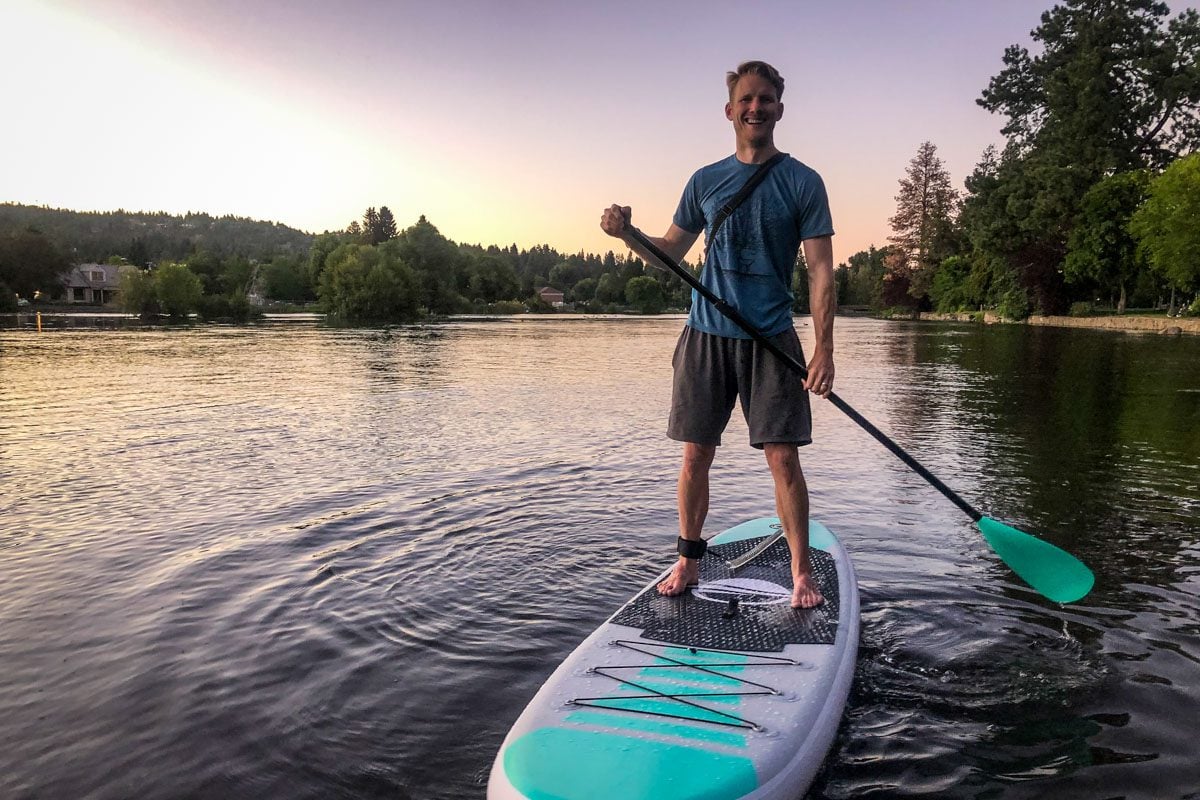 If you're looking for another way to experience the river, a stand up paddle board is a good option. It's a little more work than laying back in a tube and letting the river carry you along, but with a paddle, you can navigate both upstream and downstream.
If you don't have a SUP of your own, you can rent one from most of the outfitters in town. Just search for a canoe or kayak rental and they should have SUPs as well.
Debating between a SUP and a tube?
Personally, we prefer going tubing midday when the river is more crowded and going SUP-ing in the morning or evening hours when there are fewer people to steer around.
You can also SUP for a longer period of the year as you won't get soaking wet (hopefully!). Tubing, on the other hand, is really only possible from mid-June through mid-September.
Still unsure? We'd recommend a tube if you want to relax and float with the crowds. Alternatively, if you don't mind a bit more work, SUPS are pretty fun!
Rules for floating the Deschutes River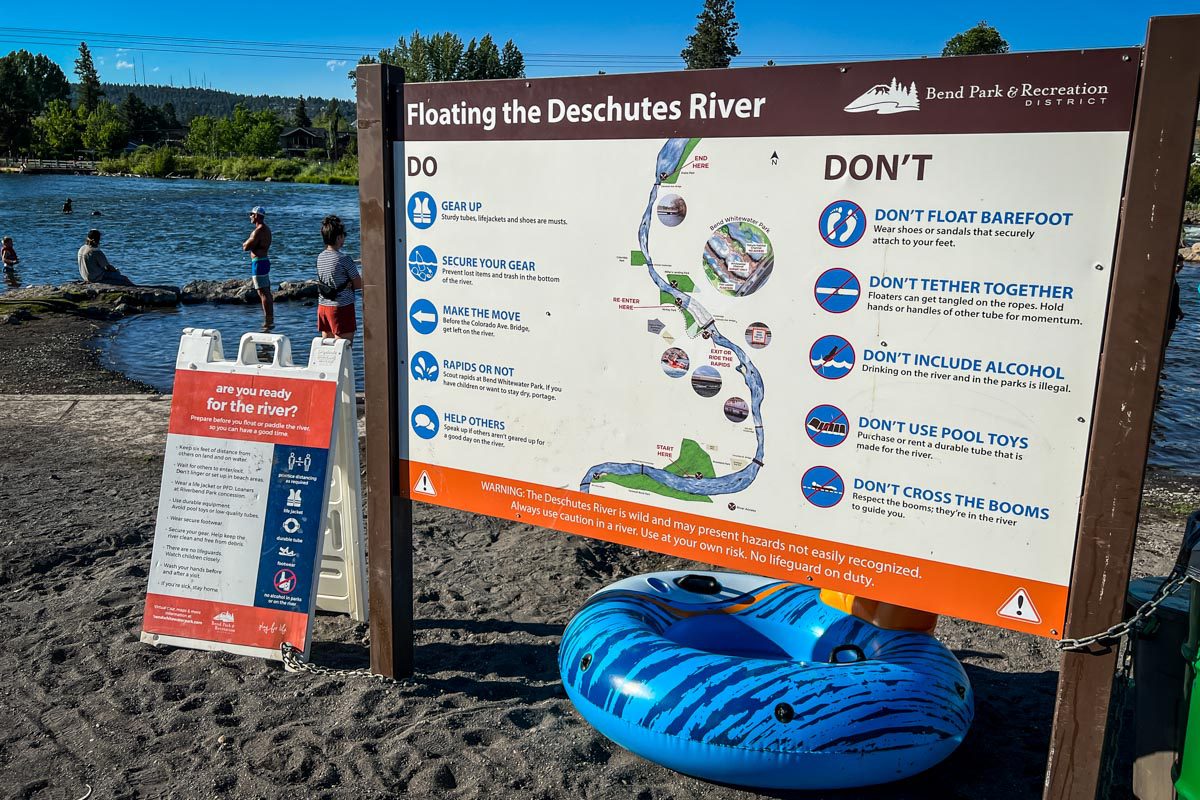 If you plan to go tubing on the Deschutes while visiting Bend, please pay attention to this section. In order for this to continue to be a fun activity for people for many years to come, it's important that we all follow a few simple guidelines.
Be respectful
Know that you will be floating past people's backyards. Have a good time, but keep your noise to a reasonable level.
Pack EVERYTHING out with you
Please, please, please do not leave anything behind. Bring a bag to put trash or empties in so they don't accidentally float away from you.
Never feed the ducks or geese
You will likely see lots of ducks and geese along your float. Let them be. Don't try to get close or feed them. They are wild animals, and interacting with humans or eating human food isn't good for them
Tips for floating the Deschutes River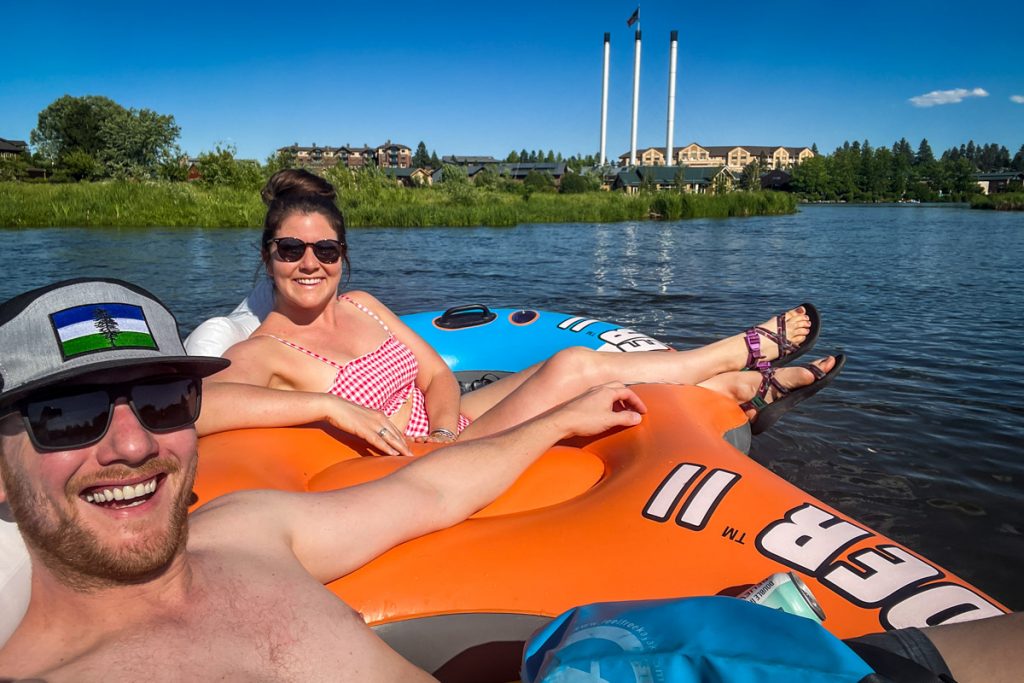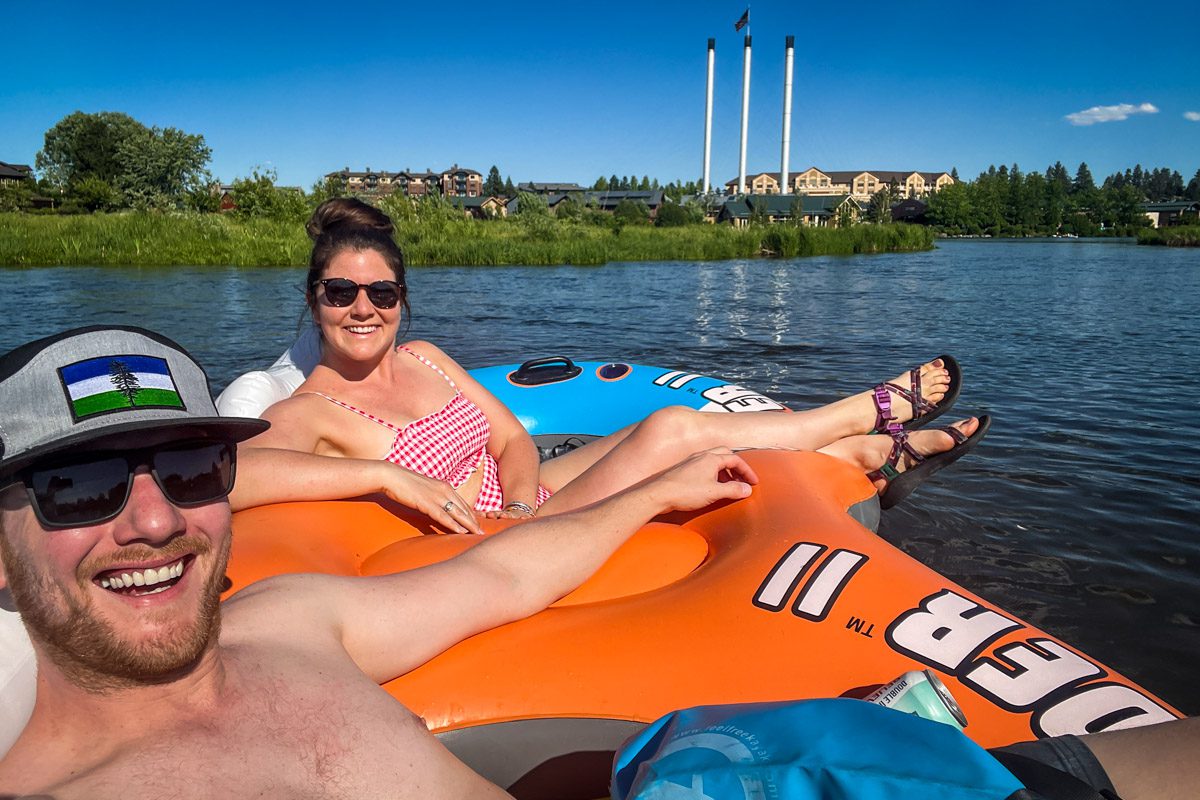 On some hot summer days, there can be a party atmosphere on the river as lots of people make their way to the Deschutes to cool off.
Watch your sunglasses at the rapids
Be careful with your sunglasses and other belongings when you go over the rapids at the whitewater park (especially if you have a low-quality tube). Ben lost a pair of expensive sunnies this way. RIP.
Don't forget water
It can be easy to forget to drink water while you're floating, but the hot central Oregon sun can dehydrate you quickly. If you are bringing alcoholic drinks on the water (many people do even though it's technically not allowed), it's also important you don't forget to bring a water bottle. You don't want to overindulge or get dehydrated as you sit in the sun.
Bring waterproofs
We always bring a dry bag and a waterproof case for our phones.
The water is cold
Even on hot mid-summer days, the water remains pretty darn cold, especially if it's windy. So be prepared.
Plan a picnic for after your float
You will end your float at Drake Park, which is a perfect picnic spot. Pack a few snacks in a dry bag as well as a change of clothes and a towel for a post-float pick-me-up.
Wear strap on sandals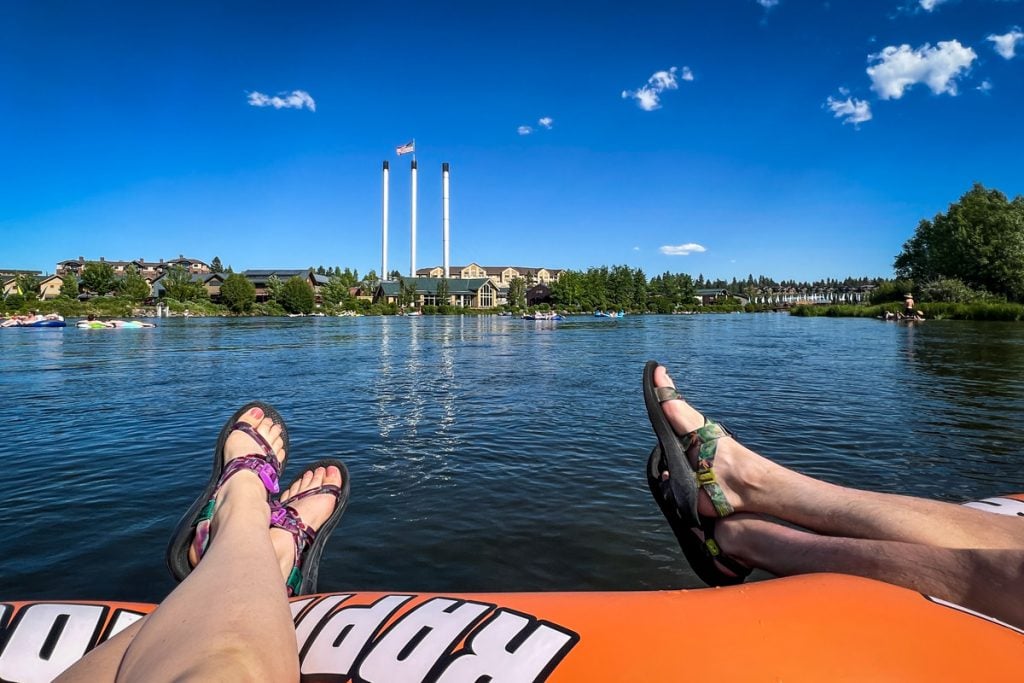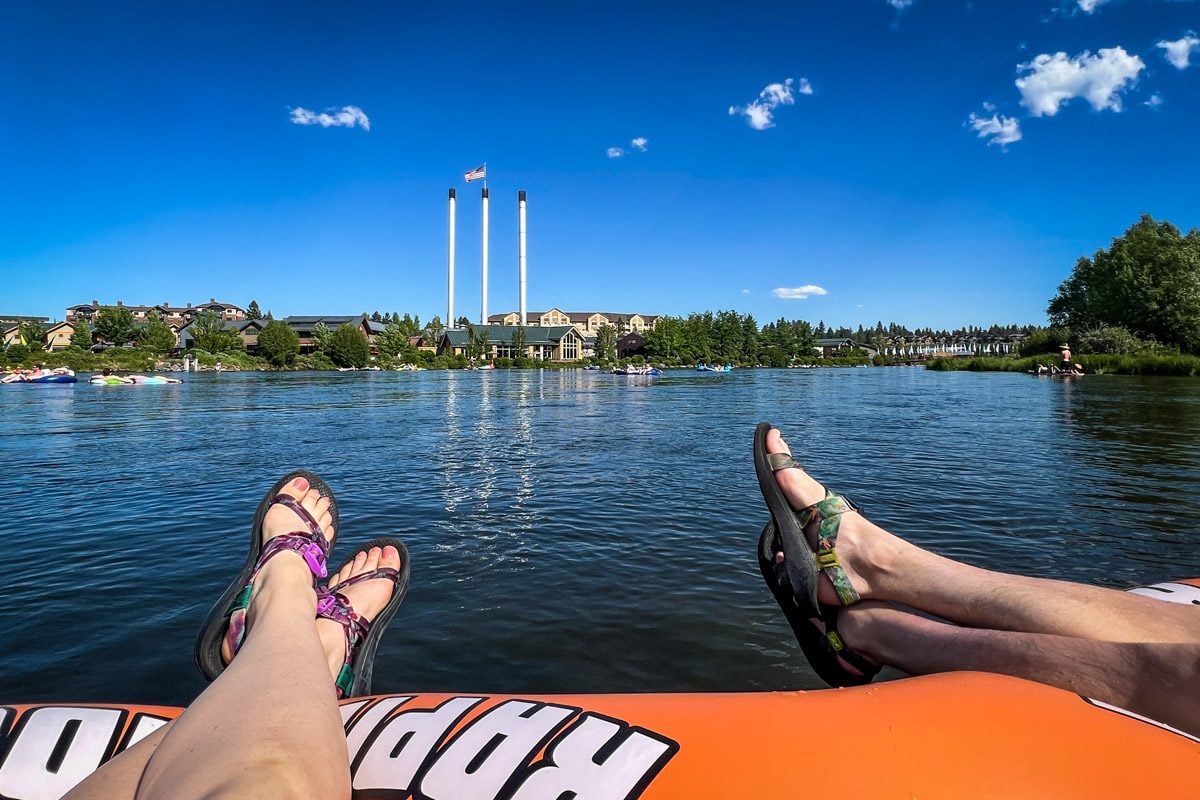 Flip flops will fall off and get lost on the river – not a good thing for you or the environment. Avoid this mistake by wearing sandals that attach to your foot (we love Chacos!). Alternatively, closed-toe water shoes would work well too.
Can I go barefoot? We wouldn't recommend it because you will need to step out of your tube when you exit the river and there can be sharp stones on the river floor.
Bring a "paddle"
Bringing a frisbee can help you steer and "paddle" in some of the slow parts. You can throw it around when you get out at Drake Park.
What to pack for floating on the Deschutes River
Packing the right gear will ensure you have the best time on the river!
Dry bag: Anytime we float the river, we bring a dry bag so we don't have to worry about our valuables getting ruined. Plus, we have a place to put our keys, water, garbage, clothes and phones.
Sunglasses (and a sunglasses "rope" if you're worried about losing them)
Hat
Sunscreen (biodegradable/reef safe will ensure you're not harming the wildlife that call the river home)
Swimsuit
Coverup or clothes to wear on the shuttle or walk to your car
Chacos (or other sandals that strap onto your foot)
What to do after floating…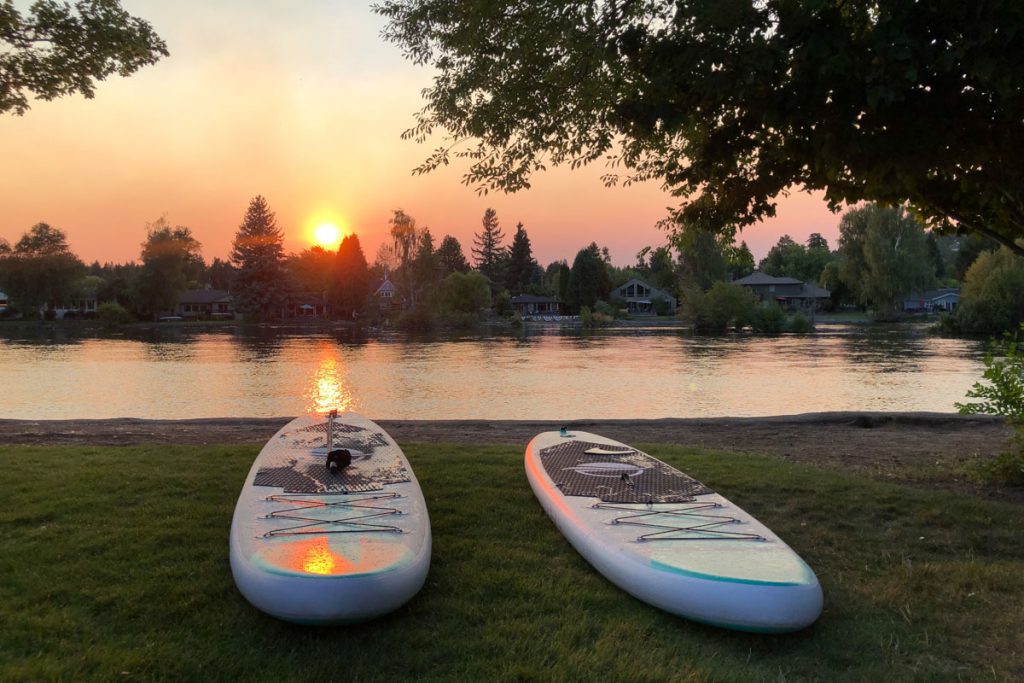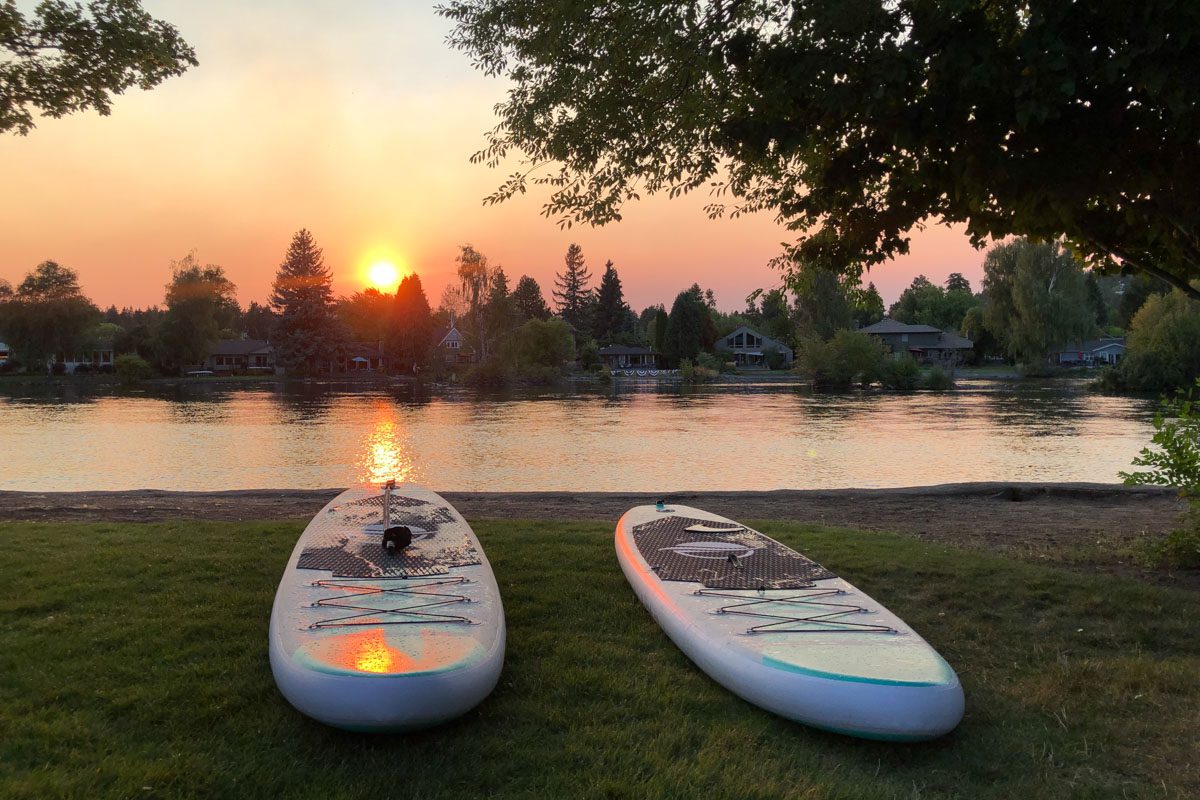 Finish your float and looking for something fun to do nearby?
Here are a few options:
Grab a local brew at Bend Brewing Company
Just a short walk from the put-out point in Drake Park, BBC has a nice grassy lawn and is a perfect spot to enjoy an ice cold beer on a summer afternoon. They often have live music too!
Good to know: On nice summer days, there is often a wait, so you might need to put your name in and walk around town until there's space.
Have a picnic at Drake Park
If you've packed some snacks and a towel, find a patch of grass and relax. Drake is a beautiful park and a good place to throw a frisbee, relax with a book or people watch.
Freshen up & then explore town!
Head back to your hotel or Airbnb, then hit the town! We've got you covered with all sorts of ideas of things to do in Bend. Plus, after living in town for a few years, we've rounded up our very favorite restaurants in Bend so you can scope out the best bites in town!


Are you planning a trip to Oregon?
Being that Oregon is our home state, we have TONS of content to help you plan your trip. Start with our Oregon Homepage and be sure to check out the articles below. Leave us a comment if you have any more questions!
Save this article on Pinterest for later!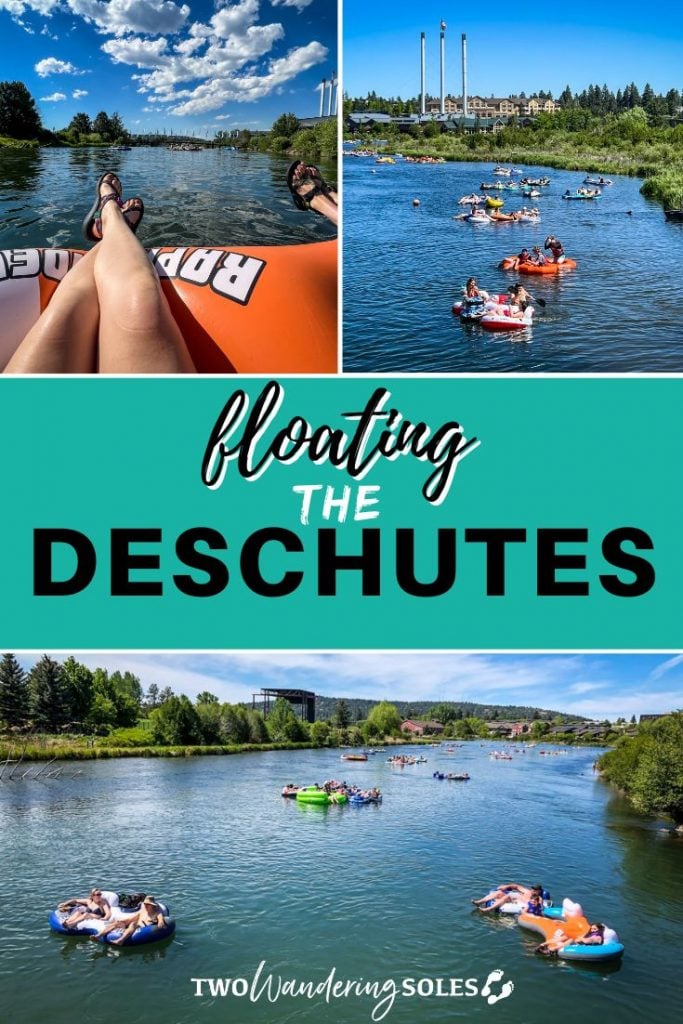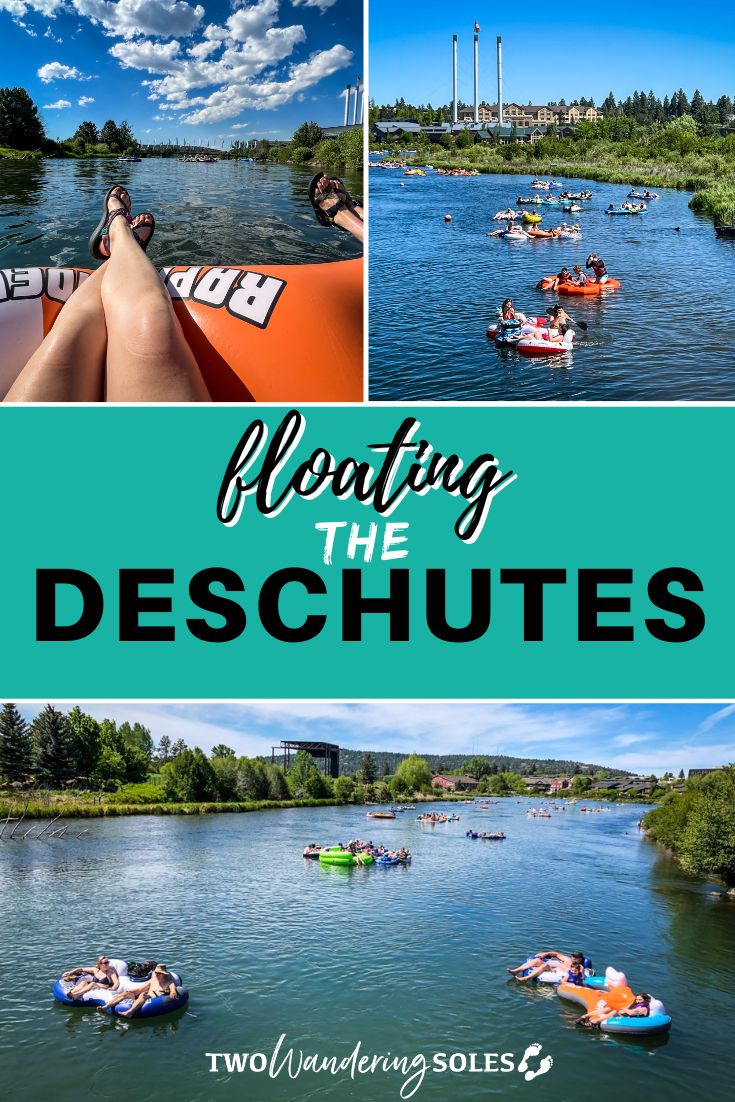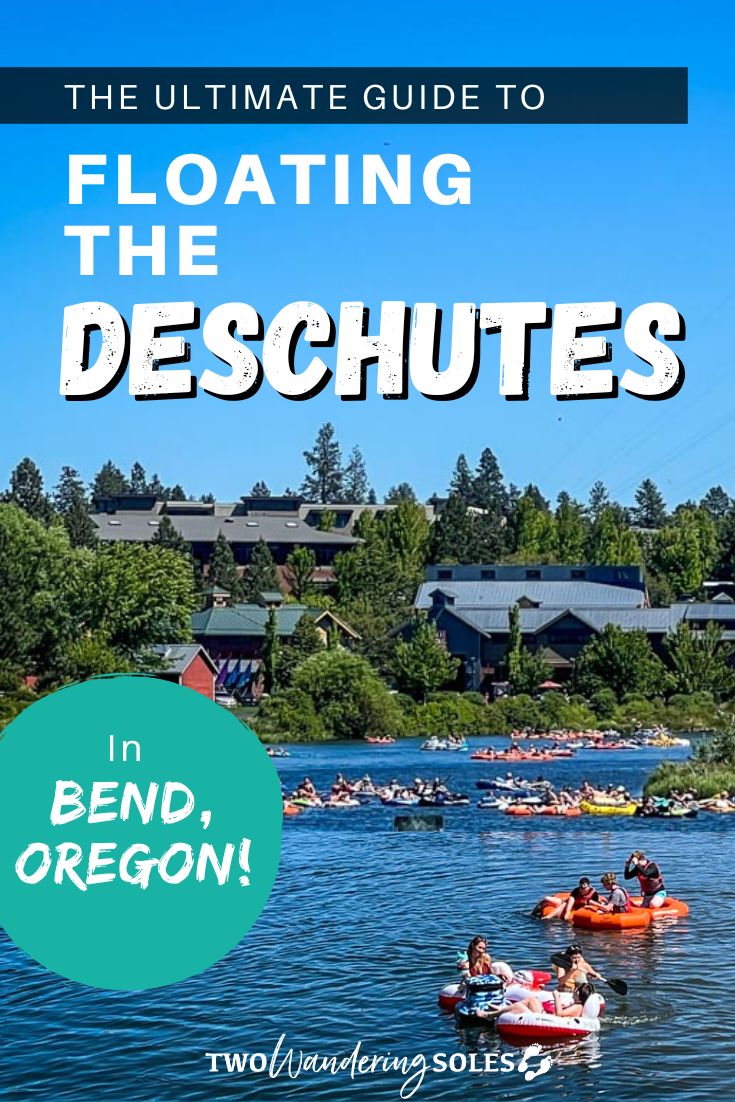 We want to hear from you!
Do you have more questions about floating the Deschutes River? Leave a comment below and we'll do our best to find you the answers you're looking for!