Packing for a trip to Iceland is tough (the weather changes all the time!). But don't worry, we've got you covered with a super detailed Iceland packing list so you know exactly what to bring.
Get your FREE download of our Iceland packing list
What's inside?
In this free PDF download, we've provided packing check lists for everything from clothing and toiletries (for both men and women!) to electronics and extra gear you may consider packing if you plan to do some campervan travels.
Plus, we're sharing tons of packing hacks and tips for traveling in Iceland that you won't find anywhere else.
We spent hours creating this super helpful PDF just for you.
Enter your email and we'll immediately send the packing list to your inbox (totally FREE). 
We'll also be sending you bonus tips on all things Iceland, like tips for avoiding the crowds, where and what to eat, and information we wish we knew before going there. 
We value you, and NEVER spam. (We hate spam too.)
Want to save time and energy on planning?
We've traveled to Iceland 3 times now and spent weeks living in a campervan, traveling around the country. We've been able to explore a lot of what Iceland has to offer!
We've complied our experience to create the perfect Iceland itinerary. Our itinerary is for 7-9 days and meant to be explored while traveling in a campervan. It includes the highlights of the southern coast of Iceland. 
We'll send you our complete 7-9 day customizable itinerary, filled with tips and advice. Just click below to get your perfect Iceland itinerary today!
Check out our other Iceland content…
We have TONS of resources on travel in Iceland and how to make the most out of your trip. Check out our Ultimate Iceland Travel Guide for all the answers to your most burning questions, or read some of our favorite articles below.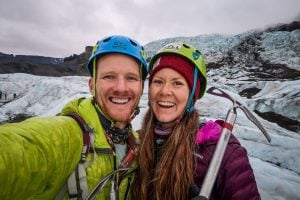 There are so many incredible things to do in Iceland it can be overwhelming to try and plan your trip. We've rounded up the top adventures, sights to see and culinary experiences so you can create your own Iceland bucket list....