Papakolea green sand beach is a breathtaking and unique slice of paradise. The only green sand beach in Hawaii, and one of just a few in the entire world, it's a truly unforgettable place. We put together this guide with everything you need to know to visit Papakolea Beach.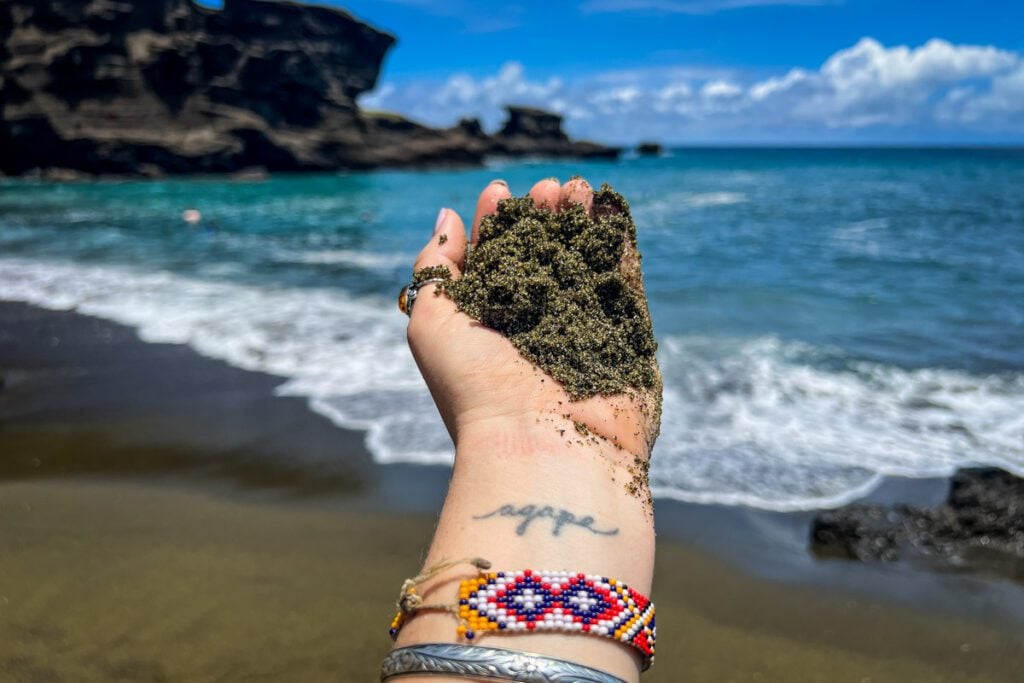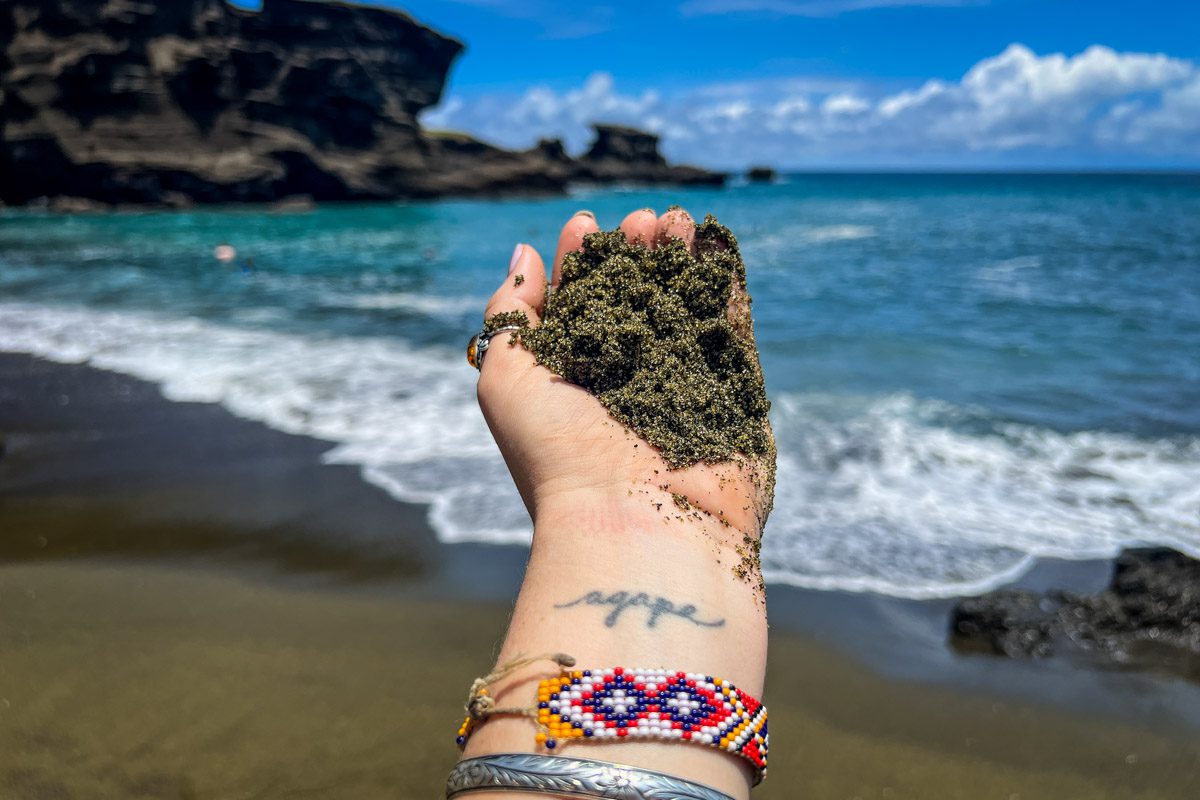 Papakōlea Beach is unquestionably the most unique stretch of shore on Hawaii's Big Island. With dark olive grains of sand, it could even be considered one of the most interesting beaches in the world, as there are only 3 other green sand beaches on the planet.
If you love beaches, a good adventure, or collecting unique experiences, there's a good chance that Papakōlea green sand beach is already on your Hawaii itinerary.
This fascinating beach is interesting to see and fun to photograph, but getting there isn't as straightforward as you may think.
In this article we're sharing everything you need to know about planning your visit to this unique beach, as well as insider tips (aka where to get the BEST lunch afterwards!) and what to expect.
Note: In this article, you may notice us using a couple different spellings for Papakōlea Beach, sometimes using the kahakō [ō] and sometimes not. The reason we use both is to acknowledge the linguistic markings of the modern Hawaiian language, while also keeping our content accessible and searchable for everyone.
Papakōlea Beach Travel Guide
---
Papakōlea Beach Overview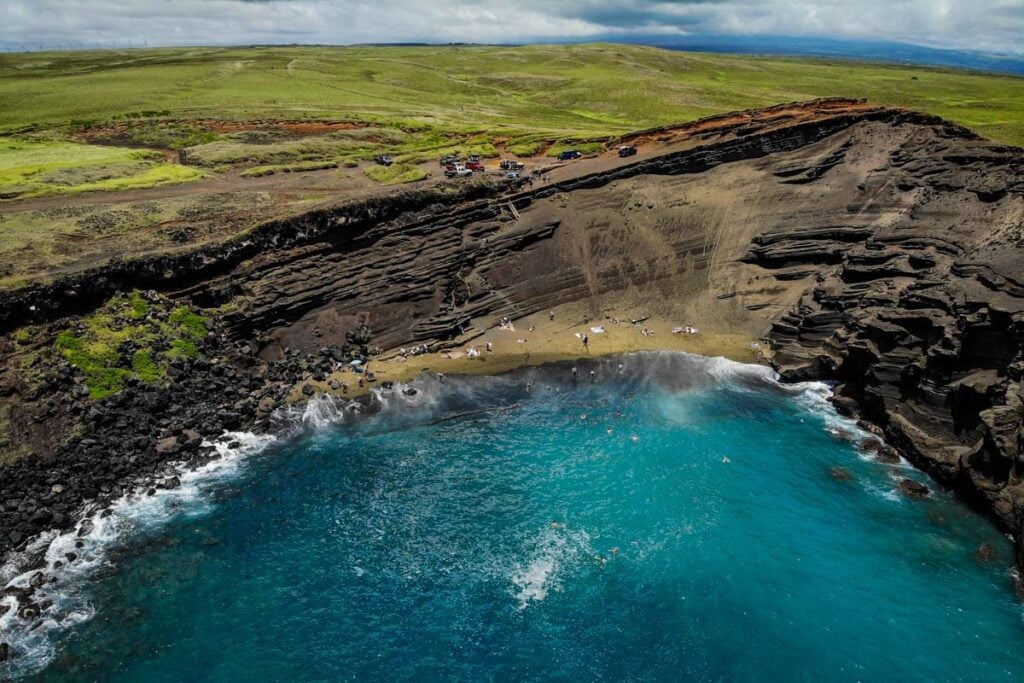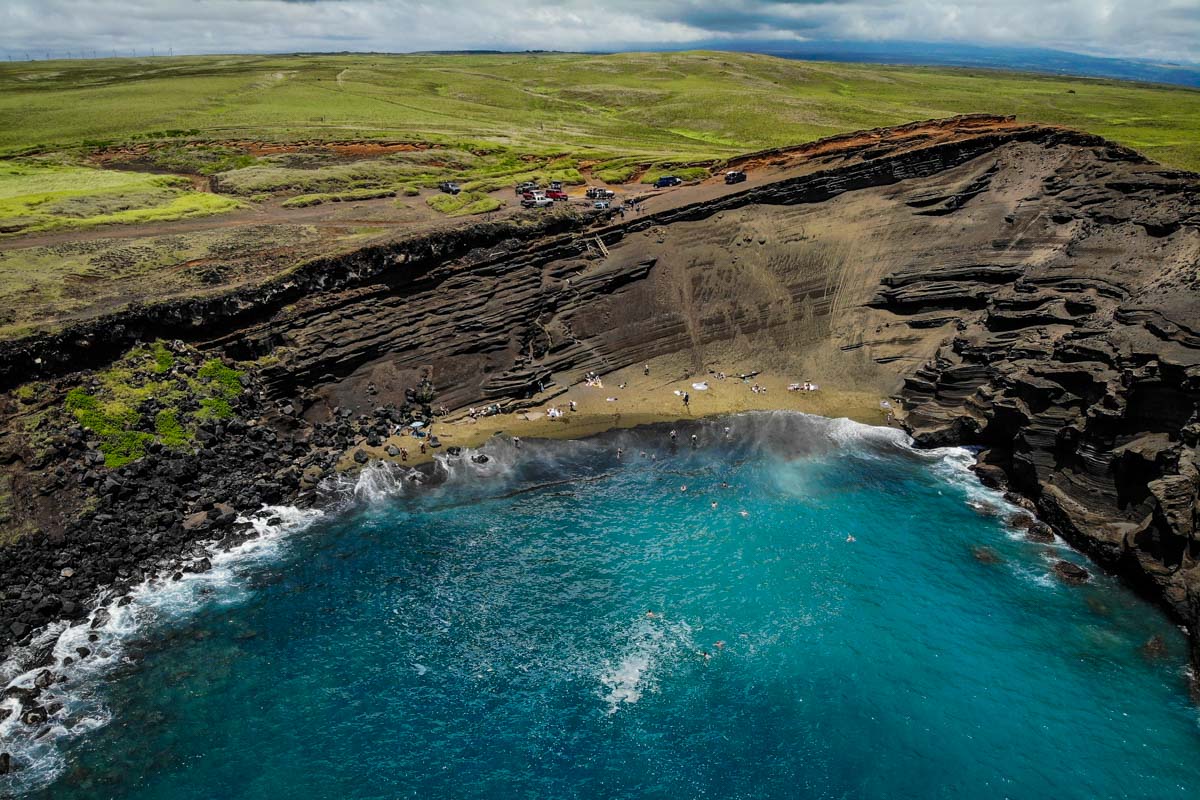 Known For: Ultra-secluded beach with green sand
Other Names: Green Sand Beach and Mahana beach
What to expect

Sand: Small olivine crystals mixed with soft, fine black sand
Water: Clear, warm, brilliant blue water
Swimming conditions: Frequent strong surf; advised only for advanced swimmers
Facilities: None

Parking: Large free lot off of South Point Road
Cost: Free
Fun Fact: Papa means "flats" and kōlea is the Hawaiian name for the Pacific golden plover bird, which can be found in this area during the winter months.
Are there other green sand beaches in the world?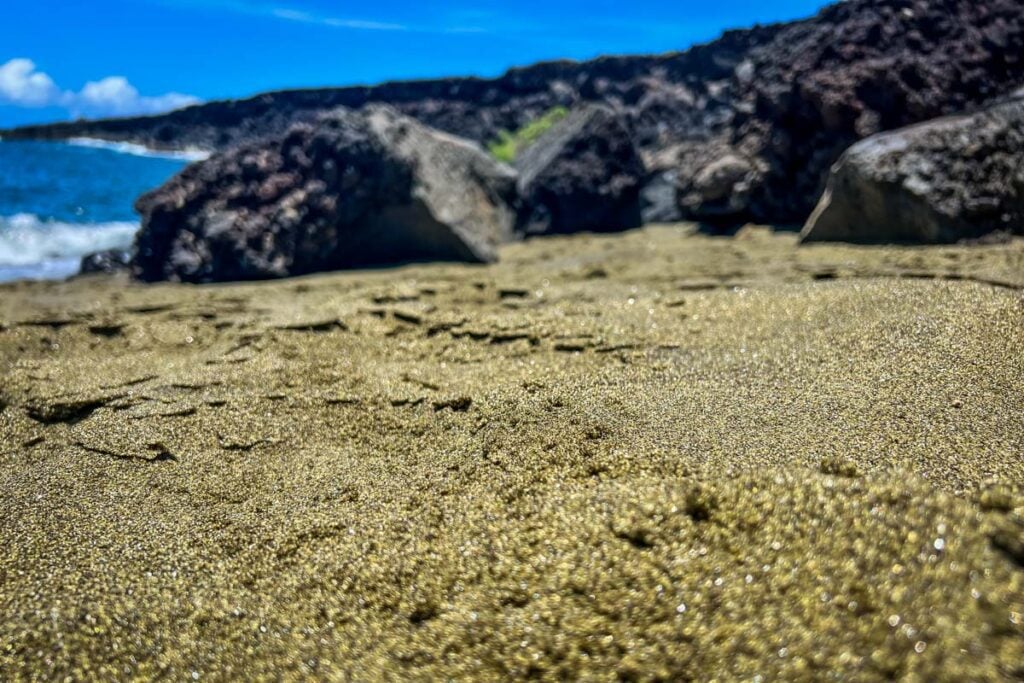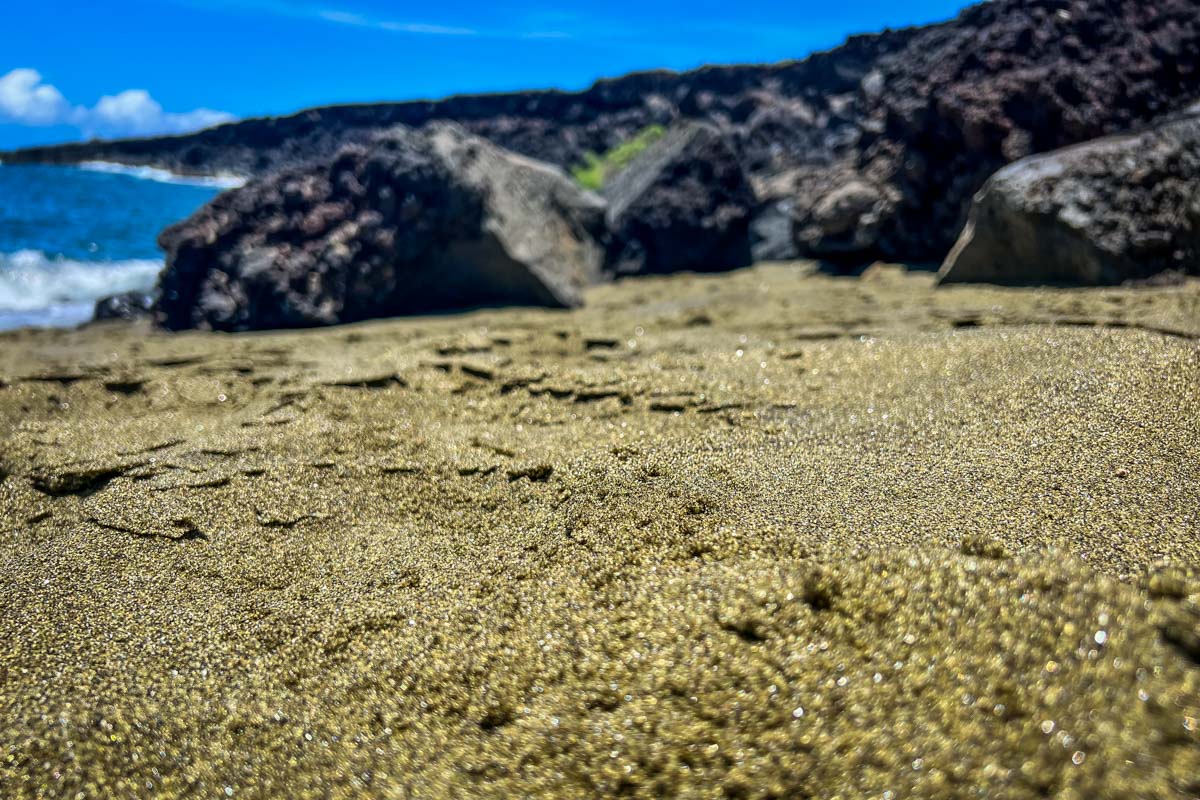 Beaches with green sand are certainly not a common occurrence! The green hue is caused by a subterranean mineral called olivine, and it's rare for it to accumulate above the Earth's surface. However, there are a few places in addition to Papakolea Beach where this occurs.
Talofofo Beach, Guam: Famous for its world-class surfing and a breeding ground for hammerhead sharks
Punta Cormoran, Galapagos Islands: Vibrant green sand, plus a hotspot for sea turtles and stingrays
Hornindalsvatn Lake, Norway: Though not technically a beach, Europe's deepest lake has sandy green shores thanks to ancient glacial deposits
How to get to Papakolea Beach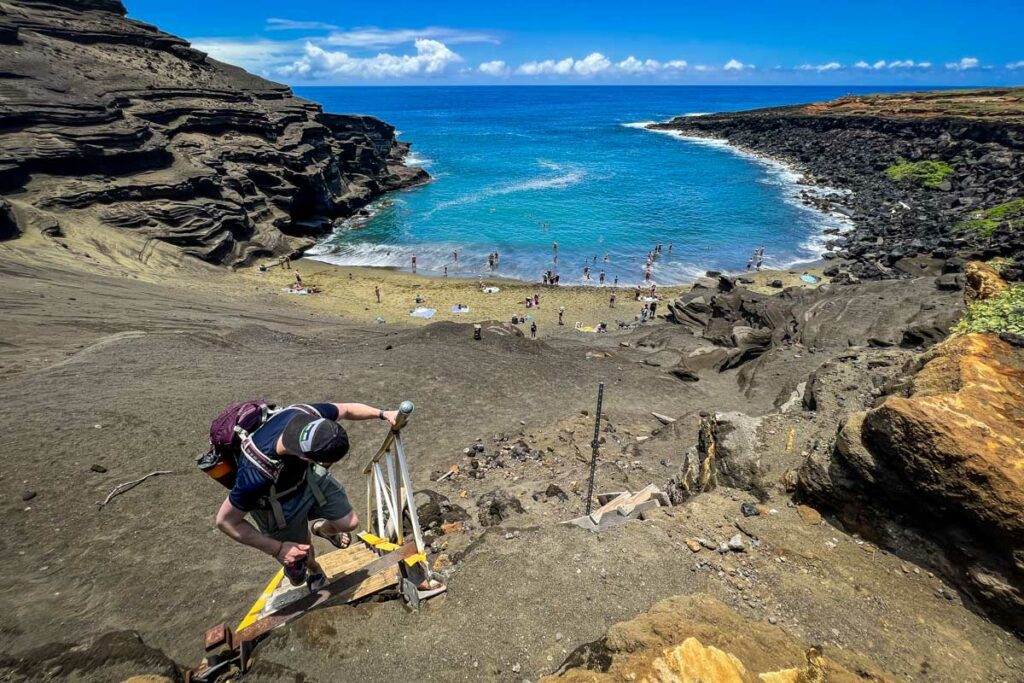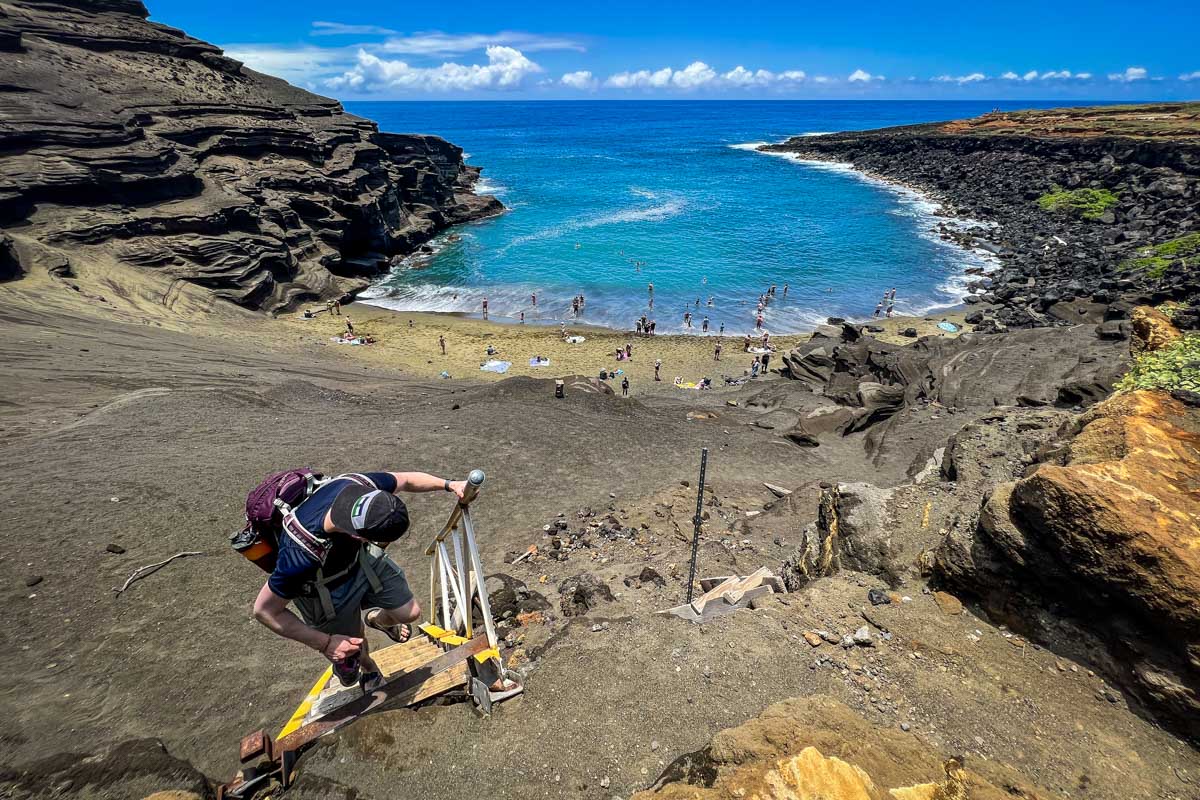 Getting to Papakolea Beach isn't as straightforward as many other beaches on the Big Island.
But don't let that deter you – visiting Papakolea Beach can easily be done as a day trip from Kona or as a stop on your Big Island road trip (we stopped here along our drive from Kona to Hilo).
Your efforts will be rewarded, as this is one of the most unique beaches in the world.
Related: Before you go, make sure you read our guide on renting a car in Hawaii!
Papakolea Beach Location
Papakōlea green sand beach is at the far southern end of Hawaii island, less than a two-hour drive from both Kona and Hilo. It's also just a few miles from the southernmost point in the US.
Though remote, Papakōlea Beach is easily combined with other must-see Big Island sights, like Punaluʻu Beach.
Papakolea Beach Map
Driving Directions from Kona
Distance: 63.5 miles
Time: 1 hour, 30 minutes
Reaching Papakolea Beach from Kona is fairly straightforward. Go south on Highway 11 for 50 miles, until a junction between mile markers 69 and 70, just past the Hawaii Volcanoes National Park Kahuku Entrance.
At the junction, take a right onto South Point Road and drive for about 10 miles. There's a large sign for the green sand beach to the left, and the parking lot is about one minute beyond that.
Driving directions from Hilo
Distance: 80 miles
Time: 1 hour, 45 minutes
Driving from Hilo only takes a little longer than from Kona. The route travels along the east side of the island rather than the west.
Follow Highway 11 to Kamoa Road, taking a left right before the church. After 6 miles, merge onto South Point Road and look for the green sands beach sign directing you to the left.
Parking at Papakolea Beach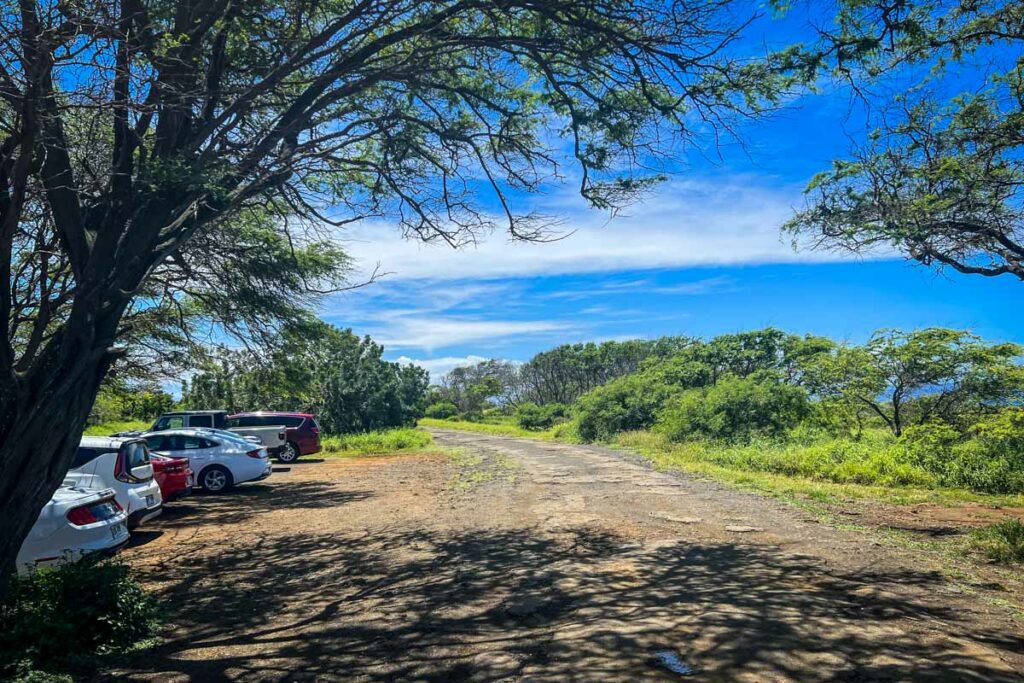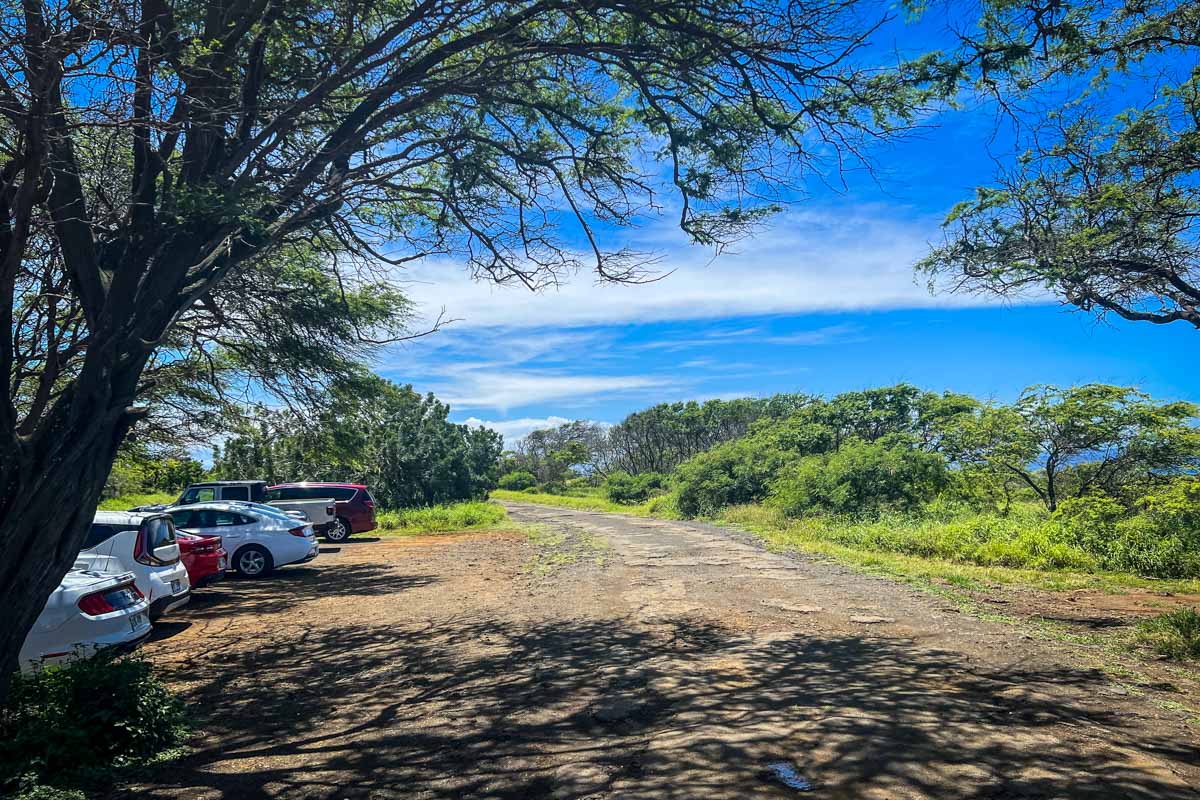 The parking lot at Papakōlea green sand beach is large, so finding a spot is rarely an issue. There's no fee, and registration or recreation passes are not necessary. While it's a dirt lot, any car will easily manage the terrain.
Hiking vs. 4×4 "shuttle"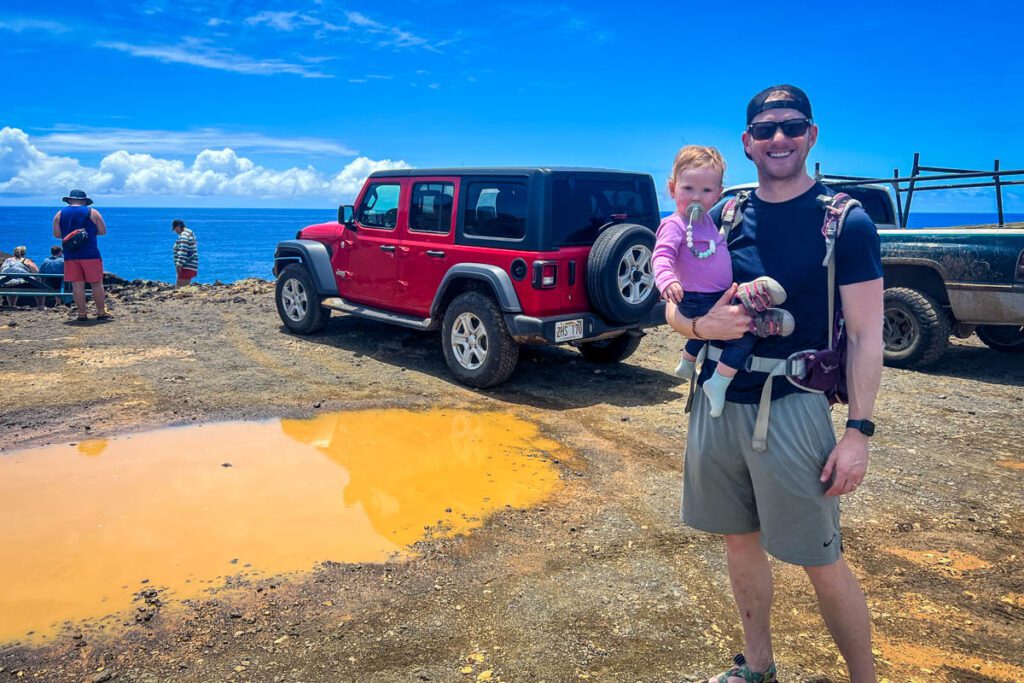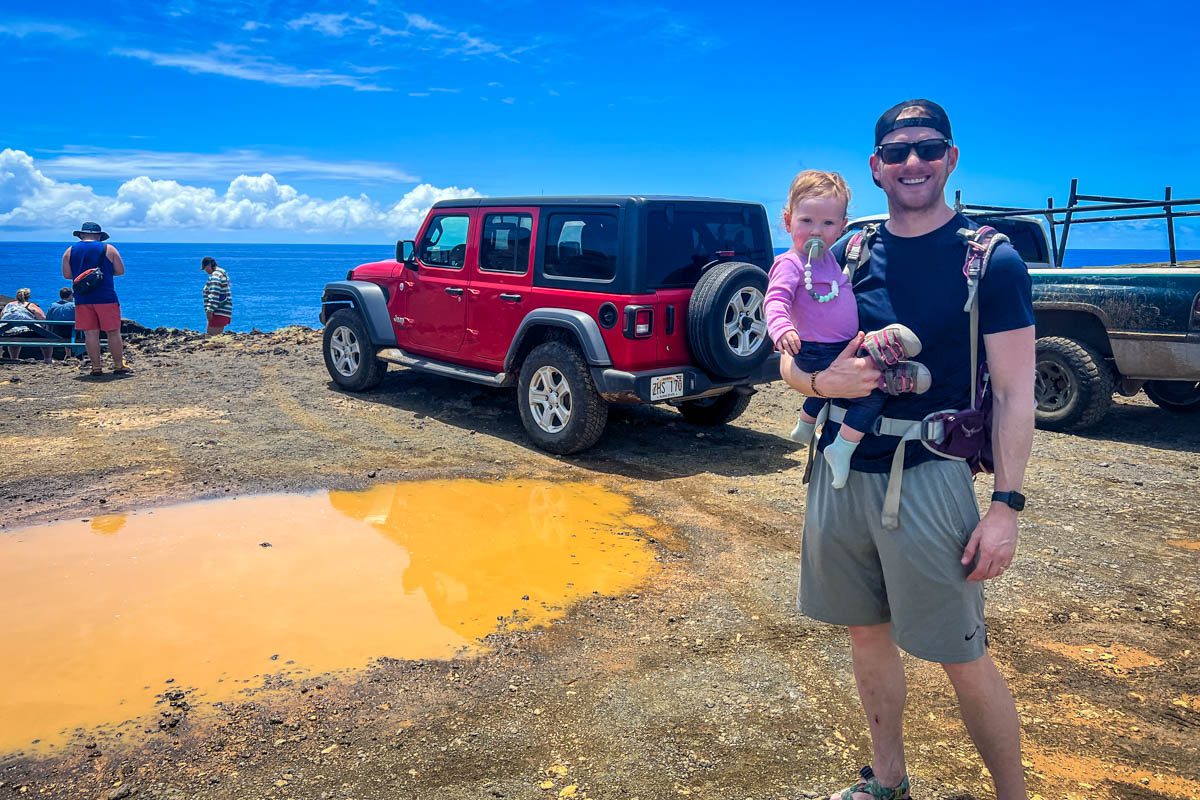 From the parking lot, Papakōlea Beach is another 2.5 miles on a rugged trail — and you can't drive. Vehicles are forbidden to protect the fragile ecosystem.
However, in an effort to eliminate the need to hike in (and to line their pockets!), some enterprising locals offer rides in their 4-wheel-drive pickups.
While it's tempting to hitch a ride, keep in mind that doing so is illegal and comes with some risk. To be honest, it's unlikely you'll get in trouble for using these "shuttles", but it's still not great for the roads and a bit sketchy, since they aren't legitimate businesses.
Many people opt for a ride anyway, paying about $20 for a round trip. Another thing worth noting is that, again, because these aren't official shuttles, you may find price variations.
We recommend hiking. Not only is it free and better for the environment, but the trek also offers some scenic ocean views along the way.
That said, there is absolutely no shade or cover from the sun, so make sure you have enough water and proper sun protection.
Papakolea Beach Trail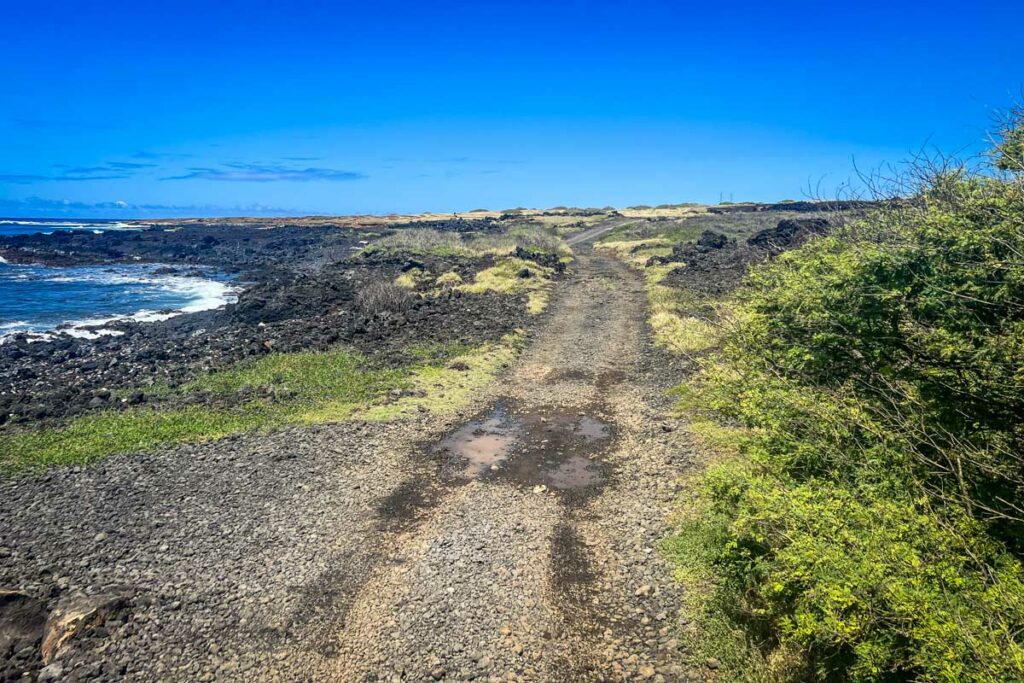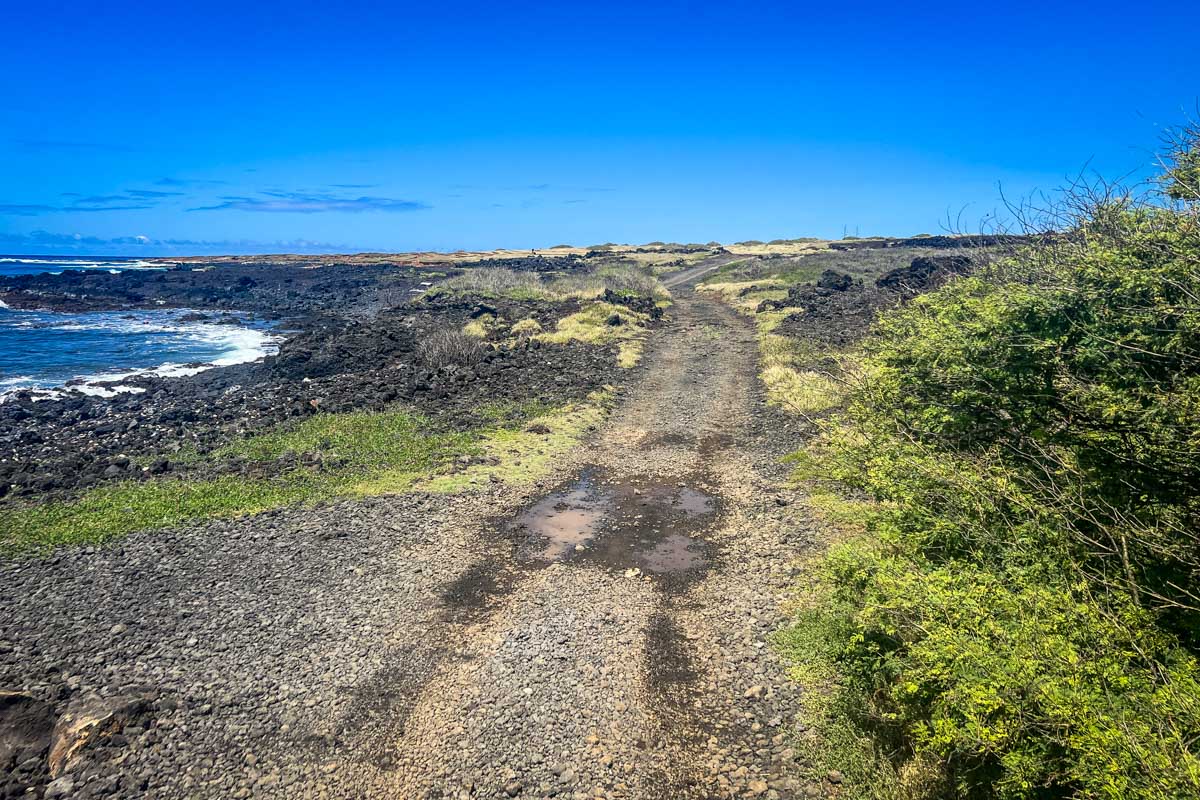 Distance: 5.6 miles
Elevation gain: 370 feet
Type of trail: out and back
Difficulty: moderate
The hike to the beach follows a rough but well-beaten dirt path — it's difficult to get lost. The ocean is visible nearly the entire way, and there are several beautiful vistas of waves crashing into volcanic rock formations.
While not steep or technical, the most challenging aspects of the trail are the lack of shade and exposure to the wind. Bring a good shade hat, sunscreen, and lots of water, and watch out for the trucks illegally shuttling passengers along the way!
What to expect at Papakolea Beach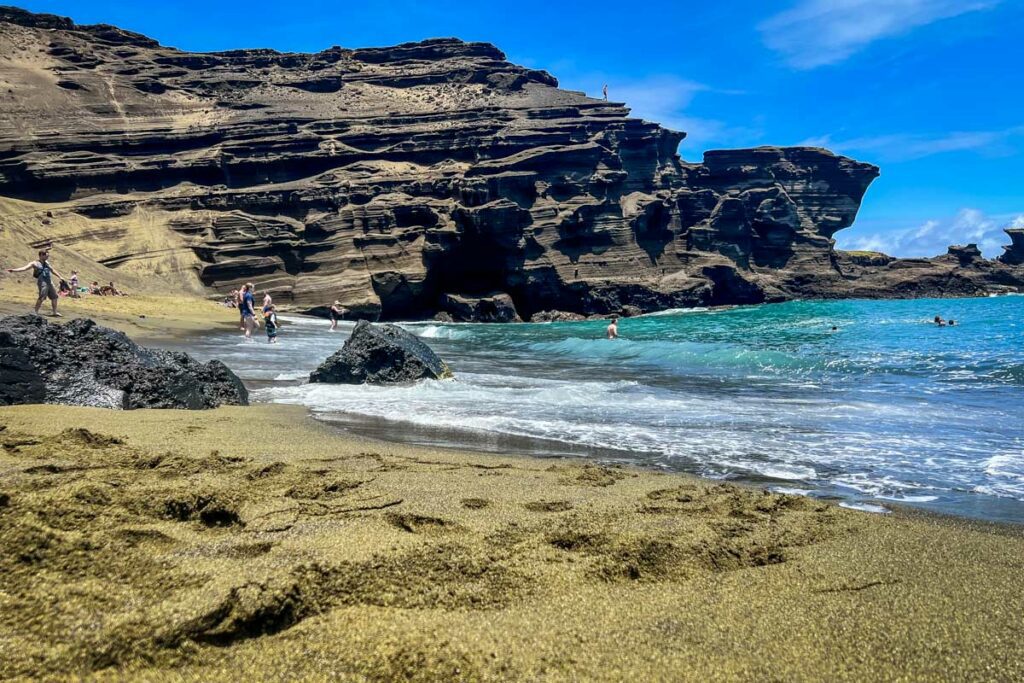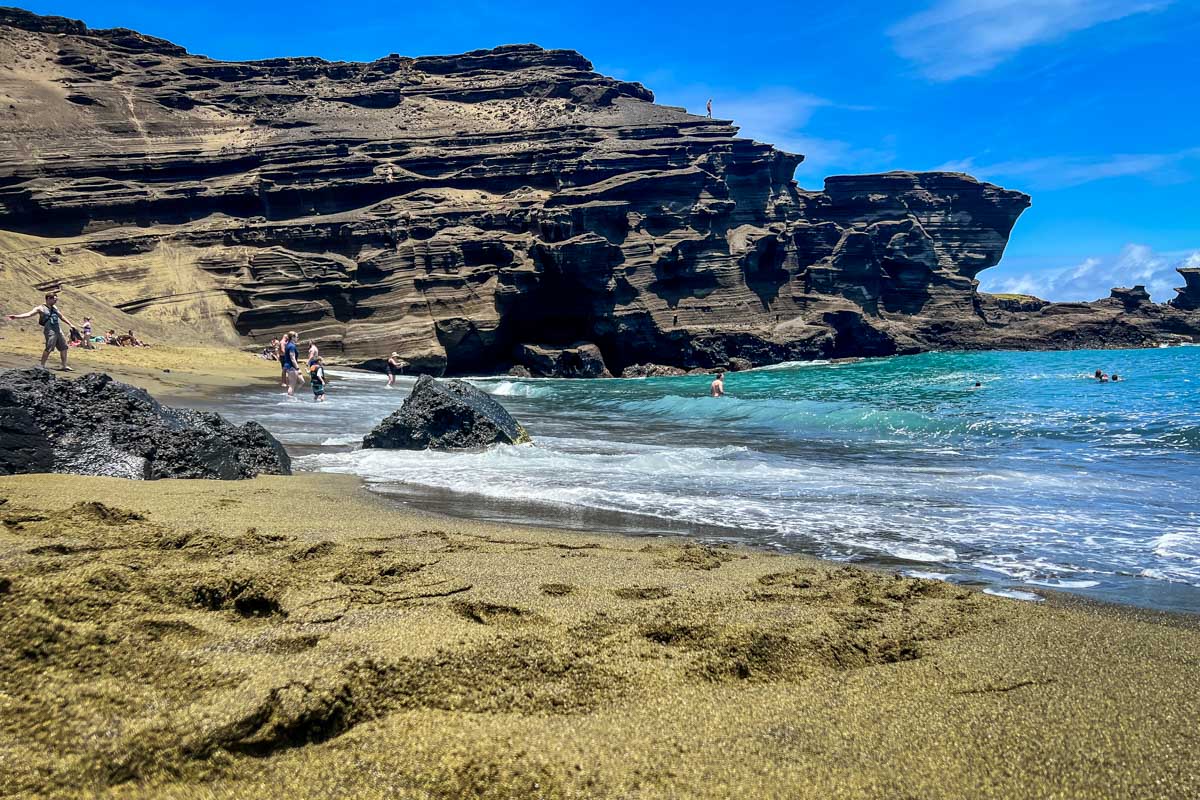 So now that you know how to get there, what can you expect from this green sand beach?
Facilities at Papakolea Beach
There are no facilities whatsoever at Papakolea Beach. Not so much as a trash can!
Pack everything you'll need for both enjoying the beach and the hike down, especially plenty of water, and take care to practice Leave No Trace guidelines.
Things to do at Papakolea Beach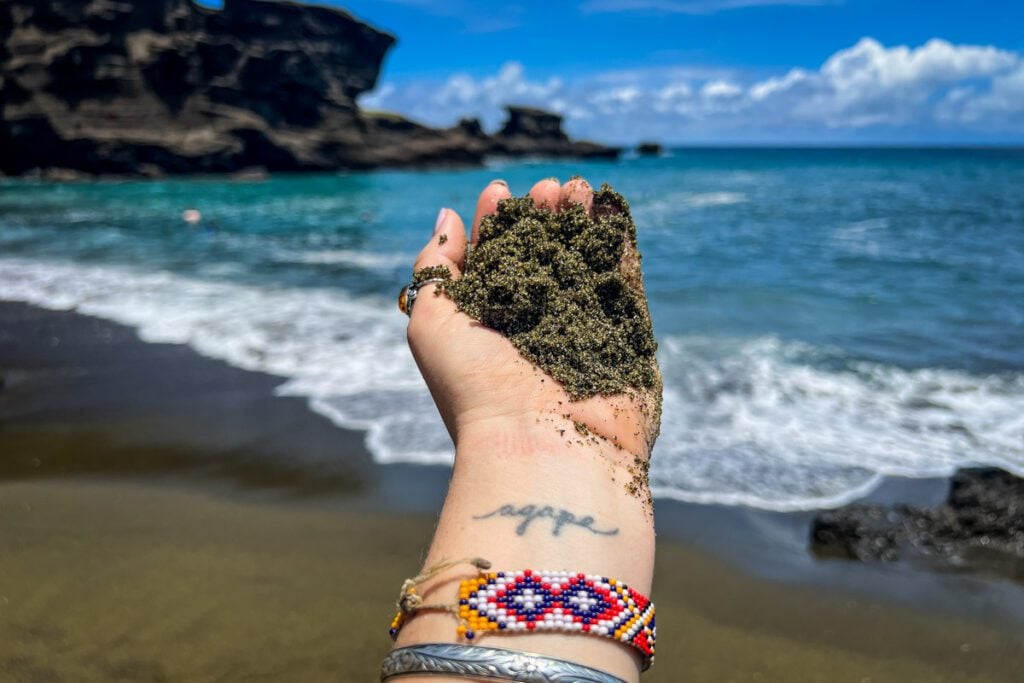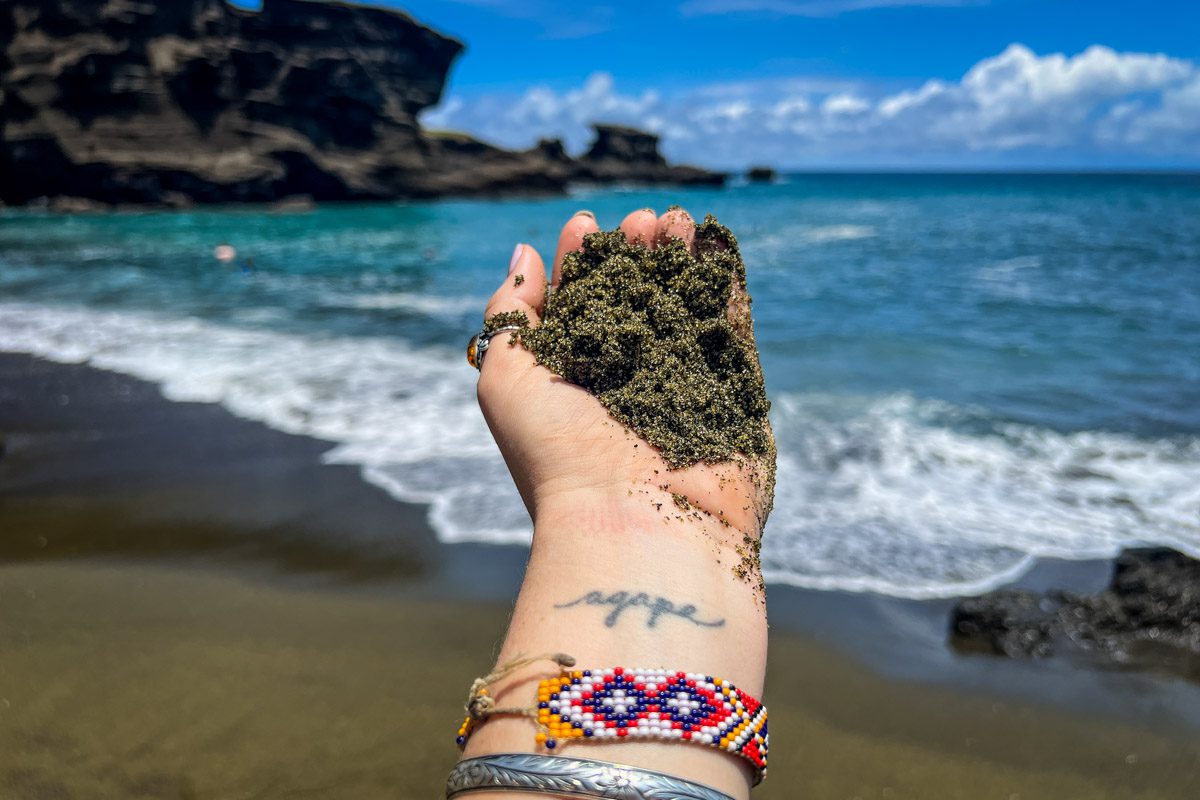 Inspect the green sand up close. When you look carefully, it's possible to distinguish individual olivine crystals.
Play photographer. The green sand isn't the only characteristic that makes Papakolea Beach stand out — the volcanic rock formations and views are equally impressive!
Relax! With calming, hypnotic waves, this beach is ideal for sunbathing or reading.
Go for a swim. Especially after the sweat-inducing hike, the ocean feels refreshing. Just remember, the surf here is notoriously rough.
Can you swim at Papakolea Beach?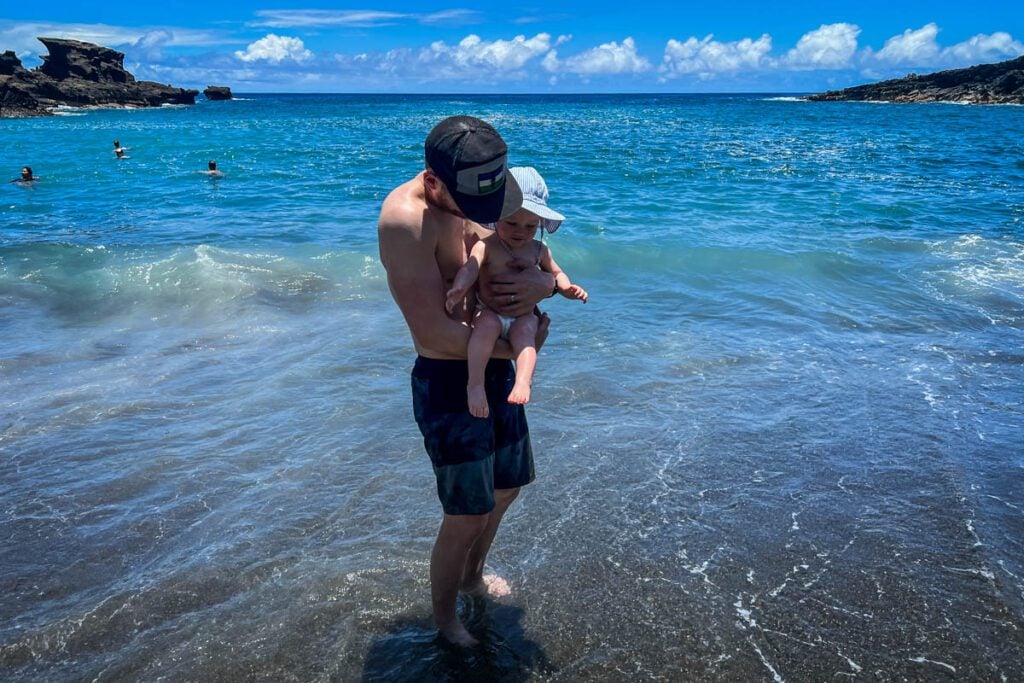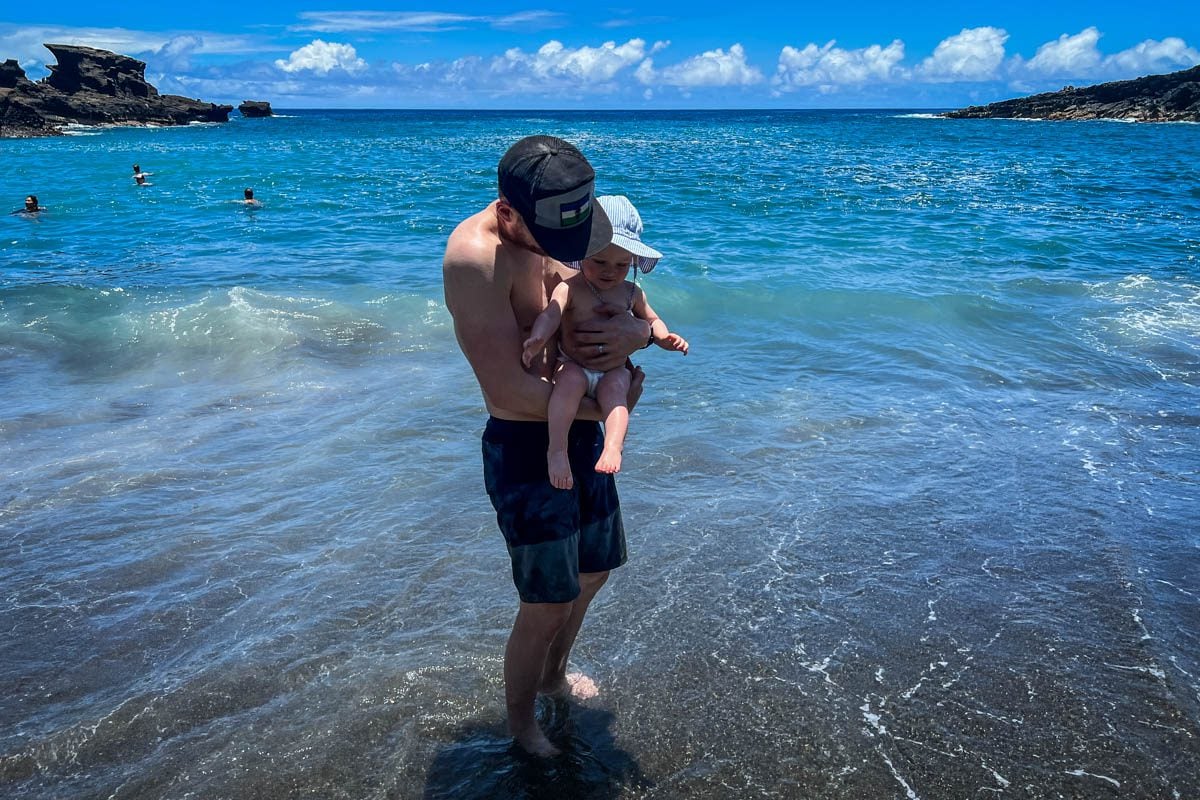 Many visitors swim at Papakolea Beach; however, the surf is often strong and unpredictable.
There are no lifeguards on duty and you're in a remote location, so don't stray far from the shore and be mindful of your personal limits. Keep in mind that currents pick up the further you get into open water.
Is Papakolea Beach worth it?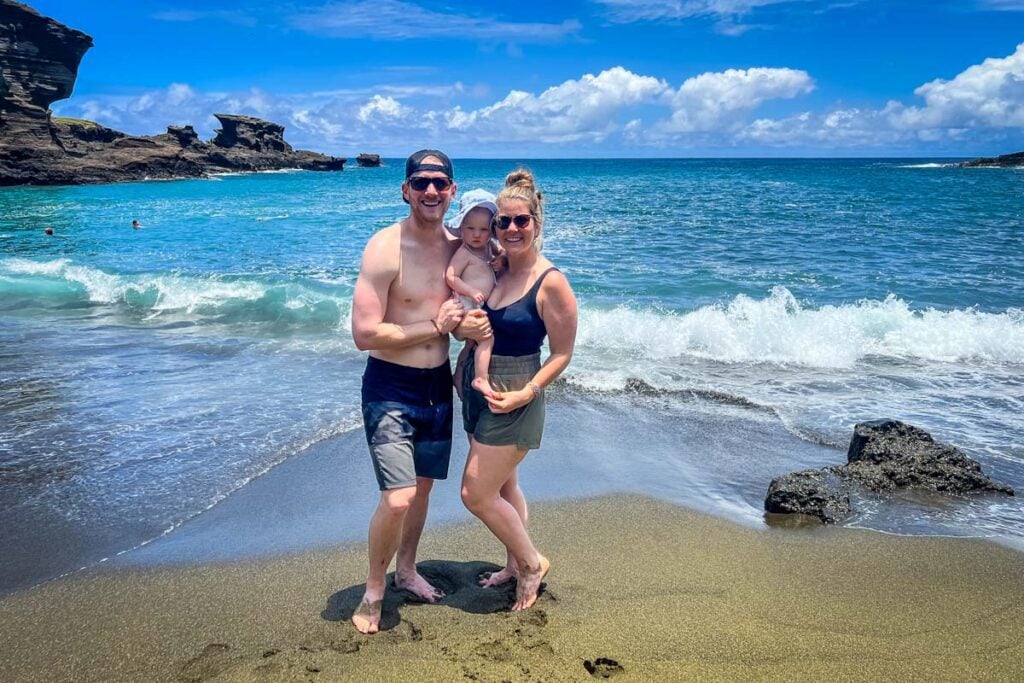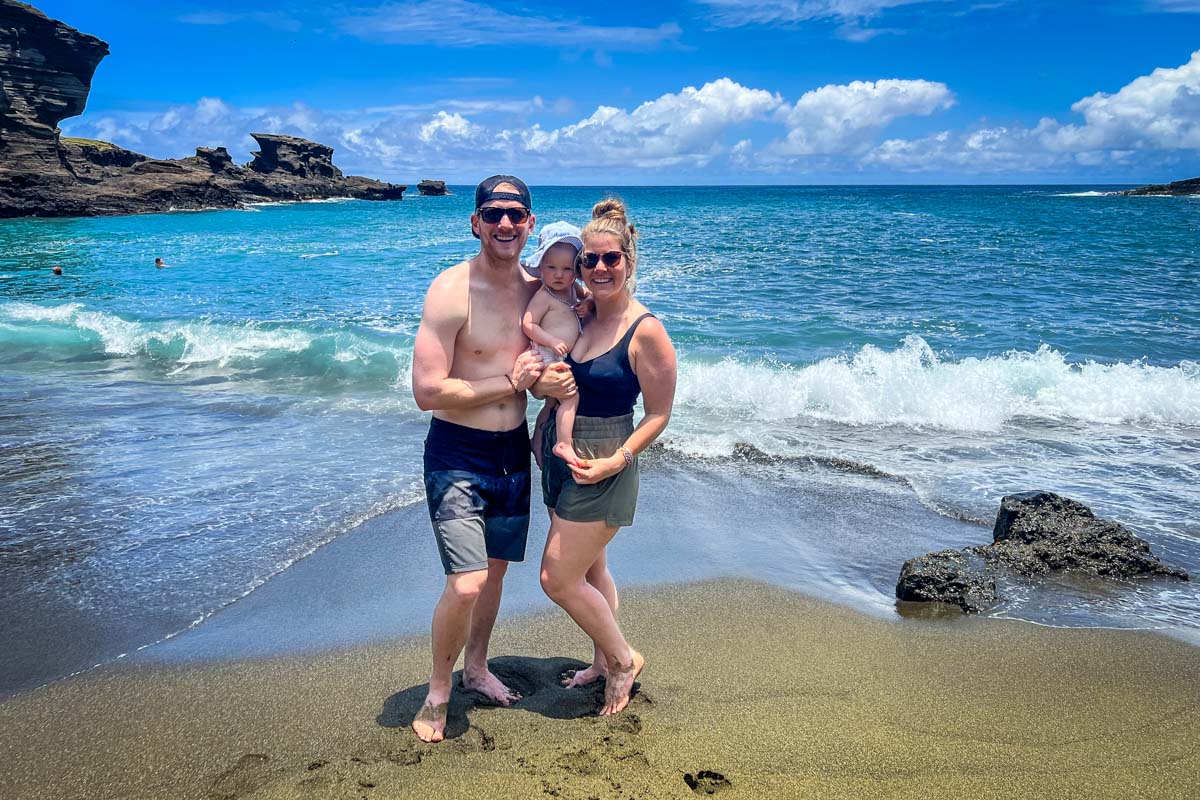 This is honestly a tough one for me to answer, and I think the answer comes down to you.
It is obviously a very unique beach and one of the only places in the world you can see green sand. However, getting there requires a good chunk of time. Plus, there is no shade and it can get very, very hot here.
If you're up for an adventure and have ample time in your itinerary, go for it! A few years ago (pre baby!), I probably would have wholeheartedly recommended this spot.
However, if you are traveling with young children (like we were), I'd say proceed with caution. I personally felt like it was too hot (without much of an escape) for me to confidently recommend this to others.
I have major FOMO and really wanted to see this beach. I'm glad we went, but I don't think I'd do it again (at least not with a baby).
Tips for visiting Papakolea Beach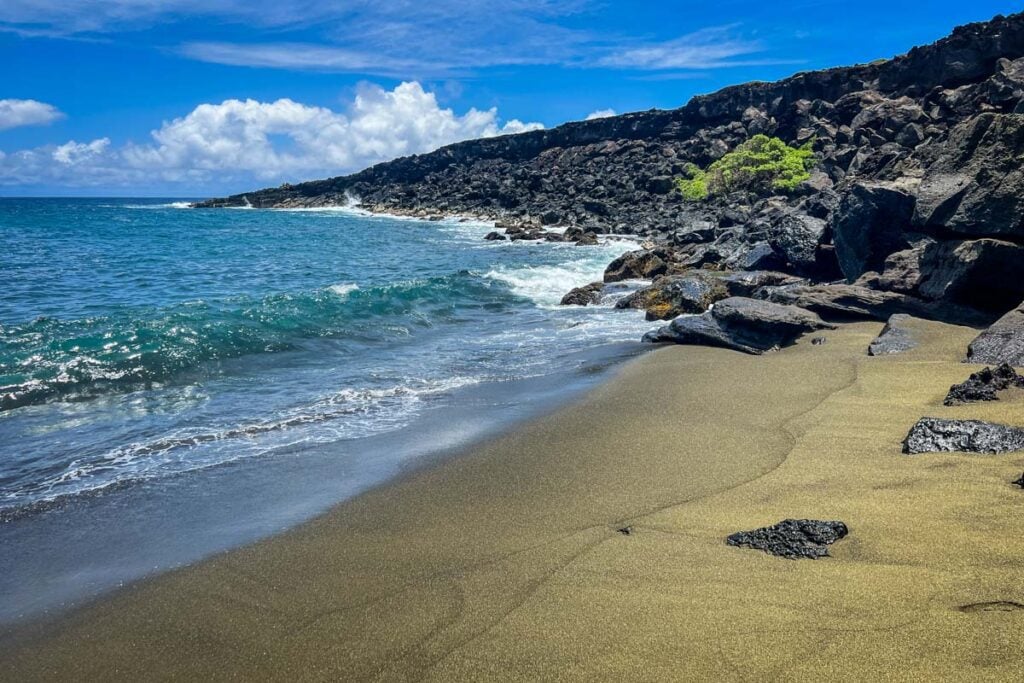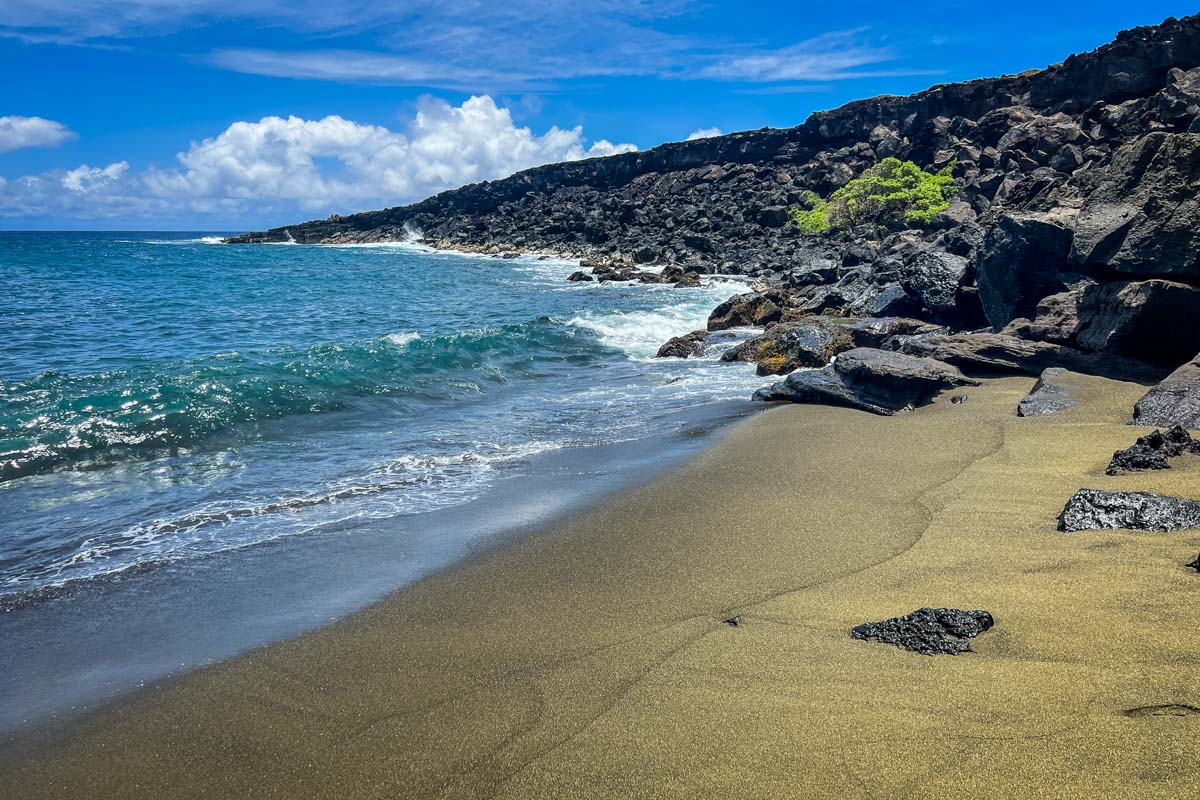 If you're planning on visiting Papakolea Beach during your time on the Big Island, here are some things to keep in mind.
1. Visit as early as possible
I've said it once and I'll say it again, it gets HOT here. Plus, getting there will likely take much longer than you're expecting, so do yourself a favor and get an early start.
2. Be prepared for the sun & heat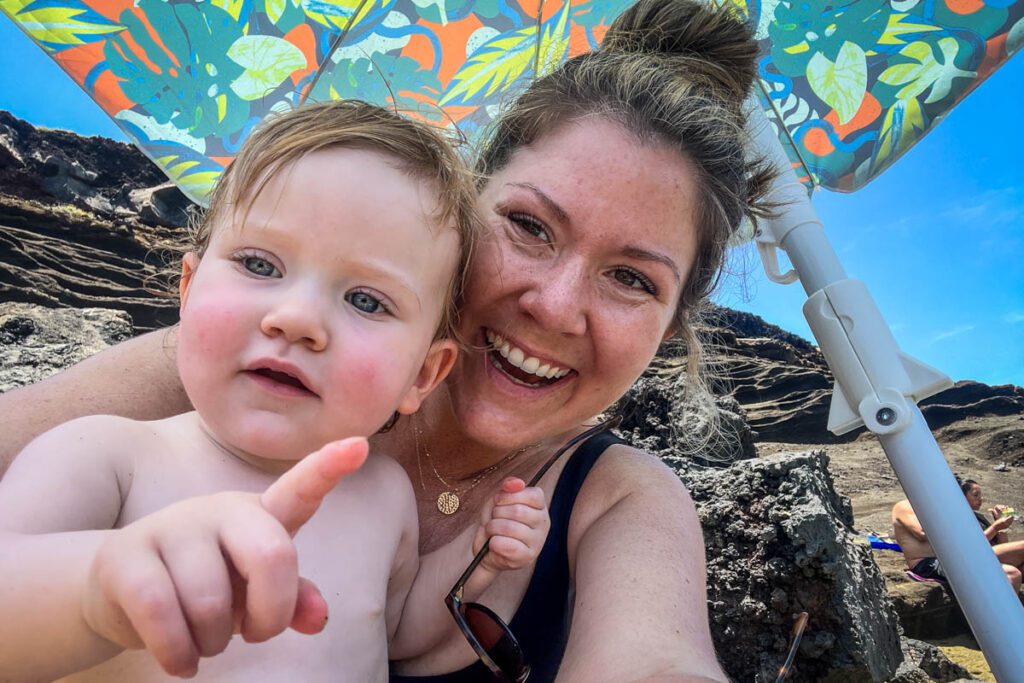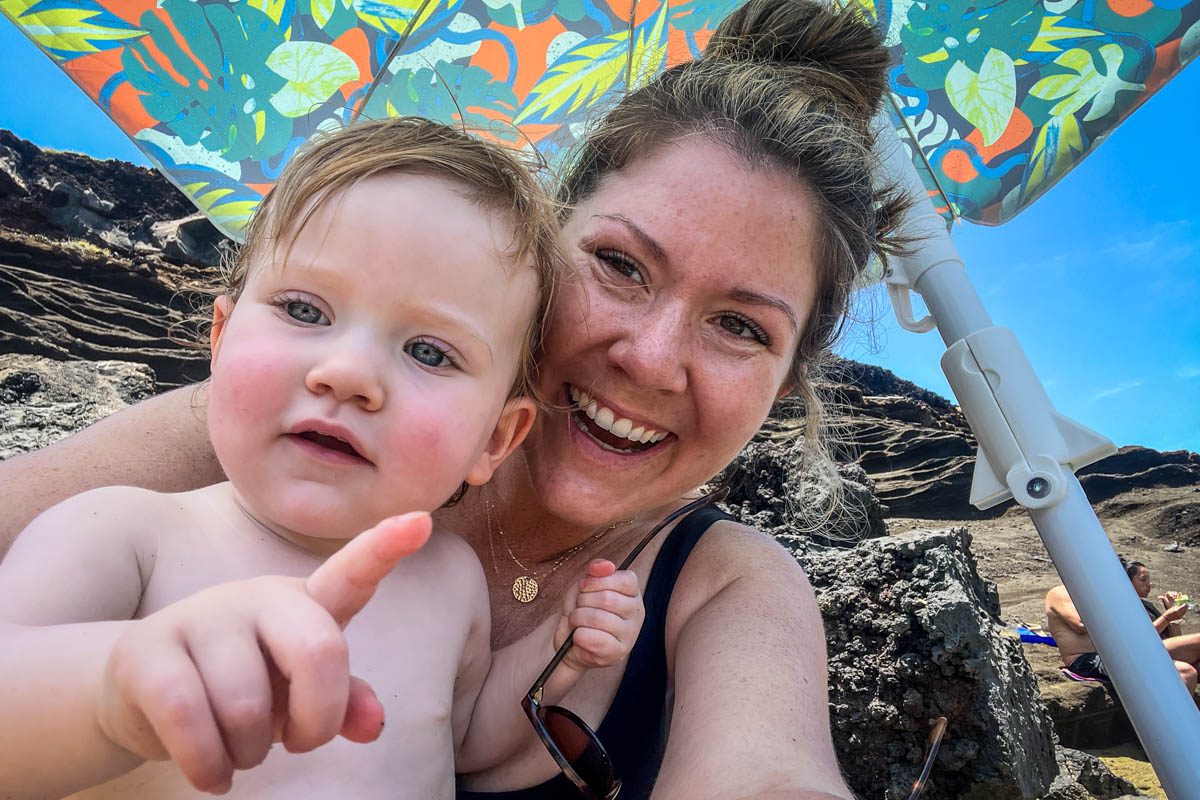 The hike in and the beach itself are completely exposed (aka you will be baking in the sun!). Come prepared!
Bring plenty of water and reef safe sunscreen
Leave some water in your car too so you have something to drink when you return
Wear a hat and sunglasses
Bring something to cover your shoulders
If you don't mind carrying it on the 2.5 mile hike, it might be a good idea to bring an umbrella or tent to give yourself some shade. We only has a regular rain umbrella, but a sweet family let us sit under their beach umbrella to keep Juniper out of the direct sun.
3. Wear sturdy shoes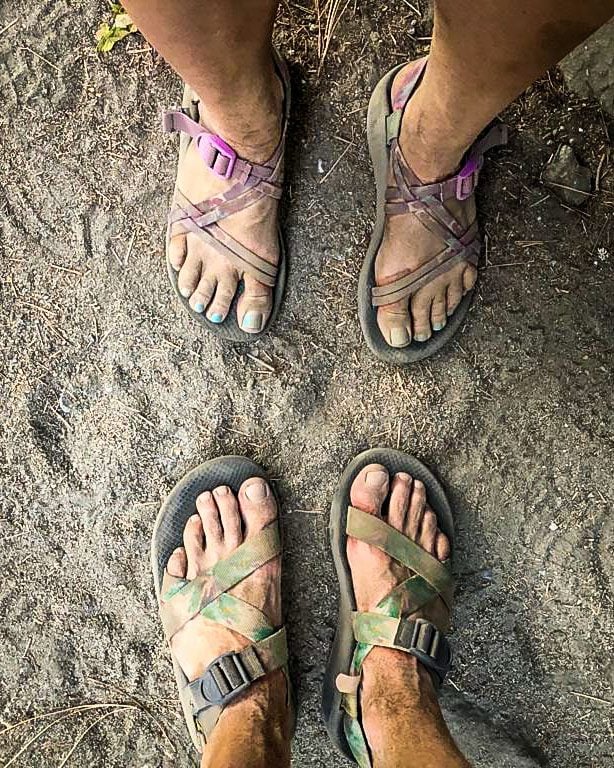 If you're hiking, flip flops are not a good choice as the trail is pretty rough. We'd recommend Chacos!
4. Don't take any sand
While it may be tempting to grab some unique green sand as a souvenir, it is strictly prohibited to remove any sand from the beach.
5. Time your visit so you can get lunch afterwards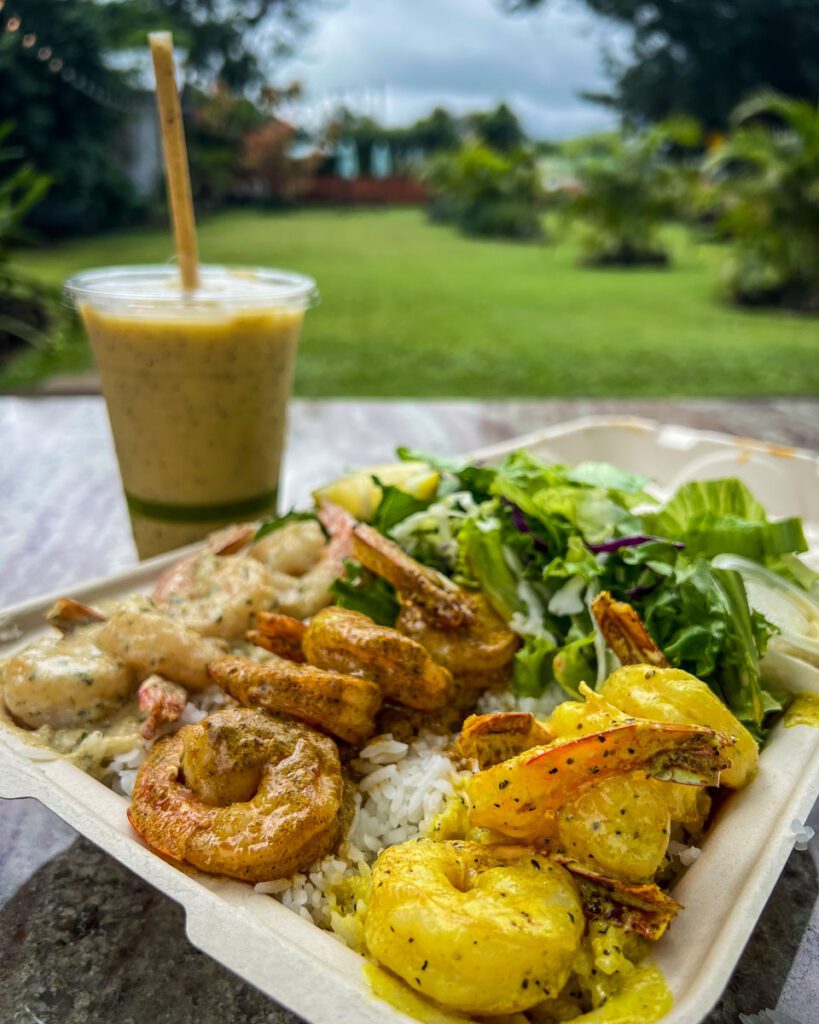 Once you've had your fill at the beach, crank the AC and head straight to Aloha Mix Food Truck Cafe. Their shrimp sampler is amazing (and big enough to share). Order that as well as a smoothie or a smoothie bowl for a killer lunch!
Once you've licked your plate (trust me!), walk across the street to Punalu'U Bake Shop. This is the southernmost bakery in the United States and their lilikoi malasadas (passionfruit glazed doughnuts) are damn good.
This is a very touristy stop and you may see a tour bus there at the same time, but I think it's worthwhile if you're in the area.
Insider Tip: I am a huge lemon bar fan and I can't turn them down, so at the last minute I ordered one to go. We had it that night for dessert at our Airbnb and oh em gee, do yourself a favor and get one for later!
Things to do near Papakolea Beach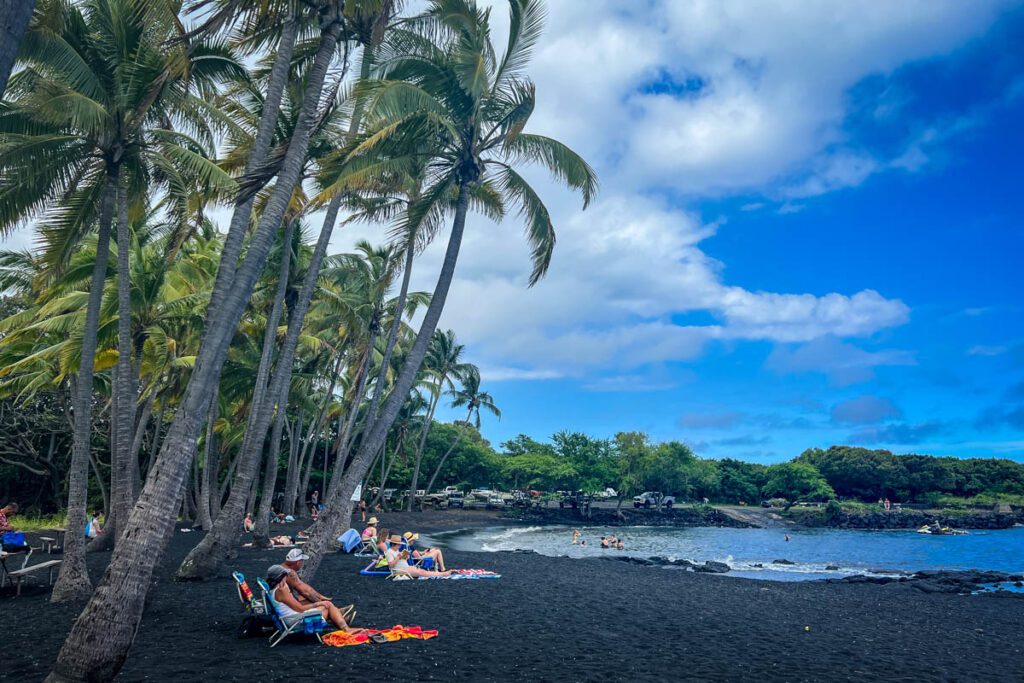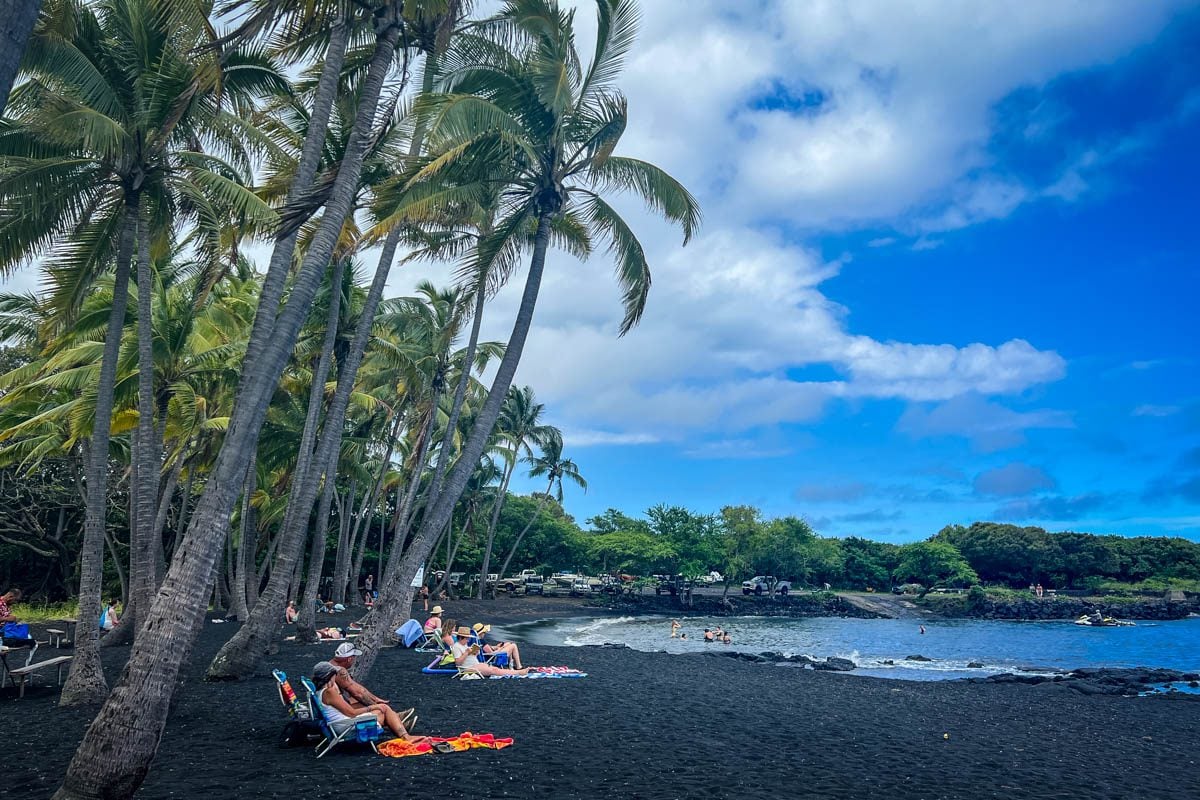 The southernmost tip of the Big Island isn't nearly as built up as the west or east coasts, but there are a few other sights you should definitely see if you're in the area.
See the southernmost point in the USA. There is also cliff jumping nearby if you are feeling brave (and are a confident diver).
Visit the nearby black sand beach of Punalu'u, which is stunning and a good place to spot sea turtles.
Stop off at Paradise Meadows, which is an orchard and bee farm. Here you will find free samples, coffee, cookies, macadamia nuts and honey to purchase, as well as art.
Food near Papakolea Beach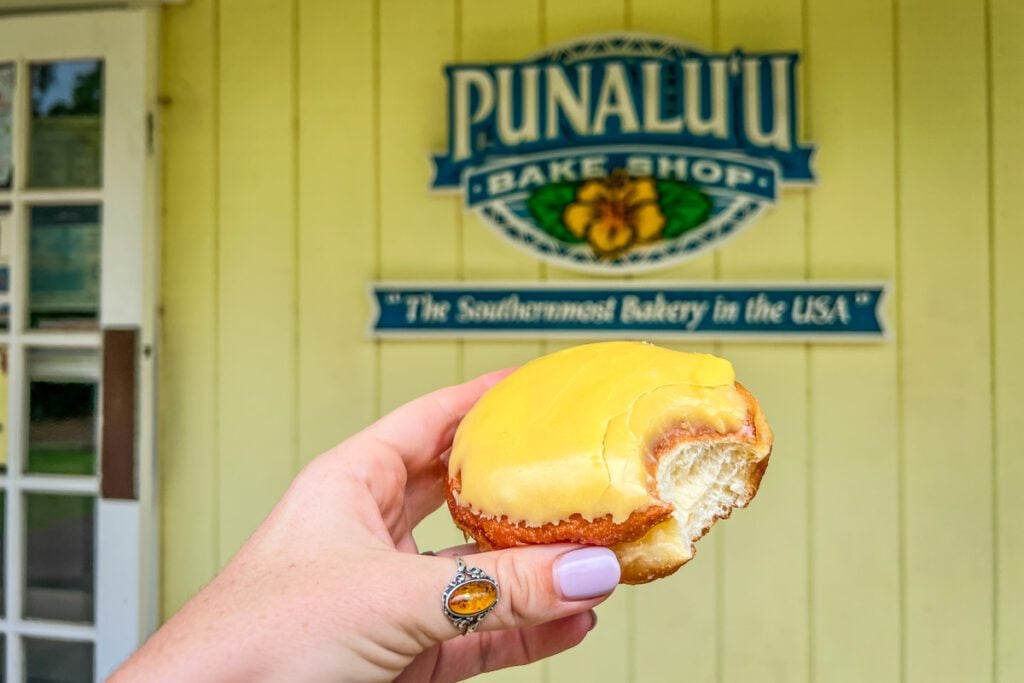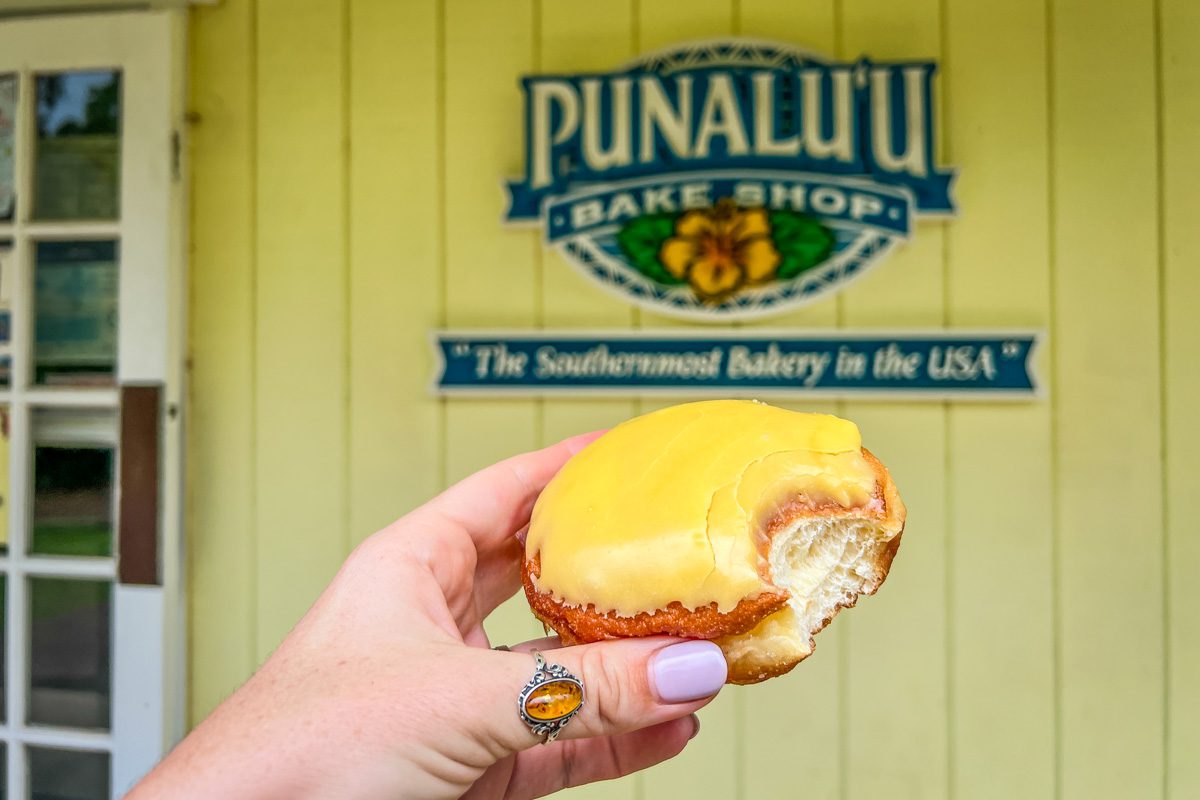 There is nowhere to grab food or water on the beach itself, so be sure to pack accordingly. That said, there are a few stand-out places to pop in for a bite before or after your visit to Papakolea Beach.
Grab an iced coffee at Miranda's Farms Coffee Shop.
Indulge in a freshly baked malasada (type of doughnut) from the legendary Punalu'u Bake Shop. The best flavor is lilikoi (passionfruit).
Have a casual lunch of local fare at Aloha Mix Food Truck.
For a sit down meal of Hawaiian comfort food, Hana Hou makes a good choice. Order a glass of their refreshing lilikoi (passionfruit) lemonade.
What to wear & pack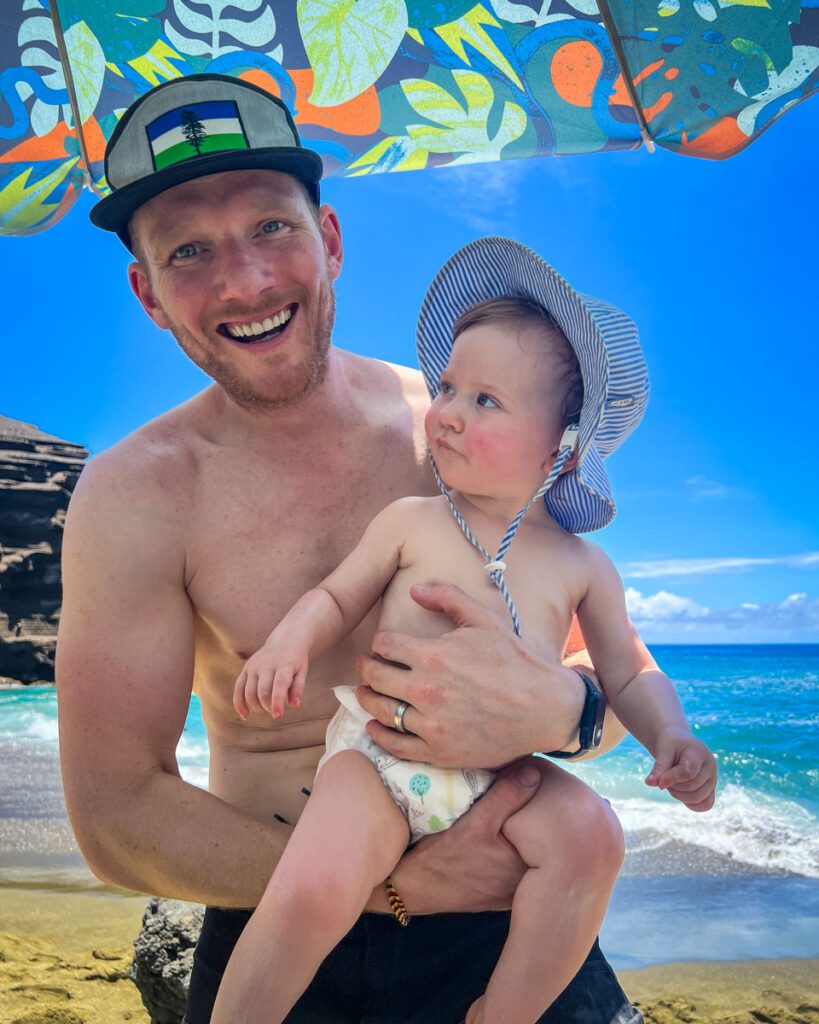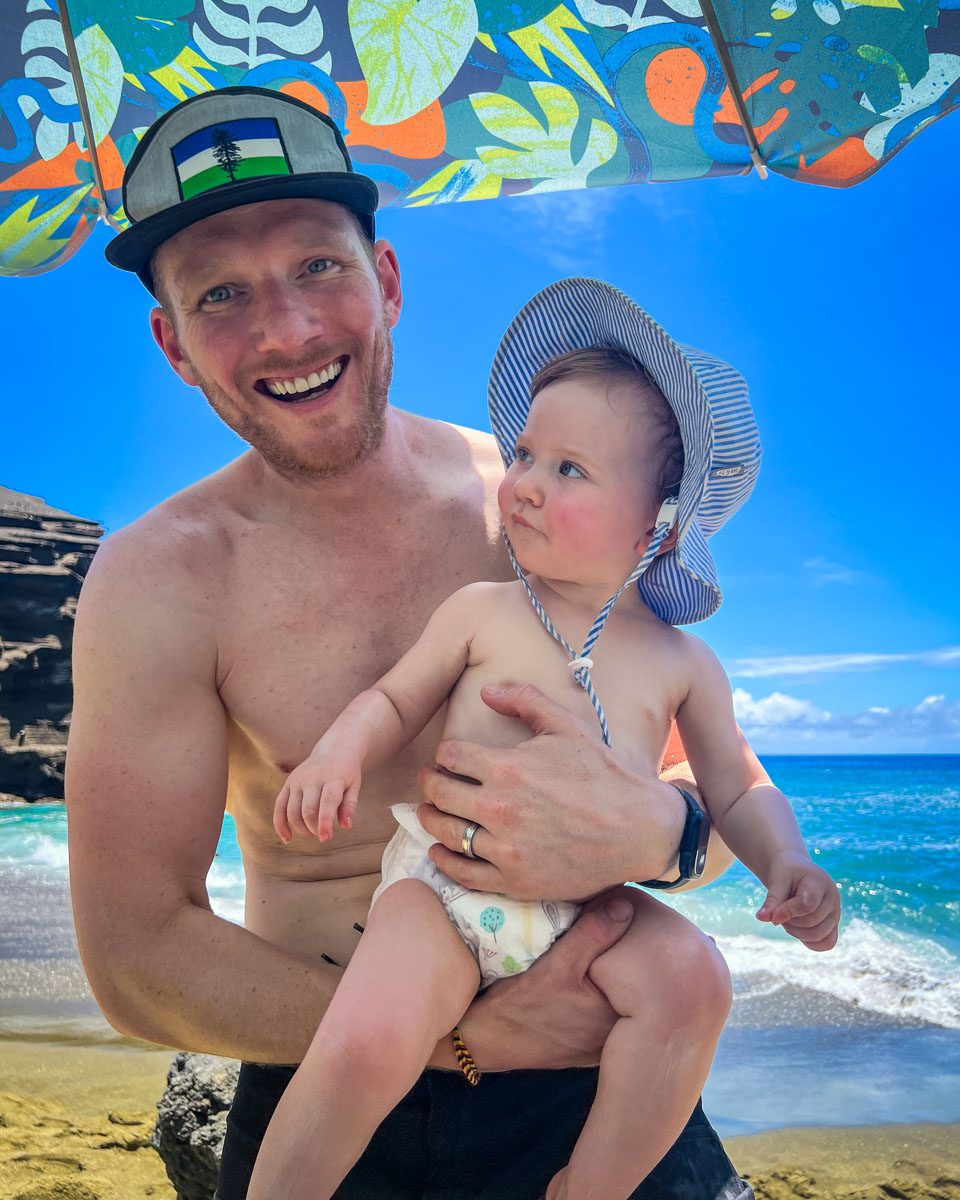 Sun hat
Reef safe sunscreen (this is the one we personally use and love!)
Light layer to minimize sunburn during the hike
Tarp or towel for hanging out on the beach
Swimsuit (if you want to try to swim here)
Snacks
Plenty of water
Be sure to download our complete packing list for Hawaii! It's packed with good suggestions and insider tips to help plan your Italy trip. And it's completely FREE, so why not!?
Where to stay near Papakolea Beach
Personally, we think that visiting Papakolea Beach makes a great day trip from Kona or a good stop along your Big Island road trip (we stopped here during our drive from Kona to Volcanoes National Park).
However, if you have lots of time on the Big Island and are looking to slow down a bit, here are three unique places that are (very!) worthy of spending a night or two.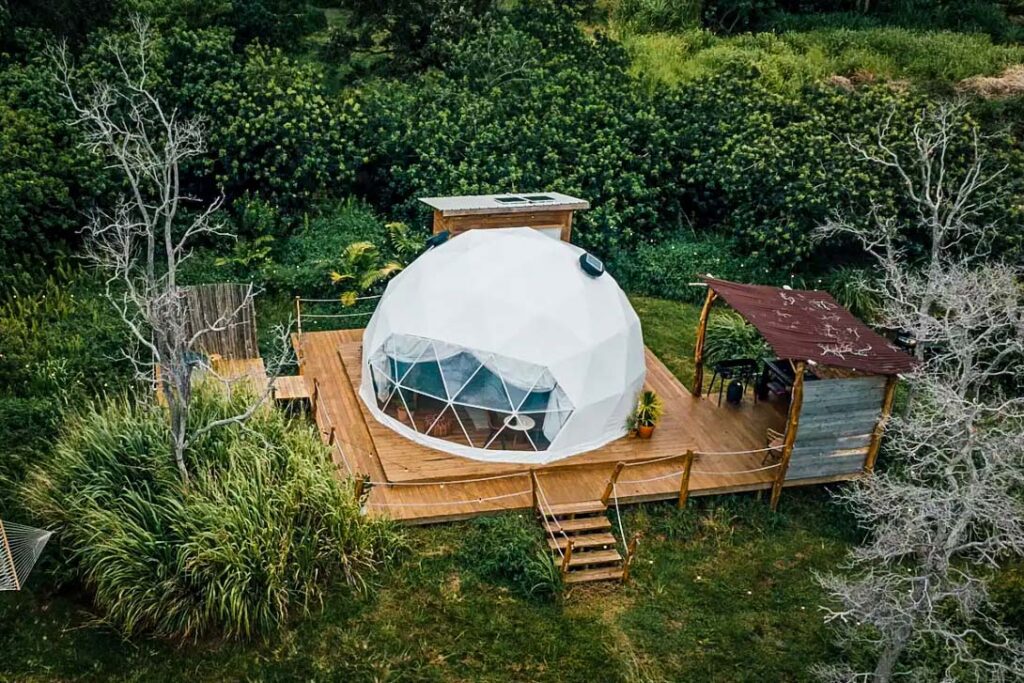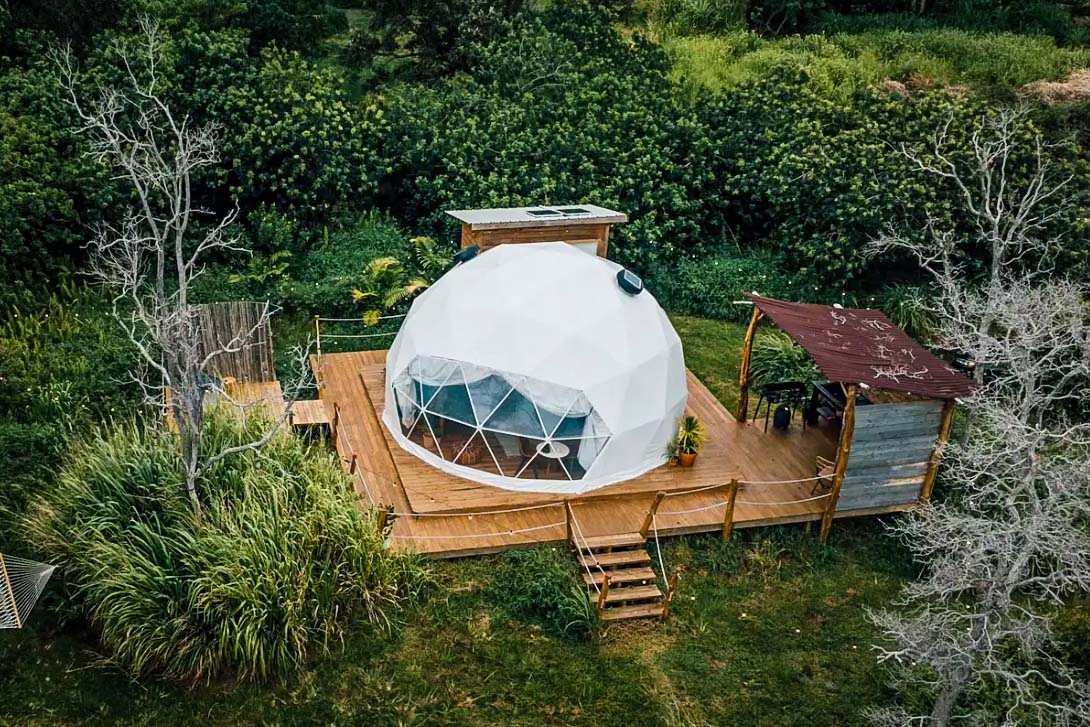 Luxurious Dome Home (with an outdoor bathtub!): If you're looking for a luxurious Big Island stay, look no further! This stunning geodome has most of the comforts you'd expect of a hotel room as well as the uniqueness that comes with a glamping experience. It truly is the best of both worlds.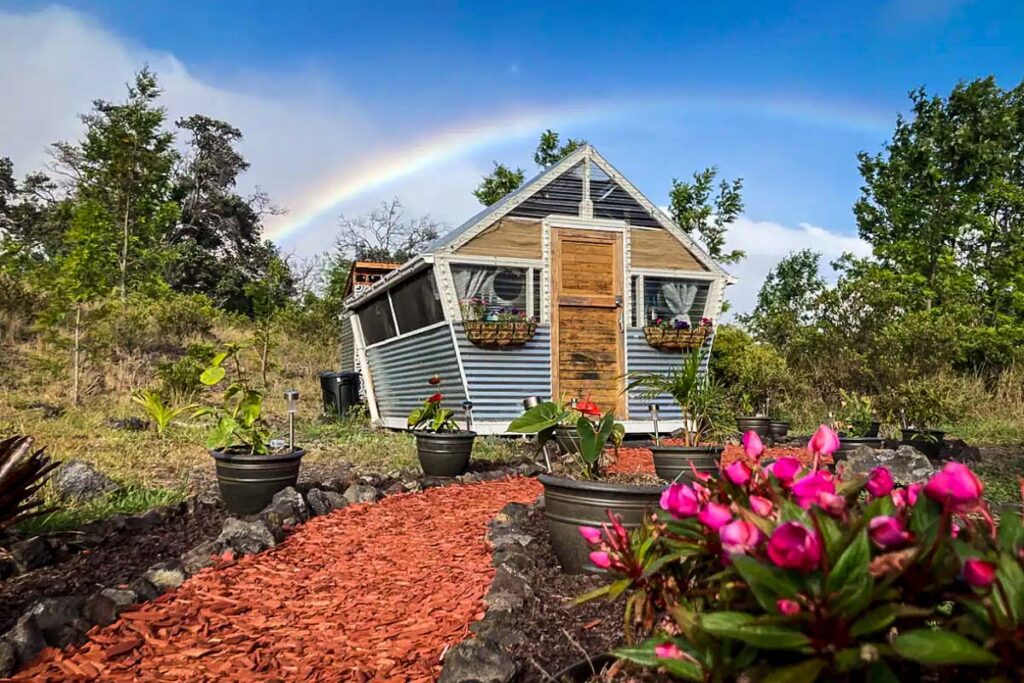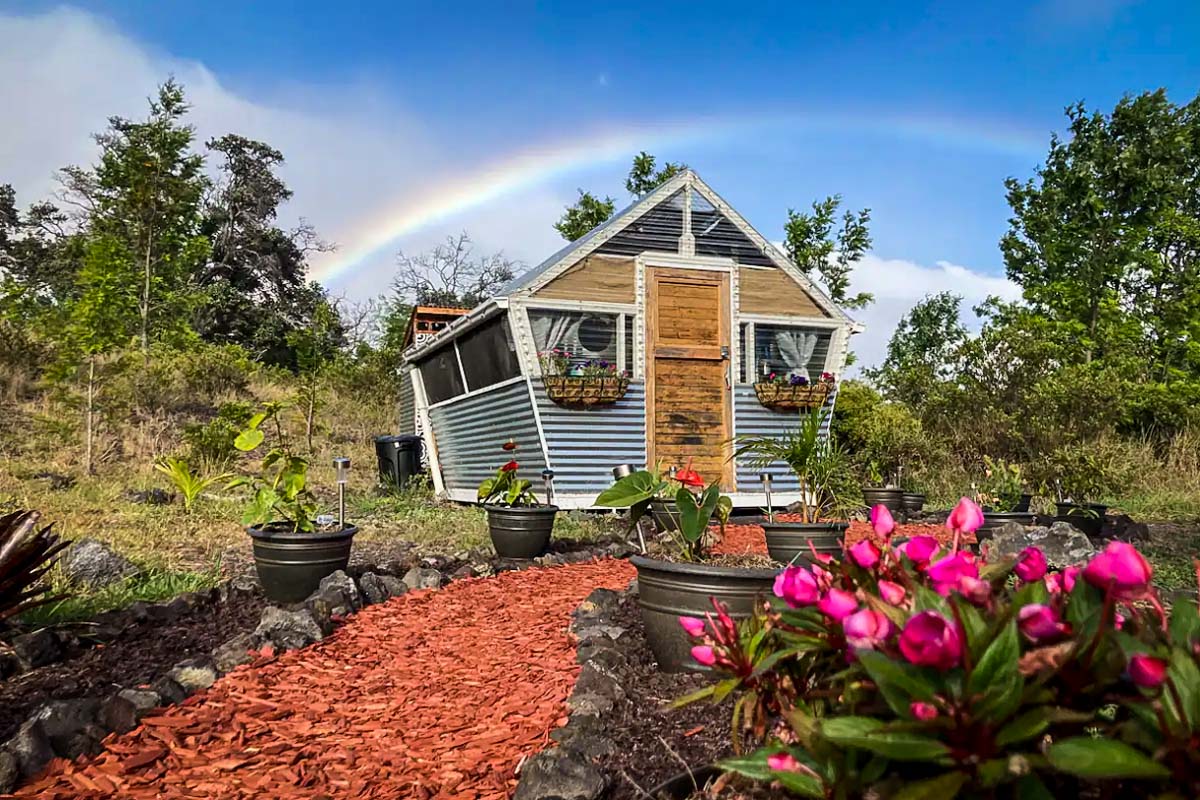 Budget friendly Farm Stay: This quirky greenhouse-turned-guesthouse is perfect for travelers looking for a unique stay on a budget. With an outdoor shower and a memory foam mattress, you won't be sacrificing comfort.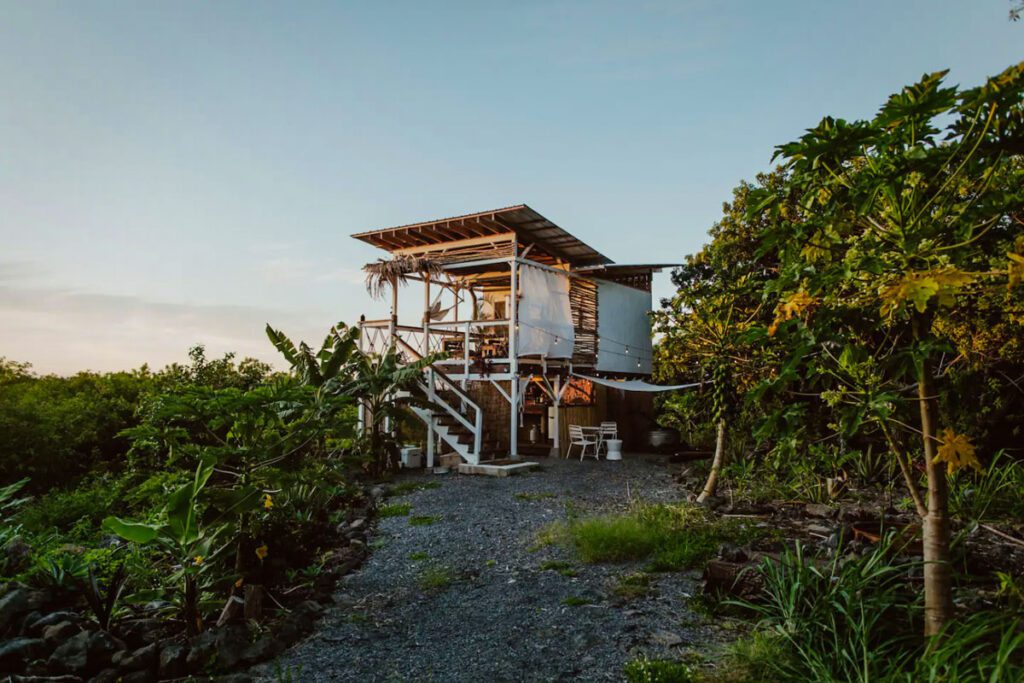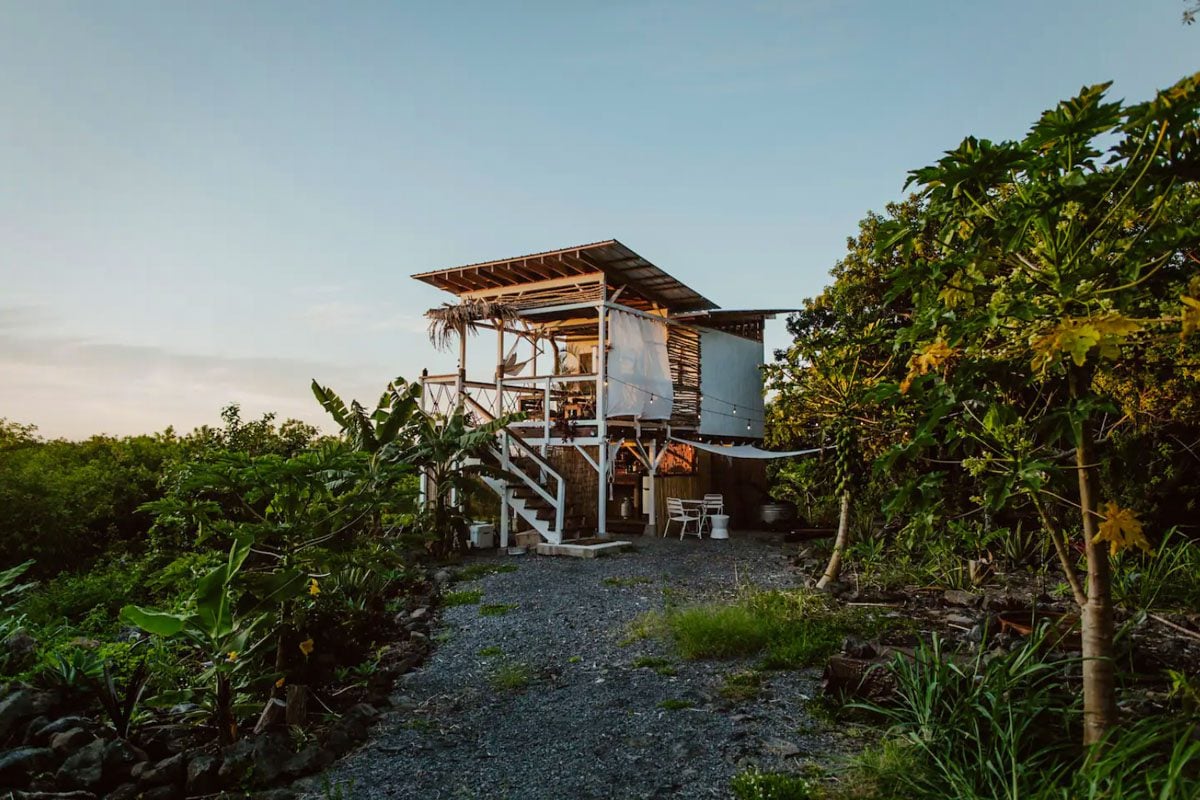 Indoor/Outdoor "Temple": This bamboo structure is a Bohemian paradise and the perfect spot to slow down and take in the mountain and ocean views from your own personal hammock.
Good to know: This property requires a 2-night stay.
---
Planning a trip to Hawaii?
We have lots of resources on travel in Hawaii and destinations around the islands. Check out our Hawaii Homepage for everything you need to know, or start by reading some of our favorite Hawaii travel articles to help you plan your dream vacation to the Aloha State:
Save this article on Pinterest for later!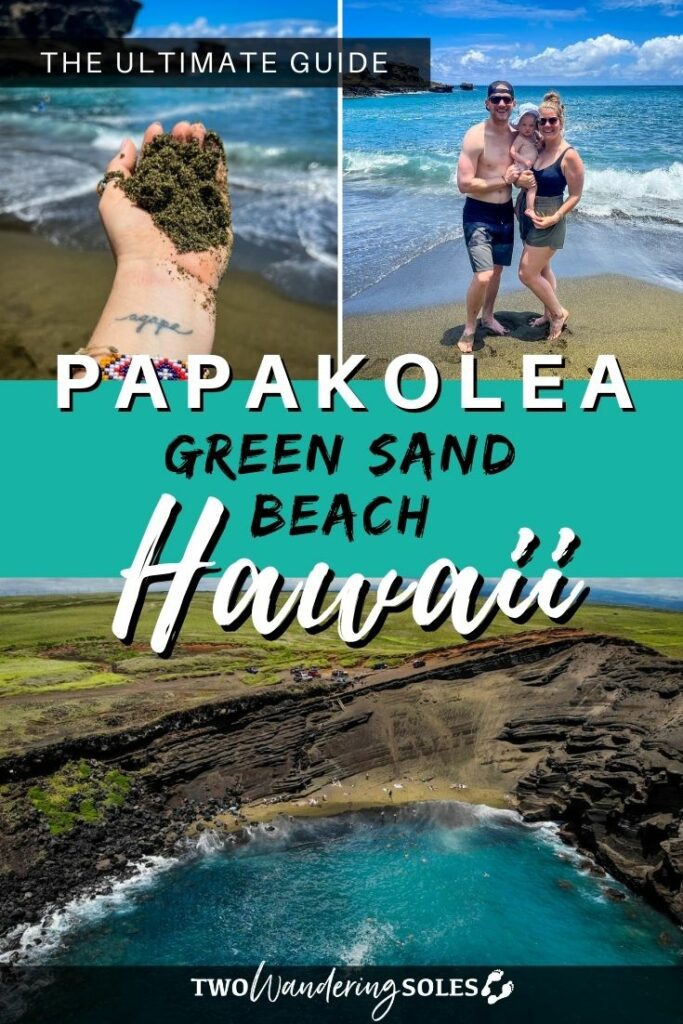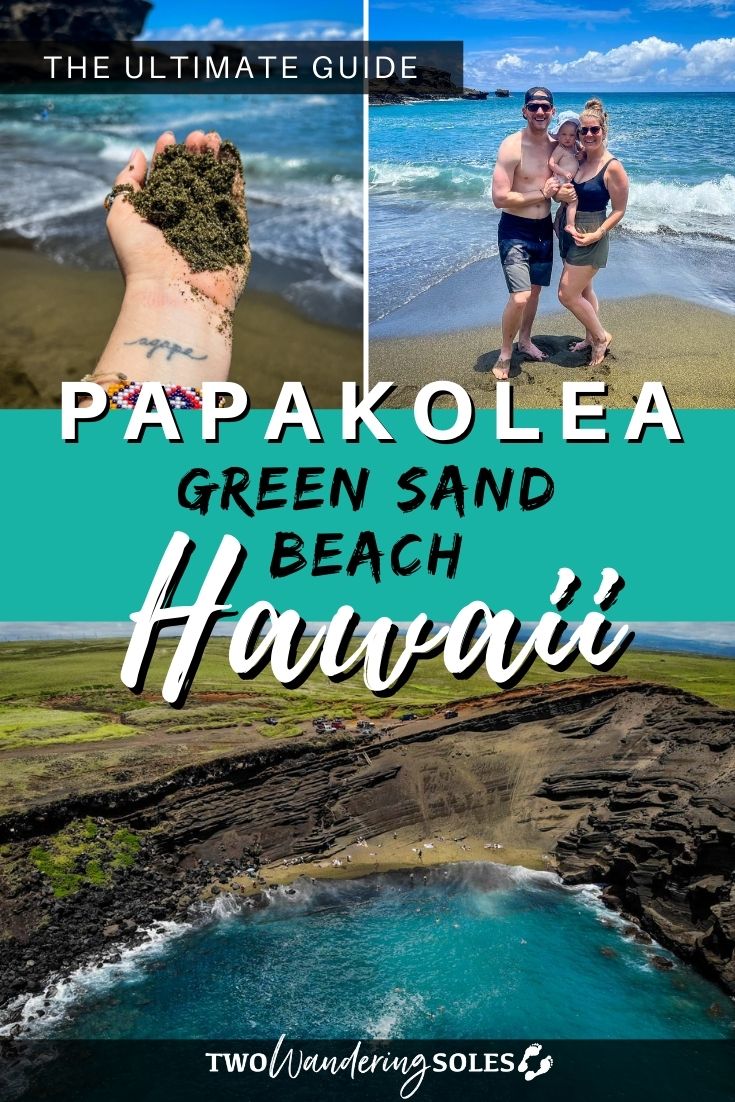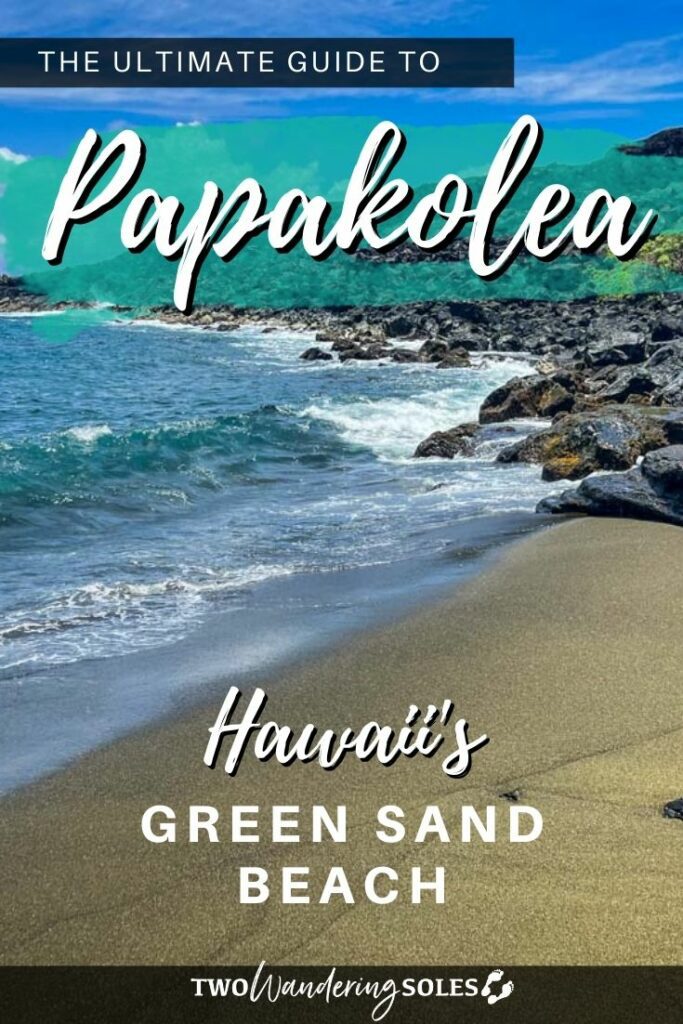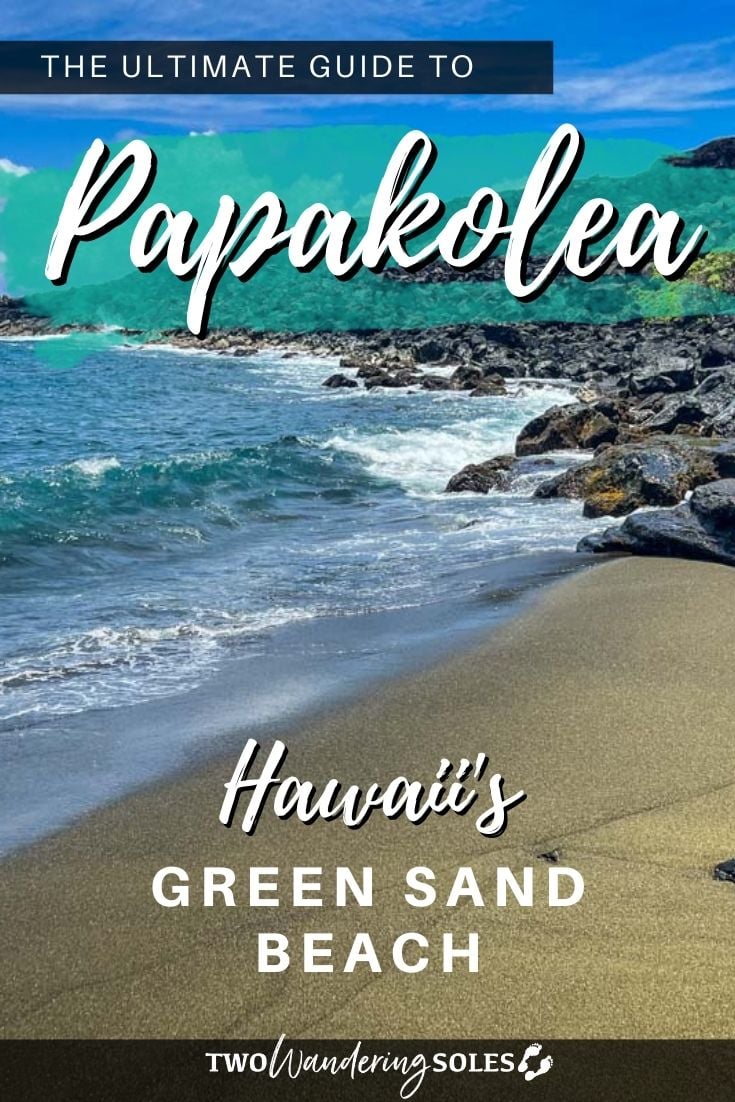 We want to hear from you!
Are you planning to visit Papakolea Beach in Hawaii and still have questions? Leave your comment below and we'll do our best to get back to you!