With rainforest, waterfalls, beaches, and mountains, Olympic National Park is one of the most unique places in the United States. This guide walks you through how to make the most of your trip by going over the best things to do in the Olympic Peninsula.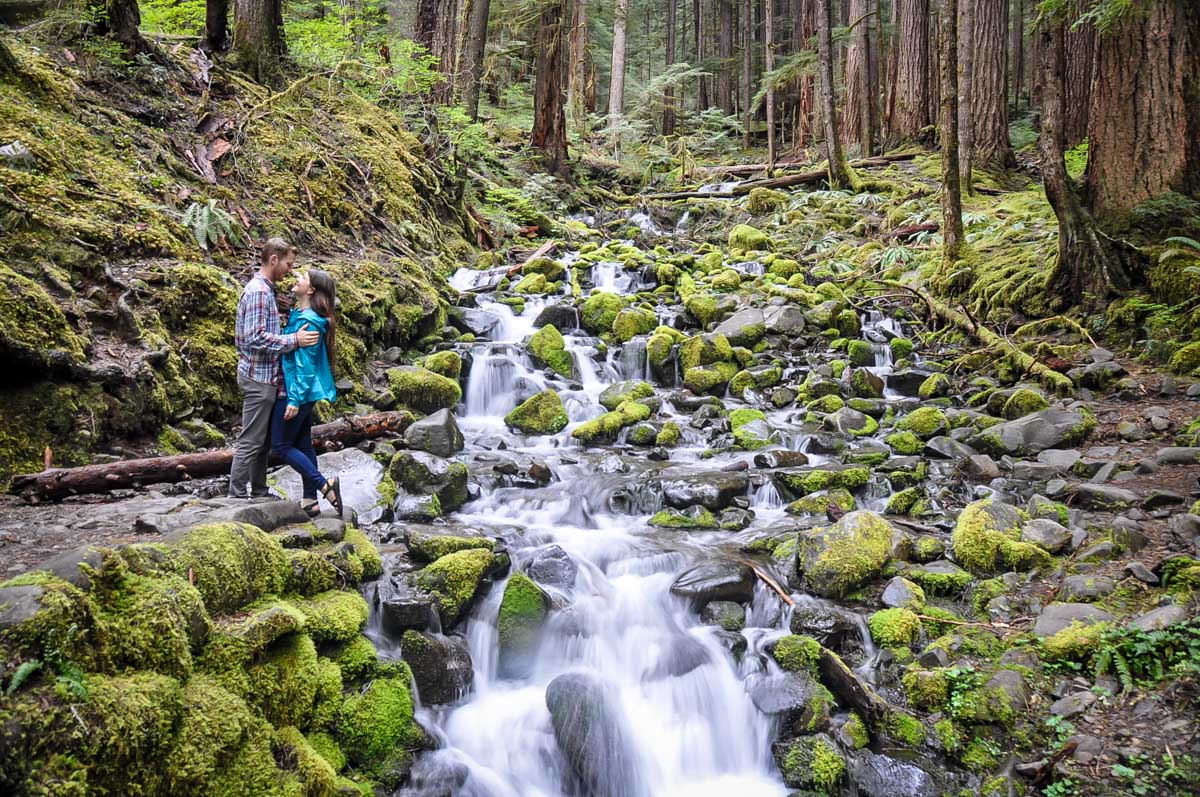 With temperate rainforests, snowcapped mountains, and driftwood-strewn beaches, the Olympic National Park is the stuff that dreams are made of. Those famous PNW clouds hang low, giving the whole area an ethereal quality. And yes, waterfalls really are everywhere on the Olympic Peninsula.
There are tons of fun things to do in Olympic National Park! If you're looking for an adventurous road trip, the OP is one of the very best places to visit in Washington State.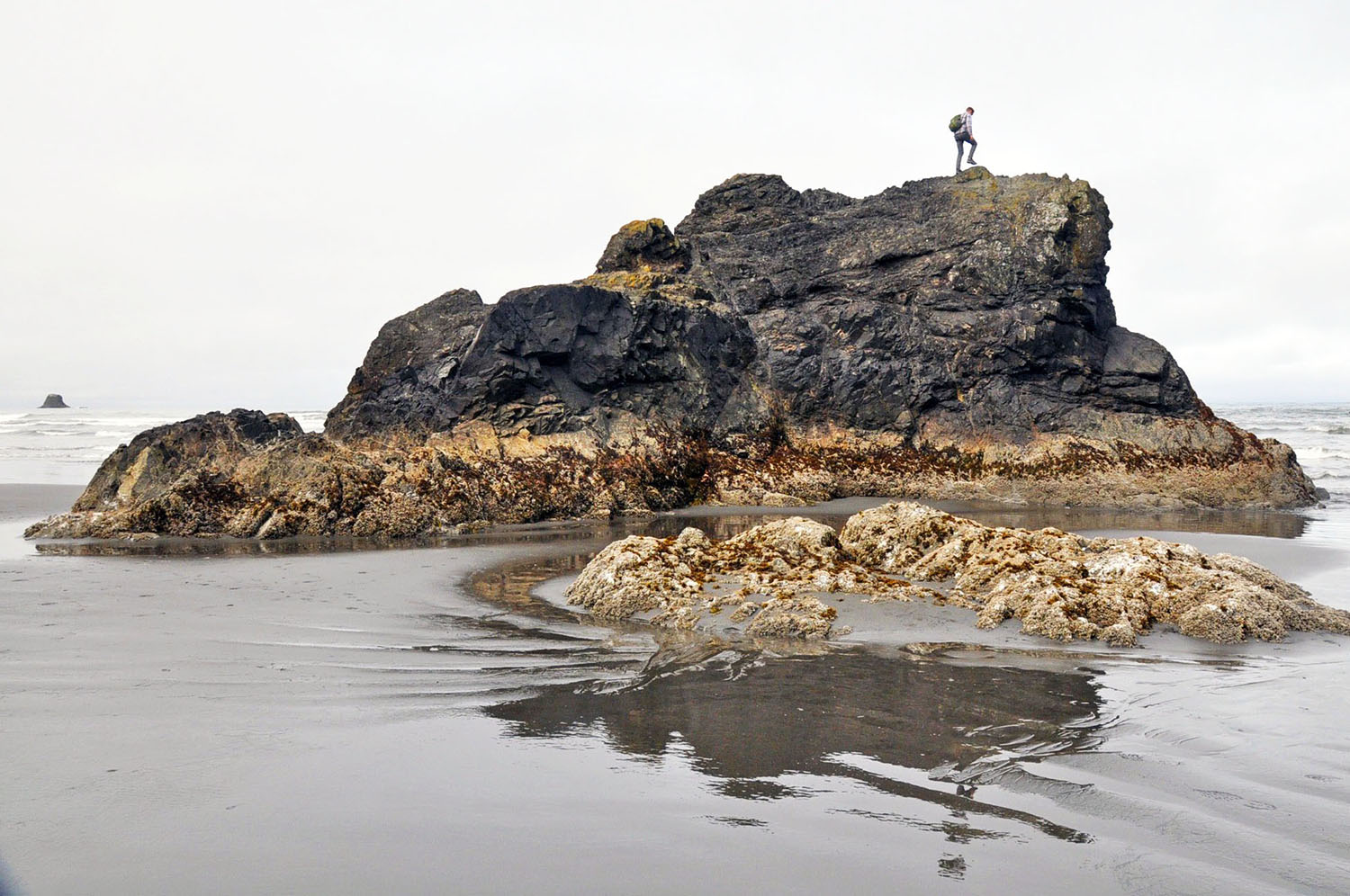 From the Insta-famous beaches to seldom-visited backcountry trails, visiting the Olympic Peninsula makes an epic road trip no matter what type of adventure you're looking for!
What you'll find in this Olympic National Park Guide…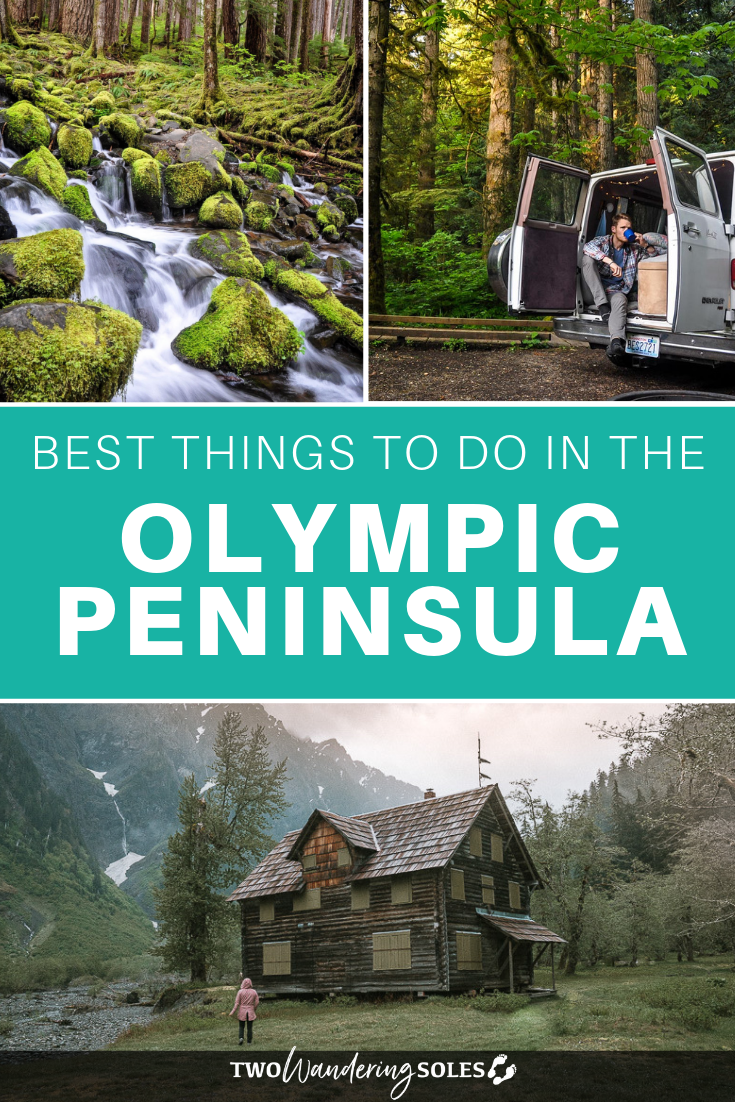 We're going to answer all your questions and even provide you with a map of top attractions in Olympic National Park.
In this article we'll cover:
Top sights and things to do in Olympic National Park

Best route for visiting the Olympic Peninsula

Camping in Olympic National Park and other lodging options.

What to pack for visiting Olympic National Park.
We're going over the highlights and sights that you should be sure to check out on your first trip to the Olympic Peninsula.
Best time of year to visit Olympic National Park
Being that the Olympic Peninsula is, well, surrounded by the ocean on most sides, the weather here tends to be milder than further inland. For the best chance of sunny, dry and warm weather, July and August are a good bet. This is also the most popular time to visit, so popular attractions will be at their most busy.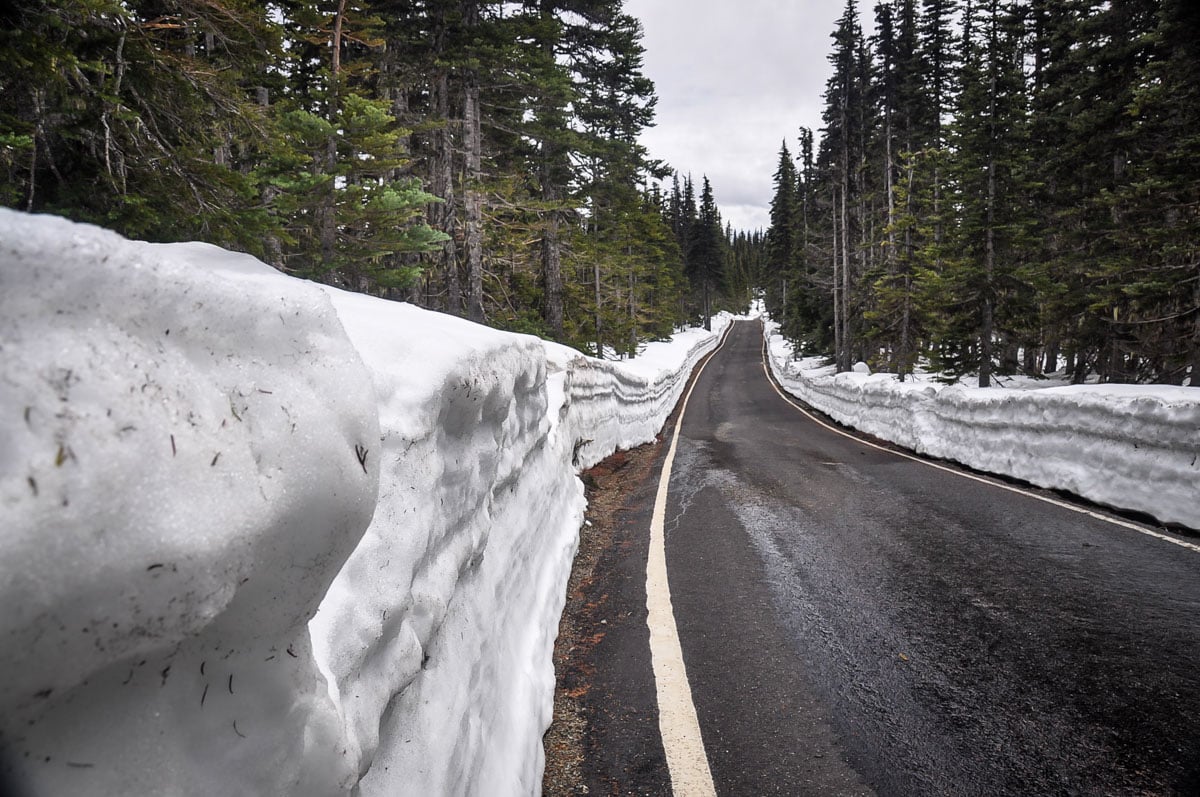 If your travel dates don't fall during the summer months, don't worry! Some of the beauty of this region is the moody, foggy weather you'll find in the spring, autumn and even winter months. While you can't be upset about a sunny day, we actually think the mist that's common on the OP gives it a beautiful and mysterious aura.
Good to know: From October through May, you can expect some roads, campgrounds and visitors centers to be closed or have shorter hours. Be sure to check before your trip.
Olympic National Park Attractions Map
The Olympic Peninsula is one of the best places to take a road trip in the US, and we are excited to help you plan the journey of a lifetime!
We've put all of the stops onto a map so you can visually see where we're talking about. We've laid them out in an order we would suggest, but you could visit them in any order you'd like.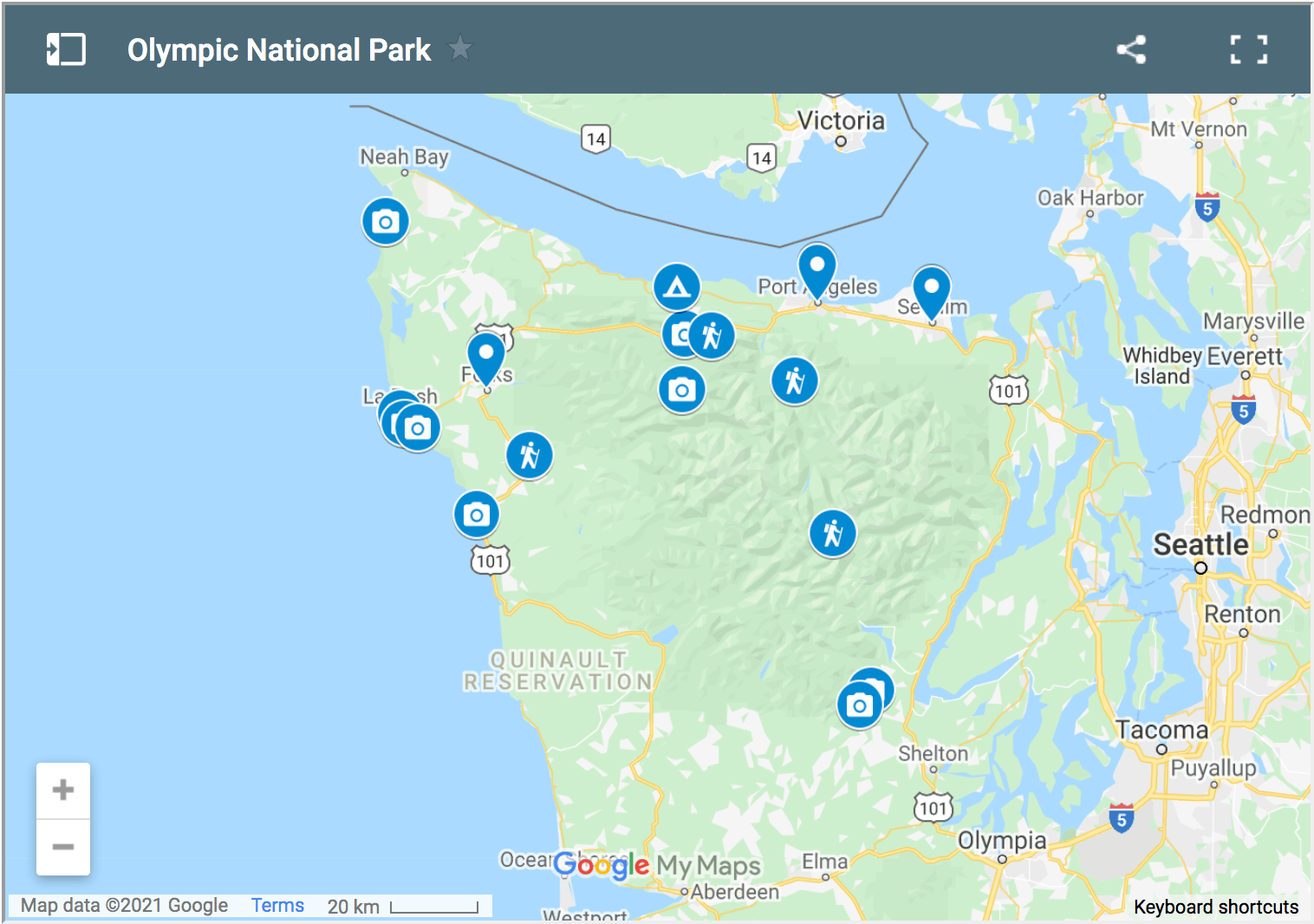 How many days should you plan for this route?
We'd recommend 2 – 4 days for this route.
If you planning on making quick stops at each of these areas, you could probably see everything in two days. It would be really rushed and lots of time spent driving. You could also stretch this out to a week, taking more time to linger in each place and add in a few more stops.
We spent 4 days on the Olympic Peninsula, and thought it was a good amount of time, especially of you plan on camping at any of the beaches.
Looking for campsites in and around the park? Our advice is to download The Dyrt, an app that'll take your camping game to the next level. Use this link to get 90 days of the Pro Membership totally free (no strings attached). We've also got a whole article all about ways to find free camping if you want more info!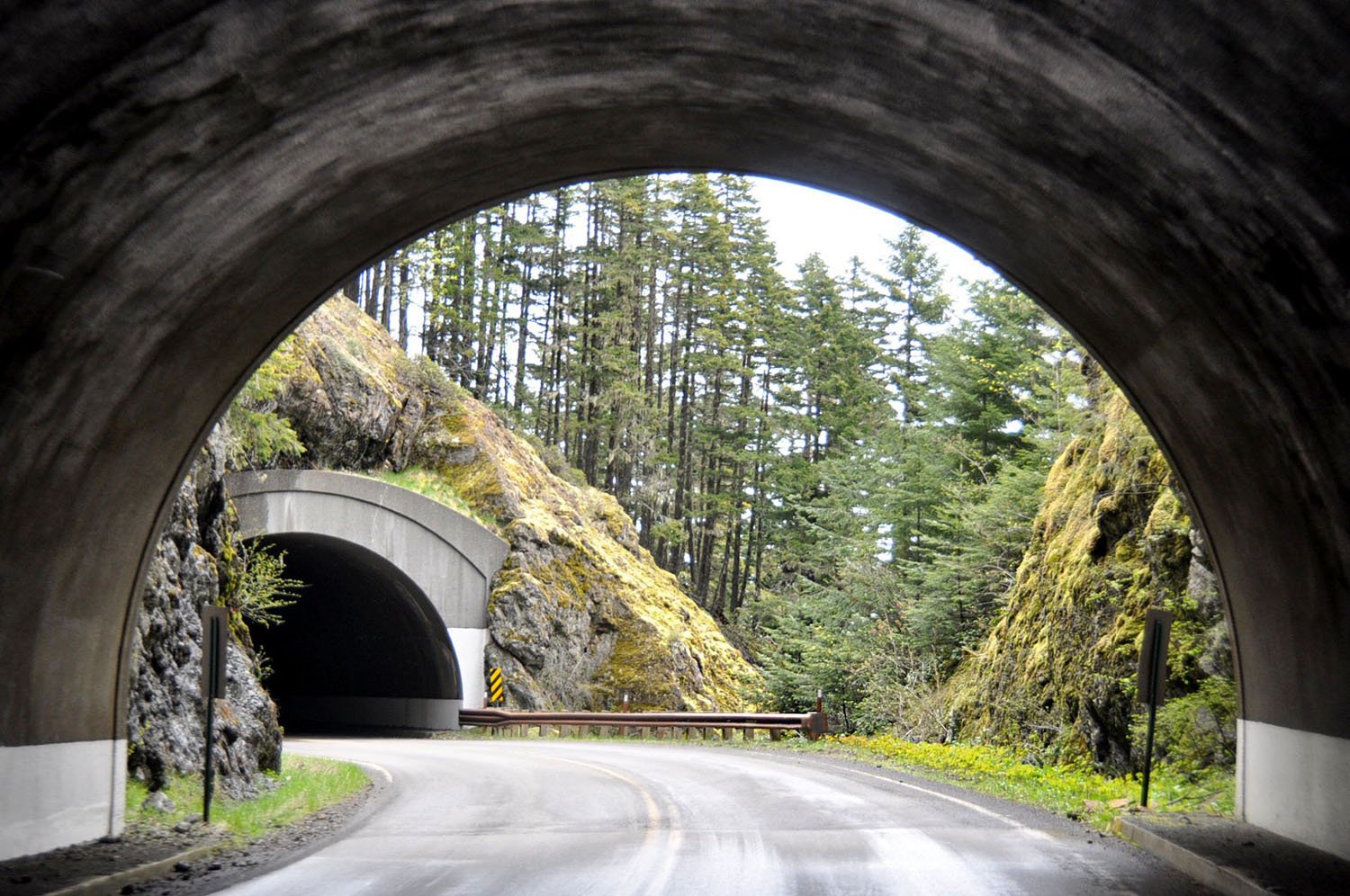 How to get to the Olympic Peninsula
You'll likely be starting and ending this journey in Seattle.
Before leaving the city, be sure to grab some strong coffee for the road. You're gonna need it!
Insider tip: And if you're from out of town, be sure to read up on all the fun things to do in Seattle—it's a really great city to explore, and you should definitely allocate a few days to seeing all the sights (and drinking all the craft beer!).
There are essentially 3 ways to get to the OP from Seattle:
Take the ferry to Bainbridge Island: This is a shortcut and will save you a bit of time. You will miss some stops on this route if you come via the ferry, so skip straight to #3 on this list if you go for this option. If you plan to take the ferry back to Seattle, you can do these stops at the end of your road trip. Alternatively, you can do this route in reverse (counter-clockwise) order.

Drive through Olympia: This drive will avoid the ferries and adds 180 miles and 3.5 hours onto your trip. It also gives you the opportunity to see a bit more. And that's the fun of a road trip right?!

This is the option we chose for our road trip.

Drive through Tacoma and head north to Bremerton: If you don't care about seeing stops #1 and #2 on this route, you could instead drive through the small towns of Bremerton and Port Townsend. The routes will converge in Sequim (#3 on this list).

Olympic National Park Road Trip Route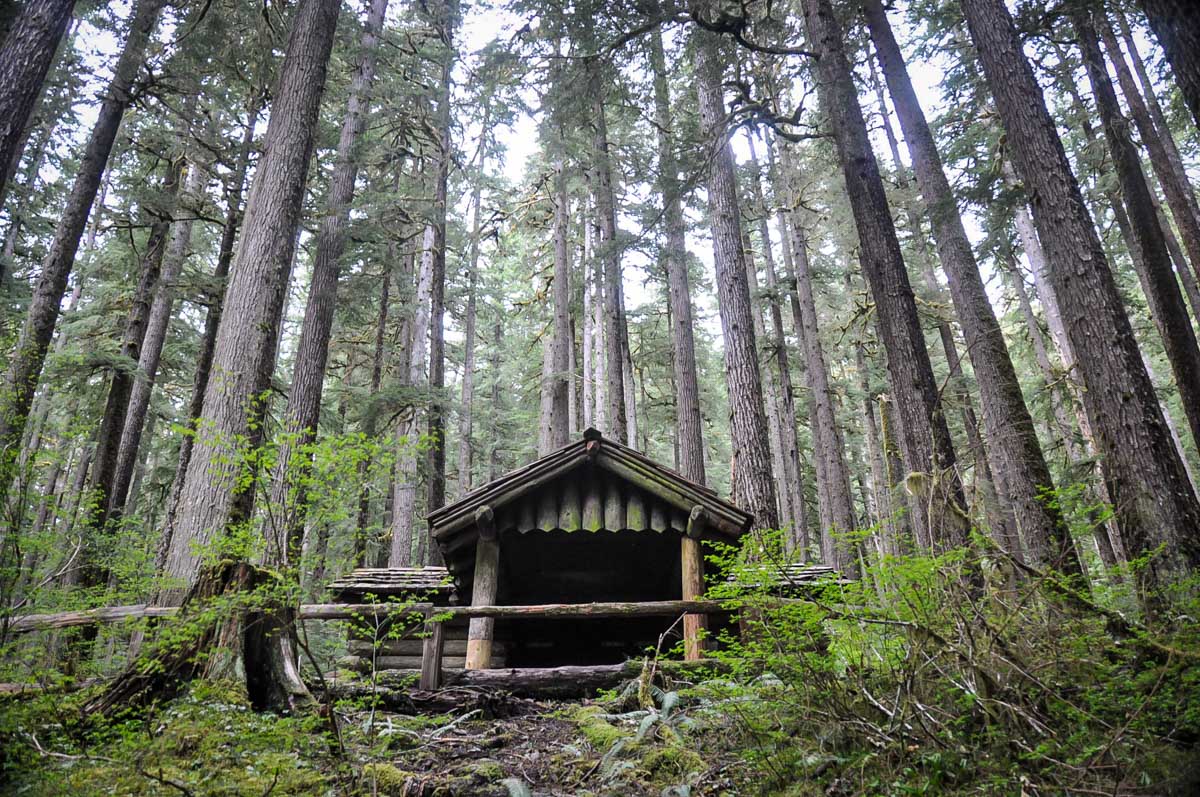 Alright, now comes the fun part! Let's go over the route, stop by stop.
The first two stops come just as you enter the peninsula via Olympia. Skip to #3 on the list if you are taking the ferry or choosing to drive through Bremerton.
1. High Steel Bridge
For a vertigo-inducing view, a pit stop at High Steel Bridge is an interesting detour on your way into the Olympic Peninsula.
This bridge is accessible by car and stands 427 feet over the South Fork Skokomish River. From above, you can look down on the stunning blue water in the gorge below, and you'll even see a waterfall. Don't forget your camera and your common sense. Please be very cautious when taking pictures on this bridge, as the barrier (especially on the west side, is very short).
A note on this picture: Although it may look quite scary in the picture, I was actually sitting quite far from the edge, and had a barrier in front of me. Do not attempt to climb over barriers to get photos.
This bridge is more easily accessible than Vance Creek, so it can be busier. Though when we stopped here around dusk, the lighting was great and we didn't have any company other than a group of teenagers who were throwing fireworks into the canyon to make a huge boom. (A bit frightening when you're standing at the edge of a bridge!)
How to get there: Traveling north on Hwy 101, turn left on West Skokomish Valley Road. After about 7.5 miles, turn right on NF-2340 to this bridge, and the last portion of the road is gravel (not too bad, though). Drive across the bridge and park at the turnout point. You can walk back over the bridge, but be cautious – on one side, the barrier is pretty short and you could easily fall if you're not careful.
2. Vance Creek Viaduct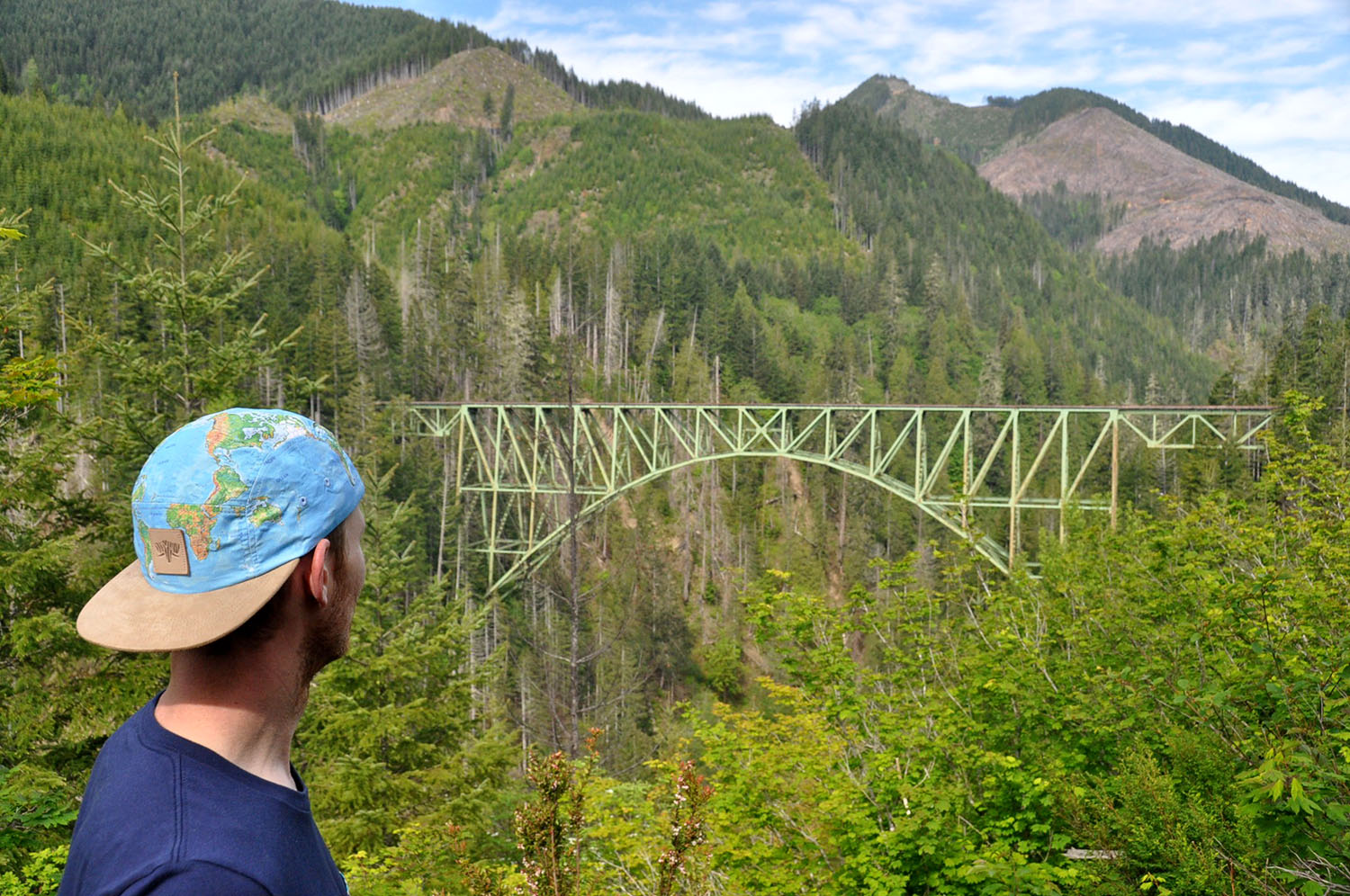 This old railroad tracks became an Insta-famous PNW landmark in the last few years. If you Google it, you can see images of people walking across this rustic wooden bridge, though when we visited (May 2017), we found a very different view.
The entrance to the bridge has been torn away and there is no way to get on top. I'm assuming that people wandering out on this bridge without any barriers led to some dangerous situations and the owners of the land decided to make it impassible.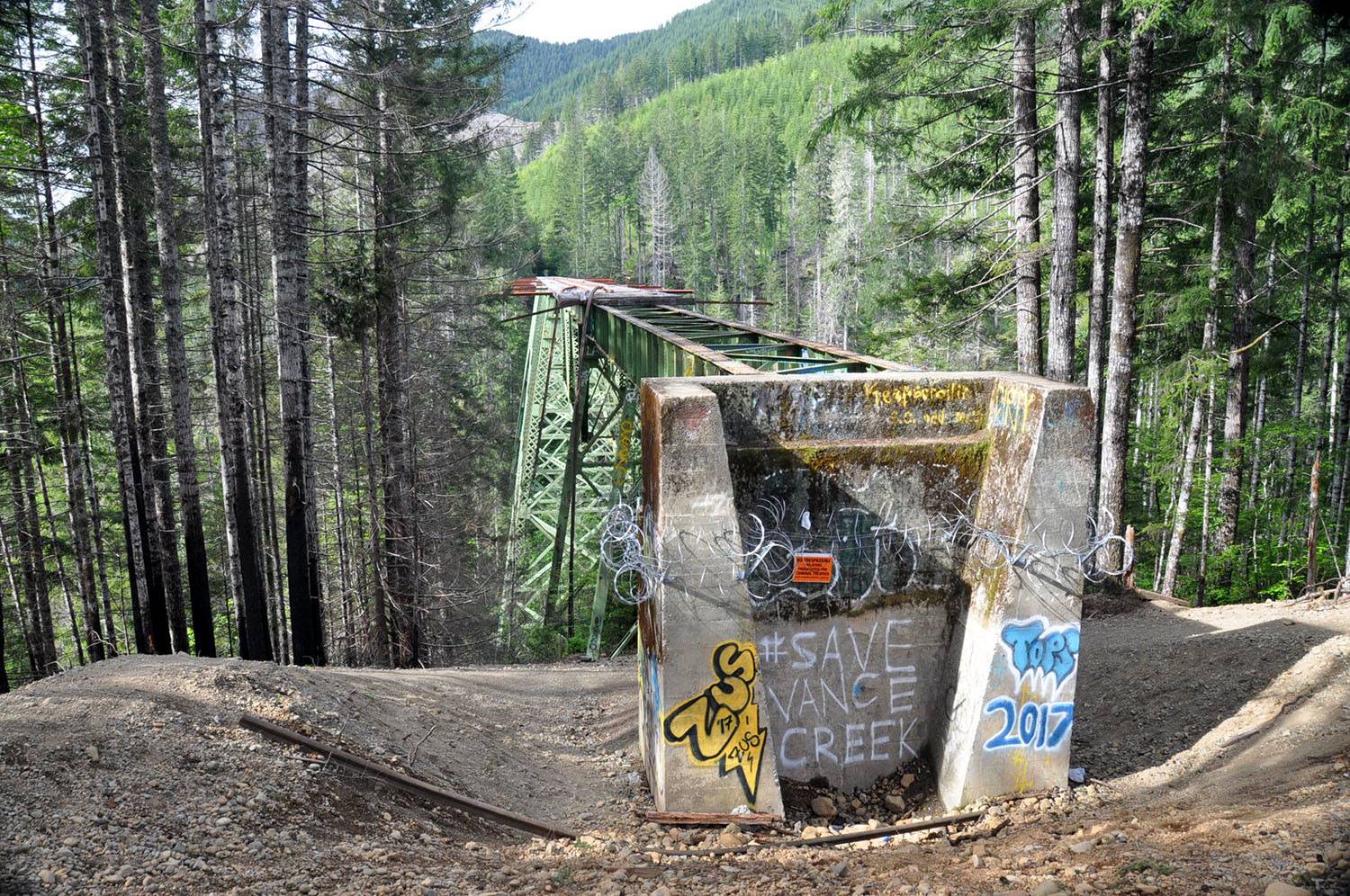 You can still walk a little ways and get a nice view from the side, but don't make a special trip here if you are expecting to walk across, because you'll be disappointed.
How to get there: Take the same West Skohomish Valley Road as in the High Steel Bridge. Instead of turning right, continue on NF-23 (still a gravel road) until it become payment again in about 300 yards. Park your car and you will see a gate that blocks cars from accessing the road on the right (the second orange gate).
It is private property, but there is a sign that says you are free to walk to the viewpoint. After about 100 meters, you will come to a Y in the path. To the right is the actual bridge (but again, you can no longer access the bridge), and to the left is a 0.6 mile walk on a wooded path that will lead you to the viewpoint.
Note on both bridges: There's not much else to explore in the vicinity, so if you're really pressed for time you could skip these bridges.
Where to camp near High Steel Bridge: Brown Creek Campground is not far from the bridges and is a very nice place to set up camp down by the river. Sites cost $14 and there is a pit toilet.
3. Sequim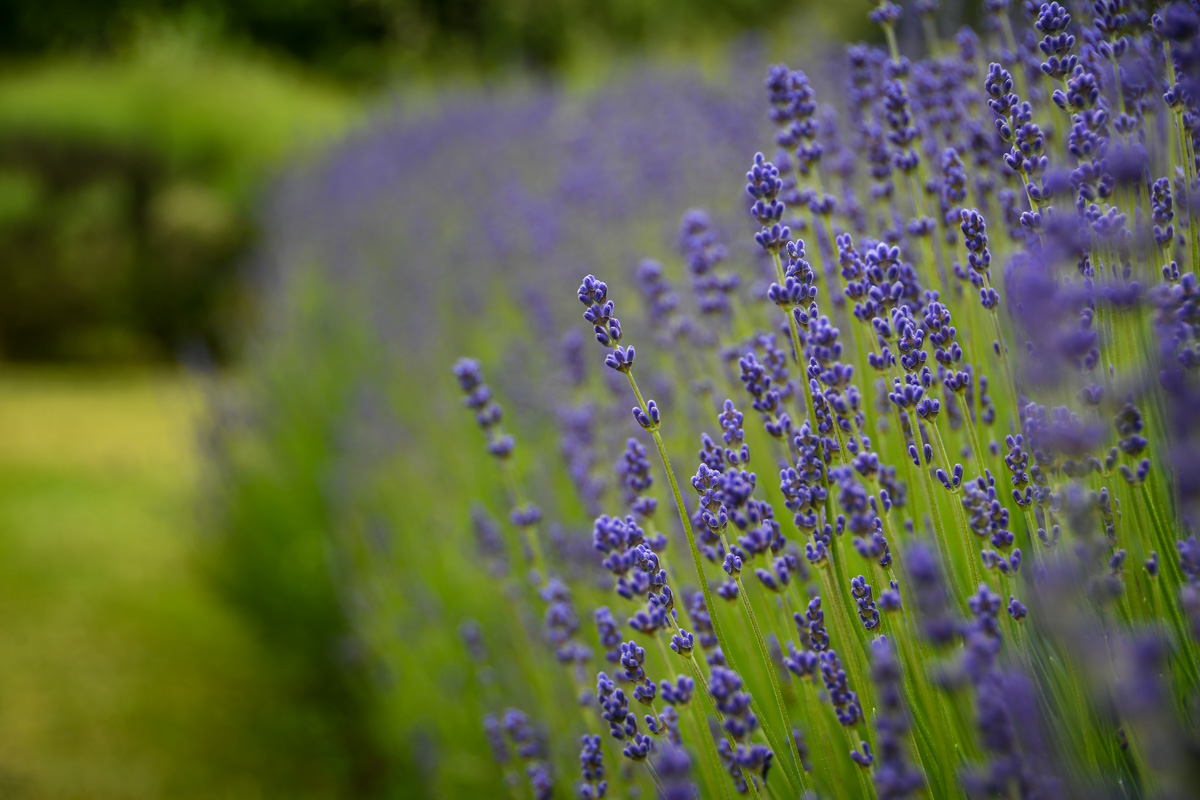 This small town is best known for lavender fields and sunshine—sounds lovely, doesn't it?!
If you're traveling in the Olympic Peninsula during the summer months, be sure to check out the lavender, and you might just get lucky and hit their festival celebrating this pretty flower which falls in mid-July.
Foodie Tip: If you're looking for a special meal, Nourish is an organic farm-to-table restaurant that sources ingredients from the onsite gardens. They have gluten free, dairy-free and vegan options, and inventive menu items.
4. Port Angeles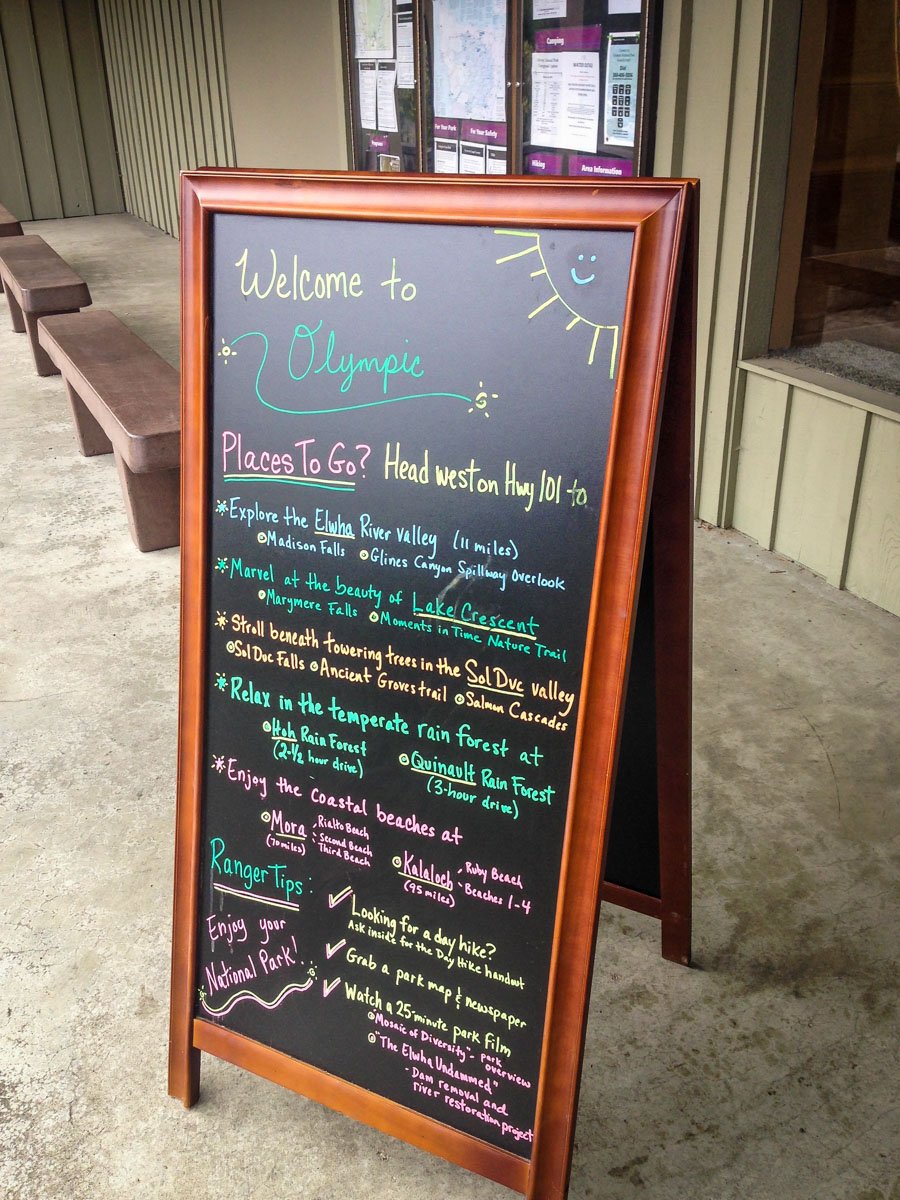 With a population of 20,000 people, this is by no beans a big city, but it's the largest you'll find on the OP.
We wouldn't necessarily recommend spending much time here. You don't come to the Olympic Peninsula for the towns, after all. That said, it's a good point to stretch your legs after some driving, pick up any groceries you need, and fill up the gas tank.
And the main reason to stop here is to stop at the Port Angeles Wilderness Information Center to pick up any necessary permits you'll be needing. For instance, this is where we stopped to get our permit to camp on Shi Shi Beach and pick up a bear canister. The visitors center is where you can also check trail conditions, weather, and chat with rangers about any questions you might have.
There are also a handful of good restaurants and breweries on Port Angeles if you're looking for a bite.
5. Hurricane Ridge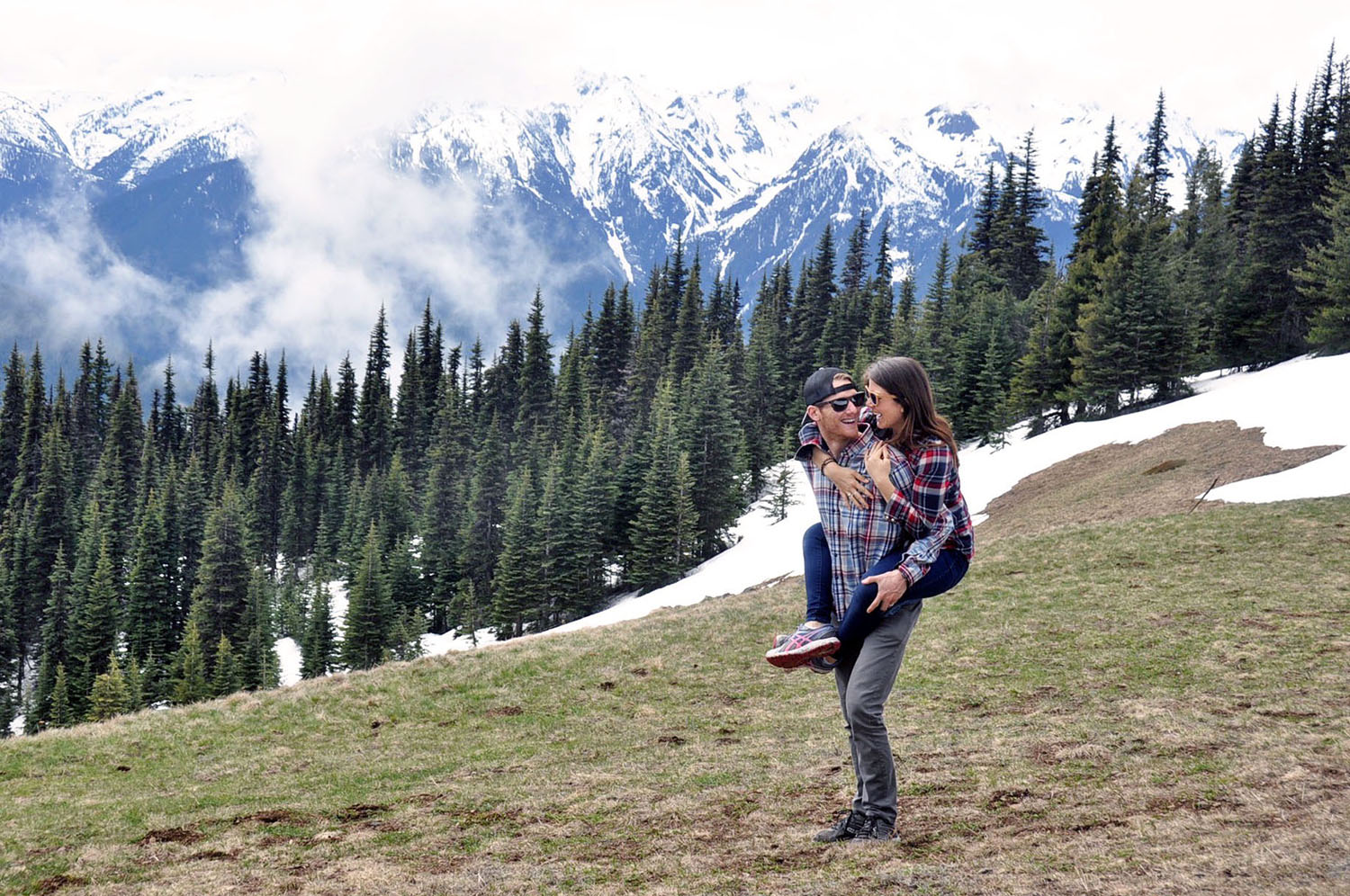 A stop at Hurricane Ridge will teach you the meaning of the phrase, "the mountains are calling." This dramatic landscape will make you feel worlds away from bustling Seattle, yet it is incredibly accessible. The drive up to the visitors center is breathtaking, as is the view at the top.
Explore the nearby trails, some of the best hikes in the OP, for more epic backdrops, and take advantage of one of the many picnic tables in the vicinity. Pack a lunch to be enjoyed with postcard-worthy views. Oh, and don't forget to bring your camera!
Tip: If you're planning on staying on any of the beaches on the OP (which I would highly recommend), make sure to get your permits and bear canister at the Olympic Peninsula Visitor Center on your way to or from Hurricane Ridge.
Note: This area can look dramatically different depending on the time of year you visit. When we were there in mid-May, there was still lots of snow and you needed snowshoes to access some of the hiking paths. Later in the summer, however, the trails are covered in wildflowers.
6. Lake Crescent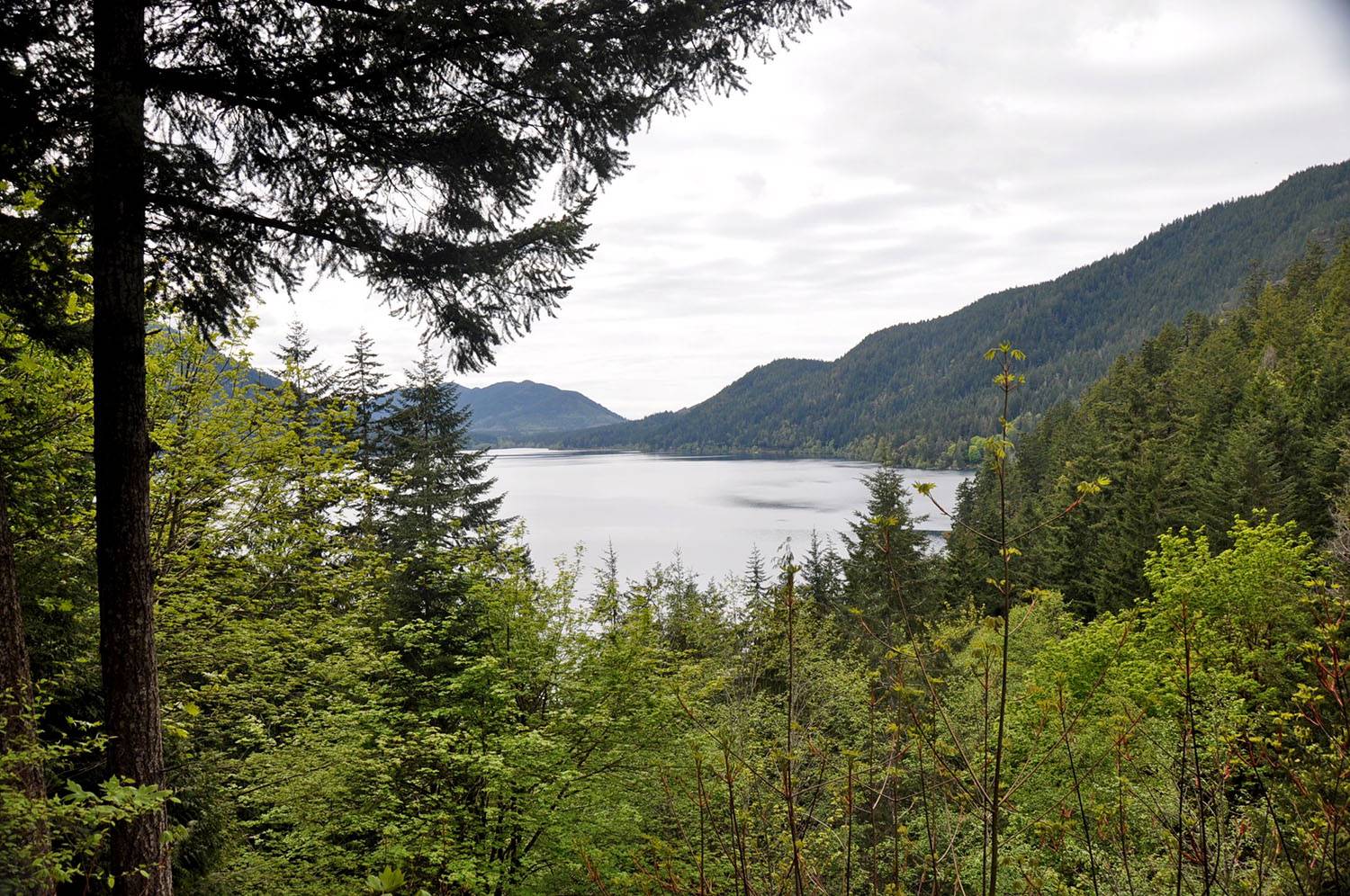 This lake, flanked by mountains, has a few nice lookout points and you'll likely drive past it on your way into the peninsula.
Bonus: Mount Storm King Hike
If you have the time and are a hiking enthusiast, try making the trek up to the summit of Mount Storm King. The views over Lake Crescent look incredible, though when we went, we heard part of the trail had been washed away (including a rope necessary to making it to the summit). I guess we'll have to save it for next time!
Getting hungry? Granny's Cafe is a good option for a quick bite near Lake Crescent. It has the nostalgic feel of a cozy, small-town diner and reasonable prices to match. For a sweet treat, try the blackberry pie and soft serve ice cream!
7. Sol Duc Falls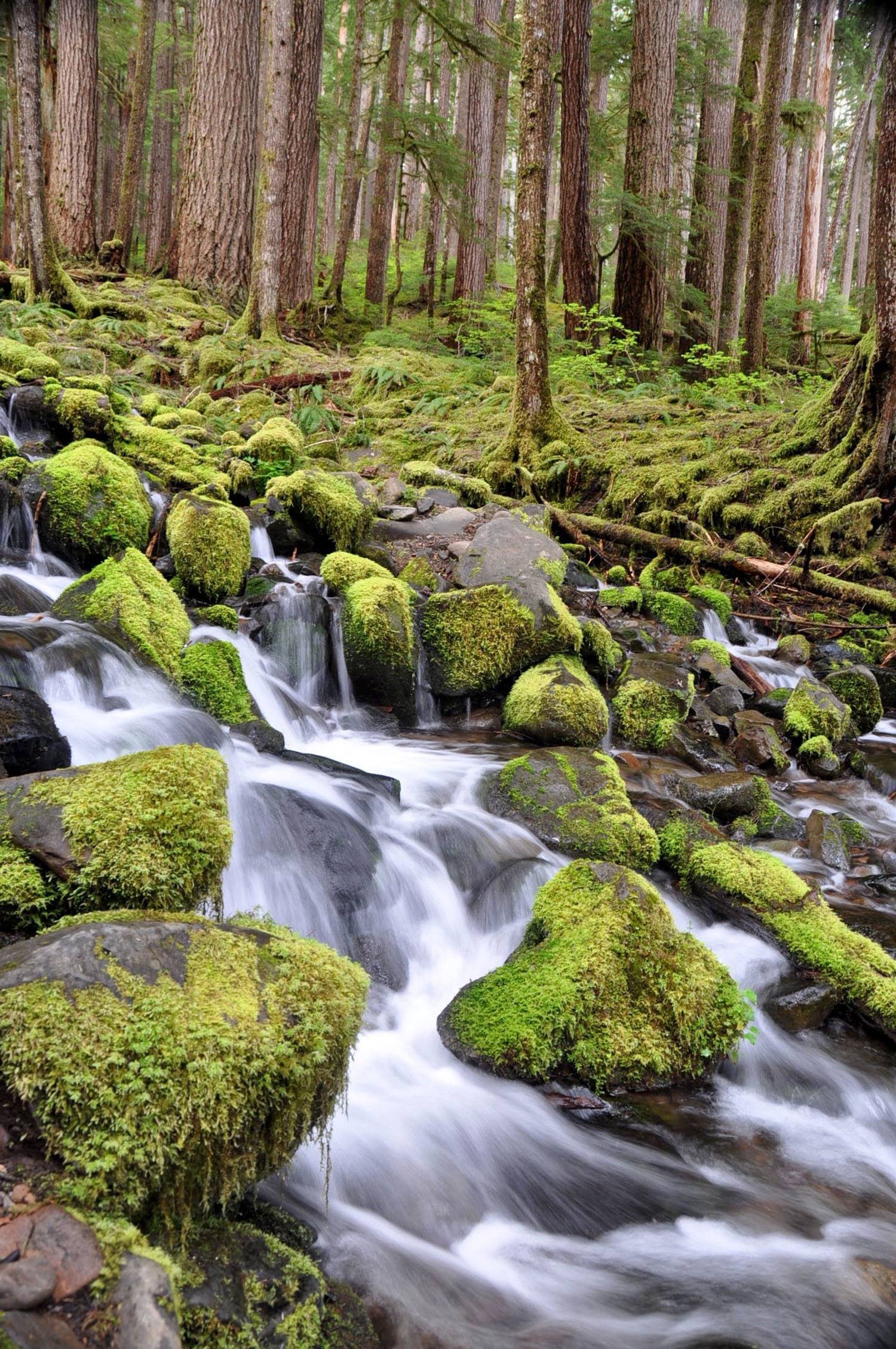 These stunning falls look like something out of Fern Gully (remember that movie?!). There are two main parts to the falls – the first sections you'll walk past is smaller and filled with moss-covered rocks.
Walk a bit further and you'll reach the main part of the falls, which is larger. You'll definitely want to see both parts, but we actually enjoyed the first section more!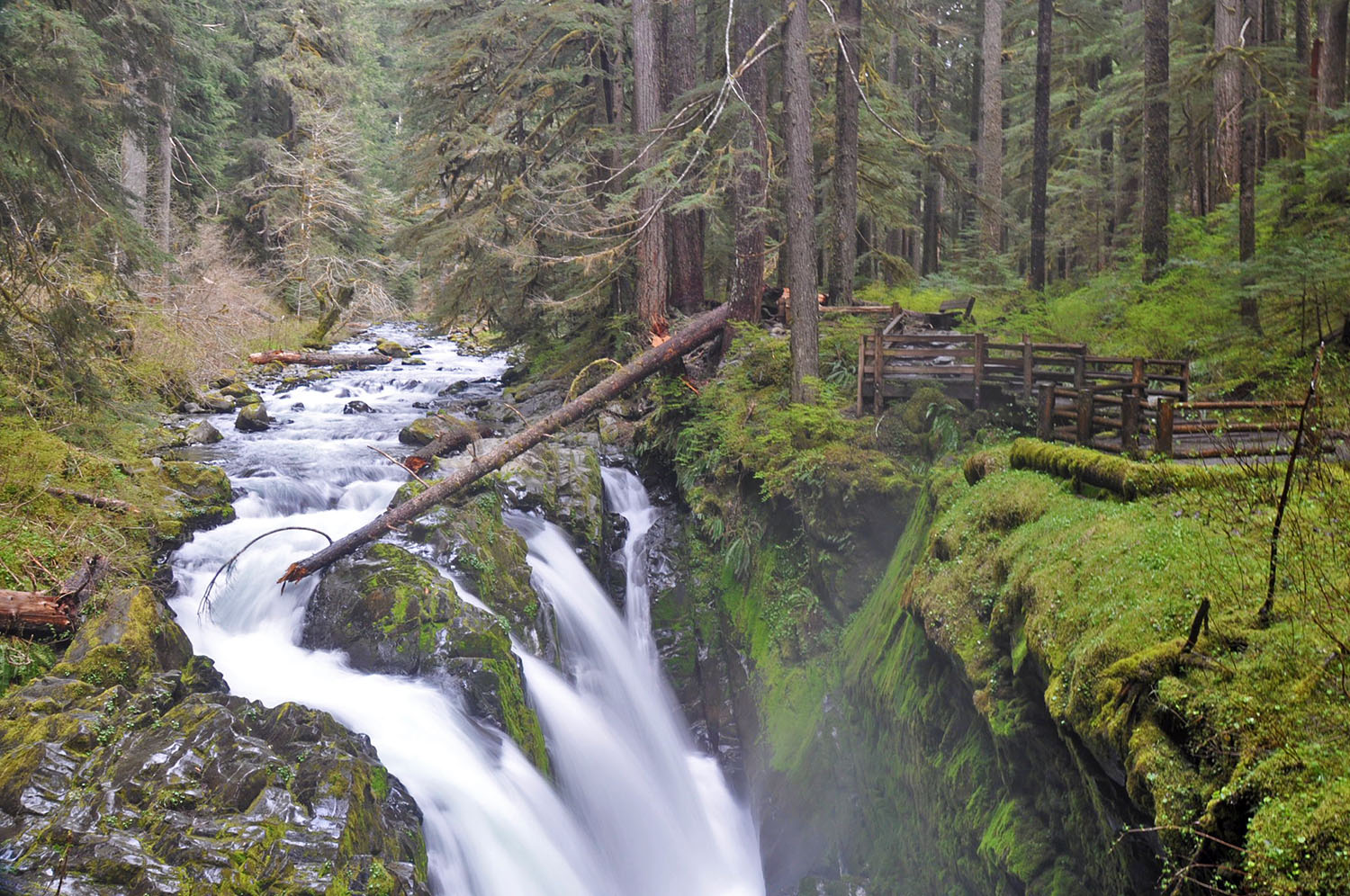 The hike itself is short – 1.6 miles roundtrip– and very easy, only 200 feet elevation gain.
Where to camp nearby Sol Duc Falls: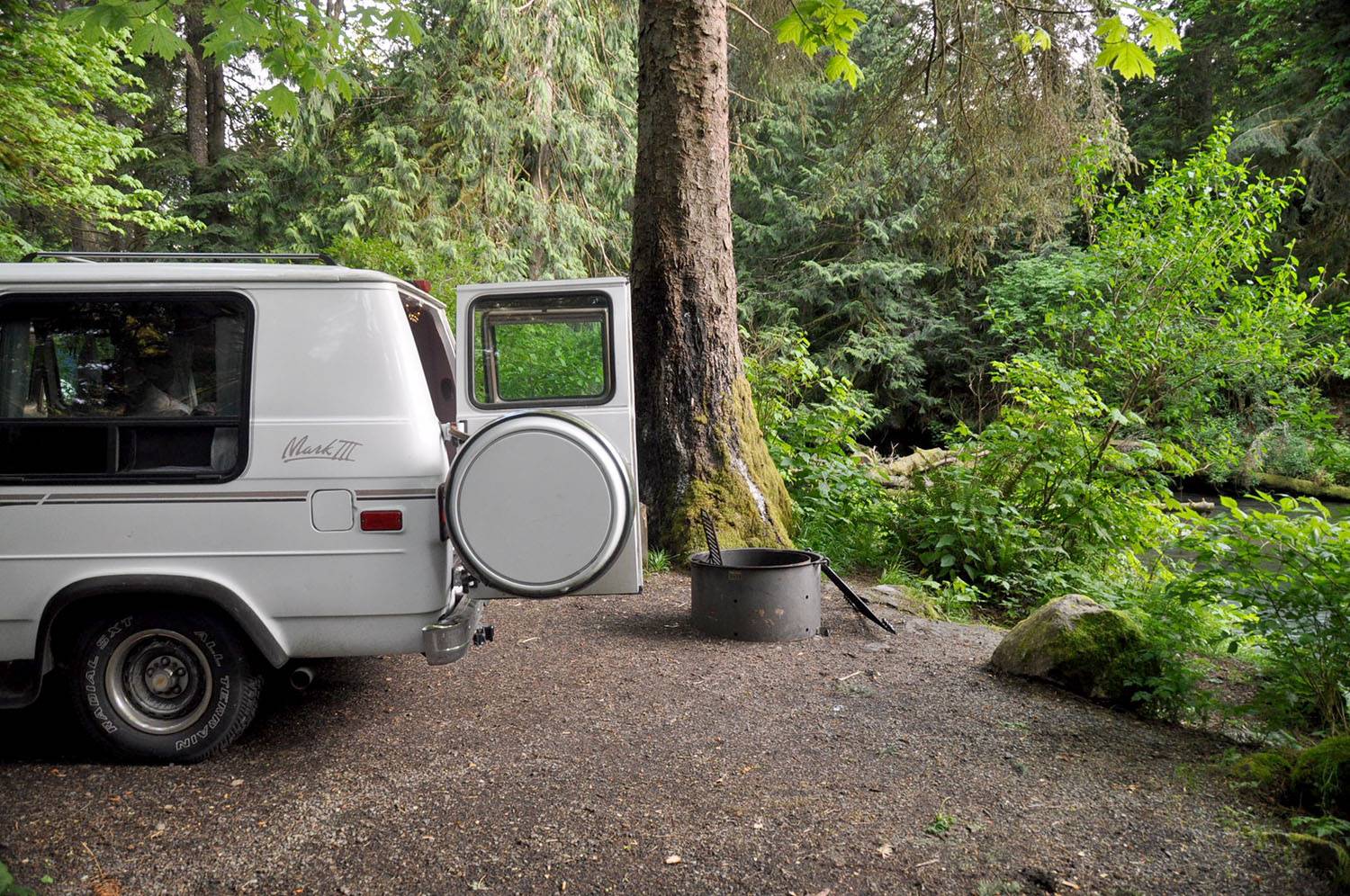 Lyre Campground is a perfect place to stop for the night if you are camping in the OP. It's FREE if you have a Discover Pass ($30 for the year, good in all Washington State Parks). If your camping between June 15 and October 15 each site costs $10 per night and you have to self register.
There are only 11 spots, first-come first-serve, and we got one of the last ones when we arrived around 7 p.m. It's a stunning little riverside oasis that we were happy to call home for the night. If only all campsites were like this one! There is a pit toilet and a potable water spigot.
Note: There is no phone service down by the river where the campground is located, but if you drive to the entrance, you'll have a somewhat strong signal.
8. Shi Shi Beach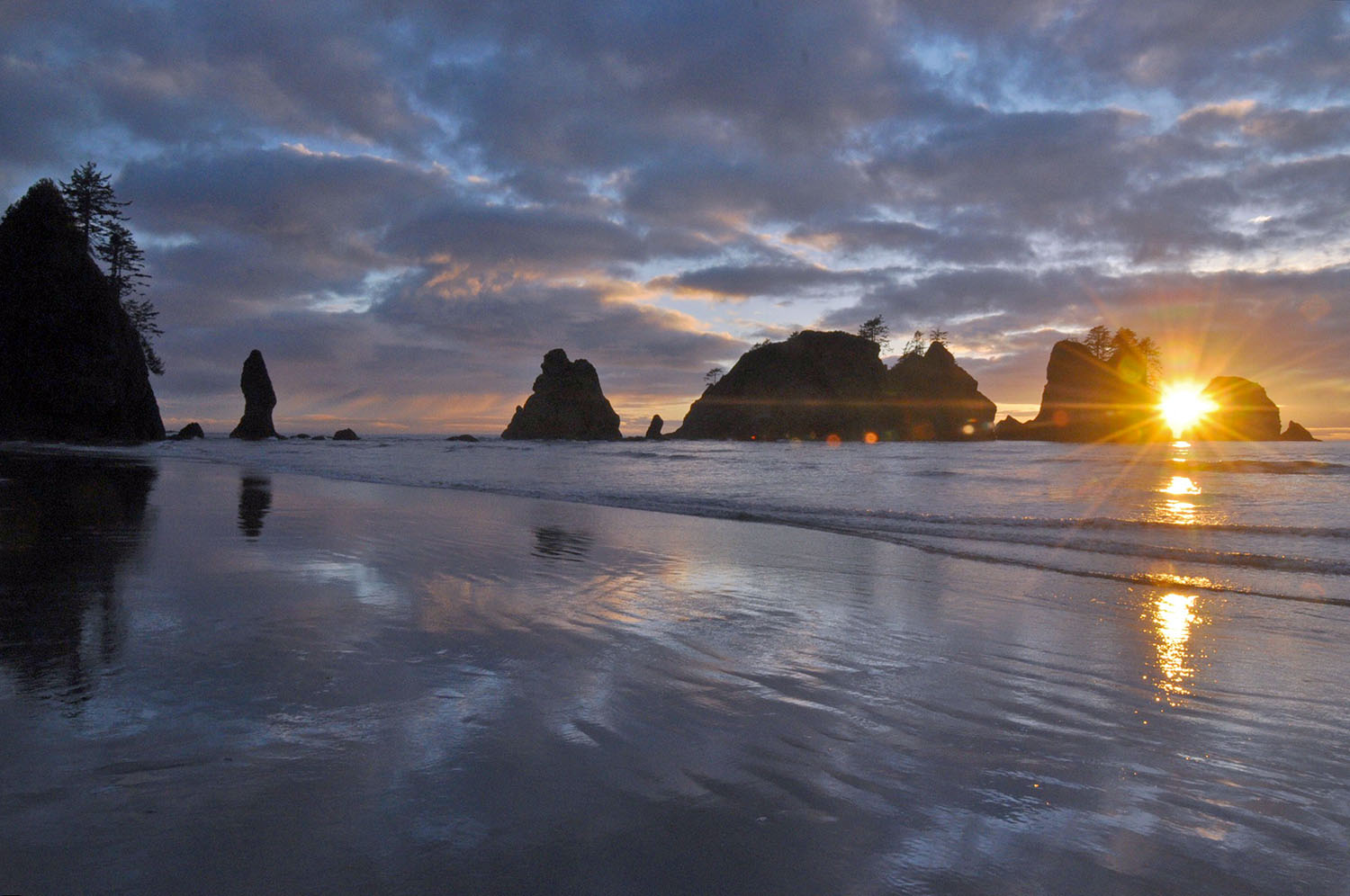 To get to this somewhat remote beach, you'll need to hike 2 miles on a muddy, jungly path on the Makah Indian Reservation. Once you reach the ocean, it is another 2 miles of walking on the sand to get to the dramatically stunning sea stacks. But oh man, is it worth it for the sunset.
Being that it is quite a trek, we'd recommend a stop here only if you are camping overnight, or if you intend to spend the whole day exploring.
Do it yourself: We put together an entire guide to camping on Shi Shi Beach with everything you need to know.
9. Hoh Rainforest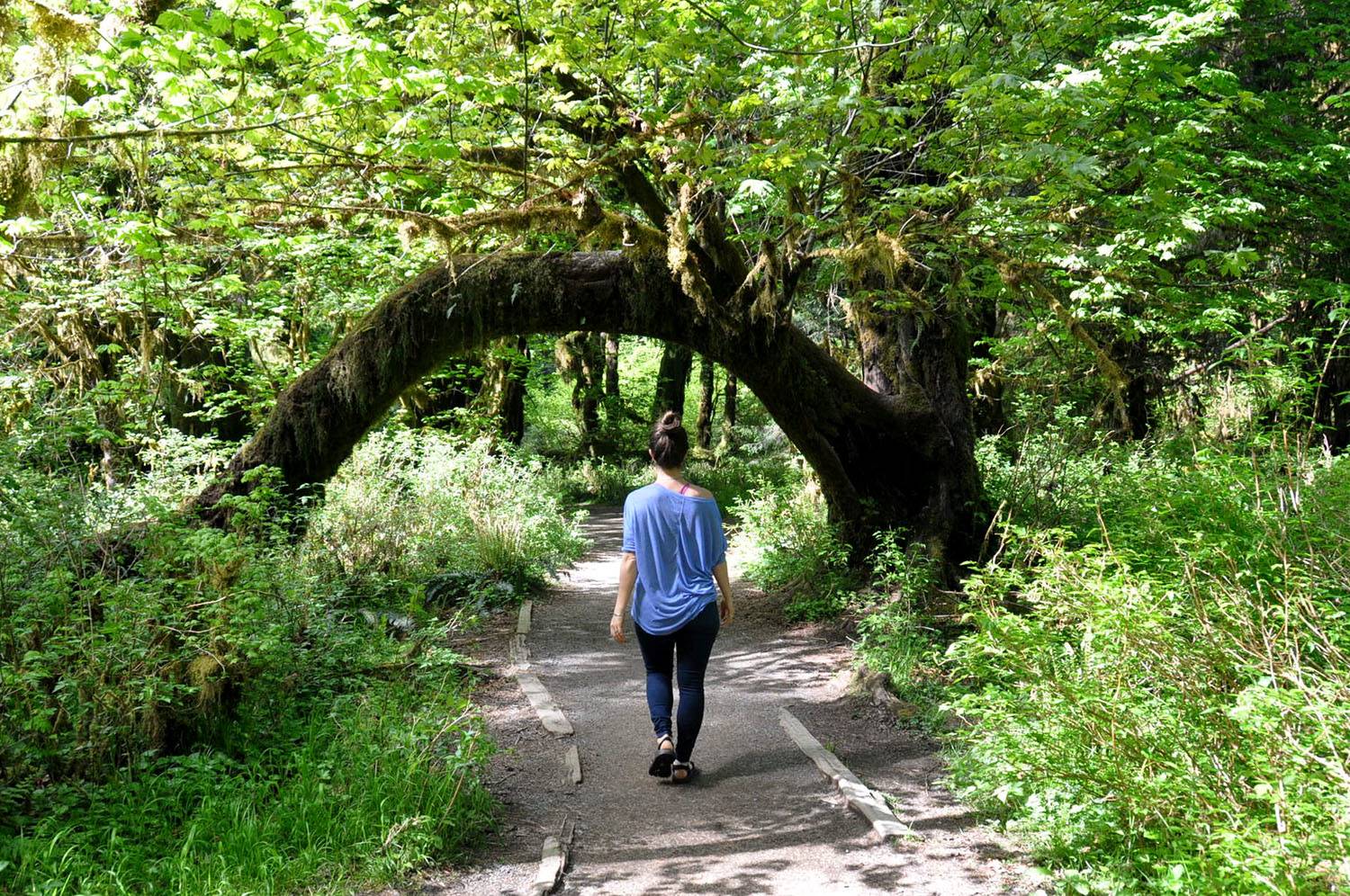 Most first-time visitors to the Olympic Peninsula don't leave without a stop at the Hoh Rainforest. With a few different walks of varying lengths to choose from, this makes a nice addition to your itinerary.
Keep in mind that the easily accessible trails are heavily trafficked, meaning this may be one of the more crowded stops on your time in the OP.
When we were there, it was a beautiful, sunny day. Don't worry though if the weather isn't great during your visit. I remember visiting as a child on an overcast rainy day, and the forest had a completely different vibe. (I think I actually preferred the drizzly weather because it made everything seem more lush and dramatic!)
Tip: If you have a short amount of time and have to pick just one trail to walk, the Hall of Moss is said to be the most worthwhile with limited time.
10. Forks
If you've read the Twilight series (guilty as charged!), you've heard of this town as it's where this tween sensation takes place.
We needed to fill up on gas and groceries, so we stopped in Forks. Okay, that's just my way of making up an excuse… Let's be real, I wanted to check it out too!
Was it what I expected? Not really. Let's just say the towns in the Olympic Peninsula certainly aren't the draw here. The main road with a couple restaurants, hotels and gas stations, some with Twilight-inspired names.
If you're a fan you'll probably want to stop and check it out. And being that it is barely out of the way, by all means go for it. But don't plan to spend too much time here. There's not really much to it. I didn't even take a single photo… and I take photos of everything.
11. Beaches in La Push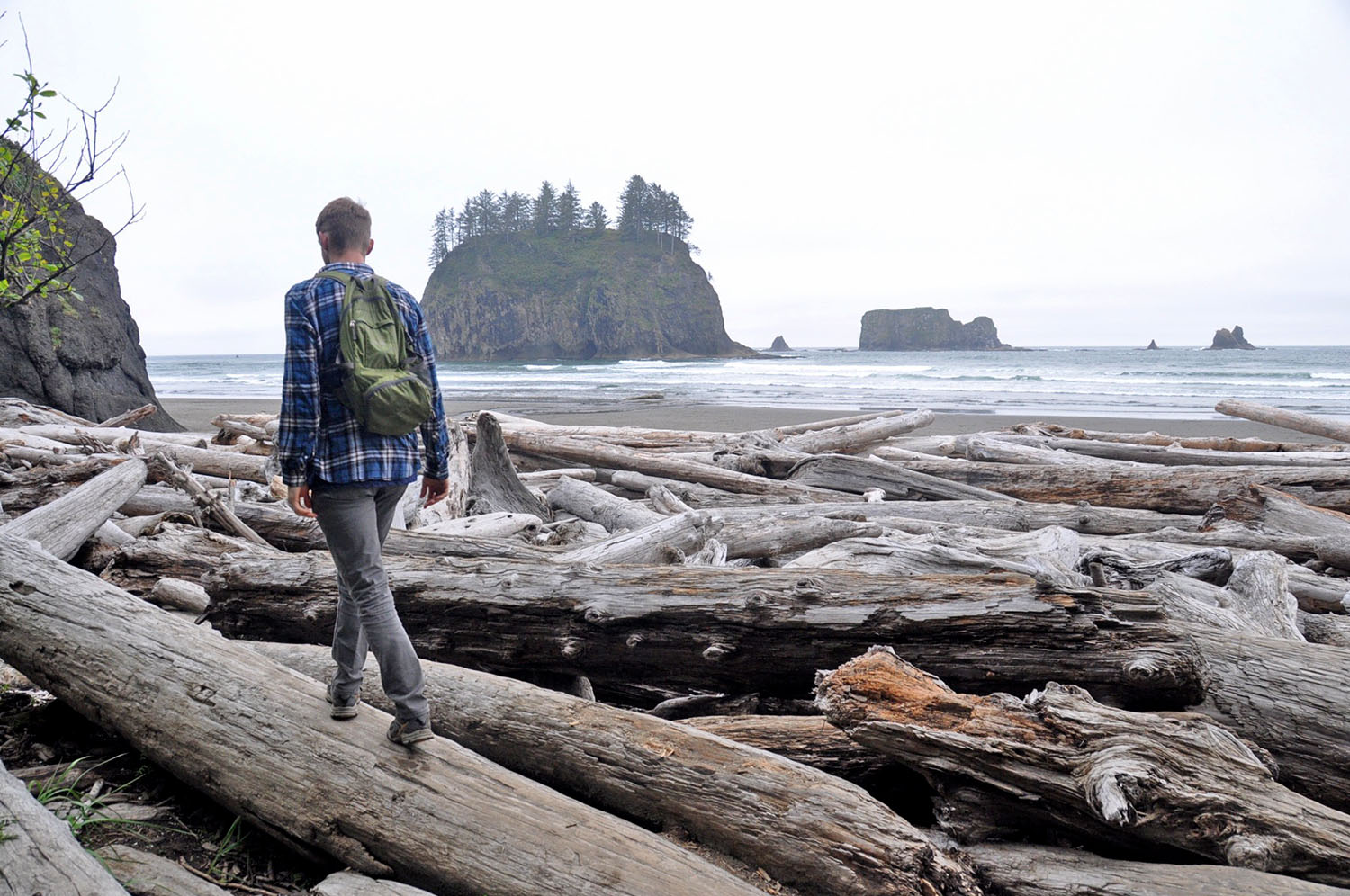 First, Second & Third Beaches
These Olympic National Park beaches are well-known and can be found on just about every PNW photographer's Instagram page. They're popular for a reason.
Bring a tent, a guitar and a surfboard, or just a blanket and some snacks. However you choose to enjoy the rustic, driftwood-strewn beach, you're in for a good time. But know that you definitely won't be alone.
The accessibility of these beaches mean that you'll be sharing the view with hippies hanging out in their half tent/half driftwood shelters, families on day trips, surfers, and photography classes. The mishmash of people coming together makes for a cool vibe, and the dramatic seascape doesn't hurt either!
Psst! Traveling with kids? Check out these family-friendly beaches on the Olympic Peninsula.
12. Ruby Beach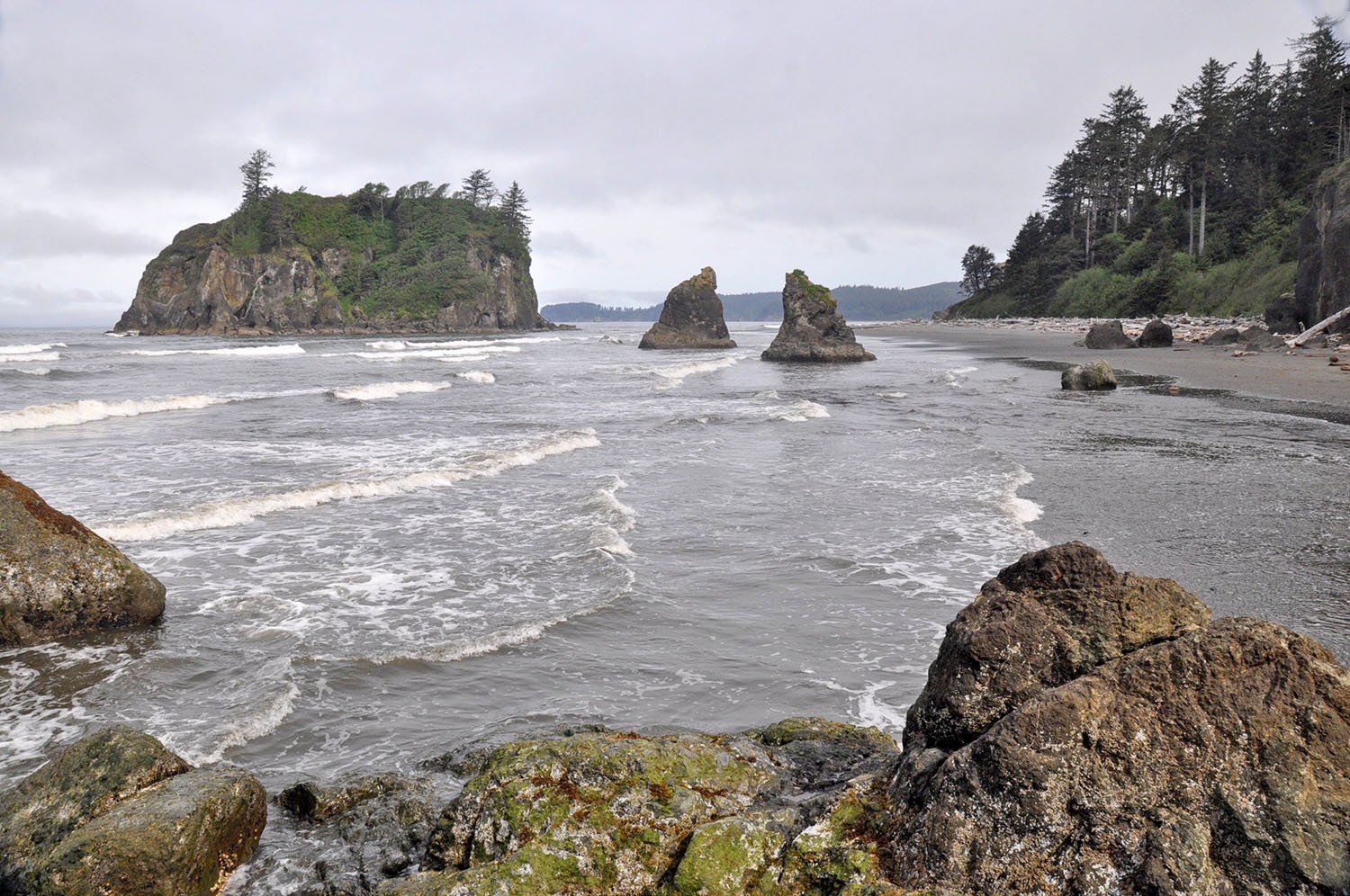 Just a short walk from the parking lot, Ruby Beach is a great place to stop for a picnic lunch amongst sea stacks and driftwood. Unlike Shi Shi and the beaches in La Push though, camping is not allowed at Ruby Beach.
Have more time in Olympic National Park?
Consider getting into the backcountry! We are (newly!) obsessed with backcountry camping, and while we didn't have time during our first visit to the Olympic Peninsula, it is high on our list for next time.
There are many trails to choose from, but one great option to consider is the Enchanted Valley Trail. Keep reading for more information about how long you'll need and what you'll see along the way.
13. Hike Mount Storm King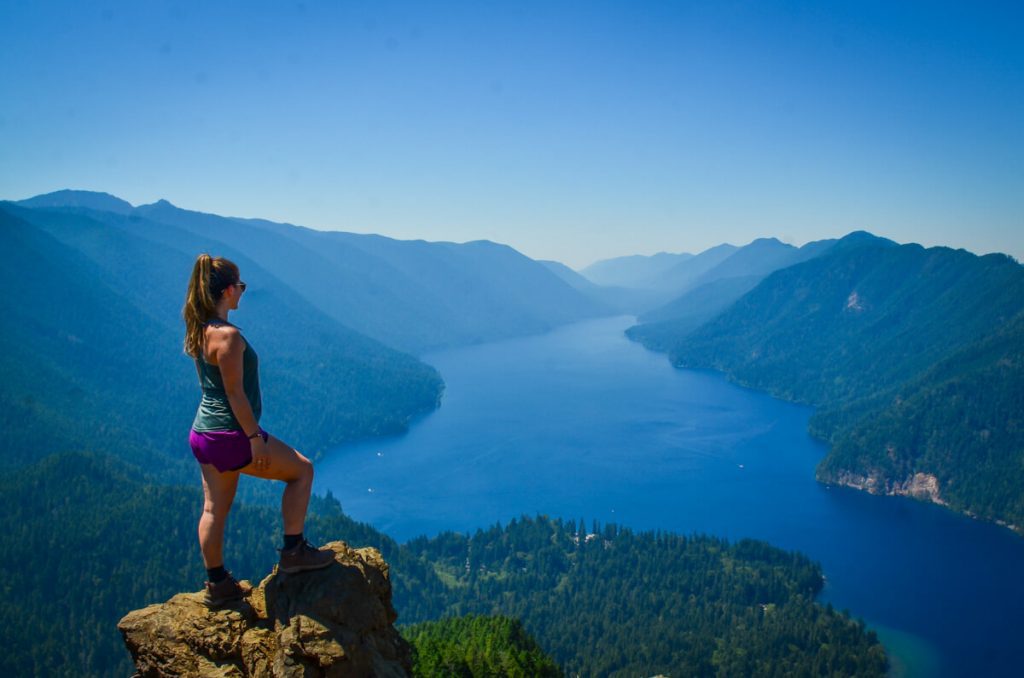 Distance: 5.3 miles, out and back
Elevation: 2,076 ft
Rating: Difficult
This short but grueling trail is one of the best hikes in Olympic National Park for good reason… Just look at those views!
Though the trail is relatively short, this hike is not to be underestimated. The final stretch involves pulling yourself up using a series of ropes to reach the summit. If you're up for a challenge, you'll be rewarded with the most incredible views of Crescent Lake and the Strait of Juan de Fuca.
Check out our guide to the Mount Storm King hike on our sister site for all the info you need to plan you hike.
14. Go backpacking in Enchanted Valley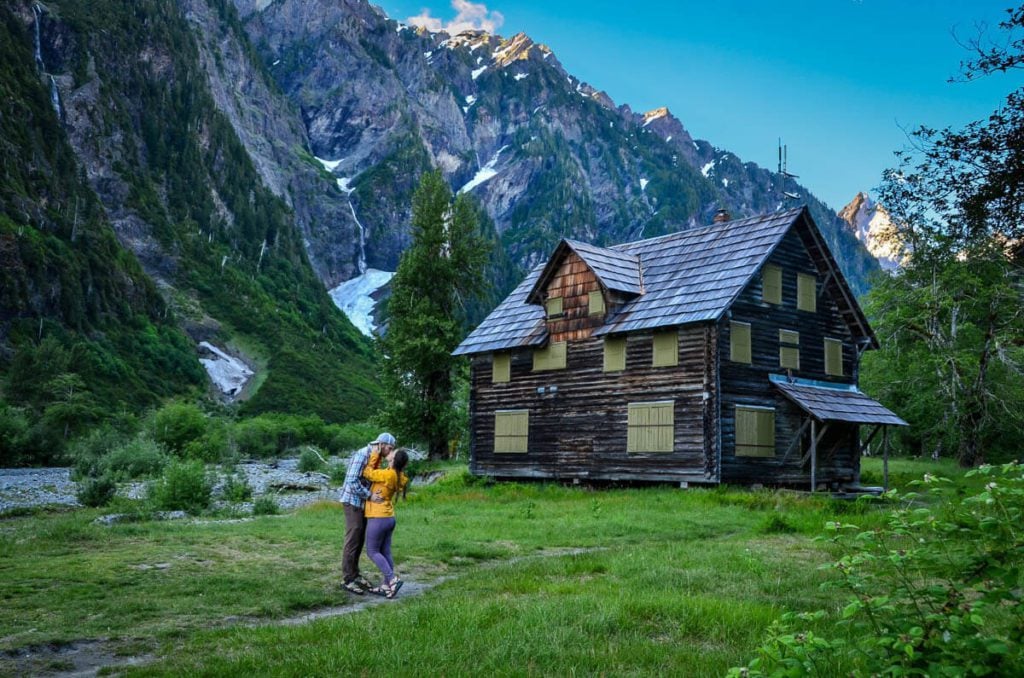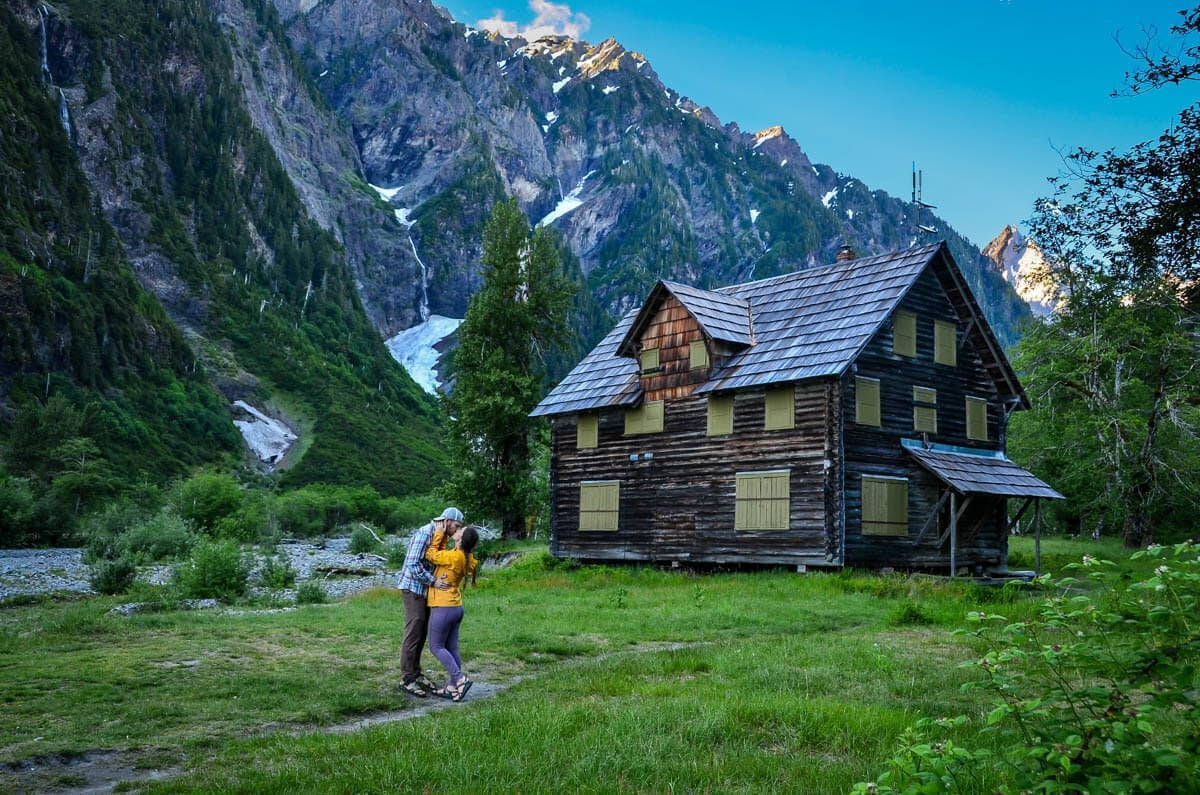 Distance:

27 miles out-and-back (13.5 miles from the trailhead to the Chalet)

Elevation gain:

1,400 ft

Difficulty:

Moderate (pretty flat but a long hike)

Recommended duration:

3 days, 2 nights
One of the most underrated hikes in Olympic National Park is The Enchanted Valley Trail, which follows the Quinault River into a valley flanked with mountains on both sides.
The 27-mile out-and-back hike follows the Quinault River and takes you through old growth forests, past waterfalls, mountain views and even climbing over a rustic bridge or two. Ultimately winding up in a majestic wide open valley filled with wildlife like black bears and elk.
The Enchanted Valley Chalet, an iconic landmark at the end of the trek, is the main attraction surrounded by mountains with cascading waterfalls. The views are extraordinary and a sight to behold!
This historic chalet was originally built in 1931 as accommodation for hikers along the trail. As fun as it would be to sleep inside the Chalet, the inside of the building is now closed to the public, but still makes for a great photo opportunity!
Good to know: To be able to hike the Enchanted Valley Trail, a backcountry permit is required. The permit is easily obtainable online from the U.S. National Park website. You can pick up your permit at one of the nearby ranger stations in Port Angeles or at the Quinault Ranger Station, which is close to the trailhead.
Sound like something you're interested in? Read more about hiking the Enchanted Valley Trail and plan your visit. It's definitely one of our favorite backcountry experiences we've had in Washington!
---
Where to stay on the Olympic Peninsula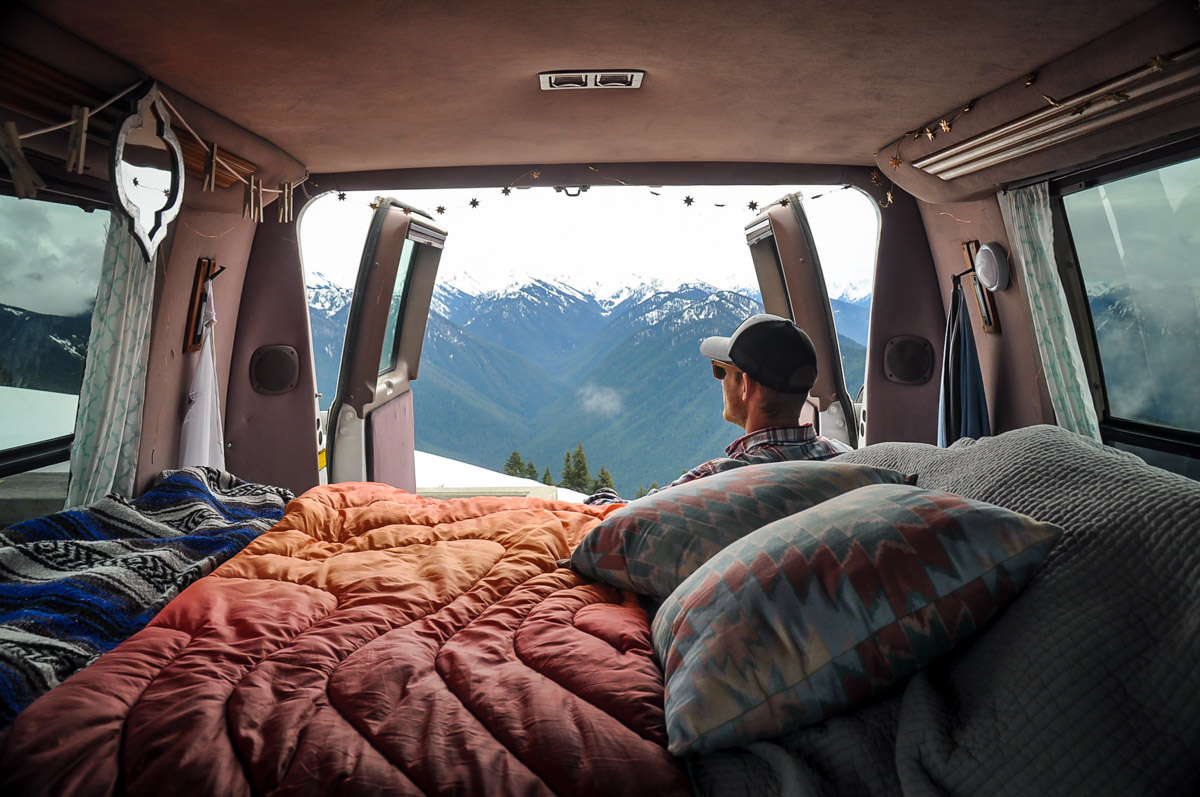 If you're planning to camp in a tent or campervan, you'll have plenty of spots to choose from all over the OP. And if camping just ain't your thang (that's cool too!), there are some cozy places to stay in the Olympic Peninsula that'll make it hard to leave!
Camping in Olympic National Park
The Olympic Peninsula has several great campgrounds, offering scenic views and varying levels of facilities.
If you're up for it, we'd definitely recommend spending a night on one of the Olympic Peninsula's famed beaches. It is an experience you won't soon forget.
Here are some tips for finding the best campgrounds on the OP.
1) Apps for finding campsites:
The Dyrt: This one is at the top because it is our favorite campsite locating app with the largest database of campgrounds (44,000+ campsites and counting!) and over 1 million user-submitted reviews. Plus, it's super user-friendly, and has some pretty cool features, like a outdoor gear contests and forums to connect and seek advice from fellow campers, that you won't find on any other camping app.

Try their Pro Membership for FREE for 30 days and gain access to the offline version of the the app, utilize their trip planning feature AND get exclusive discounts on campsites and gear!
iOverlander: This app lists GPS coordinates of campsites, and it also has propane fill-ups, water, hotels, restaurants, mechanics, and other points of interest for those on road trips.

Freecampsites.net: Not an app, but this website (albeit clunky and out of date) has some good spots listed that aren't always on other apps, as they are crowd-sourced.
2) You might want to consider getting a Discover Pass: This pass is $30 for the year and is good in all Washington State Parks!
We used this pass a ton, and our favorite campground on the OP (Lyre River Campground, pictured below) was free for us since we had this pass.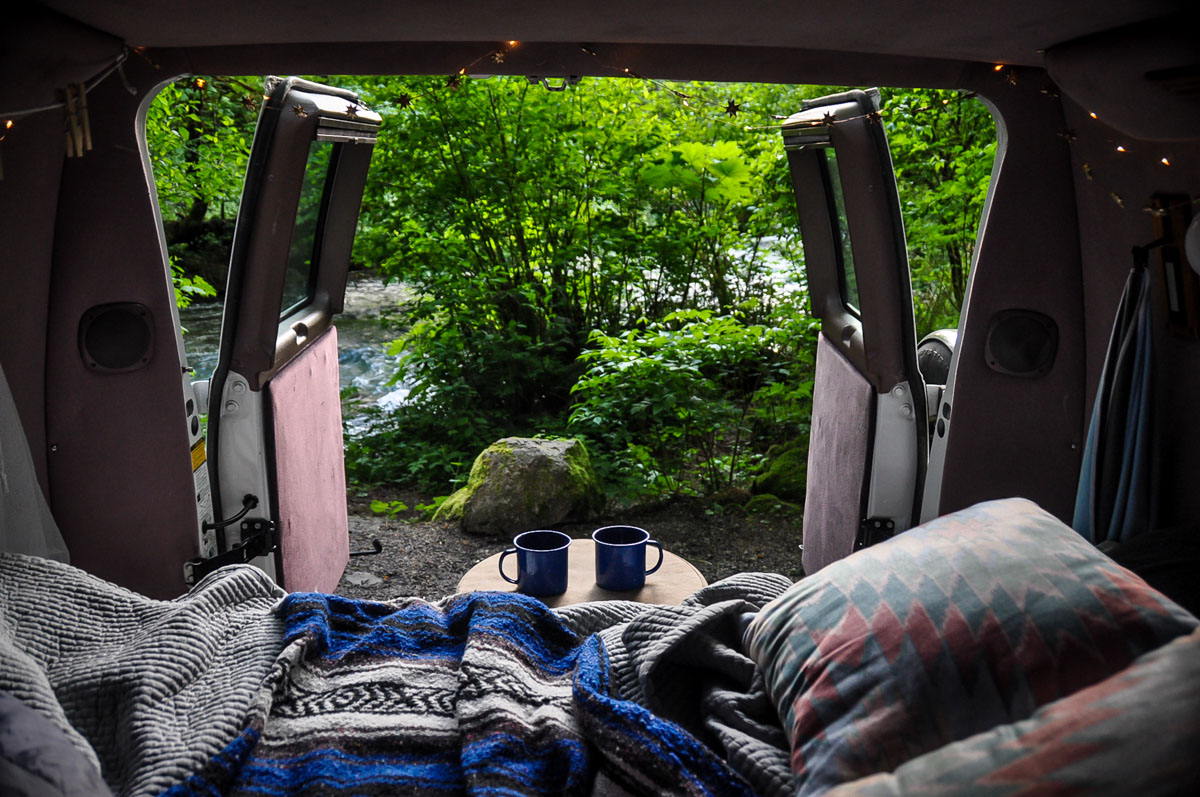 3) If you're traveling during peak season, make campground reservations in the popular places just to make sure you have a spot!
4) Get a permit if you plan to camp in the backcountry. This includes many of the peninsula's beautiful beaches. Read up on the National Park Service website to see where permits are required and whether you should make a reservation.
FYI: They are limiting the number of permits given out to prevent overcrowding in the backcountry. So if you're traveling during a busy time of the year, it's a good idea to reserve your permit ahead of time.
You can reserve your permits online and pick them up at the ranger stations. We collected our permit for Shi Shi Beach at the Port Angeles Ranger Station.
Other Lodging in Olympic National Park
For a unique Airbnb, check out these fun places to stay:
Bonus! We have loads of info on how to book Airbnbs, red flags to watch out for when booking, and our favorite Airbnbs in our Airbnb article. Plus, we'll give you our Airbnb coupon code for up to $55 off Airbnb.
What to pack for Olympic National Park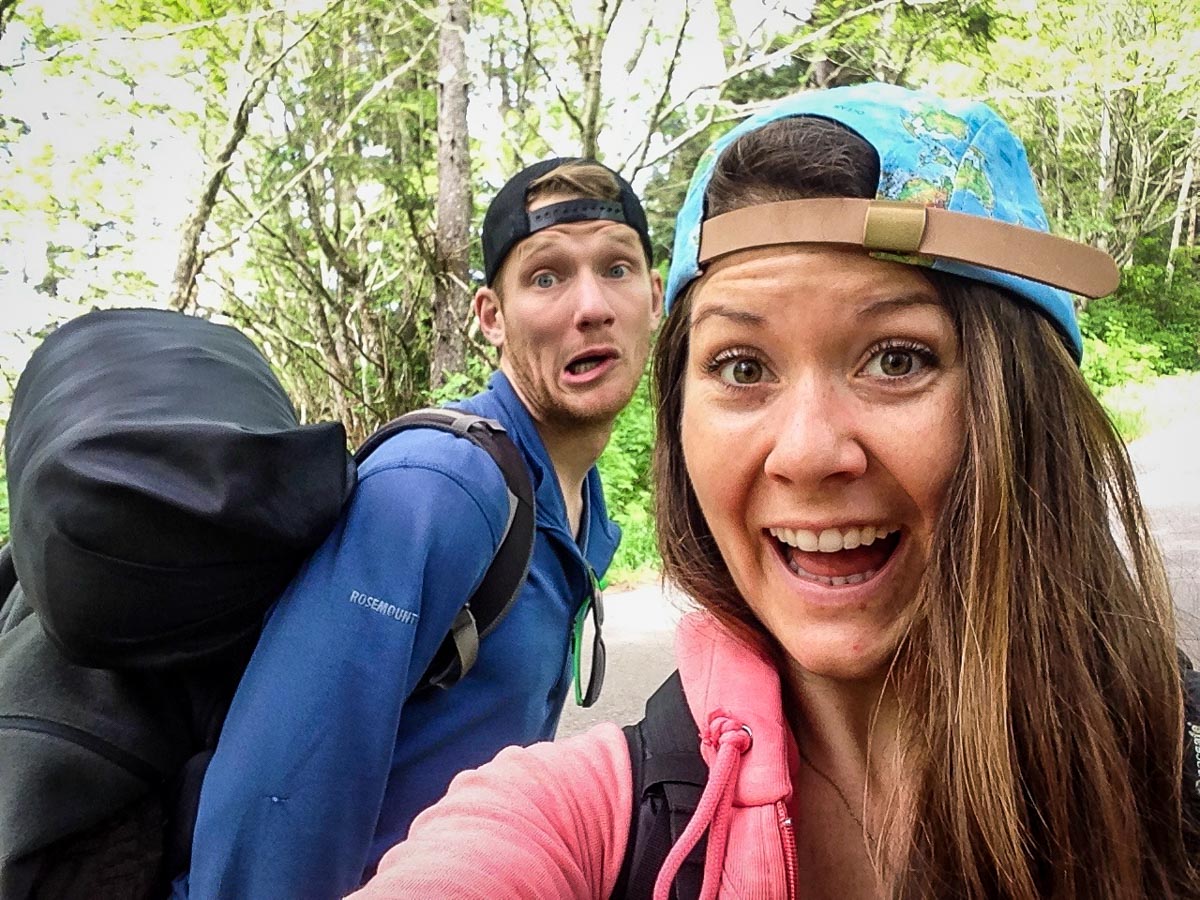 Rain jacket: Doesn't matter what time of year, it's always good to be prepared in rainy Washington!

Anker Charger: Keep your electronics charged while hiking and on the road!

Bug repellant

Layers

Sunscreen & hat: Even if it's cloudy

Headlamp: If you're camping, this should be a must in your packing

Sturdy waterproof shoes: We're obsessed with Chacos, and they were pretty much all we wore during our trip in Olympic National Park. They are good for long walks, hiking, beaches, and can get wet.

Tent, sleeping bag & cookware: If you plan to do any tent camping along the way

Food: There aren't a ton of grocery stores along the way, so it's best to stock up on your favorite snacks, groceries (if you plan to do cooking), and beverages in Seattle.
Road Trip Planning Tips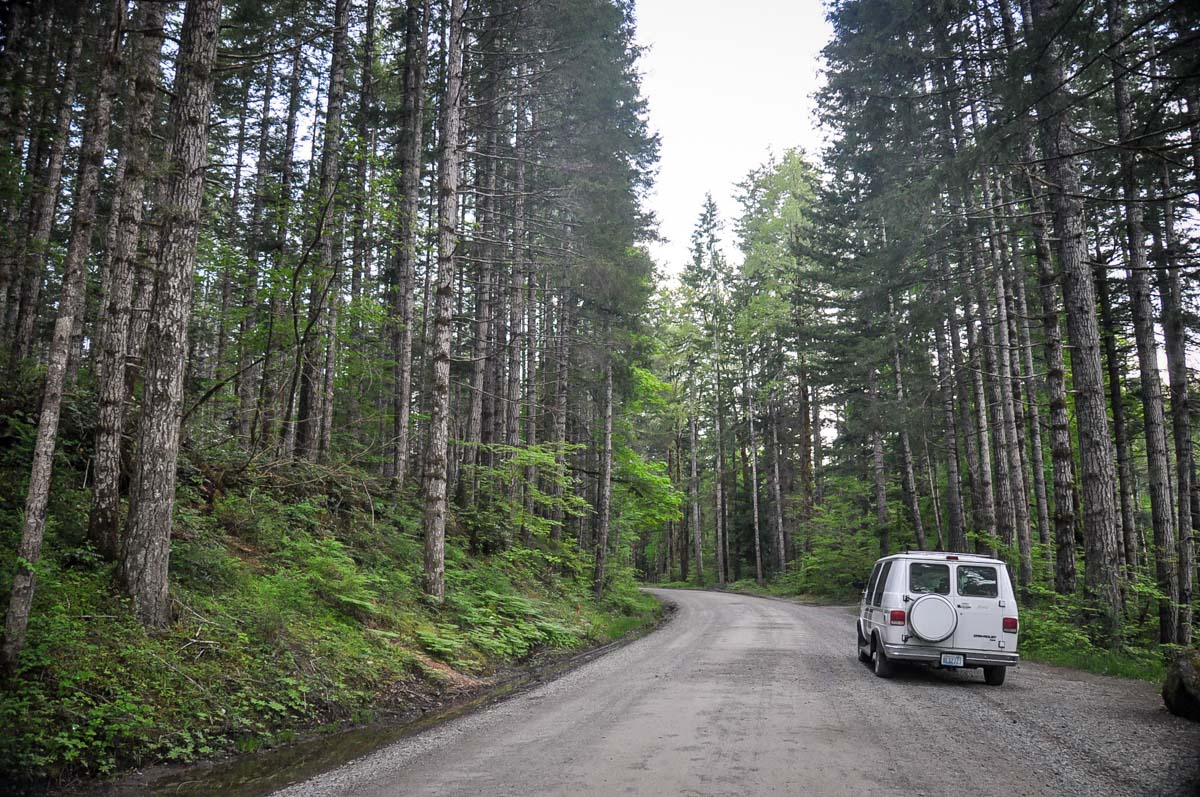 We love planning road trips: Here are our top road trip tips!
We've listed a few more tips below that are specific to traveling on the Olympic Peninsula.
Download AllTrails App: If you plan to do any hiking in the Olympic Peninsula (you should!), download this handy app that gives you all the trail notes. Pus, it's good for all around the world, so it'll soon become one of your new favorite apps!

Download Podcasts & Audiobooks: To make this one epic road trip, be sure to download podcasts or audiobooks for your entertainment along the way! We think Dirtbag Diaries is a perfect one for this trip. It is all about adventure and outdoor stories!

Use Google Maps to plan your route: Using the route we've gone over in this article, plug your desired stops into Google Maps and be sure to download the offline map. This way, even if you're out of cell service, you'll have your entire route and GPS location accessible.

Get a dashboard mount: This will help you see driving directions hands-free!


Save this article on Pinterest for later!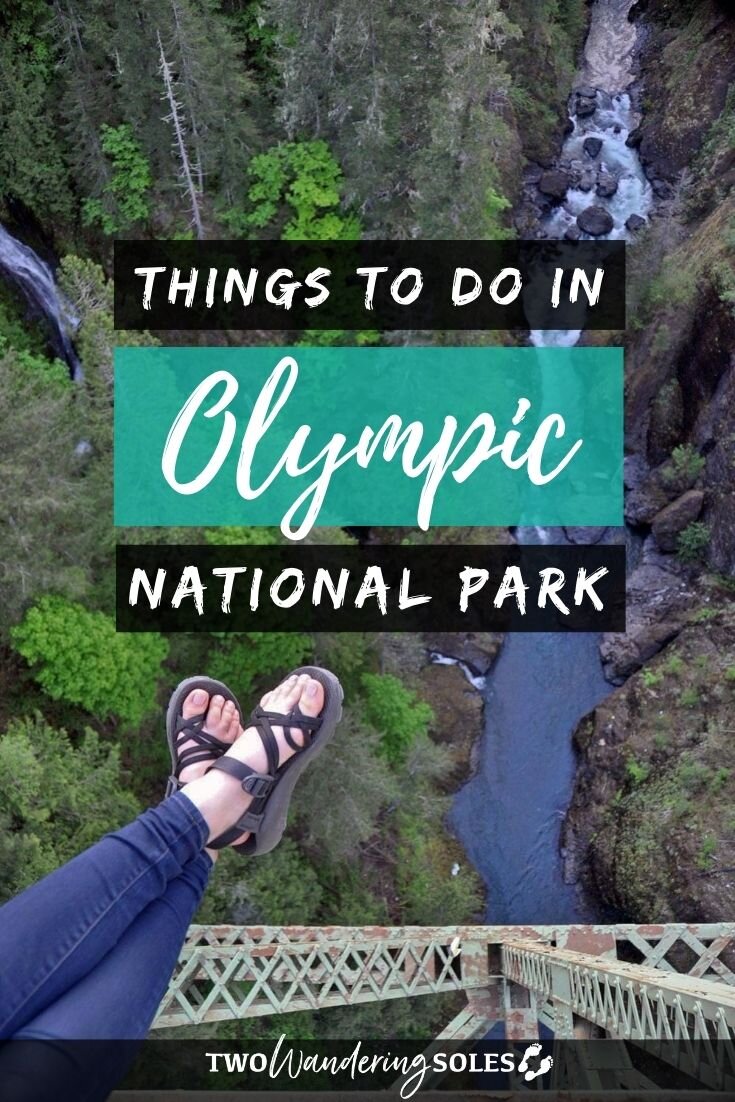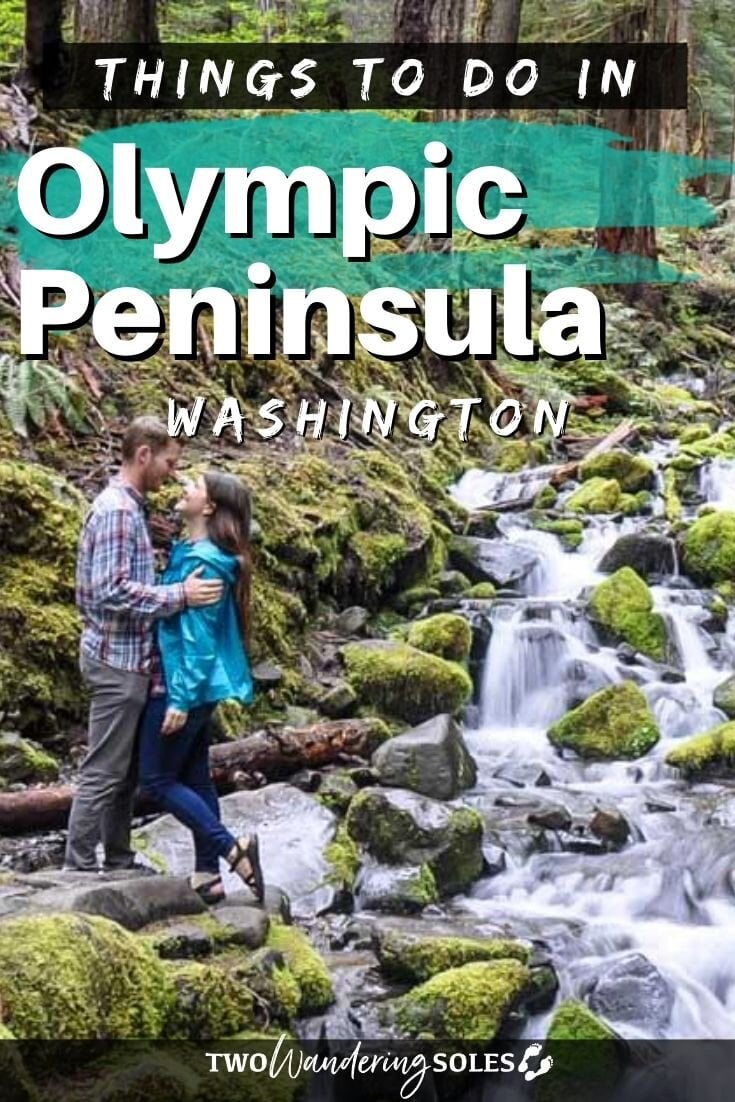 We want to hear from you!
Which place in the Olympic Peninsula would you like to visit most? What places would you add to an itinerary for someone's first visit to the Olympic Peninsula? We'd love to hear from you in the comments below!