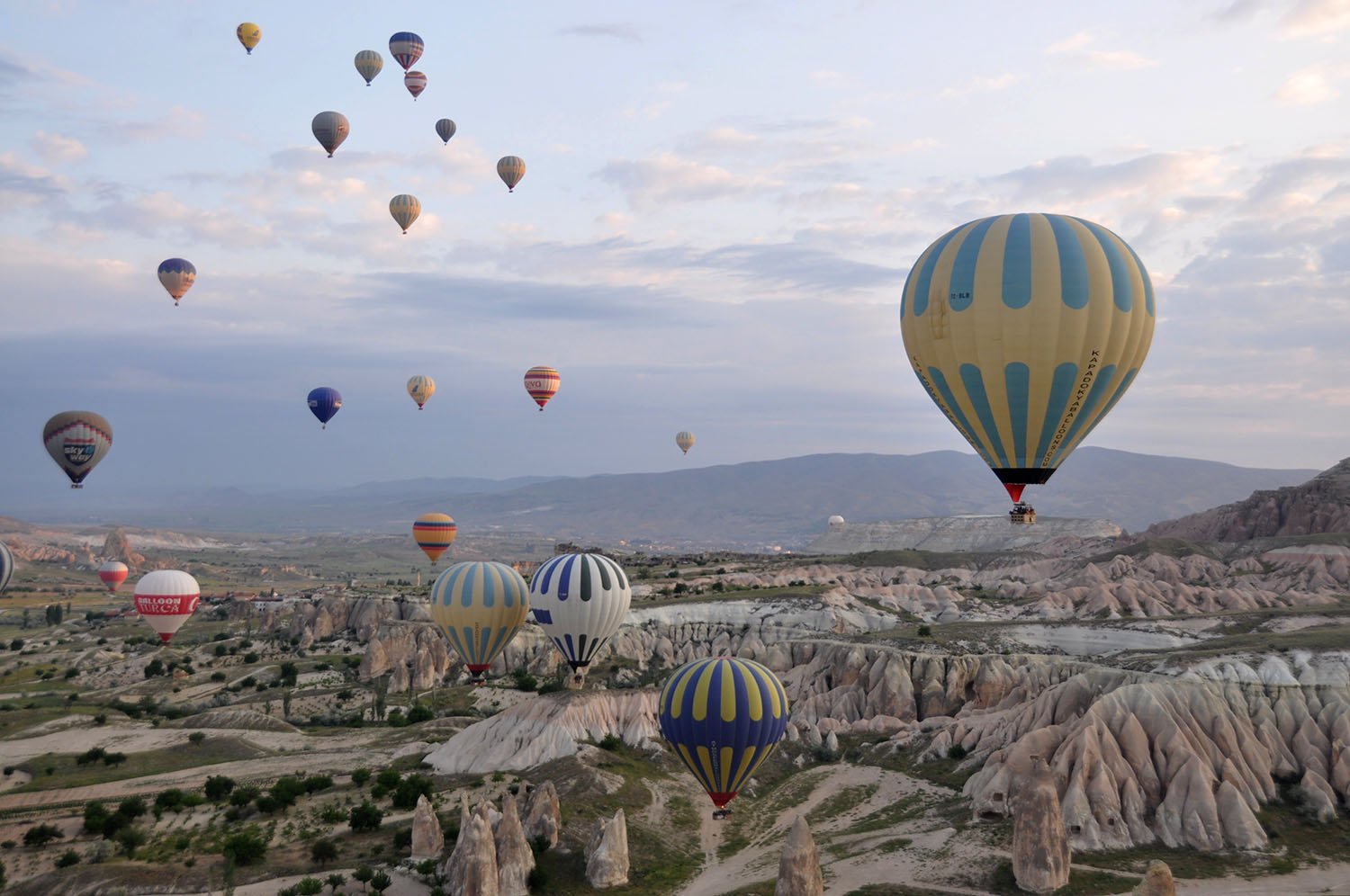 I don't know which came first, the movie "Up" or my dream to soar among the clouds in a hot air balloon. Ben claims his first sighting of one of these magical floating orbs was outside his house when he was just a kid. He hopped on his bike and chased down the balloon to watch it land. And ever since, it's been on his Bucket List.
It's surprising then that it took us this long to ride in a hot air balloon for the first time. But it was well worth the wait, especially since we chose one of the most magical places in the world to make this dream of ours come true: Cappadocia, Turkey.
Known for its dreamlike landscape that's characterized by rolling valleys and surreal rock formations, the small town of Göreme attracts people from all around the world who, like us, dream of a seeing the land from above.
We booked our hot air balloon ride a couple weeks before heading to Göreme with the highly respected team at Turkiye Balloons. Every time we talked about our upcoming adventure in the days leading up to our ride, we danced around like children, usually accompanied with lots of shrieking (mostly on Ben's end!).
VIDEO: Hot Air Balloon Ride in Cappadocia
Before you read about our flight, see it for yourself in the video below.
Planning a trip to Turkey? Find out the best time to visit Turkey based on regional weather patterns and your personal travel style.
Pre-Flight Buzz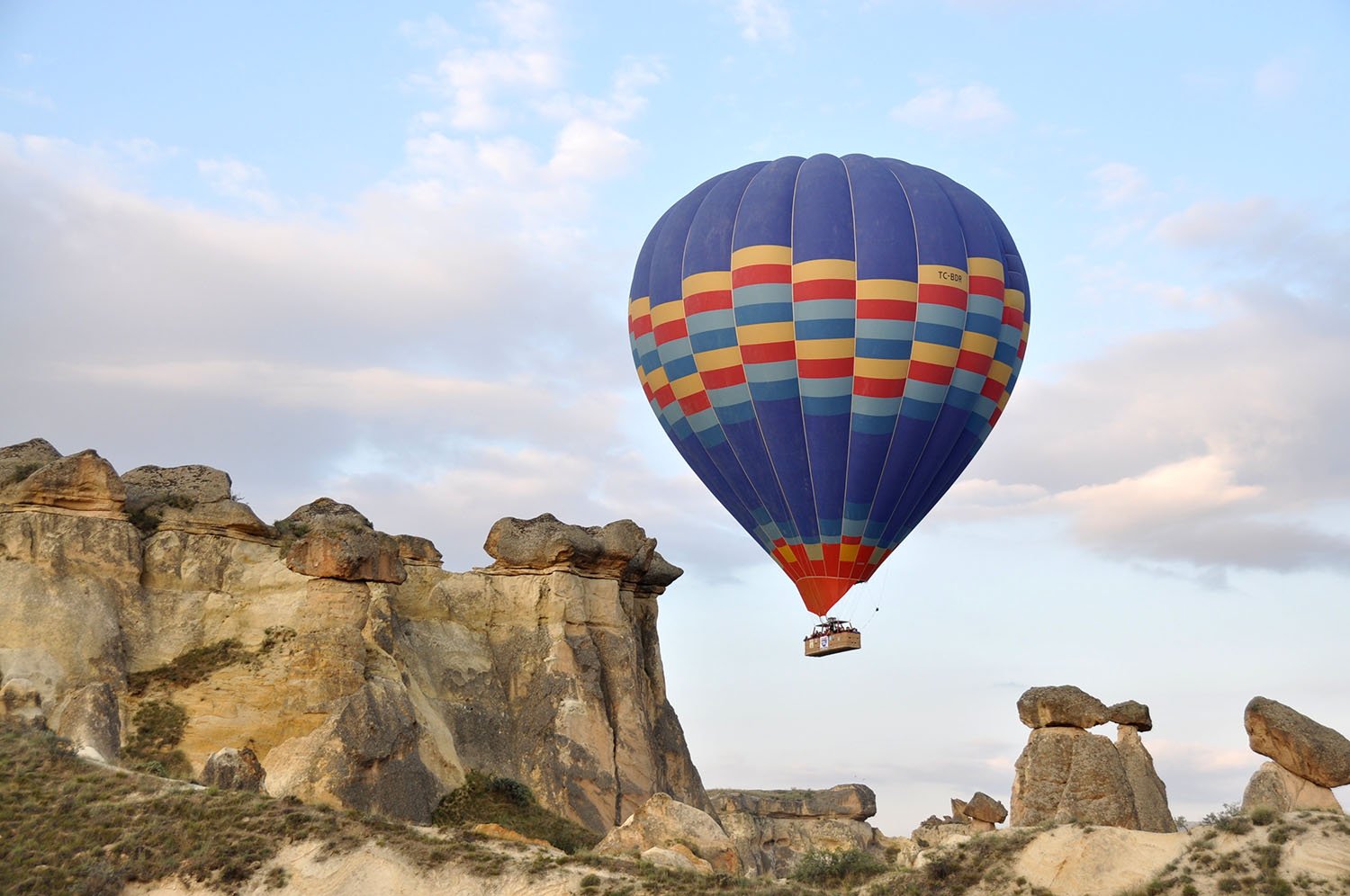 The night before our ride, it was hard to sleep. Ben and I were both so giddy about our adventure the next morning that we didn't get much shuteye before our alarm buzzed us awake at 3:30 a.m. I splashed my face with water and wiped the sleep from my groggy eyes. I'm not a morning person, so a wake up call this early better be worth it. And I can assure you that this time it was.
A large Mercedes shuttle van (classy, I know!) appeared outside our hotel door at 3:55 a.m. on the dot, as promised. We drove through the narrow, winding streets of Göreme, picking up other guests who looked the same mixture of sleepy and ecstatic as we felt.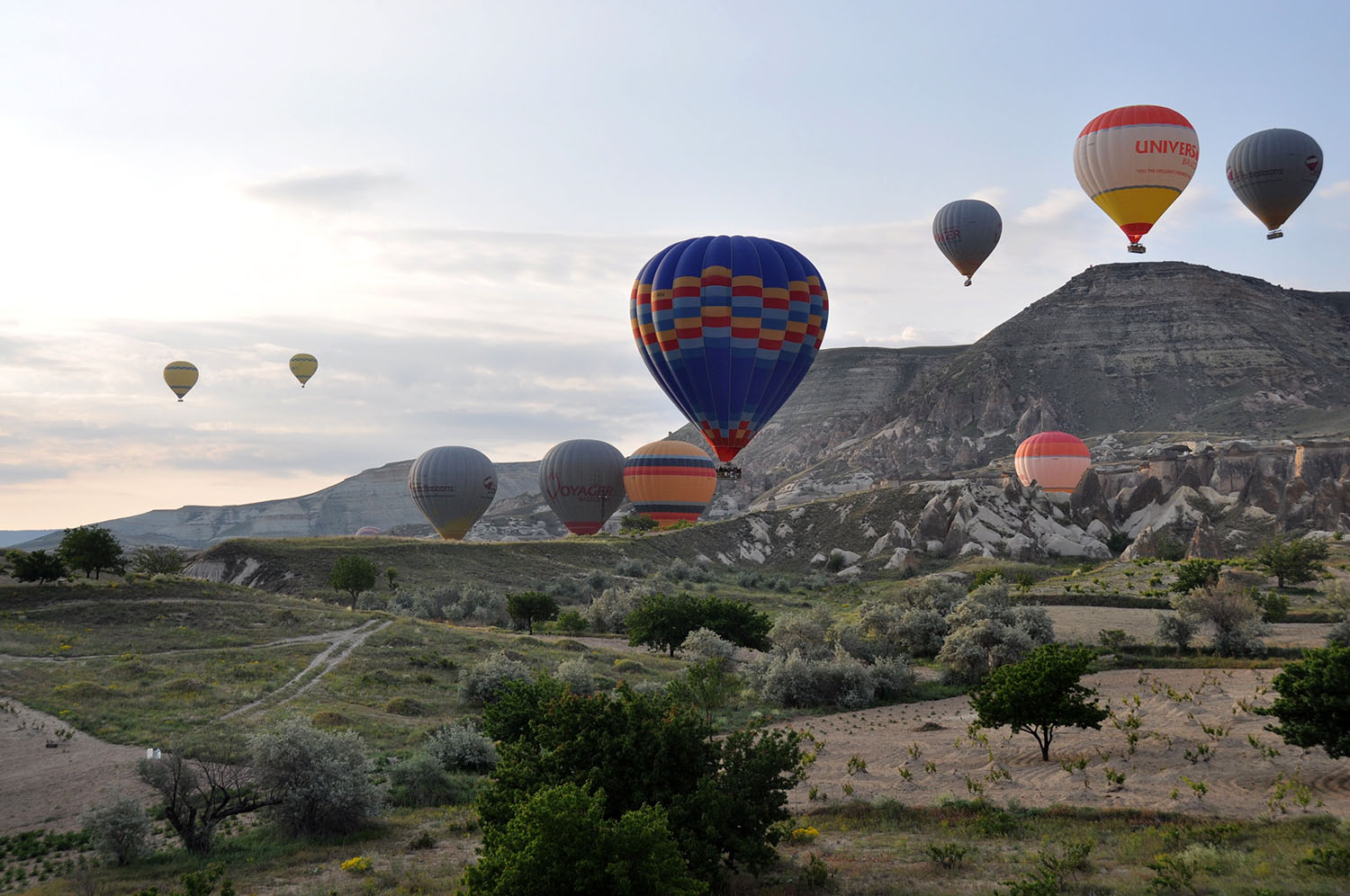 Our last stop was at the Turkiye Balloons office where we were greeted by a vast buffet breakfast of breads, jam, cheeses, meat, olives, fruit, coffee and tea. I'm not sure quite how were already hungry at that ridiculous hour in the morning, but the breakfast was a perfect way to satiate the excited butterflies flapping around in our stomachs.
We waited a bit for the pilots to check the weather. It was a good sign that they weren't about to fly with bad conditions, but I was silently crossing my fingers that they'd get the okay to fly. And lucky for us, they did!
So we hopped in the shuttle once again, this time headed to the "launch pad". (I don't know if that's the technical term, but it sounds cool!)
3…2…1… Takeoff!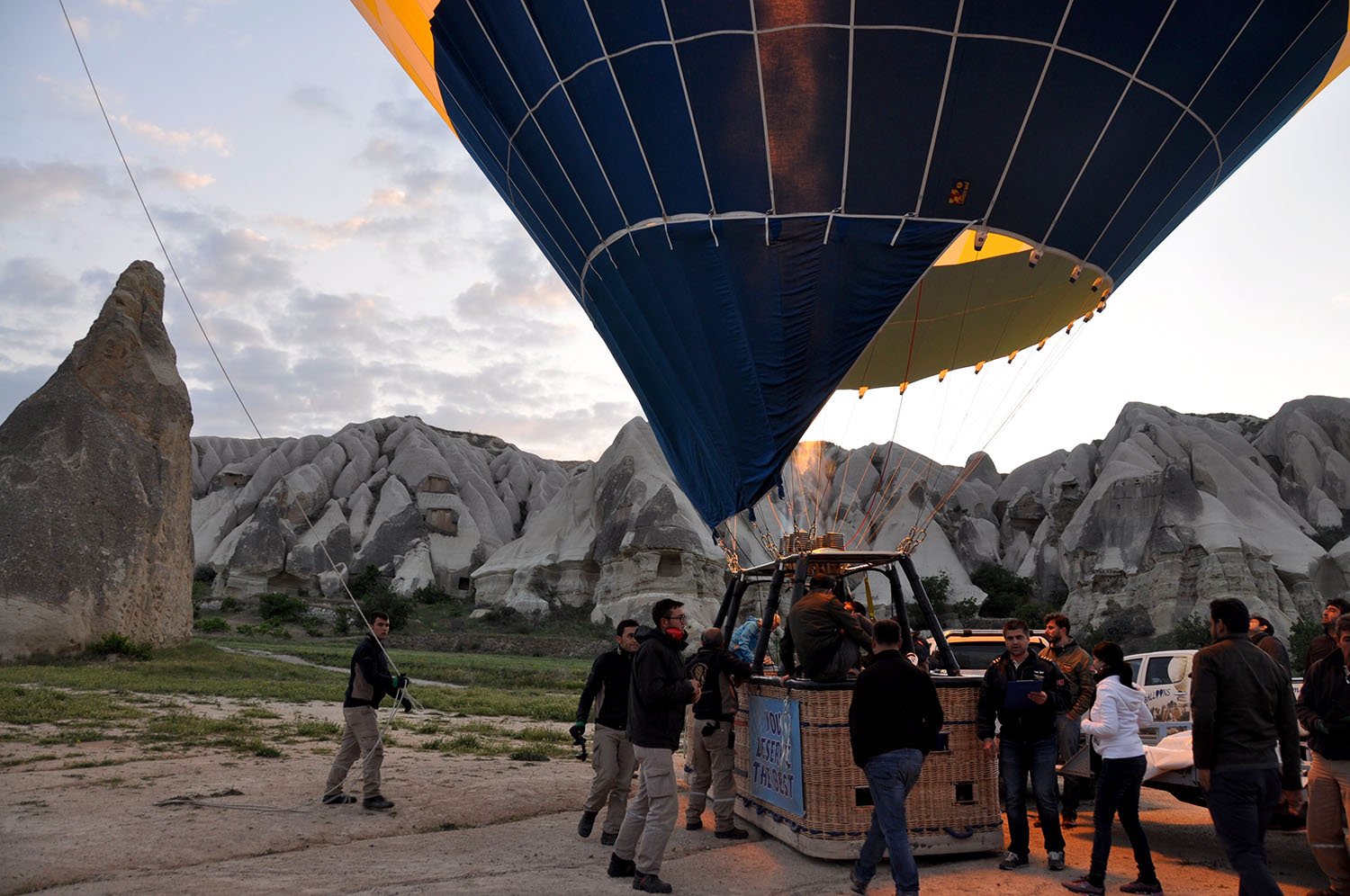 We really didn't know what to expect, as this was a first for both of us. Ben and I went skydiving on our honeymoon, and bungee jumping shortly after. I wondered if a hot air balloon ride would be boring after those adrenaline-pumping high altitude activities. Boy, was I wrong!
Our pilot, Murat, maneuvered the balloon right over rock formations, up high and then down low again. There were times I felt as if I could reach out and touch the ground below, and others when my stomach did a flip seeing how high we'd risen. The ride was anything but boring.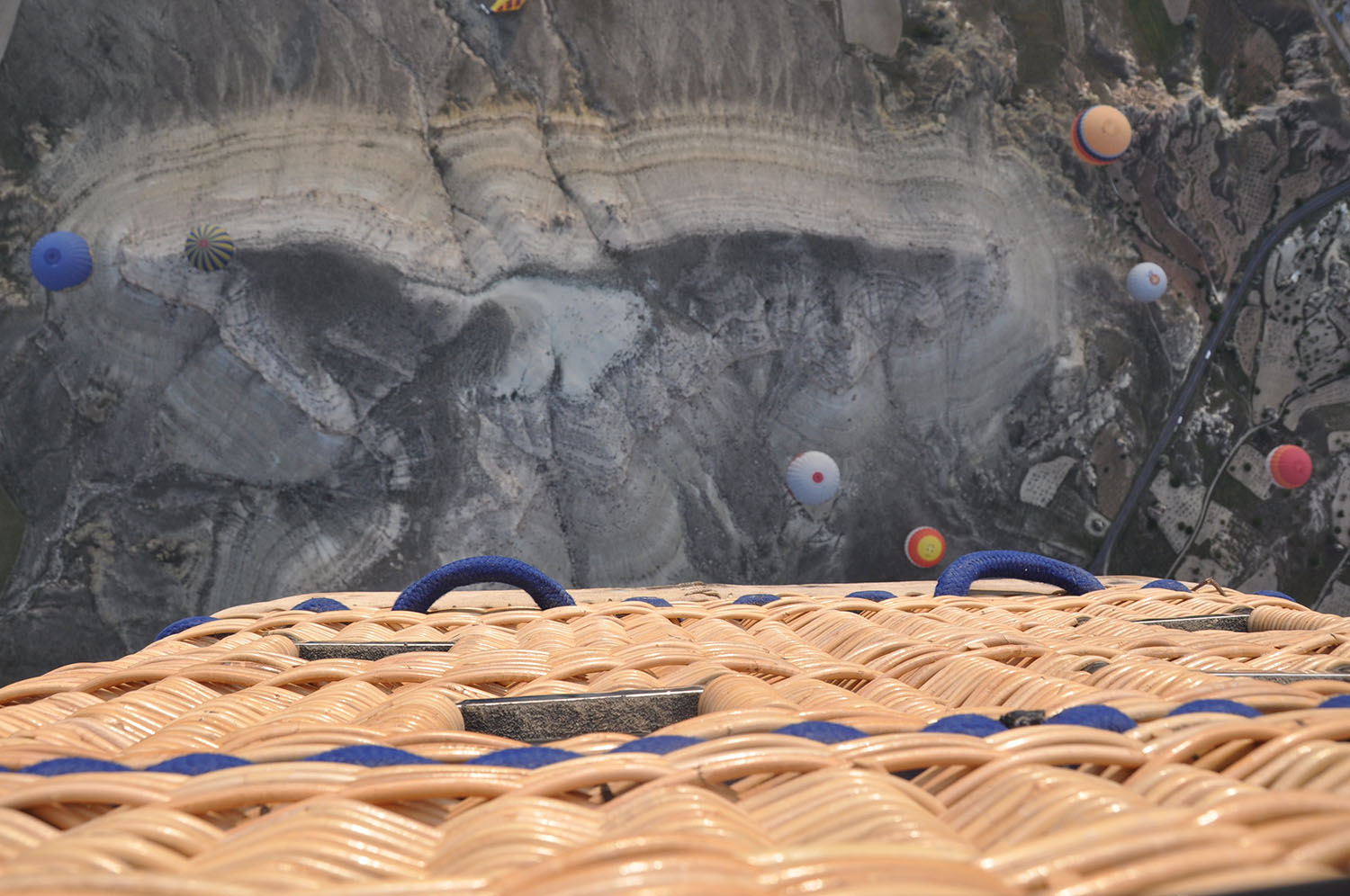 The sensation of floating in a sea of colorful balloons as the sun rose in the sky was unlike anything I've ever experienced. I noticed halfway through the flight that my cheeks hurt from smiling the entire time, but even that didn't wipe the grin off my face.
Ben and I have seen some pretty epic sunrises over the past year. We've watched the sky change colors over famous temples, from atop mountains and while floating on rivers. But never have we watched the sun light up the sky from the air. We both agree that this was the best, and certainly a sunrise we'll never forget.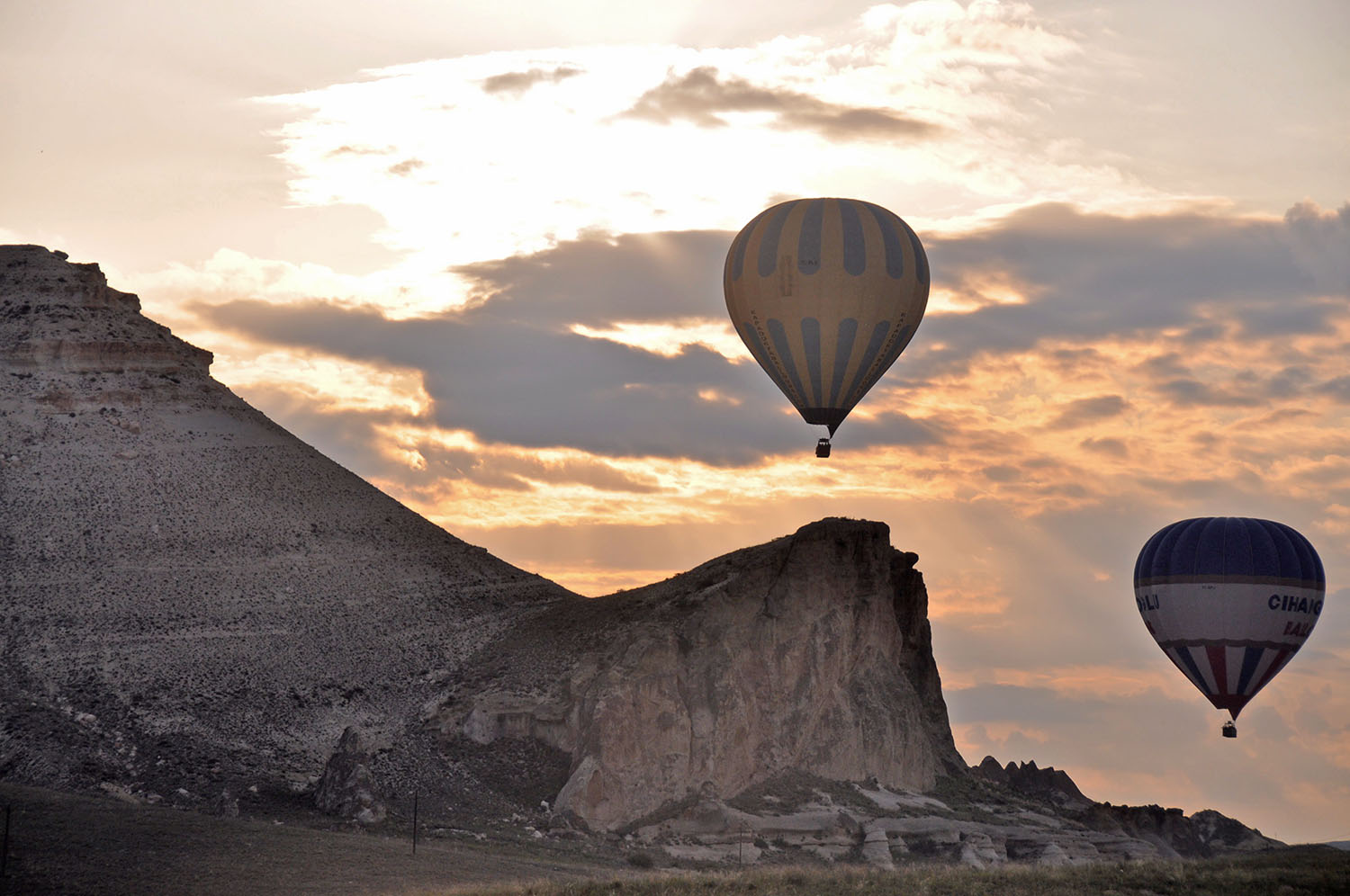 Back on solid ground
We really understood what an expert pilot Murat is when he landed the basket perfectly on a trailer platform behind a truck. How in the world did he do that?! The landing still boggles my mind.
After everyone was on solid ground, Murat popped a couple bottles of champagne and we had a celebratory toast while gushing about how amazing the past hour had been. Everyone was all smiles. How could you not be after a morning like we'd just experienced?! It is a highlight on every traveler's trip to Turkey.
We each received souvenir certificates and took a few last pictures as the balloon was deflated and packed up until the next morning when she'd take a whole new group of people into the sky.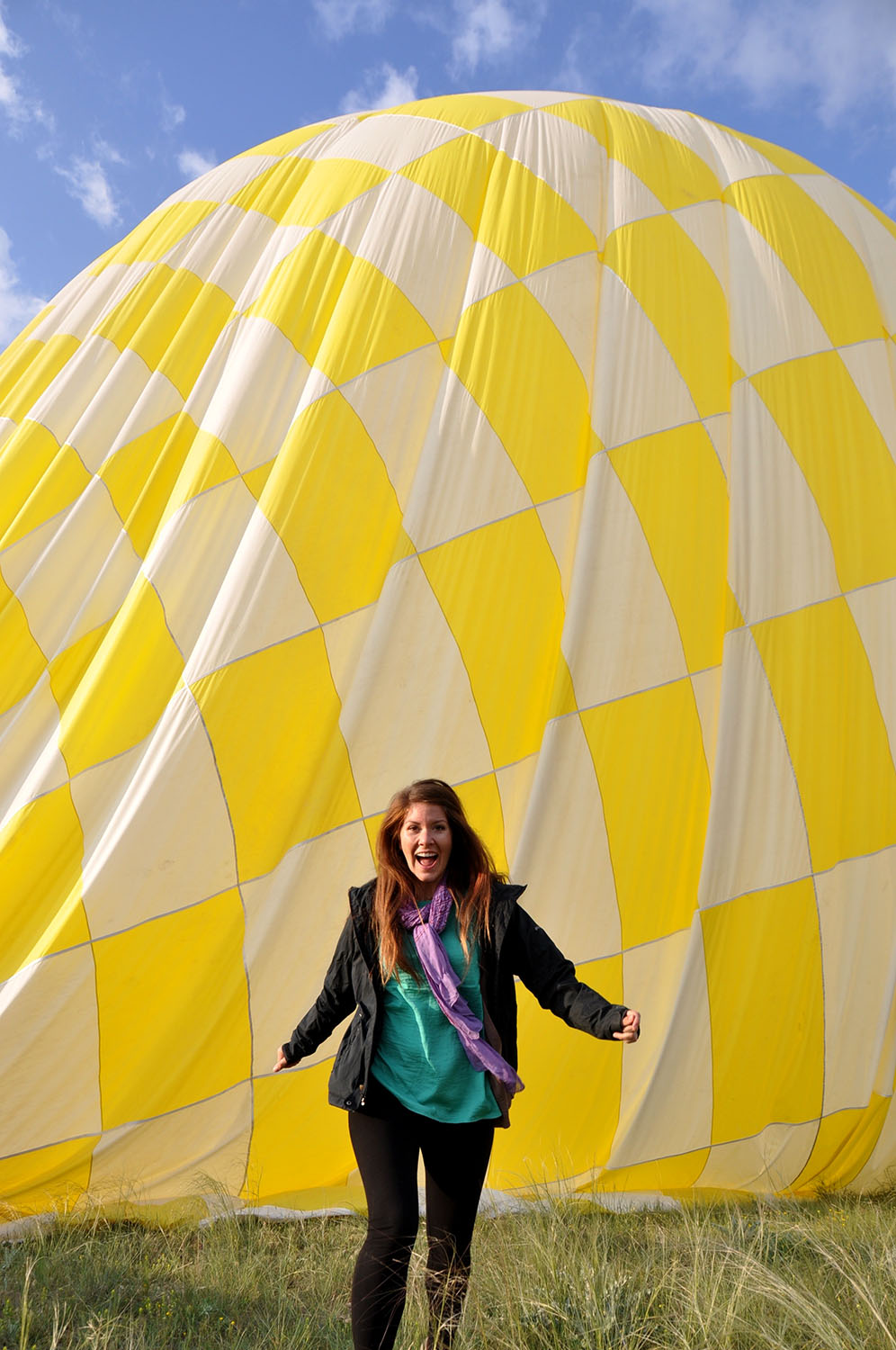 FAQs about Turkiye Balloons
If you're thinking about taking a hot air balloon ride in Cappadocia, we've got you covered with the answers to all your questions!
1. Why take a hot air balloon ride in Cappadocia, Turkey?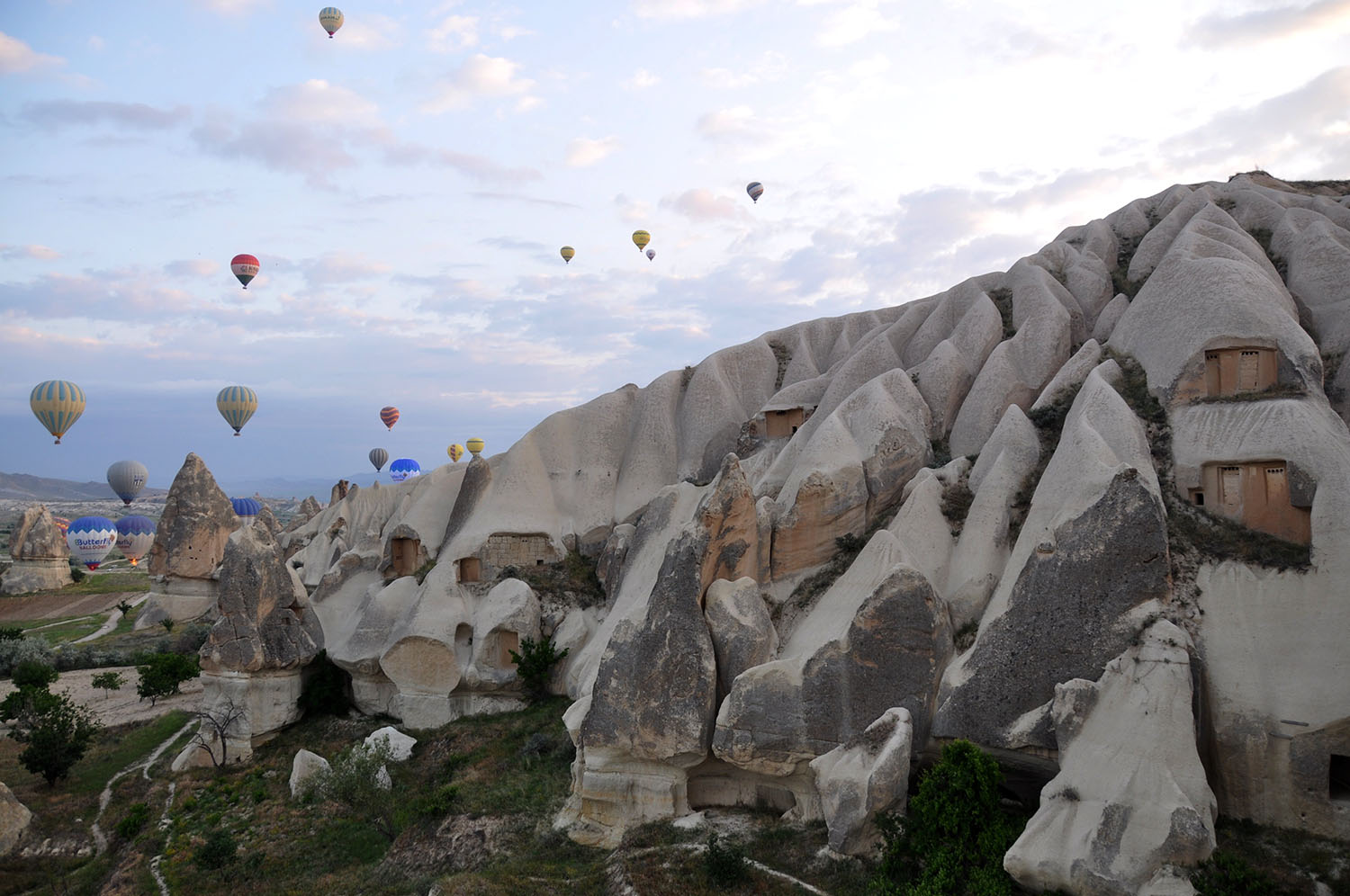 If you have any interest in riding in a hot air balloon, Cappadocia, Turkey should definitely be on your Bucket List.
Just Google images of this otherworldly place and you'll see why we chose this area for our maiden voyage. The stunning landscape surrounding the small town of Göreme looks like something straight out of a Dr. Seuss book or a fairy tale. Or both.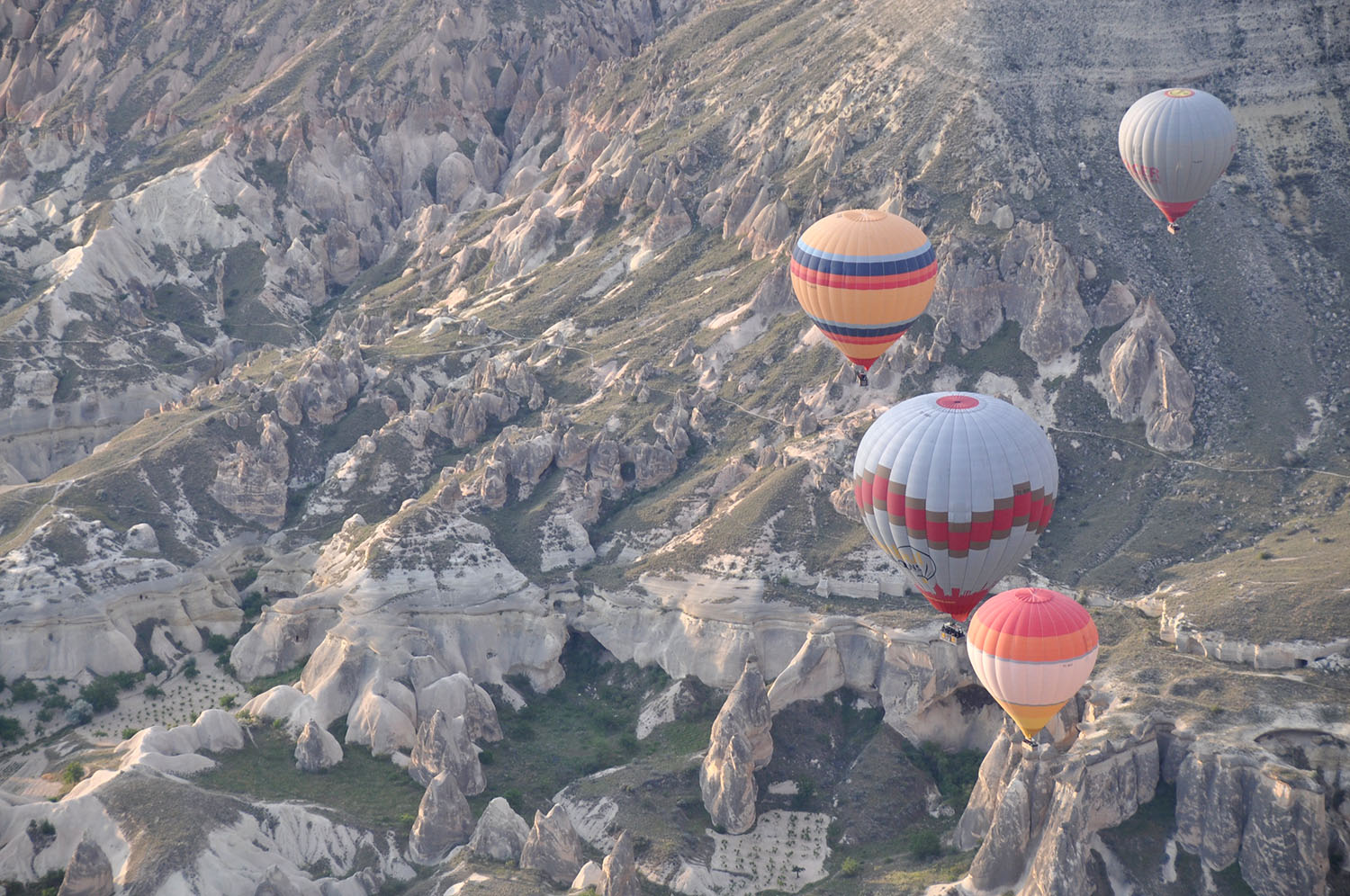 Each morning, a fleet of balloons takes off as the sun rises into the sky. So in addition to the fairy chimneys and sandstone valleys, you'll be surrounded by other colorful balloons, making for quite a surreal experience. It's no wonder that Cappadocia is often called out as one of the top places to take a hot air balloon ride in the entire world.
2. Why choose Turkiye Balloons over other companies?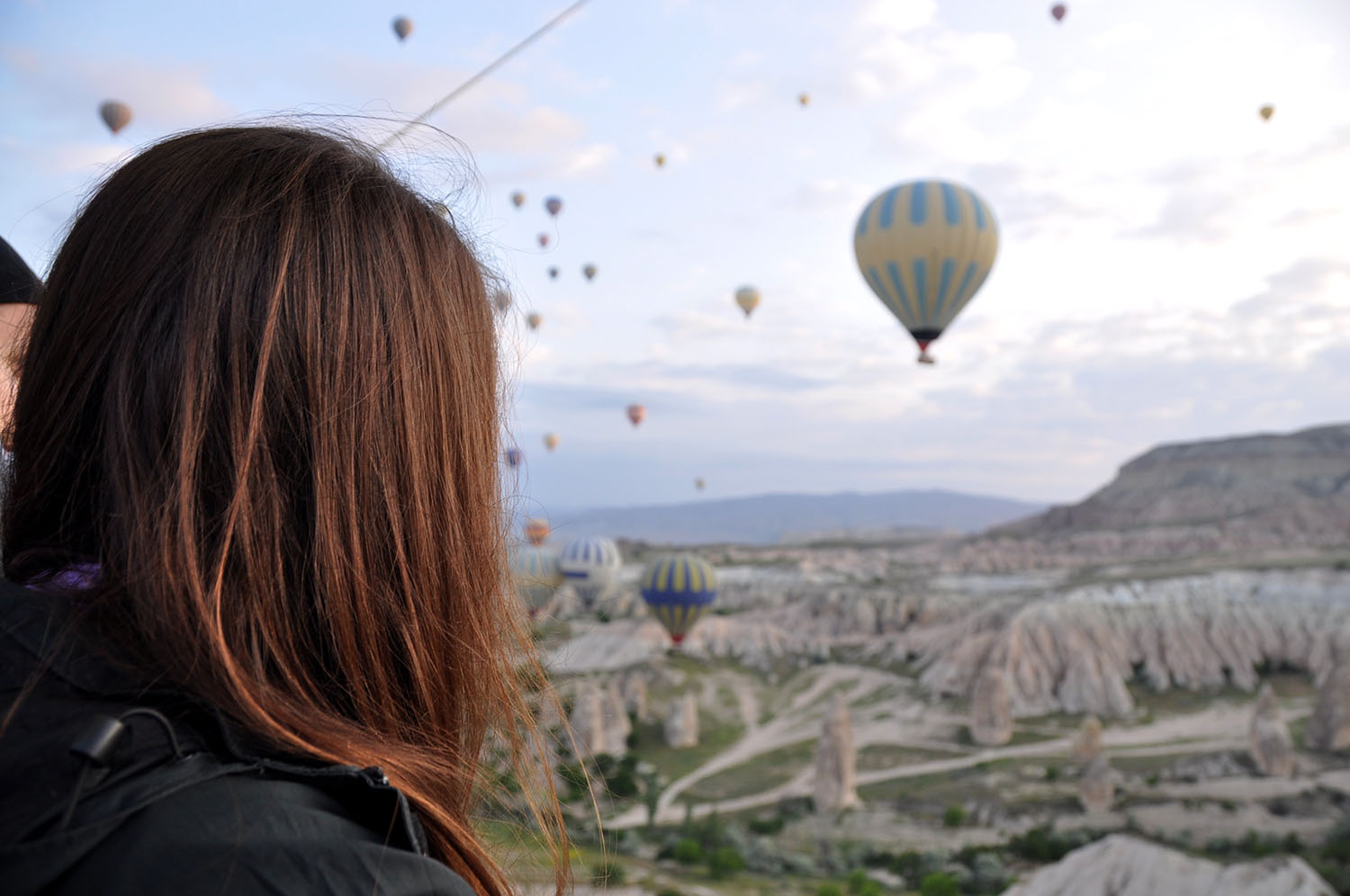 Cappadocia has a long list of balloon companies to choose from, and it can be overwhelming deciding where to start.
We knew a few things that we were looking for in a company:
a reputable company with a good safety record

a company with trustworthy and friendly staff that would make sure our experience was a good one

a price that was a good value for the money
So we began researching and eventually found a company that we believe to be the best in Göreme. We did all of the legwork so that you don't have to!
We came across a website that compares each balloon company in Göreme down to the littlest of details. Turkiye Balloons stood out as one of the companies with the best value and level of experience.
This small company was started by 4 of the best hot air balloon pilots in the region, each of whom has more than 2,500 hours of experience. They hold high standards of safety and customer service, and proudly speak 5 languages in addition to Turkish.
It all sounded great, but we wanted to see what other travelers had to say. If you've been following our blog for a while, you know that we are kind of obsessed with TripAdvisor.
We like to read other traveler's thoughts, especially before shelling out a lot of money for an experience. Often times we can distinguish the good companies from the bad, and are able to make an informed decision based off others' reviews.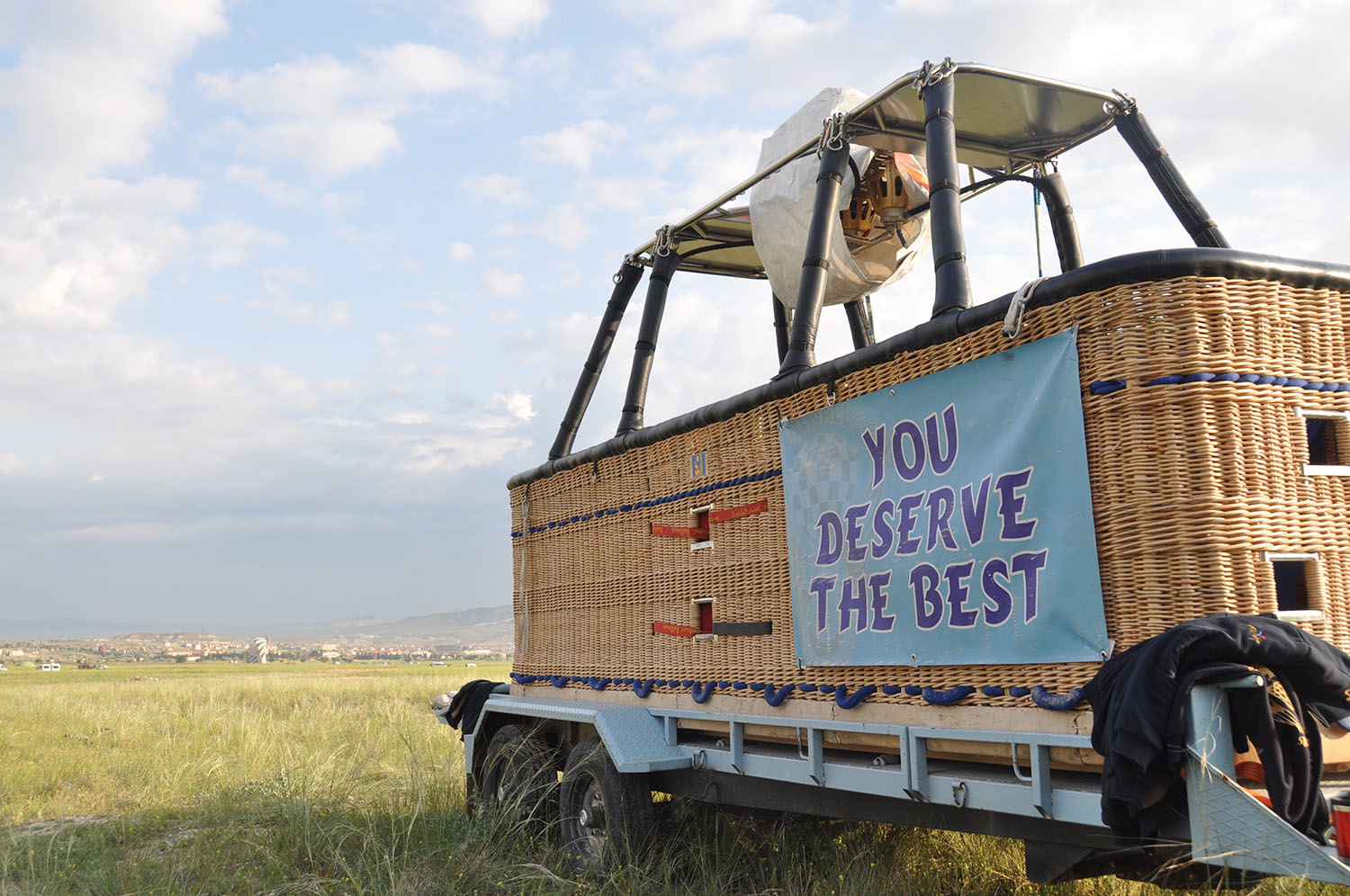 Turkiye Balloons has certainly earned itself a stellar reputation. Read the reviews and see for yourself! After having flown with Turkiye Balloons, we can say that they deserve the praise and they live up to their motto of "You deserve the best".
3. What was the best part about choosing Turkiye Balloons?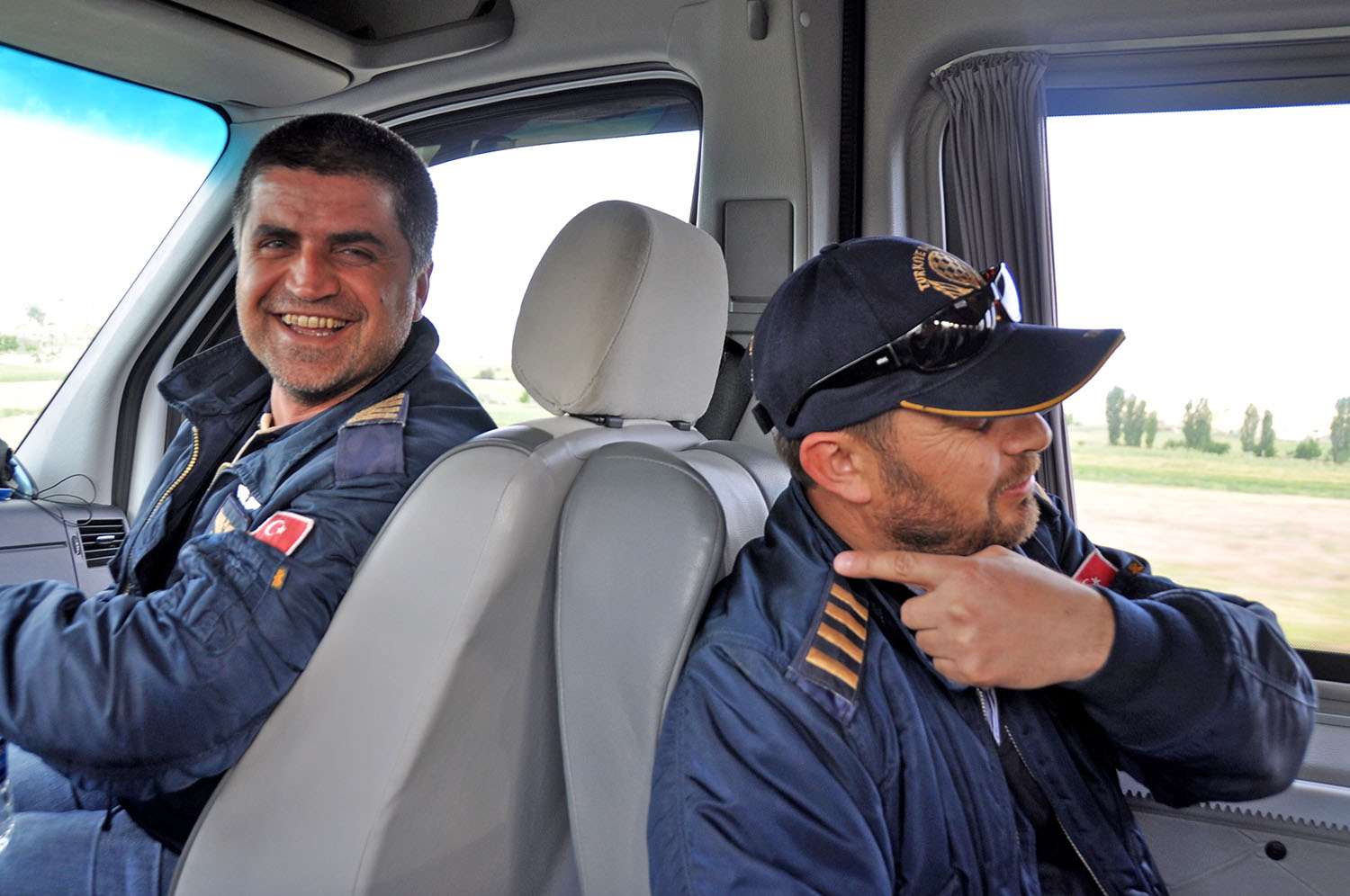 Ummm, the actual hot air balloon ride, of course!
But aside from the obvious, the staff was another highlight of our experience. They clearly love their jobs, and this joy rubs off on all people who step foot in their balloon.
Our pilot, Murat, was a perfect combination of professional and fun. He paid close attention to safety, but made us all laugh when he played the beats to "Eye of the Tiger" with the "flamethrower thingy". (Again, not sure if that's the right terminology, but I'm talking about that thing that blows fire into the balloon!)
4. What was the worst part about your hot air balloon ride?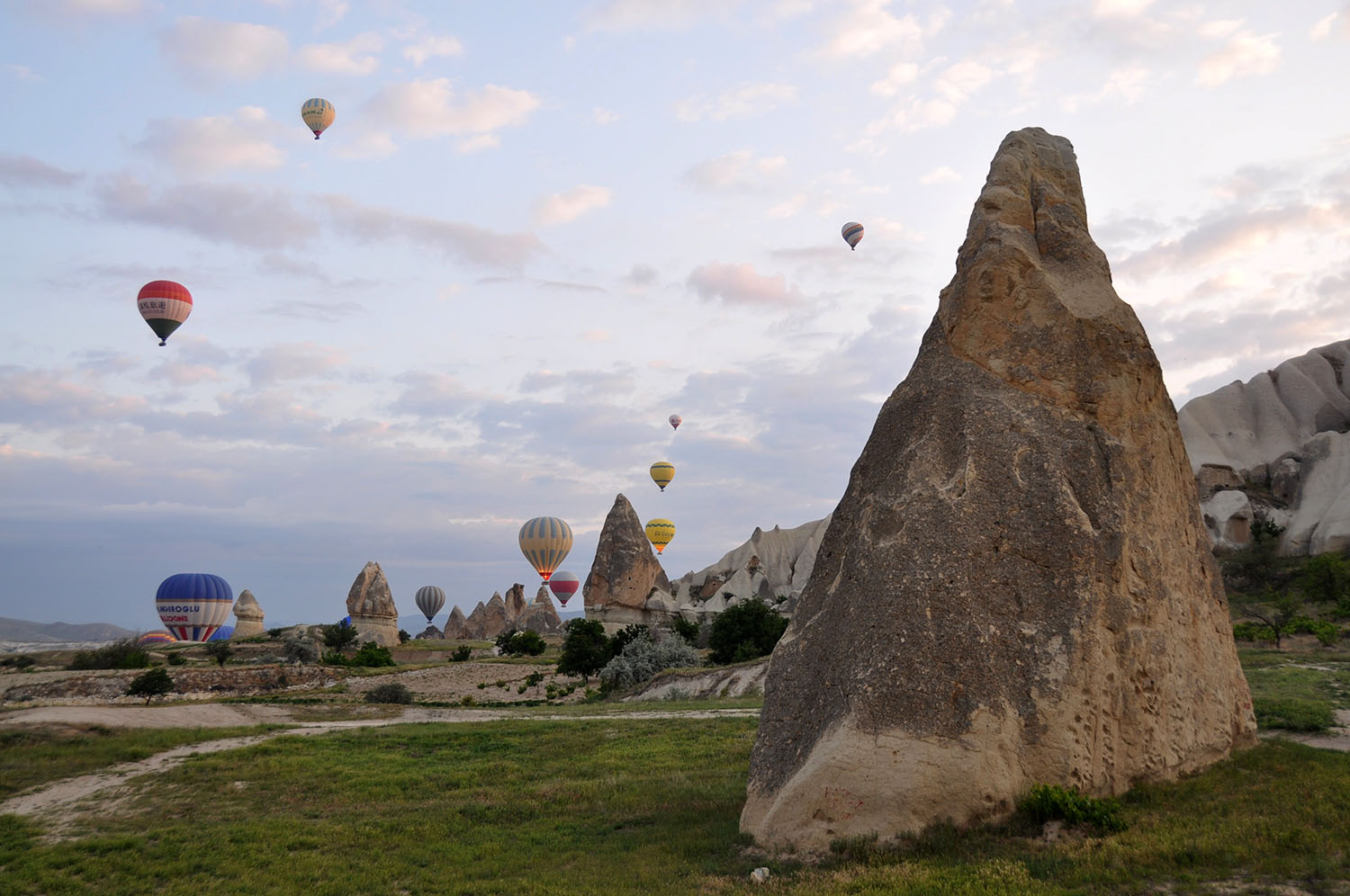 The worst part was when the ride ended! It goes without saying that we could have stayed up there in the air all day. But it's gotta end sometime, doesn't it?
But on a serious note, we really can't think of anything that we would change. The ride was better than we expected, and the buffet breakfast and champagne toast were nice touches.
I think we were extremely spoiled to have such a wonderful experience for our first ride in a hot air balloon. Not only did we soar above one of the most unique landscapes in the world, but we had an incredibly professional and knowledgeable team at our side. It's going to be hard to find another company in a place so beautiful that compares to Turkiye Balloons.
5. I'm scared of heights. Will I enjoy a hot air balloon ride?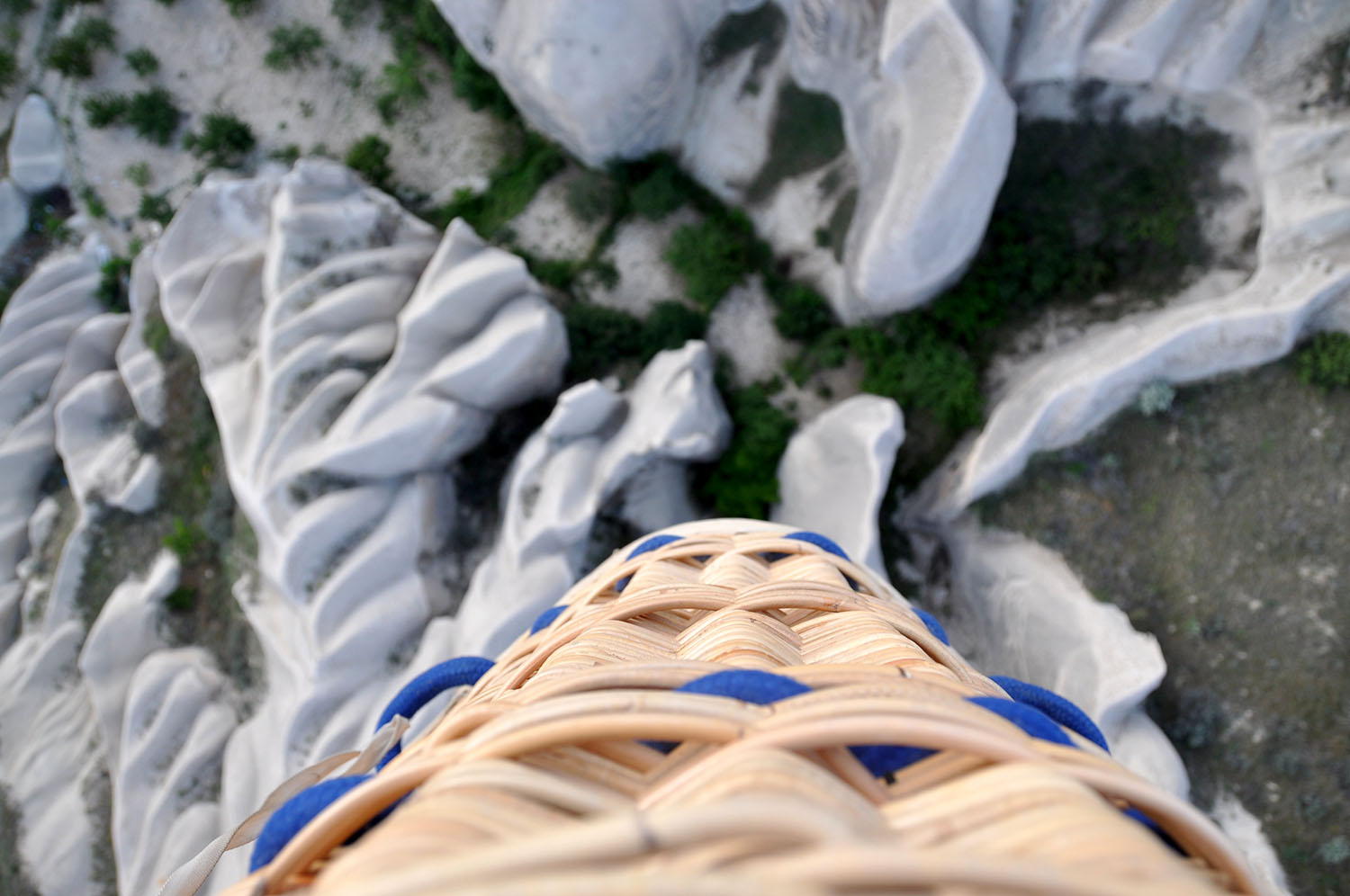 Nobody can say for sure, but I think a hot air balloon ride would be one of the best ways to conquer this fear. In a hot air balloon, you will move with the air currents, meaning you won't feel the wind against your face.
And the basket below your feet is sturdy, not wobbly as you may expect. We've read accounts from people who are afraid of heights but say a hot air balloon ride was surprisingly comfortable and easy for them.
6. How big is the group size?
Turkiye Balloons arranges rides of all different sizes from private trips to a maximum of 20 people. There are different sized baskets to accommodate larger groups of people. It really depends on your budget and what type of experience you want, because Turkiye Balloons has it all!
On the morning of our ride, there were 18 people including us. The basket is spacious enough that it didn't feel crowded, and we had enough room to get all the pictures and videos our hearts desired.
7. How much does a hot air balloon ride with Turkiye Balloons cost?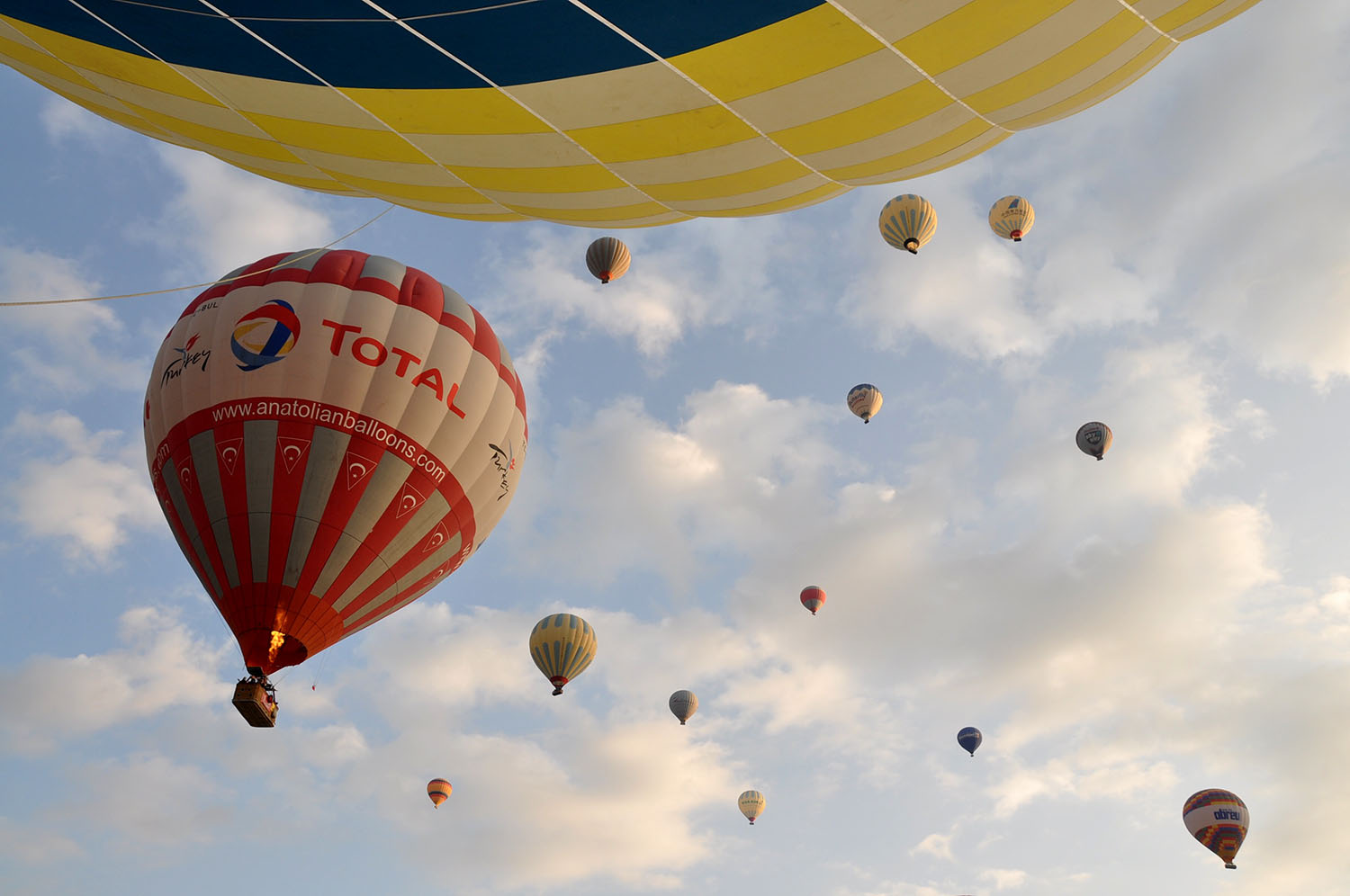 The cost of a hot air balloon ride with Turkiye Balloons will vary depending on the size of group you choose. We chose the least expensive option which can accommodate a group of up to 20 people and costs 140 euro (about $156 USD) per person. (This price is a special discount offer for 2016 and saves you 20 euro/~$22 USD)
This price is comparable to other companies in the area. There are some that are more expensive, and others that are cheaper. But based on Turkiye Balloon's good reputation and spectacular service, we think this is a fair price.
Taking a hot air balloon ride is a splurge no matter where in the world you do it. As with any Bucket List-worthy adventure, we would rather pay a bit more money for a top-notch experience rather than going with the cheapest company and leaving underwhelmed.
8. What does the price include?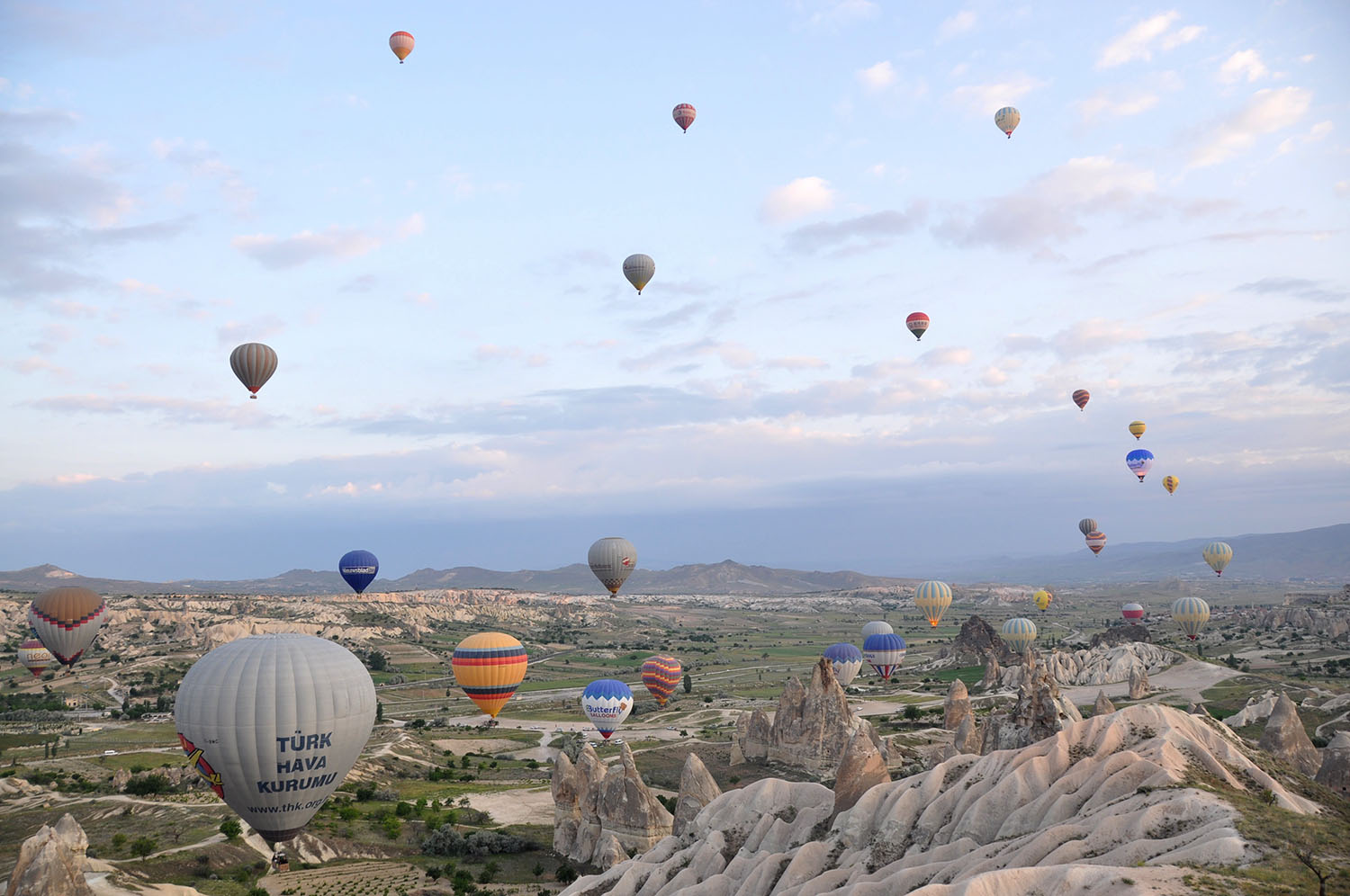 If you choose the same package we did, the price of 140 euro (about $156 USD at the time of writing) includes the following:
pick up from your hotel

buffet breakfast

1 hour hot air balloon ride over Cappadocia

champagne toast and cookies

commemorative certificate of your flight

return transport to your hotel

passenger & third party liability insurance
Riding in a hot air balloon over the landscape in Cappadocia is an experience we'd been dreaming of, and we wanted it to meet our expectations. Turkiye Balloons did not disappoint. In fact, we both agree that our experience was even better than we could have hoped.
9. Taking a Hot Air Balloon ride over Cappadocia is on my Bucket List too! How can I sign up with Turkiye Balloons?!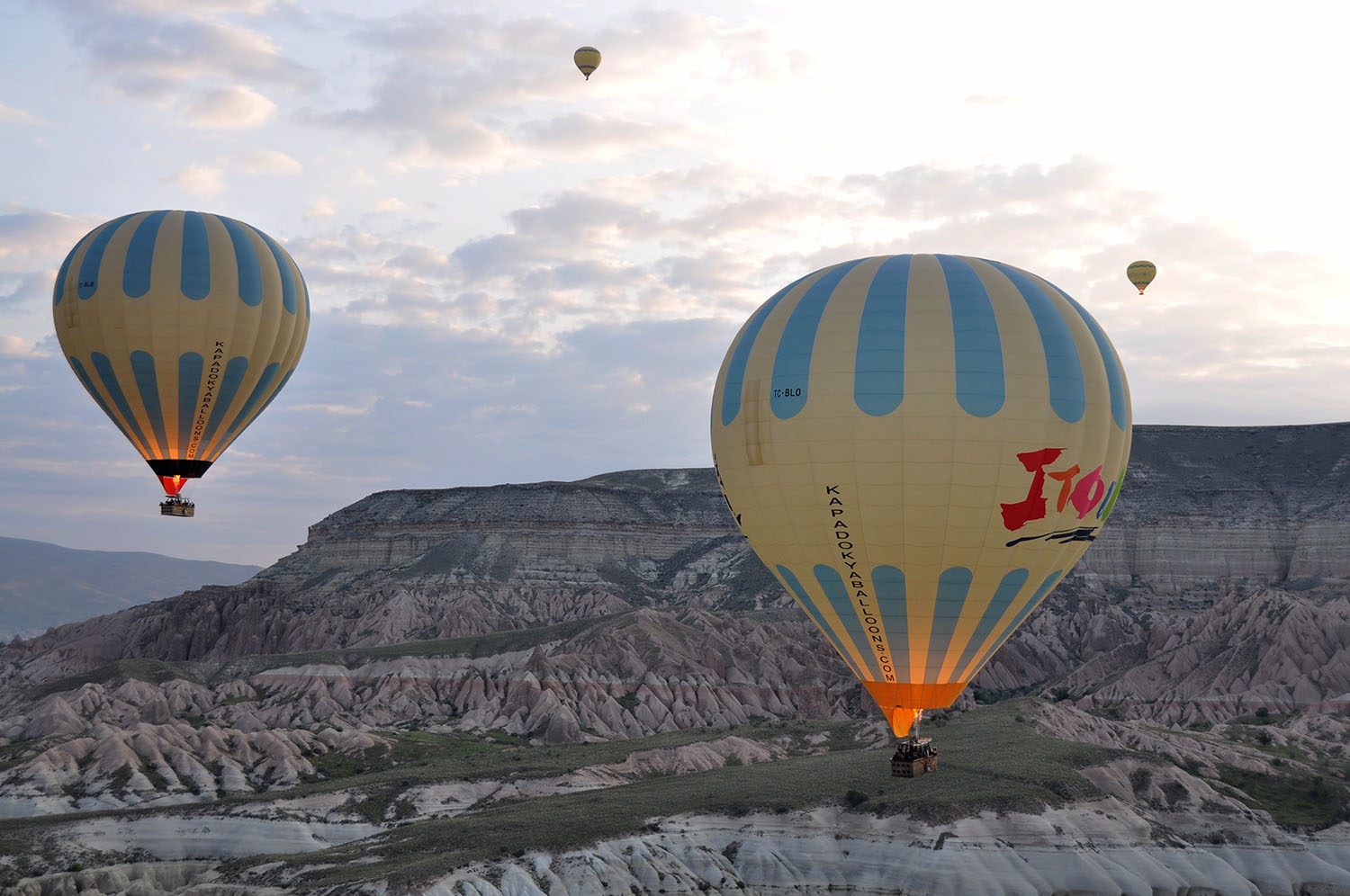 You won't regret it! Head over to the Turkiye Balloons website where you can make a booking. Be sure to reserve your spot in advance because in high season, it can book up quickly.
There is a contact form on their webpage as well for any questions or concerns you may have. We exchanged messages with Erdal in the weeks prior to our flight and he was extremely prompt and helpful in his responses.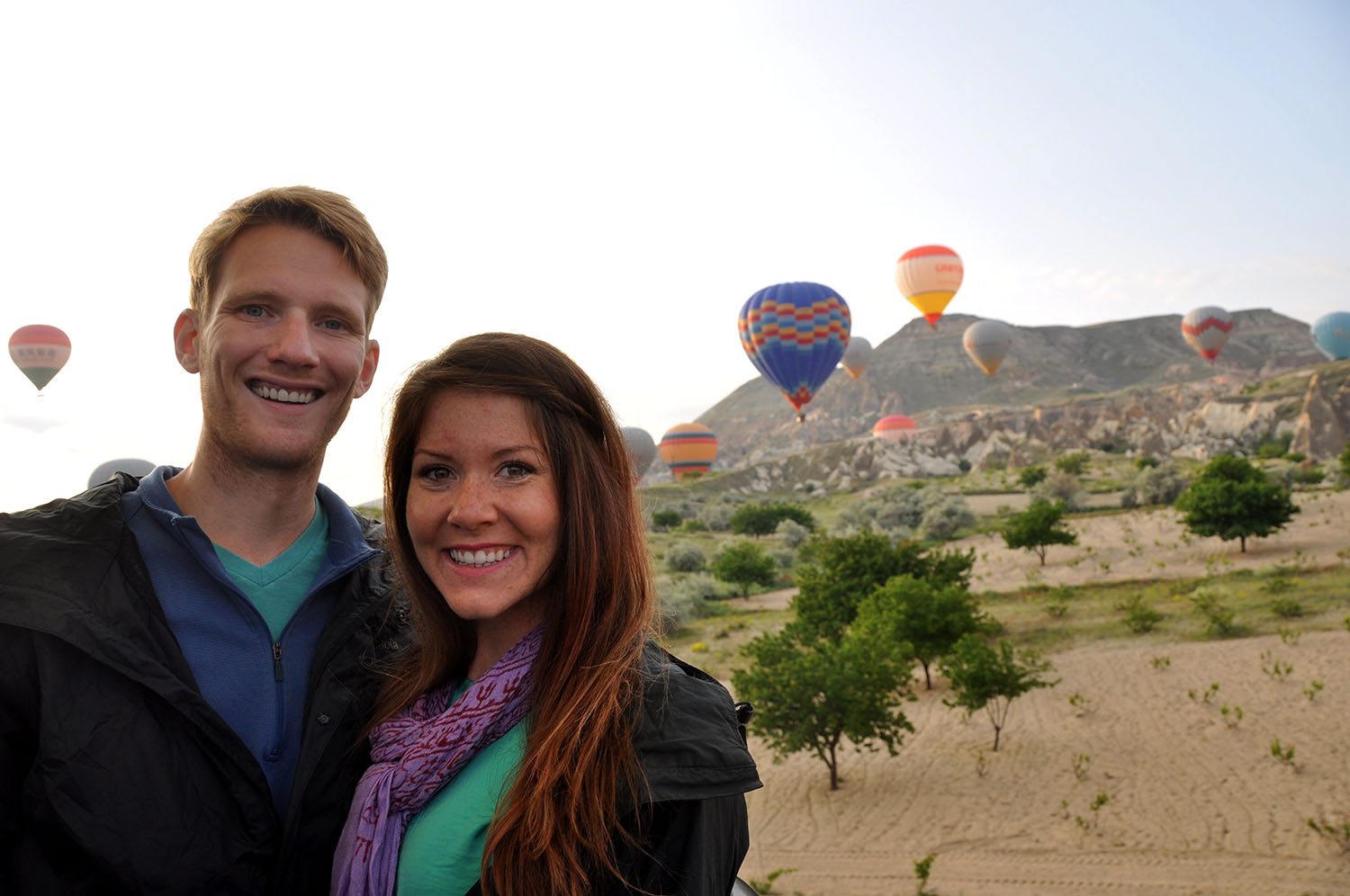 If you take a ride with the Turkiye Balloons team, tell them Katie and Ben sent you! And after your experience, let us know what you thought in the comments below!
---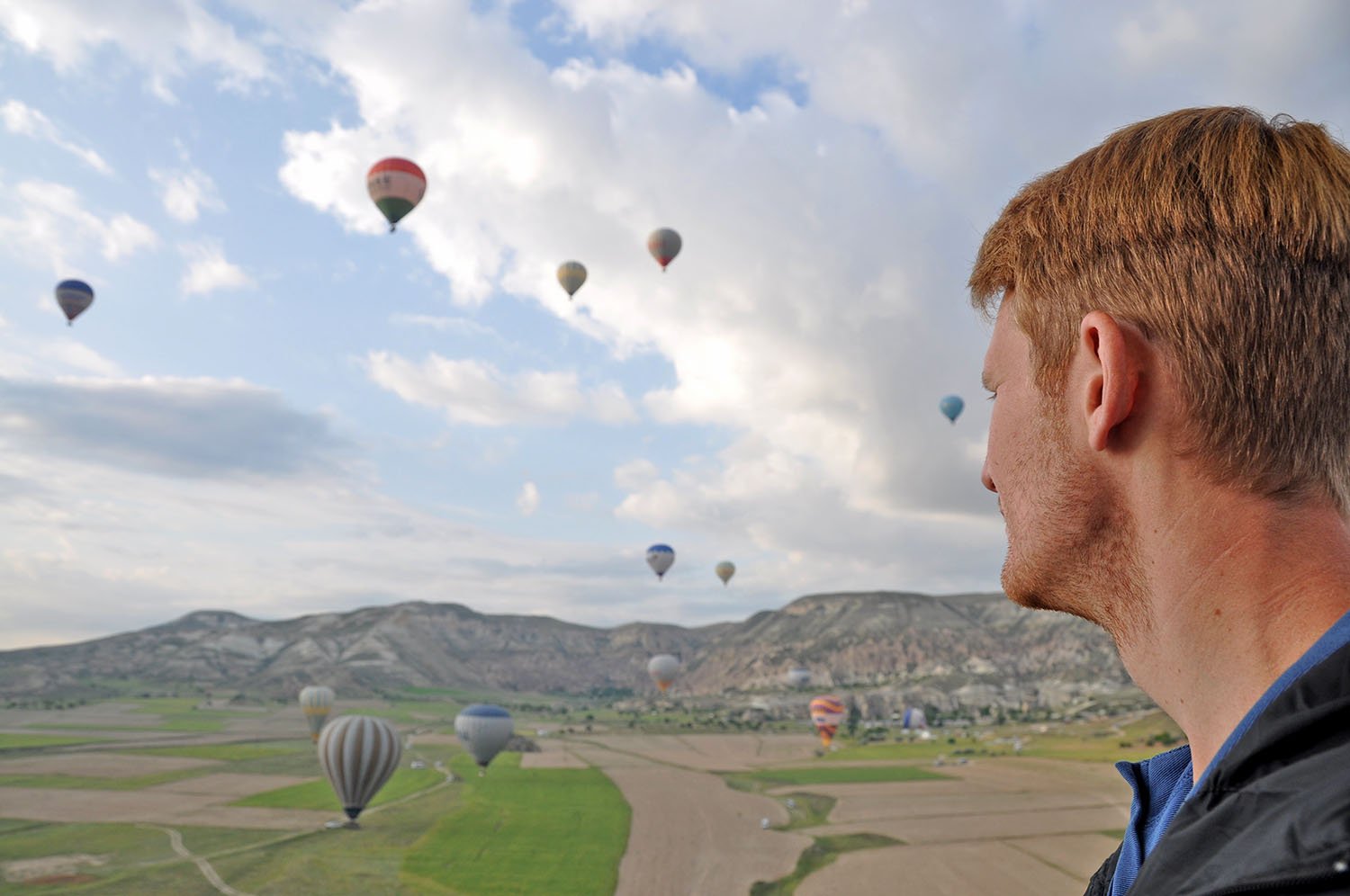 We'd like to thank Erdal, Murat and the rest of the team at Turkiye Balloons for generously sponsoring our experience in exchange for this honest review. As always, you are getting our sincere and candid opinions.
---
If you're headed to Turkey, we've got some things you should see!
We have lots of resources on travel in Turkey and destinations throughout the country. Check out our Ultimate Turkey Travel Guide for all the answers to your travel questions, or read some of our favorite articles below.
We want to hear from you!
What do you think of the Cappadocia hot air balloon ride? Have you tried it before? Let us know in the comments and we'll get back to you.