Trying to figure out where to stay in Cappadocia can be overwhelming! We've got you covered with this breakdown of the best Cappadocia cave hotels for every budget.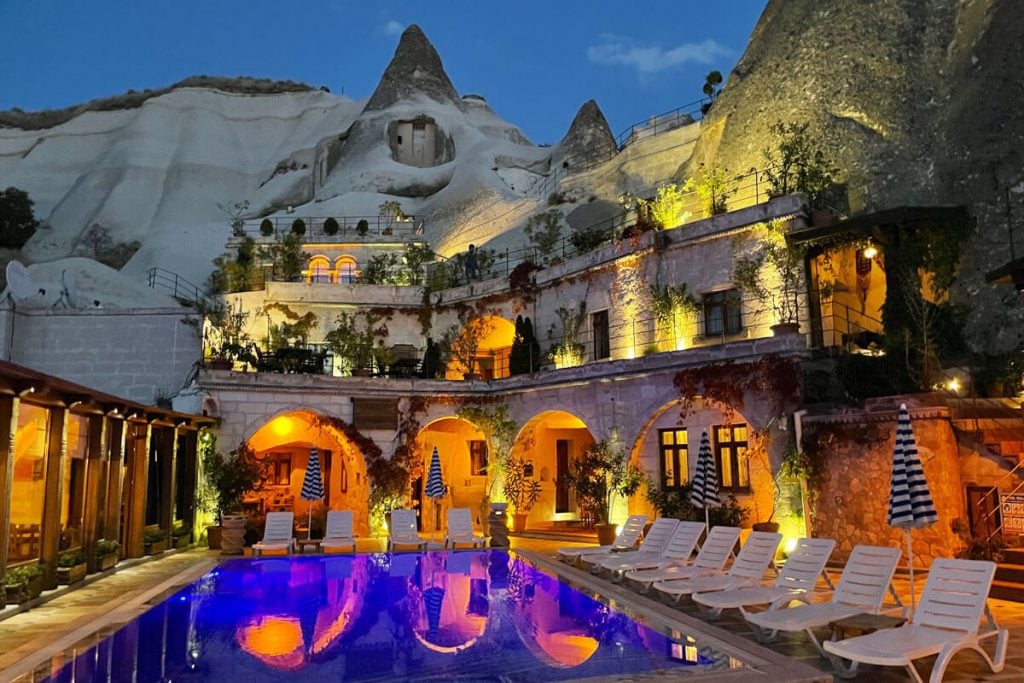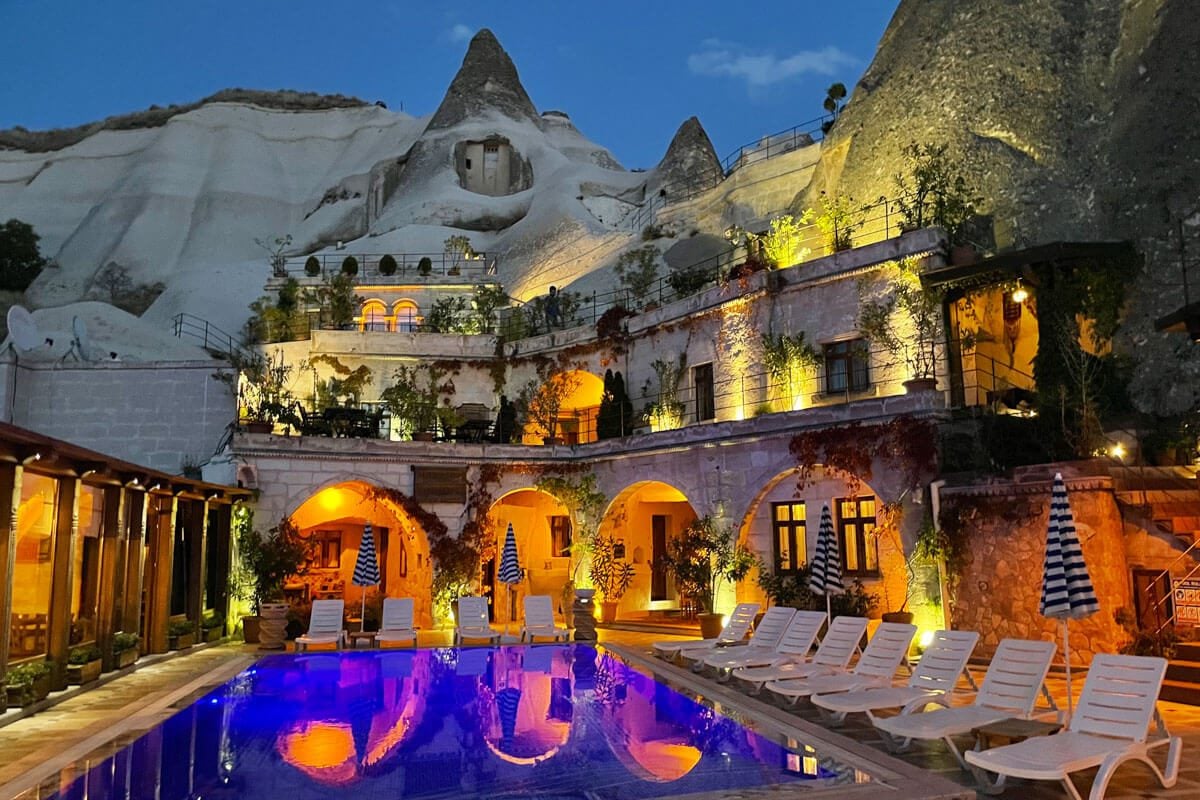 Cappadocia is a place that appears to have been plucked straight from a fairytale. The ethereal landscape dotted with formations dubbed as 'fairy chimneys' by the locals is made even more magical every morning as colorful hot air balloons dance across the sky.
With so many options for accommodation, it can be overwhelming to figure out where to stay. Luckily for you, we've done our homework and put together a list of the best cave hotels in Cappadocia, as well as a breakdown of the towns in the area that are the best places for tourism.
Psst! Be sure to check out our complete guide on the best things to do in Cappadocia so you don't waste any time on your visit!
Where to stay in Cappadocia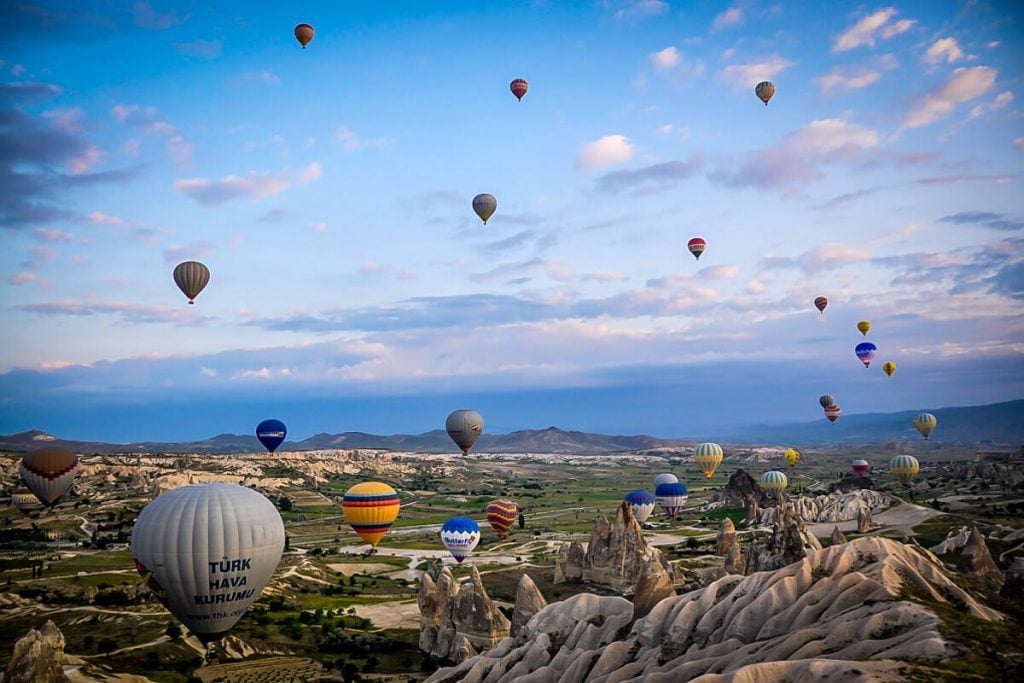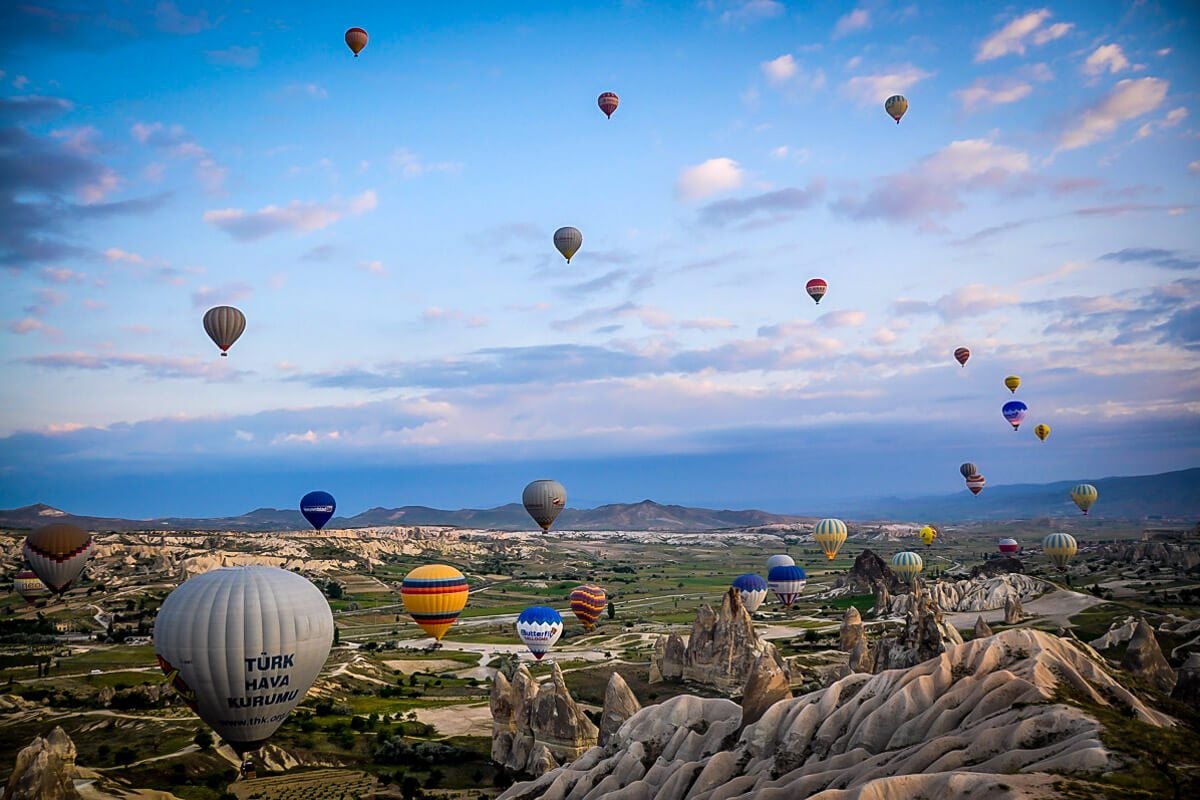 Tourism in the region is focused around the towns of Göreme and Uçhisar, and staying in either of these towns will put you right in the center of the action. However there are a few other towns within the region that offer great hotels and different experiences.
Göreme: The most popular town in the Cappadocia region known for the fairy chimneys and cave hotels. You'll find more budget-friendly options here than in neighboring Uçhisar.
Uçhisar: Neighboring Göreme, Uçhisar is similar but slightly more upscale with more luxury accommodation and a more laid back vibe.
Çavuşin: Located in Göreme National Park near the balloon launch site, Çavuşin is a much smaller, quieter town with a few boutique hotels.
Ürgüp: 10 km east of Göreme, Ürgüp offers a more modern downtown and plenty of luxury cave hotels.
Ortahisar: With cobblestone streets and charming town squares, just over the hill from Göreme, Ortahisar is rapidly gaining in popularity due to a flurry of new hotel openings and a slightly cheaper price point than Göreme.
Top Cappadocia Cave Hotels at a glance:
*Note: If you are already in Turkey when viewing this article, you'll need to use a VPN to access our links on Booking.com.
A note about accommodation prices: Cappadocia very much operates on a tourism season calendar with the high season being over the summer months and the low season in wintertime. Hotel and accommodation prices are at their peak during high season, but usually drop after October 1. Prices fluctuate so much so that you could find hotel rooms in Cappadocia at 50% off during the low season when compared to peak prices in the summertime.
Planning a trip to Turkey? Find out the best time to visit Turkey based on regional weather patterns and your personal travel style.
Best Cave Hotels in Göreme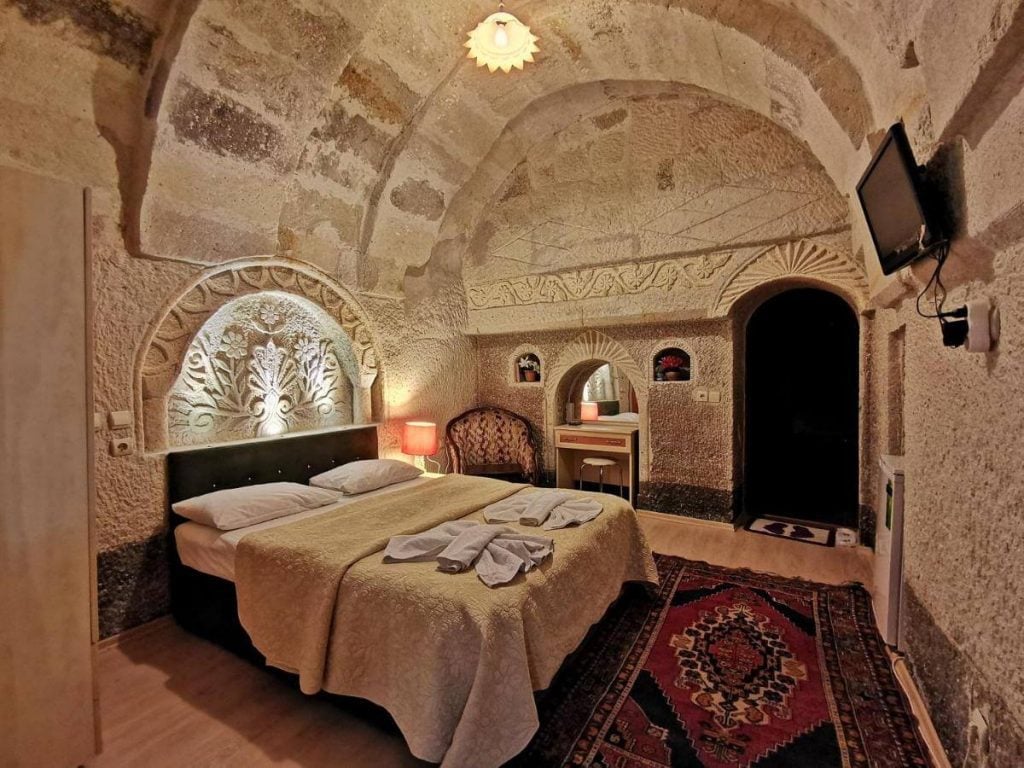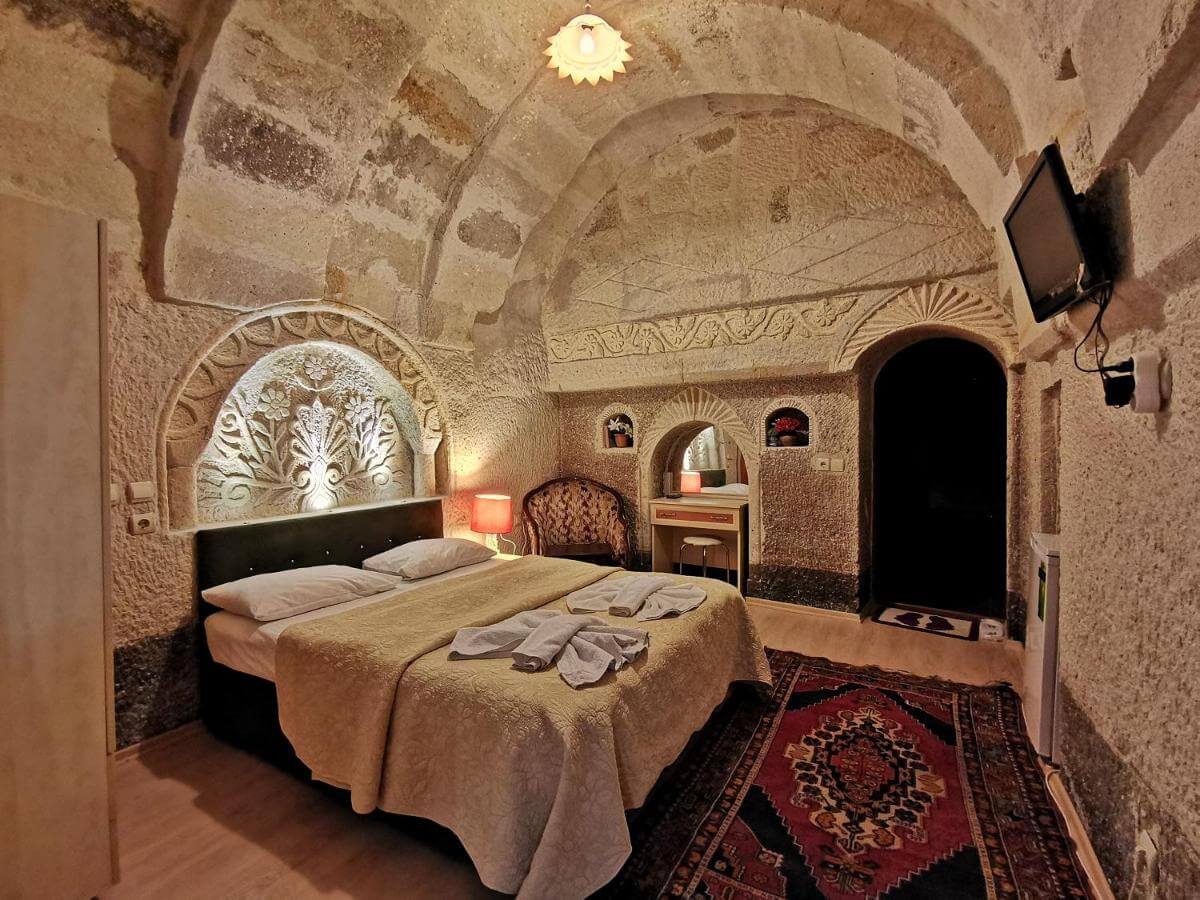 An incredible value at around $25 USD per night (price can vary based on time of year). The room isn't a cave per se, but is made of stone bricks and has a high, arched ceiling which makes it feel almost as if you're in a cave.
The room itself has lots of natural light and a spacious bathroom with a Jacuzzi pool (yes please!). The breakfast is good and the family who runs this hotel is nice, though their English is minimal.
Note: Many "cave hotels" in this area don't have actual cave rooms, but instead feature stone rooms (like Falcon Cave Suites, mentioned above). If you want the real cave experience, you'll have to make sure you're choosing an authentic cave-dwelling hotel and be willing to pay a bit more money.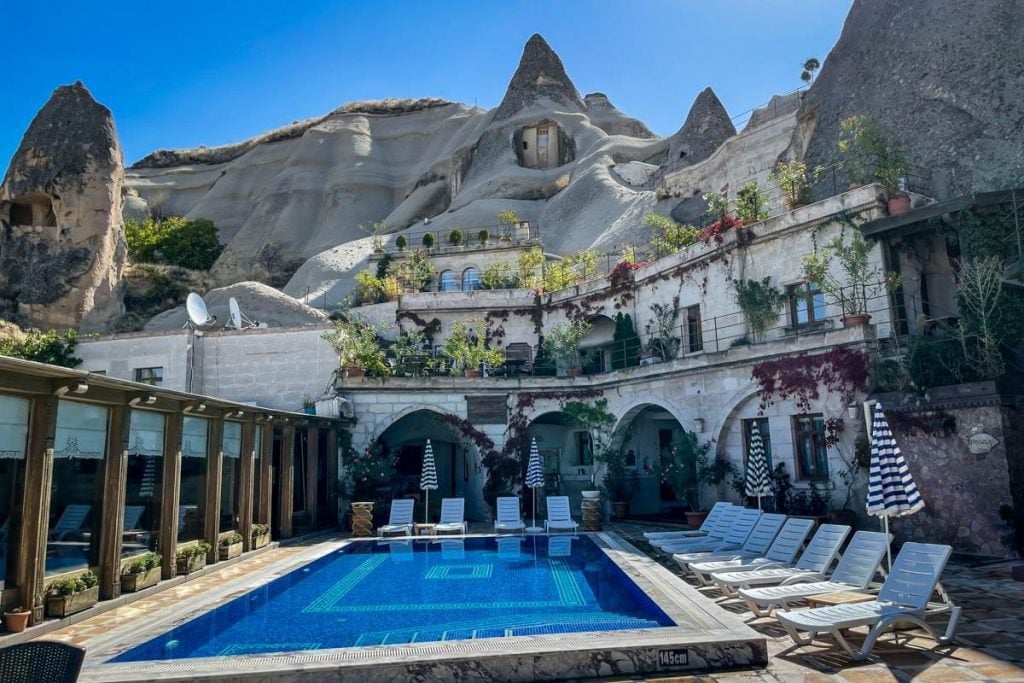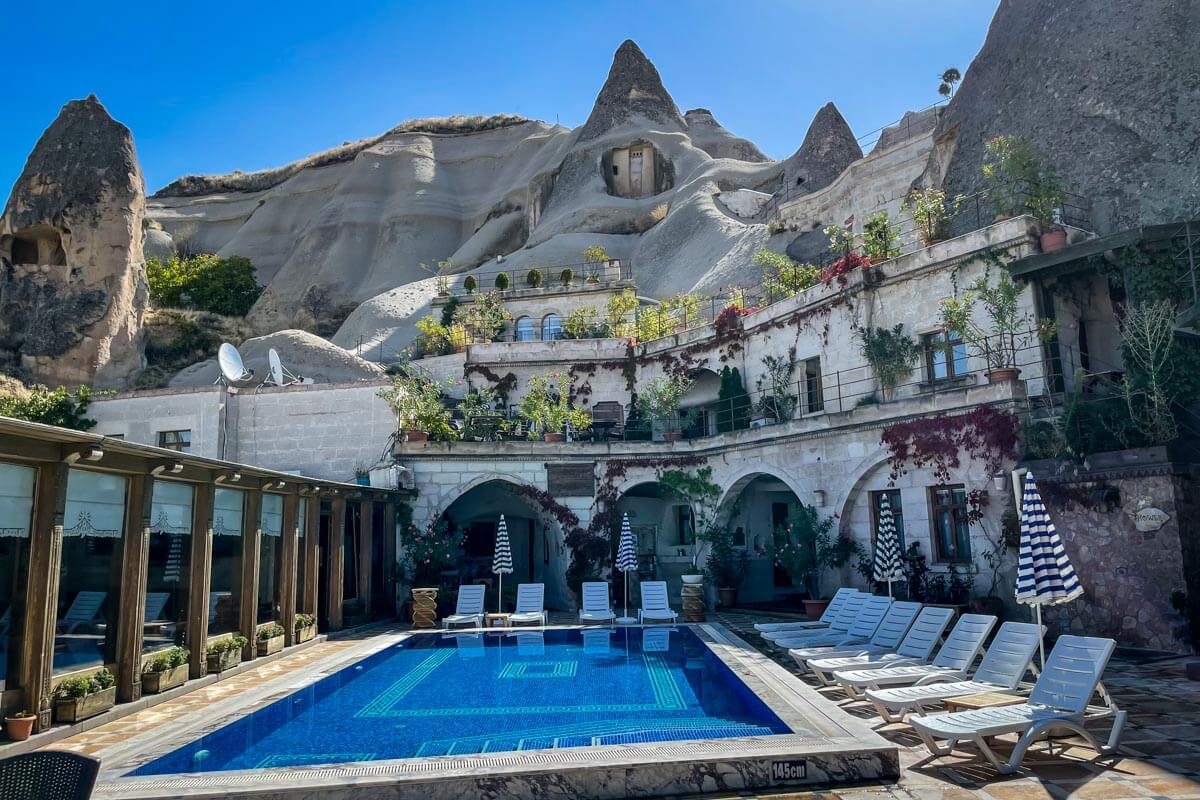 One of the most gorgeous pools in Göreme, Local Cave House is a boutique property that offers cave suites for double, triple and family-sized occupancy. Carved into the cliffside in Göreme, the hotel features a beautiful terrace with swimming pool and hookah lounge. Daily continental breakfast is included with your stay.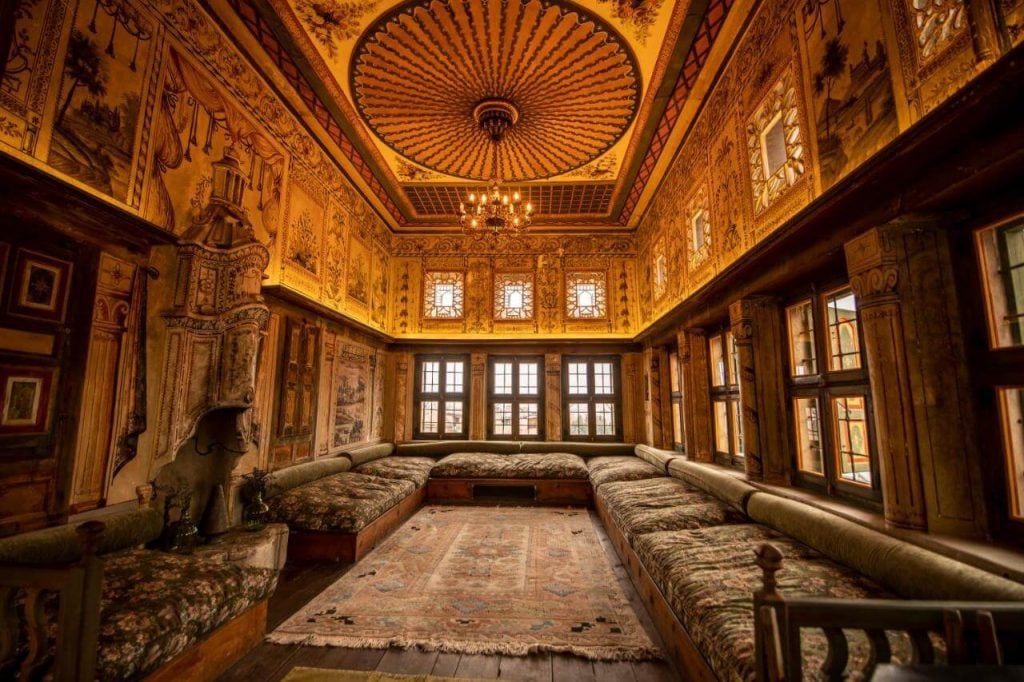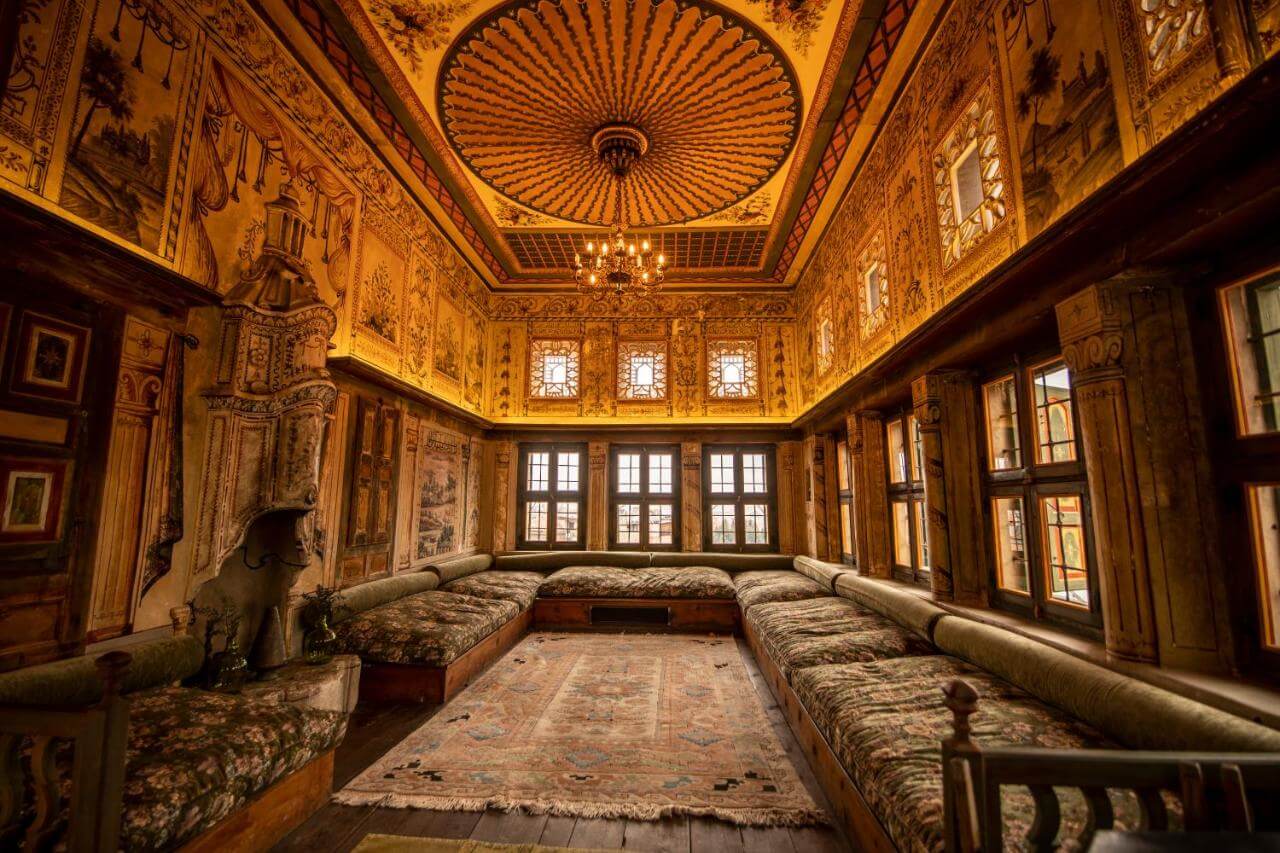 Henna Hotel: $$
Terraced above the town of Göreme, this beautiful ornate hotel has lots of terraces for watching the balloons at sunrise. Each of the 6 unique rooms are carved out of the original stone dwellings that have been preserved for centuries and tastefully decorated to bring a modern elegance.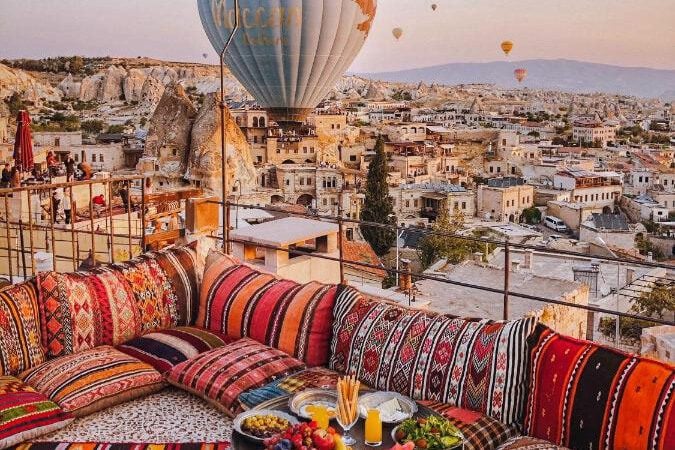 A boutique family-run guesthouse situated just a 5 minute walk uphill from the town center of Göreme. The hotel offers a mix of cave rooms and standard stone rooms and has plenty of outdoor space including a fireplace and large rooftop lounge.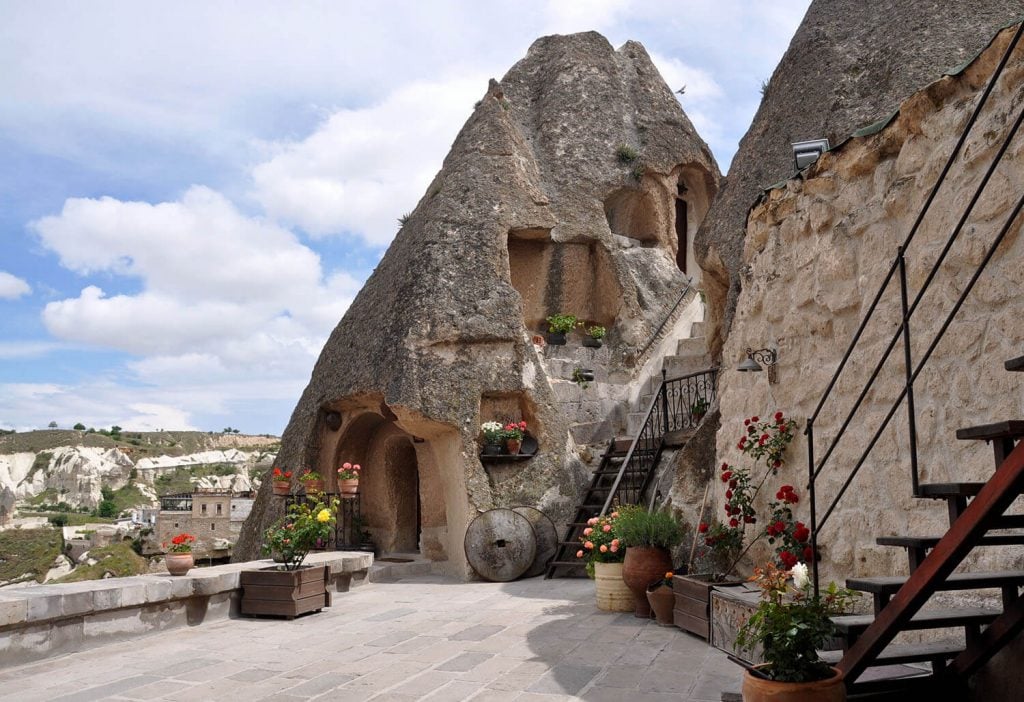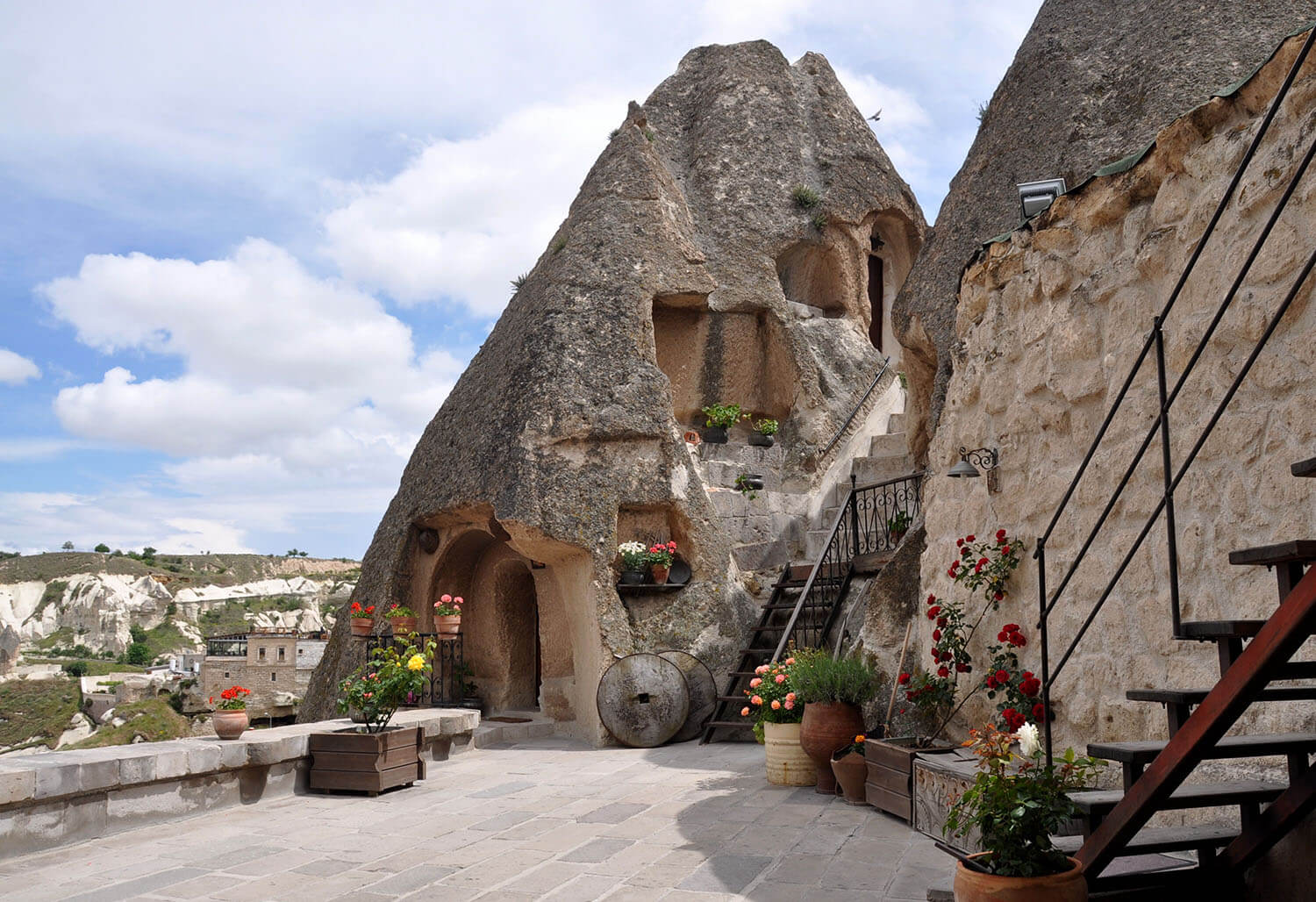 Kelebek Special Cave Hotel: $$
…is ahhhh-mazing! Each of their 47 rooms is unique, and are suited for a range of budgets. We stayed in an actual cave room, which was very cozy. Read our full review to find out our favorite part about this hotel. Hint… it may have something to do with food!
Psst! Did you know kelebek means butterfly in Turkish??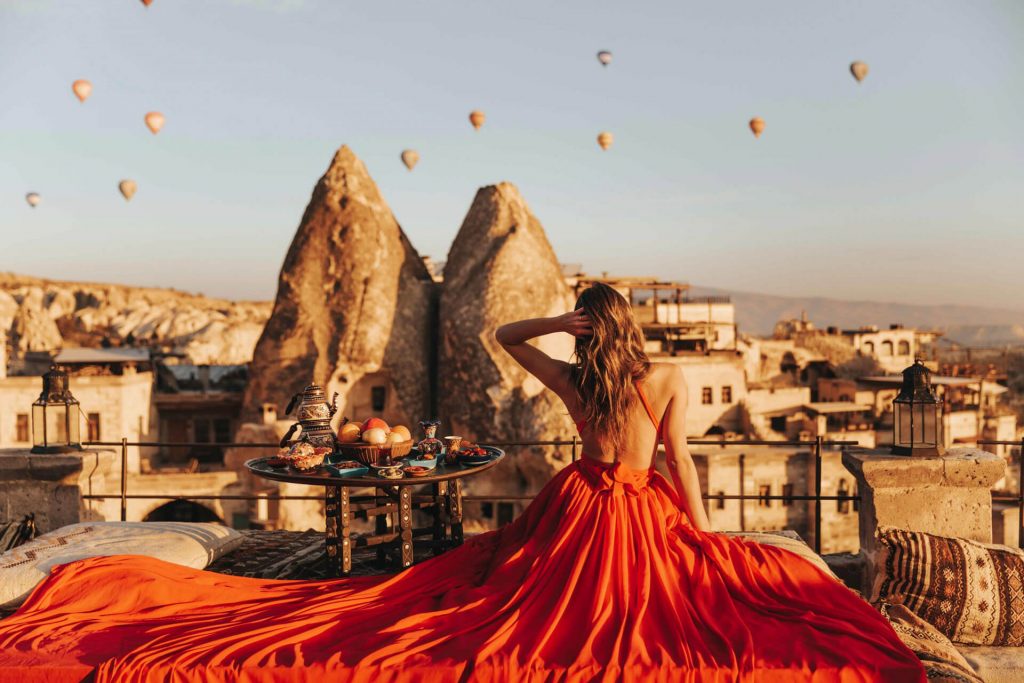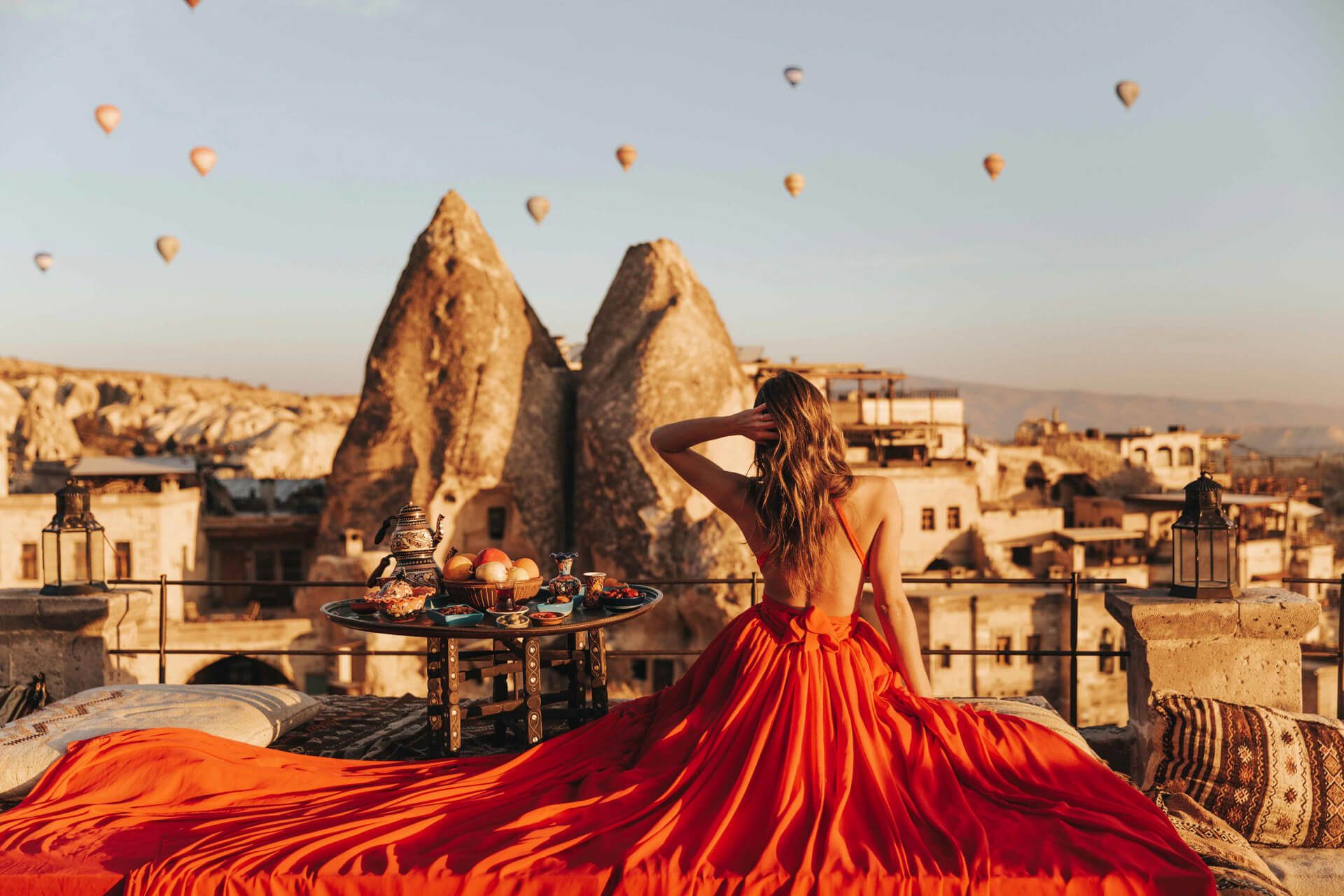 Possibly the most famous rooftop for it's sunrise photography setups, this is actually the sister property of the Kelebek Hotel and as such guests can use the facilities at both locations. Each of the 35 rooms is uniquely decorated to preserve the culture of the area. They offer various types of accommodation from standard rooms to luxury suites.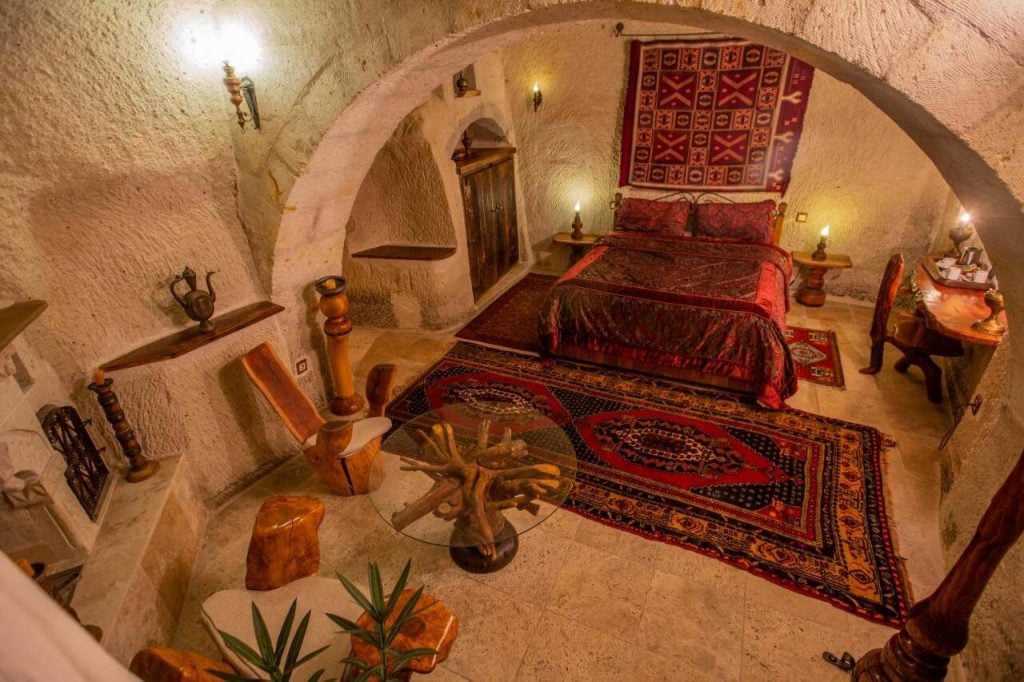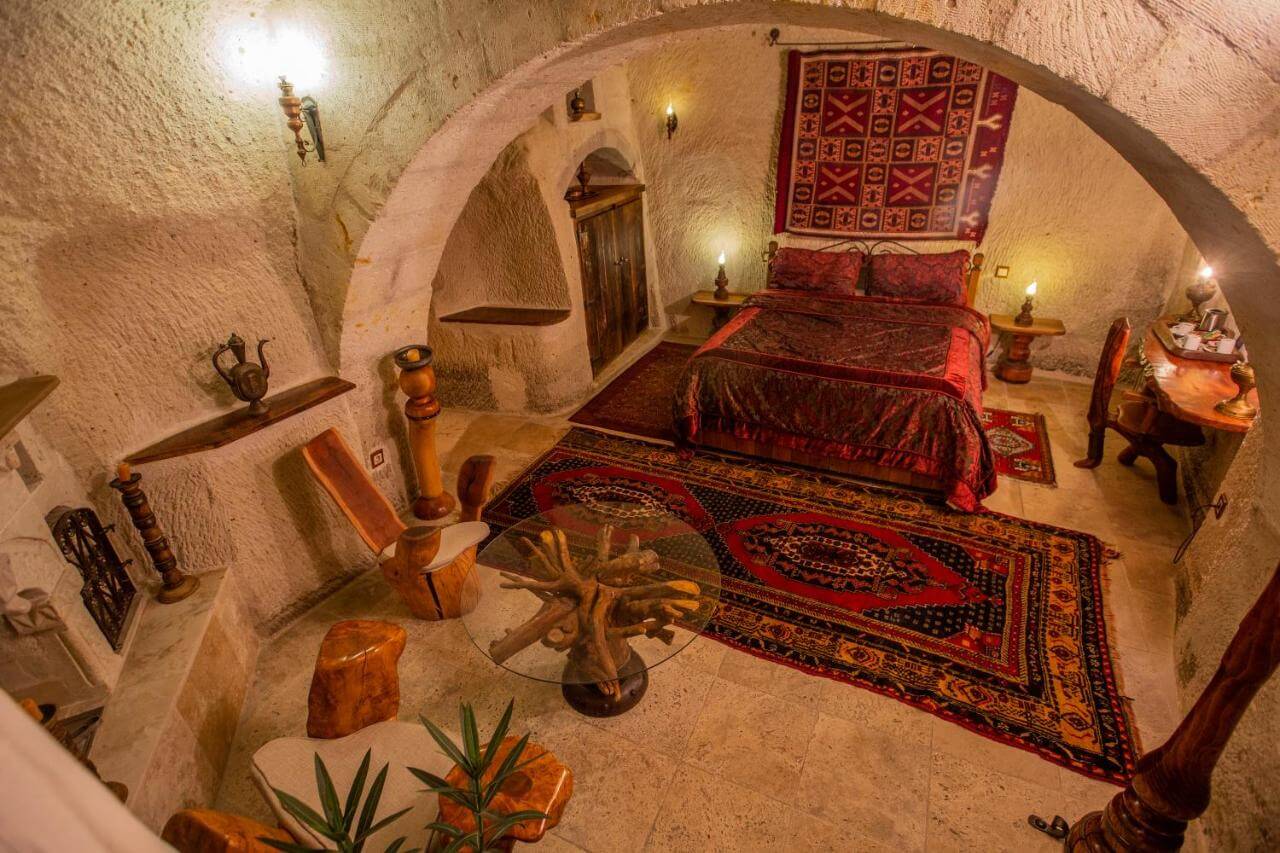 Koza Cave Hotel: $$$
This place boasts the highest rooftop in Göreme and they might also be the most eco-friendly! The family-run hotel is bringing eco-chic to Cappadocia with sustainable practices like recycling the property's grey water and incorporating recycled materials and locally crafted furniture into the design of each of their 10 rooms.
Psst! If you'll be traveling more throughout the country, be sure to check out our bucket list of epic places to visit in Turkey.
Cave hotels in Uçhisar
Rox Cappadocia: $$
Located right next to Uçhisar Castle, the Rox offers panoramic views of Cappadocia with an exclusive rooftop for guests only. The property is a renovated historical Greek mansion that has been transformed into a unique space offering both traditional cave and stone rooms.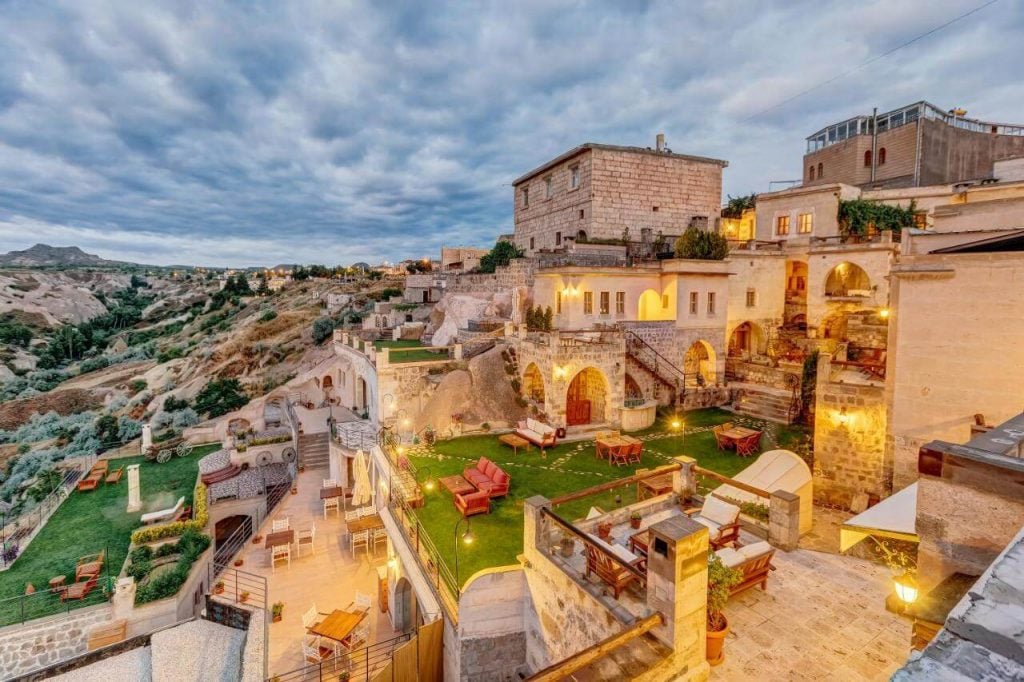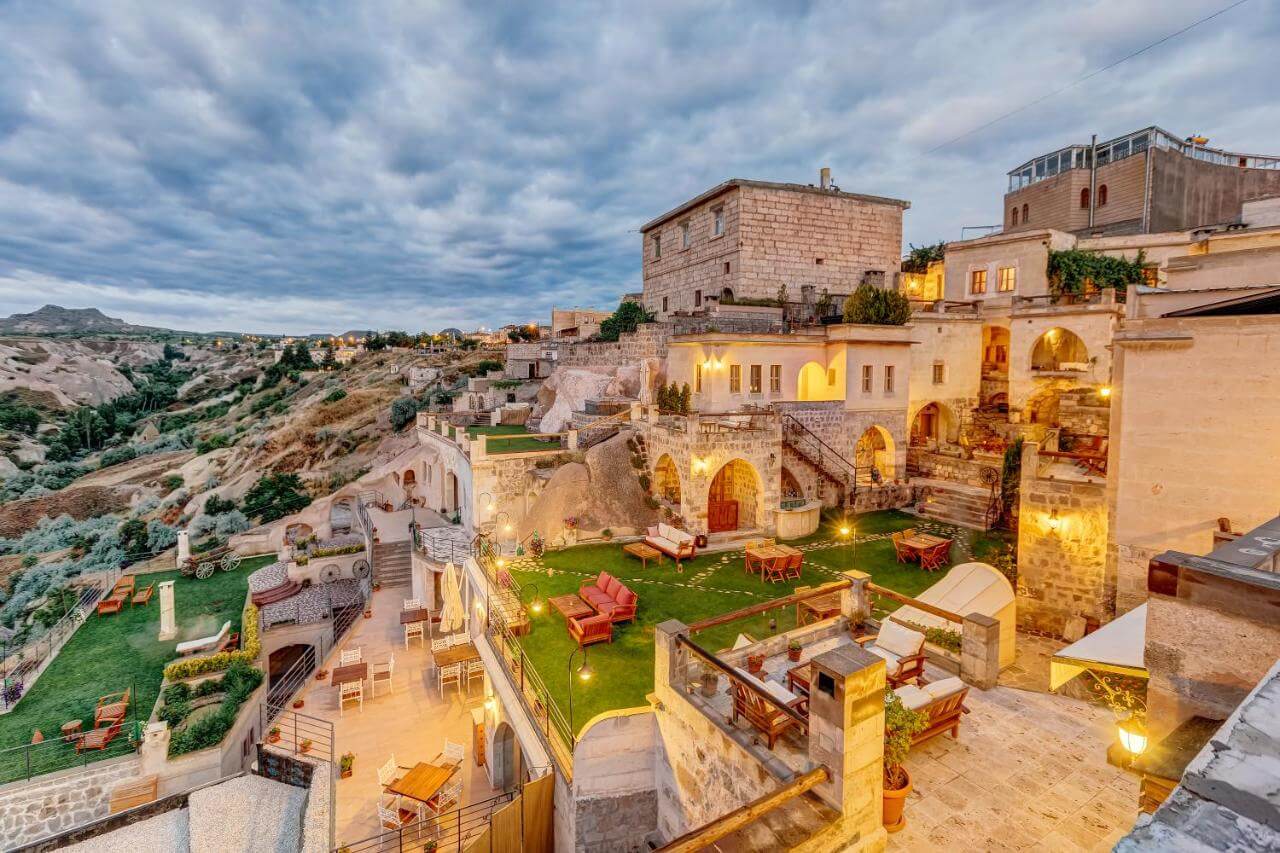 An excellent value boutique cave hotel built with respect to nature and local traditions. The property boasts a large green terrace overlooking Uçhisar. The owners originally intended to build their house, realized they wanted to share their space with the world so they turned their property into a hotel.
Argos in Cappadocia: $$$
A luxury cave hotel that is both eco-conscious and pet friendly. The 51 rooms at Argos promise to deliver 51 unique experiences. Just a few minutes walk from Uçhisar castle, this hotel boasts some of the most stunning views of the town overlooking Pigeon Valley.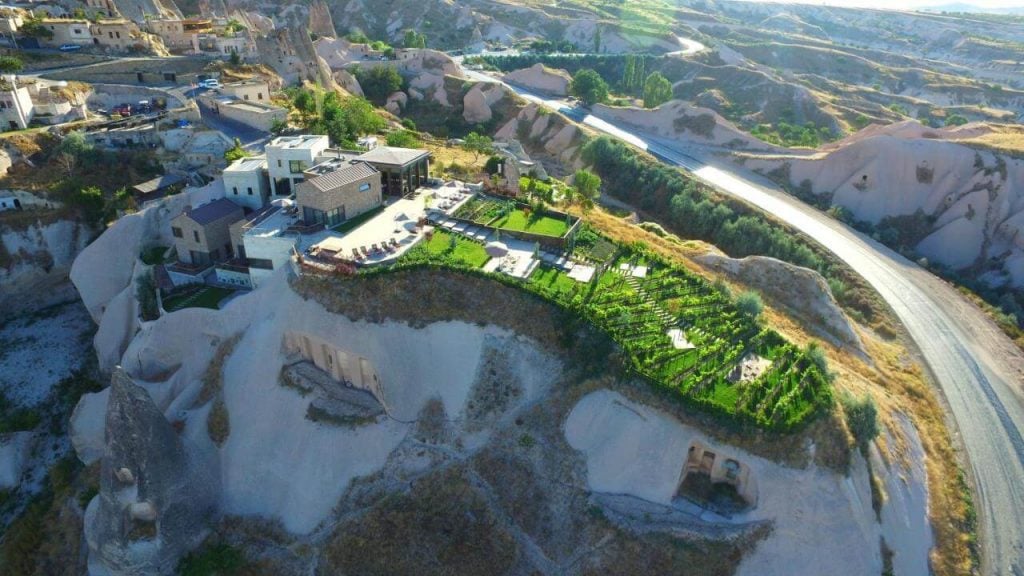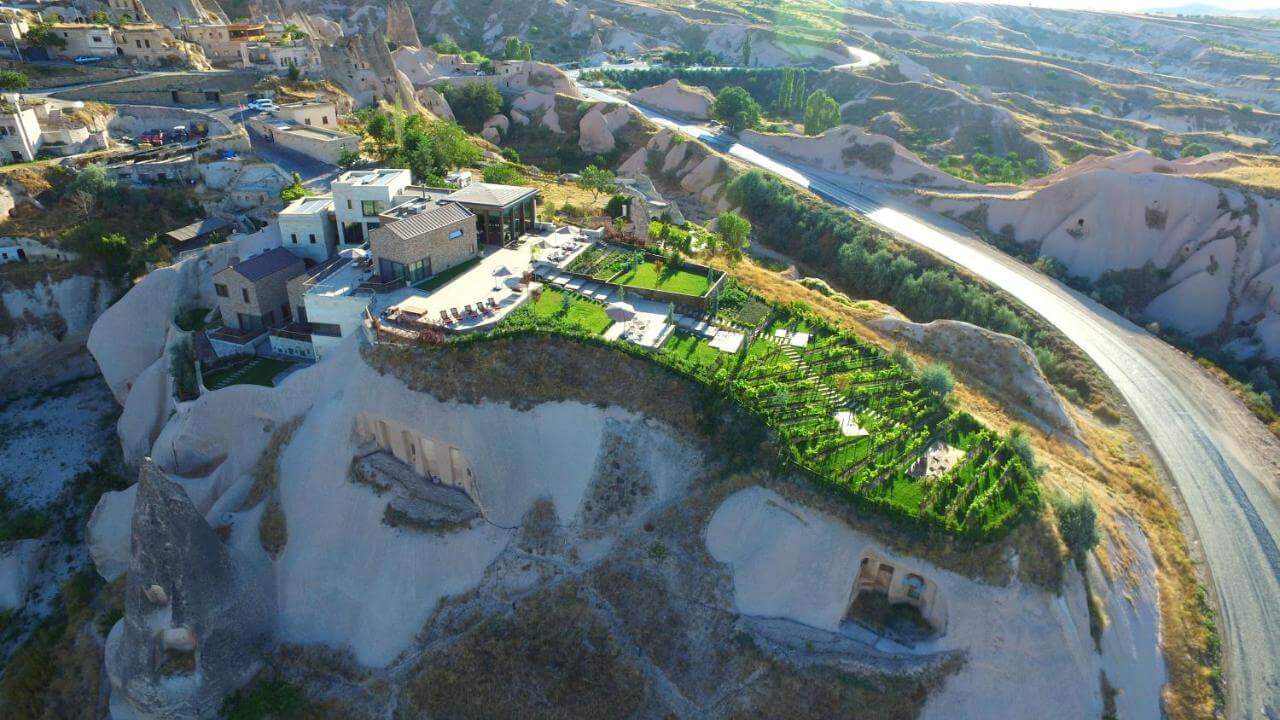 Ariana Sustainable Luxury Lodge: $$$
An eco-luxe boutique cave hotel with sun terraces and an onsite restaurant serving up homegrown produce. The property produces 26% of its energy through solar power, offers a complimentary Tesla charging station and 11 beautifully decorated cozy and luxurious suites.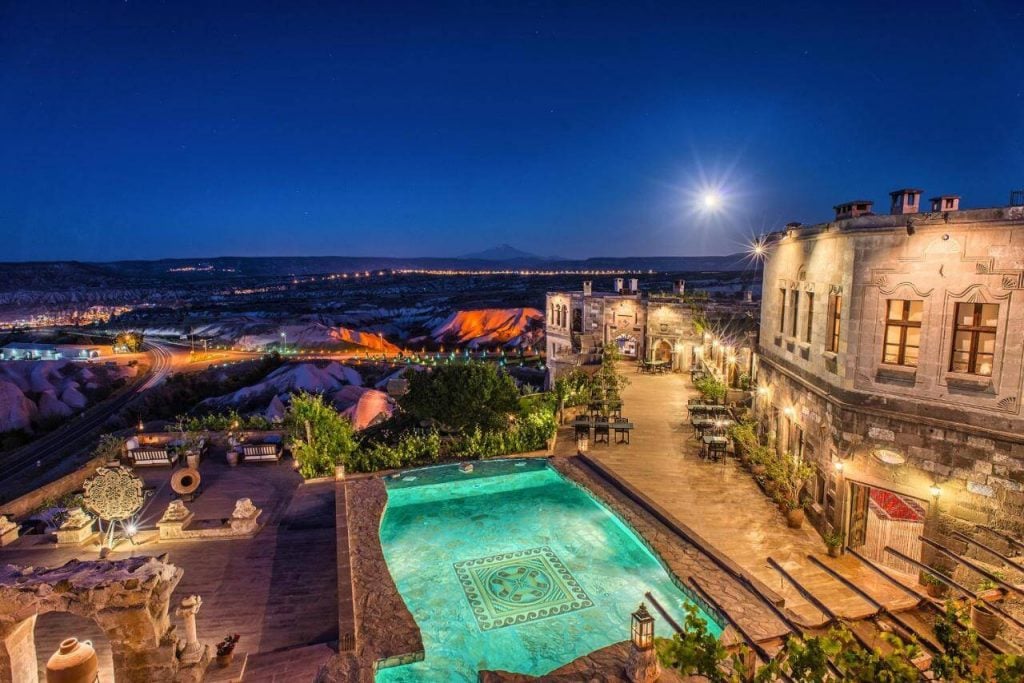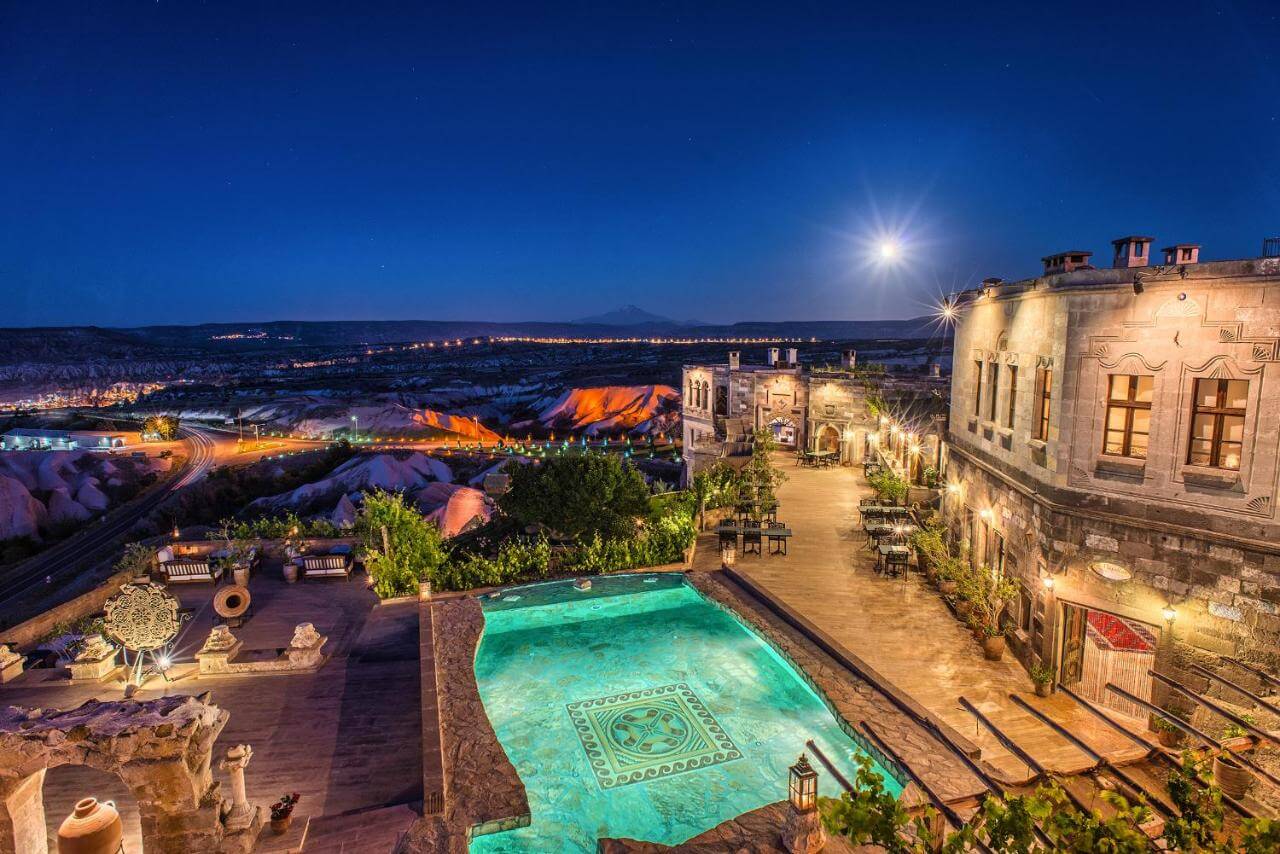 Museum Hotel: $$$$
A Relais & Chateaux property with a living museum concept, awarded the best luxury gourmet hotel in Turkey. This property is a responsibly run luxury hotel with 30 unique rooms and suites, each carefully restored with individual character. Rumor has it there is even a wine tap in one of the suites!
Cave hotels in Çavuşin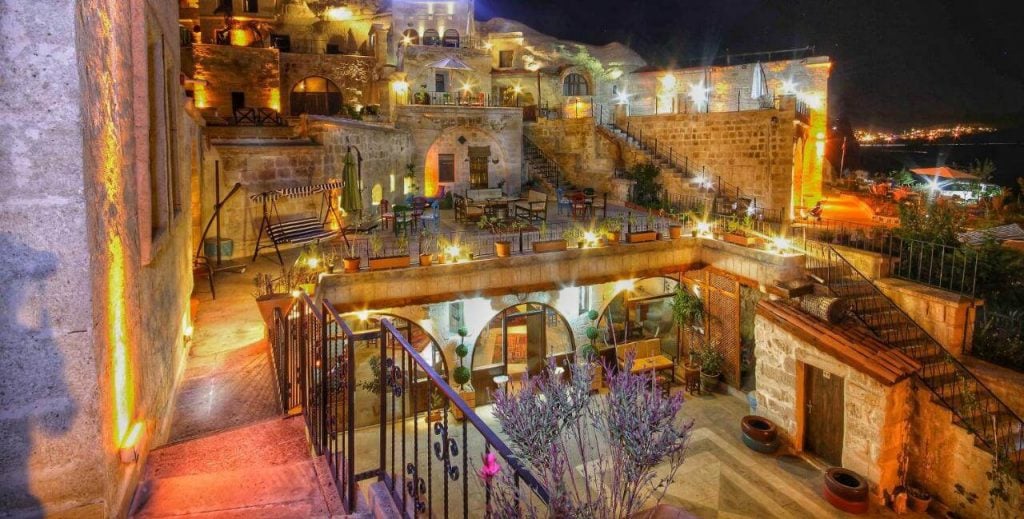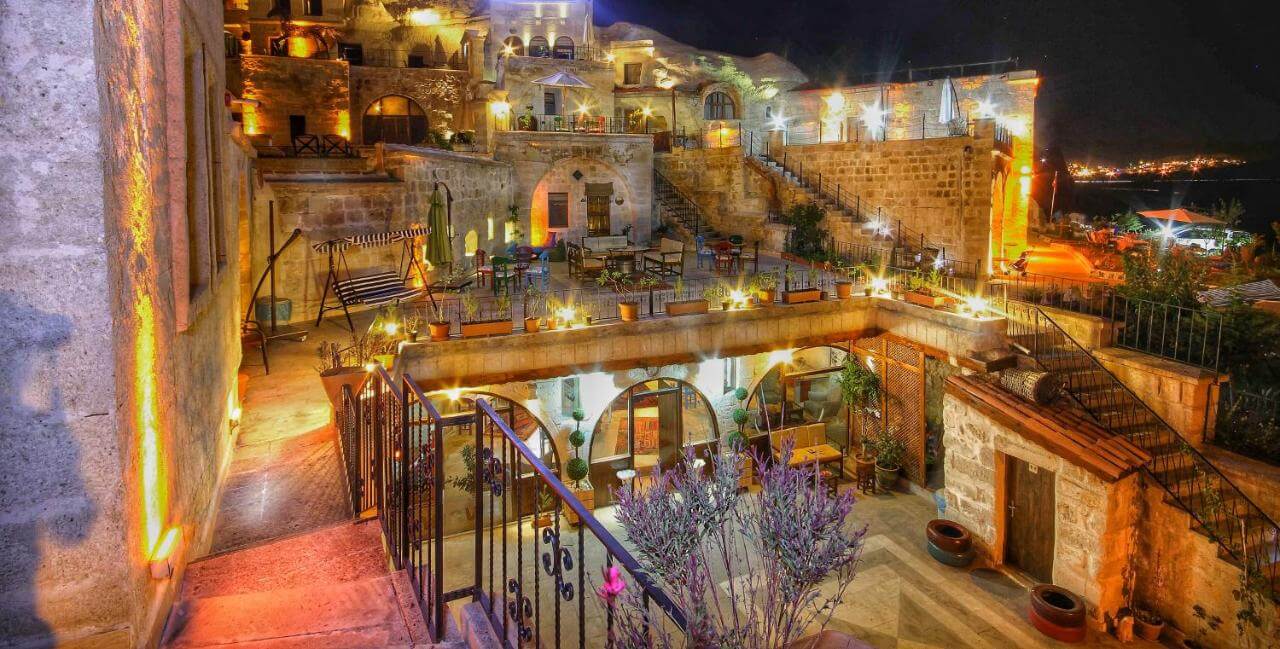 A quaint, beautifully decorated budget hotel near by many attractions such as Göreme National Park. This 9-room boutique hotel offers various accommodations to fit your needs as well as a beautiful terrace overlooking the town.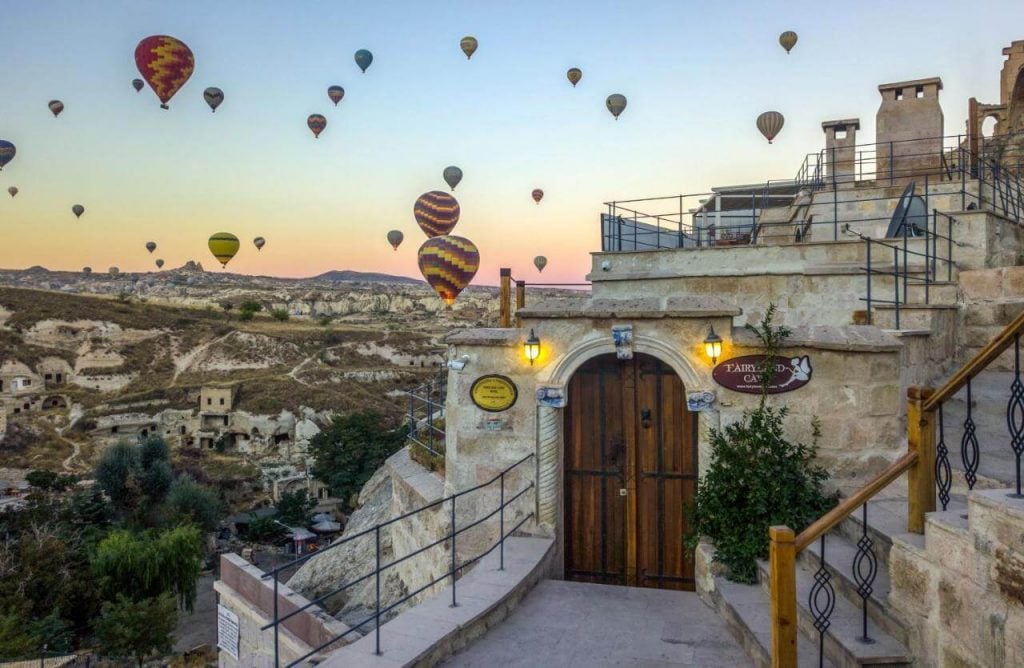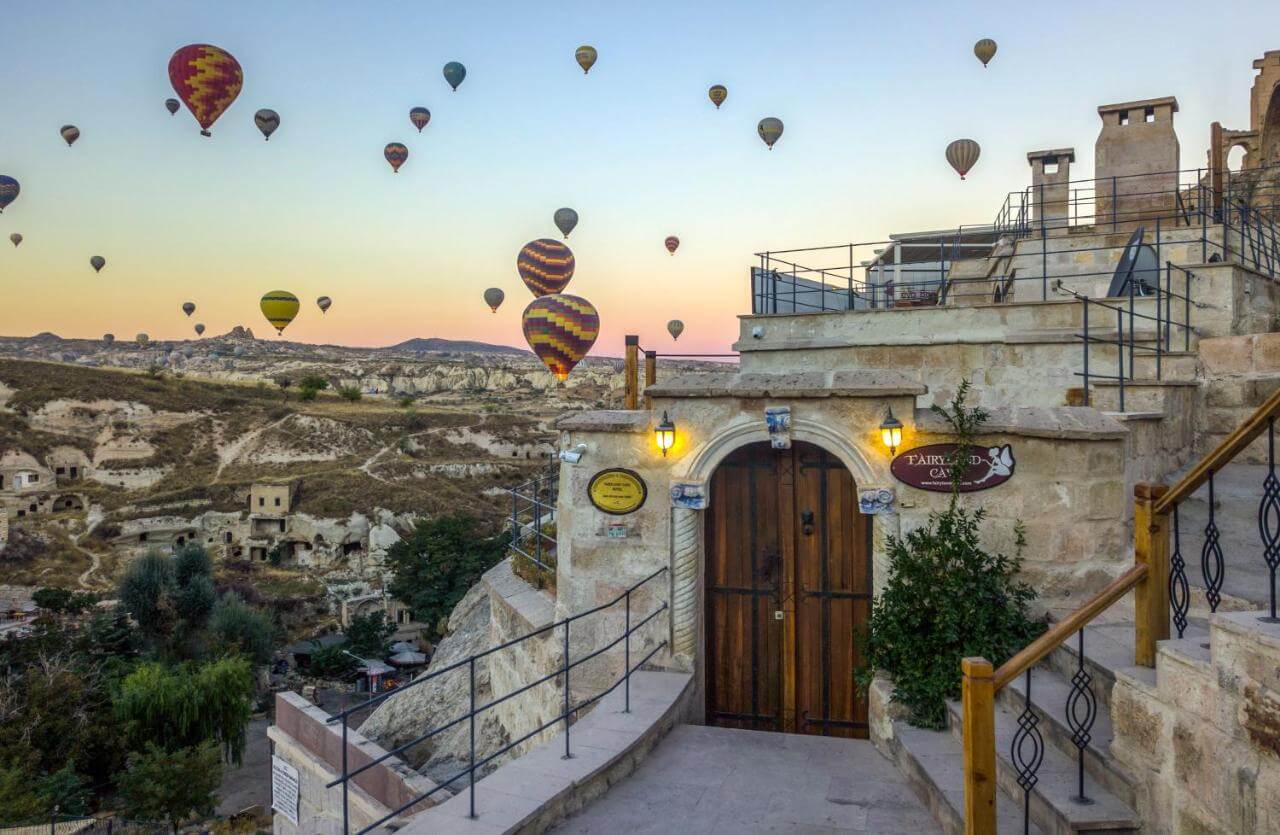 A Kaya hotel with boutique service, perfect for guests who want a quiet stay, but still close to the action. This property has been used as a settlement since the 5th century. It was renovated in 1964 and brought back to life as the authentic cave hotel it is today.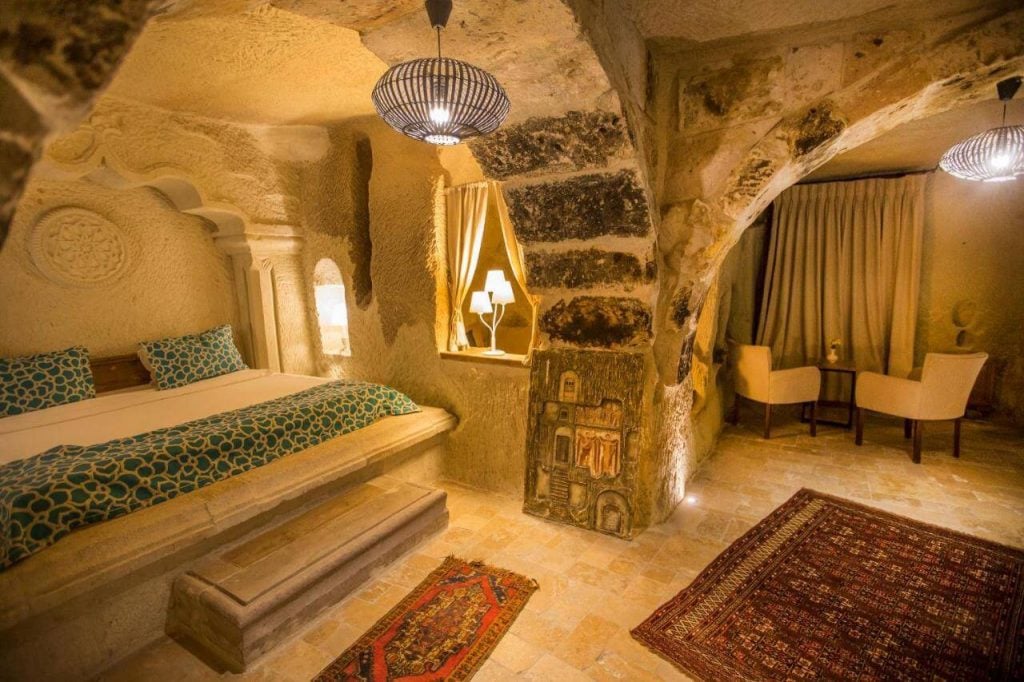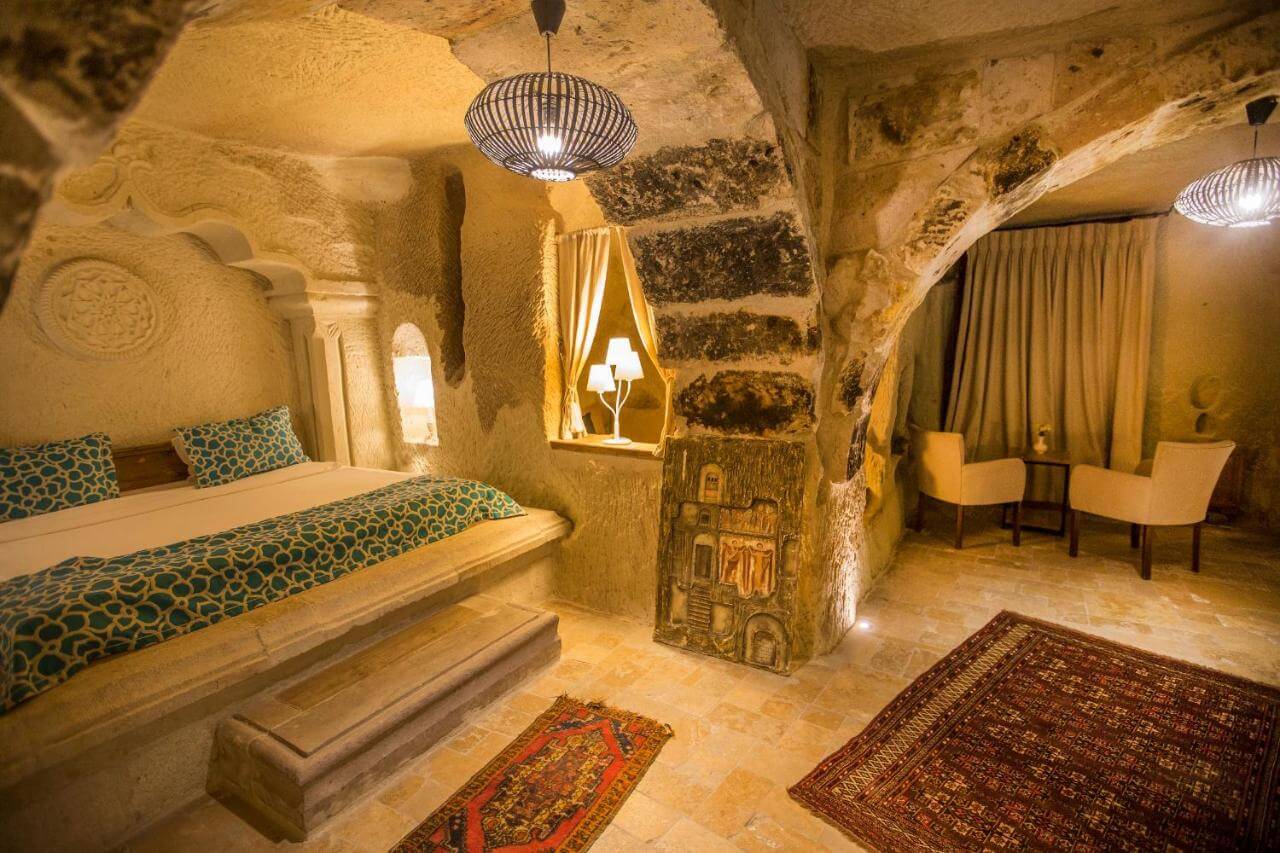 A boutique cave hotel with amazing views, uniquely situated on top of one of the highest hills in Cappadocia overlooking Çavuşin Castle. Because of its prime location, the hot air balloons buzz right past the hotel every morning in a close-up show of pure magic. They also offer a complimentary snack bar available all day on their rooftop terrace.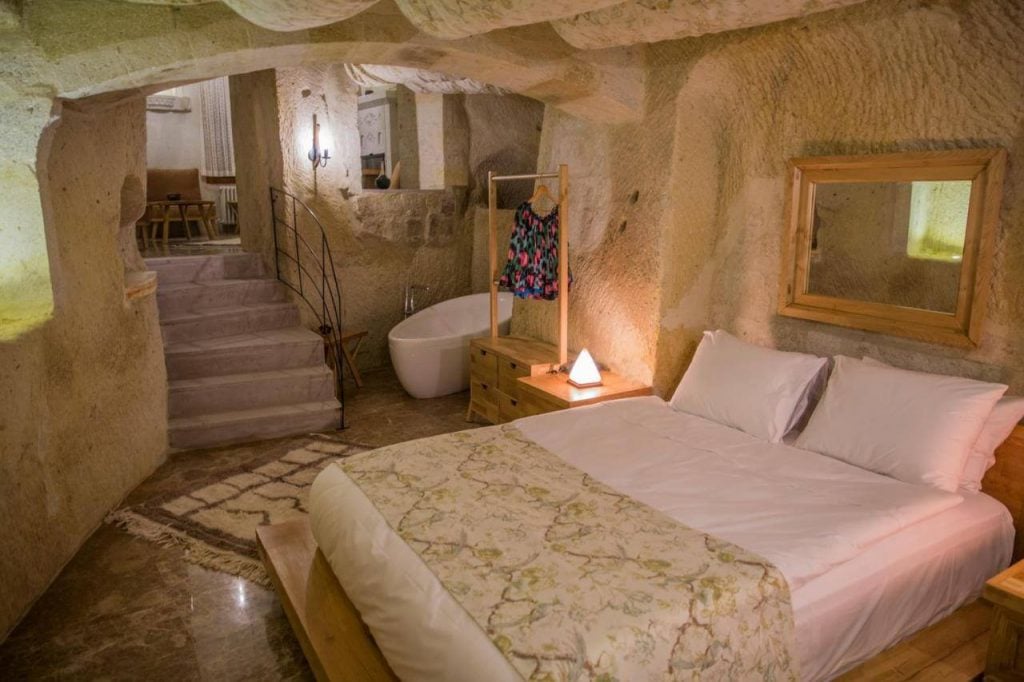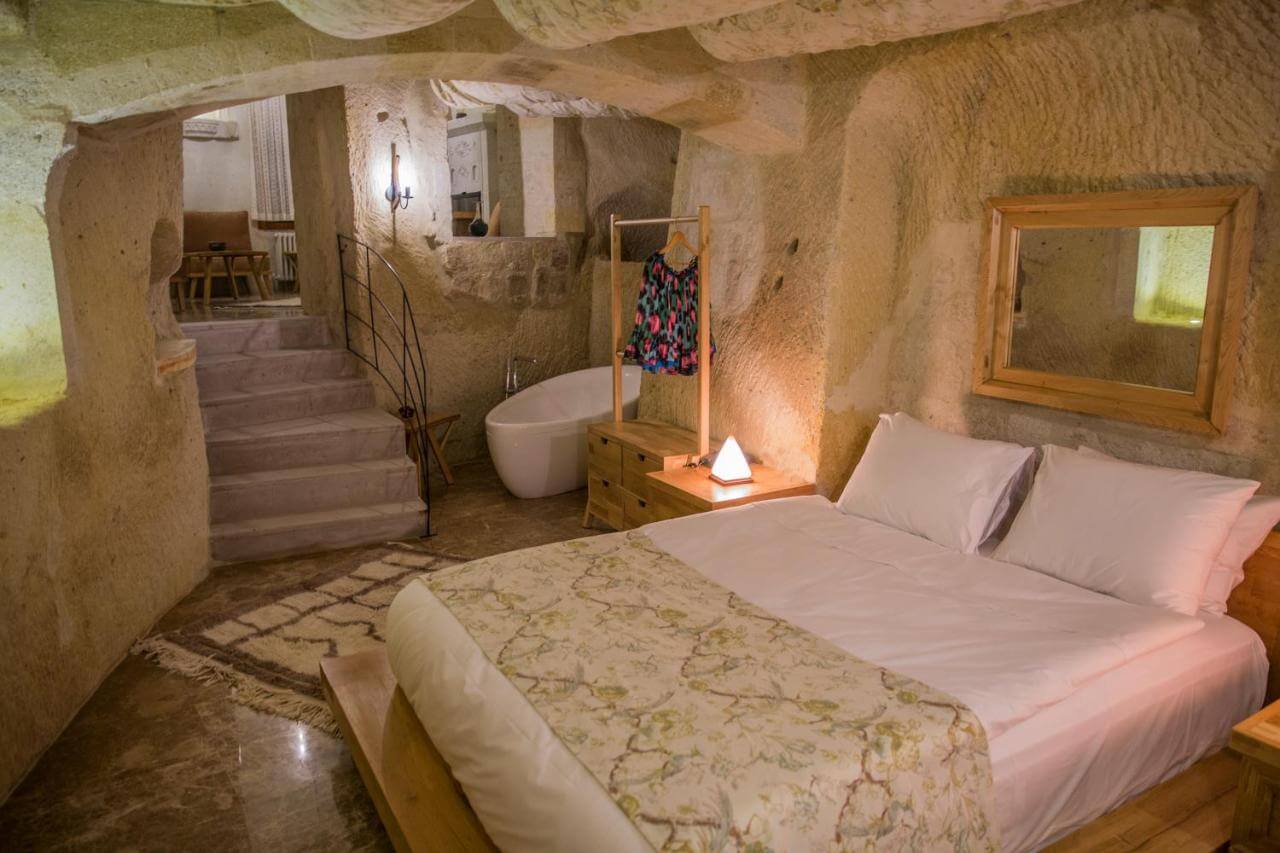 A boutique family-run hotel near Çavuşin Castle and the Church of St. John The Baptist. Enjoy your breakfast on the rooftop terrace as you watch the balloons float by. The Agarta Hotel has a super friendly and helpful staff that are always willing to go the extra mile to make your stay unforgettable.
Cave hotels in Ürgüp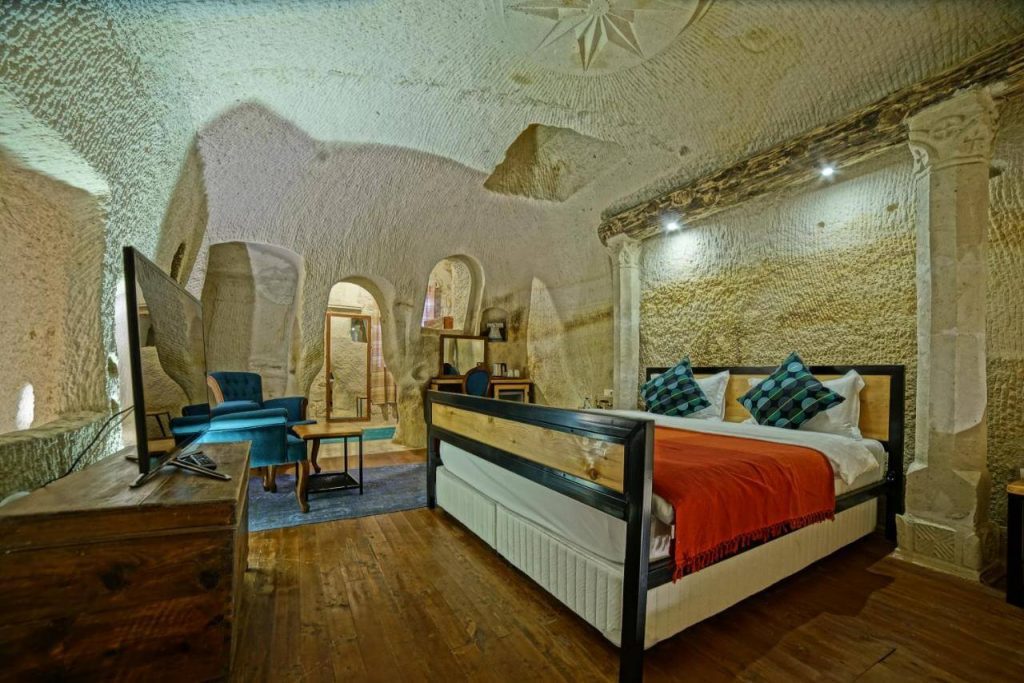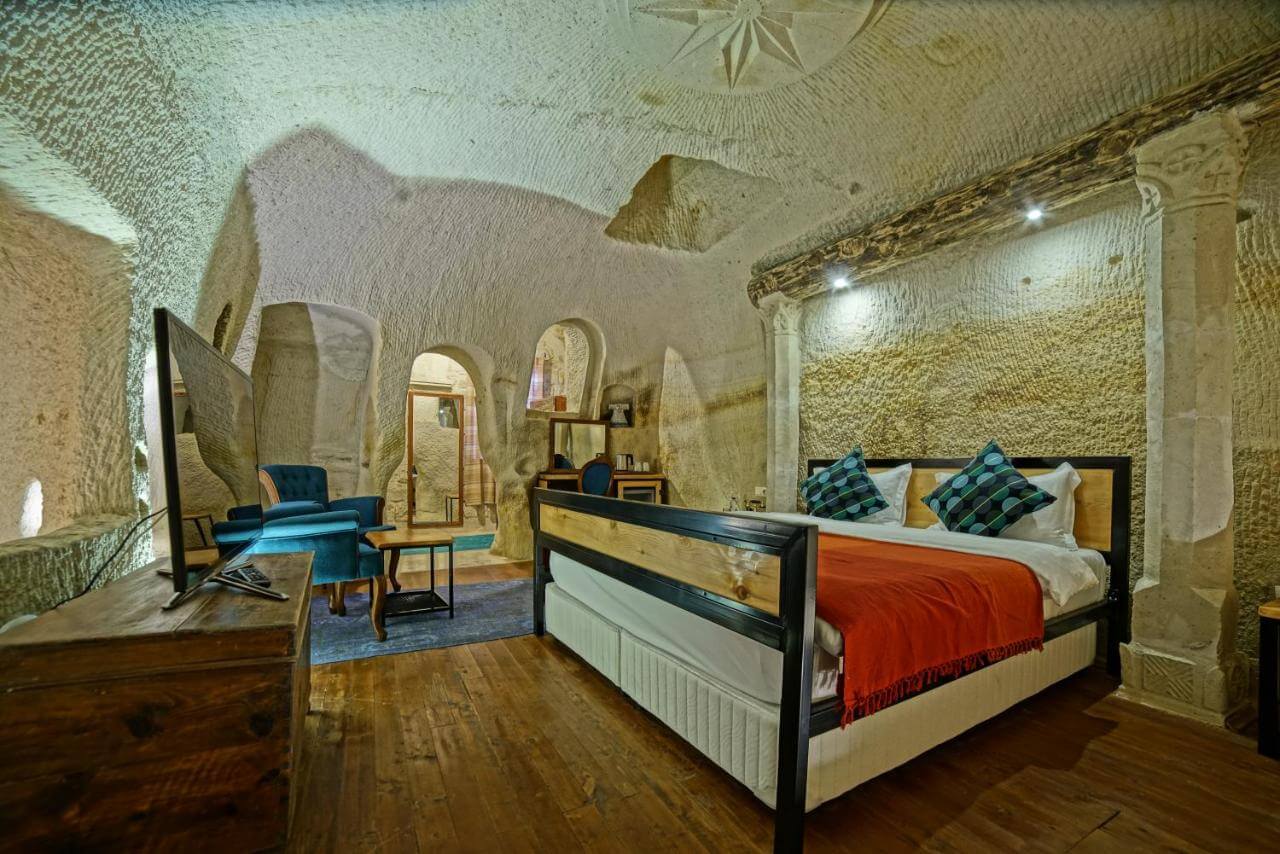 Built from carefully restored remains of ancient dwellings, the Taru Cave Hotel offers guests a unique perspective in Cappadocia. Of the 11 unique rooms, there are a variety of accommodations for different budgets, 9 are true cave suites and many are wheelchair accessible.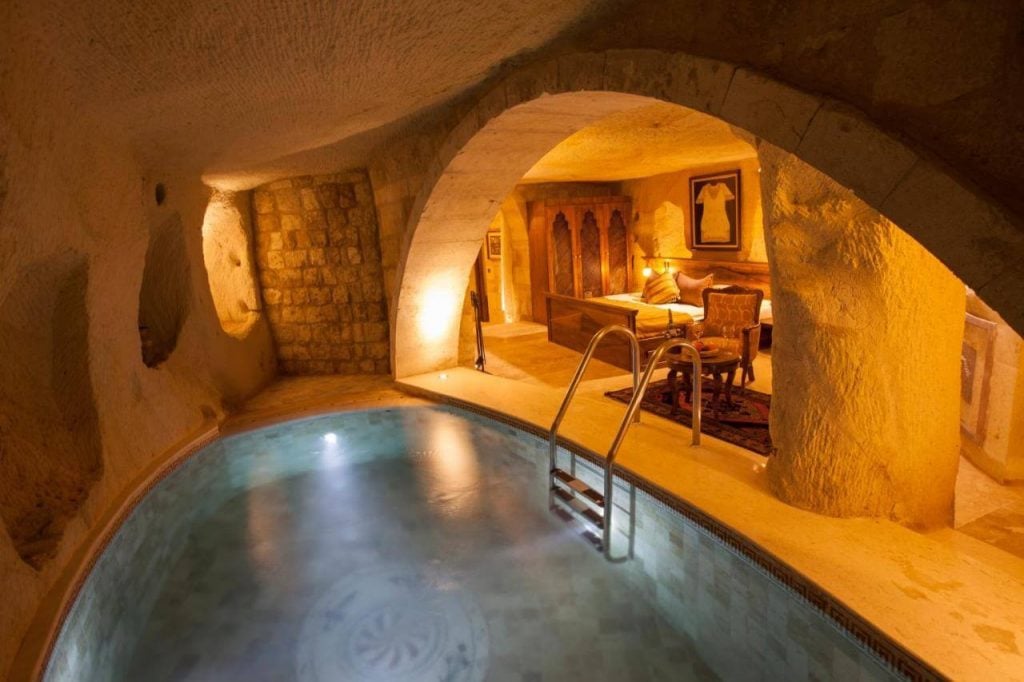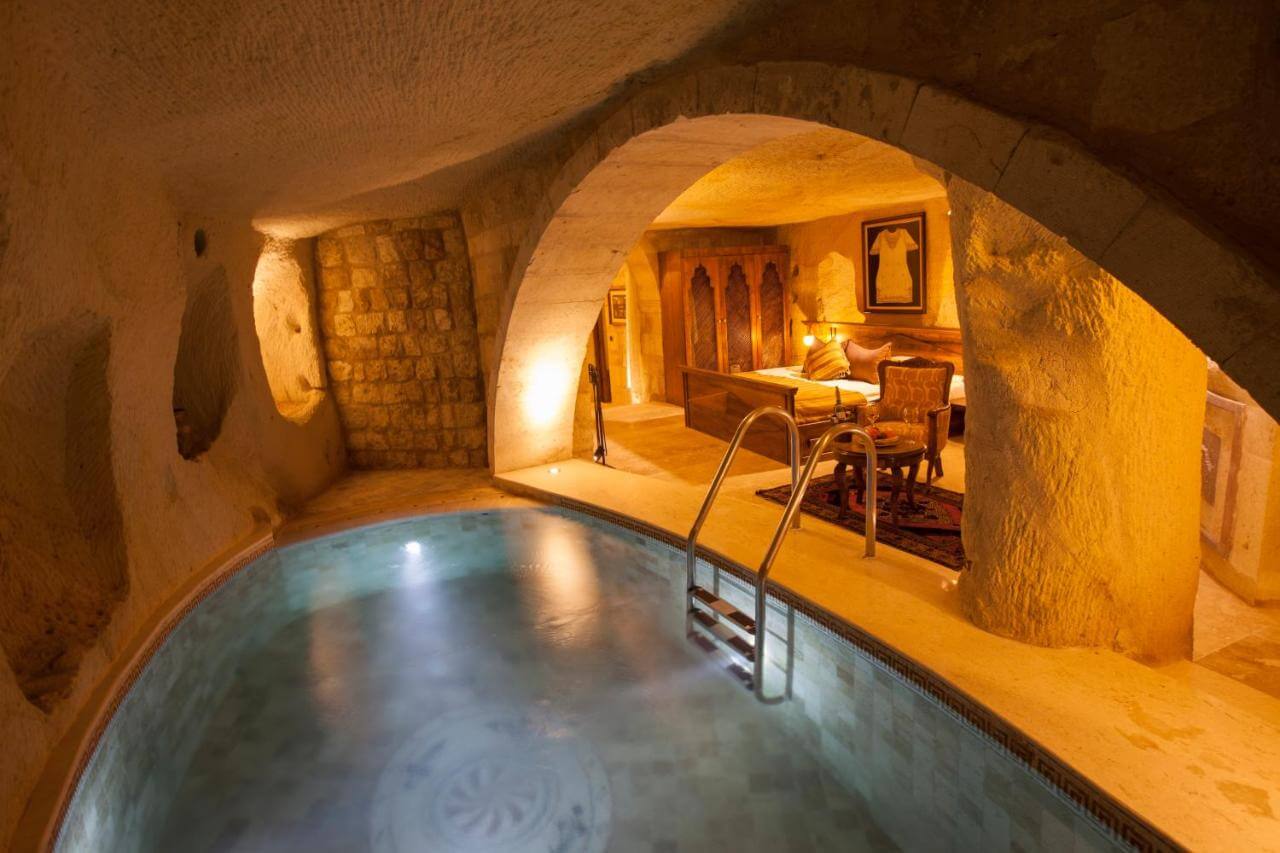 Coined as Cappadocia's first boutique hotel, Kayakapi offers cave suites, a beautiful outdoor pool setting and luxurious onsite spa. Their unique range of accommodations include private mansions as well as cave suites with private indoor cave pools!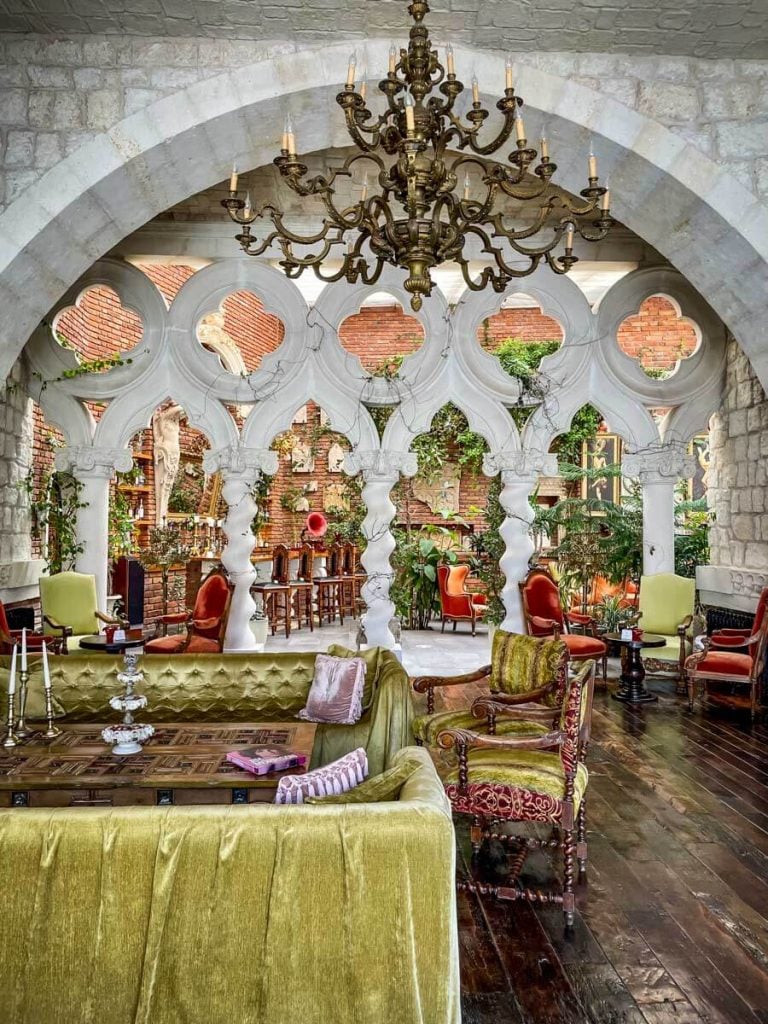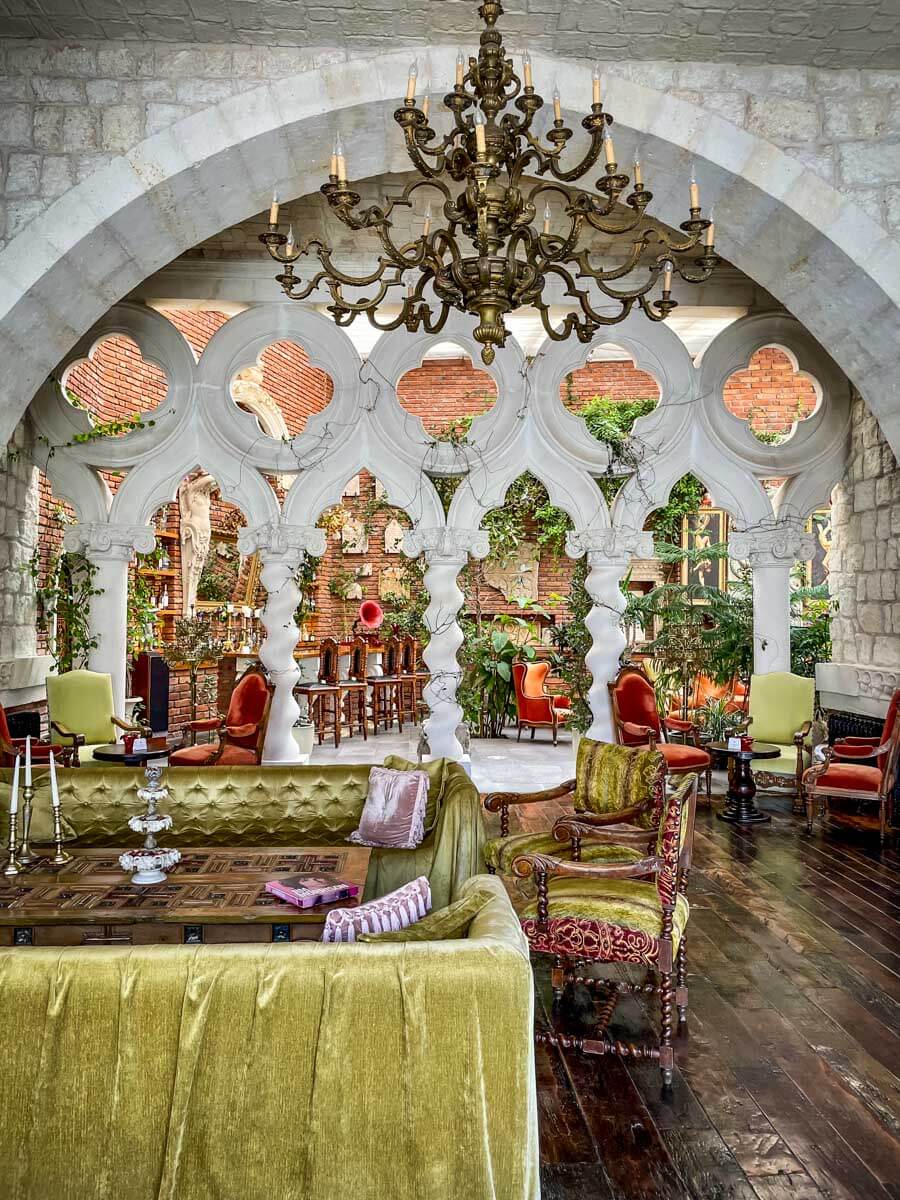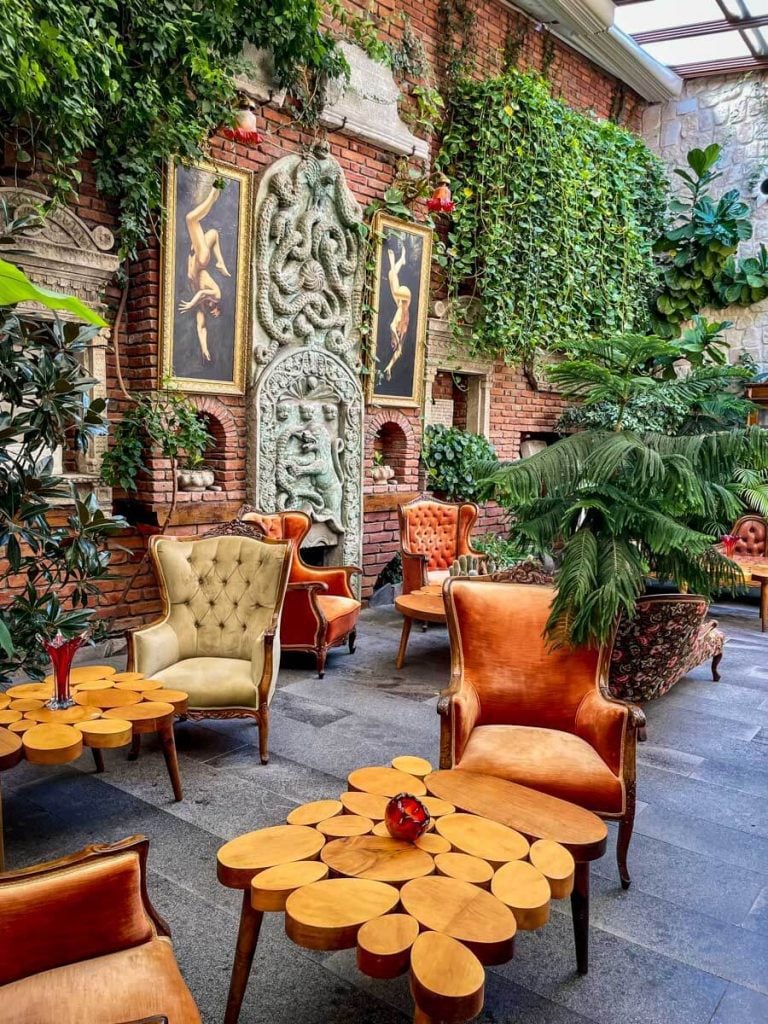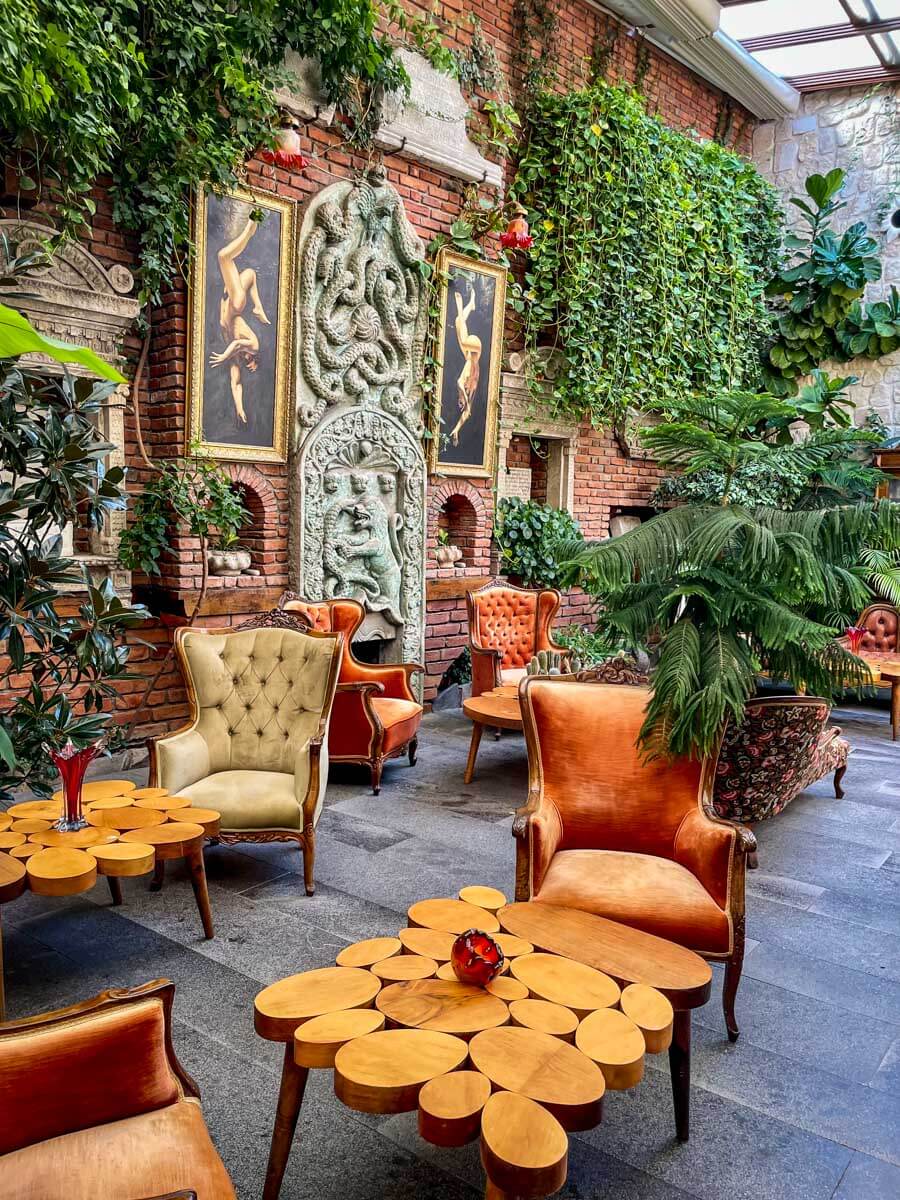 Sacred House: $$$
Possibly the most beautifully decorated boutique hotel I've ever seen. This hotel is in a 250 year old Greek mansion where the history is embedded in the luxurious design. Everything from the indoor winter garden lounge area (shown above) to the opulent indoor swimming pool and spa area is simply divine.
Seraphim Cave Hotel: $$$
This luxury boutique cave hotel offers both cave and stone rooms and one of the only indoor heated pools in the area. The historic mansion was originally constructed in 1893 and all 21 guest rooms have been beautifully restored taking special care to the distinctive details designed with comfort in mind.
Cave hotels in Ortahisar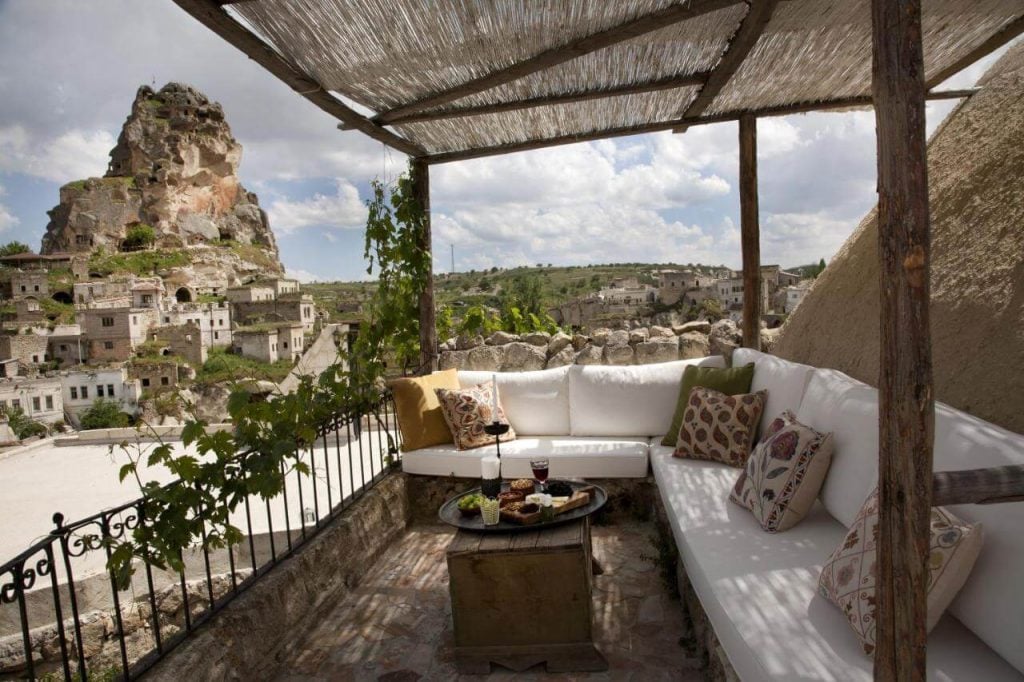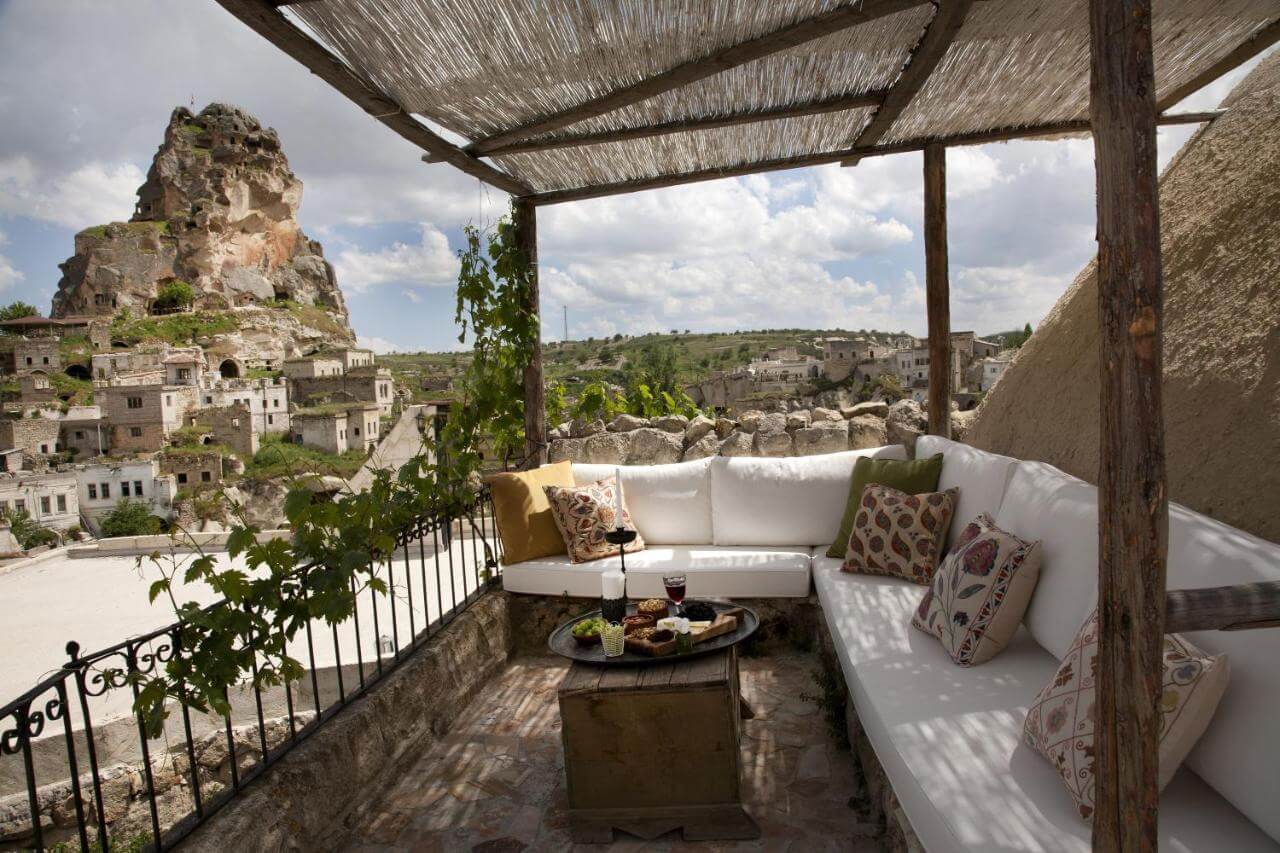 Hezen Cave Hotel: $$
Boasting 17 elegant cave rooms with an eclectic style, the Hezen Cave Hotel has been uniquely restored from an ancient dwelling. Each room features natural stone walls and a balcony overlooking the garden. Enjoy breakfast or an afternoon drink on the beautiful terrace with views of Uçhisar Castle.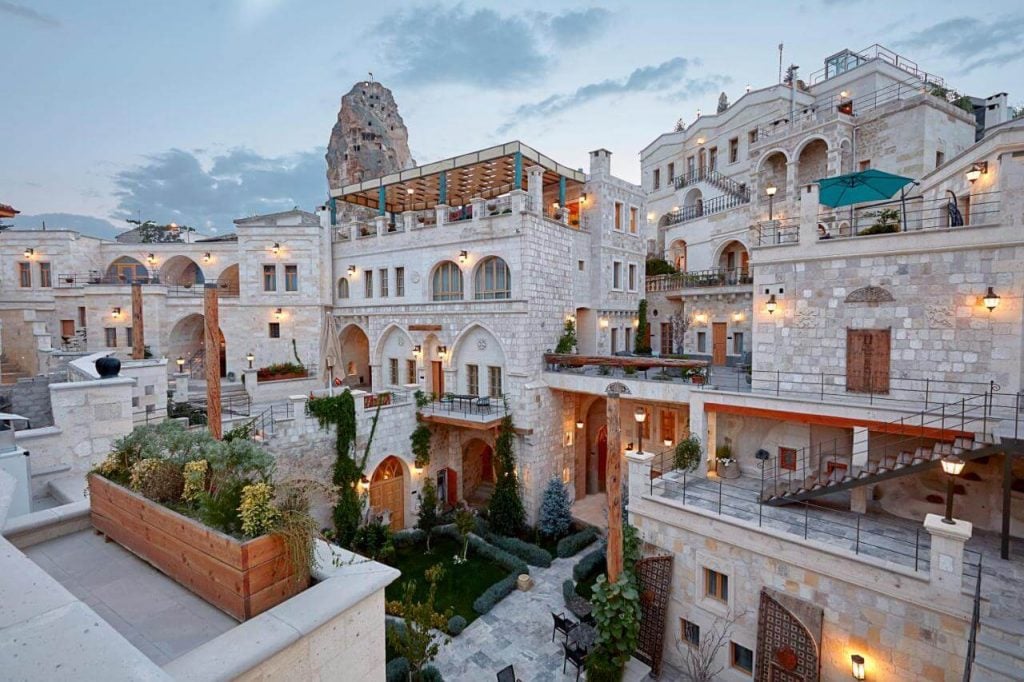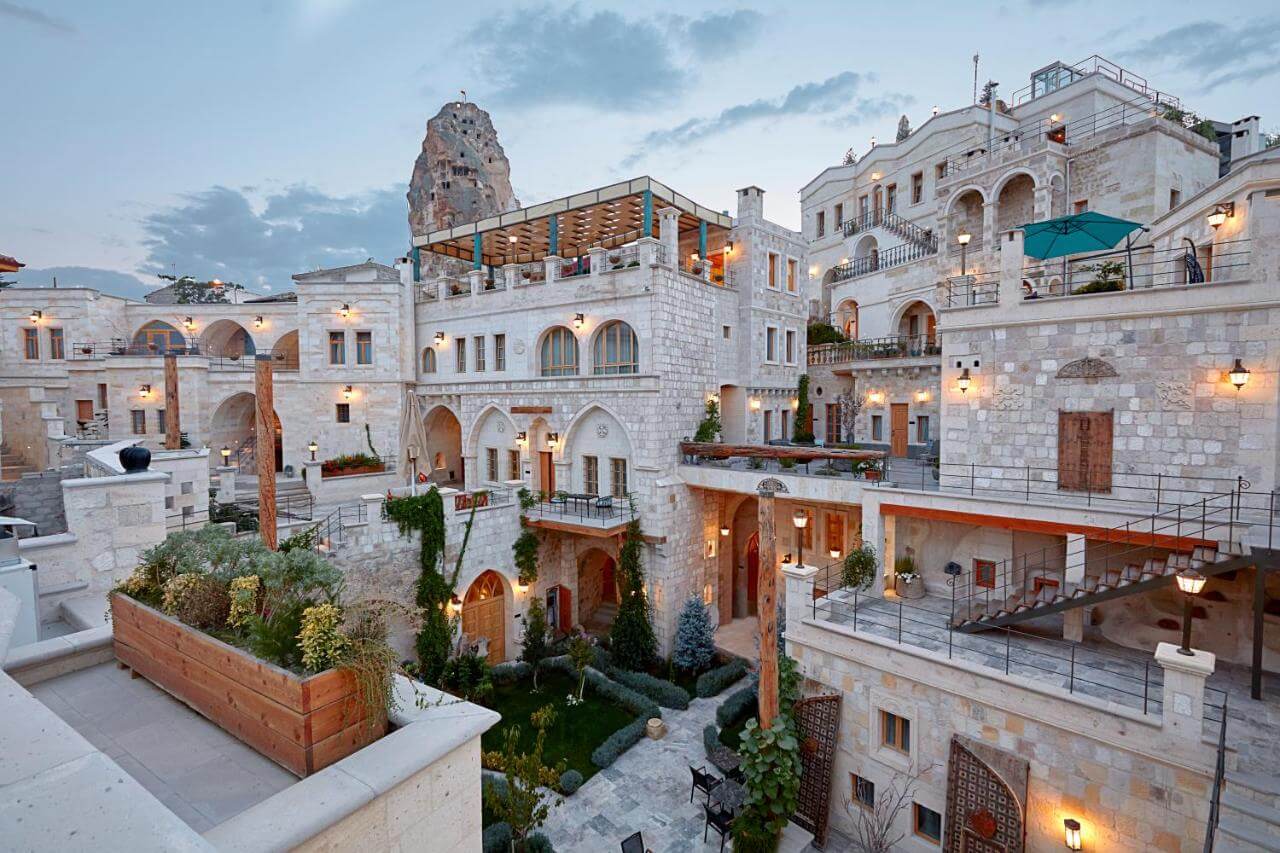 A luxurious historical hotel, created by combining the remains of historical cave dwellings and restored houses. The restoration preserved original elements such as, fireplaces, bay windows, storages and wine cellars. Amenities include an onsite restaurant, rooftop lounge space, swimming pool and a wellness center including a Turkish bath, sauna, steam room, Jacuzzi and three massage areas.
---
Are you planning a trip to Turkey?
We have TONS of resources on travel in Turkey and destinations throughout the country. Check out our Ultimate Turkey Travel Guide for all the answers to your travel questions, or read some of our favorite articles below.
Save this article on Pinterest for later!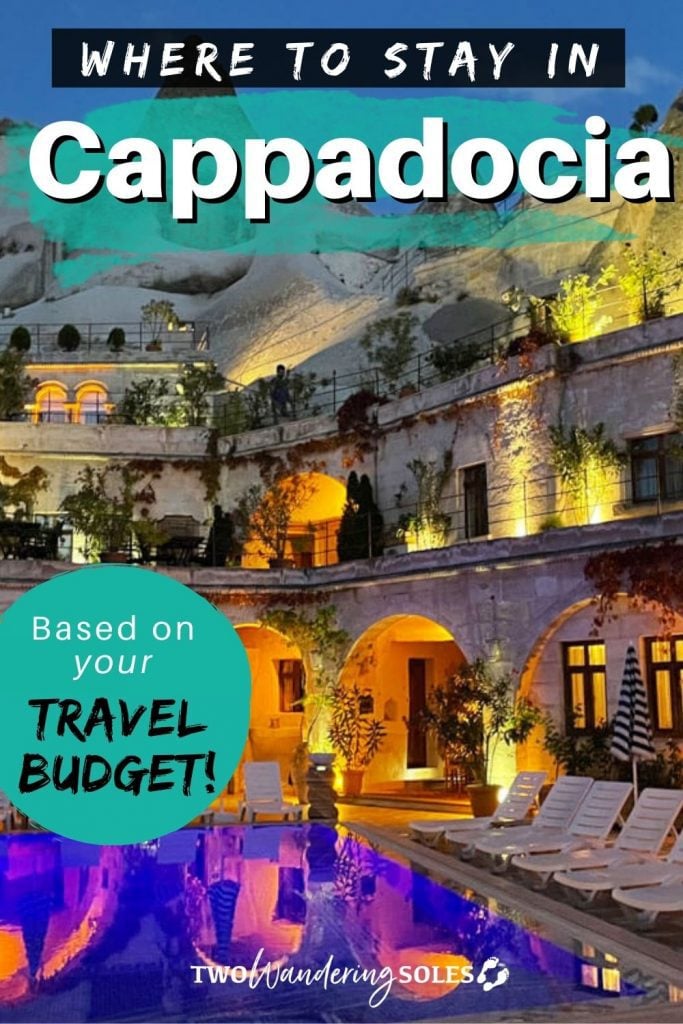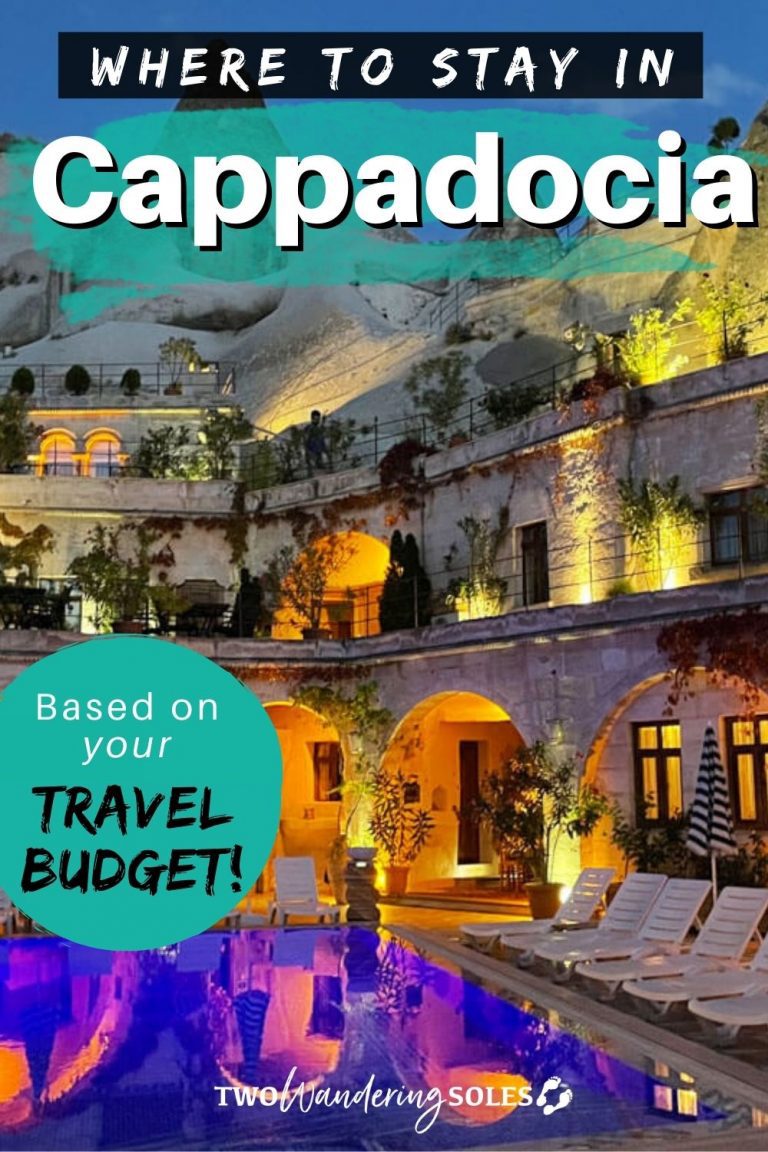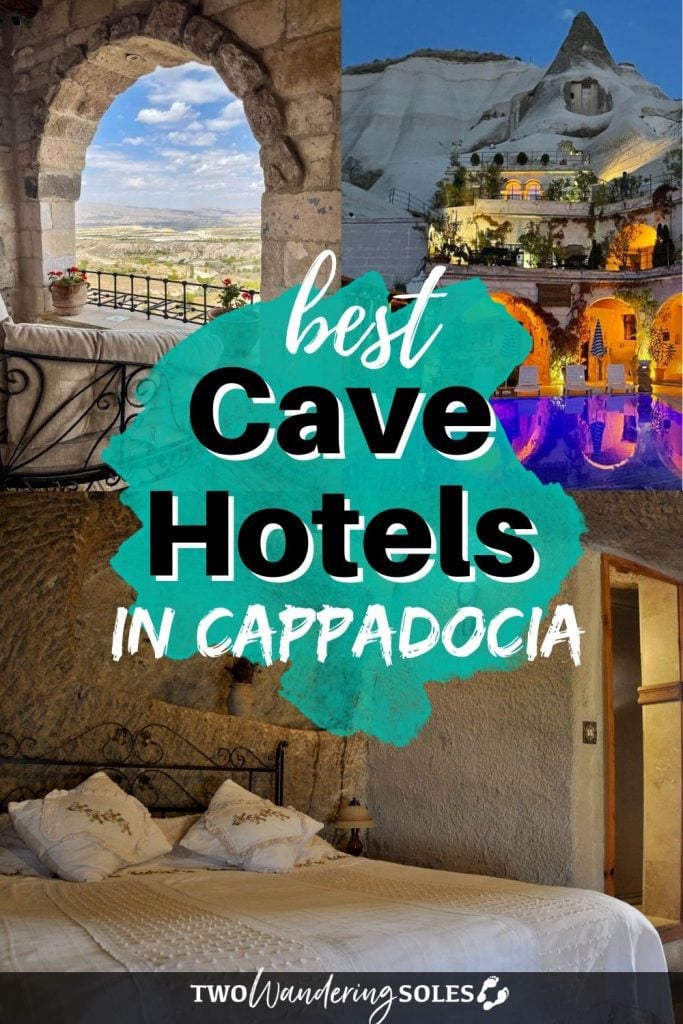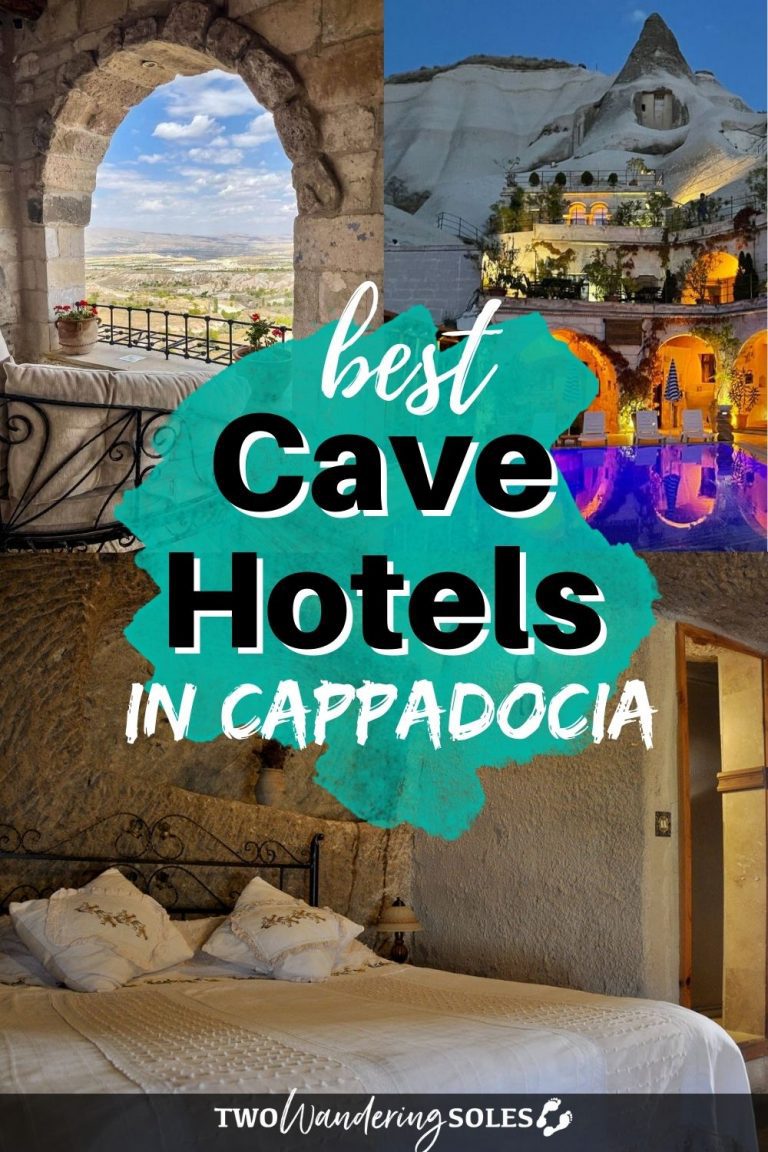 We want to hear from you!
Have you stayed in a cave hotel in Cappadocia you think we should add to this list? Comment below and let us know why!