Isla Holbox may just be Mexico's best kept secret. With pristine beaches, a laid back vibe and just enough fun things to do, the island of Holbox is hard not to love. Before you pack your swimsuit, we're sharing some essential things to know about Isla Holbox as well as the very best things to do in order to help you plan the perfect island vacation.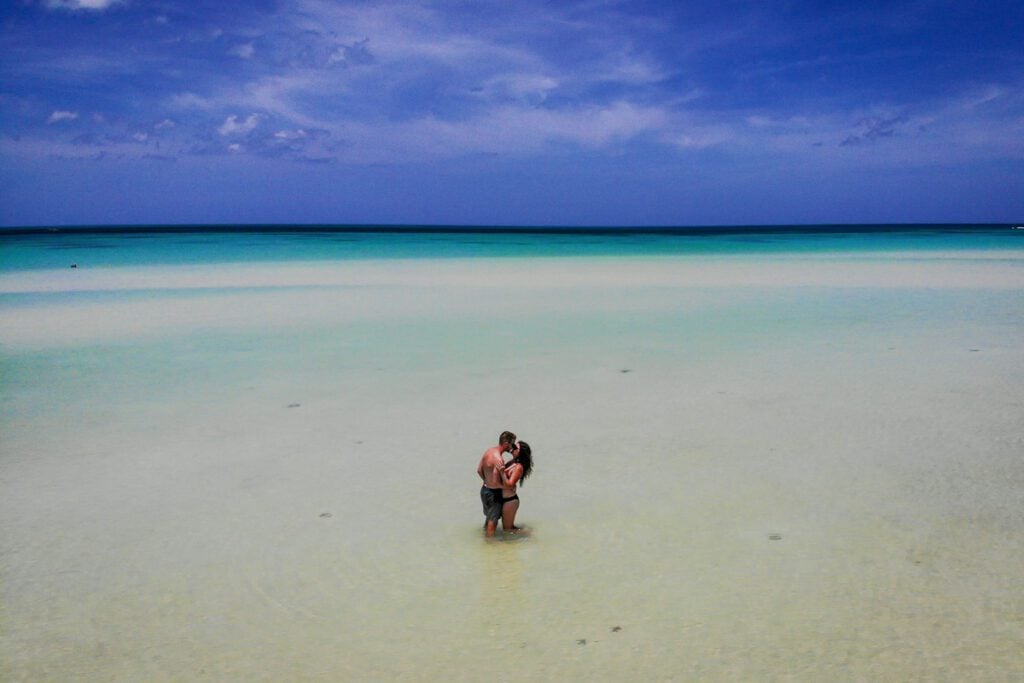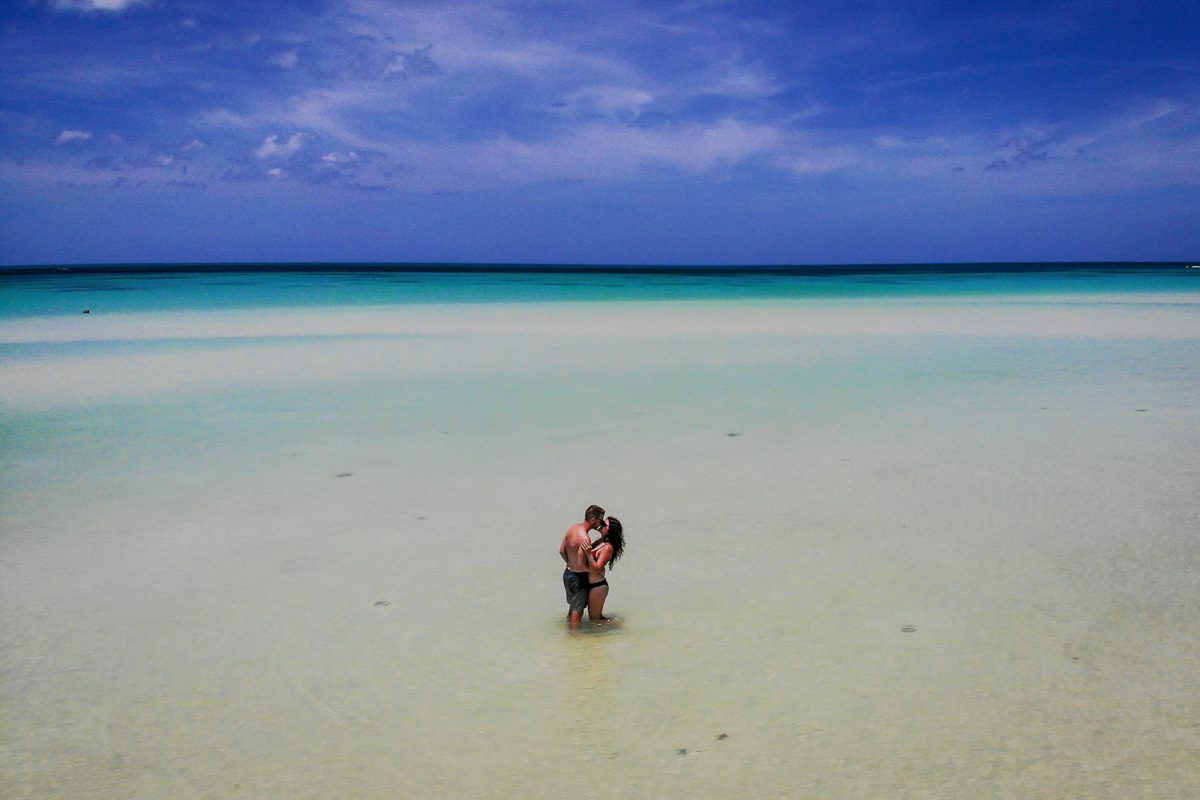 With warm, crystal waters, postcard-worthy beaches, and a laid back vibe, Isla Holbox is the epitome of the perfect island getaway.
This small island is located off the northern coast of Mexico's Yucatan Peninsula, just a 2-hour journey from Cancun.
While relatively close in distance, Holbox is a tranquil oasis that is a stark contrast to busy Cancun.
With sandy roads and golf carts instead of cars (for the most part!), Holbox oozes laidback charm and is the ultimate place to slow down and soak up island life.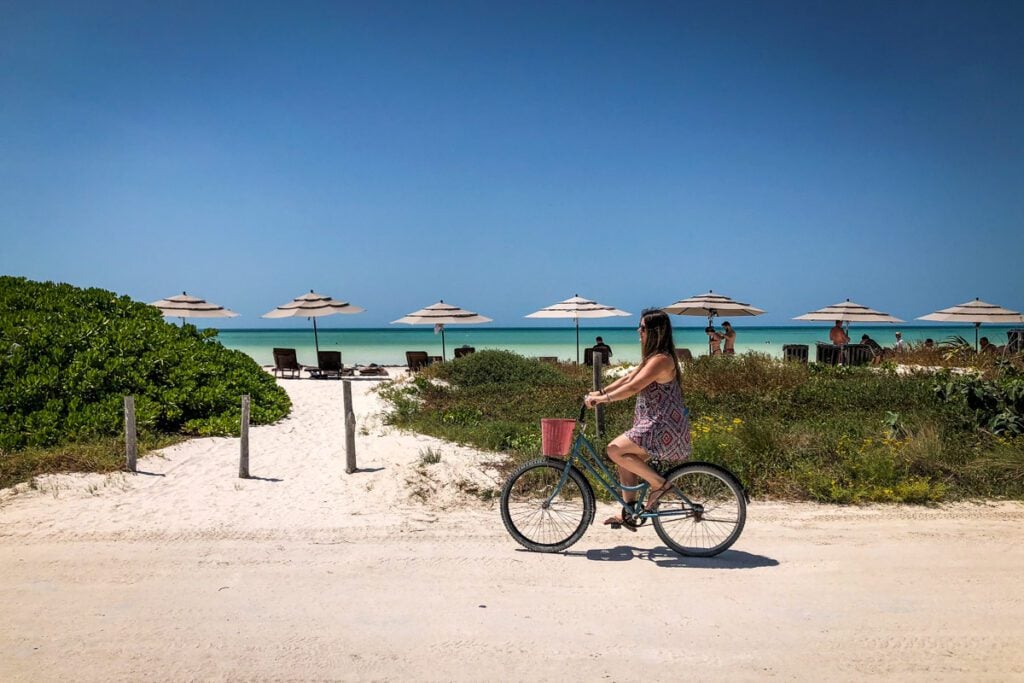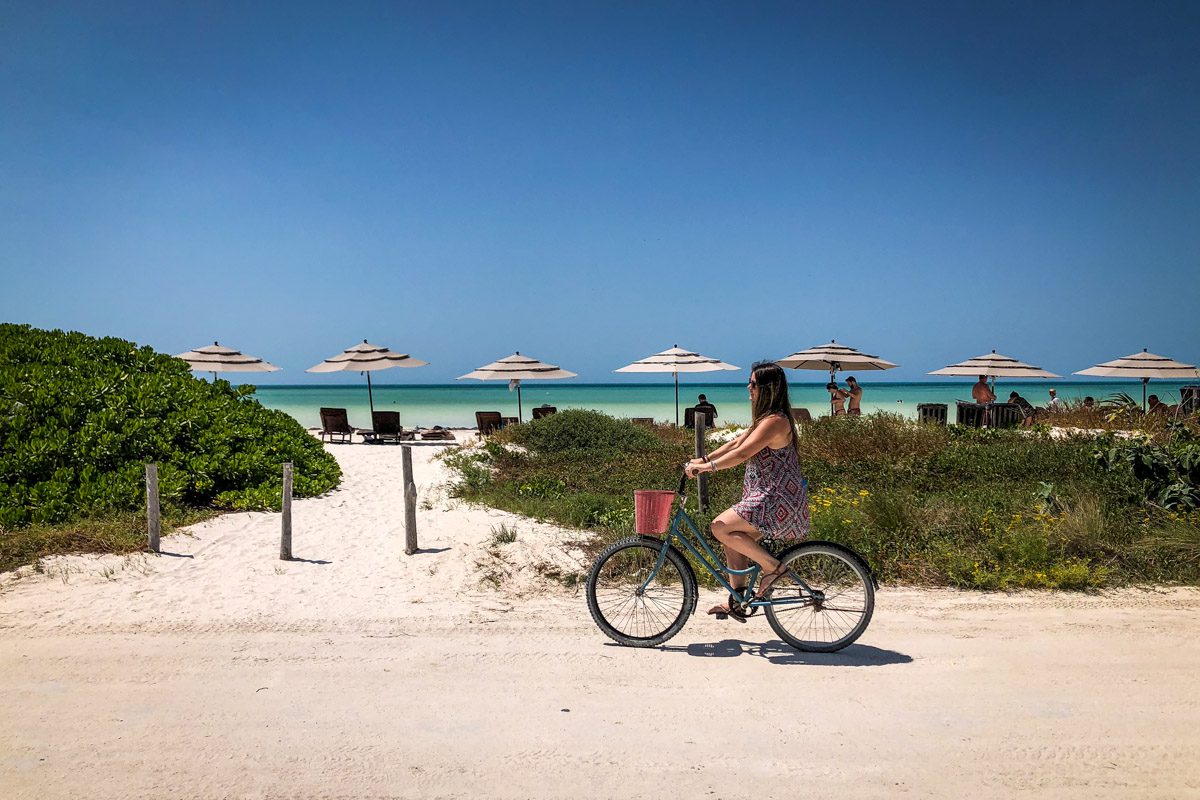 With that said, it's certainly not perfect… (we'll touch on that later!). But Isla Holbox still makes a pretty wonderful beach vacation.
Whether you're looking to post up on a hammock with a drink in hand and forget the day of the week, or you're looking for a bit of adventure, Isla Holbox checks the box.
Before we explain why we love this island and start to list all the fun things to do in Holbox, let's get one thing out of the way…
Holbox is pronounced hole-bah-shh.
Phew, now you won't be saying it wrong in your head for the rest of this article. Don't you hate when that happens?!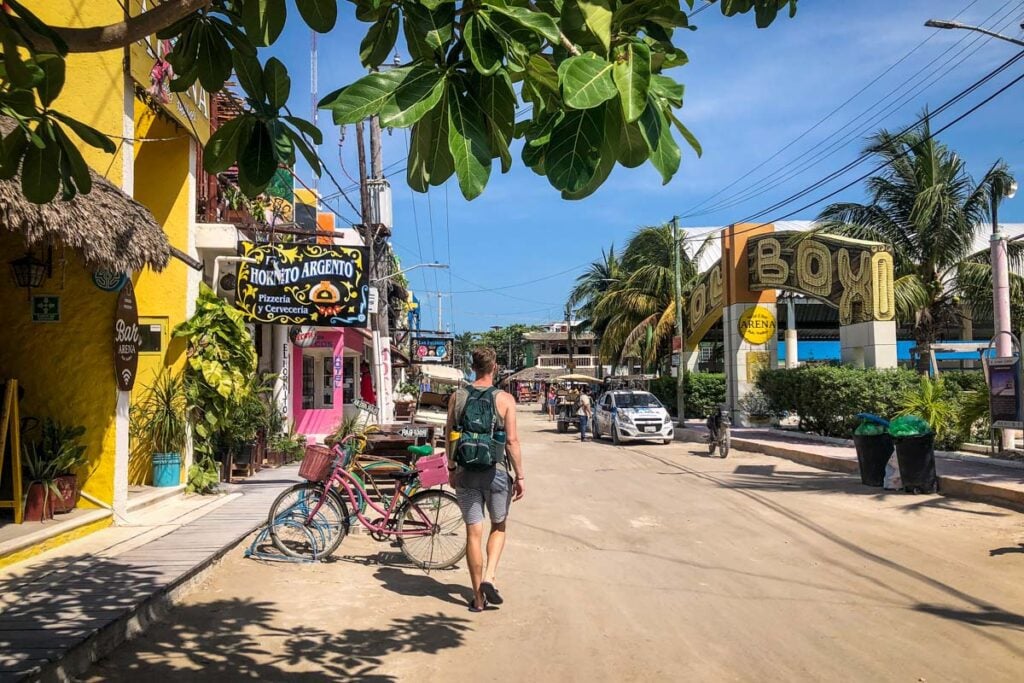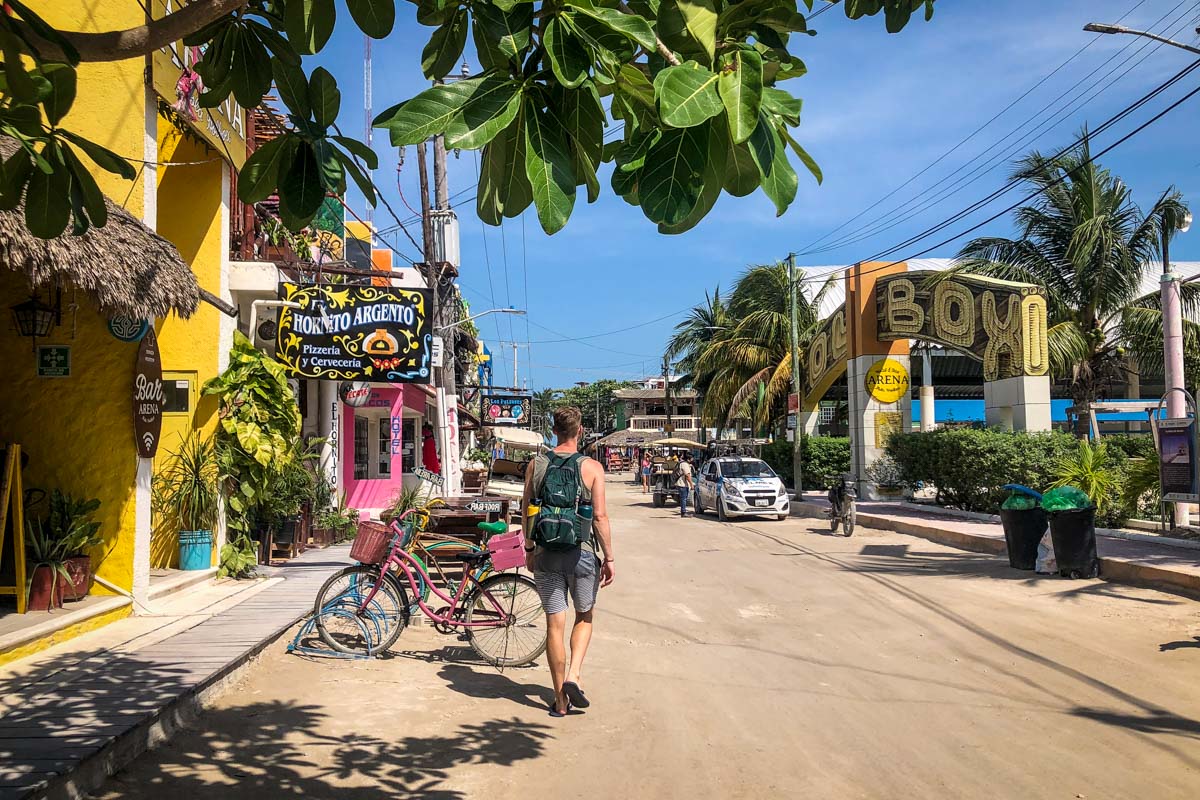 Now, onto the good stuff…
In this article, we'll go over the best things to do in Holbox, as well as where to eat (& where not to eat – trust us on this!), the cutest hotels, what to pack, and some essential eco-friendly tips.
Let's get started planning your perfect island getaway!
Isla Holbox Travel Guide
Psst! If you have time to discover more of the country, don't miss our favorite underrated and off-the-beaten-path places to visit in Mexico.
---
Top things to do in Holbox
Here's a quick list of the very best things to do in Isla Holbox:
Snorkel with whale sharks (from mid-May through mid-September only)
Walk the sandbar to Punta Mosquito
Eat Holbox's famous lobster pizza
Walk rescue dogs on the beach
Catch a sunset at Playa Punta Cocos
Now your trip to Holbox is almost planned!
For insider tips and all the details on how to do these activities yourself (plus some other really fun things to do!), keep reading…
1. Start your day with a perfect smoothie bowl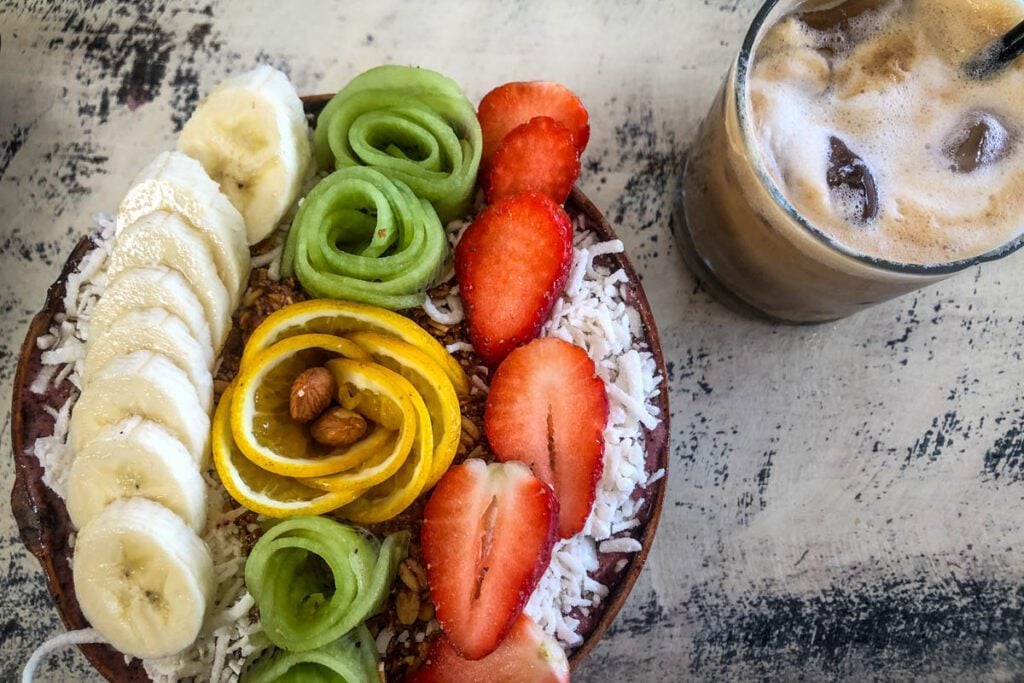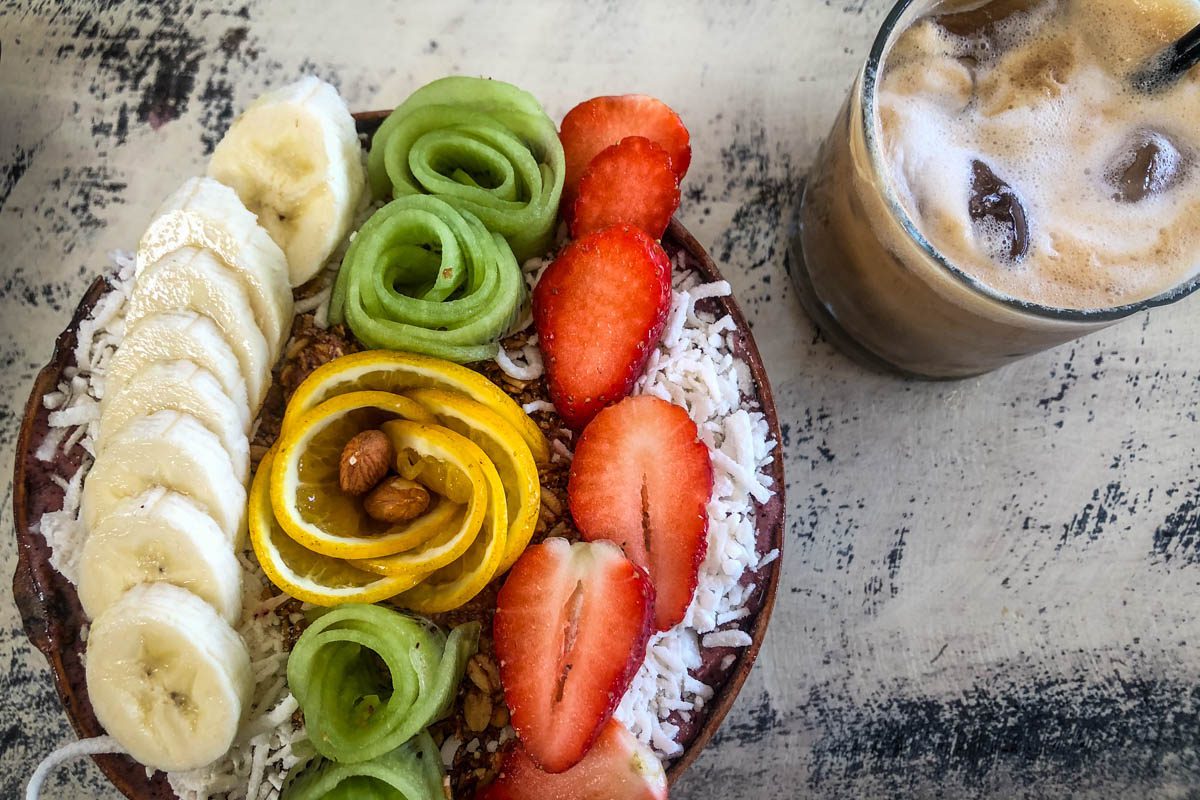 If you really want to get into the whole "island life" thing, there's no better way to start your day than with a smoothie bowl for breakfast.
Painapol is a charming, open-air cafe that serves the best smoothie bowls in town. No doubt about it.
Actually, they were the best smoothie bowls we had in all of Mexico (and we tried a lot). They were so good we came here for breakfast twice during our stay in Holbox. Repeating restaurants on trips is something we don't often do, unless it's really good.
Good to know: This place is very popular, so you'll either need to get here early or be prepared for a wait.
2. Walk rescue dogs on the beach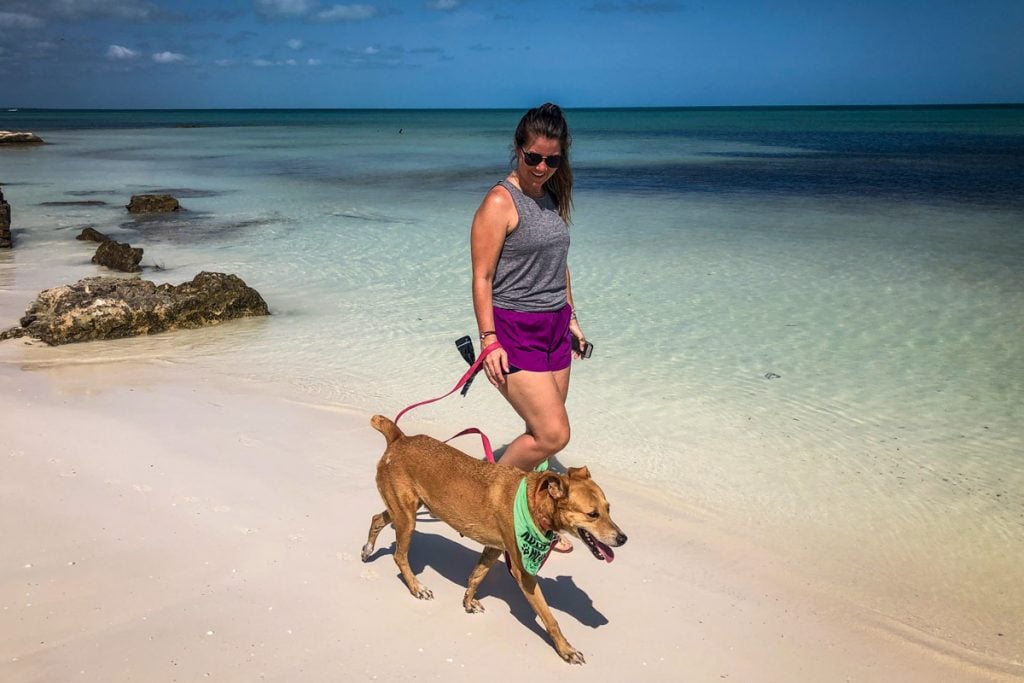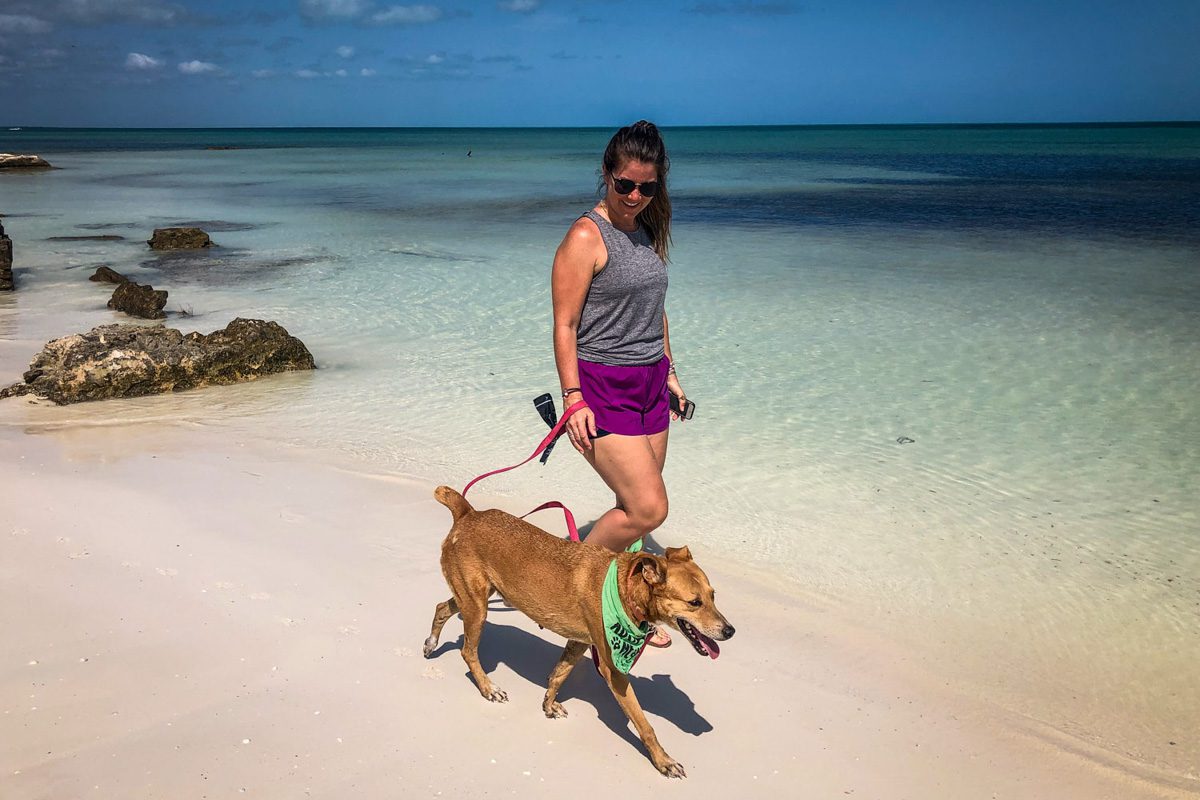 One of our favorite things we did in Holbox is walk rescue dogs at Refugio Holbox Animal Sanctuary.
This sanctuary rescues any animal that is in need on the island – from dogs, to cats, to birds, and even a (kind of famous!) raccoon!
They welcome visitors to volunteer in any way they can while on Holbox. One easy and rewarding way to help out is by taking a dog (or 2!) on a walk to get them their daily exercise.
Stop by and be paired with a dog, and you will receive instructions as well as a leash and some bags for collecting poo.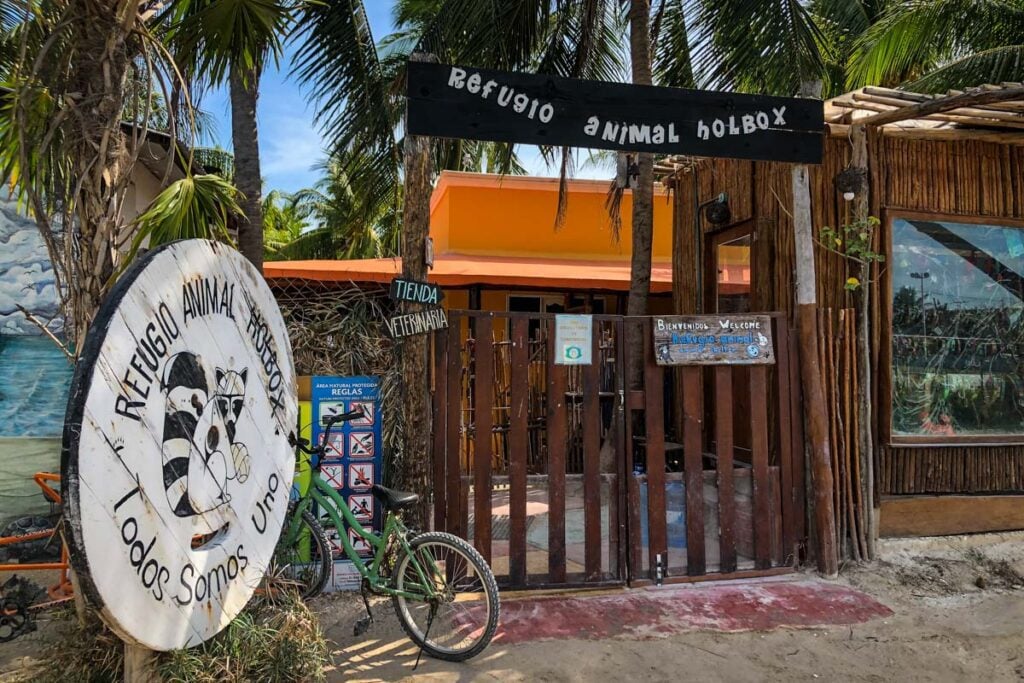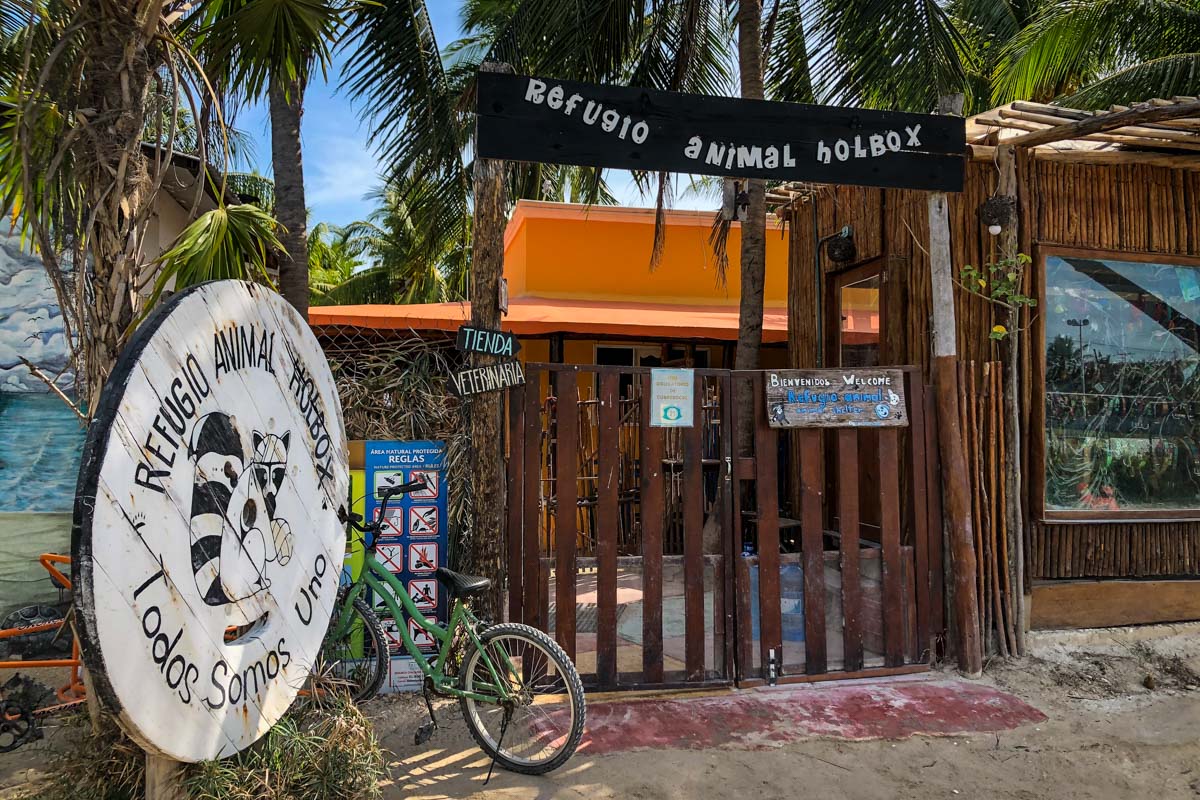 The sanctuary is located just steps from the beach, so you can take your new furry friend for a stroll at the water's edge.
If you really fall in love with them, many of the dogs are up for adoption. Or you can simply make a donation to help the shelter continue doing important work of rescuing Holbox's animals in need of help.
Psst! Be sure to check out our bucket list of incredible things to do in Mexico (that aren't beaches) before you leave!
3. Swim with whale sharks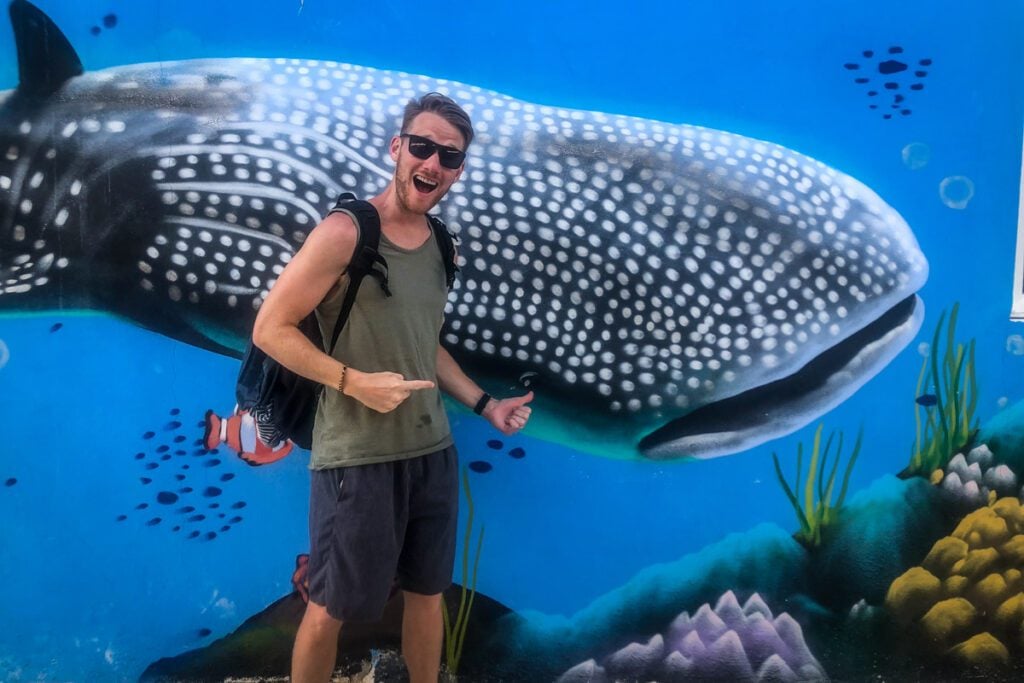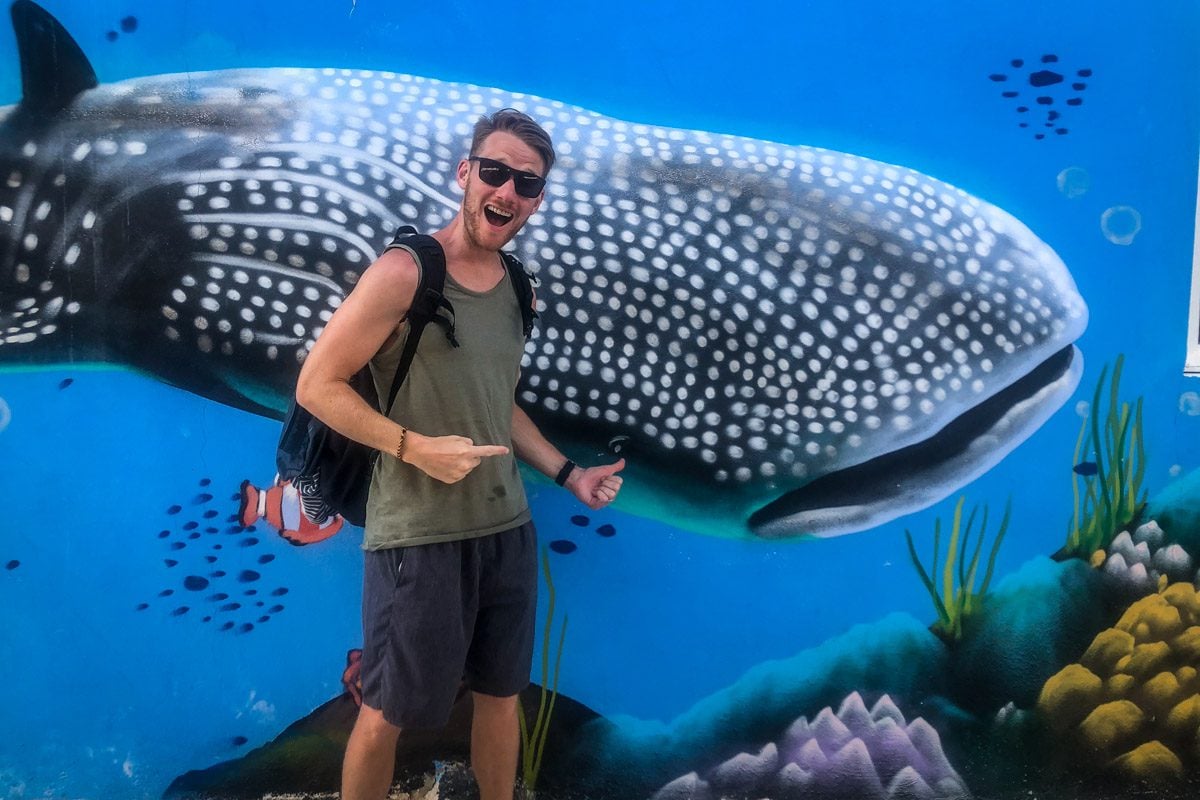 Isla Holbox has one of the largest congregations of whale sharks in the world.
These gentle giants are the largest fish in the ocean, reaching impressive lengths up to 39 feet long.
Isla Holbox is one of the top destinations in the world to see them!
They arrive in the Yucatan Peninsula from mid May/June to September. You'll want to plan your tour during these months (particularly July) for your best chances of spotting them.
There are a variety of tour operators that run whale shark tours in Isla Holbox. This can make choosing a responsible tour tricky, so ensure they're authorized by SEMARNAT, Mexico's environmental ministry, before committing.
Tips for swimming with whale sharks
Do not touch the sharks. Nuff said.
Keep at least 5 meters (16 feet) between you and the shark. This is pretty self-explanatory and is common practice in sustainable animal tourism.
Bring nausea tablets. The boat journey is around 2-hours from the island and can be a bumpy ride.
Only wear biodegradable, reef safe sunscreen. Or opt for a hat and long sleeves for better protection. In most commercial sunscreens there are chemicals that harm the reefs and wildlife.
4. Try Holbox's famous Lobster Pizza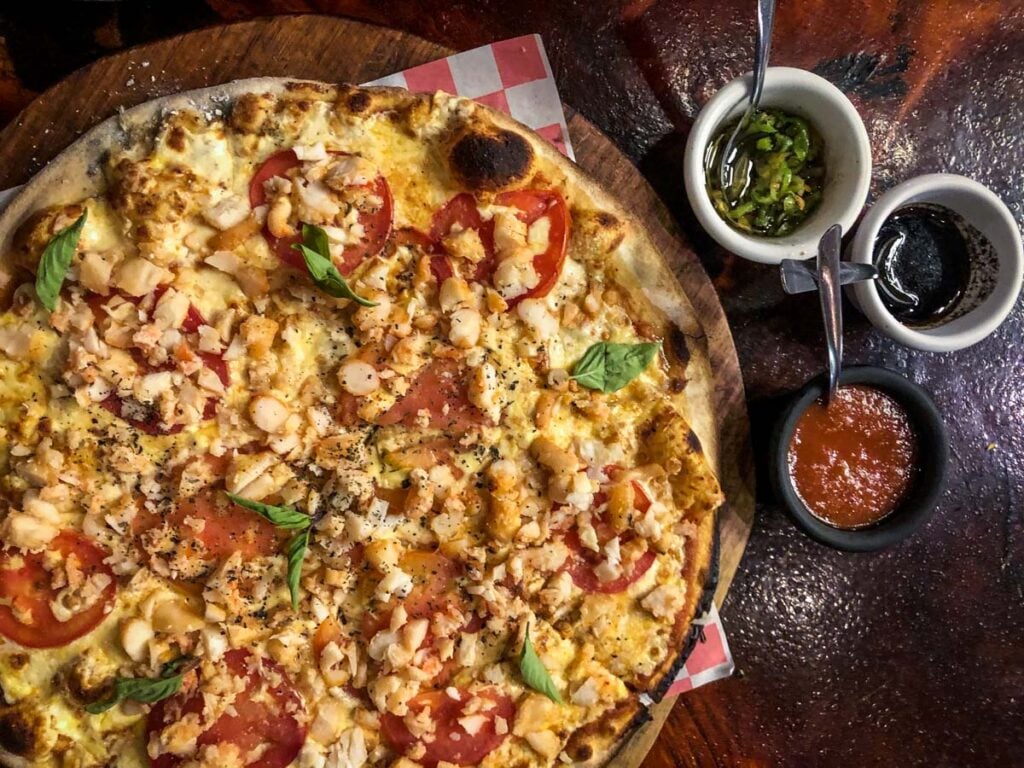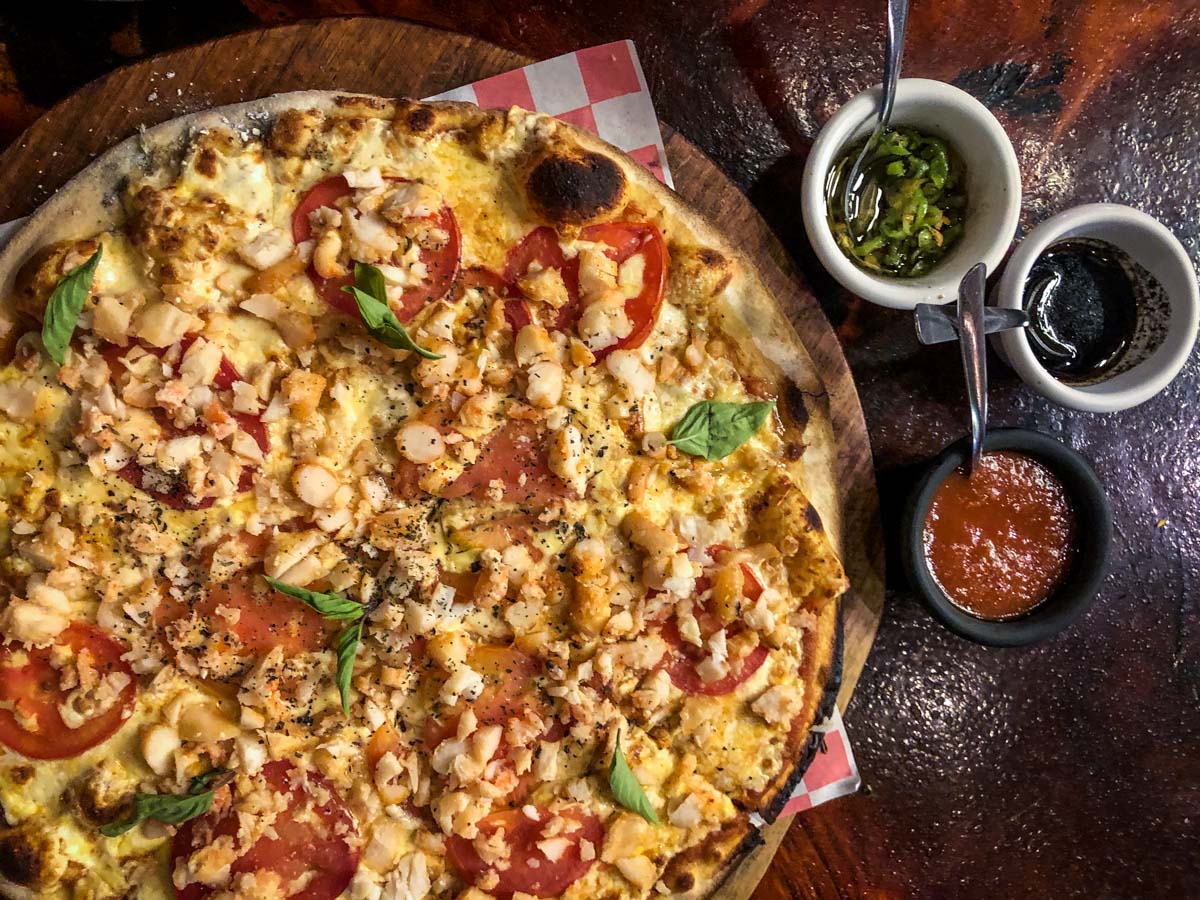 One of the most famous "Holbox dishes" is not Mexican at all… it's pizza.
Lobster pizza, to be more exact.
Most restaurants that specialize in seafood on the island have some version of Holbox's signature dish. But the best place to try it (according to our Internet sleuthing) is at Roots Pizza.
The tables at this outdoor restaurant are nestled between trees and reggae music plays in the background, creating a friendly, jungle atmosphere.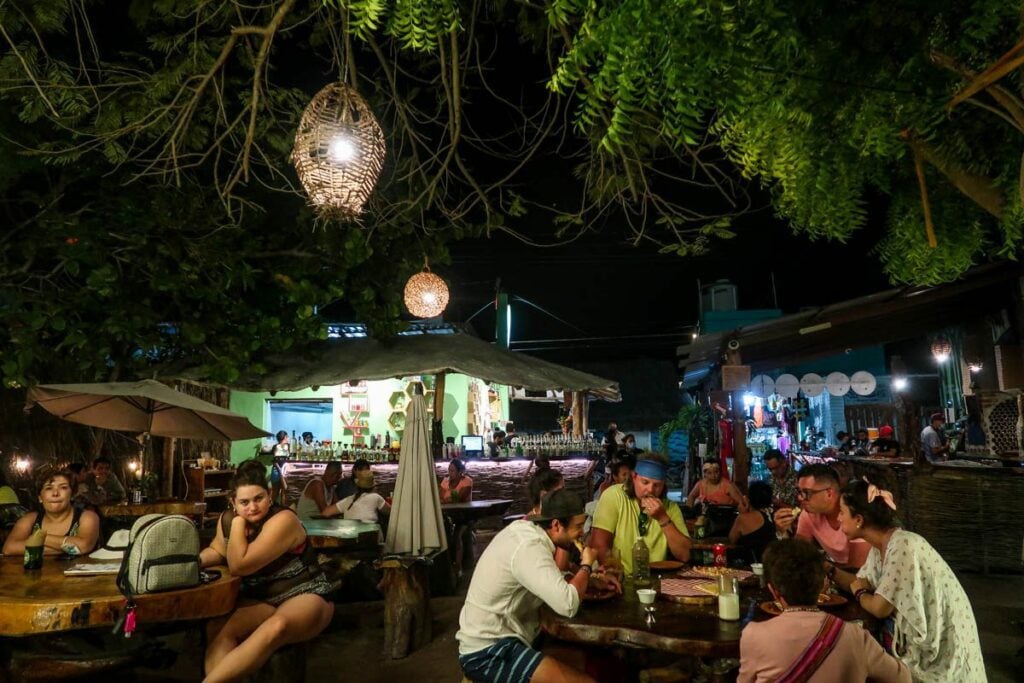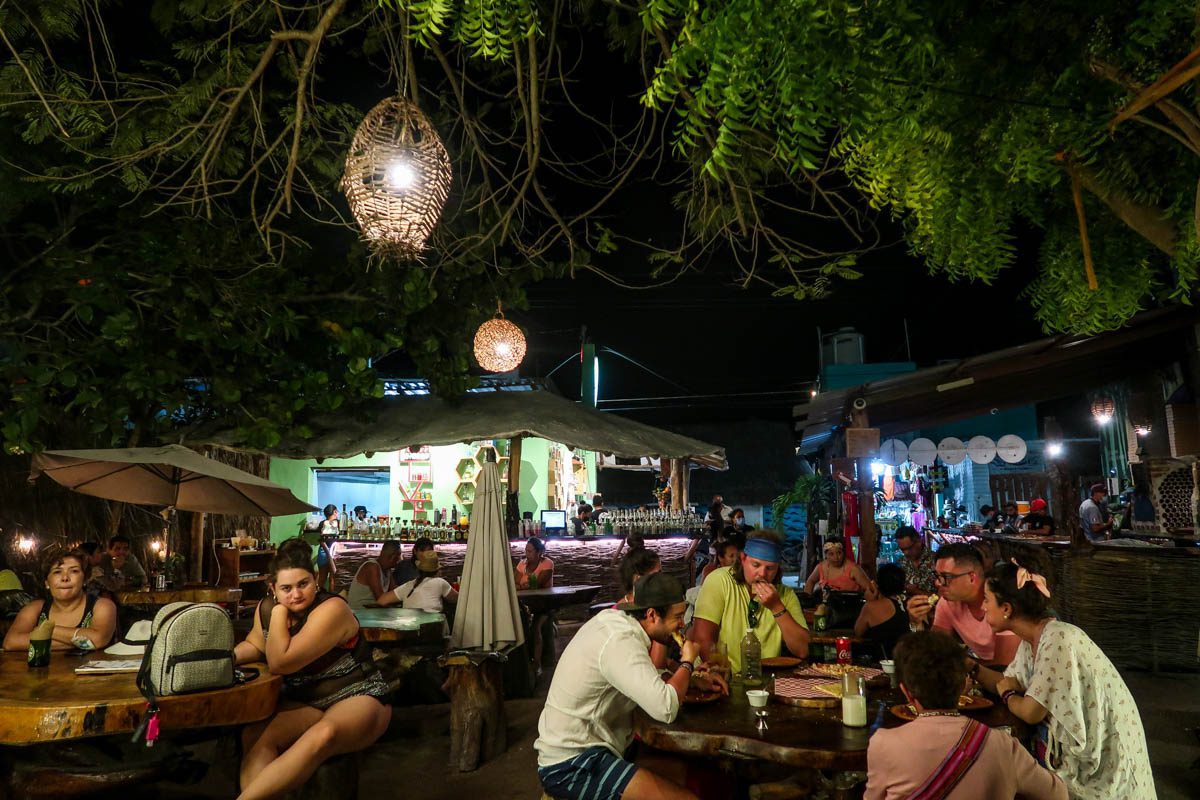 Roots has lots of different pizza options on the menu, but the most popular one on the menu is without a doubt the lobster pizza. At 600 pesos (about $32) for a 12-inch 'za, it's definitely on the pricey end, especially for Mexican standards. But there's quite a bit of lobster.
And it's good. Really good, in fact. And came served with 3 house made sauces on the side.
Personal Note: For some reason, our pizza did not come with the lobster tail on top, like we kept seeing pictures of. I think I read that it can be seasonal. It was a bit of a bummer, but the pizza was very good, so after a few bites I forgot about the missing tail.
In addition to pizza (and other food options), there's an extensive list of mezcals and cocktails.
5. Eat vegan Mexican food in a hidden garden cafe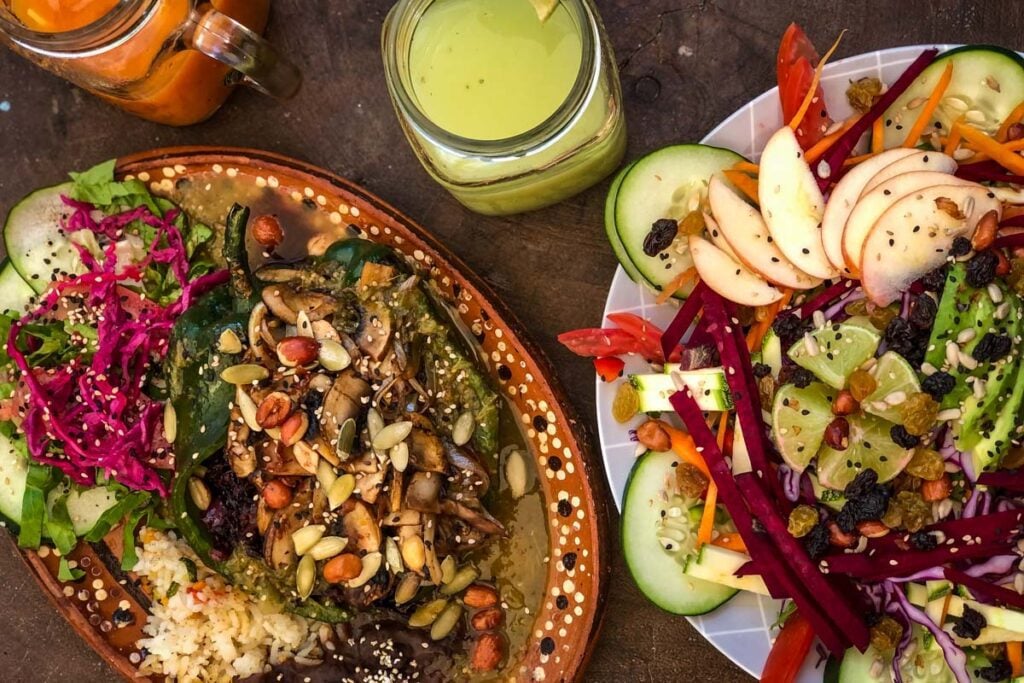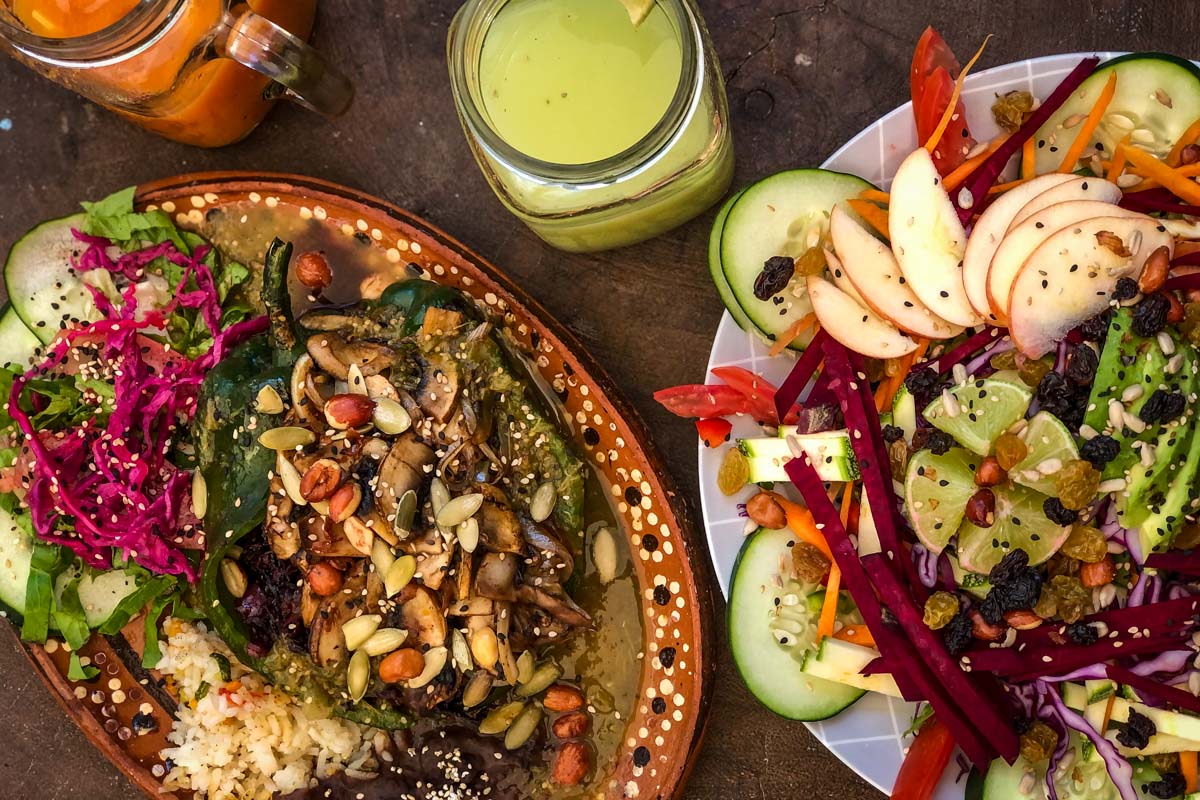 Find your zen at Arte Sano, a peaceful cafe that specializes in vegan Mexican fare.
Sit in their back garden, which feels like a hidden oasis, and sip on some fresh jugo while you wait for your meal.
We were really impressed with their inventive, colorful and healthy takes on classic Mexican foods, like enchiladas and chile relleno. They also have Western breakfast options (like pancakes and smoothie bowls), making this a great place to start your day or take an afternoon break or grab a casual, healthy dinner.
6. Get fresh juice & mingle with locals at the mercado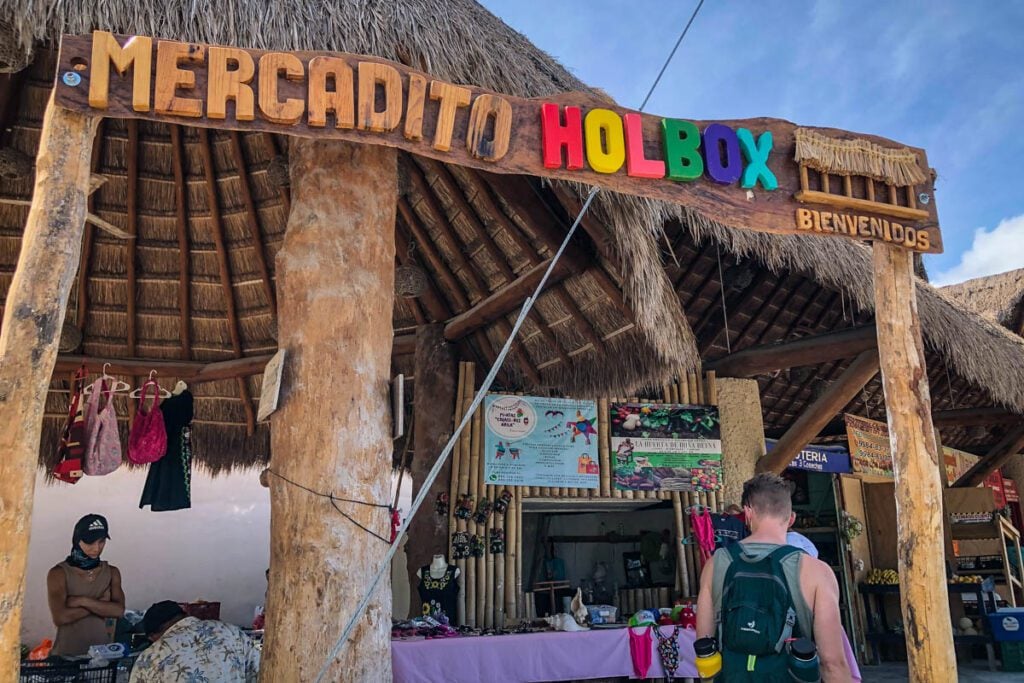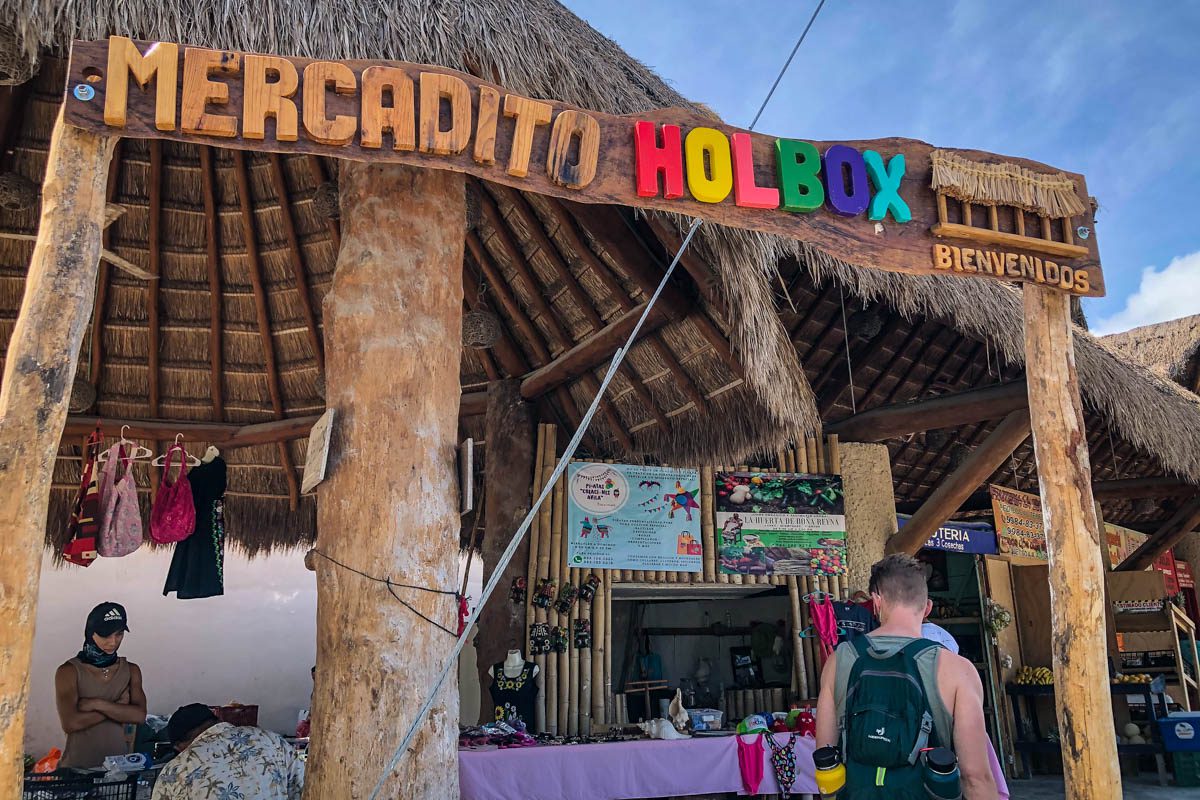 If perfectly Instagrammable smoothie bowls just aren't your thing (that's okay!), this will be more your speed…
Just about every town in Mexico has a local mercado (or marketplace), and Holbox is no exception.
If you're sick of the touristy cafes and want a more local vibe, the island's mercado is the real deal.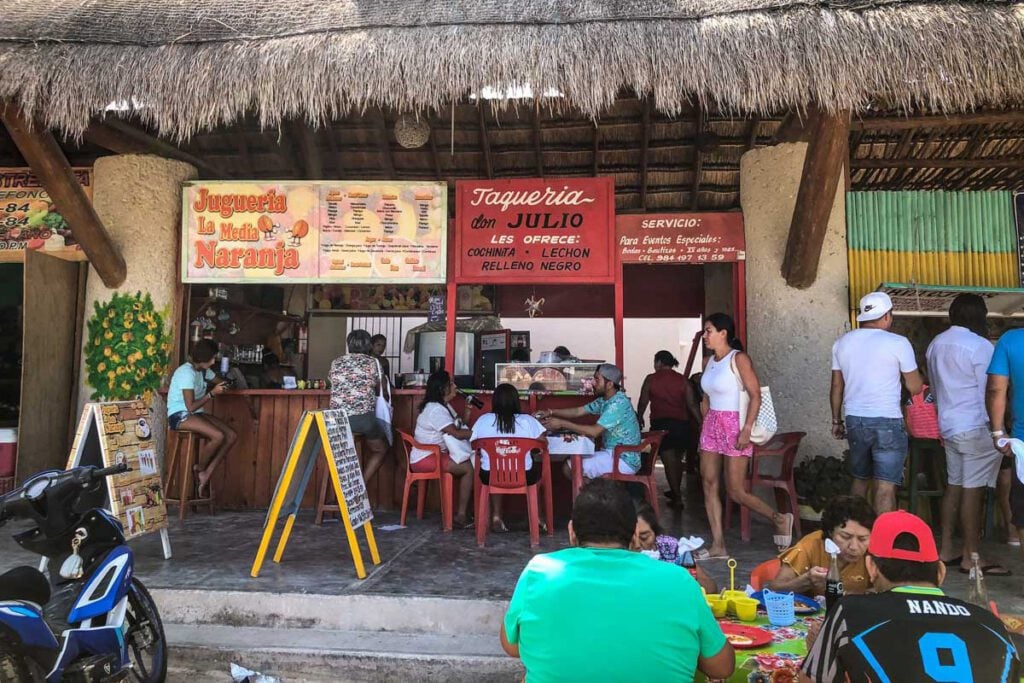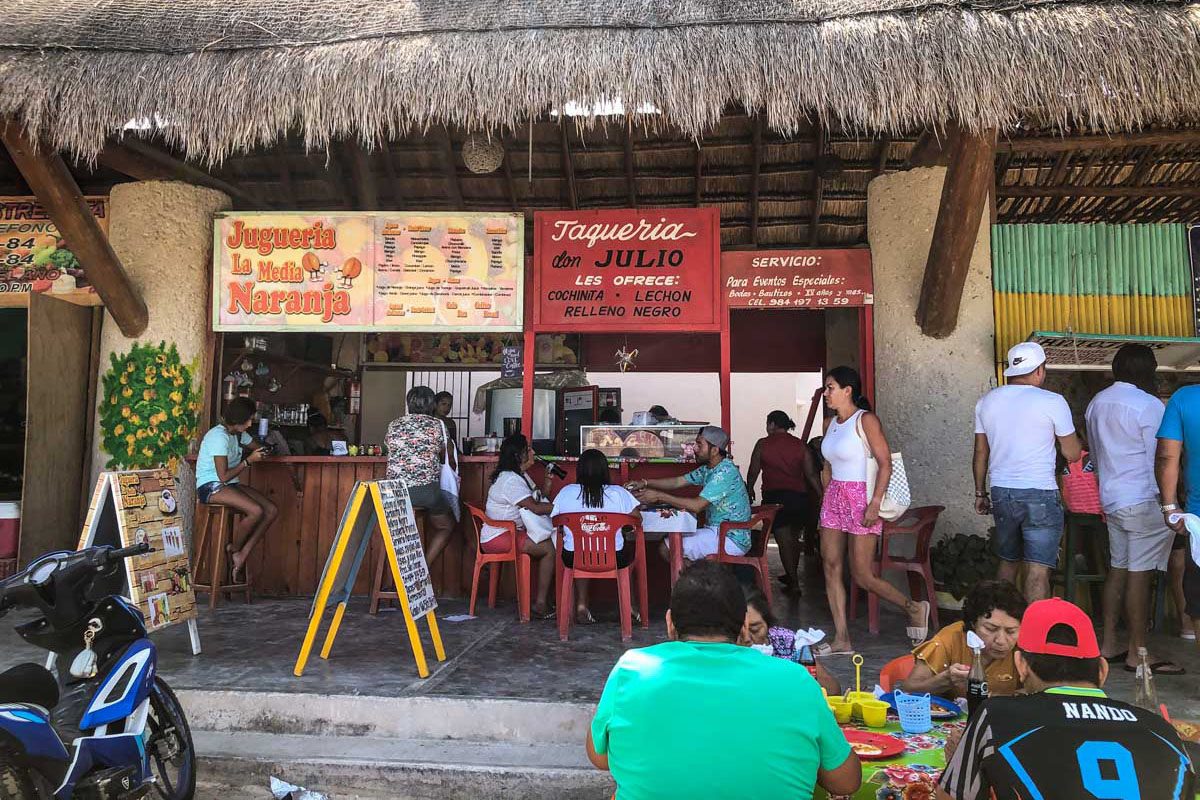 Grab tacos or freshly squeezed juice and practice your Spanish, as this is one of the places on the island where you'll see way more locals than tourists.
7. Explore Isla Holbox on wheels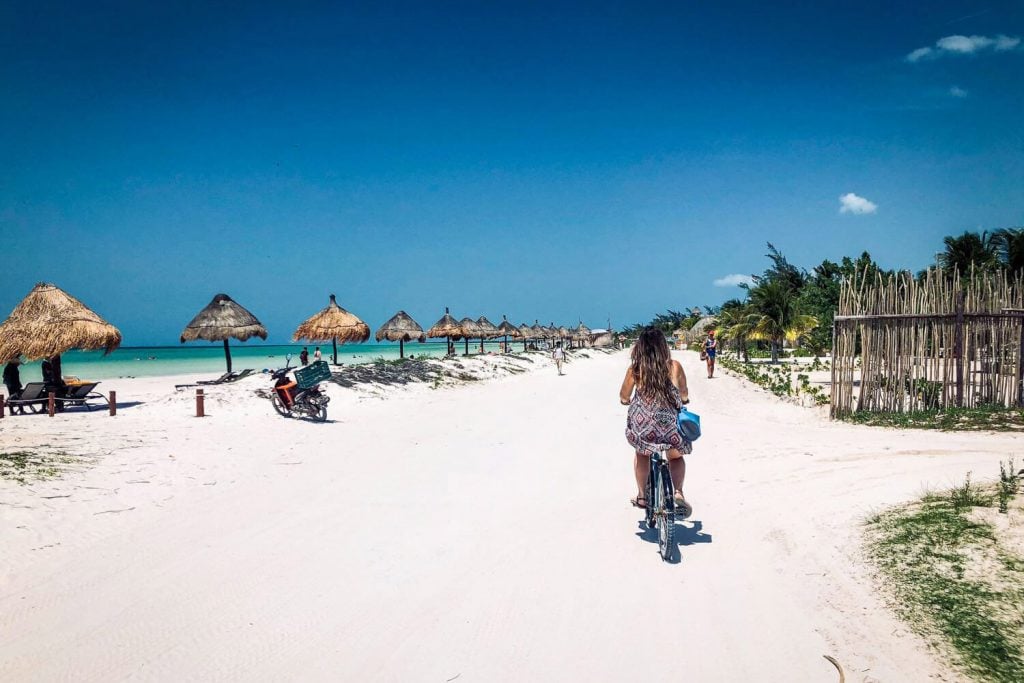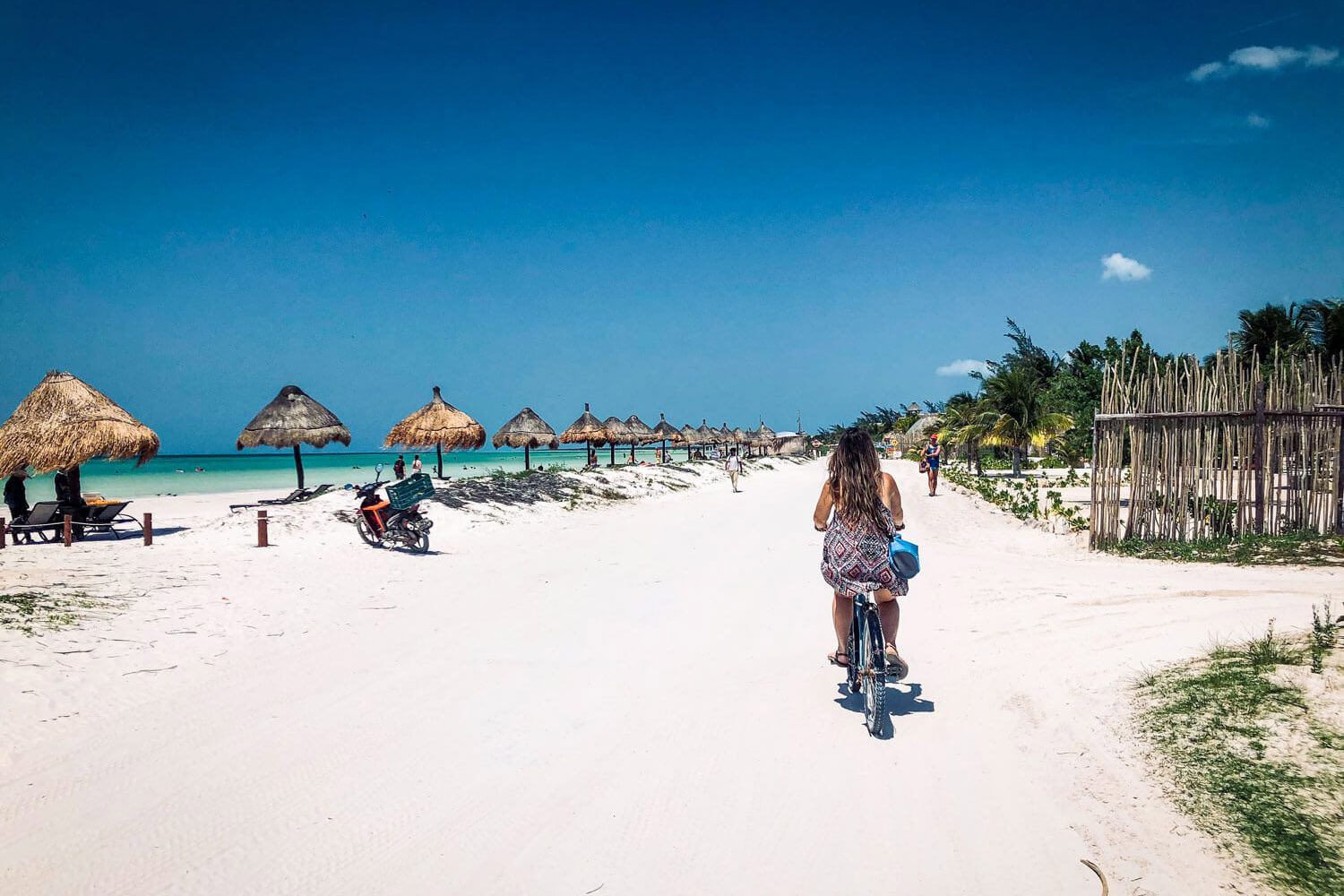 Since there are no cars on Holbox (besides a few local delivery vehicles), the best way to get around the island is by renting a bike or a golf cart.
Having your own mode of transportation will make getting around much easier and quicker.
While Holbox is very walkable, it does take a while to get from one end to the other. And when it's hot and sunny, you will want to get from Point A to Point B as quickly as possible. Trust us!
Renting a bike on Isla Holbox
Bikes are the cheaper option, with rentals costing around 300 pesos per day. Most hotels can arrange rentals for you, or you can find rental shops in town.
Renting a golf cart on Isla Holbox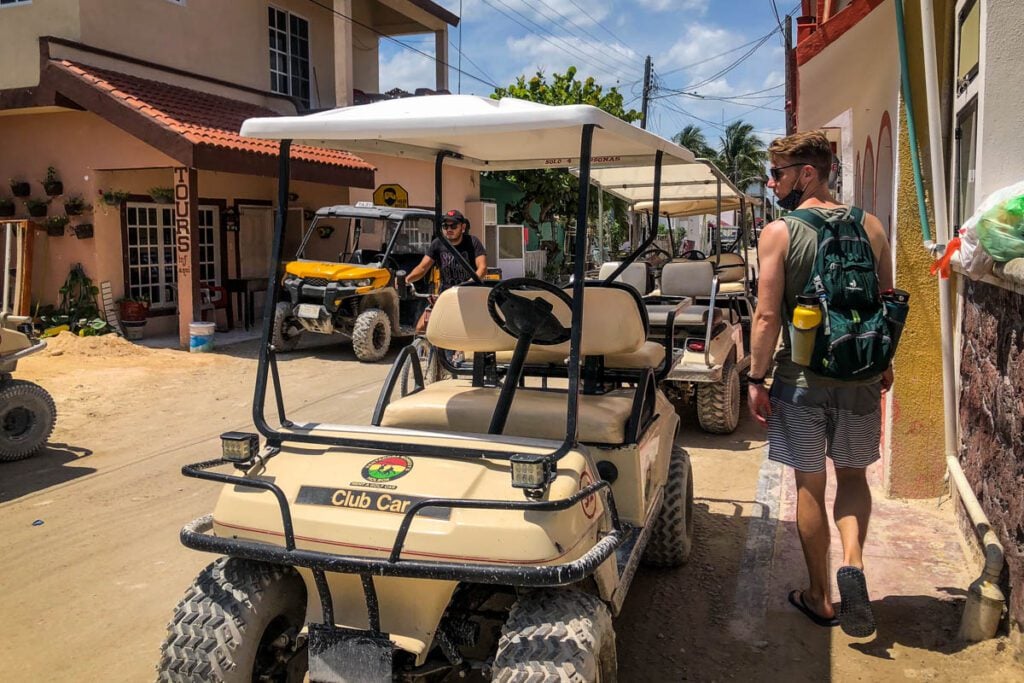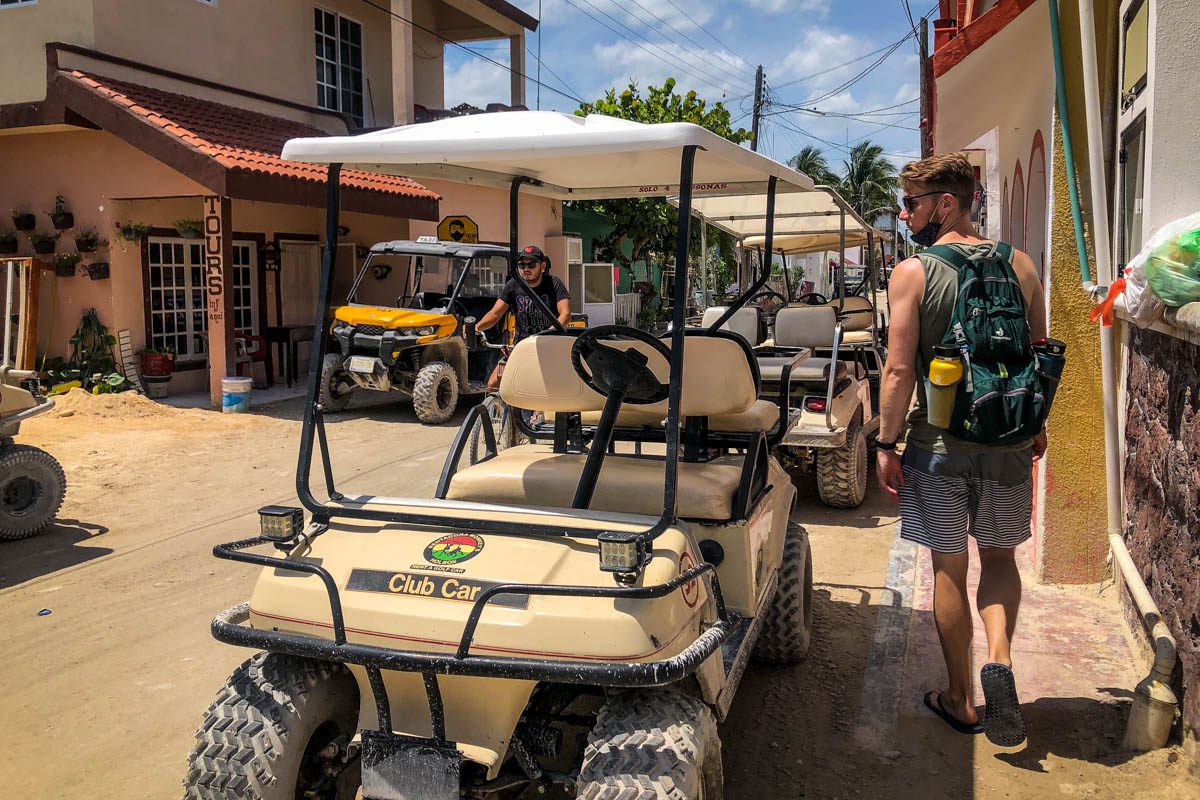 This may be the more comfortable option of the two, but it'll cost you.
We were quoted 2,000 pesos per day (just over $100). That price was enough for us to go with the bike option and not look any further. You can try comparing prices at different shops, or doing just a half-day rental.
If you're traveling as a family, this might be a great option. Plus, you will be shaded as you go from place to place, avoiding pesky sunburns.
Good to know: You can get a "taxi" ride on a golf cart. However, this service is not cheap, so we'd recommend walking, biking or splitting the fare with others if you are on a budget.
8. Test your detective skills in the island's only Escape Room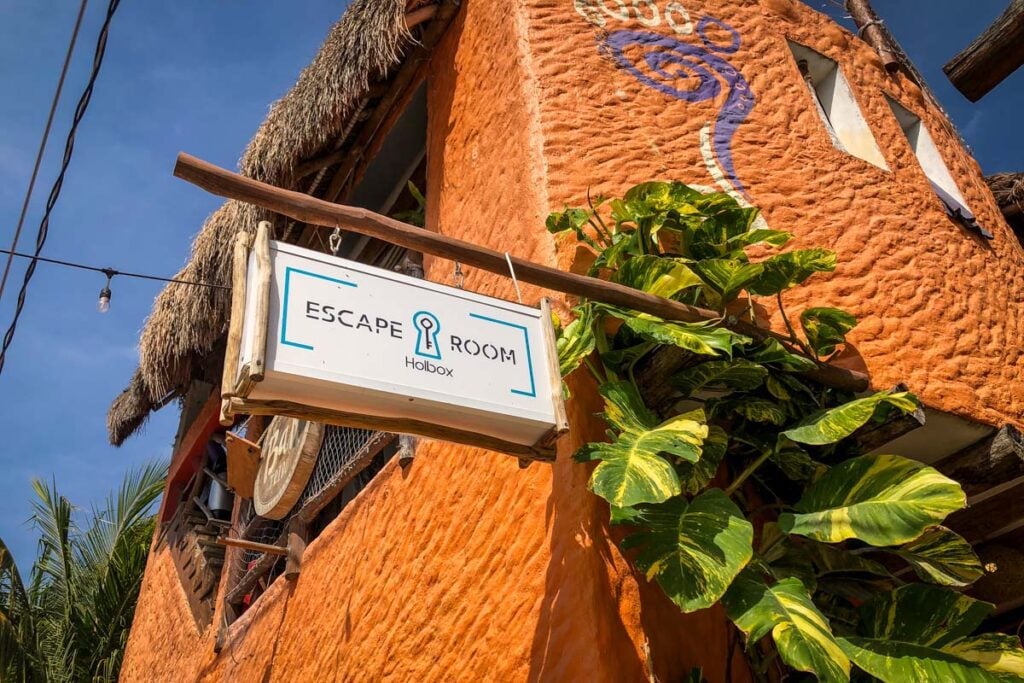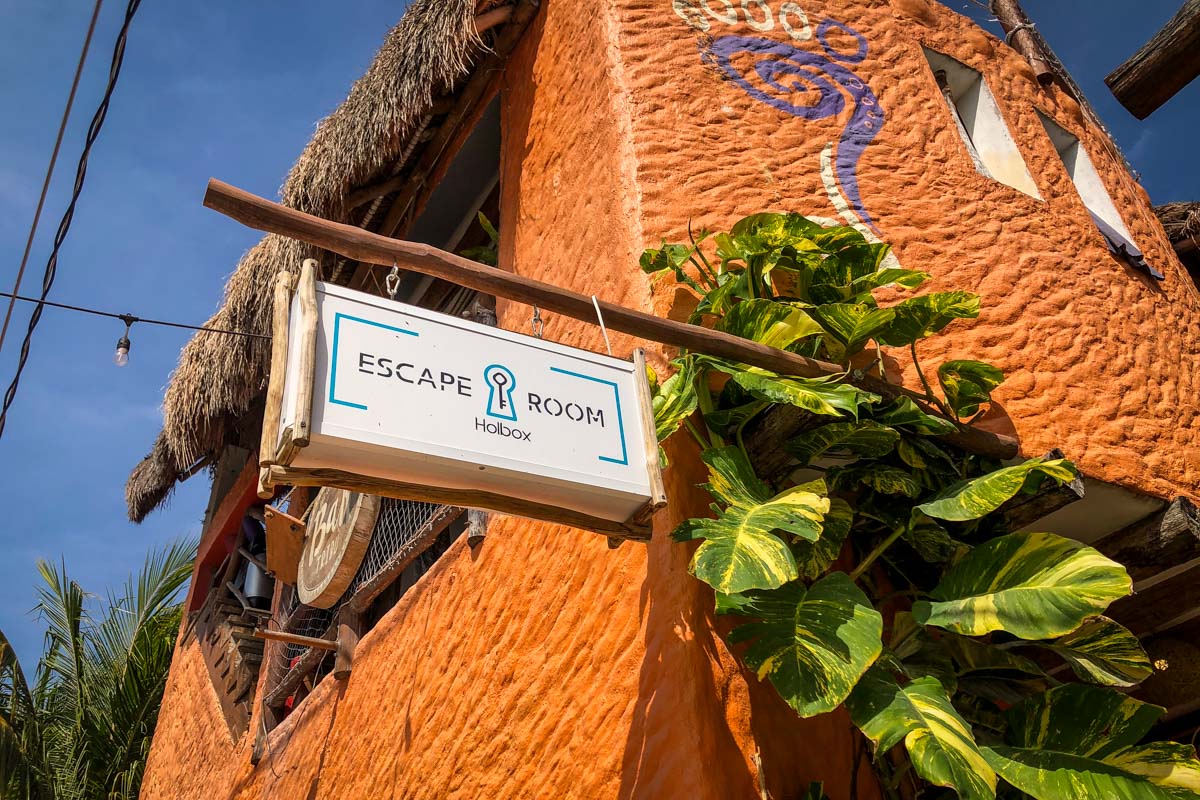 If you happen to have less-than-perfect weather on Holbox, one of the best rainy day activities is the escape room located in Tribu Hostel. It also makes a fun activity after the sun sets, as the escape room is open until 10 p.m. and is perhaps one of the most unique things to do on Isla Holbox.
Recommended for 2-5 players, this pirate-themed escape room is packed with hidden clues which you and your team can use to try to find the treasure within your 60-minute time slot.
Flex your skills, test your teamwork and have a lot of laughs as you try to escape!
Do it yourself: You can get more information, prices (which vary based on the number of people in your party), and submit your booking request here.
9. Eat fresh seafood at this local spot…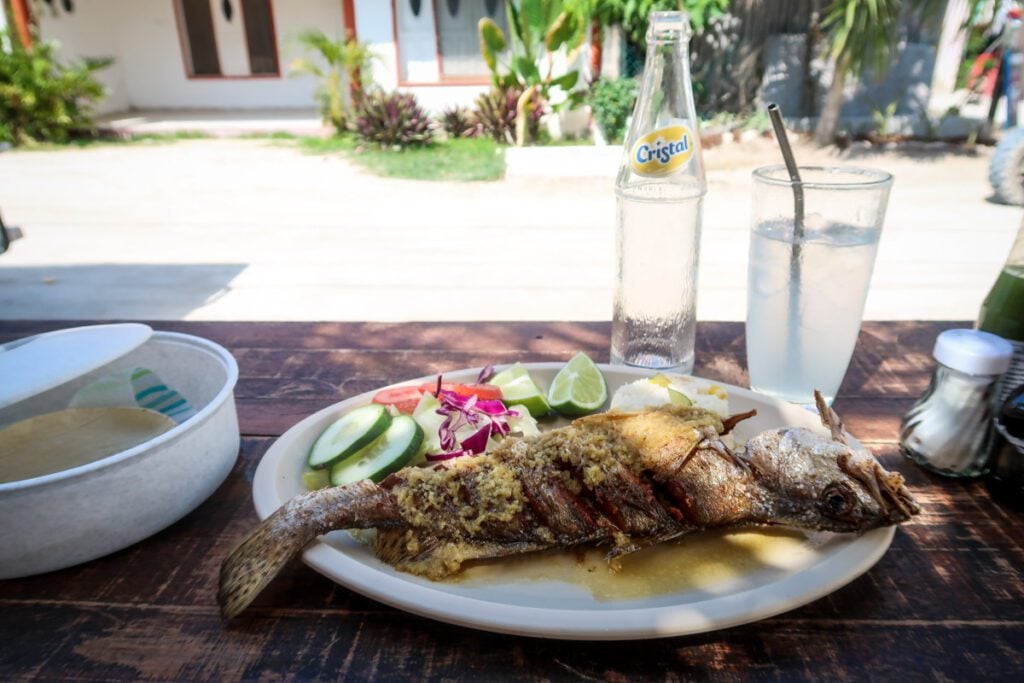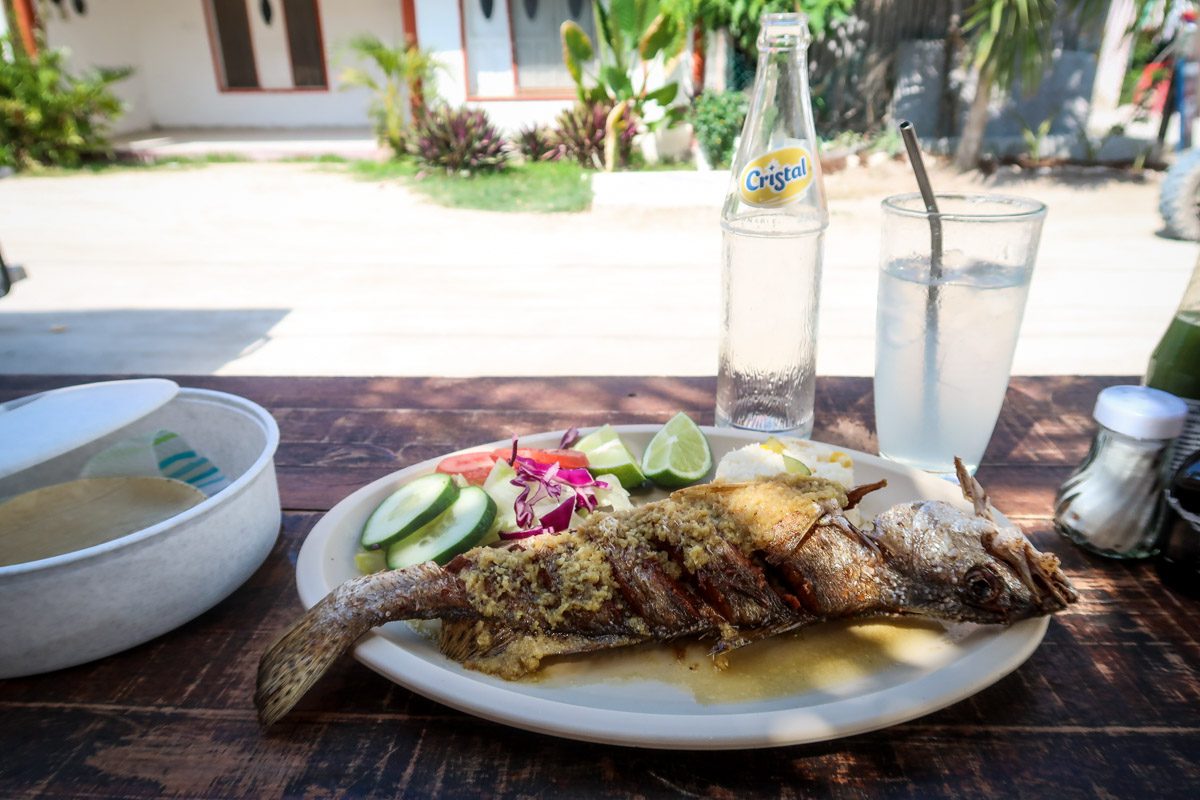 Many of the restaurants on Isla Holbox are what we'd call "Instagram pretty" and popular with tourists.
There's nothing wrong with this! But if you're looking for something that feels a little more authentic, we've got a suggestion for at least one of your meals on Isla Holbox…
La Barracuda is just around the corner from some of the island's most popular restaurants, but it's situated on a quiet street and seems to get overlooked by most tourists. With red plastic chairs and strings of seashells hanging from the ceiling, this isn't as polished as the more trendy eateries. But that's kind of the point.
This charmingly rustic spot checks all our boxes…
In addition to being kind of off the radar of most visitors (check!), La Barracuda serves some of the best fresh seafood on the island (check!). The portions are generous (check!), and the prices are affordable (check!).
If this sounds like your kind of place, we'd recommend the ceviche and the pescado frito al ajilo (fried whole fish with garlic). Other reviewers rave about the coconut shrimp and their signature "Barracuda", which is a seafood-stuffed fish.
Sit in their outdoor seating area with a cold Michelada as you wait for your meal. Salud!
10. Walk the sandbar to Punta Mosquitos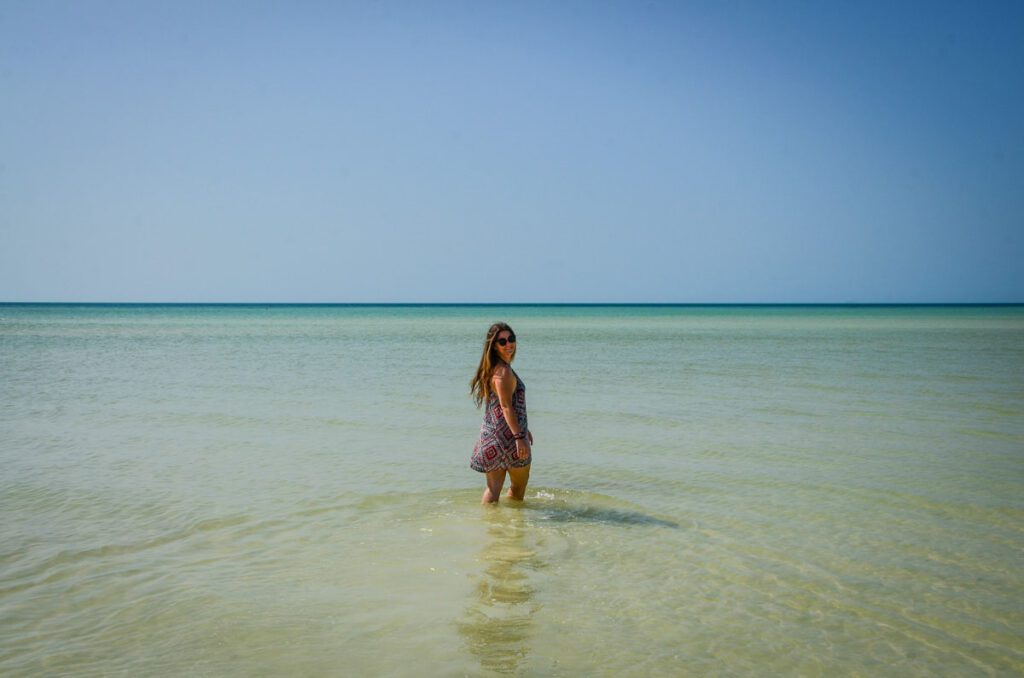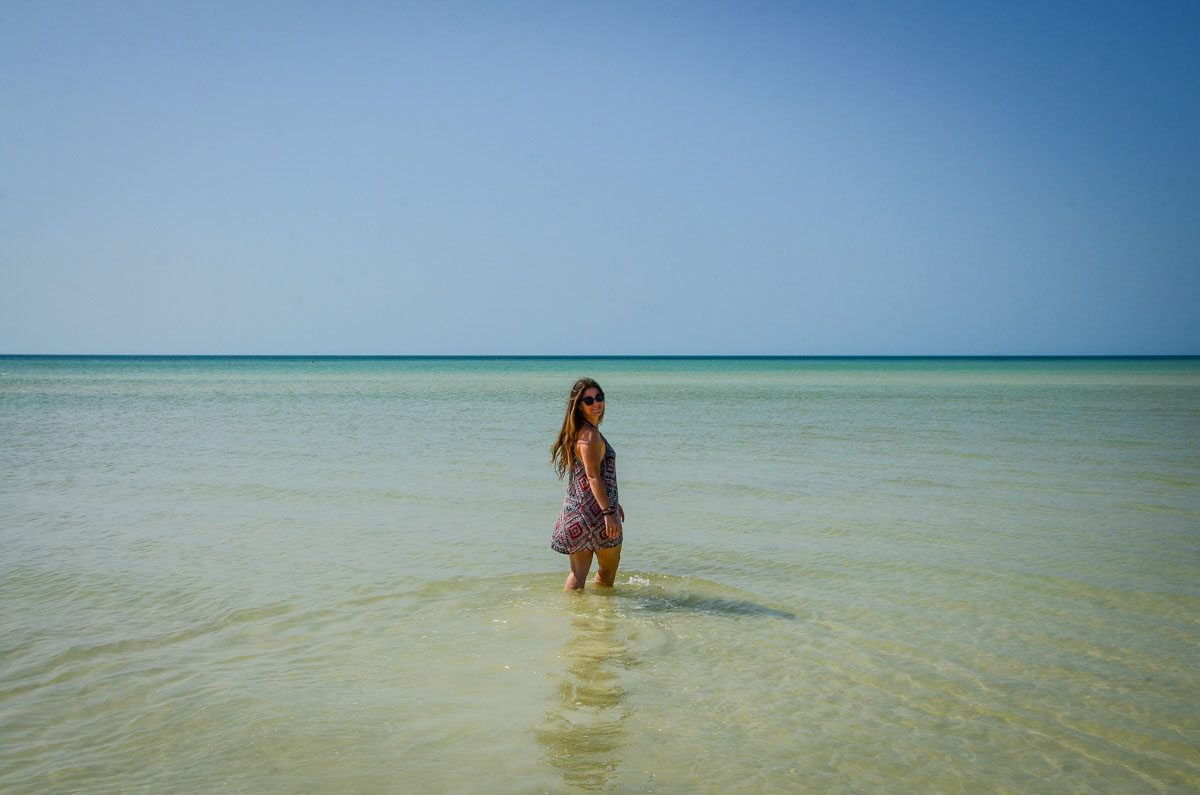 One of the most popular things to do in Holbox is to walk the sandbar to Punta Mosquitos.
The reason it's so popular is because this is where you'll find the most powdery white sand and clear, shallow waters.
It's likely the most beautiful spot on Isla Holbox.
Now listen up, because there are a few things you should know about walking to Punta Mosquito. Let's start with how to get there…
How to get to the sandbar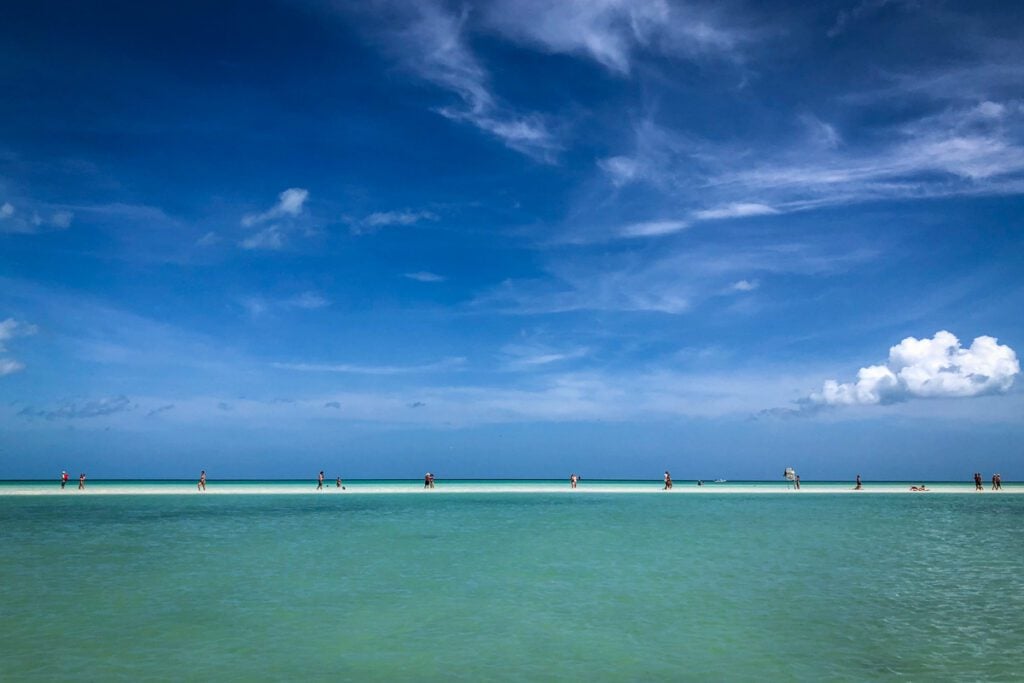 To get here, you'll need to first get to Hotel Las Nubes, which is where the road ends. You'll see all sorts of bikes and golf carts parked here.
Follow the small path which will lead you to the water.
Walk out in the water a short distance until you reach the sandbar.
Tips for walking to Punta Mosquitos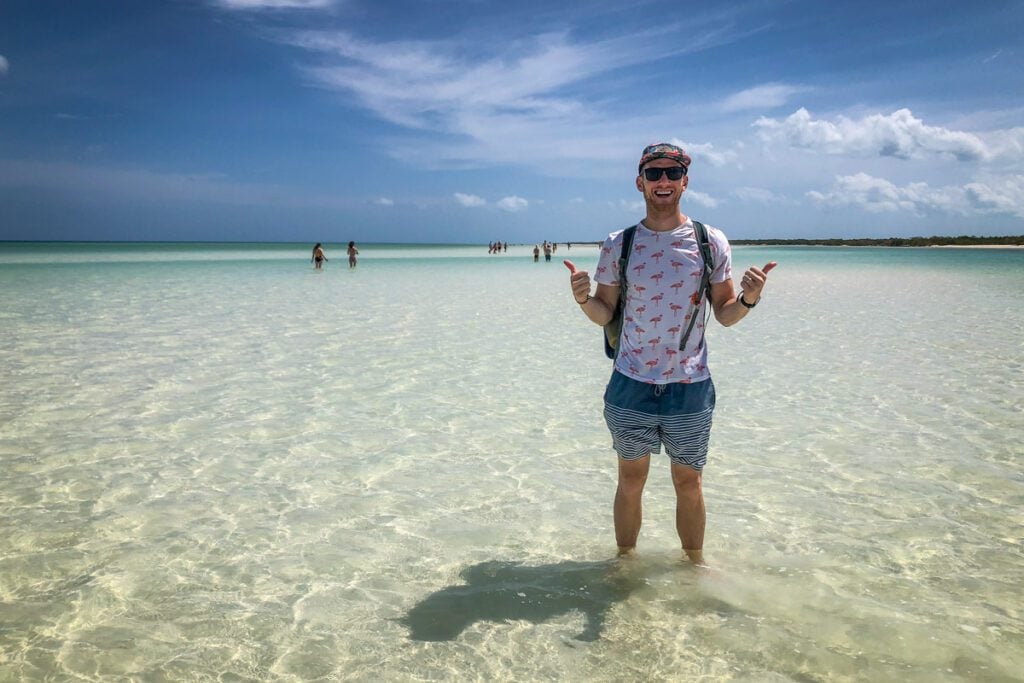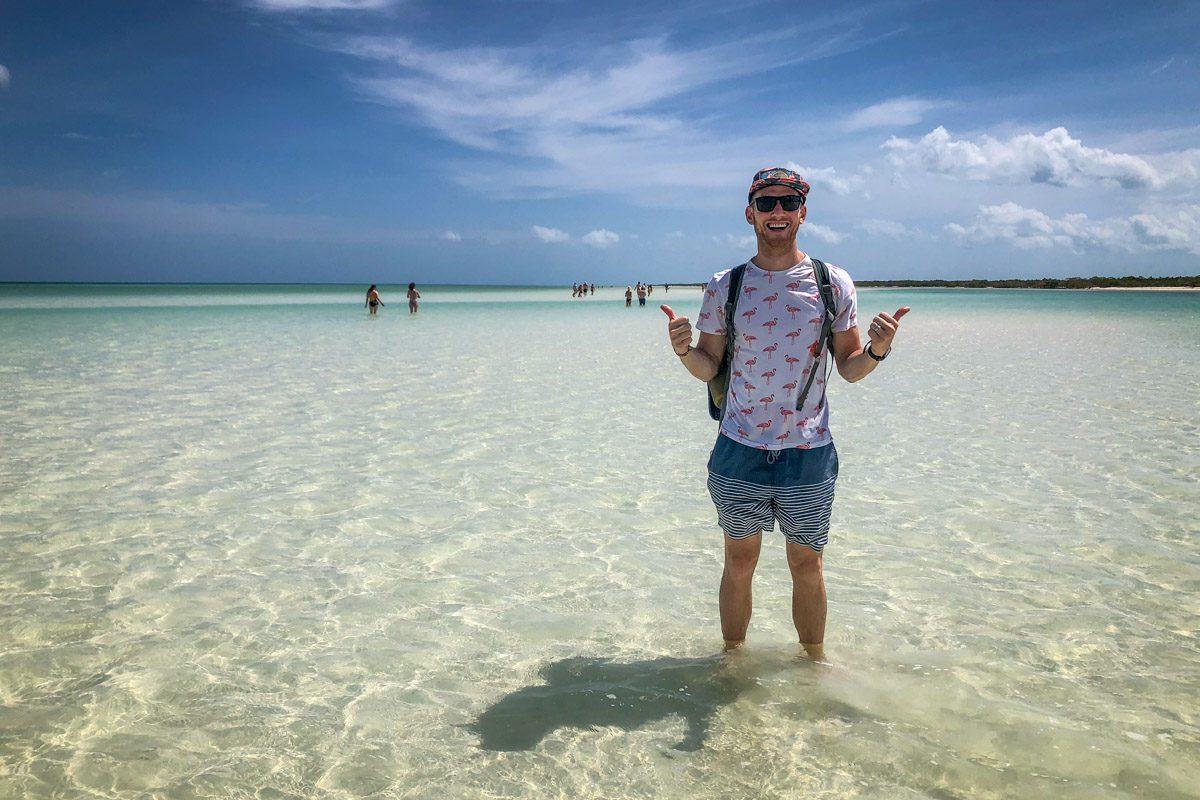 Come early to avoid the midday sun (and crowds). This is also when the tide is at the lowest, making getting out to the sandbar easier.
In total, the walk on the sandbar will take roughly an hour each way. It will take longer than you think. Trust me!
Look for wildlife. Keep your eyes on the sky for spotting birds, and look at the water to spot small stingrays.
Put on plenty of (reef safe!) sunscreen before you make this walk, as you will be completely exposed to the sun the entire way.
Bring a dry bag to pack your electronics in. We brought a DSLR camera and our phones, and were happy we had a safe place to stash them.
11. Try to spot the famed Holbox flamingos (with a warning)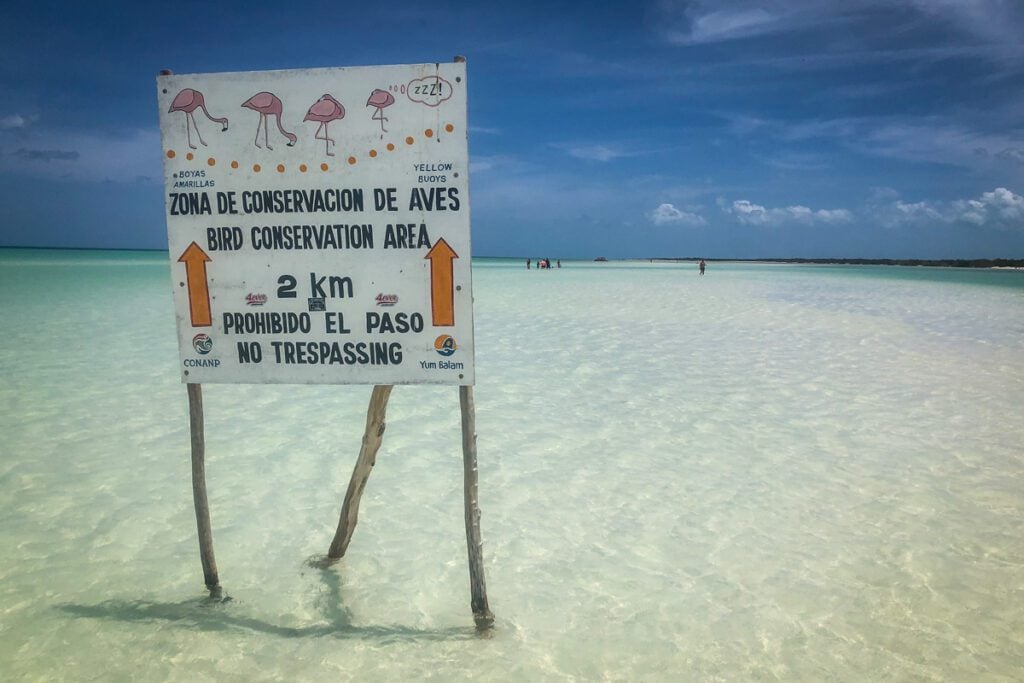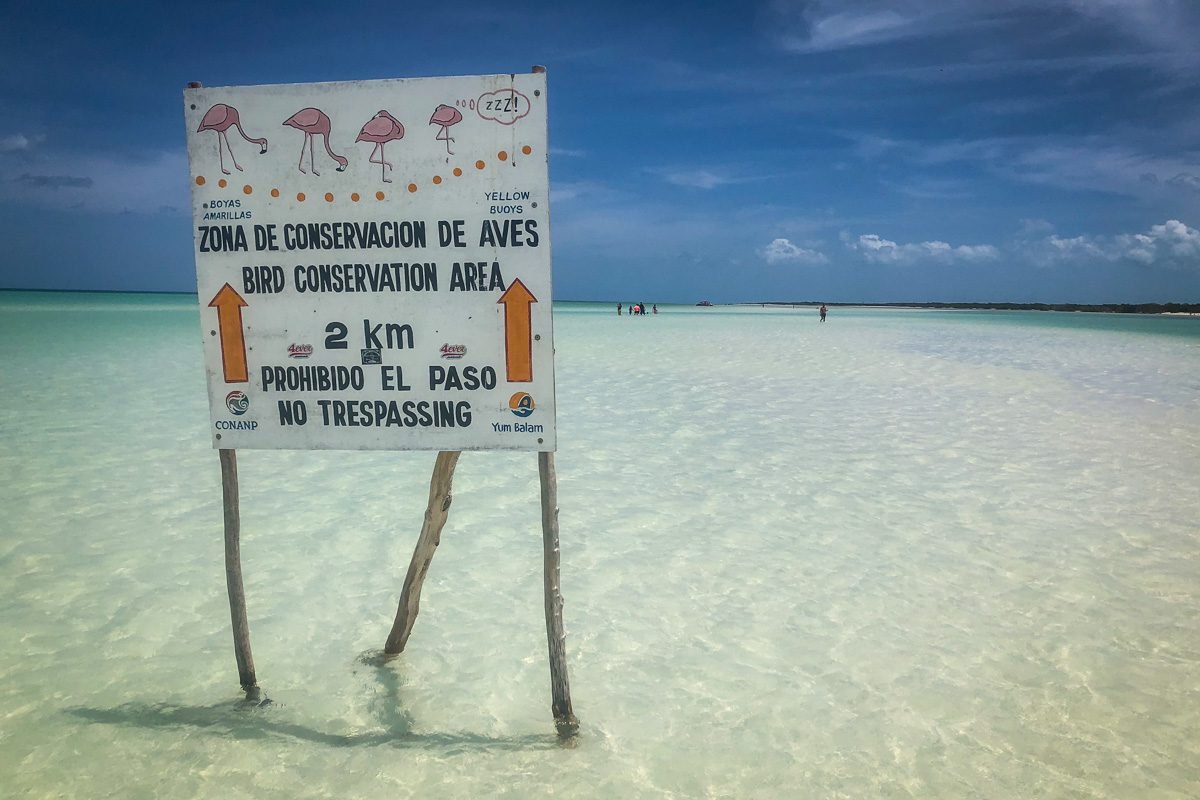 Wild pink flamingos call Holbox home and your best chance of spotting them is near Punta Mosquito between the months of April through October.
We visited Holbox in late April and unfortunately did not see these pink beauties (Ben even wore his flamingo shirt for good luck), but we'll cross our fingers that you do!
Here's the important thing to know… After walking on the sandbar for quite some time, you will see a sign that says "Bird Conservation Area, Trespassing prohibited".
Some articles suggest walking beyond the sign for the best place to see the flamingos. And in the past, there weren't as strict of restrictions on how far you could walk, so perhaps the information is a bit outdated.
However, crossing into the conservation area is no longer allowed, so this is where you will need to turn around.
Insider Tip: It might be worth bringing a pair of binoculars if you have them. We used our DSLR lens to zoom in and see the birds (no flamingos!).
Good to know: Whenever there are conservation signs, they are there for a reason. Usually to protect the animals from tourists. (And sometimes the other way around.)
12. Catch the sunset at Punta Cocos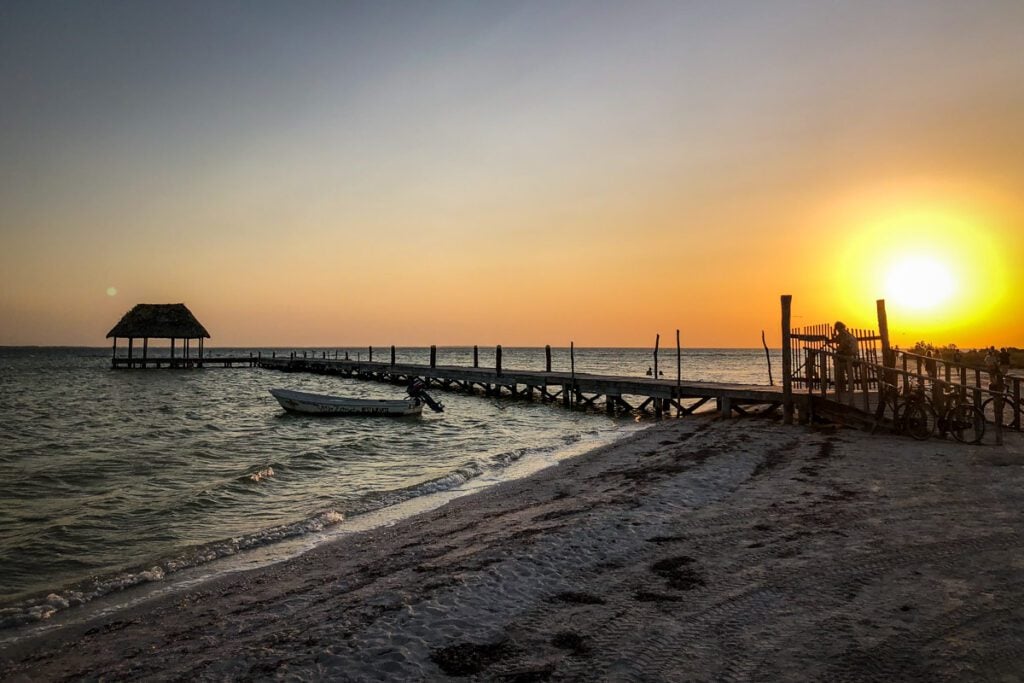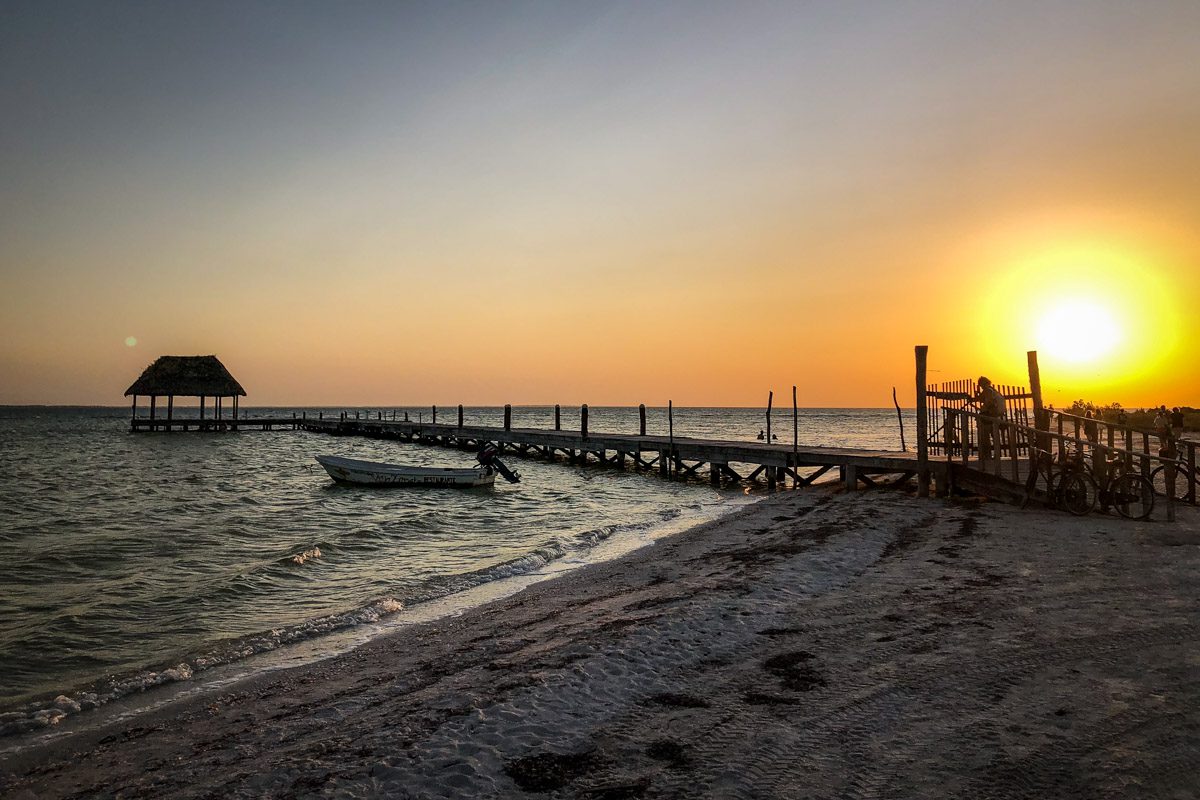 While the entire island boasts beautiful sunsets, the best place to see the fiery sun sink into the ocean at the horizon is at Punta Cocos, the westernmost beach on Holbox.
Getting here is a bit tricky, as the roads are not well-maintained. Expect lots of potholes and mud puddles (even if it has not recently rained).
We took our bikes halfway, but needed to walk the remainder because the mud puddles were too deep (sometimes above our knees!).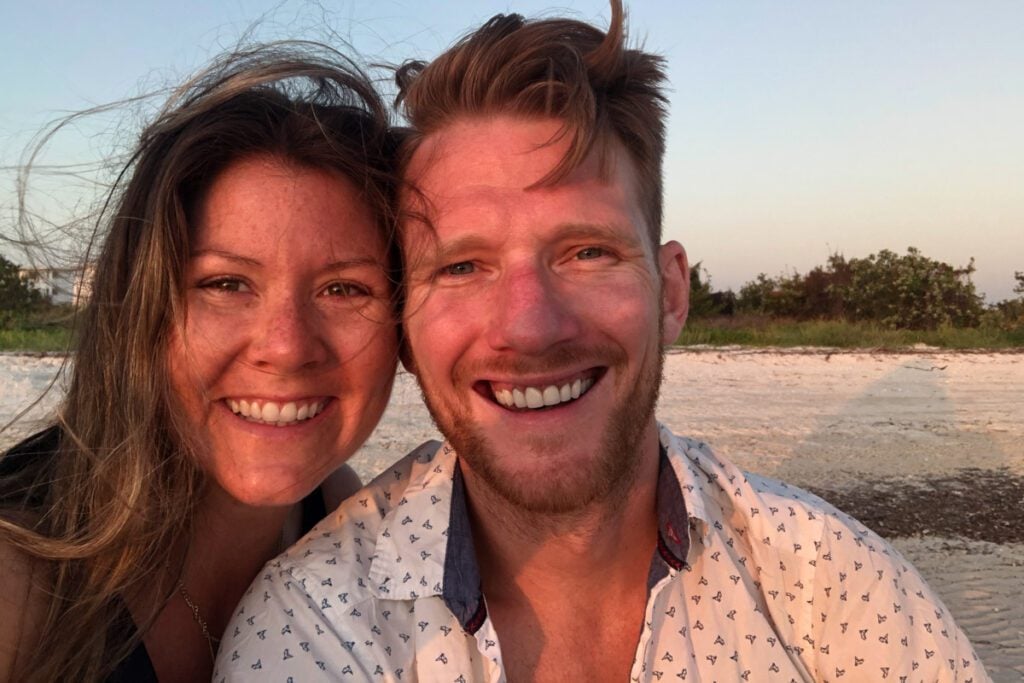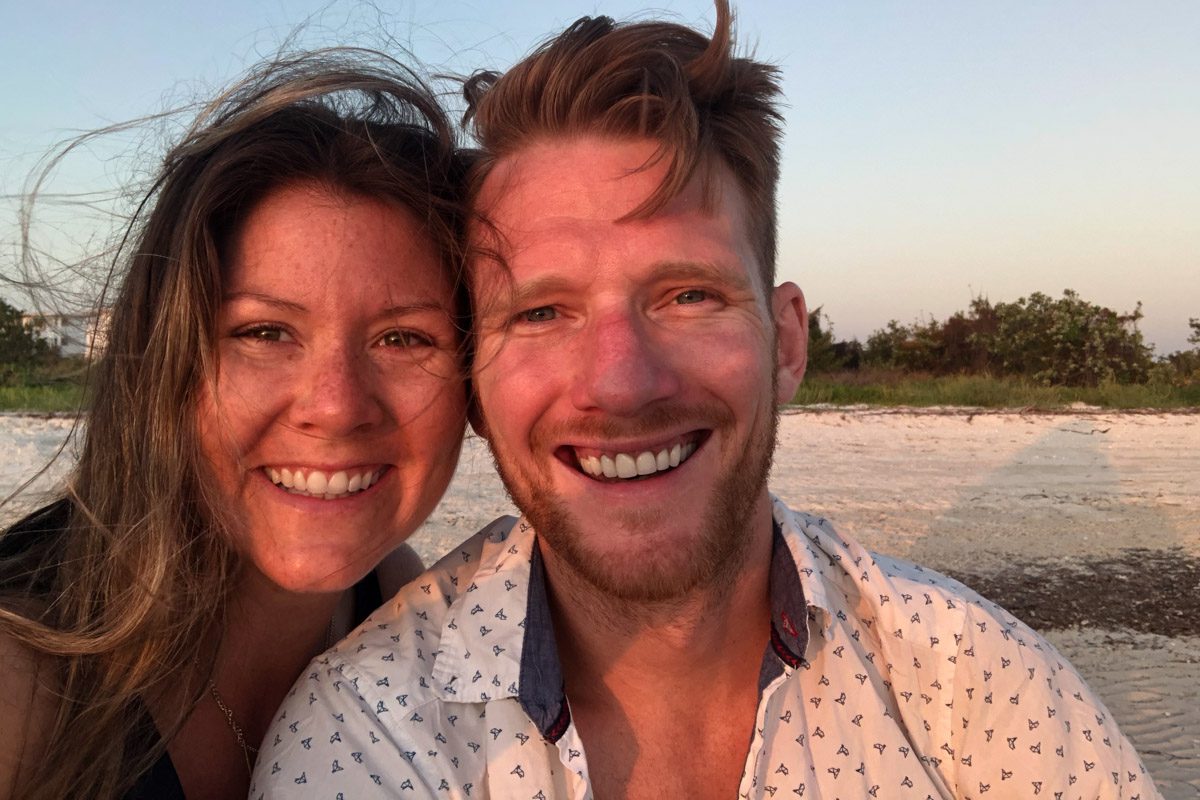 There aren't many facilities at Punta Cocos yet (though there was some nearby construction going on when we visited), so bring a towel to sit on.
Bring a drink to sip or snacks, or stop over at Holbox Magico, which is the only bar/restaurant in this area. FYI: According to reviews, the best part of this bar is the location (not the food).
Insider Tip: We'd recommend leaving right after the sun sets (while it's still relatively light out), so you can get back to town before it becomes completely dark.
13. Sip a creative mojito in a rooftop pool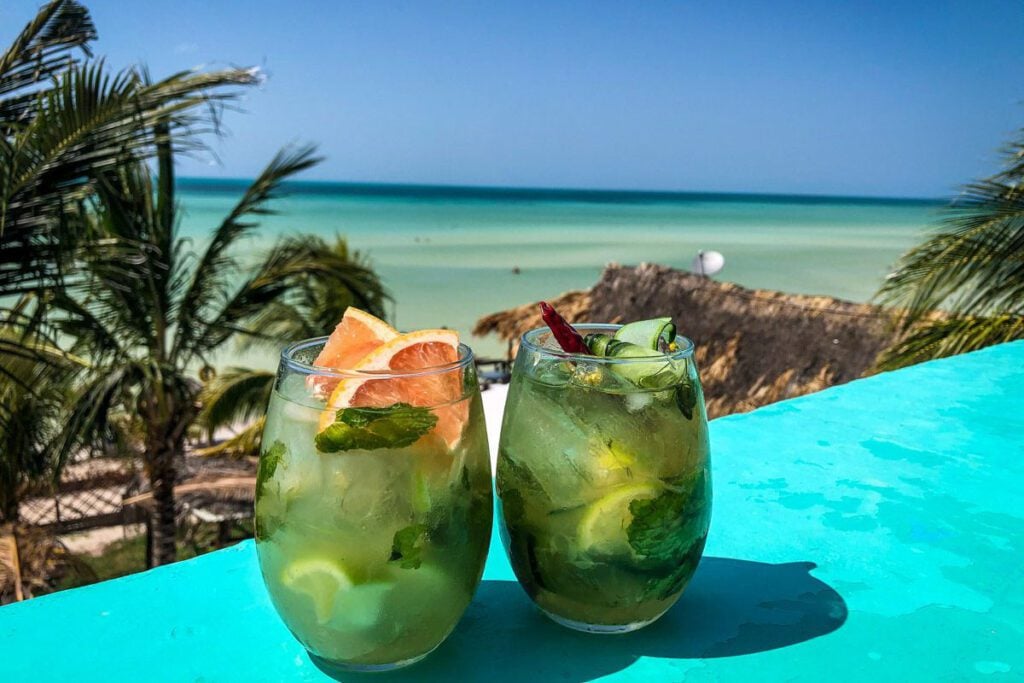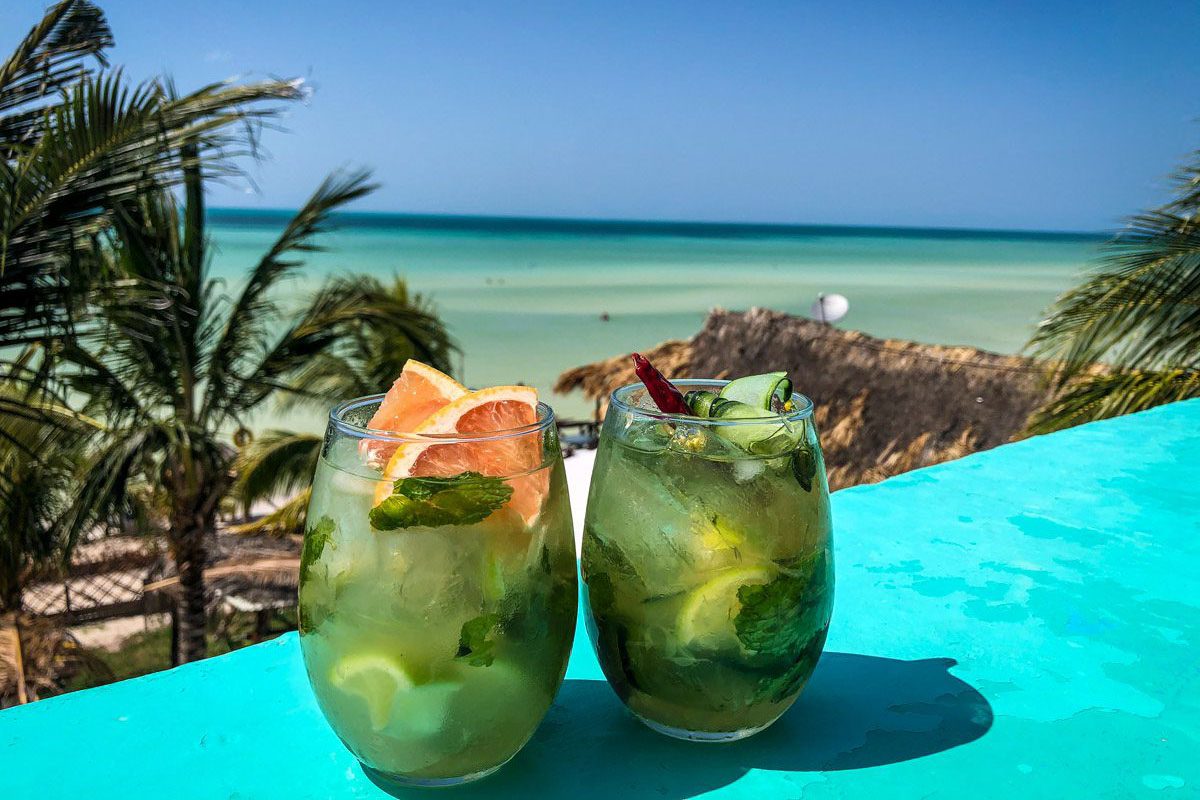 ALMA Bar is known for their extensive mojito menu, including ones made with different types of liquor, like mezcal.
Head straight to their rooftop bar where you can enjoy your mojito from the small plunge pool that offers sweeping ocean views.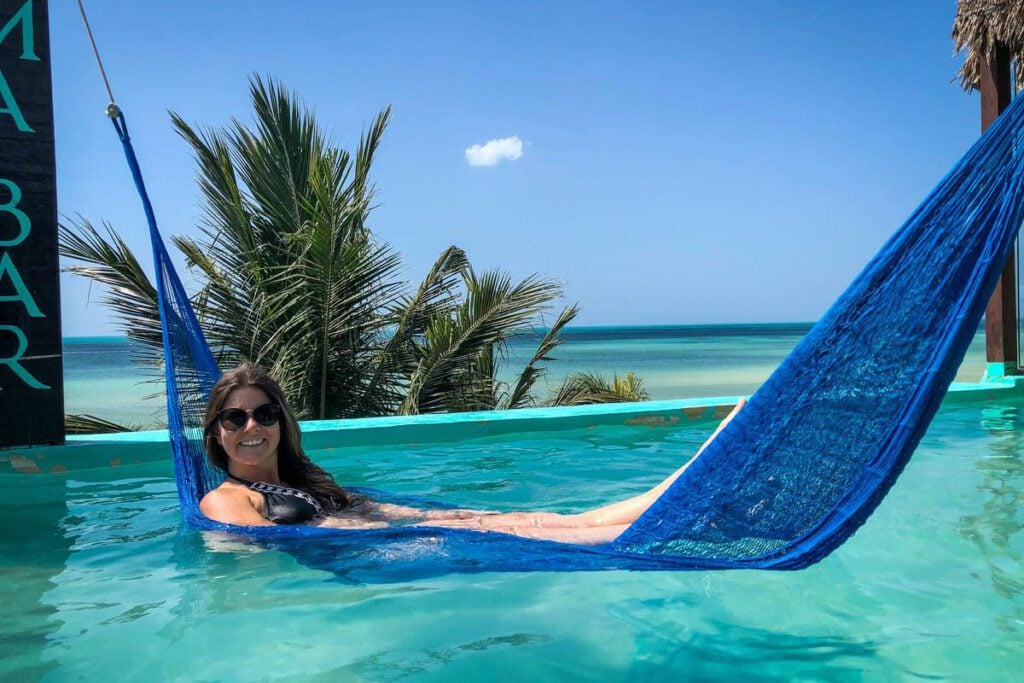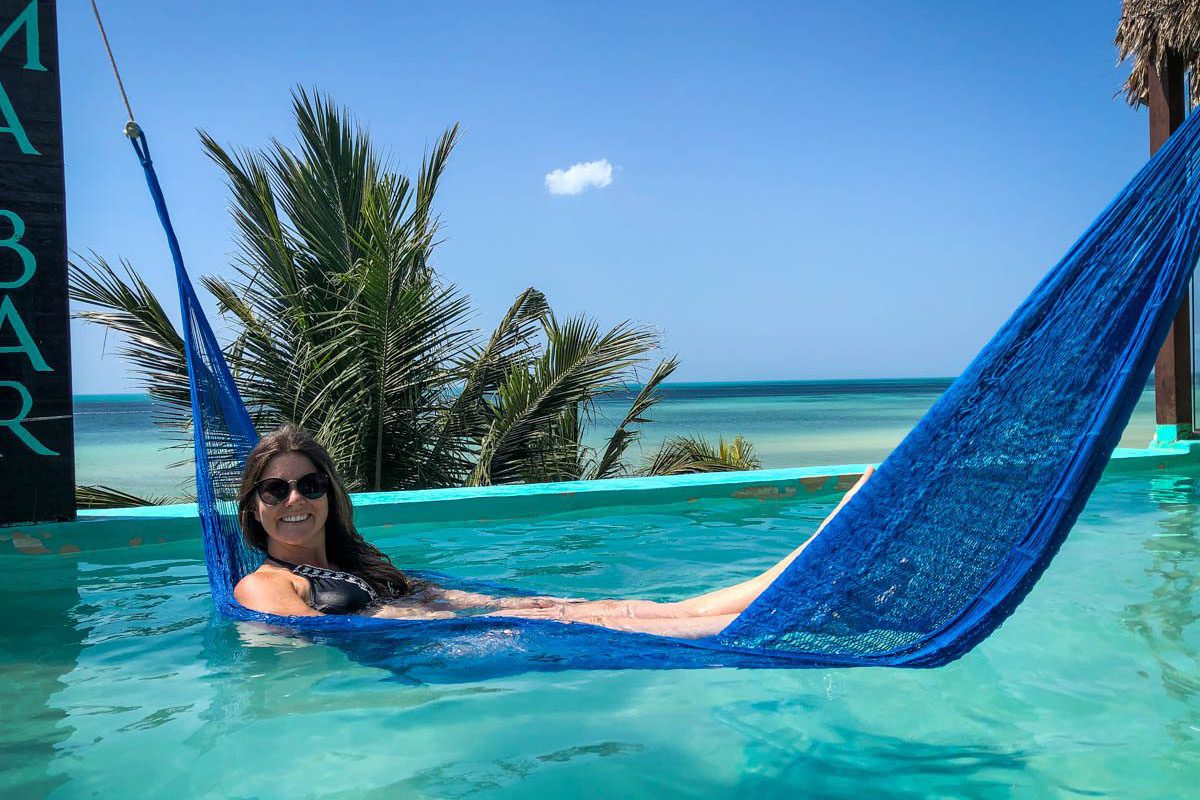 Psst! I'd recommend the La Tigra mojito, which is passionfruit and coconut cream. (Since I was pregnant at the time, I had a virgin version, which was still delish!)
14. Listen to live music on the beach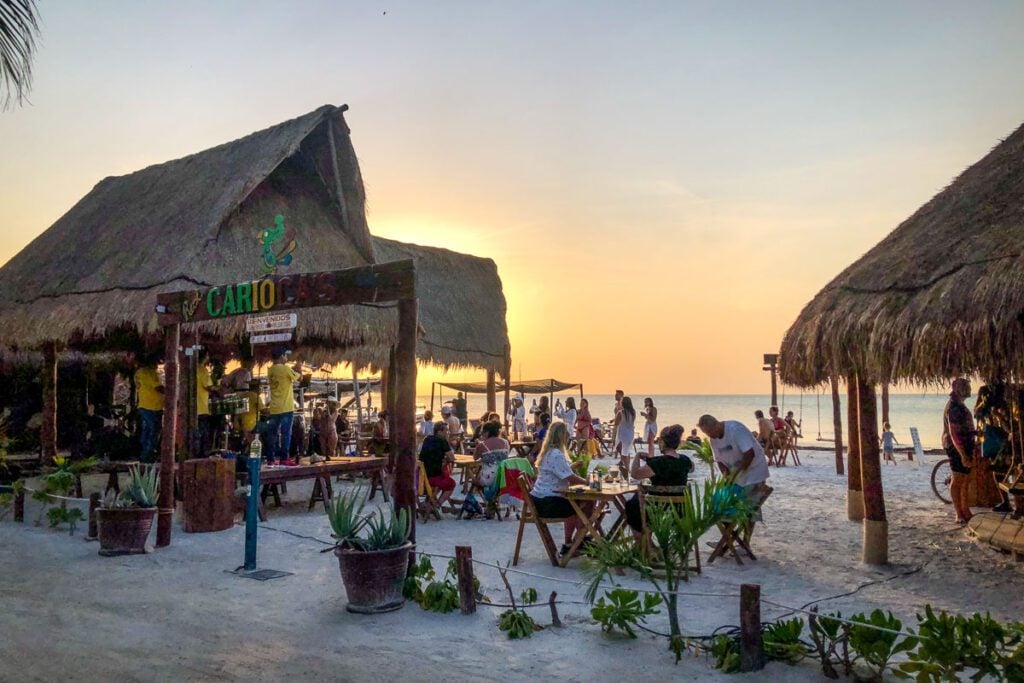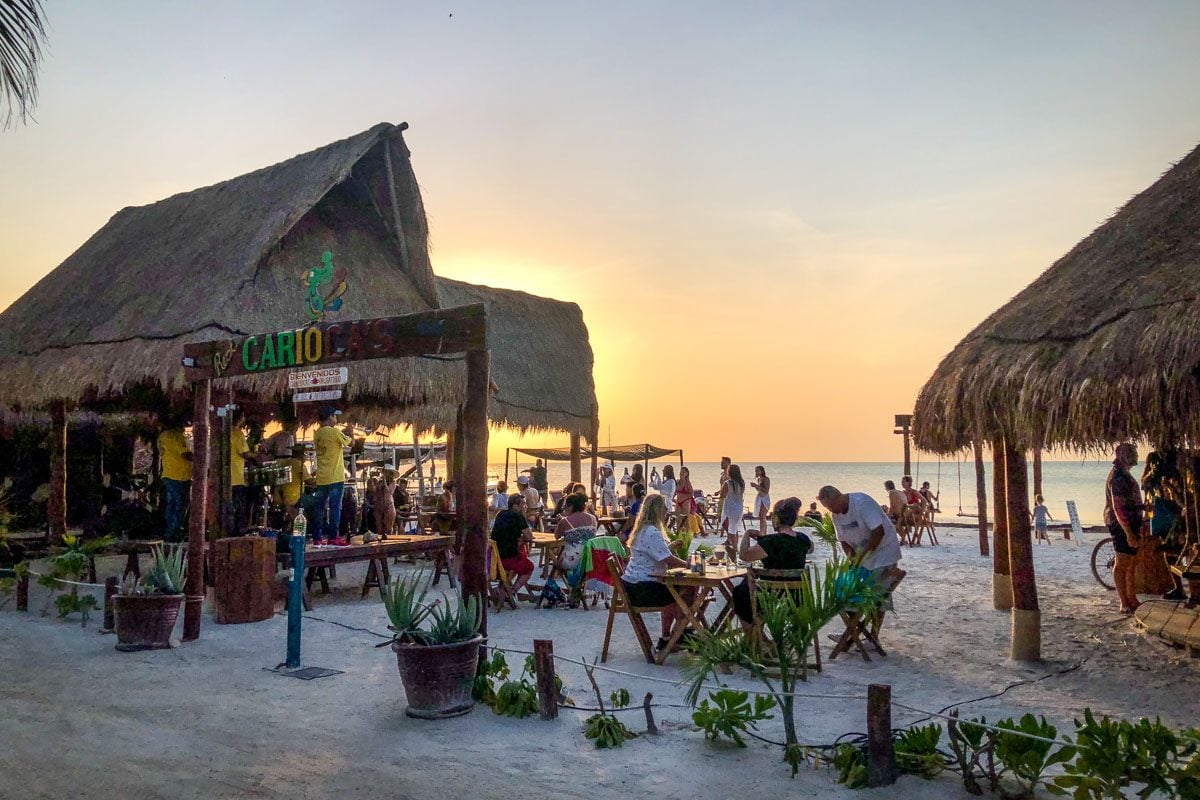 Many beach bars host live musicians in the late afternoon hours, as the sun starts to set.
Lat your ears do the navigating, and snag a seat!
15. Splurge on a fancy dinner… maybe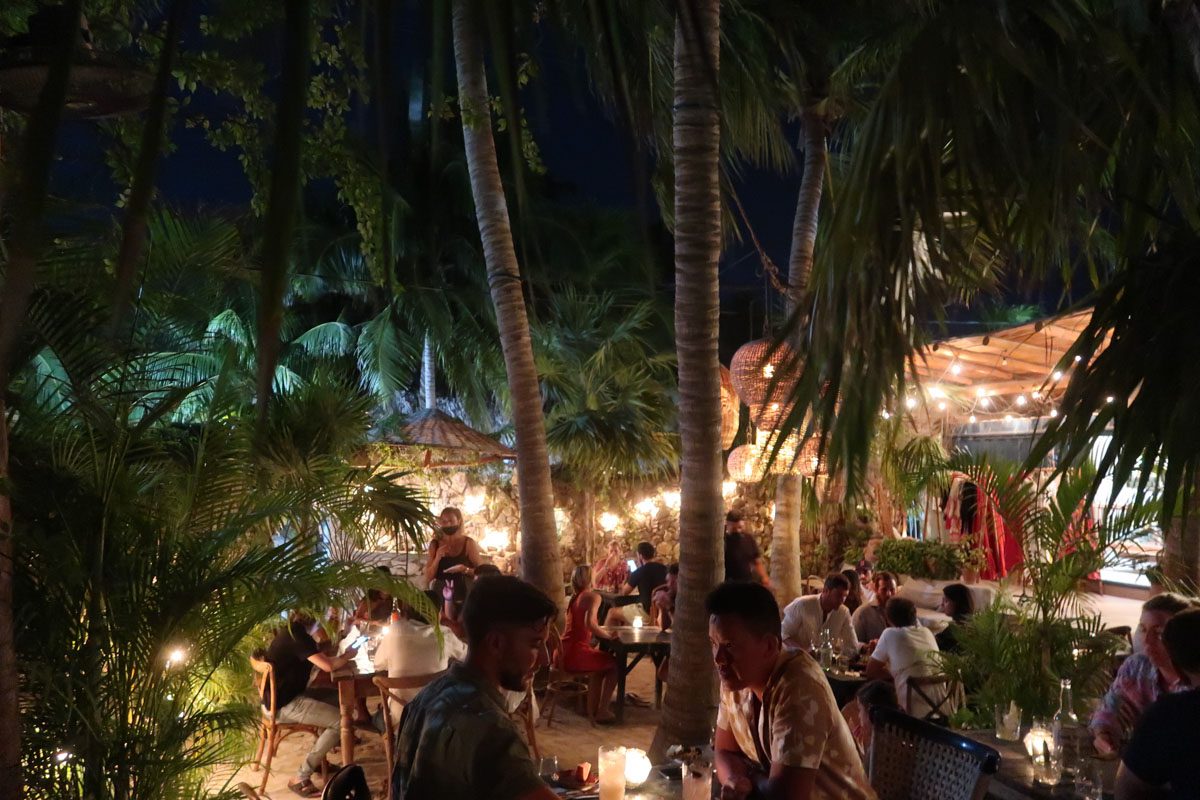 As you walk the sandy streets of Holbox, you might be surprised to see several trendy restaurants, dripping with plants, cool light fixtures, and bohemian touches.
At first they look a little out of place, like they belong in Tulum instead of this small island oasis. But once you consider that there are a lot of very high end hotels on this island, it starts to make sense.
If you want a splurge-worthy dinner, go for it! Just be sure to stop by the restaurant ahead of time and make reservations. Even though it seems like you're on island time, the upscale restaurants on Holbox do book up in advance.
Or maybe skip the fancy restaurants…
We went to one of these upscale restaurants to celebrate my birthday, and if I'm completely honest, we left pretty disappointed. We ordered lots of dishes to share, and with the exception of one item, the food was pretty underwhelming.
The cocktails and mocktails (I was pregnant!), were the best part. But the bill was more than what we'd pay for a similar meal in the United States, which was a bit of a shock.
It felt like the experience was more about the ambiance and aesthetics than the actual food. And we personally came to Holbox instead of Tulum for a reason.
We personally had much better experiences at just about all of the other (less expensive!) restaurants we went to on the island. We just wanted to share our personal experience in case it's helpful planning your trip!
Moral of the story: The fancy-schmancy restaurants in Holbox aren't for everyone.
16. Hunt for street art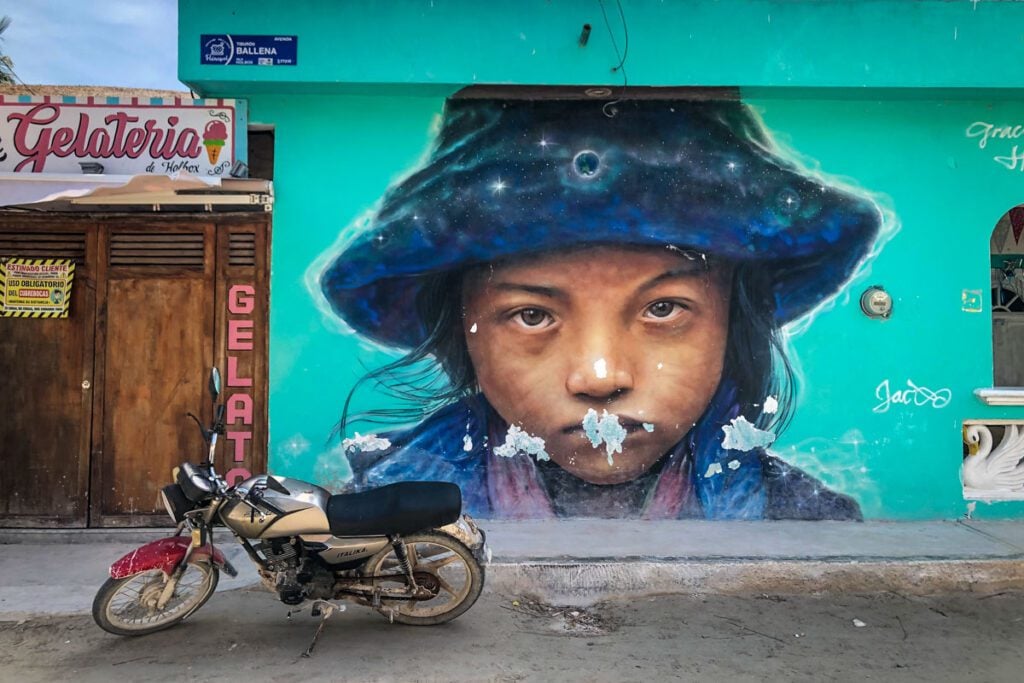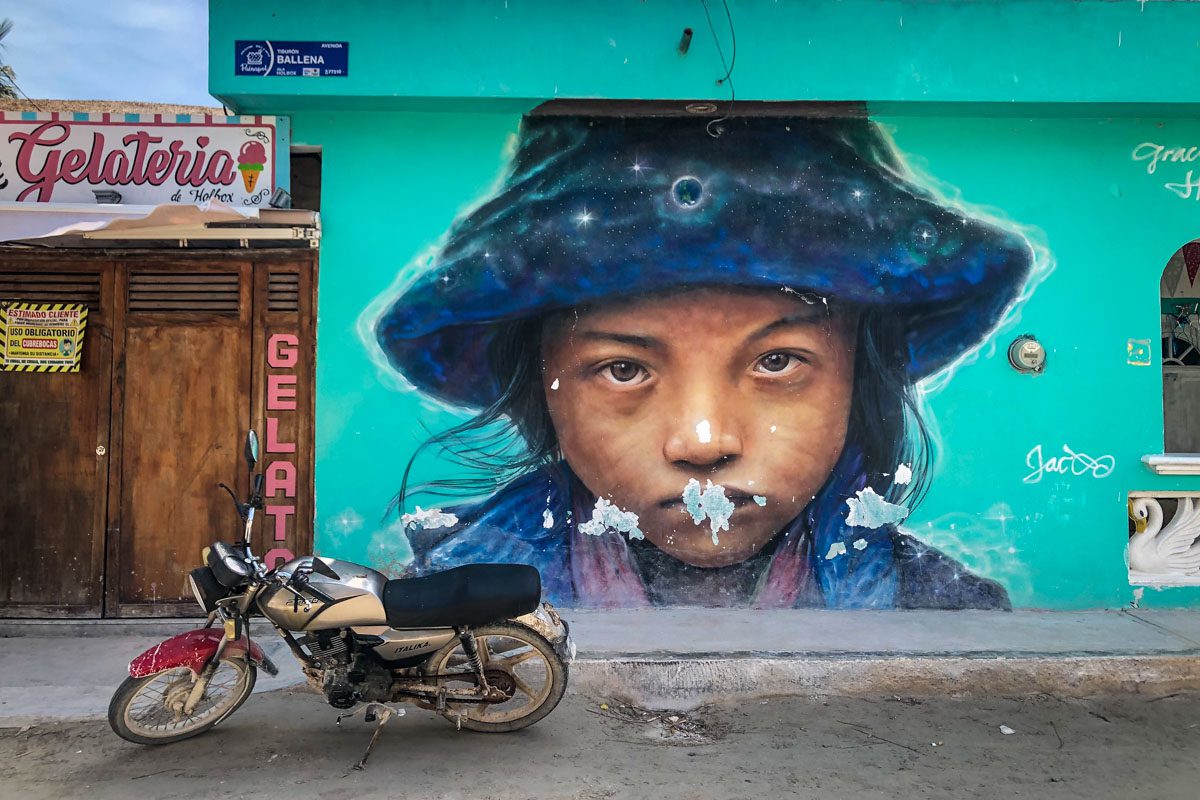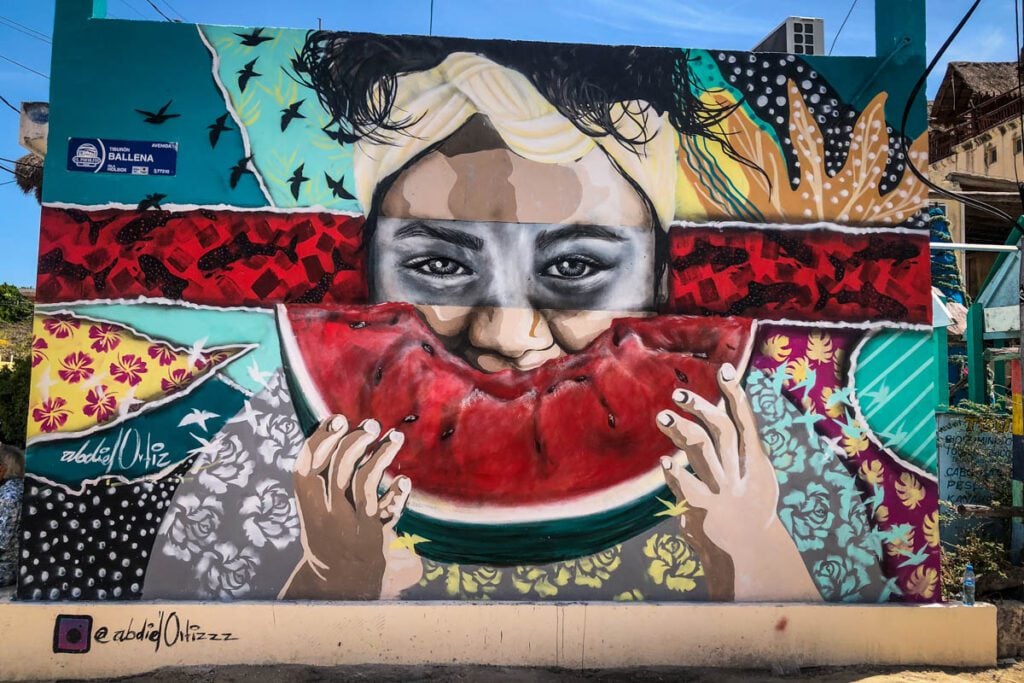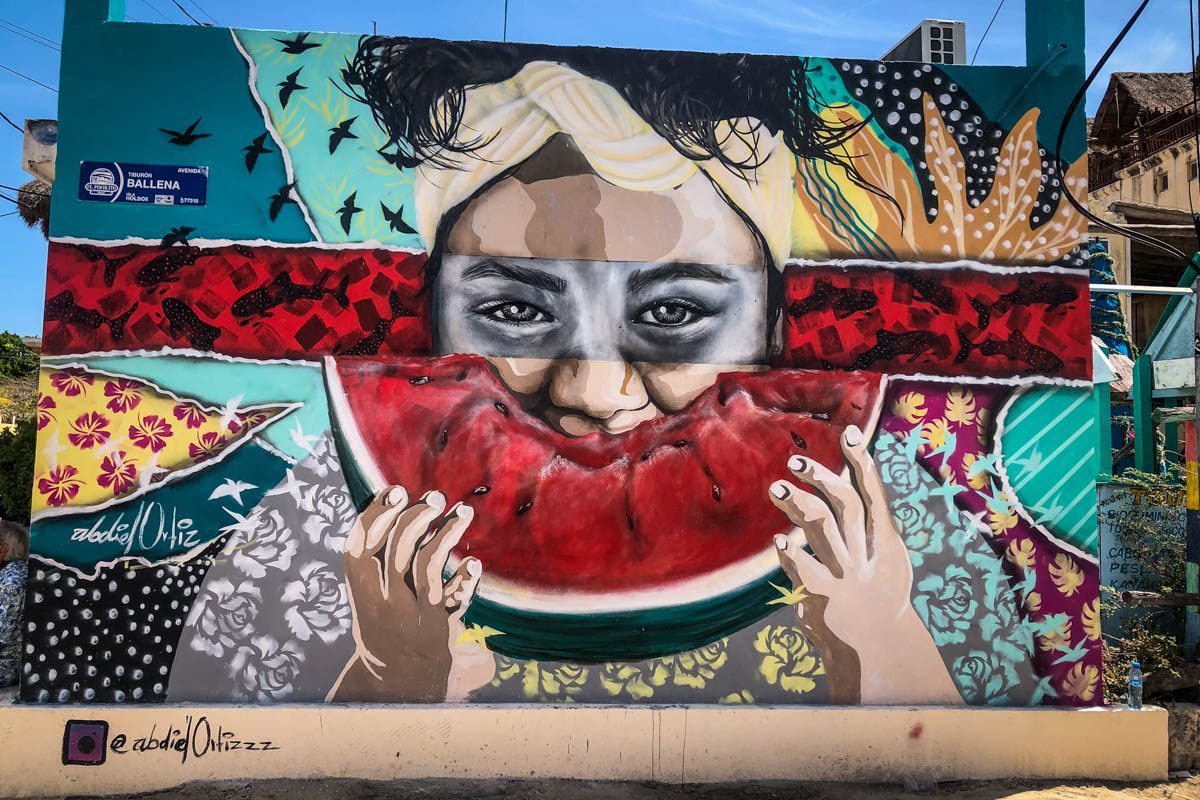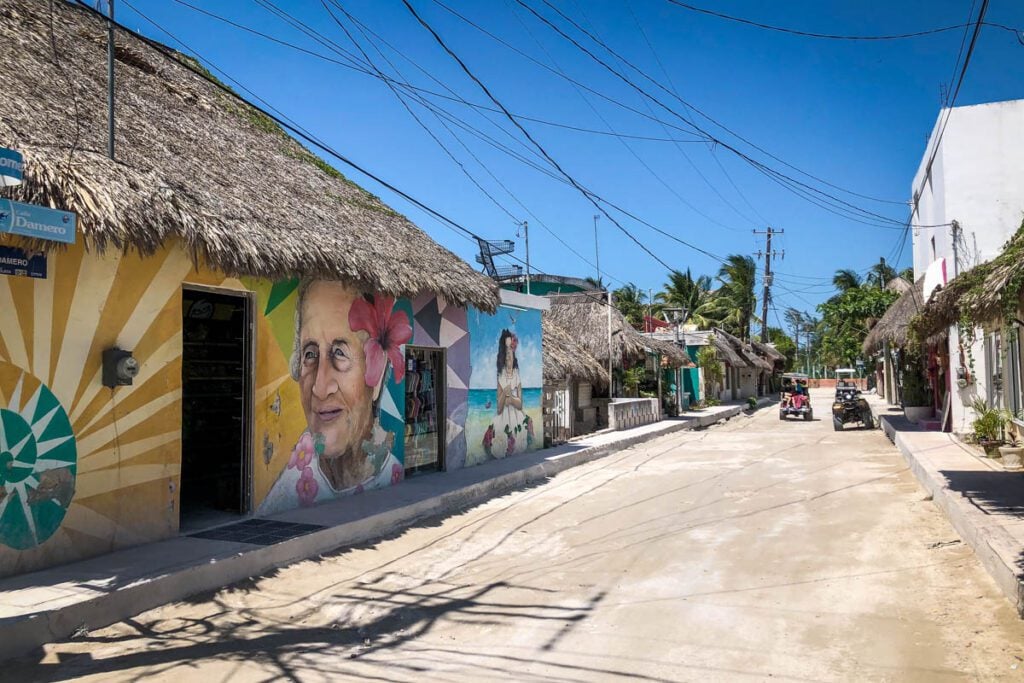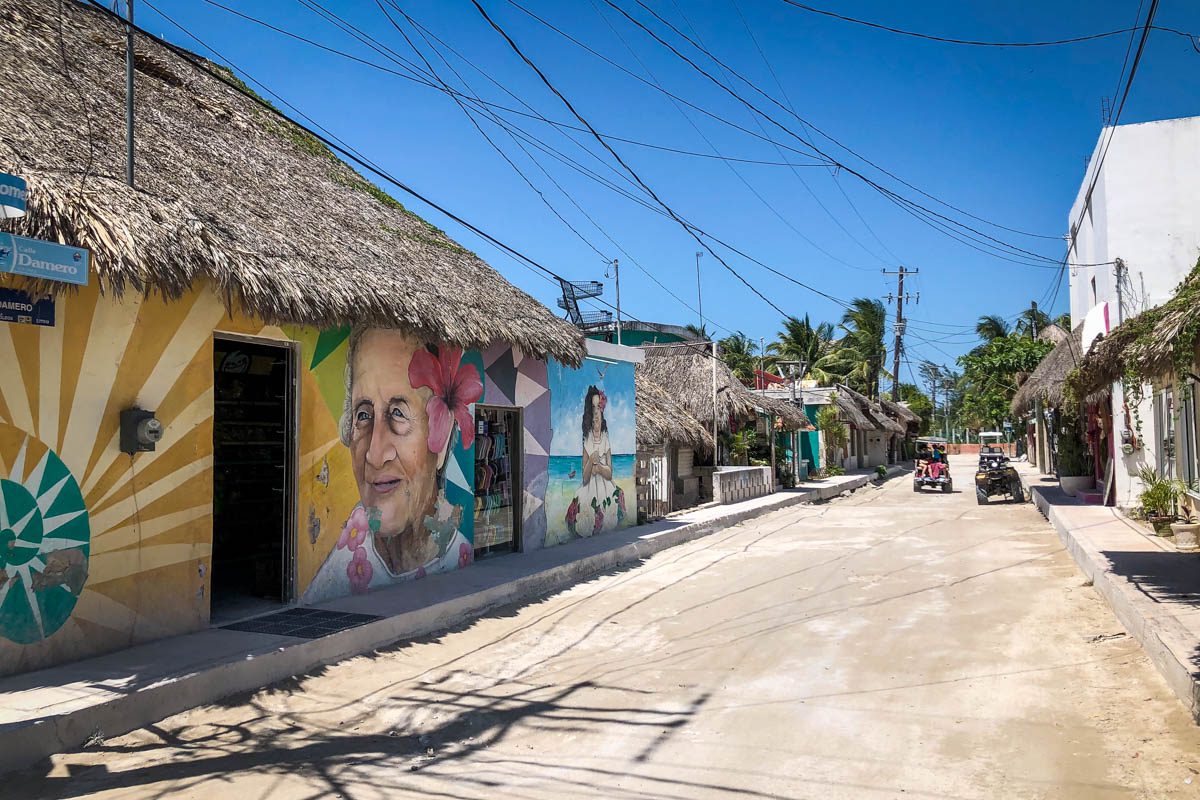 Holbox is full of vibrant murals, featuring people, animals and abstract art.
By some counts, there are more than 90 murals on this small island, giving you a good chance of stumbling on art around just about every corner.
One of the most iconic murals on Holbox is of a young girl, which is located just next to Painapol cafe.
17. Take a kitesurfing lesson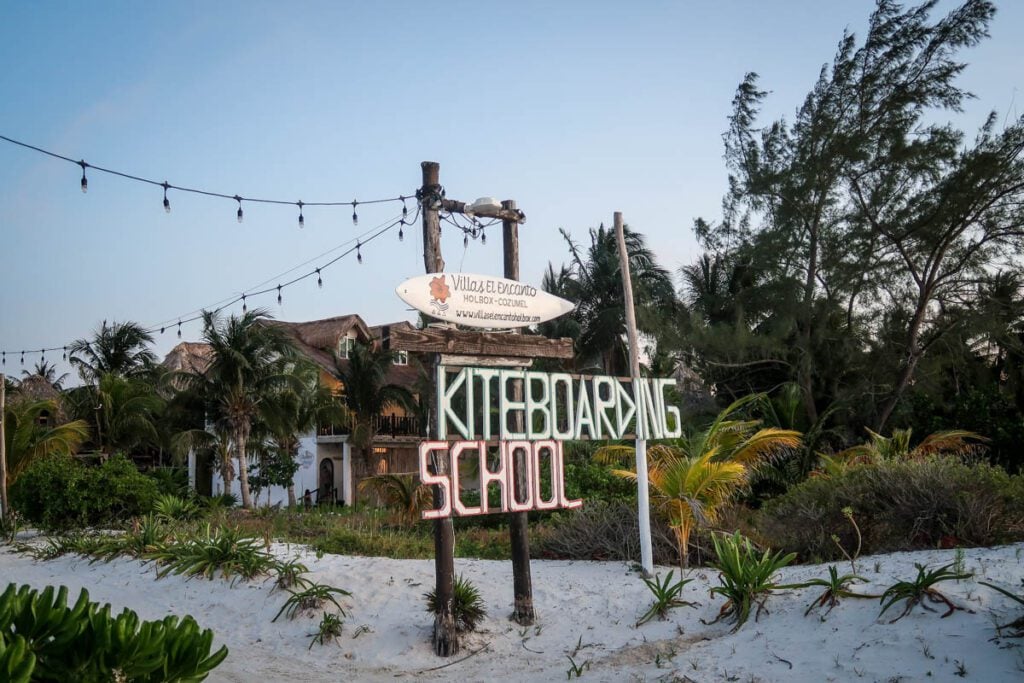 Ideal conditions for kitesurfing are served up on Isla Holbox 250 days out of the year, making it a prime location for testing your skills at this watersport.
The main season is from November to May and there are many kitesurfing schools around the island that offer lessons.
Lessons range from a few hours to full courses depending on your interests and include all the equipment to hit the waves like a natural in no time.
As you learn the ropes, you'll navigate the waters with dolphins, manta rays, endless species of fish, and migratory birds.
It's a unique way to take in the natural beauty of this untouched paradise.
18. See bioluminescent waters sparkle under the stars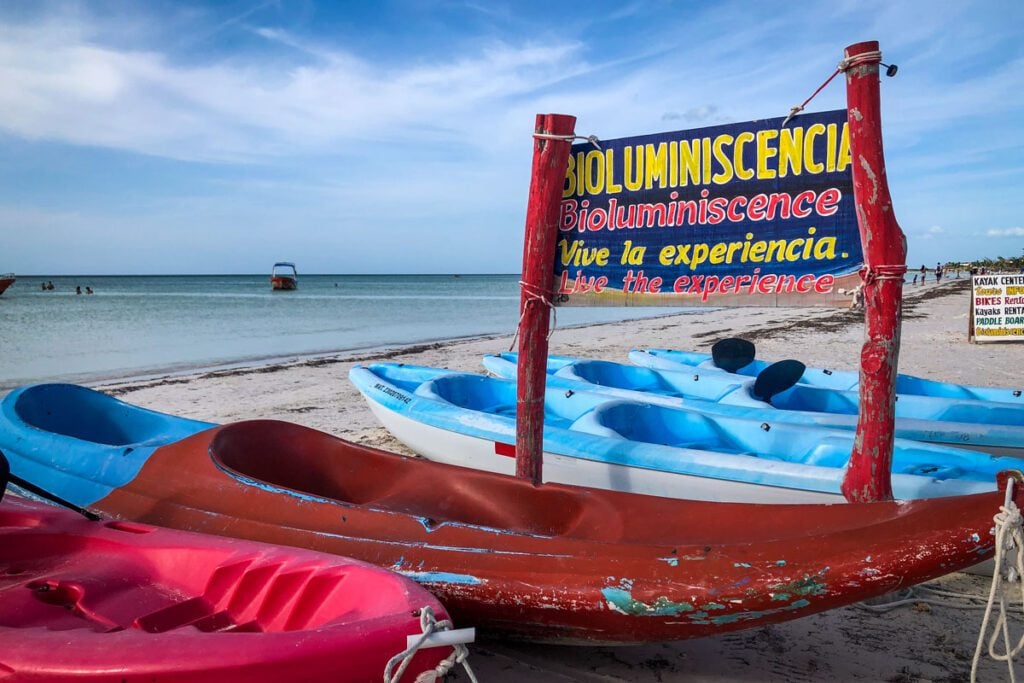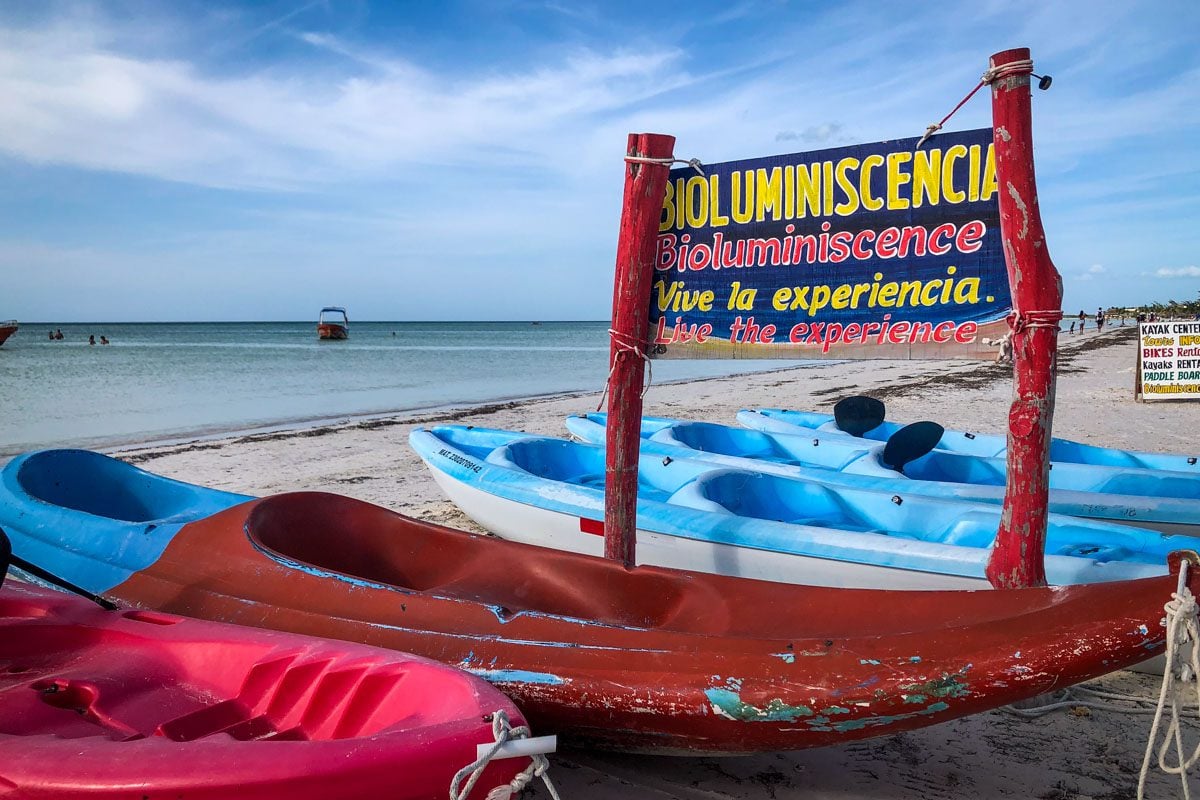 Holbox is known as a place to see the phenomenon known as bioluminescence. AKA blue sparkly, glowing water!
More precisely, this bioluminescence glow is created by plankton when they are disturbed or moved.
If you want to try to see bioluminescence on your own, you can head to this spot near Punta Cocos (beware that it can be muddy and ridden with mosquitoes).
You can also book a tour where your guide will take you to spots that are best for seeing bioluminescence as well as constellations in the sky.
Here are 2 good options:
Tips for seeing bioluminescence in Isla Holbox:
If there is a full moon, the bioluminesce will be difficult to see. The best time to try to experience this phenomenon is during a new moon or when the sky is pretty dark.
Bioluminescence can be very difficult to photograph (unless you've got a tripod and a DSLR camera).
You need to disturb the water in order to see the plankton glow. Kick at the water with your feet, or find a palace where there are small waves. You can also swim and move your arms around in the water. Additionally, a kayaking tour can sometimes be a good way to see bioluminescence since your paddles will be constantly churning the water.
If you are going to see bioluminescence on your own, be sure you bring a headlamp so you can get back to your hotel safely.
Manage your expectations. You might only be able to see a little bit of sparkle. Don't go expecting a sea of blue (like some photographs might have you believe!), and we think you'll enjoy the experience!
19. Snap a picture with the Holbox sign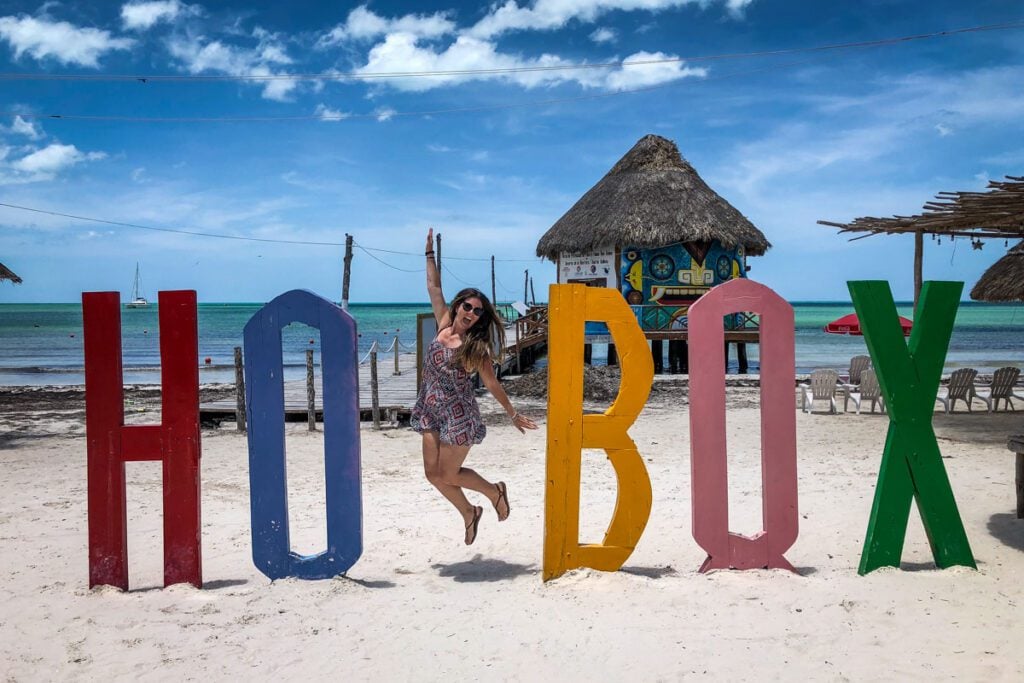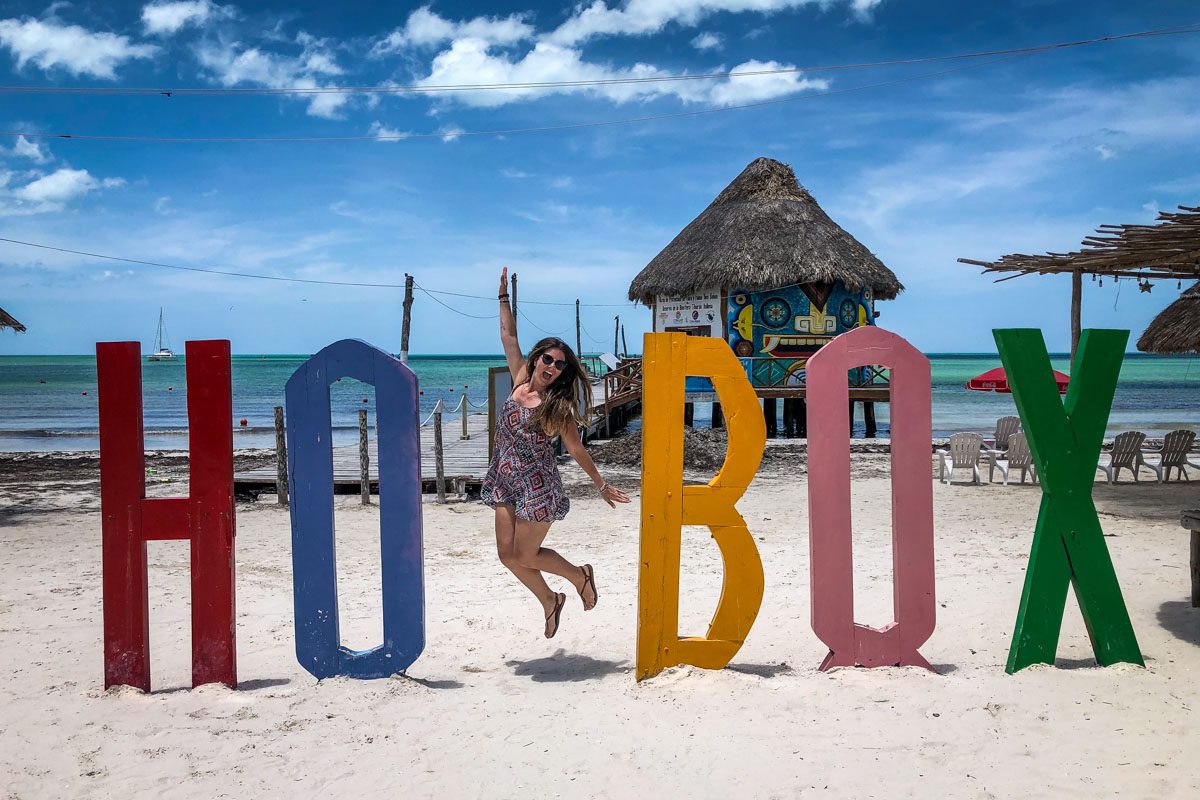 Stop for a quick picture at the colorful Holbox sign.
It's located right here, as you enter Playa Holbox.
You'll notice that it's missing the letter "L", which gives you the chance to get creative and strike your best "L" pose!
20. Go on the 3 Islands Tour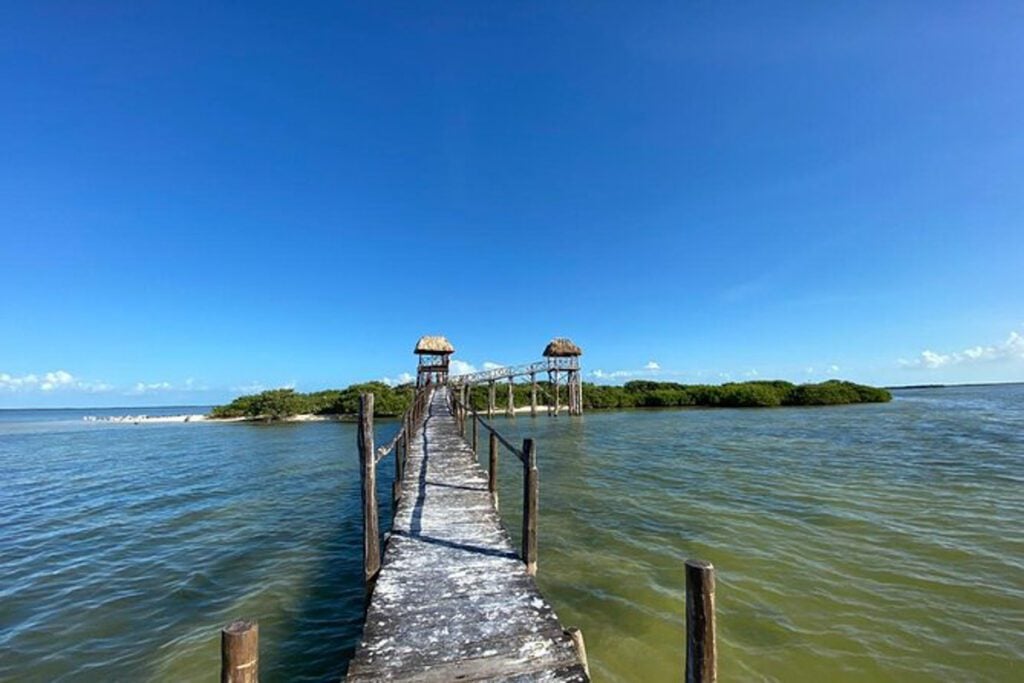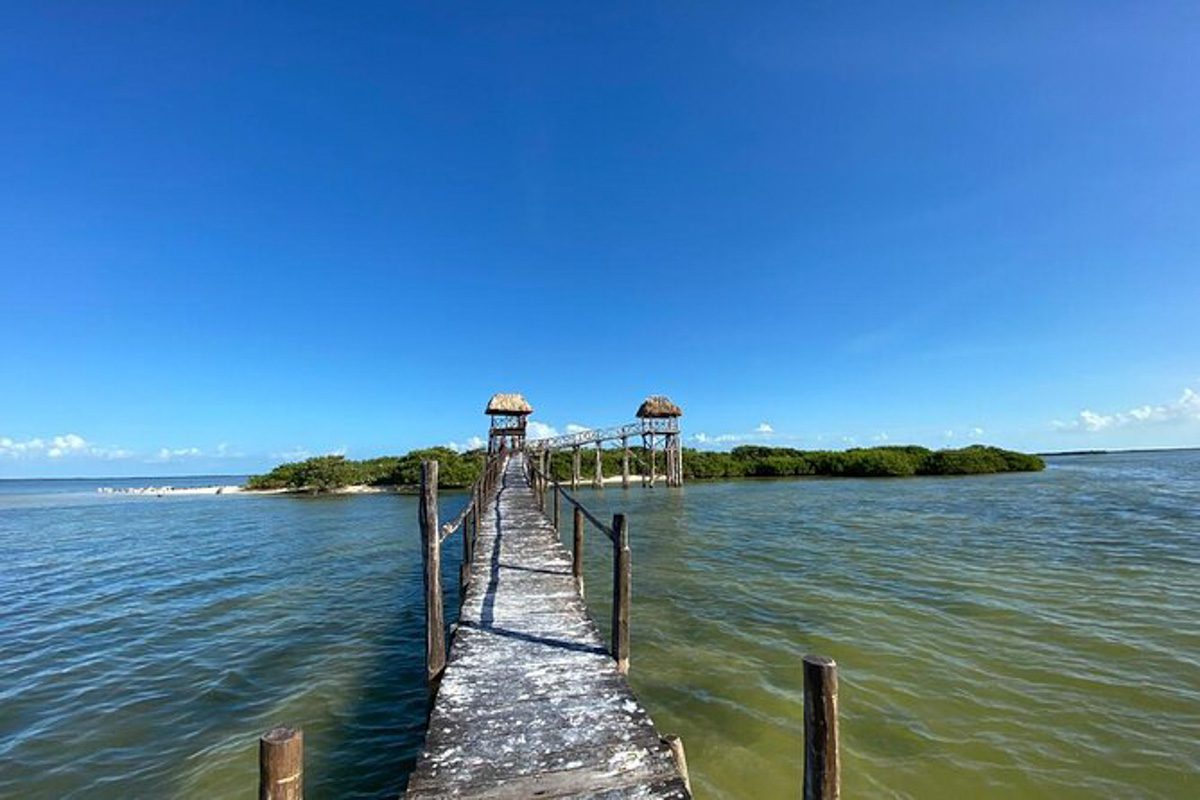 The most popular tour on Holbox is the classic "3 Islands Tour", which is operated by XTreme Holbox.
This half-day trip takes guests on a boat ride to some nearby attractions:
Isla Pasion (Passion Island): known for pristine beaches
Isla Pajaros (Bird Island): you can see many types of rare birds
Yalahau Lagoon: this freshwater cenote (also called Ojo de Agua) makes for a refreshing dip
Psst! Check out this list of the best cenotes in Mexico!
21. Get a massage on the beach (or at a spa)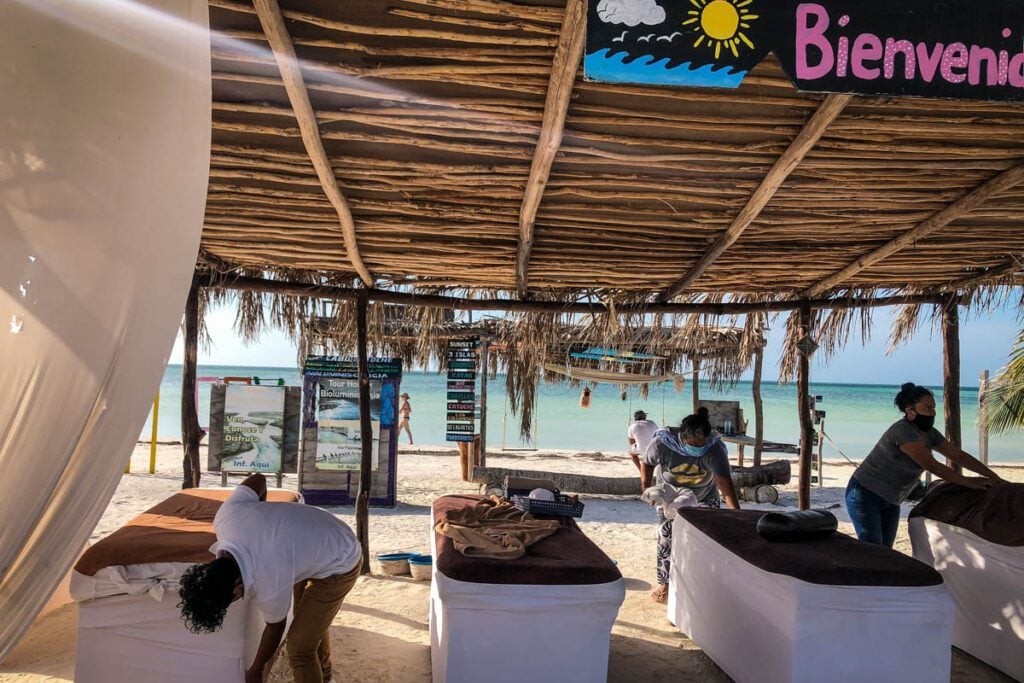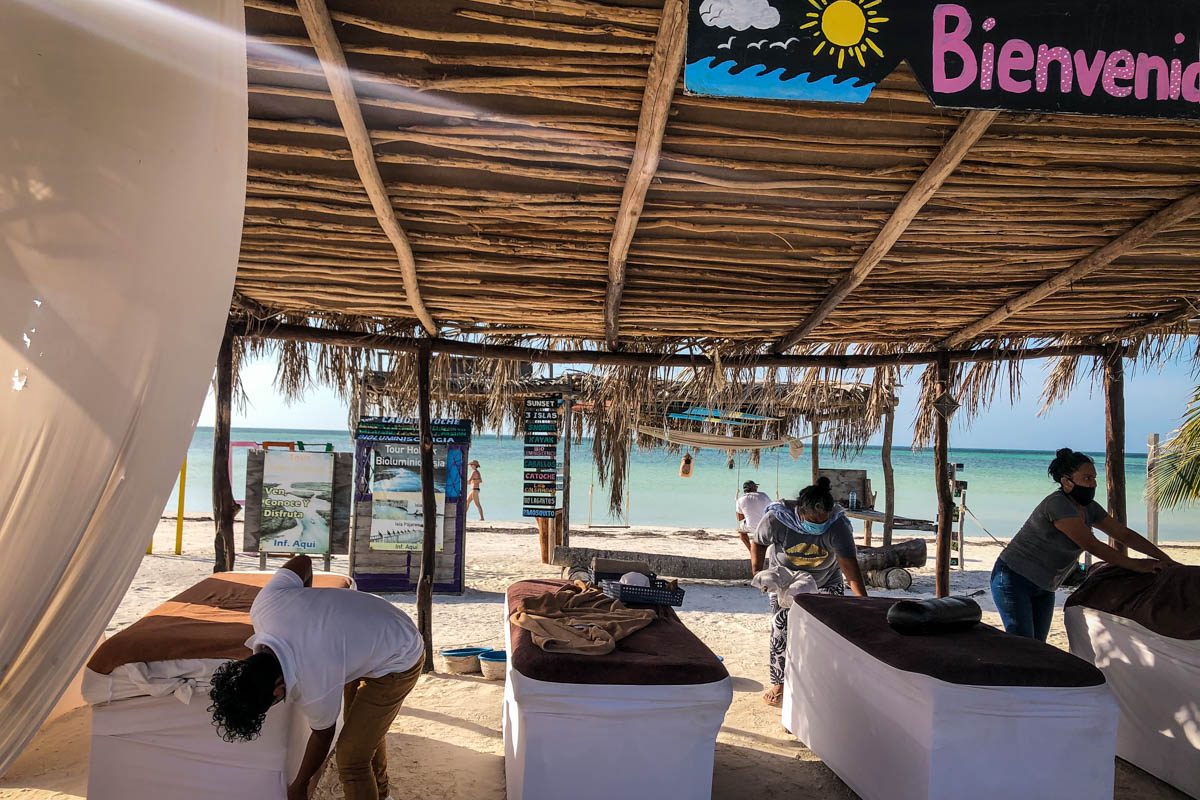 Wander the beach and you will see plenty of massage tables, shaded beneath small awnings. Masseuses may even call out to you, "Massaje, massaje!"
I will warn you that while an oceanside massage sounds nice in theory (& is pretty affordable), there are a couple of things to think about…
a) There's not much of a vetting process for setting up a massage table on the beach. So you won't know the quality of your masseuse until, well, you're on the table. There are some very talented masseuses along this stretch of beach, and some not-so-great ones. Ben lucked out and had a great massage, while mine was less than mediocre. (On my birthday, no less.)
b) Sand may get everywhere. Let's just say that I had a rather exfoliating massage. And I don't think that was on purpose.
c) You won't have privacy. There are people walking by, so if privacy is important to you during a massage, we'd recommend walking past the beachside tables.
After having mixed experiences with our beachside massage, I wished we would have booked appointments at one of the few spas on the island.
We heard really good things about Spa Orquídea, located at Las Nubes hotel. But when I tried to make an appointment at the last minute, I didn't have luck. For that reason, I'd recommend making an appointment in advance if you want a massage in a proper spa.
22. Cheers with a sundowner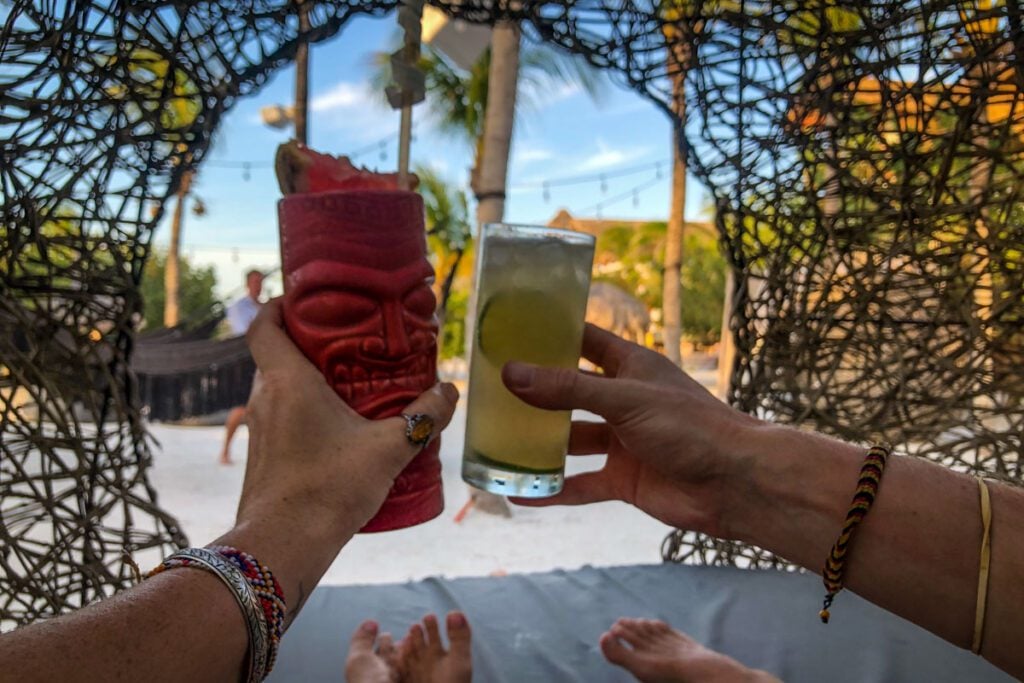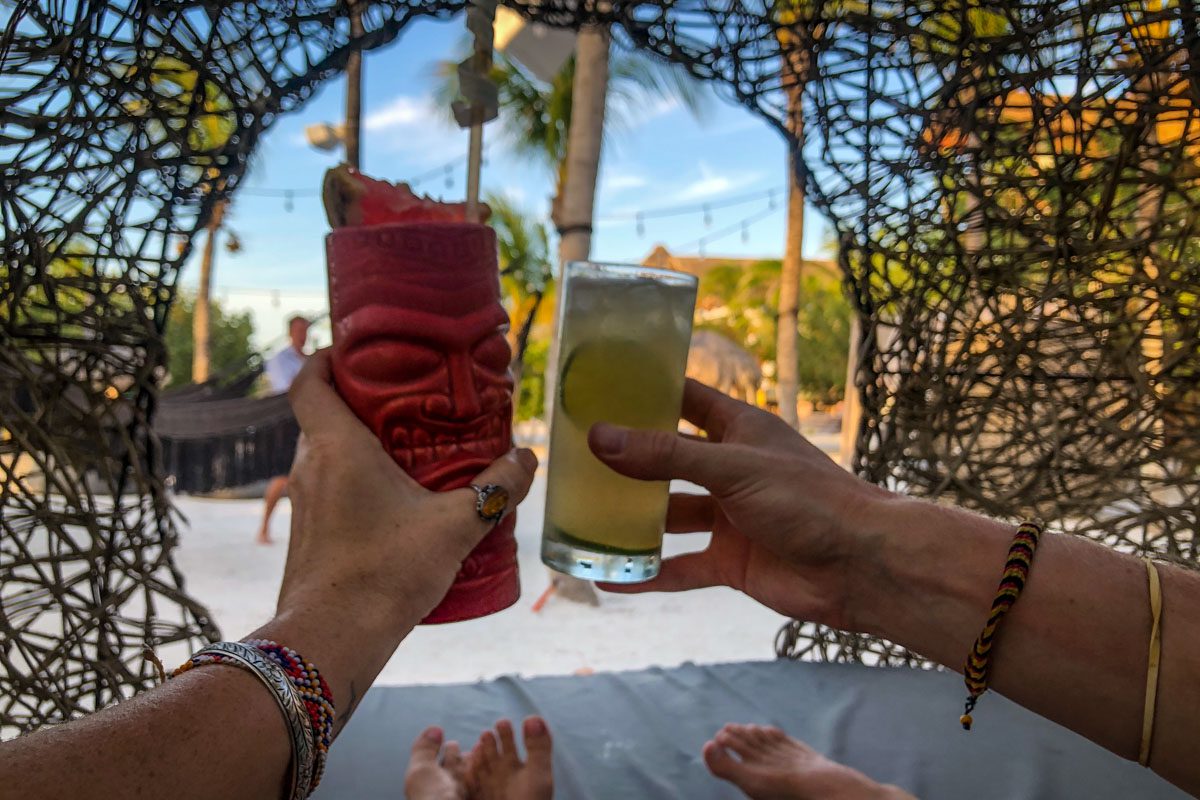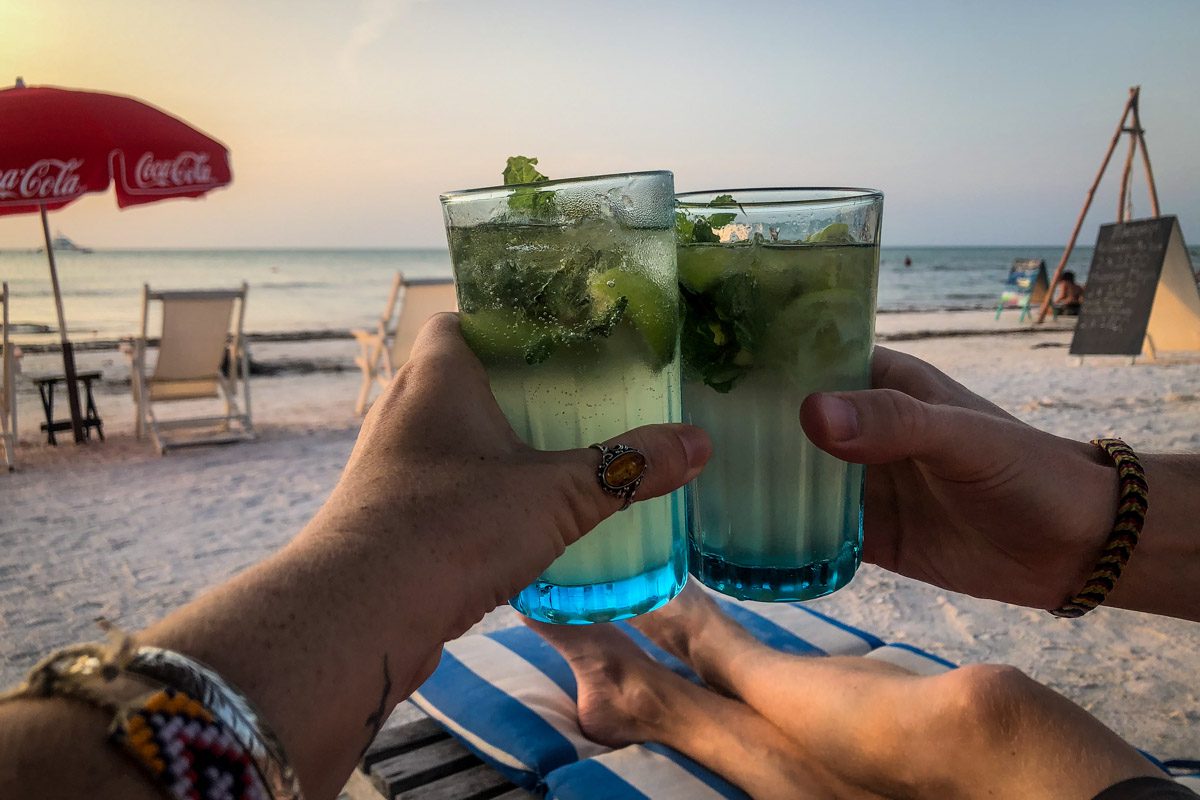 There are lots of waterfront bars at which you can enjoy a cocktail (or 2!) as the sky begins to turn pink and orange.
Grab a lounge chair facing the ocean and ask to see a cocktail menu.
Cheers!
23. Shop for artisan-made souvenirs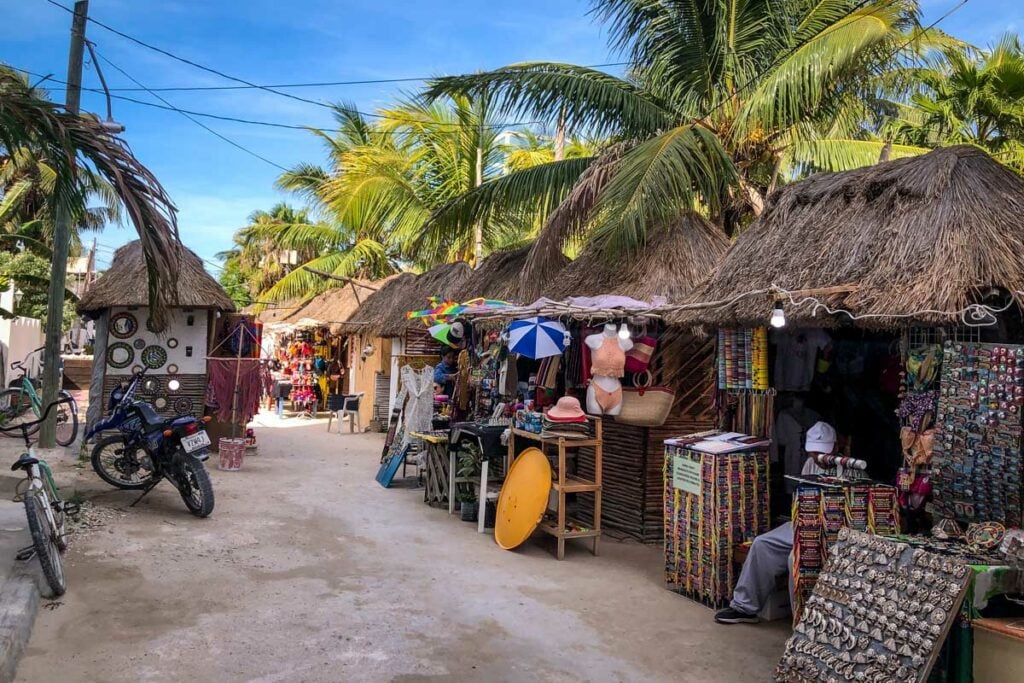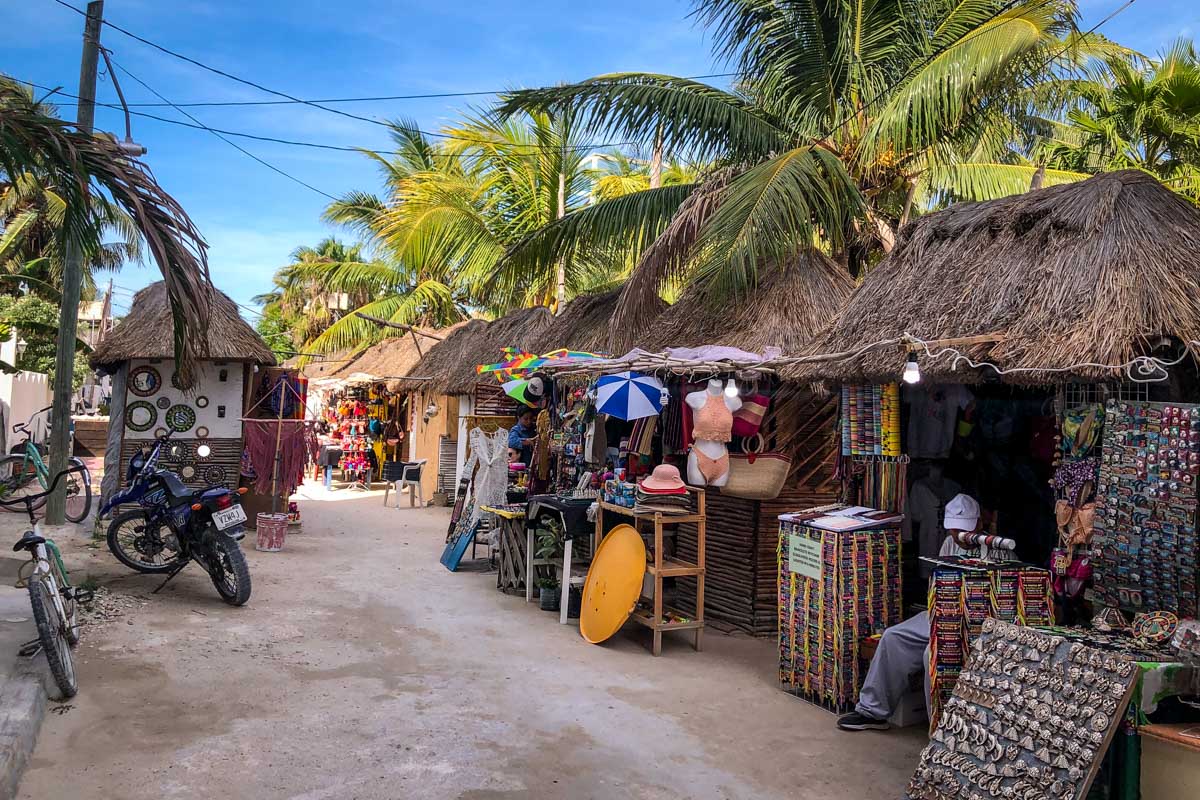 If you're looking for souvenirs to remind you of your travels, there is a small grouping of vendors selling handicrafts just off one of the main walking streets.
We couldn't find the name of this market, but to the best of our memory, it is located around the corner from Painapol cafe, near this spot.
There are a few booths selling typical souvenirs, but a handful of vendors selling handmade artisan goods, like stuffed animals hand-stitched with colorful yarn, macrame wall hangings and cute felt hearts you can hang from a door handle (we have a few of these!).
At an open air market like this, you can barter to get a fair price. However, do so respectfully, as this is how the vendors make a living.
Moral of the story: Don't argue over 50 pesos if you don't need to.
24. Cool off with black "Holbox" flavored gelato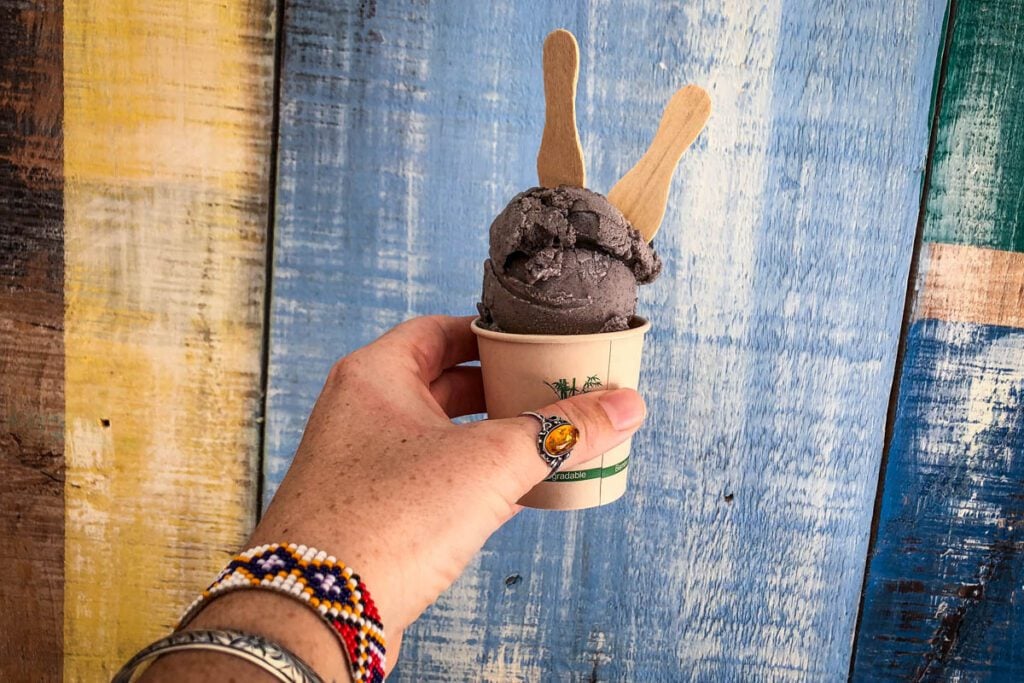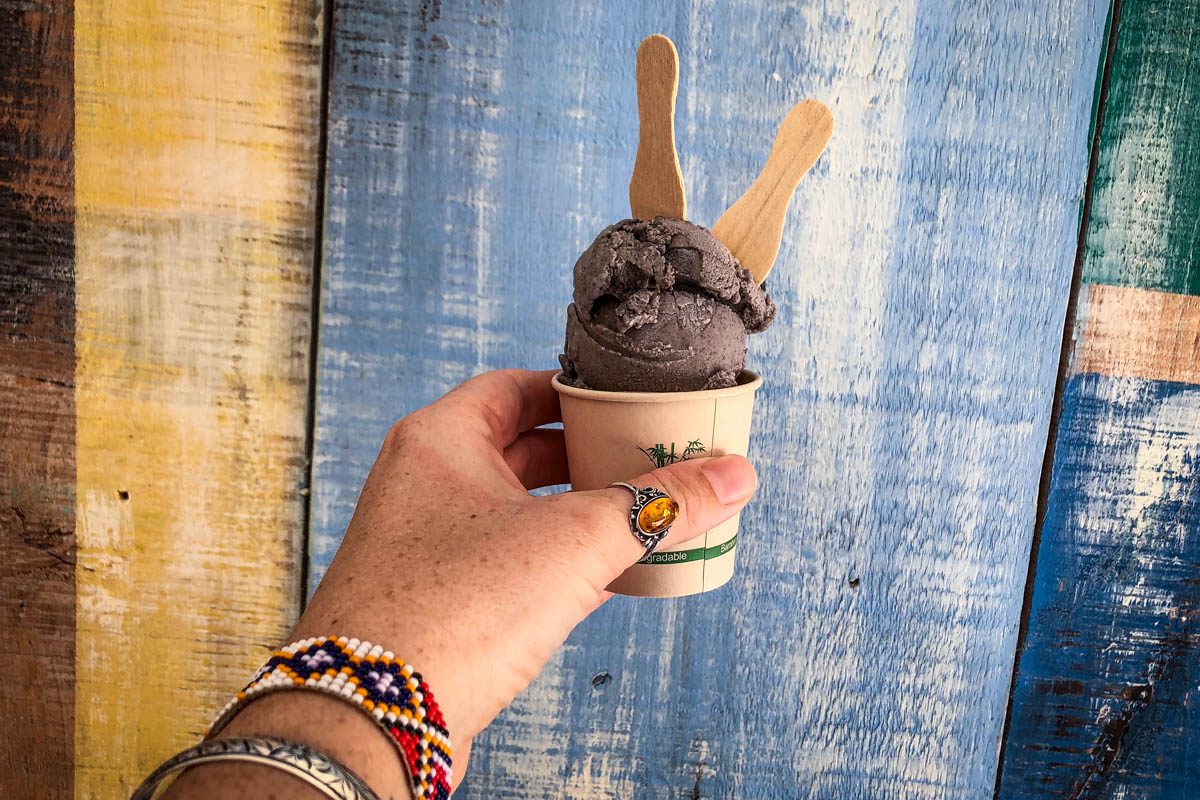 There's not much in the world we love more than ice cream.
Okay, scratch that…
There's not much we love more than ice cream on a hot, hot day on an island in the sun.
There will be a time on Holbox where you'll be craving something cold and sweet. And when that craving strikes, head to La Gelateria de Holbox for a double scoop!
For something unique, try their "Holbox flavor", which looks a lot scarier than it is. The scoop is black, but the flavor is very light and refreshing: coconut and activated charcoal. Spoiler alert: you can't taste the charcoal!
25. Kayak through the mangroves at sunrise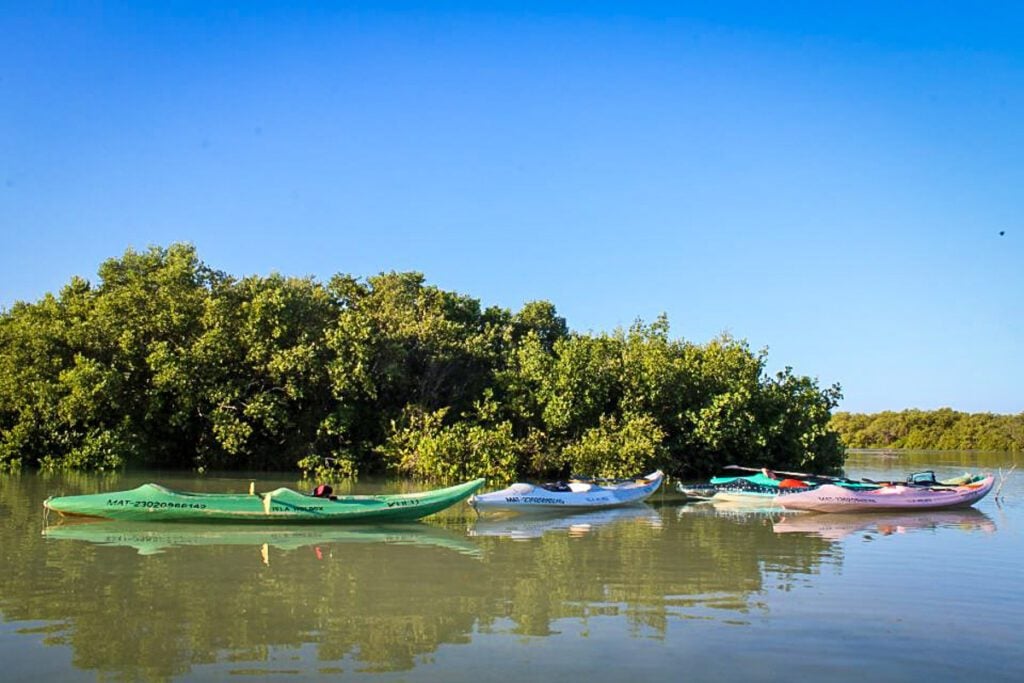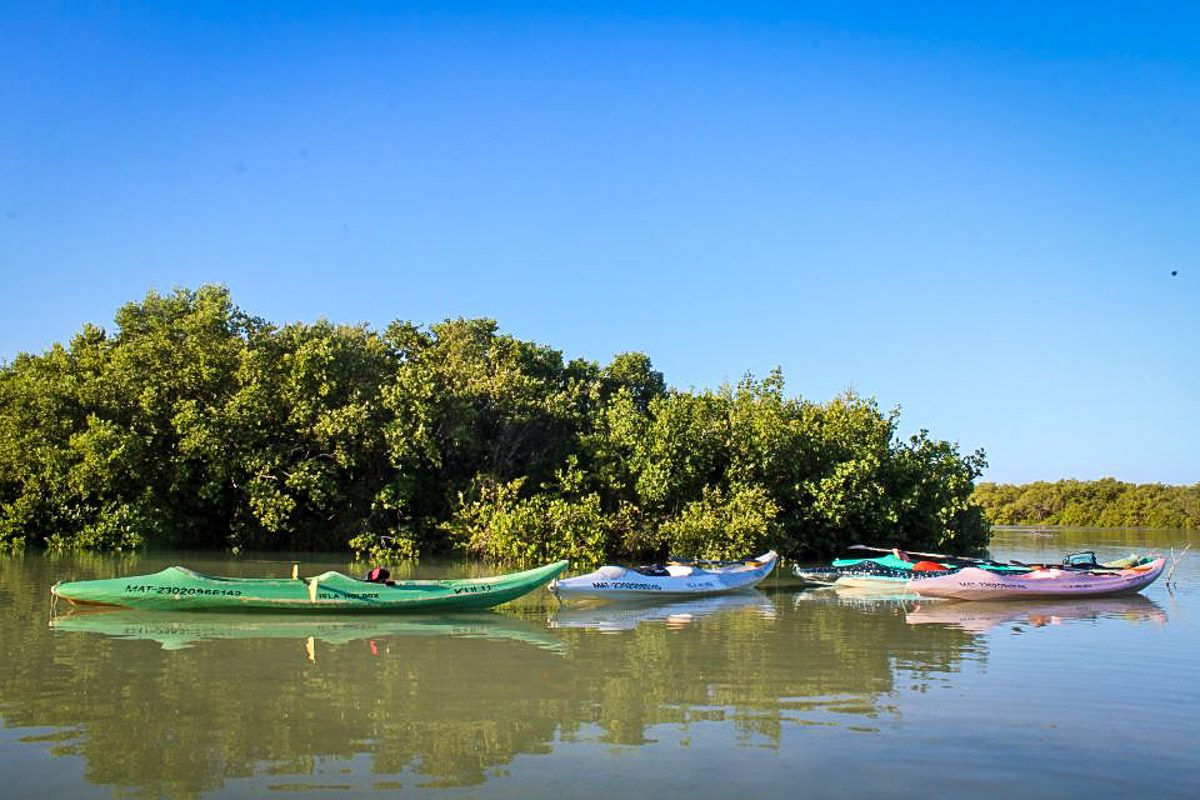 The Holbox Mangrove Reserve is one of the island's richest wildlife locations.
Larger boats cannot access these areas due to ecological preservation, so many people miss the opportunity to see this unique ecosystem up close by kayak.
A peaceful sunrise paddle through the maze of flora and fauna grants you the best odds of spotting the variety of exotic birds and other mangrove-dwelling creatures when they're most active.
There is no prior experience needed for this tour since the waters are calm, so even if you're a novice, you'll get the hang of things quick!
Here's what one reviewer had to say:
"Had a really nice sunrise kayak trip! We saw a crocodile, flamingos, rays and many birds! Also we were the only ones in the mangrove in the morning which made it a special experience! Good service where you will be picked up at your hotel in the morning and great contact with Diego and Carlos!" -reviewer from the Netherlands, July, 2022
26. Go on a taco tour
These handheld bites come in a variety of shapes and fillings all over Mexico, so it's only fitting that you sample the best tacos on Isla Holbox to gather more samples for your repertoire.
On this tour you'll eat your way through four different taco spots while getting insight about the country's delicacy, watching how the tacos are made, and sipping on your favorite boozy beverage.
Here's what one reviewer had to say:
"We can't recommend Lorena's tour highly enough. Personal stories, lots of fun info, great food, great drinks, and SO MUCH awesome info on Mexico in a larger sense and Holbox in particular." -Noël, December 2022
27. Dance the night away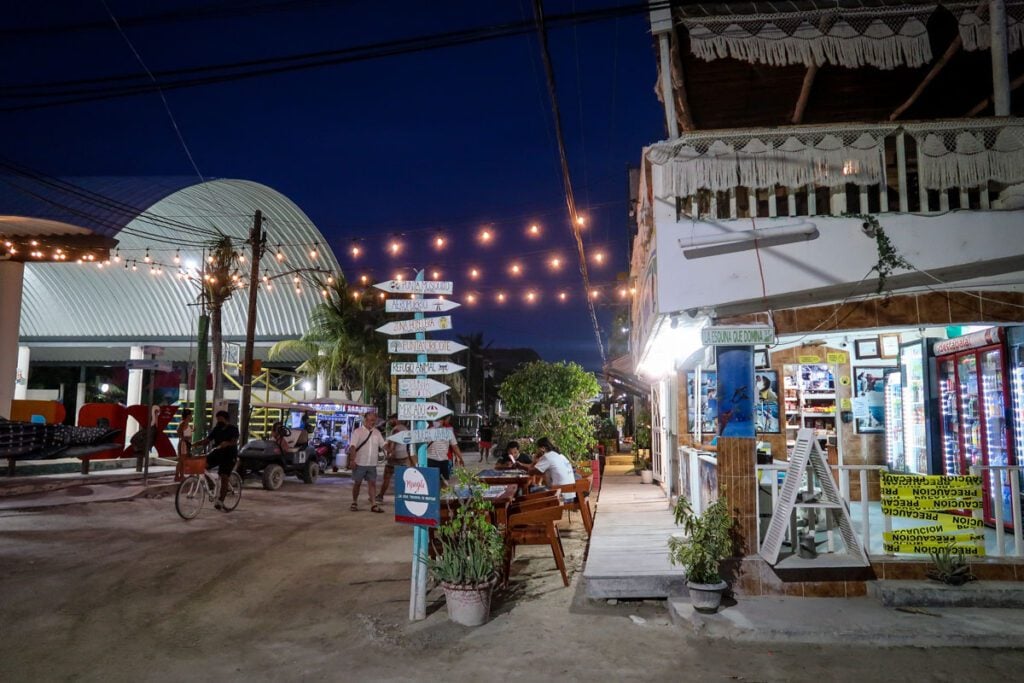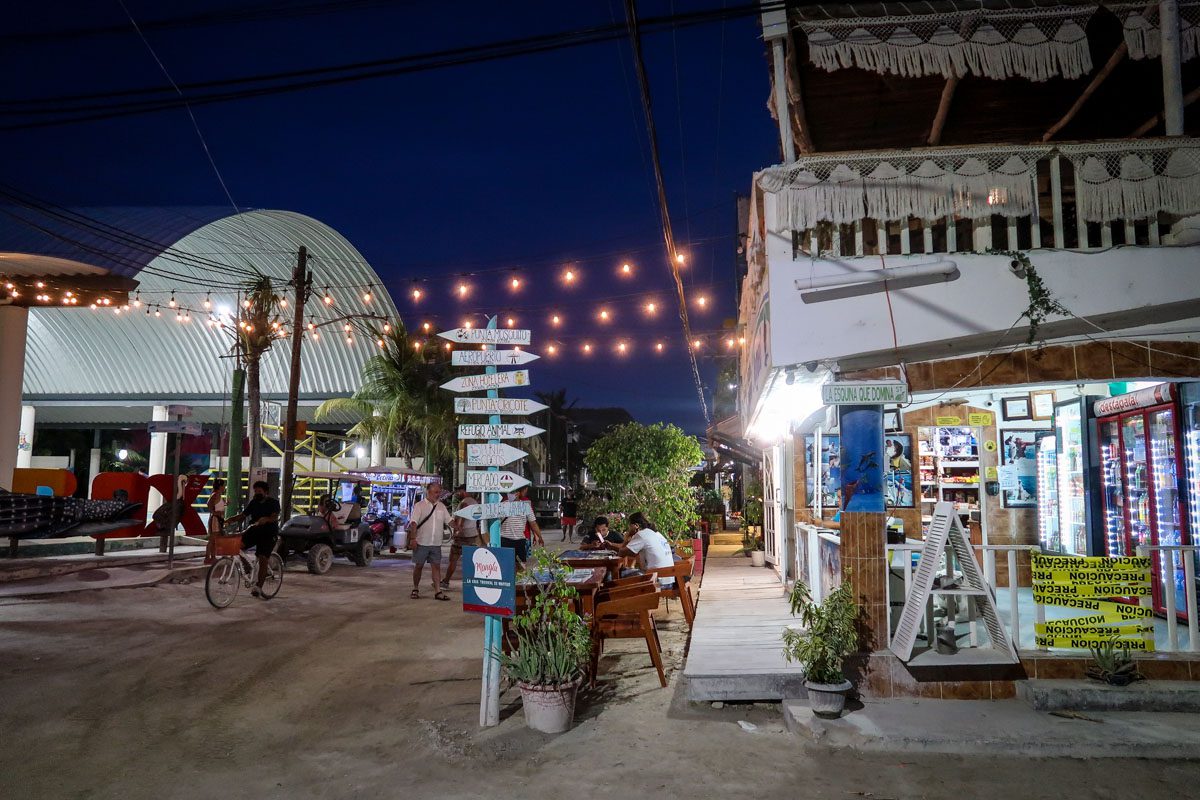 If you're looking for nightlife in Holbox, you won't find as many options as nearby Cancun.
But don't worry, there are a few staples on the island that boast live music, strong drinks, a lively atmosphere and bars that stay open late.
Two of the most popular places for nightlife on Holbox are:
The Hot Corner
The Hot Corner is the most popular spot on Holbox for nightly live music and dancing that goes into the wee hours of the morning.
Tribu Hostel
On the hunt for cheap drinks and a social vibe?
Look no further than the bar at Tribu Hostel (which is open to the public). Expect to find groups of younger travelers, music and a lively atmosphere that kicks it up a notch later in the night with DJs and dancing.
Tip: Come for happy hour, which starts nightly at 7 p.m.
---
Ultimate list of things to do in Isla Holbox, Mexico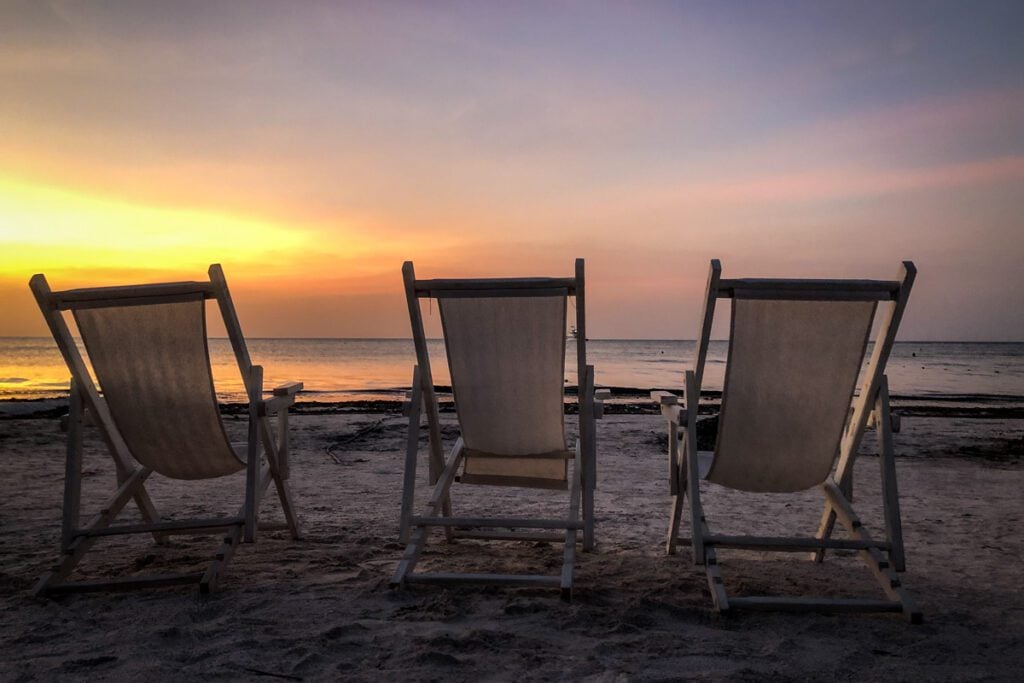 Let's recap with a round up of the very best things to do in Isla Holbox.
Smoothie bowl at Painapol
Walk rescue dogs on the beach
Swim with whale sharks
Try Holbox's famous Lobster Pizza
Vegan Mexican food at Arte Sano
Get fresh juice at the mercado
Explore the island on a bike or golf cart
Escape Room
Eat fresh seafood at La Barracuda
Walk the sandbar to Punta Mosquitos
Spot wild flamingos
Sunset at Punta Cocos
Sip mojitos in a rooftop pool
Live music on the beach
Splurge on a fancy dinner
Hunt for street art
Take a Kitesurfing lesson
See Bioluminescent waters
Snap a picture with the Holbox sign
Go on the 3 Islands Tour
Get a massage
Cheers with a sundowner
Shop for artisan-made souvenirs
Gelato
Kayak through the mangroves
Go on a taco tour
Dance the night away
Remember, you can find more information about each of these activities in Holbox in the article above.
---
Holbox Travel Guide
Now that we've gone over the very best things to do in Holbox, let's go over all the other essential information like how to get there, where to stay and where to eat!
We're also sharing some really important things to know before visiting Holbox (that you won't necessarily read about in the guidebooks). Hopefully, after reading this, you will know what to expect and feel prepared.
Is Holbox worth visiting?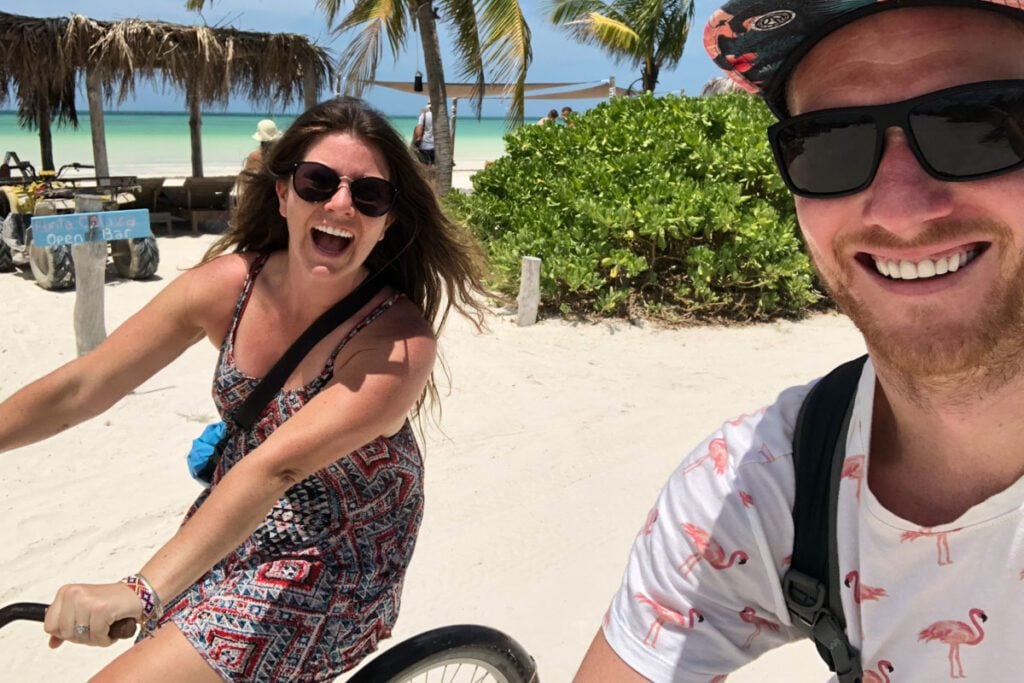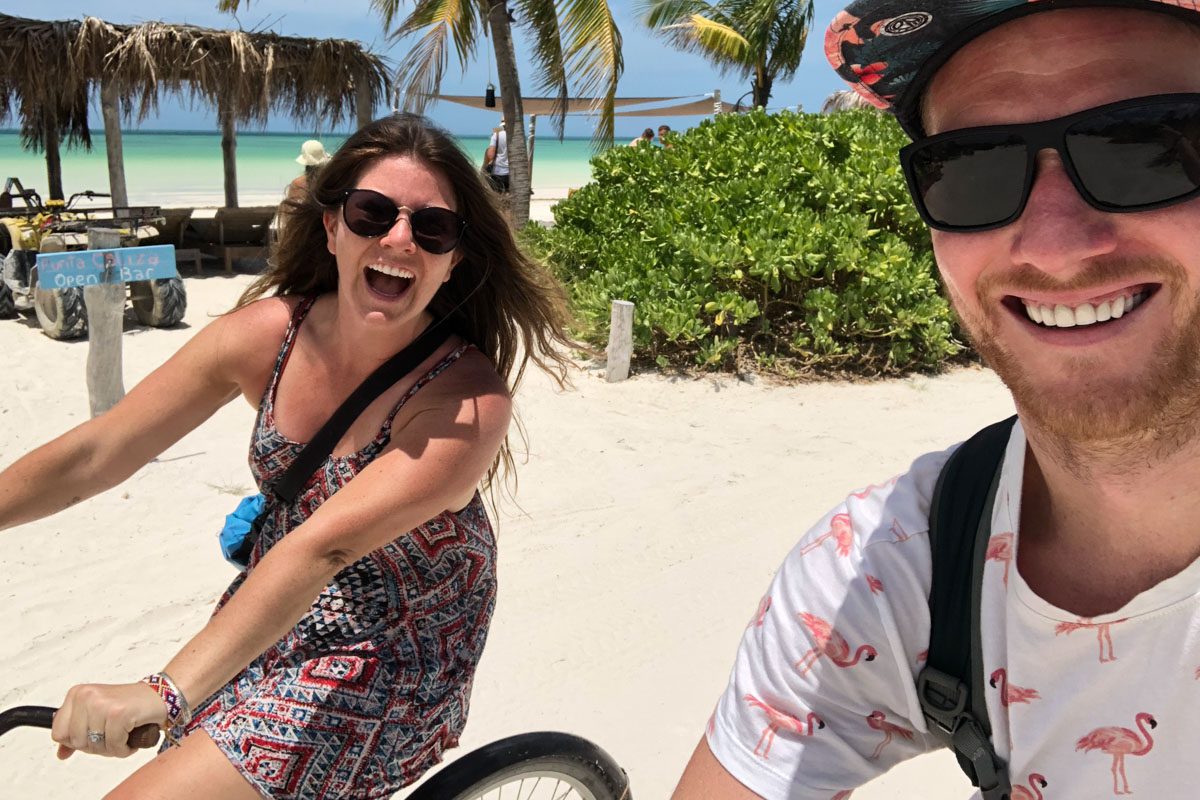 Absolutely!
It's not too crowded but still has enough fun things to do, aka the best of both worlds! There are good restaurants, and most importantly, pristine beaches.
If you're looking for a more relaxed (and less touristy!) trip, Holbox makes an excellent alternative to Cancun or Tulum.
Or if you want to explore all the beautiful places in the Yucatan Peninsula, Holbox makes a good addition to your itinerary and will feel worlds away from the more built up cities.
Our opinion: Along with Bacalar, Holbox is one of our favorite places in the Yucatan Peninsula. It's not without its faults, but it's still a really nice island getaway (in our opinion!).
If you want a relaxing beach vacay in Mexico, this is it!
Our personal experience in Holbox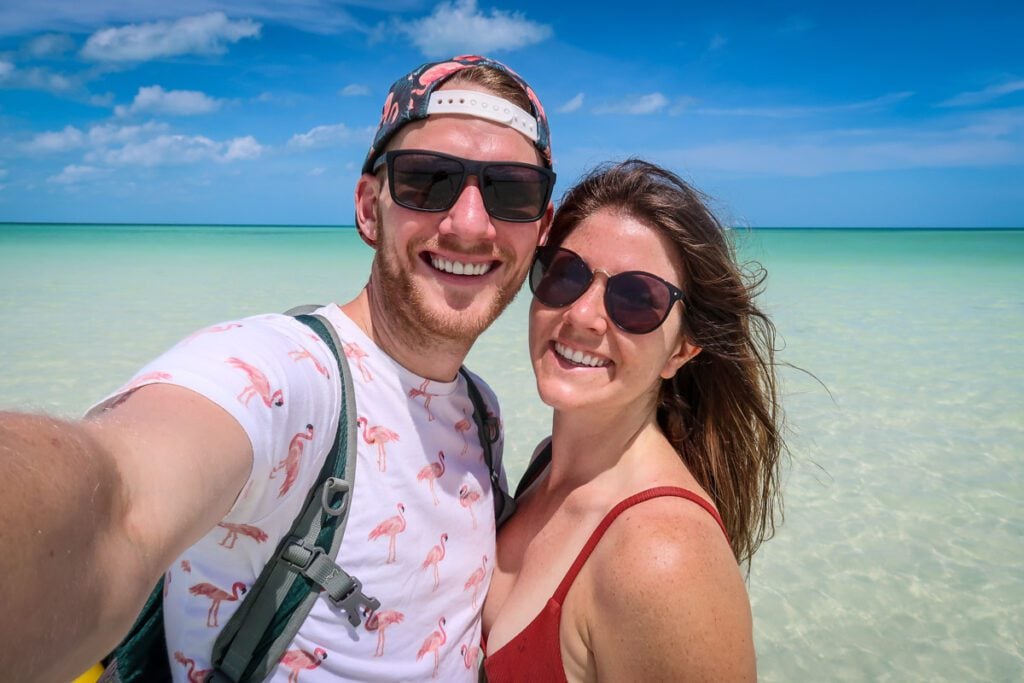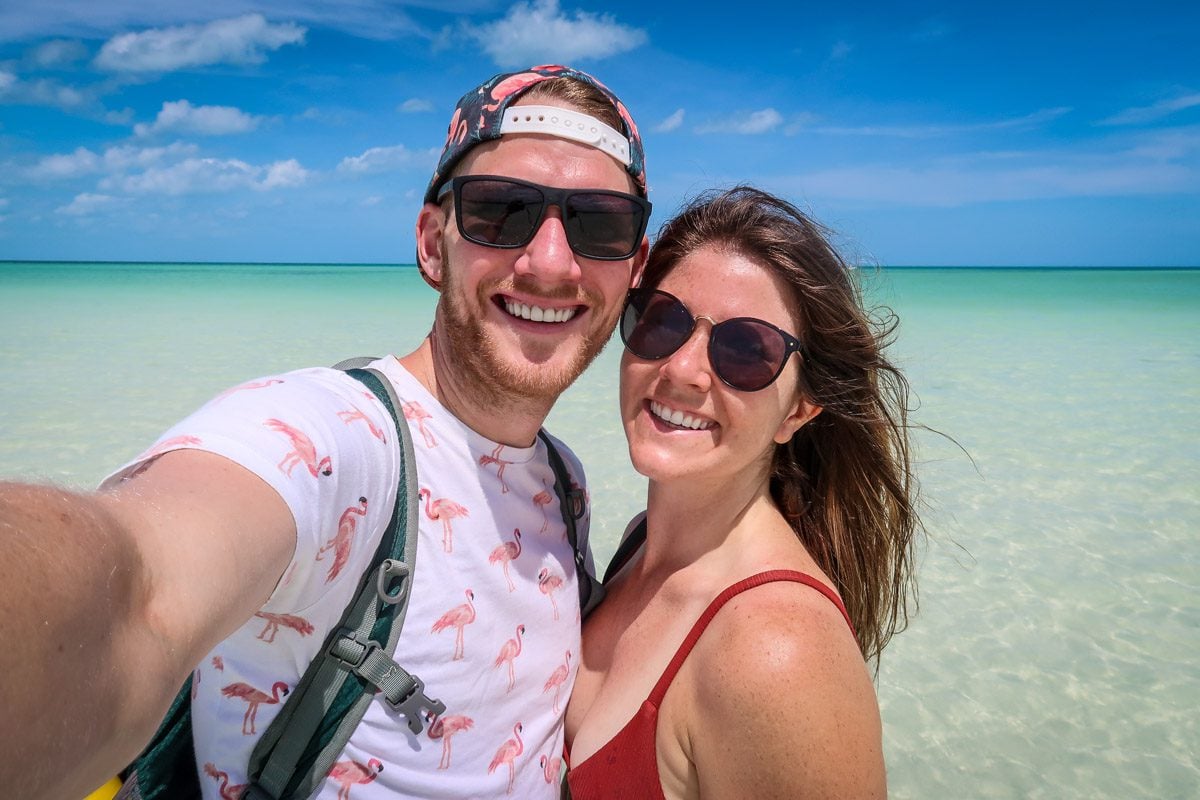 We visited Holbox while we were living in Playa del Carmen. We spent 4 nights on this peaceful island for my birthday getaway!
I had recently found out I was pregnant (yay!), so I was battling nausea and sipping only virgin drinks the entire time.
But it was still so, so much fun.
Despite not feeling my best, I loved Holbox and highly recommend including it in your Yucatan itinerary.
10 Things to know about Holbox (that most people don't talk about!)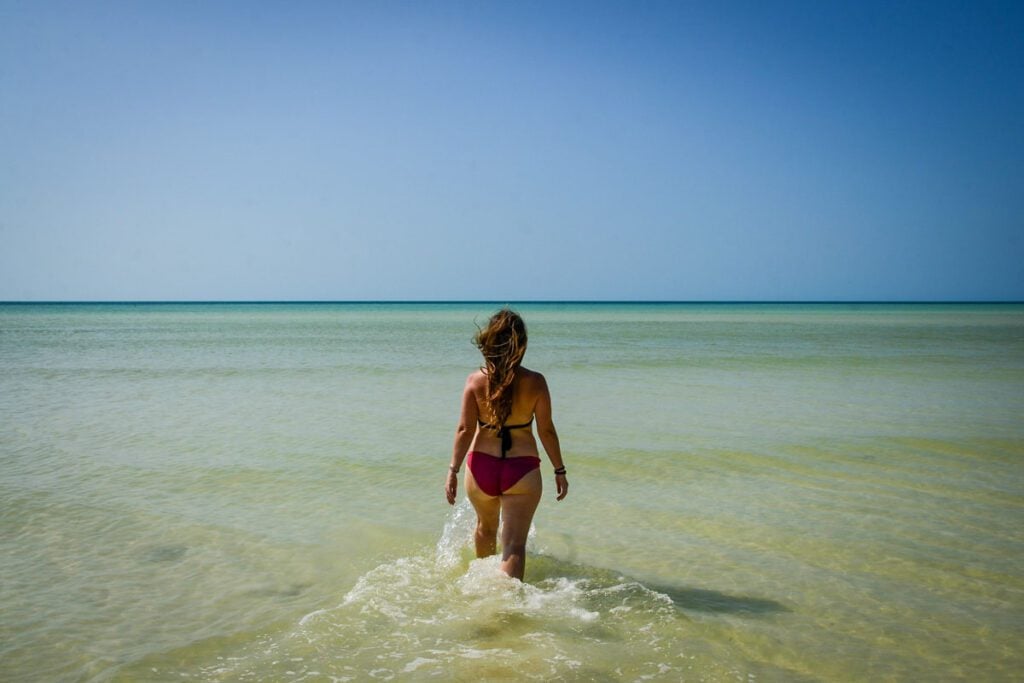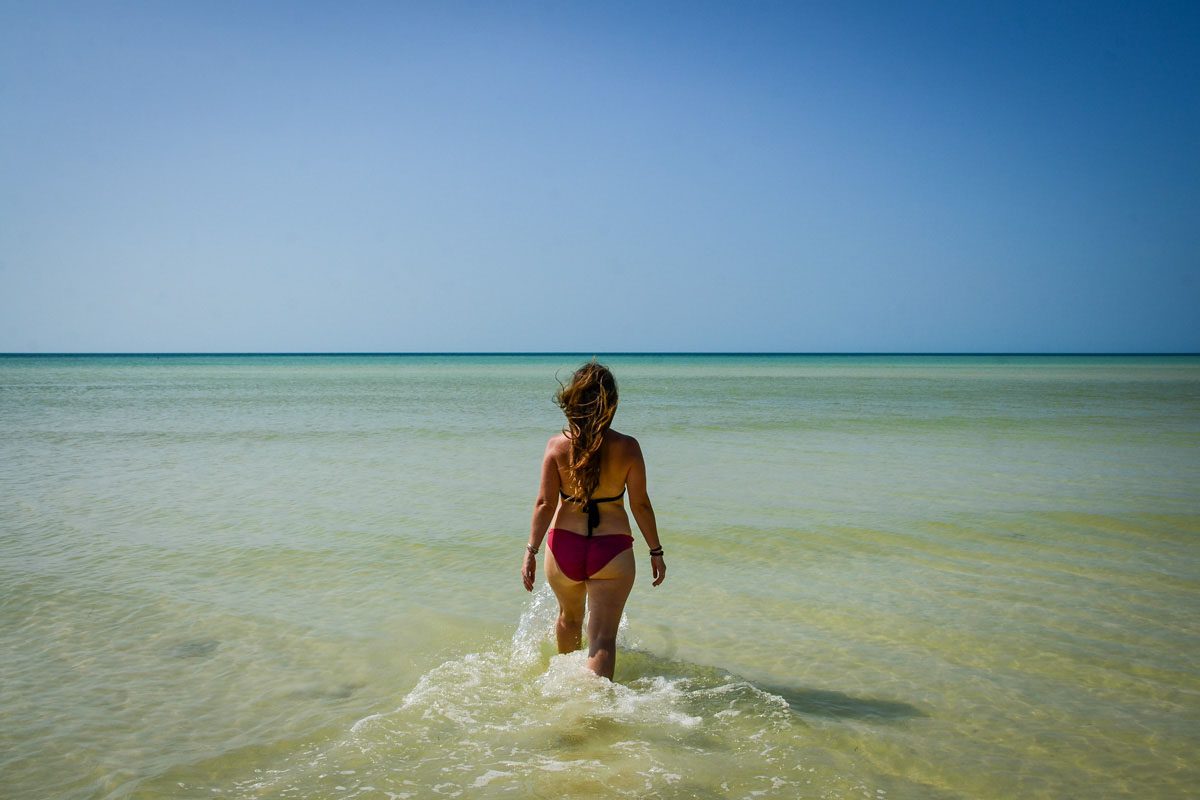 We've already told you that we had a fabulous time in Holbox, and would definitely recommend adding it to your Yucatan trip. But we do want to make sure you know a few things about Holbox before you pack your bikini and (reef safe!) sunscreen…
There are a handful of things that we sure wished we would have known before our trip. (Things that you won't find in guidebooks!)
After reading this, we're confident that your expectations will be realistic and you will fall head over flip flops for Holbox!
1. Whale sharks can't be seen all year
If your primary reason for visiting Holbox is seeing whale sharks, be sure you time your trip right to avoid disappointment. These gentle creatures can only be seen between mid-May and mid-September. Outside of those months, you simply won't be able to see them.
Also, it's worth noting that they are wild animals, so spotting them is never guaranteed.
2. Holbox boasts seaweed-free beaches…
Many tourists are surprised to find the beaches near Cancun, Playa del Carmen and Tulum covered in a stinky reddish seaweed, known as sargassum.
Since the currents of Gulf Stream carry the masses of seaweed north to Miami, just missing Holbox, this tiny island has become a good destination for those looking for sargassum-free beaches.
3. …but they're not all pristine
That said, the beaches aren't all postcard-perfect.
We noticed that in areas of the beach that weren't directly in front of a hotel or beach bar, the sand was littered with debris and even a bit of trash.
You won't see this in most photos people post on Instagram, so it was a bit of a surprise for us.
4. The iconic "Holbox hammocks" are gone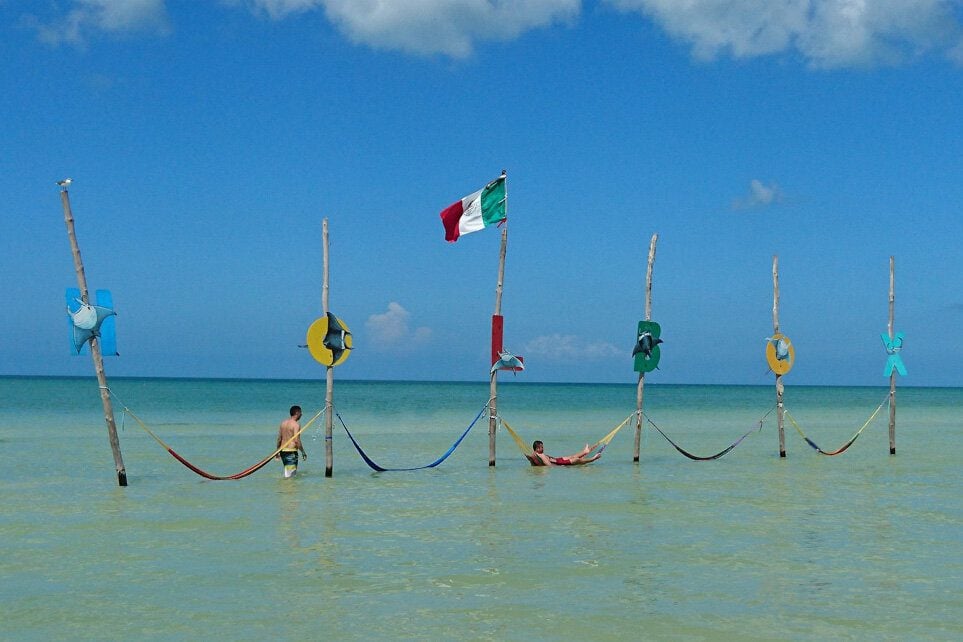 One of the most iconic photo ops of Holbox has long been the clusters of colorful hammocks that sit just above the surface of the ocean. See the photo above taken by our editor, Amanda, in 2018.
You've likely seen the photos as you're researching for your Holbox trip. We did too!
Many lists of the best things to do in Holbox still name this as one of the top sights, so we were surprised (and a little disappointed) that we didn't see any hammocks in the water during our visit.
After doing a bit of research, it seems they started removing these ocean hammocks in early 2020 as part of a conservation effort.
Good to know: You can still find hammocks and swings on the island, but just not any that are directly in the ocean.
5. Bring cash
Many places on Holbox only accept cash, so be sure to bring plenty of pesos.
There aren't very many ATMs on the island, and the ones that do exist are notorious for running out of money.
Some of the bigger restaurants and hotels accept cards, so bring credit cards with zero international transaction fees as well.
6. You'll see lots of mud puddles
Some roads, like the one that leads to Punta Cocos, get particularly pocketed with mud puddles.
If you plan to explore by bike or golf cart, just be prepared for the mud.
Here's the kicker… these mud puddles aren't necessarily from rainwater.
Apparently, the sewage system on Holbox was not built to withstand the amount of people that currently visit this island. So yes, those puddles may very well be sewage water.
7. Mosquitoes are notoriously bad
Due to lots of vegetation and calm, warm waters, Holbox is notorious for having mosquitoes year round.
We didn't think they were too bad (at the end of April), but June is supposedly when they're at the worst.
Pack bug repellant and be prepared to do a bit of swatting!
8. The golf cart taxis are pretty overpriced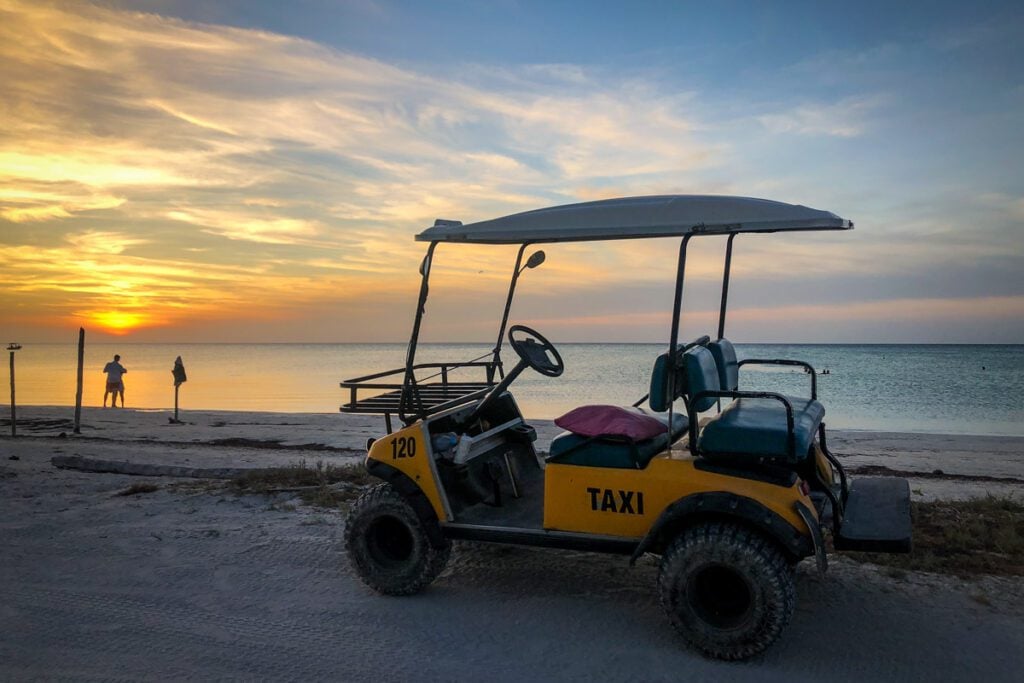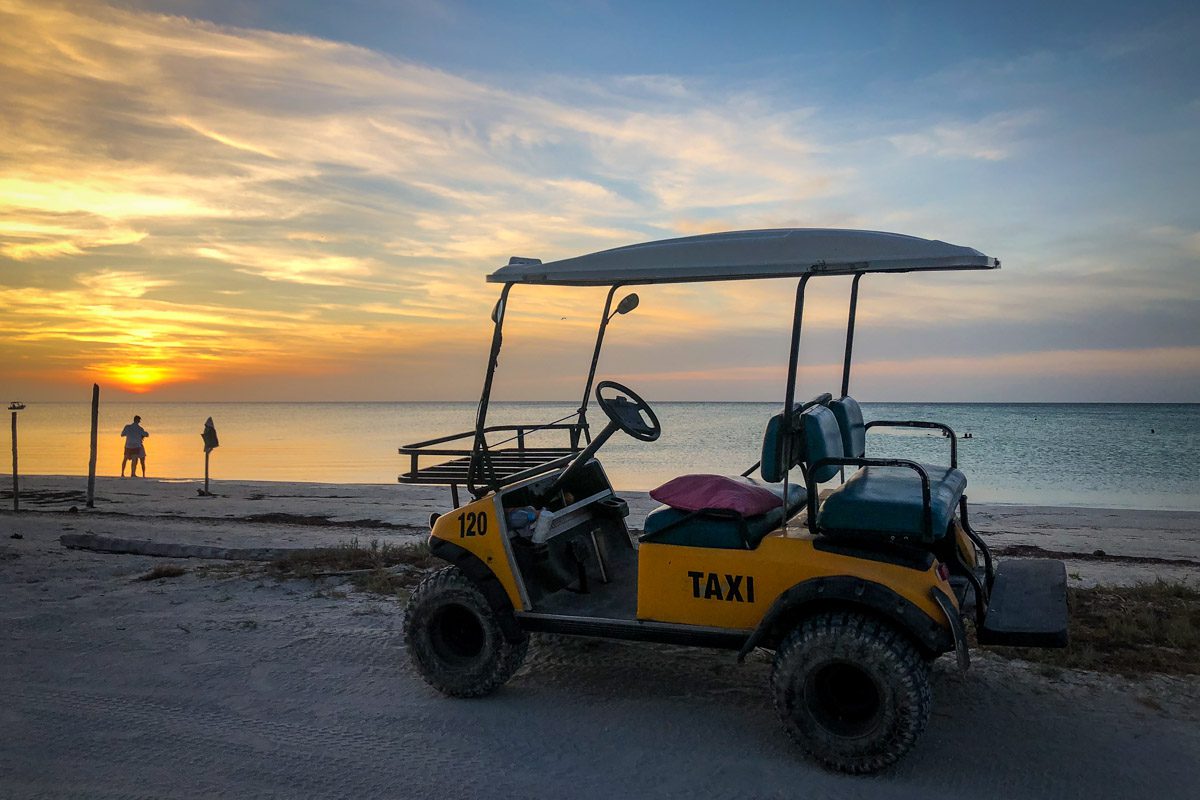 Keep this in mind when considering getting a taxi. Alternatives are to walk (most places are pretty walkable on this island), or to rent your own golf cart or bicycle.
That said, it can be very convenient after dark.
9. WiFi isn't great
Cell signal on Isla Holbox is pretty spotty. And most WiFi networks are weak as well.
As long as you're prepared for this, it shouldn't be too much of an issue. You're on island time, baby!
10. Higher-end restaurants require reservations
If you want to dine in style on Holbox, you can't follow island time and just show up when you'd like. The fancier restaurants in Holbox require reservations.
Show up earlier in the day, or even a day in advance to book your spot.
Responsible travel tips for traveling in Holbox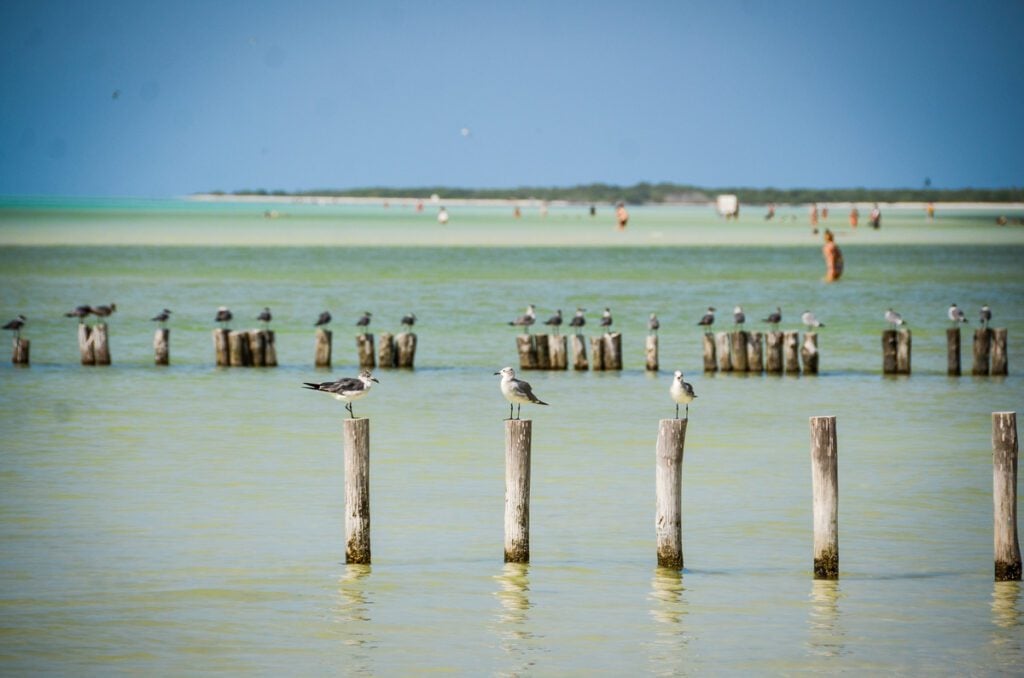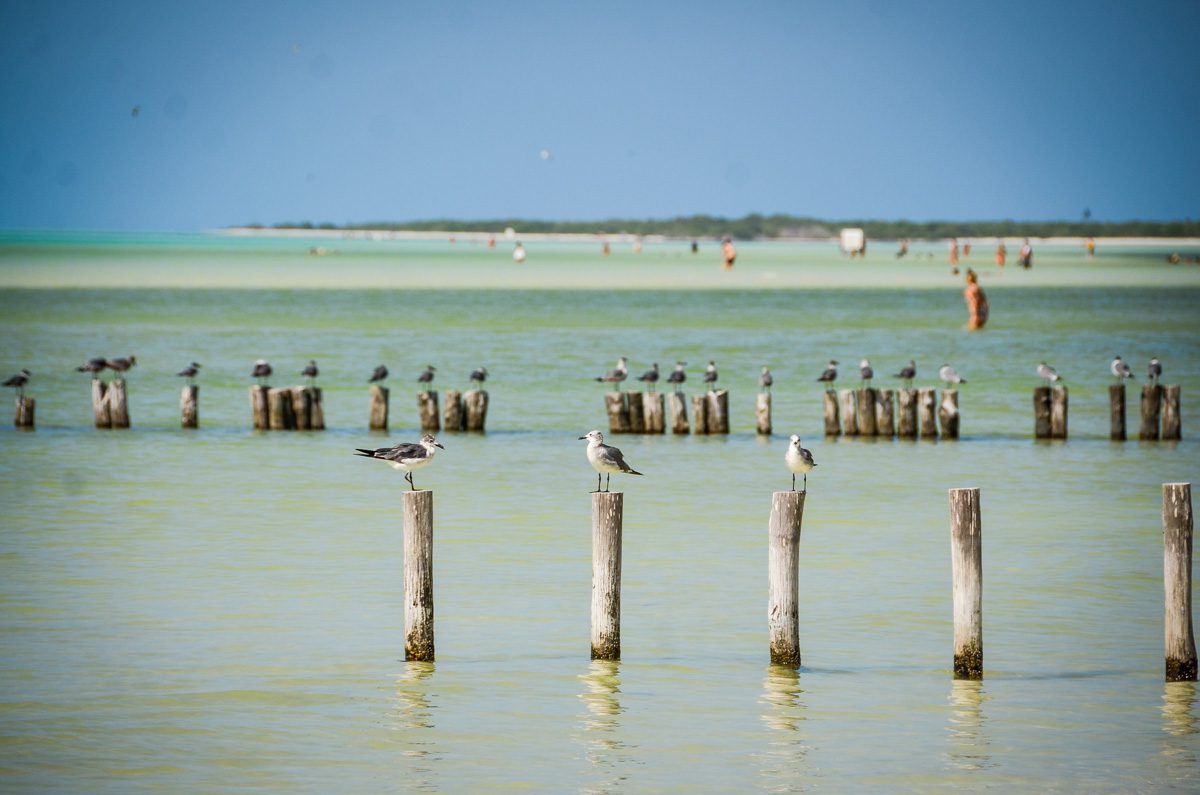 Holbox is a fragile island environment. Do your part to lessen your impact so that this place stays beautiful for years to come.
1. Wear reef safe sunscreen
If you plan on entering the ocean, you should be sure the sunscreen you're wearing is reef safe. Regular sunscreen can cause damage to the ocean's ecosystems and the marine life that call it home.
2. Bring reusables to cut down on plastic
We try to always be conscious of our plastic consumption, but especially when we are on islands.
Holbox doesn't have the best system for recycling, and it's not uncommon for waste to end up in the water. If you pack a handful of items, you can easily eliminate the need for lots of single-use plastic.
Here are some of the reusable items we always pack:
Here are more tips for reducing your single-use plastic usage.
3. Support local businesses
Shop & eat at smaller, mom-and-pop shops when possible. There are lots of fun, trendy places on Holbox, but when it works, try to support the smaller places, too.
Best time to visit Isla Holbox Mexico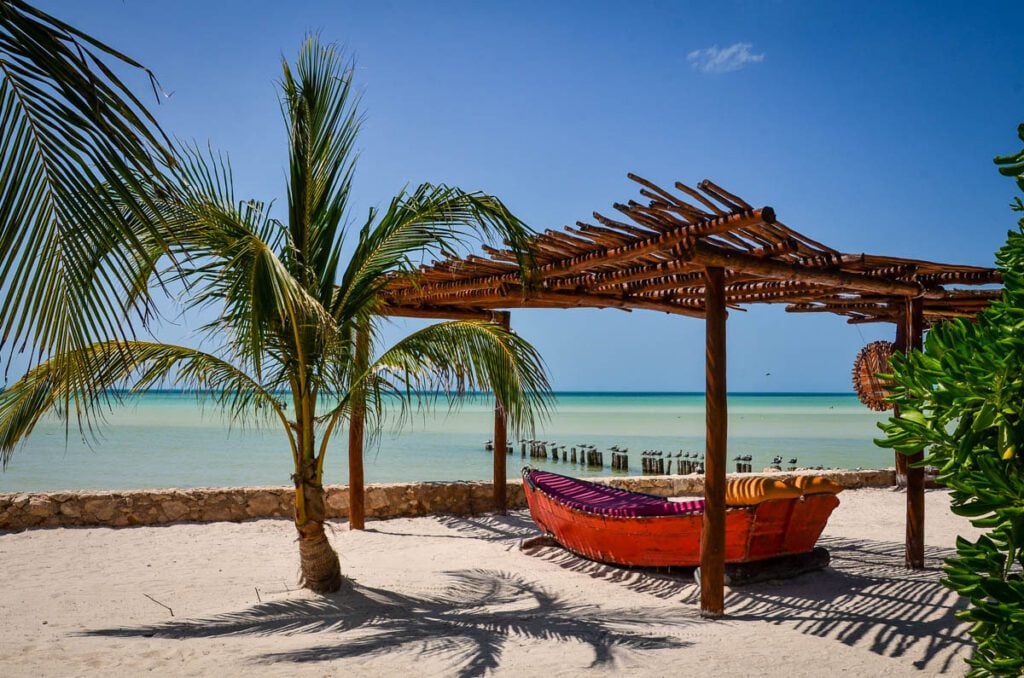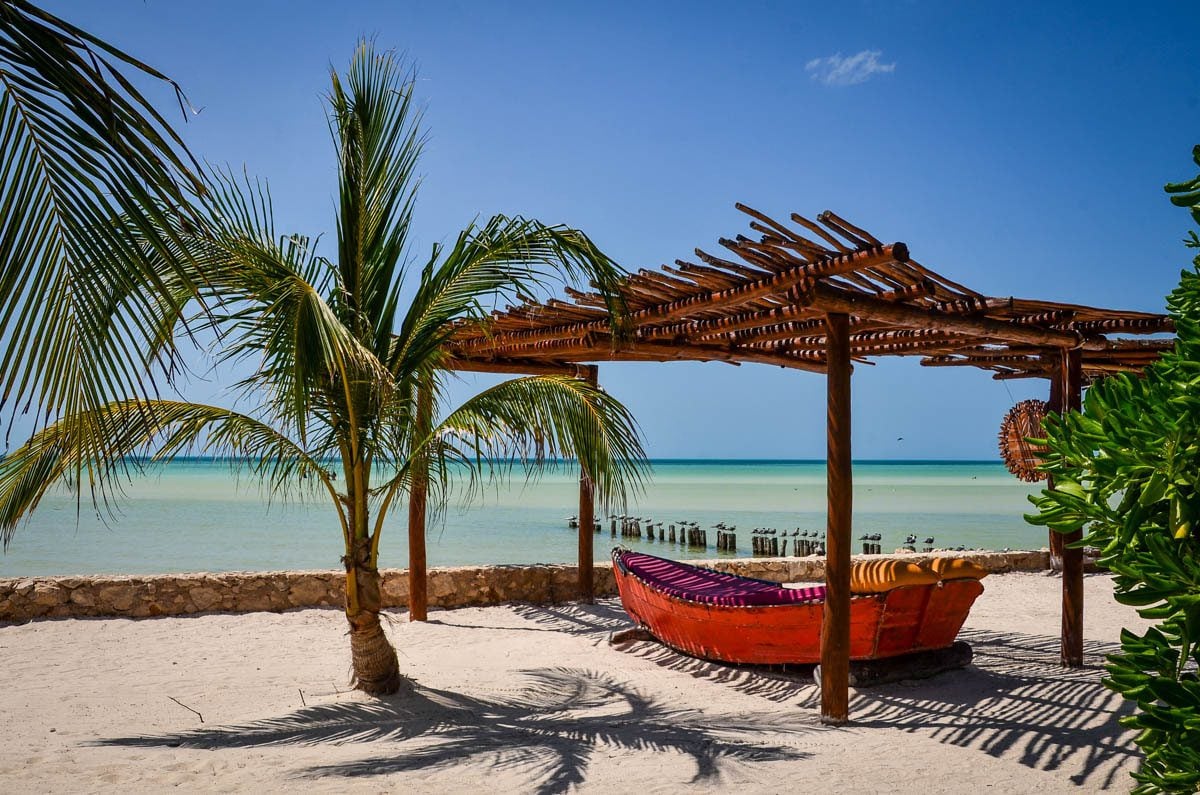 Overall, the best time to visit Isla Holbox is from the beginning of December to April. This season has the best weather since it's the dry season.
However, whale shark season begins just after the dry season (late May/June to September), so that's something to consider if it's a must-see during your visit.
The rainy season starts in May and ends in November. September, October, and November experience the highest levels of rainfall.
Note: Rain generally brings mosquitoes (lots of em'). They're most active around wetlands and during twilight, so pack your favorite natural insect repellent.
Psst! For an in-depth guide on the seasonal weather patterns and other factors, check out our complete guide on the best time to visit Mexico.
How to get to Isla Holbox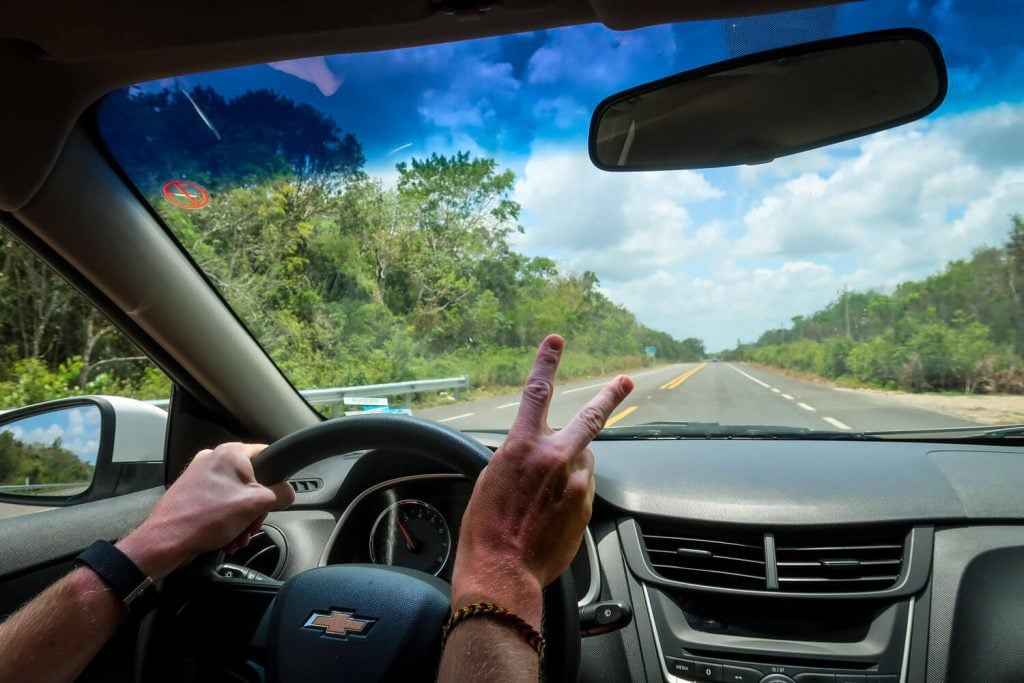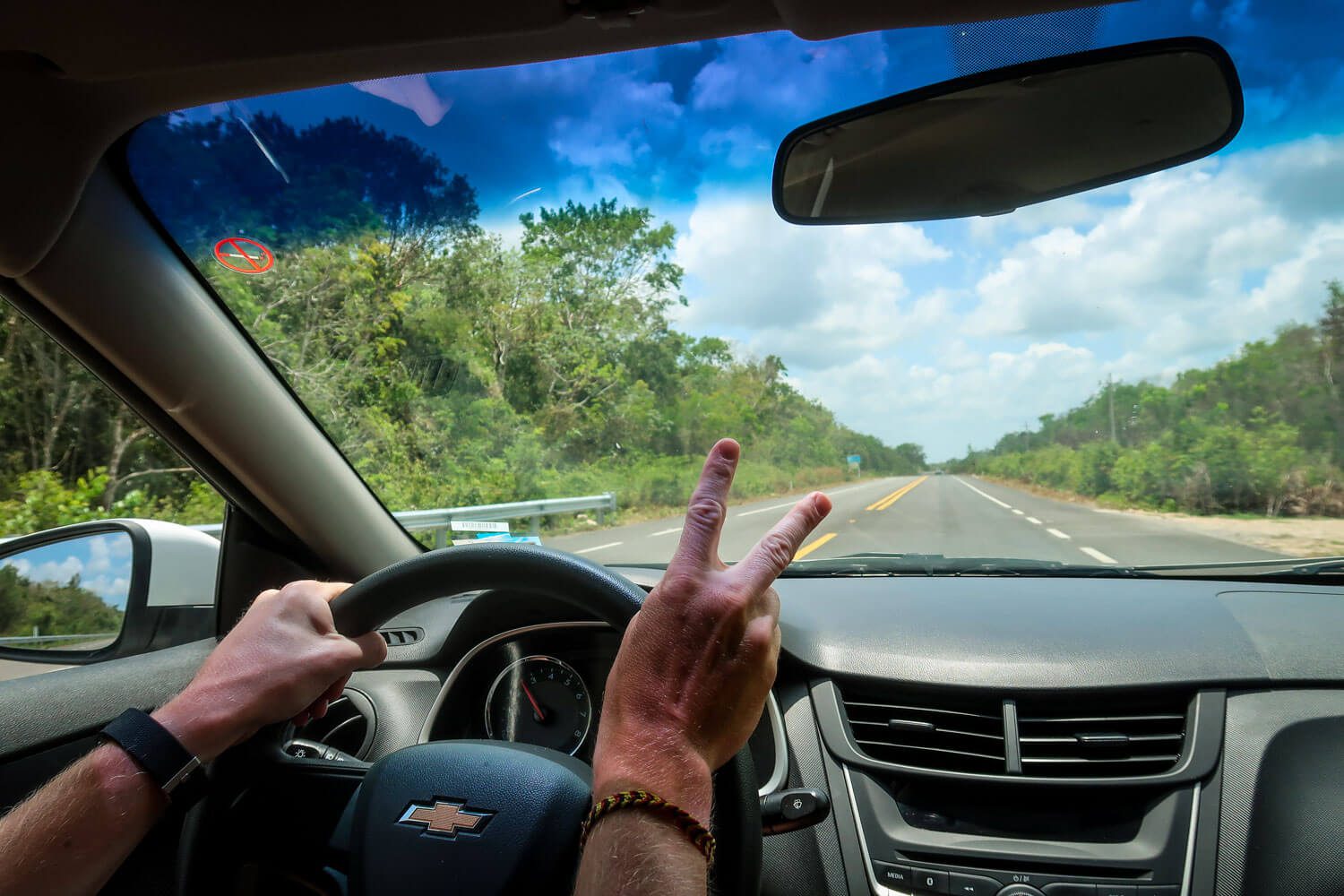 The cheapest way to get to Holbox is by taking a bus, then a ferry. You can also take a private driver, or rent a car and drive yourself to the ferry port in nearby Chiquila.
However you choose to get there, you will need to first head to the small seaside town of Chiquila where you can catch a short ferry to Isla Holbox.
We have a guide on how to get from Cancun to Holbox that outlines everything you'll need to know, including all the different options for transportation and how to take the ferry from the mainland.
Note: If you got a car rental in Mexico for a longer road trip (nice!), it is worth pointing out that you cannot take the car onto Holbox. It is a (mostly) car-free island, and not possible to bring your own. There are a handful of paid parking lots in Chiquila where you can leave your car for the time you'll be on the island. These lots have security and start around $6 per day.
Where to stay in Holbox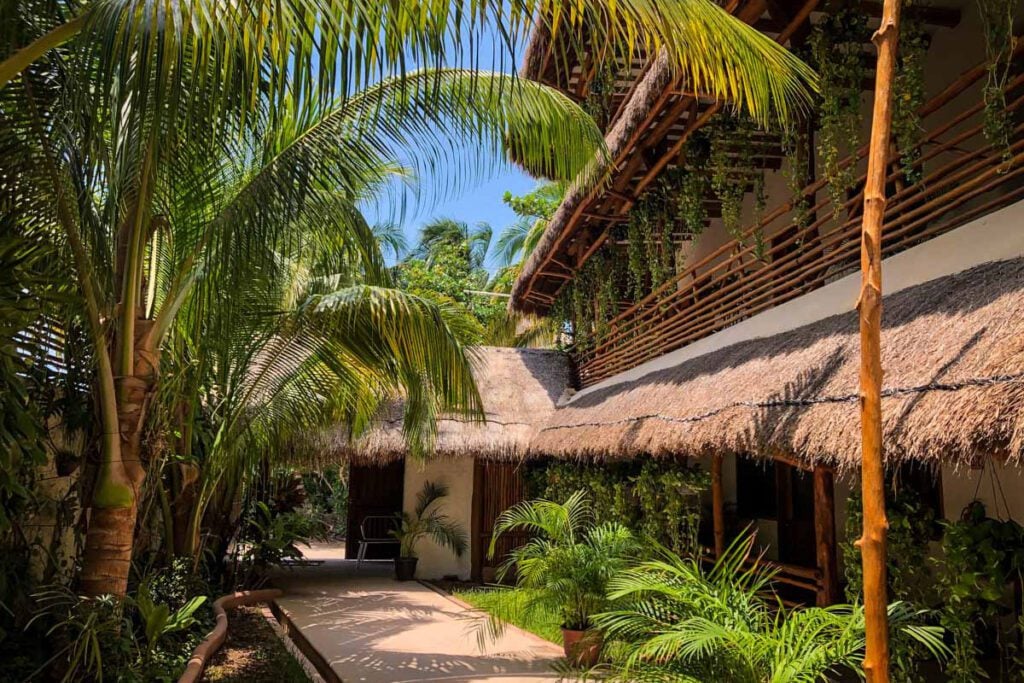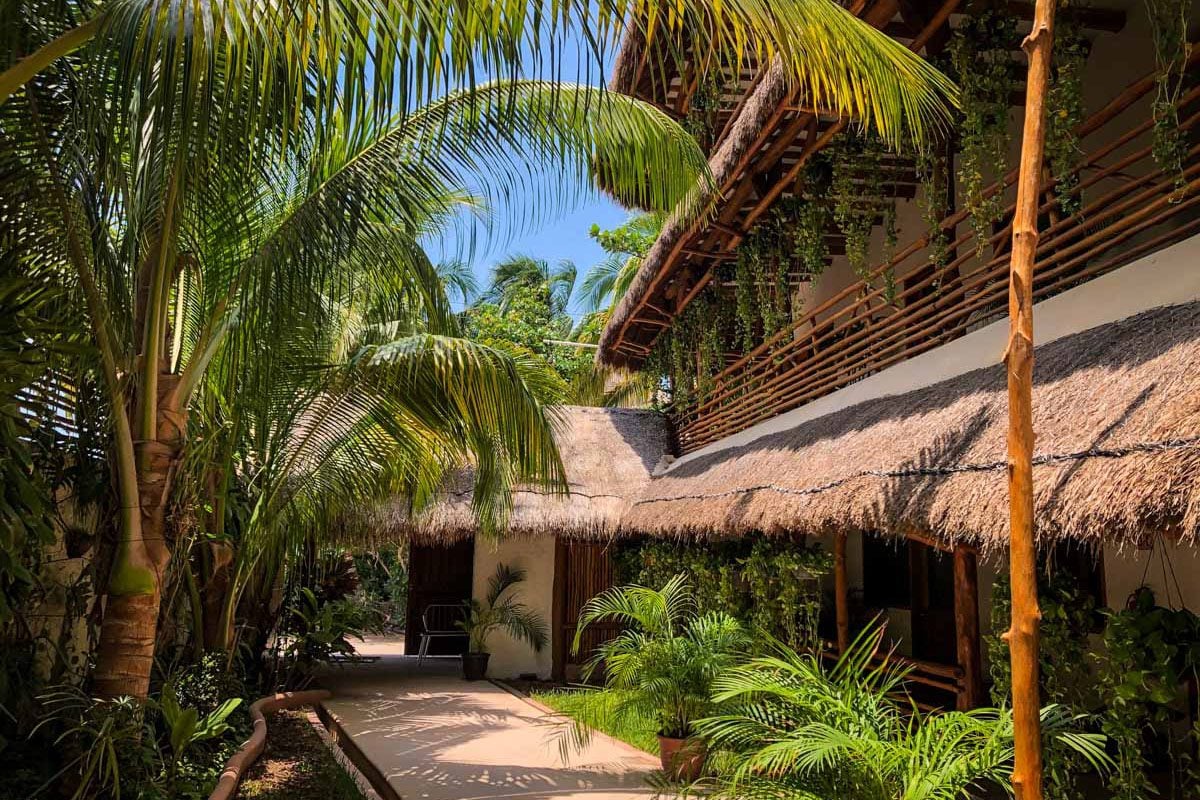 Holbox isn't that large, so no matter where you stay, you won't be too far from the center. There's a wide variety of types of accommodation – from social hostels to budget-friendly boutique hotels to full-on luxurious resorts.
Here are some of our top Holbox hotel picks: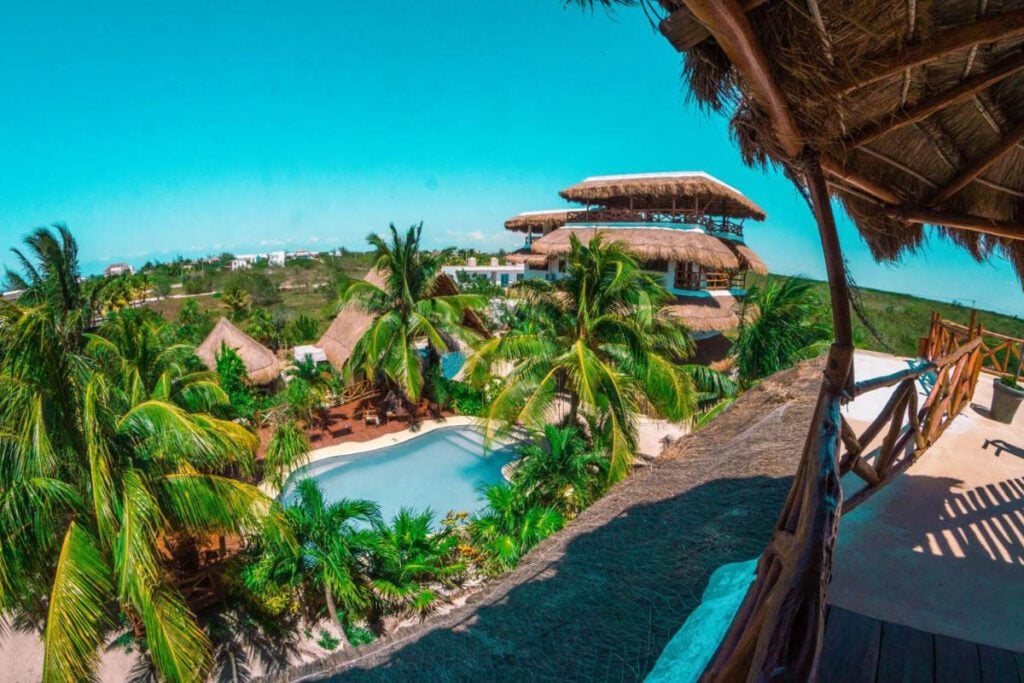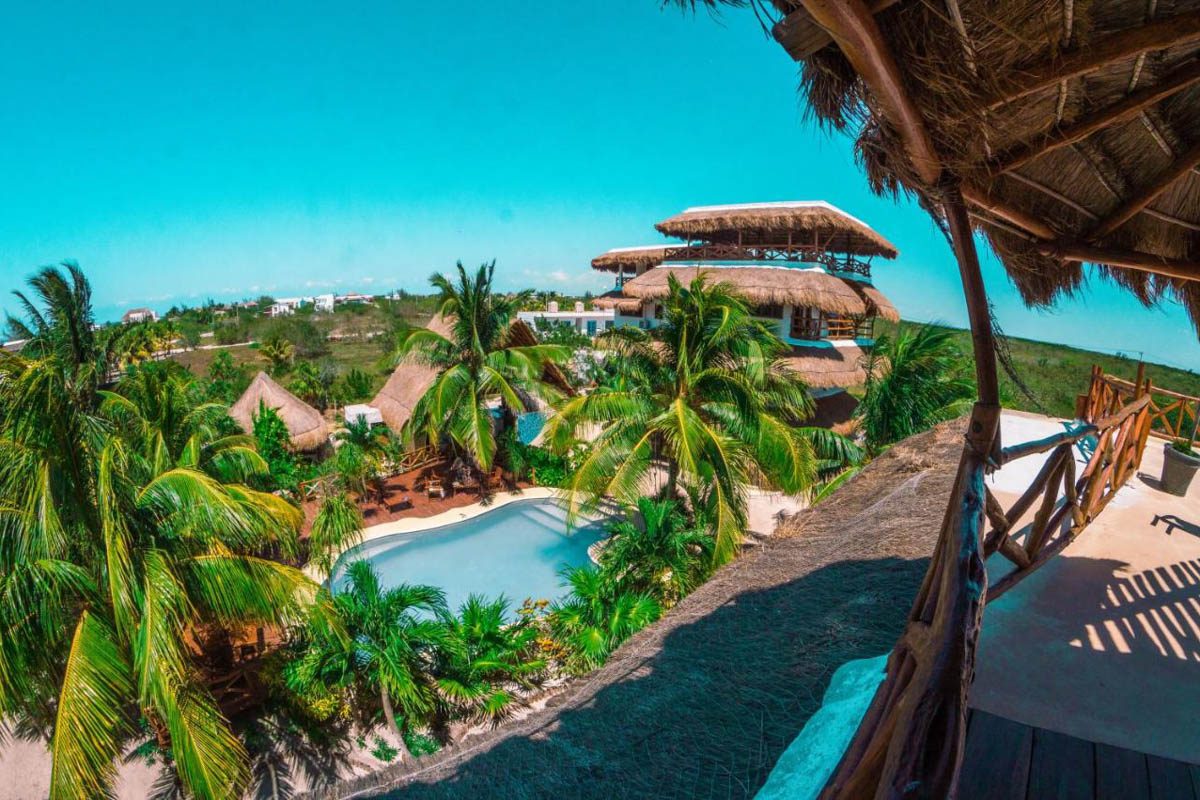 Ensueño Holbox: Comfortable and beautifully designed rooms, a nice pool, friendly staff, and affordable prices are what made us decide to book this hotel ourselves. We stayed here during my birthday trip to Holbox and had a wonderful time!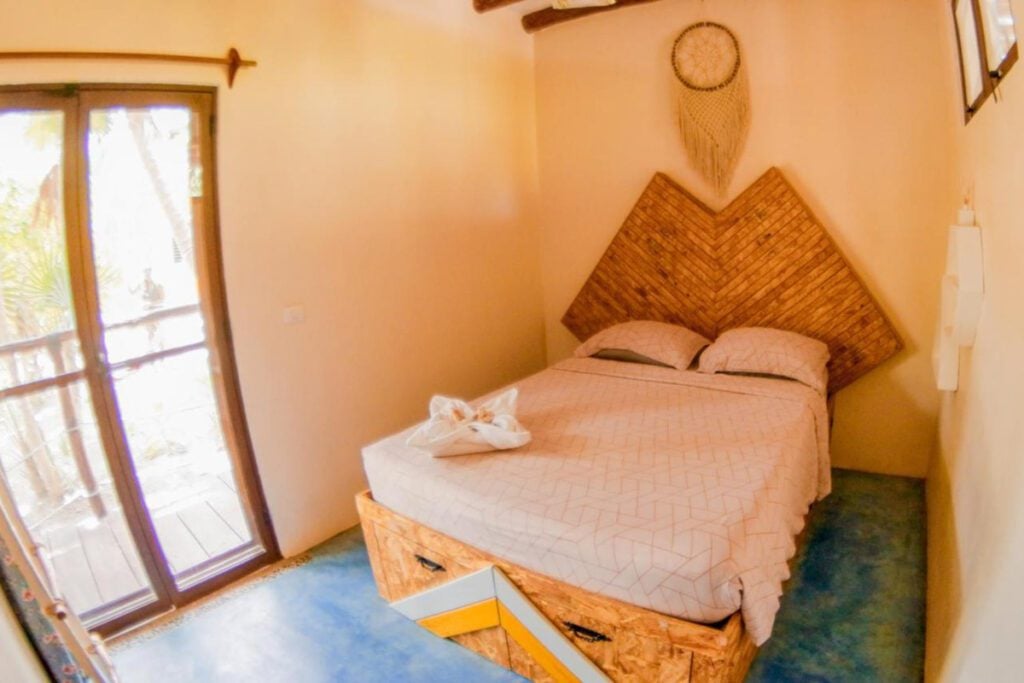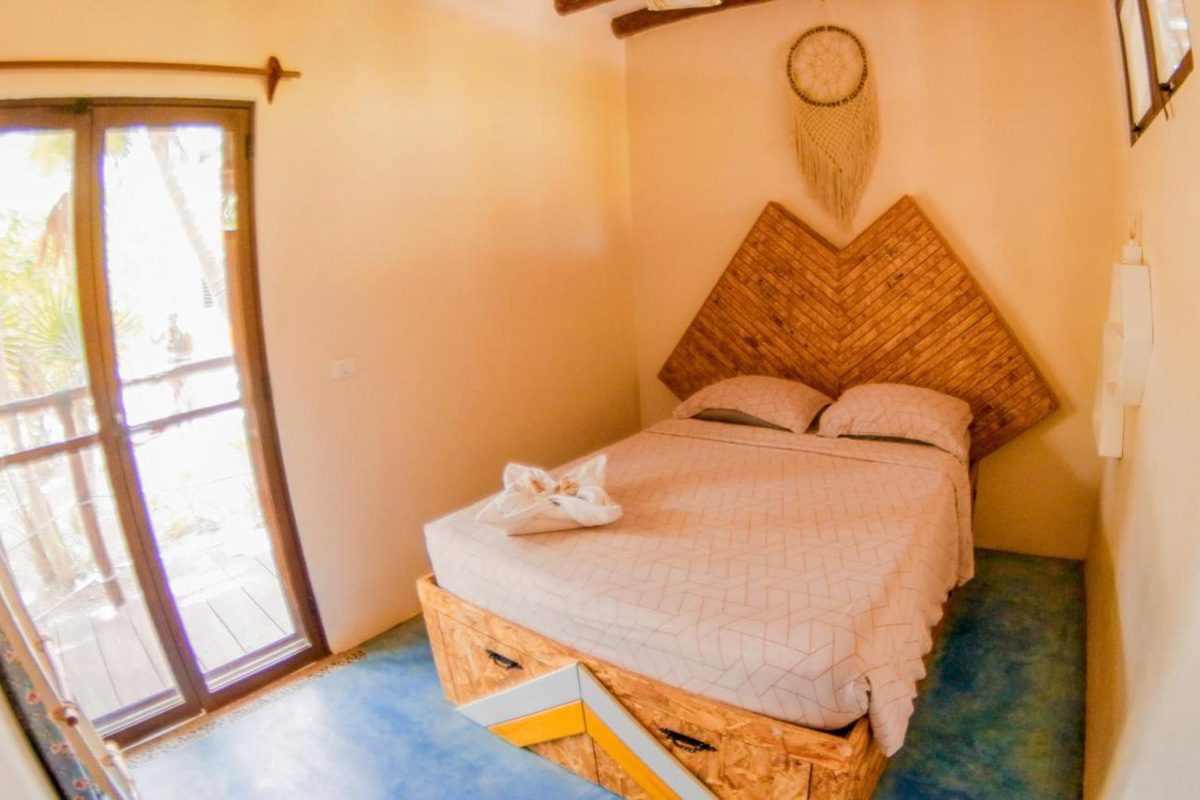 Tribu Hostel: Social, buzzy atmosphere with nightly events and budget accommodation, this is a popular backpacker spot. Even if you don't stay, you can visit the bar for nightly happy hour.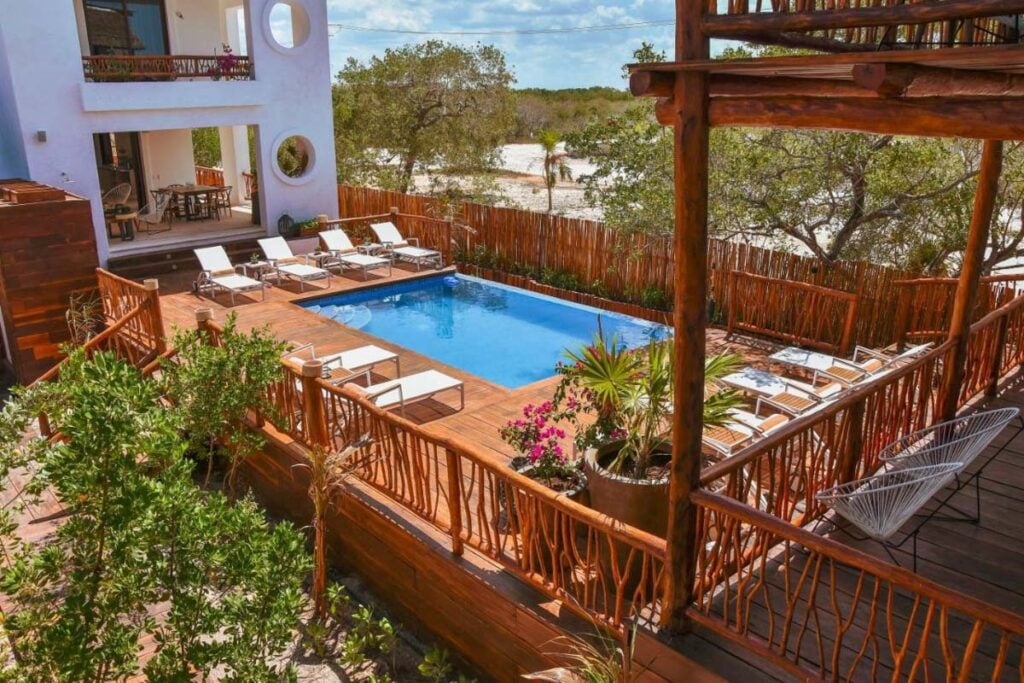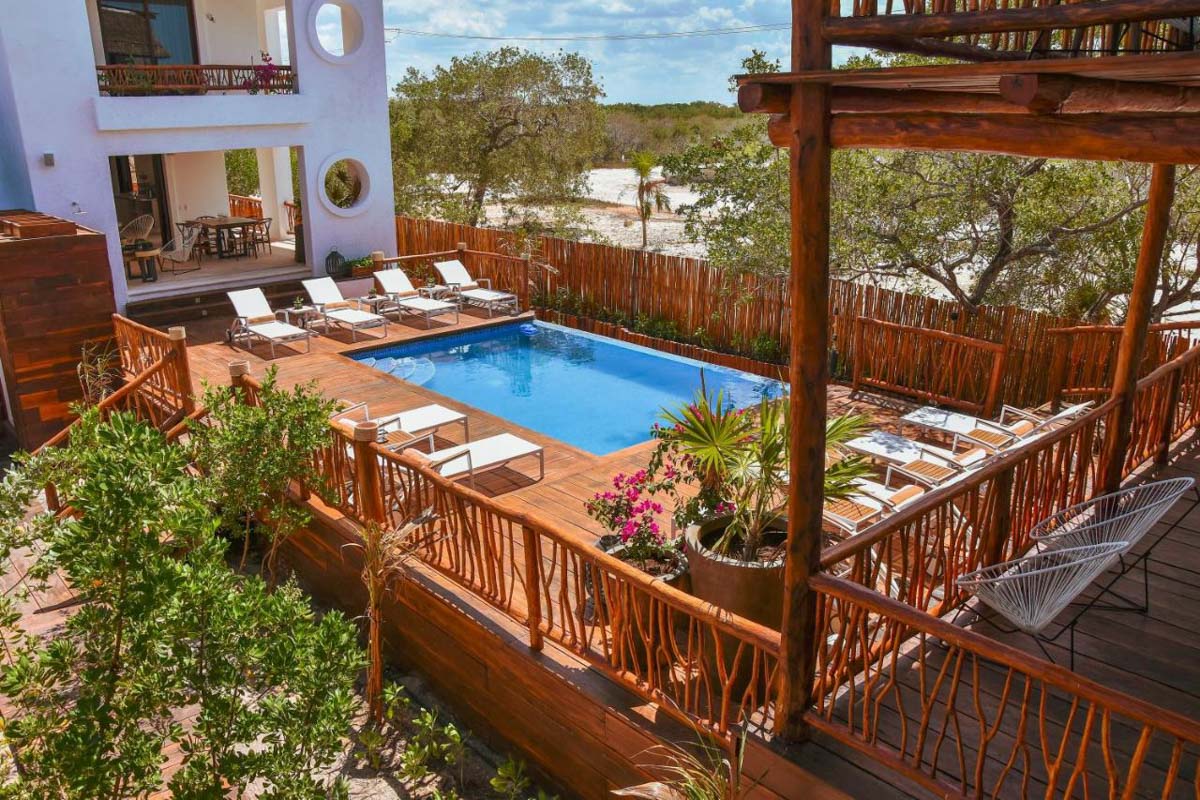 Hotel Casa HX: Affordable and chic, complete with a pool, this adults only hotel makes a great choice for couples.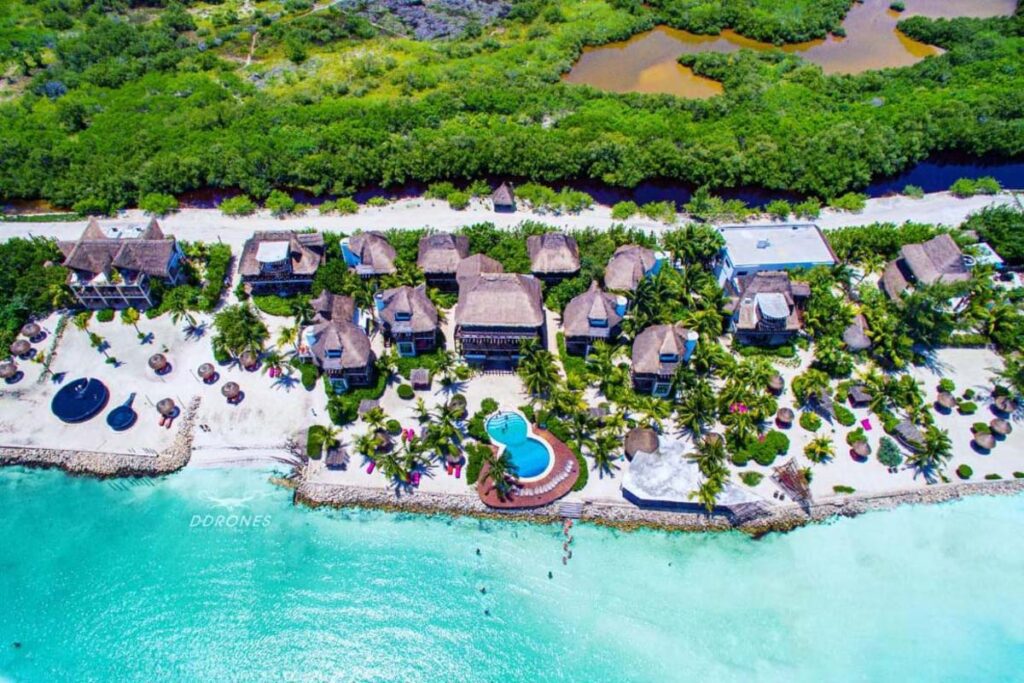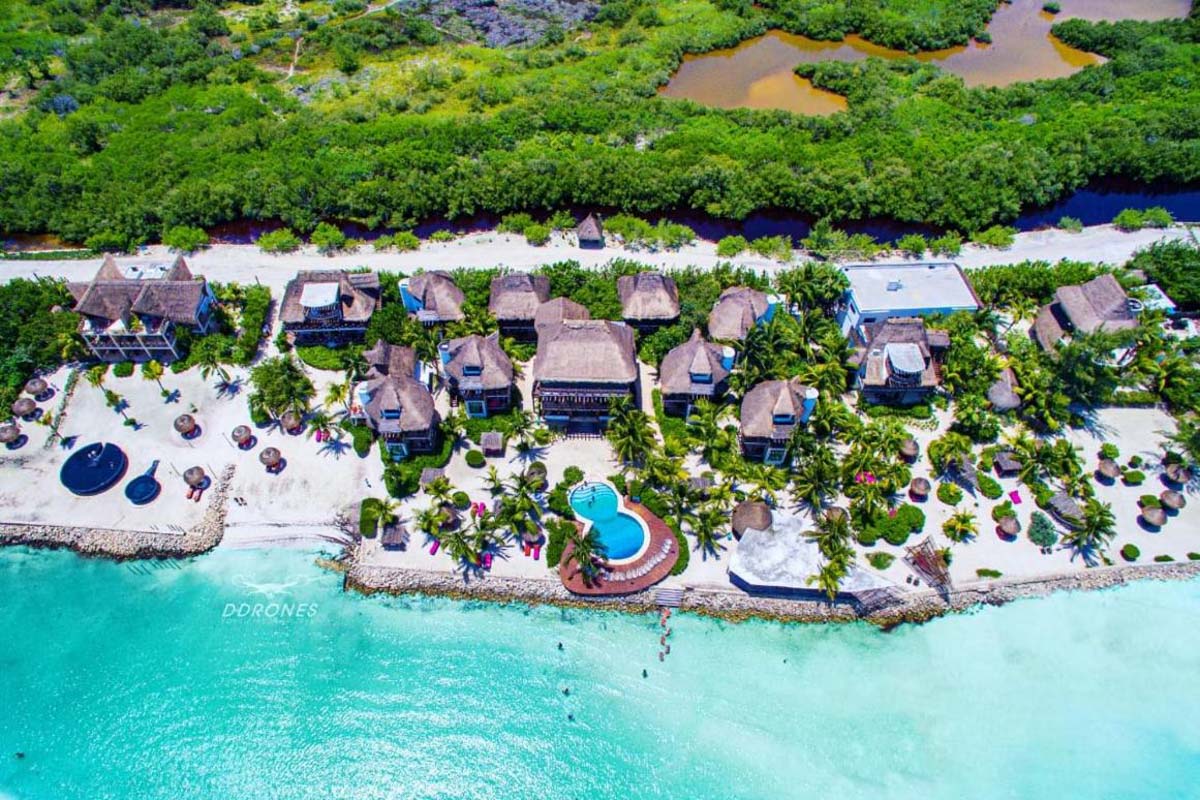 Hotel Villas Flamingos: This splurge-worthy waterfront hotel is one of the nicest places to stay on the island (if budget isn't much of a concern).
Tip: If you're interested in getting a good night's sleep on Holbox, we'd recommend not staying too close to The Hot Corner. The street party tends to go all night (especially on weekends during high season) and the noise certainly carries to nearby hotel windows.
Where to eat in Holbox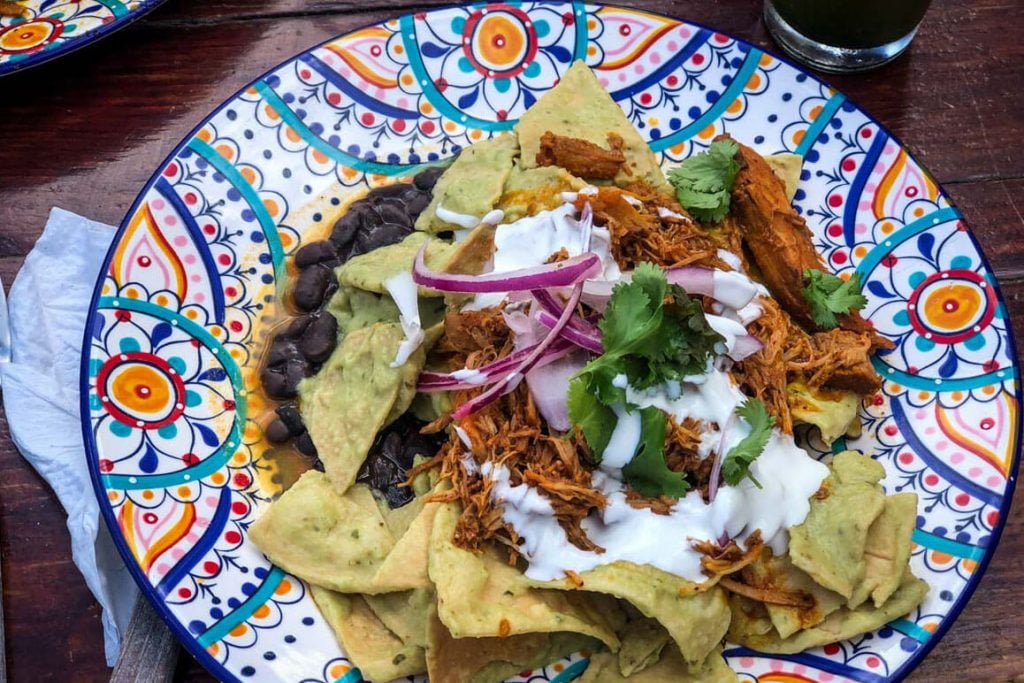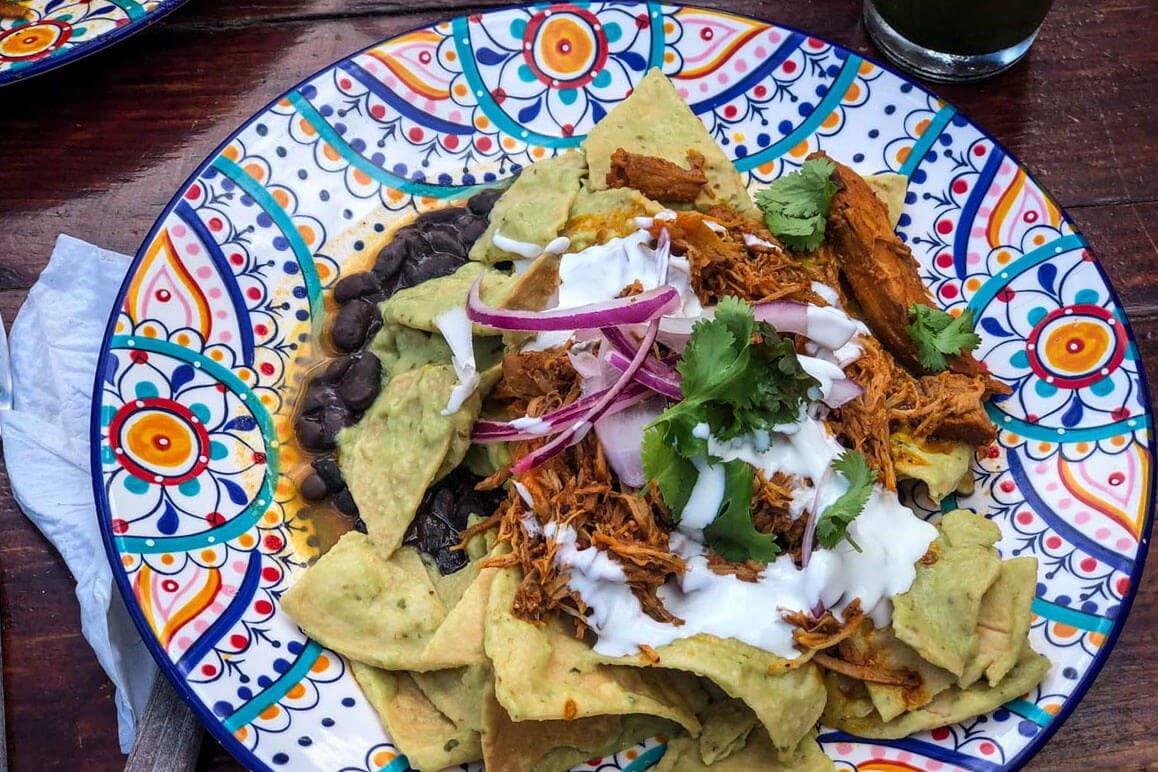 Isla Holbox has no shortage of restaurants, ranging from cheap and casual local spots to high-end dining with the price tags to match it.
To be honest, we had one "fancy" meal in Holbox and it left a bitter taste in our mouths, so we're keeping this list focused on the mid-range cafes and local eateries.
*our personal favorites
What to pack for Holbox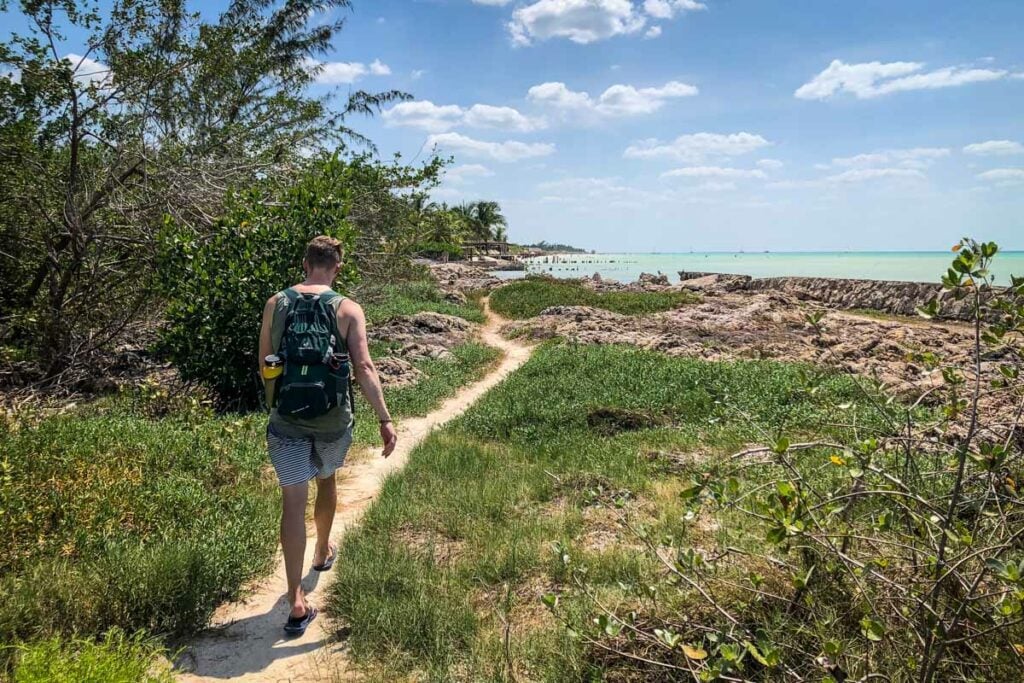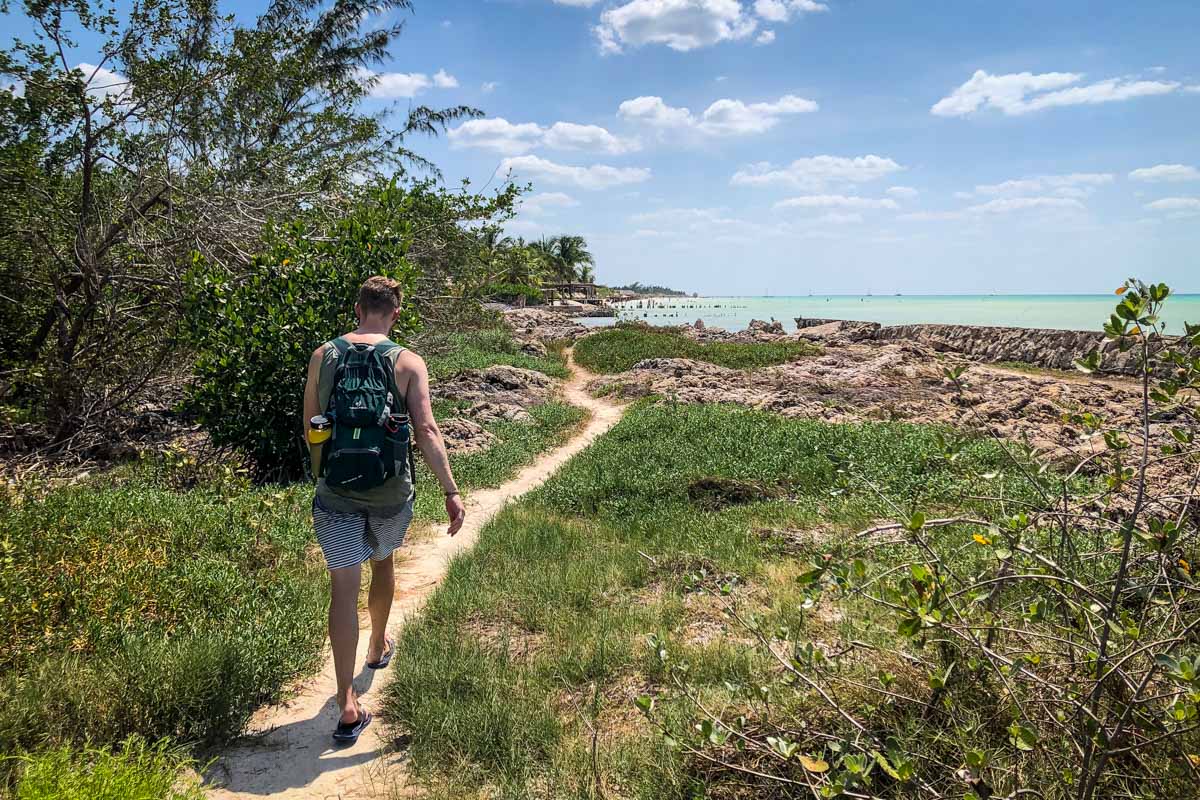 Bug repellent
Sarong
Wide brimmed hat
Swim suit
Beach towel or quick dry travel towel
Comfortable sandals for walking/biking
Casual wear for walking around town and restaurants
Be sure to download our complete packing list for Mexico! It's packed with good suggestions and insider tips to help plan your Mexico vacation. And it's completely FREE, so why not!?
---
More resources for planning your trip to Mexico
If you're planning a trip to Mexico, we've got loads of helpful resources for you! Start with our Mexico Travel Homepage, where you'll find general info, and be sure to check out the articles below. Leave us a comment if you have any questions!
Save this article on Pinterest for later!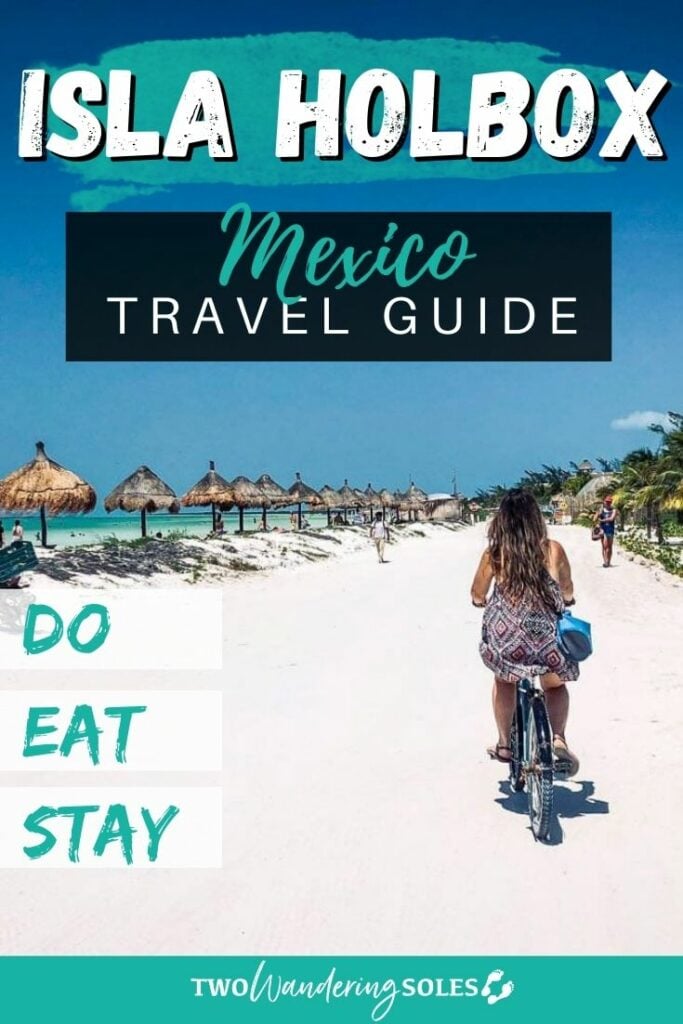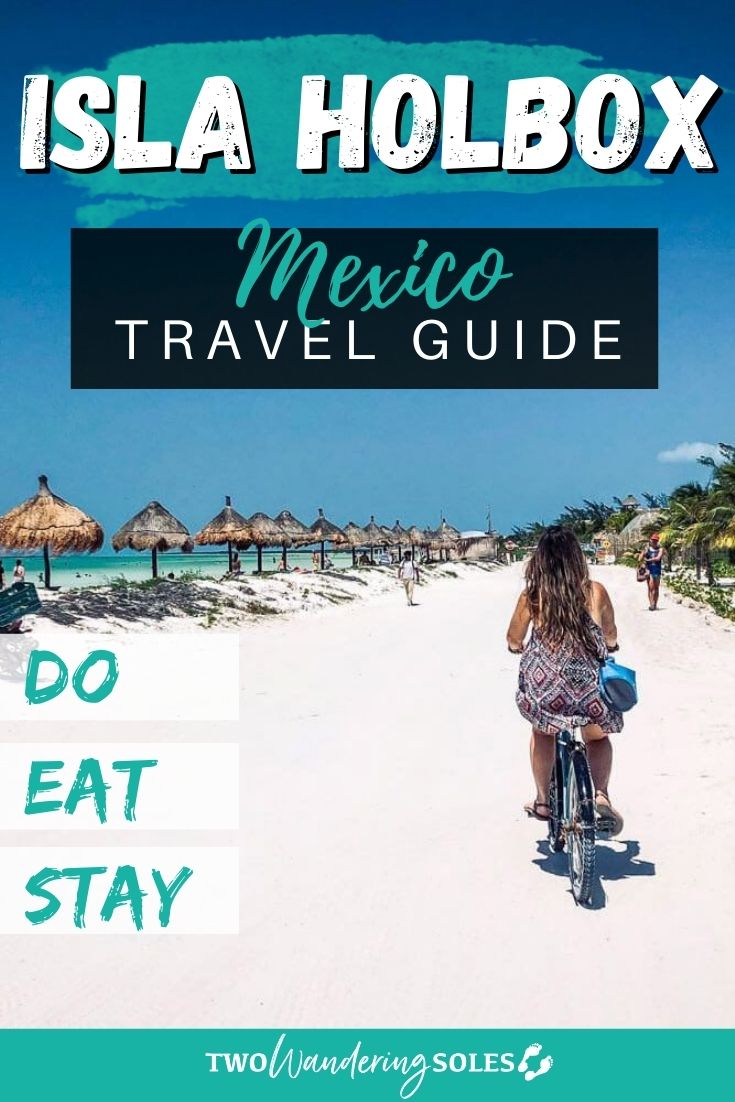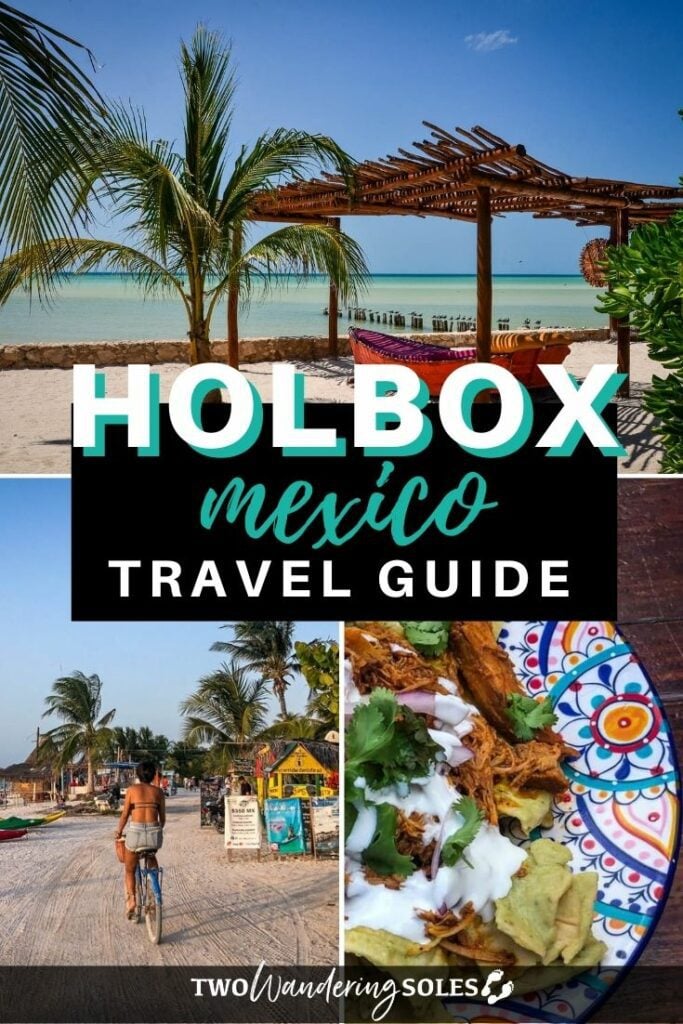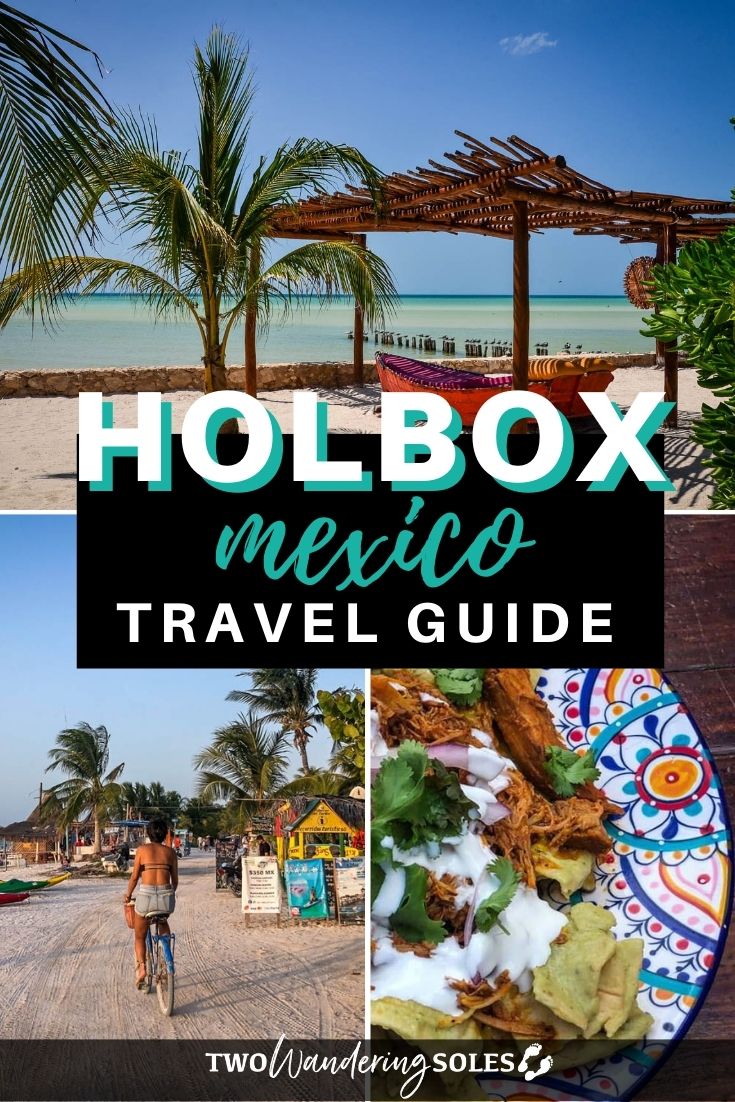 We want to hear from you!
Which of these things to do in Holbox is on the top of your must-do list? Do you have more questions about traveling to Isla Holbox Mexico? Leave us a comment below and we'll do our best to get back to you!