We've done quite a bit of trekking around this jaw-dropping country and we've compiled a list of our favorite Iceland hikes to share with you. This article includes plenty of photos and details to help you plan your experience hiking in Iceland and know exactly what to expect.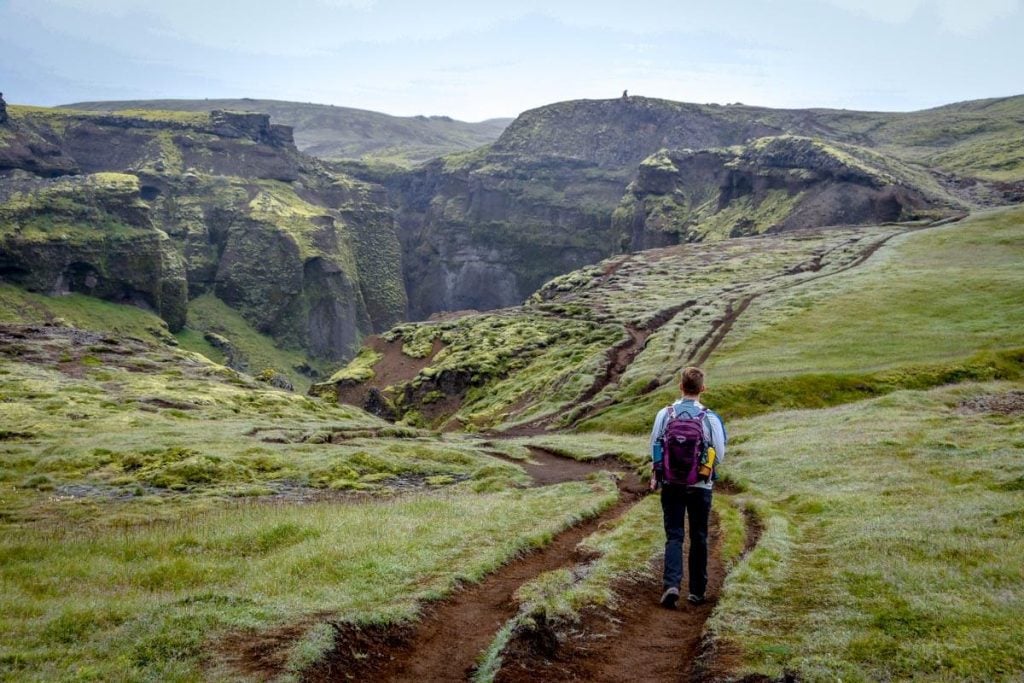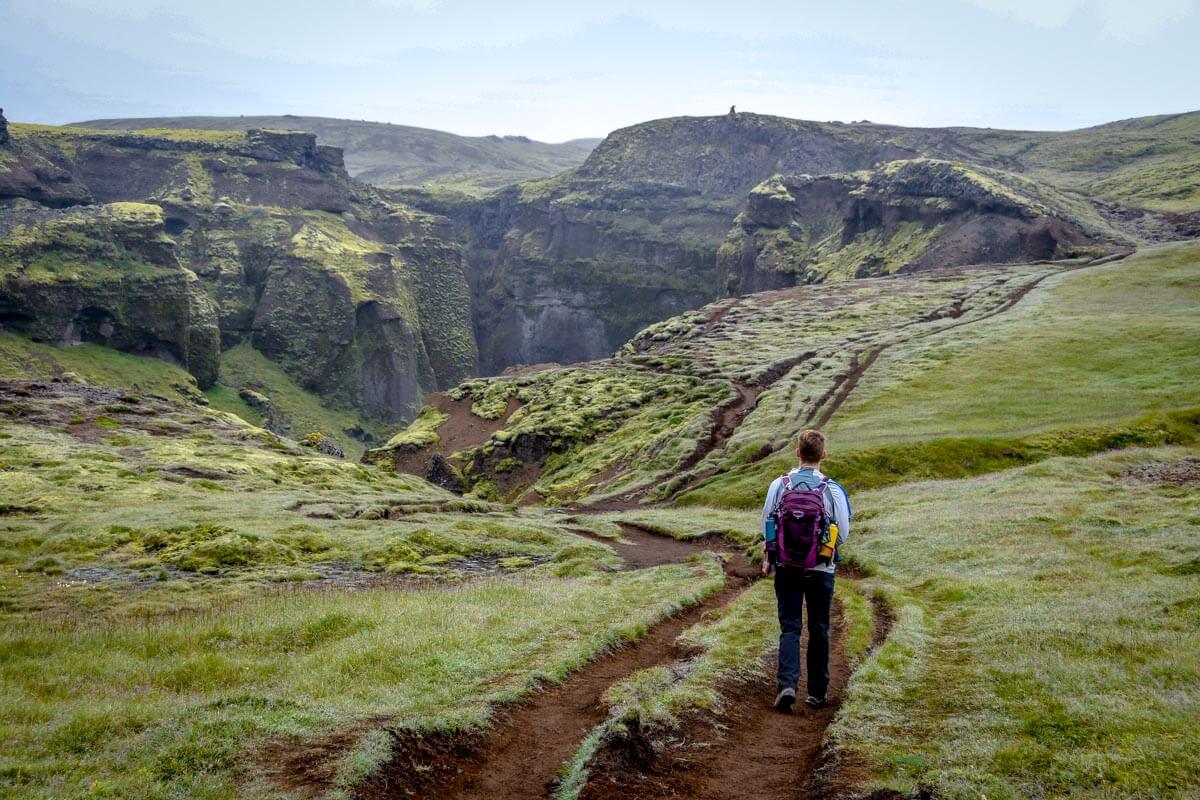 Whether you're an avid hiker or you're simply up for a bit of a heart-thumping adventure on your trip to Iceland, there are plenty of trails around the country that'll make you fall head over hiking boots. Corny, but true.
As hiking enthusiasts ourselves, we've done quite a bit of trekking around this jaw-dropping country, taking notes and photos along the way so we can share our experience with you. In fact, some of the hikes we've done have made our list of top things to do in Iceland.
We've rounded up some of the best Iceland hikes, along with insider tips and what to expect (so you know what you're getting yourself into!).
This list has a variety of hikes, from some very challenging treks as well as quick and easy jaunts suitable even for newbies. So get those hiking boots out of storage and get ready to create your own "hiking in Iceland" bucket list!
Article Contents
---
Hiking tips for Iceland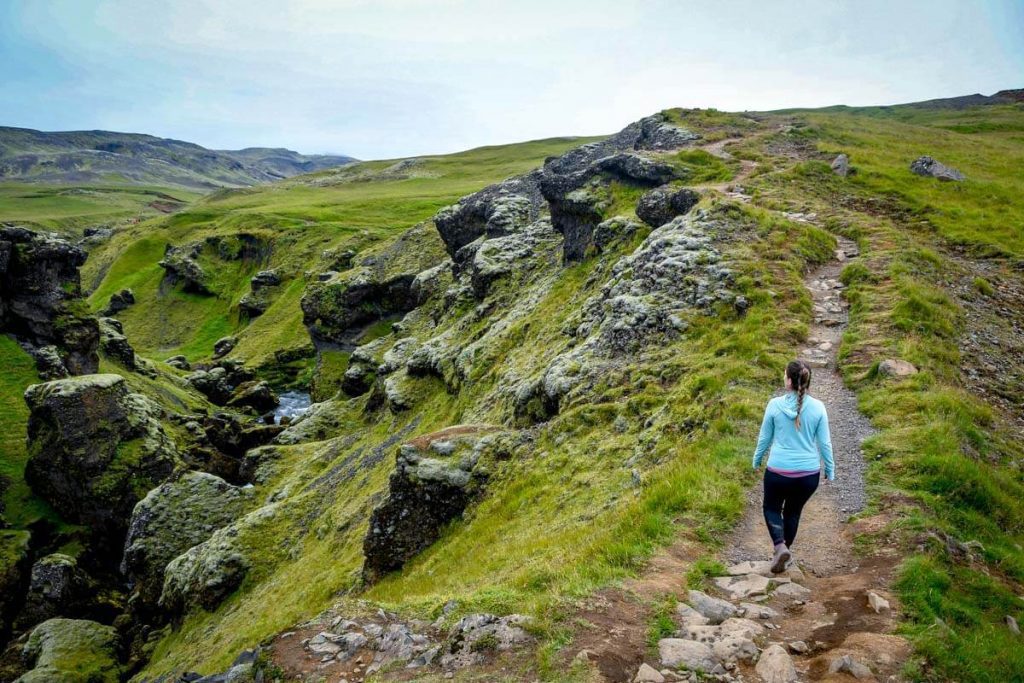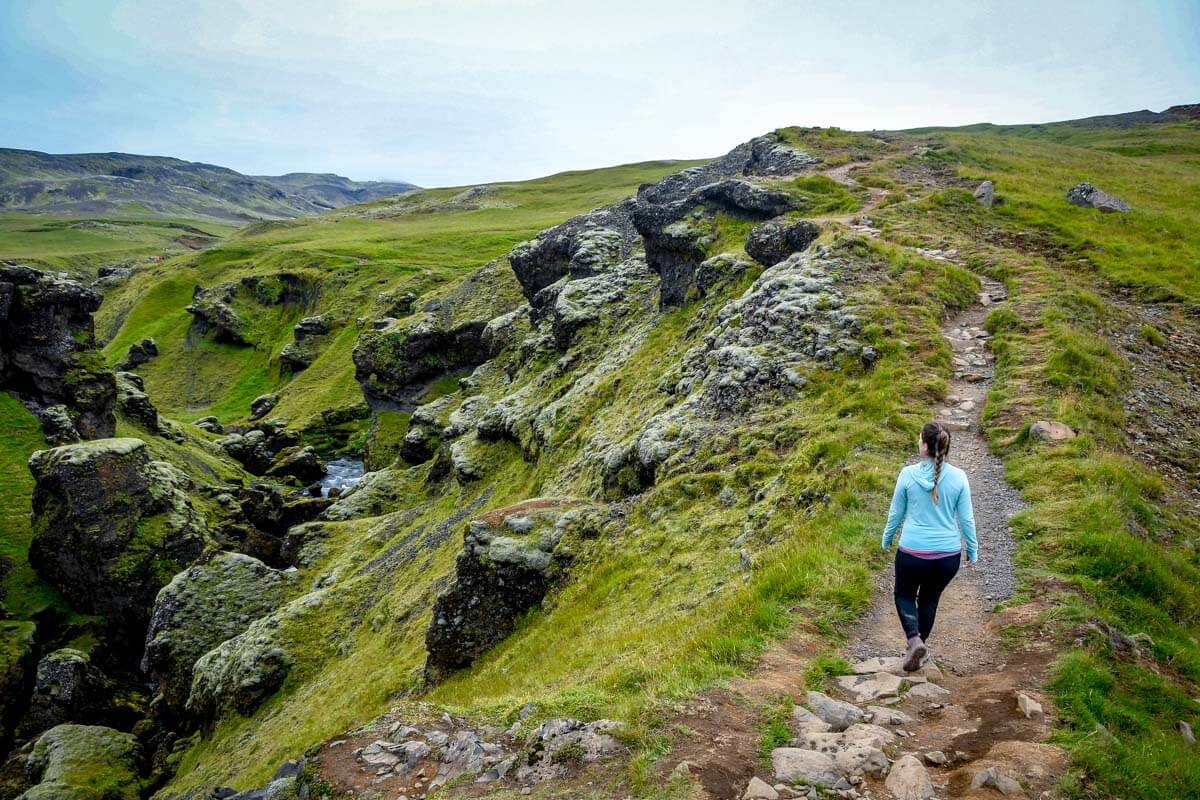 Hiking in Iceland is unlike hiking in any other location. The terrain, weather, trail etiquette may be different than what you're used to, so be sure to follow these tips before hitting the trails.
Bring rain gear (even if it's not raining!)
We've mentioned it before, but we'll say it again… the weather in Iceland can change on a dime. One minute the skies are clear and you're feeling the warm sun, and before the end of the hike the clouds may have rolled in, wind picked up and you're facing an entirely different weather challenge.
This is why we'd suggest always bringing rain gear when hiking in Iceland. The last thing you want is to get stuck in a rain storm on the wrong end of the trail and have to make your way back while getting drenched at the same time.
A rainproof and wind resistant jacket is a good outer layer to keep with you. It's also a good idea to have a rain cover for your backpack to protect your gear. Finally, if you're going on a longer hike (like the Fimmvörðuháls Trail), you may want to invest in some decent rain pants. And of course, no matter where you're hiking it's a good idea to have decent footwear that'll hold up if it gets rainy/muddy on the trails.
Don't forget sun protection
Even though you may not get a ton of sunshine, there is little to no tree cover on most trails in Iceland. Meaning you'll be very exposed. We'd recommend bringing sunglasses (it can be bright even when it's cloudy!) and always wearing sunscreen on exposed areas like your face and neck. Remember, you can still get burned on an overcast day!
Pack layers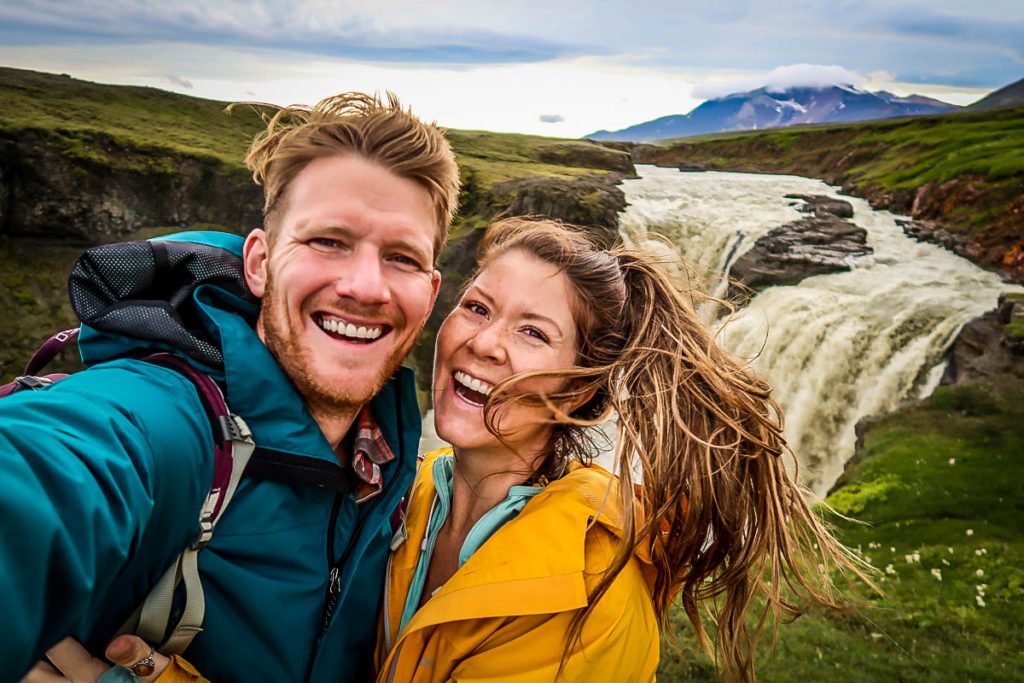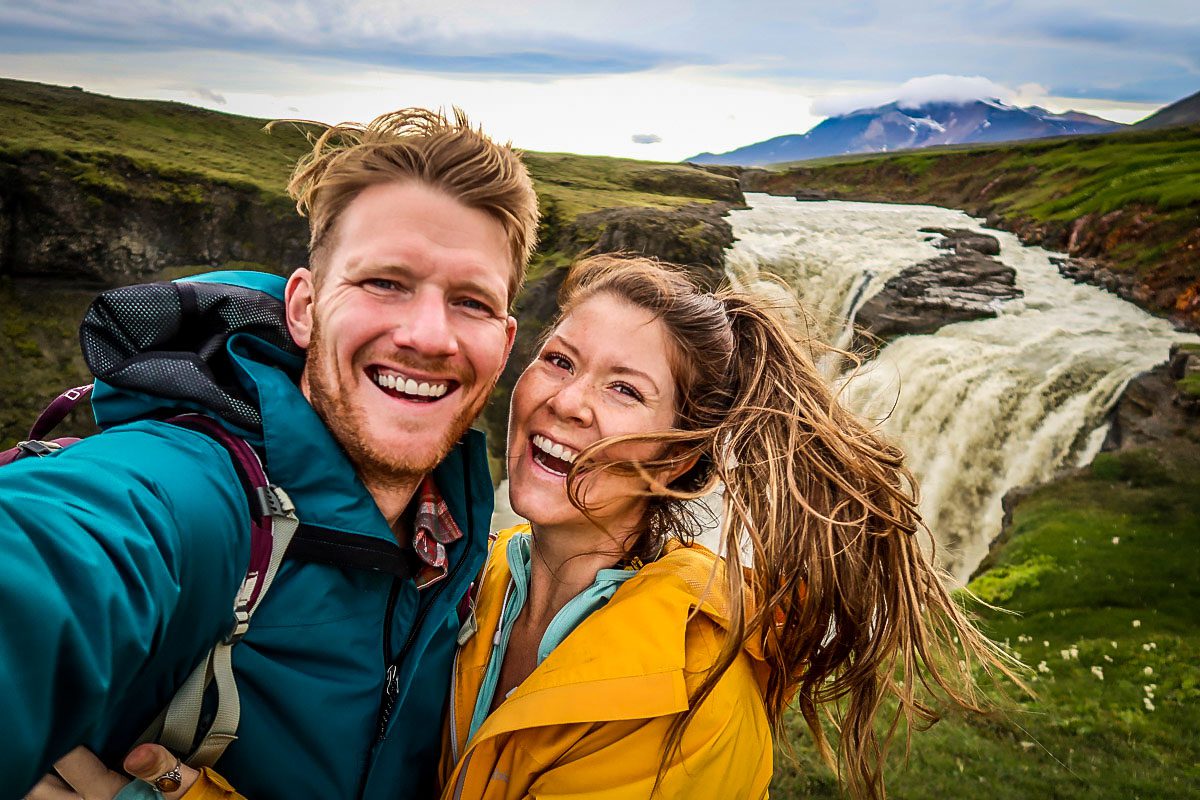 Just like with rain gear, it's best to be prepared for all kinds of weather in Iceland. While the sun may be shining at the start of your hike, that could change before you complete the trail and you'll want to have enough layers to keep you warm. Or be able to shed layers if the weather warms up while you're on the go.
We put together an entire article on what to wear hiking on our sister site to help you understand how to dress for the trail.
Download Alltrails
Not only is this one of our favorite apps (and top recommended Iceland travel apps), but it's a serious game changer when you're trying to navigate a trail off the grid without any cell service coverage.
The great thing about the Alltrails app is you can download trails to store the data offline. This way you can follow along in real time reading trail notes and sticking to the correct path. You can track your progress and record your elevation gain, steps, and routes, all within the app.
Use the toilet when you have the chance
Many trailheads have toilets, and you should use them when you have the chance. We say this because there are rarely any facilities on the trails themselves. Plus, without trees or much vegetation, there is very little privacy for relieving yourself once you've left the trailhead.
If you should need to relieve yourself while on the trail, be sure to follow the Leave No Trace principles and dispose of all waste (yes, even human waste) properly.
Stay on the trail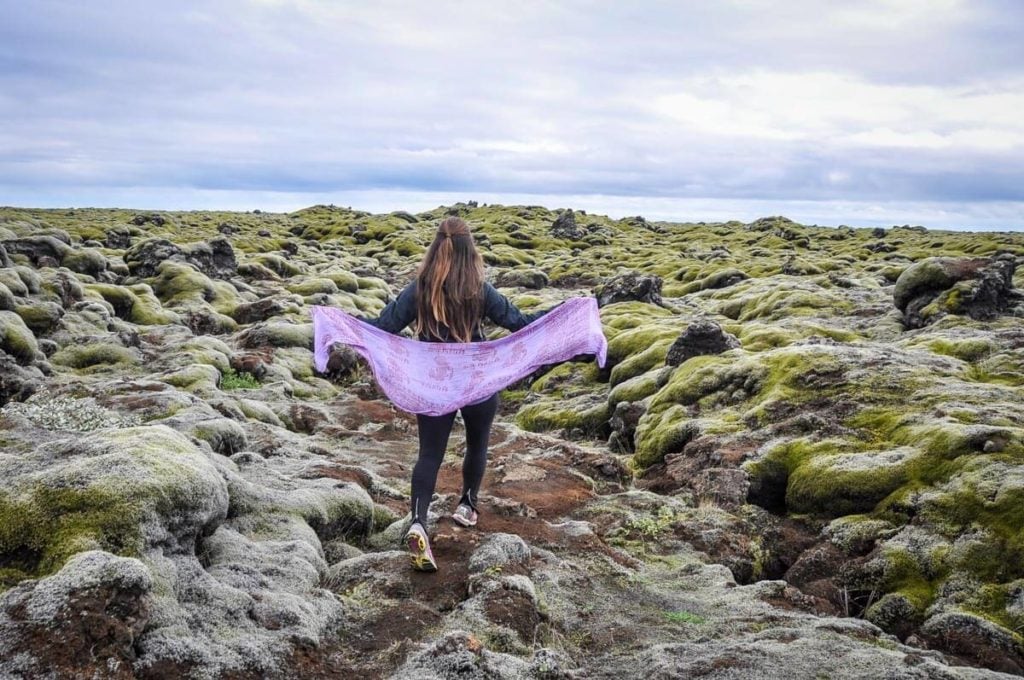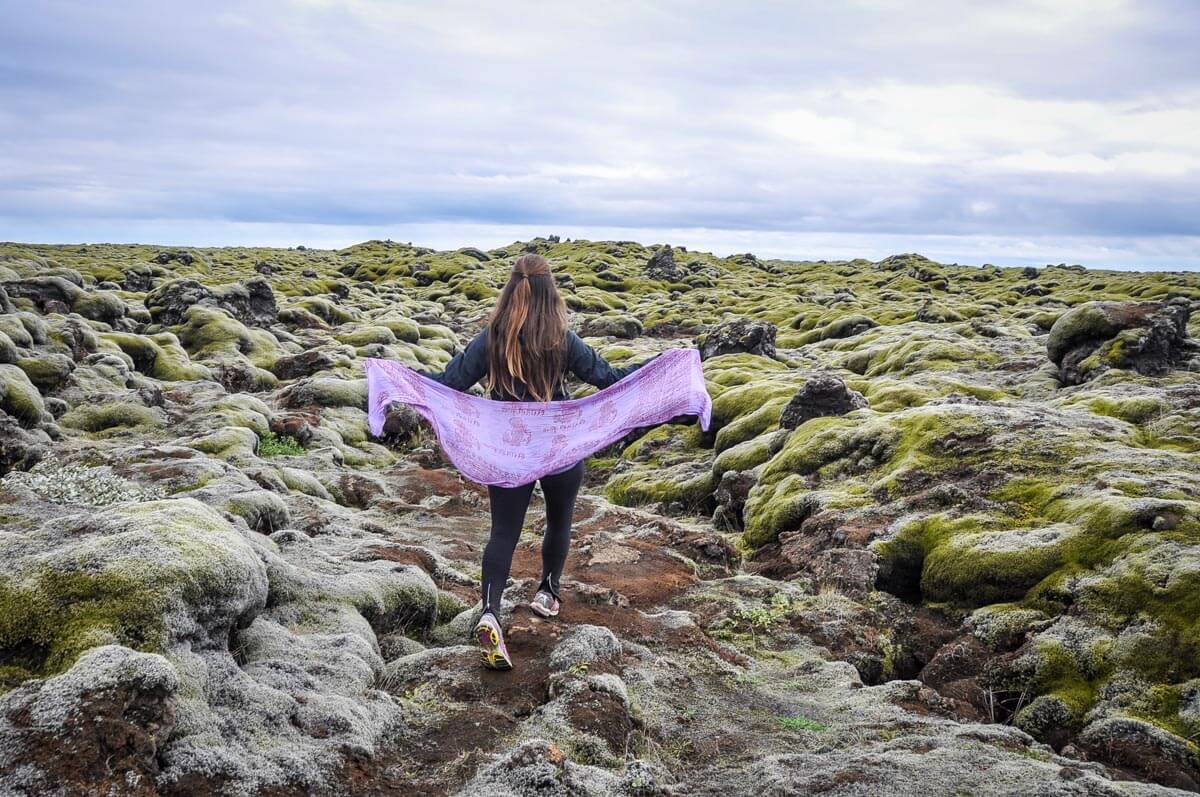 Iceland's ecosystem is very fragile, so it's important that hikers stay on the marked trails and so as not to disturb the environment. It may not seem like a big deal to step off trail, but a lot of the vegetation in Iceland – moss in particular – can take decades to grow back after being trampled on.
Pack snacks from home
We didn't see many options for protein or granola bars in the Icelandic supermarkets, and dried fruits and nuts are pretty expensive. For this reason, we'd recommend bringing some of your favorite hiking snacks from home.
Wear hiking boots and wool socks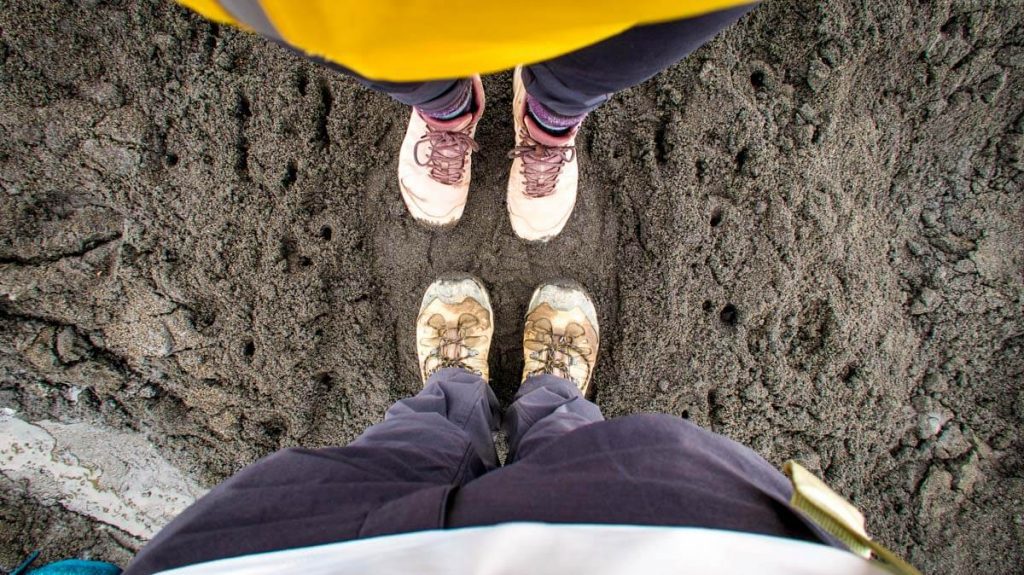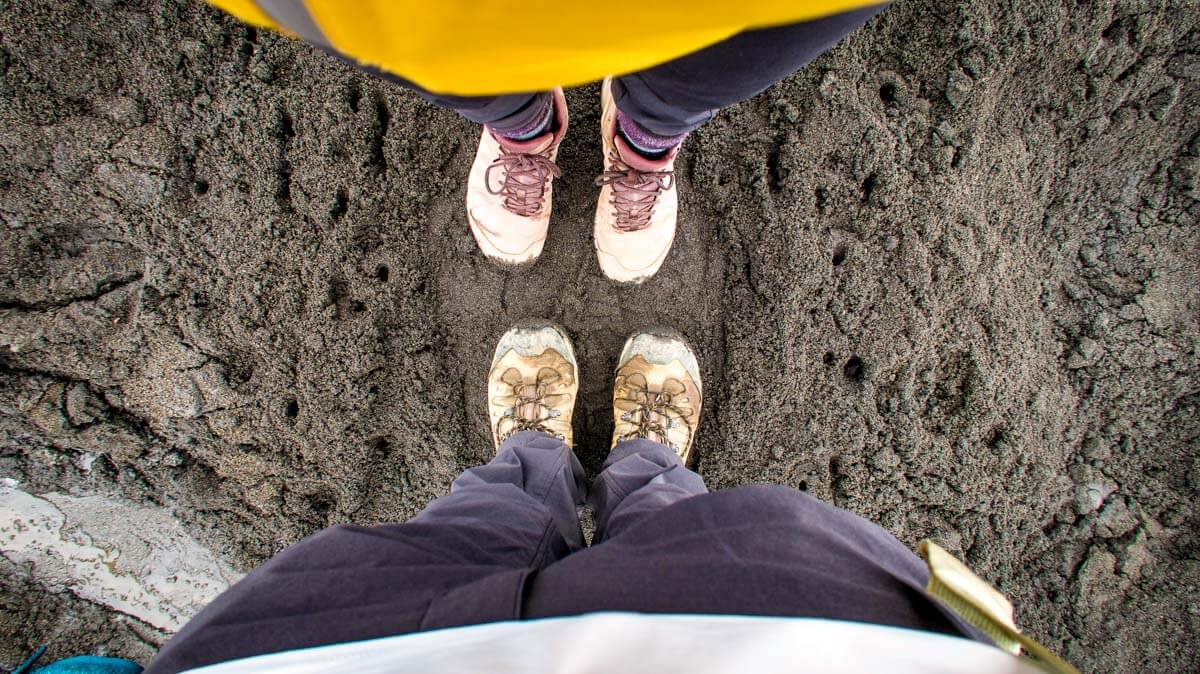 You have a few options when it comes to decent hiking footwear, but with the type of terrain in Iceland, we'd recommend investing in a good pair of hiking boots. For one, a decent boot will give you the ankle support to traverse the uneven terrain and have the grip to keep you steady on your feet. It's also a better option for weather protection if the trails get muddy or even snowy.
And as for socks…Say it with us: cotton kills!
Cotton socks are not a good idea for hiking because they will absorb your sweat and your feet will stay cold and wet. Cotton socks can also cause blisters and serious discomfort during a hike. Opt for wool socks instead that will wick away moisture and keep the blisters at bay.
What to pack for hiking in Iceland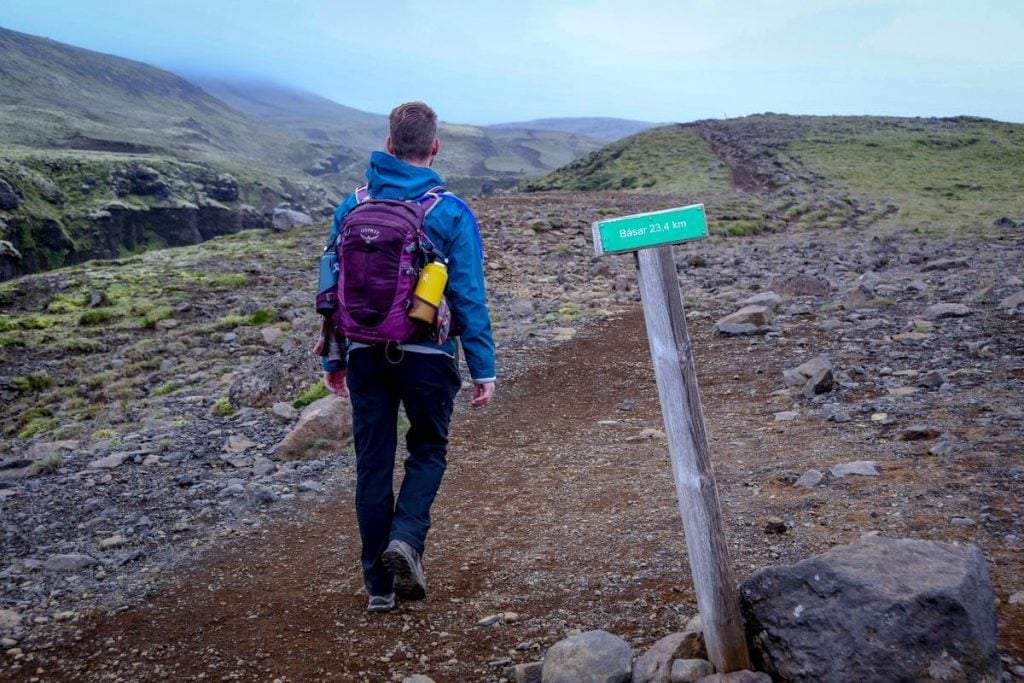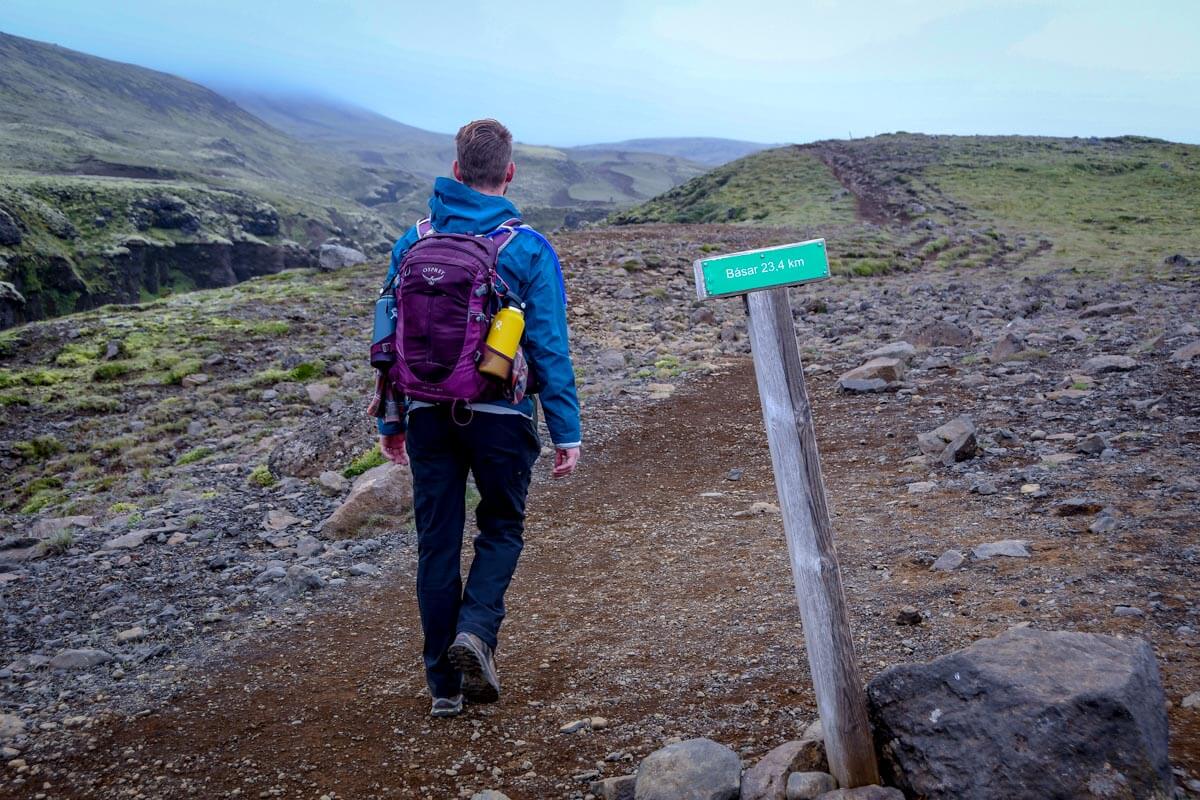 Be sure to download our complete packing list for Iceland! It's packed with good suggestions and insider tips to help plan your Italy trip. And it's completely FREE, so why not!?


Best time to hike in Iceland
Many popular Iceland hiking trails are only accessible during the summer months. The best time to go hiking in Iceland is during the warmer months from July – September. This is going to be your best chance for having good weather, clear trails and all the F-roads will be open giving you access to the highlands.
For a more detailed breakdown of the seasons and weather, check out our guide to the best time to visit Iceland.
---
Want to save time and energy on planning?
We've traveled to Iceland 3 times now and spent weeks living in a campervan, traveling around the country. We've been able to explore a lot of what Iceland has to offer!
We've complied our experience to create the perfect Iceland itinerary. Our itinerary is for 7-9 days and meant to be explored while traveling in a campervan. It includes the highlights of the southern coast of Iceland.
We'll send you our complete 7-9 day customizable itinerary, filled with tips and advice. Just click below to get your perfect Iceland itinerary today!


---
Best hikes in Iceland
Below is a map of the best hikes in Iceland we're covering in this article. Click on the image to see the full interactive map in Google.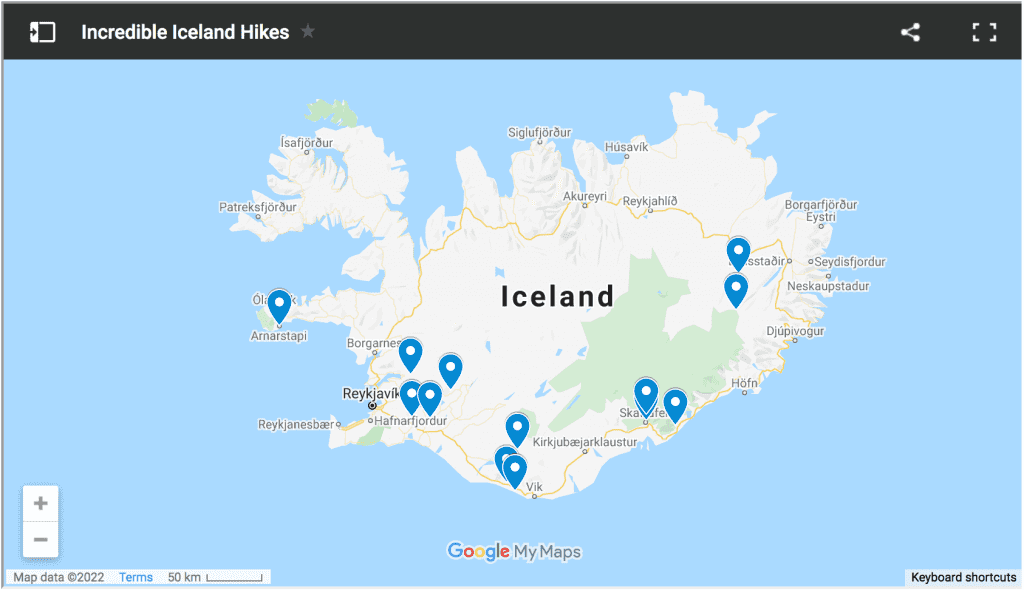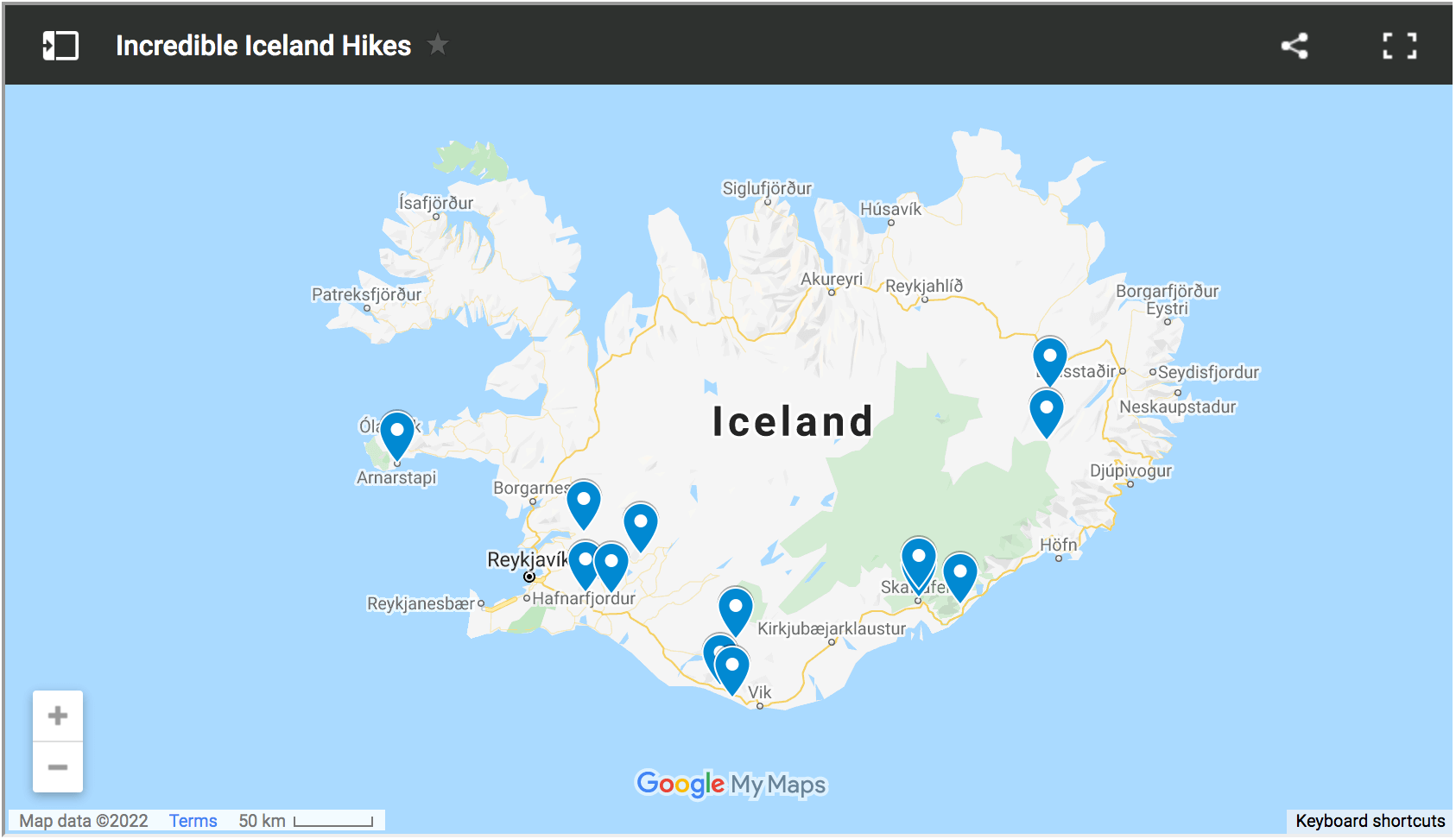 1. Fimmvörðuháls
At a glance: A three part full-day hike past waterfalls, along a volcanic plateau and into Thórsmörk Valley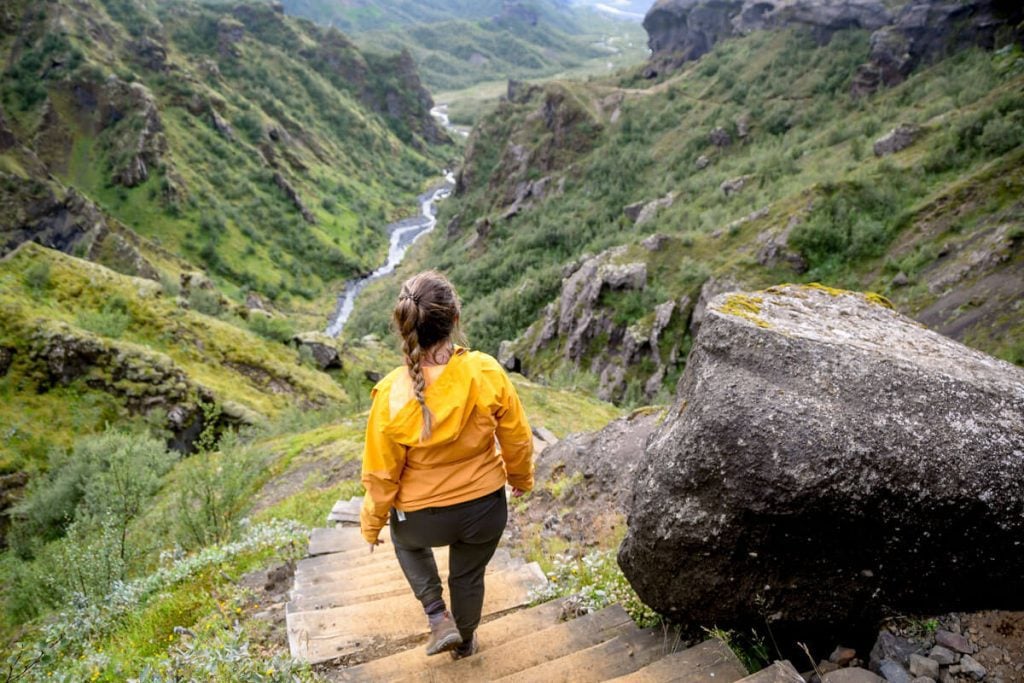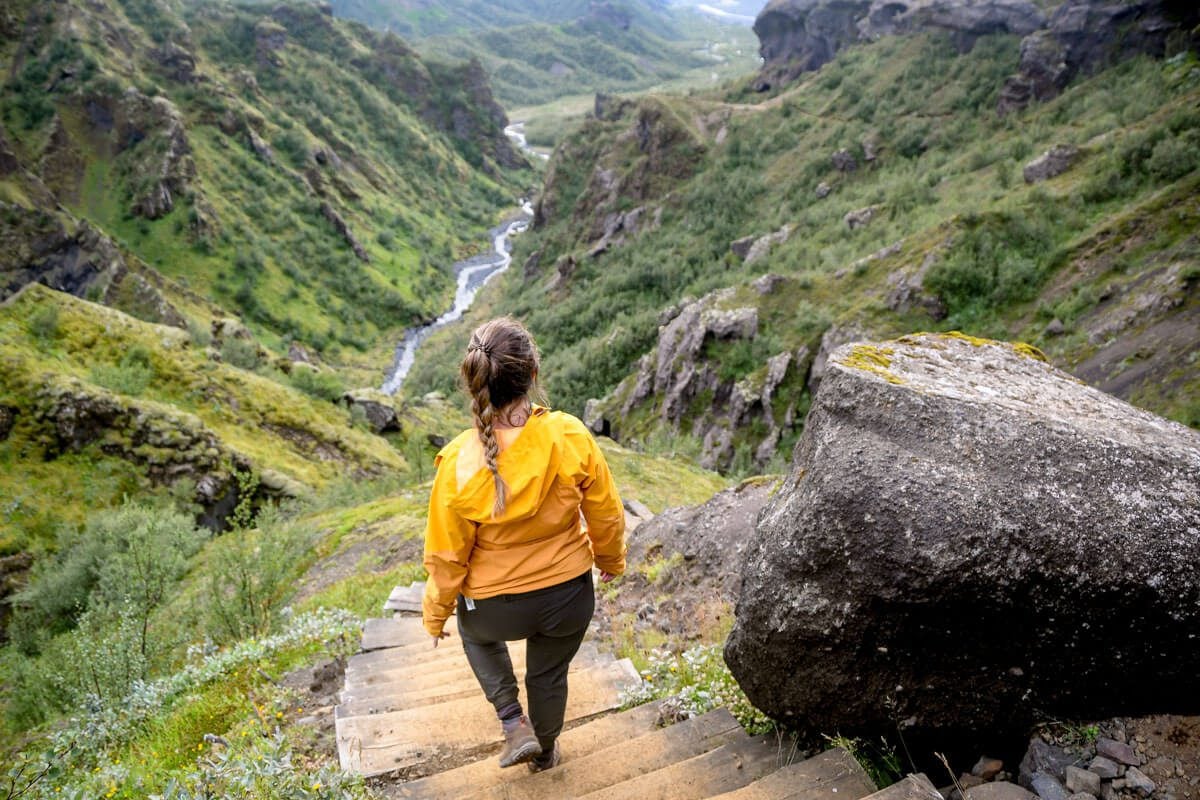 Distance: 15.5 miles (25 km)
Elevation Gain: 4,200 feet (1,280 meters)
Type of hike: point-to-point
Difficulty: challenging
Trailhead location: Skógafoss
Arguably one of the best day hikes in Iceland, the Fimmvörðuháls trek rewards hikers with a diverse range of Icelandic landscapes and some seriously jaw-dropping views. Did we mention there are at least 26 waterfalls to be seen on this hike?
After reading that description, how could you not want to take on this iconic Iceland hike?!
There are so many different parts and logistics to this hike, which typically takes around 8-10 hours to complete, we thought it deserved its own article. Check out our complete guide to the Fimmvörðuháls hike for all the information you need to plan your trek.
Tip: You can turn this into a multi-day trek by combining it with the point-to-point Laugavegur Trail, which can be hiked from Thórsmörk Nature Reserve.
2. Glymur
At a glance: A short but challenging hike to Iceland's second tallest waterfall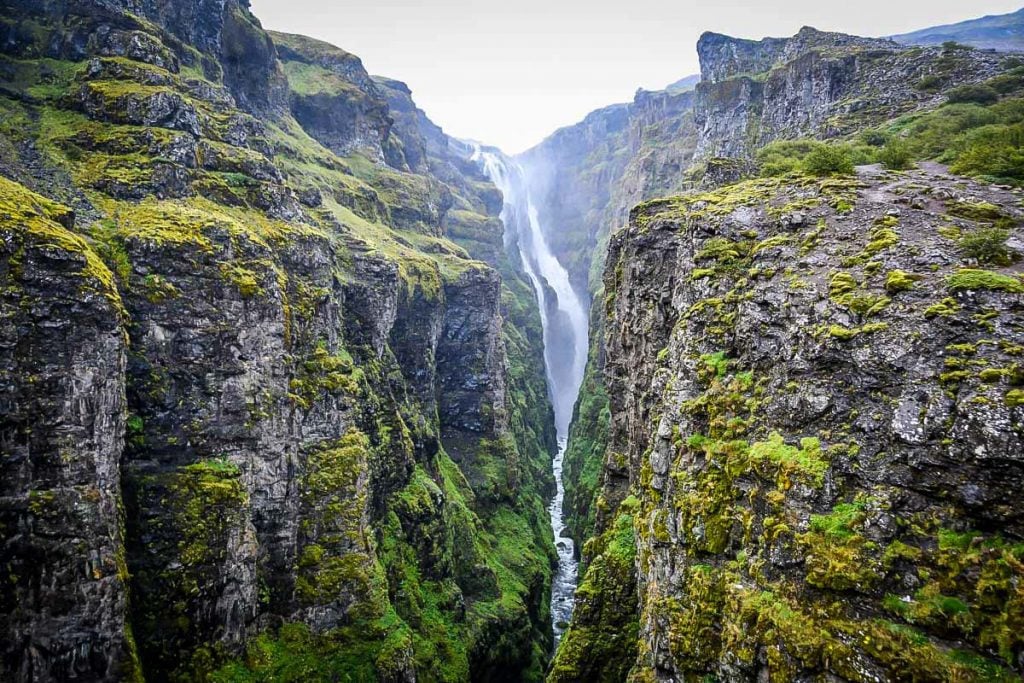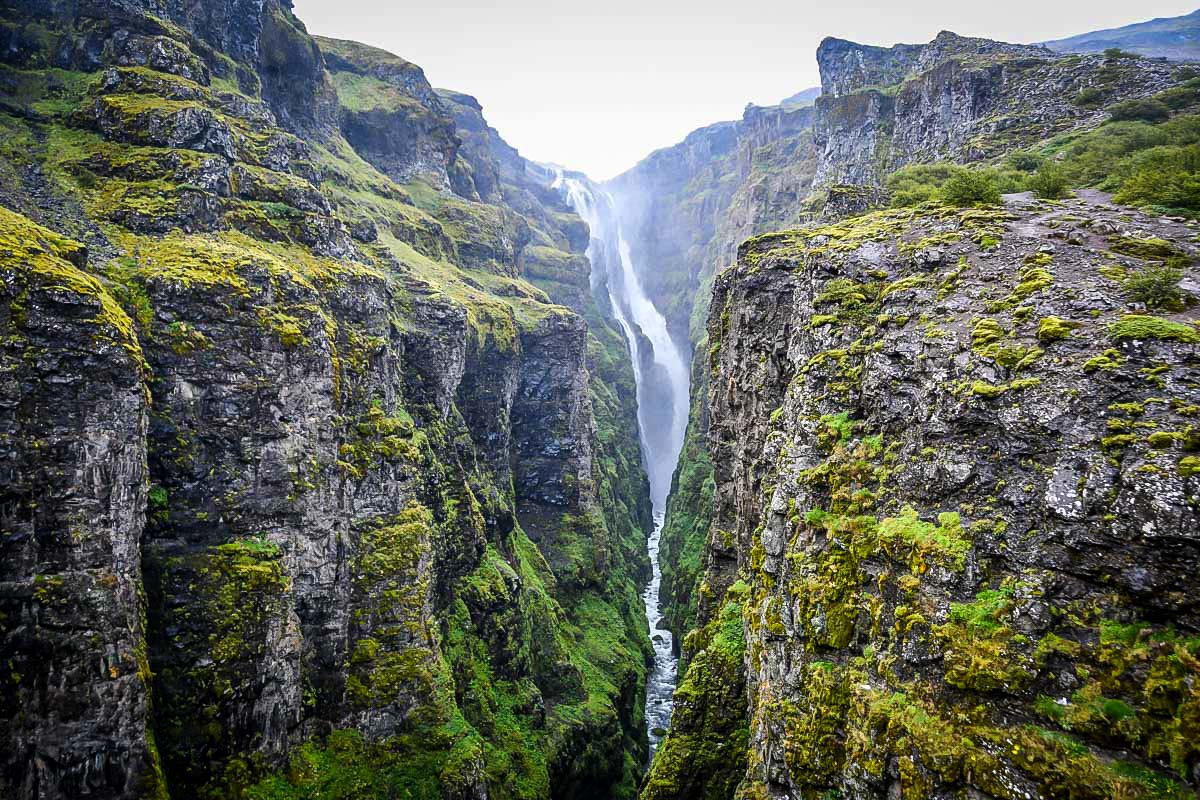 Distance: 4.28 miles (6.9 km)
Elevation gain: 1,302 feet (397 meters)
Type of hike: loop trail
Difficulty: moderate
Trailhead location: Botnsá and Glymur parking lot
Glymur held the title of tallest waterfall in Iceland for years before scientists discovered an even taller waterfall in the middle of a glacier in 2011. Though it is now Iceland's second tallest waterfall, dropping from a height of 198 metres (650 feet), Glymur is still worth the hike to visit in our opinion.
The loop trail is challenging, but worth it if you're up for a bit of an adventure—crossing a river and a bit of elevation gain.
Good to know: Be extra cautious if it has rained recently, as the trail can get slippery and dangerous in places.
Our experience: We had to turn around just shy of the main viewpoint because it was so rainy and windy that the trail was getting pretty sketchy. Luckily, there are viewpoints on the way, so we still were able to see the magnificent Glymur.
Find out exactly how to get there, plus everything else you need to know, in our Glymur Waterfall hiking guide.
Psst! Are you excited about waterfalls? We put together a list of the best Iceland waterfalls and there is a whole section dedicated to waterfalls you can hike to.
3. Brúarfoss
At a glance: A 2+ hour hike to an off-the-beaten-path waterfall with a milky blue hue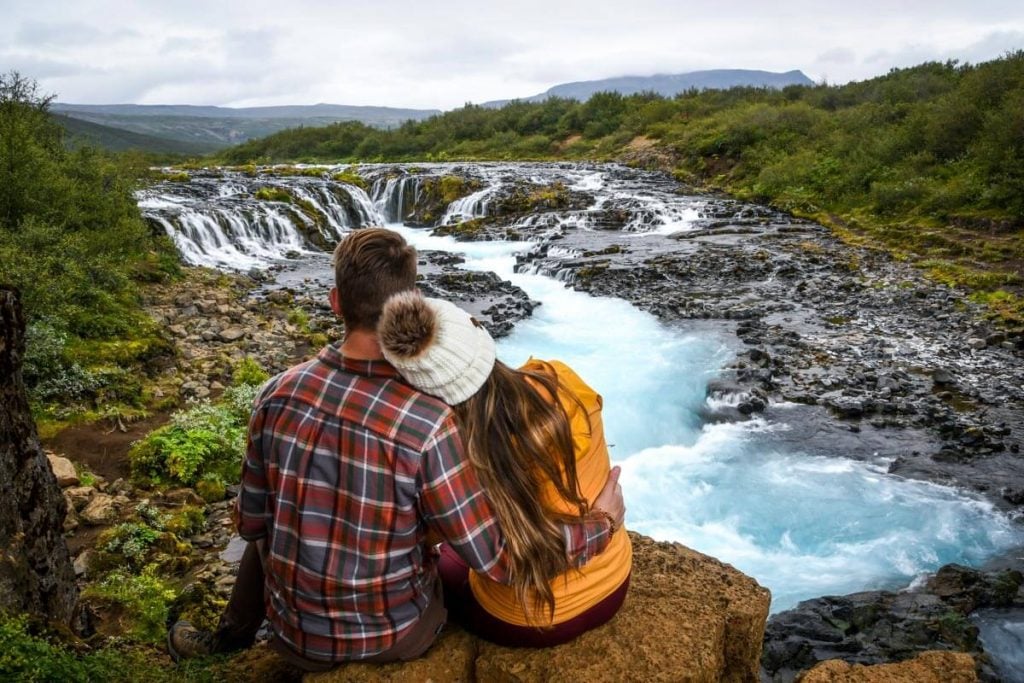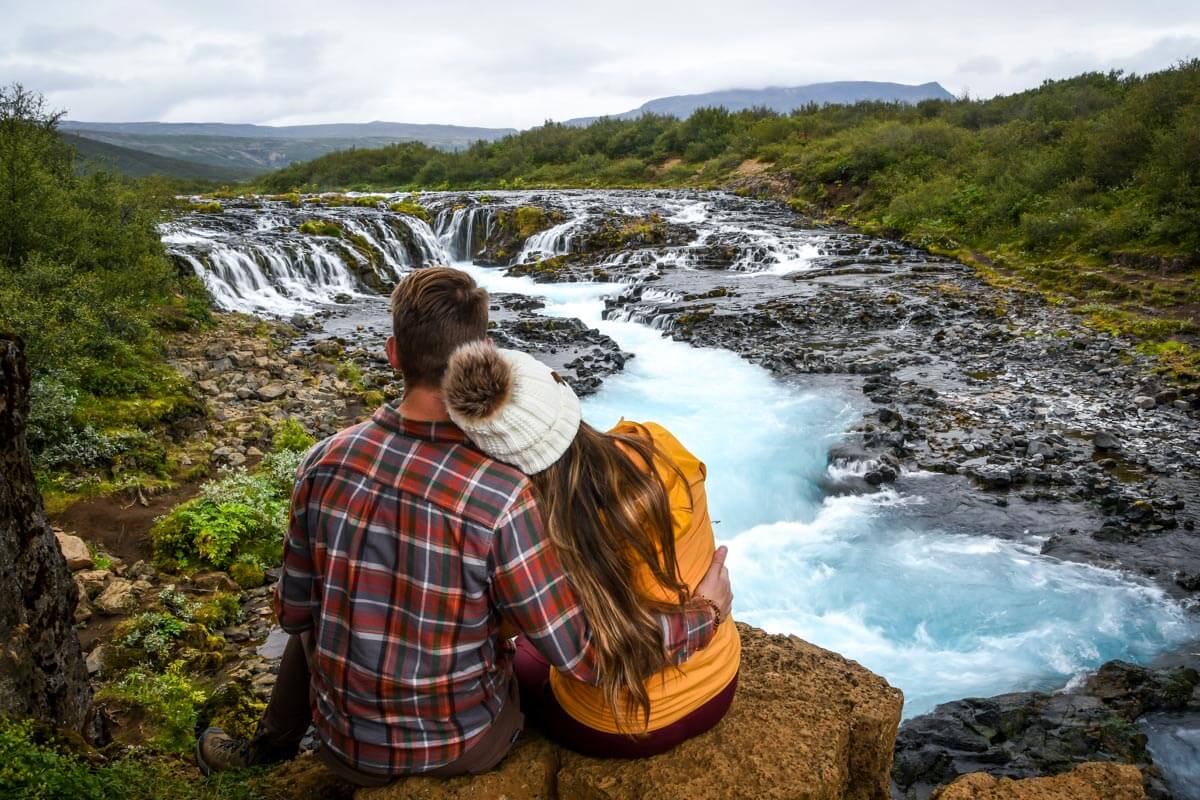 Distance: 3.9 miles (6.3 km)
Elevation gain: roughly 500 feet* (152 meters)
Type of hike: out & back
Difficulty: moderate
Trailhead location: Brúarfoss official parking lot
*Good to know: Alltrails is our go-to hiking app, as it is super helpful with showing distance and elevation of hiking trails. However, the trail stats for Brúarfoss are incorrect. It is far less steep (thank goodness!) than Alltrails would have you believe.
Known as the bluest waterfall in Iceland, the hike to this unique cascading falls is one of our favorite off-the-beaten-track stops along the Golden Circle. The 2+ hour out and back trek follows the Brúará River on relatively flat ground, past a few other waterfalls (like Miðfoss) before reaching Brúarfoss.
Worth noting: There used to be a much shorter path to Brúarfoss, and you may think you can drive much closer when looking at a map. However the shorter trail is on private property and has been closed due to tourists being disrespectful. Be sure to park in the official lot (shown above) and by all means please be respectful of the trail and do not leave anything behind!
Insider Tip: After finishing the hike, stop for homemade ice cream at Efstidalur, which is very close to the trailhead.
4. Múlagljúfur Canyon
At a glance: A little-known hike through a mossy green canyon with two waterfalls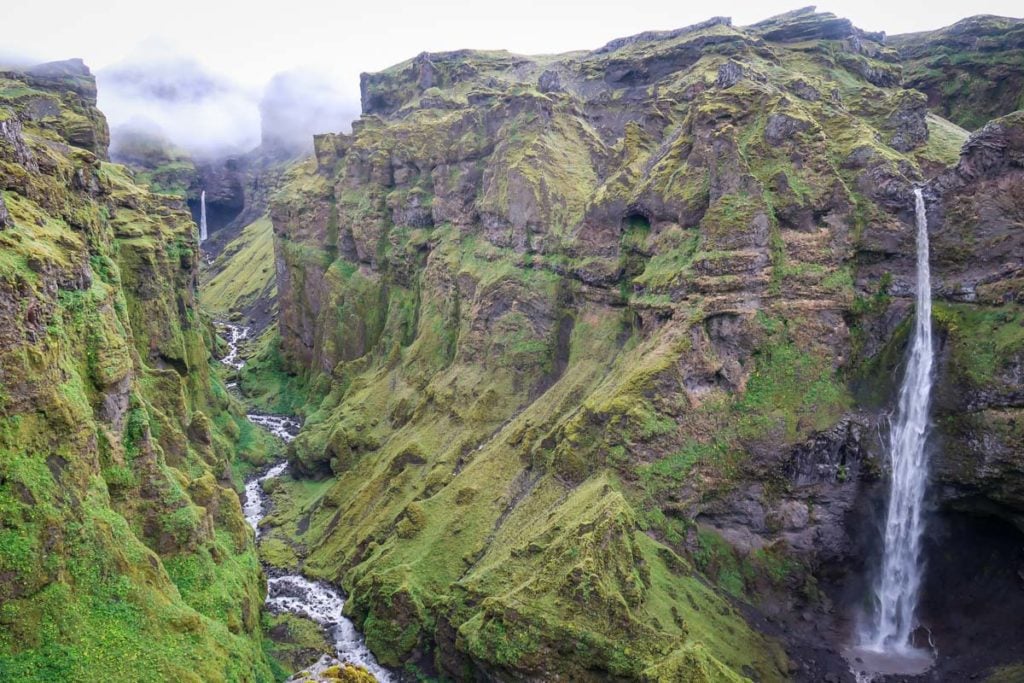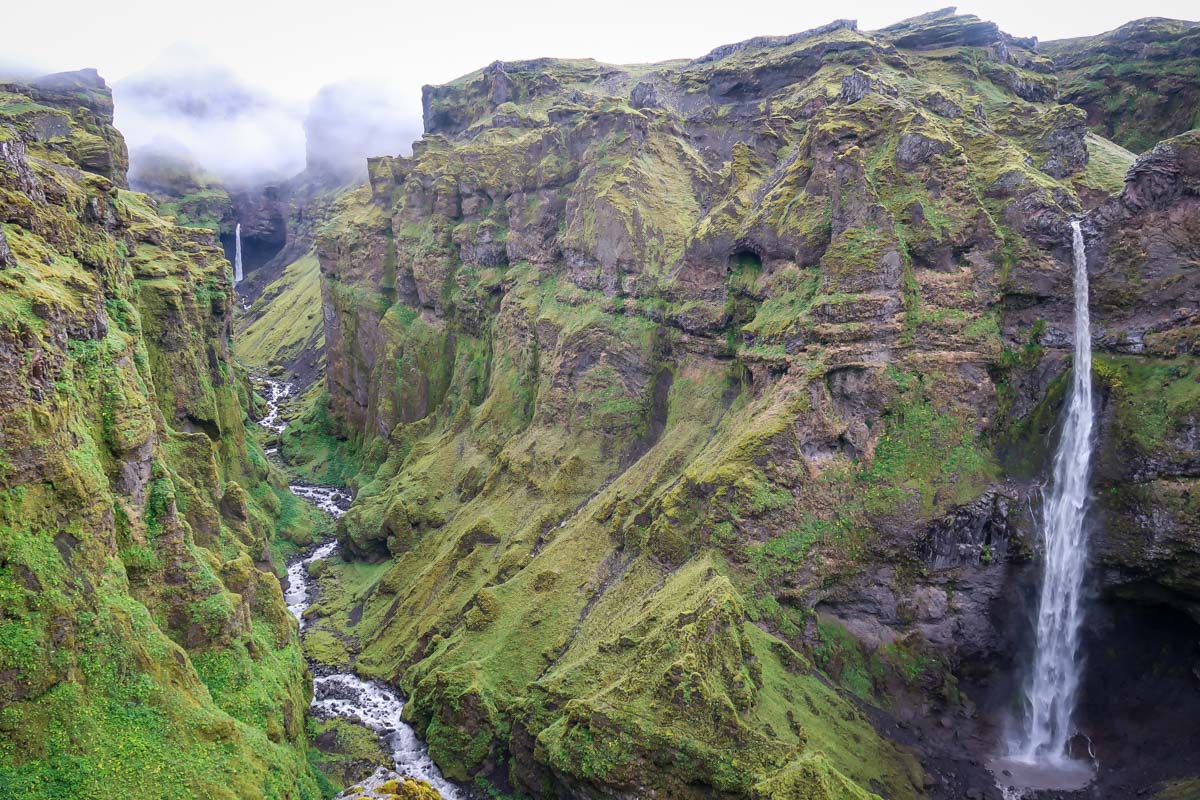 Distance: 3.6 miles (5.8 km)
Elevation gain: 1,204 feet (367 meters)
Type of hike: out and back
Difficulty: moderate
Trailhead location: an unmarked gravel road turn off of Hwy 1 to a small parking lot, 5 minutes before you reach Fjallsarlon Glacier Lagoon
Tip: Follow the navigation on AllTrails to find the parking near the trailhead.
Located in the south of Iceland, the lush Múlagljúfur Canyon is sometimes compared to the more famous and built-up Fjaðrárgljúfur canyon (as seen in a certain Justin Beiber music video), though Múlagljúfur has remained mostly under the radar. That being said, we don't think this place will stay a hidden gem for long, so we highly recommend making the time to hike this incredible canyon while it's still relatively untouched.
The roughly 6 km hike into the canyon will have you surrounded by lush green forest and mossy cliff sides with birds darting through the skies overhead. We felt like we had been transported back in time to Jurassic Park.
The hike brings you to an epic viewpoint of two waterfalls (one right in front of you and one further down the canyon). It was one of our very favorite views in all of Iceland.
We crossed paths with only two other couples during our entire hike—which is rare for such a picturesque spot in Iceland.
Good to know: The trail is marked with stakes decorated with PVC piping, so keep an eye out as they can be easily missed.
We think a hike through Múlagljúfur Canyon is one of the coolest hidden gems in Iceland and a worthy stop on your Ring Road road trip.
5. Stuðlagil Canyon
At a glance: Iceland's largest collection of basalt columns forming a canyon around a glacial river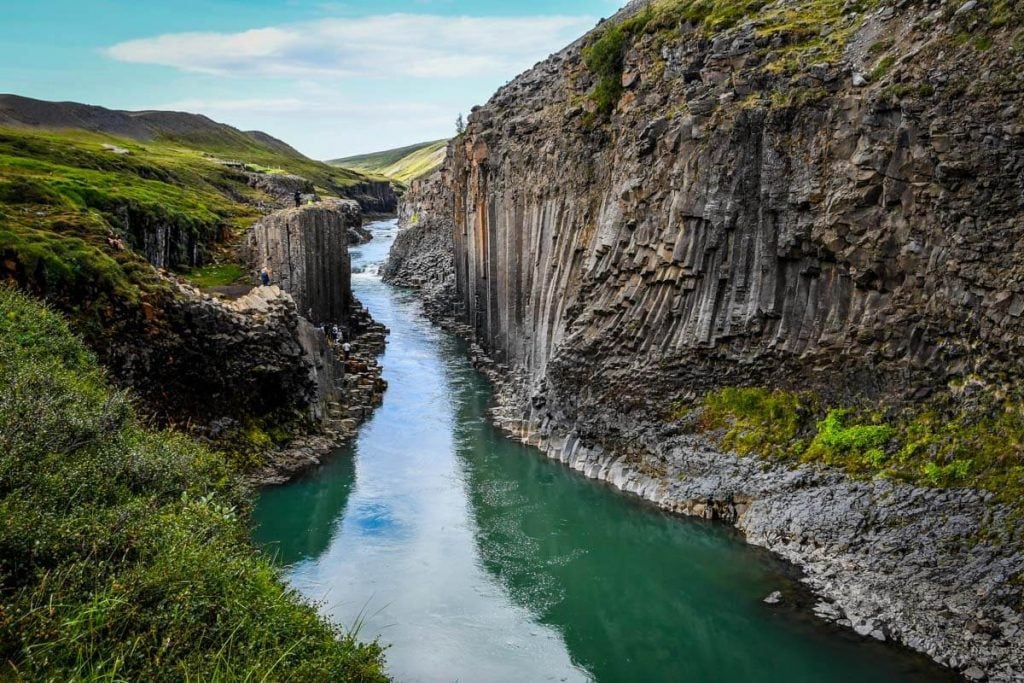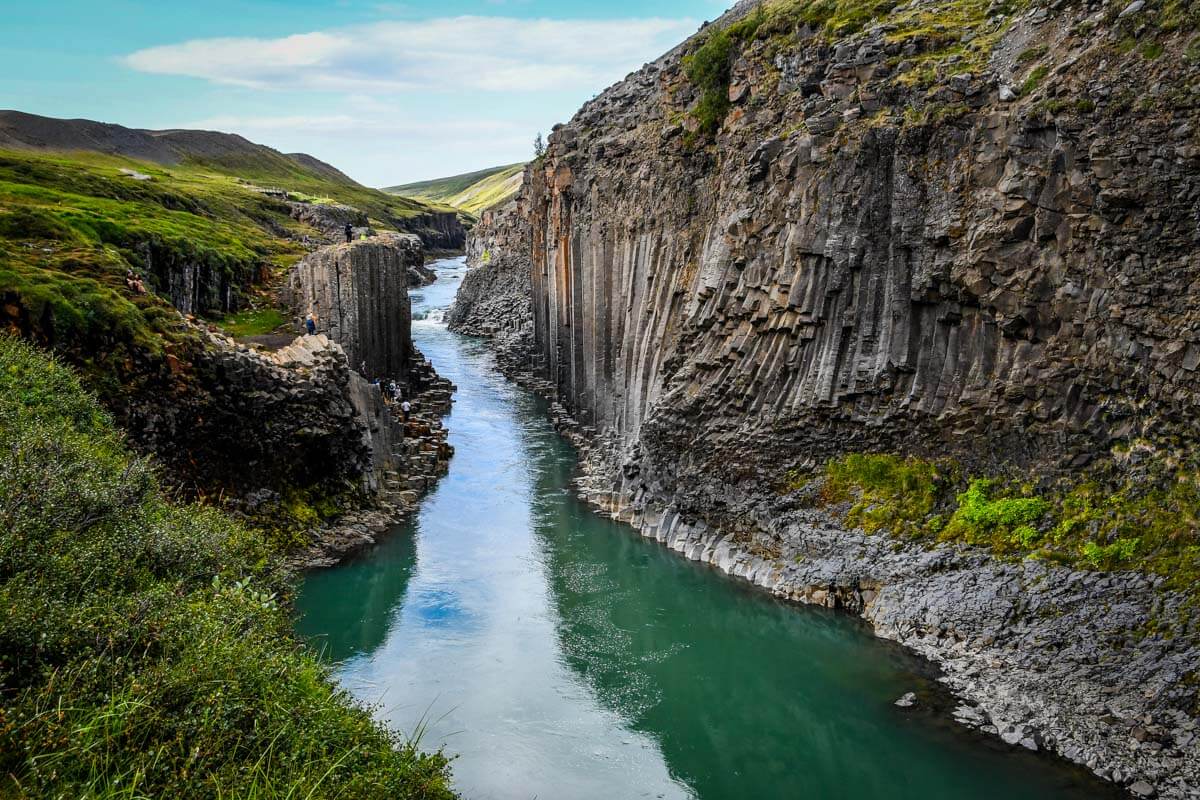 Distance: 5.70 miles (9.2 km)
Elevation gain: 561 feet (171 meters)
Type of hike: out and back
Difficulty: easy
Trailhead location: East side parking lot
If you want to check out the country's largest collection of basalt columns, you'll have to make your way to Stuðlagil Canyon in northeastern Iceland. The canyon itself has become quite the insta-famous spot and is no longer considered a "hidden gem" of Iceland. Though we still think a visit here is a worthy detour from Ring Road.
While you can actually park quite near the main attraction and walk out onto the viewpoint to see the towering basalt columns up close, you'll have to complete a short hike on the other side of the river to get to the famous photo spot at the bottom of the canyon looking up.
Check out our Stuðlagil Canyon guide for all the information you need to know to plan your visit and your hike here.
Psst! Wondering how to get around Iceland so you can do all these cool hikes? We have a guide to renting a car in Iceland that'll tell you everything you need to know before you arrive.
6. Arnarstapi to Hellnar Cliff Walk
At a glance: Hike through a coastal lava field on the Snaefellsnes Peninsula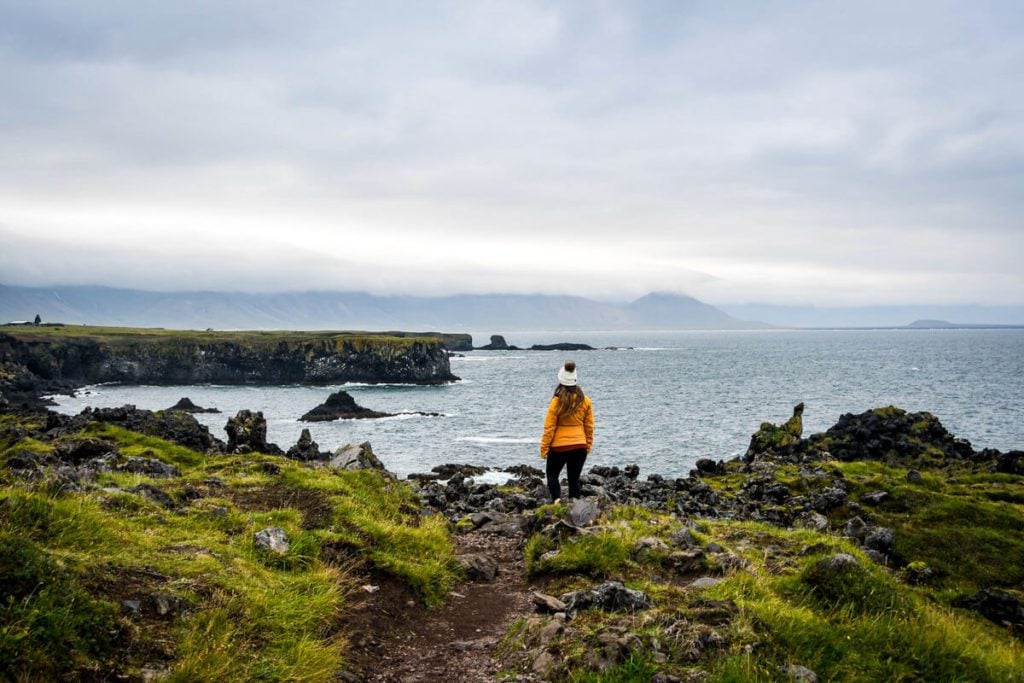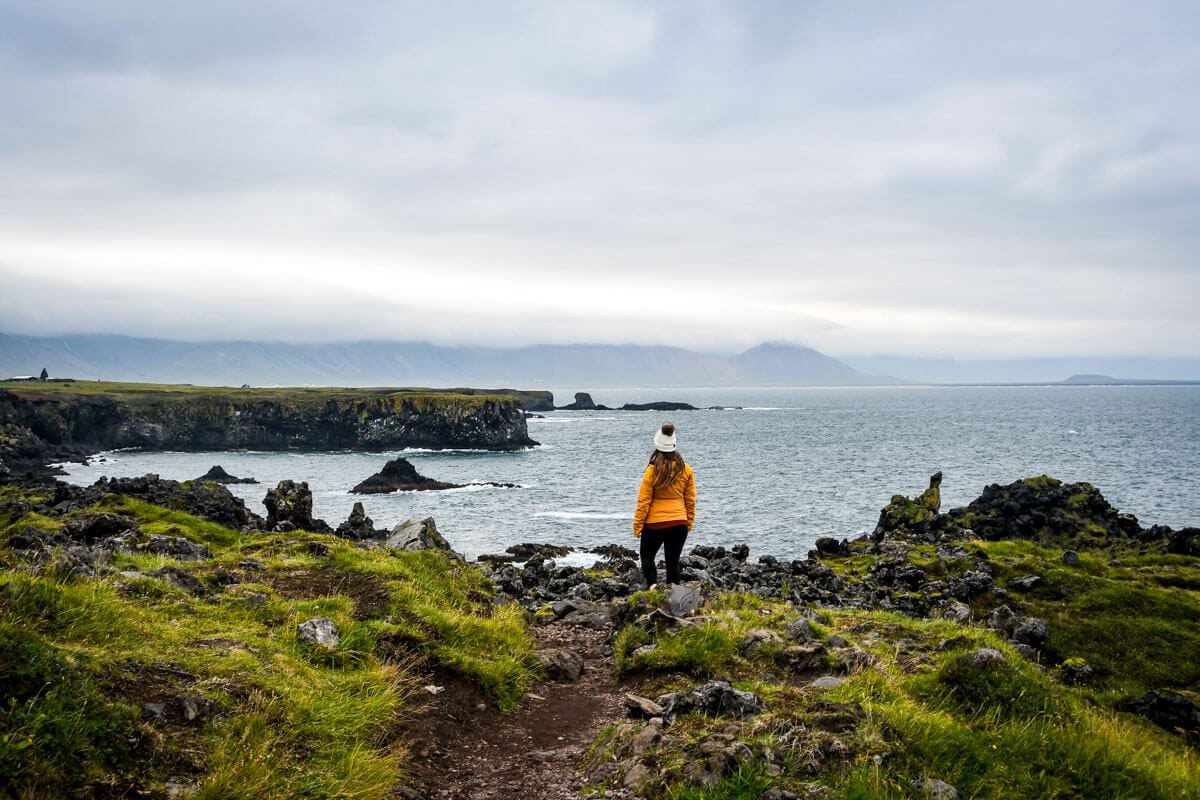 Distance: 3.8 miles (6 km)
Elevation gain: 144 feet (44 meters)
Type of hike: out and back
Difficulty: easy
Trailhead location: Arnarstapi Harbor
If you find yourself northwest of Reykjavík on the Snaefellsnes Peninsula, this hike is a great way to stretch your legs and take in some pretty incredible views of the coastline.
More of a "walk" than a true hike, the Arnarstapi to Hellnar trail can be done at a pretty quick pace, but your timing will depend more on how long you want to stop for photos.
The trail has you crossing a lava field between the two small costa villages of Arnarstapi and Hellnar. It winds between the amazing basalt forms and offers beautiful ocean views the entire way.
Insider Tip: Once you reach Hellnar, you'll see Fjöruhúsið café. They have great cakes and hot chocolate to refuel you. Plus, the views are pretty spectacular. Once you've had your fill, head straight down to the water to see some cool rock formations.
If you're following our 7 day Iceland itinerary and have enough time on your first day, we'd highly recommend getting out of the car and walking between the towns.
7. Laugarfell Loop
At a glance: An 8 km long hiking loop passing by lots of waterfalls that starts and ends in Laugarfell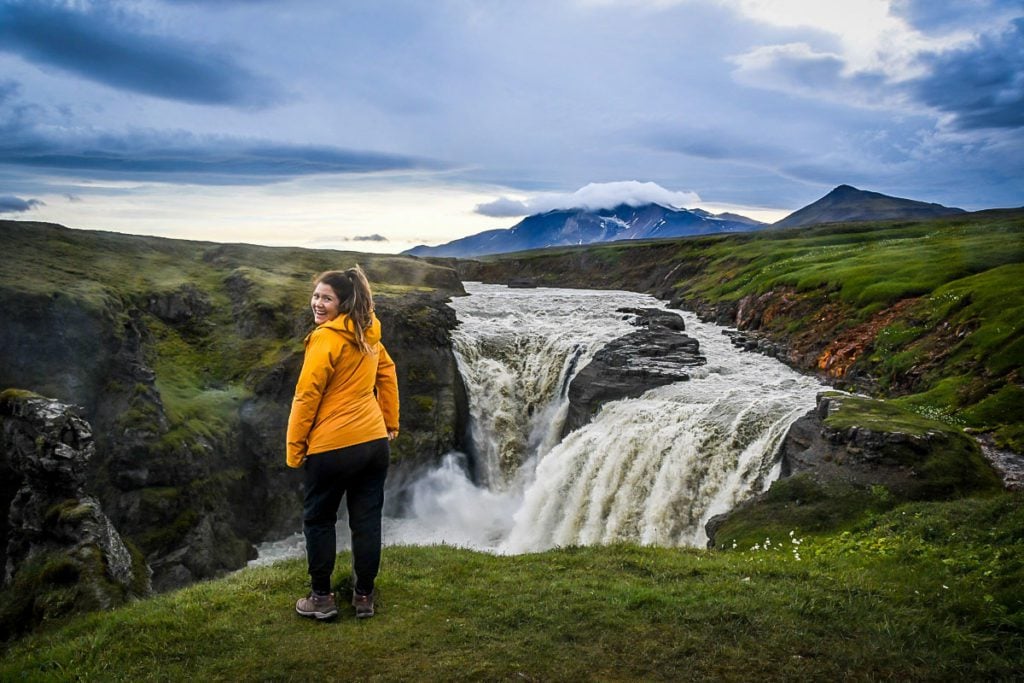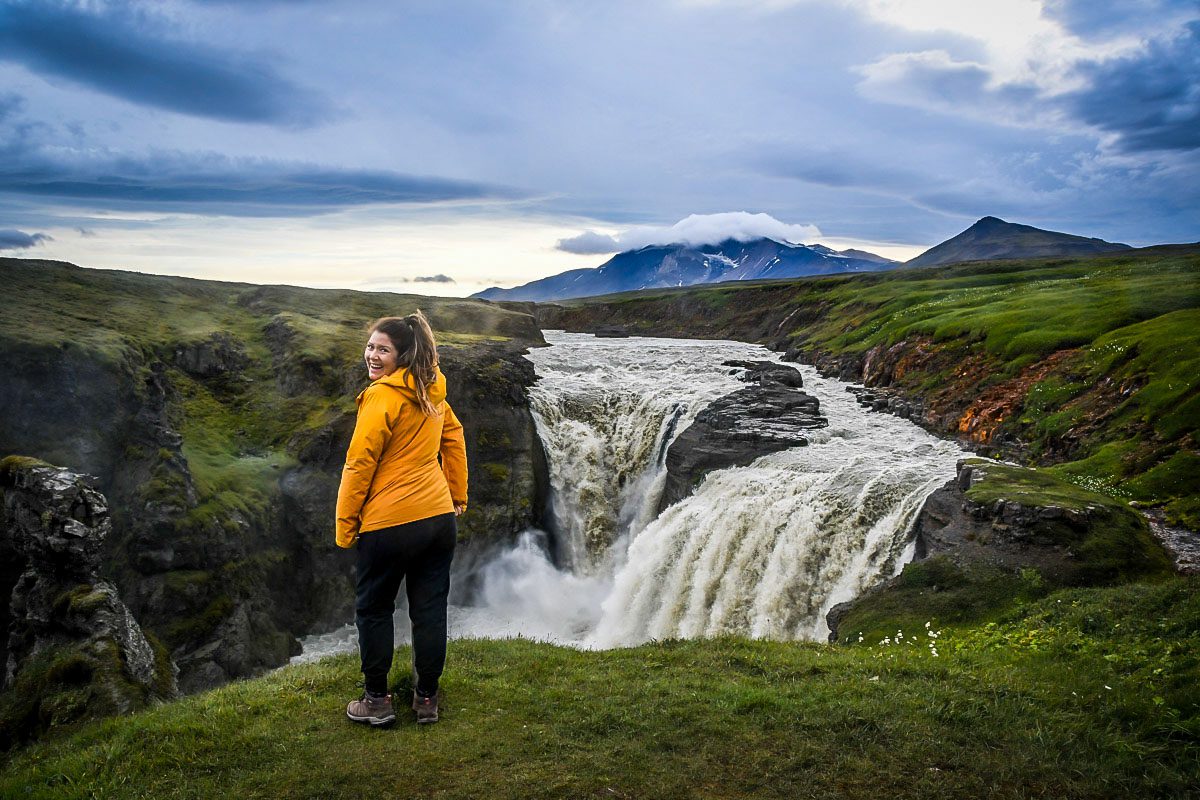 Distance: 4.8 miles (7.7 km)
Elevation gain: 856 feet (261 meters)
Type of hike: loop trail
Difficulty: moderate
Trailhead location: Laugarfell
Sometimes referred to as "Waterfall Circle," this nearly 8 km hiking loop is a great way to get off the beaten path in East Iceland. As the name implies, the loop trail starts and begins in Laugarfell leading hikers along the banks of Jökulsá River past 5 waterfalls and through a stunning canyon. The most famous of the waterfalls you'll see on the trail is Kirkjufoss.
The moderate loop trail usually takes hikers about 6 hours to complete. The best part is the trail ends at the Laugarfell Highland Hostel, one of our favorite Iceland Airbnbs and a great place to soak your sore muscles in their natural hot spring pools afterwards.
8. Reykjadalur Thermal River
At a glance: A 1 hour moderate hike to a geothermal heated river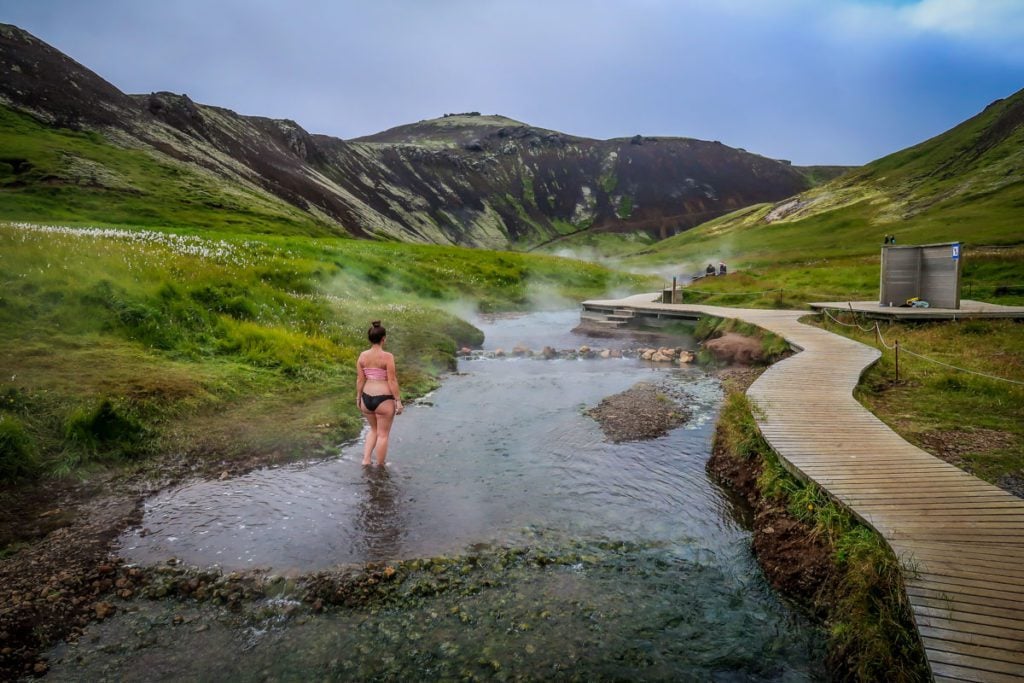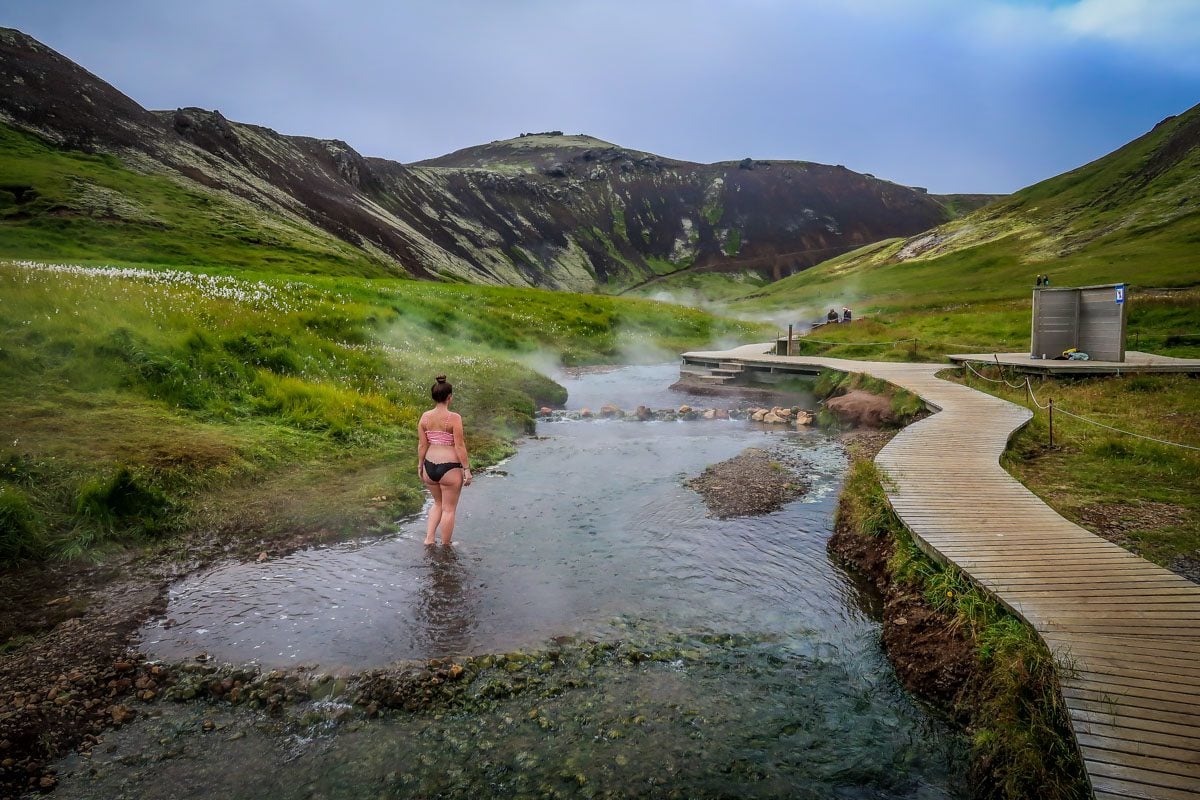 Distance: 5 miles (8 km)
Elevation gain: 1,138 feet (347 meters)
Type of hike: out and back
Difficulty: moderate
Trailhead location: Reykjadalur parking lot
Visiting Reykjadalur Thermal River was one of our favorite hot spring experiences in Iceland. There's something more rewarding about a place that takes a bit of effort to reach.
The hike to this hot spring thermal river is 5 miles roundtrip with just over 1,000 feet of elevation gain. It takes roughly 1 hour each way and you'll want to dedicate plenty of time for soaking, so you should plan for 3+ hours for this hike. It's a pretty steady uphill climb, but you do pass a waterfall on the way up!
While some hikes are more about the journey than the destination, in this case, the destination is the true draw. The trail ends in a magical verdant valley with the thermal river cutting through. You'll see the steam rising up from the water as you approach.
We visited Reykjadalur in the early afternoon and there were plenty of people around. However, since the river is quite long, there was lots of space to spread out and have a little area to ourselves.
Good to know: There is not much privacy when it comes to changing areas near the river.
The water gets hotter as you walk upstream, to the point where it was too hot to even sit in. So dip your toes in a few places to find the most comfortable temperature before you jump in.
Find out exactly how to get there and everything else you need to know in our guide to visiting Reykjadalur Thermal River.
9. Svartifoss
At a glance: An easy loop trail with a waterfall surrounded by black basalt columns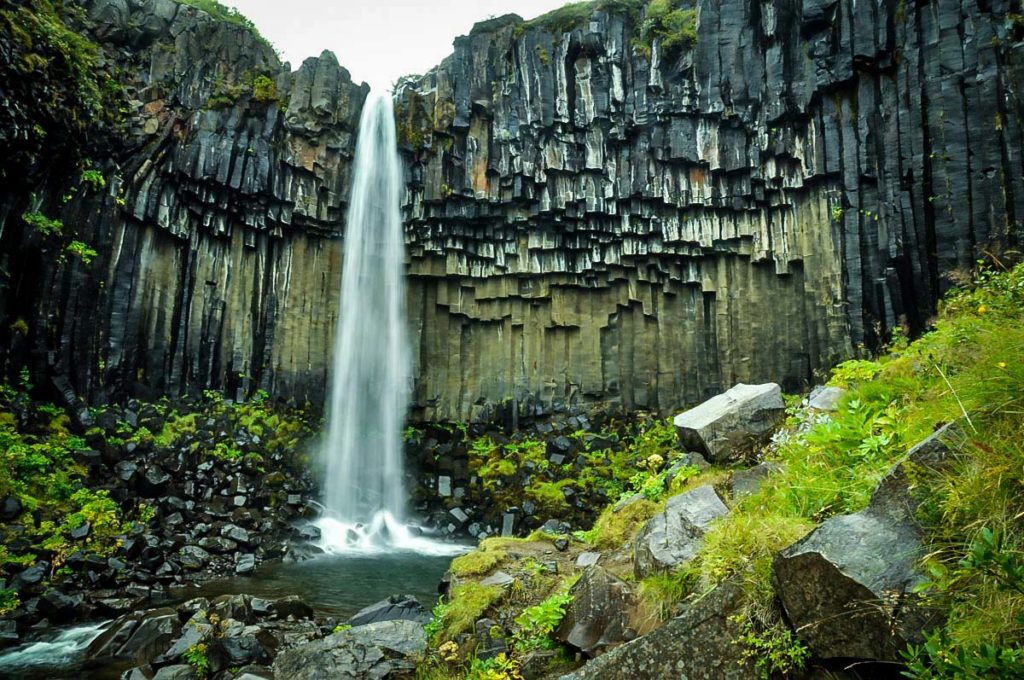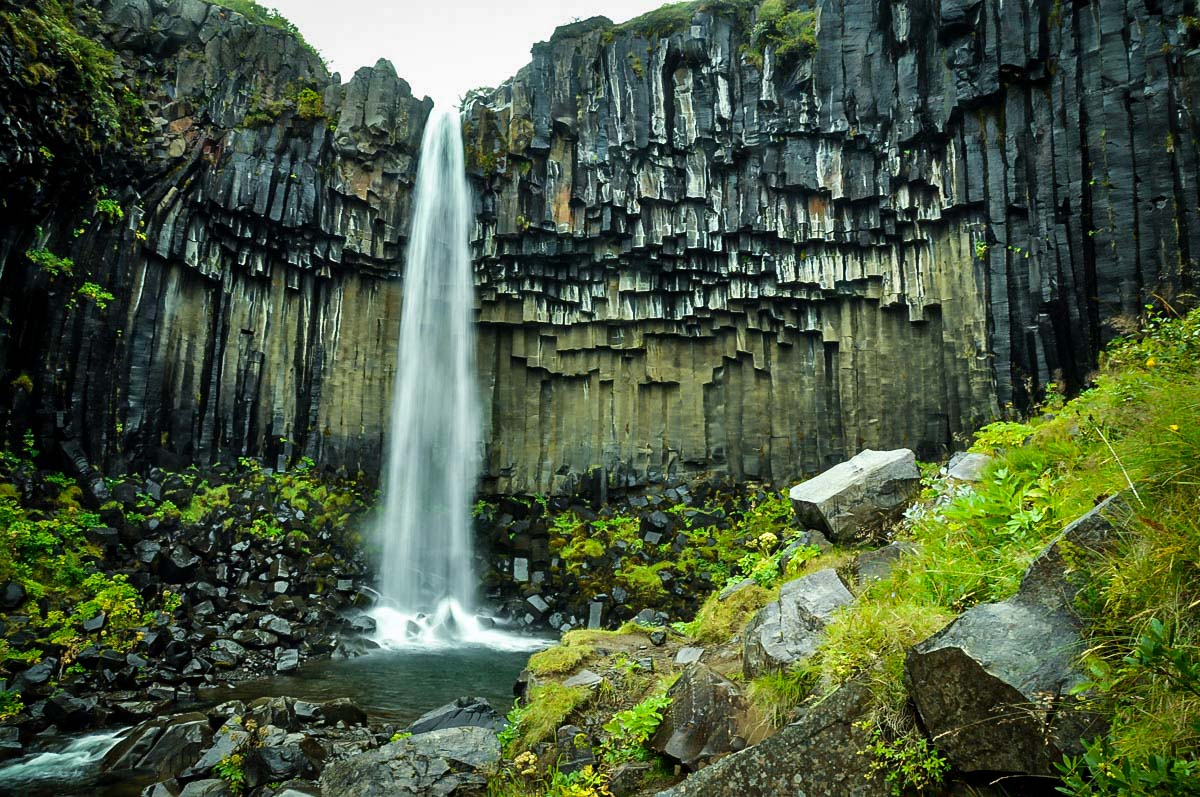 Located in Vatnajökull National Park in southeastern Iceland just off the Ring Road is Svartifoss. The plunging waterfall drops from ​​20 meters (65 ft) and is surrounded by black basalt columns, giving it the nickname "black waterfall".
The hike to get here requires traversing a 4 km (2.5 mile) relatively easy loop trail. You should plan at least 45 minutes to reach the falls and around 2 hours for the entire hike to allow for some photo time while you're there.
10. Glacier Hike
At a glance: An Iceland bucket list experience; a guided hike on a glacier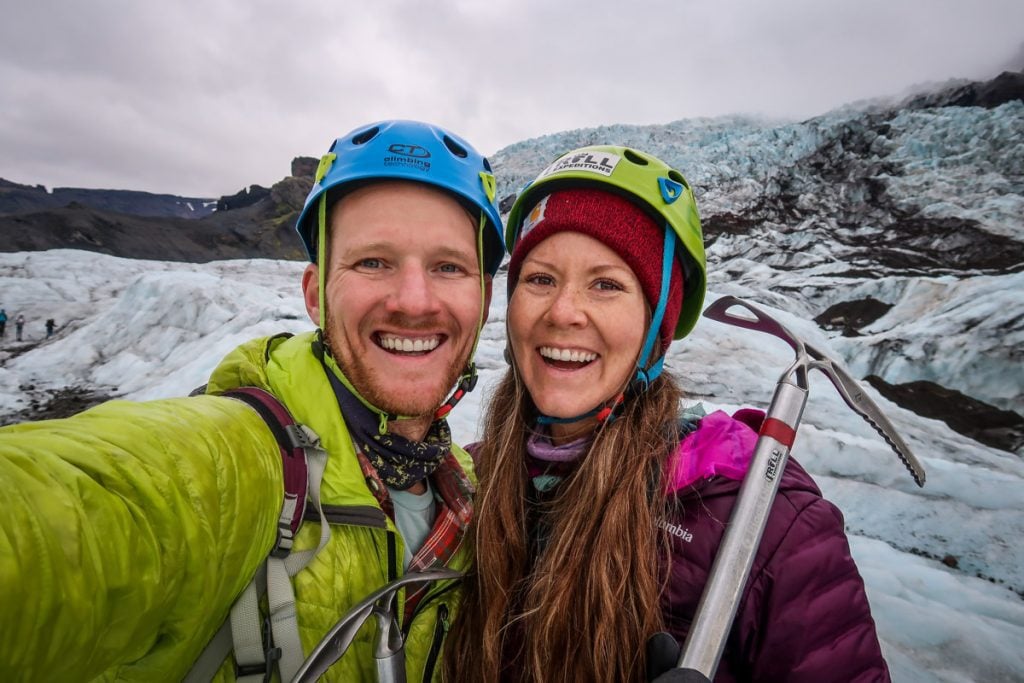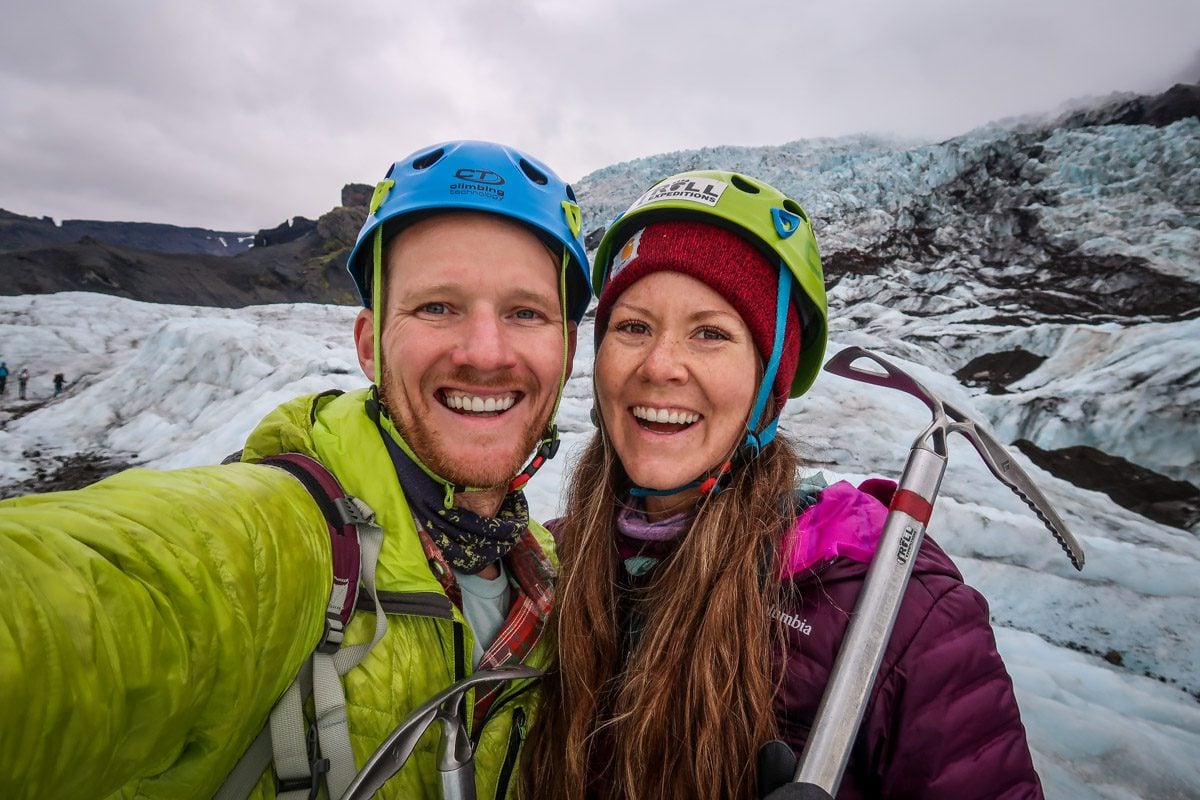 Distance: varies
Elevation gain: varies
Difficulty: moderate to challenging
There are plenty of different glacier hikes you can experience while in Iceland and if you ask us, hiking a glacier should be at the top of your Iceland bucket list. Because of the variance between tours, we don't have specific stats for this hike, but we still wanted to include the experience on our list.
Hiking on a glacier is an activity you must do with a guide, and there are quite a few tour companies to choose from. We chose to do the Skaftafell 5-hour glacier hike with Troll Expeditions because we read many recommendations that suggested the 5-hour tour was considerably more worthwhile than the 3-hour experience, and Troll Expeditions had great reviews.
During the tour, you'll traverse a pretty large section of a glacier and see some pretty incredible sights. You may even be lucky enough to be (safely) lowered into a small ice cave, which feels like an entirely different world.
11. Laugavegur Trail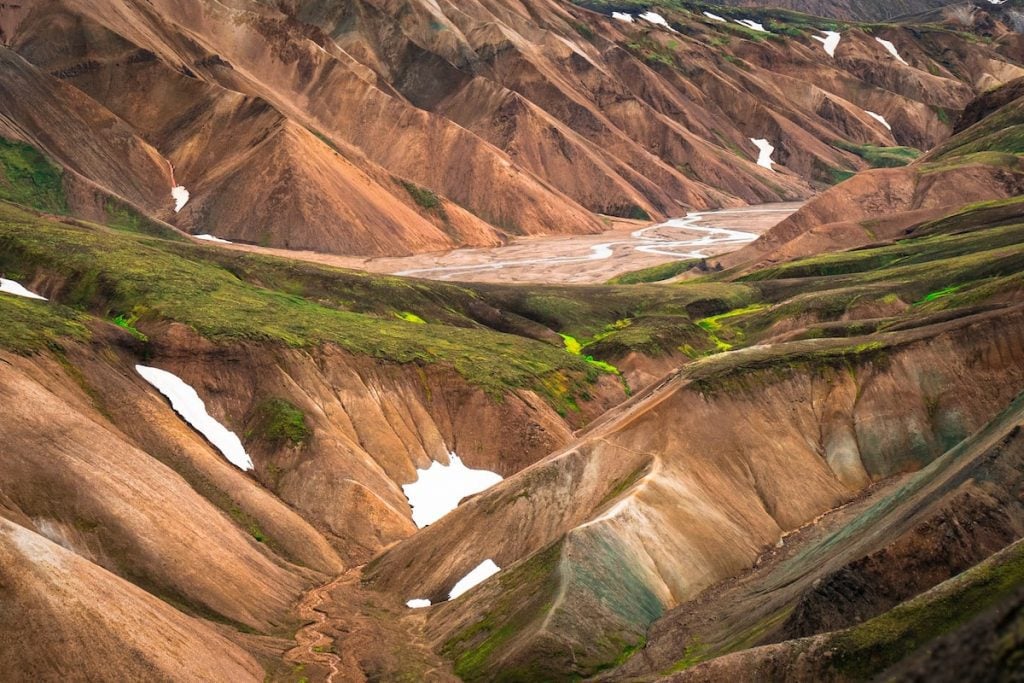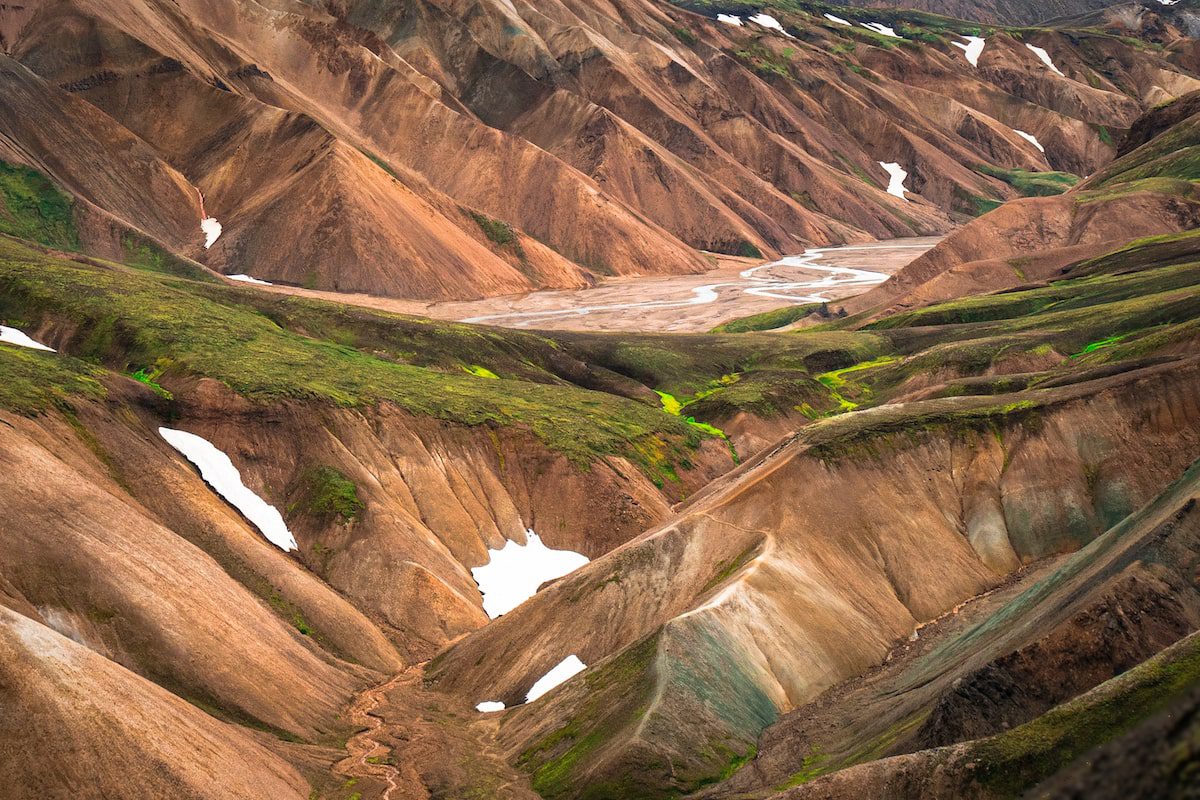 At a glance: One of Iceland's most popular thru-hikes, boasting some of the most otherworldly landscape this already rugged and oh-so-scenic island has to offer
Distance: 32.4 miles (52.1 km)
Elevation Gain: 5,583 feet (1,701 meters)
Type of Hike: point-to-point
Difficulty: challenging
Trailhead Location: Landmannalaugar Trailhead
Amongst the most popular thru-hikes in Iceland is the renowned Laugavegur Trail, an unforgettable (and borderline unforgiving) hike through the remote Icelandic highlands. While extraordinarily popular, this hike is not for the faint of heart, as you can expect to cover a lot of challenging ground across the span of only 4 days and 3 nights.
The trail is accessible during the months of June through September and, in this time, will see a moderate amount of traffic. Of course, the heart of summer is when this trail at its peak busyness due to the more reliable and temperate climate (though, it ought to be mentioned that you're never guaranteed anything when it comes to Icelandic weather – and as such, it's important to know exactly what to pack for an overnight hike such as Laugavegur to ensure not only your safety, but your comfort and enjoyment while on trail).
It's recommended you start your hike at the Landmannalaugar Trailhead, located in the Fjallaback Nature Reserve. Note that this reserve is accessible only via the use of F-roads – which consist of notoriously rough terrain and are only accessible via the use of a 4×4 vehicle – so plan your route accordingly.
From there, you'll make the challenging trek past stark lava fields, plunging waterfalls, and Laugavegur's signature multi-coloured mountains to Thórsmörk Nature Reserve, the long-awaited final destination along this adventure of a lifetime!
Tip: Though Thórsmörk Nature Reserve is the official end of the Laugavegur Trail, you can combine this hike with the famous Fimmvörðuháls trek (listed above) if you want to extend your trip.
See our complete guide to hiking the Laugavegur Trail for all the information you need to know to plan your trek.
Recommended by: Natasha from Planes, Trains & Karcz
12. Solheimasandur Plane Wreck
At a glance: Hike to an eerily photogenic plane wreck on a back sand beach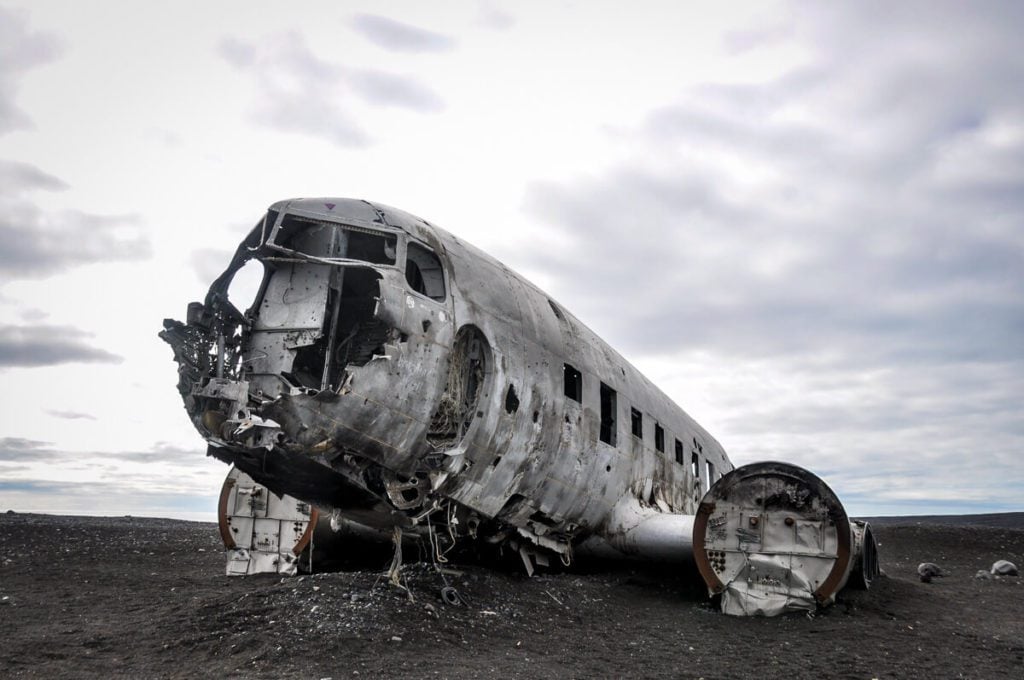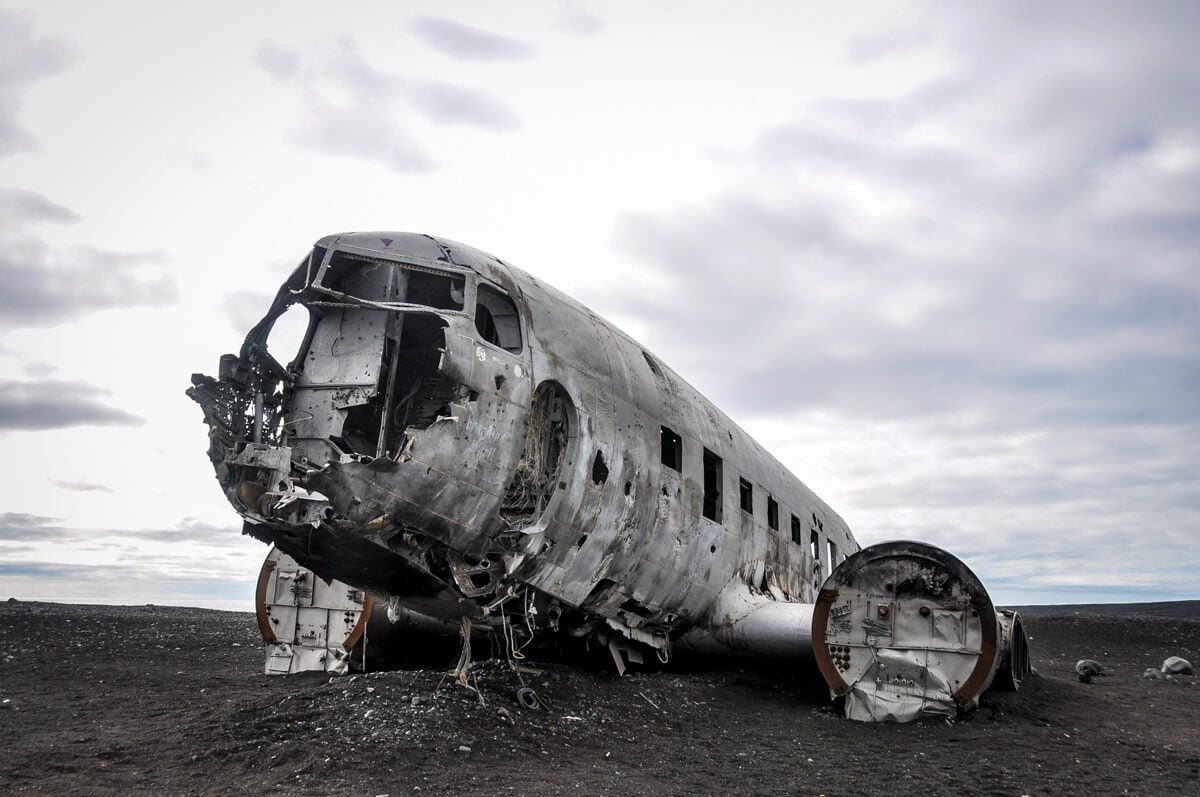 The relatively flat hike to Solheimasandur plane wreck is actually quite boring. I know, I know… you're here to read about the most epic hiking in Iceland, so why are we including a flat and boring hike on our list?
The plane wreck on Solheimasandur black sand beach is actually really cool and worth a visit, especially if you're into photography. The contrast of the skeleton of an airplane against the jet black sand is an eerie sight and makes for some interesting photographs.
This insta-famous site was created back in 1973 when a U.S. Navy plane ran out of fuel and crash-landed on this stretch of black sand beach in Iceland. Miraculously, there were no casualties. Today the majority of the fuselage remains intact and abandoned on the beach for visitors to climb upon and photograph.
Tip: Pay attention to the weather forecast and wear the appropriate clothing for this hike with plenty of layers. Just because you're walking on a "beach" does not mean you should be wearing flip flops. We recommend sturdy hiking boots and lots of layers in case the wind picks up.
13. Kerið Crater
At a glance: An easy hike around the rim of a colorful crater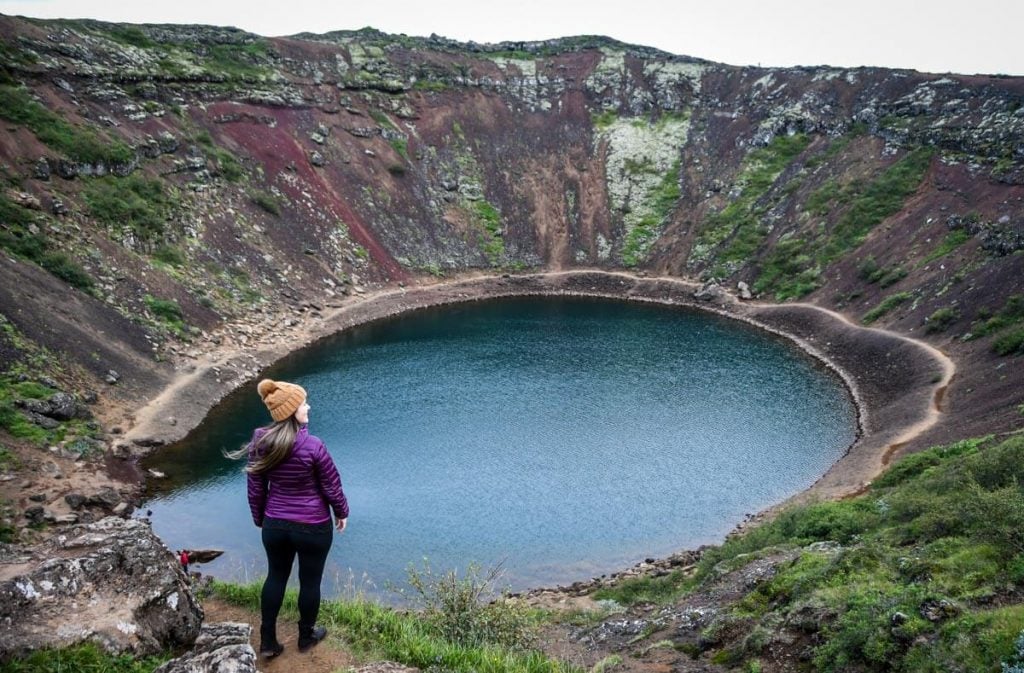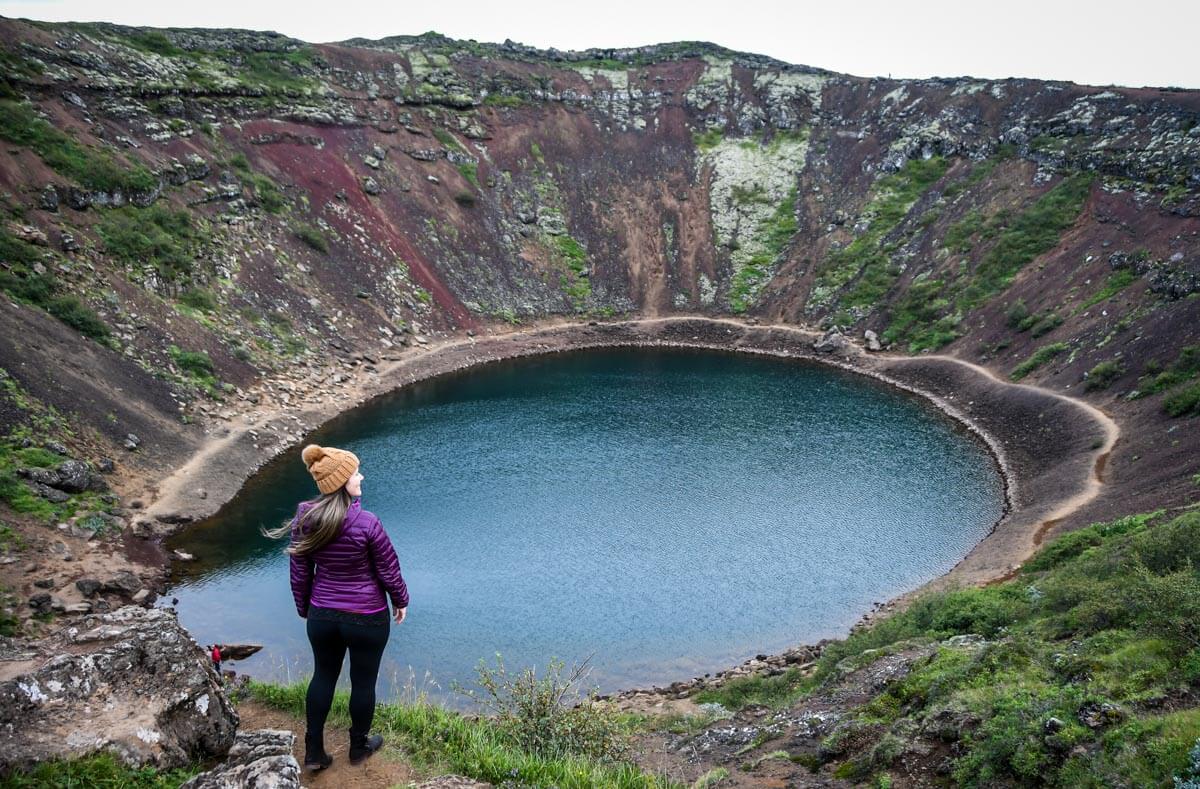 Distance: 0.87 miles (1.4 km)
Elevation gain: 115 feet (35 meters)
Type of hike: loop trail
Difficulty: easy
Trailhead location: Kerid car park
If you're looking for a very short and easy hike, this one fits the bill. It's perhaps one of the most colorful stops on the Golden Circle; an aquamarine lake glistens inside a volcanic caldera flanked by red volcanic rock dotted with bursts of lime green moss.
There is a 400 ISK ($3) entrance fee for the crater which can be purchased at the parking lot. Once you've got your ticket, you can walk a short distance and follow the gravel trail encircling the crater. There is also a staircase that'll bring you down towards the water for a different perspective if you want.
This loop trail is just under a mile long and is relatively flat and easy and shouldn't take much more than a half hour in total (including photo stops).
14. Fjaðrárgljúfur Canyon
At a glance: a luscious green serpentine canyon with a picturesque waterfall at the end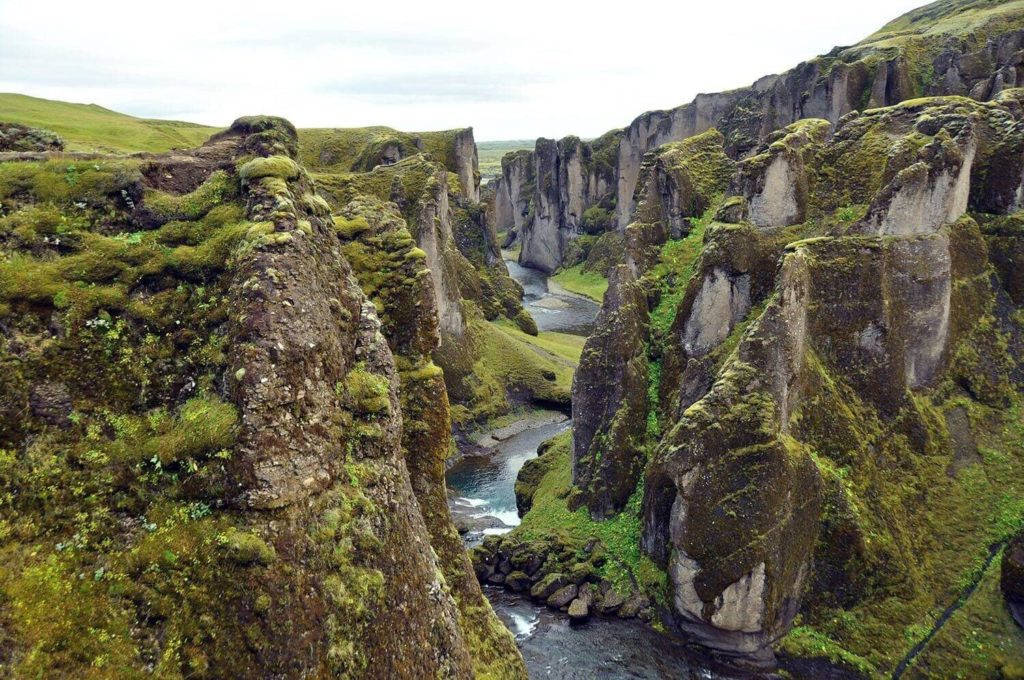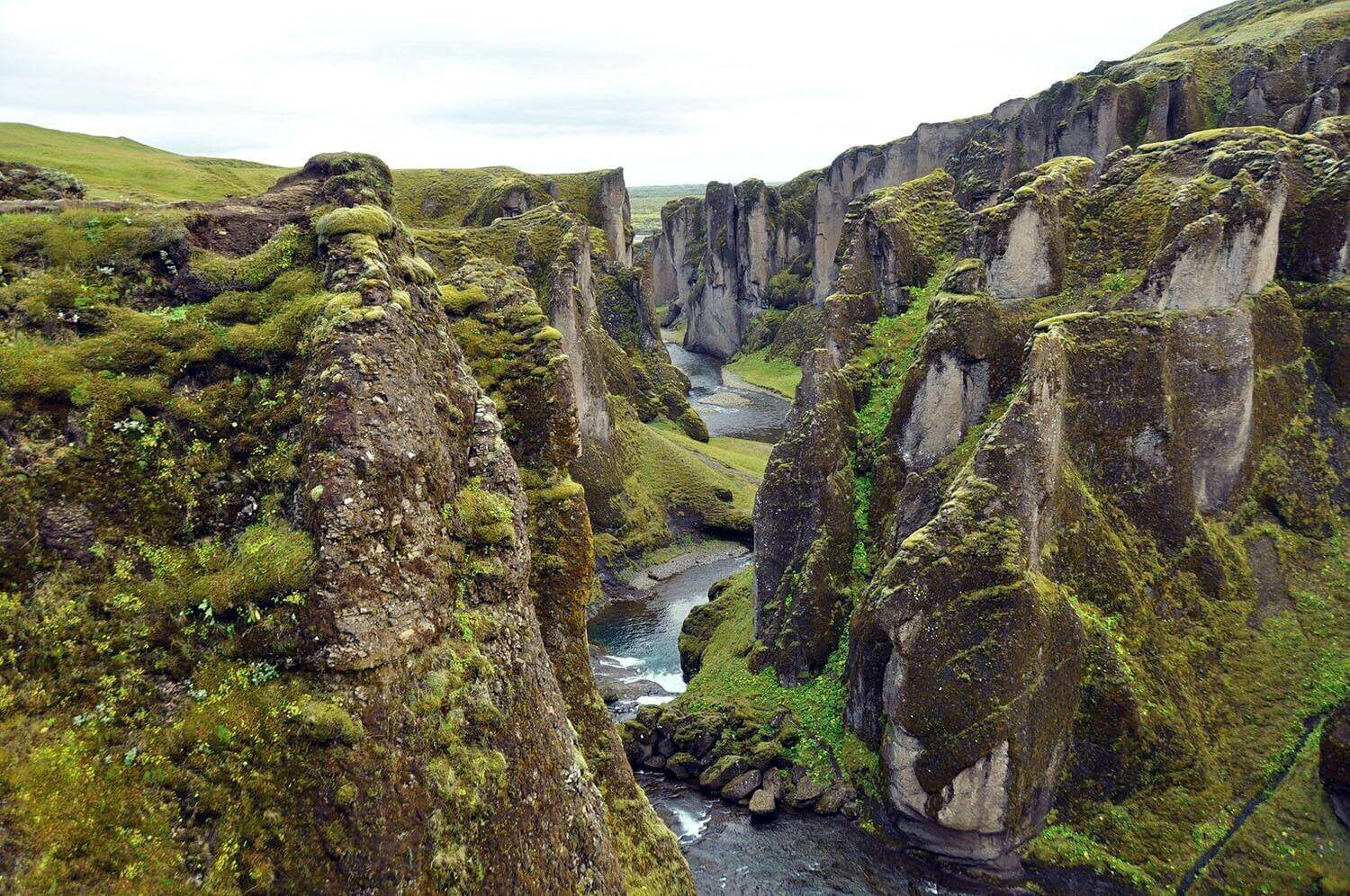 Distance: 2 miles (3.2 km)
Elevation gain: 279 feet (85 meters)
Type of hike: out and back
Difficulty: easy
Trailhead location: Fjaðrárgljúfur parking lot
Fjaðrárgljúfur is a luscious green canyon that snakes its way through a valley in South Iceland. Most recognized from its appearance in a certain Justin Bieber music video (we had to watch it… for research of course), Fjaðrárgljúfur is more built-up and highly trafficked when compared to the similar Múlagljúfur Canyon (#4 on this list).
There is a marked trail from the parking lot that continues along the rim of the canyon for about 2 miles, out and back. The hike is easy with little elevation gain and many different viewpoints along the way, ending with a picturesque waterfall, at which point you'll have to turn around to make your way back to the trailhead. Allow about 1.5 hours to do this hike and stop for plenty of photo ops!
Note: Due to the popularity of this canyon, there are now measures to restrict access to the trail during certain times of the year due to weather conditions. It is important you respect the occasional closures so as to protect the delicate vegetation. You can check the current trail conditions on the SafeTravel.is website.
15. Scenic Green Lava Walk
At a glance: a nice self-paced walk through mossy green lava fields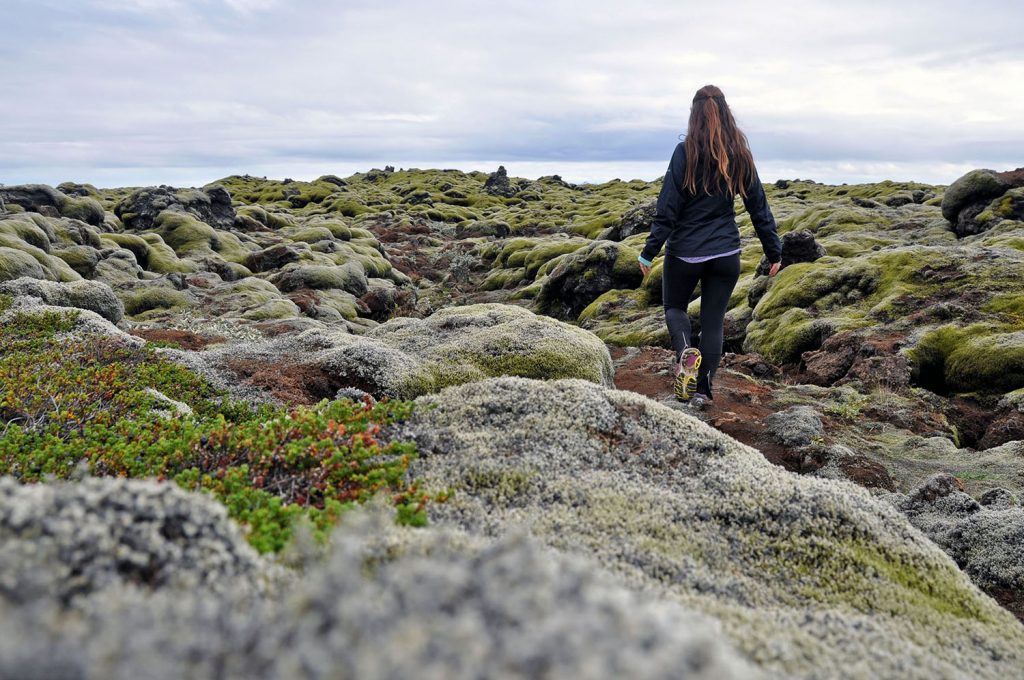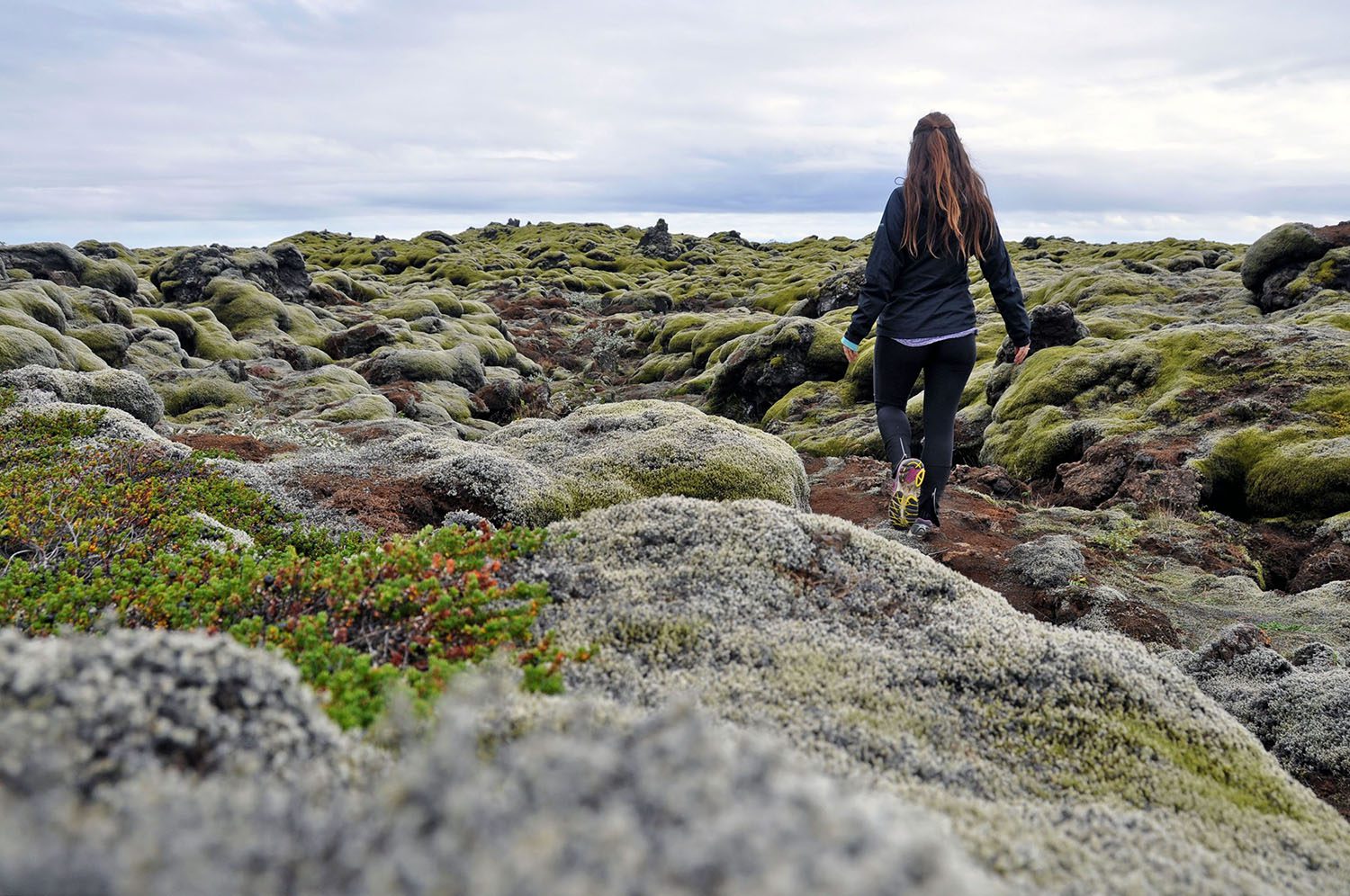 In 1783 a volcanic eruption on the island of Iceland caused lava to spill over and cool in the area the size of Singapore. Moss eventually grew over the lava in areas thick enough to retain warmth, resulting in this vast area known as the Eldhraun Lava Field—a truly otherworldly landscape.
While it is really more of a walk than a "hike" and certainly not the most exciting place on this list, we wanted to include the Scenic Green Lava Walk as it makes for a nice place to get out and stretch your legs while driving the Ring Road.
Park in the designated areas on the side of the highway and go as far as you like before you turn around and make your way back to the car. With very little elevation change, this is an easy walk suitable for all fitness levels.
Important Note: It is important you stick to the trail, especially in an environment as delicate as the lava fields. It may not seem like a big deal to step off the beaten path, but this ecosystem can take years to rebuild after the destruction a single footprint can cause.
Are you planning a trip to Iceland?
We have TONS of resources on travel in Iceland and how to make the most out of your trip. Check out our Ultimate Iceland Travel Guide for all the answers to your most burning questions, or read some of our favorite articles below.
Save this article on Pinterest for later!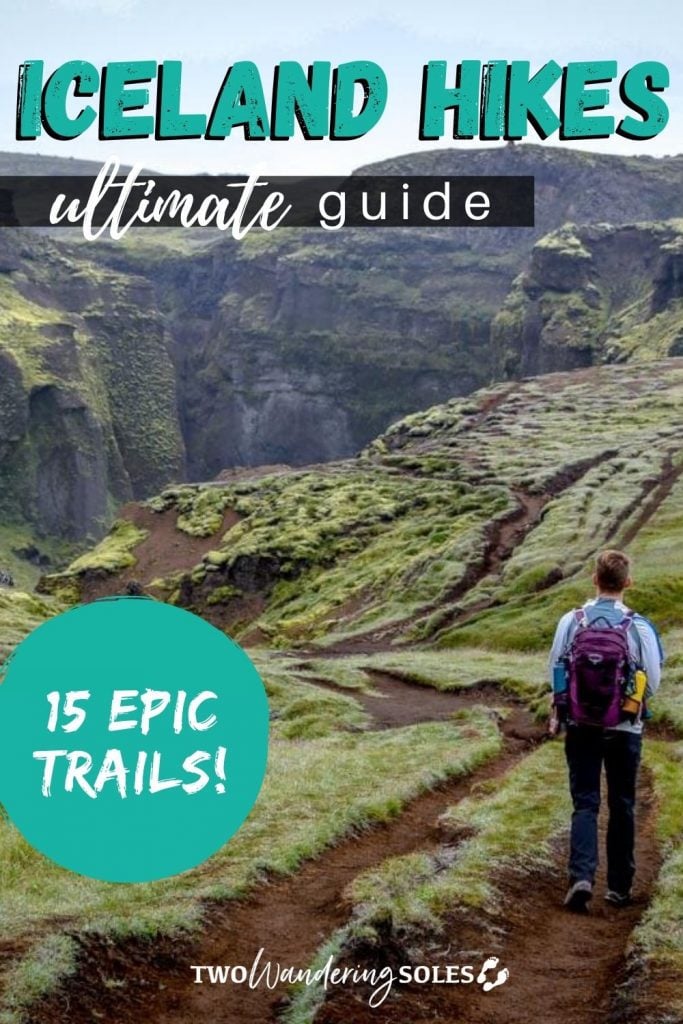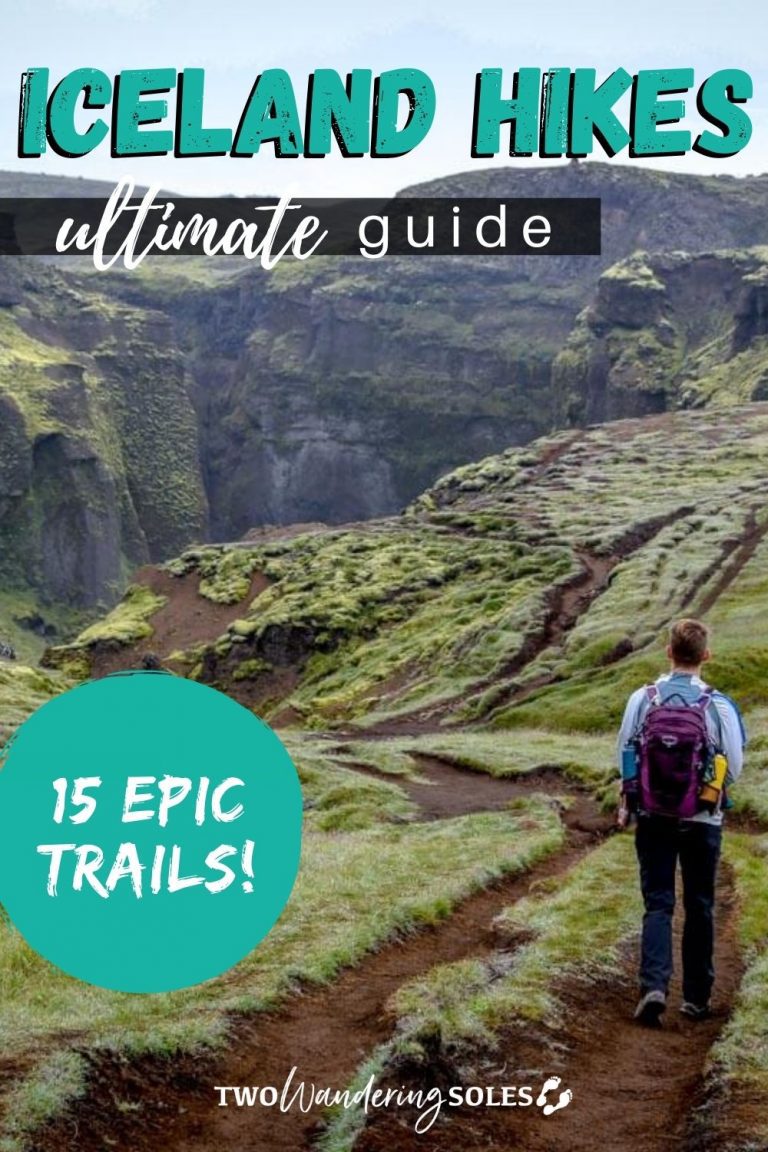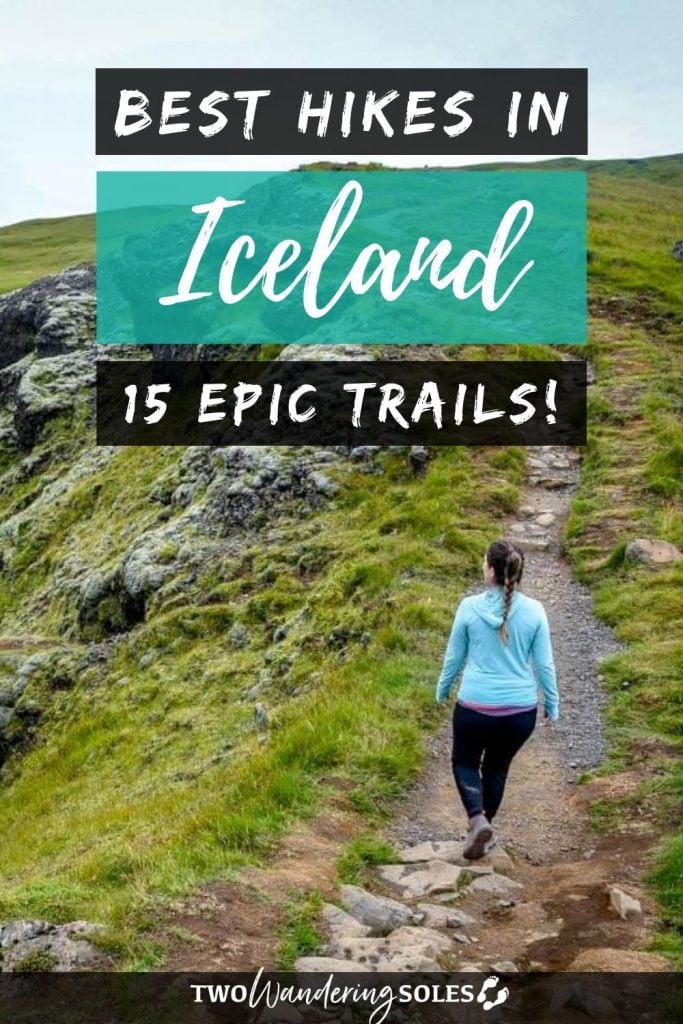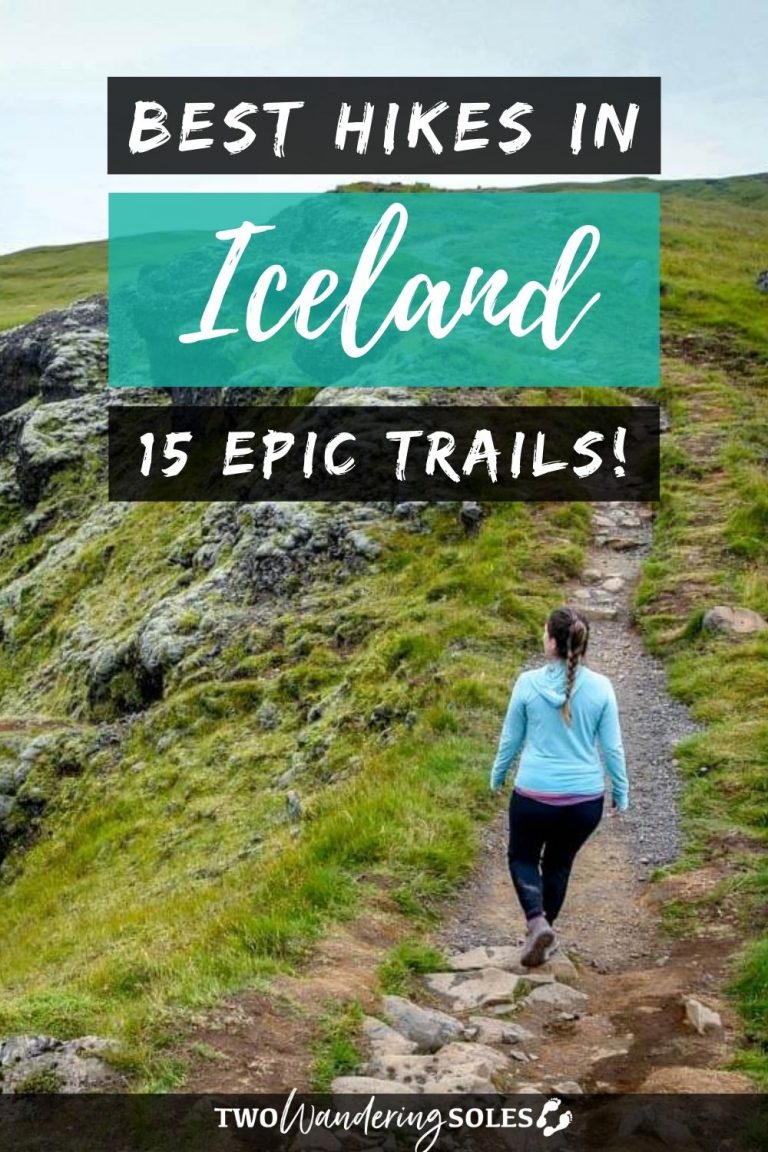 We want to hear from you!
Which Iceland hikes are you most excited about? Do you have a favorite hike in Iceland you think we should add to this list?
Comment below and we'll do our best to get back to you!