Colorful Colorado is a year-round destination with jaw-dropping scenery, outdoor activities, cool mountain towns, and much more to explore in all four seasons. This guide will help you choose the best time to visit Colorado, depending on how you plan to spend your time.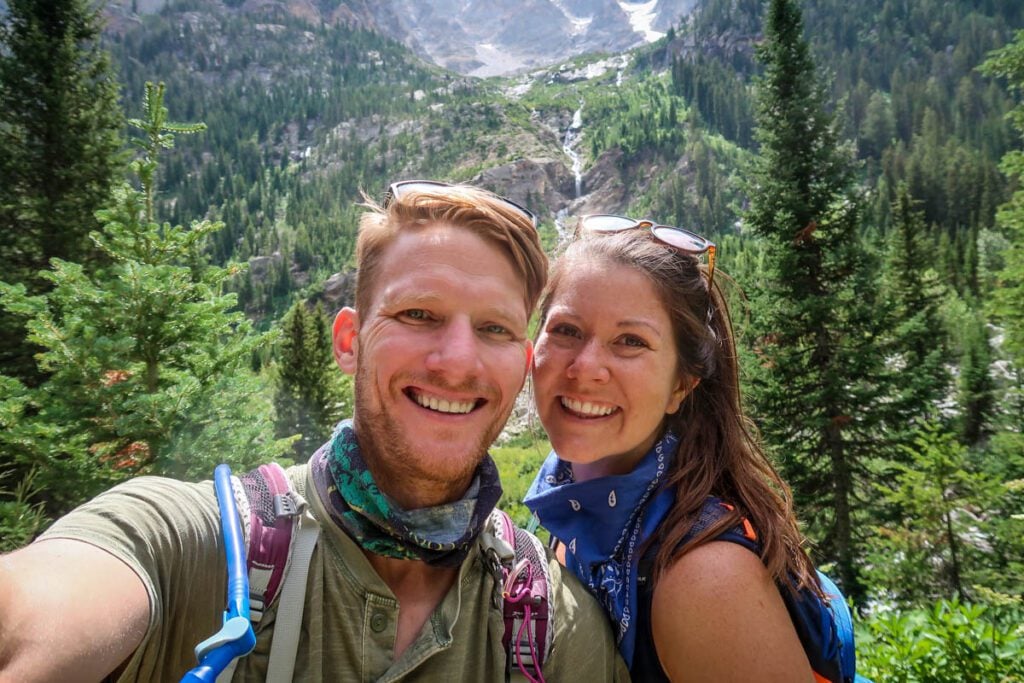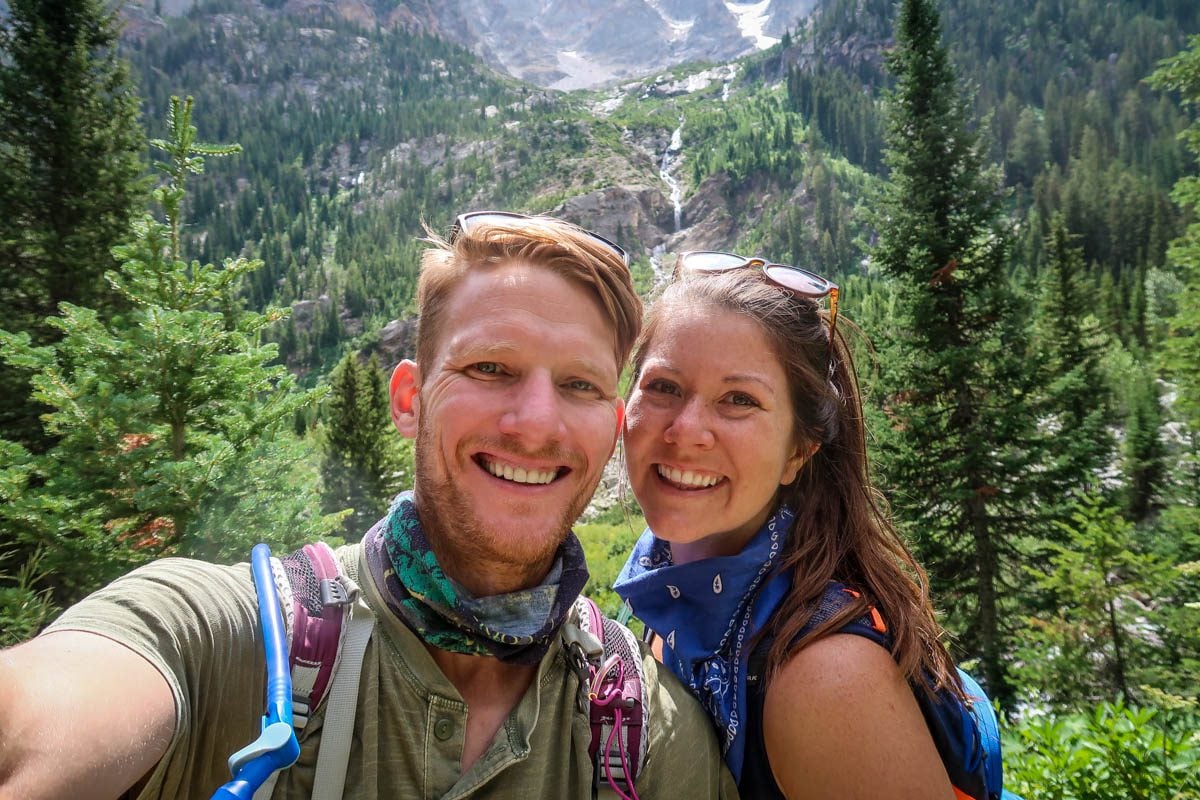 Colorado's weather and climate are as diverse as its breathtaking scenery. While there is truly no wrong time to explore this colorful, adventure-filled state. The best time to visit Colorado depends entirely on what you want to see and do on your trip, plus the type of scenery and weather you envision.
As Colorado experiences all four seasons, it's loosely defined by hot, dry summers, pleasant and colorful autumns, mild, but snowy winters, and unpredictable springs that are just as likely to be snowy and wet as they are to be abnormally hot and arid.
However, Colorado's geographical diversity and altitude variations mean the climate and weather vary considerably throughout the state. What you'll find in the cities weather-wise isn't what you'll encounter in the high country and in some cases, weather can be wildly different just a few miles away!
In this guide, we're going to clarify exactly what to expect from this exciting state rich in outdoor activities and breathtaking scenery in all four seasons, to help you decide on the best time to visit Colorado for you.
When is the best time to visit Colorado?
The best time to visit Colorado is during late spring/early summer (May into early June) and fall (September/October) for hiking and outdoor adventures. This is when the weather is not too hot and at it's best to experience the outdoors. Plus, you'll have fewer crowds to contend with.
Likewise, if you want to experience skiing in Colorado, you'll have the best conditions during January and February. Avoid holiday weekends like MLK and Presidents Day if you want to take advantage of cheaper rates and less crowds.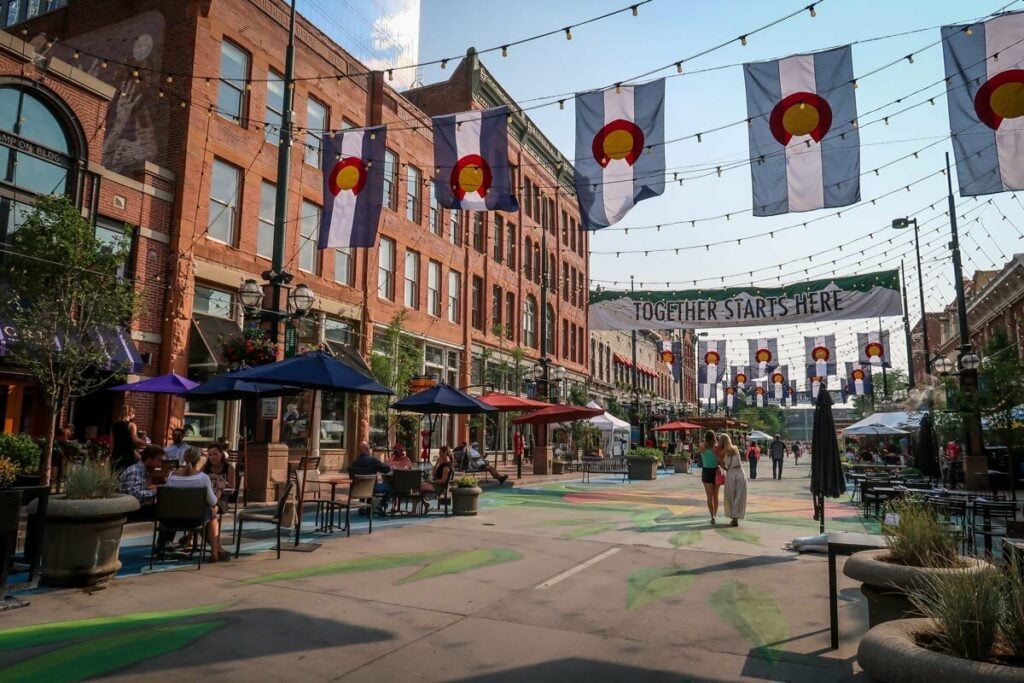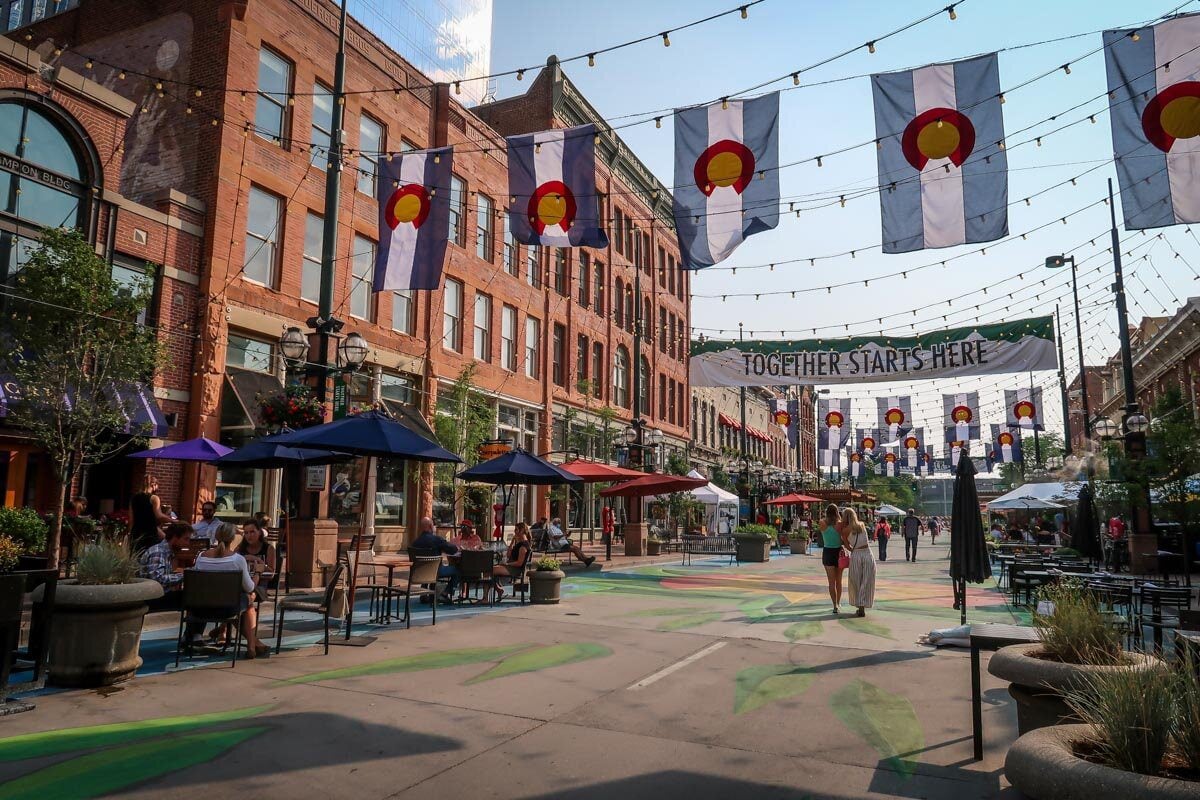 So again, the best time to visit Colorado largely depends on what you want to see and do.
Answer these questions to get started:
Where in Colorado do you plan to visit?
Are you planning to do outdoor activities like hiking, biking or climbing?
Are you negatively affected by high heat?
Do you prefer to spend your time outdoors or exploring cultural institutions like museums?
Are you planning to do activities like skiing/snowboarding?
Thinking about your answers to these questions is going to help you start to determine when to visit Colorado.
Article contents
Overall BEST time to visit Colorado
Want a quick recommendation? Jump down to see our personal advice for the best time to visit Colorado. Plus, we'll share what times of year we'd avoid visiting!
Psst! If you have more time, be sure to check out our bucket list of epic things to do in Colorado!
---
Our experience in Colorado
We've experienced Colorado in all seasons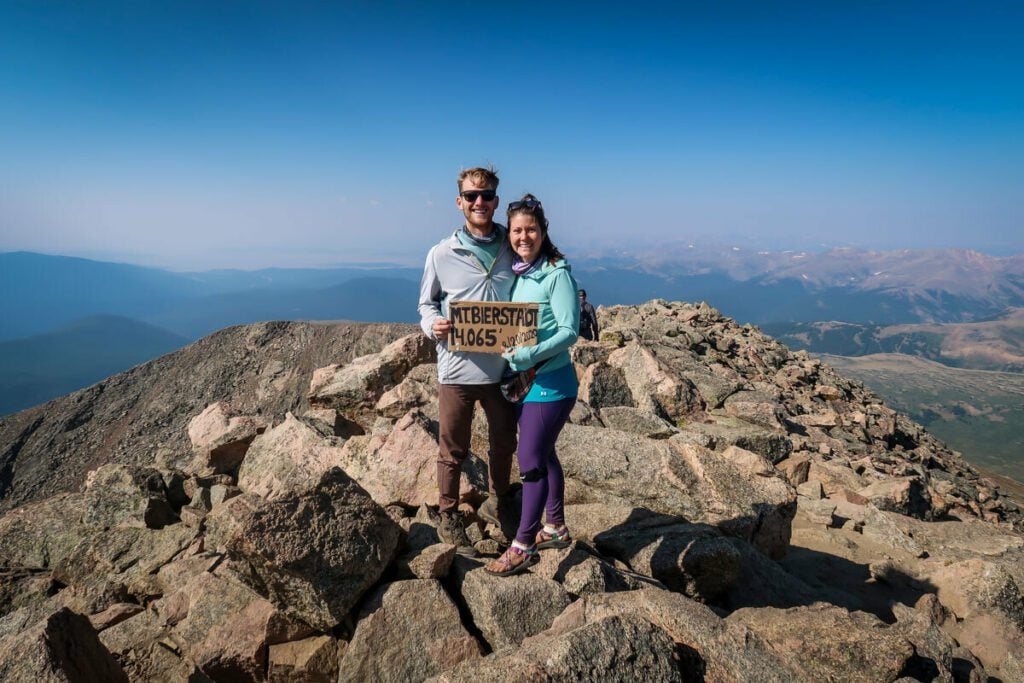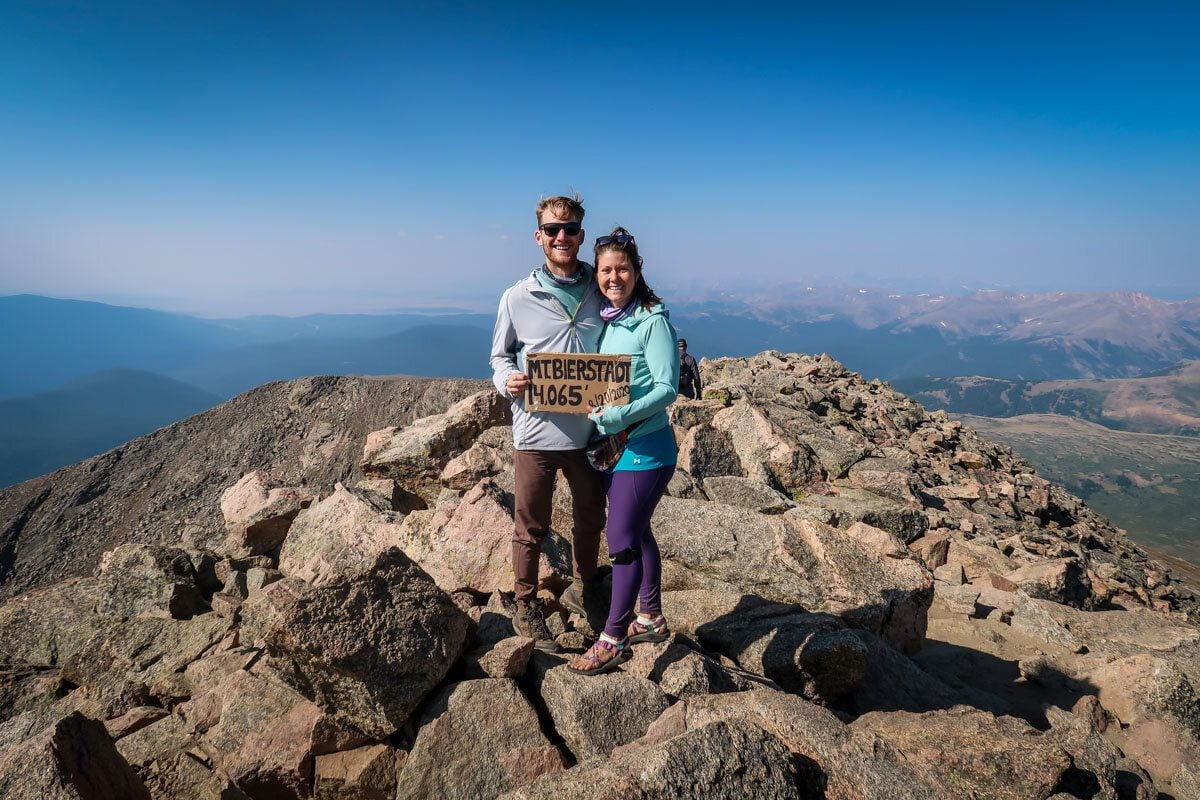 Our experience:
We've traveled to Colorado on a number of occasions, most recently in the summer of 2021.
Our Director of Content, Amanda, actually lived in Colorado for 7 years, and still regularly returns to visit friends and family.
As we mentioned, Colorado is a year round destination and you can't really go wrong with visiting during any season. However, there are, of course, some things to consider. We visited Colorado in July and experienced pretty bad wildfires. The air was full of smoke and certain areas were off-limits. There were also tons of crowds in Rocky Mountain National Park, which made it really hard to get a timed entry permit.
Colorado geography overview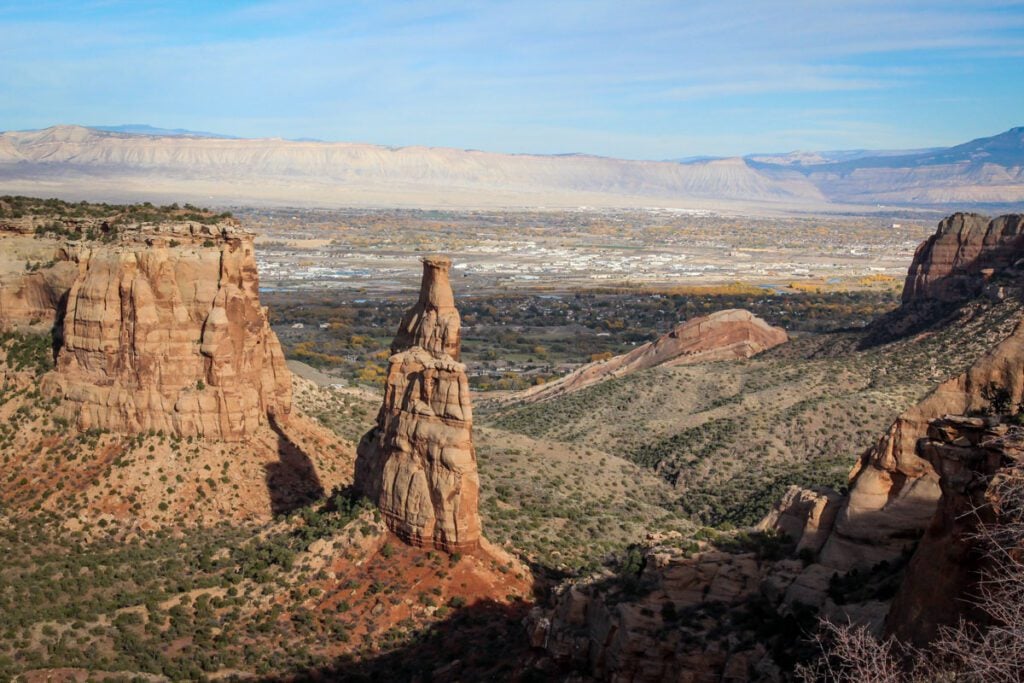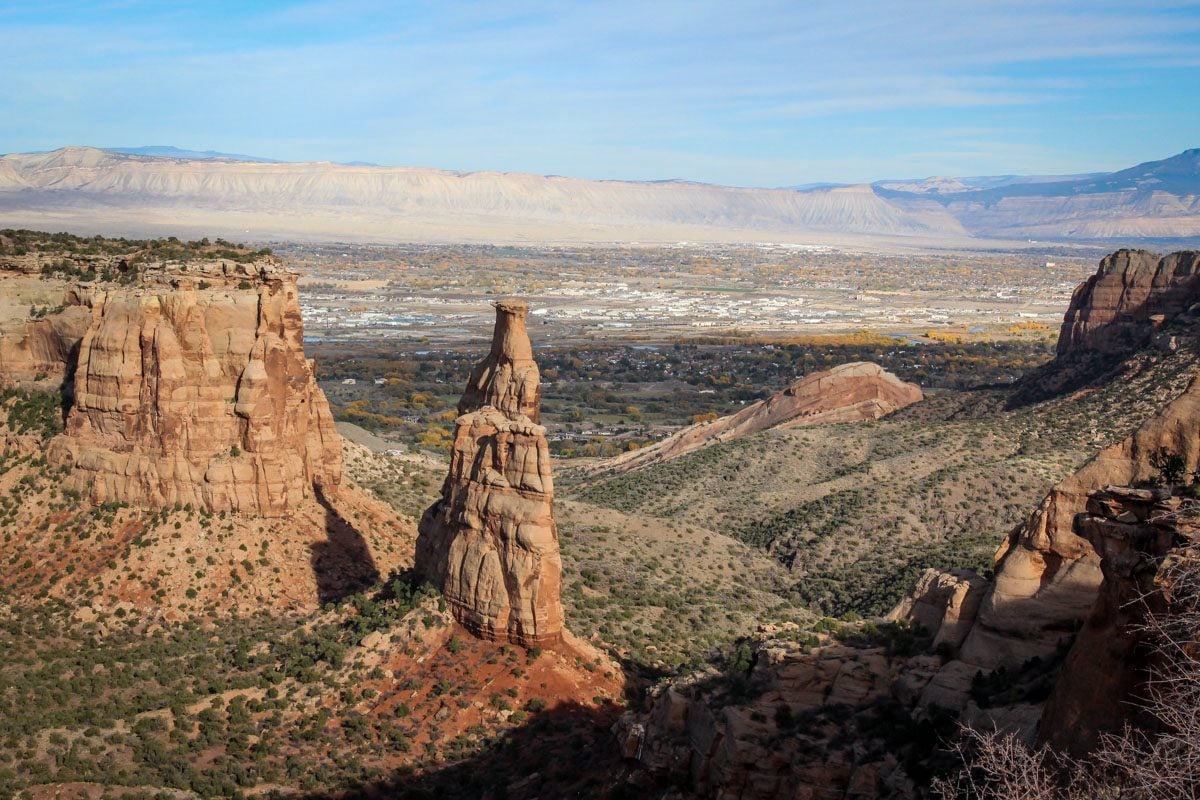 Split into three main regions, the spine of the Rocky Mountains divides the center of the state. Rugged plateaus and mesas rule the western half, known as the Colorado Plateau, while the east is distinguished by its plains.
In northern Colorado, the base of the iconic Front Range is considered the Piedmont. The Continental Divide also runs right through the state.
It's this geographical diversity that gives Colorado an array of breathtaking terrain—rugged mountains, desert canyons and cliffs, dense forests, pristine national parks, and even relatively flat, open prairies and plains (did you know Colorado has its own wine region?!).
Nicknamed the "Highest State," Colorado has an average elevation of 6,800 feet, with lows of around 4,000 feet and highs exceeding a staggering 14,000 feet above sea level. Naturally, these extremes in altitude have a huge impact on the weather!
Weather in Colorado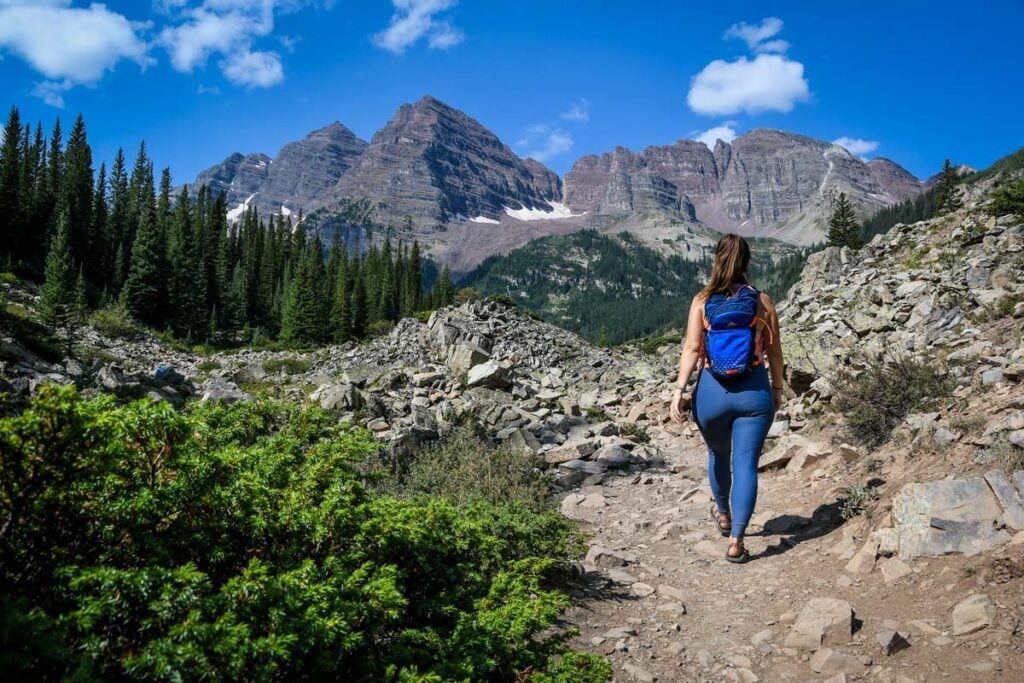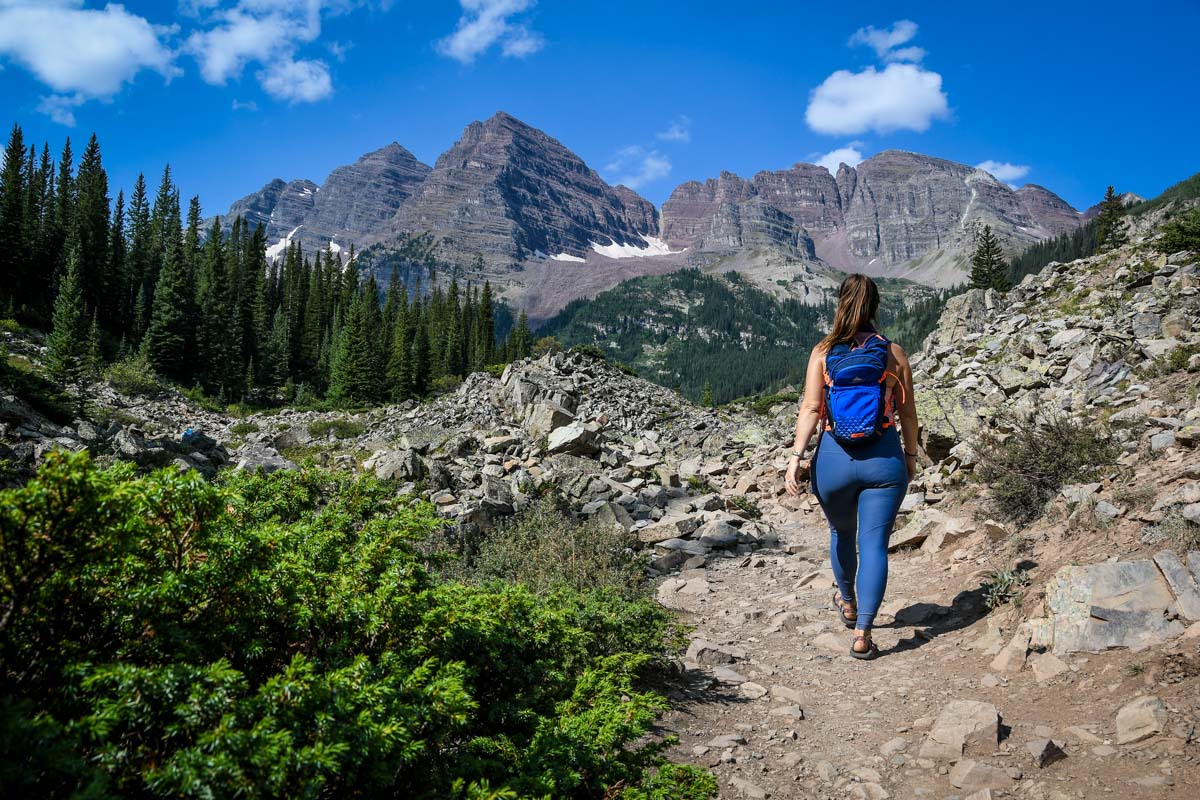 As a result of Colorado's mid-latitude setting halfway between the equator and the North Pole, it receives an abundance of sunshine. Many areas within the state enjoy over 300 days of sunshine every year.
Colorado is also notably far from the ocean and any other large bodies of water, which creates an unusually dry climate.
While the US average is 38 inches of rain per year, Colorado receives just 17 inches on average. Rain is generally more common in Colorado during the summer months, but this varies by location.
The state's inland location produces a cool yet dry atmosphere overall, although conditions once again vary based on the altitude and season. For example, Aspen sees average highs of 35.6°F in January and gets several feet of snow, whereas Denver regularly hits 48°F and may get just a few inches.
With that said, Colorado weather is also notoriously unpredictable and you may very well experience all four seasons in one day—especially in transitional months like September, October, March, and April.
Whatever time of year you end up visiting Colorado, remember that the sun shines year-round!
Stats on Colorado Weather & Seasons:
Warmest months in Colorado: July/August
Coldest months in Colorado: December/January
Rainiest month in Colorado: May in the Denver-Boulder area; August most everywhere else
Driest month in Colorado: February
Most crowded months in Colorado: July/August
Least crowded months in Colorado: April/May; October/November
---
Summer in Colorado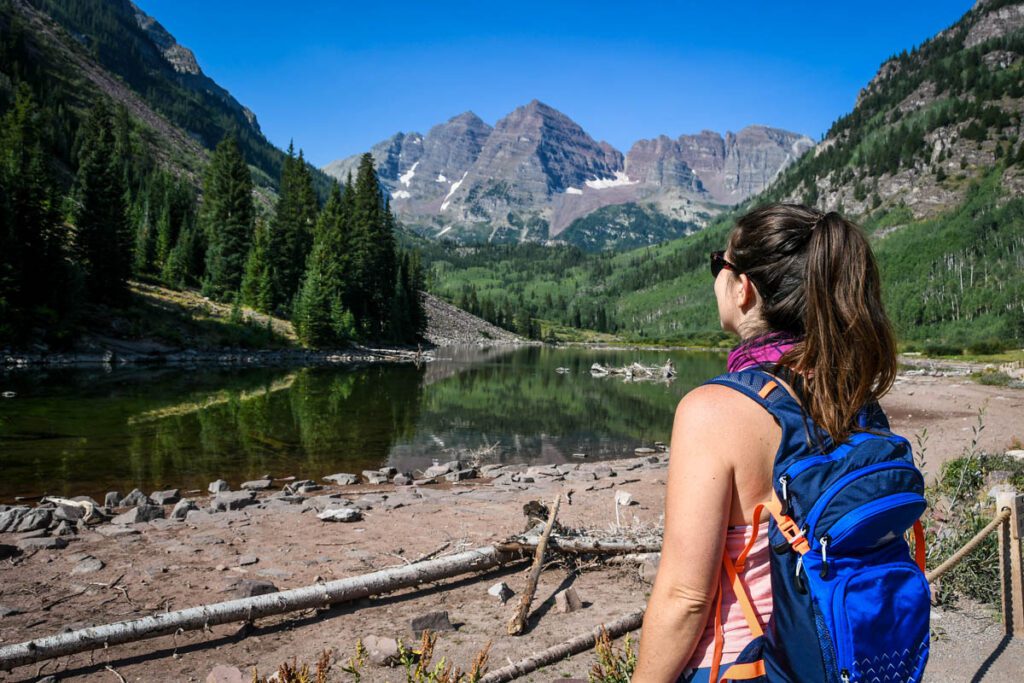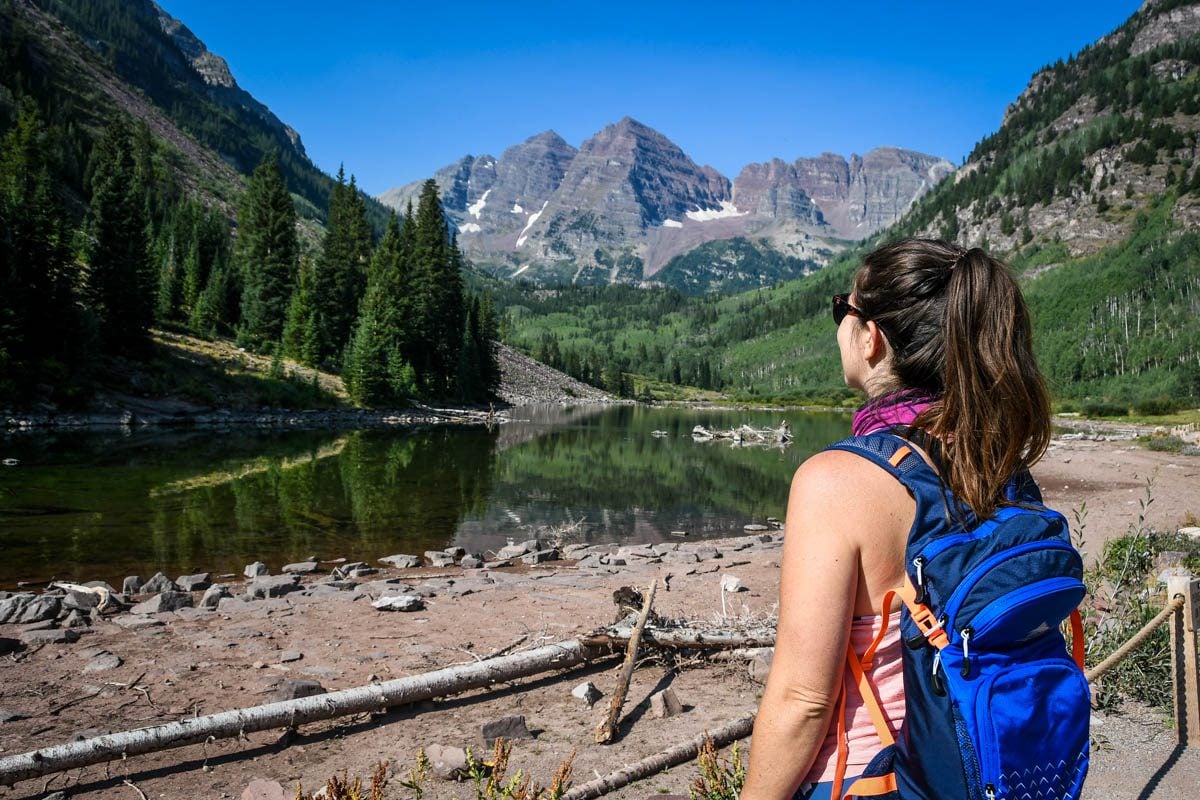 Summer in Colorado is in full swing between June and August. Hiking trails are all open and accessible, but you'll need to start early and brace yourself for crowds in popular areas. This is also the best time to visit Colorado for water-based adventures, such as kayaking, rafting, and tubing.
In theory, most areas (aside from the high country) should be clear of snow by early June, but it does sometimes stick around into July.
Temperatures in Denver can hit 90°F in August, while in Aspen they usually top out around 79°F. Keep in mind that Colorado's high altitude means the UV index is extremely high, making it feel even hotter than it really is.
Aside from enjoying The Great Outdoors, summer is also festival season in Colorado, particularly in the mountain towns.
Best places to visit during summer in Colorado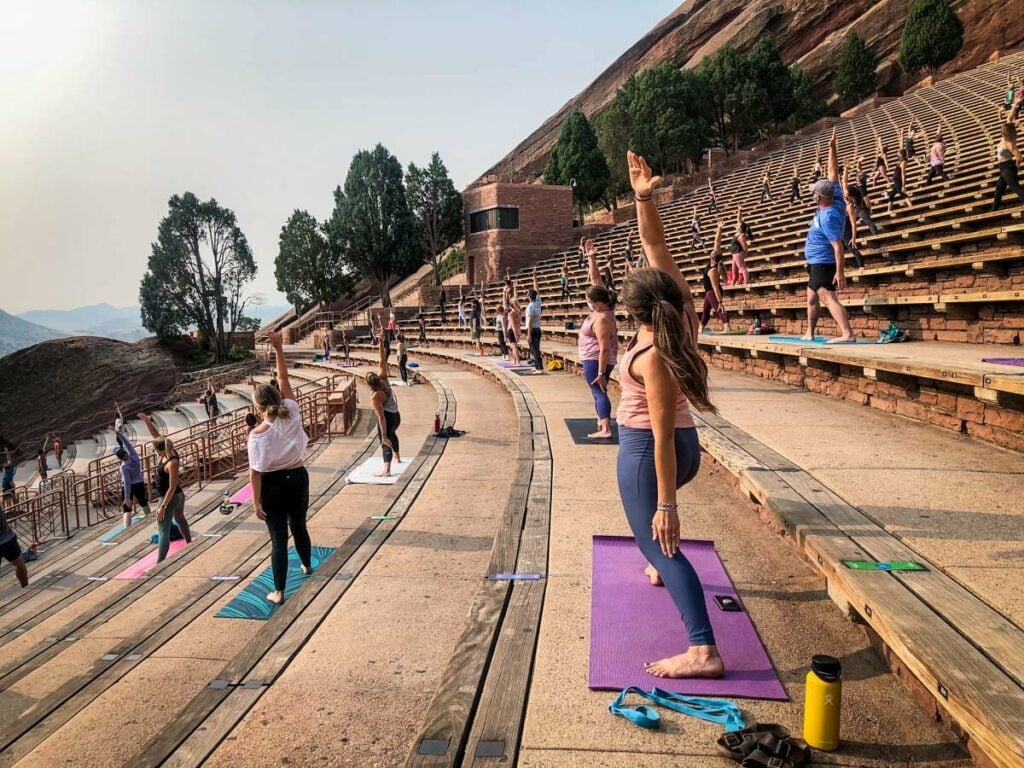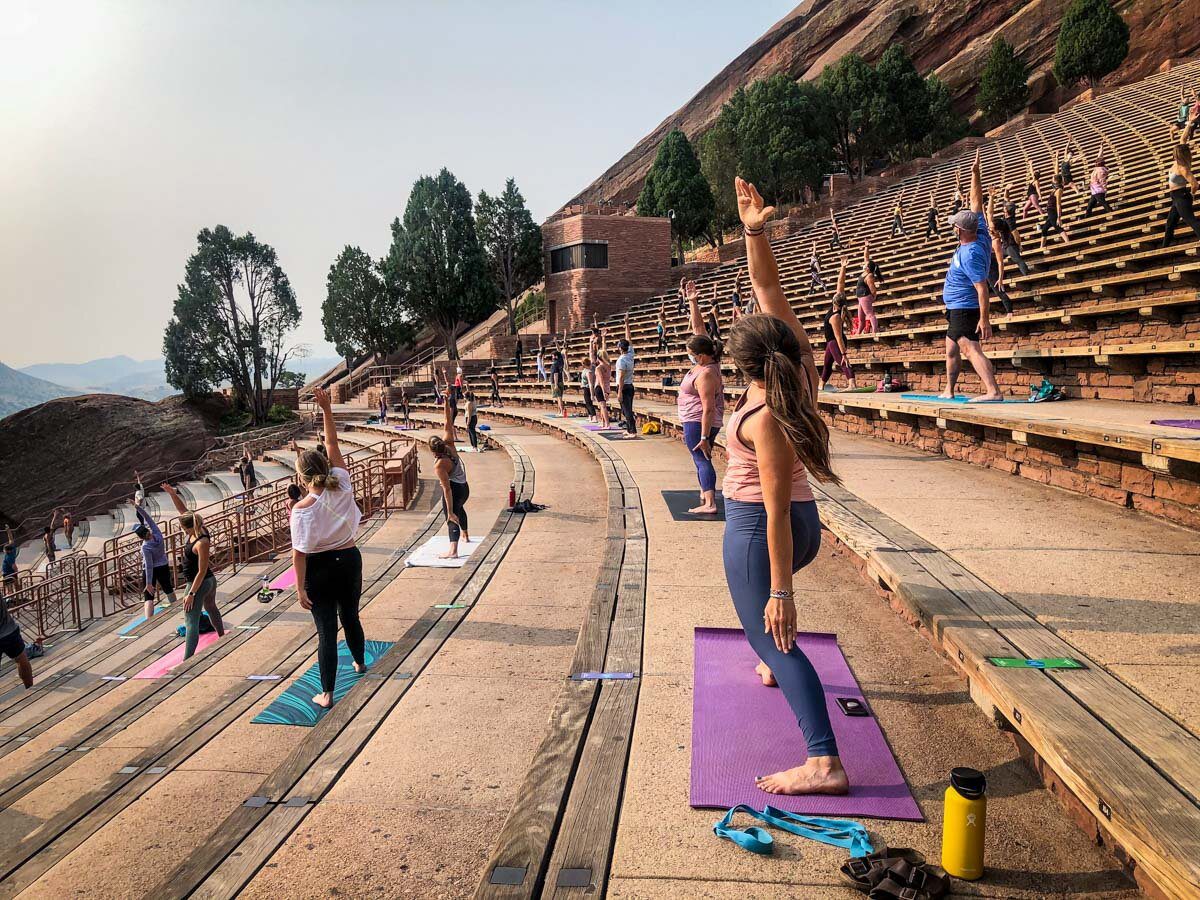 Red Rocks: outdoor concerts in an extremely unique natural amphitheater, plus hiking on non-event days
Telluride: for the many long-running summer festivals and epic camping, hiking, and biking
Buena Vista: whitewater rafting and a great base for visiting Great Sand Dunes National Park
Palisade: sample and tour over 20 wineries and U-pick orchards!
Summit County: home to Breckenridge, Frisco, Dillon, Keystone, Copper Mountain, and Silverthorne, Summit County is affectionately known as "Colorado's summer playground"
Denver, Boulder, Colorado Springs, and other large cities for festivals
Best things to do during summer in Colorado
Go hiking (start early to beat the heat — and crowds!)
Greeley Stampede, an annual event celebrating Western heritage
River rafting or tubing
Attend Film on the Rocks or Yoga on the Rocks at Red Rocks (June – August)
Outdoor rock climbing (indoor bouldering is also a year-round option in the cities)
Telluride Bluegrass Festival (June)
Palisade Peach Festival in August
Fall in Colorado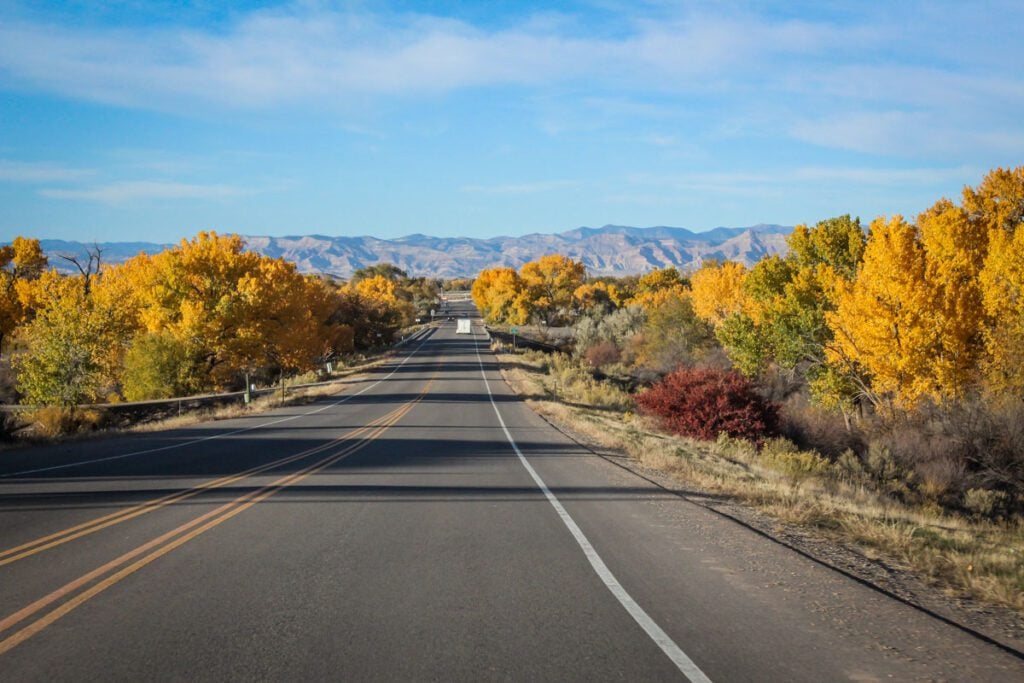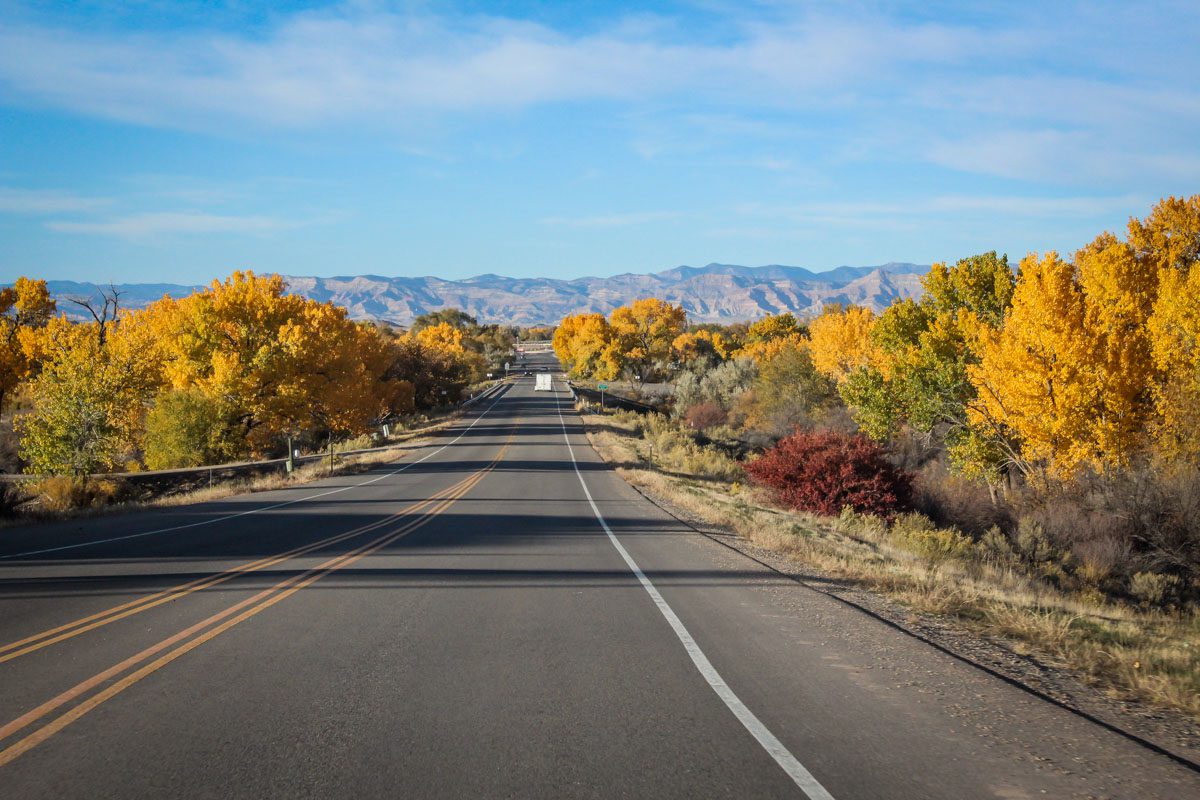 Fall is easily the best time to visit Colorado for national parks and hiking—although you'll still need to slather on the sunscreen.
Temperatures start to ease up in September and early October, but warm, sunny days are still the norm. Denver often sees temps in the 80s throughout September.
Crowds also disperse in the fall as peak tourism season ends, but there is a bit of a spike in the mountains in mid- to late-October for prime leaf peeping.
Speaking of fall leaves, it's hard to top Colorado in autumn. There's nothing quite like walking or driving through golden aspens and other colorful foliage!
Best places to visit during fall in Colorado
Aspen: This town's namesake trees are in full color during the fall; this is also one of the best times to see the iconic Maroon Bells surrounded by colorful foliage
Colorado Springs: Garden of the Gods, Pikes Peak, Manitou, and the Cheyenne Mountain Zoo are all at their best in fall
Rocky Mountain National Park for epic leaf peeping and wildlife watching
Black Canyon of the Gunnison National Park: even more spectacular with fall colors (and one of the least visited parks!)
Durango, to ride the iconic Durango & Silverton Narrow Gauge Railroad through breathtaking fall scenery
Hot spring destinations such as Pagosa Springs, Strawberry Springs, Iron Springs, or Princeton
Best things to do during fall in Colorado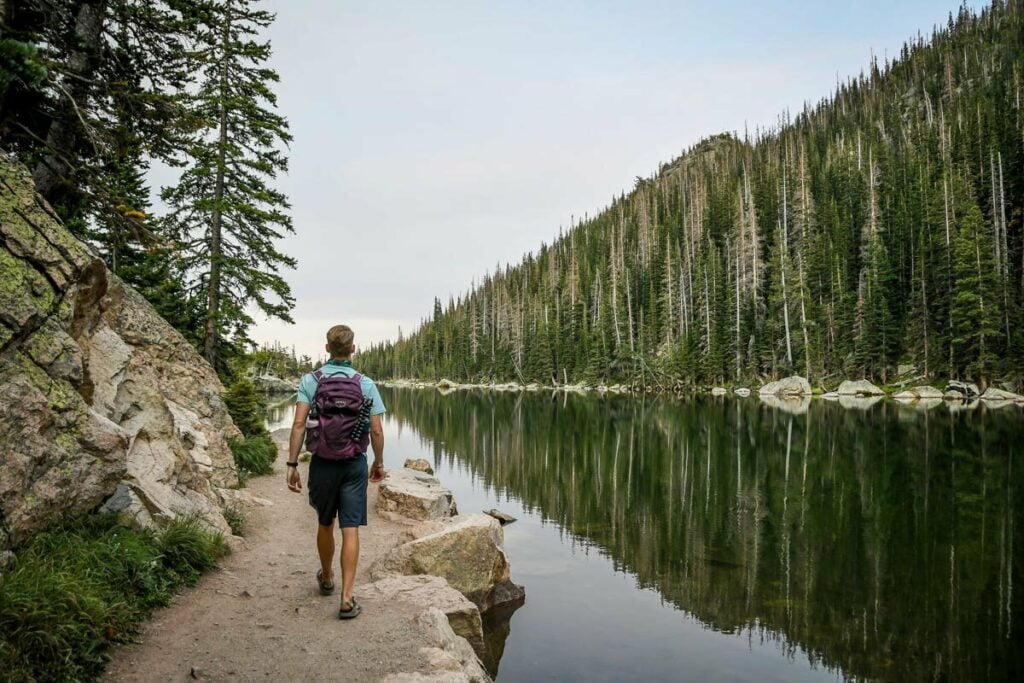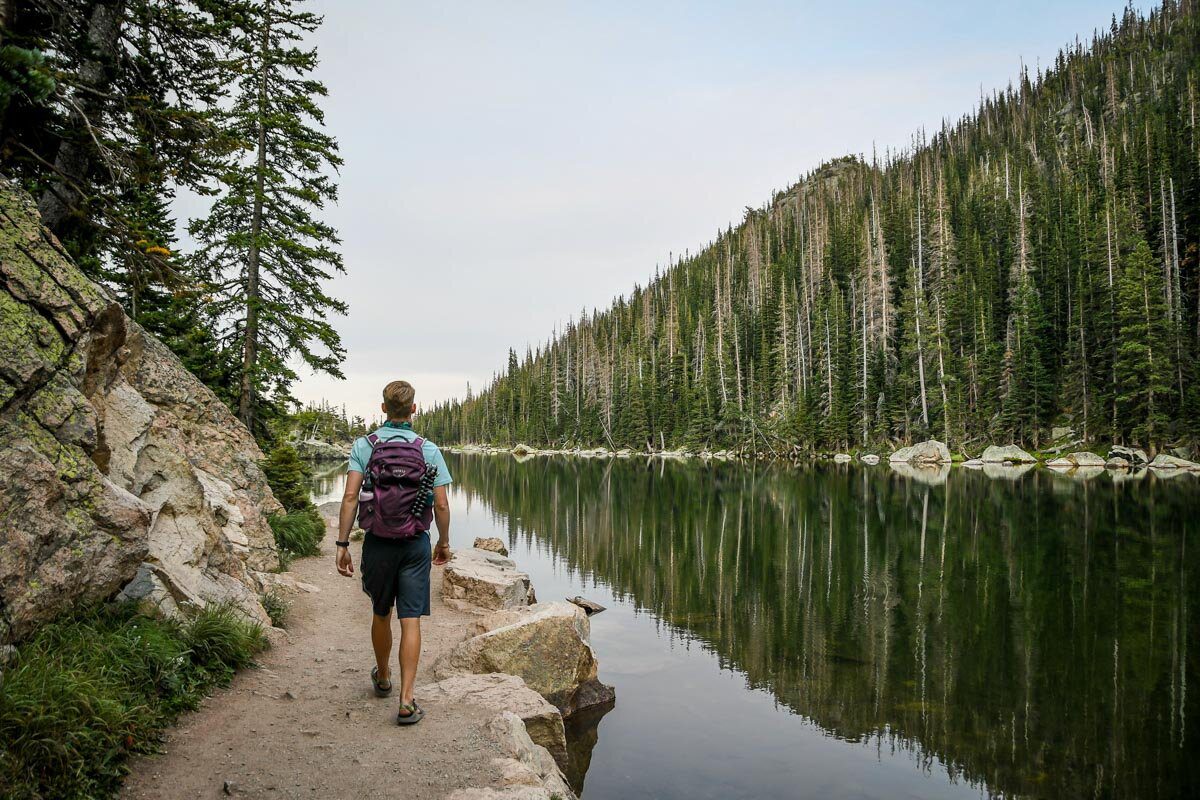 Attend Colorado Mountain Winefest in Palisade or one of the many other wine festivals across the state in September
Hike and/or camp in the Rockies
Take a fall foliage drive along Maroon Bells, Kebler Pass, Trail Ridge Road, or the La Veta Pass
Soak in natural hot springs
Telluride Film Festival (Labor Day Weekend)
Attend Oktoberfest in Nederland
Winter in Colorado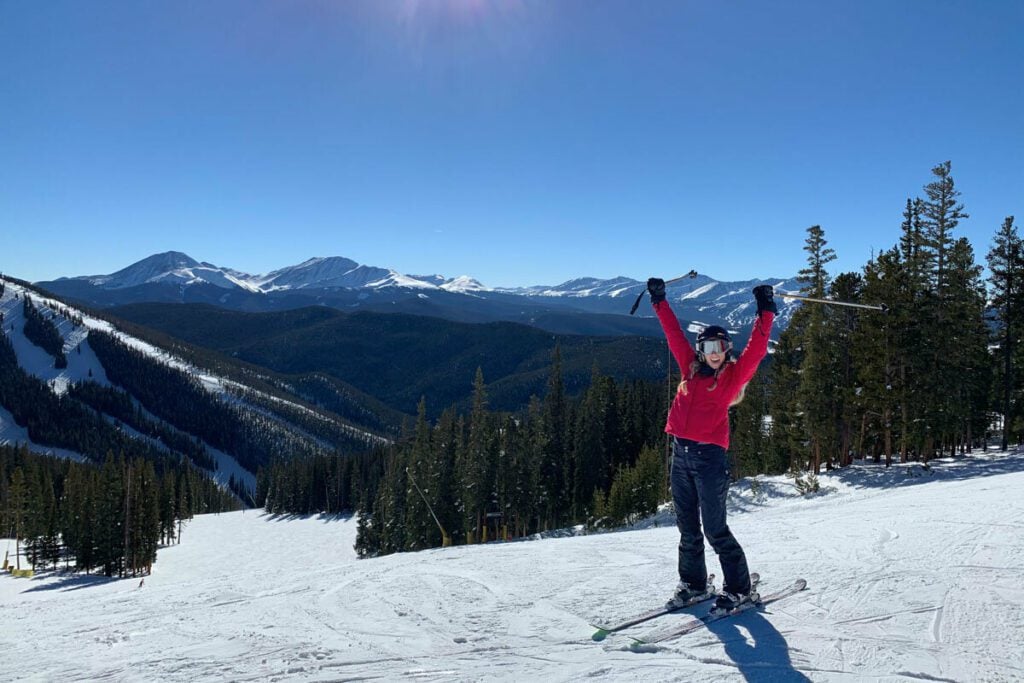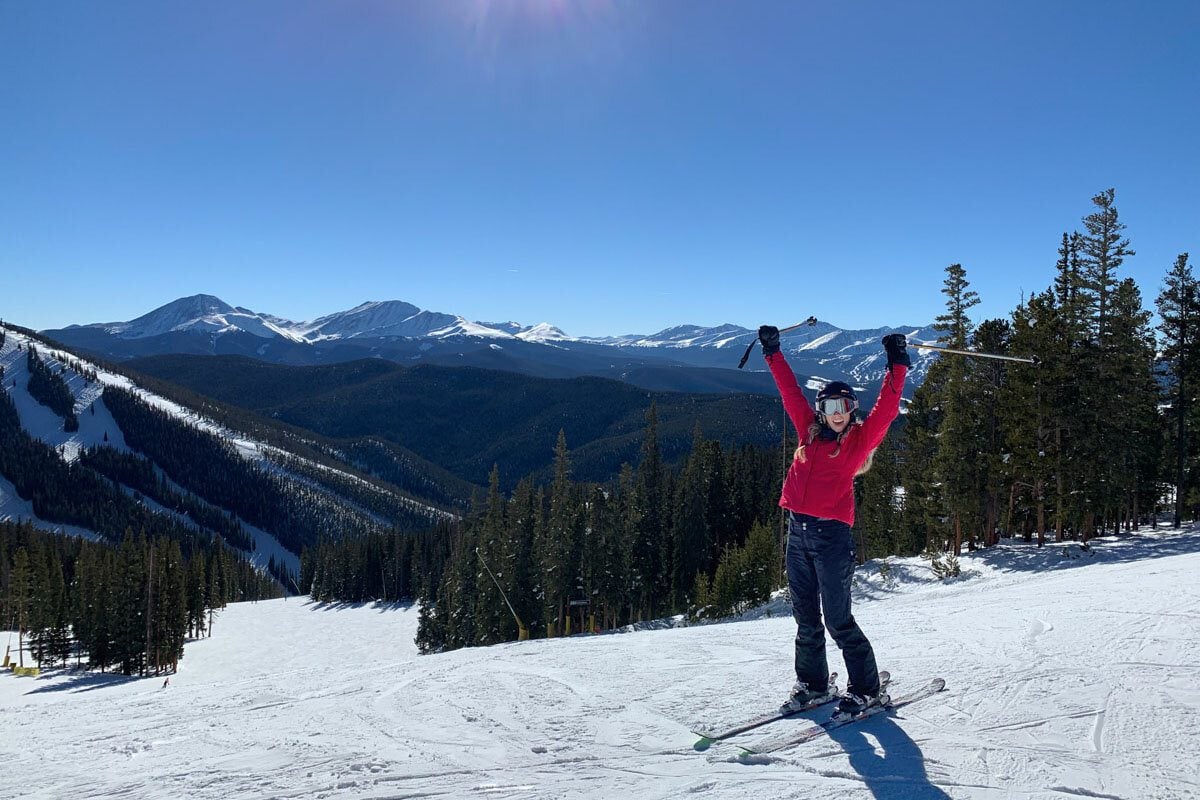 Winter brings snow — a lot of it — to much of the state, and especially the mountains, making it the best time to visit Colorado for skiing and other winter sports. Even if you don't ski or snowboard, the mountains offer an array of winter activities suitable for all types of travelers, including families traveling with kids.
Hiking is mostly off the table in the high country in winter, as roads are often more hazardous with ice and frequent closures, but you'll find plenty of safer opportunities at lower elevations. You can also try winter hiking alternatives, such as snowshoeing and cross-country skiing.
Colorado's cities are an attractive winter option if you're into craft beer and great happy hours (who isn't?!), seeking a culture binge, or want to check out the December holiday markets.
Best places to visit during winter in Colorado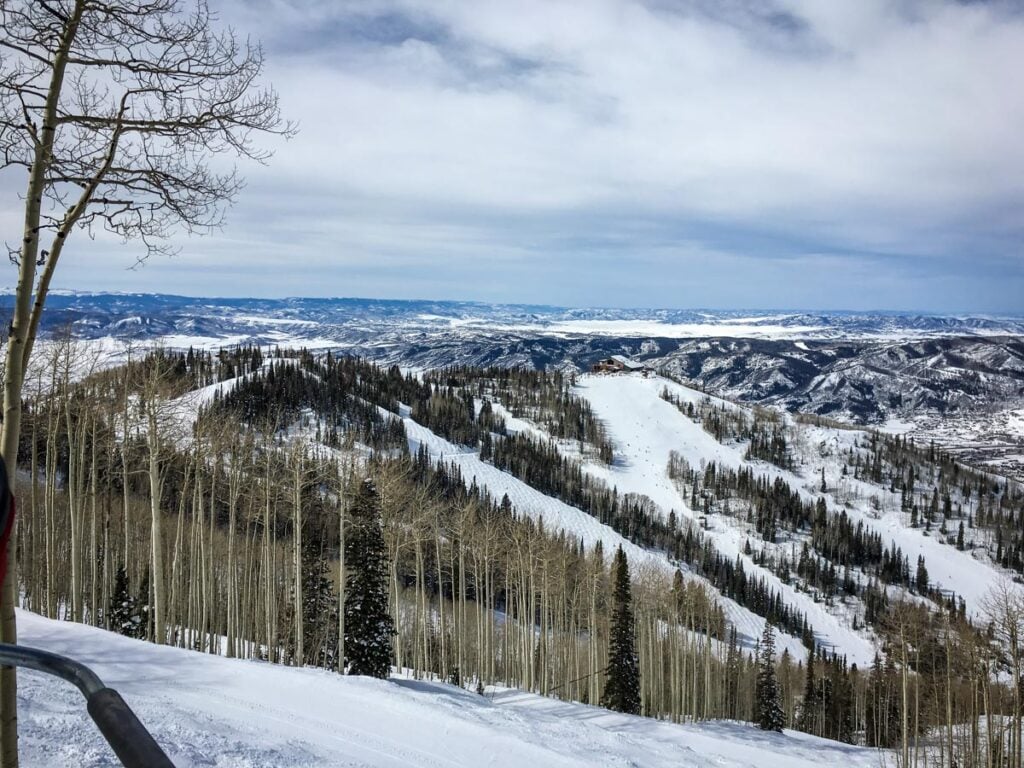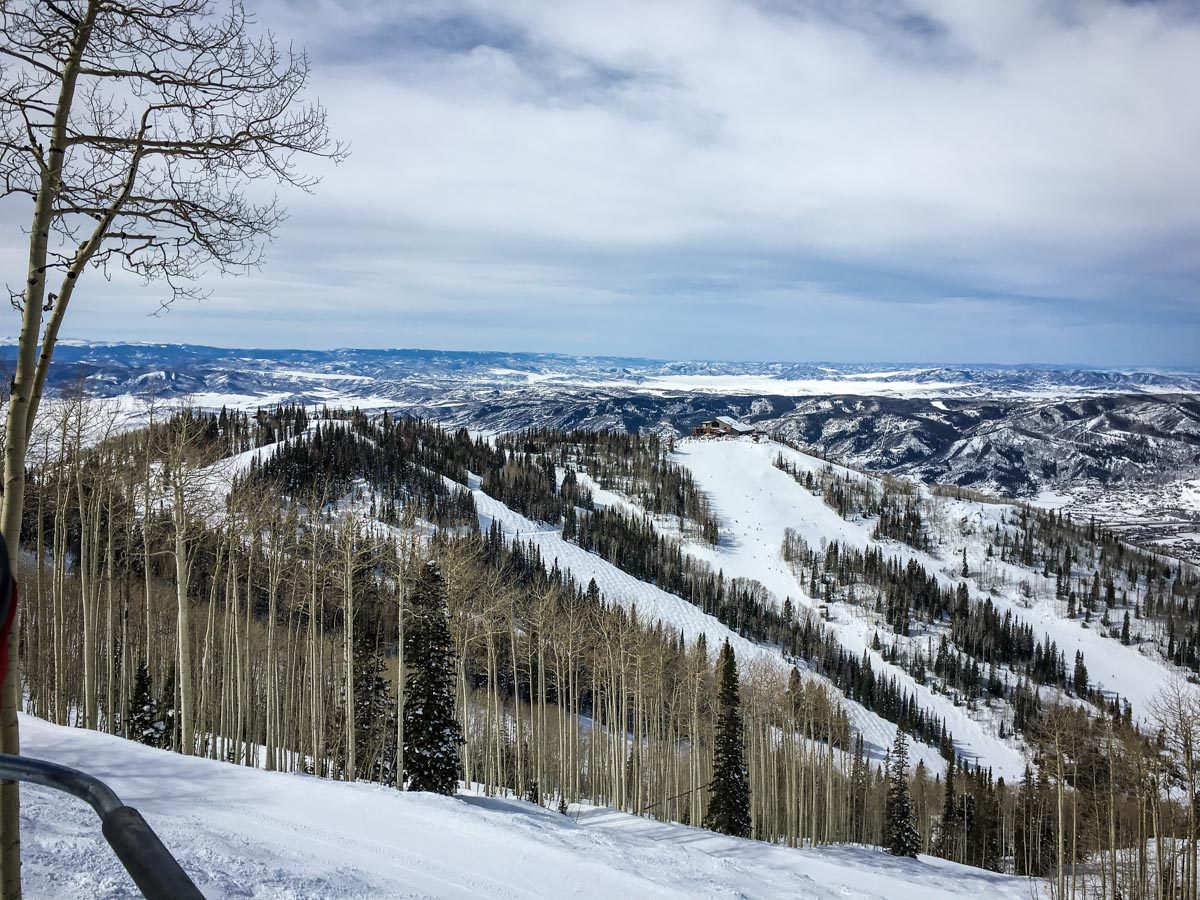 Colorado Springs, specifically to experience the Broadmoor's legendary holiday display and visit The North Pole
Telluride: highly regarded as some of the best skiing in the world, and rarely crowded, thanks to its remote location
Steamboat Springs for its Old West vibe, great skiing, and natural hot springs
Crested Butte: a magical winter wonderland, with skiing, hot springs, and ice skating
Summit County: a family-friendly mixture of skiing, shopping, ice skating, tubing, sledding, and more
Aspen, an iconic winter destination with world-class skiing and easy access to Glenwood Springs
San Juan Mountains for epic, rugged ice climbing (and far fewer crowds in the winter!)
Best things to do during winter in Colorado
Skiing or snowboarding at any of Colorado's 30-plus ski resorts
Attend the Ouray Ice Festival in January
Go snowshoeing or fat biking in Rocky Mountain National Park
Ice fishing in Lake Dillon
Dog sledding in Breckenridge
Soak in natural hot springs (essential after any of the above activities!) in Glenwood or Steamboat
Spring in Colorado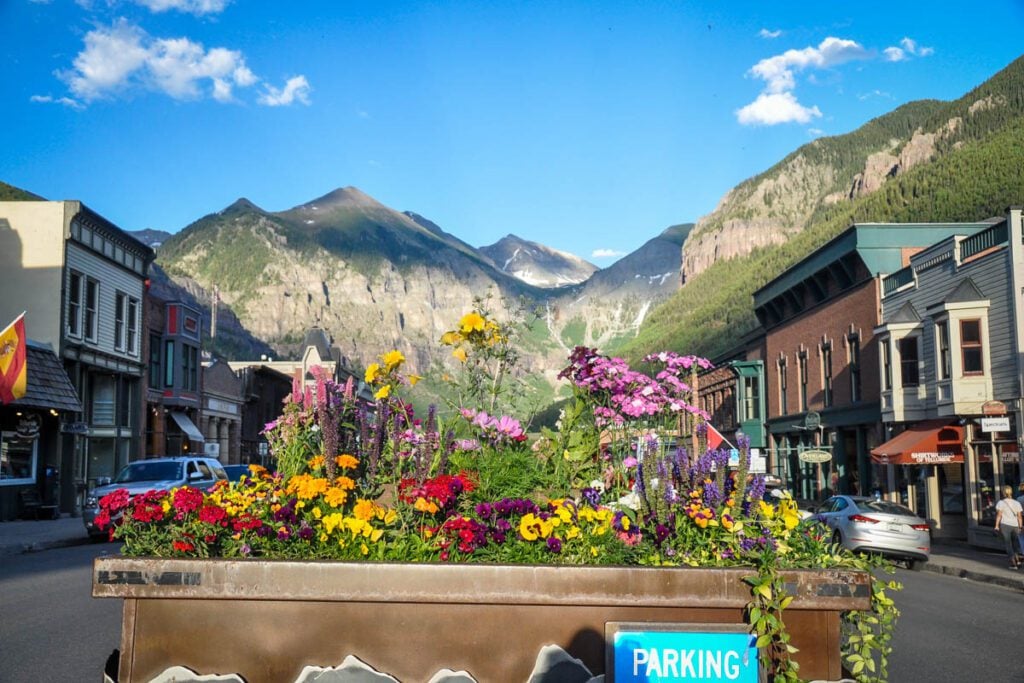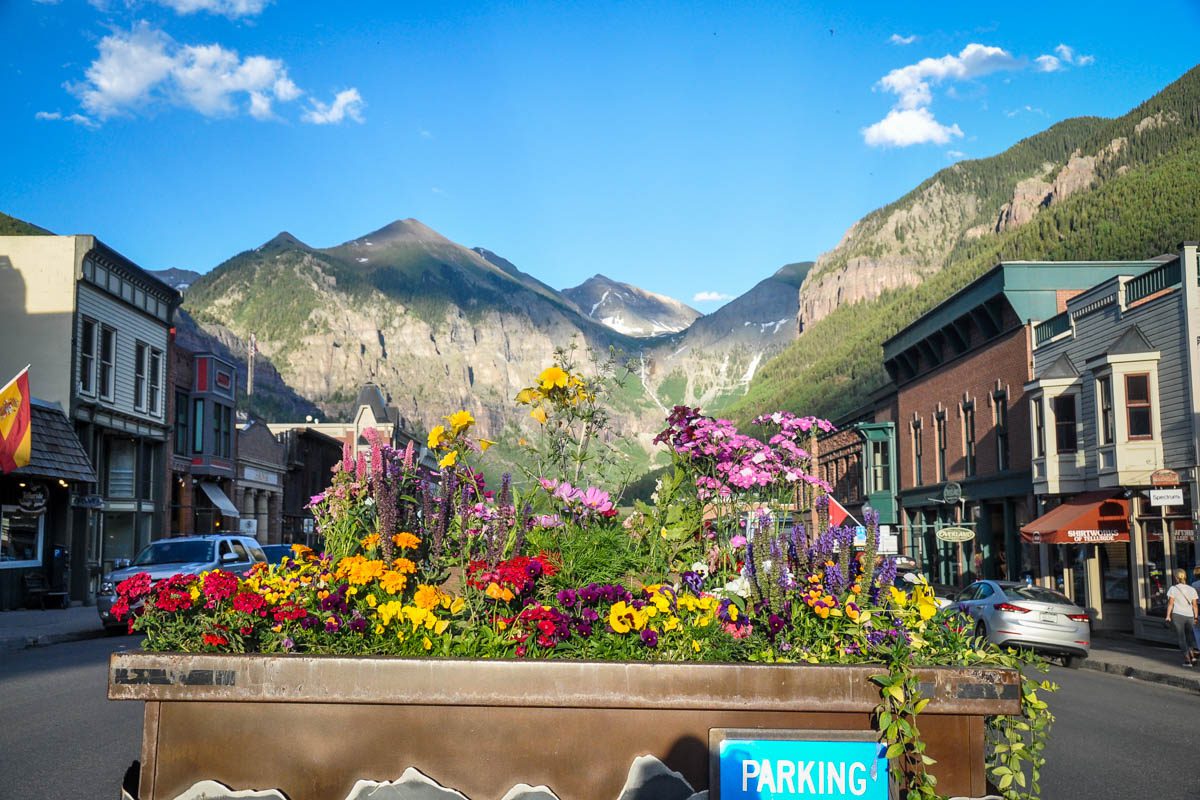 Spring sees the (very) gradual melting of snow and much-anticipated arrival of colorful wildflowers. As temperatures rise and the days get longer, it's a beautiful time to get out and about in nature or sip a craft beer in the late afternoon sun.
The shoulder season months of spring are the best time to visit Colorado for avoiding crowds, enjoying the ski slopes (in early spring), and enjoying the bigger cities before accommodation and tour rates skyrocket again in the summer.
It's important to note that Colorado's spring weather is particularly unpredictable. Temperatures may exceed 80°F in March or April, but you could also get a huge unexpected snowstorm in mid-May!
Best places to visit during spring in Colorado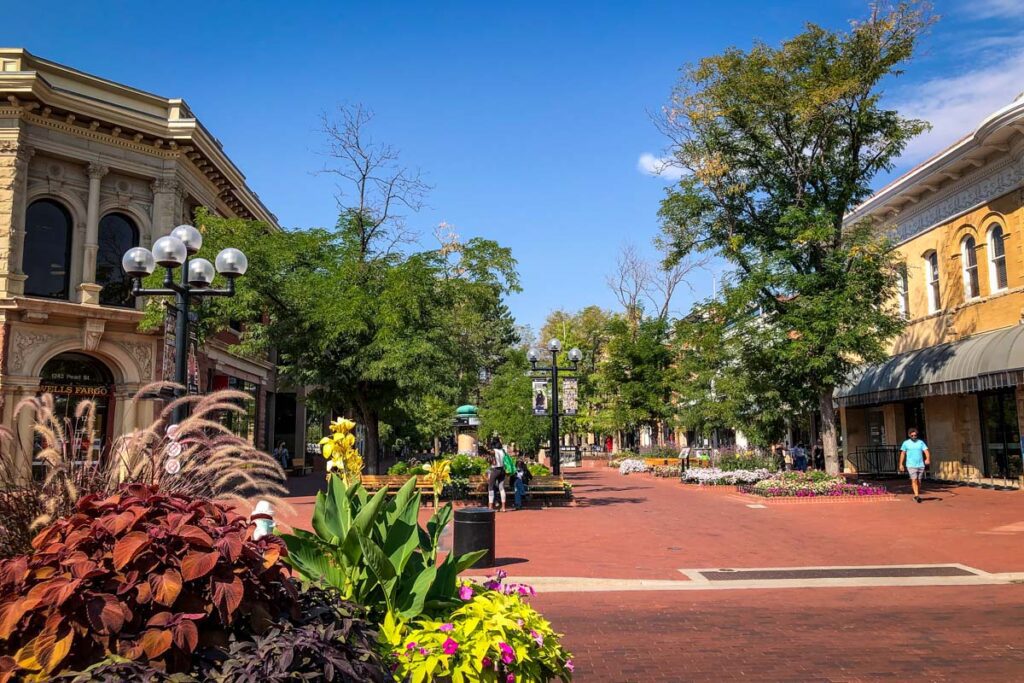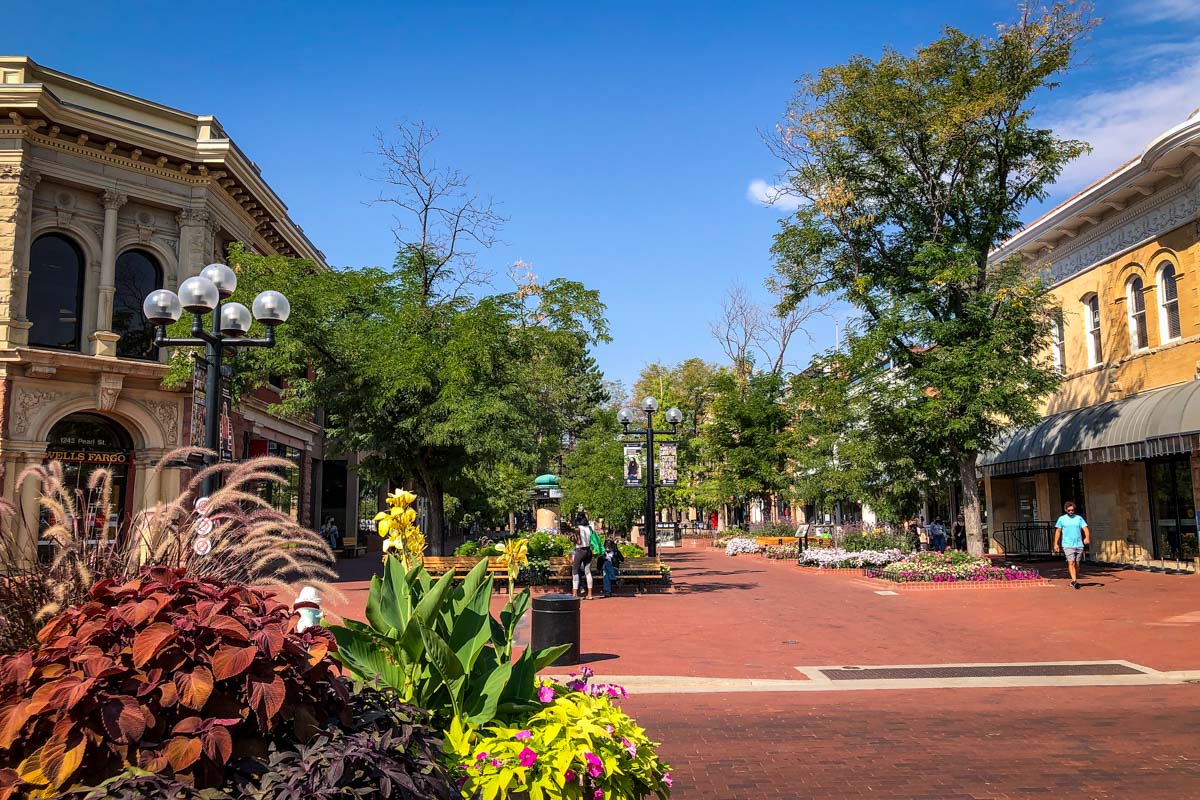 Arapahoe Basin: Colorado's longest ski season (often open into June!)
Denver: for great craft beer, museums, sports, rooftop patios, and quick access to Front Range hikes
Crested Butte: known as the "wildflower capital of Colorado"
Cortez: to explore Mesa Verde National Park and the Four Corners Region
Fort Collins: a must for craft beer enthusiasts
Breckenridge: for late-season skiing near Denver (open through the end of May)
Best things to do during spring in Colorado
Go skiing at one of the many resorts open through April or May
Explore the breweries, museums, and distinct neighborhoods of Denver
Art on the Streets – an annual outdoor event in Colorado Springs (May)
Boulder Farmers Market
Go on a wildflower hike in Crested Butte or Ouray
Ride the Pikes Peak Cog or Royal Gorge Route train
Best time to visit Colorado in our opinion…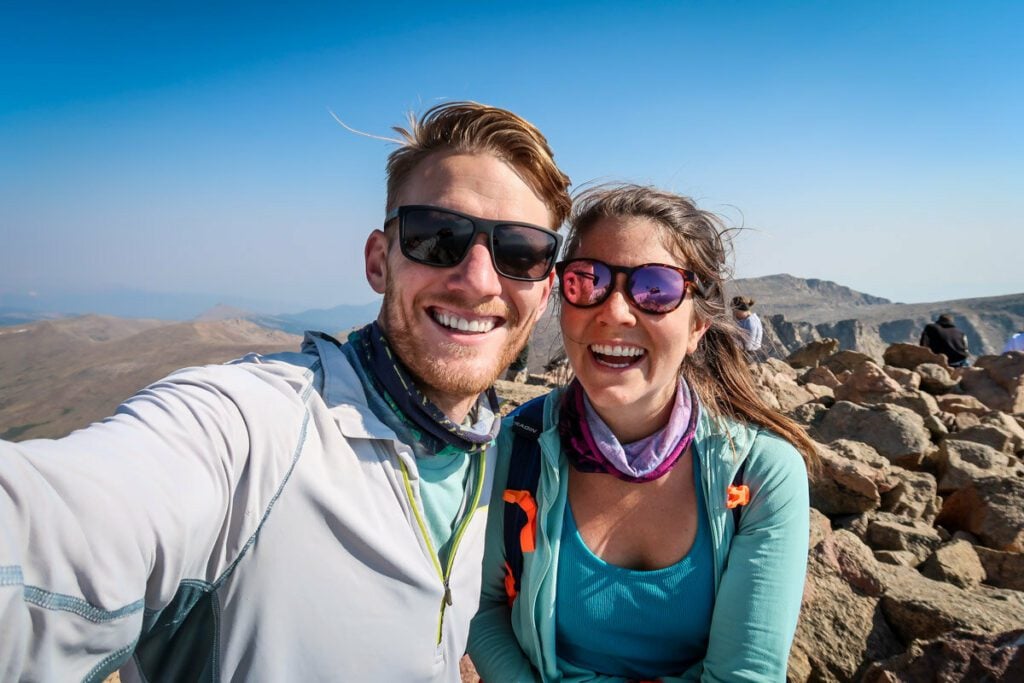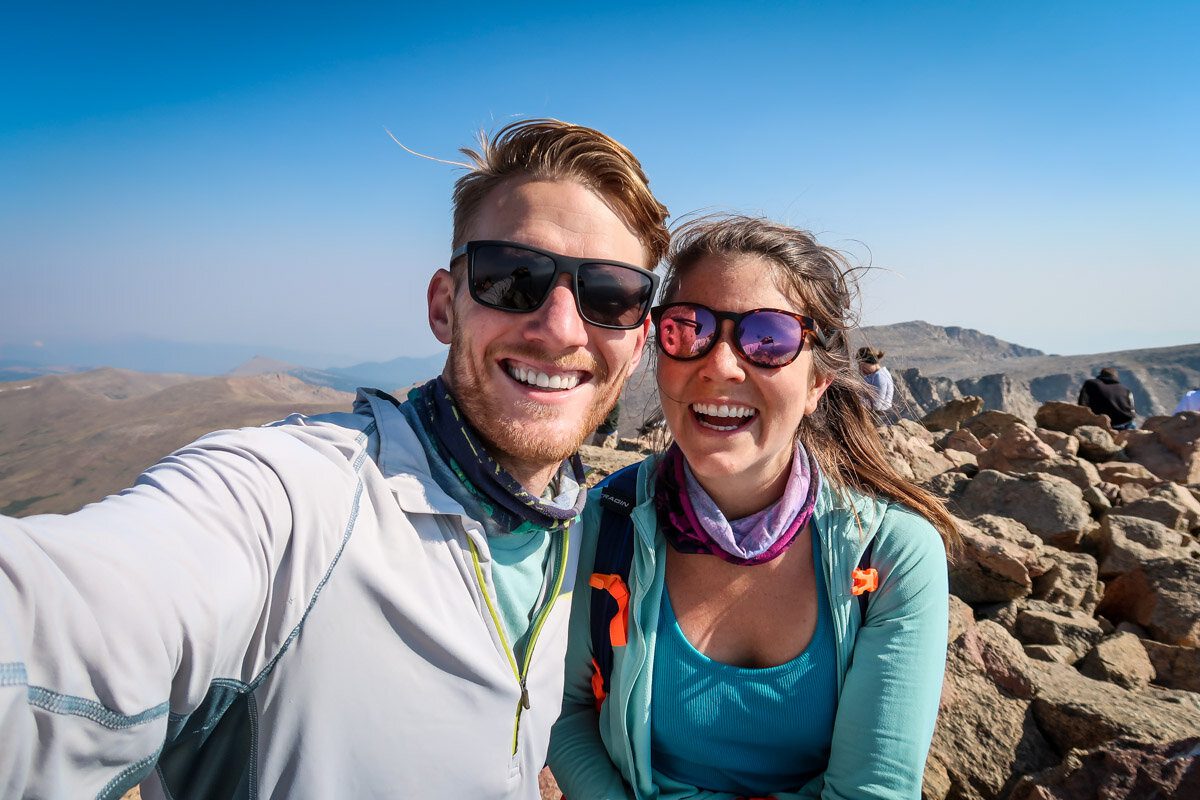 In our opinion, the best time to visit Colorado ultimately comes down to how you want to spend your time.
If hiking, biking, or rafting are high on your agenda, you'll want to visit between late May and early October. Keep in mind that snow can hang around into early June, so allow for some flexibility so weather-related closures don't thwart your plans.
July and August are the busiest months in Colorado, so we'd recommend avoiding travel during those months if you prefer to avoid crowds – choose dates in the shoulder season of May or June, or wait until fall.
Some resorts open their ski season as early as November and remain open as late as May; however, this is highly variable, subject to the snow forecast and weather conditions. We recommend booking ski trips after the holidays, in January and February, to be on the safe side. And avoid spring break months (March/April) to avoid the crowds and potentially warm/wet conditions.
Overall, September and October are the most reliable, best months to visit Colorado. Summer temperatures and rainfall subside, fall colors pop, and as an added bonus, national parks and hotels are quieter.
Ultimately, Colorado has such diverse climate and conditions, that travelers would be lucky to experience all four seasons if they have the opportunity to do so.
---
Planning a trip out west?
We have TONS of resources on travel in the US and how to make the most out of your trip. Check out our Ultimate USA Travel Guide for everything you need to know, or read some of our favorite articles below.
Save this article for later on Pinterest!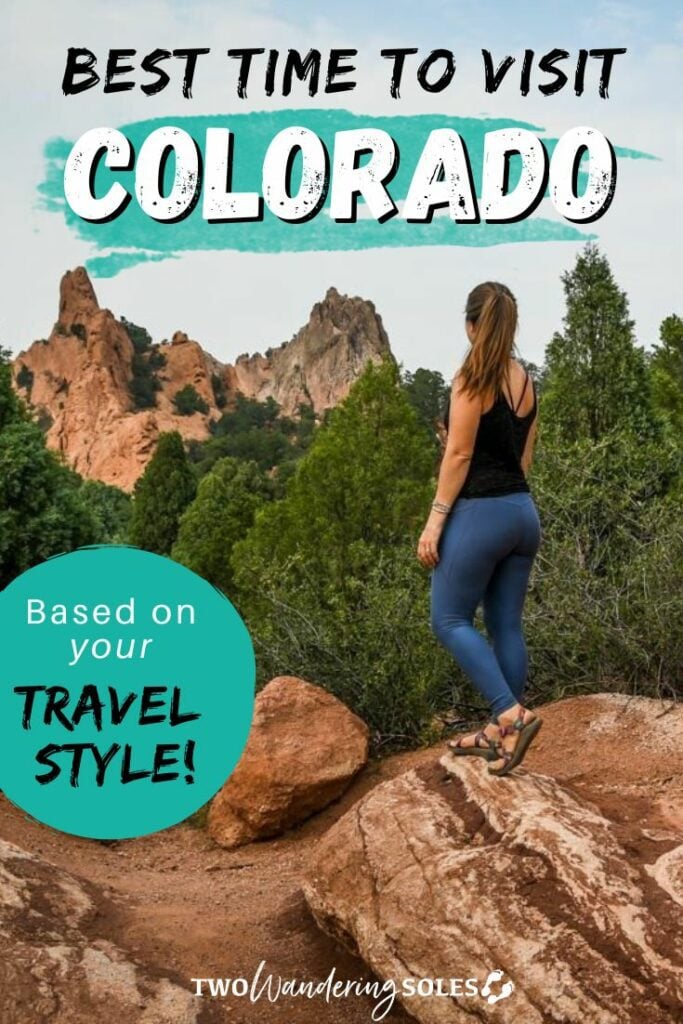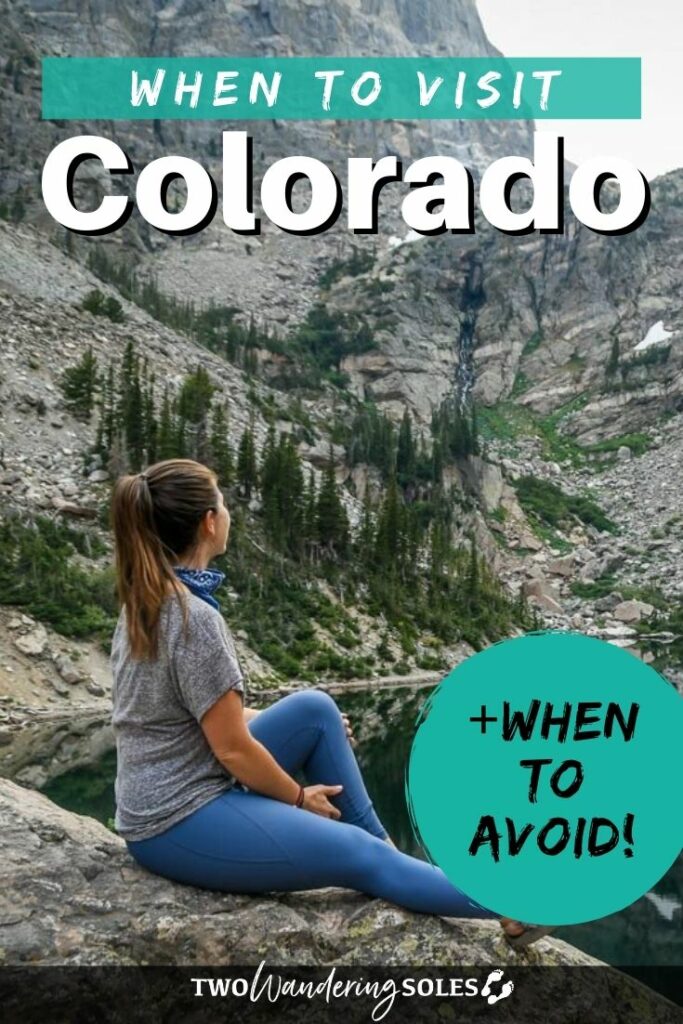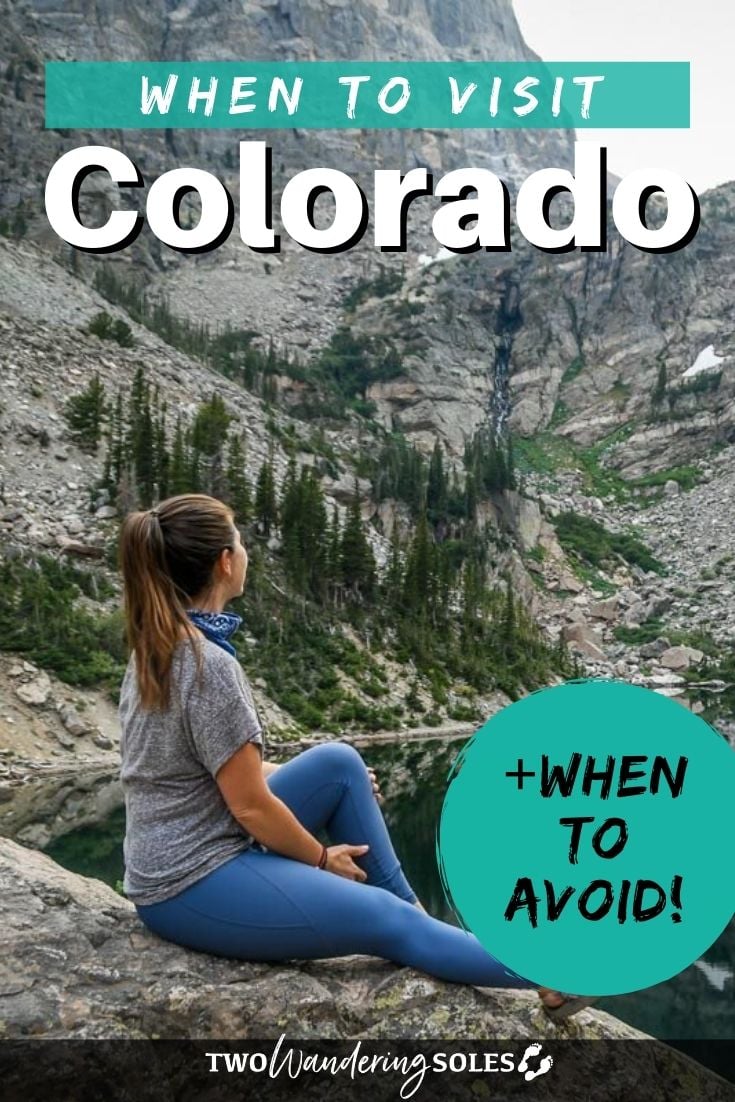 We want to hear from you!
Which season sounds like the best time to visit Colorado for you and why? Do you have any more questions after reading this article? Leave your comment below and we'll try our best to get back to you!