With endless outdoor adventures and a lively food and craft beer scene, Bend, Oregon makes an amazing destination all year long.
After living in this Central Oregon town for more than a year, we put together a list of the best things to do in Bend. Inside this mega guide, you'll find all sorts of insider tips and all our favorite things in town!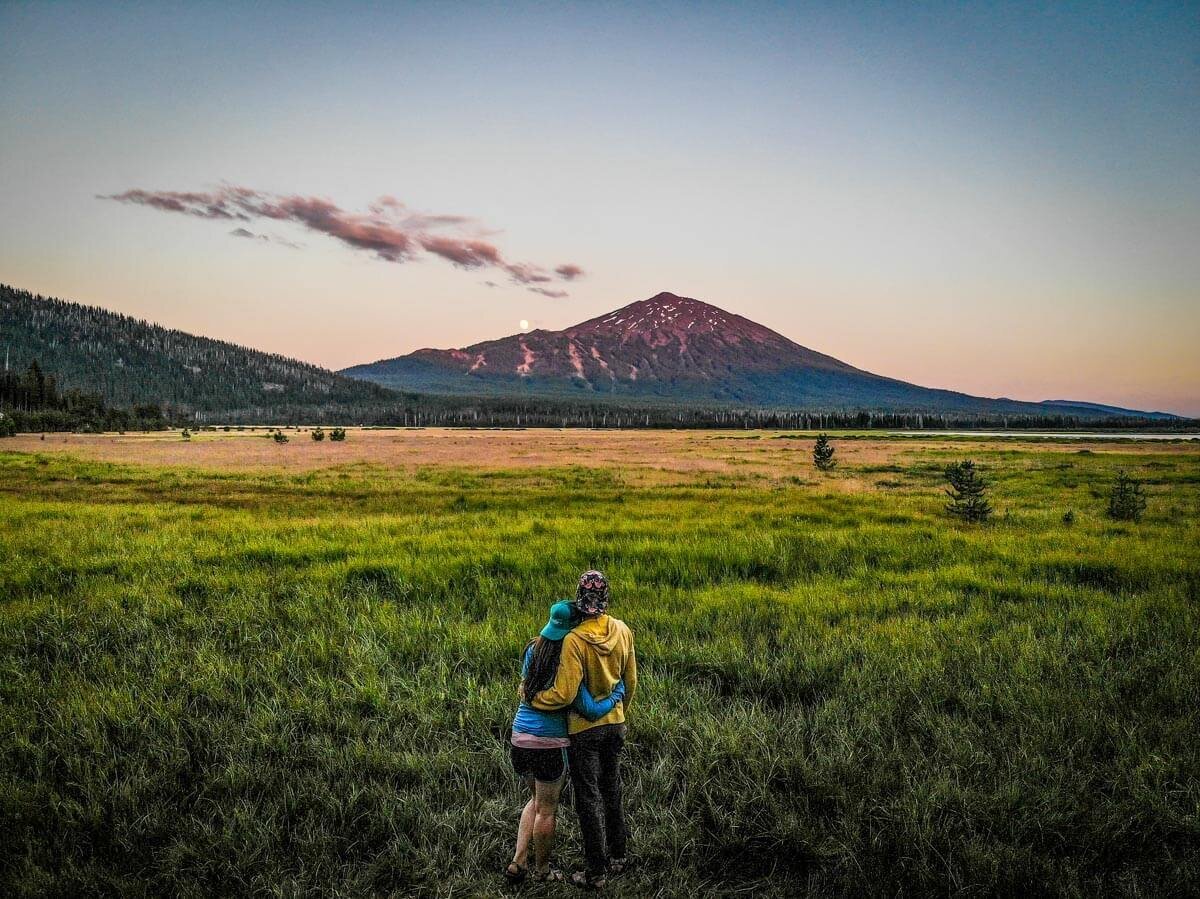 With epic nature to be explored, a thriving art and music scene, and of course all the craft beer you'd expect of a town in Oregon, Bend has no shortage of fun things to do.
What was once a small logging town is now one of the top destinations in the state. Situated in Central Oregon's high desert, Bend is surrounded by snowcapped mountains, thick forests, rushing rivers and alpine lakes as well as desert-scapes dotted with sagebrush, juniper trees, volcanic rock fields and caves. The things to do in Bend are as varied as the landscape that surround town.
We first visited this town in 2017 on a road trip, and I vividly remember sitting next to the Deschutes River and talking about how we could really see ourselves living in this charming town that seemed to check all "the boxes".
Fast forward to the fall of 2019 and we arrived with our Subaru packed to the gills, ready to explore our new home.
And we're certainly not the only ones who have fallen in love with this Central Oregon town and relocated. With just over 100,000 residents, Bend is quickly growing and shows no signs of slowing down (which is both good and bad in many ways).
If you've been thinking about checking out this Central Oregon gem, we have everything you need to plan your trip. We waited until we'd lived in Bend for more than a year to write this article, so you know it's chock full of insider tips, local secrets, and the absolute best things to do in town.
Bend Guide Contents
Is Bend worth the hype?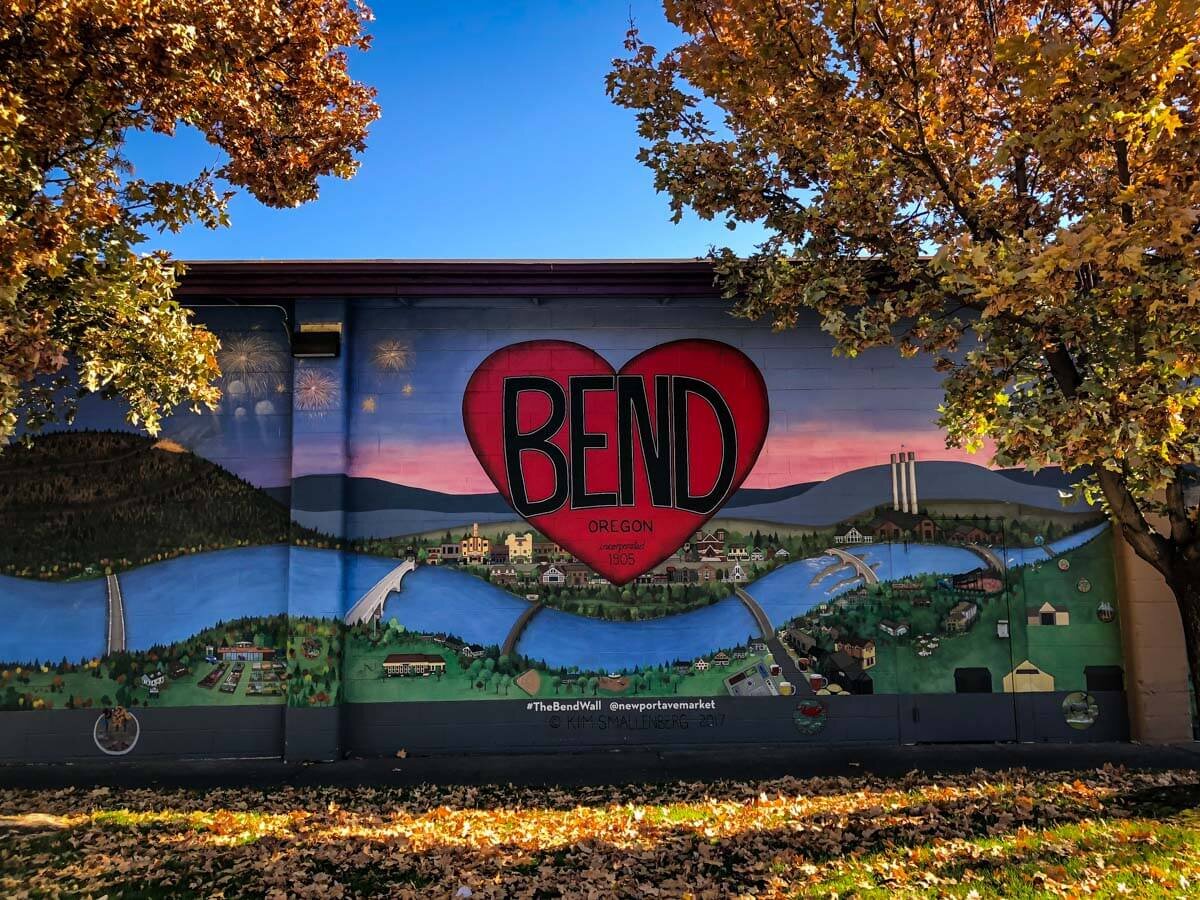 So many trendy places that grow quickly beg the question, "Is it really all it's built up to be?" After living in Bend for more than a year, we can confidently say that this town is worth the hype.
What makes it so great? Glad you asked! Here are just a few things we love:
Moderate climate: Not too hot in the summer (and very little humidity), not too cold in the winter. We love having 4 seasons without the extremes.

Access to outdoors: There is access to so many outdoor activities from town — hiking for all levels, whitewater and lake kayaking, fishing, rock climbing, mountain biking, backcountry camping, skiing & snowboarding, cross country skiing, snowshoeing… I could go on! It's an outdoor-lover's paradise.

Charming & historic downtown: We love that a lot of the historic buildings throughout town have been preserved instead of knocked down in lieu of new construction. Many restaurants and shops are actually inside old houses giving the town a quaint charm that you don't find everywhere.

Lots of events: During just about any week of the year, you'll find tons of events taking place throughout town. And there's honestly something for everyone — live music, art exhibits, film screenings, outdoor meetups, you name it!

Good food scene: In recent years, Bend's food scene has really grown into something special. For a medium-sized town, there is a surprising amount of options. You can find everything from vegan eats, to authentic Thai, to 5-course fine dining, to food truck grub. We will say there are definitely some gaps… *cough, cough* Korean food, African cuisines and Indian are all sorely lacking (amongst others).
The not-so-great parts…
As with most places, there are some drawbacks too. We'll be honest, Bend is pretty amazing, but it's not perfect. Here are two things that we don't love:
Growing cost of living: You could say that most towns have an increasing cost of living, but Bend's is going up drastically. Like crazy drastic. It's getting out of control, with house prices increasing by more than 30% from 2020 to 2021. Insane, huh?!

Lack of diversity: Oregon in general has a historic lack of diversity, and Bend is no exception. With cost of living rising at an extreme rate, it's unlikely that this will change in a big way anytime soon.
Weather in Bend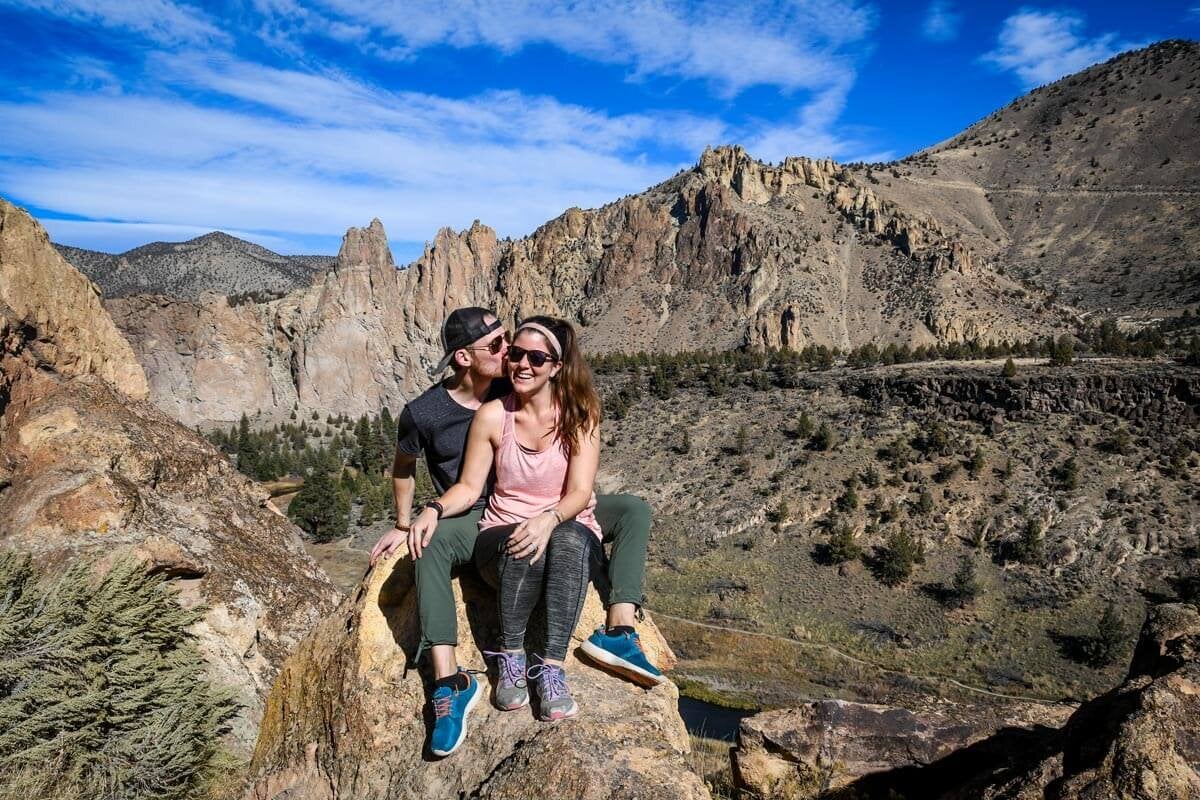 Unlike Portland, which is known for its coastal gloom and frequent rain, Bend sits across a mountain range in the high desert and has an entirely different climate. In fact, Bend is known for having lots of sunshine throughout the year.
While there are four distinct seasons, the climate is milder than you may expect. Summer temps can get into the 80's and 90's but there is hardly any humidity. Can I get a hell yes?!
And winter brings snow, but it doesn't typically stick for very long in town. However, a short, 20-minute drive toward the mountains will grant you access to a winter wonderland full of snow for skiing, sledding and showshoeing.
The weather in Bend is a big draw for many people who have relocated (including ourselves).
Best time to visit Bend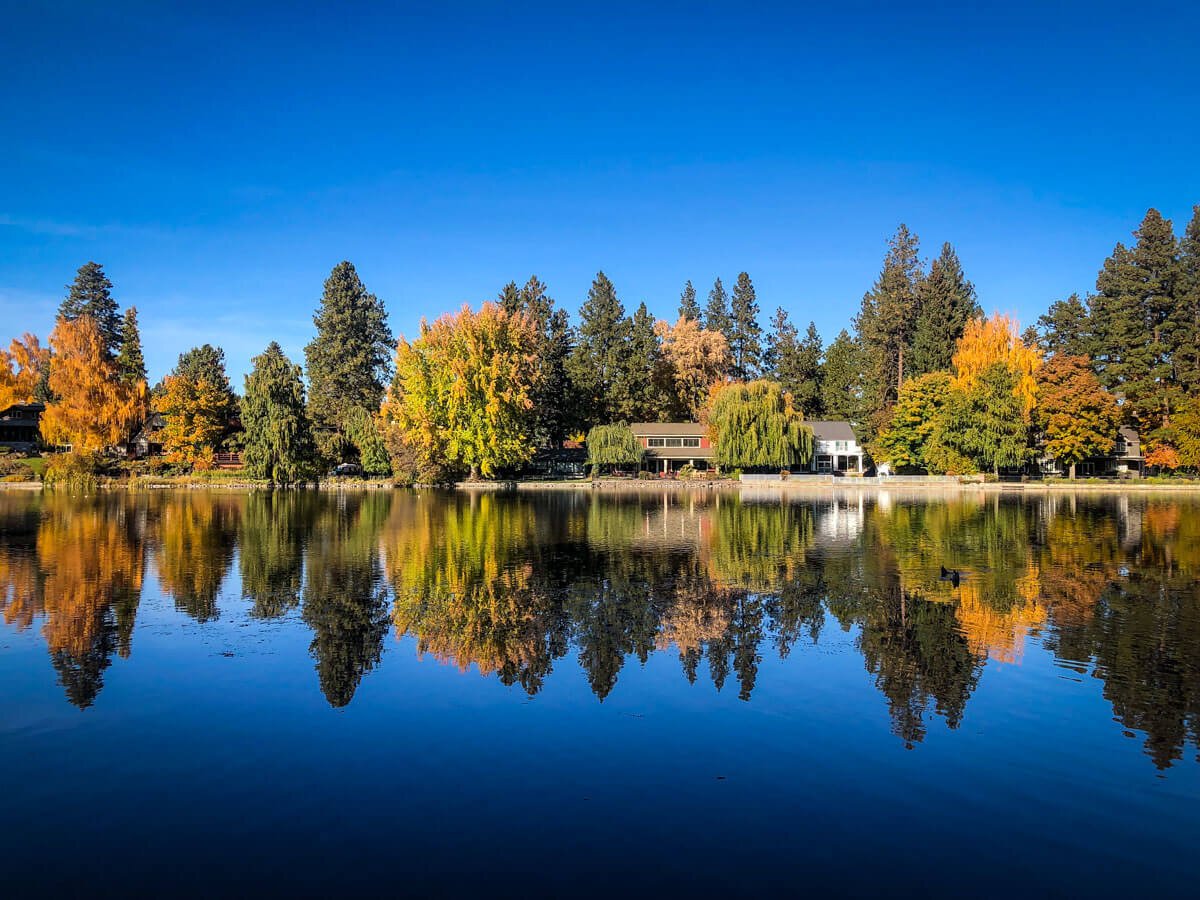 Honestly, each season has its draws, and we're fans of them all for different reasons. Summer is the most popular (and crowded!) time to visit, but the other seasons have perks too.
Springtime brings comfortable temperatures for hiking and mountain biking.

Summer is the perfect time for spending the day floating in the Deschutes River or at one of the many nearby lakes.

Good to know: Late summer (usually August) can get very smoky depending on what the nearby wildfires are like.

Fall brings a chill to the air and is a great time to do some drives and hikes outside of town to see the yellow foliage.

Insider Tip: The Old Mckenzie Highway is the best place nearby to see the fall colors, but time your trip right as they don't last very long.

Also, if you're visiting in the fall, the pumpkin patch near Smith Rock is fun to visit!

Winter is a great time to visit as well because temperatures in town stay pretty mild for most of the season, but just a short 20-minute drive toward the mountains will bring you to a winter wonderland!
How to get to Bend
If you're coming from out of state, you can either fly directly to Redmond airport (just 35 minutes north of Bend), or of course, you can drive.
If you are limited on time, we'd highly recommend flying and renting a car as this will help you make the most of your time in Bend. If, however, you plan to explore more of the state (which you definitely should if you have time!), Bend can make a great stop on your Oregon road trip.
Coming from Portland? The 175-mile drive takes you over a mountain pass and should take about 3.5 hours.
Things to know before visiting Bend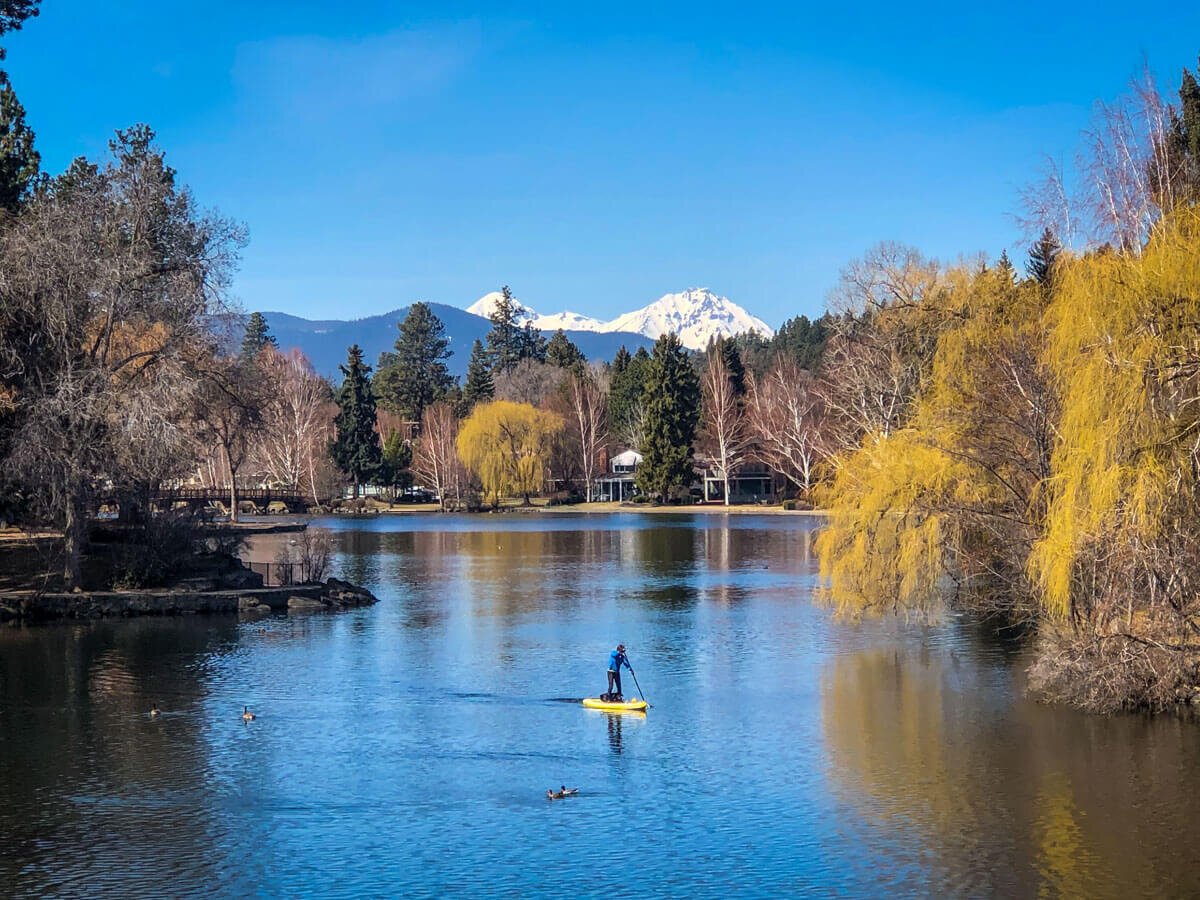 Temps change quickly: Bend is located in the high desert which means temperatures can drop drastically from day to night. Even if it's an 80-degree day with not a cloud in the sky, carry some layers if you plan to be out after dark because those temps can dip pretty quickly and you don't want to find yourself shivering in a sundress as soon as the sun sets.

Plan your trip early: Bend is a popular tourist destination, so if you're visiting over a holiday weekend, be sure to book your stay well in advance. We've learned the hard way that what is typically a great variety of hotels and Airbnbs turns into slim pickings fast.

Expect traffic at busy times of the year: You'll find some traffic around town, but the worst (in our opinion) is going to and from Mount Bachelor during popular weekends.

Be prepared for "smoky season": If you're visiting Bend during August or early September, be prepared that there may be smoke from nearby wildfires. The severity varies from year to year, but when it's bad, going outside can be very uncomfortable.

Know about the Sno-Park Pass: If you're visiting Bend in the winter months and plan to do outdoor activities (like XC skiing or snowshoeing), you'll likely need to purchase a Sno-Park pass. The parking lots to most of the winter trails require that you have either a day pass ($5) or a season pass ($30), as this is what pays for them to be plowed and maintained. You can purchase these passes at REI, ranger stations, or at many local outdoor gear retailers.

Understand the road closures: Some mountain roads are only open seasonally. The two roads nearest to Bend that may be closed during your trip are:

Cascade Lakes Highway: the section after Mount Bachelor is closed December – March

Old McKenzie Highway: this scenic byway is closed annually from mid-November – mid-June
---
Best things to do in Bend
We waited until we had been living in Bend for more than a year to start writing this article because we truly wanted to do this town we love justice. It's such a special place, and we want to take the time to create the best guide to Bend we could.
We've rounded up some of the best things to do in Bend – from heart-thumping adventures surrounded by nature to quirky things to do in town. Plus, we've included some insider tips you won't find anywhere else!
Whether you're new to Bend and still trying to get your bearings or you're planning a trip to Central Oregon, this article will walk you through everything you need to have an incredible time.
1. Go Hiking
Surrounded by mountain ranges, rivers and forests, it should come as no surprise that hiking is one of the best things you can do in Bend.
There are seemingly endless hikes near Bend suitable for all levels around town, but here are some of our favorites:
Broken Top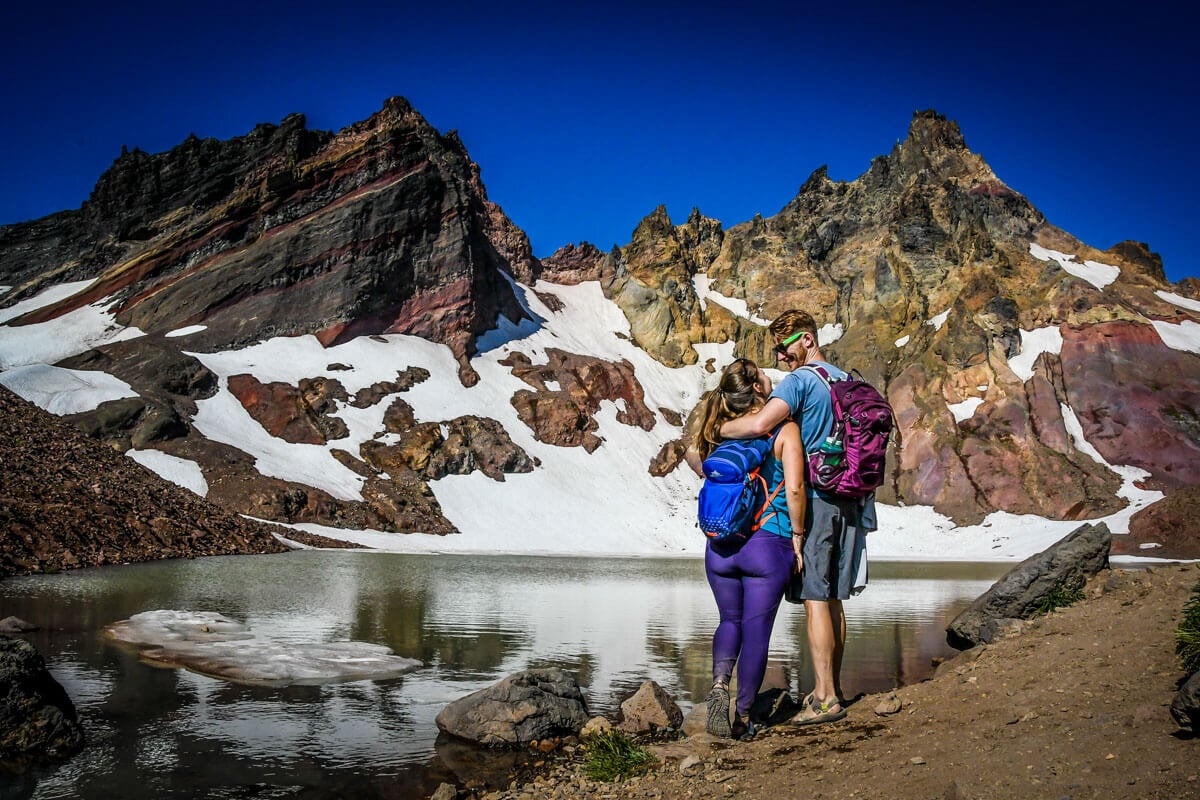 Out and back

14 miles

3,848-foot elevation gain

Moderate – Difficult
This is one of our very favorite hikes in all of Oregon, and if you're looking for a challenging hike that'll take up a good chunk of your day, there are few better nearby trails to choose.
Tip: We've written an entire guide to hiking Broken Top on our sister site. Definitely give it a read before you go!
Green Lakes Trail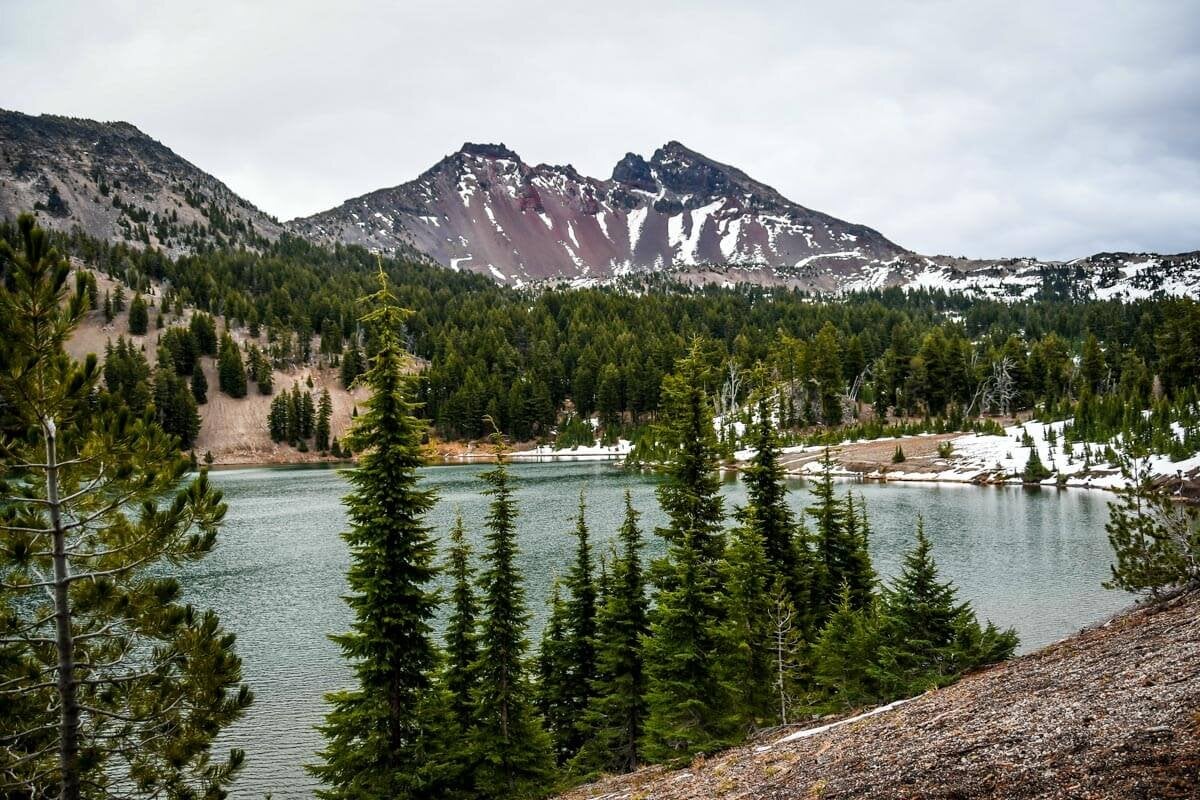 Out and back

9.1 miles

1,187-foot elevation gain

Intermediate
If you're looking for an intermediate hike that won't take all day, yet brings you into some beautiful Central Oregon Wilderness, Green Lakes Trail is a great choice.
Located on the Cascade Lakes Highway, this trail is popular with hikers and trail runners alike. Pass by some small waterfalls on thickly wooded trails until you reach Green Lake. This is a perfect spot to enjoy a picnic lunch with epic views of Broken Top in the backdrop.
Insider Tip: Check out the "food on the go" section in our Bend restaurant guide to discover our favorite sandwich shops in town. We love picking up some food to go before heading out on the trails.
Tumalo Mountain Trail
Out and back

3.8 miles

1,407-foot elevation gain

Intermediate
This trail is a steep yet pretty straight shot to the top of this ridge where you'll be rewarded with views of the most beautiful mountains in Central Oregon. This is a popular route to do for sunrise, and the parking lot will sometimes be full even an hour before sunup. Be prepared that you may encounter snow on this trail up until July.
Mattieu Lakes Trail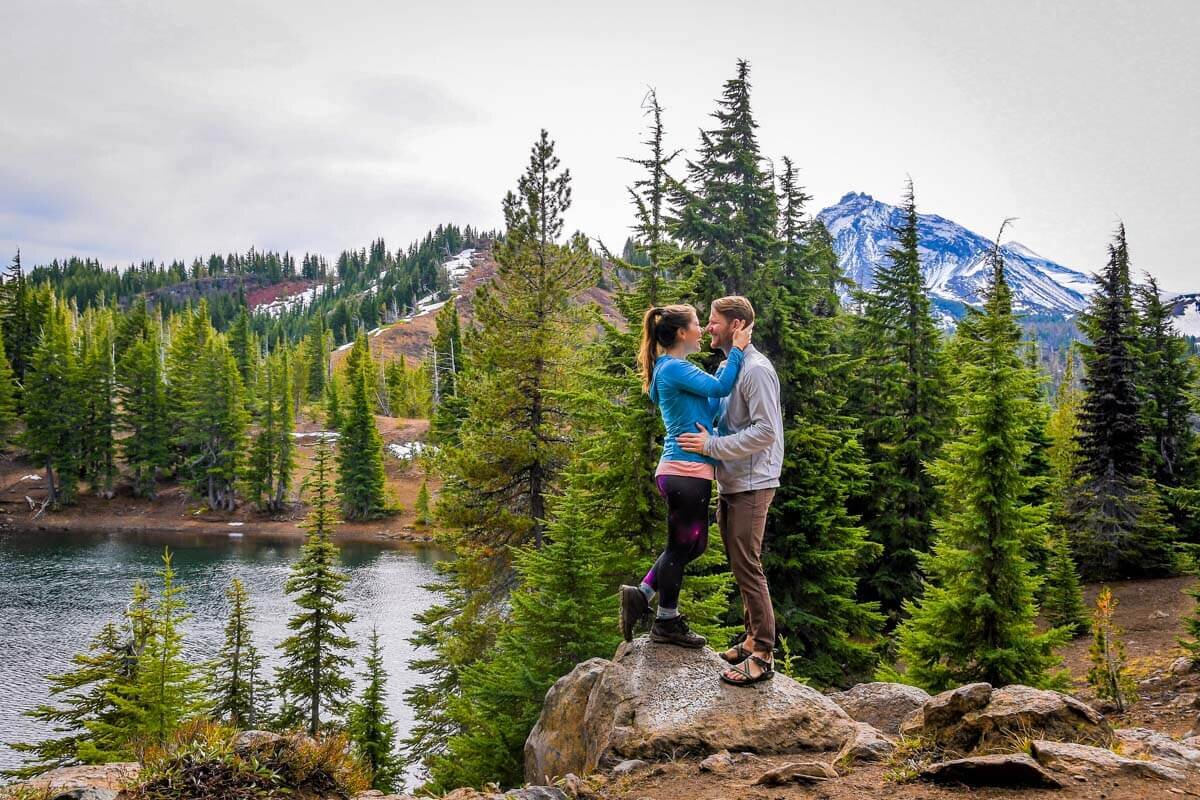 Loop

6 miles

820-foot elevation gain

Easy – Intermediate
This dog-friendly trail doesn't pack in much elevation gain, so if you're looking for a lighter hike, this might be a good choice. The trail links up with a section of the PCT, which is kind of fun. Once you reach the lake midway through, enjoy a nice picnic lunch and take a dip if you're feeling up for it before completing the loop.
South Sister Summit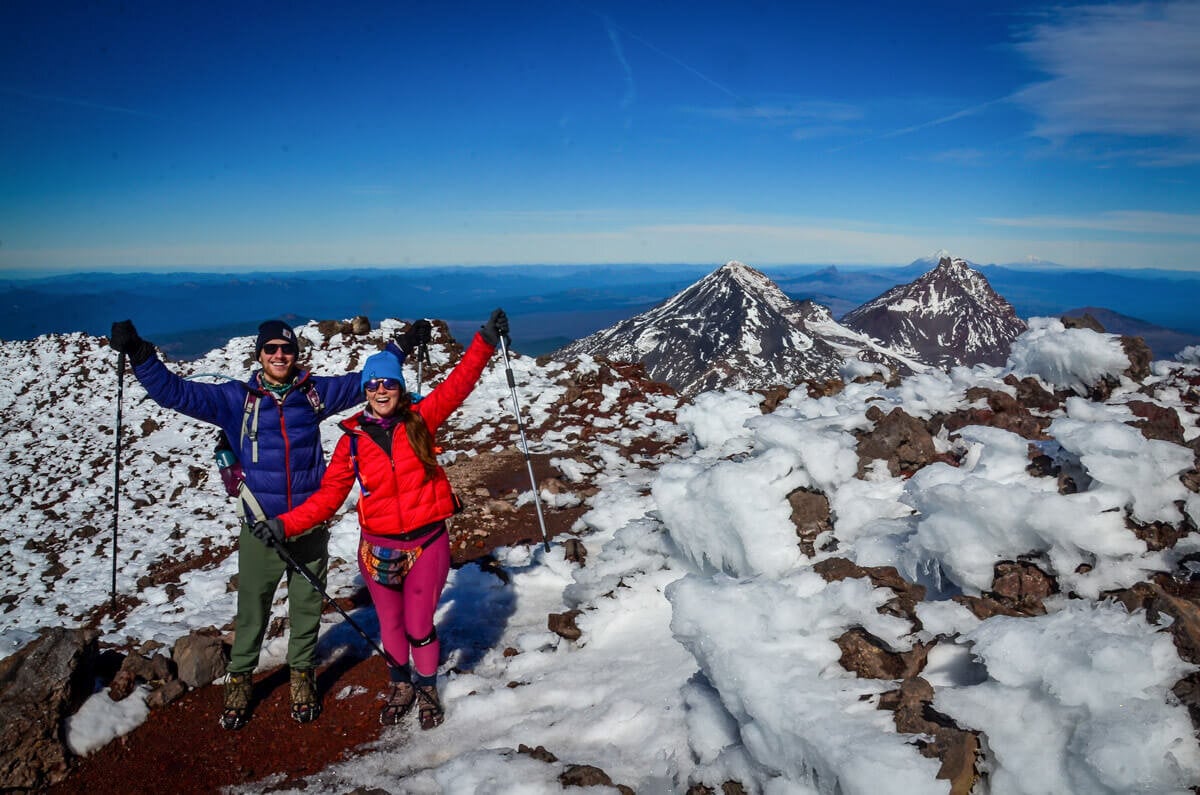 Out and back

12.2 miles

4,898-foot elevation gain

Very difficult
Calling experienced hikers only! Summiting South Sister is a bucket list hike for many Oregonians and, with some preparation, it can be tackled on your trip to Bend. It's important to know that you will need to start this hike early, and it will take the majority of your day (think 10-12 hours).
This hike is extremely challenging, and you'll want to be prepared with proper shoes, gear, enough water, and food. Depending on the time of year you hike, you may need microspikes for walking along the crater at the summit. If this isn't scaring you away, it is extremely worthwhile and an epic way to spend a day near Bend!
We have all the information you need to prepare in our trail guide for the South Sisters Hike over on our sister site.
2. Experience the craft beer scene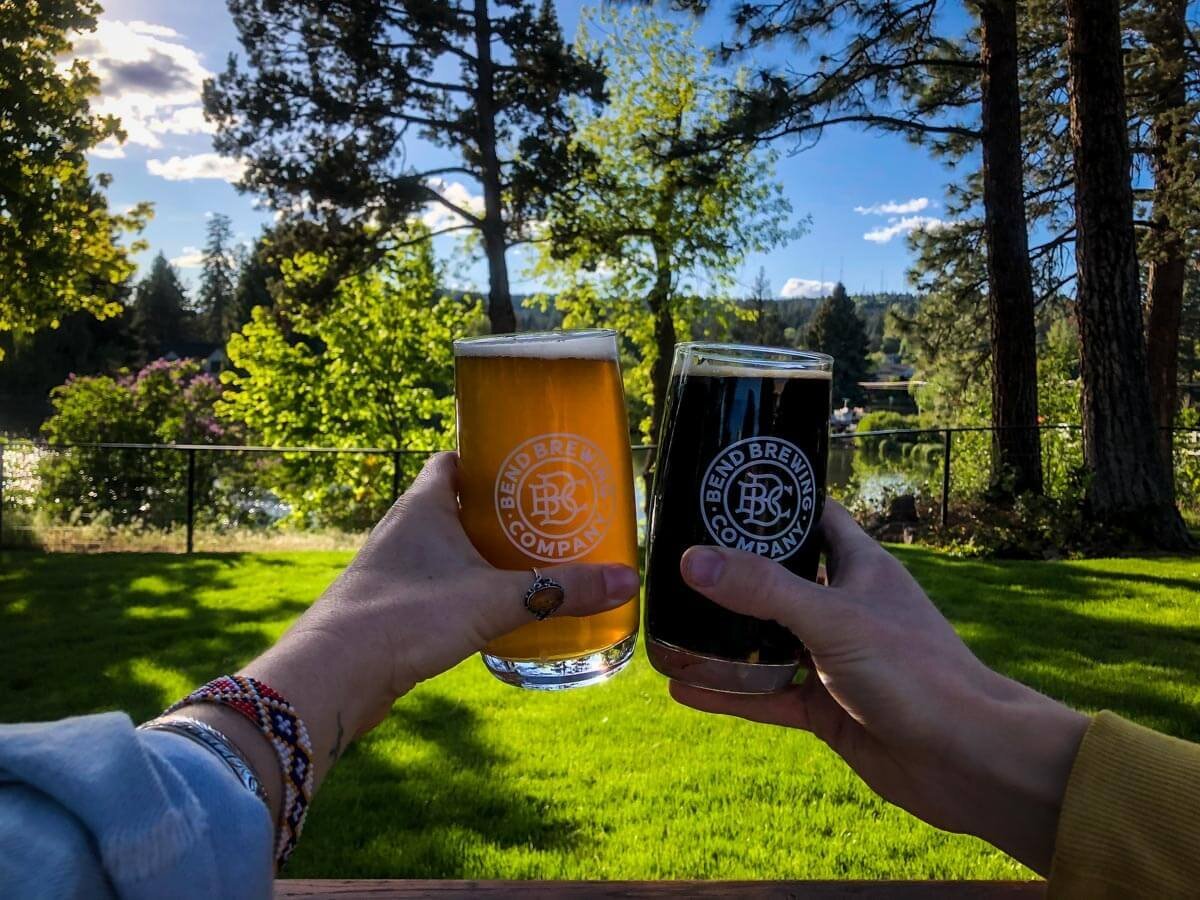 If you're a fellow fan of craft beer, you'll be over the moon in Bend. There are breweries on what seems like just about every street. And sometimes a single block has more than one. In fact at one point, we lived within 3 blocks of 5 different breweries and taprooms. Let's just say that we did our fair share of sampling!
The great thing about the breweries in Bend is that most of them offer excellent food as well. And if they don't have their own menu, they likely have food trucks just outside. Also, I can't think of any breweries in Bend that aren't dog-friendly. So if you have your furry companion with you, they will be welcomed all over town!
Best breweries in Bend
With so many breweries in town, it can be damn near overwhelming. We've rounded up some of our personal favorites and included descriptions so you can see what is most your style:
Crux: really cool venue with big indoor and outdoor spaces, tons of IPA options (as well as other beers), a small selection of food trucks

Silver Moon: nice patio out back, "not your grandma's BINGO" on Sundays, local vibe

Boneyard: edgy vibes, RPM is one of our favorite IPAs in town, not our favorite outdoor space

Bend Brewing Company: really nice lawn set-up downtown with picnic tables next to the river, perfect for a sunny day, gets busy

Insider tip: Order the sriracha cauliflower for a snack with your beer!

10 Barrel: two locations in Bend but we much prefer the smaller west location (on Galveston Street), big variety of beer & creative limited-time collaborations, cocktail menu and food menu with pretty good pizza (we like the Jaca and the Veggie Za; you can order half and half!)

Good Life: laidback vibes, good beer, further from downtown, small indoor space but there is a large outdoor area and good food options

Deschutes Brewery: we can't list breweries without including the most famous in town, but this is probably the brewery we visit the least. Not much outdoor seating at all, food is average in our opinions
There are many, many more breweries in town. For more info, check out our full list in our guide to restaurants and breweries in Bend.
The Bend Ale Trail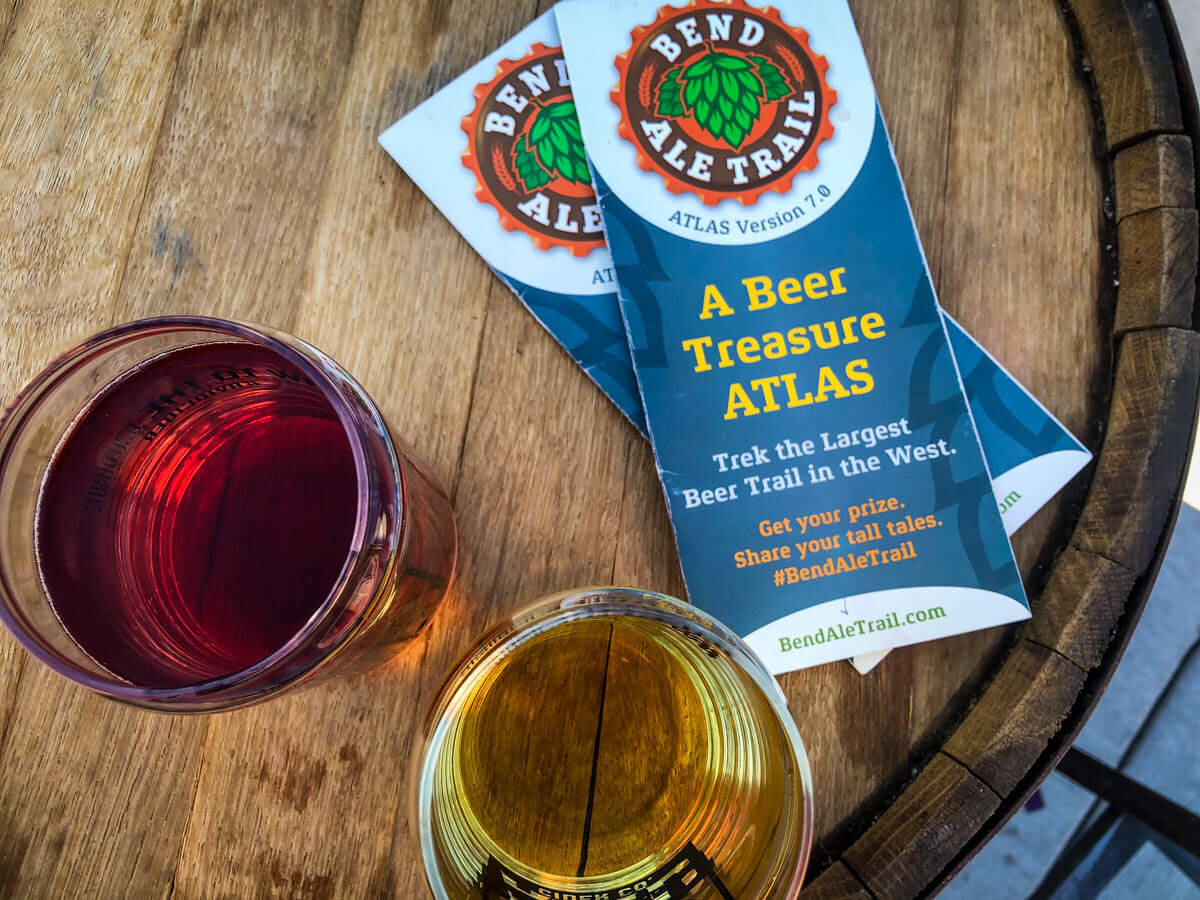 If you're feeling really thirsty, you can grab an Ale Trail brochure (which can be found at just about any brewery in town). After ordering a beer, you'll get a stamp in this passport of sorts, and once you have 5 stamps, you can turn it into the tourist office for a prize.
Good to know: The "rules" have changed lately (#2020), so read up on the Bend Tourism Board's website for the latest deets!
3. Picnic in Drake Park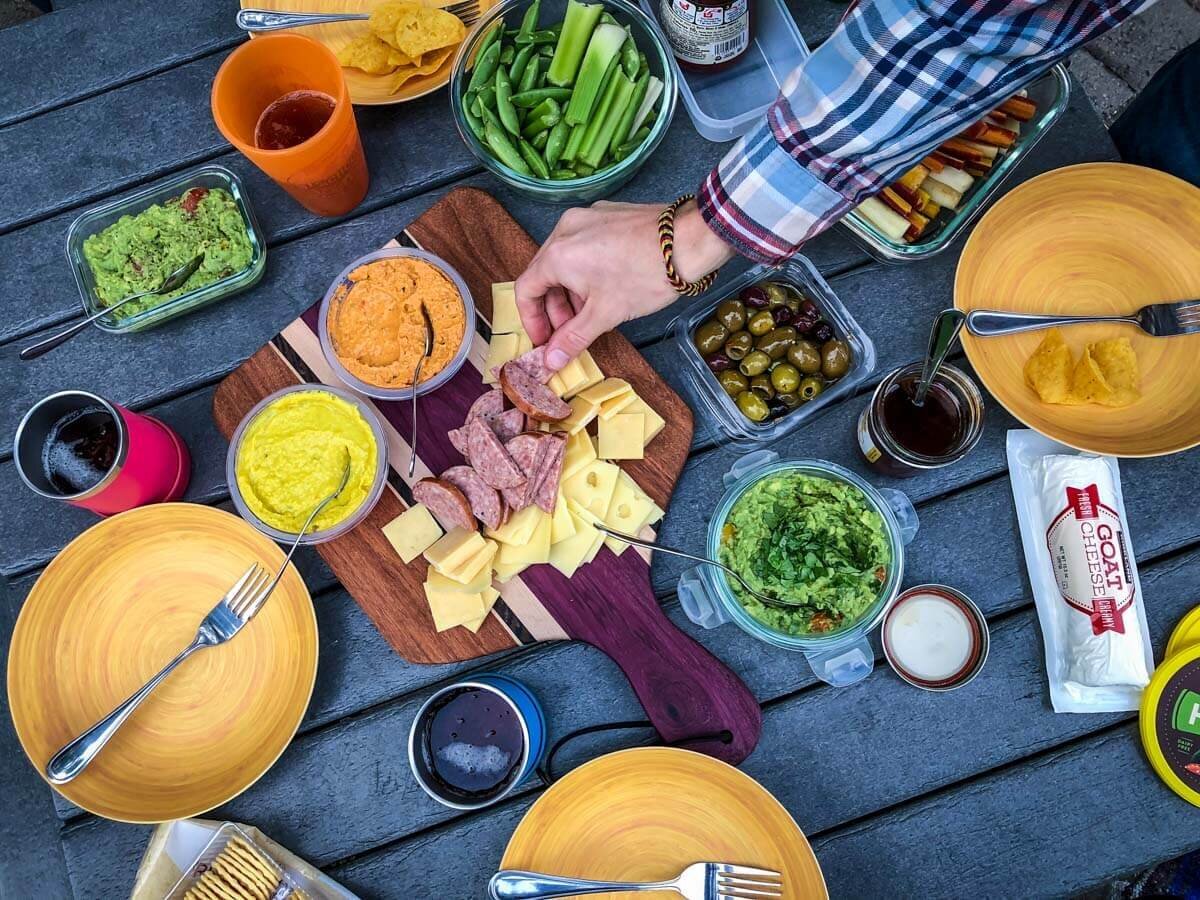 Drake Park is a narrow slice of green space that stretches along the Deschutes River just as it approaches downtown Bend. It's the perfect place for a morning or afternoon stroll with a cup of local coffee.
Looking for a good cup 'o joe for your stroll? Coming from the west side of the river, our personal favorite near the park is Megaphone Coffee on Galveston Ave. Alternatively, Looney Bean is a good choice if you're coming from downtown.
Drake Park has public toilets, picnic tables and a small amphitheater for summertime events, making it a popular spot for visitors and locals alike.
There are also a handful of tables scattered along the river's edge, which make the perfect spot to bring a picnic as the sun sets over the horizon. Or spread out a blanket and relax with a good book during the afternoon hours (just watch out for goose poop, as it's plentiful throughout the park!).
4. Walk along the Deschutes River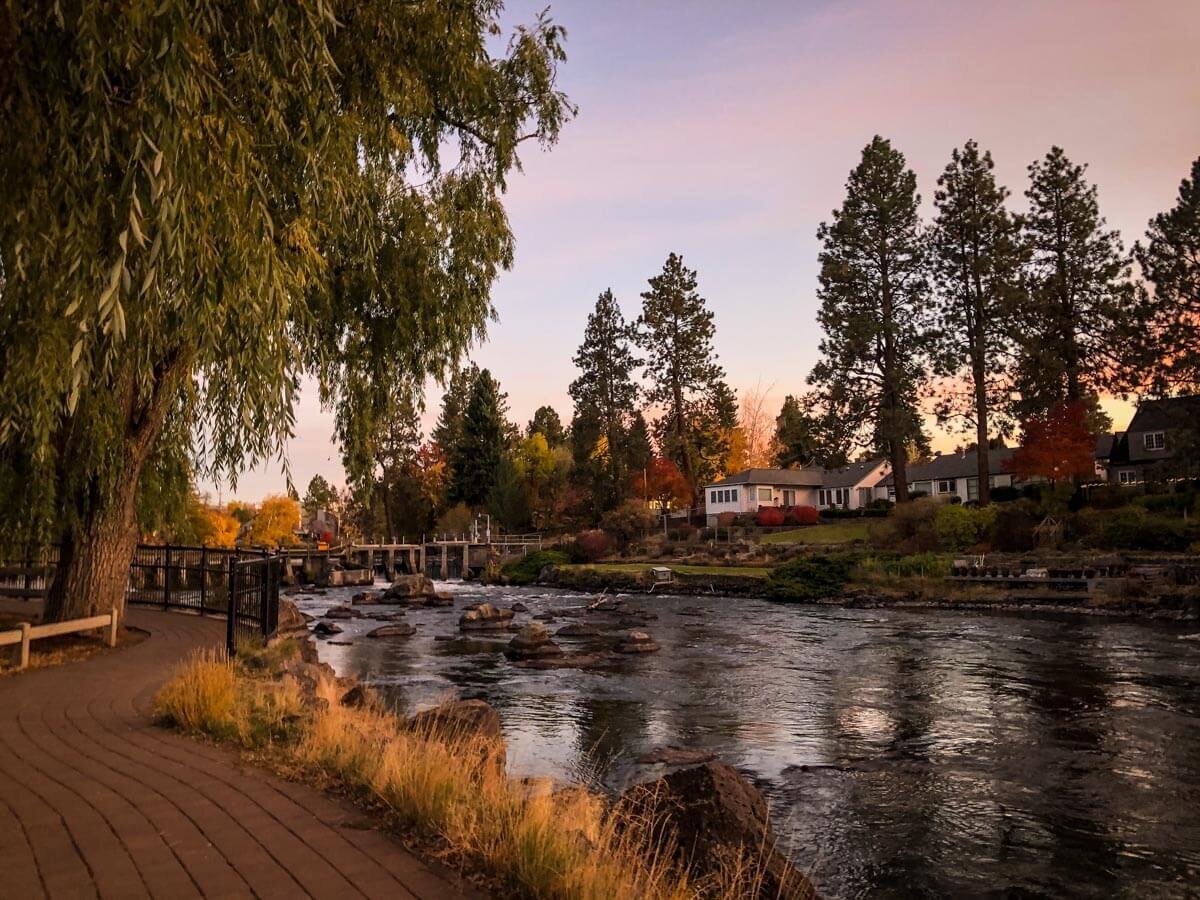 The Deschutes River cuts through town, dividing Bend into an east and west side. Each side of the river is lined with well-maintained paths and you can actually go for quite a long walk in either direction.
Insider Tip: One of our favorite places to walk and explore is near First Street Rapids, which is a section near the river with lots of big boulders. We used to live very close to this little waterside park and spent many hours relaxing on the giant boulders with books or soaking up sun in the late spring months. Relax by the water or walk toward Pioneer Park for some nice views.
Looking for some more low-key strolls? If you prefer walking over hiking, here are some more good places near town that offer trails with little elevation gain and beautiful views:
Shevlin Park: This is a lovely forested park with a small creek that's great for walking, trail running, or biking.

Riley Ranch: This nature reserve offers varied trails and views.

Lava Island Trailhead: Southwest of Bend, this trail follows the Deschutes River and is a good place to get away from crowds.
5. Wander Downtown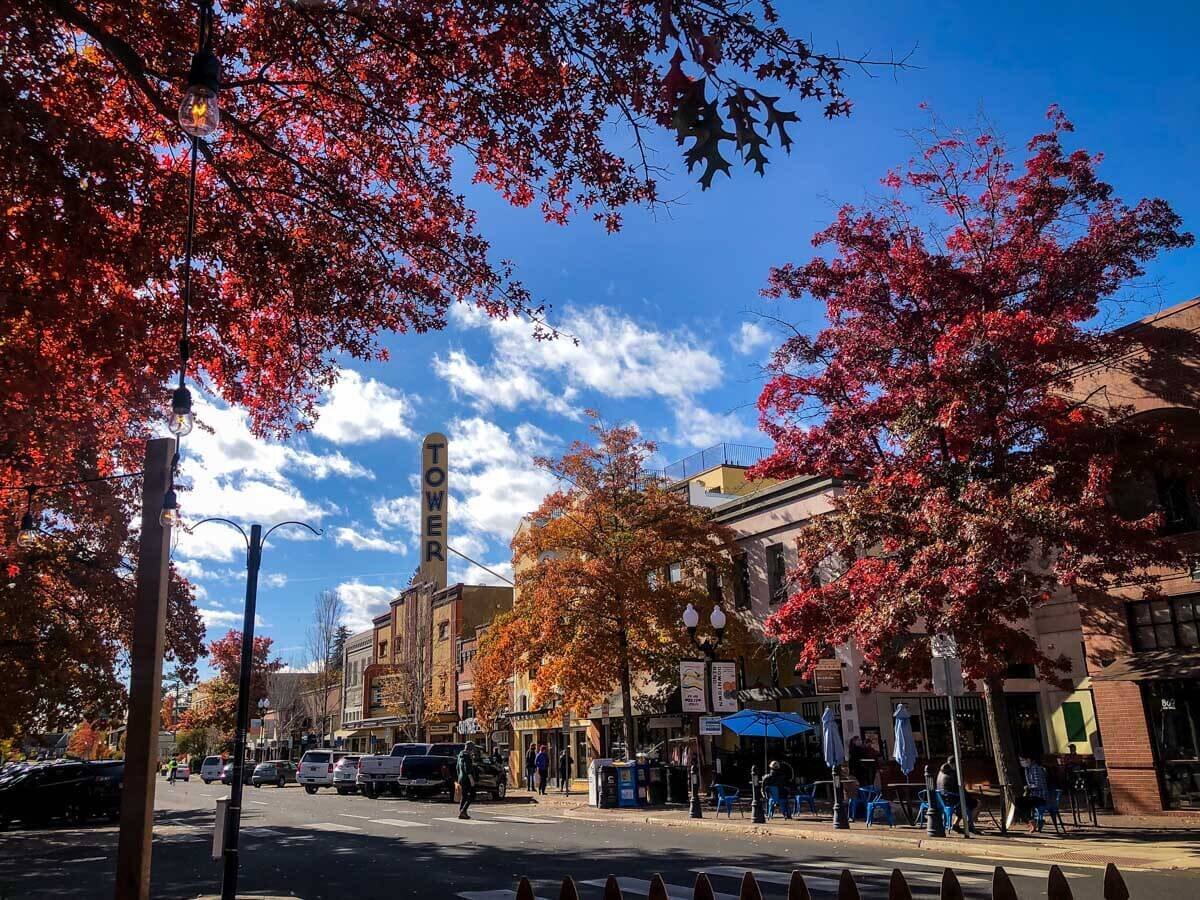 Wall Street and Bond Street run parallel each other, comprising downtown Bend. They are dotted with local boutiques, coffee shops, restaurants, bars, hair salons — the whole gamut. In the center of it all, there is the unmistakable historic Tower Theater, which plays host to different events throughout the year.
Walk along the sidewalk and pop into any of the shops that strike your fancy. Here are a few of our personal favorites:
The Bend Store: If you're looking for a keepsake from your time in Bend, this small shop has a good variety of items with the town logo as well as pieces from local artists at all price points.

Dudley's Bookshop: This is a local gem and absolutely worth a gander if you're an indie bookstore fan (or need something to do on a gloomy day). With a coffee shop and a cozy upstairs space where you can relax and read (or work), this bookstore is something special. consider supporting Dudley's while in town!

Bontà Gelato: If you're looking for a cold treat on a hot day, this local gelato shop is your best bet.

Backporch Coffee Roasters: One of our favorite local chains, Backporch has a location right downtown for your caffeine fix.

The Commons: This is our all-time favorite coffee shop in town to hang out at. With a cozy vibe, this not a place to grab your coffee and go, but instead to stay for a while. They also serve craft beer, pastries, and sometimes have live music.
6. Shop local during First Friday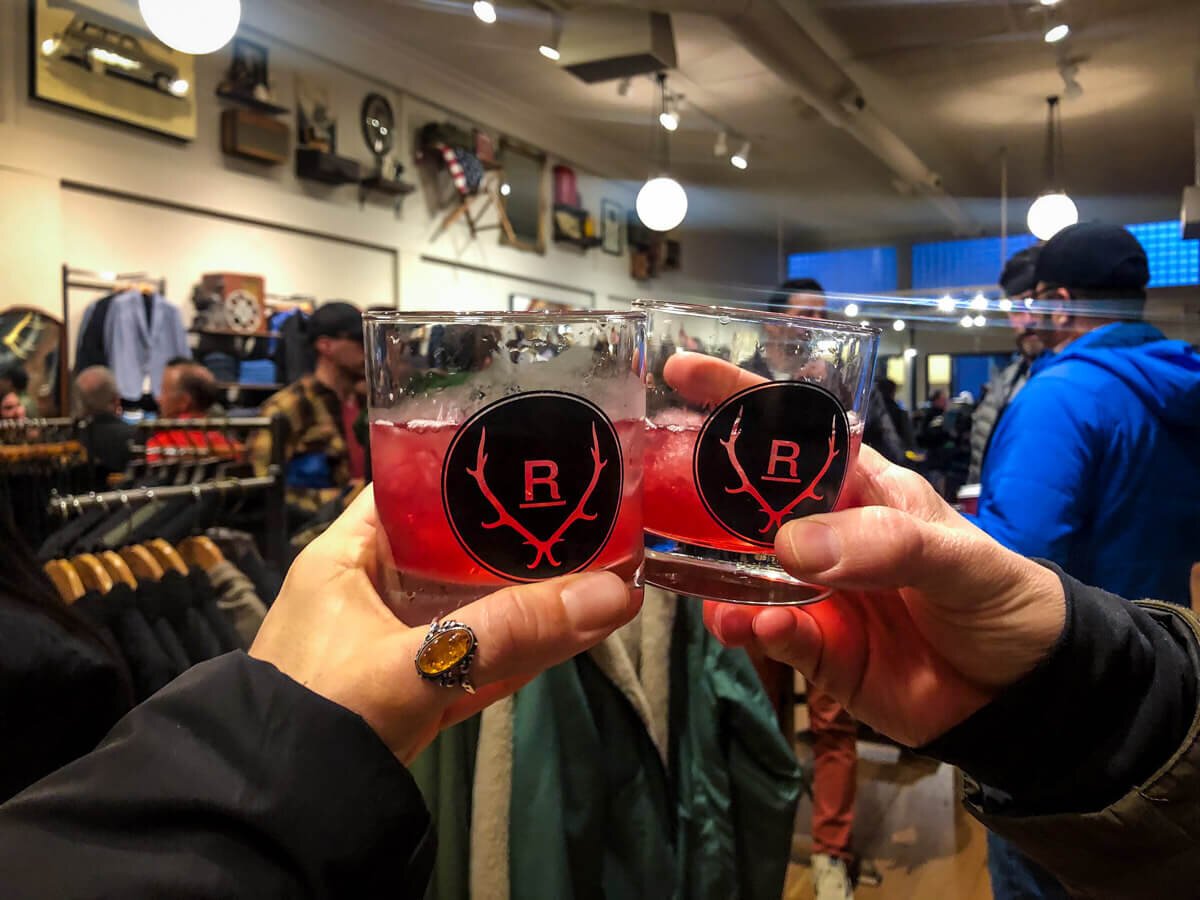 The first Friday of each month, many businesses downtown participate in "First Friday". This is typically from 5-7 pm, and businesses will serve small drinks for free (yes, alcoholic drinks).
Each business does it differently – some have hand-crafted cocktails, others have a keg of local beer, and others still serve wine or bubbles.
It's a fun time to come out and support small local businesses while also unwinding at the end of the week.
7. Experience McMenamins Old St. Francis School
Before moving to Oregon, we had never heard of McMenamins, but we soon learned that this family-run chain is legendary throughout the state.
While it is a chain and there are locations in Portland and elsewhere in Oregon, it really is the opposite of what you'd expect a "chain" to be. Each location is completely and utterly unique. Typically, McMenamin locations are in historic buildings that have been transformed into some sort of entertainment center.
In the case of Bend, McMenamins is in the historic Catholic school in the center of town. Some of the classrooms have been turned into hotel rooms, while others are now a cozy pub or a bustling restaurant with an onsite brewery that frequently hosts events. You could quite literally sleep, eat and play here during your stay in Bend!
Here are some of the things you shouldn't miss while at McMenamins:
Catch a movie in the unique theater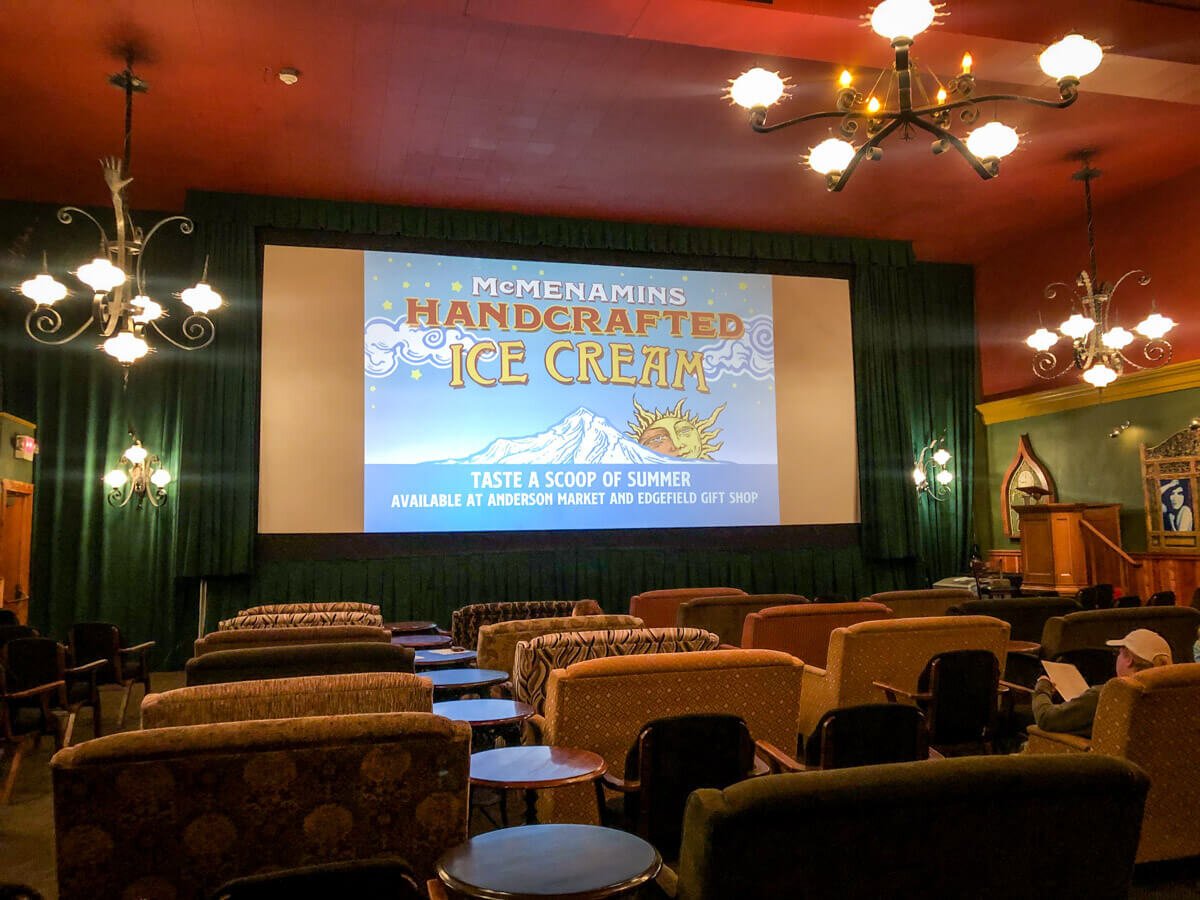 There's a movie theater on-site, which has couches instead of traditional chairs and a bar in the back where you can order food and cocktails.
Plus, tickets are cheaper than a traditional movie theater — at $8 per person for first-run movies and just $5 for second-run movies, this makes for a fun date night!
The only downside is they only play one movie at a time, so if it's not a tile you're interested in, you're kind of out of luck.
Do it yourself: See what films are playing now and buy tickets here.
Warm up in the Soaking Pool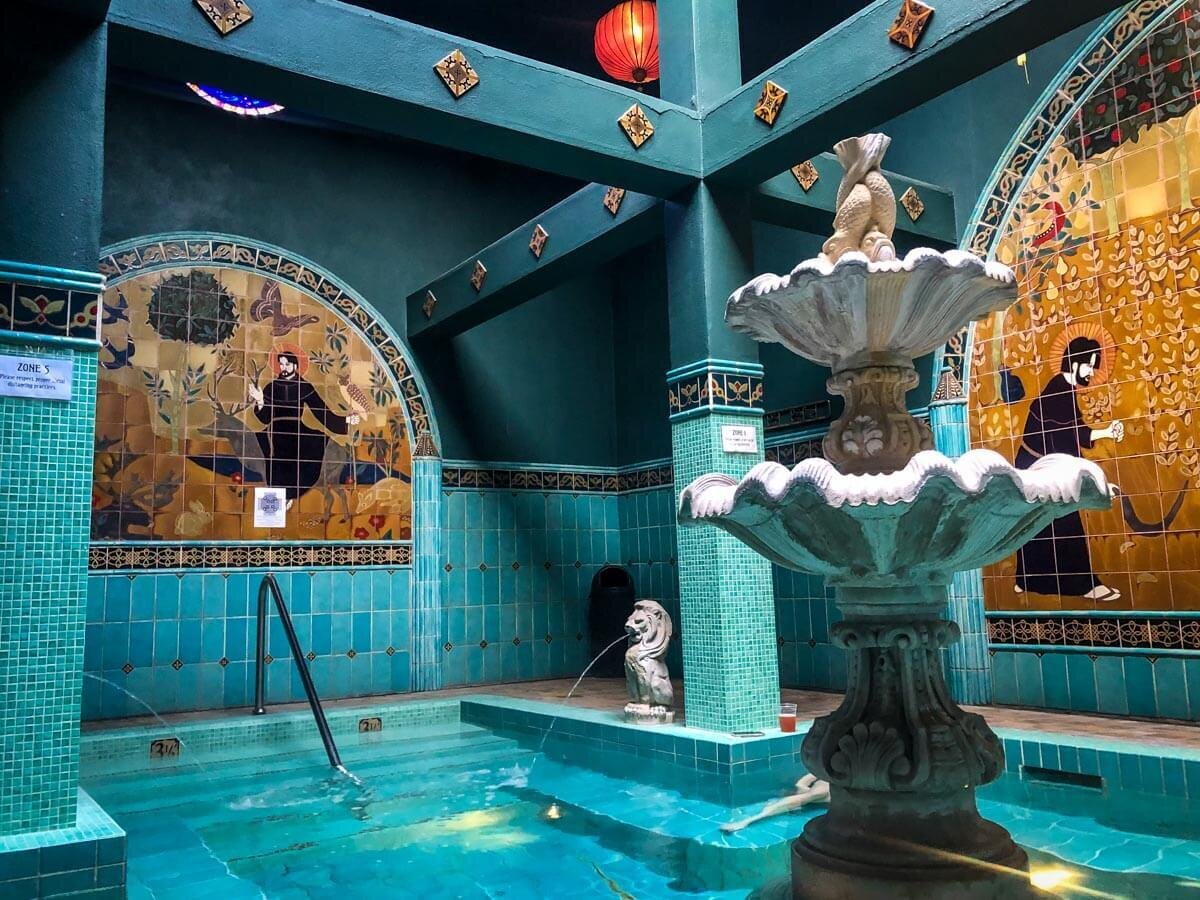 One of the most unique places at McMenamins is the soaking pool. It is filled with soft buoyant water, meaning there are no harsh chemicals like chlorine. It's heated to a comfortable temperature cooler than a hot tub but warmer than a pool, making it the perfect spot to relax after a day on the slopes or a long hike.
The semi-enclosed room has an open-air skylight at the top, making it a particularly interesting experience when it is snowing outside. The turquoise tilework throughout the room is reminiscent of a Turkish bath.
Admission to the soaking pool is $8 per adult. Call ahead for a reservation.
Grab a cocktail by a fire pit at O'Keane's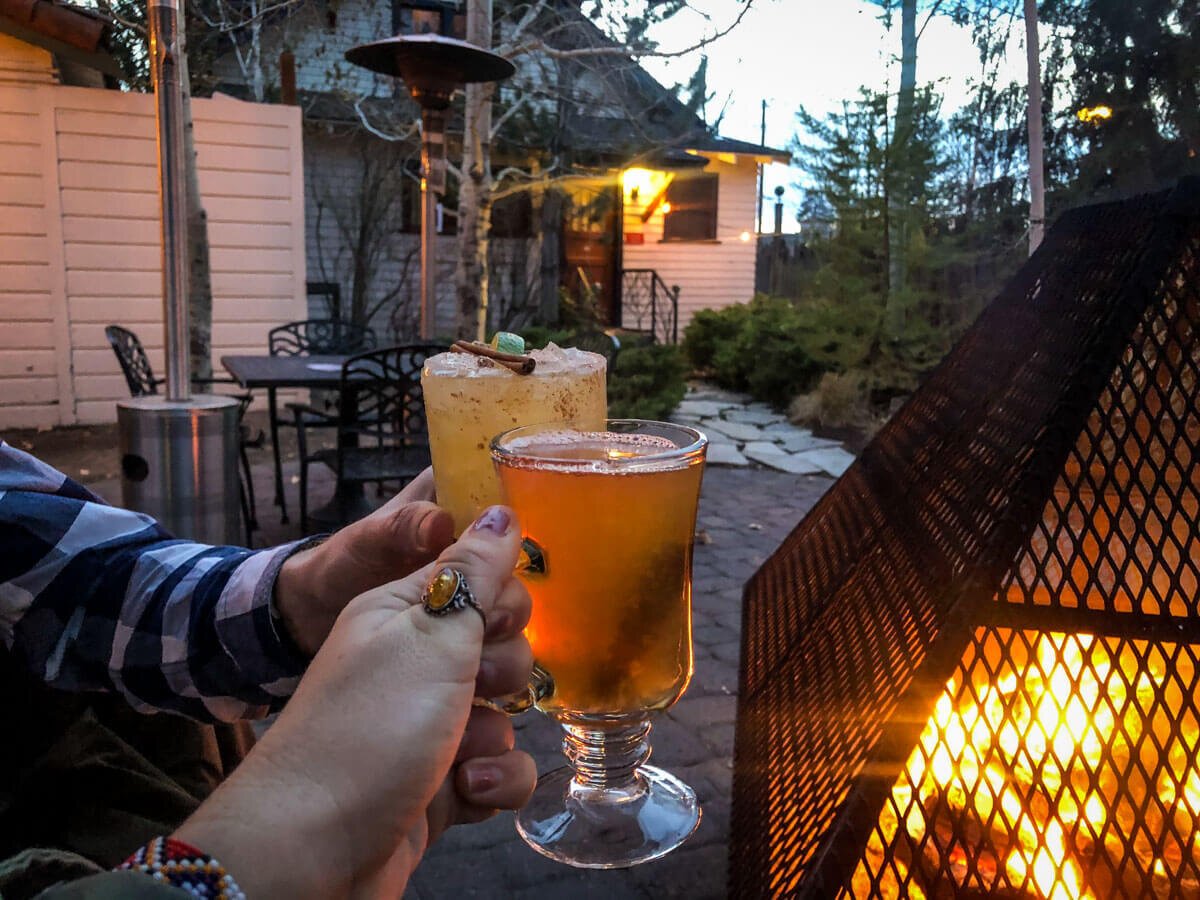 Behind the main McMenamins building, cross through a small parking lot and follow the signs for O'Keane's. Once you pass through the fence, you'll enter a secluded courtyard with fire pits, outdoor seating, and even a cozy cigar room. Grab a seat and order a cocktail or one of the beers brewed onsite at the Old St. Francis Brewery.
Try to find the Broom Closet
If you happen to find a door marked "Broom Closet", push 'er open and see what's inside! Hint: you may just be able to order a cocktail inside this "closet".
Note: This is currently closed. Keep an eye on the McMenamins website to see updates.
8. Go Mountain Biking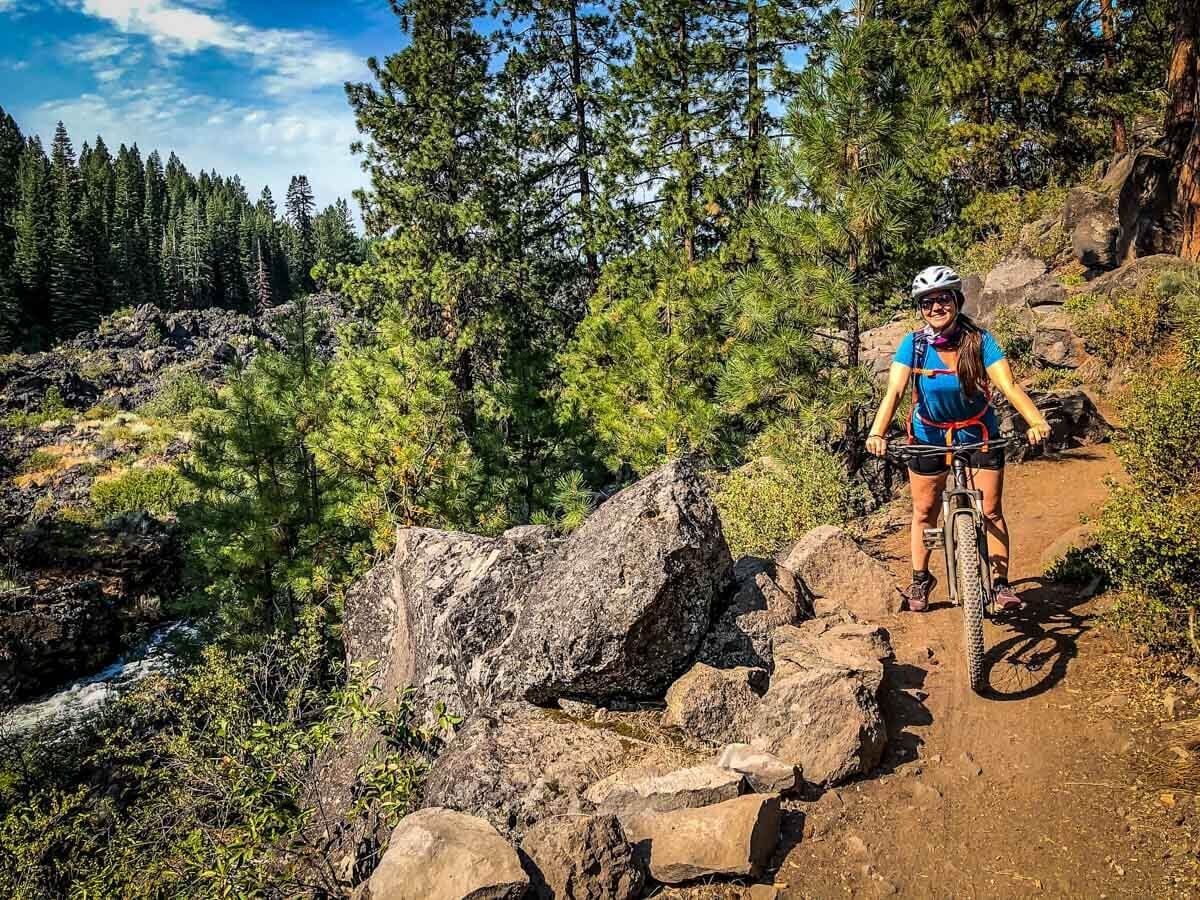 Bend is surrounded by world-class mountain biking trails – from beginner-friendly to advanced. If you don't have a bike of your own, you can rent from a handful of places in town.
Phil's Trailhead is a popular spot for accessing trails of different levels.

Shevlin Park has some really good beginner trails.

From this dog park, you can access some good beginner mountain bike trails as well.

For a real adrenaline rush, you can purchase a day pass at Mount Bachelor, which turns from ski resort into a mountain bike park during the summer months.
Insider tip: Download the app MTB Project so you know the level of the trails you're riding as well as the direction you should go.
9. Explore the nearby town of Sisters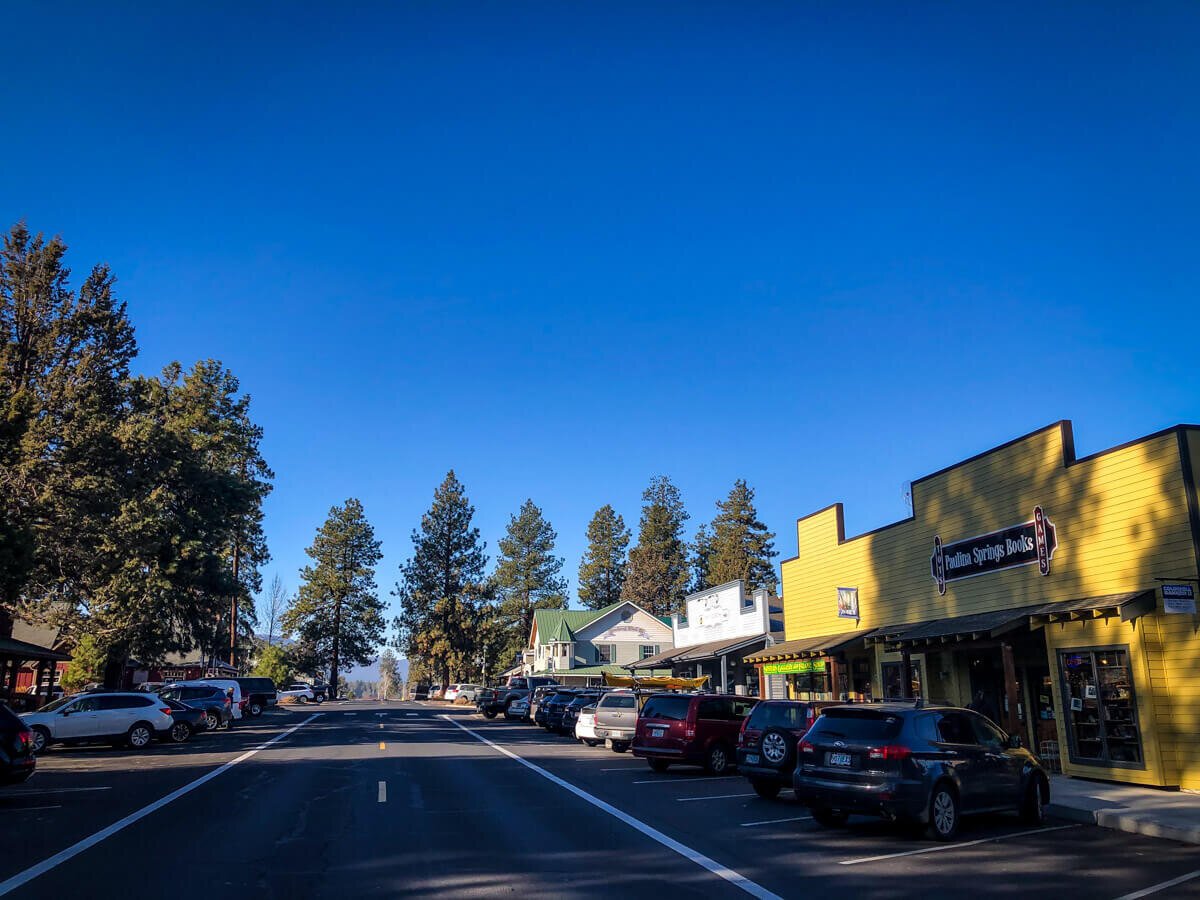 Just a 30-minute drive from Bend, nearby Sisters is worth a visit. This kitschy-cute Western-themed town can be walked from end to end in just 15 minutes.
The real draw to Sisters (after you've sufficiently explored the main street) is the nature just outside the town limits.
Things to do in and around Sisters:
Walk around downtown (it's very small) and pop into any shops that strike your fancy

Grab a coffee at Sister Coffee Company & a pastry at Sisters Bakery

Enjoy a beer at Three Creeks Brewery. We like the beer here, but we'd recommend grabbing food elsewhere.

See a movie at Sisters Movie House. This movie theater is set in a big barn, making for a fun date night. It's temporarily closed, but we're hoping it opens soon!

Go spelunking in Skylight Cave (more info below!)

Go mountain biking on the nearby trails (Peterson Ridge is closest to town).

Hike to the Whychus Creek Overlook. The trailhead is a short 10-minute drive from town.
Places to eat in Sisters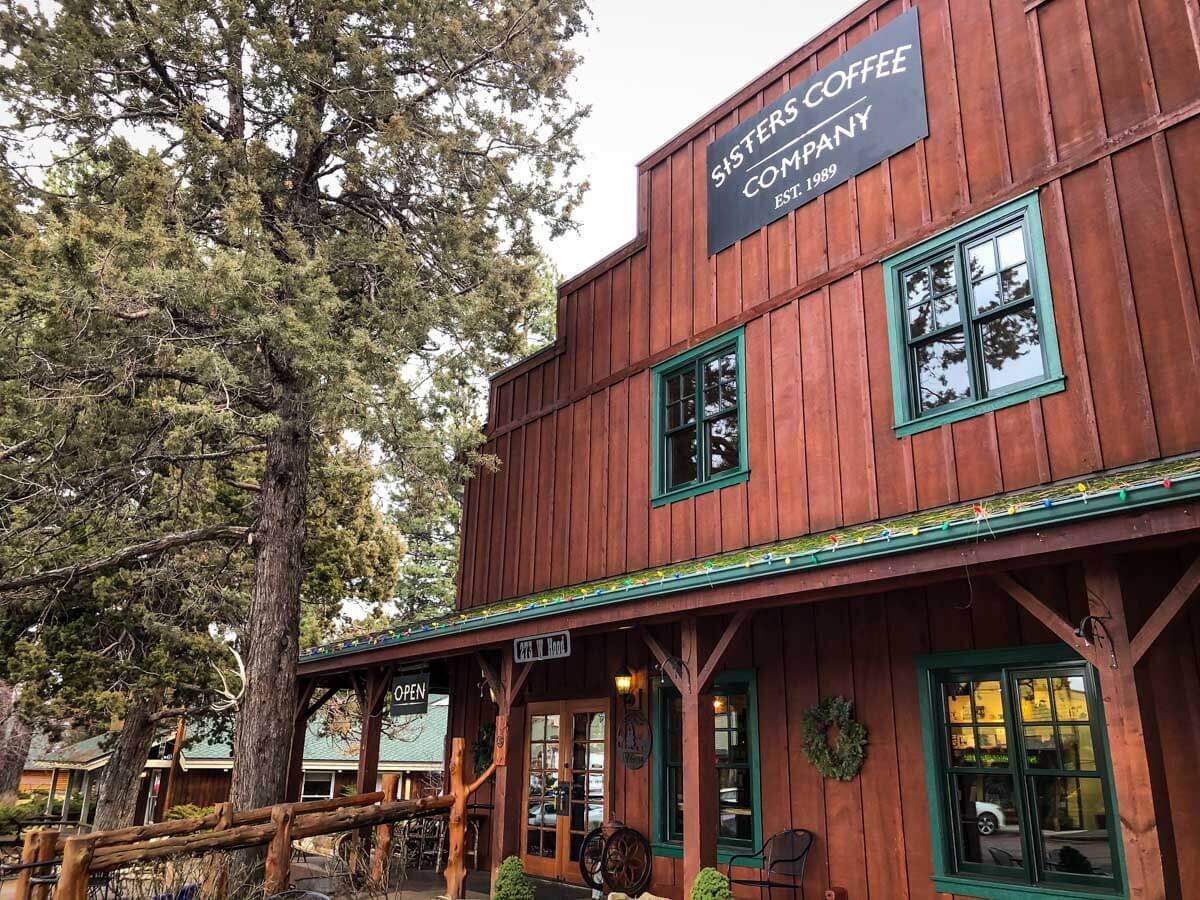 There are several cute cafes and restaurants in Sisters if you need a bite. Here are some of our favorites:
Sisters Bakery: Tiny little bakery off of the main street has excellent baked items. We love the marionberry coffee cafe, ham and gruyere croissant, and their cookies (molasses and butter cookies are our faves!).

Angeline's Bakery & Cafe: For more hearty morning options, like breakfast burritos and breakfast sandwiches, Angeline's is a good choice.

Sisters Coffee Company: This place is super popular and seems to always have a line. The interior is an impressive barn slash cozy cabin, the coffee is excellent and they have lots of pastry options as well as a small breakfast and lunch menu.

Sisters Meat & Smokehouse: This butcher shop and eatery has some pretty excellent sandwich options. We loved the tri-tip sandwich, but they also have smoked turkey, Reuben, brats, French dip, and more!

The Open Door: A good choice for sitting down for a proper lunch or early dinner in a cute outdoor setting.

Boone Dog Pizza: We've never been but have heard great things about this local pizza joint.
Psst! If you're in the area during early June, you may stumble upon Sisters Rodeo which takes place each year and draws in huge crowds. It's lovingly called "The Biggest Little Show in the World".
10. Go underground at Skylight Cave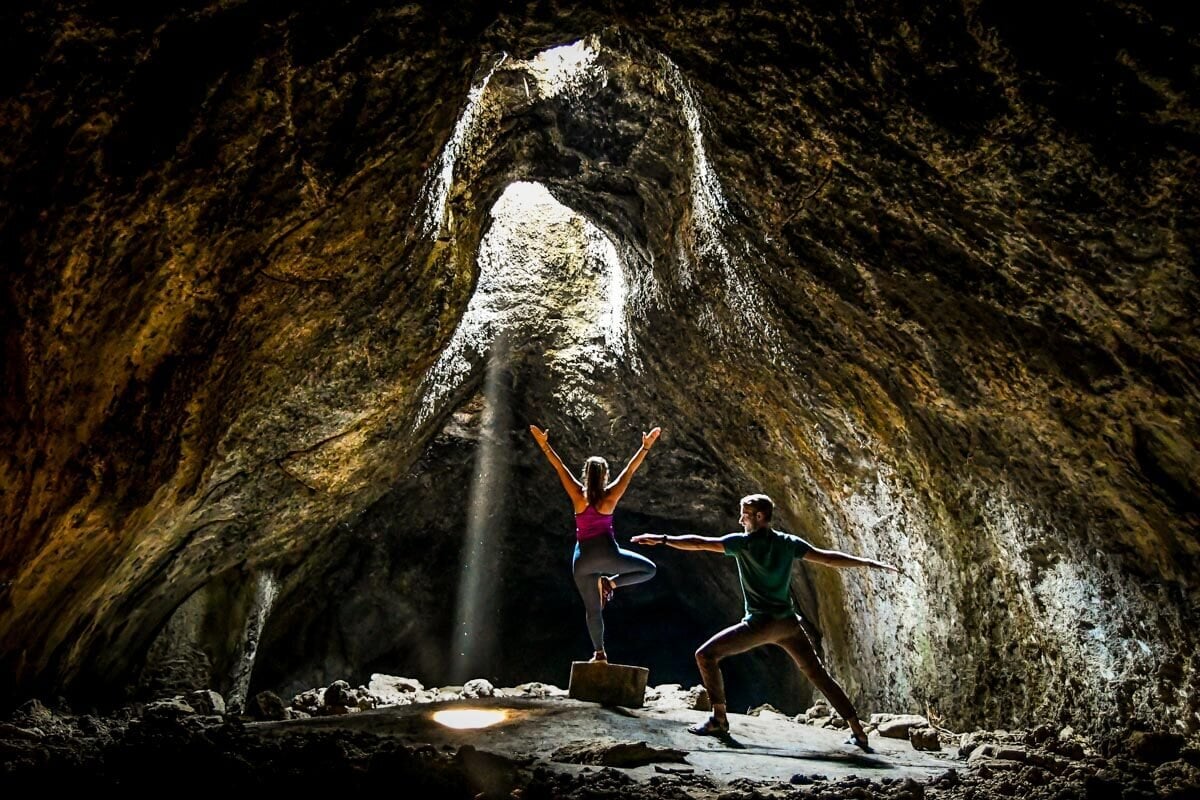 This cave is just outside of Sisters and is quite a sight to behold. Descend a metal ladder into what seems to be a pretty typical cave, but you'll be rewarded with 3 beams of light shooting through the cave's "ceiling".
In order to see this phenomenon, you must visit in the morning on a sunny day, as the light only streams in when the sun is at a certain position in the sky.
We wrote an entire guide to visiting Skylight Cave on our sister site, including exactly how to get there and tips to know before you go.
More caves in the area
If you're looking for a cave that's a bit easier to reach, you're in luck because there are plenty around Bend.
Boyd Cave is another semi-secret one that is just southeast of Bend.

There are a couple of other caves (Skeleton Cave and Arnold Ice Cave) in that general vicinity.

Another option is to visit Lava River Cave (#20 on this list), which is the most built up in the area, as it's part of the Newberry National Monument.
11. Get a view over the town from Pilot Butte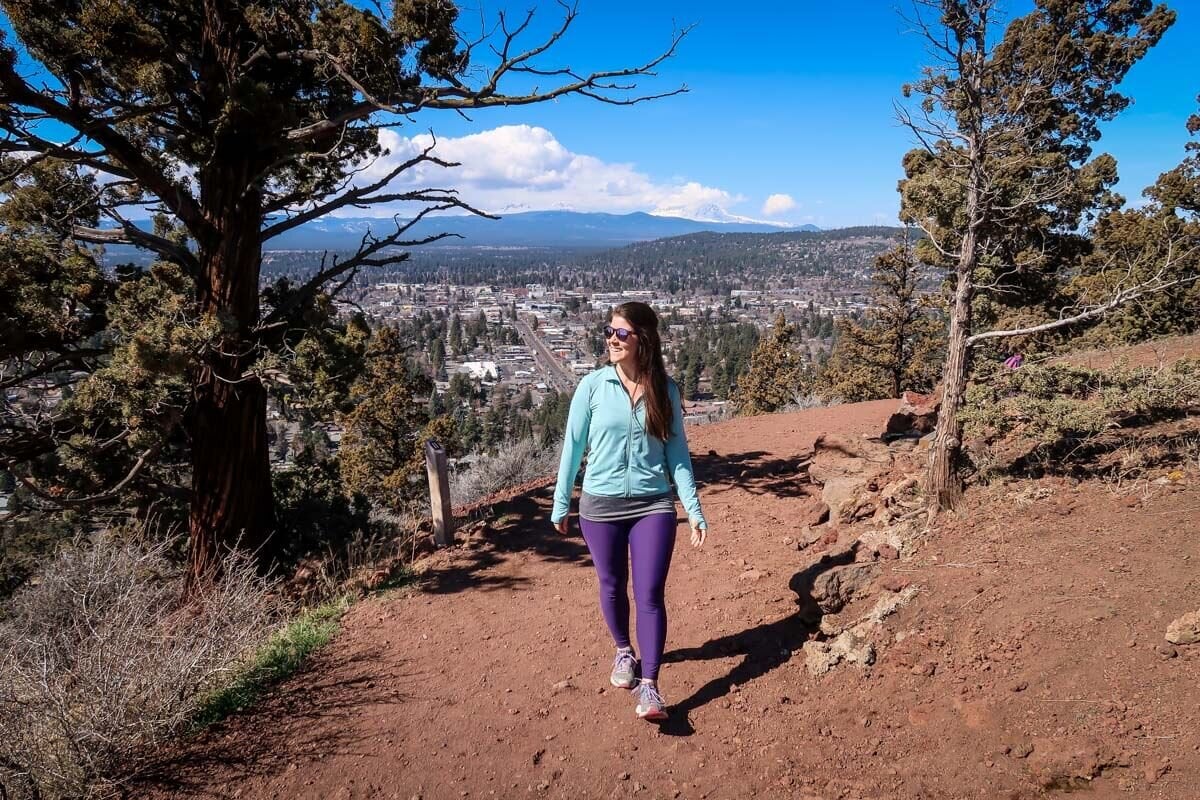 You don't have to scan the horizon for very long before you'll see a curved hump looming in the near distance. Allow us to introduce Pilot Butte.
While it may look like an unassuming hill protruding from nowhere, this is actually a nearly 500-foot lava dome that was formed by an extinct volcano.
Today, it is a state park and a popular place for locals to get some exercise, but this cinder dome was once used as a place for the Native peoples to spot wildlife, and later as a navigation point for settlers in covered wagons as they crossed the Deschutes River. It's easy to see why, as you can spot this landmark from just about anywhere in town which can be a handy way of getting your bearings.
Compared to the Three Sisters range, Pilot Butte looks rather puny, but hiking (or driving) to the top will offer panoramic views over town with nine snow-capped peaks looming in the distance.
How to get to the top:
During the summer months, it is possible to drive to the top. This road is closed during the winter months.

Hike the paved 1-mile trail (shared with cars) to the top.

Hike the steeper but more peaceful gravel nature trail to the top.
12. Float on the Deschutes River in a tube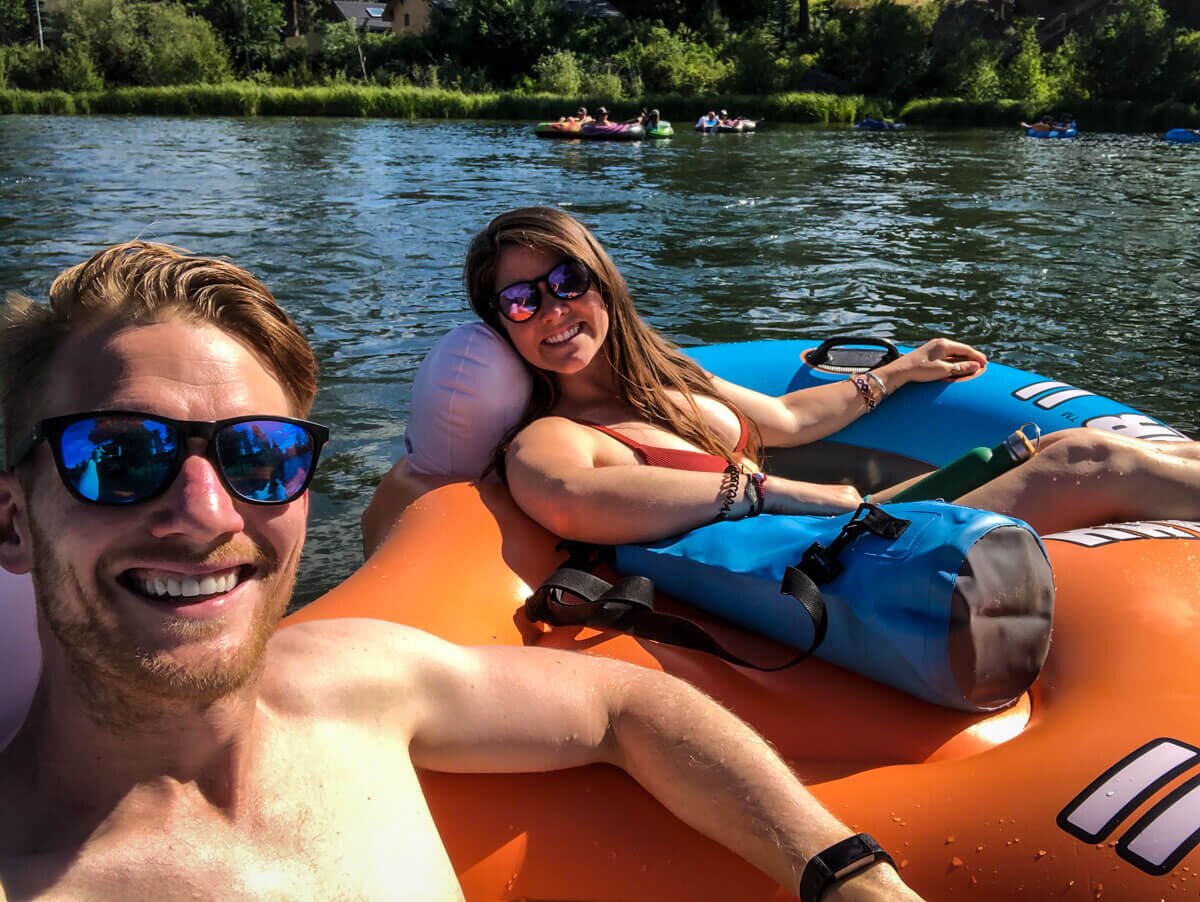 If you're visiting Bend during the summer months, floating on the Deschutes is the thing to do! In fact, it's one of our favorite things to do in Oregon.
On a hot summer's day, take one look on the river and you'll likely see it crowded with people on brightly colored tubes or SUPs making their way leisurely down the river.
If you're visiting from out of town, it can be a little confusing trying to figure out where to put in and where to get out, so we put together a handy guide to floating the Deschutes River with everything you need to know including where to put in, shuttle service recommendations and how to get yourself a tube.
Good to know: There are shuttle services and tube rentals during the summer months.
13. SUP on the Deschutes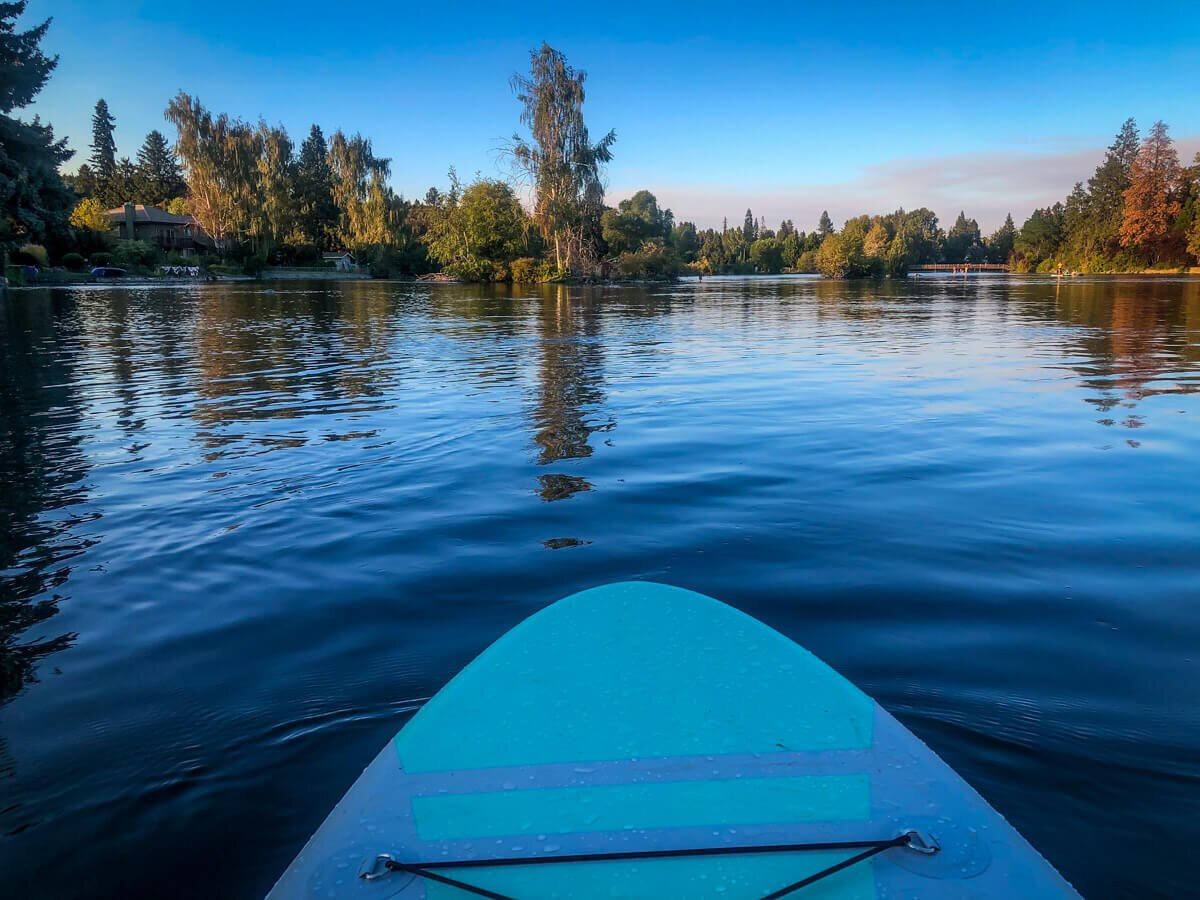 If you're looking for another way to experience the river, a stand up paddle board is a good option. It's a little more work than laying back in a tube and letting the river carry you along, but with a paddle, you can navigate both upstream and downstream.
If you don't have a SUP of your own, you can rent one from most of the outfitters in town. Just search for a canoe or kayak rental and they should have SUPs as well.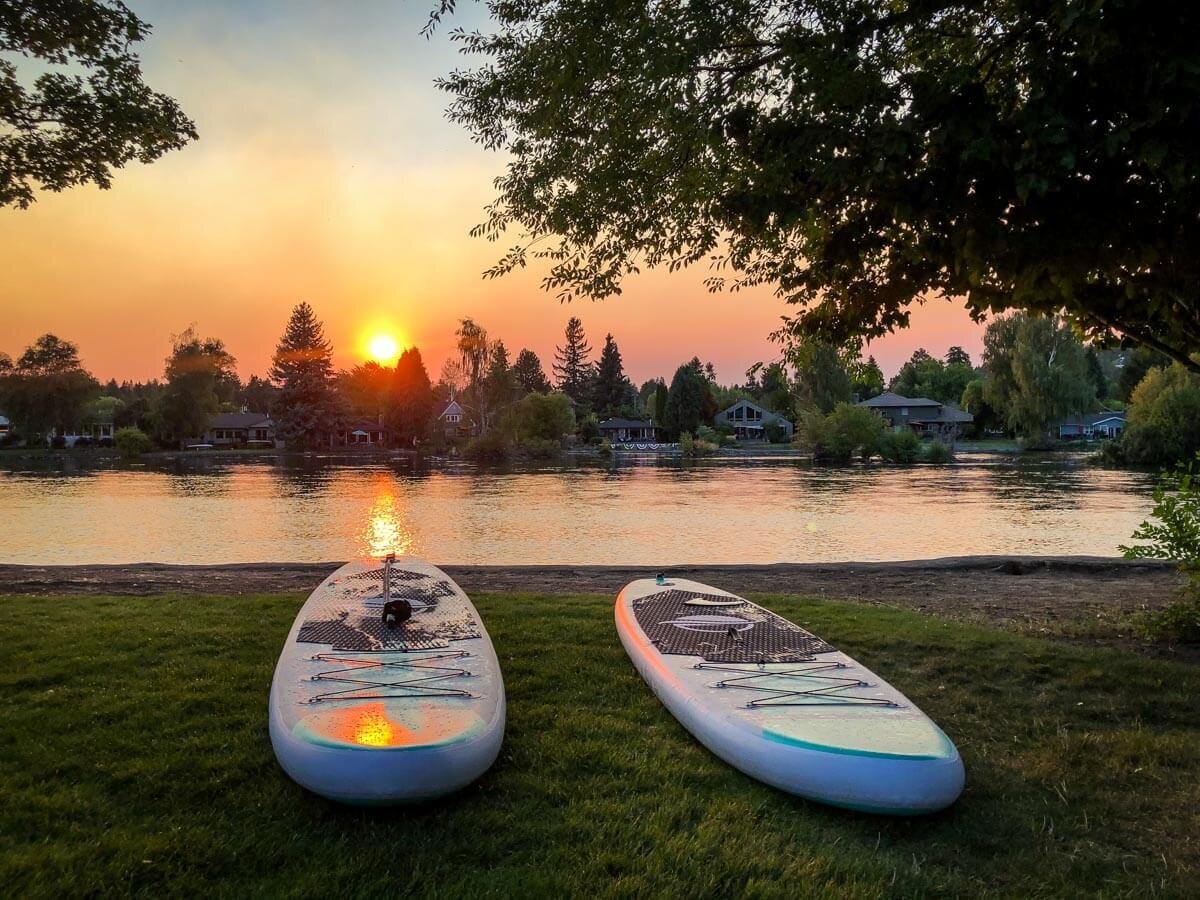 Debating between a SUP and a tube?
Personally, we prefer going tubing midday when the river is more crowded and going SUP-ing in the morning or evening hours when there are fewer people to steer around.
You can also SUP for a longer period of the year as you won't get soaking wet (hopefully!). Tubing, on the other hand, is really only possible from mid-June through mid-September.
Still unsure? We'd recommend a tube if you want to relax, have a drink and float with the crowds. Alternatively, if you don't mind a bit more work, SUPS are pretty fun!
14. Watch the River Surfers at the whitewater park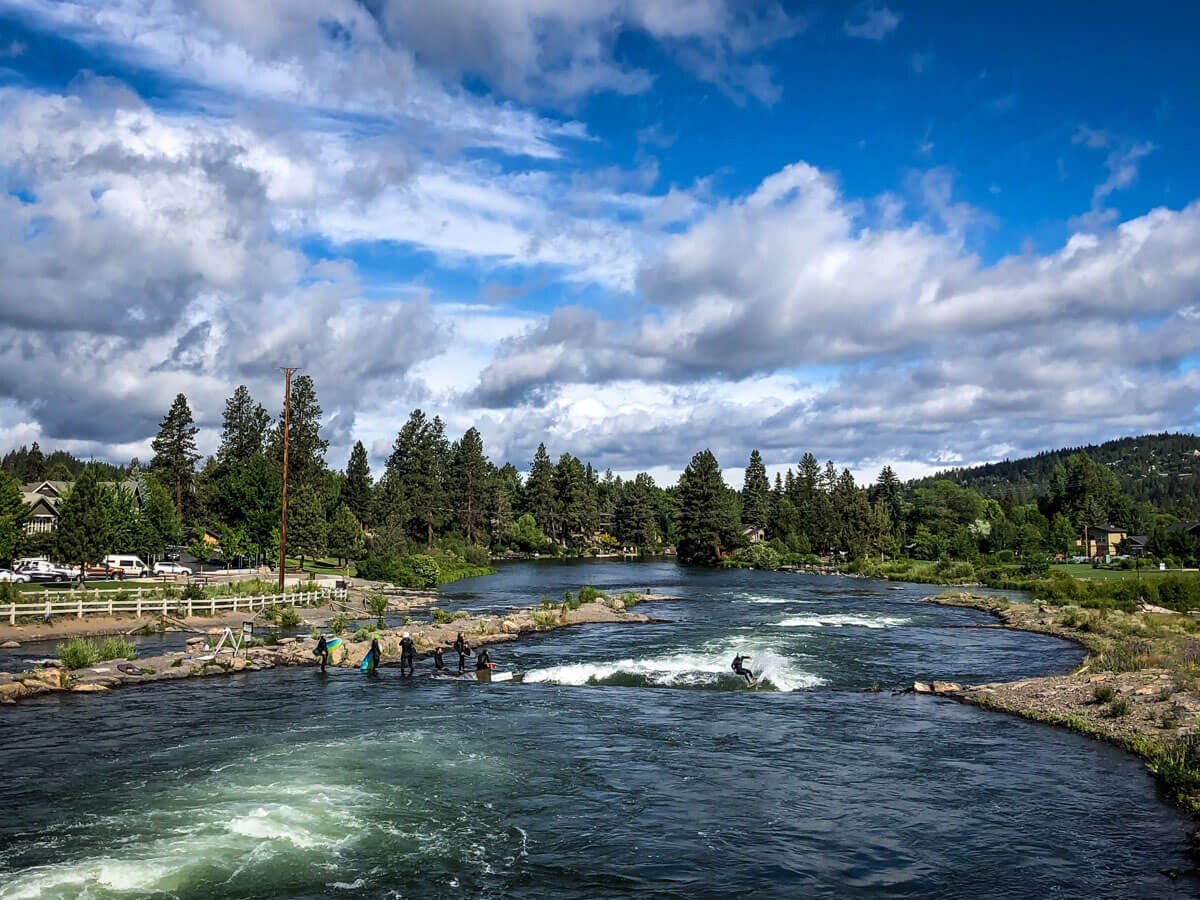 If getting on the river doesn't sound like your cup of tea, we'd still recommend making your way down to Miller's Park to watch the river surfers. It's pretty entertaining to watch them queue up next to the man-made swell and watch them rip one by one.
The cool thing about the river surfers is you'll find them at the whitewater park nearly all year long – morning, noon and evening.
15. Catch Live music at Les Schwab Amphitheater
We're obsessed with live music, and lucky for us, Bend is home to Oregon's largest outdoor music venue. Situated on the banks of the Deschutes, Les Schwab Amphitheater can accommodate 8,000 people.
After a show we had booked was canceled (#2020), we've been waiting to experience this venue for ourselves for well over a year and can't wait to finally check it out in September!
Good to know: Disposable water bottles are not sold at this venue. Instead, bring an empty reusable bottle and fill from the free water station inside. How cool is that?! You can also purchase a reusable sili pint inside for beer, wine or cocktails.
For the concert lineups and information on what you can and cannot bring inside the venue, check out the official website.
Didn't get tickets to a show? No worries, Bend has a pretty fantastic music scene, and you'll likely be able to catch live performances just about any night of the week. Check Facebook for events near Bend, or just wander around town and keep your ears open!
16. Take a day trip to the Cascade Lakes Highway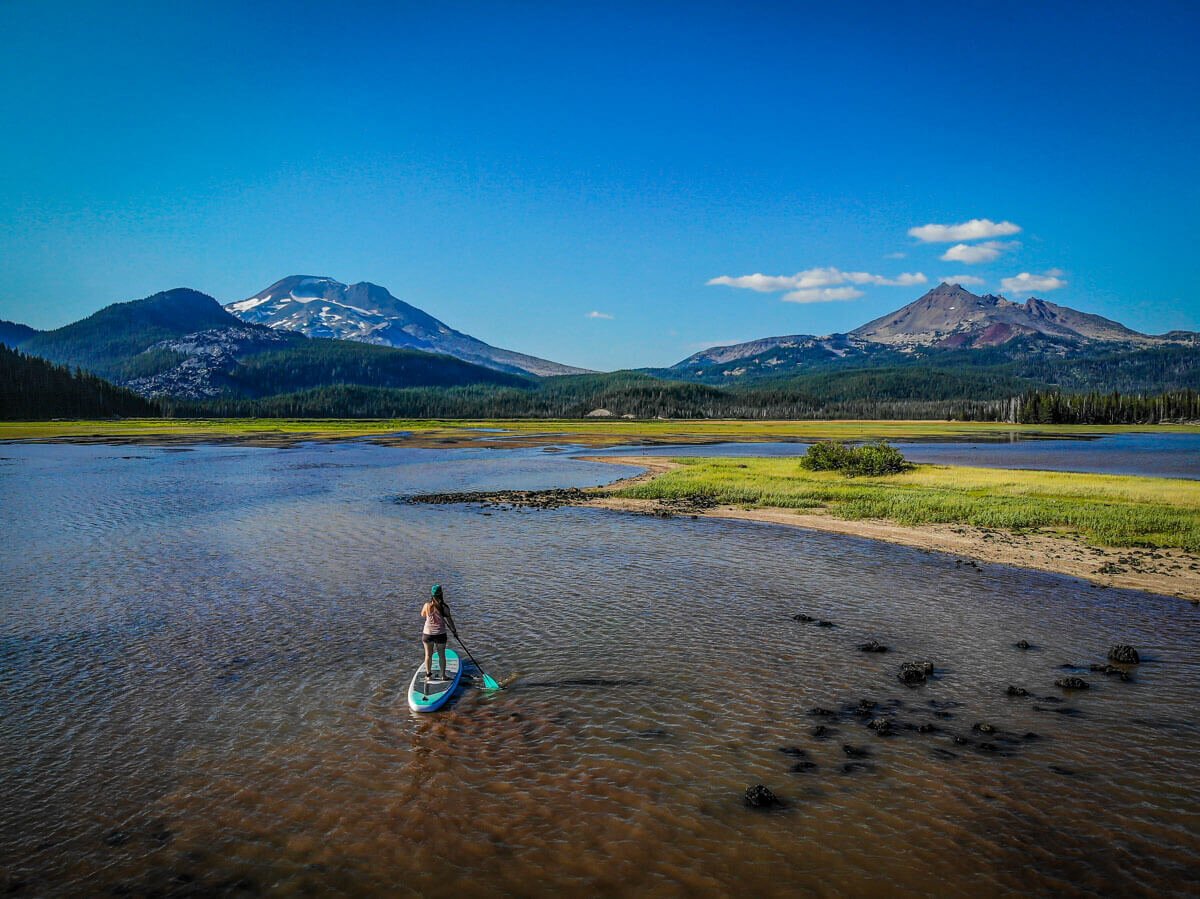 One of Bend's biggest draws is you don't have to drive very far out of town to feel like you're a world away from city life. One of the best places to get away from it all is along the Cascade Lakes Highway, which is a seasonally open highway just past Mount Bachelor.
This two-lane highway winds and turns through the mountains and is the starting point for many adventures. If you're into hiking (check out #1 on this list), you'll find many-a-hikes along this stretch of road. And like its name implies, this highway passes by plenty of lakes, making it a magical day trip from town.
Try to hop around to as many lakes as possible or pick one to hunker down at and soak it all in. Pack a picnic lunch, a hammock, your hiking boots, and maybe even a SUP or kayak for a perfect summer day.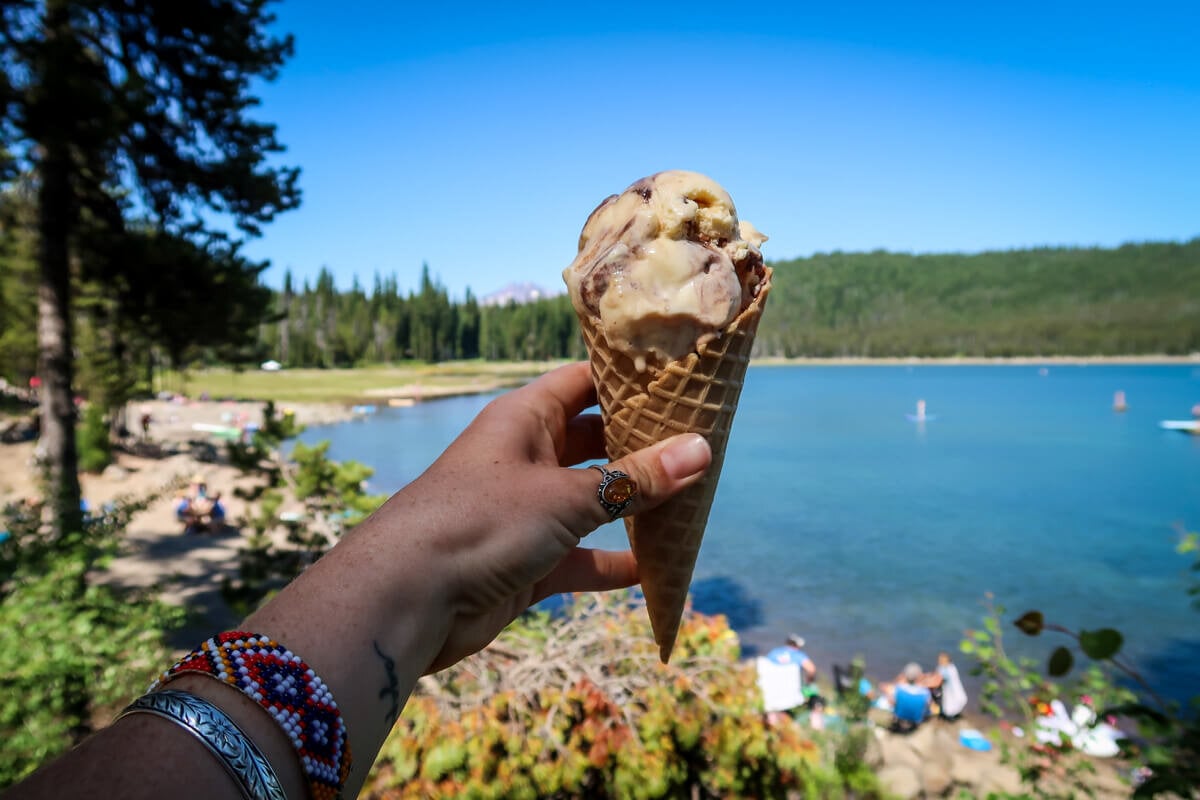 Sparks Lake: Possibly the most pictured lake on this stretch of road, Sparks Lake is a beauty. Flanked by snowcapped peaks, this lake is popular for kayakers and paddle boarders. Beware that it can get extremely shallow during the later part of the summer months. There's also an easy loop trail that you can walk near the lake if you don't want to get on the water.

Todd Lake: This small lake is surrounded by lush green forest, and has lots of shaded day-use spots for setting up a hammock or having a picnic. There is a nice flat path along the shore.

Devils Lake: Shockingly turquoise waters make stopping at this tiny lake just beside the highway for a few minutes a must. Snap a picture and continue on, or set up a hammock or hop into the shallow waters for a refreshing dip or a relaxing float.

Elk Lake: Elk Lake is by far the most built-up lake along this drive. There are boats docked on the water's edge, making it quite different than any of the other more rustic bodies of water nearby. There is a lodge onsite that has food and drink options, an ice cream stand, and live music at 5 p.m. on Saturdays during the summer. Check out the lineup on their website.
17. Visit Smith Rock State Park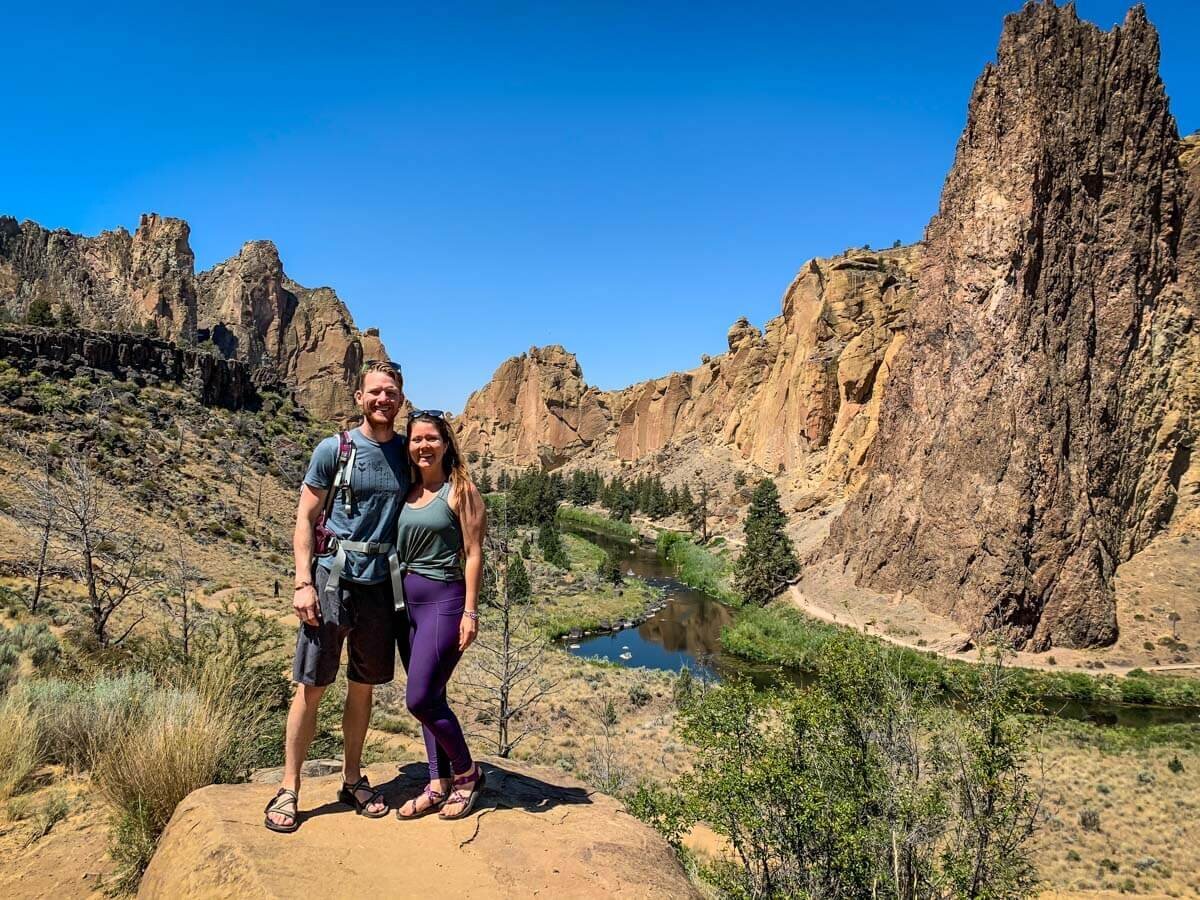 Named one of the 7 wonders of Oregon by the Oregon Tourism Board, Smith Rock is well worth a visit during a trip to Bend. With sheer basalt cliffs jutting up into the sky beside a tranquil river, this impressive state park is almost reminiscent of a small version of Zion. We've been to Smith several times and still are wowed by this place.
Renowned worldwide for its excellent and varied rock climbing, this state park draws climbers from all over the United States (and even the globe). Smith Rock has more than 1,800 climbing routes, making it popular for beginners and experts alike.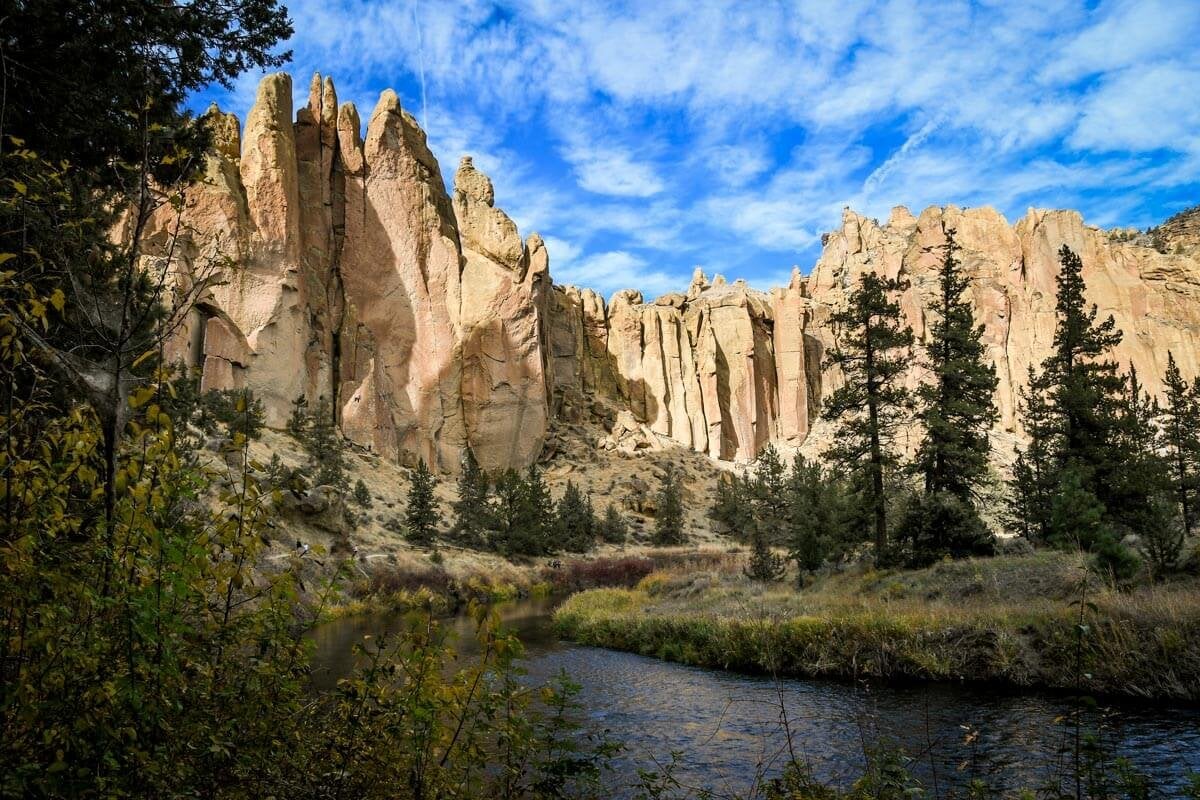 The most iconic view in the park is a rock formation known as Monkey Face. This thin 350-foot rock spire with a bulbous tip is the kind of formation that makes you scratch your head and wonder, "How did it get like that?" and also, "How does it not collapse?!".
If you look closely at the top of this formation from the right angle, you can, in fact, make out the distinctive head of a monkey. And if you squint your eyes, you may even see climbers taking a break in the "mouth" before ascending to the very top of the "head".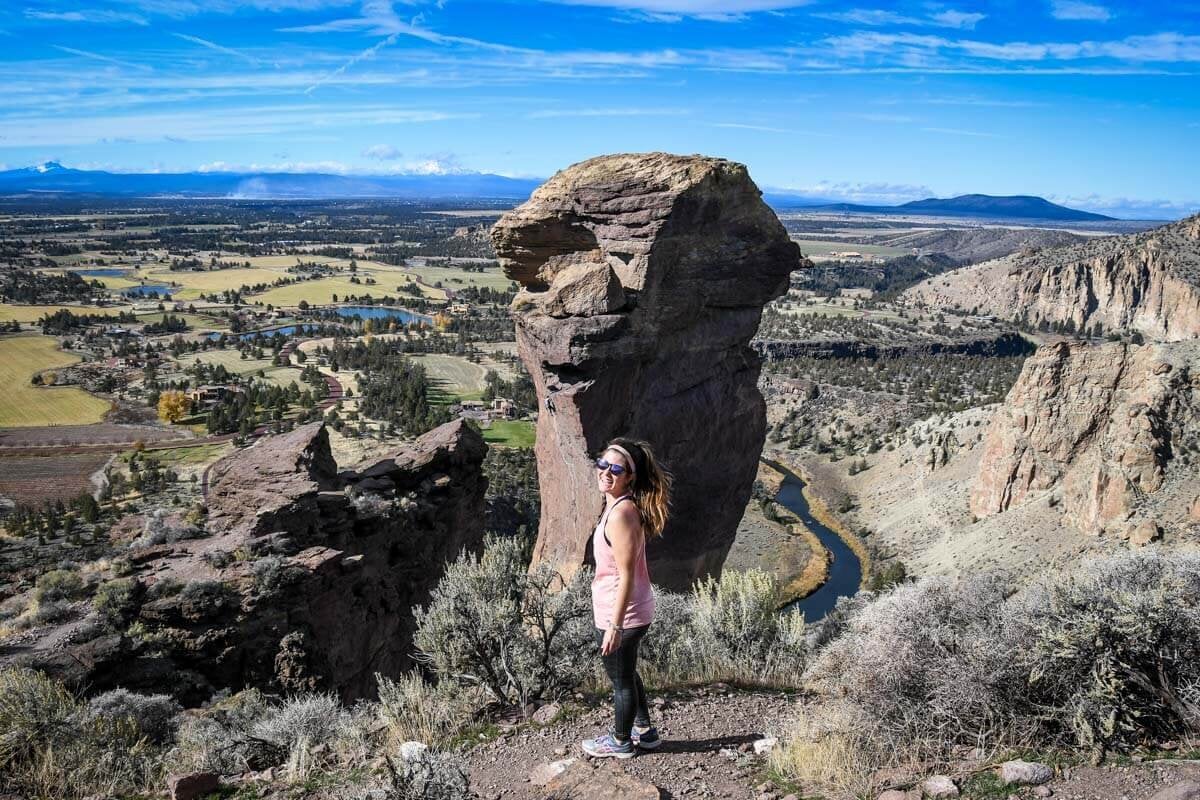 Traveling around the state? Another great place for adventure in Oregon is Silver Falls State Park, where you'll find hikes for everyone from experienced hikers to families looking for a short day hike.
Even if you're not into rock climbing, Smith is well worth a visit, as there are easy walking paths and more difficult hiking trails. And after working up a sweat, enjoy a picnic lunch at one of the tables near the parking lot that offers sweeping views over the park.
Crooked River Trail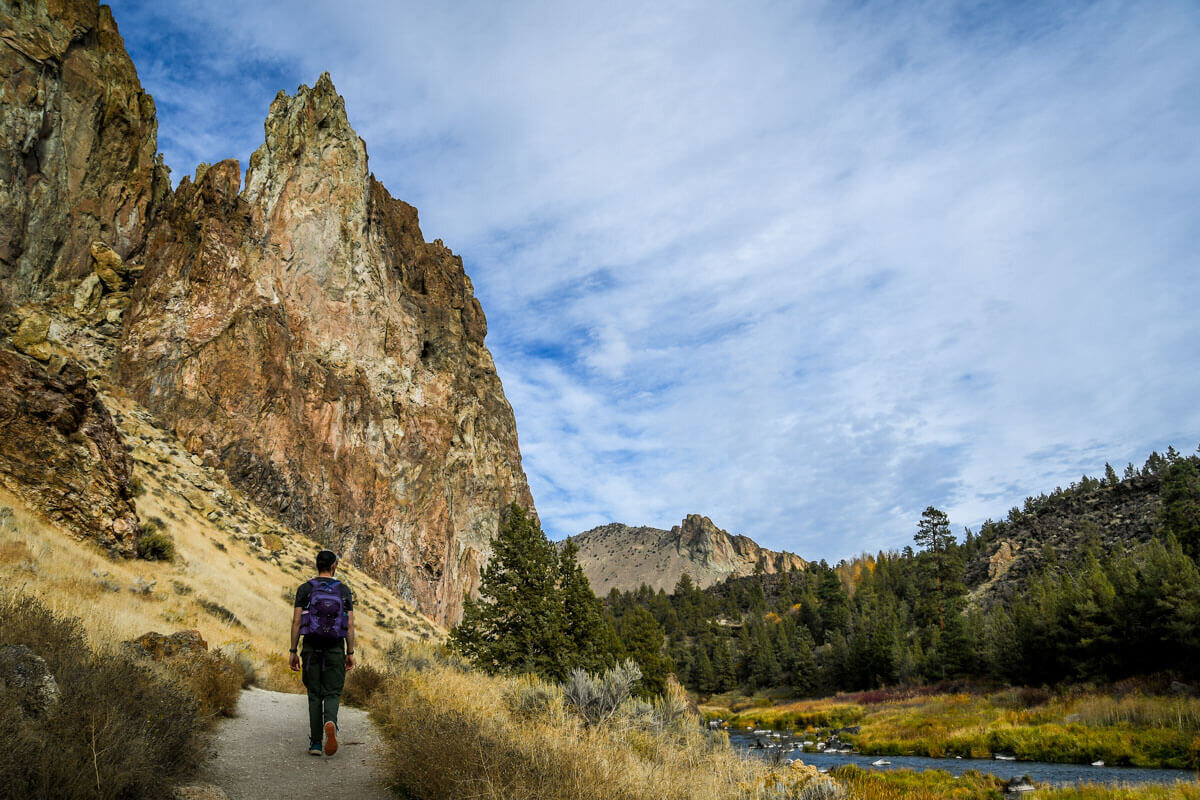 easy, flat hike

4.5-mile out and back

321-foot elevation gain
Follow alongside Crooked River, which truly lives up to its name. Pass by desert sage and listen to birdsong as you wind your way beside cliffs to one side and river to the other. Turn around when you get tired, or make it all the way to Monkey Face rock formation.
Good to know: The only real elevation gain/loss on this trail is at the very beginning of the hike. From the parking lot, you will descend down a steep path, and at the end you'll need to climb up this stretch to finish.
Misery Ridge and Summit Trail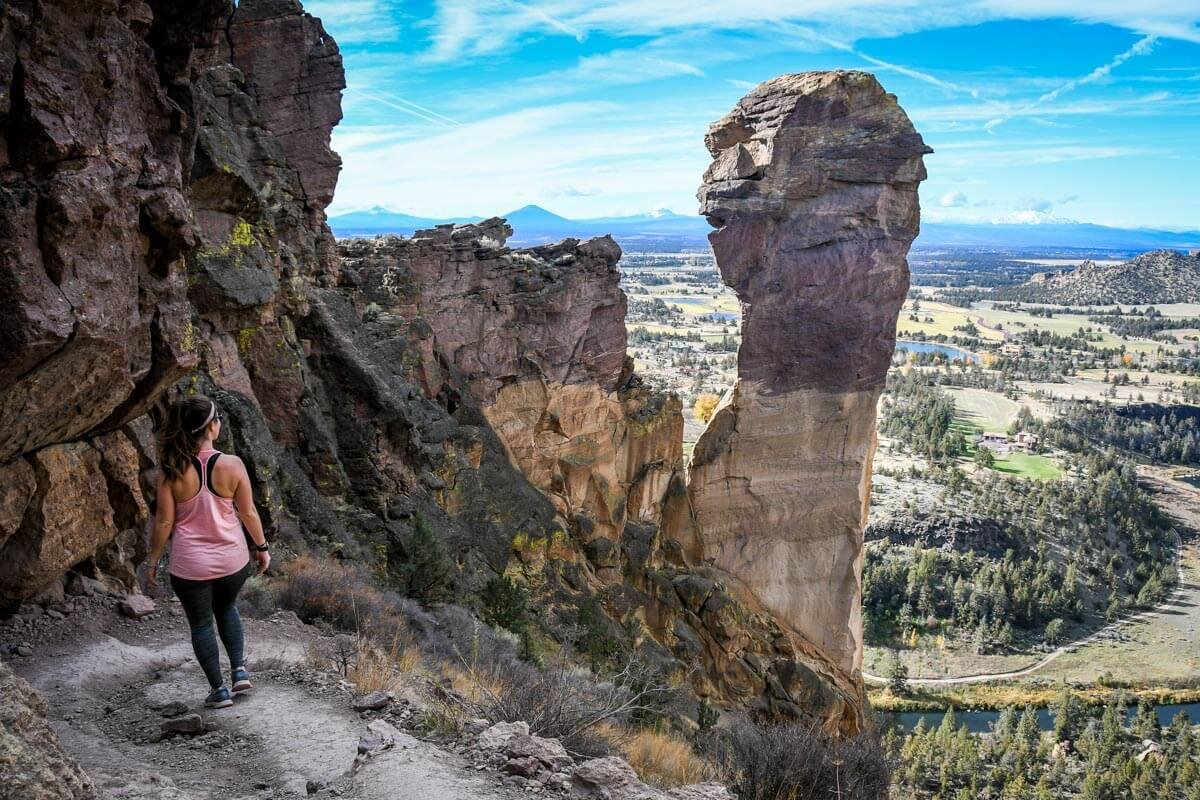 more challenging trail

6-mile loop

1,774-foot elevation gain
This is a hike that'll get your heart pumping, but it offers some incredible views over the river and cliffs. Finish the loop along the Crooked River Trail for an easy way to wind down.
Insider Tip: If you plan to spend some time hiking around Smith Rock, be sure to have proper sun protection, as there is little cover from the high desert sun.
18. Explore one of the Farmers Market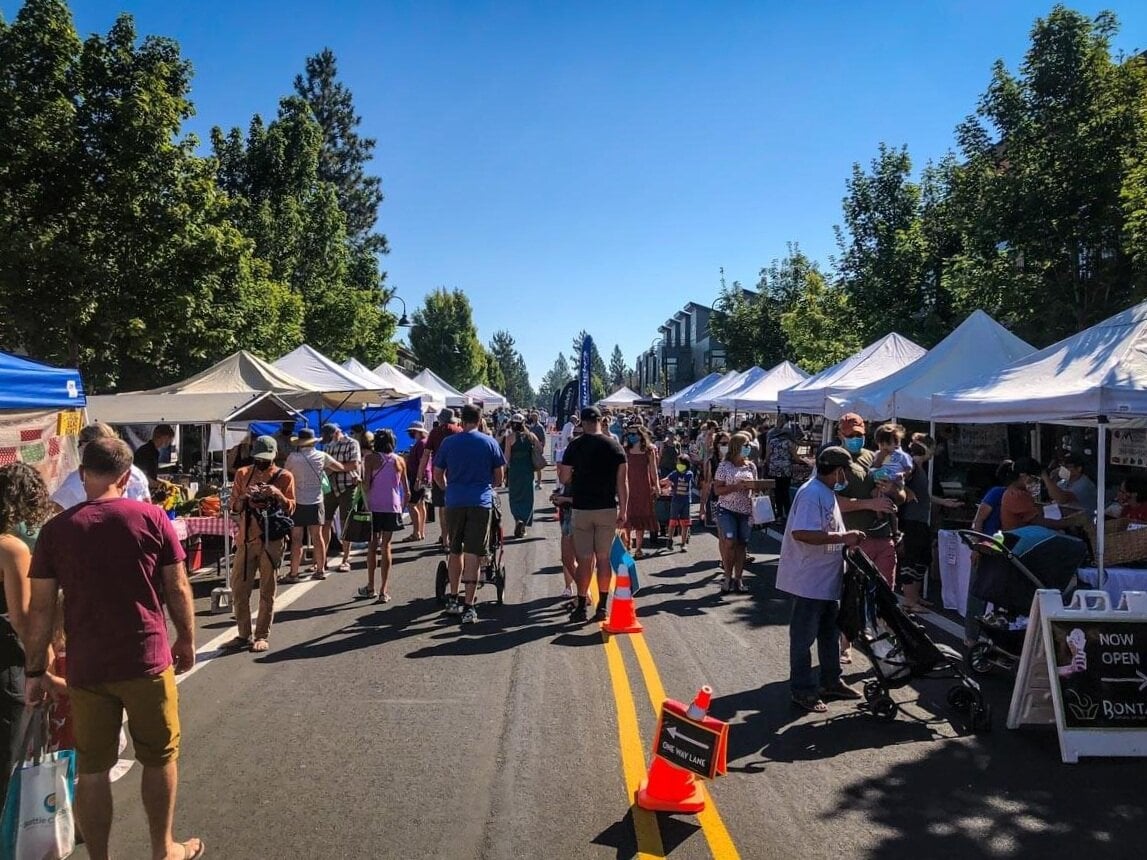 During the summer months, there are a couple of different farmer's markets in town.
Wednesdays: You'll find the pedestrian street parallel with Wall Street full of vendors for a small market of mostly produce stalls and a few food stands.

Saturdays: The NorthWest Crossing district plays host to a much larger market. The streets are closed off and completely transformed for produce vendors, artisans, and food stalls. There's also typically live music and a pretty lively atmosphere.
19. Visit Tumalo Falls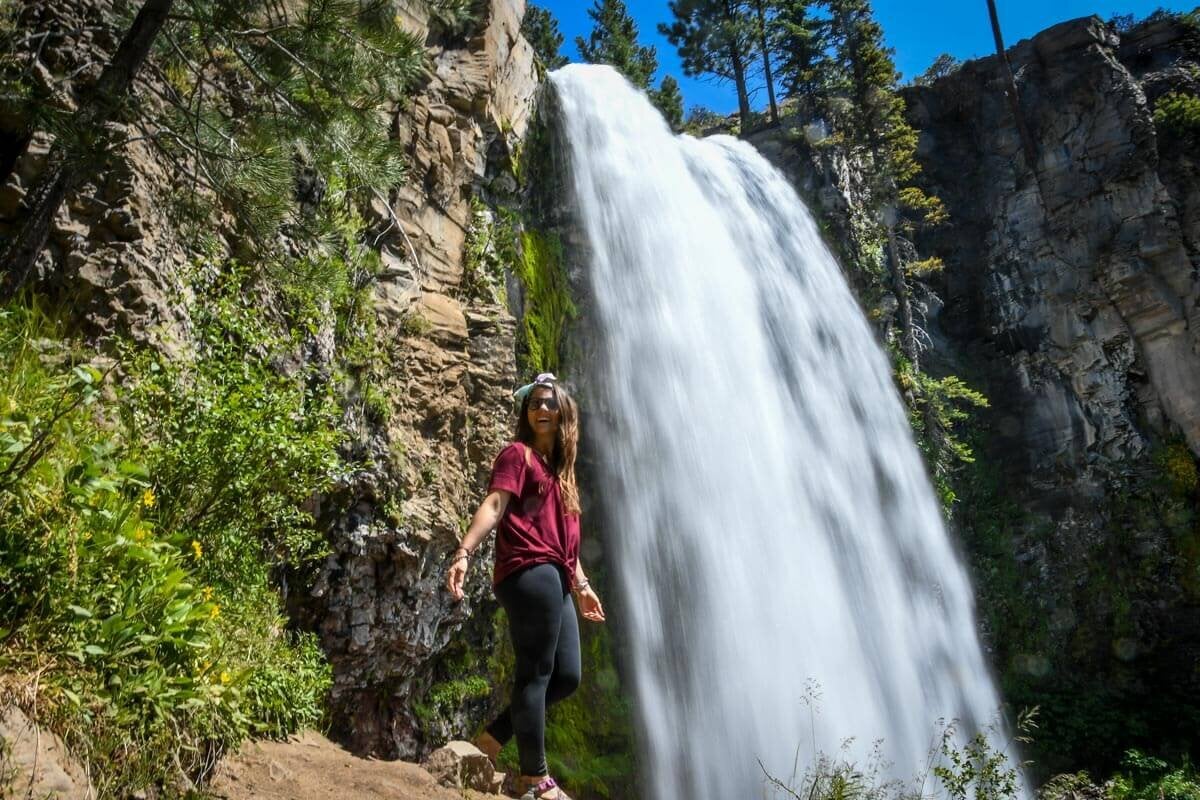 Oregon has a pretty incredible collection of waterfalls, and if you're visiting from out of state you'll definitely want to make time to see at least one of them. The closest waterfall to Bend is Tumalo Falls, and it is quite accessible.
We wrote a guide with everything you need to know about visiting Tumalo Falls on our sister site. Be sure to read up on it, as the best view is from a somewhat hidden trail!
Good to know: You'll likely lose cell signal on the drive to these waterfalls, so it's a good idea to download the offline version of Google Maps so you don't get lost.
20. Explore Lava River Cave with a lantern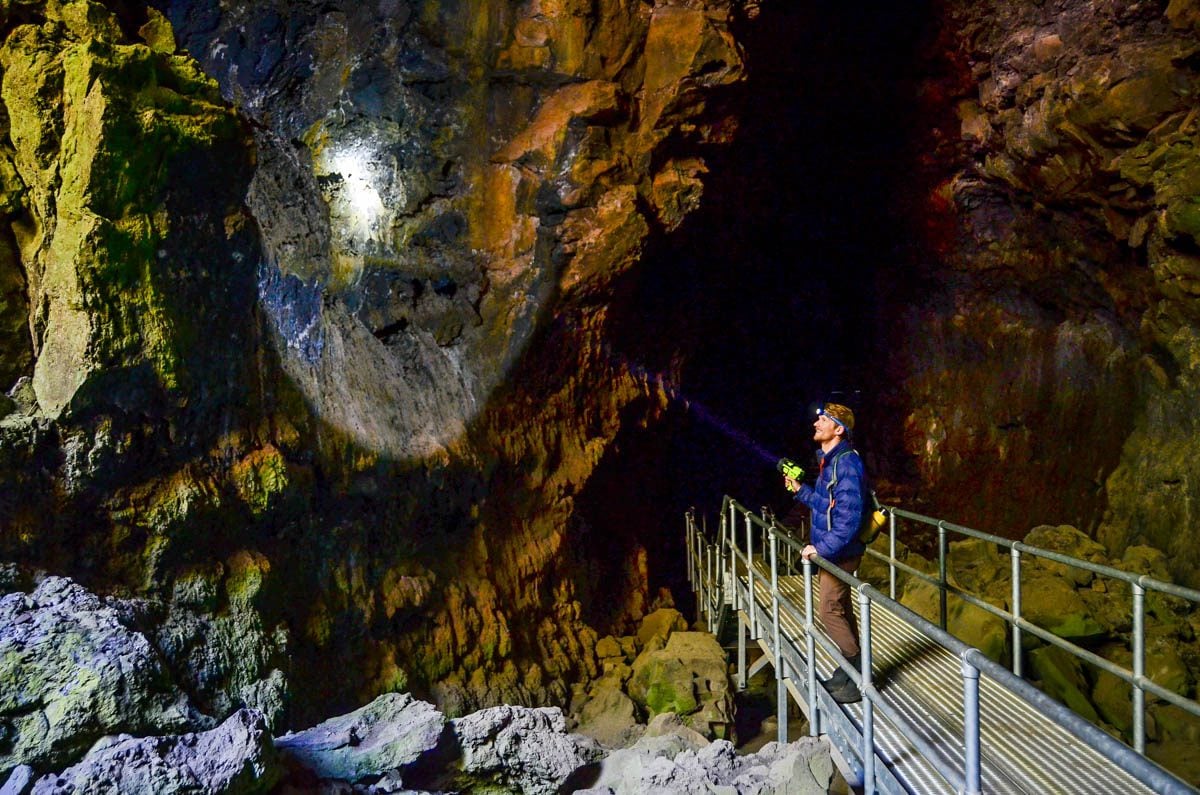 Just a 20-minute drive from town is the largest lava tube in the state of Oregon, and it makes a really fun adventure!
What is a lava tube, you ask? Great question (I didn't quite know either!). Essentially, it is a long cave-like passageway that is formed when lava tunnels underground.
Planning your visit
What should I expect inside the cave?
This is a self-guided cave, so you'll explore at your own pace. There are some metal pathways and stairs at the beginning of the cave, but as you get deeper inside, you'll be walking on the ground. It is pretty level the whole way, and pretty spacious (for a cave) for the majority of the walk. At the most narrow point, I had to watch my head a bit (I am 5'4"), but that didn't last too long.
It's also worth noting that unlike most traditional caves, you won't see stalactites or stalagmites inside. Instead, you can see the layers in the tunnel walls where the lava flowed.
Cost: There is a $5 parking fee, or if you have a National Park Pass, display it on your dashboard and your visit is free (this is a National Monument and is covered in the America the Beautiful pass). Other than the parking fee, it is free to enter the cave and explore.
How much time do you need?
We'd recommend planning on spending 1 – 1.5 hours here. Currently, they are limiting the number of cars allowed in the parking lot, so if you arrive and the gate is closed, wait for a bit and they will likely open it (this happened to us). The rangers told us they try to open it every 20-30 minutes, or as enough guests leave.
In addition to potentially having to wait to park, it is required that you do a short 15-minute orientation to get more information about the cave system. Much of this orientation was focused on the bats that live inside and how we (as visitors) can protect them.
Good to know: If you've visited any other caves with the shoes you're wearing, it is suggested that you wear rubber boot coverings (provided free of charge). This helps to prevent the spread of a disease that is deadly to the bats that call this cave home.
Lantern Rental: At the cave entrance, there is a small building from which you can rent lanterns (which are more like super powerful flashlights). They cost $5 and require that you leave your keys with them as insurance you'll return it. It is not required that you rent a lantern, but we would highly recommend it. We brought headlamps so we thought we wouldn't need them. However, we got just a short distance into the cave and realized it was really difficult to see much of anything besides the path, so we returned and rented one lantern between the two fo us. We're really happy we did!
Is this family-friendly?
Yes! We saw people of all ages inside the cave (including lots of families with small children).
21. Sample mini cocktails
If you're more of a fan of spirits than beer, Crater Lake Distillery is worth a visit. They have a location downtown as well as on the way to Sisters (we'd recommend this location). They are known for their free mini cocktail samples, where they whip up delicious concoctions for you to try.
There are two locations: the downtown tasting room and the distillery, which is located in Tumalo – about 15 minutes from downtown.
Sample any mini cocktails that strike your fancy, like a cocoa puff martini, a rye chai, rosemary greyhound, lavender lemonade, thin mint shots, and many more!
Have more time in Oregon? By the way, if you're on a longer road trip and have the time, Crater Lake National Park (after which the distillery is named) is one of the best places to see in Oregon, and is worth a spot on your itinerary.
22. Eat your way through the food truck pods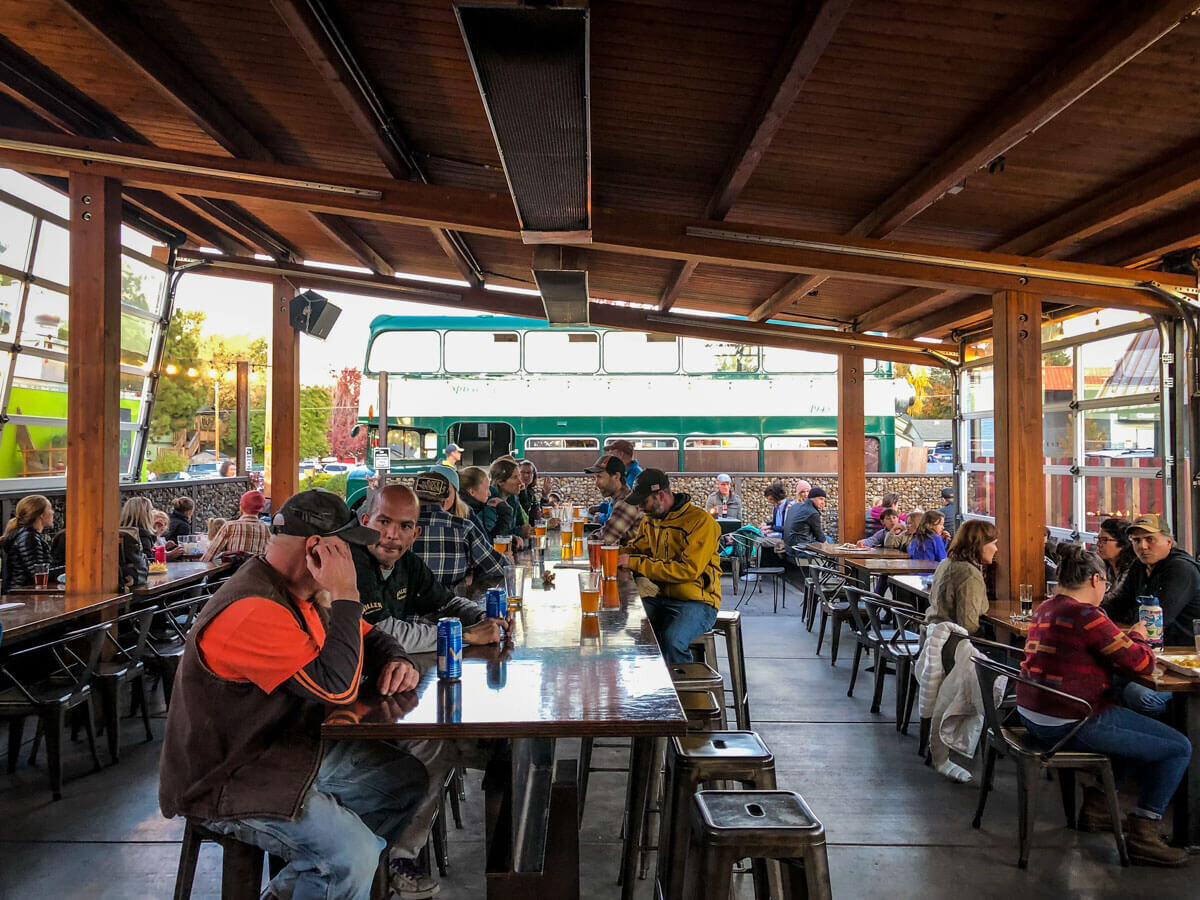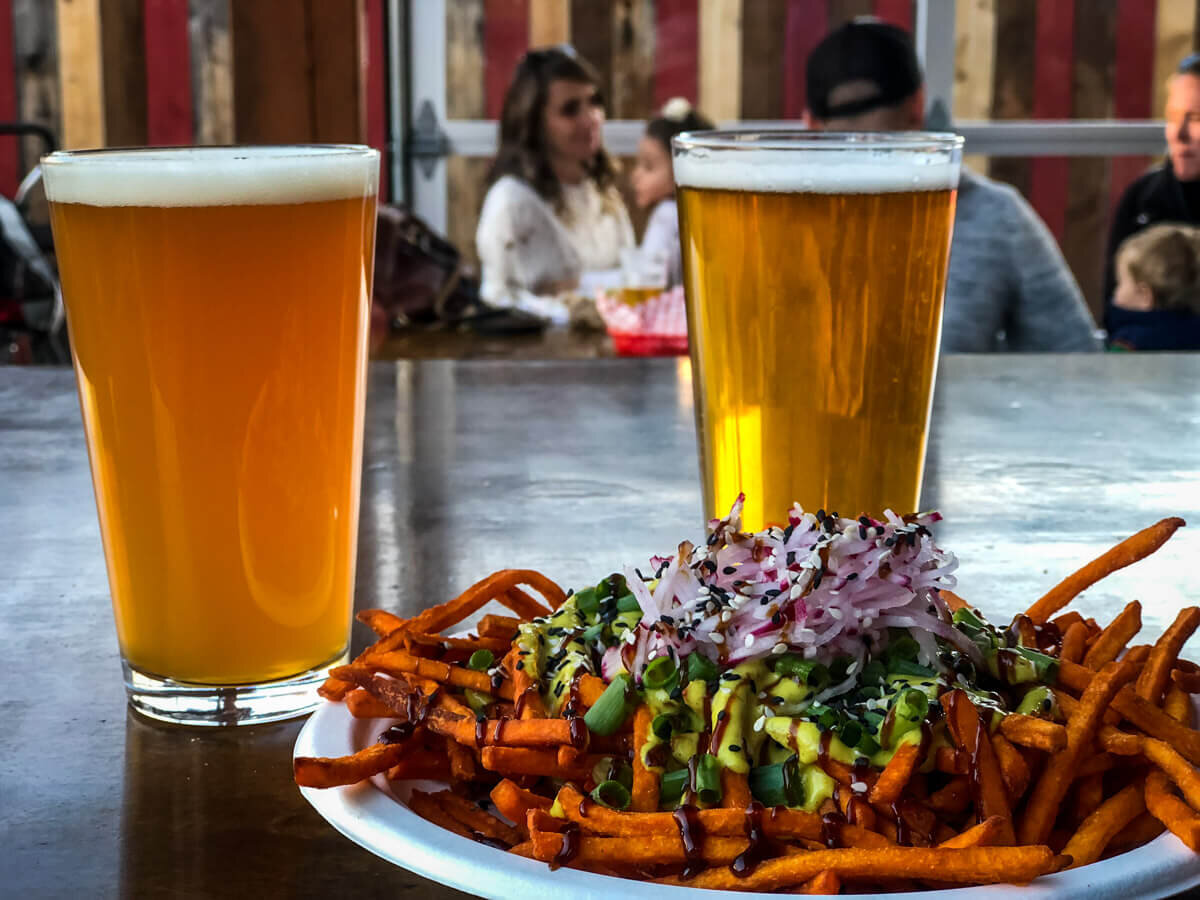 There are what seems like endless food truck pods in town, and with fierce competition, most of them are pretty dang good.
From Hawaiian poke bowls to vegan cookin' to Oaxacan fare to breakfast burritos, you really can find anything you're craving at a food truck in Bend. Here are some of the best food truck pods in Bend:
The Lot: partially enclosed seating area and heated benches make this a perfect choice on a cold or rainy day

What to order: Friken Faco has really good Korean and Thai fried chicken, A La Carte has yummy loaded fries, and the Greek stand has quality gyros

On Tap: east of downtown, this food truck pod has a fun and lively atmosphere (one of the best in our opinion!), and often hosts live music. There is an enclosed area and fire pits for chillier days.

What to order: noodles, curries and momos at Himalayan Bites, sandwiches from Bleu Rooster or Philly Style, or Aussie-inspired savory pies from Jackaroo Pies

Podski: small but lively food truck pod with a sunny patio

What to order: vegan crunchwrap supreme at Toasty, perogis at Big Ski Perogis

Bevel Brewing: excellent beers and good food truck options

What to order: we love the Hawaiian fare, like poke bowls, at Aiina Kauaii Grill

Spoken Moto: this edgy coffee shop has a few food trucks just outside with outdoor seating

What to order: Broken Angel is a vegan and sustainable food cart with Southern and Mexican-inspired fare

Midtown Yacht Club: Located in the Midtown neighborhood, this food court has lots of options, with 20 rotating taps and 6 food trucks

What to order: gourmet hot dogs from Alley Dogz and the Barrio food truck serves up burritos, tacos and quesadillas
23. Catch an alleyway film with a cocktail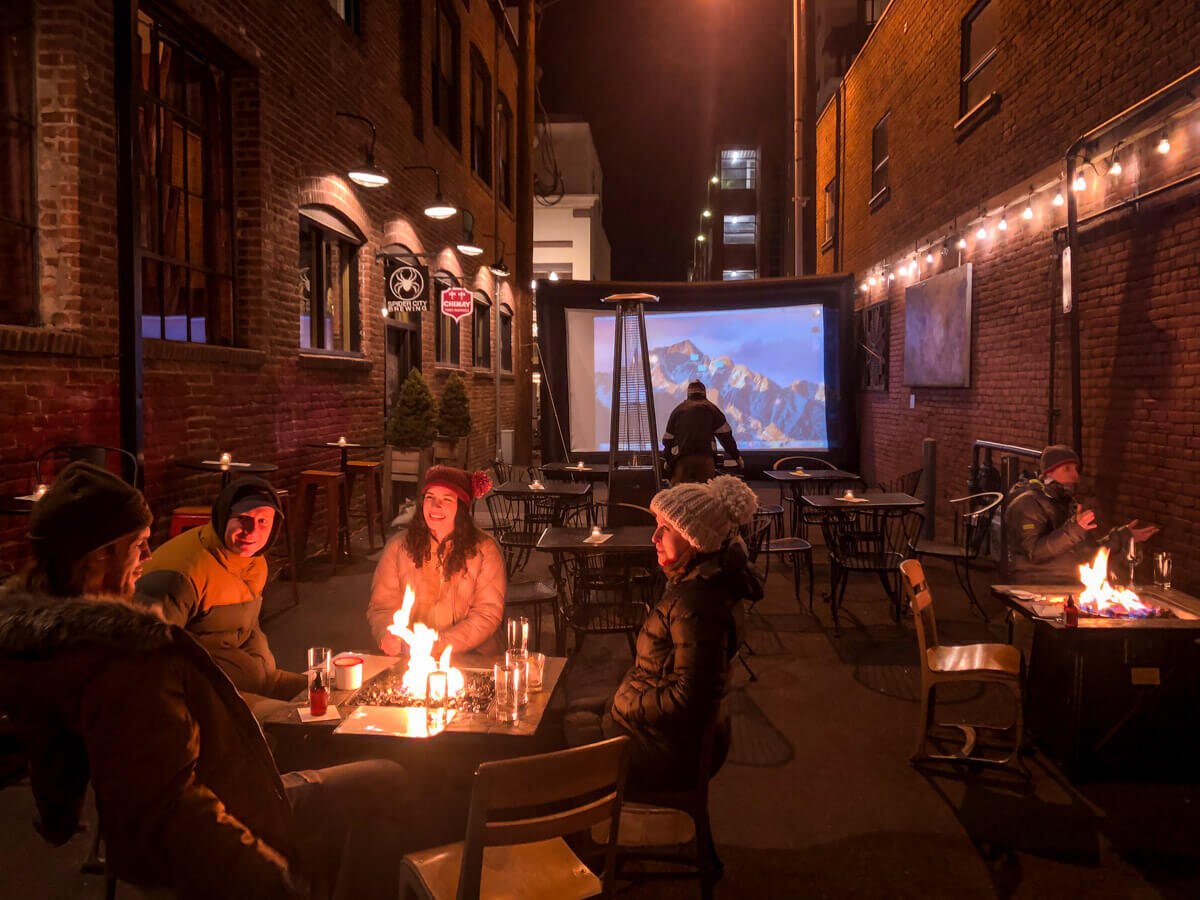 What if I were to tell you that one of our all-time favorite "Bend date nights" takes place entirely in an alleyway? Sound creepy? Keep reading because I promise it's much cooler than it sounds…
Parallel with Bend's two main streets downtown (Wall Street & Bond Street), run alleyways that are much more exciting than the typical dodgy dumpster set up.
Tin Pan Alley is home to one of Bend's best cocktail bars, San Simón. Enjoy a handcrafted cocktail with a backdrop of exposed bricks and candlelight, or grab a table outside in the secluded alleyway. San Simón's slogan, "sophisticated debauchery", is quite fitting for the classic yet lowkey atmosphere.
Next door to San Simón is Tin Pan Theater, an intimate art-house theater that'll make you swear you've stepped back in time. With 28 seats and a red velvet curtain surrounding the big(ish) screen, this boutique-style theater isn't your typical AMC experience. Order wine, beer and popcorn during a screening of an independent art film or an old classic.
Tin Pan Theater and Bend Film Festival also run regular showings in the alleyway itself. Tables are set up and an inflatable screen is blown up, transforming the alleyway into a pop-up outdoor theater. The show starts as the skies get dark, and you're able to order drinks and popcorn to go with the show.
Sometimes they have a multi-week series with a theme, like classic horror films on Tuesday nights, or ski films on Thursdays. Check Tin Pan's website for their up-to-date schedule for both the indoor theater as well as the alleyway showings.
The perfect combination: We love grabbing cocktail at San Simón then sticking around for an alleyway showing of a movie at Tin Pan. It's a unique twist on a classic "drinks & a move" date.
24. Brunch it up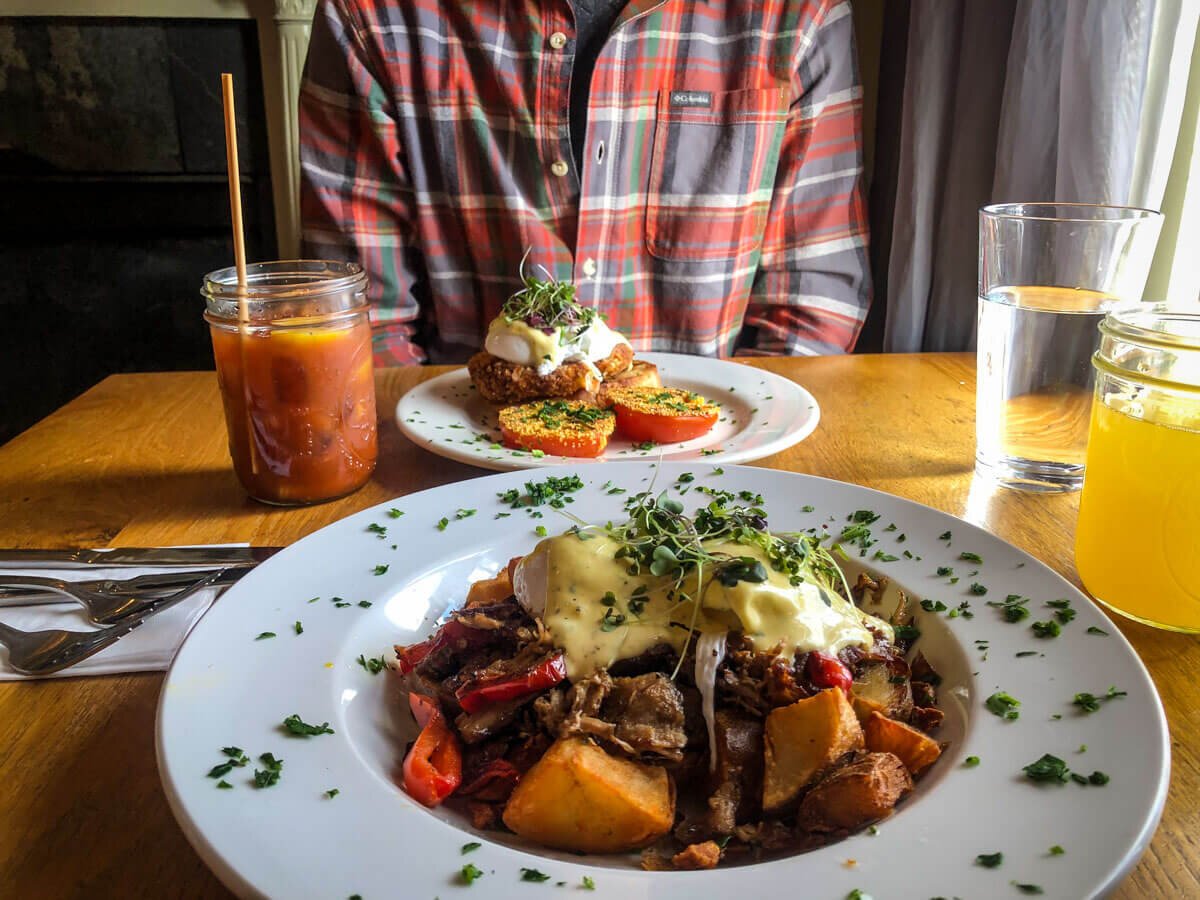 There are plenty of places to grab a morning bite in Bend, but if you're looking for a full-service brunch, we've gotchu covered:
McKay Cottage: Consistently named the "best brunch in Bend" this is a town staple. With a cute cottage vibe and outdoor seating on nice days, you can find all your breakfast favorites on the menu.

The Victorian: Located in West Bend, this adorable red Victorian house has been transformed to a local favorite. If you're feeling up for it their famous Bloody Mary is huge and delicious.

Jackson's Corner: Open for breakfast, lunch and dinner, Jackson's Corner is an excellent brunch choice. With a focus on local ingredients, the menu is fresh and well-rounded.They have two locations (downtown is more charming but the eastside location has a bigger menu).

The Lemon Tree: We still haven't been to this downtown cafe, but it's on our list! With menu items like shakshuka (one of our breakky faves!) and jumbo lump crab cake Benedict, it's no wonder this is a popular brunch pick!
25. Explore lava fields at Newberry Volcanic National Monument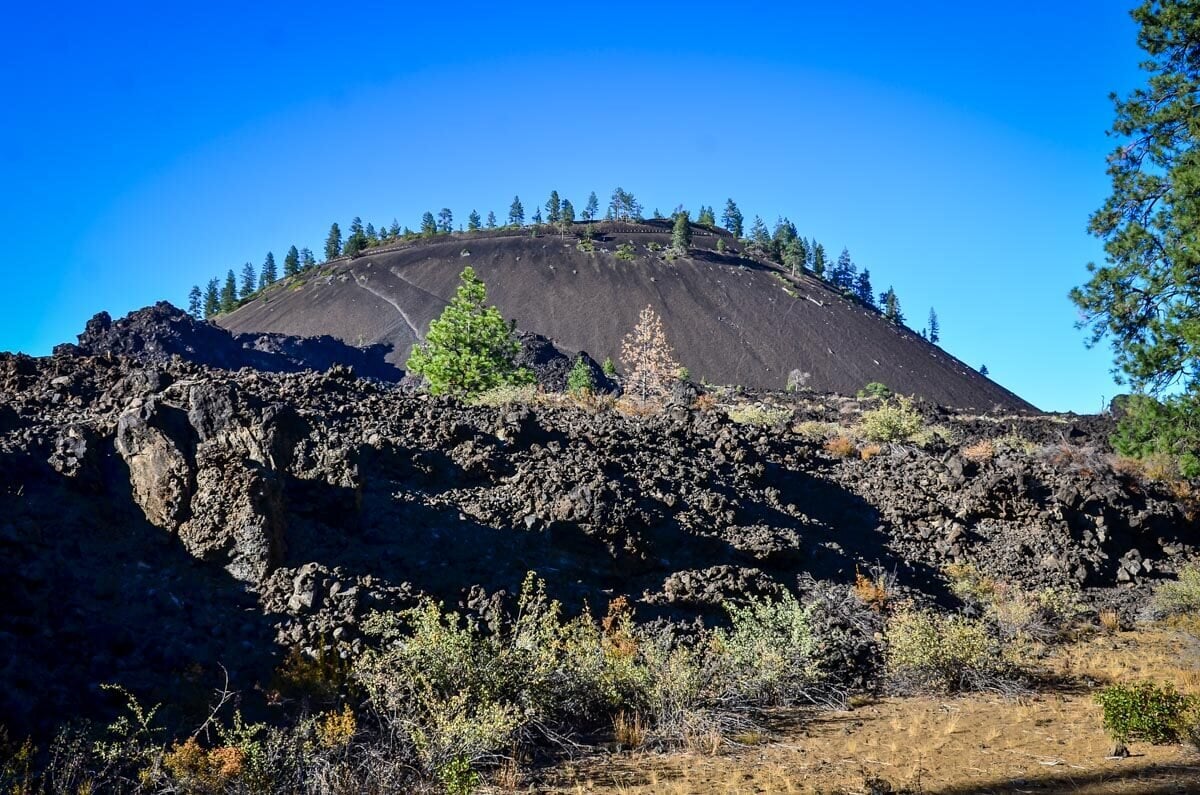 Just southeast of Bend, you'll find the Newberry Volcanic National Monument which covers more than 54,000 acres of lakes, lava flows, and other geologic features.
Visit the Lava Lands Visitors Center to learn more about the history and geology of this area before setting off on the paved 5.5-mile Sun Lava path. If you're visiting during the summer months (between Memorial Day and Labor Day weekends), there are shuttles that run every 20 minutes and bring guests to the summit of Lava Butte. This costs $2 per person and they run from 10 a.m. to 4 p.m.
Insider Tip: While you're in the area, be sure to head over to Lava River Cave (#20 on this list), which is nearby.
Another more adventurous way to explore this vast expanse is to hike to the summit of Paulina Peak, which will grant you lovely panoramic views of theCascades, Newberry Caldera and the high desert. The trail is 6.1 miles round trip and there is a 1,600-foot elevation gain.
26. Taste a famous Ocean Roll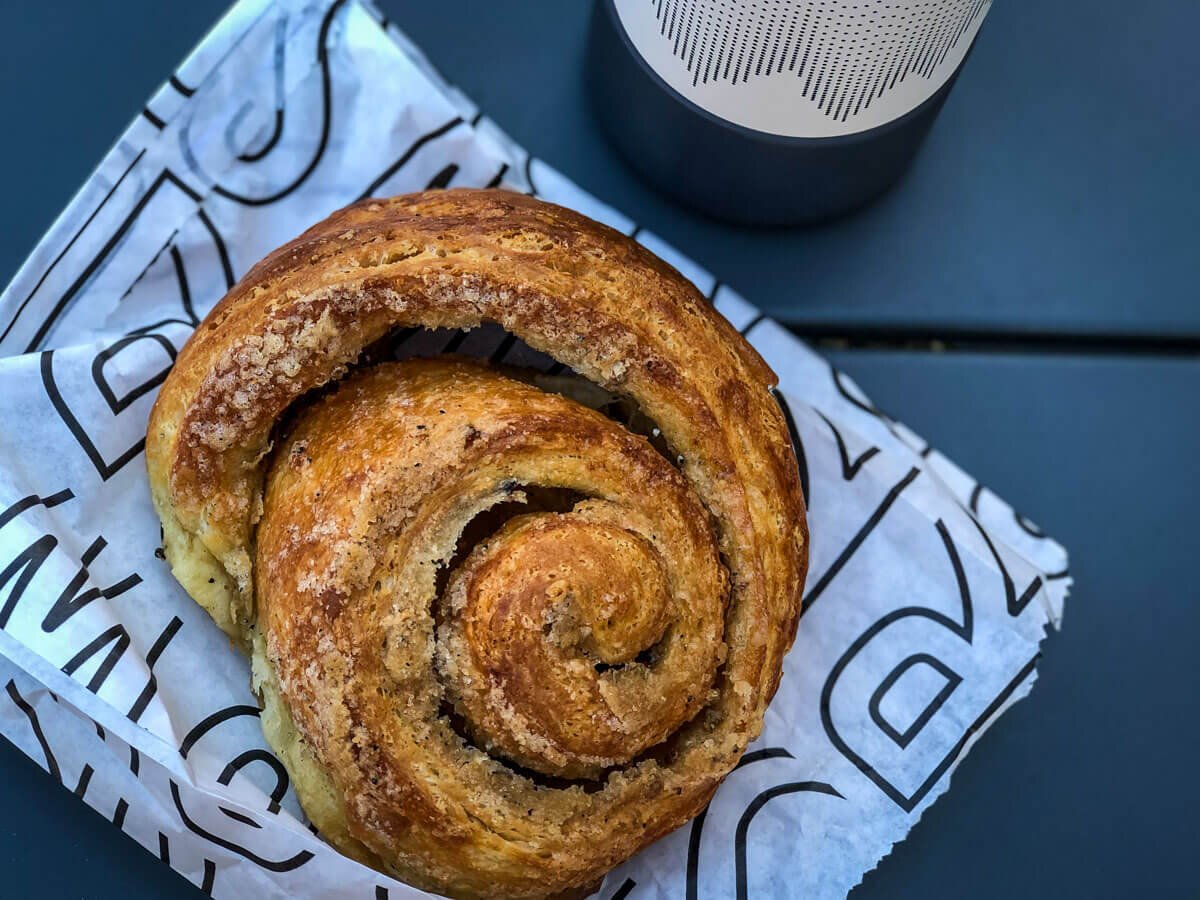 At some point during your time in Bend, you should absolutely make a stop at Sparrow Bakery and order an Ocean Roll. It's kind of a Bend "must-do".
These massive pastries are similar to a cinnamon roll, but instead of, well, cinnamon, the filling is made with cardamom, vanilla and sugar. It may sound strange, but when you sink your teeth into this crispy yet gooey and not too sweet delicacy, you'll be thanking us for the recommendation.
In addition to their famed ocean rolls, pretty much everything this local bakery serves is excellent. The chocolate cookies are rich and decadent, the COCC Cookies (named after the local community college) are amazing. We've also had some of their breakfast sandwiches, which are good too, so order whatever sounds good (as long as you're also ordering an ocean roll, of course!).
27. Step foot inside the last Blockbuster in the world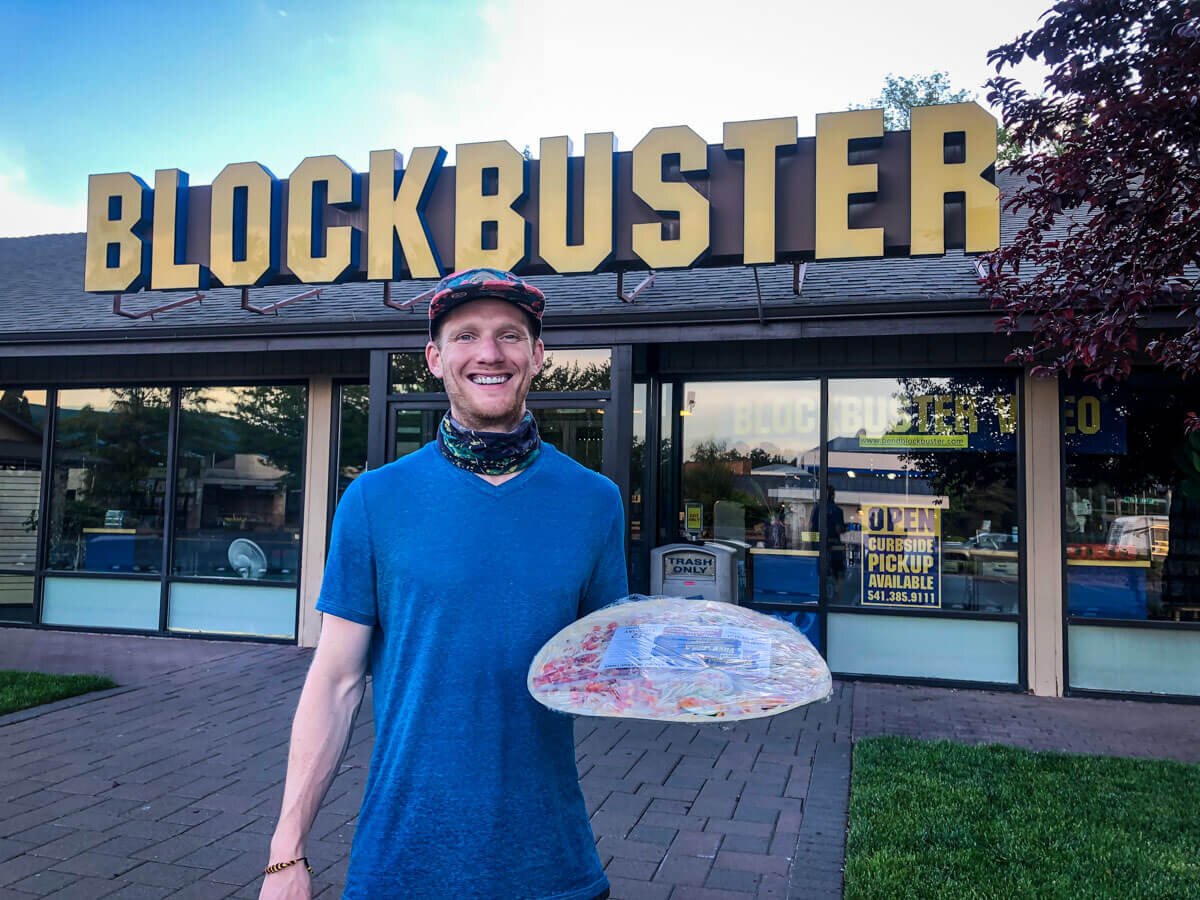 Bend has a strong tradition of supporting the film industry, so it isn't too much of a surprise that it is home to the world's last Blockbuster Video.
If you feel those familiar pulls of nostalgia, it can be a fun place to browse the aisles and pretend you've slipped a decade back in time. You can even see some movie props encased in glass boxes throughout the store.
Next door is Papa Murphy's, so you can do a total throwback pizza and movie night – as long as your Airbnb has a DVD player, that is (do they even make those anymore?!).
Fun Fact: Watch The Last Blockbuster on Netflix for an inside look at this local landmark.
28. Escape from Ole Pappy's Trapper Cabin
We're big fans of escape rooms, so when we found out there was one in Bend, we were pretty excited to test our skills.
This escape room is quite unique, as it's set in an upcycled 1974 RV that has been modified to look like a cabin. With rustic wood, antlers, and lanterns, you'll forget that this RV is located in the parking lot of the very modern Box Factory.
When you enter, you'll be given instructions and a back story, then you'll have 30 minutes to plot your escape from the cabin. The game operator stays in the room with you (in character!) in case you need some extra hints. It's a short but fun activity for a rainy or snowy day.
Do it yourself: This escape room costs $20 per person and can be booked here. It is located in the parking lot of The Box Factory, just beside Spoken Moto. The activity lasts 30 minutes.
29. See a river appear from out of nowhere
If you're looking for a quiet escape from town but aren't looking for too much strenuous activity, head to the mouth of the Metolius River. Located in the Deschutes National Forest, it's just under an hour's drive from Bend (a bit past the town of Sisters).
There are flat walking trails and places to relax next to the river. And if you want to see something pretty cool, make your way to the river's headwaters. A short 10-minute walk from the parking lot will bring you to a spring from which the river appears as if out of nowhere!
Camp Sherman is a small village that consists mostly of campgrounds and cabins. There's a General Store just beside the river that's worth checking out. They have a huge variety of snacks, souvenirs and fly fishing gear. You can also order coffee drinks and made-to-order sandwiches to take with you for a little picnic lunch right next to the river.
Side Note: There is a local artisan tea brand called Metolius Tea, which was named after the river. We're obsessed with their chai concentrate and most of the coffee shops in Bend serve it, so give it a try!
---
Things to do in Bend during the winter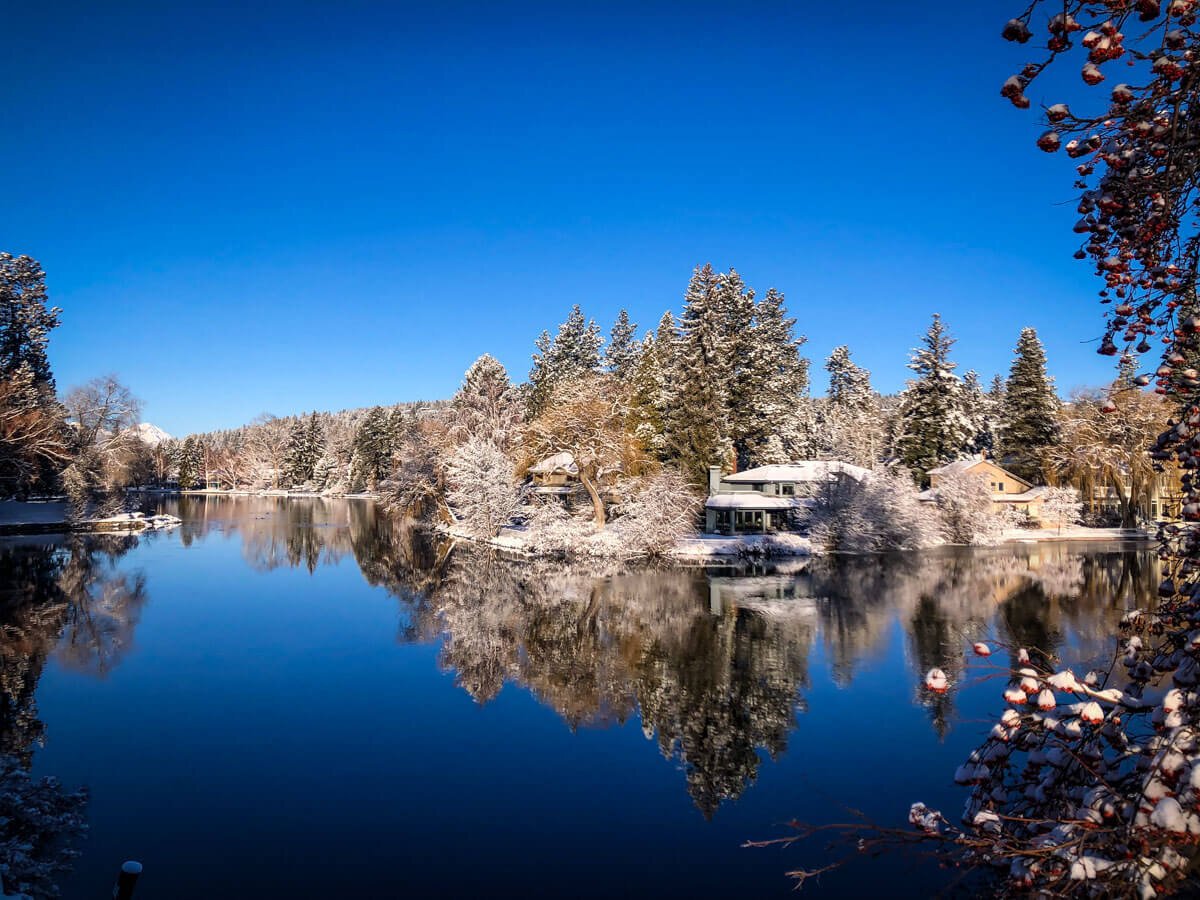 If you happen to be visiting Bend in the winter months and want a unique outdoor adventure, we've got some perfect ideas for you!
One thing to point out is that the town of Bend doesn't typically accumulate much snow. After a snowstorm, it tends to melt within a few days. However, a short 20-minute drive toward the mountains will reveal a totally new landscape with plenty of powder for skiing, sledding or snowshoeing.
Remember to pack layers because even if it's not all that cold in town, it'll be a different story once you gain a bit of elevation.
30. Ski day at Mount Bachelor
Nearby Mount Bachelor is well-loved by locals and out-of-towners alike. And for good reason — covering more than 1,000 acres, Mount Bachelor is the largest ski resort in the state of Oregon (by area) and is the second largest single-mountain ski resort in the US (after Vail).
Additionally, Mount Bachelor boasts one of the longest ski seasons in the United States, with lifts typically open from mid-November through the end of May (weather permitting, of course).
Situated 22 miles west of Bend, it takes just about 30 minutes to reach the ski resort, making it really easy to fit into your trip to Bend.
Fun Fact: It is said that this inactive volcano was named "bachelor" as it stands apart from the Three Sisters mountain range. It took me a while to get that…
31. Ski for $25 at Mount Hoodoo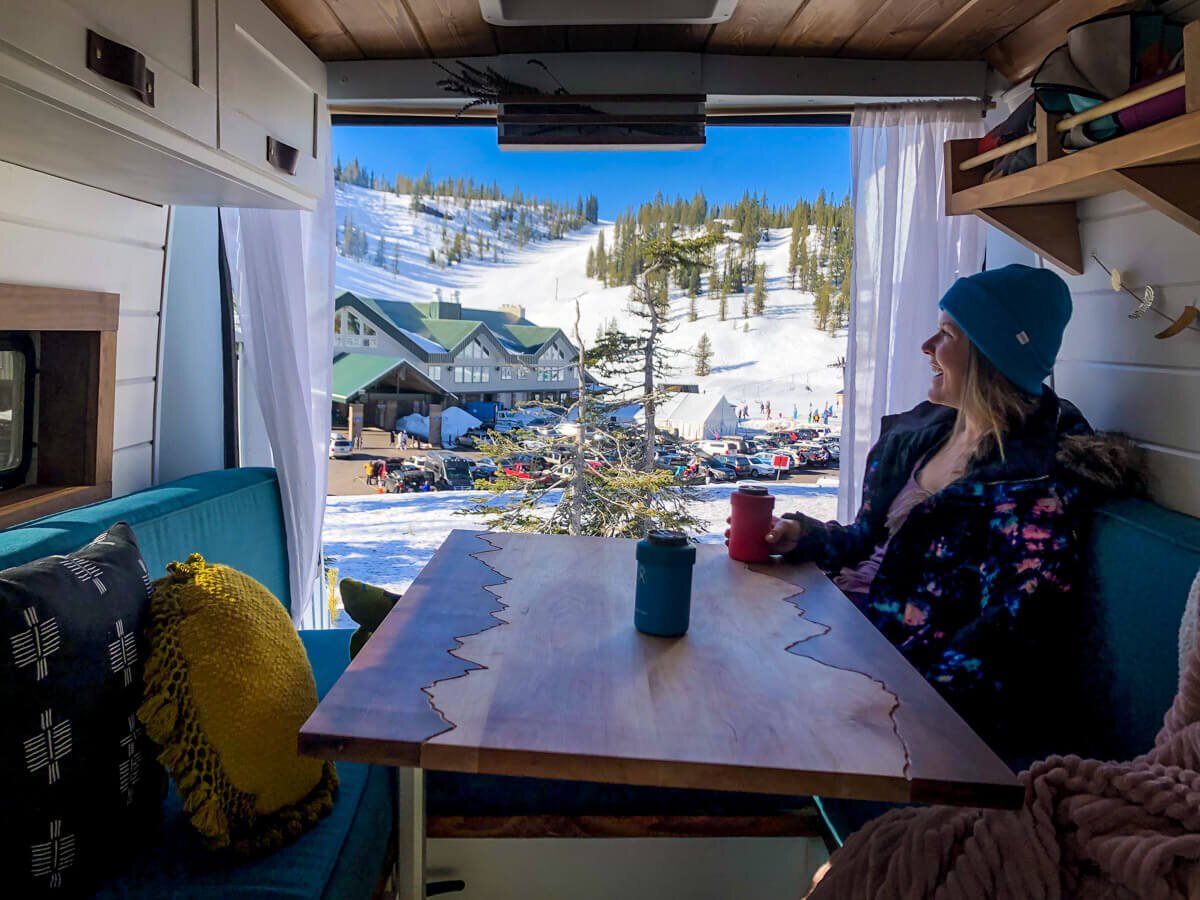 If you want to have a ski day while in town, but are hoping to avoid the crowds and super high price tag of Bachelor, we may have just the solution for you…
Hoodoo Ski Area is just 44 miles west of Bend, and takes just under an hour to get there (about 30 minutes longer than it takes to get to Bachelor).
While much smaller than Mount Bachelor, Hoodoo still makes for an excellent ski day — especially since it's much more laidback and less crowded. If you happen to come on a Thursday, you'll save big because lift tickets cost just $25 on "Thrifty Thursdays"! We made it a near-weekly ritual to go to Hoodoo on Thursdays, followed by hot springs and dinner (see tips below).
Insider Tips:
Hot Spring: After a ski day at Mount Hoodoo, we love heading to Belknap Hot Springs to soak our chilled bones. It costs $8 per adult, and while it's not a rustic hot spring like we typically choose (it's essentially a hot pool next to the McKenzie River), it's still a welcomed relief in the winter months.

Burger & Onion Rings: Also, if you've worked up an appetite, the Mackenzie General Store is just a bit further and serves up excellent burgers and onion rings with homemade marionberry barbecue sauce that'll hit the spot! Be prepared to have little to no cell service on this section of the drive.
32. Snowshoe to a mountain hut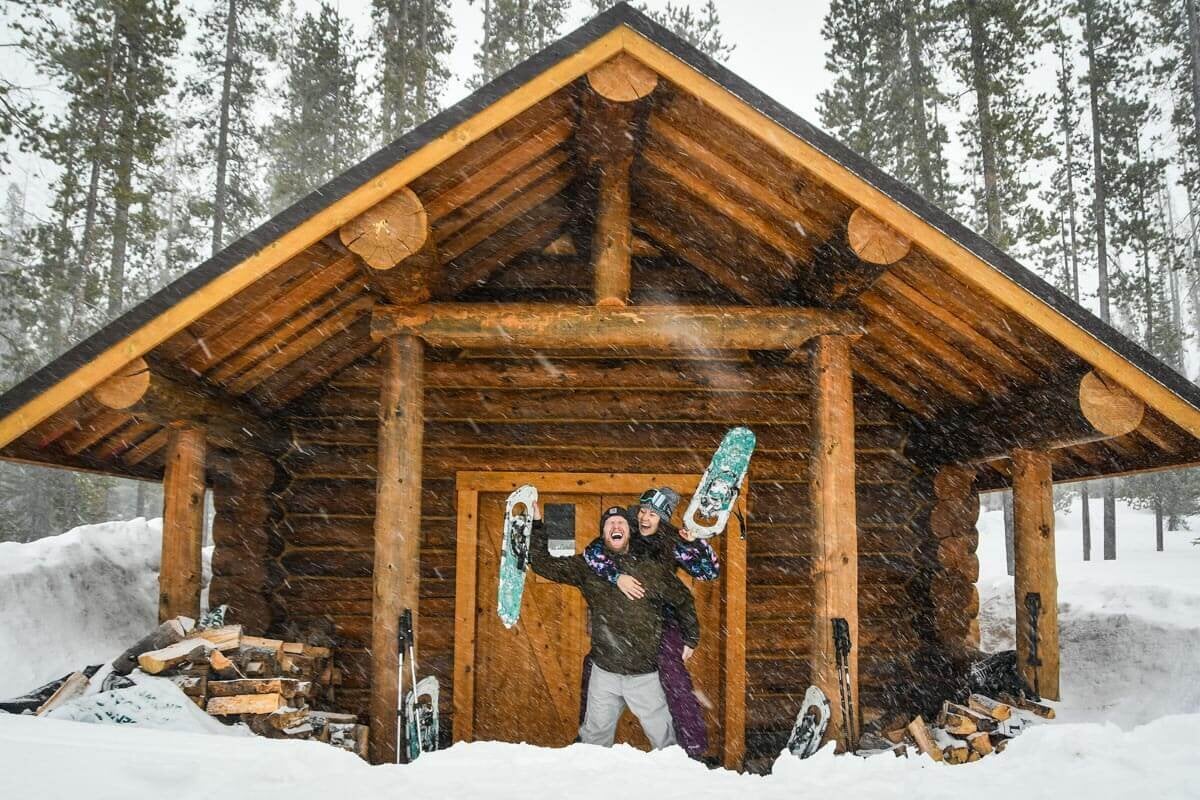 Just outside of town, there are networks of amazing snowshoe trails that will make you feel like you're in a winter wonderland (even if there isn't any snow in town!).
Don't have snowshoes of your own? You can rent them from REI. Check out this guide to snowshoeing for beginners to get all the info!
While you can go to just about any Sno Park, strap your snowshoes (or XC skis!) on and get on the trails, our personal favorite trail is at the Swampy Lakes trailhead. Follow the snowshoe trail towards the Swampy Lakes shelter, which is just over 1.5 miles from the parking lot (about 3 miles roundtrip).
Pack some snacks and a thermos with a hot beverage to enjoy in the fully enclosed shelter. There's even a wood-burning stove inside to keep you toasty warm. You may be sharing the space with others (depending on the day and time you arrive). Take it as an opportunity to make friendly conversation!
Don't forget your Sno Park Pass! This is required to be able to park at the trailheads, as it helps fund the showplowing and maintanence. You can buy a day pass for $5 or a season pass for $30. You can purchase this pass at REI, ranger stations, or local outdoor gear shops.
33. Go on a ranger-led snowshoe tour for free!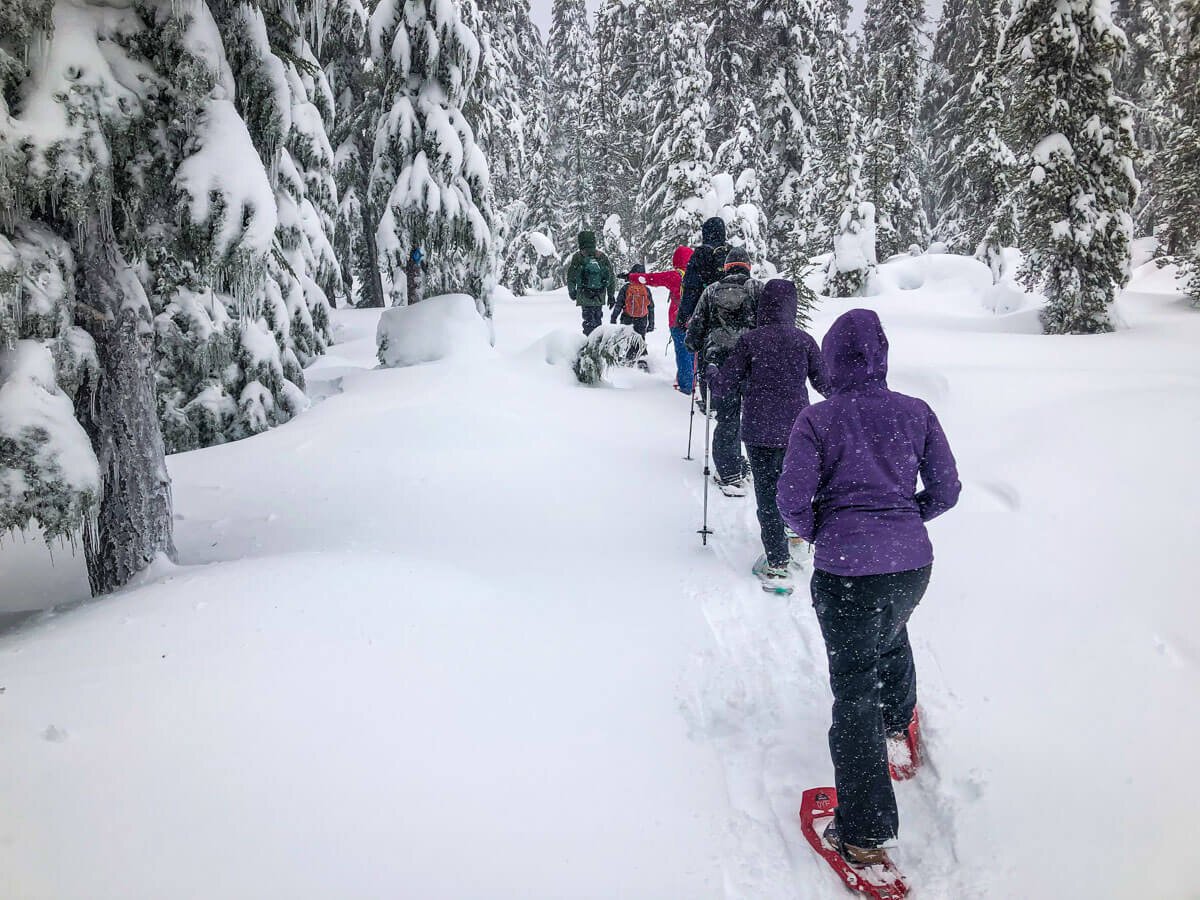 If you're looking for a fun and free winter activity, look no further. From mid-December through late March, you can go on ranger-led snowshoe tours at the base of Mount Bachelor.
Along the way, the ranger will point out different features of the local geology and nature. We were surprised by how much we learned!
Snowshoes are provided for free (but if you have your own you can certainly wear them).
While this is a free program, consider leaving a donation if you had fun as it will help fund their non-profit partner, Discover Your Forest, which connects people to our public lands.
The details:
Meet at the West Village Base Area near the Guest Services building. There is a USFS hut that has signs about the snowshoe program.

Tours go out at 10 a.m. and 1:30 p.m. from mid-December through mid-March

Check in 10-15 minutes before the tour start time

Reservations are not required

Snowshoes are provided

Cost is free, but donations are welcomed
34. Cross country ski to a hidden restaurant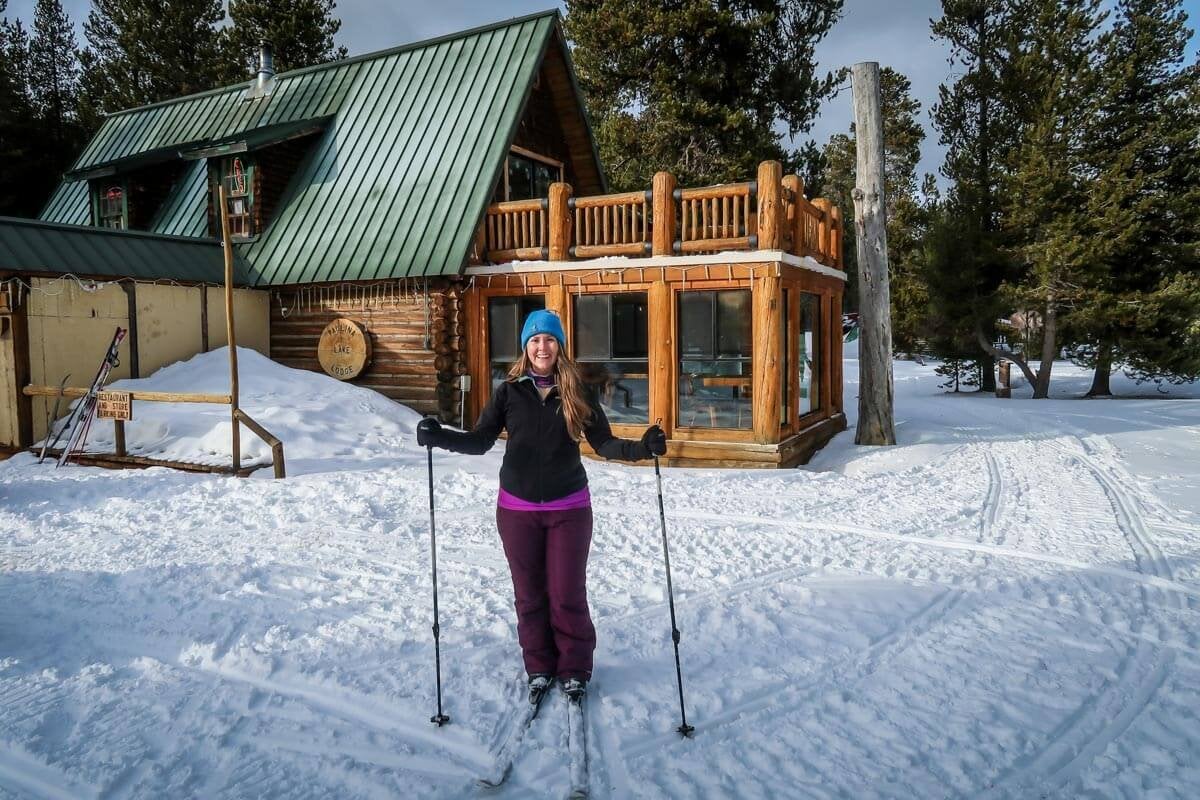 We love cross-country skiing or snowshoeing in general, but we love it even more when there is a special destination… like a hidden restaurant!
Start at Ten Mile Sno-Park, and follow the trail toward Paulina Falls. Shortly after the waterfall, you'll come to Paulina Lake Lodge where you can order a burger or hot chili and a beer and rest your muscles before heading back on the same trail.
Good to know: The XC ski and snowshoe paths cross by a snowmobile track, and this is a very popular place for snowmobilers. So be prepared to hear the occasional roars!
---
Where (and what!) to eat in Bend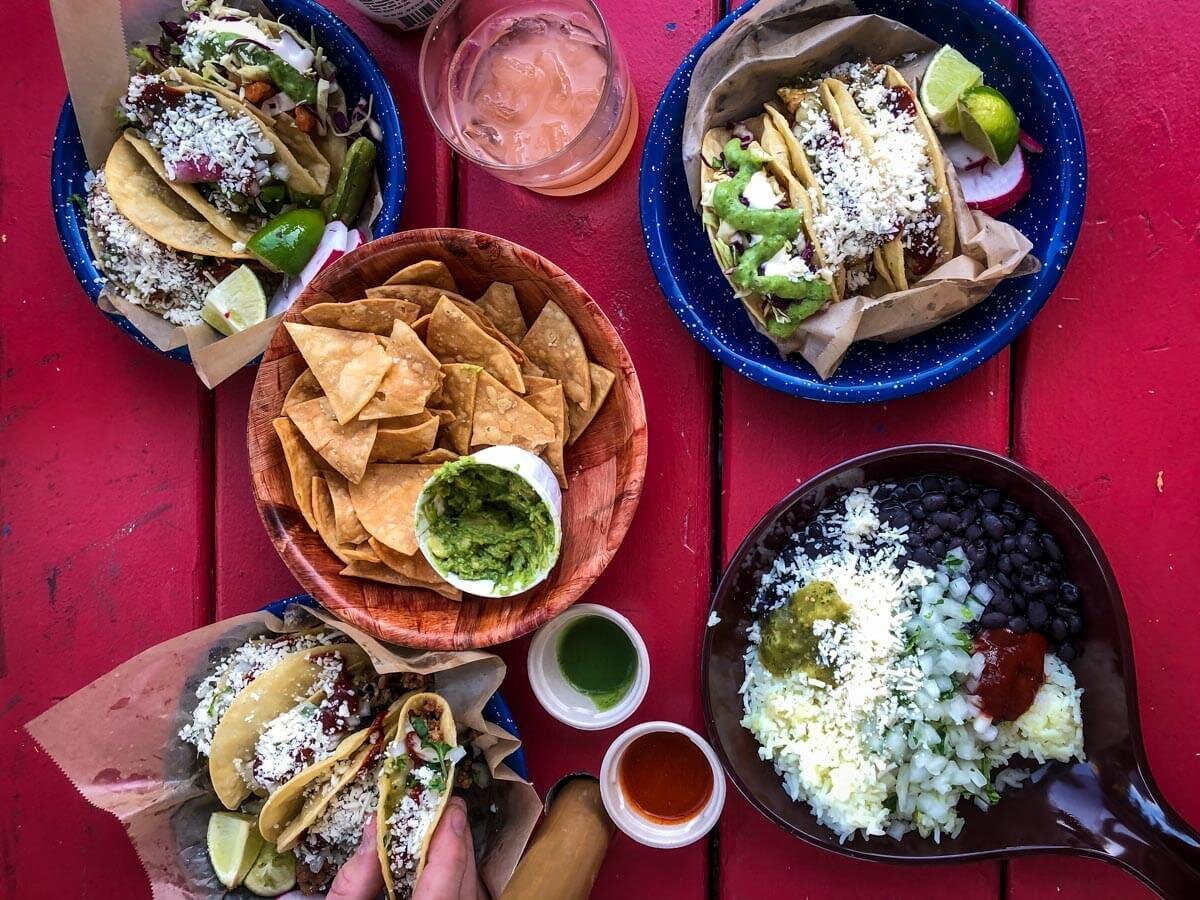 Bend has an incredible food scene, and there's really no way we could truly do it justice with a small section in this article. And that's why we created a list of our favorite restaurants in Bend!
This list includes our favorite spots to grab coffee, the best sandwiches to bring with you on an outdoor adventure, our favorite food trucks, and the best restaurants in town.
Where to stay in Bend
I'm going to be real with you… If you're visiting during a holiday week or weekend, you'd better book well in advance, or you're going to be left with slim pickings. There really are some incredible hotels and Airbnbs, but they do book up fast (especially those in good locations).
Our recommendation: For your first visit to Bend, we'd personally recommend staying on the west side of highway 97, near downtown or on the west side of the river (known as Galveston Flats). Both locations will be within walking distance to the river and to some of the best parts of Bend.
Important Note: Many of the better hotels and Airbnbs in town book up long in advance, especially during the summer months or holiday weekends. Don't wait until the last minute to book your stay. We've learned the hard way!
Here are some Airbnb and hotels that we would personally recommend:
Want a unique stay?
McMenamins Old St. Francis School
This is one of the most unique places you can stay in town. This historic Catholic school was remodeled into what McMenamins is today — part hotel, part bar, part restaurant, part movie theater.
Yes, you can sleep in what used to be an old classroom! If you haven't already, read #7 on this list as it'll explain this facility in much further detail. Plus, this hotel has one of the best locations in town — you're within walking distance to all sorts of activities.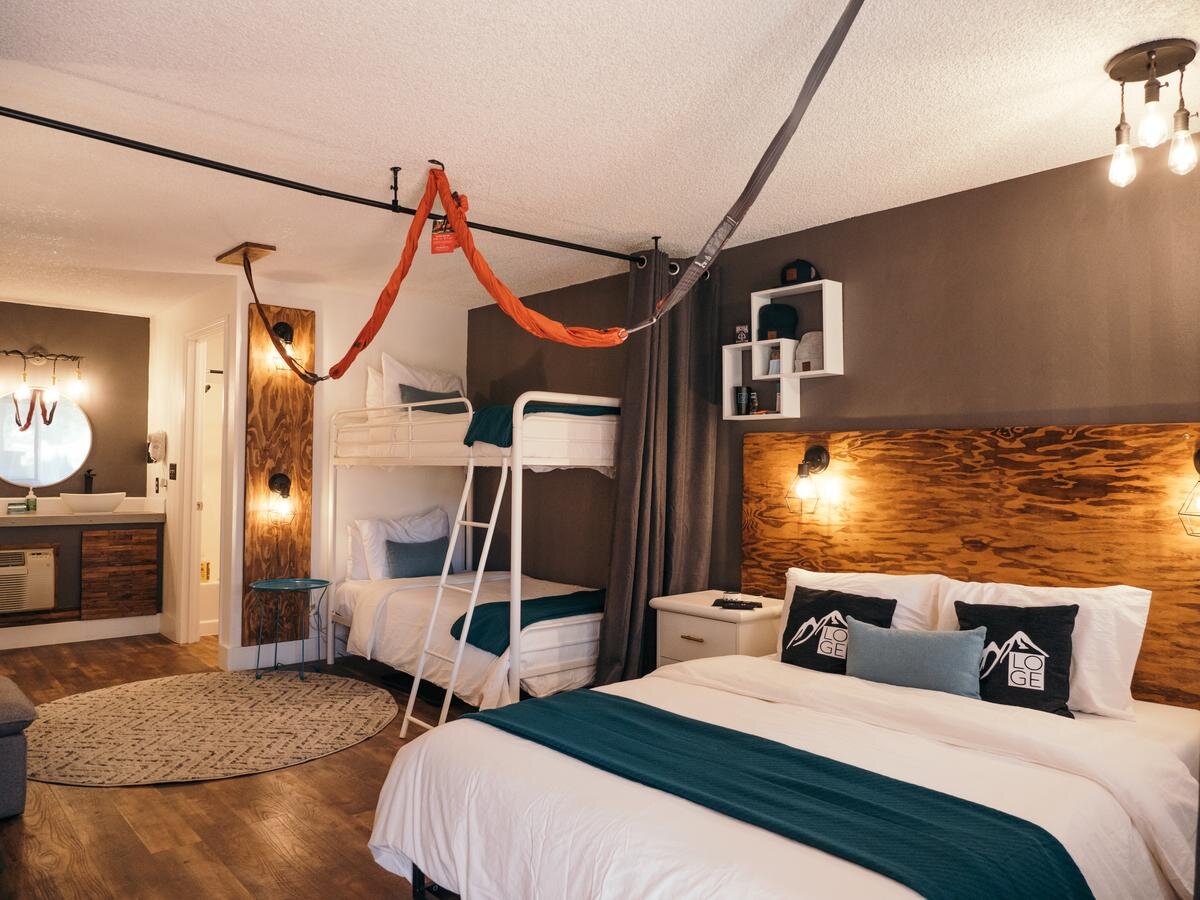 This is one of the only properties on this list located outside of town, but it's a quick drive to the center of it all. Plus, the reasonable prices and a fun design — with hammocks in the rooms & a fun outdoor space — make it a good pick.
This is a particularly good choice if you plan to do a lot of biking in Bend, as the location grants you easy access to amazing mountain biking trails. There's even a bike cleaning station onsite.
Seeking a higher-end experience?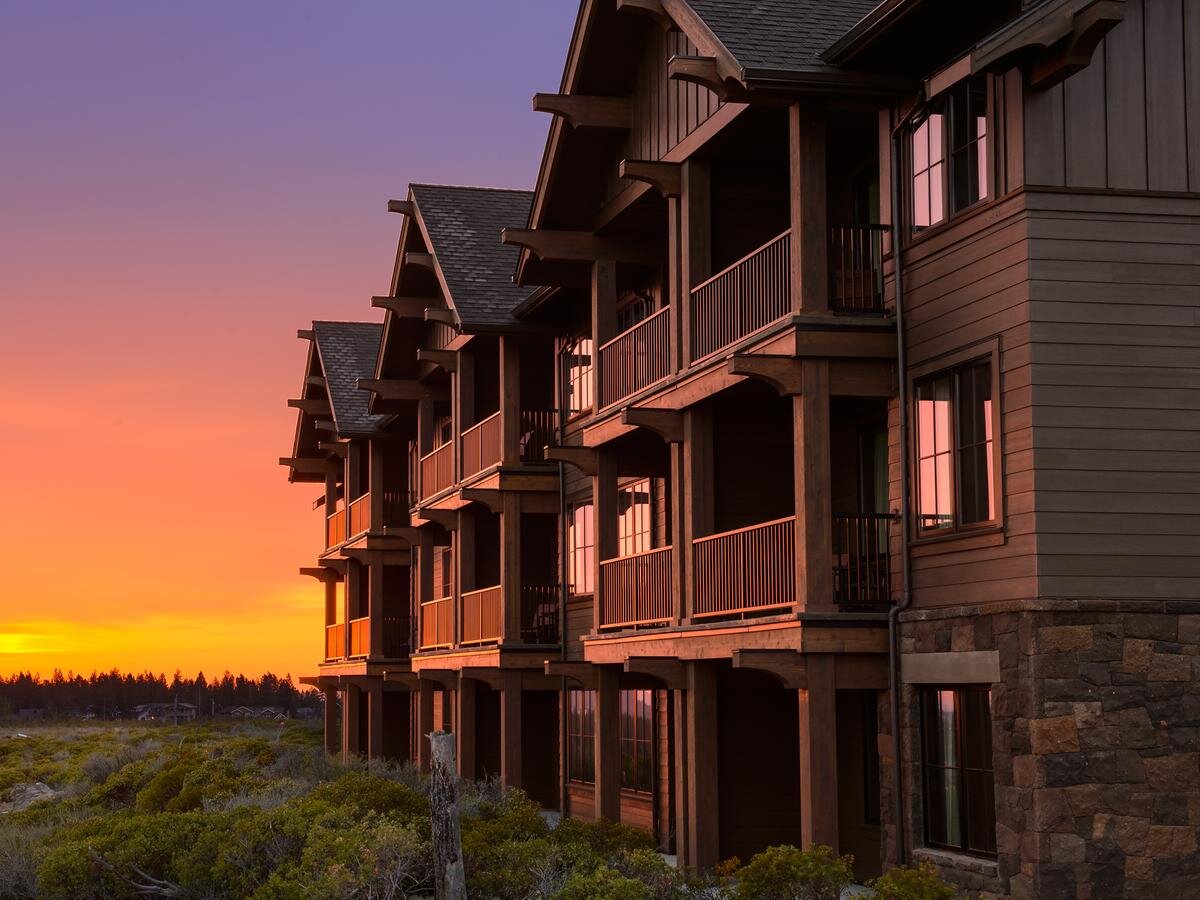 If you're searching for a truly luxurious stay in Bend, this is a perfect choice. You'll feel like you're surrounded by nature, but in truth, you're just a short 15-minute drive to town. And if you don't feel like driving, you're in luck because there's a complimentary shuttle that goes to town.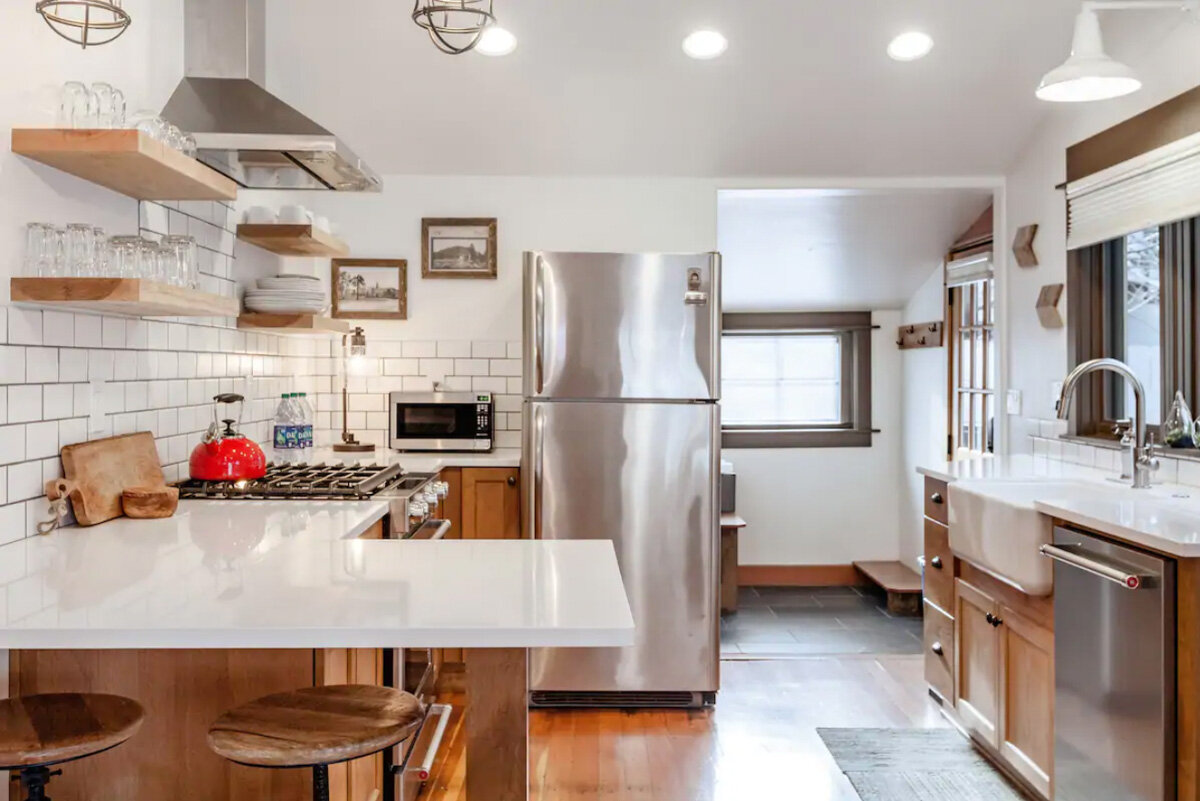 This cozy and modern Airbnb Plus property is in a great location for access to all kinds of adventures. It's beautifully decorated with a wood-burning fireplace and a hot tub to relax after a long day.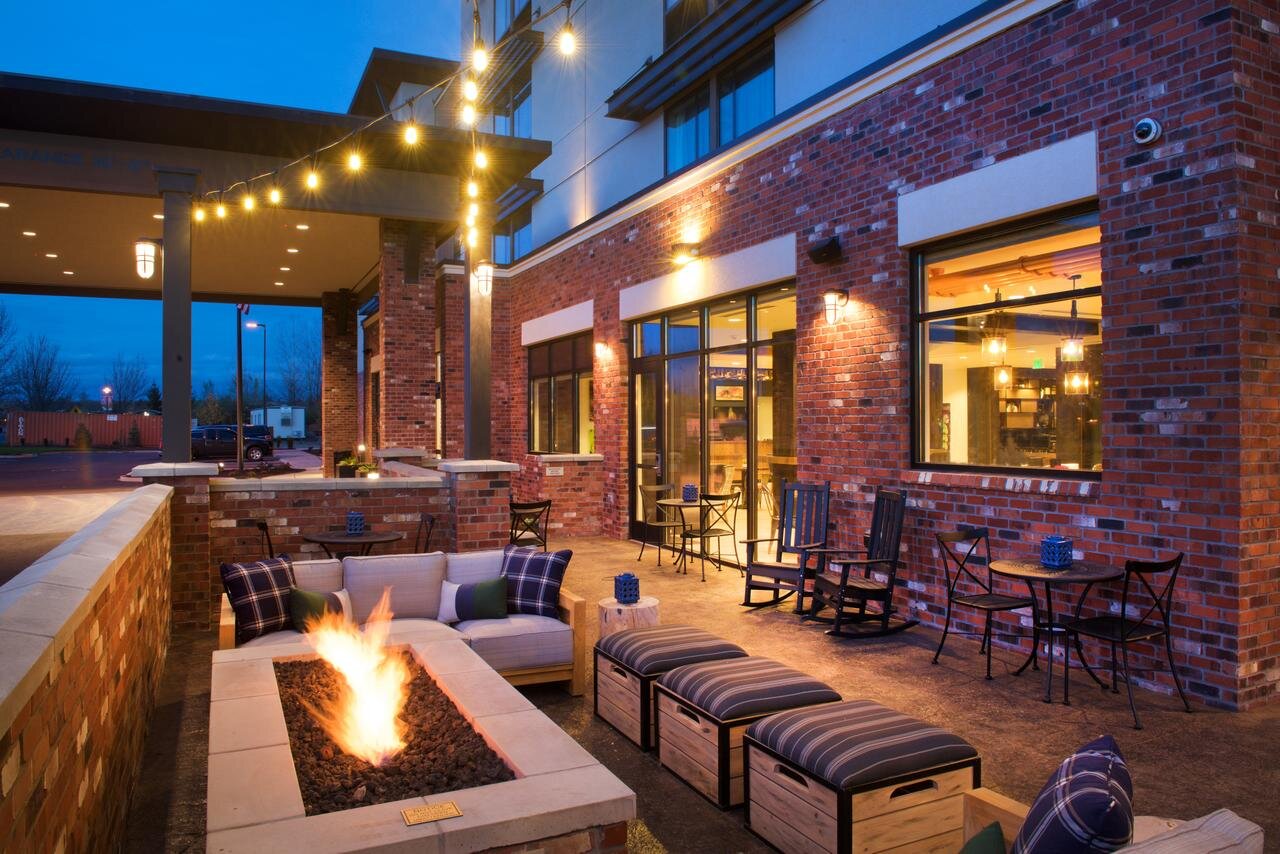 If you prefer chain hotels, this would be our pick in Bend. Well-located with many food options within walking distance, and beautifully outfitted, this is a good pick for your stay in Bend.
Traveling on a budget?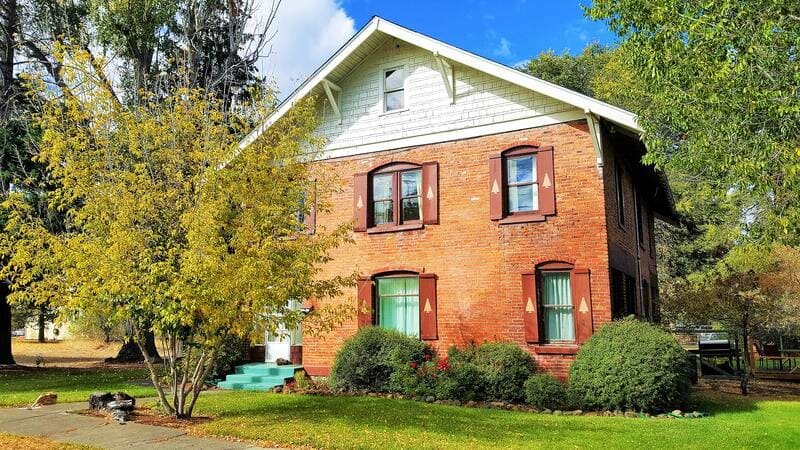 Bunk & Brew Historic Lucas HouseBunk & Brew is the only hostel in Bend (as of now!), and it's a fun place to hang out whether or not you're a guest. There's a cool outdoor courtyard with permanent food trucks and a beer stand. There is often live music and an overall fun atmosphere. The hostel itself is inside the historic Lucas House, the first brick home in Bend.
Good to know: We'd only really recommend staying here if you're a solo traveler and keen to stay in a dorm, as the private rooms are as expensive (if not more) than hotels in the area.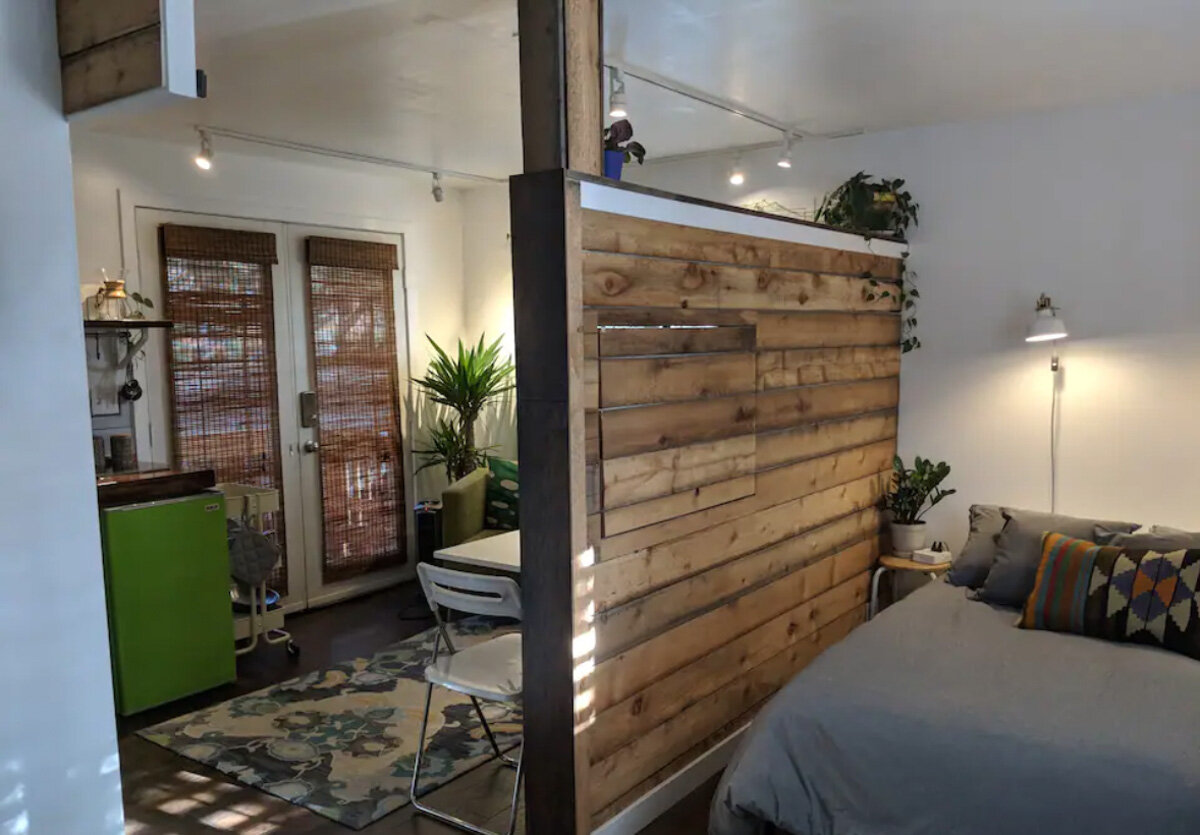 This guest house is one of the more affordable properties in town, perfect for a solo traveler or a couple on a budget. It has a great location and even better reviews!
Staying with a group?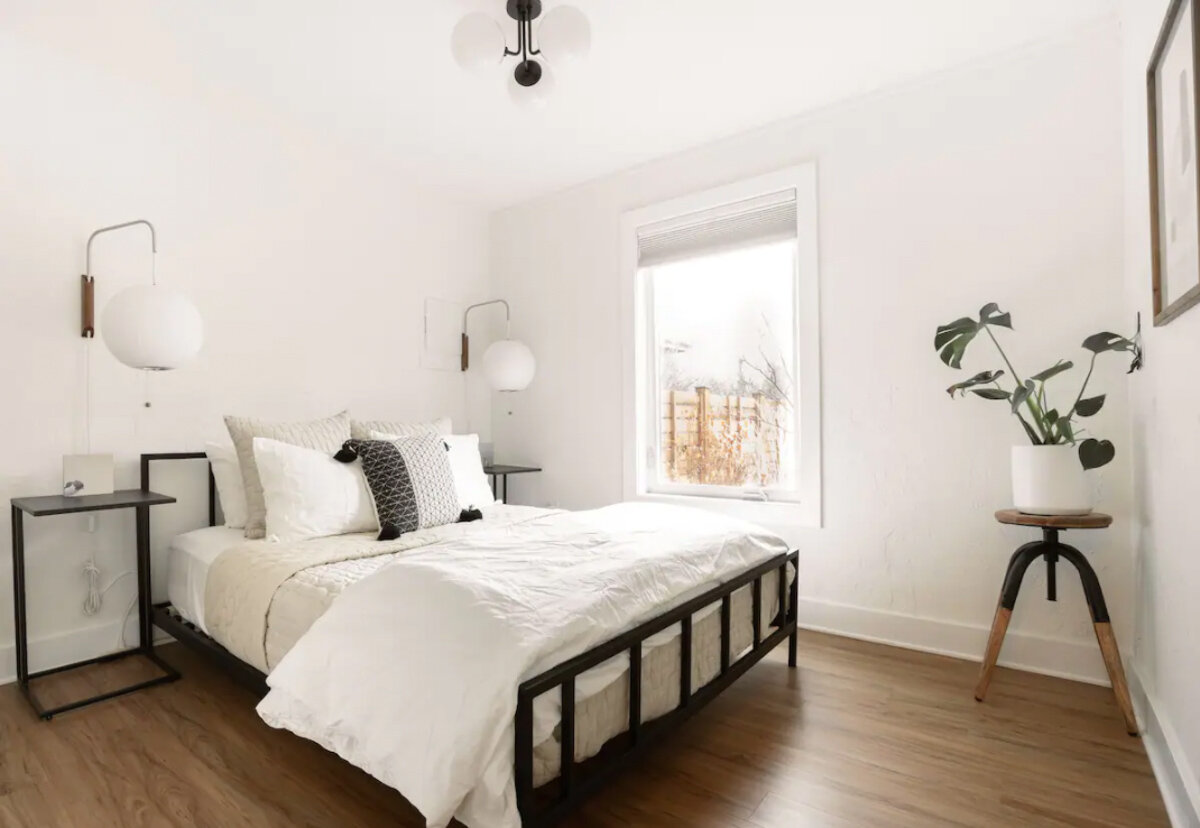 Beautiful Cottage on the Westside
This cute little cottage has room to sleep 6 guests and it includes a nice outdoor space with a grill in an excellent location in Bend.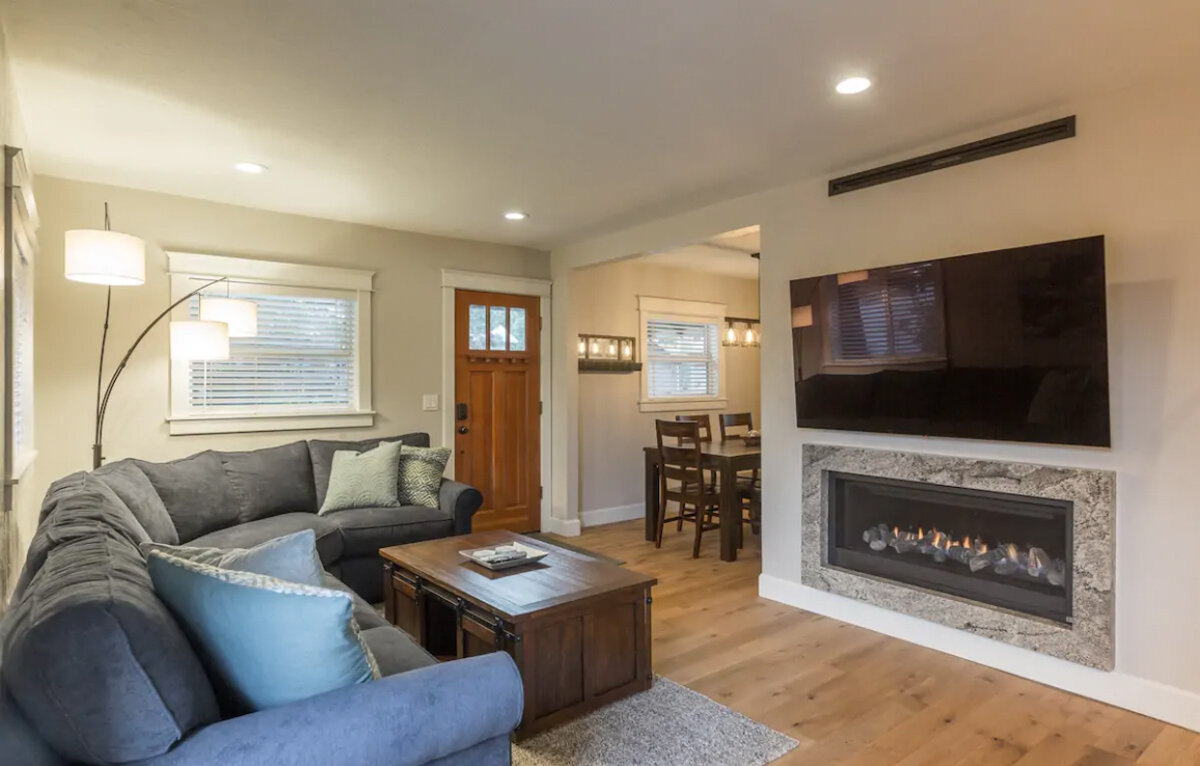 Cozy Home with Hot Tub & Bikes
This modern bungalow has room to sleep 6 guests and includes a hot tub and bikes with your stay. Plus it's in a perfect location in central Bend.


Save this article on Pinterest for later!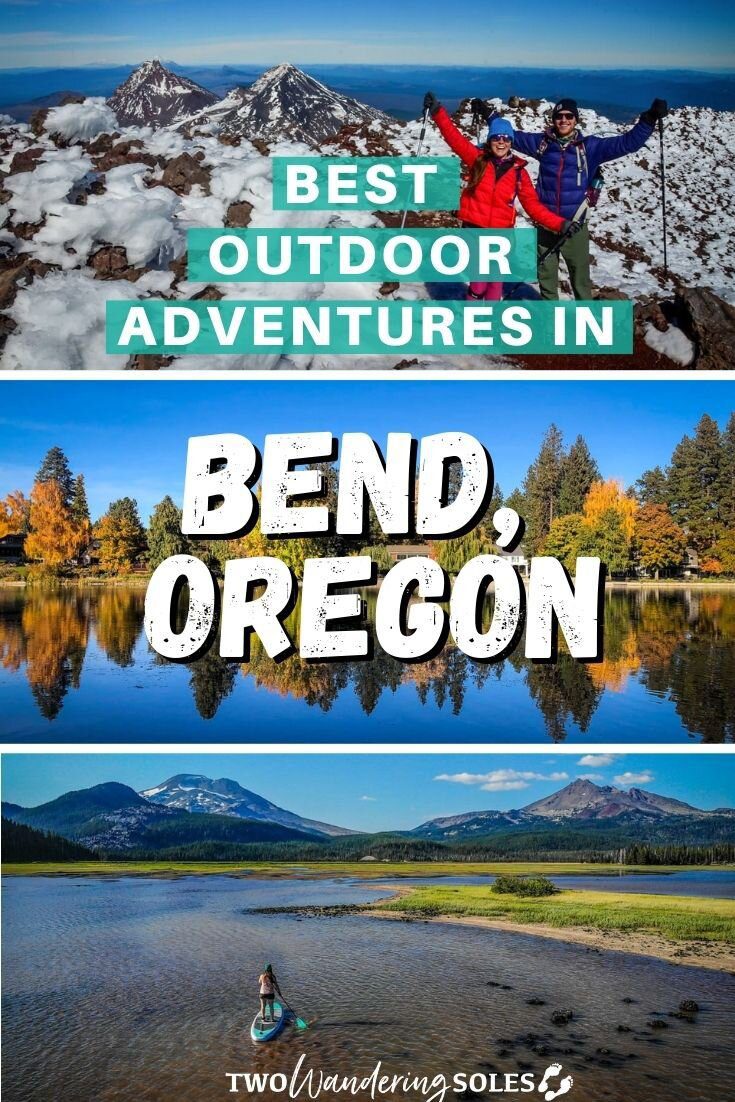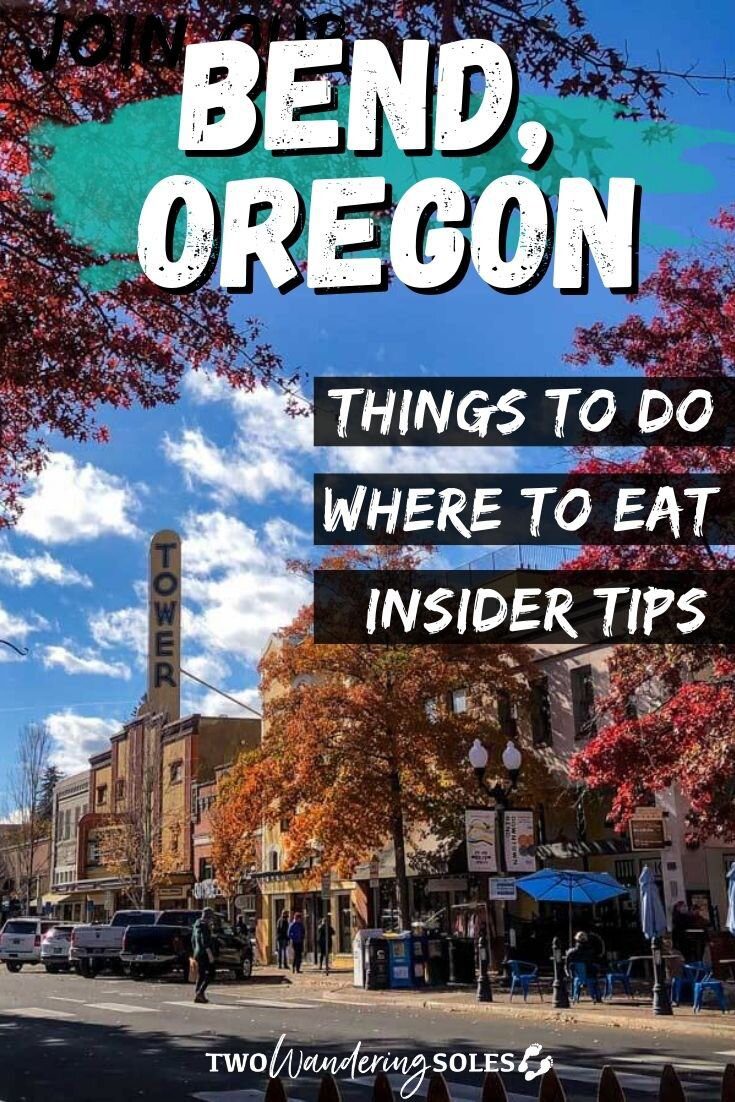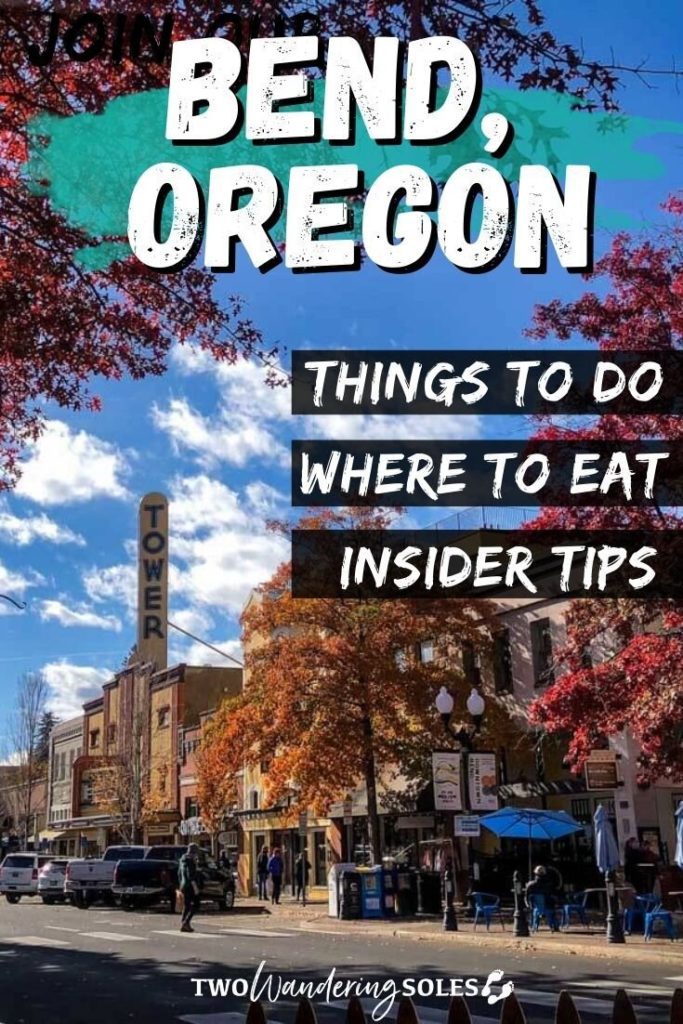 We want to hear from you!
Have you been to Bend, Oregon? What was your favorite part of the town? Have questions? Comment below and we'll do our best to get back to you!